Another nearby page is about lawyers in general and lower-level judges. This page was developed in 2005 as a couple of vacancies appeared on the Supreme Court and nasty battles followed. There is a lot of material here about John Roberts, Harriet Miers and Samuel Alito. But much of the discussion is about the things a person has to go through to get onto the Supreme Court — if he or she is a Reuplican. Democrats seem to have an easier time of it. (Ruth Bader Ginsburg was confirmed by a vote of 96 to 3, even though she was an ACLU lawyer.) This page is set aside for the specific issue of Supreme Court nominees, but there is also some material about the Supreme Court's effect in general.

I still think the most interesting thing about the nominations and confirmations in 2005 and early 2006 has been the fact that Justice Sandra Day O'Connor submitted her resignation effective only upon her successor's confirmation. But unless she resigns, there is no vacancy, so there could be no nominations. If I had been the President of the United States, I would have sent back a letter telling her to resign or don't, but not to try to have it both ways.

All the discussion about President Obama's nominees, Judge Sonia Sotomayor and Ms. Elena Kagan is located on another nearby page.

Outdated material about Samuel Alito and Harriet Miers has been moved to this page in order to save bandwidth and reduce clutter.

Look on this page for information about the Supreme Court's handling of the gun ban in the District of Columbia.

The recent case of Boumediene v. Bush is discussed here.

The resistance and obstruction surrounding Judge Brett Kavanaugh is discussed here.


---
Why Has SCOTUS Chief Roberts Abandoned Conservatism? Roberts chief problem was highlighted in 2012 when President Obama threatened SCOTUS, warning the 'unelected' supreme court to not strike down his healthcare law. Why didn't Chief Roberts bristle at this outrageous manipulation? Instead, Roberts was cowed, realizing Obama had the ability and will to destroy the Courts's reputation through countless media hit pieces by his enablers. As years pass, in an unsavory example of Stockholm Syndrome, Roberts is now a liberal convert. But Roberts pantomimes anger towards much less Trump provocation as he knows Donald is much less ruthless than Barack. Roberts had a chance to teach the left a lesson about bad laws. Rejection might have caused Obama to lose his next election. But, instead of dumping the badly flawed Obamacare, Roberts folded in the eye of the storm arguing a convoluted, nonsensical trick for saving it by turning the insurance mandate penalty into a tax. Justice Scalia wrote Roberts saved the law through "somersaults of statutory interpretation." Yet, he did save his and the Court's reputation from an unholy, scorched earth propaganda attack by Obama's media minions.
Supreme Court denies request to halt construction of the border wall. The Supreme Court by a 5-4 vote has denied a request to halt construction of President Trump's border wall over environmental concerns. A number of groups, including the ACLU and Sierra Club, had asked the high court to get involved again after the justices last year cleared the way for the administration to use military funds for construction while the case played out in the courts. A federal appeals court had ruled against the administration last month, but the justices, for now, have given another temporary victory to the administration.
The Supreme Court Imperils Parents' Right to Pass Their Values on to Children. The Supreme Court's recent decision in Bostock v. Clayton, which ruled that the Title VII prohibition on sex discrimination in employment extends to discrimination based on sexual orientation and transgender status, is likely to have more widespread implications than many people realize. [...] The current culture already makes it difficult for parents to teach their children that, for instance, maleness and femaleness are grounded on objective biological reality rather than subjective self-perceptions, or that the purpose of human sexuality is not ultimately pleasure or self-expression, but to unite a man and woman in marriage and enable them to form a family. And whatever one's beliefs about these issues, parents, not the state, should be the ones to decide what their children are taught about these controversial and sensitive matters.
Time for Civil Disobedience is NOW! In a 5-4 Decision the United States Supreme Court has determined that California restricting church gatherings is not unconstitutional, and does not violate the "free exercise clause of the First Amendment." The Ninth Circuit Judges, regarding restrictions against churches regarding the free exercise of their religion, and more specifically, worship services, said, "constitutional standards that would normally govern our review of a Free Exercise claim should not be applied." The last time I checked, the First Amendment does not say, "Freedom of Religion, unless there's a virus." The court's decision is unconstitutional. They are wrong. Liberty must prevail. And it is time the American People send that message.
Something's rotten at the Supreme Court. Justice Gorsuch wrote a one-paragraph dissent attacking the Supreme Court's decision to reject a Nevada church's emergency application. The application sought an injunction stopping the Governor of Nevada from shutting down meaningful church services, even as he allowed vast assemblies at casinos, movie theaters, and other secular sites. What should be more important than a pithy dissent, though, is the Supreme Court's — and, more specifically, Chief Justice Roberts's — appalling behavior. It is another reminder of how desperately important it is to return President Trump to the White House. [...] Justice Roberts was sold to Americans as a conservative. He isn't. He's also not a leftist. Instead, he has a very peculiar habit of hewing conservative on the narrow legal issues that are relevant only to a few interested parties and going full-bore leftist on those issues that matter greatly to constitutional liberty in America.
John Roberts Declares That Gambling Has More Constitutional Protection Than Religious Freedom. Ever since state and local governments started going [...] crazy in their response to Wuhan virus, Democrat governed cities, and states have made it a practice to try to use "public health" as a way of suppressing attendance at religious services. In states as widely spread California, Kansas, Kentucky, New York, New Jersey and Mississippi (to name just a few) you found various jurisdictions using the smokescreen of limiting public gatherings for the sake of public health to close churches, penalize church members who showed up for services, and sic the police on funerals to break them up. The effect of these orders has been to allow state and local governments to place an asterisk by the First Amendment. That footnote to the First Amendment states that the right to worship and assemble is contingent upon the government's approval of the purpose. So you can't have a funeral, but you can attend a BLM riot.
Chief Justice Roberts Votes Against Churches, Huckabee Calls On Him To Retire. Supreme Court Chief Justice John Roberts, a supposed conservative and constitutionalist, has seemingly forgotten his oath. In a stunning decision on Friday the chief justice sided with liberals yet again in keeping Nevada's churches, synagogues and mosques more limited than its casinos and movie theaters, CNN reported. The decision brought scorn and consternations from the likes of Texas Sen. Ted Cruz and former Arkansas Gov. Mike Huckabee who called on Roberts to repent and retire.
Supreme Court (by 5-4 Vote) Declines to Exempt Nevada Churches from Gathering Size Limits. From Justice Alito's dissent: ["]The Constitution guarantees the free exercise of religion. It says nothing about the freedom to play craps or blackjack, to feed tokens into a slot machine, or to engage in any other game of chance. But the Governor of Nevada apparently has different priorities. Claiming virtually unbounded power to restrict constitutional rights during the COVID-19 pandemic, he has issued a directive that severely limits attendance at religious services. A church, synagogue, or mosque, regardless of its size, may not admit more than 50 persons, but casinos and certain other favored facilities may admit 50% of their maximum occupancy — and in the case of gigantic Las Vegas casinos, this means that thousands of patrons are allowed. That Nevada would discriminate in favor of the powerful gaming industry and its employees may not come as a surprise, but this Court's willingness to allow such discrimination is disappointing. We have a duty to defend the Constitution, and even a public health emergency does not absolve us of that responsibility.["]
Poll: Americans Don't Want Government Telling Christian Schools Who They Can Hire. The Supreme Court's decision in Our Lady of Guadalupe School v. Morrisey-Berru protecting religious schools' ability to make decisions about who carries their faith to the next generation was supported by a 7-2 decision, a supermajority of the justices. Does that supermajority reflect the American people's support for this constitutional protection, often referred to as "the ministerial exception"? Do the American people understand this lesser-known legal doctrine? If you were to scroll through your Twitter feed on the day of the decision, you might have received an inaccurate reading of Americans' views on the subject. But, based on the results of a nationally representative survey of 1,004 American adults, most Americans not only support the ministerial exception and see it as a commonsense application of separation of church and state, but they also have a surprising degree of understanding about the principles behind the doctrine.
Oklahoma May Split in Two, Which is What Every State Should Consider Doing. The Supreme Court's decision to effectively make eastern Oklahoma into Indian territory may force the state to sever into two. Why does that have to be a bad thing? Within the continental U.S., when it comes to states, the more the merrier. If not for all the other crises and daily outrages boosted by mass media, the news of Oklahoma potentially losing half its state land to the sovereign nation of the Muscogee (Creek) tribe might have garnered more Americans' attention for a bit longer. The decision was led by Justice Neil Gorsuch, who despite being Trump's first pick for the high court sided with the four liberal justices. They ruled narrowly that eastern Oklahoma was in fact Indian territory with regard to state criminal law, but the legal consequences will be innumerable. All Americans should welcome this opportunity to reconsider their state borders as well as all regulatory boundaries.
Supreme Court Decides Half of Oklahoma Has Been an Indian Reservation for Past 113 Years. The Supreme Court issued one of the most consequential decisions of its term on its last day Thursday [7/9/2020]. No, it wasn't either of the decisions about President Donald Trump's tax returns. Instead, it involved a case that received little attention at the time it was argued. But how often can court watchers say that a case stripped a state of its sovereign power to prosecute crimes committed by certain individuals in nearly half of the territory it purportedly controls? Not often — if ever — before Thursday. But that's exactly what the court did in a 5-4 opinion in McGirt v. Oklahoma that Justice Neil Gorsuch wrote, which Justices Ruth Bader Ginsburg, Stephen Breyer, Elena Kagan, and Sonia Sotomayor joined.
Mark Levin: Republicans Should Subpoena the Tax Returns of Every Supreme Court Justice. In three tweets on Thursday [7/9/2020], conservative talk show host Mark Levin explained how the Supreme Court's 7-2 decision on the president's tax returns could (and should) come back to haunt the justices: "The Supreme Court just opened itself up to congressional demands for the individual justices' tax returns," Levin tweeted shortly after the ruling was handed down. "I can see a situation in which the House or the Senate decides that it must have access to all of the justices' tax and financial records each year to determine if they're influences in any way to write the decisions they write or vote the way they vote on numerous cases. The justices will not be able to argue that they are immune as a matter of separation of powers as they just shot down that argument as applies to the president."
The joker is wild. Today, the Supreme Court navigated its way through disputes about the disclosure of President Trump's financial records without doing much harm (in my view, at least). However, the Court issued a real stinker in a case that was under my radar — McGirt v. Oklahoma. By a 5-4 vote, the Court decided that much of Oklahoma is "Indian country" for the purpose of prosecuting crimes committed by Indians. Justice Gorsuch joined the four left-liberals and wrote the opinion. Gorsuch's idiosyncratic "textualism" has become the joker in Supreme Court litigation (Justice Scalia's sound textualism wasn't). Today, the joker was wild. The case involved Jimcy McGirt.
Supreme Court: Eastern Oklahoma is American Indian territory. The Supreme Court ruled Thursday [7/9/2020] that a large swath of eastern Oklahoma is actually an Indian reservation belonging to the Muscogee (Creek) Nation, meaning that hundreds of prosecutions could be tossed because the state does not have jurisdiction there, including in part of Tulsa. The 5-4 decision notes that only federal prosecutors have jurisdiction over American Indians on the reservation, which includes most of Tulsa, the state's second-largest city. Justice Neil M. Gorsuch joined the court's four liberal justices in the majority decision in McGirt v. Oklahoma.
'Strategic considerations': John Roberts' swing votes all about politics, court watchers say. Chief Justice John G. Roberts Jr. has been labeled the Supreme Court's swing vote after siding several times with the liberal wing, but both conservative and liberal court watchers say his judicial moves are all about politics. Conservatives say Chief Justice Roberts is trying to strike a balance so the high court doesn't appear too political. Critics say that balancing act is falling short and is resulting in an inconsistent record that appears to be more political than rooted in a particular jurisprudence. "Roberts seems to be swinging based much more on strategic considerations, and a lot of it really has to do with how much blowback he thinks he and the court will get," said Curt Levey, president of the conservative Committee for Justice. "He is protecting the reputation of the Roberts Court. He is protecting his own reputation."
The Fallacy of Court Neutrality. The problem with stare decisis and the mainstream conservative juridical philosophy is that it accepts, prima facie, the uniform, universalist, and progressive anti-Constitution that has been coercively imposed over the United States in the twentieth century. It is unsurprising that it is always Republican Court nominees who become liberals. The logic of stare decisis demands it. A clearly unconstitutional ruling, so long as it was imposed over the country by the Supreme Court, becomes the new constitutional precedence to affirm and build from. Any challenge to this anti-constitutional constitutionalism — how's that for a contradiction? — is met with opposition as being radically destructive.
Unanimous SCOTUS to Electoral College: Keep the faith — or else. Today's [7/6/2020] unanimous decision on so-called "faithless electors" is less surprising than some might think. The Supreme Court earlier had settled the argument over whether states could require electors to follow the popular vote in presidential elections. Today, they ruled that punishing electors for refusing to comply passes constitutional muster as well.
SCOTUS rules that 'faithless electors' must vote for popular-vote winner. The U.S. Supreme Court ruled on Monday [7/6/2020] that the 538 people who cast the actual votes for president in December as members of the Electoral College must vote the way the laws of their state direct. The high court ruled unanimously against advocates who were attempting to change the Electoral College and shift the country toward a nationwide popular voting system for the presidency. SCOTUS ruled that presidential electors must vote as their state requires them to, which in most states means voting for the candidate who won the popular vote in the state.
Supreme Court blocks House from seeing secret Mueller grand jury documents until hearing this fall. Grand jury material from former special counsel Robert Mueller won't be released to the Democratic-led House of Representatives at least for now, after the Supreme Court on Thursday granted the Trump administration's request to take up the case next term. The move means the documents won't likely be released before the November election, even if the Democrats win the case. The court's move is a victory for the Justice Department, which is seeking to prevent the release of the information, which includes portions of Mueller's report that were redacted to protect grand jury information and underlying grand jury testimony and exhibits that relate to certain individuals and events.
A Conflict of Visions on the Supreme Court. On June 29, 2020, United States Chief Justice John G. Roberts let down constitutional conservatives once again — this time on abortion. In June Medical Services, LLC et al v. Russo, Roberts cast the tiebreaking vote striking down a Louisiana law requiring abortion doctors to obtain admitting privileges at a local hospital in order to protect women's health. What made Roberts' vote even more disappointing is that he voted the opposite way a few years ago in a nearly identical case in which the Court struck down a similar Texas abortion law on the same grounds.
Hugh Hewitt: Rumor has it Samuel Alito will retire from Supreme Court. Conservative Supreme Court Justice Samuel Alito may be eyeing retirement. The "stronger rumor" is that Alito is "going to quit," conservative radio host Hugh Hewitt told Washington Post reporter Robert Costa on his show Wednesday [7/1/2020]. He mentioned this in response to Costa's report that said aides to President Trump believe Clarence Thomas, a conservative justice appointed by President George H.W. Bush, is the justice most likely to retire this year. "Justice Thomas will never quit," Hewitt added. Hewitt suggested he learned this rumor when "people begin working the refs" this time of year.
Clarence Thomas AND Samuel Alito Mulling Retirement According Conservative Wishcasters. Neomi Rao is really happy she wrote that garbled mess of a Michael Flynn opinion. The DC Circuit judge who threw any semblance of conservative jurisprudence to the wind to offer up the result that Donald Trump dearly wanted now has to consider herself in prime position for a crack at the United States Supreme Court. Rumors are circulating around Washington that Trump — and more to the point Mitch McConnell and Leonard Leo — may get the opportunity to install not one but two life-tenured justices on the Court while the economy burns and the plague spreads with abandon.
The Editor says...
Bias alert: The economy and the pandemic have nothing to do with the Supreme Court.
Report: Supreme Court Justices Clarence Thomas & Samuel Alito May Soon Retire. Supreme Court Justice Clarence Thomas has said for a while that he has no plans to step down. Therefore, why rumors about his retirement continue to pop up make little sense. However, it appears Justice Samuel Alito might be fed-up with DC.
Justice Thomas takes on Roe v. Wade in stinging dissent to SCOTUS striking Louisiana law on abortion requirements. Supreme Court Justice Clarence Thomas authored a stinging dissent Monday to the high court ruling against a Louisiana law requiring doctors performing abortions to obtain admitting privileges at nearby hospitals. Chief Justice John Roberts aligned with the four liberal jurists — again — in the 5-4 court ruling, with Thomas calling the court's record on abortion "grievously wrong," Fox News reported. Thomas, who was joined by Justices Samuel Alito, Brett Kavanaugh and Neil Gorsuch in saying the law should stand, denounced the "right" to an abortion, as prescribed in Roe v. Wade, as being created "out of whole cloth."
John Roberts proves he's nothing more than an empty robe. Of all the cop-outs in Supreme Court jurisprudence, Chief Justice John Roberts's concurrence in June Medical Services v. Russo has to be one of the worst. The case was brought by abortion providers in Louisiana who bristled at having health and safety rules imposed upon them that made it harder to do business. They arguably lacked standing to represent the class supposedly aggrieved in this case — the very patients those rules were designed to protect from quack abortionists. Yet, they succeeded both in establishing their standing and in upholding the controversial standard that such requirements cannot stand, being overly burdensome to women who might seek abortions — that is, parties not even represented before the court. And they did it in a 5-4 decision in which Roberts was the tiebreaker.
Chief Justice John Roberts's Lack of Courage Is Damaging the Supreme Court. An umpire who can be cowed by the crowd will not call the same strike zone for both teams. Without courage, good ideas about the law are just empty words on a page. Without courage, even the clearest-written rights are empty promises, the plainest limitations on power are easily overwhelmed, and the entire project of rule by written law becomes just another hollow formality. Two of today's Supreme Court decisions, on abortion and separation of powers, are further evidence of this. Chief Justice John Roberts has yet again shown the absence of courage that has so often undermined his Court. Roberts's repeated demonstrations of lack of courage are rapidly becoming a threat to the Court itself, and to the conservative legal project.
John Roberts Shows Supreme Court at Stake Again in 2020 Election. Many conservatives voted for President Donald Trump in 2016 solely because the fate of the Supreme Court was at stake. They will have to do so again in 2020, because the Court remains liberal, and Democrats want to pack it further. Nominally, conservatives have a 5-4 majority, if the only consideration is the party of the president who nominated them. But Chief Justice John Roberts has repeatedly sided with the Court's liberals, from the Obamacare decision until today.
John Roberts aborts conservative jurisprudence yet again. Chief Justice John Roberts has put another shiv in the ribs of judicial conservatives, again abandoning intellectual consistency while doing the bidding of social liberals. By concurring in a ruling that a Louisiana abortion regulation is unconstitutional, Roberts contradicted his own stance from a case just four years earlier. In Monday's case, June Medical Services LLC v. Russo, the four consistently liberal judges ruled that Louisiana may not, as a health precaution, require that abortionists possess "admitting privileges" to a nearly hospital in case something goes wrong with the operation. The four generally conservative justices dissented, saying the 5th Circuit Court of Appeals was correct in ruling that the Louisiana law was constitutionally acceptable. Roberts, in a separate concurring opinion, broke the tie in the liberals' favor. He did so not because he agreed with his liberal colleagues on substance, but because he was (he said) upholding the doctrine of "stare decisis," roughly meaning, "Let it stand as decided."
Supreme Court declines to hear border wall challenge. The Supreme Court is leaving in place a decision that rejected environmental groups' challenge to sections of wall the Trump administration is building along the U.S. border with Mexico. The high court on Monday [6/29/2020] declined to hear an appeal involving construction of 145 miles of steel-bollard walls along the border in Arizona, California, New Mexico and Texas.
If They Weren't Before, Conservatives are Officially Done With Justice John Roberts. Conservatives were outraged eight years ago when Supreme Court Chief Justice John Roberts voted with the liberals on the court to uphold Obamacare's individual mandate. His swing almost singlehandedly saved the Affordable Care Act. A few years removed and he made a few better decisions, somewhat appeasing conservatives. But last year he helped kill the census citizenship question. Then, last week, he voted with liberals to reject President Trump's attempt to end the Deferred Action for Childhood Arrivals program. The court didn't say that Trump couldn't reverse the program, but that his legal reasoning wasn't up to par. But it was Roberts's vote on this Monday morning that convinced conservatives he will never be on their side, and regret that President George W. Bush ever uttered his name. Justice Roberts has sided with the court's liberals again, this time striking down a Louisiana abortion law that required abortionists to acquire admitting privileges from nearby hospitals. Yet again, it was a razor-thin 5-4 ruling.
US Supreme Court strikes down Louisiana abortion law. The U.S. Supreme Court on Monday [6/29/2020] struck down a Louisiana law regulating abortion clinics, reasserting a commitment to abortion rights over fierce opposition from dissenting conservative justices in the first big abortion case of the Trump era. Chief Justice John Roberts joined with his four more liberal colleagues in ruling that the law requiring doctors who perform abortions have admitting privileges at nearby hospitals violates the abortion right the court first announced in the landmark Roe v. Wade decision in 1973.
Rick Scott: Expect Dems to End Filibuster, Stack Supreme Court If Biden Wins. During Hugh Hewitt's Friday [6/26/2020] broadcast, Sen. Rick Scott (R-FL) warned of the consequences of a Joe Biden victory in November. The Florida Republican lawmaker said Senate Democrats would end the filibuster when asked by host Hugh Hewitt.
Conservatives Are Treated like Second-Class Citizens, and That's Dangerous. Conservative Americans have been dutifully respecting the rule of law for decades, while our government has become more aggressive in using the law as nothing more than a tool for choosing winners and losers. The Supreme Court banned God from public schools while inviting the Marxist religion to take over. It decided of its own accord to sanction the murder of sixty-five million babies because those babies could not protest. It chose to rewrite the ancient meaning of marriage, and it has now denied the discrete existence of women altogether. When a strong majority of Americans desperately wanted to stop the government's socialist takeover of health care, the Court betrayed Americans again by turning something unconstitutional into something mandatory with all the nonchalance of a royal decree. Time and again, Americans proud of their Constitution have asked the Supreme Court to preserve its meaning, and the Court has instead blotted over the original with its own contemporary values and beliefs.
Supreme Court's LGBTQ Decision Is Formula for Chaos. The U.S. Supreme Court has decided that homosexual and transgender individuals are covered by the anti-discrimination provision, Title VII, of the 1964 Civil Rights Act. Justice Neil Gorsuch wrote in his opinion: "An employer who fires an individual for being homosexual or transgender fires that person for traits or actions it would not have questioned in members of a different sex. Sex plays a necessary and undisguisable role in the decision, exactly what Title VII forbids." When I read the reasoning of Gorsuch, I feel less surprised by the chaos in our cities, and our great difficulties and challenges in enforcing the law. How indeed can we expect sanity in enforcing our laws when such confusion exists in our nation's highest court about what our law is, and even what our country is about?
Will Anyone in Government Resist SCOTUS's Absurd Redefinition of 'Sex'? On June 15, the Supreme Court issued its Bostock opinion redefining "sex" in discrimination law. Beyond the word's common biological meaning — linked to an innate and unchangeable characteristic — the Court says "sex" can now be used to protect homosexual behaviors and transgender delusions. By acknowledging "sexual orientation" and "gender identity" as valid concepts (while leaving them essentially undefined), the Court has embraced sexual-radical dogma. The absurd Bostock opinion will unleash unimaginable chaos unless there is significant push-back. The disruptions that have followed rampant "gay rights" demands are well known, and will surely multiply. And the ruling has given new life to transgender demands for their special "rights." While Bostock specifically addressed employment law, commentators predict that its new definition of "sex" will be applied in any case dealing with discrimination on the basis of "sex." There are over 100 federal laws that use that terminology.
Ross Douthat: Neil Gorsuch 'Arbiter of Sexual and Religious Liberties'. Conservative New York Times columnist Ross Douthat observed Saturday that, with his decision in the arena of gay and transgender rights, Supreme Court Justice Neil Gorsuch made himself the "arbiter of sexual and religious liberties." "[P]olitics abhors a power vacuum, and our juristocracy has claimed new powers in part because Congress doesn't want them," Douthat asserted, adding, "The Supreme Court, clothed in meritocratic authority, seems more like management than Congress."
The Supreme Court is out of control. With one exception, the Supreme Court causes supreme problems when it oversteps its bounds, as it has done regularly since Trump's election. It did this most recently when it held that, although President Obama illegally instituted his DACA program, President Trump must jump through a series of arbitrary administrative hoops to walk it back. [...] Going back as far as 1857, with one exception, the Court's major public policy decisions have been constitutionally invalid and had disastrous outcomes. Dred Scott denied African-Americans citizenship, Plessy v. Ferguson enshrined segregation, Korematsu v. the United States erased the rights of Americans of Japanese descent, and Roe v. Wade created an imaginary constitutional right to abortion that created a 47-year-long schism in America that perverts every presidential election. Each time, the Court waded into areas that are the preserve of the states and Congress, making up rights as it went along. Only once did the Supreme Court improperly insert itself into a public policy issue and get away with it. That was 1954's Brown v. Board of Education, a morally but not legally correct decision.
Gorsuch the Pharisee and Textualist Tomfoolery. The Supreme Court's recent opinion that the 1964 Civil Rights Act's prohibition against "sex" discrimination offers protections for LGBT identity groups has raised eyebrows and ire. But it's not surprising: The decision's author, Justice Neil Gorsuch, long ago made clear that he operates from false premises. One of these is what's called "textualism," which is not at all the same as originalism. Conservatives also err, in my view, in claiming that Gorsuch has "redefined 'sex.'" In reality, his ruling is instead based on a certain rationalization. Harvard law professor Noah Feldman, while essentially applauding Gorsuch's lawyer-craft, explained it well. "As applied to Title VII, the classic 1964 anti-discrimination law, the textualist idea is very simple," he wrote June 15. "The law prohibits discrimination 'on the basis of sex.' To discriminate against somebody because of sexual orientation necessarily entails discriminating on the basis of sex. After all, if you're discriminating against a man because he is attracted to men, you would not be discriminating against him if he were a woman who is attracted to men." "The same is true for transgender status," he continued.
The Smart Boy Sophistry of Neil Gorsuch. For almost 50 years, the country has been debating the enactment of state and local gay rights laws. Protections for gays and lesbians have been passed in 21 states and in over 400 localities. Recently, the debate has been extended to include transgender rights as well, with all the complications regarding bathrooms, locker rooms, and other aspects of daily life that those arguments entail. On Monday, the United States Supreme Court, in a 6-3 opinion written by President Trump's first appointee, Justice Neil Gorsuch, held that this entire debate and all of those laws arrived at through debate and deliberation have been totally unnecessary. Why? Because, whaddaya know? We've already had a federal gay rights law, and a federal transgender rights law to boot, on the books for 56 years! Gorsuch, joined by Chief Justice John Roberts, found these provisions lurking somewhere in the penumbra of Title VII of the landmark Civil Rights Act of 1964, which bars employment discrimination "because of ... sex" (or race, color, religion, or national origin).
Language, Freedom, And Law. he U.S. Supreme Court's decision this week in Bostock imposes on Americans a rule of greater import than any ever asserted by any government. Its adoption into law of a meaning of the word "sex" that is at war with that of the dictionary, of biology, and of common use, and enlists the U.S. legal system against the way of life of most Americans. As a matter of law, the Bostock decision, like so many others since Dred Scott — e.g. Plessy, Lochner, Brown, Roe, Kelo, Obergefell — rewrites the Constitution and statutes to reflect the opinions of elites currently in power. But even in Dred Scott, in which the court very broadly hinted that the Declaration of Independence's word "men" did not apply to negroes and hence that they have no rights under the Constitution, it did not actually redefine that word. Only in Bostock has the court taken the fateful step to assert that a common word, vital to social relations, can mean whatever anyone wants it to mean. And, having done that, the court takes the side of those who assert the primacy of will over nature. Thus has the court removed the protection of the law from the way most Americans think and speak, making us liable to civil and possibly even criminal penalties. No totalitarian regime has ever explicitly mandated the meaning of words.
Roberts voids nation's immigration laws. In June 2010, Chief Justice John Roberts upheld the unconstitutional mandate that people buy health insurance. He flippantly sneered that elections have consequences. Today [6/18/2020] he upheld Barack Hussein Obama's unconstitutional repeal of immigration law despite 30 states electing as president Donald John Trump specifically to enforce immigration laws. This follows Roberts voting to stop Arizona from enforcing immigration law. This follows Roberts deciding California does not have to enforce immigration law. Elections don't matter because Chief Justice John Roberts believes the Constitution says whatever he wants it to say on any particular day. Some people believe Obama has the goods on him. I did. Now I realize he is just like Red China.
A New Dred Scott Decision Immortalizing Bureaucracy. Just as the infamous Dred Scott case in 1857 would have extended slavery throughout America, so Thursday's decision in Department of Homeland Security v. Regents of the University of California threatens to make the machinations of bureaucratic government supreme and unrepealable. Chief Justice John Roberts' 5-4 court opinion strengthens the grip of the administrative state — the interlocking network of bureaucracy and political correctness — over the democratically elected branches that are supposed to make us a nation of self-governing citizens. The Supreme Court, in a seeming conspiracy with lower federal courts, has tilted the table against the elected president and his appointees in favor of bureaucratic governance.
Supremes legislate from the bench on DACA. What now? On questions of immigration, the Supreme Court seems to be representing the interests of foreign nationals who haven't bothered to come to the U.S. legally. They threw out the perfectly legitimate request to reinstate the 2020 Census question on U.S. citizenship, something that has been on that form since the dawn of the Census and only recently was dropped, saying the Trump administration hadn't presented a good enough reason to do it. Now they've done the same thing on the question of Deferred Action for Childhood Arrivals (DACA), the Obama administration executive order that permits a large bloc of illegal aliens to work and stay in the country with zero fear of deportation, cutting them a spot in the line well ahead of immigrants. Message: Get across the border with your kids; waiting in line to immigrate to the U.S. legally is a chump's errand.
'Sloppy' Policy Making, Not Ideology, Cost Trump Two SCOTUS Cases. The right has been up in arms over Supreme Court Chief Justice John Roberts voting with the liberal majority in overturning Trump administration policy on DREAMers and the citizenship question on the 2020 census. But Roberts wasn't giving his opinion of DREAMers or citizenship questions. Roberts' ruling was entirely consistent with the law; specifically the Administrative Procedure Act.
Gorsuch Takes the Road Less Gaveled. When he first sat down in front of the cameras and a packed Senate committee room, it was tough not to like Neil Gorsuch. The prematurely gray dad of two kicked off his opening statement talking about his wife and family — joking about his daughters, who were probably out "bathing chickens for the county fair," his extended family and childhood pranks, the values of working hard. Gorsuch thought back to the first time he put on his black robe — how it reminded him of the important job he had to do. He told the senators he didn't realize how big it was until he slipped on it and fell. "Everything went flying," he recalled. Now, three years later, that robe is still tripping him up. But his fall, Americans are finding out, hurts us all.
Ted Cruz Completely DESTROYS John Roberts on Senate Floor Over DACA Decision. In a remarkable moment on the floor of the U.S Senate, Ted Cruz (R-Texas) used his ten minutes to take a flamethrower to the Supreme Court decision over Deferred Action for Childhood Arrivals (DACA). Calling Roberts' repeated siding with the liberals on the court a charade, he said, "Everyone knows the game they're playing. They're hoping that, come November, there's a different result in the election, that a new administration comes in and decides that amnesty is a good thing."
John Roberts and the Amazing Technicolor Dreamer Robe. The U.S. Supreme Court has upheld the Deferred Action on Childhood Arrivals (DACA) program, ruling that the Trump Administration failed to comply with federal regulation procedures. In an opinion for the 5-4 majority, Chief Justice John Roberts explained, "we address only whether the agency complied with the procedural requirement that it provide a reasoned explanation for its action." Justice Clarence Thomas, the sole African American on the high court, thought there was more to it. "The majority today concludes that [the Department of Homeland Security] was required to do far more," Thomas wrote. In effect, the majority was holding the decision of the Trump Administration to a higher standard than President Barack Obama's "executive action" that established DACA illegally in the first place. The decision, Thomas wrote in his dissent, "must be recognized for what it is: an effort to avoid a politically controversial but legally correct decision."
DACA Ruling Is Supreme Court's Latest Act of Political Timidity. With the Supreme Court's latest erroneous decision on immigration, Chief Justice John Roberts and other justices have done lasting damage to the Constitution, the rule of law, and accountable government. It is not just the legally wrong decision Thursday in Department of Homeland Security v. Regents of the University of California, in which Roberts and the liberal justices refused 5-4 to allow the Trump administration to terminate the unlawful Deferred Action for Childhood Arrivals program implemented by the Obama administration without congressional approval. Or the unsound decision Monday authored by Justice Neil Gorsuch where six of the nine justices took it upon themselves to legislate from the bench by rewriting and effectively amending the language of the Civil Rights Act of 1964 to include sexual orientation and gender identity — something Congress specifically has rejected.
Just one (seemingly important) question about this Supreme Court LGBT decision. Given that "discrimination" on the basis of "sexual orientation and gender identity" is now officially federally forbidden, imposed on the states by the activist keyboard of a supposedly conservative justice, could we be told who exactly determines what qualifies as a sexual orientation, and determines what can be claimed as a "gender identity"? Is there a panel that gets to decide? Local governing bodies? Perhaps it will be determined at the federal level? Or is it merely a matter of personal expression, allowing the individual to create or originate their own gender or orientation as needed? Perhaps medical professionals will be granted the final say?
Trump calls for 'new justices' on Supreme Court, as conservatives rage at Roberts. President Trump, in the wake of Thursday's defeat at the Supreme Court in his efforts to repeal the Obama-era Deferred Action for Childhood Arrivals (DACA) program, called for new justices as conservatives took aim at Chief Justice John Roberts for what they called a "pattern" of siding with the liberal wing in key decisions. "The recent Supreme Court decisions, not only on DACA, Sanctuary Cities, Census, and others, tell you only one thing, we need NEW JUSTICES of the Supreme Court. If the Radical Left Democrats assume power, your Second Amendment, Right to Life, Secure Borders, and ... Religious Liberty, among many other things, are OVER and GONE!" he tweeted.
Cotton: If John Roberts Wants To Write Laws, He Should Resign And Run For Office. Sen. Tom Cotton (R-Ark.) criticized Supreme Court Chief Justice John Roberts Wednesday [6/18/2020] after the court ruled President Trump could not remove the Deferred Action for Childhood Arrivals (DACA) program created by an executive action by former President Obama. "It cannot be the law that what Barack Obama has unlawfully done, no president may undo," Cotton said in a statement. Cotton also condemned Justice Roberts' actions as "political," suggesting he should run for office if he wants to participate in political legislation.
A Morally Empty Jurisprudence. Conservatives were bracing for the defection of Justice Gorsuch on the cases dealing with the "transgendered" and "sexual orientation." But even the anticipation of the jolt did not diminish its depressing force. The reactions, coming with disbelief and anger, have not been understated. For make no mistake, this case of Harris Funeral Homes v. EEOC will be the Roe v. Wade for transgenderism, with effects that will ripple out widely in our country, touching and disfiguring our private lives. After all, the Court has pronounced it quite wrongful to cast an adverse judgment, a disapproving judgment, on people who affect to shift their "genders." As we saw in the case of same-sex marriage, children will have to be instructed in school on this new civic culture that the Court has ordered into place. The companion cases of Bostock v. Clayton County and Altitude Express v. Zarda bring the same force to the side of discriminations based on "sexual orientation" or homosexuality. What Congress failed persistently to add to the Civil Rights Act, Neil Gorsuch and John Roberts managed to accomplish in a stroke, with the reliable help of the four liberal justices, who could always be depended on to vote in a phalanx for the ethic of sexual liberation.
A Striking Display of Sophistry. The Supreme Court's decision in Bostock v. Clayton County offers a striking display of sophistry in service of the spirit of the age. The Court had to rule on whether Title VII of the 1964 Civil Rights Act bars employment discrimination on the basis of sexual orientation and gender identity. The 6-3 decision held that the Act does indeed forbid such discrimination. The effect will be dramatic. This decision hands LGBT activists the coercive machinery of civil rights law. Justice Neil Gorsuch wrote the majority opinion, which is said to be a straightforward textualist interpretation. Title VII stipulates that it is unlawful "for an employer to fail or refuse to hire or to discharge any individual, or otherwise to discriminate against any individual with respect to his compensation, terms, conditions, or privileges of employment, because of such individual's race, color, religion, sex, or national origin." There is no mention of sexual orientation or transgenderism. But Gorsuch has a clever argument. He notes that if a man identifies as a woman and is fired for doing so, then he is being fired for something that would be entirely OK if he were a woman.
Gorsuch Takes a Knee. What U.S. Supreme Court Justice Neil Gorsuch did in his opinion proclaiming that civil rights in employment requires recognition of gay rights was abominable enough, but what it revealed about his view of his role as a justice is even worse. Conservative critiques of Gorsuch's pretentious preening aside — if Justice Antonin Scalia were alive, he'd be turning over in his grave at this supposedly "textualist" opinion his replacement authored — Republican lawmakers may be breathing a sigh of relief. Gorsuch took them off the hook and eliminated the necessity of voting on proposals expanding employment protections to cover discrimination against gays, which House Speaker Nancy Pelosi's Democratic majority favors. Republicans duck so many issues their supine postures must be frozen. In fact, Gorsuch's court action may have improved Republican chances in both the Senate and the House in 2020 (even as it compromises President Trump's ability to boast about his court picks).
Supreme Court rules against Trump administration bid to end DACA program. The Supreme Court ruled Thursday against the Trump administration's effort to end the Obama-era program that offers legal protections to young immigrants brought to the country illegally as children. The court ruled that the administration's decision to rescind the Deferred Action on Childhood Arrivals (DACA) program violated the Administrative Procedure Act (APA), which sets out rulemaking procedures for federal agencies.
Donald Trump Critical of 'Horrible and Politically Charged' DACA Decision from the Supreme Court. President Donald Trump on Thursday criticized the Supreme Court after the majority ruled against his attempt to repeal President Barack Obama's Deferred Action for Childhood Arrivals (DACA). "These horrible and politically charged decisions coming out of the Supreme Court are shotgun blasts into the face of people that are proud to call themselves Republicans or Conservatives," Trump wrote on Twitter.
SCOTUS Gun Case Denials Signal Conservative Justices Don't Trust Roberts With The Second Amendment. The U.S. Supreme Court's decision to pass on nearly a dozen gun-rights-related cases is breathtaking, not in the denial of hearing any, but in the seeming admission that the conservative associate justices think Chief Justice John Roberts can't be trusted to protect the Bill of Rights. [...] The Supreme Court requires just four of the nine justices to agree to hear an appeal for the nation's highest court to take the case. Those watching gun cases were hoping for good reason that finally, after a decade of silence from the court, the four votes were now there. Four justices, including Clarence Thomas, Samuel Alito, Neil Gorsuch, and Brett Kavanaugh, have all recently expressed frustration with the court's unwillingness to address infringements on Second Amendment rights. Thomas previously noted, "[T]he Second Amendment is a disfavored right in this Court."
Supreme Court rules for 'Dreamers,' rejects Trump's repeal of immigration program. In a striking rebuke to President Trump, the Supreme Court on Thursday rejected his plan to repeal the popular Obama-era order that protected so-called Dreamers, the nearly 800,000 young immigrants who were brought to this country illegally as children. Led by Chief Justice John G. Roberts Jr., the court called the decision to cancel the program known as Deferred Action for Childhood Arrivals, or DACA, as arbitrary and not justified. The program allows these young people to register with the government, and if they have clean records, to obtain a work permit. At least 27,000 of these DACA recipients are employed as healthcare workers. Trump had been the confident that high court with its majority of Republican appointees would rule in his favor and say the chief executive had the power to "unwind" the policy.
Et tu, Gorsuch? A little over three years into a lifetime appointment, and he's already speaking for Justice Ginsburg when it comes to matters of transsexualism and forgotten all about Justice Scalia's textualism. No matter how hard we try, our "conservative" judges belly-flop into "strict constructionist" poseurs and weak-kneed judicial activists faster than Chief Justice Roberts can rewrite Obamacare into a tax. I mean, you try to keep these "originalist" jurists on a philosophically sound path. You teach them "right" from "wrong." You instill in them a respect for the law and the importance of always telling the truth. You can't be with them all the time, though. You know they're being tempted by strange leftists to rule by emotion and always let the "ends justify the means," but you tell yourself, "we can count on a judge described by many as Justice Scalia's natural successor, right?" Right? Gorsuch portrayed himself as a textualist stalwart who understood the great societal costs of abdicating judicial restraint for willy-nilly lawmaking out of thin air. He promised to serve as a sound, objective, and impartial justice for an out-of-control Judicial Branch that has replaced "the law" with "the decree." All his friends said he was a man of principle. Conservatives smiled with pride. Those he was meant to serve gladly gave him their trust. And then, bam! Gorsuch's promises to apply the law as written failed even to outlive Justice Ginsburg.
The Supreme Court Just Turned A Law To Protect Women Into A Weapon Against Them. Fifty-six years ago, lawmakers passed a federal employment law — Title VII of the Civil Rights Act of 1964 — to help ensure women wouldn't be fired "because of sex" or conditions biologically tied to being a woman (specifically, pregnancy and childbirth). On Monday, however, a majority of U.S. Supreme Court justices retroactively redefined that federal law and the words "on the basis of sex" to be interpreted to include the more fluid, subjective, and personal notions of "gender identity" and "sexual orientation." With its decision in R.G. & G.R. Harris Funeral Homes v. Equal Employment Opportunity Commission (bundled with two other cases), a six-justice majority essentially reinvented the meaning of "sex" in federal employment law. It isn't plausible to argue — with a straight face at least — that the legislators who wrote the Civil Rights Act in the 1960s or any citizen reading it at the time understood "sex" to mean anything different than being a man or woman. Yet the court just decided to step outside its role as interpreter and revised federal law 50 years after it was enacted.
SCOTUS's Transgender Ruling Firebombs The Constitution. In Monday's ruling inserting "gender identity" into the word "sex" in a 1964 employment law, the U.S. Supreme Court called a man a woman, possibly leading to eventually forcing everyone else to do so also. The ruling will lead to a tsunami of polarizing court cases and further degradation of Americans' natural rights to free speech, to free association, and to worshipping God as their consciences require. All this in the name of "equality," a word that has become a totalitarian weapon. The 6-3 majority included Chief Justice John Roberts, appointed by Republican President George W. Bush, and Associate Justice Neil Gorsuch, appointed by Republican President Donald Trump. These presidents promised voters their justices would uphold the rule of law and the Constitution, and were elected in significant part based on these now-broken promises. This decision is a disgrace to these bedrocks of Western civilization, our nation built upon them, the voters who vote for them, and to these men's honor. [...] The court's newfound weakness will also be exploited and explored by leftist legal agitators whose goal is the destruction of the American system.
'The End Of The Conservative Legal Movement': Hawley Denounces SCOTUS Ruling In Fiery Senate Floor Speech. Republican Missouri Sen. Josh Hawley condemned Monday's Supreme Court decision on LGBT anti-discrimination Tuesday, saying the ruling spelled the "end of the conservative legal movement." "If this case makes anything clear, it's that the bargain that's been offered to religious conservatives for years now is a bad one," Hawley said in a Senate floor speech Tuesday [6/16/2020]. "It's time to reject it." The Missouri senator's comments came after the Supreme Court ruled in a 6 [to] 3 decision Monday that federal law protects LGBT and transgender employees from discrimination under the same statute that bans unequal treatment in the workplace based on sex.
The Editor says...
What bargain are we supposed to reject? What does that even mean? Congressmen can huff and puff and enter their comments into the record all day long, and it will almost never change anything. I'd like to see a Supreme Court Justice impeached and removed someday. That would put the brakes on some of this activism.
Will Justice Gorsuch Now Get an Apology From the Democrats? Today's Supreme Court decision protecting Americans from being fired because of sexual orientation certainly makes one thing clear — it is a fool's errand to predict what a justice is going to do once he is granted life tenure on the high bench. We can't count the number of times we've pressed that point in our decades in the editorial galleys. Rarely, though, has a case so roundly marked the matter as the one decided today. The case is known as Bostock v. Clayton County, Georgia. The county was haled to court after it fired an employe, Gerald Bostock, who'd started participating in a gay recreational softball league. The Nine also considered other cases from persons seeking shelter under the 1964 Civil Rights Act's Title VII, which prohibits firing an individual because of his "race, color, religion, sex, or national origin." The question presented to the Nine involved, among other things, whether the word "sex" covered sexual orientation — and who should decide that, the Court or the Congress. Had it been up to us, we'd have sent the matter back to the Congress to make clear what it intended when it passed the law in 1964 and how it wants the law to read today. We'd have favored Congress extending much of the protection the court just provided. We'd have taken a good deal more care, though, in respect of religious freedom.
Shocking SCOTUS Decision Shockingly Written by Gorsuch. In a shocking U.S. Supreme Court (SCOTUS) decision, Justice Neil Gorsuch voted with the axis of evil — that is, with Chief Justice John Roberts, and Justices Stephen Breyer, Ruth Bader Ginsburg, Elena Kagan, and Sonia Sotomayor. In Bostock v. Clayton County, Georgia, the axis of evil decided that in Title VII of the Civil Rights Act of 1964, the word "sex" includes "sexual orientation" and "gender identity" — both subjectively constituted conditions. As a result, the Civil Rights Act of 1964, which prohibits discrimination in employment based on "race, color, religion, sex, and national origin," now prohibits employers from firing employees who self-identify as homosexual or as the sex they are not and never can be. The crux of the argument goes something like this: If a company that allows a woman who gets breast implants and wears lipstick, stilettos, and dresses to work fires a man who gets breast implants and wears lipstick, stilettos, and dresses to work, the company has discriminated against him based on his sex and, therefore, violated Title VII of the Civil Rights Act.
SCOTUS: Judicial activism bites again. What took Justice Antonin Scalia decades to build as a doctrine of textualism, his self-described heir, Neil Gorsuch, burned down in one decision Monday. Applauded by the liberal media, his incoherent opinion throws federal courts into the middle of the culture war over transgenderism. Justice Scalia could be rolling over in his grave at this demolition of the house that he so painstakingly built. This 6-3 decision in Bostock v. Clayton County granted a broad new right of transgenders and homosexuals to sue their employers in federal court.
The Supreme Court confuses mental illness with sex. On Monday [6/15/2020], the Supreme Court concluded that homosexuality and transgenderism are covered under the Civil Rights Act of 1964. This post doesn't have enough space to explain why, legally, that is an incorrect decision. Put simply, the Civil Rights Act does not cover sexual orientation and was never intended to. If Congress wants to change that, it can; it is not the Supreme Court's role, though, to make that change. This post focuses only on the fact that the Supreme Court, in Bostock v. Clayton County, wrongly accepted the premise that transgenderism is part of the homosexuality spectrum. It is not. It is a form of mental illness. The Supreme Court has just said that body dysmorphic disorder is protected under the Civil Rights Act of 1964.
A 'Pirate Ship' Sailing under a 'Textualist Flag'. In today's [6/15/2020] much-awaited ruling in the Title VII cases (decided together under the caption of Bostock v. Clayton County), the Supreme Court ruled by a vote of 6 to 3 that discrimination on the basis of sexual orientation or transgender status constitutes discrimination "because of ... sex" in violation of Title VII. Justice Gorsuch wrote the majority opinion, which was joined by the Chief Justice and the four liberal justices. Justice Alito and Justice Kavanaugh each wrote dissents, with Justice Thomas joining Alito's dissent. [...] As someone who had much higher expectations for Gorsuch (and for the Chief Justice), I'm sorry to say that I completely agree with Alito.
Justice Gorsuch Just Opened Pandora's Box. Justice Neil Gorsuch, in his majority opinion in Bostock v. Clayton County, has decreed that the anti-discrimination protections afforded to women under Title VII of the CRA must be extended to gays, lesbians, and the transgendered, because all of these are discrimination "on the basis of sex." This is not a narrow ruling that just means you can't fire a person for being gay. Extending civil rights law to protect a whole new category carries with it a host of ancillary protections. Harassment is a form of workplace discrimination. An employee can't be subjected to a "hostile work environment" because of their membership in a protected class. Under Bostock, an LGBT employee could allege a hostile work environment if a coworker expressed the wrong opinion about Prop 8 or said he believed a person's sex is determined at birth. Some employers are already justifying firing workers who won't use someone's preferred pronouns because discrimination law requires it. Misgendering, they say, is harassment.
Alito: Court's 'Preposterous' Trans Ruling Threatens Religion, Speech, Privacy, and Safety. On Monday [6/15/2020], the U.S. Supreme Court ruled that discrimination on the basis of sex includes discrimination on the basis of sexual orientation and gender identity in the case of Bostock v. Clayton County (2020). In a powerful dissent joined by Justice Clarence Thomas, Justice Samuel Alito condemned the ruling as "preposterous" and betraying "breathtaking" arrogance. He noted that Congress has tried and repeatedly failed to amend Title VII of the Civil Rights Act of 1964 in just this fashion and that no one interpreted the law this way until 2017. In this decision, as in Roe v. Wade (1973) and Obergefell v. Hodges (2015), the Supreme Court usurped the power of Congress by creating "legislation."
Scalia Rolling Over in His Grave: Gorsuch Leads 'a Brute Force Attack on Our Constitutional System'. On Monday [6/15/2020], the U.S. Supreme Court unilaterally redefined "sex" in federal law to mean "sexual orientation" and "gender identity." In Bostock v. Clayton County (2020), a 6-3 majority ruled that discrimination on the basis of sexual orientation or gender identity violates Title VII's prohibition on sex discrimination. While a technical error has made the ruling inaccessible, the ruling represents an utter rejection of the original meaning of the term "sex" in federal law, twisting it to mean something Congress cannot have intended in 1964. Justice Neil Gorsuch, long considered an originalist, wrote the Court's opinion, with which left-leaning Justices Stephen Breyer, Ruth Bader Ginsburg, Elena Kagan, and Sonia Sotomayor joined. Chief Justice John Roberts also joined Gorsuch's opinion, while Justices Samuel Alito, Clarence Thomas, and Brett Kavanaugh dissented.
Why Trump's Supreme Court appointee Neil Gorsuch just protected LGBTQ rights. Justice Neil Gorsuch, President Donald Trump's first nominee to the Supreme Court, delivered an opinion Monday [6/15/2020] that will change how more than 7 million LGBTQ individuals will live and work in the United States. It is a watershed moment from an unlikely author that means gay, lesbian and transgender workers are protected by federal civil rights law. It is a stunning defeat for judicial conservatives who worked to ensure Gorsuch's nomination and Republicans, including Donald Trump, who stymied President Barack Obama's nominee for the Supreme Court, liberal Merrick Garland in 2016. The ruling puts Gorsuch in the history books. Title VII of the Civil Rights Act, Gorsuch wrote, which bars discrimination "because of sex," also covers claims based on sexual orientation and gender identity
Liberal Groups Endorse Plan to Expand Supreme Court to 11. Several prominent liberal groups are joining the push by some Democrats to expand the Supreme Court to eleven justices, a move designed to eliminate the Court's current 5-4 conservative majority.
The 7 most anticipated Supreme Court decisions. The Supreme Court is expected to hand down several blockbuster opinions in the next few weeks as one of the most politically volatile terms in recent memory draws to a close. The hot-button issues awaiting decisions include fights over abortion, Electoral College procedures, LGBT rights in the workplace, the deportation status of nearly 700,000 young undocumented immigrants and the fate of President Trump's tax returns. With the rulings arriving less than five months before Election Day, closely divided decisions — particularly those that may fall along ideological lines — could make control over future court vacancies an even more pressing issue when voters cast their ballots.
Supreme Court rejects church's challenge on mandatory limited attendance. The Supreme Court ruled against a California church that was seeking to overturn the state's limits on attendance. The court ruled 5-4 against the South Bay United Pentecostal Church in Chula Vista, California, with Chief Justice John Roberts joining the four liberal Justices. The church, which says it has crowds of 200 to 300 people, argued that the limitation placed on how many people can attend its services violates its constitutional rights protecting religious freedom. It specifically made an emergency appeal so that it would have a ruling before services were scheduled to be held on Sunday.
Supreme Court rejects challenge to limits on church services; Roberts sides with liberals. A divided Supreme Court on Friday [5/29/2020] rejected an emergency appeal by a California church that challenged state limits on attendance at worship services that have been imposed to contain the spread of the coronavirus. Over the dissent of the four more conservative justices, Chief Justice John Roberts joined the court's four liberals in turning away a request from the South Bay United Pentecostal Church in Chula Vista, California, in the San Diego area. The church argued that limits on how many people can attend their services violate constitutional guarantees of religious freedom and had been seeking an order in time for services on Sunday. The church said it has crowds of 200 to 300 people for its services.
Roberts joins court's liberals to deny California church's lockdown challenge. A sharply divided Supreme Court late Friday turned aside a church's urgent plea that California's coronavirus lockdown orders are putting an unconstitutional burden on religious freedom. Chief Justice John Roberts sided with the court's liberals in rejecting a San Diego church's request for relief from Gov. Gavin Newsom's most recent directive limiting churches to 25% of their normal maximum capacity, with an absolute maximum of 100 people at any service.
Supreme Court blocks House from Mueller grand jury material. The Supreme Court on Wednesday [5/20/2020] temporarily prevented the House of Representatives from obtaining secret grand jury testimony from special counsel Robert Mueller's Russia investigation. The court's unsigned order granted the Trump administration's request to keep previously undisclosed details from the investigation of Russian interference in the 2016 election out of the hands of Democratic lawmakers, at least until early summer. The court will decide then whether to extend its hold and schedule the case for arguments in the fall. If it does, it's likely the administration will be able to put off the release of any materials until after Election Day. Arguments themselves might not even take place before Americans decide whether to give President Donald Trump a second term.
Supreme Court blocks House from seeing secret Mueller investigation materials. The House will have to wait a little longer to see what's inside secret grand jury materials from the Mueller investigation. The House Judiciary Committee issued an emergency request for the undisclosed files last summer, and Washington, D.C.'s federal appeals court ruled in the committee's favor in March. But the Supreme Court overturned the appeals court's order on Wednesday, likely keeping the materials under wraps through the 2020 election, The Wall Street Journal reports. The Justice Department has tried to keep grand jury testimonies from former Special Counsel Robert Mueller's investigation private. But because the investigation had "stopped short" of drawing conclusions about President Trump's conduct and potential obstruction of justice, the appeals court decided the House Judiciary Committee deserved to see the testimonies, The Washington Post notes. A previous court had also ruled in favor of the committee.
Supreme Court Seems Ready to Allow Crackdown on 'Faithless' Presidential Electors. The Supreme Court on Wednesday heard two cases asking whether members of the Electoral College are bound by laws requiring them to support the winner of the popular vote in their state. Wednesday's [5/13/2020] cases involve six electors who were fined or disqualified because they voted for candidates of their own choosing in 2016, instead of abiding by the result of the vote in their state. The justices seemed ready to say that laws punishing so-called faithless electors are constitutionally permissible. Thirty-two states and the District of Columbia have such laws.
Supreme Court throws out 'Bridgegate' convictions of Bridget Kelly, Bill Baroni. The US Supreme Court on Thursday overturned the convictions of former Chris Christie aide Bridget Anne Kelly and former Port Authority exec Bill Baroni for their involvement in the "Bridgegate" scandal. Kelly was sentenced to 13 months and Baroni to 18 months for the September 2013 traffic jam, in which they reduced the George Washington Bridge to just one lane, causing major backups for four days. The pair was convicted of hatching the plan, along with PA exec David Wildstein, to exact political revenge against Democratic Fort Lee Mayor Mark Sokolich for refusing to endorse Republican New Jersey Gov. Christie's re-election that year.
Chief justice questions if Trump religious liberty law is 'too sweeping'. Supreme Court Chief Justice John G. Roberts Jr. questioned the scope of the Trump administration's religious liberty law, which exempts employers with religious or moral reasons from providing birth control in health insurance plans. His question about the Religious Freedom and Restoration Act (RIFRA) emerged Wednesday in oral arguments conducted via telephone in the Little Sisters of the Poor v. Pennsylvania case. "I wonder why it doesn't sweep too broadly," Chief Justice Roberts asked the federal government's attorney. "It is designed to address the concerns about self-certification, and what the Little Sisters call a hijacking of their plan, but the RIFRA exemption reaches far beyond that."
Supreme Court says unanimous jury verdicts required in state criminal trials for serious offenses. The Supreme Court said Monday [4/20/2020] that unanimous jury verdicts are required in state criminal trials for serious offenses, handing a victory to criminal defendants including petitioner Evangelisto Ramos, who was convicted of murder in Louisiana on a 10-2 vote. Ramos argued that Louisiana's non-unanimous jury provision violated his federal constitutional right to trial by jury and that the law had racist roots meant to diminish the votes of minority jurors.
Supreme Court Will Hold Hearings Via Teleconference and Broadcast Live Audio of Consolidated Trump Financial Cases. The resistance appears to be coming together. In a stunning and historic change of protocol the United States Supreme Court will hold teleconference hearings and will actually live-stream broadcast the oral arguments and questions. Two elements are remarkable. First, that the Supreme Court would permit a livestream broadcast of any hearing is historic. [...] Secondly, and perhaps not coincidentally, during this live-stream session, the Supreme Court is going to be hearing legal arguments after they consolidated a series of cases targeting the financial and business records of President Donald Trump. The various lawsuits against President Trump are not only going to be heard, they are going to be broadcast. It doesn't get much more political than that.
Disorder in the courts: Federal judge blasts Chief Justice John Roberts. A federal judge leveled harsh accusations against Supreme Court Chief Justice John Roberts and the rest of the conservative majority, claiming that they are "actively participating in undermining American democracy." Judge Lynn Adelman of the U.S. District Court for the Eastern District of Wisconsin blasted the Roberts-led court in an article titled "The Roberts Court's Assault on Democracy," set to be published in the Harvard Law & Policy Review.
Black Pastors Group Calls for Censure of Chuck Schumer. The president and founder of the Coalition of African American Pastors (CAAP) has launched a petition calling on the Senate to censure Sen. Chuck Schumer (D-NY) for his threatening remarks against two Supreme Court justices. Rev. William Owens said in a statement that Schumer's remarks against Justices Neil Gorsuch and Brett Kavanaugh promote "violence and hate".
On Schumer: Put up or Shut up. Ever since Senator Chuck Schumer threatened Justices Gorsuch and Kavanaugh on March 4th on the steps of the Supreme Court, calls for Schumer's censure and even expulsion have been rising. But when will the Senate act? [...] Since the unprecedented attack on the Supreme Court, Majority Leader Mitch McConnell has done little else but talk about the event. But as we all know, letting something this heinous go means it will happen more frequently and achieve dangerous results.
Schumer's 'Whirlwind' Threat Is a Sign of an Apostate Nation. "I want to tell you, Justice Kavanaugh and Justice Gorsuch, you have unleashed a whirlwind, and you will pay the price." Is this the statement of a rational man, a political leader who is charged with leading his party in the U.S. Senate? If an ordinary American citizen stood in front of a highly charged partisan crowd on the steps of the Supreme Court building and screamed out these words, they would be charged with threatening, by name, Supreme Court Justices and probably hauled off for questioning by the Secret Service. Well, Charles Schumer — United States senator from the state of New York and Senate minority leader — did exactly that, making specific threats, along with other inflammatory remarks against justices of the highest court in the land.
Why Do the 2020 Democrats Lie About Everything? They lie to their opponents, to the voters, and of course, they lie to each other. For instance, after clearly naming two associate Supreme Court justices, and pledging that they "would not know what hit" them, the highest-ranking Senate democrat claimed he never said what he in fact said. From the same event, a congresswoman with a straight face, said to reporters that "abortions are safer than the extraction of wisdom teeth." Really? Wisdom teeth end up doing more damage than killing a child every time one is performed?
Gun Owners of America uses Alinsky tactics against Sen. Chuck Schumer. Saul Alinsky may have written his Rules for Radicals to give leftists an advantage in the battle for America's soul, but that doesn't mean that the rules aren't tactically wise. On Friday, Gun Owners of America (GOA) decided to put into play several of those rules when it asked to have Sen. Chuck Schumer "red-flagged" as a potentially dangerous person. [...] With that in mind, on Friday, GOA sent a letter to New York governor Andrew Cuomo asking that he enforce New York's newly enacted "Red Flag" law. That law, as Cuomo's website states, "prevents individuals who show signs of being a threat to themselves or others from purchasing or possessing any kind of firearm." The letter repeats Schumer's speech and Chief Justice Roberts's description of it as "threatening" and "dangerous." GOA notes that one of the statutory factors for issuing a red flag order is "a threat ... directed toward ... another person" (2019 NY CPLR §6342). Moreover, it turns out that federal law also makes illegal Schumer's conduct. Thus, GOA informs Cuomo that 40 USC §6134 makes it unlawful to "make a harangue or oration, or utter loud, threatening, or abusive language in the Supreme Court Building or grounds." Schumer made his speech on Supreme Court grounds.
Dem Senator Slams Chief Justice for Scolding Schumer, Implies that 80 Recent SCOTUS Decisions are Illegitimate. Senator Sheldon Whitehouse (D., R.I.) has implied that 80 recent Supreme Court decisions are illegitimate due to the "partisan" nature of the decisions and the influence of Republican donors on the court's composition. "As the architect of an 80-case barrage of partisan, 5-4 decisions for big Republican donor interests, Chief Justice Roberts has zero credibility playing umpire in any political squabble," Whitehouse wrote on Twitter on Wednesday. The senator has since continued to post on the supposed 80 partisan decisions.
Threatening Supreme Court Justices Is Never OK. Congress must censure Democratic Senate Minority Leader Chuck Schumer for threatening two Supreme Court justices outside the U.S. Supreme Court on Wednesday. This should be wholly bipartisan and utterly uncontroversial. No American, no less a high-ranking member of Congress like Schumer, should be permitted to threaten government officials or judges. This type of thuggish behavior displayed by the senior U.S. senator has no place in a civilized society and must be condemned by all.
Schumer, the Supreme Court, and the Mob. On Wednesday morning, the Democrats' Senate minority leader stirred up the mob outside the Supreme Court, unabashedly threatening Justices Neil Gorsuch and Brett Kavanaugh: "I want to tell you, Gorsuch. I want to tell you, Kavanaugh. You have released the whirlwind and you will pay the price," Schumer inveighed. "You won't know what hit you if you go forward with these awful decisions." Inside, the justices were then hearing argument on what ought to be a straightforward abortion case (i.e., one in which the "right" invented in Roe v. Wade is not up for consideration). When called on his menacing remarks, rather than apologize, Schumer brazenly lied about what he had done. This morning, he was still lying — a tepid apology, offered under pressure while insisting that "in no way was I making a threat." In a rule-of-law society, that should rate censure. Case closed. Except it's not closed, because we are not a rule-of-law society. We just pretend to be. In a rule-of-law society, a mob would not gather on the steps of the courthouse in the first place.
Stop Blaming Kavanaugh For Schumer's SCOTUS Threats. When Democratic leader Sen. Chuck Schumer threatened two sitting Supreme Court justices this week, some reporters and other Democratic politicians attempted to downplay his unprecedented attack by falsely claiming he was echoing what Justice Brett Kavanaugh had said during his contentious confirmation hearing. Only the completely ignorant or willfully duplicitous person could make such a comparison. In his hearing, Kavanaugh said he worried about what the partisan attempts to destroy his reputation with horrific and unsubstantiated allegations would mean for the country. Schumer, by contrast, called out Justices Kavanaugh and Neil Gorsuch by name and said that if they didn't achieve his preferred pro-abortion outcome in an upcoming ruling, "you will pay the price" and "you won't know what hit you."
Judges: The Whirlwind, Indeed. What should be done about Senator Schumer's threats to two members of the United States Supreme Court? Everyone agrees that the senator's words were shocking. Mr. Schumer, while addressing an abortion rights rally in front of the Court, issued threats against two justices over a case on abortion. "I want to tell you, Gorsuch, I want to tell you, Kavanaugh, you have released the whirlwind, and you will pay the price," Mr. Schumer boomed. The Baltimore Sun, in an editorial today, reckons that Mr. Schumer was merely echoing Justice Kavanaugh's expression, during his confirmation hearing, of fear of the whirlwind the Democrats had sowed. Mr. Schumer, though, having so pointedly named Justices Gorsuch and Kavanaugh, proceeded to shout a threat that shocked the nation: "You will not know what hit you if you go forward with these awful decisions." This is a moment, in our view, for the Supreme Court to clobber the senator with Title 18 of the United States Code, section 401. Title 18 is the part of our federal law that deals with criminal matters, and section 401 grants courts the power to punish contempt. The Nine could move against the senator sua sponte, meaning on the court's own motion, by issuing a heavy fine, say, or seizing his law license, or worse.
National Pro-Life Leader Calls on Chuck Schumer to Resign. The president of pro-life abortion industry watchdog group Operation Rescue has called upon Senate Minority Leader Chuck Schumer (D-NY) to resign in the wake of his threats Wednesday against Supreme Court Justices Neil Gorsuch and Brett Kavanaugh. "As the highest ranked Democrat in the Senate, it is intolerable that Schumer would issue direct threats by name to two Supreme Court Justices if they did not vote his way on this case," said Troy Newman. "I call on Chuck Schumer to resign. Anyone who can make those kinds of direct and intimidating threats against the nation's highest court is not fit to serve, and probably belongs behind bars":
Sen. Hawley moves to censure Schumer after 'intimidation' of SCOTUS justices. Sen. Josh Hawley, R-Mo., said he plans to introduce a motion to censure Senate Minority Leader Chuck Schumer, D-N.Y., for saying Wednesday that Supreme Court Justices Brett Kavanaugh and Neil Gorsuch would "pay a price" during a pro-choice rally. Schumer singled out President Trump's two nominees to the high court on Wednesday as the justices heard arguments Thursday related to a Louisiana abortion law case.
The Chickens Come Home to Roost for Chuck Schumer. I watched with mild fascination yesterday as the whole "Chuck Schumer threatens SCOTUS Justices Gorsuch and Kavanaugh" story played out, and how the video went viral. Along with that was how Schumer's office issued a statement in which they chastised Chief Justice Roberts' response to the threats and laughably claimed all the backlash was over a "misinterpretation" of Schumer's remarks before launching into whatboutism. [...] The chickens were coming home to roost for the Senate Minority Leader and his fellow Democrats, who have long warned of consequences for Gorsuch and Kavanaugh should they rule "the wrong way" on abortion cases that appeared before the court. All this as they pretended to be staunch defenders of an "independent judiciary."
Mitch McConnell: Schumer Threat to Justices Was 'Unhinged,' 'Shameful'. Senate Majority Leader Mitch McConnell (R-KY) on Thursday tore into Senate Minority Leader Chuck Schumer (D-NY) for threatening Supreme Court Justices Brett Kavanaugh and Neil Gorsuch, calling his remarks "unhinged" and "shameful." "I fully anticipate our colleague would quickly withdraw his comments and apologize," McConnell began in a pointed Senate floor speech. "Instead our colleague doubled down. He tried to gaslight the entire country and stated that he was actually threatening fellow Senators as though that would be much better."
Chuck Schumer: I Didn't Threaten Justices but Used the Wrong Words. Senate Minority Leader Chuck Schumer (D-NY) on Thursday offered a defiant non-apology for threatening Supreme Court Justices Neil Gorsuch and Brett Kavanaugh, conceding that he "shouldn't have used the words I did" while making excuses for the statement and claiming Republicans were "manufacturing outrage" over it.
Schumer's SCOTUS threat was truly unprecedented, then he made it worse. "If, then, the courts of justice are to be considered as the bulwarks of a limited Constitution against legislative encroachments, this consideration will afford a strong argument for the permanent tenure of judicial offices," argued Alexander Hamilton in Federalist No. 78. If we needed a pristine example of why justices are bestowed lifetime appointments and shielded from the intimidation tactics of unethical politicians, Sen. Chuck Schumer has now provided us with one. Speaking to pro-abortion protesters in front of the Supreme Court this week, the Senate minority leader threatened — there's no other way to put it — two sitting justices with repercussions if they uphold a Louisiana law aimed at protecting babies who survive abortions.
Josh Hawley [and] 14 [Other] GOP Senators Move to Censure Chuck Schumer for Threatening Justices. Sen. Josh Hawley (R-MO) introduced a resolution on Thursday, along with 14 Senate Republicans, to censure Senate Minority Leader Chuck Schumer (D-NY) for threatening Supreme Court Justices Brett Kavanaugh and Neil Gorsuch. During a rally in front of the Supreme Court on Wednesday, the Senate minority leader warned that there would be consequences if the two justices voted the wrong way during a case that challenged Louisiana's abortion law.
The Genocide the Supreme Court and Medical Groups Unleashed. There's too much power vested in nine people in black robes. It only takes five justices, though, to make decisions that impact generations. And they've been Supremely wrong, repeatedly. In Dred Scott vs. Sanford, the Supreme Court ruled that slaves were not citizens and, therefore, not afforded constitutional rights. The Civil Rights Act of 1875, both written and passed solely by Republicans, was ruled unconstitutional by the Supreme Court. In Plessy v. Ferguson, despite the Reconstruction Amendments (13th, 14th and 15th), an arrogant Supreme Court affirmed codified racial discrimination in what should be called Separate and Unequal. In Minor v. Happersett, the majority on the Court refused to recognize a woman's right to vote. Roe v. Wade and Doe v. Bolton are in a long tradition of tragic rulings from America's highest Court. We keep hearing cries of "Precedent!" from those who want to ignore the devastation that egregious Supreme Court opinions have had on our society. And now, with nearly 62 million human lives aborted from existence by "precedent," it's long overdue to address the conjuring of rights out of thin air by those donning those black robes.
'You will pay the price': Schumer threatens Kavanaugh and Gorsuch as Supreme Court hears abortion case. Sen. Chuck Schumer took aim at Supreme Court Justices Brett Kavanaugh and Neil Gorsuch, promising to make them "pay" as the pair is set to rule on abortion regulations. "I want to tell you Gorsuch, I want to tell you Kavanaugh: You have released the whirlwind, and you will pay the price," the New York Democrat said Wednesday at a rally for abortion rights. "You won't know what hit you if you go forward with these awful decisions." The Senate minority leader accused the justices of taking away "fundamental rights" as the Supreme Court is hearing a case about a Louisiana law that regulates abortion providers, which opponents have argued unconstitutionally limits abortion access by placing an undue burden upon those seeking abortions.
GOP senator pushes to censure Chuck Schumer for threatening Supreme Court justices. Sen. Josh Hawley is introducing legislation to censure Senate Minority Leader Chuck Schumer for saying that two Supreme Court justices "will pay the price" for voting against the wishes of abortion advocates. Hawley, a Republican from Missouri, announced on Twitter Wednesday that he plans to introduce a motion to censure the New York Democrat for threatening Justices Neil Gorsuch and Brett Kavanaugh. Hawley's announcement follows a torrent of criticism toward Schumer for his comments, including from Chief Justice John Roberts. "I would call on Schumer to apologize, but we all know he has no shame. So tomorrow I will introduce a motion to censure Schumer for his pathetic attempt at intimidation of [the] Supreme[ ]Court," Hawley wrote.
Chuck Schumer, Wise Guy. [Scroll down] All of this came to mind Wednesday [3/4/2020] when I heard Sen. Schumer's address to the pro-abortion rally on the steps of the Supreme Court in which he warned Justices Gorsuch and Kavanaugh that "you will pay the price. You won't know what hit you if you go forward with these awful decisions." The "awful decisions" was an obvious reference to how the justices are expected to rule in the abortion rights case that had occasioned the rally. Is there any way to interpret these astounding remarks other than as an endeavor to influence a judicial proceeding? Schumer may have been threatening Gorsuch and Kavanaugh with impeachment. But for purposes of establishing criminal liability that is irrelevant. Under the statute, a threat of any kind made to influence their decisions in an ongoing case is prima facie proof of obstruction of justice. No threat of violence is required. The senator's actions warrant either an arrest or, at the very least, a formal investigation for endeavoring to obstruct justice. They could also warrant similar treatment for threatening to assault the justices, since on its face Schumer's remark regarding "what hit you" could also be understood as a threat of violence or as an incitement to the crazies who infest our bitterly divided society to take action.
Roberts chides Schumer for 'dangerous' remarks on 2 justices. Chief Justice John Roberts on Wednesday criticized as "inappropriate" and "dangerous" comments that Senate Democratic leader Chuck Schumer made outside the Supreme Court earlier in the day about Justices Neil Gorsuch and Brett Kavanaugh.
Chief Justice John Roberts Condemns Schumer's Threat: 'Inappropriate' and 'Dangerous'. Supreme Court Chief Justice John Roberts on Wednesday condemned Senate Minority Leader Chuck Schumer (D-NY) for threatening fellow Supreme Court Justices Neil Gorsuch and Brett Kavanaugh. "Justices know that criticism comes with the territory, but threatening statements of this sort from the highest levels of government are not only inappropriate, they are dangerous," Roberts said in a rare statement. "All Members of the Court will continue to do their job, without fear or favor, from whatever quarter." Earlier Wednesday, Schumer warned in a speech outside the Supreme Court that Gorsuch and Kavanaugh will "pay the price" if they vote against pro-choice advocates in a major abortion case.
Schumer unloads on Gorsuch, Kavanaugh at abortion rights rally: 'You will pay the price!' A fired-up Senator Minority Leader Chuck Schumer, D-N.Y., appeared to issue a vague warning toward Supreme Court Justices Neil Gorsuch and Brett Kavanaugh on Wednesday, during a rally held as the court heard arguments in a high-profile abortion case. At the rally hosted by the Center for Reproductive Rights, Schumer noted that the case, June Medical Services LLC v. Russo, is the first "major" abortion case since President Trump's court picks have been on the bench. The dispute, dealing with restrictions over who can perform abortions, involves a Louisiana law similar to one in Texas that the court ruled unconstitutional in 2016, before either Trump justice was on the Supreme Court and before conservatives held a 5-4 majority.
ABA 'deeply troubled' by Schumer's Supreme Court comments. The American Bar Association said on Wednesday that it is "deeply troubled" by a comment made by Senate Minority Leader Chuck Schumer, D-N.Y., outside the Supreme Court that many said was a direct threat to two sitting justices. Schumer was at a rally over a high-profile abortion case while the case played out inside. Schumer named Associate Justices Neil Gorsuch and Brett Kavanaugh and, in an impassioned speech, said, "You have released the whirlwind, and you will pay the price. You will not know what hit you if you go forward with these awful decisions."
Josh Hawley to File for Censure of Chuck Schumer Over Supreme Court Threats. Sen. Josh Hawley (R-MO) announced Wednesday night he plans to file a censure motion against Senate Minority Leader Chuck Schumer (D-NY) for threats he made against Supreme Court Justices Neil Gorsuch and Brett Kavanaugh at a pro-choice rally in front of the Court as inside the justices heard arguments on a Louisiana abortion law case, June Medical Services LLC v. Russo.
Chuck Schumer digs in with absurd, gaslighting defense after Chief Justice John Roberts issues rare public rebuke. It takes a lot for the Chief Justice of the United States to issue a public rebuke to an elected official. On Wednesday [3/4/2020], Senate Minority Leader Chuck Schumer, who is digging in against the rebuke, provided that lot. "This morning," Justice John Roberts said in a statement made available to media, "Senator Schumer spoke at a rally in front of the Supreme Court while a case was being argued inside." Roberts' statement then refers to a threat Schumer issued that day against conservative Justices Neil Gorsuch and Brett Kavanaugh, both of whom have signaled a willingness to uphold a Louisiana law requiring doctors who perform abortions to acquire hospital admitting privileges.
Trump says Schumer should 'pay severe price' for Supreme Court threat. President Donald Trump said that Sen. Chuck Schumer should "pay a severe price" for threatening two Supreme Court justices on Wednesday who are hearing a Louisiana abortion case. "There can be few things worse in a civilized, law abiding nation, than a United States Senator openly, and for all to see and hear, threatening the Supreme Court or its Justices," Trump wrote on Twitter Wednesday night. "This is what Chuck Schumer just did. He must pay a severe price for this!" Earlier Wednesday, at a rally on the steps outside the high court, Schumer warned Justices Neil Gorsuch and Brett Kavanaugh would "pay the price" if they voted to restrict abortion rights.
Supreme Court Narrowly Decides That Identity Theft by Illegal Aliens Is Actually a Crime. Small wonder that we are a magnet for illegal immigration. [...] In 1986, Congress enacted the Immigration Reform and Control Act (IRCA). IRCA made it illegal to employ illegal aliens, established an employment eligibility verification system, and created various civil and criminal penalties against employers who violate the law. As part of this law came the Form I-9, known to anyone who has applied for a job in the past 30 years. This is a largely toothless provision that does nothing to deter anyone from employing an illegal nor does it pose any noticeable bar to the ability of illegals to work, but it has created a booming black market in I-9 friendly documents. What could have been a fairly formidable tool to deter longterm illegals has been effectively gutted by the courts.
Divided Supreme Court rules illegal immigrants can't be shielded from ID theft prosecution. A divided Supreme Court ruled Tuesday that illegal immigrants who use someone else's information when filling out tax forms for employment can face criminal charges, despite federal laws that liberal justices claim should prohibit such cases. The Immigration Control and Reform Act (IRCA) makes it a federal crime to lie on the I-9 work authorization form, while limiting how the false information can be used. Federal law also says information "contained in" the I-9 cannot be used for law enforcement other than specified exceptions — but the Supreme Court ruled that if workers use the same information in tax documents, they can face charges.
President Trump Calls on Sotomayor and Ginsburg to Recuse Themselves From His Supreme Court Cases. President Trump responded from India via Twitter on Tuesday local time to a scathing dissent by Justice Sonia Sotomayor released Friday [2/21/2020] that accused the conservative majority justices on the Supreme Court of being biased in favor of the Trump administration. Trump called on Sotomayor and her fellow Trump-hating Justice Ruth Bader Ginsburg to recuse themselves from cases involving or relating to him.
The Democrats' Notorious RBG Maneuver. The 86-year-old Supreme Court Justice Ruth Bader Ginsburg has in recent years become the most beloved luminary serving in government to rank-and-file, left-leaning Democrats, even gaining a trendy new nickname, "The Notorious RBG." [...] After a laudable, years-long struggle, Ginsburg is now cancer-free. She has sat on the highest court in the land for more than a quarter century, and is renowned for her work ethic and her love for her work. If she could be persuaded to announce her retirement, to take effect at the end of the court's current term, it would electrify and focus Trump opponents like nothing that has come before. The 2020 presidential campaign would be changed into something entirely different from what it currently is. Ginsburg's unusual decision would be viewed as a self-sacrificial act, motivated by pure principle.
The Editor says...
How does anyone know Ms. Ginsburg "is now cancer-free," except by taking the word of her publicist? She was not seen at the State of the Union address last week.
Supreme Court Allows Trump To Enforce Rule Barring Green Cards For Migrants Using Social Services. The Supreme Court Monday [1/27/2020] allowed the Trump administration to enforce a new rule that will deny green cards to foreign nationals who use taxpayer-funded social services, lifting lower court injunctions that blocked the change. The 5-4 vote followed familiar ideological lines, with Justices Ruth Bader Ginsburg, Stephen Breyer, Sonia Sotomayor, and Elena Kagan in dissent. The justices did not give reasons for lifting the injunctions — as is typical of orders of this nature — though Justice Neil Gorsuch released a concurring opinion urging the Supreme Court to curtail the use nationwide injunctions, which Justice Clarence Thomas joined.
McConnell's Supreme Court Tactics: Politics 101. When Justice Antonin Scalia died in early 2016, Senate majority leader Mitch McConnell vowed to keep the resulting Supreme Court vacancy open through the elections that November. If a vacancy on the Court arises in 2020, McConnell promises that the Senate will move promptly to confirm President Trump's nominee. Many folks on the left and in the media are accusing McConnell of the dreaded sin of hypocrisy. But his positions are in fact entirely consistent. A defining feature of the 2016 battle over the Scalia vacancy was that President Obama and the Senate majority were from opposing political parties. That was the first vacancy since 1991 — when Justice Thurgood Marshall retired while George H. W. Bush was president — in which a president of one party would be making a nomination to a Senate controlled by the opposing party.
On Pelosi's Impeachment Stunt and Destiny's Fork in the American Road. [Scroll down] So the Democrats emasculated one Bush into imposing the taxes he promised never to levy and the other Bush into continuing the disastrous home-lending redlining laws that absolutely guaranteed [...] that there would be a catastrophic economic collapse emanating from the real estate market. They saw one GOP Supreme Court choice after another fall into line with the Democrats — Brennan, Stevens, Powell, Blackmun, Souter — or face destruction. Even Reagan Justices Sandra O'Connor and Anthony Kennedy, both fair jurists, never reflected the rock-ribbed conservative intentions and values voiced and voted by Reagan voters. So those justices, all appointed to SCOTUS because conservative Republican Americans elected presidents who campaigned on conservative promises, were spared personal destruction while they cast decisive votes on a wide series of critical Supreme Court cases that changed, degraded, and often corrupted the very core values of the American social fabric that the electorate majority had voted to protect.
Trump is not a lawyer - Ruth Bader Ginsburg. Supreme Court Justice Ruth Bader Ginsburg has responded to Donald Trump's call for the top US court to stop impeachment. "The president is not a lawyer," she told the BBC in an exclusive interview, adding: "He's not law trained." In a wide-ranging conversation, she also said poor women were victims of restrictive abortion access.
Bloomberg: When I'm President I'll Pack the Supreme Court With Anti-Gun Justices. Former New York City Mayor Michael Bloomberg has made a name for himself as a leader in the gun control movement. After all, he funds Everytown for Gun Safety and Moms Demand Action. Naturally, Bloomberg has decided to use his anti-Second Amendment stance to make himself a top tier in the 2020 Democratic field. In an opinion piece in the Chicago Tribune, Bloomberg rehashed his stance on the Supreme Court case known as New York Rifle and Pistol Association v. New York City. At the time, NYC prohibited gun owners from transporting firearms outside of city limits, even if the resident was taking them to a gun range. Once the New York Rifle and Pistol Association, along with the National Rifle Association (NRA) and Second Amendment Foundation (SAF )challenged the city's ordinance in a court of law, NYC decided to rescind the law. The city tried to get the lawsuit thrown out, saying the point is now moot because the ordinance no longer exists. Gun rights advocates, however, are worried the city will reimplement the law if the Supreme Court decides to throw out the case.
Supreme Court refuses to allow federal executions carry on — for now. The Supreme Court denied the Trump administration's request to override a district court ruling halting federal executions that were scheduled for this week. The order, issued Friday, allows the litigation to carry on at the federal appeals court for now while the executions are stalled.
Supreme Court temporarily blocks Trump administration request to resume federal executions. The Supreme Court on Friday [12/6/2019] blocked the Trump administration from resuming federal executions in an attempt to put to death four convicted murderers. The executions were slated to begin next week. The justices upheld a lower court ruling imposed last month after inmates claimed executions by lethal injection would violate federal law. U.S. District Judge Tanya Chutkan in Washington, D.C., had imposed a temporary injunction on executions, saying they would conflict with federal law. That ruling was upheld Monday by a three-judge federal appeals court.
Supreme Court weighs whether homeless people have a constitutional right to sleep on the sidewalk. The Supreme Court has taken up the question of whether homeless people have the constitutional right to sleep on the sidewalk. The justices on Friday [12/6/2019] were scheduled to hear an appeal of a controversial ruling last year by the 9th Circuit Court of Appeals, according to the Los Angeles Times. In the ruling, Judge Marsha Berzon banned cities from prosecuting homeless people for living on the streets.
It's Time for Term Limits on the Supreme Court. Liberals live in a state of semi-panic that [Supreme Court Justice Ruth Bader] Ginsburg will leave the court and give President Trump the chance to name a third Supreme Court justice and put a conservative stamp on the body for a generation. Any Senate confirmation battle would be the mother of all political brawls, easily eclipsing the one last year surrounding Brett Kavanaugh. It's time to end the unseemly position that the anachronism of life tenure for Supreme Court justices has put the country in. It's a good thing that modern medicine is extending the lives of everyone, including Supreme Court justices. But the time has come to remove the incentives that make justices serve until they drop dead or are gaga. It's time to put term limits on the Supreme Court.
Clarence Thomas Says 'The Modern-Day Liberal' Tried To Stop His Career. Supreme Court Justice Clarence Thomas doesn't blame white supremacists for trying to derail his career — he points his finger at "the modern-day liberal," a group that includes former Vice President Joe Biden. Thomas expounds on this theme in the upcoming documentary, "Created Equal: Clarence Thomas in His Own Words," a copy of which was obtained by ABC News Thursday. He spends a lot of time talking about his still controversial confirmation to the Supreme Court by the Senate Judiciary Committee — whose chairman at the time was Democratic Delaware Sen. Biden.
Supreme Court shields Trump financial records from House Democrats' subpoena. The Supreme Court announced Monday evening [11/25/2019] that the president's accounting firm doesn't have to hand over his tax returns sought by House Democrats — for now — issuing a temporary injunction. The chief justice granted the Trump administration's request to put the House subpoena for the records on hold until the president files his appeal with the court by Dec. 5. Should the court agree to hear the case, the injunction will stay in place preventing House Democrats from getting their hands on the documents for their impeachment probe. But if the court declines to hear the president's challenge, the injunction would expire and the documents would be turned over.
Media Propaganda About Ruth Bader Ginsburg's Health Is Irresponsible. Ginsburg is clearly a strong woman in the personality sense. That is beside the point. If she were not a far-left political actor, Ginsburg's health record would not be lipsticked. It's also much worse than Trump's. She's 13 years older than Trump, who is 73. She's been falling asleep in oral arguments since 2006. Ginsburg also fell asleep during two of President Obama's State of the Union Addresses and Pope Francis's speech to Congress in 2015. Ginsburg can barely get herself off the Supreme Court dais, another long-time situation. She is typically extremely hard to hear when she speaks from the bench. Two weeks ago, she missed oral arguments due to a stomach bug. She also missed two weeks of oral arguments in January due to lung cancer surgery. The first two times she was treated for cancer, in 1999 and 2009, she didn't miss a day of oral arguments. In August, Ginsburg was treated with three weeks of radiation for a different cancer, pancreatic. Last November, she fell and broke three ribs. Ginsburg is simply and clearly not in good health.
Is John Roberts Up To a Senate Impeachment Trial? When the Democrats pass their impeachment resolution, the sordid spectacle will move to the Senate, where Chief Justice John Roberts must preside over a trial that will determine if the president has actually committed an offense that would justify his removal. This should worry the president and his supporters. Historically, the role of the chief justice in these proceedings has been somewhat symbolic. Yet it will be necessary for him to rule on a number of important motions. The weak Democratic case against President Trump, combined with the Democrats' penchant for manipulating procedural rules, all but guarantees that they will inundate Roberts with a tsunami of parliamentary maneuvers that he may be ill-equipped to manage. During the Clinton impeachment trial, Chief Justice William Rehnquist was forced to spend entire days refereeing disputes over frivolous Democratic motions.
Chief Justice Roberts now dragged into Democrat impeachment process. The target of Democrat zealots in the House of Representatives led by Speaker Pelosi and Adam Schiff is to impeach and remove President Donald Trump. Sadly for him the person they have a much higher probability of removing from his lofty perch is Chief Justice John Roberts. The famous cliché; the law of unintended consequences is fast approaching. [...] He and he alone "owns" the FISC court so he must be held accountable for any court actions. However, even if he has acted to clear up the egregious frauds, so far only a few publically reported with probably more to come, he has a significant problem if the Democrat Leaders of the House vote out Articles of Impeachment for a senate trial of our President.
Supreme Court Temporarily Halts Order to Turn Over Trump's Tax Returns to Congress. The U.S. Supreme Court on Monday [11/18/2019] temporarily blocked a ruling requiring an accounting firm, Mazars USA, to hand over President Donald Trump's tax returns to Congress. Chief Justice John Roberts's order contains no hint about how the Supreme Court ultimately will resolve the dispute.
Ruth Bader Ginsburg misses Supreme Court arguments due to illness. Supreme Court Justice Ruth Bader Ginsburg was absent from oral arguments before the high court Wednesday morning due to an illness. The court said Ginsburg, 86, remained home because of a stomach bug. While not having the opportunity to question attorneys during the arguments, she will be involved in deciding the cases. "Justice Ginsburg is unable to be present today. She is indisposed due to illness, but she will participate in the consideration and decision of the cases on the basis of the briefs and the transcripts or recordings of the oral arguments," Chief Justice John Roberts said from the bench.
The Supreme Court Looks Ready To Uphold Trump's Bid To End DACA. A closely divided Supreme Court seemed inclined to uphold President Donald Trump's bid to terminate the Deferred Action for Childhood Arrivals (DACA) program during arguments Tuesday morning [11/12/2019]. The high court's conservative majority appeared to think the administration has provided an adequate basis for ending the policy, and in spaces even wondered if the courts have power to review the dispute. Chief Justice John Roberts noted that the high court in 2016 affirmed a decision of the 5th U.S. Circuit Court of Appeals that blocked an Obama-era amnesty program called Deferred Action for Parents of Americans (DAPA). The 5th Circuit's ruling and the Supreme Court's subsequent affirmance provide a sufficient rationale for ending DACA, which is largely similar to DAPA, Roberts suggested.
Justice Department to SCOTUS: We Can't Give Work Permits to DACA Migrants. The Department of Justice (DOJ) has quietly told the Supreme Court that it does not have the legal authority to issue work permits to Deferred Action for Childhood Arrivals (DACA) migrants and has effectively invited the court to block the annual award of more than one million work permits to migrants. "If the [judges] make a decision, it would have a huge impact," said John Miano, a lawyer who is seeking to end two of the many work-permit programs. Prior presidents created the two programs, which allow U.S. companies and Indian managers in the United States to annually hire roughly 150,000 Indians for technology jobs sought by American graduates.
Double Standard: Liberals Demand Conservative Justices Recuse Themselves From LGBT Cases. Last week, the liberal group Take Back the Court sent a letter to Supreme Court Justices Samuel Alito and Brett Kavanaugh, demanding they recuse themselves from three cases involving LGBT issues. Alito and Kavanaugh had met with Brian Brown, president of the National Organization for Marriage (NOM), which has filed an amicus brief in three cases involving alleged employment discrimination against gay and transgender people. Yet liberal justices have also met with academics who had filed amicus briefs in active Supreme Court cases.
Kentucky Supreme Court Tosses Suit against Designer that Refused to Print Gay Pride T-Shirts. Kentucky's Supreme Court on Thursday threw out a lawsuit against a print shop owner who refused to make an LGBT Pride T-shirt because doing so would violate his conscience. The high court ruled that the plaintiff, Lexington's Gay and Lesbian Services Organization, lacked standing in the case since the city's gay rights law is meant to protect individuals rather than activist groups. "While this result is no doubt disappointing to many interested in this case and its potential outcome, the fact that the wrong party filed the complaint makes the discrimination analysis almost impossible to conduct, including issues related to freedom of expression and religion," the court's decision read.
Justice Ginsburg gets $1 million prize for liberal court decisions. Supreme Court Justice Ruth Bader Ginsburg scored a $1 million dollar prize thanks to her history of liberal court decisions, though the organization making the payout has a worrying background. The Berggruen Institute announced Wednesday that its 2019 Berggruen Prize for Philosophy & Culture would go the Ginsburg, essentially because she's used her position to advance liberal causes. "Throughout her career, Ginsburg has used the law to advance ethical and philosophical principles of equality and human rights as basic tenets of the USA," institute founder Nicolas Berggruen said in a news release.
Supreme Court Justice Ruth Bader Ginsburg awarded $1 million prize for 'thinkers' in philosophy and culture. Add a prestigious $1 million "thinkers" award to Supreme Court Associate Justice Ruth Bader Ginsburg's fame and fortune. The 2019 Berggruen Prize for Philosophy & Culture is given annually to "thinkers whose ideas have profoundly shaped human self-understanding and advancement in a rapidly changing world." Ginsburg, 86, who has served 26 years on the Supreme Court and survived four bouts with cancer, was chosen from more than 500 nominees, later winnowed down to five. She is the fourth recipient of the prize and the third woman.
The Editor says...
It never looks good for a judge to get a million-dollar gift, especially when the justification is a bunch of mealy-mouthed claptrap. If it was a county judge in Doorknob, Oklahoma, getting a million-dollar prize, or even a hundred-dollar prize, you could reasonably be suspicious.
Supreme Court Justices Enjoy A Lot Of Privately Funded Travel. Now Lawmakers Want To Know Who's Paying. A new bill would require Supreme Court justices to disclose more information about privately funded travel, a lavish and much-enjoyed perk of service on the nation's highest judicial tribunal. Federal judges have relatively cursory reporting requirements for reimbursed travel as compared to the other branches of government. The justices are only obligated to provide the source and a brief description of reimbursements, but need not report dollar amounts or any gift received as "personal hospitality."
The Supreme Court Is Poised to Strike Down a Major Obama-Era Agency. Last week, the Supreme Court agreed to hear what could end up being the most consequential case of the term — in a year where the justices are already taking up employment discrimination, the Second Amendment, abortion, DACA, school choice, and other issues of higher political salience. In Seila Law LLC v. Consumer Financial Protection Bureau, the Court will decide the constitutionality of an agency long criticized not just by the business community and free-market-oriented politicians but also by constitutional scholars who see major problems with its structure as a single-director agency seemingly unaccountable to the president or anyone else.
Title VII, gay rights, and Justice Gorsuch. Chief Justice Roberts at times seems influenced by a desire to guide the Court through tough political waters. Justice Thomas is insistent on getting back to the original Constitution and has considerably less respect for precedent than the other Justices do. Justice Gorsuch is a textualist. I don't know yet what Justice Kavanaugh is, but during his first year on the Court it looked like, having gone through a brutal confirmation process, he wanted to "lay low."
Why Sex And Gender Are Not Two Different Things. Last week, the Supreme Court took up hearings on three cases in oral arguments that all came down to the definition of the word "sex." Does it refer to male and female, as it always has in all cultures without the slightest question or debate? Or does it now include the ever-expanding rainbow of all these new gender identities and sexual orientations that people can apparently be, those we are told are totally normal and natural to human experience, but only now are recognizing and making up words for? Such silly questions have now made it all the way the highest levels of our justice system. This is indeed concerning.
Can Ruth Bader Ginsburg Make a Man Into a Woman? Judging by the argument that one lawyer made to Justice Neil Gorsuch, Tuesday must have been an interesting day in the restrooms at the U.S. Supreme Court. "There are transgender lawyers in this courtroom today," attorney David Cole told Gorsuch. "Of course, there are," said Gorsuch. Cole was in the court to represent a biological male who decided in 2013 that he "identified" as a female — and who then fought a family-owned Michigan-based funeral home all the way to the Supreme Court because it fired him as a funeral director when he indicated that he intended to start dressing as a female at work.
[The] Supreme Court [has been] asked to decide if Electoral College voters are bound to the state's winner. If the Supreme Court agrees to hear the appeal of the so-called "faithless electors," it could thrust the justices into yet another high-passion political fight in the heat of the 2020 presidential election. It comes as some predict that the volatile political atmosphere and disputes over redistricting could further emphasize the role of the Electoral College in the upcoming election. "The issue is undeniably important: presidential elections in the Electoral College will be increasingly close, and could literally turn upon whether electors have a constitutionally protected discretion," Lawrence Lessig, a lawyer for the so-called "faithless electors," told the justices in court papers.
Supreme Court takes up cases about LGBT people's rights. A seemingly divided Supreme Court struggled Tuesday [10/8/2019] over whether a landmark civil rights law protects LGBT people from discrimination in employment, with one conservative justice wondering if the court should take heed of "massive social upheaval" that could follow a ruling in their favor.
Gorsuch on Expanding Sex Discrimination Protections to Cover Trans, Gay Individuals: 'Massive Social Upheaval'. The United States Supreme Court on Tuesday heard oral arguments on two cases that ask the court to expand the sex discrimination protections in the Civil Rights Act of 1964 to cover homosexuals and transgenders. Bostock v. Clayton County Georgia and Altitude Express, Inc. v. Zarada were brought by homosexual men who claimed they were fired because of their sexual orientation.
Supreme Court Refuses to Drop 2A Case, Despite NYC Pleas. The Supreme Court on Monday [10/7/2019] signaled their willingness to hear the first Second Amendment case in a decade, known as New York State Rifle and Pistol Association v. New York City. The High Court denied a motion, filed by the City, asking for the case to be dropped because of its mootness. NYC filed the motion because they changed the law in question since the case was first brought about. In their mind, the law changes addresses any concerns the plaintiffs have. The justices scheduled oral arguments for December, telling both sides the "question of mootness will be subject to further consideration, and the parties should be prepared to discuss it."
Supreme Court Agrees to Hear First Abortion Case With Kavanaugh. The U.S. Supreme Court will hear its first abortion case with a new conservative majority, agreeing to rule on a Louisiana law that requires doctors who perform the procedure to get admitting privileges at a local hospital. The law is similar to a Texas measure the court struck down in 2016, before Justice Brett Kavanaugh replaced the now retired-Justice Anthony Kennedy. The court's new composition means it could overturn the 2016 ruling, or at least limit its impact to the particular circumstances of Texas.
U.S. top court to hear Trump bid to revive law against encouraging illegal immigration. The U.S. Supreme Court on Friday [10/4/2019] agreed to hear a bid by President Donald Trump's administration to resurrect a federal law that makes it a felony to encourage illegal immigrants to come or stay in the United States after it was struck down by a lower court as a violation free speech rights.
Hands Off the Electoral College. Everyone had that one annoying childhood friend who would spoil every game. [...] Nothing better typifies the Left's disdain for our institutions today. The Supreme Court was fine until President Trump appointed two constitutionalist justices, but now, Democrats are openly supporting court-packing to ram their agenda through.
SCOTUS to Hear 3 LGBTQ Cases, Determine if Sex Should Include Sex Orientation in Title VII. When the Congress passed the 1964 Civil Rights Act it was principally concerned about undoing racial discrimination against African Americans; to a lesser extent, it was aimed at providing equal protection for women. Title VII bans discrimination on the basis of race, color, religion, sex, or national origin. LGBT activists have long argued that the category of sex should include sexual orientation. Oral arguments for three related cases will be heard next month by the U.S. Supreme Court. One case, Altitude Express v. Zarda, involves a skydiving instructor who was fired when a customer found out he was a homosexual. The USCCB is not involved in this case. R.G. & G.R. Harris Funeral Homes v. EEOC and Aimee Stephens, involves a male funeral home director who was fired when he said he was going to dress like a woman while working at a Christian funeral home. Bostock v. Clayton County turns on a decision to fire a child welfare services coordinator when the employer learned he was a homosexual.
'Do you really want me to rule the country?': Gorsuch argues Supreme Court should not dictate everyone's life. Supreme Court Justice Neil Gorsuch said he believes that the American people should not want him or his colleagues to rule the country, but should rather have the "battle of ideas" play out in the political arena. "We wrote a constitution. We put down what we wanted to put down in it. We can amend it when we wish. And it is not up to nine people to tell 330 million Americans how to live," Gorsuch said in an extended interview with CNN Tuesday [9/10/2019].
Biden: I Would Appoint Barack Obama to the Supreme Court. 2020 Democrat hopeful Joe Biden told "The Late Show" host Stephen Colbert Wednesday night that he would nominate his former 'boss' Barack Obama to the US Supreme Court. "Would you appoint him [Obama] to the Supreme Court?" Colbert asked Biden. "H***... yes!" Biden said with a creepy grin on his face. "I don't think he'd do it but... he's fully qualified."
The Editor says...
Barack Obama would leap at the chance to sit on the Supreme Court, even for one day. His nomination would almost be worth the immense risk, just to let the public see Obama get interrogated in his Senate confirmation hearings about his phony Social Security number, his dubious birth certificate, his invisible attendance at Columbia University, his Indonesian citizenship, his long lists of lies and scandals, and many other aspects of his life that are highly suspect. Unfortunately, the risk is too great, because the Republicans would probably let him skate, rather than be accused of racism and Islamophobia. As for Mr. Obama's qualifications, his record speaks for itself.
Democrats are now trying to blackmail the Supreme Court. In 2017, Senate Minority Leader Charles Schumer (D-NY) accused President Trump of showing "a disdain for an independent judiciary that doesn't always bend to his wishes" after Trump criticized a judge who ruled against his administration. Senate Democrats, by contrast, have launched an unprecedented attempt to actually bend the Supreme Court to their wishes — threatening to restructure the court if the justices do not rule as they see fit. The threat came over the Supreme Court's decision to hear a challenge to New York City's restrictions on how gun owners who have residential permits can transport their guns. In a legal brief, Sens. Sheldon Whitehouse (D-RI), Mazie Hirono, (D-Hawaii), Richard Blumenthal (D-Conn.), Richard Durbin (D-Ill.) and Kirsten Gillibrand (D-NY) argued that the case against New York was moot because it had rescinded the gun regulations in question. Fair enough. It is perfectly fine for the senators to make legal arguments in a legal brief to the court.
Democrats Brace for War over Supreme Court. The Left is already manning the barricades. The resulting hearing will make the Brett Kavanaugh fiasco, a dark moment in U.S. history, look like a charming affair. In the event that President Donald Trump nominates Amy Coney Barrett, as many conservatives hope, this hearing will be a preview of the Apocalypse. The rise of hatred on the Left, aided by years of persistent media bias and leftist propaganda, has created a rolling tidal wave of hate ready to crash on shore in violence. The two most likely triggering events that would cause that crash are the re-election of President Trump and the next opening on the Supreme Court, particularly to fill Ginsburg's seat. It's an increasingly good bet that the latter will come first.
Democrat Senator Sheldon Whitehouse Hit with Bar Complaint For 'Openly Threatening' Supreme Court. Conservative watchdog group Judicial Watch hit Democrat Senator Sheldon Whitehouse with a bar complaint after he openly threatened the Supreme Court. A couple weeks ago several Democrat Senators issued a stunning warning to the Supreme Court — "heal" or face drastic restructuring. The demand came in an amicus brief filed in court two weeks ago by Senators Sheldon Whitehouse (D-RI), Richard Blumenthal (D-CT), Mazie Hirono (D-HI), Richard Durbin (D-Il), and Kirsten Gillibrand (D-NY) regarding New York's current gun laws. Judicial Watch filed a bar complaint and alleged Senator Whitehouse "violated the Rhode Island Rules of Professional Conduct by attacking the federal judiciary and openly threatening the U.S. Supreme Court."
Get Ready For Apocalypse Ruth. Progressives' ghoulish glee over the death of an old man turned into barely constrained panic when, later that day, it was revealed that their heroine Ruth Bader Ginsberg was just treated for pancreatic cancer yet again. Their disgraceful joy at David Koch's passing was yet another reminder of the harsh truth that leftists want you dead or enslaved. [...] Of course, RBG is eager to disarm you, and she would have gotten away with it too if it weren't for those meddling Supreme Court kids who actually read Second Amendment. Her constitutional jurisprudence consists of disregarding what she dislikes that's in the Bill of Rights and making up stuff that's not in it but that she feels — not thinks, feels — should be in it. She's a terrible justice and conservatives would love to see her step down. But our side expressed no delight in her latest suffering comparable to the giddy revelry that greeted Koch's kicking the bucket.
Worries about Justice Ginsburg's health driving the Left to issue threats against Trump replacing her. [T]he news that Justice Ruth Bader Ginsburg has been treated for a recurrence of pancreatic cancer has the Left in a tizzy. Should President Trump be able to name a replacement for her and the GOP majority Senate confirm that nominee, the Court will have a 5 or 6 vote majority for originalism — actually following what the Constitution says, not what Liberals imagine it should have said. This prospect led David Axelrod warn that progressives will tear the country apart if the Constitution is followed, should Justice Ginsburg succumb before Trump leaves office. Of course, he used the passive voice to avoid the truth that the Left will be the ones doing the tearing apart.
A storm gathers in the wake of RBG. Ruth Bader Ginsburg has the Left all anxious because pancreatic cancer threatens to take her out. That would give right-of-center judges an advantage, or at least a fighting chance, in putting America back on the path where judges interpret the law rather than make the law. Were their ideas fully explained to and understood by the public, leftists would be overwhelmingly defeated and never win much of anything. Knowing they cannot win a fair fight, they concentrate on putting judges in office to do their bidding via judicial fiat.
FNC's Wallace: If Ginsburg Leaves, It'll Make Kavanaugh Hearings 'Look Like a Tea Party'. On Friday's [8/23/2019] broadcast of Fox News Radio's "Guy Benson Show," FNC host Chris Wallace stated that if Supreme Court Justice Ruth Bader Ginsburg has to leave the court, the fight over her replacement would make the Kavanaugh hearings "look like a tea party."
Justice Ruth Bader Ginsburg Treated Again For Cancer. Justice Ruth Bader Ginsburg has just completed three weeks of radiation treatment at Memorial Sloan Kettering Cancer Center in New York, the U.S. Supreme Court disclosed Friday [8/23/2019]. The radiation therapy, conducted on an outpatient basis, began Aug. 5, shortly after a localized cancerous tumor was discovered on Ginsburg's pancreas.
Ruth Bader Ginsburg treated for tumor on her pancreas: court spokesman. Liberal U.S. Supreme Court Justice Ruth Bader Ginsburg has completed a three-week course of radiation therapy to treat a cancerous tumor on her pancreas, a court spokeswoman said on Friday [8/23/2019]. The 86-year old justice, who has had previous cancer scares, tolerated the therapy well and no further treatment is required, spokeswoman Kathy Arberg said in a statement.
David Axelrod warns Supreme Court vacancy fight could 'tear this country apart'. A former Obama adviser set the stage for a potentially nasty confirmation fight in the Senate next year within an hour of the Supreme Court announcing Justice Ruth Bader Ginsburg recently completed three weeks of radiation treatment after doctors found a localized cancerous tumor on her pancreas. "If there is a SCOTUS vacancy next year and [Mitch McConnell] carries through on his extraordinary promise to fill it -- despite his own previous precedent in blocking Garland -- it will tear this country apart," David Axelrod said in a tweet Friday afternoon [8/23/2019].
The Editor says...
The country is already torn apart, largely because of ledt-wing baby-killing Democrats on the Supreme Court.
Democratic Senator Faces Ethics Complaint After Warning Justices About Court-Packing. Democratic Sen. Sheldon Whitehouse of Rhode Island has attracted an ethics complaint and vigorous criticism from conservatives after raising the prospect of court-packing in a new legal filing before the Supreme Court. Depending on one's perspective, Whitehouse's extraordinary brief is either a cogent indictment of the court's seemingly partisan valence or particularly blunt strong-arming of the nation's highest judicial tribunal.
Forget it when journalists and other Democrats stand on principle. Journalists and other Democrats frequently use talking points about the importance of separation of powers, the Constitution, abuse of power, the rule of law and equal treatment under the law, but by their actions we know that they don't really care. What would the reporting be if five Republican Senators threatened the Supreme Court with packing? Conservatives frequently don't vote in lockstep, but the liberals almost always do. The Democrats threatened the court that they better rule the right way. Is that a joke?
Undaunted, Justice Thomas seeks the court's atonement on abortion. Another Supreme Court term has ended, and once again the court failed to revisit the question of abortion. In our time, it seems that abortion is discussed everywhere except the Supreme Court, where most Justices seem intent to do anything to avoid the topic. And still, each passing term the stain of Roe v Wade seeps deeper, corroding our system of laws from within. But one Justice is unafraid of the abortion debate. Undismayed by the Court's inaction, Justice Thomas has masterfully sown together a compelling judicial case for overturning the central holding of Roe.
Five Democrats Warn Supreme Court It Could be 'Restructured;' Urge It to Drop 2nd Amendment Case. Five Democrat senators have filed a brief with the U.S. Supreme Court, urging it to stay out of a pending Second Amendment case and warning it that a majority of Americans now believe the "Supreme Court should be restructured in order to reduce the influence of politics." The case, New York State Rifle & Pistol Association v. City of New York, is the first major challenge to gun laws since 2010, the senators said. According to SCOTUS blog, the New York State Pistol and Rifle Association, representing gun owners who live in the city, are challenging the city's ban on transferring licensed, unloaded guns anywhere outside city limits — including to a weekend home or to a shooting range.
Dems Now Threaten SCOTUS. The way the Dems see it, if the Courts rule against their wishes then it stands to reason that there's something wrong with the Court. Where I come from that's referred to as "having chutzpah." Imagine the likes of Cory Brooker, Kamala Harris, Crazy Bernie, Elizabeth Warren and Beto O'Rourke, among others threatening the court to fall in line with the liberal side or else. Or else what? Or else they'll pack the court with enough liberal judges that even mother rapists and father stabbers will get light sentences to be served weekends and people questioning climate change will get 25 to life.
CO2 and the Supreme Power of sovereignty. Sir William Blackstone defines sovereignty as "supreme power." This power is unitary. It cannot be shared or limited in any way. Thus, "quasi sovereignty" cannot exist. The Supreme Court ruled in Massachusetts v. Environmental Protection Agency (2007) that carbon dioxide is an air pollutant under the Clean Air Act. The result of that 5-4 ruling was that the EPA could be sued by the states for not controlling CO2 emissions. The states, according to the court, have "quasi-sovereignty." [...] "Quasi" means "pseudo", "mock", "wannabe" or "virtual". The states thus have the quasi sovereignty to accept the rules set down by the fully sovereign national government. These rules are set by the nine lawyers collectively referred to as SCOTUS.
Democrats candidates have embraced four ideas that could end America as we know it. [#3] Packing the Supreme Court: About half of the Democratic field, including Elizabeth Warren, Kirsten Gillibrand, Pete Buttigieg, and Kamala Harris have said they are open to packing the Supreme Court. This is a dangerous idea because at best, it could mean the end of a stable legal system and at worst, it could mean the end of our Republic. When Democrats gained enough power, they would pack the Supreme Court with enough judges to guarantee that anything they proposed would be found "constitutional." Then when the cycle swung around to Republicans, they would do the same thing. How do businesses and individuals thrive in a situation where what's "constitutional" can radically shift every few years based on which political party is in power?
America under Attack. If Justice Ginsberg's concept of a "living Constitution" prevails, none of our liberties is safe. We could be imprisoned for speaking the name of Christ, and our right to free and fair elections can be stolen by the IRS, the FBI, the Justice Department, and the federal courts themselves. If society is willing to violate the original text of the Constitution, then it is left with no yardstick for measuring right and wrong. To ignore the Constitution in the interest of social justice is to open the door to the worst sort of tyranny.
John Roberts, consistently inconsistent. Late last week, the Supreme Court gave a very odd ruling on the census question related to citizenship. The court determined that the question was a legal one to ask, under both the Census Act and the Constitution. However, Roberts ruled with the majority which is adding an additional requirement of Commerce Secretary Wilbur Ross. Ross said he was requesting the question be added back because the Department of Justice asked for it to aid in enforcement of the Voting Rights Act. However, a memo was uncovered that indicated a change in the way Congressional districts are apportioned based on citizenship, not total population could change the map. Because of this information, Chief Justice John Roberts decided that he needed to be satisfied that there was not a private motive that was at odds with the public rationale that the Secretary had offered.
Unanimous Supreme Court: It's 'Predictable' That Noncitizens Will Act 'Unlawfully'. On its way to ruling by a 5-4 majority that the Secretary of Commerce improperly decided to include a citizenship question in the 2020 Census, the Supreme Court unanimously concluded that states had legal standing to sue the federal government over this issue based on the court's conclusion that it is "predictable" that noncitizens will act "unlawfully" by declining to fill out the Census questionnaire. The court explained its conclusion on this question in Part II of its opinion, which all nine justices joined. "To have standing," Chief Justice John Roberts wrote in this unanimously-joined part of his opinion in Department of Commerce v. New York, "a plaintiff must present an injury that is concrete, particularized, and actual or imminent; fairly traceable to the defendant's challenged behavior; and likely to be redressed by a favorable ruling."
Conservatives Win BIG At Wisconsin Supreme Court On Numerous Landmark Laws. Wisconsin's right-to-work law was a hallmark piece of legislation passed under Scott Walker's watch as governor in 2015. In fact, it may have largely contributed to the state going red during the last few years as unions have been effectively gutted. These actions taken by Republican lawmakers at the end of 2018 obviously made Democrats in Wisconsin furious. Interest groups such as the League of Women Voters contended that the "state constitution does not ascribe the power to call an extraordinary session of the legislature to lawmakers, thereby making the December session and all actions therein unconstitutional and invalid." So, they went to the Wisconsin Supreme Court to have this matter settled. However, their hopes were dashed when the court ruled 4-3 in favor of the GOP on Friday, June 21, 2019, effectively discarding an argument that the session was called unconstitutionally.
Supreme Court: Bad Day for Everyone, Especially Roberts. Today the Supreme Court issued two major opinions with profound implications for American politics. It blocked, for now, adding a question about citizenship on the 2020 Census in Department of Commerce vs. New York. In Rucho v. Common Cause, the Court permanently killed off allowing federal courts to decide that a legislative map gave one side too much of a partisan advantage. It was a bad day for the right, a very bad day for the left, and an extremely bad day for Chief Justice John Roberts.
SCOTUS Loses Its Census over Citizenship. Supreme Court Justice John Roberts may go down in judicial history as the worst Republican SCOTUS pick ever. The man who found ObamaCare constitutional by inventing the fiction that it was a tax has joined the court's four liberals to block a citizenship question on the 2020 Census, not because it is unconstitutional, but rather because he didn't like the Trump administration's reasons for asking for it. The man who supervises the FISA Court, which blindly accepted every lie and fake document the Obama FBI and DoJ put before it to justify the deep state coup against the Trump presidency, says the reasons Commerce Secretary Wilbur Ross presented for requesting its inclusion, well, didn't smell right. [...] The question before the Court is whether adding the question to the Census form was constitutional or not and certainly whatever reason Ross gave made more sense than your reason, Justice Roberts, for calling ObamaCare a tax.
Right on Gerrymandering, Wrong on the Census. John Roberts took a starring role in two major decisions today: He wrote a correct opinion on partisan gerrymandering, and a troubling one on President Trump's effort to ask a question about citizenship on the 2020 census. The gerrymandering issue, as far as the courts should be concerned, is simple. Under the Constitution, the legislature of each state gets to decide how congressional elections are handled, subject to any laws the federal Congress chooses to enact. It was clear to the Founders that politicians, being politicians, might draw district boundaries in ways that served their political interests. They made this the rule anyway.
Top conservative calls for impeachment of Chief Justice Roberts. A high-profile conservative leader called Thursday [6/27/2019] for the impeachment of Chief Justice John G. Roberts Jr. after he provided the crucial fifth vote in the Supreme Court decision heading off President Trump's goal of including a question on citizenship on the 2020 census. Matt Schlapp, chairman of the American Conservative Union and husband of top Trump White House aide Mercedes Schlapp, said the ruling showed the chief justice was not the conservative-minded jurist he'd been touted to be, noting his previous decision essentially preserving Obamacare.
Roberts The Mind Reader Joins Liberal Justices On The Census. The Supreme Court's 5-to-4 ruling on Department of Commerce v. New York is being characterized as nothing more serious than a temporary setback regarding President Trump's wish to reinstate a citizenship question in the 2020 U.S. Census; the administration is expected to whip up a new rationale that the high court won't consider "contrived" and get the question in. Unfortunately it is far worse than that, and Chief Justice John Roberts is giving further sign that he is yet another unpleasant surprise in GOP appointments to the highest level of the Judicial Branch, following in the footsteps of David Souter (Bush 41), Anthony Kennedy and Sandra Day O'Connor (Reagan), and John Paul Stevens (Ford).
Constitution mandates gerrymandering. The fifth vice president of the United States pronounced his surname with a hard G, but two centuries later not only do people mispronounce Elbridge Gerry's name but they misunderstand the political tactic that bears his name: gerrymandering. The Constitution provides a decennial census, which allocates congressional representation to the states. The states then divide themselves into districts. They do the same with state legislative seats and lesser jurisdictions. The party in power draws these districts to its advantage. The losers always whine.
Supreme Court says federal courts cannot strike down partisan gerrymandering schemes. A deeply divided Supreme Court ruled Thursday that federal courts may not intervene to block even the most partisan election maps drawn by state lawmakers, a decision that allows such gerrymandering to continue unabated. The 5-4 opinion by Chief Justice John Roberts, who was joined by the court's other conservatives, said partisan election maps drawn by North Carolina Republicans and Maryland Democrats are constitutional despite their one-sided nature. It was a dramatic withdrawal by the nation's highest court from the political battles that have consumed states for decades, and it was loudly denounced by the court's liberal justices.
Supreme Court rules federal judges have no authority in gerrymandering cases. The Supreme Court, in a 5-4 decision on Thursday, ruled that federal courts cannot block partisan gerrymandering. "We conclude that partisan gerrymandering claims present political questions beyond the reach of the federal courts," Chief Justice John Roberts wrote in the majority opinion for the court. The justices were weighing two cases from Maryland and North Carolina, where there were allegations that district maps were drawn to benefit one political party.
The Supreme Court just handed Republicans a huge political victory on partisan gerrymandering. On Thursday [6/27/2019], the Supreme Court showed how much difference who wins the presidency makes. Armed with a five to four conservative majority thanks to President Donald Trump's appointment of Neil Gorsuch and Brett Kavanaugh over the past two years, the Supreme Court said it had no role to play in partisan gerrymandering — a decision that amounts to a massive political victory for Republicans, not just in the moment, but also likely for the next decade-plus.
The Supreme Court Just Ruled On The Census Citizenship Question. The Supreme Court ordered further proceedings in the dispute over a citizenship question on the 2020 census form Thursday, saying the Trump administration apparently concealed its true reason for adding the query. Chief Justice John Roberts delivered the Court's opinion, portions of which were unanimous.
Supreme Court tosses citizenship question from 2020 census forms, a victory for Democratic states. The Supreme Court ruled Thursday that the Trump administration cannot include a question about citizenship on the 2020 census form that goes to every U.S. household, giving a win to mostly Democratic populous states that said the question would discourage legal and illegal immigrants from responding and make the population count less accurate. The court was deeply fractured on the issue, but on the section that essentially eliminated the citizenship question, the vote was 5-4, with Chief Justice John Roberts joining the four-member liberal wing of the court.
Trump: You Bet I'd Fill Another SCOTUS Seat. Not that we have word of any openings coming up on the Supreme Court in the immediate future, but it always pays to be prepared, right? Particularly when you have several justices in their septuagenarian or even octagenarian years and one of them regularly talks about packing up his RV and touring the country. But given the politically poisonous mood currently gripping both Congress and the nation, would President Trump really want to open that can of worms and introduce a new nominee if someone suddenly retired?
Supreme Court rules 'crime of violence' law is unconstitutionally vague. A divided Supreme Court ruled Monday [6/24/2019] that a federal law requiring longer prison sentences for using a gun during a "crime of violence" is unconstitutionally vague. The court voted 5-4 stating the law "provides no reliable way" to determine which offenses qualify as crimes of violence.
SCOTUS decision might lead to release of thousands of violent felons. Justice Neil Gorsuch seems really determined to give violent gun felons a degree of due process our founders never envisioned. In yet another opinion, expanding upon previous decisions declaring the "crime of violence" statute unconstitutional, Gorsuch joined with the four liberal justices to vacate the criminal conviction of two violent robbers while declaring the statute upon which the conviction rested as unconstitutional. Meanwhile, there is no urgency from Congress to promote "criminal justice reform" that would actually stem the tide of judicially-mandated jailbreak of violent criminals.
Washington owes Supreme Court Justice Neil Gorsuch an apology. "In our constitutional order, a vague law is no law at all." Those are the words that opened one of the most important decisions of this Supreme Court term, in United States versus Quartavious Davis. In a 5-4 decision, the majority sided with a habitual offender in striking down an ambiguous provision that would allow enhanced penalties for a "crime of violence." The author of that sweeping decision in favor of criminal defendant rights was Justice Neil Gorsuch, the first nomination by President Trump to the Supreme Court. I testified at his Senate hearing, favoring his confirmation despite unrelenting attacks on him as a "rubber stamp" and an ideologue. Gorsuch has proven his detractors wrong and, as this term has proven, he has emerged as one of the most consistent and courageous voices on the Supreme Court. Indeed, a number of senators and pundits in Washington owe Gorsuch an apology for their attacks on someone who is building a new legacy that could be one of the most lasting on the Supreme Court.
Supreme Court strikes down federal law banning 'immoral' trademarks. A federal law that allows the government to reject trademarks considered immoral or scandalous violates the First Amendment, the Supreme Court ruled Monday [6/24/2019]. The law, which the U.S. Patent and Trademark Office used to reject an application from [a] clothing brand [which is] pronounced like an obscenity, discriminates on the basis of viewpoint and is "substantially overbroad," the justices found. The clothing company was founded in 1990 by Erik Brunetti, who applied to register the name in 2011.
Supreme Court rules against newspaper over information request, giving confidentiality win to businesses. The Supreme Court on Monday [6/24/2019] ruled 6-3 against a newspaper seeking records under the Freedom of Information Act (FOIA) on stores' financial data, finding that sharing the business data could harm the companies. The Argus Leader in South Dakota had filed a FOIA request with the Department of Agriculture (USDA) asking for stores' redemption data on the Supplemental Nutrition Assistance Program (SNAP). The USDA fulfilled part of the paper's FOIA request by giving them the names and addresses of the stores, but declined to provide the SNAP data under Exemption 4 of FOIA, which blocks agencies from handing over "trade secrets and commercial or financial information obtained from a person and privileged or confidential."
Supreme Court offers gun-possession loophole for illegal immigrants. The Supreme Court ruled Friday [6/21/2019] that an illegal immigrant who had a gun — a crime — can't be prosecuted if he didn't know he was in the country illegally. In a 7-2 decision the justices said in a crime where the status of a person is the "crucial element" to the offense, the government must prove the person was aware of that. Otherwise, it might just be an innocent mistake. That could affect "thousands" of previous convictions.
The Editor says...
Anyone who crawled over (or under) a wall or a fence in the middle of the night, and then began a "life in the shadows," should be well aware that he or she is living here illegally.
Three good court rulings today. The federal courts made a few sensible rulings today. In my lifetime, this has been all too rare.
Clarence Thomas calls for abandoning 'demonstrably erroneous' precedent, touching off Roe v. Wade speculation. In a concurring opinion in a Supreme Court case announced Monday [6/17/2019], Justice Clarence Thomas issued a lengthy call for his colleagues to overturn "demonstrably erroneous decisions" even if they have been upheld for decades — prompting legal observers to say Thomas was laying the groundwork to overturn the seminal 1973 case Roe v. Wade, which established a constitutional right to abortion. Thomas' blunt opinion came in Gamble v. United States, a case concerning the so-called "double-jeopardy" doctrine, which generally prohibits an individual from being charged twice for the same crime. But both pro-life and pro-choice advocates quickly noted the implications of his reasoning for a slew of other future cases, including a potential revisiting of Roe.
For Bakers, a Measured Response at SCOTUS. Aaron and Melissa Klein have spent the last six years praying for a positive ruling from the U.S. Supreme Court. Yesterday, they got the next best thing — an order that throws out the devastating ruling against them. Thanks to SCOTUS, the parents of five, who've wrenched plenty of hearts with their emotional story, will have another chance at vindication — in front of the same court that tried to bankrupt the bakers in the first place. "Try again," the justices seemed to say in their short order to the Oregon Court of Appeals. It's the second time in a year that SCOTUS has sent a wedding vendor case back to the states for another round of hearings. And the Kleins are hoping their verdict turns out better than Barronelle Stutzman's.
Why Do Democrats Have a Secret List of Supreme Court Nominees? If hypocrisy equals people, Democrats in Washington are China. The latest example of such bold duplicity by the Democratic Party is the secret "A-list" of potential Supreme Court (SCOTUS) judges Democrats refuse to reveal while they turn blue on Capitol Hill screaming for more transparency from the Trump administration. Democrat leaders and activists working for Alliance for Justice are keeping their SCOTUS list under lock and key. Why? What do Democrats want to hide? Perhaps it's the fact that this list of potential justices for SCOTUS contains the names of the most liberal, activist judges in the land? Maybe it's because this secret list of potential justices would turn off moderate Democrat voters? If not, why hide the names from the public?
The Democrats don't want to fix the Supreme Court, they want to break America. Mayor Peter Buttigieg took a break from running the worst city in Indiana to call for raising the number of Supreme Court justices to fifteen. The plan comes from the same Rhodes Scholar who claimed that we should move to a popular vote system "if we're going to call ourselves a democracy." Buttigieg has a degree in history from Harvard, but knows less than a third grader did in 1925. Court packing schemes have been endorsed by Senator Elizabeth Warren, Senator Kamala Harris, Senator Kirsten Gillibrand, Robert Francis O'Rourke, Mayor Buttigieg and a bunch of other candidates you never heard of. Other 2020 candidates, including Senator Bernie Sanders and Senator Cory Booker, have proposed rigging the Supreme Court in another way by introducing term limits for the justices. These proposals are invariably described with euphemistic verbs like "reform" or "fix". But the only reason that they suddenly decided SCOTUS needs reforming is because they're no longer in control of it.
Whoa: RBG Just Sided With Conservative Justices. Ruth Bader Ginsburg, one of the four liberal justices on the Supreme Court, sided with her conservative colleagues on Monday over a prisoner's supervisory release. She joined Justices Clarence Thomas, John Roberts, Samuel Alito and Brett Kavanaugh in the majority, deciding that a criminal defendant, in this case Jason Mont, can be sentenced for violating his supervised release, even if the release expires while he is incarcerated ahead of facing new charges. Her vote was swapped with conservative Justice Neil Gorsuch, who joined liberal Justices Sonia Sotomayor, Stephen Breyer and Elena Kagan in their dissent.
Inside Pete Buttigieg's plan to overhaul the Supreme Court. As Democrats agonize over a spate of state laws restricting abortion rights and even a potential reversal of Roe v. Wade, one 2020 presidential candidate is putting an ambitious, long-shot plan to reform the Supreme Court front-and-center of his campaign. Pete Buttigieg, the mayor of South Bend, Indiana, has talked about his plan to overhaul the high court since his first days as a candidate. In short, it calls for expanding the number of justices from nine to 15, with five affiliated with Democrats, five affiliated with Republicans, and five apolitical justices chosen by the first 10.
Supreme Court rejects Trump request to fast track decision on DACA case. The Supreme Court on Monday [6/3/2019] rejected the Trump administration's request to fast track a decision on whether it will hear a case over the president's rescission of the Deferred Action for Childhood Arrivals (DACA) program. The justices, in an unsigned order, denied the request, which was filed on behalf of the administration last month to expedite a decision on whether to review the case. Solicitor General Noel Francisco, who represents the administration in cases before the Supreme Court, had urged the justices to announce their decision on whether they will hear the case by the end of their term later this month.
If You Can't Beat 'em, Pack 'em. The selection of Justices Neil Gorsuch or Brett Kavanaugh by President Trump does not compare with the crisis of the Civil War. Even during the Great Depression, Americans would not stomach such a naked play for unchecked power. Today, the only reasons progressives give for stacking the court rely on false claims of "stolen seats," or the notional unpopularity of court decisions that hinder progressive agendas. They would seize power from two branches of government to upset the third branch, because they don't like the checks and balances built into the Constitution.
A huge Supreme Court decision you never heard of. What puts more bite in the Franchise Board v. Hyatt decision is that Chief Justice John Roberts assigned Clarence Thomas to write the majority opinion. Thomas is an originalist more than he is a conservative. A Court conservative, at least how liberals would define one, would honor the principle of stare decisis. This means that once a decision is made, it stays made. Thomas instead approaches cases according to the original intent of the Founding Fathers. He believes if an initial decision was wrong per the original intent of the Constitution, it should be overturned. This has the four Court liberal dissenters — Stephen Breyer, Ruth Ginsburg, Sonia Sotomayor, and Elena Kagan — in a tizzy.
Kavanaugh Stands Up for Americans Against Big Tech. U.S. Supreme Court Justice Brett Kavanaugh ruled with the majority on Monday that iPhone users can sue Apple Inc. over its app prices. Kavanaugh rejected Apple's argument that consumers could not challenge the company's policy of taking a 30 percent commission from its apps and refusing to let consumers purchase iPhone apps from third parties. "It is undisputed that the iPhone owners bought the apps directly from Apple," Kavanaugh argued. While this is a great start, we may need new legislation to prevent monopolies like Apple and Google from discriminating against consumers and small businesses that use their platforms.
Supreme Court hears DUI case in which blood was ordered drawn from unconscious driver without a warrant. A Wisconsin DUI case in which police officers ordered the blood of an unconscious man be drawn for evidence without first getting a warrant was heard by the U.S. Supreme Court on Tuesday [4/23/2019]. Prosecutors argued that drawing the blood of unconscious drivers helps convict those who kill thousands of people a year in alcohol-related car accidents, the Milwaukee Journal Sentinel reported. They said the process of getting a warrant is too inconvenient and that Wisconsin's implied consent law does not require officers to get a warrant before drawing the blood of those suspected of driving while intoxicated, including individuals who are unconscious at the time.
Democrats laying groundwork for court-packing by lying about Mitch McConnell. As the idea of packing the courts starts to become a more mainstream position on the Left, Democrats are now laying the groundwork for such a move by lying about Senate Majority Leader Mitch McConnell's efforts to confirm conservative judges. On Tuesday [4/16/2019], the Democratic Senatorial Campaign Committee, the campaign arm seeking to return Democrats to the majority in the Senate, tweeted that "Mitch McConnell's court-packing agenda" was to "Confirm extreme right-wing judicial nominees as quickly as possible."
The Path Forward for Ruth Bader Ginsburg. There is no sense ignoring the herd of elephants stomping around the room, so I'll just say it: Justice Ginsburg is dying. [...] She will probably never admit it in public, but all those progressive journos and liberal law profs who begged her to retire back in 2015 were right. Yes, just like everybody else, she thought that Hillary was a done deal, RBG would retire right about now, Hillary would appoint her successor, and everything would hum along according to plan. [...] Ginsburg must have watched Rachel Maddow on election night. She knew right there and then, from the glum, shocked disbelief on Maddow's androgynous face, what it all meant for the court — and for her.
Clarence Thomas addresses Senate Democrats' litmus tests for Catholic judicial candidates. Supreme Court Justice Clarence Thomas is unimpressed with Senate Democrats' attempts to apply religious tests to Roman Catholic judicial nominees. That Thomas is saying anything at all on the subject is notable given his reputation for being tight-lipped. "I thought we got away from religious tests," Thomas remarked this year during Pepperdine University School of Law's annual banquet. He was referring to Article VI of the Constitution, which states that "no religious test shall ever be required as a qualification to any office or public trust under the United States."
Here Are 4 Egregious Ways the Left Wants to Transform American Politics. [#1] Packing the Supreme Court: [...] The last major attempt to alter the Supreme Court's composition was in the late 1930s. President Franklin Delano Roosevelt, upset with the conservative "Four Horsemen" of the Supreme Court thwarting parts of his New Deal agenda, tried to persuade Congress to allow him to appoint a "junior justice" for every sitting justice who remained on the Supreme Court beyond age 70. That measure failed in the Democrat-controlled Senate. But Roosevelt got the last laugh — he got to "pack" the court the old-fashioned way, and ended up appointing eight justices throughout his time in office.
Thomas asks question for second time in a decade at Supreme Court. Justice Clarence Thomas, who is known for his silence, shocked spectators in court Wednesday when he asked a question during arguments in a dispute over racial discrimination in jury selection. Thomas's question, which marks the second time in a decade the court's leading conservative has spoken during arguments, came in the case of a Mississippi man who has been tried six times for the 1996 murders of four people inside a furniture store. Thomas last spoke in February 2016 when he asked several questions during oral arguments in a gun rights case.
Voters Favor Term Limits For Supreme Court But No More Members. Democrats, increasingly worried about the U.S. Supreme Court tilting to the right, have been talking lately about changes in its overall makeup. Most voters like the idea of term-limiting the justices but draw the line at adding more members to the court. A new Rasmussen Reports national telephone and online survey finds that only 27% of Likely U.S. Voters favor increasing the number of justices on the Supreme Court. Fifty-one percent (51%) are opposed, but 22% are undecided.
Rubio introduces constitutional amendment to limit Supreme Court to 9 justices. Senator Mark Rubio says he plans to introduce a constitutional amendment that would limit the number of Supreme Court justices to 9. Ribio cited the stated goal of several 2020 Democratic presidential candidates to expand the number of justices.
Why court-packing is a really bad idea. [C]ourt-packing isn't really a permanent solution, since the two parties enter in a never-ending cycle of one-upmanship as each side seeks to expand the Supreme Court when its side is in power — a recipe for an unwieldy court and increased partisanship on the court.
Why Democrats want to abolish Electoral College, pack Supreme Court. Elizabeth Warren wants to get rid of the Electoral College. [...] She argued that presidential nominees no longer campaign in places like California and Massachusetts because they're not swing states, instead focusing on battlegrounds that are up for grabs. That's true, but if you abolished the college tomorrow, candidates would camp out in such megastates as New York, California, Florida, and Texas in an effort to run up their popular vote totals. The college forces them to move around the country, especially to smaller states whose handful of electoral votes could tip the balance.
President Trump Wins SCOTUS Decision on Detainment and Deportation of Criminal Aliens. The Supreme Court reversed a prior 9th Circuit Court ruling restricting when illegal aliens could be detained and deported. The SCOTUS ruling was in favor [of] the Trump administration, allowing federal officials to detain and deport illegal aliens after they have served their time in the U.S. for other crimes regardless of whether they were picked up immediately or later, after criminal release.
SCOTUS Gives Trump a Big Win on Immigration. On Tuesday [3/19/2019] the Supreme Court ruled in favor of the Trump administration in Nielsen v. Preap, allowing the Department of Homeland Security to detain illegal aliens without bond while awaiting deportation for committing crimes within our borders. The decision reversed a ruling by the Ninth Circuit Court of Appeals. It was authored by Justice Samuel Alito, who was joined by Chief Justice John Roberts as well as Justices Thomas, Gorsuch, and Kavanaugh. The ruling involved a class-action lawsuit brought on behalf of various resident aliens, including a few with Green Cards, convicted of crimes for which U.S. law mandates deportation.
Trump gets a U.S. Supreme Court victory on immigration detention. The Supreme Court on Tuesday [3/19/2019] endorsed the U.S. government's authority to detain immigrants awaiting deportation anytime — potentially even years — after they have completed prison terms for criminal convictions, handing President Donald Trump a victory as he pursues hardline immigration policies.
Bias alert:
Enforcing the law is not a hardline immigration policy.
2020 Dems warm to expanding Supreme Court. After watching Mitch McConnell transform the judiciary over the past four years, liberals are demanding a bold response. And Democrats are listening. Sens. Kamala Harris, Elizabeth Warren and Kirsten Gillibrand told POLITICO they would not rule out expanding the Supreme Court if elected president, showcasing a new level of interest in the Democratic field on an issue that has until recently remained on the fringes of debate.
Supreme Court declines to hear case involving grants to churches. The Supreme Court will not take up a case involving whether houses of worship in New Jersey can be awarded taxpayer-funded grants for historical preservation, letting stand a lower court ruling that determined they could not. At issue in the case are historic preservation grants awarded by Morris County, New Jersey, to 12 churches between 2012 and 2015. The grants are funded by a county tax dedicated to historic preservation.
Kavanaugh slams 'pure discrimination' against churches as court declines to hear religious liberty case. The U.S. Supreme Court declined to hear a case about whether churches or other religious institutions in New Jersey are entitled to public funds for historic preservation. The ruling involved a four-year-long battle in Morris County over whether county money should be used to repair historic churches. The New Jersey State Supreme Court ruled last year that the county could not continue to give historic preservation grants to 12 churches. For years, Morris County had been giving churches money to make aesthetic and structural repairs to historic churches under a historic preservation program. In 2015, a county freeholder objected, arguing that taxpayer funds should not be used to repair places of worship.
Roberts Keeps Joining High Court Liberals. Chief Justice John Roberts is showing a new willingness to side with the U.S. Supreme Court's liberal wing after the divisive confirmation fight over Justice Brett Kavanaugh. Roberts joined the liberals Wednesday [2/27/2019] in two rulings that left the conservatives in dissent. Most notably, he cast the deciding vote to order a new look at the mental competence of a death row inmate who says he can't remember the crimes he committed.
Supreme Court Rejects Abortionists' Demands for Church Emails. The Supreme Court rejected an abortion provider's bid to obtain private communications of Catholic officials who helped to lay the remains of aborted babies to rest. On Monday, the high court announced that it would not take up Whole Woman's Health v. Texas Catholic Conference of Bishops in its next term. The Texas-based abortion chain was appealing a 5th Circuit Court of Appeals ruling that rejected its request to dig into the private communications of church officials who helped to bury the remains of aborted babies. The 2-1 majority not only affirmed that burying fetal remains was constitutional, but that the request to review Church records was rooted in intimidation.
9-0: SCOTUS Rules That Eighth Amendment's "Excessive Fines" Clause Applies To The States. Remember the oral arguments in this case? Sure you do. They went so badly for the state of Indiana that Court-watchers took to predicting a lopsided defeat afterward, something they normally refrain from doing. It's the justices' job to be skeptical during questioning, after all. Can't read too much into when they're hard on one side. Usually. But they were right, this was an unholy whupping. 9-0 decisions aren't unusual for the Court but it's a bit unusual to have everyone on one side for a landmark constitutional ruling, finding that the "excessive fines" clause of the Eighth Amendment applies to the states via the Fourteenth Amendment.
Supreme Court curbs power of government to impose heavy fines and seize property. In a unanimous decision, the Supreme Court on Wednesday ruled to drastically curb the powers that states and cities have to levy fines and seize property, marking the first time the court has applied the Constitution's ban on excessive fines at the state level. Justice Ruth Bader Ginsburg, who returned to the court for the first time in almost two months after undergoing surgery for lung cancer, wrote the majority opinion in the case involving an Indiana man who had his Land Rover seized after he was arrested for selling $385 of heroin. "Protection against excessive fines has been a constant shield throughout Anglo-American history for good reason: Such fines undermine other liberties," Ginsburg wrote. "They can be used, e.g., to retaliate against or chill the speech of political enemies. They can also be employed, not in service of penal purposes, but as a source of revenue."
Ruth Bader Ginsburg Is Expected to Return to the Supreme Court Bench This Week. Justice Ruth Bader Ginsburg is expected to sit for a U.S. Supreme Court argument Tuesday [2/19/2019] for the first time since she underwent surgery in December to remove cancerous masses from one of her lungs. Ginsburg's presence will be a relief to liberals worried about any prospect that the 85-year-old justice might have to step down and give President Donald Trump a third Supreme Court vacancy to fill.
The Editor says...
An earlier report (immediately below) said she was already back at work.
Ginsburg back at Supreme Court. Justice Ruth Bader Ginsburg was back at the court on Friday for the justices' private conference. The Supreme Court's Public Information Office told The Hill that Ginsburg was attending the regular closed-door meeting in which the justices consider requests to review cases. Ginsburg has been absent from the court since undergoing surgery in late December to remove two cancerous nodules from her lower left lung. The 85-year-old justice missed oral arguments last month while recovering at home from the surgery. Her absence marked the first time in more than 25 years on the bench she was forced to miss arguments due to her health.
John Roberts joins liberal justices as Supreme Court blocks Louisiana abortion clinic law. The justices said by a 5-4 vote late Thursday [2/7/2019] that they will not allow the state to put into effect a law that requires abortion providers to have admitting privileges at nearby hospitals.
Before Northam, Democrats Didn't Just Dress Up as Klansmen. In 1937, before Supreme Court nominees received the Brett Kavanaugh treatment, President Franklin Roosevelt placed Hugo Black, a former Klansman, on the high court. A proto-Patrick Howley revealed Black's resignation letter from the Ku Klux Klan, which he signed under an "I.T.S.U.B." (In the Sacred, Unfailing Bond) complimentary close — a common, cryptic acronym favored by the secret society — after the Alabaman had secured his spot. Why did not Roosevelt use the Justice Department to investigate Black? The president reasoned that "a man's private life is supposed to be his private life." On the court, Black's private views became public policy. Black authored the Korematsu decision. Klansmen have consequences.
Justice Ruth Bader Ginsburg Makes First Public Appearance Since Cancer Surgery: Attends Concert Celebrating Herself. Justice Ruth Bader Ginsburg appeared in public Monday night, her first public outing since her lung cancer surgery last December. Ginsburg, 85, attended a concert celebrating herself titled, Notorious RBG in Song, that featured her daughter-in-law, soprano Patrice Michaels.
Mystery: No pictures from first Ginsburg 'public appearance' since surgery? Supreme Court Justice Ruth Bader Ginsburg attended a concert put on by her daughter-in-law at the National Museum of Women in the Arts on Monday, marking her first public appearance since cancer surgery in December. Attendees at the Notorious RBG in Song described Ginsburg as "glam," and "resplendent," and "magnificent," but you'll have to take their word for it. In an era when every person is carrying a camera and isn't afraid to use it, there wasn't a single snap of the 85-year-old to be found. Every media story that covered her alleged appearance used file photos.
The Editor says...
Maybe it wasn't really her. Maybe it was a "resplendent" and "magnificent" impostor. Democrats are well known for their willingness to lie if it serves their political purposes.
Justice Ginsburg Reportedly Attends Concert In Her Honor — But No Pics To Verify Accuracy Of Story. [Scroll down] Adding yet another wrinkle to the ongoing mystery is a tweet by reporter David Hagedorn who initially said the following: "What a delight to see RBG tonight at 'Notorious RBG in Song,' written & beautifully performed by her daughter-in-law, Patrice Michaels. She sat in the back, a few rows behind us, looking resplendent. Being hugged & wished a happy birthday by her made a grand night spectacular." That tweet has since been deleted. Why? Whatever the reason, Mr. Hagedorn isn't saying but its deletion is leading to more and more wondering if the entire "Ruth Bader Ginsburg makes first public appearance since cancer surgery" story was a complete fabrication. Some are even suggesting it was a lookalike who actually attended the show. As bizarre as that seemingly sounds, is it any more bizarre than the lack of a single photo confirming the Justice's presence in public in this era if cell phone domination?
Illinois Traffic Operators Worry About Ruth Bader Ginsburg. Given that we now know when President Trump will give the State of the Union (and that Stacey Abrams will be given the Democratic rebuttal even though we were all clearly hoping for Cardi B), only one question remains: will Supreme Court Justice Ruth Bader Ginsburg be showing up?
Ruth Bader Ginsburg watch nears the end of its second month. It has been 54 days since the public laid eyes on the 85-year-old Supreme Court justice Ruth Bader Ginsburg, and her absence is prompting calls for proof of life. The last time she was seen was on December 6, 2018, when she heard arguments in person at the Court. [...] The reason her absence is so monumental is that if her health has compromised her ability to do her job as a member of the highest court in the United States, her removal will give President Trump his third justice nomination of his first term. This would be an apocalypse to the liberal Democrats, who would be faced with the most conservative Supreme Court in modern history for decades to come. If you thought the Kavanaugh nomination was rough, imagine if Democrats doubled their efforts the third time around.
Packing Supreme Court with more seats does nothing for democracy. With control of the House for the first time since 2011, Democrats have proposed a number of legislative initiatives, including ways to reform the federal judiciary. Indeed, following the confirmation of Brett Kavanaugh, the health scares of Ruth Bader Ginsburg, and the frustration with the perceived ideological direction, there has been momentum to change the structure of the Supreme Court. One of the more disconcerting notions floated is the prospect of adding more seats to the Supreme Court in order to politically "balance it" the next time Democrats control both the White House and Congress. This is a tactic known as "court packing." No administration or legislative chamber since Franklin Roosevelt has earnestly tried court packing and for good reason.
As Justice Ruth Bader Ginsburg recovers, the Left courts disaster. Justice Ruth Bader Ginsburg seems by all counts a nice human being: a good wife and mother, a good friend to her opposite, late Justice Antonin Scalia, a very hard worker, in all ways a mensch. But this isn't the reason that millions of liberals follow her health with concern, pray every day for her continued survival, and even write in with the offer of one of their kidneys, should the need arise. The concern for her health above that of all others rises, of course, from one special reason: If she dies or retires while Republicans hold the White House and Senate, it would leave the liberals on the Supreme Court on the short end of a six-to-three minority. This would be a huge blow to the pro-abortion agenda that has reigned in the U.S. for the last 40 years.
Supreme Court passes on case removing Whitaker as acting AG. The Supreme Court denied an effort to strip acting Attorney General Matthew G. Whitaker's name from a pending case, swatting down a push to force the justices to send a signal that President Trump's temporary pick is illegal. Lawyers had asked the justices to remove Mr. Whitaker and substitute Deputy Attorney General Rod Rosenstein, arguing that the latter man is the rightful head of the Justice Department under the law, after former Attorney General Jeff Sessions was ousted last year.
Justice Ginsburg "Not Even In DC" As Grave Health Rumors Swirl. While some claim she continues to receive treatment and/or recover from her recent cancer diagnosis, others suggest she is in fact receiving hospice care in New York City and hasn't been in Washington D.C. for several days. The truth perhaps can be found somewhere in the middle of both those extremes but what is undeniable is that should Ginsburg step down the battle to fill that vacancy on the Court will likely be as contentious and hard-fought as anything we've yet seen.
U.S. Media Really, Really Need Everyone to Know that Justice Ginsberg is Healthy. "The more he spoke of his honor, the faster we counted the spoons." That's the first sense that comes to mind as left-wing media narrative engineers keep pushing a story that Justice Ruth Bader Ginsburg is "recovering". [...] Justice Ginsburg will be "working" from home, invisibly, for a year or more, even if in a coma; hooked up to breathing apparatus, and being force-fed through a tube.
Apocalypse Ruth. There are some opponents worthy of grudging respect. Justice Ruth Bader Ginsberg is a terrible legal thinker, a leftist with no real respect for liberty and a confessed critic of the Constitution over its limitations upon the government's ability to impose her fans' pinko vision of soft, huggy tyranny upon Normal Americans. But I respect her as an opponent — to do otherwise would be to lie to ourselves that our opponents are hopeless and helpless. She's a tough old bird, surviving cancer and other perils and yet she always comes back to torment us with her appalling jurisprudence. [...] I think she's misguided, not evil. But also I think we all need to think about the coming fight when she leaves the Court, because that brawl is coming regardless.
Ginsburg can stay on the Supreme Court and vote, no matter how sick or disabled she becomes. With Justice Ruth Bader Ginsburg continuing to recover from cancer surgery, whispers about whether she should step down have grown louder. But as a member of the Supreme Court with life tenure, Ginsburg can remain on the bench for as long as she desires, no matter how sick she becomes. Ginsburg had surgery Dec. 21 to remove two malignant nodules found in her left lung and has been recuperating at her home ever since. The procedure kept Ginsburg off the bench on Monday and Tuesday, marking the first time she missed oral arguments in her 25-year tenure on the Supreme Court. Though she was not present for oral arguments, Chief Justice John Roberts said Ginsburg would participate in the cases by reading briefs and argument transcripts.
Supreme Court halts fines against mystery company possibly linked to Mueller investigation. Supreme Court Chief Justice John Roberts issued a temporary administrative stay of contempt sanctions that have been brought against an unknown company in a mysterious grand jury subpoena fight thought to be linked to special counsel Robert Mueller. The move is a fairly procedural one, and gives the federal government until Dec. 31 to respond. Roberts, or all of the Supreme Court, could easily decide to lift the stay even before then, depending on how soon as it hears from the federal government. However, the stay is not relief against the grand jury subpoena, but rather a contempt citation brought by the federal government against the company, known only as "the Corporation."
Chief Justice Roberts stays court order in mystery grand jury probe. The Supreme Court appears to have intervened in the operations of Special Counsel Robert Mueller's investigations for the first time. But we know precious little about what really is going on, beyond the mechanics of an order issued Sunday afternoon [12/23/2018] by the chief justice of the United States.
Supreme Court Intervenes in Apparent Mystery Mueller Case. Chief Justice John Roberts stayed a contempt order in a case that likely arose from Special Counsel Robert Mueller's investigation on Sunday night [12/23/2018]. Roberts' order could mark the first time that the Supreme Court has intervened in the Mueller inquiry. Very little is known of the case, which reached the justices on Saturday, because the matter has proceeded through the federal courts under seal, meaning strict confidentiality prevails over every detail.
Roberts Sides With Liberal Justices, Strikes Down Trump's Asylum Policy. On Friday, Chief Justice John Roberts sided with the four liberal justices of the Supreme Court once again as they ruled against the Trump administration's request for permission to immediately deny asylum to illegal immigrants. In the case, titled Trump v. East Bay Sanctuary, Clarence Thomas, Samuel A. Alito Jr., Neil M. Gorsuch and Brett M. Kavanaugh voted for the Trump administration; Roberts joined justices Steven Breyer, Elena Kagan, Ruth Bader Ginsburg and Sonia Sotomayor to deny the Trump administration's request.
Deep-State Justice Roberts Is Swing Vote As SCOTUS Stops Trump Ban On Asylum. The Supreme Court ruled against President Trump's attempt to stop illegal aliens from claiming asylum when they cross the border on a 5-4 decision. Roberts, who was supposed to be a constitutionalist has once again turned his back on the great paper to side with progressives. Four justices — Clarence Thomas, Samuel A. Alito Jr., Neil M. Gorsuch and Brett M. Kavanaugh — would have granted the administration's request.
Pass Mark Levin's Supreme Court Amendment. The Supreme Court was never supposed to be this powerful. Alexander Hamilton claimed in The Federalist No. 78 that the judicial branch was to be the least powerful of the branches. Though it has judgment, this pales in comparison to the force and will of the other branches. It, after all, depends on the executive and legislative branches for cases to hear. Though this was true for the first 14 years of the Constitution, it soon changed. After the landmark decision of Marbury v. Madison took hold in 1803, it forever changed the power structure of our federal government and effectively derailing checks and balances. It was the first decision that established judicial review. Since then, the Court's decision has been final in determining if a law is unconstitutional.
Now That The Supreme Court Isn't Their Puppet, Liberals Want To Destroy It. Concerted opposition to the independent judiciary has begun to percolate on the left with little scrutiny. Last week, Democratic National Committee Chairman Tom Perez, Hillary Clinton's former spokesman Brian Fallon, and Democratic Rep. Ro Khanna rallied activists seeking to enervate judicial independence through proposals like court-packing and term limits for justices. Left-wing influencers like Democratic Rep.-Elect Alexandria Ocasio-Cortez and attorney Michael Avenatti have endorsed the former proposition already. Progressive websites like Vox.com have repeatedly challenged the notion of judicial review. And dozens of leading lawyers on the left are organizing support for such ideas. The list goes on.
Kavanaugh Joins Liberals to Protect Pro-Planned Parenthood Ruling. The Supreme Court declined to review three cases relating to Republican efforts to defund Planned Parenthood at the state level Monday, over a vigorous dissent from Justice Clarence Thomas. The dissent was significant because it indicates that Justice Brett Kavanaugh sided with the high court's liberal wing to deny review of a lower court decision that favored the nation's largest abortion provider. "So what explains the Court's refusal to do its job here?," Thomas wrote. "I suspect it has something to do with the fact that some respondents in these cases are named 'Planned Parenthood.'"
SCOTUS Sides with Planned Parenthood — Lib Media Says Undercover Baby Parts Videos Were Discredited(?). In September 2016 the Center for Medical Progress released a shocking video — the 9th in its series of videos exposing Planned Parenthood of selling aborted babies and their body parts. The video caught a Planned Parenthood medical director discussing how the abortion company sells fully intact aborted babies. The liberal media worked overtime to hide these gruesome practices from the American public. They had to. The selling of baby body parts is so utterly grotesque and barbaric. When conservatives compared what Planned Parenthood is doing to Nazi laboratory experiments, they were not exaggerating.
Supreme Court Deals Unanimous, Welcome Blow to Administrative State in Frog Case. Unanimity is elusive in today's America but the Supreme Court achieved it last week. Although the dusky gopher frog is endangered, so are property rights and accountable governance. Both would have been further jeopardized if the frog's partisans in the U.S. Fish and Wildlife Service (FWS) had gotten away with designating 1,544 privately owned Louisiana acres as a "critical habitat" for the three-inch amphibian, which currently lives only in Mississippi and could not live in the Louisiana acres as they are now.
The Anti-Trump Hysterics Roll On. The chief justice, John Roberts, claimed with a straight face that once aboard a federal bench, judges and justices shed any previous political or public-policy biases they might previously have had. His own Supreme Court and the titanic struggles over confirming nominees of administrations of either party to it, make nonsense out of such a claim. Roberts's own record in his present exalted office indicates that his theory of the miraculous immaculate transformation of incoming federal judges is bunk, apart from his rescue of Obamacare by his spurious finding that it was a tax (presumably to avoid a massive confrontation of the kind that Presidents Jefferson and Jackson had with Chief Justice Marshall and President Franklin D. Roosevelt had with Chief Justice Charles Evans Hughes).
Is Justice Roberts an 'Obama Judge'? [Scroll down] Roberts capitulated and said ObamaCare was constitutional because it was a tax, a gross distortion that injected into the law the false notion that government could legally force people to buy a product they did not want. He knelt before the power of the state and not before the Constitution, the document that is supposed to limit government power that he was sworn to uphold and protect. In this instance at least, John Roberts became a judicial activist aiding and abetting a community organizer. He became an an Obama judge.
The Unelected Keep Telling Our Elected President to Shut Up. Chief Justice John Roberts was appointed to the Supreme Court — appointed. In fact, the entire judiciary is either clogged by those who have not earned a single vote or by those who won no more than the votes of one of the 50 states. And yet, when the man chosen by Americans to represent all of America criticizes the judiciary, the top judge in the country tells him to shut up.
Justice Roberts' attack against President Trump was blatantly political and wrong. In a remarkably inappropriate and blatantly political statement Wednesday, U.S. Chief Justice John Roberts chastised President Trump for the president's quite accurate criticism of the 9th U.S. Circuit Court of Appeals and its rogue district and appellate court judges. The spectacle of the ostensibly nonpolitical chief justice engaged in a dispute with the president of the United States is insulting to the Supreme Court and to our system of justice. Shame on the chief justice. What he did is unforgivable, especially after the corrosive Senate confirmation battle over now-Supreme Court Justice Brett Kavanaugh, who was the subject of bitter and baseless partisan attacks and character assassination by Senate Democrats.
Chuck Grassley to Chief Justice John Roberts: You Rebuked Trump — But Sat Silent Through Obama's Abuse. U.S. Supreme Court Chief Justice John Roberts offered rare public criticism of the President of the United States on Wednesday [11/21/2018] when he pushed back against President Trump's claim Tuesday that an "Obama judge" had blocked his effort to deny asylum to those entering the country illegally. But as outgoing Senate Judiciary Committee chair Sen. Charles Grassley (R-IA) later noted, Roberts was silent when President Barack Obama attacked the Court during the State of the Union address in 2010.
Midterm Silver Linings. [Scroll down] Two Supreme Court justices are in their 80s, Breyer and Ginsburg, and both are solid liberal votes. If Trump replaces them with another Kavanaugh or Gorsuch, the court will be conservative majority for a generation, long past Trump's presidency or Pelosi's speakership. Then there are all the federal and lower courts, now with an easier path to confirmation by a more solid Republican Senate. The White House and Congress often change party control. But judges are for life. Having the Senate in solid red territory will add a long-needed constitutional jolt to America's judicial system for decades to come.
Kavanaugh has recused himself in three Supreme Court cases so far. Supreme Court Justice Brett M. Kavanaugh is recused in three cases to be heard this term by the high court out of the roughly 40 cases that the justices have granted review of so far. More could come during the course of the court's term through the spring, but as of October, Justice Kavanaugh will only sit out on Jam v. International Finance Corporation, Lorenzo v. Securities and Exchange Commission and Azar v. Allina Health Services. All three cases come before the Supreme Court from the D.C. federal appeals court where Justice Kavanaugh sat as a circuit court judge for 12 years. He was part of the original three-judge panel in two of the cases and participated in an en banc order in the other.
Supreme Court Halts Wilbur Ross Deposition On Citizenship Question In Census Form. The U.S. Supreme Court temporarily stopped the scheduled deposition of Commerce Secretary Wilbur Ross in a legal challenge to the inclusion of a citizenship question on the 2020 census form. The Monday night [10/22/2018] order was unsigned and the vote count was not disclosed, as is typical of matters of this nature. The Supreme Court's decision will only remain in effect until Oct. 29, by which point the Justice Department must ask the high court to make a final decision regarding Ross' testimony.
Census Win — Supreme Court Strikes Down Activist New York Court in Census Citizenship Ruling. The most recent reviews of media presentations for this story (The Hill and CNN) reflect MSM disappointment that SCOTUS has ruled in favor of the administration. The U.S. Commerce Department is adding a citizenship question to the 2020 census. An activist judge in the Southern District of New York (SDNY) — framing a challenge based on the question being discriminatory — ruled that Commerce Secretary Wilbur Ross must submit to a deposition to discover "the motives" of the decision. An appellate circuit panel initially agreed with the lower court and ACLU lawyers. However, U.S. Solicitor General Noel Francisco asked the Supreme Court to stay the circuit court ruling. SCOTUS agreed with the administration and blocked the ridiculous activist lawyers from questioning the cabinet; the supreme court does allow the plaintiffs to question the DOJ civil rights division lawyer.
James Madison doesn't want your dead cat to vote, and maybe not you either. In 1987, the eminent jurist Robert Bork was nominated to the Supreme Court. The American Bar Association evaluated Bork, as they have evaluated nominees since 1956. Despite the fact that the ABA leans left and Bork leaned right, they gave Bork their highest "Well Qualified" rating. No matter. Bork was "borked" by a senate smear campaign led by failed presidential candidate, failed husband, failed drinker, failed driver and failed swimmer Ted Kennedy, who avoided failure in only one thing in life — getting repeatedly re-elected by foolish voters in Massachusetts who liked his family name. After Bork was defeated, a replacement nominee was named, Anthony Kennedy. He was confirmed by the senate 97-0. Maybe that's because foolish people, including perhaps Ted, thought he was one of "the" Kennedys (He wasn't). That was the last unanimous confirmation.
The Democrat Strategy of Crying Rape Is Not Over. If the Democrats take the House in the midterms, Rep. Jerry Nadler (D-N.Y.) would be chairman of the judiciary committee, and he has vowed to pursue the accusations of sexual assault against the newest Supreme Court Justice. At first glance this seems self-destructive on the part of Democrats, given how the general public hated the cruel and lawless attack on Kavanaugh. Democrats have a different calculus. Abortion with no limits is threatened. There is a conservative majority on the Supreme Court, so the court itself must be besmirched. What is becoming more obvious by the day is that the Democrats don't care about the general electorate. They appear bent on destroying unity wherever they find it. They want to destroy constitutional limits on their power, including the limits brought on by separation of powers or Democrats losing elections.
Liberals Discover the Dangers of a Powerful Supreme Court. [Scroll down] For instance, Slate's Mark Joseph Stern warned that the newly confirmed Kavanaugh "will become part of a five-justice-conservative block that will swiftly roll back decades of progressive jurisprudence." Alas, there is little evidence that any such reversal is likely, or likely to be swift — remember Chief Justice John Roberts' determination to uphold Obamacare on grounds that even the left didn't take seriously, that the program was a tax. Nevertheless, the imagined progressive golden age inaugurated by enlightened lawyers is going a-glimmering. Given the fact that it has taken a half dozen GOP presidents decades to create a seemingly "conservative" majority, which has its own divisions over such issues as executive power and civil liberties, liberals shouldn't whine. They have long enjoyed the benefits of an activist judiciary which only slowed down in recent years. It seems only fair for democratic change to eventually transform the court.
The Plot Against the Supreme Court. The attack on Brett Kavanaugh was not just an assault on a man, but an attack on an institution. Ruth Bader Ginsburg is 85 years old and Stephen Breyer is 80 years old. Presidential incumbents tend to win reelection. Even if the Democrats take the Senate, the odds are good that they won't be able to nominate anyone to the Supreme Court until 2025. That's a long time away, and a lot can happen until then. Even if Breyer and Ginsburg manage to stay in the game until a Democrat makes it into the White House, with Kavanaugh's appointment the Supreme Court has taken on a 5-4 conservative tilt for the next seven years. It's been a century since the Supreme Court has been this conservative. Conservative justices have less power than lefty justices. The latter can create laws, in defiance of the constitution, while the former eliminate them, in deference to the constitution. But those seven years can still undermine a great portion of the big government project.
Democrats Abandon the Constitution. Brett Kavanaugh's appointment to the Supreme Court has sparked a firestorm of outrage and recrimination on the left. Some attacks seem aimed at intimidating the justices into supporting progressive causes. "The Court must now prove — through its work — that it is worthy of the nation's trust," Eric Holder, President Obama's attorney general, tweeted Oct. 6.
Ending the judicial Wheel of Fortune: The need for 18-year Supreme Court terms. The Democrats have won the popular vote in six of the last seven presidential elections, yet unless Ruth Bader Ginsberg can stay on the bench until she is 87, there may soon be six conservative justices on a Supreme Court no longer in touch with the people. High court justices live longer and serve longer than they used to. Until 1970, the average justice served 15 years and retired at 68. Today, he or she serves 26 years and retires at 79. Clarence Thomas, for example, has been on the court 27 years, but shows no sign of retiring soon. Neil Gorsuch and Brett Kavanaugh, just 49 and 53 when President Trump appointed them, could still be on the bench in the 2050s.
The Left is promising to abuse power if they win; voters should take them seriously. In 2005, the Supreme Court issued its landmark decision in Kelo v. New London, diminishing Americans' property rights. The ruling said that governments can seize your home through eminent domain, even if their intention is merely to hand the land over to private developers. Conservatives saw this as one more bad ruling from a Supreme Court that issued a whole lot of them. House Minority Leader Nancy Pelosi, D-Calif., was a bit more sanguine, and her famous response exemplifies the respect and reverence that liberals once had for the Supreme Court, just so long as it was influencing culture and moving the national conversation in a way they liked. "It is a decision of the Supreme Court," she said, emphasizing its finality. "If Congress wants to change it, it will require legislation of a level of a constitutional amendment. So this is almost as if God has spoken."
GOP Needs Update to Dems' Cage Match Rules. It's time to update the GOP's Marquess of Queensbury Rules. If you saw Ruth Bader Ginsburg at Brett Kavanaugh's swearing-in ceremony, you know that we may need to fill her seat in about 4½ minutes. Naturally, I hope she lives to be 300 — although parenthetically, it seems she already has. The confirmation hearings for Kavanaugh made Robert Bork's hearings look like a day at the beach. At least liberals only lied about Bork's judicial philosophy. They didn't accuse him of being Ted Bundy. The next nomination hearing will make Kavanaugh's look like an ice cream social.
Undermining the Supreme Court is incredibly dangerous. What does it look like when the Supreme Court loses its legitimacy? We don't want to find out. Now that Brett Kavanaugh has been appointed to the court after a long and incredibly messy confirmation process, some have suggested this is the moment the institution loses its standing in the eyes of the American public. [...] For more than 200 years, the Supreme Court has served as the final word, more or less, on the hot constitutional issues of the day. But that power, known as "judicial supremacy," isn't written into the Constitution — the court claimed it back in 1803 in Marbury v. Madison. Americans have mostly agreed to go along with it ever since. But what if they didn't? There are already rumblings on the left that it's time to stop letting the court have the last word.
In His First Day On The Job, Kavanaugh Hired As Many Black Law Clerks As RBG Has In Her Entire Tenure. Justice Brett Kavanaugh has hired a black law clerk for his new chambers at the U.S. Supreme Court, matching Justice Ruth Bader Ginsburg's record of African-American clerkship hiring during her tenure on the nation's highest judicial tribunal. With his first clerkship hires, Kavanaugh also set a gender composition record, an apparent attempt to buck the high court's hiring patterns, which tend to favor white, male graduates of elite law schools. Since joining the high court in 1993, Ginsburg has hired over 100 law clerks, just one of whom is black.
Democrats' New Strategy: Destroy The Institutions Of American Government. In the aftermath of Justice Brett Kavanaugh's confirmation to the Supreme Court, Democrats have come up with a plan. According to The New York Times, Brian Fallon, top spokesman for Hillary Clinton's 2016 presidential campaign, says that Democrats should consider extreme measures. What measures are more extreme than slandering a judicial nominee as a gang rapist? Why, simply packing the court, FDR style! [...] Democrats aren't afraid that the Court will do its job — they're afraid that the Court doing its job will mean checks and balances actually work. So instead, they want to do away with the Court as a functioning institution.
Liberals' Kavanaugh Blunder: Raising the Stakes Without Changing The Game. Liberals have overlooked that, just because the stakes have been raised, does not mean the game has changed. What these Trump-state Democrats needed to do before, they still need to do now. However, doing it has gotten harder, thanks to the left. That such a fundamental mistake could have been thrust upon Democrats by the left is quite plausible: It was liberals' strategic blunder that put Democrats in this predicament in the first place. Last year, liberals insisted Senate Democrats pull out what then amounted to all the stops to block Neil Gorsuch's Supreme Court confirmation. Thinking Republicans could not, or would not, call their bluff to change Senate rules to stop filibusters of Supreme Court nominees, they lost: Not just Gorsuch's nomination, but the larger war. Had they allowed Gorsuch's confirmation and maintained the filibuster, they would likely have been able to successfully filibuster Kavanaugh. But they no longer had it.
Justice Kagan is Concerned About the Supreme Court's 'Legitimacy'if Kavanaugh is Confirmed. While, in theory, the Supreme Court is an "impartial" group of people deciding and interpreting law that will impact us for generations to come, it's not. For the most part, we know how justices are going to side. Justices Sonia Sotomayor, Elena Kagan and Ruth Bader Ginsburg are pretty much always going to fall on the liberal side of the position. Justices Samuel Alito, Neil Gorsuch and Clarence Thomas are pretty much always going to fall on the conservative side of the issue. That leaves Justices Anthony Kennedy falling to the left-of-center and John Roberts falling to the right-of-center. That's not being impartial in the least bit. If it was, Kennedy's retirement wouldn't be such a huge deal.
Conservatives: Kavanaugh Confirmation Is a 'Major Step' in Restoring Constitutional Rights. Conservative groups hailed Justice Brett Kavanaugh's confirmation to the Supreme Court as a "victory" for American liberty and called it a "major step" in restoring constitutional rights in the U.S. Conservative think tanks, advocacy groups, and legal organizations dedicated to defending religious liberty weighed in on Kavanaugh's Saturday afternoon confirmation, which was one of the "defining" issues for many voters in the 2016 election.
About Merrick Garland's 'Stolen' Seat. Lots of noise on Twitter and in the left-leaning opinion precincts still bemoaning the failed nomination of Judge Merrick Garland to the Supreme Court, and the "theft" of his seat, which was essentially pocket-vetoed by Mitch McConnell in 2016. Following what's become known as the Biden Rule, McConnell declined to bring the nomination to the Senate floor, and it expired along with the Obama presidency and the Hillary Clinton candidacy that fall.
The Kavanaugh-Garland equivalency is false. Look at this weekend's mobs of protesters — many of them paid by hugely wealthy and powerful special interests — that thronged the streets around the Capitol and Supreme Court to shout down any difference of opinion. Jackbooted hippies jeered, harassed and intimidated anyone who hesitated to swear fealty to their warped worldview and twisted lies. No single lie has been more freely uttered — or is more profoundly dishonest — than the claim that Senate Democrats had every right to kill the Kavanaugh nomination as payback for Republicans' refusal to take up President Obama's nomination of Merrick Garland in the final months of his presidency.
Brett Kavanaugh will bring change to the Supreme Court, but maybe not what you think. [Scroll down] With regard to Roe v. Wade — which is really what this entire, embarrassing circus was about, with all the charges and countercharges just being talking points — it's hard to say. Kavanaugh told the senators that Roe is "settled law." That's true, in a sense. But Plessy v. Ferguson, which upheld segregation, or Bowers v. Hardwick, which allowed states to treat gay sex as a felony, were both settled law until they were overturned. And Justice Sonia Sotomayor told senators that the Second Amendment as an individual right was settled law after District of Columbia v. Heller but then took the anti-Second Amendment side in McDonald v. Chicago the next year. Even so, overturning Roe would be a huge deal, and I don't think the court has the stomach for it. There may be a bit of chipping around the edges, as in the 1992 case of Planned Parenthood v. Casey, but not much. It will take at least two more pro-life justices on the court before Roe is at risk.
The High-Water Mark of the 'Resistance' — for Now. The judge has been confirmed and sworn in, and is now Justice Kavanaugh. Long may he sit on the bench as we attempt to correct the course of the ship of state and return it to constitutional principles that have been under attack by the Democrat Party since Aaron Burr murdered Alexander Hamilton. [...] That this is a prescription for the breakdown of our legal system bothers them not one whit; for them, emotions (Burr's wounded pride, Andrew Jackson's anger, John Wilkes Booth's need for revenge, Clinton's gangster background, Obama's Chicago Way) always trump reason, which is why they have so much of the former and evidence so little of the latter. Despite their defeat in the Battle of Brett Kavanaugh, they (like the Democrat South in the Civil War) will be back for more.
Where do we go from here? The Democrats' shameful treatment of Robert Bork in 1987 has distorted our politics — not just the politics of the Supreme Court — for the last 30 years. But the slanders the Democratic Party directed toward [Brett] Kavanaugh were, if anything, even more disgraceful. We will feel their impact for many years to come.
Save the Supreme Court: Impose Term Limits on Justices. While envisioned by Alexander Hamilton as "the least dangerous branch" and "the weakest of the three departments of power," intended to settle disputes rather than make policy, the judiciary has turned into a quasi-legislature, where disappointed activists turn if they lose political battles. That view of the courts predominates on the Left, for whom the Constitution has virtually nothing to do with constitutional law. The role of judges is to say what the law should be, not what it is. What previous generations agreed to is irrelevant, a historical footnote. A good jurist briefly mentions the nation's founding document while looking for ambiguous language. He or she then claims to have discovered constitutional penumbras and emanations after great effort. The opinion then justifies turning the latest political zeitgeist into law. Jurisprudence is almost entirely result-oriented, with judges expected to vote as if they were legislators.
Ginsburg Forgets [what is in] 14th Amendment, [and someone in the] Audience Has To Give Her [a copy of the] Constitution. Supreme Court Justice Ruth Bader Ginsburg forgot the contents of the 14th Amendment while speaking to the National Woman's Party in late August and needed an audience member to give her a copy of the Constitution so she could remember what it said. The incident happened on August 26, 2018, when Ginsburg was asked to talk about the Equal Rights Amendment while addressing the audience at the Belmont-Paul Women's Equality National Monument.
After Kavanaugh: The judicial wars are just getting started. [Scroll down] The reason for these increasingly hard-fought and closely decided Supreme Court battles is that the last four nominees have been originalists and textualists who threaten the progressive doctrine of the Living Constitution. The left's hold over the Supreme Court is under threat. The Democratic Party and its affiliated interest groups, always eager to appease foreign adversaries, have in this case responded with force. They understand that the Supreme Court effectively rules the country. Any restoration of constitutionalism and of the separation of powers depends on control of the Court. Which is why, given a closely divided Senate, the next originalist nominee will be confirmed with fewer votes than Kavanaugh.
Does Ruth Bader Ginsburg still have the judicial temperament to sit on the Supreme Court? [Scroll down] The question that does arise is whether something has changed these past two years in Ruth Bader Ginsburg. She has become a hero of the Left by attacking President Trump. It is personal. She has spoken, and we all have read and heard. She hates the man, and she surprisingly has lost that internal thermostat that inhibits a proper judge from being so candid about how much she hates someone. It seems impossible to reconcile how she can sit as a justice on any case matter that touches on Trump Administration policies and initiatives. Her prejudice is palpable. It seems quite impossible to reconcile her refusing to recuse herself when any matter stemming from a Trump initiative comes before the Court.
Why the Supreme Court is now America's most dangerous branch. With its dramatic reveals, shocking allegations and stunning confessions, the fight over the confirmation of Supreme Court nominee Brett Kavanaugh has had more plot twists than a telenovela. And the Court has only itself to blame. "The Court's adventurism and self-aggrandizement has had insidious consequences," said David A. Kaplan, author of "The Most Dangerous Branch" (Crown), out now. This month's bare-knuckle brawl in the Senate is all the proof we need that judicial activism has grotesquely warped American politics, Kaplan argues.
Brett Kavanaugh and the Limits of Social-Class Privilege for Conservatives. Brett Kavanaugh's true sin isn't his connections, his popularity, or his prep school. His true sin is that he's a conservative. And now he's a particular kind of conservative -- a conservative who matters, a conservative who will have the power (and might actually have the convictions) to threaten one or more of the most sacred elements of progressive jurisprudence. He can potentially affect the law and the culture in a profound way. So what we're watching is the systematic revocation of his elite privilege.
With the Kavanaugh Charade, Do Polls Now Replace the Constitution? The Constitution clearly spells out the role of the Senate in selecting Supreme Court justices. Article 2 dictates that the president "shall nominate, and by and with the Advice and Consent of the Senate, shall appoint ... Judges of the Supreme Court..." Advice and consent means that Senators can provide input, question nominees about their future role as a Supreme Court Justice, then vote to approve the nomination. Typically, presidents are given deference to make nominations, and as long as such nominees are not clearly unqualified, to confirm these nominees to the court. Nominees are usually confirmed without much fanfare, even those who are ideologically out of the mainstream, such as Ruth Bader Ginsburg, confirmed 96-3. Barack Obama's two nominees were confirmed, but by a closer margin, Elena Kagan 63-37 and Sonia Sotomayor 68-31. Enter Donald Trump and "advice and consent" yields to blatant partisanship. His first Supreme Court nominee, Neil Gorsuch, squeaked by 54-45. Trump's current nominee, Brett Kavanaugh, is the star attraction in the newest reality show, not featuring housewives, but instead, "The Real Obnoxious Senators of Washington, D.C."
Kavanaugh's accuser recovered her memory at the time Dems were panicked Romney would win and nominate him to SCOTUS. Bookworm has noticed an odd coincidence: after telling no one her story about the alleged incident for decades, she suddenly remembered and spoke about it in couples' therapy in 2012, when leftists perceived the possibility that Mitt Romney, ahead in the polls, would win the presidency and appoint Judge Kavanaugh to the Supreme Court.
The Dems "Anita" Brett Kavanaugh. It's uncanny how closely the Democrats are following the Anita Hill playbook as they try to "Anita" Brett Kavanaugh, looking to prevent his confirmation as a Supreme Court Justice. [...] Having watched Kavanaugh's testimony and having heard the encomia on his character from the many women whose careers he has fostered as a judge and professor, as well as from his colleagues, I strongly doubt that he did what Ford alleges, and what her allegation suggests was a rape attempt was, by her own description, nothing of the kind — though, following the Hill playbook, she has already taken a lie-detector test and hired a well-known lawyer. [...] But ever since their savaging of Robert Bork, no dirty trick is too dirty for the Democrats when it comes to the Supreme Court.
The real Christine Blasey Ford. "Now I feel like my civic responsibility is outweighing my anguish and terror about retaliation," Christine Blasey Ford told the Washington Post. "Retaliation"! Au contraire, this will make your career. Like Anita Hill, you'll dine out on this the rest of your life. A book or two, a professorship at an Ivy, and the lecture circuit. Maybe some "journalist" can tell us whether she has proactively retained a booking agency? I can already hear her keynoting the Democrat convention in 2020.
Democrats Want Their Pound of Kavanaugh Flesh. The 27-year-old "Anita Hill" strategy of digging for dirt on a Supreme Court nominee didn't work with Clarence Thomas back in 1991. But desperate times for liberals call for desperate measures. Just as with Anita Hill, no doubt it took a concentrated effort of importuning by a host of liberal Senate staffers and interest-group partisans to wrest from another college professor a last-minute allegation of sexual misbehavior designed to sink a Supreme Court appointment at the eleventh hour.
Here's Why The Revelation Of Judge Kavanaugh's Accuser Was Inevitable, And Why It Still Means Nothing. [Scroll down] And it was becoming all too clear that "anonymous accuser" wasn't going to cut it, not with so much at stake. Enter Christine Blasey Ford, the as-of-Sunday no-longer-anonymous (and already lawyered-up) Kavanaugh accuser who contends that the then-prep-school student [... highly questionable details omitted for brevity, among other things.] The alleged incident left Ford so traumatized, apparently, that she neglected to go public or even file a police report for [...] 36 years. [...] Sounds serious, and it would be if it were true. But most people who almost get killed by criminals "trying to attack" them, you know, go to the police.
Why The GOP Should Confirm Kavanaugh In Spite Of This Last-Minute Accusation. Sen. Dianne Feinstein's September surprise exploded yesterday as Christine Blasey Ford, a professor in California, came forward as the woman accusing Supreme Court nominee Brett Kavanaugh of sexual assault in 1981. The Washington Post broke the tale she was apparently reluctant to tell. With Kavanaugh about to swing the court to fascism, according to the left, well, her reluctance relented. Now we must decide how the Senate should react to this last-gasp attack. The answer is pretty simple: He should be confirmed. For whatever reason, Feinstein decided that these allegations should remain under wraps even from other Democrats during the hearing process. That was the time Kavanaugh and witnesses could have been confronted by these allegations. But no, Feinstein waited, and threw this grenade into the final moments of his nomination.
Republicans Question Democrats' 'Tactics and Motives' in Producing Accusatory Letter Now. Republicans on the Senate Judiciary Committee released a statement after learning that an anonymous woman claimed she was sexually assaulted by Judge Brett Kavanaugh. "If ranking member Feinstein and other Committee Democrats took this claim seriously, they should have brought it to the full Committee's attention much earlier," the statement said.
Kavanaugh Classmate Named in Letter Strongly Denies Allegations of Misconduct. On Friday morning [9/14/2018], The New Yorker's Jane Mayer and Ronan Farrow reported on a letter alleging possible sexual misconduct by Brett Kavanaugh while he was a high-school student. [...] The Kavanaugh classmate quoted in the New Yorker is Mark Judge, a writer in Washington, D.C. Judge spoke to The Weekly Standard Friday afternoon, strongly denying that any such incident ever occurred. "It's just absolutely nuts. I never saw Brett act that way," Judge told TWS.
Author Stephen King threatens to destroy Susan Collins if she votes to confirm Brett Kavanaugh. Author Stephen King has threatened to "defeat" Sen. Susan Collins, R-Maine, if she votes to confirm President Trump's nominee to the Supreme Court, Brett Kavanaugh. Presuming to speak for "most Americans," King tweeted that people are "angry" over how the conformation "is being railroaded through." [...] Senate Democrats, backed by the party's hard-left base, have fully embarrassed themselves with their antics to oppose a highly respected Judge Kavanaugh.
Some 'journalists' happy to pitch in on last-ditch hit job on Kavanaugh. The Supreme Court nomination seems like a new season of "House of Cards," with many in the media helping write the script. It's had everything it needed to be a hit: lies about what nominee Brett Kavanaugh said; journalists thrilled by a self-aggrandizing senator who was lying and fantasizing he was "Spartacus"; another senator who promoted a phony video of the testimony; hundreds of radical protesters intent on shutting down the hearing and even attempts to threaten or possibly bribe a senator into voting him down. Now there's a last-second allegation from ... high school. The accusation was Democrat Sen. Dianne Feinstein's First-Monday-in-October surprise.
Ronan Farrow Reports Kavanaugh Accuser Refuses to Come Forward, No Witnesses. Ronan Farrow — a journalist who has gained notoriety for his investigative reporting on sexual predators, including disgraced movie mogul Harvey Weinstein and CBS executive Leslie Moonves — worked with another writer at the New Yorker to report on the last-ditch effort by Democrats to derail Kavanaugh's confirmation. Unlike Farrow's earlier reports on Weinstein and Moonves — in which victims are named and interviews included in the piece, the Kavanaugh accuser is different — and less credible — for several reasons.
'The System's Not Working' Is Liberal Speak For 'We're Not Getting What We Want'. CNN released a new poll this week that alleges only 38 percent of Americans support the confirmation of Judge Brett Kavanaugh to the Supreme Court, while 39 percent do not. It was the lowest net approval of any Supreme Court nominee since Harriet Miers. [...] Kavanaugh is down by a single point in a CNN poll in a nation where more than half the people can't even name a single Supreme Court justice. Never mind either that 2016 was the most SCOTUS-centric election we've had in modern times. The GOP's presidential candidate provided a list of names then promised to nominate those people if he became president.
Barely Coherent: Supreme Court Justice Ruth Bader Ginsburg Makes an Appearance. A few weeks ago American media began heavily promoting a generally odd video of Supreme Court Justice doing a workout. It seemed weird. Today, the motive of putting out that video becomes transparent. Justice Ruth Bader Ginsburg appears at an event hosted by the National Asian Pacific American Bar Association. [Video clip] How long can the left-wing apparatchik maintain a ruse that Justice Ginsburg is fit to remain on the court?
Kavanaugh Needs No Defense. Every time a conservative jurist is nominated to the Supreme Court, he's accused of perpetrating some heinous deed or harboring some reprehensible opinion. Neil Gorsuch was a plagiarist. Sam Alito was a racist and a sexist. John Roberts supported abortion clinic bombers. Clarence Thomas liked to talk about weird sex to female subordinates. Robert Bork was one of the worst people who ever lived. Brett Kavanaugh was subjected to some of the most mindlessly tendentious treatment we've ever witnessed in a Senate confirmation hearing. Particularly memorable was Cory Booker's demand that Kavanaugh explain a 16-year-old email on racial profiling without telling Kavanaugh what the email said (Booker claimed he couldn't release the email although he had been cleared to do so — then released it as though he were breaking Senate rules). Kamala Harris cleverly edited a video to make it sound as though he considered birth control and abortion-inducing drugs the same thing, then posted the video on Twitter and claimed Kavanaugh was "going after birth control."
Sixty-Five Women Who Went to High School With Brett Kavanaugh Write Their Own Letter About His Character. Five dozen women who went to high school with Supreme Court nominee Brett Kavanaugh have written a letter to Senate Judiciary Committee Chairman Chuck Grassley and Ranking Member Dianne Feinstein backing his character. "We are women who have known Brett Kavanaugh for more than 35 years and knew him while he attended high school between 1979 and 1983. For the entire time we have known Brett Kavanaugh, he has behaved honorably and treated women with respect. We strongly believe it is important to convey this information to the Committee at this time," the letter states. "Brett attended Georgetown Prep, an all-boys high school in Rockville, Maryland. He was an outstanding student and athlete with a wide circle of friends. Almost all of us attended all girls high schools in the area. We knew Brett well through social events, sports, church, and various other activities. Many of us have remained close friends with him and his family over the years."
Theater of the Absurd Has Taken Over the Senate. The central complaint of the Democrats is that they haven't been given access to records from Kavanaugh's time working in the Bush administration. They demand their release by the current White House, or the Senate Judiciary Committee, or Kavanaugh, or, perhaps by this writing, Aslan the Lion, deity of Narnia. Explaining the ginned-up controversy would be a waste of time, because the point of these demands merely is to put on an absurdist drama in which the finale is never in doubt. Judge Brett Kavanaugh, an indisputably qualified nominee, even according to the typically liberal American Bar Association, will be confirmed no matter what the Democrats do and no matter how many indecipherable yawps get shouted by the hysterics in the hearing room.
Democrats Have Very Good Reasons To Go Crazy Over Kavanaugh. [President] Trump won the Republican nomination in substantial part because of his dramatic pivot on judicial nominations, especially for the Supreme Court. He once spoke cavalierly of nominating his sister, who is not seen as a particularly conservative jurist, to our nation's highest court. Seeing the reaction to Scalia's passing, Trump promised to nominate justices from a list compiled by future White House Counsel Don McGahn (not to mention Leonard Leo and the Federalist Society). "The List" was an unprecedented move in presidential politics, designed to bring distrustful Republicans to Trump's side, or at least blunt their opposition during the primaries. It became a prime argument on Trump's behalf on talk radio and in opinion columns seeking to reassure conservatives that there was something in a Trump candidacy for them.
The Character Assassination of Brett Kavanaugh. There is certainly an honorable way to oppose the nomination of Brett Kavanaugh. It's simple. A progressive senator can simply declare that he or she does not agree with Kavanaugh's judicial philosophy, explain why, and vote against him. There is no constitutional rule that declares a senator must vote for every qualified Supreme Court nominee. There's also an honorable way to investigate Kavanaugh's fitness for the bench, regardless of his judicial philosophy. A judge at any level — much less the Supreme Court — should exhibit a basic and enduring commitment to honesty and integrity. So, yes, scrutinize his record. Diligently investigate his background. If a serious character issue emerges, expose it. But it's low and dishonorable to skip the principled opposition and simply smear a good man, engaging in cheap character assassination as Judge Kavanaugh's Democratic opponents have this week.
The Supreme Court's days as a super-legislature are over, and Democrats aren't happy about it. Democrats placed themselves one after another into Kavanaugh's seat on the District of Columbia Circuit Court of Appeals to second-guess rulings, which is only natural for those who think the courts are there to make policy decisions. [...] All these opinions about Kavanaugh's rulings have one thing in common: They come from politicians who seem to think judging is a lot like what they do for a living. But judges don't make policy, and the Supreme Court is not a super-legislature. That's why a good judge who decides cases based on law and precedent will not like all the outcomes of the cases he hears. Federal judges don't run for their seats or make promises on how they will vote. And they are not supposed to make rulings that set the policies that affect millions of Americans. Policy is supposed to be a function of the democratic process, not something created by a lifetime-appointed nine-person oligarchy.
Sen. Grassley Calls Out Media 'Double Standard' in Kavanaugh Coverage. Resuming the confirmation hearing for Supreme Court nominee Brett Kavanaugh Tuesday afternoon [9/4/2018], Republican Senate Judiciary Committee Chairman Chuck Grassley blasted his Democratic colleagues and their liberal media allies for blatant hypocrisy when it came to criticism of the judicial branch of government, pointing to routine attacks on conservative Supreme Court justices.
Sens. Dianne Feinstein, Kamala Harris have agendas in Brett Kavanaugh hearings. For California Sens. Dianne Feinstein and Kamala Harris, there's more at stake in this week's Judiciary Committee hearings for Supreme Court nominee Brett Kavanaugh than his expected confirmation. When the first of four scheduled days of hearings begins Tuesday, Kavanaugh and the future of the high court will be the focus. Feinstein, Harris and the other eight Democrats on the committee will be pushing hard to turn any wavering Republican senators — and public opinion — against the 53-year-old appeals court judge, whom President Trump nominated in July to replace retired Justice Anthony Kennedy. In the end, a party-line vote to advance Kavanaugh to the full Senate with a favorable recommendation is the most likely outcome.
The ABA Just Gave Brett Kavanaugh Its Highest Possible Rating. The American Bar Association's (ABA) standing committee on the judiciary released its evaluation of Supreme Court nominee Brett Kavanaugh Friday, awarding him a unanimous "well-qualified" rating. The ABA panel issues its evaluation based on a variety of measures including integrity, professional competence and judicial temperament. "The committee's objective is to provide impartial peer evaluations of the professional qualifications of judicial nominees in order to assist the Senate Judiciary Committee in assessing whether such individuals should be confirmed by the Senate," an ABA memo detailing the process reads.
The Vindication of Clarence Thomas — And the Left's Freakout. I'm gaining weight and running out of popcorn watching the left freak out about the nomination of Brett Kavanaugh to the Supreme Court to replace Justice Anthony Kennedy. But beyond just the theatrics of the left's primal screams and desperation tactics it is delightful to see the left begin to reckon with something more fundamental going on, which in one sentence I'll assert is the growing vindication of the constitutional originalism of Justice Clarence Thomas.
Don't sacrifice Democrats' Senate seats in a futile fight against Kavanaugh confirmation. Barring some explosive last-minute scandalous revelation, Brett Kavanaugh will be confirmed by the U.S. Senate. Attracting a couple of Republicans to turn thumbs-down on the judge seems increasingly remote. Nothing that either Maine Republican Sen. Susan Collins or Alaska's Sen. Lisa Murkowski have done or said suggests that either of them will jump ship. Nonetheless, Democratic activists have been hounding Senate Minority Leader Chuck Schumer to coerce West Virginia's Sen. Joe Manchin, Sen. Heidi Heitkamp from North Dakota and Indiana's Sen. Joe Donnelly into falling on their swords by voting against Kavanaugh. Such acts of self-sacrifice would be unimaginable in today's Senate where careers are not tossed away lightly. And even in the unlikely event that Schumer could persuade these Democrats to walk the plank, the party would end up being far worse off than it is now.
White House Slams Schumer, Feinstein for 'Disingenuously' Demanding Kavanaugh Docs. The White House slammed Senate Minority Leader Charles E. Schumer and Judiciary ranking member Dianne Feinstein for "disingenuously" demanding records about Supreme Court nominee Brett Kavanaugh that are "irrelevant" to his legal views. "Despite published reports, the White House's requests for meetings between Judge Kavanaugh and Senators Schumer and Feinstein remain unanswered after over three weeks," White House spokesman Raj Shah said in a statement.
Opposition to Kavanaugh Cracks as Liberal Feminist Democrat Endorses Him. Democratic opposition to Judge Brett Kavanaugh took a hit Thursday when liberal feminist Lisa Blatt, who is a Supreme Court star, called upon her fellow Democrats to vote for Kavanaugh's confirmation to the nation's highest court. "I am a liberal Democrat and a feminist," Blatt told readers in a Politico op-ed. "But we all benefit from having smart, qualified and engaged judges on our highest court, regardless of the administration that nominates them." Blatt has argued 35 cases before the Supreme Court, more than any other woman. She praised Kavanaugh for his proactive hiring of women clerks, comparing him in that regard to the Supreme Court justice for whom Blatt clerked, Ruth Bader Ginsburg.
Ruth Bader Ginsberg claims she has 5 more years on SCOTUS and the jokes write themselves. Don't worry, Lefties, Ruth Bader Ginsburg is apparently psychic and claims she still has five more years on the Supreme Court. Of course, that would make her 90 YEARS OLD before she retires but we suppose if you're of the Leftist persuasion you'd prefer a senile old lady who can't stay awake to Trump appointing another stellar justice.
Ginsburg suggests she has at least five more years on the Supreme Court. Justice Ruth Bader Ginsburg said she hopes to stay on the Supreme Court until the age of 90. "I'm now 85," Ginsburg said on Sunday [7/29/2018]. "My senior colleague, Justice John Paul Stevens, he stepped down when he was 90, so think I have about at least five more years." She has already hired law clerks for at least two more terms.
The Editor says...
Neither you nor I nor Justice Ginsburg nor anyone else knows how much time remains in our lifetimes — especially someone who is already 85 years old. [Psalm 90:10]
Liberal 2020 hopefuls quote [The] Bible in [their] call to reject Judge Brett Kavanaugh. Liberal 2020 presidential hopefuls quoted from the Bible Tuesday [7/24/2018], saying the responsibility of the Senate to fill the vacancy on the Supreme Court is a moral choice. Massachusetts Sen. Elizabeth Warren and New Jersey Sen. Cory Booker said the choice is between a pro-corporate court or one that sides with minorities and people in need, claiming that since 2006 the court under Chief Justice John G. Roberts has sided with the pro-business Chamber of Commerce 70 percent of the time. They questioned what Judge Brett M. Kavanaugh, President Trump's Supreme Court nominee, would add to the court since he was vetted by the Federalist Society and Heritage Foundation, two conservative organizations.
Also posted under the one-sided separation of church and state.
SCOTUS is too powerful. How can we change that? [Scroll down] The culprit in all this insanity is the Congress. The original Constitution died with the passage of the Judiciary Act in June of 1789. You see, the friends of the document, John Marshall included, insisted the SCOTUS would never invalidate a State law unless it clearly violated Article I, Section 10, and even then there was some debate about what powers the SCOTUS would have in relation to constitutional interpretation. Section 25 of the Judiciary Act of 1789 allowed for State court decisions to be appealed to the Supreme Court. That should never have happened. But it did, and now we are suffering the consequences. Everything is a "national" issue even if it isn't.
Gunning for Judge Kavanaugh. It's not just the wrongly decided Roe V. Wade decision that liberals fear is in jeopardy with the nomination of Brett Kavanaugh. They also fear their crusade against "semi-automatic" weapons may be exposed as the semantic, visual, and judicial fraud that it is.
Leading Hispanic Advocacy Organization Releases Statement Supporting Brett Kavanaugh's Nomination. The Latino Coalition, a "leading, national non-partisan advocacy organization representing Hispanic businesses and consumers," released a statement on Tuesday [7/17/2018] supporting Judge Brett Kavanaugh's nomination to the United States Supreme Court.
GOP has to act fast to confirm Kavanaugh before it's too late. President Trump nominated his justice quickly; Republican senators need to act just as fast. If history tells us anything, it's that they may not get another chance, even if Trump is re-elected in 2020. Clarence Thomas is now the only Supreme Court justice nominated by a president of one party and confirmed (narrowly) by a Senate controlled by the other party. The rest were appointed and confirmed in the brief periods when one party controlled both the White House and the Senate.
The Left's dismally weak case against Brett Kavanaugh. The venerable Washington Post, the newspaper that brought down a Republican president and spawned at least two Hollywood movies, a paper backed by the resources of the wealthiest man in America, sicced three reporters (including a Pulitzer Prize-winning investigative reporter) and six researchers on Supreme Court nominee Brett Kavanaugh. This fearsome team produced two exposes on the nominee revealing that — drum roll, please — Kavanaugh drinks Budweiser at his local pub and used a credit card to buy season tickets to his hometown baseball team. When NARAL, the multimillion-dollar abortion lobby, trained its resources on the man, they came up with — another drum roll, if you please — a tweet mocking his name and calling him a frat boy.
Shifting the Roe Burden Back to Schumer. [Scroll down] Honest progressives have long recognized Roe's faults. Edward Lazarus, who clerked for Blackmun and worked on Barack Obama's first presidential campaign, has described Roe as "a jurisprudential nightmare": Blackmun's extension of the "unenumerated constitutional right to privacy to cover a woman's choice to have an abortion required an analytical leap with little support in history or precedent." Harvard Law professor Laurence Tribe, who served as a judicial adviser to Obama, has observed: "One of the most curious things about Roe is that, behind its own verbal smokescreen, the substantive judgment on which it rests is nowhere to be found." Roe is a judicial fraud and usurpation. Schumer cannot prove otherwise and should not demand that Kavanaugh join in the constitutional charade of the High Court's abortion jurisprudence.
Democrats' clown show of outrage over Kavanaugh fools no one. President Donald Trump's nomination of eminently qualified, mainstream conservative Brett Kavanaugh to the US Supreme Court — combined with the predictable Democratic outrage machine — has put red state Democratic US senators in a political box: side with their constituents or with the clown show that is the modern American left.
Everyone Loves Brett. Subtlety not being Donald Trump's customary approach to his job, his nomination of Brett Kavanaugh to the Supreme Court was a surprisingly artful political play. For the many Trump supporters who delight in the president's thumb-in-the-eye approach, the court vacancy was an opportunity for Trump to actually earn the prefab fulminations from Democrats, which were coming no matter whom he chose, by selecting a nominee that another Republican president might have deemed too risky.
Hollywood Balks At Brett Kavanaugh. No one is more upset about Trump's second Supreme Court nomination than the liberal media ... unless it's the entertainment elites in Hollywood and Manhattan. These liberals couldn't see the flagrant hypocrisy surrounding their sentences as they unloaded their fear and loathing on television and Twitter. For example, notice the white male late-night comedians mocking Trump for naming a white male to the court. On ABC, Jimmy Kimmel joked Trump "narrowed his candidates down to three — but, in the end, Kavanaugh was the white man for the job." Stephen Colbert pulled a Bingo card from his pocket on CBS. "I have Trump nomination Bingo," he announced. "You see, all the squares say 'White Guy.'" [...] Merrick Garland is another one of those white guy judges out there. But Obama nominated him, so who cares?
Media, Dems Can't Find Dirt On Kavanaugh — So Instead They Throw Mud. Now the long, hard slog of getting a Supreme Court nominee onto the bench begins. As always, Democrats, the FBI and the media have launched into an intense investigation of Judge Brett Kavanaugh's background. And, so far, there's not much grist for the old Washington, D.C. scandal mill. But it's not for a lack of trying.
Democrats target Murkowski, Collins in campaign against Supreme Court nominee. Liberal political strategists hope to block President Donald Trump's next Supreme Court nominee by replaying a strategy they used to help defeat the Republican effort to repeal the Affordable Care Act last year. The multimillion-dollar plan of advertising and grass-roots activism will focus heavily on convincing two Republican defenders of the ACA, Sens. Lisa Murkowski of Alaska and Susan Collins of Maine, to buck the president again by denying his first choice to replace retiring Justice Anthony M. Kennedy.
Supreme Court Poised for Rightward Shift Under Kavanaugh. "Brett Kavanaugh is among the most distinguished and respected judges in the country, with nearly 300 opinions that clearly demonstrate fairness and a commitment to interpreting the Constitution as it's written and enforcing the limits on government power contained in the Constitution," said Leonard Leo, the Federalist Society's executive vice president. A double Yalie with some two decades experience as a government lawyer and appeals judge, Kavanaugh is an archetypal Supreme Court nominee. He was notes editor of the Yale Law Review, clerked for Justice Anthony Kennedy, and practiced at an elite firm before entering the George W. Bush administration.
Levin: Democrats don't want a Supreme Court — they want a 'politburo' to impose their agenda. Monday [7/9/2018] on the radio, LevinTV host Mark Levin shared his thoughts about President Donald Trump's imminent Supreme Court nominee announcement. "The key is to pick a constitutionalist," Levin said. "Not a leftist, not a rightist — a constitutionalist. And you assume and hope that a constitutionalist will do the right thing — whatever the issue is." Levin noted that the Left has become increasingly extremist. Senate Minority Leader Chuck Schumer, D-N.Y., used the term "far right" to describe conservative organizations that helped the Trump administration put together its shortlist of nominees. "He is, of course, a disgrace who is bought and paid for by the radical socialist left of the Democrat party," Levin said.
CNN: Too Many Catholics on the Supreme Court. [Of the Supreme Court justices,] 6 are Catholic, 3 are Jewish. That might not be proportional to the population, but likely is a result of both religions having a studious culture that tends to pore over details and the philosophies behind laws.
Can Kavanagh Be Trusted on Obamacare? Texas v. United States is, of course, the latest challenge to Obamacare's constitutionality. It was filed by Texas and nineteen additional states not long after Congress reduced the "tax penalty" associated with the health care law's individual mandate to zero. In 2012 Chief Justice Roberts ruled, in NFIB v. Sebelius, that the individual mandate was constitutional because it was essentially a tax collected by the Internal Revenue Service (IRS) for purposes of raising revenue for the government. The plaintiffs argue that the elimination of the tax penalty by Congress last year rendered the Roberts ruling both "irrational" and "legally impossible." The case is currently being argued in the U.S. District Court for the Northern District of Texas before Judge Reed O'Connor, who is almost certainly going to rule in favor of the plaintiffs. After going through the usual tedious appeals process, it will inevitably end up before SCOTUS.
Maybe the left should answer some questions instead of Kavanaugh. Greg Sargent of the Washington Post, Senator Chuck Schumer, and others on the left are trying to trash President Trump's Supreme Court nominee, Brett Kavanaugh, in as many ways possible. One of their many lines of attack is that Trump knows that Kavanaugh will let Trump off on any potential legal problems, presumably from Special Counsel Robert Mueller. The first question that Sargent, Schumer, and other leftists of this state of mind should be asked is which law Trump broke. What's more, how would some garden-variety stealing-or-lying charge, whatever it is, somehow make it to the Supreme Court? More to the point, how would that cause any Supreme Court justice to let him off?
Brett Kavanaugh: An Excellent Beginning. Some observations: [#1] President Trump's introduction of Kavanaugh was beautifully conceived and delivered. Was there a teleprompter that I missed? Trump's announcement seemed to be extemporaneous, and it was done flawlessly. Barack Obama was never able to talk off the cuff like this. [#2] Trump emphasized Kavanaugh's establishment credentials. [...] [#6] Kavanaugh shrewdly noted that Elena Kagan, now a Democratic Supreme Court justice, hired him to teach at Harvard Law School.
Trump makes a shrewd political move with Supreme Court pick. By picking Brett Kavanaugh as his Supreme Court nominee, President Trump showed that credentials and connections still matter — when backed up by results. One of the most scholarly members of the judiciary, Kavanaugh's more than 300 opinions are read widely and influence courts across the country — including the one that he now hopes to join. There are few if any more respected lower-court judges. More important than his erudition is Kavanaugh's intense commitment to constitutional structure. As Anthony Kennedy, the justice he clerked for and now seeks to succeed, often emphasized, this is vital not simply to the functioning of our government, but to securing our freedom.
Democrats Endorse Judicial Tyranny. Essentially the Democrats who run the NYT are saying that because Congress won't do what they want it to do — that's what they mean by "gridlock" — a group of five rich white lawyers on the Supreme Court should take over the job of running the country. This is nothing less than a call for revolution and a demand that America become a banana republic ruled not by the people but by a few rich lawyers. While this openness about their beliefs is new for Democrats, they've been espousing their desire to turn America into an authoritarian state for decades.
President's SCOTUS Adviser: Find Nominees 'Who Believe in the Constitution As It's Written'. "Looking forward to announcing my final decision on the United States Supreme Court Justice at 9:00pmE tomorrow night at the @WhiteHouse,' President Donald Trump tweeted on Sunday [7/8/2018]. "An exceptional person will be chosen!" he promised. Leonard Leo, formerly of the Federalist Society, a group that helped draw up a list of conservative Supreme Court nominees, is among those advising the president on his next pick. Democrats already are campaigning on the issue, warning Americans that Republicans aim to stack the court to take away their rights.
Moments After Trump Announces SCOTUS Pick, Damning Video Of Ginsburg Surfaces. On Monday evening [7/9/2018], President Donald Trump announced his pick to fill retiring Justice Anthony Kennedy's seat on the Supreme Court. Moments later, with the left screaming about Trump's "extreme" choice, a damning video of Justice Ruth Bader Ginsburg surfaced online. [...] Supreme Court Justice Ruth Bader Ginsburg told an Egyptian TV station in 2012 that she would not recommend using the U.S. Constitution as a model for writing a modern-day constitution, suggesting instead that up-and-coming governments look to the examples of countries like South Africa and Canada. "I can't speak about what the Egyptian experience should be, because I'm operating under a rather old constitution. The United States, in comparison to Egypt, is a very new nation, and yet we have the oldest written constitution still in force in the world," Ginsburg told MEMRI TV.
'Activist' judges [are] suddenly a bad thing as Democrats await Trump Supreme Court pick. The liberals rightfully recognize that Roe v. Wade might be overturned by a more conservative Supreme Court faithful to the original meaning of the Constitution and the intent of its framers. The simple fact is that the Supreme Court created a constitutional right to abortion out of whole cloth 45 years ago with the Roe v. Wade decision. The Constitution says absolutely nothing about abortion — and the framers never even considered making it a constitutional right to abort unborn babies at nearly any point in a pregnancy. Instead, the supposed right to abortions sprang from the imaginations of liberal activists who invented nonexistent constitutional rights to advance their ideological agenda.
Kavanaugh Threatens the Left's Right to Cheat. [Scroll down] These are elected United States senators. Of all people, why are they carrying on about "rights"? If senators can't protect these alleged "rights," it can only be because most Americans do not agree that they should be "rights." That's exactly why the left is so hysterical about the Supreme Court. They run to the courts to win their most unpopular policy ideas, gift-wrapped and handed to them as "constitutional rights." What liberals call "rights" are legislative proposals that they can't pass through normal democratic processes — at least outside of the states they've already flipped with immigration, like California.
Nominating Amy Barrett Would Be Political Genius. I have no standing at all to intuit whom the president may nominate. But if, as I suspect, it is Judge Amy Barrett, it would be a tactical masterpiece on the level of Napoleon's conduct of the Battle of Austerlitz, or Hannibal at Cannae. The U.S. Senate confirmed Barrett to the Seventh U.S. Circuit Court of Appeals on October 31, by a 55-43 vote. Three Democrats voted for her and two did not vote. It would not be easy to justify changing their votes now, as she has served unexceptionably. At her confirmation hearings, Senator Dianne Feinstein, the Judiciary Committee's aged ranking Democrat, asked Barrett about her religious views, and the nominee responded that no judge should allow personal views, whether based on faith or anything else, to influence the imposition of the law. "The dogma lives loudly within you, and that is a concern," Feinstein said infamously. This was an outrageous comment; Feinstein doesn't know anything about the dogma of the Roman Catholic Church, and she has no idea what privately motivates Judge Barrett.
Amid Supreme Court fight, desperate forces on the Left declare open season on the truth. Dishonesty is ever-present in the political fray. Factual errors crop up everywhere. But the truth rarely seems to take a beating as much when a Supreme Court seat is up for grabs.
Abortion Advocates Think Amy Barrett is a Member of a "Cult" Because She's Catholic. The mudslinging against Judge Amy Coney Barrett, a possible nominee for the U.S. Supreme Court, continued this week with abortion activists claiming she is a member of a "cult." She is believed to be one of four candidates that President Donald Trump is considering to fill retiring Justice Anthony Kennedy's seat. Particularly abhorrent to abortion activists, Barrett is a devout Catholic, a conservative and a woman. Abortion supporters have honed in on Barrett's affiliation with People of Praise, an ecumenical Christian group that focuses on prayer, counseling, marriage guidance and acts of service for families in need. Labeling the group a "cult," abortion activists claim Barrett is a "dangerous religious extremist" because of her affiliation with the group.
Wisconsin Supreme Court sides with conservative professor disciplined over blog. A conservative political science professor who sued Marquette University after the Milwaukee Jesuit school suspended him for blogging about gay marriage won his case Friday in the Wisconsin Supreme Court. The high court ruled that Marquette University should immediately reinstate former political science professor John McAdams, finding that the college failed to give him the academic freedom he is guaranteed under his contract. The court's conservative majority opinion ruled the private university's faculty panel exhibited "unacceptable bias" when it suspended him, and eventually stopped paying him. The liberal justices disagreed, saying in the minority opinion that academic freedom "does not protect McAdams from discipline."
Mark Levin: If stare decisis is paramount, put monkeys on the Supreme Court. The Constitution as written may be frustrating, and it may not precisely define and balance powers as it should, but it is better to have a Constitution that prevents the government from imposing its will than a Constitution that gives the government unfettered power. Right now, our government is tremendously powerful, having a say in nearly every aspect of our lives. We're light-years away from the weak central government of the Articles of Confederation days. But liberals are results-oriented. They want a justice who will uphold certain cases without ever referencing the Constitution.
The real meaning of Democrats' Supreme Court panic. Democrats are in a state of sheer panic. They're panicking because last week, Justice Anthony Kennedy — a reliable vote in favor of certain leftist priorities including abortion and same-sex marriage — announced that he will step down from the Supreme Court, leaving President Trump a second selection. This apparently will lead to the end of a free America. According to Jeffrey Toobin of CNN, the remade Supreme Court will spell doom: "Abortion illegal; doctors prosecuted; gay people barred from restaurants, hotels, stores; African-Americans out of elite schools; gun control banned in 50 states; the end of regulatory state." None of this is true, of course. It simply demonstrates the wild overreach to which the left has subjected the judicial branch to date.
Every Justice currently serving attended either Harvard or Yale Law School.
The Diversity Nominee. Of the nine Supreme Court Justices currently sitting, three are Jewish and six are baptized Catholics. The most glaring absence is that of a Protestant in what is still a Protestant-majority country, though the Catholic Neil Gorsuch attends an Episcopal Church with his wife, who is British and a member of the Church of England. [...] The overriding consideration, however, is that our justices be faithful constitutionalists — and by that I mean, jurists whose decisions are guided by the text, logic, structure, and original public meaning of the Constitution. These are people who do not pretend that things that are not in the Constitution are there (lurking, perhaps, in "penumbras formed by emanations" or in the due process clauses of the Fifth and Fourteenth Amendments interpreted "substantively"), or that things that actually are in the Constitution are not there.
Did You Ever Face a Real Judge? [Scroll down] The new justice whom President Trump names to succeed retiring Justice Anthony Kennedy should be a person of demonstrated sparkling intellect who can grasp the deepest meaning of each word in a Constitutional law, or who can wade and row successfully through the most turgid and sometimes internally contradicted prose of a poorly constructed Congressional enactment, and who brilliantly can apply that law dispassionately to the facts of the case at bar. [...] Beyond that, the justice should be an excellent writer because every word that he or she pens will be analyzed and interpreted by thousands of lower-court judges, their clerks, attorneys, litigants, law professors, journalists, and laity for decades, as they each respectively derive from the written judicial opinion the rules going forward.
Dems on SCOTUS: Catholics Need Not Apply. Catholics are the sole remaining religious group that it is politically correct to slander and denigrate and the consideration of nominees for the Supreme Court vacancy left by the retiring Anthony Kennedy has brought out the liberal anti-Catholic bigots en masse. Their target is Justice Amy Coney Barrett of the U.S. Court of Appeals for the 7th Circuit. Just as John F. Kennedy was said by some to be a stalking horse for the Vatican who would clear each major decision with the Pope, Barrett a practicing Catholic who actually gets it right, has been charged with embracing Catholic dogma so tightly that there is no room left for the Constitution and those "emanations from a penumbra" that sanctified Roe V. Wade.
Chuck Schumer Tells Trump Who SCOTUS Nominee Should Be. [Scroll down] Of course, Elena Kagan was nominated by former president Barack Obama in May 10, 2010, and confirmed by the U.S. Senate on August 5, 2010, which was a midterm election year, so there's that... CNBC reported that when Schumer called Trump, he warned that picking a justice hostile to Roe v. Wade or Obamacare would be "cataclysmic."
Roe v. Wade and the Confusion of Sen. Collins. We know what the Supreme Court debate is all about — the debate, that is to say, over who shall take retiring Justice Anthony Kennedy's seat. The debate is about abortion. Declares Sen. Susan Collins, the Republican moderate from Maine, whose vote could prove essential to confirmation of whatever nominee the White House puts forward: "A candidate for this important post who would overturn Roe v. Wade would not be acceptable to me. That would indicate an activist agenda that I don't want to see a judge have. And that would indicate to me a failure to respect precedent."
The Editor says...
The Roe v. Wade decision itself was part of "an activist agenda." Overturning that decision would be the correction of a murderous error.
The generic editorial against Trump's next pick. Writing newspaper editorials is an exercise in exasperating futility. They have scant impact. 243 newspapers endorsed Hillary. 20 endorsed Donald John Trump. Who won? To those still laboring at a craft that last had impact in the 19th century, I draw upon my 27 years of experience to offer this generic editorial on whomever President Trump nominates for the Supreme Court. You may cut and paste it, and your boss will not notice the difference.
Where's the Independent Voice Among Justices Appointed by Democrats? As Justice Anthony Kennedy prepares to retire, all eyes in Washington will be on the battle to confirm whomever President Donald Trump nominates. Prepare for warnings by Senate Democrats that the new nominee will not be sufficiently "independent," as Senate Minority Leader Chuck Schumer, D-N.Y., and others said last year of now Justice Neil Gorsuch. An appointee of President Ronald Reagan, Kennedy was reliably independent, the famous swing vote who at times stood with the four fellow justices appointed by Republican presidents and at others with the four appointed by Democrats. On the high-profile political decisions, the four justices appointed by Democrats pretty much can be counted on to vote as one. Independent? No, they're too high-minded to deviate.
Hot New Lefty Idea: Let's Pack The Court With Liberals As Soon As Democrats Are Back In Power. It's understandable as a tantrum borne of frustration that the Court's about to swing further right but bananas as a semi-serious idea, especially with a loose cannon like Trump in charge. A President Romney or McCain wouldn't have entertained the idea of Court-packing for an instant.
The Democrat Plot to Stop Trump's Supreme Court Pick. Heeding the call of their radical left base and a pliant Trump-hating media, Democrats are promising total resistance to even meeting with the president's nominee before the mid-term elections, let alone holding any hearings or an up or down floor vote. They are still sore over what they view as the Supreme Court seat stolen from the left in 2016 when Senator McConnell, backed by the Republican majority in the Senate, refused to allow hearings or a vote on former President Obama's nominee to fill the seat left vacant by Justice Scalia's passing, Judge Merrick Garland.
Is Trump the Most Fun President Ever? [Scroll down] The President intends to name his choice — from a list he distributed before his election — on July 9, and despite the perfervid announcements on the left, he is likely to have his second Supreme Court judge seated by the new term. For a number of decades, the left has derided originalism — the notion that judges should follow the clear words of the Constitution and the intent of the drafters. Instead they argued that the judiciary — which they largely controlled — should treat the document as a "living instrument." In truth, that meant that the subjective feelings of the judges with their "penumbras" and "emanations" should prevail over the text.
Rage at the End of Justice Kennedy's Camelot. If John F. Kennedy's presidency was, for Democrats, a kind of three-year "Camelot," then Anthony M. Kennedy's three-decade tenure on the Supreme Court was also, for Democrats, a kind of judicial Camelot. A place where progressive rights could be created and protected, safe from the people outside the castle. Since at least 1992, when the Reagan appointee unexpectedly joined the bloc of centrist justices to save Roe v. Wade's right to abortion, liberals placed immense hope in Justice Kennedy to advance progressive cultural policies by the judicial creation and expansion of constitutional rights not actually specified in the Constitution — especially, rights to abortion and (in Obergefell v. Hodges) same-sex marriage.
Leftist Justices Don't Like the Law. The left doesn't like the rule of law much. If they legally lose an election, they take to the streets as if some injustice had been done to them. If we enforce our border laws, they become hysterical and try to intimidate and bully public officials. If they can't get a law passed by constitutional means, they are perfectly happy to use regulation to exert extra-legal control over the citizenry. All of which is bad enough in leftist media, leftist mobs and leftist officials. But in leftist Supreme Court justices, it's even worse. In an interview on my podcast this week, constitutional law attorney Jenna Ellis — the director of public policy at the James Dobson Family Institute — put several recent Supreme Court decisions in context as "compelled speech cases." Whether it was allowing a Christian cake designer to refuse to use his art to celebrate gay marriage in Masterpiece Cakeshop, preventing the state of California from forcing abortion advertising on anti-abortion pregnancy centers in NIFLA v Becerra, or allowing public employees to work without funding leftist unions in Janus, the court, Ellis explained, has declared "the government cannot compel you as an individual to participate in or subsidize speech that you fundamentally disagree with."
Sore Loser Hillary Clinton Works to Block President Trump's Next Supreme Court Nominee. President Trump is choosing Justice Kennedy's replacement from a list of 25 judges — the same list he chose Justice Neil Gorsuch from last year. On Friday [29/2018], President Trump said he cut his list of potential Justice nominees down to five candidates, including two women; he will be announcing his pick on July 9th. Twice-failed presidential hopeful, Crooked Hillary wasted no time and immediately got to work fighting Trump's next SCOTUS nominee.
Judge Nap: SCOTUS Deals 'Catastrophic' Blow to Labor Unions, Democratic Party. Judge Andrew Napolitano said Wednesday the Supreme Court dealt a "catastrophic" blow to the nation's labor unions and the Democratic Party when it ruled 5-4 that state government workers cannot be forced to pay fees to support collective bargaining and other union activities. While the current case applies only to public-sector employees, the political and financial stakes are potentially huge for the broader American labor union movement, which had been sounding the alarm about the legal fight.
Good riddance to Justice Anthony Kennedy. The Supreme Court's longest service justice announced his retirement shortly after casting the deciding vote on a string of decisions that were seen as wins for the conservative side of the bench. Kennedy's stepping down didn't come as a surprise. There have long been rumors in Washington that he was considering hanging up his robe. With a Republican-controlled Congress and White House, the timing couldn't be better, so as to ensure his seat would be filled with someone from the right side of the ideological spectrum.
'We're Looking at the Destruction of the Constitution': Kamala Harris Rips Trump's Potential SCOTUS Picks. California Senator Kamala Harris (D) claimed that President Trump nominating a new justice to the Supreme Court in the wake of Anthony Kennedy's retirement means "we are looking at the destruction of the Constitution." Harris, considered a potential opponent to Trump in the 2020 presidential election, said on MSNBC that Trump has consistently nominated "ideologues" to lifetime appointments on other federal courts.
Janus Ruling Could Cost Unions Hundreds of Millions. The Supreme Court has put an end to compulsory union dues and fees for government workers, spurring praise from labor watchdogs and public outcry from organized labor. A five-justice majority ruled that mandating union fees as a condition of employment violates the free speech rights of workers. The ruling in Janus v. American Federation of State, County, & Municipal Employees overturned the 1977 Abood precedent, which allowed compulsory unionism as a means of promoting labor harmony. Justice Samuel Alito, writing for the majority, said the government should not force workers to finance political speech against their will. "The State's extraction of agency fees from nonconsenting public-sector employees violates the First Amendment," the ruling written by Justice Alito said.
Democrats Plot to Block Trump Kennedy Replacement. Justice Anthony Kennedy's announcement Wednesday of his retirement from the Supreme Court has sent the left into a tizzy. Although Justice Kennedy has often sided with the more conservative-leaning Justices in 5-4 decisions, he has also joined the four liberal-leaning Justices as the swing vote on several contentious cases important to the left involving such issues as abortion rights and same-sex marriage. With Justice Kennedy's retirement, which will take effect at the end of July, the door is open for President Trump to nominate a more reliable conservative replacement in the mold of his first pick, Justice Neil Gorsuch. "We have to pick a great one. We have to pick one that's going to be there for 40 years, 45 years," President Trump told supporters at a campaign rally Wednesday night [6/27/2018] in North Dakota.
Life after Janus. Government unions dodged a bullet in 2016 when an eight-member Supreme Court deadlocked 4-4 on a case that would have ended the right of labor groups to collect fees from workers who don't want to be members. In late February 2018, with Justice Neil Gorsuch replacing the late Antonin Scalia, who died before the Court rendered the 2016 decision, the justices heard a new challenge to the compulsory fees in Janus v. AFSCME. Though the Court isn't likely to render a decision on the case until late spring, worried labor leaders, anticipating that the ruling will go against them, are scrambling to prepare for the worst: a world in which they can no longer forcibly dun workers.
Supreme Court Strikes Down Forced Public-Sector Union Fees. In a decision that holds massive up-front ramifications for Democrats, the Supreme Court ruled today [6/27/2018] that non-union members cannot be forced to pay for union representation. This is a devastating blow to the Big Club political caucus. The justices said in a 5-4 opinion that state government workers who choose not to join a union cannot be compelled to pay a share of union dues for covering the cost of negotiating contracts. This allows state union workers to withdraw funding for the political aspirations and objectives of union leadership who work against their interests.
Government Workers 'Free at Last'. Rank and file government workers won big over union bosses Wednesday [6/27/2018] when the U.S. Supreme Court ruled 5-4 in favor of Mark Janus, an Illinois state worker who refused to join the American Federation of State, County, and Municipal Employees. The court struck down an Illinois law that allowed the union to deduct fees from Janus's paycheck despite his refusal to join. The Janus ruling smashes laws in 22 states — including New York, Connecticut, New Jersey and California — that compel nonmembers to support unions. Until now, if you wanted a government job in these states, you had to pay up. But now firefighters, teachers and other public employees won't have to fork over a penny to a union if they choose not to join. For the average worker who opts out, it will mean hundreds of dollars more in take-home pay a year.
Supreme Court upholds Trump travel ban on some Muslim-majority nations. The Supreme Court on Tuesday upheld President Trump's controversial travel ban affecting several mostly Muslim countries, offering a limited endorsement of the president's executive authority on immigration in one of the hardest-fought battles of this term. The 5-4 ruling marks the first major high court decision on a Trump administration policy. It upholds the selective travel restrictions, which critics called a discriminatory "Muslim ban" but the administration argued was needed for security reasons.
Anthony Kennedy to retire: Here's what Trump should look for in a nominee. Supreme Court Justice Anthony Kennedy announced Wednesday that he will retire from the Supreme Court of the United States, NBC reported. Kennedy, appointed by President Ronald Reagan in 1987, has been a swing vote, leaning to the left in recent landmark cases, and wrote the court's opinion in Obergefell v. Hodges in 2015, striking down bans on same-sex marriage nationwide.
SCOTUS on immigration restrictions: A sovereign republic — if you can keep it. Congress and the president have the full power to deny entry to any non-citizen or class of non-citizens seeking to enter this country for any reason — good or bad. Those decisions are exclusively up to the political branches of government, to be debated in the political realm, and there is no opening for the courts to get involved. This principle "has become about as firmly embedded in the legislative and judicial tissues of our body politic as any aspect of our government," not "merely" by "a page of history ... but a whole volume" (Galvan v. Press). The concept is "inherent in sovereignty," consistent with "ancient principles" of international law, and "to be exercised exclusively by the political branches of government." (Kleindienst v. Mandel).
The big picture: Conservatives win big at Supreme Court. Supreme Court Justice Anthony Kennedy will retire — effective July 31 — giving President Trump a chance to pull the court significantly to the right for decades to come. [...] This is seismic — for politics as a whole, for the court and, ultimately, for the millions of Americans whose lives are shaped by its rulings.
High Court declares government union mandates unconstitutional. Government workers can no longer be forced to pay union fees to keep their jobs, which could cost labor groups hundreds of millions of dollars. On Wednesday [6/27/2018] the Supreme Court declared coercive unionism an unconstitutional infringement on First Amendment rights, overturning the 1977 Abood precedent that allowed agencies to make all workers pay a labor organization dues and fees. "The State's extraction of agency fees from nonconsenting public-sector employees violates the First Amendment," the ruling written by Justice Samuel Alito said. "Forcing free and independent individuals to endorse ideas they find objectionable raises serious First Amendment concerns."
Obviously Mr. Kennedy thinks Donald Trump will be re-elected.
Anthony Kennedy Announces He Will Retire From Supreme Court. Supreme Court Justice Anthony Kennedy announced Wednesday [6/27/2018] he would retire, giving President Donald Trump the opportunity to make two appointments in two years to the nation's highest court. Appointed by President Ronald Reagan, Kennedy has served on the Supreme Court since 1988. Kennedy wrote a letter to Trump announcing he would step down from the court effective July 31. "This letter is a respectful and formal notification of my decision, effective July 31 of this year, to end my regular active status as an Associate Justice of the Supreme Court," he wrote.
Supreme Court NIFLA decision is major victory for pro-life groups. Tuesday's 5-4 Supreme Court decision overturning a California law that required pro-life pregnancy centers to provide women with information about abortion is a victory for the First Amendment, for women seeking support during their pregnancies, and for the pregnancy centers. The decision came in the case of National Institute of Family and Life Advocates (NIFLA) v. Becerra. Every pregnancy is tough. Pregnancy without sufficient support, financial or emotional, can seem impossible. Every year, pregnancy centers across the United States offer a helping hand to thousands of women so that they can confidently choose life for their babies.
Supremes Deal Victory For Trump, Uphold Travel Ban. A five-justice majority of the U.S. Supreme Court upheld the latest iteration of President Donald Trump's travel sanctions Tuesday [6/26/2018]. Chief Justice John Roberts wrote the opinion, joined by Justices Anthony Kennedy, Clarence Thomas, Samuel Alito, and Neil Gorsuch. "The president has lawfully exercised the broad discretion granted to him under [federal law]," Roberts wrote.
Supreme Court rules for crisis pregnancy centers in free speech dispute. The Supreme Court ruled Tuesday [6/26/2018] in favor of pro-life crisis pregnancy centers that counsel pregnant women to make choices other than abortion, invalidating a California law requiring them to prominently post information on how to obtain a state-funded abortion. The court, in a 5-4 ruling, said the state law likely violates the First Amendment. The court also cast doubts on similar laws in Hawaii and Illinois.
Supreme Court rules for Trump in challenge to his administration's travel ban. The Supreme Court ruled Tuesday [6/26/2018] in favor of President Donald Trump's September order to restrict travel from several majority Muslim countries to the United States. In the 5-4 opinion written by Chief Justice John Roberts, the court found that Trump's travel restriction fell "squarely" within the president's authority. The court rejected claims that the ban was motivated by religious hostility. "The [order] is expressly premised on legitimate purposes: preventing entry of nationals who cannot be adequately vetted and inducing other nations to improve their practices," Roberts wrote. "The text says nothing about religion."
Supreme Court gives Texas partial victory in gerrymandering case, state must redraw one district. The U.S. Supreme Court ruled Monday [6/25/2018] that the Republican-led Legislature in Texas improperly used race to draw a predominantly Hispanic House district in Fort Worth, but overturned a lower court ruling that invalidated other legislative and congressional districts under challenge for allegedly diluting the voting power of black and Latino voters.
Supreme Court sidesteps consideration of partisan gerrymandering in Wisconsin, Maryland redistricting cases. The Supreme Court on Monday [6/18/2018] took a pass on deciding the limits of partisan gerrymandering — or efforts by state legislatures to create voting maps most favorable to one political party.
Nothing Narrow About this Huge Win in the Culture War. The opinion of Justice Kennedy, who I would love to see retire and spend more time with his family, nevertheless wrote a powerful rebuke to bigoted bureaucrats who never even bothered to hide their anti-religious zealotry when persecuting a guy for refusing to submit and acknowledge their supremacy. Their prejudice was stunning, not least for its shamelessness — these moral illiterates made no effort to hide their seething contempt for believers. And guess what? That's not okay. You don't get to persecute religious people in America.
Supreme Court sides with Colorado baker who refused to make wedding cake for same-sex couple. The Supreme Court ruled Monday [6/4/2018] in favor of a Colorado baker who refused to make a wedding cake for a same-sex couple, in one of the most closely watched cases of the term. In a 7-2 decision, the justices set aside a Colorado court ruling against the baker — while stopping short of deciding the broader issue of whether a business can refuse to serve gay and lesbian people. The opinion was penned by Justice Anthony Kennedy, who is often the swing justice in tight cases.
Why Did Elena Kagan Vote for the Masterpiece Cakeshop Supreme Court Ruling? Observers of Monday's Supreme Court ruling in favor of a Colorado baker who refused to make a wedding cake for a gay couple in 2012 may have been surprised to find that two of the court's liberal justices, Elena Kagan and Stephen Breyer, joined with the conservative majority for the opinion. But a legal expert told Newsweek this was the result of the very specific nature of this case. "The reason and motive for the baker's refusal were based on his sincere religious beliefs and convictions," Justice Anthony Kennedy wrote in the majority opinion. Justices Ruth Bader Ginsberg and Sonia Sotomayor dissented while Breyer and Kagan, considered to be liberal-leaning, joined the more conservative justices in a majority ruling.
Supreme Court likely to rack up more reversals for West Coast's 9th Circuit. The federal appeals court that covers the country's West Coast is doing little to shake its reputation as the most out-of-touch circuit, already having notched seven cases that have been reversed by the U.S. Supreme Court so far this year and 115 over the past decade. As the justices prepare to release final rulings in 29 cases, the U.S. Court of Appeals for the 9th Circuit again will be in the spotlight with some of its major cases, such as President Trump's travel ban, up for review — and potential reversal — by the high court.
Supremes Lift Decision Ordering Trump Administration To Facilitate Abortions For Alien Minors. In a partial victory for the Trump administration, the U.S. Supreme Court vacated a lower court ruling requiring the government to facilitate an abortion for an undocumented minor in federal custody. The unsigned five-page opinion did not issue a judgement as to the merits of the dispute but approved the administration's request to vacate the ruling under a legal rule called Munsingwear vacatur. There was no noted dissent.
Nancy Pelosi on Supreme Court Ruling: Bake That Cake, Christians!. Would-be Speaker of the House Nancy Pelosi (D-CA) slammed Monday's 7-2 Supreme Court ruling in the Masterpiece Bakeshop case, attacking "discriminatory practices behind the guise of religious liberty." The Court found in favor of a Colorado baker who was sued when he declined to bake a wedding cake for a same-sex marriage because of his Christian beliefs. The baker asserted his religious liberty under the First Amendment. The decision avoided ruling on the broader question of whether religious liberty trumps non-discrimination on the basis of sexuality, and held only that the Colorado Civil Rights Commission had not given the baker a fair hearing.
The Limits of Ruth Bader Ginsburg's Usefulness. To understand the liberal worldview, the contrived campaign to make Supreme Court Justice Ruth Bader Ginsburg into some kind of a folk hero is a useful object of study. She has been the subject of a variety of hagiographical portraiture, ranging from fawning magazine profiles and sycophantic treatment in film to illustrated children's books. She inspires her followers to get her image tattooed onto their bodies, to mimic her fitness routines, to feel as she felt and to weep as she wept. This behavior lends itself to quite a few descriptors, but you cannot call it a cult. The cult leader is nigh infallible, but that is not Ginsburg's role. Her relationship with the flock is transactional, and she can transgress against progressive tenets as easily as anyone.
New York Times Editorial Board Begs Justice Kennedy Not to Retire. Remember all those times during the Barack Obama presidency when the New York Times begged Justice Anthony Kennedy to not retire from the Supreme Court? No? Well, that's probably because it never happened. However, now that Donald Trump is president, the Times is begging Kennedy, considered to be a swing vote, to remain on the High Court bench.
Supreme Court justices to weigh in on Trump's powers with travel ban case. What the Supreme Court does with President Trump's travel ban case, which reaches the justices this week, is likely to determine whether courts across the country give him the usual deference due a president and allow him leeway to pursue his immigration crackdown — or whether they join the anti-Trump resistance determined to thwart him at every turn. From battles in California, Illinois and Pennsylvania over sanctuary cities, to illegal immigrant teens gaining abortion rights, to the border wall, to Mr. Trump's attempts to limit some paths to legal immigration and to cancel the Obama-era Deferred Action for Childhood Arrivals program for illegal immigrant Dreamers, immigration rights activists and the administration have been battling on nearly every front of the issue.
The Courts Rule Supreme Over Immigration Policy. President Trump's Supreme Court appointee Neil Gorsuch sided with his liberal colleagues Tuesday [4/17/2018] in making it harder to deport non-citizen criminals. Surprisingly, Gorsuch's divergence from fellow conservative justices Clarence Thomas and Samuel Alito was enthusiastically received by conservatives. "I'm actually reading Gorsuch's concurrence and find myself nodding along with him," talk radio host Erick Erickson tweeted. "His basic argument is that the law, as construed, gives judges way too much discretion to act on their whims because Congress was too vague in how it wrote the law." "No, the opinion is actually highly conservative — and it has nothing to do with immigration as such," pro-Trump columnist Kurt Schlichter argued in response to criticism of Gorsuch's decision.
Strange Solidarity. One of the highly watched cases of the Supreme Court's current session, Janus v. American Federation of State, County, and Municipal Employees, Council 31, has sparked such passion that some 73 interested parties have filed amicus briefs in the matter. [...] A social worker, Janus has sued to overturn a state law requiring him to pay AFSCME a fee to represent him, even though he had declined to join the union. He has asked the court to reverse a 1977 decision, Abood v. Detroit Federation of Teachers, which upheld state laws that give government unions the right to collect fees from nonmembers in a workplace where collective bargaining is in place. Janus contends that the activities of a government union, including collective bargaining, are political by their very nature, and that the union fee compels him to finance ideas with which he disagrees.
What Frightens the Left Most? The Constitution. The Left — which is by turns both malevolent and cowardly, and therefore both tantalized by and fearful of firearms — has never made its hostility toward the Second Amendment a secret, but for decades it was able to keep it under wraps during the half-century or more between the effective closing of the borders to immigration in 1921 and the passage of the Immigration and Nationality Act of 1965, known as the Hart-Celler Act but today chiefly remembered as Ted Kennedy's lasting gift to the American people. That period saw the rise of urban ethnic gangsters (mostly Irish, Italians, and Jews, immigrants or children of immigrants, and thus "foreign" to largely Protestant America) and of the indigenous Midwestern bank robbers being chased around the prairies by the FBI, both groups long since tamed and romanticized. When, in 1939, the Supreme Court ruled in United States v. Miller that a certain kind of sawed-off shotgun could be banned, and cited the Second Amendment's subordinate "militia" clause as its justification, few kicked about it, because by then gangland had been largely cornered and the country was at peace. The Miller decision was effectively overturned in 2008 by the Supreme Court's decision in District of Columbia v. Heller, which finally got around to adjudicating and establishing the individual right aspect of the amendment.
Supreme Court Takes Two Cases that Could Scale Back Federal Power. The Supreme Court on Monday granted review in two new cases that raise significant constitutional issues for reining in the scope and powers of the federal government. With few exceptions, almost all of the Court's cases are discretionary: the justices can decide whether to take the case. The High Court receives over 7,000 petitions for review each year — called a petition for a writ of certiorari — and grants fewer than 80. The justices' decisions on which cases to grant sometimes signal that changes in the law are in the offing. The two cases they took this week will either bring about such change or will reaffirm doctrines that conservatives have long hoped to change.
Supreme Court session on political buttons gets testy. When is a button more than just a button? That was the issue before the Supreme Court on Wednesday [2/28/2018], in a touchy First Amendment case over a state law banning "political" garments or insignia at polling places. It was a messy hour of oral arguments, as nearly every justice expressed frustration at lawyers from both sides who were unable to articulate a workable standard to help the court decide when personal expression — like political buttons — crosses the line into voter disruption or intimidation. The case started when a Minnesota voter sued after being told to remove a "Please I.D. Me" button and Tea Party t-shirt at his polling place.
Fun with Justice Alito During SCOTUS Oral Arguments. How often does laughter repeatedly rock the Supreme Court during oral arguments? How often are oral arguments at the Supreme Court this hilarious? Defending a state law allowing censorship based on political content before the justices of the Supreme Court is not a job I would volunteer for (even if I were qualified for it, which I am not). So attorney Donald Rogan, representing Minnesota in the case Minnesota Voters Alliance v. Mansky, 16-1435.a, may have had a thankless task. Nonetheless, Justice Alito had a bit of fun leading him through questioning of what kinds of political content would or would not be allowed in various hypothetical situations.
Supreme Court weighs government's reach of records kept on foreign servers. The Supreme Court pressed Congress on Tuesday to update the country's data privacy laws for the internet age, as justices grappled with tricky questions about the reach of federal powers over data that's controlled by an American company but kept on overseas servers. The case before the justices involves the government's demand to see emails of a Microsoft customer. Microsoft says contents of the emails are stored in Ireland, and releasing the information would conflict with that country's laws. But the justice also said the 32-year-old Stored Communications Act, which governs the situation, never envisioned that kind of interconnected world.
Supreme Court Refuses to Weigh into DACA Fight — For Now. The U.S. Supreme Court on Monday denied the U.S. Department of Justice's (DOJ's) petition to decide whether the Trump administration's decision to end Deferred Action for Childhood Arrivals (DACA) is permitted by federal law. But the Court also made clear that it was only denying DOJ's extremely rare request to skip the federal appeals court that currently has the case, making it almost certain that the nation's highest court will take up the case later this year.
Janus v. AFSCME. The Supreme Court heard arguments Monday morning [2/26/2018] in a case set to undo a seminal 40-year-old precedent that required all public sector employees to pay their union a "fair share fee" whether or not they'd elected to join. Janus v. AFSCME is an effective redo of the 2015 case Friedrichs v. California Teachers Association, which ended in a 4-4 tie following Justice Scalia's death — another opportunity to overturn 1977's Abood v. Detroit Teachers Association.
Desperately Hating Clarence Thomas. Of all the desperate and futile attempts at revisionist history, few are as careless as the attempt to destroy the reputation of one of the finest Supreme Court justices this country has ever produced. Now comes another volley. New York magazine has assembled "The Case for Impeaching Clarence Thomas." The author is longtime anti-Thomas journalist Jill Abramson. [...] Justice Thomas has been a distinguished member of the Supreme Court for more than 26 years now. In the years since, Abramson has assembled ... well, nothing. Meanwhile, the case against Hill's unproven charges has grown only stronger, and Abramson's record of objectivity — if there ever was one — is evermore tattered.
Jill Abramson Reboots Her 'High-Tech Lynching' of Clarence Thomas. Former New York Times Executive Editor Jill Abramson served only three years in that role; she was reportedly fired in 2014 for an ill-founded complaint about her compensation and for her "brusque" workplace manner. Her editorial competence was not questioned, however. In the era of #MeToo equalizing the perpetrators of rape with those of inadvertent microaggressions, perhaps no one remains in elite New York media qualified to make such a judgment, anyway. This week, Abramson's reputation seemingly landed her a 4,000-word New York magazine cover story, which resurrects the sexual harassment complaints against Justice Clarence Thomas.
New Talk Of Impeachment, But Not For Trump. Since it's impossible to separate the politics out of this, we have to at least wonder whether the Democrats would be onboard with this idea. While they might like to see a conservative justice taken down, the end result for them could be worse than any satisfaction they derived from it this year. Clarence Thomas will turn 70 this year, and while his health seems fine and his mind is still sharp, that's about the age where the clock starts ticking toward retirement if he ever plans on doing so. Impeaching him any time between now and next year (at the absolute soonest) would mean that President Trump would be dredging up another name from his list and nominating a replacement. This would likely be someone much younger and every bit as conservative as Thomas.
Clarence Thomas bemoans judicial confirmation process. Supreme Court Justice Clarence Thomas lamented the confirmation process for judicial nominees, calling them "spectacles" and warning Thursday [2/15/2018] he fears the federal judiciary will lose "some of our best people" who decide not to go through with it. "I don't think the process is what it ought to be," Thomas said Thursday during an event at the Library of Congress. "These are serious jobs, and they should be serious. I don't think they should become spectacles. This is not the Roman Colosseum. We're not gladiators."
The 2018 Elections Just Got A Bit Easier For Democrats Thanks To The Supreme Court. The Pennsylvania legislature will redraw the state's congressional district lines in advance of the 2018 midterm elections, after the Supreme Court Monday declined to overturn an order requiring a new map. The decision is a victory for Pennsylvania Democrats, who convinced the state supreme court in January that the current map is gerrymandered to favor Republicans, in violation of the state constitution. The court ordered the GOP-controlled legislature to produce a new map by Feb. 9.
Sounds like a closed-minded political activist. Exactly what the Supreme Court does not need.
Justice Ginsburg Has Never Attended A Republican President's SOTU. Justice Ruth Bader Ginsburg will not attend President Donald Trump's State of the Union address Tuesday, given a prior commitment at Roger Williams University School of Law in Providence, R.I. Though the configuration of justices who attend the event has fluctuated over the years, one variable remains constant — Ginsburg has never attended an address to Congress given by a Republican president.
Justice Ginsburg, 84, signals intent to work for years more. In different circumstances, Justice Ruth Bader Ginsburg might be on a valedictory tour in her final months on the Supreme Court. But in the era of Donald Trump, the 84-year-old Ginsburg is packing her schedule and sending signals she intends to keep her seat on the bench for years.
The Editor says...
Yes, I know there are no term limits on the Supreme Court. Maybe that should change.
In unusual move, White House to ask Supreme Court to rule on DACA before appeals court. The Trump administration said Tuesday [1/16/2018] that it will rush to the U.S. Supreme Court within a few days by skipping over a federal appeals court, hoping for quick action in the legal battle over shutting down the DACA program. [...] A federal judge ruled Jan. 9 that the government could not end the program on March 6, as President Donald Trump proposed to do.
End Judicial Tyranny with One Single Word. Since the election of President Trump, we have witnessed a series of rulings by Clinton- and Obama-appointed federal judges to block executive orders (E.O.) related to immigration. In each case, the current system has allowed a single unelected judge to block the actions of a duly elected president who has attempted to exercise the authority conferred upon him by the Constitution and the voters. Such judicial tyranny cannot be tolerated. The only court created by the founders of the Constitution is the Supreme Court (SCOTUS), with all other federal courts established by Congress and administered by the Judicial Branch of government. District courts, appellate courts, and the various circuits are all congressional initiatives. Federal judges are nominated by the Executive Branch but confirmed by the congressional arm of government.
Supreme Court's Refusal To Hear Two "Discrimination" Cases Means WIN For Religious Freedom. In April 2016, Mississippi Governor Phil Bryant signed HB 1523. The law, known as the Protecting Freedom of Conscience from Government Discrimination Act officially protects religious and moral convictions within the state from action by the government. The convictions specific to the bill regard the definition of marriage, sexual relations within a marriage, and "an individual's immutable biological sex as objectively determined by anatomy and genetics at time of birth." [...] Naturally, this law does not mean members of the LGBT community are barred from buying a cake, scheduling a photographer, booking a clergyman for their wedding, getting a marriage license, or using a spa. What it does mean is that should one of the above-mentioned individuals have a religious or moral conviction that prevents them from providing services to an interested party, they will be free to live by their convictions and will not face government interference.
Why Masterpiece Cakeshop case could bring a major Supreme Court ruling on free expression. The Supreme Court will hear oral arguments Tuesday in a landmark case that could determine if the First Amendment to the Constitution will continue to protect the freedom of artists who wish to act in a manner consistent with their sincerely held beliefs. The case before our nation's highest court is called Masterpiece Cakeshop v. Colorado Civil Rights Commission. The organization that I lead, Alliance Defending Freedom, is representing the cake shop and its owner, cake artist Jack Phillips. Phillips said he couldn't design a custom wedding cake for two men who requested it. He declined because using his artistic talents to celebrate a same-sex marriage would violate his Christian faith and his artistic freedom.
Republicans Just Gotta Stop Clobbering Each Other Like the Three Stooges. These "kinder-gentler" Republicans put into the Supreme Court the likes of Earl Warren and William Brennan (named by Ike), Harry Blackmun (named by Nixon), John Paul Stevens (by Ford), David Souter (by Bush I), and almost Harriet Miers (Bush II). Even President Ronald Reagan, hampered by a House of Representatives that the Democrats overwhelmingly controlled throughout his eight years in office, and with the Senate controlled by Democrats for two of those years, compromised by naming Justice Sandra O'Connor, agreed to massive amnesties for illegal immigrants, allowed the welfare state to balloon in return for tax cuts, and endeavored gallantly to advance conservative values while bedeviled by a Left media before alternative conservative outlets existed to offset the endless stream of Fake News.
Why The Supreme Court Is Likely To Rule For Jack Phillips While Dodging The Big Religious Liberty Question. [Scroll down] However, the Supreme Court later clarified in Church of the Lukumi Babalu Aye v. City of Hialeah, a law is not neutral "if the object of a law is to infringe upon or restrict practices because of their religious motivation." The court added: "There are, of course, many ways of demonstrating that the object or purpose of a law is the suppression of religion or religious conduct... Official action that targets religious conduct for distinctive treatment cannot be shielded by mere compliance with the requirement of facial neutrality. The Free Exercise Clause protects against governmental hostility which is masked, as well as overt." The author of Lukumi Babalu? Justice Kennedy. The swing vote. The justice who saw little concern with Masterpiece Cakeshop's free speech claim. The justice who raised the free exercise claim, highlighted the anti-religion sentiments of one of the commissioners, then concluded: "Counselor, tolerance, is essential in a free society. And tolerance is most meaningful when it's mutual. It seems to me that the state in its position here has been neither tolerant nor respectful of Mr. Phillips' religious beliefs."
A piece of cake for the Supreme Court. The Supreme Court on Tuesday [12/5/2017] heard oral arguments in a case about a cake artist in Colorado. Jack Phillips is being persecuted for harboring private beliefs insufficiently enthusiastic about gay marriage. Phillips made custom cakes to order and served any customer, regardless of race, religion, or sexual orientation. But there were some things he wouldn't do. One was to subscribe to the cause of same-sex marriage, to spread a message about that newfangled institution that he believed to be false. He would not say gay marriage is equal to sacramental matrimony between a man and a woman.
Day one of oral arguments for Masterpiece Cakeshop. [Scroll down] Justice Roberts asked the attorney representing the Colorado Civil Rights Commission a hypothetical about whether Catholic Legal Services should be compelled to represent same-sex couples against their religious beliefs or if the legal group should be forced to close its doors. The attorney skirted the question. Justice Kennedy then rattled off sections from the record showing the commission's bias against Jack Phillips's sincerely held religious beliefs. Then, in the most important moment of the argument, Justice Kennedy commented that Colorado has not been tolerant of Jack Phillips. And there it is, the crux of the case: tolerance. Should a state be tolerant of its citizens' religious beliefs? May it disallow certain beliefs with which it disagrees, demanding that its citizens express antithetical beliefs or face punishment?
The Gay Marriage Ruling Supports the Baker. The Court has declared that the liberties protected by the Due Process Clause include "intimate choices that define personal identity and belief." But saying that one is glad to serve gays but not willing to support a gay "wedding" is precisely a choice that defines personal identity and belief. Hence the Court now faces a quandary. They can either ignore what they wrote in Obergefell or they can refuse to impose the moral view of the left on all Americans by upholding the First Amendment rights of those who don't wish to be forced to support something that is in direct contradiction to their "...choices that define personal identity and belief." The reality is that when leftists, including those on the Supreme Court, write about liberties they are actually thinking only of liberties that they endorse. For example, the same leftists who scream that pornography is protected by the First Amendment tell us that peacefully trying to change a woman's mind as she enters an abortion clinic is not protected by the First Amendment.
Justices Sharply Divided in Wedding Cake Case. The case, which pits claims of religious freedom against the fight for gay rights, has attracted extraordinary public attention and about 100 friend-of-the-court briefs. Mr. Phillips says that he should not be forced to use his talents to convey a message of support for same-sex marriage. The couple, Charlie Craig and David Mullins, say that businesses open to the public should not be allowed to discriminate against gay men and lesbians. [...] Justice Sonia Sotomayor appeared unpersuaded. "When have we ever given protection to a food?" she asked.
Supreme Court Today Mulls Whether Bakers Can Be Forced to Make Gay Wedding Cakes. This morning [12/5/2017] the Supreme Court will be hearing arguments in a case that may determine whether businesses providing services for weddings — like bakers, florists, photographers — may decline to provide goods and services for same-sex couples based on their religious objections to gay marriage. In Masterpiece Bakeshop Ltd. vs. Colorado Civil Rights Commission, bakery owner Jake Phillips was ruled to have violated the state's anti-discrimination and public accommodation laws by declining to make a wedding cake for a gay couple. Phillips has countered that his speech is being compelled and his religious freedom is being violated by being forced by law to produce a cake for the couple.
Supreme Court Allows Latest Travel Ban To Take Full And Immediate Effect. The U.S. Supreme Court Monday [12/4/2017] allowed the latest iteration of President Donald Trump's travel ban to take full effect for the time being, as lower courts continue to wrestle with lawsuits fighting the ban. The order permits the administration to enforce the president's September proclamation, which suspends entry of foreign nationals from seven nations, including Chad, Iran, Libya, North Korea, Syria, Venezuela, and Yemen. Justices Ruth Bader Ginsburg and Sonia Sotomayor noted their dissent from the Court's decision.
In a Win for Trump, Supreme Court Upholds 'Extreme Vetting' Travel Ban. President Donald Trump won a big victory Monday in the Supreme Court, which upheld his "extreme vetting" on immigration into the United States. The dispute over the policy stemmed from its application to six majority-Muslim countries. Lower federal courts in California, Hawaii, and Maryland ruled the ban was unconstitutional. In September, the administration revised the policy to add North Korea, Venezuela, and Chad to the list. It dropped Sudan and kept Iran, Libya, Somalia, Syria, and Yemen.
Supreme Court Rules Full Enforcement of Trump Travel Ban Can Go Into Effect. The supreme court has granted a stay against all lower court rulings allowing the full President Trump travel and VISA ban to go into effect. This is a BIG win for President Trump.
Donald Trump's 'Muslim ban' allowed by US Supreme Court. The United States Supreme Court has allowed the Trump administration to enforce his controversial "Muslim ban". The ban is now set to go into "full effect", although it is not clear on what timescale this will happen. Legal challenges against the controversial measure are still making their way through the US courts, and have not yet reached the Supreme Court.
ACLU Official: Justice Kennedy Will be 'Torn' Between LGBT and Religious Rights. Justice Anthony M. Kennedy, known as a champion for gay rights, is expected to play a key role in the outcome of the Supreme Court's review of a Colorado baker's decision to refuse service to a same-sex couple on religious grounds. A senior director with the American Civil Liberties Union said Thursday [11/23/2017] that Kennedy has been distracted by the "deep faith" of Jack Phillips, the owner of Masterpiece Cakeshop, who refused to bake a wedding cake for Charlie Craig and David Mullins. Kennedy, an 81-year-old Republican, has been instrumental in scoring several key judicial victories for gay rights.
Supreme Court Tosses Case Against Trump's 'Travel Ban'. The U.S. Supreme Court dismissed a case against President Donald Trump's controversial executive order restricting travel and immigration from several terror-prone states on Tuesday [10/10/2017]. The reason: the president issued a new version of the order last month that replaces the older version that had been the subject of litigation in the Fourth Circuit, rendering the case moot. Though many lower federal courts in liberal circuits ruled against the executive order, the Trump administration was set for victory in June, when the Supreme Court lifted an injunction against the enforcement of the so-called "travel ban," leaving the case to be argued in the fall.
In victory for Trump, Supreme Court dismisses travel ban case. The Supreme Court dismissed a major challenge to President Trump's travel ban on majority-Muslim countries Tuesday [10/10/2017] because it has been replaced by a new version, sending the controversy back to the starting block. The ruling is a victory for the Trump administration, which had asked the court to drop the case after Trump signed a proclamation Sept. 24 that replaced the temporary travel ban on six nations with a new, indefinite ban affecting eight countries. That action made the court challenge moot, the justices ruled. "We express no view on the merits," the justices said in a one-page order.
Chief Justice Roberts Calls Proof of Wisconsin Gerrymandering 'Gobbledygook'. The Court has long said that, however distasteful, partisan gerrymandering is usually constitutional — unlike, say, drawing districts based on race. The Court has also said that, theoretically, such finagling may be so egregious that it violates constitutional rights to equal protection, and perhaps to freedom of association and speech. But it has never been able to agree on how much is too much — and today's arguments illustrated why.
Justice Ginsburg has to choose her historic legacy now. How is Justice Ruth Bader Ginsburg, a spirited fighter all her life, going to react to the letter from 58 House Republicans who called for her recusal on the forthcoming travel ban case because of her public disparagement of President Trump during the campaign? Normally, all three branches of the federal government jealously protect their powers from encroachments by the other two. And Supreme Court justices are exempt from the rules of judicial conduct that would force a lesser judge in Ginsburg's position to recuse herself.
SCOTUS reinstates substantially all of Trump Travel Order. In a per curiam Order, the Supreme Court agreed to hear the Trump Travel Order cases, and also substantially lifted the injunctions, with the exception of people seeking admission who already have a bona fide connection to the U.S. This represents a huge win for Trump. The key element of his Second Travel Order (the one at issue on appeal) was to exercise his constitutional and statutory power to exclude persons from the U.S. The lower courts effectively took that power away, and substituted their own judgments as to security threats. With a relatively narrow exception, that power has been reinstated to the presidency, pending a full decision on the merits of the case.
Justices Thomas, Gorsuch blast court decision to reject gun rights appeal. Justices Clarence Thomas and Neil Gorsuch issued a scathing dissent Monday to a Supreme Court decision turning away yet another gun rights case. On a busy morning of decisions, the court on Monday [6/26/2017] rejected a challenge out of California regarding the right to carry guns outside their homes, leaving in place a San Diego sheriff's strict limits on issuing permits for concealed weapons. But Thomas, in a dissent joined by Gorsuch, countered that the case raises "important questions" — and warned that Second Amendment disputes aren't getting the attention they deserve from the Supreme Court. "The Court's decision ... reflects a distressing trend: the treatment of the Second Amendment as a disfavored right," they wrote.
Supreme Court takes case on cake for same-sex marriage. The Supreme Court decided Monday to hear a case involving a Colorado baker's refusal to design and make a cake for a same-sex marriage. The baker, Jake Phillips, declined to make the custom cake and said it conflicted with his religious beliefs. The Colorado Civil Rights Commission decided that Phillips' actions amounted to sexual orientation discrimination under the Colorado Anti-Discrimination Act. The Colorado Court of Appeals said the commission's ruling did not violate the First Amendment because Phillips' speech was "conduct compelled by a neutral and generally applicable law," as attorneys for Phillips noted in their petition to the high court.
Trump's travel ban victory should force media to examine itself. Samuel Johnson once said, "When a man knows he is to be hanged ... it concentrates his mind wonderfully." For opponents of the Trump immigration order, minds became distinctly more concentrated around 11am this morning [6/26/2017], when the U.S. Supreme Court reinstated much of Trump's order in a reversal of the U.S. Court of Appeals for the Ninth Circuit. While the court will hear the merits in October and could still rule against the administration, these preliminary decisions often reflect a view of underlying merits. For those of us who have long argued that the legal authority supported Trump, the order was belated but not surprising. However, the order does offer a brief respite for some self-examination for both legal commentators, and frankly, the courts.
Don't pop the champagne yet over Trump's SCOTUS immigration win. The Supreme Court agreed to stay part of the injunction against Trump's temporary immigration moratorium. This demonstrates just how crazy some of the lower courts have been on the issue of sovereignty. However, once again, Chief Justice John Roberts has shown that he is not anywhere near a full constitutionalist, and only three justices would have lifted the lower court injunction entirely. While the news headlines indicate this is a big win for the administration, the relief granted by the Supreme Court is limited, and the ACLU will continue to rack up victories in the lower courts until the Supreme Court hears the case in October. Meanwhile, Congress can still act to reclaim sovereignty.
Donald Trump Celebrates Supreme Court Decision to Clear Parts of Travel Ban. President Donald Trump celebrated the unanimous per curiam opinion by the Supreme Court, effectively clearing lower court attempts to stay his travel ban, calling it a "clear victory" for national security. "Today's unanimous Supreme Court decision is a clear victory for our national security," the president said in a statement to reporters. Trump's ban sought to limit people from Iran, Libya, Somalia, Sudan, Syria, and Yemen from entering the United States, citing a national security risk.
Trump claims 'clear victory' after Supreme Court says his 'Muslim' travel ban can go into effect NOW against people without U.S. ties. President Donald Trump took a victory lap on Monday after the Supreme Court restored most of his executive order banning incoming travel from six terror-prone countries. 'Today's unanimous Supreme Court decision is a clear victory for our national security,' the president said in a statement shortly after the high court ruled. 'It allows the travel suspension for the six terror-prone countries and the refugee suspension to become largely effective.'
Same-sex married couples can be listed as father, mother on birth certificate, Supreme Court rules. Arkansas cannot refuse to list both names of same-sex married parents on a baby's birth certificate just because one of them is not a biological parent, the Supreme Court ruled Monday [6/26/2017], in a decision that suggests the extent to which the justices will push their 2015 decision on same-sex marriage equality. Arkansas had resisted, arguing that the birth certificate was a record of parentage for the child, rather than a document about the marriage.
SCOTUS: Blocking Church Daycare From Grant Money Is 'Odious to Our Constitution'. The Supreme Court on Monday [6/26/2017] ruled 7-2 in favor of a Lutheran daycare that sought state grant money for rubberized playing surfaces, scoring a victory for religious liberty proponents. Missouri originally denied funding to Trinity Lutheran Church based on its status as a religious institution, but its defenders argued that this constituted religious discrimination. Other private schools were eligible, but Missouri's constitution has an amendment forbidding public funds for religious organizations. Chief Justice John Roberts wrote the majority opinion and explicitly said that denying money for religious reasons is unconstitutional.
Sotomayor Sees 'Radical Mistake' in Letting Churches Compete for Playground Grants. In dissenting from the Supreme Court's 7-2 decision that Missouri cannot discriminate against a Lutheran church that sought to compete in a state grant program that paved playgrounds with material made from recycled tires, Justice Sonia Sotomayer argued that the court's opinion "would mark a radical mistake." Justice Ruth Bader Ginsburg was the only justice to join Sotomayor in dissenting from the majority's opinion in Trinity Lutheran Church of Columbia v. Comer. Writing for the court, Chief Justice John Roberts, joined in full by liberal Justice Elena Kagan, concluded that a state government could not categorically deny churches that have playgrounds from competing with other institutions in the state grant program.
Justice Thomas Calls Out The Supreme Court For Not Believing In The Second Amendment. Supreme Court Justice Clarence Thomas had stern words for his colleagues when the Court declined to hear a case challenging California's handgun laws, saying that the jurists do not understand the importance of self-defense. The case, supported by the National Rifle Association, involves San Diego resident Edward Peruta, who challenged his county's refusal to grant him permission to carry a concealed firearm outside of his home.
U.S. Supreme Court Rejects Appeal Seeking Gun-Carrying Rights. The U.S. Supreme Court refused to consider loosening restrictions on carrying firearms in public, rejecting an appeal by California gun-rights advocates and continuing to steer clear of one of the nation's most polarizing issues. The justices left intact a San Diego County policy that requires people to show a special need in order to get a license to carry a concealed handgun outside the home. A divided federal appeals court had upheld the policy. Justices Clarence Thomas and Neil Gorsuch said the high court should have heard the case.
Dershowitz: Ginsburg Should Recuse Herself from 'Any Case Involving' Trump. Former Harvard Law School professor Alan Dershowitz said Supreme Court Justice Ruth Bader Ginsburg should recuse herself from "any case involving the president" because of her past public comments on President Donald Trump. Dershowitz, a Democratic author and criminal appellate lawyer, noted during an interview Monday on "The Laura Ingraham Show" that Ginsburg has issued some harsh, partisan critiques of Trump — even though Supreme Court justices typically take care to remain as politically neutral as possible.
Republican lawmakers want Ruth Bader Ginsburg to recuse herself from Trump cases. Fifty-eight House Republicans signed a letter calling for Supreme Court Justice Ruth Bader Ginsburg to recuse herself from the upcoming travel ban case due to her comments about President Trump during the election. [...] The congressmen argued Ginsburg's previous public comments about Trump, which included calling him a "faker" and saying he has an "ego," merited her recusal from the case.
Supreme Court: Immigrants Who Lie to Feds to Become Citizens May Lose Citizenship. The Supreme Court on Thursday held that federal law authorizes courts to strip immigrant citizens of their U.S. citizenship if they obtained it as a result of making false statements to the federal government. Federal law found at 18 U.S.C. §1425(a) makes it a crime to "knowingly procur[e], contrary to law, the naturalization of any person" to become a U.S. citizen. Moreover, a second federal statute, 8 U.S.C. §1451(e) adds that a foreigner who obtains U.S. citizenship through such a violation will lose that newly granted citizenship.
Supreme Court limits government's ability to strip citizenship. The government cannot strip citizenship from someone who lied during their application process if the false statement wasn't central to their claim for immigration benefits, the Supreme Court ruled Thursday [6/22/2017]. The decision could make it tougher for the government to oust people it deems to have misled immigration authorities. Justice Elena Kagan, writing for the court in the unanimous decision, said the government must prove that the lie was serious enough that if officials had known the truth at the time, they would have denied citizenship.
Supreme Court: There's No "Hate Speech" Exception to the 1st Amendment. The Supreme Court ruled this morning [6/19/2017] that the government cannot deny full trademark protection to allegedly racially offensive trademarks. [...] The case involved an Asian-American band called "The Slants." It sought federal registration of that mark. The Patent and Trademark Office denied the application under a Lanham Act provision prohibiting trademarks that may "disparage... or bring... into contemp[t] or disrepute" any "persons, living or dead." The Court ruled in favor of The Slants. The vote was unanimous, though the Court split 4-4 on some of the finer points.
The Chevron Shakedown artists are rejected at the Supreme Court. You may recall that about one month ago, the plaintiffs in the case, led by Manhattan Attorney Steven Donziger and his group of "environmentalist" allies, filed an appeal from the last in a long series of judgements which had gone against them. Having unsuccessfully tried to pick Chevron's pockets to the tune of billions of dollars in a corrupt trial in Ecuador, Donziger had been found to have engaged in racketeering and massive corruption. He had hoped to take a last ditch chance and ask the Supreme Court to hear his appeal. This week that last chance fell through as the Supremes passed on the invitation, allowing the lower court's judgement to stand.
Supreme Court suggests constitutional right to Facebook, other social media. The Supreme Court ruled Monday [6/19/2017] that a convicted sex offender can't be barred from getting on the internet, in a decision that lays out the beginnings of a constitutional right to surf the web. Justices struck down a North Carolina law that had prohibited sex offender from logging onto social media, saying that such a broad ban would be cutting someone off from what has become the most robust forum for politics, free speech and commercial activity.
Supreme Court strikes down sex offender social media ban. The Supreme Court struck down a North Carolina law Monday [6/19/2017] that bars convicted sex offenders from Facebook, Twitter and other popular sites.
Gender-Based Citizenship Rules Unconstitutional, Supreme Court Says. The U.S. Supreme Court decided that federal citizenship rules violate the Constitution by making it harder for some foreign-born children of American men to become citizens than children born abroad to American women. The court, however, said it wouldn't confer citizenship on the man who challenged the policy. The justices instead made it harder for the future offspring of American women to become citizens.
Ginsburg Better Do Right Thing and Recuse Herself From Trump Travel Ban Case. If campaign comments are evidence of bias in a way that invalidates the actions of a decision-maker (as the 4th Circuit claimed), then the same logic the 4th Circuit used to deny Trump's travel ban must require Ginsburg's recusal in the Supreme Court's review of that travel ban. The standard for recusal does not require a judge admit their bias. It only requires a review whether the public might "reasonably question" the "impartiality" of the judge in the matter. Liberals argued Justice Scalia merely hunting with a Vice President compelled his recusal. As Justice Scalia recognized, recusal is appropriate whenever a Justice has "said or done something" that impacts the perception of impartiality on a pending case. As Justice Scalia implicitly recognized, recusal may be necessary when the Court's judgment would have "any bearing upon the reputation and integrity" of a party before the court if that individual Justice has voiced a prior opinion on that individual through friendship or hostility.
US top court rejects 'gay conversion' therapy ban challenge. The US Supreme Court on Monday [5/1/2017] left intact California's ban on "gay conversion" therapy aimed at turning youths under age 18 away from homosexuality, rejecting a Christian minister's challenge to the law asserting it violates religious rights. The justices, turning away a challenge to the 2012 law for the second time in three years, let stand a lower court's ruling that it was constitutional and neither impinged upon free exercise of religion nor impacted the activities of clergy members.
We're down to one branch of government. How did we reach the place where nobody knows what the "law of the land" is until the Supreme Court rules? How did the Supreme Court acquire so much blatantly unconstitutional and immoral power? The answer is easy: the Court stole it.
Supreme Court Rejects Challenge Over Merrick Garland Nomination, Shows Why 'Emoluments' Suit Against Trump Will Fail. On Monday morning, the U.S. Supreme Court declined to review the case of Michel v. McConnell, where the courts below rejected a citizen's effort to sue senators for inaction on D.C. Circuit Chief Judge Merrick Garland's nomination to the Supreme Court. The lower courts' opinions explain why another controversial dispute, Citizens for Responsibility and Ethics in Washington (CREW) v. Donald J. Trump, will also fail — with only days left until the government's response is due in that case.
Gorsuch Casts First Major Tie-Breaking Vote Allowing Arkansas Executions To Proceed. In what will undoubtedly be a memorable first major tie-breaking vote as a Supreme Court Judge, Neil Gorsuch cast the deciding vote last night to allow Arkansas to begin executing a group of 8 death-row inmates. The decision came after attorneys for the State of Arkansas sought an expedited process to allow for the executions to proceed before their lethal-injection drugs expire at the end of April.
American Resurrection. The week started with the swearing in of Neil Gorsuch to the Supreme Court. This portends a potentially sane court policy for years. Another ideological leftist on the court would have been a disaster. Instead, we have a stabilizing, common sense, intellectually clear judge to countermand the court's drift to the left. It means we still have a reasonable shot at holding on to being a country of laws, rather than a country of cool personalities with bad ideas.
Obergefell's Toxic Judicial Legacy. The cultural, legal, and political consequences of establishing a right to same-sex marriage have dominated discussions regarding Justice Kennedy's Obergefell decision. Will religious institutions that oppose same-sex marriage lose their tax-exempt status? What will happen to vendors whose consciences prohibit them from participating in same-sex weddings? How and when will schools address same-sex marriage? Those consequences are important and merit serious discussion. However, another aspect of the case — Justice Kennedy's instructions regarding judges' authority to create new "rights" — will prove equally important in the long run. In Obergefell, Justice Kennedy did far more than merely discover a constitutional right to same-sex marriage. He wrote that judges have an ongoing "duty" to identify and protect new "fundamental rights." He maintained that judges should institute new rights whenever their "reasoned judgment" suggests that it is appropriate to do so.
Gorsuch vs. Sotomayor. It is surprising that, throughout the convolutions of the Gorsuch hearings, no mention has been made of Justice Sonia Sotomayor, whose nomination and confirmation were — with one important difference — a mirror image of the present proceedings.
Gorsuch confirmed to Supreme Court. The Senate confirmed Judge Neil Gorsuch to the Supreme Court on Friday, filling the critical ninth seat that has been vacant for over a year and capping a tumultuous debate that saw Republicans overhaul the way the chamber operates in order to overcome what they described as an unprecedented Democratic filibuster. The 54-45 vote, in which three Democrats crossed party lines to support the appeals court justice, is expected to restore a 5-4 conservative tilt on the bench. Once sworn in, Gorsuch will join the court and begin to hear cases, in the seat once held by the late Justice Antonin Scalia, who died in February 2016.
Dianne Feinstein In 2006: You Can't Block A SCOTUS Nominee Because You Disagree With Him. The Democrats are going crazy over the appointment of Neil Gorsuch to the Supreme Court. Gorsuch is completely qualified but they're trying to block him just because they hate Trump for winning. Back in 2006, Dianne Feinstein had a much more reasonable view on this subject. [Video clip]
Abandoning All Intellectual Honesty, Democrats Attack One of Elena Kagan's Loves. The Federal Society is so nefarious, secretive, and extreme that every single sitting member of the United States Supreme Court has spoken at its events. Justice Elena Kagan, when she served as Harvard Law School's dean, declared "I love the Federalist Society." Justice Sotomayor spoke during a Federalist Society panel discussion. Justice Breyer had the audacity to join Justice Scalia at a Federalist Society event. Even the Notorious RBG herself, Ruth Bader Ginsburg has participated in Federalist Society events. It is that extremist and secretive. The Federal Society was founded in 1982. It is a nonpartisan organization, but it is definitely a group dedicated to originalism. Justice Elena Kagan has noted that we are all originalists now and that is in large part due not just to Justice Scalia, but due to the Federalist Society.
Supreme Courts slaps down EEOC on subpoenas. The Supreme Court on Monday [4/3/2017] said it supports a lower-court ruling that limited the authority of the Equal Employment Opportunity Employment Commission to subpoena companies for information when it is bringing a case against an employer. In a 7-1 decision, the justices slapped down the EEOC's argument that a district court should have backed the EEOC's effort to fully enforce its request for documents, even after the company argued the request was too broad.
The Left Distorts Originalism to Attack Judge Gorsuch. This morning, Senator Dianne Feinstein fresh from lecturing Neil Gorsuch on the novel constitutional concept of "super precedent" purported to attack Judge Gorsuch's legal philosophy by reading a question from a law-school dean: [...] Note what happened here. Feinstein's dean went straight from a quote to a straw man, fundamentally mischaracterizing Scalia and originalist jurisprudence in one consequential sentence. First, Scalia's consistent position wasn't that the equal-protection clause offered "no protection" to women or gays, but rather that it did not offer special or extraordinary protection. For example, here he was dissenting in Romer v. Evans, a decision that struck down a Colorado constitutional amendment prohibiting local governments from outlawing discrimination based on sexual orientation:
Even Dick Durbin Blasts Democrat Anti-Gorsuch Strategy. Senator Dick Durbin (D-IL) has taken a different tone regarding the confirmation process of Judge Gorsuch, and his Democrat colleagues should take note. While radical left-wingers like Elizabeth Warren, Sherrod Brown, and Jeff Merkley have said they would oppose Gorsuch even before the hearing, Sen. Durbin stated rejected that kind of behavior, saying: "I don't think that serves the country well."
Sorry Dems, Judge Gorsuch is un-Borkable. Gorsuch's credentials are too impeccable, his intellect too keen and his temperament too even to fall victim to the kind of debasement that felled Judge Robert Bork and coined an infamous phrase. If the Gorsuch confirmation hearings have proven anything, it's that his opponents have no powder in their guns. Try as they may, there is little in the record of Neil Gorsuch that can be faulted. His rulings have been fair, his legal mind agile, and his fidelity to the law unimpeachable.
Ted Cruz: Not One Democrat — Including Hillary and Obama — Voted Against Neil Gorsuch's Federal Judgeship. On the first day of confirmation hearings for Federal Appeals Court Judge Neil Gorsuch to be named as a Supreme Court Justice, Sen. Ted Cruz (R-Texas) reminded the Democrats, who one after another criticized the nominee, that during his confirmation hearing a decade ago for the federal seat he holds now, not one Democrat — including Sens. Hillary Clinton and Barack Obama — voted against Gorsuch. "A decade ago, Judge Gorsuch was confirmed by this committee for the Federal Court of Appeals by a voice vote," Cruz said. "He was likewise confirmed by the entire United States Senate by a voice vote without a single Democrat speaking a word of opposition.
Astroturf:
Former Female Student Making Allegations Against Gorsuch Has Ties to Obama, Democrats. Judge Neil Gorsuch's former law student who is accusing the Supreme Court nominee of encouraging firms to engage in sexist and possibly illegal hiring practices has close ties to the Democratic Party, The Daily Signal has learned. Jennifer Sisk, a 2016 graduate of the University of Colorado Law School, wrote a scathing letter to the Senate Judiciary Committee on Sunday [3/19/2017]. In the letter, Sisk detailed her account of Gorsuch's telling his law students that "many" women manipulate their employer's maternity benefits after giving birth. Multiple media outlets including NBC News, NPR, and Think Progress first reported on this allegation without any mention of Sisk's ties to Democrats.
Feinstein: Constitution A 'Living Document;' 'Originalism... Very Troubling'. Several Senate Democrats were unified in deriding originalism as a judicial philosophy during Monday's Senate Judiciary Committee hearing on the nomination of Judge Neil Gorsuch to Supreme Court justiceship[.] Sen. Dianne Feinstein (D-Calif.), ranking Democrat of the committee, described originalism as a "very troubling" jurisprudential approach. The Framers, she added, intended for the Constitution to be continuously reinterpreted over time [...]
Neil Gorsuch Is the Impartial Judge Our Supreme Court Needs. The impartial judge embodies the role envisioned by the Founders in our Constitution, fulfilling his duty to "say what the law is," rather than reinventing the law as he wishes it would be. By contrast, the political judge views the role of the judiciary as no different than that of the legislature, using judicial review as a metaphorical "second bite at the apple" to achieve his preferred political objectives. The stakes in this conflict are enormous: It determines whether the country is governed by the sovereign people or by unelected, unaccountable judges.
American Bar Association Gives Neil Gorsuch Highest Possible Rating For SCOTUS. The American Bar Association's Standing Committee on the Federal Judiciary voted unanimously to rate Neil Gorsuch as "well qualified" to serve on the Supreme Court of the United States. "Well qualified" is the best possible rating a Supreme Court nominee can receive from the ABA.
U.S. Supreme Court Cancels Transgender Bathroom Showdown. The U.S. Supreme Court canceled a scheduled showdown over the bathroom rights of transgender students in public schools, sending the case back to a lower court after the Trump administration changed a pivotal federal policy. The justices were planning to hear arguments March 28 in the case of Gavin Grimm, a transgender Virginia high school student suing his school district to get access to restrooms that align with his gender identity.
Ted Cruz Says Another SCOTUS Vacancy Is Just Months Away. Texas Sen. Ted Cruz anticipates another vacancy on the U.S. Supreme Court will arise in a matter of months. "I think we'll have another Supreme Court vacancy this summer," Cruz said at the Conservative Political Action Conference Thursday [2/23/2017]. "If that happens, as much as the left is crazy now, they will go full Armageddon meltdown because the next vacancy is where we'll have the ability to act and restore basic constitution protections." Though Cruz was not more specific, as a former law clerk to Chief Justice William Rehnquist, he enjoys access to a network of former clerks privy to the plans of their former bosses. Rumors have abounded since fall 2016 that Justice Anthony Kennedy may seriously be mulling retirement.
Supreme Court enters Mexico border debate with Texas shooting case. As if U.S.-Mexico relations could get no worse, the Supreme Court enters the fray Tuesday [2/21/2017] with a case that may set them back further. Either the justices will decide, as two lower federal courts before them, that 15-year-old Sergio Adrián Hernández Güereca was killed by a U.S. Border Patrol agent without any possible legal recourse for his distraught parents — or that Jesus Mesa, the agent, can be sued for damages for violating the boy's constitutional rights.
Fox News Poll: Nearly half of voters would confirm Gorsuch. It looks like Judge Neil Gorsuch would have an easier time making it to the U.S. Supreme Court if voters — rather than U.S. Senators — had to confirm him. That's according to the latest Fox News Poll of registered voters nationwide. President Donald Trump nominated Judge Gorsuch to fill the vacancy created by Justice Antonin Scalia's death. If Gorsuch is confirmed by the Senate, it will likely be a razor-thin victory. Yet voters give him a 12-point edge. The new poll, released Wednesday, finds that by a 49-37 percent margin, voters would confirm Gorsuch. Fourteen percent are undecided.
Against "Judicial Engagement". The death of Supreme Court justice Antonin Scalia last year created an unexpected vacancy on the badly split Supreme Court, which throughout the presidential campaign focused attention on the importance of the Court and the selection of Scalia's successor. "I feel strongly that the Supreme Court needs to stand on the side of the American people, not on the side of the powerful corporations and the wealthy," said Hillary Clinton in the final debate. Advocating desirable policy outcomes without even mentioning the Constitution itself, as Clinton did in the debate, is a hallmark of the "living Constitution" philosophy, which has prevailed among liberals since the New Deal.
The Gorsuch Confirmation and the Finnis Connection. In addition to having a law degree from Harvard, it is notable that Gorsuch also took a leave from his lucrative law practice to attend Oxford University to earn a Ph.D under the direction of John Finnis. Never heard of John Finnis? I predict you will in the confirmation hearings.
How to Drain the Judicial Swamp. It's no surprise the Democrats plan to fight against the nomination of President Trump's Supreme Court pick, 10th Circuit Court of Appeals judge Neil Gorsuch. There are no confirmation battles like Supreme Court confirmation battles because, as we always hear, such a decision can "shape the country for a generation." This doesn't sound like the role envisioned by the founders. As Alexander Hamilton wrote in The Federalist, No. 78, the judiciary is (theoretically) the "least dangerous" branch of government because it "has no influence over either the sword or the purse." So how have the courts been afforded so much power? "Afforded" is the word. In reality, the judiciary has become the most dangerous branch due to ignorance and congressional abdication of responsibility.
Neil Gorsuch, Guns & the Second Amendment: 5 Fast Facts You Need to Know. Donald Trump's nominee to the U.S. Supreme Court is generally regarded as a supporter of the Second Amendment and gun rights. Vigorously praised by the National Rifle Association, Neil Gorsuch "has endorsed Second Amendment rights," says FiveThirtyEight. However, there is one ruling that gives some conservatives concern, relating to when police can disarm those carrying firearms. Although Gorsuch's positions on some hot button issues — like abortion — are less clear, his stances on the Second Amendment and guns are clearer.
The Myth of the Stolen Supreme Court Seat. The confirmation battle over Supreme Court nominee Neil Gorsuch is off and running, and opponents already know he's superbly qualified with a fine judicial temperament. But Democrats are still itching for a fight, and their first line of offense is the myth of the "stolen" seat.
Gorsuch nomination a lose-lose for the Democrats. First of all, keep in mind that the stakes in the Gorsuch nomination do not include alteration of majority control. A conservative justice would replace a conservative justice if he is confirmed. Second, remember that the filibuster is the sole legislative weapon available to the minority Democrats to halt this and any subsequent nomination. If they use the filibuster to try to stop Gorsuch, they risk Republicans using the so-called nuclear option and ending the filibuster entirely for the Supreme Court. They are in no position to object on principle, having used the nuclear option themselves to enable President Obama to fill the district and appellate courts with liberal-left judges. The most pressing concern of the Democrats is stopping Trump's next nominee, in the expectation that another vacancy could be on the way, either through mortality or resignation.
Democrats are already plotting to block Trump's Supreme Court pick. Eager for political payback, Senate Democrats plan to do everything they can to block President Trump's nomination for the Supreme Court — even though they don't know who it will be. Sen. Jeff Merkley (D-Ore.) said Monday [1/30/2017] that he will filibuster any pick that is not Merrick Garland — former President Obama's nominee to replace the late Antonin Scalia — who was never granted a hearing or a vote by the GOP-controlled Senate. "This is a stolen seat. This is the first time a Senate majority has stolen a seat. We will use every lever in our power to stop this," Merkley told Politico, adding that an overwhelming majority of his Democratic caucus will oppose Trump's pick.
Democrats, Including Chuck Schumer, Voted Unanimously to Confirm Neil Gorsuch in 2006. President Donald J. Trump on Tuesday nominated Judge Neil Gorsuch for the U.S. Supreme Court. Democrats immediately pounced on the decision with preprepared statements they would've released regardless of whom the president nominated. Judge Gorsuch, 49, who serves on the U.S. Court of Appeals for the 10th Circuit in Colorado, was appointed in 2006 by President George W. Bush. In July 2006, the U.S. Senate confirmed him unanimously by a voice vote, in which had the support of the very Democrats who are now objecting to his nomination.
5 Things You Should Know About Supreme Court Nominee Neil Gorsuch. On Tuesday [1/31/2017], President Donald Trump nominated appellate judge Neil Gorsuch to serve on the Supreme Court. Trump fulfilled his pledge to select a nominee "in the mold of Antonin Scalia," for Gorsuch seems cut from exactly the same cloth. Like Scalia, Gorsuch is both a textualist and an originalist — he interprets legal provisions as their words were originally understood, and not according to doctrines like the "Living Constitution." This is important, and points to how he will rule on pivotal cases if confirmed by the Senate.
Trump nominates 'brilliant' Neil Gorsuch to the Supreme Court - making him the youngest candidate in 25 years. President Donald Trump has announced his choice of Neil Gorsuch, a U.S. Court of Appeals for the 10th Circuit judge with conservative and Ivy League credentials, to the Supreme Court. If confirmed by the bitterly-divided Senate, Gorsuch will fill the vacancy created by the February 2016 death of Antonin Scalia.
Democrats announce plans to filibuster of Gorsuch nomination. Democrats have already decided they will force a filibuster on Judge Neil Gorsuch, Senate Minority Leader Charles E. Schumer said Tuesday [1/31/2017], just minutes after President Trump announced the pick. "The Senate must insist upon 60-votes for any Supreme Court nominee," Mr. Schumer said in a statement. Republicans could counter with the so-called "nuclear option," using a shortcut to change the rules and eliminate the 60-vote filibuster threshold. But GOP leaders have been circumspect on that option.
Judge Neil Gorsuch: Some Cause for Concern. According to the 10th Circuit's opinion, the police are justified in forcibly disarming every armed citizen based on nothing more than the presence of a concealed firearm. This allows the police to treat every law-abiding gun owner like a criminal — which, in many cases we have seen, includes rough treatment such as grabbing him, twisting his arm behind his back, slamming him down on the ground, and handcuffing him. Far too many police officers do not like anyone to be armed other than themselves and have taken it upon themselves to intimidate those who dare to exercise Second Amendment rights.
Do Not Touch The Guns. Any man who believes that LEOs have the right to disarm innocent civilians because they feel like it isn't fit to be on any bench, much less the Supreme Court of the United States. Neil Gorsuch should resign his post along with his colleagues on the tenth circuit and be replaced by good men who believe in the constitution.
2 Judges on Trump's Short List Received Unanimous Senate Approval. Two of the judges on President Donald Trump's reported short list for the Supreme Court received unanimous Senate approval during their respective Senate confirmations. Judge Neil Gorsuch was confirmed by the Senate on July 20, 2006, to serve as the judge for the 10th U.S. Circuit Court of Appeals. Judge Thomas Hardiman was confirmed by the Senate on March 15, 2007, to be a U.S. circuit judge. Both received significant bipartisan support during their confirmations.
Trump backs curbing filibuster if Dems block Supreme Court pick. President Trump is urging Majority Leader Mitch McConnell (R-Ky.) to abolish the filibuster for Supreme Court nominees if Democrats block his pick. Trump told Fox News that he would back getting rid of the 60-vote threshold for high court nominees if he can't win over the support of at least eight Democrats for his nominee, who is expected to be announced next week. "We have obstructionists," Trump said, pointing to Democrats' treatment of his Cabinet nominees and their push to delay a committee vote on Sen. Jeff Sessions's (R-Ala.) attorney general nomination.
Democrats to Fight Any Trump Supreme Court Nominee: Schumer. Suggesting that turnabout is fair play, the Senate's new top Democrat promised Tuesday night [1/3/2017] to do his best to block whomever President-elect Donald Trump nominates to the Supreme Court. [...] Senate Republicans blocked President Barack Obama's March 16 nomination of U.S. Appeals Judge Merrick Garland for more than nine months — more than twice as long as any other nomination to the court has gone without a vote. Garland's nomination expired Tuesday as the new 115th Congress was sworn in.
Obama could still force Merrick Garland onto court during 'intersession recess'. President Obama will have one last chance to force Judge Merrick Garland onto the U.S. Supreme Court on Tuesday [1/3/2017] — but it's a legal gamble and one that has so many pitfalls that even those who say he could get away with it believe it isn't worth the fight. Mr. Obama's moment will come just before noon, in the five minutes that the Senate gavels the 114th Congress out of session and the time the 115th Congress begins. In those few moments the Senate will go into what's known as an "intersession recess," creating one golden moment when the president could test his recess-appointment powers by sending Judge Garland to the high court.
Supreme Court Freakout at the New York Times. The New York Times was once known as The Grey Lady. Today, a more apt moniker would be The Hysterical Bag Lady. The Times editorial board is home to the most immoderate, shrieking Leftism you will find this side of the Nation. On Christmas Eve, the Times editorialized on The Stolen Supreme Court Seat. It is a classic of the post-Trump-election freakout genre: [...] This is the substance of the Times's complaint: that Senate Republicans "broke with longstanding tradition" by deferring the next Supreme Court selection until after the November 2016 election. How do the editorialists support their claim? By citing their own paper.
U.S. chief justice refuses to force vote on Obama high court pick. U.S. Chief Justice John Roberts on Monday [12/19/2016] rejected a New Mexico lawyer's long-shot bid to force a Senate confirmation vote on President Barack Obama's Supreme Court pick, Merrick Garland, after Republican senators refused to act on his nomination. Steven Michel, a Santa Fe environmental attorney, filed suit in U.S. federal court in August, arguing that the Republican-led Senate's failure to act on Garland's nomination deprived Michel of his rights as a voter under the U.S. Constitution's 17th Amendment, which outlines how senators are elected.
Smear Campaign Against Sessions Ignores the Facts. Let's stipulate upfront that the Senate battle over Jeff Sessions' nomination for U.S. attorney general is not about Jeff Sessions. Everybody knows this. Everybody also knows the Senate is going to confirm Sessions. No, the opposition to Alabama's senator is about two things: One, the left's reflexive opposition to all things Donald Trump. Two, the left's prep work for the next confirmation battle over Trump's nominee to the U.S. Supreme Court. The fight over Sessions' confirmation to head the Justice Department is spring training, a preseason tune-up for the regular season, i.e., the confirmation showdown with Senate Democrats over Trump's pick for the high court.
No, Senate Democrats Can't Use The 'Nuclear Option' To Confirm Merrick Garland. Having watched continued control of the White House slip away, progressive activists are now furiously searching for ways to rescue Merrick Garland's nomination to the U.S. Supreme Court before President-elect Donald Trump takes office. Unfortunately for these activists, their latest scheme to install Garland, who was nominated to the Supreme Court by President Obama last March, has absolutely no basis in reality. The primary torchbearer for this plan is Daily Kos editor David Waldman, who claims that Senate rules allow Democrats to confirm Garland after the current congressional term expires, but before new senators take office.
Manchin: Unwise to block Trump's Supreme Court pick. West Virginia Democratic Sen. Joe Manchin on Monday [12/5/2016] warned the Democratic Party not to engage in payback when it comes to President-elect Trump's nomination to the Supreme Court or they will continue to lose a significant portion of the electorate in rural states like his who helped hand Trump the presidency. "We have to be careful how we go down this road," Manchin said during a panel discussion at a centrist "No Labels" conference in Washington. Manchin was referring to Senate Democrats' willingness to use the filibuster to try to block Trump's high court pick and cautioned against doing so.
Judicial Activism Set the Stage for Trump Win. Donald Trump's election as president is due in no small part to the prominence of the Supreme Court in the campaign, following a spike in judicial activism this decade. Doubts about Trump faded when Republicans and like-minded voters looked back at the High Court's unmistakably activist decisions on ObamaCare and same-sex marriage, and considered the consequences of a Court dominated by Hillary Clinton appointees. [...] Voters who called High Court appointments the most important factor in their presidential choice constituted a full 21% of the electorate, and they voted overwhelmingly for Trump. After he issued a highly praised list of potential Supreme Court nominees, conservatives critical of Trump consistently cited the Court as the best or only reason to vote for him.
Danger! Obama could put Merrick Garland on Supreme Court in December. Last week, I warned that if Congress adjourned for the year too soon, it could open a window to give President Obama a Supreme Court pick. That's because of a provision of the Constitution that allows the president to make recess appointments that can last two or more years. Now we get word that Congress is planning to adjourn early, which will give Obama an opportunity to appoint Merrick Garland to the Supreme Court.
White House waves white flag on Merrick Garland's Supreme Court nomination, trade deal. The White House conceded Tuesday that President Obama has lost two of his most important battles, surrendering on a massive free-trade deal and the Supreme Court nomination of Judge Merrick Garland. Responding to President-elect Donald Trump's vow to withdraw the U.S. from the Trans-Pacific Partnership on his first day in office, White House press secretary Josh Earnest acknowledged the chances of the pact being approved by Congress "are not very good." He called it "a significant missed opportunity for the American people."
Democrats' new Senate leader open to filibustering Trump's Supreme Court picks. Senate Democrats' new leader claimed the right Wednesday [11/16/2016] to filibuster Donald Trump's Supreme Court nominees, making clear Democrats won't give the president-elect much of a honeymoon on the most significant of his upcoming appointments. Sen. Charles E. Schumer, New York Democrat, said nominations to the high court should get support from both parties, and said the filibuster is a way to enforce that on a president. He pointedly noted that when his party changed filibuster rules three years ago, they left intact the ability to filibuster at the Supreme Court level. "I'll underline that we did not change the rules for Supreme Court because we thought on something as important as this, there should be some degree of bipartisan agreement," Mr. Schumer said.
Rule Change Pushed By Harry Reid Could Allow Trump To Get All Of His Appointments Confirmed. A Senate rule change championed by outgoing Senate Minority Leader Harry Reid could leave Democrats powerless to stop any of President-elect Donald Trump's cabinet appointments. In 2013, Sen. Reid and other Democrats pushed forward with a rule change dubbed the "nuclear option" to eliminate filibusters for all presidential nominations except Supreme Court justices. This means that a simple majority of 51 votes instead of 60 votes is necessary to confirm executive office appointments.
Clarence Thomas welcomes new conservative era on the Supreme Court under Trump and vows to stop his fellow justices inventing 'newly discovered rights'. Conservative judges should limit the Supreme Court's powers — inspired by the example of Antonin Scalia, one of its own justices said last night. Justice Clarence Thomas told a dinner in memory of Scalia, who died in February, that the court has too often granted rights to people which are not found in the Constitution. He claimed the decision last year to make same-sex marriage legal across the country, which both Scalia and Thomas dissented from, is an example of the Supreme Court overstretching.
GOP could nuke filibuster for Supreme Court nominees. Top Senate Republicans are drawing a hard line on the Supreme Court, guaranteeing that no matter what tactics Democrats deploy, they will be forced to swallow Donald Trump's imminent nominee to the high court. Republicans won't come out and say it, but there's an implicit threat in their confidence: If Democrats play things the wrong way, they might find themselves on the wrong end of a legacy-defining change to Senate rules that scraps the chamber's 60-vote threshold to confirm Supreme Court nominees. "We're going to confirm the president's nominee one way or the other. And there's an easy way and there's a hard way," said Senate Majority Whip John Cornyn (R-Texas). "They just need to accept that reality."
Shameless Schumer Lies About Supreme Court Filibuster. Three years ago, when Senate Democrats abolished the filibuster for lower-court and executive-branch nominees, they left it in place for Supreme Court nominees. According to the raw MSNBC transcript of his press conference today, incoming Democratic leader Chuck Schumer is now claiming that Senate Democrats "did not change the rules for [the] supreme court because we thought on something as important as this there should be some degree of bipartisan agreement."
Ginsburg concedes: Trump will fill Supreme Court's vacancy. Supreme Court Justice Ruth Bader Ginsburg admitted Monday that Donald Trump will fill the vacancy on the Supreme Court in his coming administration. Ginsburg, who criticized Trump publicly last summer as a "faker," is acknowledging Trump will select the late Justice Antonin Scalia's replacement. Her words are the latest sign that President Obama's nomination of Merrick Garland is dead.
Streisand: Obama should 'appoint' Garland to Supreme Court, ignore Senate. Hollywood superstar Barbra Streisand is demanding that President Obama ignore the Senate's refusal to consider his pick to replace the late Justice Antonin Scalia and "appoint" federal appeals judge Merrick Garland.
The Editor says...
Why does her opinion matter now? She promised to leave the country if Trump was elected. Bon voyage.
The Senate Did Its Job. Soon after Justice Antonin Scalia died on February 13, the battle over who should fill the Supreme Court vacancy commenced. Senate Republicans, led by Majority Leader Mitch McConnell, took the position that it shouldn't be President Barack Obama but the next president — whoever Americans choose — who makes the nomination. Senators differed in their reasons for wanting to put off the selection of the next justice. The most common was that the justice would determine the ideological balance of the Supreme Court, and that voters should be able to take that into account in electing the person who, under the Constitution, does the judge-picking. McConnell announced there would be no hearings on any Obama nominee, no matter who that person might be, and no votes on confirmation. The choice of Scalia's successor would have to wait until after the next president was sworn in.
This SCOTUS Immigration Case Just Became Huge For Trump. The stakes of an immigration case pending before the U.S. Supreme Court heightened with Donald Trump's election to the presidency last week. The justices are scheduled to decide whether the federal government may hold illegal immigrants for periods longer than six months without a bond hearing on Nov. 30.
Ginsburg appears to wear 'dissent' collar on bench. Supreme Court Justice Ruth Bader Ginsburg appeared to be wearing her infamous "dissent jabot" on the bench Wednesday morning [11/9/2016]. The move is being widely interpreted as a repudiation of Donald Trump's victory in the presidential election a night earlier. Ginsburg typically wears the collar when issuing dissenting opinions in the court, as she explained to Yahoo News in 2014. But no opinions were read Wednesday.
A Coup Against the Constitution. A New York Times editorial Monday [11/7/2016] on the Senate's role in the confirmation process not only gets it wrong, the analysis betrays a fundamental liberal disagreement with the U.S. Constitution. [...] Specifically, the editorial casts the suggestion that the Senate has a role to play in deciding who is ultimately confirmed to serve on the Supreme Court as a radical departure from how the American Republic was meant to work. It does so by an absurd suggestion that the Senate's decision not to rubber stamp a president's nominee would be equivalent with Al Gore's refusing to abide by the Supreme Court's decision settling the 2000 presidential election — had he done so. This is not how the Constitution works.
How Congress has blocked SCOTUS nominees for an entire presidency. Justice Stephen Breyer says that the Supreme Court doesn't need a new justice before November, but we don't really need one ever, really. In fact, there's historical precedent to not appoint ANY new jurists over the next four years following Antonin Scalia's death in February. "The court, when it began at the time of the Constitution's writing, had six members. They had six members for several years," Breyer told MSNBC's "Morning Joe" earlier this week. "They functioned with an even number of members." While campaigning for Republican Senate candidate Darryl Glenn in Colorado, Sen. Ted Cruz, R-Texas (A, 97%), concurred with Breyer, telling reporters,"There is certainly long historical precedent for a Supreme Court with fewer justices [...] That's a debate that we are going to have."
Supreme Court to rule in Virginia transgender case. The Supreme Court will take up transgender rights for the first time in the case of a Virginia school board that wants to prevent a transgender teenager from using the boys' bathroom at his high school. The justices said Friday they will hear the appeal from the Gloucester County school board sometime next year. The high court's order means that student Gavin Grimm will not be able to use the boys' bathroom in the meantime. A lower court had ordered the school board to accommodate Grimm, but the justices in August put that order on hold while they considered whether to hear the appeal.
Supreme Court becomes hall monitors. Chief Justice John Roberts is an embarrassment to the nation who should resign immediately because he just allowed the court to beclown itself by taking up a school bathroom case.
Supreme Court to hear Virginia transgender restroom case. After months of speculation, the U.S. Supreme Court decided Friday that it will hear a Virginia case involving the fight over restroom access between a school district and a transgender teenager.
Wikileaks: Clinton Camp Crafted Fundraising Pitch, 'She Will Lock In A Very Young Liberal Court for Many Decades to Come'. Augie Ribeiro, an attorney and volunteer for the Clinton campaign, sent campaign chairman John Podesta a fundraising pitch idea saying, "If Hillary Clinton is elected President in 2016, and is able to replace Ginsberg, Breyer, and either Kennedy or Scalia, she will lock in a very young liberal court for many decades to come." Podesta praised the messaging and said he would show it to others in the campaign. "The next President of the United States will change the future of the Supreme Court for generations," Ribeiro wrote to Podesta and other members of the Clinton campaign in May 2015. "By the middle of the next President's term, there will be four Supreme Court justices in their 80s."
Reid: Dems would nuke Supreme Court filibuster. Outgoing Senate Minority Leader Harry Reid predicted that Senate Democrats would nuke the filibuster next year if Republicans try to block a Supreme Court nominee. "They mess with the Supreme Court, it'll be changed just like that in my opinion," Reid told Talking Points Memo. Reid used the "nuclear option" in 2013, when Democrats changed Senate rules to stop Republicans from filibustering executive branch and lower-court nominations.
McCain Says GOP Senate Will Block Hillary's Supreme Court Nominees. Republican Sen. John McCain told local press in Pennsylvania that Senate Republicans would block the confirmation of Democrat presidential nominee Hillary Clinton's U.S. Supreme Court nominees, should she prevail in the November election. "I promise you that we will be united against any Supreme Court nominee that Hillary Clinton, if she were president, would put up," McCain told WPHT radio in Philadelphia.
The Editor says...
Right. The GOP will block all such nominees, for Hillary's entire eight-year presidency -- or until the moment the Republicans get some small favor in exchange, which should take about six weeks.
The Clinton Record. [Scroll down] When Mrs. Clinton was asked, in an October 2016 presidential debate, to articulate what would be her chief considerations when appointing Supreme Court Justices, she never once mentioned fidelity to the Constitution, which is in fact the principal duty of the Court. Instead, Clinton alluded to the idea that Justices should try to balance the proverbial scales of power in favor of people who lack wealth and influence: "I want to appoint Supreme Court Justices who understand the way the world really works ... [and] actually understand what people are up against." In other words, Clinton prefers Justices who seek to enforce her particular vision of "social justice," rather than an ideal of blind, unbiased justice.
Obama: Country Can't Function With Only Eight Supreme Court Justices. First, the idea that without the opinion of the Supreme Court the country cannot function properly is ludicrous and would be laughable were it not being published by a sitting president. [...] There is no constitutional requirement of nine Supreme Court justices. No law was ever passed by Congress mandating a nine-justice Supreme Court. In fact, there have been several times in our history where the Supreme Court's bench has been more or less crowded than it was before the death of Justice Antonin Scalia created a "vacancy." The Judiciary Act of 1789 set the number of Supreme Court justices at six. Eight years later, Congress changed the number of justices to seven. Then, 30 years later, the number of justices was set at nine. In 1863 it was briefly bumped up to 10. In 1866, the number went back to seven as a result of the Judicial Circuits Act passed by Congress. In 1869, Congress put the number of Supreme Court justices at nine and there it has stayed ever since.
U.S. top court rejects bid to revive Wisconsin governor probe. The U.S. Supreme Court on Monday [10/3/2016] rejected a request to revive an investigation in Wisconsin into whether Governor Scott Walker's campaign to withstand a union-backed 2012 recall election illegally coordinated with conservative advocacy groups aligned with him. The justices, on the first day of their new term, let stand a 2015 Wisconsin Supreme Court decision to end the probe into whether the Republican governor and conservative groups violated campaign finance laws.
Supreme Court rejects Redskins' trademark appeal case. The U.S. Supreme Court has declined to hear the Washington Redskins' legal challenge to a lower court ruling to cancel the team's trademarks on the grounds the name is offensive to Native Americans. Instead, the high court will hear a different case involving an Asian-American rock band in order to issue a ruling on federally registered trademarks. The Oregon-based band The Slants and the Redskins have argued separately that a 1946 federal law barring trademarks on "disparaging" terms, such as racial slurs, violates free speech rights under the First Amendment. The Supreme Court agreed last week to take The Slants' case but rejected the Redskins' on Monday [10/3/2016].
Supreme Court rejects rehearing in Obama deportation amnesty case. The Supreme Court shot down the administration's effort to kick-start President Obama's deportation amnesty, refusing Monday to grant a rehearing in a case the court deadlocked on just a few months ago. The refusal lets stand the decision by an appeals court, which found Mr. Obama broke immigration law by trying to grant a three-year amnesty from deportation and to issue work permits to as many as 5 million illegal immigrants. Mr. Obama and his team had hoped the justices would reconsider after a 4-4 deadlock at the high court in June, but the justices declined the request as part of a long list of refusals on the first day of their 2016 session.
Hillary: Packing The Courts For A Generation. You can bet that a Hillary Clinton Supreme Court will make sure to carry out her threat to "take back the Second Amendment" and that the protections of the First Amendment on free assembly and free speech — as exercised to perfection by NRA members — will be erased. That entire progressive agenda is in danger if they "don't get a lock on the White House and pack the bench for a generation."
Conservatives Should Worry: Democrat Senator Says Progressive Supreme Court Top Goal. Sen. Chuck Schumer has reminded us just how important the upcoming presidential election will be in shaping the federal judiciary, calling getting a progressive Supreme Court his "number one goal." "A progressive majority on the Supreme Court is an imperative, and if I become majority leader, I will make it happen," Schumer, D-N.Y., said to attendees at a conference last week hosted by the Rev. Al Sharpton.
Supreme Court splits, leaving North Carolina voter ID law overturned. After issuing a split 4-4 vote Wednesday [8/31/2016], the U.S. Supreme Court has left in place a lower court's ruling overturning a restrictive voter identification law in North Carolina. The vote came after North Carolina Gov. Pat McCrory's administration filed a request for an emergency stay to stay the Fourth Circuit's decision overturning the law.
Senate pro forma sessions thwart Obama Supreme Court recess appointment. Twice a week since mid-July, the Senate has been going through the motions of gaveling into session, reading a brief announcement setting the date for the next meeting and then shutting down the floor. It takes only a single lawmaker a mere 30 seconds, yet each of those brief meetings does just a little bit more to dash President Obama's hopes of seating Judge Merrick Garland on the Supreme Court.
What a Clinton Supreme Court Would Mean for America. Our country can survive the occasional infelicities and improprieties of Donald Trump. But it cannot survive losing the Supreme Court to liberals and allowing them to wreck our sacred republic. It would reshape the country for decades. If Hillary Clinton wins the presidency, she will, without a doubt, appoint a dyed in the wool liberal to fill Antonin Scalia's seat, thereby giving liberals a strong five-person majority on the Court. It could get even worse if Justice Kennedy retires and Clinton replaces him with another liberal, giving them an unstoppable six seats on the Court.
Don't bet on Ruth Bader Ginsburg retiring if Clinton becomes president. For those envisioning a line of moving vans at the Supreme Court and a new president immediately reordering life at the marble palace, this small splash of cold water: Justice Ruth Bader Ginsburg, 83, has already hired the four clerks who will assist her through June 2018.
Trump: Clinton's 'Far Left' SCOTUS Picks Would Make U.S. Like Venezuela. Donald Trump repeated his attack line Wednesday that Hillary Clinton's "far left" Supreme Court picks would make the United States like socialist Venezuela. Trump first spoke about how great his Supreme Court picks would be at a rally in Daytona Beach, Florida, before turning to Clinton. The Republican nominee mocked Clinton by floating Sen. Elizabeth Warren's (D., Mass.) name as one of her potential picks for the high court.
Clinton's court shortlist emerges. [Scroll down] Conservatives have made the Supreme Court as a rallying cry for the election, fearing Clinton would nominate the most liberal candidate she could find. "It's that simple, a Hillary Clinton Supreme Court means your right to own a firearm is gone," Chris Cox, the executive director of the National Rifle Association's Institute for Legislative Action, warned earlier this month.
It's the Supreme Court, Stupid. Of course I am voting for Donald Trump. You should be too if you are a conservative. Let me break this down into three arguments, the first of which is Trump's trump card on the #NeverTrumpers. If Hillary Clinton wins, the Left gavels in a solid, lasting, almost certainly permanent majority on the Supreme Court. Every political issue has a theoretical path to SCOTUS, and only self-imposed judicial restraint has checked the Court's appetite and reach for two centuries. That restraint will be gone when HRC's first appointee is sworn in. Finished.
Obama Admin. Asks SCOTUS for Rehearing on Executive Amnesty. In a petition to the court, Acting Solicitor General Ian Gershengorn requested that the justices rehear the case once the seat of the late Justice Antonin Scalia is filled and the court stands at nine members. "Ordinarily, it is exceedingly rare for this Court to grant rehearing. But when this Court has conducted plenary review and then affirmed by vote of an equally divided court because of a vacancy rather than a disqualification, the Court has not infrequently granted rehearing before a full Bench," the Justice Department's petition reads.
Reform the Supreme Court. What do you call an exclusive eight-person club whose secret debates control the country and whose members are ages 68, 83, 62, 61, 56, 66, 77 and 79? In America, you call it the Supreme Court. The justices are old because they have lifetime tenure. Most never retire. Instead they die in office, as one did last winter at age 79, often after extended illness. [...] But science says that older people have limitations. Some of those limitations are physical, but not all.
The Editor says...
In case you attended public schools, let me point out that Supreme Court justices are appointed for life. But when the Supreme Court was set up in 1787, life expectancy in the America was about 38 years for a white male.* So I'm not opposed to the idea of term limits or age limits for Supreme Court justices.
Donald Trump Is Right About Justice Ruth Bader Ginsburg. Justice Ruth Bader Ginsburg needs to drop the political punditry and the name-calling. Three times in the past week, Justice Ginsburg has publicly discussed her view of the presidential race, in the sharpest terms. In an interview with The Times published Sunday, Justice Ginsburg said, "I can't imagine what the country would be — with Donald Trump as our president," joking that if her husband were alive, he might have said, "It's time for us to move to New Zealand." Earlier, in an interview with The Associated Press that appeared on Friday [7/8/2016], when asked to consider a Trump victory, Justice Ginsburg replied, "I don't want to think about that possibility, but if it should be, then everything is up for grabs."
Ruth Bader Ginsburg is a BIG problem for the Left. She's telling what she thinks is the truth, and in the process, she is exposing the raw politics at the heart of the Supreme Court, the left's most valuable tool for imposing its agenda. The sitting justice has revealed that she would approach any future case involving the First Amendment protections of Citizens United with the intent to overturn it: "I'd love to see Citizens United overruled." This explodes the mythology that justices weigh constitutional jurisprudence in a scholarly manner and explain what the Constitution really means. It reveals the Court to be a political body, like Congress, where the members vote their political interests. Just like Congress, except no democratic accountability.
Only one Supreme Court justice has been impeached, and Ginsburg is unlikely to be next. First, she said she didn't want to think about a Donald Trump victory. Then, she suggested moving to New Zealand if he won. On Monday, Supreme Court justice Ruth Bader Ginsburg tackled the presumptive Republican nominee head-on, calling him "a faker" with "no consistency about him." Ginsburg's comments about Trump, some of the sharpest in the race so far, were criticized widely through the weekend for threatening the perceived impartiality of the nation's highest court. The editorial boards at both the New York Times and Washington Post denounced her comments after they were made, and Trump himself called for her to resign on Tuesday night [7/12/2016].
Justice Ginsburg's damage to the Supreme Court. Justice Ruth Bader Ginsburg's admittedly "ill-advised" remarks about Donald Trump weren't only bad for the justice and her reputation. They were bad for the Supreme Court and, consequently, for the country. Ginsburg was correct in her scathing assessment of Trump — and correct to express her "regret" for voicing it publicly. But the damage to the court's image and reputation is already done. The good news for the justices is that their institution is held in higher regard, for what that's worth, than the other two branches of government.
Ryan calls Ginsburg comments 'inherently biased'. House Speaker Paul Ryan on Tuesday [7/12/2016] sharply criticized Supreme Court Justice Ruth Bader Ginsburg for her comments disparaging his party's presumptive presidential nominee, Donald Trump. "I find it very peculiar, and I think it's out of place," Ryan told CNN's Jake Tapper during a CNN town hall. "For someone on the Supreme Court who is going to be calling balls and strikes in the future based upon whatever the next president and Congress does, that strikes me as inherently biased and out of the realm."
Justice Ginsburg's inappropriate comments on Donald Trump. Nothing Supreme Court Justice Ruth Bader Ginsburg has said in recent interviews about the presidential election should surprise anyone familiar with her biography and her career on the court. A lifelong left-of-center lawyer and feminist innovator who was appointed to the high court by President Bill Clinton in 1993, the 83-year-old Justice Ginsburg fits the profile of a Hillary Clinton supporter to a T.
Ruth Bader Ginsburg may have trumped her usual outspokenness. Unlike many of her Supreme Court colleagues, Justice Ruth Bader Ginsburg has never been shy about granting news interviews and speaking her mind when she does so. It's made her the fierce "Notorious RBG" to her young, feminist fans and a scourge to conservatives who say her off-the-bench musings are inappropriate and could be disqualifying in future cases. But she went even further than usual last week in her comments to the Associated Press and The New York Times about presumptive Republican presidential nominee Donald Trump.
SCOTUS: No Free Exercise of Religion Allowed in Washington State. There was a lot of noise this week about how the Supreme Court of the United States struck down a Texas law that imposed regulations on abortion clinics, but there was little notice of a more important ruling. In Stormans v. Weisman, the Supreme Court declined (5-3) to hear a petition on a Ninth Circuit case out of Washington State that affirmed a state law requiring all pharmacies to stock and dispense the "Plan B" pill, which can act either as an emergency contraceptive or an abortifacient. The Stormans own Ralph's Thriftway, a grocery store/pharmacy with two locations a couple of miles apart in Olympia, Washington. Despite the Ralph's employees' willingness to refer customers to any of the 30 other nearby pharmacies that stock the drug, Washington State is determined that traditionalist Christians must not be allowed to run a pharmacy that does not stock the pill. That is unfortunate, because the Washington State law is a clear violation of the Stormans' First Amendment right to the free exercise of their religion.
Ruth Bader Ginsburg Makes the Best Pro-Trump Argument Yet. [Scroll down] I am not surprised that Ginsburg feels this way or upset that she talked to the New York Times about it — indeed, I am exhilarated. I only hope that she is telling the truth, and that if Trump wins in November, he can appoint successors for her and the late Justice Scalia come January. Getting Ginsburg off the Court early would be the greatest political victory of my lifetime; even the remote possibility that it could come to pass is enough to make supporting Trump, however tacitly, a no-brainer.
Another Supreme Court decision: Yes to abortion drugs, no to religious liberty. Yesterday [6/28/2016], the Supremes turned away an appeal by a family-owned pharmacy that objected to providing abortifacient drugs based on their Christian beliefs; leaving the ruling of the lower court — San Francisco-based Ninth Circuit Court of appeals — in place. The Washington state law requires pharmacies to deliver all prescribed drugs, including abortifacients. While clearly another example of the court's infatuation with abortion (something not in the Constitution), their unwillingness to consider a case involving religious liberty (something that is in the Constitution) is particularly disconcerting. As time goes by, it's becoming crystal clear that liberals — whether on the bench, in Congress or in the White House — have decided that the only way to successfully advance their "progressive" socio-Marxist agenda is to destroy the document many on the left consider obsolete: the Constitution.
Supreme Court upholds gun ban for domestic violence. The Supreme Court ruled Wednesday [6/22/2016] that a federal law intended to keep guns away from domestic violence offenders can apply even if their crime was nothing more than "offensive touching." The decision was a victory for gun control advocates and groups that work to protect battered spouses and children, and a defeat for gun rights organizations that argued the federal law goes too far.
For SCOTUS, a new era of judicial interference. The Supreme Court's decision in Whole Woman's Health v. Hellerstedt marks a dramatic escalation in the controversial jurisprudence of abortion. For more than 40 years, the high court has indulged the dubious proposition that the Constitution itself places unborn children beyond the protection of the law from the private violence of abortion. But before this decision, the Supreme Court would also at least permit states to adopt some ancillary measures that its elected officials believed would offer additional health and safety protections for women seeking abortions.
Justice Alito: 'Those Who Value Religious Freedom Have Cause for Great Concern'. The Supreme Court's decision not to hear a case challenging a Washington state law that forces a family-owned pharmacy to dispense emergency contraceptives is an "ominous sign" for those who value religious freedom, Justice Samuel A. Alito Jr. said. "If this is a sign of how religious liberty claims will be treated in the years ahead, those who value religious freedom have cause for great concern," Alito said Tuesday [6/28/2016] in a critical dissent.
U.S. Supreme Court overturns former Va. Gov. Bob McDonnell's corruption convictions. The U.S. Supreme Court Monday [6/27/2016] vacated former Gov. Bob McDonnell's corruption convictions and sent the case back to the lower appeals court. McDonnell's supporters hailed the decision as they now await what they hope will be an end to the criminal case against him. While the convictions don't stand, the court's decision was not an acquittal. The Fourth U.S. Circuit Court of Appeals must now decide whether evidence — under the Supreme Court's interpretation of federal bribery law — is sufficient to allow a retrial. If the appeals court concludes that it is, federal prosecutors could then retry McDonnell.
Protecting Hillary Clinton — Supreme Court Rules 8-0 To Nullify Virginia Governor Bob McDonnell Conviction. You won't see this in the MSM headline news of the day's events because it cuts directly against their preferred narrative. The Supreme Court ruled 8-0 today [6/27/2016] to nullify the federal conviction of former Virginia Governor Bob McConnell on bribery and corruption charges. 8 to 0, the entire court agreed, the conviction was politically motivated and not grounded in law. Why? Why did every justice agree, even the liberal justices? [A]nd they went one step further in ordering the lower courts to reconsider whether the government's evidence of corruption is strong enough to even try him again. If not, the charges against him must be dismissed, according to the ruling.
US Supreme Court Approves Racial Discrimination In College Admissions. In late June, the U.S. Supreme Court issued a 4 to 3 decision confirming that race should be a factor in deciding which students should be admitted to university. This was a somewhat surprise decision, with most pundits predicting that race-based admissions would be seen as clearly illegal. The Justices were separated along ideological lines. After David Souter left, the court has no reasonable members; all are ideologues from one side or the other. Justice Kennedy is perhaps the most reasonable centrist remaining. Justice Antonin Scalia recently died, and the US legislature has refused to allow a vote on Obama's choice to replace him. Additionally, Justice Elena Kagan, an Obama appointee, recused herself because of a conflict of interest (she advocated for race-based admissions when she worked for the Obama administration, and kudos to her for honorably stepping aside). This left the court two votes short of its normal nine members.
8 Best Quotes From Clarence Thomas's Texas Abortion Dissent. [#6] ["]The Court has simultaneously transformed judicially created rights like the right to abortion into preferred constitutional rights, while disfavoring many of the rights actually enumerated in the Constitution. But our Constitution renounces the notion that some constitutional rights are more equal than others. A plaintiff either possesses the constitutional right he is asserting, or not — and if not, the judiciary has no business creating ad hoc exceptions so that others can assert rights that seem especially important to vindicate. A law either infringes a constitutional right, or not; there is no room for the judiciary to invent tolerable degrees of encroachment.["]
Anthony Kennedy restores a liberal Supreme Court. The Republican-controlled Senate refuses to consider President Obama's nominee, Merrick Garland, but a fifth liberal justice has arrived anyway. Kennedy, a Reagan appointee and the longest-serving current justice, surprised many last week by joining the liberals in defending race-based affirmative action. In earlier terms, he provided the key vote in legalizing same-sex marriage.
The Fraud Goes On. Supreme Court decisions in affirmative action cases are the longest running fraud since the 1896 decision upholding racial segregation laws in the Jim Crow South, on grounds that "separate but equal" facilities were consistent with the Constitution. Everybody knew that those facilities were separate but by no means equal. Nevertheless, this charade lasted until 1954. The Supreme Court's affirmative action cases have now lasted since 1974 when, in the case of "DeFunis v. Odegaard," the Court voted 5 to 4 that this particular case was moot, which spared the justices from having to vote on its merits. While the 1896 "separate but equal" decision lasted 58 years, the Supreme Court's affirmative action cases have now had 42 years of evasion, sophistry and fraud, with no end in sight.
Supreme Court stops Obama from acting as a legislature of one. On Thursday [6/23/2016], the Supreme Court finally handed down its long-awaited decision on President Obama's much-ballyhooed executive action on immigration. Obama reacted by declaring that the court's decision "takes us further from the country that we aspire to be." If you couldn't guess from that, Obama lost the case. This all began when Obama's party was clobbered in the 2014 midterm elections. Seeing that Democrats would not control Congress again during his term, Obama responded by going into the legislative business himself. He announced a new policy of selective enforcement of immigration laws that would exempt nearly 5 million illegal immigrants from deportation.
The Empty Chair. The conventional wisdom, shared by me, is that the Republican stonewalling of judicial nominee Merrick Garland will last until Election Day, at which point one of two things will happen. Donald Trump will win, the president will withdraw Garland's name from consideration, and the next Senate will take up Hulk Hogan's nomination in January. Or Hillary Clinton will win, and after her inauguration Garland or some other choice of hers will be confirmed.
How Mitch McConnell Defeated Obama's Immigration Legacy. Senate Majority Leader Mitch McConnell's decision to block President Barack Obama from replacing Justice Antonin Scalia on the Supreme Court proved devastating to the president's immigration legacy this week when the court deadlocked over a ruling on his immigration executive order. Had Obama's nominee Merrick Garland been sitting on the court, the ruling almost certainly would have been a five to four vote upholding the executive order. Instead, the four to four tie means the lower court's ruling stands, and he will not move forward with his plan to grant legal status and work permits to millions of illegal immigrants.
Abbott: 'Deeply Disturbing' That 4 Justices Believe Obama Can Rewrite Laws. Texas Gov. Greg Abbott (R) applauded the Supreme Court decision that blocked President Obama's executive actions on immigration. Thursday's [6/23/2016] 4-4 ruling was a victory for dozens of states, including Texas, that had challenged Obama's orders to give a deportation reprieve to millions of illegal immigrants. The ruling effectively kills the plan for the duration of Obama's presidency.
SCOTUS Splits 4-4 On Obama's Executive Amnesty — Lower Court Ruling Stands — DAPA Blocked. D.A.P.A or Deferred Action for Parents of Americans and Lawful Permanent Residents program — is the executive action Obama attempted in November of 2014 which was shut down by Federal Judge Andrew Hanen in February '15 with the issuance of an emergency injunction. The DOJ appealed the Hanen injunction, on merit, to the 5th Circuit Court of Appeals and lost. The DOJ then appealed the Hanen injunction, on standing, to the 5th Circuit Court of Appeals, and lost again.
Obama: Supreme Court ruling on immigration 'sets our country back'. Obama downplayed the outcome, saying a tie doesn't resolve anything. "If we have a full court issuing a full opinion on anything, then we take it seriously," he said. "This, we have to abide by, but it wasn't any kind of value statement or a decision on the merits on these issues." Senate Republicans are "are willfully preventing the Supreme Court from being fully staffed and functioning as our founders intended," he continued. "And today's situation underscores the degree to which the court is not able to function the way it's supposed to."
The Editor says...
Barack H. Obama couldn't care less about what the Founding Fathers intended, and he obviously doesn't know enough about American history to understand that the Supreme Court was "fully staffed and functioning as our founders intended" when it had only six justices. The Judiciary Act of 1789 set the number at six: a chief justice and five associate justices. In 1807, Congress increased the number of justices to seven; in 1837, the number was bumped up to nine; and in 1863, it rose to 10. In 1866, Congress passed the Judicial Circuits Act, which shrank the number of justices back down to seven and prevented President Andrew Johnson from appointing anyone new to the court. [Source] Barack H. Obama thinks you're too stupid to check the facts.
Supreme Court Deadlocks on Obama Immigration Plan; It Remains Blocked. The Supreme Court announced on Thursday [6/23/2016] that it had deadlocked in a case challenging President Obama's immigration plan, effectively ending what Mr. Obama had hoped would become one of his central legacies. The program would have shielded as many as five million undocumented immigrants from deportation and allowed them to legally work in the United States. The 4-4 tie, which left in place an appeals court ruling blocking the plan, amplified the contentious election-year debate over the nation's immigration policy and presidential power.
Obama: SCOTUS Ruling Doesn't Change My 'Priorities' — I'm Still Not Deporting Most Illegals. On Thursday morning [6/23/2016], Supreme Court upheld an injunction on Obama's 2014 Deferred Action for Parents of Americans and Lawful Permanent Residents policy by a 4-4 split vote.
Supreme Court leaves state assault weapons bans in place in Connecticut, New York. The Supreme Court has repeatedly turned away challenges to gun restrictions since two landmark decisions that spelled out the right to a handgun to defend one's own home.
Supreme Court rejects case challenging key White House air pollution regulation. The Supreme Court on Monday [6/13/2016] left intact a key Obama administration environmental regulation, refusing to take up an appeal from 20 states to block rules that limit the emissions of mercury and other harmful pollutants that are byproducts of burning coal. The high court's decision leaves in place a lower-court ruling that found that the regulations, put in place several years ago by the Environmental Protection Agency, could remain in effect while the agency revised the way it had calculated the potential industry compliance costs. The EPA finalized its updated cost analysis in April.
McConnell Vows: 'Obama Will Not Get a Supreme Court Justice in the 11th Hour'. Senate Majority Leader Mitch McConnell (R-Ky.) vowed again Friday [6/10/2016] that the Senate will not confirm President Obama's nominee for the Supreme Court, Judge Merrick Garland, this year. "Let me say this once more, and let me say it clearly: Barack Obama will not get a Supreme Court Justice in the 11th hour of his presidency on the way out the door," McConnell said to loud applause at the Faith and Freedom Coalition conference in Washington, D.C.
Supreme Court rules against White House in water pollution case. The Supreme Court on Tuesday [5/31/2016] ruled against the Obama administration in a case regarding water pollution permits. The nation's highest court ruled unanimously that a landowner can appeal through the federal court system a determination from the Army Corps of Engineers that a water body is subject to federal jurisdiction and permit requirements under the Clean Water Act.
Transgender bathroom debate likely headed to Supreme Court. The debate over whether transgender students should be able to use the bathrooms that match their gender identity is likely headed to the U.S. Supreme Court after a federal appeals court refused Tuesday [5/31/2016] to reconsider a three-judge panel's ruling on the matter. The Gloucester County School Board had asked for a review by the full 4th U.S. Circuit Court of Appeals after a three-judge panel said in a 2-1 decision last month that a Virginia high school discriminated against a transgender teen by forbidding him from using the boy's restroom.
Supreme Court throws out death sentence from all-white jury. The Supreme Court upended the conviction and death sentence of a black Georgia man Monday [5/23/2016] because prosecutors violated the Constitution by excluding African-Americans from the all-white jury that determined his fate.
U.S. justices rule against Virginia Republicans in black voters case. The Supreme Court on Monday [5/23/2016] let stand a lower court ruling that Virginia's Republican-led legislature unlawfully considered race when drawing U.S. congressional districts by packing black voters into one in a move opponents said diluted black electoral clout. The case focused on the composition of a majority-black U.S. House of Representatives district, stretching from Richmond to Norfolk, held by the only black member of Virginia's congressional delegation, Democrat Bobby Scott.
Media Lies About Court's Contraception Order. Anyone still naïve enough to rely on the legacy media for unvarnished news will have gone to bed Monday evening [5/16/2016] believing that the Supreme Court evaded its duty regarding Little Sisters of the Poor v. Burwell. Countless headlines had declared that the Court decided to "punt," "skirt," or otherwise dodge any meaningful action concerning the challenge to the HHS contraception mandate. In reality, SCOTUS handed the Little Sisters and the other petitioners with whom the Court consolidated their case a major victory in their protracted battle to defend religious liberties against the depredations of the Obama administration's bureaucrats and lawyers. In a unanimous opinion, the justices vacated all lower court rulings against the Little Sisters and the other petitioners. The term "vacated," in this context, means that the Court has rendered those adverse decisions legally void. And the justices didn't stop there.
BuzzFeed Hits Obama From the Left: Too Many 'Straight White Men' on Supreme Court. In an interview streamed on YouTube and Facebook Live on Monday [5/16/2016], Buzzfeed News legal editor Chris Geidner grilled President Obama over his nomination of Merrick Garland to the Supreme Court: "...a large part of your legacy on judicial nominations has been diversifying the federal bench.... You had an opportunity with this nomination to, for the first time in the nation's history, if the justice was confirmed, to have a Supreme Court that was not a majority of straight white men. Why didn't you take that opportunity?"
Supreme Court sends 'contraceptive mandate' cases back to lower courts. The Supreme Court decided not to decide Monday [5/16/2016] whether religious objectors must play a role in offering contraceptive coverage to their employees, instead sending seven cases back to federal appeals courts in search of an elusive compromise. The unanimous ruling appeared to be another example of the eight-member court's inability to settle cases in the wake of Justice Antonin Scalia's death and the impasse between President Obama and Senate Republicans over his replacement. It left both religious challengers and women's rights groups warily predicting victory.
The Supreme Court called the Obama administration's bluff. Years of litigation over the Obamacare mandate for coverage of early abortion pills, birth control and sterilization, culminated in seven cases under the title Zubik v. Burwell. All that time, religious organizations like Christian colleges and nuns told the courts that the government could achieve its goals another way, without forcing them to violate their faith. The government already provides birth control to low income women through a dozen statutes including Medicaid and Title X. Obamacare's insurance exchanges now offer plans covering these same items to people whose employers may have stopped offering health insurance.
Supreme Court punts on Little Sisters birth control mandate case. The Supreme Court declined to rule on a major challenge to Obamacare's birth control mandate Monday, instead punting a series of challenges from nonprofits such as the charity Little Sisters of the Poor back to the lower courts. The Zubik v. Burwell decision comes as the court remains short-handed after the February death of conservative Justice Antonin Scalia. The case leaves unresolved a major challenge from religious nonprofits that say Obamacare's mandate to provide birth control to all employees is a violation of their religious beliefs.
Breaking: SCOTUS punt on Little Sisters et al ObamaCare contraception mandate case? The 4-4 split on the Supreme Court may have proven more productive than critics of the GOP's refusal to consider Merrick Garland's nomination have assumed. After hearing arguments on Zubik v Burwell, a key case in the fight over the ObamaCare contraception mandate and religious liberty, the court has kicked the case back down the chain for reconsideration — and for more compromise from both parties.
Grassley on Solid Ground in Denying Hearing for Obama High Court Nominee. Each of the three branches of the federal government was meant to be equal and serve as a check on the others. That's what the framers of the Constitution intended when they gathered in Philadelphia in the summer of 1787. They had a unique perspective on the type of government needed to protect individual freedom, having fought for independence from a tyrannical king. Slowly, though, power-hungry presidents who wanted more control eroded the limitations placed on government in the Constitution and on the protected freedoms in the Bill of Rights.
Merrick Garland Must NOT Be Confirmed to the U.S. Supreme Court. With typical arrogance, Obama deliberately chose the candidate with the most anti-gun record of his short-list of finalists. [...] Garland's antigun ideology is clear from his record. While serving in his capacity as an appeals court judge, for example, Garland voted to give D.C.'s unconstitutional gun ban a second chance. He also cast a vote to uphold a Clinton-era policy of documenting and registering law-abiding gun buyers, despite federal statutes passed specifically to prevent this. National registration. The individual right protected by the Second Amendment. Gun bans. These are issues that cut to the heart of the right to keep and bear arms. And whenever he had the chance, Garland was on the wrong side of them.
The Liberal War on Black Men. In 1991, President George H.W. Bush nominated Clarence Thomas, then a judge on the U.S. Court of Appeals for the District of Columbia Circuit, and former chairman of the Equal Opportunity Employment Commission, to replace Thurgood Marshall on the U.S. Supreme Court. [...] The Senate Judiciary Committee, under the chairmanship of now-Vice President Joe Biden, allowed Thomas's nomination hearings to become a circus in which Thomas was dragged through a personal hell, resulting in him saying, after his confirmation: "Mere confirmation, even to the Supreme Court, seemed pitifully small compensation for what had been done to me." [...] Rather than the nomination and appointment of a black man, who rose from humble and poor roots, to the U.S. Supreme Court, becoming a moment of pride for the nation and for black Americans, it was transformed, at these hearings, into an opportunity for character assassination and shame.
President Hillary Clinton. On January 20, 2017, President Hillary Clinton might just become a reality. [...] The national debt will go up. So will your taxes. Hillary Clinton is promising a trillion dollar tax hike. And that's during her campaign. Imagine how much she will really raise taxes once she's actually in office. Two Supreme Court justices, Ruth Bader Ginsburg and Anthony Kennedy will likely leave office on her watch. That's in addition to Scalia's empty seat which she will fill resulting in an ideological switch for the court. Additionally, Kennedy, for all his flaws, was a swing vote. Hillary's appointee won't be swinging anywhere. The Supreme Court will once again become a reliable left-wing bastion.
Texas Gov.: SCOTUS Will Be 'Completely Rewriting' Constitution by Favoring Obama in Immigration Lawsuit. Texas Republican Gov. Greg Abbott said that the U.S. Constitution will be "completely rewritten" if the Supreme Court sides with President Obama in the lawsuit challenging his executive action on immigration. Abbott, formerly the state's longest-serving attorney general, told reporters Thursday morning that the lawsuit brought against the president by Texas and 25 other states is "framed under" the issue of immigration but in reality challenges Obama's use of executive power to "unilaterally" rewrite laws. "The lawsuit is about the fact that the president completely abandoned the Constitution to assume power he does not have and wrote law that he himself, as a constitutional lawyer, said he did not have the power to do," Abbott said during a roundtable discussion at the Heritage Foundation in Washington, D.C.
Obama Administration Tells Supreme Court 'Lawfully' Doesn't Mean 'Legally'. Welcome to what Solicitor General Donald Verrilli told the Supreme Court on Monday [4/18/2016] is the "immigration world." Or, more accurately, welcome to the new world President Barack Obama — through his solicitor — is asking the Supreme Court to join him in declaring. It is a world that contradicts the law of noncontradiction. It is a place where something can be and not be at the same time. It is a place of illogic — and lawlessness. The Supreme Court heard oral arguments Monday in U.S. v. Texas. This case pits 26 states against the Obama administration on the question of whether the Executive Branch — n.b. the president through a bureaucratic subordinate — can unilaterally declare that more than four million foreign nationals who are illegally in the United States may stay here, work here and acquire eligibility for Social Security, disability and Medicare.
Email: Top radical Marxist EPA lawyer supports Obama Supreme Court pick. The top lawyer at the Environmental Protection Agency was cheered by President Obama's nomination of Judge Merrick Garland to the Supreme Court, noting his environmental credentials after being told the news. According to an email obtained by America Rising Advanced Research through a Freedom of Information Act request, Avi Garbow, general counsel at the EPA, reacted favorably to being told of Garland's nomination.
Chief Justice Roberts uses Obama's words against him on immigration case. Chief Justice John G. Roberts Jr. prodded the Obama administration Monday to explain President Obama's 2014 immigration flip-flop, when Mr. Obama reversed himself and decided he did, after all, have powers to grant a tentative amnesty to as many as 5 million illegal immigrants. Mr. Obama had repeatedly denied he had that kind of power, then, after the 2014 election and Congress' refusal to pass a bill he wanted, the president claimed a do-over and said he did have the power. Chief Justice Roberts wondered what changed in Mr. Obama's mind, and even read back one of Mr. Obama's quotes to Solicitor General Donald B. Verrilli Jr. recounting the president saying he would be "ignoring the law" if he were to grant a broad stay of deportation to millions of illegal immigrants.
United States V. Texas. On April 18, the U.S. Supreme Court will hear arguments in United States v. Texas. The Obama administration is seeking to have the high court lift a lower court's injunction preventing two programs that would grant de facto amnesty and work authorization to about 4.7 million illegal aliens (approximately 40 percent of the estimated illegal alien population) from going into effect. The two programs, Deferred Action for Parents of Americans (DAPA) and an expanded version of Deferred Action for Childhood Arrivals (DACA+), were announced by President Obama in November 2014, just two weeks after voters handed his party a stinging defeat in the midterm elections. In announcing these programs, the administration asserted broad discretionary authority to not just refrain from enforcing immigration laws against entire classes of violators, but also to grant them permission to live and work in the U.S., despite clear statutory prohibitions against both.
Obama's immigration order overreaches. Sometimes it seems the Supreme Court's main purpose these days is to resolve disputes between Republicans and President Obama. Toward the end of Obama's first term, the court ruled on a challenge to his signature health care law. On Monday [4/18/2016], as Obama approaches the end of his second term, the justices are set to consider his executive order that would allow millions of undocumented workers to avoid deportation.
Battle over Obama immigration actions lands before Supreme Court. The impassioned election-year debate over President Obama's immigration executive actions lands Monday [4/18/2016] before a short-handed Supreme Court, where justices will consider a fundamental question: how much power does the president truly have? The justices plan to hold 90 minutes of oral arguments dealing with Obama's bid to spare millions of illegal immigrants from deportation. A coalition of states calls it an executive power grab. "President Obama's executive action is an affront to our system of republican self-government," said Sen. Orrin Hatch, R-Utah, who supports those states.
Scholars agree: Senate leaders don't have to consider Supreme Court pick. The U.S. Constitution, say several congressional and legal scholars. Even dissenters acknowledge the Senate can pretty much do what it wants. Led by McConnell, R-Ky., and Senate Judiciary Committee Chairman Charles Grassley, R-Iowa, Republicans have vowed not even to consider Garland to replace the late Justice Antonin Scalia. Senate Republican leaders would rather leave the seat vacant in the hopes that a Republican wins the presidency in November and chooses a nominee more to their liking.
The long war against Clarence Thomas. In its war for America, the left never rests, sometimes falters but rarely allows itself to fail. It works tirelessly to "fundamentally transform the nation" and smashes anyone and anything that gets in its way. Consider the pitched battle it has waged against Supreme Court Justice Clarence Thomas over the past quarter-century. Instead of celebrating and honoring a black man who rose from grinding poverty in the segregated South to sit on the nation's highest court, the left sees an existential threat: a black pro-life, pro-gun conservative who has spent his life crushing leftist orthodoxy. He must, therefore, not simply be opposed, but destroyed, regardless of how long it takes.
Senate Republicans Willing to Meet with Obama's Supreme Court Nominee Are Playing With Fire. Following a report that as many as 17 Republican senators plan to meet with President Barack Obama's Supreme Court nominee, FreedomWorks CEO Adam Brandon commented: [...] "With a few exceptions, Senate Republicans came out strongly against the idea of an election year confirmation to the Supreme Court. Most took it a step further by saying that they didn't see the point of even meeting with a nominee. Now, some are changing their tune. By foolishly agreeing to meet with Obama's nominee, Republicans are playing with fire, and they can't blame the conservative grassroots when they get burned."
Small Business Group: 'Nothing Moderate' About Merrick Garland. A major small business group released its scorecard on Judge Merrick Garland Tuesday [4/12/2016], finding that the Supreme Court nominee is not the "down-the middle moderate" supporters have attempted to market him as. The National Federation of Independent Business (NFIB) examined Garland's nearly two decades of service on the federal bench and found that the judge is typically against business and biased toward regulatory agencies. Garland ruled in favor of federal agencies 77 percent of the time while he ruled against private sector businesses 90 percent of the time, according the the NFIB scorecard.
Key conservatives pushing Mike Lee for the Supreme Court. Prominent conservatives are lobbying Donald Trump to say that he will nominate Sen. Mike Lee (R-Utah) to the Supreme Court if he's elected president. And Trump's main rival for the nomination, Ted Cruz, has already said he'd consider his best friend in the Senate for the seat that opened with Antonin Scalia's death. As President Obama travels to the University of Chicago this afternoon to deliver a speech calling for Merrick Garland's confirmation, Senate Republican leaders are expressing confidence they can hold firm through the November election in refusing to grant him even a hearing. If Hillary Clinton wins in November, there will be pressure to quickly confirm Garland so that she could not appoint someone who is younger and more liberal. If she loses, then the next Republican president will get to nominate someone else.
Obama can appoint Merrick Garland to the Supreme Court if the Senate does nothing. In most respects, the meaning of the "Advice and Consent" clause is obvious. The Senate can always grant or withhold consent by voting on the nominee. The narrower question, starkly presented by the Garland nomination, is what to make of things when the Senate simply fails to perform its constitutional duty. It is altogether proper to view a decision by the Senate not to act as a waiver of its right to provide advice and consent. A waiver is an intentional relinquishment or abandonment of a known right or privilege.
The Editor says...
That's easily remedied: Schedule a hearing in September, give Judge Garland a thorough borking, based entirely on his record and on Constitutional arguments, to show the world what a left-wing gun-grabbing extremist he is. Then, since the Republicans are in the majority, reject him in the full Senate. Then let Obama nominate someone else, if he can find anyone.
Democrat Senator unwittingly sums up why Obama SCOTUS nominee must never be confirmed. U.S. Sen. Tammy Baldwin this week may have crystallized for conservatives why Senate Republicans are digging in their heels on President Barack Obama's Supreme Court nomination. "One only has to look at the Court's docket this year in particular to see the gravity of the issues that they are grappling with. We know that a Supreme Court justice who's able to serve 10, 20, 30, 40 years is someone who'll shape the interpretation of policy for a generation or more," the Madison Democrat told Politico after leaving a protest on the steps of the Supreme Court on Tuesday morning [4/5/2016]. No wonder conservatives want nothing to do with an Obama nominee, even a so-called "consensus candidate" in appeals court Judge Merrick B. Garland.
Suit Challenging Cruz Eligibility Reaches Supreme Court. What is apparently the first lawsuit to reach the U.S. Supreme Court challenging Ted Cruz's eligibility to run for president has now been filed. But it's not likely to go anywhere. A retired Utah lawyer, Walter Wagner, claims that Cruz does not meet the Constitution's requirement that a president must be a "natural born" citizen. Cruz was born in Canada, and Wagner contends that fails the natural born test.
Obama on Merrick Garland: 'Yeah, He's a White Guy' But He's an Outstanding Jurist. President Obama defended his pick of Merrick Garland for the Supreme Court on Thursday [4/7/2016], acknowledging he was a "white guy" but adding that he was an "outstanding jurist." Obama defended the diversity of his federal appointments during a conversation in Chicago, Illinois, about nominating Garland. However, Senate Republicans have largely been steadfast in saying they will not hold hearings for him, since it's an election year. Obama contended he had appointed more African Americans, Native Americans, Asian Americans and LGBT judges than any president before. He quipped he never felt he needed a "black lesbian from Skokie," saying that was never his approach to appoint judges for the sake of diversity.
The Editor says...
It appears to me that Mr. Obama makes every appointment with "diversity" as one of his goals.
SCOTUS Gets It Wrong: Noncitizens Should Not Be Counted for Voting Purposes. In a loss for voters, the Supreme Court has ruled unanimously against two residents of Texas who had argued that the Texas legislature diluted their votes when it used total population to redraw state Senate districts. In Evenwel v. Abbott, the Supreme Court allowed states to use total population in redrawing district lines, even though that this includes a large number of noncitizens (legal and illegal), felons, and others who are ineligible to vote.
Merrick Garland married CNN's David Gregory and Hillary aide attorney Beth Wilkinson. Now you know why Obama nominated so called 'moderate' Merrick Garland as his SCOTUS nominee. He's connected at the hip with the Democrat machine. Merrick Garland is about as moderate as David Gregory is impartial, aka not so much.
Reinforced by Grassroots, Senate Republicans Hold Line on Supreme Court Nomination. Conservatives who are normally at odds with Senate leadership are turning out to be important allies in their ongoing campaign to block President Barack Obama's Supreme Court nominee. [...] Organizations like FreedomWorks, Heritage Action, Judicial Crisis Network, and Tea Party Patriots have galvanized support. For two weeks, the groups ran interference for GOP senators in vulnerable states and corralled wayward Republicans back to the party fold. So far, it's worked. Of the 54 Republicans in the Senate, 52 are still standing behind Senate Majority Leader Mitch McConnell, R-Ky., and his promise not to hold confirmation hearings for Obama's nominee.
Supreme Court will take up case about juror's racial bias. The Supreme Court agreed Monday [4/4/2016] to decide whether jurors' claims of racially charged comments by another juror can overcome the need for secrecy in jury deliberations.
Kansas senator reverses position on Garland hearings. Kansas Sen. Jerry Moran has reversed his position on a hearing and vote for Supreme Court nominee Merrick Garland, just a week after straying from the position of GOP leadership. The senator's office released a statement Friday [4/1/2016] clarifying Moran's position, saying the senator no longer believes hearings are a necessity.
Obama SCOTUS Nominee Merrick Garland: Just another radical, leftist, antigun kook. We've heard a lot recently from the president's cheerleaders about who Judge Garland is. Judge Garland was willing to defer to the government on how long it could keep firearm purchaser information from NICS background checks on file, because even though the law states it has to be "destroyed," it did not specify when. "To begin with," according to the opinion in NRA v. Reno that Judge Garland joined, the law "does not say 'destroy immediately'; it says only 'destroy.'" In other words, the mere existence of a duty does not imply any necessary timeline for that duty. Or so Judge Garland himself obviously believes. So it's amusing to see so many Merrick Garland boosters now faulting the Senate for failing to take up his nomination, as if the senators are somehow violating a constitutional duty.
Supreme Court appears skeptical about feds applying Clean Water Act to family biz properties. For decades, the Pierce family has operated a peat-mining business that involves draining muddy bogs, scraping away the plant material, drying it, then selling it for use in golf greens and athletic fields. The company hoped to add hundreds of acres to its operation. But in 2011, the Army Corps of Engineers announced the Minnesota land in question was connected to the Red River, roughly 120 miles away, and would be subjected to the Clean Water Act permitting process. The property rights dispute landed Wednesday [3/30/2016] in the Supreme Court, where Justice Anthony Kennedy called the federal act "quite vague in its reach, arguably unconstitutionally vague ... ."
Supreme Court Rules Against Freezing Assets Not Tied to Crimes. The government may not freeze assets needed to pay criminal defense lawyers if the assets are not linked to a crime, the Supreme Court ruled Wednesday [3/30/2016] in a 5-to-3 decision that scrambled the usual alliances. The case arose from the prosecution of Sila Luis, a Florida woman, on charges of Medicare fraud that, according to the government, involved $45 million in charges for unneeded or nonexistent services. Almost all of Ms. Luis's profits from the fraud, prosecutors said, had been spent by the time charges were filed.
The Non-Existent Garland Momentum. The Left is desperate to create a sense of momentum for the Supreme Court nomination of Merrick Garland and hypes every sign of supposed Republican wavering. But the truth is that there is no momentum. The two Republican senators who favored a hearing and a vote from the beginning — Susan Collins and Mark Kirk — still favor a hearing and a vote. A third, Jerry Moran, had said the same thing, but he has now had a conversation with Judiciary Committee Chairman Chuck Grassley and accepts that a hearing and vote aren't going to happen. So every indication continues to be that this nomination isn't going anywhere, no matter how hard the Left tries to spin it otherwise.
Obama SCOTUS Pick Cited Benghazi Video Lie as Fact in JW Court Hearing. Long after it was established that the Obama administration lied about an anti-Muslim internet video sparking the riot that killed the U.S. ambassador in Libya, the president's Supreme Court nominee, Merrick Garland, cited the tale as fact in a federal court hearing involving Judicial Watch. [...] The hearing took place on January 10, 2013, long after it had been confirmed that the president and his cohorts lied to cover up the facts surrounding the 2012 Benghazi terrorist attacks. [...] The amateur YouTube video had absolutely nothing to do with the slaughter. Nevertheless, the federal appellate judge Obama recently picked to sit on the Supreme Court repeated this falsehood during an official court proceeding.
Obama's Supreme Court pick meets with first GOP senator. Sen. Mark Kirk on Tuesday [3/30/2016] became the first Republican senator to meet with Merrick Garland, President Obama's Supreme Court nominee. The senator from Illinois, who is facing a competitive re-election this fall, slammed his GOP colleagues, some of whom have flatly refused to meet with Garland or even consider holding confirmation hearings.
Supreme Court wants more information on birth control case. The Supreme Court on Tuesday [3/29/2016] asked for more information about how employees of religious nonprofits could get birth control coverage without their employers getting involved at all. The justices last week heard oral arguments in Zubik v. Burwell, a case in which 37 religious nonprofits such as Little Sisters of the Poor and Notre Dame University are challenging Obamacare's mandate that employers must provide birth control coverage. The Obama administration has created a workaround in which the insurer pays for the coverage instead of the employer, but the groups say the accommodation violates their religious beliefs against contraception since it's still covered under their plans.
Tied 4-4 after Scalia's death, high court gives unions a win. In the clearest sign yet of the impact of Justice Antonin Scalia's death, U.S. labor unions scored a major victory Tuesday [3/29/2016] with a tie vote in a high-profile Supreme Court case they had once seemed all but certain to lose.
The Eight-Justice Supreme Court Strikes Again. In its latest deadlock of the post-Scalia era, the Supreme Court split 4-4 on an issue of vital importance to public-employee unions and their foes. In its inaction, the high court left in place one of its own key pro-union precedents and, more broadly, highlighted the stakes surrounding President Obama's pending nomination to replace Justice Antonin Scalia, who died in February. Some Supreme Court observers were disappointed by today's irresolution. "The most important labor union controversy to reach the Supreme Court in years sputtered to an end on Tuesday [3/29/2016], with a 4-4 split, no explanation, and nothing settled definitely," veteran court analyst Lyle Denniston wrote on Scotusblog.
The Crisis of the Blue Model. The Supreme Court deadlock giving public unions officials "the ability ... to collect fees from workers who chose not to join and did not want to pay for the unions' collective bargaining activities" was touted by the New York Times as a "victory for unions". [...] But in the larger context the public unions greatest enemy isn't the ghost of Antonin Scalia but the onslaught of technology. Recently, the mighty International Longshore and Warehouse Union (ILWU) was forced to let giant robots handle cargo in the port of Los Angeles.
Deadlocked Supreme Court Gives Win to Labor Unions. Public sector unions got a win Tuesday at the Supreme Court in a major labor case, allowing them to continue to collect fees from nonmembers and, ultimately, have more money for campaign donations. The shorthanded Supreme Court tied 4-4, a result that affirms a lower court ruling that continued to allow unions to require dues from workers they must represent but who aren't members. The court issued a one-line order without elaboration that won't settle the issue nationwide and doesn't foreclose a challenge on the same issue in the future.
Public unions prevail as split Supreme Court sinks Friedrichs suit. A landmark California case against state teachers unions' mandatory dues collection fell victim to the late Justice Antonin Scalia's absence from the Supreme Court — salvaging "a long-standing rule that requires about half of the nation's teachers, transit workers and other public employees to pay a 'fair share fee' to support their union," as the Los Angeles Times reported. "Sidestepping a potentially radical change for public employee unions, a deadlocked U.S. Supreme Court on Tuesday [3/29/2016] declined to topple the ability of organized labor to continue to collect dues from government workers who oppose being forced to pay fees to cover collective bargaining costs," the San Jose Mercury News noted.
Supreme Hypocrisy. First of all, the "advice and consent" provision of the Constitution is a restriction on the President's power, not an imposition of a duty on the Senate. It says nothing about the Senate's having a duty to hold hearings, or vote, on any Presidential nominee, whether for the Supreme Court or for any other federal institution. The power to consent is the power to refuse to consent, and for many years no hearings were held, whether the Senate consented or did not consent. Nor have Democrats hesitated, when they controlled the Senate, to refuse to hold hearings or to vote when a lame-duck President nominated someone for some position requiring Senate confirmation during a Presidential election year. When the shoe was on the other foot, the Republicans made the same arguments as the Democrats are making today, and the Democrats made the same arguments as the Republicans are now making.
Clinton would impose campaign finance, abortion litmus tests on court nominees. Democratic presidential hopeful Hillary Clinton urged her supporters to demand that the Senate approve President Obama's Supreme Court pick — even though she herself seemed to undercut Judge Merrick Garland, saying she wanted justices with more varied "life experience" than what he brings to the bench. Mrs. Clinton said she wouldn't second-guess Mr. Obama's decision to pick Judge Garland to fill the seat left vacant by the death of Justice Antonin Scalia, but added that if she were in the Oval Office she would search for nominees in the mold of Justice Sonia Sotomayor. Mrs. Clinton said Justice Sotomayor's Hispanic heritage and underprivileged upbringing brought needed perspectives to the high court.
A New Biden SCOTUS Rule: Shut Up. It's Joe Biden's mess and, apparently, President Obama thinks the vice president is obligated to try and clean it up. The administration knows that Biden's record is an impediment to its campaign to discredit the refusal of Senate Republicans to acquiesce to the president's effort to ensure a liberal majority on the Supreme Court before his term ends. Under similar circumstances in 1992 — a president in the last year of his term and a Senate controlled by the other party — Biden stood up on the Senate floor and declared that Democrats would not even consider anyone nominated to the Supreme Court until after the presidential election was held. But now that the shoe is on the other foot and his party wants to secure the court before the people have their say in November, Biden is stuck explaining a speech that has made the GOP grateful for the wonders of the C-SPAN video archive.
Harry Reid throws in the towel on Garland confirmation before November. Not that I expect the liberal army in political media to stop flogging this dead horse the election is over, but the actual fight in Congress over the nomination of Merrick Garland seems to be at an end. The clearest signal yet for such a conclusion came when Harry Reid took a few gaggle questions and changed his stance to one of saying that Garland would be confirmed after Hillary Clinton is elected.
Obama's SCOTUS Nominee: A Subtler Attempt to Advance the Progressive Statist Agenda. Judge Merrick Garland is not the radical judicial activist many conservatives thought President Obama might nominate in his lame duck days as a parting and lasting shot to fulfill his contra-constitutional transformation of America. The nomination of Judge Garland is instead a cleverer and subtler attempt to advance the progressive agenda that relies on the extra-constitutional administrative political class now governing and deeply infiltrating American private life, property rights, business, education and even religious beliefs from Washington. A Bill Clinton appointee to the D.C. Circuit Court, Judge Garland has the impressive credentials to woo and perhaps seduce many establishment Republicans in the Senate for confirmation. A Harvard Law School graduate who clerked for liberal Justice William Brennan, he was an Assistant U.S. Attorney and later a Deputy Assistant Attorney General in the Criminal Division at the Department of Justice. When he was not working in government, he taught law at Harvard, and did a stint at the consummate Washington law firm Arnold & Porter. He is the judicial gold standard for the Washington establishment.
Make the Supreme Court an election issue. Conservatives ought to use Obama's selection of a Supreme Court nominee to replace Justice Scalia as an opportunity to challenge the role federal courts generally and the Supreme Court specifically have assumed as the super-legislative body that can overrule all other parts of federal and state government in our republic. This is not want the Constitution intended at all. The Supreme Court seized this power on its own. [...] The Supreme Court simply invents what it wants the Constitution to mean and then declares its whims to be the meaning of the Constitution. The Constitution was written, of course, so that it was easy to understand — that was the idea. Members of Congress, who pass federal laws, take the same oath to respect the Constitution as do Supreme Court justices. In those cases where the Constitution is unclear and needs to be changed, there is a clear process for doing that, which requires a super-majority of state legislatures to ratify any proposed amendments. The practical effect of rogue and limitless federal judicial activism is that the amendment process, which was once recognized as the only process for changing the Constitution, has effectively died.
Justice Thomas Asks: Why Are Second Amendment Rights So Easily Taken Away? Justice Thomas had not asked a question during oral arguments since 2006 when, during the arguments in Voisine v. United States on February 29, he posed a question to the government's counsel, Assistant to the Solicitor General Ilana Eisenstein. Immediately, the anti-Thomas press, always eager to portray the justice as a clueless incompetent (after all, he rejects most of the leftist notions about the role of government), indulged in nasty headlines such as "It Speaks!" Imagine the furor if a leftist icon were called "it." Exactly what is Voisine about and what did Justice Thomas ask?
Supreme Court rejects ban on stun guns. Right off the bat I'll express my amazement that the court managed to come to a unanimous ruling on any case that involved the word gun. Perhaps there's a sliver of hope for the future after all. But even though the technology of firearms has changed significantly since the time of the founders, would they have really looked at a Taser and though of it as "arms" in the conventional sense once they figured out how electricity works? All such weapons at that time were obviously devices which fired projectiles of some sort through the use of gunpowder.
The ghost at the Supreme Court. Robert Bork was a renowned legal scholar who, despite having been a Yale Law School professor, U.S. solicitor general, an acting attorney general, and a justice of the U.S. Court of Appeals for the District of Columbia Circuit, never made it to the U.S. Supreme Court. He should have and President Ronald Reagan tried to put him there. But he did give his name to the verb, "to bork," describing how a nominee can be defeated for purely personal political reasons. The angry controversy over the Bork nomination has echoes today, but the circumstances of the nomination of Merrick Garland are very different, and Mr. Garland is not subject to borking.
Republican senators skipping recess to block Obama Supreme Court appointment. Senators are scheduled to be on a break from Washington for the next two weeks, but they have left behind a rearguard to keep the chamber running on low gear, denying President Obama a chance to install his Supreme Court nominee. It's part of Republicans' vow to do everything to keep Mr. Obama from replacing the late Justice Antonin Scalia, whose death last month left the court divided 4-4, and left Democrats salivating over the opportunity to replace the conservative Scalia with a liberal.
Kasich Spits on the Second Amendment. The Heller decision, confirming that the Second Amendment acknowledges an individual right to keep and bear arms, written by the late Supreme Court justice Antonin Scalia was in many respects the Roberts court's finest hour. In its acknowledgment that rights are inherent, not granted by government Heller is constitutional originalism at its finest and Scalia at his incisive and eloquent best. But someone on his staff apparently forgot to tell Ohio Governor John Kasich about just how important Heller is to limited government constitutional conservatives because over the weekend he told CBS News that if he were elected President he would consider appointing to the Supreme Court the judge whose decision Heller overturned.
So far, so good: Mitch McConnell holds fast on SCOTUS Biden Rule. Given several opportunities over the weekend to fudge on the Republican Senate's decision not to confirm President Obama's latest Supreme Court nominee in an election year, McConnell didn't. That despite a drumbeat of pressure from hypocritical Democrats, including the president, who left the country Sunday to spend several days in communist Cuba with his entire family. "The tradition," McConnell said on ABC's This Week, "has been in a presidential election year that the next president after the American people have weighed in gets to make the decision." George Stephanopoulos, a former senior Bill Clinton aide who now plays a journalist on TV, pressed the majority leader: "You're saying clearly there will be no hearing, no vote for Judge (Merrick) Garland this year?" To which McConnell replied[,] "That's right."
Mark Levin: Obama SCOTUS Nominee Is a Liberal Activist, Not a Constitutional Originalist. On Levin TV Wednesday [3/16/2016], nationally syndicated radio talk show host Mark Levin explained that there are not conservative or rightwing justices on the Supreme Court, but instead, a justice is either a constitutional originalists or, like Obama's recent nominee Merrick Garland, "not an originalist." "It's not a matter of the outcome," stated Mark Levin. "It's how you approach the interpretation of the Constitution, how you decide to look at your role as a justice. The problem for Merrick Garland is, he's not an originalist."
Merrick Garland, Obama's Supreme Court pick, is the wrong choice at the wrong time. Thankfully, the Framers of our Constitution created a system of checks and balances that only allows for nominees to the federal bench to be appointed "by the Advice and Consent of the Senate." While it is well within the president's power to make his nomination to the Court, the Senate has no duty to confirm that nominee. [...] The American people need to know for sure that Chief Judge Merrick Garland would uphold the principles of the Constitution, and not be a justice who seeks to advance any type of ideological agenda while on the bench. The members of the United States Senate must know beyond a reasonable doubt that Judge Garland will adhere to the theory of judicial restraint, and respect the original meaning of the Constitution as prescribed by our Framers. To ignore the advice of the members of the House and Senate and move forward with the confirmation of Judge Garland at this time would be robbing the American people of the chance to speak on where they believe this country should be headed.
Merrick Garland Would Rule Very Differently Than Scalia, Changing America's Future. Standing in the Rose Garden this morning, President Barack Obama concluded his speech in typical condescending fashion: "I have fulfilled my constitutional duty. Now it's time for the Senate to do theirs." The former constitutional law professor should know better. As The Heritage Foundation's authoritative "Guide to the Constitution" explains, "the president has complete discretion in the use of his veto power, the Senate has complete and final discretion in whether to accept or approve a nomination."
The Editor says...
Barack H. Obama was a lecturer, not a professor.
Obama Plays Chicken with Merrick Garland Supreme Court Nomination. President Obama's nomination of Merrick Garland to replace Justice Antonin Scalia on the Supreme Court means the White House has decided to play chicken with Senate Republicans. It means President Obama believes Garland can be packaged as a reasonable moderate to force Senate Republicans to go wobbly. It also means that President Obama is playing the long game, instead of short-term electoral politics. Picking Garland instead of more progressive alternatives shows Obama is sacrificing any turbocharging effect on the Democrat base in the fall in exchange for, what he must believe, is a chance to make Senate Republicans buckle.
Obama to GOP: Do As I Say, Not As I Did. Start with President Barack Obama, who, in introducing Judge Merrick Garland as his choice to replace Justice Antonin Scalia on the big bench, asked the Senate "to give him a fair hearing and then an up-or-down vote." He told senators: "If you don't, then it will not only be an abdication of the Senate's constitutional duty, it will indicate a process for nominating and confirming judges that is beyond repair. It will mean everything is subject to the most partisan of politics — everything." You'd never guess Obama not only voted against Chief Justice John Roberts but also supported a filibuster — that is, he opposed an up-or-down vote — to thwart the confirmation of Samuel Alito in 2005. Hillary Clinton also opposed Roberts and supported an Alito filibuster. Both Roberts and Alito won confirmation with Democratic support — which tells you they were qualified but not immune to the sort of partisan opposition that Obama now finds distasteful.
Obama Said He Tried to 'Maintain Faith With Our Founders' in Picking SCOTUS Nominee. Announcing his selection of U.S. Court of Appeals Judge Merrick B. Garland for a seat on the U.S. Supreme Court, to replace the recently deceased Judge Antonin Scalia, President Barack Obama said he did not make his decision "lightly," and that the process required him to set aside "narrow politics so as to maintain faith with our founders." Supreme Court justices are "charged with the essential task of applying principles put to paper more than two centuries ago to some of the most challenging questions of our time," said Obama in his introductory statement about Judge Garland.
Gun Owners of America: Senators Must Tell Obama That His "Supreme Court Pick is D.O.A.". Today, President Obama took the most significant step in his sordid journey to fundamentally transform our nation. Obama nominated a virulent anti-gunner to fill the seat of Antonin Scalia on the Supreme Court. Let's be clear: the U.S. Senate should bury this nomination and write "Dead On Arrival" as its epitaph. Despite promises to nominate a consensus candidate, Obama has chosen a radical leftist in Judge Merrick Garland: [#1] He supported the DC gun ban in 2007, voting to reconsider the Heller case after a three judge panel had ruled against the ban. [...] [#2] In a 2000 case, Garland voted to maintain the registration of gun owners, supporting efforts by the Clinton administration to use the instant check to illegally retain gun owners' names for six months.
NRA: Why we oppose Merrick Garland's Supreme Court nomination. In 2008, the Supreme Court answered the question of whether individual citizens have a right to own a firearm in their homes for self-defense. It was [Antonin] Scalia who wrote the majority opinion in that case, District of Columbia v. Heller. That landmark decision made clear that the Second Amendment guarantees an individual right to keep and bear arms. Shockingly, the decision was only 5 to 4. Two years later, in McDonald v. Chicago, Scalia joined Justice Samuel A. Alito Jr.'s opinion holding that that individual right is fundamental and applies to all Americans regardless of where they live. Once again, the decision was 5 to 4. With Scalia's tragic passing, there is no longer a majority of support for Heller and McDonald among the justices.
Obama Supreme Court Nominee Has History of Advocating Gun Control. President Barack Obama's nomination of Judge Merrick Garland to the Supreme Court has some conservatives up in arms over his past opposition to the Second Amendment. If confirmed by the Senate, Garland would fill the seat of the late Justice Antonin Scalia. And if his past record is any indication, the jurist could tip the ideological balance of the court in favor of gun control.
5 Facts You Need to Know About Merrick Garland. [#1] Garland is considered anti-Second Amendment. As the National Review noted last week: "Back in 2007, Judge Garland voted to undo a D.C. Circuit court decision striking down one of the most restrictive gun laws in the nation" and voted "to uphold an illegal Clinton-era regulation that created an improvised gun registration requirement." Obama will use his pick to pursue a gun control agenda. [#2] Garland has favored environmental regulations. As SCOTUSblog noted in 2010: "On environmental law, Judge Garland has in a number of cases favored contested EPA regulations and actions when challenged by industry, and in other cases he has accepted challenges brought by environmental groups." That could be very important, with Obama's Clean Power Plan in the balance.
McConnell: No hearing for Garland. Senate Majority Leader Mitch McConnell (R-Ky.) on Wednesday [3/16/2016] shot down the idea of Supreme Court nominee Merrick Garland getting a hearing. McConnell insisted in a floor speech that the vacancy should be filled by the next president.
Merrick Garland has 'very liberal view of gun rights'. The conservative Judicial Crisis Network, which plans to spend at least $2 million on an advertising campaign to oppose Judge Merrick Garland's nomination, says the nominee "has a very liberal view of gun rights." JCN chief counsel Carrie Severino said in a blog post that Judge Merrick's record on the bench since 1997 "leads to the conclusion that he would vote to reverse one of Justice Scalia's most important opinions, D.C. vs. Heller, which affirmed that the Second Amendment confers an individual right to keep and bear arms."
Is Merrick Garland A Liberal? By many accounts, Garland has been described primarily as a moderate whose record and temperament has attracted the admiration of both Democrats and Republicans, though the backing from the latter had previously proved potentially problematic. In a 2010 New York Magazine article lobbying for his nomination when he was in the running to succeed a retiring John Paul Stevens, it appeared that his very likability was what may have made it difficult for Democrats to rally behind him.
Obama to Nominate Merrick Garland to Supreme Court. President Obama on Wednesday [3/16/2016] will nominate Merrick B. Garland as the nation's 113th justice, according to White House officials, choosing a centrist appeals court judge widely respected even by Republicans in hopes his choice will be considered by the Senate. In deciding on Judge Garland, Mr. Obama picked a man who persevered through a lengthy political battle in the mid-1990s that delayed his own confirmation to the United States Court of Appeals for the District of Columbia Circuit by more than a year. Senator Charles E. Grassley, Republican of Iowa, argued at the time that the vacancy should not be filled.
President Obama To Announce Merrick Garland As Supreme Court Nominee. Federal appeals court judge Merrick Garland is President Obama's pick to fill the Supreme Court seat left vacant by the late Supreme Court Justice Antonin Scalia, NPR has learned. Citing a source close to the process, NPR's Nina Totenberg says Obama chose Garland, 63, over two other federal judges who were also seen as contenders for Scalia's seat. The White House has since confirmed the news. Obama is slated to make the announcement official at 11 a.m. ET, speaking from the Rose Garden at the White House.
Potential Supreme Court Candidate Defended Pipe Bomber, Child Murderer. Judge Jane Kelly, who was appointed to the 8th Circuit Court of Appeals in 2013, is reportedly on President Obama's short list for the Supreme Court vacancy left by Justice Antonin Scalia. Before becoming a judge, Kelly worked for years as a public defender in Iowa. In 2005, Kelly was the appointed attorney for a 26-year-old man named Casey Frederiksen, who was charged with possession of child pornography. Although Frederiksen had previously been convicted of sexual assault involving a minor, Kelly urged the judge to grant him leniency, arguing that he was not a danger to others and should be released and allowed to live with his father. Frederiksen was sentenced to 14 years in prison in the case. A decade later, Frederiksen was convicted of murder and sexual assault in the 2005 cold case killing of 5-year-old Evelyn Celeste Miller.
The Job Nobody Wants, Part VI: Jordan out for SCOTUS. Now this is getting absurd. After Loretta Lynch dropped out of consideration last night, CNN reports today [3/9/2016] that 11th Circuit Judge Adalberto Jordan has withdrawn his name from SCOTUS consideration, making him now the SIXTH potential nominee to do so: [...] Those joining Jordan and Lynch in saying "no thanks" to Obama on SCOTUS in last few weeks include Senator Cory Booker, California Attorney General Kamala Harris, Senator Amy Klobuchar, and Nevada Governor Brian Sandoval. It's no surprise everyone is backing away from this mission, as Marc Thiessen wrote in The Washington Post last week.
Lankford: Constitution Says, 'The President Shall Nominate,' But It Doesn't Say Senate 'Shall Give Consent'. Sen. James Lankford (R-Okla.) says the Senate should wait to fill the vacancy left on the Supreme Court by Justice Scalia's passing. "With only months left until the Presidential election, we should let the people decide," he said in a speech on the Senate floor Wednesday morning [3/10/2016]. Lankford displayed the text of Article 2, Section 2 of the Constitution, which reads in part: The president "shall have power, by and with the advice and consent of the Senate, to make treaties, provided two thirds of the Senators present concur; and he shall nominate, and by and with the advice and consent of the Senate, shall appoint ambassadors, other public ministers and consuls, judges of the Supreme Court."
Four Out of Five of Obama's Supreme Court Finalists Are Obama Donors. The White House has reportedly narrowed its list of potential Supreme Court nominees down to five people, and four of them have donated to Barack Obama's political campaigns. The five federal judges who will be interviewed by the White House for the nomination are federal judges Sri Srinivasan (who has donated $4,250 to Obama), Jane Kelly ($1,500 to Obama), Paul Watford ($1,000 to Obama), Ketanji Brown Jackson ($450 to Obama), and Merrick Garland, who has not donated to Obama. None of the judges are major political donors and the contributions made to Obama account for the majority of each judge's political giving. The donation from Jackson is the only federal political contribution she made that was large enough to be included in election filings.
Is the Supreme Court Going to Argue that Nuns Misunderstand Their Religion? The Obama administration's interpretation of religious liberty would devastate free-exercise protections and relegate minority religions to second-class status. The danger posed by this interpretation has already manifested itself in a lower-court decision. The administration maintains that courts should reject religious-liberty claims unless a judge determines that "as a matter of law," a plaintiff would suffer a "substantial" theological burden if he did not receive an exemption. The Supreme Court will rule on that interpretation of religious liberty in an upcoming case: Little Sisters of the Poor v. Burwell.
Scalia's Death Has Liberal Justices Smelling Blood. They came hard and they came fast for Texas Solicitor General Scott Keller on the morning of March 2. During oral argument at the Supreme Court in Whole Woman's Health v. Hellerstedt, the Court's four liberals bore down against Keller when discussing the need for additional health and safety regulations at Texas abortion clinics. Without Justice Antonin Scalia there to interject with less hostile questions to reprieve Keller, the liberal justices pressed him to defend the state's rationales for why it would treat abortion procedures with more caution than other less morally fraught procedures such as colonoscopies and liposuctions. With a laser-like focus, they premised their questions on an understanding of abortion as a fundamental right that the state could only restrict in the most limited ways, if at all.
Attorney General Loretta Lynch asks not to be considered for SCOTUS seat. Attorney General Loretta Lynch has asked not to be considered for the Supreme Court seat left vacant by the late Justice Antonin Scalia. In a statement, Department of Justice spokeswoman Melanie Newman said that the "limitations inherent in the nomination process" would prevent her from being effective as attorney general. "Given the urgent issues before the Department of Justice, she asked not to be considered for the position," Newman said.
Here are judges the White House is considering for the Supreme Court. The candidates under consideration include two judges who joined the influential U.S. Court of Appeals for the District of Columbia Circuit in 2013, Sri Srinivasan and Patricia A. Millett; Jane L. Kelly, an Iowan appointed that year to the U.S. Court of Appeals for the 8th Circuit; Paul J. Watford, a judge since 2012 on the California-based U.S. Court of Appeals for the 9th Circuit; and a lower-court judge, Ketanji Brown Jackson, appointed in 2013 to the U.S. District Court for the District of Columbia. Each would offer a distinctive attribute for a president with a penchant for fostering diversity.
The Editor says...
In other words, white men need not apply.
Justice Thomas, Candle in the Darkness. [Scroll down] No one can replace Justice Scalia, as justice, jurist, or man. But he did set an example, the example of mixing it up, stirring appellate litigants to think on their feet, asking them questions — some simple, some layered — which live on. And by odd coincidence, this week, his good colleague and no doubt decades-long friend, Justice Thomas, asked his first open court question — a constitutionally focused inquiry — in many years. As a common citizen, with no interest or case before the High Court, that fact made me look up, suddenly happy. I know the extraordinary power of Justice Thomas' uncommon mind and extraordinary command of case law, statutory law, their nexus and context. I have seen his reverence for our Constitution and for the people he serves. So, I hope this is the beginning of a new chapter.
Three More Judges Said to Be Vetted for Supreme Court. President Obama is vetting Merrick B. Garland and Sri Srinivasan, federal appellate judges who have enjoyed substantial support from Republicans in the past, as potential nominees for a Supreme Court vacancy that has set off a brutal election-year fight. Judge Garland, 63, and Judge Srinivasan, 49, are undergoing background checks by the F.B.I., according to a person knowledgeable about the process, who spoke on the condition of anonymity because it has been cloaked in secrecy. The White House is also vetting Ketanji Brown Jackson, 45, a federal trial judge, according to The National Law Journal, which cited a lawyer who had been interviewed by the F.B.I.
The Editor says...
When did Obama himself undergo an FBI background check? And how is it that everybody knows who is being interviewed, even though the process is "cloaked in secrecy?" Some cloak!
John Roberts unilaterally backs Obama EPA over states on emissions rule. Many of you have been expressing concerns over the selection of the next Supreme Court Justice with a particular eye toward finding someone who is sufficiently conservative. For that reason, it would seem better to wait and hopefully elect a Republican to the White House and let them make the call. But after today's news... would it really matter? Even when you let the GOP pick the nominee they don't always wind up being all that reliable. We learned that lesson yet again this week when Chief Justice John Roberts, an appointee of George W. Bush, sided with the Obama administration and rejected efforts to temporarily block new EPA regulations on power plant emissions.
A Most Menacing Attack on the United States Constitution. The death of Supreme Court Justice Antonin Scalia has roused debate about the role of the Constitution of the United States. Justice Scalia placed a high value on the U.S. Constitution, but for years, he had been fighting a losing battle to defend America's founding document. Back in 1997, Scalia acknowledged: "I am now something of a dodo bird among jurists and legal scholars. You can fire a cannon in the faculty lounge of any major law school in the country and not strike an originalist."
Obama's Empty Judicial Chairs. On a hot day in June, the grandson of a bank president took to the floor of the Senate to denounce the daughter of sharecroppers. "I feel compelled to rise on this issue to express, in the strongest terms, my opposition to the nomination of Janice Rogers Brown to the DC Circuit," Senator Obama said. Born in segregated Alabama, Janice Rogers Brown had been a leftist like Obama before becoming conservative. When Obama rose to denounce the respected African-American jurist for her political views it had been almost a full two years since President Bush had nominated her in the summer of '03. Obama had arrived a few months earlier on his way to the White House and was eager to impress his left-wing backers with his political radicalism. He held forth complaining that Judge Janice Rogers Brown, who had gone to segregated schools and become the first African-American woman on the California Supreme Court, was guilty of "an unyielding belief in an unfettered free market." And he filibustered Judge Brown, along with other nominee, trying to deny them a vote.
Justice Thomas asks questions in court, 1st time in 10 years. Justice Clarence Thomas stunned lawyers, reporters and others at the Supreme Court on Monday when he posed questions during an oral argument for the first time in 10 years. It was the second week the court has heard arguments since the death of Justice Antonin Scalia, Thomas' friend and fellow conservative. Thomas for years sat directly to Scalia's right.
Who wants to be Obama's judicial kamikaze pilot? The White House staff recently staged a photo op of President Obama walking through the West Wing colonnade carrying a thick binder filled with Supreme Court candidates. Call it (to paraphrase Mitt Romney) Obama's "binders full of liberals." But here's the question: What judicial candidate in his or her right mind would accept Obama's nomination? Senate Republicans have made clear that any Obama nomination to the Supreme Court is dead on arrival. No hearings, no meetings, no vote — zero chance of being confirmed.
The Editor says...
All that may be true, but it is also true that no left-wing Democrat judge can withstand the Borking of a Republican-controlled Senate.
Senior Obama adviser to lead search for SCOTUS nominee. Brian Deese, a senior adviser to President Obama, has been tapped to lead the process of selecting a Supreme Court nominee and getting that person confirmed, a White House official said Monday [2/29/2016]. "Brian will ensure that the full capacity of the White House is trained on this effort, even while the rest of the White House continues its important work on other presidential priorities," the official said. A veteran of Obama's 2008 campaign, Deese played a key role in the 2009 auto bailouts, served as acting director of the White House's budget office and led Obama's climate change efforts in the president's second term.
The Editor says...
Even if there is another Robert Bork or Antonin Scalia in this country, a left-wing activist isn't going to find him.
Coming Supreme Court Battle Shows Need for Fixed Judicial Terms. Contrary to the judiciary's reputation as the least dangerous branch, judges exercise almost every executive and legislative power other than going to war. Their ability to make, transform, and distort the nation's fundamental law is why the battle over Antonin Scalia's successor is likely to be so brutal. That wasn't the Constitution's original plan. The courts were important, but were not to supplant the other branches. Rather, judges were expected to constrain the executive and legislative branches. Alexander Hamilton, though a proponent of strong central government, expected the judiciary to play a "peculiarly essential" role to safeguard liberties and act as an "excellent barrier to the encroachments and oppressions of the representative body." Judges were not to implement the popular will, but instead to "guard the Constitution and the rights of individuals" from "the people themselves."
Clinton calls on Obama to nominate 'true progressive' to Supreme Court. Hillary Clinton called on President Obama to nominate a "true progressive" to the Supreme Court in remarks critical of suggestions that Nevada Republican Gov. Brian Sandoval could be the nominee. "There has been some talk that maybe the president will nominate the Republican governor of Nevada. Now, I love Nevada, especially after last weekend," the White House hopeful said Thursday [2/25/2016] during a campaign rally in South Carolina, referencing her victory last weekend in the Nevada Democratic caucuses.
Stories like this indicate that the Scalia death isn't going to quietly drop down the Media Memory Hole.
Justice Scalia spent his last hours with members of this secretive society of elite hunters. When Supreme Court Justice Antonin Scalia died 11 days ago at a West Texas ranch, he was among high-ranking members of an exclusive fraternity for hunters called the International Order of St. Hubertus, an Austrian society that dates back to the 1600s. After Scalia's death Feb. 13, the names of the 35 other guests at the remote resort, along with details about Scalia's connection to the hunters, have remained largely unknown. A review of public records shows that some of the men who were with Scalia at the ranch are connected through the International Order of St. Hubertus, whose members gathered at least once before at the same ranch for a celebratory weekend.
Justice Breyer: Eight-Person Court "Will Not Change" Supreme Court's Work. Today [2/25/2016], Justice Stephen Breyer cut through Democrats' talking points about the Supreme Court's ability to function. When Justice Breyer was asked if Scalia's absence will negatively affect the Supreme Court's ability to decide cases, Breyer "downplayed that possibility".
Politicians Steer Clear Of Obama's Supreme Court Short List. Most politicians on President Obama's possible short list for the Supreme Court are saying "no thanks" to the White House's overtures. Ever since Senate Republicans banded together and pledged that any Obama nominee would not receive a hearing, the odds of being confirmed went down steeply. Four politicians floated four the vacancy on the court since Justice Antonin Scalia's death already made it clear they do not want it.
Cover-up? Sheriff ordered not to examine Scalia's body. When [Justice Antonin] Scalia's body was found in his bed at the Cibolo Creek Ranch in Shafter, TX on February 13, the news sent a shockwave through the American public. The death of a conservative Supreme Court justice during President Barack Obama's last year in office created an opportunity to swing the entire court to the left. The timing was suspicious to say the least, even after details emerged that Scalia suffered from a variety of health problems including sleep apnea, diabetes, and chronic obstructive pulmonary disease. And the more details that emerge about Scalia's death, the more material that conspiracy theorists have to work with. According to a sheriff's report released this week, local police were ordered to stay away from Scalia's body after it was initially discovered, and were significantly delayed in responding.
White House promises non-political process to replace Scalia. The White House vowed Wednesday [2/24/2016] that it would push politics to the side as it finds nominees to replace the late Justice Antonin Scalia on the Supreme Court. "I can tell you that when it comes to our search process, we are going to set aside politics, and we are going to be focused on helping the president make a decision about who the best person in America is to fill the vacancy on the Supreme Court," White House spokesman Josh Earnest said.
SCOTUS Watch: White House Reportedly Vetting Nevada GOP Gov. Brian Sandoval. While the Senate GOP is standing firm not to hold hearings, or even meet, with Obama's Supreme Court nominee to fill the vacancy left by Justice Antonin Scalia, rumors abound that popular Republican Gov. Brian Sandoval is being vetted by the White House.
President Obama Explains What He Wants in Supreme Court Nominee. Obama, in a post published on the SCOTUSblog website Wednesday [2/24/2016], revealed the characteristics he is looking for in a nominee to replace Justice Antonin Scalia, who died Feb. 13. "First and foremost, the person I appoint will be eminently qualified," Obama wrote. "He or she will have an independent mind, rigorous intellect, impeccable credentials, and a record of excellence and integrity. I'm looking for a mastery of the law, with an ability to hone in on the key issues before the Court, and provide clear answers to complex legal questions." But, the president said, that same person would not sit on the court with the purpose of trying to change the law.
The Editor says...
Mr. Obama's description of the ideal nominee sounds a lot like Robert Bork or Ted Cruz. Something tells me the person he names will be a lot more like Michelle Obama or Valerie Jarrett.
Hillary: Packing The Courts For A Generation. Five to four. That was the one-justice margin that twice recognized the Second Amendment as an individual right: first in 2008 with Heller, which struck down the District of Columbia's handgun ban and its prohibition of armed self-defense in the home; then in 2010 with McDonald, which found Chicago's similar ban unconstitutional and thus applied the protections of the individual right to keep and bear arms nationwide. Five to four. That was the split on the court that also struck down an all-out attack on the First Amendment — declaring unconstitutional a Federal Election Commission action to punish the exercise of political free speech in Citizens United, which involved creation and dissemination of a film documenting the politics of Hillary Clinton. The makeup of the U.S. Supreme Court in the coming short years will determine whether our nation remains free, or whether the rights of individual Americans will be crushed under a rubber-stamp high court.
Liberal Senate Republicans Go Spineless Over Supreme Court Hearings. Just days after Justice Scalia's untimely death and an even shorter period of time since Republican leadership declared its intention not to consent to an Obama nominee; moderates within the Republican Party are going wobbly. [...] I will be stunned to see McConnell follow through with not allowing hearings when Obama nominates an ultra-radical. But I believe he could nominate Bill Ayers and McConnell would capitulate. He and the rest of leadership are more scared of being called mean, or do-nothing, or obstructionist than the destruction of the country.
Judiciary Committee Republicans: No Hearings, No Votes on SCOTUS Nominee. Republicans on the Senate Judiciary Committee have reached a consensus on President Obama's promised Supreme Court nominee: no hearings, no votes. Emerging from their first closed-door gathering since Justice Antonin Scalia's death, Judiciary Committee Republicans told reporters that they were united behind Majority Leader Mitch McConnell's call to block any action toward confirming the president's nominee. As committee member Lindsey Graham put it, referencing Vice President Biden's 1992 call not to hold hearings on a nominee during an election year, "We like Joe Biden on this. He was right."
Alito: Supreme Court will find a way to do its work with 8 justices. Sounding like he is prepared for a lengthy vacancy on the Supreme Court bench, Justice Samuel Alito said Tuesday [2/23/2016] that the court will find a way to get its work done with eight members following the death of Antonin Scalia. "We will deal with it," Alito told a Georgetown University law school audience Tuesday [2/23/2016] after he was asked a question about Senate Republicans' resolve to oppose anyone President Barack Obama nominates to take Scalia's place.
GOP Senators: No hearing, no vote for Obama Court pick. President Barack Obama's nominee to the Supreme Court won't get a hearing or a vote from the Republican-led Senate, GOP members of the Judiciary Committee said Tuesday [2/23/2016] as they insisted only the next president must fill the vacancy.
Appoint a Justice — Don't Appoint One — What's the Hurry? The upcoming presidential election is being hailed as the most important in our lifetimes — possibly in the history of this nation. We always hear this type of thing every election cycle. This time however, the claim is absolute due to the recent passing of Justice Scalia and the subsequent tipping point in the balance of power of the supreme Court. So I agree with those who claim that we will lose our country — we lose our Constitutional rights and liberties should just one more liberal justice be appointed. For this reason, it is imperative that the Senate leadership not even allow hearings, much less a vote on whomever Obama nominates. The Senate leadership must understand that literally anything can happen should they allow an Obama nominee to come to a vote. There are simply too many spineless Republican Senators to take that chance.
24 Years Later, Joe Biden's Words Haunt Democrats. When you are as voluble as Joseph R. Biden Jr. is, you are bound to say more than a few words that come back to haunt you. And some choice ones returned with a vengeance on Monday [2/22/2016] as the fight over the open Supreme Court seat began in the Senate. As Democrats prepared to lay into Republicans for vowing to stall any nominee to replace Justice Antonin Scalia, Republicans instead pounded them with remarks that Mr. Biden made as a senator in June 1992. In a Senate floor speech resurfaced by C-Span, he said he would do almost exactly what Democrats are now criticizing Republicans for promising to do — not even hold a nomination hearing if the president put forward a Supreme Court candidate.
In 1992, Joe Biden Was Against Supreme Court Nomination During 'Full Throes Of An Election Year'. Joe Biden argued in 1992 that the president should not nominate any Supreme Court candidates until after that year's presidential election. "It would be our pragmatic conclusion that once the political season is underway — and it is — action on a Supreme Court nomination must be put off until after the election campaign is over," Biden, then a Delaware senator, said in June of 1992. "That is what is fair to the nominee and essential to the process."
Anybody?
Schumer: 'It Doesn't Matter What Anybody Said In The Past' On SCOTUS Nominees. New York Sen. Chuck Schumer blew off past statements he and Vice President Joe Biden made about blocking Supreme Court nominees on Monday [2/22/2016]. "It would be our pragmatic conclusion that once the political season is underway — and it is — action on a Supreme Court nomination must be put off until after the election campaign is over," Biden, then a Delaware senator and Chairman of the Judiciary Committee, said in June of 1992. "That is what is fair to the nominee and essential to the process."
Black Law Students at Georgetown: We are shaken and angry at conservatives' response to Scalia's death. After the death of Supreme Court Justice Antonin Scalia, an unusual debate unfolded at Georgetown University Law Center, not only over the legacy of the conservative scholar, but whether political correctness and a left-leaning bias had stifled the possibility of open discourse in academia. Two professors questioned a laudatory memorial announcement that was issued by the law school; one publicly argued that the campus community would not mourn Scalia, who is one of the university's most prominent alumni, calling him "a defender of privilege, oppression and bigotry."
Some Republicans Begin to Cave on Potential Obama Supreme Court Nominee. Two moderate Republican Senators have broken ranks with GOP leadership. Both have declared their support for giving President Obama's nominee to fill the vacant seat on the Supreme Court a hearing. Senator Susan Collins (R-ME) and Senator Mark Kirk (R-IL) have both indicated they believe the President has a right to appoint a successor to Justice Scalia and that the Senate has a duty to consider that nominee. Speaking on CNN, Collins said "I believe we should follow the regular order and give careful consideration to any nominee that the president may send to the Senate."
Mark Kirk Breaks with McConnell, Citing Duty to 'Constitution' over 'Party'. After a week of silence on whether Republicans should refuse to consider President Obama's Supreme Court nominee, Senator Mark Kirk is speaking out. In a Chicago Sun-Times op-ed posted moments ago, Kirk argues that, in the spirit of honoring the late Justice Antonin Scalia, Republicans should place the Constitution before their party.
Sen. Mark Kirk: Scalia replacement must 'bridge differences'. The Senate's role in providing advice and consent is as important and significant as the president's role in proposing a nominee. A partisan or extreme nominee would not be prudent nor would it provide a steady, scholarly hand to guide the constitutional ship of state. My sincerest hope is that President Obama nominates someone who captures the sentiment he spoke about before the Illinois General Assembly this month — a nominee who can bridge differences, a nominee who finds common ground and a nominee who does not speak or act in the extreme. Such a selection by the president would demonstrate a break from the rancor and partisanship of Washington and a real commitment to a new beginning even as his own term nears its end.
The Editor says...
If you expect community organizer Barack H. Obama to take "a break from the rancor and partisanship of Washington," you are completely delusional. Mr. Obama is the most petulant and divisive person ever to occupy the office. I doubt if he knows anyone who isn't a partisan left-wing extremist.
If Obama Fills Scalia's Seat With [a] Recess Appointment Who'd Dare a Challenge? Will it be a fight or a trap? That's the choice facing President Obama as he looks for a candidate for what is likely to be his final nomination to the Supreme Court.
Eight Is Enough (for Now). To hear some on the left tell it, the Supreme Court would be hamstrung if it had to function for a year or more without a ninth justice. What to do in the event of a 4-4 tie? This would not have been viewed as a problem, however, by America's Founders, who created a Court with an even number of justices — six. In fact, Marbury v. Madison, arguably the most important case in the Court's 226-year history, was decided by a six-justice Court. The Constitution, of course, leaves it up to Congress to decide how many justices will serve on the Supreme Court. In 1789, Congress passed, and President Washington signed, the Judiciary Act. That law determined that the number of Supreme Court justices should be six.
6 Supreme Court Rulings That Could Be Overturned If a Liberal Replaced Scalia. If President Barack Obama or a future Democratic successor were to replace late Supreme Court Justice Antonin Scalia with a liberal, a host of prior high court decisions that favored conservatives could be revisited, and possibly be overruled completely. The reach of cases that could get another look by a liberal majority Supreme Court touch on bedrock issues of American life, such as race, religion, voting rights, campaign finance, and the Second Amendment.
GOP senators break with party over Supreme Court nomination fight. A pair of moderate Republican senators broke rank with their party leaders Monday [2/22/2016] and said President Barack Obama's potential Supreme Court should receive a hearing, though another powerful GOP senator made the case against it. Sen. Susan Collins, a Maine Republican, told CNN that the Senate should take the process "one step at a time," but also welcomed a nominee from Obama.
Obama Spends Less Than 2 Minutes At Scalia's Wake. President Barack Obama and First Lady Michelle Obama paid less than two minutes of respect to the late Antonin Scalia while the Justice lies in repose at the Supreme Court. Friday [2/19/2016], the Obamas spent approximately 35 seconds in front of the casket and then approximately 67 seconds in front of the portrait of Scalia.
Georgetown Professor Complains After School Shows Respect For Antonin Scalia. Two professors at Georgetown University's law school have made a very public protest after the school's dean made a statement honoring deceased Supreme Court Justice Antonin Scalia. Given that Scalia earned his bachelor's degree from Georgetown, it would seem fitting for the school to honor such an illustrious alumnus after his passing. Georgetown University Law Center dean William Treanor thought the same way, and made a short public statement the day of Scalia's death.
Antonin Scalia, the brilliant, joyful justice. I first met Antonin Scalia, the father of a childhood friend, when I was just shy of 14. I remember him as joyful and a bit intimidating then. All these years later, he remained joyful and a bit intimidating in my eyes. Maybe even more so. As an adult, you come to understand that joyfulness is not the easiest thing to maintain. Yet over three decades, the wisecracking, poker-playing, opera-loving Supreme Court Justice Scalia was an everlasting embodiment of the joy found in debate — even when losing.
Democrats shouldn't rob voters of chance to replace Scalia. No one disputes the president's authority to nominate a successor to Scalia, but as inconvenient as it may be for this president, Article II, Section 2, of the Constitution grants the Senate the power to provide, or as the case may be, withhold its consent. It was interesting to see Senate Minority Leader Harry Reid (D-Nev.) write in The Post just a few days ago that "the Senate's constitutional duty to give a fair and timely hearing and a floor vote to the president's Supreme Court nominees has remained inviolable." But that's not what he said on the Senate floor about judicial nominees when a Republican was in the White House. "The duties of the United States Senate are set forth in the Constitution of the United States. Nowhere in that document does it say the Senate has a duty to give presidential nominees a vote. It says appointments shall be made with the advice and consent of the Senate. That's very different than saying every nominee receives a vote."
Senate Republicans easing on blockade of Obama court pick? Cracks are starting to appear in the Republican wall of opposition to President Obama nominating the next Supreme Court justice, as several prominent senators signal that a hearing — at least — could be allowed. Those lawmakers include Sen. John Cornyn, R-Texas, who would not rule out a Judiciary Committee hearing on the president's forthcoming nomination to replace Justice Antonin Scalia, who died suddenly during a retreat at a Texas resort on Saturday. He was joined by Nevada Sen. Dean Heller, who appeared to welcome the debate in comments Wednesday, but nonetheless encouraged Obama to "put the will of the people ahead of advancing a liberal agenda" with his pick.
Conservatives defend vulnerable senators vowing to block Obama Supreme Court nominee. Conservatives rallied Thursday [2/18/2016] to defend Republican senators who have vowed to block a Supreme Court nomination by President Obama, as polling suggests the battle isn't playing out how Democrats hoped and the public is evenly split on whether Mr. Obama should get a chance to shift the court to the left in the wake of the death of Justice Antonin Scalia. The Judicial Crisis Network announced a seven-figure advertising campaign defending Sens. Kelly Ayotte of New Hampshire, Chuck Grassley of Iowa, Ron Johnson of Wisconsin, John McCain of Arizona, Rob Portman of Ohio and Patrick J. Toomey of Pennsylvania — each of whom is up for re-election this year.
A Refresher on Supreme Court Nominations. [For example,] Robert Bork (1987): Kevin Gutzman, then an intern for Congressman Dick Armey, described the hearing as having "all the makings of a circus." Gutzman also described the men aligned against Judge Bork as being: "the Democratic majority on the Judiciary Committee, includ(ed) a chairman (Sen. Joe Biden) in the midst of a scandal over his having delivered a speech plagiarized from a British politician, one member (Patrick Leahy) who had been tossed off the Intelligence Committee by its Democratic chairman for leaking documents, another senator (Robert Byrd) who had been a Ku Klux Klansman, and Kennedy, infamous for being tossed out of Harvard for cheating." [...] Judge Bork became the fourth Republican nominee rejected in the past 100 years. A Democratic president has not had a nominee rejected since 1894 when Wheeler Hazard Peckham was voted down by the Senate.
The Living Constitution And Second Amendment Alarmism. With the death of Supreme Court Justice Antonin Scalia, the American philosophical divide has been thrown wide open, particularly on the issue of gun control. One side that believes the Constitution means what it says and can be readily understood by the common man, warns that if the ideological balance on the Court could shift from a bare majority that usually interprets the Constitution based on its text and the clear intentions of the founders, to the current minority that would regularly make law based on progressive desires alone. The other side is warning that establishing a larger constitutional majority on the Court would result in the Court deciding cases more regularly on the text of the Constitution and the intent of the Founders. [...] It is no small irony that the President will surely nominate someone dedicated to the ideology of a "living Constitution," which can best be understood as a Constitution that has no fixed, understandable meaning or intent. It means whatever Progressives want it to mean for their transitory political purposes. Of one thing, however, we can be absolutely sure: if the living Constitution ideology ever gains a majority of the Court, the Second Amendment is dead.
Democrats Must Lie in the Politicized Judiciary Bed They Made. "Robert Bork's America is a land in which women would be forced into back-alley abortions, blacks would sit at segregated lunch counters, rogue police could break down citizens' doors in midnight raids, schoolchildren could not be taught about evolution, writers and artists could be censored at the whim of the Government, and the doors of the Federal courts would be shut on the fingers of millions of citizens." So said Sen. Ted Kennedy on the Senate floor on June 23, 1987, just 45 minutes after Robert Bork was nominated by President Reagan to replace the retiring Justice Lewis Powell.
Antonin Scalia: What the Supreme Court Justice would want now. [Scroll down] Far more important than that immediate question, however, is whether Justice Scalia's legacy of respect for the written Constitution and the limited government it authorizes will continue to animate the nation's highest court, or whether instead the Court will join the political branches as handmaiden and move us ever closer to the vision President Obama and his party have been pushing now for nearly eight decades. We need only look to those of Mr. Obama's persuasion who would succeed him for the particulars of that vision. Driven by identity politics and class warfare, and informed by a medieval understanding of economics, they would make America look like the rest of the world — a world from which so many of us have fled. They rail against our present economic straits, especially for the young, yet would only double down on the very policies that have brought us here and so endanger our future. Answering always the same, their solution for government created problems is more government programs.
10 Times Democrats Vowed To Block Republican Court Nominees. Senate Majority Leader Mitch McConnell (R-K.Y.) has vowed to block any of lame-duck President Obama's Supreme Court nominations. The media have taken to acting as if this move is unprecedented, and that a senator has never publicly stated he would intentionally block a presidential nomination. Not true. Not only have there been several lengthy Supreme Court vacancies, but there are plenty of past instances when senators refused to confirm a president's nominations. Here are 10 other times Democrats vowed to block Republican court nominees. [...]
No hearings. No votes. President Obama certainly has the authority to nominate a replacement for Scalia. But the Senate Republicans are under no obligation to hold a hearing much less a vote on that nominee. The decision to deep freeze a nominee is a constitutional one, and a political decision, but it isn't a difficult one. And to make it crystal clear, it isn't about an individual but the institution of the court.
Constitution Little Help to Obama Bid for Vote on Scalia Vacancy. President Barack Obama suggested that even the late Justice Antonin Scalia would have thought the U.S. Senate was duty-bound to consider whether to confirm his successor on the Supreme Court. The problem for Obama: The Constitution doesn't say that, at least not explicitly. The pivotal words say the president "shall nominate, and by and with the Advice and Consent of the Senate, shall appoint" Supreme Court justices. It doesn't actually say the Senate has to do anything, and in a separate provision the Constitution says both houses of Congress can determine their own rules. "The text nowhere requires the Senate to hold hearings or give a vote," said Ilya Somin, who teaches constitutional law at George Mason University School of Law in Arlington, Virginia. "The only requirement is that a nominee can't actually take a position on the court unless and until the Senate gives its advice and consent."
A Supreme Court Strategy for Ted Cruz. The stakes on a judicial appointment have never been this high in our history. [...] Not that anybody cares, but you can learn a lot from studying history on this. Eisenhower was not a lawyer, and when he was urged to make Republican California Governor Earl Warren the chief justice, he went along. He later admitted that it was one of the worst mistakes of his presidency. Ford put John Paul Stevens on the Court. Ford didn't have any idea of what he was doing. Bush 1 put David Souter on the court — an enormous mistake. And then came Bush 2 with the attempted nomination of Harriet Miers — a completely frivolous appointment. The two thirds of the Republican Party that aren't Trump cultists care very much about the Supreme Court. Even Trump supporters do, but nothing but Trump really matters to them. The fact that you can trust Ted Cruz to make the best appointment any of us could hope for is a reason to vote for him.
Dems Predict GOP Cave on Scalia Replacement. Sen. Chuck Schumer (D-NY) and Sen. Richard Blumenthal (D-CT) are already predicting Senate Republicans will back away from their initial vows to block President Obama's nominee to replace Supreme Court Justice Antonin Scalia. "Just as in 2013 when there was a huge public outcry and Sen. [Mitch] McConnell (R-KY) had to back off," Schumer said in reference to the 2013 government shutdown, "the same will happen now. Sen. McConnell will have to back off." Schumer made his comments Wednesday [2/17/2016] on a conference call with reporters organized by the Progressive Change Campaign Committee, a liberal activist group.
Dems Passed A 1960 Resolution To Prevent Supreme Court Appointment Ahead Of Election. In the wake of Supreme Court Justice Antonin Scalia's death, President Barack Obama said he plans on nominating a successor despite Senate Majority Leader Mitch McConnell's vow not to fill the seat until the election is over. While Democrats in the upper chamber — including Sen. Chuck Schumer of New York and former Sen. Russ Feingold of Wisconsin, both of which called for blocking former President George W. Bush's nominations — have slammed the GOP for its decision not to consider a nominee until after a new president is elected, Democrats have not always held that stance. The Democrat-controlled Senate passed a resolution in 1960 preventing a recess appointment, much to the dismay of Republicans.
Only a Scalia II Can Save SCOTUS, and the Country. On Saturday, February 13, 2016, the greatest living defender of the United States Constitution died suddenly and unexpectedly. His death plunged our nation into a crisis worthy of comparison to 1941, 1861, and 1775. Those were all crises in which the nation's survival was at stake. This is another. Ironically, we find ourselves in a fortunate spot. Just before it is certainly too late, we have been blessed with a wake-up call we must not fail to heed. Justice Scalia, the bulwark of our Constitution which has been the last hope for the country, has died, and in doing so, has given his life to awaken us to our duty.
Obama, the fair-weather constitutionalist. President Obama would like people to think he is being wronged by Senate Republicans who plan to deny him the chance to replace Justice Antonin Scalia on the Supreme Court. But the GOP lawmakers are determined to block his nominee not merely because he'd create a majority on the bench whose judicial philosophy is to usurp the democratic process and hand down decisions based on their own prejudices. It must, rather, be seen in the context of a presidency that has abusively increased executive power, usurping or trampling the proper authority of Congress. Obama does not respect congressional authority.
Obama displeased now with an opposition party that opposes. Thank goodness enough Americans bought into Obama's vision of rancor-free politics in 2008 and, despite the record, again in 2012. Obama was so interested in bridging the bitter partisan divide splitting the nation's capital that it only took the Democrat 542 days to invite the Republican Senate leader to the White House to chat about maybe somehow working together. That was only when Obama saw his party's total control of Capitol Hill dissolving as, election by election, voters opted for a divided government to rein somebody in. Since then, he's called Republicans obstructionists, warmongers and worse.
The Progressives' Phony Democracy. [Scroll down] And now, the untimely death of Justice Scalia has made this monitory history of progressive sham democracy and soft despotism even more pertinent. As Scalia said of the Supreme Court decision imposing same-sex marriage on the states, "A system of government that makes the People subordinate to a committee of nine unelected lawyers does not deserve to be called a democracy." If the Senate Republicans don't stand firm and resist Obama's choice to replace Scalia, then for decades to come the progressive program to subvert the Constitution's protection of political freedom will continue, abetted by a Harvard- and Yale-educated Supreme Court unchecked by the electoral accountability to the people that limits Congress and the president. Then the fears of the Founders and the prophecies of Tocqueville will become our reality.
Donald Trump considers theory Scalia might have been murdered. The subject came up during an interview on Michael Savage's radio show, "The Savage Nation." "Donald I need to come back to the topic we've been all screaming about here which is Scalia," Savage said to Trump. "Was he murdered? I know it's pretty brutal to say that, and I'm not wanting to drag you into this but this is going to get bigger and bigger and bigger. I went on the air and said we need the equivalent of a Warren Commission, we need an immediate autopsy before the body is disposed of. What do you think of that?"
Leave Scalia's Chair Vacant. It is a measure of the stature and the significance of Justice Antonin Scalia that, upon the news of his death at a hunting lodge in Texas, Washington was instantly caught up in an unseemly quarrel over who would succeed him. But no one can replace Justice Scalia. He was a giant among jurists. For a third of a century, he led the conservative wing of the high court, creating a new school of judicial thought called "originalism." But originalism is not conservatism, which, in the judicial era that preceded Scalia, often meant court decisions that "conserved" the radical social revolution Earl Warren's court had imposed upon us. Scalia believed in going back to the founding documents of the republic and discerning from them the original meaning and intent of the framers.
A Gaping Hole on the Court. The death of Supreme Court Justice Antonin Scalia on February 13 represents an enormous loss to American conservatism — and a challenge to those who hope to name his successor. Ordinarily, the sitting president would nominate a replacement, and President Obama has already indicated his intention to do so. But this is an election year. According to Ed Whelan, president of the Ethics and Public Policy Center, "It's been more than 80 years since a Supreme Court justice was confirmed in an election year to a vacancy that arose that year." Indeed, under its informal "Thurmond Rule" the Senate can block judicial nominations in an election year. Democrats invoked the Thurmond Rule to oppose George W. Bush's nominees. This time around, Senate majority leader Mitch McConnell appears ready to take the same approach.
Eight Thoughts On Scalia. I'm still a little stunned by the news that Justice Antonin Scalia, perhaps the living public official I've most respected and admired in my adult life, has died. I respected Scalia for all the obvious reasons. As a legal thinker few could hold a candle to him, as a legal writer even fewer, and as an intellectual legal writer of consequence, he stood alone in my lifetime (Had Robert Bork been confirmed to the Supreme Court, as he should have been, he might have given Scalia a run for his money on both counts). But I admired Scalia for other reasons. He was a happy man. He was a family man. He was a joyful warrior who had no problem being friends with the "enemy" outside office hours, as it were. In a better time, we wouldn't immediately subject this news to public partisan speculation and handicapping, but these are the times we live in.
Justice Scalia's Last Public Speech: 'Good Intentions Are Not Enough'. In his last public speech, Supreme Court Justice Antonin Scalia, who died last weekend of natural causes, told his granddaughter's high school graduation class that being passionately committed to a cause is not as important as making sure that cause is right. "Good intentions are not enough," the 79-year-old justice told graduates of Stone Ridge School of the Sacred Heart in Bethesda, Maryland at their commencement ceremonies last June. Warning the seniors that "nobody ever proposed evil as such," Scalia told them that is their responsibility "not just to be zealous in the pursuit of your ideals, but to be sure that your ideals are the right ones, not merely in their ends, but in their means.
Obama to skip Scalia funeral. President Barack Obama will not attend Supreme Court Justice Antonin Scalia's funeral on Saturday [2/20/2016], the White House said, adding that Vice President Joe Biden and his wife Jill Biden will be at the services. Obama and first lady Michelle Obama instead will go to the Supreme Court on Friday "to pay their respects to Justice Scalia" while the justice lies in repose in the Great Hall, press secretary Josh Earnest told reporters Wednesday [2/17/2016].
Obama snubs Scalia funeral: President will NOT attend requiem for conservative Supreme Court justice. President Barack Obama will not attend conservative Supreme Court Justice Antonin Scalia's funeral on Saturday, the White House says. [...] It was not immediately clear why the president won't go to the formal funeral. 'I don't have a sense of what the president's plans are for Saturday,' Earnest said after a reporter suggested it would be bad form for him to go golfing, a favorite weekend activity of Obama's.
Confirmation Bias. A lot of people think Sen. Majority Leader Mitch McConnell made a mistake in saying that any Obama Supreme Court nominee wouldn't even get a hearing, let alone a vote, but I think he was perhaps very canny. Knowing Obama's ideology, he might have been deliberately provoking Obama, as Paul suggested over the weekend, to send a deeply ideological — and preferably minority nominee — for political purposes, but which would make McConnell's job easier. If cooler heads prevail at the White House, they'll send up a very moderate white guy, serene in the confidence that he'll turn out to be another John Paul Stevens before his robes are measured. But harder for the GOP to block. Go ahead Obama — make my day!
White House Engages Liberal Activists in Battle to Fill Scalia's Seat. Several participants confirm to ABC News that the White House held a conference call with liberal activist groups Tuesday [2/16/2016] to discuss their role in what is expected to be a protracted battle with Republicans as President Obama attempts to fill the Supreme Court seat vacated by late Justice Antonin Scalia. Kyle Barry, Director of Justice Programs at the Alliances for Justice, told ABC News that his organization and many others had already sprung into action following Scalia's death, but confirmed that Valerie Jarrett, a senior adviser to Obama, and Neil Eggleston, the White House chief counsel, participated in a call with his organization and others to discuss the road ahead.
How Scalia's death will shape 2016. Voters always value electability in presidential contests. But the consideration has assumed unusually tangible implications following the death of conservative Justice Antonin Scalia. Senate Republicans are vowing to deny President Obama's pick to succeed Scalia, saying it should be up to the next president, and by extension, the voters, to determine the future of the high court. That has raised the stakes for Democrats and Republicans in November, and magnified the Supreme Court as a voting issue.
Antonin Scalia's Successor. It doesn't take a fortune teller to predict the scenario that would present itself if the political dynamics were reversed and a Republican president were in the White House with a Democratic Senate majority. Democrats would be demanding no justice be confirmed until the next president takes office and they would make it a major campaign issue. That is what Sen. Charles Schumer (D-NY) said in 2007: "We should not confirm any Bush nominee to the Supreme Court, except in extraordinary circumstances." That was 19 months before the 2008 election. It is a little more than eight months away from the next election.
Scalia, the Senate and the Media: A time for hypocrisy. In the immediate aftermath of Antonin Scalia's death, Democrats and Republicans, along with liberal and conservative commentators, are making arguments that are parsed as principled, but really naked partisanship. They are taking positions that they would reverse in a heartbeat if the Supreme Court vacancy occurred under mirror-image circumstances. In fact, many of them have taken the opposite stance in the past. So the high-minded rhetoric really rings hollow. What troubled me initially is that there was no decent interval — indeed, no interval at all — between the announcement of the 79-year-old jurist's death and the online debate over what should happen to his seat. That seemed disrespectful, but it's the world we now live in.
Our Disgraceful Judicial System. Supreme Court Justice Antonin Scalia died February 13, 2016. Now the political fight between the liberals and conservatives begins — and that is the disgrace. It is a prime example of how important the political and personal biases of a Supreme Court justice are. But it is terribly wrong that such biases are allowed to become the basis for a decision on a provision of our Constitution. This fight will be of extreme critical importance. The ramifications could affect the upcoming presidential election. But why is it so important? It is because it is within the province of judges and justices to determine the meaning of a particular provision of the law or of the Constitution. And a liberal judge or justice tends to make the decision on the basis of his or her political and social biases, and not on the basis of the purpose for which the provision was enacted. When a provision of the Constitution was enacted, those who formed, proposed, and ratified it, did so to accomplish a particular purpose. It is patently wrong that political or other biases should enter into a decision of the Supreme Court. But that is what we have today.
White House: Obama 'regrets' his filibuster of Supreme Court nominee. President Obama "regrets" filibustering the nomination of Supreme Court Justice Samuel Alito in 2006, his top spokesman said Wednesday [2/17/2016], though he maintains that the Republican opposition to his effort to replace Justice Antonin Scalia is unprecedented. "That is an approach the president regrets," White House press secretary Josh Earnest said. Obama and the Democratic senators who joined him in filibustering Alito "should have been in the position where they were making a public case" against the merits of his nomination to the high court instead, Earnest said.
Tragedy and Choices. Amid the petty bickering, loud rhetoric and sordid attack ads in this year's primary election campaigns, the death of a giant — Justice Antonin Scalia — suddenly overshadows all of that. The vacancy created on the Supreme Court makes painfully clear the huge stakes involved when we choose a President of the United States, just one of whose many powers is the power to nominate justices of the Supreme Court. Justice Scalia's passing would be a great loss at any time. But at this crucial juncture in the history of the nation — with 5-to-4 Supreme Court decisions determining what kind of country America will be — Scalia's death can be catastrophic in its consequences, depending on who is chosen to be his successor.
1987 New York Times Editorial Urges Senate to Block Reagan's SCOTUS Nominee. In early October of 1987, when President Ronald Reagan had more than a year left on his final term that would end in January of 1989, The New York Times editorial board openly championed the idea of the United States Senate blocking Reagan's Supreme Court nomination. Their rationale? The fact that Democrats had regained control of the Senate in 1986.
Scalia's Death Probably Flips Big Cases. How will the death of Justice Antonin Scalia affect the major cases before the U.S. Supreme Court this term, all of which are expected to be decided by the end of June? The answer doesn't depend entirely on how Scalia would've voted. It also depends on a necessary rule of procedure: When the Supreme Court is divided equally, it upholds the decision below. Applying this dual analysis to five major cases in the pipeline yields some surprising results.
Obama wants to reduce 'meanness'? Justice Scalia's death gives him that chance. In Springfield, Ill., last week, President Obama commemorated the ninth anniversary of his bid for the White House. He admitted that one of his "few regrets" was his inability "to reduce the polarization and the meanness in our politics." To conservative ears, Obama's comments fell somewhere between risible and infuriating. Obama has always done his best to demonize and marginalize his opponents. Either the president honestly cannot see that or he's cynically pretending that the fault lies entirely with his critics. If only there were some way to figure out whether he's sincere.
How Democrats plan to win a vote for Obama's Supreme Court nominee. A coalition of liberal activist groups are joining forces with congressional Democrats to press Senate Republicans to allow a vote on President Obama's eventual nominee to fill the seat of the late Supreme Court Justice Antonin Scalia. "I am amazed at how much concern, upsetness, flummoxedness — how upset people are about this," said Sen. Charles Schumer, New York Democrat. "Grass-roots voices are going to be the key to getting Senator [Mitch] McConnell to back off." Mr. McConnell, the Senate majority leader from Kentucky, has said the Senate should wait for a new president in 2017 to nominate a candidate for the high court.
'Subversion' of the Court. The suggestion by the Financial Times that the Senate's recalcitrance on a replacement for Justice Scalia amounts to "subversion" of the Supreme Court strikes us as all too typical of the loss clarity in respect of the Constitution. It calls the reluctance of the Senate to give an automatic pass to whomever President Obama puts up for the high bench "the most blatant power grab by Republicans in Congress." It calls it a "naked threat to hijack the nomination process." Where the FT really loses it is when it writes: "There is no constitutional basis whatsoever for the idea that a president loses the right to nominate Supreme Court justices, and have the Senate consider them for confirmation, in the final year in office." What "right"?
The GOP establishment is already wobbling:
GOP Sen. Thom Tillis fears party will be seen as obstructionist if it blocks Obama SCOTUS nominee sight unseen. If [Senator Thom] Tillis chose to vote with Democrats to confirm a center-lefty, the Committee would be deadlocked. If another Republican joined him in crossing the aisle, the nominee would pass the Committee and McConnell would suddenly be under immense pressure to give him or her a floor vote. And with centrist Republicans like Mark Kirk and Susan Collins quietly resisting the GOP's "no hearing, no vote!" demands (so far), there's at least a small chance that the nominee would clear 50 yays in a full confirmation vote. Republicans might be forced to filibuster the nomination despite having control of the Senate.
GOP unity cracks in court fight. Freshman GOP Sen. Thom Tillis warned Tuesday [2/16/2016] that his party risks being seen as "obstructionist" in a fight over Supreme Court nominations with President Obama. The remarks from the North Carolina Republican are the first crack in GOP unity since Saturday's stunning news of Supreme Court Justice Antonin Scalia's death, whose passing has put the tilt of the court in question. Scalia's successor seems likely to determine whether its majority will lean liberal or conservative.
Scalia the Bold Leader for Originalism. Famous for his biting and even entertaining dissents, [Justice Antonin] Scalia at times (and usually the right ones) expressed a common sense moral outrage at both his liberal and less consistent conservative colleagues. He was the 'everyman' in his outrage, saying what we might want to say about their departures from sound constitutional jurisprudence, but far more gifted with a legal genius shaped by an originalist view of the Constitution — and a wittiness that made conservatives smile and chuckle. His flamboyant style of writing legal opinions made him what marketing guru Seth Godin calls a "purple cow." He stood out in a field of more common brown cows. But more than that, it was the boldness of his style that made him an intellectual leader for originalism. In a city and system of institutions that tend to stifle and hold back the candid, he made candor about the original intent of the Constitution his brand.
Obama to Senate on Supreme Court Nod: What Would the Founders Do? President Obama said Congress won't be living up to the ideals of the Founding Fathers unless the Senate brings his eventual Supreme Court nominee up for a vote. Speaking to reporters at an ASEAN leaders summit in Rancho Mirage, Calif., today [2/16/2016], Obama didn't give clues as to the identity of his pick to replace Justice Antonin Scalia, who was found dead at a Texas resort on Saturday.
Obama Filibustered Justice Alito, Voted Against Roberts. Obama and his media allies are now making all the expected noises about the Senate's obligation to confirm nominees if they're qualified without partisan interference. That is the exact opposite of what he did to Bush's Supreme Court nominees.
Obama displeased now with an opposition party that opposes. As our IBD Editorial Board colleagues note, when President George W. Bush had 18 months left in his second term, Obama among other Democrats were all for shutting down the Republican's court appointees to preserve the fictitious balance of political persuasions. While admitting that Judge Samuel Alito was fully qualified for the Supreme Court, Obama et al unsuccessfully attempted a filibuster to block the man he said was just too conservative to replace conservative Reagan appointee Justice Sandra Day O'Connor. Now with only 338 days left in his own presidential tenure, the gavel is in the other hand. So, Obama opposes opposition political moves against his upcoming, predictably liberal replacement for the late conservative icon Justice Antonin Scalia.
Next president should fill Scalia's seat. [Scroll down] Sen. Chuck Schumer, D-N.Y., attacked the McConnell strategy as "obstructionist." But as the Washington Examiner noted, when a Republican president was a lame duck in 2007, Sen. Schumer insisted, "We should not confirm any [George W.] Bush nominee to the Supreme Court, except in extraordinary circumstances." A delay means the court likely will hand down 4-4 deadlocked rulings on many important cases, such as Friedrichs vs. California Teachers Association, involving Orange County teacher Rebecca Friedrichs. If there's a tie in that case, the previous ruling by the 9th U.S. Circuit Court of Appeals would stand, meaning public employee unions still would be able to withhold dues for collective bargaining even if an employee objects.
Democrats Display Supreme Hypocrisy About Replacing Justice Scalia. "The Senate's constitutional duty to give a fair and timely hearing and a floor vote to the president's Supreme Court nominees has remained inviolable." That was Sen. Harry Reid in a Washington Post op-ed this week condemning any effort by the GOP to block President Obama from naming a successor to conservative stalwart Scalia. He went on to write that "the consequences of blocking any nominee, regardless of merits, would hang over their heads for the rest of their careers."
Hillary says the Senate has a duty to confirm Obama's SCOTUS nominee. On Tuesday [2/16/2016], CNN chief national correspondent John King argued that Obama is preparing to tour the country making an issue of whoever his SCOTUS nominee turns out to be. Even though we don't know who he'll pick, he's allegedly prepared to claim that Republicans are racist for blocking any of his sure-to-be-radical SCOTUS selections.
Obama evolves on filibustering SCOTUS nominees. Back in 2006, while Obama, a newly elected senator from Illinois, was biding his time until he could secure the nomination for president, then-president George W. Bush (R) nominated Samuel Alito to fill a Supreme Court vacancy. Speaking to George Stephanopoulos (formerly of the Clinton administration) on the Sunday morning program This Week, Obama stated that because Alito did not have the proper judicial philosophy — i.e., Obama's — Alito wouldn't be independent of the White House. [...] Sure enough, he joined the effort of another president wannabe, then Senator John Kerry (D-Mass.), and — don't you just love the irony? — a filibuster in an attempt to defeat Alito's nomination. That effort failed; today, Alito is a Supreme Court justice. A year before this, Obama joined the minority voting against confirming Supreme Court Justice John G. Roberts as chief justice in another failed dissension. So Senator Obama voted twice against confirming Supreme Court nominees from a president of another party.
Schumer: Don't use my 2007 speech to justify blocking Obama nominee. The Senate's No. 3 Democrat said Tuesday that his 2007 promise to block a conservative Supreme Court nominee should not be used by the GOP to justify its own plan to ignore President Obama's choice to replace the late Justice Antonin Scalia. Sen. Chuck Schumer, D-N.Y., said his pledge to stop a nomination by then-President George W. Bush is an "apples to oranges comparison" to the current vacancy because he would have at least entertained the nomination and voted on it.
Obama could use recess appointment to bypass Congress, install justice. The window is still open on President Obama's option of replacing the late Supreme Court Justice Antonin Scalia with a recess appointment, although the White House says the president won't pursue such an antagonistic course. The Senate is in the middle of a 10-day recess until Monday, giving Mr. Obama a chance to bypass Congress and install a successor quickly. Given Senate Republicans' vow to block a nomination until the next president takes office in January, a recess appointment could be Mr. Obama's only real opportunity to get a liberal justice on the bench.
Hillary Clinton Implies Racism [is] Behind GOP Efforts to Stop Obama SCOTUS Nomination. Hillary Clinton stepped up her attacks today against Republicans vowing to block whomever President Obama nominates to the Supreme Court, accusing them of racism and bigotry. "The Republicans say they'll reject anyone President Obama nominates no matter how qualified. Some are even saying he doesn't have the right to nominate anyone, as if somehow he's not the real president," Clinton said during remarks at the Schomburg Center for Research in Black Culture in Harlem, referring to the recent passing of Supreme Court Justice Antonin Scalia.
GOP keeps door ajar on SCOTUS consideration. Mitch McConnell's message to the White House after Antonin Scalia's death on Saturday seemed unequivocal: Don't even bother sending a Supreme Court nominee to Congress, we won't act on it. But on Tuesday [2/16/2016], some Republicans were signaling they're open to at least holding hearings, if not allowing a confirmation vote. In an interview on Tuesday afternoon Sen. Ron Johnson of Wisconsin bristled at the suggestion that his party would completely ignore a nomination: "It's amazing how many words are being put in everybody's mouth."
Democrats' Big Lie About the Supreme Court. Democrats are giddy over the prospect of President Obama replacing conservative Justice Antonin Scalia with a liberal. [...] It's rare that a president makes a Supreme Court appointment during his last months in office. But timing's not the critical issue. The real outrage is the Democrats' baseless claim that Obama's promised nominee should get an E-ZPass onto the bench. Party chairwoman Debbie Wasserman Schultz urges that Senate confirmation move quickly, "as our founders intended," and not be "twisted by politics." Hillary Clinton says any obstruction would "dishonor our Constitution." Sorry Hillary and Debbie, that's not what the Constitution says.
Stand firm against Obama's court packing, GOP. Democrats are crying foul, even crying racism, because Senate Republicans say they will not confirm President Obama's nominee for the Supreme Court to replace Antonin Scalia, who died on Saturday. Some are hyperventilating about "constitutional crisis." Nonsense. Republicans have the Constitution, history, pragmatism and democracy on their side. Obama and the Democrats have only chutzpah. The right to block nominations is built into the Constitution as a Senate power.
Judiciary chairman: No decision on hearing for SCOTUS nominee. The Republican chairman of the Senate Judiciary Committee says he hasn't made a decision about whether to hold a confirmation hearing for President Obama's Supreme Court nominee. "I would wait until the nominee is made before I would make any decisions. ... In other words, take it a step at a time," Sen. Chuck Grassley (R-Iowa) told reporters, according to Radio Iowa. Grassley is weighing in as Republicans mostly fall in line behind Majority Leader Mitch McConnell's (R-Ky.) push to have the next president fill the Supreme Court seat left vacant by the death of Justice Antonin Scalia.
A Nutty Plan To Confirm An Obama Nominee To Replace Scalia — After The Election. Of course, if Hillary Clinton wins the presidential election, the nomination could be sent back and the GOP would likely have to confirm someone acceptable to her. But otherwise, while they can use Senate procedure to make it painful for Republicans to hold the line, it looks like the Democrats would have no recourse if Republicans win in November, thus setting up the presidential election as the closest thing we have had in memory to a direct referendum on the Supreme Court.
Levin Explains Obama's Plot to Pack the Supreme Court. On tonight's [2/16/2016] radio program, Conservative Review Editor-in-Chief Mark Levin set President Obama straight on the constitutional power of the Senate to reject his nominees to the Supreme Court. As Levin explained, there is no constitutional mandate on the United States Senate to hold hearings on President Obama's nominees to the Supreme Court. But President Obama doesn't care for the constitution. He just wants to pack the court with radical leftists. Levin said it is "crucially important" to understand that the Congress is a co-equal branch of government to the President, and the Senate has an equal role in appointing a justice to the Supreme Court.
Mark Levin Plays Clip Proving Obama Is A Hypocrite. Obama is a hypocrite to suggest that Senate Republicans have no right to refuse to consider his nominees. The Republican-controlled Judiciary Committee, with Chairman Chuck Grassley (R-IA), has an obligation to block the President's nominees until a new President is elected to protect the Constitution and the nation from another radical Obama appointee. It's time, Levin said, for Republicans to stand up for the country and for what's left of the constitution.
The Supreme Court Vacancy Explained (in 250 Words). [Scroll down] No. 4: Obama will nominate someone whose demographic characteristics help in the contests for president and U.S. Senate. That is not just his main criterion. It is his only one. The candidate could be from a purple state. Or a Latino. Or openly gay. Having finished law school would be a plus. No. 5: The proposed candidate will not receive a Senate vote before the election or in the lame-duck session. If Mitch McConnell even considered it, he would become the former majority leader. No. 6: Democrats and Republicans will both use the issue to show voters why it is crucial to elect them — and not the other party. Democrats will add that this again shows we have a "do nothing" Congress. Republicans will say it shows we have "do too much" judges.
How would he know?
President Obama Says He Will Choose 'Indisputably Qualified' Nominee for Supreme Court. President Barack Obama vowed on Tuesday [2/16/2016] to name an "indisputably" qualified Supreme Court nominee and lashed out at Republicans who he said demand a strict interpretation of the Constitution — except regarding his right to propose a new Justice. The President staked out a tough position after Republicans warned he would not get a vote on his eventual nominee to replace the late Justice Antonin Scalia. The GOP is arguing that filling the seat on the nation's highest bench should be left to the next president.
This is the Stupidest, Most Hypocritical Op-Ed Ever Written. The basic gist is that the guy who pretty much invented the judicial filibuster thinks it is the worst, most unprecedented thing ever for Republicans to obstruct Obama from nominating a replacement for Scalia.
After Obergefell, the Senate Is the Last Line of Defense against Judicial Tyranny. In the days since Justice Scalia's death, both the Right and the Left have trotted out precedents to support their positions on whether the Senate should confirm his replacement before November's presidential election. Pundits have debated whether Justice Kennedy's nomination supports the liberal argument because he was confirmed in an election year, or whether it supports the conservative position because he was actually nominated in the previous year. The discussion has included nominations going back over a century, names that most Americans had never heard prior to Saturday night.
Obama readies for next round in Supreme Court fight. President Barack Obama vowed on Tuesday to name an "indisputably" qualified Supreme Court nominee and lashed out at Republicans who he said demand a strict interpretation of the Constitution — except regarding his right to propose a new justice. The President staked out a tough position after Republicans warned he would not get a vote on his eventual nominee to replace the late Justice Antonin Scalia. The GOP is arguing that filling the seat on the nation's highest bench should be left to the next president.
The Editor says...
If there was anyone in this country who was "indisputably" qualified for that position, we would all know his or her name already. I can think of several people I'd like to see on the Supreme Court, but none of them would sail through the Senate hearings without disputes.
GOP showing signs of backing down from vow to block Obama SCOTUS pick. Cracks were emerging Tuesday [2/16/2016] in congressional Republicans' position of blocking automatically any candidate nominated by President Obama to fill the Supreme Court seat of the late Antonin Scalia. Sen. Thom Tillis, North Carolina Republican, voiced caution Tuesday about the GOP blocking any Obama nominee without a hearing.
Time for the Senate to Tell Obama Where He can Put his Phone and Pen. [Scroll down] Mitch McConnell doesn't need to offer any explanations at all at this point. No excuses, no patina, nothing. If anyone from the press asks him why he's not going to confirm any nominee Obama sets forth, he can tell them that elections have consequences, and so does ruling with a pen and a phone. Or to put it another way, the next time someone asks McConnell, or any other Republican, why they won't confirm an Obama nominee, just tell them "We won."
Tragedy and Choices: After Scalia, the Case for Cruz. Justice Scalia's passing would be a great loss at any time. But at this crucial juncture in the history of the nation — with 5-to-4 Supreme Court decisions determining what kind of country America will be — Scalia's death can be catastrophic in its consequences, depending on who is chosen to be his successor. Given the advanced ages of other justices, the next president is likely to have enough vacancies to fill to be able to shape the future of the court that helps shape the future of America.
Grassley Wisely Plays Chess with Administration Over Scalia Replacement Hearings. There are plenty of loud noises coming from the Democrats on what the Republicans have to do, though based on their previous behavior, they're completely out of legs to stand on. Media concern trolling for what might befall the GOP should they not roll over and play dead for Obama again has already begun in earnest, but even the Washington Post is admitting that the thoroughly divisive and execrable Harry Reid kind of brought this on the Democrats. Grassley is essentially saying, "Hey, maybe we will have hearings if you don't nominate someone entirely objectionable." Merely hinting at that possibility creates some cover for Senate Republicans. Should he nominate someone polarizing (does he even know anyone who isn't?) Grassley and Co. can say, "Hey, we tried."
"No" Is Why America Elected Republicans. The death of Supreme Court Justice Antonin Scalia at 79 has been a gut punch for those who follow the Constitution, and a reason for glee from those who celebrate the death of anyone who disagrees with them. Also, allegedly, it has created a constitutional crisis of monumental proportions as Democrats demand the GOP-controlled Senate confirm whomever President Obama decides to nominate to fill the position. But there is no crisis. There is only one word: No. No, we will not consider any of Obama's nominees. No, we won't vote them. No, we don't care what you say about us on MSNBC.
The Supreme Court Controversy In One Sentence. I am sure when Democrats tanked Robert Bork in 1987 someone among them — probably even Biden — must have known that what goes around comes around. Republicans have been waiting 30 years for payback for the shameful rejection of Bork; that day has arrived. Time to pay up, Dems.
White House Begins Selecting Scalia Replacement — Short List Includes Current AG Loretta Lynch. According to a Reuters report the Obama administration has begun the process of selecting a nominee for the Supreme Court. [...] In what is sure to be a very contentious fight during an election year, this prior video of Senator Chuck Schumer is being used to showcase glaring hypocrisy: [Video clip]
SCOTUS Analyst: Loretta Lynch 'Most Likely Candidate' to Replace Scalia. A leading Supreme Court analyst thinks Attorney General Loretta Lynch is the "most likely candidate" to replace the late conservative Justice Antonin Scalia. Tom Goldstein, who runs the influential SCOTUSblog, had earlier predicted Ninth Circuit Judge Paul Watford would make the top of President Obama's shortlist. But in a revised blog post, Goldstein said he now believes Lynch is the leading contender. Lynch is a "very serious possibility," Goldstein wrote. "The fact that Lynch was vetted so recently for attorney general also makes it practical for the president to nominate her in relatively short order."
The Editor asks...
Does this have anything to do with rewarding Ms. Lynch for stonewalling the Hillary Clinton email scandal?
There's precedent for rejecting Obama Supreme Court nominee. [President Barack H.] Obama has made it clear, in his statement after the announcement of Justice Scalia's death and through press spokesman Eric Schultz, that he will send a nominee's name to the Senate and that he will not do so during the current 10-day President's Day recess. But the Senate doesn't have to act on the nomination at all. It only has to act on the advice of Senator Charles Schumer, delivered in July 2007, that the then-Democratic-majority Senate should not approve a Bush Supreme Court nominee with which its majority had strong disagreements. That was 18 months before the end of George W. Bush's second term; we are now 11 months away from the end of Barack Obama's second term.
GOP Has A Duty To Reject Obama's SCOTUS Pick. Although nothing in his political history suggests magnanimity, Barack Obama may surprise us by nominating one of those moderate-consensus types who would provide some of that national healing he promised us eight years ago. But he's certainly under no constitutional obligation to do so. He can nominate whomever he pleases in the wake of the vacancy left by Antonin Scalia. And Republicans have plenty of precedent for rejecting his choice. They, just like Sen. Obama, can hold nominees responsible for their philosophical positions and records. Sen. Obama unconditionally rejected every George W. Bush nomination to the SCOTUS out of hand because of their ideology.
Battle over Scalia's replacement already spilling into Senate races. Conservative and liberal advocacy groups are gearing up for a ferocious political brawl over President Obama's pick to fill the Supreme Court vacancy created by the weekend death of Justice Antonin Scalia, and already the battle is spilling from the presidential campaign into some of the nation's most hotly contested Senate races. White House deputy press secretary Eric Schultz repeated Monday [2/15/2016] that the president intends to "fulfill his constitutional responsibility" by nominating a new justice and predicted that Senate Republicans, despite their current loud opposition, will ultimately hold a confirmation hearing and vote for the nominee.
Obama Has Poisoned the Well for Scalia's Replacement This Year. If you're president and you want a Congress controlled by the other party to confirm your judicial nominees, you really can't afford to do a bunch of things that the other party believes are brazenly unconstitutional. Because if you do that, half the country may conclude that you're a danger to constitutional government in general, from which it would follow that our country's very future may depend on a thin 5-4 majority of conservative justices on the Supreme Court, an unreliable-enough majority given Justice Anthony Kennedy's whimsical mood swings. Under the circumstances that this administration has willfully created, there is probably only one thing that all Republicans can agree on, which is that the 5-4 majority on the Supreme Court will flip over their dead bodies.
Obama directs staff to work on Scalia replacement. Once Obama nominates a justice, after a vetting process likely to take at least several weeks, he'll run up against Senate Republicans, who have vowed they won't consider any pick by a lame-duck Democratic president in the hopes that one of their own can fill Scalia's spot next year.
The GOP Sitcom Just Got Serious. The stakes are monumental. Do Americans have a right to keep and bear arms? Can the government prosecute someone for criticizing Hillary Clinton? Are we going to watch our country go into convulsions? The death of Justice Antonin Scalia has brought into harsh focus what we all knew were the stakes in this election — the composition of the Supreme Court, the final obstacle to complete progressive control. [...] The next president will appoint Justice Scalia's replacement, and thereby determine whether the Supreme Court will remain a bulwark of liberty or a tool of liberal fascism — that is, assuming that sad sack Mitch McConnell stays sacked up and refuses to allow a vote on whatever token commie Obama decides to nominate.
NRA: Scalia death puts gun rights in jeopardy. Gun rights groups like the National Rifle Association said that conservative Justice Antonin Scalia's death Saturday [2/13/2016] puts gun rights on the line. "We are one justice away from a Supreme Court that would harm our Second Amendment rights," said the NRA. The organization plans to spend over $20 million on the upcoming election to push gun rights and is concerned about the ages of court justices, believing the the next president will have a chance at choosing the four judges.
Scalia Vacancy: A Hill to Die On. My first reaction to the death of conservative Supreme Court Justice Antonin Scalia on February 13 was fear. Was it the fear that Obama would get a liberal replacement on the Court? Or the fear that the political fight over the vacancy would hurt Republicans in November? I don't know. Because the next thought I had was that the Republican Senate would never consent to an Obama nominee in this election year. So when Senate Majority Leader Mitch McConnell said that "the American people should have a voice in the selection of their next Supreme Court justice," he was merely confirming what I had already intuited. Any Republican senator voting for an Obama Supreme Court nominee would face the end of his career. Period. Now pundits are talking about various approaches President Obama might take to nominating a successor.
Cruz: Senate's Job Is 'Advise and Consent,' We're 'Advising' to Not Nominate Anyone. Sen. Ted Cruz, appearing this morning on Meet the Press, explained why he's opposed to President Obama nominating anyone to replace Justice Scalia. "The Senate's duty is to advise and consent," Cruz said. "You know what? The Senate is advising right now, we are advising that a lame-duck president in an election year is not going to be able to tip the balance of the Supreme Court. That we're going to have an election, and if liberals are so confident that the American people want unlimited abortion on demand, want religious liberty torn down, want the Second Amendment taken away, want veterans memorials torn down, want the crosses and stars of David sandblasted off of the tombstones of our fallen veterans, then go and make the case to the people."
Why Scalia's death could turn the 2016 election upside down. This is the first time since 1968 that an opening on the Supreme Court coincides with the final year of a Democratic presidency. It's a story worth retelling, as we could be headed down the same road. In 1968 the drama began when then-Chief Justice Earl Warren announced his retirement. Warren didn't want a potential Nixon White House choosing his successor, so he asked LBJ to make a lame-duck appointment. LBJ's choice: Abe Fortas, a Supreme Court associate justice and confidante of the president. And to fill Fortas' seat: an appeals court judge named Homer Thornberry. Why Thornberry? He was a fellow Texan and longtime buddy of Johnson's. LBJ, ever the great congressional chess master, figured the move would calm down the Senate's conservative southern Democrats. However, Johnson's scheme soon fell apart.
What happens to Supreme Court cases this year? This Supreme Court term was already set to be a blockbuster and consequential. Justices are considering a major challenge to public sector unions, a race-conscious admissions plan at the University of Texas, the first big abortion case since 2007, challenges to voting rights, the Affordable Care Act's contraceptive mandate and a challenge to President Barack Obama's immigration actions. Although in some of the cases, the late Justice Antonin Scalia probably indicated to his colleagues in conference which way he was going to vote, those preliminary votes aren't binding and are now void.
Scalia's gift to America — saving the Supreme Court. Justice Antonin Scalia's sudden death at 79 robs the high court of one of its most important and influential jurists ever. President Obama's announced intent to choose Scalia's successor promises a bitter battle — and a futile one: No Supreme Court nominee been named and confirmed in a presidential election year since 1940. Nor should partisan rancor overshadow the record Scalia built in three decades on the high court, whose fundamental outlook he helped redefine through his brilliant mind, pointed wit and zest for intellectual combat.
Obama to nominate Supreme Court justice when Senate returns: White House. President Barack Obama will not rush through a Supreme Court choice to replace Justice Antonin Scalia this week but will wait to nominate a candidate until the U.S. Senate is back in session, the White House said on Sunday [2/14/2016]. "Given that the Senate is currently in recess, we don't expect the president to rush this through this week, but instead will do so in due time once the Senate returns from their recess," White House spokesman Eric Schultz said. "At that point, we expect the Senate to consider that nominee, consistent with their responsibilities laid out in the United States Constitution," he said.
The Editor says...
Mr. Obama's sudden concern for the Constitution is risible.
Report: Obama won't make recess appointment. President Obama will wait until the Senate is in session to nominate a successor to Supreme Court Justice Antonin Scalia, Reuters reported late Sunday [2/14/2016]. The news service's White House correspondent tweeted that an administration official told him that the president will not push through a nominee this week.
Flashback: Joe Biden Wrote the Obstructionist Playbook on 'Borking' a President's Nominee. With news of the sudden death of Justice Antonin Scalia, the Obama White House and Democratic candidate Hillary Clinton are already staking a position that President Obama, and not his successor, should appoint Scalia's replacement. But it's useful to remember that one member of the Obama administration — Vice President Joe Biden — once had a very different opinion on the Senate's ability to block a president's nominee at all costs.
Remember how Democrats blocked SCOTUS Miguel Estrada for two years? Within seconds of the announcement of SCOTUS Justice Antonin Scalia with progressive liberal Democrats started playing politics with his death, demanding the Senate confirm Obama's next pick for SCOTUS as soon as he picks one. Squish McConnell claims there will be no new SCOTUS vote until the next president is sworn in. Of course, if you believe McConnell will actually stand up and now cowering to progressive Democrats, you are kidding yourselves. But let[']s remember how Democrats loved blocking nominees. Robert Bork may [sic] is probably the most famous nomination to the Supreme Court that Democrats didn't confirm.
You'll Be Shocked to Learn That Chuck Schumer Is a Massive Hypocrite. [Scroll down] But more importantly, Schumer took the exact opposite stance nine years ago, going out of his way to bluntly tell the George W. Bush administration that he would filibuster any Supreme Court nominee they put forward in the next two years because he didn't care for the ideology of his previous two nominees. "We should not confirm any Bush nominee to the Supreme Court except in extraordinary circumstances," Schumer said. "They must prove by actions not words that they are in the mainstream rather than we have to prove that they are not." This speech was delivered July 27, 2007. So Schumer — who now balks at the idea of a 300-day delay in appointing a Justice — would have been perfectly okay with filibustering a Supreme Court nominee for 543 days.
High Court bar way too high for Deval Patrick. Deval Patrick for what? How long does Obama have to let this trial balloon float before he wins the bet? Deval's legal acumen can be summed up in one word — three. That's how many times Deval had to take the bar exam before he passed it. This "uncommon leader" went to Harvard College and then Harvard Law School and he still flunked the bar exam twice. Kinda makes you wonder how Deval was able to get into Harvard and then the law school. As if we didn't know.
---
Justice Scalia's health and the circumstances surrounding his death
Another look at Supreme Court Justice Scalia's death. I'm taking another look because I have a new statement about a related case: Melaney Parker, a woman found dead on the railroad tracks in Marfa, Texas, in 2013, after a train hit her. The same judge who inexplicably decided Scalia needed no autopsy, after he died in Texas, in 2016, came to the same conclusion in the Melaney Parker case. [...] According to someone with knowledge of the investigation (or non-investigation), the crime scene was a mess. The day after the police initially visited it, Melaney Parker's eyeglasses were still there. They hadn't been picked up as evidence. Pieces of Parker's flesh were there as well. The engineer of the train that hit Parker said Parker had been positioned with one arm above her head, which suggested she might have been killed somewhere else and then dragged to the railroad tracks. After toxicology tests were completed, Parker's remains were cremated without her family's permission. If all this is true, Judge Guevara's decision to skip an autopsy and accept the ruling of suicide is even more suspect. And then three years later, when Justice Scalia dies, Guevara issues the same long-distance ruling, on the phone. No autopsy necessary.
A Death In West Texas. [Scroll down] Days later, conspiracy theorists cried foul play. Pundits criticized the way in which the county handled the justice's death by calling to question Presidio County Judge Cinderela Guevara's decision not to order an autopsy. They raised an eyebrow over the fact that she pronounced him dead remotely while the sheriff — at the scene — conveyed the specs of the deceased judge's condition to her over the telephone. But most of us who were watching from Far West Texas didn't bat an eyelash. The procedures that the rest of America deemed most suspicious were the sorts of things we've grown accustomed to. When you live out in the desert of West Texas — the kind of place where a house might burn down before the fire department has time to even get there, and where the closest hospital is a 90-mile drive away — you learn to make do with what you've got.
Justice Scalia's unexamined death points to a problem. I have been called to testify as a forensic pathology expert in many legal cases in Texas. I know about the laws that govern death investigation in that state. It came as no surprise to me that Justice Scalia, found cold and pulseless in bed with a pillow "over his head," was declared dead of natural causes without an autopsy being performed. I was not shocked to hear that a county justice of the peace agreed to issue the death certificate without visiting the death scene or seeing the body for herself. [...] Why is it that in a nation with the best medical technology in the world, we are still allowing a law enforcement official and a judge on the end of a telephone line to declare someone dead and pronounce the manner of death as natural without an autopsy?
Death Investigator: Scalia's Death Probe 'Very Troubling to Me'. [Scroll down] They reached another official, Presidio County Judge Cinderela Guevara, who pronounced Justice Scalia dead, over the phone, based on information communicated by those at the ranch. She then had to determine whether to call for an autopsy. After speaking with local and federal law enforcement and, later in the day, Justice Scalia's personal physician, she was apparently satisfied that no autopsy was warranted, particularly because there was no evidence of foul play. Former death investigator Joseph Scott Morgan is troubled that, at least according to what is publicly known, a limited examination did not occur. Morgan, who spent more than 20 years investigating deaths in Louisiana and Georgia, and authored a memoir about his career, believes that, at a minimum, a thorough external examination should have been done, together with collection of bodily fluids for testing. If nothing else, that would put to rest conspiracy theorists. "Cases like this show you need a solid system. He was found dead; it was not a witnessed death. That is very troubling to me," he told LawNewz.com. Once Judge Guevara determined that an autopsy wasn't required, it became a discretionary decision of Justice Scalia's family. They could have asked for a private autopsy but chose not to, and were completely within their rights in doing so.
Cibolo Creek Ranch owner recalls Scalia's last hours in Texas. A first-time guest to the Cibolo Creek Creek Ranch, U.S. Supreme Court Justice Antonin Scalia was animated and engaged during dinner Friday night, as one of three dozen invitees to an event that had nothing to do with law or politics, according to the ranch owner. Just hours later, he would be found dead of apparent natural causes.
'We discovered the judge in bed, a pillow over his head': Ranch owner describes moment he discovered Justice Scalia. The body of Supreme Court Justice Antonin Scalia arrived in Virginia late Sunday night after being flown from Texas where he died of 'natural causes' during a hunting trip on Saturday [2/13/2016]. Scalia's body was taken from the Sunset Funeral Homes to the airport in El Paso Sunday afternoon after his family decided a private autopsy wasn't necessary and requested his remains be flown as soon as possible. John Poindexter, who found the 79-year-old Justice dead in his room in the El Presidente suite at the Cibolo Creek Ranch in Texas, said Scalia looked peaceful. 'We discovered the judge in bed, a pillow over his head. His bed clothes were unwrinkled. He was lying very restfully,' Poindexter, the owner of the ranch, said.
Detectives question lack of autopsy in Scalia death. Veteran homicide investigators in New York and Washington, DC, on Monday [2/15/2016] questioned the way local and federal authorities in Texas handled the death of Supreme Court Justice Antonin Scalia. "It's not unreasonable to ask for an autopsy in this case, particularly knowing who he is," retired Brooklyn homicide Detective Patricia Tufo told The [New York] Post. "He's not at home. There are no witnesses to his death, and there was no reported explanation for why a pillow is over his head," Tufo said. "So I think under the circumstances it's not unreasonable to request an autopsy. Despite the fact that he has pre-existing ailments and the fact that he's almost 80 years old, you want to be sure that it's not something other than natural causes."
'Natural causes.' Really? I have become extremely sceptical of all that takes places in modern culture and am thus looking at the sudden death of Supreme Court Justice Antonin Scalia with more than a hint of suspicion. How convenient that one of the most conservative members of the Supreme Court, the one that's been an open sore to the Obama administration throughout its tenure, just lies down and dies, thus creating a vacancy on the court that could have ramifications for America's future too depressing to contemplate. What's more, the decision by Texas judge Cinderela Guevara that an independent autopsy was 'unnecessary' stinks to high heaven, given what's at stake[.]
Scalia's grandson leads family tributes as doctor reveals he had high blood pressure, heart problems and was too weak for surgery. Justice Scalia's children and grandchildren have paid tribute to him while his doctor has raised questions about the veteran jurist's health. The 79-year-old, who sat on the Supreme Court bench for 20 years, is believed to have had a history of heart problems, high blood pressure and was too weak to have a shoulder operation. He was found dead at a ranch in Texas during a retreat with friends and admirers, prompting a flood of tributes from his loved ones.
'In complete repose': Scalia died of natural causes, investigators say. The body of late U.S. Supreme Court Justice Antonin Scalia was flown to northern Virginia from Texas late Sunday [2/14/2016] after investigators determined there was no foul play in the 79-year-old's death. [...] Presidio County Judge Cinderela Guevara told Fox News that she determined Scalia had died of natural causes. Guevara also said that she had spoken to local investigators and U.S. marshals, as well as Scalia's family and personal physician, before determining that an autopsy was not necessary. Guevara said Scalia's doctor told her that the justice was suffering from minor ailments, but did not elaborate further.
What Was Justice Scalia's 'Shoulder Injury'? News reports of Supreme Court Justice Antonin Scalia's death have mentioned that he experienced a "shoulder injury" last week, for which he visited his doctor and had an MRI. Presidio County Judge Cinderela Guevara, who concluded that Scalia had died of natural causes — without examining him — told WFAA that she had spoken with his personal physician to satisfy any lingering doubts about the reason he died at the Cibolo Creek Ranch Saturday [2/13/2016].
We must have an immediate Scalia autopsy. [Barack H.] Obama has left no doubt that he is determined to change the balance on the Court for many years to come. On the GOP side, Donald Trump instantly recommended "delay, delay, delay" on any successor. Justice Scalia's sudden passing may have been due to natural causes. But for the first time since the assassinations of JFK and Martin Luther King, Jr., many Americans are sincerely wondering what might have happened. They are not just on the paranoid fringe. President Obama is constantly claiming unconstitutional powers, something that Justice Scalia opposed with all the intellectual force at his command. Meanwhile, the Supreme Court itself has come under serious criticism ever since Chief Justice Roberts issued self-contradictory opinions favoring Obamacare. Hillary Clinton is being credibly accused of national security felonies as secretary of state, and the DOJ and FBI are said to be at odds on indicting Hillary. If she becomes president, there is likely to be a bloodbath in the permanent government in D.C. A perfect storm is rising in American politics.
Texas judge raises new questions about Scalia's health. The Texas county judge who decided no autopsy was needed following the death of Supreme Court Justice Antonin Scalia has raised new questions about Scalia's health in the days before he died.
The Editor says...
My earlier comments in this space have now been redacted, largely because the Scalia family has expressed their desire that the rest of us put a lid on all this speculation.
Justice Scalia's Son Calls for End to 'Hurtful' Conspiracy Theories Over Dad's Death. Appearing on the Laura Ingraham radio show, the conservative giant's eldest son, Eugene Scalia, denied there was any wrongdoing in his father's death. "It's, I think, a distraction from a great man and his legacy at a time when there's so much to be said about that and to help people even more fully appreciate that. And, on a personal level, I think it's a bit of a hurtful distraction for a family that's mourning," the Scalia scion said.
Opposing viewpoints:
Donald Trump Dogwhistles Scalia Death Conspiracy Theorists. [Scroll down] Scalia was 79. He was not athletic. He was obviously overweight. That he had high blood pressure was a given. Heart disease is not a shock. I am sort of surprised Type II diabetes was not on the list. Even had he been a world class athlete, dropping dead at 79 hardly falls in the "suspicious death" category.
Okay, the Scalia Assassination Conspiracy Theories are Getting Out of Hand. [Scroll down] The fact that Scalia was found inside a closed room with no signs of forced entry and that he was in an apparent state of repose with unwrinkled clothes also does not matter. Personally, I hope an autopsy is performed for the benefit of the public interest but in the absence of more evidence than what we have right now, I can't say I'm compelled to disagree that it's up to Scalia's family as to whether one will be performed.
Why those conspiracy theories about Antonin Scalia's death don't add up. [Scroll down] First of all, the pillow thing appears to have been a misunderstanding. The sheriff of Presidio County, Danny Dominguez, clarified in an interview with the Daily Mail. (Calls to Dominguez from The [Washington] Post were not returned by deadline.) "[Scalia] was just lying on the bed with a pillow above his head," Dominguez said, with our added emphasis. "Everything seemed normal and he was just there lying down. There was no sign of a struggle, no wrinkles in the cover or on the pillow either." But, second: Doctors we spoke with suggested that finding a 79-year-old man dead in bed was hardly abnormal — even if there were a pillow over his head.
---
Will Religious Liberty Die With Scalia? The death of Supreme Court Justice Antonin Scalia was more than a tragedy for his family and American jurisprudence. It was a calamity for religious liberty. The Court will soon hear Little Sisters of the Poor v. Burwell, which challenges Obamacare's contraception mandate. Because Scalia's death reduces the number of justices to eight, the spectre of a tie vote now looms over the case. If the remaining justices vote as they did in the Hobby Lobby case, the result will be a "per curiam" decision whereby a prior miscarriage of justice by the Tenth Circuit Court of Appeals will stand.
Why do I not believe him?
McConnell: No vote on Scalia replacement under Obama. Senate Majority Leader Mitch McConnell on Saturday [2/13/2016] signaled there would be no vote on any appointment picked by President Obama to replace deceased Justice Antonin Scalia — setting the stage for a dramatic political showdown in Washington that will likely result in gridlock for the remainder of the year. McConnell said a new appointment should wait until a new president takes office.
Liz "Hiawatha" Warren Tells Republicans Not to Obstruct Obama. There's a chance that the GOP-controlled Senate might not put a rubber stamp an eventual Obama nominee to replace Antonin Scalia. Because of that, Sen. Elizabeth Warren reminded Republicans about an important addendum to the Constitution that was apparently put into place when only Democrats were watching: [...]
Wash Post Scalia Headline: 'Supreme Court Conservative Dismayed Liberals'. What was the most important thing for readers of Washington Post to see on the front-page of the paper Sunday morning? A headline focusing directly on the death of Antonin Scalia? No. In bold, large font, the Post declared, "Supreme Court Conservative Dismayed Liberals." Apparently, someone at the paper thought better of this for the online version. It declared, "Supreme Court Justice Antonin Scalia Dies at 79." The actual article itself included some nice tributes to Scalia. In contrast, even the liberal New York Times managed a respectful headline: "Justice Scalia, Who Led Court's Conservative Renaissance, Dies At 79."
Classy Leftists React to Justice Scalia's Tragic Passing. With all the respect that you'd expect from the radical Marxist Left (i.e., the modern Democrat Party).
McConnell: Senate should not confirm Scalia's replacement until after election. Senate Majority Leader Mitch McConnell said the Senate should not confirm a replacement for Supreme Court Justice Antonin Scalia until after the 2016 election — an historic rebuke of President Obama's authority and an extraordinary challenge to the practice of considering each nominee on his or her individual merits. The swiftness of McConnell's statement — coming about an hour after Scalia's death in Texas had been confirmed — stunned White House officials who had expected the Kentucky Republican to block their nominee with every tool at his disposal, but didn't imagine the combative GOP leader would issue an instant, categorical rejection of anyone Obama chose to nominate.
No Election-Year Confirmation. It's been more than 80 years since a Supreme Court justice was confirmed in an election year to a vacancy that arose that year, and there has never been an election-year confirmation that would so dramatically alter the ideological composition of the Court.
In 2007, Chuckie Schumer Called For Blocking All Bush Supreme Court Nominations. During a Sunday morning [2/14/2016] appearance on ABC's "This Week," Democratic Sen. Charles Schumer decried the intent of many Senate Republicans to prevent President Barack Obama from appointing the successor to deceased Supreme Court Justice Antonin Scalia. But less than a decade ago, Schumer advocated doing the same exact thing if any additional Supreme Court vacancies opened under former President George W. Bush. Almost immediately after Scalia's death was announced Saturday evening, Republican lawmakers and presidential candidates began arguing the appointment of his successor should be left to the next president. Schumer lamented this outlook as pure obstructionism.
Ted Cruz: Honor Justice Scalia by Preventing Obama from Choosing His Replacement. Sen. Ted Cruz (R-TX), following the tragic death of Supreme Court Justice Antonin Scalia, pledged to honor his name by asking his followers to help prevent Barack Obama from nominating his replacement to the nation's highest court. Justice Scalia, one of the court's most steady Constitutional voices for decades, passed away at his West Texas ranch on Saturday.
Republicans rule out replacing Antonin Scalia until new president is elected. Senate Majority Leader Mitch McConnell said Saturday [2/13/2016] that the Senate should wait until a new president is elected to confirm a replacement for Justice Antonin Scalia, whose sudden death Saturday shook Washington and threatened to reshape the 2016 presidential race. Democrats said that with 11 months left in President Obama's tenure, the Senate has enough time — and indeed an obligation — to confirm a replacement. Sen. Harry Reid, the top Democrat in the chamber, said it would be "shameful" to put off a replacement that long. Mr. Obama said he would in fact make a nomination, forcing the issue on the GOP-led Senate.
Senate Judiciary Chairman: 'Standard practice' to avoid high court noms in election year. Senate Judiciary Committee Chairman Charles Grassley, R-Iowa, said Saturday [2/13/2016] that "it only make sense," to wait until 2017 to confirm a new Supreme Court justice to replace the late Antonin Scalia. Grassley issued a statement calling Scalia "an intellectual giant," who was devoted to upholding the Constitution. Grassley also signaled that he won't be taking up President Obama's nominee to replace Scalia this year. "The fact of the matter is that it's been standard practice over the last 80 years to not confirm Supreme Court nominees during a presidential election year[,]" Grassley said in a statement Saturday.
Can Republicans really block Obama's Supreme Court nomination for a year? Probably. Come January 2017, Republicans have a chance at controlling the House of Representatives, the Senate and the White House. So it stands to reason that Republicans have very little incentive to even consider President Obama's suggestion for who should replace Justice Antonin Scalia, who died Saturday [2/13/2016]. There's some historical precedent for them to do just that. A hazy rule dating back decades that congressional experts say is really more of a tradition suggests senators can oppose some of the president's judicial nominations in the months before a presidential election.
The Editor says...
Uh-huh. Unless the Republican establishment gets cold feet as Election Day approaches and they cave under the slightest pressure. But that'll never happen, right?
There's Ample Precedent For Rejecting Lame Duck Supreme Court Nominees. Historically, many Supreme Court nominations made in a President's final year in office are rejected by the Senate. That started with John Quincy Adams and last occurred to Lyndon B. Johnson. It is critically important that the Senate hold pro forma sessions, since President Barack Obama would be able to make a recess appointment to the Supreme Court if the Senate goes out of session. Currently, there is a five-day recess this week and a two-week recess scheduled for April. There have been twelve such recess appointments to the high court. A recess appointment would last until the end of the Senate's next session.
White House Issues Statement in Reaction to Justice Scalia's Death While Obama Golfs. President Obama was on the golf course this afternoon when the news broke that Justice Antonin Scalia had passed away. He arrived at the renowned TPC Stadium Course golf course in La Quinta, California this afternoon [2/13/2016] at around noon pacific time with his three golfing partners Greg Orme, Bobby Titcomb, and Mike Ramos. The president's golf games traditionally last 5-6 hours.
Dems demand action on SCOTUS nominee. Senate Democrats moved quickly Saturday to demand action on a Supreme Court nominee following the unexpcted death of Justice Antonin Scalia. Senate Minority Leader Harry Reid (D-Nev.) called Scalia a "brilliant man" and "dedicated jurist" in a statement and said the work on filling his vacancy should begin immediately. "The President can and should send the Senate a nominee right away. With so many important issues pending before the Supreme Court, the Senate has a responsibility to fill vacancies as soon as possible," Reid said.
Also posted under What's the rush?
Don't Let Obama Fill Scalia's Seat. There is precedent for this. In 1968, when Republicans were a Senate minority possessing only the power of filibuster, Everett Dirksen prevented Lyndon Johnson from appointing Associate Justice Abe Fortas to replace retiring Chief Justice Earl Warren and then appointing Homer Thornbury to take Fortas's seat as an associate justice. Senate Minority Leader Dirksen did not run the Senate or control any Senate committees. Republicans, in fact, held only 36 Senate seats, and several of these were leftists. Yet Dirksen was able to cobble together enough senators to prevent Johnson from filling a Supreme Court office during a heated election year. The left, of course, squealed and yelled, but it lost, because Senate Republicans and a handful of Senate Democrats stood firm.
GOP worries Obama could install Scalia successor through recess appointment. Senate Majority Leader Mitch McConnell has vowed not to confirm a successor to the late Supreme Court Justice Antonin Scalia, but some Republicans worry that President Obama could install a replacement anyway. "We're in recess, so Obama can, in theory, appoint someone," a senior GOP aide told the Washington Examiner. "He could appoint [Vice President Joe] Biden tonight if he wanted to."
The Editor says...
If you're "worried" about Obama pulling a fast one, the first thing to do is don't announce you're in recess. Why show a green light to Obama when a red light is called for?
Obama has rare parliamentary window to make recess appointment to succeed Scalia. The key in the 2014 Supreme Court decision regarding the president's appointments to the National Labor Relations Board over the three-day break was that the justices found the executive branch determined what it interpreted as a recess. But Justice Stephen Breyer wrote in the majority opinion that under the Constitution "the Senate is in session when it says it is." Obama said Saturday night [2/13/2016] that he would submit an appointment to the Senate, as part of his constitutional obligation, but "in due time."
What kind of Supreme Court nominee will Obama select? I think that President Obama's nominee to replace Justice Scalia will be dead on arrival at the Senate, regardless of whom Obama selects. I suspect that Obama will reach the same conclusion. If so, Obama will select the person whose rejection will provide Democrats with the most political ammunition. Most likely, this means Obama will select an African-American female.
SCOTUS Stops Obama's Clean Power Plan. Yet another Obama administration initiative was halted by the U.S. Supreme Court this week. The Clean Power Plan (CPP) was a far-reaching effort by the Environmental Protection Agency (EPA) to control greenhouse gas emissions from coal-fired power plants under the Clean Air Act (CAA). If implemented, the CPP would have closed hundreds of coal-fired plants across the country and increased the production of wind and solar power, which are significantly more expensive to produce. The CPP was challenged in court by energy companies, industry groups, and a coalition of 29 states, led by West Virginia.
Will Sotomayor Recuse Herself from Obama Amnesty Case? Our judicial branch of government is irrevocably broken, even more so than the other two branches. To begin with, the entire premise of the judiciary being the final arbiter over constitutional questions is wrong. They have usurped power beyond the imagination of our Founders, even those who were skeptical of Article III. Worse, they refuse to use the Constitution as originally conceived as the guideline for determining the constitutionality of laws. Finally, even when applying the Constitution or statutes to relevant cases, they are incapable of divorcing their political views from legal arguments.
A Careless Executive. In few cases in its long history has the Supreme Court had occasion to interpret Article II, Section 3 of the Constitution, which provides that the president "shall take care that the laws be faithfully executed." This year it may have another. We'll know by the end of the Court's term in June, just as the presidential race is heating up. United States v. Texas is the case to watch. At issue is President Obama's executive action on immigration known as DAPA (Deferred Action for Parents of Americans). Under DAPA, undocumented immigrants who satisfy certain conditions may live here for three years, a temporary reprieve from deportation, and obtain work permits. The conditions are that they have children who are either American citizens or lawful permanent residents and that they have been in the United States since January 2010.
Are You Ready for Supreme Court Justice Obama? At a town hall event in Iowa this week, Hillary Clinton was asked by a supporter if she would consider appointing Barack Obama to the U.S. Supreme Court if she becomes president. She thought it was a great idea. [Video clip]
Supreme Court upholds U.S. effort to control peak power use, prevent blackout. A federal program designed to reduce peak demand for electricity and prevent blackouts and brownouts won critical support from the Supreme Court Monday [1/25/2016]. The justices ruled 6-2 that the Federal Energy Regulatory Commission can offer major energy users such as schools and hospitals a cut in prices in exchange for reduced usage. The program lowers consumer costs and reduces the risk of outages.
Supreme Court justices extend bar on automatic life terms for teenagers. The Supreme Court ruled Monday [1/25/2016] that people serving life terms for murders they committed as teenagers must have a chance to seek their freedom, a decision that could affect more than 1,000 inmates.
Supreme Court Will Hear Obama "Executive Amnesty" Case — U.S. v Texas (Judge Hanen Ruling). D.A.P.A or Deferred Action for Parents of Americans and Lawful Permanent Residents program — is the executive action Obama attempted in November of 2014 which was shut down by Federal Judge Andrew Hanen in February '15 with the issuance of an emergency injunction. [...] The underlying case has never been argued at the lower court level. As soon as Judge Hanen delivered the initial injunction, the DOJ began the appeals process against the injunction without ever arguing the merits of the underlying case.
Supreme Court to rule on Obama immigration orders. Illegal immigration has already been a hot topic in the presidential contest, but the high-profile attention brought on by the Supreme Court fight could amp up the debate even further as the campaign plays out this spring and summer. In their order Tuesday [1/19/2016], the justices added one question to the case: whether Obama's actions violated the Constitutional provision requiring him to "take care that the Laws be faithfully executed" — in essence, whether existing law bars the president from making the kinds of enforcement changes he sought to make.
Supreme Court will rule on President Obama's immigration plan. The Supreme Court will give President Obama a final shot at implementing his plan to shield more than 4 million undocumented immigrants from deportation. The justices agreed Tuesday [1/19/2016] to hear the administration's contention that Obama has the power to change immigration policy without going through Congress.
Union Dues Blues. At a time of growing employee discontent with labor leaders, the Supreme Court heard arguments on Monday in a case that could undermine the ability of government unions to collect fees from workers. The case, Friedrichs v. California Teachers Association, was brought by ten Golden State teachers who object to a law requiring them to pay fees to a union, even though they have declined to join it. The plaintiffs argue that such payments from nonmembers, known as agency fees, are unconstitutional, because the union uses them to underwrite political causes that the teachers don't support. In recent years, the Court has signaled growing impatience with the way government unions spend monies collected from workers; on Monday, the justices' questions suggested that a majority may be ready to declare agency fees unconstitutional.
This might be the end of organized labor. The U.S. Supreme Court may deliver a big blow to organized labor in America. On Monday [1/11/2016], the court heard oral arguments in Friedrichs v. California Teachers Association, a case whose importance to public sector unions can hardly be overstated. If the oral argument was any indication, public sector unions are out of luck. Friedrichs concerns the constitutionality of "agency shops" for workers providing government services. In an agency shop, people working under a collective bargaining agreement negotiated by a union are free not to join the union, but are required to pay the equivalent of the union dues. That's because without the rules of an agency shop, workers could get the benefits and protections of union membership without bearing any of the costs.
Looming setback for public unions would be a political earthquake. With Bush v. Gore, the Supreme Court took on the outcome of one election. But the case heard by the Supreme Court on Monday [1/11/2016] could affect elections for many years. The justices' remarks during arguments in Friedrichs v. California Teachers Association point to a major setback looming for public unions. The court will likely rule teachers and other unionized public workers don't have to pay their unions for representation unless they want to. That means unions will have much less money to spend tilting elections for Democrats. Not only in California, but also in 22 other states where public workers are forced to support the union whether they want to or not. It's a political earthquake for New York, New Jersey and Connecticut — where unions dominate public employment and politics.
Political Earthquake Ahead. Bush V. Gore decided a single election. But the case heard by the Supreme Court on Monday [1/11/2016] could impact elections for many years. The Justices' remarks during arguments in Friedrichs v. California Teachers Association point to a major setback looming for public unions. The Court will likely rule that teachers and other unionized public workers don't have to pay their unions for representation unless they want to.
Supreme Court majority is critical of compelled public employee union fees. A majority of the Supreme Court on Monday [1/11/2016] seemed prepared to hand a significant defeat to organized labor and side with a group of California teachers who claim their free speech rights are violated when they are forced to pay dues to the state's teachers union. By their questioning at oral argument, the court's conservatives appeared ready to junk a decades-old precedent that allows unions to collect an "agency fee" from nonmembers to support collective-bargaining activities for members and nonmembers alike.
Unions at risk? Supreme Court justices voice skepticism toward forced dues. Supreme Court justices signaled Monday [1/11/2016] that they could deal a major blow to public-sector unions, in a case challenging the controversial dues that organized labor forces workers to pay. The court's conservative justices, and a key swing justice, made skeptical comments about the legality of the payments during 80 minutes of oral argument in Washington. At issue is a four-decade-old precedent that allows public unions to collect "fair share" fees from non-members to help cover the costs of collective bargaining.
Union dues violate my speech rights: The lead plaintiff in a landmark Supreme Court case explains why she fights. When you're an elementary school teacher like me, you happily tackle a number of unpleasant job requirements: cleaning up from finger-painting, wiping runny noses and removing the occasional piece of gum from a student's hair. But there's one requirement I'm not happy about: paying dues — about $1,000 a year for full-time teachers — to a union I don't support. I'm not alone. In 23 states all public employees are required by state law to fund the issue agenda of their unions through their mandatory dues payments even if they aren't union members. That's why nine California teachers and I are suing to end compulsory union dues in Friedrichs vs. California Teachers Association, a case that will be argued before the Supreme Court on Monday [1/11/2016].
Ayatollah Roberts and His Sharia Council. The gentlemen who wrote the Constitution did not get around to enfranchising women or abolishing slavery, but they snuck in a constitutional right to gay marriage that we've somehow overlooked for 228 years or so: No mentally functional adult, regardless of his views on gay marriage, should be expected to pretend that that is true.
At Supreme Court, Lone Star State stands apart. When Texas Gov. Greg Abbott was his state's attorney general, he liked to sum up his approach to the job this way: "I go into the office, I sue the federal government, and then I go home." These days, one could forgive the justices on the U.S. Supreme Court for thinking Abbott remains the state's chief law enforcement officer. From abortion and affirmative action to voting rights and, most likely, immigration, nearly all the court's top cases come from Texas.
The Real Reason Affirmative Action Is in Danger. [Scroll down] The real reason has more to do with Chief Justice John Roberts's knack for building majoritiesand slowly, incrementally chipping away at policies, such as affirmative action and the Voting Rights Act, that he sees as antiquated holdovers from a bygone era of racial discrimination. For starters, [Antonin] Scalia is not the deciding vote on affirmative action. That, almost certainly, would be Justice Anthony Kennedy, and Kennedy has consistently weighed affirmative-action cases in narrower terms than the sweeping comments Scalia made last week. Kennedy passed on a chance to strike down all affirmative-action programs in 2013, the last time that the Court considered the University of Texas admissions policy.
Supreme Court lets local ban on assault weapons stand. The Supreme Court gave an apparent green light Monday [12/7/2015] to lawmakers who want to restrict the sale of guns such as the rapid-fire weapons that have been used in the recent wave of mass shootings from Paris to San Bernardino. The justices by a 7-2 vote turned down a 2nd Amendment challenge to a local ordinance in the Chicago suburb of Highland Park which banned the sale or possession of semiautomatic guns that carry more than 10 rounds of ammunition. In dissent, Justice Clarence Thomas said the high court, by refusing to consider a challenge to that law, was "relegating the 2nd Amendment to a second-class right."
Supreme Court justices agree to hear first abortion case since 2007. The justices said Friday [11/13/2015] they will hear arguments over a Texas law that would leave about 10 abortion clinics open across the state.
[The next] president could appoint 4 Supreme Court justices. Conservatives unhappy with U.S. Supreme Court rulings on same-sex marriage and Obamacare heard a powerful argument Thursday [11/12/2015] for defeating Hillary Rodham Clinton: The next president could appoint as many as four justices. When the next president takes the oath of office in January 2017, three current justices will be at least 80 years old: conservative Antonin Scalia (80), swing voter Anthony M. Kennedy (80) and liberal Ruth Bader Ginsburg (83). Liberal Justice Stephen G. Breyer will be 78.
Will Five Justices Give One Man Control of US Immigration Law? "I understand you may disagree. But we've got to be able to talk honestly about these issues. All right?" said Obama, according to the White House transcript. "Now, you're absolutely right that there have been significant numbers of deportations. That's true," he said. "But what you're not paying attention to is the fact that I just took action to change the law." Yes, Obama put it in the first-person singular: 'I just took action to change the law." What law did Obama change? Homeland Security Secretary Jeh Johnson had announced that DHS was expanding its Deferred Action for Childhood Arrivals program and creating a new program called Deferred Action for Parents of Americans and Lawful Permanent Residents.
Supreme Court to review religious nonprofits' exemption from ObamaCare. The latest ObamaCare case involves objections by faith-based hospitals, colleges and charities to the process the administration devised to spare them from paying for contraceptives for women covered under their health plans, and yet ensure that those women can obtain birth control at no extra cost.
SCOTUS Takes Up Little Sisters of Poor Case Against Obama Administration. The U.S. Supreme Court agreed today to take up the case that the Little Sisters of the Poor — an order of Catholic nuns — has brought against the Obama administration for violating the sisters' right to the free exercise of religion. "All we ask is that our rights not be taken away," said Sister Loraine Mari Maguire, the Mother Provincial of the order, in a statement released by the Becket Fund, the nonprofit law firm that represents the sisters.
Cruz: We're 'one liberal justice' from irreparable damage. The U.S. is "one justice away" from a liberal Supreme Court causing enough damage for the nation to become unrecognizable, Texas Republican Ted Cruz said Friday [10/23/2015]. "One more liberal justice and our right to keep and bear arms is taken away from us by an activist court. One more liberal justice and they begin sandblasting and bulldozing veterans memorials throughout this country. One more liberal justice and we lose our sovereignty to the United Nations and the World Court," Cruz said when responding to how he would treat appointing justices to the court.
12 Times the GOP Establishment Kicked the Conservative Base in the Teeth. [#10] Supreme Court Saves Obamacare: In 2012, Bush-appointed Supreme Court Chief Justice John Roberts saved Obamacare by pretending to find that its enforcement provisions were just a tax. In 2015, John Roberts saved Obamacare again by pretending that the Federal subsidies were supposed to flow regardless of the explicit language of the law and the expressed intent of those who passed it. John Roberts had previously voted to gut Arizona's Immigration Enforcement laws on the basis that unwritten Federal policies carried more weight than written law.
The Second Amendment Is One Supreme Court Justice from Repeal. In August, my colleague Charlie Cooke wrote an epic rant daring the Left to stop talking about repealing the Second Amendment and start doing it. Introduce the repeal to Congress, work it through the states, and tell the American people what you want to do — take from them a fundamental, enumerated right from the Bill of Rights. As Charlie eloquently outlines, repealing the Second Amendment is an impossible task. Even worse for the Left, it's political suicide. But if the Supreme Court's decision in Obergefell v. Hodges teaches us anything, it's that the age of judicial supremacy means that five justices can amend the Constitution far more efficiently than Congress and the state legislatures.
Justice Breyer likes to rely on the laws of other countries. Supreme Court Justice Stephen Breyer has a new book out in which he shares some of his many philosophical observations about law and the court. In it, as the latest issue of Time reveals, he concludes that there's clearly nothing wrong with American courts — including SCOTUS — considering the laws and judicial rulings of other nations.
Supreme Court Justice Argues World Opinion Matters on the Death Penalty. Should the Supreme Court care that other countries have abolished the death penalty?
Gay Marriage and the 10th Amendment. What the U.S. Supreme Court rules is not the "Law of the Land." The Law of the Land is the Constitution of the United States. Relying on a single clause, the due process clause of the 14th Amendment which was designed to protect the rights of former slaves, the majority of the Court consisting of four political appointees and one "independent" made a decision "at odds not only with the Constitution but with the principles upon which our nation was built", as Justice Thomas wrote in his dissent. The majority decision held that all the states must give under the due process clause of the 14th Amendment the law of a single state declaring that homosexuals have the right to marry even when thirty states have laws that state that marriage can only be a union of a man and a woman. Nothing in the Constitution gives the Supreme Court the right to nullify a State's law that marriage can only take place between a man and a woman. Kim Davis, the county clerk may refuse to marry homosexuals because the Supreme Court unconstitutionally exceeded its constitutional authority.
Jail Time for Christians: No Longer a Hypothesis. So this is how the game is played. Leftist operatives in the courts (supreme and state) create unconstitutional laws to further their anti-God agenda. Then leftists say those who disobey their lawless laws are not behaving like Christians and good Americans. Many on our side fall for it. The SCOTUS' ruling on Obamacare and homosexual marriage means the Constitution will now say whatever leftists want it to say. Folks, do you realize that based on this new precedent, the left can make anything they want a law? Incest, pedophilia, bestiality, and so on? Before you call me crazy, leftists are already clamoring for the normalization of these sins. Have you heard of NAMBLA (North American Man Boy Love Association)? [...] Christians with their heads not buried in the sand knew that jail time was coming for Christians who refuse to bow down and worship homosexuals' false god.
The Next Justices. When Chief Justice John Roberts administers the oath of office to the next president, he will be flanked by three, and almost four, octogenarians: Justices Ruth Bader Ginsburg (83), Antonin Scalia (80), Anthony Kennedy (80), and Stephen Breyer (77). The next president will likely have the opportunity to appoint a replacement for one, two, three, or maybe even four of those justices. These decisions will reshape the Court and how it reads the Constitution for decades to come. Republican presidential candidates will likely pledge to appoint "constitutional conservatives" to the bench — which ought to mean judges who will be constrained by its original meaning. However, GOP presidents have filled 12 out of 18 Supreme Court vacancies over the past half-century, with disappointing results. This track record teaches five important lessons that should guide future nominations.
Who are the Lawbreakers? We're told that if we don't pay our taxes we will go to jail but we're also told that illegals can break the law and live off our tax dollars with no consequences. In fact, we're told that we're racists if we don't believe that criminals should have at least as nice a lifestyle as taxpayers. We're told we can't steal from our children but by spending mountains of money we don't have the DC elites steal from our children with impunity. We're told we can't steal from our neighbor but the elites steal money from taxpayers to support the lazy and the illegal. The reality is that that Kentucky clerk is not the lawbreaker. The real lawbreakers are the Supreme Court Justices who simply dictated that the votes of 55,000,000 Americans don't matter and that the clear intent of the Constitution doesn't matter. The Constitution says nothing about marriage. Only by ignoring it could the Supreme Court decide that Americans must submit to the whims of the ruling elite disguised as a "Constitutional" mandate.
Court's Free-Speech Expansion Has Far-Reaching Consequences. It is not too early to identify the sleeper case of the last Supreme Court term. In an otherwise minor decision about a municipal sign ordinance, the court in June transformed the First Amendment. Robert Post, the dean of Yale Law School and an authority on free speech, said the decision was so bold and so sweeping that the Supreme Court could not have thought through its consequences. The decision's logic, he said, endangered all sorts of laws, including ones that regulate misleading advertising and professional malpractice. "Effectively," he said, "this would roll consumer protection back to the 19th century."
Cruz: Inject political process into Supreme Court decision-making. The Republican presidential candidate convened a Senate hearing to protest high court rulings last month that reaffirmed constitutional support for President Obama's health law and legalized same-sex marriage nationwide. Cruz's solution: to amend the Constitution to allow for "imposing real limits on the Supreme Court." The Texas senator — and former Supreme Court clerk — is calling for term limits for all federal judges, who currently receive appointments until they reach retirement age, except for the lifetime appointment given to Supreme Court justices. Cruz also wants to force Supreme Court justices to face elections, where would determine if they should remain on the bench.
Fighting Supreme Court Arrogance. Gallup published in late July a poll that showed that Republicans strongly disapprove of the Supreme Court, in stark contrast with Democrats. This ought to be a rallying cry for Republicans going into the 2016 election. No institution in American government has been as destructive and arrogant as the Supreme Court. Until we unwind the anti-constitutional arrogance of power this court has seized for itself, the problems of our political system cannot be solved.
America Is Completely On Board with Mark Levin's Proposal for Supreme Court Term Limits. It's okay to have no patience for the hero-centric model of political interest — wherein we fall in line with a leader's opinions like a flag to rally around, neglecting that the conservative movement is about ideas, logic, and never about personality — while believing that Mark Levin's decade of getting it right on the Supreme Court deserves some recognition. Plenty of conservatives — and conservatism itself, via the above point — correctly predicted every negative occurrence of the past decade's adventures in progressivism. But I'm not sure anyone else can claim to have been completely on the mark about the Court's progression, as Levin was with his 2005 book Men in Black.
The Coming Confrontation. [Scroll down] Even our Supreme Court has been assigned a role in the destruction of the American culture. There are parameters that the Court must abide by that have been trampled into oblivion. Ethics have been set aside for political purposes in both the Obamacare and same sex decision. States are laboratories for managed societal change and state's rights have been circumvented for the benefit of the Federal government and those dependent on it. The non-recusal of both Ginsburg and Kagan are just the start of a judicial system that is progressive in nature and no longer follows the principled law that this country is founded on.
Say Hello to the 'Identity Person' and Goodbye to Your Rights. [Scroll down] Faced with a seemingly intractable problem, Kennedy "solved" it by creating a new legal notion called "identity." Kennedy understood "identity" could not be a protected class either, so instead he chose to make a person's identity a "liberty." Neat trick, huh? In a work of legal reasoning and scholarship straight out of the fortune cookie school, Kennedy turned an inchoate physical urge into a person's identity, and then found (not in the wording of the Constitution) that a person's right to choose an identity is a fundamental liberty under the 14th Amendment. This bit of legal legerdemain will be a fount of endless mischief, so much so that it could prove to be single most devastating insult to the Constitution the Republic has yet endured.
Kennedy's New 'Right to Dignity' Could Trump the Right to Free Speech and Religion. When President Obama was first running for office in 2008, he promised that he'd go about "fundamentally transforming" America once in office. But it wasn't the 47-year-old Senator from Illinois — who went on to win two presidential elections — who'd bring about such a transformation. It was a 78-year-old unelected Supreme Court justice from California named Anthony Kennedy. That, at least, is the conclusion one can draw from a compelling column in the Sunday Washington Post by legal scholar Jonathan Turley about Kennedy's Obergefell v. Hodges decision.
The Rocky Road to Ending Judicial Tyranny. Despite the Constitution's Framers' intent, the United States does not have a government consisting of three coequal branches. Rather, Americans suffer under a judicial tyranny. In the aftermath of the Supreme Court's recent rulings on Obamacare, racial consequences of housing laws, and same-sex marriage — just to list three — there can be no question that SCOTUS dominates American government and society. Decisions by a bare majority of nine unelected judges, appointed by the president and approved by 50+% of 100 senators, who have lifetime tenure and are completely independent of public opinion, dictate public policy for the entire nation.
Time for Civil Disobedience, Christians. Absolute truth is a stubborn thing. Attempts at marital alchemy notwithstanding, the highly contentious, wholly contemptible 5-4 "gay marriage" opinion (and that's all it is, an opinion) released last week by five pagan extremists in black robes is altogether illegitimate and should be treated as such. From a moral, biological and legal standpoint, the court's majority opinion in Obergefell v. Hodges is a complete farce. It's an absurd missive, a bohemian word salad that was roundly, and rightly, condemned by the court's four dissenting justices. "The Supreme Court of the United States has descended from the disciplined legal reasoning of John Marshall and Joseph Story to the mystical aphorisms of the fortune cookie," mocked Justice Scalia.
Ted Cruz Is Right: The Supreme Court Needs Term Limits. In a year in which both liberals and conservatives have had plenty of decisions to cheer for and to criticize, term limits appropriately does not favor either political party or any ideology and has strong bipartisan support. There are many ways to accomplish term limits, but the best idea is that each justice should be appointed for an 18-year, non-renewable term, thus creating a vacancy every two years.
Yes, SCOTUS, Congress wants to destroy our health care system. For the second time, Chief Justice John Roberts breathed life into Obamacare and rescued it from the Constitution. In the first big Obamacare ruling, Roberts called Obamacare a "tax," and therefore lawfully enacted as consistent with the powers of Congress — and not a violation of the Commerce Clause. Never mind the Obama administration sold Obamacare with the assurance that individuals who failed to purchase health insurance would incur a penalty — not a tax. On this latest ruling, Roberts takes the words "established by the State" to mean "established by the states or by the federal government" — even though the last five words appear nowhere in the law passed by Congress and signed by President Obama.
Don't Give Up On America. As I've said, I was very alarmed, though not particularly surprised, by the two Supreme Court decisions last week in which the court's majority blithely bastardized the English language, the Constitution, the rule of law and the very idea of truth in order to further advance the progressive agenda in this nation. But what troubles me more than the court's betrayal of its duty to safeguard the Constitution and the rule of law is the apparent complacency among the public about these decisions and the radical shifts we are witnessing in our culture. Why do some seem resigned to the transformation of our society? Why have they surrendered? Do they strongly believe in anything anymore? Do they not understand the implications for the future of this nation — if not for themselves, for their children?
Justice Scalia Warns that SCOTUS Majority Worse than the 1776 Brits. In his scintillating and sometimes raucous dissent from last month's horrendous same-sex marriage decision in Obergefell vs. Hodges, Justice Antonin Scalia warned a pre-Fourth of July nation that what the Court's majority had done to them was worse than anything the British perpetrated prior to the Revolutionary War. In his brief history lesson, Scalia underscored the gravity of the Court's action by comparing it to England's treatment of the American colonies that ignited the movement for American independence.
The Supreme Court's Crimes: Words No Longer Matter. Seven times throughout the Affordable Care Act (ACA) references are made to policies or individuals who are "enrolled in through an Exchange established by the State under section 1311 of the Patient Protection and Affordable Care Act..." In each case, the context is citing policies purchased through insurance exchanges established and operated by the respective states. But the court ruled the actual legal language, and even the context, didn't matter. What mattered was the "intent" of the congress. So reading "tea leaves" now has greater weight with our legal system than the literal words of legal documents!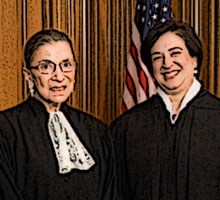 Two Supreme Court Justices Must Go: The Case for Impeachment. Justice Antonin Scalia said in his dissent in the same-sex marriage case that the ruling was a threat to our democratic form of government and constitutes a "judicial Putsch," or secret power grab. He didn't just say the majority was wrong or misguided; he essentially said they had conspired to overthrow our form of government. His position on the Court may have made it impossible to supply specifics. But one possible explanation of what he meant is that he saw a conflict-of-interest on the part of members of the majority, which required their recusal from the case. Rather than investigate what Scalia is hinting at, our media have opened fire on Scalia for blowing the whistle on judicial corruption. In fact, the push for gay marriage has been tainted by lies from the beginning.




Obergefell's Threat to Religious Liberty. Despite what the newspaper headlines say, the U.S. Supreme Court's ruling in Obergefell v. Hodges did not "legalize" same-sex marriage. It mandated same-sex marriage, something very different. States were previously free to recognize gay marriage, but now they are compelled to do so. From now on, it is illegal — unconstitutional — for any state not to issue marriage licenses to same-sex couples. Many tout Obergefell as a victory for civil rights, but it is anything but.

The New Roe v. Wade. The Supreme Court decision determining by the narrowest of margins that the right to gay marriage is protected by the Constitution does not solve anything. In fact, it assures — much like Roe v. Wade 42 years ago — that nothing is resolved. The left's addiction to undemocratic "interpretation" of the Constitution by the federal judiciary is a suppression of popular will. Consider today that support for abortion on demand is hovering at its lowest levels since Roe v. Wade. Roe v. Wade created the pro-life movement, which shows no signs of weakening and which continues to pass laws at the state level throughout much of America.

Supreme Court Decides 'Legislature' Doesn't Really Mean 'Legislature'. Today [6/29/2015], in Arizona State Legislature v. Arizona Independent Redistricting Commission, the four liberal justices joined by Justice Anthony Kennedy (again) refused to follow the Constitution (again) by throwing out a claim that had been filed by the Arizona state legislature challenging a ballot proposition that stripped the legislature of its redistricting authority.

Now, Focus on Repeal. The Supreme Court's ruling in King v. Burwell is disappointing. But it also provides a welcome moment of clarity: We can finally dispense with the false belief that the Supreme Court will save us from Obamacare. It is perhaps a blessing for the cause of repeal that all eyes will now turn to the presidential candidates and to Congress, whose job it is to repeal Obamacare in full in early 2017. Accountability is no longer divided. The political branches must act.

'Disparate Impact' Ruling Emboldens Obama's Diversity Cops. Armed with a Supreme Court-licensed shakedown weapon, President Obama's race cops will wage an even bigger war against lenders, insurers, employers and whoever else fails their "disparate impact" test. Attorney Gen. Loretta Lynch said she and her civil-rights goons are "bolstered by this important ruling" by the high bench, which by a narrow 5-4 vote upheld bogus disparate-impact theory as a tool to enforce laws against housing, lending and insurance discrimination.

Marriage decision distorts the balance of powers. The notion of the high court as an agent of cultural change is nothing new. But given that marriage policy has always been the subject of state regulation, and given that a vigorous political debate as to its nature was well underway (with the gay marriage side clearly winning), the court had no reason or excuse to end that debate by fiat with a divisive 5-4 decision. As Justice Samuel Alito noted in his dissent, "The only real limit on what future [Supreme Court] majorities will be able to do is their own sense of what those with political power and cultural influence are willing to tolerate." It is hard to disagree that the court has left no limiting legal principles in place.

Ayatollah Roberts and His Sharia Council. In the matter of the so-called Affordable Care Act, the Supreme Court ruled that the law must not say what it in fact does say because it would be better if it were not to say what it says and were to say something else instead. In the matter of same-sex marriage, the Supreme Court rules that the law must say what it does not say because it would be better if it were to say what it does not say instead of what it says. Which is to say, the Supreme Court has firmly established that it does not matter what the law says or does not say — what matters is what they want. [...] The legendary constitutional scholar Barack Obama failed to notice, until the day before yesterday, that the Constitution mandates the legalization of homosexual marriage from sea to shining sea, but, to be fair, that is an easy provision to overlook, even for a mind as keen as Barack Obama's, since the Constitution does not say one word about marriage, much less about the state-level codification of homosexual couplings being a fundamental federal right.

Why Four Justices Were Against the Supreme Court's Huge Gay-Marriage Decision. [For example,] Chief Justice John Roberts: Roberts's argument centered around the need to preserve states' rights over what he viewed as following the turn of public opinion. In ruling in favor of gay marriage, he said, "Five lawyers have closed the debate and enacted their own vision of marriage as a matter of constitutional law." Justice Scalia and Justice Thomas joined him in his dissent. While Roberts said he did not "begrudge" any of the celebrations that would follow the Court ruling, he had serious concerns that the Court had extended its role from constitutional enforcer to activist.

Obamacare Is Here to Prey. [Scroll down] Yes, it's bad that the government uses Obamacare as a pretext to gather and keep intimate personal data on you, to distribute this information without your permission, to take your money by force via the IRS and use it illegally, to impose mandates on you that clearly violate your First Amendment religious rights, ad infinitum. But the most important thing you are losing pursuant to this law is the right to representative government. Last Thursday [6/25/2015], the Supreme Court caved to political pressure from the President and the press to rewrite the clear text of an Act of Congress. That means your elected representatives are unable to carry out your will.

Court rules against Obama administration in EPA case. The U.S. Supreme Court ruled on Monday [6/29/2015] that the Obama administration failed to consider costs when deciding to regulate mercury pollution from power plants.

Also posted under Environmentalists oppose every practical energy source.

Supreme Court Allows Texas Abortion Clinics to Remain Open. The vote was 5 to 4, with Chief Justice John G. Roberts Jr. and Justices Antonin Scalia, Clarence Thomas and Samuel A. Alito Jr. voting to deny the stay. The case concerns two parts of a state law that imposes strict requirements on abortion providers. One requires all abortion clinics in the state to meet the standards for "ambulatory surgical centers," including regulations concerning buildings, equipment and staffing. The other requires doctors performing abortions to have admitting privileges at a nearby hospital.

God vs. Gay Author Accuses Scalia of Treason and Terrorism. What many people don't seem to understand about the left is that there is no endpoint except absolute power. The left doesn't score a political touchdown and then head off to celebrate the way we do. It plays sore winner by spewing anger even when it wins and then it begins ramping up to the new crazy level of totalitarianism. [...] When a liberal warns that a ruling is a threat to democracy, it's passionate activism. When a conservative does it, it's terrorism and the return of the Confederacy.

Supreme Court upholds use of drug implicated in botched executions. The Supreme Court upheld the use of a controversial drug in lethal injection executions Monday [6/29/2015], as two dissenting justices said for the first time that they think it's "highly likely" that the death penalty itself is unconstitutional. The justices voted 5-4 in a case from Oklahoma that the sedative midazolam can be used in executions without violating the Eighth Amendment prohibition on cruel and unusual punishment.

States Seeking Voter Citizenship Proof Denied by U.S. Supreme Court. The U.S. Supreme Court refused to consider letting states require evidence of citizenship when people register to vote for federal elections, rejecting an appeal from Arizona and Kansas. The rebuff is a victory for the Obama administration and voting- and minority-rights groups that battled the two states in court. It leaves intact a decision by a U.S. agency that blocked the states from requiring proof of citizenship for voters in federal elections. It's the second high court defeat on the issue for Arizona. The state has a law that requires evidence of citizenship, but the Supreme Court ruled in 2013 that it couldn't be enforced when people use a standard registration document known as the "federal form" to register to vote for Congress and the president.

A Nation of One. An army isn't needed anymore to overthrow a nation. One Supreme Court justice is all it takes. We have gone form a representative republic to a nation of one. One vote, one opinion, upon which so much of our liberty hinges. There are 535 voting members of Congress and one president, but none of them matter anymore. One man holds all the power of God when it comes to governing the United States.

No Societal Transformation without Representation. It's time to stop playing checkers while the other side plays chess. Some on the right are saying this illegitimate Supreme Court decision in Obergefell is the law of the land. Others are saying we should pass a constitutional amendment allowing states to decide marriage issues. While the first group is clearly not part of the future of the conservative movement, the latter group is wasting our time to focus solely on a constitutional amendment. There is no way we will ever come close to passing a constitutional amendment with super-majority support in both houses of Congress and successfully ratify it with 38 states on board. What is eminently more achievable and effective in the relative short-term and in the long-run is for Congress to strip the Judiciary of all jurisdiction over the issue of marriage and other similar societal and political questions.

Constitutional Remedies to a Lawless Supreme Court. This week, we have twice seen Supreme Court justices violating their judicial oaths. Yesterday, the justices rewrote Obamacare, yet again, in order to force this failed law on the American people. Today, the Court doubled down with a 5-4 opinion that undermines not just the definition of marriage, but the very foundations of our representative form of government. Both decisions were judicial activism, plain and simple. Both were lawless.

The Supreme Court Continues To Make Stuff Up Out Of Thin Air. When I was in law school, I was horrified to discover that most judges in our country just do whatever they feel like doing. Instead of applying the law to the facts and coming to a fair and unbiased judgment, most judges in America just do whatever they want to do and then search for some law or case precedent that they can use to justify their decision. If there is no law or case precedent, some federal judges even go outside of the country to find justification for their absolutely ridiculous rulings. There have been instances where international law or international standards of morality have been cited as authority for a decision in a federal case. We have become a lawless land where the letter of the law no longer holds any real meaning, and where tyrannical judges just make stuff up out of thin air in order to advance their own personal political agendas.

Time to Overthrow the Judicial Dictatorship. Commentators have missed the real significance of Justice Antonin Scalia's dissent in the gay marriage case. He calls the decision a judicial "Putsch," an attempt to overthrow a form of government — ours. His dissent, joined by Justice Clarence Thomas, was written "to call attention to this Court's threat to American democracy." His comment about the Court using the kind of reasoning we find in a fortune cookie is a funny line. But there is much of the Scalia dissent that is not funny and which serves as a warning to the American people about what the Court has done to us.

Democracy Is Dying; Persecution Is Coming. You will not be surprised that the majority opinion in Obergefell, written by Justice Anthony Kennedy, is full of gaseous eructations from the judicial pyloric, e.g., "the right to marry is fundamental because it supports a two-person union unlike any other in its importance to the committed individuals." And who says a two-person union is unlike any other in its importance? This is groundless assertion. You really must read the four dissenting opinions in the case. Even I am shocked by the bracing quality of the rhetoric and the analysis. If these justices are correct, this is a dark day for American democracy, and for the practice of traditional religion in America.

SCOTUS invents new right to same-sex "marriage," outlawing Christianity. Let me tell you how this is going to play out. See what the progressive fascists are doing with the Confederate flag? See how they're erasing it from every nook and cranny of America? See the defacement of Confederate monuments? Hear the calls for censorship of classics like Gone With The Wind? You ain't seen nothin' yet. Because the rainbow-shirts are coming. And they're coming for us. I figure the first church burning is only hours away. Within days it'll be impossible to say the words "homosexual" and "sin" in the same sentence anywhere in America.

Why the Supreme Court ruling on gay marriage could lead to civil war. Today the Supreme Court ruled 5 to 4 in favor of same sex marriage in all 50 states. My friends, we are witnessing the end of federalism in our nation. In a single vote, 5 folks basically just told the states to "stick it." Furthermore, we are in effect nullifying the First Amendment. Consider this: what happens when a gay couple goes into a church wanting to plan a ceremony and the pastor says no? We now have a conflict between the First Amendment and individual behavior.

SCOTUS Rewrites ObamaCare to Save It. One might think a 2700-page, largely unread healthcare bill passed solely by Democrats that remains as unpopular as ever might chasten the president who championed it. Especially when that effort was based on a litany of lies, one of which earned Obama Politifact's 2013 Lie of the Year award. [...] We begin with Obama's insistence that Americans who had insurance prior to the passage of ObamaCare "got a better deal now" in reference to the additional insurance requirements provided by the law. Yet those additional requirements come at a higher cost for many Americans, and many of those requirements, such as maternity care coverage provided to single men or the elderly, are nothing more than subsidies that force some Americans to underwrite the healthcare of other Americans.

SCOTUS Declares Itself God, Redefines Marriage and Rights. The day after declaring Obamacare magically rewritten and that the lawsuits against discrimination in housing require no proof of actual discrimination, the Supreme Court found a unicorn in the 14th Amendment. By a vote of 5-4, the Supreme Court ruled that the right to privacy under that aforementioned 14th Amendment (adopted in 1868, when every state in America criminalized sodomy) requires that every state in America grant marriage licenses to men who want to marry men and women who want to marry women, and that every state recognize such licenses from every other state.

Justice Antonin Scalia Repudiates a Lawless Supreme Court. [Scroll down] This is a naked judicial claim to legislative — indeed, super-legislative — power; a claim fundamentally at odds with our system of government. Except as limited by a constitutional prohibition agreed to by the People, the States are free to adopt whatever laws they like, even those that offend the esteemed Justices' "reasoned judgment." A system of government that makes the People subordinate to a committee of nine unelected lawyers does not deserve to be called a democracy. Judges are selected precisely for their skill as lawyers; whether they reflect the policy views of a particular constituency is not (or should not be) relevant.

Supreme Court justices aren't judges. They're politicians. ObamaCare's architects did not anticipate the scale of the popular and political blowback against ObamaCare, and thus didn't anticipate that so many states would refuse to set up exchanges. As a result, they didn't anticipate that so many uninsured people in so many states might have to rely on exchanges set up by the federal government. That's a serious issue. But there's an even more serious issue here, and it's about the "rule of law" (which is not a sinister conservative invention). The entire point of having a republic, as opposed to a dictatorship or a totalitarian regime, is that the nation is ruled by laws that are uniformly applied, and not based on the whims of individuals. This is true even — especially, perhaps — when the whims of individuals would make lots of people better off. An enlightened despot might be able to do a lot of very good things, but it is still better to live in a republic under the rule of law.

SCOTUS to churches: Hey, no worries, you can still "advocate" for traditional marriage. On this slender thread does the promise of religious liberty hang. Justice Anthony Kennedy, in his majority opinion in Obergefell that declares same-sex marriage a constitutional right, barely mentions the means by which most Americans conduct their weddings — houses of worship. Only on page 27 does Kennedy get around to addressing the connection between church and state, and the assurances in this paragraph are less than compelling, to say the least.

A Question For Those Who Celebrate the Gay Marriage Decision. What would you think if the Court had decided the opposite? That is, if the Court had held that same sex marriage is unconstitutional, so that all state laws approving such unions are void, and all court decisions establishing same sex marriage are overruled. Would you then think it appropriate for "five lawyers," as Chief Justice Roberts put it, to remove this issue from the democratic process and purport to resolve it by judicial fiat? I am pretty sure you wouldn't. I am pretty sure that in the face of such a ruling, you would howl with outrage and insist that the issue of same sex marriage be determined by democratic processes.

Fox's Krauthammer: Gay Marriage Ruling a 'Huge Loss' for 'Democracy'. Speaking on Fox's Special Report Friday evening [6/26/2015], [Charles] Krauthammer called the creation by the court of a constitutional right to marriage regardless of gender or sexual orientation an "invention" akin to "the invention of the right to abortion" that came with Roe v. Wade. "Whatever you believe about the policy for abortion or here for gay rights," he continued, "the idea that the court should decree that it's a constitutional right, something that had been hidden in the Constitution for over 100 years and that nobody has ever discerned is simply a way of saying that it has been removed from the democratic arena, it can no longer be debated, all the laws are canceled and we are in a new place."

The Supreme Court Ratifies a New Civic Religion That Is Incompatible with Christianity. The most striking aspect of Justice Kennedy's majority opinion in Obergefell v. Hodges, which created a constitutional right to same-sex marriage, was its deep emotion. This was no mere legal opinion. Indeed, the law and Constitution had little to do with it. [...] Christians who've not suffered for their faith often romanticize persecution. They imagine themselves willing to lose their jobs, their liberty, or even their lives for standing up for the Gospel. Yet when the moment comes, at least here in the United States, they often find that they simply can't abide being called "hateful."

Let's Drop the Charade: The Supreme Court Is a Political Branch, Not a Judicial One. "But this Court is not a legislature." Chief Justice John Roberts actually published that sentence in his same-sex marriage dissent on Friday [6/26/2015] ... a mere 24 hours after his maestro's performance in the Supreme Court's legislative rewrite of the Affordable Care Act — formerly known as "Obamacare," but now etched in memory as "SCOTUScare," thanks to Justice Antonin Scalia's withering dissent. [...] It takes a Clintonian quantum of cheek to pull that off one day and, on the next, to inveigh against the very thought of it.

Gay marriage: Why Supreme Court got it wrong. [Scroll down] Justice Alito pointed out in the oral arguments that in 1983 the Supreme Court upheld the revocation of the tax-exempt status of a religious organization — Bob Jones University — for prohibiting interracial marriage. If gay marriage has now been elevated to a civil right on par with interracial marriage, what rationale would government have for not revoking the tax-exempt status of any religious organization that does not recognize same-sex unions? We don't have to guess about the sociological implications of Friday's decision. Stanley Kurtz, a senior fellow at Stanford University's Hoover Institution, contends that the legitimization of same-sex unions in Scandinavian countries has caused the heterosexual marriage rate to drop dramatically, while the number of children born out of wedlock has risen, resulting in numerous societal problems.

Supreme Court disavows truth about marriage, pits faith against law. Friday, the U.S. Supreme Court disavowed the truth about marriage that diverse cultures and faiths around the globe have embraced for millennia: that marriage is a union between a man and a woman. Why has this fact been recognized so universally and for so long? The answer is simple: the truth about marriage appears unmistakably in the complementary design of man and woman. Unique among all others, only the intimate relationship of man and woman can create a new life. And a new life born of a committed man-woman couple finds its natural home in the embrace of its natural parents, giving rise to the family — the fundamental building-block of society. [...] The court's decision is built on the premise that, as a matter of constitutional law, the dignity of human relationships derives largely from government recognition and approval. That premise promotes a dark and dangerous principle. It is the flawed notion that the state does not recognize and protect — but rather creates — our fundamental institutions, rights, and relationships.

Why Supreme Court rulings on ObamaCare, gay marriage, property rights will help GOP's 2016 prospects. That sound you hear is the Tea Party brewing; you can thank the Supreme Court for turning up the heat. Three different issues, all critical to conservatives: all went the wrong way. The Court not only gave ObamaCare new life, it also decided in favor of allowing dangerous "disparate impact" analysis to stamp out housing discrimination. Finally, the Court has ruled that same-sex marriage is now legal across the nation. If these three decisions don't energize voters to elect a Republican president in 2016, nothing will.

The Editor says...
By the time Election Day arrives next year, most voters will have forgotten all about these issues — they will be fairly well established by then and taken for granted — and the Republican Party will be afraid to bring them up again. The damage done by godless left-wing tax-and-spend baby-killing Democrats is rarely, if ever, corrected. And if any corrections are to be made, they won't be made by career politicians whose only goal is re-election.

Ted Cruz says Supreme Court won't have last word on Obamacare, same-sex marriage. Sen. Ted Cruz says that as far as he's concerned, the Supreme Court will not have the final word on issues such as same-sex marriage and President Barack Obama's federal healthcare program. Cruz, a Texas Republican who is running for president, says he is making the Supreme Court's decision Friday to legalize same-sex marriage nationwide a "front-and-center" issue of his campaign. The day before that ruling, the nation's highest court upheld the Affordable Care Act against a challenge that had galvanized a lot of Republican support. In media interviews over the weekend, Cruz characterized the country's top court as being out of control and says he wants justices elected rather than appointed and not to hold their positions indefinitely.

Cruz blasts Supreme Court on rulings, calls for judicial retention elections. Presidential candidate and Texas Sen. Ted Cruz blasted the Supreme Court's rulings on ObamaCare subsidies and same-sex marriage Friday [6/26/2015], branding them "lawless" and calling for a constitutional amendment that would introduce "periodic judicial-retention elections." [...] Arguing that the Constitution specifies that Supreme Court Justices "Shall hold their Offices during good Behaviour," Cruz called for judicial retention elections as a legitimate method for "throwing off judicial tyrants." "Every Justice, beginning with the second national election after his or her appointment, will answer to the American people and the states in a retention election every eight years," Cruz proposed.

The Editor says...
That sounds okay at first, but such a system would inject politics into the Supreme Court, which is designed to be immune from politics. It would be far better to have the Congress impeach the five Supreme Court justices (en masse) who created a right to homosexual marriage without any Constitutional basis. Unfortunately that would require the presence of several dozen Senators and Representatives with the backbone necessary to carry out an impeachment — not just Senator Cruz. Even the passage of a constitutional amendment, no matter how sensible, would require more courage than most lifetime politicians can muster.

Court's Overreach On Same-Sex Marriage Jars Democracy. Is there no corner of human thought or behavior that the U.S. Supreme Court doesn't believe it can control by legislating from the bench? Can the nine justices who sit on our nation's highest court simply mandate that all discussion on such contentious topics such as gay marriage be now and forever closed? Do five men and women believe they can rewrite traditions dating back thousands of years with a few strokes of their mighty pens? Apparently so. So much for our democracy.

Same-Sex Marriage Ruling Starts New Religious Freedom War. Navy chaplain Wes Modder, sportscaster Craig James and others have lost jobs or are losing their jobs because they hold Christian beliefs on sex and marriage. Business owners face more than losing their businesses, as Washington florist Barronelle Stutzman could lose her home and life's savings, and Colorado baker Jack Phillips risks jail time if he continues refusing to bake cakes celebrating gay marriage. There are others, and the list grows monthly. Their legal rights are no different from Hobby Lobby's to refuse to cover abortion under ObamaCare. Whether from a state or federal RFRA (Religious Freedom Restoration Act) or the Constitution's First Amendment, all Americans have the right to believe what their faith teaches and live according to those beliefs.

Mark Levin: 'Our Constitutional Process is Dead'. "Our Constitutional system, our Constitutional process is dead," nationally syndicated radio host Mark Levin said while discussing the U.S. Supreme Court's King v. Burwell decision. The court ruled 6-3 that insurance exchanges established by the federal government could issue subsidies despite the plain language of the Affordable Care Act that only exchanges "established by the state" have such authority. "Congress cannot delegate parts of the Constitution to other parts of the government, nor can other parts of the government seize those parts that it may want, whether it likes it or not. And today, all three branches of the federal government legislate: Congress, the executive, and the courts," Levin said on his Thursday [6/25/2015] broadcast.

Constitutional Remedies to a Lawless Supreme Court. This week, we have twice seen Supreme Court justices violating their judicial oaths. Yesterday [6/25/2015], the justices rewrote Obamacare, yet again, in order to force this failed law on the American people. Today, the Court doubled down with a 5-4 opinion that undermines not just the definition of marriage, but the very foundations of our representative form of government. Both decisions were judicial activism, plain and simple. Both were lawless.

Anthony And Ted Kennedy: Borking Marriage, America. It was because Ted Kennedy "borked" President Reagan's first choice for a vacancy on the bench in 1987 that the Left has Justice Kennedy to do its bidding. The Democrat senator led a witch hunt against true conservative Robert Bork, smearing the respected jurist as a right-wing troglodyte. After the Senate rejected Bork, 58-42, Reagan turned to conservative Douglas Ginsburg, who was impeached in the liberal media before he ever got the chance to raise his hand in the Senate. That left a frustrated Reagan with a distant third choice — a nominal San Francisco conservative who met with enough liberal approval to sail through confirmation.

'Court is not a legislature': Roberts rips gay marriage ruling, day after he backed ObamaCare. A day after Supreme Court Chief Justice John Roberts sided squarely with the Obama administration on the health care overhaul, the same jurist came out swinging against the court's ruling legalizing same-sex marriage nationwide. In his dissenting opinion — which he read from the bench for the first time in his nearly 10 years as chief justice — Roberts charged Friday that the court had no right to intervene in what should be a democratic debate by the people, at the state level, over same-sex marriage. "This court is not a legislature," he wrote. "Whether same-sex marriage is a good idea should be of no concern to us. Under the Constitution, judges have power to say what the law is, not what it should be."

Gay Activist: Same-Sex Marriage Ruling Was 'God's Intention and God's Work'. A same-sex marriage activist, whose marriage 11 years ago in Canada was validated Friday by the U.S. Supreme Court ruling that all states must recognize gay marriage performed in other states, thanked God Friday [6/26/2015], calling the ruling, "God's intention and God's work."

"Chief Justice" John Roberts is a National Disgrace. Roberts' first betrayal was his mind-bending decision to call Obamacare a legitimate tax, whereas Obama had defended the law on the basis that it wasn't a tax. [...] His next was almost certainly throwing in with the Court's leftists on gay rights — ignoring the clear state's rights issue involved by voting not to hear five cases that defended traditional marriage as a state's right. "Almost certainly" because a decision to hear the cases required only four in agreement and votes are taken in secret. Scalia, Thomas and Alito were likely willing to hear the cases. Where was the fourth vote? Now Roberts has done all possible to seal this country's fate by once again siding with Obama.

Scalia zingers in marriage case. Footnote 22: ["]If, even as the price to be paid for a fifth vote, I ever joined an opinion for the Court that began: [']The Constitution promises liberty to all within its reach, a liberty that includes certain specific rights that allow persons, within a lawful realm, to define and express their identity,['] I would hide my head in a bag. The Supreme Court of the United States has descended from the disciplined legal reasoning of John Marshall and Joseph Story to the mystical aphorisms of the fortune cookie.["]

Polygamy Attorney On Gay Marriage Decision: SCOTUS Opinion 'Resonates With Our Arguments'. [Scroll down] Academic Frederick deBoer writes in Politico Magazine how the Supreme Court's decision opens the doors for legal polygamous marriages. "The marriage equality movement has been both the best and worst thing that could happen for legally sanctioned polygamy. The best, because that movement has required a sustained and effective assault on 'traditional marriage' arguments that reflected no particular point of view other than that marriage should stay the same because it's always been the same."

The Supreme Court's Disparate-Impact Decision Is a Disaster. The Supreme Court's breathtaking upholding of the constitutionality of Obamacare's exchanges wasn't the only case they got badly wrong Thursday. In both cases, ordinary Americans may be hurt in ways they don't yet realize. In its second case yesterday, the Supreme Court had to decide the scope of the Fair Housing Act, a law passed in 1968 that makes it unlawful to discriminate on the basis of race and other factors in connection with the sale or lease of housing. The question before the court was: Can you be found guilty of racial discrimination if you never engaged in policies that had any intent to discriminate?

Scalia Slams Roberts as Biased in Obamacare Cases. In a blistering dissent from the majority in King v. Burwell this morning [6/25/2015], Supreme Court Justice Antonin Scalia said President Obama's signature domestic policy achievement should be called "SCOTUScare" rather than Obamacare, in light of how many times Chief Justice John Roberts has intervened to protect the law from a crippling legal defeat. Scalia argued that Roberts rewrote the law twice in 2012, and has now done so a third time in his King decision, which allows the IRS to continue providing subsidies to people who purchase insurance in the federal government's health-care exchange.

Roberts saves Obamacare for 2nd time; Scalia chides: 'Words have no meaning'. Chief Justice John G. Roberts Jr. has saved Obamacare for a second time, writing the majority opinion Thursday [6/25/2015] that upheld the health care law's key provision of paying tax subsidies to customers in all states and saying the law otherwise would be a mess — something he doubted Congress intended. The ruling reverberated immediately on Capitol Hill, but legal analysts said it has implications far beyond the Affordable Care Act because it opens an avenue for judges to substitute their own judgments for the intentions of Congress.

House bill would force the Supreme Court to enroll in ObamaCare. A House Republican on Thursday [6/25/2015] proposed forcing the Supreme Court justices and their staff to enroll in ObamaCare. Rep. Brian Babin (R-Texas) said that his SCOTUScare Act would make all nine justices and their employees join the national healthcare law's exchanges.

ObamaCare battle not over, despite court ruling. President Obama declared Thursday [6/25/2015] that "the Affordable Care Act is here to stay," after winning yet another round in the Supreme Court. But the battle's not over — a host of legal and political challenges remain, and if anything, Republicans say they are more emboldened than ever to repeal the law. "ObamaCare is fundamentally broken, increasing health care costs for millions of Americans. Today's ruling doesn't change that fact," House Speaker John Boehner charged in a statement Thursday [6/25/2015], vowing to continue efforts on Capitol Hill to "repeal the law and replace it with patient-centered solutions."

The Supreme Court On The Rule Of Law: ‾\_(ツ)_/‾. Here is John Roberts, Chief Oracle of the United States of America, from today's King v. Burwell decision: ["]Congress passed the Affordable Care Act to improve health insurance markets, not to destroy them. If at all possible, we must interpret the Act in a way that is consistent with the former, and avoids the latter.["] What the statement illustrates is that, for Roberts, the law is a subordinate concern.

Roberts Makes Key Factual Mistake At The Start Of His ObamaCare Decision. On the very first page of [Chief Justice] Robert's [sic] King v. Burwell opinion is a glaring mistake about ObamaCare. The chief justice explains how states that tried ObamaCare-like market changes — called "guaranteed issue" and "community rating" — saw their insurance markets caught in a death spiral as young and healthy dropped coverage and premiums shot up. Roberts then claims that in 2006 "Massachusetts discovered a way to make the guaranteed issue and community rating requirements work" by adding an individual mandate and premium subsidies. Since ObamaCare is modeled on Massachusetts law, ipso facto ObamaCare must also be working. And so the court had an overriding reason to protect it, even if it meant twisting the law into pretzels.

On Obamacare, John Roberts helps overthrow the Constitution. Conservatives are dismayed about the Supreme Court's complicity in rewriting the Affordable Care Act — its ratification of the IRS's disregard of the statute's plain and purposeful language. But they have contributed to this outcome. Their decades of populist praise of judicial deference to the political branches has borne this sour fruit. The court says the ACA's stipulation that subsidies are to be administered by the IRS using exchanges "established by the State" should not be construed to mean what it says. Otherwise the law will not reach as far as it will if federal exchanges can administer subsidies in states that choose not to establish exchanges. The ACA's legislative history, however, demonstrates that the subsidies were deliberately restricted to distribution through states' exchanges in order to pressure the states into establishing their own exchanges.

SCOTUS Okays Liability for Unintentional Housing Descrimination. Stop calling it fair housing law. If it was ever a matter of fairness, it isn't now. Under today's 5-4 Supreme Court holding in Texas Department of Housing and Community Affairs v. Inclusive Communities Project, you can be held liable for housing discrimination whether or not you or anyone in your organization intended to discriminate. Instead — to quote Justice Anthony Kennedy, who joined with the Court's four liberals in a 5-4 majority — you might have been influenced by "unconscious prejudice" or "stereotyping" when you lent money or rented apartments or carried on appraisal or brokerage or planning functions.

Supreme Court Ruling — Gay Marriage [is] A Constitutional Right. [Scroll down] We've seen this problem before — the problem of "creating" Constitutional rights — and Scalia is quick to point it out: ["]The opinion in these cases is the furthest extension in fact — and the furthest extension one can even imagine — of the Court's claimed power to create "liberties" that the Constitution and its Amendments neglect to mention.["]

SCOTUS declares 14th Amendment requires same sex marriage in 5-4 decision. [Scroll down] If history is any guide, the winners of the case will not be gracious in victory, but will push for sweeping changes. Religious institutions that adhere to the traditional definition can expect to have their tax exempt status challenged, for starters. Govenrment [sic] contracts, student loans, everything will be challenged. I have not read the entire decision but wonder if there are any grounds in it on which polygamy can be ruled anything other than a fundamental right. And after that, incest and every other marriage taboo. Once marriage becomes a matter of personal gratification, the doors seem wide open.

Same-Sex Marriage: These Are The States Affected by SCOTUS Ruling. [Scroll down] One of those states, Texas, was quick to react to today's decision. The state's Republican governor, Greg Abbott, tweeted this: "Marriage was defined by God. No man can redefine it. We will defend our religious liberties." Similarly, Louisiana governor Bobby Jindal issued a statement saying the Supreme Court's ruling "will pave the way for an all out assault against the religious freedom rights of Christians who disagree with this decision."

Scalia: 'This Court' is a 'Threat to American Democracy'. In his dissent from the Supreme Court's 5-4 decision [6/26/2015] in Obergefell v. Hodges, which declared that same-sex marriage was a right, Justice Antonin Scalia declared that this Supreme Court has become a "threat to American democracy. "I write separately to call attention to this Court's threat to American democracy," Scalia said. "This practice of constitutional revision by an unelected committee of nine, always accompanied (as it is today) by extravagant praise of liberty, robs the People of the most important liberty they asserted in the Declaration of Independence and won in the Revolution of 1776: the freedom to govern themselves."

Glenn Beck: Obamacare vote means U.S. is 'done': 'There's nothing left'. Radio host Glenn Beck said the Supreme Court's 6-3 decision to uphold Obamacare for a second time is proof "the country as you know it, and as it was designed, is done." Mr. Beck's reaction to the high court's King v. Burwell decision in many ways mirrors Justice Antonin Scalia's dissent. "Words no longer have meaning if an Exchange that is not established by a State is 'established by the State,'" Justice Scalia said. The libertarian radio host said that the accumulation of U.S. debt, coupled with a Supreme Court that acts as a legislative instead of a judicial body, will force the country to "reset" in the future.

Gay marriage legalized nationwide in 5-4 Supreme Court vote, Scalia seethes. By a 5-4 ruling, the Supreme Court Friday [6/26/2015] struck down four state marriage laws, paving the way for gay marriage to be legal in all 50 states. The ruling in Obergefell v. Hodges said the 14th Amendment requires a state to license a marriage between people of same-sex, and also recognize same-sex marriages from out of state. The 14th Amendment, with its equal protection and due process clauses, prohibit the "unjustified infringement of the fundamental right to marry," said the majority opinion written by Justice Anthony Kennedy, joined by Justices Stephen Breyer, Ruth Bader Ginsburg, Sonia Sotomayor and Elena Kagan.

James Madison and Antonin Scalia blister a lawless Supreme Court. Echoing Madison's sentiments, in his dissent to the ludicrous majority decision of King v. Burwell, Justice Antonin Scalia wrote: ["]Words no longer have meaning if an Exchange that is not established by a State is 'established by the State' ... Under all the usual rules of interpretation, in short, the Government should lose this case. But normal rules of interpretation seem always to yield to the overriding principle of the present Court: The Affordable Care Act must be saved ... We should start calling this law SCOTUScare.["]

Sotomayor's 4th Amendment Time Bomb. A painfully slim 5 — 4 ruling this week by the Supreme Court in City of Los Angeles v. Patel [...] struck down a Los Angeles ordinance that allowed police officers to inspect hotel guest registries for any or even no reason, and without a warrant. The ruling that the Fourth Amendment applies to businesses and that statutes may be declared unconstitutional on their face is consistent with principles as old as, and even older than, the Constitution. Privacy advocates seem to be suffering from a bit of Stockholm Syndrome. Joyful about the court's barely holding the line on two issues, most have yet to acknowledge how Justice Sonya Sotomayor's majority opinion is also a blueprint for a major power grab for the administrative police state.

Central Committee on a Roll. Word is getting around that the Central Committee today [6/26/2015], by a 5-4 decision, has discovered and will impose on the country a constitutional right to homosexual marriage in all 50 states. [...] Of late, the cultural left has been enjoying success after success, with the help of the legal profession, which, from law schools through the SCOTUS, has been slowly but systematically replacing law with left advocacy. What the cultural left wants is what the law is, and what the cultural left doesn't like ist verboten. Expect more.

Supreme Court Ruling — Obamacare Subsidies Stay. In a 6-3 ruling authored by Chief Justice Roberts, the Court held that subsidies are available on the federal exchanges. Those voting in the majority were Roberts, Kennedy, Ginsburg, Breyer, Sotomayor, and Kagan. Had the court ruled otherwise, it would have put all of Obamacare in jeopardy, since 38 states do not have exchanges and Obamacare is too expensive for most people without a subsidy.

From Scalia's Dissent. The Court's decision reflects the philosophy that judges should endure whatever interpretive distortions it takes in order to correct a supposed flaw in the statutory machinery. That philosophy ignores the American people's decision to give Congress '[a]ll legislative Powers' enumerated in the Constitution. Art. I, §1. They made Congress, not this Court, responsible for both making laws and mending them. This Court holds only the judicial power — the power to pronounce the law as Congress has enacted it. We lack the prerogative to repair laws that do not work out in practice, just as the people lack the ability to throw us out of office if they dislike the solutions we concoct. We must always remember, therefore, that '[o]ur task is to apply the text, not to improve upon it.' Pavelic & LeFlore v. Marvel Entertainment Group, Div. of Cadence Industries Corp., 493 U. S. 120, 126 (1989).

Supreme Court Validates Obama's Power Grab. Today [6/25/2015] the Supreme Court allowed itself to be intimidated. Afraid that ObamaCare as written would throw the sickest patients out of their health plans a second time, the Court rewrote ObamaCare to save it — again. In doing so, the Court has sent a dangerous message to future administrations: If you are going to violate the law, make sure you go big. The Court today validated President Obama's massive power grab, allowing him to tax, borrow, and spend $700 billion of dollars that no Congress ever authorized. This establishes a precedent that could let any president modify, amend, or suspend any enacted law at his or her whim.

Scalia Blasts Obamacare Ruling: 'Words Have No Meaning'. The Supreme Court of the United States effectively rewrote the text of Obamacare to save the legislation. By a 6-3 majority, the Court upheld the Fourth Circuit's decision in King v. Burwell and decided that federal subsidies were available on state Obamacare exchanges, even though the text of the so-called Affordable Care Act said that such subsidies were only available on "State" exchanges. The majority acknowledged that the word "State" was, at best, "ambiguous." And it rejected the idea that an executive agency, in this case the Internal Revenue Service, could decide the meaning of that term. Rewriting the law is evidently meant for the courts, not the administration — or Congress.

Supreme Court Backs Housing Discrimination Lawsuits. The U.S. Supreme Court said people who file housing-discrimination suits don't have to show they were victims of intentional bias, in a blow to lenders and insurers and a surprise legal victory for the Obama administration. The 5-4 ruling upholds a category of U.S. Fair Housing Act lawsuits that civil rights groups said are especially important — and business groups consider particularly onerous. The court said plaintiffs can base their suits on statistical evidence that a disputed policy has a "disparate impact" on a minority group.

Worse than Obamacare: SCOTUS upholds 'disparate impact' as discrimination. As bad as today's [6/25/2015] Supreme Court decision in King v. Burwell is, the Supreme Court sowed even worse mischief today. After all, Obamacare can be repealed. Today, the court definitively upheld the principle that even absent discriminatory intent, a housing discrimination lawsuit can proceed on the basis of a "disparate impact" of any criterion.

Behold, the Supreme Court's Magical Warp Field Generator! Behold the new order: Congress doesn't just delegate to the executive branch; they're now delegating to the Supreme Court as well. And the Court has devised its own statutory warp-field generator that can warp any text into the desired result.

Supreme Court Caves on Obamacare Again. The Supreme Court had an opportunity, with its ruling in King v. Burwell, to determine whether the United States is a nation of laws or of men. Today [6/25/2015], in a 6-3 decision, the Court ruled that we have devolved into the latter. Although the text of the Patient Protection and Affordable Care Act (a.k.a. Obamacare) clearly states that the government may issue subsidies only through insurance exchanges established by the states, Obama administration bureaucrats unilaterally rewrote that part of the law so that the IRS could dispense such premium assistance through "marketplaces" created by the federal government. The plaintiffs in King sued the government on the grounds that the Executive Branch has no power to thus alter an act of Congress. Incredibly, SCOTUS has sided with the White House.

Top 9 Quotes From Justice Scalia's Scathing Dissent in King v. Burwell. [#3] "Words no longer have meaning if an Exchange that is not established by a State is 'established by the State.'" [#4] "Under all the usual rules of interpretation, in short, the Government should lose this case. But normal rules of interpretation seem always to yield to the overriding principle of the present Court: The Affordable Care Act must be saved."

Roberts Gets It Wrong Again. The text of the law authorizes federal subsidies on health-insurance exchanges "established by the state," but does not authorize them on exchanges established by the federal government. Since most states have not established exchanges, reading the law the way it was written would limit the law's reach. The administration therefore decided not to do so — and the Court has blessed its decision, and barred future administrations from revisiting it.

SCOTUS Curbs Gov't Property Grab Abuses, Vindicates Extorted Raisin Farmers. The Fifth Amendment provides that "private property" shall not "be taken for public use, without just compensation." When I wrote my book, The Original Constitution, I had to address the question of whether the Fifth Amendment phrase "private property" referred only to real estate or whether it included movable goods and other personal property. The answer is not clear from the text, because the historical record shows that in another part of the Constitution (Article IV, Section 3, Clause 2) the word "property" refers only to land. Accordingly, I canvassed the history relevant to "takings." I found an Anglo-American tradition of compensating for seizures of personal property that extended back to Magna Carta and continued to the time the Constitution was drafted. I concluded, therefore, that the Fifth Amendment protected a right to be compensated for all property taken.

Why does President Obama criticize the Supreme Court so much? In his more than six years in the White House, Obama has to an unusual degree — for a serving president — offered strong opinions on how the court's justices should decide cases central to his legacy. In a few instances, those pointed opinions have sounded a lot like outright criticism. Obama's willingness to plunge into the court's business reflects his background as a constitutional law lecturer, his irritation with the legal and political wrangling surrounding the landmark health-care law and his view of the court's role in American society.

A Motel-Sized Victory for Privacy at the U.S. Supreme Court. Innkeepers may now challenge cops who want to spy on guests, but can still be jailed for failing to collect and store detailed information at check-in.

SCOTUS Sides With Raisin Farmer — Deals Blow To USDA Crop Seizures Without Compensation. The case was Horne v. U.S. Dept of Agriculture. Essentially a raisin farmer was fined (and the price of his crop similarly assessed) for not forfeiting their harvest to the USDA in a program where the government regulates supply and demand through production controls. SCOTUS ruled 8-1 (Sotomayor dissent) the U.S. government cannot "take", or force destroyed, farming crops without compensation to the farmer under the fifth amendment "takings" clause.

Supreme Court strikes down federal raisin program as unconstitutional. Score one for the little guy. The Supreme Court sided with a renegade raisin farmer Monday [6/21/2015] in his battle against a federal program designed to keep excess raisins off the market. A majority of justices ruled that the Agriculture Department program, which seizes excess raisins from producers in order to prop up market prices during bumper crop years, amounted to an unconstitutional government "taking." But they limited their verdict to raisins, lest they simultaneously overturn other government programs that limit production of goods without actually seizing private property.

Bias alert:
Why is the plaintiff described as "a renegade raisin farmer?"

Supremes whack 9th Circus, says free spech applies to church signs, too. Short version on this one (Reed v. Town of Gilbert): there's a church in Arizona with no fixed abode yet that has to go around and rent temporary space for services. They let their congregants know the latest location via temporary signage; and the town got all bent out of shape over this. Shockingly, the 9th Circuit can't read the plain text of the First Amendment, and just as shockingly the Supreme Court had to smack the 9th Circuit again: [...]

The Supreme Court's Alarming Decision Curbing Free Speech. The Supreme Court today [6/18/2015] accelerated the dangerous erosion of First Amendment protection, making way for government censorship of expression that does not conform to its preferences. In Walker v. Sons of Confederate Veterans, the sharply divided Court ruled that the state of Texas could constitutionally engage in viewpoint discrimination by prohibiting a specialty license plate that depicted the Confederate flag.

Supreme Court: Texas within rights to bar Confederate flag on license plate. [Scroll down] The decision is a big win for Texas Solicitor General Scott Keller, who also has one other pending case waiting for a decision this month. [...] Keller had told justices in March that the case did not involve free speech issues. A plate is the property of Texas, and Texas has the right to decide what does and does not belong on it. "Messages on Texas license plates are government speech," he said.

SCOTUS Trust and Approval Low (With Everybody). Many Americans are eagerly (and nervously) awaiting the King v. Burwell decision, which is expected to come at the end of the month. The court case will determine whether ObamaCare, which looks to be falling apart independently of legal intervention, is illegally providing subsidies to those enrolled in the exchange. In defense of his unpopular legacy, President Obama asserted that "the thing's working." I'm sorry, Mr. President, but the Public disagrees.

Judge Roy Moore: Impeach Ginsburg for Marrying Two Men Ahead of SCOTUS Ruling on Gay Marriage. On May 17, Supreme Court Justice Ruth Bader Ginsburg officiated the marriage of two men and used the occasion to cite her constitutional right to do so. In June, the high court — including Ginsburg's vote — will announce its decision on whether homosexual marriage is guaranteed by the Constitution. That's grounds for impeachment, Alabama Supreme Court Chief Justice Roy Moore told CNSNews.com in an exclusive interview. "She's basically thumbing her nose in front of the other justices that she's going to say what she wants to say and do what she wants to do, and she's going to ignore the rules of ethics," Moore said, adding that judges are bound by those rules.

Supreme Court Justice Scalia: Constitution, Not Bill of Rights, Makes Us Free. To hear Supreme Court Justice Antonin Scalia tell it, America's freedoms don't come from freedom of speech or freedom of the press. It's not the right to bear arms that keeps us free, nor is it the right to "be secure ... against unreasonable search and seizure" or to a "speedy and public trial, by an impartial jury." The reason America's basic freedom has endured for more than 200 years, Scalia said Friday [5/8/2015] in a speech to the Federalist Society in Morristown, N.J., is not the amendments to the Constitution but the Constitution itself.

The Editor says...
You would think that a Supreme Court Justice would know all about the Constitution and what it means, but apparently there are no safe assumptions about the Supreme Court.

John Paul Stevens says some Guantanamo Bay detainees should be given reparations. Retired Supreme Court justice John Paul Stevens said this week that the government should compensate detainees still being held at Guantanamo Bay even after authorities determined that they did not pose a threat to the United States. Stevens's call to give reparations to dozens of detainees at the U.S. military detention center in Cuba comes as the Pentagon is racing to move these inmates ahead of possible congressional action that could restrict transfers.

Obama Flunks the Constitutional Test. As the world awaits the Supreme Court's rulings on Obamacare and gay marriage, pundits have engaged in a phony war that misses a larger story: the court's rejection of the government's extreme claims of unlimited federal power. Indeed, the Obama administration has already lost unanimously 20 times, having passed in its first five years the Bush DOJ's number across two full terms (15). While it's still too early to make conclusions about the current Supreme Court session, in its previous three terms — effectively in the 30 months from January 2012 to June 2014 — the government's goose-egg rate was three times Bush and double Clinton (23 in eight years).

Supreme Court slaps down EEOC litigation strategy. The Supreme Court ruled unanimously Wednesday [4/29/2015] that the Equal Employment Opportunity Commission must make "good faith" efforts to seek reconciliation before it sues a business for discrimination, under Title 7 of the Civil Rights Act. The decision was a strong rebuke to the commission, which had previously asserted that the courts had no jurisdiction over its reconciliation process.

Obama's Lawyer Basically Tells SCOTUS That Religious Schools Are Toast. During oral arguments made in the same-sex marriage case heard by the Supreme Court on Tuesday [4/28/2015] (Obergefell v. Hodges), Justices Roberts and Alito questioned Solicitor General Donald Verrilli about the rights of religious schools if the Court decides to impose same-sex marriage on the states. Justice Roberts asked if religious schools that provide housing to married students would be required to offer such housing to same-sex couples. Verrilli demurred, saying there is currently no federal law banning discrimination based on sexual orientation. "Those issues are going to have to be worked out," he said.

Supreme Court asks why it should redefine marriage to include gays. Justices were fractured Tuesday over fundamental questions of society, child-rearing and equal treatment under the law as the Supreme Court struggled with whether the Constitution guarantees same-sex couples the right to marry or if voters should still have the power to say what marriage means within their own state borders. Justice Anthony M. Kennedy appeared poised to be the court's key swing vote yet again, peppering both sides with tricky questions, though he saved his most probing ones for defenders of traditional marriage, questioning why same-sex couples didn't deserve the same "dignity-bestowing ... ennoblement."

Justice Kennedy's America. What Justice Kennedy regards as liberty, America's founding fathers considered license. Casting license as liberty increasingly defines modern America, as it hurtles toward the full embrace of all things unnatural. The founding fathers saw liberty as a gift from God, with limits set by God. For Justice Kennedy, willful man, not God, determines liberty. Whatever humans deem liberty, no matter how obviously it repudiates God's order of creation, is liberty. Kennedy spelled this out in his famous description of abortion rights.

Gay marriage advocates expect Supreme Court to rule in their favor. Advocates on both sides of the gay marriage issue prepared Sunday for High Noon — at 10 a.m. Tuesday [4/28/2015]. At that hour, perhaps the nation's most contentious political issue will get its day in court, as the Supreme Court prepares to hear oral arguments in four cases that gay marriage advocates say will go down in history as landmarks of anti-discrimination law.

Shriveled grapes, shriveled liberty. In oral arguments Wednesday [4/22/2015], the Supreme Court will hear the government defend its kleptocratic behavior while administering an indefensible law. The Agricultural Marketing Agreement Act of 1937 is among the measures by which New Dealers tried and failed to regulate and mandate America back to prosperity. Seventy-eight years later, it is the government's reason for stealing Marvin and Laura Horne's raisins.

Does wearing American flag incite violence? Supreme Court lets stand ruling. The US Supreme Court announced on Monday that it would not take up a major First Amendment case testing whether school officials in California violated the free speech rights of three high school students who were told they could not wear American flag T-shirts at school because it might upset students of Mexican heritage.

Ginsburg's Astounding Indiscretion. "Ruth Bader Ginsburg Thinks Americans Are Ready for Gay Marriage" is the title of this Bloomberg article on an interview with Ginsburg yesterday [2/11/2015]. [...] How can Ginsburg possibly think that it's proper judicial conduct for her to speak out on this issue while the marriage case is pending before the Court? If she had any sense of her duty to maintain both the appearance and the reality of impartiality, she would recognize that she is now obligated to recuse herself from the case. But of course she won't.

Supreme Court set to condone homosexual marriage. On Monday [2/9/2015], a majority of the Supreme Court allowed homosexual marriages to take place in Alabama despite that state joining three others in appealing rulings that have required states to perform and recognize homosexual marriages despite the will of the people. What makes this significant is that is serves as a signal that the upcoming cases on homosexual marriage are pro forma, a farce, a charade designed to let the rubes think they've been heard while the big brains on the Supreme Court tell us what is best for us.

Muslim prisoner wins beard case. The Supreme Court on Tuesday [1/20/2015] unanimously ruled in favor of a Muslim prisoner in Arkansas who said that a policy that banned him from growing a beard violated his religious rights. Gregory Holt asked permission to grow a beard in accordance with his Muslim faith. Though he said that his religious belief forbids him from cutting his beard at all, he said that he would compromise and limit his facial hair to half an inch.

Supreme Court Accepts Fake Hijab Civil Rights Case. [T]his case should never have even gotten out of the gate. Instead it's now headed to the Supreme Court. Because the EEOC's Jihad just won't stop and the Supreme Court is a mess.

Four Reasons the Supreme Court Is Likely to Rule against the Obama Administration in Burwell. The Supreme Court followed up the landslide election on Tuesday with its own shocker: it announced that it will hear the Burwell case, which challenges the Obama administration's extension of insurance subsidies in states that do not have health-care exchanges. I think the chances are high that the administration will lose.

Rare correction made in Justice Ginsburg's dissent on Texas voter ID law. The U.S. Supreme Court made a rare correction on Wednesday [10/22/2014] to an error in Justice Ruth Bader Ginsburg's scathing dissent of the majority opinion on Texas' controversial voter ID law — a dissent that had been highly touted by critics of the law. The dissent attracted widespread attention, in part because Ginsburg and fellow dissenting justices were up all night Friday, into Saturday morning [10/18/2014], writing their statement skewering the law. They came down hard on the majority opinion by the Supreme Court to allow Texas to enforce the voter ID law in the upcoming November elections.

Obama's Master Plan With Eric Holder. Last week, I discussed how I believe Rush Limbaugh was right in saying that Attorney General Eric Holder's resignation is not in any way a simple bon voyage. Rather, it is a deliberate ploy to maneuver him into an even greater place of influence, possibly even the Supreme Court. The most obvious replacement on the Supreme Court is liberal-leaning Justice Ruth Bader Ginsburg. She was appointed to the Supreme Court in 1993 by President Bill Clinton with a 96-3 Senate vote, something she admits today would never happen because of her liberal voting record and her connection with the American Civil Liberties Union. Indeed, she is hailed as the Supreme Court's liberal leader, even hugging President Barack Obama before the nation as if he were her own son.

The issue that threatens to unravel both the Constitution and the GOP. With the 35-year marriage between Christians and the Republican Party already on the rocks, a U.S. Supreme Court with a majority of Republican appointees just put the religious liberty of every believer in the GOP base in unprecedented peril. The GOP was already struggling to maintain the loyalty of its conservative base, and one of its last, best talking points was the importance of judicial appointments. Now that talking point has also been blown to smithereens. The John Roberts court gave us Obamacare, the narrowest wording possible when siding in favor of Hobby Lobby, got rid of the Defense of Marriage Act, and, on Monday [10/6/2014], opened the floodgates for an onslaught against the First Amendment.

Obamacare Again On SCOTUS To Do List. The Supreme Court begins a new term today, which means the justices will soon have to decide whether to hear King v. Burwell, a lawsuit challenging an arbitrary IRS edict that tax credits and penalties will be issued through federally created Obamacare exchanges. It is always risky to make predictions about the Court, but it is quite plausible that the justices will accept this case. Two federal courts, including one in Oklahoma last week, have already declared the IRS decree unconstitutional and the Roberts Court has demonstrated a marked aversion for the very kind of bureaucratic lawmaking that provoked this lawsuit.

Supreme Court To Hear Case Of Muslim Woman Denied Employment. The U.S. Supreme Court on Thursday said it would consider whether a Muslim woman denied a job at an Abercrombie & Fitch Co clothing store because she wears a head scarf was required to specifically request a religious accommodation.

Justice Ruth Bader Ginsburg Channels Margaret Sanger. Thanks to US Supreme Court Justice Ruth Bader Ginsburg, a well-known liberal and feminist, Americans are getting an inside look at what Margaret Sanger, Planned Parenthood's founder, probably would have embraced today — and who she would have embraced today. From her recent comments on abortion, Justice Ginsburg would have been praised by Ms. Sanger for her comments on poor people and abortion.

Ginsburg's Elle Interview: Identity Politics in Robes. Ruth Bader Ginsburg's recent Elle interview reads like a primer on identity politics, exposing the rot at the heart of the judiciary. Ginsburg's griping about not being able to retire because Obama couldn't appoint anyone like her drew a lot of attention, and although it's hardly the most outrageous claim she made it's a very good place to start.

Will Obama Try to Put Holder on the Supreme Court? [Scroll down] Also arguing against the nomination of Eric Holder is the fact that he has already been censured by the House of Representatives. In and of itself, such a censure has no legal standing to block Holder's nomination, but it does indicate that at least 218 members of the House were seriously upset with Mr. Holder's evident refusal to cooperate in a legal matter before them. His constant delaying tactics, editing and failure to turn over documents (or if you prefer the term — evidence) was hardly consistent with the responsibilities of the "Chief Law Enforcement officer" in the nation. Why mention the vote to censure Holder? Because the same 218 members of the House would be sufficient to deliver a Bill of Impeachment to the Senate regarding a new Justice Eric Holder.

News Justice Ginsburg: Buying Contraceptives for Others is One of the 'Obligations That Citizens Have'. Providing women with cost-free health-insurance coverage for contraceptives is one of the "obligations" of citizenship, U.S. Supreme Court Justice Ruth Bader Ginsburg said Wednesday [7/20/2014] in an interview with Yahoo's Katie Couric. "Some people say there's something troubling about mandating a private company though, to do something that is against their deeply held religious beliefs. What would you say to those people?" Couric asked Ginsburg, one of four dissenting justices in the court's landmark Burwell v. Hobby Lobby decision. "When you're part of a society, you can't separate yourself from the obligations that citizens have," the justice replied.

'We Only Whisper It'. Ruth Bader Ginsburg, having decided for some inexplicable reason to do a long interview with a fashion magazine (maybe it is her celebrated collection of lace collars), reaffirmed the most important things we know about her: her partisanship, her elevation of politics over law, and her desire to see as many poor children killed as is feasibly possible. Speaking about such modest restrictions on abortion as have been enacted over the past several years, Justice Ginsburg lamented that "the impact of all these restrictions is on poor women." Then she added: "It makes no sense as a national policy to promote birth only among poor people."

The Editor says...
Here's an easy solution to the alleged problem cited by Justice Ginsburg (although not what she had in mind, I surmise): Stop rewarding welfare queens for their ability to reproduce. Welfare checks should not be proportional to the number of illegitimate kids each female can produce in a lifetime.

Ruth Bader Ginsburg: Male Justices Didn't Really Understand Hobby Lobby. "Contraceptive protection is something that every woman must have access to in order to control her own destiny," Ginsburg told [Katie] Couric. While she said she "respects the belief" of the Hobby Lobby owners, she added, "they have no constitutional right to force that belief on the hundreds and hundreds of women who work them who don't share that belief."

The Editor says...
Really? If government workers have religious objections to same-sex marriage and same-sex adoption, does the government have the "constitutional right to force that belief on the hundreds and hundreds of women who work them who don't share that belief[?]"

Halbig is an Opportunity for Supreme Court to Rededicate Itself to Rule of Law. True, the Halbig case, if it makes its way to the Supreme Court, will present an opportunity for Chief Justice John Roberts to redeem himself from his abominably activist salvation of Obamacare. But more important, it will be an opportunity for the high court to reaffirm this nation's commitment to the rule of law. In Halbig v. Burwell, the D.C. Circuit Court of Appeals held that under the Affordable Care Act federal health insurance subsidies are available for policies purchased only on state exchanges and not those purchased on the federal exchange.

Will John Roberts Decide a 'State' Is Not a 'State'? On the face of it, this question may seem absurd. In fact, given any level of reflection, it is absurd. The federal government is not one of the states. But this absurd question was at the heart of Halbig v. Burwell, decided this week by the U.S. Court of Appeals for the District of Columbia, and it could soon become a defining issue in American life. Section 1311 of the Affordable Care Act, the court explained, provided for "each State" to establish an exchange to sell health insurance. However, the federal government cannot force a state government to create a health insurance exchange.

Justice Kennedy says Constitution 'flawed document'. Supreme Court Justice Anthony Kennedy wasn't out to make news when he addressed the annual conference of the Ninth U.S. Circuit Court of Appeals and devoted most of his 50-minute speech to the Magna Carta, which turns 800 years old in 2015. But Kennedy did let on that he doesn't belong to the school of Constitution-worshipers who base their legal doctrines on what they glean to be the original, literal meaning of every word and phrase in the nation's founding document.

The Constitutional Lawyer in the White House Has Lost Unanimously at the Supreme Court 20 Times. Sen. Ted Cruz (R-TX) has argued cases before the United States Supreme Court, successfully. President Barack Obama has not. He has never argued a case at the Supreme Court at all. That didn't stop his spokesmen from playing the constitutional lawyer credential card when reacting to the Hobby Lobby defeat on Monday [6/30/2014].

Supreme Court: No Cell Phone Searches Without a Warrant. The Supreme Court just ruled that police officers must obtain a warrant before searching through an arrestee's cell phone. This unanimous decision has huge implications as 12 million Americans are arrested every single year and most carry cell phones with vast amounts of personal information. Of course, this issue should be a no brainer. The Fourth Amendment, which clearly prohibits unreasonable searches and seizures, should still apply in today's digital age. Up until now, however, the law has been unclear about smart phones.

Obama administration brings unity to the Supreme Court. In both today's [6/26/2014] Noel Canning decision on recess appointments and yesterday's cell phone search decision, the justices unanimously rejected the administration's extreme positions, even though they disagreed on other issues involved in the two cases.

Justices, With Limits, Let E.P.A. Curb Power-Plant Gases. In a big win for environmentalists, the Supreme Court on Monday [6/23/2014] effectively endorsed the Obama administration's efforts to regulate greenhouse gas emissions from sources like power plants, even as it criticized what it called the administration's overreaching. The decision is one in a recent string of rulings upholding the Environmental Protection Agency's authority to issue Clean Air Act regulations to curb climate change, and the agency celebrated the decision. But the combative tone of Monday's ruling, along with its rejection of one of the agency's principal rationales for the regulations under review, suggests that the road ahead may be rocky for other initiatives meant to reduce carbon emissions.

Supreme Court Gives Taxpayers More Power To Fight The IRS. The U.S. Supreme Court on Thursday [6/19/2014] ruled unanimously that taxpayers have a right to challenge an Internal Revenue Service summons enforcement action in court when they can show the tax agency might have issued the summons in bad faith.

SCOTUS begins demolition of 2nd Amendment. In a 5-4 decision, the Court reversed the rationale behind the natural right encapsulated in the 2nd Amendment, in my view, inasmuch as its ruling doesn't sanction the prohibition of criminals from obtaining firearms as it does reinforces the government's right to track who has them. For the Greater Good, you see.

The Four Horsemen of Hobby Lobby. The Supreme Court is expected to hand down its ruling in Sebelius v. Hobby Lobby on June 26, and the closer we get to that date the more frantic liberals become. Their fear of a decision in favor of the arts and crafts chain, whose owners have challenged the constitutionality of Obamacare's contraception mandate on the grounds that it violates their religious liberty, has reached such a pitch that they are making claims that transcend the merely portentous. Their warnings concerning the consequences of a high court win for the Green family, the company's owners, have now become downright apocalyptic.

Supreme Court rules for stricter scrutiny of gun purchases. The Supreme Court on Monday [6/16/2014] tightened restrictions on gun purchases, ruling that buyers must take care to explicitly state on their federal purchase form whether they intend to keep or sell their newly-bought gun to someone else. The 5-4 ruling was seen as the biggest test of gun rights during this term of the Supreme Court, and a majority of justices signaled their desire to strictly interpret the law in light of difficulties in background checks.

Supreme Court Has 17 Cases to Decide by June's End. The religious rights of corporations, the speech rights of abortion protesters and the privacy rights of people under arrest are among the significant issues that are so far unresolved.

Pro-Life Group Wins in Supreme Court Free Speech Case. A prominent pro-life group won a decisive victory against an Ohio state law that blocked a series of campaign ads during the 2010 election. The Supreme Court unanimously ruled that Susan B. Anthony List (SBA List), a non-profit organization that supports pro-life candidates, had every right to establish billboards stating that a vote for Obamacare meant a vote for taxpayer funded abortion during the 2010 midterm elections.

No, the Supreme Court Doesn't Need Term Limits. Some of you may believe partisanship is a healthy organic reflection of genuine disagreement in the nation, but for the well-known political scientist Norm Ornstein, there is nothing more devastating than inaction. [...] Limiting terms is hardly a new idea among those on the left who believe that a bunch of old codgers are holding up progress by taking all things too literally. The thing is that Ornstein's justification for term limits is selectively deployed. First off, when you dig a little deeper into his argument, you end up where you always end up when you dig into his argument: "Partisanship" and "polarization" equal "conservatives." Ornstein notes how "asymmetric" things have become as "conservative justices have moved very sharply to the right, liberals a bit more modestly to the left."

View of Supreme Court rebounds. The Supreme Court's favorability rating has rebounded after falling to a near all-time low last year following a pair of decisions on the controversial issues of gay marriage and voting rights. According to a Pew Research poll released Tuesday, 56 percent of the public have a favorable view of the court compared to 35 percent who have an unfavorable view.

The courts will not save us. Has the Supreme Court ever served as a bulwark of the Constitution or legal nicety when the chips were down? Contrary to popular belief, and the Supreme Court's own conception of itself, I think the answer is largely negative. There is a multitude of examples that supports the negative answer.

Supreme Court: Opening prayers at council meetings constitutional. The Supreme Court has upheld the right of local officials to open town council meetings with prayer, ruling that this does not violate the Constitution even if the prayers routinely stress Christianity. The court said in a 5-4 decision Monday [5/5/2014] that the content of the prayers is not critical as long as officials make a good-faith effort at inclusion. The ruling was a victory for the town of Greece, N.Y., outside of Rochester.

Freedom for Religion, Not From It. Today the U.S. Supreme Court once again affirmed that the so-called "wall of separation" that exists between church and state is not quite the edifice that liberals would like it to be. In Town of Greece v. Galloway, the court ruled today [5/5/2014] that a village in upstate New York did not violate the First Amendment in allowing members of clergy to begin town board meetings with prayers, some of which were explicitly sectarian (and usually Christian) rather than ecumenical. The narrow vote along the usual 5-4 conservative/liberal lines is bound to incite many on the left to express fears about the court trying to turn the U.S. into a "Christian nation."

Prayer in the Public Square. The Supreme Court did a good turn for religious freedom on Monday [5/5/2014], ruling that prayer is permitted at government meetings and doesn't amount to an endorsement of religion. The disconcerting surprise is that the decision was only 5-4. Greece v. Galloway dealt with a challenge to the town of Greece, New York's practice of opening its council meetings with a prayer. This being America in the Year of Our Lord 2014, two women sued, claiming to be offended because the clergy invited to read an invocation were predominantly Christian. The High Court ruled that such a legislative prayer is part of American tradition going back to the Founders and doesn't favor one religion over another.

US Supreme Court rejects appeal on N.J. gun rights case. The U.S. Supreme Court has declined to hear a challenge to New Jersey's gun laws that require an individual to show an urgent need in order to obtain a permit. Monday's action means that a lower court's decision to uphold the laws will stand. New Jersey requires residents to show they have a specific need to carry a firearm outside the home. This challenge touched on whether the constitution protected the right to carry outside the home. The Supreme Court had previously rejected Washington D.C.'s outright ban on handguns.

Supreme Court Ruling Empowers EPA. The U.S. Supreme Court ruled Tuesday [4/29/2014] that the Environmental Protection Agency has the authority to regulate emissions produced by coal-fired power plants in order to protect downwind states from deleterious effects of pollution. The 6-2 ruling in the latest battle of what has been termed the "War on Coal" is a big victory for the Obama administration and environmental groups who maintain burning coal represents a health risk to those with respiratory problems. It also indicates the nation's highest court is likely to side with the EPA on other issues related to their regulatory powers.

Supreme Court revives EPA rule limiting air pollution from neighboring states. The Supreme Court on Tuesday [4/29/2014] handed the Obama administration an important victory in its effort to reduce power plant pollution that contributes to unhealthy air in neighboring states. In a 6-2 decision, the court upheld a rule adopted by the Environmental Protection Agency in 2011 to limit emissions from plants in more than two-dozen Midwestern and Southern states.

Supreme Court OKs EPA pollution rules: another blow for coal. The Supreme Court upheld a federal regulation Tuesday that limits the amount of air pollution that can cross state lines, handing a victory to the Obama administration's efforts to limit air pollution. The Supreme Court ruling deals a blow to the US coal industry, but the biggest hit is yet to come.

Supreme Court case could open floodgates to 'patent troll' lawsuits. President Obama's administration is a big friend of trial lawyers as well as a major fan of creative interpretations of existing laws and precedents, whatever the long-term consequences. So when even this administration sounds the alarm bells that an upcoming Supreme Court case could uproot sound precedents and create an explosion of litigation, you know the potential consequences are dire. That case is Limelight v. Akamai, and it could radically expand the legal definition of what constitutes patent infringement if the justices uphold a lower court's ruling. That would in turn create a boom in what is known as "patent troll" litigation.

In Washington, It's Politics "By Any Means Necessary". The Supreme Court, in a moment of unusual clarity, ruled last week that the equal protection clause of the 14th Amendment did not prohibit states from requiring public universities to treat applicants of different races equally. Or, in other words, equal protection is not opposed to (14th Amendment) equal protection. It is a powerful testimony to the Orwellian nature of our legal world that such a question arose in the first place and that two Justices could be found to dissent from the ruling. The full name of the original plaintiff, however, reveals much: "Coalition to Defend Affirmative Action, Integration and Immigration Rights and Fight for Equality By Any Means Necessary."

NJ man's handgun case before U.S. Supreme Court on Friday. The U.S. Supreme Court will decide in the coming days whether it will hear a Sussex County man's challenge to New Jersey's handgun carry laws. The lawsuit, brought by John Drake, challenges the "justifiable need" requirement the state asks for carrying a handgun. [...] Drake, a Fredon man who owns and operates an ATM business and who occasionally carries significant amounts of cash, said today that the case could be the first step toward the "Holy Grail of the gun rights movement," the right to carry. "If the Supreme Court decides to take the case, it could clarify the right to carry issue for the entire nation, and New Jersey would become ground zero for the gun-rights movement as the scramble of the decade begins," Drake said this morning.

Dems seek to demonize justices. Senate Democrats and liberal groups are mounting a pressure campaign against the Supreme Court, hoping to influence future decisions by blasting conservative justices for alleged political bias. The effort from the left also portrays the high court as an instrument rigged to help the wealthy, and is intended to energize Democratic voters and increase turnout in the midterm elections. Some legal experts see the effort as akin to basketball or soccer players "working the ref" in a high-stakes game.

Supreme Court rejects appeal from New Mexico photographer who wouldn't shoot same-sex ceremony. The U.S. Supreme Court rejected an appeal Monday from a studio that refused to photograph a lesbian couple's commitment ceremony, letting stand a New Mexico high court ruling that helped spur a national debate over gay rights and religious freedom.

That pesky 1st Amendment: Liberals' gripe with free speech. Every time the Supreme Court rules in favor of the First Amendment in a campaign-finance case, the left recoils in disgust. The court's 5-4 decision in McCutcheon v. FEC is the latest occasion for the rending of garments and gnashing of teeth. The court struck down the limit on the aggregate amount a donor can give to candidates and political-party committees, ruling it incompatible with First Amendment protections for political expression. The left pronounced itself outraged. Sen. Chuck Schumer (D-N.Y.), who has $11 million in his campaign treasury despite being a de facto senator for life, called the decision "another step on the road to ruination."

Welcome to the Collective. When the court extended First Amendment protection to "depictions of animal cruelty" (U.S. v. Stevens, 2010) and violent video games (Brown v. Entertainment Merchants Association, 2011), the decisions were written by Roberts and Justice Antonin Scalia, respectively, for 8-1 and 7-2 majorities. So why have the court's "liberals" adopted a hostile attitude toward political speech, which has long been understood as being at the core of First Amendment protection? In his McCutcheon dissent, Justice Stephen Breyer elaborates the theory behind this odd development.

RNC Chairman: McCutcheon decision 'a very big victory'. Republican National Committee Chairman Reince Priebus lauded Wednesday's Supreme Court decision striking aggregate limits on campaign contributions as a "very big victory for the RNC." In a 5-4 decision, the court found that aggregate contribution limits — the maximum total amount a donor can give to federal candidates and political party committees throughout the course of a two-year election cycle — are unconstitutional. The decision in the case, McCutcheon v. Federal Election Commission, is the latest move to loosen campaign finance restrictions.

Supreme Court leaning against anti-Bush demonstrators in free speech case. A Supreme Court hearing that aired all sorts of ways someone might try to assassinate the president did not bode well Wednesday for a group of protesters suing two Secret Service agents for allegedly mistreating them at a 2004 appearance of President George W. Bush. Several justices seemed concerned about whether the free speech rights of anti-Bush protesters in Jacksonville, Ore., had been violated. [...] But the court gave no indication that it would let a lawsuit proceed against the two agents in charge if there were any possibility that they had been making on-the-spot decisions about the president's safety.

Justices sound ready to reject contraceptives mandate under Obamacare. The Supreme Court's conservative justices sharply criticized part of President Obama's healthcare law Tuesday [3/25/2014], suggesting they will rule later this year that requiring Christian-owned corporations to offer their employees contraceptives coverage violates the freedom of religion. "Your reasoning would permit requiring profit-making corporations to pay for abortions," Justice Anthony M. Kennedy told U.S. Solicitor General Donald Verrilli, who defended the contraceptives provision of the Affordable Care Act.

Supreme Court says regulatory law means whatever EPA says it means, today. On Monday, the [U.S. Supreme] Court declined to accept an appeal from Arch Coal of the U.S. Environmental Protection Agency's reversal of its 2007 issuance of a 2011 Clean Water Act permit for the company's Spruce Mine operation in West Virginia. By refusing to hear the appeal, the court upheld EPA's authority to change its mind on a regulatory permit decision, even though doing so inflicts substantial financial and other losses on appellants. The court's denial also creates a damaging new regulatory uncertainty because it casts potential doubt on the legitimacy on any federal permitting decision, not just those by EPA under the Clean Water Act.

Supreme Court Deeply Skeptical of Obamacare 'Abortion Mandate'. Several justices sharply questioned Obamacare's "abortion mandate" today [3/25/2014] at the Supreme Court, and five justices — a majority of the court — appeared deeply skeptical of the controversial regulation at issue. Chief Justice John Roberts — who turned out to be the swing vote in Obamacare's first foray at the Court — expressed strong disagreement with several of the Obama administration's arguments about legal protections for religious companies facing a mandate to provide contraceptives against their beliefs.

Sects and Drugs. It is likely to be another three months before the U.S. Supreme Court decides whether the government is obliged to grant a religious exemption from ObamaCare's birth-control mandate to companies whose owners object to it on religious grounds. Tomorrow the justices hear oral arguments in the two cases that raise that question, Sebelius v. Hobby Lobby Stores and Conestoga Wood Specialties Corp. v. Sebelius. But already some on the left think they've caught Justice Antonin Scalia in a contradiction. They haven't.

Supreme Court weighs EPA authority to regulate greenhouse gases. The Supreme Court on Monday [2/24/2014] will hear challenges to an Obama administration greenhouse gas regulation. The program in question is the Environmental Protection Agency's permitting process for industry sources, which includes coal-fired power plants, chemical facilities and oil refineries. In 2010, the EPA said its emissions standards for passenger cars "triggered" a need to regulate greenhouse gas pollutants under permits for new facilities because the gases were deemed an endangerment to "public health or welfare."

At the Supreme Court, a royal mess for 'King Barack'. Monday morning's [2/24/2014] Supreme Court argument about the Environmental Protection Agency's authority to regulate greenhouse gases went badly for the Obama administration — so much so that the real question before the justices seemed to be how severe the EPA's loss would be.

Supreme Court asked to decide on three gun cases. The Supreme Court on Friday will consider whether to wade into a growing legal brawl over the scope of the Second Amendment and how far the Constitution goes in protecting Americans' self-defense rights outside of their homes, with the justices deciding whether to take up three pending gun cases. Six years ago, in the landmark Heller case, the court established that the Constitution guarantees a personal right to bear arms, but states — and lower federal courts — have made different judgments about what that means.

Supremes Poised to Strike Down Obama's Recess Appointments. On Monday [1/13/2014], the Supreme Court heard arguments regarding whether President Barack Obama's appointments to the National Labor Relations Board (NLRB) are unconstitutional. The case will probably be a lopsided defeat for the president, with his own Supreme Court appointees expressing deep skepticism of the Justice Department's arguments.

A Moment of High Constitutional Candor. The Court appears ready to rule that Obama exceeded his constitutional power to fill "Vacancies that may happen during the Recess of the Senate" by deciding for himself the Senate was in recess when the Senate considered itself in session.

Supreme Court Rules U.S. State Courts Do Not Have Jurisdiction over Foreign Companies. Foreign plaintiffs cannot bring suit in America against foreign defendants for events that took place entirely on foreign soil, according to a Jan. 14 unanimous judgment by the Supreme Court. If part of a global business empire committed illegal acts involving foreigners in a foreign country, but also owns a subsidiary in America, those foreigners cannot sue here for those illegal acts. It would violate the Due Process Clause of the Constitution's Fourteenth Amendment for any state courts here in the U.S. to claim jurisdiction over the foreign company.

Supreme Court schedules hearing on birth control mandate. The Supreme Court has scheduled the argument on the so-called contraceptive mandate in the Obamacare law for Tuesday, March 25. That's when the court will hear the challenges brought by two businesses whose owners say providing contraceptive care would violate their religious beliefs.

Obama Lawlessness Spreads To Supreme Court. Obama race-mongers first mugged mortgage bankers, then went gunning for car lenders. Now they're trying to block the Supreme Court from taking away their main weapon: disparate impact.

Supreme Court orders White House to respond to Romeike petition. The Supreme Court has ordered the White House to respond to an asylum petition that appeared on Whitehouse.gov on behalf of Uwe and Hannelore Romeike. The Romeike family fled Germany in 2008 when they were fined and threatened with jail-time for homeschooling their children. They were denied asylum in 2012, and a lower court ruled against them when they appealed. They have appealed to the Supreme Court, which has not decided to hear their case. However, the Homeschool Legal Defense Association (HSLDA), which represents the family, has announced that the Supreme Court has ordered the Obama administration to issue an official response to the WhiteHouse.gov petition asking for "full and permanent legal status" for the Romeikes.

Supreme Court Orders DOJ to Respond to German Homeschoolers' Petition. The Supreme Court has ordered Attorney General Eric Holder to respond to the Home School Legal Defense Association's (HSLDA) petition on behalf of the Romeike family, a German family who sought legal asylum in the United States to escape persecution because homeschooling is largely prohibited in their home country. In a press release, James Mason, HSLDA's director of litigation, said that the order is a hopeful sign that the High Court will hear the case.

Supreme Court to decide Obamacare birth control mandate. The Supreme Court on Tuesday [11/26/2013] set up another showdown over President Obama's health care law, agreeing to decide whether the government may force for-profit companies to insure birth control as part of their health plans, even if it violates the owners' religious beliefs. The justices said they will hear appeals of two related cases — one in which the lower court ruled in favor of an employer, and one in which the lower court upheld the Obama administration's contraception mandate. The conflicting rulings made it an easy decision for the justices to accept the cases.

Court Confronts Religious Rights of Corporations. Hobby Lobby, a corporation, says that forcing it to provide the coverage would violate its religious beliefs. A federal appeals court agreed, and the Supreme Court is set to decide on Tuesday whether it will hear the Obama administration's appeal from that decision or appeals from one of several related cases. Legal experts say the court is all but certain to step in, setting the stage for another major decision on the constitutionality of the Affordable Care Act two years after a closely divided court sustained its requirement that most Americans obtain health insurance or pay a penalty.

Supreme Court appears to support a warrantless police search. In a case that could narrow legal protections against police searches, a majority of Supreme Court justices sounded ready Wednesday [11/13/2013] to reject an appeal from an imprisoned Los Angeles gang member who contended that after he objected to a search and was then taken away under arrest, police unconstitutionally entered his apartment. Justices appeared to agree with attorneys for the Los Angeles Police Department, who defended the search as legal because the gang member, Walter Fernandez, was not present and his girlfriend gave police permission to enter their home.

Supreme Court Opens Hearing on Public Prayer — With a Prayer. The United States Supreme Court heard oral arguments Wednesday in a case examining whether sectarian prayer should be allowed at government meetings. The Supreme Court began the day's session with its traditional opening, "God save the United States and this honorable court." The irony of the high court hearing a public prayer complaint after its own mention of God was not lost on the justices.

A Federalism Watershed. The Supreme Court hears its most consequential case so far this term on Tuesday [11/4/2013], and the question boils down to this: Can the federal government use a treaty with foreign nations to vitiate police powers that the Constitution reserves for the 50 states? That may seem esoteric, but the question goes to the heart of the Constitution's separation of powers.

Treaties Don't Trump the Constitution. Can the President and Senate invest the federal government with new powers not enumerated in the U.S. Constitution simply by signing and ratifying a treaty? Can the treaty power be used to override the Tenth Amendment and render it a dead letter? Those issues will be argued before the U.S. Supreme Court on November 5, 2013, in the case of Bond v. United States.

Supreme Court to consider religious prayer at government meetings. In a case that could determine restrictions on expressions of faith in the public square, the Supreme Court on Wednesday (Nov. 6) will consider religious prayers that convene government meetings. At issue in Greece v. Galloway is whether such invocations pass constitutional muster, even when government officials are not purposefully proselytizing or discriminating.

Supreme Court to Review EPA Climate Rules. The Supreme Court has today granted cert to review the EPA's greenhouse gas rules. This is highly significant. The high court clearly botched the last global warming case, Massachusetts v. EPA, back in 2007. Maybe they'll correct themselves.

Supreme Court Prepares for a Year of Big Cases. On Nov. 6, the Supreme Court will consider in Town of Greece v. Galloway whether invocations at sessions of policymaking bodies — called "legislative prayer" — are unconstitutional if the court decides they endorse religion (such as the prayer-givers mentioning Jesus Christ, or if a majority of the volunteer prayer-givers are Christian). This case also asks the Court to consider whether its overall test on finding Establishment Clause violations for the past forty years needs to change. If the Court takes the extra step, this could become one of the most important religious liberty Supreme Court cases in American history.

Biden wants Napolitano on Supreme Court. Vice President Joe Biden made it clear Friday how he feels about departing Homeland Security Secretary Janet Napolitano. "I think Janet Napolitano should be on the Supreme Court of the United States," he said Friday morning [9/6/2013] at her going away ceremony. His statement was met with raucous applause by those attending, including current and former cabinet secretaries, law enforcement officials, and Attorney General Eric Holder.

Justice Ginsburg to officiate at same-sex wedding. Supreme Court Justice Ruth Bader Ginsburg will officiate at a same-sex wedding this weekend in what is believed to be a first for a member of the nation's highest court.

Mark Levin's New Book Could Help Americans Regain Their Liberty. Only those happily trampling on the last vestiges of freedom will deny that our federal government as a constitutional republic has ceased to function. The president can no longer control (nor does this one want to control) the enormous and ever-expanding bureaucracy functioning as a government by fiat. The legislative branch, so corrupted, so drunk by the allure of power, so disdainful of its constituents, is unable to stop its bankrupting ways. The judiciary is perhaps worst. The Supreme Court is openly rejecting the authority of the Constitution itself.

Voting Rights Act Anachronism. In its Shelby County vs. Holder ruling, the high court struck down provisions of the 1965 Voting Rights Act requiring states with a history of voting discrimination from having to seek Justice Department or court approval of redrawn voting districts. Writing for the high court's majority, Justice Roberts noted a "1,000 percent increase since 1965 in the number of African-American elected officials in the six states originally covered by the Voting Rights Act."

Playing Fast and Loose with Marriage and the Constitution. [Scroll down] Scalia then gets to the rationale behind the high court's declaring DOMA unconstitutional: "The majority has declared open season on any law that (in the opinion of the law's opponents and any panel of like-minded federal judges) can be characterized as mean-spirited ... It is one thing for a society to elect change; it is another for a court of law to impose change by adjudging those who oppose it hostes humani generis, enemies of the human race." The high court ruling, therefore, redefines heterosexuals as breeding stock in the service of humanity-extinguishing homosexual, same-sex unions.

SCOTUS Amends the Declaration of Independence. A revised version of the Declaration is the inevitable outcome of their opinions in the same-sex "marriage" cases hammered down on Wednesday in Windsor v. United States and Hollingsworth v. Perry. For those who think those rulings are merely about an insignificant "social issue," think again.

Media Research Center: CNN Biased on Supreme Court Decisions. In the last week of June, the Supreme Court of the U.S. (SCOTUS) handed down two important decisions, one striking down part of the 1965 Voting Rights Act and one striking down the Defense of Marriage Act (DOMA), leading to a renewed national dialog on the issues. According to a review of CNN's coverage of the June 25 and 26 Supreme Court decisions conducted by the Media Research Center, the cable network's coverage of the rulings showed a decided leftward tilt.

Immoral decision stifles legitimate disagreement. So now the wrong has been declared right, not by a consensus of Americans, but rather by government fiat, the way they do it in nations where people live under the thumbs of tyrants, having no voice in their own affairs. We once pitied them. Now we're beginning to resemble them. What happened yesterday was an abomination, not only in the way the Supreme Court trashed the institution of marriage, but also in the way its liberal branch slapped a muzzle onto the populace, in effect ruling the will of the people is of no consequence in an issue that strikes at the heart of who we are and what we believe.

Worse Than It Sounds, and It Cannot Be Cabined. These decisions, handed down by the Court today, [...] lay down the predicates for litigation that will clearly unfold now, and with short steps sure to come, virtually all of the barriers to same-sex marriage in this country can be swept away. Even constitutional amendments, passed by so many of the states, can be overridden now.

Voting Rights Act represents abomination of justice. Finally, the federal government appears to be getting out of the business of judging voters based on the color of their skin — only 50 years after the Rev. Martin Luther King Jr. pleaded that blacks in America be judged only by the content of their character.

SCOTUS ruling sets stage for voter ID battle. The Supreme Court decision Tuesday striking down a key plank of the Voting Rights Act dramatically eases the way for states to push through stricter voting laws — and the flurry of action could reverberate into 2014 and beyond. Some states such as Texas moved within hours of the landmark ruling to implement so-called voter ID laws — requiring voters to show valid identification before they can cast ballots — that had been on hold. Others, such as swing state North Carolina, are expected to pass legislation this year that could complicate Democrats' chances in 2014 midterm elections.

Who Are the Real Bigots on Gay Marriage? Justice Anthony Kennedy did the cause of gay marriage no favors when he ruled that the purpose of laws that uphold traditional marriage was to "disparage and injure" same-sex couples. By casting support for traditional marriage falsely as bigotry, he undermined the legitimacy of the holding in the case. Worse, he implictly excused the real — not imagined — bigotry of some gay marriage supporters against their opponents.

Supreme Court: Defenders of Traditional Marriage are Enemies of the Human Race. In one fell swoop, the United States Supreme Court in United States v. Windsor killed the federal Defense of Marriage Act (DOMA), thereby assuring that same-sex "marriages" recognized under State laws must be treated as marriages under Federal law. The immediate result of the majority holding is to open up to the partners of same-sex "marriage" thousands of benefits, including estate tax exemptions, social security benefits, the ability to file joint tax returns, and so forth. But that result is not the worst of it. What is worse is what the opinion forebodes.

Supreme Court decision triggers massive overhaul of regulations. The Supreme Court's decision to overturn the ban on federal benefits for gay couples is sure to trigger a mammoth effort to change hundreds of regulations and laws across the breadth of government. The scope of the high court's ruling goes far beyond Social Security checks and joint tax returns. Its implications extend to everything from policies at the Pentagon to the immigration reform bill now being debated in Congress. Within hours of the ruling, President Obama directed Attorney General Eric Holder and other members of his Cabinet to begin poring over relevant federal statutes and regulations that might need to be adjusted in light of the 5-4 decision to strike down a key provision of the Defense of Marriage Act (DOMA).

Supreme Court strikes down DOMA provision, paves way for gay marriage in California. In a big day for gay-rights advocates, the Supreme Court on Wednesday struck down a federal provision denying benefits to legally married gay couples and issued a separate ruling that paves the way for same-sex marriages to resume in California. Cheers erupted on the steps of the high court, as the rulings were handed down. The latter decision did not speak to the constitutionality of gay marriage bans in California, or in the country as a whole. The court avoided a broad ruling, and rather, determined that the defenders of California's Proposition 8 ban on gay marriage did not have the standing to appeal lower court rulings against the ban.

Scalia: 'High-Handed' Kennedy Has Declared Us 'Enemies of the Human Race'. Dissenting from this morning's opinion on the Defense of Marriage Act, Justice Antonin Scalia — as expected — holds nothing back. In a ripping dissent, Scalia says that Justice Anthony Kennedy and his colleagues in the majority have resorted to calling opponents of gay marriage "enemies of the human race."

What's Taking the Supreme Court So Long? There are 11 cases remaining for the court to decide, and it is likely that all 11 will be decided by the end of next week. But there are no guarantees.

No right to silence. Monday's decision scales back the Miranda decision. Not only can your words be used against you, but the Supreme Court says your silence can be, as well. Genovevo Salinas found this out after he was questioned by Houston police regarding the 1992 murder of two brothers.

Sen. Mike Lee: Justice Roberts' Obamacare ruling was 'a betrayal of his judicial oath'. Sen. Mike Lee, R-Utah, was disappointed when the U.S. Supreme Court upheld Obamacare. One year later — having thought about the case, gotten some distance from the issue, reviewed the ruling opinion — he's confident of one thing: Chief Justice John Roberts engaged in "a betrayal of his judicial oath," one that amounts to "a form of tyranny."

Supreme Court OKs DNA swab in serious arrests. A narrowly divided Supreme Court ruled Monday that police can collect DNA from people arrested but not yet convicted of serious crimes, a tool that more than half the states already use to help crack unsolved crimes. The case, described by Justice Samuel Alito as "the most important criminal procedure case that this court has heard in decades," represented a classic test between modern crime-fighting technology and centuries-old privacy rights.

More Justice Department Chicanery: Thomas Perez and 'Disparate Impact'. One of the administration's favorite legal theories, "disparate impact," may get taken up again by the Supreme Court. [...] Under this theory, a policy — such as requiring high credit scores for loans — can be completely neutral, but if it yields a disparate impact on a particular racial or gender group, an institution using that policy can be held liable for discrimination. In other words, an entity can be found to have discriminated even if it didn't actually intend to discriminate.

A Supreme Court EPA Decision That Could Cost Taxpayers $21 Billion Per Year. Is the Clean Air Act so badly flawed that it will cripple environmental enforcement and economic development alike unless the EPA and its state counterparts defy clear statutory provisions or, alternatively, spend $21 billion a year to employ an additional 320,000 bureaucrats? That is a central issue in a recent lawsuit by the Southeastern Legal Foundation, the Competitive Enterprise Institute and a host of lawmakers and several companies. They are petitioning the Supreme Court to review an appellate court decision upholding the EPA's global warming regulations.

The Supreme Court vs. Freedom of Information. Let's say a resident of New York drives to Virginia in order to visit relatives and a member of her family uses her car to visit a prostitute one night and ends up getting arrested. The owner has zero knowledge of this illegal activity and is of course never charged with any crime, let alone convicted of one, yet the police still seize the car as part of an asset forfeiture proceeding. That's the controversial tool allowing law enforcement to take private property suspected of being used to facilitate a crime without first obtaining a criminal conviction against the owner of that property. Shouldn't the New York-based car owner be permitted to file a Virginia Freedom of Information Act request as part of her efforts to get her property back? Not in the eyes of the U.S. Supreme Court.

The Premature Mirandizing of a Terrorist. Miranda v. Arizona was part of a string of decisions by the Warren Court that had begun the year of Lois Ann Jameson's rape. The decisions invented rights which not only obligated taxpayers to provide accused criminals with lawyers, but also made it impossible to question a suspect without his lawyer. In the case of Lois Ann's rapist, Justice Earl Warren, who proved to be a bigger threat to the Constitution than King George III, went beyond inventing the right to a government lawyer, to invent the rapist's right to be told of a right to a government lawyer.

The Top 50 Liberal Media Bias Examples. [#6] Robert Bork and Clarence Thomas Vs. Elana Kagan: In 1987 and in 1991 when Robert Bork and Clarence Thomas were respectively nominated to serve on the Supreme Court of the United States, both men were utterly destroyed by the press. In the case of Bork they were successful in preventing his nomination, not so in the case of Thomas. It was so bad for Robert Bork that a verb was made of his name.

Legislating from the Bench on Gay Marriage. A political legislature known as the U.S. Supreme Court held a purely-legislative hearing about homosexual marriage on March 26. The hearing debated raw policy preferences and speculated about benefits for and against homosexual marriage. To anyone trained in the law, it violated almost every law and rule of the U.S. Supreme Court. Only a lawyer willing to 'tell' on his profession can reveal how disturbing was the High Court's oral argument in Hollingsworth v. Perry.

Obama's Actions Over Law Questioned. President Barack Obama believes the Defense of Marriage Act is unconstitutional, but continues to enforce it. That stance came in for serious criticism Wednesday from conservative members of the Supreme Court, and led the justices to tackle some thorny procedural questions.

Conservative justices rip Obama. The Supreme Court's conservative justices on Wednesday [3/27/2013] were sharply critical of President Obama's approach to a federal law on same-sex marriage. Obama and Attorney General Eric Holder decided in 2011 that the federal Defense of Marriage Act is unconstitutional. They quit defending it in the courts, but directed federal agencies to continue to comply with the law.

'Til the Supreme Court Do Us Part. America's cultural and media elites are attempting to browbeat the High Court into coercing the country into recognizing same-sex marriage by casting opponents as bigots for holding a position that President Obama held less than a year ago. This bigotry label apparently applies even to those who favor gay marriage but would rather settle the matter democratically, state to state.

Want your Constitution back? Start here. Our progressive legal thinkers have their own version of the Brezhnev Doctrine, by which the Soviet Union once told the Free World, "What's ours is ours; what's yours is negotiable." Supreme Court precedents conforming to the Constitution's original meaning have a short shelf life — the opinion that recognized the constitutionality of laws against homosexual sodomy lasted a mere 17 years — but those advancing the left's agenda are untouchable. Not one of them has been overturned. Indeed, the Court is much more likely to reverse itself and eviscerate the Second Amendment than it is to ever undo any of its mischievous handiwork regarding enforcement of the law against murder.

Supreme Court won't block Obama health law's contraception mandate. The Supreme Court on Wednesday refused to block the Obama administration's contraception mandate from taking effect. Justice Sonia Sotomayor rejected a request for an emergency injunction that would have shielded employers from the mandate.

A Supremely Important Decision About America's Logging Industry. On December 3, the U.S. Supreme Court will consider who is best suited to set national environmental policy — the experienced scientists and regulators at the Environmental Protection Agency or activist trial lawyers. [...] Under the Ninth Circuit ruling, a permit could be demanded for every drain and ditch that directs water from a logging road to a fish-bearing stream. The U.S. Forest Service estimates that getting all its roads fully certified could take as much as a decade.

Supreme Court: A law unto themselves. Recently, Judge Andrew Napolitano gave a dim prognostication of what could happen to the rights of the American people if Judge Ruth Bader Ginsburg would fall to sickness or old age in the next four years. He was afraid that Obama might replace her with a progressive (a communist) who would, in turn, do much damage to the Second Amendment and other rights that God has given to the American people.

Voting Rights Act Challenge Gets U.S. High Court Hearing. Acting three days after minority voters propelled President Barack Obama to re-election, the court yesterday said it will review a provision that requires all or part of 16 mostly Southern states to get federal approval before changing their voting rules. Opponents say that "preclearance" provision is no longer warranted.

Has the Fourth Amendment Gone to the Dogs? How far may police officers with drug-detecting canines go in sniffing around the outside of a home before obtaining a search warrant? How reliable is a dog's nose in determining probable cause to search a vehicle for contraband?

Obama Supreme Court Is the Stuff of Nightmares. Conservatives rightfully fear a second term for President Obama, but seem barely aware of the biggest threat posed by his re-election. Yes, there's plenty of reason to worry about what Obama will pressure Congress into or do unilaterally through executive orders. However, it's the third branch of government — the judiciary — that will likely give Obama the greatest opportunity to fulfill his dream of a radical makeover for America. That's because the United States Supreme Court is at a tipping point unseen since the 1930's, and Barack Obama will likely be able to tip the Court far to the left if re-elected.

Supreme Court to determine legality of reselling iphones, cars, textbooks. In a case that tests the boundaries of copyright law, merchants and consumers say they have the right to resell what they own, but content creators argue they should be protected from shady deals that undercut retail prices.

Obama And The Supreme Court. This Administration is clueless to the fact that healthcare can be control by the federal government with all it incompetent bureaucracies, and sub intellectual vanity of idiocy. It is true, we as American citizens are slowly but surely loosing all our inalienable rights as a free nation. Recently, we also discovered the true colors of the Supreme Court.

7 Things to Expect If Obama Is Elected to a Second Term. [#5] The Supreme Court moves to the left: Ruth Bader Ginsburg is 79, Antonin Scalia is 76, Anthony Kennedy is 75, and Stephen Breyer is 73. Replacing Ginsburg or Breyer with 50 year old liberals would be bad enough, but imagine Obama selecting a replacement for Scalia or Kennedy. If that happens, Obama would have five guaranteed votes on the Supreme Court for anything he wants to do. Once we get to that point, the Constitution might as well not even exist.

Obama Says Election Will 'Tip the Balance' on the Supreme Court. President Barack Obama, campaigning in the swing state of Colorado Wednesday [8/8/2012], decided to make the Supreme Court a key issue for the presidential campaign, after earlier focusing on his health care overhaul law, free contraception and funding for Planned Parenthood.

Regulatory czar leaving White House to return to Harvard Law School. [Scroll down] But Sunstein also drew fire from some conservatives like Glenn Beck, who, in April of 2010, called the professor "the most dangerous man in America" and seized on comments about gun control he made in his academic writing. Sunstein has long been rumored as a potential choice of Obama for a Supreme Court vacancy, if one were to open.

Supreme Court May Consider Constitutionality of Insanity Plea. Despite its prominence in television court dramas, the insanity plea is very rarely used, and is successful only one quarter of the times it is invoked. Stanford Law professor Jeffrey L. Fisher contends that Idaho's law disallowing the use of the insanity defense is a violation of the Constitution's right to due process, and the Eighth Amendment's protection against cruel and unusual punishment. "For centuries, the moral integrity of the criminal law has depended, in part, on the insanity defense," Fisher wrote in a petition on [Joseph] Delling's behalf.

The Supreme Court Stakes in 2012. Chief Justice Roberts has become a "swing" justice on the Supreme Court — along with Justice Kennedy, who has occupied the swing position held by Justice Sandra Day O'Connor until she was replaced by conservative Justice Samuel Alito in 2006. The court now is composed of three solid conservatives and four solid liberals, with Chief Justice Roberts and Justice Kennedy leaning conservative. Even that mixture makes the current court the most conservative in nearly a century. But it also means that the replacement of a single conservative justice by President Obama in a second term would turn the court sharply to the left.

Government's total control. How much power does the federal government have to control the lives of Americans and dictate our individual behaviors in any and all ways it chooses? The answer, according to the Court, is that the federal government has complete and total control over all of us — it has the power to regulate everything we do and everything we choose not to do — provided Congress taxes the income of anyone who fails to comply with the government's dictates.

Supreme Disconnect. We need to stop acting like the Constitution is a complicated document when it's a simple thing that any normal person could understand.

A Vast New Federal Power. Of the 17 lawyers who have served as chief justice of the United States, John Marshall — the fourth chief justice — has come to be known as the "Great Chief Justice." The folks who have given him that title are the progressives who have largely written the history we are taught in government schools. They revere him because he is the intellectual progenitor of federal power. Marshall's opinions over a 34-year period during the nation's infancy — expanding federal power at the expense of personal freedom and the sovereignty of the states — set a pattern for federal control of our lives and actually invited Congress to regulate areas of human behavior nowhere mentioned in the Constitution.

Limiting the General Welfare Clause. [S]ince the poorly reasoned decision of the New Deal-era Supreme Court in United States v. Butler (with the justices laboring under FDR's court-packing threat), the Supreme Court has ceased to recognize any limits to Congress's power to tax and spend on what it unilaterally decides is in the public interest. It does not have to be this way. Indeed, it was not this way for the first century-plus of the nation's existence.

The American Revolution Comes to a Pitiful Close. For those not in the know, the highest court in the land — the historic mission of which was to guard against tyranny by ensuring that laws passed by Congress abide by the constraints imposed by our Constitution — has now rubber-stamped the most comprehensive expansion of federal power since the New Deal.

The Supreme Court Is Not Our Friend. When FDR began pushing through quasi-fascist policies administered by men who expressed a dreamy admiration for what Mussolini had been doing to "solve" Italy's problems, the Supreme Court actually functioned in its only useful constitutional role: as a guardian against the power lust of the other branches of the federal government. Our own "Duce," FDR, planned to pack the Supreme Court by adding more justices than the nine on the bench in order to get decisions which allowed his vast empire of federal programs, with all the attendant political power from patronage and perks, to proceed unmolested by an independent judiciary. The court-packing scheme failed, but the impact of his plan worked: the Supreme Court became docile.

Roberts did not change. Contrary to most that has been written since Thursday's enactment of RobertsCare, Chief Justice John Roberts did not change. He has always been that way. Eight years ago, when John Roberts was nominated, we were warned that he was a liberal jurist appointed by a RINO president, just as liberal David Souter was appointed by the previous RINO president. Two articles in July 2005 by Ben Shapiro and Ann Coulter foretold the Souter-like liberal jurisprudence of Justice Roberts. We now know that Shapiro and Coulter were 100% correct.

Justice Roberts Grants ObamaCare The 'Power To Destroy'. "ObamaCare" — which will impose $800 billion in new taxes, add $2 trillion to the national debt and raise health insurance costs by an average of $2,100 per family — is now poised to wreak havoc on a nation that's already suffocating under high taxes, crippling deficits and a devalued dollar. Obviously this is a catastrophic outcome — yet it pales in comparison to the long-term damage done by this decision.

More about the Supreme Court decision on Obamacare.

A Government of Men, Not Laws. "There is no good government but what is republican," John Adams wrote. "(T)he very definition of a republic is 'an empire of laws, and not of men.'" Adams meant that a government in which law is applied at the discretion of powerful people is a bad government. The law must be applied in a straightforward, nonarbitrary fashion or the entire governmental system should be called into question. This week, the Supreme Court called the entire governmental system into question.

SCOTUS Derails the Democrats' SEIU Gravy Train. Unfortunately for the SEIU, not all non-members were obedient sheep. Some not only complained; some workers took the union to court. And they won. The District Court issued a summary judgment in their favor based on the stark reality that there was only one purpose for the union's extraordinary spending, and that purpose was political. That might seem like a no-brainer; but right on cue, the high priests of social justice over at the Ninth Circuit reversed on appeal. And then something really interesting happened: the employees petitioned the Supreme Court, the Court agreed to hear the case, and...

Blow to Obama as Supreme Court upholds controversial portion of Arizona immigration law. The Supreme Court has struck down key provisions of Arizona's crackdown on immigrants. But the court said Monday that one part of the law requiring police to check the status of someone they suspect is not in the United States legally could go forward. Even there, though, the justices said the provision could be subject to additional legal challenges. The split verdict could hurt President Obama during this contentious election year since his administration was the one to bring the suit to court.

Supreme Court upholds key part of Arizona immigration law. The U.S. Supreme Court upheld a key part of Arizona's crackdown on illegal immigrants on Monday [6/25/2012], rejecting the Obama administration's stance that only the U.S. government should enforce immigration laws in the United States.

Supreme Court Ruling Undermines Vague Regulations at SEC, EEOC, and NLRB. In its ruling yesterday [6/21/2012] in FCC v. Fox Television Stations, the Supreme Court overturned the FCC's finding that Fox Television was guilty of "indecency," ruling that Fox wasn't on notice that it could be held liable for "indecency" over isolated instances of vulgarity or nudity, because prior FCC policy punished only "deliberate and repetitive" instances. In doing so, the Justices made clear that the Constitution protects against vague laws, especially vague laws that regulate speech, even when those laws don't contain any criminal penalties.

Supreme Court rules against FCC profanity, nudity policy. In an 8-0 decision, the high court threw out fines and sanctions imposed by the Federal Communications Commission. The case involved some uncensored curse words and brief nudity on various networks, including Fox.

High court rules for broadcasters on TV 'indecency'. In an 8-0 vote, justices concluded the Federal Communications Commission cannot enforce its current policies against "fleeting" expletives and nudity on over-the-air programs, both live and scripted. The agency had levied hefty fines on all four major broadcasters beginning nearly a decade ago.

Court ruling clears FCC to revisit old indecency complaints. As a result of the Supreme Court's decision to keep the Federal Communications Commission's indecency rules in place, more than 1.4 million complaints that have been sitting in limbo at the regulatory agency will now have to be reviewed for potential violations and fines. In a statement Thursday [6/21/2012], FCC Commissioner Robert Robert M. McDowell said, "It is now time for the FCC to get back to work so that we can process the backlog of pending indecency complaints — which currently stands at just under 1.5 million involving about 9,700 TV broadcasts."

Why Obama Strikes Out In Court. As the world awaits the Supreme Court's ruling on ObamaCare, there's a larger story that the pundits are missing: the court's rejection of the Obama administration's increasingly extreme claims on behalf of unlimited federal power. This term alone, the high court has ruled unanimously against the government on religious liberty, criminal procedure and property rights. When the administration can't get even a single one of the liberal justices to agree with it in these unrelated areas of the law, that's a sign there's something wrong with its constitutional vision.

Supreme Court to Decide Whether NSA Domestic Wiretapping Is Beyond the Law. On Monday [6/4/2012], the Supreme Court of the United States granted a petition to hear a lawsuit calling for an end to another case challenging the constitutionality of the government's warrantless wiretapping program. This Orwellian (and unconstitutional) surveillance scheme was established in the wake of the attacks of September 11, 2001, and was explicitly authorized by an act of Congress passed in 2008.

Targeting John Roberts. You can tell the Supreme Court is getting closer to its historic ObamaCare ruling because the left is making one last attempt to intimidate the Justices. The latest effort includes taunting Chief Justice John Roberts that if the Court overturns any of the law, he'll forever be defined as a partisan "activist." Senate Judiciary Chairman Pat Leahy recently took the extraordinary step of publicly lobbying the Chief Justice after oral argument but before its ruling.

High Court Humpty Dumptys. The next election will determine whether, for another generation, clear constitutional language will continue to be manipulated beyond recognition in defiance of the people — whether there will be three to five new justices who will finish the job of granting President Obama and his successors unlimited power to rule over the most minute details of the lives of the American people. In no small measure, American freedom from Supreme Court-enabled authoritarian federal tyranny is what the next election is about.

Obama: Supreme Court at stake in 2012 election. President Obama rallied supporters last night by noting that he would likely get to appoint more Supreme Court justices in his second-term, which could have very long-term significance.

Electing a new president and a new Supreme Court majority. The stakes in this year's election are higher than normal because the next president may have the unusual opportunity to impact the ideological direction of the Supreme Court, untypical of any one presidential term.

Another Supreme Court Disaster For Obama. Supreme Court justices expressed support for the Arizona immigration law at oral arguments today [4/25/2012], according to CBS' chief legal correspondent Jan Crawford. Even some of the court's liberal justices seemed to support the most controversial part of the law: the part that requires officials to check the immigration status of people during routine traffic stops and anyone detained or arrested.

The Arizona Faceoff. The Supreme Court hears oral arguments Wednesday [4/25/2012] in that other major case that has the political class on edge — Arizona's immigration law. As with health care's individual mandate, the Obama Administration is again making claims about the scope of federal power that upset the Constitution's federalist structure — in this case, to unilaterally nullify state laws that the President happens to oppose.

Arizona Defends SB 1070: Border In The Court. The federal challenge to Arizona's SB 1070, the state law designed to help stem the flow of illegal aliens, is headed to an unexpectedly earlier resolution as the Supreme Court has expedited its review and begins hearing oral arguments on Wednesday [4/25/2012]. This can't be good news for an administration at war with both Arizona and the courts and already fearful that its landmark legislation, ObamaCare, will soon be overturned as unconstitutional.

US Supreme Court reviews Arizona immigration law. The U.S. Supreme Court heard arguments Wednesday [4/25/2012] over a tough Arizona law that requires police to check the immigration status of people they stop for any reason — a hot button issue in the U.S. that will likely impact on this year's presidential race.

Supreme Court casts doubt on Obama's immigration law claim. Supreme Court justices took a dim view of the Obama administration's claim that it can stop Arizona from enforcing immigration laws, telling government lawyers during oral argument Wednesday [4/5/2012] that the state appears to want to push federal officials, not conflict with them. The court was hearing arguments on Arizona's immigration crackdown law, which requires police to check the immigration status of those they suspect are in the country illegally, and would also write new state penalties for illegal immigrants who try to apply for jobs.

Obama Lawyer: Arizona Law Will Result in 'Mass Incarceration'. The lawyer arguing for the Obama administration against provisions in Arizona's controversial immigration law said Wednesday [4/25/2012] that if the U.S. Supreme Court upholds S.B. 1070 "mass incarceration" of Latinos would cause "significant foreign relations problems." During oral arguments before the high court on the law — which allows state police to check the immigration status of individuals stopped, detained or arrested for other reasons — Solicitor General Donald Verrilli responded to Justice Antonin Scalia's remarks that Arizona seems to be merely enacting laws that are already federal statutes.

Showdown on Arizona immigration law goes to Supreme Court. The Supreme Court and the Obama administration are set for another politically charged clash Wednesday [4/25/2012] as the justices take up Arizona's tough crackdown on illegal immigrants.

King Kennedy. [Scroll down] Should he decide in favor of the progressives, it will not take long to see whether the dire consequences predicted by conservatives come to fruition. But should he go the other way, then one can hope that it will signal the end of the progressive slide and the beginning of a return to a more traditional America. With those diametrically opposed possible outcomes, it is clear that, indeed, Anthony Kennedy holds the fate of the nation in his hands.

An Open Letter to President Barack H. Obama, Constitutional Scholar. The Justices of the United States Supreme Court are unelected, Mr. President, to insulate and protect them from the influence and derision of lawmakers and chief executives like you.

Liberalism Jumps the Shark on Obamacare. One the greatest tools in the hands of liberals to accomplish this takeover has undoubtedly been the Supreme Court. Without the help of the federal bench, sweeping change would not have been possible. Specifically, law schools and top legal thinkers have easily spun with impunity a phony "living constitution," or the idea that the founders were "unable anticipate the modern world," opening the way to judicial activism. Liberals have also planted in the minds of the average person what Oliver Wendell Holmes hoped they would. Holmes said, "The Constitution is what the justices says it is," an idea that removes constitutional interpretation far from the other two branches of government, where the founders firmly placed it. The result has been sweeping social change from Roe v. Wade, to Lawrence v. Texas, to McCain/Feingold, which undermined state laws, created new rights like "privacy," contradicted traditional understandings of morality or violated fundamental constitutional freedoms. As long as the populace never had a vote on it, the march of liberalism continued unabated.

The Supreme Court: Conservatism's Intellectual Crown Jewel. Listening to the oral arguments on the Supreme Court during the last three days is a reminder of why it is, in many respects, the intellectual crown jewel for conservatives, and why it's vital that those appointed to the high court aren't simply reliable votes but are capable of making compelling arguments. To hear Justices Scalia, Alito, Roberts, and even Kennedy slice and dice Solicitor General Donald Verrilli was sheer delight, as they exposed one bad argument and one flawed premise after another.

A supreme shock for 'La-La' libs. There appears to be no question in the mind of anyone who read the transcripts or listened to the oral arguments that the conservative lawyers and justices made mincemeat out of the Obama administration's advocates and the liberal members of the court. This came as a startling shock to the liberals who write about the court.

Justices Question Extent of Federal Power. The Supreme Court ended three momentous days of argument Wednesday [3/28/2012] over the constitutionality of the Obama administration's signature health-care law, with opponents pushing their rhetoric into fundamental questions about the limits of Washington's power.

Kagan Sits in Judgment of Obamacare — Despite Cheering Its Passage and Assigning Lawyer to Defend It. When the Supreme Court on Monday [3/26/2012] began hearing oral arguments in the cases challenging the constitutionality of the Patient Protection and Affordable Care Act — AKA "Obamacare" — Supreme Court Justice Elena Kagan showed up to hear the arguments and gave no indication she would recuse herself from judging the cases even though she had cheered enactment of Obamacare as an Obama political appointee and had personally assigned her top deputy in the Obama Justice Department to defend the law in federal court.

Breyer's unhinged Commerce Clause ramblings. Breyer alludes to four Supreme Court cases. And he manages to botch the key facts of the case in every single one of them.

Justice Breyer: Can Congress Make Americans Buy Computers, Cell Phones, Burials? 'Yes, of Course'. During oral arguments in the Supreme Court this week, Justice Stephen Breyer posed and answered the core question at issue in the controversy over the constitutionality of Obamacare's mandate that individual Americans must buy government-approved health insurance policies: Can Congress order individuals to buy a good or service? "Yes, of course they could," said Breyer.

Where Does the Supreme Court Get Its Power? This is the first time that a majority of the States have combined to protest an act of Congress. Now We the People must wait while the fate of our Republic is decided in secret by our Black Robed rulers from whom there is no appeal. How did we get here?

Justice Sonia Sotomayor's Shocking Ignorance. The liberal Supreme Court justices have demonstrated profound and shocking ignorance of the American health care system. Here's one of the most jarring examples: "What percentage of the American people who took their son or daughter to an emergency room and that child was turned away because the parent didn't have insurance," asked Sotomayor, "... do you think there's a large percentage of the American population that would stand for the death of that child — (who) had an allergic reaction and a simple shot would have saved the child?" I have a precise answer for Justice Sonia Sotomayor. The percentage of American people who took their son or daughter to an emergency room and were turned away because the parent didn't have insurance is exactly zero.

Liberty and ObamaCare. Few legal cases in the modern era are as consequential, or as defining, as the challenges to the Patient Protection and Affordable Care Act that the Supreme Court hears beginning Monday [12/26/2012]. The powers that the Obama Administration is claiming change the structure of the American government as it has existed for 225 years. Thus has the health-care law provoked an unprecedented and unnecessary constitutional showdown that endangers individual liberty.

Kagan and Obamacare — still no answers. The [Supreme] court is about to hear arguments over whether the president's signature political achievement, the health care reform law, is constitutional or not. The issue has split federal judges throughout the country, with some upholding the law and others striking it down. At the heart of the case is whether Congress has unlimited power to control people's lives or whether the Constitution places limits, enforced by the courts, on congressional and presidential power. Those arguments will be held March 26 before a panel of nine justices that includes the president's former chief lawyer to the Supreme Court, the newest justice of the court, Elena Kagan.

NRA warns of Obama packing Supreme Court. Besides warning about how Obama could get another court pick — his third — if one of the older Republicans retired or dies, the NRA plans to remind voters of the Justice Department's ill-fated "fast and furious" gun running program and other gun issues. What's more, his NRA-ILA is drawing attention to how some liberal court justices have been questioning the Constitution. On the group's website, for example, the NRA is drawing attention to Justice Ruth Bader Ginsberg comments in a recent New York Times story that she wouldn't look to the U.S. Constitution if drafting a new constitution and instead would look to the South African Constitution or Canadian Charter of Rights.

Federal judge severely limits Second Amendment rights. Over the last few years, the Second Amendment has experienced somewhat of a rebirth, thanks largely to a pair of Supreme Court decisions: District of Columbia v. Heller and McDonald v. Chicago. In these seminal decisions, the Supreme Court affirmed the understanding of the Founding Fathers that there is indeed an individual right to keep and bear arms, a God-given right to protect oneself that is guaranteed to us in the Second Amendment to our Constitution.

SCOTUS may scrap affirmative action. It's time to end affirmative action in higher education. Even Justice Sandra Day O'Connor envisioned an end to it. In her majority opinion in Grutter v. Bollinger, which allows colleges and universities to use race in their admissions process, she wrote, "We expect that 25 years from now, the use of racial preferences will no longer be necessary..." It's been nine years since that decision, and the high court is once again set to revisit the issue in a case brought by a white student who was denied a spot at the University of Texas.

Liberals and the Constitution. Liberals typically erupt in outrage if you suggest they don't respect or understand the Constitution, let alone defend it. ... But the prize for this week's liberal obtuseness about the Constitution goes to Supreme Court Justice Ruth Bader Ginsburg, who told an Egyptian television audience that "I would not look to the U.S. Constitution if I were drafting a constitution in the year 2012." Instead, "I might look at the constitution of South Africa. That was a deliberate attempt to have a fundamental instrument of government that embraced basic human rights, had an independent judiciary."

Top 10 reasons to elect anybody but Obama. [#6] President Obama gave us Elena Kagan and Sonia Sotomayor — who for decades will be two reliable liberal votes on the Supreme Court — and he is slowly remaking the entire federal judiciary by advancing activists to the bench.

Can the Legislative Branch tell the Judicial Branch how to conduct its business?
Bill to Broadcast Supreme Court Proceedings Passes Committee. After sailing through the subcommittee in late December, last Thursday [2/9/2012] by a vote of 11-7 the full Senate Judiciary Committee passed on to the full chamber a bill that would permit televising proceedings of the U.S. Supreme Court. As the matter stands today, only a handful of observers are permitted to observe the hearings live, while audio recordings of the cases are released to the public at the conclusion of the proceedings. The bill would not mandate that all proceedings be broadcast, however.

Justice Ginsburg Should Resign. Did you know that Supreme Court Justice Ruth Bader Ginsburg thinks the South African Constitution and the Canadian Charter of Rights and Freedoms are preferable to the United States Constitution? You think I'm kidding? It's right there on the front page of yesterday's New York Times.

Need Another Motivation to Vote Obama Out? Unless we think that Romney, Gingrich, Santorum or Paul would appoint equally leftist, Alinskyite judges who could throw the balance of the courts way to the left for decades to come, there is at least one reason not to stay home on Election Day.

Supreme Court Hears Arguments in FCC Obscenity Case. In 2002 and 2003, celebrities uttered obscenities during live television broadcasts. The offensive words led to a battle over the Federal Communication Commission's indecency standards, ultimately argued Jan. 10 in front of the U.S. Supreme Court. In the nearly 10 years it took for the case to reach the highest court, free-speech advocates question whether government censorship is still relevant as American viewing habits change with the growth of the Internet, and whether the FCC's enforcement of its indecency standards violates the First or Fifth Amendment, which cover free speech and protection from government abuse in legal proceedings.

Supreme Court says no to debate over Elena Kagan health care role. The Supreme Court on Monday [1/23/2012] denied a request for debate over whether Justice Elena Kagan should recuse herself from the health care reform case due to be argued in March. Freedom Watch, a group led by Larry Klayman, asked the court for permission to file a brief on Kagan's participation in the case.

Supreme Court delivers a knockout punch to the White House? There was just one big problem standing in the way of the government's plan: the U.S. Constitution. For a long time American courts have recognized the existence of a "ministerial exemption" which keeps government's hands off the employment relationship between a religious institution and its ministers or clergy. Here, in this case, the Department of Justice had the nerve to not only challenge the exemption's application but also its very existence.

EPA reach too far? The Supreme Court on Monday [1/9/2012] heard arguments in a case that sounds small but could have huge implications for property owners, corporations and federal regulations. Some of the justices were clearly critical of the Environmental Protection Agency, calling its actions in the case heavy handed. The justices were considering whether to let an Idaho couple challenge an EPA order identifying their 0.63-acre lot as "protected wetlands."

Supreme Court case involving Idaho lake house ignites conservative cause against EPA. This month, the Supreme Court will review the Sacketts' four-year-long effort to build on land that the EPA says contains environmentally sensitive wetlands. A decision in the couple's favor could curtail the EPA's authority and mean a fundamental change in the way the agency enforces the Clean Water Act. Even before the court takes up the case, the couple have become a favored cause for developers, corporations, utilities, libertarians and conservative members of Congress, who condemn what one ally told the court is the EPA's "abominable bureaucratic abuse."

Supreme Court will hear Arizona immigration case: Kagan recuses herself. The Supreme Court announced Monday [12/12/2011] it will take the case of Arizona's tough immigration crackdown law, adding yet another contentious clash between the Obama administration and the states to its docket. The case, which has attracted national attention, pits Arizona against the Obama administration, which sued and won court orders blocking implementation of most of the law at both the district and appeals court levels.

Supreme Court will hear health care case this term. The Supreme Court said Monday [11/14/2011] it will hear arguments next March over President Barack Obama's health care overhaul — a case that could shake the political landscape as voters are deciding if Obama deserves another term.

Supreme Court will hear health care case. The Supreme Court on Monday said it will hear challenges to President Obama's signature health care law next spring, meaning it is likely to rule by June, right in the middle of the president's bid for re-election. The court has carved out more than five hours for oral argument at the end of March — far more than the usual one hour allotted to most cases, and evidence of the intense legal debate and high political stakes.

Undoing Obamacare. The Supreme Court's decision to take up the challenges to Obamacare is certainly good news for the law's opponents. At the very least, a decision next year would put Obamacare front and center in the heart of election season when the Democrats would like nothing better than to pretend that Obama's first two years did not exist. At most, it could also dramatically weaken and undercut the statute itself, helping to clear the way for its repeal.

Court announcement raises recusal questions for Kagan, Thomas. "Before the Supreme Court case is heard, we need to know if Justice Elena Kagan helped the Obama administration prepare its defense for Obamacare when she was solicitor general. The Justice Department must answer serious questions about whether Justice Kagan has an inherent conflict of interest, which would demand that she recuse herself from the Obamacare case," said Rep. John Fleming, Louisiana Republican.

Supreme Court justice: Warrantless GPS tracking 'sounds like 1984'. The Supreme Court heard oral arguments today in United States v. Jones, a case that will determine whether the government has the right to use GPS devices to track the locations of criminal suspects without a warrant. Several justices reportedly expressed concern over the government's argument, but Justice Stephen Breyer seemed particularly unnerved, bringing George Orwell into the legal debate.

Supreme Court Hears Whether GPS Counts as 'Big Brother'. Citizens traveling public highways should have no expectation of privacy just because police are tracking their movements through GPS rather than in person, the U.S. government argued Tuesday [11/8/2011] in a case before the Supreme Court that pits the interest of law enforcement against individual privacy rights. The dispute springs from a situation in which police affixed a GPS tracking device to a suspect's car without a proper warrant. It monitored the suspect's movements for several weeks, noting where his vehicle went and how long it stayed at each location.

Is the Supreme Court a Constitution-free zone? On January 11, 2008, police arrested 80 protesters at the Supreme Court. Why is the Supreme Court — of all places — off limits to protest? ... The Constitution protects the right to peaceful protests. The Supreme Court exists to protect the Constitution. Banning protests at the Supreme Court is at best a mixed signal; at worse, hypocrisy.

Activist judges at the highest level:
First Lady: Kagan, Sotomayor Will Protect Right to 'Love Whomever We Choose'. First Lady Michelle Obama told two audiences at Democratic fundraising events on Tuesday [10/25/2011] that the justices her husband appointed to the Supreme Court will protect the right to "love whomever we choose." She also said these justices would protect "privacy" — presumably a reference to the "right to privacy" the court invoked in the 1973 Roe v. Wade decision that legalized abortion in the United States.

Doubting Thomas. Liberals have disliked the idea of Clarence Thomas voting on the Supreme Court for 20 years now. The current drumbeat began in February when 73 House Democrats demanded the justice recuse himself from any case involving the health care law because of his wife's work as a lobbyist and conservative activist. The ringleader of this effort was that ethical giant, then Rep. Anthony Weiner (D-NY).

Twenty Years of Justice Thomas. This weekend marks the 20th anniversary of Clarence Thomas's appointment to the Supreme Court. In his first two decades on the bench, Justice Thomas has established himself as the original Constitution's greatest defender against elite efforts at social engineering. His stances for limited government and individual freedom make him the left's lightning rod and the tea party's intellectual godfather. And he is only halfway through the 40 years he may sit on the high court.

Liberals are trying to discredit Justice Thomas with baseless attacks. Justice Clarence Thomas's critics are apparently unsatisfied by the invective and personal attacks that have been hurled at Thomas over the years. The seemingly unending stream of baseless attacks proves that they are engaged in a coordinated effort to impugn his credibility and devalue his vote in one of the most important Supreme Court cases of the 21st century. The most laughable of the attacks came last month, when 20 members of Congress called for Justice Thomas to be criminally investigated.

The Ugliness Started With Bork. On Oct. 23, 1987 — 24 years ago on Sunday — Robert Bork's nomination to the Supreme Court was voted down by the Senate. All but two Democrats voted "nay." The rejection of a Supreme Court nominee is unusual but not unheard of (see Clement Haynsworth Jr.). But rarely has a failed nominee had the pedigree — and intellectual firepower — of Bork. He had been a law professor at Yale, the solicitor general of the United States and, at the time Ronald Reagan tapped him for the court, a federal appeals court judge. Moreover, Bork was a legal intellectual, a proponent of original intent and judicial restraint.

The legacy of the Clarence Thomas-Anita Hill hearings. Even now, with the healing distance of two decades, the subject of Anita Hill and Clarence Thomas retains its power to provoke and divide. It was 20 years ago this month that Hill's allegations of sexual harassment surfaced, threatening to derail Thomas's imminent confirmation to the Supreme Court. I spent the weekend-long marathon of hearings in the Senate Caucus Room, the majestic setting of soaring marble columns and gilded ceiling contrasting with the squalid details of Hill's allegations. It was both riveting and horrifying.

The Supreme Arbiter of Your Liberty. Now that the Department of Justice has petitioned the Supreme Court to review Florida v. HHS, the high-profile challenge to Obamacare whose plaintiffs include officials of 26 states, most experts believe the justices will take up the case this term and issue their decision next summer. This possibility has been greeted with no small amount of glee by the law's opponents. But we should be careful what we wish for. ... The deciding vote will probably be cast by a justice whose opinions have been all over the ideological map.

Top court won't review gun rights outside of home. The Supreme Court refused Monday [10/3/2011] to consider whether an individual's right to own guns includes carrying a firearm outside the home, staying out of one of the nation's most divisive social, political and legal issues.

26 states appeal health care law to Supreme Court. States and a business group opposed to President Barack Obama's health care overhaul asked the Supreme Court on Wednesday [9/28/2011] for a speedy ruling that puts an end to the law aimed at extending insurance coverage to more than 30 million people.

What Constitutionalism Means. The Supreme Court has amended the Constitution hundreds of times, in ways large and small, by reinterpreting its provisions, almost always to serve progressive ends. American constitutional law now includes restrictions on police procedure, regulations on permissible school-discipline policies, minute if unpredictable edicts about the proper placement of municipal displays involving religion, and rights to solicit and perform abortion at any stage of pregnancy. In each case, Americans had spent decades living under the relevant constitutional provisions without anyone's imagining that they commanded what the Court now says they command.

Arizona court OK's abortion restrictions. An Arizona appeals court ruled yesterday [8/11/2011] to allow key parts of a state law restricting abortions to take effect, including one that requires women to see a doctor in person the day before getting an abortion to hear about risks and alternatives.

The Threat Of Liberal Judicial Activism Reaches New Heights. On July 7, in a case largely ignored by the media, dissenting Justices Breyer, Ginsburg, Sotomayor and Kagan carried judicial activism to new heights by advocating a stay of execution on the basis of an imaginary law. They thereby revealed themselves to be so desperate to save barbaric murderers that they unashamedly and brazenly sought to apply un-enacted legislation introduced on June 14 by one senator, Patrick Leahy, with not a single cosponsor and by no representative at all.

Supreme Court deals major blow to environmentalists. Environmental activists, supported by a cadre of impassioned academic lawyers, have been looking to the common law of nuisance as a way to appeal directly to the courts and circumvent the administrative and legislative processes of government. On June 20th, a unanimous United States Supreme Court dealt a blow to their theory. In American Electric Power v. Connecticut, the Court ruled that the Clean Air Act preempts a claim that carbon emissions from fossil fuel-fired power plants constitute a nuisance under federal common law.

Proof that the Democrats know Obama will not be re-elected:
An inconvenient Justice. It is dawning on the Left that their messiah is turning into a Pied Piper, and some among them are scared that a conservative successor to President Obama would appoint too many Supreme Court justices. Justice Ruth Bader Ginsburg is 78 and a colon and pancreatic cancer survivor, and as such, is just beginning to see opinions starting to be published to the effect that she should leave the bench now, so as to allow President Obama and the Democrat-led Senate confirm a left wing justice to replace her.

Supreme skeptics. The justices of the United States Supreme Court this week became the world's most august global warming sceptics. Not by virtue of their legal reasoning — the global warming case they decided turned on a technical legal issue — but in their surprising commentary. Global warming is by no means a settled issue, they made clear, suggesting it would be foolhardy to assume it was.

Supremes retreat from climate panic. The Supreme Court dealt Al Gore, the Environmental Protection Agency and other believers in alarmist climate science a surprising and severe blow this week. In its June 20 decision on American Electric Power v. Connecticut et al., the court ruled that the mere existence of EPA regulatory authority over greenhouse-gas regulations pre-empted lawsuits against coal-burning utilities on the grounds that the emissions constitute a public nuisance.

Supreme Court Rejects Environmentalists' Suit Demanding Power Plant Emissions Cuts. In the most significant global warming case to reach its front doors, the Supreme Court on Monday [6/20/2011] blocked a major lawsuit brought by states and environmental groups against five large power companies they accused of creating a public nuisance because of carbon dioxide emissions.

And the Climate Tort Cashiered. The Court unanimously struck down one of the legal left's most destructive theories, and not a moment too soon. In American Electric Power v. Connecticut, eight states and various other environmental activists sued a group of utilities, claiming that their carbon emissions were a "nuisance" under federal common law and that therefore the courts should set U.S. global warming policy.

Nuts to Acorn. The case of Acorn v. U.S. ended with a whimper this week as the U.S. Supreme Court turned aside the advocacy group's attempt to revive its lawsuit claiming that Congress had acted unconstitutionally in denying it federal funds.

More about ACORN.

The supremes order up a crime wave. Justice Anthony Kennedy's order — joined, unsurprisingly, by his four liberal brethren — forces California to release 46,000 convicted criminals. It is, as dissenting Justice Antonin Scalia dubbed it, "the most radical injunction issued by a court in our Nation's history." Kennedy's dangerous decision is based on the claim that California provides inadequate medical care for its convicts — care so poor as to violate the Constitution's ban on "cruel and unusual punishment."

SCOTUS needs an ethical code. Supreme Court justices are the closest thing we have to absolute monarchs. They have immense power over our lives, are accountable to no one for their decisions and can stay in office for life. In return, they must not only act honestly and impartially but should avoid doing anything that even looks dubious. As the court often reminds us, the appearance of justice is as important as justice itself. Judging by recent actions, however, some current justices don't seem to buy that. Today, Supreme Court justices are subject to virtually no ethical standards — except those they impose on themselves. That is not good enough.

Supreme Court Allows Obamacare to Metastasize. The Supreme Court's decision to deny Virginia's request for expedited review of its Obamacare lawsuit was disappointing but not surprising. Even the Old Dominion's Attorney General, Kenneth Cuccinelli, has admitted all along that his chances of convincing the high court to grant his "petition for a writ of certiorari before judgment" were quite low. Nonetheless, the White House and its accomplices in the "news" media have greeted the decision with thinly disguised glee.

Supreme Court signals it will toss out global-warming lawsuit. Justices are skeptical about the lawsuit brought by six states, including California and New York, against coal-fired power plants in the South and Midwest. An Obama administration lawyer says it's a matter for the EPA to handle.

Supreme Court signals it will dismiss major climate-change case. The U.S. Supreme Court signaled Tuesday [4/19/2011] it will dismiss a major climate-change case, with justices indicating that the Environmental Protection Agency (EPA) rather than the courts should address greenhouse-gas emissions from major power plants. "Congress set up the EPA to promulgate standards for emissions, and the relief you're seeking seems to me to set up a district judge, who does not have the resources, the expertise, as a kind of super EPA," Justice Ruth Bader Ginsburg said Tuesday [4/19/2011].

Supremes open to greenwashing. Global-warming alarmists have failed to make their case in the court of public opinion, so they're taking their propaganda to the Supreme Court instead. Like many ideological movements that lack political traction, the left is hoping that what politicians have disposed of the judiciary will impose.

Dem lawmaker says Supreme Court may nix individual mandate. On the one-year anniversary of the historic healthcare reform law, at least one Democratic congressman disagrees with his party's prevalent opinion and believes the U.S. Supreme Court may well strike down the law's individual mandate as unconstitutional.

Elena Kagan Needs to Recuse Herself from Health-Care Case, Says Author of Virginia Law. Virginia Del. Bob Marshall, the state legislator who sponsored the law that forbids any government from forcing individuals in Virginia to buy health insurance, says that Supreme Court Justice Elena Kagan should recuse herself from judging Virginia's suit challenging the constitutionality of Obamacare because she was President Obama's solicitor general when the suit was filed and when the Obama administration first took steps to oppose it.

Is Rep. Weiner Aiding Efforts To Have Justice Thomas Disbarred? Megyn Kelly discussed reports that Democratic Congressman Anthony Weiner is leading a charge to have Supreme Court Justice Clarence Thomas disbarred for perjury and investigated for allegations of bribery. Weiner has passionately argued before for Thomas to recuse himself for cases on healthcare reform because of an alleged bias, and now if these reports are true, Weiner is intensifying the fight.

Clarence Thomas Faces Disbarment Complaint in Missouri. The group Protect Our Elections is looking to get Supreme Court Justice Clarence Thomas disbarred in Missouri. He would still be on the court, but face a possible investigation by the justice department. POE attorney Kevin Zeese says Thomas committed multiple violations of the Missouri Rules of Professional Conduct. Zeese asks the Office of Chief Disciplinary Counsel to take immediate action against Thomas, including disbarment.

The liberal campaign against SCOTUS conservatives. Still reeling from a 2010 Supreme Court ruling that opened the door to an explosion of political ads from corporate interests, and fearful the court could overturn President Barack Obama's healthcare overhaul, liberal groups have launched an aggressive — and at times personal — attack on the court's most conservative justices.

High court turns aside another lawsuit questioning Obama citizenship. The Supreme Court has again rejected an appeal from a "birther" proponent questioning the citizenship of President Barack Obama. The justices Monday [3/7/2011] turned aside without comment a request for a rehearing of various claims, after dismissing the original appeal in late January. The long-shot petition by Gregory Hollister had called on Justices Sonia Sotomayor and Elena Kagan to withdraw from considering the constitutional claims, contending a conflict of interest by the president's two high court appointees.

The Death of Common Decency. The Supreme Court ruled that the Westboro Baptist Church's behavior in demonstrating at the funeral of Marine Lance Corporal Matthew Snyder was protected speech under the First Amendment of the Constitution. The Court of Public Opinion must hold the demonstrators to a different standard.

The Constitution and the Courts. Would you believe Obamacare was suddenly constitutional if the Supreme Court declined to overturn it? If the Court not only decided to overturn DOMA but issued a Roe v. Wade of gay marriage, would you believe the people who wrote and ratified the Constitution intended that result? Was the original Roe a correct reading of the Constitution? If you answered "no" to any of these questions, you'll see why arguing that only the Supreme Court can decide what is constitutional is counterproductive at best.

How Should We Interpret the Constitution? The Constitution is plainly written. It was intended to be easy to understand. The Constitution is also short. Why do we need a process for interpreting the Constitution? If we have such a process for divining the meaning of the Constitution, why should that process be secret deliberations of nine judges who are effectively unaccountable to the people? The issue, after ObamaCare, has become more than academic.

The Supreme Court Is Not Our Benevolent Dictator. The clear and inherent constraints of the Constitution would, if applied with intellectual honesty, put an end to the expansionist vision of the federal government that is essential to the Left's program of statism. The Left cannot abide applying the Constitution as it is written because this would upend its multipronged efforts to reshape American government and society at large. There is, for example, nothing in the Constitution allowing for a federal mandate that all adults purchase health insurance.

Broken-down-door policing. A police officer smells what he thinks is marijuana and knocks loudly on an apartment door, shouting "This is the police!" When he hears noises that may or may not be the destruction of evidence, he breaks down the door, finds drugs and arrests the occupant — all without a search warrant. That occurred in Kentucky in 2005, and last week the Supreme Court was asked to overturn a lower court and rule that it was constitutional. It should decline the invitation. The legal issue in the case is technical, but the implications for personal privacy are not small.

Will SCOTUS Finally Review the Obama Birth Mess? All of what the American people are looking for in this instance is a final judicial determination as to whether or not the current occupant of the Office of President of the United States is legally qualified to serve in that office pursuant to the terms of the United States Constitution. The only stress involved here is the feared backlash of political retribution. The people so appointed to high level positions should be above the trauma of facing criticism or scorn for making such a simple declaration. The facts for such a rendering are in themselves, quite simple.

Breyer Suggests Second Amendment Out of Date. Supreme Court Justice Stephen Breyer, speaking this past weekend on Fox News Sunday, declared that the Founding Fathers did not intend firearms to go unregulated. Breyer was one of four dissenting justices in the 2008 District of Columbia v. Heller case, which overturned a firearms ban in the District of Columbia. The decision in Heller was significant for many reasons, primarily for holding that the Second Amendment was connected with not only the right of individuals to bear arms, but also the power of state governments to maintain militia capable of resisting an oppressive federal government.

Did Justice Breyer Invent History to Justify His Personal Agenda? An oft-quoted maxim attributed (dubiously) to Mark Twain instructs writers: "Never let the truth get in the way of a good story." Perhaps Supreme Court Justice Stephen Breyer has been reading the recently published diaries of Twain and has been inspired to weave a little yarn of his own — a story strong on emotion but woefully light on facts.

Supreme Court Deals Blow to Massachusetts Inmates Seeking Right to Vote. Should felons have the right to vote? The U.S. Supreme Court today [10/18/2010] declined to take up this weighty topic, rejecting an appeal from Massachusetts inmates who seek the right to vote.

Impeaching Chief Justice Roberts for "Judicial Activism". The Huffington Post's Amanda Terkel reports that Rep. Peter DeFazio (D-Ore.) is so upset about the Supreme Court's recent free speech ruling in Citizens United v. F.E.C. that he is "investigating" whether or not to impeach Chief Justice John Roberts.

Obama's False Alarm on Corporate Electioneering. At a campaign rally the other day, President Barack Obama decried those who say "you can't overcome the cynicism of politics; no, you can't overcome the special interests; no, you can't overcome the big money; no, you can't overcome the negative ads." The president emphatically disagrees. But here's the odd thing: The only people you hear taking that view are in the White House. It's been their lament since the Supreme Court ruled in January that corporations have a constitutional right to spend money communicating their views about candidates running for office.

The most conservative court? Hardly. What do you call a Supreme Court that within the last few terms has ruled that carbon dioxide can be regulated as "air pollution" by the Environmental Protection Agency?

Clarence Thomas, Gun Control and the Case for Black Self-Defense. Supreme Court Justice Clarence Thomas doesn't say much from the bench, rarely asking a question or revealing what he's thinking. But every so often he gives us a glimpse of what is underneath that taciturn exterior. And in his concurring opinion for last week's 5-4 court ruling in McDonald v. Chicago, which affirmed an individual's right to bear arms, Thomas bares his soul in words that reflect the weight of history he feels as a black man who came of age in white America.

Judges Find Dignity in Profanity. On July 12, the Second Circuit Court of Appeals in New York City warmly offered the TV networks exactly what they wanted: the shredding of the FCC's lamely enforced rules against broadcast indecency. As of now, the network stars can swear at will in front of impressionable children. These judges did not rule narrowly on the focus of the case — "fleeting expletives" that networks aired unintentionally. They ruled broadly in favor of all expletives. There's no other way to say this. The ruling is idiocy.

Obama and Supreme Court may be on collision course. [Scroll down] The president and congressional Democrats have embarked on an ambitious drive to regulate corporations, banks, health insurers and the energy industry. But the high court, with Roberts increasingly in control, will have the final word on those regulatory laws. Many legal experts foresee a clash between Obama's progressive agenda and the conservative court.

An Unfamiliar Court. Can you name one member of the U.S. Supreme Court? If so, you're better informed than nearly two-thirds of the country. If you can name all nine, you beat 99% of the population.

SCOTUS Issues New Miranda Decision. The Supreme Court this morning [6/1/2010] ruled that criminal suspects must explicitly tell police they want to remain silent to officially invoke their Miranda rights during questioning.

You Can Still Remain Silent — Just Say So. The recent decision of the Supreme Court in requiring an unambiguous response to invoking one's right to remain silent has summoned a litany of panicked responses from many who believe that the Court has inflicted irreparable damage to an individual's rights.

Shooting Down the Constitution. Even a simple guy like me can figure out these words from the U.S. Constitution: "The right of the people to keep and bear arms, shall not be infringed." That's contained in the Second Amendment. So why did four Supreme Court justices this week vote to infringe on the right to bear arms? The court ruled 5 to 4 that 76-year-old Otis McDonald, an African-American Democrat who lives in Chicago, can own a handgun.

Another Judicial Power Grab. You might think that being a Supreme Court justice would be the top of the line job for someone in the legal profession. But, many Supreme Court decisions suggest that too many justices are not satisfied with their role, and seek more sweeping powers as supreme policy-makers, grand second-guessers or philosopher-kings.

Court-Packing, Chicago-Style. President Obama, Senator Reid, and Speaker Pelosi showed their ability to ruthlessly ram through their legislative agenda with a combination of procedural tricks, sleight-of-hand, and painful arm-twisting, all of which could happen again. They also hope to have a Supreme Court which will rubber-stamp their legislative agenda and thus guarantee its long-term survival.

Obama's Supreme Court Choice: No Evangelicals Need Apply. In a time of increasingly unembarrassed ethnic identity politics, there is one notable exception: a serious Evangelical will not be seriously considered for the U.S. Supreme Court. There has not been a prominent Evangelical on the court since John Jay, the first Chief Justice. Evangelicals have been passed over so many times that it's as if they're invisible.

Justices Angry Over Closing Court's Doors. Over the objections of two justices, the Supreme Court announced Monday [5/3/2010] that due to security concerns the front doors of the courthouse will no longer be open to people wishing to enter the building. A pair of new entrances will now be used that are just below and to the side of the front doors which are located atop a set of marble steps that had served as a majestic entry into the nation's highest court.

Justices Want More on Massachusetts Felon Vote Case. For the past decade inmates in Massachusetts prisons have fought a state law keeping them from voting, Monday [5/3/2010] the Supreme Court announced it wants to know the views of the Obama Administration before deciding whether to hear arguments in their case.

The Editor says...
The opinions of politicians should not be a consideration. That's why Supreme Court Justices are appointed for life.

Good Riddance! Justice Stevens voted to sustain racial quotas, created "rights" out of thin air for terrorists, and took away American citizens' rights to their own homes in the infamous "Kelo" decision of 2005. ... Justice John Paul Stevens wrote the Supreme Court opinion that expanded the Constitution's authorization of seizing private property for "public use" to seizing private property for a "public purpose."

Legacy of a Judicial Activist. [Scroll down] In the 2005 Supreme Court case of Kelo v. City of New London, Stevens was part of a 5-4 majority voting to permit local government officials to take possession of private homes and businesses, and to then immediately transfer ownership of those properties to another private party — one aspiring to build upscale facilities that would, in turn, generate higher tax revenues for those same politicians. To justify this decision, which had nothing whatsoever to do with "public use," Stevens cited his concern for "public purpose" — a subtle yet monumentally large step toward the unfettered expansion of governmental power.

Most OK With No Protestants on Supreme Court. With the retirement of Justice John Paul Stevens, the U.S. Supreme Court could be left without a single Protestant for the first time ever. Most American voters are OK with that, according to a Fox News Poll released Wednesday. Stevens, who announced his retirement April 9, is the only Protestant currently sitting on the court. Of the remaining eight justices, six are Roman Catholic and two are Jewish.

Oh, but if you twist my arm, I suppose I could...
Bill Clinton: Hillary and I are too old to be appointed to the Supreme Court. Bill and Hillary Clinton have both held big jobs in their lives, but the ex-president said Sunday [4/18/2010] that Supreme Court justice shouldn't be among them — they're too old. "I'd like to see him put someone in there, late 40s, early 50s, on the court, and someone with a lot of energy for the job," the 63-year-old Clinton told ABC's "This Week" when asked about President Obama's upcoming replacement of Justice John Paul Stevens.

Empathy and the Supreme Court: Obama and the vast majority of Senate Democrats believe that Lady Justice should peek from under the blindfold every now and then. Obama opposed both of President Bush's Supreme Court appointees, John G. Roberts Jr. and Samuel A. Alito Jr., presumably because they lacked what he called the "quality of empathy, of understanding and identifying with people's hopes and struggles."

Justice Stevens was no champion of the little guy. President Obama said his nominee to replace John Paul Stevens on the Supreme Court would "be someone who, like Justice Stevens, knows that in a democracy, powerful interests must not be allowed to drown out the voices of ordinary citizens." Tell that to the "ordinary citizens" of New London, Conn., whose homes were stolen by the government for use by real estate developers at the request of the largest drug company in America — with the approval of Justice Stevens.

Obama's 'Mainstream' Nominee. The [next Supreme Court] nominee will be marketed as a "moderate" from the "mainstream." President Gerald Ford introduced Stevens as a "moderate Republican," a species as rare as a "conservative Democrat" and as elusive as Bigfoot. Obama has confirmed that his nominee will emulate Stevens. And like Obama and Stevens, the nominee will promise to uphold the Constitution — make that the "living" Constitution.

Supreme Court Needs At Least One Veteran. The Democrats have not placed a veteran on the Supreme Court in nearly half a century. When President Obama fills Stevens' seat, will the High Court be left without anyone who has military experience? Veterans in the U.S. Senate should make sure that such an embarrassment does not occur. Cases concerning the military appear every year before the Supreme Court, and our nation will not be well-served by a court lacking in military experience.

Conservatives, Liberals and the Court: Even before it was official, the news of 89-year-old Justice John Paul Stevens likely retirement from the Supreme Court caused little excitement and with good reason. Liberals and conservatives alike assume President Obama will appoint another reliably liberal justice and the Senate will promptly confirm the choice. That's the way it has gone with the nominees of Democratic presidents going back decades. That, however, is not the way it has gone with Republican presidents and their nominees.

Bias by the numbers. Is an employment test unfair if it doesn't produce a racially balanced result? A case before the U.S. Supreme Court deals with this question. The plaintiffs in Lewis v. Chicago claim that the city violated federal civil rights law because a disproportionate number of blacks failed a written exam for firefighting jobs.

A Dangerous Dissent on Citizens United. [Scroll down slowly] I can, however, guarantee this: Left-wing and government lawyers will glom onto that language to attempt to justify the most invasive intrusions into corporations — including nonprofits — and their First Amendment, property, and other rights. That is why it is important to expose Justice Stevens' error now, before it becomes incorporated into our jurisprudence by mistake or design.

Supreme Court Leans Toward Incorporation of Second Amendment. The Supreme Court heard oral arguments yesterday [3/2/2010] in McDonald v. Chicago — the case challenging Chicago's handgun ban. Judging from the transcripts, it looks like a majority of justices favor applying the Second Amendment to the states.

Personhood: Among the interesting arguments in last week's 5-4 Supreme Court decision granting corporations First Amendment protections when making campaign contributions was the majority's decision to effectively treat corporations as persons. ... The ruling came the week of the annual March for Life, which draws thousands to Washington to mark that same court's 1973 Roe v. Wade ruling. The march has become not so much a protest as an affirmation of the value of all human life.

Some say Obama should expand the Supreme Court. This may come as a surprise to some people, but the U.S. Constitution does not specify the size of the Supreme Court. The original Judiciary Act of 1789 set the number of justices at six. It shrank to five in 1801. It expanded to seven in 1807. It grew to nine in 1837 and 10 in 1863. It fell back to seven in 1866. It returned to nine in 1869 and has remained at that number since.

High Court Considers Whether Feds Can Make Everyone a Criminal. The problem with government is that it tends to expand, including expanding its ability to throw people in jail. Fortunately, the Constitution provides a check on this power. Often these days, "due process" is used as a catchall to advance any number of legal theories, most of them liberal. But one correct doctrine from the Due Process Clause of the Fifth Amendment and Fourteenth Amendment is that a statute can be "void for vagueness."

A gun case or Pandora's box? Many have heard about the historic gun rights case going to the Supreme Court. Fewer have heard that this is also a major case for businesses and family values. It could lead to anything from court-ordered Obamacare to same-sex marriage. This is the biggest case of the year, and everyone has a stake in it.

From Guns to Butter. Last week, the [Supreme] Court agreed to hear a Second Amendment challenge to Chicago's handgun ban. Since that law is very similar to the Washington, D.C., ordinance that the Court declared unconstitutional last year, it is bound to be overturned, assuming the Court concludes that the Second Amendment applies not just to the federal government (which oversees the District of Columbia) but also to states and their subsidiaries. That seems like a pretty safe assumption, since over the years the Court has said the 14th Amendment "incorporates" nearly all of the guarantees in the Bill of Rights.

Defining Activism Down. [Scroll down] Under this brave new meaning of judicial activism advanced several years ago by now-White House aide Cass Sunstein, a judicial activist is any judge invalidating a federal law, however shoddily made. Ergo, conservative judges are obliged to uphold liberal precedents no matter how narrow the vote and how recent the case, while liberals can overturn long-time principles in the name of the evolving Constitution. The effect is a liberal ratchet, where precedents like Miranda v. Arizona and Roe v. Wade are cast in stone, but any rethinking by the Roberts Court of the six-year-old 5-4 campaign-finance ruling in McConnell v. FEC is a scandal.

Still wrong on race. The most distressing thing about the now infamous Ricci case is that four Supreme Court justices effectively endorsed the racism that led the city of New Haven, Conn., to deny promotions to 17 firefighters because of the color of their skin. The court's liberal members were so caught up in defending an ugly racial spoils system that they failed to recognize the extent to which it directly conflicts with the plain language of the Constitution that they are sworn to uphold; more precisely, its 14th Amendment requiring "equal protection of the laws."

Disability, Inc. This is not a joke. Monday, the U.S. Supreme Court issued a 6-3 decision that required an Oregon public school district to pay a $5,200 monthly tuition (plus fees) for a private boarding school for a high-school senior whose psychologist had diagnosed him with ADHD, depression, math disorder and cannabis abuse. Also not a joke: The Obama administration had urged the big bench to so rule. Thus the Individuals with Disabilities Education Act (IDEA), which mandates that all "children with disabilities" have the right to a "free appropriate public education," is turning into a cash cow for disability lawyers and private schools.

No respect for the rule of law: Barack Obama says that it is most important that his replacement for retiring Supreme Court Justice David Souter possess "empathy" and "understanding," and recognize "that justice isn't about some abstract legal theory or footnote in a case book." He couldn't be more mistaken. The application of constitutional principles to cases is almost entirely about abstract legal theory and footnotes found in case books. It is such because the primary quality of a Supreme Court justice should be disinterested neutrality in the service of the rule of law. ... The impression grows that we have elected a remarkably superficial and ignorant man to the presidency.

Citizens united against censorship. The Supreme Court is hearing arguments today regarding Citizens United v. Federal Election Commission. The case could decide what political speech is prohibited by federal campaign finance laws. To put it simply, campaign finance laws constrain free speech.

Constitutional Chess. Since the passage of "The Judiciary Reorganization Bill of 1937" (and the attempted "packing" of the Supreme Court by FDR) the rules of interpreting the Constitution have been rigged to support a progressive ideology. The Constitution has become "a living document." The Constitution means either whatever the Congress wants it to mean or whatever five out of the nine justices sitting on the Court at the present time say that it means.

Judicial Error. The Supreme Court's decision Tuesday [6/9/2009] to lift a bondholder stay in the Chrysler bankruptcy fails to grasp the value of legality in markets. It strengthens the hand of government but weakens the rule of law.

Rush Limbaugh, Intellectual. I was a bit surprised to hear former Homeland Secretary Tom Ridge echo President Obama's criticism of Rush Limbaugh by calling him "shrill" and "divisive" recently. Then Senator John Cronyn (sic) joined in the Rush-bashing over Limbaugh's use of the word "racist" for self-described "wise Latina woman" judge Sonia Sotomayor. I do not recall ever being enlightened or inspired by these politicians. On the other hand, as I've driven to teach afternoon classes I've enjoyed the insights and wit from Limbaugh. I am always impressed by his ability to apply historical figures, ideas, events, and Constitutional principles.

10 Questions For a Supreme Court Nominee. [#6] Do you believe that beyond the plain text of the Constitution, that there are "emanations" and "penumbras" which contain unwritten and previously unknown provisions that remove issues from democratic determination, and which therefore may be used to strike down popularly enacted state or federal laws?

Identity Justice: The 1987 fight over President Ronald Reagan's nomination of Robert Bork interred the tradition that the Senate, in evaluating judicial nominees, would not delve deeply into the nominee's jurisprudential thinking. Bork's defeat was unjust, but the new approach to confirmations was overdue, given the court's increasingly central role in American governance.

A Truth Not Self-Evident: Only Americans Should Make U.S. Laws. Zimbabwe should not be making American law. Neither, for that matter, should France, India, Mexico, Switzerland or any other country. Only America should be making laws for Americans. Incredibly, not everyone agrees with this principle. Astonishingly, some of the people who do not agree are justices of the U.S. Supreme Court.

Why the Law is Foreign to Ginsberg. She and her fellow travelers really don't understand. That is, they don't grasp the correct legal philosophy well enough to understand what they're rejecting. Note that I called the legal philosophy "correct" and not "strict constructionism," and for good reason. When you call it correct, it follows that other positions are incorrect. But what is the other side of the coin of constructionism?

The Supreme Court and the Tyranny of Lawyers. At one level, Wyeth v. Levine is just another lawsuit with a silly result. ... The legal issue was whether the medical experts at the FDA had pre-empted state lawsuits by mandating clear warnings. A majority of justices said that such implied pre-emption could not block lawsuits. The case would have been different if Congress had specifically pre-empted state drug lawsuits.

FOX News Poll: Pick Supreme Court Justice Based On Experience. Americans think judicial experience should be the most important factor in selecting the next Supreme Court justice, far outdistancing other qualities such as the nominee's race, gender, sexual preference, and issue positions.

Poll: Americans Don't Want Pro-Abortion Justices. As speculation builds around President Barack Obama's nomination to replace Supreme Court Justice David Souter, a new survey revealed Thursday a majority of Americans would oppose nominees who hold staunch pro-abortion viewpoints, including support for partial-birth abortions and taxpayer-funded abortions.

Hatch: Obama Using 'Code' for Activist Judge. Republican Sen. Orrin Hatch of Utah, the longest serving Republican on the Senate Judiciary Committee, said on "This Week" Sunday that President Barack Obama used "code" for an activist judge this week when describing his ideal nominee to replace retiring Justice David Souter. "It's a matter of great concern, if he's saying that he wants to pick people who will take sides. He's also said that a judge has to be a person of empathy — what does that mean? Usually that's a code word for an activist judge," Hatch told [George Stephanopoulos] on "This Week."

The Pity of Obama's Judicial Doctrine: If Obama's campaign promises last year are to be taken seriously, here is what the current president intends to use as a litmus test for filling vacancies on the court: "We need [judges] who've got the heart, the empathy, to recognize what it's like to be a young teenage mom. The empathy to understand what it's like to be poor, or African-American, or gay, or disabled, or old. And that's the criteria by which I'm going to be selecting my judges."

'Empathy' versus law. People who are speculating about whether the next nominee will be a woman, a Hispanic or whatever, are missing the point. That we are discussing the next Supreme Court justice in terms of group "representation" is a sign of how far we have already strayed from the purpose of law and the weighty responsibility of appointing someone to sit for life on the highest court in the land.

"Empathy" Versus Law: Part II. The great Supreme Court justice Oliver Wendell Holmes is not the kind of justice who would have been appointed under President Barack Obama's criterion of "empathy" for certain groups. ... Justice Holmes saw his job to be "to see that the game is played according to the rules whether I like them or not."

"Empathy" Versus Law: Part III. There is a reason why the statue of Justice wears a blindfold. There are things that courts are not supposed to see or recognize when making their decisions — the race you belong to, whether you are rich or poor, and other personal things that could bias decisions by judges and juries. It is an ideal that a society strives for, even if particular judges or juries fall short of that ideal. Now, however, President Barack Obama has repudiated that ideal itself by saying that he wants to appoint judges with "empathy" for particular groups. This was not an isolated slip of the tongue. Barack Obama said the same thing during last year's election campaign.

"Empathy" Versus Law: Part IV. While President Barack Obama has, in one sense, tipped his hand by saying that he wants judges with "empathy" for certain groups, he has in a more fundamental sense concealed the real goal — getting judges who will ratify an ever-expanding scope of the power of the federal government and an ever-declining restraint by the Constitution of the United States. This is consistent with everything else that Obama has done in office and is consistent with his decades-long track record of alliances with people who reject the fundamentals of American society.

Supreme Court makes it easier to fight deportation. The Supreme Court has made it easier for illegal immigrants seeking to avoid deportation to get another chance at a court hearing. The decision came in the case of Jean Marc Nken, who came to the United States in 2001 and did not leave when his visa expired.

High Court Curbs Power of Police to Search Cars. The Supreme Court ruled that police couldn't search the car of a person arrested unless the officer's safety was threatened or there was reason to think the car contained evidence of a crime, reviving a constitutional protection against unreasonable searches. The court effectively closed a loophole opened in a 1981 opinion that has been widely interpreted to allow police, without a warrant, to search cars — as well as bags or containers within them — when they arrest a driver or passenger.

Step Away From the Vehicle. In August 1999 police saw Rodney Gant pull into the driveway of his Tucson home and arrested him for driving with a suspended license. After handcuffing Gant and locking him in a cruiser, Officer Todd Griffith searched his car, finding a bag of cocaine in the pocket of a jacket on the backseat. When he was asked at an evidentiary hearing why he searched the car, Griffith replied, "Because the law says we can do it." Not anymore.

Scalia Says Original Intent is Making a Comeback in U.S. The idea that laws have fixed meanings that transcend generations has gradually been restored to a respectable station in the academic community and in the judiciary, said Scalia during the closing session of the Federalist Society's annual meeting in Washington D.C. ... Unfortunately, the "contagion" of a "living constitution," one where written phrases can be divorced and reshaped away from their original meaning, has begun to spread internationally, even as U.S. courts have begun to show some improvement, he said.

Supreme Court Steps Closer to Repeal of Evidence Ruling. This month, Chief Justice Roberts, writing for the majority in Herring v. United States, a 5-to-4 decision, took a big step toward the goal he had discussed a quarter-century before. Taking aim at one of the towering legacies of the Warren Court, its landmark 1961 decision applying the exclusionary rule to the states, the chief justice's majority opinion established for the first time that unlawful police conduct should not require the suppression of evidence if all that was involved was isolated carelessness.

Obama Is (Supreme) Courting Disaster. All law school students have heard a constitutional law professor explain that the concept of a "living Constitution" is superior to the discredited theory of "originalism" advocated by Justices Scalia and Thomas. The argument most often advanced to support this assertion is that the living Constitution expands our freedom by finding new constitutional rights. But while jurists appealing to the living Constitution have discovered additional rights — often by usurping the prerogatives of the democratic process — they have also been alarmingly willing to contract or eliminate many of the rights for which the constitution explicitly provides.

Supreme Court considers anti-Clinton movie. When a special three-judge panel considered the scathingly critical Hillary: The Movie last year, the judges deemed it a campaign ad with the unmistakable message that people should vote against then-presidential candidate Hillary Rodham Clinton because she "is unfit for office." The conservative Citizens United, which produced the 90-minute movie partly with corporate funds, said it was merely making a documentary about the issues. The court rejected that argument and agreed with the Federal Election Commission that the movie was subject to campaign-financing law restricting when messages can be aired and advertised.

Obama, Ginsburg and Guns. Last year the Supreme Court held in D.C. v. Heller that the Second Amendment secures the right to bear arms for individual Americans. In doing so, the Court rejected the view put forth by liberals that the Second Amendment only empowers state governments to equip their National Guard units. But too many lose sight of the fact that the Heller decision was a 5-4 decision. Four justices —only one short of a majority —adopted the liberal argument that the Second Amendment does not involve any rights whatsoever for private citizens.

Greek to Me. In its flattering piece on Justice Ruth Ginsburg's feisty determination to remain active on the Supreme Court, the Washington Post quotes her on the topic of judges' use of foreign law...

High Court Poised To Closely Weigh Civil Rights Laws. The Supreme Court has an opportunity to reaffirm or reshape the nation's civil rights laws as it faces a rare confluence of cases over the next two weeks, including a high-profile challenge brought by white firefighters who claim they lost out on promotions because of the "color of their skin." The cases also touch on the Voting Rights Act, the need to provide English classes for immigrant children and, more tangentially, discriminatory mortgage lending.

Supreme Courtier? Have you ever had a boss who treated you like a child, second-guessed you, reworked whatever you did so that you felt no ownership of the final product? As a result, did you take your job less and less seriously precisely because you knew that whatever you produced wouldn't really be yours anyway? Well, the Supreme Court is the boss, and Congress is the Dilbert.

Plankton Watch. How many plankton can fit on the head of a pin? And how much are they worth? In an environmental case argued this month, the Supreme Court was asked to consider whether any cost is too high for limiting damage to the environment. How the Justices decide will have important consequences for energy efficiency and the future cost of electricity.

The Republic of Kennedy: When you consider that the court is pretty well divided between four liberals and four conservatives with Justice Kennedy swinging from one side to another as the spirit moves him, we now enjoy a Republic of Kennedy. All this fuss and bother about the presidential race is misplaced. The most powerful man in the land is someone most Americans couldn't pick out of a lineup.

Justice Anthony Kennedy and Our Schizophrenic Supreme Court: Conservatives were, rightly, thrilled by the recent Supreme Court decision that affirmed our constitutional right to keep and bear arms. Not so fast. Of the four important decisions the court has rendered in this term, three of them have gone the wrong way. Let's first take a brief look at each of these four cases.

An Indecent Decision. Earlier this term, Kennedy wrote the 5-4 opinion that extended habeas corpus rights to foreigners captured abroad and held on foreign soil. Such a right had never been granted in American history. This was a victory for the terrorists held at Camp Delta in Guantanamo Bay, Cuba, who now can challenge their detention in federal courts. For his next trick, Kennedy wrote last week another 5-4 opinion declaring the death penalty for child rapists unconstitutional.

Court to decide if illegal immigrants' use of Social Security numbers is ID theft. The Supreme Court agreed Monday [10/20/2008] to decide whether people picked up on immigration violations also can face charges of identity theft if they use Social Security and other identification numbers that belong to others. Federal appeals courts have split over whether the defendant must know that the phony ID numbers belong to a real person and the court said it will resolve the question.

US Supreme Court turns down David Parker's appeal. Validates state's right to teach homosexuality to young children over parents' objections! Allows outrageous lower court rulings to stand.

High Court to hear appeal over anti-Clinton movie. The Supreme Court will hear an appeal from a conservative group that wanted to promote and air its anti-Hillary Clinton movie without complying with a landmark campaign finance law. The justices, in an order Friday [11/14/2008], said they will review a lower court ruling that Citizens United's "Hillary: The Movie" was clearly intended to influence people to vote against Clinton in her run for the presidency.

Supreme Court's Embarrassing Error. A blogger, Caaflog, caught Justice Kennedy having made the biggest error in modern Supreme Court history that I can recall. In the death penalty child rape case, when he said that the death penalty for this crime was "against evolving standards" he overlooked, what a blogger found, that in 2006 Congress itself had made rape of a child a crime subject to the death penalty under the military code.

The Supreme Court Can't Ignore the Facts. The factual basis of the [Kennedy v. Louisiana] ruling was in error. The court overlooked the amendment to the Uniform Code of Military Justice — passed by Congress and signed into law by President Bush in 2006 — which imposed capital punishment for child rape. So much for the national consensus. On July 21, Louisiana filed a petition for rehearing. Will the Supreme Court grant such a request? It has in the past.

Supreme Court rejects jury Bible case. The Supreme Court is refusing to consider a murder case in which a jury foreman read passages of the Bible to hold-out jurors who subsequently voted to impose the death penalty.

US Supreme Court rejects new trial for former Black Panther. The US Supreme Court Monday [10/6/2008] refused to hear arguments for a new trial for Mumia Abu-Jamal, a former Black Panther accused of killing a police officer who has become an icon for anti-capital punishment campaigners.

Supreme Court shuns appeal by ex-professor in terror case. The U.S. Supreme Court on Monday [10/6/2008] declined to hear an appeal from a former Florida professor trying to get the court involved in federal prosecutors' efforts to have him testify about terror financing. The high court's decision eliminates one of two major impediments that have stalled prosecutors from bringing ex-professor Sami Al-Arian to trial for refusing to testify to a grand jury in Northern Virginia investigating terror financing.

Save the Whales, or the U.S. Navy Sonar?. National security and environmental law went head-to-head today [10/8/2008] at the Supreme Court when a government lawyer argued the U.S. Navy's use of sonar for antisubmarine-warfare training is critical for national defense, while environmentalists claimed the practice causes irreparable damage to marine mammals.

Justices strike down 'millionaire's amendment'. The Supreme Court on Thursday [6/26/2008] struck down the "millionaire's amendment," a campaign finance law intended to level the field for House candidates facing wealthy opponents who spend lots of their own money. … The justices, in a 5-4 ruling that reflects skepticism of campaign finance overhauls, said the law violates the First Amendment.

High Court Deals Blow To Campaign Finance Law. The Supreme Court dealt another blow yesterday [6/26/2008] to the landmark 2002 campaign finance law crafted by Sens. John McCain and Russell Feingold, declaring unconstitutional a provision that eased fundraising restrictions for political candidates running against wealthy opponents who were bankrolling their own bids for federal office.

High court strikes down gun ban. The U.S. Supreme Court ruled Thursday that a sweeping ban on handguns in the nation's capital violated the Second Amendment right to bear arms. The justices struck down the ban in a 5-4 decision, with Justice Antonin Scalia writing the opinion for the majority. Washington Mayor Adrian Fenty said he was disappointed in the ruling but will give the district's police department 21 days to implement a process for registering handguns. It still will be illegal to carry handguns outside the home, and all pistols must be registered with police.

Supreme Court Shoots Down D.C. Gun Ban. The Supreme Court has overturned Washington, D.C.'s strict gun ban. Writing for the 5-4 majority, Justice Antonin Scalia said that the Constitution protects an individual's right to keep and carry a gun. The decision will affect gun control laws across the country.

Scalia the Grammarian. There will be a great deal to say about today's landmark Supreme Court decision, the first in American history that explicitly finds in the Constitution a personal right to keep and bear arms and overturns a 32-year-old ban on handguns in the District of Columbia. What strikes this non-lawyer, as I read Justice Scalia's majority opinion, is how anchored it is in the elementary logic of grammar.

Read the full text of District Of Columbia et al. v. Heller.

Liberty Wins a Big One. Liberals, who hate guns almost as much as they hate cars, got a well-deserved lesson in Second Amendment rights when the Supreme Court spit in their face by ruling that the Constitution really does guarantee the right of Americans to own guns. The ruling, which struck down the District of Columbia?s laws almost totally restricting handgun ownership, affirmed the traditional view that the Second Amendment means exactly what it says when it guarantees "the right of the people to keep and bear arms."

An Individual Right Rekindled. Dick Heller is a special police offer in the District of Columbia who patrols the Federal Judicial Center. He is permitted to carry a handgun while on duty during the day and wished to possess one at his home to defend himself and his family. He applied for a permit, but was denied: the city's law bars the registration of handguns to nearly all private citizens.

Bull's-Eye! In a 5-4 decision written by Antonin Scalia, the kind of justice John McCain says he'd appoint, the high court overturned a draconian District of Columbia law enacted 32 years ago that barred private ownership of handguns. The court ruled the Second Amendment indeed protected an individual right to possess a firearm unconnected with service in a militia and to use that firearm for traditionally lawful purposes, such as self-defense within the home.

The Court defers to plain language. No sulking conservative can imagine the Second Amendment would have been upheld if Republican presidents had not appointed the five members of yesterday's majority. Who can doubt that Jimmy Carter, Walter Mondale, Michael Dukakis, Al Gore, John Kerry and ol' Bubba would have appointed judges dedicated to throwing out the constitutional guarantee upheld yesterday?

Silver Bullet. The 2008 Supreme Court term ended with a bang yesterday as the Justices issued their most important ruling ever in upholding an individual right to bear arms. The dismaying surprise is that the Second Amendment came within a single vote of becoming a dead Constitutional letter.

The Meaning of the DC Gun Case Decision: Justice Antonin Scalia's opinion for the 5-4 majority of the Supreme Court in the recent landmark Second Amendment gun case, District of Columbia v. Heller, is a major contribution to American constitutional law. It is at once a rich exposition of the Second Amendment's historical context, a textbook demonstration of Originalist analysis of an important constitutional amendment, a surgical dissection of virtually every word of the amendment, and a point-by-point refutation of the dissents of Justice Stevens….

Right to Bear Arms: Washington, D.C., will become a safer place to live and work thanks to the U.S. Supreme Court ruling Thursday [6/26/2008] against the city's absolute ban on handguns. The Court ruled that the Second Amendment's guarantee of the right to bear arms is an individual right, not just one that permits states to maintain militias, striking down one of the nation's toughest anti-gun laws. As someone who lived in the District at the time the city imposed its ban 32 years ago, I say it's about time.

Americans have right to guns under landmark ruling. Individual Americans have a right to own guns, the Supreme Court ruled on Thursday for the first time in the country's history, striking down a strict gun control law in the U.S. capital. The landmark 5-4 ruling marked the first time in nearly 70 years the high court has addressed the Second Amendment of the U.S. Constitution. It rejected the argument the right to keep and bear arms was tied to service in a state militia.

Court takes giant step backward. I often wonder if Antonin Scalia might not be more comfortable in another century, past not future, one not touched by the miseries and dangers of urbanization. I certainly think we would be if he were. Maybe most fittingly he would do well in the 18th century where a firearm larger than a one-shot pistol and a long rifle could not be imagined, especially by those who were drafting a plan for the rest of us to live by forever and where citizen soldiers in local militias were the national defense.

Rights, Arms and the Man. "A well-regulated militia, being necessary to the security of a free state, the right of the people to keep and bear arms, shall not be infringed." Because of the inclusion of the M-word (militia), gun-control advocates have long argued that the Second Amendment applies to militia, but not to individual citizens. Last week, the Supreme Court put an end to that nonsense when it issued a decision overturning the District of Columbia's 32-year-old ban on handguns — even in citizens' own homes.

Citizens' Rights Reloaded. Because of the high court's decision to affirm the Second Amendment as an individual right, local, state and federal governments will have a much harder time infringing on citizens' rights to protect themselves and their families. This is the biggest victory for individual rights in decades.

How a Young Lawyer Saved the Second Amendment: The case that became D.C. v. Heller was the brainchild of three lawyers at a pair of libertarian organizations, the Cato Institute and the Institute for Justice. All were busy with other matters, so they hired Mr. [Alan] Gura.

High court: Don't execute child rapists. The Supreme Court on Wednesday outlawed executions of people convicted of raping a child. … In a 5-4 vote, the court said the Louisiana law allowing the death penalty to be imposed for raping a child violates the Constitution's ban on cruel and unusual punishment.

Court rejects death penalty for raping children. The Supreme Court on Wednesday outlawed executions of people convicted of raping a child. In a 5-4 vote, the court said the Louisiana law allowing the death penalty to be imposed in such cases violates the Constitution's ban on cruel and unusual punishment.

Supreme Court Rejects Death Penalty for Child Rape. The death penalty is unconstitutional as a punishment for the rape of a child, a sharply divided Supreme Court ruled Wednesday [6/25/2008]. The 5-to-4 decision overturned death penalty laws in Louisiana and five other states. The only two men in the country who have been sentenced to death for the crime of child rape, both in Louisiana, will receive new sentences of life without parole.

The Editor says...
I guess the death penalty is reserved for someone who has committed a really serious crime.

Evolving Standards of Indecency: The Supreme Court's barring of the death penalty for child rapists in Kennedy v. Louisiana underscores the hazards in the court's abandonment of moral absolutes in favor of "evolving standards of decency" and the court's unbridled arrogance in substituting its subjective judgment for the legislatively enacted will of the people.

Supremely Screwed Up. [Scroll down] As it happened, not just the Kennedy majority failed to notice the existence of this federal law. So did the four dissenting justices. So did petitioner Kennedy and respondent Louisana. Moreover, none of the 10 friends of the court in the case, not even one, cited the law. Neither did the solicitor general's office...

Supreme Court Confirmation Hearings and the Senate. For most of our history, despite the Supreme Court's important role, Justices nominated by a President were subject to little scrutiny beyond character and ability. As several Senate Judiciary Committee members noted in the confirmation of Chief Justice Roberts, before 1955 nominees almost never appeared before the Committee. The nomination was simply voted on in the Senate.

John McCain and Barack Obama: Two visions of the Supreme Court. John McCain and Barack Obama, the two leading presidential candidates, have set out sharply contrasting views on the role of the Supreme Court and the kind of justices they would appoint.

Top 10 Things to Expect From Obama Court: (# 10.) Expanding and perpetuating the use of racial preferences … (# 6.) Banning the death penalty … (# 4.) Creating new constitutional rights to massive government welfare and medical care programs…

A Cautious Right Turn. The [Supreme] Court has moved notably back to the center, but its alleged new "conservatism" is more in temperament than politics. You wouldn't know this from the horror masks brandished on the political left, which is reacting as if the Court had laid waste to a generation of precedents.

Has the Court Moved Right? The mainstream media are quick to proclaim that the Supreme Court is moving radically to the right, but a closer look reveals that the court has quite a way to go before it can be considered truly conservative.

'Conservative' court actually may be more liberal. The nation's highest court returns to work Monday [10/1/2007], ready to grapple with cases that test the constitutionality of lethal injection, the legal rights of suspected terrorists and the legitimacy of hotly contested voter ID laws in more than two dozen states.

Stare Decisis: Not Quite What Senator Schumer Would Have You Believe. It is the substantive rulings which the critics dislike, not the legal reasoning. The charge amounts to a bit of legerdemain aimed at a public not familiar with the doctrine, a public whose principal source of information about the Court and its rulings is a media unwilling or unable to examine the charge on its merits. This one-two-punch by Democrats and the media has created a distorted view among the public of the Court's methods and rulings.

Expect Big Labor Power Grabs Next Year. Focused on raising forced-union-dues dollars, union officials have made expanding Big Labor's government-granted special privileges a top priority. So, although the Supreme Court's decision in Chamber v. Brown may slow coercive union organizing down from its current breakneck speed, workers likely face a renewed assault on their freedom of association after the November elections.

Stare Decisis: Eight Recent Cases. The recent claims that newly-confirmed Chief Justice Roberts and Justice Alito were ignoring precedent, contrary to their confirmation hearings pledges, are partisan chum hurled into the waters where swim the most radical members of the Democratic base. … I find no basis for such a charge in any of these opinions.

Boiled Frog Alert ...
High Court Rules on Illegal Searches. The Supreme Court affirmed Wednesday [4/23/2008] that police have the power to conduct searches and seize evidence, even when done during an arrest that turns out to have violated state law.

The Editor says...
The way I see it, this ruling opens the door for the police to make "traffic stops" for no reason at all, hoping to find drugs or firearms in someone's car. This ruling effectively drains the life out of the Fourth Amendment.

Texas argues global courts, Bush have no say in state case. Neither the president nor an international court can tell Texas how to treat criminal defendants, the state's top Supreme Court advocate told the justices in arguments yesterday [10/10/2007] over the fate of a Mexican citizen on death row.

Read the details of the case in this article.
Houston case gets lively Supreme Court hearing. President Bush and Texas, the state he once led, were on opposite sides of a Supreme Court dispute today [10/10/2007] over the role of international law and claims of executive power in the case of a Mexican on death row for rape and murder in Houston.

Sparks Fly at the Supreme Court. In a 5-4 decision, the Supreme Court ruled that achieving "diversity" is too weak an argument to justify shuffling kids around on the basis of skin color. Though Chief Justice John Roberts's opinion is couched in language of precedent and respect for existing law, this case is a clean win for individualists — i.e., for those who oppose racial preferences or racial handicaps.

Imperial, exclusive Supreme Court of the United States. From their high seats above us all, both these Justices ignore that they serve on a public court, paid by taxpayer funds; and because of increasingly limited coverage of the Supreme Court in newspapers and on both broadcast and cable television, many Americans know little of these nine distant arbiters of our rights and liberties in so many spheres of our existence.

Why conservative justices go liberal. Most of the leading conservative intellectuals were at least liberal, and often radical, in their youth. That includes Milton Friedman, Friedrich Hayek and the neoconservative movement. In politics, the leading conservative figure of the 20th century — Ronald Reagan — was a liberal in his early years. On the Supreme Court of the United States, however, the movement has been in the opposite direction.

One More Supreme Court Appointment for President Bush? Conservatives stand a strong chance of securing at least one more seat on the U.S. Supreme Court before President Bush leaves office, according to one conservative court-watcher. Ed Whelan, president of the Ethics and Public Policy Center, didn't say who might be the next justice to leave, but speculation has recently swirled around Associate Justice John Paul Stevens, a Gerald Ford appointee, who will turn 87 in April.

Now she tells us. The latest critic of a Supreme Court ruling turns out to be the justice who supplied the key vote in its favor: Sandra Day O'Connor. … The case was decided 5 to 4, and Justice O'Connor's concurring opinion made all the difference. Renowned in her time on the court as its swing vote, she's now swinging back.

A justice gets her swing back. The latest critic of a Supreme Court ruling turns out to be the justice who supplied the key vote in its favor: Sandra Day O'Connor.

Rules are More Important Than Personalities. We have a set of rules that are known, neutral and intended to be durable. Those rules were created by our founders an