— Mark Twain
---
Transgender Woman, Who Remains A Biological Male, Wins NCAA Women's Track Championship. A biological male won the first Women's Track and Field NCAA title, even though she was previously competing as a man named Craig as recently as 2018. CeCe Telfer, a transgender woman from New Hampshire attending Franklin Pierce University, won the first ever NCAA title for the sport, and also made history as the first biologically male competing on a woman's team to do so.
The Editor says...
EVERY "transgender woman" remains a biological male. You can make drastic surgical alterations to your body, but you cannot change your chromosomes.
Liberals Are At War With Science In The Transgender Athlete Controversy. [Scroll down] Nowhere is this disconnect between science and modern liberal ideology (and its harm to those the party claims to champion) so evident as in the dispute over transgender athletes who demand to compete in women's sports. On one side of the debate you have people like Jaycee Cooper, a transgender woman who is in a dispute with USA Powerlifting because the federation doesn't allow biological men to compete with women. USA Powerlifting says Cooper has an unfair advantage over them as a biological male, but Cooper says it's discriminatory to ban transgender people from competing with the sex they identify with. "I really do love this sport, and it's not fair to genetically eliminate an entire group of people," Cooper told NBC News. The federation rules do allow transgender athletes to compete freely in competition with people of their biological sex, with the exception of biological women who use testosterone. But more importantly, Cooper's discrimination argument disregards the fact that women's sports are designed to exclude an entire group of people — men — from the competition in order to level the playing field.
Trans Powerlifter Stripped Of Titles In Women's Championships. This is the latest in our apparently endless series of stories covering the destruction of competitive women's sports by the introduction of "transgender women" into the events. This time we're back to the sport of weightlifting. A transgender powerlifter named Mary Gregory recently "dominated" the field at a Powerlifting Federation competition last month, smashing four world records for that weight class in the process. This had the actual women competing in the event understandably upset and protests were lodged. But after an investigation was conducted, the federation chairman posted an announcement saying that the record lifts were being taken off the books.
Sports League Rejects Transgender Athlete's Claim to Female Weightlifting Records. A weightlifting league has revoked awards to a transgender weightlifter who claimed to have broken several women's weightlifting records. "Our rules, and the basis of separating genders for competition, are based on physiological classification rather thana identification," said a statement from Paul Bossi, president of 100% RAW Powerlifting Federation.
8th Place: A High School Girl's Life After Transgender Students Join Her Sport. When two high school athletes who were born male but identify as female took first and second place at Connecticut's girls indoor track championship this year, it wasn't just a local news story. To some, it was a story of triumph and courage. The winner, a junior from Bloomfield High School, set a girls state indoor record of 6.95 seconds in the 55-meter dash, and went on to win the New England titles in both the 55-meter dash and the 300-meter dash. To others, it was a story of shock and disappointment: Is this the end of women's sports?
Girls and Women Deserve Single-Sex Sports. Our culture is so steeped in the idea of equality (in most ways, a very good and noble commitment) that we lose sight of obvious but important facts that we must acknowledge if we are to create a truly level playing field and make functioning equality possible. Take sports. Today, most people recognize that participating in athletics is associated with positive benefits for both males and females. It's just as important to encourage our daughters to join a team as it is to encourage our sons. Individuals of both sexes have the capacity to be great athletes.
Man Competes In Women's Powerlifting, Sets Four World Records. Do people no longer realize the extreme difference between XX and XY muscle? Reality keeps rearing its ugly head in sports, as a liberal position eliminates women from competition like Dolly Parton crashing a Men's Largest Chest championship. Case in point: Mary Gregory. On Sunday [4/28/2019], Mary — who's a man — shattered four women's division powerlifting world records. Due to his dominance in girls' deadlift, squat, and bench press, he set a Masters total record.
Transgender Athletes Dominate at Connecticut Girls' Track State Meet. According to FairPlayForWomen.com, a nonpartisan grassroots campaign based in the UK dedicated to fighting for the sex-base rights of women and girls, there are a number of skeletal and muscular differences between men and women. Women are, on average, 9 percent shorter than men, and have shorter and weaker bones. Women also have shorter arms and legs relative to body size — one can easily see where longer legs might benefit males in track sports. As for muscles, women "are around 30-35% muscle by weight, while men are 40-50% muscle." Women's ligaments are also thinner and softer than men's. The impact these biological differences have when it comes to competitive sports is undeniable — and there are victims whose concerns are not being heard.
Every House Democrat But One: 234 Elected Officials Demand The Extermination Of Women's Sports. Sarah Warbelow of the left-wing Human Rights Campaign testified before a House subcommittee Tuesday [4/9/2019] that the notion of men having an athletic advantage over women is not "rooted in fact." Here's a secret: The very much "rooted in fact" fact that men have an advantage is the very reason there's such a thing as women's sports in the first place. If there's no advantage, then just eliminate women's sports. Which, effectively, they're doing.
All but one Democrat in the House co-sponsors a bill to allow males to compete on female athletic teams. It may be counterintuitive to rationally examine an irrational proposal, but it's the only way to defeat it. Not all male athletes will be able to beat all female athletes. This is especially true at the highest levels of competition. But it is also true that the best male athletes will defeat the best female athletes every time. And in some sports — field events in track — even average male athletes will have a competitive advantage over females. This hardly matters to female athletes who train for years, bringing their bodies to peak conditioning, only to find that their best wasn't good enough because a biological male who might be an average or above average male athlete was allowed to compete against her.
Former Olympic medalist: Female athletes afraid to speak out about males competing as women. British former Olympic swimmer Sharron Davies said Monday that she knows of "quite a lot" of female athletes who are afraid to publicly share their concerns about biological males who identify as transgender women competing in women's sports. Davies told Sky News that she's had "many" conversations with female athletes who are afraid to speak out, especially "people who are competing at the moment." "They're worried that their governing bodies will frown on it, they're worried that their sponsors will think it's not PC and that they're not allowed to do this," said Davies, who won a silver medal at the 1980 Summer Olympics.
First They Came for the Catholics, Then for the Christians, and Then for the High School Kids. [Scroll down] Meanwhile, in Colorado, they now have disqualied Brendan Johnston from the state's high-school wrestling championships. Johnston is a Christian teen boy who politely, as a matter of religious principle and personal conscience, refused to wrestle a girl. As he explained, "There is something that I really do find problematic about the idea of wrestling with a girl, and a part of that does come from my faith and my belief. And a part of that does come from how I was raised to treat women. I don't think that I am looking at them as not equal. I am saying that they are women, and that is dierent than being men, because I do believe that men and women are different, and we are made differently. But I still believe that women are of equal value to men. I don't think that seeing men and women as different... [opposes] the idea of equality."
Girls' sports being decimated by biological males claiming to be females. There are only two genders in this world of ours, male and female, and it doesn't matter how someone "identifies," that biological fact is established and unalterable. [...] With that being said, the Left is nevertheless hard at work trying to convince us that gender is a 'fluid' thing and in some cases, an outright choice, so old societal constructs like "male" and "female" sports are no longer necessary or relevant. That's why they go along with allowing biological males to participate in (and dominate) all-female events simply because they 'identify' as a girl, claiming — remarkably and unbelievably — that there are no physical differences between the sexes.
If You're A Biological Man Competing In A Women's Sport, You're A Cheater. It's one thing to have someone shout that they are female when they're really male. If they just kept it to that, then that's not something I particularly care about. You do you, just don't force everyone else to pretend along with you and we're good. However, it's another to not only force everyone else to agree with you but then applaud you as you put women down. That's exactly what's going on in the sports community, as headline after headline comes out detailing victories by transgendered "women" in women's sports as highlighted by my colleague Elizabeth Vaughn on Tuesday [2/26/2019]. These are only being celebrated today as triumphs because the current trend says people not only should cheer it on, but they have to. Any talk to the contrary evokes the wrath of the mob, and God have mercy on your soul if you become their target.
The Testosterone-Fueled He-Men of Women's Sports. Female sprinters (good ones) tend to have broader shoulders and narrower hips, but still cannot match the anatomical advantages that a biological male does. In addition, all females, even masculine ones, have a wider Q-angle. That's the hip to knee ratio. And here, that difference is again obvious. Finally, look at the muscle density. The biological girls could work out their whole lives and not build that muscle naturally.
Boys Will Be Boys, Except When They Are Girls. In the recent Connecticut girls' state indoor track championships, two men calling themselves women finished first and second place in the 55-meter sprint, one of them setting a state record. Connecticut is one of 17 states allowing high school athletes to compete without restriction with members of the opposite sex. States, in an effort to be diverse, tolerant, and woke, have passed anti-discrimination laws requiring students who so desire to be treated in school as members of the opposite sex. Interestingly, the sporting competitions are binary: male or female. If these school administrators were true to their intentions, they would have separate sporting events for each of the 60 genders in order to make things fair.
Trump-Hating Lesbian Tennis Champ Destroyed for Saying Men and Women Are Different. Navratilova defected from communist Czechoslovakia in 1975 and became a U.S. citizen in 1981. That same year, when there was still a price to be paid for doing so, she came out as a lesbian and has since engaged in a long career of LGBT activism. She lent her name and support to ballot initiatives, spoke at LGBT marches, and in 2000 was the recipient of the National Equality Award from the Human Rights Campaign, the nation's largest LGBT lobbying group. She is active on Twitter and firmly in the Orange Man Bad camp. No one could ever accuse Martina of not being down for the cause. All this was not enough to protect Navratilova from ostracization and accusations of bigotry last week when she questioned the wisdom of allowing men pretending to be women to compete in women's sports.
Martina Navratiola Removed From Board of LGBTQ Organization. Tennis legend Martina Navratilova was officially removed Wednesday from the advisory board of a prominent LBGTQ organization after making comments about transgender athletes. Navratilova released an op-ed in The Sunday Times on Feb. 17 discussing her opinion on why transgender athletes should not be able to compete against female athletes. She wrote that having men compete as women is unfair because of the physical advantage.
Political Correctness Is Ruining Sports. For the second consecutive year, Mack Beggs, an 18-year-old transgender wrestler, has won the Texas girls' Class 6A 110-pound division. Born a female, Beggs is in the process of transitioning to a male, or so she thinks. Beggs, who takes a low dose of testosterone, had wanted to compete against boys, but Texas public high schools, which have yet to get with the progressive times, require athletes to compete under the gender on their birth certificate. Last year two girls, not wanting to risk being injured by her, forfeited against Beggs. So did a girl this year. Whether they were compelled to undergo empathy training I don't know. [...] Transgenderism is a problem in the Olympics, too. Per the latest rules, transgender "women" must test below a specified level of testosterone for more than one year in order to compete. But while this is doubtless somewhat effective, aren't these athletes, with their still bigger, still stronger, and still more durable bodies, out of place even so?
Man "Identifying" As Woman Wins Women's World Cycling Championship. Having covered the topic of transgender athletes extensively here, this is a story I've been expecting to cross our path for quite a while now. At the 2018 UCI Masters Track Cycling World Championships in Los Angeles this weekend, the winner of the women's 35-39 age bracket was Canadian competitor Rachel McKinnon. McKinnon is a male who identifies as a female.
The Editor says...
If a heavyweight boxer "identified" as a middleweight, and then beat his opponent to a pulp, would that be unfair? Yes, because there are pragmatic ways (involving a calibrated scale) to determine (before the contest begins) who's a heavyweight and who's not. Similarly, there are ways to determine if one has XX chromosomes or XY chromosomes; and indeed, there are no others.
World cycling bronze medalist cries foul after transgender woman wins gold. The American bronze medalist who lost a world-championship cycling race to a transgender woman from Canada has criticized the results as unfair. "First transgender woman world champion...ever," Rachel McKinnon, an assistant professor of philosophy at the College of Charleston in South Carolina, bragged Sunday in a tweet that set off a massive debate.
Biological Male Wins World Championship In Women's Cycling. A biological male who identifies as a transgender woman won a women's world championship cycling event on Sunday [10/14/2018]. Rachel McKinnon, a professor at the College of Charleston, won the women's sprint 35-39 age bracket at the 2018 UCI Masters Track Cycling World Championships in Los Angeles. McKinnon, representing Canada, bested Carolien Van Herrikhuyzen of the Netherlands and American cyclist Jennifer Wagner to take home the gold.
It's time to end women's sports. It's time to end women's sports — especially since they're not just "women's" sports anymore. A case in point is "Rachel" McKinnon, Ph.D., a man masquerading as a woman (MMW), or a "transgender," as the enlighteners say, who just won a women's masters cycling event. As The Gateway Pundit's Jim Hoft (almost) put it, he "whooped them little girls." McKinnon isn't alone, as many MMW have won women's sporting events during the last decade. To name just a few, a 55-year-old MMW won a women's long-drive competition (golf) in 2008. Last year, a 39-year-old MMW won a women's weightlifting event. Then there were the Connecticut's State Open track and field championships in June; the top two finishers in the 100-meter dash were both MMW (okay, being boys, they were BMG), with one of them setting the girls' state record in both the 100- and 200-meter runs. Hey, you go...uh...girl.
State of Modern Sports: Boy Identifies as Girl, Boy Competes as Girl, Boy Wins Everything. A high school in Connecticut has accepted a new boy on their track team. Except, he won't be going to the boys track team, he'll be going to the girls team. Andraya Yearwood, a freshman and biological male from Cromwell High School in Connecticut, identifies as a girl and recently received permission to join the girls track team after competing as a boy in middle school. Not surprisingly, Yearwood has been extremely successful as a male competing against females.
NFL: Hey, you know what would really improve our ratings? A transgender bathroom bill fight. You may have missed it in the rush of "other news" last month, but Texas is considering implementing their own transgender bathroom bill similar to the one in North Carolina which we spent most of 2016 fighting over. [...] One unexpected entrant into this particular field of battle seems to be the National Football League. For reasons which currently baffle me, the NFL decided to weigh in on the subject this week and issue what sounds something like a warning to the Lone Star State, hinting that Texas may not be hosting any more Super Bowl events if they follow such a path.
NFL more forceful on Texas 'bathroom bill' after Super Bowl. The NFL sharpened its warning to Texas on Friday [2/10/2017] about a "bathroom bill" targeting transgender people, suggesting for the first time that the football-crazed state could miss out on hosting another Super Bowl if the proposal is enacted.
NFL Warns Texas There Could Be Consequences for 'Bathroom Bill'. Days after the Super Bowl in Houston, the NFL is warning Texas that legislation requiring individuals to use public bathrooms in accordance with their biological sex could cost the state future opportunities to host the big game.
Seattle Mariners apologize after lesbian couple are told to stop kissing at the baseball team's first ever gay pride night because it was against their 'family-friendly' policy. The Seattle Mariners had to make a groveling apology after a lesbian couple were told off for kissing at the team's first ever Pride night. Mary McHale and her partner Sara Hinton had enjoyed the game against the Milwaukee Brewers — which the Mariners won 7-6 — and were waiting for a ride afterwards when a steward told them to stop smooching because it was a 'family-friendly' event.
Trans-thinking: When 98 Percent of Students Would Let Men in Women's Sports. Imagine a fairly muscular, athletic young man, acting like a man and dressed as a man, tells you he identifies as a woman and asks you to sign a petition supporting his effort to play on his college's women's basketball team. Your response? If you're like 49 out of 50 students approached at the University of Maryland recently, you may sign and say "You go, (girl?)!" And, no, according to Campus Reform's Cabot Phillips, who masqueraded as the aspiring woman, he didn't show just the eyebrow-raising responses. He says that he asked only 50 students for support, and 49 offered it.
Wrestler forfeits rather than fight a girl.
Iowa's girl wrestlers: Some drama, some sport
. The crowd cheered as Cassy Herkelman's hand was raised, but the historic moment of the first girl to win a match at the traditional state wrestling meet comes with an asterisk. Her opponent, Joel Northrup of Linn-Mar of Marion, forfeited.
Not Wrestling Girls
. It's so easy to look at teenagers in general today and sigh. They're more than a bit lazy, a bit spoiled and more than a bit morally compromised. Two teenagers made national news. One showed common decency and sportsmanship, two virtues seemingly uncommon in that generation. Hope is restored.
Should Boys Be Wrestling Girls?
This year's Iowa state championships attracted attention nationwide when the promising high school sophomore Joel Northrup (the fifth-ranked wrestler in the state) defaulted on his first match. He had drawn Cassy Herkelman, a female freshman, as his opponent, and he could not, in good conscience, wrestle a girl. ... Had he not declined to wrestle Herkelman, he might have won it all. The New York Times, the AP, and other national news organizations noted that Northrup's father is a minister — the suggestion being that such peculiar and backward views as the young man expressed must be chalked up to a religious sensibility. Most of the coverage stressed the "girl against the old boys network" angle.
7 Reasons Why the Equality Act Is Anything But. [#4] It would allow more biological males to defeat girls in sports. Two biological males who identify and compete as women easily defeated all of their female competitors in an event at the Connecticut State Track Championships. Transgender athlete Terry Miller broke the state record in the girls'100-meter dash. Andraya Yearwood, also transgender, took second place. Selina Soule, a female runner, not only lost to the biological males in the championships but also lost out on valuable opportunities to be seen by college coaches and chosen for scholarships. Soule said about the 100-meter event: "We all know the outcome of the race before it even starts; it's demoralizing."
Transgender Prof Claims Excluding Men from Women's Sports is Like Excluding Black Women. This comparison seems awfully unfair to black women, but what do I know? I'm not a professor.
Opera singer becomes first transgender woman to sing national anthem at professional sporting event. History was made at the Oakland Athletics stadium this week when a transgender woman sang the national anthem at a professional sporting event for the first time ever in the country. Classically-trained opera singer Breanna Sinclaire took the mic at the O.co Coliseum for a sold out game between the A's and the San Diego Padres on Wednesday [6/17/2015]. Sinclaire had a 30,000 audience at the A's LGBT Pride Night as she belted out the Star-Spangled Banner, and that wasn't counting the people who were watching the game on television.
Transgender Woman Sings National Anthem at Pro Sports Event for First Time. Transgender woman Breanna Sinclairé made history Wednesday night [6/17/2015] by becoming the first transgender person to sing the National Anthem at a professional sporting event.
The Editor says...
I'd be at the ticket counter demanding a refund before the first batter took a swing.
Men will now compete against women:
Olympics Loosen Rules to Allow Pre-Op M-to-F Transsexuals to Compete with Women. There's great news for adventurous male Olympic hopefuls: if they declare themselves women and reduce their testosterone below 10 nmol/L for at least 12 months prior to competition, they can compete against ladies. There's even better news for these men; according to transgender guidelines approved by the International Olympic Committee, genitalia does not serve as a prerequisite. The guidelines state: "To require surgical anatomical changes as a pre-condition to participation is not necessary to preserve fair competition and may be inconsistent with developing legislation and notions of human rights."
Activist athletes, teams, and leagues (and politicians) inject politics into sports
Perception is Not Reality. Television ratings for sports, cable news, entertainment and children's programming are all nose-diving in direct proportion to the amount of agenda-driven ideology being pumped into the content. No amount of denial, self-deception or spin among the left can change the fact that the public wholly rejects their nightmarish fever-visions for humanity. What was once a subtle and nuanced bias in the media has become a sledgehammer of over-the-top propaganda, and the viewers are voting with their wallets and TV remotes to reject such indoctrination tactics.
NBA coach compares Christopher Columbus to Hitler. The coach of the San Antonio Spurs, Gregg Popovich, actually compared Christopher Columbus to Hitler today in a manner of speaking as he was trashing schools in San Antonio for not getting rid of the holiday altogether: As Popovich expressed dismay that any school in his city would honor Christopher Columbus at all, he also dismissed his anti-Columbus hate as an attack on Italian Americans: "It's no knock on Italian Americans. That's a silly argument. It's like saying, 'We should be proud of Hitler because we are German.' It makes no sense. It's about Columbus. It's not about Italian Americans." Popovich calls Columbus a genocidal monster, when that's the furthest thing from the truth.
College Football and the NFL: Two Different Americas. Football is back — and so are the fans. America no longer sees empty stadiums on TV, as people return to watching the games in person. But Americans will notice sharp differences between college and professional football, and it's not just the skill of their players. The pros seem to embrace Biden's New America, while college ball still evokes the old America. The pros embrace social justice messages, while college ball steers clear. Unlike other pro leagues, the NFL decided to carry on wokeness for the 2021 season. The NBA famously painted Black Lives Matter on its courts and encouraged players to turn their jerseys into social justice billboards. The basketball league suffered a ratings decline and consequently decided it would be unwise to continue this practice. The NFL also saw its ratings drop, but league officials wouldn't let that get in the way of their BLM advocacy.
The Editor says...
If you watch a football game on TV, and the game is about to start, and some BLM ceremony breaks out, the so-called Black National Anthem is played, or some other repugnant insult is hurled your way, don't just turn the sound off. Switch to another TV channel for a few minutes. If your "smart" TV is connected to the internet, and it probably is, this will send a clear message to the Nielsen ratings people (and thus to the networks) that you won't put up with that stuff.
NFL will allow social justice phrases on helmets this season. The NFL will allow players to choose from six different social justice phrases to wear on the back of their helmets for the 2021 season as the league re-ups its efforts in their Inspire Change initiative. The league also said teams will be allowed to have the phrases "It Takes All of Us" and "End Racism" emblazoned in their end zones.
New Texas Law Requires Pro Teams In The State To Repay Money If They Don't Play The National Anthem. Pro sports teams in Texas refusing to play the national anthem will be making a very expensive decision. According to Outkick, a new Texas law took effect September 1 that requires all pro sports teams to play the national anthem or repay any government money received. [Tweet] Seeing as how most pro sports arenas are at least publicly funded in part, teams that refuse to play the national anthem could be on the hook for an outrageous amount of money. For those of you who might not remember, Mavericks owner Mark Cuban tried to stop his team from playing the national anthem and his choice caused massive backlash.
Biden Takes a Knee During Photo-Op With WNBA Champions. The WNBA champions apparently do have time for losers. Even as thousands of Americans have been left stranded in Taliban-controlled Afghanistan, the Seattle Storm came to the White House for a photo-op with Joe Biden to celebrate their victory. The Storm are the first NBA or WNBA team to visit the White House since the Cleveland Cavaliers came in 2016. But their return to the White House came with an awkward, cringeworthy moment, when Biden, during a photo-op, bizarrely kneeled in front of the team as he showed off a jersey that read "Biden 46"
Time to Convert to Soccer? A lifelong baseball fan, I abandoned the game this year after MLB sided with the Democratic Party in its campaign against ballot integrity in Georgia. It wasn't just that: my home town team has put a "Black Lives Matter" sign and a memorial to George Floyd in right field. If I can't escape politics at a baseball game, I'd rather go somewhere else. For the first time in decades, I haven't seen a major league baseball game this year. Not only that, I haven't watched or listened to a single pitch on radio or television.
Losers, in more ways than one.
U.S. Women's Soccer Team Takes Stunning Loss After Kneeling For BLM At Olympic Opener. The U.S. women's soccer team took a devastating 3-0 loss to Sweden early Wednesday morning in their Tokyo Olympic opener, breaking their 44-game winning streak. All 22 players on Team USA took a knee in solidarity with the radical leftist group Black Lives Matter before the game, a major point of contention with U.S. fans.
Joe Biden's Misery Index Rises. [Scroll down] Other highlights in this week of continuing political disappointment include [...] the news that the National Football League will play what is generally regarded as the African-American anthem "Lift Every Voice" prior to the national anthem at their games this year, and have "social justice messaging" interspersed among other diversions at the games and on the players' outfits. If one looks hard enough, the social justice of an NFL game is probably not found in the affront to the U.S. flag and anthem of obscenely overpaid athletes milking their natural gifts through 20-hour week/seven-month work years. Instead of rolling over like poodles, the NFL owners should have contracted the league, expelled the most demonstrative malcontents, and chucked the invertebrate commissioner, Roger Goodell. If they had done that and asked the fans for support they would have received it, and the anti-American players would have straggled back eventually. At least, unlike the National Basketball Association, they haven't yet been suborned by the Communist Party of China.
NFL launches new ad proclaiming 'football is gay, football is lesbian...' The National Football League (NFL) recently joined virtually every other American institution in lauding — and marketing to — the LGBTQ Community during Pride Month in June. It did so by releasing a new 30-second commercial proudly proclaiming that "football is gay, lesbian, queer, transgender, bisexual and exciting." The ad begins by stating "football is gay" to the sound of drums rolling and people cheering. [...] "Football" is pandering. Football is pathetic. Football will say or do anything to chase down the very last potential viewer/customer. I'm surprised the ad didn't also state, "Football is Chinese."
NFL 'will play the black national anthem 'Lift Ev'ry Voice And Sing' before the Star Spangled Banner at its 2021 season games'. The NFL plans to play the 'black national anthem' before every game in the first week of the 2021 season, according to a new report. Lift Ev'ry Voice And Sing, will be performed before The Star-Spangled Banner to kick off each game in Week 1, beginning with the September 10 season opener when the Kansas City Chiefs host the Houston Texans. A source familiar with the league's discussions confirmed the controversial change to ESPN's The Undefeated on Thursday.
Report: The NFL Will Have More Social Justice Messaging During The 2021 Season. The NFL reportedly plans on ramping up social justice messaging during the upcoming season. According to Front Office Sports, the league "will introduce more social justice messaging on fields and player helmets during the upcoming 2021 season, following up on initial efforts from 2020."
MLB All-Star Game Limps to Second Lowest Ratings in History. Any Guesses Why? Go woke, go broke. Major League Baseball is learning the hard way that catering to the far left isn't remotely helping their desperate attempts to resurrect what once was America's proud pastime. MLB's All-Star Game, played Tuesday night [7/13/2021], predictably tanked in the Nielsen ratings, delivering the second-lowest official total in the sport's history. According to The Hollywood Reporter, the game narrowly avoided "a third straight all-time audience low" with 8.24 million viewers, "about 100,000 more than the 2019 game's 8.14 million." Except, it's quite possible that this could indeed be the game's lowest ever viewership. Why? According to THP, "It's also worth noting that the Nielsen figures for Tuesday include out of home viewing and 2019's do not." Ouch!
Get Ready for the Wokest Olympics Ever! [Scroll down] Those earlier athletes never took a knee during the National Anthem. They were Americans first and always. Finally, when those athletes took to the field, they understood that fans came to watch a sporting event, not a protest. When it came time to play, they let their talent do the talking. That concept is lost on the modern day woke activist-athlete and the enablers in social and sports media. Today, you don't even have to be that good to get noticed, so long as you openly align yourself with a cause supported by the political left. It's often difficult to understand even what the cause is, as many of woke can only speak in platitudes.
Most Black People Oppose Olympic Protests Like Gwen Berry's: I&I/TIPP Poll. When hammer thrower Gwen Berry decided to protest the national anthem at an Olympic trials event last month, she raised the prospect that athletes will try to use the Tokyo Olympics to disparage their own nation. If they do so, they will get precious little support at home. The latest I&I/TIPP poll finds that the public overwhelmingly rejects athletes showing disrespect for the American flag at international games. The poll found that 79% of the public say it's important "for professional athletes to publicly respect the American flag on the international level," with 60% saying it is "very important." Just 16% of the adults surveyed think it's not important.
How Barack Obama Begot Gwen Berry. "I never said that I hated the country," said Gwen Berry, the world's most famous hammer thrower — male, female or non-binary. "All I said was I respect my people enough to not stand or acknowledge something that disrespects them. I love my people point blank, period." Berry, who finished third in the female hammer throw at the U.S. track and field Olympic Trials, was attempting to explain why she turned her back on the National Anthem. If her subversive pout appalled half of America, it surprised no one. In the year 2021, sports fans have come to expect athletes, black and white, to disrespect symbols of national pride. It didn't use to be this way. When Barack Obama was elected president in 2008, race relations were better than they had ever been. As to athletic protests, it had been forty years since any Olympian grabbed the kind of attention Berry got.
I Shouldn't Be Forced Into Politics To Play College Sports. "Black Lives Matter is not political, it's basic human rights," my coaching staff and teammates heading our new "Call to Action Committee" told me and the other team members after practice. They were responding to some of the concerns I had expressed prior to the team meeting. By the next game, while running out of the tunnel 10 of my 13 Davidson College teammates and all four of my coaches were wearing T-shirts with "Black Lives Matter" bannered across the front. When the national anthem played and with our U.S. Army veteran team doctor behind us, most of my team dropped to one knee in protest of America's "institutional racism." The virtue signaling was clear: those wearing the T-shirt and those on their knees supported basic human rights, and the rest of us simply did not. Political messaging in sports isn't new, but the grip and scale this possesses over sports is.
Biden BACKS anthem tantrum athlete. White House press secretary Jen Psaki defended hammer thrower Gwen Berry's right to 'peacefully protest,' after the Tokyo-bound athlete turned her back on the US flag during Olympic trials. Psaki told Fox News' Peter Doocy at Monday's press briefing that while she and President Joe Biden hadn't spoken specifically about the incident, Biden is 'incredibly proud to be an American and has great respect for the anthem and all that it respresents, especially for our men and women serving in uniform all around the world.' 'He would also say, of course, that part of that pride in our country means recognizing there are moments where we are, as a country, haven't lived up to our highest ideals, and that means respecting the rights of people, granted to them in the Constitution, to peacefully protest,' Psaki added.
Psaki defends Gwen Berry's anti-America Olympic tantrum as right to peaceful protest. As if the Biden administration couldn't sink any lower than it already has, in comes White House spokeswoman Jen Psaki to dig the hole deeper. [...] Is there any other leader on the face of the planet who endorses a position like that? It almost suggests [Biden]'s not in the White House legitimately, given the contempt he holds for the flag of the nation he supposedly represents. It's really incredible. This is the man who sends men into battle and expects them to die for that flag. Now he's defending an athlete who lived a cosseted existence yet who was able to develop her talents only courtesy of the United States of America, in self-centered ingratitude that insults every other American who has fought and died for the flag of her freedom and opportunity? He doesn't care. All he cares about is his own power by fair means or foul. The country is optional to him. So is the flag.
Gwen Berry, Flag-Snubbing US Track And Field Star, Defended By The White House. White House press secretary Jen Psaki Monday defended U.S. track and field star Gwen Berry's decision to turn her back on the nation's flag, saying Berry was seeking to "peacefully protest" the moments that Americans "haven't lived up to our highest ideals." Berry, 31, placed third over the weekend in the hammer throw during the U.S. Olympic trials, earning her a spot on the team. As the National Anthem was played, she turned from the flag.
NFL says 'Football is gay' in new commercial that makes clear its support of LGBTQ+ community. As Pride Month comes to a close, the NFL has released a new commercial that makes clear its support and embrace of the LGBTQ+ community. The 30-second spot begins with the line, "Football is gay" as light cheering plays in the background. "Football is lesbian. Football is beautiful. Football is queer. Football is life. Football is exciting. Football is culture. Football is transgender. Football is queer. Football is heart. Football is power. Football is tough. Football is bisexual. Football is strong. Football is freedom. Football is American. Football is accepting. Football is everything. Football is for everyone."
'Pride' Night at the Old Ballpark. Major League Baseball teams have been celebrating "Pride Month" via Pride Nights at ballparks across the Majors. June is Pride Month, in case you've missed the hype. Outdoing itself, the MLB is partying "all season long." One wonders why there needs to be a month of any celebration. Should October be refashioned as "Halloween Month?" Is there an "Irish Month," which St. Patrick's Day is the capstone? And why limit Groundhog Day to a day? Yet gay pride is now LGBTQ+ (the plus is currently optional) pride because being homosexual isn't enough. Every sexual variant not heterosexual and practiced by a tiny minority of people is to be granted a month's worth of recognition and celebration. The Grand Old Game has no reprieve from being rainbowed.
Hate to break it to you, but Major League Baseball just got even worse. Coming off the All-Star Game P.R. debacle, where they moved the game out of Atlanta, MLB is upping its radical chic several notches with its latest political advocacy. On the anniversary of George Floyd's death, MLB highlighted its social justice initiatives, which are a series of suggested readings, video viewings, and social justice activities that it recommends people do. Nothing like giving your customers a homework assignment. And they wonder why people find baseball less fun these days. As you can imagine, the suggestions they give are real humdingers. For instance, they advise we read Dr. Ibrahim X Kendi. Kendi is a totalitarian utopist who is popular on the P.C. lecture circuit. He believes that capitalism is inherently racist and advocates for a Department of Anti-Racism.
Major League Baseball Team Becomes First in the League to Wear 'Pride' Uniforms. Baseball just got brighter. This Saturday, fans of the San Francisco Giants will get a multicolored treat to the tune of commemorative uniforms. As hailed by NBC Chicago, the Giants will "become (the) first MLB team with Pride Month hats (and) jerseys."
Eugene Chung claims NFL team said he's 'not the right minority' in job interview. NFL assistant coach Eugene Chung says he was told Asians are not the "right minority" when he interviewed for a job this past off-season. Despite a resume that includes 55 games of experience as an NFL offensive tackle — the first Asian American first-round draft pick in history — and 10 seasons as an assistant coach under Super Bowl winners Andy Reid and Doug Pederson, Chung was turned away. "It was said to me, 'Well, you're really not a minority,[']" Chung told The Boston Globe. Chung is Korean, as are both of his parents.
Virginia Little League Coaches Must Attend 'Antiracist' Training. Little League baseball coaches in Alexandria, Virginia, will be required to take a diversity, equity, and inclusion course this month. In an email to coaches on Thursday, Alexandria Little League board president Sherry Reilly announced the league's partnership with the Positive Coaching Alliance. All Little League coaches and board members were asked to cancel practices in order to attend the Sports Can Battle Racism workshop on May 24. Virginia school districts have mandated similar training for their teachers. Arlington County schools required teachers to participate in an equity training program in which they were taught how to create an "actively antiracist learning environment." Loudoun County schools spent hundreds of thousands of dollars on teacher training sessions based on critical race theory — the idea that American institutions are inherently racist.
New Kaepernick book: 'To eradicate anti blackness, we must also abolish the police'. A new book from controversial former NFL quarterback Colin Kaepernick calls for the absolute abolishment of all police departments and prisons in the United States, positions that are not popular with the vast majority of Americans, according to polling data. "In order to eradicate anti-Blackness, we must also abolish the police," is the thesis of the book, which is a collection of 30 essays, one of which is written by the former San Francisco 49ers starter, TMZ reported Wednesday.
Did they do this on Easter Sunday? I must have missed it.
Miami Dolphins Partner with Radical South Florida Mosque for 'Drive-Thru' Ramadan Meal. Given all the community food drives the Islamic Center of Greater Miami (ICGM) has conducted, since the beginning of the COVID-19 pandemic, and the testing and vaccinations it has co-sponsored, one could be fooled into thinking that the center is a civic minded institution. It is easy to understand why the NFL's Miami Dolphins would want to be a part of such "charitable" endeavors. However, there is a dark side to ICGM — a side linked to terror and bigotry — which overshadows its "charitable" activities, and this makes it incumbent upon the Dolphins or any other group which has chosen to associate with ICGM to sever ties with the Islamic center.
Talladega Superspeedway offering free laps to those who receive COVID-19 vaccine on site. On Saturday [5/15/2021], the Talladega Superspeedway will be hosting a free drive-thru COVID-19 vaccination and testing site from 9 a.m. until 5 p.m. All participants will be asked to review educational material about COVID-19 vaccine and sign a consent form. Vaccines will be administered by members of the Alabama National Guard, with a public health nurse present. After receiving the vaccine, people will wait 15 minutes to be observed for any rare allergic reactions. Registration is not required, but encouraged.
The Editor says...
If the vaccine is so helpful, and the disease is so terrible, why are incentives necessary? The answer is obvious: The disease has been inconsequential to the overwhelming majority of those who have had it, and serious questions are now being asked about what's really in that vaccine and why so many people have had adverse reactions to it.
Woke Takeover: NFL Hires Katie Hill, Former Obama Comms Director. The NFL continued its trend of hiring liberal former White House communications and public relations people this week by making former Obama communications director Katie Hill their senior vice president of communications. "As Senior Vice President, Hill will be responsible for leading the NFL's day-to-day communications operation, aligning the League's communications strategy with its priorities," the NFL wrote in a press release.
Nike, NBA Silent After LeBron James Tweets 'YOU'RE NEXT' at Columbus Cop. Lakers star LeBron James' sponsors and the league he plays for have remained silent in the wake of his tweet targeting an Ohio police officer. On Wednesday [4/21/2021], James tweeted a photo of a white Columbus police officer with the caption, "You're next, #Accountability." But after suffering a major backlash, the player deleted the tweet and attempted to claim that he deleted it to stop people from "creating more hate" over his message. The explanation for his removal of the tweet did not satisfy many. But regardless of whether the fans have accepted James' reasoning, his sponsors seem unconcerned by his tweet targeting a police officer. Thus far, sponsors and partners including Nike, 2K Sports, AT&T, Beats Electronics, Blake Pizza, Coca-Cola, GMC, KIA Motors, Nike, RIMOWA, Upper Deck, State Farm, and Walmart have remained silent over James' threatening tweet.
Ex-Virginia Tech soccer star sues coach, claims he forced her off team because she wouldn't kneel. Kiersten Hening, a former Virginia Tech women's soccer player, is suing her former coach after she was allegedly benched and forced off the team because she didn't want to kneel during a pregame demonstration last September. Hening, 21, was a midfielder/defender for the Hokies from 2018 to 2020. In a federal lawsuit filed last month, Hening said that her former coach, Charles Adair, wasn't a fan of her political views. According to the documents obtained by TMZ Sports, Hening said during the peak of the Black Lives Matter movement last summer, she often had a difference of opinion from her teammates on social justice topics.
Trump Savages LeBron James For Threatening a Police Officer's Life. On Wednesday [4/21/2021], NBA Lakers star LeBron James tweeted something that looked very much like an incitement to murder a police officer. James rushed to conclusions about the shooting of 16-year-old Ma'Khia Bryant, a black girl who appears to have been lunging at someone with a deadly knife when the cop shot her. James later took down the tweet, but he claimed that this shooting represents yet more evidence of systemic racism. President Donald Trump took him to task on Thursday night. "LeBron James should focus on basketball rather than presiding over the destruction of the NBA, which has just recorded the lowest television RATINGS, by far, in the long and distinguished history of the League," Trump said in a statement. Recent ratings are indeed at an all-time low after the NBA painted the politically-charged slogan "Black Lives Matter" on its courts.
LeBron James Incited Millions to Murder a Police Officer. Will It Cost Him Anything? As America learned that a Columbus, Ohio, police officer shot and killed a teenage girl while she was in the act of wielding a knife at two other girls, NBA star LeBron James took to Twitter and incited his followers against the police officer. James has 49.6 million Twitter followers and is a hero to millions for winning basketball championships. He is very influential.
American Businesses can be Woke, or they can be the Best, but they can't be Both. The fallacious ideas driving the corporate push for diversity, equity, and inclusion are not even the most problematic thing about it. The push for DE&I is a cancer that results in organizational atrophy for corporate America, not strength or progress. Consider what it would do to the NBA as a simple example. Black men account for more than 80-percent of the league's talent. That's problematic, of course, because only 27-percent of the NBA's fans share those players' skin color. Shouldn't the product on the court look more like the fans buying the tickets and watching at home, as many corporations now insist should be their basis for hiring talent? To ostensibly make the product better for fans, imagine that the league decided that only 50-percent of the players entering the league over the coming decade would be Black men. The other 50-percent would, in an effort to achieve diversity, equity, and inclusion, be comprised of other identities that are underrepresented in the NBA, such as whites, Hispanics, and women, the latter of whom currently represent a shocking zero percent among the NBA's players.
Former MLB Star David Wells: Major League Baseball Losing a Lot of Fans over Political Stance — 'They Don't Want to See That'. Monday [4/19/2021] on FNC's "Fox & Friends," former Major League Baseball pitcher David Wells sounded off on polling, showing a drop in MLB popularity among Republicans after the league decided to move its All-Star Game out of Georgia. The move came in response to new election integrity laws. The two-time World Series champion said changes brought on by "knucklehead" Commissioner Rob Manfred have already turned him off of watching MLB but said the All-Star Game change "put the icing on the cake."
How corporations conspire with Democrats to hoard power at the public's expense. Georgians adopted voter-integrity measures supported by a large majority of Americans, that are in the mainstream of state regulation and in fact are less stringent than the rules in Delaware, President Joe Biden's home state, and New York. By more than a 2-1 margin, Americans think such rules are not unfair or discriminatory. Nonetheless, these measures have produced an unprecedented effort by large corporations to interfere in the workings of a democratic government. Major League Baseball moved its All-Star Game out of (majority-black) Atlanta to (majority-white) Denver in protest. Coca-Cola's president weighed in against the changes. And in a statement organized by Kenneth Chenault, former chief executive of American Express, and Kenneth Frazier, the chief executive of Merck, hundreds of CEOs voiced opposition.
It Sure Looks Like the MLB Made a Big Mistake by Getting Political. One of the dumbest things a company can do in the corporate world is alienate a large portion of their consumer base. Appealing to the widest swath of people is just good business because it maximizes the pool from which you can draw profit. That fact is also true for sports teams, which are still businesses at the end of the day. You especially don't spit in the face of one of your strongest demographics. That's exactly what Major League Baseball did, though, and they are learning that lesson the hard way as new data shows just how dumb their decision to get political was.
MLB's favorability rating plummets. Major League Baseball has suffered a massive loss in popularity among Republicans due to its intervention on the side of Democrats in the political dispute over Georgia's voting law. According to a poll by Morning Consult, MLB's net favorability rating (the difference between the percentage of those who view the sport positively and those who view it negatively) among Republicans has dropped from 47 points to 12 points in the past month. Until commissioner Rob Manfred moved the all-star game, MLB was the big-time sports league viewed most favorably by Republicans. Now, it is viewed less favorably than the NFL and the NHL. It's still viewed more favorably than the NBA, though.
MLB Is Latest US Pro Sports League to Upset Republicans. Following Major League Baseball's decision to pull the All-Star Game out of Atlanta due to Georgia's new voting law, Republicans are now out on MLB. MLB's net favorability rating among Republicans was 47% in the middle of March, the highest rating amongst the four major U.S. sports leagues. Since then, it has crashed to 12%, dropping the league below the NFL (15%) and NHL (26%), according to new data from Morning Consult. (The NBA has a favorability rating, which is calculated by taking the difference between the share of respondents with a positive opinion of the league and the share with a negative opinion, of -5 among Republicans.) In general, Republicans have been becoming increasingly dissatisfied with pro sports in the U.S. due to players kneeling during the national anthem, messaging about social justice issues and the relatively recent embrace of the Black Lives Matter movement. "As a result, Republicans now have a less favorable view than Democrats of all four major U.S. sports leagues," according to Morning Consult's Alex Silverman.
Brett Favre Wants Sports, Politics To Be Separated: 'I want to watch the game'. Brett Favre thinks politics are hurting sports and would like to see both things go back to being separate. Favre made comments earlier this week, saying sports are better off being something to unify the country rather than used as a tool to further divide people. "I think both sides, for the most part, want to see it just remain about the sport, not about politics," the Hall of Famer said. "At least, that's my interpretation. I know when I turn on a game, I want to watch the game. I want to watch players play and teams win, lose, come from behind. I want to watch all the, you know, important parts of the game, not what's going on outside of the game. And I think the general fan feels the same way." Favre's comments came days after Major League Baseball moved the All-Star Game out of Atlanta to Denver over Georgia's new voting laws. He said he's heard fans tell him they don't watch sports anymore because it has gotten too political.
Timberwolves honor Daunte Wright in pregame ceremony. The Minnesota Timberwolves honored Daunte Wright before the NBA team's game on Tuesday night [4/13/2021]. Wright, a 20-year-old Black man, was shot and killed by a police officer Sunday in the Minneapolis suburb of Brooklyn Park. Body camera footage of the incident has sparked racial justice protests across the city and renewed calls by activists for police reform measures. The Timberwolves wore special T-shirts during pre-game warmups before their game against the Brooklyn Nets and held a moment of silence on the court prior to the playing of the national anthem.
Fixing Racism by Being Racist? If diversity is such a good thing at Princeton [University] or United [Airlines], how about professional sports? 59 percent of NFL players are Black, compared to only 13 percent of the US population. And no women play in the NFL. If professional sports leagues are to be sufficiently woke, reflecting the diversity of America, then half of all players should be women, and only 13 percent black, 18 percent Hispanic, 6 percent Asian, and so on. Why are woke news networks, Ivy League universities, and professional sports leagues not practicing the diversity that they preach? Major League Baseball thinks the new Georgia voting laws are racist. They should look in the mirror at their owners, managers, and players and see how they compare to American diversity and admit their own racism and sexism.
Fans Are Tuning Out on Woke Sports. Last Friday, after President Biden, left-wing activists, and the national media spent weeks peddling lies about Georgia's new voting law disproportionately impacting people of color, Major League Baseball (MLB) commissioner Rob Manfred caved to the radical mob and decided to move this year's All-Star Game out of Atlanta. In the name of equality, Manfred's decision will cost Atlanta, a city with a 50 percent black population, an estimated $100 million in economic losses. The game will now be held in Denver, Colorado, a city that is only 10 percent black. As nonsensical as Manfred's decision was, no one should be surprised by it. Over the past few years, it has been fairly obvious to any impartial observer that the higher echelons at MLB, along with those in charge at the National Football League (NFL) and the National Basketball Association (NBA), have made a conscious decision to alienate a large percentage of their fanbase by conceding more control of their sports to the demands of social justice warriors and the tyrannical Left.
Baseball strikes out. [Scroll down] Hopefully I've established my baseball bona fides, so now I'll get to the point: I condemn Major League Baseball, especially its spineless Commissioner Rob Manfred, for pulling the annual All-Star game from Atlanta. Like so many other useful idiots, Manfred bent over for the left-wing mob and its lies, this time regarding Georgia's new voter ID law. Sporting events are a diversion and should never be used as a political prop. My response? I'm unequivocally boycotting Major League Baseball. If I can do it, so can you! Yeah, I'm a lifelong baseball guy, but first and foremost I'm a patriot. I love our Republic, for what it was before the communist cancer metastasized, and for what it can be again! But we have to take a stand against the Marxist bullies. Baseball is just one example of a major corporation that went "woke."
In Defense of Major League Baseball — An Explanation That Makes Sense and Seems Rational. The MLB All-Star game over the past 20 years has become an event where some of baseball's biggest stars decline to play in order to have a 4-day break in the middle of the grind of 162 game schedule. But the prospect of having a large number of the sport's best players publicly decline to participate because of where the game was being played was a potential PR nightmare that would last for weeks, and continue right up to the start of the game — if there was a game. As more and more players would likely announce their intention to boycott the game under pressure from media and players in other sports — like LeBron James — a cascading effect would have like developed where the outcome might have ultimately have been that no players agreed to play. If some players did agree to play — say some white players — the potential for conflict inside the locker rooms of MLB clubs between boycotting players and non-boycotting players would escalate. The fallout for the sport in the aftermath of such a development would be disastrous.
Fire Manfred and return the All-Star Game to Atlanta. If Major League Baseball team-owners don't act fast, the MLB will experience a hemorrhaging of fans that might damage the pro game for years. The way to repair the damage is to fire Commissioner Rob Manfred and return the All-Star Game to Atlanta this summer. An April 7 report from Fox News (via Becker News) says Manfred decided to pull the game from Atlanta after consulting with Stacey Abrams and a voting rights group associated with LeBron James and the always sketchy Al Sharpton. The timing of Manfred's decision caught owners off-guard, reports Fox. Manfred's decision should not only incense team-owners, but serve as grounds to dump the commissioner.
Thanks, Captain Obvious! NBC Realizes MLB Move Hurts Black-Owned Atlanta Businesses. After a campaign of disinformation over the Georgia voter bill that helped pressure Major League Baseball (MLB) to move the All-Star Game from Atlanta to Denver, Colorado, Wednesday's [4/7/2021] NBC Nightly News stumbled onto the truth once they poisoned the well, which was the decision will have a negative economic impact on Atlanta businesses and especially Black-owned establishments. Anchor Lester Holt stated the obvious in an opening tease that there was "unintended fallout from the MLB moving the All-Star Game out of Atlanta on local businesses."
Jake Tapper strikes out over MLB moving All Star game when reminded CNN has its HQ in Atlanta. CNN anchor Jake Tapper's so-called inside information about the "simple facts" behind Major League Baseball's decision to pull the All-Star Game from the Atlanta area is turning out to hardly be a home run. That's because those Twitter users — those who apparently are able to evaluate the Georgia voting law on its substance and free of the one-sided narrative pushed in Tapper's industry — are reminding him of an additional simple fact: CNN's headquarters just happens to be located in Atlanta. Shouldn't CNN also boycott Atlanta, too, they wonder?
Major League Baseball stupidly falls for Democrats' partisan game. There's no defense for MLB's action pulling the All-Star Game out of Georgia. A corporation based in New York, which has more restrictive voting laws than Georgia's, has moved the Midsummer Classic to Colorado, which, like Georgia, has the supposedly objectionable voter ID requirement. It did so at the request of President Joe Biden, who is from Delaware, which also has more restrictive voting laws than Georgia. Why? Because Georgia passed a bill that generally expanded access to voting. As Gov. Brian Kemp pointed out, when MLB issued its anti-Georgia announcement, the league didn't bother to cite a single provision of the law it was supposedly objecting to. That's easy to explain: MLB doesn't actually care that much about voting laws — otherwise, it wouldn't have its headquarters in New York.
Ex-MLB commissioner Fay Vincent slams successor Rob Manfred's decision to move the All-Star Game from Atlanta to Denver. Former Major League Baseball commissioner Fay Vincent has slammed successor Rob Manfred over the 'mistake' of moving the All-Star Game from Atlanta to Denver in response to the new voting law in Georgia that many believe to be racist. 'Major League Baseball can't become a weapon in the culture wars, a hostage for one political party or ideology,' the 82-year-old Vincent wrote in The Wall Street Journal's opinion section. Georgia's new law limits mail-in voting and allows for more legislative control over the election process following former President Donald Trump's baseless claims of voter fraud in the 2020 election. Critics of the law, including Delta and Coca-Cola, say it unfairly targets minority voters in metropolitan areas.
Report: MLB Commish Pulled All-Star Game from Atlanta After Talking to Stacey Abrams. According to a report from Fox Business Network's Charles Gasparino, sources inside Major League Baseball claim that Commissioner Rob Manfred "blindsided" MLB owners with "at least" the "timing" of his decision to pull the All-Star Game from Atlanta. Moreover, Gasparino's report claims that Manfred spoke with defeated 2018 Georgia gubernatorial candidate Stacey Abrams before he decided to move the game.
MLB commissioner decided to move All-Star Game after pressure from Stacey Abrams on voting issues: sources. Major League Baseball (MLB) commissioner Robert Manfred decided to move the All-Star Game on his own after holding extensive discussions with voting rights groups associated with Lebron James, Stacey Abrams and Rev. Al Sharpton, sources familiar with the move tell Fox News. Abrams and Sharpton told the commissioner players would boycott the game if not. Sources say that Abrams' current stance, that she is disappointed about the Georgia boycott, is suspect as she was a key player in the decision. James has publicly supported the Georgia boycott. Abrams' group and Sharpton also urged the commissioner to support other issues, including voter drives and H.R. 1, the For the People Act — sweeping election reform that recently passed the House. Manfred decided the easiest way to deal with the matter was to leave Georgia, according to a source.
Things We Can Live Without. The NFL was an early casualty. The sight of players, coaches, even owners kneeling to protest demonstrably nonexistent "systemic police racism" sent me to the sidelines. Colin Kaepernick's socks, featuring pigs wearing police hats, revealed his true feelings as the leader of that movement. A lot of fans like me make other plans on Sundays now. For decades I suffered with the fickle fortunes of the Boston Red Sox. [...] The Sox lost me when they plastered "BLACK LIVES MATTER" on the marquee at Fenway, in the iconic typeface used on their uniforms. BLM organizers are Marxists who support the dismantling of the nuclear family. Marxists perpetrated the greatest evils ever visited on mankind. It's so hard to cheer for those who pander to them. I stopped. Major League Baseball has yanked its All-Star Game from Georgia because that state made a modest effort to prevent fraud in future elections. Joe Biden expressed support. [...] Can liberals alone fill baseball stadiums?
MLB strikes out with proposed All-Star Game relocation. Major League Baseball officials are mulling relocating the All-Star Game from Atlanta to Coors Field in Denver, though Colorado has the same voter ID requirement and fewer early voting days than Georgia. Several outlets reported the development Monday, noting that the Colorado Rockies would be hosting the annual game on July 13 instead of the Atlanta Braves. The league moved the game out of Georgia following an outcry by Democrats, corporations headquartered in Atlanta, and left-wing pundits that a new voter reform law unfairly targeted minorities.
MLB's new All-Star Game location — Denver's Coors Field — is steeped in its own history of discrimination. By moving the All-Star Game from suburban Atlanta to a stadium in Denver, Major League Baseball may have gone from the frying pan into the fire in the controversial case of cancel culture. MLB ignited a firestorm last Friday — with the support of President Joe Biden — when it announced it was moving America's pastime's biggest game next to the World Series because it disagreed with a new Georgia voting law that liberal critics say helps Republicans and hurts minorities. But the new venue, Coors Field, in Denver, comes with its own dark cloud of controversy, and may ignite even more problems.
The Woke Left Ruined Baseball. Is Golf Next? On Friday, Major League Baseball announced they will move the 2021 All-Star Game and 2021 MLB draft out of Atlanta in response to Georgia's Election Integrity bill. [...] Corporations are now rushing to cave to the woke Left, with Major League Baseball joining the ever-growing list of organizations who decided that folding was easier than making a stand. There was a time when sporting events were a wonderful way to get away from it all. It gave us a short reprieve from days filled with doom and gloom headlines and nasty political disagreements with neighbors. Those days are long gone. Sports, athletes and politics are now tied together at the hip. From athletes kneeling during the national anthem to Black Lives Matter commercials at every turn, political statements during sporting events have become our "new normal."
Biden Encourages Masters to Move Out Georgia by Continuing to Lie About State's New Election Laws. First baseball, now golf. Joe Biden delivered remarks from the White House on Tuesday [4/6/2021] and encouraged Americans to continue to cower in fear over a virus with a 99.98% survival rate. Joe Biden was asked by a reporter if he supports moving the Masters Tournament out of Georgia after the MLB decided to move its All-Star game from Atlanta to Denver. "That's up to the Masters," said Biden before he nudged corporations to bludgeon American citizens based on debunked claims about Georgia's election laws.
Stacey Abrams [is] to blame for costing Georgia $100 million in lost All-Star Game revenue: Rand Paul. Former Democratic gubernatorial candidate Stacey Abrams has urged people not to boycott Georgia, but Sen. Rand Paul says she and other Democrats are squarely to blame for Major League Baseball's decision to pull the All-Star Game out of Atlanta. The founder of Fair Fight, Ms. Abrams led the charge against Senate Bill 202, the Georgia election law that requires identification for absentee ballots, expands early voting and bans electioneering within 150 feet of polling entrances, calling it "Jim Crow 2.0." "There's all these people who are woke, but now even the woke like Stacey Abrams, are starting to see, oh, no what have I unleashed? I just lost my state $100 million in revenue," said Mr. Paul on Fox's "The Story." "Stacey Abrams and the Democrats cost Georgia $100 million in revenue because they complained about something they didn't read and they said something about it that wasn't true."
Strike Out Major League Baseball. Woke pro baseball, strike one. A cowardly MLB commissioner, strike two. Corporate sanctimony, strike three. Major League Baseball pulling the 2021 All-Star game and this year's amateur draft from Atlanta is batter out, game over. As a lifelong baseball fan, I take no pleasure in declaring that I won't spend another penny on the Grand Old Game this season. And that might turn into many seasons. The MLB is against Georgia's sensible election reforms. Election reforms that better ensure honest, fairer contests are critically more important than my pleasure. They should be more important than yours. Over the weekend, President Trump called for boycotts. As usual, Trump hit the nail on the head.
Texas Gov. Greg Abbott Throws Fastball at MLB's Virtue Signaling. The Texas Rangers baseball team had asked Texas Gov. Greg Abbott to throw out the first pitch at their home opener. Major League Baseball then took a stand against sensible voting reforms in Georgia, reforms that include extending early voting days making it easier to Georgians to cast votes. After Joe Biden shamelessly and repeatedly lied about that law, MLB moved the All-Star game from Atlanta. MLB's leadership evidently did not read the law before launching an economic war against the state of Georgia. Texas is considering similar reforms, and American Airlines is among corporate America's partisans taking shots at the law without bothering to read it first. Gov. Abbott has decided enough is enough. He released a letter Monday telling the Rangers that he will not support the politicization of baseball and therefore will not throw out the first pitch.
White House Spins Biden's All-Star Game Remarks: He Didn't Definitively Say He Supported Moving All-Star Game From Georgia. On Monday [4/5/2021], White House Press Secretary Jen Psaki tried to mitigate the effect of comments President Biden made last week in which he stated that he supported major league baseball players who wanted to relocate the All-Star game from Atlanta because Georgia GOP Governor Brian Kemp signed into law a bill that dealt with voting law. Biden stated, "I would strongly support them doing that." At the White House press briefing on Monday, a reporter asked, "I just wanted to ask you a question about Major League Baseball. The league decided to move its All-Star Game out of Atlanta. That's something that the President said he supported before. Does he then agree with their decision to move that game out of Atlanta because of the voting law? Psaki framed Biden's answer as being supportive of the players' capacity to make a decision rather than the decision itself.
MLB All-Star Game to be played at Coors Field after league strips event from Braves: reports. The Colorado Rockies will host the 2021 MLB All-Star Game after the decision to move the event from Atlanta over Georgia's restrictive voting law, according to multiple reports. ESPN and Altitude TV reported the game was going to be moved to Coors Field in Denver on July 13. [...] MLB Commissioner Rob Manfred made the announcement to strip the Braves of the event on Friday in response to the mounting pressure to change the location of the July game in response to Republican-backed election reform legislation recently signed by Gov. Brian Kemp.
MLB relocates All-Star game to state with voter-ID laws, and fewer early-voting days. That'll show 'em! After caving to a boycott of Georgia over its new election law, Major League Baseball has relocated its All-Star Game event from Atlanta to Denver. [...] However, let's not overlook the blow that MLB has struck for solidarity with the black community. They moved the All-Star Game from a state where 31.2% of the population is black, and moved the $100 million business opportunity to a state where 4.1% of the population is black. This is what's known as "redistribution of wealth," at least to progressives and the MLB.
Why did baseball capitulate? Jim Geraghty wonders why Major League Baseball pulled its all-star game from Georgia, but major sporting events are still scheduled to take place in that state. He cites the Masters Golf Tournament, as well as all home games for professional Atlanta teams and Georgia's collegiate athletic programs. In addition, the following events are still a go, as of now:
The 2021 Chick-fil-A Kickoff Games in Atlanta
The 2021 SEC Championship Game
The Chick-fil-A Peach Bowl
The PGA Tour Championship at East Lake Golf Club in September
The USTA Atlanta Open
Why, Geraghty asks rhetorically, if there is a moral imperative to move the baseball all-star game, is there no obligation to move other sporting events to a different state? The answer, of course, is that there is no such obligation. That, I take it, is Geraghty's point. But why has baseball moved the all-star game, while comparable events will still take place in Georgia?
Oops: Chuck Schumer Invites MLB All-Star Game to NY, but Then Facts About the State Get Dropped. As we've previously reported, President Biden, White House press secretary Jen Psaki, and other Biden officials are outright lying about Georgia's new voting law, so much so that even Democrat-friendly fact-checkers are not letting them get away with it. The Biden administration's falsehoods and those of failed 2018 Georgia Democratic gubernatorial nominee Stacey Abrams have now cost the state the Major League Baseball All-Star game, which was yanked Friday just two days after Biden said he would "strongly support" them doing so.
Georgia County That Voted For Biden To Lose $100+ Million Over MLB Relocating Game After Biden Remarks: Report. The Georgia county that was set to host the 2020 Major League Baseball All-Star Game said over the weekend that it will lose more than $100 million after the league pulled the game and draft out of the state — a decision that comes after Democrats Madeline number of false claims about the state's new election law and signaled they would support the league boycotting the state. Holly Quinlan, president and CEO of Cobb Travel and Tourism, said that the "estimated lost economic impact" for the county was more than $100 million.
(Censored) Major League Baseball. [Scroll down] I am also, like most conservatives, not a big believer in boycotts. I even wrote a newspaper column several years ago arguing against them. But once again, there is a time for everything. And once again, this is that time: time for every conservative in America, along with anyone else who cares about the future of our republic — who cares that it has a future that doesn't include full-on totalitarianism — to utterly abandon Major League Baseball. Don't go to a game. Don't watch games on TV or listen to them on the radio. Don't buy any official gear. Just pretend like MLB no longer exists.
A Biden Advisor Is Asked About the MLB Boycott of Georgia, Her Response Is Mind-Boggling. With the MLB pulling the all-star game out of Georgia, the questions for Democrats are piling up. Specifically, what exactly did they accomplish by lying about the election reform bill except costing Georgia business owners over $100 million in revenue? Stacey Abrams has been the least self-aware in the aftermath, claiming that she's not to blame despite clearly being to blame. Others like Raphael Warnock haven't even tried to pretend they don't the result. Of course, it wasn't just Georgia-centric figures in the mix here. Joe Biden also voiced his support for the boycott, and one of his advisors was asked about it this morning [4/4/2021]. [...] This is what being out of touch looks like.
Boycott boomerang: Genius Dems start to realize Georgia boycott will cost them votes in the Peach State. Democrats thought they had a brilliant plan to force Georgia to permit widespread voting fraud by getting their woke pals in corporate America to bully the state into repealing its brand-new voting integrity law that mandates voter ID and other commonsense measures. Two Atlanta-based corporate giants, Coca-Cola and Delta Airlines, denounced Georgia's new voting integrity bill, and Major League Baseball announced it was moving the All-Star Game away from Atlanta. Oops! Guess who gets hurt in the estimated $100 million impact from the loss of the MLB showcase. That would be the little guys who work at hotels and restaurants, who are vendors at the game, and who work in other service industries. The local Dem pols realized this quickly.
The Democrats' rash behavior is due to a lack of foresight.
Boycott boomerang: Genius Dems start to realize Georgia boycott will cost them votes in the Peach State. Democrats thought they had a brilliant plan to force Georgia to permit widespread voting fraud by getting their woke pals in corporate America to bully the state into repealing its brand-new voting integrity law that mandates voter ID and other common-sense measures. Two Atlanta-based corporate giants, Coca-Cola and Delta Airlines, denounced Georgia's new voting integrity bill, and Major League Baseball announced it was moving the All-Star Game away from Atlanta. Oops! Guess who gets hurt in the estimated $100 million impact from the loss of the MLB showcase. That would be the little guys who work at hotels and restaurants, who are vendors at the game, and who work in other service industries. The local Dem pols realized this quickly.
MLB requires photo ID to pick up tickets from Will Call, but boycotts Georgia for voter ID law. Major League Baseball responded to calls to boycott the state of Georgia over a controversial new voter-ID law by moving the All-Star game out of the Peach State. But teams still requires fans to show photo ID to pick up their tickets from the Will Call booth. South Carolina Republican Rep. Nancy Mace called the league out on Twitter.
What's More American than Coke and Baseball? [Scroll down] The immediate target of these corporate actions was efforts by Georgia and Texas to revise their election laws, laws which in many states have resulted in widespread disbelief that the 2020 elections were conducted on the up and up. When people believe election procedures are untrustworthy, it shatters voluntary acceptance of the election results. Under pressure from racist propagandists of the left and using COVID as an excuse, jurisdictions in several states so loosened the election rules that widespread fraud was made easier. One state in particular was Georgia, where asleep at the switch (or corrupt — your choice) officials permitted the sloppy, untrustworthy, opaque, and disputed election procedures. In an effort to prevent a repeat, Georgia enacted a new election law. (In pdf form it's 104 pages, and that makes it unlikely to me that any of the corporate bleating about it was made with knowledge of its contents.)
Baseball is the last straw. Time to start boycotting. Under the influence of racist organizations such as BLM, and in response to ignorant denunciations of Georgia's new election integrity bill by an ignorant president, it [major league baseball] has thrown in with the woke mob that would judge the worth of individuals on the basis of the color of their skin rather than on the content of their character. In the process it has begun to unravel the progress made in the preceding half-century. Now, not even baseball, the all-American game, is a haven from the culture wars unleashed by the ruthless left. It would not have been hard for Rob Manfred and the big businessmen who run MLB to resist the demands of the radical left to take sides in a political dispute. All they needed to say was that the business of MLB is baseball. Not politics. But that would have taken courage — courage that they do not have.
Major League Baseball and the Voting-Rights Con. It has been years since I've watched the All-Star Game, the can't-miss event of my youth. When I learned that the woke Left had gotten the woke commissioner to accede to the woke White House's instruction that the game be moved out of Atlanta — part of the campaign to slander Georgia's voting law as racist — it was the first time I'd even heard that the game was scheduled to be in Atlanta. They could play it on Mars for all I care, or, better yet, not play it at all.
Major League Baseball's Cowardly 'Stand'. Major League Baseball (MLB) commissioner Rob Manfred announced that it would not be holding its 2021 All-Star Game or draft in Georgia as originally planned because of the state's much — and unfairly — maligned new elections law. [...] What a humiliating spectacle for the league and the country. Manfred doesn't state what the MLB's problems with the bill are because he either can't or is embarrassed to have to articulate them out loud. The move comes after President Biden — who called the law "Jim Crow on steroids" — said he agreed with the suggestion that the MLB move the All-Star Game, and as he continues to deceive the public about the legislation's contents.
Georgia Democrats stare down a mob of their own making. Leftist activists are busy whipping up a national boycott of Georgia-based businesses over the state's new election integrity law. The boycott has the support of Hollywood and the White House, with President Joe Biden saying this week that he would support moving the MLB's All-Star Game out of the state as a sign of protest. Georgia Democrats are now left trying to talk the mob down. "I absolutely oppose and reject any notion of boycotting Georgia," Democratic Sen. Jon Ossoff said in a statement on Thursday [4/1/2021]. "Georgia welcomes business, investment, jobs, opportunity, and events. In fact, economic growth is driving much of the political progress we have seen here." Stacey Abrams, who, having lost Georgia's governorship in 2018, rebranded herself as a voting rights activist, agreed and reminded Democrats that economic boycotts would hurt the very communities they claim to represent.
LeBron James, Liberal Elites Celebrate After MLB Takes All-Star Game from Georgia. On Friday [4/2/2021], Major League Baseball decided to take its All-Star Game away from Atlanta's Truist Park in response to the state's new voter integrity law. Liberal supporters exploded with delight after the MLB announcement. [...] Unsurprisingly, the baseball player's union supported the move. After all, they had already been pushing for it. [Numerous tweets]
MLB is fine with ball games in Cuba and training in China, but Georgia is the human-rights problem. You could tell that the Major League Baseball (MLB) decision to pull its All-Star game out of Atlanta was a deeply unpopular one, based on the ambivalent reaction of far-left failed gubernatorial candidate, Stacey Abrams. [...] After all, isn't she the one who pushed through most of the fraud-enabling laws on the books in Georgia which triggered the recent legislative action? The blacks-are-too-dumb-to-have-voter-ID idiotic notion, so by extension, nobody should have to show voter ID to vote, even though everyone needs to show ID to buy a beer at a MLB ball game, or buy a ticket to one? She needs to make up her mind. So which is it? Not wanting to see families hurt, or being all-in for the boycott of Atlanta, which certainly should affect the city tax base? She wants to have it both ways, boycott but nobody hurt. That's because unlike MLB, she wants to win public office, and knows that screwing over black businesses, which will get it in the teeth with this MLB maneuver, is going to make her unpopular.
This is How To Do It — President Trump Calls for Boycott of Major League Baseball. This is exactly how to fight back against the insufferable leftist politics that is infecting everything. Today President Trump has called for a boycott of Major League Baseball. If these corporations realize their actions will cause 80 to 100 million people to stop using their products, they will feel the scale of their financial position being crushed. Keep in mind MAGA supporters are the people who economically represent the largest audience with a greater percentage of their income available for recreational purchasing decisions.
GOP Senators Propose Revoking MLB's Antitrust Status. Republican lawmakers, including Senators Ted Cruz (Texas) and Mike Lee (Utah) have called for an end to Major League Baseball's antitrust exemption after the league announced it would pull the 2021 All-Star Game out of Atlanta. The league's decision came in response to a Georgia voting law that critics claim makes it more difficult for individuals, particularly black voters, to exercise their constitutional right to vote.
Joe Biden might just have killed Major League Baseball. One of the highlights of the baseball season is the All-Star Game, which was set to be played on July 13 in Atlanta. Since 1933, midway through the MLB season, fans pick their favorites from the American League and the National League and then the chosen stars compete. I'm not a baseball fan but I'm willing to bet that, in terms of ad revenue and merchandise sales, it's an important part of the business end of pro-baseball. And it certainly brings revenue to the city hosting it. On Thursday [4/1/2021], Biden made one of his little scripted appearances, this time on ESPN. It's worth noting that ESPN, which Disney owns, long ago transferred its allegiance from sports to leftism with a serving of sports on the side. [...] Remember, there are only 30 baseball teams but there are around 80 million Trump voters. We can make the franchise hurt for its decision to weaponize America's game against the integrity of America's elections.
The Editor says...
The quickest and easiest thing you can do about this issue is to turn off ESPN. Step two: Don't watch another baseball game this year. (Do you have nothing else to do?) The Democrat fans may be able to keep the politicized sport afloat, but I doubt it.
Woke to Broke: Moving All-Star Game Costs Atlanta Tens of Millions in Revenue. Major League Baseball announced this year's All-Star Game would be relocated out of Atlanta, Georgia, costing the city as much as $190 million in revenue, according to official estimates. Bill Volckmann, Finance Director for Cobb County, appraised the All-Star Game's economic impact to fall somewhere between $37 million and $190 million in his 213-page agenda packet. While some dispute the high-end of those projections, it's safe to say the city — especially lower-wage workers who would have worked the event — would have benefited greatly.
Atlanta Braves Fire Back After MLB Moves All Star Game. Major League Baseball has been under intense pressure from Democrats to move the annual All-Star Game out of Atlanta over Georgia's election integrity law and on Friday [4/2/2021], the league caved. On the second day of the 2021 season, MLB Commissioner Rob Manfred sent a clear message to all MLB fans that his league takes its marching orders from activists and politicians.
The Editor says...
Throw the ball. Hit the ball. Catch the ball. Big deal. Play your big game somewhere else. Or don't play at all. Who cares?
Trump Calls For Boycotting Major League Baseball After They Cave To 'Radical Left Democrats'. Former President Donald Trump called for people to boycott Major League Baseball (MLB) on Friday night after the league caved to pressure from leftists to cancel the All Star Game, which was scheduled to take place in Atlanta, after Georgia passed a law to tighten up voting security around the state. Trump's statement comes after MLB Commissioner Robert D. Manfred, Jr. announced earlier in the day that the league was moving both All-Star Game and MLB Draft to a new host city following a misleading pressure campaign from leftists about the state's new laws. "Baseball is already losing tremendous numbers of fans, and now they leave Atlanta with their All-Star Game because they are afraid of the Radical Left Democrats who do not want voter I.D., which is desperately needed, to have anything to do with our elections," Trump said in a statement. "Boycott baseball and all of the woke companies that are interfering with Free and Fair Elections. Are you listening Coke, Delta, and all!"
Et tu, baseball? I can easily overlook the flamboyance and over-the-top showmanship of many of today's players in the interest of letting them have a bit of fun while they play. But I can't go along with this calculated, political move on the part of the owners. The commissioner works for the owners, and the possibility that a move like today's could have been made without a majority of owners going along with it is more than unlikely. It is impossible. So baseball has joined the NBA and NFL in their wokeness. Politics has contaminated every form of entertainment in our country. I am beyond sad and beyond furious for this latest insult. I have never before been so upset with "my" game that I have been tempted never to watch another inning. I may get over it, but then again, I may not.
Remember when baseball brought us together? My guess is that there is going to be a huge backlash against this decision. I trust that the commissioner understands that. It would have been wiser for the commissioner to have responded to the wokes by saying we play baseball, not get involved in partisan politics. Twenty years ago, baseball brought us together. Now it will add to the growing polarization in the land. Sad but true.
MLB yanks All-Star Game out of Atlanta over Georgia's new voting law. MLB is taking its ball and leaving Georgia. The league announced on Friday that it is moving the 2021 All-Star Game out of Atlanta as backlash grows over a new Georgia law that is seen as an attack on voter access. "I have determined the best way to demonstrate our value as a sport is relocating this year's All-Star Game and MLB Draft," commissioner Rob Manfred said in a statement. "MLB fundamentally supports voting rights for all Americans and opposes restrictions to the ballot box." The Braves, in a statement, opposed the move.
Biden 'strongly supports' moving MLB All-Star game over new Georgia voting law. President Joe Biden said he would "strongly support" moving the Major League Baseball All-Star Game out of Atlanta because of Georgia's new voting law that critics say may suppress turnout at the ballot box. Biden spoke to ESPN's Sage Steele in an 11-minute interview Wednesday night, saying he would back the MLB if the league decided to move the July 13 game out of Georgia in response to the GOP-backed election reform signed last month by Republican Gov. Brian Kemp.
After promoting this behavior for decades, now they say it's forbidden.
Cleveland Indians prohibiting fans with redface, Native American headdresses into Progressive Field. In a long list of what fans can expect at Progressive Field for the 2021 season, the Cleveland Indians announced it will not allow fans into Progressive Field with "headdresses and face paint styled in a way that references or appropriates American Indian cultures and traditions." Anyone wearing inappropriate or offensive images, words, dress or face paint must be covered or removed, and failure to do so will constitute grounds for ejection or refusal of admission, the organization stated.
The Editor says...
The professional baseball teams derive their income by selling tickets to baseball games; and to a certain extent, by selling the television rights to those games. (I suspect that every major league game is attended by a TV crew, whether the entire game is televised or not, just in case something extraordinary happens.) The fans come to the game in person, expecting to have an enjoyable experience. In Cleveland, for the last several decades, part of that experience has been the opportunity to root for the Indians while dressing and acting like stereotypical cartoon Indians. Until very recently, nobody thought for a moment that such behavior was offensive to Indians in general. But the fans don't like to have their traditions uprooted, and they don't like to see leftist politics injected into their favorite sports, after paying to attend the game (and park the car). If specific teams or the MLB organization put a wet blanket on the fans' enthusiasm, they can expect to make less money.
Because the game is more important to them than their country:
U.S. soccer will now allow players to kneel for national anthem. The U.S. Soccer Federation will no longer require players to stand for the national anthem, voting to repeal a 2017 policy that called on national team players to "stand respectfully" during the Star Spangled Banner before national team games. During a virtual conference of the group's annual general meeting on Saturday, 71.34 percent of National Council members voted to repeal the policy which had already been nixed by the USSF board of directors last summer. Hundreds of voters make up the National Council, including representatives for youth, adult amateur and professional populations, in addition to the athletes' council.
If College Basketball Players Don't Want to Stand for the National Anthem, Yank Their Scholarships. The men's basketball team at East Tennessee State University disrespected the national anthem by dropping to a knee on Feb. 16th. That act of defiance led state lawmakers to fire off a letter to every public university in the state. "We expect all those who walk onto the field of play representing our universities to also walk onto the field of play to show respect for our National Anthem," read a letter written and signed by Lt. Gov. Randy McNally along with 26 Republican state senators. [...] Unfortunately, many student athletes cannot be persuaded to do the right thing because of patriotism or human decency. It's all about dollars and cents. So lawmakers should present the basketball players an offer they cannot refuse.
No Kneeling: Scotland And Wales Players All Remain Standing Before Rugby Game. Players for Scotland and Wales all remained standing ahead of their Six Nations rugby match on Saturday, defying uproar over many players not kneeling to Black Lives Matter at the earlier Scotland vs England fixture. While players for England — with some notable exceptions — decided to "take a knee" for Black Lives Matter before facing off against the Scots team in their home stadium, only a handful of Scottish players followed suit.
Virginia College Forfeits Basketball Game After Suspending Players For Kneeling During Anthem. Bluefield College, a small Baptist liberal arts school nestled in the Appalachian mountains in Bluefield, Virginia doesn't seem to be a likely place to make national news. But when players on the men's basketball team took a knee during the playing of the national anthem — after being warned several times it was against school policy — the school president promptly suspended the players and forfeited a game. The players had knelt several times before games in January and February, at both home and away contests. After being warned about the practice, the players decided to stay in the locker room during the playing of the national anthem before an away game.
College suspends basketball players for kneeling during anthem because of how 'it's perceived by some'. The dean of a small Baptist liberal arts college in western Virginia suspended basketball players after they repeatedly knelt before games during the playing of the National Anthem in violation of the institution's rules. The suspension of several Bluefield College players by President David Olive led to a forfeit against NAIA rival Reinhardt on Thursday [2/11/2021], the New York Post reported. Olive, who is white, said in a statement he made the decision to suspend all the team's players after discovering that they had knelt prior to several games this season.
The Editor says...
If Mr. Olive were a man of some ethnicity other than white, would that have been mentioned in this article? Of course not!
Minnesota colleges adapt as 'Star Spangled Banner' stirs dissimilar emotions. When it comes to the national anthem and sports, Americans remain divided. Dallas Mavericks owner Mark Cuban reignited the issue last week when he said he had stopped playing the anthem at games. The mention of NFL quarterback Colin Kaepernick, who last played in the league three years ago, still angers people upset by his choice to kneel during the anthem. But some schools, including St. Thomas and the University of Minnesota, are incorporating social justice messages into their pregame anthem presentations. The Tommies' statement is one of several new anthem introductions developed by the Minnesota Intercollegiate Athletic Conference for use by its teams. The Gophers are playing "Lift Every Voice and Sing," often called the Black national anthem, before "The Star-Spangled Banner."
Mark Cuban Insists The Dallas Mavericks Won't Play National Anthem Anymore. Dallas Mavericks owner Mark Cuban said Tuesday [2/9/2021] that his franchise would no longer play the national anthem prior to his team's NBA home games. It's a long-standing tradition to play the anthem before home games in all major professional sports, and even all the way down to high school athletics. Cuban said that will come to an end with the Mavericks. The national anthem hasn't been played at any Mavericks games so far at the American Airlines Center this season — preseason or regular-season games. Cuban told ESPN that he consulted with NBA commissioner Adam Silver before letting the rest of the world know about his decision, ESPN reported. A team source told ESPN that no players, coaches or referees have mentioned the anthem's absence so far.
The Editor says...
If you hate America, don't play the National Anthem before the game. Your customers will let you know if they concur.
Jen Psaki: Mark Cuban's attempt to ditch national anthem educates people on U.S. failures. White House press secretary Jen Psaki says Dallas Mavericks owner Mark Cuban's attempt to ditch the national anthem was an acknowledgment of U.S. shortcomings. The White House spokeswoman was asked about the billionaire's move, which was quickly torpedoed by the league as the news went viral. "I haven't spoken with the president about the decision by Mark Cuban or the Dallas Mavericks," Ms. Psaki said of the plan to omit the national anthem from the Mavericks' first 13 home games. "I know he's incredibly proud to be an American, and has great respect for the anthem, and all that represents, especially for our men and women serving in uniform around the world."
The Editor says...
Now you know where Psaki stands — as an official representative of the President.
White House Supports Mavericks Scrapping The National Anthem Because America Fails 'Often'. White House press secretary Jen Psaki expressed support for Dallas Mavericks owner Mark Cuban's decision to remove the national anthem from the team's home games because they "feel [the anthem] doesn't represent them." During the Wednesday [2/10/2021] press briefing, Fox News's Peter Doocy asked Psaki about the Biden administration's stance on Cuban's decision. While the press secretary acknowledged that President Joe Biden is "proud to be an American and has great respect for the anthem," she also said he would support the Mavericks for calling out the frequent times when "we as a country haven't lived up to our highest ideals."
The Editor says...
Cuban, Psaki, and Biden have made it clear: They are annoyed by the National Anthem, apparently because they hate America.
Update:
NBA Responds after Mark Cuban Skips National Anthem for Home Games. The National Basketball Association announced on Wednesday [2/10/2021] that all teams would play the national anthem before games. The announcement marks an apparent rebuke of Dallas Mavericks owner Mark Cuban, who decided he would not mandate the playing of the anthem before the team's home games. The Mavericks have already played their first home games without the anthem, including their first home game with fans in the audience.
But at least now you know where Mark Cuban stands.
Dallas Mavericks PLAY national anthem before home game against the Hawks - just hours after owner Mark Cuban relented. The Dallas Mavericks have played the national anthem before a home game against the Atlanta Hawks, just hours after billionaire team owner Mark Cuban relented to the NBA's demand that the song be played at all games. A recorded version of the Star-Spangled Banner was played before Wednesday night's game at American Airlines Center, while Mavericks and Hawks players and staff stood lined up on the court. As the anthem concluded, the smattering of fans in attendance broke out in applause and cheers. The Mavericks are currently allowing 1,500 fans at home games, with tickets available to vaccinated healthcare and essential workers.
Did Biden Get Booed? Bidens Make Creepy Video Appearance at Super Bowl, Tell Americans to Wear Masks and Get Vaccinated. Super Bowl LV: Kansas City Chiefs v. Tampa Bay Buccaneers kicked off Sunday [2/7/2021] at the Raymond James Stadium in Tampa, Florida. According to reports, 22,000 fans attended the Super Bowl on Sunday. The Bidens barged in and made a creepy video appearance before kickoff to lecture Americans about "social distancing." Americans just can't get on with their lives because the Democrats have to drone on and on about Covid every second of every day. Joe Biden and his handler wife Jill made a video message from their Delaware basement bunker that played on the jumbotron — as if people watching football and drinking beer want to hear from Dementia Joe.
The Editor says...
The attendance at the big game might have been 24,835, which is less than 40 percent of the previous year's attendance.
Super Bowl LV Kicks Off with' Black National Anthem'. Super Bowl 55 kicked off Sunday with recording artist Alicia Keys singing the so-called black national anthem, "Lift Ev'ry Voice and Sing," along with a poem. Hitmaker Alicia Keys was tasked with a virtual performance of the 121-year-old spiritual song that has come to be known alternately as the "black national anthem" after being introduced in 1899 for Abraham Lincoln's birthday. The poem read in 1899 was set to music in 1900.
Roger Goodell Praises Colin Kaepernick — Says He Deserves 'Our Recognition And Admiration'. NFL Commissioner Roger Goodell praised former San Francisco 49ers quarterback Colin Kaepernick during his annual state of the league address. Fox News reported that Goodell said that Kaepernick deserves "our recognition ... and our appreciation" for talking about systemic racism in 2016, when he began taking a knee during the national anthem before his games in protest. "I said very clearly back in June that we wish we had listened to our players earlier, and we had a lot of players that were coming and bringing these issues to us," Goodell told reporters. "It didn't start last summer; it started over two years ago and we've been working with the Players Coalition over that period of time."
The Thirty Tyrants. A decade ago, no one would've put NBA superstar LeBron James and Apple CEO Tim Cook in the same family album, but here they are now, linked by their fantastic wealth owing to cheap Chinese manufacturing (Nike sneakers, iPhones, etc.) and a growing Chinese consumer market. The NBA's $1.5 billion contract with digital service provider Tencent made the Chinese firm the league's biggest partner outside America. In gratitude, these two-way ambassadors shared the wisdom of the Chinese Communist Party with their ignorant countrymen. After an an NBA executive tweeted in defense of Hong Kong dissidents, social justice activist King LeBron told Americans to watch their tongues. "Even though yes, we do have freedom of speech," said James, "it can be a lot of negative that comes with it."
Megan Rapinoe rips woman wearing USWNT hoodie and Trump mask: 'That is not the kind of fan we will welcome'. Megan Rapinoe had a clear message for any so-called fans of the U.S. women's national soccer team who support the Trump administration: "Don't bring that [...] here." Rapinoe, 35, the national team's outspoken leader and social justice activist, watched in horror from the team's January training camp in Orlando as white supremacist and domestic terrorists wreaked havoc on the U.S. Capitol on Jan. 6. Their purpose? Trying to undermine democracy and overthrow a government at the behest of President Trump, who was unhappy he lost re-election to Joe Biden. A photo was snapped and shared of someone trying to return home after the insurrection wearing a USWNT sweatshirt while also dawning a TRUMP 2020 face mask, which of course caught the attention of the team and Rapinoe, who stand against the man who has continued to lie and spew hatred about non-white, BIPOC.
The Editor says...
[#1] I really doubt if there were any "white supremacist(s)" in the DC crowd last week, and the only "domestic terrorists" were from the political left. [#2] At least 9,999 out of every 10,000 people in the crowd were assembling peacefully, which the Constitution guarantees their right to do. [#3] Nobody was "trying to undermine democracy [or] overthrow a government at the behest of President Trump." That is a vicious canard. Trump never asked encouraged anyone to engage in violence. [#4] President Trump is not just "unhappy he lost re-election to Joe Biden." He is justifiably indignant because his re-election was stolen, and the counterfeit victory given to Biden, by means of wholesale voter fraud. Joe Biden is one of the few people who is corrupt and venal enough to accept such a gift. [#5] One can easily imagine that the rest of the article above — and the entire web site — is replete with further lies and disinformation.
Confessions of a Sports Dropout. [Scroll down] Common sense still mostly prevails at the amateur level. I've not seen a Black Lives Matter banner at a Little League game yet. But it's early days, and we all know what rolls downhill. The NFL, MLB, and NBA are now adjuncts of Black Lives Matter, complete with banners, sweatshirts, and sappy and misleading television commercials. League executives have given no indication whether their loyalty is to the sentiment — which is unassailable but irrelevant, as no one ever said black lives don't matter — or to the Marxist organization, which has a much more toxic agenda than racial peace and equity. In fact, racial peace is the last thing BLM wants. It would put them out of business. The price of attending or viewing one of these now-political leagues' games, in addition to the usurious ticket or cable package tariff, is to see America insulted by kneeling athletes, indulged young prats whom America has made rich and privileged beyond their wildest dreams.
NBA coach Stan Van Gundy calls white people 'racist,' says he's a 'poster boy for white privilege'. New Orleans Pelicans head coach Stan Van Gundy said white people are "racist" and need to change to help African Americans. "We're the ones that are racist," Van Gundy told ESPN's The Undefeated in an interview. "It's a white person's problem that affects people of color, and so we're the ones who have to change. ... Certainly you want to promote Black voices, right? But if they're the only ones speaking out, a lot of people just push it aside. There needs to be people saying, 'No, wait a minute. This is wrong, and we need to correct these things.'" Van Gundy said that he is part of the problem, calling himself a "poster boy for white privilege."
Soccer Team Bans Fans From Booing Team Members Taking A Knee. Cambridge United have handed a stadium ban to fans who booed players taking a knee before their home game against Colchester. Other fans have been asked to undertake education around discrimination and equality before they are allowed back into the Abbey Stadium. A handful of fans could be heard booing ahead of kick-off in the League Two fixture on December 15, even though it was quickly drowned out by applause. [Video clip]
BLM Leader Who The Red Sox Honored On The Field Is Arrested For Punching An 80 Year Old Woman On Video. A 32-year-old Black Lives Matter leader who was honored by the Boston Red Sox during an August "Hats off to Heroes" ceremony, normally used to honor members of the military, was arrested Saturday in Swampscott, Massachusetts for punching an 80-year-old female Trump supporter in the chest. Jacques Jr., who was released on $550 bail, can be seen in a video posted by Trump supporter Dianna Ploss unloading a right to the 80-year-old woman. According to his Facebook page, Jacques Jr. was approached by the Red Sox back in August. The team planned to honor the BLM leader on a night normally reserved to honor members of the military. [Video clip]
NFL Honors Gunman Killed While Trying To Murder Cops. The National Football League (NFL) has chosen to honor a gunman who was killed while shooting at police by allowing players to wear his name on their helmets. Protesters have demanded that Indianapolis Metropolitan Police Department (IMPD) Officer Dejoure Mercer be sent to prison for murder for returning fire after 21-year-old Dreasjon Reed shot at him on May 6, The Indianapolis Star reported at the time. Special Prosecutor Rosemary Khoury announced in November that a grand jury determined the shooting was justified, according to The Indianapolis Star. The Indiana State Police (ISP) said evidence in Reed's phone indicated he was involved in two drive-by shootings prior to livestreaming the police chase and gun battle with Officer Mercer, The Indianapolis Star reported.
Thanks for representing our country so well.
U.S. Olympic Committee Will Allow Athletes To Kneel In Protest, Raise Fists. The U.S. Olympic and Paralympic Committee (USOPC) announced Thursday that it won't sanction athletes who raise a fist or take a knee on the medal stand at the Tokyo Games in 2021. USOPC said on Dec. 10 that it agreed with the calls from American athletes that asked the committee to change the rule prohibiting inside-the-lines protests at the Olympic Games, according to ESPN. The provision known as Rule 50 in the Olympic Charter has been under scrutiny and International Olympic Committee (IOC) has told its athlete commission to explore other options, according to The Washington Post.
Social Justice Bowl?: Ad Agency Predicts 'Black Lives Matter' Theme for Super Bowl LV. TV advertisers may be preparing to turn the NFL's biggest game into the "Social Justice Bowl" with hours of woke commercials and messaging. If reports on the ads coming for Super Bowl LV are to be believed, the funny and heartwarming ads, the cute kids and heroic animals will be running alongside Black Lives Matter themes. Along with social justice activism, advertisers may be preparing commercials filled with coronavirus messaging as well, according to Front Office Sports.
U.S. Women's Soccer Team Wears Black Lives Matter Jackets to International Match. The U.S. Women's National Team (USWNT) wore Black Lives Matter Jackets to their international friendly match against the Netherlands on Friday. In a message posted before the game, USWNT star Alex Morgan said the team chose to wear the jackets as a way to "affirm human decency," and as a stand against "racial injustice and police brutality."
The Colin Kaepernick spectacle needs to end now. Last week, the man who has made millions stirring racial anxieties and allying himself with massive corporations that profit mightily from slave labor, decided to use his voice not to promote harmony and unity, but to once again stoke discord. One would think that a man who has profited so handsomely by turning a blind eye towards the human rights abuses that fund his underwriters would experience at least a modicum of shame before attempting to lecture humanity on matters of "justice." But Colin Kaepernick has proven he is nothing if not shameless. So at a virtual conference last Monday [11/23/2020], the Nike millionaire zoomed in to lend his voice to the cause of freeing Wesley Cook, the former Black Panther who, after shooting white police officer Daniel Faulkner in 1981 for daring to pull his brother over for a routine traffic stop, changed his name to Mumia Abu-Jamal.
Detroit Lions and Houston Texans Quarterbacks Kneel During Anthem to Show Their Disgust for America on Thanksgiving Day. Thanksgiving Day is an annual holiday to celebrate the blessings of the past year. But not everyone is grateful to be from the United States of America. Professional athletes in the US are now cheerleaders in anti-American hate.
Colin Kaepernick goes full radical with call to free cop killer. It had to happen. This day had to come. For an attention-seeking activist, the worst scenario is to lose the limelight. It means the death of influence. So [Colin] Kaepernick — who's already run the course on calling for police reform, who's already spent his media capital on aligning with Black Lives Matter and crying racism when NFL teams, surprise, surprise, failed to rush to extend lucrative offers — Kaepernick had to ratchet the cries. He had to find a new rally call. He had to grab a hold of a new campaign. From police reform to "let my cop-killing people go" — it's the predictable next step.
Colin Kaepernick calls for release of Mumia Abu-Jamal, former Black Panther convicted of killing police officer. Activist and free agent NFL quarterback Colin Kaepernick called for the release of Mumia Abu-Jamal, a former Black Panther who was convicted of killing a White Philadelphia police officer in 1981. He made the comments during a virtual conference with supporters fighting for his release on Monday [11/16/2020]. "We're in the midst of a movement that says 'Black Lives Matter.' And if that's truly the case, then it means that Mumia's life and legacy must matter," Kaepernick said in a video statement.
NFL releases National Coming Out Day PSA. In honor of National Coming Out Day, the National Football League (NFL) released a video celebrating former LGBTQ+ players and encouraging those still in the closet to come out. The heartwarming clip features former out gay and bisexual athletes Wade Davis, R.K. Russell, Jeff Rohrer, and Ryan O'Callaghan encouraging current athletes to live freely and speak their truth. They collectively announce: "To all current players who are thinking of coming out, when you are ready, so are we."
NFL to Air 'National Coming Out Day' PSA During Sunday Night Football. The NFL is set to celebrate the LGBTQ community's "National Coming Out Day" during its Sunday Night Football broadcast this weekend. The campaign, labeled "It Takes All Of Us," will feature a 30-second video starring openly gay or bisexual NFL players including Ryan O'Callaghan, Jeff Rohrer, R.K. Russell, and Wade Davis. The ad encourages gays to come out and be proud of their sexual proclivities, according to CNN.
NBA caves! No 'Black Lives Matter' on courts and jerseys next year. NBA commissioner Adam Silver casually let drop the bombshell news that the NBA will remove the name of the Marxist revolutionary organization Black Lives Matter from its basketball courts and player jerseys next season. This comes following catastrophic ratings declines to all-time lows for the league's playoff games.
The Progressive Medusa. Sports was once a place to escape work, politics, and family tensions — a unifying experience where grudges, feuds, and vendettas disappeared for a few hours. Not now. Franchises became self-acclaimed woke ministries, in which poorly educated athletes — almost exclusively multimillionaires and without much knowledge or appreciation of where their seemingly limitless salaries derive — have become preachers. And they are poor preachers at that. The more a LeBron James remonstrates with America, the more NFL athletes refuse to honor the national anthem, the more all professional sports display glitzy politicalized logos, so all the more fans who pay their salaries tune out. The problem is not just that half the country is at odds with the politics of professional sports, but also that it watches them to see athletic excellence and root for favored teams — not to hear adolescent rants about their own moral shortcomings from supposedly victimized elites, some of whom have less than sterling characters. Worse still, the monotonous anti-American fantasies of half-educated players are cynically predicated on their own careerist realities — and more than just constructed to appeal to woke 20-something consumers with cash for sneakers and downloads.
Utah Company Gives Up Suite at Jazz Games Over Anthem Kneeling, BLM Promotion. A Utah company is giving up its suite at Jazz games, citing the players' decision to kneel during the national anthem. The company, Salt Lake County-based SME Steel Contractors, is asking the NBA franchise to "put a stop to all disrespectful actions during the anthem and remove the Black Lives Matter logo from the arena." "The recent actions of the NBA — including the owners, coaches and players of the Utah Jazz — have converted a beloved entertainment venue into a forum for dissemination of political propaganda which is divisive and completely out of step with our company and its values," a Sept. 9 letter sent from Salt Lake County-based SME Steel Contractors to Jazz owner Gail Miller states.
Company Gives Up Its NBA Suite, Fires Off Letter to Franchise Owner Over the Ruining of Sports. If you've paid much attention to NBA games as of late, you know one thing for sure: Black Lives Matter. With large letters labeling the court, it's hard to miss the message. [...] Unsurprisingly, not everyone's on board, and you can count SME Steel Contractors among them. In a September 9th letter to Utah Jazz owner Gail Miller, the Salt Lake County-based company made that clear. In fact, SME's giving up its suite at the arena. And it's asking the NBA franchise to "put a stop to all disrespectful actions during the Anthem and remove the Black Lives Matter logo from the arena."
The NFL gets woke and goes broke. The woke crowd is putting pressure on us to believe we are a racist country. From 2016 to 2019, a few NFL players took a knee during the Star-Spangled Banner to say this country is racist. The pressure became so intense that the NFL now accommodates them. This year, the Black National Anthem is played before games. Most players either kneel or stay in the locker room during the real National Anthem. These players must believe that this country is racist. Since we are citizens, they must believe we are racist. Almost all of them are millionaires. They worked hard at their profession and rose to the top. They are a typical American success story. They now get money and fame. We enjoy watching them play and contributing to their wealth. They should be grateful that they live in this country. Instead of gratitude, the players are using their fame to call attention to their low opinion of the fans, their customers. The natural fan response is to boycott the games.
Steelers' Star: I should have done more research before honoring drive-by shooter. I wrote [elsew]here about how the Pittsburgh Steelers will be honoring Antwon Rose, a drive-by shooting participant and probable shooter, by wearing his name on their helmets this season. Only one player — Afghan war vet Alejandro Villanueva — refused to go along with this nauseating decision. He will wear the name of a fallen warrior, Alwyn Cashe, an African-American who was killed in Iraq. Now, however, another player, star center Maurkice Pouncey, has balked at the Steelers' decision. Pouncey, who has worked with the police in Pittsburgh and Florida, says he was given "limited information" about the circumstances concerning Rose. I "should have done more research to fully understand what occurred in its entirety," he admitted.
Why We Stand for the American Flag. Now that the political left has decided to strain our few remaining bonds of national unity by encouraging disrespect for the American flag and the National Anthem, will there ever be a day in the future when Americans can pause from political division and join together as one nation to remember all we've accomplished? Can the athletes who have decided to kneel in protest of America imagine that future? Won't there always be some injustice, somewhere, that forces athletes to their knees? Won't there always be some kneeler who feels compelled to judge the actions of another American, even if those actions occurred decades or centuries ago? Do athletes who take a knee plan to stay on the ground for decades to come? Will they teach the lesson to their children and their children's children that disrespecting the flag is the noble thing to do? Just how many generations of kneeling will it take before America is properly punished?
How the Underground Press Will Thwart the Media and Re-Elect Donald Trump. To understand the samizdat's effect, consider a recent Gallup poll on the U.S. sports industry. A year ago, by a 45-25 margin, most Americans had a favorable view of professional sports. Today, by a 40-30 margin, most have an unfavorable view. These numbers had to shock the more woke among NFL and NBA execs. All summer, these execs have been reading about the largely peaceful protests against the systemic racism responsible for the deaths of George Floyd, Breonna Taylor, and Rayshard Brooks among others and the crippling of Jacob Blake. How, they wondered, could sports fans not embrace those athletes who stood (or knelt) in support of social justice? The players all endorsed the BLM movement or appeared to. So did the sportscasters, the advertisers, the TV networks, Hollywood, Big Tech, the New York Times, the major magazines, and just about everyone with a prominent soapbox except for Fox News — and even Fox waffled.
Racial Justice Agitators Are Killing Sports. The NFL is starting to kill American football fans' interest in football with their endless politicization of the sport. This is the first year my husband refused to join fantasy football leagues because he's had enough of the NFL forgetting why they exist. Ratings are way down. Football fans in Kansas City didn't boo the players because they were showing "unity" (whatever that means), they did it because they don't want any politics in sports. None. It doesn't matter what side it's on, sports fans don't want to hear about real-world problems when they are escaping the real world full of violence, sadness, war, despair, cities on fire, for a few hours of sports when the only battle that matters is the one on the field.
Roger Goodell and Wokeness Have Ensured the Decline of the NFL. Until Roger Goodell and the NFL recently signified their devotion to the anti-American mythology promoted by Black Lives Matter and prostrated themselves before its pantheon of privileged heroes such as Colin Kaepernick, football had for decades been something that made us all incredibly happy and was a central feature of our lives each fall. Now it will not be a part of our lives for the foreseeable future, and I seriously doubt that we're unique. That should strike fear into the hearts of NFL executives. There is a seismic shift beneath our feet in the world of sports today, and I think most sports fans of a certain age see it clearly, even if the top brass of the NFL cannot.
NFL kneeling, fists in air, hiding in locker except during black national anthem. The all-black Howard University choir sang the Black national anthem before the Washington — Eagles Football game and it will be played before every game. The players and coaches, everyone tied to the teams, stood respectfully for this fake and divisive anthem. Reportedly, for the real national anthem, Washington stood and the Eagles hid in the locker room. This is blatant racism, divisiveness, and segregation. They are honoring the Marxist hate group, Black Lives Matter. Diversity is not our strength, unity is!
Racial injustice themes fill empty NFL stadiums. Jason Myers kicked off to start the Seahawks' season-opener against the Falcons, and the ball sailed through the end zone for a touchback. No one moved a step. Instead, the players all dropped to one knee. After years of pleading with the NFL to act against systemic racism, they were willing to wait another 10 seconds to make their point.
The Editor says...
Anyone foolish enough to pay the high price of admission to an NFL game is paying to see the players play football, not to engage in some rehearsed and choreographed ritual about what victims the players perceive themselves to be.
Conservatives' Crushing Counterattack In the Culture War. We're all supposed to applaud the kneeling zillionaires of the NFL — the most spoiled bunch of jerks on planet earth — and yet when they came out and tried to rub their cultural power in our faces, when they tried to make us just sit there and silently be insulted presented by the felons, losers, and accused sex offenders whose names were emblazoned on their helmets, tons of us refused to tune in and those who showed up live booed these pretentious twits. How dare those peasants refuse to submit to the cultural commandments of their betters!
NFL Releases List of Approved Names for Helmet Padding, Including Jacob Blake. The NFL has disclosed their list of approved names that they will allow players to wear on their helmet bumpers for social justice messaging. Among the names are Jacob Blake, who is accused of sexual assault. The list is apparently fluid, in the sense that new names are being added all the time. Also among the names is that of slain retired St. Louis police officer David Dorn. Dorn was killed in early June by rioters while checking on a friend's store in St. Louis. The listing of Blake's name, given his alleged violent history of sexual assault, stands in stark contrast to the league's recent efforts to improve the game's appeal to women through cracking down on domestic violence and promoting breast cancer awareness.
Political expression at the NFL opener, by players and fans. I didn't watch the NFL's opening game last night between Kansas City and Houston. However, I've read several accounts about the players' approach to the National Anthem and related activity. Apparently, the NFL decided to play both the National Anthem and a song called "Lift Every Voice and Sing," which is sometimes referred to as the black national anthem. The idea of a black national anthem should be offensive to all but racial separatists. As long as we're one country, we should have just one anthem, and it should be the only one played at sports events.
The NFL returns with 17,000 socially distanced fans, kneeling players and anthem walkouts. Kansas City Chiefs fans booed a moment of silence aimed at promoting racial justice, the Houston Texans remained in the locker room during the Star-Spangled Banner, and the reigning Super Bowl champions lined up for a singing of 'the black national anthem' on Thursday night [9/10/2020] as the NFL opened its 2020 campaign under dramatically different circumstances than any other season in league history. 'With everything going on in this country, we wanted to show that we're unified as a league,' Chiefs quarterback Patrick Mahomes told NBC after throwing three touchdowns in a 34-20 win. 'We are not going to let football distract us from making a change in the world.'
The Editor says...
The few remaining football fans are only interested in seeing how well you can play football. They aren't tuning in, or attending in person, to see how much you can "change the world."
On Covid and Race, Sports Suddenly Ignore Analytics. What has happened with big time sports' fascination with crunching all kinds of numbers and statistics? Has this fascination with stats vanished in lieu of a political agenda with respect to the Covid and the BLM protests? Is getting rid of Donald Trump worth obliterating multi-billion-dollar operations? Do they have any idea what they are doing to themselves? These are open questions, and the answers carry monstrous cultural, political and economic ramifications.
Why I'm Voting for Trump, Even Though I Don't Want To. I stopped watching the NFL four years ago, and now I've stopped watching all pro sports because of the disrespect. The Democrats do not condemn flag-burners.
Primetime Ratings Crash for Woke MLB. Major League Baseball opened this year by kneeling for the anthem and standing for Black Lives Matter. Though, despite the apparent belief that our sports-starved nation's hunger for baseball would outweigh the league's social justice activism, the ratings have been in the basement. According to the numbers, baseball has joined the NBA in struggling to get sports fans to tune in and watch games.
NFL Player: We Have 'Green Light' to 'Do Something That Makes a Boom' During Protests. Apparently, simply kneeling and disrespecting the American flag and national anthem during NFL pregames every week doesn't quite deliver the virtue-signaling "social justice" high to players it once did. So, as is the case with all addictions, players are looking for a new twist to pregame protests. You, know, something with a few more bells and whistles; just to make sure non-woke fans who have gotten used to the same old kneeling routine are still paying attention to the "social injustice" and "white privilege" that permeates their every pore. If Dallas Cowboys defensive lineman Tyrone Crawford has anything to say about it, players are going to do just that. Dallas Cowboys players, at least. Moreover, Crawford suggested Cowboys owner Jerry Jones has already given players the go-ahead.
NBA viewers flee as the league turns "too political," poll finds. A recent Harris poll has revealed that 39% of self-identified sports fans have chosen to watch fewer NBA games this season, largely because the league has become overly politicized.
NBA ratings continue to drop as fans abandon the league that's abandoned them. The NBA is facing continuing drops to their ratings, probably as a result of the polarizing political stances they have been taking recently, according to City Journal. The latest sharp drop in ratings for the NBA appears to be directly related to their recent round of support for the Black Lives Matter movement, which many people see as corrupted by outside influences, and conflated with totalitarian socialist ideals. Fans have also been voicing discontent over the continued postponing of key playoff games. They feel they have had to wait a long time for basketball to come back already, and further delays are not acceptable to many of them.The NBA had postponed Wednesday, Thursday, and Friday NBA playoff games last week as a sign of protest.
NFL Announces Social Justice Slogans Will Be Inscribed on Every Field. NFL end zones will be inscribed this season with two slogans: "It Takes All Of Us" on one end line, "End Racism" on the other. As part of its social justice awareness initiatives, the NFL also will allow similar visuals on helmets and caps. Previously announced were decals on the back of helmets, or patches on team caps, displaying names or phrases to honor victims of racism and/or police brutality.
The Editor says...
When major sports team stop glorifying victims, fewer people will see victimhood as a goal.
When NBA, MLB And NHL Players Picked Jacob Blake To Be Their Saint, They Chose Poorly. The officer who shot Jacob Blake in Kenosha, Wisconsin, has been tried and convicted by Democrats, the media, and truth-[averse] activists before the case is resolved. It's a mirror image of the Michael Brown shooting (the officer was cleared) in Ferguson, Missouri, and the death in Minneapolis of George Floyd (the officer has yet to go to trial). The difference is this time, pro athletes, pampered and well-paid, joined the mob. They should be ashamed of their behavior. [...] As sports journalist Clay Travis tweeted when the players quit on their fans and employers, "the NBA never said no to the players," when they returned to play after the pandemic shutdown. "They okayed everything — political messages on jerseys, kneeling for the national anthem, political messages on the court itself — and it still wasn't enough. And now their business doesn't exist. Lesson: you can't ever be woke enough."
MLB fans' reaction to Jacob Blake boycotts says it all. Whatever the issue or cause, it's a lot easier to be righteous when there are no paying customers to send home. Timing was everything. This season, with no tickets, tack-on fees, parking, hideously marked-up eats and drinks to sell, Thursday [8/27/2020] there was no one to rip off except cable and satellite TV subscribers, who have been conditioned to bait-and-switch abuses. For better, worse and all that lies between, here's the problem: Fans don't care nearly as much as they did. They've learned to live without sports, especially in their current diminished condition. They've learned that they're taken for granted. And more and more they've determined that they won't pay another dime to attend games or to watch them on TV.
NHL players group demands league pay $100 million and change blue line to 'black line' for racial equality. On top of their formal request for the National Hockey League to suspend all playoff games last night, Rick Westhead, a senior correspondent for TSN, reports the HDA (Hockey Diversity Alliance) has a number of other demands. Hockey Diversity Alliance, an association made up of seven players whose stated purpose is to eradicate systemic racism and intolerance in hockey, have also revealed these demands:
• Team owners offer NHL rinks to be used as polling stations for the upcoming US election
• NHL should be fully transparent about "all information related to the policies, targets and commitments" related to the hiring of employees who are visible minorities.
• NHL to commit to funding $100 million dollars over 10 years to battle "systemic racism."
• NHL make a statement by temporarily changing the blue line to black.
• NHL to run PSAs for the HDA during the playoffs this summer.
• NHL to have on-ice presence of the HDA logo.
Advice to woke pro sports: Try doing just sports again. Here's a tip for you. Go to YouTube and watch Harry Caray broadcasting an old White Sox game. At times he was clearly drunk on air, butchered the players' names, talked about their ethnicities as well as good-looking women in the stands. Everyone loved Harry Caray because he was entertaining and fun to listen to. There is nothing fun about the new generation of sports broadcasters, who sound like an old Pravda TV announcer telling us the virtues of Leonid Brezhnev. American sports fans are being pushed around. If they are pushed any farther, we will have an Atlas Shrugged moment on our hands.
An NBA so woke it cancels itself. Deciding to go Colin Kaepernick one better, the NBA's Milwaukee Bucks players decided to cancel their playoff game to protest the Kenosha, Wisconsin police shooting of Jacob Blake, a career criminal with a warrant out for 3rd degree sexual assault, who was resisting arrest. That act triggered racial grievance riots, along with lootings, destruction, and a likely permanent decline for Kenosha, as usually happens in riot-torn cities. But the NBA didn't want to leave it alone and let justice take its course. Someone in the locker room of the Bucks suggested a game strike, and then the rest of them, lemmings-like, jumped onboard. The act was followed with at least five teams calling off their games, too, and two teams — the Clippers and Lakers of Los Angeles pulling out of the season entirely. Meanwhile, Kenny Smith a longtime TNT sports commentator walked off, and LeBron James, who plays for some other team, jumped in, too, effectively calling the walkout a political protest to Get Trump, declaring: "Change starts in November."
Mark Cuban says he'd support Dallas Mavericks players boycotting games. Dallas Mavericks owner Mark Cuban said he'd support his players if they seek to boycott games. Cuban's comments to FOX 4 came after three NBA playoff games on Wednesday were postponed following player boycotts in the wake of the shooting of a Black man by police in Wisconsin.
Report: NFL Dropping Military Honor Guards for National Anthem. The NFL is preparing to end the use of military honor guards to present the American flag ahead of the national anthem, according to reports. A league source claims that the policy benching military, federal, and police guards is part of its COVID-19 response, according to Front Office Sports. "They won't be on the field," a source told the site. "That could change as the season progresses. But that's the plan at the beginning."
Twenty (Uncomfortable) Questions. [#3] Why does the NBA have "Black Lives Matter" painted on the court? If black lives didn't matter, would there be any players on the court? It reminds me of the old joke: "I went to a fight and a hockey game broke out." Now it's, "I went to a protest and a sporting event broke out." [#4] How does kneeling during the national anthem help fight "perceived" racism or inequality in any way? It's incredibly annoying to try to enjoy a game or a television show and have to sit through a lecture or a sermon.
Players Kneeling for Anthem Met with Boos Before MLS Game. There was a smattering of boos when players from FC Dallas and Nashville SC collectively took a knee during the national anthem before their MLS game on Wednesday night [8/12/2020] in Frisco, Texas. Dallas defender Reggie Cannon said he was disgusted by the boos at Toyota Stadium when players and officials knelt to call attention to racial injustice. He said teammate Ryan Hollingshead turned to him afterward and said he was sorry.
Dallas Soccer Star Reggie Cannon Calls Fans "Disgusting" for Booing and Chanting "USA!" as Players Knelt for National Anthem. Several soccer fans out of a crowd of about 3,000 in attendance booed and chanted "USA!" at an MLS game Wednesday night at Toyota Stadium in Frisco, Texas between FC Dallas and Nashville SC as players and refs knelt in unison for the playing of the national anthem before the game. In a post-game press conference, Dallas star Reggie Cannon went off on fans for chanting "USA!" and booing the players, calling the fans "disgusting" and whining that his team has been through "absolute hell" the past six months because of the pandemic. Cannon ranted for over two minutes about the booing of the players for kneeling in support of the Black Lives Matter movement.
Woke Mobs Demand You Must Now Explain Why You Stand For The Anthem. Kneeling for the national anthem at sporting events used to be the occasional episode of player activism protesting the United States as an evil racist empire. Amid the new 21st century woke revolution however, kneeling has become a key signifier for players and teams to declare which side of the culture wars one sits on. It's those who love America versus those who hate it, the latter of which despises the American flag and all that it represents as a relic of white supremacy that must be condemned. Those who still stand out of respect for the nation's ideals and the uniformed men and women who protect it are now the outliers forced to defend themselves in a new age of no dissent, because dissent is racist, racism is oppression, oppression is violence, and violence is not to be tolerated, even if it isn't real.
Key Fans [are] Unhappy With Sports Leagues Kowtowing to Black Lives Matter. If anyone was hoping that the return of the long-awaited Major League season would lift our spirits and bring us together, they had to be disappointed to learn that we are more divided than ever over the National Anthem kneeling debate. And although President Trump has not chosen to join the burgeoning #BoycottMLB movement on Twitter, the president has joined a growing number of disheartened baseball fans who are unhappy that their favorite teams are taking the knee. Even before the start of the season, President Trump tweeted that he was "looking forward to live sports, but any time I witness a player kneeling during the National Anthem, a sign of great disrespect for our Country and our Flag, the game is over for me!" This is not a small issue. Rasmussen released a new poll of 1,000 Americans which indicates that "Americans are sending more negative signals than positive ones over the decision by many professional sports organizations to promote the controversial Black Lives Matter movement."
NFL: Now the No Freedom League. I grew up in Guantanamo Bay, Cuba, before they had satellite TV. As such, on the Monday after the Super Bowl, everyone on the entire base would try to get through the day without knowing who had won the game. That night, after a tape of the game had been flown down from the U.S., we'd watch the game and be riveted to our TVs. [...] Today, however, I doubt I'll watch another NFL game, and I most certainly won't spend a penny on NFL merchandise. Why? It's simple. The NFL, helmed by men who are ostensibly some of the smartest businessmen in America, literally helped bring America to the brink of revolution, maybe even led the way. We're talking about Kaepernick and Black Lives Matter. The NFL, and to a lesser degree MLB and the NBA, used to be oases from which all Americans could seek refuge from the slings and arrows of daily life. [...] Since Kaepernick started his grandstanding, however, the conversations became more about who was kneeling, what star was lecturing America about this grievance or that, and ceased to be about the excitement or pain or joy of the actual games.
The Sickening Hypocrisy of the NBA. I am not speaking about individual NBA players or their motivations (although some players, to be sure, could be called out). I'm speaking of the league as a whole, of the organization. Its hypocrisy is absolutely sickening. In October, 2019, I stated that the NBA was a spineless little bully, noting that "this multi-billion dollar organization, which spans the globe, was happy to bully North Carolina in 2016 when the state had the audacity to declare that men's bathrooms were for men and women's bathrooms were for women." Yet, I wrote, the "NBA has had no problem getting in bed with an oppressive country like China, which imprisons and tortures Christians and Muslims and others who do not toe the party line. "Tens of millions of people experience severe daily restrictions under the tyrannical policies of President Xi, with countless tens of thousands suffering right now in 'reeducation camps' and jails."
"Woke" Sports Bombing With Fans. I never understood why pro sports leagues thought that buying into a far-left, anti-American narrative would ingratiate them with their fans. At the moment, it looks like my skepticism (shared by many, of course) was justified. Breitbart reports: "Ratings crash for NBA, MLB after protest-filled debuts." [...] Why would anyone think that America's sports fans yearn for far-left "social justice" messages as part of their sports programming?
Report: Group of Pac-12 Players Threatens to Boycott Season over Virus, Social Justice Concerns. While professional football, baseball, and basketball players have been opting out of their upcoming seasons by the dozens, less has been heard from the nation's collegiate athletes. Well, that's beginning to change. According to a report obtained by ESPN, a group of players from several different Pac-12 schools have threatened to sit out preseason and regular season games unless the Pac-12 makes certain concessions.
Ratings Crash for NBA, MLB After Protest-Filled Debuts. As the NBA and MLB return from their coronavirus-imposed hiatus, it appears TV viewers are not interested in what the increasingly woke leagues have to offer. With both baseball and basketball draped in all sorts of Black Lives Matter and social justice symbolism for their opening games, a substantially smaller number of fans tuned-in to the rest of the week's games.
Every NHL Player Stands For The National Anthem During First Game Back. Every single player on the Carolina Hurricanes and the New York Rangers stood during the national anthem Saturday afternoon [8/1/2020]. In the first game of the NHL's 24-team postseason return during the coronavirus pandemic, not a single player on either team took a knee. Protesting during the national anthem is front and center again in the world of sports, and virtually the entire NBA has done it.
Strike Three: Major League Baseball's Sordid Romance with Race-Baiting Politics. For 65 years, I was a major league fan of major league baseball. But as of last week, that all changed, and I will never again follow the sport. MLB's woke owners drove me away. I don't watch baseball — or any sport — to have moralizing political lectures rammed down my throat. Yet that is now the order of the day, not only in the NFL and the NBA, but in major league baseball as well, where filthy rich franchise owners are falling all over themselves kowtowing to Black Lives Matter, a Marxist political organization that hijacked the noble cause of racial justice as a fig leaf to disguise its profoundly un-American ideology. At the 2020 Season Opener between the Washington Nationals and the New York Yankees, every player and every coach was told to kneel prior to the National Anthem.
Every Player and Coach Takes a Knee During National Anthem Before NBA Restart. The NBA promised a social justice message when they restarted their season, and they delivered. On Thursday night, every player and coach for the Jazz and Pelicans took a knee during the national anthem. In addition, every player wore a Black Lives Matter shirt.
Every Player On The Jazz And Pelicans Kneels During The National Anthem. Every single member of the Utah Jazz and New Orleans Pelicans took a knee during the national anthem Thursday [7/30/2020]. While the anthem played before the first game of the NBA's return, all coaches, players and a ref took a knee.
Our Summer of Cultural Suicide. Over the last century, professional football, basketball and baseball were racially integrated and adopted a uniform code of patriotic observance. The three leagues offered fans a pleasant respite from daily barroom politics. As a result, by the 21st century, the NFL, NBA and MLB had become global multibillion-dollar enterprises. Then hubris ensued. The owners, coaches and players weren't always racially diverse. But that inconvenient truth did not stop the leagues from hectoring their fans about social activism — even as they no longer honored common patriotic rituals. All three leagues have suffered terribly during the viral lockdown, as American life mysteriously went on without them. And they have almost ensured that they won't fully recover when the quarantine ends. Many of their often-pampered multimillionaire players refuse to honor the national anthem. In the NFL they now will broadcast their politics on their helmets. They will virtue-signal their moral superiority to increasingly turned-off fans, as if to ensure that their sources of support flee.
Pittsburgh Steelers Player Stephon Tuitt Says He's Not Kneeling During The National Anthem. Pittsburgh Steelers star Stephon Tuitt won't take a knee during the national anthem. There are going to be gigantic national anthem protests all over the NFL during the 2020 season, but Tuitt won't be joining. He tweeted Monday [7/27/2020] that he's not taking a knee and added, "screw anybody who have a problem with that." He cited his grandmother being an immigrant as a major reason why he won't take a knee.
Spurs' Gregg Popovich: People who don't understand BLM movement 'just ignorant'. San Antonio Spurs coach Gregg Popovich, one of the NBA's most outspoken voices on social justice issues, took to task people who he said still did not understand the Black Lives Matter movement. In a video conference call with reporters, Popovich, who is preparing for the league's upcoming restarted season, was asked what the social justice movement means to him[.] "It's no different for me than it is to anybody else who cares about justice and who can be empathetic to the fact that justice has been denied to a group of people for far too long. And enough is enough," he said, according to the Dallas Morning-News.
Mike Ditka tells kneeling athletes to 'get [...] out of the country'. Former Chicago Bears coach and noted commercial pitchman Mike Ditka shared his thoughts on the growing wave of anti-racist athlete demonstrations occurring during the pregame national anthems at sporting events. For anyone who has ever listened to Ditka talk politics before, his beliefs on the matter were unsurprising.
Former Chicago Bears Coach Has a Message for Kneeling Athletes. During an interview with TMZ, Former Chicago Bears Coach Mike Ditka shredded National Football League players that decide to kneel during the national them. According to Ditka, it's disrespectful to "protest" against the flag and the country that has provided opportunities to professional athletes. "The whole kneeling thing in the NFL, you've got guys saying they're gonna do it. You know, baseball players, different teams, last night I watched baseball, you got the Red Sox and the As and the Giants, a lot of teams are kneeling, athletes are kneeling. In your league here, you're the chairman of this league, is that going to be allowed if the women want to take a knee during the anthem?" TMZ asked. "What's the policy on that from you guys?"
WNBA players WALK OUT during national anthem and wear Black Lives Matter jerseys. The WNBA's Seattle Storm and New York Liberty teams walked off the court during the playing of the national anthem before the season-opening game on Saturday afternoon [7/25/2020]. The two teams' planned walk-off was part of the league's season-long Justice Movement initiative — designed to fight systemic racism and violence — which the WNBA and Women's National Basketball Players Association announced earlier in July. On Saturday, players from the Storm and the Liberty headed for their locker rooms while the national anthem played at the WNBA bubble at IMG Academy in Bradenton, Florida.
The Week in Pictures: Play (Protest) Ball! Edition. So we have sports back, starting with major league baseball in empty stadiums, but with artificial crowd noise piped into TV broadcasts as if the game is an unfunny sitcom or something. And in one sense it is an unfunny sitcom, since so many players seem intimidated into the political exhibitionism of kneeling for the national anthem. Here's a thought: if we want to get real crowds into stadiums, let's label the games as "BLM protests" instead, since they are exempt from the social distancing rules. The crowd can sing the Black national anthem during the 7th inning stretch, or perhaps a new tune — "Take Me Out to the Riot" — can be specially composed. The kneeling players are already doing their part.
Americans Should Tell the NBA 'Not In My House'. Once upon a time, basketball had nothing to do with politics and everything to do with showcasing American athletic prowess. [...] The NBA bent over backward for China the minute it retaliated in response to Morey's statement. In stark contrast, the league continues to trample over America and its patriotic citizens, meaning money talks. So, let's stop watching their games and buying their products — until the NBA cuts all ties with China and players begin standing during the national anthem — in respect for this extraordinary country which turned them into heroes. Or, let them spend the rest of their careers as pathetic zeroes in the eyes of Americans.
Baseball Returns With Less Games, More Preaching. After so many months with zero professional sports, the atmosphere should be one of anticipation and excitement. Yet, this entire moment just feels like we might be watching the swan song of professional sports. Baseball could have really seized the moment when the pandemic started, and made plans to strategize, to reach out to fans, to make every effort to get back on the field. Instead, we got a labor dispute with fingers pointed at both sides, some big name players who are declining to play this season for a myriad of reasons, and fans submitting cardboard cutouts of themselves to sit in empty stadium seats. Nothing feels right, and yet baseball should feel familiar and comforting. But it doesn't, because first we have to sit through another lecture and demonstration on the social justice cause du jour.
Yankees and Nationals kneel in unison before the first game of season just days after Trump said the game was 'over' for him when players took a knee. The Yankees and Nationals knelt in unison before the first game of the season just days after Donald Trump said the game was 'over' for him when players took a knee. Players from both clubs knelt during the opening day ceremony Thursday night, which featured several references to the ongoing civil rights movement that was triggered by the Memorial Day 'murder' of George Floyd in Minneapolis. The symbol of protest has divided opinion of late, with the president tweeting Tuesday that kneeling during the national anthem is a 'sign of great disrespect' and the game is 'over' for him when players do it.
San Francisco Giants Pitcher Sam Coonrod Refuses To Kneel During The National Anthem, Cites His Christian faith. San Francisco Giants pitcher Sam Coonrod refused to kneel during the national anthem Thursday night against the Dodgers. According to NBC Sports, members of the Giants took a knee during the national anthem, and Coonrod didn't join them. Every member of both teams also kneeled before the anthem. The pitcher also didn't participate in that action. The reason why? His Christian faith.
Red Sox Raise Large Black Lives Matter Sign at Fenway Park. The Boston Red Sox made a very visible statement of anti-racism Wednesday as they put up a huge Black Lives Matter sign on an exterior wall of Fenway Park. The sign, which says "Black Lives Matter" in large letters followed by the Sox' logo, faces the Massachusetts Turnpike and directs viewers to the Red Sox Foundation website for more information. On the website is a statement on "Social Justice, Equity and Inclusion" from team President and CEO Sam Kennedy posted last month in the wake of the major protests over the deaths of George Floyd, Breonna Taylor, Ahmaud Arbery and others.
MLB Allows Black Lives Matter, Social Justice Jersey Patches. Major League Baseball players have the option of having a patch with "Black Lives Matter" or "United For Change" on a jersey sleeve on opening day of the pandemic-delayed season, and Washington Nationals pitcher Sean Doolittle says his team may is considering whether to take a knee in support Thursday night [7/23/2020].
Anthony Fauci to Throw First Pitch for Washington Nationals' Season Opener. Dr. Anthony Fauci, director of the National Institute of Allergy and Infectious Diseases, will throw out the first pitch for the Washington Nationals on opening day on Thursday, the Major League Baseball team announced Monday [7/20/2020]. "The Washington Nationals are thrilled to announce that Nats super-fan, Dr. Anthony Fauci, Director of the National Institute of Allergy and Infectious Diseases, has accepted our invitation to throw out the ceremonial first pitch on Opening Day, Thursday, July 23," the team said in a statement. "Dr. Fauci has been a true champion for our country during the Covid-19 pandemic and throughout his distinguished career, so it is only fitting that we honor him as we kick off the 2020 season and defend our World Series Championship title."
Under China's thumb: So you can buy a KillCops t-shirt from the NBA but not a FreeHongKong one. When China is your master, nobody cares if you stand or kneel or thumb your nose at the U.S. flag, but you'd better not cross the Chinese one. Tha't's [sic] the ugly picture regarding the China-coopted National Basketball Association (NBA) and its personalized t-shirt sales operation, where Chicom censorship is alive and well. Turns out you can personalize your t-shirt to say all kinds of ugly things — but not FreeHongKong. Someone programmed that if/else exception in, preventing any freedom lover from printing that reminder of China's broken treaty destruction of Hong Kong onto their personalized t-shirt.
NFL Again Fumbles Opportunity to Unite America. The National Football League once again is fumbling away an opportunity to unite America. This is the result we could have expected, given the NFL's playbook over the past few years. The NFL's decision to play what is known as the black national anthem — "Lift Every Voice and Sing" — before every Week 1 game seems poised to divide, not unite, our country. But a secondary, more certain outcome of this decision is that the NFL will lose its luster at a greater pace than it achieved its dominant allure.
It's Not Trump vs. Biden. It's Trump vs. Losing Your Country. Just Look at the NFL! [Scroll down] Look at the NFL. The NFL is literally afraid of a Marxist, communist organization, literally afraid of it, literally doing anything it can not to make that bunch of people mad at them. The NFL has made it clear that they are no longer the institution and value set that we always thought they were. You got Drew Brees, quarterback of the New Orleans Saints who tweets his support and love for the American flag and the fact that he will never do anything to disrespect it, and he's practically drummed out of the league, he's practically destroyed. He had to apologize four times, his wife had to apologize two times, had to give a bunch of people a bunch of money. All he did was stand up for the flag. The Philadelphia Eagles have an abject idiot wide receiver named DeSean Jackson, who just tweeted a bunch of things he thought Hitler said, and he said the Jews are gonna come for the blacks, the Jews are gonna wipe out the blacks, the Jews are gonna do this, he thought Hitler said it. He tweeted it. Nobody's upset. Nobody's insisting DeSean Jackson be sent someplace to get his mind right.
How Philadelphia Eagles' DeSean Jackson's Anti-Semitic Fiasco Just Got Worse. The Philadelphia Eagles' wide receiver DeSean Jackson is causing problems in the locker room again. I guess in some odd way, he thought sharing anti-Semitic posts, Louis Farrakhan videos, and fake Hitler quotes wouldn't be an issue, not least of the reasons being that Eagles owner, Jeffrey Lurie, and its executive vice president and general manager Howie Roseman, are Jewish.
So, Kaepernick Lied. [Scroll down] No one buys Kaepernick's love of country any more. But that works out fine because he's no longer selling it. In 2016, you still had to dilute your anti-Americanism with a drop of patriotism to get the really good press. That's over with. Today, the American media market rewards the pure stuff, the straight-up hatred of the United States. Which is why on July 6, Kaepernick announced his new partnership with The Walt Disney Co. to produce scripted and unscripted content about, presumably, the country that has been so terrible to Kaepernick (and Disney). Of course, all those 2016 Kaepernick defenders really believed and approved of his claims to patriotism. Just as today, they believe and undoubtedly approve of his undiluted anti-Americanism. You'd think that they feel duped, but you'd be wrong; they're appreciative. No one on the left is dropping Kaepernick. In coming out as a full-throated anti-American, he helped his woke supporters shed their habit of white supremacy. He once had to play the game of good citizenship, but his liberation from those restraints is their liberation, too. Where he leads, they'll follow. What he rejects, they'll reject. And whatever cognitive dissonance arises will be chalked up to past ignorance. This holds true not just for Kaepernick but for all social-justice celebrities. Indeed, it applies to social justice generally. Whatever is done or said in the name of the cause is good and just. Fool them once, fool them forever.
NFL Embracing BLM Ideals Highlights Its Leadership Void. Four years ago, the NFL forbade Jason Witten and the Dallas Cowboys from placing "Arm in Arm" stickers on the back of their helmets that would honor five slain Dallas police officers. This year, according to a Thursday report by ESPN The Undefeated's Jason Reid, the NFL Players Association and the NFL are collaborating on an idea to list the names of black people killed by police on jerseys. The absurdity of this pivot could only be topped by the folly of DeMaurice Smith's and Roger Goodell's other proposed pivot. According to Reid, in Week 1 the NFL will play the "black national anthem," Lift Ev'ry Voice and Sing, before playing The Star-Spangled Banner. So the NFL is going to start its season with all of its employees standing for the "black national anthem" and a majority of its on-field employees immediately taking a knee for the American national anthem? That's the game plan Smith and Goodell cooked up?
NBA releases list of 29 pre-approved social justice messages for players' shirts, unfazed by hilarious irony. The virtual-signaling, very woke National Basketball Association has reportedly settled on a list of social justice messages that can be displayed on the back of player jerseys for the first four days of the restarted season. The suspended NBA season is scheduled to restart on July 30 at the ESPN Wide World of Sports Complex in Orlando, Fla., at the Walt Disney World Resort. The NBA has reportedly already agreed to paint the words Black Lives Matter inside the sidelines on all three arenas that will be in use when the games begin. Given massive guaranteed salaries and other forms of leverage, the players pretty much run the NBA, even though there is no constitutional guarantee of free speech in the private sector workplace.
Roger Goodell's National Anthem Gambit. It is now being reported that the NFL will be playing "Lift Ev'ry Voice and Sing," a song that has been called the "Black national anthem," before all NFL games in Week 1. This is a high-risk, low-reward move by the NFL. There are countless problems with this strategy to appease the woke mobs, and it would be difficult to overstate just how foolish and dangerous it is. First of all, a "Black national anthem" can only exist if there is a broad acceptance of the notion that black people, as a racial category, share a common identity with other sovereign nations. Additionally, defining a separate "Black national anthem" to be played alongside the America's National Anthem, "The Star-Spangled Banner," presupposes that the latter is insufficient to alone represent black Americans as it represents all others. These are insane propositions that would, until recently, have been unthinkable at any moment of my life.
Sports Commentator Rips NBA Painting 'Black Lives Matter' On Courts. This week, former NFL defensive end Marcellus Wiley, who attended Columbia University and now co-hosts Fox Sports' "Speak for Yourself," slammed the idea that the NBA will paint "Black Lives Matter" on courts where their games are played, asserting, "The road to hell is paved with good intentions." Wiley began, "It's not a good idea. I do want to give the players credit for their flex to even get this to be more than just an idea, but something that's gonna be, in reality, I give the players that. But there's a problem with — when you start to go down this road of 'freedom of expression,' 'freedom of speech,' and how much social space is allowed for those who don't support in that same place. And that's where I wonder where this is going to go in terms of identity politics."
Ted Cruz blasts NFL's reported plans to play 'Black national anthem'. Calls to boycott the NFL trended Friday on social media following reports that the league plans to play the song known as the Black national anthem before all Week 1 regular season games. Multiple media outlets, including The Associated Press and the Undefeated, cited sources saying that "Lift Ev'ry Voice and Sing," known as the Black national anthem, would be played or performed before the first week's games, immediately before "The Star-Spangled Banner." The hashtag #BoycottNFL trended on Friday morning as some Republican lawmakers and others condemned the idea, saying it promoted the concept of a nation divided by race.
Former NFL Player Burgess Owens Rips League Over 'Black National Anthem' Playing Before NFL Games. On Thursday [7/3/2020], former NFL star Burgess Owens ripped into the football league over reports that the NFL will play "Lift Ev'ry Voice And Sing," dubbed the "Black national anthem," before all Week 1 games this season. The retired safety suggested the move was in line with "trying" to "segregate" the nation "again." "There is no 'black national anthem,'" Owens posted via Twitter. "Why does it feel like the country is trying to segregate again sometimes?"
NFL all in with toxic identity politics, will play separate 'black national anthem' before Week 1 games. The NFL will play the "black national anthem" before all Week 1 games of the 2020-2021 season as the National Football League continues caving to race-baiting, leftist mobs. Most Americans never even knew that a "black national anthem" existed since black and white civil-rights activists fought for decades to end racial segregation. However, since segregation is a goal of the Marxist Black Lives Matter movement, the "black national anthem" will be played before the Star-Spangled Banner at all Week 1 NFL games.
Source: NFL plans to play Black national anthem before Week 1 games. "Lift Ev'ry Voice And Sing," traditionally known as the Black national anthem, is expected to be performed live or played before every Week 1 NFL game, and the league is considering a variety of other measures during the upcoming season to recognize victims of police brutality, a source familiar with the league's discussions told The Undefeated on Thursday [7/2/2020].
Report: NFL Expected to Play Black National Anthem Before Season Opening Games. The NFL reportedly plans to play a song titled, Lift Ev'ry Voice And Sing, also known as the Black National Anthem, prior to every season opening game this year. The song, according to a source to ESPN, will be played prior to the Star-Spangled-Banner.
NBA Will Let Players Replace Name on Jersey With "Social Justice Statement". Some may wonder if the NBA now stands for No Brains Anymore or, perhaps, if the NBA has become an NPC. Whatever the quip, what sounds like a joke but isn't is the latest National Basketball Association news: When the league launches its abbreviated 2020 season July 30 in Orlando, it will allow players to replace their names on their jerseys with a "social justice statement." [...] ESPN, which itself has become the Entwining Sports with Politics Network, provides more detail, writing that "Oklahoma City Thunder guard Chris Paul, president of the National Basketball Players Association, told ESPN's The Undefeated on Saturday that the players' union and the league are collaborating to allow players to wear jerseys with personalized social justice, social cause or charity messages on the backs instead of their last names during the upcoming restart of the NBA season." Reacting to this, Red State's Mike Miller wrote, "I'll go out on a limb and predict that there will be exactly zero 'charity messages' on the backs of those Jerseys, come July 30."
The Hour of Heroes Is Nigh. To be honest, I actually lost some sleep over the Mike Gundy video earlier last week. Maybe you've seen it — the video where the Oklahoma State University football coach is seen apologizing for the offense of wearing a shirt bearing the logo of the conservative news company OANN. It was a disturbing scene with the coach robotically parroting the talking points of the delicate running back who originally took issue with the offending piece of apparel. It's reminiscent of a hostage video of a captured US soldier. Either that or something out of a cartoon villain's mind control experiment. You can practically see the spirals in his eyes. Beyond the bizarre visuals, the most disturbing thing about this was the fact that an ostensible adult and leader could be brought to heel by his subordinate — an early adult many years his junior — by something as meaningless and inconsequential as the running back's tender feelings.
Why Are We Letting Democrats Steal from Us? [Scroll down] Frighteningly, the fascists are now stealing patriotism, and the woke leftists are joining forces. In the sports world, team owners, players, and spectators who used to believe that standing for the National Anthem was the traditionally respectful, patriotic thing to do, now condone and even encourage taking a knee as a symbol of Lord knows what. Colin Kaepernick was elevated to heroic stature by Nike even as he wore socks portraying police officers as pigs. Now he is the darling of the American media and the NFL as owners and managers climb over each other to prove who's the most woke. [...] As the Atlanta Braves pivot away from the famous Tomahawk Chop chant, the University of Florida outlawed its "Gator Bait" cheer. The University of Virginia followed suit by reworking its logo. The craziness began before the recent riots, with liberals wishing to change the name of the Washington Redskins, something we'll likely see in the near future as a statue of the former owner was removed last week.
Report: Ratings for Woke ESPYs Crash by 81 Percent. Ratings for last weekend's woke ESPY Awards crashed to the lowest numbers the show has ever recorded. The ESPYs only earned 482,000 viewers over both ESPN and ESPN2 combined, making it the smallest audience the show has ever reached dating back to its inaugural awards in 1993. The previous low occurred in 2011 when 1.98 million viewers tuned in, according to Sports Media Watch. "This year's ESPYs was tape-delayed, lacked its usual live audience, took place a month earlier on the calendar," Sports Media Watch explained, "and occurred more than three months into a historic drought of live sporting events. With no live sports to focus on, this year's ESPYs was largely devoted to humanitarian and social issues."
Bubba Smollett, Jussie Wallace. [Scroll down] Wallace is not a natural prodigy, but instead is a product of the Tiger Woods era of child competitors given every advantage by their parents. Wallace's father, a wealthy white business owner, paid for his son to compete in youth motorsports from age 9 onward. Soon he was the star of NASCAR's Drive for Diversity program. [...] He now drives the most legendary number in stock cars, Richard Petty Motorsports' No. 43. Unfortunately, Wallace hasn't yet proven more than mediocre at the highest level, finishing 28th among drivers in each of the past two seasons. [...] It's not just the ensuing safety reforms that have eroded stock car racing's 1990s popularity. NASCAR is basically an ethnic pride parade for the people who aren't allowed to hold ethnic pride parades, and the 21st century has been a bad one for the white working class. This year, Wallace jumped on the Black Lives Matter bandwagon, which is, perhaps not coincidentally, much beloved by corporate America's deep-pocketed sponsors, with the support of NASCAR. He had his car painted with the BLM slogan for the Talladega race.
'The Masters' Golf Tournament Should Change 'Racist' Name, Writer Says. One of golf's four "major" tournaments every year is called "The Masters." The field of golfers is the smallest of all the majors — only the best allowed — and the winner can be deemed "The Master" (plus, he gets a cool green jacket that every pro golfer covets). But one writer at Deadspin has decided that the tournament's name is racist and should be changed.
Will Americans choose the USA, or will they choose the NFL? NFL owners who support their players kneeling during the National Anthem are routinely heard saying they feel that the act of kneeling shows respect for the hardships minorities have endured and that it exhibits inclusivity and brings the country together. At the risk of sounding overly disdainful regarding such deceptive drivel, those owners, pretending to be "woke," are fully aware that kneeling during the National Anthem has historically been viewed as a sign of protest against the country. Beyond disrespectful, kneeling is divisive unless, in unison, the entire stadium decides to kneel. Getting down to brass tacks, those NFL owners who support their players kneeling during the National Anthem do so to protect their investment. That's right. It comes down to the almighty dollar, as it always does. The NFL has taken sides, and it's not with Old Glory.
What Happens When the Madness Ends? In a few weeks, we are promised that multimillionaire NFL players and coaches in unison will not deign to stand up for the National Anthem. Promises, promises. TV play-by-play announcers will praise them — or else likely lose their jobs. But millions of Americans simply will decouple from the NFL. Their silent disappearance will make the prior Kaepernick drop-off in attendance and viewership seem like child's play. The same will be true perhaps of the more canny NBA, if they foolishly emulate the NFL. Millions will surmise that billionaire basketball players can far better make their billions in China and should — an NBA deity whose dictatorship players and coaches fear and worship while criticizing their own democracy.
NFL Commissioner Roger Goodell: I Want Colin Kaepernick To 'Help Us, Guide Us' On Social Issues. NFL Commissioner Roger Goodell said during an interview on Tuesday that he wants a team to sign former NFL quarterback Colin Kaepernick and that if Kaepernick does not make it back on the field then he is invited to the "table" to "help" and "guide" the NFL on social issues. [...] Kaepernick has been widely criticized for some of his actions, including kneeling during the national anthem, donating money to a group honoring convicted cop killer and wanted terrorist Assata Shakur, wearing socks portraying police officers as pigs, and wearing shirts of brutal Cuban dictator Fidel Castro.
Univ. of Texas football players refuse to participate in donor, recruiting events until 'woke' demands met. Members of the University of Texas football team say they'll refuse to participate in donor and recruiting events on behalf of the school until a list of demands is met to address alleged racial injustices. The players will, however, continue to practice and play in games. That said, participation in donor and recruiting events are a very important function for college athletes and the universities they attend and play for. The list of demands was posted to Twitter by at least two Texas football players, but according to reports, they were submitted on behalf of the entire squad. However, as The Blaze noted, thus far there is no real indication that all team members are in agreement with the demands or if anyone on the team has dissented.
San Antonio Spurs Coach, Gregg Popovich Calls America A Lie, Racist, Ashamed To Be White. San Antonio Spurs coach Gregg Popovich, who is a long-time critic of Donald Trump, blasted the history of America as racist and declared his shame in being white after the death of George Floyd. [Video clip]
Denver Broncos Declare If You Are Not Virtuous Enough To Support Their Antifa Politics Then Get Lost. The NFL has been moving further and further toward the political left for several years. Many NFL players and teams openly castigate their fans and denigrate anyone who doesn't conform to their political correctness. Overall, the NFL has become a toxic stew of identity politics and divisive intollerance. However, the Denver Broncos are taking division up a notch today by declaring if their fans do not stand with their brand of virtue signaling politics, then you stand against them.
NFL decision to permit kneeling protest by players enrages Donald Trump. The US National Football League is embroiled in a standoff with President Donald Trump after it said players would be allowed to "take the knee" during the American national anthem in protest against racism. After the NFL announced its U-turn, Trump tweeted late on Friday night: "We should be standing up straight and tall, ideally with a salute, or a hand on heart. There are other things you can protest, but not our Great American Flag — NO KNEELING!" Support among sports personalities and organisations for the Black Lives Matter movement was also bolstered by an announcement from basketball star Michael Jordan that he was donating $100 [million] to organisations promoting racial equality. The move was a significant departure from the former Chicago Bulls player's previous reluctance to be drawn into politics.
Denver Broncos Declare If You Are Not Virtuous Enough To Support Their Antifa Politics Then Get Lost. The NFL has been moving further and further toward the political left for several years. Many NFL players and teams openly castigate their fans and denigrate anyone who doesn't conform to their political correctness. Overall, the NFL has become a toxic stew of identity politics and divisive intollerance. However, the Denver Broncos are taking division up a notch today by declaring if their fans do not stand with their brand of virtue signaling politics, then you stand against them.
NFL commissioner: We were wrong to silence our players in the past and now encourage them to speak out and protest peacefully. I can't believe that kneeling during the anthem is going to be in the mix as an issue during the home stretch of the campaign this fall in a year when we're coping with a pandemic, an economic collapse, and widespread looting. But it will. First Trump and then the NFL made that clear enough yesterday [6/5/2020].
NFL: 'We were wrong' to oppose players kneeling during national anthem. National Football League Commissioner Roger Goodell apologized for the league's position opposing players kneeling during the national anthem. The NFL walked back the league's position in a video statement Friday [6/5/2020] after expressing condolences to the families of George Floyd, Ahmaud Arbery, and Breonna Taylor, later issuing a strong condemnation of racism.
NFL pledges allegiance to BLM. Like most of America's broken corporations and institutions, the National Football League has completely bent the knee to the radical Black Lives Matter lobby, thus potentially guaranteeing its own demise as fed-up former fans flee in search of sanity. After years of pushing back against disgraced former NFL star Colin Kaepernick's widely disliked national anthem protests, NFL commissioner Roger Goodell issued an apologetic video statement Friday reversing course on everything. [Video clip]
Obnoxious liberal soccer champ Rapinoe determined to make Olympics about politics. Megan Rapinoe's roaring again. The International Olympic Committee published new rules that prohibit "political, religious or racial propaganda" "at medal ceremonies and Olympic venues," and Rapinoe says she "will not be silenced." She later added that she will kneel anyway, which would force the IOC to enforce its rules or back down. Not one for fine distinctions, Megan understands the world only in relation to herself and, as usual, completely misses the point. The IOC said nothing about silence. They said she couldn't use the Olympic stage to push politics. You can noisily talk about anything else — your girlfriend, the state of soccer, the game you just played, your house, your car, your dog. Just don't use the Olympics to push politics. That would include kneeling. If you get to do it, then everybody gets to do it, and in short order, WWIII would erupt. But that's okay, Megan — keep running your face. It would give many of us satisfaction to see this woman barred from play at Tokyo in 2020 because of her obnoxiousness.
'We will not be silenced' — Megan Rapinoe says of new rules on political protests at Olympics. U.S. Women's National Team and Seattle Reign FC star Megan Rapinoe responded Friday to the new guidelines from the International Olympic Committee on political protests at the 2020 Tokyo Games.
No anthem kneeling at the Olympics: IOC announces political protest rules. The International Olympic Committee announced its rules for political protest for the upcoming 2020 Summer Olympics in Tokyo, and some popular forms of athlete protest have been banned, according to The Hill. While athletes will be allowed to say what they want during interview and news conferences outside the Olympic Village, and on social media, they won't be able to protest in the village, on the field of play, or during medal ceremonies.
Kaepernick's disgraceful, ridiculous 'racial' lens on Soleimani slay. In the torrent of idiotic commentary unleashed by the killing of Qassem Soleimani, Colin Kaepernick's deserves a place of honor. The NFL washout and Nike persona who makes sure the company doesn't produce any overly patriotic sneakers tweeted: "There is nothing new about American terrorist attacks against black and brown people for the expansion of American imperialism." For Kaepernick, Soleimani is just another dark-skinned man brutalized by America. The Iranian terror master was, in effect, driving while non-white and paid the ultimate price.
Nike, an Anti-American Company. After the U.S. killed arch-terrorist Qasem Soleimani, ex-quarterback Colin Kaepernick took to Twitter to express his opinions: [Tweets] This is the kind of ignorant twaddle you expect from a radical teenager. Kaepernick has never grown up. What is significant, though, is that Kaepernick is one of the primary spokesmen for Nike, a $34 billion a year international marketing powerhouse. Nike signed Kaepernick to a multimillion dollar deal after Kaepernick's mediocre athletic career had ended, precisely because Nike wanted its brand to be associated with Kaepernick's anti-American stance.
Nike's new Colin Kaepernick sneakers sell out in one day. Nike's new sneaker collaboration with NFL quarterback-turned-activist Colin Kaepernick sold out on Tuesday [12/24/2019], just one day after its release. The "Nike Air Force 1 '07 x Colin Kaepernick" was unavailable in both adult and children's sizes as of Tuesday morning, the footwear titan's website shows.
AOC reveals new level of hypocrisy after praising Harvard-Yale climate activists. The annual Harvard-Yale football game was interrupted by climate change activists shortly after halftime on Saturday [11/23/2019], which is a pretty good idea inasmuch as there's no group more amenable to guerilla activism on the environment than sports fans from two universities where anyone who doesn't believe in the tenets of the climate science movement would quickly find themselves out in intellectual Siberia. According to The Harvard Crimson, the incident occurred just before halftime at the annual game between the two Ivy League giants.
Environmentalist Killjoys Are Coming for Your Football. Some of the nation's supposedly best and brightest college students are employing theatrical protest tactics similar to [Greta] Thunberg's, with the message that ordinary life must be disrupted if we are to save the planet. At the Yale Bowl, the goal was to pressure the two universities to divest themselves of investments in fossil fuels. [...] The students made it clear that their political agenda is more important than allowing people to enjoy an annual entertainment. [...] The Harvard-Yale protest was very much in line with the Thunberg-style politics of angry and intolerant children. Such demonstrators pay little heed to democratic processes or any counterarguments to their climate catechism.
Climate Change Protesters Storm Field at Halftime of Harvard-Yale Football Game. The 136th edition of The Game between Harvard and Yale has been delayed at halftime after protesters took over the field. Students from both schools occupied midfield after the Yale band had finished performing. Some held banners asking their colleges to act on climate change and Puerto Rican debt relief.
Debunking the Sports Media's Excuses for the Browns' Myles Garrett and the Helmet-Swinging Incident. Last week, there was quite a bit of confusion and outrage about an incident on Thursday Night Football when Myles Garrett got into an altercation with Steelers quarterback Mason Rudolph, where the Browns' defensive end ripped the helmet from his opponent's head in the game's meaningless final seconds, and then proceeded to ferociously swing it at Rudolph's exposed skull. Action from the League was swift, and Garrett was suspended indefinitely, with no established timeframe regarding his potential return. It wouldn't have been hard to predict, however, that the fans' attention and furor around the incident would be short-lived, despite the act being tantamount to assault with a deadly weapon.
Does the Left Hate America? Leftists have contempt for the American flag. I am unaware of a single left-wing individual or organization that has condemned NFL quarterback Colin Kaepernick for refusing to stand for the flag during the playing or singing of the national anthem that precedes NFL games. To the contrary, on the Left, he is universally regarded as a hero. Indeed, Nike anointed him as one, making him its brand model. Leftists might respond that Kaepernick's public refusal to stand for the flag and national anthem says nothing about his love for America, as it is only a form of protest against racial injustice. But that is nonsense. Would leftists argue that anyone who publicly refuses to celebrate Martin Luther King Jr. Day really loves Dr. King?
Everyone Hates Kaepernick Now. In the three years since Colin Kaepernick knelt his way off of the San Francisco 49ers and out of the National Football League, the one thing the drama has lacked is ambivalence. People either hated him or viewed him as a social hero who was being mistreated and prevented from playing the game he loves. Now everybody just hates him.
Leftists Vow to Cancel Nats' Kurt Suzuki for Donning MAGA Hat: He 'Should Be Banned from Baseball'. Leftists on social media blew a collective fuse after Washington Nationals catcher Kurt Suzuki donned a MAGA hat during the White House's welcoming ceremony for the World Series champions.
Trumpenfreude hits NHL boycotter. When the Washington Capitals visited the White House in March for winning the 2018 Stanley Cup Championship in, it was without Devante Smith-Pelly, the star of that championship series. He was very vocal about not attending when the team won the championship as he trashed the president. But by the time the team visited the White House, he wasn't part of the team. His game had fallen apart. He was a fourth string winger that season until the team demoted him to the minor league Hershey Bears. This season, the Capitals dumped him. He tried out with the Calgary Flames but he quickly extinguished his hope of returning to the NHL.
Muslim cross-country runner demands rules be changed after she was disqualified for wearing hijab in a competition. She thinks because of all the alleged messages of support she got from doing this video, that the rules of the sport will have to be changed to accommodate her Muslim supremacist beliefs. I expect BNI readers will tell her otherwise.
Fans, Media Erupt After LeBron James' Outburst During National Anthem. The NBA was understandably excited to start its season and get away from the China controversy that had embroiled the league over the past couple weeks. However, even more controversy ensued on Tuesday night and on into Wednesday as video surfaced showing LeBron James walking off the court and screaming while the national anthem played.
Moral Relativism Taking Over Everything: Sports, Politics, Libraries. Since so many of us pay little to no attention to the NBA, you may have forgotten their "principled" stand on the North Carolina "bathroom bill." In late February of 2016, ignoring science and sound morality, liberals on the Charlotte City Council passed an ordinance that would allow men into women's restrooms, locker rooms, and so on. As is typical with the Left, the ordinance applied not only to city-owned property, but to private businesses as well. In other words, Charlotte liberals "legislated morality," and they did so to the point of forcing all of the city's citizens to adhere to perverse liberal dogma. To correct this gross injustice, the North Carolina Legislature passed a commonsense law (H.B. 2) that reversed the foolish Charlotte city ordinance. In opposition to H.B. 2, later in 2016, ignoring the long understood truths on sex and sexuality, and goose-stepping along with the rest of the liberal elite, the NBA decided to pull its all-star game from the city of Charlotte.
NBA losing money — and well it should. The NBA's commissioner, Adam Silver, acknowledged in recent remarks that China had pressed for the firing of Rockets general manager Daryl Morey — for the crime of publicly supporting freedom-fighting protesters in Hong Kong — and that the league, as part of the fallout from its seeming siding with the reds, rather than with the red, white and blues, has been losing money.
Defense of free speech [is] no longer a slam dunk in America. When Houston Rockets General Manager Daryl Morey issued a tweet in support of Hong Kong's freedom protestors, it caused outrage among China's totalitarian oligarchs. A contract signed last June between the NBA and China's Tencent streaming television service, worth a cool $500 million, is in jeopardy. In total, the NBA garners more than $4 billion in revenue from China.
The Woke Sports Fraud. The controversies the NBA saw this week serve as reminders that it would be wise for professional athletes and those associated with professional sports to avoid opining on politics, because while making their righteous pronouncements, these persons, who nowadays are overwhelmingly left-wing, sometimes show themselves to be inconsistent takers of positions; or at their worst, sheer hypocrites willing to overlook an ostensible evil for lucre's sake. What is more, their opinions, which are often ignorant, may well alienate fans, who don't, after all, follow professional sports in order to learn jocks' and coaches' views on human rights and transgender bathrooms. The first controversy concerned Houston Rockets general manager Daryl Morey, the man having tweeted his support — "Fight for freedom, stand with Hong Kong" — for the pro-democracy demonstrations in Hong Kong. Now, the NBA is hugely popular in China, where the league generates millions in revenue each year, and in response to the Chinese backlash (and to pressure from within the Rockets organization, one imagines), Morey quickly deleted his tweet and issued an unmanly apology.
Trump-hating NBA millionaire LeBron James stands up for China. I guess this is getting to be a pattern now: if you've made your pile and you've made a lot of it from China, to heck with the Hong Kongers and their protests for freedom. You'll be sticking up for their oppressor, communist red China, home of sweatshops, intellectual property theft, attacks on Southeast Asia, the laogai, the enslavement of the Uighurs, the social credit system, Venezuela's money, the supposedly lightened one-child policy, and Mao's many murder revolutions. Because for such lefties, the only thing that matters is money. We saw it with billionaire tycoon Michael Bloomberg. Now we are seeing it with NBA big LeBron James, a millionaire athlete who was last seen in the non-sports news calling President Trump "a bum." Asked if Texas basketball team owner Daryl Morey, who set off a firestorm by tweeting support for the Hong Kongers, ought to be punished, the famous social justice warrior went into hypocrite mode, sticking up for the ChiComs.
LeBron Jame$ Is A Coward. NBA superstar LeBron James says Houston Rockets General Manager Daryl Morey was "misinformed" and "wasn't educated on the situation at hand" when he tweeted in support of Hong Kong's freedom demonstrations. Morey's sin was sharing an image of a slogan that read, "Fight for freedom. Stand with Hong Kong." Even though the GM, regrettably, deleted his tweet, one strongly suspects his grasp of China — where the state is running "re-education" camps filled with Uyghurs — is considerably stronger than any of the NBA's leading apologists. Only last year, James, a purported champion of social justice, came out in support of former quarterback Colin Kaepernick with the vacuous platitude, "I stand with anyone who believes in change." Anyone? Of course, LeBron's stand, as with most acts of pretend celebrity bravery, resulted in hosannas being thrown at him by the press, and, more importantly, never costing him a penny.
Thanks, Houston Rockets, you've done us all a favor (and so has the NBA). Everyone has been outraged at the recent spectacle of the NBA seeming to steer clear of fans supporting democracy on American soil, cutting off questions from reporters, and watching Houston Rockets General Manager Daryl Morey delete his tweet supporting the pro-democracy protesters in Hong Kong. It's not enough for the NBA to kowtow to China's authoritarian regime, it seems, it also has to appear to act like that regime, as well. But in fact, I think we all owe the NBA a vote of thanks. They've helped to draw attention to a long history of American appeasement of the Communist regime in Beijing, including by successive presidents. Our collective refusal to call China to account for their human rights abuses and violations of international law have done decades of damage to our economy, national security, and moral standing.
The Editor says...
What is the point of the NBA, anyway? Throw the ball. Bounce the ball. Catch the ball. How are you better off after watching an NBA game?
Pop Goes the Weasel. "Fight for Freedom. Stand with Hong Kong," read the tweet from Houston Rockets general manager Daryl Morey. The Chinese Communists didn't like it. As CNBC reported, the Chinese Consulate-General in Houston attacked the tweet and urged the Rockets to "correct the error." The tweet promptly disappeared, then came a statement from NBA boss Adam Silver. "We have great respect for the history and culture of China," Silver said, "and hope sports and the NBA can be used as a unifying force to bridge cultural divides and bring people together." And so on, but nothing about fighting for freedom and standing with Hong Kong. San Antonio Spurs head coach Gregg Popovich said Silver's speech "helps you understand what direction you need to go in." It was a curious statement for someone with experience in dealing with totalitarian governments.
Hill editor-in-chief: NBA is 'bending down' to 'almighty dollar'. The Hill's editor-in-chief Bob Cusack said the NBA has a "disaster" on its hands following the league's response to a tweet by a Houston Rockets executive supporting pro-democracy protesters in Hong Kong. "This is a disaster for the NBA," Cusack told Hill.TV on Friday [10/11/2019], noting how the league is shutting down questions from journalists and not allowing players to respond to the controversy.
NBA takes a stand against freedom. Last Friday [10/4/2019], Daryl Morey, general manager of the Houston Rockets basketball team, tweeted what seemed like a noncontroversial statement. He wrote: "Fight for Freedom. Stand with Hong Kong." Now, China, as you may have seen, is trying to crush Hong Kong, and it's not hard to pick a side. China is a racist Communist ethnostate that bans dissent and murders its political opponents. They have Muslims interned in forced reeducation camps at this very moment. They viciously suppress the freedoms that we Americans take for granted. You'd think every American would stand with Hong Kong without even thinking about it. But not the NBA. The NBA is on China's side. So, Morey was forced to delete his tweet. The NBA issued a statement making it clear that under no circumstances do they support Hong Kong or human freedom.
China's Ultimate Goal Is To Control American Culture, And Companies Should Resist It. If ESPN thought shutting down on-air discussion about China and Hong Kong would please its Chinese master and protect the commercial interests of itself and its corporate parent Disney, it's dead wrong. What China wants is not simply to police a few words on social media or on air. It wants to control American culture, period. [...] Chinese leaders closely studied America's ascent to a global superpower, and they believe America's cultural influence is a key ingredient to the country's success. China wants to emulate America's success, albeit with Chinese characteristics. Former Chinese President Hu Jintao said, "The great rejuvenation of the Chinese nation will definitely be accompanied by the thriving of Chinese culture."
Portland Trail Blazers Join Boycott Against Israel. The Portland Trail Blazers announced that they have severed relations with a company that does business with Israel following a pressure campaign by activists tied to the anti-Semitic Boycott, Divestment, and Sanctions movement. As the NBA is facing outrage after the general manager of the Houston Rockets capitulated to censorship by the Chinese communist government, the Trail Blazers quietly severed ties with the manufacturer Leupold, which has a contract to produce accessories for the Israeli Defense Forces.
If Woke Corporations Had Police Power, They Would Act Exactly Like Communist China. Since the NBA-China affair blew up last weekend, a number of commentators have lambasted the NBA for its craven response to China, noting the hypocrisy of a league that publicly prides itself on being the social vanguard in America but has no problem kowtowing to Chinese autocrats to maintain access to their lucrative markets. The argument goes like this: there's a massive disconnect between the values the NBA espouses and its willingness, say, to look the other way in China, where the league runs a training program not far from where Uighur Muslims are forcibly sent to reeducation camps. The NBA's pursuit of filthy lucre, in this view, undermines its carefully crafted public image.
Nearly all of the NBA's Chinese partners have cut ties with the league. Out of the 25 official partners listed on the NBA China website, 13 are Chinese businesses. So far, 11 of those companies have distanced themselves from the sports league amid escalating tensions between China and the NBA. Ctrip.com, Anta Sports, Changhong, Meiling, Dicos, EHi Car Rental, Master Kong, China Mengniu Dairy, Migu Video, WuZun and Xiaoyin Technology are among the Chinese companies that have ended or suspended their cooperation with the NBA, according to Chinese public statements translated by CNBC. The remaining two Chinese partners are joint-venture brands that have not issued any statements yet.
Pro-Hong Kong Sixers Fan Booted From Philadelphia NBA Game. A Philadelphia 76ers fan says he was tossed out of a preseason game after showing their support for pro-democracy protesters in Hong Kong, according to NBC Philadelphia. Sam Wachs and his wife brought signs which read "Free Hong Kong" and "Free HK" to Tuesday night's game between the Sixers and the Guangzhou Loong-Lions of the Chinese Basketball Association. According to Wachs, he lived in Hong Kong for two years and supports the anti-government movement. "We were just sitting in our seats near the Chinese bench," said Wachs.
Fans With 'Free Hong Kong' Sign Kicked Out Of NBA Game. On Tuesday night [10/8/2019], a husband and wife holding "Free Hong Kong" signs at a preseason NBA game in Philadelphia were kicked out of the stadium. The man, identified as Sam Wachs, and his wife had their pro-Hong Kong signs confiscated by NBA employees and were escorted out of the Wells Fargo Center arena after Mr. Wachs shouted "Free Hong Kong," a statement in support of the ongoing pro-democracy demonstrations.
NBA, Houston Rockets Cower To Communist China, Get Blasted Online. The National Basketball Association (NBA) and the Houston Rockets cowered to communist China on Sunday after Rocket's General Manager Daryl Morey tweeted out support for Hong Kong which sparked an immediate backlash from Chinese businesses and the Chinese government.
Nike Commercial Starring Colin Kaepernick Wins Emmy Award. Nike's controversial Dream Crazy ad, narrated by and starring former NFL quarterback Colin Kaepernick, won an Emmy Award for best commercial at the Creative Arts Emmy Awards on Sunday [9/15/2019]. The commercial, which first aired in September, features Kaepernick waxing philosophical about the nature of sports, human achievement, and social justice.
Major League Soccer Team Bans Betsy Ross Flag, Calls it a 'Symbol for Hate Groups'. America's premier soccer league, Major League Soccer, has declared the red, white, and blue Betsy Ross flag a "symbol for hate groups" and banned a couple in Utah from waving it at games. A Utah couple who were in attendance at a Major League Soccer Real Salt Lake game says they were told by stadium officials to put away their Betsy Ross flag because the original flag of the American Revolution is a "symbol for hate groups."
Major League Soccer club bans 'controversial' Betsy Ross flag at games. Major League Soccer's Real Salt Lake has banned people from waving the Betsy Ross flag at games, claiming that the Colonial-era flag design has been "adopted as a symbol for hate groups" and doesn't fit with the team's mission of inclusiveness. The controversy started last month after season-ticket-holders Randolf and Diana Scott started bringing their giant Betsy Ross flag to games at Rio Tinto Stadium, which "ignited a firestorm" against the couple on social media, the local Fox News affiliate reported. Last weekend, stadium staff asked the couple to put the flag away.
NASCAR Begins To Inject Left-Wing Politics Into Racing. The National Association for Stock Car Auto Racing, otherwise known as NASCAR, has reportedly started to take a "gradual shift" on its stances surrounding the Second Amendment. The revelation comes after multiple gun companies have said that NASCAR, which has a primarily Republican base, banned them from running advertisements that feature guns. [...] The Free Beacon added that the reaction to NASCAR adopting left-wing politics, specifically the demonization of the Second Amendment, has generated a significant amount of backlash. One specific example came in an article written by radio host Mark Walters, who wrote: "Go ahead NASCAR, try to fill the stands with a bunch of David Hogg, Moms Demand Action, Everytown for Gun Safety, urban, progressive, skinny jean wearing, soy sipping, man-bun wearing, Antifa loving, gun-hating socialists. I won't be around to see how that turns out for you."
US fencer punished for kneeling on podium at Pan Am Games, other athletes warned. Two U.S. athletes were given a year of probation by the U.S. Olympic and Paralympic Committee (USOPC) for staging protests while on the podium at the Pan American Games earlier this month, letters sent Tuesday revealed. Hammer thrower Gwen Berry raised her fist and fencer Race Imboden took a knee while on the medal stand last week in Lima, Peru. All athletes at the Pan American Games and the Olympics agree to rules forbidding political protest. The committee also warned other athletes that future protests could face more serious consequences.
It's Time for Colin Kaepernick to Move On. Colin Kaepernick. Remember him? Below-average quarterback. Above-average poseur. Not "activist," not really. Activists actually say stuff. Kaepernick almost never says anything.
Another athletic egomaniac looking for some extra spotlight by dissing the U.S. flag. By now, the routine of athletes calling attention to themselves by dissing the U.S. flag at some athletic event has become so de rigueur you could write the script before it happens. Lose the big prize. Take a knee to the flag. Make a raving or two to the press about the awfulness of the U.S. And reap lots of media attention your athletic performance wouldn't otherwise merit. Instant fame. Endorsement deals. Money. Profit big from insulting the very flag of the country that made your performance possible.
U.S. athletes protest Trump on medals stand at Pan Am Games. Two Americans used their medal-winning moments at the Pan American Games to draw attention to social issues back home that they feel are spiraling out of control.
Hegseth, Rep. Crenshaw slam anthem protest by U.S. fencer: 'Delusional' if you think that's sacrifice. "Fox & Friends" host Pete Hegseth and Rep. Dan Crenshaw, both U.S. military veterans, blasted a member of the U.S. fencing team who kneeled for the national anthem after winning the gold medal. Hegseth emphasized Monday [8/12/2019] that Team USA won 293 medals at the competition and there only two protests.
Poll: Megan Rapinoe Beats Trump in Hypothetical Presidential Race. A recent poll from Public Policy Polling, showed U.S. Women's National Team (USWNT) co-captain Megan Rapinoe defeating President Trump in a hypothetical 2020 presidential matchup.
The Editor says...
Being a troublemaker is never a resumé enhancement, except in politics.
Inslee says he'll ask soccer player Megan Rapinoe to be secretary of State. Washington Gov. Jay Inslee (D) said Saturday that if he is elected president, he will ask soccer player Megan Rapinoe to be his secretary of state. He said at the progressive Netroots Nation conference that one of his first acts as president would be to get a secretary of State who embraces world unity and "love rather than hate" as he rebuked President Trump's foreign policy. "My first act will be to ask Megan Rapinoe to be my secretary of State," he said. "I haven't asked her yet, so this could be a surprise to her."
Black Pastors Call on Nike to Sever Relationship with Colin Kaepernick. The Coalition of African American Pastors (CAAP) called on Nike Thursday [7/12/2019] to end its relationship with former NFL quarterback Colin Kaepernick, who has a prominent endorsement deal with the athletic company. Rev. William Owens, president of CAAP, said his organization is responding to Nike's decision to pull an athletic shoe celebrating the Betsy Ross flag after Kaepernick expressed objections to it.
US Soccer Final Viewership Down by Almost Half Thanks to Trump-Bashing, Far Left National Team. They cursed the US President and disrespected their Country — What did they expect? The US Women's Soccer Final viewership was down by ALMOST HALF this year thanks to the Trump-bashing, anthem protesting US national team. You insult half your audience — you lose half your audience! Great job, ladies!
U.S. Women's Soccer Team Cut Star Player For Christian Views. Christian views may have kept star player Jaelene Hinkle off the US women's soccer team. Back in 2015, Hinkle had objected publicly to the U.S. Supreme Court's ruling that legalized same-sex marriage.
U.S. Women's Soccer Team Accused Of Snubbing Star Player For Christian Views. The absence of one of the best women's soccer players in the nation from the national squad that just won the World Cup has prompted questions as to whether she didn't make the team because of her openly professed Christian faith. [...] The Irish Times, which called Hinkle "the finest left-back in the NWSL," wrote in June, "Hinkle likely would have been a fish out of water on the uber-woke women's national team, some of whose biggest stars are openly lesbian, raising questions about whether she would have thrown off the squad's chemistry."
Megan Rapinoe Is No Leader. Appearing on multiple news outlets, Megan Rapinoe appeared self-centered and divisive. She criticized President Donald Trump, as expected. She made accusations of homophobia, as expected. And an adoring Rachel Maddow called for Rapinoe to run for president, as expected. After famously scoffing at the very notion of interacting with people who hold different opinions, Megan Rapinoe took to the stage during the World Cup victory parade in New York City to call for unity: "This is my charge to everyone: We have to be better, we have to love more and hate less. Listen more and talk less." Speaking with CNN's Anderson Cooper, Megan Rapinoe said that she would be willing to have a "substantive conversation" with "anyone" ... who "believes the same things" as she does.
Guess I'm a Female Chauvinist. I don't particularly care for soccer anyway but it was the purple-haired star player Megan Rapinoe who turned me off by spouting her disdain for any White House visit before she was even asked. Did she do that for publicity or was her Trump derangement too deeply entrenched? Stomping on the American flag even accidentally during the World Cup celebration was more proof of her unworthiness to represent our great country.
We hate Trump, we hate you. But buy our soccer jerseys. The leftist women's World Cup team has made a lot of noise about wanting more pay, or pay that's equal to the men's teams, yet already the economics of the picture shows that they're actually overpaid. This isn't something unfixable — more ticket sales, more team memorabilia revenue, more television watchers, more public interest would correct that easily, and it's clear that star players such as Megan Rapinoe know it.
The ladies won and let's salute them. The TV ratings were great and everyone is happy. [...] Actually, not everyone is happy. I am not happy and lots of people I've heard from are not happy. First, the tournament showed that international women's soccer is a total mismatch. [...] The U.S. is obviously "the queen" of soccer and will only get better because our young women have more resources. On that point, it did not help that some of the ladies showed so little class, as when they pounded Thailand 13-0! Second, someone should remind the ladies that they are wearing the U.S. uniform not "blue states." They should show respect for U.S. fans who don't like to see flag disrespected.
Megan Rapinoe rips Trump WH visit, says she'd accept invites from Pelosi, AOC. U.S. Women's Soccer superstar Megan Rapinoe doubled down in her opposition to visit the Trump White House on Tuesday but expressed that she was open to accept invitations from anyone who "believes the same things we believe in" like Speaker Nancy Pelosi, D-Calif, and Rep. Alexandria Ocasio-Cortez, D-NY.
U.S. Women's Soccer Team Won't Go To White House, So Pelosi Makes Announcement. With U.S. Women's Soccer star and outspoken Trump critic Megan Rapinoe having preemptively rejected any invite to go to the "[...] White House," House Speaker Nancy Pelosi made a big announcement on Monday: Congress is formally inviting the Wold Cup-winning team to be honored on Capitol Hill.
The Woke World of Sports. [Scroll down] In the woke world of sports, [the history of the US flag] carries less weight than what a millionaire retired athlete with weird hair thinks constitutes "social justice," and the billion-dollar company caved when Kaepernick vetoed their design. In real fact, the most socially useful thing the fellow could do would be to tell kids in the inner cities to spend their money more wisely than on Nike sneakers, which, by the way, are made by slave laborers under any other name in countries characterized by the late Karl Wittfogel as "Oriental Despotisms."
USA Women Win Soccer World Cup, Then Toss USA Flag on Ground & Dance On It. The video says it all. No exaggeration required. Members of the US Women's Soccer team won the World Cup on Sunday then while celebrating, tossed the US flag to the ground like a rag doll and danced around it while posing for the cameras. Trump-hater Megan Rapinoe was front and center of course. She's the all star who has trashed President Trump and who was criticized for taking a knee during the national anthem before matches.
Allie Long, Megan Rapinoe Drop American Flag During World Cup Celebration. U.S. women's national soccer team members Allie Long and Megan Rapinoe stepped on an American flag after Long dropped on the ground as they posed for post-game photos Sunday [7/7/2019]. Following their repeat World Cup win in Lyon, France, the team was celebrating on the field and posing for photos when Long dropped the flag she was holding. She and Rapinoe then stepped forward, leaving the flag underfoot.
U.S. soccer fans chant 'F--- Trump' on live TV. After the United States won the Women's World Cup by beating Netherlands 2-0 in Sunday's final match, a group of American soccer fans in France chanted an expletive about President Trump on a live television broadcast. Fox News prepared to do a live TV shot from a sports bar in Lyon, France — the site of the final — that was populated with American fans. Fans in the background began to chant shortly after reporter Greg Palkot began to speak.
USWNT fans chant 'F--- Trump' on live TV after World Cup title. The U.S. women are World Cup champions. Millions of fans across America are celebrating. In parks, on downtown streets, in living rooms, and elsewhere. So are the tens of thousands who travelled to France for the occasion. Fox News figured it would send a reporter and camera crew across the Atlantic to capture the scene in Lyon. And ... uh ... they found quite a scene!
The Democrats' Situational Racism. [Scroll down] Nike, not content to sell shoes to Americans of all political persuasions, stepped in it again via their vice president for social consciousness, Colin Kaepernick. Nike made a special edition Betsy Ross flag shoe for Independence Day but Kaepernick objected to the flag as being racist and appealing to white nationalist groups. Nike promptly recalled the shoe to virtue signal their wokeness over such a symbol of hatred. MSNBC regular and Georgetown Professor Michael Eric Dyson, "related the flag to other symbols of hate such as the Nazi swastika and burning crosses." Why? Because the situation called for it. Anything to fan the flames of racism at a time when minority unemployment is at an all-time low in advance of a presidential election.
Megan Rapinoe is dividing Americans instead of uniting them in the fight for gender equity. [Colin] Kaepernick, who blew up his NFL career by refusing to stand for the national anthem at games, is not alone in his hostility to patriotic symbols. Megan Rapinoe, the co-captain of the U.S. national women's soccer team, refuses to place her hand over her heart with the rest of her team when the national anthem is played at the World Cup in Lyon, France. "I'll probably never put my hand over my heart," she told Yahoo Sports. "I'll probably never sing the national anthem again."
The Left's War Against America. [Colin Kaepernick] has been a lightning rod for controversy ever since he decided to forgo his NFL career and become a professional protester. His decision to disrespect the American flag by choosing NFL games to protest police treatment of African Americans was divisive to say the least. While millions of Americans did not support Kaepernick's actions, Nike chose to affiliate with those Americans who agree with a spoiled former NFL player denigrating our national symbols. His supporters tend to be young people, African Americans and progressives. Kaepernick also has plenty of admirers in the media who are also disgruntled with our country. In a July 1st New York Times video editorial, the authors claim that the United States of America is not the greatest country on earth, but "just okay."
Ted Cruz sacks Colin Kaepernick, grabs ball and scores (on Twitter). Colin Kaepernick, Nike's commissar of America-hatred, may have been a quarterback, but he took a half-[bak]ed approach to anti-slavery hero Frederick Douglass. Flaunting the blinders that progressives wear when they consider our collective history, he took a quotation out of context in order to try to score an own goal against the country that birthed him, made him a multi-millionaire, and now indulges him in his extended adolescence. Fortunately, Ted Cruz knows much more than Kaepernick and demolished his point on Twitter (hat tip: Twitchy).
Nike Fans the Flames of the Culture War. Nike is doing it wrong. I don't mean the shoemaking, though that thing with Zion Williamson was pretty bad, I have to say. No, Nike is doing it wrong because it managed to do something that all the neo-Nazis, Klansmen, alt-righters, and other denizens of the lowest coprophagic phylum of our political life could never do: It turned the Betsy Ross flag into a racist symbol.
Mo Brooks: Colin Kaepernick Should Leave if He Hates America. Rep. Mo Brooks (R-AL) says Colin Kaepernick, the former NFL player and the face of multinational corporation Nike, should leave the United States if he does not like the country. This week it was revealed that Nike had ditched the production and sale of a pair of shoes that featured the famous flag created by Betsy Ross at the behest of former President George Washington because Kaepernick was offended by the emblem.
Corporate America Tilts Left. [A] manufacturer of sports beverages, has made a commercial featuring soccer player Megan Rapinoe, who has refused to stand for the American flag and has sparred with President Trump. That makes her a hot commodity in the world of advertising.
The Ugly Americans of soccer. Somewhere in France today a group of ugly American female soccer players are sipping tea from imaginary cups to mock a polite society they make no efforts to understand or respect. The Americans are loud and ostentatious. They are ugly Americans personified. If the female soccer players are trying to be ambassadors for their game, they are failing miserably. I cared little for their sport before they arrived in France, and my interest has chilled considerably in the ensuing weeks.
Why Doesn't The Far Left Complain About Nike Sweatshops Anymore? Protesting Nike used to be a go-to event for various far-left groups in America. A massive company using slave-labor conditions to produce low-cost products that are then resold at 1000% mark-ups was representative of what was, in their minds, so wrong with globalized capitalism. Then, suddenly, all that protest vanished. Why? The answer is simple. Nike's marketing machine turned its attention to controversial anti-police, anti-America, former NFL quarterback Colin Kaepernick. The company paid Kaepernick millions to divert attention away from its deplorable overseas operations and instead convince consumers how horrible American was — except for those who wore Nike products apparently. No, it doesn't really make a lot of sense but it appears to have worked.
Killing The Fourth of July. Never to be out-woked, Nike took the opportunity this July 4th to lash out at patriots (read: most Americans) by putting the kibosh on their planned 'USA Air Max 1' training shoes. The design featured the Betsy Ross flag: one of the first known emblems of the colonies that would go on to become the United States. We're led to believe it was Colin Kaepernick — who is famous for just about everything except what he should be famous for: football — who drove Nike to nix the shoe.
Now Betsy Ross Is a White Supremacist, Apparently. Dear Reader, I do not care about shoe companies. I don't care about professional athletes, current or former, who work for shoe companies. They can sell what they want to sell, or not sell what they don't want to sell, and it's all the same to me. I don't understand why anybody would care. If you don't like it, don't spend your money on it. What's the problem? But no, it has to become a whole big thing. Now this dumb Nike non-story has escalated. It's no longer about a shoe company. It's about America itself. Now, feminist icon Betsy Ross is considered racist.
This Independence Day, Nike Appeases America Haters and Dictators. Want a sign that the left is now bringing ruin to the business world, after it has done the same for the education and entertainment industries? Look no further than Nike. Days before the U.S. celebrates Independence Day, Nike pulled sneakers back from retailers that contained a small image of the famous Betsy Ross flag on the back. Apparently that small homage to America's founding offended the delicate sensibilities of Colin Kaepernick, the reprehensible leftist former football player who protested the national anthem, whose idea of appropriate footwear is socks depicting police officers as pigs, and who prefers shirts honoring Cuba's murderous dictator Fidel Castro.
Kaepernick, Nike, Democrats: Spitting on America and the 4th of July. Nike has pulled its Betsy Ross American Flag shoe from the shelves. Why? NFL has-been Colin Kaepernick's complained that the Betsy Ross flag was a symbol of white supremacy. Nike said they didn't want to potentially "offend" anybody. Surprise to Nike. They are offending a significant portion of the American public[.] But spitting on America, and her freedom has become a way of life in 2019. Not only for Nike and Kaepernick but also Alexandria Ocasio-Cortez (AOC) and soccer's Rapino as well.
Julian Castro praises Nike, compares Betsy Ross flag to Confederate flag. Democratic presidential hopeful Julián Castro on Wednesday praised Nike's controversial decision to pull shoes featuring the Betsy Ross flag, saying the early flag design that represents the Thirteen Colonies evokes pain among some Americans, much like Confederate symbols.
WSJ: Nike's 'Patriotic Fumble' an 'In-Kind Donation to Trump's Re-Election'. The Wall Street Journal (WSJ) editorial board observed Tuesday [7/2/2019] that Nike's decision to allow ex-quarterback Colin Kaepernick to "call the play" of rescinding the company's release of its "Betsy Ross flag" sneaker is essentially an "in-kind donation to Trump's re-election." The WSJ board referred to Nike's cave to Kaepernick as one of those "harebrained controversies" that ultimately "give many Americans the not unreasonable sense that their country is being maligned by pampered social-justice warriors."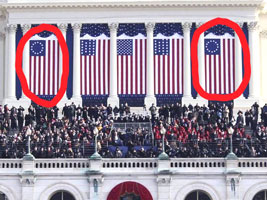 Uh Oh, Guess Who Had the Betsy Ross Flag at His Inauguration. As you've heard by now, Nike decided to pull the sale of a Betsy Ross American flag themed sneaker this week after woke and washed up athlete Colin Kaepernick complained it is tied to racism. But there's just one huge problem with that argument: [Photo]
CA Governor After Nike Cancels American-Themed Shoe: They 'Represent The Best Of Our American Values'. On Tuesday night, after Nike had canceled an American flag-themed shoe, triggering Arizona Gov. Doug Ducey to withdraw financial incentives for Nike to open a manufacturing facility in Arizona, California Gov. Gavin Newsom tweeted that Nike was "doing the right thing" and represented "the best of our American values."
Limbaugh: Kaepernick-Nike Shoe Saga Proof NFL Kneeling Not About Police Brutality — 'He Opposes Honoring the Flag'. Tuesday [7/2/2019] on his nationally syndicated radio show, conservative talker Rush Limbaugh argued that former San Francisco 49ers quarterback Colin Kaepernick's opposition to Nike's so-called Betsy Ross footwear was proof Kaepernick's kneeling was not about alleged police brutality but animosity toward the American flag. Nike pulled the product line based on Kaepernick's opposition, which came because the footwear featured the Betsy Ross flag.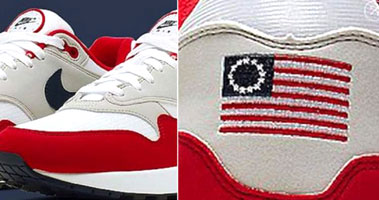 Colin Kaepernick Lands Nike in Hot Water Over Recall of Shoe With an American Flag. Colin Kaepernick has used his influence with Nike to have the company's American flag-themed shoe called the "Betsy Ross" pulled from production just days before they were to be sold to the public, prompting swift and immediate backlash. Citing sources close to the story, the Wall Street Journal reports that the Air Max 1 USA was slated to go on sale this week in celebration of the Fourth of July. "The heel of the shoe featured a U.S. flag with 13 white stars in a circle, a design created during the American Revolution and commonly referred to as the Betsy Ross flag," WSJ reports. And while Nike is claiming that it has declined to release the sneaker because it featured an "old version of the American flag," the real reason the sneaker has been recalled, according to WSJ, is because Kaepernick reportedly told Nike that the shoes were "offensive," prompting the company to recall the shoe and demand that retailers return their stock.
Old Photos From Obama's Inauguration Show Just How Ridiculous Nike's Shoe Ban Really Is. It seems that those criticizing Nike for attempting to have a Betsy Ross flag on a pair of their shoes in celebration of Fourth of July forgot about former President Barack Obama using the same flags at his inauguration in 2013. Nike stirred up controversy when they tried to have the earlier American flag, that displays 13 stars in a circle, on their Air Max 1 USA shoes but reportedly nixed the shoes after former National Football League player Colin Kaepernick called them offensive. "Attention Nike: The flag Colin Kaepernick told you was unacceptable on your shoes was displayed rather prominently at Barack Obama's inauguration," the Washington Examiner's Bryon York tweeted.
Nike steps on its own shoelaces in latest Kaepernick fiasco. Just in time for the Fourth of July, Nike and washed-up footballer Colin Kaepernick have joined forces in an America-bashing cavalcade. The enormous sportswear company planned to release a new red, white, and blue sneaker adorned with American Revolutionary Betsy Ross' 13-star flag, this country's first banner. However, Kaepernick complained to Nike that this all-American symbol is — what else? — racist. "After images of the shoe were posted online, Mr. Kaepernick, a Nike endorser, reached out to company officials saying that he and others felt the Betsy Ross flag is an offensive symbol because of its connection to an era of slavery," the Wall Street Journal reported.
Nike Has Offered Shoes Displaying Flags of Human Rights Abusers Such As China and Turkey. This week, sportswear giant Nike agreed to pull their "Betsy Ross Flag" sneakers after former NFL player nd anthem-protester Colin Kaepernick, advised them that the American flag is a symbol of racism, hate, and slavery. However, the company has had no issue offering shoes with many other national flags and colors, including human rights abusers such as China and Turkey. Naturally, Nike was quick to create gay pride flag-themed shoes. There are quite a few styles set up in the rainbow colors of gay pride. So, as far as Nike is concerned, gay pride is great, but American pride is "racist."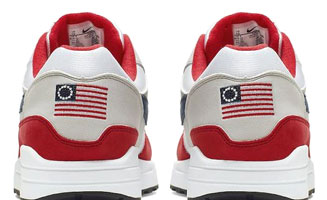 Outrage for Profit — NIKE Pulls "Betsy Ross" Sneaker. Is it possible to manufacture outrage as a profit strategy? Yes. Brand imagery is part of the overall business model for any business. Begin with an ideological executive office; consider a manufacturing model dependent on a China/Asia supply chain; add a dose of political calculations into the mix; turn loose the actuaries and a unified CFO and CEO could easily find a way to turn market grievance into profit. I'm not saying that NIKE is manipulating their market price. However, I am saying if they were to consider their brand scale to enhance financial results, and buying back shares of their own stock to be timed with coordinated media events, you could see a benefit behind the controversy.
Colin Kaepernick objects to flag-themed shoes, so Nike pulls them. For America's Independence Day, Nike released a new sneaker shoe style with the image of the early U.S. flag stitched by the notorious revolutionary Betsy Ross. It had the familiar red and white stripes and 13 stars in a circle for the original colonies. Apparently, sales were going well until noted kneeler Colin Kaepernick objected because, well, some of the 13 colonies had slaves at the time and we shouldn't be knowing that in this Woke era. Naturally, the mega-company with $36 billion in annual shoe and athletic-wear sales responded to the unemployed NFL player by immediately pulling the patriotic shoe off the market, as the Wall Street Journal first reported. What else could it do really? He outnumbers the rest of us. And a company can't be associated with patriotism these days unless it involves overpaid pro athletes refusing to stand for the National Anthem because, slavery.
AZ governor steps up for America, will 'withdraw all incentive dollars' from Kaepernick's Nike. BizPac Review published reports on Monday that Nike developed a Betsy Ross-themed shoe just in time to celebrate Independence Day, then yanked it from production. Shortly after, sponsored activist Colin Kaepernick reportedly complained that he found the imagery depicted on the clothing to be offensive. As happens all too often in our softened society, Nike immediately recalled the shoe and drew the ire of patriots like Fox News host Laura Ingraham, who called the decision "pathetic" and declared that she will no longer be buying Nike sneakers for her family.
Betsy Ross costs Nike plenty. When Colin Kaepernick objected, Nike stopped selling shoes that were a tribute to Betsy Ross, a woman legend of the American Revolution. Now that will cost the company millions in incentives Arizona offered to snag a Nike plant. It will cost the state 500 jobs. More than a million soldiers have died defending that flag that Nike turned its back on. The shoe featured the flag that legend holds designed the flag. That seems to be based on family lore. But she did more for America than any of today's quarterbacks did.
Arizona Gov. Doug Ducey ends Nike deal after cancellation of 'Betsy Ross Flag' sneakers. Arizona Gov. Doug Ducey said Tuesday [7/2/2019] the state would be canceling the incentives offered in a deal with Nike in response to the athletic company scrapping plans for a Betsy Ross-inspired sneaker[.] The sneakers, featuring a U.S. flag with 13 stars on each heel, reportedly was canned after former football player and political activist Colin Kaepernick said the design could be seen as an offensive symbol of slavery.
Nike Ditches 'Betsy Ross Flag' Sneaker After Colin Kaepernick Raises Concerns over the Flag's Connection to Slavery. Nike has decided to pull their America-themed 4th of July sneakers which featured the "Betsy Ross" flag, after former NFL anthem-protester and Nike pitchman Colin Kaepernick raised concerns over the offensive symbolism he felt the flag displayed, the Wall Street Journal reports.
Nike Nixes 'Betsy Ross Flag' Sneaker After Colin Kaepernick Intervenes. Nike Inc. is yanking a U.S.A.-themed sneaker featuring an early American flag after NFL star-turned-activist Colin Kaepernick told the company it shouldn't sell a shoe with a symbol that he and others consider offensive, according to people familiar with the matter. The sneaker giant created the Air Max 1 USA in celebration of the July Fourth holiday, and it was slated to go on sale this week.
Soccer star Megan Rapinoe accepts invitation to hang with AOC instead of Trump. Megan Rapinoe accepted Democratic Rep. Alexandria Ocasio-Cortez's invitation for the U.S. Women's National Soccer Team to tour the House of Representatives after Rapinoe rejected an invite to the White House. "Consider it done @AOC," Rapinoe said Friday after the New York congresswoman extended the invite and the U.S. Women's National Soccer Team beat France 2-1 in the quarterfinal of the Women's World Cup.
Yankees add Stonewall Inn plaque to famed Monument Park. A plaque behind the center field fence at Yankee Stadium was dedicated Tuesday night [6/25/2019] to commemorate the Stonewall Inn uprising 50 years ago, which sparked a pivotal rebellion in the LGBTQ rights movement.
Knicks feel their black front office helps in free agency. Knicks president Steve Mills indicated having a pioneering predominately black front office will help the team in the upcoming free agency. "The African American front office, that doesn't get lost on guys," Mills said in an article published Tuesday on The Undefeated, which deals with race issues. After getting the job when Phil Jackson got canned, Mills hired GM Scott Perry, who is black, and player developmental director Craig Robinson, the brother of Michelle Obama. Also hired after Jackson's firing was director of player personnel Harold Ellis and college scouting director Gerald Madkins. Both are African American.
Megs, put a sock in it. Megan Rapinoe, star forward for the women's U.S. national soccer team, seems to hate the world. She goes around with a scowl permanently etched into her weathered face. Though an outstanding soccer player, Megs has it in her head that she's getting cheated, and that the cheater is Donald Trump. So she refuses to go to the White House if the team wins the women's World Cup. Trump then extended an invitation to the team whether they win or lose, and of course, Megan took it with ill grace. The girl has no graces, only grimaces. Megan, like all liberal females, holds Trump personally accountable for every unfun thing that ever happened in her life or anybody else's life. Despite her extraordinary skill on the field, Megan's about as ordinary a liberal as it's possible to be.
Brilliant Play — President Trump Invites U.S. Women's Soccer Team to White House "Win or Lose". Megan Rapinoe is the co-captain of the U.S. women's national soccer team and a rabid hater of President Trump. Ms. Rapinoe refuses to sing the U.S. national anthem; kneels during ceremonies to make her hatred for America visible; and grabs every microphone to tell the media about her politics in an effort to increase her resistance credentials. The age-old axiom is: 'be careful what you wish for, because you just might get it". Today [6/26/2019], President Trump brilliantly responded to Ms. Rapinoe. First, by calling out her arrogance in declaring victory before she even played the World Cup matches; and secondly, by inviting the entire team to the White House "win or lose".
Adam Silver: NBA done using term 'owner' over racial sensitivity questions. NBA commissioner Adam Silver told TMZ the league office is done using the word "owner" amid concerns whether the title is racially insensitive, adding they stopped using the term a few years ago. TMZ reported earlier this month that some NBA teams were debating whether to move away from the title, given some feel its racially insensitive in a league where the majority of players are African American. Warriors forward Draymond Green also raised the issue on LeBron James' HBO Show "The Shop," saying he took offense to the term.
US women's soccer star Megan Rapinoe refuses to sing the national anthem before the Thailand World Cup match. US soccer star Megan Rapinoe stuck to her resolve not to sing the national anthem ahead of the team's first match in the Women's World Cup against Thailand in France on Tuesday [6/11/2019]. The player stood silent and stony-faced as her teammates sang along to the 'Star-Spangled Banner' in the Auguste-Delaune Stadium in Reims.
NFL Dishes Out $20 Million in Grants to Social Justice Causes. The NFL announced this week the list of various organizations that will receive nearly $2 million in "social justice grants." One of the recipients is the Civil Rights Corps which "empowers communities to change the unjust legal system." This brings the total of "social justice grants" by the NFL to $20 million for the year.
The Growing Popularity of Foot Shooting. I used to be an NFL fan, especially of the San Francisco 49ers in the Joe Montana, Steve Young, Jerry Rice era. So far as I know none of them ever publicly expressed their political opinions. I have not watched five minutes of a 49er's game in over a year. The only NFL game I've watched in the past year was the Super Bowl. I've heard numerous people say essentially the same thing. They say they're done with the NFL. Former fans are angry at the players for disrespecting their country, but the greater anger is directed toward the teams' owners and the NFL hierarchy. The NFL has unfortunately revealed who and what they are. Although they're good people in most ways, in this instance they've behaved like spineless, clueless cowards. They should have nipped the protests in the bud before they became overblown and out of control.
Soccer Star Rapinoe on Her National Anthem Protests. Soccer star Megan Rapinoe has vowed to continue her national anthem protests while representing the US in next month's Women's World Cup [...] Rapinoe created a furor when she knelt during the national anthem following former San Francisco 49ers quarterback who roiled the NFL with his anthem protest in 2016.
Yankees fans threaten boycott after ban of Kate Smith's 'God Bless America'. Kate Smith's rendition of "God Bless America" has been scrapped at Yankee Stadium, but Bronx Bomber fans are going to bat for her over allegations of racism. Smith's niece, Suzy Andron, told The Post she is "honored" by the groundswell of support for the late singer among fans and media. "Most are solidly behind the positive notion that this is a misunderstanding by a few people who took two or three of her songs [out of 3,000 that she recorded] out of context and inflated a story that my Aunt Kathryn must have been a racist," Andron said. "Unfortunately, the Yankees bought into it."
Elizabeth Warren praises Red Sox manager Alex Cora for skipping White House visit. Boston Red Sox manager Alex Cora is learning this week what it's like to be a political lightning rod. Cora publicly confirmed he won't visit the White House when the Red Sox make their official championship trip Thursday [5/9/2019]. And now he finds himself in the middle of the typical Washington partisan battle. Elizabeth Warren, the Massachusetts senator, Democratic presidential candidate and long-running Donald Trump adversary, is praising Cora for taking a stand against Trump and the White House.
Virginia Basketball Declines White House Invite to Celebrate National Championship. The Virginia men's basketball team has declined, while the Baylor women's team has accepted a visit to the White House after NCAA tournament title wins. Cavaliers coach Tony Bennett tweeted Friday the decision of the program to decline the invitation to celebrate their 2019 NCAA men's tournament title win.
NCAA basketball champs will not accept invitation to White House — here's the coach's statement. The NCAA championship basketball team from the University of Virginia will not accept the invitation from President Donald Trump to the White House, but the coach say it's simply a matter of scheduling. Coach Tony Bennett released a statement that was tweeted out by the official University of Virginia account.
Virginia basketball latest champions to decline White House invite. Add Virginia men's basketball to the long list of teams who won't celebrate a championship with President Trump at the White House. The program tweeted a statement from head coach Tony Bennett Friday [4/26/2019] that stated the team has "received inquiries about a visit to the White House.["]
Nike launches 'Icon' Kaepernick jersey days after NFL collusion case settlement. Nike released a special edition Colin Kaepernick jersey Wednesday just days after the former San Francisco 49ers quarterback settled a grievance with the NFL. The Kaepernick Icon Jersey — a black design with white lettering — resembles the '#ImWithKap' jerseys that quickly sold out last fall. The jersey sells for $150. "We believe Colin Kaepernick is one of the most inspirational athletes of this generation, who has leveraged the power of sport to help move the world forward," Nike spokeswoman Sandra Carreon-John told USA Today, adding that the jersey "marks Nike's continued product collaboration with Colin."
All about race: NFL shoves left's radical social justice agenda down throats of Super Bowl viewers. Super Bowl LIII appeared to be the NFL's latest down payment in appeasing the hard left and their social justice agenda. The NFL responded in December 2017 to the more radical elements of the game who were disrespecting the national anthem by taking a knee by committing $90 million over a seven year period to social justice causes — much of the money going to a number of left-wing organizations. And Sunday, the league shoved a divisive race-driven message down the throats of Super Bowl LIII viewers at every opportunity.
Maroon 5 frontman hints Superbowl show will be hip-hop kneeling fest. Proud, flag-loving patriots who hate seeing the American flag be disrespected may have no other option but to tune out of the upcoming Super Bowl halftime show. The show has been mired in controversy because of a concerted effort by radical far-left activists to stop any artist from performing at the event. To them, any performance would be a slap in the face to unemployed former NFL quarterback and continued race-baiting agitator Colin Kaepernick.
The NFL Recovers From Kneeling Frenzy. Ratings for NFL regular-season games rebounded, gaining 5 percent over the previous season. That's not as amazing, since it's a small increase after two years of frightening declines. But in today's ever-declining ratings for broadcast TV, due to livestreaming and cord cutting, the NFL is still a dominant player, far outdrawing regular scripted TV shows. The panic in NFL offices has ended. The bleeding stopped. Everyone knows why, and it's not the powerful high-scoring offenses and the snazzy touchdown celebrations. The NFL put an end to the national anthem kneeling protests.
Miami Dolphins' Robert Quinn complains about lack of coverage for his protest during national anthem. Colin Kaepernick has received a ton of publicity for his protests during the national anthem, but he can't seem to find a job in the NFL. Miami Dolphins defensive end Robert Quinn has the opposite problem. Quinn lashed out at reporters Thursday [12/27/2018] over the lack of coverage he's received over his fist-raised protest during the national anthem, something he's done since joining the Dolphins in the offseason, according to the Miami Herald.
More Than an Athlete? Lebron James is perhaps the most privileged person on the face of the Earth. Graced with once-in-a-generation athletic talent, he also happens to be 6 feet, 8 inches tall. And, best of all, he was born in the United States of America. Our free enterprise system has allowed James to parlay his talent, and lots of hard work, into an $85 million a year income. Not bad! But not enough for King James.
Lebron James says NFL owners are a "bunch of old white men" with a "slave mentality". LeBron James had some strong words for NFL owners on his HBO show "The Shop" which aired Friday night. [He] blasted NFL owners for having what he called a "slave mentality" and calling them "a bunch of old white men".
NFL kneeling goes full circle. The NFL has a long way to go until it is broke, but given the number of liberals put in charge of the league, it is but a matter of time. The league took its fan base for granted, tried to expand its appeal, and virtue signaled like a Hollywood award ceremony.
The National Anthem Protests — Do Facts Matter? NFL player Colin Kaepernick, who started the protests, did so over the supposed widespread instances of police brutality against blacks. Kaepernick said, "I am not going to stand up to show pride in a flag for a country that oppresses black people and people of color. ... There are bodies in the street and people getting paid leave and getting away with murder." According to the Centers for Disease Control, since 1968 police killings of blacks have declined nearly 75 percent. According to The Washington Post, almost 500 whites were killed by cops in 2015, an average of more than one a day. Two hundred fifty-nine blacks were killed by the police. Most suspects killed by police had a weapon. Now for some perspective. Do you know anyone who has been struck by lightning? Neither do most people. Yet each year an average of about 300 Americans are killed or injured by lightning. That's approximately 40 more than the number of blacks killed by the police in 2015. Is there an "epidemic" of Americans being struck and injured by lightning?
Fans Furious As NFL Cheerleader Hears Anthem, Gives Troops the Finger. Fans who came out to see the Raiders take on the 49ers on Thursday were furious over what one cheerleader did as soon as she heard the National Anthem start to play. Mediocre former-49ers quarterback Colin Kaepernick became the most hated man in the NFL two seasons ago — which is quite a feat in a sport filled with wife-beaters and convicts — when he began "taking a knee" as The Star-Spangled Banner was played before NFL games in 2016 to protest "police brutality" and "racial discrimination" in America. Of course, this could not have been more ironic, seeing as Kaepernick was adopted by a white family who raised him with every advantage in the world. Not to mention the fact that he makes more money than ninety-nine percent of white people.
49ers cheerleader takes a knee during anthem. A cheerleader for the San Francisco 49ers kneeled during the national anthem Thursday night ahead of the team's game against the Oakland Raiders. The cheerleader has not been identified, but photos of her kneeling quickly circulated on social media.
Amy Schumer wonders whether white NFL players who don't kneel are 'complicit' in racism. Amy Schumer on Friday [10/19/2018] questioned whether or not white players in the NFL who don't kneel with their black teammates are 'complicit' in the 'endless racism people of color face in our country.' The "Trainwreck" star went on to propose that more white players should stand up for their "brothers and sisters of color" by taking a knee. "I wonder why more white players aren't kneeling," she wrote. "Once you witness the truly deep inequality and endless racism people of color face in our country, not to mention the police brutality and murders. Why not kneel next to your brothers? Otherwise how are you not complicit?"
Kneeling NFL players earn $16M combined this season. Miami Dolphins wide receivers Kenny Stills and Albert Wilson have knelt during the national anthem every game this season. Carolina Panthers safety Eric Reid, who joined Colin Kaepernick during the original kneeling protests in 2016, resumed kneeling before his season debut in Week 5 last Sunday. The three players are slated to earn a combined $16.5 million in 2018, or more if they meet certain bonuses. Under the NFL's current rules, none of the players will face fines or other disciplinary action for the protests. [President] Trump has repeatedly called on the NFL to impose stiff penalties on any player who fails to stand for the national anthem.
Eric Reid takes a knee during national anthem in first game as Carolina Panthers player. Carolina Panthers safety Eric Reid took a knee during the national anthem before Sunday's game against the New York Giants in Charlotte, North Carolina. Reid was the only player to kneel during the "Star Spangled Banner," continuing the protest he began while playing for the San Francisco 49ers. He was the first Panthers player ever to kneel during the national anthem.
'Standup for America' jersey is Trump's latest attack on NFL kneelers. Colin Kaepernick probably hasn't clicked on the shopping cart. A popular online Trump merchandise site is hawking "Standup for America" football jerseys, the president's latest salvo in his war against the NFL and those kneeling for the national anthem.
Harvard to award Colin Kaepernick medal for work in African-American studies. Former NFL quarterback Colin Kaepernick will be one of eight people honored by Harvard University next month with the W.E.B. Du Bois Medal. The medal is given annually by the Hutchins Center for African & African American Research. "The medal honors those who have made significant contributions to African and African American history and culture, and more broadly, individuals who advocate for intercultural understanding and human rights in an increasingly global and interconnected world," the university said.
New NFL Season — Same Old National Anthem Protests. The 2018-2019 football season kicked off this past weekend, and much to the dismay of many fans, so did a new season of National Anthem protests. [...] The original basis for the protests came as an anti-police and anti-America protest by Colin Kaepernick (who claimed both were racist), who wore socks with police pictured as pigs and lauded the murderous government in Communist Cuba, even though more whites than blacks are killed by police, though, according to the FBI, black Americans are charged with most of the murders in this country, most of the robberies, and nearly half the assaults (while only making up about 13 percent of the population) — and Cuba regularly "disappears" or imprisons or tortures citizens who criticize it. That's what the protesting players are siding with. Meanwhile black police officers are much more likely to kill both black and Latino suspects than white officers are, and more than 99 percent of those killed by police are armed at the time they are shot.
Colin Kaepernick thanks 2 Miami Dolphins players who kneel during anthem. Miami Dolphins teammates Kenny Stills and Albert Wilson were the only two players to kneel during the national anthem on the NFL's opening Sunday, and Colin Kaepernick, who may no longer be welcome on an NFL sideline, offered his thanks to the players on Twitter. "My Brothers (Stills) and (Wilson) continue to show their unwavering strength by fighting for the oppressed," Kaepernick tweeted. "They have not backed down, even when attacked and intimidated... Love is at the root of our resistance."
Famed UFC Fighter, Special Forces Vet Tim Kennedy Says Special Forces Furious About Nike's Kaepernick Ad. Tim Kennedy, the famed UFC fighter who served in the army and later in the 7th Special Forces Group where he was a sniper, sniper instructor, and the principal combatives instructor for C Company, 3rd Battalion, deploying in support of Operation Iraqi Freedom and Operation Enduring Freedom, said Special Forces members that he spent time with this week were furious about the Nike ad with Colin Kaepernick in which Kaepernick said he had "sacrificed." Speaking to TMZ, Kennedy began, "There are problems. There are huge problems in the city; urban problems, police problems, crime problems, and they have to be addressed and something needs to be done about it, but not by disrespecting the flag and somebody making a few million dollars off a sponsorship. Come on." When TMZ asked, "Will you wear Nike ever again?", Kennedy responded, "No, no."
The Circus of Resistance. Nike hired NFL renegade Colin Kaepernick to peddle its sports products. For all its billion-dollar market research, it apparently did not know what Donald Trump's animal cunning had almost immediately surmised: a majority of Americans do not appreciate the pampered multimillionaire Kaepernick sanctioning violence against the police by wearing "pig" socks, or mocking the National Anthem by taking a knee. Nike could just as well have hired Bowe Bergdahl to push its sneakers.
The Party of Kaepernick. The Democrats' winning midterm campaign message would seem simple enough: Trump is bad and must be opposed. Yet at the moment the party risks being associated with a somewhat less attractive message: The American flag is bad and must be opposed. Last week, left-wing Democrat Ayanna Pressley ousted long-term incumbent Michael Capuano from the John F. Kennedy/Tip O'Neill House seat in the Democratic primary while praising the NFL anti-flag protests, which her opponent called "wrong." Democratic Senate candidate Beto O'Rourke says — in Texas! — that there is "nothing more American" than kneeling for the national anthem.
Empty Seats Plague NFL Stadiums in Week One of Season. Americans are fed up with athletes kneeling during the National Anthem and it showed — plenty of empty seats plagued stadiums on Sunday [9/9/2018].
Just Blew It: Nike Favorability Drops By Double-Digits, No Boost In Key Demos. [Colin] Kaepernick is a source of controversy, a vehicle for the left wing social justice activism that struck the NFL two years ago when he started to take a knee during the national anthem. There were a multitude of reasons but race relations and police brutality seem to be the top issues for why he and other players started this nonsense. No doubt the cause is worth a discussion. I totally disagree with their take, but it's worthy of a discussion. All that good will went out the window as soon as you start trashing the flag. Kaepernick's anti-police stance also drew a backlash. These players see their side getting attention. Everyone else sees them trashing the flag, our veterans, and those who have died in service to the country. It's unpatriotic. It's not appropriate — and the NFL knows it.
The Things That Won't Fit in a Nike Ad. When it comes to the Kaepernick-inspired debate, there are many serious issues at play — issues worthy of reasoned discussion. You might think that athletes should be able to kneel during the national anthem as a matter of free speech. You might think it's disrespectful to do so. You might think that Kaepernick was right to call attention to police violence, but wrong to wear socks depicting police officers as pigs. You might even think all of these things at the same time! But these things are complicated, and they certainly don't fit in a Nike ad, which has one overarching goal: To bring attention to Nike, a massive corporation under fire for various ethical issues as we speak.
College Dumps Nike: "If Nike is Ashamed of America, We are Ashamed of Them". The collegiate market is big for Nike. And while much of that market will only embrace the sweatshop sportswear firm harder after its anti-American stance, there are still some American schools left in America.
Poll Reports Nike Kaepernick Ad Is Shoe-icide. This might be turn out to be the biggest marketing disaster since Coca-Cola changed its formula to become New Coke. Last week Nike was an iconic American brand. But that was before it decided to commit shoe-icde. Since it signed anti-American protester Colin brand favorability for its 30-anniversary "Just Do It" public support for the brand plunged. In other words, Nike Did It — to themselves.
Massive Collapse in Brand Image for Nike Following New Colin Kaepernick Branding Campaign. Never before in the history of corporate branding decisions has a multi-billion dollar company had such a massive and swift drop of brand image as Nike. The results from Morning Consult Intelligence, a firm that specializes in monitoring and measuring the brand image and reputation for thousands of major companies, reflects a massive drop in brand image across every single demographic. We suspected there would be a diminishment of brand image, but nothing like the scale discovered within the polled data.
Nike Becomes Face of Social Justice Despite History of Outsourcing, Employing Slave Labor. Despite having a long, documented history of allegedly employing workers at slave wages, the multinational Nike corporation has become the face of the social justice wing of the political left with its newest ad featuring former NFL quarterback Colin Kaepernick. As Breitbart News reported, the Nike corporation laid off 1,400 Americans just last year in the state of Oregon, cutting out workers who were older and likely sending their jobs overseas as the sports brand has done in the past.
Poll: Nike Favorability Crashes 34% with Kaepernick Ad Campaign. A poll from Morning Consult shows devastating results for Nike's brand favorability, in the days after making Colin Kaepernick the face of their new ad campaign.
Nike, NFL, and Levis Strauss Political Business Strategy. On its face, it just seems absurd. Why would any major corporation intentionally stake out a branding position that is adverse to their financial interests? [...] The bigger risk to Nike has nothing to do with Black Lives Matter, U.S. Consumers, or Antifa-like political advocacy. The bigger financial risk to the Nike Corporation has everything to do with geopolitics and a reset of international trade agreements.
Former Obama CIA Director John Brennan Praises Washed Up Athlete. It's well established John Brennan is a weird one. How a man who once voted for a communist to be President of the United States became head of the CIA is a story unto itself (See: China) but just as confounding is how Mr. Brennan has conducted himself since riding into the proverbial has-been sunset. The most recent example is his effusive praise of washed-up former NFL quarterback turned racist division-maker, Colin Kaepernick. Mr. Kaepernick lost his starting position due to lackluster play and soon after he declared himself an anti-white and anti-police advocate who was then warmly embraced by the radical Black Lives Matter crowd. Nike threw Kaepernick some "good boy" bucks for which Brennan is now glorifying as the Second Coming.
Nike steps in it! Vets, ex-fans furious over Kaepernick deal. Nike is under fire from military veterans for using Colin Kaepernick in a new ad campaign. Many say the sports brand is promoting unpatriotic protests against the American flag since Kaepernick has been a Nike brand ambassador since 2011. Army veteran Kurt Schlichter, an attorney and Townhall columnist, said Kaepernick's claim that he's "just making a statement" is disingenuous because there are more effective ways for him to protest without disrespecting the flag or the national anthem.
They Destroy Everything They Touch, Volume 2. Nike's decision to turn [Colin] Kaepernick, the National Anthem-defiling, skills-atrophying, cellar-dwelling Social Justice Warrior ex-quarterback who last played NFL football with the then 2-14 San Francisco 49ers in 2016, into its latest corporate product pitch man was announced over the Labor Day weekend, and on Tuesday [9/4/2018] when the New York Stock Exchange got its first opportunity to weigh in on it the results weren't good. Nike's stock closed Tuesday at $79.60, though it did rise a bit in after-hours trading. That was a pretty serious bath from the $82.20 at which the stock closed on Friday before word leaked of Kaepernick's contract — a loss of 3.16 percent of its value, or more than $3.5 billion in market capitalization.
Get woke and go broke. The American footwear company Nike made the disastrous decision to pay Colin Kaepernick millions of dollars a year to be a spokesperson for their "Just Do It" advertising campaign. The company's new tag line for Kaepernick is: "Believe in something. Even if it means sacrificing everything." By "sacrificing everything," evidently Nike means "make millions of dollars more a year to appear in an advertising campaign than you would make as a back-up quarterback in the NFL." Boy, has Kaepernick ever sacrificed! According to Yahoo Sports, he gets his own branded shoe line, shirts, jerseys and specific Kaepernick apparel. He will be paid a comparable amount to the best NFL players signed to Nike deals, millions a year.
Kaepernick Deal: Nike May Discover To Be Woke Is No Joke. Nike's decision to make controversial former quarterback Colin Kaepernick the face of its 30th Anniversary "Just Do It" campaign marks the logical extension of politics into two places it shouldn't be: sports and business. Nike may regret its move.
Nike Decides to Make "Inspirational" Colin Kaepernick The Face of The Brand. In the latest example of a corporation making a ridiculous decision to brand itself based on politics, Nike apparel has decided that Colin Kaepernick is the modern face of the brand.
Americans Launch Boycott Against Nike After Colin Kaepernick Named as Face of 30th Anniversary. Colin Kaepernick ruined the NFL after he started the National Anthem boycott by 'taking a knee.' He made headlines in 2016 when he wouldn't stand for the National Anthem because of cops. NFL ratings have plummeted since Kaepernick's National Anthem boycott. Stadiums often have rows and rows of empty seats because Americans are fed up with the politicization of football. Now it's Nike's turn.
Colin Kaepernick to be face of Nike's 'Just Do it' campaign. Nike has a new face for the 30th anniversary of their iconic "Just Do It" campaign: Colin Kaepernick. Kaepernick, who has filed a collusion suit against the NFL over his unemployment after he knelt and protested racial inequality during the anthem, unveiled the new advertisement on his Twitter.
Big & Rich Singer Promotes Nike Boycott in Response to Kaepernick Ad Campaign. Nike announced its new campaign ad featuring controversial anthem protester Colin Kaepernick on Monday [9/3/2018], drawing support from some quarters and plenty of criticism from others.
Nike shares drop amid backlash over new Kaepernick ad. Shares of Nike fell 3.2 percent on Tuesday [9/4/2018] as calls for a boycott of the sportswear giant gained traction on social media following its choice of Colin Kaepernick as a face for the 30th anniversary of its "Just Do It" slogan. Former San Francisco quarterback Kaepernick, the first NFL player to kneel during the national anthem as a protest against racism, posted a black-and-white close-up of himself on social media on Monday featuring the Nike logo and "Just do it" along with the quote, "Believe in something. Even if it means sacrificing everything." Over 30,000 people were tweeting with the hashtag #NikeBoycott on Tuesday morning, making it among the top trending topics on Twitter. Some posted images of themselves burning and ripping their Nike shoes and apparel.
Former Iranian President Mahmoud Ahmadinejad Tweets Support for Colin Kaepernick. Former Iranian President Mahmoud Ahmadinejad took to Twitter on Monday [9/3/2018], to lend support to anthem-protesting former quarterback Colin Kaepernick.
Did Nike make a huge NFL-like mistake embracing Colin Kaepernick? Is there business logic for Nike embracing Colin Kaepernick? I think there is, for the NFL and athletic shoe business are very different. In the conservative blogosphere, on Fox News, and among my friends, the name of Nike has been forever damaged by the brand's embrace of Colin Kaepernick, who sparked the widespread disrespect for our flag by NFL players kneeling during the National Anthem. Pictures and videos of Nike gear burning already are proliferating among the outraged.
Kaepernick won't stand for the flag but he'll bow down to the Nike dollar? 'Believe in something, even it means sacrificing everything.' Those are the words emblazoned across NFL star Colin Kaepernick's face in Nike's new campaign to mark 30 years of its 'Just Do It' advertising slogan. 'Sacrifice' is a big word, meaning 'to give up something that is valuable to you in order to help another person'. 'Everything' is an even bigger word, meaning 'all that exists'. So to sacrifice everything is a major undertaking.
Corporate Suicide Watch, Nike Edition. Nike has chosen the star of its 30th anniversary #JustDoIt advertising campaign: Colin Kaepernick. At first glance, it seems weird for an athletic shoe company to select as its corporate icon someone who is no longer an athlete, and was never a star. At second glance, it gets weirder: Nike apparently thinks Kaepernick has sacrificed everything, which tells you something about 21st century corporate America. Kaepernich is a multimillionaire whose "sacrifice" consisted of kneeling during the National Anthem, wearing socks depicting police officers as pigs, and generally denouncing his country. Which has led to a second career as a leftist spokesman. That is not exactly a contender in the annals of Greatest Sacrifice Ever.
Kaepernick fronts Nike's 'Just Do It' ad campaign. Former San Francisco 49ers quarterback Colin Kaepernick is part of a new Nike campaign to mark the 30th anniversary of the sporting equipment giant's iconic "Just Do It" slogan, reports said Monday [9/3/2018]. Kaepernick, who triggered a political firestorm after kneeling during the US national anthem in 2016 to protest racial injustice, has not played in the NFL since early 2017.
Tom Brady signals his support of Colin Kaepernick's controversial Nike ad. [Colin] Kaepernick has not played a game of football for 11 months. He opted out of his San Francisco 49ers contract last August after causing controversy by taking a kneel during the national anthem in a sign of protest against police brutality against African Americans. On Monday [9/3/2018], Nike unveiled the campaign to mixed reviews. Star athletes including Serena Williams praised the company for putting Kaepernick's message at the forefront of its advertising. But Nike customers who opposed Kaepernick's on-the-field protests were outraged by the move.
James Woods Dumps Nike Stock in Response to Kaepernick 'Just Do It' Ad Campaign. Veteran actor and conservative firebrand James Woods is selling all his Nike stock in response to the athletic apparel company's decision to name former San Francisco 49ers quarterback and infamous anthem protester Colin Kaepernick as the face of their new "Just Do It" campaign. Woods on Tuesday [9/4/2018] tweeted a screenshot to his nearly 1.7 million followers of an email he sent to his portfolio manager asking all his Nike stock be sold. "Please divest my portfolio of all Nike stock in my personal account and in the plan. Henceforth never buy Nike stock for me again," the email read.
ESPN Goes Insane Over Tiger Woods' Trump Comments: 'He's Not Black'. ESPN continued down their politically progressive path on Monday [8/27/2018], going fully insane over golf superstar Tiger Woods' recent comments about President Donald Trump. "First Take" co-host Max Kellerman, fully triggered by Woods' comments, ranted about how "angry" he was about the "thoughtless statement." And Kellerman's counterpart, Stephen A. Smith, said that Woods is "not black" and doesn't identify as black, which has upset the African-American community and explains the golf phenom's Trump comments. Woods was asked about Trump, whom he has a personal relationship with, by a New York Times reporter on Sunday: "I think a lot of people, especially people of color, immigrants feel threatened by him, by his policies. ... What do you say to people who might find it interesting, I guess, that you have a friendly relationship with him?"
ESPN host fumes at Tiger Woods' Donald Trump 'respect'. ESPN's Max Kellerman said Monday on "First Take" that Tiger Woods' response to questions about President Trump made him "angry." Woods was asked after the final round of The Northern Trust on Sunday about his relationship with Trump and urged people to respect the office of the president. "He's the president of the United States. You have to respect the office. No matter who is in the office, you may like, dislike personality or the politics, but we all must respect the office," he said. Kellerman blasted Woods' remarks, saying it was a "thoughtless statement dressed up as a thoughtful statement."
Kaepernick's Lawsuit with NFL Just Blew Up in His FACE. Colin Kaepernick claims that the NFL colluded against him. Cry me a river. They certainly have a right to not hire him, particularly after his kneeling stunt. Why should a company be forced to hire a disruptive employee? Regardless, it appears now that Kaepernick's claims are baseless. His claims of collusion just got a hole poked in his hot air balloon, at least according to John Elway. Elway claims that the Broncos offered Kaepernick a deal, but he turned it down.
Beto O'Rourke says 'nothing more American' than NFL anthem protests. Texas Rep. Beto O'Rourke has jumped into the NFL national-anthem fray by defending players taking a knee during the ceremony, saying he could think of "nothing more American." In a response going viral on social media, the Democrat seeking to unseat Sen. Ted Cruz, Texas Republican, compared the NFL kneelers to civil-rights icons like Rosa Parks and the Freedom Riders during a campaign appearance last week in Houston.
Kneeling NFL players will help Republicans in November. If National Football League players continue their protests during the national anthem this season, it will rile some Republican voters, increasing their intensity and making it more likely that they will vote. At a time when Democrats want their candidates to be less controversial and let dissatisfaction with President Trump carry them into office, continued protests by NFL players will force the issue back into the public spotlight and onto the campaign trail, where Democrats will mostly have to side with the protesters. I am often frustrated that President Trump and Republicans do what their political opponents want them to do. But in this case, it is the Democrats who are being escorted by a few athletes into a position they would rather avoid.
[A few] Eagles Players Stay in Tunnel During National Anthem. Three members of the Philadelphia Eagles refused to take the field in protest, during the playing of the national anthem at Thursday's [8/16/2018] preseason game. Eagles safety Malcolm Jenkins and cornerback De'Vante Bausby continued their protests from last season by refusing to take the field ahead of their game against the New England Patriots. The pair took the field after the song concluded, according to NBC Sports.
ESPN president Jimmy Pitaro: Network won't show national anthem on 'Monday Night Football'. New ESPN president Jimmy Pitaro told reporters Friday [8/17/2018] that the network does not plan to televise the national anthem as part of its Monday Night Football broadcasts this season. Pitaro, who was hired March 5 following the abrupt departure of John Skipper, told reporters at a media event on ESPN's campus in Bristol, Conn., that the network has not previously shown the national anthem during its Monday Night Football broadcasts and does not have plans to change — at least, not in the immediate future. According to Axios, Pitaro also said that ESPN has informed the league of its plans "as (a) courtesy" given their partnership. Earlier, he had told reporters that he has spent much of his young tenure at ESPN working to strengthen the company's relationship with the NFL.
The NFL Doesn't Actually Care About You, or Your Service. Last year, when the kneeling controversy erupted like a California wildfire and the president launched a series of attacks on the NFL and Colin Kaepernick, I argued that cooler heads should prevail and a middle ground could be reached by both sides. Like the recovering alcoholic I am, I must have been in denial, hoping like a chronic gambler that Roger Goodell would do the right thing, or even just do his job. Obviously, I was wrong, because here we are again, my friends: another year, another round of protests. And all because the NFL and Roger Goodell have been subverted by the most sinister of human endeavors — politics.
Police Union Cancels Discount Ticket Program After Miami Dolphin Anthem Protests. A union that represents police officers in Florida's Broward County is canceling its participation in a discount ticket program with the Miami Dolphins after several of the team's players refused to stand during Thursday's pre-season game rendition of the national anthem. Despite the Broward County Police Benevolent Association's belief that the Miami Dolphins team would be requiring its players to stand, wide receivers Albert Wilson and Kenny Stills kneeled while one player, defensive end Robert Quinn, raised his fist before the team's game against the Tampa Bay Buccaneers.
NFL won't discipline kneelers as anthem protests make preseason return. Professional football is back and so are the take-a-knee protests, but the NFL isn't planning on disciplining players who refuse to stand during the national anthem — at least for now. [...] In a statement, the NFL said it was still engaged in "constructive discussions with the NFL Players Association regarding the anthem and issues of equality and social justice that are of concern to many Americans."
NFL preseason sees kneeling, raised fists, during national anthem. NFL players continued to protest during the national anthem on Thursday night as the league began the first full week of its 2018 preseason. Some players held their fists in the air, while others decided to kneel, despite the controversy surrounding the action. Wide receivers Kenny Stills and Albert Wilson, both of the Miami Dolphins, knelt during "The Star-Spangled Banner," ahead of their game against the Tampa Bay Buccaneers, the Miami Herald reported.
Ingrates who won't stand for the anthem. Colin Kaepernick started it back in 2016 when as quarterback for the San Francisco 49ers he refused to stand for the anthem during a preseason game. His gripe? "Racial inequality," or so he says. [...] Yes, it started while Obama was still president. So you can't blame Trump for this one. But they do. Why not? They blame him for everything else — the news media first of all.
Top 10 Black Racists. [#6] Colin Kaepernick: Colin Kaepernick, who launched a high-profile protest movement within the NFL, may now be unemployed and off-the-radar for many Americans, but he's still able to generate media attention. His anti-American activism, best exemplified by the taking of a knee during the playing of "The Star-Spangled Banner" before football games, helped to alienate fans and accelerate the NFL's downward slide that was already in progress. Like DeRay Mckesson and Alicia Garza, Kaepernick is a supporter of convicted cop killer Assata Shakur who broke out of prison in 1979 and fled to Communist Cuba where she still resides. Kaepernick acknowledged raising $20,000 for Chicago-based Assata's Daughters in matching donations, on top of the $25,000 he personally gave the group previously, the Washington Times reported in February.
NFL should just dump the national anthem and get on with playing football. Eyes will be focused on watching knees right from the jump of the NFL preseason in the annual Hall of Fame game Thursday between the Chicago Bears and the Baltimore Ravens. Television cameras will capture just who is taking a knee and who is not as the national anthem plays. But should Francis Scott Key's ode to his country even be played before sporting contests? Sports are entertainment. The national anthem is not played as you enter the museum, sit down at the symphony or stroll into the movie house, which also represent forms of entertainment.
The Editor says...
The USA Today writer (of the article immediately above) is apparently unaware that the national anthem is played in movie theaters on military bases — and everyone stands at attention while it is playing.
Jerry Jones May Have Single-Handedly Blown Up the NFL's New Anthem Policy. Jerry Jones has a history of doing what he wants. And last week, when it came to the NFL's new policy regarding player demonstrations during the national anthem, he broke with the league yet again. The rule, announced in May, was controversial from the beginning. It banned players from kneeling, raising fists, or otherwise participating in on-field demonstrations during the anthem, but gave them the choice to remain in the locker room while the song played. The NFL Players' Association, which negotiates its collective bargaining agreement with the league, objected to the rule — and they weren't the only ones.
Projection:
LeBron: Trump is using sports to divide us. LeBron James thinks President Trump is using athletics, and athletes, to split up the country. [...] "What I've noticed over the past few months," James shared with CNN's Don Lemon during a sit-down interview on Monday [7/30/2018][,] "(Is) he's kinda used sports to kinda divide us, and that's something that I can't relate to." Referencing Colin Kaepernick, whose kneeling protests during the pre-game national anthem launched an NFL movement, and more recently, Stephen Curry, who honored his promise of skipping a visit to Donald Trump's White House, James bemoaned a myriad of instances in which Trump has twisted peaceful displays of dissent into an indictment of a decaying American value system.
The Editor says...
President Trump didn't originate Black Lives Matter protests or inject anti-American tantrums into football games.
Vegan soccer club first in world to be certified carbon neutral by UN. An English soccer team has become the first professional sports team in the world to be certified carbon-neutral by the United Nations.
Follow The Money: Will NFL Owners Choose George Soros or Millions of Their Fans? [T]he same players who are funneling $90 million from last year's "settlement"/shakedown to left-wing activists have forced the owners back to the negotiating table. These are the team owners who saw a 10 percent drop in viewership last season, eight million fewer Super Bowl viewers this year, and advertisers threaten to leave. From a purely business perspective, capitulating to the players is clearly a bad idea. The fans have identified the anthem protests for what they are: the promotion of a false narrative that America is a racist country. And they have made themselves heard loud and clear by simply tuning out. [...] The NFL's fans are the league's financial driver and represent a broad swath of America that turns to sport for what it is — entertainment, not politics.
Jerry Jones: Cowboys players must stand for national anthem. Dallas Cowboys owner Jerry Jones doubled down Wednesday on insisting that his players stand for the national anthem, declaring that he wouldn't support anyone who chose to stay in the locker room.
New NFL Anthem Protests are upon us. Football season is fast upon us and the world's most profitable sport has fans geared up and ready to go, but the national anthem protest controversy that has plagued the NFL just won't die.
Tennessee Titans' Jurrell Casey says he plans to keep protesting and will 'take my fine' in upcoming NFL season: report. Despite a recently-imposed NFL rule regarding players and personnel behavior during the national anthem, one Tennessee Titans player reportedly says he'll "take a fine this year" and continue to "protest during the flag." NFL defensive end Jurrell Casey intends to keep holding up his fist in protest following the conclusion of the Star Spangled Banner, like he did during the 2017 season, regardless of the fines that may come his way, he told CNN Sport while attending an event in London on Wednesday [7/18/2018].
Trump says NFL players who kneel during the anthem twice should be banned for the season. President Donald Trump demanded on Friday that the '$40,000,000 commissioner' of the NFL suspend players for a whole season if they kneel during national anthem more than once. In a rehash of last year's controversy, the President took to Twitter to blast NFL commissioner Roger Godell for not doing enough to stem the tide of players protesting racial inequality in America.
NFL, NFLPA freeze anthem rules amid backlash to Miami policy. Hours after The Associated Press reported that Miami Dolphins players who protest on the field during the anthem could be suspended for up to four games under a team policy issued this week, the league and the players union issued a joint statement late Thursday night saying the two sides are talking things out.
NFLPA files grievance challenging NFL's new anthem policy, claims it 'infringes on player rights'. The NFL Players' Association announced on Tuesday that it has filed a grievance on behalf of the players challenging the league's controversial anthem policy, which was introduced in May. "The union's claim is that this new policy, imposed by the NFL's governing body without consultation with the NFLPA, is inconsistent with the collective bargaining agreement and infringes on player rights," the NFLPA said in a statement.
Colin Kaepernick receives civil rights award from National Education Association. Colin Kaepernick was among a dozen honorees who received a human and civil rights award from the National Education Association. Kaepernick was given the NEA's President's Award to recognize his work "to fight racial oppression through education and social justice activism" through the Know Your Rights Camp, a campaign that is fully funded by the footballer. The youth camp aims "to raise awareness on higher education, self empowerment, and instruction to properly interact with law enforcement in various scenarios," according to its website.
Colin Kaepernick receives civil rights award from National Education Association. Colin Kaepernick was among a dozen honorees who received a human and civil rights award from the National Education Association. Kaepernick was given the NEA's President's Award to recognize his work "to fight racial oppression through education and social justice activism" through the Know Your Rights Camp, a campaign that is fully funded by the footballer. The youth camp aims "to raise awareness on higher education, self empowerment, and instruction to properly interact with law enforcement in various scenarios," according to its website.
The Ways Roger Goodell Has Politicized the NFL:
• Tim Tebow was banned from wearing "John 3:16" on his eye black
• The NFL required the Pentagon to pay the league for military tributes
• The NFL made RG3 turn a "Know Jesus" t-shirt inside out
• The NFL pleaded with teams to consider signing Michael Sam
• The NFL banned a gun vendor's ad from the Super Bowl
• The NFL banned off-duty cops from carrying guns to games
• The NFL denied the Cowboys' request to honor Dallas police after a mass shooting
• The NFL refused a veterans group's "please stand" Super Bowl ad
Minnesota United Hosts Pride Night. Minnesota United FC hosted Pride Night during its game against FC Dallas Friday night [6/29/2018]. The celebration came on the same day United midfielder Collin Martin announced he is gay. Martin is the only openly gay active player in any of the five major male professional sports leagues.
Offending NFL Fans Isn't Just Bad for Owners, but Players Too. One of the most obnoxious stories in America the past year has been the controversy over players protesting during the national anthem. While I personally sympathize with both concerns from athletes about police brutality in minority communities, as well as the desire of most football fans to simply not have any sort of political advocacy mixed into their sports, the resulting media coverage — from both political and sports outlets — has been largely nauseating. While the NFL offseason obviously brought discussion of the topic down to a simmer (with the exception being the occasional update on Colin Kaepernick — and now Eric Reid's — lawsuit against the league), the NFL's decision this week to change its anthem-policy has it once again at a raging boil. Unfortunately most of these articles try to make this issue more complicated than it really is: it's all about money.
Vikings Hold First Sports LGBTQ Summit. The Minnesota Vikings made history on Thursday. Vikings players, coaches and members of the LGBTQ community came together for a first of its kind inclusion summit held by an NFL team. The LGBTQ summit and fundraising event was held at the TCO Performance Center Auditorium in Eagan. It centered around bridging the gap between the LGBTQ community and sports
Hollywood "Celebrities", Deviants and Predators, Continue Showcasing Democrat Ideology. When millionaire football players kneel down rather than honor our fallen soldiers and stand proud of our country, we see that. Check the NFL TV ratings — take note.
Remembering Old Glory. As the NFL continues to dig their knees into political Astroturf, Americans continue to tune out. Even the most diehard fans get riled up when they witness disrespect shown toward our flag and, ultimately, to the men and women who have sacrificed dearly to preserve the very freedom that the NFL has flourished under.
How Poisonous Politics And Social Media Managed To Even Ruin Sports. Now we've learned that not only were most of the Philadelphia Eagles not planning to go to the White House, but neither the Cleveland Cavaliers or the Golden State Warriors were intending to go even before their championship series was over. [...] What was once just a pleasant, if pointless, afternoon of fun for the team and the White House staff has morphed into a toxic brew.
Trump cancels Eagles' White House celebration on eve of visit after fewer than 10 players planned to attend. President Trump on Monday [6/4/2018] abruptly rescinded an invitation to host the Eagles at the White House, citing the "smaller delegation" that was planning to attend and again stoking a national debate by insisting that players "proudly stand for the National Anthem, hand on heart." The celebration was canceled fewer than 24 hours before the team was scheduled to visit.
Trump Cancels Eagles Reception Amid National Anthem Protests. President Donald Trump canceled a planned Super Bowl reception for the Philadelphia Eagles Monday after many players would not attend due to his position that all players must stand for the national anthem.
Trump taunts NFL over 'escaping' to locker rooms after changing Eagles visit to a national anthem party. President Donald Trump taunted the NFL on Tuesday by hyping up a party at the White House he decided to throw without them. Typically, US sports teams who win a championship may be invited to the White House. But during Trump's presidency, with his repeated criticism of the NFL and sports teams, the affair has become more complicated. On Monday [6/4/2018], the White House released a statement saying the Super Bowl-winning Philadelphia Eagles would not attend the ceremony.
Yo, Philly! Trump says your Eagles can go take a knee somewhere else. NASCAR has no kneeling problem. It flaunts the flag and patriotism at every race with drivers and their families standing together outside the cars for the anthem and prayer before harnessing themselves in. Ten days ago for a 600-mile contest at Charlotte Motor Speedway, NASCAR handed out more than 5,000 free race tickets to military and invited troops into garages to talk shop. But a convivial championship ceremony will not be happening today with the NFL's Super Bowl champion Philadelphia Eagles at Donald Trump's White House. Faced Monday evening with a boycott by a significant number of team members and employees, who object to Trump objections to their National Anthem protests, Trump disinvited everyone.
Report: 'Five or fewer' Eagles planned to visit White House. The ongoing battle between Donald Trump and the NFL added another chapter when the President announced the Philadelphia Eagles' trip to the White House had been cancelled. And it appears not many players would've showed up anyway. According to ESPN's Don Van Natta Jr., the number of Eagles making the trip could've been counted on one hand.
Trump absolutely correct to rescind Eagles' White House invitation. Being invited to the White House for public recognition of your achievements is an honor. This is true regardless of who is president. Why? Because the president — whether you personally approve of him or not — is the representative of the American people and the White House is the people's house. So, what happened when the Eagles were invited to the people's house for a ceremony to honor them for their Super Bowl victory? Fewer than 10 members of the organization accepted the invitation. Apparently all of the other Eagles had something more important to do than to condescend to accept the accolades of their fellow Americans.
Black firefighter takes heat after taking knee at police-fire football game. A political and emotional brush fire is smoldering within a grieving Chicago Fire Department over a national anthem protest that marred a charity football game dedicated to the memory of two fallen Chicago heroes. Camron McGarity, an African-American firefighter, kneeled while the Star Spangled Banner was being played before the CFD Blaze faced off against the Chicago Police Department's Enforcers last Saturday in the eighth annual "First Responders Bowl." A photo of the protest clearly shows the firefighter, wearing the No. 7 jersey, kneeling on the sidelines while players on either side stood at attention dressed in bright red jerseys and matching red pants.
Athletes Can No Longer Play Nice. An invitation from the commander-in-chief of the United States to visit the White House in celebration of your Super Bowl victory sounds like a great time, but you can't visit this particular commander-in-chief without appearing to endorse his conflict with the NFL over the national anthem or, for that matter, his conflict with anyone about anything. A brief review of the facts of the case is in order. [...]
Disney/ABC Should Merge with Starbucks and the NFL. Disney/ABC, Starbucks, and the NFL should merge, as they are this week's prime example of how to drive away customers while engaged in absurd CEO virtue signaling.
The NFL: It's Game Over. The mainstream media fell all over itself announcing that [Colin] Kaepernick was the Social Justice Warrior that the world had been waiting for. Here, at last, was a black sports icon who could start a movement. All you had to do was open the New York Times to discover the San Francisco 49ers quarterback was really Martin Luther King Jr. The media had finally found its Chairman Mao in Kaepernick, and its Red Guard in the NFL (of all places!) which suddenly turned itself overnight into the sports-entertainment arm of the DNC. [...] Once all the losses are totaled, the NFL's anthem outrage will go down as the most spectacularly stupid business decision that has ever been made.
The NFL controversy is about so much more than a flag or song. What are the chances that this minority of unhappy players will forsake the opportunity for national publicity by sitting obscurely in a smelly locker room instead of making their "statement" by publicly kneeling in front of thousands of paying fans and millions more munching Doritos at home? About the same as the Cleveland Browns winning the next Super Bowl. The controversy, which began almost two years ago when a benched quarterback refused to stand for the anthem, is a disturbing one. It plays off a mere game, albeit one that has supplanted baseball as the national pastime. It's serious business though, costing the league, teams, advertisers, television networks, parking lots and sports bars countless millions in lost sales of tickets, concessions, merchandise, meals and drinks, lost viewers and considerable good will even among disaffected non-fans.
NFL Owners To Players: Get Off Your Knees, Boy. The idiotic "take a knee" scandal in the NFL was launched in 2016 by a mediocre quarterback named Colin Kaepernick, a mudpuppy ingrate who was the product of miscegenation and apparently had to loudly declare to the world that he's black because even he has his doubts. It was based on the idea that racist cops are wantonly slaying young black males in the streets because they are jealous of their charm, good looks, and sexual prowess rather than the fact that it is young black males who are statistically far more likely than any other group to be shooting at them. Last NFL season Donald Trump nuzzled his way a little further into our hearts when he said, "Get that [despicable person] off the field" when referring to the blockheads who knelt during the Star-Spangled Banner with the same sort of defiance that leads several black males to resist arrest or reach for policemen's guns during routine traffic stops.
NFL stars 'threaten to sit out games until Colin Kaepernick and Eric Reid are signed by new teams'. Several NFL stars are reportedly considering not playing until Colin Kaepernick and Eric Reid are signed by teams. According to columnist Shaun King, the protesting players are hoping that up to 25 percent of the league will join them in sitting out. In 2016, Kaepernick drew worldwide attention and sparked a protest movement after he began to kneel during the national anthem to raise awareness of racial equality and police brutality.
Democrats and the media are losing the culture war. The New York Times ran three pieces this week opposing the NFL's new policy requiring players to stand for the national anthem during games, or remain in the locker room if they won't. The Times' liberal columnist David Leonhardt called the rule "unpatriotic" because it "reject[s] a basic American value." (Making a statement about your special interest during a short patriotic song, you see, is exactly what the Founding Fathers had in mind.) The paper's editorial board injected its favorite topic, race, writing that the NFL "capitulated to a president who relishes demonizing black athletes." And in keeping with the Times' long tradition of publishing conservative voices so long as their opinions are weak, the paper gave space to anti-Trump writer David French to denounce "the conservative mob" for approving of the NFL's policy. By "conservative mob," French apparently means the large majority of Americans who don't approve of NFL players kneeling during the national anthem.
Liberals Put The "F" In NFL. It's not often you get to watch a major corporation publicly try to pull out of a self-inflicted nosedive, but that's exactly what the National Football League attempted to do this week. The last two seasons have been a time of shrinking viewership for the league that "owns a day of the week," as they saying goes, and that negatively impacts the bottom line. So the NFL came up with a solution to what they see as the problem. Starting this season, the NFL will fine teams with players who don't stand for the national anthem. Whether or not those teams fine the actual players who refuse to stand is up to them, but the team will also be penalized, which could cost some teams some games. If that isn't enough to at least give activist players pause — harming their teammates — nothing will.
The Editor says...
Sunday used to be called "The Lord's Day." To state that the NFL now owns it is blasphemy. Moreover, the NFL also conducts games on Mondays and Thursdays. They don't own those days either. Nor does your television.
NFL players, leave your agendas in the locker room. The idea that the NFL is only implementing its new national anthem policy because of falling ratings and public pressure is exactly how businesses work. No business exists to employ people; they exist to make as much money as possible. Hemorrhaging fans, or customers, is the quickest path to failure, so it's smart for the NFL to do all it can to stop the swirling public relations disaster its players created. Fining teams whose players kneel during the anthem isn't "punishing dissent," it's the people who sign the front of the players' sizable checks exerting the authority inherent in any employer/employee relationship.
In the NFL, patriotism is for sale. On Wednesday [5/23/2018], the NFL announced a new policy of fining teams whose players decline to stand for the national anthem and empowering the teams to fine those players in turn. This is heavy-handed and probably will prove foolish. The pro-football establishment — not only the NFL itself but also its media partners — has done far more than Kaepernick to turn the sport into a political spectacle. It's simply that the nationalist pageantry that is appealing in Trump country is welcome, while the Black Lives Matter-inspired displays of Kaepernick et al. are not.
Report: NFL to Fine Teams for 'Any Flag, Anthem Disrespect'. The NFL will allow players to remain in the locker room during the national anthem. However, if they come out and protest the flag or anthem, their teams will get fined. That is the new policy announced in a statement by Commissioner Roger Goodell on Wednesday [5/23/2018].
Keith Ellison boycotting NFL games over 'cowardly' kneeling ban. Rep. Keith Ellison (D-Minn.) said that he will boycott NFL games this upcoming season over the league's new policy requiring players to stand during the national anthem. "Friends who know me, know that I love football. But I won't be watching this NFL season because of the unfair cowardly and idiotic kneeling ban," the progressive lawmaker tweeted on Sunday, adding the hashtag "Boycott NFL."
NFL Players' Association criticizes new league policy on kneeling during national anthem. The NFL Players Association (NFLPA) on Wednesday criticized the league for its new national anthem policy. In a statement, the union said it would review the new policy and "challenge any aspect of it that is inconsistent with the collective bargaining agreement." The union accused the league of contradicting its previous statements and of ignoring players' wishes in developing the new policy, which instructs that all team and league personnel should stand for the national anthem.
NFL is 'considering 15-yard penalties for teams who kneel during the national anthem'. NFL club owners are considering potential 15-yard penalties for kneeling during the national anthem among ways of coping with a backlash over player protests, Sports Illustrated reported Tuesday [5/22/2018]. According to a story on the magazine's website, owners set aside three hours to talk about the anthem issue, which President Donald Trump elevated into a major controversy last year. Ideas to handle players kneeling during the anthem included allowing home teams to decide if players should be out of the locker room during the pre-game playing of The Star-Spangled Banner or not. If players are on the sideline, then 15-yard penalties could be imposed on teams with players who kneel during the anthem.
Trump suggests NFL players should leave the U.S. if they don't stand for the national anthem. President Donald Trump backed an NFL rule change Wednesday that bans kneeling during the national anthem and hits violators with fines. However, the president — who instigated the new policy with his withering rebuke of players refusing to stand during the tribute to America — said the measure doesn't go far enough. 'I don't think people should be staying in the locker rooms,' he told Fox & Friends in a pre-taped interview that aired on Thursday's [5/24/2018] program. 'You shouldn't be playing, you shouldn't be there. Maybe they shouldn't be in the country.'
Jets chairman Christopher Johnson says he'll pay any anthem-related fines for Jets players. Despite the institution of a new policy requiring players to stand during the national anthem and imposing fines for any that don't, no New York Jets players will be paying any fines.
NFL Completes Hail Mary to Beat Social-Justice Wreckers. Though even at the height of the phenomenon just a small percentage of the players knelt, the spectacle of millionaire athletes disrespecting the country that made them rich proved so offputting to fans that television ratings tanked. Ratings declined by 10 percent in 2017 over the previous season. And in 2016, when the league lamely attempted to blame the presidential election, the numbers dropped by 8 percent. While numerous factors contributed to the sharp decline in viewers, the kneelers undoubtedly wrestled the ratings down the most.
Players Considering New Forms of Protests for Revised National Anthem Policy. Some NFL players are reportedly considering new ways to protest after NFL owners voted on a new national anthem policy Wednesday [5/23/2018], reports Sports Illustrated's Robert Klemko. According to Klemko, some are discussing ways to skirt new rules "just to spite the NFL." The policy removes a requirement for players to be on the field for the anthem, and gives players the option to stay in the locker room. Teams will be fined for any personnel that "do not show proper respect for the flag and Anthem" on the sidelines.
NFL players mulling new anthem protests 'to spite' league over planned crackdown: report. Some NFL players are reportedly planning new protests during the national anthem "just to spite the NFL" in wake of the league's new anti-kneeling policy that was announced Wednesday [5/23/2018]. The players, who weren't planning on demonstrating during the national anthem this season, said they were looking for way to "skirt" the new NFL rules, Sports Illustrated reported Thursday. Some NFL players are reportedly planning new protests during the national anthem "just to spite the NFL" in wake of the league's new anti-kneeling policy that was announced Wednesday.
Kneeling NFL players should choose a different form of protest. For nearly three weeks last fall, the National Football League waged war against President Trump over player protests during the national anthem. After 19 days, NFL Commissioner Roger Goodell began a slow-moving public relations train wreck of capitulation, culminating in a new rule announced Wednesday [5/23/2018] that will allow the league to fine teams for actions taken by players deemed disrespectful during playing of the anthem. Under the policy, it is up to individual teams to decide whether they want to discipline players for protesting during playing of "The Star-Spangled Banner."
Rep. Pete King: 'Indefensible to Kneel' for 'False Narrative' on Police Violence. It is "indefensible" when National Football League players refuse to stand for the National Anthem, and represents a "false narrative of police bias against black men," Rep. Pete King said in a column Saturday [5/26/2018]. In the column, as in a tweet earlier in the morning, the New York Republican drew a comparison between those who kneel in protest of police violence to people who would make a Nazi salute on the football field. In his tweet, King declared it "disgraceful" that the owner of the New York Jets, Christopher Johnson, would "pay fines for players who kneel for National Anthem. Encouraging a movement premised on lies vs. police. Would he support all player protests? Would he pay fines of players giving Nazi salutes or spew racism? It's time to say goodbye to Jets!"
Vikings to Host Daylong Summit on LGBTQ Inclusion. The Minnesota Vikings will become the first NFL team to host a summit on LGBTQ inclusion in sports. The Vikings announced Wednesday the summit will be held at the team's headquarters in Eagan on June 21. A reception will be held afterward to raise money for local and national LGBTQ organizations. The team is working to create opportunities for people in the LGBTQ community. "We hope that this really jump-starts the conversation," Vikings chief operating officer Kevin Warren said.
Whatever the Left Touches it Ruins. The left is increasingly poisoning sports. In most football stadiums this past season, one could not attend an NFL game without being subjected to left-wing contempt for America and its flag.
Report: Seahawks Cancel Meeting with Colin Kaepernick After He Refuses to Stop Anthem Protests. According to ESPN's Adam Schefter, the Seattle Seahawks canceled a visit with Colin Kaepernick after he refused to say he would stop protesting during the playing of the national anthem. Schefter reported that the Seahawks tried to get the former NFL player to commit to ending his protests, but Kaepernick refused.
Transgender Runners Can Race Boston Marathon Under Identified Gender. Transgender runners who qualify can take part in the Boston Marathon as their identified gender, according to Boston Marathon officials. The issue has garnered attention following a profile in Canadian Running of three transgender women signed up for the race. Comments to the article included reservation from readers that the elevated testosterone levels would potentially bump other women from the race, who would otherwise have qualified.
Kaepernick's "Collusion" Grievance Against The NFL Moves Forward. If you thought we'd heard the last of noted National Anthem protester and former NFL quarterback Colin Kaepernick, think again. The budding social justice warrior still hasn't given up on the idea that he can land a starting spot with a National Football League team simply by demanding that one is owed to him. He filed a "grievance" against the league last year claiming that the league and the various team owners were all "colluding" against him to keep him from playing.
NFL owners finalize $90M social-justice deal without resolving anthem protests. NFL team owners unanimously gave their final approval Monday [3/26/2018] to an unprecedented $90 million social-justice initiative but made no decisions about how to handle players refusing to stand for the national anthem. Instead, owners are expected to continue the discussion about whether to change the game-day policy, which does not require players to stand, at the spring league meeting in May, according to a post on NFL.com citing the NFL Network's Ian Rapoport. The decision to avoid an anthem vote at the March 25-28 annual league meeting in Orlando came with the owners split on how to handle the divisive two-year-old sideline protests, which have been blamed in large part for the NFL's 9.7 percent ratings decline in the 2017 regular season.
NFL owners' social justice cash may defuse anthem protests, may not satisfy fans. After two years of kneeling players and plummeting ratings, NFL owners are expected next week to put the finishing touches on an $89 million social justice package intended to defuse the sideline protest problem that began with Colin Kaepernick in 2016 and put the focus back on what happens on the field. But while some activist players have indicated that it's time to move on — unsigned safety Eric Reid, for one, said Thursday that his anthem-kneeling days are over — others have said no deal. The package's $25 million for former Obama administration figure Van Jones and his left-wing Dream Corps isn't likely to sit well with conservatives already fed up with the league's politics.
The Patriots Flew Parkland Students to D.C. Ahead of 'March for Our Lives' on Team Plane. Students from Marjory Stoneman Douglas High School left Florida on Thursday, for the "March For Our Lives" against gun violence in Washington, DC, this weekend. And their transportation came courtesy of the New England Patriots. According to the Boston Globe, "On Thursday [3/22/2018], team owner Robert Kraft provided the team's official plane to fly the families of the 17 victims of the Marjory Stoneman Douglas High School shooting and some of the students who were injured and survived the harrowing incident to the nation's capital for the event, according to Patriots spokesman Stacey James."
Hollywood stars, athletes driving away viewers with political activism, poll finds. Actors and athletes increasingly using their forums for political activism are turning off viewers, according to a newly released poll. A McLaughlin & Associates/Media Research Center survey released Wednesday [3/21/2018] found that 44 percent were less likely to watch sports and entertainment shows "because they have become too political." In addition, 75 percent said they watch sports and entertainment to escape from politics, and "do not want to be bombarded with partisan political messages." The poll of 1,000 likely voters comes with television ratings plummeting in the last year for high-profile sports and entertainment events.
QBs cashing in — except for the unwelcome Kaepernick. As free agency kicked off the start of a new football season, the NFL sent a clear message to anyone paying attention: Colin Kaepernick, you're still not wanted. Probably not ever. Oh, and while we're at it, it's pretty clear the owners have every intention of clamping down on any other players who tries to carry on Kaepernick's legacy.
Four NBA Teams Play 'Negro National Anthem' at Games for Black History Month. At least four NBA teams have played the Black National Anthem before their games last month. The Washington Wizards was the fourth NBA team to play the anthem at a game in February for Black History Month. The white national anthem was not played this year.
The Editor says...
If there's a black national anthem, that means the blacks think they have their own nation. That's black separatism.
Several Eagles will skip Donald Trump White House visit after winning Super Bowl. Several Eagles players plan on skipping the traditional White House celebration after winning Super Bowl LII over the New England Patriots on Sunday night. Wide receiver Torrey Smith, defensive end Chris Long, and safety Malcolm Jenkins are among the players planing to boycott visiting President Donald J. Trump.
Confronting Leftist Lies. Millions are outraged at the NFL. Americans who simply tuned in to watch Sunday football games were slapped in the face by NFL players, coaches, and management politically protesting on the field against our flag, country, national anthem, and police. And yet, NFL management had the audacity to reject an ad for the Superbowl program booklet, claiming it is too political. The ad featured a veteran, a U.S. flag and the words, "#Please Stand." The NFL's rejection of the ad is evidence of the NFL arrogantly supporting the American Left while dissing mainstream Americans.
'All I know is murder'. Everything you need to know about the Super Bowl can be found in the rap hit "Dreams and Nightmares," by Meek Mill. But which more truthfully could be named after a line in the song: "The Murder Game" or "All I Know Is Murder." Everything about how far professional football has fallen and how the NFL celebrates the obscene, the vulgar, the dangerous, and the foolish will be on full display as that song blares as the Eagles take the field. This song that the Eagle players have chosen is about guns, drugs, money, bitches, and murder, over and over and over. Just like the rest of Meek Mill songs, which also include a healthy dollop of the evils of the white man. [...] Meek Mill will not be there. He's in the joint.
Kaepernick Raises $20K In Donations For Group Honoring Cop Killer. There's always something new shedding light on who this guy really is, to say nothing of the celebrities who ponied up the 2-large for this group.
Kaepernick raises $20K in celebrity donations for group honoring convicted cop-killer. Colin Kaepernick said Friday he has raised $20,000 for Assata's Daughters, named after convicted cop-killer Assata Shakur, through matching donations from his celebrity friends as part of his Million Dollar Pledge. The former San Francisco 49ers quarterback announced that comedian Hannibal Buress and actress Yara Shahidi would both donate $10,000 to Assata's Daughters, which says it "carries on the tradition of radical liberatory activism encompassed by Assata Shakur."
Boycotting the Super Bowl - Veterans, bars, even a bowling alley are saying 'no' to the big game. A growing number of Americans have decided they have better things to do with their time on Super Bowl Sunday than support a professional football league that doesn't have the decency to honor the national anthem. American Legion and VFW posts, restaurants and bars, and even a bowling alley have decided they will not broadcast the Super Bowl game in their establishments — out of respect for veterans and law enforcement.
Herschel Walker: Players Received 'Hush Money' From NFL to Stand for Anthem. Former NFL running back Herschel Walker accused the NFL of essentially giving out "hush money" to stop players from kneeling for the national anthem. The 1982 Heisman Trophy winner highlighted the fact that the NFL in late November offered $100 million to social justice organizations favored by players. The move was widely viewed as an attempt by the league to end the controversy surrounding the anthem protests.
NFL disrespects our vets again; Time to boycott the Super Bowl. Don't let the military jet fly-over fool you this Super Bowl. The NFL is just as anti-military as they were before. The NFL rejected a veterans group, AMVET's, Super Bowl ad because it asks people to stand for the anthem. The two words that frighten the NFL and Roger Goodell to the core is: "please stand." There is only one word to describe this: Censorship. The NFL invited AMVET's to advertise during the Super Bowl. But was quickly rejected once the ad stated #PleaseStand. The reason? They didn't accept the ad because they consider it a "political statement."
NFL to highlight players' work on equality issues. The NFL announced Tuesday [1/23/2018] it would establish a council of players and owners to highlight league members' work on issues of racial justice and equality. A press release on the NFL's website details the "Let's Listen Together" campaign, which includes five current NFL team owners and five current or former players and plans to "focus on supporting programs and initiatives that reduce barriers to opportunity, with a priority on supporting improvements in education and economic development, community and police relations, and the criminal justice system."
Nets Ignore NFL Quashing 'Please Stand' Super Bowl Ad by Veterans Group. With the protest-filled 2017 NFL season set to come to an end in a couple of weeks, the league found itself engulfed in controversy Tuesday when they banned an ad from a veterans group asking people to "please stand" for the national anthem. It was a truly sad story, but the none of the major network news outlets (ABC, CBS, and NBC) felt the need to report it to their viewers during their evening broadcasts.
NFL Made 'A Big Mistake' by Rejecting Pro-Veterans Ad. The NFL has turned into a political sideshow over the past two seasons — and when it comes to this year's Super Bowl, the league has shown it's not supportive of those whose political opinions differ from its own narrative.
Kaepernick named finalist for NFL's 'Community MVP' award. NFL quarterback Colin Kaepernick has been named a finalist for an award honoring players for their community service work. Kaepernick and four other players were announced as finalists for the NFL Players Association's (NFLPA) Byron "Whizzer" White Community MVP award, according to NBC Sports. The free agent quarterback pledged $1 million to various charitable organizations during the 2016 season. He won the NFLPA's "Community MVP" award during Week 1 of the 2017 season after donating $100,000 to four charities and holding a back-to-school backpack giveaway in New York City.
NFL's kneeling comes to abrupt halt: Protesters miss playoffs. NBC plans to televise any players who refuse to stand for "The Star-Spangled Banner" at the Super Bowl, but there may be nothing to show. It appears that NFL players are no longer taking a knee during the national anthem, namely because none of the teams with still-active protesters has qualified for the postseason.
The pathetic results of the NFL kneeling spree. What, exactly, did the NFL "take-a-knee" protests by wealthy black football players protesting racial injustice accomplish? Based on what most people could see, pretty much nothing, other than lost ticket sales. People go to football games to be entertained, not to be lectured by their supposed betters in another dreary virtue-signaling game.
NBC Will Show Kneeling If It Happens At Super Bowl. NBC announced Tuesday [1/9/2018] that they will definitely show players if they take a knee during the national anthem at the Super Bowl next month, according to The Hollywood Reporter. "It's certainly possible," Fred Gaudelli, executive producer of the big game, said about the chances of players taking a knee in protest. "It was a pretty big story in our country this fall. We'd show it."
California federal court rules high school football player can't be ordered to stand for national anthem. A California federal court has ruled that a high school football player cannot be ordered to stand for the national anthem before games. The decision, made by the U.S. District Court for the Southern District of California on Dec. 21, struck down statutes enforced by the San Pasqual Valley Unified School District, the Los Angeles Times reported Saturday [12/30/2017]. The district prohibited students from "kneeling, sitting or similar forms of political protest" at sporting events and "required students and coaches to "stand and remove hats/helmets during the playing or singing of the national anthem," according to court documents.
NFL national anthem protests continue during final week of regular season. More than a dozen NFL players protested during or right after the national anthem on Sunday, the final weekend of the league's regular season. Nine Seattle Seahawks players sat or knelt during the anthem prior to the teams' game, as they have throughout the season. Michael Bennett, Marcus Smith, Frank Clark, Dion Jordan and others were among those demonstrating, The Associated Press reported. Tennessee Titans wide receiver Rishard Matthews remained off the field during the national anthem before his team's game, while his teammates, Brian Orakpo and Jurrell Casey, raised their fists once the anthem ended.
Papa John's CEO John Schnatter steps down weeks after wading into NFL anthem controversy. Papa John's CEO John Schnatter is stepping down from his position, the company announced Thursday. He will be replaced on Jan. 1 by COO Steve Ritchie. Schnatter will remain chairman of the board. Schnatter's face is a fixture to TV-watching sports fans; he is best-known for peddling his pizza on Sunday TV spots featuring Peyton Manning and J.J. Watt. Schnatter's resignation comes weeks after he courted controversy by blaming the NFL's handling of players protesting social injustice who take a knee during the national anthem for falling sales and tanking stock prices. Papa John's stock has lost more than 30 percent of its value since the beginning of 2017.
Papa John's controversial CEO steps down after facing backlash for his criticism of NFL anthem protests. The controversial founder and CEO of Papa John's, John Schnatter, is stepping down, the company announced Thursday [12/21/2017]. The company said its current president, Steve Ritchie, would replace him. Schnatter sparked controversy in November when he slammed NFL leadership over players' kneeling during the national anthem to protest racial injustice and police brutality. "Leadership starts at the top, and this is an example of poor leadership," Schnatter said in a call with investors.
Ravens president sends letter to season-ticket holders blaming 'noticeable' number of empty seats on Baltimore players' 'one-time protest'. The Baltimore Ravens sent a letter to season-ticket holders this week which was signed by team president Dick Cass blames the team's diminished attendance on the players who protested police brutality against minorities by kneeling during the national anthem before the team's September 24 game in London. That game was the first of many protests that day immediately following President Donald Trump's condemnation of the protests [...] during a speech in Alabama. The Ravens players have not protested since.
NFL Co-Hosting 'Social Justice Workshop' For College Athletes. The National Football League has lost millions of fans and seen its profits and ratings tank as a result of the "#takeaknee protests that spread across the league in the first few weeks of the season. But thanks to a new commitment to social justice issues, borne out of the Colin Kaepernick-led protests, the NFL will actually take part in a training program that will help to focus the next generation of activist athletes looking to make a "social justice" difference. The "Advocacy in Sport" workshop, presented by the NFL in concert with Morehouse College, will teach student athletes "how to develop and implement effective advocacy platforms that positively impact society," according to Campus Reform.
Sean 'Diddy' Combs wants to buy Carolina Panthers and sign Kaepernick. Hip hop mogul Sean "Diddy" Combs said Sunday night [12/17/2017] he's interested in buying the Carolina Panthers and signing quarterback Colin Kaepernick, who has been unemployed this season after kneeling during the national anthem in 2016. Panthers owner Jerry Richardson announced Sunday he would be selling the team after the 2017 season, just hours after Sports Illustrated published accusations of sexual misconduct from former employees. Richardson also allegedly used a racial slur about a team scout. Diddy took to Twitter soon after the Panthers announced the upcoming sale, declaring his desire to own a team and increase diversity among NFL ownership.
The Editor says...
Brilliant idea. I strongly encourage Mr. Combs to buy the team, make it the most radical left-wing BLM/SJW activist branch of the NFL, and then see what happens to ticket sales and the resale value of the team. Then we will all see the value of "diversity among NFL ownership."
NFL Team Hit With Lawsuit, Courtesy of Flag-Loving Americans. Fed up with the NFL's ongoing national anthem protests, one fan has attempted to strike back by filing a suit against the New Orleans Saints in the hopes of recouping the thousands of dollars he spent on season tickets to the team's games. Louisiana resident Lee Dragna filed a suit in a district court Monday "seeking a refund for the tickets as well as attorney's fees, claiming the protest by some players against police brutality and racial injustice has prevented him and his family from enjoying the games," reported the The New Orleans Advocate.
Goodell defends NFL's massive planned donation for social justice causes. NFL Commissioner Roger Goodell on Monday [12/11/2017] defended the league's move to pay nearly $90 million to social justice causes supported by some players, despite critics' claims that it was meant purely to appease activist athletes, including those who have kneeled during the national anthem this year.
AP counts 5 NFL players protesting during anthem. The Associated Press counted five NFL players protesting during the national anthem of the league's early games Sunday [12/10/2017].
NFL Players' Protests Focusing Attention on League's Tax Breaks. The knee-bending antics of professional football players are focusing attention on a key issue: Are the taxpayer subsidies involved in supporting the NFL worth it in generating new revenues as promised? An issue getting less attention is whether taxpayers should be involved in supporting professional football in the first place. Especially when those in the league are thumbing their noses at the very taxpayers who are funding them. Jeff Mordock, writing in the Washington Times, said that "the protests are sparking a conversation on the NFL itself and whether the public investment in teams pays off for [the] communities that host them — and often serve [instead] as their cash machines." That conversation is revealing what economists have concluded from time immemorial: there is no net gain to taxpayers either from their funding of stadiums or helping the teams' owners purchase their players' contracts.
Lindsey Vonn: I won't be representing US President at Winter Olympics. A number of US athletes have spoken out against Donald Trump during his presidency — and skier Lindsey Vonn has become the latest to have her say. Targeting Olympic gold at February's Winter Olympics in Pyeongchang, Vonn is in St. Moritz, Switzerland, where she spoke passionately about what it means to compete for the US ski team. "Well I hope to represent the people of the United States, not the president," Vonn told CNN's Alpine Edge.
Colin Kaepernick honored with ACLU award. Former San Francisco 49ers quarterback Colin Kaepernick was the surprise honoree at the ACLU of Southern California's annual awards dinner Sunday night, accepting the Eason Monroe Courageous Advocate Award for his kneeling protests against the national anthem that sparked a movement across the NFL. Mr. Kaepernick's appearance, which was not announced prior to the event at the Beverly Wilshire Hotel in Beverly Hills, was met with a standing ovation.
Sports Illustrated Grants Award to Colin Kaepernick for Disrespecting National Anthem. Sports Illustrated has followed GQ down the rabbit hole of radical leftism by granting an award to the bitterly anti-American former football player who set in motion the ongoing collapse of the NFL, Colin Kaepernick.
NFL Week 13 : Thugs Who Disrespect the Anthem, Flag and Military. As the NFL continues to lose attendance and TV viewership, NFL thugs continued their "oppression" protests for Week 13 in the NFL.
NFL Kneeler to Fans: If You Don't Like the Protests Stay Home!. The New York Giants defensive lineman who protested the national anthem during the Thanksgiving Day night game against the Washington Redskins has a message for fans who don't like it. STAY HOME!
Colin Kaepernick Is Recipient of 2017 Sports Illustrated Muhammad Ali Legacy Award. Colin Kaepernick made his truth known when he first decided not to stand for the national anthem. He had a lot of football left to play and a lot more money to make when he made his decision. It was late August, 2016. People who were anonymous in life had become famous in death. Philando Castile. Eric Garner. Alton Sterling. Freddie Gray. They were tragic symbols of a society that had taken a terribly wrong turn. As the anthem played ahead of the 49ers' preseason game against the Texans, Kaepernick, San Francisco's 28-year-old quarterback at the time, quietly took a seat on the bench. It took two weeks for anyone from the media to ask him about it. Kaepernick explained that he was making a statement about inequality and social justice, about the ways this country "oppresses black people and people of color."
NFL to Contribute $100 Million to Social Justice Causes as Part of Anthem Protest Surrender. The NFL's sellout to their anthem-protesting players is starting to look a lot more like a buyout. According to ESPN, the league will offer nearly $100 million to causes designed to promote "social justice change." In a move unlike anything seen from a major American sports league, the league will offer the money in hopes that it will end the ratings-killing protest movement begun by Colin Kaepernick in the preseason of 2016.
Ticket Prices for Thanksgiving NFL Game Tumbling to Less than $15 as Anthem Protests Continue. It has gotten increasingly hard for average Americans to afford to take their families out to sporting events, because the costs are so high. But as the NFL continues to lose fans, TV ratings, and moral authority, ticket prices have also crashed to unheard of lows.
NFL owners could change anthem policy next season if protests continue. Some NFL owners believe there is a strong possibility they will enact an offseason change to the league's national anthem policy if players' protests during the anthem persist through the end of this season, reverting to a previous approach of keeping players in the locker room while the anthem is played, according to several people familiar with the league's inner workings. "I think that if players are still kneeling at the end of the year, then it could very well happen," said one person familiar with the owners' deliberations on anthem-related issues. That person said it was "too early to tell" for certain if the change to the anthem policy will be made by owners and the league. The person was "not sure" if a formal vote of the owners would be required to enact such a change but said, "I think most owners would support it, particularly if players continue to kneel this season."
NFL learns there's No Free Lunch. Let us cut to the chase: the NFL owns the players' protest because not only has the league failed to hold players accountable, its owners joined in the anti-American protest. Well, virtue signaling has a price. Americans are about to pull tax breaks that the league enjoys.
NFL mulls changing anthem policy for next year. The NFL is considering an idea for next year to keep players inside their locker rooms during the playing of the National Anthem. "I think that if players are still kneeling at the end of the year, then it could very well happen," said one person familiar with the owners' deliberations on anthem-related issues. Years ago, the players would come out on the field to warm up and then return to the locker room during the National Anthem. The league is thinking of going back to that policy.
NFL repays billions in American taxpayers' dollars with a knee. No thanks. This Thanksgiving, for the first time since I was a toddler, I will not be watching any NFL games. I find the League's disrespect for our country and our national anthem reprehensible and a totally unwarranted injection of partisan anti-police politics into a cherished sport. I'm hardly alone in that belief, as a recent Remington Research poll found that 80 percent of Americans responded that they'd like to see less politics during sporting events. Most of the blame for this mess clearly lies with Commissioner Roger Goodell, whose feckless lack of leadership allowed this issue to fester despite clear NFL rules about players standing respectfully for our flag. Amazingly, Goodell is about to ink a new contract that, according to ESPN, will pay him approximately $40 million a year and perhaps include such perks as lifetime private jet travel. It's astounding that the NFL owners, a very savvy group of business leaders, would reward Goodell with such generosity after his many management fumbles including the Ray Rice scandal, Deflate-gate, and sagging TV ratings.
Colin Kaepernick celebrates 'Unthanksgiving Day' on Alcatraz Island. True to the theme that he's been nationally talking about — or rather, taking a knee for — since last summer, former 49er Colin Kaepernick attended an "Unthanksgiving Day" celebration on Alcatraz Island. The Indigenous Peoples Sunrise Ceremony, held annually on Thanksgiving since 1975, commemorates the survival of Native American peoples following the settlement of Europeans in the Western Hemisphere.
NFL Player Will Only Stand for Mexican National Anthem. Raiders running back Marshawn Lynch sat during most of U.S. anthem and stood for the Mexican anthem before their game against the Patriots at Azteca Stadium in Mexico City. Lynch has not stood for the national anthem since returning from retirement this season.
The National Boycott of the NFL Did Not Matter. America hating Leftists never back off or surrender ground. As a matter of fact, to continue poking a finger in the eye of normal Americans, Leftist rag GQ magazine outrageously named Colin Kaepernick its Citizen of the Year. Kaepernick is the player who started NFL players shamefully kneeling during our national anthem. Sports media instantly declared Kaepernick, a mediocre quarterback, a hero. And yet, sports media is obsessed with pressuring an NFL team to hire Kaepernick. NFL players have been fooled into believing their protest is about fairness and justice. These young men are clueless that Leftists view them as useful idiots in their long-term plan to bring down America economically, culturally, and globally.
Lefty Protest Gets Kaepernick "Citizen of the Year". Name country singer Blake Shelton People's Sexiest Man of 2017 and left-wing media go in an uproar. Pick out-of-work quarterback Colin Kaepernick as GQ's "Citizen of the Year" and sane people look at you stupefied. Kaepernick worked with the magazine to "reclaim the narrative of his protest." So they photographed him in Harlem "intending to evoke the spirit of Muhammad Ali's anti-Vietnam War protests."
Britt McHenry, ex-ESPN reporter, blasts GQ for naming Colin Kaepernick 'Citizen of the Year'. On Monday, GQ magazine released its special issue naming former San Francisco 49ers quarterback Colin Kaepernick "Citizen of the Year." The controversial figure in sports, and the magazine, received a lot of backlash, including a string of tweets from former ESPN reporter Britt McHenry. "I see that magazine cover and I think if we want to go with a football player, Houston Texans' JJ Watt raised $37 million for Hurricane Harvey relief. Why is he not the citizen of the year," she told Fox News' Neil Cavuto Monday night [11/13/2017].
Hey, NFL owners, tired of half-empty stadiums? Tell your players to stand up for America. [I]t took quite a bit to get me to boycott the NFL, but they managed it. Until the owners require their players to stand for the national anthem, or sit for the game, I won't watch a minute, and I'm not alone. Since Colin Kaepernick began kneeling during the anthem in a misguided protest against police violence, the NFL has been hemorrhaging fans. Both TV viewership and attendance at stadiums are well down and once people find other ways to spend their Sundays, they may not come back.
No, Colin Kaepernick Is No Muhammad Ali. GQ magazine named former NFL quarterback Colin Kaepernick its 2017 "Citizen of the Year." In doing so, GQ overlooked NFL Houston Texans' J.J. Watt, who raised some $37 million for hurricane relief. Many of Kaepernick's supporters liken his protest to that of boxer Muhammad Ali, who refused to be inducted into the military. The comparison is not well-taken.
College Basketball Teams Make National Anthem Demonstrations At The Champions Classic. It appears the national anthem protest has trickled down to college basketball. Two of the four college basketball teams that participated in the Champions Classic in Chicago on Tuesday night participated in a national anthem demonstration before their game. While nobody took a knee, the players on each team wore t-shirts in an apparent demonstration in pre-game warm-ups and during the playing of the national anthem.
From One Frenzy to the Next. It is hard to sustain outrage about NFL racism when twentysomething multimillionaires, in a league of over 75 percent African-Americans, insult the sources of their income by refusing to stand for the National Anthem -- and belatedly come to realize that the logical trajectory of their supposed principled demonstrations is their own irrelevance and eventual impoverishment. What cooled the NFL hysteria was the reality that the hyped story of "taking a knee" was morphing into the scarier narrative of less money, an absence of politically correct proportional representation among players, looming league downsizing, pampered athletes, traumatic brain injuries, and a public weariness with everything from ESPN to Colin Kaepernick. In other words, taking a knee reminded about 20 percent of NFL fans that there were already reasons enough to turn the channel. And so they did.
These Three NFL Players Knelt During The Anthem On Veterans Day Weekend. Three NFL players took a knee as the national anthem played at the New York Giants game against the San Francisco 49ers Sunday, according to multiple reports. As "The Star Spangled Banner" played at Levi Stadium over Veterans Day weekend, Eric Reid and Marquise Goodwin knelt on the San Francisco side. They were joined by Olivier Vernon on the New York side. No NFL players knelt during the early games on Sunday [11/12/2017], according to the New York Daily News.
Bears Packers Game Half Empty at Soldier Field. The Chicago Bears and Green Bay Packers have a historic rivalry. But after several weeks of NFL National Anthem protests even Soldier Field in Chicago was half empty today [11/12/2017].
Labeling Vin Scully a racist is a new low point. Saturday, Vin Scully, who turns 90 on Nov. 29, had the audacity to protest the protesters. He thus was condemned as an "Old Retired White Man" on a popular, but reckless, often dishonest and vulgar sports website featuring cheap-shot artists who make snap, no-research bad guesses to mischaracterize and defame. Like Morning Zoo radio, that's how several internet sports journalism sites generate attention. That's where we're headed. At a symposium, Scully calmly answered a question about NFL take-a-knee national anthem protests. He said he's so upset by them, he'll never watch another NFL game. He's hardly alone among those who won't suffer conspicuous disrespect for the anthem and flag over any selected or selective issue. Such protests appear dismissive or ignorant of greater symbols of freedom, history and sacrifice.
The Editor says...
As far as I know, all Mr. Scully said was that he didn't want to watch football any more. How is that racist? Racial politics has certainly been injected into professional sports, but not by Mr. Scully.
NFL's Invitation To Kaepernick To Meet With Goodell Turns Into Snarky Public Feud. Colin Kaepernick, the quarterback-turned-activist who started the anthem protests by refusing "to stand up to show pride in a flag for a country that oppresses black people and people of color," continues to be both unemployed and making headlines. In the latest episode of the Kaepernick saga, the NFL extended an invitation to the sidelined QB to meet one-on-one with commissioner Roger Goodell — a proposition that quickly devolved into a snarky public feud between Kaepernick's lawyer and an NFL spokesman.
Vin Scully says he'll 'never watch another NFL game again'. Saturday night, former Dodgers announcer and Hall of Famer Vin Scully was at the Pasadena Civic Center for an event called "An Evening With Vin Scully." At some point during the event, Scully was asked about the NFL's national anthem protests, in which players have taken a knee during the anthem to protest police brutality and racism. Scully said he "will never watch another NFL game" because of the protests.
NFL Advertisers to NBC: Stop Showing Players' Protests. The unease among advertisers over falling National Football League TV ratings is starting to boil over. One of the league's major sponsors is considering pulling the plug on its NFL advertising next year, and, according to Business Insider's Mike Shields, other "brands are threatening to pull ads from NFL coverage if NBC keeps covering players' national-anthem protests." If those ad dollars go away, technological shifts may cause advertisers to decide not to return.
Veteran Refuses Service Award Offered by Saints, Calls NFL Protests 'Slap in the Face'. The NFL has long-standing tradition of mixing respect for the flag, and those who defend it, into their pregame ceremonies and community outreach. However, since the NFL has recently decided to mix disrespect for the flag, and those who defend it, into their pregame ceremonies. One veteran in Louisiana has decided to call them out on it. Meet John Wells, he is a retired Navy commander and executive director of the national Military Veterans Advocacy organization, in Slidell, Louisiana. Mr. Wells was chosen by the Saints to be the recipient of the People's Health Champion award. A recognition offered to a member of the community who exemplifies "the exceptional achievements of Louisiana residents age 65 and older."
NFL's most powerful owners targeted in Kaepernick's collusion case. Some of the NFL's most powerful owners will be at the center of Colin Kaepernick's collusion case. The Cowboys' Jerry Jones, the Patriots' Robert Kraft and the Texans' Bob McNair will be deposed and asked to turn over all cellphone records and emails in relation to Kaepernick's accusation, ESPN.com reported. Seahawks coach Pete Carroll and 49ers owner Jed York is also on the deposition list, according to Yahoo Sports. The 49ers quarterback-turned-NFL martyr is charging that NFL teams, in "calculated coordination" with President Trump, blackballed him from the league after he became the face of the NFL anthem protests, which he started to fight against racial inequality.
Papa Johns Whines About Lower Pizza Sales Because of NFL Thugs. Papa John's, an NFL thug supporter is whining that pizza sales are dropping because fewer and fewer people are watching the NFL. Hey, here's a thought Papa John. Pull your sponsorship of the NFL and your pizza sales will rise like your crust. Any company associated with the NFL, like Papa John's deserves to see their revenue tank. If you are financially supporting a league that hates this country, then by extension, you hate this country until you pull your ads.
Game Over: NFL Owners Stunned as Ratings Plunge 25 Percent. The NFL has been struggling to regain its footing following weeks of players choosing to "take a knee" during the performance of the US national anthem. The ensuing controversy gained national attention when President Trump called for a total boycott of the NFL until officials and owners require players to stand during the 'Star-Spangled Banner.' As a result, ratings, ticket purchases, and merchandise sales have plummeted as football fans protest with their wallets.
NFL Ratings [Can Be] Blamed on [an] Inferior Product. If you think the demise of the NFL and the proliferation of social engineering and political correctness is a coincidence, then you're likely a Leftist. Black players are a product of their environments and their politics. These high-paid employees bring all the problems that America faces. So it was only a matter of time for these thugletes to rebel. So yes, the product of the NFL [stinks]. And the games are no fun to watch. Sadly, the sports shows offer no relief either, as we have seen these shows become more politics than sports.
East Coast Sports Reporter Leaves Lefty Bubble, Finds Out Middle America Really Dislikes the Anthem Protests. A sports reporter recently left his comfortable liberal bubble in New York City, traveled to the interior of the country, and was shocked when he discovered that NFL fans in fly over country really do hate the NFL's constant anti-American national anthem protests. Fox NFL writer Peter Schrager found out first hand that real Americans are pretty steamed about the anti-American NFL protests going on across the country.
NFL in Death Spiral: San Fran 49's Spend $$ on Gun Control, Not Better Players. Did you really think the politicization of the NFL starts and stops with the taking of a knee at the sounds of the national Anthem you are wrong. Now the San Fran 49'ers are acting as a Democrat Party PAC — giving $500,000 to promote gun control. "According to ESPN, the 49ers presented the gun control pledge as part of creating a "more understanding and safer America." The $500,000 will also be used to push a ban on bump stocks and armor-piercing bullets. The ban on armor-piercing bullets is somewhat ambiguous, but appears similar to a ban which was unsuccessfully pushed by the Obama administration in 2015.
Houston Texans find new fake cause to kneel. After months of kneeling over the national anthem — and in protest of supposed targeted police brutality against blacks — football's finest in on-field showboating have finally found a new cause: offensiveness at their team owner's remarks. The possibilities of this type of protesting — and by this type, it's meant, fabricated and fake — are endless, it seems.
NFL or Gilligan's Island, the Choice Is Easy. It's not a tough decision at all, for me the choice is obvious. This year I'll be watching reruns of Gilligan's Island before I'll watch a single down of the National Football League. I just don't have the interest level that I once had in watching professional football, it simply doesn't appeal to me anymore. And it won't appeal to me until the NFL decides to stand up to the thugs and prima donnas on its payroll who want to protest against the very country that has enriched them far beyond that of most Americans.
The Editor says...
Why not just turn the television OFF and read a book, or walk around the block, or something? Must you be entertained constantly?
Free Speech Works Both Ways: Fans Abandon NFL Over Protests, Leave Half Empty Stadiums. Frankly, I could care less about that National Football League and the ongoing social justice protests. The game has no impact on my life and neither does its players. However, it appears that many Americans are finally putting some shoe leather to their anger at players who kneel during the national anthem and will not stand for the raising of the US flag and it's showing up in photos from NFL stadiums across the league.
Cowboys cut ex-Giant Damontre Moore, one of two Dallas players who continued to raise his fist at end of national anthem. If Damontre Moore wants to continue his national anthem protest, he'll have to do so with a new team. The Cowboys released Moore in order to make room to sign kicker Mike Nugent, the team announced Wednesday [10/25/2017]. Cowboys owner Jerry Jones has publicly stated he believes all players should stand for the anthem and recently said he believes anthem protests are hurting the NFL. While no Cowboys player has kneeled or sat during the anthem, Moore was one of two players who continued to raise his fist at the conclusion of "The Star-Spangled Banner" in recent weeks after Jones previously talked to players and explained his feelings on the matter.
NFL Week #7 — More Empty Seats Seed Doubt for Future of Commissioner. The vast majority of NFL fans held a middle-class, center-right, common sense, and patriotic outlook toward sports and entertainment overall. In essence most of the NFL fan base are/were positively MAGA-minded. It reflects the profound disconnect between the corporation and their customer base that the NFL didn't recognize the danger in making social justice causes part of their business enterprise. That blame lays squarely on the well paid leader of the NFL, Roger Goodell.
Why don't you just play football?
San Francisco 49ers Pledge $500,000 to Push Suppressor Ban, Other Gun Control Measures. The San Francisco 49ers pledged $500,000 Thursday to secure a suppressor ban and other gun controls. The push comes in the weeks after the Las Vegas attack. Suppressors were not used in that attack, but the 49ers are dedicated to banning the devices anyway. According to ESPN, the 49ers presented the gun control pledge as part of creating a "more understanding and safer America." The $500,000 will also be used to push a ban on bump stocks and armor-piercing bullets.
The Regrettable Marriage of the NFL and Left-Wing Identity Politics. What we are witnessing in the media narrative around the NFL protests is the prevailing modus operandi of contemporary leftists seeking to introduce their identity politics into all aspects of American life, even where those politics are unwelcome for most Americans. In fact, we actually saw the left orchestrate something quite similar just a few years ago.
NFL Ratings CRASH Gets Real With New Numbers -- and America Has Just Begun! For constantly shoveling the kneeling, hand-locking and bad attitudes about the flag and the National Anthem, the NFL has confirmed that for the first six games of this season, the ratings that indicate total number of viewers have fallen 7.5% more than last year's total viewership. A few weeks ago we wrote about the decline in viewership for Monday Night Football, with the boycott in full swing. From September of this year to October of this year, viewership was down by 10%. Last October we were already reporting a lessened viewership thanks to Kaepernick's grandstanding.
In Case You Missed It, the NFL Might Have Caved on a Lot More than just the Anthem Protests. It's safe to say, that when NFL Commissioner Roger Goodell wrote a memo to the league informing them it was time to "move past the anthem controversy." Most people thought he meant moving past it by ending the protests, and, as a result, ending the controversy. However, a disturbing nugget of information from today's meeting suggests that Goodell might have meant something else entirely. ESPN's Sal Paolantonio caught up with Goodell after the four-hour meeting with the owners and player representatives. Paolantonio asked Goodell if the league had asked the players to commit to standing for the anthem. Goodell's response, did not inspire confidence.
Florida man takes 'Boycott the Jags and the NFL' message to sky. A former Jacksonville Jaguars fan decided to take his grievances with national anthem protests to the sky Sunday, hoping the players on the field would see his message 1,000 feet above. Terry Smiley said he was disgusted by Jaguars players who took a knee during the national anthem in London last month, and he decided he needed to make his voice heard. So Smiley hired a pilot to fly his banner, which read[,] "BE AMERICAN. BOYCOTT THE JAGS AND THE NFL," over EverBank Field on Sunday [10/15/2017] before the Jaguars faced off against the Los Angeles Rams.
Goodell Falsely Claims Only a Half Dozen Players Have Protested the National Anthem. NFL Commissioner Roger Goodell falsely claimed that only "six or seven players" were actually protesting the national anthem during a press conference following the annual fall owners meeting on Wednesday [10/18/2017]. [...] "I think we also have to keep focus on [the fact that] we have about six or seven players that are involved with this protest at this point," Goodell continued. Goodell's claim that only about a half dozen player are involved in the national anthem protest is blatantly false.
NFL's cratering ratings may be starting to hit Fox's bottom line. I talked recently to an NFL fan of many decades who has completely turned his back on the league. We both agree that if the NFL was to die it probably would be just fine and also would probably save the brain cells of many an aspiring football player. Another friend (online friend) said that he'd stopped watching 3 weeks ago and was pleasantly surprised to find that he had a whole lot more weekend to play with.
After meeting, NFL, NFLPA release statement indicating no change to anthem policy. The much-publicized Tuesday [10/17/2017] meeting between NFL officials, team owners, NFLPA officials and several players lasted about three hours. While there was undoubtedly a lot discussed in that time, it sounds as though there has not been a resolution on a rule change to require that players stand for the national anthem before games.
NFL Stadiums Nearly Empty Across League As Backlash Grows. Note, that the Jets played New England on Sunday, meaning there should have been a big crowd for that game. The Texans, Atlanta, and Baltimore are also very relevant teams with relatively loyal fan bases. Yet, thousands upon thousands of fans no-showed or didn't buy tickets for those games.
CBS Losing Money. Guess Why. Gee, any guesses why CBS' third-quarter advertising declined? If you said NFL football tanking with the public, you get the blue ribbon. [...] [Credit Suisse analyst Omar] Sheikh added that CBS' Sunday NFL ratings have plunged 17% from the same period last year in which the first few games of the regular season were played.
'Monday Night Football' Ratings Fall To Season Low As Titans Break Colts' Streak. It felt like a little bit of history was being made on Monday Night Football as the Tennessee Titans finally snapped their streak of 11 consecutive losses to the Indianapolis Colts. However, as social media sparked with ESPN not showing the playing of the national anthem, another type of history was also being made: Last night's primetime broadcast of the Titans' 36-22 victory stumbled to a season low with a 6.1 in metered market results.
Kaepernick Files Grievance Against NFL Owners, Alleges Collusion to Keep Him Out. Former NFL quarter Colin Kaepernick has filed a grievance against NFL owners because he believes they colluded to keep him out of a job due to his protests during the national anthem. [...] He could have had a job this season if he had not chosen to opt out of his contract with the San Francisco 49ers. The contract gave him $16.9 million plus bonuses for 2017.
Report: Kaepernick files grievance against NFL owners for collusion. Colin Kaepernick has filed a grievance under the collective bargaining agreement for collusion against NFL team owners, reports Mike Freeman of Bleacher Report. Kaepernick has hired high-profile attorney Mark Geragos and is preparing to release a statement about his grievance soon, added Freeman. The free-agent quarterback has remained unemployed since his release by the San Francisco 49ers in March and has garnered little interest from teams around the league.
Labor lawyer: Colin Kaepernick will have to prove 'pattern' to win collusion grievance. In order to win his collusion grievance against NFL owners, Colin Kaepernick will need to prove a pattern of communication with and between teams that led to his current unemployment, a labor law expert told USA TODAY Sports. "He's going to have to show some kind of pattern — of dealings with the clubs, where clubs were aware that he was willing and able to work, where there was some sort of communication with him and then unexplained reasons went elsewhere," said William Gould, the Charles A. Beardsley Professor of Law, Emeritus, at Stanford University.
Colin Kaepernick's case against the NFL is as lame as his skills at quarterback. Colin Kaepernick's newly-filed grievance accusing the NFL of colluding or conspiring against him is a legal "Hail Mary." He and his lawyers stand little chance of winning because both the law and the facts are against him.
NFL: No plans to force players to stand during anthem. The NFL said Friday [10/13/2017] it has no plans to force players to stand during the national anthem, but will convene to discuss ways to end the controversial protests without imposing new rules. [...] The league released a joint statement with the NFL Players Association (NFLPA) earlier this week saying that they would work to advance the mission of the protests, which have called attention to issues of racial injustice and police brutality toward African-Americans.
Silence of the Republican Lambs. America's culture war is on full display and the left is losing badly. Public opinion is not on the side of left-wing social justice causes and moral preening. Where to begin? NFL players disrespecting law enforcement and the national anthem, kneeling or sitting to protest "oppression" and "injustice." Ratings are down and the NFL is now one of the most divisive brands in the U.S. Not a winning business formula.
Roger Goodell Killed the Goose that Laid the Golden Egg. In August 2016, America was experiencing a polarizing presidential election. San Francisco 49ers quarterback Colin Kaepernick sat during the playing of the national anthem, to protest injustice. It was a politically divisive act directed at fans who regard the national anthem as something sacred. The league did not lift a finger to stop him. Most employers don't let their workers make controversial political statements to their customers. It is why you do not know your UPS driver's views on the expansion of NATO. The Constitution does not prohibit private businesses from regulating speech during work. A savvier commissioner would have reminded Kaepernick that he is being paid millions to wear the logo of the NFL, and the league does not permit players to use its brand to flaunt their personal politics. Instead, Roger Goodell permitted the pregame ceremonies to become the focus of intense political scrutiny, as the media lined up to catalog whether players stood, sat or knelt during the national anthem.
NFL execs just SPIT in America's face. When Colin Kaepernick inspired hundreds of millionaire NFL players to disrespect the American flag every Sunday, fans responded with boos. When the players refused to stop their dishonorable protests, fans began to boycott the league. If critics thought the NFL had learned their lesson, though, the leagues executives proved this week that they hadn't.
The Beginning Of The End Of Progressive Domination? The preposterous "protests" by NFL players disrespecting the flag during pregame ceremonies has angered large numbers of Americans and hit the League in the wallet. The race card that always has trumped every political or social conflict has perhaps lost its power. The spectacle of rich one-percenters recycling lies about police encounters with blacks and the endemic racism of American society has discredited the decades-long racial narrative constantly peddled by Democrats, movies, television shows, and school curricula from grade-school to university. The endless scolding of white people by blacks more privileged than the majority of human beings who ever existed has lost its credibility. The racial good will that got a polished mediocrity like Barack Obama twice elected president perhaps has been squandered in this attempt of rich people who play games to pose as perpetual victims.
The NFL is attacking an America that has treated it very well. Choosing to disrespect our flag is an over-generalized indictment of the greatest nation on Earth. Kneeling for the anthem does nothing to advance solutions to racial injustice, police brutality, or any other social plight. It is a slap in the face to patriotism itself. It is a statement that America as a country is no longer worth standing for. It is bizarre to see the NFL attacking an America that has treated it so well over the years. Taxpayers pay over 70 percent of the cost of stadiums. Our citizens pay more and more for tickets, and valuations of professional sports franchises have skyrocketed.
Kaepernick's Collusion Claim Is a Likely Loser. If you're going to do Muhammad Ali-type activism, you'd better have Muhammad Ali-type talent. That is the ultimate lesson of the Colin Kaepernick saga. [...] There is no need to collude against a player who is not an obvious net-plus (in terms of performance and popularity) for any particular team.
It's 1968 All Over Again. The National Football League is imploding as it devolves into a political circus. Multimillionaire players refuse to stand for the national anthem, turning off millions of fans whose former loyalties paid their salaries. Politics — or rather a progressive hatred of the provocative Donald Trump — permeates almost every nook and cranny of popular culture.
An Open Letter to the NFL Players. You have the absolute right to express yourselves, but we have the absolute right to boycott you. We have tolerated your drug use and DUIs, your domestic violence, and your vulgar displays of wealth. [...] But now you have gone too far. You have insulted our flag, our country, our soldiers, our police officers, and our veterans. You are living the American dream, yet you disparage our great country. I am done with NFL football and encourage all like-minded Americans to boycott the NFL as well. Millionaire spoiled brats deserve neither our respect nor sympathy. Grow up and act like men instead of puppets of the radical left who hate America.
NFL Goes Left: Won't Force Players To Stand For Anthem, Focuses On Social Justice. As NFL ratings continue to plummet — down nearly 10 percent from last year — news networks are increasingly choosing not to show the national anthem because of protests by players, which often elicit boos from fans. Thursday's [10/12/2017] matchup between the Carolina Panthers and Philadelphia Eagles, despite being a strong matchup between two high-profile teams, was down 5 percent from the previous week's Thursday night matchup.
Tennessee Titans Player Says He'll Quit The NFL If Forced To Stand For The Anthem. Tennessee Titans player Rishard Matthews tweeted Thursday [10/12/2017] that he'll quit the NFL if the league implements a rule forcing players to stand during the anthem. "No I will be done playing football," Matthews tweeted and ultimately deleted when asked if he would be willing to face punishment for not standing if a new rule is implemented.
Bombshell Report: The NFL Players' Union Has Been Working With George Soros. This makes so much sense. Lots of people have been wondering why the NFL has been drifting into left wing politics. Associating with George Soros in any way will typically make that happen.
The NFL and its owners salute one flag: The dollar. Ignoring their own league rules caused conservative organizations, pundits, media, and activists to call for an NFL boycott. Football fans and businesses rallied, burning jerseys and season tickets, canceling their Direct TV Football packages, not buying tickets, merchandise, and playing smash mouth themselves by turning the channel. Due to the costly backlash, according to the Wall Street Journal, the National Football League's owners will discuss next week whether to unilaterally change league policy and require players to stand during the national anthem. If players refuse to rise up, they could face disciplinary action by the league or by the team. The NFL may change the rules of conduct in direct response to their fans who are rejecting politics on the field and hitting them where it hurts them most — their Gucci wallets.
Rishard Matthews of the NFL's Titans said he'll quit if forced to stand for the anthem. A National Football League (NFL) player says he would rather lose his job than be forced to stand during the national anthem. "No, I will be done playing football," Tennessee Titans wide receiver Rishard Matthews tweeted Thursday when asked about the issue, according to ESPN. ESPN reported that WSMV producer Matt Parker asked Matthews whether he would stay in the locker room for the song if the NFL created a rule mandating they stand or face punishment.
NFL TV audience numbers continue to decline early in 2017 season. No wonder alarm bells are sounding in NFL commissioner Roger Goodell's office. The league's average TV audience through Week 5 of the 2017 season dropped 7 percent vs. the same period of the 2016 season, according to Nielsen data obtained by Sporting News. Worse for the league, the average game audiences are down 18 percent compared to the first five weeks of the 2015 season.
Kneeling's a kick in the stomach to our country. The ongoing flap over NFL players disrespecting our national anthem is lowbrow theater at best, casting jocks as deep thinkers whose moral indignation demands everyone's attention. So they take a knee when "The Star-Spangled Banner" is played as a way of alerting the rest of us that we live in an imperfect world.
Victor Davis Hanson: Kneeling NFL Players Are 'Violating the Cardinal Rule of Business'. "The players think that the audience are coastal hipsters, and they're not. They're mostly, the hardcore audience ... males, usually about 30 to 60, and they tend to be red-state conservative males," Hanson said. "So they're basically violating the cardinal rule of business: You never insult your base, your customer base. And that's what they're doing." "There are certain vulnerabilities that the players don't realize that they're pushing into the face of the fan. It's not going to work," Hanson added. "I think they're going to lose 10 or 20 percent of their fan base, and that's going to make radical changes in how it's financed and operated." Noting that the entire controversy is "all going to be distilled down to money," Hanson said, "that's what the NFL is about."
Pence walks out of an NFL game and sports journalists lose their collective minds. [Scroll down] The reaction was largely predictable, with fans tired of the political posturing of overpaid sports stars applauding, and social justice warriors condemning. What was extraordinarily funny, however, was the way that the sports media humiliated themselves in responding.
Online Media Ridicule Pence for Leaving NFL Game After Anthem Protests. Vice-president Mike Pence and his wife Karen went to the Indianapolis Colts' football game today to cheer on their favorite team and see the club retire the uniform of former great, quarterback Peyton Manning. But when 23 members of the visiting San Francisco 49ers dishonored America by taking a knee during the national anthem, the VP left. Left-stream media predictably put on an all-out blitz against the VP.
Pence Walks Out Of Football Game After Players Kneel. Good for him. Several San Francisco 49ers players reportedly knelt during the anthem. All Colts stood for the anthem.
Poll shocker: NFL now the least like[d] sport. Another Sunday in the NFL, which means more protests, more controversy. While the players seem oblivious to the catastrophe their league is undergoing, owners have to be getting frantic. A new poll shows that the NFL is no longer "America's game." In fact, it has gone from the sport with the highest favorables to the sport with the lowest. The drop has coincided exactly with the anthem protests.
Sorry, sir, no refunds.
Vice President Mike Pence leaves Colts game over protests during anthem. Vice President Mike Pence tweeted Sunday that he left the Indianapolis Colts game against the San Francisco 49ers because of protests during the national anthem. No Colts players knelt during the anthem, but some 49ers players did.
NFL ticket prices plunge amid backlash over players kneeling during national anthem: Report. NFL ticket prices have plummeted in the wake of the uproar over the national anthem protests, dropping for the first time this year below the 2016 season's prices. An analysis released Friday [10/6/2017] by CNBC found that ticket prices during the first three games of the 2017 season enjoyed a 20-40 percent increase over last year, but then skidded in Week 4 and actually dropped by 2 percent in Week 5.
Shock poll: NFL now least liked sport, core fans down 31%. Over just one month of player, coach, and owner protests of the flag and National Anthem, the National Football League has gone from America's sport to the least liked of top professional and college sports, according to a new poll. From the end of August to the end of September, the favorable ratings for the NFL have dropped from 57 percent to 44 percent, and it has the highest unfavorable rating — 40 percent — of any big sport, according to the Winston Group survey provided exclusively to [the Washington Examiner].
America Fights Back: Record Number of Patriotic Cord-Cutters Tumble TV Stocks. There is only one way — one! — to finally and forever destroy Hollywood and much of the mainstream media. You have to cut your cable or satellite cord. You have to cancel your pay TV package. The one-legged stool propping up ESPN, CNN, MSNBC, Disney, MTV, and the entire Tinseltown crime syndicate is you paying for cable TV. [...] Not to put too fine a point on it, but there is no single act any American can perform that will do more damage to the institutional left than to cut your cable/satellite cord. So please do so today.
Nolte: Want to Destroy ESPN and CNN Forever? Cut the Cord, Dummy. Almost all of the cultural and political power possessed by Hollywood and the mainstream media is held up by a one-legged stool, a single leg that gets shakier by the month — this increasingly fragile appendage we call the Pay TV Package. Going forward, for reference purposes, the Pay TV Package is your cable or satellite bundle, which brings with it hundreds of channels and a monthly bill that dings you for $1000 to $1500 a year. Without this bundle, almost every institution determined to destroy everything you hold dear — faith, family, country, individual liberty, self-reliance, prosperity, racial harmony, and moral decency — would disappear entirely or at least be much weaker than it currently is. Of course, I am talking about CNN, ESPN, Comedy Central, Disney, MTV, MSNBC, and the like — institutions you — yes YOU — are subsidizing against your will.
How To Destroy CNN, Survive Without Cable TV, And Save Lots of $$$. Did you know that, on average, CNN is not only in last place behind MSNBC, but that the left-wing outlet's average viewers are below 1 million? With such poor ratings, there is no way CNN could survive on advertising revenue alone. So how does CNN stay afloat? By picking YOUR pocket. Yes, Genius, YOU are subsidizing a Fake News outlet that is actively trying to destroy you and everything you stand for. How? Whether or not you watch CNN (and no one really does), if it is part of your cable package, you are putting money directly into CNN's pocket with what is called a subscription fee.
Marine Veteran Pulls Plug On Playing ESPN In His Restaurant Now America Is Responding! A Marine veteran turned restaurant owner decided that ESPN has no place in his family business. Bill DeFries owns Beef O'Brady's in Bevearcreek, Ohio, and has now publicly pledged that he will not show any NFL games as long as the players continue to protest the National Anthem before games. Both the Cleveland Browns and the Cincinnati Bengals linked their arms during the Anthem this week. When he applied for a refund on his investment, DirecTV has denied the $6,000 refund on his NFL package. While DirecTV is still offering refunds to their residential customers, they are not doing it for commercial accounts.
Steelers' Linebacker Tells Disappointed Fans To 'GET LOST, Don't Bother Coming Back'. The boycott of Steelers merchandise that began in September has been hurting the third party retailers, with one store in Lancaster called Steel City Sports having to balance their customers and their wishes to keep politics out of their store. While their Penguins and Pirates merchandise is still selling, Steelers sales are way down. The boycott was in retaliation to a Week 3 incident where, before playing against the Bears, every team member stayed in their locker room during the National Anthem except for their offensive tackle Alejandro Villanueva.
NFL Fans Disgusted as Video of Players Yelling At Them Surface. It seems that most NFL fans are not loving the continued national anthem protests. When former San Francisco 49ers quarterback Colin Kaepernick launched the protests last year, he undoubtedly had no clue that it would mean the end of his career, and plummeting ratings for the NFL. Yet players have continued to protest, and some players in particular have not responded well to the lack of fan support.
'Monday Night Football' Ratings Crash! After siding with their players against their fans, the NFL has been seeing some pretty steep losses in both viewership and revenue. Early numbers from last night [10/2/2017] show that ratings from last night's game are down a whopping 10% from the September 25th game. Compared to this same week last year, total viewership is down 8%.
NFL TV ratings drop again as angry fans exercise their own rights. Pretty soon, it could be NFL team owners on their knees begging TV viewers to come back. Once again in Week 4 of the 2017 season, as players continued their sitting-kneeling protests against something, former fans silently exercised their right of free speech using TV remotes.
How many $ billions will the NFL lose over its kneeling fiasco? Signs are evident that the NFL has done permanent damage to its business by appearing to side with the Colin Kaepernick-initiated kneeling during the National Anthem. My guess is that the owners of NFL teams collectively have lost billions, and I suspect that Roger Goodell will lose his job.
Raiders Staff Cover Marshawn Lynch As He Sits During the National Anthem. Television networks have gone to great lengths to conceal the ratings-killing anthem protests that are costing the league huge money in terms of viewership and attendance. However, it looks like NFL teams have also started trying to conceal the anthem protests. In one case, by literally covering a player up.
The Tragic Incoherence of the NFL Protests. It has become a sort of reflex to object to the National Football League's players' bended knee/sitting through the National Anthem — while also conceding that their complaints have merit. But do they? To answer that question, one would have to know precisely what the protests are about. But so far the various reasons advanced are both confused and without much merit. That is why the players will eventually stand for the anthem before their tragic incoherence loses them both their fans and their jobs with it.
CNN Confirms Data Showing Trump Is Right About Anthem Protests Torpedoing NFL Ratings. Seventy-two percent of Americans view Kaepernick's actions as unpatriotic. This culture battle was over before the first shot was fired. The NFL is paying the price. Approval for the league is down 13 percent. Ticket sales at week three are down almost 20 percent. Fans are burning merchandise, asking for refunds of their NFL packages, and are booing their teams when they see players take a knee. Is free speech part of this discussion? Sort of — they have the right to do this, but it's still viewed as spitting in the faces of those who have served and are still serving. We're still at war in Afghanistan. Whatever these players' social cause is goes out the window when people see disrespect to the flag.
NJ Car Dealership Pulls TV Ads from NFL Broadcasts over National Anthem Protests. A New Jersey car dealership is pulling its television ads from NFL broadcasts for the rest of the 2017 football season in response to NFL teams protesting the national anthem. NJ Advance Media reports that the owner of Flemington Car and Truck Country said it would pull ads for the dealership from NFL game broadcasts for at least the rest of the 2017 NFL season.
High school football players booted from team for kneeling, raising a fist during national anthem. Two high school football players in Texas were kicked off their team for protesting during the national anthem Friday [9/29/2017]. Cedric Ingram-Lewis raised a fist while his cousin, Larry McCullough, kneeled during the national anthem. The cousins, both students at Victory & Praise Christian Academy, said that after the anthem ended, their coach, Ronnie Mitchem, told them to remove their uniforms because they were being kicked off the team, the Houston Chronicle reported.
Conrad Black: What Protesting NFL Players Don't Get. This controversy is the logical and nasty result of the long pursuit of identity politics, mainly by Democrats. The country has been atomized into smaller and smaller constituencies, pandering to each in the approximate order of the militancy of their grievances. This process, after a point, operates at the expense of the spirit of national unity and a common cause for all to make America better. It is understandable that the president sees these acts of rank disrespect to the country and all who believe in the country despite its faults, as offensive. He and all of civilized America are in common cause with Kaepernick and his followers in deploring racist oppression, but protesting it by slagging off the anthem and flag alienates the majority of Americans who would otherwise be on Kaepernick's side. It is not surprising or unreasonable that Trump and millions of others find the spectacle of a few people with huge incomes for very short work-years, putting on the airs, not only of martyrs, but of martyrs claiming they represent the only wronged people in the country.
The NFL House of Cards. The problem with the NFL is not just Donald Trump, but the greater dilemma that the league's reason to be has become predicated on a labyrinth of lies. The majority of the viewing audience is not young, hip, and loyal as hyped, but, even if fading, still largely reflects the majorities in red-state America that have no patience with gratuitous insults to the National Anthem and flag. The NFL apparently never grasped the political truism that you never insult your base and core supporters; sympathetic CNN talking heads and the solidarity of progressive political activists will not turn around sagging revenues, but will only contribute to them.
Wall Street vets are threatening to pull the plug on the NFL. Wall Street veterans are huddling up against the NFL. Many brokers and bankers — some of whom are also military veterans — have threatened to pull the plug on pro football for not reining in players who are using the American national anthem as an opportunity to protest by taking the knee. And as the protests gather steam this weekend, some vets of the financial markets — a huge employer of former US military service personnel, have unleashed a barrage of criticism in response and could be counted among the estimated 2 million fewer viewers over the first three weeks of the season.
Steelers' Head Coach Held Fundraiser For Hillary, Donated Heavily To Obama. Steelers' Head Coach Mike Tomlin held a high-end fundraiser in 2016 for then-presidential candidate Hillary Clinton at his home with ticket prices reportedly costing over $30,000. Tomlin hosted the event with his wife on June 14 with supporters required to pay $33,400 to meet Clinton — those who couldn't afford to pay that amount to meet a woman claiming to represent the middle class were given the option of simply paying $10,000 to attend.
No, NFL, You DON'T Have an Unassailable 'Right' to Protest the National Anthem. There has been a lot of pious talk from these anti-American leftists who now seem to infest the National Football League who say that they "have a right" to protest the national anthem at the start of each NFL game. But the fact is they really don't. Thanks to the sham that is America's liberal besotted system of miseducation, there is a lot of confusion about what our "rights" as Americans are. So, let's get this straight right now. You have no "right" to behave however you want at work. And if you DO behave however you want, you had better be prepared for consequences including being fired if your boss sees fit. But, what of the First Amendment to the U.S. Constitution, you ask? Doesn't that "free speech" thingie give you a right to say whatever you want, whenever you want? No, not really. At least, not in the way you might assume.
NFL Camera Operators Told Not To Show Booing Crowd When Players Knelt During Anthem. Aesthetics are everything to a message, and it wouldn't do well if the networks showed the NFL kneelers — the media's latest favorite fad — receiving boos and disapproving shouts while it was going on. That's why networks ordered camera crews that were filming Sunday and Monday's NFL games to avoid shots of the angry crowds insider sources told Michael McCarthy of Sporting News: [...] What really went on in the stadium during Sunday's game can be clearly seen thanks to a video by the Associated Press. Fans can be heard booing loudly as players knelt or sat during the anthem. Shouts of "stand up" can also be heard.
What if the NFL Players Were Protesting Abortion Instead? Many Americans support the Free Speech rights of the NFL players to protest but a large percentage of Americans believe protesting the national anthem is not appropriate and it's disrespectful to the country. They believe the football players should choose another venue to protest what they perceive as racism. Because the NFL football players are protesting racism — the mainstream media and many on the left are hailing them as Heroes. But what if they were protesting for a cause that is not seen as quite so cool in the media limelight. What if they were protesting for people who Hollywood Elites look down upon? What if they were refusing to stand and place their hands on their hearts and respect to their country to back a class of people who faced the ultimate discrimination? What if they were sitting down or kneeling to protest abortion?
First grader told to stand after kneeling during Pledge of Allegiance at local elementary school. A first grader in Pasco County chose to take a knee during the Pledge of Allegiance, and his mother is upset with how the teacher, the school and the Pasco County school district responded. At school on Monday [9/25/2017], a local first grader went down on one knee during the Pledge of Allegiance, he was then told by his teacher to stand up and stop it, in front of all his classmates. His choice came after countless NFL players took a knee during the national anthem on Sunday, setting off a storm nationwide, sparking discussions in homes across America.
On the Collective Football Plantation. [Scroll down] It is clear that initially the protest of NFL players was inspired by political opponents of Trump. But when it came down to the disrespect of the national flag and humiliation of the national anthem, even the Democrats realized that this boomerang would hit hard on return. After all, professional sports do not produce anything materially necessary and exist only at the expense of their long-standing reputation. A remarkable confirmation of this is the loud silence of the Democrats on the issue of the humiliation of the national anthem. They immediately realized that Trump's position in this matter was one hundred percent winning, and they prudently decided to keep quiet.
'They're afraid of their players!' Trump says NFL owners are too scared to insist football stars stand for the National Anthem. Donald Trump says NFL franchise owners acknowledge that they need to stop players from kneeling for the National Anthem, but they're too scared to take action. 'I have so many friends that are owners, and they are in a big box,' he said in a 'Fox & Friends' interview that aired Thursday morning [9/28/2017]. 'I have spoken to a couple of them. They say, "We are in a situation where we have to do something." I think they are afraid of their players, you want to know the truth. And I think it's disgraceful.'
Take a Knee. Why did Colin Kaepernick say he was taking a knee? Somebody look that up. Okay, taking a knee is an anti-Trump thing, right? Wait a minute, if it's an anti-Trump thing, then Colin Kaepernick did it when Obama was president, so it would have been an anti-Obama thing. That can't be right. Okay, taking a knee means you're pro-free speech, it's to support people's right to take a knee even if Trump says nobody should take a knee. Or is it just to support Colin Kaepernick's right to take a knee? Colin Kaepernick doesn't even play football anymore, he's just the king of knee-taking because he did it first. So that's not it. By the way, "take a knee" in football used to mean "run out the clock." We really need some other term.
NFL Fan Outrage So Severe The League May Never Recover. While the long-term impact will take time to be quantified, early indicators are the NFL has entirely destroyed itself by allowing the politicization of the sport. A significant number of NFL fans are so upset with players refusing to stand for the national anthem they have decided to respond with demonstrations of their own.
Memo To The NFL: Remember Your Middle Name. The word is out: your National Football League is looking for a "senior communications strategist," whose role will include "provid(ing) crisis communications counsel." After all, the league is mired in a no-win Twitter war with the President — on top of the boos, boycott threats and burning jerseys from fans over the national anthem protests; continuing litigation and bad press over concussions and domestic violence; catastrophic attendance showings for recently relocated teams in Los Angeles; and long-term ratings declines in a splintering media market.
End the NFL. An NFL rookie's minimum salary is $465,000. And the majority of NFL players are usually bankrupt a few years after retirement because they blew through most of their money. Dozens of NFL players are arrested every year on charges ranging from murder to rape to animal abuse. 2017 was a banner year for the NFL with three times as many arrests as last year. Along with the usual drunk driving and disorderly conduct arrests, there were 7 arrests for assault/battery, 6 for drugs and 5 for domestic violence. The Seattle Seahawks announced that they weren't going to "participate in the national anthem" because of the "injustice that has plagued people of color in this country". While they lost that game, they are one of the top ranked teams in arrests. Alongside the Los Angeles Rams, the Green Bay Packers and the New York Jets, all of whom showed some solidarity with the anti-American protests, these top NFL criminal teams have racked up arrests for domestic violence, drugs, DUI and assault and battery. It's no wonder that so many of the NFL's millionaire scumbags are eager to join Colin Kaepernick's protests against the justice system by degrading our anthem. It's because they're criminals.
How the NFL is going the way of Detroit. Football fans watch their favorite team playing their favorite game with their favorite cheerleaders and favorite player. They know this player's stats and his autobiography. They know his family, his college team, when he went pro, and his current life experiences. Their favorite player is the American Dream. Many of these guys came from rough backgrounds and overcame. They're making millions and living large and loving life playing a game for a job. They've made it. [...] The NFL doesn't know it, but it's reached its zenith. Oh, it still has fans, just like Americans still buy American-made cars. But it won't be the same. It already isn't the same. The magic is gone. Taking a knee is taking it too far. A disgusted fanbase will turn its attention elsewhere.
The Patriots vs. The Nihilists. In the obscenely overpaid — whether it is actors who make millions for mouthing silly lines off a cue card or athletes who earn more money in a few games than most make in a lifetime — a certain self-loathing must exist. Making so much for doing so little can only generate an unease that gnaws at them. At the same time it seems to fill them with a grotesque sense of self-importance. Their staggering salaries, they evidently conclude, confer upon them a right to pontificate at a society stupid enough to pay them all that money. It is not surprising that out of this toxic combination of self-loathing and self-importance comes some astonishingly bratty and richly ironic activism: actors, athletes, and other celebrities inveighing against the warped values of society even as their entire status depends upon them.
Colin Kaepernick Has Never Registered to Vote. [Colin] Kaepernick began his protest of the national anthem and the American flag in August of 2016 while he played for the San Francisco 49ers. He made headlines when he decided to sit for the national anthem during a preseason game. Since then the number of athletes protesting has also grown. Backlash from angry fans reached a fever pitch this week after President Trump lashed out at NFL players protesting. It has turned into an all out war with fans burning NFL gear and bombarding their network providers with phone calls cancelling football packages. Today, Kaepernick is an unemployed whiner and it turns out that he has never even registered to vote.
Donald Trump vs. Pro Football Is a Ratings Game the NFL Can't Win. Never in the history of the NFL have its ratings been so scrutinized. [...] For years, it was able to exert strong control over its own narrative. The league and its powerful media partners continuously burnished the brand as a mass-market symbol of American vitality, strength and exceptionalism. The current commotion has, in totality, the opposite effect, reducing the NFL to the role of a sick patient looking for a proper diagnosis, a scofflaw institution deserving public shaming by the commander in chief. The reversal — from heroic savior of Sundays to something in need of saving — is proving difficult to shake off.
NFL ticket sales plummet 17.9%. The National Football League is feeling the impact of the "Trump Effect." Ticket sales since he called on team owners to fire players who take a knee to protest the National Anthem have cratered. The online ticket reseller TickPick told Secrets that sales have dropped 17.9 percent, far more than the usual Week Three fall.
The Editor says...
Bias alert! The NFL's problem is not the "Trump Effect." It's the "Overpaid America-Hating Political Activist" effect. It's the "Why Don't You Just Shut Up and Play the Game" effect. It's the "Insolent Multi-Millionaire Crybaby and Perpetual Victim" effect.
The NFL Just Lost Its First Sponsor Over Players Kneeling During The National Anthem. Cleveland businessman Allan Jones, the CEO of Check Into Cash, a payday lending chain, and owner of Hardwick Clothes is hitting the NFL where it hurts — their bank account. According to reports, Jones has instructed his media buyer to remove any commercials from airing during NFL games "for the entire season," following NFL players decision to knell during the national anthem over the weekend.
NFL Players Think They're Protected Over Protests, But That's Not True As Experts Weigh In. The NFL pre-season has never been more controversial. The third week of practice games saw at least six where a player showed one act of protest or another during the renditions of our National Anthem. Scoffing at President Trump's calls to "fire any[one] who kneels during the National Anthem," social justice supporting players think their televised antics are protected as free speech under the First Amendment. Legal experts are quick to advise the assumption is just not true and they could lose their high paid careers at any time.
NFL owners PANIC after 3 huge backlashes. 2016, when the protests started, was the lowest-viewed season of football in decades. This year, the ratings have gotten significantly worse. After three weeks, Nielsen reports that ratings for NFL games are down 11-percent across the board compared to 2016. "Nielsen said the games averaged 17.63 million viewers for the first three weeks of last season, and have dipped to 15.77 million this year. The 2017 figures don't include this week's Monday night game between the Dallas Cowboys and Arizona Cardinals," Breitbart reported. The NFL pays hundreds of millions to athletes — and depends on advertising revenue from their television broadcasts to pay for it.
NFL Owners Are Patriotic — For a Fee. "Follow the money." That is often good advice, if someone wants to find out why many individuals do what they do. It is apparently excellent advice if one wants to know why many owners of National Football League (NFL) teams do what they do. While many heretofore NFL fans have rightly expressed disgust at the anti-patriotic statements and actions of many NFL players (and make no mistake, the protests are directed at what Colin Kaepernick, who started it all last season, contends is a racist country), are the owners any better? Most fans would have understandably concluded that all these patriotic demonstrations before games, and sometimes during halftime shows, take place because the owners are just extremely patriotic lovers of their country. Of course, they should be lovers of this country, considering that they have been able to become very wealthy in America.
NFL Favorability Gets Nearly Cut In Half After Anthem Protests. A new poll shows that the favorability rating of the NFL among Donald Trump supporters was nearly cut in half after more than 200 players kneeled during the national anthem last week. Morning Consult conducted the survey, and the results are a very bad sign for the NFL.
Packers' Attempt to Involve Fans In Anthem Demonstration Falls Flat, Most Chant 'USA!' Instead. The Packers players wrote a long letter to their fans this week. A letter in which the team asked their fans to join them in interlocking arms during the anthem on Thursday night. According to quarterback Aaron Rodgers, this was a moment that stood for, "...equality." As well as "...unity and love, and growing together as a society and starting a conversation around something that may be a little bit uncomfortable for people." Well, as it turns out, most Packers fans didn't want to have a "conversation," weren't interested in "growing together," and certainly had no desire to be made "a little bit uncomfortable."
Kaepernick donates $25,000 to group honoring convicted cop-killer. Colin Kaepernick started out taking a knee during the national anthem to protest police brutality, but his activism has since expanded to encompass a wide range of leftist causes, including a group named after a convicted cop-killer. The Colin Kaepernick Foundation donated in April $25,000 to Assata's Daughters, a Chicago "direct action" resistance organization honoring Assata Shakur, who escaped prison and fled to Cuba after being found guilty in the 1973 murder of Officer Werner Foerster. The grant includes $2,500 for CopWatch, a program that trains volunteers to follow and video police, and $15,000 for teen training, part of the group's commitment to "develop and train young people, ages 4-19, in the Black queer feminist tradition and in the spirit of Assata."
JP Morgan Chase Lowers Outlook for CBS After Widespread NFL Anthem Protests. The NFL's protests against the national anthem are causing fans to reassess their interests in football, but the protests also seem to be causing investors to reconsider their investments in the league as well.
TN Titans' Delanie Walker Tells Fans to Stay Home if They Don't Like Protests. Apparently Tennessee Titans tight end, Delanie Walker, doesn't know where his bread is buttered. He straight up told his fans to stay home if they don't like the players protesting the National Anthem.
NFL player: Don't come to the game if our protest upsets you. I suppose it takes a great deal of arrogance to play in the NFL, but what's revealing about [Delanie] Walker's comments is that they prove that their protest for "free speech" is a little one-sided. They don't care about the fans' free speech rights. "It's your freedom of choice," said Walker, while denigrating any opposition to his actions. At bottom, the players demand that you love them and respect them for their protest. And if you disagree, your views aren't worthy.
Can We Please Stop Pretending the NFL Protests Have Anything to Do with Free Speech? [Scroll down] So why, exactly, are they kneeling? Those kneeling assert that there is an epidemic of white police officers who work their beat every night with the explicit intention to murder innocent black people. They are suggesting that there is an epidemic of institutional white racism in this country going unaddressed, and that the only way to draw attention to this, the Black Lives Matter narrative, is to kneel during the National Anthem at pro football games. There is no convincing evidence that either claim is true, and it is a malicious narrative that has arguably already led to a death toll among police officers being targeted for their presumably widespread racism and brutality. [...] They imagine that I and millions of other Americans don't accept this narrative only because it's not being adequately thrown in our faces. I, among millions of other Americans, refuse to accept that. I therefore find those kneeling during the National Anthem in order to advance that narrative despicable, entitled babies for whom I have no respect and who are undeserving of my financial support.
Titans' Delanie Walker: 'No one's telling you to come to the game'. Don't come to the game. That's the message a couple of the Titans' star players have for any outraged fans threatening to turn their back on the team, after the Titans and Seahawks remained in the locker room during the national anthem before their game Sunday at Nissan Stadium.
Goodbye, FS1.
FS1's Sharpe: Racist U.S. Flag Is Just 'A Piece of Cloth... Nobody Fights For'. After engaging in character assassination against Green Bay Packers fans who chose not to protest during Thursday's National Anthem, FS1's Undisputed co-host Shannon Sharpe did the same with the American flag, declaring it to be merely a racist "piece of cloth" that "nobody fights for." "The flag, you see, to a lot of people, symbols, patriotism but what does that symbol actually mean? What does — what does — okay — you keep telling me that the flag means so much and it's opportunity and freedom and liberty. Okay. Can you honestly say that everybody in America has freedom and liberties and opportunity," Sharpe wondered to co-host Skip Bayless.
Unfair Charges of Systemic Racism. It seems the thrust of the protesters' complaint is that American law enforcement and America itself are systemically racist. But if a protest movement seeks to be constructive, its complaints must be considered on the merits, and that means a full and substantive discussion of the facts. Those who disagree with the gravamen of the complaint have just as much right to express their opinion as the complainants. Bullying them into silence is hardly going to facilitate a resolution. If the complainants truly are asserting that America's law enforcement institutions or America itself are systemically racist against African-Americans, they bear the burden of proving their assertions, especially when facts and statistics appear to contradict those claims.
The Slow Death of the NFL? HGTV was my refuge. Watching a marathon of real people get their houses remodeled was much more entertaining than watching pampered millionaires wrestle in taxpayer-funded stadiums while disrespecting the national anthem and the American flag. Since I wasn't a rabid fan the NFL won't really notice that I'm gone. But I'm not alone.
The National Anthem Protests — Do Facts Matter? Recently, in Illinois, in a kids' 8-and-under football league, the entire team, which appeared to be all black, including the coach, took a knee during the national anthem. Asked why, one third-grade player parroted Kaepernick, saying, according to the coach, "Because black people are getting killed, and nobody's going to jail." Facts don't matter. The coach, presented with a teachable moment, fumbled it away.
Unnecessary Roughness. Football is a sport, but it is also a business. Fans pay big money for tickets, gear, parking and overpriced food and drinks. They have put up with a lot to root for their favorite teams, but these protests, which many regard as disrespecting America and the flag, may have exceeded their high tolerance level. [...] These players should first consider who is responsible for their unequally high salaries. Where else could most of them earn that kind of money? If fans stop coming to games and watching them on TV, the unique covenant between player and fan will be broken, perhaps forever.
The Suicide of the NFL. Every liberal CEO in America should be watching and listening. This is a case study for how to destroy a billion-dollar business by injecting your offensive leftist politics and alienating your own customer base. [...] Ratings are plummeting. Revenues are plunging. The player's spokesman deals are being cancelled. Fans are booing. Fans are burning tickets and uniforms. Lifelong NFL zealots are vowing to never watch another game.
Kaepernickism and Anti-Americanism. [Scroll down] Of course, Kaepernickists deny that they are anti-American. They insist that the object of their protest is much more specific than America itself. That object is "police brutality" toward American blacks. That police are roaming the countryside looking for black males to gun down is a fiction of the first order. Nor is there a shred of evidence to substantiate, but much to negate, even the thesis that blacks are shot by police more frequently than are their white counterparts. However, even if this thesis was true, a symbolic repudiation of the country, besides being wildly offensive to most Americans who see it as anti-American, amounts as well to the ultimate non sequitur.
Fans Fed Up with the NFL Anthem Protests. Millions of fans are unhappy with the current trend of national-anthem kneeling by NFL players — and they've expressed their anger and disgust over the last few days in a number of "we're-not-taking-it-anymore" moves.
Trump Is 100 Percent Right About the NFL. I love the NFL. I love football. But I love America infinitely more. If they keep disrespecting our flag, I will never watch them again.
NFL Protests Are Now About Trump, Not Police Violence. Bernie Goldberg said that NFL players' national anthem protests are no longer about police brutality or racial inequality, but defying President Donald Trump. [Video clip]
Why didn't TV networks show angry, booing NFL fans Sunday or Monday? Networks typically do not televise the national anthem except for the Super Bowl and other special occasions, but they recognized there would be intense viewer interest this past weekend. Some fans, if they reacted at all, happily clapped and cheered during protests, but others did not, and they angrily let their home teams know it. The audio mics picked up the boos. Yet the TV networks mostly avoided crowd shots Sunday, so there was never a chance for viewers to see fans jeering players.
Colin Kaepernick's big lie. President Trump seems to have stirred up a hornet's nest of opposition with his call for athletes who don't respect the national anthem to be fired. Many NFL owners and players who were previously indifferent seem to have rallied to the Colin Kaepernick cause. Kaepernick, of course, considers his protest to be a cry against slavery and racial oppression, for which he holds America to be the guilty party. Kaepernick's allies seem to be standing — or rather kneeling — for the right to protest, in opposition not necessarily to America but certainly to President Trump.
64% demand NFL players stand for national anthem, 50% less likely to watch over politics. The first poll of NFL fans following this weekend's moves by dozens of players to take a protest knee during the playing of the National Anthem finds that most want the pros to stand and they are also turning off the games as a result of politics. The survey from Remington Research Group found that 64 percent want players to stand for the national anthem. Of the 51 percent who have watched less football this season, 69 percent cite player protests as the reason.
I'm done with the NFL. Memo to the NFL players: you have ruined Sunday football for me! And you clearly don't understand the people who make you stars and make you rich. [...] I know your protest is more than just some misguided political movement, misplaced protest, or bogus facts. It's bigger than just football. You players decided to disrespect our country and her flag. You decided to insult your customer. You decided to insult those who have made the ultimate sacrifice so you can have the freedom to play a game and make a fine living. You decided to alter an American institution to fit your own political needs.
VFW, American Legion go to war against NFL. The Veterans of Foreign Wars and the American Legion issued blistering condemnations of the National Football League — calling recent protests against the national anthem disrespectful, misguided and ungrateful. "There is a time and place for civil debate, and wearing team jerseys and using sporting events to disrespect our country doesn't wash with millions of military veterans who have and continue to wear real uniforms on real battlefields around the globe," said VFW leader and Vietnam War veteran Keith Harman.
Dallas Cowboys Kneel Down in Arizona — Crowd Boo's — NFL Implosion Complete. The Dallas Cowboys, together with team owner Jerry Jones, take a collective knee at the start of the Monday Night Football game to display their unity with... well, something probably. Stick a fork in the financial future of the NFL, it's done; finished. The only thing that was saving the NFL from full organizational collapse was the advent of Fantasy Football Leagues and the subsequent betting and fan-based league play therein. Never underestimate the inability of any business organization to inoculate itself with idiot resistant policies once they enter the arena of identity politics.
NFL Rundown: Empty Seat Alert. For those who know my work, I explain why black unemployment is so high. It's because of idiots like this. Even when black Leftists make MILLIONS of dollars, they still complain.
Trump calls NFL kneeling 'disgraceful,' disrespectful to veterans. President Trump doubled down Tuesday [9/26/2017] on his criticism of NFL players kneeling during the national anthem, calling the protests "disgraceful" and blatantly disrespectful to veterans who fought for flag and country. "I don't think you can disrespect our country, our flag, our national anthem," Trump said at a Rose Garden press conference.
TV networks skipped one crucial part of NFL protests. Television networks uncharacteristically showed the national anthem before NFL games this weekend, but at least one staffer says that coverage may have come with certain restrictions. A "behind-the-scenes staffer" told the Sporting News camera operators were told to avoid crowd shots during the anthem, because of any fans potentially booing or protesting the NFL players' protest. There were reports from several stadiums of fans booing when players decided to kneel for the anthem, joining a protest of racial inequality started by former 49ers quarterback Colin Kaepernick. Jennifer Sabatelle of CBS told the Sporting News the network's crews were under no such orders.
Angry NFL Fans Lash Out, Burn Jerseys Over Protests: "You Can Take Your NFL And Shove It". While it is clear as day to anyone who can disassociate themselves from the emotional response to being verbally attacked by a tweetstorm (as truly 'terrifying' as such a thing can be), the NFL doesn't seem to understand that while almost every American can agree that football is a great sport, roughly 50% of them will vehemently disagree with whatever political stance any given player or league exec decides to publicly announce. And, since the NFL's future depends on selling overpriced ad spots to massive corporations looking for a consistent number of eyeballs, alienating any group of viewers, for whatever reason, is just bad for business.
The NFL's Worst Fumble Yet. President Donald Trump tapped into the sentiment of the vast majority of Americans over the weekend, and the Leftmedia hate him for it. "Trump turns sports into a political battleground," headlined The Washington Post, as if athletes, coaches, owners and commentators hadn't already politicized sports. What Trump did do was give voice from the most powerful bully pulpit in the land to what many Americans already think: Athletes who make millions of dollars each year to entertain us on the field should not spit in the face of our great nation by disrespecting the national anthem before games. Take the activism off the field.
Shocker: Another Poll Shows Americans Aren't Big Fans of Anthem Protests. One of the most striking elements of the NFL anthem protest controversy is the glaring disconnect between average Americans — especially sports fans — and the media covering the story. Airwaves and column inches are disproportionately crowded with pro-protest (and anti-Trump) perspectives, whereas most non-elite observers come down on the other side of the issue. [...] Setting aside the stipulations that of course peaceful protests are protected speech, that Trump erred in calling for firings, and that issues like police brutality are worthy of serious attention, most Americans do not support using the national anthem as an occasion for protest.
NFL Protests Are The Dead End Of 'Resistance' Culture. At a rally on Friday, President Trump said that the NFL should fire any players who copy Colin Kaepernick by going down on one knee when our national anthem is played. So this Sunday, dozens of NFL players dutifully responded by going down on one knee to show their "resistance" to Trump. That's where we are with the stupid politics of the "Resistance." All that is necessary to decide the right thing to do is to check on what Donald Trump says and do the opposite. [...] It was an ill-conceived form of protest, bound to backfire. The symbolism is all wrong. By its very nature, it does not come across to most Americans as a protest against excessive use of force by the police. It comes across as a protest against the national anthem. And since the national anthem is, well, our national anthem, it comes across as a protest against America.
NFL players and owners can't take criticism. [Scroll down] But what are they protesting? It started with Colin Kaepernick protesting "racial inequality" and "police brutality." Does anyone, including the players, have any specific incident or policy he wishes to protest? They just mouth generalities. What have they accomplished by their kneeling, besides alienating the fans? Have they helped anyone? It seems the kneeling has developed into an anti-Trump gesture, with over 200 players taking a knee or sitting down on Sunday, September 24. The flag is a proxy for our country, which some of the players apparently do not like. To others, the flag is a proxy for Trump, whom they do not like.
Will NFL Demand Respect for Old Glory? "America refuses to address the pervasive evil of white cops killing black men, and I will not stand during a national anthem that honors the flag of such a country!" That is the message Colin Kaepernick sent by "taking a knee" during the singing of "The Star Spangled Banner" before San Francisco '49s games in 2016. No NFL owner picked up his contract in 2017. But a few players began to copy Colin and to "take a knee." [...] And so the stage was set for NFL Sunday. Two hundred players, almost all black, knelt or sat during the national anthem. The Patriots' Tom Brady stood in respect for the flag, while locking arms in solidarity with kneeling teammates.
NFL Sunday Down Double-Digits Again As Americans Say NO To Anti-American/Anti-Police Protests. Exactly what millionaire athletes are protesting these days isn't exactly clear to them or anyone else. The common thread appears to be some anti-American/police sentiment. America is racist? Police are racist? Whatever it is millions of Americans have had enough as evidenced by the ongoing NFL ratings spiral. Has a once-dominant professional sports franchise ever committed suicide? It looks like we may be about to find out.
The NFL is looking more repulsive by the day. Billionaires and millionaires linking arms and taking knees in unity for what? There are brave men and women in real uniforms but you won't find them on the football field. You'll find them in the military and law enforcement. They're not famous. They're not rich. But they're our very best. They put their lives on the line everyday. And they're being disrespected. Football players are not doctors who care for the sick, inventors who improve the quality of life, scientists who find breakthrough medicines, etc. They're fake activists. And they're increasingly fake entertainers.
NFL To Fans: Drop Dead. Whether you agree with them or not, the NFL players and the executives that run the National Football League have really stepped in it, damaging their brand and alienating millions of fans and potential fans for no real good reason. It was a classic mistake. Like it or not, and whether it's fair or not, many Americans feel that professional athletes as a whole lead a privileged existence, working only part of the year and earning millions for their efforts. When they're seen leading "protests" by disrespecting the flag and the national anthem — and all the high ideals and sacrifice those symbols represent — it's too much.
DirecTV allows some NFL refunds after anthem controversy. DirecTV is allowing at least some customers to cancel subscriptions to its Sunday Ticket package of NFL games and obtain refunds, if they cite players' national anthem protests as the reason for discontinuing service, customer service representatives said Tuesday [9/26/2017]. Under Sunday Ticket's regular policy, refunds are not to be given once the season is underway. But the representatives said they are making exceptions this season — which began in September — because of the controversy over the protests, in which players kneel or link arms during the national anthem.
USAA members demand organization cut ties with NFL. Members of the United Services Automobile Association (USAA) are calling for the company to end its sponsorship of the NFL after the string of recent protests during the national anthem, Sharon Ko of WTLV in San Antonio reports. Since 2011, the USAA has served as the Official Military Appreciation Sponsor of the NFL, with the league shows appreciation for the military through its "Salute to Service" campaign. But USSA [sic] members angry with the NFL are voicing their displeasure in community page forums and demanding the company cut ties with the league.
The Nail in the NFL's Coffin. When NFL players began taking knees and raising Black Panther fists during games last year, the NFL had to take swift action. It failed.The result is that football has now become politicized, handing the Left another victory in the culture wars. [...] The player represents the team's brand. He represents the city. He represents America, the country that gave him the freedom to excel, to become an elite member in the field of American professional sports. The player is paid millions of dollars. To choose the moment, dictated by tradition, to show disrespect for all of these things, shows exceptionally poor judgment. NFL Commissioner Roger Goodell is paid well over $40 million annually to protect the league's reputation and business. He's done a horrible job the last few years, palming off issues of domestic violence, and failing to take a firm stance regarding the anthem.
5 Problems With The NFL's National Anthem Protest. [Problem #2] The NFL's Utter Inconsistency: [NFL Commissioner Roger] Goodell and NFL owners were adamant this weekend that players had the right to express themselves without fear of any retaliation. This even though there are rules that the NFL could apply to stop protests of the national anthem. [...] There were rules the NFL chose to apply to stop the wearing of decals to commemorate the murder of five Dallas police officers working to protect the people at an organized protest of police brutality. The NFL fines players for dancing in the end zone. It threatens fines for 9/11 tributes. It shows leniency for other issues, such as domestic violence, but it needs to show more consistency about on-field behavior.
Flashback: NFL Banned Honoring Murdered Cops; Threatened Players Honoring 9/11. NFL Commissioner Roger Goodell attacked President Trump for showing a "lack of respect for the NFL" — regarding the president's recent comments criticizing players for not standing during the national anthem — because it violated the "constitutional rights of our players," referring to the First Amendment. This comes from the same commissioner who threatened NFL players who wanted to honor both 9/11 victims and five police officers who were murdered in Dallas. The Dallas Cowboys wanted to pay tribute to the five Dallas officers who were murdered at a Black Lives Matter protest on July 7, 2016. The Cowboys had been wearing a special decal on their helmets that said "Arm in Arm" that specifically honored the police officers — that is, until the NFL stepped in and stopped it.
Half A Billion Dollars: How Much the 17 NFL Players Who Took a Knee in London Make. The 17 Baltimore Ravens and Jacksonville Jaguars players who took a knee during the presentation of the national anthem in London on Sunday have combined total contracts of nearly $450 million. Combing the total value of each players contracts adds up to a whopping $448,373,425, a figure greater than the gross domestic product of over a handful of the world's nations. ESPN reported that 10 Ravens players and roughly the same number of Jaguars players took a knee during the national anthem Sunday at Wembley Stadium in London.
NFL picked sides in the culture war, now it has to live with the consequences. [Scroll down] The NFL is as political an organization as there is, now. It picked sides in the culture war, and the side it picked is decidedly left. The NFL refused to allow the Dallas Cowboys to display a decal honoring the Dallas police killed by a Black Lives Matter supporter, yet it is completely supporting the "right" of players to kneel on the sideline while the National Anthem is played, as both a sign of support for the Black Lives Matter movement and an anti-Trump protest.
N.F.L. Owners' Unity With Players Might Be Short-Lived. The image was striking — several owners of N.F.L. teams locking arms with their players on the sidelines Sunday [9/24/2017] in a dramatic statement of defiance to a president who ridiculed their sport and condemned players for refusing to stand during the national anthem as a protest against racism. And then on Monday night, the league's most prominent owner knelt with his entire team. Beyond the appearance of unity, though, is a far different reality: The owners have done little to support players who protest to fight social injustice. A few owners have told their players that kneeling for the anthem is inappropriate.
Steelers Coach Didn't Want Army Vet To Stand For Anthem. Pittsburgh Steelers head coach Mike Tomlin indicated Sunday night [9/24/2017] that he did not want offensive tackle Alejandro Villanueva to stand for the national anthem, instead of sitting it out with the rest of his teammates. Villanueva, a former Army Ranger who served three tours in Afghanistan, was the only Steelers player to stand for the anthem. While Villanueva stood in the tunnel, hand over his heart, the rest of the team remained in the locker room in protest of President Trump's comments that players who kneel during the national anthem should be fired.
Former Army Ranger Is Only Steelers Player To Stand For National Anthem. The entire Pittsburgh Steelers team remained in the locker room during the national anthem, with the exception of one player: Army veteran Alejandro Villanueva, who plays offensive tackle for the Steelers. While the rest of his teammates remained in the locker room, Villanueva stood in the tunnel holding his helmet in his left hand and holding his right hand over his heart as the anthem played.
Steelers President Claims Team Never Intended to Boycott National Anthem, Make Political Statement. Art Rooney II, the president of the Pittsburgh Steelers football team, told fans on Tuesday that his team both respected military service members and didn't intend to make a political statement when its players stood off the field during the national anthem on Sunday.
The Editor says...
Ri-i-i-i-ight.
Sure, players can kneel — and NFL's customers should walk. Mass fan walkouts at stadiums will prove more effective than boycotting NFL advertisers. Organize mass exits and I guarantee you'll beat the flag flouters at their own mass-media game.
Hey, 'Kneelers,' Let's Get a Few Things Straight. The reason we stand for the anthem — no matter how disappointed we are in the trajectory of our nation — is to show that we love our country and wish it well. That's all. Americans have long believed that whatever our differences — indeed because of our differences — it is important to have a ritual where we all express our shared patriotism. That ritual is the respect we show for the national anthem. When people protest the anthem, they are not sending a patriotic message. Instead, they are telling the rest of us that they don't like this country, and they wish it ill.
A third of Americans less likely to watch NFL games due to anthem protests. "Are football fans voting with their TVs?" asks a new Rasmussen Reports survey. "As the NFL struggles to explain this season's downturn in viewer ratings, 34 percent of American adults say they are less likely to watch an NFL game because of the growing number of protests by players on the field," the poll reports, noting that 12 percent say they are more likely to watch, while half say the protests have no effect on their viewing decisions.
America First: NASCAR Owners Threaten To Fire Drivers And Crew If They Kneel During National Anthem. Multiple NASCAR team owners indicated Sunday they will not tolerate drivers or crew members who kneel during the national anthem as unpatriotic protests plague the beleaguered National Football League. Former NASCAR champion and legend Richard Petty, who owns Richard Petty Motorsports, told the Associated Press that he would fire any member of his team that chooses to kneel during the national anthem. "Anybody that don't stand up for the anthem oughta be out of the country. Period. What got 'em where they're at? The United States," Petty said.
Are NFL players required to stand for the national anthem? After NFL teams or players stayed in the locker room, knelt, sat or linked arms during the national anthem before games Sunday, people want to know what the NFL rules say. Are the players required to stand on the field during the national anthem? What does the NFL rule book say? On social media, many people have been cutting and pasting the following excerpt: ["]A62-63 of the NFL League Rulebook. It states: "The National Anthem must be played prior to every game, and all players must be on the sideline for the National Anthem. During the National Anthem, players on the field and bench area should stand at attention, face the flag, hold helmets in their left hand, and refrain from talking. The home team should ensure that the American flag is in good condition...["]
The Editor says...
Anyone who has ever negotiated a contract knows that should is not the same thing as must.
Stadium worker quits after Bills protest anthem. A stadium worker with nearly three decades of NFL games under his belt quit his job Sunday [9/24/2017], saying he was "pushed" to the limit after several Buffalo Bills took a knee during the national anthem. Erich Nikischer said he's putting the few good years and "a lot of the bad ones" at New Era Field behind him after several Bills took a knee before Sunday's 26-16 win against the Broncos. "I was [finally] pushed to my limit today and had to quit," Nikischer posted on Facebook in response to the Bills' protest, a show of defiance against President Trump's suggestion that NFL players who kneel during the national anthem to protest racial inequality should be fired. "I [cannot] work in a place where [multimillionaires] cry that they are oppressed."
NFL may lose bigly with social justice antics. The NFL is famous for its activism. Support for Black Lives Matter after Ferguson. Solidarity with Trayvon Martin. Lectures from Bob Costas — not on the upcoming game, but on gun control or global warming. Now it's disrespecting the National Anthem by taking a knee or sitting down. Colin Kaepernick popularized this before Trump was president. It's activism is spreading through the NFL and beyond, even to eight-year-old football players in Illinois.
Stars should get off their knees and lead a constructive conversation on race. As more than 100 NFL players protested during the singing of America's national anthem across the country Sunday [9/24/2017], what had been a small protest of the way police treat African-Americans turned into a much larger protest directed at President Trump.
Kaepernick and Curry Pop the Sports Bubble. We've all watched the bubble inflate for years. Palatial new stadiums were built (often with tax dollars), multi-billion dollar television deals were signed, and multi-platinum player contracts shocked our sensibilities. Combined with sky-high ticket prices that put a night at the game out of reach for many families, these were all signs that things had gone too far. But how and when a bubble will deflate is anyone's guess. Usually — maybe always — it's done in by the excesses of its biggest beneficiaries.
NFL players lobby Roger Goodell for formal league involvement in racial justice causes. A team of four current and former NFL players is lobbying commissioner Roger Goodell to engage the league in fighting for the cause of social justice, even asking him to formally designate November as activism awareness month. Current players Michael Bennett (Seattle Seahawks), Torrey Smith (Philadelphia Eagles), and Malcolm Jenkins (Philadelphia Eagles), along with former player Anquan Boldin, sent Goodell and another executive a 2,800-word memorandum in August requesting the league invest significant resources in the cause. The memo, available in full here, is specific and thoughtful, but its requests would almost certainly prove divisive among fans, many of whom are already wary of players' incorporating their activism into gamedays.