Every year, millions of taxpayer dollars are poured into stadiums, hockey rinks, baseball parks, and other arenas in order to attract and retain professional sports teams in big cities. Often the money is spent by the cities after a team "threatens" to leave the city.
When that happens, of course, the local news media act as the willing accomplices of the billionaires who own the teams. As a practical matter, the news media have no choice. If the news coverage on Channel 37, for example, exposes the local team's economic uselessness to the community, the chances are near zero that the sports anchor from Channel 37 will ever get access to the locker room after a big game. And the station manager won't get free tickets to the game.
When city and state governments build facilities for sports organizations which are owned by billionaires, and raise taxes as a result, it is clearly an abuse of power.
In addition to stadiums and arenas, the government also spends your money on smaller projects that add to your tax burden. For example, CAGW's List of Omnibus Earmarks includes
$750,000 for the Baseball Hall of Fame
$202,500 to the Suffolk Sports Hall of Fame, Sports Research Center in Patchogue, New York for facilities renovations
$405,000 to the Staten Island Soccer League of New York for facilities construction
$800,000 to the New York Olympic Regional Development Authority for facilities construction for the Mount VanHoevenberg Olympic Sports Complex
$90,000 for the City of Waterbury, Connecticut for an economic feasibility study focused on construction of a multi-purpose sports facility
$50,000 for "Pro Sports Outreach," whatever that is.
Obviously, there's no advertising on this page, so you might wonder about my motives. I'm just not a sports fan. I do not understand why otherwise sensible people pay hundreds of dollars per seat to watch a football game. Football is an even mixture of hedonism and idolatry. Basketball is about the same. Baseball doesn't have cheerleaders, but it does have ballpark gluttony. Look at the products that are advertised during a football game: beer, luxury cars and pickup trucks, cell phones, and more beer. Look at the halftime show at a football game: It's a lurid display of godless titillation and hedonism. Look at the "ring of honor" at the stadium: It's idolatry.
In June, 2011, a quarter of a million people cheered in the streets as the Dallas Mavericks celebrated their championship with a parade (paid for by Mark Cuban [1] [2] [3] [4]) and a full day of televised self-aggrandizement. But not one of the fans seems to understand that the basketball team's success does not benefit the fans in any way. The fans went home sunburned and dehydrated and no better off than they were a month ago, yet they seem to think they've accomplished something. I just don't get it. How are you any better off if your favorite football team wins a game — or every game?
This page has been put here to serve as an alarm to the overburdened taxpayer. When a city government spends $10 million or $100 million on a stadium, where do you think the money came from? Is the presence of a football team really so important? Wouldn't you prefer to keep your money in your pocket, and let the billionaires pay their own bills?
Subtopics on this page:
Stadiums and arenas in general
A few words about the 2011 Super Bowl
Specific taxpayer funded stadiums and sporting events
Transgender / transvestite athletes and the impending end of women's sports
Activist athletes (and teams) inject politics into sports
The NCAA's battle against politically incorrect mascot names
Other sports news and commentary
---



Stadiums and arenas in general:

Here is a list of "stimulus bill" projects that include the word "Stadium."



Oklahoma City mayor unveils plan for $900M arena to keep NBA's Thunder through 2050. Oklahoma City Mayor David Holt unveiled a proposal Tuesday for a new $900 million downtown arena that would keep the NBA's Thunder in the city through at least 2050 if approved by voters. The plan released released by city officials calls for the continuation of a 1% sales tax for six years, $70 million from an existing sales tax approved by voters in 2019 for upgrades to the current arena, and a $50 million contribution from the Thunder ownership group. The deal calls for at least $900 million to be spent constructing the new arena.

SF Mayor Floats Bulldozing Mall Devastated By Crime Replacing It With Soccer Stadium. After crime forced the mass exodus of many retailers within and around San Francisco's main shopping mall, the city's mayor is now pitching the idea of tearing it down to put in a soccer stadium, according to SFGate. San Francisco's Union Square, which houses Westfield Mall, has seen 47% of retailers leave due to crime and unsafe working conditions, the San Francisco Standard reported. In the wake of this, San Francisco Mayor London Breed floated the idea of replacing the mall with a soccer stadium in a bid to prevent the further deterioration of the area, according to SFGate. "A Westfield mall could become, you know, something completely different than what it currently is. It could be a place where — we could even tear down the whole building and build a whole new soccer stadium," Breed said at a Bloomberg summit on Thursday. She continued to spitball ideas for the failed section of San Francisco, saying "we can create lab space or look at it as a new company in some other capacity."

The Editor says...
In other words, the crime problem in that area will remain, because the mayor obviously doesn't want to address it by locking up criminals in whatever quantity is necessary, and for as long as necessary. It's easier to build a new stadium and let the next mayor assign blame if necessary.

Anaheim to Introduce New Park Near Angel Stadium With $200,000 Land Purchase. The City of Anaheim will buy land along the Santa Ana River and build a new park at the location, after its city council approved $200,000 for the purchase during its June 13 meeting. The 3-acre park will feature trails, a butterfly garden, a children's playground, and exercise stations, according to city officials. The city is purchasing the property from the Orange County Flood Control District. "We're always looking for ways to add more park space in our city, whether that's through a new park or adding acreage to existing parks," city spokeswoman Erin Ryan told The Epoch Times.

The Oakland Athletics Just Showed Why They Don't Need Taxpayers To Buy Their New Stadium. As the Nevada Legislature was considering a bill earlier this week that would give the Oakland Athletics about $600 million in public money for a new stadium in Las Vegas, the team inadvertently made a pretty good argument for why it doesn't need the handout. Here's what happened: On Tuesday, Athletics fans in Oakland staged a "reverse boycott" in an attempt to demonstrate that the team — which has for years lagged near the bottom of the MLB in terms of attendance — actually could put butts in the seats if the on-field product was any good. The Athletics have one of the worst records in the majors this year and have posted an average attendance of about 9,000 per game, but more than 27,000 people showed up for Tuesday's reverse boycott, The Mercury News reported. That's still only about three-quarters of the capacity of their current home, Oakland-Alameda County Coliseum.

Stadium Subsidy Stupidity Hits New Record. The Metropolitan Council of Nashville and Davidson County voted in the wee hours on Wednesday morning [4/26/2023] to spend $1.26 billion in taxpayer money on a new government-owned stadium. That figure not only puts locals on the hook for more than half of the stadium's estimated $2.1 billion cost, but it also sets a new record for the largest stadium subsidy in U.S. history. Supporters of the new domed stadium say tourists will pay that money back, not locals. The Tennessean reports that Council Member Zulfat Suara "voted in favor because she prefers tourists to bear the tax burden of stadium construction and upkeep (through sales, ticket and hotel taxes) instead of Davidson County taxpayers." On top of a 1 percent hotel tax increase, sales taxes paid in and around the stadium (as well as ticket taxes and fees) will be used to repay $500 million in bonds from the state government and $760 million in bonds from Nashville's Sports Authority.

Oakland to Lose Its Last Major Sports Franchise as Athletics Shift to Vegas. The Oakland Athletics, who claim to be a major league baseball team, announced Wednesday: "The A's have signed a binding agreement to purchase land for a future ballpark in Las Vegas. We realize this is a difficult day for our Oakland fans," all five of them, "and community." Oakland Mayor Sheng Thao underlined the team's statement by revealing that the city was "ceasing negotiations" with the A's on a new ballpark. The move is going to take a while: the Athletics don't expect to be playing in Vegas until the 2027 season, but it does appear certain that woke Oakland is about to lose its third and last major sports franchise.

It Sure Looks Like the Oakland A's Are Joining the Great California Exodus. Although the final agreements are still to come, it is now all but certain that the MLB's Oakland A's will shortly join the NFL's Raiders in relocating to Las Vegas. The team has entered into an agreement to purchase land near the Strip for a new ballpark, which, if all goes to plan, will open in 2027. [...] Let the finger-pointing begin. We start with A's owner John Fisher, a billionaire who cried poor once too often for all parties concerned. It is difficult to remember the A's were in the postseason as recently as 2020, even with the team's penchant for trading away any talent on the roster for prospects rather than paying players the current market rate. The team is now easily the worst in baseball. Fisher is willing to foot most of the bill for a new stadium, but his demand that local government pay for most or all of the infrastructure has derailed any hopes for the team to remain in Oakland.

Whether the Chicago Bears leave or not, taxpayers are on the hook for growing Soldier Field debt payments. As the Chicago Bears make plans to build a new stadium, taxpayers still are on the hook for the old one. A big bill is coming soon — and the primary method of paying for it may not be enough. Whether or not the team leaves for its newly acquired site in Arlington Heights, the public is obligated to pay for the 2003 renovation of Soldier Field that was meant to keep the team there. Due to refinancing and years of primarily paying interest instead of principal, the debt owed for Soldier Field has ballooned from the original $399 million to $631 million, according to the Illinois Sports Facilities Authority, or ISFA, which manages the debt payments. The increase in the debt alarms experts who work in stadium financing.

Iowa Using $23.5M in Covid Aid for 'Field of Dreams' Stadium. Capitalizing on the feel-good nostalgia of the "Field of Dreams" film, and the success of Major League Baseball games played on a temporary field built near the film's site, Iowa Gov. Kim Reynolds is using $12.5 million from the state's Covid-19 relief funds to help build a permanent Field of Dreams Ballpark in the city of Dyersville, according to the Des Moines Register. That comes after she already committed another $11 million from Covid-19 funds to build water and sewer lines to the Field of Dreams stadium site. Along with city and county funds, and $1.5 million from the U.S. Economic Development Administration, the federal funds go toward the $50 million project.

Daniel Snyder Looking to Sell Washington Commanders. Daniel Snyder is apparently throwing in the burgundy and gold towel. The Washington Commanders owner has hired Bank of America regarding "potential transactions," as the team put it Wednesday, November 2nd. In plain English, Snyder is looking for someone to buy the team. Whoever is interested had better have both a very fat wallet and an amazing line of credit. Forbes estimates the team's value to be $5.6B. The new owner will also need to pony up for a new stadium and put shovels in the ground for same 15 minutes earlier than as soon as possible, as the team's current home is a disintegrating disaster.

Yet Another Industry Ditching Greasy Gavin's California for a Free State. The Athletics' drawn-out battle with the city of Oakland may be coming to a conclusion sooner than many fans imagined as California continues to be a hot topic in sports. As many stars and businesses are leaving the state, others are considering doing the same. For a few years now, Athletics ownership has not been clear whether they intend to stay in Oakland or move to one of the many big markets which do not currently have a baseball team. In 2024, the Athletics will no longer be contractually obligated to play games in RingCentral Coliseum. Even so, talks between ownership and the city of Oakland with regard to contracting a new stadium have stalled.

NFL's Chicago Bears Reject Lori Lightfoot's Billions, Plan To Abandon Crime-Ridden Windy City For Safer Suburbs. The 7th-most valuable NFL franchise, Da Bears of Chicago, are packing their bags and heading to greener (read: safer, more tax-friendly) pastures. It's the perfect middle finger to woke, inept leadership personified by real-life Beetlejuice Lori Lightfoot. Chicago has seen an astonishing 35% increase in crime and hopelessly stupid policies from Lightfoot now prevent CPD officers from even pursuing potential misdeamor [sic] suspects on foot. Meanwhile, the Bears rake in $166 million annually to go toward a corrupt budget that prioritizes illicit gangbanging activities over the safety of its players, fans, and own citizens. The only question worth asking is why they didn't do this years ago.

Chicago Mayor Proposes $2.2 Billion Plan to Entice NFL Team to Stay; Bears Moving On to Safer Suburb. On Monday, Chicago Mayor Lori Lightfoot proposed a $900 million to $2.2 billion Hail Mary offer to convince the Bears to stay in their home stadium of over 50 years. However, the Chicago Bears stated in a press release earlier this month that they wouldn't consider any other offers, even for their home stadium, Soldier Field. The NFL team reaffirmed that sentiment to ESPN this week, noting that they were set on moving to another location over 30 miles away. "As part of our mutual agreement with the seller of that property, we are not pursuing alternative stadium deals or sites, including renovations to Soldier Field, while we are under contract," stated the team. The Bears plan to move to Arlington Park, the longtime site of Churchill Downs' thoroughbred racing in Arlington Heights. That area experiences well below the national median of crime levels, according to multiple crime statistic analyses.

Ron DeSantis Is Right About Sports Teams and Taxpayer Money. Florida Gov. Ron DeSantis didn't have to mention the Tampa Bay Rays' most recent foray into politics when his veto of a spending bill spiked the Major League Baseball franchise's effort to get the state to pay for a new spring training complex. The team and its local allies tried to sell this classic example of crony capitalism as a way to pay for a youth sports facility whose real purpose would be to gift the Rays a new operations center. But DeSantis rightly took the position that if the team wants a new place for its players to train, the team should pay for it itself. DeSantis decided to remain on offense against woke businesses by also pointing out during his announcement of the veto that if the Rays — who had only days earlier voiced their support for more restrictions on gun rights — were seeking to reach into Florida taxpayers' wallets, they ought to stay out of politics. Predictably, that provoked the liberal press to denounce the man who many Democrats now hate almost as much as former President Donald Trump himself.

Rays fans weigh in after DeSantis vetoes $35 million for Florida team's training facility. Tampa Bay Rays fans spoke to Fox News about Gov. Ron DeSantis' decision to veto $35 million in funding for a new training facility. "We as taxpayers should just worry about bringing lots of ... fans to the area and support that," Bonnie, of Bradenton, told Fox News. "The governor has no business in that." After vetoing the funding, DeSantis said Friday that he doesn't "support giving taxpayer dollars to professional sports stadiums" and that "it's inappropriate to subsidize political activism of a private corporation." The Rays had pledged to donate $50,000 to Everytown for Gun Safety in late May following the Uvalde, Texas, shooting.

DeSantis To Veto $35M Tampa Bay Rays Facility Over Team's Anti-Gun Statement. Governor Ron DeSantis (R-FL) plans to veto tens of millions of dollars that were earmarked for the Tampa Bay Rays after the team released an anti-Second Amendment statement following a couple of recent tragedies. "DeSantis plans to veto a $35 million legislation for a Pasco County facility that's earmarked for the Tampa Bay Rays' spring training," OutKick reported. "DeSantis's decision is in response to the Rays politicizing recent shootings in Buffalo and Uvalde ahead of a matchup with the Yankees in May."

Anaheim Mayor Resigns Amid Federal Corruption Probe. Anaheim Mayor Harry Sidhu, a Republican, resigned effective Tuesday [5/24/2022] amid a corruption probe by the Federal Bureau of Investigation over the land sale of Angels Stadium — a probe that's already resulted in money laundering charges being brought against one of Sidhu's political allies, former Anaheim Chamber of Commerce CEO Todd Ament. In an affidavit, an FBI agent says that Sidhu shared inside information with the Angels in order to hopefully make a deal that would lead to $1 million in campaign contributions from Angels executives[.]

Buffalo Bills, New York State, Erie County reach 'ironclad' 30-year deal to build $1.4 billion stadium. For almost as long as the Buffalo Bills franchise has existed, fans have faced a persistent fear they could lose their football team to another city. As a Buffalo native, Kathy Hochul knows that feeling well. So as governor, she was determined to guarantee the team's long-term future in Western New York. "Buffalo Bills fans have enough stress," she said. "I did not want them to have to worry about the future of the team." With a tentative deal for a new stadium in Orchard Park announced Monday in partnership with the team's owners and Erie County, she put those worries to rest.

The Editor says...
When a football team threatens to leave, let them leave!

Images Show Abandoned Olympic Venues Around the World. Olympic host cities spend big money on infrastructure, stadiums, athlete housing and event courses that in some cases get unused years after medals are awarded and cheering spectators have moved on to the next Olympic Games.

Voters Don't Want To Pay for Your Dumb Stadium. Voters in Denver, Colorado, approved ballot measures on Tuesday authorizing the city government to issue bonds to spruce up parks, renovate homeless shelters, and upgrade public transit. They rejected just one portion of Mayor Michael Hancock's five-part, $450 million bond proposal: the one that would have directed $190 million of that borrowing toward the construction of a new multi-use stadium near the city's hip River North neighborhood. While the first four parts of Hancock's proposal won support from at least 60 percent of voters, 58 percent rejected the stadium subsidy, according to The Denver Post's election tracker. The stadium project was the most contentious of the bond issues. Hancock trotted out the usual claims, arguing that the new stadium (and upgrades to the neighboring National Western Center, a rodeo complex) would "create year-round jobs and provide funding for community programs and projects important for the well-being of surrounding communities." But the election results would suggest that the residents of the city disagree. If it had been approved, the stadium project would have soaked up 35 percent of the funding in the mayor's proposal, and many people felt "the money would be better spent elsewhere," Colorado Politics reports.

In LA: You Can Vote Without An ID, But Cannot Watch Chargers Or Rams Without Proof Of Vax Or COVID Test. The Los Angeles County Department of Public Health's newest requirement for stadium events with at least 10,000 attendees goes into effect Thursday, and it is going to affect both the Rams and the Chargers for home games at SoFi Stadium. It may also affect Super Bowl LVI in February of 2022, unless L.A. County figures out the thousands of tourists who typically attend the Super Bowl and the game's week of festivities might not wish to come under its mandates, which are among the harshest in the country.

Group warns against public financing for Bears stadium. With talk about the Chicago Bears relocating, some have raised concerned about taxpayers picking up the tab for a new stadium. The team has submitted a bid to buy the Arlington Race Course property in Arlington Heights for possible development. Other parties have reportedly made offers as well. Chicago Mayor Lori Lightfoot has called it a "negotiating tactic", noting the Bears are locked into the Soldier Field lease with the city until 2033. If the Bears were to move, Brian Costin, deputy state director with Americans for Prosperity, said the team's owners should pay for the stadium.

Chicago Mayor Lori Lightfoot blasts Bears football team over relocating rumors. Chicago Mayor Lori Lightfoot threw some major shade at the Chicago Bears on Friday, just one day after the organization announced it made a bid for land in Arlington Heights with plans to possibly build a new stadium there. Lightfoot, a self-declared "longtime" fan, issued a statement slamming the announcement as just "noise." "The Bears are locked into a lease at Soldier Field until 2033. In addition, this announcement from the Bears comes in the midst of negotiations for improvements at Soldier Field. This is clearly a negotiating tactic that the Bears have used before," Lighttfoot's statement read.

Build a new stadium or we'll leave!
Oakland Athletics to start looking at relocating elsewhere. The Oakland Athletics on Tuesday [5/11/2021] said they will start exploring the possibility of relocating with the blessing of Major League Baseball, a move that could put pressure on local government officials to greenlight a new stadium project that has spent years in limbo. The A's, who have played in Oakland since 1968, have prioritized building a waterfront stadium in downtown Oakland at the Howard Terminal site. But after years of failed stadium plans — and weeks after the organization requested that the city council vote on the $12 billion mixed-use development before its late-July summer recess — the long-anticipated specter of the A's looking into relocation became a reality on Tuesday.

It's High Time We Make Woke Corporate America Feel Real Pain: Here's How We Can Start. For all its profits and all its pride, Major League Baseball is just another little government-protected piggy. While they make billions in profits, Americans have shoveled billions out of our own pockets in the form of subsidies and municipal bonds since 2000 alone. Municipal bonds, which are basically government-backed bonds that aren't federally taxed and come with interest rates far below the levels the rest of us pay, are supposed to build things like roads, public libraries, and other projects towns and cities might want. Roads and public libraries, some might notice, aren't the kind of places that will run you $300 to take the kids for some hotdogs and a game. Any of us can buy into these bonds, but not a lot of us can get them — that is, unless you own a professional sports team. It's a sweet deal if you can get it. Maybe the league shouldn't.

Raiders' Allegiant Stadium in Las Vegas will be most connected stadium in the world. Football fans: Get ready to take your NFL experience to the next level. Cox Business announced Tuesday that the new Raiders Allegiant Stadium in Las Vegas will be the most connected stadium in the world, featuring "best-in-class" connectivity. In partnership with Cox Communications, Allegiant Stadium will feature high-speed internet access with 1,700 WiFi access points, 227 miles of fiber and copper connectivity and 2,200 Cisco Vision screens and signs throughout the venue. The stadium is 1.75 million square feet and will allow 65,000 fans to attend and connect.

New $53M Texas high school football stadium has state's largest video board. The latest cathedral to pigskin is the new $50+ million Children's Health Stadium, which will host Prosper (Texas) High School. Prosper is a northern suburb of Dallas. In total, the stadium will seat 12,000 fans and houses the largest video board in any Texas high school stadium, football or otherwise.

Due to lawsuits and environmental red tape, nothing can be built in California — except sports arenas!
Welcome to California. [Scroll down] It's not just hard-core environmentalists who use CEQA [California Environmental Quality Act] to block development. CEQA is also a favored tool of businesses that use it to try to handicap competition (the Parking Spot sued LAX a few years ago over plans to connect a rail line to the airport, for instance); developers who attempt to hinder rival projects; NIMBYs who don't want anything new built near them; and unions that try to force developers to exclude non-union workers from construction projects. Yet while CEQA deters housing construction, the policymakers manage to carve out exemptions or secure fast-track approvals for projects important to them, such as basketball arenas and football stadiums.

Redskins owner rolls up in $180M yacht to find title sponsor for new stadium. Washington Redskins owner Dan Snyder roared up to Cannes Lions in his $180 million yacht as ad sources speculated he's in town to find a title sponsor for the team's new stadium. Snyder, worth an estimated $2.2 billion, hopes to build a new facility at the site of RFK Stadium — the team's historic former home — in DC. He has reportedly been working with congressional Republicans and the Trump administration to include language in a new federal spending bill that would help pave the way for the new stadium. The Redskins' lease for their current stadium, FedEx Field in Landover, Maryland, expires in 2027, but Snyder has made it clear he'd like the team to leave the facility earlier if they can.

One of California's last black enclaves threatened by Inglewood's stadium deal. Inglewood has come a long way since Dr. Dre proclaimed in the '90s that it was "always up to no good." A surge of economic development is wiping away its reputation as a battle zone for rival gangs and promises to remake the city not only into a sports and entertainment mecca but also a cultural destination. But now that Inglewood is on the come up, longtime residents and city officials face a different challenge: Many who have weathered decades of hardship no longer can afford to live there and are being left out of the economic renaissance.

Elderly Woman Has Had Enough, Absolutely Slams NBA Owner Wanting Taxpayer Money. The Phoenix Suns and the city of Phoenix have been at odds for quite some time now as the team's owner, Robert Sarver, looks for funds to renovate Talking Stick Resort Arena. Sarver says the arena needs $230 million in renovations and he's offering to cover only 35 percent of the costs. Sarver wants the city to pay the other $150 million, and he has even threatened to move the team if his demands are not met. This, obviously, hasn't sat well with many Phoenix residents, and one elderly lady in particular made her feelings on the subject very clear.

Why forking over tax subsidies to billion-dollar companies never pays off. Many New Yorkers thought Amazon bailing on their second headquarters in Queens was a catastrophe, dashing the city's hope for 25,000 jobs and a multibillion-dollar economic boost. But Pat Garofalo thinks we had a lucky escape. "There's a long history of companies saying, 'We'll do all this stuff if you give us this money,' and then they just don't do it," says Garofalo, author of the new book, "The Billionaire Boondoggle: How Our Politicians Let Corporations and Bigwigs Steal Our Money and Jobs" (Thomas Dunne Books), out Tuesday. The recent debacle of tech conglomerate Foxconn in Wisconsin is the perfect example, he says. "Foxconn said, 'We're gonna create 13,000 jobs in Wisconsin,'" he says of the company that received a $4.1 billion subsidy from the state. "Then quietly, six months later, it was, 'Actually, no, it's just a couple thousand, and also never mind about that plant we were planning to build.' You need to take [claims like these] with a grain of salt."

Honeywell got $40M in tax breaks to stay in N.J. but it's leaving anyway. Honeywell International, Inc. confirmed Friday it is moving its corporate headquarters from Morris Plains to Charlotte, North Carolina, but that most jobs — at least for now — will remain in New Jersey. The planned relocation comes just three years after the company received a $40 million tax credit to keep its headquarters in New Jersey, in a deal brokered and heralded by then-Gov. Chris Christie. Morris Plans Mayor Frank Druetzler told NJ Advance Media the impending move, first reported on Thursday [11/29/2018], caught him by surprise.

Editor's note:
The next five articles linked below, and the two immediately above, pertain to the competitive selection process for the second headquarters building for Amazon. In order to attract Amazon, the leaders of several large cities went to great lengths to show how compatible the cities and the company were, and apparently there was also a bidding war to see which cities would offer Amazon the biggest tax incentives. Those special accommodations are the reason this topic is appropriate for the Sports Page. Amazon could easily pay its own way without help from the local taxpayers: "Amazon closed 2017 with over $30 billion in cash, cash equivalents, and short-term investments." [Source] The residents of the cities that "won" this competition learned about the extent of the tax breaks and incentives only after the deal was finalized, and many of those residents were not too happy about it.

Amazon's HQ2 competition was a cruel bait-and-switch. Amazon's decision-making process with regard to the placement of its second headquarters has taken place in a similarly public way, with the online giant soliciting bids from cities across the country, narrowing down the list of potential winners as time progressed, and finally, in a shocking twist worthy of reality TV, choosing two sites rather than one. The two chosen cities are already considered winners in the global economy, two sites that need the influx of traffic and the increase in home prices less than anywhere outside of San Francisco, two sites filled with people ready to vent their annoyance about the imposition on their towns and the depletion of public coffers to bring jobs to their respective regions.

Just How Bad Are Those Payouts for Amazon HQ2? The two-billion dollar payoff Amazon got to open its secondary headquarters in Crystal City, VA and in Queens, NYC, is so bad that even the New York Times had to ask, "Did New York and Virginia Overpay for Amazon?" If you have to ask, you can't afford the subsidies. What really stands out about this story though (hat tip to Michael Strain) is New York Governor Andrew Cuomo's hilarious cluelessness. Well, it's hysterical if you aren't a New York taxpayer.

Amazon's Great HQ2 Swindle. With 50,000 high-paying jobs and $5 billion in infrastructure spending up for grabs, the largest development project in recent history generated enthusiasm as well as millions of dollars in free publicity. It also garnered widespread criticism as community leaders and journalists condemned the secrecy of the bargaining process, and accused the tech giant of instigating a "bidding war" between mayors and governors desperate for economic invigoration. A corporation valued at $1 trillion, critics claimed, should not be privy to taxpayer-funded handouts. And yet, government officials in New York and Virginia did precisely that: the combined package includes tax breaks and subsidies worth more than $2 billion.

NY taxpayers to pay $48,000 per Amazon HQ job. New York state is kicking in more than $1.5 billion in taxpayer-funded incentives for getting half of Amazon's second headquarters located in a section of Queens. The Seattle-based company made its long-awaited announcement Tuesday, saying Long Island City and Alexandria, Virginia, will each get 25,000 jobs. The online retailer also said it will open an operations hub in Nashville, creating 5,000 jobs. Amazon will also receive as-yet unspecified incentives from New York City.

Amazon's 'HQ2' Ruse Exposes The Folly Of State Tax Incentives. Looks like Amazon pulled a fast one on states with its promise of a big new HQ2. After getting states to cough up billions of dollars in special tax giveaways, Amazon announced it was changing plans, and splitting the alleged new headquarters in two. When will states learn that trying to seduce big companies this way is a losing strategy?

Don't you just love that new stadium smell? [Scroll down] The theme of this luncheon was clearly to begin the public campaign to bring the Redskins back to the city. This welcome-home luncheon has been held in Virginia in recent years, and I'm sure there was symbolism in coming to Washington for the event this year. The hope for the District is to sell Snyder on profiting from the development plans along the Anacostia River around the RFK site in exchange for building his stadium there. Let us not forget, this was the location for a new Olympic stadium in the area's failed 2024 bid for the games. Virginia? Bowser got in her shot at the commonwealth — which has been the most public campaigner to build a new stadium for the team — when she asked where former Governor Terry McAuliffe was. "Maybe he is missing, too," she said. It was pretty cocky, yet warranted, because city officials know that the Virginia public lobbying of the Redskins under McAuliffe was bluster, for the most part. This stadium is not going to be built in Loudoun County or any place else in the state. Virginia says no to projects like these.

MLB's Tampa Bay Rays reveal plans for new $892M ballpark. The Tampa Bay Rays have revealed the team's plans to build a new stadium that could be ready for the 2023 season. The new ballpark would be built in the Ybor City section of Tampa and feature a translucent roof, sliding glass walls and artificial turf. [...] The project will cost an estimated total of $892 million, although the Rays don't have a funding plan yet, according to the Tampa Bay Times.

Rays unveil their plans for an Ybor City ballpark. The estimated price tag for the entire project is $892 million. The ballpark itself is projected to cost $809 million and related infrastructure — including a parking garage and a pedestrian bridge over nearby Adamo Drive — is pegged at $83 million. The cost of the stadium includes one of its standout features, a translucent roof expected to cost almost $245 million. [...] What's unclear, however, is where the team needs to have a financial deal for a new stadium ready before it can leave St. Pete, or only needs to give the city notice that it is moving to Ybor City. Obviously, legal action could complicate the timetable. Rays' share of the cost to build a new stadium: That is also unclear.

MLB's most valuable teams: Yankees worth $4 billion. The New York Yankees are now worth $4 billion, as team valuations continue to grow across Major League Baseball. The newest estimates from Forbes show that the Yankees are worth 8% more than last year. The Bronx Bombers posted revenue of $619 million and an annual operating income of $14 million in 2017. The average MLB club is valued at $1.645 billion, a 7% increase, although operating income fell due to heavier spending on marketing, player development and analytics, Forbes said. Only one other team is worth more than $3 billion: The Los Angeles Dodgers' value has jumped 9% to approximately $3 billion, and the team's operating income topped the Yankees at $68 million.

Petition calls on NSW government to scrap $2 billion stadium rebuild plans. An online petition opposing the NSW government's plan to demolish and rebuild ANZ and Allianz stadiums at a cost of $2 billion has attracted tens of thousands of signatures. The petition, which was posted on Change.org on Saturday evening [12/2/2017], has struck a chord with more than 50,000 signatures added by Sunday night.

NFL banks billions of dollars on the backs of taxpayers and small businesses. The Cincinnati Bengals threatened the unthinkable in 1995. Team owner Mike Brown vowed the team would move to Baltimore unless a new stadium was built. Taxpayers in Hamilton County, Ohio, where Cincinnati is located, feared something greater than wounded civic pride if their football team left. They worried that the Bengals' departure would spur an economic crisis throughout the region. A University of Cincinnati study released at the time estimated that the Bengals added $77 million to the local economy. Hamilton County residents could avert disaster, however. All they needed to do was vote for a modest half-percent sales tax increase. The tax increase and municipal bonds would cover the estimated $287 million needed to build the Bengals' new home. Residents overwhelmingly approved the tax, and the Paul Brown Stadium for the Bengals opened in 2000 after cost overruns pushed the construction tab to nearly $450 million.

Politicians set to "double-down on stupid" with Montreal's Olympic-size money pit. The 1976 Olympic Games in Montreal and the stadium built for the event, rank as two of the biggest financial boondoggles to ever shakedown hapless taxpayers. In 1973, it was estimated the stadium would cost $310 million but by 2006, after calculating repair costs, modifications and interest paid, the price of Olympic Stadium was almost $1.5 billion! Now comes word that the infamous stadium lid — which never worked properly — needs to be replaced and Quebec's government wants to invest in a renovation that's expected to suck up a quarter-million in taxpayer dollars.

NFL steps into politics, fights tax cut bill with no stadium bond breaks. The NFL has come out against House Republicans' tax cut bill, putting the league out on a political limb even as it deals with the fallout from national anthem protests. Other big pro sports leagues are staying out of the fight, but a spokesman for the National Football League said teams don't want to lose a special tax break that allows them to use tax-free bonds to build stadiums. The NFL says it deserves the break because new stadiums create jobs.

GOP bill slashes tax break for NFL, other pro sports stadiums. It's not aimed specifically at the NFL, but the league owners who have been enjoying taxpayer help in building stadiums over the years would take a serious hit from House Republicans' new tax overhaul. The GOP plan would prohibit professional sports stadiums from taking advantage of tax-exempt bonds, which state and local governments often float for important public works projects. Generally used for roads, hospitals and the like, a number of communities have extended them to help out sports teams, usually as a way of enticing a team to stay in a community. Axing the break would save $200 million over the next decade, according to early estimates.

Hillsborough stadium site holds promise. Hillsborough County's selection of a promising site near downtown Tampa for a new baseball stadium for the Tampa Bay Rays is a positive step toward keeping the franchise in the region. [...] Though it took two years to get to this point, the announcement Tuesday [10/24/2017] only begins the much more complex and contentious task of negotiating a multiparty stadium deal.

Building a corporate headquarters is a lot like building a stadium:
Something Is Rotten in Amazon's Request for Proposals. Amazon says that HQ2 will be the equal of HQ1, its current headquarters in downtown Seattle, which consists of 33 buildings and 8.1 million square feet of prime office space. If you were mayor of Atlanta, Boston, Chicago, Dallas, Detroit, St. Louis, or any other big city you care to name, wouldn't you want to land a prize like that? Wouldn't you like to own what could be seen as a 50 percent share in the future growth of one of the greatest companies ever to spring forth out of the entrepreneurial dust? Does no one smell a rat here?

Maybe The NFL Shouldn't Be Using Taxpayer Money To Fund Their Stadiums. A bi-partisan proposal to stop taxpayers from funding huge sports arenas has taken on a new urgency in light of the "take a knee" crusade sweeping across the NFL. Back in June, Sens. Cory Booker (D-NJ) and James Lankford (R-OK) co-sponsored the bill, citing the ungodly amount the NFL generates on sales of everything from tickets to merchandise as a reason to stop the taxpayer from having to fund expensive mega sports stadiums.

The NFL Leaves America. Near Detroit, the now-roofless Pontiac Silverdome sits as a colossal piece of litter that contributes to the blight of that once successful center of automobile manufacturing. Other cities, from Saint Louis to San Diego, have been harmed by the NFL taking big subsidies from local taxpayers and then, before public bonds are paid off, skipping town to a more profitable deal somewhere else. Halftime performances at the Super Bowl, in front of the largest television audience of the year, have gone the way of commencement addresses at colleges where no conservative performers are allowed and no conservative messages permitted. Bizarre occult themes are imposed on the captive audience during these shows.

NFL Pigskins at the Public Trough. I first started tracking publicly subsidized sports boondoggles with my very first watchdog website, Porkwatch, back in 1999. Since then, taxpayers at all levels of government have foot the bill for football stadiums to the tune of an estimated $1 billion every year. Over the past decade, new tax-supported NFL stadiums rose up for the Indianapolis Colts (the $720 million Lucas Oil Stadium), the Dallas Cowboys (the $1.15 billion AT&T Stadium) the New York Jets and Giants (the $1.6 billion MetLife Stadium, the Minnesota Vikings (the $1.1 billion U.S. Bank Stadium), the Atlanta Falcons (the $1.5 billion Mercedes-Benz Stadium), and the San Francisco 49ers (the $1.3 billion Levi's Stadium in Santa Clara).

Here's How Much Money the NFL Rakes in From Taxpayers. The National Football League is now plunged into politics as players throughout the sport kneel for the national anthem and President Donald Trump continues to rebuke them publicly. Undoubtedly, the situation has left many fans and non-fans of the league conflicted or angry. This fiasco may, however, open the eyes of the public to a serious and generally unchecked issue: billionaire NFL owners sponging enormous amounts of money from taxpayers through crony capitalist schemes. The fact is that a business that raked in $14 billion in revenue in 2016 is heavily subsidized by local, state, and federal money based on dubious claims about stimulating the economy.

Are All Millionaire Athletes Really That Dense? With all the brouhaha about the athletes kneeling during the national anthem, I haven't seen much reporting on why they are protesting. Social justice for blacks has been mouthed as the reason but that makes no sense coming from wealthy individuals who have been rewarded greatly for their talents. Much of this flawed narrative arose after the shooting of Michael Brown in Ferguson, MO. and the media misreporting led to the Black Lives Matter movement. Black athletes starting wearing BLM t-shirts and holding up their hands shouting "Don't shoot" even though this version was based on a lie. [...] Do these glorified prima donnas in the NFL even know what racism is? If America is so steeped in racial inequality, then how on earth are there so many multi-millionaire blacks in sports?

The Economics of Sports Facilities and Their Communities. Since the 1950s, taxpayers have been the primary investors in stadia built for the use of privately-owned professional sports teams. Team owners have argued that sports facilities boost local economic activity; however, economic reasoning and empirical evidence suggest the opposite. Public support for stadia is also driven by demand for community image, and owners of sports teams supply a scarce input into image enhancement — participation in the major league — for which they have been able to extract monopoly rents from dispersed taxpayers.

NFL Stadiums Have Collected Over $1.1 Billion in Federal Subsidies — Time to Cut Them Off. According to FOX Sports[,] over the last 20 years, the American public has spent more than $7 billion dollars to build or renovate NFL stadiums, taking on 46 percent of the total costs of those projects. It's time to cut them off.

Lost Weekend for the NFL. Hard to imagine anyone feeling sorry for the National Football League. The money, the TV ratings, the magnificently gaudy stadiums... professional football seems inevitable and unstoppable. [...] Fox, of course, switched to another game. This one between the Redskins and the Los Rams. The game was being played in the Los Angeles Coliseum which had been packed the night before for a college game, Texas vs. USC. But people who tuned in to watch the Cowboys vs. the Broncos could see that there were empty seats in the Coliseum. And a lot of them. As reported in the Washington Post, "... it would be generous to describe the Coliseum as half full. ..."

Kneeling for a Self-Deceiving Lie. Forget Donald Trump for a moment (assuming that's possible) and go back to what initiated this whole escalating orgy of racial accusation that has overtaken football and other sports and you find one of the more despicable and self-destructive lies of our time — that the police are targeting minority communities. Heather Mac Donald's excellent "The War on Cops" is chock full of statistics demonstrating why this is not only a lie, but the complete opposite of reality. [...] So why are all these multi-millionaires insulting the country that made them wildly rich and creating a national (even international) crisis about police brutality when, with rare exceptions, it's no longer there? Do they actually believe their own lie? Probably, to some extent, they do. After all, they're surrounded by it. The media — aka Democrats with press passes — constantly rattle on about the evils of the police in order to stir the racial pot. It even got worse after Barack Obama was elected.

Kneeling as psychodrama therapy for the rich, black, and guilty. The otiose craze for wealthy black people and their "supporters" to disrespect the American flag by kneeling in public — momentarily play-acting tragedy and grief in front of a TV camera — is psychodrama psychotherapy for the guilt they richly deserve to feel. The histrionic fad started by Colin Kaepernick that has infected athletes, entertainers, and politicians like Representative Sheila Jackson Lee is expiation for the unconscious guilt these privileged people have earned for their heartless betrayal of black Americans. Kaepernick's phony first plotline, that the worst problem for black people is the police, engenders defensive anxiety in its sheer stinking falsehood. The big, deadly lie that white racism is to blame for all the problems of black Americans and that black people remain helpless victims in 2017 is so patently false. As with all delusional systems, its maintenance causes rage and anxiety when challenged.

Michigan State police director facing calls to resign after she called NFL protesters 'millionaire anti-American Degenerates'. The Michigan State Police director is facing calls to resign after sharing a Facebook message belittling athletes who kneel during the national anthem as 'anti-American degenerates'. Col. Kriste Kibbey Etue shared a message on her Facebook page Sunday [9/24/2017] that stated athletes who take a knee during the pre-game national anthem are 'millionaire ingrates who hate America and disrespect our armed forces and veterans' and 'a bunch of rich, entitled, arrogant, ungrateful, anti-American degenerates.' Hundreds of athletes have expressed they are taking a knee during the pre-game national anthem as a symbolic protest against racial oppression and incidents of police brutality against blacks.

Can We Please Stop Pretending the NFL Protests Have Anything to Do with Free Speech. Following the lead of the now unemployed Colin Kaepernick and on the heels of some fiery rhetoric from President Trump on the matter, more National Football League players than ever knelt during the National Anthem on Sunday in order to protest the institutional white racism in America that they presume exists. Invariably, there are the stock defenders of their actions invoking the First Amendment as an enshrined protection for their actions. Even some unlikelier defenders, such as National Review, have framed this as a free speech issue. To be perfectly clear, doing so is an exercise in stupidity. The First Amendment provides Americans protection to enact displays of protest, certainly. The question that goes continually and aggravatingly unaddressed is, protection from whom?

49ers, Rams Open Seasons With Plenty of Empty Seats in Stadiums. The start of the NFL season is normally a pretty big deal across the country. Apparently Los Angeles and San Francisco didn't get the memo. The Rams and 49ers each opened their season at home Sunday, and both teams had to start their games with lots of empty seats in the stadium. The Rams are hosting the the Colts, but it seems like the los Angeles fans are not that concerned about being there to see it in person.

The Editor says...
Uh-oh. If you spend a billion dollars on a stadium, and then football's popularity disappears, that just about does it for your tourist-boom-town plans.

Take a look at this $72M high school football stadium in Katy, Texas. A new $72 million high school football stadium is ready for kickoff this season in Katy, Texas. The 12,000 seat Legacy Stadium is the most expensive high school football stadium ever built and will be shared by eight local high schools. The stadium was voted on and paid for by taxpayers in the area, according to NBC News.

14-Year-Old Boy Collapses During Football Practice at Bronx School, Dies: Cops. A 14-year-old boy died after collapsing during football practice at a Bronx school Tuesday, authorities say. Police say the teenager, identified as Dominick Bess, was running sprints during practice at Mount Saint Michael Academy on Murdock Avenue when he fainted. Authorities responding to the 9:30 a.m. school found the boy unconscious; coaches attempted to revive him using CPR but could not.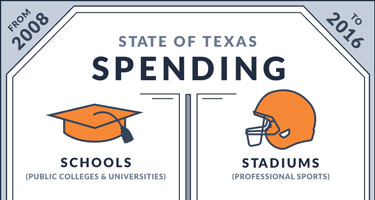 Stadiums or Schools: An Analysis of Public Expenditures. According to the Center on Budget and Policy Priorities, the state of Texas cut total state funding per student, inflation-adjusted, by 11% between 2008 and 2016. This includes a 17% cut in per-pupil funding in the state's public colleges and universities ($1550 per college student), which has led to a nearly 25% increase, $1744/year, in tuition. During the same period, Texas taxpayers paid $337 million to help build AT&T Stadium, home of the NFL's Dallas Cowboys. That figure amounts to over one-quarter the cost of what was, at the time, the nation's most expensive sports arena. In 2016 Forbes ranked the Cowboys as the most valuable franchise in the entire world, placing their worth at $4 billion.




Oakland Raiders move to Las Vegas is one of the worst taxpayer-funded fiscal sins of all time. Las Vegas has long been known as "Sin City," and it will soon be home to one of the worst fiscal sins of all time: On Oct. 14, 2016, the Nevada state legislature approved the largest taxpayer subsidy in American sports history. As long as the NFL allowed the Oakland Raiders to move to Las Vegas, taxpayers would fork over $750 million to help fund a new $1.9 billion stadium adjacent to the Vegas strip. On March 27, 2017, NFL owners did just that, approving the move by a vote of 31-1. The Raiders' move ends an 18-month process that saw NFL franchises relocate away from St. Louis, San Diego, and Oakland. Relocations are more common in the NFL than any other American sport. In the last 40 years, 10 NFL teams have fled their homes, compared to seven each in the NBA and NHL, and just one MLB franchise.

Socialism for Sports Team Owners. The people of Oakland went into mourning this week while those in Las Vegas celebrated the news that the National Football League's Raiders were abandoning the East Bay and heading to Sin City. But while any sports fan understands the sadness felt in Oakland and the happiness in Las Vegas, the reaction from taxpayers in the two places should be quite different. Those of Oakland should be cheering their government's refusal to be shaken down by the NFL, while the people of Nevada ought to be up in arms about the way they are about to be fleeced by billionaires. The iconic franchise was lured to Nevada by the state legislature's approval of $750 million in financing toward the building of a $1.9 billion domed stadium where the team would play. While the city of Oakland offered to donate 55 acres to be used for building a new stadium for the Raiders as well as infrastructure improvements that would benefit the team, the NFL preferred the more lucrative bribe from Las Vegas.

Odds are the NFL will bet on a team in Vegas. The National Hockey League's newest team, the Golden Knights, face off on Vegas ice in October. And the National Football League team formerly known as Oakland would like to kick off there come 2020 after a new $1.9 billion stadium is completed on 62 acres west of the Mandalay Bay Resort and I-15. They'd share the 65,000-seat, blessedly-domed facility with the University of Nevada, Las Vegas Rebels.

Friday Night Priorities: Spending on Stadiums vs. Schools in Texas. From Dallas Cowboys true believers to die-hard high school pigskin fans, many Texas residents take massive pride in their gridiron heroes. [...] In 2009, the Dallas Cowboys opened a stadium that cost $1.2 billion, and $325 million of that amount came from Texas taxpayers. It's a common arrangement. Nationally, between 2000 and 2015, the public has contributed more than $12 billion to the building of professional sports facilities. According to University of Michigan professor Judith Grant Long (formerly of Harvard), the Houston Texans franchise is one of about a dozen NFL teams to receive more taxpayer money for stadium construction than the actual cost. Did that team give the extra money back to the state? No, they kept the remainder.

Could Derby Lane be the winning ticket in Rays stadium search? When considering stadium sites in Tampa Bay for the Rays, there is one important factor that cannot be overlooked: The perfect site does not exist.

The NFL's Most Valuable Teams 2016. Relocation and new stadiums drove NFL team values 19% higher over the past year, to an average of $2.34 billion. The Rams doubled in value, to $2.9 billion, after moving from St. Louis to Los Angeles. The Rams are scheduled to play three seasons at the Los Angeles Memorial Coliseum before moving into a new stadium in Inglewood. The Rams could soon be worth close to $4 billion if Stan Kroenke scores with his $3 billion mixed-use real estate project that could bring him hundreds of millions of dollars more than his team was making in St. Louis, net of the relocation fee he agreed to pay ($650 million over 10 years, in equal installments, starting after the 2019 season).

9 Signs You've Become A Tool Of The Entertainment Industrial Complex. Are you ignoring the big questions in life, remaining neutral and apathetic to the great challenges we all face? Here are some sure signs that this is indeed the case. [#1] You've mistaken sports for actual warfare. The natural human male drive for conquest and plunder has been co-opted by televised team sports, and people take it so seriously that sports riots are a growing form of civil unrest. [...] To be a tool for the entertainment industrial complex means that you are a non-combatant in the war for consciousness, and a non-threat to the powers that be.

San Antonio Stadium Subsidy Could Leave Taxpayers Holding the Ball. Lawmakers in San Antonio, Texas and in surrounding Bexar County are giving the owners of the San Antonio Spurs, a privately owned National Basketball Association team, a total of $18 million in taxpayer funds to purchase Toyota Field, a local soccer stadium, in hopes of landing a professional soccer team within the next 10 years. A new subsidiary of Spurs Sports and Entertainment, an ownership group led by Chairman Peter Holt, will be responsible for convincing Major League Soccer (MLS) to create a new team to play in the stadium. Should the company fail to land an MLS team in the city, Spurs Sports and Entertainment will be allowed to keep up to $13 million in taxpayer funds received.

St. Louis to Start CalvinBall League. St. Louis and the state of Missouri are itching to hand $400 million of their citizen's money to Stan Kroenke, a billionaire seven times over, in order to induce him to keep his lousy underperforming football team from absconding to LA or San Diego. From a financial point of view football stadiums are lousy investments for cities. From an environmental standpoint they are monuments to man-made global warming since they consist of concrete, the making of which is one of the worst known emitters of carbon dioxide. From a utilitarian standpoint they are useless, being designed specifically for football which limits their utility at any other time than the 8 out of 365 afternoons they are used. There are clearly better ways to use the money.

Price tag for Rams' Inglewood stadium could reach $2.66 billion. The final price tag for a state-of-the-art stadium in Inglewood proposed by Rams owner Stan Kroenke could reach $2.66 billion, team officials have told NFL senior staff and league owners. [...] The $2.66 billion price tag for the Inglewood stadium includes financing costs. The 70,000-seat venue will be privately funded with personal seat licenses and a $200 million loan from the league's G-4 stadium program. New Jersey's MetLife Stadium, home of the NFL's Giants and Jets, opened in 2010 with a $1.6 billion price tag making it the world's most expensive stadium built to date. The Cowboy's AT&T Stadium in Arlington, Texas, the so-called "Jerry's World," and the 49ers new Levi's Stadium in Santa Clara each came with $1.3 billion tabs. The new Yankee Stadium came at a cost of $1.5 billion.

Detroit's Crony Capitalism Problem. Anyone who wants to understand how Detroit got into its current mess should look at the new Red Wings arena that Michigan's powers-that-be recently decided to foist on it. The arena is being sold as a win-win that'll position the city for a post bankruptcy comeback. In reality, it is a body slam for Motown and a hat trick for Red Wings owner, billionaire Mike Ilitch. The arena is the linchpin of a $650 million entertainment complex that Michigan's business and political elites — who include everyone from Governor Rick Snyder down to Detroit Mayor Dave Bing — have cooked up to revive Detroit after bankruptcy. [...] The arena itself, the first — and as of now the only certain — phase of the entertainment complex, is expected to cost $440 million in upfront capital expenditures.

Show-Me State Suckers Shell Out Super-Subsidies For NFL Rams. Let's say you want to build a new house for yourself. Otherwise, you tell your neighbors and your city council, you'll leave town, taking your money, tax payments, jobs, and prestige elsewhere. What are the odds that legislators will cover at least 40 percent of your new house's costs? And maybe throw another 15 percent your way too on naming rights to your deluxe manor and also let you collect all revenue from nights when you rent out the house to strangers for parties or other accomodations? The odds are pretty low in most cities in America. But if you own the NFL's Rams (who started out in Cleveland before heading to Los Angeles and then to St. Louis), you're in luck.

You Might As Well Watch the NFL Playoffs — You're Paying for Them. NFL owners are professionals at convincing politicians to fund their stadiums with taxpayer dollars through the use of tax-free municipal bonds. Though these financing tools were originally created by Congress to help fund roads and schools, they are now used to support a league that is worth $45 billion.

LA Rams Should Pay Back Public Funds to Missouri, Sen. McCaskill Says. Sen. Claire McCaskill (D-Mo.) is planning to introduce legislation that would require sports franchises who have received public financing for their stadiums and other projects to pay back those funds if they "prematurely" relocate to another city. The St. Louis Post-Dispatch reports that McCaskill, channeling the rage felt by many of her constituents in the Show-Me State over the NFL's decision to allow Rams owner Stan Kroenke to move his team from St. Louis to Los Angeles, wants to make sure the public is "treated fairly" if a team subsidized by taxpayer dollars decides to skip town before the bills are paid off, which is the case with the Rams.

Football is Coming Back to Los Angeles, But Should Taxpayers Be Cheering? Since football was last in Los Angeles some 20 years ago, the U.S. has opened 101 new sports facilities and stadium finance experts say that almost all of them have received public funding totaling billions of dollars. Civic leaders usually justify this expense by stating that stadiums will generate economic revenue and job opportunities for the city, but those gains are rarely ever realized.

Scott Walker To Commit $400 Million in Taxpayer Dollars for NBA Stadium Deal. This [scandal] involves Gov. Scott Walker of Wisconsin, who's running on his tough-as-nails budget-cutting credentials. Come tomorrow [8/12/2015], Walker will commit no less than $400 million of taxpayer money to a stadium deal to keep the NBA Bucks in Milwaukee: [...] That's bad enough, of course. But what makes the situation even worse is that Walker is actually trying to sell it as something other politically motivated corporate welfare of the basest sort.

First glimpse of St Louis Rams' LA stadium that will be bigger and more expensive than any other in the World. This is the first glimpse of the so-called 'NFL Disney World' that will be erected for the Rams' long-awaited return to Los Angeles. [...] And judging by the first mock-ups of their new stadium, their return will be far from low-key. The glass-roofed, 80,000-seat stadium will build on what was once the Hollywood Park racetrack.

NFL will return to Los Angeles for 2016 season. NFL owners voted 30-2 to allow the St. Louis Rams to move to Los Angeles for the 2016 season and to give the San Diego Chargers a one-year option to join the Rams in Inglewood. The Rams' home will ultimately be on the site of the old Hollywood Park racetrack in Inglewood in what will be the league's biggest stadium by square feet, a low-slung, glass-roofed football palace with a projected opening in 2019 and a price tag that could approach $3 billion.

Chargers, Raiders, Rams all file L.A. relocation applications. Monday [1/4/2016] was the first day teams could apply for relocation. Although the Chargers and Raiders have joined forces in an effort to move to L.A., the situation remains fluid and unclear, with two potential sites in Carson (Chargers and Raiders) and Inglewood (Rams). Each of the three teams have faced roadblocks in trying to fund new stadiums in their current cities, but the irony is that the team with the strongest and most viable effort to keep the team — the Rams — has an owner in Stan Kroenke who seems most eager to leave. But in league circles, the belief is that the Chargers moving two hours up the coast is the most preferred choice.

Arlington council OKs teaming with Rangers on development next to ballpark. The [Arlington, Texas] City Council agreed Tuesday night to use its stockpile of gas drilling cash to help the Texas Rangers finally develop land next to Globe Life Park. The council unanimously approved several resolutions allowing the city staff to go forward with a deal for a 100,000-square-foot entertainment complex and upscale hotel across the street from the team's ballpark. The $200 million project could get $50 million in city money plus perhaps another $50 million in tax incentives.

Arlington OKs $200M development partnership with the Rangers. Arlington City Council unanimously approved a $200 million development on Tuesday night [12/15/2015] to be built near the ballpark. The Rangers proposed a hotel and entertainment development that would also add space for conventions.

Arlington Council OKs $200M entertainment complex near ballpark. The Arlington City Council on Tuesday [12/15/2015] approved an economic development project that will include a 100,000-square-foot entertainment complex near Globe Life Park, the home of the Texas Rangers. The city said the $200 million project will be a public-private partnership between the city and the Texas Rangers baseball club. The city will invest $50 million in the project, according to a release.

Garland ISD bond projects to cost millions more than voters were told. [Scroll down] The natatorium cost adjustments include $577,000 in design services, $560,000 in furniture, fixtures and equipment, and $7.3 million in construction. [...] [The natatorium was] introduced at $20.4 million in December 2013; presented to voters at $20.9 million November 2014; estimated at $31.6 million Sept. 21.

The 10 most expensive ballparks in America. The average MLB ticket price rose 3.3 percent over last season to $28.94, the largest increase since 2009, according to Team Marketing Report, a sports marketing publisher. The average Fan Cost Index, or FCI, is up 2.5 percent over last year to $211.68. The FCI figure includes four adult average-price tickets, two small draft beers, four small soft drinks, four (regular) hot dogs, parking and two of the cheapest hats. That might sound like you're getting a lot, but you'll also be spending a lot at these most expensive ballparks.

Frisco City Council OKs $39M in improvements for Toyota Stadium. Frisco City Council on Tuesday night [9/15/2015] approved $39 million in improvements to Toyota Stadium, the home of the FC Dallas franchise in Major League Soccer. The improvements could include housing the National Soccer Hall of Fame at the south end of the stadium, Soccer America Daily reported. The hall of fame could attract additional tourism dollars to the area.

Frisco Looks At $39-Million Upgrade To Toyota Stadium. Frisco city council will vote Tuesday [9/15/2015] on a proposed $39-million plan to upgrade Toyota Stadium, the home of the FC Dallas professional soccer team. Some of the money would go towards an addition onto the south end of the stadium designed to house the National Soccer Hall of Fame and Museum. The National Soccer Hall of Fame currently doesn't have a home.

The Editor says...
Notice that the arena is called Toyota Stadium, but it sounds as if Toyota doesn't pay a dime for maintenance or improvements.

St. Louis may build new football stadium with taxpayer dollars without taxpayer approval. We've had a few discussions here in the past about sports franchise stadiums and the relative wisdom (or lack thereof) of taxpayers footing the bill for these billion dollar ventures to "relieve the burden" on the billionaire owners and millionaire players they hope to attract to their city. It tends to wind up being a losing proposition for most of them, but in the end it's a decision that the voters will have to live with. Unless, of course, you live in or around St. Louis, in which case a judge has conveniently removed the decision from their hands.

2024 boondoggle united opponents. Finally, at long last, someone has gone broke underestimating the intelligence of the American public. And it couldn't have happened to a nicer bunch — Boston 2024.

Detroit's rotting Silverdome stadium goes on the market for $30 million. Pontiac Silverdome in Pontiac, Michigan, the once proud home to the Detroit Lions that has become an empty, rotting shell, is up for sale again, with an asking price of about $30 million. In its heyday, the Silverdome hosted the Super Bowl, a pope, the NBA finals, Led Zeppelin, Elvis, WrestleMania and dozens of other world-class acts and sporting events.

Oakland Is Home to Championship Teams, All of Them Looking to Leave. The Warriors have plans to move back to San Francisco, to a glassy waterfront arena, as early as 2018. The Raiders and the A's, trying to disconnect from each other and from the decaying stadium they share, are threatening to leave, too — the Raiders back to Los Angeles, the A's to San Jose or anywhere else that welcomes them to a better ballpark.

NFL Takes San Diego Hostage. As the old saying goes, "If you threaten to build it, they will come." Alright, so maybe that's not quite what Shoeless Joe meant in "Field of Dreams." But the San Diego Chargers are proving it once again to be true. All a team needs to do is threaten to leave town and its current city will come running with fistfuls of cash.

Brazil's World Cup Stadiums Fall to Kids Parties, Squatters, Bus Parking. The hangover from 2014's FIFA World Cup is not yet over for Brazil. Barely a year after the last of the fans disappeared, at least four of the 12 stadiums used for international matches are facing severe financial problems. The monolithic sporting complexes, dubbed elefantinhos brancos (white elephants) by local media, have been hit hard by Brazil's financial crisis and many are now abandoned, face costly structural problems, and are even sheltering homeless Brazilians. Brasilia's newly built Mané Garrincha stadium, the second most expensive ever built after the United Kingdom's Wembley Stadium, is now being used as a parking lot for 400 local buses.

The Editor says...
Yeah, but didn't we have a great time watching the World Cup on our fabulous new High-Def televisions? Remember when that guy — oh what was his name? — remember when he kicked the ball and some other fellow kicked it right back in the opposite direction, and then that cycle was repeated about 500 times? Man, what a game! Throw the ball! Catch the ball! Kick the ball! That's easily worth a few billion dollars in construction costs.

33 Strange Facts About America That Most Americans Would Be Shocked To Learn. [#2] In more than half of all U.S. states, the highest paid public employee in the state is a football coach.

Raiders, Chargers propose joint use stadium in Los Angeles. The city of Los Angeles, which has been without a NFL team since 1995, may be home to two — possibly three — teams. The Oakland Raiders and San Diego Chargers have jointly proposed to build a $1.7 billion stadium in Los Angeles that each team would share. The proposal is for a privately financed stadium to be built in Carson, located about 10 miles south of Los Angeles, representatives from each team said during an announcement Thursday [2/19/2015].

The bad economics of hosting the Super Bowl. Sports economists say hosting Super Bowl XLIX won't create a huge economic boost for the Phoenix, Ariz., metropolitan area, despite thousands of football fans traveling to the area. Like most Super Bowl host cities, the Phoenix metropolitan area is already a large economy, approximately $210 billion in size. To increase the metropolitan economy by just 1 percent, the Super Bowl would have to create more than $2 billion in economic growth. For comparison, a study funded by the Arizona Super Bowl Host Committee found that visitors spent $218 million when the area hosted the Super Bowl in 2008.

Super Bowl Host City Still Reeling Over Sports Deals. Glendale bet big on professional sports in the last 15 years, spending millions of dollars on a hockey arena for the Arizona Coyotes and investing heavily in a spring training ballpark for the Chicago White Sox and Los Angeles Dodgers. Then the economy tanked, and the hockey team went through bankruptcy, with several different owners in recent years.

Eminent domain use for possible Olympic site feared. Should Boston ultimately be tapped to host the 2024 Summer Games, the use of eminent domain will be a tempting option to help clear prized land for Olympic venues, but deploying it, warns a legal expert, could cause disastrous ripple effects with lasting economic harm. "There is a long history of using eminent domain to try to promote economic development. Most of the time what happens is it tends to destroy more development than it actually creates," said Ilya Somin, a George Mason University property law professor. "It destroys existing businesses and homes. It undermines the security of property rights and it tends to destroy people's social ties in their neighborhoods."

The Redevelopment Racket. The justifications that governments give for subsidizing private developments are often dubious, but this was particularly so for a recent New Jersey deal. This summer, the state granted $82 million in tax credits to the Philadelphia 76ers to build a practice facility in Camden. Although it will create only 50 jobs and be closed to the public, officials believe that its waterfront presence will uplift the city. The credit was granted by a heavily indebted state to the team's billionaire owner, for a city that suffers 16 percent unemployment and 42 percent poverty, and recently cut half of its police force.

San Fran Kisses Its 70,000-Person Toilet Goodbye. Candlestick Park, born in 1960 and scheduled to be executed presently, was an unpleasant, uncomfortable, cold, remote, windblown penitentiary located as far from San Francisco as this city's mythical 49-square-mile limit permitted.

Sitting empty, Bears Stadium costs Newark, Essex County millions. Newark, where more than a quarter of residents live in poverty, is stuck paying $1 million a year on bonds for a baseball park that's lost its main tenant. The $34 million Bears & Eagles Riverfront Stadium, envisioned as a pillar of development in the state's most populous city when it opened in 1999, is mostly silent this season after the Newark Bears folded amid dwindling attendance. The owners are trying to sell the club after putting belongings, including the team bus, up for auction in April.

Mayor's alternative to Walmart? Downtown baseball stadium. In an effort to block Walmart's proposed store in the city's downtown, Green Bay Mayor Jim Schmitt is pitching the idea of instead using the site for a new baseball stadium. Schmitt has floated the stadium idea privately to several aldermen and other civic leaders as an alternative to Walmart's planned retail superstore in the Broadway shopping district.

Trump would put up his own money for new Bills stadium if bid is accepted. Billionaire developer Donald Trump said Monday [5/26/2014] that he's willing to put up some of his own money to help build a new stadium for the Buffalo Bills if his bid to buy the team is successful. Asked about contributing money to a new Bills stadium during a brief interview before a speech at the National Press Club, Trump said, "I think I would. If my bid were accepted, I would certainly do what I could do." The new Bills stadium is likely to involve public financing as well, Trump said in the interview, in which he reiterated the team's need for a new facility and said his employees had already scouted out a couple of good stadium sites in Buffalo.

Very slightly off-topic:
Chris Christie backers awarded $223m tax break to build New Jersey mall. A major new shopping mall and housing development in New Jersey, which is controlled by the biggest corporate funders of Chris Christie's official mansion, has been awarded a $223m public subsidy by the governor's administration. Luxury Point, a vast retail, residential and entertainment complex to be built in Sayreville, was last month given one of the biggest corporate tax breaks handed out so far by the Republican governor's state authorities, which are facing a $2.7bn budget shortfall over the next year.

Just a little off-topic:
$6M in tax credits for firm to move one floor up in Jersey City office tower. An Atlanta-based payment processing firm that rents space on the 39th floor of a Downtown Jersey City tower will receive $6 million in state tax credits over the next 20 years to move one floor up in the same building. The state Economic Development Authority approved the tax credits at its August meeting, saying First Data was considering a move to Atlanta. First Data's Jersey City expansion will result in 74 new jobs, a figure touted yesterday by Mayor Steve Fulop, who said the deal is proof that Jersey City is becoming a "preferred location" for businesses.

Brazil World Cup Extremely Costly. Brazil's World Cup stadium will cost $900 million in public funds due to allegedly fraudulent billing, the Associated Press reports. The cost of the stadium has tripled, making it the world's second-most expensive soccer stadium.

Brazil's advice to World Cup tourists: 'Don't scream if robbed'. Rather than ignore the many problems plaguing the country's preparations for its games — drought, murder, striking police, ballooning costs, mismanagement and Dengue fever — police are inching toward resignation. They know Rio de Janeiro state, which saw more than 4,000 murders in 2012, is pretty dangerous. And the 600,000 tourists who are expected to descend upon Rio should know it, too. So Rio police have compiled a list of tips on navigating the city's violence, including asking tourists to refrain from screaming if someone robs them.

Super Bowl cost NJ Transit $5.6 million. New Jersey's playing host to the Super Bowl cost NJ Transit $5.6 million, its executive director told a state Senate panel Thursday [5/1/2014]. Ronnie Hakim said expenses to the agency — which moved ticketholders from Secaucus Junction to MetLife Stadium in East Rutherford for the Feb. 2 game — were $7.2 million, including overtime and other costs during Super Bowl week. That was offset by $1.6 million in revenue from ticket sales and Pepsi advertising on njtransit.com, on trains and throughout the Secaucus Junction station, she said.

Hot dogs, Cracker Jack and ballpark welfare. Lawmakers from Miami to San Diego to Seattle have spent hundreds of millions of public dollars on ballparks so billionaire owners didn't have to reach into their own pockets to pay for a place to put their businesses. In Miami, Marlins owner Jeffrey Loria persuaded Miami-Dade County taxpayers to build a baseball stadium with a retractable roof for his team in Little Havana. By the time taxpayers pay off the interest, the stadium will have cost the public $3 billion. Despite guarantees that the stadium, which opened in 2012, would lure fans to the park in droves, the Marlins rank 26th in the majors in attendance, drawing fewer than 20,000 fans a game.

Public Funding of Sports Stadiums: Spreadsheet appears to show the percentage of public funding for each of 54 arenas.

Football: A Waste of Taxpayers' Money. The NFL's Vikings are lousy at scoring touchdowns — they have the worst record in the NFC North — but they've proven remarkably adept in shaking down Minnesotans for free money. Next year they'll be playing ball in a brand-spanking new $975 million complex in downtown Minneapolis, more than half of whose cost is being picked up by state and local taxpayers.

Florida Court Allows Taking Of Private Land To Build A Major League Soccer Stadium. Last Friday [1/31/2014], the Orlando Sentinel and News 13 Orlando both reported that a Florida Circuit Court upheld the City of Orlando's decision to take private property located on West Church Street to build a soccer stadium for Orlando City SC, which is Major League Soccer's newest expansion team.

Bankruptcy Hasn't Stopped Detroit's Plan for Public Funding of New Sports Stadium. Detroit is declaring bankruptcy while its city council considers contributing public money to build a new Hockey Stadium for the billionaire owner of the Red Wings.

The Dark Side of the Atlanta Braves New Stadium. Why would the Braves move from a convenient, fan-friendly stadium that's only 17 years old to the traffic gridlock hell at the interchange of interstates I-75 and I-285? Because Cobb County officials bribed the team's owners with $450 million of taxpayers' money, that's why. That means failing business owners, struggling single mothers, the unemployed and families fighting to make ends meet will be forced to pick up most of the tab for the cost of a new state-of-the-art baseball stadium so the team's owners don't have to.

Braves plan to build new stadium in Cobb. Braves executives John Schuerholz, Mike Plant and Derek Schiller, in a meeting with a small group of reporters, said the new ballpark will be built at the northwest intersection of I-75 and I-285 in the Galleria/Cumberland Mall area. They said the team has "secured" approximately 60 acres of land for the project. The Braves said the stadium is projected to cost $672 million, including parking, land and infrastructure, and will be built in partnership with Cobb County.

It's (Financially) In the Hole! The Red Wing City Council put Mississippi National Golf Links out to pasture for the year, buying time to sort out what's become a $150,000 annual financial handicap on average for local taxpayers. "We all know what the lay of the land is for golf courses," said Rick Moskwa, public works director in Red Wing. "They're all struggling. There's an over-saturation in this area for sure but I don't know what the likelihood of somebody coming in and saying we're interested in running something like this is and if that's even possible that it can bankroll itself."

Eminent domain and the Sacramento Kings. Apparently we have arrived in the brave new world where the government can seize the property of private businesses such as Macy's or of individual homeowners and declare that it's in the public interest to put a privately owned soccer stadium in its place. And this assertion is made in the face of historical evidence, as [Ilya] Somin points out, that sports stadiums almost always turn out to be economic losers for the communities where they are constructed.

Denial in Detroit as City Plans $400 Million Taxpayer Funded Hockey Arena. Defenders of the plan say that it is part of an overall economic development scheme and will "provide jobs."

New $444 million hockey arena is still a go in Detroit. Detroit's financial crisis hasn't derailed the city's plans to spend more than $400 million in Michigan taxpayer funds on a new hockey arena for the Red Wings. Advocates of the arena say it's the kind of economic development needed to attract both people and private investment dollars into downtown Detroit.

Sacramento Bids $574 Million to Keep NBA's Kings. In a bid to keep the city's lone major professional sports team from bolting to Seattle, Sacramento's City Council has voted to approve a deal for a new downtown arena for the NBA's Sacramento Kings. The deal is estimated to cost taxpayers at least $574 million in debt payments over the 35-year life of the bonds that would be issued to fund the arena's construction.

Cubs Pledge $300 Mil. to Renovate Wrigley Field. The owners of the Chicago Cubs Major League Baseball team say they are willing to spend $300 million of their own money to renovate their home ballpark, the nearly 100-year-old Wrigley Field. In 2012 the Ricketts family, who own the Cubs, appeared to be closing in on a taxpayer-funded stadium renovation plan with Chicago Mayor Rahm Emanuel. But Emanuel backed away after Cubs trustee/owner Joe Ricketts considered funding a TV commercial campaign against the reelection of President Barack Obama.

Chicago Suburb Borrows Millions to Repay Stadium Debt. Saddled with debt payments after sinking $135 million into the construction of a soccer stadium, the Chicago-area suburb of Bridgeview recently had to borrow an additional $27 million to cover required bond payments. The Chicago Tribune reported the new borrowing comes on top of more than $218 million in debt cited in the village's 2011 audited statements.

Bill Aims to Slow Borrowing by Illinois Municipalities. The bill comes in the wake of news stories about property taxes soaring in numerous communities where local governments have borrowed money with the promise it would cost taxpayers nothing. Sports stadiums, golf courses, village halls, and other facilities built or bought with alternate revenue bonds are supposed to generate enough money to repay the debts. In many instances, the revenues have fallen woefully short, forcing taxpayers to cover the difference.

Small Town Gets Big-League Debt with Stadium Deal. While large cities tend to receive attention for big-league deals giving tax money to build stadiums for pro sports teams, small towns have also been stepping up to the plate to lure minor-league or second-tier professional sports teams. Many of those small towns are losing big. One is Bridgeview, Illinois, which is in dire financial straits because its taxpayer-owned soccer stadium has failed to generate the promised operational revenues and regional economic benefits that stadium backers had touted. The town built the stadium with $135 million in general-obligation bonds.

Minnesota to Send Nearly $500 Million to Billionaire Team Owners. Nearly $500 million in taxpayer subsidies will go to a new stadium for the Minnesota Vikings of the National Football League. Gov. Mark Dayton (DFL) signed the bill authorizing the taxpayer giveaway in May. Many Vikings fans greeted the bill signing with jubilation. Taxpayer advocates and economists who study the impact of sports stadiums warned the promised benefits are unlikely to materialize. The team's principal owner is billionaire real estate magnate Zygmunt Wilf.

"Wastebook 2012": The National Football League (NFL), the National Hockey League (NHL), and the Professional Golfers' Association (PGA) classify themselves as non-profit organizations to exempt themselves from federal income taxes on earnings. Smaller sports leagues, such as the National Lacrosse League, are also using the tax status. Taxpayers may be losing at least $91 million subsidizing these tax loopholes for professional sports leagues that generate billions of dollars annually in profits. [...] Almost half of professional football teams are valued at over $1 billion.

STOP the Wilmington Tax-Funded Stadium. A local baseball stadium will do nothing in any impactful way to stimulate our local eocnomy. The etaphor of filling one side of a swimming pool with water collected from the opposite side explains this perfectly. Local residents do not bury their expendable cash for entertainment purposes in a coffee can in the backyard waiting for a stadium to be built. They currently spend what they can afford in our many already existing local attractions, shopping, and dining. A baseball stadium will do nothing more than redirect a family's entertainment funds that would have been spent anyway in the local economy elsewhere.

Minnesota to Send Nearly $500 Million to Billionaire Team Owners. Nearly $500 million in taxpayer subsidies will go to a new stadium for the Minnesota Vikings of the National Football League. Gov. Mark Dayton (DFL) signed the bill authorizing the taxpayer giveaway in May. Many Vikings fans greeted the bill-signing with jubilation. Taxpayer advocates and economists who study the impact of sports stadiums warned the promised benefits are unlikely to materialize. The team's principal owner is billionaire real estate magnate Zygmunt Wilf.

St. Louis Rejects $700 Million Stadium Renovation Plan. The St. Louis Convention and Visitors Commission (CVC) has rejected a proposal for an estimated $700 million in renovations to the Edward Jones Dome, home field of the Rams of the National Football League. The CVC's decision to reject the Rams' proposal, announced in early June, follows the team's rejection of a proposal by the CVC for $124 million in renovations. The matter could go to arbitration. The CVC has the authority to accept or reject any plan the arbitrators select or create.

Hell to the Redskins. When compared to the $498 million fleecing Minnesota taxpayers just endured, the $6.4 million Virginia taxpayers will be spending — thanks to Republican Governor Bob McDonnell — on improvements to the Redskins' training facilities looks like small potatoes. Regardless of size, both the Vikings' new stadium and the Redskins "deal" feature the same credulous acceptance of imaginary threats, insider dealing and Babbitt boosterism that undermines the democratic process and contributes to voter alienation.

Public Funding of Sports Stadiums. Since 2000, 28 new major league stadiums have been built costing over $9 billion dollars. More than half, over $5 billion, of the costs of the new stadiums were funded using public dollars. In Utah, 4 stadiums have been built since 1991 costing $386 million in today's dollars; $200 million (in today's dollars) of that total was paid out of the coffers of Utah cities, Salt Lake County and the State of Utah.

Game over: Public financing of stadiums. For years, owners got their way — mostly by pitting one market against another, preying on civic insecurity. "If you don't give me what I want, I might be forced to relocate my team to a city with more appreciative fans." Now, though, the cleat is on the other foot. It's the taxpayers pitting owners against owners. "If teams in other cities can build their pavilions without public help," they ask, "Why can't you?"

New stadiums — taking from the old and sick and giving to millionaires. When new sport stadiums are financed with public money, research has shown that the population is actually worse off economically than before the stadium. This flies in the face of the argument that stadium proponents advance, mainly that a new stadium brings new jobs and economic expansion. Let's look at the costs and benefits from a new stadium from both the perspective of the team, and of the "public."

Public Funding of Stadiums Archives. A seven-year collection of news stories.

Media Bias and Public Stadium Funding. If these are such obviously bad deals, then why does the public tolerate the public funding of sports venues? [Rick] Eckstein has an answer.

Stadium promises never pay. [Scroll down] In a just-released article in the Journal of Sport and Social Issues, my colleagues and I studied media coverage of 23 publicly financed stadium initiatives in 16 different cities, including Philadelphia. We found that the mainstream media in most of these cities is noticeably biased toward supporting publicly financed stadiums, which has a significant impact on the initiatives' success. This bias usually takes the form of uncritically parroting stadium proponents' economic and social promises, quoting stadium supporters far more frequently than stadium opponents, overlooking the numerous objective academic studies on the topic, and failing to independently examine the multitude of failed stadium-centered promises throughout the country, especially those in oft-cited "success cities" such as Denver and Cleveland.

An Examination of Sporting Event Economic Impact Studies. Economists widely believe that studies sponsored by leagues and events exaggerate the economic impact that professional franchises and large sporting events make on local communities. Such overstatement results from several factors. First, the studies often ignore the substitution effect. To the extent that attendees at a sporting event spend their money on that event instead of on other activities in the local economy, the sporting event simply results in reallocation of expenditures in the economy, rather than in real net increases in economic activity.

Metropolitan Prosperity From Major League Sports in the CBD. Whether it is publicly or privately financed, a metropolitan area receives the same benefits from an arena or a stadium. Nevertheless, usually at least a portion of the $100 to $500 million cost of a new arena or stadium is funded with public dollars. The reason is that owners of professional sports teams have been effective at threatening city officials with alternative locations. One important issue, then, is whether the employment and income benefits from the new sports facility are greater than the public cost.

The Growth Effects of Sport Franchises, Stadia and Arenas. This paper investigates the relationship between professional sports franchises and venues and real per capita personal income in 37 Standard Metropolitan Statistical Areas in the United States over the period 1969-1994. Our empirical framework accounts for the entry and departure of professional football, basketball and baseball franchises; the construction of arenas and stadia; and other sports-related factors over this time period. In contrast to other existing studies, we find evidence that some professional sports franchises reduce the level of per capita personal income in metropolitan areas and have no effect on the growth in per capita income, casting doubt on the ability of a new sports franchise or facility to spur economic growth.

Eleven Sources of Misapplication. Many sports events, facilities, and franchises are subsidized either directly or indirectly by investments from public sector funds. The scarcity of tax dollars has led to growing public scrutiny of their allocations.

Public Funding of Sports Stadiums. Since 2000, 28 new major league stadiums have been built costing over nine billion dollars. More than half, over $5 billion, of the costs of the new stadiums were funded using public dollars. ... Across the nation, franchises have argued that building a new stadium will lead to economic development in the form of increased incomes, jobs and tax revenues. However, the preponderance of academic research has disputed these claims.

The Stadium Gambit and Local Economic Development. The evidence suggests that attracting a professional sports franchise to a city and building that franchise a new stadium or arena will have no effect on the growth rate of real per capita income and may reduce the level of real per capita income in that city. Yet government decisionmakers and politicians continue to try to attract professional sports franchises to cities, or use public funds to construct elaborate new facilities in order to keep existing franchises from moving. ... However, regardless of the size of the nonpecuniary benefits, one thing is clear from the evidence on professional sports franchises: owners are reaping substantial benefits in the value of their teams because they are so skilled at the stadium gambit.

C.L.A.S.S. Action U.S.A. — Cincinnati Chapter. The Citizens' League Against Subsidized Sports is an initiative designed to restore fiscal sanity to the relationship between professional teams and the communities that host them. Professional sports franchises are a multi-billion dollar business nationwide. Yet in cities across the country, those cash-rich organizations say they "need" taxpayers to cover their business expenses — specifically, the maintenance and operation of stadiums which were built originally with taxpayer dollars.

Group Begins Effort to Put Ticket Tax on the Ballot. A local group is beginning an effort to put a ticket tax on the ballot in November to help eliminate the deficit in the stadium fund. Hamilton County Commissioner Todd Portune held a news conference Saturday [5/21/2011] to announce the plan. Paperwork he provided shows the group's name would be CLASS Action. It stands for the Citizens League Against Subsidized Sports.

Group Wants to Shift Stadium Costs to Primary Users. In 1996, Hamilton County voters approved a sales tax to pay for the construction of Paul Brown Stadium and the Great American Ball Park. The sales tax hasn't kept up with projections, meaning County leaders have had to pay the bills with money from other sources. Also, the lease requires the County to pay for much of the maintainence and upkeep at the stadiums, and those costs are rising as the two faciliities age. Todd Portune says those who use the stadium the most should be the ones paying for them, not the average taxpayer.

The Municipal Debt Bubble: When state and local governments want to spend more than they collect in revenues, they issue bonds. Such bonds are a longstanding feature of the American landscape, going back at least as far as 1812, but during the last decade they have spun out of control, as states and cities have increased their borrowing to indulge in more and more spending on new stadiums, schools, bridges, and museums. They have even started borrowing to cover their basic operational expenses. Since 2000 the total outstanding state and municipal bond debt, adjusted for inflation, has soared from $1.5 trillion to $2.8 trillion. The recession didn't slow the spending.

Electorate Energized in the Sunshine State. Politicians in both parties should cast their eyes towards Miami if they believe they can continue to ignore the will of the electorate. Republican Mayor Carlos Alvarez who was first elected in 2004 and re-elected in 2008, was given the boot in a recall election that was stunning in terms of percentages. With one hundred percent of the vote counted, 88% of Miami-Dade voters decided enough was enough. What did Alvarez in? Tax hikes, raises for members of his inner circle, and an ill-fated decision to have taxpayers underwrite a portion of the building costs for a new Florida Marlins baseball stadium.

Want Economic Stimulus? Don't Build a Sports Stadium! For the last few decades sports teams across the country have nosed up to the public trough and demanded that states and cities chip in millions for the construction of new sports stadiums. To justify the public expense the claim has been made that these monstrous construction projects bring a wealth of jobs and spending on entertainment and are a boon to any city that will fund them. But are they? Do these multi-million dollar projects bring such lucrative benefits to the cities and states that pay through the nose for them?

Sports Stadiums as Wise Investments. In some respects, not much has changed since the early days of professional sports. Today, one of the most popular ways for a city to demonstrate its interest in a professional sports franchise is to possess a facility in which the team can play. In other respects, however, a great deal has changed since [William] Cammeyer opened the first stadium. Today, the facility used to attract a franchise is not likely to be owned by a private entrepreneur manager-owner, but rather by a government agency.

America's Municipal Debt Racket. New Jersey officials recently celebrated the selection of the new stadium in the Meadowlands sports complex as the site of the 2014 Super Bowl. Absent from the festivities was any sense of the burden the complex has become for taxpayers. Nearly 40 years ago the Garden State borrowed $302 million to begin constructing the Meadowlands. The goal was to pay off the bonds in 25 years. ... Today, the authority that runs the Meadowlands is in hock for $830 million, which it can't pay back.



Blocked party: NFL bars host town from using 'Super Bowl' name. The sports world is converging on East Rutherford (pop. 8,978) for Sunday's game between the Denver Broncos and the Seattle Seahawks, and all the town wanted to do was have a little block party for locals not rich or lucky enough to have tickets. The NFL can't stop the party, but they did bar East Rutherford from using the phrase "Super Bowl" in any description of the humble event, set to take place Sunday afternoon in the shadow of the town's most famous building, MetLife Stadium.

As Super Bowl exits NJ, taxpayers on hook for many expenses. As the NFL packs out of town, with their self-proclaimed all-American extravaganza, we should say good riddance, and make sure they don't come back with their big money, big everything, big game. Because you, New Jersey taxpayer, are on the hook for the league's big party for itself.

Red Hot Chili Peppers Admit Their Guitars Were Unplugged During [...] Halftime Show. The Red Hot Chili Peppers have been in hot water this week after careful analysis of the [big] halftime show footage revealed that the band's instruments weren't plugged in to anything. Flea, the Peppers' zany bassist, took to the band's blog Tuesday evening [2/4/2014] to explain why they were essentially playing air guitar alongside headliner Bruno Mars.

The Editor says...
A lot of people paid a lot of money to see the Big Event, and the halftime show is supposed to be a significant inducement to attend. If I had bought an expensive ticket and ended up watching a lip sync show, I'd be plenty miffed.

Politicians Smother Cities. [Scroll down] Politicians claim that stadiums increase the number of jobs. Not so, says J.C. Bradbury, author of The Baseball Economist: The Real Game Exposed. "There's a huge consensus among economists that there is no economic development benefit to having these stadiums," he says. The stadiums do create jobs for construction workers and some vendors. But "it's a case of the seen and the unseen," Bradbury says, alluding to the 19th-century French economist Frederic Bastiat. "It's very easy to see a new stadium going up. ... But what you don't see is that something else didn't get built across town. ... It's just transferring from one place to the other.

Build It, Or Else. The Seattle Supersonics have determined that their home, Key Arena — last refurbished 10 years ago to the tune of $95 million — is deficient. Only 45 percent of Key Arena's suites are rented, whereas in other cities the suites run at 90 percent to 100 percent capacity. … So the team's principal owner, Howard Schultz, chairman of Starbucks Coffee Company, has begun reading from a well-thumbed script.

Opening day subsidies: Publicly funded sports stadiums are like crack cocaine to local politicians and business bigwigs. These folks are just like addicts: They deceive everyone around them for the sake of a fix and rarely take no for an answer when voters decline to subsidize their schemes. Instead, they resort to theft — in the form of dubious hotel, sales, and other taxes — to pay for their fix, forcing citizens who couldn't care less about sports to subsidize teams.

Public welfare for billionaires — Pro-Sports Stadiums. Owners of pro-sports franchises are pressuring many cities to provide luxurious stadiums at taxpayer expense. But some communities are throwing up a tough defense.

Eight reasons to reject publicly financed stadiums for professional sports teams: Providing public subsidies for private stadiums in corporate welfare plain and simple. Public subsidies for stadiums go directly into the pockets of team owners and players by increasing profits, player salaries and raising the re-sale value of the team. … The billionaire team owners and the players profit, but the taxpayer doesn't see a dime.



Does Public Investment in Municipal Sports Stadiums Pay Off? Critics of public investment in new stadiums also note that the multiplier effects of new stadiums is likely to be small since most new stadiums contain larger parking, restaurant, souvenir, and other concession facilities. This reduces the amount of spillover benefits in the neighboring community. Most economic studies have found that the local economy receives at best only limited economic benefits from the construction of such stadiums.

Public Subsidies For Sports Stadiums Don't Spur Economic Growth. America is in the midst of a sports stadium building binge fueled by a considerable dose of public funding. Nationally, public subsidies for stadiums exceed $500 million a year. Oklahoma City joined the building binge by funding a new 18,000-seat arena as part of the MAPS program. Subsidies have not been limited to major league sports; many communities have built facilities for minor-league sports teams as well.

Financing Professional Sports Facilities: Public financing of large public facilities is always a challenge. Will it be worth the cost? How will the construction costs be funded? Is it an appropriate use of public funds? Advocates for new sports facilities often stress the economic benefits that a new facility can bring to the community. Opponents frequently point out that many economic impact studies on the topic have found that the benefits may not be substantial.

Stadium Finance: Government's Role in the 1990s. Public financing of sports facilities for professional sports teams has been the subject of growing controversy in recent years. For decades, full public financing of sports stadiums and arenas was the norm. In the last decade, however, demands for more elaborate and costly facilities on the part of owners and the increasingly limited resources of state and local governments have challenged the wisdom of this policy.

My stadium's better than your stadium... "I'm not sure it's stadium envy as much as it is the machinery of state and local politics and getting politically potent people the things they want," said Rodney Fort, an economics professor at Washington State University who has co-written a book on stadium construction and politics of sports titled, "Hard Ball, The Abuse of Power in Pro Team Sports."

Rich People Versus Politicians: Legalized corruption is widespread and that's the job of 35,000 Washington, D.C., lobbyists earning millions upon millions of dollars. ... For the right price, a tax loophole, saving a company tens of millions of dollars, can be inserted into tax law, a la the Charlie Rangel scandal. At state levels, governors can award public works contracts to a generous constituent. At the local levels mayors can confer favors such as providing subsidies for sports stadia and convention centers. When politicians can give favors, they will find buyers.

Long Island-Area Voters Nix Stadium Subsidy Proposal. The owner of the New York Islanders of the National Hockey League threatened to move his team unless he receives hundreds of millions of dollars of taxpayer backing for a new stadium. Taxpayers in Long Island and surrounding Nassau County responded with a message that could be interpreted as, "Don't let the door hit you on the behind on your way out." Voters in August overwhelmingly rejected a proposal to borrow $400 million for the Islanders and their billionaire owner, Charles Wang. A minor league baseball stadium also would have been built. The vote was 57% to 43% against.


---
"The evidence suggests that attracting a professional sports franchise to a city and building that franchise a new stadium or arena will have no effect on the growth rate of real per capita income and may reduce the level of real per capita income in that city."
---

A few words about the 2011 Super Bowl:

On November 2, 2004, the citizens of Arlington, Texas, voted to increase the city sales tax in order to contribute $350,000,000 to the Dallas Cowboys' new stadium. Many of the same voters also fell for the same sales pitch ten years ago when the baseball stadium was built for the Texas Rangers. By now, Arlington was supposed to have turned into a thriving boom town — a mecca of tourism year round — according to the promises made ten years ago. And of course it isn't, but the voters just can't say no, because Football is involved, and Football (with a capital F) is somehow more important than almost anything else.

I'm glad I don't live in Arlington.

Why Was Cowboys Stadium Exempt From Blackouts? As brief power outages rolled across the state on Wednesday [2/2/2011], certain places were intended to be exempt from a temporary loss of electricity. That included hospitals, nursing homes, fire stations, police stations, other emergency response facilities... and Cowboys Stadium?

Does this sound like a business that needs tax breaks?
Super Bowl 45 Will Break Records. A new attendance record will be set: well over 103,000 fans at the palatial Cowboys Dome in Arlington, Texas. A new record for the cost of advertising on the game has been reached. Advertising on Fox for the Super Bowl is at a cool $100,000... per second. Yes, 100K per tick, $3 million for thirty whole seconds. Better be a good ad!

Cowboys Stadium Super Bowl parking reaches up to $1100. The face value of Super Bowl tickets — up to $1,200 — elicits awe from football fans every year. Perhaps the biggest sticker shock this time around, though, was parking. While many will pay less than $100 for parking Sunday, the highest priced spot near Cowboys Stadium recently sold for $1,099. That outlandish price — with two more spots still available — caught the attention of media around the country.

Routine items not allowed at Cowboys Stadium on Sunday. As part of the increased security surrounding the Super Bowl, NFL and federal authorities are limiting what fans can bring to Cowboys Stadium. Everyone entering the stadium must pass through a magnatometer [sic], such as those used at airports, and get a patdown as part of the screening process.

Super seat screw-up jilts 400 ticketholders. For a game that was planned for years, Sunday's Super Bowl XLV was a pre-game nightmare for those outside and inside Cowboys Stadium. Fans could not get into the stadium for hours because of gate closings and, once inside, some unlucky fans found that their seats were covered by big black tarps and unusable.

But what about the halftime show?
The Lingering Stench of the Black Eyed Peas. So the Super Bowl came and went like a fat, sweaty, overbearing relative — and it left a stench in the bathroom that can only be described as the Black Eyed Peas. Yes — once again we are suffocated by the American assumption that what is lapped up by teenage girls is also lapped up by everyone else over fourteen.

Oh, but at least the National Anthem was inspiring, wasn't it?
The national anthem isn't a pop song. I've heard quite a bit of criticism of Christina Aguilera's embarrassing rendition of our national anthem prior to kick-off Sunday night. Most of the comments have been focused on her botching the lyrics. Fair enough. But why should we be so critical of a pop star who probably has no idea of the origins of "The Star Spangled Banner" or any sense that the song's designation as our national anthem makes it about all of us, not about her moment on the stage?

As you may recall, the roof was closed that day.
Navy spent $450,000 of taxpayer money on Super Bowl flyover. The U.S. Navy has been criticised for spending almost half a million dollars of taxpayers' money on a flyover at the Super Bowl — while the stadium roof was closed. The estimated $450,000 expense was for four fighter jets that flew from Virginia to Texas and over the retractable roof of Cowboys Stadium in Dallas. As it was broadcast on screens at the Super Bowl XLV on Sunday, spectators inside the stadium got the same view as people watching the five-second shot at home.

The Super Bowl flyover may have cost $450,000. The fans inside Cowboys Stadium for Super Bowl XLV had as good a view of the flyover by four F-18 fighter jets as those watching at home. With the roof closed on Jerry Jones' $1.2 billion stadium, people in attendance were forced to watch the flyover on the massive high-def screens inside.

The Editor says...
Really, whose idea was it to fly four jets from Virginia for this five-second appearance over the Super Bowl? There are plenty of loud jets in Texas. I think they still have B-1 bombers in Abilene — less than 200 miles away — and they're plenty loud.

No Super Bowl surge here:
Sales tax revenues rebound across Texas. Arlington will receive $5.8 million from the comptroller's office for April, up 4.52 percent over a year ago. ... March state sales tax revenue and April payments made to local governments represent sales that occurred in February.

The Editor says...
The statewide average was +5.16 percent.*


---
"Non-stop distractions are deliberately used by those in power as instruments of policy for the purpose of preventing people from paying attention to reality."


—

Politically Short

,

October 5, 2015

---

Specific taxpayer funded stadiums and sporting events:

Owner David Glass agrees to sell Kansas City Royals to local businessman for $1 billion. Kansas City businessman John Sherman has finalized an agreement with David Glass to purchase the Royals for $1 billion, which is expected to be officially approved in November at the Major League Baseball owners meetings. Sherman raised the necessary capital to satisfy Glass. Sherman, 64, is expected to be introduced as the third owner of the Royals' franchise since its inception in 1969 on Nov. 21 at the owners' meetings in Arlington, Texas.

Cowboys Stadium to be renamed AT&T Stadium. The Dallas Cowboys announced a multi-year, multimillion-dollar branding deal Thursday [7/25/2013] that will change the name of Cowboys Stadium to AT&T Stadium. Team owner Jerry Jones said he wants his $1.2 billion showplace to be a building "more familiar than the White House."

Sacramento Keeps NBA's Kings, But Gives Up Hundreds of Millions of $$$. The Sacramento Kings of the National Basketball Association have a new billionaire team owner, and that billionaire will have a new stadium for his team, courtesy of local taxpayers. Two days after the NBA rejected a bid to move the Kings to Seattle, the Maloof family agreed to sell the Kings to a new group of investors who promise to keep the team in Sacramento. The announcement follows the Sacramento City Council's approval of a deal for a new downtown basketball arena that has a total cost of more than $700 million.

Chicago Suburb Borrows Millions to Repay Stadium Debt. Saddled with debt payments after sinking $135 million into the construction of a soccer stadium, the Chicago-area suburb of Bridgeview recently had to borrow an additional $27 million to cover required bond payments. The Chicago Tribune reported the new borrowing comes on top of more than $218 million in debt cited in the village's 2011 audited statements. Brian Costin, director of government reform at the Illinois Policy Institute, reviewed several financial reports for the city and stadium, named Toyota Park, and saw serious consequences for the village's stadium borrowing.

High school football: It's a Texas tradition. It's a religion. It's an incurable disease.

Dallas-area high school unveils Texas-size $60 million football stadium that seats 18,000

. At least one Texas high school has achieved gridiron glory before the football season starts. Allen High School in suburban Dallas unveiled a new stadium recently that seats 18,000 spectators and cost $60 million to build. The pigskin palace features a high-definition scoreboard, a multi-level press box, wrestling and weight rooms, and a golf practice area.

SEC probes $634M financing of new Marlins stadium

. SEC subpoenas to the city and Miami-Dade County are seeking a long list of documents and records, including those involving meetings and communications between government officials and executives with the Marlins and Major League Baseball.

Why public funding for a Vikings stadium doesn't make sense

. To put this proposal into terms to which we can relate, as it passed out of the Senate Finance Committee this week, the legislation would provide public money in an amount equivalent to a $77.30 per ticket subsidy for each of the 65,000 seats at every Vikings home game. That's $77 in taxpayer funds for each ticket, at every game, including preseason ones, for the next 30 years.

The long-gone debate over public financing for a new Falcons stadium

. A new study has raised the extreme possibility that the Atlanta Falcons, within a few years, will be scrimmaging in a new, $1 billion stadium with a retractable roof. Roughly a third of the cost — $300 million is the figure in current usage — is likely to be borne by those who check into Fulton County hotels and motels, via a 7 percent surcharge on their room bills. The 20-year-old Georgia Dome, also built with a flow of taxpayer cash, would be demolished.

The Editor says...

The old stadium is only 20 years old. One could reasonably conclude that Atlanta will have to go through this process again every 20 years.

Evans: city taxpayers won't pay for 'Skins training facility

. Fear not, D.C. taxpayers. Even the D.C. Council's biggest proponent for returning the Redskins to the District knows the city can't actually spend money on building a training facility to lure the team back within city lines. Ward 2 Councilman Jack Evans was asked about the possibility Friday [3/2/2012] on WAMU radio's "Politics Hour" show, where he said it's no secret the Redskins want to relocate because their current facility in Ashburn is "one of the worst in the league."

Santorum backed Pittsburgh stadium tax hike

. Santorum friends and former Republican associates there say that as a U.S. senator, he astonished them by lobbying for a boost in the sales tax in 11 southwestern Pennsylvania counties to pay for building a new stadium for the Pittsburgh Steelers and another new stadium for the Pittsburgh Pirates. The teams owners were threatening to move their teams elsewhere if the government didn't give them what they demanded. "It was a sweetheart deal for the two teams, a total taxpayer giveaway," Larry Dunn, who was a Republican and the commission chairman of Allegheny County, which includes Pittsburgh.

Steelers-49ers 'MNF' game experiences second power outage

. "I just feel like San Francisco took a big step to show the NFL and to show the state of California that they need a new stadium," Steelers FS Ryan Clark said following the game. "I think it was a very strategic move, and Candlestick may be no more."

The Editor says...

If the stadium needs new power transformers, it isn't necessary to replace the entire stadium.

Only slightly off-topic:

Gov. Cuomo's big development plan for Aqueduct holds promise

. Of the many ambitious plans Gov. Cuomo laid out in his second State of the State speech, none had more wow than putting the world's biggest convention center at Aqueduct Racetrack. The proposed 3.8 million-square-foot facility — to be built on state land with $4 billion in private money — would create thousands of jobs, boost New York City's status as a tourist magnet and make far better use of a grossly underused property a stone's throw from Kennedy Airport.

Dayton wants deeper review of Vikings' stadium proposal

. Gov. Mark Dayton is asking the Metropolitan Council and his stadium czar to quickly analyze and determine the remaining issues on the Minnesota Vikings stadium proposal for the Arden Hills. ... The county and the team announced an agreement in May to build a $1 billion stadium in Arden Hills. The was virtually ignored by the Legislature as state leaders tried to reach agreement on the two-year budget.

Hawaii governor says $4 million 'bribe' for Pro Bowl is wasteful

. Hawaii Gov. Neil Abercrombie said Thursday [6/9/2011] it's "so stupid" that the cash-strapped state pays millions to play host to the Pro Bowl when the money could be used for education.

Don't count on Vikings stadium in special session

. Though many expect a new Minnesota Vikings stadium to be considered at a special legislative session, there are those who think the increasing war of words between Gov. Mark Dayton and the Republicans who control the House and Senate may prevent that. One is Sen. Dick Cohen, DFL-St. Paul, who was first elected to the Legislature in 1976 and is one of the longest-serving lawmakers at the State Capitol. Another may be Sen. Dave Thompson, R-Lakeville, one of a group of influential freshman Republican legislators.

Arden Hills stadium a done stadium deal? Hardly

. The push to build a new Minnesota Vikings stadium took more frantic twists and turns Thursday as the team suggested critics might be trying to scuttle its plan to build in Ramsey County and influential business leaders worked to swing the project back to Minneapolis. ... There were also indications the Ramsey County Board of Commissioners has enough votes to back the $1 billion project in suburban Arden Hills.

An Arizona city's sports mania encounters a hard check

. Taxes provided $346 million of the $455 million cost of the huge retractable-roof NFL stadium where the Arizona Cardinals will play 10 times this season, if there is a season. But Glendale (population 253,000) has a more immediate problem with its hockey team, the NHL's Phoenix Coyotes. After the team entered bankruptcy in 2009, the NHL bought it for $140 million and has lost at least $30 million operating it.

Sisyphus in Boulder City

. How did this little city rack up so much debt? Much, if not most of it, comes from the city council's decision — without bothering to waste their time asking for public approval — to build the Boulder Creek Golf Club, which opened in 2003. One can easily understand the life-or-death need for a place to go golfing, of course. Yet, this was the city's second public course. The first, built in 1971, was approved by voters. Mysteriously, once the second course was operational, the first (as well as the second) began to lose money, with revenues falling from over $600,000 annually to only $40,000.

Texas agrees deal to host F1

. Formula One will return to the United States in 2012 with a 10-year deal for a race in the Texas state capital Austin, commercial supremo Bernie Ecclestone has announced. "For the first time in the history of Formula One in the United States, a world-class facility will be purpose-built to host the event," the Briton told the F1 website. Austin, the 15th largest city in the United States, will host the race until 2021.

If stadium gets built, Mesa will keep Cubs

. To the sound of cheers and whistles of triumph, the owners of the Chicago Cubs officially announced Wednesday [1/27/2010] that they intend to keep their spring-training home in Mesa but only if the state and the city can muster the $84 million to build a new stadium and practice complex.

Chargers say they need public money for stadium

. For seven years, the San Diego Chargers have said they would build a new stadium without using taxpayer money. Thursday [12/10/2009], a team spokesman said otherwise. "It's almost certainly going to involve some sort of taxpayer money," said Chargers special counsel Mark Fabiani, who has led the team's stadium search since 2002.

Court Rules Private Land Can Be Seized for NBA Arena

. New York's highest court ruled Tuesday [11/24/2009] that it's lawful for a state economic development agency to seize private land to build an arena for a professional basketball team. The 6-1 ruling by the New York State Court of Appeals allows the contentious $4.9 billion, 22-acre Atlantic Yards project in Brooklyn, N.Y., to proceed. The proposed development includes office towers, apartments and a new arena for the NBA's New Jersey Nets.

Anatomy of an Earmark

. The old Tiger Stadium was built in 1912 and was the home of Detroit's big-league team until 1999. After the Tigers moved to a new stadium a mile away, it became the subject of intense controversy about what should be done with it. The city wanted to tear it down. Local preservationists wanted to turn it into a sports complex and museum. What happened was literally akin to splitting the baby.

Pricey seats at new Yankee Stadium a Bronx bomb

. The most expensive spots in America's costliest ballpark have become an embarrassment packing a financial sting to the proud New York Yankees, as the Legends Suite section in the infield has been filled only once in the six games since the $1.5 billion stadium opened last week. On most days, the seats that cost $500-$2,500 as part of season tickets and go up to $2,625 for individual games haven't been close to full.

University's Stadium Plea Renews Funding Debate

. The University of Washington's quest to receive public funding for renovation of its Husky Stadium has rekindled the debate over taxpayer financing of sports facilities. ... The university stresses it's asking for less money than the Seahawks (football) and Mariners (baseball) did, and that its 50-50 split is a smaller share of public dollars than for those stadiums. Public money made up about 70 percent of Qwest and Safeco Field costs.

Fresno's new baseball stadium better not be paid for with municipal bonds!

Dale Rubin, of Salem, Oregon is an attorney who specializes in public subsidy issues. He recently finished a brief for a public policy group in which his concluions of law were that municipal subsidies for sports stadiums are unconstitutional. He said 'Almost all state laws say that no public entity should be aiding private enterprise. In spite of that, billions of dollars of bonds are flowing to build these sports facilities.'

Citi, AIG Won't Drop Big Sports Sponsorships

. AIG, Citibank and a number of other federally bailed-out financial institutions have no plans to cancel hundreds of millions of dollars in sports team sponsorships, even as they take billions in taxpayer support, ABC News has found. In boom times, the sponsorships were seen as a way to advertise the firms' "brands" and appeal to potential customers. ... But critics, including a member of Congress, say the decision to continue them now is hard to defend.

Special Interests Push for Sports Stadium Subsidies

. With Washington state facing a projected $3.2 billion budget deficit — the difference between growing revenues and even-faster spending growth — one might expect lawmakers to focus on how best to use the existing rise in tax revenues to provide the core functions of government. If special interests get their way, however, taxpayer financing of Seattle-area stadium renovations will be among the "priorities" competing for tax dollars.

New Indianapolis Stadium May Already Need Bailout

. Taxpayers in Indiana may already be on the hook for a financial bailout of Lucas Oil Stadium, the new home of the Indianapolis Colts of the National Football League and reputedly the most heavily subsidized professional sports stadium in the nation. The Capital Improvement Board (CIB), which manages Lucas Oil Stadium, announced about two years ago the stadium's annual operating costs would be $10 million while yearly revenues would be only $7.7 million.

The False Promise of Subsidized Tourist and Entertainment Complexes

. In city after troubled city, convention centers, stadiums, arenas, opera houses, aquariums, museums, casinos, racetracks, and other places of entertainment are presented as powerful engines of economic development that will pay for themselves in new jobs, paychecks, and taxes. The mounting evidence suggests, however, that while such projects offer significant benefits to a very narrow slice of the regional (including suburban) business community, they offer very little to the urban community in general.

Stadium Subsidies Hitting Taxpayers Harder: Study

. [Andrew] Moylan's research shows as the taxpayers' tab increases, so does the total stadium construction cost. Stadiums that were built with 50 percent or more in taxpayer subsidies were $65 million more expensive on average than those built with less than 50 percent in subsidies. The reason? Not surprisingly, Moylan argues, private financiers demand more fiscal accountability with their own money than government bureaucrats do with other people's tax dollars. Not only is the average percentage of stadium costs subsidized by taxpayers growing, but total subsidy amounts are rising too.

Sports teams pay millions for talent but ask the public to pay millions for stadiums.

Welfare kings

: In October 1995, the city of Seattle opened a new NBA basketball arena that immediately drew accolades for intimate design elements and dynamic sight lines. But just a dozen years later, Sonics owner Clay Bennett claims KeyArena is no longer an economically viable NBA facility and that no amount of renovations could alter that reality. Bennett intends to relocate the team next year barring some unforeseen final-hour deal to build an entirely new arena with public funds.

Tips on writing a term paper on stadium subsidies

. There was a rash of new sports stadium development that occurred in the 1990s. Most of these stadiums were built partly or wholly with government money in the form of stadium subsidies. Naturally many social groups were outraged that government money was being diverted from social programs to millionaire players and billionaire owners. Politicians have argued that stadiums bring tourism dollars into the city that far outweigh the cost of the stadium subsidy. Many economists disagree; they feel that most of the revenue stadiums generate comes at the expense of other entertainment venues within the town.

Stadium Socialism

: Jesse Ventura, Governor of Minnesota, took a position that is extremely rare in state government. He said that neither the state nor the city nor any other unit of government should spend any money on funding yet another municipal ballpark or providing a taxpayer subsidy to professional ball teams and their media flunkies. "The taxpayers shouldn't have to foot the bill for new stadiums," said Ventura. That's a sentiment that would have been common in America a hundred years ago. Today, after decades of government entitlement programs for everyone, it now seems revolutionary.

The Billion Dollar Whatever

. It's possible that the Twins site will flourish — it's already in a part of town with plenty of condo-and-loft development, so it has a leg up on the deadlands of the Vikings site. We were promised lots of development around the Dome, too, and what did we get? One bar. One. If the planners of the site came back and saw what their work had produced, they would've been convinced prohibition had been reintroduced, because there's no possible other explanation for building a gigantic sports arena that produces exactly ONE bar before the development sputters out and the area sits dead for 20 years.

Santa Claus Government

. Last Monday, the U.S. Conference of Mayors sent its list of wishes to the political equivalent of Santa Claus: Congress. ... The mayors claim the economy will be stimulated if their wishes are granted. What do they want? The National Taxpayers Union (NTU) has analyzed the 72-page list. ... [The projects include] 15 projects with the term "stadium" in them, including a $150 million Metromover extension to the Florida Marlins' baseball stadium ... Kristina Rasmussen, NTU's director of government affairs, offers more analysis of the mayors' report on NTU's blog: "Total cost of the wish list is $73,163,299,303."

The Odd Couple, or Here We Go Again

. We thought this was properly dealt with back in January by Raiders Chief Executive Amy Trask, who simply said in essence that the Raiders would be concentrating on the current season in a stadium they're simply

thrilled

with, and that they are not actively seeking out the 49ers as business partners. But like a zombie, this 'joint stadium' idea has come to life once again, walking the streets by night and claiming more victims, many of them credulous 49er Faithful.

E-mails show NYC played ball for luxury boxes

. When it comes to getting a luxury box at the new Yankees and Mets stadiums, Mayor Michael Bloomberg's aides appear willing to play ball. Recently released internal e-mails between the mayor's aides, city lawyers and Yankees officials show that City Hall gave the team even more parking spaces than had been negotiated previously, plus the rights and revenue from three billboards near the stadium in exchange for a suite.


Funk & Wagnall's Standard Dictionary of the English Language,
1964 International Edition, Volume One, page 548.

Corzine's friendship with investor raises questions

. Gov. Jon Corzine's recent disclosure that one of his close personal friends is a partner in the investment group that threw a billion-dollar lifeline to the troubled Xanadu sports and entertainment complex may have backfired. While Corzine no doubt expected his disclosure would quell any rumblings of a conflict of interest, critics have raised new questions about the administration's role in the $2 billion Meadowlands complex, including the role of former economic growth czar Gary Rose.

Time Out Needed on Stadium Deal

. Similar to the arena deal seven years ago, all three levels of government have been tight-lipped about providing details of possible government involvement in a new stadium. Both the provincial government and the City of Winnipeg have refused CTF freedom of information requests for details on using public money for a new stadium.

$1.1 Billion Twins Stadium Tax

: The Minnesota Twins sued to get out of their lease so they can pressure your lawmakers to buy them a stadium. The new lease presumably would be as worthless as the one they just nullified. Meanwhile, the disenfranchised citizens — who will not be allowed to vote on it — are stuck paying the tab. The stadium will cost taxpayers $1.1 billion dollars. The Twins essentially contribute nothing. Oh sure, they will tell you the Twins are contributing $125 million. But the deal also gives them naming rights for the stadium, money from concessions, parking — so the $125 million will be easily recovered.

Seattleites should not have to pay for another arena boondoggle

. Since 1999, Seattle taxpayers have forked over more than $1 billion in today's dollars to the ultra-rich owners of baseball's Mariners and football's Seahawks. Despite threats to move the teams, folks are a little hesitant to cough up several hundred million more for a new basketball arena for the Seattle SuperSonics and Storm.

Randolph Calls For End to Taxpayer-Funded Luxury Suites at Local Stadiums

. In the wake of the recent public news that the Lucas Oil Stadium could run the taxpayers an extra $10 million in operational costs, City-County Councillor Ike Randolph today, filed a freedom of information request with the City of Indianapolis. The request seeks all documents and expenditures on city-owned suites at the RCA Dome, Conseco Field House and Victory Field between 2000 and 2006.

DC taxpayers are being thrown an expensive curveball

. DC City Council members who will vote Tuesday

[11/13/2007]

on whether to approve the Mayor's plan for a publicly-subsidized baseball stadium in Anacostia should remember this year's earlier "commuter tax" court controversy. According to a new study from the non-partisan National Taxpayers Union Foundation, the stadium proposal would worsen taxes in DC to fund a project that will mostly serve residents of Maryland and Virginia (80 percent of the team's fans are expected to come from those two states).

Storm clouds in the outfield

. The city of Anaheim, thanks to the foolishness of then-Mayor Tom Daly and then-council members Lou Lopez and Frank Feldhaus, gave then-owner Disney $30 million in benefits in 1996 to keep the team in Anaheim. Residents got little in return, but the one thing they did get was the supposed pride of having the city's name in the national spotlight. It looks like a sucker's deal in hindsight.

Sports owners fund McCain, shun Obama

. Sports team owners may not be John McCain's answer to the Hollywood elite, but they're overwhelmingly supporting his presidential campaign over Barack Obama's. Through the end of June, team owners in the four major sports and their families have given to or raised as much or more than $3.2 million for McCain, the presumptive Republican nominee, compared with as much as $615,000 for his Democratic rival Obama, according to a Politico analysis of data from the Federal Election Commission, the campaigns and interviews.

If You Build It, They Will Leave

. On the same day the Florida Marlins paraded through Miami to celebrate their second World Series championship in six years, politicians from Miami-Dade County swallowed the young baseball team's corporate welfare bait. County Mayor Alex Penelas and Manager George Burgess announced they were offering a whopping $73 million in bed tax revenue, plus a parcel of free land, to help build a new $325 million baseball-only retractable-roof stadium that the lucrative franchise desperately wants.

Voters starting to take a stand against stadium funding

. In Sarasota, Fla., a $16 million bond referendum was on the ballot to help fund a $45 million reconstruction of a stadium currently used by the Cincinnati Reds for spring training. Another $7.9 million was to be spent to add land for practice fields and its related construction costs. The total of some $52.9 million was to be funded by the county, state and city, with the Reds contributing $10 million.

Stadium is fielding money — from us

. I wasn't overly alarmed when a Deseret Morning News headline announced last week that the funding of Dave's Big Soccer Stadium will cost much more than we were originally told. … When it came time to finalize the funding details for the soccer stadium last week, someone finally got around to mentioning that it will cost more than the $45 million as advertised — it will cost another $28 mil in interest, bringing the price tag to, ka-ching!, $73 million.

Private Benefits of Public Stadium Financing

: Public subsidies of professional sports stadiums provide no tangible public good, a fact being recognized by more cities around the country, says an economist who's studied the issue. "You see a lot more resistance (to taxpayer-funded stadiums) than you did in the past. I think people are seeing the evidence that the benefit isn't there," said Phillip Miller, an economist at Minnesota State University.

Baseline Welfare Cases: Stadiums, Subsidies, and the Dole

. Major League Baseball has become a regular recipient of corporate welfare. In particular, taxpayer subsidies to fund ballparks — which once were the rarest of exceptions — have become the norm. Unfortunately, over the years, some businesses and their representatives — in particular, many state and local business groups — have been regular supporters of subsidized stadiums. It is often the case, in fact, that the business leaders in a community become the loudest cheerleaders for tax giveaways to baseball teams.

Leaky Stadiums — Milwaukee's Stadium Experience

. The typical argument used to sell a stadium construction contract to the tax-paying public is that it improves the local economy. Money will be generated, and the taxes on the new revenue will in theory offset the taxes used to subsidize the new stadium. The problem with this stream of thought is the first step. How is that money generated? Most people have entertainment budgets, and the $100 they spend taking the family to the ballgame is $100 that they don't spend on movies or bowling later on in the month.

Ballpark figures

: Sports economists agree that cities — and taxpayers — get close to nothing from spending public money on sports teams. What they haven't figured out is why we're still doing it.

Stadium Subsidies Scalp The Public

. Ever since the Boston Tea Party, public debate over whether to pay taxes and how to spend those dollars has been a vibrant part of our democratic process in Massachusetts and across the nation. The debate over taxpayer subsidies for the stadium that is proposed to replace the venerable Fenway Park is shaping up to be an epic battle pitting the public interest and the public well-being against the well-financed powers that be.

Sports Stadium Madness: Why It Started, How to Stop It

. Nationally, subsidies to professional sports facilities cost taxpayers some $500 million a year. More than $7 billion will be spent on new facilities by the year 2006, with most of it coming from public sources. Communities that are hard-pressed to keep their schools open or police on the beat are nevertheless entering into agreements to spend hundreds of millions of dollars to bid away a professional sports team from another city.

Put pro sports blackmailers out of business

. Taxpayer subsidies for new sports stadiums have been responsible for some of the biggest expansions of government during the 1990s. Cities have used public money to engage in unseemly bidding wars, with pro teams playing government against government in quest of an ever-more-lucrative stadium deal. As the bidding has risen, even teams with stadiums as young as 15 to 20 years old (like the domes used by the Minnesota Twins and the Seattle Seahawks) are demanding new playpens costing upwards of $400 million.

Stadium Subsidies Strike Out

. Do public subsidies for stadiums make sense? Many studies suggest the answer to that question is an emphatic NO. Economist Robert Baade of the Heartland Institute, an Illinois think tank, analyzed the effects of professional sports teams and stadiums on economic development in thirty-six metropolitan areas. The results, he found, overwhelmingly indicated that professional sports is not statistically significant in determining economic growth rates.

The Stadium Gambit and Local Economic Development

. The evidence suggests that attracting a professional sports franchise to a city and building that franchise a new stadium or arena will have no effect on the growth rate of real per capita income and may reduce the level of real per capita income in that city.

Sports Pork: The Costly Relationship between Major League Sports and Government

. The lone beneficiaries of sports subsidies are team owners and players. … Indeed, the results of studies on changes in the economy resulting from the presence of stadiums, arenas, and sports teams show no positive economic impact from professional sports — or a possible negative effect.

Caught Stealing: Debunking the Economic Case for D.C. Baseball

. District of Columbia mayor Anthony Williams has convinced Major League Baseball to move the Montreal Expos to D.C. in exchange for the city's building a new ballpark. … A baseball team in D.C. might produce intangible benefits. Rooting for the team might provide satisfaction to many local baseball fans. That is hardly a reason for the city government to subsidize the team. D.C. policymakers should not be mesmerized by faulty impact studies that claim that a baseball team and a new stadium can be an engine of economic growth.

Mets, Yanks stadium subsidies top $1.25 billion

. Field of Schemes has obtained new figures from the New York City Independent Budget Office (I'm sure they'll give them to anyone, but I asked) on the cost to taxpayers of publicly subsidized tax-exempt bonds for the new Yankees and Mets stadiums. The verdict: The $930 million in Yankees stadium bonds will cost the city $10 million in lost tax revenue, the state $18 million, and federal taxpayers a whopping $200 million; for the Mets' $528 million in tax-exempt bonds, the figures are $6 million city, $10 million state, and $115 federal.

Speaking of the Yankees...

A-Rod Gets Steal Of A Deal Thanks To NYC Tax Loophole

. They were crying foul Friday [2/25/2011] about a sweetheart tax loophole that will enable Yankees slugger Alex Rodriguez to live in his new $6 million luxury West Side penthouse and pay virtually no real estate taxes. The cost of a 28th row ticket for the Yankees 2011 home opener is $1,211. The cost of an A-Rod autographed bat is $700.

Say It Ain't So: Stadium Subsidies in Nevada

. Research has shown that the economic benefits of subsidized stadiums are monumentally overstated. For years, analysts have searched in vain for proof that the pro-subsidy hype peddled by stadium supporters squares with reality. In fact, on this issue the level of agreement between free-market, conservative and left-liberal economists and policy analysts is startling.

Poll: 48% Oppose Cotton Bowl Project

. Almost half of Dallas residents say the city should pull the plug on a planned $50 million face-lift for the Cotton Bowl, according to a Dallas Morning News poll. Even though the City Council strongly supports the renovation, 48 percent of those polled last week said the investment doesn't make sense now that the AT&T Cotton Bowl Classic, the January collegiate bowl game, has announced that it's leaving in 2010.

$1.1 Billion Minnesota Twins Stadium Tax

. The Minnesota Twins have sued to get out of their lease so they can pressure your lawmakers to buy them a stadium. The new lease presumably would be as worthless as the one they just nullified. Meanwhile, the disenfranchised citizens — who will not be allowed to vote on it — are stuck paying the tab.

Update: Ballpark bill in scoring position

. The Minnesota Twins scored a major victory late Thursday [4/20/2006] when the [Minnesota] House Taxes Committee said a sales tax could be used to help build a $522 million stadium in downtown Minneapolis

without requiring a referendum. Minnesota Twins Win Stadium Subsidy Deal

. Years of concerted effort by the Minnesota Twins Major League Baseball team paid off on May 26, when Gov. Tim Pawlenty (R) signed a stadium subsidy bill before the start of the Twins game against the Seattle Mariners. It was a good night for the Twins, as they won hundreds of millions of tax dollars for a new stadium and then defeated the Mariners 3-1. But many analysts believe it was a bad night for Minnesota taxpayers.

Penguins souring on Plan B

. Gov. Ed Rendell yesterday [1/19/2007] said the arena deal being offered the Penguins is better than others struck recently in the National Hockey League, but the team has balked at a proposal to share development rights and parking revenues with Pittsburgh casino backer Don Barden.

Florida Turns Down Subsidy for Marlins Stadium

. Although Florida lawmakers declined to provide financial assistance to the Florida Marlins Major League Baseball franchise, a proposed move of the team to San Antonio, Texas has been killed.

[So! All that talk about leaving town was just an empty threat. Imagine that.]

Sports Stadiums and the Effects on the Economy

. Before the depression, stadiums such as Wrigley Field, Tiger Stadium, Yankee Stadium, and Fenway Park were being built by using private funds. In the 1980's America was spending about $1.5 billion on new stadiums; in the 1990's it spent $11 billion. Furthermore, in 1967 the cost to build the Kingdome was $67 million, in 1999 the cost to build Safeco Field was $517.6 million.

Election Fraud Investigation in San Francisco

. An investigation into allegations of organized fraud in the June 1997 stadium bond election in San Francisco.

The team that mistook its stadium for a hat

. Whenever a new major league baseball stadium opens, it's hailed as an emblem of progress, a palace of sport, an engineering wonder, a centerpiece of the community, and an immense improvement over its predecessor. In recent years, it has also become mandatory to apply such overworked expressions as "state of the art," "intimate," and "old-fashioned ballpark with all the modern conveniences." Historically, even underachievers such as San Francisco's wind-cursed Candlestick Park and the multi-sport concrete ashtrays of the '70s have drawn opening-day accolades — and, of course, so have the good ones.

Public Funding of Stadiums

: A very large collection of articles on this subject at No Land Grab dot org.

The name of the game is money — tax money used to build sporting arenas

. As players' salaries and ticket prices spiral astronomically upward, it is the taxpaying public that is being stuck with the bill for new stadiums. If there has been one constant in professional sports over the past 20 to 25 years, it is that owners and players are becoming increasingly wealthy at the expense of fans, non-fans, and taxpayers. In 1976, the average salary of major league baseball players was $51,000. That jumped to $412,000 by 1987 and is well over $1,000,000 today.

Field of Schemes dot com

is the companion website to

Field of Schemes: How the Great Stadium Swindle Turns Public Money Into Private Profit

, by Joanna Cagan and Neil deMause. Since 1998, we have been casting a critical eye on the roughly $2 billion a year in public subsidies that go toward building new pro sports facilities.

Top 10 Dumbest Reasons to Build a New Stadium

.

Sports Stadiums Becoming Major Corporate Welfare

. "We are just pointing out two important facts," [Roger] Noll says. "Stadiums are not a net local economic benefit, and the reasons cities are paying for them is because the (federal) government made the professional leagues monopolies" — exempt from anti-trust laws that apply to most other industries.

Take pro sports off the government payroll

. Call it "public funding" if you like, but the fact remains: There is no such thing as public money. The government has no money, except what it takes from the taxpayers. What the D.C. Council's agreement means is this: If I decide to go to any games at the new stadium, which is to be completed in 2008, I will be paying for a ticket to a game, at which I will buy drinks and hot dogs, and the entire spectacle will take place in a facility that I helped pay for.

Ballpark Boondoggle

. Beginning in the early 1990s, an unprecedented stadium construction boom has swept the world of professional sports. Since the opening of New Comiskey Park in Chicago in April of 1991 a total of 28 new stadiums have been built or are under construction to house professional football and baseball franchises in the United States.

Big money socialism

: If the wealthy owners of sports teams want new stadiums, let them build them with their own money. They're not entitled to our money. Just as cities take people's homes so rich corporations can do what the politicians call "urban renewal," telling the courts economic development is a "public use," sports tycoons argue their stadiums are in the "public interest." Their politician friends tell voters that a stadium will "bring jobs," be "good for the city," "pay for itself." Bunk. Study after study finds stadiums cost far more than they return.

Bowl games and traditions

. It irks me that the Peach Bowl is now the Chick-fil-A Bowl. It vexes me to hear the mandated phrase "Invesco Field at Mile High." I grieve the loss of the old and honored place-names of sports: Candlestick Park, Three Rivers Stadium, Jack Murphy Stadium. … That corporate names, attached to stadiums by means of vast expenditures, can make no claims to the people's veneration, as opposed to their fleeting fancy, is no mere controversial assertion on my part — it is an admitted feature of the principle of the system.

The Capital Spenders

: Why are $100,000 of our tax dollars going to the Tiger Woods Foundation? This multi-millionaire can afford to support his own foundation. Why must taxpayers continue to contribute to various sports halls of fame, including $75,000 for the one in Syracuse, N.Y.? … Why is the Baseball Hall of Fame in Cooperstown, N.Y., getting $450,000 for "educational outreach"?

Supposed economic benefit?

I'm fine with the idea of the Cowboys playing in Arlington, but I wish owner Jerry Jones would write the check for it and leave Arlington taxpayers alone. He'll get their money eventually, along with ticket, parking, food and souvenir revenue from everyone else who comes to see the Cowboys of 2009 and beyond.

Dallas Cowboys' Shining Star

. The stadium will cost $1 billion by the time it's finished.

Stadium project is burning through $1 million each day

. The new Cowboys stadium is about 40 percent complete, and crews are spending nearly $1 million a day to build the team's new home, construction manager Jack Hill said.

New Cowboys stadium costs tower over others

. Arlington Mayor Robert Cluck said since [Jerry] Jones is paying for most of the stadium, taxpayers shouldn't have a problem. "Does it bother me?" he said. "No, it does not. He is making a huge investment in Arlington." Jones' investment is about $725 million. The city of Arlington's investment is about $475 million. For that kind of money, Arlington could have built its own stadium like the Reliant Stadium in Houston, which is where the Houston Texans play. ... The big difference is that the 50 yard line seats that are 20 rows up at the new Cowboys stadium will cost you $150,000 for a personal seat license and $340 for a ticket.

The Art of the NFL

. [Scroll down] The new Cowboys Stadium provides a good example. The field, the television screen, the party zone, the presumptive lines at the parking lot — the good taxpayers of Arlington, Texas have built Jerry Jones his Taj Mahal. He didn't forget the harem. Ensconced within the stands are platforms accommodating clusters of pole-dancers, a kind of J.V. Cowboys Cheerleaders squad.

City ordered to disclose secret arena proposal

. The city of Sacramento was ordered Thursday [10/26/2006] to turn over a copy of a negotiating proposal sent to the owners of the Sacramento Kings as part of their discussions for a new arena in the downtown railyard.

County Claims Bengals Cheated Taxpayers

. Hamilton County commissioners claim the team for which they built a stadium and the league that oversees the team cheated them out of $600 million. One of the most controversial pieces of evidence is the Bengals' win-loss record: The team said it needed more money to be more competitive, but the Bengals still stink.

Jones' Subsidy Could Reach $1.2 Billion

. The stadium deal for Jerry Jones and the Dallas Cowboys is weighted heavily on the side of the team. The Cowboys emphasized during the tax initiative campaign that they were putting up half the money for the stadium — $325 million — but that isn't quite true. While the city will use the new taxes to retire its side of the debt, Jones will be able to slap his own 10 percent "tax" on tickets and a $3 tax on parking to retire his side. That will raise about $10 million a year, or $300 million over 30 years.

Take Me Out of the Ballgame

. Generally in these agreements the city will pay part of the costs and the team pays the rest. In this case, Arlington increased property, car rental and hotel taxes to pay for the city's share. But according to a story in the Dallas Morning News, it also wants to levy a 10 percent tax on tickets and a $3 parking tax. The twist here is that those user taxes will be applied

toward the Cowboy's portion of the bill

.

An End to Sports Welfare?

When Dallas Cowboys owner Jerry Jones asked Arlington, Texas voters to pay for a new stadium last November, he did not call the classic plays from the sports welfare playbook. He could not say America's Team needed a state-of-the-art facility to compete, since Texas Stadium (in the Dallas-adjacent suburb of Irving) has more luxury suites than any other stadium in the National Football League (NFL) and the Cowboys won three Super Bowls in the 1990s. He could not say he was financially strapped, since his franchise ranks sixth in the NFL in profits and second in revenue, according to Forbes magazine.

Baseball stadium is striking out in the nation's capital

. The District of Columbia "won" a bidding war for the Montreal Expos by promising to construct a $440 million stadium, one of the most expensive ever. But total projected costs already have ballooned to $530 million. And author Charles C. Euchner warns: "Count on that cost ballooning past $600 million or more. Public works projects invariably run over budget by at least 25 percent."

Our national disgrace

. Today we hardly bat an eye when a large enterprise like a sports stadium is started not by business people, but by politicians. Or when one of the poorest-run cities in the nation distracts itself from improving its badly provided essential services to engage in what has become a rich-man's luxury. Or when we see captains of industry reduced from creators of wealth to welfare addicts. … In the end, the argument is that this kind of subsidy creates jobs and profits and thus "pays for itself." Of course, it doesn't. The so-called economics used to justify these subsidies to major league sports are worth less than the literary value of infield chatter. A simple truth remains: When it is economical to invest in a stadium, private enterprise will do so. When it is not, then it shouldn't be done.

I'd ride the subway, but I haven't enough change.

Baseball vs. D.C.

: The Lerners have already benefited from D.C. taxpayers, who were forced to foot the $611 million bill to build the stadium for Theodore Lerner, his family and his $450 million baseball team. Fan support has been averaging 29,000 tickets per game, while the team is a last-place-in-the-league joke in almost every category.

Stop the Squeeze Play

. As Major League Baseball announced it was bringing in a mediator to pinch-hit for a baseball stadium lease settlement that could heavily burden taxpayers, a letter to [Washington DC] City Council Members today [1/19/2006] from five citizen groups pitching from the right and left of the political spectrum contended that the costly bidding game should be called on account of fiscal recklessness.

Stadium parking garage to be above ground

. Officials in charge of building the Washington Nationals' new ballpark in Southeast are negotiating a deal with Western Development to build two parking garages above ground at the stadium site and wrap them with condominiums and retail.

Public Funded Fresno Stadium

. Partisan forecasts made by some local economists have grossly overestimated the economic benefits and understated the economic costs of the Diamond Group's proposed publicly funded minor league baseball team stadium.

Is There An Economic Rationale for Sports Stadium Subsidies?

Controversy shadows sports in the United States. Sports are so deeply woven into the fabric of our culture that disputations about them are inevitable. Sports are leisure; sports are business; sports are religion. The multiple personalities of sports are nowhere more visible than in the many municipal stadium debates taking place throughout the country. City leaders from Miami to San Francisco have summoned sound economic management as their star witness in defending plans to subsidize the renovation or construction of stadiums.

Government-funded stadiums are not worth price of admission

. Games and circuses once were provided by government. How better to satiate the desire of the Roman masses than to entertain them in the Arena? Today, governments build stadiums to attract sports franchises for the same purpose. But the American masses seem to be tiring of transferring billions of dollars to billionaire team owners.

Corporate welfare, Dallas-style

: Dallas Cowboys owner Jerry Jones claims to have lost 55 pounds through renouncing cheeseburgers and beer. Now it's time for a real diet. Imagine how much Jerry could contribute to the public weal through renouncing the public money he wants for a new football stadium.

Watchdog cries foul on ballpark

. A government watchdog group plans to ask the D.C. Office of Campaign Finance to investigate whether the use of city employees to solicit letters of support for the mayor's $440 million baseball stadium-financing plan constitutes an ethics violation.

Public Dollars, Private Stadiums

. Do sports stadiums really revitalize a community, bringing revenue, jobs, and status as a "major league" city? Since the mid-1980s, nearly ten billion dollars of public money have financed new playing fields in the US, so they must be worth the investment, right?

Chicago Stadiums Fail to Deliver Promised Benefits

. Chicago has two taxpayer-subsidized sports stadiums, neither of which appears to be living up to the promises made by supporters of taxpayer funding. U.S. Cellular Field, home of the Chicago White Sox, is supposed to pay rent to the state after attendance hits a certain figure, but in recent years attendance has been below the target, effectively giving the White Sox a rent-free stadium.

Experts Agree: Public Support for Stadiums Is Madness

. Although research proves sports stadiums drain public resources, are of minimal or no economic benefit, and enrich primarily the owners of sport teams, St. Louis and Missouri might succumb and dole out many millions for decades to come.

---

"Publicly funded sports stadiums are like crack cocaine to local politicians and business bigwigs. These folks are just like addicts: They deceive everyone around them for the sake of a fix and rarely take no for an answer when voters decline to subsidize their schemes."

— Michael W. Lynch, Reason Magazine *

---

Egregious Earmark of the Week: $100,000 to Fix Orange Show Stadium

. Rep. Jeff Flake (R.-Ariz.) has spotted this week's egregious earmark buried in the Transportation-Treasury-HUD appropriations bill (H.R. 3058) for fiscal year 2006. The noteworthy pork project comes to the grand total of $100,000 allotted to the city of San Bernardino, Calif., for making renovations to the National Orange Show Stadium.

Home Run for Corporate Welfare

: During the twentieth century, more than $14 billion in government subsidies went to the four major professional sports — Major League Baseball, the National Football League, the National Basketball Association, and the National Hockey League. While cities build fields of dreams for teams, hoping they will come, it isn't clear there are economic gains. Three experts on the economics of tax-funded stadiums examined the need for subsidies of sports teams and the economic impact of sports on local economies.

Sports Stadiums: No Pot of Gold for Cities

. Sports stadiums may have psychological and even political benefits, but they are falsely sold as an economic development tool. Cities and boosters ought to rely on private capital for funding these structures.

Tax-Exempt Bonds and the Economics of Professional Sports Stadiums

. An economist for the Congressional Research Service concludes that federal, state, and local taxpayers don't benefit economically from subsidizing professional sports stadiums.

Public Financing of Sports Stadiums: How Cincinnati Compares

. Hamilton County, Ohio, asks taxpayers to approve a sales tax increase to raise funds to subsidize new sports stadiums for the Reds and Bengals. Ultimately, taxpayers must determine for themselves whether an investment in sports will make life better.

Sports Stadiums Can Be Privately Financed

. This report concludes Ohio is out of step with other states and cities, which have moved away from public financing, and toward private financing, of sports stadiums.

Stadiums, Professional Sports, and Economic Development: Assessing the Reality

. About one century ago, professional sports became prominent in American public life. During its early years, the business of sports was primarily a private undertaking, financed with private money and played in private stadiums and arenas. But state and local government subsidies to professional sports businesses have proliferated over the past few decades, and economic arguments have been crafted to justify the subsidies. … Public funds are increasingly scarce. We must test the argument that professional sports offer an important return on government subsidies. The purpose of this paper is to use economic theory and empirical techniques to assess the contribution of professional sports to metropolitan area economic development in the United States.

D.C. Councilwoman Stands against Taxpayer-Funded Stadium — For a While

. Major League Baseball was thrown a curveball on December 15 [2004] as District of Columbia Councilwoman Linda Cropp (D) tried to help local taxpayers by changing the financing rules for a proposed new stadium.

A New Baseball Statistic for Opening Day

: Government subsidies for professional sports stadiums are not only economically unsound, they are unfair to sports fans and non-fans alike.

Where Have You Gone, Joe DiMaggio? And Where are the Stadiums You Played In?

The modern stadium barely tips its hat to its ancestors anymore, rather it prefers to dance on their graves. How unfortunate to think that one of the establishments that helped to bring America together and forge our nation as one has evolved into nothing more than a greedy child constantly asking for money.

No Jones Tax!

It is not the job of taxpayers to build facilities for private business entities. The mission of No Jones Tax campaign is to prevent taxpayers from paying higher taxes, new taxes, or for new give-away schemes to build a new stadium for Jerry Jones. Jerry Jones can build his own stadium without our tax dollars.

We Wuz Robbed! The Subsidized Stadium Scam

. While the actual sport of baseball is an excellent metaphor for the free market (illustrating how individuals and teams work together and compete against one another), at the professional level nearly all the teams play in government-owned or government-subsidized ballparks.

Here's a Deal We Can Afford to Refuse

: From Cleveland to Baltimore to Chicago, cities nationwide have repeatedly been suckered by team owners who claim they can't operate profitably without state-of-the-art, taxpayer-funded facilities offering luxury boxes and other high-dollar seating arrangements.

It's "play ball"… with taxpayer money

. Down the road, maybe these saps — AKA taxpayers — may balk at paying for stadiums, luxury skyboxes, parking concessions, tax abatements, and various other schemes that funnel taxpayer money to billionaire owners.

Public Interest is Usually Special Interest

: Special interest groups have been quick to tap the public till. Of course, they usually aren't so blunt as to demand tax money for their personal benefit. They have found a more effective strategy: obtain government subsidies for their pet project by arguing that it will benefit everyone in the community. Their project, in fact, is something we all "need." It's amazing what a person will "need" when someone else is picking up the tab.

The sports stadium scam: What is seen and what is not seen

. Taxpayer subsidization of professional sports facilities is almost always a losing bet, economically speaking. The economic impact studies employed by politicians, the news media, and pro sports owners to support government-financed facilities are beset by methodological problems and don't count all the relevant costs.

Public-Private Promises 1: Three Rivers Stadium [Part 1]

. Pittsburgh's Three Rivers Stadium is deemed "economically obsolete for baseball" by boosters of the Forbes Field II project, yet privately owned Busch Stadium in St. Louis, similar in age and design, has generated profits every year since its opening.

Public-Private Promises [Part 2]

Stadium subsidies are being offered by local governments but they offer few or no benefits to residents.

Should Congress Stop the Bidding War for Sports Franchises?

On November 29, 1995, the Subcommittee on Antitrust, Business Rights, and Competition of the Senate Committee on the Judiciary held hearings on sports franchise relocation. That testimony is summarized here.

Government Stadium Subsidies Would "Pick Pockets of Taxpayers to Line Pockets of Teams"

. According to a study by the non-partisan National Taxpayers Union Foundation (NTUF), the

$200-$360 million

in stadium subsidies being offered by local governments would offer few or no benefits to residents.

Sports Stadium Stampede Could Trample Taxpayers for $15 Billion

. Between 1990 and 2000, the average Major League Baseball salary rose 243 percent, and the average National Football League salary increased 143 percent. Tax subsidies help team owners to offset or even inflate these expenses while maintaining their profit margins.

Stadium Socialism

: Research shows that taxpayer-financed sports facilities aren't economically justified, according to economists. A national poll conducted by Media Research and Communications found that 80 percent of Americans oppose using their tax dollars for sports stadiums and areas. But city and state politicians keep building them.

Bush's baseball tax fetish

: Economist Raymond J. Keating of the Washington, D.C.-based Small Business Survival Committee estimates the total costs of building big league ballparks at $11.5 billion, with taxpayers picking up about 81 percent of the tab, or $9.3 billion.

Baseball in the Nation's Capital: Games with Tax Dollars

. Sports teams have grown accustomed to receiving a healthy dose of public money for nearly any stadium project.

Game Plan

: Cincinnati voters approved a sales-tax increase in 1996 that would pay for about 90 percent of the $450 million Paul Brown Field. PSINet Stadium, home of the Super Bowl champion Baltimore Ravens, was built almost entirely with public money. Revenue bonds and sports lottery money accounted for $200 million of the $223 million price tag. The Jacksonville Jaguars invested only $10.5 million in the $135 million reconstruction of Alltel Stadium in 1995.

Your Bread, Kansas City's Circus

: The IRS has recently ruled that an elaborate plan devised by the lawyers of the former owner of the Kansas City Royals to keep the baseball team in town served a charitable purpose on the ground that it will lessen the burdens of government.

Everyone Wants A Taxpayer-Funded Stadium, Except Taxpayers

. It's good to be the owner of a sports franchise. Not only do you rake in millions from inflated ticket prices and exorbitantly marked-up concessions, but you can convince the state into chipping in money to build or maintain your stadium.

Squeeze Play: Do Baseball Stadiums Need Our Bucks to Get Built?

For taxpayers, the first game of the season is also a pretty good time to ponder ever-larger government handouts to millionaire team owners and players.

Should We Pay For Sports Arenas?

Do cities really benefit from having a professional team? I am not sure that they do.

State-subsidized Slush

: While the jury is still out on the economic costs and benefits of new municipally supported stadia, the benefit to the fans is, shall we say, minimal? How about almost non-existent.

Subsidized Ballparks Price Fans Away

. New evidence indicates that sports fans who vote to subsidize sports arenas with their taxpayer dollars quite possibly could be denied entry at the gate.

Pro Sports on the Dole

: Government officials would better focus their attention on creating a healthy economic environment for their respective cities and states by lowering taxes, reducing regulatory burdens, and paring down the size of government.

Taxpayers Shouldn't Subsidize Pro Sport

. In 1994, the Edmonton Oilers persuaded Edmonton's councillors to institute a ticket tax to help the team pay its $2.8 million annual rent, and then managed to have the rent scrapped entirely last year, while still retaining ticket tax proceeds. Talk about eating and having your proverbial cake.

Sports Stadium Madness… Still Ripping Off Taxpayers

. Future historians will look back on the 1980s and 1990s with amazement. Communities hard-pressed to keep their schools open or police on the beat nevertheless spent billions of dollars on stadiums and arenas for use by professional sports teams. Mediocre athletes were paid more in a single season than the average taxpayer earned in a lifetime. Tickets were priced so high that the average taxpayer, whose earnings were taxed to build these facilities, could not afford to walk through the turnstile.

Minnesota Twins beat taxpayers in extra innings

. Score: Twins: $330 million, Taxpayers: big losers. "This bill isn't a deal. It isn't even the outline of a deal. It is simply the first step in which the legislature has acknowledged the principle that taxpayers should be on the hook for financing new stadiums for professional sports teams," said David Strom, Legislative Director of the Taxpayers league of Minnesota.

How Taxpayers Prop Up Sport Mogul's Profits

: Sports teams and their facilities have little measurable impact on the economic vitality of a community. As pro team owners hunker down to protect their interests, it is the hapless taxpayer who will get stuck holding the bag for non-performing assets, not to mention the collateral damage from non-performing schools. This is the choice many communities now face, and hopefully more will choose wisely in the future than have done so in the past.

Tax Me Out of the Ball Game

: Construction of the new Paul Brown Stadium in Cincinnati will cost local taxpayers at least 400 million dollars. Despite this enormous public investment, there is no guarantee that the Cincinnati Bengals will continue to do anything but lose. Actually, the only thing the Bengals have promised not to do now is - leave. Try to contain your excitement. Stadium deals financed with public dollars are one of the most egregious forms of corporate welfare at the municipal level. Yet, there is no real outcry because professional sports organizations have done a masterful job of promoting a myth. The myth is that professional sports franchises and their stadiums are good for local economies. Unfortunately, there is no real evidence to support this.

Public Funding of Stadiums: Governments Must Simply Say No

: Using public moneys to help fund the construction of new, or the renovation of existing, stadiums is bad public policy. Teams owners often want new stadiums in part (at least) to realize greater profits and increase the values of their teams. New stadiums can create from $10 million to $40 million in additional annual income for an owner. Even if the extra revenue is used solely for players' salaries, the owner still benefits, because the value of the team increases: Baseball teams that had the highest venue revenue in 1996 tended to be the teams with the greatest franchise value. Hence, public money invested in stadiums ends up eventually benefitting team owners and players.

Wasting Taxes On Sports Is A Favorite U.S. Pastime:

Americans spend billions in tax dollars to subsidize professional sports. The government lies, saying stadiums will pay for themselves. It never happens. Meanwhile, many fear a tax cut will short-change government, mistakenly believing it is the source of all good. We have lost the awareness that we control our own destiny, instead relying on government.

Rowdy fans and athletes:

NFL fans 'cause earthquake' during game in Seattle. So loud were the fans during their side's 34-7 victory that they measured between a magnitude 1 and 2 earthquake. Fans of the Seahawks are growing a reputation for their ear popping shows of support. In 2011, the fans were picked up by a nearby seismic recording station while earlier this year, CenturyLink Field entered the Guinness Book of World Records for the noise created.

This isn't going to help:
Jacksonville Jaguars Offer Fans Free Beer To Buy Tickets. The winless Jacksonville Jaguars have released their own strategy to increase ticket attendance to this week's game and prevent a blackout: free beer.

You step out of line, the man comes and takes you away.
Seattle cops to don opponents' jerseys. The Seahawks announced Wednesday that undercover law-enforcement officers will wear opposing team jerseys at games this season in an effort to quickly detect fans exhibiting unruly and inconsiderate behavior.

Ravens fans celebrate Super Bowl win by car tipping and looting a Baltimore 7-11. But AP told us there were no reports of "disturbances" after the Ravens' Super Bowl win. Once again, Twitter has the news first.

Police in riot gear stop brawl among parents at kids' football game. Police in riot gear flooded the field of a youth football game in Southern California to stop a brawl that involved dozens and possibly hundreds of adult spectators.

Rowdy NFL fans will be required to see the shrink

. The NFL is shrink-rapping football fans. Unruly fans booted from stadiums this year will be required to pass a code-of-conduct exam — or they won't be allowed back in for another game.

Cops: Saints fan shoots two 49ers fans after loss

. An angry New Orleans Saints fan shot two San Francisco 49ers fans in a restaurant parking lot Saturday evening [1/14/2012] shortly after his team lost the NFL divisional playoff game, police said. Donald Ray Ayro, 31, reportedly became upset with two 49ers fans while watching the game at an Applebee's restaurant.

High School Basketball Player Attacks Ref

. A video of what not to do when you don't like a ref's call has been circulating the Internet. In a game between Florida high school teams Arcadia DeSoto and Port Charlotte, DeSoto's Mason Holland shoved a Port Charlotte player, and then, after a technical foul was called on him, went ballistic and threw the referee to the floor.

Chanting "USA, USA" at a college football game termed anti Muslim

. So chanting USA, USA at a football game is now anti Muslim? According to a University of Illinois professor, the answer is yes.

More about

The Religion of the Easily Offended

.

The High Cost of Favoritism

. Those who star in sports that are big in educational institutions — football and basketball being classic examples — can start having the rules bent in their favor as early as high school. Everyone wants a winning team and bending a few rules for those who can make that happen may seem like a small price to pay. At colleges and universities where football or basketball are big time, ensuring passing grades for players on those teams is a major priority.

Putting Sports on Notice

: The statistics regarding violence at school and other amateur sporting events have been cited regularly in the media — yet violence at those events continues unabated. … It is time for every parent, if not every prospective spectator of an organized athletic event, to consider the wisdom of attending contests that have become as much about the egos of the fans as about the players.

The Last Resort for Losers

. Nowhere in the rule book of any sport is criminal violence authorized. Even in those sports events where physical force is part of the competition, causing injury to an opponent may be incidental to the goal of the competition but it is not the goal itself. Even in boxing, a sport about which there is debate over the whether it has crossed the line to violence for violence sake, there are rules which must be observed.

Keep me out of the ballgame

. Today, taking your son or daughter to a major sports event might require a helmet and earplugs. Too many players aspire to create gangsta images and cover themselves with tattoos, record nasty rap albums in their spare time, and push and kick a cameraman or two just to maintain that bad-boy image.

Concerned about gang signs, NFL reviews tapes

. The league, concerned that some players might be celebrating by using the hand signals of street gangs, has hired experts to study game tapes.

Amoral media, lowlife fans, spoiled athletes and beer

. Let's finally stop repeating the false notion that big business has conservative values. Big business has no values. … Liberals perpetuate the falsehood of big business as conservative for three reasons: They have a materialist view of the world (just about everything is explainable by economic status and motives; it aids in getting people to vote Democrat); many people resent the amorality of big companies; and it seems to counter the argument that the major news media are liberal — "How could the news media possibly be liberal when they are all owned by large corporations!"

Obviously, Sports Do Not Build Character

. If you are one of those people who believe the old adage "sports builds character," you have some explaining to do. Why are so many professional athletes, who have spent their entire lives in organized sports, masters at cheating, serial adultery, drunkenness, compulsive gambling, drug abuse, and thuggish fighting (to name just a few of the vices)? … By character I mean moral excellence: a life characterized by prudence, fortitude, self-discipline, and humility in pursuit of what is good.

Morons disguised as hockey fans

. Montreal was the lead story on morning TV news on both sides of the Canada-U.S. border yesterday, but the Canadiens' Game 7 victory over the Boston Bruins was merely a footnote. The big story was the violence and vandalism that grew out of the celebrations after the Canadiens' win. I'm not sure what Monday night's carnage means, but there's an argument to be made that our society is headed in the wrong direction.

Nashua woman charged with murder after Sox-related argument

. A Nashua, New Hampshire woman is being held without bail after prosecutors say she ran down a man outside a bar — after a argument witnesses say was about the Red Sox and Yankees.

NFL announces new fan code of conduct

. The NFL implemented a new code of fan conduct Tuesday [8/5/2008], warning that spectators who misbehave will be ejected from stadiums and barred from coming back. The policy, first recommended by commissioner Roger Goodell at league meetings in April, is aimed at conduct that the league said "detracts from the gameday experience."

Booing at games may be banned

. The organization that oversees high school sports in Washington is considering rules for fans that could ban booing and offensive chants. The Washington Interscholastic Activities Association has not made an official ruling, but has discussed guidelines to crack down on negative conduct, a spokesman said. Some of the state's top coaches believe a boo ban is extreme.

The Editor says...

This is political correctness carried to its extreme in the land of the easily offended. Are spectators expected to cheer for both teams? I think the courts would rule that booing, however offensive, is constitutionally-protected

free speech

.

The Olympics:

Let them Drink Water: Alcohol Ban at Paris Olympics for All but VIP Elites. Alcohol consumption at the 2024 Paris Olympics will be restricted to special VIP areas only, a report Tuesday confirmed, meaning the elites can happily quaff Champagne while those in the cheap seats will be forced to look on and sip water. Thanks to an edict called Elvin's Law which began in 1991, alcohol sales have long been banned to the general public in France's sports stadiums.

China 'asked Putin to delay invasion of Ukraine until after Winter Olympics'. China asked Vladimir Putin to delay any invasion of Ukraine until after the Winter Olympics in Beijing, according to a Western intelligence report. It suggests officials in China may have had some indication of Mr Putin's plans before he went ahead. Beijing denied the assertion as "baseless speculation" and an "attempt to smear China". A Western official told the New York Times the report did not make clear if it was Putin and Xi Jinping who discussed the matter, or some of their officials. The Olympic closing ceremony took place on Feb 20. On the following day Putin recognised two breakaway areas in Ukraine and sent troops in to help separatists. Then, on Feb 24, the full-scale Russian invasion of Ukraine began.

AP: NBC Olympics [was] a ratings "disaster" — and [is] now a tainted brand. How bad was it? The best night for Olympics ratings was February 13, when NBC had 112 million Super Bowl viewers ready to watch even more sports. How many stuck around? The New York Times reports ... not many: [...] Almost eight in ten viewers didn't even want to just leave the channel on after the end of the Super Bowl, but actively chose to tune out. This had nothing to do with the performance of the athletes. Viewers knew after NBC's atrocious brown-nosing of Vladimir Putin's Soviet iconography in Sochi's opening games that they already knew what the coverage from Beijing would be like. And they turned out to be correct. This time, though, the moral issues were even more obvious, and yet produced no real shame in Beijing's corporate partners.

NBC's Beijing Olympic Ratings Called A 'Disaster' For Network. A sobbing Russian figure skater berated by one of her coaches for a poor routine. Grim-looking cooling towers in the background of acrobatic snowboard jumps. Diplomatic boycotts. Half-empty stands. Announcers covering the games from Connecticut. It all played out in a host country engaged in human rights atrocities that was also the origin site of a global pandemic. For NBC, it wasn't exactly Olympic glory in China. The media adjectives pouring in to describe the legacy of the 2022 Beijing Winter Olympics aren't pretty: "Disaster." "Joyless." And NBC's $7.75 billion investment in 2014 that gave it exclusive American media rights to the Olympic Games through 2032 is under question after a second consecutive ratings dud.

Olympics Close Out With Brutally Low TV Ratings. Sunday [2/20/2022] was the final day of the 2022 Beijing Olympics and the overall numbers for how many people watched this year's winter games were the worst ever for NBCUniversal. The games, which started Feb. 4 and went through Sunday, averaged 11.4 million viewers across all of the network's platforms in primetime, according to the Hollywood Reporter in a piece published Monday. Those numbers are down from the average number of 19.8 million who watched the games in 2018 in Pyeongchang, South Korea, the report noted. Not only were the average number of viewers down by 42%, but this year's winter games were down some 26% from the summer Olympics held in Tokyo in 2021.

The Editor says...
The Olympics still exist for two reasons: [#1] It's a proxy for World War, in which each country demonstrates that their young athletes are stronger and tougher than all others. Cheating abounds, even though it's strictly forbidden. But that happens in real wars, too. [#2] The Olympics exists to sell exclusive television rights to one American TV network, which will then sell commercial time for lots of money. Even so, the commercial revenue will not be enough, if nobody's expected to watch, and the network will lose money. But wait and see — that same network will eagerly bid for the TV rights next time. The whole show is about glamorous and prestigious international competition: Part of it is sports, and part of it is a soap opera; therefore, it's a lucrative TV series. Except the monetary wheels come off if nobody cares any more about the stinkin' Olympics, as millions of non-viewers have demonstrated this year, when the event was held in Communist China.

The great Olympic figure-skating debacle. Congratulations to Russia, which took first, second, and fourth places in women's figure-skating while turning the competition into a [fiasco] so repellent that sportswriters were using terms like "child abuse" afterward to describe what went down. I wrote a few days ago about Kamila Valieva, the 15-year-old Russian superstar who was heavily favored to take gold in Beijing. News broke this week that Valieva had tested positive in December for a banned substance, a heart medication capable of enhancing endurance. But she wasn't banned from the Olympics: Because of her tender age, the Court of Arbitration of Sport deemed her a "protected person" who'd be allowed to compete while an investigation into her drug test proceeded. That threw the competition into chaos, with the International Olympic Committee declaring that no medal ceremony would be held if Valieva finished in the top three due to the uncertainty over her status. [...] Oh, just to round things off, the World Anti-Doping Agency has now accused the Court of Arbitration of Sport of having essentially rewritten the rules to let Valieva compete, further tainting the process.

Worst. Olympics. Ever. Ten days ago, this newsletter noted that the opening days of the Genocide Games — er, the 2022 Winter Olympics in Beijing — had generated a "cataclysmic loss of audience" for NBC. Over the past week or so, the audience size hasn't gotten any better — and it's not just here in the United States: [...] Viewers around the world have a lot of reasons for antipathy toward China these days — from the ongoing Uyghur genocide, to the crackdown on Hong Kong, to the aggressive moves towards Taiwan, to that virus that started in Wuhan which has killed almost 6 million people around the world officially and perhaps many, many more. There are no live audiences or cheering crowds at the events, a television correspondent got dragged away on air, waiters and bartenders in the hotels are wearing full hazmat suits, and there's not even the usual pretty scenery — the ski-jump platform was built next to a steel plant with structures that reminded American audiences of nuclear reactors. There's something absurdly dystopian about this whole debacle.

Olympic ideal exposed as farce on sad night in China. No matter how the IOC tries to spin it, the enduring symbol of the Beijing Games — and really, the entire Olympic movement — is a sad little girl put in an untenable position by adults who have no shame. A lot of serious issues will need to be addressed after the flame is extinguished, from doping rules to age limits to tyrannical coaches, but we shouldn't lose sight of the bigger questions: What will it take for the Olympics to truly live up to its ideals? Is meaningful change even possible at this point?

Chinese Athletes at the Olympics get 5-Star Food, Nice Hotels, This is what the Rest of the Worlds Athletes Get. It's no surprise the Communist Chinese are doing everything they can to make the lives of the Winter Olympic athletes pure hell. From sleep deprivation to absolutely horrific living conditions and terrible food. Here is a video showing yet another 'water main break' in a brand new building. These seem to always happen on the same floors that the competitors who will soon be competing occur on. History will show you, we should never again have the Olympics in China. They cheat! This video was filmed by Finnish athletes who were set to compete the next day. [Video clip]

Finnish athlete posted pictures of water leaking into her apartment, ordered by Chinese officials to delete them. The habits of tyranny are hard to break. China expected that the 2022 Winter Olympics in Beijing would once again impress the world with China's ability to build shiny new venues and organize vast and impressive mass ceremonies. But, instead, what is becoming known as the "Genocide Games" is exposing the autocratic authoritarianism of China's governing officials and the downright shabby nature of its treatment for foreign athletes, some of whom dare to complain in public. Unlike Chinese citizens, they don't have to worry about their social credit scores once they leave the Middle Kingdom.

Beijing's Olympics are Downright Dangerous: Here's Why. The 2022 Winter Olympics have just begun in Beijing. It's China's second opportunity to export its ideology since the 2008 Summer Olympics. It's happening despite China's harsh repression of its ethnic minorities, including the Uyghurs in Xinjiang, which has been condemned by many countries as genocide. Nevertheless, all but 14 countries (plus North Korea) appear to be responsive to the IOC's "Sports without political interference" initiative in sending delegations and athletes to the Beijing. Little do they know, the Chinese government uses its hosting of the Olympics as a propaganda tool precisely to silence this criticism of its human rights record. The 2022 Beijing Winter Olympics is like the 1936 Berlin Olympics. Each event is being used to showcase the host country's glamour and fearful power.

American skier ditches Team USA to compete for communist China in Olympics. American-born-and-raised Olympic skier Eileen Gu reportedly gave up her American passport and was naturalized as a Chinese citizen to compete in the Beijing Winter Olympics for communist China, new reports highlighted last week. After growing up and training in the United States and competing as a member of the U.S. freestyle ski team, Gu revealed on Instagram in 2019 that she had decided to compete for China in the Beijing Winter Olympics. "This was an incredibly tough decision for me to make," Gu wrote at the time, according to a The Wall Street Journal report last week. Gu, whose mother was born in China, said she hoped the controversial move would "inspire millions of young people where my mom was born."

Uyghur Concentration Camp Survivor: NBC 'Supports Genocide' by Airing Olympics. Tursunay Ziawudun, a survivor of China's brutal concentration camp system for Uyghur people and other Muslim ethnic groups, accused NBC and Comcast of supporting genocide by airing the 2022 Beijing Olympics in an interview with Breitbart News on Saturday [2/5/2022]. Ziawudun joined a large group of mostly Uyghur protesters in front of the White House on Saturday to observe the anniversary of the 1997 Ghulja massacre — which resulted in thousands of arrests and an estimated hundred dead after Uyghurs organized peaceful protests against the communist regime in Beijing in the northwestern city that year — and to protest the Beijing Olympics. Opponents of the Games argue that a country openly engaging in genocide should not receive the honor of hosting such a prestigious event and that focusing on sports competition in China distracts from the long list of atrocities that government is committing.

Olympics Viewers, Onlookers Scratch Heads Over Controversial Call DQing US, Russian Skaters As China Wins Gold. Some Olympic viewers were left perplexed during the weekend when a speed skating judge's decision disqualified the United States and helped China win a gold medal. The United States had finished second in its semifinal race of the mixed team relay event in short track speed skating Saturday, joining first place Hungary to advance to the finals. That was until an official's review after the race determined that the United States and Russia, the fourth place finishers, had impeded skaters from team China, causing both teams to be disqualified. Team China, the world's number one ranked team in the event, had initially finished third and not qualified for the finals. However, thanks to the penalty against the U.S., China took their spot in the final and went on to win the gold, the country's first medal of the games.

Olympians lament inedible food and 'unreasonable' conditions. As many athletes watch their Olympic dreams get dashed by a positive COVID test, more and more are taking to social media and speaking out against the conditions of the Beijing "quarantine hotels" into which they are being forced to check in. "My stomach hurts, I'm very pale and I have huge black circles around my eyes," said Valeria Vasnetsova, a Russian athlete competing in the biathlon, in an Instagram post shared from isolation. "I want this all to end. I cry every day. I'm very tired." Thursday, Vasnetsova posted a picture of her food tray. On it sat a bit of plain pasta, some charred meat, a sprinkling of potatoes, and some orange sauce. According to Vasnetsova, that was "breakfast, lunch and dinner for five days already."

TV Ratings Tank For The Olympics In Communist China. The ratings are in for NBC's first day of coverage for the 2022 Winter Olympics being held in communist China and they are down from the previous year. The network's coverage in prime-time Thursday for the opening ceremony to kick off the games averaged 7.7 million total viewers, according to a report published Friday by TV Line.com. The Olympic viewership also landed with a 1.3 rating in the coveted demographic of ages 18-49, the outlet noted. While those numbers helped the network lead the night, those numbers are down over the last decade, Outkick's Clay Travis noted. He appeared to be noting numbers from Sports Media Watch.

Chinese official physically removes Dutch reporter covering Olympics during live broadcast. Gold or Gulag? It's a question on the minds of many anxious athletes and journalists as the Olympics kick off in Beijing — one made more urgent by the physical removal of a reporter by Chinese officials on live television. "Our correspondent @sjoerddendaas was pulled away from the camera by security guards at 12:00 p.m. live in the NOS Journaal," tweeted Dutch public broadcaster NOS, Friday [2/4/2022]. "Unfortunately, this is increasingly becoming a daily reality for journalists in China. He is fine and was able to finish his story a few minutes later." The not-so-subtle move from the Chinese is further proof that the Beijing Organizing Committee (BOC) meant business when it announced it would punish those foreigners who spoke out in a manner the Chinese Communist Party deems is "against the Olympic spirit."

Goons Drag Reporter Away on Live TV at Beijing Games Opening Ceremony. The Beijing Winter Olympics are officially underway — but, before the Opening Ceremony even finished on Friday [2/4/2022], Chinese authorities proved to the world once again that it won't tolerate any kind of free press. In an extraordinary clip from Dutch broadcaster NOS, one of its reporters who is in Beijing to cover the Games can be seen being manhandled by a security guard sporting a red armband. The reporter, Sjoerd den Daas, attempted to carry on his broadcast while being grabbed and yelled at by the guard, then NOS decided to cut away back to the studio.

Protesters Surround NBC HQ Asking for Ban on Genocide Olympics. Tibetan exiles and supporters of Tibetan freedom gathered outside Chinese embassies, Olympic headquarters, and NBC studios to protest the Beijing Winter Olympics, derided by critics as the "Genocide Games" because the event risks validating Communist China's brutal suppression of minorities like the Tibetans and Uyghur Muslims.

China's Olympic tyranny. Why are Americans participating in the Winter Olympics while the host nation, China, perpetrates a genocide and menaces its neighbors? The Biden administration has announced a diplomatic boycott, meaning no "high-level" U.S. officials will be going to China. But American athletes are still going, along with diplomatic, consular, and security personnel to protect them. NBC Sports is still televising the Games. Corporations such as Coca-Cola, Procter & Gamble, and Visa are still paying millions of dollars to sponsor them. Why?

Winter Olympics guests describe 'dystopian' scenes inside the village. 'Dystopian' scenes from inside Beijing Olympic village include barmen in full PPE mixing cocktails and robots spraying clouds of disinfectant into the air as China attempts to host a Covid-free Games. Video shot inside the Nanshanli Condotel on Thursday reveal journalists and Olympic personnel in light-touch masks mixing with hotel staff wearing full hazmat suits due to fears the Games could become a super-spreader event. A Reuters reporter inside the hotel described the atmosphere as 'dystopian', saying the air smells like disinfectant due to the number of times floors and walls are sprayed, while all food service arrives in hotel rooms plastic-wrapped.

Big Brother Olympics: Beijing to feature Uighur surveillance company as major sponsor. The Olympics, which are all dedicated to peace, human dignity, and brotherhood, have a pretty creepy sponsor now that the host is Beijing. [...] That so-called artificial intelligence firm, which translates languages, is neck deep in China's surveillance of ethnic Uighurs, the Turkic people in China's northwest, millions of whom have been systematically forced into labor camps in order to wring any vestige of non-communist culture out of them. This company's 'products' provide China's "Lives of Others" surveillance apparachiks the means to know what individual Uighurs may be saying or writing in private, the better to abuse and imprison those who do not conform mindlessly to China's communist party line. It's as Big Brother as such things get.

Boycott the Beijing Olympics. If ever there was an Olympics that should be boycotted, this is it. The purpose of the quadrennial games is, or ought to be, to promote goodwill among nations while allowing athletes a stage where they can test their skills against world-class competition. No one believes that is the purpose of the Beijing Olympics. In the opening ceremony, President Xi Jinping could apologize to the world for allowing the coronavirus virus to spread from Wuhan throughout the planet while authorities hushed it up and worked hard to prevent its spread to the rest of China. That would be a demonstration of goodwill and a modicum of decency, given the millions globally who have died. That is not going to happen.

China Insists 'No Lockdown' for Genocide Olympics as More Regions Go Under. Organizing officials for the 2022 Winter Olympics said Tuesday the Games' host city, Beijing, has no plans to lock down any sections of the capital to prevent the spread of the Chinese coronavirus during the event — scheduled to take place from February 4 through February 20 — despite mounting lockdowns in surrounding areas. "Beijing won't need to be sealed off for the Games next month," Huang Chun, who leads the 2022 Winter Olympics' coronavirus prevention efforts, told reporters on January 11, adding that a lockdown order for either Beijing or its surrounding province of Hebei remains "off the table" for now.

NHL Considers Not Sending Players to Beijing's Genocide Games over Coronavirus Fears. On the heels of its decision to postpone many of its games through December, the NHL is also now contemplating withdrawing its players from the Beijing Olympics, all because of its concerns over the coronavirus. The National Hockey League had intended to take a three-week break in February to make room to send its players to Beijing for China's "genocide" Olympics. Still, after delaying as many as 40 games this year over fears about the coronavirus, the make-up games have put the Olympics in doubt.

China Plans to Pay American Influencers to Promote Beijing Olympics Amid Boycotts. China is paying American social media influencers to promote the Beijing Olympics and tout U.S.-China cooperation on climate change, according to government filings. The Chinese consulate in New York City hired the public relations firm Vippi Media to run the influence campaign, according to disclosures filed with the Justice Department under the Foreign Agents Registration Act. For $300,000, Vippi Media will hire prominent Instagram, TikTok, and Twitch users to tout the games and promote China-U.S. cooperation on issues like climate change, the contract says. The firm's founder, Vipp Jaswal, tells the Washington Free Beacon he has not yet chosen the influencers to be used for the campaign.

The Concentration Camp Olympics. This February will see U.S. participation in the winter Olympics at Beijing. The games will occur amid the knowledge that Xi Jinping is committing some of the most appalling human rights abuses on the planet. A million Uighurs are being persecuted, as are Falun Gong practitioners. Hongkongers have had their liberties crushed. Since Joe Biden's election, Xi is increasingly menacing Taiwan. In 2018, Xi named himself "president for life," and has been busy returning China — an authoritarian state as-is — to totalitarianism. Xi continues to make unwarranted claims on the South and East China Seas, militarizing these international waters. Both are vital to U.S. and global trade. Imagine Mexico or the U.S. claiming the Gulf of Mexico and the Caribbean as territorial waters. Xi is growing more bellicose, threatening Asia Pacific nations, including U.S. allies Australia, Japan, and South Korea, among others. The Biden administration's diplomatic boycott of the Beijing Olympics is an empty gesture. It signals weakness, not strength. An apex predator like Xi only respects actions that have real teeth.

Why we must boycott the Olympics in China. Back in 1936, the Olympic games were held in Hitler-led, fascist, Nazi Germany. In Berlin, to be specific. For years afterward, the world shook its head in wonder at how the International Olympic Committee (IOC), could ever have been so out of touch with reality that it honored a dictatorial, despotic nation. Now, they've done it again. The Communist Party of China (CCP) is scheduled to hold the 2022 Winter Olympics in Beijing. Stupid knows no limits. Before we go into the decades of China's human rights violations and utter disregard for international laws, the latest outrage from this totalitarian state is the disappearance of a three-time Chinese female Olympian tennis star, Peng Shuai, after she accused a former vice-premier of sexual assault. She's obviously paying the price for outing a Commie biggie and is either dead or tucked away for life in some rancid prison.

Boxing bouts [were] fixed at [the] 2016 Olympics, investigation finds. Boxing bouts for medals at the 2016 Olympics were fixed by "complicit and compliant" referees and judges, an investigation reported on Thursday [9/30/2021]. Investigator Richard McLaren was appointed by the International Boxing Association, known as AIBA, and found AIBA officials selected referees and judges to ensure that bouts could be manipulated in Olympic qualifying and at the Rio de Janeiro Games. He also found signs the 2012 Olympics in London were affected.

China Hosting the Winter Olympics Is an Extremely Bad Idea. The Summer Games in Japan, which organizers and the world had hoped would mark a milestone toward the end of the sixteen-month-long global shutdown, unfortunately fell prey to the COVID-19 virus. In Tokyo, the delta variant has impacted how the Olympics have been staged and can only lead to speculation on how the upcoming Winter Games might play out. One thing is certain: testing and more testing of athletes will undoubtedly remain a greater part of any participation in future sporting events. Fast-forward to the XXIV Winter Olympics, to be held in Beijing in February. There's talk that under the guise of widespread COVID-19 testing, the People's Republic of China will have carte blanche access to the collection of DNA samples from the world's highest-ranked athletes. A sufficient amount of genetic material is readily available from each PCR swab test collected from an individual. This massive data sweep will allow the Chinese government to embark upon an extensive analysis of the samples, enabling it to configure the information toward applications of its own design.

Viewership Ratings for Woke Olympics Continue to Crash. Not even the USA winning the gold for all-around gymnastics lifted the ratings for the 2020 Woke Olympics anywhere close to respectable territory. [...] Even more disastrous for the Olympics has been the crashing and burning of all their woketard athletes and icons. Megan Rapinoe's all-girl soccer team was supposed to be on the easy path to Olympic gold and then lost in a major upset to Canada. [...] Honestly, who loses to Canada? Gwen Berry, the insufferable hammer thrower who disrespected the flag during her Olympic trials and then threatened to do so again if she won an Olympic medal, did not win anything. In fact, out of 12 competitors, she came in 11th. [...] And then there's my all-time favorite, a 43-year-old fat guy named Laurel who competed as a woman weightlifter. But even with all the advantages of being a guy, he still blew it.

Take A Knee, Then Take A Seat. It was a weird position in which to find myself — actively rooting against the United States Olympic team. Not the whole team, though I've been rather open about my indifference on that subject, but the women's soccer team. Or should I say, the wymxn's soccer team? Who knows, and who cares? They lost and it's glorious. [...] Led by Megan Rapinoe, the Americans lost to Canada in the semi-finals, ending their chances at a gold medal. Excellent. I love the country, I don't support those to take it for granted or those who would protest against it while in the midst of representing it. If it's so awful, don't play for it.

Did a terrorist actually just win an Olympic gold medal? The woke Tokyo Olympics doesn't discriminate. No matter your race, gender identity, or affiliation with a terrorist organization — all are welcome and celebrated! You may have heard of a little group called the Islamic Revolutionary Guard Corps (IRGC), which was labeled a terrorist organization by the United States in 2019. Well, one of their members just won a gold medal in the Olympics and even gave a military salute on the podium.

Laurel Hubbard, transgender weightlifter, exits Olympic competition early after failing on all three attempts. Laurel Hubbard, a transgender weightlifter from New Zealand, was knocked out of the women's 87+ kilogram competition early after failing on all three of her attempts. Hubbard failed on her first attempt to get 120-kg above her head, bailing out early. On her second attempt at 125kg, she was able to get the weight up and pumped her fist after in satisfaction, however judges ruled it a "no lift." She returned quickly for another attempt at 125kg only to fail to be able to stand up with the weight above her head. Hubbard was the only one of the 13 finalists to not complete at least one lift.

The Editor says...
Go home, be a man, and accept reality. Not necessarily in that order.

Paris 2024 Olympics logo roasted for looking like a 'Karen'. The "Karen" meme is back, and it's funnier than ever. The 2020 Tokyo Olympics are currently well underway but that doesn't stop the fact that people are already talking about the 2024 games. The next cycle of the Olympics is set to be held in Paris, and while the logo was released back in October 2019, fans can't help but roast the design again. The logo is very reminiscent of the "Karen" meme — a Caucasian woman with a short haircut who always "needs to speak to the manager." The Parisian emblem is meant to depict three symbols: the Olympic flame, a gold medal and the hair and lips of Marianne, the personification of France since the 1789 revolution. She represents liberty, equality and fraternity.

A Disaster of Olympian Proportions. Is it wrong that I'm rooting for the U.S. Women's National Team to lose, and humiliatingly so, this Olympics? Of course it's not wrong. The USWNT, led by America's favorite histrionic Megan Rapinoe, protested against racism and discrimination by taking the knee before their first Olympic match. Though the stadium was empty (certainly nothing new to the USWNT), the attending "reporters" revived each other with smelling salts to swoon and gape at the unparalleled fortitude exhibited by these privileged virtue-signalers in what was dubbed a "social justice reckoning".

U.S. Olympians: gold-worthy performances in social protest; in athletic competition not so much. The U.S. Olympic team is off to a sluggish start in Tokyo, to put it mildly. U.S. athletes failed to deliver a medal on the first day of competition, something that hasn't happened in nearly 50 years. It's only gotten worse from there. The women's soccer team, expected to snag the gold, got shut out in its very first match against Sweden. That shocker ended the team's 44-game unbeaten streak, and it couldn't have come at a worse time. They beat an overmatched New Zealand squad 6-1 but had to settle for a 1-1 tie against Australia to squeak into the next round. The squad, most notably lavender-locked team captain Megan Rapinoe, famously kneel before each game, but not during the playing of the U.S. National Anthem. Other teams in the Olympics also kneel before games to protest racism. The formerly invincible USA basketball squad is nothing of the sort these days.

NBC has 33-year low viewership for Tokyo Olympics opening ceremony: 'Not a happy' benchmark. The Tokyo Olympics opening ceremony, delayed a year because of the COVID-19 pandemic, drew 16.7 million viewers for NBC on Friday, the smallest audience for the network broadcast in the past 33 years, according to data from the Comcast-owned NBCUniversal on Saturday [7/24/2021]. The TV audience dropped 37% from the Rio de Janeiro opening ceremony in 2016, when 26.5 million people watched, and 59% from 2012, when 40.7 million people watched the London opener. The Tokyo ratings factored in both the live broadcast early Friday morning and a primetime re-airing. Reuters described Friday's fall, the lowest since the 1988 Seoul Games, as a "steep drop."

Woke USA Women Soccer Team Lose 3-0 at Olympics. Perhaps if they spent a little more energy on soccer skills, and a little less energy attempting to be the woke champions of US sport, the outcome may have been different. Alas, there's a great number of Americans who shrug because USA women's national soccer has evolved into a political assembly who happen to play soccer. The team's egotistical, arrogant, pompous and virtue-signaling attitude is a considerable turn-off. This is the same team that wears 'Black Lives Matter' on their uniforms, and kneels instead of stands for the U.S. national anthem to showcase to the world just how woke they are. Team Captain Ms. Rapinoe refuses to sing the U.S. national anthem; kneels during ceremonies to make her hatred for America visible; and grabs every microphone to tell the media about her politics in an effort to increase her woke resistance credentials.

Deaf-blind Paralympian quits Team USA when told she can't bring assistant to Tokyo. Becca Meyers is a six-time Paralympic medalist with three golds from the 2016 Rio Games. She was expected to compete for up to four medals in Tokyo. Instead she's not going. After the 26-year-old deaf-blind swimmer was told she couldn't bring her mother and personal care assistant (PCA) Maria Meyers to help her navigate Tokyo and the Olympic facilities, Meyers informed Team USA that she was quitting the team.

Keywords: Adultery, fornication, promiscuity, AIDS.
Athletes to sleep on 'anti-sex' cardboard beds at Olympic Games amid COVID. Lustful Olympic athletes should think twice before making the bed rock in Tokyo. The world's best sports competitors are set to spend their nights on cardboard beds — allegedly designed to collapse under the weight of fornicators to discourage sex amid COVID-19. Olympic officials — who already warned 2021 Games participants to avoid two-person push-ups because of the coronavirus — have set up 18,000 of the cardboard beds in the notoriously sex-crazed athletes' village, according to Dezeen magazine. "Beds to be installed in Tokyo Olympic Village will be made of cardboard, this is aimed at avoiding intimacy among athletes," American distance runner Paul Chelimo tweeted.

Everything that's gone wrong for the Tokyo Olympics so far. With the opening ceremony just days away, the 2020 Tokyo Olympics are off to a rough start. After being delayed a year due to the coronavirus pandemic, the games are seeing serious challenges in the days leading up to them, including COVID-19, inclement weather, and suspension for marijuana use. Here's everything that's gone wrong at the Tokyo Olympics so far: Olympians testing positive for COVID-19 [...] Opening ceremony composer resigns [...] Top sponsor pulls ads [...] U.S. Men's Basketball team loses members [...] Fans banned from events after state of emergency declaration [...] Rising temperatures [...]

With Spectators Banned, Tokyo Olympics Look Like an Even Bigger Money Pit. Spectators will be banned from all 339 events to be held during the upcoming Olympic Games, which are scheduled to begin in Tokyo on July 23, after a state of emergency was declared in that region of Japan this week. These Olympics had already been dubbed the "No-Fun Olympics" — and by none other than the typically stoic Associated Press — due to pandemic-related policies of testing, quarantining, and limited attendance that were expected to severely curtail the usual athletic bacchanalia enjoyed by athletes and fans (previously, events were expected to be capped at 10,000 spectators each). Now they will be the No-Fans Games as well. More than 30 venues, some of which predate the Olympics but many of which were purpose-built at public expense, will be occupied solely by coaches, athletes, and judges.

The Editor says...
With no spectators, the event could be held in a big city in almost any country! For TV coverage, the Olympic venue would have to be somewhere with satellite access and plenty of electricity, but with no crowds on hand, there is no great demand for hotel rooms, mass transit, crowd control, sanitation, and and many other factors.

Members of U.S. Women's Soccer Team Turn Away from the Flag as WWII Vet Plays Anthem. Several members of the U.S. Women's National Team (USWNT) did not face the flag as a 98-year-old WWII veteran played the national anthem. The incident occurred Monday [7/5/2021], just before the USWNT took-on Mexico in their final tune-up before the Tokyo Olympics. [... Update:] An account representing U.S. Soccer teams denies that the video shows any players disrespecting World War II veteran Pete DuPré and posted a video of players, including Megan Rapinoe, greeting him and signing a ball. Breitbart News' story never said the players disrespected Pete DuPré; rather, it said some players disrespected the American flag.

Base Olympic competition on biological sex, not testosterone levels. A pair of female sprinters from Namibia can't compete in the Olympics this year, even though the biologically male Laurel Hubbard can compete in weightlifting for team New Zealand. Sprinters Christine Mboma and Beatrice Masilingi cannot compete in the 400-meter dash due to naturally high testosterone levels. World Athletics requires that for women to compete in events such as the 400-meter and one-mile runs in track, they must lower their testosterone levels to 5 nanomoles per liter. It's unclear if these athletes are intersex and have XY chromosomes as well as internal testes instead of ovaries. However, what is clear is that these two not being able to compete while Hubbard can compete is a failure of liberal compromise.

Olympic Jiggery-Pokery. Jiggery-pokery is a perfect phrase to describe recent Olympic news, especially decisions on who is allowed to compete and who is not. [...] Third is transgender New Zealand weightlifter, Laurel Hubbard. A successful male weightlifter until age 35, Hubbard now identifies as a female and the Olympic committees think it is perfectly fair that he competes against biologic women. Guys outlift gals by over 20 percent meaning that the guy who identifies as a gal is a lock for a medal. Talk about performance enhancement. This makes Lance Armstrong's blood doping look like child's play. Missing a few random doping tests or smoking a joint is disqualifying but growing up as a male, muscles, and bones bathed in testosterone during puberty, is not a performance enhancement? Jiggery-pokery. Finally, the woke media overlook the obvious racism and sexism at play here. [...] If anything, this confirms that transgenderism sits higher on the intersectionality and victimhood totem pole compared to being female or Black.

Several Women on US Soccer Team Turn Away From US Flag as 98-Year-Old Veteran Plays National Anthem. Several women on the US soccer team on Monday turned away from the US flag as 98-year-old WWII veteran Pete DuPré played the national anthem on a harmonica. The US Women's soccer team is playing against Mexico in East Hartford, Connecticut in a pre-Olympic sendoff game before heading to Japan. These women should not be allowed to represent the US at the Olympics.

Photos From Gwen Barry's Website Reveal That Her Anthem/Flag Protests Are Nothing But A PR Stunt. Hammer thrower and activist Gwen Berry has received fierce backlash after she appeared to turn her back to the American flag as the national anthem was being played at the U.S. Olympic Trials over the weekend. Sen. Tom Cotton (R-Ark.) called Monday for US Olympic track and field athlete Gwen Berry to be kicked off the squad after she turned her back on the American flag while the national anthem was played over the weekend at the Olympic trials in Oregon. "I don't think it's too much, when athletes are competing to wear the Stars and Stripes — to compete under the Stars and Stripes in the Olympics — for them to simply honor that flag and our anthem on the medal stand," Cotton, a former Army infantry officer, told "Fox News Primetime". "If Ms. Berry is so embarrassed by America, then there's no reason she needs to compete for our country. She should be removed from the Olympic team." Cotton's remarks echoed those of Rep. Dan Crenshaw (R-Texas), a former Navy SEAL, who told "Fox & Friends" Monday that Berry should not travel to Tokyo for next month's Games.

Dan Crenshaw Calls For Gwen Berry to Be Removed from Olympic Team. Rep. Dan Crenshaw called for Gwen Berry to be removed from the U.S. Olympic team after the bronze medal-winning hammer thrower in the weekend trials expressed frustration and appeared to protest the national anthem played while she was on the podium. As Steve Doocy explained earlier in Fox & Friends, the national anthem is played once during the evening event, and it just so happened to play while Berry was on the podium. Berry was displeased by the anthem and expressed her frustration by holding up a tee-shirt that read "Activist Athlete." The hammer thrower has predictably been an immediate subject of criticism in conservative circles, evidenced by the extensive coverage she received on just Fox & Friends alone.

Crenshaw Calls for Olympic Qualifier Who Snubbed the National Anthem to Be Removed. U.S. Olympic qualifier Gwen Berry is under fire for turning away from the national anthem on the podium at the Olympic Trials over the weekend. The Hammer Thrower felt she was "set up" by having to hear the national anthem, and draped a t-shirt reading "Activist Athlete" over her face during the anthem. [...] Congressman Dan Crenshaw (R-TX) had harsh words for Berry's unpatriotic behavior, and called for her to be removed from the team. "We don't need any more activist athletes. She should be removed from the team. The entire point of the Olympic team is to represent the United States of America. That's the entire point," Crenshaw said on Monday morning. "It's one thing when these NBA players do it, okay fine, then we'll just stop watching. Now the Olympic team, multiple cases of this, they should be removed. That should be the bare minimum requirement: that you believe in the country you're representing."

Olympic hammer thrower Gwen Berry [angry] national anthem was playing at Olympic trials. A US hammer thrower turned away from the American flag as the national anthem played while she and two other athletes stood on the podium at the Olympic trials Saturday [6/26/2021], later saying she was "pissed" that "The Star-Spangled Banner" played as she received her bronze medal. Gwen Berry — who qualified for her second US Olympic team during the trials — shifted to face the stands rather than the flag before holding up a black shirt that read, "Activist Athlete." "I feel like it was a setup, and they did it on purpose," Berry said of the anthem being played.

Furious backlash against Olympic hammer thrower Gwen Berry for turning her back on flag during national anthem. White House press secretary Jen Psaki defended hammer thrower Gwen Berry's right to 'peacefully protest,' after the Tokyo-bound athlete turned her back on the US flag during Olympic trials. Psaki told Fox News' Peter Doocy at Monday's press briefing that while she and President Joe Biden hadn't spoken specifically about the incident, Biden is 'incredibly proud to be an American and has great respect for the anthem and all that it respresents, especially for our men and women serving in uniform all around the world.' 'He would also say, of course, that part of that pride in our country means recognizing there are moments where we are, as a country, haven't lived up to our highest ideals, and that means respecting the rights of people, granted to them in the Constitution, to peacefully protest,' Psaki added.

COVID Wins Again: Olympics Bans Cheering, Advises Crowds to 'Feel Joy in Their Hearts' Instead. Japan's released its COVID guidelines, and this year won't be a particularly uproarious affair. As reported by Agence France-Presse, for one, alcohol is banned. So for attendees hoping to booze it up, sobering disappointment awaits. Another thing: Due to germs, no autographs will be allowed. And affection's taking a back seat to safety: No hugging. [...] And everyone entering will have their temperature checked. Masks will also be mandatory. For those who don't pass muster, no refund will be issued. Once inside, Seiko explained, folks will be forbidden from "making direct contact with other spectators."

Former NBA star Jalen Rose says US should have sent all-black team to Olympics, calls inclusion of single white player, Kevin Love, 'tokenism'. Team USA's inclusion of white forward Kevin Love on the Olympic roster is an example of 'tokenism,' according to retired NBA star Jalen Rose, who says black Phoenix Suns center Deandre Ayton would make a better choice even though he's from the Bahamas. 'Kevin Love is on the team because of tokenism,' Rose, now an ESPN commentator, said on his podcast. [...] Love and 11 African-American NBA players will be vying for the country's fourth-consecutive gold medal in men's basketball at the Tokyo Games next month.

New Zealand Sends Male Weightlifter to Defeat Women in the Olympics. New Zealand will set a transgender first by sending a biological male to the Olympics to compete against women in weightlifting. Former Olympians have condemned the decision. Other males competing in women's weightlifting have set new records, demonstrating the common-sense principle that sports are sex-segregated for a reason. Laurel Hubbard, who set New Zealand junior records in weightlifting in 1998 before he transitioned to identify as a woman in 2013, qualified for the Olympics in women's weightlifting due to a 2015 International Olympic Committee (IOC) rule change, CNN reported. According to the Olympics guidelines, males can compete in women's divisions so long as their testosterone levels stay below 10 nano moles per liter for at least 12 months before their first competition.

Transgender Olympic Athlete Wants to Win Medal So He Can Burn US Flag. And they say the Left isn't patriotic. I don't know what they're thinking. What could be more patriotic than this?

Lola Goes to the Olympics. Women first competed in the Olympic Games in 1900 in Paris, participating in tennis, sailing, croquet, equestrianism, and golf. By 2016, 45 percent of participants were women. Men and women competitions were separate for obvious reasons of strength and speed. Yet this summer at the Tokyo Olympic Games, these two distinct categories may be blurred with transgender athletes competing, specifically transgender biologic males competing against biologic females. Lola, who "walked like a woman but talked like a man" will be an Olympian. New Zealander Laurel Hubbard, is a biologic male now aged 43, who competed as a male weightlifter until transitioning into a female in her [sic] mid 30s. She [sic] won a silver medal at the 2017 world championships and has a serious shot at winning a medal in Tokyo.

The Editor says...
The man is a transvestite. He has not "transition[ed] into a female," and never will, because he is a biological male. Every cell in his body has the DNA of a man. Wearing women's clothes and assuming a woman's name does not "transition" a man into a woman.

Report: Athletes Told To 'Be Quiet' About Trans Weightlifter Ahead Of Olympic Qualification. A former Olympic weightlifter claims that female athletes are being told to "be quiet" about transgender weightlifter Laurel Hubbard ahead of his Olympic debut. Hubbard is a 43-year-old biological male competing as a woman. Should Hubbard pass the New Zealand Olympic Committee (NZOC) fitness and performance standards, he would become the first trans athlete to compete in the Olympics.

Olympics ban 'Black Lives Matter' apparel, could punish athletes for political demonstrations. The IOC says athlete protests and political messages will remain banned at the Olympics after a survey found that a majority of competitors were in favor of keeping the ban in place. That means raising a fist on the podium or taking a knee would still risk punishment at the Tokyo Games this year. The IOC also said that slogans such as "Black Lives Matter" will not be allowed on athlete apparel at Olympic venues, though it approved using the words "peace," "respect," "solidarity," "inclusion" and "equality" on T-shirts.

Olympics Bans 'Black Lives Matter' Apparel, Again Threatens To Punish Athletes Who Protest. Athletes will not be allowed to wear clothing with the slogan "Black Lives Matter" at the Tokyo Olympic Games, the International Olympic Committee has decided, reiterating that it plans to enforce the Games' "Rule 50," which bans political or social justice protests of any kind at the international athletic event set to take place in just a few weeks. The Associated Press reported Tuesday that the IOC's rules against "slogans" with a political or social justice meaning are "granular" this year and that the IOC has specifically banned apparel bearing the racial justice mantra, "Black Lives Matter."

The Editor says...
The Olympics might not exist without the income generated by the sale of exclusive television rights. Those rights would be worth a lot less if the BLM decimates the audience numbers in the same way that they've ruined the TV ratings for the NFL and NBA.

U.S. State Department backs away from the idea of a Beijing Olympics boycott. The State Department denied Tuesday evening that it was considering a joint boycott alongside allies of the 2022 Winter Olympics in Beijing. "Our position on the 2022 Olympics has not changed. We have not discussed and are not discussing any joint boycott with allies and partners," a senior State Department official wrote in an emailed statement to CNBC. Department spokesman Ned Price had initially suggested during a press briefing earlier on Tuesday that a boycott of the Olympic Games was among the possibilities for addressing China's human rights abuses. The Olympic Games are due to take place between Feb. 4 and Feb. 20.

China now dominates the world, thanks on large part to senile and corrupt Joe Biden.
State Department Backs Off US Boycotting Beijing Winter Olympics as China Threatens "Robust Response". China has once again beat the US into submission. The State Department backed off of talks of the US boycotting the Beijing Winter Olympics as China threatened a "robust" response. State Department spokesman Ned Price on Tuesday said a boycott is something that the US wishes to discuss with our allies. "It is something that we certainly wish to discuss," Price said, "A coordinated approach will not only be in our interest but also in the interest of our allies and partners."

Japan bans foreign spectators for 2021 Olympic Games. Foreign spectators will not be allowed into Japan to attend the 2021 Olympic and Paralympic Games because of concerns related to the COVID-19 pandemic, Japanese government and Tokyo 2020 officials announced Saturday [3/20/2021]. International Olympic Committee and International Paralympic Committee officials were informed of the decision in a virtual meeting with Tokyo 2020, Japanese government and Tokyo Metropolitan Government officials. "In many ways the Tokyo 2020 Games will be completely different to any previous Games," Tokyo 2020 president Seiko Hashimoto said in a statement. "

A tough-on-China GOP is split on whether to boycott the China Olympics. President Joe Biden is under growing pressure from hawkish Republicans to use the 2022 Winter Olympics to punish the Chinese government over its human rights abuses. But even within the GOP, there's disagreement over how far to push. Some are calling on Biden to outright boycott the Beijing Games, which China is hosting. Others say they oppose boycotts, arguing that only the athletes get punished. Many are instead pressing Biden to push the International Olympic Committee to revoke China's role as host and stage the Games in another country — or at least to delay the competition.

Breakdancing now an Olympic sport, will debut at Paris in 2024. Breakdancing has been confirmed as an official Olympic sport. The International Olympic Committee's pursuit of urban events to lure a younger audience saw street dance battles officially added to the medal events program at the 2024 Paris Games. The IOC executive board also confirmed skateboarding, sport climbing and surfing for Paris. Those three sports will make their Olympic debuts at the Tokyo Games which were postponed because of the coronavirus pandemic.

LA told to cancel 2028 Olympics 'privilege'. Tokyo would have begun hosting the Olympics on Friday [7/24/2020] had not the coronavirus gripped the globe. As it turns out, the 2028 Summer Games slated for Southern California might also be in doubt, for political not pandemic reasons. NOlympics of Los Angeles launched a campaign calling on city leaders to scrap the competition eight years from now, boosted on Twitter by the trending hashtag #CancelTheOlympics. "We are years away from the proposed 2028 games but we know that they'll be used not only to boost the LAPD budget but to once again run with the recovery narrative," NOlympics LA declared in a manifesto this week.

Meet the Olympic Athletes Who Probably Don't Belong There. The history of the modern Olympic games is littered with stories of dreamers. These athletes work hard, sometimes in obscurity, training long hours for that moment of glory as the world watches. Sometimes those moments end in medals, but obviously the vast majority don't make it to the podium. And some of the athletes who finish nowhere near the gold have the most fascinating stories. And these unbelievable Olympians have done what they've done without the left-leaning politics that seem to have permeated these games.

Guess I won't be rooting for Poland in these 2018 Olympics. The recently enacted Media law says that it is forbidden to make public any statement that links Poland to Germany's evil in the Holocaust. Up to three years in prison if you are caught saying "Polish death camps" out loud, especially through the press. So let's keep this private. Make sure not to pass this around... that the Poles were not innocent bystanders. They were horribly complicit before, during and after.

Stop pretending the Olympics are about world peace. The Olympics are the United Nations of sports — high-minded principles and feel-good sentiments exploited by hypocrites to the detriment of the cause of freedom. The Olympics are great for athletes and for a network like NBC that ponied up billions for the rights to cover them. They're sports for casual fans, and they make great television. More than that, the games thrive because of notions about sports transcending conflicts that are essential to the Olympic myth. The reason the North Korean gambit worked so well is because these fables have always been a load of baloney. The worst example was the 1936 Berlin Olympics hosted by the Nazis.

The Disgrace of the Olympics. The 2018 Winter Olympic Games have opened in the mountains of northeastern South Korea. The next two weeks will showcase some of the finest athletes in the world: men and women who've trained relentlessly and, whether they win a medal or not, deserve our esteem and best wishes. The United States has sent 244 competitors — 109 women, 135 men — and we have every reason to think they will bring credit to our country. Yet we will not enjoy these games with an untroubled conscience. Stories of sexual abuse and rampant cheating are everywhere in the news, both here and abroad — more so this year than in years past. The Olympics have become so scandal-ridden and cynically unsportsmanlike as seriously to raise the question of why we continue them.

Maybe the Olympics should be held in a civilized country.
Olympic Venue Surrounded by Dog Meat Farms, Dog Soup on Menus Despite Protests. The South Korean government offered restaurants serving dog-meat soup money to take it off the menu during the 2018 Olympic winter games taking place in Pyeongchang but most refused, according to media reports.

Black Lives Matter Goes to the Olympics. Race became the National Football League theme this year, as a bunch of privileged young athletes, being paid millions of dollars for playing a game, supported by an organization worth $75 billion, found it necessary to take a knee against the National Anthem. There they were, protesting the very country leaving them on the winning end of such income inequality. The NFL season, thankfully, is in our rearview mirror for the next six months. Ahead is the Winter Olympics.

Going for Broke — Can Los Angeles Afford to Host the Olympics? By now you probably know that Los Angeles has the honor, or should I say heartburn, of hosting the 2028 Olympics. Long gone are the days when such an announcement would fill the locals with pride, as it is now generally understood that local residences will have to put up with increased traffic, never-ending infrastructure headaches and a soul crushing financial commitment by the host city that gets little financial return for its investment. Within moments of the announcement, the blogosphere was full of articles of how this could become a financial boondoggle for Los Angeles.

Chicago is still paying for its failed Olympics bid. The site of the now-closed Michael Reese Hospital on the South Side was supposed to be where the athletes village for the 2016 Summer Olympics in Chicago. But despite Barack Obama flying out to Copenhagen to personally plea for the games to be held in his hometown, the International Olympic Committee members chose Rio de Janiero. Meanwhile Chicago taxpayers are in a familiar situation--paying for the expensive mistakes of the people they put in power.

Rio's Olympic warm-up pool has turned a disgusting shade of orange as the village continues to fall apart. Rio de Janeiro spent about $4.6 billion to host the 2016 Summer Olympics. Six months later, four months after the end of the Paralympic Games, the city's Olympic infrastructure is falling apart. Over the weekend, the Brazilian news outlet O Globo published footage of various abandoned and decrepit Olympic venues. According to O Globo, limited security has resulted in theft, and the ceilings are falling in. Other venues appear to not have received any necessary upkeep. Even the Maracana, Rio's Olympic stadium, is without power as city officials argue about who should pay the electricity bills. Most shocking is a warm-up pool that has turned orange.

4 months after Olympics, organizers unable to pay some bills. Almost four months after the Olympics ended, Rio de Janeiro organizers are unable to pay some of their bills, including $3.7 million owed to the International Paralympic Committee.

Three months after the Olympics, Rio de Janeiro is broke. The state of Rio is broke. It hasn't been able to pay its bills since long before the games. A federal bailout kept police on the streets and hospitals open while Olympics tourists were in town. But now the money has dried up, and public employees aren't being paid. The state government is voting on an austerity package that could slash state workers' wages and pensions by 30 percent. That's triggered violent protests and led demonstrators to briefly storm the state Legislature last month. Meanwhile, crime is surging across the state.

Rio Olympic golf course eerily empty three months on. Built specially for the Olympics on what had been a nature reserve next to the beach in western Rio, the links-style course was meant to convert Brazilians to a sport they barely know and put Rio on the international golfing map. Instead, the $19 million facility created by star US designer Gil Hanse risks turning into a white elephant.

Europe's top Olympic official taken to maximum security prison. International Olympic Committee (IOC) member Pat Hickey was sent to Brazil's Bangu maximum security prison on Friday while police investigate his involvement in a plot to illegally resell Olympic tickets, civil police said. The elderly Irishman was arrested in his dressing gown during a dawn raid at his luxury beachfront hotel on Wednesday, where Hickey had been staying with his wife and fellow IOC members. Police said they had discovered evidence linking Hickey to an international scheme to illegally pass tickets to touts who were reselling them at well above their original price.

Looks like Rio police were the biggest liars in the Lochte drama — if anyone still cares about the truth. You heard it all weekend: "Four American swimmers trashed a Rio bathroom in a drunken rage and then lied to investigators about an armed robbery to cover-up their story." It's become conventional wisdom from network anchors trying to paint a rosy picture on a troubled Olympics to journalists who embrace the narrative of "ugly Americans" taking advantage of the downtrodden, third world Brazilians. There's only one problem with this narrative: It appears it's completely false.

British Athlete Robbed at Olympics, Officials Say. A British athlete was robbed in Rio during the Olympics, according to officials. 'We can confirm there has been an incident of theft involving a Team GB athlete returning to their accommodation. All members of our delegation, including the individual concerned, are accounted for, and are safe and well," Scott Field, a spokesman for Team GB, said in a statement to NBC News Thursday [8/18/2016]. No other details were provided.

Ryan Lochte, James Feigen Indicted in Brazil After Robbery Claim. The U.S. Olympic Committee Thursday night apologized to Brazil for the "distracting ordeal" stemming from what Brazilian authorities call a fabricated claim of a gunpoint robbery by a group of swimmers in Rio de Janeiro. "The behavior of these athletes is not acceptable, nor does it represent the values of Team USA or the conduct of the vast majority of its members," the statement said. "We will further review the matter, and any potential consequences for the athletes, when we return to the United States."

Dozens of Robberies Caught on Video in Rio — in Broad Daylight. It's actually not a new video — it's been making the rounds for several months — but it's shocking and informative nevertheless. It shows mostly young males (in some cases very young boys) grabbing wallets and bags from people passing through a busy intersection in Rio. In one instance, a two thugs appear to grab the necklace right off a man's neck, attacking him several times before they successfully get what they're after. In some cases, fearful looking individuals just hand over their things to the robbers to avoid confrontations.

Olympics-Brazil judge orders U.S. swimmers not to leave country — daily. A judge in Brazil has issued an order to prevent U.S. swimmers Ryan Lochte and James Feigen from leaving the country on the grounds they gave conflicting accounts of their robbery outside the Rio Games on Sunday, a Brazilian newspaper said on Wednesday [8/17/2016].

Olympic-Sized Climate Propaganda. XXXI Olympiad competitors are joyfully showcasing their skills and sportsmanship, while delighted fans revel in their amazing efforts. But opening ceremonies featuring colorful history, dance, song and athletes were rudely interrupted by an unprecedented propaganda film. As audiences around the world were getting pumped up in eager anticipation for the upcoming events, a slick but deceitful video soured the mood by inserting partisan climate change politics.

If you're at the Rio Olympics, you've probably already been hacked. While athletes head to Rio de Janeiro, Brazil to compete for medals in the 2016 Summer Olympic Games, hackers in the area have their eyes on a different prize: the personal information of unsuspecting travelers. According to a new report from mobile security firm Skycure, visitors to the former capital of Brazil are being targeted by malicious actors who have set up fake Wi-Fi hotspots designed to steal information from connected devices. These phony wireless networks were spotted by Skycure around the city, but they were most prominent in locations where travelers were most likely to look for a place to connect, like shopping malls, well-known coffee shops, and hotels.

Olympic officials opt to drain green pool, say they learned 'painful lesson'. After the diving pool was closed for a scheduled practice session Friday [8/12/2016], Germany's Patrick Hausding posted a couple of pictures, one holding his nose with the caption "Good morning from the green lake!"

Rio Olympics: Green Pools Caused by Hydrogen Peroxide Dump. Olympics officials on Saturday [8/13/2016] gave what they said was a definitive explanation why the water in two competition pools turned green this week. Someone, the officials said, mistakenly added 160 liters of hydrogen peroxide on Aug. 5, neutralizing the chlorine and allowing the growth of "organic compounds" that might have included algae. On Saturday, the water in the diving pool was still a murky bottle-green color, while the water in the second pool, used for water polo and synchronized swimming, had begun to look a bit lighter and a bit bluer. Athletes have been complaining that the water or the chemicals treating it hurt their eyes, and that murkiness makes underwater visibility impossible.

Rio 2016: Food and Drink is Running Out. There is not enough food and drink for visitors at the 2016 Rio Olympics, even though the Games started just six days ago. Attendees queued for hours at food stalls, only to find that everything had run out when they reached the counter, reported the Sydney Morning Herald. On Saturday [8/6/2016], food stalls at the Future Arena — where handball games are played — were forced to shut early because there were no more supplies left.

America First. The Olympics tend to be the Island of Misfit Spectator Sports, showcasing competitions that got left by the wayside of popularity, such as volleyball and diving. So every couple of years when the Olympics roll around, there is much grumbling about how outmoded they are. Yet large numbers of people always seem to end up watching the Olympics anyway and having a good time. Why? Nationalism.

Olympians officially terrified of green '[foul]-smelling' water. There's something in the water in Rio — and it's getting worse. The Olympic diving pool was closed Friday morning [8/12/2016] as the water continues to be a disturbing, murky shade of green. The concern for those who have been diving into the pool has grown as the problem persists.

Queasy, being green: Olympic diving pool making the wrong kind of splash. It's primordial, this pool. You expect a cold, dead hand to come jutting up out of it. The Olympic diving tank is dark and seemingly bottomless, and as a rule in life, nothing good grows or happens in dark-green water. Things that are green and wet: spoiled kale. Decomposition. Industrial subatomic runoff. Old ceiling leaks. Dead seaweedy things that clutch at your ankle. Would you wade in that, much less put your face in it? Mothers all over the world are worried about that pool: They know what the toddler section of a public aquatic park looks like late in the day. Anyone who has stared at the bottom of an old fountain is worried about that pool. "The swamp pool," British gold medalist Chris Mears called it.

Rio's infamous green diving pool closed. The Olympic green pool saga has been through more twists and turns than the divers plunging into it. On Tuesday [8/9/2016] the diving pool was green. Then on Wednesday, the water polo pool also turned green. Now on Friday it appears that the diving pool has been closed to training altogether — so as not to disturb the water and help it turn blue again.

Fake wi-fi hotspots at the Olympics. A cybersecurity report reveals several fake WiFi hotspots have been set up in Rio de Janeiro, Brazil, in order to take advantage of the influx of people attending the 2016 Olympics. Skycure, a mobile security firm, found that places like Rio Galeão Airport are unaware they were inadvertently hosting several nefarious networks, according to Forbes. In other words, tourists arriving in the city are leaving themselves vulnerable to hackers once they turn on their phones or turn off airplane mode. Another report, published by Kaspersky Lab, discovered that 18 percent of the available networks were highly unsafe. Another 7 percent used antiquated encryption technology.

Judo medalist beaten up while celebrating on Copacabana Beach. Dirk Van Tichelt probably didn't envision one of the greatest days of his life ending in the hospital. But that's exactly where the Belgian judoka found himself Monday night hours after winning his first-ever Olympic medal. Van Tichelt won bronze in the 73-kg judo competition on Monday. Naturally, he went off to Copacabana Beach that night to celebrate the achievement. And that's where things went awry. Van Tichelt was reportedly assaulted by a thief on the famous beach, and was struck in the face. He was taken to the hospital after the incident.

The 2016 Olympics In Rio Are A Hotbed For Hackers. A cybersecurity report reveals several fake WiFi hotspots have been set up in Rio de Janeiro, Brazil, in order to take advantage of the influx of people attending the 2016 Olympics. Skycure, a mobile security firm, found that places like Rio Galeão Airport are unaware they were inadvertently hosting several nefarious networks, according to Forbes. In other words, tourists arriving in the city are leaving themselves vulnerable to hackers once they turn on their phones or turn off airplane mode. Another report, published by Kaspersky Lab, discovered that 18 percent of the available networks were highly unsafe. Another 7 percent used antiquated encryption technology.

Protesters Are Legally Allowed To Ruin The Olympics. The Rio 2016 Summer Olympics in Rio de Janeiro may be in danger of constant disruption by protesters since a Brazilian federal judge ruled Monday night that protesters can peacefully voice dissent at the Games. Brazilian Federal Judge João Augusto Carneiro Araújo decided that to block protesters from demonstrating their discontent with the Games is to prevent them from freely expressing themselves. While Brazilians opposed to the Olympic Games see the judge's ruling as a victory for free speech, Olympic organizers will likely appeal the judge's decision.

Reports claim Olympic kayaker capsized after hitting underwater sofa. The report, which immediately sparked the #kayaksofa hashtag on Twitter, was not corroborated by anyone else. Nevertheless, the organizers are taking it seriously enough as to investigate it.

Olympic venues see thin crowds for some sports in Rio. Olympic athletes have been competing in near empty venues and before thin crowds in other locations during the opening days of the Rio Games — a problem that can be traced to long security lines, traffic and a lack of familiarity in some sports.

Rio 2016: Two Australian coaches robbed at knifepoint by teens near Ipanema beach. Two Australian rowing coaches were robbed at knife-point by teenagers in Rio, just before their athletes were due to compete, as they walked back to their hotel near the city's Ipanema beach. The pair were forced to handover their mobile phones, a wallet and even an Olympic team jacket in the incident.

Olympic network NBC vows full Rio coverage, woes included. Bob Costas and other top members of NBC's Olympics coverage team veered between optimism and caution in predicting Rio de Janeiro's ability to pull off a successful Summer Games and said NBC will cover the good and bad.

NBA stars get mega-yacht to avoid filthy Olympic digs. Another reason the rest of the world will loathe Team USA. As leaking pipes and exposed wiring — to name two disasters — continue to plague the athletes settling into their digs at Rio's Olympic Village, Carmelo Anthony and his teammates will be resting their heads at night aboard a luxurious liner. The Daily Mail reported on Wednesday that the Silversea Silver Cloud will house the US men's and women's basketball teams throughout the Games. The 196-cabin, nine-deck supership boasts 7-foot beds and access to a pool, spa and shops.

U.S. Deploying Over 1,000 Military, Intelligence Officials for Olympics. The United States is prepared to deploy more than 1,000 law enforcement, special operations, military, and intelligence officials to Brazil with the Olympics set to kick off Friday. Hundreds of personnel have already arrived in Rio de Janeiro as part of a highly classified effort to protect the 2016 Summer Games, including American athletes and staff, according to a U.S. intelligence report obtained by NBC News on Friday. The U.S. Special Operations Command has also sent more than a dozen highly skilled Navy and Marine Corps commandos to Rio to work with the Brazilian Federal Police and the Brazilian Navy, senior military officials told NBC.

Huge queues and angry fans mar the start of Rio Games. The Rio Olympic Games got off to a shambolic start on Saturday [8/6/2016] as fans queued for hours at security checkpoints to enter venues, with some missing their events and many athletes competing in front of eerily empty stands. Games organizers apologized for dropping the ball on the first day of full competition, the morning after a dazzling opening ceremony, as iconic venues such as beach volleyball on the famed Copacabana beach saw only a few hundred spectators. Outside, lines stretched for several blocks as angry fans stood in full sun, waiting as security staff struggled.

Rio Olympic Golf Problems 2016: Capybaras, Crocodiles, Sloths All Over The Course. After a 112-year absence from the Olympics, golf's return to the world's biggest sporting stage at the Rio games has hit a number of speed bumps. The latest trouble: the golf course is "overrun with wildlife," as People Magazine put it in a report Tuesday night [8/2/2016]. The list of critters spotted thus far on the course is impressive. It includes sloths, mini crocodiles, boa constrictors, mico monkeys, burrowing owls and dozens of capybaras, the world's largest rodent.

Expert to Rio athletes: 'Don't put your head under water'. Just days ahead of the Olympic Games the waterways of Rio de Janeiro are as filthy as ever, contaminated with raw human sewage teeming with dangerous viruses and bacteria, according to a 16-month-long study commissioned by The Associated Press.

The Olympics are being Caster-ated!
Intersex athletes to take center stage at Rio. Caster Semenya is a South African runner who could emerge as one of the most compelling figures of the Rio Olympic Games. She is favored to win gold at 800 meters while perhaps breaking track's longest-standing world record, even as her stunning speed is leading to uncomfortable controversy at the uncertain intersection of gender and athletics — and of human rights and athletic fairness. Semenya has never said she is intersex — a word preferred to the stigmatizing hermaphrodite — but speculation follows her around the globe, her private parts a mortifying matter of public debate. Track observers believe Semenya is hyperandrogenous, meaning her body naturally produces high amounts of testosterone, the hormone that helps build muscle, endurance and speed.

Athlete with No Womb or Ovaries but Internal Testes Will Compete with Women in Rio. With reports of dead bodies and excrement floating in the water, the threat of Zika and the Russian doping scandal, the Rio Olympics appears the Frankenstein of athletic events. And now Rio seems dopey in another way: owing to political correctness, a runner with, reportedly, no womb or ovaries but internal testes will be allowed to compete with women. This person is South African middle-distance competitor Caster Semenya.

Semenya wins gold in the 800 as testosterone controversy simmers. The South African Caster Semenya, world champion in 800 meters in 2009, ran in 1:55.28 to become the Olympic champion with gold in Rio, as controversy still simmers over her condition of hyperandrogenism.

Rio Mayor Says What We're All Thinking: 'Obviously This Is a City That Has Problems'. The Olympics are now just four days away, and the serious concerns about whether Rio is up to the task of hosting continue to mount. Rio Mayor Eduardo Paes is already in damage control mode, blaming an international organizing committee for some of the problems in the Olympic Village. In an interview with Matt Lauer on Today [8/1/2016], Paes finally said what we're all thinking: "Obviously this is a city that has problems," Paes admitted to Lauer.

Australia hit again: computer, shirts stolen at Rio Olympics. A laptop and team shirts have been stolen from Australia's accommodation at the Olympic athletes' village while the building was being evacuated because of a small fire, the head of the team's delegation at the Rio Games said Sunday [7/31/2016]. Kitty Chiller said other computer equipment was "rifled through" but was left behind during the theft on Friday. She said security seems to have improved, but called the theft "concerning."

Explosion at Rio's Olympic stadium just days before opening ceremony. An explosion has rocked the Olympic stadium in Rio just days before it's set to host the opening ceremony after police found a suspicious toolbox. Authorities sent in a robot to investigate the toolbox on Sunday at the Maracana Stadium as rehearsals for the ceremony were underway. The toolbox is believed to have exploded when the robot touched it.

Corpses, excrement, litter: welcome to Rio Olympic sailing venue. When Olympic sailors compete in Rio the cameras will show a made-for-television scene of sparkling tropical waters and mountains. Luckily, the billions of viewers won't catch the revolting stink. More than nine million people live in Rio and towns around the rest of Guanabara Bay. At best only half the sewage they produce is treated before it pours into the city's watery heart.

Brazil cuts ribbon on much-delayed $3B subway expansion crucial for Olympics. Brazil's highest officials celebrated the completion of a much-delayed $3 billion subway expansion that will play a crucial part in the Rio de Janeiro Olympics, holding a ribbon-cutting ceremony Saturday just days before the games are set to kick off.

Rio Olympics security firm fired, maligned police force takes over. Less than a week before the 2016 Rio Olympics are set to start, the Brazil Ministry of Justice terminated its contract with a private firm that was supposed to provide security for the games. The ministry cited "incompetence and irresponsibility" from the Rio de Janeiro-based firm Artel, and moved to strip them of their duties. It's not hard to see why the Ministry of Justice reacted so harshly. With only a few days left until the first venues are set to open, Artel admitted that they have only hired 500 security personnel. They were supposed to hire 3,400.

Rio Athletes Village faces leaks, power outages; Australia refuses to move in. Thousands of athletes arriving for the Rio de Janeiro Olympics could find major plumbing and electrical problems in their rooms at the Athletes Village with the games opening in just under two weeks.

American Jordan Spieth drops out of Rio over 'health' concerns. Jordan Spieth withdrew from the Olympics on Monday [7/11/2016], leaving golf without its top four players when the sport returns to the games for the first time since 1904. The decision was announced by International Golf Federation President Peter Dawson.

Armored cars, soldiers in camouflage secure Rio Olympics. Rio's rising crime rate is at the top of a long list of problems confronting South America's first games: the Zika epidemic, severe water pollution, a crushing recession and slow ticket sales.

'Super bacteria' discovered in Rio's waters as Olympics near. A group of Brazilian scientists have detected a drug-resistant bacteria growing off of some of Rio de Janeiro's most stunning beaches, one month before the city is due to host the 2016 Olympic Games. According to lead researcher Renata Picao, the "super bacteria" entered the city's waterways when sewage coming from local hospitals got channeled into the bay.

Brazil's Olympic Catastrophe. On June 17, fewer than 50 days before the start of the Games, the state of Rio de Janeiro declared a "state of public calamity." A financial crisis is preventing the state from honoring its commitments to the Olympic and Paralympic Games, the governor said. That crisis is so severe, he said, it could eventually bring about "a total collapse in public security, health, education, mobility and environmental management." The authorities are now authorized to ration essential public services and the state is eligible for emergency funds from the federal government. Measures like these are usually taken for an earthquake or a flood. But the Olympics are a man-made, foreseeable, preventable catastrophe.

Body parts wash up on popular beach near Rio Olympic venue. Authorities in Brazil said Wednesday [6/29/2016] that body parts washed up on shore of a popular Rio de Janeiro beach near where the beach volleyball Olympic event is set to take place in August. The latest gruesome discovery is another obstacle the city has to grapple with among the laundry list of concerns athletes and fans will have to deal with. The finding was first reported to Brazilian media by a Rio street vendor. A police officer standing near a security perimeter confirmed the discovery to Reuters. However, it's unclear how the mutilated body wound up on Copacabana Beach.

Cops and Firemen Warn Olympics Visitors Rio Won't Be Safe. When tourists arrive for the Olympics in Rio de Janeiro this summer, they might be taken aback by the police and firemen who meet them at the airport. Brazil is in a state of disarray, and the confused priorities of big government have led to fire and police layoffs. As a result, cops and firefighters meet tourists at the airport with this sign, "Welcome to Hell." The sign adds, "Police and firefighters don't get paid, whoever comes to Rio de Janeiro will not be safe." These public servants have been forgotten in the country's massive corruption scandal.

Rio de Janeiro's acting governor: Olympics could be a 'big failure'. The headache for the 2016 Rio Olympic Games organizers shows no signs of subsiding. Six weeks before the Games are set to begin, Francisco Dornelles, the acting governor of the state of Rio de Janeiro, told the Brazilian newspaper O Globo that the state has not yet received recently-approved federal funds to beef up security and transportation for the quadrennial competition. "I am optimistic about the games, but I have to show the reality. We can make a great Olympics, but if some steps are not taken, it can be a big failure," Dornelles told O Globo.

Call for More Rio Security After Paralympic Athletes Robbed. An estimated 85,000 police and soldiers will be patrolling the streets during the Olympics and Paralympics, but violent crime remains a fact of life in Rio.

The Editor says...
Next time, perhaps they should select a city that isn't saturated with criminals, that isn't going bankrupt, and doesn't have sewage in the river.

Rio state government declares financial disaster as Olympics loom. The acting governor of Rio de Janeiro's state government declared a state of financial disaster Friday [6/17/2016] in an effort to change budgetary priorities without disrespecting Brazil's fiscal laws. Francisco Dornelles' move will let him adopt exceptional measures to pay costs related to the upcoming Olympic Games as the state grapples with the country's steep economic recession. Dornelles' office said in a statement that the decision was made because a dip in revenues from taxes and oil royalties was "stopping the state of Rio de Janeiro from honoring its commitment to the organization of the Olympic and Paralympic Games." He said the state is facing a "public calamity."

Studies find 'super bacteria' in Rio's Olympic venues, top beaches. Scientists have found dangerous drug-resistant "super bacteria" off beaches in Rio de Janeiro that will host Olympic swimming events and in a lagoon where rowing and canoe athletes will compete when the Games start on Aug. 5. The findings from two unpublished academic studies seen by Reuters concern Rio's most popular spots for tourists and greatly increase the areas known to be infected by the microbes normally found only in hospitals. They also heighten concerns that Rio's sewage-infested waterways are unsafe.

Trash creates obstacles for Rio 2016 Olympic sailors. When Victoria Jurczok and Anika Lorenz rip through the water aboard their racing skiff, they are doing far more than sailing at the fastest possible speed. The two athletes from the German Olympic Sailing team are also learning the unique currents, tides and wind patterns of Rio De Janeiro's Guanabara Bay, to try to get an edge when they compete in the upcoming Olympic Games. And they are keeping a look-out for floating obstacles. "Its possible you hit while sailing some plastic or you don't know what," says Jurczok, a 26-year old from Berlin.

The show must go on!
UN Health Agency Rejects Call to Postpone Rio Olympics. The assessment, in a statement early Saturday [5/28/2016], came a day after 150 health experts issued an open letter to the U.N. health agency calling for the games to be delayed or relocated "in the name of public health."

Corruption, doping, instability: Is it the end of the Olympic Games as we know them? The ideals of the Olympics are noble and worthwhile. In sports, nothing is better than the gathering of a peaceful, friendly competition, where the youth of the world can display the best in athletics that the planet can offer. The corruption of Russia, through its state sponsored sanctioning of doping of their Olympians, threatens the entire institution and the games themselves. Cheating and doping is nothing new. It's been going on in Olympic competition for a long time, and it's not confined to Russia. It's just much worse there, and now that it's unraveling, it is certain to have wide reaching effects and reverberations.

Stop the Olympics. Discredited long ago by the very corruption and nationalism they were originally meant to transcend, the Olympic Games are embroiled in a wave of scandal that's embarrassing even by the sorry standards of this hypocritical "movement." It's hard to say what's more outrageous: credible new allegations of a clandestine state-sponsored doping scheme carried out by the 2014 Winter Olympics' host nation, Russia — or the fact that the International Olympic Committee entrusted the event to a despotic regime run by a glory-hungry former KGB agent in the first place. Meanwhile, the integrity of the 2008 Summer Games in Beijing — another dictatorship's showcase — has been retrospectively undercut by the discovery of previously undetected doping by a reported 31 athletes from 12 countries; similar findings may be about to taint the 2012 London Games.

U.S. Athletes Told to Skip Rio Olympics if Concerned About Zika. The U.S. Olympic Committee (USOC) has recommended that any athlete or trainer concerned about the Zika outbreak in Latin America should consider not attending the 2016 Summer Olympics in Rio de Janeiro. Two anonymous sources told Reuters that the USOC issued the suggestion late in January on a teleconference call. President and board chairman of USA fencing Donald Anthony said no person should travel if "they don't feel comfortable going. Bottom line."

Can the Rio Olympics survive outbreak of head-shrinking Zika virus? Rio's Olympics are on the verge of disaster as fear grows over the Zika virus, which has left more than 4,000 newborns with shrunken heads. Female spectators and even athletes of childbearing age are being warned by countries and medical professionals around the world to reconsider their plans to travel to Brazil for fear of what could happen to their unborn children after the country was overrun by the mosquito-borne disease.

Why Boston's Sports Fans Rejected the Olympics Boondoggle — and L.A. Said Bring It On. How Boston's rabid sports fans rejected the Olympics — and how chumps in Los Angeles enthusiastically stepped up to potential bankruptcy — is a tale worth understanding, especially the next time your city or state tries selling voters on a new stadium or venue for billionaire sports team owners. The Summer Games routinely use billions of taxpayer dollars to throw the equivalent of a three-week-long international party that ends with a trashed house and a financial hangover that lasts for years. [...] As sports economist Andrew Zimbalist has noted, the Summer Games might generate $6 billion in total revenue, half of which goes to the International Olympic Committee (IOC) while costing the host city $20 billion (London) or even $40 billion (Beijing). And don't think that any new stadiums or infrastructure will have much of an economic afterlife.

AP test: Rio Olympic water badly polluted, even far offshore. A new round of testing by The Associated Press shows the city's Olympic waterways are as rife with pathogens far offshore as they are nearer land, where raw sewage flows into them from fetid rivers and storm drains.

Russia fights back after being slammed over doping. The Russian government has begun fighting accusations that the country operated a vast state-sponsored doping program, even as the first punishment was handed down Tuesday [11/10/2015].

Russia used spies, secret lab in massive Olympics doping: report. Russian track and field athletes could be banned from next year's Olympics in Rio de Janeiro after a devastatingly critical report accused the country's government of complicity in widespread doping and cover-ups.

Terror prep may be LA's biggest card in campaign for '24 Olympics. Los Angeles' 2024 Summer Olympics bid has a lot going for it — ready-made venues and hotels, countless tourist attractions and a massive media market that guarantees top-notch coverage and a huge international audience. But the ability to provide security against terror attacks may be LA's best card to play.

Audit: Boston Olympics would have cost $970M more than estimate. A scathing independent audit of Boston 2024's Bid 2.0 ordered by state government leaders found the economic impact likely would have been lower than projected by Olympics supporters and the costs likely would have been at least $970 million higher, according to the report released today [8/18/2015. "Past experience suggests that Boston 2024 would have been unlikely to meet those cost estimates, and a more reasonable cost estimate would have been over $970 million higher than reported in Bid 2.0.," the report said.

The Winter Olympics problem — nobody wants them. Beijing has won the right to host the 2022 Winter Olympics. Now all it needs is some snow. China 's capital — a city with scant snowfall and a limited winter sports experience — was chosen last week to host the Games, beating out Almaty, Kazakhstan. While Beijing boasts sparkling facilities left over from its 2008 Summer Games, the International Olympic Committee's decision perplexed many observers. But the governing body may not have had a choice. Despite the IOC's efforts to make bidding and hosting more appealing, some of the stronger possible host cities have shied away in recent years.

With only one year to go until the Rio 2016 Olympics there are major concerns over construction, security and pollution. A year to go until Rio 2016 and there are still serious issues facing the organisers. Pollution will top the agenda this week, mainly because sailors, rowers, triathletes and marathon swimmers are all in town for test events during August. Yet there are also major concerns over security — London 2012 470 sailing silver medallists Hannah Mills and Saskia Clarke were held up at knifepoint and robbed last December on a training camp.

A Winter Olympics in a City Without Snow. China's northern plain is extremely dry, and what precipitation that falls in the capital tends to occur during the summer. Beijing's Olympic planners have assured the IOC this won't be a problem — the country will simply use artificial snow to accommodate events, such as skiing, that require it.

The Editor says...
What kind of "carbon footprint" will be required to cover the Olympic Village with snow? One would think the environmentalists would be upset about this plan, yet they are all completely silent.

WHO and Sailing Body Seek Virus Tests in Rio Olympic Venues. The World Health Organization has asked the IOC to analyze virus levels in Rio de Janeiro's Olympic waters, and the governing body of world sailing says it will start doing its own independent virus tests.

Filthy Rio water a threat at 2016 Olympics. The waters where Olympians will compete in swimming and boating events next summer in South America's first games are rife with human sewage and present a serious health risk for athletes, an Associated Press investigation has found.

Olympic teams to swim, boat in Rio's filth. Athletes in next year's Summer Olympics here will be swimming and boating in waters so contaminated with human feces that they risk becoming violently ill and unable to compete in the games, an Associated Press investigation has found.

No Countries Want to Host the 2022 Olympics. Add Krakow to the growing list of cities who do not want to host the 2022 Winter Olympics. The Polish city withdrew its bid this week after residents overwhelmingly voted against the plan, according to the Associated Press. Now only four cities remain in the bidding process, and two of those may soon be ruled out — leaving only Kazakhstan and China as contenders.

The Olympics, in my estimation, are the

UN

's way to candy-coat the prospect of a unified world government, with its world-wide laws and taxes. [

1

] [

2

] [

3

] [

4

] The UN flag flies at all competition sites of the Olympic Games. [

5

] The Olympics are an attempt to show that one country is morally equivalent to another: It's all the same if the games are hosted by China or England or Russia or the United States. Taxpayers, especially in the host country, end up paying the bills for the competition without the benefit of voting on it.

Why Sochi? In all the comment about this month's Sochi Olympics, there is bewilderment above all about Sochi itself: Why on earth would the Kremlin decide to host the Games in an underdeveloped place where terrorists lurk nearby — a place that a front-page New York Times story this week describes as "the edge of a war zone"?

At the Sochi Olympics, you have to be a Russian politician to know it's not raining. Ignore the attacks from the rear by the perfidious Western conspirators and propagandists, our common enemies who falsify their reports about the Sochi Games. This great national festival has dissolved all dissent, and every fear and problem has been resolved. The Olympics are gigantically staged, and a smiling mood reigns. We see no evidence that it is raining here.

The Media's Most Outrageous Olympic Outbursts: Saluting the Socialists. Sports fans checking in on coverage of Team USA at the 2014 Winter Olympics in Sochi, Russia might want to brace themselves for unexpected outbursts of liberal preaching from reporters covering the games. Over the years the [Media Research Center] has documented lefty reporters and writers using the games to celebrate socialist policies, bash expressions of patriotism and even work in jabs against Republicans, like when Bryant Gumbel, in 2006, complained that the "paucity" of black athletes "makes the Winter Games look like a GOP convention."

Russian Village Used, Abused, and Forgotten by the Olympics. If any one place embodies the allegations of corruption, abuse, and alarming human cost of the Sochi Olympics, it's here. Ashtyr, a tiny, impoverished village in the foothills between the coastal and mountain parks where the upcoming Winter Games will be held, has been used by Olympic planners for its limestone deposits, suffered from the effects of nearby construction, and had its pleas for help ignored.

Olympic visitors' horror at hotels awash with stray dogs, brown water, bugs and no light bulbs. Journalists checking in were left stunned as they arrived for bookings made last summer to be told they would have to wait indefinitely. The few that did get rooms, were met with stray dogs, half-built walls, and toxic yellow water spitting from the sinks.

The many, many problems of the Sochi Olympics. [Scroll down] "The Sochi Olympics are an unprecedented thieves' caper," says former deputy prime minister and opposition leader Boris Nemtsov. He claims that some $26 billion in phony costs may have been creamed off by contractors, many of whom are Putin cronies. Consider the new 31-mile road and railway that run from the beachfront town of Adler to the Krasnaya Polyana ski resort, overseen by Vladimir Yakunin, a former KGB general and Putin pal who heads Russian Railways.

The Most Expensive, the Most Corrupt, and the Most Dangerous Olympics in History. There is a good summation of the problems with the Sochi Winter Olympics by Frances Weaver in The Week today. It's about what you'd expect from modern day Russia ruled by former KGB agent Vladamir Putin. In fact, the Olympic movement hasn't seen anything remotely like it. First, the cost: $51 billion. By contrast, the Vancouver Olympics in 2010 cost around $8 billion.

IOC Makes U.S. Hockey Goalie Remove Constitution From Mask Before Olympics. The International Olympic Committee is requiring U.S. women's hockey goalie Jessie Vetter to remove an inscription of the U.S. Constitution from her custom mask. The IOC says the inscription is propaganda which promotes the United States above other countries.

Messiah Obama Turns 2014 Winter Olympics into Sexuality Games. Anyone who thought the Olympics was about sports competition among nations apparently was wrong, at least according to President Barack Obama. Just like he has tried to reinvent America off her throne of greatness, Obama uses the 2014 Winter Olympics in Sochi, Russia to remake the games into a forum on gay rights.

Olympic outsourcing: Team USA snowboarders' uniforms foreign-made. The newly-unveiled uniforms for the U.S. Olympic snowboarding team are star-spangled and red, white and blue — but they're not made in America.

Olympic-Level Corruption in Putin's Russia. Last week, there were two amazing, related stories out of the Putin dictatorship. In the first one, the brilliant Russian journalist Andrei Soldatov, who specializes in watching the Russian secret police, broke the deeply disturbing news that Putin is planning a massive campaign of eavesdropping on all attendees during the Winter Olympics to be held next year in Sochi, Russia.

Russia planning 'near-total surveillance' of visitors, athletes at Sochi Winter Olympics. Security measures at the Sochi winter Olympics will include such extensive electronic eavesdropping and surveillance that the US State Department has advised Americans headed to Russia to leave smart phones and laptops at home, an investigation has revealed. Research by Andrei Soldatov and Irina Borogan, two Russian investigative journalists who specialise in covering the security services, reveals a picture of near-total surveillance, Soldatov said.

The IOC's Biggest Scandals. Juan Antonio Samaranch ruled the International Olympic Committee from 1980 to 2001. Once a youth organizer for Spain's fascists, he was considered a pioneer in the modern Games. He wanted to be called "Your Excellency." He created bidding wars for the chance to host the Games, which also makes him the father of modern Olympic corruption, the architect of selling committee votes to the highest bidder.

Washington DC to Bid for 2024 Summer Olympics. The inconveniences of the daily routine in the nation's capital will be a selling point as Washington, D.C., makes a push to host the 2024 Olympics.

D.C. bids for 2024 Summer Olympics; Capital tired of being snubbed. Officials in Washington Tuesday announced plans to seek the 2024 Summer Olympics, a bid to finally bring the world games to one of the few major capital cities to never hold the event.

The Editor says...
The selection of the host city for the Olympics isn't about finding adequate sports arenas and hotels — it's all about politics. Washington is run by left-wing Democrats, which makes it a perfect match for the Olympics, which promotes a massive world-wide government under which any given country is equivalent to any other. The Olympics paints a picture of affirmative action on a global scale: Obscure countries that produce nothing get the same standing as major countries that drive of the world's economy.

Enough with the Kumbaya Olympics. Let's keep wrestling. The International Olympic Committee issued a surprise decision on Tuesday [2/12/2013] to exclude wrestling from the 2020 Olympic Games. For a number of years, the committee has drawn fire for its lack of transparency. With its secret vote to remove one of the original Olympic sports — one that dates back 2½ millennia to the first games in ancient Greece — it has added another decision that deserves scrutiny.

Faking and enhancing the sounds of the Olympics

. Ah, there's nothing quite like the serene "swoosh-swooshing" of oars in the water, as Olympic rowers glide along the water. There really isn't, because those sounds spectators are hearing on their TVs are not live from the event, The Atlantic reported. In order to keep sight of the boats, broadcasters must follow them with chase boats and a helicopter. The result is that the sound of the rowing is drowned out by that noise. So, NBC elected to replace the live audio with a recorded soundtrack of rowing practices to deliver more accurate depiction of what the sport sounds like in its pure form.

Olympic Boondoggle: Careful What You Wish For

. Federal, state and local taxpayers end up paying for these Olympic athletic enterprises with few lasting benefits.

Homosexuals have special rights and privileges no one else has.

Married Olympians: We Can't Live Together During Games, But Gay Couples Can

. An Australian Olympic married couple claims they have been prohibited from sharing a room in the London Olympic Village, even though gay couples are reportedly allowed to do so. Olympic shooters Russell and Lauryn Mark told news.com.au that they are being discriminated against by officials.

NBC Posts $223 Million Loss on Winter Olympics

. The tally is in: NBC lost $223 million on the Winter Olympics in the first quarter.

Chicago Olympics Bid Could Cost Taxpayers

. The City of Chicago's efforts to land the 2016 Summer Olympics could leave taxpayers across Illinois on the hook for hundreds of millions of dollars, even though Mayor Richard M. Daley (D) last year vowed "not a dime" of taxpayer money would be spent on the Olympics. The Illinois legislature is expected to throw taxpayer support behind Chicago's bid. Gov. Pat Quinn (D), who recently took office after lawmakers impeached and removed Rod Blagojevich from office, has already publicly committed at least $150 million in state funds for the Olympics — and that could climb higher.

The Olympic Bible

: The organizers of the 2008 Olympic Games in China have put the Bible on the list of items that athletes are banned from bringing with them to Beijing … This would seem to undermine claims by a Chinese government official, Ye Xiaowen, who told Reuters last month that China would accommodate the religious needs of visiting athletes.

The International Olympic Committee's Gag Order

: I'll put my cards on the table: I'm no fan of the Olympics. The bizarre North Korean mass-games style ceremonies, the corruption, the fakey universalist cosmopolitan brotherhood-of-man sentiments, the perpetuation of sports that no one cares about which should have died out long ago... I think the Olympics is to sports as the United Nations is to politics.

China's totalitarian games

: Well, the [2008 Olympic] Games have certainly had a lasting effect on one part of Chinese society — the 1.5 million men, women, and children expelled from their homes in Beijing to make room for the construction of Olympic facilities and urban beautification projects. To clear them out, the Geneva-based Center on Housing Rights and Evictions found, Chinese authorities resorted to "harassment, repression, imprisonment, and even violence." Demolitions and evictions frequently occurred without due process. Many dispossessed residents were not compensated; those who were usually received a fraction of the amount needed to make them whole.

China's gold medals came at a high price

. If anybody feels a pang of jealousy over China's haul of Olympic gold medals, they need only pause to consider what the athletes went through to get them. The only mother on China's team, Xian Dongmei, told reporters after she won her gold medal in judo that she had not seen her 18-month-old daughter in one year, monitoring the girl's growth only by webcam. Another gold medalist, weightlifter Cao Lei, was kept in such seclusion training for the Olympics that she wasn't told her mother was dying. She found out only after she had missed the funeral.

China's apologists are wide-eyed and clueless

. Poor old Robert Mugabe. Do you know what that guy needs? An Olympics. Harare 2012, he really missed a trick there. A well-run Games and nothing else matters. Put on a show, throw up a couple of impressive buildings and the world is your friend. The road home from Beijing is lined with wide-eyed converts who've seen the light on totalitarianism.

I assume you've heard of

Robert Mugabe

.

China's hi-tech 'death van'

: After trials of the mobile execution service were launched quietly three years ago — then hushed up to prevent an international row about the abuse of human rights before the Olympics last summer — these vehicles are now being deployed across China. The number of executions is expected to rise to a staggering 10,000 people this year (not an impossible figure given that at least 68 crimes — including tax evasion and fraud — are punishable by death in China).

Title IX Tied Our Hands At the Olympics

. U.S. athletes won in spite of Title IX regulations, which impose gender quotas on sports for institutions that receive any federal money. Title IX has crippled our national competitiveness. Title IX regulations have forced educational institutions to eliminate men's teams until the number of men and women on sports teams is the same ratio as the number of men and women enrolled in academic classes. In the numerous colleges that are now 60 percent female in academic enrollment, Title IX requires that men's teams be eliminated until only 40 percent of the athletes are men.

Speaking of Title IX...

Pay no attention to the man behind the curtain

. In a mind-boggling move, NCAA president Miles Brand recently urged NCAA institutions not to blame Title IX for any athletics cuts that they might be forced to make in the current economic downturn. ... The truth is that Title IX is always a factor in athletic department program decisions.

Is the NCAA Anti-Male?

In 1972, Congresswoman Patsy Mink authored an amendment to the Civil Rights Act of 1964. ... The law was called Title IX. The question now is whether this admirable idea has evolved into a law that is anti-male, and particularly anti-black male.

Enough is enough: Here are my reasons for boycotting the Olympics

. The International Olympic Committee and the megabucks corporate sponsors of the games breathed a sigh of relief when the Beijing Olympics got under way last week with no major boycotts or disruptions. Last spring, faced with widespread outrage over China's brutal suppression of Tibetan protesters and stubborn support for murderous regimes in Sudan, Burma and Zimbabwe, IOC chairman Jacques Rogge nervously insisted "a boycott doesn't solve anything."

Massive Cheating by China at the Olympics

. There is absolutely no doubt — none, zero, zilch — that the Chinese "women's" gymnastics team featured several little girls no older than 14 years of age — two years younger than the international federation allows for competition. Online registrations of these girls list one age, their passports list another. This is blatant cheating — no other word for it.

China playing games at Olympics

. Does it get any lower than to use young girls like this to ensure your national glory? The people of China deserve better than what has been going on at the Olympics and two tiny singers, maybe up to four gymnasts and perhaps the whole world are deserving of an apology. Here we were thinking the Olympics was about integrity, honesty and fair competition.

Cheating ChiComs, Crouching IOC

. I have an 8-year-old daughter. I know what 8-year-old hands and feet and hips and teeth look like. They look a lot like the hands and feet and hips and teeth of the purported "teenagers" on the gold medal-winning Chinese girls' gymnastics team.

The 100-Meter Gasp

. The Beijing Olympics [exposed] the environmentalist fraud that the U.S. is the world's biggest polluter. Compared with China, we get the gold medal for energy efficiency.

Elderly Chinese women ordered into re-education for daring to protest

. Two elderly women who applied five times for permission to demonstrate in China's Olympic protest parks against the demolition of their homes have been ordered to serve a year of re-education through labour, according to a human rights group. It is the toughest penalty to be reported against any of those who followed up an announcement by the Government that it would allow protests in three Beijing parks during the Games. So far, police say that they have received 77 applications. None has been approved.

IOC launches probe into possible underage Chinese gymnasts

. The governing body of the Olympic games is demanding an investigation into whether China stacked its female gymnastics team with underage tumblelinas. The probe will center on China's gold-medal winning darlings, He Kexin and Yang Yilin.

International Olympic Committee launches probe into He Kexin's age

. The International Olympic Committee has ordered an investigation into mounting allegations that Chinese authorities covered up the true age of their gold-medal winning gymnastics star because she was too young to compete.

Hacker Uncovers Proof Chinese Gymnast Is Underage

. A determined computer expert has delved into cached pages on the Internet to unearth Chinese official documents showing a gymnast who took gold, edging Britain's Beth Tweddle into fourth place, may indeed be underage.

Update: IOC strips bronze medal from China for using underage gymnast at 2000 Sydney Olympics

. Ten years after its gymnastics team won an Olympic bronze medal in Sydney, China was ordered to give it back for using an underage girl, allowing the United States to claim it instead. Acting on evidence that Dong Fangxiao was only 14 at the 2000 Games, the International Olympic Committee on Wednesday stripped the country of the women's team bronze.

And You Thought Watching Was Torture ...

By some estimates, China has as many as 10,000,000 industrial slaves (according to sociologist Zhou Xiaozeng). What's 10,002,200? Taking politics out of the Olympics means ignoring the enslaved dancer who suffered paralysis in favor of the strapping American kid who's good at swimming. If you have no problem doing that and consider the whole charade a wonderful celebration of human achievement, you are going to

love

the Pyongyang games.

Olympic fakery makes plain China's contempt for reality

. Time to clear the air: That's not smog hovering over Beijing, swallowing entire office buildings like a mighty python. It's just "a funny mist," says the city's environmental chief, who insists that the Chinese government has eliminated air pollution in the capital.

Olympic gold medals are made of silver

. The gold medals awarded at the Beijing Olympics are mostly made of silver, the Games' organising committee BOCOG admitted on Monday. Each medal contains only 6% pure gold, BOCOG secretary-general Wang Wei said. The bulk is silver, he added.

Human Rights in China Worse Since Olympics Started, Experts Say

. Experts told CNSNews.com that that [John] Ray's experience was only an example of the kind of suppression that has occurred in China during the Olympic Games. "The human rights situation is much worse than it was a month before the games began," John Tkacik, a senior fellow at the conservative Heritage Foundation, told CNSNews.com. "People used to be able to silently stand at government offices with petitions and protest against various government transgressions, but now they have all been chased away and some put in prison."

IOC calls for additional examination of Chinese gymnasts' ages

. The International Olympic Committee asked the international gymnastics federation Friday to reexamine whether gold-medal-winning gymnast He Kexin and two of her teammates were too young to compete in the Beijing Games.

Olympic-Sized Racism

: The Aug. 8 parade of nations featured representatives from 204 countries and territories of varying degrees of sovereignty bearing 204 flags and wearing 204 outfits designed to reflect the essence of the folks back home. The parade … is perhaps the most powerful symbol of actual progress the Olympics has to offer. That's especially true when you consider that people from several of those parading nations first competed in the Olympics at a bizarre, demeaning borderline-freak show designed to further racial pseudoscience.

Rogge rips the wrong guy

. Jacques Rogge is so bought, so compromised, the president of the IOC doesn't have the courage to criticize China for telling a decade of lies to land itself these Olympic Games. All the promises made to get these Games — on Tibet, Darfur, pollution, worker safety, freedom of expression, dissident rights — turned out to be phony, perhaps as phony as the Chinese gymnasts' birthdates Rogge was way too slow to investigate.

Olympic fans, spectators wish Beijing would stop adding oil

. A large proportion of the audiences who came to view Olympic events had never seen those sports live before or even, in many cases, on TV. A substantial number had not been to any stadium to view sports. Thus it did not seem particularly unusual or strange that in the lead-up to these Olympics, the government should have organised the chanting.

Earlier in the year...

Unmasked: Chinese guardians of Olympic torch

. China's blue-clad flame attendants, whose aggressive methods of safeguarding the Olympic torch have provoked international outcry, are paramilitary police from a force spun off from the country's army. The squad of 30 young men from the police academy that turns out the cream of the paramilitary security force has the job at home of ensuring riot control, domestic stability and the protection of diplomats.

Rudd says 'no' to China torch guards

. Chinese paramilitary police will not be allowed to run alongside the Olympic torch in Australia, the country's prime minister said Thursday [4/10/2008], after their heavy-handed tactics drew criticism in earlier legs of the relay. The men in bright blue tracksuits were dispatched by Beijing to guard the Olympic flame on its journey around the world. They sparked concern in London and Paris, with the top official for the 2012 London Olympics calling them "thugs."

Accusations spread of Chinese under-age Olympians

. Australian media are reporting today that doubts have been raised about the ages of Chinese medal-winning athletes as long ago as the Sydney Olympic Games in 2000. Age-falsification has become a burning issue since the Beijing Games last month, where it was alleged that Chinese gymnast He Kexin, who won two gold medals, was underage and therefore should have been ineligible to compete in the event.

Chinese gymnasts not underage

. The International Gymnastics Federation (FIG) had asked the Chinese federation to submit documents proving the birthdates of five members of the gold-winning team ... The International Olympic Committee (IOC) had specifically asked the FIG to investigate double Olympic gold-medalist He, who was registered as 16 although online media reports suggested she may have been 14. Gymnasts must turn 16 in the year of an Olympics to take part.

The Editor says...

So the committee is satisfied by

documents

produced by the Chinese government? No medical exam? I think a good pediatric dentist could answer most of the age questions in five minutes.

The Twenty Biggest Stories Of 2008

: (#20) China hosts the Olympics: The ChiComs held the Olympics and although most of the event has already gone down the memory hole, the massive opening ceremony, Michael Phelps winning eight gold medals, the filthy air, and the rampant Chinese cheating in gymnastics won't soon be forgotten.

China wins gold as protesters come to their censors

. When Ji Sizun heard that the Chinese Government had agreed to create three special zones in Beijing for peaceful public protests during the 2008 Olympics, he celebrated. He said in an interview at the time that he believed the offer was sincere and represented the beginning of a new era for human rights in China. ... It is now clear that his hope was misplaced. In the end, official reports show, China never approved a single protest application — despite repeated pledges to improve its human rights record when it won the bid to host the Games.

The cover-up of an Olympic tragedy

. As Liu Yan rehearsed her moves on the stage at Beijing's Bird's Nest stadium one evening last July, she had no idea that it would be the last time she would ever dance.

The Obama Olympics

. Last week, Chicago Mayor Richard M. Daley led a delegation to Lausanne, Switzerland, where the Windy City made its bid in front of the International Olympic Committee (IOC) to host the 2016 Summer Olympics. Chicago is competing against Madrid, Rio de Janeiro and Tokyo to host the games. ... While Daley was the public face of Chicago's bid in Lausanne let there be no mistake. The true public face of Chicago's Olympic bid is its favorite adopted son, President Barack Obama.

Chicago taxpayers are in the deep end of an Olympic pool

. We're all in — completely, irrevocably committed to the 2016 Olympic Games — and we're ahead of other bidders, and the question that occurs now is whether the price will seem worth it at closing ceremonies some seven years from now. Mayor Daley this week in Switzerland did what Mayor Daley does. That is, he committed Chicago's every last dollar to staging an Olympics no matter what the cost.

Police given powers to enter homes and tear down anti-Olympics posters during 2012 Games

. Police have been handed 'Chinese-style' powers to enter private homes and seize political posters during the London 2012 Olympics. Little-noticed measures passed by the Government will allow officers and Olympics officials to enter homes and shops near official venues to confiscate any protest material. Breaking the rules could land offenders with a fine of up to £20,000.

Obama's Olympic bid stagecraft

. Sixteen days ago, Richard Baehr noted speculation that President Obama would make a last-minute dramatic trip to Copenhagen this week, to pitch the case for Chicago hosting the 2016 Olympics. The publicly-announced plan had been for Michelle to represent Chicago's bid. Because other contenders were sending their top leaders, it seemed as if Obama were letting Chicago down. Unless you took the cynical view and saw this all as dramatic framing of an upcoming event, so as to maximize propaganda benefits.

Why is Obama going to Copenhagen?

I think I speak not only for myself but for the 295 million Americans who don't live in the Chicago area when I say that President Obama has about as much business going to Copenhagen to push the city's Olympic bid as he does taking up the violin.

Bidding for the Olympics, Chicago-style

. Social Security is about to run out of money to cover the monthly checks that millions of senior and disabled Americans depend on to make ends meet. Unemployment is nearing 10 percent nationwide and has reached its highest mark since World War II among younger Americans, 52 percent. As many as 80,000 people in California's Central Valley are out of work in part because of federal environmental policies that make fish more important than people. These are only a few of the most important crises facing the nation today. And where is our president? He is in Copenhagen, Denmark, to deliver a sales pitch for Chicago to host the 2016 Olympics.

Obama's Olympic Spirit

. It would seem the Obama administration, which hasn't had time to hold conversations with senior military officials involved in such a critical national security issue as the war in Afghanistan, has been spending far more time assisting President Barack Obama's adopted hometown, Chicago, than the White House has previously divulged, using the President's and White House senior staff's presence at global policy meetings to lobby foreign ministers, diplomats and members of the International Olympic Committee.

The President as Pitchman: It Isn't Pretty

. Politically, economically and historically it makes no sense for the president to travel to Denmark to sell Chicago to the Olympic committee.

Rotten in Denmark

. No other U.S. president has ever personally lobbied for the Olympics to be held in this country. Even President Obama claimed just days ago that he would not go to the Olympics meeting, because he was so "firmly committed to making real the promise of quality, affordable healthcare for every American."

All the President's Olympic Cronies

. When government officials play the Olympic lottery, taxpayers lose. That has been the disastrous experience of host cities around the world. (Forbes magazine even dubbed the post-Olympic financial burden the "Host City Curse.") So, why are President Obama and his White House entourage headed to Copenhagen, Denmark, this week to push a fiscally doomed Chicago 2016 bid? Political payback. Bringing the games to the Windy City is Chicago Mayor Richard M. Daley's "vision."

Obama's Olympian gamble collapses

. U.S. President Barack Obama's politically risky Olympics gamble failed to bring home the gold on Friday [10/2/2009], with the Olympics committee's refusal to grant the 2016 Summer Games to his hometown Chicago.

The Winter Olympics: A Dying Proposition?

Whereas the Summer Olympics dwarfs the sister Winter games in terms of worldwide participation and popular interest, the Winter Olympics features sports that necessitate freezing-temperature playing fields and national training programs — the Jamaican bobsled team notwithstanding — that would be hard to implement or sustain in most of the populated world, where athletic development and training consists of kicking first a can, and later a soccer ball.

Olympic grumblings

: The Winter Games. An opening ceremony consisting of the RCMP, Natives, k.d. lang dressed as a man, a plump white poet with a silly beard pretending to be black and what appeared to be the cast of Avatar all dancing about and explaining how Canada is based entirely on environmental protection and the cult of equality. The Olympic torch carried by various people who love Canada so much that they haven't lived here in decades and spend most of their lives pretending to be American.

Olympic Pawns

: The formation of a new and permanent White House Office of Olympics, Paralympics and Youth Sports will establish more centralized control over "amateur" sports and over all athletes in the United States. ... When I competed and traveled as an athlete and United States citizen, I encountered figure skating colleagues who were not free, from nations with government structures that controlled all aspects of their sports; parents were not welcome in the decisions of their children's involvement in athletics.

Countries behaving badly

: Every two years, the Olympics crowns a new batch of heroes: Cinderellas on ice skates, flag-waving champions and gritty underdogs who capture hearts around the globe. There's also the blowhards, cheaters and sore losers. With two days left before the closing ceremonies, the Vancouver games have been more inspiring than irritating, but like every Olympics, there have been some whiners among the winners.

A few years later...

Top Chinese gymnast found begging on the street

. One of China's most promising young gymnasts, who seemed destined for Olympic glory before his career ended in injury, has been found begging on the streets of Beijing, prompting criticism of the country's Soviet-style sports system.

The 2012 Olympics: Olympics wind turbine is scrapped, threatening green pledges for 2012

. A plan to build a massive wind turbine on the Olympic Park is to be scrapped, raising questions about whether the environmental pledges for the 2012 London Games can be met.

Snipers, jets and 13,500 troops on Olympics duty

. Up to 13,500 British troops will protect the London Olympics from a terrorist atrocity, it was revealed today. The figure is 4,000 more than the number who currently serve in Afghanistan and will see bomb disposal experts, specialist sniffer dog handlers, building search teams and regular soldiers will support the police to keep the 2012 Games safe.

Violent Anarchist Group Vows to Wage 'Low Level Warfare' on London Olympics

. The Informal Anarchist Federation, also known as the "FAI" after its initials in Italian, has been making news across Europe recently following a string of violent and destructive crimes. Earlier in May, the group claimed responsibility for shooting an Italian nuclear executive in the kneecaps during a drive-by attack, warning in a four-page letter that they would strike the man's company seven more times.

I hate the Olympics

. [T]he whole business is tacky and unedifying and horrible and nationally humiliating, like being invaded by the Disney Corporation and everyone being forced to wear mouse ears in solidarity with the Dear Leader.

akdart.com

gladly complies with this request:

Olympics bans links to its site if you're 'derogatory'

. The rules of the London 2012 Olympics site seem to be somewhat odd, if not inanely unenforceable, if not otherwise objectionable.

The Olympic Spirit and the Islamic Spirit

. In a sign of the times, the London Summer Olympics will be defended by anti-aircraft guns and surface-to-air missiles [...] G4S, the world's largest security company, was to provide 12,000 security personnel, but has so far only managed to come up with 4,000. In another sign of the times, not all of their security personnel speak English.

NBC accused of deliberately editing footage of the women's team gymnastics

. Controversy over the coverage of the Olympics on American television deepened today when NBC was accused of deliberately editing footage of the women's team gymnastics in order to create what critics called "fake suspense." Russian world champion Ksenia Afanasyeva's unexpected fall during the floor exercises, which effectively handed a gold medal to Team USA during an early stage of the contest, was inexplicably removed from the time-delayed version of events that NBC presented to its prime-time television viewers.

The 2012 U.S. Olympic Team's Uniforms: Made in China Team USA Olympic uniforms not made in USA

. Not only do this year's Team USA uniforms look a little militant, but it turns out the London Olympians' duds were made in China, which, if you didn't know, is not in the United States. Classic Americana designer Ralph Lauren stylized the team's opening ceremony uniforms, but outsourced the actual tailoring to China.

Lawmakers Want 'Made in China' U.S. Olympic Uniforms Burned

. Lawmakers were outraged Thursday after an ABC World News report revealed that the U.S. Olympic team's opening ceremony outfits are made in China. Some suggested making a bonfire with the outfits, which include berets and blazers.

The Editor says...

Is every country expected to have its uniforms made within its own borders? That would be amusing as well as enlightening.

U.S. Olympic Uniforms: Made in China by Democratic Donor's company

. Lawmakers were livid to discover that the United States' Olympic team uniforms were made in China. Senate Majority Leader Harry Reid (D., Nev.) even suggested "they should take all the uniforms, put them in a big pile and burn them and start all over again." The company who designed the uniforms, Ralph Lauren, has received less scrutiny. Few outlets have noted that Ralph Lauren himself is a prominent contributor to President Obama and the Democratic Party.

Obama, Reid Contributor Ralph Lauren Outsourced Olympic Uniforms

. Senate Majority Leader Harry Reid has raised a furor over the fact that the uniforms for the US Olympic Team are made in China. Which is to say: outsourced. Who designed these uniforms? Who actually did the outsourcing of these Olympic uniforms here? That would be the famous American designer Ralph Lauren. Who has a habit of outsourcing his clothes to places like China, Sri Lanka and El Salvador. Uh-oh. That would be the same Ralph Lauren who, according to the Federal Elections Commission, on May 7, 2012 — barely two months ago — contributed $35,800 to the Obama Victory Fund 2012.

Olympic Uniform Brouhaha Shows the Imperial Democratic Emperor Has No Clothes

. What I found most striking is the attitude of many of the liberals in Congress, typified by the statement by New York's Senator Gillibrand, as quoted by the Associated Press yesterday, that "There is no compelling reason why all of the uniforms cannot be made here on U.S. soil at the same price, at better quality." This statement is a microcosm of what is wrong with the thinking of many liberals in general. Unfortunately, it is obvious that there IS a compelling reason — though not a pleasant one, and many would say not a justified one — why uniforms were not made here on U.S. soil; unions have often rendered our goods not competitive, even with the savings of tariffs and international shipping costs.

Transvestite athletes and the impending end of women's sports

Coach ousted after speaking against male athletes competing against women. Oberlin College's head women's lacrosse coach, Kim Russell, has been "reassigned" to a desk job after she spoke out against allowing biological men to compete in women's sports, the Independent Women's Forum (IWF) reported. Russell shared a post on social media praising Emma Weyant as the "real winner" when Weyant placed second after transgender athlete Lia Thomas during the 500-yard freestyle at the 2022 NCAA women's swimming championship. Two weeks after the IWF released a documentary about Oberlin's response to her post, the college has given her a new role as an "Employee Wellness Project Manager," where she will have virtually no contact with students, according to IWF.

Oberlin College coach: 'Felt like I was burned at the stake' over opinion on trans athletes in women's sports. Oberlin College women's lacrosse head coach Kim Russell broke her silence about transgender inclusion in women's sports in a documentary for the Independent Women's Forum on Tuesday. Russell, who became the head coach of the Yeowomen before the start of the 2019 season, talked about how administrators and her players ridiculed her after she posted on her personal social media account a message about Lia Thomas winning an NCAA Championship in the 500 in 2022. In the video, Russell reposted a headline sarcastically congratulating then-Virginia swim star Emma Weyant for the victory over Thomas, a transgender female.

Dare to acknowledge reality at your own risk. David Bloch, a high school snowboarding coach, has filed a lawsuit against his former employers alleging that he was fired for intimating that men can typically outperform women in sports. The federal lawsuit, against the leaders of Woodstock Union High School, was filed in Vermont and states that Bloch was wrongly accused of violating the school district's harassment and bullying policy — for referencing a student "in a manner that questioned the legitimacy and appropriateness of [a] student competing on the girls' team." Yes, because that student is a boy.

What did they expect? For many months now, the transgender movement has defied biology, sociology, and logic, and yet it seems to barrel forward, a locomotive crashing through longstanding social mores with the false authority of the stubbornly ignorant. Even though we are at last seeing some glimmers of hope in the resistance movement, it is utterly astonishing that matters ever got this far. It is as if the Royal Astronomical Society were to have declared that Planet Earth is flat and that any dissent from that "fact" is a form of bigotry. Evidence for a round Earth would be forbidden in the discussion. Even those who are pushing back seem to have buckled under the pressure of that locomotive. The recent women's power-lifting competition in Canada illustrates the point. As if it were some sort of surprise, a male weightlifter dominated the event by a Canadian mile, leaving all the women in the dust. He was allowed to enter the event simply by declaring himself a woman. The appalling audacity of that policy is apparently entirely unnoticed by the social left, which insists that "trans-women are real women." Even those who oppose the policy often do so only in tepid terms. They focus on the details, such as testosterone levels and bone mass, instead of the elephant in the room. Discussing blood chemistry is not going to win this vital confrontation. The elephant is the moral issue, and any attempt to frame the matter as anything else is doomed to failure.

Wisconsin Parents Pulling Daughters From Sports Team After Transgender Player Leaves Them With Welts and Bruises. Parents are pulling their daughters off a sports team in the Green Bay Area Public School District in Wisconsin after a transgender biological male player left them with "welts and bruises" during practice. The biological male student has reportedly left girls with bruises and welts during summer practices. The names of the students involved and the sport have not been revealed for privacy reasons. "They're just not used to the ball coming at them that hard," said Ryan Gusick, one of the parents, according to a report from WTAQ. "A lot of these girls are specifically quitting this team because they're concerned for their safety."

Disc golf org to cancel female divisions after trans activist pressure. On Friday, Disc Golf Pro Tour announced that it would relocate the Female Professional Open (FPO) division at some of the largest events of the season to other states while canceling other FPO divisions completely in order to avoid more legal troubles as a result of lawsuits from Natalie Ryan, a male disc golfer who identifies as a female and has sued DGPT in California and Minnesota over gender eligibility policies that restricts him from competing. In disc golf, players use plastic discs instead of balls and attempt to throw discs into baskets or targets situated on a golf course.

Mayo Clinic professor suspended after saying testosterone improves athletic performance. A Mayo Clinic College of Medicine professor was recently suspended — and remains under the threat of termination — after he told a news outlet his stance on trans-athletes in women's sports and plasma treatments for COVID-19. Administrators suspended Professor Michael Joyner without pay for a week, citing his "use of idiomatic language" and comments he made in a June 2022 New York Times article as justification for the disciplinary actions, according to a March 5 disciplinary letter that recently came to light. The memo also told him to refrain from speaking to the media unless given permission.

'Fastest girl in Connecticut' Chelsea Mitchell suing state after losing to trans athletes. "At the end of the day, this is just about fairness," Chelsea Mitchell told The [New York] Post. "This is about biology." The 20-year-old is fighting for the integrity of women's sports after she lost more than 20 races over the course of her high school career — thanks to a Connecticut policy that allows transgender athletes to compete in girls' sports. Now, Mitchell, who has declared herself "the fastest girl in Connecticut," is challenging her state's policy in court. Mitchell is teaming up with fellow Connecticut residents Selina Soule, 20, Ashley Nicoletti, 19, and Alanna Smith, 19, who ran high school track in the state at the same time she did.

It Was Always Only About Power With the Left. Title IX was an addendum to the 1964 Civil Rights Act that prohibited discrimination on the basis of sex. Through liberal lawsuits and the intervention of activist courts, the statute soon was transmogrified into a sports equity act. Title IX then began to revolutionize high school and college sports programs by demanding equity — in the sense of mandating equal budgets and facilities for women's and men's sports. The rationale was that women's athletics could only achieve parity with male sports if they were gifted the same sorts of budgets, infrastructure, and institutional support. Whatever the intent of the original statute, whatever the effects of activist court intervention, the result was that women's sports did achieve a much higher social and cultural profile. So how ironic, then, that a half-century of athletic transformation has been completely undermined by the current ritual takeover of the sport by biological men declaring themselves transgendered women. The transgendered have done more damage in three years to women's sports than a century of chauvinist pigs.

British Cycling Bans 'Transgender' Males from Women's Competitions. So-called "transgender" males are to be banned from women's cycling competitions in the UK, the country's regulatory body has announced. British Cycling, the regulatory body in charge of the eponymous sport in the country, has confirmed that it will be banning "transgender" males from taking part in women's events, which will now be limited to biological females only.

Transgender high school athletes no-show state track championships following backlash. Two transgender female high school athletes were no-shows for their race at the California State preliminary Track and Field Championship on Friday — a week after they clinched a spot in the elite race. Athena Ryan, from Sonoma Academy, and Lorelei Barrett of Sherman Oaks Buckley, opted not to participate in the scheduled girl's 1,600-meter run at Buchanan High in Clovis, Calif., according to The Los Angeles Times. "The CIF is disappointed for two of our student-athletes and their families because due to the actions of others, they found it necessary to withdraw from the State Track and Field Championships out of concern for the student's well being," the California Interscholastic Federation, the governing body for high school sports in California, wrote in a statement to the outlet.

The Editor says...
Notice that the school bends over backwards to express their disappointment that the two men chose not to compete with the girls. That shows you whose side they are on. The school is actively promoting mental illness.

Jill Biden Praises "How Far Women's Sports Have Come" as Biological Males. This is unbelievable gaslighting. Joe and Jill Biden on Friday hosted a ceremony for the Louisiana State University Tigers Women's Basketball team to celebrate their 2022-2023 NCAA Championship season. Dr. Jill told the female athletes how proud she was of how far women's sports have come. Biological males posing as 'transgenders' are destroying women's sports. The Biden Regime is also waging a war on women's sports with a proposed change to Title IX which would make it illegal for schools to ban transgender students from sports teams that so-called align with the gender they 'identify with.'

Cycling Champ Who Lost To Trans Competitor Speaks Out About Being Silenced. A 35-time cyclocross champion said Wednesday that she retired after losing a podium place to a biological male competitor in a championship race. "I was on form, did all the training right, been doing this for many years, so I've honed in the skills, but it was just not enough," Hannah Arensman, who retired at the age of 25, told Fox News host Dana Perino. "It didn't matter that Austin couldn't ride a lot of the sections that were pretty technical. He could run a lot faster than most women and it turned out that power that day won over skill and power honed over many years." Arensman finished fourth in the USA Cycling Cyclocross National Championships in December behind Austin Killips and ahead of Jenna Lingwood, both of whom are biological males who identify as female, Fox News reported.

The demise of fairness in women's sports. In 1972, thanks to the efforts of many, mostly women, a follow-on to the Civil Rights Act of 1964, a clause in the 1972 Federal Education Amendment, known as Title IX, was created to protect people from discrimination based on sex in education programs or activities that receive federal financial assistance. On the day President Biden took his oath of office, he signed Executive Order (E.O.) 13988, adding new wording to the Title IX law to prohibit "discrimination based on gender," which effectively opened the door for males who identify as females to compete in women's sports. Then, on March 8, 2021, President Biden released E.O. 14021 "Guaranteeing an Educational Environment Free from Discrimination on the basis of ... Gender Identity." Elections have consequences! These orders and directives have effectively ruined women's sports. Now genetic males can declare themselves females for the purpose of participating in women's sports. Keep in mind that Biden's E.O.s were implemented without congressional concurrence, debate, or approval, and they amount to the establishment of policies, "laws," and rules via administrative action. The rising number of these actions creates an administrative state that denies appropriate accountability to Congress and all of us voters.

Robert Kennedy Jr. opposes allowing trans women to compete in female sports. Presidential candidate Robert F. Kennedy, Jr. said in a new interview that he does not support transgender females participating in women's sports. The Democrat told CNN on Saturday that "biological males" threaten the integrity of women's athletics. "I am against people participating in women's sports who are biologically male," Kennedy, 69, said, "I think women who have worked too hard to develop women's sports over the past 30 years I watched it happen and I don't think that's fair."

ESPN and the Democrats Throw Women Athletes Under the Bus. ESPN in recent years discovered a new sport, wokeness, in keeping with most of corporate America. From the usual America bashing to playing Chinese genocide apologist, sports has become a sideshow for ESPN with their main event competing with CNN, MSNBC, and the New York Times in the woke world series. Women's sports have come a long way over the past decades, with most sports having both men's and women's divisions, including world championships and the Olympic Games. But wokeness and leftist groupthink is threatening to send women athletes to the back of the bus to favor male athletes who choose to "identify" as women.

The Religion of the Left. [Scroll down] Accordingly, the Left's rhetoric is couched in the name of freedom, justice, charity, and so forth. A biological male wants to play on the women's sports team. They are all for it, since. It is the height of morality to support the biological male; it is, they say, only fair. But there is nothing fair about it: to go along is to dismiss and ignore the effects, all negative, upon the women and girls. Presumably they are not second-class citizens; but no, there is a choice made between the biological males and the females, and it is supposed to go against the females with no consideration for them whatsoever.

Female Athlete Injured by Fake Female Competitor Calls for an End to the Madness. The funny thing about waging war against reality is that reality always wins. There is simply no way around it. Leftists will never prevail in their quest to claim that men can become women and women men. Even if technology advances to the point where every single cell of an individual can be transformed, that person will still have a male or female mindset that will manifest itself in all manner of unexpected ways. And the real-life downside of the transgender madness has still only partially emerged. Another aspect of it became clear in North Carolina recently, when a female high-school athlete was seriously injured in competition against a male she should never have been forced to face.

High school volleyball player details 'severe' injuries she received during game with trans opponent. Payton McNabb, a North Carolina high school volleyball player, is calling for a ban on transgender athletes after one spiked a ball into her face last fall allegedly causing a concussion and long-term physical and mental injuries. The transgender athlete was able to compete on a girls' team at Hiwassee Dam High School in Murphy, NC, because of a policy put in place by the state's high school athletic association. McNabb spoke at a press conference on Wednesday, calling on state legislators to pass the Fairness in Women's Sports Act, HB 574, that would ban biological males from competing on girls' sports teams.

House Minority Leader Hakeem Jeffries Says Men in Women's Sports is an Issue 'That Doesn't Exist'. House Minority Leader Hakeem Jeffries claimed today that men in women's sports is an issue 'that doesn't exist.' He said this after House Republicans passed a bill to protect girls and women in sports with zero votes from Democrats. The whole country is talking about this issue. For Jeffries to claim that it doesn't exist is a blatant lie. [Video clip] Note how Jeffries talks about 'trans kids' as if that is a totally normal thing. It isn't.

Zero Democrats Vote For House Bill To Protect Women's Sports. The House of Representatives passed legislation on Thursday to protect women's sports leagues by banning male athletes who identify as females from competing. The Protection of Women and Girls in Sports Act of 2023 would amend Title IX of the Education Amendments of 1972 such that recipients of federal financial assistance which operate sports leagues cannot "permit a person whose sex is male to participate in an athletic program or activity that is designated for women or girls." The legislation passed with 219 affirmative votes, all of which came from Republicans, and 203 negative votes, all of which came from Democrats.

Democrat Left Goes All in on Hate, Disruption, and Violence. A gang of thugs at San Francisco State University who objected to swimmer Riley Gaines's opposition to having to compete against biological males forced her to take refuge in a classroom for three hours while some demanded money to let her leave. A man, and I use the term loosely, allegedly used his fists on this woman, which normally constitutes misdemeanor assault. I cannot give legal advice, but my understanding is that a demand for money backed up by a threat of physical force constitutes robbery or extortion. False imprisonment, which can be charged as a misdemeanor or felony depending on the circumstances, also comes to mind. SFSU's President, Lynn Mahoney, said of these events, "Last Thursday, Turning Point USA hosted an event on campus that advocated for the exclusion of trans people in athletics. The event was deeply traumatic for many in our trans and LGBTQ+ communities, and the speaker's message outraged many members of the SF State community." The President of SFSU is of course lying about anybody wanting to exclude trans people from athletics. Nobody is going to stop Lia Thomas from competing against other men in a sport in which upper body strength conveys an advantage.

University Athletics Director Claims There's No 'Competitive' Difference Between Men And Women. The San Francisco State University athletics director claimed there is no "competitive" difference between men and women following the alleged assault of University of Kentucky swimmer Riley Gaines, who spoke on campus in favor of sports being separated on the basis of biological sex, according to the Golden Gate Express. Stephanie Shrieve-Hawkins said that believing men have an athletic advantage over women in sports is a common "mistake," according to the Golden Gate Express. Shrieve-Hawkins' comments come after Gaines was allegedly "ambushed and physically hit" on campus after speaking out against transgender athletes on April 6.

US Supreme Court Rules Transgender Students (Males) in West Virginia Can Compete Against Female Athletes. The US Supreme Court on Thursday ruled that transgender students (biological males) can compete against female sports teams. The high court rejected an emergency request from West Virginia to lift an appeals court's injunction. The transgender athlete will be able to compete against females until the appeals court makes a decision.

Biden administration's Title IX changes would prevent broad bans on transgender athletes. Blanket bans on transgender athletes participating on school sports teams consistent with their gender identity would constitute a violation of Title IX under a set of proposed changes unveiled Thursday by the Biden administration. Under the administration's proposal, schools would be prohibited from adopting or applying a "one-size-fits-all" policy that categorically bans transgender students from participating on sports teams consistent with their gender identity.

Megyn Kelly Loses It After Man Wins Women's Professional Golf Tournament: 'It's a Fraud, It's Immoral...'. Megyn Kelly is making her feelings clear after a man claiming to be a woman won a women's professional golf tournament. Over the weekend, Breanna Gill won the Australian Women's Classic in the city of Bonville in New South Wales, according to WPGA Australia. While little has been reported on Gill's personal history, Golf Monthly and others have noted his transgender status. Many on the left, naturally, will celebrate this as another momentous victory for the LGBT community. But sane-minded people will have a rather different take on the whole affair.

NPR Issues Correction, Admits There Is Evidence Proving Male Athletes Have Advantage over Females. NPR issued an official correction following a story published Friday which argued "there is limited scientific research" supporting the idea that males have a "physical advantage" over females in competitive sports. "Correction: An earlier tweet incorrectly stated there is limited scientific evidence of physical advantage. Existing research shows that higher levels of testosterone do impact athletic performance. But there's limited research involving elite trans athletes in competition," the outlet's official Twitter account noted on Sunday afternoon. [Tweet]

Girls Basketball Team That Refused to Play Against a Transgender Athlete Banned From Sporting Events. A private Christian school in Vermont that forfeited a girls' basketball game against a team with a biological male "transgender" player has been banned from participating in upcoming sporting events. The Vermont Principals' Association, which oversees school sporting events, announced on Monday that Mid Vermont Christian School would be ineligible to participate in sporting events and other activities done through the organization. "The VPA again reiterates its ongoing support of transgender student-athletes as not only a part of building an inclusive community for each student to grow and thrive, but also as a clear expectation by Vermont state law(s) in the Agency of Education Best Practices, and in VPA Policy regarding transgender student athletes," the announcement said.

USA Powerlifting forced to allow biological males to compete against females following court order. Women will now be forced to compete against gender dysphoria-suffering men after a Minnesota judge ruled against USA Powerlifting (USAPL) in favor of pseudoscience and progressive legislation. Since 2019, JayCee Cooper, a male weightlifter who wants to compete as a woman, has undertaken a legal challenge against USAPL that began as a complaint to the Minnesota Department of Human Rights. Late February, that challenge that had grown into a 2021 lawsuit turned into a loss for women competitors as District Court Judge Patrick Diamond ruled in favor of Cooper.

Court rules men may compete as women in powerlifting. A Minnesota state court ruled that USA Powerlifting must permit men to compete as women in its industry. [Tweet] In 2019, powerlifter JayCee Cooper, a man who identifies as a woman, filed a complaint with the Minnesota Department of Human Rights, stating that USA Powerlifting violated the state's Human Rights Act by prohibiting him and other athletes from competing in the female division. Cooper then filed a lawsuit against the organization in 2021.

A Minnesota judge has issued an order that will destroy women's powerlifting. One of the most disgusting things about so-called "transgender women" is their insistence that they should be able to have their cake and eat it too. It should be enough that these disturbed men get people to go along with the pretense that they are women. However, in today's environment, that's never enough. In addition, they must destroy actual women. And thanks to a Minnesota judge, USA Powerlifting, a national powerlifting organization, will soon be forced to enact policies that will effectively erase women's accomplishments.

Christian high school girls' basketball team takes a stand, forfeits playoff game rather than compete against male opponent. A varsity girls' basketball team at a Christian high school in Vermont has forfeited a playoff game rather than compete against a team with a male participant. On the evening of February 21, the No. 12 Mid Vermont Christian School Eagles of White River Junction were scheduled to take on the No. 5 Long Trail Mountain Lions of Dorset in the first round of the Vermont Division IV girls' varsity tournament. However, the Eagles dropped out of the tournament and therefore forfeited their chance to compete for a state title after they learned that one member of the Mountain Lions is actually a male. "We withdrew from the tournament because we believe playing against an opponent with a biological male jeopardizes the fairness of the game and the safety of our players," MVCS head of school Vicky Fogg stated in an email to Fox News Digital. "Allowing biological males to participate in women's sports sets a bad precedent for the future of women's sports in general."

Jiggery-Pokery Wokery. The woke love to destroy whatever they touch — culture, infrastructure, social cohesion, rational thought. To be woke is to embrace chaos and injury as a philosophy. From an anthropological perspective, wokeism is fascinating because its practitioners believe they are creative freethinkers while they act as lobotomized sheep. Whatever the woke wizards posing as priests tell their needy followers, the woke herds accept as truth. [...] If deception, violence, and obedience are all part of the woke creed, then contradiction is its life-force. [...] We must believe all women unless those women are speaking out against men pretending to be women — in which case, we must first believe all men pretending to be women, no matter how much they do not appear to be women at all. Biological sex is nothing more than a social construct, yet a man who wears a dress and wig and demands society treat him as he desires is somehow a demonstration of objective reality. Women's and men's sports divisions and the separation of their locker rooms recognize the reality that women and men are physically different, yet physically different men who mentally pretend to be women are miraculously physically indistinguishable from women and should be allowed to compete against them. Furthermore, any woman who objects to the imposition of men competing in her sport or undressing in her locker room is bigoted for acknowledging a fact out loud that can no longer be acknowledged as politically correct. Science demands that reality be based on emotion.

The Coup We Never Knew. Did someone or something seize control of the United States? [...] Was some state or federal law passed that allowed biological males to compete in female sports? Did Congress enact such a law? Did the Supreme Court guarantee that biological male students could shower in gym locker rooms with biological women? Were women ever asked to redefine the very sports they had championed?

All normal girls banned from locker room because one cross-dressing boy demanded it. They're coming for you next: This story, which broke on September 28, 2022, is so absurd that at first glance it is hard to believe: Officials running Randolph High School in Vermont have banned from the girls locker room all girls from the school's volley ball team because one cross-dressing boy was using it and the girls had the unmitigated nerve to express strong discomfort changing clothes in the presence of a male. The quote below tells the tale, but in order to make it more precisely describe reality, I have replaced the meaningless words ("trans", "transgender" "they") that our queer dictators have imposed on mainstream news sources with words that actually describe the facts. [...] This story illustrates perfectly the real goal of the queer agenda, all part of the larger critical race theory movement. These goons aren't interested in "equity". What they want is power. In Randolph High, this one cross-dressing unstable boy now rules. Don't you dare challenge him or question him in any way, for if you do, the school will punish you.

Vermont girls' high school volleyball team are barred from their OWN locker room after complaining about transgender student. Members of a Vermont girls high school volleyball team have been banned from using their own locker room and now have to change in a single bathroom stall after they complained about a transgender teammate. Some teammates allege that the transgender player at Randolph Union High School made an 'inappropriate remark' to some of them while they were changing in the locker room. They now want the school to relocate the transgender player, who hasn't been named.

People still want boy-girl divide in school sports. When hundreds of Virginia students this week left classrooms to protest Gov. Glenn Youngkin's effort to scale back pro-transgender policies in schools, it was heralded by some media outlets as a slam-dunk sign that teenage LGBT rights have won out. But coming on the anniversary of when former Virginia Gov. Terry McAuliffe blew his chance in the 2021 election battle with Youngkin by suggesting parents shouldn't tell schools what to do, it reminded others that the issue is far from closed. In fact, Youngkin's office sent Secrets a handful of stories about parents walking out of school board meetings across the commonwealth to protest proposed policies to give transgender students new rights, such as the right to enter bathrooms or participate in sports as their desired sex, not the one "assigned at birth."

The Editor says...
One's sex is determined by immutable genetics at the moment of conception. It is not "assigned at birth," or assigned at any other time.

Most Americans Less Likely To Vote For Candidates Who Let Biological Males Compete In Women's Sports. More than 60% of voters are less likely to back candidates who support allowing biological men to compete in women's sports, according to a September CRC Research poll obtained by the Daily Caller News Foundation. Approximately 49% of voters are "much less likely" and 13% of voters are "somewhat less likely" to choose a candidate who is in favor of permitting biological men to compete in women's athletics, according to the poll. About 86% of Republicans, 65% of Independents and 37% of Democrats said they were less likely to vote for a candidate who support transgender athletes. Of the voters, 57% believe the transgender movement undermines "significant opportunities and essential protections for women," the poll showed. Nearly 45% of Democratic voters and 69% of Republican voters believe this statement to be true.

Nonbinary Nonsense: Boston Marathon Creates New Division For 2023. Boston Marathon Registration began Monday for next year's Boston Marathon, with a new pronoun category for nonbinary runners. They, them and their will compete in a separate division for the first time and will no longer have to suffer the agony of checking the box for male or female upon registering. Aiming to please demanding LBGT fascists, the Boston Athletic Association is "currently working on expanding opportunities" for nonbinary athletes in the Boston Marathon and other road races, according to Huffington Post's Sanjana Karanth. "While we do not currently have qualifying standards for non-binary athletes, we are working on ways nonbinary participants are accepted into the event," the Boston Athletic Association said. "Discussions are ongoing with non-binary athletes in an effort to further promote inclusion at all BAA events."

Biden's New Title IX Proposals Will Codify the Gender Derangement of the Left. If there is anything that has advanced American society, you can be sure that 'woke' leftists will destroy it. So it is with Title IX — a one-sentence statute of the Education Amendments of 1972 that ended sex-based discrimination in educational institutions, opened the doors for women aspiring to become doctors, engineers, or experts in any field of choice, brought parity to college sports, and launched the battle against sexual harassment. In this fiftieth year of that landmark law, the Biden administration wants to rewrite it to suit the radical leftist ideology of gender identity and fluidity. This is dangerous because it codifies the spreading gender derangement of the left. Worse, it will immerse young minds in learning environments that condition them to believe, without critical thinking, that the biological idea of sex is false. It will unleash other complications as well.

WaPo Op-Ed Claims Trans Athletes Will Help Girls Learn to Lose Gracefully. An op-ed in the Washington Post has argued that men in women's sports could actually be a good thing for young girls by teaching them the art of losing gracefully. According to Alyssa Rosenberg, the aim of school athletics is not to teach children the art of achieving excellence but rather to build character, and what better way to build character in a teenage girl than having her experience the frustration of losing that championship title to a biological male? Her argument largely hinges on the unicorn of "sports-crazed parents" who will theoretically use transgender athletes in women's sports as an excuse in the event their daughter loses.

A man is competing in the Ladies Professional Golf Association. Before going any farther with this, I have a major complaint about conservative outlets: they keep referring to people as "transgender." There is no such thing. It's like calling people "unicorns." You can say that Jill Biden is a unicorn, but that doesn't make her one because there is no such thing. When you use the word, you're accepting the delusional premise. There are definitely transvestites, because that refers to a real phenomenon: men who sexually fetishize women's clothing by wearing it. Some are gay men; some aren't — but they are real. However, there is no such thing as crossing over from one sex to another. There is no medical literature supporting this. There are no studies saying, aside from the minute number of people born genetically intersex, that a man can be a woman simply because he wants to be or vice versa. What we call transgenderism is a form of mental illness called dysphoria, and it's identical to the person whose weight is normal but nevertheless insists she is obese.

Another Biological Male Dominates in Women's Sports, This Time It's Women's Golf. In another women's sport, another biological male competes with women. As we saw with Lia Thomas, the transgender who dominated in women's swimming but lost badly in men's swimming, and as we saw with Laurel Hubbard, the transgender who competed in the women's Olympic weight lifting competition. Hubbard lost, but the media turned it into a "historic" achievement because Hubbard became the first transgender to compete in the Olympics. Hubbard won the University of Otago "sportswoman of the year award." Thomas was nominated for NCAA "Woman of the Year." Now, transgender golfer Hailey Davidson is competing at The Ladies Professional Golf Association (LPGA) as the professional women's golf qualifying school tournament is underway. Davidson finished the first round at 2-under, which puts the golfer in a strong position to win. Davidson is competing against 310 biological females.

Federal Judge Blocks Biden Admin's Guidance Allowing Biological Males In Girls' School Bathrooms. A federal judge has temporarily blocked the Biden administration's Title IX guidance on gender identity and sexual orientation. U.S. District Judge Charles Atchley in the Eastern District of Tennessee ruled last week that the administration's guidance misquoted the Supreme Court to equate sex and gender identity, likely violating federal law. The administration's guidance effectively forced states to allow biological males to use girls restrooms, forbade states from barring males from participating in female sports, and forced employers to use employees' preferred pronouns, all at the risk of losing federal funding, according to the state attorneys general who sued the administration. The guidance was released last year by the Education Department and the Equal Employment Opportunity Commission.

Rationalizing Transgender Sports. Much has been said about categorizing transmen as men and transwomen as women for purposes of sport competition. Many oppose this vehemently. Many support this vehemently. Just about any system of categorizing will have some weakness. Hence, the exception to the rule. The idea is to make a system of categorization as solid as possible. My modest proposal is to categorize athletes according to the presence or absence of the Y chromosome. This will assist in making athletic competitions fairer, as in like competing against like. In essence, athletes can be divided into Ys and Y-Nots. Such a system would avoid the current tensions in the Men-Male/Women-Female system.

Federal Judge Blocks Biden Administration's Effort to Allow Males to Compete in Women's Sports. A federal judge has blocked the Biden administration's recent rules giving gays and transgender people extended rights in schools and the workplace because Biden's regulators bypassed a critical requirement of federal law that must be satisfied before issuing such a regulation: giving the public notice of the regulation, time to file comments, and forcing the agency to respond to those comments. U.S. District Judge Charles Atchley Jr. agreed with 20 state attorneys general that the regulations may infringe on states' rights and could be seen as having been improperly drawn. Atchley blocked the implementation of the rules until a lawsuit addressing the changes could be resolved, the Associated Press reported.

Will Transgendered Athletes Now Give Back Their Medals and Titles? A decade or two ago, who would have thought a topic such as this would be newsworthy or relevant? Athletic competitions and sports leagues were always separated by age, gender, weight class, or other physical attributes which could convey an unfair advantage to some athletes, with a goal of creating a "level playing field." Yet here we are today, in the age of wokeness and virtue-signaling, with biologic males, under the guise of transgenderism, competing against biologic females, putting the latter at a huge and often insurmountable disadvantage.

This used to be called bullying.
Trans-Identified Adult Male Takes First Place Against 13-Year-Old Girl in Women's Skateboarding Event. Netizens are expressing outrage after an adult man beat out a 13-year-old girl for first place in a women's skateboarding competition held today [6/25/2022] in New York. Ricci Tres, also known as Ricci And Tres, took top spot in the women's division of The Boardr Open today held in New York City, taking home a $500 prize for a first place win. Tres, a 29-year-old trans-identified male, came in first place against 13-year-old Shiloh Catori. Of the 6 competitors, 4 were under the age of 17, with the youngest being 10-year-old Juri Iikura.

Biden Administration Moves to Expand Title IX to Eliminate Gender-Exclusive College Facilities, Sports Teams. The Biden administration on Tuesday proposed changes to the federal civil-rights statute banning sex discrimination in federally funded education programs, including expanding protections to sexual orientation and gender identity. One proposed change "would make clear that preventing any person from participating in an education program or activity consistent with their gender identity would subject them to more than de minimis harm on the basis of sex and therefore be prohibited, unless otherwise permitted by Title IX or the regulations." If adopted, the rule change would bar universities any other federally funded institutions from maintaining men and women's sports and sex-segregated spaces like locker rooms and dormitories.

US women's soccer legend Megan Rapinoe says she is '100% supportive' of including transgender women in women's sports. US women's soccer hero Megan Rapinoe has come out strongly in favor of including transgender women in women's sport, labelling the arguments against 'cruel and disgusting'. The veteran soccer star, who co-captained the United States Women's National Team in 2019 as they won a second successive World Cup, was dismissive of the notion that trans women are dominating women's sports and thus need regulating. Instead, she argued that excluding them from competing at lower levels is cruel, as people value their 'kid's high school volleyball team' ahead of the lives and wellbeing of transgender people.

This battle is all about creating "rights" which have never existed before.
Title IX's next battle: The rights of transgender athletes. When the gender equity legislation known as Title IX became law in 1972, the politics of transgender sports was not even a blip in the national conversation. Today, it is one of the sharpest dividing points in American culture. As the transformational law heads into its second half-century on the books, the Biden administration wants transgender athletes to enjoy the same protections Title IX originally gave to women when it was passed 50 years ago. That stance is at odds with efforts in states across the country. "We're at a time where Title IX is going to be exploited and celebrated," said Donna de Varona, the Olympic champion swimmer who heads the Women's Sports Policy Working Group, which seeks a "middle way" to be inclusive of transgender athletes while also not "forcing" what it sees as unfair competition.

International Swimming Federation Will Ban Some Biologically Male Athletes from Women's Competitions. The international swimming federation FINA announced a new policy on Sunday to ban biologically male athletes who have gone through male puberty from competing in women's competitions. To qualify for women's competitions, the swimmers must either have never gone through male puberty or had male puberty suppressed at the stage when physical changes begin to appear or before the age of 12, whichever occurred later, according to the policy. The athletes also have to prove that they have continuously suppressed their testosterone levels since that time. "We have to protect the rights of our athletes to compete, but we also have to protect competitive fairness at our events, especially the women's category at FINA competitions," FINA president Husain al-Musallam said in statement. The policy also includes proposals for an additional open competition category. FINA is set to form a new working group that will spend six months studying the most effective ways to set up the new category.

Teammate Says Trans UPenn Swimmer Lia Thomas is 'Mentally Ill'. A teammate of Lia Thomas, the transgender swimmer who upended college swimming last season, says that Thomas is "mentally ill." According to an interview the University of Pennsylvania swimmer anonymously gave to the Washington Examiner, Thomas spent the 2021/22 swimming season refusing to come to terms with the damage he was doing to his "real" female opponents and teammates.

The Editor says...
All transvestites are mentally ill.

Republicans Introduce a Bill That Defines What a Woman Is. Arizona Rep. Debbie Lesko is doing something for women, and not the kind no one can define. The Republican has sponsored a "Women's Bill of Rights" to provide ladies legal protection against gender ideology. "[T]here are important reasons," H.Res.1136 asserts, "to distinguish between the sexes with respect to athletes, prisons, domestic violence shelters, restrooms, and other areas, particularly where biology, safety, and privacy are implicated." The initiative goes so far as to claim it knows what a woman is.

Indiana Lawmakers Override Governor's Veto to Enact Law Banning Males from Girls Sports. GOP lawmakers in Indiana voted Tuesday [5/24/2022] to override a veto by Governor Eric Holcomb (R) and enact a law banning male athletes identifying as female from competing in girls' sports. Indiana joins at least a dozen other U.S. states in enacting similar laws. "State senators voted 32-15 in favor of overriding Gov. Eric Holcomb following the same action in a 67-28 vote by the House earlier in the day," the Associated Press reports. "Holcomb had said in his veto message that bill did not provide a consistent policy for what he called "fairness in K-12 sports" when he unexpectedly vetoed it in March." Dozens of pro-trans activists protested at the state capitol but to no avail.

New South Carolina law bans biological males from women's sports. Gov. Henry McMaster (R-SC) signed a bill that bans biological males from participating in women's sports into law. The Save Women's Sports Act was passed by the South Carolina General Assembly on May 10 and signed by McMaster on Monday [5/16/2022]. The law seeks to "ensure that fair opportunities are preserved for all children to compete in sports" based on "a student's biological sex on the student's official birth certificate." "Athletic teams or sports designated for males, men, or boys shall not be open to students of the female sex, unless no team designated for females in that sport is offered at the school in which the student is enrolled," the bill reads. "Athletic teams or sports designated for females, women, or girls shall not be open to students of the male sex."

World Swimming Coaches Association Announces Stance on Transgender Athletes. On Friday, the World Swimming Coaches Association (WSCA) released its official position on transgender athletes. This comes after biological male swimmer Will "Lia" Thomas made headlines for competing on the women's swim team at University of Pennsylvania after competing on the men's team for three consecutive years. At the NCAA women's swimming championships in March, Thomas came in first place in a race against female swimmers, as Townhall covered. The WSCA's position is that the "grounds of fairness" in swimming cannot be maintained with the inclusion of transgender athletes in women's sports. This was published in a lengthy statement on the organization's website.

Don Quixote and the Trans Madness. The Spanish novel, written by Miguel de Cervantes, El ingenioso hidalgo don Quixote de la Mancha, is often credited as the first modern novel in Western literature. [...] In short, Alonso Quixano is delusional, and, in throes of his madness, he is bent on imposing his own self-perception upon the world around him. [...] Alonso Quixano imagines himself to be the wealthy and revered Don Quixote, and he makes efforts to look, dress, speak, and act in a manner that the society around him would recognize as authentic. Similarly, a perfectly average male collegiate varsity athlete named Will Thomas of the University of Pennsylvania imagines himself to be a woman named Lia Thomas, making some efforts to look, dress, speak, and act as the society around him would expect of an authentic woman. Both fail at that task in the eyes of the audience and onlookers, of course, and both appear as caricatures rather than authentic. But both have people around them that find the delusion fascinating, and who are eager to take part.

LGBTQ+: Leftism's corruption of God's sacred gift to humankind. In other news, one Lia Thomas, a twenty-two-year-old man masquerading as a woman, finished first in a freestyle swim race. This unsurprising result seems readily explained as deriving from Thomas's masculine physique, easily outclassing the feminine physiques of the other competitors. The only thing actually surprising is that a substantial number of officials and observers see this outcome as the result of anything other than overt, deliberate fraud. Or maybe, in this current age of sexual confusion, it's not so surprising anymore.

Oklahoma Governor Signs Bill Barring Male Students from Girls' Sports. Oklahoma governor Kevin Stitt signed legislation that bans transgender athletes from participation in girls' high school or college sports on Wednesday [3/30/2022]. The Save Women's Sports Act passed the Oklahoma House by a 79-18 vote last week, and was subsequently approved by the state Senate. "This bill... to us in Oklahoma is just common sense," Stitt, a Republican who is running for reelection this year, said at the signing. "When it comes to sports and athletics, girls should compete against girls. Boys should compete against boys. And let's be very clear: That's all this bill says."

Utah legislature overrides veto of transgender sports bill. The Utah State Legislature has voted to override the governor's veto of the bill banning transgender children from participating in school sports. The House voted 56-18, while the Senate voted 21-8 for House Bill 11 on Friday, overturning the governor's veto of the bill. It came after some passionate debate in both chambers. Outside the Utah State Capitol, people for and against the bill demonstrated at times shouting over each other "trans rights" and "girls rights." "It preserves the integrity of women's sports," said Rep. Kera Birkeland, R-Morgan, who sponsored HB11. The bill, which was amended in the final hours of the legislative session, now bans transgender children from middle and high school sports. In the event of a lawsuit, however, the bill defaults to a special commission that would evaluate transgender children's eligibility to play a sport that matches their gender identity.

The Editor says...
"In the event of a lawsuit," they say. That's amusing. Of course there will be a lawsuit.

Arizona, Oklahoma pass bills banning transgender youth in girls' sports. Arizona and Oklahoma passed bills on Thursday that would ban transgender youth from participating in girls' sports, the latest in a flurry of state legislation passed by Republicans on the hot-button, election year issue. In addition to the Republican-sponsored "Save Women's Sports Act," Arizona lawmakers passed legislation that would prohibit physicians from providing gender-affirming surgery to minors. Both bills are now headed to the desk of Governor Doug Ducey, also a Republican. The votes largely fell along party lines.

Call Him William Thomas. [Scroll down] You'll know exactly how we got here by how every mainstream media outlet, even the ones that feign rage, has reported on the man who, pretending to be a woman, has secured a position in the NCAA Women's swimming finals this year. That man's name is William Thomas. He was ranked in the mid-500s when he competed as a man — after being recruited as a man to swim for the University of Pennsylvania. Naturally now, he ranks first among women. But even as, say, Fox News (with the exception of Tucker Carlson), makes noise in opposition to the unfairness of it all, even as they opine the physiological differences between men and women, they call him "Lia Thomas." They call him "her." They bring on Bruce Jenner and call him Caitlyn and nod enthusiastically as he, too, says this is a bridge too far. If sex differences matter, they matter. If they don't, they don't. Actions speak louder than words: by conforming to the delusion of transgenderism by any degree, the issue is lost completely.

4 Reasons Why Lia Thomas Is Not the New Jackie Robinson. In an op-ed piece for NBC News, Cheryl Cooky, professor of American studies and women's, gender and sexuality studies at Purdue University, likened "Lia" Thomas (formerly Will) to Jackie Robinson. Nothing could be further from the truth. In fact, Prof. Cooky's editorial is a slap in the face to female athletes and an insult to the legacy of Jackie Robinson, who courageously broke the color line in professional sports. Yet, according to Cooky, and with reference to Thomas's blow-out victory in a national swimming competition last week, "For anyone who cares about the advancement of sports, and women's sports in particular, her win should be celebrated." To repeat: nothing could be further from the truth. To the contrary, and in the words of Haley Tanne, a female, college athlete (herself a runner), "My teammates and I are watching our records, our scholarships and our competitive opportunities slip away... wondering if anyone in authority is going to have the courage to step up and save women's sports." This is a travesty, and it must be stopped.

Men Now Dominate Women's Sports. Last week University of Pennsylvania swimmer Lia Thomas, formerly William Thomas, became the first transgender athlete to win the NCAA title in the women's 500-yard freestyle. During the award ceremony, Thomas towered over the biologically female runner-ups, including University of Virginia's Emma Weyant, a silver medallist at the Tokyo Olympics who finished 1.75 seconds behind Thomas. [Podcast]

Lia Thomas saga highlights instances of biological men winning women's sports. University of Pennsylvania swimmer Lia Thomas is only the most recent and most visible example of biological men competing and winning against female athletes, with examples now dating back several years. Thomas, who is biologically male, finished first in the women's 500-yard freestyle event at the NCAA championships last week over three swimmers who had each won silver medals at the last Olympics. The result capped the collegiate swimming season with a shadow of controversy while providing the most high-profile image of a biologically male transgender athlete competing in women's sports.

DeSantis Dismisses Lia Thomas, Declares NCAA Women's Swimming Event Winner the Second Place Finisher. Many may have to play along with declaring Lia Thomas as one of the greatest female athletes of all time, but everyone else lives on planet Earth where dogs bark, the sky is blue, and men can't suddenly be women because they said they were. Thomas is definitely a man and there's no escaping that fact. It's why when he was declared the winner of the NCAA women's swimming championship, many people immediately rejected his first-place victory and focused on the girls who finished below him. In one stunning moment, the girls did the same. [Tweet]

DeSantis Turns the Tables on the Gender-Bending NCAA Women's Swimming Wokesters. We've got quite a post-modernist culture war on our hands over transgender issues. Former Navy SEAL and Florida Gov. Ron DeSantis just went kinetic with fiery remarks about the NCAA. On Tuesday, DeSantis issued a proclamation announcing that native Sarasota, Fla., athlete Emma Weyant, who swims for the University of Virginia, logged "the fastest time among all women swimmers" at the NCAA championship in the NCAA Division I final over the weekend. He accused the NCAA of "destroying opportunities for women" and perpetuating "a fraud on the public," and berated them for "putting ideology ahead of opportunity for women athletes."

GOP Indiana governor vetoes transgender girls sports ban. Indiana's governor on Monday vetoed a bill banning transgender females from participating in girls school sports. Opponents of the transgender sports bill argued it was a bigoted response to a problem that doesn't exist, with the American Civil Liberties Union of Indiana saying it planned a lawsuit against what it called "hateful legislation." Republican sponsors of the bill said it was needed to protect the integrity of female sports and opportunities for girls to gain college athletic scholarship but pointed out no instances in the state of girls being outperformed by transgender athletes. Republican Gov. Eric Holcomb signaled support for the bill last month but said in his veto letter that the legislation "falls short" of providing a consistent statewide policy for what he called "fairness in K-12 sports."

Social Media Users Congratulate Emma Weyant for Winning 'First' Instead of Lia Thomas. University of Virginia swimmer Emma Weyant won second place in the women's 500-yard freestyle championships, losing to a man, Lia Thomas. Many viewers took to social media to congratulate Weyant for actually winning first place. A tweet by the University of Virginia (UVA) Swimming and Dive account, which congratulated Weyant — who attends UVA — for winning second place, "with the third-fastest time in UVA history." Weyant also won a silver medal in last year's Summer Olympics.

Congratulations to Emma Weyant, the real woman who won the NCAA 500-yard freestyle event. Until sanity is restored in our country, records will show that Lia Thomas was the winner of the 2022 women's NCAA 500-yard freestyle event. However, we all know the story behind Thomas by now. Lia is not a woman, but a man identifying as a woman. Anyone interested in the sanctity of competition, biological integrity, and saving women's sports, should celebrate Emma Weyant, the actual woman who won the 2022 women's NCAA 500-yard freestyle event on Thursday night. The records will show that Weyant finished in second place behind Thomas. But Weyant is the actual she who should be recognized as champion. Thomas's victory represents everything that detractors feared would happen in the national championships: that females would not be able to compete against a man claiming to be a woman.

Rep. Vicky Hartzler's account locked for tweet criticizing transgender athletes in women's sports. Rep. Vicky Hartzler, Missouri Republican, was locked out of her Senate campaign account for a tweet declaring that "men pretending to be women" don't belong in female sports. Hartzler campaign manager Michael Hafner posted a shot Monday of the Twitter message saying that his boss' account had been "locked for violating the Twitter Rules," specifically for violating prohibitions on "hateful conduct." Her tweet said: "Women's Sports are for Women, not men pretending to be women."

UPenn, Philly DA ignore complaints about Lia Thomas's male nudity in women's locker room. Imagine you are a parent to a female college student-athlete. Now, imagine, what would you do if your daughter told you that someone who was a man and still had male genitalia was frequently naked in front of your daughter every day after practice. How would you feel as a parent? That is a current predicament at the University of Pennsylvania. A letter was sent to city and school authorities addressing the vast concerns over the situation. It appears to have been ignored by all those addressed in the letter.

Lia Thomas is a bad man. I don't hate Lia Thomas because she's a transsexual; I hate her because she's a cheat. At the Ivy League Championship Swim Meet last weekend, Thomas easily won four events, setting pool and league records. She may be the most-improved swimmer in history. She was ranked 462nd in the country a few years ago, and is now ranked Number 1. The difference is not that her swim times have gotten better. It's that her competition has gotten worse. Her Number 462 ranking was against men, while her Number 1 ranking is against women.

The Editor says...
I don't hate Will Thomas. He is obviously a confused young man. But he should keep that confusion to himself, instead of using it as a weapon.

Dude Looks Like a Lady — Ivy League Swimming Style. Rock group Aerosmith released a song in 1987 entitled, "Dude looks like a lady" about a man with an effeminate appearance who could be mistaken for a woman. Today the inverse is playing out in the athletic world, where a lady who looks like a dude — a male who has transitioned to a female as much as basic biology permits — is making a mockery of women's sports. I speak of Lia Thomas, a transgender University of Pennsylvania swimmer who last week, "Dominates 200 yard freestyle at Ivy League swimming championships and sets a new tournament record." But Lia wasn't always a woman swimmer. In fact, not too long ago she was a dude, but she looks more like a lady these days, yet she still swims like a dude, and that is where the problem lies.

Lia Thomas Has Exposed The Fallacy Of The LGBTQ Narrative. Guys competing in girls' sports is becoming a real thing. Lia Thomas is all over the news these days. [...] Lia is the male swimmer on the University of Pennsylvania women's swim team, who stuffs his man parts into a girl's Speedo, and struts out onto the pool deck — while the crowd is expected to pretend as if it's all perfectly normal. Never mind that as a male swimmer he was mediocre at best. On the female team, he's the star — both of the media and the statisticians. He's in the news, and he's breaking all of the collegiate swim records — for women. It seems sex is no longer defined by anatomy or genetics. It is defined by wishful thinking. Of course, wishful thinking is the definition of fantasy, not reality.

16 Penn Swimmers Say Trans Teammate Lia Thomas Should Not Compete. Is the dam finally breaking on maintaining the fantasy that trans women do not have an inherent advantage over biological females in competitive sports? Sixteen members of the University of Pennsylvania women's swim team sent a letter to the school and to the Ivy League, asking them not to take legal action that would challenge the new NCAA rules for transgender athletes to compete. The new rules would make it very difficult for their trans teammate, Lia Thomas, to compete as a female. The 16 swimmers — out of 39 on the team — are asking that Thomas be sidelined.

The Editor says...
It is impossible to "transition" from a man to a woman or vice versa. The DNA in every cell in your body shows you're male or you're female — permanently. But today's college students have been indoctrinated for years already, and badly mis-informed about homosexuality, individual expression, and "inclusion." You can't have it both ways: You can't insist that it's okay for a male transvestite to claim he's a woman, and then be offended when he shows up in the women's locker room — or restroom, or dormitory, or anywhere else. This can of worms will remain open indefinitely, so now you have to decide if swimming is really that important to you. Or, for that matter, a college degree.

I Will Stop Crying Out When the Transanity Stops. One of my colleagues has been combating LGBTQ extremism for several decades, working tirelessly for almost no money, and with constant vilification as his main reward. I asked him one day on the air, "Why don't you just stop?" He answered, "I'll stop when they stop." That is exactly how I feel. When I no longer have to read headlines like this, I'll stop: "'We're uncomfortable in our own locker room.' Lia Thomas' UPenn [female] teammate tells how the trans swimmer doesn't always cover up her male genitals when changing and their concerns go ignored by their coach." Seriously? Her male genitals? What kind of madness is this? And the fact that a biological male with male plumbing (who, by the way, is attracted to females), shares a locker room with women — where they disrobe and shower — is absolute insanity, not to mention terribly unfair. In fact, it is outright abusive.

Female Swimmers Complain Trans Teammate Lia Thomas Exposes Male Body Parts in Locker Room. There are plenty of legitimate objections raised against allowing transitioning transgender athletes to compete as a gender other than the one they were assigned at birth. But it's the practical objections that resonate the most with the rest of us. And for those objections, trans activists have no good answers. One such practical objection is the locker room situation. Anyone who has ever competed in any sport — either as an individual or as a member of a team — knows that segregating the sexes in a locker room is necessary to maintain a comfort level for everyone. And comfort is vitally necessary to aid in creating an atmosphere that allows for peak performance from an athlete. But what if a transitioning male athlete is allowed to walk around naked in a locker room full of women? That's the situation that is facing members of the University of Pennsylvania women's swim team who are forced to share a locker room with transitioning male Lia Thomas.

Lia-bility Issues and the Dictatorship of the Subjunctive Mood. "Penn swimmer Lia Thomas came away with wins in the 100 meter and 200-meter freestyle races against Harvard on Saturday," Fox News reported last week. [...] Based on the new NCAA policy, "there is nothing that would preclude Lia from racing in March at the NCAA Championships." Michael Phelps, who won 13 individual Olympic gold medals, has problems with the policy. "I believe that we all should feel comfortable with who we are in our own skin, but I think sports should all be played on an even playing field," Phelps told reporters. "I don't know what it looks like in the future. It's hard. It's very complicated and this is my sport, this has been my sport my whole entire career, and honestly the one thing I would love is everybody being able to compete on an even playing field." The Olympic champion might rethink the "very complicated" part. The pool is already perfectly level, and the disparity belongs to Thomas. This swimmer transitioned from the Penn men's team to the women's team, where Thomas now demolishes the competition. That could send a signal to other athletes.

Lia Thomas' UPenn teammate tells how the trans swimmer doesn't always cover up her male genitals when changing. Sharing a locker room with transgender swimmer Lia Thomas has become a point of contention for some of her University of Pennsylvania teammates, who feel uncomfortable changing in the private space with someone undergoing gender transition, the DailyMail.com can reveal. 'It's definitely awkward because Lia still has male body parts and is still attracted to women,' one swimmer on the team told DailyMail.com in an exclusive interview. Lia has told her teammates that she dates women.

The Editor says...
Fifty years ago, a man caught in the women's locker room would have been immediately expelled from any university in the U.S. Five years ago, what newspaper editor would have permitted the phrase, cover up her male genitals? Wake up, fools! It's a man! This problem will persist until you get rid of the people who caused it.

Maybe that's because he's a man.
Teammates say they are uncomfortable changing in locker room with trans UPenn swimmer Lia Thomas. A member of the University of Pennsylvania women's swim team said some team members are uncomfortable changing in the locker room with transgender swimmer Lia Thomas, according to a teammate. Thomas, 22, who spent the previous three years swimming with the men's team before she began transitioning to a woman, has created an uneasy environment in the locker room, as she still retains her biologically male genitalia — which are sometimes exposed — and is attracted to women, one teammate told the Daily Mail in an interview.

The girl is a man. Our insane world has hit woke bottom. This is from Fox News: ["]Penn swimmer Lia Thomas came away with wins in the 100 meter and 200-meter freestyle races against Harvard on Saturday. The victories came days after the NCAA updated its policy for transgender participation and how it will be determined on a sport-by-sport basis.["] What did Thomas do? He, and he is a he, shattered women's records. Who knows what women were denied scholarships because of this? The answer is for men to compete with men and women with women. It's not discrimination. It's common sense.

NCAA changes transgender athlete participation policy amid calls for reevaluation. The NCAA changed its policy regarding transgender athletes, it announced Wednesday. The new approach to allowing transgender athletes will follow a sport-by-sport model similarly adopted by the U.S. and international Olympic committees, Sports Illustrated reported. The NCAA said if there was no international federation policy then the "previously established IOC policy criteria would be followed." "We are steadfast in our support of transgender student-athletes and the fostering of fairness across college sports," John DeGioia, Georgetown University's president and the NCAA board's chairman, said in a statement Wednesday, announcing the change.

Lia Thomas Is Guilty of Institutional Cheating and Gender Eugenics. You were born a biological male. You have XY chromosomes that irrevocably designate your sex as male. You began to identify as either non-binary or female around two years ago. You are currently a member of the University of Pennsylvania's women's swim team where you recently were victorious against Cornell University women's team. As a transwoman with the physical advantages of still being a biological male, you have broken several of the University of Pennsylvania's women's swim records. In your 1,650-meter freestyle win, you beat second-place finisher and teammate Anna Kalandadze by 38 seconds. Because of you, women such as Kalandadze who held records no longer hold them. You, as a biological male, have unfairly stripped them of their hard-fought honors.

USA Swimming official who resigned over trans swimmer Lia Thomas says athlete is 'destroying women's swimming'. A USA Swimming official who resigned in protest of transgender swimmer Lia Thomas told Fox News on Monday that she can't stand by and watch as girls are "thrown under the bus" by "biological" male competitors. Cynthia Millen stepped down last week after officiating USA Swimming meets for over three decades. Her decision came days before the U.S. Paralympics Swimming National Championships in Greensboro, N.C. "The fact is that swimming is a sport in which bodies compete against bodies. Identities do not compete against identities," Millen said in an appearance on "Tucker Carlson Tonight." "Men are different from women, men swimmers are different from women, and they will always be faster than women."

It's Time to Stop Denying Reality About Transgender Athletes. A transgender athlete, Lia Thomas, dominated during a Nov. 20 women's swim meet with athletes representing Cornell, Princeton, and the University of Pennsylvania. [...] Just a few weeks after Thomas trounced biologically female teammates, President Joe Biden's Department of Education announced plans to amend Title IX regulations to conform to the president's executive order on what it calls "Preventing and Combating Discrimination on the Basis of Gender Identity or Sexual Orientation." Such amendments by the Education Department would allow biological males to compete against women in the name of "equality" and "preventing discrimination." But the truth is, these amendments would contradict reality, equality, and popular opinion. Hormone levels alone don't make someone a woman. And no amount of cross-sex hormones can undo the biological benefits of male genetics and development.

Kristi Noem Advances Bill Requiring Trans Athletes to Compete According to Their Birth Gender. South Dakota Gov. Kristi Noem (R) has advanced a bill in the state legislature that would codify her executive orders limiting transgender athletes to competing only in categories that correspond to their birth gender. Noem filed the bill on Tuesday to limit K-12 girl's school sports and state-funded colleges to allowing only natural-born girls to compete in girl's categories, according to the Argus Leader. The governor issued her two executive orders in March after the legislature rejected her revisions of House Bill 1217.

The Real War on Women is From the Left. Remember how the left not long ago went on and on and on about the supposed "war on women" from the right? The irony is that according to current leftist dogma, women no longer exist. After all, the Biden Administration's Department of Health and Human Services is insisting in referring to mothers (once understood as a significant subset of beings known as "women") as "birthing persons," because current leftist dogma says men can have babies, too. Which means women no long have anything naturally distinctive about them. [...] Which brings me back to the story I've commented on before of Lia Thomas, the "woman" swimmer at the University of Pennsylvania who is shattering women's swim records after having competed for three years as an average male swimmer for Penn.

Men Make the Best Women. There is no difference between men and women, we're told by leftist activists, none whatsoever. We're also told by these same people that there's nothing a man can do better than a woman, [...] We've all heard about the high school sprinters who were not very good as boys, but mopped up the track when they started competing as girls. I couldn't care less how someone chooses to live in their personal life, my problem with the idea of "trans" is when I'm forced to deny reality to make someone else feel comfortable. If you're a man and you want to wear a dress and be called Betty, I'll call you Betty. But if you want me to pretend you can get pregnant or have to worry about cervical cancer, you've lost me. In the UK, they are spending good money reminding women to get screened for prostate cancer and other absurd things that simply are not real. Forcing me to pretend they are is when you lose me, and you're not getting me back.

Why I'm celebrating news that a man is breaking women's swimming records. Will Thomas is a strapping 22-year-old man who swam competitively at the University of Pennsylvania for three years. This year, though, Will announced that he's a woman named "Lia" and, thanks to Biden's executive orders regarding so-called "gender identity," got a place on UPenn's women's swim team where, to no one's surprise, he swam faster than the women. Frankly, I think it's wonderful. That's not because I've gone woke; it's because this is so blatantly unfair to women, and Will is so obviously a man, that Americans are finally saying that the emperor is wearing the wrong dress. I will never, absolutely never, use female pronouns for a man who claims to be "transgender." He is either mentally ill, which is sad, but does not make him a woman, or he's a sleazy, skeezy opportunist. It's amazing how many of these so-called "transgender" men who suddenly get to compete in women's sports and use women's locker rooms and restrooms (and women's prisons), have kept their original biological equipment and are "lesbians," rather than real women who like men. Let me say this as clearly as possible: There is no such thing as "transgenderism."

Boys Replacing Girls in Sports — Feminists Yawn. Women's sports are again under attack. Decades ago, it was due to tradition and patriarchy, with funding and attention lavished primarily on men's sports. Title IX came in 1972, leveling the playing field. At the time, there were just over 300,000 women and girls participating in high school and college sports. Female athletes only received 2 percent of college athletic budgets and few if any women received athletic scholarships. Forty years later in 2012, great progress was made with 3 million girls participating in high school sports and 190,000 in college sports, a sixfold increase since 1972. But instead of continued progress, our new woke culture is turning back the clock on women's sports, all in the name of equity, tolerance, and diversity, setting female athletes back decades.

Male Swimmer Dominates UPenn's Women's Swim Team. Will Thomas was a moderately successful swimmer on the University of Pennsylvania's men's swim team for three years. But then he took a year off, reemerged as transgender, and started dominating the women's swim team.

The 'Equality' blues: Feminists cry foul when boys' netball team wins girls' tournament. The Queensland Suns won the Nissan State under-18 netball tournament last month, and the wrath of many, by easily defeating seven other teams. The issue? The Suns are sons — not daughters like the rest of their competitors. Netball is a variation on basketball played in many Commonwealth countries. The game also apparently doesn't have many male competitors in Australia, which is why the Suns were allowed to compete with the lasses. As Netball Queensland, the organization running the Nissan tournament, stated, it was choosing "inclusion over exclusion."

Texas Senate Passes Bill Requiring Athletes To Compete On Team That Matches Birth Gender. The Texas Senate passed a bill on Friday night [10/15/2021] that requires student athletes to play on sports teams that match their birth gender and not the gender with which they identify. "The legislation is primed to become law after the state Senate voted 19-12 on Friday to pass House Bill 25, authored by state Rep. Valoree Swanson, R-Spring," The Texas Tribune reported. "The Senate floor vote followed a swiftly held committee meeting where a 24-hour notice rule was suspended and the Senate's Health and Human Services Committee voted to advance the legislation. Under HB 25, students would only be permitted to compete on sports teams that correspond to the gender listed on their birth certificate that was assigned at or near the time of birth." The Texas House must now approve an amendment that the Senate added before it heads to Governor Greg Abbott's desk.

Texas House Passes Bill Banning Students from Competing against Opposite Sex in Sports. The Texas House of Representatives passed a bill on Friday [10/15/2021] mandating that transgender athletes participate in school sports teams corresponding to the biological sex listed on their birth certificate. The bill passed 76 [to] 54 after failing to advance on three previous attempts, and will now be sent to the state Senate for deliberation. Representative Valoree Swanson, the bill's sponsor, said it would protect women and girls from unfair competition.

Christian Schools Join Fight To Protect Female Athletes From Transgender Competitors. A coalition of Christian schools and female athletes are fighting back against President Joe Biden's efforts to redefine sex to be based on "gender identity," not biological sex. If successful, female athletes would have to compete in sporting events against biological men who "identify" as women and force them to share private spaces such as bathrooms and locker rooms. The Alliance Defending Freedom (ADF), a nonprofit Christian legal organization, filed a motion on Monday asking a federal district court to allow the Association of Christian Schools International and three female athletes in Arkansas to intervene in the case, State of Tennessee v. United States Department of Education.

Piers Morgan: Transgenders in women's MMA will get someone killed. It's no longer a surprise when Piers Morgan weighs in on hot-button cultural issues in favor of the conservatives, as he does today in the question of transgender access to women's sports. Today, he writes in the Daily Mail that such crossovers in MMA are likely to get someone killed, and uses one bout this weekend as a prime example: [...] Morgan makes his pitch against transgenders in women's sports on a broader basis than safety. It's not only "incredibly dangerous" in the context of MMA, but also unfair and unequal for all women forced to compete with biological males.

Leftists cheer as a violent man assaults a woman. Mixed Martial Arts took a serious hit the other day when the sport allowed a man to beat a woman brutally and then claim a victory for having done so. ESPN, others in the leftist establishment, and the Combate Global competition were all incredibly excited about this violent, misogynistic event. Worse, the man had trained for years in the United States Army's Special Forces. Why was this all condoned, indeed, applauded? Because the man suffers from body dysphoria which has led him to believe that he's a woman. I feel sorry for him but — and this is the important point — he's not a woman and it's a travesty that people pretend he is.

Transgender MMA fighter who used to be in US Army special forces wins debut — reigniting debate over trans women in sports. The second openly transgender MMA fighter in the US has won her debut match — reigniting the debate over trans women in sports. Alana McLaughlin, 38, won her first professional fight in the Combate Global prelims Friday against Celine Provost, ending the match with a rear-naked choke 3 minutes and 32 seconds into the second round. McLaughlin, from South Carolina, began her transition in 2010 after spending six years in the US Army special forces.

Reporter Asks Women Weight Lifters About Trans Competitor, Room Goes Completely Silent. During their press conference after medaling in the women's +87 kg weightlifting competition, the three medalists gave a very telling reaction when a reporter asked them about the "historic" participation of transgender weightlifter Laurel Hubbard, a biological male.

If They Can Make You Believe a Big Strong Man Belongs in the Women's Division, They Can Make You Believe Anything. Today, Monday, August 2, 2021, a big strong man bombed out of the superheavyweight class of the Women's division of the 2020 Olympic Games in Tokyo. Read that sentence again: We are living in a post-truth society. The best that can be done with it is to finely hone your cynicism, question everything you are told, and learn to appreciate dark humor. Gavin Hubbard is 6'1" at 285 pounds. He was most assuredly born a physical male and competed somewhat successfully in the Men's Division of Olympic weightlifting up until 2001. Psychological issues caused him to reevaluate his gender identity, previously based on his physical sex, and he was reportedly "surgically re-assigned" in 2012 to reflect his commitment to his new gender identification as "Laurel." All of this is entirely his own personal business and has nothing to do with the rest of humanity. If a guy wants to castrate himself and have cosmetic surgery, he should have the freedom to do so. But being born a male — having developed in utero under male levels of testosterone exposure — makes you forever and always different from having been born a female, whose congenital development took place without testosterone at those levels.

Olympic Medical and Science Official Says "Everyone Agrees" That Trans Women Are Real Women. International Olympic Committee (IOC) Medical and Science Director Dr. Richard Budgett recently made some eyebrow raising comments when he claimed that "everyone agrees" that trans women are real women. The comment came during a press conference on Friday [7/29/2021] when Budgett was praising male-turned-female New Zealand trans weightlifter Laurel Hubbard for their "courage and tenacity." "To put it in a nutshell, the IOC had a scientific consensus back in 2015," Budgett explained as he came up with an excuse for the IOC's decision to let a man compete with women. "There are no IOC rules or regulations around transgender participation. That depends on each international federation."

We Are Doctors. Here's the Truth About Transgender Females' Bodies and Athleticism. The International Olympic Committee ruled in 2015 that transgender athletes "who transition from male to female are eligible to compete in the female category" so long as their testosterone level has been below a certain threshold for at least 12 months. At least two recent peer-reviewed studies challenge this rule. One published in the journal Sports Medicine found "the muscular advantage enjoyed by transgender women [men on estrogen] is only minimally reduced when testosterone is suppressed" for 12 months. A second review article found the male strength advantage to remain even after three years of testosterone suppression. Even if the strength advantage could be eliminated, however, to reduce the definition of female human being to having a certain level of testosterone in your body for a certain amount of time completely ignores the scientific reality that genetics — not testosterone — is at the root of all that makes the two sexes different. When males are allowed to compete in athletic leagues designed for females, they deprive female athletes of the opportunity to safe and fair participation in sports. As Vanbellinghen said, "Life-changing opportunities are missed for some athletes — medals and Olympic qualifications — and we are powerless."

Judge blocks West Virginia law banning transgender students from girls sports. A federal judge blocked a West Virginia law banning transgender athletes from competing in girls sports, saying the legislation likely runs afoul of the Constitution. Judge Joseph R. Goodwin, a Clinton appointee, said if West Virginia wants to treat people differently, there must be a compelling reason to do so. "I have been provided with scant evidence that this law addresses any problem at all, let alone an important problem," the judge wrote in a 15-page opinion.

Biden administration 'erasing the borders' of biological sex, women's sports activist says. The first half of 2021 has been marked by a series of fierce cultural and legal battles over policies relating to transgender athletes participating in girls' and women's sports. More battles loom as the Biden administration and some states take significantly divergent positions on the hot button issue. One of the first actions President Joe Biden took following his inauguration was to sign an executive order preventing discrimination against people based on gender identity, which said children "should be able to learn without worrying about whether they will be denied access to the restroom, the locker room, or school sports." Opponents — including leaders in states such as Florida, Tennessee, and Idaho, and activists including Beth Stelzer — insist that female-identifying biological males playing against women is unfair to biological females.

The Problems with Laurel Hubbard's Qualifying for the Olympics as a Woman. Weightlifting has always been an Olympic sport, practiced in Ancient Greece. At the modern revival of the Olympics in 1896, and for the next 100 years, only men were allowed to compete. But since the Sydney Games of 2000, there have been women's events too, in weight categories like the men's events. Equity of the sexes is important to the Olympic movement nowadays. The International Olympic Committee (IOC) says that inclusion is important, too. To that end, it has decreed that males who feel themselves to be women may compete in the women's events. The only stipulation, besides declaring their commitment to their desired "gender," is that such athletes take a pill daily to lower their testosterone to below 10 nanomoles/Liter (nmol/L). The typical female testosterone range is below 1 nmol/L. So, we have Laurel Hubbard, born male 43 years ago, and now presenting as part of the New Zealand women's weightlifting team for Tokyo 2020, to be held this summer.

Laurel Hubbard is the beginning of the end of Women's sports. The decision to allow Laurel Hubbard, a 43-year-old weightlifter who transitioned from male to trans woman in 2012, to compete in the forthcoming Olympic Games against female competitors is the beginning of the end of women's sport. Why does women's sport exist at all? Because biology in sport matters. Separate categories give females equal opportunities of sporting success. Australian Weightlifting Federation's chief executive, Michael Keelan has spoken out about how unfair Hubbard's inclusion is to female competitors. We all know it is unfair, even those speaking out in support of Hubbard's inclusion in the Olympics — they just don't care about women.

Cece Telfer, Champion Transgender Hurdler, Ruled Ineligible For US Olympic Trials. Cece Telfer, a transgender woman who won an NCAA Division II championship in 2019, was ruled ineligible Wednesday [6/23/2021] to compete in the U.S. Olympic trials. USA Track and Field (USATF) said in a statement Telfer failed to meet the World Athletic requirements to be eligible for trials. She had initially been on the list for Friday's opening heats but an updated list Wednesday did not include her name. World Athletics' guidelines, released in 2019, stated that female athletes' testosterone levels were at 5 nanomoles per liter or more were barred from events between distances of 400 meters and a mile. Telfer was readying to compete in the women's 400-meter hurdles at Olympic trials.

The Editor says...
A man who wears women's clothing is not a champion. A man with low testosterone levels is still a man.

Women's Olympic Weightlifters Should Take a Knee if Trans Athletes Are Allowed to Compete. The International Olympic Committee has laid the groundwork for the destruction of the women's divisions in Olympic sports by permitting New Zealand to enter a congenital male in the women's division of Olympic weightlifting in the upcoming Tokyo Olympics. And as odd as this sounds, the only way to save women's sports is for the female competitors to boycott the event in its entirety. [...] It is why we have men's and women's divisions in all sports, with no sport allowing direct competition between men and women. It has been apparent throughout human history that the sexes are different in terms of physical capacity, that this is true from birth, and I shouldn't have to point this out to anybody.

I Am Woman, Hear Me Roar, Just not at the Olympics. Helen Reddy sang a Grammy Award-winning hit in 1972 called "I Am Woman," an ode to the newly blossomed feminist movement. [...] Remember a time when major sporting competitions, like the Olympic Games, separated men from women, perhaps not in the Olympic Village, but on the track, in the pool, and in the gym. One time, this was commonsensical as men and women differ greatly in terms of size, strength, and power due to a hormone called testosterone, abundant in growing boys, but not so in girls, leading to higher bone density, larger muscle mass, and more efficient power generation. In last week's Olympic Trials, these differences were quite evident.

NFL legend Brett Favre blasts transgender Olympian as 'unfair': 'It's a man competing as a woman'. Former NFL quarterback Brett Favre built a legendary career out of being on target when it counted. But he was never more on target than when he nailed the issue of transgender "women" competing against true females on the biggest stages in sports. Liberals are going to hate it, but no sane, honest person — man or woman — could disagree. "It's a man competing as a woman," Favre said with characteristic bluntness. "That's unfair." The issue arose during Tuesday's [6/22/2021] episode of Favre's podcast "Bolling with Favre," co-hosted by former Fox News personality Eric Bolling.

New Zealand weightlifter to become first trans athlete to compete in Olympics. A New Zealand woman has become the first transgender athlete to be selected to compete in the Olympics — a decision that is expected to launch debate about gender identity in sports. Weightlifter Laurel Hubbard, 43, who was born male but transitioned to female, was picked to participate in the upcoming summer games in Tokyo, New Zealand Olympic Committee chief Kereyn Smith said in a Monday [6/21/2021] statement. "We acknowledge that gender identity in sport is a highly sensitive and complex issue requiring a balance between human rights and fairness on the field of play," Smith said in a statement. "As the New Zealand team, we have a strong culture of manaaki (caring) and inclusion and respect for all."

Law banning trans athletes from women's sports unconstitutional: DOJ. The Department of Justice is mounting a case arguing that laws in West Virginia and Arkansas that bar transgender athletes from competing in women's sports are unconstitutional, despite the overwhelming majority of Americans supporting biological gender segregation in sports, according to a report citing court papers. "The United States has a significant interest in ensuring that all students, including students who are transgender, can participate in an educational environment free of unlawful discrimination," the DOJ said in court documents filed in a West Virginia court case Thursday [6/17/2021], according to a report by the Daily Mail. The DOJ asked a judge to overturn the West Virginia rule — signed into law by Republican Gov. Jim Justice in April — which blocks transgender athletes from playing in women's sports from middle school through college, the outlet reported.

San Francisco Giants Become First MLB Team to Wear Pride-Themed Uniforms. The San Francisco Giants told fans Tuesday that the team will add gay pride colors to its hats and uniforms in recognition of Gay Pride Month. "The 11 colors of the new Pride logo are emblematic of the Progress Pride Flag and signify inclusion and progression with the six pride colors," the team said in a statement, "red (life); orange (healing); yellow (sunlight); green (nature); blue (serenity); purple (spirit); and black and brown to recognize LGBTQ+ people of color and light blue, pink and white to recognize people who are transgender."

Our Increasingly Unrecognizable Civilization. Over the same period as the pandemic lockdowns, we have seen an escalation of so-called wokeness. And if you look at one of the most startling manifestations of this, transgender fanaticism — which involves, after all, the abolition of biological sex and, I'm sorry to have to say it, the physical mutilation of children — one notices that America is farther down this road than any other country in the Western world. In other words, at this moment of crisis for Western Civilization, or for what we used to call Christendom, the leading country of the free world is pulling the wrong way. Think of it. Your daughter has been training since she was a little girl to run in school sports. Now at 17, she's in the state high school track championships, and you are forbidden even to notice that she's competing against a woman who is 6'2" with thighs like tugboats, a great touch of five o'clock shadow on her face, and the most muscular bosom you've ever seen. You're not supposed to notice the craziness of this, and the craziness is at its craziest right here in America.

Florida Gov. Ron DeSantis signs bill barring transgender athletes from female sports. Florida Gov. Ron DeSantis on Tuesday signed legislation barring transgender athletes from competing in girls' and women's sports, joining seven other states in what he described as an effort to protect female sports. Mr. DeSantis, a Republican, gave the Fairness in Women's Sports Act his signature flanked by teenage athletes at Trinity Christian Academy in Jacksonville. "I can tell you that in Florida, girls are going to play girls' sports, and boys are going to play boys' sports," Mr. DeSantis said at the event.

Trans Golfer Who Played On Men's College Team Wins Women's Title, Eyes LPGA. Hailey Davidson, who is biologically male but identifies as female, played in women's golf last week and won a professional title after competing against biological women. The transgender golfer, who previously played in men's college golf, now hopes to qualify for the Ladies Professional Golf Association (LPGA) for female golfers. According to a Golkweek report, Davidson beat LPGA player Perrine Delacour to win the women's title at Providence Golf Club in Orlando, Florida last week.

The NCAA Was All Threats and Bluster Against Non-Trans Athlete States, But It Just Crumpled Like a Cheap Suit. The NCAA was threatening states that if they didn't allow men to compete in women's sports then they would pull tournaments from those states. The entire issue even caused a once-loved Republican governor, Kristi Noem, to lose her support within the party after she bent the knee and refused to sign a bill banning biological men from declaring themselves women and signing up to compete against them out of fear of losing the revenue. As it turns out, the NCAA was totally bluffing and picked three states for their tournaments to happen in. According to Breitbart, the NCAA has announced that Alabama, Arkansas, and Tennessee will be host to the Women's College World Series softball regionals.

So much for fairness: Transgender woman golfer wins mini-tour event, aims for LPGA. Last week, Hailey Davidson, a transgender woman, won her first professional title in Florida, topping LPGA player Perrine Delacour for the win. The same day, she was sent an email by the USGA saying she's met the organization's Gender Policy eligibility criteria and can now compete in its championships and she's hoping to hear similar news from the LPGA via a reciprocity agreement, according to Golfweek. So much for fairness in women's sports. In January, Ms. Davidson underwent gender reassignment surgery, and she's been undergoing hormone treatments since 2015. Since transitioning, Ms. Davidson said she hits shorter and swings slower — yet she still was born a man, and obviously, has a physical advantage over biological women.

NCAA Caves, Will Allow States [Which] Place Restrictions on Trans Athletes to Host Events. The NCAA made loud proclamations in April that it could pull events from states with limits on transgender athletes. Still, now the college sports governing body has caved and will allow tournaments in states including Tennessee, Alabama, Arkansas despite their laws restricting trans athletes. The NCAA sided with transgender athletes only last month, saying they may cancel events in states that aren't "free of discrimination" against transgender athletes.

Transgender Female to Compete as Weightlifter in Olympics — Never Competed in Weightlifting as a Male. Tell me a story about how it's just about letting little boys compete in sports using the gender identity that they are most comfortable with. New Zeland transgender female weight lifter Laurel Hubbard, who lived life for 35 years as a man, will likely participate in this summer's Olympic Games in Tokyo as a 43-year-old female weightlifter. Hubbard finished 2nd in the 2017 World Championships in the Women's Super Heavyweight division, but a serious elbow injury in 2018 put his/her career in jeopardy. Under the revamped qualifying rules announced earlier this week due to the inability of most countries to have qualifying competitions, Hubbard will automatically be included as New Zealand's only entry in the Super Heavyweight Division if New Zealand decides to nominate Hubbard to be part of its Olympic Team. At 43 years old, Hubbard would be the oldest weightlifter competing in Tokyo.

Weightlifter Laurel Hubbard set to make history at Tokyo Olympics. History and controversy is expected to be made at the Tokyo Olympics this summer after the transgender weightlifter Laurel Hubbard was effectively guaranteed a place in the women's super heavyweight category. While the 43-year-old has not yet been named in the New Zealand team, an International Weightlifting Federation insider confirmed to the Guardian that she [sic] would automatically qualify because of amended rules approved by the International Olympic Committee.

Alabama Enacts Law Banning Transgender Athletes From Participating in Biologically Inconsistent Public School Sports. Alabama Gov. Kay Ivey has signed into law a bill that bans transgender student-athletes from competing on K-12 public school single-sex teams that match their gender identity, making her state the second in the nation to enact such a ban. House Bill 391, which was overwhelmingly approved by the Republican-controlled state legislature last week, mandates that those who aren't biologically male or female won't be able to participate in school-sponsored sports events that are inconsistent with their sex assigned at birth. "A public K-12 school may not allow a biological female to participate on a male team if there is a female team in a sport," the bill reads. "A public K-12 school may never allow a biological male to participate on a female team."

The Editor says...
One's sex is determined by genetics at the moment of conception. It is not "assigned at birth."

This newspaper article reeks with bias:
Texas Senate passes transgender sports bill that critics decry as another 'bathroom bill'. The Texas Senate approved a controversial transgender sports bill Thursday [4/15/2021] that would force young athletes in Texas to compete in sports that align with the sex designated on their original birth certificate rather than with their gender identity. The 18-12 vote followed a marathon March 26 hearing that featured emotional testimony on the bill, which foes decry as discriminatory and anti-LGBTQ.

USA Today Beats Up On 'Hateful,' Ignorant Red States For Opposing Trans Athletes. USA Today ultra-leftist Nancy Armour swung a big bat Tuesday [4/13/2021], verbally bludgeoning hateful, ignorant conservative state lawmakers working to protect women's sports. She accused them of trying to "otherize" trans athletes and open a new front in the culture war, repeated LGBT talking points and urged the NCAA to hurt conservative states in the pocketbook. Nearly half the state legislatures are trying to protect women's sports from the intrusion of confused males competing with females. Armour accused them of passing bills that aren't based on scientific facts. It's bigotry that comes with a price, and she exhorted the NCAA to inflict financial pain on conservative states.

NCAA backs biological males competing in women's sports, as showdown looms with Florida over pending law. The National Collegiate Athletic Association, a cartel controlling the multibillion-dollar college athletics business, may be painting itself into a corner. Probably because it is a creature of the higher education industry that has gone off the deep end in its commitment to far-left politics, the NCAA is taking an extreme position on transgenderism and apparently seeking a confrontation with the State of Florida if it passes a law currently under consideration that would limit participation in women's sports to women.

NCAA Upholds Policy of Transgender Women Competing in Women's Sports. The NCAA reaffirmed its decision to refuse to hold college championships in states where laws "discriminate" against male athletes who identify as female. The board of governors issued a statement that "firmly and unequivocally" supports the inclusion of transgender athletes in college sports. The statement comes after several states have passed laws preventing biological males from competing in girls' athletics. Apparently, the NCAA, which governs rules on competition in college sports, thinks it's OK for biological males to compete against biological females. The only way they can allow this is if they ignore the biology in favor of being fashionable.

NCAA issues stern warning as Texas Senate prepares to debate transgender sports bill. Amid all the talk of boycotts and corporate criticism of election bills going through the Texas Legislature, major resistance is shaping up to another top priority of Republican state lawmakers. With the Texas Senate set to debate a bill to ban transgender girls from competing in girls' interscholastic sports, the NCAA recently issued a warning that it is watching the legislation. NCAA policies allow transgender athletes to participate without limitation. "The NCAA continues to closely monitor state bills that impact transgender student-athlete participation," NCAA officials said in a statement to the Houston Chronicle. "The NCAA believes in fair and respectful student-athlete participation at all levels of sport. The association's transgender student-athlete participation policy and other diversity policies are designed to facilitate and support inclusion."

America's creation of the transgender child. [Scroll down] One might imagine the locus of concern would be the ethics of medicating and operating on children physically to alleviate mental distress, but it is the impact on sport which has captured the public imagination. The repeated triumph of biological males who identify as girls over actual girls in athletics has left the "transwomen are women" mantra looking a little flimsy. There has already been one legal case challenging the fairness of allowing competition on the basis of "gender identity." In some states, laws are coming into effect to ensure that girls are given a fighting chance and that events are divided by physical sex. The evidence is clear, as developmental biologist Dr Emma Hilton explained in a 2019 review of the International Olympic Committee guidelines: "Males can run faster, jump longer, throw further and lift heavier than females. They outperform females by 10 percent on the running track to 30 percent when throwing various balls... Males have around 40 percent more muscle mass, even when height is taken into account, and 40 percent less body fat."

TN governor signs transgender sports bill, will require students to prove their sex before playing. Tennessee Gov. Bill Lee on Friday [3/26/2021] signed a bill into law that will prohibit transgender students from playing on the team of the sex with which they identify, one of numerous such bills currently working their way through statehouses around the country. Tennessee's H.B. 3 directs that "a student's gender for purposes of participation in a public middle school or high school interscholastic athletic activity or event must be determined by the student's sex at the time of the student's birth, as indicated on the student's original birth certificate." The rule effectively bars transgender athletes from selecting a team based on their internal sense of "gender identity."

SD House Speaker to Reject Gov. Kristi Noem's Request to Rework Bill on Transgender Athletes. The battle over legislation in South Dakota to prevent biological men from competing against biological women in school sports will come to a head on "Veto Day," which takes place on Monday [3/29/2021] — also the last day of the state's legislation session. And now House Speaker Spencer Gosch, a Republican, announced he would recommend lawmakers reject Gov. Kristi Noem's controversial stance to not veto House Bill 1217 but to ask for revisions to it, including removing the language to eliminate the ban in collegiate sports and removing the requirement for birth certificate sex to be proven annually.

Governor signs bill barring transgender athletes from female sports in Arkansas. Arkansas Gov. Asa Hutchinson signed Thursday [3/25/2021] legislation barring transgender athletes from competing in girls' and women's sports, an issue gaining steam in Republican-led state legislatures despite pushback from LGBTQ and business groups. The Republican governor signed SB 354, the Fairness in Women's Sports Act, shortly after it passed both chambers by wide margins. The bill was delivered to his desk Tuesday. "I have studied the law and heard from hundreds of constituents on this issue," Mr. Hutchinson said. "I signed the law as a fan of women's sports from basketball to soccer and including many others in which women compete successfully. This law simply says that female athletes should not have to compete in a sport against a student of the male sex when the sport is designed for women's competition."

Cancel the 'Cancel Culture' Defense of Terrible Republicans. South Dakota Governor Kristi Noem claims she's a victim of "conservative cancel culture." After vetoing a popular bill to defend women's sports from the transgender lobby, Noem insists she did no such thing. She claims she only rejected the bill because legendary (but unnamed) conservative legal scholars told her she would lose a fight with the National Collegiate Athletic Association. "If any number of conservative pundits are to be believed, that same governor who refused to cave is now caving to the NCAA and Amazon on the issue of fairness in women's sports. What? Apparently, uninformed cancel culture is fine when the right is eating their own," Noem spokesman Ian Fury said in a press statement. "Furthermore, the bill picked a fight with the NCAA — a fight that renowned conservative legal experts advise Governor Noem that she will lose, especially considering South Dakota's unfriendly federal bench." Apparently, if the NCAA threatens a lawsuit, you get a pass to betray your constituents.

The Worst Thing About Kristi Noem's Sports Capitulation Is Her Lies. South Dakota Gov. Kristi Noem raised some valid concerns when she returned House Bill 1217 to the state legislature for "style and form" changes. But two of the proposed amendments to the bill that legislators drafted to prevent males from competing as females in athletic events, coupled with the spin since Noem announced she would not sign H.B. 1217 as written, give the governor's game away: She caved. As I explained earlier this week, H.B. 1217 originally consisted of four sections, with Section 1 providing that elementary, secondary, and collegiate athletic teams must be defined as male, female, or coeducational, then further stating that teams or sports designated as female are "available only to participants who are female, based on their biological sex."

Oh Noem, Not Another Squish! You know who is laughing right now? Nikki! Haley is, because Kristi Noem may have derailed her own electoral freight train as it rolled down the conservative governortrix tracks toward the GOP nom in 2024. [...] What did she do? She vetoed a bill defending women athletes from the insanity of letting men dominate them, a "style and form" veto, and then offered the most weaksauce weasel word explanation imaginable. Here tweet thread trying to explain it was lame; her appearance on Tucker was condescending gibberish. Watching it, woke cons started out disappointed with her and ended up infuriated at her.

Alternative viewpoint:
Have We Lost Nuance? What did [South Dakota Governor Kristi] Noem do that upset so many of my fellow conservatives? She didn't sign a bill banning boys from playing in girls' sports in South Dakota. That sounds simple enough, it's something she's said she's for and she went against it. But, like everything in life, it's more nuanced than that. But nuance isn't allowed anymore. If Noem had signed the bill, it would have been immediately tied up in court and there would have been years of litigation, likely blocked by a court throughout. Noem didn't veto it, she sent it back to the legislature to be revised. How? She wants the part about the law applying to colleges removed. That might sound bad, and it's certainly not what most people want, but it's important to avoid that injunction and long legal battle because the governor has little to no say over college sports. State governments have enormous influence over public schools K-12, but very little over private schools and universities.

Dakota Gov. Noem says she'll sign legislature's transgender sports bill after minor fixes made. South Dakota Republican Gov. Kristi Noem said Monday she'll sign a state legislature bill that would ban transgender athletes from competing in women's sports — after creating a conservative uproar last week by vetoing the measure. Noem, considered a top potential 2024 presidential candidate, said at a press conference that she'll sign the bill after legislators make what she considers minor changes — limiting the ban to high school and elementary schools for male athletes who identify as female athletes. The governor does want such a ban on college athletics at this time, she said, over concerns about the National Collegiate Athletic Association's standing on the matter.

Kristi Noem v. NCAA. Kristi Noem should have paid attention to some of the history behind her own name rather than the listen to the advice of attorneys and lobbyists. She didn't realize that she had the power to wreck the NCAA if it didn't bow to her wishes. If she had signed the "women's protection" legislation she would have stayed on the path to the presidency. Now, that future has almost certainly vanished. [...] By standing firm she would have directed a brilliant and withering light onto the power-mad cowards that run the NCAA. She could have easily created the coalition against men-in-women's-sports that she desires. Maybe she still can. But now, all perceive her as weak. Will she recover politically? Maybe. Probably not.

Bowing To Corporate Demands For Watered-Down Bill, Gov. Kristi Noem Sells Out Women's Sports. On Friday [3/19/2021], South Dakota Gov. Kristi Noem balked on signing House Bill 1217 when the bill to promote fairness in women's sports crossed her desk. But instead of vetoing the legislation, Noem returned the bill to the House with what she called "recommendations as to STYLE and FORM." The Republican governor's spin, however, cannot withstand scrutiny — most specifically her claimed reasoning for removing collegiate athletics from the bill's protections. As finalized by the South Dakota legislature, Section 1 of H.B. 1217 provided that athletic teams and sports in the state, including at institutions of higher education, must be expressly designated as male, female, or coeducation. It also stipulated that teams or sports designed as female must be "available only to participants who are female, based on their biological sex."

Gov. Kristi Noem Sends Transgender Athletes Bill Back to Legislature for Changes. South Dakota Gov. Kristi Noem (R) returned a bill designed to prevent biological men from competing in biological women's sports back to her state legislature on Friday for changes. Noem cited in a public letter changes she is requesting to the bill, specifying they are revisions of "style and form." The changes include removing collegiate athletics from the bill, thereby limiting its application to K-12 athletics, and modifying language about civil liability and performance-enhancing drugs.

Track star's dream dashed by transgender rules. The Louisiana State University Lady Tigers have won 25 national championships in track and field, and Alanna Smith dreams of contributing to another someday. She just doesn't think she should have to beat guys to get there. "When I didn't have to run against biological males, I felt I had a chance," said Alanna, 17. "Whether I came in first or fifth place, I knew that was the spot I deserved. Now it's dispiriting to know who is going to win."

Where Are All the Girls In Boys' Sports? It's probably a question I'm not allowed to ask, but I honestly don't care. And the fact that it will upset a bunch of pearl-clutching leftists and gender fascists just makes me want to ask it more, and louder. But with all the talk from the left about transgender rights and how boys who believe they are girls should be allowed to compete in any sport they so choose, why aren't there any stories of the opposite happening? Where are the girls in boys' sports? It's pretty easy to find stories about boys competing in girls' sports, particularly track and field events, largely because they tend to win... by a lot. Records are being broken, record books rewritten, and scholarships awarded to boys who "identify" as girls, but has there been one case of a girl identifying as a boy, not only competing in boys' sports, but dominating? I can't find one.

Tate Reeves Signs Bill To Ensure 'Young Girls Are Not Forced To Compete Against Biological Males'. Mississippi Governor Tate Reeves signed the Mississippi Fairness Act into law on Thursday so that "young girls are not forced to compete against biological males." "This is an important day for the women and girls of Mississippi," Reeves said. "This important piece of legislature will ensure young girls in Mississippi have a fair playing field in public sports." "I never imagined dealing with this, but POTUS left us no choice," Reeves wrote on Twitter. "One of his first acts was to sign an EO encouraging transgenderism in children. So today, I proudly signed the Mississippi Fairness Act to ensure young girls are not forced to compete against biological males."

Mississippi Governor Bans Transgenders From Participating In Female Sports. Not everyone is bowing down to the Biden regime. The Governor of Mississippi has just banned transgender athletes from competing in female sports. Gov. Tate Reeves's new ban defies Biden's Executive Order that called on schools to allow students to participate in athletics under their chosen gender identity. Hats off to Gov. Reeves for standing up for woman's rights!

Arkansas Advances Bill Protecting Girls From Having To Compete Against Biological Males In Sports. The Arkansas state Senate will vote on the "Fairness in Women's Sports Act" after the state's Senate Education Committee endorsed the measure with a 5-3 vote at the start of the week. "Senate Bill 354 by Sen. Missy Irvin, R-Mountain View, would allow students 'deprived of an athletic opportunity' or suffering 'direct or indirect harm' as a result of a kindergarten-through-12th-grade school or higher-education institution not maintaining separate teams for cisgender female students to seek injunctive relief against the school, as well as monetary damages," the Arkansas Democrat Gazette reported.

Saying 'No' to the Cancel Culture. [Scroll down] On second thought, don't laugh. If there's one thing we've learned from chronicling the inimical antics of the cultural-Marxist left for more than half a century, there's no idea too stupid or malignant for them to advocate and then channel into public policy. Notions too absurd for words just a few years ago — such as allowing biological males in sports bras to compete with real women in various sports, including wrestling and boxing — are now mandated in some places. Meanwhile, the breach of the Capitol on Jan. 6 has become an "insurrection" and supporters of former president Trump have become "far-right extremists." And if you object, you're a "bigot" or a threat to "our democracy."

Biden Celebrates International Women's Day by Forcing Girls to Share Bathrooms, Sports Teams, With Boys. President Joe Biden pulled out all the stops for International Women's Day on Monday, but he arguably undercut women's advancement while paying lip service to it. He issued a glowing statement about women's empowerment, launched a Gender Policy Council, and signed an executive order barring "sex discrimination" — including discrimination on the basis of gender identity — in public schools. On one hand, Biden celebrated women's advancement, and on the other, he forced schoolgirls to share bathrooms and sports teams with biological boys.

These girls are hurt by transgender competition. Alanna Smith's dedication to her sport is profound. Just listening to the elite high school track star explain her training schedule is exhausting. Yet no matter how hard she trains, if she has to compete against biological males, she stands no chance of winning. "There is simply a biological advantage that males have over females," explained the daughter of baseball Hall of Fame pitcher Lee Smith. "Here is a perfect example," Smith told me. "I have a twin brother who is an athlete but does not run competitively for his sports. We raced against each other recently, and he beat me. Not because he trained harder, but because there are biological and physical advantages boys have over girls in some sports."

I Refuse to Play Make Believe Any Longer. Unfortunately we have tens of millions of people still playing make believe, pretending that something is true when it absolutely isn't. The simplest example on this is this whole idea that a teenage boy can declare himself a girl and now join the high school girls track team. This requires everyone around him to suspend belief and pretend that he isn't a boy. In fact, they DEMAND that we do so. Even when it is patently obvious that it is simply not true. Think about it. If they can make you go along with the idea that a human body with a penis is actually a girl, in spite of all science saying otherwise, they can make you believe anything. The make believe is designed to destroy the concept of absolute truth.

Judge Rules Miss USA Can Exclude Transgender Women. A federal judge on Thursday [2/25/2021] dismissed a lawsuit brought by a transgender woman who accused Miss United States of America of discriminating against her after they denied her the right to compete because she was not a biological female, according to reports. Pageant contestant Anita Noelle Green sued Miss U.S.A in December of 2019 after she alleged the pageant denied her application and refunded her entry fees on the day she applied. The Miss U.S.A pageant only allows "natural born biological females" to compete, according to a Motion to Dismiss filed by the pageant. The pageant argued that under the First Amendment it has rights to free association. The pageant argued that the pageant is meant for biological women and that allowing Green to participate would "undermine its vision" and that had the court ruled in favor of Green it would be undermining the pageants "message about empowering only biological women."

Connecticut girls lose support from Biden administration in transgender athlete case. The Biden administration has withdrawn from a Connecticut lawsuit that aims to ban transgender athletes from competing in girls' high school sports. A group of three female runners sued state and local education officials after losing state titles to transgender athletes in 2018. Backers of the lawsuit contend that athletes who were born male have a natural and unfair advantage over competitors who were born female. Supporters of the transgender athletes in the case argue that once hormone therapies take effect, the male genetic advantage fades away — although those effects aren't immediate, and many teens don't begin taking such drugs until after puberty.

DOJ withdraws from transgender athletes case. The Biden administration has withdrawn its support for a federal lawsuit in Connecticut that seeks to ban transgender athletes from participating in girls' high school sports. Connecticut allows high school athletes to compete in sports according to their gender identity. The lawsuit was filed a year ago by several cisgender runners who argue they have been deprived of wins, state titles and athletic opportunities by being forced to compete against two transgender sprinters. The Justice Department and the Education Department's Office for Civil Rights withdrew their support for the case ahead of a hearing scheduled for Friday on a motion to dismiss the lawsuit.

Governor: Transgender athletes will 'destroy women's sports'. Republican Tennessee Gov. Bill Lee said Wednesday [2/10/2021] that transgender girls should be banned from playing on middle and high school sports teams or they will "destroy women's sports." "I do believe that transgenders participating in women's sports will destroy women's sports," Lee, who is up for reelection next year, told reporters. "It will ruin the opportunity for girls to earn scholarships. It will put a glass ceiling back over women that hasn't been there in some time. I think it's bad for women and for women's sports."

Psaki When Asked About Biden's EO Forcing Girls to Compete Against Biological Males: Transgenders are More Important Than Your Daughters. What about the rights of young girls? When asked about the White House's message to young girls being forced to compete against biological males, Psaki said Biden's belief is trans rights are human rights. In other words, Joe Biden believes biological males who identify as transgender, are more important than your daughters. Psaki then deferred the reporter to the schools that are forced to allow biological males to compete with biological females — because of Joe Biden's executive order.

Girls will be Boys, and Boys will be Girls. [Biden's] January 20 executive order, "Preventing and combating discrimination on the basis of gender identity or sexual orientation" means that women's sports are now open to males who "identify" as females, [...] Not only sports, but also restrooms, locker rooms, and any school sports. If members of the boys' high school soccer team decide to identify as girls, they can join the girls' soccer team and shower with them too. What could go wrong? Joe Biden instinctively knows there are biologic differences between boys and girls. There are multiple photos and videos of Biden inappropriately touching and sniffing girls and women, but not boys or men. He is disregarding his own executive order by discriminating based on sexual orientation or gender identity.

Rand Paul Denounces Biden Transgender Sports Policy. Sen. Rand Paul (R-KY) challenged President Joe Biden's Education Secretary nominee on his statement it is "appropriate" to allow boys to compete in girls' sports by asking, "What planet are you from?" During a confirmation hearing Wednesday [2/3/2021] of the Senate committee that oversees education, the Kentucky senator asked Miguel Cardona if he thinks it is "fair" to allow boys claiming to be transgender to participate in girls' sports, and about how it affects girls competing in these athletic events. "I think it is appropriate," Cardona replied. "It is the legal responsibility of schools to provide opportunities for students to participate in activities and this includes students who are transgender."

Be a tribe of one. Suppose you're a die-hard Democrat. What do you do about such issues as: Transgenderism in women's sports. Do you side with persons having male chromosomes but identify as women when they want to compete in sports against women, simply because such persons are overwhelmingly Democrats? Or do you side with genetic women — who are also predominately Democrats — who are concerned that subjecting genetic women to competition from persons who've spent most of their lives developing height, girth and muscle mass as a man with male chromosomes and testosterone levels will destroy women's sports?

Retired NFL Player Calls For Separate Transgender Category Of Sports After Biden Executive Order. Retired NFL defensive end Marcellus Wiley suggested a separate category for transgender athletes after President Joe Biden recently issued an executive order allowing males who identify as female to participate in women's sports. [...] Biden's executive order mandates that any school that receives federal funding must allow males who identify as females to play on girls' sports teams or face repercussions from the Department of Education.

So much for Joe Biden, moderate. [For example,] allowing men in women's sports. My guess is that Biden's day-one executive order that vastly expands the Supreme Court's 2020 Bostock v. Clayton County decision will come back to haunt both him and Democratic political candidates. The order's language with respect to public schools says, "All persons should receive equal treatment under the law, no matter their gender identity or sexual orientation." Schools will likely interpret that as saying boys who simply identify as girls must be allowed to compete in girls' sports. Ironically, the Supreme Court's 6-3 Bostock decision specifically excluded the Biden approach. Justice Neil Gorsuch wrote for the majority, "we do not purport to address bathrooms, locker rooms, or anything else of the kind." — which is exactly what Biden's order does. Given the undeniable additional strength, speed, size and stamina of most male athletes when compared to their female counterparts, it means that male athletes who identify as females will dominate their respective sport. There are perks to being the top athletes in a class, including college scholarships and high-paying professional opportunities.

Kamala Harris undermines her historic vice presidency by supporting policies ruinous to women. Kamala Harris made history when she became our country's first female vice president. While electing the first woman to a nationwide office serves as an important milestone, Harris's policy positions themselves provide little comfort to women. On numerous issues, Harris will undermine, rather than advance, causes that are important to women. Take, for instance, Harris's support for the Equality Act. This legislation, which adds gender identity and sexual orientation as protected categories to the Civil Rights Act, would be bad for those born biologically female. If enacted, the Equality Act would functionally give individuals born biologically male federal approval to enter sporting competitions previously reserved for those born biologically female. It could also subject parents who prohibit their underage children from undergoing gender transition procedures to potential civil rights enforcement actions.

On Day One, Biden Destroys Women's Sports With Anti-Science Executive Order. President Joe Biden issued an executive order on his first day in office, mandating that any schools that receive federal funding must function as if biological males who claim to be females are the same, and vice versa, or risk losing that funding. This pro-transgender policy extends to male athletes who claim their gender identity as a female should allow them to compete on women's teams, receive women's scholarships, and be admitted in women's locker rooms. "Children should be able to learn without worrying about whether they will be denied access to the restroom, the locker room, or school sports," the executive order reads, promising that the Biden administration is committed to "prevent and combat discrimination on the basis of gender identity or sexual orientation."

Activists: Biden's Embrace of Transgender Athletes [is] a Blow to Women's Rights. President-Elect Joe Biden's promise to embrace transgender ideology will likely include supporting biological men who say their gender identity is female to compete in sports against biological women. Attorneys representing transgender athletes and women athletes expect Biden's Department of Education to reverse course in two lawsuits in Idaho and Connecticut that the Trump administration had backed to protect women's rights.

Equality Laws Should Protect Biological Women, Not Those Claiming to Be. Title IX is landmark legislation that was passed to ensure that women would have the same opportunities as their male counterparts in any education program or activity receiving federal financial assistance. While Title IX did not explicitly mention athletics, it's come to be known for its impact on women and their participation in collegiate sports. Fast forward a few decades. Whereas it was clear that Title IX would apply to women, it has become increasingly difficult to define what, exactly, qualifies as a "woman" or more specifically, a female. That is because the trans rights movement has made biological certainty less important than "identification." Now we have biological men identifying as women, even though they were born with male genitalia, and may in fact still have that genitalia. We have individuals who have all of the biological attributes of males, including their strength and innate athletic abilities, who present themselves as females.

Keeping Male Bodies Out of Women's Rugby. From November 2015 until February 2020, World Rugby, rugby's global governing body, incorporated guidelines established by the International Olympic Committee (IOC) on transgender participation in sports. According to these rules, males who wish to self-identify into women's rugby could do so if they committed to reducing their testosterone levels to 10 nmol per liter or lower for at least 12 months. (The average level for men is about seven times that level.) During this period, instances of biological males playing in the women's game increased, and some participants began to express alarm. One rugby referee posted on the website Fair Play for Women, for instance, that "being forced to prioritize hurt feelings over broken bones exposes me to personal litigation from female players who have been harmed by players who are biologically male. This is driving female players and referees out of the game."

New Bill Would Ban Biological Males From Women's Sports. There is a reason why, even when discrimination based on sex is outlawed, we still allow separate sports teams (not to mention separate bathrooms, locker rooms, and showers) for males and females. That reason has nothing to do with their psychological "gender identity." Instead, it has everything to do with the fact that males and females have different anatomies from birth, with those differences accentuated after puberty. The average man is larger, stronger, and faster than the average woman, so women would simply have no chance of reaching elite levels of competition if forced to compete against men. Female high school track athletes in one state alone (Connecticut) have lost 15 medals to biological males in state competition in the last two years — reducing their chances for college athletic scholarships in the process.

Judge Blocks Idaho Law That Prevents Transgender Women From Participating In Female Athletics. U.S. District Judge David Nye of Idaho ordered a preliminary injunction on Monday temporarily halting a state law that prohibits transgender girls and women from competing in female athletics, The Idaho Statesman reported. Nye's ruling will allow transgender girls and women to participate in women's sports this upcoming fall at colleges and in secondary schools as the lawsuit proceeds, the Statesman reported.

High School Runner Who Lost to Transgender Athletes Will Compete in College. By now, millions know the story of Selina Soule, the high school track star from Connecticut who missed qualifying for the New England track and field regionals by two spots in her top event. Those two spots were taken by biological boys who identify as girls. Soule, who is wise beyond her years, was well aware that she could face consequences for speaking out about being forced to compete against biological males. But she recognized a greater need. Little did Soule know that she would do more than speak out. She became one of the most well-known faces of the movement to protect women's sports from being erased.

Ted Cruz: Biological Males Should Not Be Allowed to Compete in Girls' Sports. When asked whether biological males who identify as females should be allowed to play girls' sports, Sen. Ted Cruz (R-Texas) said, "no," and explained that it would undermine girls' sports and be unfair to be millions of female athletes. At the Capitol on Wednesday [6/24/2020], CNS News asked Senator Cruz, "When the House Judiciary Committee considered the Equality Act it rejected an amendment that said the act would not require biological females to face biological males in sports competition. Should biological males who say they identify as females be allowed to play girls' sports?" "No. I think it is unfair to girls to force them to compete against biological males," the senator said. "And we're seeing a serious undermining of girls' sports — as state championships, state records in locations across the country, one after the other, after the other, are falling and being taken by biological males. And I think that's unfair to millions of female athletes."

Congressional Dems Sign Letter Demanding Education Dept. Allow Males in Girls Sports. A group of congressional Democrats signed a letter on Wednesday demanding that the Department of Education allow males to participate in girls sports. Connecticut Senator Richard Blumenthal and 27 other Democratic members of Congress signed the letter, which stated that the department's order "discriminates against transgender youth" by ruling that it is a violation of women's access to education and athletics for public schools to allow biological males who identify as female to participate in female sports.

I'm a female student athlete. Please protect women's sports from transgender athletes. A female athlete at Idaho State University who is seeking to defend Idaho's new Fairness in Women's Sports Act has shared her story in the pages of the Idaho Statesman. The law bars biological boys from participating in girls' sports and it faces a challenge from the ACLU.

Connecticut transgender sports policy discriminated against biological girls, feds conclude. The U.S. Education Department's Office for Civil Rights has determined Connecticut schools' transgender athletics policy improperly discriminated against biological girls. The finding was contained in a Letter of Impending Enforcement Action dated May 15 that concluded biological females were negatively impacted because the Connecticut Interscholastic Athletic Conference and public schools allowed biological males to compete against them. "For the aforementioned reasons, OCR also determined that the CIAC, Glastonbury, Bloomfield, Hartford, Cromwell, Canton, and Danbury treated student-athletes differently based on sex, by denying benefits and opportunities to female students that were available to male students," the letter states.

Idaho Bars Biologically Male Athletes From Competing in All-Female Sports. Idaho governor Brad Little (R.) on Monday [3/30/2020] signed the Fairness in Women's Sports Act to prohibit biologically male students from participating in all-female sports. "Athletic teams or sports designated for females, women, or girls shall not be open to students of the male sex," the bill states. The law cites differences in male and female physiology that results in distinct athletic capabilities. "Under this bill, boys and men will not be able to take the place of girls and women in sports because it is not fair," state representative Barbara Ehardt told Reuters.

Trump DOJ defends female athletes. The Justice Department has filed a statement of interest in a case challenging a Connecticut Interscholastic Athletic Conference (CIAC) policy that enables biological males to compete against biological females. [...] From a legal standpoint, it's important to note that Title IX of the Civil Righs Act and its implementing regulations prohibit discrimination "on the basis of sex," not on the basis of transgender status. Therefore, the law neither requires nor authorizes CIAC's transgender policy. Moreover, as the Attorney General explained, one of Title IX's core purposes is to ensure that women have an "equal athletic opportunity" to participate in school athletic programs. This purpose is fulfilled by the establishment of separate athletic teams for men and women and by ensuring that those teams are on equal footing.

Transgender sports: Trump's Justice Department weighs in on the side of science. Title IX says that, in the education setting, people cannot be discriminated against based on their sex. Congress passed Title IX in 1972, at a time when people had the old-fashioned idea that there were two sexes, one with XX chromosomes and the other with XY chromosomes. Fast-forward almost fifty years, and you have Connecticut government entities insisting that if a boy claims to be a girl (and there's no requirement that he actually believes this false notion), schools must allow him to compete in girls' sports events. That's how these two boys ran away with the Connecticut High School track championships and, in all probability, with the college scholarships that could go with them.

Ohio Joins Fight To Keep Boys Out Of Girls' Sports. The battle lines are still being drawn in the effort to save women's and girls' competitive sports in the United States and the fight has now moved on to Ohio. In the Buckeye State, legislators have introduced a new bill with the appropriate name of the Save Womens' Sports Act. Much like similar legislation being debated around the country, this measure would bar boys who "identify" as girls from competing in girls' sports for all of the usual and obvious reasons. This measure would apply to all public schools and colleges, as well as private schools and colleges that are members of a state or national athletic association. As I'm sure you've already guessed, the proposal is drawing howls of protests from the usual suspects.

Arizona House passes ban on transgender females in women's sports. Arizona House Republicans passed a controversial bill that would ban biological males who identify as transgender females from participating in women's sports. Supporters say the "Save Women's Sports Act" is intended to prevent young girls and women in K-12 schools, community colleges, and state universities from being forced to compete against biological males, but opponents argue it allows for discrimination. House Bill 2706 passed along party lines 31-29 and is headed to the state Senate, FOX 10 reports. The bill is strongly opposed by Democrats.

Feminists Created the Monster Now Devouring Women's Sports. [Scroll down] They ought to point the finger at Equality Dogma, at whose altar moderns worship and which has been preached, incessantly, to advance an agenda. The idea was that if you could convince people the sexes were basically equal in worldly capacities, no one would think there was any reason to keep women out of what traditionally had been male realms. Voila! Goodbye, discrimination! This was convenient when girls/women wanted to join police forces and fire departments, enter military academies such as the Citadel or Virginia Military Institute, join boys' sports teams and Little League, and previously all-male clubs. It's not so convenient now that the thinking is being taken closer to its logical conclusion. But the point is this: If because the sexes "are basically equal in capacities" there's no reason to keep women out of men's arenas, there's also no reason to keep men out of women's arenas. In fact, not only is this turnabout an imperative of equality, there isn't even a good reason to have separate, sex-specific arenas in the first place.

Should Transgender Athletes Compete Against Women? On February 12, three female high school students in Connecticut filed a federal lawsuit against the participation of transgender athletes (with male anatomy) in female track and field events. The three students, represented by the Alliance Defending Freedom, have a fairly simple and straightforward argument: They claim allowing biologically male students to compete against biologically female students is unfair and runs afoul (no pun intended) of their basic civil rights. They also argue, quite convincingly, that allowing biologically male students to compete against them has undermined their ability to win races as well as opportunities for scholarships. Alanna Smith, who is a sophomore at Danbury High School, described her frustration running against males who identify as women, "Mentally and physically, we know the outcome before the race even starts."

Summertime Blues for the Olympics. Although we are currently in the dead of winter, summer will be here before we know it. Democrats may be singing the Summertime Blues along with Eddie Cochran, "I'm gonna raise a fuss, I'm gonna raise a holler" when they are forced to nominate a socialist to represent their party in the upcoming presidential election. Or alternatively alienate half of their base. There will also be a bit of fussing and hollering over the 2020 Summer Olympics in Tokyo. Assuming the coronavirus outbreak doesn't turn into a science fiction movie leading to a near extinction event, gender politics and intersectionality are likely to provide a healthy dose of dyspepsia for Olympic committees and organizers. As a preview of coming summertime gender wars, a biological male was invited to the US Olympic track and field trials to compete against American women.

Biologically Male Runner To Compete In USA Women's Olympic Trials. A biologically male marathon runner who identifies as a transgender woman is set to compete in the USA Olympic trials later in February. Megan Youngren "is set to make history on Feb. 29 as the first openly transgender athlete to compete at the U.S. Olympic marathon trials," Sports Illustrated reported. Youngren qualified for the trials after a strong performance on Dec. 8, 2019 in the California International Marathon. [...] The International Olympic Committee requires transgender athletes in women's sports to keep their testosterone levels below a certain threshold, but scientific research suggests that suppressing testosterone isn't enough to neutralize biologically male athletes' inherent physiological advantages.

Three female students file lawsuit against Connecticut transgender-athlete policy. Three female high school athletes filed a federal lawsuit Wednesday challenging Connecticut's prep sports rules that allow biological males to compete against girls, arguing that the policy robs them of competition and scholarship opportunities. The lawsuit argued that teen track athletes Selina Soule, Chelsea Mitchell and Alanna Smith have been deprived of "honors and opportunities" after losing track-and-field races to biological males who identify as females, thanks to the Connecticut Interscholastic Athletic Conference's policy allowing students to compete based on their gender identity.

Families Unite to Prevent Transgender Athletes From Competing in Girl's Sports. When men compete against women in sports, men compete with an advantage over their female opponents. Denser bone and muscle structure, more lung capacity for extra oxygen, and more lend to a physical advantage that usually makes it easy for a man to come out on top. This is why transgender athletes, specifically biological men competing as women, tend to easily win competitions meant for women. It's unfair, and three families are doing something about it. According to ABC News, these three families from different high schools are coming together to file a federal lawsuit that would block transgender athletes from competing in competitions not meant for them.

NH bill limits women's sports to girls born female. Legislation to prevent students born male from competing on female sports teams drew passionate testimony Tuesday, with supporters defending it as a way to ensure fairness and opponents decrying it as a violation of state anti-discrimination law. Victoria Galla of Chesterfield told the House Education Committee she moved from Massachusetts and New York City to get away from the gender-identity politics she believes are destroying the lives of confused young people.

Georgia Introduces Bill to Make Transgender Students Compete as Assigned Birth Gender. The Georgia legislature is set to debate a bill that would require students to compete in the category of their birth gender. The bill was filed by Philip Singleton, a recently elected Republican State Representative from Sharpsburg, Georgia. Singleton said that his bill aimed to eliminate the "unfair advantage" transgender athletes might have, according to the Atlanta Journal-Constitution.

Male Transjacking Will Ultimately End Women's Sports. This Friday, the top four NCAA Division III women's soccer teams face off in the national semifinals. One of the final four teams' goalkeepers, Isa Berardo, is a male transgender playing as a female for Pomona-Pitzer Colleges. Not surprisingly, the male goalie has dominated the field against opposing female players, giving his own a chance to win the national championship thanks to his physical advantages in a key position. This is increasingly happening throughout women's sports, at all levels from elementary school through professional competitions. It's creating not equality, but inequality.

Transgenderism and the Olympics. Next year's Tokyo Summer Olympics may spell the swift death of the transgender movement as a dominant politically-correct touchstone. Biological men, self-identifying as women, are poised to make a clean sweep of the Women's Olympics, triggering a very public debate on this third-rail subject.

Rachel McKinnon Is a Cheat and a Bully. Rachel McKinnon — the so-called defending "world champion" of women's track cycling — is a man. I'll repeat that so my meaning cannot be misconstrued. He is a man. Maybe my kind-hearted reader is offended by this blunt phrasing. Why am I calling McKinnon a man — when, perhaps for complicated reasons, he would rather be called a woman? Why don't I compromise and call him a "trans woman," as others do? Or be polite and address him by "she/her" pronouns, like everyone else in the media? Well, I'll tell you why, since you asked. This is precisely the well-meant, tragically naïve logic that has enabled a structure of lies and tyranny to be erected around us, a structure that most cannot opt out of without incurring an enormous social cost. It is a structure in which cheating and viciousness are rewarded while civility and truth-telling are punished.

Male Runner Wins NCAA Conference's 'Female Athlete of the Week'. Earlier this week, the Big Sky Conference named a male runner as the female cross-country athlete of the week. Jonathan Eastwood (yes, I'm deadnaming, sue me) previously competed on the men's team but joined the women's cross-country team at the University of Montana this fall. By joining the women's team and competing under the name June Eastwood, he became the first "transgender" athlete to compete on an NCAA Division I women's running team — which is likely the only reason he was given the honor.

Biologically Male NCAA Runner Named Conference Female Athlete Of The Week. The Big Sky Conference named University of Montana runner June Eastwood, a biological male who identifies as a transgender woman, the cross-country female athlete of the week. "June Eastwood finished second in a field of 204 runners at the Santa Clara Bronco Invitational," helping "Montana place seventh as a team," the conference noted in its announcement Tuesday. Eastwood previously competed on the University of Montana's men's team.

Transgender Woman Wins 'Female Athlete of the Week' in NCAA Conference. The Big Sky Conference named University of Montana runner June Eastwood, a biological male who identifies as a transgender woman, the cross-country female athlete of the week. "June Eastwood finished second in a field of 204 runners at the Santa Clara Bronco Invitational," helping "Montana place seventh as a team," the conference noted in its announcement on Tuesday. Eastwood previously competed on the University of Montana's men's team.

Feminist Democrat: Media Won't Let Us Speak Out Against Transgender Agenda. In an interview on his Fox News show Wednesday night [10/23/2019], host Tucker Carlson spoke with Women's Liberation Front board member Kara Dansky — a self-described "lifelong" Democrat — about the controversy swirling around the latest championship won by a biological male in a women's sports competition. In response to Carlson's questions about transgender cyclist Rachel McKinnon — a biological male who just set a world record in a women's track cycling championship — Dansky said that many on the Left strongly oppose the transgender agenda but are "subjected to a media blackout."

Transgender cyclist Rachel McKinnon dominates as competitors raise questions. Transgender cyclist Rachel McKinnon keeps dominating women's cycling. And she keeps creating controversy all the way. Last weekend at the Masters Track Cycling World Championships in Manchester, England, the 37-year-old Canadian first set a world record in qualifying for the 35-39 age category 200-meter sprint, then went on to defend her title in the finals.

Transgender Cyclist Wins Female Cycling World Championship, Claims Only Objections Come from 'Losers'. Cyclist Rachel McKinnon, a biological male who presents as a woman, won the women's world championship on Saturday, and set a women's world record in the qualifying event. McKinnon, a Canadian philosophy professor at the College of Charleston, won the same event in 2018. In a Friday [10/18/2019] interview with Sky News, McKinnon said that attempts to level the playing field for women's sports by discriminating against transgender athletes was the equivalent of "denying their human rights." "All my medical records say female," McKinnon said. "My doctor treats me as a female person, my racing license says female, but people who oppose my existence still want to think of me as male...["]

Democrats Are Making Girls' Sports A 2020 Campaign Issue. Establishment Media Aren't Telling You. Democrats have made girls' sports a 2020 campaign issue, but establishment media outlets are keeping their viewers and readers in the dark. Every Democratic frontrunner has pledged their support of the Equality Act, which would make "gender identity" a protected characteristic under federal anti-discrimination law. Among other things, the bill would force public schools to expand female athletic teams to include biological males who identify as transgender girls. Every Democratic frontrunner for president has pledged their support for the bill, which passed the House in May with unanimous Democratic support. But when establishment media outlets have covered the Equality Act in relation to the 2020 election, the girls' sports issue has gone missing.

Poll: 'Transgender' Men Ads Lead to 8-Point Voter Swing to Republican Matt Bevin from Democrat Andy Beshear. A conservative group notes polling data shows an eight-point swing in voters' shift to incumbent GOP Kentucky Gov. Matt Bevin from Democrat candidate Andy Beshear after they view ads highlighting Beshear's support of biological men competing in women's sports.

Transgender athletes deserve compassion, but not the right to transform women's sports. Since the advent of Title IX — a federal law that expanded athletic and educational opportunities for women — millions of girls and women have benefited from their own teams and chances for growth. But these opportunities risk being redefined and obliterated, because of a case pending before the U.S. Supreme Court. The case, R.G. & G.R. Harris Funeral Homes v. Equal Employment Opportunity Commission, will be argued this October. The case centers on the question of whether the meaning of the word "sex" in employment law (Title VII) also covers gender identity. While its outcome obviously matters for the people immediately involved, the Supreme Court's ruling on the meaning of the word "sex" has direct and profound implications for other parts of federal law. It matters for the millions of girls and women affected by analogous laws such as those that ensure equal opportunities for education and athletic opportunities "on the basis of sex."

Dems' Transgender, Sexual Assault Policies Wage War On Both Sexes. A new ad supporting Republican Kentucky Gov. Matt Bevin, who is in a tight race with his Democratic opponent Andy Beshear, shows female track athletes being left in the dust by a male competitor who identifies as female. The looks on the faces of the girls watching the male athlete celebrating are unforgettable. "Andy Beshear supports legislation that would destroy girls' sports. He calls it 'equality.' Maybe. But is it fair?" asks the ad's female narrator.

Liberals Embrace Anti-Feminism in Transgender Sports Debate. Anti-feminists continue their unapologetic efforts to destroy women's sports at all levels. Not satisfied to just ruin high school girls' athletics, they are setting their sights higher. This week's headline indicated that Juniper Eastwood, a University of Montana cross-country runner, will become the first transgender (i.e. biological male) athlete to compete as a female in division I cross country. Anyone want to bet against him completely dominating his sport?

Is It Trans Discrimination or Legitimate Concern for Women? The landscape of women's sports has changed drastically in the last few years. Natural-born males who now identify as women can compete athletically against natural-born women simply by stating they identify as a woman. This includes quite masculine males who have long since passed the age of puberty before their purported "transition." What has been buried under the identity politics cacophony are facts of biology, and the indisputable differences between the two sexes. Those who have spoken out against the sudden turn of events say they are being censored; some professionals have been fired for not following the trans activist narrative that prevails in public discourse.

This Is What LGBTQ Organizations Are Doing to Society. Last month, a transgender weightlifter won multiple gold medals at the 2019 Pacific Games in Samoa. Laurel Hubbard of New Zealand won two gold medals and a silver in the three heavyweight categories for women weighing more than 87 kilograms, or 192 pounds. Hubbard is physically male. Last year, two biologically male sophomores at different Connecticut high schools competed in the female division of the state open track and field competition. They came in first and second place in the 100- and 200-meter dashes. Because the Western world cowers before LGBTQ demands, no matter how unfair they are to women athletes, men who deem themselves female must be allowed to compete against women. They almost always win.

Feds Investigating Violation Of Girls' Civil Rights In CT After Trans Athletes Smoke Competition. The U.S. Department of Education Office has agreed to investigate a violation of girls' civil rights in Connecticut following a complaint filed in Boston concerning two biologically male transgender teens triumphing over biologically female competitors in high school track.

Democrats Denied Transgender Athletes Have Advantages In Women's Sports. Science Says They're Wrong. Suppressing testosterone levels in male athletes isn't enough to eliminate their natural advantages over female athletes, according to a recently published paper in the Journal of Medical Ethics. The paper's findings contradict congressional Democrats' claim that male athletes who identify as transgender don't have an inherent advantage over their female competitors. The paper, "Transwomen in elite sport: scientific and ethical considerations," concluded that male athletes who identify as transgender women have an "intolerable" advantage over their female competitors.

Democrats, Transsexuals, and Women's Sports. The gradual subversion of women's sports by the LGBTQ movement could receive a steroidal-like boost with a victory by Democrats in the 2020 elections. All Democratic presidential candidates have pledged their support for the Equality Act, which declares one's sex to be whatever he or she self-identifies as, regardless of the "designated sex at birth." House Democrats voted overwhelmingly in May to approve the measure. Joe Biden says getting the act passed would be his top legislative priority. Critics say it could devastate girl's and women's sports. It comes down to a numbers game. Transgenders are just now coming out, much as gays came out 40 years ago.

Transgender weightlifter wins two gold medals in women's competition. The transgender conquest of women's sports continued over the weekend as a New Zealand weightlifter took home multiple gold medals at the 2019 Pacific Games in Samoa. Laurel Hubbard won two gold medals and a silver in the three heavyweight categories, for women weighing more than 87 kilograms, or 192 pounds, finishing first in the snatch-lift and combined categories and second in the clean-and-jerk. The 41-year-old weightlifter was born as Gavin Hubbard and reportedly transitioned while in the mid-30s.

Sorry, Ladies: It's Just Biology, Psychology, and Economics. The "inequality" that exists in women's sports is nothing new, and in spite of what many on the left would have us believe, it involves nothing nefarious. The fact that consumers overwhelmingly prefer men's sports to women's sports is merely a matter of biology and psychology and not due to some mythical misogynistic plot. The facts and the data clearly bear this out. [...] Unless the Left continues down this road, where gender-deluded (or financially savvy?) men are allowed to compete as women, there will never be "equal pay" or "gender equality" when it comes to athletics, because human sexes are not — and will never be — equal.

Female athlete alleges retaliation by coach because her mother complained about transgender policy. Boys are competing in girls' track and field events in Connecticut, at the direction of the Connecticut Interscholastic Athletic Conference, so that transgender students don't feel invalidated. They are often winning, and the girls are afraid to publicly object for fear of "retaliation," according to Selina Soule, one of the female competitors. That's why Soule and two of her unnamed female peers are asking the U.S. Department of Education to investigate CIAC for Title IX violations.

Understanding Leftists in Three Easy Steps. America is fighting a culture war and the Progressive Left is the aggressor. The latest front was opened on June 21 when the House of Representatives passed the so-called "Equality Act," which would allow boys who self-identify as girls to compete in school sports as girls. Conservatives point to the Democrats' embrace of transgender ideology as further evidence the party has gone off the rails, but typically left unexplained is how and why Leftists get to the positions they hold. Here is an attempt to do that.

Hey, 'Trans' Men in Women's Sports: Good Luck, Fellas — Go for the Gold!. "Equality" cries were cherished by feminists when they gave females entry into military academies, boardrooms and the ranks of police; prize-money parity in some sporting events; and access to boys' athletics. But with these appeals now putting sexually confused men in women's sports, well, feminists' cries are a tad different. Equality can be a real downer when it's principle and not ploy.

Survey: 1 in 4 okay with trans athletes competing in women's sports. The survey, conducted by ScottRasmussen.com, was conducted in mid-April 2019 — and according to the findings, less than a quarter of respondents (23%) believe men should be able to compete in women's competitive sports events. But Steve McConkey, president of 4 WINDS Christian Athletics, is concerned that individuals under 35 are evenly divided on the question (41% yes, 44% no). "[The poll] showed that the younger generations ... are not opposed to transgenders in sports — [whereas] the older adults ... are more situated in their belief, thinking there are two sexes," he summarizes.

High School Track Star Who Lost Race to Transgender Athletes Explains Why She's Fighting Back. The female high school athlete who was forced to sit on the sidelines at a major track tournament because two transgender runners landed the No. 1 and No. 2 spots isn't just speaking out about the unfairness of her situation — she's fighting back. Hours after filing a complaint with the Department of Education's Office for Civil Rights, Selina Soule and her attorney, Christiana Holcomb of Alliance Defending Freedom, sat down with Kelsey Bolar on this week's edition of "Problematic Women" to discuss the latest developments in her case.

Transgender Policy Forces Catholic Girls School Out Of Athletic Conference. ConservativeHQ.com has obtained exclusive information that Oakcrest School, an independent Catholic school for girls in grades 6-12, has withdrawn from the Potomac Valley Athletic Conference (PVAC) due to the athletic conference's decision to allow boys who "identify" as girls to compete in the conference's girls athletic programs. According to information shared exclusively with CHQ, back in March the Potomac Valley Athletic Conference (PVAC) voted to amend its constitution to allow students to participate in athletics in a manner that is "consistent with their gender identity."

High School Girl Who Lost Race to Transgender Athletes Files Federal Complaint. A female high school athlete who didn't qualify for a track event because two boys who identify as girls ran faster filed a complaint Monday with the Department of Education's Office for Civil Rights. "No one in the state of Connecticut is happy about this, but no one has enough courage to speak up," Selina Soule said during an interview with Tucker Carlson that aired Monday night [6/17/2019] on his Fox News Channel show.

Girls file federal discrimination complaint after transgender track wins. Three Connecticut girls who have run high school track have filed a federal discrimination complaint saying a statewide policy on transgender athletes has cost them top finishes in races and possibly college scholarships.

Female Track Runner Sidelined By Male Competitors Petitions The Department Of Education For Justice. It's striking how quickly the culture can change. Just a short time ago, surely few would've believed that a common viewpoint — that it would be unfair to let guys take away athletic victories from girls by allowing them to compete in women's sports — would be labeled the result of an irrational fear. Yet here we are: What was considered common sense and common goodness is now a symptom of mental illness. "Transphobia" has gotten so much traction, in fact, that Brazil just criminalized it — it's punishable by a half decade in prison.


Run-of-the-mill as a man, champion as a 'woman'. Last year, Craig Telfer (pictured, center) was a solid but not dominating athlete competing in men's track and field at Franklin Pierce University. But this year, Telfer — now identifying as a woman — competed in women's events, setting numerous school and conference records, and ended up qualifying for the Division II NCAA championships in two events: 100-meter hurdles and 400-meter hurdles. Steve McConkey of 4 WINDS Christian Athletics says that's unfair because "the physical characteristics of this athlete ... are far superior than women — the length of the joints, the top parts of the leg are far superior than women for hurdling, [the event] in which this person was successful in doing." McConkey is opposed to this trend, claiming it will ruin women's sports. However, he says that some notable female athletes are beginning to speak out.

Finally! A poll on transgender athletes competing as women. The concerted push for the public to accept the notion that men can become women by an act of will, perhaps with the aid of hormones and surgery, has always struck me as a measure intended to ratify mind control by means of institutional pressure and ostracism of non-compliant people. The fact that transgenderism is blatant scientific nonsense makes the exercise all the more important. A subject population that can be made to assent to such nonsense will accept totalitarianism as it creeps up. That's why until now I have not been able to find any poll asking the public what it thinks. The danger in mass mind control exercises is that people will recognize they are not alone in [questioning] what the media, the deep thinkers, and the activists tell them. But, as I expected, it turns out that a majority of the public isn't buying the party line that the media, the education establishment, Hollywood, and the entire arts and culture establishment fanatically push.

Transgender hurdler easily wins NCAA women's national championship. A hurdler who competed as a man last year won an NCAA championship in women's hurdles over the weekend. CeCe Telfer of Franklin Pierce University easily won the 400-meter hurdles at the NCAA Division II outdoor track-and-field championships Saturday, winning the final race by more than a second. Telfer also finished fifth in the 100-meter hurdles, earning All-America honors.

---

"It is better to deserve honors and not have them
than to have them and not deserve them."

— Mark Twain

---

Transgender Woman, Who Remains A Biological Male, Wins NCAA Women's Track Championship. A biological male won the first Women's Track and Field NCAA title, even though she was previously competing as a man named Craig as recently as 2018. CeCe Telfer, a transgender woman from New Hampshire attending Franklin Pierce University, won the first ever NCAA title for the sport, and also made history as the first biologically male competing on a woman's team to do so.

The Editor says...
EVERY "transgender woman" remains a biological male. You can make drastic surgical alterations to your body, but you cannot change your chromosomes.

Liberals Are At War With Science In The Transgender Athlete Controversy. [Scroll down] Nowhere is this disconnect between science and modern liberal ideology (and its harm to those the party claims to champion) so evident as in the dispute over transgender athletes who demand to compete in women's sports. On one side of the debate you have people like Jaycee Cooper, a transgender woman who is in a dispute with USA Powerlifting because the federation doesn't allow biological men to compete with women. USA Powerlifting says Cooper has an unfair advantage over them as a biological male, but Cooper says it's discriminatory to ban transgender people from competing with the sex they identify with. "I really do love this sport, and it's not fair to genetically eliminate an entire group of people," Cooper told NBC News. The federation rules do allow transgender athletes to compete freely in competition with people of their biological sex, with the exception of biological women who use testosterone. But more importantly, Cooper's discrimination argument disregards the fact that women's sports are designed to exclude an entire group of people — men — from the competition in order to level the playing field.

Trans Powerlifter Stripped Of Titles In Women's Championships. This is the latest in our apparently endless series of stories covering the destruction of competitive women's sports by the introduction of "transgender women" into the events. This time we're back to the sport of weightlifting. A transgender powerlifter named Mary Gregory recently "dominated" the field at a Powerlifting Federation competition last month, smashing four world records for that weight class in the process. This had the actual women competing in the event understandably upset and protests were lodged. But after an investigation was conducted, the federation chairman posted an announcement saying that the record lifts were being taken off the books.

Sports League Rejects Transgender Athlete's Claim to Female Weightlifting Records. A weightlifting league has revoked awards to a transgender weightlifter who claimed to have broken several women's weightlifting records. "Our rules, and the basis of separating genders for competition, are based on physiological classification rather thana identification," said a statement from Paul Bossi, president of 100% RAW Powerlifting Federation.

8th Place: A High School Girl's Life After Transgender Students Join Her Sport. When two high school athletes who were born male but identify as female took first and second place at Connecticut's girls indoor track championship this year, it wasn't just a local news story. To some, it was a story of triumph and courage. The winner, a junior from Bloomfield High School, set a girls state indoor record of 6.95 seconds in the 55-meter dash, and went on to win the New England titles in both the 55-meter dash and the 300-meter dash. To others, it was a story of shock and disappointment: Is this the end of women's sports?

Girls and Women Deserve Single-Sex Sports. Our culture is so steeped in the idea of equality (in most ways, a very good and noble commitment) that we lose sight of obvious but important facts that we must acknowledge if we are to create a truly level playing field and make functioning equality possible. Take sports. Today, most people recognize that participating in athletics is associated with positive benefits for both males and females. It's just as important to encourage our daughters to join a team as it is to encourage our sons. Individuals of both sexes have the capacity to be great athletes.

Man Competes In Women's Powerlifting, Sets Four World Records. Do people no longer realize the extreme difference between XX and XY muscle? Reality keeps rearing its ugly head in sports, as a liberal position eliminates women from competition like Dolly Parton crashing a Men's Largest Chest championship. Case in point: Mary Gregory. On Sunday [4/28/2019], Mary — who's a man — shattered four women's division powerlifting world records. Due to his dominance in girls' deadlift, squat, and bench press, he set a Masters total record.

Transgender Athletes Dominate at Connecticut Girls' Track State Meet. According to FairPlayForWomen.com, a nonpartisan grassroots campaign based in the UK dedicated to fighting for the sex-base rights of women and girls, there are a number of skeletal and muscular differences between men and women. Women are, on average, 9 percent shorter than men, and have shorter and weaker bones. Women also have shorter arms and legs relative to body size — one can easily see where longer legs might benefit males in track sports. As for muscles, women "are around 30-35% muscle by weight, while men are 40-50% muscle." Women's ligaments are also thinner and softer than men's. The impact these biological differences have when it comes to competitive sports is undeniable — and there are victims whose concerns are not being heard.

Every House Democrat But One: 234 Elected Officials Demand The Extermination Of Women's Sports. Sarah Warbelow of the left-wing Human Rights Campaign testified before a House subcommittee Tuesday [4/9/2019] that the notion of men having an athletic advantage over women is not "rooted in fact." Here's a secret: The very much "rooted in fact" fact that men have an advantage is the very reason there's such a thing as women's sports in the first place. If there's no advantage, then just eliminate women's sports. Which, effectively, they're doing.

All but one Democrat in the House co-sponsors a bill to allow males to compete on female athletic teams. It may be counterintuitive to rationally examine an irrational proposal, but it's the only way to defeat it. Not all male athletes will be able to beat all female athletes. This is especially true at the highest levels of competition. But it is also true that the best male athletes will defeat the best female athletes every time. And in some sports — field events in track — even average male athletes will have a competitive advantage over females. This hardly matters to female athletes who train for years, bringing their bodies to peak conditioning, only to find that their best wasn't good enough because a biological male who might be an average or above average male athlete was allowed to compete against her.

Former Olympic medalist: Female athletes afraid to speak out about males competing as women. British former Olympic swimmer Sharron Davies said Monday that she knows of "quite a lot" of female athletes who are afraid to publicly share their concerns about biological males who identify as transgender women competing in women's sports. Davies told Sky News that she's had "many" conversations with female athletes who are afraid to speak out, especially "people who are competing at the moment." "They're worried that their governing bodies will frown on it, they're worried that their sponsors will think it's not PC and that they're not allowed to do this," said Davies, who won a silver medal at the 1980 Summer Olympics.

First They Came for the Catholics, Then for the Christians, and Then for the High School Kids. [Scroll down] Meanwhile, in Colorado, they now have disqualied Brendan Johnston from the state's high-school wrestling championships. Johnston is a Christian teen boy who politely, as a matter of religious principle and personal conscience, refused to wrestle a girl. As he explained, "There is something that I really do find problematic about the idea of wrestling with a girl, and a part of that does come from my faith and my belief. And a part of that does come from how I was raised to treat women. I don't think that I am looking at them as not equal. I am saying that they are women, and that is dierent than being men, because I do believe that men and women are different, and we are made differently. But I still believe that women are of equal value to men. I don't think that seeing men and women as different... [opposes] the idea of equality."

Girls' sports being decimated by biological males claiming to be females. There are only two genders in this world of ours, male and female, and it doesn't matter how someone "identifies," that biological fact is established and unalterable. [...] With that being said, the Left is nevertheless hard at work trying to convince us that gender is a 'fluid' thing and in some cases, an outright choice, so old societal constructs like "male" and "female" sports are no longer necessary or relevant. That's why they go along with allowing biological males to participate in (and dominate) all-female events simply because they 'identify' as a girl, claiming — remarkably and unbelievably — that there are no physical differences between the sexes.

If You're A Biological Man Competing In A Women's Sport, You're A Cheater. It's one thing to have someone shout that they are female when they're really male. If they just kept it to that, then that's not something I particularly care about. You do you, just don't force everyone else to pretend along with you and we're good. However, it's another to not only force everyone else to agree with you but then applaud you as you put women down. That's exactly what's going on in the sports community, as headline after headline comes out detailing victories by transgendered "women" in women's sports as highlighted by my colleague Elizabeth Vaughn on Tuesday [2/26/2019]. These are only being celebrated today as triumphs because the current trend says people not only should cheer it on, but they have to. Any talk to the contrary evokes the wrath of the mob, and God have mercy on your soul if you become their target.

The Testosterone-Fueled He-Men of Women's Sports. Female sprinters (good ones) tend to have broader shoulders and narrower hips, but still cannot match the anatomical advantages that a biological male does. In addition, all females, even masculine ones, have a wider Q-angle. That's the hip to knee ratio. And here, that difference is again obvious. Finally, look at the muscle density. The biological girls could work out their whole lives and not build that muscle naturally.

Boys Will Be Boys, Except When They Are Girls. In the recent Connecticut girls' state indoor track championships, two men calling themselves women finished first and second place in the 55-meter sprint, one of them setting a state record. Connecticut is one of 17 states allowing high school athletes to compete without restriction with members of the opposite sex. States, in an effort to be diverse, tolerant, and woke, have passed anti-discrimination laws requiring students who so desire to be treated in school as members of the opposite sex. Interestingly, the sporting competitions are binary: male or female. If these school administrators were true to their intentions, they would have separate sporting events for each of the 60 genders in order to make things fair.

Trump-Hating Lesbian Tennis Champ Destroyed for Saying Men and Women Are Different. Navratilova defected from communist Czechoslovakia in 1975 and became a U.S. citizen in 1981. That same year, when there was still a price to be paid for doing so, she came out as a lesbian and has since engaged in a long career of LGBT activism. She lent her name and support to ballot initiatives, spoke at LGBT marches, and in 2000 was the recipient of the National Equality Award from the Human Rights Campaign, the nation's largest LGBT lobbying group. She is active on Twitter and firmly in the Orange Man Bad camp. No one could ever accuse Martina of not being down for the cause. All this was not enough to protect Navratilova from ostracization and accusations of bigotry last week when she questioned the wisdom of allowing men pretending to be women to compete in women's sports.

Martina Navratiola Removed From Board of LGBTQ Organization. Tennis legend Martina Navratilova was officially removed Wednesday from the advisory board of a prominent LBGTQ organization after making comments about transgender athletes. Navratilova released an op-ed in The Sunday Times on Feb. 17 discussing her opinion on why transgender athletes should not be able to compete against female athletes. She wrote that having men compete as women is unfair because of the physical advantage.

Political Correctness Is Ruining Sports. For the second consecutive year, Mack Beggs, an 18-year-old transgender wrestler, has won the Texas girls' Class 6A 110-pound division. Born a female, Beggs is in the process of transitioning to a male, or so she thinks. Beggs, who takes a low dose of testosterone, had wanted to compete against boys, but Texas public high schools, which have yet to get with the progressive times, require athletes to compete under the gender on their birth certificate. Last year two girls, not wanting to risk being injured by her, forfeited against Beggs. So did a girl this year. Whether they were compelled to undergo empathy training I don't know. [...] Transgenderism is a problem in the Olympics, too. Per the latest rules, transgender "women" must test below a specified level of testosterone for more than one year in order to compete. But while this is doubtless somewhat effective, aren't these athletes, with their still bigger, still stronger, and still more durable bodies, out of place even so?

Man "Identifying" As Woman Wins Women's World Cycling Championship. Having covered the topic of transgender athletes extensively here, this is a story I've been expecting to cross our path for quite a while now. At the 2018 UCI Masters Track Cycling World Championships in Los Angeles this weekend, the winner of the women's 35-39 age bracket was Canadian competitor Rachel McKinnon. McKinnon is a male who identifies as a female.

The Editor says...
If a heavyweight boxer "identified" as a middleweight, and then beat his opponent to a pulp, would that be unfair? Yes, because there are pragmatic ways (involving a calibrated scale) to determine (before the contest begins) who's a heavyweight and who's not. Similarly, there are ways to determine if one has XX chromosomes or XY chromosomes; and indeed, there are no others.

World cycling bronze medalist cries foul after transgender woman wins gold. The American bronze medalist who lost a world-championship cycling race to a transgender woman from Canada has criticized the results as unfair. "First transgender woman world champion...ever," Rachel McKinnon, an assistant professor of philosophy at the College of Charleston in South Carolina, bragged Sunday in a tweet that set off a massive debate.

Biological Male Wins World Championship In Women's Cycling. A biological male who identifies as a transgender woman won a women's world championship cycling event on Sunday [10/14/2018]. Rachel McKinnon, a professor at the College of Charleston, won the women's sprint 35-39 age bracket at the 2018 UCI Masters Track Cycling World Championships in Los Angeles. McKinnon, representing Canada, bested Carolien Van Herrikhuyzen of the Netherlands and American cyclist Jennifer Wagner to take home the gold.

It's time to end women's sports. It's time to end women's sports — especially since they're not just "women's" sports anymore. A case in point is "Rachel" McKinnon, Ph.D., a man masquerading as a woman (MMW), or a "transgender," as the enlighteners say, who just won a women's masters cycling event. As The Gateway Pundit's Jim Hoft (almost) put it, he "whooped them little girls." McKinnon isn't alone, as many MMW have won women's sporting events during the last decade. To name just a few, a 55-year-old MMW won a women's long-drive competition (golf) in 2008. Last year, a 39-year-old MMW won a women's weightlifting event. Then there were the Connecticut's State Open track and field championships in June; the top two finishers in the 100-meter dash were both MMW (okay, being boys, they were BMG), with one of them setting the girls' state record in both the 100- and 200-meter runs. Hey, you go...uh...girl.

State of Modern Sports: Boy Identifies as Girl, Boy Competes as Girl, Boy Wins Everything. A high school in Connecticut has accepted a new boy on their track team. Except, he won't be going to the boys track team, he'll be going to the girls team. Andraya Yearwood, a freshman and biological male from Cromwell High School in Connecticut, identifies as a girl and recently received permission to join the girls track team after competing as a boy in middle school. Not surprisingly, Yearwood has been extremely successful as a male competing against females.

NFL: Hey, you know what would really improve our ratings? A transgender bathroom bill fight. You may have missed it in the rush of "other news" last month, but Texas is considering implementing their own transgender bathroom bill similar to the one in North Carolina which we spent most of 2016 fighting over. [...] One unexpected entrant into this particular field of battle seems to be the National Football League. For reasons which currently baffle me, the NFL decided to weigh in on the subject this week and issue what sounds something like a warning to the Lone Star State, hinting that Texas may not be hosting any more Super Bowl events if they follow such a path.

NFL more forceful on Texas 'bathroom bill' after Super Bowl. The NFL sharpened its warning to Texas on Friday [2/10/2017] about a "bathroom bill" targeting transgender people, suggesting for the first time that the football-crazed state could miss out on hosting another Super Bowl if the proposal is enacted.

NFL Warns Texas There Could Be Consequences for 'Bathroom Bill'. Days after the Super Bowl in Houston, the NFL is warning Texas that legislation requiring individuals to use public bathrooms in accordance with their biological sex could cost the state future opportunities to host the big game.

Seattle Mariners apologize after lesbian couple are told to stop kissing at the baseball team's first ever gay pride night because it was against their 'family-friendly' policy. The Seattle Mariners had to make a groveling apology after a lesbian couple were told off for kissing at the team's first ever Pride night. Mary McHale and her partner Sara Hinton had enjoyed the game against the Milwaukee Brewers — which the Mariners won 7-6 — and were waiting for a ride afterwards when a steward told them to stop smooching because it was a 'family-friendly' event.

Trans-thinking: When 98 Percent of Students Would Let Men in Women's Sports. Imagine a fairly muscular, athletic young man, acting like a man and dressed as a man, tells you he identifies as a woman and asks you to sign a petition supporting his effort to play on his college's women's basketball team. Your response? If you're like 49 out of 50 students approached at the University of Maryland recently, you may sign and say "You go, (girl?)!" And, no, according to Campus Reform's Cabot Phillips, who masqueraded as the aspiring woman, he didn't show just the eyebrow-raising responses. He says that he asked only 50 students for support, and 49 offered it.

Wrestler forfeits rather than fight a girl.

Iowa's girl wrestlers: Some drama, some sport

. The crowd cheered as Cassy Herkelman's hand was raised, but the historic moment of the first girl to win a match at the traditional state wrestling meet comes with an asterisk. Her opponent, Joel Northrup of Linn-Mar of Marion, forfeited.

Not Wrestling Girls

. It's so easy to look at teenagers in general today and sigh. They're more than a bit lazy, a bit spoiled and more than a bit morally compromised. Two teenagers made national news. One showed common decency and sportsmanship, two virtues seemingly uncommon in that generation. Hope is restored.

Should Boys Be Wrestling Girls?

This year's Iowa state championships attracted attention nationwide when the promising high school sophomore Joel Northrup (the fifth-ranked wrestler in the state) defaulted on his first match. He had drawn Cassy Herkelman, a female freshman, as his opponent, and he could not, in good conscience, wrestle a girl. ... Had he not declined to wrestle Herkelman, he might have won it all. The New York Times, the AP, and other national news organizations noted that Northrup's father is a minister — the suggestion being that such peculiar and backward views as the young man expressed must be chalked up to a religious sensibility. Most of the coverage stressed the "girl against the old boys network" angle.

7 Reasons Why the Equality Act Is Anything But. [#4] It would allow more biological males to defeat girls in sports. Two biological males who identify and compete as women easily defeated all of their female competitors in an event at the Connecticut State Track Championships. Transgender athlete Terry Miller broke the state record in the girls'100-meter dash. Andraya Yearwood, also transgender, took second place. Selina Soule, a female runner, not only lost to the biological males in the championships but also lost out on valuable opportunities to be seen by college coaches and chosen for scholarships. Soule said about the 100-meter event: "We all know the outcome of the race before it even starts; it's demoralizing."

Transgender Prof Claims Excluding Men from Women's Sports is Like Excluding Black Women. This comparison seems awfully unfair to black women, but what do I know? I'm not a professor.

Opera singer becomes first transgender woman to sing national anthem at professional sporting event. History was made at the Oakland Athletics stadium this week when a transgender woman sang the national anthem at a professional sporting event for the first time ever in the country. Classically-trained opera singer Breanna Sinclaire took the mic at the O.co Coliseum for a sold out game between the A's and the San Diego Padres on Wednesday [6/17/2015]. Sinclaire had a 30,000 audience at the A's LGBT Pride Night as she belted out the Star-Spangled Banner, and that wasn't counting the people who were watching the game on television.

Transgender Woman Sings National Anthem at Pro Sports Event for First Time. Transgender woman Breanna Sinclairé made history Wednesday night [6/17/2015] by becoming the first transgender person to sing the National Anthem at a professional sporting event.

The Editor says...
I'd be at the ticket counter demanding a refund before the first batter took a swing.

Men will now compete against women:
Olympics Loosen Rules to Allow Pre-Op M-to-F Transsexuals to Compete with Women. There's great news for adventurous male Olympic hopefuls: if they declare themselves women and reduce their testosterone below 10 nmol/L for at least 12 months prior to competition, they can compete against ladies. There's even better news for these men; according to transgender guidelines approved by the International Olympic Committee, genitalia does not serve as a prerequisite. The guidelines state: "To require surgical anatomical changes as a pre-condition to participation is not necessary to preserve fair competition and may be inconsistent with developing legislation and notions of human rights."

Activist athletes, teams, and leagues (and politicians) inject politics into sports

Kansas City Chiefs Fans Rain Down Boos After the NFL Plays the "Black National Anthem" BEFORE the Real National Anthem. The Kansas City Chiefs Super Bowl title defense got off to an inauspicious start Thursday night after falling to the Detroit Lions 21-20. But an arguably bigger story before the contest has Americans across the country up in arms. The National Football League (NFL) made the decision to play "Lift Every Voice and Sing," which is considered the "Black National Anthem." To add insult to injury, they decided to do so before the "Star Spangled Banner" as Fox News reported. In the NFL's eyes, pandering to woke radicals is more important than promoting simple racial harmony

Megan Rapinoe and Necessary Schadenfreude. Megan Rapinoe is a hard person to like. [...] Rapinoe felt like she deserved more because she was the best women's soccer player in the world and she wasn't making as much as men were. So what? Women's sports don't bring in nearly as much as men do, so the pay should be less. Draw a crowd, sell some merch and the cash follows. She didn't want to earn it, and it turns out she didn't have to. The US Soccer governing body caved to the demands and now offer the equivalent of socialism in pay to both teams. Of course, Megan was already raking in the cash — probably the highest paid player with all her endorsements, bringing in an estimated $7 million. Can you imagine a world where she is worth $7 million? Megan Rapinoe might have been worth that much when she was good, but she's not good and hasn't been for a long time. She had no business being on this team this year, let alone on the field when they finally lost.

Here's the Real Game Colin Kaepernick Is Playing. It's Not Football. It's NFL training camp season again, and that means it's time for us to hear yet again about how far-left race hustler and former quarterback Colin Kaepernick, despite having derided the NFL for years as a racist enterprise that treats its employees like slaves, is trying to get back into the league yet again. If you're tired of Kaepernick's cynical act, you're not nearly as tired of it as is Terence Garvin, a former NFL linebacker who had a few choice words for the attention-seeking apparatchik this time around.

NASCAR Driver Noah Gragson Suspended for 'Liking' a Meme About George Floyd. Legacy Motor Club and NASCAR have suspended driver Noah Gragson. This comes after the driver allegedly "liked" a meme about George Floyd, the man who died in police custody in May 2020. The death of Floyd resulted in mass riots around the country then went on for several months despite Covid and well into election season. Gragson apologized but it didn't keep him his place to drive. [...] Josh Berry will drive the #42 car on Sunday's race in Michigan instead. No one knows if the suspension will be permanent or not. While everyone is aware of the delicate nature of the George Floyd subject, it seems like "liking" a meme is something that many would not expect to have such a ripple effect, especially since it's easy to accidentally like the wrong thing sometimes or perhaps like something you haven't fully looked at.

You don't have to play if you don't like the anthem. Once again, we have athletes making fools of themselves. The latest episode from the ingrates comes from the Women's World Cup soccer match. For the record, I am not a big soccer fan but it's always nice to cheer for the home team. In my case, it's the nice country that adopted my family years ago. In the case of these young women, it's the country that gave them this opportunity.

Fans blast USWNT over silence during national anthem at World Cup. The US Women's National Soccer team was victorious in its opening match of the 2023 FIFA World Cup — but they're not winners to fans left fuming after the most of the athletes stayed silent during the national anthem. Before the reigning women's World Cup champion team went on to crush newcomer Vietnam 3-0, many of the players stood quietly as the "Star Spangled Banner" blared through New Zealand's Eden Park arena.

USWNT players largely silent during national anthem in 2023 World Cup opener against Vietnam. Most members of the US women's soccer team stayed silent during the national anthem before its World Cup opener Friday against newcomers Vietnam — who passionately belted their nation's tune. The majority of the reigning women's World Cup champion team stared stoically ahead as the "Star Spangled Banner" blasted across New Zealand's Eden Park arena. Only five of the 11 players who stood on the field for the anthem — with young, aspiring players standing before them — placed their hands over their hearts, while their six teammates kept their digits clasped behind their backs, video shows.

Megan Rapinoe Announces Retirement — Good, and Good Riddance. No one loves Megan Rapinoe like Megan Rapinoe loves Megan Rapinoe. She's been in the spotlight for years now — with ESPN's social justice warriors clambering over themselves to pat her on the back and forward her agenda. She was given the Presidential Medal of Freedom by Joe Biden, because why not? That award has no meaning any longer. Barack Obama gave one to Joe Biden at the end of his presidency. It was supposed to be his "go-away" gold watch. Like Obama's Nobel and Biden Medal, Rapinoe was given one of the nation's highest citizen awards because of her big mouth. And because of what side she is on: the obnoxious left.

Is the NBA Going the Way of Bud Light? Over the past several months, we've seen corporations take big financial hits for embracing wokeness. Disney took a massive blow to the bottom line after going woke, while Target and Ben & Jerry's have seen their market values tumble following far-left stands. But the, umm, gold standard for the "go woke go broke" model is Bud Light, whose fortunes continue to tumble after it partnered with Dylan Mulvaney for a marketing stunt. The sports world is notorious for embracing wokeness in recent years as well. Major League Baseball and the National Hockey League have recently been under fire for pride month antics, and let's not forget how MLB moved the All-Star Game from Atlanta based on lies about Georgia's voter integrity law. But the godfather of wokeness in both sports and business is the National Basketball Association (NBA). The NBA embraced wokeness when embracing wokeness wasn't cool, and Outkick's Clay Travis asserts that the NBA's downward slide over the past few years is a slow-burn version of what's happening with corporations like Bud Light.

Corporate America Doesn't Hear Anybody. [Scroll down] But the people are listening and are fed up. Bud Light still shows no signs of recovering, nor does Target. Threats against Target which the media tried to blame on conservatives actually came from LGBTQ+ groups, claiming betrayal of that community. Major League Baseball, while not eliminating "Pride" events, has scaled back on them. There was a huge protest at the LA Dodgers "Pride Night" event where the Dodgers were honoring a hate group that denigrated and mocked Catholicism. The silent majority appears to be finding its voice. We are learning that we can impact the bottom line of corporate America. And that may be the only way to make them listen, that they should concentrate on business and not politics.

NHL Teams Will No Longer Wear LGBTQ Pride-Themed Jerseys. National Hockey League (NHL) teams will no longer wear rainbow-colored LGBTQ-themed jerseys during pregame warmups for Pride nights. NHL Pride Nights became a hot topic of conversation earlier this year when Philadelphia Flyers defenseman Ivan Provorov refused to participate in his team's Pride Night due to his orthodox Christian faith, sparking outrage from leftists who proceeded to accuse him of bigotry and homophobia. However, the Philadelphia Flyers kept him in the lineup, and the team even went on to win the game against the Anaheim Ducks.

Dodgers Swept, Suffer Worst Home Loss in 125 Years After Honoring Anti-Catholic Drag Queens. Not that this had anything to do with anything, but the Los Angeles Dodgers were humiliated by their archrival this weekend after deciding to host and honor a group of anti-Catholic drag queens at their Pride Night event on Friday. The weekend began as awfully as it ended for the Dodgers. On Friday, the team bestowed the "Community Heroes" award on the Sisters of Perpetual Indulgence, a group of drag queens who routinely mock the Catholic faith by performing grotesque sexual acts while using religious imagery, garb, and symbolism.

Kaepernick Hooks up With 'Prominent Black Marxists,' Says 'White Supremacy Persists' Because of Capitalism. Colin Kaepernick. The former San Francisco quarterback turned out to be a disappointing enigma to an untold number of NFL fans. Despite earning nearly $40 million while playing football and $20 million from Nike, "Kap" not only intentionally threw away his career; he hypocritically now blasts capitalism. More precisely, Kaepernick believes "black liberation" isn't "possible under capitalism." And whose fault is that, according to the quarterback-turned-racial-activist? Two words: "White supremacists," who else?

Empty Stadium as LA Dodgers Honor Anti-Catholic Group 'Sisters of Perpetual Indulgence' Amid Protests. Opposition is in full swing to the Los Angeles Dodgers' on-field ceremony honoring the Sisters of Perpetual Indulgence, an organization of "drag nuns" that the Catholic League calls an anti-Catholic hate group. Thousands of Catholics, other Christians, and even some people of the Jewish faith gathered in a parking lot near the Dodgers' stadium on Friday afternoon to pray ahead of the game. Later, the religious groups marched to Dodger Stadium, shutting down one entryway on Vin Scully Avenue. Weeks of momentous opposition led to the drag nuns being announced on-field to a mostly empty stadium, while receiving some boos from baseball fans in attendance.

The Los Angeles Dodgers baseball team is facing a Bud Light-style boycott. The Los Angeles Dodgers baseball team is facing a Bud Light-style boycott after inviting a controversial LGBTQ group of drag queen 'nuns' to a Pride Night ceremony — enraging the Catholic community and sparking protests on Friday. The group, the Sisters of Perpetual Indulgence, was invited to appear before the Dodgers' game against the San Francisco Giants, and receive an award for their community work. The ceremony to award the Community Hero Award to the 'nuns' was held before an almost-empty stadium, ahead of the game — but outside, protesters gathered.


What if the Dodgers honored the Sisters of Perpetual Indulgence and nobody came? Well, they did it. The Dodgers went ahead with their plan to honor the Catholic- and Christian-mocking bigot group known the Sisters of Perpetual Indulgence as community "heroes" last night ... and just about nobody showed up. The bleachers were almost empty — and among the few who did come, there was nothing but booing — loud enough to be reported. The photos are astonishing.


MLB quietly tells teams to drop use of Pride uniforms. Major League Baseball has quietly ordered its teams not to wear any Pride uniforms throughout their Pride events. The decision comes amid several companies and organizations facing consumer pushback for promoting LGBT acceptance. News of the MLB directive gained recognition last week when the Tampa Bay Rays reportedly announced its Pride festivities would have a different look, with players not sporting jerseys and hats featuring Pride rainbow patches and logos. The league reportedly announced its decision at an owners meeting in February.

Major League Baseball panics, tells teams to kill Pride logos. Anheuser-Busch teamed with a female-identifying man to promote its Bud Light beer to cowboys, truck drivers, suburbanites, NASCAR fans and more. It lost some $27 billion in corporate value, and analysts predict the brand never will regain its customer base. Target plunged head-first into promotions of transgender clothing and other LGBT ideology even for children, and lost some $15 billion in value. One analyst called the losses, triggered by pushback from American consumers against the "woke" ideology, "staggering." Now, it appears, Major League Baseball is trying to avoid any such collapse.

Red Sox Pitcher Cut Loose After Offending the Thought Police. Many people are warning these days that the jaw-droppingly corrupt weapon of partisan vengeance known as the "Justice" Department, with its indictment of Donald Trump after steadfastly ignoring the crimes of Hillary Clinton and Hunter Biden, is taking the nation down the road to dictatorship. And while that is a very real concern, some of the hysteria is overblown, not because the Biden regime actually respects loyal opposition and free discourse, but because the freedom of speech is already so severely eroded. The Boston Red Sox just showed that anew in their treatment of a pitcher who dared to utter unapproved ideas. Yeah, in America we have the First Amendment that supposedly protects the freedom of speech, but just try saying something publicly that goes against what the Leftist elites want you to believe.

The Devouring of a Christian Baseball Player. [Scroll down] [Toronto Blue Jays pitcher Anthony] Bass threw them all a curve. When asked by the media on Thursday [6/8/2023] if the video he shared was "hateful," he refused to oblige them. "I do not. That's why I posted it originally," he said. "When I look back at it, I can see how people would view it that way, and that's why I was apologetic." This failure to capitulate only infuriated the Canadian Maoists. They had expected Bass to reject his Christian beliefs or at least renounce them out of expedience, but Bass's faithfulness rescued him from any further degradation. As Nick Ashbourne of Yahoo News reported, "GM Ross Atkins ... might've been surprised by the degree to which Bass stuck to his guns." Ashbourne adds without even a hint of self-awareness, "The team appeared to be attempting to rehabilitate the pitcher's image." "Rehabilitate," right. Next stop, re-education camp! On Friday, Atkins, the Pontius Pilate of the story, chose to wash his hands of the affair by designating the 35-year-old Bass for assignment, a euphemism for cutting him from the roster. "Performance was a large part of this decision," he lied. "Distraction was a small part, but it factored in."

Conservatives Need to Support Boycotts. Recently the LA Dodgers scheduled an event for one of their "Pride Month" celebrations featuring a group called the "Sisters of Perpetual Indulgence" (SPI). This vile and blatantly anti-Catholic (and anti-Christian) group should be classified as a hate group, but instead the Dodgers wanted to celebrate them. Normal people were up in arms and protested, resulting in the Dodgers cancelling the Sisters. Then the LGBTQ+ community whined loudly and the event is on again. A number of Dodger players have made statements objecting to their endorsement by the Dodgers organization including future Hall of Famer Clayton Kershaw. So far, the Dodger management have not changed their minds to honor this hate group. I gave up professional sports years ago, thanks to the has-been Colin Kaepernick, a former pro quarterback who decided to kneel during the playing of the national anthem. My advice for all of the Christian players in Major League Baseball (MLB) would be to refuse to play in any game involving the Dodgers. As for fans, I would refuse to watch any Dodgers game. Those numbers are important as they determine ad revenue among other things.

Our Descent into Clown World. I once naïvely thought that men's professional sports would remain a small redoubt from the insipid idiocy of "political correctness." Stadiums where rowdy fans cheer on strong men engaging in physical acts of confrontation — and sometimes bloody violence — seemed like sturdy cultural ramparts capable of keeping leftist indoctrination at bay. Alas, owner-imposed ideology across leagues and organized intimidation campaigns against individual players have combined with enough force to crash through the gates. Now grown men who have spent their lives training for battle meekly embrace ever-changing Marxist planks before millions of spectators, who likewise are allowed to watch only if they implicitly accept the State's woke dogma. Will players and fans be forced to kneel during the National Anthem this week? To reject their religious faith as an expression of "hate"? To applaud child-grooming and predation? To cheer the World Health Organization's dictatorial control over their lives? Stay tuned. The sports leagues will let you know what to believe just as soon as the Marxist brigades lay down new marching orders.

One by one, the ball players are coming out against that Dodgers plan to lionize the Sisters of Perpetual Indulgence. One by one, major league ball players are coming out to express their opposition to the Los Angeles Dodgers' management's decision to honor anti-Catholic bigot group, the Sisters of Perpetual Indulgence, with its "Community Hero Award." [...] That the first three players have stepped forward and thus far have not backed down is a very good sign, though. It also indicates to fans that ball players and their corporate bosses are not the same thing, which is good for baseball itself. The fact that the ball players are on the public's side suggests that their fans will stay loyal to them. That's doing the Dodgers a favor.

To Beat The Dodgers' Anti-Christian Hate, MLB Stars Must Refuse To Play Ball. The Los Angeles Dodgers' appalling decision to honor an anti-Christian hate group called the Sisters of Perpetual Indulgence during their "Pride Night" on June 16 has been met mostly with a deafening silence from the vast majority of Major League Baseball players. Even Catholics, whose faith is particularly singled out for mockery by this LGBT hate group, have been largely mute. As of this writing, only four players in the entire league have said anything about it, and one of those four has already caved to the rainbow mob. The only Catholic player to come forward has been Trevor Williams, a starting pitcher for the Washington Nationals. Williams denounced the Dodgers and called on his fellow Catholics "to reconsider their support of an organization that allows this type of mockery of its fans to occur."

Toronto Blue Jays Player Looks Like He Just Got Out Of A Reeducation Camp After Being Forced To Appologize For Supporting Target And Bud Light Boycotts. Toronto Blue Jays pitcher Anthony Bass apologized on Tuesday for sharing a social media post that explained why Christians should participate in boycotting companies like Target and Bud Light, who have been at the height of national scrutiny over their failed marketing campaigns chalked full of LGBTQ propaganda. Bass briefly shared the faith-based video to his Instagram stories on Monday evening, which called on Christians to stop patronizing US companies that go against biblical teachings, but quickly deleted it following backlash. [Video clip]

Toronto Blue Jays pitcher apologizes for offending alphabet crowd. There is only one approved line of thinking in the West, and you know exactly what it is. Blue Jay pitcher Anthony Bass, who apparently is a conservative Christian, made the serious mistake of siding against the alphabet people in the brand wars. He cut a video siding with the people who are boycotting Target and Bud Light, and apostasy on this issue is apparently not allowed.

Dodgers' Clayton Kershaw disagreed with the organization's decision to honor Sisters of Perpetual Indulgence. The Los Angeles Dodgers have faced immense backlash for the decision to honor the Sisters of Perpetual Indulgence before the team's Pride Night game on June 16. Their star pitcher is not on board with the decision. Clayton Kershaw, a three-time Cy Young Award winner, announced last Friday that the team will relaunch its Christian Faith and Family Day. The veteran pitcher said it was in response to the organization's decision to honor the Sisters of Perpetual Indulgence.

No Dodging the Democrats' Degradation, or, "We're All San Francisco Democrats Now". You would think a team named "Dodgers" would know how to dodge a culture war battle they can't win (see: Target, Bud Light), but no, the Los Angeles Dodgers managed to get picked off in the most embarrassing fashion in a pickle-style rundown entirely of their own ineptitude. Surely the conservative (and Catholic) O'Malley family that used to own the Dodgers — before the onerous estate tax forced the family to sell the team back in the 1990s after Walter O'Malley died — are rolling in their graves. But there's a larger lesson here. [...] I predict that next year's Democratic Party platform (if they have one at all) will see a similar fight over two issues: an embrace of unlimited transgenderism and "gender-affirming health care" for children, and reparations for slavery. I doubt Democrats can dodge these self-generated impulses of their most vocal base any better than the LA Dodgers have.

CatholicVote calls Dodgers 'faith and family' night a 'band-aid' amid anti-Catholic group fallout. On Friday, nine-time MLB All-Star Clayton Kershaw announced a "relaunch" of another themed day at Dodger Stadium — Christian Faith and Family Day. "Excited to announce the relaunch of Christian Faith and Family Day at Dodger Stadium on July 30th," Kershaw wrote in a tweet. The Dodgers later confirmed the event and said more details will be released at a later time. "Join us at Dodger Stadium on 7/30 for Christian Faith and Family Day. Stay after the game to celebrate and be part of a day of worship." the Dodgers official Twitter account wrote. "Stay tuned for more details." The announcement comes after the Dodgers invited, then uninvited, and then re-invited the Sisters of Perpetual Indulgence.

CatholicVote launches $1M campaign calling for LA Dodgers boycott over anti-Catholic drag queens. One of the nation's largest Catholic advocacy organizations has issued a letter to the Los Angeles Dodgers announcing an upcoming ad campaign calling for a boycott of the baseball club. CatholicVote President Brian Burch addressed the letter to Dodgers principal owner Mark Walter and CEO Stan Kasten. "I represent the nation's largest lay Catholic advocacy organization," Burch wrote. "We are supported by millions of devoted Catholics across America who believe that the time-honored values of life, family, and freedom — which the Dodgers used to celebrate — are demonstrably good for America, and worthy of respect, not ridicule." "We wrote to you last week with a reasonable ask: Please do not honor this anti-Catholic hate group," Burch told the Dodgers' administrators. "There is no place for anti-Catholic bigotry, mocking of religious sisters, or celebrating a perverse activist group whose identity is marked by blasphemy and mockery of Catholics."

The Editor says...
"Ask" is not a noun.

It's About Time Christians Educated Themselves! The Los Angeles Dodgers' apology letter re-inviting the anti-Catholic Sisters of Perpetual Indulgence to Pride Night reads like the unwinding of a grueling struggle session. And it ends in a predictably pitiful way, with the reactionaries promising "to better educate" themselves in the future. In contemporary parlance, to "educate" oneself means allowing intellectually and morally stunted clowns — literally, in this case — to bully you. Because LGBT activists, like BLM activists, never need to be "educated" about anything. They have achieved enlightenment. No, it's the slack-jawed yokels who cling to thousands of years of intellectual and theological tradition who need lessons from the geniuses who spend Easter Sunday dressed in Virgin Mary drag, passing out condoms on a 13-stop bar crawl mocking the Stations of the Cross. The Dodgers are merely celebrating diversity by sponsoring a group that simulates sex scenes on crucifixes. Why are you fanatics starting another culture war?

I'm Boycotting Major League Baseball. I truly love baseball. But more than baseball, I love God. Given the decision between being a fan of any sports team and supporting my religious beliefs, I know that God is my real captain and I will always choose my faith. And I believe that when push comes to shove, most people feel the same. I also recognize that it is my religious obligation to support other people of faith in their journey. Which is why I am so sad that I will not be attending baseball games thanks to the irresponsible management of the Los Angeles Dodgers and Major League Baseball, following the team's blatant attack on Catholics by deciding to honor one of the most public anti-Catholic fringe groups in the country, "The Sisters of Perpetual Indulgence."

The Anti-Christian Los Angeles Dodgers Deserve The Bud Light Treatment. In a predictable act of cowardice, the Los Angeles Dodgers announced on Monday they are reinviting a radical, anti-Catholic LGBT group to the organization's "Pride Night" next month. Originally, the Dodgers invited the Sisters of Perpetual Indulgence — a radical LBGT organization whose drag members mock Catholicism by dressing up as so-called "queer and trans nuns" — to its June 16 "Pride Night" game. The MLB team was slated to present the group with a "Community Hero Award." After receiving much-deserved backlash from fans, Catholic groups, and Sen. Marco Rubio, R-Fla., the Dodgers announced last week the Sisters would no longer be honored at this year's "pride" celebration "[g]iven the strong feelings of people who have been offended by the sisters' inclusion." As it turns out, the Dodgers were just throwing faithful Christians a curveball. Capitulating to a bunch of mean tweets from Twitter bots and unhinged leftists, the team reversed course on Monday, reinviting the organization to take part in the June 16 event.

Dodgers Re-Invite Anti-Catholic Drag Group To Pride Night, Issue Apology to LGBTQ+ Community. After "much thoughtful feedback from Los Angeles' diverse communities" the Dodgers have decided to re-invite the Sisters of Perpetual Indulgence to its 10th annual LGBTQ+ Pride Night. They also issued an apology to the drag group, members of the LGBTQ+ community, and their friends and families. The decision to reincorporate the Sisters of Perpetual Indulgence comes less than seven days after the team chose to remove the group from the event. Los Angeles was initially set to give the group an award as part of its Pride Night celebration. The "Sisters" of Perpetual Indulgence use "go and sin some more" as their motto, and frequently dress as Jesus, Mary and other religious figures.

LA Dodgers condemned for honoring anti-Catholic transgender drag nuns: 'Blasphemous'. The Los Angeles Dodgers baseball team is facing accusations of anti-Catholic bigotry after the team announced it would honor a gay and transgender group that uses Catholic imagery in sexualized contexts. The Dodgers and LA Pride announced earlier this month that the team would be marking "Pride Night" on June 16, 2023, and that the celebrations would include the presentation of the Community Hero Award to the Sisters of Perpetual Indulgence, a self-described "leading-edge Order of queer and trans nuns." In a letter to Major League Baseball commissioner Rob Manfred, Sen. Marco Rubio (R-FL) noted that the group has "mocked and degraded Christians, and especially Catholics, since its founding on Easter Sunday in 1979." He also noted that the group's motto is "go and sin some more," which perverts the words of Jesus Christ, who said "go and sin no more."

Muslim Player Fined For Refusing to Wear Rainbow Flag, Still Won't Submit. Mostafa Mohammed, an Egyptian footballer (soccer player) for the French side Nantes, was fined by his club for refusing to wear a gay pride rainbow flag on his arm during a game against Toulouse on Sunday [5/14/2023]. Nantes announced on Monday, May 15, that Mohamed was fined an undisclosed amount, with the money going to a French LGBT charity called SOS Homophobia. On Sunday, "[t]he numbers on shirts of all players in France's top two divisions, as well as armbands worn by captains and officials, were rainbow-coloured as the French league staged a campaign against homophobia," reports Insider Paper. Mohamed made a statement regarding the matter on Twitter, "I respect all differences. I respect all beliefs and all convictions. This respect extends to others but my personal beliefs must be respected as well."

We've won the culture war, but that's not enough. The NFL and NBA have discovered that their brands soured horribly as they insulted their audience by kneeling and wearing rainbow colors. Only after the NFL gave up virtue signaling for football has their audience returned. They'd probably hire a woman to play if that woman could do the job better than a man. But somehow, genetics has proven its superiority over gender. The NBA hasn't learned its lesson yet.

Legendary Coach Phil Jackson Blasts the Woke NBA, Says He Doesn't Watch Games Anymore. Eleven-time NBA champion coach Phil Jackson has lost interest in the basketball league because it's simply gotten too political. The former coach of the Chicago Bulls and the Los Angeles Lakers appeared on the "Tetragrammaton with Rick Rubin" podcast earlier this month and said he didn't stop watching the game immediately after stepping away from coaching — it was the league's woke messaging during the 2020 COVID lockdowns that turned him off.

Goalie declines to wear jersey celebrating LGBTQ community on Pride Night, takes heat. The San Jose Sharks recently hosted a Pride Night celebration, as nearly all professional sports teams have done. Moreover, they tweeted pride-themed information throughout the game. Yet this was not enough to please the ungrateful mob that constitutes the hard-core activists in the LGBTQ community. You see, one player, Sharks goalie James Reimer, declined to don a rainbow-colored jersey, citing his "religious beliefs." [...] Why should a professional athlete be mandated to wear a jersey celebrating any group other than the team for which he or she plays? Yet, Reimer — and a handful of other NHL players who have chosen not to wear pride-themed jerseys this season — have been the victims of vitriolic attacks from many of those who otherwise routinely plead for "acceptance," "tolerance," and "inclusion." Transgender activists, in particular, can be brutal to those who have the audacity to believe in the existence or primacy of just two sexes or genders.

The Sweater. A couple of National Hockey League players have refused to be bullied into wearing pride jerseys during pregame warmups and much of the response has been madness — and worse. It's another sign that Western culture is in a steep decline. [...] But even in 2023, when so many among us are either part of the social bullying culture or so fearful of it that we've surrendered to it, there are still men of strength and principle. On Jan. 17, Philadelphia Flyers defenseman Ivan Provorov declined to wear a pride jersey in warmups, citing his Christian (Russian Orthodox) beliefs. So he sat in the locker room, banished, while his teammates took their pre-game skate.

San Jose Sharks goalie boycotts pregame warmups over NHL pride jerseys. A Christian goalie for the San Jose Sharks boycotted pregame warmups over the weekend, saying the team's decision to wear NHL pride-themed jerseys went against the teachings of the Bible and his "personal convictions." Canadian James Reimer, 35, did not play in Saturday's game against the New York Islanders after the team released a statement on his behalf in which he said that while he has "no hate in my heart for anyone," he would not "endorse something that is counter to my personal convictions which are based on the Bible, the highest authority in my life."

Dallas Mavericks Donates $25,000 to Planned Parenthood Abortion Biz. Woke celebrities, businesses, and now professional sports teams are lining up to support the largest abortion business in the United States, Planned Parenthood. Planned Parenthood of Greater Texas posted on Twitter Tuesday photos of the Dallas Mavericks honoring the abortion giant with a $25,000 check. [Tweet] Since the reversal of Roe v. Wade, Planned Parenthood cannot commit elective abortions in Texas but has kept its Texas clinics open, functioning as abortion "travel agencies" to send pregnant women out of state so abortionists can kill their preborn children.

The "national divorce" comes to Vermont women's sports. Not too long ago, Marjorie Taylor Greene raised a lot of eyebrows when she began teasing the possibility of a "national divorce." While nobody wants to see another disastrous civil war (with much better weapons), she posited that the nation is splitting in two along social lines with the two sides embracing ideas and morals that are so far apart that there may not be any compromise left to be found. I'm still not entirely sold on that concept, but one example that might support the phenomenon has popped up in Vermont and it brings us back to the ongoing debate over males who "identify" as females competing in girls' and women's sports.

Raptors delete video recognizing Women's History Month as it goes horribly wrong. Why is it so hard to state the definition of a woman? March is Women's History Month. The Toronto Raptors quickly found out that pandering to women by using a lame video tribute doesn't always work out so well. The Canadian basketball team released a 13-second video on Twitter this week that features three of the team's players answering a question — "Beyonce said girls run the world. Why do you think that's true?" The result is so lame it is cringe-worthy. [Tweet]

Woke NBA Enters New Strategic Partnership — With a Chinese Company, Naturally. The NBA has been insufferably woke for a few years now. They love to virtue signal for Black Lives Matter and everything else the left embraces. And now they're entering into a new partnership with a company in China, a country that uses slave labor, poisons the environment and even has what are effectively concentration camps. It's all about money. The NBA wants those dollars that come from selling jerseys and sneakers in China.

NBA Boycotted North Carolina Over Transgender Bathroom Bill, but Ignores Utah. The NBA may be quietly acknowledging that their commitment to woke ideology may be slipping. That's the implication of their actions on transgender legislation, anyway. Due to legislation on transgender bathroom use, the league decided to move their All-Star Game out of Charlotte, North Carolina. At the time, the league issued a statement saying they did not believe they could "successfully host' the game there because of the "climate" created by the bill. "While we recognize that the NBA cannot choose the law in every city, state, and country in which we do business, we do not believe we can successfully host our All-Star festivities in Charlotte in the climate created by HB2," the statement read. With profound hypocrisy, just a few years later, the league hosted preseason games in the United Arab Emirates. The UAE criminalizes homosexuality, and has previously detained transgender individuals attempting to enter the country.

'Black National Anthem' at Super Bowl Divides NFL Fans. NFL fans on social media were divided over the performance of the so-called Black National Anthem for the first time on-field during Sunday's championship game. While it's the third time "Lift Every Voice and Sing" made an appearance in some capacity during the Super Bowl, actress and singer Sheryl Lee Ralph's performance was the first time it was on the Super Bowl field, according to The Hill. [Numerous tweets]

NFL to Play 'Black National Anthem' at Super Bowl LVII. This year's Super Bowl will feature the singing of Lift Every Voice and Sing, otherwise known as the black national anthem, before the start of this year's game. The song will be sung before the U.S. national anthem.

Super Bowl Protests on Chiefs' Name Continue Politicization of Society. "People think they're honoring us with these mascots and logos, but they're mocking us," complained Michael Spears, an actor from a South Dakota tribe, as leftists take the opportunity of the upcoming Super Bowl between the Philadelphia Eagles and the Kansas City Chiefs to continue their practice of using sports — as they use everything else that they can — to advance their narrative that our society is full of oppressors and the oppressed. The name "Chiefs" was chosen by Kansas City's team owner, Lamar Hunt, after the team moved there from Dallas — where they were the Texans in the old American Football League. The name was picked after it proved quite popular in a pick-the-name contest. In fact the Kansas City Chiefs played in the very first Super Bowl in January 1967, losing to the Green Bay Packers, and it was Hunt who first used the term "Super Bowl" to refer to the pro football championship game.

You Will Be Forced to Care — Gay Hockey Edition. The Pride Police are on the prowl again, this time in the National Hockey League. One of the more tedious aspects of the woke crusade for "inclusivity" is that we now have to be bombarded with radical messaging in what used to be escapist activities, like sports fandom. Hardcore sports fans like me watch games to get away from the regular world for a while. We don't want to be preached to. About anything. I don't even care if it's something I support, I don't want it polluting my gametime. But the pollution is happening, much to the chagrin of those of us who find it difficult to break our sports addictions. The latest heavy hand of wokeness has fallen upon the NHL, and it perfectly illustrates all that is wrong with the overwrought efforts to make us care.

Media Loses It Over New York Rangers Not Wearing Special Jerseys on Pride Night. Here at the sports desk [it's] time to look at the newest sports non-controversy. Namely, the New York Rangers not plastering rainbows on their practice jerseys prior to their home game against the Vegas Golden Knights on January 27th. [...] Let's turn this on its side. If an NHL team held a Faith and Family Night, as part of the event placing an ichthus on the team's warm-up jerseys, and a player said I'm not wearing that, how would the sports media world respond? The columns would write themselves. "How DARE a team push religion!" Plus a plethora of laudatory prose on behalf of the player's heroic stance, never mind that the brave atheist cliché grew stale sometime around 1967.

The Editor says...
Why is "pride night" necessary if there is a "pride month" later in the year? Why is it necessary to acknowledge either one? Why do sports teams have to promote passing fads that most of their audiences probably abhor?

Flyers' Ivan Provorov skips warmups over refusal to wear Pride Night jersey. Flyers defenseman Ivan Provorov did not participate in warmups before the team's home game against the Ducks on Tuesday night because he refused to wear a Pride Night jersey and use sticks wrapped in rainbow Pride tape. Provorov, who said he is Russian Orthodox, cited his religious beliefs as why he chose not to partake in the warm-ups. [Tweet] "I respect everybody. I respect everybody's choices," Provorov told reporters after the game, declining to get into any further detail. "My choice is to stay true to myself and my religion." The Flyers released a statement on the matter but did not mention Provorov by name. "The Philadelphia Flyers organization is committed to inclusivity and is proud to support the local LGBTQ+ community," the statement said.

NHL Backs Down After Gov. Ron DeSantis's Office Calls Out 'Discriminatory' Job Fair. The National Hockey League (NHL) has backtracked on the participation requirements of a job fair it is hosting in Florida after Gov. Ron DeSantis's office slammed the event as "discriminatory." The league is set to host the "Pathway to Hockey Summit" job fair event on February 2 in Fort Lauderdale, Florida, where the NHL All-Star Game will take place two days later in nearby Sunrise, Florida. However, one week ago, the league shared a now-deleted LinkedIn post promoting the event but specified participation was only open to certain groups of people.

DeSantis Admin Demands NHL Remove 'Discriminatory Prohibitions' from Minority-Only Hockey Summit. The National Hockey League is hosting an upcoming conference for "diverse" job-seekers looking to pursue careers in the sport that is open only to racial and gender minorities. On February 2 in Fort Lauderdale, Fla., the NHL — a professional association composed of 32 teams in the United States and Canada — will hold a new diversity, equity, and inclusion (DEI) initiative called the Pathway to Hockey Summit. The event is exclusive to female, black, Asian/Pacific Islander, Hispanic/Latino, Indigenous, LGBTQIA+, and/or disabled registrants. In a separate line on the advertisement, the NFL writes, "Veterans are also welcome and encouraged to attend."

Judge Approves Lawsuit by Ex-Virginia Tech Soccer Player Allegedly Benched for Refusing to Kneel During National Anthem. A former Virginia Tech soccer player who says she was benched for refusing to take a knee during the national anthem has been given to go-ahead to sue the school for violations of her freedom of speech. U.S. District Judge Thomas T. Cullen gave former Hokies midfielder Kiersten Hening the OK to sue coach Charles Aidair on First Amendment grounds after Hening says the coach benched her for refusing to join in with the team's kneeling in 2020 as a "unity statement."

'I feel gay', FIFA chief attempts to empathise with marginalised. FIFA President Gianni Infantino raised eyebrows on Saturday when he attempted to show empathy with marginalised groups by telling reporters in Qatar 'I feel gay ... I feel like a migrant worker'. Infantino opened the traditional pre-World Cup news conference on Saturday with a lengthy monologue lambasting the critics of Qatar hosting the tournament because of the country's human rights record.

USA make a statement at the World Cup in Qatar. The United States' men's national team have made a huge statement at the World Cup in Qatar by redesigning their crest to incorporate the rainbow flag, in a bid to show solidarity with the LGBTQ+ community. The tournament, which starts on Sunday and sees the US play their opener against Wales on Monday, has been hugely controversial in its build-up, given Qatar's human rights record and attitude to homosexuality. As recently as this month, a Qatar World Cup ambassador told a German TV broadcaster that homosexuality was 'damage to the mind', and it remains illegal to be gay in the conservative Muslim country.

Woke Sports — Why Do We Still Watch? The slippery slope wins again — the Disease of Wokeness is consuming sports top to bottom. [...] Canadian broadcasts are unwatchable, though admittedly I still tune in occasionally. It's always with a measure of penance. First, I'm treated to the Indigenous Land Acknowledgement, where I'm told I'm a horrible person and I live on stolen land. It used to be one sentence. Lately it's part of an extended ceremony. Finally — blessedly — the game starts, but the lecturing is by no means over. White Man Bad incidents are a regular feature.

So Long as Fans Acquiesce, Very Little Will Change. The National Hockey League (NHL) recently joined the "woke train" after an internal review found that the league was "too white." By "going woke," the NHL joined the NFL and the NBA, both of which continue to unapologetically promote woke, anti-American policies, as described here, here, and here. Unfortunately, these professional leagues, and others like them, will continue to engage in such conduct because fans are enabling them to do so. [...] It goes without saying that, without punishment (primarily in the form of lost revenues), there is nothing compelling these leagues to slow down, stop, or reverse course. If people continue to watch/attend games, purchase league merchandise, and/or otherwise support the various leagues, the leagues will continue to push forward, and other businesses/companies will follow their lead. It is not enough for Americans to voice their discontent with the various policies and practices. Rather, they should stop watching the games, buying merchandise, and supporting the players. Only then will the various leagues learn that decisions have consequences.

Why the left went after sports. The Cleveland Indians are the most exciting team in baseball. They have 10 rookies on their 26-man roster. Six others were rookies last year. They play small ball and win. They are managed by Tito Francona Jr., a grandpa who led the Boston Red Sox in 2004 to their first World Series championship in 86 years. Fans in Cleveland shun the Cleveland Indians this year. That's because the team is not the Cleveland Indians. Management caved in to Woke Know Nothings and changed the name to Guardians this year. Attendance was 25th among the 30 major league teams. [...] Clevelanders shun the team because it is not the Indians. It is the Guardians, named for four stone carvings on a bridge near the ballpark. The name change came because the left deigned naming a team the Indians to be an insult to Indians. [...] Why do left propagandists screw around with team names? For the same reason they get players to kneel. They want to undermine the social fabric that draws people together rich and poor, young and old, black and white, East Side-West Side.

NBA Will Not Schedule Games on Election Day. The NBA will not be scheduling any games on the midterm election day, but all 30 teams will play the night before on November 7, the Associated Press stated. The league looks to use this as an opportunity to encourage its fans to get out and vote to "amplify the need for civic engagement."

The Editor says...
It doesn't take all day to vote. The polls are open for twelve hours on Election Day. Anybody who really wants to vote can do so.

Christian female soccer player chooses to sit out match rather than wear LGBT jersey. A professional female soccer player chose to boycott a recent game instead of wearing an LGBT pride jersey. Jaelene Daniels, a defender for the North Carolina Courage team, chose to sit out during a July 29 National Women's Soccer League (NWSL) game rather than don the "Pride" jersey her team was scheduled to wear.

Jaelene Daniels is forced out of North Carolina Courage's game against Washington Spirit after refusing to wear a Pride jersey. Jaelene Daniels refused to play for North Carolina Courage in the NWSL game against Washington Spirit on Friday because her team were wearing a Pride jersey. The Courage held its first ever Pride Night on Friday around the game but a spokesperson for the team told WRAL-TV in North Carolina that the 29-year-old Daniels, a devout Christian, had chosen not to participate. 'Jaelene will not be rostered tonight as she has made the decision to not wear our Pride jersey,' the spokesperson said. 'While we're disappointed with her choice, we respect her right to make that decision for herself.

Australian Rugby Players Revolt After Being Told to Wear Gay Pride Jersey. Up to seven players from the Manly rugby league club in Sydney, Australia, are threatening to boycott their match Thursday after a decision was made without consultation for them to wear a gay pride jersey in the fixture. Management of the Sea Eagles, as they are known, announced on Sunday night [7/24/2022] players would wear an LGBTQIA+ jersey for the match, with a rainbow design replacing the strip's traditional white hoops. That decision has caused unrest among some players unhappy they were not consulted by club management, ABC News Australia reports.

Conservatives need to stop supporting people who hate them. In the wake of the Supreme Court's decision overturning Roe v. Wade and Casey v. Planned Parenthood, the corporate and entertainment world have joined the pro-abortion chorus in denouncing the decision, the Court, and the pro-life movement. Their reaction has been swift and predictable. [...] Not to be outdone, the NBA and WNBA released a statement saying in part: "We stand in solidarity with those who fear for the repercussions of the Supreme Court decision." NBA star LeBron James, who plays nice with the Chinese Communist Party, says the Dobbs decision is about "power and control." Megan Rapinoe of the U.S. national soccer team described the decision as "cruelty." Former Tennis star Billie Jean King said, "It is a sad day in the United States."

Sports Illustrated says SCOTUS ruling for praying coach 'erodes democracy'. Sports Illustrated is taking heavy fire over a tweet suggesting that a Supreme Court ruling in favor of a former high school football coach who was fired for kneeling in silent prayer after games would be a blow against democracy, the latest example of the sad decay of a magazine that was once an American institution before it became a propaganda vehicle for radical leftist ideology. The nation's highest court will decide the case of Joe Kennedy, a retired USMC gunnery sergeant and combat veteran who in 2015 was fired by the Bremerton School District in Washington State for honoring God at the 50-yard-line at the completion of games. He was unceremoniously dumped from his job after refusing to obey orders to cease and desist resulting in a long legal battle that has made its way to the SCOTUS. SI, which has celebrated cop-hating, anti-American heel Colin Kaepernick as its sportsperson of the year and specializes in evangelizing for the "woke" left, has a serious problem with the bedrock principle of religious freedom guaranteed by the Constitution and decried a ruling in Kennedy's favor as a danger to "democracy" — a term that has been hijacked by power-drunk Democrats and the cultural revolutionary left.

Washington Commanders coach fined $100,000 after calling Jan. 6 a 'dust-up'. Washington Commanders defensive coordinator Jack Del Rio was hit with a $100,000 fine Friday for calling the Jan. 6 Capitol riot a "dust-up." Commanders head coach Ron Rivera made the announcement in a statement posted to social media. "This morning I met with Coach Del Rio to express how disappointed I am in his comments on Wednesday," the statement said. "His comments do not reflect the organization's views and are extremely hurtful to our great community here in the DMV. As we saw last night in the hearings, what happened on the Capitol on January 6, 2021 was an act of domestic terrorism. A group of citizens attempted to overturn the results of a free and fair election, and as a result, lives were lost and the Capitol building was damaged."

The Editor says...
Almost every aspect of Mr. Rivera's statement is either untrue or misleading. There was no "free and fair election." The 2020 presidential election was stolen, and the proceeds given to Joe Biden, who is just venal enough to accept the position to which he knows he was not genuinely elected. There was no "domestic terrorism," except on the part of the FBI agitators placed in the otherwise harmless crowd. The televised circus last night proved no such thing. Why do football teams have political positions, anyway?

Coach's comments deal another blow to Commanders reputation. The NFL's Washington Commanders once again find themselves at the center of an off-the-field issue that has nothing to do with football, dealing another blow to their rapidly sagging reputation as one of the most dysfunctional franchises in professional sports. The fallout from the latest misstep requiring an explanation or apology — assistant coach Jack Del Rio comparing the protests in the wake of the police killing of George Floyd to the Jan. 6 insurrection at the U.S. Capitol — could have far-reaching consequences beyond the locker room. It immediately scuttled the team's best opportunity to reach a deal to build a new stadium, which was the most important long-term project facing owner Dan Snyder amid a lengthy drought without a playoff victory and a dearth of fan enthusiasm.

The NFL fines a Redskins coach for failing to take January 6 seriously. Jack Del Rio, the defensive coordinator for the Washington Redskins (and yes, I'm deadnaming a football team originally named to honor the Native American fighting spirit), very politely suggested that, if the Democrats are going to get hysterical about January 6, they also need to take seriously the summer of BLM riots. For his temerity in failing to respect Saint George Floyd, the drug-addicted ex-con, and not taking sufficiently seriously the worst day in American history since Southerners fired on Fort Sumter in 1861, the Redskin's head coach fined him $100,000. It all started when Del Rio tweeted out that he cannot understand why so much attention is being paid to January 6, a day of minimal destruction and only one death (at the hands of a Capitol police office), and so little to the BLM riots, which caused dozens of death and billions of dollars of damage across America: [Tweet] In a subsequent press conference, Del Rio doubled down on his query, stating it calmly and respectfully, while reminding assembled reporters that free speech is an American right.

Commanders NFL Coach Fines Assistant $100K Over 'Dust up' Remarks, Comparison of BLM Riots and Jan. 6. [Scroll down] Unfortunately, as we have seen happen time and again in these high-profile situations, Jack Del Rio decided he had better bend the knee, take his lumps — and keep his high-paying job. Later on in the day, he made his mea culpa through an obviously forced press release, via social media: [Tweet] On Friday, the coach of the Commanders, Ron Rivera released his own statement — not only highlighting his employee's apparent failure as a good enough soldier for the left's narrative du jour about what happened on January 6 in D.C. — but fining Del Rio $100,000, to boot. When this is the obvious result of apologizing to the mob, I can't feel much sympathy for Del Rio. He made his own bed.

Baseball players attacked for not wearing 'Pride Night' special uniforms. [The Tampa Bay Rays] recently decided to engage in a little shameless virtue signaling by literally wearing their support for the LGBTQIIA+ Community on their sleeves. [...] Rays' president Matt Silverman stated, "Our Pride Nights continue to grow both in terms of visibility and participation. By doing this, we extend an invitation not just for this game but for all of our games that the LGBTQ+ community is invited, welcomed, and celebrated." Apparently, heterosexual Christians need not apply, so to speak. However, not every Rays player was eager to be used in this manner. The Times reported that at least five members of the squad removed the rainbow burst logos from their jersey sleeves and donned the team's standard cap instead of the Pride cap sporting a rainbow-colored "TB" on the front.

At least five Tampa Bay Rays players refuse to wear uniforms with LGBTQ rainbow logos for Pride month. A number of Tampa Bay Rays players decided not to wear rainbow-colored logos on their uniforms as part of the team's annual 'Pride Night' on Saturday [6/4/2022]. In the buildup to Saturday's MLB game against the Chicago White Sox, which also marked the franchise's annual 16th Pride Night celebration, the Rays added rainbow-colored logos to their uniforms, caps and on the right sleeve of their shirts. 'Our Pride Nights continue to grow both in terms of visibility and participation,' Rays president Matt Silverman told the Tampa Bay Times. 'By doing this, we extend an invitation not just for this game but for all of our games that the LGBTQ+ community is invited, welcomed and celebrated.'

The Editor says...
Homosexuality is nothing to celebrate. Neither is pride.

Milwaukee Brewers to Host Drag Queen Night. It's Pride Month again, and that means corporations all over are busy virtue-signaling. In Milwaukee, the Brewers baseball team is getting into the spirit of the season by hosting Pride Night next Wednesday at their ballpark, a place whose name has taken on a new irony: American Family Field. The family fun Wednesday will include at least four drag queens, and hey, if they already strut their stuff on a routine basis in public libraries and elementary schools (and even Taco Bell), featuring them at baseball games at this late date just shows how hidebound and conservative the Grand Old Game is. The first thing that Pride Night (no word yet on when the Brewers are hosting Anger Night, or Lust Night, or Sloth Night) at American Travesty of the Family Field is about, of course, is making money. Drag queens have never, to my knowledge, been big baseball fans, but now that we're all woke and love the LGBTQ alphabet soup, the Brewers are clearly hoping to attract a new fan base that, if it doesn't care anything about the game, can at least ogle the players.

NASCAR continues to abandon its customer base. Last Sunday NASCAR held its All-Star Race at the Texas Motor Speedway. There's a big NASCAR fan base in Texas. If you go to the list of NASCAR tracks, you'll notice that the seating at the tracks is, on average, bigger in conservative states than in progressive states. Thus, the Texas Motor Speedway seats 137,000 fans while the Watkins Glen International in New York seats 33,000 fans. The biggest track, in Indiana, seats 257,325 fans, while the track in Portland, Oregon, holds only 30,000 fans. It's not a perfect political alignment but it's plenty close. NASCAR fans are male, older (over 45), White, and live in the rural South or Midwest. Oh, and they're much more likely to be Republicans. These are, on average, people like me who neither want to punish nor celebrate the LGBTQ+++ crowd and who support Texas's willingness to define as child abuse surgical and chemical "gender" treatments performed on children. NASCAR, though, has been having a bit of a problem keeping fans.

'Woke' NASCAR Apologizes to LGBTQ Community After Texas Gov. Greg Abbott Waves Green Flag at Event. NASCAR issued an apology Wednesday for "recent actions" that are "not aligned" with its mission after Texas Gov. Greg Abbott (R) waved the green flag ahead of last week's All-Star Race at Texas Motor Speedway. The world-famous auto racing and operating company, headquartered in Daytona Beach, Florida, marked the first day of LGBTQ+ "Pride Month" with a unique version of the pride flag along with a message apologizing for actions it deemed uncharacteristic of its mission. "As we celebrate the LGBTQ+ community, we acknowledge that recent actions have not aligned with NASCAR's mission to be a welcoming sport for all," the company wrote.

The Editor says...
This is a huge marketing mistake on the part of NASCAR. What percentage of NASCAR fans are homosexuals — particularly in Texas? If I were to pick the nearest whole number, I'd select ZERO.

MLB's Detroit Tigers to funnel ticket sales to 'gender-affirming' procedures for kids. The Detroit Tigers will send money to organizations that pay for so-called "gender-affirming surgeries" for minors and adults as part of its "Pride Night" game on Wednesday. Fans who buy tickets for Wednesday's game can donate a portion of the proceeds to a number of LGBT organizations, including the Ruth Ellis Center, as first reported by National Review.

San Francisco Giants Manager Boycotting National Anthem Until He Feels Better About Direction Of America. San Francisco Giants manager Gabe Kapler told reporters prior to his team's Friday night game against the Cincinnati Reds that he will not be taking the field for the national anthem and will not be doing so until he feels better about the direction of the country in the wake of the Uvalde school shooting that occurred earlier this week. Journalist Andrew Baggerly tweeted, "Gabe Kapler told reporters in Cincinnati that he doesn't plan on coming out for the national anthem and that will be his plan going forward 'until I feel better about the direction of our country.'"

Miami Heat blatantly politicize Texas tragedy. Decent people — and organizations — do not politicize a tragedy. They do not use a tragedy to further their own aims or agenda. Nor do they take advantage of a calamity in a blatant, public attempt at virtue-signaling. There is no virtue in that. Prior to Wednesday night's NBA playoff game between the Miami Heat and the Boston Celtics, the stadium announcer stated: "The Heat organization, the Boston Celtics and the NBA family also mourn those who lost their lives in the senseless shooting that took place yesterday at Robb Elementary School in Uvalde, Texas." [...] A moment of silence was then observed for the 19 children and two teachers who were slaughtered by an apparently mentally ill 18-year-old named Salvador Ramos. And then the Heat broadcast the following announcement: "The Heat urges you to contact your state senators by calling 202-224-3121 to leave a message demanding their support for commonsense gun laws. You can also make change at the ballot box. Visit Heat.com/vote to register and let your voice be heard this fall." This is unprecedented and deeply disturbing. So now major league professional sports teams are going to urge fans attending games to contact their representatives to lobby for or against specific causes, policies and bills in a manner that fits their political agenda?

MLB teams go political over gun control on social media accounts. Two Major League Baseball teams announced a collaboration on Thursday to use their social media accounts to post facts about gun violence instead of posting updates from their game. The New York Yankees and the Tampa Bay Rays cited recent mass shootings in Buffalo and Uvalde. [...] The Tampa Bay Rays donated $50,000 to Everytown for Gun Safety, billionaire Michael Bloomberg's pet project promoting gun control. [...] The teams shared gun violence statistics on their Twitter and Instagram accounts. Sorry, legit baseball fans looking to catch the score. You're being lectured by baseball teams on the evils of gun ownership.

Activist Who Renounced US Citizenship Knocked Out of French Open in First Round. Naomi Osaka, the leftwing activist and former tennis champion who renounced her American citizenship to represent Japan at the Tokyo Olympics, suffered an embarrassing loss in the first round of the French Open on Monday. New Jersey native Amanda Anisimova, 20, defeated the four-time Grand Slam winner 7-5, 6-4 at Roland Garros. Osaka, 23, said following the match that she didn't know if she would be "motivated" enough to take part in next month's Wimbledon tournament. "I'm not 100 percent sure if I'm going to go [to Wimbledon]," Osaka said.

Muslim soccer player refuses to wear rainbow jersey backing LBGTQ, sits out game — now leftists smell blood: 'Homophobia is not an opinion but a crime'. Idrissa Gueye — a Muslim soccer player for French team Paris Saint-Germain — refused to wear a jersey adorned with rainbow-colored numbers in support of an LBGTQ agenda and sat out his team's 4-0 Saturday win against Montpellier, the Daily Mail reported. Now, one activist group wants an investigation, and others want Gueye punished. The Daily Mail said players across France wore the special jerseys over the weekend in solidarity with the International Day Against Homophobia, Biphobia, and Transphobia, which takes place Tuesday [5/17/2022]. Gueye's manager Mauricio Pochettino said the player's absence from the match was for "personal reasons, but he is not injured," the outlet added.

America-Hating WNBA Player Brittney Griner's Russian Nightmare Goes From Bad To Worse. Brittney Griner had been one of the premier players in the WNBA. She is undeniably a blessed athlete, standing at 6'9" tall with remarkable coordination and agility for such a large athlete. She's an Olympic gold medalist, a league champion, and has received scores of individual awards honoring her athletic achievements. And along with those physical blessings have come financial rewards as well, with Griner reportedly worth in excess of $3 million. One might assume that someone like Brittney Griner would have been grateful for her gifts. For her natural size and abilities. For her good fortune in being able to stay healthy despite a rigorous athletic schedule. And considering that Griner is both gay and a racial minority, we certainly might expect Griner to have been thankful for being an American and living in a country that provides unequaled opportunity and tolerance. But that wasn't the case.

Megan Rapinoe Hardest Hit as Finger-Pointing Begins After 'Subway' Releases Dismal 2021 Numbers. Women's soccer star Megan Rapinoe is in the news again, and this time around the story doesn't involve any goals she's hit or missed (though the NWSL's 2022 regular season started Friday) or any complaints from her about alleged gender pay gap issues but rather the finger-pointing that has begun in her direction after public filings from the Subway fast-food franchise revealed some pretty dismal 2021 numbers. Per the New York Post, Subway had to close "1,043 more outlets across the US than it opened in 2021," which diminished "Subway's total footprint by nearly five percent." It lost more in 2020 (1,609), presumably in part due to the coronavirus pandemic. But as for what's at the root of the 2021 closures, there are a number of issues potentially to blame, including "tougher" efforts from the company's CEO to get locations stay open more days during the week and work more hours to cover all meal shifts, and also how some customers turned their backs on Subway after they ran several ads in 2021 featuring Rapinoe, a prominent woketivist known for kneeling during the national anthem and being a lousy spokesperson for "women's equality."

Woke Company Still Suffering After Featuring Angry, Far-Left Megan Rapinoe In Ads. I don't really know anyone that eats at Subway anymore — it offers stale bread, tasteless lunch meats, and soggy vegetables. At least back in the day you could get full for $5, but even now a basic sub runs almost double that. The sinister Covid lockdowns didn't do much for Subway's business, either. Of course, no analysis of Subway's futile decline would be complete without accounting for their hair-brained hiring of pink-haired ingrate Megan Rapinoe. [...] Megan Rapinoe is tanking the Subway brand, but her embarrassments don't stop there. Just a few months ago, she was snubbed by her coach and program, being left off the next internationally-competing squad. The thirty-eight-year-old self-centered brat is closing in on the tail end of her career, and not a moment too soon.

ESPN Host Goes On EPIC Rant, Torches Colin Kaepernick For Four Whole Minutes. Stephen A. Smith is someone with whom sane people rarely agree. He is loud, obnoxious, and intentionally controversial. Rational dialogue doesn't get clicks, and credit to him for carving out a niche where people love to hate him. I mean, I don't know who can stand watching him and he's absolutely part of the corporate media problem, but he gets paid by ESPN for doing his schtick, so there's that. The free market works. On the subject of the enslaved millionaire Colin Kaepernick, ingratitude personified, Smith has had some of the worst takes. [...] Somehow, though, this raving leftist lunatic saw the light. It was dimmed, because he still threw in hackneyed lines about Kaepernick getting screwed over and the system being rigged, but overall, his rant is on point. Credit where credit is due, this guy nailed what we've been saying for years.

Colin Kaepernick reveals he's desperate to return to NFL. Colin Kaepernick has claimed his decision to take the knee during the national anthem was good for the NFL's bottom line. Speaking in a newly-released interview, the former San Francisco 49ers quarterback also took issue with claims made by league executives that re-hiring him would be 'bad for business'.

NY Hockey Fans Show Their Gov Hochul What They Think Of Her By Booing Her Mercilessly. Gov. Kathy Hochul was met with loud jeers as she donned a New York Rangers jersey for the ceremonial puck drop before the team's Tuesday night home game against the Anaheim Ducks. The chorus of jeers rang down from the rafters as Hochul walked to center ice to kick off the game and she was introduced over the PA. The state's first female governor was honored as part of "Women's Empowerment Night" at the Garden, announcers told fans over the loudspeaker, according to footage shared to social media. [Video clip]

The Editor says...
[#1] Is it no longer possible to attend a hockey game without having to listen to a political speech delivered by the PA announcer? [#2] Politicians attend events like this for their benefit, not yours. There are very few cases where this is not necessarily true, and the only one that comes to mind is the long-standing tradition of the President of the United States throwing out the ceremonial first pitch at the beginning of the baseball season.

MLB players who refused COVID shot won't get paid for missed games in Canada: report. Major League Baseball (MLB) players who have chosen not to take one of the abortion-tainted COVID shots will likely not get paid for missed games due to Canada's vaccine passport system. The latest collective bargaining agreement reportedly does not protect players who cannot travel to play the Toronto Blue Jays due to Canada's restriction on visitors who have declined to get jabbed. The MLB season starts April 7.

Brittney Griner Hates America and Deserves to Languish in a Russian Prison. Despite allegedly happening a few weeks ago, news is now circulating that WNBA standout Brittney Griner is being detained in Russia for the reported crime of traveling with hashish oil. The charge comes with a possible sentence of up to ten years in prison. [...] In the summer of 2020, following the drug overdose by George Floyd, Griner explained that she would be protesting the playing of the national anthem before games by remaining in the locker room. She went on to say that: "I honestly feel we should not play the national anthem during our season. I think we should take that much of a stand." Before that, Griner felt called to social activism when Republican-led states sought to restrict male pedophiles from entering women's restrooms. Desite her young age and limited impact anywhere, one article even promoted her to one of the "most influential social activists" in sports history because of it.

Toyota Ad Says Kaepernick Anthem Protest Was 'Sign of Respect to the Military'. A new Toyota commercial featuring Colin Kaepernick claims the former NFL quarterback's controversial national anthem protest was a "sign of respect to the military." The ad, which aired Friday morning on Howard University's radio station, says Kaepernick's decision to go "on one knee" during the national anthem "came as a sign of respect to the military" and "changed the world." The commercial also calls Kaepernick a "two-time Super Bowl quarterback," which is false. Kaepernick appeared in one Super Bowl, a 34-31 loss to the Baltimore Ravens.

Woke Soccer Player Megan Rapinoe Left Off U.S. Women's Team Roster. The wokest of all U.S. national sports teams just got a little less woke. U.S. Women's National Team (USWNT) head coach Vlatko Andonovski has called up a roster that features youth and players the team will rely on in the future. It does not, however, feature noted USWNT anthem-protester Megan Rapinoe.

As the Racing Season Opens, NASCAR Finds Itself With Some Political Engine Trouble. [Scroll down] There is a difference, however, between the political actions with NASCAR, and those seen in recent years in other sports, as the energy behind the issues seems to be flowing in the opposite direction. Unlike, say, in the NFL with national anthem protests, or the NBA going all-in with Black Lives Matter activism, NASCAR has repeatedly been in the position of having to act against the intents of its fan base, rather than attempting to foist a message onto those watching the sport. The governors have repeatedly taken action seemingly in an effort to appease those outside the sport — and in opposition to those who support racing. It began years ago, when the sport's offices put out a message imploring fans to refrain from flying the Confederate flag at NASCAR events.

Brandon Brown signs '8-figure' LGBcoin sponsorship despite NASCAR ban. [Brandon Brown, the] NASCAR Xfinity series driver has inked a two-year sponsorship deal worth with the cryptocurrency worth a reported "eight figures," even though he has been banned from advertising it on his race car. The exact dollar amount of the deal was not announced, but LGBcoin said Brown is now a "holder" of the currency and his spokesperson confirmed to FOX Business that he is being paid in "both cash and coin."

NASCAR driver reverses stance on 'Let's go, Brandon'. NASCAR driver Brandon Brown has turned a corner and decided to completely and outwardly embrace the political slogan inadvertently inspired by his namesake, "Let's go, Brandon" after previously trying to distance himself from the phrase. The 28-year-old racecar driver unveiled a new racecar that uses the popular acronym for the phrase, "LBG," [sic] as part of a cryptocurrency promotion for LBGCoin [sic] which promotes itself on Twitter as a "meme coin inspiring patriotism."

The Editor says...
It's LGBcoin, not LBGcoin. I suppose LGBTcoin is something else altogether.

Xfinity Driver Brandon Brown Unveils Anti-Biden-Themed Cryptocurrency As 2022 Partner. NASCAR Xfinity driver Brandon Brown tweeted that he has a primary partner for the 2022 season — LGBCoin, a "cryptocurrency meme coin" whose first three letters stand for "Let's Go Brandon." However, NASCAR has not approved it nor has the approval process begun as of Thursday evening despite Brandonbilt Motorsports' announcement. "We are thrilled to partner with Brandonbilt Motorsports and Brandon Brown for the 2022 NASCAR Xfinity Series season," said James Koutoulas, LGBcoin HODLer and founder of Typhoon Capital Management, in a news release. "Brandon is not only an incredibly talented driver, but also a thoughtful individual wise beyond his years. His commitment and singular focus on his profession is inspiring and his personal story is one that we can all be proud of — an American story of success and perseverance. Brandon is truly America's Driver."

NASCAR Caves! 'Let's Go Brandon' Race Car Put on Hold. As Joe Biden's popularity and approval rating continue to fall, the popularity of the "Let's Go Brandon" slogan continues to rise. However, NASCAR driver Brandon Brown was told by NASCAR authorities that his "Let's Go Brandon"-sponsored car will have to be re-evaluated. Is NASCAR caving to the left? [Video clip]

NASCAR is throwing away one of the best marketing opportunities in its history.
NASCAR rejects Brandon Brown's 'Let's go, Brandon'-themed car. NASCAR has officially rejected Brandon Brown's "Let's Go Brandon" sponsorship deal. According to multiple news reports, the auto-racing giant told Mr. Brown's team that cryptocurrency firm LGBCoin cannot sponsor his car. The company's first three letters are an allusion to "Let's Go, Brandon," the coded form of a vulgar insult of President Biden.

Does NASCAR have a death wish? A pair of reports yesterday lead me to question the sanity of the management of NASCAR, the privately held giant of the sport of stock car racing. While I am far from an expert on auto racing, and have never been to a NASCAR race, I have a rough idea of who attends their races and what the political preferences of the fans are. [...] The entire "Let's go Brandon" craze began at a NASCAR track when an NBC reporter pretended the crowd chanting "F--- Joe Biden" were instead chanting "Let's go Brandon," in celebration of the victory of Brandon Brown, whom she was interviewing live on-air. So, we have pretty good idea that NASCAR fans tend to be political conservatives. If the sport's Southern origins and male, blue collar atmosphere were not clues enough.

Background information:
Linguistic Weaponry and the Rhetorical Mechanics of "Let's Go Brandon!" For those who are unfamiliar with the phrase, "Let's Go, Brandon!" has become a rallying cry for those opposed to Biden and his agenda. Only a few months after the inauguration, as the nation sat in stunned awe of the new administration's remarkable ineptitude, crowds across the nation began impromptu chants of "[...] Joe Biden" at public events. Personally, I use very little profanity and I still hold to the old idea that even if you can't respect a particular President, some respect is owed to the office. But over the course of decades, the left has worked aggressively to normalize the practice of telling the President to [get lost] (when he isn't a Democrat). Their victory was consolidated when Trump's ascendancy brought with it a 4-year tsunami of vulgarity from leftists of all stripes, bravely "speaking truth to power" by inexplicably telling others to do to Trump what Stormy Daniels did. But only months after Trump's exit, leftists lamented the new norm they created: they were aghast at Americans' lack of decorum in speaking of the President. Wherever calls of "[...] Joe Biden" arose, there were efforts undertaken to distract from them, avoid broadcasting them, or otherwise silence them. Then, in the aftermath of an October auto race, as the victor Brandon Brown was interviewed on a television broadcast, the crowd began the familiar chorus of "[...] Joe Biden." In a predictable effort to redirect attention from Biden's failure to the matter at hand, the interviewer said "And you can hear the chants from the crowd: 'Let's Go, Brandon!" In that moment, a meme was born.

The NFL is funding 'defund the police' groups. The NFL funds groups that openly advocate for defunding the police. Through the Inspire Change program, funded by the League, the NFL backs the Vera Institute of Justice, the Oregon Justice Resource Center, and the Community Justice Exchange. Each of these support defunding or even abolishing police. Fox Business uncovered that the NFL gave $300,000 to the Oregon Justice Resource Center, which has called for police defunding as well as other social justice measures. [...] The Vera Institute of Justice advocates for the abolishment of prisons, and for language changes to be put into effect in order to not "dehumanize" criminals.

NFL funding 'defund the police' groups through 'Inspire Change' program. The National Football League's "Inspire Change" partners, which receive financial backing from the multibillion-dollar league, include multiple groups that have openly advocated for defunding the police, a Fox News Digital review of the program found. Groups who have received funds as part of "Inspire Change," the NFL's social justice initiative, include the Vera Institute of Justice, the Oregon Justice Resource Center and the Community Justice Exchange. All three of those groups support defunding or abolishing the police, a review of their public statements shows. While the NFL's general support of social justice causes is widely known, the fact that the league is propping up groups trying to defund police departments has not been previously reported.

A Brief Guide to Leftist Destruction. Until last year, sports was a great American unifier. It was one place Americans could go and, leaving politics behind, Left and Right, Democrat and Republican could root for the same team. No longer. The Left has ruined it by radically politicizing baseball, football and basketball.

Perception is Not Reality. Television ratings for sports, cable news, entertainment and children's programming are all nose-diving in direct proportion to the amount of agenda-driven ideology being pumped into the content. No amount of denial, self-deception or spin among the left can change the fact that the public wholly rejects their nightmarish fever-visions for humanity. What was once a subtle and nuanced bias in the media has become a sledgehammer of over-the-top propaganda, and the viewers are voting with their wallets and TV remotes to reject such indoctrination tactics.

NBA coach compares Christopher Columbus to Hitler. The coach of the San Antonio Spurs, Gregg Popovich, actually compared Christopher Columbus to Hitler today in a manner of speaking as he was trashing schools in San Antonio for not getting rid of the holiday altogether: As Popovich expressed dismay that any school in his city would honor Christopher Columbus at all, he also dismissed his anti-Columbus hate as an attack on Italian Americans: "It's no knock on Italian Americans. That's a silly argument. It's like saying, 'We should be proud of Hitler because we are German.' It makes no sense. It's about Columbus. It's not about Italian Americans." Popovich calls Columbus a genocidal monster, when that's the furthest thing from the truth.

College Football and the NFL: Two Different Americas. Football is back — and so are the fans. America no longer sees empty stadiums on TV, as people return to watching the games in person. But Americans will notice sharp differences between college and professional football, and it's not just the skill of their players. The pros seem to embrace Biden's New America, while college ball still evokes the old America. The pros embrace social justice messages, while college ball steers clear. Unlike other pro leagues, the NFL decided to carry on wokeness for the 2021 season. The NBA famously painted Black Lives Matter on its courts and encouraged players to turn their jerseys into social justice billboards. The basketball league suffered a ratings decline and consequently decided it would be unwise to continue this practice. The NFL also saw its ratings drop, but league officials wouldn't let that get in the way of their BLM advocacy.

The Editor says...
If you watch a football game on TV, and the game is about to start, and some BLM ceremony breaks out, the so-called Black National Anthem is played, or some other repugnant insult is hurled your way, don't just turn the sound off. Switch to another TV channel for a few minutes. If your "smart" TV is connected to the internet, and it probably is, this will send a clear message to the Nielsen ratings people (and thus to the networks) that you won't put up with that stuff.

NFL will allow social justice phrases on helmets this season. The NFL will allow players to choose from six different social justice phrases to wear on the back of their helmets for the 2021 season as the league re-ups its efforts in their Inspire Change initiative. The league also said teams will be allowed to have the phrases "It Takes All of Us" and "End Racism" emblazoned in their end zones.

New Texas Law Requires Pro Teams In The State To Repay Money If They Don't Play The National Anthem. Pro sports teams in Texas refusing to play the national anthem will be making a very expensive decision. According to Outkick, a new Texas law took effect September 1 that requires all pro sports teams to play the national anthem or repay any government money received. [Tweet] Seeing as how most pro sports arenas are at least publicly funded in part, teams that refuse to play the national anthem could be on the hook for an outrageous amount of money. For those of you who might not remember, Mavericks owner Mark Cuban tried to stop his team from playing the national anthem and his choice caused massive backlash.

Biden Takes a Knee During Photo-Op With WNBA Champions. The WNBA champions apparently do have time for losers. Even as thousands of Americans have been left stranded in Taliban-controlled Afghanistan, the Seattle Storm came to the White House for a photo-op with Joe Biden to celebrate their victory. The Storm are the first NBA or WNBA team to visit the White House since the Cleveland Cavaliers came in 2016. But their return to the White House came with an awkward, cringeworthy moment, when Biden, during a photo-op, bizarrely kneeled in front of the team as he showed off a jersey that read "Biden 46"

Time to Convert to Soccer? A lifelong baseball fan, I abandoned the game this year after MLB sided with the Democratic Party in its campaign against ballot integrity in Georgia. It wasn't just that: my home town team has put a "Black Lives Matter" sign and a memorial to George Floyd in right field. If I can't escape politics at a baseball game, I'd rather go somewhere else. For the first time in decades, I haven't seen a major league baseball game this year. Not only that, I haven't watched or listened to a single pitch on radio or television.

Losers, in more ways than one.
U.S. Women's Soccer Team Takes Stunning Loss After Kneeling For BLM At Olympic Opener. The U.S. women's soccer team took a devastating 3-0 loss to Sweden early Wednesday morning in their Tokyo Olympic opener, breaking their 44-game winning streak. All 22 players on Team USA took a knee in solidarity with the radical leftist group Black Lives Matter before the game, a major point of contention with U.S. fans.

Joe Biden's Misery Index Rises. [Scroll down] Other highlights in this week of continuing political disappointment include [...] the news that the National Football League will play what is generally regarded as the African-American anthem "Lift Every Voice" prior to the national anthem at their games this year, and have "social justice messaging" interspersed among other diversions at the games and on the players' outfits. If one looks hard enough, the social justice of an NFL game is probably not found in the affront to the U.S. flag and anthem of obscenely overpaid athletes milking their natural gifts through 20-hour week/seven-month work years. Instead of rolling over like poodles, the NFL owners should have contracted the league, expelled the most demonstrative malcontents, and chucked the invertebrate commissioner, Roger Goodell. If they had done that and asked the fans for support they would have received it, and the anti-American players would have straggled back eventually. At least, unlike the National Basketball Association, they haven't yet been suborned by the Communist Party of China.

NFL launches new ad proclaiming 'football is gay, football is lesbian...' The National Football League (NFL) recently joined virtually every other American institution in lauding — and marketing to — the LGBTQ Community during Pride Month in June. It did so by releasing a new 30-second commercial proudly proclaiming that "football is gay, lesbian, queer, transgender, bisexual and exciting." The ad begins by stating "football is gay" to the sound of drums rolling and people cheering. [...] "Football" is pandering. Football is pathetic. Football will say or do anything to chase down the very last potential viewer/customer. I'm surprised the ad didn't also state, "Football is Chinese."

NFL 'will play the black national anthem 'Lift Ev'ry Voice And Sing' before the Star Spangled Banner at its 2021 season games'. The NFL plans to play the 'black national anthem' before every game in the first week of the 2021 season, according to a new report. Lift Ev'ry Voice And Sing, will be performed before The Star-Spangled Banner to kick off each game in Week 1, beginning with the September 10 season opener when the Kansas City Chiefs host the Houston Texans. A source familiar with the league's discussions confirmed the controversial change to ESPN's The Undefeated on Thursday.

Report: The NFL Will Have More Social Justice Messaging During The 2021 Season. The NFL reportedly plans on ramping up social justice messaging during the upcoming season. According to Front Office Sports, the league "will introduce more social justice messaging on fields and player helmets during the upcoming 2021 season, following up on initial efforts from 2020."

MLB All-Star Game Limps to Second Lowest Ratings in History. Any Guesses Why? Go woke, go broke. Major League Baseball is learning the hard way that catering to the far left isn't remotely helping their desperate attempts to resurrect what once was America's proud pastime. MLB's All-Star Game, played Tuesday night [7/13/2021], predictably tanked in the Nielsen ratings, delivering the second-lowest official total in the sport's history. According to The Hollywood Reporter, the game narrowly avoided "a third straight all-time audience low" with 8.24 million viewers, "about 100,000 more than the 2019 game's 8.14 million." Except, it's quite possible that this could indeed be the game's lowest ever viewership. Why? According to THP, "It's also worth noting that the Nielsen figures for Tuesday include out of home viewing and 2019's do not." Ouch!

Get Ready for the Wokest Olympics Ever! [Scroll down] Those earlier athletes never took a knee during the National Anthem. They were Americans first and always. Finally, when those athletes took to the field, they understood that fans came to watch a sporting event, not a protest. When it came time to play, they let their talent do the talking. That concept is lost on the modern day woke activist-athlete and the enablers in social and sports media. Today, you don't even have to be that good to get noticed, so long as you openly align yourself with a cause supported by the political left. It's often difficult to understand even what the cause is, as many of woke can only speak in platitudes.

Most Black People Oppose Olympic Protests Like Gwen Berry's: I&I/TIPP Poll. When hammer thrower Gwen Berry decided to protest the national anthem at an Olympic trials event last month, she raised the prospect that athletes will try to use the Tokyo Olympics to disparage their own nation. If they do so, they will get precious little support at home. The latest I&I/TIPP poll finds that the public overwhelmingly rejects athletes showing disrespect for the American flag at international games. The poll found that 79% of the public say it's important "for professional athletes to publicly respect the American flag on the international level," with 60% saying it is "very important." Just 16% of the adults surveyed think it's not important.

How Barack Obama Begot Gwen Berry. "I never said that I hated the country," said Gwen Berry, the world's most famous hammer thrower — male, female or non-binary. "All I said was I respect my people enough to not stand or acknowledge something that disrespects them. I love my people point blank, period." Berry, who finished third in the female hammer throw at the U.S. track and field Olympic Trials, was attempting to explain why she turned her back on the National Anthem. If her subversive pout appalled half of America, it surprised no one. In the year 2021, sports fans have come to expect athletes, black and white, to disrespect symbols of national pride. It didn't use to be this way. When Barack Obama was elected president in 2008, race relations were better than they had ever been. As to athletic protests, it had been forty years since any Olympian grabbed the kind of attention Berry got.

I Shouldn't Be Forced Into Politics To Play College Sports. "Black Lives Matter is not political, it's basic human rights," my coaching staff and teammates heading our new "Call to Action Committee" told me and the other team members after practice. They were responding to some of the concerns I had expressed prior to the team meeting. By the next game, while running out of the tunnel 10 of my 13 Davidson College teammates and all four of my coaches were wearing T-shirts with "Black Lives Matter" bannered across the front. When the national anthem played and with our U.S. Army veteran team doctor behind us, most of my team dropped to one knee in protest of America's "institutional racism." The virtue signaling was clear: those wearing the T-shirt and those on their knees supported basic human rights, and the rest of us simply did not. Political messaging in sports isn't new, but the grip and scale this possesses over sports is.

Biden BACKS anthem tantrum athlete. White House press secretary Jen Psaki defended hammer thrower Gwen Berry's right to 'peacefully protest,' after the Tokyo-bound athlete turned her back on the US flag during Olympic trials. Psaki told Fox News' Peter Doocy at Monday's press briefing that while she and President Joe Biden hadn't spoken specifically about the incident, Biden is 'incredibly proud to be an American and has great respect for the anthem and all that it respresents, especially for our men and women serving in uniform all around the world.' 'He would also say, of course, that part of that pride in our country means recognizing there are moments where we are, as a country, haven't lived up to our highest ideals, and that means respecting the rights of people, granted to them in the Constitution, to peacefully protest,' Psaki added.

Psaki defends Gwen Berry's anti-America Olympic tantrum as right to peaceful protest. As if the Biden administration couldn't sink any lower than it already has, in comes White House spokeswoman Jen Psaki to dig the hole deeper. [...] Is there any other leader on the face of the planet who endorses a position like that? It almost suggests [Biden]'s not in the White House legitimately, given the contempt he holds for the flag of the nation he supposedly represents. It's really incredible. This is the man who sends men into battle and expects them to die for that flag. Now he's defending an athlete who lived a cosseted existence yet who was able to develop her talents only courtesy of the United States of America, in self-centered ingratitude that insults every other American who has fought and died for the flag of her freedom and opportunity? He doesn't care. All he cares about is his own power by fair means or foul. The country is optional to him. So is the flag.

Gwen Berry, Flag-Snubbing US Track And Field Star, Defended By The White House. White House press secretary Jen Psaki Monday defended U.S. track and field star Gwen Berry's decision to turn her back on the nation's flag, saying Berry was seeking to "peacefully protest" the moments that Americans "haven't lived up to our highest ideals." Berry, 31, placed third over the weekend in the hammer throw during the U.S. Olympic trials, earning her a spot on the team. As the National Anthem was played, she turned from the flag.

NFL says 'Football is gay' in new commercial that makes clear its support of LGBTQ+ community. As Pride Month comes to a close, the NFL has released a new commercial that makes clear its support and embrace of the LGBTQ+ community. The 30-second spot begins with the line, "Football is gay" as light cheering plays in the background. "Football is lesbian. Football is beautiful. Football is queer. Football is life. Football is exciting. Football is culture. Football is transgender. Football is queer. Football is heart. Football is power. Football is tough. Football is bisexual. Football is strong. Football is freedom. Football is American. Football is accepting. Football is everything. Football is for everyone."

'Pride' Night at the Old Ballpark. Major League Baseball teams have been celebrating "Pride Month" via Pride Nights at ballparks across the Majors. June is Pride Month, in case you've missed the hype. Outdoing itself, the MLB is partying "all season long." One wonders why there needs to be a month of any celebration. Should October be refashioned as "Halloween Month?" Is there an "Irish Month," which St. Patrick's Day is the capstone? And why limit Groundhog Day to a day? Yet gay pride is now LGBTQ+ (the plus is currently optional) pride because being homosexual isn't enough. Every sexual variant not heterosexual and practiced by a tiny minority of people is to be granted a month's worth of recognition and celebration. The Grand Old Game has no reprieve from being rainbowed.

Hate to break it to you, but Major League Baseball just got even worse. Coming off the All-Star Game P.R. debacle, where they moved the game out of Atlanta, MLB is upping its radical chic several notches with its latest political advocacy. On the anniversary of George Floyd's death, MLB highlighted its social justice initiatives, which are a series of suggested readings, video viewings, and social justice activities that it recommends people do. Nothing like giving your customers a homework assignment. And they wonder why people find baseball less fun these days. As you can imagine, the suggestions they give are real humdingers. For instance, they advise we read Dr. Ibrahim X Kendi. Kendi is a totalitarian utopist who is popular on the P.C. lecture circuit. He believes that capitalism is inherently racist and advocates for a Department of Anti-Racism.

Major League Baseball Team Becomes First in the League to Wear 'Pride' Uniforms. Baseball just got brighter. This Saturday, fans of the San Francisco Giants will get a multicolored treat to the tune of commemorative uniforms. As hailed by NBC Chicago, the Giants will "become (the) first MLB team with Pride Month hats (and) jerseys."

Eugene Chung claims NFL team said he's 'not the right minority' in job interview. NFL assistant coach Eugene Chung says he was told Asians are not the "right minority" when he interviewed for a job this past off-season. Despite a resume that includes 55 games of experience as an NFL offensive tackle — the first Asian American first-round draft pick in history — and 10 seasons as an assistant coach under Super Bowl winners Andy Reid and Doug Pederson, Chung was turned away. "It was said to me, 'Well, you're really not a minority,[']" Chung told The Boston Globe. Chung is Korean, as are both of his parents.

Virginia Little League Coaches Must Attend 'Antiracist' Training. Little League baseball coaches in Alexandria, Virginia, will be required to take a diversity, equity, and inclusion course this month. In an email to coaches on Thursday, Alexandria Little League board president Sherry Reilly announced the league's partnership with the Positive Coaching Alliance. All Little League coaches and board members were asked to cancel practices in order to attend the Sports Can Battle Racism workshop on May 24. Virginia school districts have mandated similar training for their teachers. Arlington County schools required teachers to participate in an equity training program in which they were taught how to create an "actively antiracist learning environment." Loudoun County schools spent hundreds of thousands of dollars on teacher training sessions based on critical race theory — the idea that American institutions are inherently racist.

New Kaepernick book: 'To eradicate anti blackness, we must also abolish the police'. A new book from controversial former NFL quarterback Colin Kaepernick calls for the absolute abolishment of all police departments and prisons in the United States, positions that are not popular with the vast majority of Americans, according to polling data. "In order to eradicate anti-Blackness, we must also abolish the police," is the thesis of the book, which is a collection of 30 essays, one of which is written by the former San Francisco 49ers starter, TMZ reported Wednesday.

Did they do this on Easter Sunday? I must have missed it.
Miami Dolphins Partner with Radical South Florida Mosque for 'Drive-Thru' Ramadan Meal. Given all the community food drives the Islamic Center of Greater Miami (ICGM) has conducted, since the beginning of the COVID-19 pandemic, and the testing and vaccinations it has co-sponsored, one could be fooled into thinking that the center is a civic minded institution. It is easy to understand why the NFL's Miami Dolphins would want to be a part of such "charitable" endeavors. However, there is a dark side to ICGM — a side linked to terror and bigotry — which overshadows its "charitable" activities, and this makes it incumbent upon the Dolphins or any other group which has chosen to associate with ICGM to sever ties with the Islamic center.

Talladega Superspeedway offering free laps to those who receive COVID-19 vaccine on site. On Saturday [5/15/2021], the Talladega Superspeedway will be hosting a free drive-thru COVID-19 vaccination and testing site from 9 a.m. until 5 p.m. All participants will be asked to review educational material about COVID-19 vaccine and sign a consent form. Vaccines will be administered by members of the Alabama National Guard, with a public health nurse present. After receiving the vaccine, people will wait 15 minutes to be observed for any rare allergic reactions. Registration is not required, but encouraged.

The Editor says...
If the vaccine is so helpful, and the disease is so terrible, why are incentives necessary? The answer is obvious: The disease has been inconsequential to the overwhelming majority of those who have had it, and serious questions are now being asked about what's really in that vaccine and why so many people have had adverse reactions to it.

Woke Takeover: NFL Hires Katie Hill, Former Obama Comms Director. The NFL continued its trend of hiring liberal former White House communications and public relations people this week by making former Obama communications director Katie Hill their senior vice president of communications. "As Senior Vice President, Hill will be responsible for leading the NFL's day-to-day communications operation, aligning the League's communications strategy with its priorities," the NFL wrote in a press release.

Nike, NBA Silent After LeBron James Tweets 'YOU'RE NEXT' at Columbus Cop. Lakers star LeBron James' sponsors and the league he plays for have remained silent in the wake of his tweet targeting an Ohio police officer. On Wednesday [4/21/2021], James tweeted a photo of a white Columbus police officer with the caption, "You're next, #Accountability." But after suffering a major backlash, the player deleted the tweet and attempted to claim that he deleted it to stop people from "creating more hate" over his message. The explanation for his removal of the tweet did not satisfy many. But regardless of whether the fans have accepted James' reasoning, his sponsors seem unconcerned by his tweet targeting a police officer. Thus far, sponsors and partners including Nike, 2K Sports, AT&T, Beats Electronics, Blake Pizza, Coca-Cola, GMC, KIA Motors, Nike, RIMOWA, Upper Deck, State Farm, and Walmart have remained silent over James' threatening tweet.

Ex-Virginia Tech soccer star sues coach, claims he forced her off team because she wouldn't kneel. Kiersten Hening, a former Virginia Tech women's soccer player, is suing her former coach after she was allegedly benched and forced off the team because she didn't want to kneel during a pregame demonstration last September. Hening, 21, was a midfielder/defender for the Hokies from 2018 to 2020. In a federal lawsuit filed last month, Hening said that her former coach, Charles Adair, wasn't a fan of her political views. According to the documents obtained by TMZ Sports, Hening said during the peak of the Black Lives Matter movement last summer, she often had a difference of opinion from her teammates on social justice topics.

Trump Savages LeBron James For Threatening a Police Officer's Life. On Wednesday [4/21/2021], NBA Lakers star LeBron James tweeted something that looked very much like an incitement to murder a police officer. James rushed to conclusions about the shooting of 16-year-old Ma'Khia Bryant, a black girl who appears to have been lunging at someone with a deadly knife when the cop shot her. James later took down the tweet, but he claimed that this shooting represents yet more evidence of systemic racism. President Donald Trump took him to task on Thursday night. "LeBron James should focus on basketball rather than presiding over the destruction of the NBA, which has just recorded the lowest television RATINGS, by far, in the long and distinguished history of the League," Trump said in a statement. Recent ratings are indeed at an all-time low after the NBA painted the politically-charged slogan "Black Lives Matter" on its courts.

LeBron James Incited Millions to Murder a Police Officer. Will It Cost Him Anything? As America learned that a Columbus, Ohio, police officer shot and killed a teenage girl while she was in the act of wielding a knife at two other girls, NBA star LeBron James took to Twitter and incited his followers against the police officer. James has 49.6 million Twitter followers and is a hero to millions for winning basketball championships. He is very influential.

American Businesses can be Woke, or they can be the Best, but they can't be Both. The fallacious ideas driving the corporate push for diversity, equity, and inclusion are not even the most problematic thing about it. The push for DE&I is a cancer that results in organizational atrophy for corporate America, not strength or progress. Consider what it would do to the NBA as a simple example. Black men account for more than 80-percent of the league's talent. That's problematic, of course, because only 27-percent of the NBA's fans share those players' skin color. Shouldn't the product on the court look more like the fans buying the tickets and watching at home, as many corporations now insist should be their basis for hiring talent? To ostensibly make the product better for fans, imagine that the league decided that only 50-percent of the players entering the league over the coming decade would be Black men. The other 50-percent would, in an effort to achieve diversity, equity, and inclusion, be comprised of other identities that are underrepresented in the NBA, such as whites, Hispanics, and women, the latter of whom currently represent a shocking zero percent among the NBA's players.

Former MLB Star David Wells: Major League Baseball Losing a Lot of Fans over Political Stance — 'They Don't Want to See That'. Monday [4/19/2021] on FNC's "Fox & Friends," former Major League Baseball pitcher David Wells sounded off on polling, showing a drop in MLB popularity among Republicans after the league decided to move its All-Star Game out of Georgia. The move came in response to new election integrity laws. The two-time World Series champion said changes brought on by "knucklehead" Commissioner Rob Manfred have already turned him off of watching MLB but said the All-Star Game change "put the icing on the cake."

How corporations conspire with Democrats to hoard power at the public's expense. Georgians adopted voter-integrity measures supported by a large majority of Americans, that are in the mainstream of state regulation and in fact are less stringent than the rules in Delaware, President Joe Biden's home state, and New York. By more than a 2-1 margin, Americans think such rules are not unfair or discriminatory. Nonetheless, these measures have produced an unprecedented effort by large corporations to interfere in the workings of a democratic government. Major League Baseball moved its All-Star Game out of (majority-black) Atlanta to (majority-white) Denver in protest. Coca-Cola's president weighed in against the changes. And in a statement organized by Kenneth Chenault, former chief executive of American Express, and Kenneth Frazier, the chief executive of Merck, hundreds of CEOs voiced opposition.

It Sure Looks Like the MLB Made a Big Mistake by Getting Political. One of the dumbest things a company can do in the corporate world is alienate a large portion of their consumer base. Appealing to the widest swath of people is just good business because it maximizes the pool from which you can draw profit. That fact is also true for sports teams, which are still businesses at the end of the day. You especially don't spit in the face of one of your strongest demographics. That's exactly what Major League Baseball did, though, and they are learning that lesson the hard way as new data shows just how dumb their decision to get political was.

MLB's favorability rating plummets. Major League Baseball has suffered a massive loss in popularity among Republicans due to its intervention on the side of Democrats in the political dispute over Georgia's voting law. According to a poll by Morning Consult, MLB's net favorability rating (the difference between the percentage of those who view the sport positively and those who view it negatively) among Republicans has dropped from 47 points to 12 points in the past month. Until commissioner Rob Manfred moved the all-star game, MLB was the big-time sports league viewed most favorably by Republicans. Now, it is viewed less favorably than the NFL and the NHL. It's still viewed more favorably than the NBA, though.

MLB Is Latest US Pro Sports League to Upset Republicans. Following Major League Baseball's decision to pull the All-Star Game out of Atlanta due to Georgia's new voting law, Republicans are now out on MLB. MLB's net favorability rating among Republicans was 47% in the middle of March, the highest rating amongst the four major U.S. sports leagues. Since then, it has crashed to 12%, dropping the league below the NFL (15%) and NHL (26%), according to new data from Morning Consult. (The NBA has a favorability rating, which is calculated by taking the difference between the share of respondents with a positive opinion of the league and the share with a negative opinion, of -5 among Republicans.) In general, Republicans have been becoming increasingly dissatisfied with pro sports in the U.S. due to players kneeling during the national anthem, messaging about social justice issues and the relatively recent embrace of the Black Lives Matter movement. "As a result, Republicans now have a less favorable view than Democrats of all four major U.S. sports leagues," according to Morning Consult's Alex Silverman.

Brett Favre Wants Sports, Politics To Be Separated: 'I want to watch the game'. Brett Favre thinks politics are hurting sports and would like to see both things go back to being separate. Favre made comments earlier this week, saying sports are better off being something to unify the country rather than used as a tool to further divide people. "I think both sides, for the most part, want to see it just remain about the sport, not about politics," the Hall of Famer said. "At least, that's my interpretation. I know when I turn on a game, I want to watch the game. I want to watch players play and teams win, lose, come from behind. I want to watch all the, you know, important parts of the game, not what's going on outside of the game. And I think the general fan feels the same way." Favre's comments came days after Major League Baseball moved the All-Star Game out of Atlanta to Denver over Georgia's new voting laws. He said he's heard fans tell him they don't watch sports anymore because it has gotten too political.

Timberwolves honor Daunte Wright in pregame ceremony. The Minnesota Timberwolves honored Daunte Wright before the NBA team's game on Tuesday night [4/13/2021]. Wright, a 20-year-old Black man, was shot and killed by a police officer Sunday in the Minneapolis suburb of Brooklyn Park. Body camera footage of the incident has sparked racial justice protests across the city and renewed calls by activists for police reform measures. The Timberwolves wore special T-shirts during pre-game warmups before their game against the Brooklyn Nets and held a moment of silence on the court prior to the playing of the national anthem.

Fixing Racism by Being Racist? If diversity is such a good thing at Princeton [University] or United [Airlines], how about professional sports? 59 percent of NFL players are Black, compared to only 13 percent of the US population. And no women play in the NFL. If professional sports leagues are to be sufficiently woke, reflecting the diversity of America, then half of all players should be women, and only 13 percent black, 18 percent Hispanic, 6 percent Asian, and so on. Why are woke news networks, Ivy League universities, and professional sports leagues not practicing the diversity that they preach? Major League Baseball thinks the new Georgia voting laws are racist. They should look in the mirror at their owners, managers, and players and see how they compare to American diversity and admit their own racism and sexism.

Fans Are Tuning Out on Woke Sports. Last Friday, after President Biden, left-wing activists, and the national media spent weeks peddling lies about Georgia's new voting law disproportionately impacting people of color, Major League Baseball (MLB) commissioner Rob Manfred caved to the radical mob and decided to move this year's All-Star Game out of Atlanta. In the name of equality, Manfred's decision will cost Atlanta, a city with a 50 percent black population, an estimated $100 million in economic losses. The game will now be held in Denver, Colorado, a city that is only 10 percent black. As nonsensical as Manfred's decision was, no one should be surprised by it. Over the past few years, it has been fairly obvious to any impartial observer that the higher echelons at MLB, along with those in charge at the National Football League (NFL) and the National Basketball Association (NBA), have made a conscious decision to alienate a large percentage of their fanbase by conceding more control of their sports to the demands of social justice warriors and the tyrannical Left.

Baseball strikes out. [Scroll down] Hopefully I've established my baseball bona fides, so now I'll get to the point: I condemn Major League Baseball, especially its spineless Commissioner Rob Manfred, for pulling the annual All-Star game from Atlanta. Like so many other useful idiots, Manfred bent over for the left-wing mob and its lies, this time regarding Georgia's new voter ID law. Sporting events are a diversion and should never be used as a political prop. My response? I'm unequivocally boycotting Major League Baseball. If I can do it, so can you! Yeah, I'm a lifelong baseball guy, but first and foremost I'm a patriot. I love our Republic, for what it was before the communist cancer metastasized, and for what it can be again! But we have to take a stand against the Marxist bullies. Baseball is just one example of a major corporation that went "woke."

In Defense of Major League Baseball — An Explanation That Makes Sense and Seems Rational. The MLB All-Star game over the past 20 years has become an event where some of baseball's biggest stars decline to play in order to have a 4-day break in the middle of the grind of 162 game schedule. But the prospect of having a large number of the sport's best players publicly decline to participate because of where the game was being played was a potential PR nightmare that would last for weeks, and continue right up to the start of the game — if there was a game. As more and more players would likely announce their intention to boycott the game under pressure from media and players in other sports — like LeBron James — a cascading effect would have like developed where the outcome might have ultimately have been that no players agreed to play. If some players did agree to play — say some white players — the potential for conflict inside the locker rooms of MLB clubs between boycotting players and non-boycotting players would escalate. The fallout for the sport in the aftermath of such a development would be disastrous.

Fire Manfred and return the All-Star Game to Atlanta. If Major League Baseball team-owners don't act fast, the MLB will experience a hemorrhaging of fans that might damage the pro game for years. The way to repair the damage is to fire Commissioner Rob Manfred and return the All-Star Game to Atlanta this summer. An April 7 report from Fox News (via Becker News) says Manfred decided to pull the game from Atlanta after consulting with Stacey Abrams and a voting rights group associated with LeBron James and the always sketchy Al Sharpton. The timing of Manfred's decision caught owners off-guard, reports Fox. Manfred's decision should not only incense team-owners, but serve as grounds to dump the commissioner.

Thanks, Captain Obvious! NBC Realizes MLB Move Hurts Black-Owned Atlanta Businesses. After a campaign of disinformation over the Georgia voter bill that helped pressure Major League Baseball (MLB) to move the All-Star Game from Atlanta to Denver, Colorado, Wednesday's [4/7/2021] NBC Nightly News stumbled onto the truth once they poisoned the well, which was the decision will have a negative economic impact on Atlanta businesses and especially Black-owned establishments. Anchor Lester Holt stated the obvious in an opening tease that there was "unintended fallout from the MLB moving the All-Star Game out of Atlanta on local businesses."

Jake Tapper strikes out over MLB moving All Star game when reminded CNN has its HQ in Atlanta. CNN anchor Jake Tapper's so-called inside information about the "simple facts" behind Major League Baseball's decision to pull the All-Star Game from the Atlanta area is turning out to hardly be a home run. That's because those Twitter users — those who apparently are able to evaluate the Georgia voting law on its substance and free of the one-sided narrative pushed in Tapper's industry — are reminding him of an additional simple fact: CNN's headquarters just happens to be located in Atlanta. Shouldn't CNN also boycott Atlanta, too, they wonder?

Major League Baseball stupidly falls for Democrats' partisan game. There's no defense for MLB's action pulling the All-Star Game out of Georgia. A corporation based in New York, which has more restrictive voting laws than Georgia's, has moved the Midsummer Classic to Colorado, which, like Georgia, has the supposedly objectionable voter ID requirement. It did so at the request of President Joe Biden, who is from Delaware, which also has more restrictive voting laws than Georgia. Why? Because Georgia passed a bill that generally expanded access to voting. As Gov. Brian Kemp pointed out, when MLB issued its anti-Georgia announcement, the league didn't bother to cite a single provision of the law it was supposedly objecting to. That's easy to explain: MLB doesn't actually care that much about voting laws — otherwise, it wouldn't have its headquarters in New York.

Ex-MLB commissioner Fay Vincent slams successor Rob Manfred's decision to move the All-Star Game from Atlanta to Denver. Former Major League Baseball commissioner Fay Vincent has slammed successor Rob Manfred over the 'mistake' of moving the All-Star Game from Atlanta to Denver in response to the new voting law in Georgia that many believe to be racist. 'Major League Baseball can't become a weapon in the culture wars, a hostage for one political party or ideology,' the 82-year-old Vincent wrote in The Wall Street Journal's opinion section. Georgia's new law limits mail-in voting and allows for more legislative control over the election process following former President Donald Trump's baseless claims of voter fraud in the 2020 election. Critics of the law, including Delta and Coca-Cola, say it unfairly targets minority voters in metropolitan areas.

Report: MLB Commish Pulled All-Star Game from Atlanta After Talking to Stacey Abrams. According to a report from Fox Business Network's Charles Gasparino, sources inside Major League Baseball claim that Commissioner Rob Manfred "blindsided" MLB owners with "at least" the "timing" of his decision to pull the All-Star Game from Atlanta. Moreover, Gasparino's report claims that Manfred spoke with defeated 2018 Georgia gubernatorial candidate Stacey Abrams before he decided to move the game.

MLB commissioner decided to move All-Star Game after pressure from Stacey Abrams on voting issues: sources. Major League Baseball (MLB) commissioner Robert Manfred decided to move the All-Star Game on his own after holding extensive discussions with voting rights groups associated with Lebron James, Stacey Abrams and Rev. Al Sharpton, sources familiar with the move tell Fox News. Abrams and Sharpton told the commissioner players would boycott the game if not. Sources say that Abrams' current stance, that she is disappointed about the Georgia boycott, is suspect as she was a key player in the decision. James has publicly supported the Georgia boycott. Abrams' group and Sharpton also urged the commissioner to support other issues, including voter drives and H.R. 1, the For the People Act — sweeping election reform that recently passed the House. Manfred decided the easiest way to deal with the matter was to leave Georgia, according to a source.

Things We Can Live Without. The NFL was an early casualty. The sight of players, coaches, even owners kneeling to protest demonstrably nonexistent "systemic police racism" sent me to the sidelines. Colin Kaepernick's socks, featuring pigs wearing police hats, revealed his true feelings as the leader of that movement. A lot of fans like me make other plans on Sundays now. For decades I suffered with the fickle fortunes of the Boston Red Sox. [...] The Sox lost me when they plastered "BLACK LIVES MATTER" on the marquee at Fenway, in the iconic typeface used on their uniforms. BLM organizers are Marxists who support the dismantling of the nuclear family. Marxists perpetrated the greatest evils ever visited on mankind. It's so hard to cheer for those who pander to them. I stopped. Major League Baseball has yanked its All-Star Game from Georgia because that state made a modest effort to prevent fraud in future elections. Joe Biden expressed support. [...] Can liberals alone fill baseball stadiums?

MLB strikes out with proposed All-Star Game relocation. Major League Baseball officials are mulling relocating the All-Star Game from Atlanta to Coors Field in Denver, though Colorado has the same voter ID requirement and fewer early voting days than Georgia. Several outlets reported the development Monday, noting that the Colorado Rockies would be hosting the annual game on July 13 instead of the Atlanta Braves. The league moved the game out of Georgia following an outcry by Democrats, corporations headquartered in Atlanta, and left-wing pundits that a new voter reform law unfairly targeted minorities.

MLB's new All-Star Game location — Denver's Coors Field — is steeped in its own history of discrimination. By moving the All-Star Game from suburban Atlanta to a stadium in Denver, Major League Baseball may have gone from the frying pan into the fire in the controversial case of cancel culture. MLB ignited a firestorm last Friday — with the support of President Joe Biden — when it announced it was moving America's pastime's biggest game next to the World Series because it disagreed with a new Georgia voting law that liberal critics say helps Republicans and hurts minorities. But the new venue, Coors Field, in Denver, comes with its own dark cloud of controversy, and may ignite even more problems.

The Woke Left Ruined Baseball. Is Golf Next? On Friday, Major League Baseball announced they will move the 2021 All-Star Game and 2021 MLB draft out of Atlanta in response to Georgia's Election Integrity bill. [...] Corporations are now rushing to cave to the woke Left, with Major League Baseball joining the ever-growing list of organizations who decided that folding was easier than making a stand. There was a time when sporting events were a wonderful way to get away from it all. It gave us a short reprieve from days filled with doom and gloom headlines and nasty political disagreements with neighbors. Those days are long gone. Sports, athletes and politics are now tied together at the hip. From athletes kneeling during the national anthem to Black Lives Matter commercials at every turn, political statements during sporting events have become our "new normal."

Biden Encourages Masters to Move Out Georgia by Continuing to Lie About State's New Election Laws. First baseball, now golf. Joe Biden delivered remarks from the White House on Tuesday [4/6/2021] and encouraged Americans to continue to cower in fear over a virus with a 99.98% survival rate. Joe Biden was asked by a reporter if he supports moving the Masters Tournament out of Georgia after the MLB decided to move its All-Star game from Atlanta to Denver. "That's up to the Masters," said Biden before he nudged corporations to bludgeon American citizens based on debunked claims about Georgia's election laws.

Stacey Abrams [is] to blame for costing Georgia $100 million in lost All-Star Game revenue: Rand Paul. Former Democratic gubernatorial candidate Stacey Abrams has urged people not to boycott Georgia, but Sen. Rand Paul says she and other Democrats are squarely to blame for Major League Baseball's decision to pull the All-Star Game out of Atlanta. The founder of Fair Fight, Ms. Abrams led the charge against Senate Bill 202, the Georgia election law that requires identification for absentee ballots, expands early voting and bans electioneering within 150 feet of polling entrances, calling it "Jim Crow 2.0." "There's all these people who are woke, but now even the woke like Stacey Abrams, are starting to see, oh, no what have I unleashed? I just lost my state $100 million in revenue," said Mr. Paul on Fox's "The Story." "Stacey Abrams and the Democrats cost Georgia $100 million in revenue because they complained about something they didn't read and they said something about it that wasn't true."

Strike Out Major League Baseball. Woke pro baseball, strike one. A cowardly MLB commissioner, strike two. Corporate sanctimony, strike three. Major League Baseball pulling the 2021 All-Star game and this year's amateur draft from Atlanta is batter out, game over. As a lifelong baseball fan, I take no pleasure in declaring that I won't spend another penny on the Grand Old Game this season. And that might turn into many seasons. The MLB is against Georgia's sensible election reforms. Election reforms that better ensure honest, fairer contests are critically more important than my pleasure. They should be more important than yours. Over the weekend, President Trump called for boycotts. As usual, Trump hit the nail on the head.

Texas Gov. Greg Abbott Throws Fastball at MLB's Virtue Signaling. The Texas Rangers baseball team had asked Texas Gov. Greg Abbott to throw out the first pitch at their home opener. Major League Baseball then took a stand against sensible voting reforms in Georgia, reforms that include extending early voting days making it easier to Georgians to cast votes. After Joe Biden shamelessly and repeatedly lied about that law, MLB moved the All-Star game from Atlanta. MLB's leadership evidently did not read the law before launching an economic war against the state of Georgia. Texas is considering similar reforms, and American Airlines is among corporate America's partisans taking shots at the law without bothering to read it first. Gov. Abbott has decided enough is enough. He released a letter Monday telling the Rangers that he will not support the politicization of baseball and therefore will not throw out the first pitch.

White House Spins Biden's All-Star Game Remarks: He Didn't Definitively Say He Supported Moving All-Star Game From Georgia. On Monday [4/5/2021], White House Press Secretary Jen Psaki tried to mitigate the effect of comments President Biden made last week in which he stated that he supported major league baseball players who wanted to relocate the All-Star game from Atlanta because Georgia GOP Governor Brian Kemp signed into law a bill that dealt with voting law. Biden stated, "I would strongly support them doing that." At the White House press briefing on Monday, a reporter asked, "I just wanted to ask you a question about Major League Baseball. The league decided to move its All-Star Game out of Atlanta. That's something that the President said he supported before. Does he then agree with their decision to move that game out of Atlanta because of the voting law? Psaki framed Biden's answer as being supportive of the players' capacity to make a decision rather than the decision itself.

MLB All-Star Game to be played at Coors Field after league strips event from Braves: reports. The Colorado Rockies will host the 2021 MLB All-Star Game after the decision to move the event from Atlanta over Georgia's restrictive voting law, according to multiple reports. ESPN and Altitude TV reported the game was going to be moved to Coors Field in Denver on July 13. [...] MLB Commissioner Rob Manfred made the announcement to strip the Braves of the event on Friday in response to the mounting pressure to change the location of the July game in response to Republican-backed election reform legislation recently signed by Gov. Brian Kemp.

MLB relocates All-Star game to state with voter-ID laws, and fewer early-voting days. That'll show 'em! After caving to a boycott of Georgia over its new election law, Major League Baseball has relocated its All-Star Game event from Atlanta to Denver. [...] However, let's not overlook the blow that MLB has struck for solidarity with the black community. They moved the All-Star Game from a state where 31.2% of the population is black, and moved the $100 million business opportunity to a state where 4.1% of the population is black. This is what's known as "redistribution of wealth," at least to progressives and the MLB.

Why did baseball capitulate? Jim Geraghty wonders why Major League Baseball pulled its all-star game from Georgia, but major sporting events are still scheduled to take place in that state. He cites the Masters Golf Tournament, as well as all home games for professional Atlanta teams and Georgia's collegiate athletic programs. In addition, the following events are still a go, as of now:
The 2021 Chick-fil-A Kickoff Games in Atlanta
The 2021 SEC Championship Game
The Chick-fil-A Peach Bowl
The PGA Tour Championship at East Lake Golf Club in September
The USTA Atlanta Open
Why, Geraghty asks rhetorically, if there is a moral imperative to move the baseball all-star game, is there no obligation to move other sporting events to a different state? The answer, of course, is that there is no such obligation. That, I take it, is Geraghty's point. But why has baseball moved the all-star game, while comparable events will still take place in Georgia?

Oops: Chuck Schumer Invites MLB All-Star Game to NY, but Then Facts About the State Get Dropped. As we've previously reported, President Biden, White House press secretary Jen Psaki, and other Biden officials are outright lying about Georgia's new voting law, so much so that even Democrat-friendly fact-checkers are not letting them get away with it. The Biden administration's falsehoods and those of failed 2018 Georgia Democratic gubernatorial nominee Stacey Abrams have now cost the state the Major League Baseball All-Star game, which was yanked Friday just two days after Biden said he would "strongly support" them doing so.

Georgia County That Voted For Biden To Lose $100+ Million Over MLB Relocating Game After Biden Remarks: Report. The Georgia county that was set to host the 2020 Major League Baseball All-Star Game said over the weekend that it will lose more than $100 million after the league pulled the game and draft out of the state — a decision that comes after Democrats Madeline number of false claims about the state's new election law and signaled they would support the league boycotting the state. Holly Quinlan, president and CEO of Cobb Travel and Tourism, said that the "estimated lost economic impact" for the county was more than $100 million.

(Censored) Major League Baseball. [Scroll down] I am also, like most conservatives, not a big believer in boycotts. I even wrote a newspaper column several years ago arguing against them. But once again, there is a time for everything. And once again, this is that time: time for every conservative in America, along with anyone else who cares about the future of our republic — who cares that it has a future that doesn't include full-on totalitarianism — to utterly abandon Major League Baseball. Don't go to a game. Don't watch games on TV or listen to them on the radio. Don't buy any official gear. Just pretend like MLB no longer exists.

A Biden Advisor Is Asked About the MLB Boycott of Georgia, Her Response Is Mind-Boggling. With the MLB pulling the all-star game out of Georgia, the questions for Democrats are piling up. Specifically, what exactly did they accomplish by lying about the election reform bill except costing Georgia business owners over $100 million in revenue? Stacey Abrams has been the least self-aware in the aftermath, claiming that she's not to blame despite clearly being to blame. Others like Raphael Warnock haven't even tried to pretend they don't the result. Of course, it wasn't just Georgia-centric figures in the mix here. Joe Biden also voiced his support for the boycott, and one of his advisors was asked about it this morning [4/4/2021]. [...] This is what being out of touch looks like.

Boycott boomerang: Genius Dems start to realize Georgia boycott will cost them votes in the Peach State. Democrats thought they had a brilliant plan to force Georgia to permit widespread voting fraud by getting their woke pals in corporate America to bully the state into repealing its brand-new voting integrity law that mandates voter ID and other commonsense measures. Two Atlanta-based corporate giants, Coca-Cola and Delta Airlines, denounced Georgia's new voting integrity bill, and Major League Baseball announced it was moving the All-Star Game away from Atlanta. Oops! Guess who gets hurt in the estimated $100 million impact from the loss of the MLB showcase. That would be the little guys who work at hotels and restaurants, who are vendors at the game, and who work in other service industries. The local Dem pols realized this quickly.

The Democrats' rash behavior is due to a lack of foresight.
Boycott boomerang: Genius Dems start to realize Georgia boycott will cost them votes in the Peach State. Democrats thought they had a brilliant plan to force Georgia to permit widespread voting fraud by getting their woke pals in corporate America to bully the state into repealing its brand-new voting integrity law that mandates voter ID and other common-sense measures. Two Atlanta-based corporate giants, Coca-Cola and Delta Airlines, denounced Georgia's new voting integrity bill, and Major League Baseball announced it was moving the All-Star Game away from Atlanta. Oops! Guess who gets hurt in the estimated $100 million impact from the loss of the MLB showcase. That would be the little guys who work at hotels and restaurants, who are vendors at the game, and who work in other service industries. The local Dem pols realized this quickly.

MLB requires photo ID to pick up tickets from Will Call, but boycotts Georgia for voter ID law. Major League Baseball responded to calls to boycott the state of Georgia over a controversial new voter-ID law by moving the All-Star game out of the Peach State. But teams still requires fans to show photo ID to pick up their tickets from the Will Call booth. South Carolina Republican Rep. Nancy Mace called the league out on Twitter.

What's More American than Coke and Baseball? [Scroll down] The immediate target of these corporate actions was efforts by Georgia and Texas to revise their election laws, laws which in many states have resulted in widespread disbelief that the 2020 elections were conducted on the up and up. When people believe election procedures are untrustworthy, it shatters voluntary acceptance of the election results. Under pressure from racist propagandists of the left and using COVID as an excuse, jurisdictions in several states so loosened the election rules that widespread fraud was made easier. One state in particular was Georgia, where asleep at the switch (or corrupt — your choice) officials permitted the sloppy, untrustworthy, opaque, and disputed election procedures. In an effort to prevent a repeat, Georgia enacted a new election law. (In pdf form it's 104 pages, and that makes it unlikely to me that any of the corporate bleating about it was made with knowledge of its contents.)

Baseball is the last straw. Time to start boycotting. Under the influence of racist organizations such as BLM, and in response to ignorant denunciations of Georgia's new election integrity bill by an ignorant president, it [major league baseball] has thrown in with the woke mob that would judge the worth of individuals on the basis of the color of their skin rather than on the content of their character. In the process it has begun to unravel the progress made in the preceding half-century. Now, not even baseball, the all-American game, is a haven from the culture wars unleashed by the ruthless left. It would not have been hard for Rob Manfred and the big businessmen who run MLB to resist the demands of the radical left to take sides in a political dispute. All they needed to say was that the business of MLB is baseball. Not politics. But that would have taken courage — courage that they do not have.

Major League Baseball and the Voting-Rights Con. It has been years since I've watched the All-Star Game, the can't-miss event of my youth. When I learned that the woke Left had gotten the woke commissioner to accede to the woke White House's instruction that the game be moved out of Atlanta — part of the campaign to slander Georgia's voting law as racist — it was the first time I'd even heard that the game was scheduled to be in Atlanta. They could play it on Mars for all I care, or, better yet, not play it at all.

Major League Baseball's Cowardly 'Stand'. Major League Baseball (MLB) commissioner Rob Manfred announced that it would not be holding its 2021 All-Star Game or draft in Georgia as originally planned because of the state's much — and unfairly — maligned new elections law. [...] What a humiliating spectacle for the league and the country. Manfred doesn't state what the MLB's problems with the bill are because he either can't or is embarrassed to have to articulate them out loud. The move comes after President Biden — who called the law "Jim Crow on steroids" — said he agreed with the suggestion that the MLB move the All-Star Game, and as he continues to deceive the public about the legislation's contents.

Georgia Democrats stare down a mob of their own making. Leftist activists are busy whipping up a national boycott of Georgia-based businesses over the state's new election integrity law. The boycott has the support of Hollywood and the White House, with President Joe Biden saying this week that he would support moving the MLB's All-Star Game out of the state as a sign of protest. Georgia Democrats are now left trying to talk the mob down. "I absolutely oppose and reject any notion of boycotting Georgia," Democratic Sen. Jon Ossoff said in a statement on Thursday [4/1/2021]. "Georgia welcomes business, investment, jobs, opportunity, and events. In fact, economic growth is driving much of the political progress we have seen here." Stacey Abrams, who, having lost Georgia's governorship in 2018, rebranded herself as a voting rights activist, agreed and reminded Democrats that economic boycotts would hurt the very communities they claim to represent.

LeBron James, Liberal Elites Celebrate After MLB Takes All-Star Game from Georgia. On Friday [4/2/2021], Major League Baseball decided to take its All-Star Game away from Atlanta's Truist Park in response to the state's new voter integrity law. Liberal supporters exploded with delight after the MLB announcement. [...] Unsurprisingly, the baseball player's union supported the move. After all, they had already been pushing for it. [Numerous tweets]

MLB is fine with ball games in Cuba and training in China, but Georgia is the human-rights problem. You could tell that the Major League Baseball (MLB) decision to pull its All-Star game out of Atlanta was a deeply unpopular one, based on the ambivalent reaction of far-left failed gubernatorial candidate, Stacey Abrams. [...] After all, isn't she the one who pushed through most of the fraud-enabling laws on the books in Georgia which triggered the recent legislative action? The blacks-are-too-dumb-to-have-voter-ID idiotic notion, so by extension, nobody should have to show voter ID to vote, even though everyone needs to show ID to buy a beer at a MLB ball game, or buy a ticket to one? She needs to make up her mind. So which is it? Not wanting to see families hurt, or being all-in for the boycott of Atlanta, which certainly should affect the city tax base? She wants to have it both ways, boycott but nobody hurt. That's because unlike MLB, she wants to win public office, and knows that screwing over black businesses, which will get it in the teeth with this MLB maneuver, is going to make her unpopular.

This is How To Do It — President Trump Calls for Boycott of Major League Baseball. This is exactly how to fight back against the insufferable leftist politics that is infecting everything. Today President Trump has called for a boycott of Major League Baseball. If these corporations realize their actions will cause 80 to 100 million people to stop using their products, they will feel the scale of their financial position being crushed. Keep in mind MAGA supporters are the people who economically represent the largest audience with a greater percentage of their income available for recreational purchasing decisions.

GOP Senators Propose Revoking MLB's Antitrust Status. Republican lawmakers, including Senators Ted Cruz (Texas) and Mike Lee (Utah) have called for an end to Major League Baseball's antitrust exemption after the league announced it would pull the 2021 All-Star Game out of Atlanta. The league's decision came in response to a Georgia voting law that critics claim makes it more difficult for individuals, particularly black voters, to exercise their constitutional right to vote.

Joe Biden might just have killed Major League Baseball. One of the highlights of the baseball season is the All-Star Game, which was set to be played on July 13 in Atlanta. Since 1933, midway through the MLB season, fans pick their favorites from the American League and the National League and then the chosen stars compete. I'm not a baseball fan but I'm willing to bet that, in terms of ad revenue and merchandise sales, it's an important part of the business end of pro-baseball. And it certainly brings revenue to the city hosting it. On Thursday [4/1/2021], Biden made one of his little scripted appearances, this time on ESPN. It's worth noting that ESPN, which Disney owns, long ago transferred its allegiance from sports to leftism with a serving of sports on the side. [...] Remember, there are only 30 baseball teams but there are around 80 million Trump voters. We can make the franchise hurt for its decision to weaponize America's game against the integrity of America's elections.

The Editor says...
The quickest and easiest thing you can do about this issue is to turn off ESPN. Step two: Don't watch another baseball game this year. (Do you have nothing else to do?) The Democrat fans may be able to keep the politicized sport afloat, but I doubt it.

Woke to Broke: Moving All-Star Game Costs Atlanta Tens of Millions in Revenue. Major League Baseball announced this year's All-Star Game would be relocated out of Atlanta, Georgia, costing the city as much as $190 million in revenue, according to official estimates. Bill Volckmann, Finance Director for Cobb County, appraised the All-Star Game's economic impact to fall somewhere between $37 million and $190 million in his 213-page agenda packet. While some dispute the high-end of those projections, it's safe to say the city — especially lower-wage workers who would have worked the event — would have benefited greatly.

Atlanta Braves Fire Back After MLB Moves All Star Game. Major League Baseball has been under intense pressure from Democrats to move the annual All-Star Game out of Atlanta over Georgia's election integrity law and on Friday [4/2/2021], the league caved. On the second day of the 2021 season, MLB Commissioner Rob Manfred sent a clear message to all MLB fans that his league takes its marching orders from activists and politicians.

The Editor says...
Throw the ball. Hit the ball. Catch the ball. Big deal. Play your big game somewhere else. Or don't play at all. Who cares?

Trump Calls For Boycotting Major League Baseball After They Cave To 'Radical Left Democrats'. Former President Donald Trump called for people to boycott Major League Baseball (MLB) on Friday night after the league caved to pressure from leftists to cancel the All Star Game, which was scheduled to take place in Atlanta, after Georgia passed a law to tighten up voting security around the state. Trump's statement comes after MLB Commissioner Robert D. Manfred, Jr. announced earlier in the day that the league was moving both All-Star Game and MLB Draft to a new host city following a misleading pressure campaign from leftists about the state's new laws. "Baseball is already losing tremendous numbers of fans, and now they leave Atlanta with their All-Star Game because they are afraid of the Radical Left Democrats who do not want voter I.D., which is desperately needed, to have anything to do with our elections," Trump said in a statement. "Boycott baseball and all of the woke companies that are interfering with Free and Fair Elections. Are you listening Coke, Delta, and all!"

Et tu, baseball? I can easily overlook the flamboyance and over-the-top showmanship of many of today's players in the interest of letting them have a bit of fun while they play. But I can't go along with this calculated, political move on the part of the owners. The commissioner works for the owners, and the possibility that a move like today's could have been made without a majority of owners going along with it is more than unlikely. It is impossible. So baseball has joined the NBA and NFL in their wokeness. Politics has contaminated every form of entertainment in our country. I am beyond sad and beyond furious for this latest insult. I have never before been so upset with "my" game that I have been tempted never to watch another inning. I may get over it, but then again, I may not.

Remember when baseball brought us together? My guess is that there is going to be a huge backlash against this decision. I trust that the commissioner understands that. It would have been wiser for the commissioner to have responded to the wokes by saying we play baseball, not get involved in partisan politics. Twenty years ago, baseball brought us together. Now it will add to the growing polarization in the land. Sad but true.

MLB yanks All-Star Game out of Atlanta over Georgia's new voting law. MLB is taking its ball and leaving Georgia. The league announced on Friday that it is moving the 2021 All-Star Game out of Atlanta as backlash grows over a new Georgia law that is seen as an attack on voter access. "I have determined the best way to demonstrate our value as a sport is relocating this year's All-Star Game and MLB Draft," commissioner Rob Manfred said in a statement. "MLB fundamentally supports voting rights for all Americans and opposes restrictions to the ballot box." The Braves, in a statement, opposed the move.

Biden 'strongly supports' moving MLB All-Star game over new Georgia voting law. President Joe Biden said he would "strongly support" moving the Major League Baseball All-Star Game out of Atlanta because of Georgia's new voting law that critics say may suppress turnout at the ballot box. Biden spoke to ESPN's Sage Steele in an 11-minute interview Wednesday night, saying he would back the MLB if the league decided to move the July 13 game out of Georgia in response to the GOP-backed election reform signed last month by Republican Gov. Brian Kemp.

After promoting this behavior for decades, now they say it's forbidden.
Cleveland Indians prohibiting fans with redface, Native American headdresses into Progressive Field. In a long list of what fans can expect at Progressive Field for the 2021 season, the Cleveland Indians announced it will not allow fans into Progressive Field with "headdresses and face paint styled in a way that references or appropriates American Indian cultures and traditions." Anyone wearing inappropriate or offensive images, words, dress or face paint must be covered or removed, and failure to do so will constitute grounds for ejection or refusal of admission, the organization stated.

The Editor says...
The professional baseball teams derive their income by selling tickets to baseball games; and to a certain extent, by selling the television rights to those games. (I suspect that every major league game is attended by a TV crew, whether the entire game is televised or not, just in case something extraordinary happens.) The fans come to the game in person, expecting to have an enjoyable experience. In Cleveland, for the last several decades, part of that experience has been the opportunity to root for the Indians while dressing and acting like stereotypical cartoon Indians. Until very recently, nobody thought for a moment that such behavior was offensive to Indians in general. But the fans don't like to have their traditions uprooted, and they don't like to see leftist politics injected into their favorite sports, after paying to attend the game (and park the car). If specific teams or the MLB organization put a wet blanket on the fans' enthusiasm, they can expect to make less money.

Because the game is more important to them than their country:
U.S. soccer will now allow players to kneel for national anthem. The U.S. Soccer Federation will no longer require players to stand for the national anthem, voting to repeal a 2017 policy that called on national team players to "stand respectfully" during the Star Spangled Banner before national team games. During a virtual conference of the group's annual general meeting on Saturday, 71.34 percent of National Council members voted to repeal the policy which had already been nixed by the USSF board of directors last summer. Hundreds of voters make up the National Council, including representatives for youth, adult amateur and professional populations, in addition to the athletes' council.

If College Basketball Players Don't Want to Stand for the National Anthem, Yank Their Scholarships. The men's basketball team at East Tennessee State University disrespected the national anthem by dropping to a knee on Feb. 16th. That act of defiance led state lawmakers to fire off a letter to every public university in the state. "We expect all those who walk onto the field of play representing our universities to also walk onto the field of play to show respect for our National Anthem," read a letter written and signed by Lt. Gov. Randy McNally along with 26 Republican state senators. [...] Unfortunately, many student athletes cannot be persuaded to do the right thing because of patriotism or human decency. It's all about dollars and cents. So lawmakers should present the basketball players an offer they cannot refuse.

No Kneeling: Scotland And Wales Players All Remain Standing Before Rugby Game. Players for Scotland and Wales all remained standing ahead of their Six Nations rugby match on Saturday, defying uproar over many players not kneeling to Black Lives Matter at the earlier Scotland vs England fixture. While players for England — with some notable exceptions — decided to "take a knee" for Black Lives Matter before facing off against the Scots team in their home stadium, only a handful of Scottish players followed suit.

Virginia College Forfeits Basketball Game After Suspending Players For Kneeling During Anthem. Bluefield College, a small Baptist liberal arts school nestled in the Appalachian mountains in Bluefield, Virginia doesn't seem to be a likely place to make national news. But when players on the men's basketball team took a knee during the playing of the national anthem — after being warned several times it was against school policy — the school president promptly suspended the players and forfeited a game. The players had knelt several times before games in January and February, at both home and away contests. After being warned about the practice, the players decided to stay in the locker room during the playing of the national anthem before an away game.

College suspends basketball players for kneeling during anthem because of how 'it's perceived by some'. The dean of a small Baptist liberal arts college in western Virginia suspended basketball players after they repeatedly knelt before games during the playing of the National Anthem in violation of the institution's rules. The suspension of several Bluefield College players by President David Olive led to a forfeit against NAIA rival Reinhardt on Thursday [2/11/2021], the New York Post reported. Olive, who is white, said in a statement he made the decision to suspend all the team's players after discovering that they had knelt prior to several games this season.

The Editor says...
If Mr. Olive were a man of some ethnicity other than white, would that have been mentioned in this article? Of course not!

Minnesota colleges adapt as 'Star Spangled Banner' stirs dissimilar emotions. When it comes to the national anthem and sports, Americans remain divided. Dallas Mavericks owner Mark Cuban reignited the issue last week when he said he had stopped playing the anthem at games. The mention of NFL quarterback Colin Kaepernick, who last played in the league three years ago, still angers people upset by his choice to kneel during the anthem. But some schools, including St. Thomas and the University of Minnesota, are incorporating social justice messages into their pregame anthem presentations. The Tommies' statement is one of several new anthem introductions developed by the Minnesota Intercollegiate Athletic Conference for use by its teams. The Gophers are playing "Lift Every Voice and Sing," often called the Black national anthem, before "The Star-Spangled Banner."

Mark Cuban Insists The Dallas Mavericks Won't Play National Anthem Anymore. Dallas Mavericks owner Mark Cuban said Tuesday [2/9/2021] that his franchise would no longer play the national anthem prior to his team's NBA home games. It's a long-standing tradition to play the anthem before home games in all major professional sports, and even all the way down to high school athletics. Cuban said that will come to an end with the Mavericks. The national anthem hasn't been played at any Mavericks games so far at the American Airlines Center this season — preseason or regular-season games. Cuban told ESPN that he consulted with NBA commissioner Adam Silver before letting the rest of the world know about his decision, ESPN reported. A team source told ESPN that no players, coaches or referees have mentioned the anthem's absence so far.

The Editor says...
If you hate America, don't play the National Anthem before the game. Your customers will let you know if they concur.

Jen Psaki: Mark Cuban's attempt to ditch national anthem educates people on U.S. failures. White House press secretary Jen Psaki says Dallas Mavericks owner Mark Cuban's attempt to ditch the national anthem was an acknowledgment of U.S. shortcomings. The White House spokeswoman was asked about the billionaire's move, which was quickly torpedoed by the league as the news went viral. "I haven't spoken with the president about the decision by Mark Cuban or the Dallas Mavericks," Ms. Psaki said of the plan to omit the national anthem from the Mavericks' first 13 home games. "I know he's incredibly proud to be an American, and has great respect for the anthem, and all that represents, especially for our men and women serving in uniform around the world."

The Editor says...
Now you know where Psaki stands — as an official representative of the President.

White House Supports Mavericks Scrapping The National Anthem Because America Fails 'Often'. White House press secretary Jen Psaki expressed support for Dallas Mavericks owner Mark Cuban's decision to remove the national anthem from the team's home games because they "feel [the anthem] doesn't represent them." During the Wednesday [2/10/2021] press briefing, Fox News's Peter Doocy asked Psaki about the Biden administration's stance on Cuban's decision. While the press secretary acknowledged that President Joe Biden is "proud to be an American and has great respect for the anthem," she also said he would support the Mavericks for calling out the frequent times when "we as a country haven't lived up to our highest ideals."

The Editor says...
Cuban, Psaki, and Biden have made it clear: They are annoyed by the National Anthem, apparently because they hate America.

Update:
NBA Responds after Mark Cuban Skips National Anthem for Home Games. The National Basketball Association announced on Wednesday [2/10/2021] that all teams would play the national anthem before games. The announcement marks an apparent rebuke of Dallas Mavericks owner Mark Cuban, who decided he would not mandate the playing of the anthem before the team's home games. The Mavericks have already played their first home games without the anthem, including their first home game with fans in the audience.

But at least now you know where Mark Cuban stands.
Dallas Mavericks PLAY national anthem before home game against the Hawks - just hours after owner Mark Cuban relented. The Dallas Mavericks have played the national anthem before a home game against the Atlanta Hawks, just hours after billionaire team owner Mark Cuban relented to the NBA's demand that the song be played at all games. A recorded version of the Star-Spangled Banner was played before Wednesday night's game at American Airlines Center, while Mavericks and Hawks players and staff stood lined up on the court. As the anthem concluded, the smattering of fans in attendance broke out in applause and cheers. The Mavericks are currently allowing 1,500 fans at home games, with tickets available to vaccinated healthcare and essential workers.

Did Biden Get Booed? Bidens Make Creepy Video Appearance at Super Bowl, Tell Americans to Wear Masks and Get Vaccinated. Super Bowl LV: Kansas City Chiefs v. Tampa Bay Buccaneers kicked off Sunday [2/7/2021] at the Raymond James Stadium in Tampa, Florida. According to reports, 22,000 fans attended the Super Bowl on Sunday. The Bidens barged in and made a creepy video appearance before kickoff to lecture Americans about "social distancing." Americans just can't get on with their lives because the Democrats have to drone on and on about Covid every second of every day. Joe Biden and his handler wife Jill made a video message from their Delaware basement bunker that played on the jumbotron — as if people watching football and drinking beer want to hear from Dementia Joe.

The Editor says...
The attendance at the big game might have been 24,835, which is less than 40 percent of the previous year's attendance.

Super Bowl LV Kicks Off with' Black National Anthem'. Super Bowl 55 kicked off Sunday with recording artist Alicia Keys singing the so-called black national anthem, "Lift Ev'ry Voice and Sing," along with a poem. Hitmaker Alicia Keys was tasked with a virtual performance of the 121-year-old spiritual song that has come to be known alternately as the "black national anthem" after being introduced in 1899 for Abraham Lincoln's birthday. The poem read in 1899 was set to music in 1900.

Roger Goodell Praises Colin Kaepernick — Says He Deserves 'Our Recognition And Admiration'. NFL Commissioner Roger Goodell praised former San Francisco 49ers quarterback Colin Kaepernick during his annual state of the league address. Fox News reported that Goodell said that Kaepernick deserves "our recognition ... and our appreciation" for talking about systemic racism in 2016, when he began taking a knee during the national anthem before his games in protest. "I said very clearly back in June that we wish we had listened to our players earlier, and we had a lot of players that were coming and bringing these issues to us," Goodell told reporters. "It didn't start last summer; it started over two years ago and we've been working with the Players Coalition over that period of time."

The Thirty Tyrants. A decade ago, no one would've put NBA superstar LeBron James and Apple CEO Tim Cook in the same family album, but here they are now, linked by their fantastic wealth owing to cheap Chinese manufacturing (Nike sneakers, iPhones, etc.) and a growing Chinese consumer market. The NBA's $1.5 billion contract with digital service provider Tencent made the Chinese firm the league's biggest partner outside America. In gratitude, these two-way ambassadors shared the wisdom of the Chinese Communist Party with their ignorant countrymen. After an an NBA executive tweeted in defense of Hong Kong dissidents, social justice activist King LeBron told Americans to watch their tongues. "Even though yes, we do have freedom of speech," said James, "it can be a lot of negative that comes with it."

Megan Rapinoe rips woman wearing USWNT hoodie and Trump mask: 'That is not the kind of fan we will welcome'. Megan Rapinoe had a clear message for any so-called fans of the U.S. women's national soccer team who support the Trump administration: "Don't bring that [...] here." Rapinoe, 35, the national team's outspoken leader and social justice activist, watched in horror from the team's January training camp in Orlando as white supremacist and domestic terrorists wreaked havoc on the U.S. Capitol on Jan. 6. Their purpose? Trying to undermine democracy and overthrow a government at the behest of President Trump, who was unhappy he lost re-election to Joe Biden. A photo was snapped and shared of someone trying to return home after the insurrection wearing a USWNT sweatshirt while also dawning a TRUMP 2020 face mask, which of course caught the attention of the team and Rapinoe, who stand against the man who has continued to lie and spew hatred about non-white, BIPOC.

The Editor says...
[#1] I really doubt if there were any "white supremacist(s)" in the DC crowd last week, and the only "domestic terrorists" were from the political left. [#2] At least 9,999 out of every 10,000 people in the crowd were assembling peacefully, which the Constitution guarantees their right to do. [#3] Nobody was "trying to undermine democracy [or] overthrow a government at the behest of President Trump." That is a vicious canard. Trump never asked encouraged anyone to engage in violence. [#4] President Trump is not just "unhappy he lost re-election to Joe Biden." He is justifiably indignant because his re-election was stolen, and the counterfeit victory given to Biden, by means of wholesale voter fraud. Joe Biden is one of the few people who is corrupt and venal enough to accept such a gift. [#5] One can easily imagine that the rest of the article above — and the entire web site — is replete with further lies and disinformation.

Confessions of a Sports Dropout. [Scroll down] Common sense still mostly prevails at the amateur level. I've not seen a Black Lives Matter banner at a Little League game yet. But it's early days, and we all know what rolls downhill. The NFL, MLB, and NBA are now adjuncts of Black Lives Matter, complete with banners, sweatshirts, and sappy and misleading television commercials. League executives have given no indication whether their loyalty is to the sentiment — which is unassailable but irrelevant, as no one ever said black lives don't matter — or to the Marxist organization, which has a much more toxic agenda than racial peace and equity. In fact, racial peace is the last thing BLM wants. It would put them out of business. The price of attending or viewing one of these now-political leagues' games, in addition to the usurious ticket or cable package tariff, is to see America insulted by kneeling athletes, indulged young prats whom America has made rich and privileged beyond their wildest dreams.

NBA coach Stan Van Gundy calls white people 'racist,' says he's a 'poster boy for white privilege'. New Orleans Pelicans head coach Stan Van Gundy said white people are "racist" and need to change to help African Americans. "We're the ones that are racist," Van Gundy told ESPN's The Undefeated in an interview. "It's a white person's problem that affects people of color, and so we're the ones who have to change. ... Certainly you want to promote Black voices, right? But if they're the only ones speaking out, a lot of people just push it aside. There needs to be people saying, 'No, wait a minute. This is wrong, and we need to correct these things.'" Van Gundy said that he is part of the problem, calling himself a "poster boy for white privilege."

Soccer Team Bans Fans From Booing Team Members Taking A Knee. Cambridge United have handed a stadium ban to fans who booed players taking a knee before their home game against Colchester. Other fans have been asked to undertake education around discrimination and equality before they are allowed back into the Abbey Stadium. A handful of fans could be heard booing ahead of kick-off in the League Two fixture on December 15, even though it was quickly drowned out by applause. [Video clip]

BLM Leader Who The Red Sox Honored On The Field Is Arrested For Punching An 80 Year Old Woman On Video. A 32-year-old Black Lives Matter leader who was honored by the Boston Red Sox during an August "Hats off to Heroes" ceremony, normally used to honor members of the military, was arrested Saturday in Swampscott, Massachusetts for punching an 80-year-old female Trump supporter in the chest. Jacques Jr., who was released on $550 bail, can be seen in a video posted by Trump supporter Dianna Ploss unloading a right to the 80-year-old woman. According to his Facebook page, Jacques Jr. was approached by the Red Sox back in August. The team planned to honor the BLM leader on a night normally reserved to honor members of the military. [Video clip]

NFL Honors Gunman Killed While Trying To Murder Cops. The National Football League (NFL) has chosen to honor a gunman who was killed while shooting at police by allowing players to wear his name on their helmets. Protesters have demanded that Indianapolis Metropolitan Police Department (IMPD) Officer Dejoure Mercer be sent to prison for murder for returning fire after 21-year-old Dreasjon Reed shot at him on May 6, The Indianapolis Star reported at the time. Special Prosecutor Rosemary Khoury announced in November that a grand jury determined the shooting was justified, according to The Indianapolis Star. The Indiana State Police (ISP) said evidence in Reed's phone indicated he was involved in two drive-by shootings prior to livestreaming the police chase and gun battle with Officer Mercer, The Indianapolis Star reported.

Thanks for representing our country so well.
U.S. Olympic Committee Will Allow Athletes To Kneel In Protest, Raise Fists. The U.S. Olympic and Paralympic Committee (USOPC) announced Thursday that it won't sanction athletes who raise a fist or take a knee on the medal stand at the Tokyo Games in 2021. USOPC said on Dec. 10 that it agreed with the calls from American athletes that asked the committee to change the rule prohibiting inside-the-lines protests at the Olympic Games, according to ESPN. The provision known as Rule 50 in the Olympic Charter has been under scrutiny and International Olympic Committee (IOC) has told its athlete commission to explore other options, according to The Washington Post.

Social Justice Bowl?: Ad Agency Predicts 'Black Lives Matter' Theme for Super Bowl LV. TV advertisers may be preparing to turn the NFL's biggest game into the "Social Justice Bowl" with hours of woke commercials and messaging. If reports on the ads coming for Super Bowl LV are to be believed, the funny and heartwarming ads, the cute kids and heroic animals will be running alongside Black Lives Matter themes. Along with social justice activism, advertisers may be preparing commercials filled with coronavirus messaging as well, according to Front Office Sports.

U.S. Women's Soccer Team Wears Black Lives Matter Jackets to International Match. The U.S. Women's National Team (USWNT) wore Black Lives Matter Jackets to their international friendly match against the Netherlands on Friday. In a message posted before the game, USWNT star Alex Morgan said the team chose to wear the jackets as a way to "affirm human decency," and as a stand against "racial injustice and police brutality."

The Colin Kaepernick spectacle needs to end now. Last week, the man who has made millions stirring racial anxieties and allying himself with massive corporations that profit mightily from slave labor, decided to use his voice not to promote harmony and unity, but to once again stoke discord. One would think that a man who has profited so handsomely by turning a blind eye towards the human rights abuses that fund his underwriters would experience at least a modicum of shame before attempting to lecture humanity on matters of "justice." But Colin Kaepernick has proven he is nothing if not shameless. So at a virtual conference last Monday [11/23/2020], the Nike millionaire zoomed in to lend his voice to the cause of freeing Wesley Cook, the former Black Panther who, after shooting white police officer Daniel Faulkner in 1981 for daring to pull his brother over for a routine traffic stop, changed his name to Mumia Abu-Jamal.

Detroit Lions and Houston Texans Quarterbacks Kneel During Anthem to Show Their Disgust for America on Thanksgiving Day. Thanksgiving Day is an annual holiday to celebrate the blessings of the past year. But not everyone is grateful to be from the United States of America. Professional athletes in the US are now cheerleaders in anti-American hate.

Colin Kaepernick goes full radical with call to free cop killer. It had to happen. This day had to come. For an attention-seeking activist, the worst scenario is to lose the limelight. It means the death of influence. So [Colin] Kaepernick — who's already run the course on calling for police reform, who's already spent his media capital on aligning with Black Lives Matter and crying racism when NFL teams, surprise, surprise, failed to rush to extend lucrative offers — Kaepernick had to ratchet the cries. He had to find a new rally call. He had to grab a hold of a new campaign. From police reform to "let my cop-killing people go" — it's the predictable next step.

Colin Kaepernick calls for release of Mumia Abu-Jamal, former Black Panther convicted of killing police officer. Activist and free agent NFL quarterback Colin Kaepernick called for the release of Mumia Abu-Jamal, a former Black Panther who was convicted of killing a White Philadelphia police officer in 1981. He made the comments during a virtual conference with supporters fighting for his release on Monday [11/16/2020]. "We're in the midst of a movement that says 'Black Lives Matter.' And if that's truly the case, then it means that Mumia's life and legacy must matter," Kaepernick said in a video statement.

NFL releases National Coming Out Day PSA. In honor of National Coming Out Day, the National Football League (NFL) released a video celebrating former LGBTQ+ players and encouraging those still in the closet to come out. The heartwarming clip features former out gay and bisexual athletes Wade Davis, R.K. Russell, Jeff Rohrer, and Ryan O'Callaghan encouraging current athletes to live freely and speak their truth. They collectively announce: "To all current players who are thinking of coming out, when you are ready, so are we."

NFL to Air 'National Coming Out Day' PSA During Sunday Night Football. The NFL is set to celebrate the LGBTQ community's "National Coming Out Day" during its Sunday Night Football broadcast this weekend. The campaign, labeled "It Takes All Of Us," will feature a 30-second video starring openly gay or bisexual NFL players including Ryan O'Callaghan, Jeff Rohrer, R.K. Russell, and Wade Davis. The ad encourages gays to come out and be proud of their sexual proclivities, according to CNN.

NBA caves! No 'Black Lives Matter' on courts and jerseys next year. NBA commissioner Adam Silver casually let drop the bombshell news that the NBA will remove the name of the Marxist revolutionary organization Black Lives Matter from its basketball courts and player jerseys next season. This comes following catastrophic ratings declines to all-time lows for the league's playoff games.

The Progressive Medusa. Sports was once a place to escape work, politics, and family tensions — a unifying experience where grudges, feuds, and vendettas disappeared for a few hours. Not now. Franchises became self-acclaimed woke ministries, in which poorly educated athletes — almost exclusively multimillionaires and without much knowledge or appreciation of where their seemingly limitless salaries derive — have become preachers. And they are poor preachers at that. The more a LeBron James remonstrates with America, the more NFL athletes refuse to honor the national anthem, the more all professional sports display glitzy politicalized logos, so all the more fans who pay their salaries tune out. The problem is not just that half the country is at odds with the politics of professional sports, but also that it watches them to see athletic excellence and root for favored teams — not to hear adolescent rants about their own moral shortcomings from supposedly victimized elites, some of whom have less than sterling characters. Worse still, the monotonous anti-American fantasies of half-educated players are cynically predicated on their own careerist realities — and more than just constructed to appeal to woke 20-something consumers with cash for sneakers and downloads.

Utah Company Gives Up Suite at Jazz Games Over Anthem Kneeling, BLM Promotion. A Utah company is giving up its suite at Jazz games, citing the players' decision to kneel during the national anthem. The company, Salt Lake County-based SME Steel Contractors, is asking the NBA franchise to "put a stop to all disrespectful actions during the anthem and remove the Black Lives Matter logo from the arena." "The recent actions of the NBA — including the owners, coaches and players of the Utah Jazz — have converted a beloved entertainment venue into a forum for dissemination of political propaganda which is divisive and completely out of step with our company and its values," a Sept. 9 letter sent from Salt Lake County-based SME Steel Contractors to Jazz owner Gail Miller states.

Company Gives Up Its NBA Suite, Fires Off Letter to Franchise Owner Over the Ruining of Sports. If you've paid much attention to NBA games as of late, you know one thing for sure: Black Lives Matter. With large letters labeling the court, it's hard to miss the message. [...] Unsurprisingly, not everyone's on board, and you can count SME Steel Contractors among them. In a September 9th letter to Utah Jazz owner Gail Miller, the Salt Lake County-based company made that clear. In fact, SME's giving up its suite at the arena. And it's asking the NBA franchise to "put a stop to all disrespectful actions during the Anthem and remove the Black Lives Matter logo from the arena."

The NFL gets woke and goes broke. The woke crowd is putting pressure on us to believe we are a racist country. From 2016 to 2019, a few NFL players took a knee during the Star-Spangled Banner to say this country is racist. The pressure became so intense that the NFL now accommodates them. This year, the Black National Anthem is played before games. Most players either kneel or stay in the locker room during the real National Anthem. These players must believe that this country is racist. Since we are citizens, they must believe we are racist. Almost all of them are millionaires. They worked hard at their profession and rose to the top. They are a typical American success story. They now get money and fame. We enjoy watching them play and contributing to their wealth. They should be grateful that they live in this country. Instead of gratitude, the players are using their fame to call attention to their low opinion of the fans, their customers. The natural fan response is to boycott the games.

Steelers' Star: I should have done more research before honoring drive-by shooter. I wrote [elsew]here about how the Pittsburgh Steelers will be honoring Antwon Rose, a drive-by shooting participant and probable shooter, by wearing his name on their helmets this season. Only one player — Afghan war vet Alejandro Villanueva — refused to go along with this nauseating decision. He will wear the name of a fallen warrior, Alwyn Cashe, an African-American who was killed in Iraq. Now, however, another player, star center Maurkice Pouncey, has balked at the Steelers' decision. Pouncey, who has worked with the police in Pittsburgh and Florida, says he was given "limited information" about the circumstances concerning Rose. I "should have done more research to fully understand what occurred in its entirety," he admitted.

Why We Stand for the American Flag. Now that the political left has decided to strain our few remaining bonds of national unity by encouraging disrespect for the American flag and the National Anthem, will there ever be a day in the future when Americans can pause from political division and join together as one nation to remember all we've accomplished? Can the athletes who have decided to kneel in protest of America imagine that future? Won't there always be some injustice, somewhere, that forces athletes to their knees? Won't there always be some kneeler who feels compelled to judge the actions of another American, even if those actions occurred decades or centuries ago? Do athletes who take a knee plan to stay on the ground for decades to come? Will they teach the lesson to their children and their children's children that disrespecting the flag is the noble thing to do? Just how many generations of kneeling will it take before America is properly punished?

How the Underground Press Will Thwart the Media and Re-Elect Donald Trump. To understand the samizdat's effect, consider a recent Gallup poll on the U.S. sports industry. A year ago, by a 45-25 margin, most Americans had a favorable view of professional sports. Today, by a 40-30 margin, most have an unfavorable view. These numbers had to shock the more woke among NFL and NBA execs. All summer, these execs have been reading about the largely peaceful protests against the systemic racism responsible for the deaths of George Floyd, Breonna Taylor, and Rayshard Brooks among others and the crippling of Jacob Blake. How, they wondered, could sports fans not embrace those athletes who stood (or knelt) in support of social justice? The players all endorsed the BLM movement or appeared to. So did the sportscasters, the advertisers, the TV networks, Hollywood, Big Tech, the New York Times, the major magazines, and just about everyone with a prominent soapbox except for Fox News — and even Fox waffled.

Racial Justice Agitators Are Killing Sports. The NFL is starting to kill American football fans' interest in football with their endless politicization of the sport. This is the first year my husband refused to join fantasy football leagues because he's had enough of the NFL forgetting why they exist. Ratings are way down. Football fans in Kansas City didn't boo the players because they were showing "unity" (whatever that means), they did it because they don't want any politics in sports. None. It doesn't matter what side it's on, sports fans don't want to hear about real-world problems when they are escaping the real world full of violence, sadness, war, despair, cities on fire, for a few hours of sports when the only battle that matters is the one on the field.

Roger Goodell and Wokeness Have Ensured the Decline of the NFL. Until Roger Goodell and the NFL recently signified their devotion to the anti-American mythology promoted by Black Lives Matter and prostrated themselves before its pantheon of privileged heroes such as Colin Kaepernick, football had for decades been something that made us all incredibly happy and was a central feature of our lives each fall. Now it will not be a part of our lives for the foreseeable future, and I seriously doubt that we're unique. That should strike fear into the hearts of NFL executives. There is a seismic shift beneath our feet in the world of sports today, and I think most sports fans of a certain age see it clearly, even if the top brass of the NFL cannot.

NFL kneeling, fists in air, hiding in locker except during black national anthem. The all-black Howard University choir sang the Black national anthem before the Washington — Eagles Football game and it will be played before every game. The players and coaches, everyone tied to the teams, stood respectfully for this fake and divisive anthem. Reportedly, for the real national anthem, Washington stood and the Eagles hid in the locker room. This is blatant racism, divisiveness, and segregation. They are honoring the Marxist hate group, Black Lives Matter. Diversity is not our strength, unity is!

Racial injustice themes fill empty NFL stadiums. Jason Myers kicked off to start the Seahawks' season-opener against the Falcons, and the ball sailed through the end zone for a touchback. No one moved a step. Instead, the players all dropped to one knee. After years of pleading with the NFL to act against systemic racism, they were willing to wait another 10 seconds to make their point.

The Editor says...
Anyone foolish enough to pay the high price of admission to an NFL game is paying to see the players play football, not to engage in some rehearsed and choreographed ritual about what victims the players perceive themselves to be.

Conservatives' Crushing Counterattack In the Culture War. We're all supposed to applaud the kneeling zillionaires of the NFL — the most spoiled bunch of jerks on planet earth — and yet when they came out and tried to rub their cultural power in our faces, when they tried to make us just sit there and silently be insulted presented by the felons, losers, and accused sex offenders whose names were emblazoned on their helmets, tons of us refused to tune in and those who showed up live booed these pretentious twits. How dare those peasants refuse to submit to the cultural commandments of their betters!

NFL Releases List of Approved Names for Helmet Padding, Including Jacob Blake. The NFL has disclosed their list of approved names that they will allow players to wear on their helmet bumpers for social justice messaging. Among the names are Jacob Blake, who is accused of sexual assault. The list is apparently fluid, in the sense that new names are being added all the time. Also among the names is that of slain retired St. Louis police officer David Dorn. Dorn was killed in early June by rioters while checking on a friend's store in St. Louis. The listing of Blake's name, given his alleged violent history of sexual assault, stands in stark contrast to the league's recent efforts to improve the game's appeal to women through cracking down on domestic violence and promoting breast cancer awareness.

Political expression at the NFL opener, by players and fans. I didn't watch the NFL's opening game last night between Kansas City and Houston. However, I've read several accounts about the players' approach to the National Anthem and related activity. Apparently, the NFL decided to play both the National Anthem and a song called "Lift Every Voice and Sing," which is sometimes referred to as the black national anthem. The idea of a black national anthem should be offensive to all but racial separatists. As long as we're one country, we should have just one anthem, and it should be the only one played at sports events.

The NFL returns with 17,000 socially distanced fans, kneeling players and anthem walkouts. Kansas City Chiefs fans booed a moment of silence aimed at promoting racial justice, the Houston Texans remained in the locker room during the Star-Spangled Banner, and the reigning Super Bowl champions lined up for a singing of 'the black national anthem' on Thursday night [9/10/2020] as the NFL opened its 2020 campaign under dramatically different circumstances than any other season in league history. 'With everything going on in this country, we wanted to show that we're unified as a league,' Chiefs quarterback Patrick Mahomes told NBC after throwing three touchdowns in a 34-20 win. 'We are not going to let football distract us from making a change in the world.'

The Editor says...
The few remaining football fans are only interested in seeing how well you can play football. They aren't tuning in, or attending in person, to see how much you can "change the world."

On Covid and Race, Sports Suddenly Ignore Analytics. What has happened with big time sports' fascination with crunching all kinds of numbers and statistics? Has this fascination with stats vanished in lieu of a political agenda with respect to the Covid and the BLM protests? Is getting rid of Donald Trump worth obliterating multi-billion-dollar operations? Do they have any idea what they are doing to themselves? These are open questions, and the answers carry monstrous cultural, political and economic ramifications.

Why I'm Voting for Trump, Even Though I Don't Want To. I stopped watching the NFL four years ago, and now I've stopped watching all pro sports because of the disrespect. The Democrats do not condemn flag-burners.

Primetime Ratings Crash for Woke MLB. Major League Baseball opened this year by kneeling for the anthem and standing for Black Lives Matter. Though, despite the apparent belief that our sports-starved nation's hunger for baseball would outweigh the league's social justice activism, the ratings have been in the basement. According to the numbers, baseball has joined the NBA in struggling to get sports fans to tune in and watch games.

NFL Player: We Have 'Green Light' to 'Do Something That Makes a Boom' During Protests. Apparently, simply kneeling and disrespecting the American flag and national anthem during NFL pregames every week doesn't quite deliver the virtue-signaling "social justice" high to players it once did. So, as is the case with all addictions, players are looking for a new twist to pregame protests. You, know, something with a few more bells and whistles; just to make sure non-woke fans who have gotten used to the same old kneeling routine are still paying attention to the "social injustice" and "white privilege" that permeates their every pore. If Dallas Cowboys defensive lineman Tyrone Crawford has anything to say about it, players are going to do just that. Dallas Cowboys players, at least. Moreover, Crawford suggested Cowboys owner Jerry Jones has already given players the go-ahead.

NBA viewers flee as the league turns "too political," poll finds. A recent Harris poll has revealed that 39% of self-identified sports fans have chosen to watch fewer NBA games this season, largely because the league has become overly politicized.

NBA ratings continue to drop as fans abandon the league that's abandoned them. The NBA is facing continuing drops to their ratings, probably as a result of the polarizing political stances they have been taking recently, according to City Journal. The latest sharp drop in ratings for the NBA appears to be directly related to their recent round of support for the Black Lives Matter movement, which many people see as corrupted by outside influences, and conflated with totalitarian socialist ideals. Fans have also been voicing discontent over the continued postponing of key playoff games. They feel they have had to wait a long time for basketball to come back already, and further delays are not acceptable to many of them.The NBA had postponed Wednesday, Thursday, and Friday NBA playoff games last week as a sign of protest.

NFL Announces Social Justice Slogans Will Be Inscribed on Every Field. NFL end zones will be inscribed this season with two slogans: "It Takes All Of Us" on one end line, "End Racism" on the other. As part of its social justice awareness initiatives, the NFL also will allow similar visuals on helmets and caps. Previously announced were decals on the back of helmets, or patches on team caps, displaying names or phrases to honor victims of racism and/or police brutality.

The Editor says...
When major sports team stop glorifying victims, fewer people will see victimhood as a goal.

When NBA, MLB And NHL Players Picked Jacob Blake To Be Their Saint, They Chose Poorly. The officer who shot Jacob Blake in Kenosha, Wisconsin, has been tried and convicted by Democrats, the media, and truth-[averse] activists before the case is resolved. It's a mirror image of the Michael Brown shooting (the officer was cleared) in Ferguson, Missouri, and the death in Minneapolis of George Floyd (the officer has yet to go to trial). The difference is this time, pro athletes, pampered and well-paid, joined the mob. They should be ashamed of their behavior. [...] As sports journalist Clay Travis tweeted when the players quit on their fans and employers, "the NBA never said no to the players," when they returned to play after the pandemic shutdown. "They okayed everything — political messages on jerseys, kneeling for the national anthem, political messages on the court itself — and it still wasn't enough. And now their business doesn't exist. Lesson: you can't ever be woke enough."

MLB fans' reaction to Jacob Blake boycotts says it all. Whatever the issue or cause, it's a lot easier to be righteous when there are no paying customers to send home. Timing was everything. This season, with no tickets, tack-on fees, parking, hideously marked-up eats and drinks to sell, Thursday [8/27/2020] there was no one to rip off except cable and satellite TV subscribers, who have been conditioned to bait-and-switch abuses. For better, worse and all that lies between, here's the problem: Fans don't care nearly as much as they did. They've learned to live without sports, especially in their current diminished condition. They've learned that they're taken for granted. And more and more they've determined that they won't pay another dime to attend games or to watch them on TV.

NHL players group demands league pay $100 million and change blue line to 'black line' for racial equality. On top of their formal request for the National Hockey League to suspend all playoff games last night, Rick Westhead, a senior correspondent for TSN, reports the HDA (Hockey Diversity Alliance) has a number of other demands. Hockey Diversity Alliance, an association made up of seven players whose stated purpose is to eradicate systemic racism and intolerance in hockey, have also revealed these demands:
• Team owners offer NHL rinks to be used as polling stations for the upcoming US election
• NHL should be fully transparent about "all information related to the policies, targets and commitments" related to the hiring of employees who are visible minorities.
• NHL to commit to funding $100 million dollars over 10 years to battle "systemic racism."
• NHL make a statement by temporarily changing the blue line to black.
• NHL to run PSAs for the HDA during the playoffs this summer.
• NHL to have on-ice presence of the HDA logo.

Advice to woke pro sports: Try doing just sports again. Here's a tip for you. Go to YouTube and watch Harry Caray broadcasting an old White Sox game. At times he was clearly drunk on air, butchered the players' names, talked about their ethnicities as well as good-looking women in the stands. Everyone loved Harry Caray because he was entertaining and fun to listen to. There is nothing fun about the new generation of sports broadcasters, who sound like an old Pravda TV announcer telling us the virtues of Leonid Brezhnev. American sports fans are being pushed around. If they are pushed any farther, we will have an Atlas Shrugged moment on our hands.

An NBA so woke it cancels itself. Deciding to go Colin Kaepernick one better, the NBA's Milwaukee Bucks players decided to cancel their playoff game to protest the Kenosha, Wisconsin police shooting of Jacob Blake, a career criminal with a warrant out for 3rd degree sexual assault, who was resisting arrest. That act triggered racial grievance riots, along with lootings, destruction, and a likely permanent decline for Kenosha, as usually happens in riot-torn cities. But the NBA didn't want to leave it alone and let justice take its course. Someone in the locker room of the Bucks suggested a game strike, and then the rest of them, lemmings-like, jumped onboard. The act was followed with at least five teams calling off their games, too, and two teams — the Clippers and Lakers of Los Angeles pulling out of the season entirely. Meanwhile, Kenny Smith a longtime TNT sports commentator walked off, and LeBron James, who plays for some other team, jumped in, too, effectively calling the walkout a political protest to Get Trump, declaring: "Change starts in November."

Mark Cuban says he'd support Dallas Mavericks players boycotting games. Dallas Mavericks owner Mark Cuban said he'd support his players if they seek to boycott games. Cuban's comments to FOX 4 came after three NBA playoff games on Wednesday were postponed following player boycotts in the wake of the shooting of a Black man by police in Wisconsin.

Report: NFL Dropping Military Honor Guards for National Anthem. The NFL is preparing to end the use of military honor guards to present the American flag ahead of the national anthem, according to reports. A league source claims that the policy benching military, federal, and police guards is part of its COVID-19 response, according to Front Office Sports. "They won't be on the field," a source told the site. "That could change as the season progresses. But that's the plan at the beginning."

Twenty (Uncomfortable) Questions. [#3] Why does the NBA have "Black Lives Matter" painted on the court? If black lives didn't matter, would there be any players on the court? It reminds me of the old joke: "I went to a fight and a hockey game broke out." Now it's, "I went to a protest and a sporting event broke out." [#4] How does kneeling during the national anthem help fight "perceived" racism or inequality in any way? It's incredibly annoying to try to enjoy a game or a television show and have to sit through a lecture or a sermon.

Players Kneeling for Anthem Met with Boos Before MLS Game. There was a smattering of boos when players from FC Dallas and Nashville SC collectively took a knee during the national anthem before their MLS game on Wednesday night [8/12/2020] in Frisco, Texas. Dallas defender Reggie Cannon said he was disgusted by the boos at Toyota Stadium when players and officials knelt to call attention to racial injustice. He said teammate Ryan Hollingshead turned to him afterward and said he was sorry.

Dallas Soccer Star Reggie Cannon Calls Fans "Disgusting" for Booing and Chanting "USA!" as Players Knelt for National Anthem. Several soccer fans out of a crowd of about 3,000 in attendance booed and chanted "USA!" at an MLS game Wednesday night at Toyota Stadium in Frisco, Texas between FC Dallas and Nashville SC as players and refs knelt in unison for the playing of the national anthem before the game. In a post-game press conference, Dallas star Reggie Cannon went off on fans for chanting "USA!" and booing the players, calling the fans "disgusting" and whining that his team has been through "absolute hell" the past six months because of the pandemic. Cannon ranted for over two minutes about the booing of the players for kneeling in support of the Black Lives Matter movement.

Woke Mobs Demand You Must Now Explain Why You Stand For The Anthem. Kneeling for the national anthem at sporting events used to be the occasional episode of player activism protesting the United States as an evil racist empire. Amid the new 21st century woke revolution however, kneeling has become a key signifier for players and teams to declare which side of the culture wars one sits on. It's those who love America versus those who hate it, the latter of which despises the American flag and all that it represents as a relic of white supremacy that must be condemned. Those who still stand out of respect for the nation's ideals and the uniformed men and women who protect it are now the outliers forced to defend themselves in a new age of no dissent, because dissent is racist, racism is oppression, oppression is violence, and violence is not to be tolerated, even if it isn't real.

Key Fans [are] Unhappy With Sports Leagues Kowtowing to Black Lives Matter. If anyone was hoping that the return of the long-awaited Major League season would lift our spirits and bring us together, they had to be disappointed to learn that we are more divided than ever over the National Anthem kneeling debate. And although President Trump has not chosen to join the burgeoning #BoycottMLB movement on Twitter, the president has joined a growing number of disheartened baseball fans who are unhappy that their favorite teams are taking the knee. Even before the start of the season, President Trump tweeted that he was "looking forward to live sports, but any time I witness a player kneeling during the National Anthem, a sign of great disrespect for our Country and our Flag, the game is over for me!" This is not a small issue. Rasmussen released a new poll of 1,000 Americans which indicates that "Americans are sending more negative signals than positive ones over the decision by many professional sports organizations to promote the controversial Black Lives Matter movement."

NFL: Now the No Freedom League. I grew up in Guantanamo Bay, Cuba, before they had satellite TV. As such, on the Monday after the Super Bowl, everyone on the entire base would try to get through the day without knowing who had won the game. That night, after a tape of the game had been flown down from the U.S., we'd watch the game and be riveted to our TVs. [...] Today, however, I doubt I'll watch another NFL game, and I most certainly won't spend a penny on NFL merchandise. Why? It's simple. The NFL, helmed by men who are ostensibly some of the smartest businessmen in America, literally helped bring America to the brink of revolution, maybe even led the way. We're talking about Kaepernick and Black Lives Matter. The NFL, and to a lesser degree MLB and the NBA, used to be oases from which all Americans could seek refuge from the slings and arrows of daily life. [...] Since Kaepernick started his grandstanding, however, the conversations became more about who was kneeling, what star was lecturing America about this grievance or that, and ceased to be about the excitement or pain or joy of the actual games.

The Sickening Hypocrisy of the NBA. I am not speaking about individual NBA players or their motivations (although some players, to be sure, could be called out). I'm speaking of the league as a whole, of the organization. Its hypocrisy is absolutely sickening. In October, 2019, I stated that the NBA was a spineless little bully, noting that "this multi-billion dollar organization, which spans the globe, was happy to bully North Carolina in 2016 when the state had the audacity to declare that men's bathrooms were for men and women's bathrooms were for women." Yet, I wrote, the "NBA has had no problem getting in bed with an oppressive country like China, which imprisons and tortures Christians and Muslims and others who do not toe the party line. "Tens of millions of people experience severe daily restrictions under the tyrannical policies of President Xi, with countless tens of thousands suffering right now in 'reeducation camps' and jails."

"Woke" Sports Bombing With Fans. I never understood why pro sports leagues thought that buying into a far-left, anti-American narrative would ingratiate them with their fans. At the moment, it looks like my skepticism (shared by many, of course) was justified. Breitbart reports: "Ratings crash for NBA, MLB after protest-filled debuts." [...] Why would anyone think that America's sports fans yearn for far-left "social justice" messages as part of their sports programming?

Report: Group of Pac-12 Players Threatens to Boycott Season over Virus, Social Justice Concerns. While professional football, baseball, and basketball players have been opting out of their upcoming seasons by the dozens, less has been heard from the nation's collegiate athletes. Well, that's beginning to change. According to a report obtained by ESPN, a group of players from several different Pac-12 schools have threatened to sit out preseason and regular season games unless the Pac-12 makes certain concessions.

Ratings Crash for NBA, MLB After Protest-Filled Debuts. As the NBA and MLB return from their coronavirus-imposed hiatus, it appears TV viewers are not interested in what the increasingly woke leagues have to offer. With both baseball and basketball draped in all sorts of Black Lives Matter and social justice symbolism for their opening games, a substantially smaller number of fans tuned-in to the rest of the week's games.

Every NHL Player Stands For The National Anthem During First Game Back. Every single player on the Carolina Hurricanes and the New York Rangers stood during the national anthem Saturday afternoon [8/1/2020]. In the first game of the NHL's 24-team postseason return during the coronavirus pandemic, not a single player on either team took a knee. Protesting during the national anthem is front and center again in the world of sports, and virtually the entire NBA has done it.

Strike Three: Major League Baseball's Sordid Romance with Race-Baiting Politics. For 65 years, I was a major league fan of major league baseball. But as of last week, that all changed, and I will never again follow the sport. MLB's woke owners drove me away. I don't watch baseball — or any sport — to have moralizing political lectures rammed down my throat. Yet that is now the order of the day, not only in the NFL and the NBA, but in major league baseball as well, where filthy rich franchise owners are falling all over themselves kowtowing to Black Lives Matter, a Marxist political organization that hijacked the noble cause of racial justice as a fig leaf to disguise its profoundly un-American ideology. At the 2020 Season Opener between the Washington Nationals and the New York Yankees, every player and every coach was told to kneel prior to the National Anthem.

Every Player and Coach Takes a Knee During National Anthem Before NBA Restart. The NBA promised a social justice message when they restarted their season, and they delivered. On Thursday night, every player and coach for the Jazz and Pelicans took a knee during the national anthem. In addition, every player wore a Black Lives Matter shirt.

Every Player On The Jazz And Pelicans Kneels During The National Anthem. Every single member of the Utah Jazz and New Orleans Pelicans took a knee during the national anthem Thursday [7/30/2020]. While the anthem played before the first game of the NBA's return, all coaches, players and a ref took a knee.

Our Summer of Cultural Suicide. Over the last century, professional football, basketball and baseball were racially integrated and adopted a uniform code of patriotic observance. The three leagues offered fans a pleasant respite from daily barroom politics. As a result, by the 21st century, the NFL, NBA and MLB had become global multibillion-dollar enterprises. Then hubris ensued. The owners, coaches and players weren't always racially diverse. But that inconvenient truth did not stop the leagues from hectoring their fans about social activism — even as they no longer honored common patriotic rituals. All three leagues have suffered terribly during the viral lockdown, as American life mysteriously went on without them. And they have almost ensured that they won't fully recover when the quarantine ends. Many of their often-pampered multimillionaire players refuse to honor the national anthem. In the NFL they now will broadcast their politics on their helmets. They will virtue-signal their moral superiority to increasingly turned-off fans, as if to ensure that their sources of support flee.

Pittsburgh Steelers Player Stephon Tuitt Says He's Not Kneeling During The National Anthem. Pittsburgh Steelers star Stephon Tuitt won't take a knee during the national anthem. There are going to be gigantic national anthem protests all over the NFL during the 2020 season, but Tuitt won't be joining. He tweeted Monday [7/27/2020] that he's not taking a knee and added, "screw anybody who have a problem with that." He cited his grandmother being an immigrant as a major reason why he won't take a knee.

Spurs' Gregg Popovich: People who don't understand BLM movement 'just ignorant'. San Antonio Spurs coach Gregg Popovich, one of the NBA's most outspoken voices on social justice issues, took to task people who he said still did not understand the Black Lives Matter movement. In a video conference call with reporters, Popovich, who is preparing for the league's upcoming restarted season, was asked what the social justice movement means to him[.] "It's no different for me than it is to anybody else who cares about justice and who can be empathetic to the fact that justice has been denied to a group of people for far too long. And enough is enough," he said, according to the Dallas Morning-News.

Mike Ditka tells kneeling athletes to 'get [...] out of the country'. Former Chicago Bears coach and noted commercial pitchman Mike Ditka shared his thoughts on the growing wave of anti-racist athlete demonstrations occurring during the pregame national anthems at sporting events. For anyone who has ever listened to Ditka talk politics before, his beliefs on the matter were unsurprising.

Former Chicago Bears Coach Has a Message for Kneeling Athletes. During an interview with TMZ, Former Chicago Bears Coach Mike Ditka shredded National Football League players that decide to kneel during the national them. According to Ditka, it's disrespectful to "protest" against the flag and the country that has provided opportunities to professional athletes. "The whole kneeling thing in the NFL, you've got guys saying they're gonna do it. You know, baseball players, different teams, last night I watched baseball, you got the Red Sox and the As and the Giants, a lot of teams are kneeling, athletes are kneeling. In your league here, you're the chairman of this league, is that going to be allowed if the women want to take a knee during the anthem?" TMZ asked. "What's the policy on that from you guys?"

WNBA players WALK OUT during national anthem and wear Black Lives Matter jerseys. The WNBA's Seattle Storm and New York Liberty teams walked off the court during the playing of the national anthem before the season-opening game on Saturday afternoon [7/25/2020]. The two teams' planned walk-off was part of the league's season-long Justice Movement initiative — designed to fight systemic racism and violence — which the WNBA and Women's National Basketball Players Association announced earlier in July. On Saturday, players from the Storm and the Liberty headed for their locker rooms while the national anthem played at the WNBA bubble at IMG Academy in Bradenton, Florida.

The Week in Pictures: Play (Protest) Ball! Edition. So we have sports back, starting with major league baseball in empty stadiums, but with artificial crowd noise piped into TV broadcasts as if the game is an unfunny sitcom or something. And in one sense it is an unfunny sitcom, since so many players seem intimidated into the political exhibitionism of kneeling for the national anthem. Here's a thought: if we want to get real crowds into stadiums, let's label the games as "BLM protests" instead, since they are exempt from the social distancing rules. The crowd can sing the Black national anthem during the 7th inning stretch, or perhaps a new tune — "Take Me Out to the Riot" — can be specially composed. The kneeling players are already doing their part.

Americans Should Tell the NBA 'Not In My House'. Once upon a time, basketball had nothing to do with politics and everything to do with showcasing American athletic prowess. [...] The NBA bent over backward for China the minute it retaliated in response to Morey's statement. In stark contrast, the league continues to trample over America and its patriotic citizens, meaning money talks. So, let's stop watching their games and buying their products — until the NBA cuts all ties with China and players begin standing during the national anthem — in respect for this extraordinary country which turned them into heroes. Or, let them spend the rest of their careers as pathetic zeroes in the eyes of Americans.

Baseball Returns With Less Games, More Preaching. After so many months with zero professional sports, the atmosphere should be one of anticipation and excitement. Yet, this entire moment just feels like we might be watching the swan song of professional sports. Baseball could have really seized the moment when the pandemic started, and made plans to strategize, to reach out to fans, to make every effort to get back on the field. Instead, we got a labor dispute with fingers pointed at both sides, some big name players who are declining to play this season for a myriad of reasons, and fans submitting cardboard cutouts of themselves to sit in empty stadium seats. Nothing feels right, and yet baseball should feel familiar and comforting. But it doesn't, because first we have to sit through another lecture and demonstration on the social justice cause du jour.

Yankees and Nationals kneel in unison before the first game of season just days after Trump said the game was 'over' for him when players took a knee. The Yankees and Nationals knelt in unison before the first game of the season just days after Donald Trump said the game was 'over' for him when players took a knee. Players from both clubs knelt during the opening day ceremony Thursday night, which featured several references to the ongoing civil rights movement that was triggered by the Memorial Day 'murder' of George Floyd in Minneapolis. The symbol of protest has divided opinion of late, with the president tweeting Tuesday that kneeling during the national anthem is a 'sign of great disrespect' and the game is 'over' for him when players do it.

San Francisco Giants Pitcher Sam Coonrod Refuses To Kneel During The National Anthem, Cites His Christian faith. San Francisco Giants pitcher Sam Coonrod refused to kneel during the national anthem Thursday night against the Dodgers. According to NBC Sports, members of the Giants took a knee during the national anthem, and Coonrod didn't join them. Every member of both teams also kneeled before the anthem. The pitcher also didn't participate in that action. The reason why? His Christian faith.

Red Sox Raise Large Black Lives Matter Sign at Fenway Park. The Boston Red Sox made a very visible statement of anti-racism Wednesday as they put up a huge Black Lives Matter sign on an exterior wall of Fenway Park. The sign, which says "Black Lives Matter" in large letters followed by the Sox' logo, faces the Massachusetts Turnpike and directs viewers to the Red Sox Foundation website for more information. On the website is a statement on "Social Justice, Equity and Inclusion" from team President and CEO Sam Kennedy posted last month in the wake of the major protests over the deaths of George Floyd, Breonna Taylor, Ahmaud Arbery and others.

MLB Allows Black Lives Matter, Social Justice Jersey Patches. Major League Baseball players have the option of having a patch with "Black Lives Matter" or "United For Change" on a jersey sleeve on opening day of the pandemic-delayed season, and Washington Nationals pitcher Sean Doolittle says his team may is considering whether to take a knee in support Thursday night [7/23/2020].

Anthony Fauci to Throw First Pitch for Washington Nationals' Season Opener. Dr. Anthony Fauci, director of the National Institute of Allergy and Infectious Diseases, will throw out the first pitch for the Washington Nationals on opening day on Thursday, the Major League Baseball team announced Monday [7/20/2020]. "The Washington Nationals are thrilled to announce that Nats super-fan, Dr. Anthony Fauci, Director of the National Institute of Allergy and Infectious Diseases, has accepted our invitation to throw out the ceremonial first pitch on Opening Day, Thursday, July 23," the team said in a statement. "Dr. Fauci has been a true champion for our country during the Covid-19 pandemic and throughout his distinguished career, so it is only fitting that we honor him as we kick off the 2020 season and defend our World Series Championship title."

Under China's thumb: So you can buy a KillCops t-shirt from the NBA but not a FreeHongKong one. When China is your master, nobody cares if you stand or kneel or thumb your nose at the U.S. flag, but you'd better not cross the Chinese one. Tha't's [sic] the ugly picture regarding the China-coopted National Basketball Association (NBA) and its personalized t-shirt sales operation, where Chicom censorship is alive and well. Turns out you can personalize your t-shirt to say all kinds of ugly things — but not FreeHongKong. Someone programmed that if/else exception in, preventing any freedom lover from printing that reminder of China's broken treaty destruction of Hong Kong onto their personalized t-shirt.

NFL Again Fumbles Opportunity to Unite America. The National Football League once again is fumbling away an opportunity to unite America. This is the result we could have expected, given the NFL's playbook over the past few years. The NFL's decision to play what is known as the black national anthem — "Lift Every Voice and Sing" — before every Week 1 game seems poised to divide, not unite, our country. But a secondary, more certain outcome of this decision is that the NFL will lose its luster at a greater pace than it achieved its dominant allure.

It's Not Trump vs. Biden. It's Trump vs. Losing Your Country. Just Look at the NFL! [Scroll down] Look at the NFL. The NFL is literally afraid of a Marxist, communist organization, literally afraid of it, literally doing anything it can not to make that bunch of people mad at them. The NFL has made it clear that they are no longer the institution and value set that we always thought they were. You got Drew Brees, quarterback of the New Orleans Saints who tweets his support and love for the American flag and the fact that he will never do anything to disrespect it, and he's practically drummed out of the league, he's practically destroyed. He had to apologize four times, his wife had to apologize two times, had to give a bunch of people a bunch of money. All he did was stand up for the flag. The Philadelphia Eagles have an abject idiot wide receiver named DeSean Jackson, who just tweeted a bunch of things he thought Hitler said, and he said the Jews are gonna come for the blacks, the Jews are gonna wipe out the blacks, the Jews are gonna do this, he thought Hitler said it. He tweeted it. Nobody's upset. Nobody's insisting DeSean Jackson be sent someplace to get his mind right.

How Philadelphia Eagles' DeSean Jackson's Anti-Semitic Fiasco Just Got Worse. The Philadelphia Eagles' wide receiver DeSean Jackson is causing problems in the locker room again. I guess in some odd way, he thought sharing anti-Semitic posts, Louis Farrakhan videos, and fake Hitler quotes wouldn't be an issue, not least of the reasons being that Eagles owner, Jeffrey Lurie, and its executive vice president and general manager Howie Roseman, are Jewish.

So, Kaepernick Lied. [Scroll down] No one buys Kaepernick's love of country any more. But that works out fine because he's no longer selling it. In 2016, you still had to dilute your anti-Americanism with a drop of patriotism to get the really good press. That's over with. Today, the American media market rewards the pure stuff, the straight-up hatred of the United States. Which is why on July 6, Kaepernick announced his new partnership with The Walt Disney Co. to produce scripted and unscripted content about, presumably, the country that has been so terrible to Kaepernick (and Disney). Of course, all those 2016 Kaepernick defenders really believed and approved of his claims to patriotism. Just as today, they believe and undoubtedly approve of his undiluted anti-Americanism. You'd think that they feel duped, but you'd be wrong; they're appreciative. No one on the left is dropping Kaepernick. In coming out as a full-throated anti-American, he helped his woke supporters shed their habit of white supremacy. He once had to play the game of good citizenship, but his liberation from those restraints is their liberation, too. Where he leads, they'll follow. What he rejects, they'll reject. And whatever cognitive dissonance arises will be chalked up to past ignorance. This holds true not just for Kaepernick but for all social-justice celebrities. Indeed, it applies to social justice generally. Whatever is done or said in the name of the cause is good and just. Fool them once, fool them forever.

NFL Embracing BLM Ideals Highlights Its Leadership Void. Four years ago, the NFL forbade Jason Witten and the Dallas Cowboys from placing "Arm in Arm" stickers on the back of their helmets that would honor five slain Dallas police officers. This year, according to a Thursday report by ESPN The Undefeated's Jason Reid, the NFL Players Association and the NFL are collaborating on an idea to list the names of black people killed by police on jerseys. The absurdity of this pivot could only be topped by the folly of DeMaurice Smith's and Roger Goodell's other proposed pivot. According to Reid, in Week 1 the NFL will play the "black national anthem," Lift Ev'ry Voice and Sing, before playing The Star-Spangled Banner. So the NFL is going to start its season with all of its employees standing for the "black national anthem" and a majority of its on-field employees immediately taking a knee for the American national anthem? That's the game plan Smith and Goodell cooked up?

NBA releases list of 29 pre-approved social justice messages for players' shirts, unfazed by hilarious irony. The virtual-signaling, very woke National Basketball Association has reportedly settled on a list of social justice messages that can be displayed on the back of player jerseys for the first four days of the restarted season. The suspended NBA season is scheduled to restart on July 30 at the ESPN Wide World of Sports Complex in Orlando, Fla., at the Walt Disney World Resort. The NBA has reportedly already agreed to paint the words Black Lives Matter inside the sidelines on all three arenas that will be in use when the games begin. Given massive guaranteed salaries and other forms of leverage, the players pretty much run the NBA, even though there is no constitutional guarantee of free speech in the private sector workplace.

Roger Goodell's National Anthem Gambit. It is now being reported that the NFL will be playing "Lift Ev'ry Voice and Sing," a song that has been called the "Black national anthem," before all NFL games in Week 1. This is a high-risk, low-reward move by the NFL. There are countless problems with this strategy to appease the woke mobs, and it would be difficult to overstate just how foolish and dangerous it is. First of all, a "Black national anthem" can only exist if there is a broad acceptance of the notion that black people, as a racial category, share a common identity with other sovereign nations. Additionally, defining a separate "Black national anthem" to be played alongside the America's National Anthem, "The Star-Spangled Banner," presupposes that the latter is insufficient to alone represent black Americans as it represents all others. These are insane propositions that would, until recently, have been unthinkable at any moment of my life.

Sports Commentator Rips NBA Painting 'Black Lives Matter' On Courts. This week, former NFL defensive end Marcellus Wiley, who attended Columbia University and now co-hosts Fox Sports' "Speak for Yourself," slammed the idea that the NBA will paint "Black Lives Matter" on courts where their games are played, asserting, "The road to hell is paved with good intentions." Wiley began, "It's not a good idea. I do want to give the players credit for their flex to even get this to be more than just an idea, but something that's gonna be, in reality, I give the players that. But there's a problem with — when you start to go down this road of 'freedom of expression,' 'freedom of speech,' and how much social space is allowed for those who don't support in that same place. And that's where I wonder where this is going to go in terms of identity politics."

Ted Cruz blasts NFL's reported plans to play 'Black national anthem'. Calls to boycott the NFL trended Friday on social media following reports that the league plans to play the song known as the Black national anthem before all Week 1 regular season games. Multiple media outlets, including The Associated Press and the Undefeated, cited sources saying that "Lift Ev'ry Voice and Sing," known as the Black national anthem, would be played or performed before the first week's games, immediately before "The Star-Spangled Banner." The hashtag #BoycottNFL trended on Friday morning as some Republican lawmakers and others condemned the idea, saying it promoted the concept of a nation divided by race.

Former NFL Player Burgess Owens Rips League Over 'Black National Anthem' Playing Before NFL Games. On Thursday [7/3/2020], former NFL star Burgess Owens ripped into the football league over reports that the NFL will play "Lift Ev'ry Voice And Sing," dubbed the "Black national anthem," before all Week 1 games this season. The retired safety suggested the move was in line with "trying" to "segregate" the nation "again." "There is no 'black national anthem,'" Owens posted via Twitter. "Why does it feel like the country is trying to segregate again sometimes?"

NFL all in with toxic identity politics, will play separate 'black national anthem' before Week 1 games. The NFL will play the "black national anthem" before all Week 1 games of the 2020-2021 season as the National Football League continues caving to race-baiting, leftist mobs. Most Americans never even knew that a "black national anthem" existed since black and white civil-rights activists fought for decades to end racial segregation. However, since segregation is a goal of the Marxist Black Lives Matter movement, the "black national anthem" will be played before the Star-Spangled Banner at all Week 1 NFL games.

Source: NFL plans to play Black national anthem before Week 1 games. "Lift Ev'ry Voice And Sing," traditionally known as the Black national anthem, is expected to be performed live or played before every Week 1 NFL game, and the league is considering a variety of other measures during the upcoming season to recognize victims of police brutality, a source familiar with the league's discussions told The Undefeated on Thursday [7/2/2020].

Report: NFL Expected to Play Black National Anthem Before Season Opening Games. The NFL reportedly plans to play a song titled, Lift Ev'ry Voice And Sing, also known as the Black National Anthem, prior to every season opening game this year. The song, according to a source to ESPN, will be played prior to the Star-Spangled-Banner.

NBA Will Let Players Replace Name on Jersey With "Social Justice Statement". Some may wonder if the NBA now stands for No Brains Anymore or, perhaps, if the NBA has become an NPC. Whatever the quip, what sounds like a joke but isn't is the latest National Basketball Association news: When the league launches its abbreviated 2020 season July 30 in Orlando, it will allow players to replace their names on their jerseys with a "social justice statement." [...] ESPN, which itself has become the Entwining Sports with Politics Network, provides more detail, writing that "Oklahoma City Thunder guard Chris Paul, president of the National Basketball Players Association, told ESPN's The Undefeated on Saturday that the players' union and the league are collaborating to allow players to wear jerseys with personalized social justice, social cause or charity messages on the backs instead of their last names during the upcoming restart of the NBA season." Reacting to this, Red State's Mike Miller wrote, "I'll go out on a limb and predict that there will be exactly zero 'charity messages' on the backs of those Jerseys, come July 30."

The Hour of Heroes Is Nigh. To be honest, I actually lost some sleep over the Mike Gundy video earlier last week. Maybe you've seen it — the video where the Oklahoma State University football coach is seen apologizing for the offense of wearing a shirt bearing the logo of the conservative news company OANN. It was a disturbing scene with the coach robotically parroting the talking points of the delicate running back who originally took issue with the offending piece of apparel. It's reminiscent of a hostage video of a captured US soldier. Either that or something out of a cartoon villain's mind control experiment. You can practically see the spirals in his eyes. Beyond the bizarre visuals, the most disturbing thing about this was the fact that an ostensible adult and leader could be brought to heel by his subordinate — an early adult many years his junior — by something as meaningless and inconsequential as the running back's tender feelings.

Why Are We Letting Democrats Steal from Us? [Scroll down] Frighteningly, the fascists are now stealing patriotism, and the woke leftists are joining forces. In the sports world, team owners, players, and spectators who used to believe that standing for the National Anthem was the traditionally respectful, patriotic thing to do, now condone and even encourage taking a knee as a symbol of Lord knows what. Colin Kaepernick was elevated to heroic stature by Nike even as he wore socks portraying police officers as pigs. Now he is the darling of the American media and the NFL as owners and managers climb over each other to prove who's the most woke. [...] As the Atlanta Braves pivot away from the famous Tomahawk Chop chant, the University of Florida outlawed its "Gator Bait" cheer. The University of Virginia followed suit by reworking its logo. The craziness began before the recent riots, with liberals wishing to change the name of the Washington Redskins, something we'll likely see in the near future as a statue of the former owner was removed last week.

Report: Ratings for Woke ESPYs Crash by 81 Percent. Ratings for last weekend's woke ESPY Awards crashed to the lowest numbers the show has ever recorded. The ESPYs only earned 482,000 viewers over both ESPN and ESPN2 combined, making it the smallest audience the show has ever reached dating back to its inaugural awards in 1993. The previous low occurred in 2011 when 1.98 million viewers tuned in, according to Sports Media Watch. "This year's ESPYs was tape-delayed, lacked its usual live audience, took place a month earlier on the calendar," Sports Media Watch explained, "and occurred more than three months into a historic drought of live sporting events. With no live sports to focus on, this year's ESPYs was largely devoted to humanitarian and social issues."

Bubba Smollett, Jussie Wallace. [Scroll down] Wallace is not a natural prodigy, but instead is a product of the Tiger Woods era of child competitors given every advantage by their parents. Wallace's father, a wealthy white business owner, paid for his son to compete in youth motorsports from age 9 onward. Soon he was the star of NASCAR's Drive for Diversity program. [...] He now drives the most legendary number in stock cars, Richard Petty Motorsports' No. 43. Unfortunately, Wallace hasn't yet proven more than mediocre at the highest level, finishing 28th among drivers in each of the past two seasons. [...] It's not just the ensuing safety reforms that have eroded stock car racing's 1990s popularity. NASCAR is basically an ethnic pride parade for the people who aren't allowed to hold ethnic pride parades, and the 21st century has been a bad one for the white working class. This year, Wallace jumped on the Black Lives Matter bandwagon, which is, perhaps not coincidentally, much beloved by corporate America's deep-pocketed sponsors, with the support of NASCAR. He had his car painted with the BLM slogan for the Talladega race.

'The Masters' Golf Tournament Should Change 'Racist' Name, Writer Says. One of golf's four "major" tournaments every year is called "The Masters." The field of golfers is the smallest of all the majors — only the best allowed — and the winner can be deemed "The Master" (plus, he gets a cool green jacket that every pro golfer covets). But one writer at Deadspin has decided that the tournament's name is racist and should be changed.

Will Americans choose the USA, or will they choose the NFL? NFL owners who support their players kneeling during the National Anthem are routinely heard saying they feel that the act of kneeling shows respect for the hardships minorities have endured and that it exhibits inclusivity and brings the country together. At the risk of sounding overly disdainful regarding such deceptive drivel, those owners, pretending to be "woke," are fully aware that kneeling during the National Anthem has historically been viewed as a sign of protest against the country. Beyond disrespectful, kneeling is divisive unless, in unison, the entire stadium decides to kneel. Getting down to brass tacks, those NFL owners who support their players kneeling during the National Anthem do so to protect their investment. That's right. It comes down to the almighty dollar, as it always does. The NFL has taken sides, and it's not with Old Glory.

What Happens When the Madness Ends? In a few weeks, we are promised that multimillionaire NFL players and coaches in unison will not deign to stand up for the National Anthem. Promises, promises. TV play-by-play announcers will praise them — or else likely lose their jobs. But millions of Americans simply will decouple from the NFL. Their silent disappearance will make the prior Kaepernick drop-off in attendance and viewership seem like child's play. The same will be true perhaps of the more canny NBA, if they foolishly emulate the NFL. Millions will surmise that billionaire basketball players can far better make their billions in China and should — an NBA deity whose dictatorship players and coaches fear and worship while criticizing their own democracy.

NFL Commissioner Roger Goodell: I Want Colin Kaepernick To 'Help Us, Guide Us' On Social Issues. NFL Commissioner Roger Goodell said during an interview on Tuesday that he wants a team to sign former NFL quarterback Colin Kaepernick and that if Kaepernick does not make it back on the field then he is invited to the "table" to "help" and "guide" the NFL on social issues. [...] Kaepernick has been widely criticized for some of his actions, including kneeling during the national anthem, donating money to a group honoring convicted cop killer and wanted terrorist Assata Shakur, wearing socks portraying police officers as pigs, and wearing shirts of brutal Cuban dictator Fidel Castro.

Univ. of Texas football players refuse to participate in donor, recruiting events until 'woke' demands met. Members of the University of Texas football team say they'll refuse to participate in donor and recruiting events on behalf of the school until a list of demands is met to address alleged racial injustices. The players will, however, continue to practice and play in games. That said, participation in donor and recruiting events are a very important function for college athletes and the universities they attend and play for. The list of demands was posted to Twitter by at least two Texas football players, but according to reports, they were submitted on behalf of the entire squad. However, as The Blaze noted, thus far there is no real indication that all team members are in agreement with the demands or if anyone on the team has dissented.

San Antonio Spurs Coach, Gregg Popovich Calls America A Lie, Racist, Ashamed To Be White. San Antonio Spurs coach Gregg Popovich, who is a long-time critic of Donald Trump, blasted the history of America as racist and declared his shame in being white after the death of George Floyd. [Video clip]

Denver Broncos Declare If You Are Not Virtuous Enough To Support Their Antifa Politics Then Get Lost. The NFL has been moving further and further toward the political left for several years. Many NFL players and teams openly castigate their fans and denigrate anyone who doesn't conform to their political correctness. Overall, the NFL has become a toxic stew of identity politics and divisive intollerance. However, the Denver Broncos are taking division up a notch today by declaring if their fans do not stand with their brand of virtue signaling politics, then you stand against them.

NFL decision to permit kneeling protest by players enrages Donald Trump. The US National Football League is embroiled in a standoff with President Donald Trump after it said players would be allowed to "take the knee" during the American national anthem in protest against racism. After the NFL announced its U-turn, Trump tweeted late on Friday night: "We should be standing up straight and tall, ideally with a salute, or a hand on heart. There are other things you can protest, but not our Great American Flag — NO KNEELING!" Support among sports personalities and organisations for the Black Lives Matter movement was also bolstered by an announcement from basketball star Michael Jordan that he was donating $100 [million] to organisations promoting racial equality. The move was a significant departure from the former Chicago Bulls player's previous reluctance to be drawn into politics.

Denver Broncos Declare If You Are Not Virtuous Enough To Support Their Antifa Politics Then Get Lost. The NFL has been moving further and further toward the political left for several years. Many NFL players and teams openly castigate their fans and denigrate anyone who doesn't conform to their political correctness. Overall, the NFL has become a toxic stew of identity politics and divisive intollerance. However, the Denver Broncos are taking division up a notch today by declaring if their fans do not stand with their brand of virtue signaling politics, then you stand against them.

NFL commissioner: We were wrong to silence our players in the past and now encourage them to speak out and protest peacefully. I can't believe that kneeling during the anthem is going to be in the mix as an issue during the home stretch of the campaign this fall in a year when we're coping with a pandemic, an economic collapse, and widespread looting. But it will. First Trump and then the NFL made that clear enough yesterday [6/5/2020].

NFL: 'We were wrong' to oppose players kneeling during national anthem. National Football League Commissioner Roger Goodell apologized for the league's position opposing players kneeling during the national anthem. The NFL walked back the league's position in a video statement Friday [6/5/2020] after expressing condolences to the families of George Floyd, Ahmaud Arbery, and Breonna Taylor, later issuing a strong condemnation of racism.

NFL pledges allegiance to BLM. Like most of America's broken corporations and institutions, the National Football League has completely bent the knee to the radical Black Lives Matter lobby, thus potentially guaranteeing its own demise as fed-up former fans flee in search of sanity. After years of pushing back against disgraced former NFL star Colin Kaepernick's widely disliked national anthem protests, NFL commissioner Roger Goodell issued an apologetic video statement Friday reversing course on everything. [Video clip]

Obnoxious liberal soccer champ Rapinoe determined to make Olympics about politics. Megan Rapinoe's roaring again. The International Olympic Committee published new rules that prohibit "political, religious or racial propaganda" "at medal ceremonies and Olympic venues," and Rapinoe says she "will not be silenced." She later added that she will kneel anyway, which would force the IOC to enforce its rules or back down. Not one for fine distinctions, Megan understands the world only in relation to herself and, as usual, completely misses the point. The IOC said nothing about silence. They said she couldn't use the Olympic stage to push politics. You can noisily talk about anything else — your girlfriend, the state of soccer, the game you just played, your house, your car, your dog. Just don't use the Olympics to push politics. That would include kneeling. If you get to do it, then everybody gets to do it, and in short order, WWIII would erupt. But that's okay, Megan — keep running your face. It would give many of us satisfaction to see this woman barred from play at Tokyo in 2020 because of her obnoxiousness.

'We will not be silenced' — Megan Rapinoe says of new rules on political protests at Olympics. U.S. Women's National Team and Seattle Reign FC star Megan Rapinoe responded Friday to the new guidelines from the International Olympic Committee on political protests at the 2020 Tokyo Games.

No anthem kneeling at the Olympics: IOC announces political protest rules. The International Olympic Committee announced its rules for political protest for the upcoming 2020 Summer Olympics in Tokyo, and some popular forms of athlete protest have been banned, according to The Hill. While athletes will be allowed to say what they want during interview and news conferences outside the Olympic Village, and on social media, they won't be able to protest in the village, on the field of play, or during medal ceremonies.

Kaepernick's disgraceful, ridiculous 'racial' lens on Soleimani slay. In the torrent of idiotic commentary unleashed by the killing of Qassem Soleimani, Colin Kaepernick's deserves a place of honor. The NFL washout and Nike persona who makes sure the company doesn't produce any overly patriotic sneakers tweeted: "There is nothing new about American terrorist attacks against black and brown people for the expansion of American imperialism." For Kaepernick, Soleimani is just another dark-skinned man brutalized by America. The Iranian terror master was, in effect, driving while non-white and paid the ultimate price.

Nike, an Anti-American Company. After the U.S. killed arch-terrorist Qasem Soleimani, ex-quarterback Colin Kaepernick took to Twitter to express his opinions: [Tweets] This is the kind of ignorant twaddle you expect from a radical teenager. Kaepernick has never grown up. What is significant, though, is that Kaepernick is one of the primary spokesmen for Nike, a $34 billion a year international marketing powerhouse. Nike signed Kaepernick to a multimillion dollar deal after Kaepernick's mediocre athletic career had ended, precisely because Nike wanted its brand to be associated with Kaepernick's anti-American stance.

Nike's new Colin Kaepernick sneakers sell out in one day. Nike's new sneaker collaboration with NFL quarterback-turned-activist Colin Kaepernick sold out on Tuesday [12/24/2019], just one day after its release. The "Nike Air Force 1 '07 x Colin Kaepernick" was unavailable in both adult and children's sizes as of Tuesday morning, the footwear titan's website shows.

AOC reveals new level of hypocrisy after praising Harvard-Yale climate activists. The annual Harvard-Yale football game was interrupted by climate change activists shortly after halftime on Saturday [11/23/2019], which is a pretty good idea inasmuch as there's no group more amenable to guerilla activism on the environment than sports fans from two universities where anyone who doesn't believe in the tenets of the climate science movement would quickly find themselves out in intellectual Siberia. According to The Harvard Crimson, the incident occurred just before halftime at the annual game between the two Ivy League giants.

Environmentalist Killjoys Are Coming for Your Football. Some of the nation's supposedly best and brightest college students are employing theatrical protest tactics similar to [Greta] Thunberg's, with the message that ordinary life must be disrupted if we are to save the planet. At the Yale Bowl, the goal was to pressure the two universities to divest themselves of investments in fossil fuels. [...] The students made it clear that their political agenda is more important than allowing people to enjoy an annual entertainment. [...] The Harvard-Yale protest was very much in line with the Thunberg-style politics of angry and intolerant children. Such demonstrators pay little heed to democratic processes or any counterarguments to their climate catechism.

Climate Change Protesters Storm Field at Halftime of Harvard-Yale Football Game. The 136th edition of The Game between Harvard and Yale has been delayed at halftime after protesters took over the field. Students from both schools occupied midfield after the Yale band had finished performing. Some held banners asking their colleges to act on climate change and Puerto Rican debt relief.

Debunking the Sports Media's Excuses for the Browns' Myles Garrett and the Helmet-Swinging Incident. Last week, there was quite a bit of confusion and outrage about an incident on Thursday Night Football when Myles Garrett got into an altercation with Steelers quarterback Mason Rudolph, where the Browns' defensive end ripped the helmet from his opponent's head in the game's meaningless final seconds, and then proceeded to ferociously swing it at Rudolph's exposed skull. Action from the League was swift, and Garrett was suspended indefinitely, with no established timeframe regarding his potential return. It wouldn't have been hard to predict, however, that the fans' attention and furor around the incident would be short-lived, despite the act being tantamount to assault with a deadly weapon.

Does the Left Hate America? Leftists have contempt for the American flag. I am unaware of a single left-wing individual or organization that has condemned NFL quarterback Colin Kaepernick for refusing to stand for the flag during the playing or singing of the national anthem that precedes NFL games. To the contrary, on the Left, he is universally regarded as a hero. Indeed, Nike anointed him as one, making him its brand model. Leftists might respond that Kaepernick's public refusal to stand for the flag and national anthem says nothing about his love for America, as it is only a form of protest against racial injustice. But that is nonsense. Would leftists argue that anyone who publicly refuses to celebrate Martin Luther King Jr. Day really loves Dr. King?

Everyone Hates Kaepernick Now. In the three years since Colin Kaepernick knelt his way off of the San Francisco 49ers and out of the National Football League, the one thing the drama has lacked is ambivalence. People either hated him or viewed him as a social hero who was being mistreated and prevented from playing the game he loves. Now everybody just hates him.

Leftists Vow to Cancel Nats' Kurt Suzuki for Donning MAGA Hat: He 'Should Be Banned from Baseball'. Leftists on social media blew a collective fuse after Washington Nationals catcher Kurt Suzuki donned a MAGA hat during the White House's welcoming ceremony for the World Series champions.

Trumpenfreude hits NHL boycotter. When the Washington Capitals visited the White House in March for winning the 2018 Stanley Cup Championship in, it was without Devante Smith-Pelly, the star of that championship series. He was very vocal about not attending when the team won the championship as he trashed the president. But by the time the team visited the White House, he wasn't part of the team. His game had fallen apart. He was a fourth string winger that season until the team demoted him to the minor league Hershey Bears. This season, the Capitals dumped him. He tried out with the Calgary Flames but he quickly extinguished his hope of returning to the NHL.

Muslim cross-country runner demands rules be changed after she was disqualified for wearing hijab in a competition. She thinks because of all the alleged messages of support she got from doing this video, that the rules of the sport will have to be changed to accommodate her Muslim supremacist beliefs. I expect BNI readers will tell her otherwise.

Fans, Media Erupt After LeBron James' Outburst During National Anthem. The NBA was understandably excited to start its season and get away from the China controversy that had embroiled the league over the past couple weeks. However, even more controversy ensued on Tuesday night and on into Wednesday as video surfaced showing LeBron James walking off the court and screaming while the national anthem played.

Moral Relativism Taking Over Everything: Sports, Politics, Libraries. Since so many of us pay little to no attention to the NBA, you may have forgotten their "principled" stand on the North Carolina "bathroom bill." In late February of 2016, ignoring science and sound morality, liberals on the Charlotte City Council passed an ordinance that would allow men into women's restrooms, locker rooms, and so on. As is typical with the Left, the ordinance applied not only to city-owned property, but to private businesses as well. In other words, Charlotte liberals "legislated morality," and they did so to the point of forcing all of the city's citizens to adhere to perverse liberal dogma. To correct this gross injustice, the North Carolina Legislature passed a commonsense law (H.B. 2) that reversed the foolish Charlotte city ordinance. In opposition to H.B. 2, later in 2016, ignoring the long understood truths on sex and sexuality, and goose-stepping along with the rest of the liberal elite, the NBA decided to pull its all-star game from the city of Charlotte.

NBA losing money — and well it should. The NBA's commissioner, Adam Silver, acknowledged in recent remarks that China had pressed for the firing of Rockets general manager Daryl Morey — for the crime of publicly supporting freedom-fighting protesters in Hong Kong — and that the league, as part of the fallout from its seeming siding with the reds, rather than with the red, white and blues, has been losing money.

Defense of free speech [is] no longer a slam dunk in America. When Houston Rockets General Manager Daryl Morey issued a tweet in support of Hong Kong's freedom protestors, it caused outrage among China's totalitarian oligarchs. A contract signed last June between the NBA and China's Tencent streaming television service, worth a cool $500 million, is in jeopardy. In total, the NBA garners more than $4 billion in revenue from China.

The Woke Sports Fraud. The controversies the NBA saw this week serve as reminders that it would be wise for professional athletes and those associated with professional sports to avoid opining on politics, because while making their righteous pronouncements, these persons, who nowadays are overwhelmingly left-wing, sometimes show themselves to be inconsistent takers of positions; or at their worst, sheer hypocrites willing to overlook an ostensible evil for lucre's sake. What is more, their opinions, which are often ignorant, may well alienate fans, who don't, after all, follow professional sports in order to learn jocks' and coaches' views on human rights and transgender bathrooms. The first controversy concerned Houston Rockets general manager Daryl Morey, the man having tweeted his support — "Fight for freedom, stand with Hong Kong" — for the pro-democracy demonstrations in Hong Kong. Now, the NBA is hugely popular in China, where the league generates millions in revenue each year, and in response to the Chinese backlash (and to pressure from within the Rockets organization, one imagines), Morey quickly deleted his tweet and issued an unmanly apology.

Trump-hating NBA millionaire LeBron James stands up for China. I guess this is getting to be a pattern now: if you've made your pile and you've made a lot of it from China, to heck with the Hong Kongers and their protests for freedom. You'll be sticking up for their oppressor, communist red China, home of sweatshops, intellectual property theft, attacks on Southeast Asia, the laogai, the enslavement of the Uighurs, the social credit system, Venezuela's money, the supposedly lightened one-child policy, and Mao's many murder revolutions. Because for such lefties, the only thing that matters is money. We saw it with billionaire tycoon Michael Bloomberg. Now we are seeing it with NBA big LeBron James, a millionaire athlete who was last seen in the non-sports news calling President Trump "a bum." Asked if Texas basketball team owner Daryl Morey, who set off a firestorm by tweeting support for the Hong Kongers, ought to be punished, the famous social justice warrior went into hypocrite mode, sticking up for the ChiComs.

LeBron Jame$ Is A Coward. NBA superstar LeBron James says Houston Rockets General Manager Daryl Morey was "misinformed" and "wasn't educated on the situation at hand" when he tweeted in support of Hong Kong's freedom demonstrations. Morey's sin was sharing an image of a slogan that read, "Fight for freedom. Stand with Hong Kong." Even though the GM, regrettably, deleted his tweet, one strongly suspects his grasp of China — where the state is running "re-education" camps filled with Uyghurs — is considerably stronger than any of the NBA's leading apologists. Only last year, James, a purported champion of social justice, came out in support of former quarterback Colin Kaepernick with the vacuous platitude, "I stand with anyone who believes in change." Anyone? Of course, LeBron's stand, as with most acts of pretend celebrity bravery, resulted in hosannas being thrown at him by the press, and, more importantly, never costing him a penny.

Thanks, Houston Rockets, you've done us all a favor (and so has the NBA). Everyone has been outraged at the recent spectacle of the NBA seeming to steer clear of fans supporting democracy on American soil, cutting off questions from reporters, and watching Houston Rockets General Manager Daryl Morey delete his tweet supporting the pro-democracy protesters in Hong Kong. It's not enough for the NBA to kowtow to China's authoritarian regime, it seems, it also has to appear to act like that regime, as well. But in fact, I think we all owe the NBA a vote of thanks. They've helped to draw attention to a long history of American appeasement of the Communist regime in Beijing, including by successive presidents. Our collective refusal to call China to account for their human rights abuses and violations of international law have done decades of damage to our economy, national security, and moral standing.

The Editor says...
What is the point of the NBA, anyway? Throw the ball. Bounce the ball. Catch the ball. How are you better off after watching an NBA game?

Pop Goes the Weasel. "Fight for Freedom. Stand with Hong Kong," read the tweet from Houston Rockets general manager Daryl Morey. The Chinese Communists didn't like it. As CNBC reported, the Chinese Consulate-General in Houston attacked the tweet and urged the Rockets to "correct the error." The tweet promptly disappeared, then came a statement from NBA boss Adam Silver. "We have great respect for the history and culture of China," Silver said, "and hope sports and the NBA can be used as a unifying force to bridge cultural divides and bring people together." And so on, but nothing about fighting for freedom and standing with Hong Kong. San Antonio Spurs head coach Gregg Popovich said Silver's speech "helps you understand what direction you need to go in." It was a curious statement for someone with experience in dealing with totalitarian governments.

Hill editor-in-chief: NBA is 'bending down' to 'almighty dollar'. The Hill's editor-in-chief Bob Cusack said the NBA has a "disaster" on its hands following the league's response to a tweet by a Houston Rockets executive supporting pro-democracy protesters in Hong Kong. "This is a disaster for the NBA," Cusack told Hill.TV on Friday [10/11/2019], noting how the league is shutting down questions from journalists and not allowing players to respond to the controversy.

NBA takes a stand against freedom. Last Friday [10/4/2019], Daryl Morey, general manager of the Houston Rockets basketball team, tweeted what seemed like a noncontroversial statement. He wrote: "Fight for Freedom. Stand with Hong Kong." Now, China, as you may have seen, is trying to crush Hong Kong, and it's not hard to pick a side. China is a racist Communist ethnostate that bans dissent and murders its political opponents. They have Muslims interned in forced reeducation camps at this very moment. They viciously suppress the freedoms that we Americans take for granted. You'd think every American would stand with Hong Kong without even thinking about it. But not the NBA. The NBA is on China's side. So, Morey was forced to delete his tweet. The NBA issued a statement making it clear that under no circumstances do they support Hong Kong or human freedom.

China's Ultimate Goal Is To Control American Culture, And Companies Should Resist It. If ESPN thought shutting down on-air discussion about China and Hong Kong would please its Chinese master and protect the commercial interests of itself and its corporate parent Disney, it's dead wrong. What China wants is not simply to police a few words on social media or on air. It wants to control American culture, period. [...] Chinese leaders closely studied America's ascent to a global superpower, and they believe America's cultural influence is a key ingredient to the country's success. China wants to emulate America's success, albeit with Chinese characteristics. Former Chinese President Hu Jintao said, "The great rejuvenation of the Chinese nation will definitely be accompanied by the thriving of Chinese culture."

Portland Trail Blazers Join Boycott Against Israel. The Portland Trail Blazers announced that they have severed relations with a company that does business with Israel following a pressure campaign by activists tied to the anti-Semitic Boycott, Divestment, and Sanctions movement. As the NBA is facing outrage after the general manager of the Houston Rockets capitulated to censorship by the Chinese communist government, the Trail Blazers quietly severed ties with the manufacturer Leupold, which has a contract to produce accessories for the Israeli Defense Forces.

If Woke Corporations Had Police Power, They Would Act Exactly Like Communist China. Since the NBA-China affair blew up last weekend, a number of commentators have lambasted the NBA for its craven response to China, noting the hypocrisy of a league that publicly prides itself on being the social vanguard in America but has no problem kowtowing to Chinese autocrats to maintain access to their lucrative markets. The argument goes like this: there's a massive disconnect between the values the NBA espouses and its willingness, say, to look the other way in China, where the league runs a training program not far from where Uighur Muslims are forcibly sent to reeducation camps. The NBA's pursuit of filthy lucre, in this view, undermines its carefully crafted public image.

Nearly all of the NBA's Chinese partners have cut ties with the league. Out of the 25 official partners listed on the NBA China website, 13 are Chinese businesses. So far, 11 of those companies have distanced themselves from the sports league amid escalating tensions between China and the NBA. Ctrip.com, Anta Sports, Changhong, Meiling, Dicos, EHi Car Rental, Master Kong, China Mengniu Dairy, Migu Video, WuZun and Xiaoyin Technology are among the Chinese companies that have ended or suspended their cooperation with the NBA, according to Chinese public statements translated by CNBC. The remaining two Chinese partners are joint-venture brands that have not issued any statements yet.

Pro-Hong Kong Sixers Fan Booted From Philadelphia NBA Game. A Philadelphia 76ers fan says he was tossed out of a preseason game after showing their support for pro-democracy protesters in Hong Kong, according to NBC Philadelphia. Sam Wachs and his wife brought signs which read "Free Hong Kong" and "Free HK" to Tuesday night's game between the Sixers and the Guangzhou Loong-Lions of the Chinese Basketball Association. According to Wachs, he lived in Hong Kong for two years and supports the anti-government movement. "We were just sitting in our seats near the Chinese bench," said Wachs.

Fans With 'Free Hong Kong' Sign Kicked Out Of NBA Game. On Tuesday night [10/8/2019], a husband and wife holding "Free Hong Kong" signs at a preseason NBA game in Philadelphia were kicked out of the stadium. The man, identified as Sam Wachs, and his wife had their pro-Hong Kong signs confiscated by NBA employees and were escorted out of the Wells Fargo Center arena after Mr. Wachs shouted "Free Hong Kong," a statement in support of the ongoing pro-democracy demonstrations.

NBA, Houston Rockets Cower To Communist China, Get Blasted Online. The National Basketball Association (NBA) and the Houston Rockets cowered to communist China on Sunday after Rocket's General Manager Daryl Morey tweeted out support for Hong Kong which sparked an immediate backlash from Chinese businesses and the Chinese government.

Nike Commercial Starring Colin Kaepernick Wins Emmy Award. Nike's controversial Dream Crazy ad, narrated by and starring former NFL quarterback Colin Kaepernick, won an Emmy Award for best commercial at the Creative Arts Emmy Awards on Sunday [9/15/2019]. The commercial, which first aired in September, features Kaepernick waxing philosophical about the nature of sports, human achievement, and social justice.

Major League Soccer Team Bans Betsy Ross Flag, Calls it a 'Symbol for Hate Groups'. America's premier soccer league, Major League Soccer, has declared the red, white, and blue Betsy Ross flag a "symbol for hate groups" and banned a couple in Utah from waving it at games. A Utah couple who were in attendance at a Major League Soccer Real Salt Lake game says they were told by stadium officials to put away their Betsy Ross flag because the original flag of the American Revolution is a "symbol for hate groups."

Major League Soccer club bans 'controversial' Betsy Ross flag at games. Major League Soccer's Real Salt Lake has banned people from waving the Betsy Ross flag at games, claiming that the Colonial-era flag design has been "adopted as a symbol for hate groups" and doesn't fit with the team's mission of inclusiveness. The controversy started last month after season-ticket-holders Randolf and Diana Scott started bringing their giant Betsy Ross flag to games at Rio Tinto Stadium, which "ignited a firestorm" against the couple on social media, the local Fox News affiliate reported. Last weekend, stadium staff asked the couple to put the flag away.

NASCAR Begins To Inject Left-Wing Politics Into Racing. The National Association for Stock Car Auto Racing, otherwise known as NASCAR, has reportedly started to take a "gradual shift" on its stances surrounding the Second Amendment. The revelation comes after multiple gun companies have said that NASCAR, which has a primarily Republican base, banned them from running advertisements that feature guns. [...] The Free Beacon added that the reaction to NASCAR adopting left-wing politics, specifically the demonization of the Second Amendment, has generated a significant amount of backlash. One specific example came in an article written by radio host Mark Walters, who wrote: "Go ahead NASCAR, try to fill the stands with a bunch of David Hogg, Moms Demand Action, Everytown for Gun Safety, urban, progressive, skinny jean wearing, soy sipping, man-bun wearing, Antifa loving, gun-hating socialists. I won't be around to see how that turns out for you."

US fencer punished for kneeling on podium at Pan Am Games, other athletes warned. Two U.S. athletes were given a year of probation by the U.S. Olympic and Paralympic Committee (USOPC) for staging protests while on the podium at the Pan American Games earlier this month, letters sent Tuesday revealed. Hammer thrower Gwen Berry raised her fist and fencer Race Imboden took a knee while on the medal stand last week in Lima, Peru. All athletes at the Pan American Games and the Olympics agree to rules forbidding political protest. The committee also warned other athletes that future protests could face more serious consequences.

It's Time for Colin Kaepernick to Move On. Colin Kaepernick. Remember him? Below-average quarterback. Above-average poseur. Not "activist," not really. Activists actually say stuff. Kaepernick almost never says anything.

Another athletic egomaniac looking for some extra spotlight by dissing the U.S. flag. By now, the routine of athletes calling attention to themselves by dissing the U.S. flag at some athletic event has become so de rigueur you could write the script before it happens. Lose the big prize. Take a knee to the flag. Make a raving or two to the press about the awfulness of the U.S. And reap lots of media attention your athletic performance wouldn't otherwise merit. Instant fame. Endorsement deals. Money. Profit big from insulting the very flag of the country that made your performance possible.

U.S. athletes protest Trump on medals stand at Pan Am Games. Two Americans used their medal-winning moments at the Pan American Games to draw attention to social issues back home that they feel are spiraling out of control.

Hegseth, Rep. Crenshaw slam anthem protest by U.S. fencer: 'Delusional' if you think that's sacrifice. "Fox & Friends" host Pete Hegseth and Rep. Dan Crenshaw, both U.S. military veterans, blasted a member of the U.S. fencing team who kneeled for the national anthem after winning the gold medal. Hegseth emphasized Monday [8/12/2019] that Team USA won 293 medals at the competition and there only two protests.

Poll: Megan Rapinoe Beats Trump in Hypothetical Presidential Race. A recent poll from Public Policy Polling, showed U.S. Women's National Team (USWNT) co-captain Megan Rapinoe defeating President Trump in a hypothetical 2020 presidential matchup.

The Editor says...
Being a troublemaker is never a resumé enhancement, except in politics.

Inslee says he'll ask soccer player Megan Rapinoe to be secretary of State. Washington Gov. Jay Inslee (D) said Saturday that if he is elected president, he will ask soccer player Megan Rapinoe to be his secretary of state. He said at the progressive Netroots Nation conference that one of his first acts as president would be to get a secretary of State who embraces world unity and "love rather than hate" as he rebuked President Trump's foreign policy. "My first act will be to ask Megan Rapinoe to be my secretary of State," he said. "I haven't asked her yet, so this could be a surprise to her."

Black Pastors Call on Nike to Sever Relationship with Colin Kaepernick. The Coalition of African American Pastors (CAAP) called on Nike Thursday [7/12/2019] to end its relationship with former NFL quarterback Colin Kaepernick, who has a prominent endorsement deal with the athletic company. Rev. William Owens, president of CAAP, said his organization is responding to Nike's decision to pull an athletic shoe celebrating the Betsy Ross flag after Kaepernick expressed objections to it.

US Soccer Final Viewership Down by Almost Half Thanks to Trump-Bashing, Far Left National Team. They cursed the US President and disrespected their Country — What did they expect? The US Women's Soccer Final viewership was down by ALMOST HALF this year thanks to the Trump-bashing, anthem protesting US national team. You insult half your audience — you lose half your audience! Great job, ladies!

U.S. Women's Soccer Team Cut Star Player For Christian Views. Christian views may have kept star player Jaelene Hinkle off the US women's soccer team. Back in 2015, Hinkle had objected publicly to the U.S. Supreme Court's ruling that legalized same-sex marriage.

U.S. Women's Soccer Team Accused Of Snubbing Star Player For Christian Views. The absence of one of the best women's soccer players in the nation from the national squad that just won the World Cup has prompted questions as to whether she didn't make the team because of her openly professed Christian faith. [...] The Irish Times, which called Hinkle "the finest left-back in the NWSL," wrote in June, "Hinkle likely would have been a fish out of water on the uber-woke women's national team, some of whose biggest stars are openly lesbian, raising questions about whether she would have thrown off the squad's chemistry."

Megan Rapinoe Is No Leader. Appearing on multiple news outlets, Megan Rapinoe appeared self-centered and divisive. She criticized President Donald Trump, as expected. She made accusations of homophobia, as expected. And an adoring Rachel Maddow called for Rapinoe to run for president, as expected. After famously scoffing at the very notion of interacting with people who hold different opinions, Megan Rapinoe took to the stage during the World Cup victory parade in New York City to call for unity: "This is my charge to everyone: We have to be better, we have to love more and hate less. Listen more and talk less." Speaking with CNN's Anderson Cooper, Megan Rapinoe said that she would be willing to have a "substantive conversation" with "anyone" ... who "believes the same things" as she does.

Guess I'm a Female Chauvinist. I don't particularly care for soccer anyway but it was the purple-haired star player Megan Rapinoe who turned me off by spouting her disdain for any White House visit before she was even asked. Did she do that for publicity or was her Trump derangement too deeply entrenched? Stomping on the American flag even accidentally during the World Cup celebration was more proof of her unworthiness to represent our great country.

We hate Trump, we hate you. But buy our soccer jerseys. The leftist women's World Cup team has made a lot of noise about wanting more pay, or pay that's equal to the men's teams, yet already the economics of the picture shows that they're actually overpaid. This isn't something unfixable — more ticket sales, more team memorabilia revenue, more television watchers, more public interest would correct that easily, and it's clear that star players such as Megan Rapinoe know it.

The ladies won and let's salute them. The TV ratings were great and everyone is happy. [...] Actually, not everyone is happy. I am not happy and lots of people I've heard from are not happy. First, the tournament showed that international women's soccer is a total mismatch. [...] The U.S. is obviously "the queen" of soccer and will only get better because our young women have more resources. On that point, it did not help that some of the ladies showed so little class, as when they pounded Thailand 13-0! Second, someone should remind the ladies that they are wearing the U.S. uniform not "blue states." They should show respect for U.S. fans who don't like to see flag disrespected.

Megan Rapinoe rips Trump WH visit, says she'd accept invites from Pelosi, AOC. U.S. Women's Soccer superstar Megan Rapinoe doubled down in her opposition to visit the Trump White House on Tuesday but expressed that she was open to accept invitations from anyone who "believes the same things we believe in" like Speaker Nancy Pelosi, D-Calif, and Rep. Alexandria Ocasio-Cortez, D-NY.

U.S. Women's Soccer Team Won't Go To White House, So Pelosi Makes Announcement. With U.S. Women's Soccer star and outspoken Trump critic Megan Rapinoe having preemptively rejected any invite to go to the "[...] White House," House Speaker Nancy Pelosi made a big announcement on Monday: Congress is formally inviting the Wold Cup-winning team to be honored on Capitol Hill.

The Woke World of Sports. [Scroll down] In the woke world of sports, [the history of the US flag] carries less weight than what a millionaire retired athlete with weird hair thinks constitutes "social justice," and the billion-dollar company caved when Kaepernick vetoed their design. In real fact, the most socially useful thing the fellow could do would be to tell kids in the inner cities to spend their money more wisely than on Nike sneakers, which, by the way, are made by slave laborers under any other name in countries characterized by the late Karl Wittfogel as "Oriental Despotisms."

USA Women Win Soccer World Cup, Then Toss USA Flag on Ground & Dance On It. The video says it all. No exaggeration required. Members of the US Women's Soccer team won the World Cup on Sunday then while celebrating, tossed the US flag to the ground like a rag doll and danced around it while posing for the cameras. Trump-hater Megan Rapinoe was front and center of course. She's the all star who has trashed President Trump and who was criticized for taking a knee during the national anthem before matches.

Allie Long, Megan Rapinoe Drop American Flag During World Cup Celebration. U.S. women's national soccer team members Allie Long and Megan Rapinoe stepped on an American flag after Long dropped on the ground as they posed for post-game photos Sunday [7/7/2019]. Following their repeat World Cup win in Lyon, France, the team was celebrating on the field and posing for photos when Long dropped the flag she was holding. She and Rapinoe then stepped forward, leaving the flag underfoot.

U.S. soccer fans chant 'F--- Trump' on live TV. After the United States won the Women's World Cup by beating Netherlands 2-0 in Sunday's final match, a group of American soccer fans in France chanted an expletive about President Trump on a live television broadcast. Fox News prepared to do a live TV shot from a sports bar in Lyon, France — the site of the final — that was populated with American fans. Fans in the background began to chant shortly after reporter Greg Palkot began to speak.

USWNT fans chant 'F--- Trump' on live TV after World Cup title. The U.S. women are World Cup champions. Millions of fans across America are celebrating. In parks, on downtown streets, in living rooms, and elsewhere. So are the tens of thousands who travelled to France for the occasion. Fox News figured it would send a reporter and camera crew across the Atlantic to capture the scene in Lyon. And ... uh ... they found quite a scene!

The Democrats' Situational Racism. [Scroll down] Nike, not content to sell shoes to Americans of all political persuasions, stepped in it again via their vice president for social consciousness, Colin Kaepernick. Nike made a special edition Betsy Ross flag shoe for Independence Day but Kaepernick objected to the flag as being racist and appealing to white nationalist groups. Nike promptly recalled the shoe to virtue signal their wokeness over such a symbol of hatred. MSNBC regular and Georgetown Professor Michael Eric Dyson, "related the flag to other symbols of hate such as the Nazi swastika and burning crosses." Why? Because the situation called for it. Anything to fan the flames of racism at a time when minority unemployment is at an all-time low in advance of a presidential election.

Megan Rapinoe is dividing Americans instead of uniting them in the fight for gender equity. [Colin] Kaepernick, who blew up his NFL career by refusing to stand for the national anthem at games, is not alone in his hostility to patriotic symbols. Megan Rapinoe, the co-captain of the U.S. national women's soccer team, refuses to place her hand over her heart with the rest of her team when the national anthem is played at the World Cup in Lyon, France. "I'll probably never put my hand over my heart," she told Yahoo Sports. "I'll probably never sing the national anthem again."

The Left's War Against America. [Colin Kaepernick] has been a lightning rod for controversy ever since he decided to forgo his NFL career and become a professional protester. His decision to disrespect the American flag by choosing NFL games to protest police treatment of African Americans was divisive to say the least. While millions of Americans did not support Kaepernick's actions, Nike chose to affiliate with those Americans who agree with a spoiled former NFL player denigrating our national symbols. His supporters tend to be young people, African Americans and progressives. Kaepernick also has plenty of admirers in the media who are also disgruntled with our country. In a July 1st New York Times video editorial, the authors claim that the United States of America is not the greatest country on earth, but "just okay."

Ted Cruz sacks Colin Kaepernick, grabs ball and scores (on Twitter). Colin Kaepernick, Nike's commissar of America-hatred, may have been a quarterback, but he took a half-[bak]ed approach to anti-slavery hero Frederick Douglass. Flaunting the blinders that progressives wear when they consider our collective history, he took a quotation out of context in order to try to score an own goal against the country that birthed him, made him a multi-millionaire, and now indulges him in his extended adolescence. Fortunately, Ted Cruz knows much more than Kaepernick and demolished his point on Twitter (hat tip: Twitchy).

Nike Fans the Flames of the Culture War. Nike is doing it wrong. I don't mean the shoemaking, though that thing with Zion Williamson was pretty bad, I have to say. No, Nike is doing it wrong because it managed to do something that all the neo-Nazis, Klansmen, alt-righters, and other denizens of the lowest coprophagic phylum of our political life could never do: It turned the Betsy Ross flag into a racist symbol.

Mo Brooks: Colin Kaepernick Should Leave if He Hates America. Rep. Mo Brooks (R-AL) says Colin Kaepernick, the former NFL player and the face of multinational corporation Nike, should leave the United States if he does not like the country. This week it was revealed that Nike had ditched the production and sale of a pair of shoes that featured the famous flag created by Betsy Ross at the behest of former President George Washington because Kaepernick was offended by the emblem.

Corporate America Tilts Left. [A] manufacturer of sports beverages, has made a commercial featuring soccer player Megan Rapinoe, who has refused to stand for the American flag and has sparred with President Trump. That makes her a hot commodity in the world of advertising.

The Ugly Americans of soccer. Somewhere in France today a group of ugly American female soccer players are sipping tea from imaginary cups to mock a polite society they make no efforts to understand or respect. The Americans are loud and ostentatious. They are ugly Americans personified. If the female soccer players are trying to be ambassadors for their game, they are failing miserably. I cared little for their sport before they arrived in France, and my interest has chilled considerably in the ensuing weeks.

Why Doesn't The Far Left Complain About Nike Sweatshops Anymore? Protesting Nike used to be a go-to event for various far-left groups in America. A massive company using slave-labor conditions to produce low-cost products that are then resold at 1000% mark-ups was representative of what was, in their minds, so wrong with globalized capitalism. Then, suddenly, all that protest vanished. Why? The answer is simple. Nike's marketing machine turned its attention to controversial anti-police, anti-America, former NFL quarterback Colin Kaepernick. The company paid Kaepernick millions to divert attention away from its deplorable overseas operations and instead convince consumers how horrible American was — except for those who wore Nike products apparently. No, it doesn't really make a lot of sense but it appears to have worked.

Killing The Fourth of July. Never to be out-woked, Nike took the opportunity this July 4th to lash out at patriots (read: most Americans) by putting the kibosh on their planned 'USA Air Max 1' training shoes. The design featured the Betsy Ross flag: one of the first known emblems of the colonies that would go on to become the United States. We're led to believe it was Colin Kaepernick — who is famous for just about everything except what he should be famous for: football — who drove Nike to nix the shoe.

Now Betsy Ross Is a White Supremacist, Apparently. Dear Reader, I do not care about shoe companies. I don't care about professional athletes, current or former, who work for shoe companies. They can sell what they want to sell, or not sell what they don't want to sell, and it's all the same to me. I don't understand why anybody would care. If you don't like it, don't spend your money on it. What's the problem? But no, it has to become a whole big thing. Now this dumb Nike non-story has escalated. It's no longer about a shoe company. It's about America itself. Now, feminist icon Betsy Ross is considered racist.

This Independence Day, Nike Appeases America Haters and Dictators. Want a sign that the left is now bringing ruin to the business world, after it has done the same for the education and entertainment industries? Look no further than Nike. Days before the U.S. celebrates Independence Day, Nike pulled sneakers back from retailers that contained a small image of the famous Betsy Ross flag on the back. Apparently that small homage to America's founding offended the delicate sensibilities of Colin Kaepernick, the reprehensible leftist former football player who protested the national anthem, whose idea of appropriate footwear is socks depicting police officers as pigs, and who prefers shirts honoring Cuba's murderous dictator Fidel Castro.

Kaepernick, Nike, Democrats: Spitting on America and the 4th of July. Nike has pulled its Betsy Ross American Flag shoe from the shelves. Why? NFL has-been Colin Kaepernick's complained that the Betsy Ross flag was a symbol of white supremacy. Nike said they didn't want to potentially "offend" anybody. Surprise to Nike. They are offending a significant portion of the American public[.] But spitting on America, and her freedom has become a way of life in 2019. Not only for Nike and Kaepernick but also Alexandria Ocasio-Cortez (AOC) and soccer's Rapino as well.

Julian Castro praises Nike, compares Betsy Ross flag to Confederate flag. Democratic presidential hopeful Julián Castro on Wednesday praised Nike's controversial decision to pull shoes featuring the Betsy Ross flag, saying the early flag design that represents the Thirteen Colonies evokes pain among some Americans, much like Confederate symbols.

WSJ: Nike's 'Patriotic Fumble' an 'In-Kind Donation to Trump's Re-Election'. The Wall Street Journal (WSJ) editorial board observed Tuesday [7/2/2019] that Nike's decision to allow ex-quarterback Colin Kaepernick to "call the play" of rescinding the company's release of its "Betsy Ross flag" sneaker is essentially an "in-kind donation to Trump's re-election." The WSJ board referred to Nike's cave to Kaepernick as one of those "harebrained controversies" that ultimately "give many Americans the not unreasonable sense that their country is being maligned by pampered social-justice warriors."


Uh Oh, Guess Who Had the Betsy Ross Flag at His Inauguration. As you've heard by now, Nike decided to pull the sale of a Betsy Ross American flag themed sneaker this week after woke and washed up athlete Colin Kaepernick complained it is tied to racism. But there's just one huge problem with that argument: [Photo]

CA Governor After Nike Cancels American-Themed Shoe: They 'Represent The Best Of Our American Values'. On Tuesday night, after Nike had canceled an American flag-themed shoe, triggering Arizona Gov. Doug Ducey to withdraw financial incentives for Nike to open a manufacturing facility in Arizona, California Gov. Gavin Newsom tweeted that Nike was "doing the right thing" and represented "the best of our American values."

Limbaugh: Kaepernick-Nike Shoe Saga Proof NFL Kneeling Not About Police Brutality — 'He Opposes Honoring the Flag'. Tuesday [7/2/2019] on his nationally syndicated radio show, conservative talker Rush Limbaugh argued that former San Francisco 49ers quarterback Colin Kaepernick's opposition to Nike's so-called Betsy Ross footwear was proof Kaepernick's kneeling was not about alleged police brutality but animosity toward the American flag. Nike pulled the product line based on Kaepernick's opposition, which came because the footwear featured the Betsy Ross flag.


Colin Kaepernick Lands Nike in Hot Water Over Recall of Shoe With an American Flag. Colin Kaepernick has used his influence with Nike to have the company's American flag-themed shoe called the "Betsy Ross" pulled from production just days before they were to be sold to the public, prompting swift and immediate backlash. Citing sources close to the story, the Wall Street Journal reports that the Air Max 1 USA was slated to go on sale this week in celebration of the Fourth of July. "The heel of the shoe featured a U.S. flag with 13 white stars in a circle, a design created during the American Revolution and commonly referred to as the Betsy Ross flag," WSJ reports. And while Nike is claiming that it has declined to release the sneaker because it featured an "old version of the American flag," the real reason the sneaker has been recalled, according to WSJ, is because Kaepernick reportedly told Nike that the shoes were "offensive," prompting the company to recall the shoe and demand that retailers return their stock.

Old Photos From Obama's Inauguration Show Just How Ridiculous Nike's Shoe Ban Really Is. It seems that those criticizing Nike for attempting to have a Betsy Ross flag on a pair of their shoes in celebration of Fourth of July forgot about former President Barack Obama using the same flags at his inauguration in 2013. Nike stirred up controversy when they tried to have the earlier American flag, that displays 13 stars in a circle, on their Air Max 1 USA shoes but reportedly nixed the shoes after former National Football League player Colin Kaepernick called them offensive. "Attention Nike: The flag Colin Kaepernick told you was unacceptable on your shoes was displayed rather prominently at Barack Obama's inauguration," the Washington Examiner's Bryon York tweeted.

Nike steps on its own shoelaces in latest Kaepernick fiasco. Just in time for the Fourth of July, Nike and washed-up footballer Colin Kaepernick have joined forces in an America-bashing cavalcade. The enormous sportswear company planned to release a new red, white, and blue sneaker adorned with American Revolutionary Betsy Ross' 13-star flag, this country's first banner. However, Kaepernick complained to Nike that this all-American symbol is — what else? — racist. "After images of the shoe were posted online, Mr. Kaepernick, a Nike endorser, reached out to company officials saying that he and others felt the Betsy Ross flag is an offensive symbol because of its connection to an era of slavery," the Wall Street Journal reported.

Nike Has Offered Shoes Displaying Flags of Human Rights Abusers Such As China and Turkey. This week, sportswear giant Nike agreed to pull their "Betsy Ross Flag" sneakers after former NFL player nd anthem-protester Colin Kaepernick, advised them that the American flag is a symbol of racism, hate, and slavery. However, the company has had no issue offering shoes with many other national flags and colors, including human rights abusers such as China and Turkey. Naturally, Nike was quick to create gay pride flag-themed shoes. There are quite a few styles set up in the rainbow colors of gay pride. So, as far as Nike is concerned, gay pride is great, but American pride is "racist."


Outrage for Profit — NIKE Pulls "Betsy Ross" Sneaker. Is it possible to manufacture outrage as a profit strategy? Yes. Brand imagery is part of the overall business model for any business. Begin with an ideological executive office; consider a manufacturing model dependent on a China/Asia supply chain; add a dose of political calculations into the mix; turn loose the actuaries and a unified CFO and CEO could easily find a way to turn market grievance into profit. I'm not saying that NIKE is manipulating their market price. However, I am saying if they were to consider their brand scale to enhance financial results, and buying back shares of their own stock to be timed with coordinated media events, you could see a benefit behind the controversy.

Colin Kaepernick objects to flag-themed shoes, so Nike pulls them. For America's Independence Day, Nike released a new sneaker shoe style with the image of the early U.S. flag stitched by the notorious revolutionary Betsy Ross. It had the familiar red and white stripes and 13 stars in a circle for the original colonies. Apparently, sales were going well until noted kneeler Colin Kaepernick objected because, well, some of the 13 colonies had slaves at the time and we shouldn't be knowing that in this Woke era. Naturally, the mega-company with $36 billion in annual shoe and athletic-wear sales responded to the unemployed NFL player by immediately pulling the patriotic shoe off the market, as the Wall Street Journal first reported. What else could it do really? He outnumbers the rest of us. And a company can't be associated with patriotism these days unless it involves overpaid pro athletes refusing to stand for the National Anthem because, slavery.

AZ governor steps up for America, will 'withdraw all incentive dollars' from Kaepernick's Nike. BizPac Review published reports on Monday that Nike developed a Betsy Ross-themed shoe just in time to celebrate Independence Day, then yanked it from production. Shortly after, sponsored activist Colin Kaepernick reportedly complained that he found the imagery depicted on the clothing to be offensive. As happens all too often in our softened society, Nike immediately recalled the shoe and drew the ire of patriots like Fox News host Laura Ingraham, who called the decision "pathetic" and declared that she will no longer be buying Nike sneakers for her family.

Betsy Ross costs Nike plenty. When Colin Kaepernick objected, Nike stopped selling shoes that were a tribute to Betsy Ross, a woman legend of the American Revolution. Now that will cost the company millions in incentives Arizona offered to snag a Nike plant. It will cost the state 500 jobs. More than a million soldiers have died defending that flag that Nike turned its back on. The shoe featured the flag that legend holds designed the flag. That seems to be based on family lore. But she did more for America than any of today's quarterbacks did.

Arizona Gov. Doug Ducey ends Nike deal after cancellation of 'Betsy Ross Flag' sneakers. Arizona Gov. Doug Ducey said Tuesday [7/2/2019] the state would be canceling the incentives offered in a deal with Nike in response to the athletic company scrapping plans for a Betsy Ross-inspired sneaker[.] The sneakers, featuring a U.S. flag with 13 stars on each heel, reportedly was canned after former football player and political activist Colin Kaepernick said the design could be seen as an offensive symbol of slavery.

Nike Ditches 'Betsy Ross Flag' Sneaker After Colin Kaepernick Raises Concerns over the Flag's Connection to Slavery. Nike has decided to pull their America-themed 4th of July sneakers which featured the "Betsy Ross" flag, after former NFL anthem-protester and Nike pitchman Colin Kaepernick raised concerns over the offensive symbolism he felt the flag displayed, the Wall Street Journal reports.

Nike Nixes 'Betsy Ross Flag' Sneaker After Colin Kaepernick Intervenes. Nike Inc. is yanking a U.S.A.-themed sneaker featuring an early American flag after NFL star-turned-activist Colin Kaepernick told the company it shouldn't sell a shoe with a symbol that he and others consider offensive, according to people familiar with the matter. The sneaker giant created the Air Max 1 USA in celebration of the July Fourth holiday, and it was slated to go on sale this week.

Soccer star Megan Rapinoe accepts invitation to hang with AOC instead of Trump. Megan Rapinoe accepted Democratic Rep. Alexandria Ocasio-Cortez's invitation for the U.S. Women's National Soccer Team to tour the House of Representatives after Rapinoe rejected an invite to the White House. "Consider it done @AOC," Rapinoe said Friday after the New York congresswoman extended the invite and the U.S. Women's National Soccer Team beat France 2-1 in the quarterfinal of the Women's World Cup.

Yankees add Stonewall Inn plaque to famed Monument Park. A plaque behind the center field fence at Yankee Stadium was dedicated Tuesday night [6/25/2019] to commemorate the Stonewall Inn uprising 50 years ago, which sparked a pivotal rebellion in the LGBTQ rights movement.

Knicks feel their black front office helps in free agency. Knicks president Steve Mills indicated having a pioneering predominately black front office will help the team in the upcoming free agency. "The African American front office, that doesn't get lost on guys," Mills said in an article published Tuesday on The Undefeated, which deals with race issues. After getting the job when Phil Jackson got canned, Mills hired GM Scott Perry, who is black, and player developmental director Craig Robinson, the brother of Michelle Obama. Also hired after Jackson's firing was director of player personnel Harold Ellis and college scouting director Gerald Madkins. Both are African American.

Megs, put a sock in it. Megan Rapinoe, star forward for the women's U.S. national soccer team, seems to hate the world. She goes around with a scowl permanently etched into her weathered face. Though an outstanding soccer player, Megs has it in her head that she's getting cheated, and that the cheater is Donald Trump. So she refuses to go to the White House if the team wins the women's World Cup. Trump then extended an invitation to the team whether they win or lose, and of course, Megan took it with ill grace. The girl has no graces, only grimaces. Megan, like all liberal females, holds Trump personally accountable for every unfun thing that ever happened in her life or anybody else's life. Despite her extraordinary skill on the field, Megan's about as ordinary a liberal as it's possible to be.

Brilliant Play — President Trump Invites U.S. Women's Soccer Team to White House "Win or Lose". Megan Rapinoe is the co-captain of the U.S. women's national soccer team and a rabid hater of President Trump. Ms. Rapinoe refuses to sing the U.S. national anthem; kneels during ceremonies to make her hatred for America visible; and grabs every microphone to tell the media about her politics in an effort to increase her resistance credentials. The age-old axiom is: 'be careful what you wish for, because you just might get it". Today [6/26/2019], President Trump brilliantly responded to Ms. Rapinoe. First, by calling out her arrogance in declaring victory before she even played the World Cup matches; and secondly, by inviting the entire team to the White House "win or lose".

Adam Silver: NBA done using term 'owner' over racial sensitivity questions. NBA commissioner Adam Silver told TMZ the league office is done using the word "owner" amid concerns whether the title is racially insensitive, adding they stopped using the term a few years ago. TMZ reported earlier this month that some NBA teams were debating whether to move away from the title, given some feel its racially insensitive in a league where the majority of players are African American. Warriors forward Draymond Green also raised the issue on LeBron James' HBO Show "The Shop," saying he took offense to the term.

US women's soccer star Megan Rapinoe refuses to sing the national anthem before the Thailand World Cup match. US soccer star Megan Rapinoe stuck to her resolve not to sing the national anthem ahead of the team's first match in the Women's World Cup against Thailand in France on Tuesday [6/11/2019]. The player stood silent and stony-faced as her teammates sang along to the 'Star-Spangled Banner' in the Auguste-Delaune Stadium in Reims.

NFL Dishes Out $20 Million in Grants to Social Justice Causes. The NFL announced this week the list of various organizations that will receive nearly $2 million in "social justice grants." One of the recipients is the Civil Rights Corps which "empowers communities to change the unjust legal system." This brings the total of "social justice grants" by the NFL to $20 million for the year.

The Growing Popularity of Foot Shooting. I used to be an NFL fan, especially of the San Francisco 49ers in the Joe Montana, Steve Young, Jerry Rice era. So far as I know none of them ever publicly expressed their political opinions. I have not watched five minutes of a 49er's game in over a year. The only NFL game I've watched in the past year was the Super Bowl. I've heard numerous people say essentially the same thing. They say they're done with the NFL. Former fans are angry at the players for disrespecting their country, but the greater anger is directed toward the teams' owners and the NFL hierarchy. The NFL has unfortunately revealed who and what they are. Although they're good people in most ways, in this instance they've behaved like spineless, clueless cowards. They should have nipped the protests in the bud before they became overblown and out of control.

Soccer Star Rapinoe on Her National Anthem Protests. Soccer star Megan Rapinoe has vowed to continue her national anthem protests while representing the US in next month's Women's World Cup [...] Rapinoe created a furor when she knelt during the national anthem following former San Francisco 49ers quarterback who roiled the NFL with his anthem protest in 2016.

Yankees fans threaten boycott after ban of Kate Smith's 'God Bless America'. Kate Smith's rendition of "God Bless America" has been scrapped at Yankee Stadium, but Bronx Bomber fans are going to bat for her over allegations of racism. Smith's niece, Suzy Andron, told The Post she is "honored" by the groundswell of support for the late singer among fans and media. "Most are solidly behind the positive notion that this is a misunderstanding by a few people who took two or three of her songs [out of 3,000 that she recorded] out of context and inflated a story that my Aunt Kathryn must have been a racist," Andron said. "Unfortunately, the Yankees bought into it."

Elizabeth Warren praises Red Sox manager Alex Cora for skipping White House visit. Boston Red Sox manager Alex Cora is learning this week what it's like to be a political lightning rod. Cora publ