Many people consider RFID technology to be a substantial threat to privacy and liberty, especially if it appears that remotely-readable RF tags will be incorporated into a National ID Card, passport or some other form of mandatory identification — an ID card that you will be required to present when opening a bank account, entering a federal building, or buying an airplane ticket.
I'm a little surprised that the people who are so vocal about domestic surveillance haven't said much about this issue.
There are thousands of Texas motorists who have already unwittingly opened the door to government surveillance by participating in TollTag, TxTag, or EZ Pass, programs that allow the use of toll roads and airport parking garages without having to stop and deposit coins at a toll booth. Each participating motorist attaches an RFID tag to his or her car's windshield, and a device at the toll booth detects the card as the motorist zooms unimpeded through the toll plaza.

In other areas of the country, similar programs have names like SunPass, Cruise Card, EXpressToll, Fast Lane, Fastrak, K-Tag, MnPass, PalmettoPass, Pikepass, Smart Tag, I-Pass — and the best name for such a device — eGo.
A serious problem, from the standpoint of privacy protection, is that not all of the RFID tag readers are on toll roads. In Dallas, TollTags can be used to pay for parking at Dallas Love Field and DFW International Airport.* In Houston, plans are under development to allow the use of EZ TAGs at both Hobby and Bush Intercontinental airports.*
The Dallas North Tollway was the first toll road in the world to use electronic toll collection when the technology became available in 1989.* A newer variation called TxTag allows access to toll roads throughout Texas.*
So the major airports have RFID tag readers, along with the tollways, as a matter of convenience. But there is no reason that TollTag readers could not be placed at other points all over the state. This would make it easier to locate a stolen car, for example, if it had an RFID tag.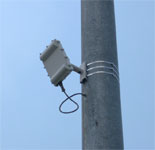 More recently, a more mysterious development has taken shape: these square white modules have appeared on TXDOT poles along the freeways in the Dallas area. They are usually mounted on the same poles as the traffic surveillance cameras, but in some locations they stand alone.
This mysterious roadside antenna is on Spur 408 in southwest Dallas. The writer knows an antenna when he sees one, and the peculiar thing about this one is that it is tilted downward, about 20°, toward the traffic.

This specimen is located at 32°41'52.0" N., 96°56'10.1" W.

An inquiry to the Texas Department of Transportation produced this reply:
The units are Smart Sensors manufactured by Wavetronix. The Smart Sensor is a digital wave radar used for vehicle detection. The Smart Sensor measures vehicle volume, occupancy, speed and classification. The information gathered is NOT used for law enforcement purposes. We use the information to generate the speed map shown on our web site and to generate the travel times displayed on the dynamic message signs on the freeways.
That's interesting. The system is sensitive enough to measure occupancy of each passing vehicle? Even more interesting is the claim that the information is not used for law enforcement purposes. Why not? If their system shows a steady stream of people driving at 90 mph on the freeway, or driving on the shoulders at 60 mph, isn't TXDOT obligated to notify the police?
Updated 9/13/2008:
Today I got an informative email from a reader who clarified the use of the word "occupancy" in TXDOT's explanation above. The term refers to the percentage of time that each of the lanes on the highway is occupied — the traffic density, in other words, not the number of people in each passing car. Obviously I had overestimated the power of this system.
SmartSensor is a 10.525 GHz Frequency Modulated Continuous Wave (FMCW) radar.* Information about vehicle movements is collected and stored. To some extent, it is necessary to retain this information in the event of a billing dispute. But there's no way to know whether the data is retained, archived, or sold to the highest bidder, or whether the information is shared with other government agencies in real time.
If the SmartSensor devices are accompanied by TollTag readers, and (someday soon) they could easily be, the technology is in place to track the movements (and speed) of people all over town, not just on the toll roads. This could be a good thing — for example, if the police are looking for a stolen car — or it could be very bad, depending on Big Brother's use of the information.
Yes, but what if you don't have a TollTag on your car? Can you travel anonymously and blend in with the crowd, without being electronically followed? No, because the state is using license plate readers as well.
---
Related articles:
Life in the Fast Lanes: What's Behind Those Costly Highway Tolls? With tolls as high as $50 for a ten mile stretch of road, is it highway robbery or worth the money? Who's lobbying for this business model, and who really benefits? [Podcast]
Illinois Tollway shows how political promises are easily broken. "Toll free in '73." That was the campaign slogan over five decades ago that promised tolls on Illinois interstates would be a temporary revenue sources. Today, the tolls are higher and the tollway authority is more permanent than ever. Lawmakers promised tolls would help fund 186 miles of interstate construction and would be removed when the roads were paid off. After that, highway maintenance would be funded by the gas tax. In 1968, the General Assembly made the Illinois Toll Highway Authority permanent. What started at just 10 cents at the exits and 25 cents at the plazas has grown to cost drivers $1.50 for each I-Pass scan. Since 2009, the Illinois Tollway has hiked toll fares four times. It's also become an easy way to employ the politically connected and hand out patronage jobs.
Illinois Tollway offering big break on fines for missed tolls. If you're one of those people who has racked up thousands in unpaid Illinois Tollway fees, you're about to get a big break. And even for the lesser scofflaw, there are savings to be had under Tolling 2020, a "tolling reform" package unveiled this week. "These changes are long overdue. Pursuing hefty violations is a costly process, and both the Tollway and customers are better served by providing as much opportunity as possible for customers to pay their tolls," Jose Alvarez, the tollway's executive director, said in a statement.
Huge Toll Hikes Coming: Up 36% On NJ Turnpike, 27% On Garden State Parkway. Toll prices on the New Jersey Turnpike and Garden State Parkway will increase dramatically beginning Sept. 13. Turnpike Exit 19W on the western spur in the Meadowlands will also be getting a toll, following unanimous 7-0 decisions by the New Jersey Turnpike Authority. The commissioners unanimously approved increases of 36% on the turnpike and 27% on the parkway to help pay for what they said will be $24 billion in infrastructure projects.
'RFID-only' Skyway Proposal Still Under Review. The Skyway Operations and Maintenance Corporation (SOMCO), operator of the Skyway system, clarified that the plan to designate as 'RFID-only' the Elevated Section of the Skyway — specifically the Doña Soledad and Dr. A. Santos Exits — is still being reviewed and will only be implemented upon approval by the Toll Regulatory Board (TRB). The plan is expected to result in a faster and more efficient throughput at elevated toll plazas, which in turn will mean less congestion at on-ramps and roads leading to the elevated Skyway.
Out-of-state drivers owe MassDOT $15 million in Massachusetts Turnpike tolls under gantry system. Out-of-state drivers traveling along the Massachusetts Turnpike without E-ZPass transponders owe the state more than $15 million in uncollected tolls and fees — payments the Massachusetts Department of Transportation is largely unable to collect. As of this month, MassDOT reported that more than 2 million out-of-state drivers had traveled on Interstate 90 without transponders under the new system, which replaced toll plazas with scanners mounted atop gantries. Of those "pay-by-plate" drivers, nearly 1.8 million had made at least one payment for tolls owed since the cashless system took effect in October 2016 — for a total collection of $54 million, officials said.
NY family charged $15,000 in fees crossing 'free' bridge. Some New Yorkers are being hit with thousands of dollars in fines for crossing a bridge that should be free. Residents of Rockaway, Queens, are supposed to get a free pass on the Cross Bay Bridge that connects the peninsula they live on to the rest of the city, but issues with a new cashless toll system have led to one family racking up a $15,000 bill in just six weeks.
Congestion pricing: Driving in Manhattan could cost $11.52. Motorists would have to shell out $11.52 to drive into the busiest parts of Manhattan under a new proposal floated by Gov. Andrew Cuomo to ease traffic congestion and raise vital funds for mass transit.
States eye toll roads to fill coffers. With gas tax revenue stagnant and transportation funds scarce, states are turning to toll roads in 2018 to fill treasuries and manage traffic — despite outrage from motorists and questions about the efficiency of tolls. The full list of new tolls is hard to track, but at least half a dozen states from Florida to Colorado are slapping tolls on roads that used to be free or building toll-only lanes this year, and many more are expected to do so next year. It all shows how, despite the nation's relatively robust economy, even the most basic state services — providing roadways, bridges and tunnels — are still being squeezed.
Florida tolls suspended on all roadways starting at 5 p.m.. Gov. Rick Scott has ordered the suspension of tolls on all Florida roadways starting at 5 p.m. Tuesday [9/5/2017]. "They will be suspended for the duration of the storm's impacts to Florida," Scott said in a statement. "Ensuring the safety of Florida families and visitors is our top priority and suspending tolls statewide will help people quickly evacuate and make it easier for all Floridians to access important hurricane supplies to ensure they are fully prepared."
Cashless tolling at Rockaway bridges. Starting Sunday [4/30/2017], the Marine Parkway-Gil Hodges Memorial Bridge and Cross Bay Veterans Memorial Bridge in Queens will no longer accept cash or metal tokens at toll booths. Instead, cashless tolling will be in place, through sensors suspended over the highway.
Woman with 106 toll violations arrested at GWB, cops say. A woman who allegedly drove a Jeep Cherokee through a toll without paying on the George Washington Bridge on Monday was arrested for owing thousands in tolls and fees, police said. Annikea Bernard, 35, of Teaneck, was arrested about 8:40 a.m. after Port Authority Police Officer Lionel Gonzalez saw her pass the toll and a sign went off indicating she had not paid, police said in a statement.
Driver stopped on GWB owes $17K in tolls and fees, cops say. A Bronx, N.Y., man was arrested Friday morning [4/28/2017] after he attempted to pass through a toll lane on the George Washington Bridge without paying, Port Authority spokesman Joseph Pentangelo said. Gabriel Arturo Urbano, 25, was stopped on the lower level around 9 a.m. by Officer Lionel Gonzalez. Further investigation revealed that Urbano owed $17,480 in fees and unpaid tolls on his EZ Pass account and had a total of 268 violations, officials said.
Illinois Tollway Approves $4 Billion Tri-State Widening Project. The Illinois Tollway board unanimously voted April 28 on a $4 billion plan to widen the Tri-State Tollway, which runs from the Indiana state line at South Holland to the Wisconsin border at Newton Township, saying it can be funded without tax money and without increasing tolls. The Chicago Tribune reported construction would run from 2021 to 2025, after planning and discussions with the community. It is not known if any homes or businesses would be displaced because of the expansion, but the Tollway Board said congestion would get worse in the next two decades without widening.
N.J. man runs up $50K in toll violations, fees, cops say. A 50-year-old Hudson County man was arrested at the Lincoln Tunnel on Tuesday morning after police found he owed more than $50,000 in tolls and fees, authorities said. Tai Denunzio, of West New York, was charged with theft after accumulating 802 toll violations, Port Authority of New York and New Jersey police said in a statement. Denunzio owes the Port Authority $50,950.50 — $10,850.50 in tolls and $40,100.00 in fees, according to spokesman Joe Pentangelo.
N.J. man nabbed owing $12K in EZPass violations, police say. A Vernon man was arrested Friday heading into the Lincoln Tunnel after police found the man had owed thousands of dollars to EZPass, authorities said. Dominic Slockbower, 36, allegedly had 206 toll violations across 21 separate accounts, totaling $12,740 in unpaid tolls and fines, according to Port Authority Police spokesman Joe Pentangelo.
Cops say 3 toll cheats busted at Lincoln Tunnel Wednesday owed $682,715. A Paterson jitney driver arrested Wednesday [1/25/2017] was charged with owing more than $600,000 in tolls, police said. When his commuter bus was stopped before heading into the Lincoln Tunnel during Wednesday's morning rush hour, Port Authority Police say 51-year-old Manuel Aristyarias of Paterson had 9,219 known violations worth a total of $644,804. The figure includes $183,904 in unpaid tolls, plus $460,900 in penalties and fees, according the PAPD.
Woman uses dummy passenger with briefcase in carpool lane. Authorities on Long Island say a woman has been ticketed for driving in a carpool lane with a fake passenger — who even had a briefcase. Candace Breen-Warren was pulled over during Thursday morning rush hour on the Long Island Expressway in Dix Hills. Suffolk County police say the woman was driving in a high-occupancy vehicle lane, which is restricted for travel during busy times unless a driver has a passenger.
Police: Woman arrested after skipping more than 500 tolls. The Jersey Journal reported police attempted to stop 55-year-old Denise Simien near the Holland Tunnel after learning she owed more than $16,000 in unpaid tolls and fees.
Hudson River tolls set to go up again on Sunday, with highest at $126. The final bite of the Port Authority's toll increase will come early Sunday morning [12/6/2015], when the cash toll increases to $15 for passenger vehicles at the Hudson River and Staten Island crossings. Like a little lump of coal in commuter's Christmas stockings, reminders of the upcoming toll hike came on the same day the authority previewed the $7.9 billion operating and capital budget for 2016 on Monday. Tolls and fares are predicted to make up 36 percent of the authority's revenues in 2016.
New York and New Jersey drivers pay nearly one-third of all U.S. tolls, report says. Drivers in New York and New Jersey pay the heftiest price for their commutes — accounting for almost one-third of all tolls collected across the U.S., a new report says. The report, which was released by the International Bridges, Tunnels and Turnpike Association, indicated that drivers in the two states forked over an astounding $4 billion of the $13 billion in tolls accrued across the country.
E-Z Pass helps states clock motorists' speeds; accounts suspended for repeat offenders. Several states are using their agreement with E-Z Pass to monitor and punish speeders, adding to the increasing number of electronic speed-monitoring devices facing motorists. Right now, three states — Maryland, New York and Pennsylvania — will suspend E-Z Pass privileges after multiple speeding violations, as reported first by USA Today. And at least two of the other 12 states that allow E-Z Passes at toll plazas reportedly have rules for speeding through the designated toll lanes.
Chinese investors sign up to fund I-95-Pa. Turnpike link. Chinese investors have begun signing up to spend $500,000 each to help pay for a long-awaited connection between the Pennsylvania Turnpike and I-95. In exchange, the investors hope to get permanent residency in the United States for themselves and their families.
Thom Tillis Senate bid imperiled by tea party toll-road disdain. They spoke one after another at a tea party meeting at an upscale pub — conservative voters and activists vowing to derail Republican Thom Tillis' run for U.S. Senate because, as state House speaker, he muscled through a toll road project. "Since the creation of the automobile until this point, there [haven't] been toll roads [in North Carolina]," conservative activist Chuck Suter said at the meeting, which is an offshoot of the Charlotte Tea Party. "We would expect this to come from Democrats."
Failed toll road privatization leaves Indiana in driver's seat. Less than a decade after a foreign consortium paid Indiana $3.8 billion for the 75-year rights to collect tolls along the Hoosier State's 157-mile Indiana Toll Road, the private firm is bankrupt and looking to unload the contract.
NYC employee arrested at Holland Tunnel, owes 16K in unpaid tolls: Port Authority. A New York City employee was found to owe $16,000 in unpaid tolls after a foot chase with Port Authority police this morning at the Holland Tunnel, officials said. Cherisse McDonald, 31, an East Orange resident, was stopped by Port Authority police after an officer noticed an expired temporary E-Z Pass tag on her 2007 Dodge, said Port Authority Police Department spokesman Joe Pentangelo. McDonald works as a peace officer with New York Department of Homeless Services, according to New York City employment records.
Caltrans will put toll lanes on 405 Freeway despite objections. State transportation officials are moving forward with a controversial plan to add toll lanes to a busy stretch of the 405 Freeway in Orange County despite strong opposition from nearby cities who argue the so-called "Lexus lanes" will hurt average commuters. In December, Orange County Transportation Authority board members opted not to support the toll lanes in favor of a plan that would add one free lane in each direction, even though they were warned at the time that state officials may override the decision anyway. On Friday [7/25/2014], the California Department of Transportation announced it was doing just that, arguing the toll lanes would offer welcome respite for commuters.
Obama's interstate highway-robbery scheme. It's a shakedown, pure and simple, but some conservatives are deluded by the notion that this is a "free market" idea because the government colludes with crony businesses in a "public-private partnership." There's nothing free about it. The public has an occasional impulse to throw out the politicians who get carried away with tax increases. Politicians are a sneaky lot and have realized they can outsource the revenue increases to a private company. The public is powerless to vote out the foreign corporations given control of setting toll rates under toll-road leases that can last as long as 99 years. In return for their service to politicians, the private companies pocket at least 22 percent of the revenue they collect.
White House Wants to Lift Ban on Interstate Tolls. Drivers on the nation's Interstates could soon be paying more to travel. A transportation proposal sent to Congress by the Obama administration on Tuesday [4/29/2014] would remove a prohibition on tolls for existing Interstate highways, clearing the way for states to raise revenue on roads that drivers currently use at no cost. Congress banned tolls on Interstates in 1956 when it created the national highway system under President Dwight D. Eisenhower.
Obama Proposes Tolls on Interstates Across Nation. As with many federal accounts, the Highway Trust Fund is running on empty. Refilled with the 18.4-cent per gallon gas tax and disbursed by politicians and bureaucrats in Washington, the federal highway fund faces a $63 billion shortfall through 2018. Texas gets $2-3 billion per year from the fund which goes towards the roughly $7 billion in yearly Texas Department of Transportation expenditures.
Report: Wendy Davis caught up in FBI investigation. The FBI is probing past legal work done by Texas gubernatorial candidate Wendy Davis, according to a report her Republican opponent's campaign calls a "bombshell." The Dallas Morning News reported Friday that documents "related to Sen. Wendy Davis' work as a lawyer for the North Texas Tollway Authority are part of an FBI inquiry of the agency." The news outlet said it's unclear how much this investigation revolves around Davis, the Democratic nominee for governor.
FBI probe of NTTA includes Wendy Davis file, Travis DA's office says. Documents related to Sen. Wendy Davis' work as a lawyer for the North Texas Tollway Authority are part of an FBI inquiry of the agency, Travis County officials say. It's not clear whether Davis' work for the tollway authority is a focus of the FBI or only part of the material collected in connection with its look into tollway agency operations.
Pa. Turnpike toll hikes promote E-ZPass. Toll increases that will take effect at 12:01 a.m. Sunday [1/5/2014] will be 12 percent for cash payers and 2 percent for users of E-ZPass, the electronic collection system.
Will Government Be Able to Remotely Control Your Car? In May, the National Highway Traffic Safety Administration published its "Preliminary Statement of Policy Concerning Automated Vehicles." It pointed to a "continuum" of automobile development that "runs from vehicles with no active control systems all the way to full automation and self-driving." [...] But, if the driver does not control the vehicle, who does?
High-Occupancy Toll lanes: another nightmare from the suburbs-hating traffic planners. Even the mighty GPS cannot save you from the Springfield mixing bowl. Located seven miles south of Washington, D.C., this is the confluence of three major highways — I-95, I-395, and I-495 — along with several smaller county roads. A hideous tangle of cloverleafs, bridges, and flyovers, the mixing bowl is a traffic factory with so many lanes, exits, and merges that its dysfunction has earned it a Wikipedia page. [...] Part of the confusion stems from the fact that the intersecting highways have both normal lanes and special lanes.
What's Up With That: Building Bigger Roads Actually Makes Traffic Worse. As a kid, I used to ask my parents why they couldn't just build more lanes on the freeway. Maybe transform them all into double-decker highways with cars zooming on the upper and lower levels. Except, as it turns out, that wouldn't work. Because if there's anything that traffic engineers have discovered in the last few decades it's that you can't build your way out of congestion. It's the roads themselves that cause traffic.
TxDOT to hijack I-35: Proposes tolls on new and existing lanes. TxDOT is proposing to add two elevated toll lanes on Interstate 35 each direction from Loop 410 in Bexar County to Schertz in Comal County, approximately 15 miles. The insanity doesn't stop there. Transportation Commission Chairman Ted Houghton, self-proclaimed as 'the most arrogant commissioner of the most arrogant state agency in the state of Texas,' announced at this week's commission hearing that it wants to convert ALL existing free lanes on I-35 through Austin into toll lanes, and turn the failing State Highway 130 tollway into a freeway.
Toll plaza glitch stymies motorists at DFW Airport. Motorists who had trouble leaving Dallas/Fort Worth International Airport on Monday were forced to wait in line while workers lifted exit gates by hand at its toll plaza on the north side. According to DFW Airport spokeswoman Cynthia Vega, the system was failing to identify every Toll Tag. In some instances, the system read the tag as a vehicle entered the airport, but problems popped up upon departure. "We also noticed some people were able to come in, but when they went to leave, that reader was not picking up their Toll Tag," Vega said.
Debt Issues Tied to SH 130 Could Impact Toll Projects. A year ago this week, a toll road opened in Central Texas that represented two milestones for the state. While its posted 85 mph speed limit — the highest in the country — drew international headlines, many state and local leaders were more interested in the road's unique financing: A private consortium designed and built the road and agreed to operate and maintain it for 50 years in exchange for a cut of the toll revenue. [...] But SH 130 has not been the immediate success story its backers had hoped.
We don't need a toll road; we need overpasses on 281! Ten miles on 1604 West are being expanded non-toll, with 5 overpasses for $200 million or $20 million/mile ($20 million was taken from 281 to complete this project on 1604). Yet according to the MPO plan adopted in 2012, TxDOT and local leaders want to charge taxpayers $440 million for a 7.3-mile expansion of 281. One of the things driving up the cost is the 9 overpasses planned on 281. It's overkill — 9 overpasses in less than 8 miles!
Driver ticketed for FasTrak transponder on dashboard. My wife was on Interstate 680 recently. She decided to use the carpool lane, so she took her FasTrak transponder from the center console and placed it on her dashboard. A Highway Patrol officer gave her a ticket because the transponder was not attached to the windshield.
The Editor says...
This proves that toll collection is not the purpose of the RFID device. It must be attached to the car, not just in the car, because the purpose of the system is tracking specific cars.
Highway 121's new lanes to open in July, sans toll collection. Once collections begin, [Texas State Highway] 121 will be the first toll road in the nation without tollbooths. Motorists will be able to use their North Texas Tollway Authority TollTag in addition to the transportation agency's TxTag stickers and the Harris County Toll Road Authority's EZ TAG. People who don't have toll tags, though, won't have to stop at a booth. Instead, video cameras will capture their license plate number and send them a bill, though that will cost about 33 percent more than toll tag users will have to pay.
Texas Considers Putting RFID Tags in All Cars. New inspection stickers will "contain a tamper-resistant transponder, and at a minimum, be capable of storing: (1) the transponder's unique identification number; and (2) the make, model, and vehicle identification number of the vehicle to which the certificate is affixed."
The Editor states the obvious:
This would render Toll Tags obsolete. It would also make it fairly simple to locate a stolen car, and might be an easy way to enforce the speed limits on the open highway. For example, if your car is detected in Dallas at noon and in Houston at 2:30 p.m., you were obviously speeding on I-45. Added 6/28/2012: A more likely scenario is a trip from Dallas to Houston starting at midnight, not noon. Presumably the state would rely on a series of documented sightings along the way (with accurate time stamps); otherwise, one mis-identified tag in Houston could get you in trouble, even if you never really left Dallas.
Also...
The link immediately above is no longer valid. Try this one:
Texas Bill Would Require Transponders in All Cars. A bill introduced in the Texas House of Representatives by Larry Phillips, Vice-Chairman of the Transportation Committee, would require electronic transponders to be built-into state automobile inspection stickers.
Electronic Vehicle Registration Picks Up Speed. In South Africa, at least 500,000 RFID tags are now being affixed to metal license plates to automatically identify vehicles and verify they are properly registered. Within the next two years, 10 million cars in that country are expected to sport electronic license plates. In Bermuda, meanwhile, more than half of the island nation's cars and trucks currently have RFID-enabled registration stickers attached to their windshields, and all of its trucks and cars — nearly 25,000 — are expected to have them by June of this year. Other countries — including Brazil, China, Dubai, India and Mexico — have either already begun implementing or are currently eyeing RFID-enabled vehicle identification and registration systems.
Georgia 400 To Upgrade Cruise Card eGo Tags. Georgia's State Road and Tollway Authority (SRTA), which operates the GA 400 toll road in Atlanta, will be the first toll facility within the continental United States to upgrade their radio frequency identification (RFID) toll collection technology to TransCore's paper-thin eGo® tags, a lower-cost, battery-less windshield sticker tag. Almost a million eGo tags are already deployed in transportation applications, including toll roads in Puerto Rico and Brazil.
TxDOT selects TransCore RFID for tracking and tolling throughout Texas. The Texas Department of Transportation (TXDOT) selects TransCore's eGo® Plus radio frequency identification technology for use in the area's Central Texas Turnpike Program, a $2 billion transportation initiative. The multimillion-dollar contract allows for the initial release of 500,000 eGo Plus tags, branded locally as TxTag, with a total of 2 million tags over two years. The Central Texas Turnpike Program was designed to increase mobility by adding capacity and reducing congestion in the region.
Trusted traveler toll road system means the government will decide if and where you travel.
NAFTA Superhighway RFID Card For US Citizens. US citizens will be forced to adopt a de facto national identification card and have their freedom of mobility defined by behavioural fielty to the government under proposals set to derive from NAFTA superhighway toll road systems and the implementation of the American Union. Existing toll road systems operational at US borders such as SENTRI/NEXUS and the FAST program mandate that passing vehicles are enrolled in RFID passive tracking and identification programs linked to central databases.
Did someone mention the NAFTA Superhighway?
Pike needs to play fare: Tolls for all or no one. So now the Massachusetts Turnpike Authority is thinking about setting up something called "open-road tolling," which means that instead of robbing you at tollbooths, they would record every driver's license-plate number and then rob them with monthly bills. This raises a couple of interesting questions.
Highway Tolls Key to New Jersey Debt, Spending Reform Plan. In his January State of the State address, New Jersey Gov. Jon Corzine (D) unveiled a long-awaited plan to capture the value of the state's toll roads. The state would receive approximately $38 billion in cash financed by the sale of bonds backed by toll increases. According to the plan, the cash would be used to significantly pay down New Jersey's $32 billion bonded indebtedness and finance transportation projects.
RFID: A Brief Technology Analysis. Radio frequency identification (RFID) systems have been deployed in limited numbers for years. Two of the most predominant have been in the form of toll road collection transponders and security badges. Toll road authorities around the country have equipped drivers with a transponder that is connected to their credit card. This allows them to pay their tolls at 40 miles-per-hour rather than stopping to throw quarters into a basket and slow the flow of traffic.
Skymeter: Skymeter's satellite data aggregation and price matching takes all of the pain out of getting a GPS billing feed [which] can be used for Road Use Charging, Pay as you go Insurance, Parking, and any application requiring payment for vehicle use.
Another new toll road, and another test:
Corvette breaks 200 mph on Texas toll road. A 700-horsepower Hennessey C7 Corvette Stingray became the first 2014 Corvette to break the 200 mph barrier. It happened on a newly created closed section of the Grand Parkway toll road outside of Houston, Texas. Highway 99 is slated to be opened to the public on Saturday [12/21/2013].
California License Plates May Go Digital. California drivers may soon come bumper to bumper with the latest product of the digital age: ad-blaring license plates. State lawmakers are considering a bill allowing the state to begin researching the use of electronic license plates for vehicles.
At Newark Airport, the Lights Are On, and They're Watching You. Visitors to Terminal B at Newark Liberty International Airport may notice the bright, clean lighting that now blankets the cavernous interior, courtesy of 171 recently installed LED fixtures. But they probably will not realize that the light fixtures are the backbone of a system that is watching them. Using an array of sensors and eight video cameras around the terminal, the light fixtures are part of a new wireless network that collects and feeds data into software that can spot long lines, recognize license plates and even identify suspicious activity, sending alerts to the appropriate staff.
E-ZPasses Get Read All Over New York — Not Just At Toll Booths. After spotting a police car with two huge boxes on its trunk — that turned out to be license-plate-reading cameras — a man in New Jersey became obsessed with the loss of privacy for vehicles on American roads. The man, who goes by the Internet handle "Puking Monkey," did an analysis of the many ways his car could be tracked and stumbled upon something rather interesting: his E-ZPass, which he obtained for the purpose of paying tolls, was being used to track his car in unexpected places, far away from any toll booths.
---
Editor's remarks:
Even the most gung-ho devotee of big government would have to be a little concerned about the potential for totalitarianism at this point, especially since privacy is not guaranteed. Wholesale monitoring of motorists on the streets and freeways is legal. The U.S. Supreme Court has said in two cases, U.S. v. Knotts and U.S. v. Karo, that Americans have no reasonable expectation of privacy when they're driving on a public street.* "Our commuting to and from where we live and work is not done clandestinely". [Webb v. City of Shreveport, 371 So. 2d 316, 319 (La. Ct. App. 1979).]*
It is interesting that, at least for now, TollTag users can (and do) drive at speeds considerably in excess of the posted speed limit, and even though the TollTag system recognizes those drivers as they enter and exit the highway (and many points along the way), the system is not used to generate speeding tickets. This, I suspect, is to avoid making the TollTag into an unpopular snitch, and to avoid revealing that capability before some appointed hour yet to come — perhaps after TollTags are mandatory; or more likely, when RFID devices are built in to every license plate or inspection sticker, or required as standard equipment on every new car.
Information about vehicle movements is collected and stored, at least for billing purposes. It is necessary to retain this information for some number of months, to resolve potential billing disputes. But there's no way to know whether the data is retained, archived, or sold to the highest bidder, or whether the information is shared with other government agencies in real time. The need for real-time sharing might arise during an Amber Alert or a manhunt, but when the police get comfortable with the use of that tool, the tags will probably be used to locate "deadbeat dads" and other petty criminals.
Incidentally, TollTags are vehicle-specific — they can't be shared, even between two cars owned by the same person.* There are now over 1,000,000 of these electronic transponders in operation in the North Texas area.*
The use of the TollTag may seem to be sheer luxury, but there are places around Dallas where a vehicle without such a tag must stop and pay a toll two or three times. This results in a little more risk, more gas consumption, and more wear and tear on the brakes at every stop. TollTag users are rewarded with a discounted toll rate as well. If I needed to travel on the North Dallas Tollway every day, I would probably get a TollTag for my car. But I think I would find a way to wrap the TollTag in aluminum foil when I wasn't on the tollway. That might not keep Big Brother from following me around, but there's no reason to make that kind of surveillance any easier.
---



License plate readers:

This subsection has moved to this page.

---
Other Related Information:
US Freedom Convoy Trucker Left Stranded After Penske Corporation Turns Off Power Remotely to His Rental Truck. Texas Trucker Jeff Sandberg was left stranded this week after Penske Corporation turned off the power remotely to his truck. Sandberg was heading to Washington DC with the Freedom Convoy truckers. Penske shut down his vehicle on the road and later released a statement on how the company does not support the freedom protests.
New Law Will Install Kill Switches In All New Cars. According to an article written by former U.S. Representative Bob Barr, hidden away in the recently passed infrastructure bill, the very one I warned before would negatively impact drivers across the country if it were to pass, is a measure to install vehicle kill switches into every new car, truck, and SUV sold in this country. The regulation likely won't be enforced for five years, so maybe there's time to do something about this. As we've seen both in this country and others recently, what constitutes "law-abiding" can change drastically overnight. For example, in September a car was pulled over in New Zealand and the occupants arrested when police discovered the trunk was full of Kentucky Fried Chicken meals. They were smuggling the fast food to customers in locked-down Auckland, against quarantine measures. Yet not too long before, delivering restaurant orders to people was considered a reputable, legal activity.
MTA not yet ready for a surge from congestion pricing toll complaints, IG says. The MTA is not ready to handle the influx of tolling complaints expected from congestion pricing, the authority's inspector general suggested Monday [12/27/2021]. Transportation Authority officials have done little to study the underlying causes of thousands of toll complaints and are playing catch-up to develop a "modern information system" by the start of Central Business District Tolling in 2023. MTA Bridges and Tunnels "does not have a reliable way to detect systemic issues," IG Carolyn Pokorny said. "This shortcoming puts the agency at risk of being ill-prepared to handle future CBD tolling complaints efficiently." IG staffers found several complaints originated with failure to accurately record license plates by the MTA's contractor Conduent. Yet MTA management's summary reports of complaints completely missed the prevalence of human error, the report said.
Cop with $15K in unpaid tolls, fees tried to dodge trouble by flashing NYPD badge. A detective who racked up more than $15,000 in unpaid tolls and fees was busted for driving his unregistered vehicle in Brooklyn — and tried to get out of trouble by flashing his NYPD badge, sources said. Det. Yosef Aisaa was stopped in his Land Rover by Bridge and Tunnel officers just before 3:30 p.m. on Tuesday [10/5/2021] after he crossed the Verrazzano-Narrows Bridge where cops spotted the unregistered vehicle, according to an MTA spokesman. The New York State DMV had stripped the cop of his registration for "persistent toll violations" that totaled $1,348.27 in unpaid tolls and $14,100 in fees, the spokesman said. But Aisaa, who is assigned to the 70 Precinct in Brooklyn, was "somewhat arrogant" when the Bridge and Tunnel officers told him they needed to impound his vehicle, MTA sources told The [New York] Post.
MTA missed out on collecting at least $56M in tolls over 22-month period. It's highway robbery — and the MTA doesn't even know the culprit. The authority is down at least $56 million thanks to "unbillable" tolls for which officials cannot find an address to mail the bill, State Comptroller Tom DiNapoli said Thursday [10/7/2021]. MTA Bridges and Tunnels was unable to send bills for six million crossings through from September 2019 to June 2021 — leaving millions of dollars uncollected, the comptroller's office said in a letter to the MTA following up on three-year-old audit into its cashless tolling. A huge chunk of the lost revenue — $33.9 million — stemmed from the MTA and its vendors not having agreements with other states' DMVs to access vehicle registration information, particularly for temporary plates.
MTA manager caught dodging tolls with illegally obscured license plate. An MTA supervisor who bragged to his co-workers about eluding bridge and tunnel tolls with an obscured license plate was demoted and required to pay restitution after an investigation by the authority's inspector general found he owed over $100,000 in tolls, penalties and fines. The bus supervisor — identified by sources as Aditya "Buddy" Samaroo, 44 — affixed a "cloudy, semi-clear plastic cover" onto his rear plate while forging a front plate entirely, IG Carolyn Pokorny said Monday. As a result, toll cameras failed to capture his plate number on 11 separate occasions during the course of the IG's seven-month probe.
Congestion tolls: NYC's new cash cow. New York will be one of a handful of international cities that will have a congestion tolling system, others of which include London, Singapore, Stockholm and Milan. Studies have shown that the systems in London and Singapore, for example, reduced passenger vehicles by 20 and 24 percent, respectively. The reason for imposing this new congestion-tolling program in New York is simple: more cash. This new tolling system that will surround midtown and downtown Manhattan was proposed this year by New York Governor Andrew Cuomo and approved by the State Legislature earlier this month. The actual cost of the tolls was nowhere included in the plan. Rather, an existing public authority is tasked to develop the system and figure out the necessary toll amounts on the estimated net number of cars and trucks in order to generate $1 billion in annual revenue.
Verrazzano-Narrows Bridge is now most expensive toll in US. MTA tolls went up Sunday [3/31/2019] at several city crossings, including the Verrazzano-Narrows Bridge, whose $19 one-way bridge toll, is now the most expensive in the country, according to WCBS. Those with E-Z passes will be charged $12.24 instead, an increase that tallies up to an extra $100 a year for a daily commuter to Staten Island.
New York State Considers Tax on Drivers Entering NYC. New York Gov. Andrew M. Cuomo (D) is considering a proposal to charge vehicles entering Manhattan. Citing a desire to alleviate traffic congestion and raise revenue for the Metropolitan Transit Authority (MTA), Cuomo's "Fix NYC" task force recommends charging cars $11.52, trucks $25.34, and taxis and ridesharing services $2 to $5 per ride to enter Manhattan. The proposal would make New York the first city in the United States to charge drivers for entering its downtown core. Drivers could avoid the fee only by entering Manhattan through either of the two city-owned East River bridges and bypassing the congestion zone. Cuomo convened the task force after declaring a state of emergency for New York's subway system last summer.
The Car of the Future Will Sell Your Data. Picture this: You're driving home from work, contemplating what to make for dinner, and as you idle at a red light near your neighborhood pizzeria, an ad offering $5 off a pepperoni pie pops up on your dashboard screen. Are you annoyed that your car's trying to sell you something, or pleasantly persuaded? Telenav Inc., a company developing in-car advertising software, is betting you won't mind much. Car companies — looking to earn some extra money — hope so, too.
Ohio Turnpike plans alerts system for tech-connected cars. Officials are planning a new system of travel alert information for part of the Ohio Turnpike near Cleveland with an eye toward a day when autonomous vehicles might regularly cruise the roadway. The Turnpike Commission will use roadside sensors and other technology to produce traffic and weather alerts that could serve self-driving vehicles, the Plain Dealer reported. For now, the data about factors such as foggy conditions and snowplow angles could serve newer vehicles equipped to receive digital short-range radio signals and display the results for drivers.
The Editor says...
Something tells me this system operates with two-way communications: They'll feed you the road conditions, Amber Alerts, and tornado warnings, while you feed them your license number, speed, and exact location.
School teacher nabbed for owing $28K in EZ Pass violations, police say. A public school teacher from Manalapan has been arrested for owing more than $28,000 in tolls and fees, according to Port Authority police. Mark Maliaros, 56, was arrested at around 6:30 a.m. on Wednesday [2/8/20178] after allegedly driving his 2016 Nissan pickup truck through the Outerbridge Crossing toll plaza without paying, police said in a statement. He was charged with petty larceny and obstructing governmental administration for allegedly owing $6,132 in tolls and $22,119 in fees, resulting from 513 violations, the statement said.
These stories seem to be coming out weekly now, and always from New Jersey.
Woman owes more than $9K in EZPass tolls, authorities say. A Newark woman racked up more than $9,000 in unpaid tolls, police determined Friday after stopping her at the mouth of the Holland Tunnel, authorities said. Jaclyn F. Kennedy, 26, was charged with theft of service and was issued traffic summonses after Port Authority of New York and New Jersey police stopped her in Jersey City in her 2010 Honda Civic, which had dark tinted windows, said Joseph Pentangelo, spokesman for the agency.
Police: New Jersey man owes more than $56,000 in tolls, fees. Transit police say they've arrested a New Jersey man [1/20/2017] who avoided paying tolls nearly 900 times and owes more than $56,000 in unpaid tolls and fees. [...] Authorities say the car was missing front and rear license plates, and a temporary New York tag inside the vehicle had expired.
Daily News reporter busted for $12K in unpaid tolls. A longtime Daily News sportswriter was busted Thursday [1/12/2017] on the Jersey side of the Lincoln Tunnel for allegedly having more than $12,300 in unpaid tolls and penalties, authorities said. Julian Garcia, 42, of Montville, NJ, was pulled over at around 5:30 p.m. — allegedly after trying to blow through another toll. Officers realized that he owed $12,300 in penalties and impounded his car, according to law-enforcement sources. The bald-headed scribe was charged with theft by unlawful taking and theft of services.
Toll for Virginia express lanes rises over $30 during evening rush hour. Drivers in northern Virginia, navigating the year's first snowfall, had the option to drive in the express lane during rush hour — but had to shell out $30 or more for the luxury. The news station showed a photo of a $30 charge Thursday [1/5/2017], reporting that a 36-minute trip cost over $45. There was no cap on how high the prices could fluctuate based on the real-time traffic demand, a spokesman for the company that manages the express lanes told Fox 5.
$200,000 in tolls lost in 3-day closure of Delaware Memorial Bridge lanes. The Delaware Memorial Bridge lost more than $200,000 in toll revenue when three lanes of one span were closed for emergency repairs in April, officials said Tuesday [5/17/2016]. [...] Suspender cables which connect the large support cables on the suspension bridge to the roadway were being replaced when workers found three in close proximity to one another that needed to be fixed immediately.
Toll hike hits today, will cost daily commuters at least $180 more a year. The cost of driving to New York for holiday cheer is going up again this year for New Jerseyans, when a third straight December toll increase went into effect this morning at Port Authority bridges and tunnels. [...] For motorists using E-ZPass, the extra 75 cents per trip into New York will raise the toll from $11 to $11.75, with the total annual amount of the hike coming to $180, based on 240 work days.
DOT Proposes Mandating Cars Broadcast Location, Direction and Speed. The National Highway Traffic Safety Administration, part of the Department of Transportation, published last week an "advanced notice of proposed rulemaking" on "vehicle-to-vehicle communications." What NHTSA is proposing could begin a transformation in the American transportation system that makes our lives better and freer — or gives government more power over where we go and when. In announcing its proposed rulemaking, NHTSA is stressing its intention to protect the "privacy" of American drivers.
The Editor says...
[#1] I'd rather be free than safe. [#2] The pencil-pushing do-gooders who come up with these wonderful ideas never seem to mention the cost or the feasibility of their projects. [#3] There isn't enough available radio bandwidth for a system like this, unless the big-money broadcasters are willing to give up the band from 54 to 88 MHz, formerly known as TV channels 2 through 6; and even then, that band is not especially well suited for much of anything other than broadcasting, which is why it is currently somewhat of a wasteland. [#4] This is not about safety, it's about surveillance and control.
It's not about public safety. It's all about raising money for the state government.
Oklahoma HB 2525. HB 2525 will allow police to pull you over... Not because you are speeding, not because you are driving erratically, but to check and see if your auto insurance is expired. In fact, it can be the primary reason you are pulled over. ... Plain and simple, HB 2525 is ripe for abuse and would let the police pull you over for any reason they wanted. All they would have to say is that they were checking to see if your insurance is current.
With trucker tolls on GWB rising to more than $100, some drivers say they'll avoid NYC. As toll increases go, the one that starts today is pretty moderate, at least for most of us: an extra 75 cents on your E-ZPass bill to drive a car across the George Washington Bridge. But truckers are being asked to dig a lot deeper — deep enough, they say, to cut into or even eliminate their profits. [...] It will now cost those who pay cash to cross in the biggest rigs more than $100, and all truckers are being hit for an extra $8 to $12 dollars [sic] per trip, even with E-ZPass.
Assemblyman says order for GWB traffic tie-up came from outside Port Authority. The George Washington Bridge lane closures that led to paralyzing gridlock in Fort Lee this past September were ordered by someone outside the Port Authority and possibly for "an improper motive," said the state lawmaker leading the investigation into whether the closings were politically motivated. "There are documents that we've received that would indicate that there was somebody else who initiated this," said Assemblyman John Wisniewski. "There are words that are used that would imply an improper motive."
Politically motivated traffic are probably more common than anyone knows.
Christie ally steps down in wake of George Washington Bridge scandal. Gov. Chris Christie's top appointee to the Port Authority of New York and New Jersey resigned Friday [12/13/2013] amid questions over whether he ordered a traffic jam at the world's busiest bridge as political payback. The Republican governor accepted the resignation of Bill Baroni, the agency's deputy executive director, effective immediately, and praised the former state senator's four-year stint at the bi-state agency.
Christie Aide: 'Time for Some Traffic Problems'. A top aide to Gov. Chris Christie told an executive at the Port Authority of New York and New Jersey it was "time for some traffic problems in Fort Lee" before the authority closed lanes onto the George Washington Bridge in September, triggering a week of massive traffic jams, documents show.
Emails Tie Top Christie Aide to Lane Closings, Despite Denials. Newly released emails and text messages show that Gov. Chris Christie's office was closely involved with lane closings on the New Jersey side of the George Washington Bridge in September, and that officials closed the lanes as retribution against the Democratic mayor whose town was gridlocked as a result.
NFC used in GeoToll's smartphone-as-tolltag, and in new Neology windshield tag. GeoToll's hardware will be a 6C chip with NFC and a special omnidirectional antenna for 902-928 MHz DSRC. Most smartphones now have NFC so the hardware can be integrated into smartphone operations without any wired connection. The GeoToll hardware (or 'firmware') will be housed in either a plastic protector/sleeve that fits around the phone, or in a sticker tag.
Neology Introduces Flexible Dual Frequency Electronic Toll Tags. Neology, a leader in secure high-value Radio Frequency Identification solutions, compliments recently announced dual technology hard case tags with NFC enabled Electronic Toll Sticker tags. The flexible, windshield mounted sticker tags include the same functional characteristics as the hard case tags, but offer the advantages of Neology's patented visual security features.
Report: NJ Turnpike 'most profitable' toll road in nation. The New Jersey Turnpike Authority collected $992 million in tolls last year, making it the most profitable toll road in the nation, according to the toll industry newsletter "Toll Roads News." Second was the Pennsylvania Turnpike, which collected $781 million in tolls in 2012. The Garden State Parkway was listed sixth on the list with $402 million in toll revenue collected last year.
Lawmakers Call for Abolishing 'Corruption-Infested' Pennsylvania Turnpike. Pennsylvania has two transportation agencies. One controls more than 40,000 miles of state roads and 25,000 bridges, and another maintains 545 miles of tolled highway. The former has seven executives, one for every 5,857 miles of roadway; the latter nine executives, one for every 60 miles of roadway. For a group of Republican lawmakers, this doesn't add up, especially when one of those agencies was the subject of a 44-month long grand jury investigation over alleged bid-rigging.
The Myth of the Falling Bridge. The nation would benefit from reordering its infrastructure priorities — away from new highways, for example, where we are already overbuilt and usage is falling for the first extended period on record. And we'd do well to take advantage of low interest rates and idle construction resources to knock out all of our future infrastructure needs. But the idea that the U.S. has an infrastructure crisis? No. A broad, permanent increase in spending is unwarranted.
Surface Transportation Newsletter #107. [Scroll down] Frankly, with the rapid emergence of all-electronic tolling, the simplest and fairest way to implement tolling to finance Interstate reconstruction and modernization is to equip only the on-ramps and off-ramps. That way, customers of the Interstate would pay for exactly the number of miles they drive — no more and no less. That model was first introduced way back in 1997 on Highway 407ETR near Toronto, and has worked well ever since. This would be a great way to pioneer mileage-based user fees on America's most important highway system.
Court Rules Motorists Can Be Detained For Paying By Cash at Toll Booths. The Eleventh Circuit US Court of Appeals has ruled that private contractors operating toll roads on behalf of the state have the power to detain and store records on motorists who pay by cash at toll booths — another example of how using cash is increasingly being treated as a suspicious activity.
Highway Toll Issue Prompts Hearing by U.S. Senate. Highway toll revenues are increasingly being diverted to pay for projects and other expenses unrelated to roads, bridges, and tunnels used by motorists who pay the tolls, the nation's largest auto club says. The diversion of tolls for unrelated projects undermines the "user pays" principle behind transportation tolls and weakens public support for them, said Chris Plaushin, director of federal relations for AAA, during testimony at a hearing of the federal Highway Subcommittee of the Senate Commerce, Science, and Transportation Committee.
For non-E-ZPass users on Pa. Turnpike, a surcharge may lie ahead. The Pennsylvania Turnpike's plan for all-electronic tolling envisions a 76 percent surcharge for motorists who don't use E-ZPass devices. That means a trip across Pennsylvania from Ohio to New Jersey that costs $30.17 with E-ZPass would cost $53.10 for a driver who would be billed by mail. The turnpike is moving to do away with all toll booths and instead charge drivers as they pass at highway speed under overhead gantries equipped with electronic readers and cameras.
Port Authority unfairly fast-tracked toll hikes, report says. The Port Authority fast-tracked the approval of multiple toll hikes — the third of which is only three months away — without giving the public enough notice or input, the investigative arm of Congress said in a report released Friday [9/13/2013]. The study by the Government Accountability Office backs up critics who complained about the single day of public hearings in 2011 that preceded a quick vote on the largest toll increase in the agency's history.
Georgia's tolling nightmare. Virginia is sticking stubbornly by its unpopular decision to convert Interstate 95 into one big toll road. The idea is to double-tax drivers from the North Carolina border all the way up to Stafford County and then have high-occupancy toll (HOT) lanes take over up to Interstate 395. The commonwealth's residents instinctively know this is a dumb idea.
Gov't cameras in your car? E-toll patent hints at Big Brotherish future. Imagine that you couldn't drive on major highways without agreeing to put a camera in your car — one that could film either the occupants or the vehicle's surroundings and transmit the images back to a central office for inspection. You don't have to read George Orwell to conjure up such an ominous surveillance state. You just have to skim through filings at the U.S. Patent Office. It's hard to imagine Americans would tolerate such a direct, Big-Brotherish intrusion. But they might not notice if the all-seeing cameras were tucked inside another kind of government tracking technology that millions of Americans have already invited into their cars.
This Toll Tolls for You. Virginia's 17.5 cent a gallon gas tax has not been raised since the mid-1980's and prospects for an increase in this century are dim even though a gas tax is a reasonable pay-as-you-go user fee on highways. Morally superior types who operate granola-burning vehicles or only drive two days per week — to allow their electric vehicles time to recharge — will hardly pay anything at all. While modern day road warriors will pay their fair share. Unfortunately drivers are deadlocked between Republicans who won't raise taxes a penny and Democrats who won't cut spending by a penny.
Atlantic City Expressway cracking down on toll cheats. The South Jersey Transportation Authority, which operates the highway, tells The Press of Atlantic City the agency uses license plate photos to track down violators.
Not so HOT lanes. Virginia is trying to pull a fast one on motorists who live along the Interstate 95/395 corridor, and we all will be moving slower and paying more as a result. By summer's end, the Virginia Department of Transportation (VDOT) hopes to close on a second financial deal for a high-occupancy toll road, known as HOT lanes. The latest plan effectively hands ownership of Interstate 95/395 to a foreign corporation for the next 80 years.
Tolls are no sweat for tollway workers. More than 1,400 employees of the Illinois Tollway, nearly 90 percent of the agency's work force, get a little-known bonus: toll-free traveling to and from their jobs. And 55 of the agency's top executives and "critical" officials get another fringe benefit: free round-the-clock use of a tollway-owned vehicle for commuting and work-related activities.
The trouble with tolls: A toll-road project in San Diego, once held up as a model of the "innovative" public-private partnerships, collapsed last week. The South Bay Expressway filed for Chapter 11 bankruptcy protection after being open for business less than three years.
New Toll Lanes Allow Drivers Pay to Avoid Congestion. Transportation agencies are increasingly looking to reduce congestion and make more use of sometimes under-utilized high-occupancy vehicle (HOV) lanes. Some are developing plans to allow vehicles that don't have the required number of passengers to use the lanes if they are willing to pay.
$700 million eyed for toll projects. The Texas Department of Transportation has set aside more than $700 million in economic stimulus funds for toll road projects across the state, sparking criticism and questions about whether the pay-to-drive roads are an appropriate use of the federal dollars.
City adding more cop car cameras. The city [of Temecula, Califoria] has invested more money in a camera system for Temecula police cars that law enforcement authorities credit with boosting the number of stolen vehicles recovered by the Police Department. The system, which links cameras positioned on a patrol car like a three-eyed sentry to a database, works by matching captured images of vehicle license plates with a registry of plates linked to wanted vehicles.
Texas Cities Could Restrict Car Traffic. How the city ordinance would work: Companies with 100 employees or more would be asked to commit to reducing their employees' single-occupancy vehicle trips by anywhere from 5 percent to 10 percent. Employers would be expected to provide incentives to encourage employees either to use mass transit, car pool or walk or bike to work, or work from home or compress the work week when major improvements or new construction is planned or under way.
Toll road cameras looking beyond scofflaw drivers. Harris County Toll Road Authority cameras are now on the lookout for more than just those drivers who blow through EZ Tag lanes without paying. County authorities promise new, upgraded cameras can help catch murderers and other violent criminals. The cameras have the capability to search their databases and issue alerts to county dispatchers when a wanted criminal crosses their lenses. ... The system, which has been operating for about a month, has proved so promising that the Houston Police Department wants a piece of the action.
Big Brother? — Area cameras would record all license plates. If recent grant applications win approval, all vehicles traveling on certain local traffic arteries would have their license plates automatically recorded and checked against a U.S. criminal records database. A surveillance system would run every plate number through the National Crime Information Center, a computerized index maintained by the FBI. If the number matches someone with an outstanding warrant, or a criminal record, or perhaps just a person of interest in a local investigation, police would be alerted.
For Whom the Booth Tolls. Angry lawyers and privacy advocates argued that the Smart Tag system could be used against customers by law enforcement. The Virginia Department of Transportation promised in several public statements that the system would be used only for toll collection purposes. That promise turned out to be a lie. Recent court actions forced the state to reveal that the Smart Tag system had been used by law enforcement for surveillance.
The Prospect of Variable Toll Collection on the Obama Highway. Laura Elizabeth Morales has humorously suggested that if there is to be a highway named after Mr. Obama, it should be a toll road. (I would suggest perhaps a toll road that runs headlong into an inescapable abyss, a black hole, or an enormous pit of quicksand.) Ms. Morales further suggested that the toll should "increase with a driver's income." That's an amusing quip, but upon further consideration, such a system is not impossible.
Road Tolls Hacked: Hacking the FasTrak wireless transponders. A researcher claims that toll transponders can be cloned, allowing drivers to pass for free.
No Place to Hide. Government agencies have been collecting tolls forever at bridges, some highways, and on ferries. Until the early 1990s, the vast majority accepted only coins and currency. The point was to collect money. Now the role of tollbooths is evolving. More and more, they're also becoming a matter-of-fact part of a security and law enforcement infrastructure as digital checkpoints. Cameras are often pointed at drivers' faces and their license plates. When drivers use an electronic transponder such as E-ZPass to automatically pay the tolls, they're also handing over information about themselves.
There's one set of laws for us, and another set of laws for them.
Special license plates shield officials from traffic tickets. It's 1:45 p.m. on a Wednesday in February and a Toyota Camry is driving west on the 91 Express Lanes, for free, for the 470th time. The electronic transponder on the dashboard — used to bill tollway users — is inactive. The Camry's owners, airport traffic officer Rudolph Duplessis and his wife, Loretta, have never had a toll road account, officials say. They've never received a violation notice in the mail, either. Their car is registered as part of a state program which hides their home address on Department of Motor Vehicles records. The agency that operates the tollway does not have legal access to their address.
It's the law: Washington state lawmakers don't get speeding tickets. A spokesman for WSP says Washington lawmakers are constitutionally protected from receiving noncriminal traffic tickets during a legislative session, as well as 15 days before.
Illinois deploys Captain Tollway. Illinois Tollway has rolled out a goofy looking icon-figure they're dubbing Captain Tollway. Musclebound, in some kind of boxing attire plus cape in a Superman allusion, the Captain is supposed to help instruct motorists on profound stuff like planning your summer journey by checking on road conditions, the location of service plazas and the standing of your transponder account before setting off.
US Court rejects TransCore complaint against ETC on open road tolling. US District Court in Dallas has dismissed with prejudice a lawsuit by TransCore against ETC alleging infringement of open road tolling patents in the E-ZPass area. TransCore alleged in their suit that ETC improperly used methodologies they owned through patents for open road tolling with the IAG's Mark IV transponders and readers. The case arose when ETC gained the contract to convert some 20 mainline toll plazas on the Illinois Tollway system to open road tolling in mid-2005. TransCore maintained that ETC should have negotiated a license agreement with them.
Editor's note:
Apparently ETC means Electronic Transaction Consultants.
Wholesale Automobile Surveillance Comes to New York City. New York is installing an automatic toll-collection system for cars in the busiest parts of the city. It's called congestion pricing, and it promises to reduce both traffic and pollution. The problem is that it keeps an audit log of which cars are driving where. London's congestion pricing system is already being used for counterterrorism purposes — and now for regular crime as well. The E-Z Pass automatic toll collection system, used in New York and other places, has been used in both criminal and civil trials: in one case to prove infidelity in divorce court.
Electronic Toll Collection and Violation Enforcement. Whether created by a legislature or an agency, any toll enforcement and data system in the United States operates under two primary constitutional and statutory restraints: (1) the separation and limitations of executive, legislative, and judicial powers under federal and state constitutions and (2) the preservation of individual liberty and due process rights.
Electronic Toll Readers & Traffic Surveillance Cameras. Electronic toll readers, such as the EZ Pass system, gather account information about drivers who use toll roads. … In fact, most people do not know that electronic tolling is only a small part of a much larger Department of Transportation Intelligent Transport System. The EZ Pass technology can be used not only for toll collection, but for automated vehicle registration and identification.
In Australia...
Separate fast lane for rich — bridge toll plan. A former NSW transport chief wants to sell spare capacity in a Sydney Harbour Bridge bus lane to wealthy drivers in a hurry. Former Roads and Traffic Authority director Ken Dobinson has proposed opening the bridge's southbound bus lane to drivers who would pay a special staggered toll of $5, $10 or as much as $20 for a faster crossing, Fairfax reports today. The rate would go up as more regular cars joined the flow of buses and taxis.
Efkon Announces HOT Technology for Electronic Tolling. Some tolling agencies have begun converting high-occupancy vehicle (HOV) lanes into high-occupancy toll (HOT) lanes. HOT lanes allow multiple-occupancy vehicles free access during off-peak times of the day, while charging all vehicles during peak-usage hours to maximize traffic flow and encourage ride sharing.
The real toll is your privacy. In the 12 states in the Northeast and Midwest that are part of a regional turnpike authority, if the traveler uses what is termed an "E-Z Pass," the state highway authorities have a far more robust record of the motorists' driving histories. The governments in those states would have a record of the dates and times the motorist entered and exited the toll road, as well as the speed at which they drove (easily calculated based on distance traveled and entry and exit times).
Toll data nabs unfaithful spouses. Adulterers, beware: Your cheatin' heart might be exposed by E-ZPass.
EZ-pass evidence and the law: A woman accused of killing her husband was convicted after New Jersey prosecutors reconstructed her movements. Examining E-ZPass records, investigators pieced together the driving route of a missing Baltimore federal prosecutor who later turned up dead. Prosecutors in a New York City murder trial discredited a suspect's alibi.
The Fourth Amendment and the Reasonable Expectation of Privacy: How does one establish whether, in a given instance, one's expectation of privacy is "reasonable"? The criteria are as follows: 1) general legal principles; 2) the vantage point from which the surveillance is carried out; 3) the degree of privacy afforded by certain buildings and/or places; and 4) the sophistication and invasiveness of the surveillance technology employed.
---
"The makers of our Constitution … conferred, as against the government, the right to be let alone — the most comprehensive of rights and the right most valued by civilized men. To protect, that right, every unjustifiable intrusion by the government upon the privacy of the individual, whatever the means employed, must be deemed a violation of the Fourth Amendment."
---
German rubbish piles up due to due to toll-system problems. After a shaky and expensive start, it seems as if the automatic toll-collection system for trucks on the German Autobahn (freeway or turnpike, depending on if you are a car or a truck) is more or less working. Unless you happen to be the Ferdinand M?nnich Waste Disposal company in Lippstadt. Our local newspaper, the Neue Westfalische Zeitung, reported on the 10 July 2007 that their truck fleet was immobilised, pretty much from one second to the next, as the newspaper put it, at about 10 am on 19 March. At that point, the company received phone calls from six of its drivers who were somewhere in Germany on the Autobahn. Their on-board toll machines were turned off, because the company's credit limit was exceeded.
RFID in British License Plates. The British government is testing a scheme to put active — the kind that are independently powered — RFID chips in automobile license plates. They can be read at least 300 feet away, and probably much, much further.
Toll enthusiasts can hit the road. If Pennsylvanians want to charge tolls on the roads they built with their own money, such as the Pennsylvania Turnpike, that's none of my business. But I-80 was built with my tax dollars under a program begun by the esteemed Republican president Dwight Eisenhower. Now this Democrat [Pennsylvania Gov. Ed Rendell] wants to use the road as a cash cow.
Toll lanes on fast-track as planners plot L.A. freeway demise. Transportation planners are moving quickly to take the "free" out of Los Angeles freeways. Toll lanes on three freeways during morning and evening commuter rush hours could become reality by spring 2009 if the Metropolitan Transportation Authority gets a $648 million federal grant.
Big Brother is keeping tabs on satnav motorists. A secret 'Big Brother' operation is allowing officials to pinpoint the exact location of thousands of vehicles with satellite navigation systems. The controversial scheme is built into the small print of a contract between the Department for Transport and the satnav company Trafficmaster. Currently the 'spy in the sky' system is limited to some 50,000 drivers who have Trafficmaster's Smartnav system.
GPS helps cities catch goof-offs. GPS tracking devices installed on government-issue vehicles are helping communities around the country reduce waste and abuse, in part by catching employees shopping, working out at the gym or otherwise loafing while on the clock. The use of GPS has led to firings, stoking complaints from employees and unions that the devices are intrusive, Big Brother technology. But city officials say that monitoring employees' movements has deterred abuses, saving the taxpayers money in gasoline and lost productivity.
Somewhat related...
Driver Blames GPS System For Car-Train Collision. On the evening of 10 Nov 2008, a man's car got stuck on the Metro-North tracks in Bedford Hills, N.Y. in Westchester County because he said his GPS told him to make an immediate right turn. ... Metro-North spokeswoman Marjorie Anders said, "You don't turn onto train tracks. Even if there are little voices in your head telling you to do so. If the GPS told you to drive off a cliff, would you drive off a cliff?"
Drivers to see major toll hikes. From the Golden Gate Bridge to the New Jersey Turnpike, the nation's toll booths are getting dramatically more expensive to drive through. … Big toll hikes are planned for most of the nation's signature toll roads, bridges and tunnels. The increases would add dollars, not cents, to the cost of passing through many toll booths.
Toll lanes set for freeways by 2010's end. Days of free and open roads are dimming in Los Angeles after the federal government offered $213.6 million to launch a one-year toll road pilot program by the end of 2010 in an effort to boost speeds on three sluggish freeways. … The toll lanes are designed to enforce congestion pricing, a strategy that aims to make driving freeways more expensive during peak traffic times so noncommuters will stay off the roads during rush hours.
Congestion problems are solved! Matthew Kitchen … was the main author of the Puget Sound Regional Council study that stumbled on the solution to all our traffic issues. Ready? Tolls. Tolls on every freeway. Tolls on just about every major arterial, just about everywhere. It's genius. Simply put an end to congestion by making it too expensive for people to drive!
License plate recognition tools led to abduction arrest. The swift arrest of a San Jose man in the abduction of a 12-year-old girl this week was aided by an eye-opening gadget that can scan the license plates of a street full of cars and instantly alert police to which vehicles have been reported stolen. It was a breakthrough moment for license plate recognition, a technology that is spreading to law enforcement around the Bay Area — and is prompting privacy concerns.
Texas Turnpike now NTTA recognized as pioneer in transponder tolling History. [RFID] tags were sufficiently developed to be adopted in the closed environment of freight railroads by the mid-1980s but they always foresaw the main application being in eliminating the need for cash handling on tollroads. Jerry Landt, the only one of the original five pioneers still at TransCore — he is chief scientist — recalls that the only way they could get transponders adopted by a toll authority was to offer the first one a no-risk/no-investment deal.
Stopping cars with microwaves: The system, which can be attached to an automobile or aircraft carrier, sends out pulses of microwave radiation to disable the microprocessors that control the central engine functions in a car. Such a device could be used by law enforcement to stop fleeing and noncooperative vehicles at security checkpoints, or as perimeter protection for military bases, communication centers, and oil platforms in the open seas.
Toll equipment double-billed 50,000 times. A glitch in the equipment on three Austin roads has caused about 50,000 double-billings since charges began in January, Texas Department of Transportation officials said Monday [10/8/2007]. The problem has occurred one of every 600 times a car passed one of the roads' tolling points.
[For some informative commentary on the story above, read this.]
French speed camera saboteurs demand ransom to halt attacks. French anti-terrorist police are hunting a "guerrilla" organisation that is blowing up speed cameras and demanding a ransom from the State.
The Editor says...
I wouldn't recommend such violence in this country. If you like explosives so much, join the Army.
Fast and Safe. New Zealand traffic management has been controlled by our one-eyed Land Transport Safety Authority — claiming to be focused solely on safety but in practice captured by the police and other suppliers of enforcement services and equipment. The LTSA celebrated lowering average speeds and removing flexibility by making all traffic travel at the same speed — usually at the lowest common denominator. It continually increased costs for travelers both indirectly through time-wasting and directly through charges and fines. … Bureaucracies don't care about costs, value, efficiency or freedoms. They seek control and power.
Shockwave traffic jam recreated for first time. Traffic that grinds to a halt and then restarts for no apparent reason is one of the biggest causes of frustration for drivers. Now a team of Japanese researchers has recreated the phenomenon on a test-track for the first time. The mathematical theory behind these so-called "shockwave" jams was developed more than 15 years ago using models that show jams appear from nowhere on roads carrying their maximum capacity of free-flowing traffic — typically triggered by a single driver slowing down.
Toll Road Checkpoints to Deal With Dissenters. Tony Blair's toll road surveillance and taxation grid is to be enforced by a new cadre of jackbooted inspectors who will be given powers to stop and search vehicles where owners are suspected to have removed their tracking tags. Arguing with the officials will be punishable by a 6 month prison sentence, according to a leaked government memo.
Nissan GT-R sports car recognizes racetrack coordinates. The onboard navigation system watches your speed via GPS and recognizes popular racetrack locations. You must scroll through a series of menus and agree to disable the 180 kph (111 mph) speed limiter. Then after thrashing it on the track, you must take it for a $1000 Nissan High Performance Center safety check or the warranty is void.
Taking a toll on the people. Once I escaped — and, yes, it really does feel like an escape — the bounds of northeastern road-policy cruelty, well … ah. I'd just have to get beyond the $6.45 New Jersey Turnpike toll (which NJ's "Governor" Corzine aims to raise precipitously), $3.00 Delaware Memorial Bridge toll, $4.00 Delaware Turnpike toll (35.7 cents per mile), and it was smooth sailing. Oh, I know I may be forgetting a toll, and I should also mention that on the return trip I could look forward to the $5.00 John F. Kennedy Memorial Highway toll and $6.00 GWB fleecing.
10 Mass Pike collectors charged with toll theft. The AP is reporting that Massachusetts state police are charging ten current and former toll collectors of the Massachusetts Turnpike Authority with theft of tolls. A Suffolk District Attorney is quoted as saying that the charges are the result of a seven month long investigation. The toll collectors were taking … between $20 and $150 per shift.
TxDOT gives up on toll financing for Trans Texas Corridor 69. In a further retreat before anti-road activists and a hostile legislature Texas Department of Transportation (TxDOT) has abandoned Trans Texas Corridor 69, acknowledged there will be no significant toll financing, and abandoned consideration of any new routing. Only existing surface arterial roads will be upgraded. TxDOT is increasingly dropping use of the prefix TTC (Trans Texas Corridor) and using the term I-69 for the road, though much of the road will never meet interstate standards.
NTTA bumps up prices at Wycliff main plaza. The NTTA says TollTag customers, who were paying 60 cents at Wycliff, will be paying 70 cents at the same main gantry. In addition, ZipCash customers will be paying $1, a 25-cent increase from the 75 cents they were paying before completion of the project.
The Editor says...
In other words, the toll for the same trip that used to cost 25 cents (then 50, then 75) will increase to one dollar, starting October 1, 2008. This increase comes after the NTTA automated the attendants out of their jobs and started offering incentives to use a TollTag. Incidentally, for those of you visiting this web site from elsewhere in the country, the Wycliff toll plaza is the first stop on the Dallas North Tollway as you go north from downtown Dallas. If you just go from downtown to the Wycliff exit, the toll is not too much. The one-dollar fare will get you about ten miles — up to I-635.
For Whom The Turnpike Tolls. Tolls are appropriate because they are imposed directly upon travelers for their use of roads. However, the plan to toll I-80 represents more than a toll. It is also a tax on drivers because more than $160 million in toll dollars from the highway will be funneled to mass transit systems, primarily in Philadelphia and Pittsburgh. Taxing drivers in the northern tier to subsidize mass transit users in the southeast and southwest is bad public policy.
One day it's free, and the next day it's a toll road.
HOV lanes will change to toll lanes on I-77. The state [of North Carolina] plans to convert Interstate 77's high-occupancy vehicle lanes into toll lanes and extend them to Exit 28 in Cornelius, the chairman of the Lake Norman Transportation Commission announced Wednesday night [5/11/2011].
Whopping new tolls take effect on New Jersey-New York roadways. $12 for a ticket to New York City! But there's a catch: the fare is for drivers entering Gotham via bridges and tunnels from New Jersey, and it's the wallet-busting toll that replaced the $8 fare over the weekend ... The new toll affects two tunnels and four bridges: Holland Tunnel, Lincoln Tunnel, George Washington Bridge, Goethals Bridge, Bayonne Bridge and Outerbridge Crossing.
Parkway, Turnpike commuters brace for 50 percent increases. Beginning at 6:30 a.m. on Jan. 1, the average passenger vehicle toll will rise from $2.20 to $3.30 on the Turnpike and 70 cents to $1.05 on the Parkway. The average truck toll will increase from $7.95 to $12.15 on the Turnpike and $1.40 to $2.15 on the Parkway. A passenger vehicle trip from Turnpike Exit 14 in Newark to Exit 9 in East Brunswick will jump from $2.85 to $4.35.
Toll Roads and Double Taxation: The Left and Libertarians Converge. Toll roads are appealing to many on the right, because the fees don't look like taxes; motorists are charged for the voluntary action of driving on a specific road. Toll roads appear to be run by private entities, not the government. [...] There are now 5,244 miles of toll roads in the U.S., operating in 35 states. It is an illusion that toll roads are a free market way to solve a growing government expense. Toll road contracts are set up as public-private partnerships, which are not the same thing as privatization.
Car hacked: No minor prank. The hackers, Charlie Miller and Chris Valasek, have been conducting government-funded research into the security of smart auto systems. They were able to take control of the Jeep from 10 miles away. Some 471,000 cars on the road are vulnerable to such attacks, they estimate. Their experiment should serve as a wake-up call to car manufacturers — and everyone else.
Hackers Remotely Kill a Jeep on the Highway — With Me in It. Though I hadn't touched the dashboard, the vents in the Jeep Cherokee started blasting cold air at the maximum setting, chilling the sweat on my back through the in-seat climate control system. Next the radio switched to the local hip hop station and began blaring Skee-lo at full volume. I spun the control knob left and hit the power button, to no avail. Then the windshield wipers turned on, and wiper fluid blurred the glass. As I tried to cope with all this, a picture of the two hackers performing these stunts appeared on the car's digital display: Charlie Miller and Chris Valasek, wearing their trademark track suits. A nice touch, I thought.
Hackers take control of a Jeep Cherokee and crash it into a ditch. Hackers took control of a car and crashed it into a ditch by remotely breaking into its systems from 10 miles away whilst sitting on their sofa. In the first such breach of its kind, security experts cut out the engine and applied the brakes on the Jeep Cherokee — sending it into a spin. The US hackers said they used just a laptop and mobile phone to access the Jeep' s on-board systems via its wireless Internet connection.
Car Hacking: What Every Connected Driver Needs to Know. Many new cars are equipped with wireless technology that can make a driver's time on the road more stress-free and entertaining, but the technology can also bring a dark side. Two hackers were able to take control of a connected Jeep Cherokee from their living room as a Wired reporter, who agreed to be their test case, drove the SUV down the highway at 70 mph, according to the article.
The Editor says...
The two articles immediately above show how a vehicle can be sabotaged, tampered with, or brought to a halt through a wireless internet connection. The ramifications should be obvious to everyone who has read most of this page: It won't be long before such a wireless connection will be standard equipment, and not long after that it will be required. Why? This is the most effective way to collect overdue payments from tax cheats, "deadbeat dads," and toll road freeloaders! When you drive on a federal highway 20 years from now, and you owe the government money, don't be surprised if your car slows to about 20 mph as it approaches Checkpoint Charlie in the middle of nowhere. At that point, what are you going to do — walk home? Run? Call your lawyer on your suddenly disabled cell phone? Orwell was right all along.
State-owned message boards
The remotely-programmable messages boards seen on some highways are just another distraction. The estimated travel times displayed on the dynamic message signs are usually shown when traffic is light, and any local driver could give you the same (or better) estimate. At other times, the "dynamic" signs are used to display insipid slogans like, "Click it or ticket." They're just another distraction on the freeway — a colossal waste of money.
The message boards occasionally (rarely) put up information about a wreck or congested area up ahead, but aside from the "Drive friendly" place-holder messages, they are also used sometimes to publicize Amber Alerts or information about missing elderly people. This, in my opinion, is not done to generate leads and tips, but is instead being done to give the impression that the police are in need of input from random citizens who may have seen something the cops missed, when in reality the police probably have much better sources of information that they'd rather not publicize, such as license plate readers, toll tag readers, and cell phone triangulation.
But wait... it will get worse. Since we all tolerated the public service announcements without too much fuss, the next step is obvious:
California mulls ads on road alert signs. Highway alert signs that warn motorists nationwide of delays and hazards could start to display a new, potentially distracting feature — advertising. The California Department of Transportation may become the first state to puts ads on its alert signs along state and federal highways.
Big Brother won't let you watch television while you drive — unless he owns the big-screen TV set and profits from the advertisements. The states would never allow a private company to put billboards directly over the freeways, but if Big Government does it, who's going to complain?
California License Plates May Go Digital. California drivers may soon come bumper to bumper with the latest product of the digital age: ad-blaring license plates. State lawmakers are considering a bill allowing the state to begin researching the use of electronic license plates for vehicles. The device would mimic a standard license plate when the vehicle is moving but would switch to digital messages when it is stopped for more than four seconds in traffic or at a red light.
The Editor says...
Isn't California where all those "urban blight" activists live, who hate to see advertising all over the landscape? The people who hate to see others stoop to the level of "anything for a buck"? Apparently it's okay for big government to be so mercenary. It sounds as if the advertising is going to be on every license plate, and the products or services thus promoted will be chosen by the state. What if the state decides to advertise something the driver finds repugnant? How will the driver know?
The Dehumanization of the Non-Compliant. On a major highway here in western Montana, there's a blinking sign like those generally used in construction zones. Usually these signs tell you to slow down or move over for a closed lane. For the last several months, however, it's had a different message. "Wear masks," it blinks. "Be kind." The message is clear. If you do not wear a mask, you're not being kind. And unkind people are bad people.
Miami highway sign hacked to read 'Arrest Fauci'. A hacker in Florida reprogrammed a digital highway sign to share COVID-19 conspiracy theories and a plea to can the nation's top infectious disease expert. A sign on State Road 836 in Miami read "Arrest Fauci," "COVID-19 was a hoax" and "vaccines kill," on Tuesday morning, according to NBC 6 South Florida. Officials had turned off the messages by mid-morning, according to the outlet. The prank comes as Dr. Anthony Fauci, who has served as chief medical adviser to the last seven presidents, continues to defend himself against critics who claim his messaging was inconsistent during the pandemic.
OnStar:
A system like OnStar is now mandatory in Europe.
All cars must have tracking devices to cut road deaths, says EU. All new cars will within three years contain tracking devices that alert the emergency services in the event of an accident. Under EU laws passed on Tuesday [4/28/2015] the technology will be compulsory from 2018 and fitted as standard in every model of car and small van. A serious crash will prompt an automatic call to the nearest emergency centre. Even if nobody in the vehicle is able to speak, the device will still relay the exact location, time, direction of travel, the scale of the impact and whether airbags have been deployed. Drivers will also be able to push a button inside their car to make a call if they have witnessed an accident and are in unfamiliar surroundings.
OnStar Tracks Your Car Even When You Cancel Service. Navigation-and-emergency-services company OnStar is notifying its six million account holders that it will keep a complete accounting of the speed and location of OnStar-equipped vehicles, even for drivers who discontinue monthly service. OnStar began e-mailing customers Monday about its update to the privacy policy, which grants OnStar the right to sell that GPS-derived data in an anonymized format.
"Government Motors" To Track Drivers With OnStar, Sell Data to Police. The navigation company OnStar is attracting strong criticism after announcing last week that it would continue to monitor drivers' speeds and GPS locations — and sell the information to third parties such as law enforcement — even after customers end their contracts. Outrage ensued and even U.S. lawmakers have now entered the fray. OnStar is a subsidiary of General Motors, which is still partly owned by the U.S. and Canadian governments after receiving billions in bailouts.
Update:
Facing possible inquiry, OnStar drops 'Big Brother' plans. Facing intense criticism from Capitol Hill and calls for a government investigation, General Motors' OnStar division has dropped plans that would have allowed it to track detailed personal driving information about both current and former subscribers. The telematics subsidiary had advised users that it was changing its terms and conditions to permit it to track a vehicle's speed, location and other data including whether or not a motorist was wearing a seatbelt.
Senator Wants Investigation of OnStar's 'Brazen' Privacy Invasion. New York's senior senator Charles Schumer wants the feds to investigate OnStar's controversial new privacy policy, and demanded the Detroit navigation-and-emergency company refrain from monitoring vehicles after customers cancel service. "By tracking drivers even after they've cancelled their service, OnStar is attempting one of the most brazen invasions of privacy in recent memory," Schumer, a Democrat, said in a statement Monday [9/26/2011].
OnStar Begins Spying On Customers' GPS Location For Profit? I canceled the OnStar subscription on my new GMC vehicle today after receiving an email from the company about their new terms and conditions. While most people, I imagine, would hit the delete button when receiving something as exciting as new terms and conditions, being the nerd sort, I decided to ... read it instead. I'm glad I did. OnStar's latest T&C has some very unsettling updates to it, which include the ability to now collect your GPS location information and speed "for any purpose, at any time". They also have apparently granted themselves the ability to sell this personal information, and other information to third parties, including law enforcement.
Sci Fi No More: Cars That Fight Thieves. Say some clown steals your car from the parking lot while you are hard at work. If it's equipped with General Motors' OnStar service, he could be in for a big surprise and you could get a little revenge — and even see your car again. Starting with about 20 models for 2009, the service will be able to slowly halt a car that is reported stolen, and the radio may even speak up and tell the thief to pull over because police are watching.
The Editor says...
I've read a lot of rumors on the internet about the capabilities of the OnStar system, and "certain restrictions" that apply when you use the service. Apparently OnStar can do a lot more than the company wants the customers to know, but for the moment that's all I'm saying. Well... I'll say this: I would never purchase a car with OnStar installed.
Stalling Cars Via OnStar: A Hacker's Dream Come True? Ready to turn over the keys of your vehicle to the cops, or that clever hacker in the next lane? How about that creepy guy following you on a lonely country road? GM apparently plans to perhaps make this all possible. It's been announced that they'll be equipping nearly two million of their 2009 model vehicles (that have OnStar installed), with the capability to be remotely shut down to idle via OnStar commands at the request of law enforcement.
Device can remotely halt auto chases. Police will be able to remotely halt high-speed pursuits with technology being unveiled Tuesday that aims to cut chase-related deaths. General Motors (GM) plans to equip 1.7 million of its 2009 model vehicles with the system that allows pursuing officers to request that engines of stolen cars be remotely switched off through the OnStar mobile communications system.
OnStar Stolen Vehicle Slowdown hits the brakes on jacked cars. Although OnStar has offered Stolen Vehicle Location Assistance to its subscribers since 1996, the firm is getting set to add a snazzy new enhancement for 2009 vehicles. The feature, dubbed Stolen Vehicle Slowdown, can use GPS to pinpoint a vehicle once it has been reported as stolen, and after OnStar confirms with local police that it has the vehicle within sight, it can then be slowed down remotely.
The Editor says...
"Slowed down remotely" means it can be controlled through the use of OnStar's built-in cell phone. Therefore, this feature is useless if the well-equipped car thief has jammed the stolen car's cell phone.
OnStar: Big Brother's Eye in the Sky. OnStar is a telemetry system providing a central data bank with real-time data on virtually every system in your car, including GPS. OnStar's computer knows where you were, when you were there, and how fast you went. It knows if and when you applied the brakes, if and when the air bags deployed, and what speed you were going at the time. It knows if and when your car was serviced. OnStar operators can determine if you have a passenger in the front seat (airbag detection). All interactions with OnStar's operators are automatically recorded (hence the commercials). By the same token, under certain conditions, OnStar can switch on your GM car's microphone remotely and record any and all sounds within the vehicle (i.e. conversations). But wait, there's more….
OnStar to help stop car theft. Message to car thieves: if you're thinking about stealing a General Motors car or truck in the future, think again. Doing so could be a one-way ride to jail, thanks to a new technology introduced here this week by GM's OnStar division. The company is making OnStar standard, with one year's free service, in almost all its models for 2008.
This Car Can Talk. What It Says May Cause Concern. For [Curt] Dunnam, the more he learned about his car's security features, the less secure he felt. A research support specialist at Cornell University, he is concerned about privacy. He has enough technical knowledge to worry that someone else — say, law enforcement officers, or even hackers — could listen in on his phone calls, or gain control over his automotive systems without his knowledge or consent. Any gadget that can track a carjacker, he reasons, can just as readily be used to track him. "While I don't believe G.M. intentionally designed this system to facilitate Orwellian activities, they sure have made it easy," he said.
Somebody may be tracking your vehicle and you don't know about it! Tire Pressure Monitoring Systems … let on-board vehicle computers measure air pressure in the tires. If you purchased a new vehicle in the last two years, it is very likely that it came with TPMS. If you live in the Unites States, your next vehicle will contain TPMS whether you like or not — in April 2005, National Highway Traffic Safety Administration issued a rule requiring automakers to install TPMS sensors in all new passenger cars and trucks starting in September 2007. … Here is where privacy problems become obvious: Each wheel of the vehicle transmits a unique ID, easily readable using [an] off-the-shelf receiver. Although the transmitter's power is very low, the signal is still readable from a fair distance using a good directional antenna.
Court to FBI: No spying on in-car computers. The FBI and other police agencies may not eavesdrop on conversations inside automobiles equipped with OnStar or similar dashboard computing systems, a federal appeals court ruled. The 9th Circuit Court of Appeals said Tuesday [11/18/2003] that the FBI is not legally entitled to remotely activate the system and secretly use it to snoop on passengers, because doing so would render it inoperable during an emergency.
Welcome to OnStar. How May We Invade You? GPS systems in your car or telephone can track the adresses you visit — the doctor's office, the liquor store, your lover's house. At the moment, the companies that can collect this data are under no legal obligation to protect your privacy. They may sell a permanent record of your movements to marketing firms, your employer, your wife, your bitterest enemies.
Boycott All GM Vehicles with OnStar. The purpose of this website is to encourage you not to purchase any GM vehicle that is equipped with OnStar or any other type of spyware that you cannot easily remove and disable on your own, without additional cost and without seeing your dealer.
Big Brother on Board: OnStar Bugging Your Car. Would it surprise you to find out that the FBI might be able to monitor private conversations in your car? A recent court case revealed that the FBI used the popular OnStar system to do just that. GM cars equipped with OnStar are supposed to be the leading edge of safety and technology. … However, buried deep inside the OnStar system is a feature few suspected — the ability to eavesdrop on unsuspecting motorists.
FBI taps cell phone mic as eavesdropping tool. The FBI appears to have begun using a novel form of electronic surveillance in criminal investigations: remotely activating a mobile phone's microphone and using it to eavesdrop on nearby conversations. The technique is called a "roving bug," and was approved by top U.S. Department of Justice officials for use against members of a New York organized crime family who were wary of conventional surveillance techniques such as tailing a suspect or wiretapping him.
Court to FBI: No spying on in-car computers. The FBI and other police agencies may not eavesdrop on conversations inside automobiles equipped with OnStar or similar dashboard computing systems, a federal appeals court ruled. The 9th Circuit Court of Appeals said Tuesday [11/18/2003] that the FBI is not legally entitled to remotely activate the system and secretly use it to snoop on passengers, because doing so would render it inoperable during an emergency.
The Editor says...
The court made the right decision, but for the wrong reason, placing more value in safety than either liberty or privacy.
Court limits in-car FBI spying. An appeals court [in 2003] put the brakes on an FBI surveillance technique that turns an automobile driver's on-board vehicle navigation system into a covert eavesdropping device, after finding that the spying effectively disables the system's emergency and roadside assistance features.
OnStar Off. When I purchased a new vehicle in September 2004, I wanted side impact airbags, but they only were available as part of a "Safe and Secure" package that also included OnStar which I did not want. A salesman tried to convince me that I was getting a year of OnStar service "free", but obviously part of the price of the S&S package paid for the OnStar subscription. The emergency services of OnStar are appealing to me. But the privacy implications are not. Now that my year of "free" service is over, I have disabled the system by pulling the fuse that powered it.
Living Under Surveillance: Upwards of 1.5 million automobiles can now be tracked and located anywhere in the United States — or in fact anywhere on Earth — using OnStar, General Motors' onboard car-to-mobile-phone-network communications system.
The Editor says...
Well... it works anywhere there is a clear view of the sky and reliable cellular phone service. Not quite "anywhere on earth."
Is this where OnStar is headed?
Motor industry slams speed-curbing trial. [Scroll down] It is linked to a GPS navigation system and sounds a chime if the car exceeds the limit. It can cut fuel supply to the engine, reducing speed, if the driver fails to slow down.
It's not just the camera in the laptop. Of course, we're surrounded by microphones — in cell phones, game consoles, even pens. There have been cases of government tapping through "unexpected" microphones (the ones in "inactive" OnStar units of cars). I'm not aware of any reports of private clandestine listening — but I can't imagine that it isn't taking place.
Somewhat related:
Ford: 'We have GPS in your car, so we know what you're doing'. A top Ford executive made a startling admission about the amount of data the auto maker tracks from its customers at the 2014 Consumer Electronics Show this week. "We know everyone who breaks the law, we know when you're doing it," Ford Vice-President Jim Farley told a crowd in Las Vegas during the show. "We have GPS in your car, so we know what you're doing." The global marketing and sales division chief was trying to make a larger point about the amount of real-time data Ford has on drivers that could be used in the future to alleviate problems like traffic congestion.
Update:

Exec Backpedals After Saying Ford Tracks Drivers. A Ford Motor executive who said the company tracks and collects data on how Ford customers drive their vehicles said Thursday [1/9/2014] that he regrets making the comments. Jim Farley, executive vice president of marketing and sales at Ford, said that he was wrong to suggest to customers that the automaker uses GPS devices in vehicles to collect data on how people drive.
Event Data Recorders: "Black boxes" in automobiles.
This may or may not be off-topic.
Build Back Bummer: Biden's Spending Spree Includes a Kill Switch for Your Car. Remember the good ol' days of the Affordable Care Act? Remember when Nancy Pelosi said we had to pass the bill to learn what was in it? Yeah, that was great, wasn't it? Good times. Well, hold on to your seatbelts, sports fans. Biden's infrastructure bill promises to be an even bigger piñata filled with objects usually found in your cat's litterbox. According to an op-ed by former Georgia Representative Bob Barr, the package contains a well-hidden item: kill switches in cars. Ostensibly, the device, whatever it is, will passively monitor the driver for indications of impaired operation and turn the car off if it decides there is a problem. If that isn't enough overreach for you, get a load of this: The system can be accessed by third parties.
The Government Is Your Car's Next Passenger. In a few short years, the government may be an omnipresent passenger in every new car. The 2,000-page infrastructure bill, signed into law a few weeks ago, includes a mandate that newly manufactured cars keep a digital eye on their drivers — and figure out whether or not they're in any condition to drive. This certainly sounds well-intentioned, but as lamentable as drunk-driving deaths are, mandating technology that has yet to be invented raises serious practical and privacy concerns. Section 24220 of the law, titled Advanced Impaired Driving Technology, directs the secretary of transportation to issue a rule within three years requiring advanced impaired driving technology in all new vehicles, although the rule may be delayed if the technology is not ready for implementation. Automakers have up to three years after the rule is issued to comply.
Your Car Is Spying On You, and a CBP Contract Shows the Risks. U.S. Customs and Border Protection purchased technology that vacuums up reams of personal information stored inside cars, according to a federal contract reviewed by The Intercept, illustrating the serious risks in connecting your vehicle and your smartphone. The contract, shared with The Intercept by Latinx advocacy organization Mijente, shows that CBP paid Swedish data extraction firm MSAB $456,073 for a bundle of hardware including five iVe "vehicle forensics kits" manufactured by Berla, an American company. A related document indicates that CBP believed the kit would be "critical in CBP investigations as it can provide evidence [not only] regarding the vehicle's use, but also information obtained through mobile devices paired with the infotainment system." The document went on to say that iVe was the only tool available for purchase that could tap into such systems.
What a car's 'black box' records and how to check if your vehicle has one. It's widely known that investigators rely on so-called "black boxes" to reconstruct the moments leading up to a catastrophic incident involving an airplane, train or ship, but many drivers don't know that their own car may be equipped with a similar device. After golf legend Tiger Woods was badly hurt in a February rollover crash in Southern California, investigators executed a warrant to retrieve data from the recorder in the mangled Genesis SUV he was driving. The crash and the circumstances around it received international news coverage, but the existence of an "event data recorder" (EDR) wasn't unique to Hyundai's luxury line of Genesis vehicles. In fact, as of 2014, car research site Edmunds found that 96 percent of new cars had an EDR built in. The National Highway Traffic Safety Administration said that an estimated 64% of 2005 passenger vehicles had "some EDR capability."
Los Angeles Sheriff's Dept. issues warrant for black box of Tiger Woods' car. Authorities in California are reportedly looking into the "black box" that was inside Tiger Woods' SUV the day of his car accident. Los Angeles County Sheriff Alex Villanueva told investigators Wednesday, his department had executed a search warrant to obtain and inspect the data recorder inside Wood's vehicle. The professional golfer has said he does not remember the accident and investigators are hoping information retrieved from the device will help determine what exactly happened at the time of the crash.
The SUV Tiger Woods crashed had a "black box." Sheriff's investigators have executed a search warrant for data from the device. The Los Angeles County Sheriff's Department has executed a search warrant for data from the "black box" from the SUV Tiger Woods was driving when it crashed last week, CBS News has confirmed. The story was first reported by USA Today. Department spokesperson Deputy James Nagao didn't say more about the investigation of the rollover crash in which the golf legend suffered serious injuries to his lower leg, ankle and foot that required lengthy emergency surgery. To get a warrant for the black box, USA Today pointed out, investigators have to determine there is probable cause that a crime was involved, even if it's just a misdemeanor.
Your car is watching you. Who owns the data. If you're driving a late model car or truck, chances are that the vehicle is mostly computers on wheels, collecting and wirelessly transmitting vast quantities of data to the car manufacturer not just on vehicle performance but personal information, too, such as your weight, the restaurants you visit, your music tastes and places you go. A car can generate about 25 gigabytes of data every hour and as much as 4,000 gigabytes a day, according to some estimates.
What Your Car Knows About You. Car makers are collecting massive amounts of data from the latest cars on the road. Now, they're figuring out how to make money off it. With millions of cars rolling off dealer lots with built-in connectivity, auto companies are gaining access to unprecedented amounts of real-time data that allow them to track everything from where a car is located to how hard it is braking and whether or not the windshield wipers are on. The data is generated by the car's onboard sensors and computers, and then stored by the auto maker in cloud-based servers. Some new cars have as many as 100 built-in processors that generate data.
Tesla Knows When a Crash Is Your Fault, and Other Carmakers Soon Will, Too. Everyone makes mistakes, and many people try to cover them up. But if you try to hide an error made behind the wheel of a car made by Tesla Motors, you are liable to be caught out. In fact, trying to hide what really happened in any kind of car accident could soon become just about impossible.
Automobile Event Data Recorders (Black Boxes) and Privacy. On December 13, 2012, the National Highway Traffic Safety Administration (NHTSA), published in the Federal Register a request for public comment on a proposed rule that would mandate that all automobiles manufactured for sale in the United States after September 1, 2014 must have an Event Data Recorder (EDR) or black box. The deadline for EDR public comment is February 11, 2013. EDRs are devices that can internally record, retain and report 30 seconds of data related to drivers' operation of an automobile. The data stored may be accessed by third parties such as law-enforcement for post crash investigations or repair shops for diagnostic purposes. Since 1996, EDR technology has been included in automobiles sold in the United States. The amount of data required by NHTSA (30 seconds) is outlined in agency specifications, but the amount of data that may be collected is not limited by NHTSA.
The Regulatory Landscape in America — A Morass Of Red Tape. The National Highway Traffic Safety Administration on December 13 issued a notice of proposed rulemaking to mandate installation of electronic data recorders, popularly known as "black boxes," in most light vehicles starting in 2014. The government mandate understandably spooks privacy advocates.
'Black Box' or 'Spy Box'? US regulators want to make car data recorders mandatory. [Scroll down] Few of the opponents of the new measure disagree with EDRs as they are currently, but most say that the new law will pave way for a multitude of uses beyond the original remit. Problematically, few legal limits on them exist as of now. Only thirteen states have any legislation on EDRs at all. If the new regulations are passed, they need to establish just what data can be recorded, for how long, who owns it, and if there will be any sanctions for a driver who blocks his device, or refuses to hand over his data.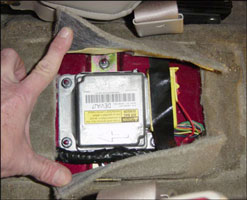 The Black Box. Black boxes are used to inform investigators what went wrong when a plane crashes. [...] Now our government wants them in our cars. According to legislation that has already passed in the Senate, all cars sold in the United States starting in 2015 will have an "Event Data Recorder" (EDR) as mandatory equipment. The Event Data Recorder is the black box for cars. This is troubling news to many people, especially those most concerned about civil liberties and Big Brother.

Feds Propose Tracking Black Boxes in All New Cars. The Obama administration wants to know where you are at all times. Federal regulators are proposing that new automobiles sold in the United States after September 2014 come equipped with black boxes, so-called "event data recorders" that chronicle everything from how fast a vehicle was traveling, the number of passengers and especially a car's location. While many automakers have voluntarily installed the devices already, the National Transportation Safety Agency wants to hear your comments by February 11 on its proposal mandating them in all vehicles.
Obama Bypasses Congress to Mandate Black Boxes for All Cars — Beginning in '14. Bypassing Congress, the Obama administration has issued a proposed administrative rule, which if adopted, would mandate the installation of "black boxes" in all automobiles and light trucks beginning in 2014. The U.S. Department of Transportation's National Highway Traffic Safety Administration (NHTSA) proposed the regulation on Dec. 7, which it said "would capture valuable safety-related data in the seconds before and during a motor vehicle crash."
'Black box' standards coming for cars. New federal standards for "black boxes" that record information leading up to auto accidents will will take effect Sept. 1, the National Highway Traffic Safety Administration (NHTSA) ruled on Tuesday [8/14/2012]. The decision means the new standards for the devices will not be delayed by one year, as automakers had requested. The federal standards will apply only to cars that are voluntarily outfitted with event data recorders (EDRs), also known as black boxes. But while the government does not yet require all cars to have black boxes installed, NHTSA is still thought to be considering a federal mandate as a next step, possibly this year.
California driver tracking by insurers sparks privacy debate. California is turning into a battleground for technology that allows auto insurers to track their customers' driving behavior and offer them lower premiums, but that privacy advocates reject as an excessive intrusion with serious consequences. Insurance companies are increasingly installing small boxes in clients' cars that monitor everything from how much customers drive[,] to their average speeds[,] to where they drive.
Fall back, Big Brother. Americans can be excused for a slight paranoid feeling that someone is following them. Omnipresent surveillance cameras, especially in Chicago, record our daily movements. If we use our cell phones, we announce where we are. Our online communications can be monitored or resurrected from the distant past. Congress is thinking about installing data-gathering "black boxes" in every car. And now two U.S. senators — Chuck Schumer (D-N.Y.) and John Cornyn (R-Texas) — have introduced a bill to require people to produce identification before buying pre-paid cell phones.
OnStar information at Wikipedia: [Scroll down] Concerns have also been raised about what could be done with the data collected and stored by a vehicle's MVEDR, which is analogous to the "black box" recorder on airplanes, although an MVEDR is not as sophisticated and does not currently function as a digital audio recorder. For example, privacy advocates worry that auto dealers could use data to suggest that the user engaged in reckless driving and therefore violated the terms of the vehicle's warranty, or insurance companies could use said data as the basis for denying claims.
GM backs mandatory vehicle 'black boxes'. General Motors Co. supports legislation to require so-called "black boxes" in vehicles, to collect crash data, and it is willing to support additional "reasonable" auto safety legislation. In a roundtable interview with reporters today, GM's new vice president for government relations, Robert E. Ferguson, said the company backs legislation in the works from Rep. Gene Green, D-Texas, to mandate event data recorders.
Let insurer spy on driving, get a discount. More auto insurers are rolling out programs offering discounts to drivers who let the company electronically spy on their driving habits. Progressive, one of the nation's largest auto insurers, today [3/14/2011] launches a nationwide ad campaign for its "Snapshot" program, in which drivers can elect to install a small data recorder in their cars that tracks how hard they brake, how far they drive and whether it's day or night driving.
The feds have the same idea.
Automotive Black Boxes, Minus the Gray Area. The National Highway Traffic Safety Administration will later this year propose a requirement that all new vehicles contain an event data recorder, known more commonly as a "black box." The device, similar to those found in aircraft, records vehicle inputs and, in the event of a crash, provides a snapshot of the final moments before impact.
DOT considering 'black boxes' for cars. The Department of Transportation is considering developing a rule that would require new cars to come equipped with event-data recorders similar to the so-called "black boxes" that are used to gather information in airplane crashes. The boxes compile information when the engines of cars are running such as the speed the vehicle is traveling, which can later be useful in reconstructing what happened in an accident.
Is Big Brother's black box coming to your car? MAP-21 clearly bears the fingerprints of our nanny-in-chief, Transportation Secretary Ray LaHood, but it passed the Senate last month by a strong bipartisan vote, 74 to 22. The massive bill federalizes everything within sight of the feds' roving eye. [...] Perhaps most troubling, at least for anyone who harbors even the remotest interest in privacy, MAP-21 mandates that within three years every single passenger vehicle in the country must be outfitted with a "vehicle event data recorder" — the proverbial "black box."
Big Brother's Next Target: Your Car. Many are quite concerned about Senate Bill 1813, a massive piece of legislation supposedly devoted to transportation issues. Besides including a provision allowing the IRS the power to revoke passports belonging to those who are delinquent with tax debt in excess of $50,000, it appears that the potential law may be used to measure the size of your carbon footprint each time you get behind the wheel.
Senate-Passed Bill Would Mandate Black Boxes in Cars, Plus More. [Scroll down] Approximately 85 percent of vehicles already come equipped with black boxes, notes the NHTSA, whose own guidelines for vehicles include the devices, even though they are not currently mandatory. According to those guidelines, the boxes must measure such things as speed, position of the gas pedal, whether or not the brakes were pressed, seat belt usage, and the amount of time it took for airbags to deploy. In fact, it was a black box that landed Massachusetts Lt. Governor Timothy Murray with a hefty fine following the 2011 accident that totaled his vehicle, because the device recorded that he was speeding and was not wearing a seat belt prior to the accident. However, critics contend that the data box is part of the slippery slope to total surveillance of the transportation habits and whereabouts of Americans.
The Editor says...
The current generation of "black boxes" may only record what happened right before a crash, but there is no way to predict (the limits of) what future software "upgrades" might include. The black box might be used to show that a vehicle spends a lot of time idling, or that the driver has a habit of excessive acceleration. The box might also keep track of your movements and whereabouts. One thing is fairly certain: The evidence in the "black box" will only be available to the government. You would have a hard time extracting the data if you needed it for a legal defense.
'Your' Car Won't Be After 2015. First, the EDRs [Event Data Recorders] could be — and almost certainly will be — tied into your vehicle's GPS. (Most new and late model cars, conveniently, already have this, too.) Then data about your driving can be transmitted — as well as recorded. To whom? Your insurance company, of course. Progressive Insurance already has such a system in place — voluntary, for the moment. When EDRs are mandated, you will no longer have a choice. We'll be told it's all for the sake of (groan) "safety" — just like the old 55 MPH highway speed limit and every radar trap in the country. Of course, it's really for the sake of revenue — the government's and the insurance company's.
---



Odometer taxes

Now that OnStar has paved the way, many state governments are considering an odometer tax, whereby you would be taxed based on the number of miles you drive. Disguised as an effort to "save the earth" from global warming, this would be yet another tax, which you would have to pay with money from your paycheck — from which taxes have already been withheld. This new tax would be objectionable even if the money went to a justifiable project, such as road and bridge repair. But unfortunately the states will probably give the money to someone who is too lazy to work.

Utah and Oregon Now Require GPS Trackers on EVs in Lieu of Registration Fee, Tax Drivers by the Mile. State governments have historically generated revenue to maintain roads, traffic lights, and the like by adding a tax at the pump. Owing to the federal government-prodded transition to electric vehicles (EVs) to combat something called "climate change," states stand to lose out on this source of revenue as EVs obviously don't require gasoline to operate. Utah's novel solution is to charge a "per-mile fee" for EVs with a government GPS tracker attached to monitor movement. [...] For a little added Orwellianism, the DriveSync® app also assigns a "driving score" based on how fast the slave citizen accelerates, brakes, corners turns, and drives. The app records bad driving behavior and shows it to the slave citizen on a digital map.

The Editor says...
The same tracking system can also tell the government where you go, and how many times you've been there before. In fact, that information might be the main idea, not the tax revenue. Of course, your cell phone tells them where you are, too, because you never go anywhere without it, do you?

Here's Another Reason To Hate EVs. 'As fuel taxes plummet, states weigh charging by the mile instead of the tank." That was the headline of a recent AP story, which should scare freedom-loving citizens everywhere. And you can place the blame squarely on government-subsidized EVs for this terrible new development. The background is that state and federal gasoline taxes aren't raising "enough" money these days to pay for roadway construction and maintenance. And a big reason for the growing shortfall is the increase in electric vehicles. EVs get massive tax subsidies to convince people to buy them, but their owners don't pay gasoline taxes, for the obvious reason that they never have to fill up. The more EVs on the road, the less revenue the gas taxes raise. So the policy geniuses in Washington have a solution: Impose a per-mile tax.

Federal Government's Working on Taxing Drivers by the Mile. Bad news from Headline USA. Four states and the federal government plan to charge Americans by the miles they drive despite dysfunctional models and serious privacy issues. The big government doesn't care if the models are dysfunctional and there are serious privacy issues. They plan to put a tracking device in cars to tax mileage use in addition to gas taxes. They aren't getting enough taxes from electric vehicles because they're more efficient. So, this is their plan to make up the difference for their coffers.

San Diego County to Implement 4-Cent-Per-Mile Tax. The San Diego Association of Governments' (SANDAG) board met Oct. 29 virtually to discuss a four-cent-per-mile tax proposal that could impact every driver in San Diego County by 2030. The proposed mileage tax is intended to supplement and eventually replace gas taxes, which have dropped considerably as gas mileage has increased and hybrid and electric cars ownership has grown exponentially in recent years. San Diego County Supervisor Jim Desmond said the proposal was intended to "force everyone onto trolleys and buses" by pricing people out of their cars. "This proposal should never see the light of day," Desmond said. "San Diegans already pay some of the highest prices to drive in the country. From the current gas taxes to a vehicle registration tax, San Diegans feel the effects, in their wallets, every day.

Pay-by-the-mile road pricing plans are dropped amid fears they could kill off demand for electric vehicles. Plans to introduce road pricing have been shelved amid fears the idea could kill off demand for electric vehicles. Boris Johnson will publish the Government's Net Zero strategy next week — which will include plans to shift away from petrol and diesel cars over the next decade. The Treasury has been examining proposals for the introduction of road pricing to replace the £30billion in lost fuel duty that will result from a move to electric vehicles. But Whitehall sources told the Daily Mail that the idea has been dropped.

Congress Wants to Tax You by the Mile. Jumping to the recent $1-trillion infrastructure bill, one can find buried deep inside it — page 508, to be exact — a proposal to test a new tax for driving. It's a mileage tax — essentially, a user fee for roads. Drive X miles, pay Y cents per mile to the government. Unlike most tax proposals, surprisingly, there may be some logic to this idea. [...] So why the big switch to openly calculating highway taxes by the mile rather than disguising it by the gallon? You gotta see this one coming. Electric vehicles! That's right: E.V.s don't use gas, so they don't pay any highway taxes. And, with the liberal push to make everyone abandon fossil fuel-powered transportation, the money for roads has to come from somewhere.

Pilot plan to charge drivers by the MILE is hidden in Biden's $1.2 trillion infrastructure bill. American drivers could soon trade paying taxes on gas at the pump for owing the government annual 'per-mile user fees,' under a new pilot program recently passed by the Senate in Joe Biden's $1.2 trillion bipartisan infrastructure deal. The bill passed a Senate vote on Tuesday [8/10/2021] and will go on to the House of Representatives. The massive deal puts $125 million toward exploring the possibility of a federal vehicle miles traveled tax (VMT) by funding the launch of federal, state and local VMT pilot programs.

Get Ready to Pay Mileage Taxes On Your Car. Forget that we have an unprecedented crisis at the border, forget that massive inflation has gripped the country, forget that we have a broken election system — what's important is that the government be able to nickel and dime you for every mile you drive. If ever there were a single thought or sentence which could characterize government priority, it's the one you just read above. What's worse is the fact that these measures weren't considered in a separate bill — nope! These measures were buried in a bloated 2700 page infrastructure bill.

National mile-driven tax pilot program tucked into $1.2 trillion infrastructure bill. The White House's $1.2 trillion infrastructure package includes a pilot program for a national mile-driven tax, contradicting President Biden's previous dismissal of the policy. Tucked within the 2,702-page infrastructure bill is obscure language requiring the Department of Transportation to test the feasibility of taxing drivers for the number of miles they travel. The tax would be broad enough to target any "passenger motor vehicles," including light and medium-to-heavy duty trucks."

Hidden on Page 508 of the Infrastructure Bill Is a Plan to Make It Too Expensive to Drive a Car. The cost of living is on the rise, calls for yet another wave of pandemic restrictions have begun and now, buried deep in the so-called bipartisan infrastructure bill, the left has laid out yet another idea to bring Americans to their knees. Make no mistake: The suffering is intentional, goal-oriented and not bound to stop anytime soon. Still, one proposal in the 2,702 page infrastructure bill seems especially cruel — cruel enough to make it too expensive for many Americans to even drive a car. Nick Short of the Claremont Institute highlighted an item on Pages 508-519 of the bill that would introduce a national per-mile motor vehicle user fee on a trial basis.

The Editor says...
Taxes do not come and go. They come and stay. There has never been a tax implemented "on a trial basis" that didn't become a permanent fixture. The odometer tax will probably start at one cent per mile, and will be steadily increased every few years. Socialism is implemented in tiny, seemingly harmless increments

Infrastructure bill floats national mileage fee despite Biden's $400,000 tax hike 'red line'. Top White House officials emphatically stated for months that paying for the infrastructure investments by indexing gas taxes to inflation or instituting new electric vehicle mileage fees were hard red lines for the president on the grounds that they would raise taxes on people earning less than $400,000 per year. Yet, the new per-mile user fee pilot, outlined in section 13002 of the bill, does leave those people open to tax vulnerabilities pegged to personal vehicle mileage. Transportation Secretary Pete Buttigieg and Treasury Secretary Janet Yellen are directed to provide recommendations to Congress three years into the pilot's life cycle, at which time Congress could choose to pass new legislation implementing national per-mile fees fully as an established funding source for infrastructure improvements.

Should Government Track the Miles You Drive? [Scroll down] On Feb. 26, 2009, an entity called the National Surface Transportation Infrastructure Financing Commission submitted a report to then-newly inaugurated Vice President Joe Biden and House Speaker Nancy Pelosi. Its congressionally mandated job was "to assess future federal highway and transit investment needs, evaluate the future of the federal Highway Trust Fund, and explore alternative funding and financing mechanisms for surface transportation." The commission recommended that the federal government establish a "vehicle miles traveled," or VMT, taxing system for cars. "The Commission cast a wide net, reviewed many funding alternatives, and concluded that indeed the most viable approach to efficiently fund federal investment in surface transportation in the medium to long run will be a user charge system based more directly on miles driven (and potentially on factors such as time of day, type of road, and vehicle weight and fuel economy) rather than indirectly on fuel consumed," said its report. "However much revenue Congress decides to raise at the federal level, the Commission believes it is critical to move forward with a [vehicle miles traveled] fee system," its report concluded. Ultimately, this would require tracking the miles driven by every car. The commission conceded this would raise what it called "privacy concerns."

Buttigieg: Hey, never mind about my proposed mileage tax. Does this count as "something of a backtrack," as Jake Tapper noted in his interview with Transportation Secretary Pete Buttigieg? You bet it does. After floating both a mileage tax and a gas tax as possible fundraisers for Joe Biden's upcoming $3 trillion infrastructure boondoggle, Buttigieg hit reverse last night. After getting earfuls on the regressive nature of such taxes, not to mention oppressive in the former case, Buttigieg backtracked and insisted that no tax increases would hit anyone below the $400K income level.

Pete Buttigieg says plan to tax motorists by the mile is 'not part of the conversation' in $3 trillion infrastructure bill. Transportation Secretary Pete Buttigieg walked back an idea he was touting just days ago to tax drivers by the mile as a way to ensure drivers of electric cars pay kick in more for wear and tear on roads. 'No, that's not part of the conversation about this infrastructure bill,' he said Monday [3/29/2021] when asked about the idea on CNN's 'The Lead' by host Jake Tapper, as President Joe Biden prepares to roll out his $3 trillion plan.

Pete Buttigieg backpedals from his tax-the-poor mileage plan as fast as he can. If Pete Buttigieg thinks he has a political future after his latest gaffe as Joe Biden's transportation secretary, he's in for a surprise. [...] People, see, living on the outskirts of overpriced blue cities because they can't afford its skyrocketing housing costs, make those long, horrible, traffic-plagued commutes on Third World-looking highways by choice. They do it because they like it, and according to Buttigieg, he's there to put a stop to it. Punchbowl's gone, polluters. Truckers carrying heavy medical equipment to distant hospitals save COVID patients? Take the bus, [...]. Uber drivers transporting someone to the emergency room or keeping a drunk off the road? Pay up, miscreant. Farmers driving tractors to provide Pete with his gourmet meals? You pay the tax, enough about me. In the world of Rev. Pete, surveilling and taxing these wicked sinners against the god of global warming is all it will take to get them to change their wayward ways. Greenie carrot. Greenie stick.

Buttigieg Torched On Social Media For Being Open To Taxing Motorists Per Mile. Secretary of Transportation Pete Buttigieg was ridiculed on social media on Friday for expressing openness to a policy that would pay for President Joe Biden's massive infrastructure budget by taxing motorists for each mile they drive. "So, I think that shows a lot promise," Buttigieg said regarding a mileage-based tax during an interview with CNBC. "If we believe in that so-called 'user-pays principle,' the idea that part of how we pay for roads is you pay based on how much you drive. The gas tax used to be the obvious way to do that; it's not anymore."

Vehicle mileage tax could be on the table in infrastructure talks, Buttigieg says. A vehicle mileage tax could be on the table in talks about how to finance the White House's expected multi-trillion-dollar infrastructure proposal, according to Transportation Secretary Pete Buttigieg. Buttigieg, who spoke with CNBC's Kayla Tausche on Friday [3/26/2021], also contended that President Joe Biden's forthcoming plans to rebuild the nation's roads, bridges and waterways would lead to a net gain for the U.S. taxpayer and not a net outlay. [...] "A so-called vehicle-miles-traveled tax or mileage tax, whatever you want to call it, could be a way to do it," he said. Democrats have slowly pivoted away from a gasoline tax in favor of a mileage tax amid a simultaneous, climate friendly effort to encourage consumers to drive electric cars.

The Washington Post roots for odometer taxes:
Two states tax some drivers by the mile. Many more want to give it a try. Bruce Starr spotted the problem right away: The hydrogen-powered cars General Motors was showing off on the Oregon Capitol grounds wouldn't need gas. And if they didn't need gas, drivers wouldn't be paying gas taxes that fund the state's roads. It was 2001, and the problem seemed urgent. GM predicted the cars would be on the market in a few years. [...] Widespread production of hydrogen-powered cars has not come to pass, but GM is eyeing an all-electric fleet by 2035 with the backing of the Biden administration. That has lawmakers in state capitals across the country and in Washington increasingly confronting the question that troubled Starr two decades ago. Many have settled on an answer: charging drivers a penny or two for each mile behind the wheel.

The Editor says...
If you live in Vermont, and you drive several thousand miles in a year, scattered across four or five states, who gets the tax revenue? How would it be split up? The government would have to know your exact location at all times. Do you want that? Do you get anything in return? Does the money collected from gas taxes equal the money spend on roads and bridges? I doubt it. In Texas, I pay 20 cents tax per gallon of gas, and with that gallon of gas, I drive 40 miles or more; therefore I would expect to pay an odometer tax of one-half cent (½¢) per mile. One thing missing from all the news stories about proposed odometer taxes is how much do they intend to charge per mile?

Biden's Transportation Nominee Pete Buttigieg Says Gasoline Tax Hike Possible. President Joe Biden's pick for secretary of transportation said recently that a tax on gasoline is possible. "I think all options need to be on the table. The gas tax has not been increased since 1993, and it's never been paid to inflation. And that's one of the reasons why the current state of the Highway Trust Fund is there's more going out than coming in. Up until now, that's been addressed with general funding transfers. I don't know whether Congress would want to continue doing that," former South Bend Mayor Pete Buttigieg told senators during his confirmation hearing last week. "In the near term, we need a solution that can provide some predictability and sustainability. In the long-term, we need to bear in mind also that as vehicles become more efficient and as we pursue electrification, sooner or later there will be questions about whether the gas tax can be effective at all."

Rural America, Prepare for Biden's Newly-Proposed Tax. When President Joe Biden announced former South Bend, Indiana Mayor Pete Buttigieg as his pick for Transportation Secretary, many scratched their heads. Why would he tap someone who oversaw a small budget, in a small town, in the midwest for such a role? That puzzle is finally coming together. It turns out that Biden favors Buttigieg's transportation views, specifically the idea that America should move away from the gas tax and instead opt into a tax based on the number of miles a person travels. It would be a new way to provide cash for the Highway Trust Fund, which currently funding from the federal gas tax. As it currently stands, the federal gas tax is 18.4 cents per gallon and 24.4 cents per gallon for diesel. Liberal states, like California, Oregon, Washington State, and Colorado are already contemplating this so-called "alternative."

New tax on number of miles you drive? Incoming Transportation Secretary Buttigieg likes the idea. Incoming Transportation Secretary Pete Buttigieg has suggested taxing Americans for the number of miles they drive, a policy he endorsed as a Democratic presidential candidate. The Biden Administration is actively searching for ways to fund its ambitious $1 trillion infrastructure plan. Buttigieg, the former mayor of South Bend, Ind., acknowledged "privacy concerns" related to implementing a vehicle miles traveled (VMT) system but said it should be considered as a potential replacement for the gas tax.

The Editor says...
Nobody is going to replace or eliminate the gasoline tax, or any other tax. An odometer tax will be an additional tax, on top of the gas tax, the license plate registration fee, the annual inspection fee, the county road and bridge fee, and the federal tax on tires. Once the federal odometer tax has been in place a few years, be on the lookout for state odometer taxes, too, beginning in high-tax states run by tax-and-spend Democrats.

Mileage Tax Could Drive More Middle-class Residents From California. A proposal to charge California drivers for every mile they drive threatens to bring an end to a way of life in the Golden State. For decades, the California lifestyle was almost synonymous with Californians' love affair with the automobile. The Golden State's freeways were legendary, and Californians' fascination with cars was celebrated in a number of car-themed songs during the 1960s (e.g., "The Little Old Lady From Pasadena," "Little Deuce Coupe"). The scenes of teenagers cruising in their cars in American Graffiti were based on the memories of the film's director, George Lucas, during his own teenage years in early 1960s Modesto. But the combination of impossibly heavy traffic on those beloved freeways, the state's imposition of ultra-strict automobile emissions requirements, and increasingly higher gasoline taxes have diminished considerably the joy that Californians experienced driving their cars.

State Agencies Plan Road User Fee Pilot Programs. Lawmakers in several states are applying for federal government grants, sponsored by the Federal Highway Administration, to fund programs to study the viability of implementing mileage-based user fees (MBUFs) to fund government road construction, to reduce reliance on state or national revenue from excise taxes on fuel purchases. Government transportation agency officials from four states, including Connecticut and Delaware, applied for federal grants in July to fund pilot programs to test implementation of MBUF-based systems. Motor-fuel taxes tax the volume of fuel purchased by an individual before driving on government roads, but MBUFs directly tie a driver's tax liability to that individual's use of government roads.

California launches test of per-mile road use fee for drivers. For decades, consultant Steve Schnaidt of Sacramento was one of the state Capitol's go-to experts on transportation financing. Through those years, there was one constant, he says: "When I came in and when I went out, it was the same problem — we were short of money." That's why the Land Park retiree signed up as a volunteer for the California Road Charge pilot program, a test launched this month by the state of a potential new way to fund road repair and other transportation projects. For the next nine months, Schnaidt and up to 5,000 other volunteers will report their driving miles to the state — or have their mileage monitored by the state — and will be "charged" a fee per mile they drive.

Brokety-brokest State in the Union Wants to Tax Drivers by the Mile. Illinois already hoses drivers at the pump — now, one of the state's most powerful politicians is eyeing a new way to collect road-usage taxes from all drivers — and to make sure electric-car drivers don't slip through the cracks. Illinois Senate President John Cullerton's Senate Bill 3267 would require all drivers — not just those with electric cars — to pay a per-mile road-user fee starting July 2017. Drivers would still be required to pay gas taxes at the pump, but would receive a tax credit from the state to cover the number of miles they drive per month, according to the legislation.

Oregon Starts Agenda 21's GPS Vehicle Tracking System. A new Oregon law allows the government to track drivers' every move, and the United Nations and the federal government think that's a great idea — for all of us. So as to punish electric car drivers for not paying their fair share of transportation taxes associated with gas-powered vehicles, the state of Oregon is installing in every electric car a GPS device that will measure the number of miles traveled. For now, however, the program is voluntary, but such invasions of privacy and surveillance schemes rarely stay that way.

Big Brother "Pay-by-the-Mile" Track and Tax Driving Scheme Being Rolled Out Now!. It's here. We're finally starting to see the electronic big brother control grid of the technocrats' wildest dreams being rolled out. Because the gas tax is no longer viable, you know, what with all the fuel-efficient hybrids and electric cars on the roads out there. Now the only possible solution the system and its minions can apparently come up with is to track us all everywhere we go and tax us for each and every mile we drive.

Thanks to electric cars:
Oregon launches program to tax drivers by the mile. Oregon's Department of Transportation has been working on it for 15 years as a way to eventually replace the gas tax, which has been flat due to an influx of high mileage vehicles and people driving less. Right now the program is voluntary and being capped at 5,000 participants, but an ODOT official told Fox News the ultimate goal is to make it mandatory and change the way states pay for roads — forever.

A tax per mile? Americans should not allow GPS tracking of cars, trucks. Causing a stir as far back as in 2001 when Oregon noticed that more fuel-efficient cars would impact gas tax revenue, politicians began to scramble to figure out how to use your driving as an excuse to take whatever money you have left in your wallet. At least 18 states are now considering bills to do just this, and Oregon has initiated a pilot program.

Tracking miles as gas tax alternative raises fairness, privacy concerns. Standing at a Chevron station in Long Beach, Teresa Gutierrez wished she was pumping fuel into a gas-sipping hybrid instead of her hulking GMC Yukon. She was nevertheless cool to the idea that the state might start raising money for highway repairs by replacing the traditional gasoline tax with a fee based on how far people drive. Penalizing owners of hybrids and electric cars doesn't feel right, Gutierrez said. "It defeats their green purpose."

The VMT Tax: Big Brother Will Be Watching You Drive. Greater fuel efficiency means minimal or less frequent purchases at the gas pump. Some motorists have switched to hybrid or electric cars, which enables them to avoid the gas pumps altogether. All of which results in lower revenue from federal and state gas taxes, which means less money to build and repair roads and bridges and fund myriad mass transit programs. So policymakers are looking at taxing not the gas you buy, but the miles you travel.

Democrat Congressman: Tax Drivers for Every Mile They Drive. While the House and the Senate this week issued measures intended to temporarily replenish the Highway Trust Fund before it runs out of money next month, Rep. Earl Blumenauer (D-Ore.) ended the week by proposing to hike — then abolish — the federal fuel tax and replace it with a per-mile "fee." "The policy development that I'm most excited about and that will reinforce the right practices for the future: After we raise the gas tax, we should abolish it," Blumenauer said on Friday [7/11/2014] at the liberal Center for American Progress in Washington, D.C. "The time is right to replace the gas tax, because it's no longer an accurate reflection of road use and benefit because of these wildly changing fuel consumption patterns, and replace it with a vehicle mile travel fee regardless of the choice of vehicle fuel.

Center for American Progress wants mileage-based highway fee. The Center for American Progress is calling for Congress to ditch the federal gas tax in lieu of a system where drivers pay fees for road construction based on how many miles they travel. The proposed mileage-based system has been controversial in previous transportation funding debates because critics question how government would monitor the traveling habits of drivers without infringing upon their privacy. But the Center for American Progress said Friday that taxing drivers based on how far they drive is a much more sustainable system than the current 18.4 cents per gallon federal gas tax.

North Carolina drivers to be charged by the mile? Big changes could be just down the road for North Carolina drivers. A proposal is in the works that would change the state tax system to charge drivers by the mile, and at the gas pump. The proposal would be to charge a half cent per mile for cars, which would generate almost $500 million in annual state revenue. A driver who travelled 15,000 miles in a year would pay about $75. [...] North Carolina currently tacks on an additional 37.6 cents gas tax at the pump. The vehicle mileage tax, or VMT, would not replace the gasoline tax. It would be an additional fee.

Dem proposes taxing drivers by the mile. Rep. Earl Blumenauer (D-Ore.) on Tuesday [12/3/2013] reintroduced legislation that would require the government to study the most practical ways of taxing drivers based on how far they drive, in order to help fund federal highway programs. Blumenauer's bill, H.R. 3638, would set up a Road Usage Fee Pilot Program, which he said would study mileage-based fee systems. He cast his bill as a long-term solution for funding highway programs, and proposed it along with a shorter-term plan to nearly double the gas tax, from 18.4 cents to 33.4 cents per gallon.

Taxing Americans By Miles Driven Is Unfair And Intrusive. Federal and state officials want more money to spend on roads and bridges, and some of them think they know how to get it. They want to tax us on every mile we drive. They're calling for a "vehicle miles traveled" (VMT) tax because, [alas], cars and trucks are becoming more fuel-efficient. Drivers are getting more miles for each gallon of gasoline or diesel fuel they buy, which means fuel tax revenues have not been growing as much as government officials would like. Taxing us on each mile driven would get them more money.

Former Soviet official behind black box "track & tax" of US drivers. The California bureaucrat behind a big brother plan to track vehicles and "tax by the mile" worked as a government transportation planner in the former USSR. Hasan Ikhrata, Executive Director of the Southern California Association of Governments (SCAG), who told the Los Angeles Times "This really is a must for our nation. It is not a matter of something we might choose to do," worked for the Moscow Metro Corporation, according to his official SCAG biography. SCAG foresees mandatory tracking of all California motorists by 2025.

A black box in your car? Some see a source of tax revenue. As America's road planners struggle to find the cash to mend a crumbling highway system, many are beginning to see a solution in a little black box that fits neatly by the dashboard of your car. The devices, which track every mile a motorist drives and transmit that information to bureaucrats, are at the center of a controversial attempt in Washington and state planning offices to overhaul the outdated system for funding America's major roads.

Oregon launching new program to tax drivers per mile. Oregon is moving ahead with a controversial plan to tax motorists based on the number of miles they drive as opposed to the amount of fuel they consume, raising myriad concerns about cost and privacy. The program, springing out of a recently signed bill, is expected to launch in 2015 on a volunteer basis. But it's charting relatively new territory, and other states aching for additional tax revenue are sure to be watching closely to see whether to imitate the model.

Gas Tax on Mileage as an Alternative to Current Federal Gas Tax. One feature of the VMT tax is that it would require some way to measure travel, creating the possibility that the government will use advanced technology to track movements of every car and truck.
• Under one scenario, automobile manufacturers would be required to install a GPS system — a "black box" — in every vehicle to measure miles traveled.
• The government would then track your vehicle by satellite to follow each vehicle's total travel and calculate the tax.
• A large-scale retrofit of existing cars would be necessary, requiring a massive and costly effort, since every car owner would be required to take their car to a station annually to have a black box installed and then read.

New pay-per-mile scheme would boost taxes 250 percent. An on-again, off-again move by the Obama administration to scrap the federal gas tax in favor of a pay-per-mile fee would boost the tab to Americans as high as 250 percent, raising their current tax of 18.4 cents a gallon to as high as 46 cents, according to a new government study. But without a tax increase, said the Government Accountability Office study, the government's highway fund is going to go dry. One reason the fund is going broke: President Obama's push for fuel efficient cars has resulted in better mileage, and fewer stops at the pump.

NHTSA gets White House OK to mandate vehicle 'black boxes'. The National Highway Traffic Safety Administration is expected to finalize a long-awaited proposal to make event data recorders standard on all new vehicles. In a notice posted Thursday [12/6/2012], the White House Office of Management Budget said it has completed a review of the proposal to make so-called vehicle "black boxes" mandatory in all cars and trucks, clearing the way for NHTSA to publish its final regulation. Nearly all vehicles currently have the devices.

Black boxes in cars raise privacy concerns. Many motorists don't know it, but it's likely that every time they get behind the wheel, there's a snitch along for the ride.

The Editor says...
These black boxes are the paving the way for mileage taxes. When the mileage tax kicks in, you'll pay taxes at the gas pump and additional taxes per mile. The proceeds from this tax will be spent on whatever the government wants (for example, mass transit), not necessarily the upkeep of roads and bridges.

Oregon Department of Transportation to explore fees based on miles driven. More fuel-efficient cars are siphoning off gas-tax revenues that support highway maintenance in Oregon. As a result, state transportation officials are considering a mileage tax on vehicles that average 55 miles or better on a gallon of gasoline. A pilot project started this month will test different methods of tracking mileage, which could lead to a bill before the Legislature in 2013 to tax vehicles that need little or no gasoline. "I don't think people will be excited about GPS tracking," said Derek DeBoer, one of the owners of TC Chevy in Ashland.

San Fran Area Drivers Could be Forced to Install GPS Devices That Tax Their Travel. On Thursday evening [7/19/2012], a controversial study in the San Francisco Bay Area will be voted upon that could require drivers to allow GPS devices to be installed inside their car. The ultimate goal? Not to see where they're going, but to evaluate how much they're driving — and consider taxing them for it. [...] The proposed Vehicle Miles Traveled (VMT) tax could cost as much as a dime per mile.

Somewhat related:
Bottled Water Going the Way of the 20-ounce Soda. New York City is raging against salt, large sodas, and baby formula, allegedly for health reasons. San Francisco bans plastic grocery bags (as do many Eastern LI towns), they regulate Happy Meal toys for sustainability and they have their eye on halting circumcisions because they're crazy. San Francisco is also the city that wants to install GPS in cars so they can monitor peoples' travel and then tax them for it.

Pay-per-mile tax is latest cash grab from greedy pols. The hacks at the State House are salivating at the prospect of charging you a penny for every mile you drive your car in Massachusetts. This is a tax increase so monstrous that it would make M. Stanley Dukakis blush. We're talking $555 million — the first year. It's an idea so terrible it can't be killed.

This article is heavily biased:
Why we should consider a per-mile road tax: When one adds the hundreds of billions of dollars that will be needed to reconstruct and rehabilitate existing infrastructure, the demand for transportation funding will be perhaps even greater than ever. The big problem in meeting this demand, however, is that the motor fuel tax won't be enough to pay the bills for our highway needs. The fuel tax revenue stream will decline because of increasing motor vehicle fuel efficiency and the growing number of hybrid and electric vehicles on the road.

The Editor says...
The opinion piece above is loaded with half-truths. It is not necessary to "reconstruct and rehabilitate existing infrastructure" as if we are about to start from scratch. And the proportion of electric cars on the road will likely never exceed one out of 1,000.

LaHood: Administration Not in Favor of Taxing Drivers by the Mile. Transportation Secretary Ray LaHood was adamant in telling CNSNews.com on Wednesday [5/25/2011] that the Obama administration does not favor tracking and taxing Americans for every mile they drive — a so-called Vehicular Miles Traveled (VMT) tax. LaHood had personally suggested that the administration look at a VMT early in his tenure at the Transportation Department and it had recently been reported that the administration was considering such a tax.

Another Tax On Gas? Of all the ideas the White House has floated for taking more of your money, none is more pernicious than the latest: slapping a tax on you for every mile you drive. Isn't that what our gas tax does already?

Should drivers pay by the mile instead of the gallon? For nearly 80 years, motorists have paid a tax every time they put gas in their cars. What if they were taxed based on how far they drive instead?

The Editor says...
Memo to Uncle Sam: Pick one or the other, but you can't have both. Taxes on gasoline are already paid in proportion to the number of miles driven. No one has suggested that gasoline taxes would be replaced by the odometer tax. It will be in addition to the gas tax at the pump.

What free country? Obama wants to track your car mileage. This idea was floated last year but the reaction to it was so negative it disappeared. But with the deficit and debt climbing, Washington is desperate for extra cash to spend, so it is apparently being revived. In essence, the government wants to slap a special tracking device in your car that would record the mileage you use, and then tax it. You'd pay the tax when you fill up at gas stations who also, we would assume, have special equipment to read the mileage on the device in your car.

Obama administration floats draft plan to tax cars by the mile. The Obama administration has floated a transportation authorization bill that would require the study and implementation of a plan to tax automobile drivers based on how many miles they drive. The plan is a part of the administration's Transportation Opportunities Act, an undated draft of which was obtained this week by Transportation Weekly.

Mn/DOT to test driver's 'mileage tax'. The Minnesota Department of Transportation is looking for 500 people to test technology that could someday be used to collect a mileage-based user fee. Mn/DOT anticipates a fee on road usage might someday be necessary as more fuel efficient and hybrid cars are on the road, decreasing revenue from the gas tax.

Here Comes the Odometer Tax. The odometer tax would add yet another layer of taxation to the gasoline tax, the annual license plate fee, the county road and bridge fee, the federal tax on tires, and the cost of your annual state inspection sticker.

It's like taking a taxi wherever you go — you will pay by the mile to drive your own car.
CBO's toll-road fib: While officially nonpartisan, the Congressional Budget Office (CBO) occasionally lends its credibility to the most fashionable theories emanating from the left. The agency's green eyeshades issued a report Wednesday [3/23/2011] that perpetuates one of Washington's biggest lies: that drivers don't pay enough in taxes. Bureaucrats and rent-seeking corporate allies have teamed up to advocate a solution to a problem that doesn't exist. They want continuous tracking of everyone's driving so that every mile can be taxed.

The Termite State. The Hill brings us a report this morning on an exciting new option for generating government revenue: taxing us based on how many miles we drive. Democrat Senator Kent Conrad of North Dakota asked the Congressional Budget Office to look into this genius idea, which would involve installing electronic monitors in all of our automobiles, tracking how many miles we drive and uploading the results to the IRS so a wonderful new tax could be computed. Previous proposals along these lines involved constructing a massive network of toll booths on every road in the country, but the CBO feels modern wireless technology and "electronic metering and billing are making per-mile charges a practical option."

The Editor says...
Obviously the odometer tax favors the residents of crowded cities on the east coast and punishes those who live in the wide-open spaces west of the Mississippi. Gasoline taxes are, too.

CBO: Taxing mileage a 'practical option' for revenue enhancement. The Congressional Budget Office (CBO) this week released a report that said taxing people based on how many miles they drive is a possible option for raising new revenues and that these taxes could be used to offset the costs of highway maintenance at a time when federal funds are short. The report discussed the proposal in great detail, including the development of technology that would allow total vehicle miles traveled (VMT) to be tracked, reported and taxed, as well as the pros and cons of mandating the installation of this technology in all vehicles.

CBO Sees Benefits in Taxing Motorists Based on Miles Driven. A new Congressional Budget Office study says taxing motorists based on the number of miles they drive would be a fair and "efficient" way to charge motorists for the real cost of using the nation's highways. "Vehicle-miles traveled" taxes (or VMT taxes) also would provide a strong incentive for people to drive less.

Raising taxes by the mile. Rep. James Oberstar, D-MN, chairman of the House Transportation and Infrastructure Committee, wants a vehicle mileage tax (VMT) imposed on every vehicle. And he wants it right away. When a colleague suggested state-level pilot programs to test the feasibility of the tax, Oberstar replied: "It's going to be done, it's something we have to do. Why not just move it along?" Oberstar hopes for a vote as early as June.

95.2% Opposed to California DMV Plan to Tax by the Mile. Alex has been reporting on the national plan to put satellite trackers in all or cars or transponders in all cars for seven years. The Federal plan has been public that long. Now, Oregon, California and New York are moving forward with it. The Feds' own documents say you will be taxed over 25 cents a mile. Here in Austin, Texas where infowars.com is based, the City has announced the transponder system and admits that is will cost the average driver, on top of all other taxes, $1,800 a year to start.

LaHood Talks of Mileage-Based Tax. Transportation Secretary Ray LaHood suggested yesterday that the Obama administration might embrace a new and controversial way to pay for highway and transit projects: charging motorists a tax for every mile they drive. But no sooner was the idea being batted around by cable commentators and commuters than spokesmen for the White House and LaHood's own department shot it down — hard.

Obama Administration Shoots Down LaHood Mileage Tax Idea. President Obama's transportation department slapped down a suggestion by its own secretary Friday [2/20/2009] that the government tax motorists based on how many miles they drive rather than how much gasoline they burn. Secretary Ray LaHood floated the idea in an interview with The Associated Press. Gasoline taxes for nearly half a century have paid for the federal share of highway and bridge construction, but LaHood said they can no longer be counted on to raise enough money to keep the nation's transportation system moving.

Brits thinking about GPS tracking every car on the road. Wow, those Brits sure do love surveilling each other. Even as both Houses of Parliament conduct independent investigations on how nearly-constant CCTV monitoring is affecting British citizens, a group of researchers issued a report on future transportation policy that recommended the growing British traffic problem be solved by tracking every car on the road with GPS.

Rhode Island wants to tax miles driven. Driving your car may take on a new and larger meaning — for your wallet. To fix its crumbling roads and bridges and rescue the state's financially challenged public transit system, a draft report made public yesterday says the state should consider charging tolls at the state line on every interstate highway and creating a new tax for each mile a vehicle is driven.

E-tracking, coming to a DMV near you. Trust federal bureaucrats to take a good idea and transform it into a frightening proposal to track Americans wherever they drive. The U.S. Department of Transportation has been handing millions of dollars to state governments for GPS-tracking pilot projects designed to track vehicles wherever they go. So far, Washington state and Oregon have received fat federal checks to figure out how to levy these "mileage-based road user fees.

Company Betting On GPS-Based Driving Tax. Back in 2003, the state of Oregon considered a driving tax, which would involve putting GPS devices on cars so the government could see how far you drove, and then tax you for it. The idea being that those who drive more should pay a larger portion of taxes to support the roads they drive on. Of course, for many, many people, the idea of the government keeping tabs on where you drive and how far you go seems rather Big Brotherish ... .

Runnin' on Empty. For more than a year, David Porter and David Kim, two professors at Oregon State University, have been developing a prototype GPS mileage-data unit and an odometer-based mileage collection system. The wallet-sized GPS device would be mounted inside a vehicle's engine compartment or under the dashboard. The system also requires an antenna for receiving information from GPS satellites and transmitting mileage data to readers at gas stations. The readers would electronically pull miles-traveled information from drivers' GPS units or odometer tags, apply the proposed 1.25 cent per mile tax and add that amount directly to their gasoline purchase.

E-tracking may change the way you drive. The U.S. Department of Transportation has been handing millions of dollars to state governments for GPS-tracking pilot projects designed to track vehicles wherever they go. So far, Washington state and Oregon have received fat federal checks to figure out how to levy these "mileage-based road user fees."

Pay-as-you-drive? The British government is considering scrapping fuel tax and replacing it with a new road charge based on the distance and time motorists travel.

Fighting back:
GPS NMEA spoofing. Chris Barron is getting pretty unnerved by the UK moving to charging for road use based on GPS coordinates. He built [a] device to prove that GPS data can be spoofed and shouldn't be relied upon. He promises future firmware updates that will provide two knob etch-a-sketch style path control.

The mileage tax: coming soon? The Oregon Department of Transportation plans to test a system of charging by the mile next year in Portland. The pilot program does not have much visibility yet, so it is not controversial. It should be. Pilot programs have a way of becoming permanent programs. Taxing highway use by the mile rather than by gallons consumed is a radical shift in the tax burden. It discriminates against motorists who live in sparsely populated parts of Oregon to solve a problem that exists largely in the Willamette and Rogue Valleys and Central Oregon.

GPS Vehicle Tracking Can Tell You How You Drive. You may also have the benefit of a reduced insurance premium if you install a tracking device in your vehicle, but check with your insurance company first as they may require you to install a particular make or standard of device or system. Another benefit will be available to you when it comes around to that wonderful time of the year when you have to do your tax returns. Your GPS device will record the exact mileage that you have covered so that you never have to take down readings from the odometer ever again.

The Editor says...
That is only true if the GPS receiver operates error free, for as long as you own the car. It won't.

Driving While Intaxicated: While the state [of Oregon] sees the concept as the perfect replacement for its existing gasoline tax, privacy watchdogs are calling foul play over a plan that turns Big Brother into the ultimate backseat driver. And environmentalists are concerned that the plan reduces the incentive to purchase fuel-efficient vehicles. ... "We're also looking at variable pricing and congestion pricing," [one of the developers] said, "and we could even do different time-of-day rates." For example, the state could make it more expensive to drive downtown during rush hour than it would be to cover the same ground during a midnight munchie run when the streets are deserted.

Kulongoski to pursue mileage tax. A year ago, the Oregon Department of Transportation announced it had demonstrated that a new way to pay for roads — via a mileage tax and satellite technology — could work. Now Gov. Ted Kulongoski says he'd like the legislature to take the next step. As part of a transportation-related bill he has filed for the 2009 legislative session, the governor says he plans to recommend "a path to transition away from the gas tax as the central funding source for transportation."

PAYD: Privacy And Your Driving. Major car insurance companies, such as Progressive and GMAC, have recently begun offering "pay-as-you-drive" (PAYD) programs. To participate, drivers connect a device to their vehicle that monitors mileage, speed, time of day, hard braking, quick accelerations, and other data points. This information can be sent wirelessly to the insurance company, and drivers' premiums are adjusted accordingly. So now when some crazed fool suddenly cuts you off and you brake hard in response, that other motorist is costing you money in addition to endangering you.

Why 70 Miles Per Hour Is the New 55: Left to their own devices, American drivers confronted with an open stretch of interstate highway tend to drive at about 70 miles per hour — whatever the legal speed limit happens to be. That's the finding of an analysis of speed data gathered by TomTom Inc., a marketer of GPS navigation devices.

The Editor asks...
And how did they find out? Is TomTom harvesting data from units in the field?

Oregon looks at taxing mileage instead of gasoline. Oregon is among a growing number of states exploring ways to tax drivers based on the number of miles they drive instead of how much gas they use, even going so far as to install GPS monitoring devices in 300 vehicles. The idea first emerged nearly 10 years ago as Oregon lawmakers worried that fuel-efficient cars such as gas-electric hybrids could pose a threat to road upkeep, which is paid for largely with gasoline taxes.

The Editor asks...
Will the mileage tax replace the gasoline tax, or just add to it? Will cars with GPS devices pull up to tax-free pumps? I doubt it. Please note that it is the "blue state" governments that come up with more and more ways to raise taxes. It would make more sense to reduce the states' spending.

Big Brother/Backseat Driver. For lo these many years, the Democratic motorcade class has scolded American workers for driving gas-guzzling cars. Now that Americans have begun driving more fuel-efficient cars and driving less, how have the finger-waggers reacted? No, they are not planning a parade — they already are working on a new tax on miles driven to make up for lost gasoline-tax revenue.

Obama Administration Says No to Transportation Secretary's Mileage Tax Idea. President Barack Obama will not adopt a policy to tax motorists based on how many miles they drive instead of how much gasoline they buy, his chief spokesman said Friday. Press secretary Robert Gibbs commented after Transportation Secretary Ray LaHood told The Associated Press that he wants to consider the idea, which has been proposed in some states but has angered many drivers.

Massachusetts mileage charge being considered elsewhere. The idea behind a VMT [Vehicle Miles Traveled] program is simple: As cars become more fuel efficient or powered by electricity, gas tax revenues decline. Yet the cost of building and maintaining roads and bridges is increasing, requiring an alternate form of funding. A state could cover that gap with other taxes — or by charging drivers precisely for the mileage their vehicles put on public roads.

Pawlenty wants Minnesota to test mileage tax. State officials say Minnesota is working on a pilot program to test the idea of charging drivers for each mile they drive. Other states around the country are considering a vehicle mileage tax, as revenues from the gas tax are expected to decline. The cost of each gallon of gas includes 18.4 cents to fund federal highway programs, and another 25.5 cents for roads in Minnesota.

Drivers in opposition to tax plan. Nevadans expressed concern Tuesday [3/30/2010] that government would be tracking their driving routes should the state Department of Transportation switch to a Vehicles Miles Traveled system of highway taxation. "There are serious privacy concerns with the VMT system," said Rebecca Gasca, public advocate for the American Civil Liberties Union of Nevada. "In some of the proposals, the government would know where you were driving 24 hours a day."

LaHood eyes taxing miles driven. Transportation Secretary Ray LaHood says he wants to consider taxing motorists based on how many miles they drive rather than how much gasoline they burn — an idea that has angered drivers in some states where it has been proposed.

Obama's transportation goal: coercing people out of cars. Liberals love Ray LaHood because he is the type of Republican who wants government to control more of American life. When President Obama named him secretary of transportation, it was not so much an act of bipartisanship as an expression of ideological solidarity. About a month into his tenure, LaHood told the Associated Press that the administration should consider taxing people for every mile they drive their car, a system that would require tracking people's movements.

You wouldn't mind government tracking your car and mileage real-time, would you? Great news: State governments are finally realizing they've about topped out the huge taxes hidden in the price of each gallon of gasoline. Of course, that doesn't mean they'll make do with the tax revenues they have. Not-so-great news: They're looking to nip American drivers another way, by taxing us according to how many miles we use the roadways.

Somewhat related...
Attaching a GPS Locator System to a Car: Is It A "Search"? Global Positioning Systems (GPS) are being used ever more in our nation and across the world. Law enforcement as well has a strong interest in the use of such devices in order to locate specific vehicles or to conduct surveillances electronically and surreptitiously. But is the use of such devices by police subject to the restrictions imposed on public authority by the Fourth Amendment?

In my opinion this could have an impact on the odometer tax:
GPS use voids conviction. Ruling that federal agents erred in attaching a satellite tracking device to a vehicle without a search warrant, a federal appeals court has reversed the life sentence of man accused of running a major Washington drug ring. The U.S. Court of Appeals for the District of Columbia Circuit on Friday [8/6/2010] found that the government's use of GPS technology to track defendant Antoine Jones' Jeep violated the Fourth Amendment.

Editor's comments:
An "odometer tax" is a tax based on the number of miles traveled. If the tax is really for road and bridge maintenance, the government must assume that that your car stays on public roads (within the U.S.) all the time. But how is the mileage calculated? How do you measure the distance from Point A to Point B without knowing the location of both points, and how would the average user know if his or her position was being reported or not?

The most likely result of this scheme is something like this: Every vehicle would contain a "black box" (another one!) that would keep track of the vehicle's location, perhaps every minute, and possibly every second of the day. The data could be "dumped" out of the black box through a wireless connection whenever the car visits a gas station, or through direct contact when the vehicle is taken in for a mandatory annual state inspection. Some kind of feature would be incorporated to keep the car from running in the absence of GPS information, which means that if the GPS antenna breaks, or the car spends more than a few minutes in a tunnel or parking garage (or anywhere GPS signals don't go), the engine would quit, or perhaps your high-beam headlights would stay on. Numerous other unintended consequences will inevitably develop from this kind of Orwellian scheme.

(Note that GPS is a transmit-only navigation system — the GPS satellites transmit to users on the ground. Contrary to common misconceptions, often repeated by poorly educated "journalists", information is not transmitted to the GPS satellites by anyone other than the US military.)

There are serious risks connected with over-reliance upon (and excessive faith in) computers of all kinds. "Sanity checking" of the data is a must. There are people who believe everything they read on a computer screen. When they are the ones assessing taxes, we're all in trouble. If the GPS-based odometer says that I drove 9000 miles yesterday, the minimum-wage clerks at the courthouse aren't likely to believe otherwise.

Related topic: Cops believe their computer terminals, no matter what they say.

GPS receivers often report speed and position incorrectly. I have a hand-held GPS device that I sometimes use as a speedometer in my car. At the moment it says that my maximum speed (since the last reset) was 443 mph. My 16-year-old Honda wouldn't go that fast straight down, but at least I don't have to explain the anomaly to a municipal court judge.

The odometer tax removes much of the incentive to own a fuel efficient vehicle. Many people have bought smaller cars and gas/electric hybrids in an attempt to avoid buying expensive gasoline, and a substantial part of that expense is due to state and federal gasoline taxes. With the odometer tax in place, these consumers who thought the were doing the right thing are going to get soaked anyway.

Related topic: Tracking the whereabouts of cell phone users.

Thank you for visiting! Please if you find any broken links, misspelled words, or other errors on this web site, or if you see anything you really like.
---

See also Privacy Compromised by Big Government.
... and The use of Traffic Signals as Fundraisers.
... and The Abuse of Power by Ordinary Cops.
Back to the home page