The UN had its chance to play an important role in what is now known as the global war on terrorism. But the UN has proven on many occasions to be all talk and no action. At least no effective, positive, productive action. Sternly worded resolutions have no effect on heavily-armed dictators.

As a sovereign nation, the U.S. does not need to ask permission or get a consensus from any other country or countries before defending itself; however, when time permits, most other countries expect to hear some justification when Country A bombs Country B.

Lately the UN is famous for only one thing, and that is the Oil-for-Food scandal. As more information is revealed about the scandal, it is beginning to appear that the UN is merely a conference of corrupt officials from corrupt little countries all over the world. If that's the case, the UN cannot possibly accomplish anything that benefits everyone in the long run.

The UN is dangerous because its ultimate goal is a single world-wide socialist government.

Information about the United Nations gun control efforts — that is, the elimination of private firearms ownership — can be found on this page.

The UN Law of the Sea Treaty (LOST) is discussed on this page.

The United Nations IPCC Report on Global Warming is covered on this page.

The United Nations now conducts global climate conferences, which accomplish nothing and address a problem that doesn't exist. They had the Earth Summit of 2002, and climate change conferences in Bali, Copenhagen, Cancun, Durban, and Qatar, among others. What do all these big conferences have in common? In each case, the UN hoped to use the "global warming" scam as a mechanism to install world government and the transfer of wealth from rich nations to poor ones.


---
UN: Why would we investigate the Nord Stream blasts? The mystery of the sabotage of the Nord Stream pipelines continues to generate controversy months after the fact. Last week the Russians asked the United Nations Security Council to investigate the blasts as an act of war. Yesterday the council held a vote and declined to conduct such an investigation. The only members voting in favor of the resolution were China, Brazil, and, of course, Russia. Everyone else either abstained or voted no. Some of the members voting against the resolution actually offered a fairly good reason. There is already an investigation underway and it would be premature to jump into the middle of it before we know the results. But this definitely handed some additional ammunition to Moscow which continues to claim that it had nothing to do with it.
No worries guys, addressing climate change will only cost us $131 Trillion. The UN came out with another super cool climate change report and the WSJ has a lovely little video about it: [Video clip] So how much will it cost to address climate change? $131 trillion between now and 2050. That's $131,000,000,000,000. The entire world's GDP was $85 trillion last year! A few years ago, the climate change estimate was $98 trillion. Now it's $131 trillion. What's it gonna be a few years from now?
The Editor says...
What does it mean to "address climate change?" Is the U.N. going to stop the weather from changing? Is the U.N. going to take control of the Sun? Is the U.N. going to make it impossible for polar ice to melt? Even if they can round it up, what will all that money buy? [#2] Why does the U.N. exist? [#3] Notice that the estimated cost to "address" climate change — which is a weasel word to excuse their failure when they fail to eliminate climate change or any of its effects — is increasing by trillions of dollars per year. This gives the "problem" a false sense of urgency: If it isn't addressed right now it will cost trillions more! When you have to ask, "What's the rush?", the answer is probably deception.
U.N. Is A Climate "Disinformation Threat Actor". The United States government's Cybersecurity and Infrastructure Security Agency (CISA), within the Department of Homeland Security, is raising the alarm about the threat of "foreign influence" that is "leveraging misinformation, disinformation, and malinformation." CISA defines "malinformation" as information "based on fact, but used out of context to mislead, harm, or manipulate." In 2021, CISA, along with the White House and private sector partners, successfully persuaded Facebook and Twitter to censor accurate information about the origins of the SARS-2 coronavirus and covid vaccines. And yet CISA is failing to do its job when censoring malinformation, misinformation, and disinformation about climate change, including by "threat actors," often funded or employed by foreign governments. A Google survey of over 2,300 people conducted last year by the nonpartisan research organization Environmental Progress, which I founded and lead, found that 53% of people surveyed in the U.S. agree with the false statement, "Climate change is making hurricanes more frequent," while 46% agree with the false statement, "Climate change threatens human extinction."
IPCC Issues their Annual Final Climate Warning. UN climate warnings are like the village communist predicting the imminent demise of capitalism every week — and about as likely to happen. [...] My only concern in this ridiculous charade, is for the naive younger people who take these warnings seriously, and feel distressed that older people are not acting, are not showing any sense of urgency about preventing the imminent end of the world.
The UN Declares War on the 'Poison of Islamophobia'. [Scroll down] Think about what he's saying here: Muslims "face bigotry and prejudice for no other reason than their faith." In other words, Western peoples — the world's most liberal and tolerant people by leaps and bounds — supposedly hate and mistreat Muslims simply and only because the latter have a different belief system. In the real world, of course, it is precisely the West that developed the idea of religious freedom (which is sorely lacking in Islam). If anything, the West is the only civilization that looks more favorably on all other belief systems than its own founding faith, Christianity. The truth is, if there is any "bigotry and prejudice" against Muslims, it is not because Western people are so hostile to those who believe differently from how they do — a position better exemplified by Muslims — but due to any number of Islam's problematic teachings, including terrorizing non-Muslims into subjugation (jihad), executing apostates and blasphemers, treating women as chattel, and legitimizing child marriage (pedophilia), to name a few.
A Grand Canyon of Difference. My fight against lies and misinformation began at a young age. I remember being in the first grade and being asked at Christmas to collect money for a United Nations agency called UNICEF — ostensibly, the organization existed to supply food for children in underdeveloped nations. My dad then showed me an article reporting that Cuba was trading our donated grains to a third-party to buy military vehicles — a manufactured food shortage — and I immediately understood that I was initially sold a lie. I began distrusting the government and the UN, although I did not yet understand the imperative role that propaganda played in order to elicit loyalty to a central government as its agents starved their own people. I did not understand how some could behave so inhumanely. Sadly, I learned to distrust much of what my friends and their parents believed — which was how I came to understand groupthink. I turned in my donation box to my teacher and told her why. I can't exactly remember how she took it; but not well. My dad however was pleased, and bought me a subscription to Human Events, a well-known weekly conservative newspaper.
Biden's 'America Last' Health Treaty. President Joe Biden's diplomats are negotiating a treaty with the World Health Organization to promote so-called global health equity. The premise is that in a pandemic or other worldwide disease emergency, Americans should not get better or faster health care than inhabitants of third-world countries. If Biden rams this through, Americans will suffer and die needlessly. Under the draft treaty, presented in Geneva on Feb. 1, the U.S. will be obligated to hand over a whopping 20% of its medical supplies, including diagnostic tests, antiviral medications and vaccines, to WHO for global distribution. Article 10 of the treaty specifies this will be done in "real-time," not after American needs are met. The U.S. will no longer be able to rush treatments and vaccines to its own citizens, prioritizing them before sending aid to other countries. Grandma will have to wait longer for her Paxlovid or other treatments because those items, now being stockpiled and paid for by American taxpayers, will be shipped to Nigeria, Uruguay, Afghanistan and other underdeveloped nations. The WHO will call the shots on which countries get what supplies.
WHO Pandemic Treaty: The Back Door to CCP Control Over America. America's enemies never stop scheming about the ways in which they can bring the United States down. China, our greatest external strategic enemy, already has a plan to gain control of America through the next pandemic and United Nations agency channels. The first stage of the Chinese Communist Party (CCP) accomplishing this was gaining controlling influence over the U.N.'s World Health Organization (WHO), which was achieved when the Chinese groomed Tedros Adhanom Ghbreyesus as a candidate and then got him elected as Director-General of the WHO in 2017. The WHO's misguided recommendations and harmful policy responses to the Covid-19 China virus included lockdowns and disruptions of holidays; school, church, synagogue, and business closures; social distancing and masking that retarded children's social development — all of which led to economic contraction, bankruptcies, supply chain disruptions and inflation. That record doesn't enhance the WHO's trust factor, and its ability to deal with future health emergencies and pandemics.
Can the Biden Administration Force Us to Let the World Health Organization Call the Shots When There Is a Pandemic? [Scroll down] The zero draft appears to endow the WHO with the authority to "declare and manage a global pandemic emergency," according to the Epoch Times. "Once a health emergency is declared, all signatories, including the United States, would submit to the authority of the WHO regarding treatments, government regulations such as lockdowns and vaccine mandates, global supply chains, and monitoring and surveillance of populations." David Bell, a public health physician and a former WHO staffer, told the news outlet that these people "want to see a centralized, vaccine-and-medication-based response, and a very restrictive response in terms of controlling populations." He added: "They get to decide what is a health emergency, and they are putting in place a surveillance mechanism that will ensure that there are potential emergencies to declare." This is part of a two-pronged approach to global pandemics. The World Health Assembly launched an initiative to develop new global pandemic regulations that would also overrule the laws of member states. "The World Health Assembly is the rule-making body of the WHO, comprised of representatives from the member states," the Epoch Times explained. "Both [initiatives] are fatally dangerous," said Francis Boyle, professor of international law at the University of Illinois College of Law. "Either one or both would set up a worldwide medical police state under the control of the WHO, and in particular WHO Director-General Tedros."
Republican Senators Push Back Against Accord Giving WHO Power Over US Pandemic Response. As member states of the World Health Organization (WHO) prepare to gather in Switzerland next week to negotiate final terms of an accord that will give the WHO centralized authority over U.S. policy in the case of a pandemic, Republican senators are pushing back with an effort to reinforce congressional power to authorize treaties. The draft accord, which would be "legally binding" on all 194 member nations, gives the WHO the authority to declare pandemics and submits member countries to "the central role of the WHO as the directing and coordinating authority on international health work," in areas like lockdowns, treatments, medical supply chains, surveillance, and "disinformation and false news," once a pandemic is declared.
Biden decides to give the WHO authority over U.S. sovereignty. The World Health Organization, a subsidiary of the United Nations run by a team of bureaucrats in Geneva, soon could have the power to dictate lockdowns, vaccination mandates, social distancing and much more in the United States. Even surveillance of citizens. A new report from the Epoch Times explains Joe Biden is getting ready to sign the U.S. up to a "legally binding" deal that would give international politicians authority to make decisions for America during a pandemic. And he's maneuvering so it won't require approval by the U.S Senate.
Biden Admin Negotiates Deal to Give WHO Authority Over US Pandemic Policies. The Biden administration is preparing to sign up the United States to a "legally binding" accord with the World Health Organization (WHO) that would give this Geneva-based UN subsidiary the authority to dictate America's policies during a pandemic. Despite widespread criticism of the WHO's response to the COVID pandemic, U.S. Health and Human Services (HHS) Secretary Xavier Becerra joined with WHO Director-General Tedros Adhanom Ghebreyesus in September 2022 to announce "the U.S.-WHO Strategic Dialogue." Together, they developed a "platform to maximize the longstanding U.S. government-WHO partnership, and to protect and promote the health of all people around the globe, including the American people." These discussions and others spawned the "zero draft" of a pandemic treaty, published on Feb. 1, which now seeks ratification by all 194 WHO member states. A meeting of the WHO's Intergovernmental Negotiating Body (INB) is scheduled for Feb. 27 to work out the final terms, which all members will then sign.
U.N. Chief Guterres Warns of Mass Climate Exodus on a 'Biblical' Scale. U.N. Secretary-General António Guterres offered his apocalyptic view of the coming climate catastrophe Tuesday [2/14/2023], warning the Security Council that rising seas threaten the very existence of "entire countries." In his doomsday address, the U.N.'s alarmist-in-chief declared that the danger "is especially acute for nearly 900 million people who live in coastal zones at low elevations — that's one out of ten people on Earth." "Low-lying communities and entire countries could disappear forever," Guterres asserted. "We would witness a mass exodus of entire populations on a biblical scale."
The Editor says...
This is nothing more or less than a shakedown by poor countries looking for handouts from wealthier countries. There are no climate refugees. There is no climate catastrophe.
The UN wants you to know that words are weapons now, and they lead to cruelty and violence. It's pretty easy to see where The UN is headed with this new little campaign of theirs. [Tweet] Yes, the old "sticks and stones" saying no longer applies in the world of the snowflake. Because hateful words are literal violence now, and they may actually hurt worse than sticks and stones. Just listen to Texas Democrat Rep. Sheila Jackson Lee: [Tweet] [...] So whatever you do, don't take this "speech is violence" stuff seriously. It's just another weapon they're using in an attempt to squash our resistance.
U.N. Tells Rich Countries to Pay $2 Trillion a Year for Climate 'Justice'. An annual transfer of funds from rich to poor countries, starting at around $2 trillion by 2030 and rising thereafter, is needed for climate "justice" according to a U.N.-backed report released Tuesday. China has been specifically excluded from the demand for reparations, which includes taxes for fossil fuel companies on their global "carbon profits," even as the Communist state's greenhouse gas emissions now exceed the entire rest of the developed world combined.
UN considers trying to outlaw all fossil fuels on the planet. The COP27 globalist gathering that recently took place in Egypt came with open calls for a global phase-out of, and eventual ban on, all fossil fuels. Were this to actually happen, billions of people would die. A tiny, failing island in the South Pacific called Tuvalu (ever heard of it?) made the proposition using the following quoted statement: "We, therefore, unite with 100 Nobel Peace Prize laureates and 1000s of scientists worldwide to urge world leaders to join the fossil fuel Non-Proliferation Treaty, to manage a just transition away from fossil fuels." One wonders: what does Tuvalu mean by the term "just transition?" Is ending most human life on earth considered by the globalists to be the "just" thing to do? Because that it what eliminating all fossil fuel usage would do.
UN claims climate catastrophe now almost unavoidable. Three [...] new reports from the United Nations claim that the planet is in dire, imminent danger because the nations of the world are not adequately mobilizing against climate change. [...] United Nations secretary-general António Guterres stated, "Loss and damage from the climate emergency is getting worse by the day and global and national climate commitments are falling pitifully short. Under current policies, the world is headed for 2.8 degrees of global heating by the end of the century. In other words, we are headed for a global catastrophe." Guterres added that the only way to change this tragic trajectory is with "urgent system-wide transformation." (Translation: "Wealthy, Western, free-market nations must sacrifice themselves for the good of posterity because no one else will.) Naturally. Most of the countries constituting the United Nations want the U.S., in particular, to stop exhibiting "ableism" and to shut down its previously highly productive and efficient extraction and manufacturing industries.
The Editor says...
[#1] Nobody knows what the weather will be like in 80 years. Nobody can predict next week's temperatures within two degrees, because weather is chaotic. [#2] A temperature increase of two degrees might not be a bad thing. There's no certainty that a "catastrophe" will result — especially in places like Finland and Greenland. [#3] There is no climate emergency. The claim that "Loss and damage from the climate emergency is getting worse by the day" is not supported by evidence. Where is the damage? How is today's damage worse than yesterday's? There is no damage.
New Zealand prime minister condemned for calling to regulate free speech as a 'weapon of war' at UN. New Zealand Prime Minister Jacinda Ardern was blasted for comparing free speech online to "weapons of war" in a recent speech to the U.N. that critics called "authoritarian." At the U.N. General Assembly on Friday, Ardern announced a new initiative "to help improve research and understanding of how a person's online experiences are curated by automated processes," saying the work, done in partnership with companies and non-profits, will be "important in understanding more about mis- and disinformation online — A challenge that we must as leaders address." The prime minister acknowledged that calling to regulate speech online in any way can seem problematic.
Biden and DC Sure Know How to Put America Last. Joe Biden spoke today at the United Nations and delivered a swan song for globalism and climate change alarmism, while imagining that the United States was still enjoying a unipolar moment of unparalleled wealth and power that his ilk frittered away. What else can explain Joe Biden's de facto "Europe First" foreign policy, and his inability to call out the wealthy moochers of Europe who talk a good game about Russia and Ukraine but have reneged on their promises to pay for more defense. Also in the weakness department, Biden said nothing about the Mexican and Latin American governments sitting before him that do nothing to stem the tide of illegals invading America, or the criminal networks that facilitate them. The icing on the cake was telling the Chinese government most of what it wanted to hear.
UN diplomat dodges NYC rape rap thanks to diplomatic immunity: cops. A United Nations diplomat was accused of raping one of his neighbors in Upper Manhattan over the weekend — but NYPD cops released him because he has diplomatic immunity, authorities said Monday [8/22/2022]. Charles Dickens Imene Oliha, 46 — a career diplomat for the Ministry of Foreign Affairs and International Cooperation in South Sudan — was arrested in Sunday's alleged sex assault on a woman inside her apartment around noon, according to a police report obtained by The [New York] Post. Oliha was taken into custody on suspicion of rape and brought in for questioning, cops said. But once he informed detectives from the NYPD's Special Victims Unit that he was a diplomat, investigators confirmed he had immunity and swiftly released him without formally charging him, police said.
UN Recruited Over 100,000 'Digital First Responders' to Push Establishment COVID Narrative. At the height of the pandemic, the United Nations recruited over 100,000 "digital first responders' to push the establishment narrative on COVID via social media. The revelation actually slipped out in October 2020 during a World Economic Forum podcast called 'Seeking a cure for the infodemic', although it is only going viral on Twitter today. In the podcast, Melissa Fleming, head of global communications for the United Nations, explains how the COVID pandemic and lockdowns created a "communications crisis" in addition to a public health emergency. Fleming acknowledged that in order to fight so-called "misinformation" about the pandemic, the UN tapped up 110,000 people to amplify their messaging across social media.
Take a Look At The Sexual Propaganda Displayed In A 5th Grade Classroom At The United Nations International School In NYC. Posters promoting cross-dressing, gender fluidity, social justice and "sustainability" are plastered on the walls of a fifth-grade classroom at the United Nations International School in New York City. "Proud are the brave," a poster featuring a man dressed in drag states. "Be true to you." "All that matters is that we are in love. Love knows no gender and no hate," the caption on the photo continues. "Lets celebrate and flaunt our true colors and be proud of it."
UN peacekeepers from 12 countries 'have fathered and abandoned thousands of children' over past 20 years in Democratic Republic of Congo, study claims. A shocking new report has claimed that UN peacekeepers from 12 different countries have fathered and then abandoned thousands of children in poverty-stricken Democratic Republic of Congo since 1999. The report also claims that soldiers and police operating under a UN mandate in the war torn country have abused children, raped young women and traded food for 'survival sex.' One victim was just ten years old when her aunt trafficked her to UN peacekeepers who plied her with beer, raped her and got her pregnant, the report states.
A WEF Op-ed Is Calling for Global Censorship. We Really Need to Cut Ties With These Commies. I've always said that most institutions with the words "international" or "world" in their titles are globalist, pinko organizations. Examples include the International Monetary Fund (IMF), the World Health Organization (WHO), and the World Economic Forum (WEF). [...] An op-ed article appeared on the WEF website, claiming there is a need for a form of global censorship. It doesn't say, "We need global censorship," because the commies are too clever to be that blunt. They offer to shred our rights the way the bolshies always have, by saying it's for the betterment of the people. In this case, they call for cracking down on "the radicalization of extreme opinions, the spread of misinformation and the wide reach of child sexual abuse material (CSAM)."
U.N. War On Fertilizer Began in Sri Lanka. The United Nations Environment Programme (UNEP) describes itself as "the global authority that sets the environmental agenda... and serves as an authoritative advocate for the global environment." Through its "Economics of Ecosystems and Biodiversity for Agriculture and Food" program launched in 2014, the UNEP advocates that nations "steer away from the prevailing focus on per hectare productivity." But today the world is in its worst food crisis since 2008. The number of people suffering acute food insecurity increased by 25% since January 2022 to 345 million, according to the United Nations World Food Programme. Why, then, is the UNEP trying to steer nations away from fertilizers that increase food production?
Speak for yourself, pal. The earth is not my mother.
United Nations: Embrace High Gas Prices For The Sake Of Mother Earth. Climate experts commissioned by the U.N. will release what is claimed to be the definitive guide to "halting global warming" on Monday, in a report ordering how societies and economies must transform to ensure a "liveable" future. The U.N.'s Intergovernmental Panel on Climate Change (IPCC) is responsible for the publication designed to shape the global climate response in the wake of the coronavirus pandemic. AFP reports the IPCC published the first two instalments earlier this year in a trilogy of mammoth scientific assessments covering how greenhouse gas pollution is claimed to be heating the planet and what that means for life on Earth.
The Fantasy World of the United Nations. The UN has become, as Volodymyr Zelensky on April 5, 2022, told the UN Security Council, a venue for "conversation," not one for action to stop aggression by Russia, a country that "has turned the right of veto into a right to die." The question can be raised of whether it has become a negative factor in the search for international justice and peace. The partiality of the UN was shown in the past by its disproportionate behavior. The UN General Assembly held a moment of silence to honor North Korean dictator Kim Jong-il. It refused to honor Vaclav Havel, freedom fighter, who died the day after Kim in 2011. The UN has been more often prominent for its lack of efficiency in preventing conflicts and in being the venue for expressions of anti-Semitism and appeasement, than in championing international justice.
UN chief calls for extreme weather warning systems for everyone on Earth. Everyone on the planet should be covered by an early warning system against extreme weather and climate-related disasters within five years, the UN secretary general has said. About a third of people around the world are not now covered by early warning systems, but in Africa the problem is greater, with about six in 10 people lacking such warnings. As climate breakdown takes hold, more people are likely to be affected by extreme weather, including flash floods, heatwaves, more violent storms and coastal storm surges, made worse by sea level rises.
The Editor says...
The climate is not breaking down. The sea level is rising imperceptibly. Bad weather is nothing new.
John Kerry Promises U.N. $10 Billion in U.S. Taxpayer Dollars Annually for 'Climate Crisis'. Climate czar John Kerry told an informal U.N. Security Council meeting on Wednesday that President Joe Biden is committed to increasing U.S. funding to developing countries by upwards of $10 billion annually to help combat the "climate crisis." Kerry told the meeting on "Climate Finance for Sustaining Peace and Security" U.S. taxpayer dollars will be forthcoming and placed at the disposal of the globalist body to help redistribute wealth in a time of crisis to poorer countries that need it most.
The Editor says...
[#1] No "combat" is necessary, for indeed there is no climate crisis. [#2] Where did either Kerry or Biden get the authority to give an extra $10 billion to the U.N. — every year?
We're Comparatively the Planet's Cleanest Country - Why the Bipartisan Push to Tax Our Carbon? The US has the world's largest economy — which requires the world's largest energy supply. But by rate of energy use versus output of pollution, the United States is undoubtedly the cleanest country on the planet. [...] We here in the US should, by now, know global organizations exist solely to stick it to US. The United Nations? The World Health Organization? The International Telecommunications Union? The North Atlantic Treaty Organization? All of these and more exist to take potshots at the US — and make the US pay exorbitantly for the privilege. We here in the US should, therefore, not promote domestic policies that comport with the World's ridiculous anti-US perspective.
The Editor says...
Carbon dioxide is not a pollutant.
UN report: Climate change already so severe humans nearing adaptation limits. A comprehensive new United Nations-sponsored assessment of climate change finds that global warming is reshaping the world more rapidly and severely than was known several years ago. The report finds that climate change is affecting every person's physical and mental health, and classifies nearly half of the global population as being "highly vulnerable" to climate impacts.
The Editor says...
For all practical purposes, there is no global warming. There is no climate crisis, and although the climate is constantly changing, the changes are happening so gradually that you'll never notice — unless you watch too much television. Nobody is having to consciously adapt to a rapidly-changing climate. The United Nations routinely lies about global warming, among other things, because it is engaged in a never-ending quest for increased political power.
US expels 12 Russian 'intelligence operatives' at the United Nations. The United States government says it is expelling 12 Russian "intelligence operatives" from the Russian Mission to the United Nations over national security concerns. A spokesperson for the U.S. Mission to the United Nations announced Monday [2/28/2022] the U.S. is "beginning the process" of expelling these individuals as part of a process that has "been in the works for several months," though the move comes less than a week into Russia's invasion of Ukraine.
UN Planes In Ontario, North Bay - Shocked Canadians Believe They Carry The "Green Shirt" Officers In Ottawa. Who would have thought that Canada would ever be a spark plug for a freedom movement against tyranny? Everything started when Ottawa's police chief was ousted amid criticism of his inaction against the trucker protests that have paralyzed Canada's capital for over two weeks, while the number of blockades maintained by demonstrators at the U.S. border dropped to just one. The twin developments came a day after Prime Minister Justin Trudeau invoked Canada's Emergencies Act and threatened to take tough legal and financial measures to end the unrest in Ottawa and beyond by protesters decrying the country's COVID-19 restrictions and Trudeau's government. Ottawa Police Chief Peter Sloly lost his job after failing to move decisively against the bumper-to-bumper demonstration by hundreds of truck drivers according to the mainstream media. Local sources alleged that he just didn't want to follow orders that would require stomping on Canada's democracy!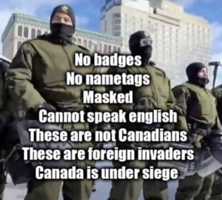 The Reason for the Police Violence in Ottawa is Not What You Think. The black clad army of mercenaries and police brutalizing a peaceful protest in Ottawa this weekend has been planned for years. It is overkill for a reason. It is theatre. It is an othering, a willful flagrant statement on the future of the working class everywhere. It instructs them: you will die. If not now, then sometime in the next ten years. Your towns will be gutted, your jobs will evaporate, you will scramble for pennies until you fall over dead and your children will have nothing to look forward to. You are Tutsi, you are Jew, you are Kulak, you are compromador, you are Othered. You are headed for the slagheap of history. Fight back and you will be deemed domestic terrorists and encamped indefinitely. This week, Canada's intelligentsia unmasked themselves as fully on side of this demonic enterprise, competing to hate on the truckers.




Now the UN is 'helping' rejected migrants recover 'repressed memories' to get asylum status. Todd Bensman, who's doing yeoman's work on the international rackets enabling big migrant surges at the U.S. border, has found the United Nations at the nexus of the matter, aiding and abetting illegal immigration into the U.S., and not for the first time. [...] How very convenient. And how very phony. So many rejected migrants now have repressed memories of torture and political persecution that all of them now qualify for asylum status in the states. All they have to do is visit one of these United Nations-funded chop shops and they'll cook up a good narrative for them to present. The 'science' of 'repressed memories' has long been a controversial matter, given that most of it is junk science.

The Editor says...
Why does the United States host and support the United Nations, while the UN is actively undermining the U.S.?

As Iran was about lose its UN General Assembly vote for nonpayment of dues, the US arranged funds to cover the debt and keep Iran voting. The Trump administration's sanctions on Iran were working so well that the mullahs were unable to put together the money to pay up on its United Nations dues. Not after paying much higher priority bills, such as supplying weapons to the Houthis fighting our allies in Saudi Arabia and the United Arab Emirates and supporting Hezb'allah's attacks in Israel. Or engaging in joint naval maneuvers with Russia and China. [...] Imagine if President Trump had bailed out the UN arrears of a US foe. The articles of impeachment would have been drafted within hours.

In Mexico's Deep South, the United Nations [is] Handing Cash to U.S.-Bound Migrants. The United Nations refugee agency (UNHCR), which receives billions in U.S. taxpayer money, is handing out cash debit cards and other funds for lodging and prescription medicines to U.S.-bound migrants who spill out into this southern Mexican city by the hundreds of thousands. Every day, word of the UN's cash assistance draws long lines of hopeful U.S.-bound migrants to a large, grey building staffed by application-takers and interviewers who determine who gets the money. Haitian Luis Ponce was in line one recent day, not to get his application going, but to complain to the officials inside that the UN is in arrears. The international agency had not recharged his debit card-linked local bank account, a yellow and gray plastic affair with a UNHCR/ACNUR insignia in the upper third left corner, with the 3,600 pesos owed (about $180). "We don't have money now," Ponce complained, flashing the empty card.

The Editor says...
Hold on to that empty debit card, Luis. In some places, that's all the ID you need to vote

The #1 reason the UN has no credibility whatsoever. What do China, Cuba, and Russia have in common? They sit on the U.N. Human Rights Council and violate human rights. It is a travesty, as Virginia Kruta counts the Top 10:
[#10] Pakistan
[#9] Mauritania
[#8] Qatar
[#7] Somalia
[#6] Russia
[#5] Libya
[#4] Cuba
[#3] Eritrea
[#2] Venezuela
[#1] China
As Hillel Neuer points out, Cuba's credentials are just what you are looking for for a seat in a human rights group: ["]a 60-year totalitarian regime; bans free speech, association; blocks vital food & medical aid; infiltrates & subverts entire hemisphere; drug trafficking; sends doctors abroad as slave labor.["] And then there is China, that beacon of democracy and human rights. And Venezuela, another charmer when it comes to respecting its citizens.

The reality of One World government. America's debt is $31.4 trillion, as just agreed to by the United States Congress. Service on this debt is astronomical and virtually unsustainable if interest rates rise. The alternative to the elite is God-centered governance, not Man-centered, in line with Judeo-Christian Moral Law. This is the model that the American Constitutional Republic represents. Elite international banking partially operates, since WWII, through the auspices of many organizations and agencies of the United Nations. The UN also includes international courts and bureaucracies that would replace our own. The intellectual elite has devised a seemingly impenetrable web of structures with such elaborate interconnections, including tax-exempt Foundations and secret societies, that no one can unravel the whole scheme.

United Nations Grantee Uses U.S. Tax Dollars To Fund Illegal Immigration. During a recent trip to a Reynosa, Mexico migrant camp, I took photos of a United Nations-supported International Organization for Migration (IOM) operation to hand out cash debit cards to intending and repeat border crossers. One of two workers at a plastic folding table inside the Reynosa camp, which was filled to capacity with at least 1,200 mostly U.S.-expelled Central Americans, said they were distributing the cards for IOM to help migrants waiting until they cross the Rio Grande at greater leisure to claim asylum, for which most will be declared ineligible years later. Many parents, for instance, got about $400 every 15 days, I was told, or $800 a month if they were still there to collect it, although the support level varied.

The Danger for Mankind Is Not the Climate, but Toleration of a Devious Policy that Uses Climate To Destroy Us! All the symptoms of a collapsing system are right before our eyes, if we care to see them: an economic system in which the balance between cost and benefit is totally out of balance, an accelerating hyperinflation that devours our earnings, a good healthcare system that only the rich can afford, an education system that teaches neither excellence nor moral values, an out-of-control woke culture that turns people against each other, a disastrous geopolitical confrontation policy against alleged rivals — and the list could go on and on! All these manifestations of crisis have a common cause: We in the West are living under the dictatorship of a financial oligarchy, for which the common good is nonexistent, and whose sole interest is to maximize its own privileges. An oligarchy that needs "endless wars" to generate income for its military-industrial complex, and promotes the production and distribution of mind-destroying drugs, both illegal and legalized, the latter because the financial system would have collapsed long ago without the input of laundered drug money. And given that this system is now hopelessly bankrupt, the entire economic and financial system is now supposed to be converted to so-called green technologies in a final great coup — the Great Reset. Under the pretext of climate protection, the motto for this conversion is "Shifting the Trillions." And it's happening now!

Ri-i-i-ight.
Taliban Wants U.N. Funds To Protect 'Fragile Environment'. The Taliban hears the U.N.'s call for "global climate action" now being aired at the COP26 conference in Glasgow, Scotland, with the terrorist organization offering to tackle Afghanistan's "fragile environment" alongside foreign agencies and, just as importantly, their funding. Taliban spokesman Suhail Shaheen lamented "tremendous work" was needed to help Afghanistan become greener and finance for environmental projects which had been approved for U.N. funding under the former Afghan government must "fully resume work."

Bizarre UN Video Warns Humans About Coming 'Climate Disaster' Extinction. In a truly bizarre video released by the United Nations Development Programme on Wednesday, a talking computer-generated dinosaur warns humans that they must take urgent action to avoid what our histrionic friends in the Democrat Party are fond of calling "the existential threat of our time" — climate change (or whatever they're now calling it) action to avoid extinction. Yes, the extinction of mankind is apparently right around the global warming corner if we don't get [...] in gear and stop being mean to the planet and our environment before we enter into irreversible climate armageddon. And of course, the talking dinosaur has a name: Frankie the Dino.

The Editor says...
The climate is changing so little and so slowly that the global average temperature will make an imperceptible small change over the course of your lifetime. Nobody is going to be extinct. You will never meet a "climate refugee." People don't move from one country to another because of bad weather. There will never be a war fought over global warming. Most of all, the climate will never be affected by legislation.

Redistribution of wealth is what the phony "climate crisis" is all about.
Poorest countries to gain from new climate funding plan to break Cop26 impasse. The world's poorest countries are set to benefit from a new climate funding plan to help them cope with the impacts of climate breakdown, in an effort to break the impasse between developed and developing countries at the UN Cop26 climate summit[.] The UK government, as Cop26 host, will unveil the proposals on Monday along with ministers from Germany and Canada, who have been charged with drawing up a plan for climate finance, needed to gain the backing of scores of developing countries for any deal at the talks, which open in Glasgow next Sunday.

U.N. Warns of Global 'Famine, Chaos, Terrorism and... War' if COP26 Climate Summit Fails. Any failure by the Cop26 summit in Glasgow to deliver an agreement on future trans-national climate controls could plunge the world into chaos, sparking migration crises alongside food shortages, political disorder and war, the U.N.'s top climate official warned Sunday [10/24/2021]. Patricia Espinosa, executive secretary of the U.N. Framework Convention on Climate Change, made her bleak prediction ahead of the opening of the convention on November 1.

The Editor says...
If the United Nations implodes and disappears tomorrow, the climate will still change just as slowly and relentlessly as it always has. No amount of taxing and spending will change the weather. But it is the job of a "top climate official" to keep sounding the alarm — never actually fixing the problem, of course — and it is the news media's job to report and repeat whatever the government says. War is not caused by bad weather. Neither is any of the other stuff listed above.

The Specter of One World Government Looms Large. The U.N.'s Agenda 2030 is still in place, and the clock is ticking toward its empowerment — only eight years and two-plus months to go. This Agenda is for a new world government, which will implement the policies of the Agenda. This new government on our horizon explains many of the failures in policies in these first months of the Biden administration. The failures are based not so much on mistakes as on deliberate sabotage to weaken our country, dilute the power that undergirds our sovereignty, and prepare us to accept one world government. The seed ideas for Agenda 2030 began with Pres. Woodrow Wilson's League of Nations in his Fourteen Points at the end of WWI. [...] With the benefit of 20-20 hindsight, all right-thinking persons can see that Woodrow Wilson's first giant step toward globalism was rightly rejected. The League was a complete failure in terms of bringing peace to the world. To the German Nazi government, the League was a joke.

Timeline of The Great Reset, Remaking the World Into a 1984 Dystopia. There is an excellent timeline of The Great Reset at The Sociables. It's very informative, complete with videos and links. The following is simply a brief overview of the timeline. It is worthwhile to look at the full article which traces it from The Great Reset's foundation in 2014 on, until its present incarnation. It's 2014 and a technocrat Nazi has an idea for a great reset of the world economy. It will work if the entire planet is in on it, Tim Hinchliffe, editor of The Sociables writes. A pandemic could make it happen. "The pandemic represents a rare but narrow window of opportunity to reflect, reimagine, and reset our world to create a healthier, more equitable, and more prosperous future," Klaus Schwab, President of the World Economic Forum (WEF) said. It took Schwab and the Davos elite about six years to watch their great reset ideology grow from a tiny Swiss seed in 2014 to a European super-flower pollinating the entire globe in 2020.

Biden preaches 'dignity' at U.N. President Biden went before the United Nations this week to lecture the world about "dignity." "Will we affirm and uphold the human dignity and human rights under which nations in common cause more than seven decades ago, formed this institution?" he wondered, just weeks after Afghan civilians tumbled through the skies from a U.S. military transport plane in the wake of Mr. Biden's historically disastrous retreat from Afghanistan. "People have taken to the streets in every region to demand that their governments address peoples' basic needs, give everyone a fair shot to succeed, and protect their God-given rights," he lectured, weeks after handing Afghanistan back to Taliban terrorists who beat women for not cooking them meals.

Biden Doubles US climate change fund to $11BN a year and commits $10BN to feed poor people across the world. President Joe Biden made his first major address before the United Nations General Assembly on Tuesday [9/21/2021], announcing new financial commitments as he tried to reestablish the U.S.'s place in the global community. Biden said he'd ask Congress to double the amount of money for public climate financing — to about $11 billion a year — while also devoting $10 billion to curb hunger.

The Editor says...
What is "climate financing?" It sounds like a bottomless money pit.

Biden administration worried UN General Assembly meeting could turn into COVID superspreader event. The White House is concerned that the United Nations General Assembly (UNGA) meeting in New York, which kicked off last week, could be a COVID-19 superspreader event. 'We are concerned about the U.N. event being a superspreader event, and that we need to take all measures to ensure that it does not become a superspreader event,' President Joe Biden's Ambassador to the U.N. Linda Thomas-Greenfield said during a press conference Friday [9/17/2021]. World leaders began descending on New York City last week for the annual meeting, and Thomas-Greenfield notes they aren't necessarily abiding by local vaccine requirements and other coronavirus-related restrictions.

NYC's Demand That Diplomats Follow Vaccine Mandate Creates Uproar At UN. New York City's (legally questionable) demand that all representatives and diplomats who attend next week's UN General Assembly meeting show proof of vaccination is threatening to derail the annual summit of world leaders as Russia and China protest the fact that their locally developed vaccines won't be accepted. NYC's request that diplomats and their entourage show proof of vaccination before being admitted somehow received the backing of General Assembly President Maldivian Foreign Minister Abdulla Shahid. In a statement released on Wednesday, NYC Mayor Bill DeBlasio and International Affairs Commissioner Penny Abeywardena thanked UN diplomats ahead of time for "working with us", calling them "true New Yorkers".

UN Demands $600 Million in Taxpayer Money to Help the Taliban. The United Nations has called on Western countries around the world to donate $600 million in taxpayer money to help the Taliban settle in after taking over Afghanistan. On Monday [9/13/2021], the U.N. opened a high-level donors conference with demands for member states to help fund the terrorist group's self-declared Islamic Caliphate of Afghanistan over the next three months. The Taliban has promised that it will disperse the funds to Afghans most in need, the U.N. assured potential contributors. The calls are being led by the globalist body's Secretary-General Antonio Guterres, in a move that seemingly recognizes the Taliban as the legitimate government of Afghanistan.

Taliban gangs are reportedly marauding the streets of Kabul hunting girls as young as 12 for sex slaves. Victorious Taliban fighters have been filmed trying out a fun fair while militants reportedly go door-to-door in the Afghan capital looking for interpreters and Western allies, amid allegations that gangs are marauding the streets of other cities hunting girls as young as 12 they can make their sex slaves. Chilling reports have emerged of Islamist militants stalking cities across Afghanistan for women and girls after the terror group swept across the country and seized Kabul virtually unopposed, bringing the 20-year Western intervention to a climactic end. Jihadist commanders are reportedly ordering imams in areas they have captured to bring them lists of unmarried women aged from 12 to 45 for their soldiers to marry because they view them as 'qhanimat' or 'spoils of war' — to be divided up among the victors.

Meanwhile, back at the U.N. ...
UNICEF chief has 'not a single issue with the Taliban' after leaders express support for girls' education. An official in the United Nations Children's Fund on Tuesday said he was "optimistic" after some Taliban leaders expressed support for girls' education following the militant group's seizure of much of Afghanistan, including the capital of Kabul. Mustapha Ben Messaoud, UNICEF's chief of field operations in the embattled country, indicated that he visited with Taliban representatives in the conquered territories of Kandahar, Herat, and Jalalabad, among others. Messaoud said some Taliban leaders want schools "up and running," while others are awaiting guidance from higher-ups.

'A Pitiful, Helpless Giant'. [Scroll down] This disaster itself followed an invitation from the Biden Administration to the human rights specialists of the United Nations to assess and report on America's status in fighting racism within its own borders. The personnel of the United Nations and its agencies are notoriously hostile to the principal Western countries and perversely confide such functions as the assessment of the state of human rights to countries that make no pretense whatsoever of having any respect for individual liberties — and frequently no respect for notions of racial equality either. It is inconceivable that any country could look upon this request by the United States to be monitored and evaluated by the United Nations as anything but an act of unimaginable naïvité or uncontrollable masochism.

The Agenda for Serfdom in the Land of the Free. Agenda 21 was introduced at the U.N. Earth Summit in 1992, along with the Convention on Biological Diversity (CBD), as the "comprehensive blueprint for the reorganization of human society." Together, they toll the death knell for wealth creation and economic and personal liberty, based on the fallacious assumption that development will lead to the extinction of life on Earth. With top-down controls, they aim to end local power and vest it in a global governance system. Environment protection is the excuse and weapon for this draconian program to fundamentally transform human lives, force citizens to surrender their liberties, and enforce socialist global control. The agenda is political.

UN routinely warns us that we have just a few years left until catastrophe. [Thread reader] In 1972, half a century ago, Maurice Strong, first UN Environment Programme director warned that the world had just 10 years to avoid catastrophe[.] In 1982, Tolba, head of UN Environment Programme told the world that it had just 18 years before an environmental catastrophe as irreversible as any nuclear holocaust[.] In 1989, a senior UN official warns Associated Press that we have to fix climate change by 1999 or climate change goes beyond human control[.] In 1990, Tolba, head of UN Environment Programme told the world must fix global warming before 1995 — Otherwise, we'd lose the climate struggle[.] In 2019, all the greats of the UN met to tell us that we have just 11 years to fix climate[.]

Pants On Fire: U.N. Issues Another Climate Report. [Scroll down] In short, the IPCC has a habit of doctoring the summaries in an effort to frighten and manipulate the public. And it's been doing so for some time. According to Canadian academic and author Tim Ball, while the 2001 IPCC report "was the most influential in establishing global warming as a serious threat demanding political action," it "also achieved another distinction, unknown to the media, public and politicians." A "disconnect between the Summary for Policymakers (SPM) and the Science Report Of Working Group 1," he said, was particularly extreme. "So much of the so-called science the IPCC created was to amplify the threat of human-produced CO2 to global warming," Ball wrote. "The political mandate was the ultimate arbiter of what and how an issue was included." When Ball wrote that six years ago, he wondered "how long the IPCC can stay in business and continue to push" its "totally discredited" hypothesis that man is warming his planet. The 2021 report unfortunately indicates that the answer might be "forever."

'Nowhere to run': UN report says global warming nears limits. Earth is getting so hot that temperatures in about a decade will probably blow past a level of warming that world leaders have sought to prevent, according to a report released Monday [8/9/2021] that the United Nations called a "code red for humanity." "It's just guaranteed that it's going to get worse," said report co-author Linda Mearns, a senior climate scientist at the U.S. National Center for Atmospheric Research. "Nowhere to run, nowhere to hide." [...] The authoritative Intergovernmental Panel on Climate Change (IPCC) report, which calls climate change clearly human-caused and "unequivocal" and "an established fact," makes more precise and warmer forecasts for the 21st century than it did last time it was issued in 2013.

The Editor says...
Woo-woo-woo! Ding-ding! The U.N. issues a report! What are they reporting, other than their own opinions? Notice these three aspects of the typical UN alarmist report: [#1] They say "climate change [is] clearly human-caused." Did the climate not change before humans were around? Did the climate ever change before the industrial revolution? Did a hurricane ever hit the U.S. before the widespread use of the internal combustion engine? [#2] Notice that they don't sound the alarm about global warming in February. In the middle of August, it's much more believable. [#3] Notice that the UN never comes out with a report saying it's already too late to stop the thermal runaway condition, no matter what we do. They will never say this because the problem must always get more and more urgent, so the UN can be given more and more money and power. If they ever say it's too late, the money would stop.

Why does Biden team ask thuggish regimes to lecture US on racism? The Biden administration's racial obsessions have turned into a shameful fetish for national self-flagellation. Secretary of State Antony Blinken has joined the discordant chorus of those who seem to believe the locus of evil in the modern world is the United States of America. By requesting the United Nations to investigate and adjudge American racism, Blinken has abased himself and significantly harmed U.S. diplomatic standing. Instead, he should be inviting international observers to learn from the great and moral example of American freedom and beneficence.

Joe Biden's Misery Index Rises. Next to Biden's assimilation of measures to assure fair elections to the Civil War, the most depressing utterance by a U.S. government official last week was Secretary of State Antony Blinken's request of United Nations officials to be the "scourge of racism, racial discrimination, and xenophobia in the United States." This is a mission for which the moral elevation of the Iranians, Chinese, Russians, and North Koreans, perfectly prepares them. The rabbits are chasing the hunters, the children are operating the candy store, and the lunatics are running the asylum.

Nikki Haley Torches Blinken For Asking UN To Investigate Racism In America. Former Republican South Carolina Gov. Nikki Haley criticized Secretary of State Antony Blinken for asking the United Nations to investigate racism in the United States. Haley, who also previously served as U.S. ambassador to the U.N., called the move "insane" and "dangerous." She argued that the United Nations should be focusing first on human rights abuses such as the Chinese Communist Party's treatment of the Uyghur Muslim population or the government crackdown on freedom protesters in Cuba. [Video clip] Fox News host Martha MacCallum asked Haley what she thought of reports that Blinken had invited the U.N. to assist in investigating racism in the United States. "First of all, I thought the Biden administration was extreme leftist. This is flat-out insane," Haley began. "The idea that — you've got a million Muslim Uyghurs being tortured. You've got people being bullied and beaten in the streets of Cuba. You have Venezuelans that are arresting political protesters — all of which Biden chooses to sit with on the Human Rights Council and the U.S. is asking the United Nations — a cesspool of political bias — to come into the United States and investigate us on human rights?"

The American Descent into Madness. [Scroll down] Finally, almost all Americans used to agree that the U.S. Constitution was unique and guaranteed personal freedom in a way the United Nations charter could not. Dozens of fascist, Communist, totalitarian, and authoritarian regimes, usually the majority of governments on earth, ensured that any General Assembly or U.N. committee ruling would parrot the views of its illiberal and corrupt members. Not anymore. Biden's secretary of state, Antony Blinken, has invited in the U.N. to assess whether the United States meets global standards of justice or, in fact, is racist and in need of global censure: "I urge all U.N. member states to join the United States in this effort, and confront the scourge of racism, racial discrimination, and xenophobia," he said last week. That is like asking Libya in 2001 to assess whether our airline pilot training met proper standards or having China adjudicate the conditions in U.S. prisons.

Secretary of State Blinken Invites United Nations to Investigate Racism in the U.S.. Democrats, specifically members of the Biden administration, frequently insult the United States of America by claiming that our country has a problem of systemic racism. The only thing that could be worse is for them to invite a corrupt, hypocritical body like the United Nations to investigate those claims. They did just that.

Secretary of State Antony Blinken welcomes UN probe of 'racism' in US. The United Nations — whose World Health Organization arm was just panned for its probe of the COVID-19 pandemic's origins confined to guidelines set by the Chinese Communist Party — has been formally invited by the Biden administration to investigate "the scourge of racism, racial discrimination, and xenophobia" in the US, according to Secretary of State Antony Blinken. "As the President has repeatedly made clear, great nations such as ours do not hide from our shortcomings; they acknowledge them openly and strive to improve with transparency," said Blinken in a statement released Tuesday. "It is in this context that the United States intends to issue a formal, standing invitation to all UN experts who report and advise on thematic human rights issues," he continued. "As a first step, we have reached out to offer an official visit by the UN Special Rapporteur on contemporary forms of racism and the UN Special Rapporteur on minority issues."

The seven countries holding out against the US-backed global minimum tax. Two more countries have expressed support for a global minimum tax, cutting the total number of holdouts down to just seven. Peru and the Caribbean nation of St. Vincent and the Grenadines have now signed on to the global minimum tax agreement, joining 130 other countries, including the G-20, representing the world's 20 largest economies. The two countries had not signed on to the plan when it was first announced earlier this month. The two additional countries joined in recent days before the G-20 met in Venice, Italy, over the weekend to discuss a variety of pressing global issues, including the tax proposal, according to a list of countries published by the OECD and updated on Friday.

U.N. Rights Chief Demands Reparations for 'Slavery, Colonial Rule, and Racism'. The U.N. human rights chief on Monday demanded comprehensive reparations be made to compensate countries that have suffered what she called the deadly legacies of slavery, colonial rule and racial discrimination. Former Chilean Socialist President Michelle Bachelet presented to the U.N. Human Rights Council a report she hopes will change the definition of racism and highlight its impact. It comes after her intervention last month calling on the world to immediately dismantle systemic racism against people of African descent and "make amends" to the oppressed while groups like Black Lives Matter should receive "funding, public recognition and support."

Forget About Making Peace with the Islamic World. On the banks of the East River in New York City stands the Temple of Peace, the huge United Nations building that claims to be its repository, but which in reality is the ultimate Temple to Hypocrisy. The worshippers of "Peace" are the supreme idealists who never abandon their dreams, even if their naïve acts lead them to inadvertently make tyrants stronger and create living nightmares for the very victims for whom they claim they are bringing peace. If a nation desires peace with its neighbor, but that neighbor implacably rejects peace, then any imposed peace process from outside is nothing more than a handmaiden to futility or worse. The peacemaker often creates a catastrophic erosion of security for the peace-loving nation, which because of its peaceful intentions is the only party that is then leaned upon to make endless and one-sided concessions to a belligerent enemy. Such has been the curse of the peace process for Israel in its attempts to survive relentless Arab and Muslim aggression.

UN elects China, Iran to women's rights commission. China and Iran are both known as human rights abusers. Iran is not only known for allowing the underage marriage of girls, but women are also heavily restricted in their physical mobility, education, financial independence, work opportunities, and pay. More than 400 Iranian women are killed annually in "honor killings." In addition to capping the number of children women can have at two, China has worked to decrease birth rates among Uyghurs. The country has also forced minority women to take pregnancy tests and receive forced sterilization, birth control, and abortions. The UN's move was slammed by human rights groups.

Pompeo calls Thomas-Greenfield's 'slavery' comments 'reprehensible'. Former Secretary of State Mike Pompeo slammed comments from UN Ambassador Linda Thomas-Greenfield that "slavery weaved white supremacy into our founding documents" — saying the remarks are "reprehensible" and should disqualify her from representing American interests around the world. "America is a noble place," Pompeo told "The Cats Roundtable" on WABC 770 AM in an interview that aired Sunday [4/18/2021]. "I heard our ambassador to the United Nations this week talk about our founding as fundamentally corrupt and flawed and not noble and good. I couldn't disagree more." Thomas-Greenfield spoke about the "imperfect union" of America during a virtual speech last Wednesday at the Rev. Al Sharpton's National Action Network conference.

Cotton: Biden Admin Says [the] Same Things about American Racism that China [and the] USSR Used to Say. On Wednesday's [4/14/2021] broadcast of the Fox News Channel's "Fox News Primetime," Sen. Tom Cotton (R-AR) reacted to U.N. Ambassador Linda Thomas-Greenfield's statements about racism being a part of America's founding documents by saying that under the Biden administration, our own diplomats are saying the same things about America that we used to hear Chinese or Soviet officials say about the U.S. Cotton said, "Amazing. Yeah, you used to listen to Communist Chinese or Communist Soviets call Americans racists at the United Nations. In the Biden administration, you hear that from our own ambassador. That's disgraceful."

Biden U.N. Ambassador Linda Thomas Greenfield Faces Backlash For Attacking U.S.: 'CCP Propaganda'. Linda Thomas-Greenfield, Biden's U.N. ambassador, faced widespread criticism on Wednesday [4/14/2021] after she bashed the U.S. while speaking to a far-left organization run by "genuine bigot" Al Sharpton. Thomas-Greenfield said the Biden administration wants to have "humility" as it raises the issues of "equity and justice at the global scale."

Biden U.N. ambassador blasts U.S., rips 'White supremacy' within 'founding documents and principles'. President Biden's U.N. ambassador wants the world to know that the Declaration of Independence and the principles espoused within are laced with "White supremacy." Linda Thomas-Greenfield made the blanket comments about founding documents this week while speaking to the Al Sharpton-founded National Action Network (NAN). "I have seen for myself how the original sin of slavery weaved White supremacy into our founding documents and principles," she said.

The Editor says...
The people at the U.N. have a low enough opinion of the U.S. already, without some America-hating leftist radical egging them on.

UN 'Migration Networks' to Facilitate Migration Stir Concern. The United Nations' role in immigration policy is growing worldwide with the establishment of a UN "Network for Migration" in dozens of countries to facilitate large migratory flows, sparking alarm among American border-security advocates already concerned about mass migration and the escalating crisis at the U.S.-Mexico border. The UN networks, which are led by a coalition of UN agencies, exist to support the implementation of the controversial "Global Compact for Safe, Orderly and Regular Migration" (GCM) adopted by the UN and over 150 of its member states in December of 2018. Among other goals, the global agreement aims to facilitate the expansion of what the UN describes as "regular migration," providing more legal pathways for would-be immigrants seeking to re-settle in wealthier countries such as the United States.

The Editor says...
"Such as" the United States sounds reasonable, but what are the names of the other countries that the U.N. is pumping people into?

UN Sends Dire Warning Over Global Progress on Emissions Goals. A United Nations report released Friday totals up new national climate commitments and concludes that the effort "falls far short" of what's necessary to slow global warming. How far short? To have a chance of meeting the Paris Agreement's lower limit of 1.5° Celsius of warming, nations must cut their emissions of carbon dioxide to 45% below their 2010 level by 2030 and eliminate their impact completely by mid-century. But by meeting all of the updated commitments, countries would lower their CO₂ emissions by just half a percent.

The Editor says...
Once again, the central question is this: The goal is an increase of 1.5 degrees of warming — compared to what? Who chose the starting point? Which bureaucrat decides what the earth's ideal temperature is? Who can say with any certainty that 2.5 degrees of warming (on the same arbitrary scale) would be catastrophic? The people making these pronouncements watch too many movies.

U.N. Helps Biden Bring Migrant Asylum Seekers Back into U.S.. The United Nations is reportedly helping the Biden Administration find more asylum-seeking migrants to get back into the United States after they were removed to Mexico or Central America to await asylum processing under the Trump administration's Migrant Protection Protocols. President Joe Biden canceled the program after taking office on January 21. "Hundreds of migrants signed up on Friday within hours of the launch of a U.N. website that allows migrants with active cases to register remotely to be processed at the U.S.-Mexico border," Reuters reported. "The United States and the United Nations are evaluating the locations of migrants and costs associated with possible flights and land transportation within Mexico."

Fauci Looks To UN To 'Rebuild The Infrastructure Of Human Existence'. I have never been a singer in the anti-Dr. Anthony Fauci chorus. I always admired his work in the 90s to bring the HIV catastrophe to heel and thought his early efforts as Director of the National Institute of Allergy and Infectious Diseases, advising President Trump on fighting the COVID crisis, provided a vital public service to our country. But of late, I had been having second thoughts. I am mildly put off by Fauci's relishing embrace of worldwide celebrity. I thought it a bit frivolous, for example, his agreeing to be interviewed for a cover story in the fashion magazine, In Style. And it was certainly an eye-popping obeisance to popular culture when the man — who said we will have to give up handshaking forever — benignly blessed in a Vanity Fair interview (of course) "asymptomatic strangers" hooking up for sexual liaisons using the dating app Tinder.

A Million Young People Wearing Synthetic Fabrics Demand More Climate Action. To be fair, looking at their website, the Global Centre for Adaption seems to be steering carefully around calling for emissions cuts. Their emphasis appears to be more on increasing resilience to the predicted rise in storms and rate of sea level rise which global warming is supposed to bring. I wonder if this could be a new strategy by the UN to build a broader consensus in the USA for shovelling taxpayers' money into UN programmes. Demanding money for other countries to build useless renewables is an obviously divisive issue, even some Democrat senators might vote against that. But asking for funding to say improve resilience against flooding in Bangladesh or whatever is less likely to receive an automatic "no".

U. N. Chief Guterres Demands World Reset To Forestall A Climate Apocalypse. Nature is determined to destroy humanity through flood, famine, fire, and pestilence, U.N. Secretary-General Antonio Guterres declared Wednesday [12/2/2020], prophesizing the time has come for us to repent and mend our ways through a great climate and economic reset. In an address at Columbia University in New York City, Guterres said the global climate has long been "reacting" to man-made changes, but emphasized there's still time to prevent a total biodiversity collapse if we fall in behind the U.N. and its multiple agencies.

The Editor says...
There is no climate crisis. There is no need for an economic reset. The weather does not change because of our economy. The worst polluters in the world are poor countries, not prosperous countries. The United Nations itself should be shut down, or at least moved to another country. I suggest Zimbabwe, Malawi, or Burundi.

Linda Thomas-Greenfield at U.N. will seek to humble, shame America. A Joe Biden administration will include Linda Thomas-Greenfield as U.S. ambassador to the United Nations, according to various reports. If true, that means goodbye America First global diplomacy; hello social justice. It also means a return to Barack Obama days when America was bowing to foreign heads of states, expressing disgust with the concept of American Exceptionalism [...]

Israel-bashing at the WHO — in the middle of a pandemic. Last week the World Health Organization devoted four full hours of its annual assembly in Geneva to bashing Israel for supposedly violating the health rights of Palestinians. By a vote of 78 to 14, with 32 abstentions, the assembly resolved to hold the same "debate" over Israel again next year, and to order a new report on the "health conditions in the occupied Palestinian territory, including East Jerusalem, and in the occupied Syrian Golan." In fact, Israel has provided thousands of Palestinians with medical care at Israeli hospitals and coordinated with the Palestinian Authority throughout the crisis.

Trump Admin Leads 32 Nations in U.N. Rebuke: No International 'Right' to Abortion. The Trump administration led a 32-nation signing ceremony of a declaration that affirms there is no international right to abortion. On Thursday [10/22/2020], Secretary of State Mike Pompeo and Secretary of Health & Human Services Alex Azar co-hosted the virtual signing of the Geneva Consensus Declaration along with the governments of Brazil, Egypt, Hungary, Indonesia, and Uganda.

Theater of the absurd: China, Russia, Cuba elected to UN's Human Rights Council. This week, China, Russia, and Cuba were elected to the United Nations' Human Rights Council. This trio of countries is among the worst offenders of human rights on the planet. If this were an election for United Nations human rights abusers, China would bring home the gold medal. No amount of double-talk about regional representation or anything else can justify this travesty. This is yet another example, as if one was needed, showing not just how useless the U.N. is, but how corrupt and downright immoral it is. Hopefully, in his second term, President Trump will pull the plug on the U.N. That organization does not deserve any financial support from the U.S. And it is a stain on America to have that international organization headquartered in New York, allowing all those "diplomats" and other bureaucrats to turn the city into their playground.

U.S. Slams U.N. for Electing China, Russia, Cuba to Human Rights Council. The United States rebuked the United Nations Tuesday for electing several of the world's top human-rights abusers to sit on its Human Rights Council. The United States withdrew from the council in 2018, citing its anti-Israel bias and decision to welcome countries that violate human rights. It continued those gestures Tuesday, when it elected China, Russia, and Cuba as members. "These elections only further validate the U.S. decision to withdraw and use other venues and opportunities to protect and promote universal human rights," Secretary of State Mike Pompeo said in a statement. "The United States has urged U.N. member states to take immediate action to reform the council before it became irreparable. Unfortunately, those calls went unheeded."

'International Intervention' in U.S. Elections Would Be a Disaster. There are many reasons to take issue with Peter Beinart's provocative New York Times piece calling for "international intervention" in the aftermath of the November election. One important question, though, stands out: Just who, according to Beinart, should do the intervening?

Fauci Looks To UN To 'Rebuild The Infrastructure Of Human Existence'. Dr. Anthony Fauci is a United Nations wolf in sheep's clothing telling America why it is so important to save lives from the dreaded COVID-19 virus while pandering for the most radical parts of United Nations agenda for the world. That is, Sustainable Development, aka Technocracy. [...] I am mildly put off by Fauci's relishing embrace of worldwide celebrity. I thought it a bit frivolous, for example, his agreeing to be interviewed for a cover story in the fashion magazine, In Style. [...] But now, Fauci has crossed a line that should sound the alarm — audaciously declaring that combatting infectious disease requires the mindboggling task of "rebuilding the infrastructures of human existence." Not only that but he opined that accomplishing these top-to-bottom "radical changes" requires "strengthening the United Nations and its agencies, particularly the World Health Organization."

The U.N. Turns 75, and the Chinese Communist Party Gaslights the World. During the U.N. General Assembly opening debate last month, the Chinese Communist Party's effort to assume greater control over international organizations was on full display. This year, "UNGA Week," as the high-profile general debate of the assembly is called, took place primarily over video conference, and the in-person gatherings that make up the bread and butter of U.N. diplomacy prevented many important interactions. No matter for the Chinese delegation: In addition to general secretary Xi Jinping's address to the Assembly, he participated in a side event on the U.N.'s 75th anniversary, and other Chinese foreign-affairs officials participated in other meetings throughout the week.

Trump Blasts China On Coronavirus Pandemic In United Nations Speech. President Donald Trump on Tuesday ripped China and the World Health Organization (WHO) for mishandling the virus that led to a pandemic. In recorded remarks to the United Nations General Assembly in New York, Trump blamed China for the coronavirus that has killed nearly 200,000 Americans and almost 1 million worldwide, according to Johns Hopkins Center for Systems Science and Engineering. "As we pursue this bright future, we must hold accountable the nation which unleashed this plague onto the world: China," Trump said in the speech, filmed Monday [9/21/2020] in Washington, D.C. "The Chinese government and the World Health Organization, which is virtually controlled by China, falsely declared that there was no evidence of human-to-human transmission. Later they falsely said people without symptoms would not spread the disease," Trump said. "The United Nations must hold China accountable for their actions."

UN says new polio outbreak in Sudan caused by oral vaccine. The World Health Organization says a new polio outbreak in Sudan is linked to an ongoing vaccine-sparked epidemic in Chad — a week after the U.N. health agency declared the African continent free of the wild polio virus. In a statement this week, WHO said two children in Sudan — one from South Darfur state and the other from Gedarif state, close to the border with Ethiopia and Eritrea — were paralyzed in March and April. Both had been recently vaccinated against polio.

When the United States Stands Alone. There's going to be a lot of talk about the U.N. over the next couple of weeks. The 75th session of the U.N. General Assembly will kick off with speeches by President Trump and other world leaders next week. [...] The usual suspects are already spinning up the narrative that the United States stands alone at the U.N. Last week, the United States and Israel were the only countries to vote against a General Assembly resolution on the global coronavirus response. Some have seized upon that vote to paint the United States as a bad faith actor that stands alone in the world.

U.N. Chooses Teen Prostitution Advocate for Top Human Rights Post. The U.N. has tapped a former abortionist and advocate for teen prostitution to its top post of expert on health and human rights. According to a report at international human rights watchdog organization C-Fam, South African Dr. Tlaleng Mofokeng has risen quickly at the U.N., from "sexual health and rights advocate" to the top post of Special Rapporteur on the Right to Health, a role that will give her a global platform to urge the decriminalization of the sex trade.

Government Schools as Purveyors of Mediocracy. The tenets of the New World Order include Socialism, Technocracy, and End of Western-Christian Civilization. It was George H. W. Bush who signed this nation on to the United Nation's Agenda 21 (called the Earth Summit) in 1992, which called for a profound reorientation of all human society. This was unlike anything the world has ever experienced. Chapter 36 of Agenda 21 stated that "education is critical for promoting sustainable development..." As to the nature of sustainable development, it involved attacks on church, family, private property, truth, marriage, free markets and liberty. Agenda 21 was to be implemented by every person on earth through education. UN Agenda 2030 was signed by Obama and proclaimed: "Children are critical agents of change and will find in the new goals a platform to channel their infinite capacities and activism into the creation of a better world." Both UN Agendas put education at the heart of the plot and further acknowledged that indoctrinating future generations was critical to advance the UN's vision for humanity.

UN Forced to Admit Gates-funded Vaccine is Causing Polio Outbreak in Africa. This really should be one of the biggest public health scandals of the decade, but instead it's given little attention — mainly because of the high-profile nature of the people and organisations involved. The United Nations has been forced to admit that a major international vaccine initiative is actually causing a deadly outbreak of the very disease it was supposed to wipe-out. While international organisations like the World Health Organization (WHO) will regularly boast about 'eradicating polio' with vaccines — the opposite seems to be the case, with vaccines causing the deaths of scores of young people living in Africa.

Trump cancels $62M of US funding for World Health Organization. President Trump's administration is reassigning the Department of Health and Human Services officials detailed to the World Health Organization and redirecting American funding to other organizations as he cuts ties with the global health agency. Withdrawal from WHO "becomes effective on July 6, 2021, and since the president's announcement, the U.S. government has been working to identify partners to assume the activities previously undertaken by WHO," State Department spokeswoman Morgan Ortagus said Thursday [9/3/2020]. "U.S. participation in WHO technical meetings and events will be determined on a case-by-case basis."

Scandal-ridden WHO 'listening in' on online conversations to counter 'fake COVID-19 news'. The scandal-plagued World Health Organization (WHO) is working with an analytics company to "social listen" and monitor "millions" of people's social media accounts to combat "coronavirus misinformation." According to an August 25 WHO news post titled "Immunizing the public against misinformation," the WHO, which is the health arm of the United Nations, claims there is "an overabundance of information and the rapid spread of misleading or fabricated news, images, and videos" regarding the coronavirus. "We're not just battling the virus," WHO Director-General Tedros Adhanom Ghebreyesus was quoted as saying in the news release. "We're also battling the trolls and conspiracy theorists that push misinformation and undermine the outbreak response."

Five More Things You Probably Didn't Know about Susan Rice. [#1] Rice was obsessed with U.N. peacekeeping to solve world conflicts. Rice was a key architect of a disastrous Clinton-administration policy — Presidential Decision Directive 25. PDD-25, as the document was called, sought to implement "assertive multilateralism" to address all global conflicts with U.N. peacekeepers. This concept, the brainchild of Rice's mentor Madeleine Albright, former ambassador to the United Nations, rested on the assumption that due to the end of the Cold War, the U.S. and U.N. peacekeepers could be used to address global conflicts instead of U.S. troops. PDD-25 was so radical that at one point an early draft advocated giving the U.N. the ability to tax international phone calls to pay for new peacekeeping missions.

More evidence that the UN could be relocated to any other country in the world:
UN leaders to meet virtually; Trump might attend in person. The annual meeting of world leaders at the United Nations is going virtual this year for the first time in its 75-year history because of the COVID-19 pandemic — except for the likely personal appearance by President Donald Trump. "We're hoping that President Trump will actually be speaking in person in the General Assembly," Kelly Craft, the U.S. ambassador to the United Nations, said Thursday, adding that he will be "the only" leader to speak in the assembly chamber.

UN to launch postage stamp initiative to raise coronavirus funds. The United Nations is set to launch a postage stamp initiative Friday that will help raise funds for the World Health Organization's (WHO) effort to assist countries struggling from the coronavirus pandemic. Funds raised through the sale of the stamps will contribute to COVID-19 suppression efforts globally. The "We Are All in This Together — Help Stop the Spread of COVID-19" stamps will portray six different messages regarding coronavirus hygiene and precautions, a spokesperson for the United Nations Secretary-General told Fox News Thursday. [...] The initiative is being overseen by the United Nations Postal Administration (UNPA).

After The U.S. Leaves WHO, Should The U.N. Be Next? President Donald Trump has served notice to the World Health Organization that the U.S. will no longer take part in its kleptocratic incompetence and its cozying up to dictators and tyrants, including its biggest influencer, China. The reckoning is long overdue. So is one with the United Nations, its parent organization, whose behavior has been far worse. WHO is one of a number of global organizations, the U.N. among them, funded mainly by U.S. taxpayers. Despite its support from the U.S., WHO is yet another multilateral agency that acts as if its job is to oppose and confound America.

Al Gore, U.N. secretary-general and other elitists call for a 'great reset' of the global economy. Justin Haskins, executive editor and a research fellow at The Heartland Institute and the editor in chief of StoppingSocialism.com wrote this past week that "while most Americans have been preoccupied with protests and pandemics, a potentially bigger story has managed to slip beneath the radar." How so? Well, while the economic and political chaos caused by the COVID-19 outbreak and the social unrest of the Black Lives Matter protests dominates the news, Al Gore, the U.N. secretary-general and a cadre of other elitists, who fancy themselves our superiors, have gathered together at the World Economic Forum (WEC) to call for a "Great Reset" of the entire global economy and its political structures.

U.N. Chief Guterres Calls for One Supreme Body of 'Global Governance'. Chief Antonio Guterres said that the world should have only one government. And no doubt he expects the UN to be the head of that government... as the head of the UN, he would be in the driver's seat.

UN says the world cannot return to 'previous normal' after coronavirus. The United Nations Deputy Secretary-General Amina Mohammed told an international forum Friday [6/27/2020] that society cannot return the "previous normal" as he laid out socioeconomic responses amid the coronavirus pandemic. "We must keep in sight the gravity of the situation," Mohammed said Friday [6/26/2020], addressing the severity of the coronavirus globally. "A return to normality in some regions must not lull us into a false sense of security."

Al Gore, UN Secretary-General, others now demanding 'Great Reset' of global capitalism. The economic, social and political chaos caused by the COVID-19 outbreak and Black Lives Matter protests have for months captured the attention of virtually every American — and for good reason. These are incredibly important issues worthy of significant and thoughtful debate. But while most Americans have been preoccupied with protests and pandemics, a potentially bigger story has managed to slip beneath the radar: a growing movement among the world's most powerful leaders to call for a "reset" of the entire global economy.

The UN Human Rights Council strikes again. The cesspool that is the United Nations Human Rights Council has decided that its top official, a Chilean socialist called Michelle Bachelet, shall "prepare a report on systemic racism, violations of international human rights law against Africans and people of African descent by law enforcement agencies, especially those incidents that resulted in the death of George Floyd and other Africans and of people of African descent." The "systemic racism" and human rights violations are assumed.

[The] United Nations human rights probe of the US is a farce. Today [6/17/2020], the United Nations Human Rights Council is holding an "urgent" debate on police brutality and systemic racism. While the UNHRC president says the debate is not just about the United States, it's clear the U.S. is the primary subject as the killing of George Floyd was the catalyst for the meeting. And it's clear that the conclusion the council will reach is a sham. The Human Rights Council has been an abomination for years, with its only clear goals being the demonization of Israel and providing cover for the world's biggest human rights abusers.

Be gone, UN! On Twitter, former US Ambassador to the United Nations Nikki Haley blasts the UN Human Rights Council for wading into America's racial tensions. On Monday, the council announced an "urgent" debate on "racially inspired human-rights violations, systemic racism, police brutality and the violence against peaceful protests" in the United States. While "America is not perfect," Haley notes, the UN mandarins refuse "to debate concentration camps in China, political murders in Cuba, torture in Syria, state-imposed starvation in North Korea and slavery in parts of Africa." She might have in mind, perhaps, the more than 1 million Muslims the Beijing regime keeps in Orwellian "re-education camps." Or the North African nation of Mauritania, where rights groups say up to a fifth of the population remains enslaved. Add the mass-killing horrors of Syria and North Korea, and the UN debate on US policing is, as Haley suggests, "a farce."

UN human rights body to debate 'systemic racism, police brutality' in US. The U.N. Human Rights Council on Monday [6/15/2020] said it would hold a debate on "systemic racism, police brutality and violence against peaceful protests" amid global demonstrations sparked by the death of George Floyd in the U.S. The decision followed a request last week by Burkina Faso on behalf of all African countries, Reuters reported.

U.N. Silenced: Laments No Gathering of World Leaders for First Time in 75 Years. A dark and shuttered United Nations building in New York will not play host to world leaders for a week of speeches come September, as the globalist body contemplates being silent for the first time in 75 years. A bitterly disappointed president of the U.N. General Assembly confirmed Monday the annual gathering of leaders and bureaucrats been cancelled because of the march of the global Chinese pandemic.

George Floyd's Family Petitions United Nations to Help Disarm Police in the United States. The family of George Floyd, the black man killed while in police custody in Minneapolis on Memorial Day, has sent a letter to the globalist United Nations to ask for its help in disarming police officers in the United States of America. The family's legal team facilitated the letter, which was sent on Wednesday [6/3/2020], according to NBC News.

Reaping What We Sowed: Coronavirus Pandemic Is Our Wake Up Call. One great positive development that could result from the coronavirus pandemic is the potential for the international community to finally wake up to the atrocities the Chinese Communist Party (CCP) has been committing since its inception. For too long, the CCP's crimes against humanity have been ignored, and now we're all reaping what we sowed. It all started in 1971 at the United Nations when a critical vote was taken. I have a strong memory of that day, because as a child I remember my mother being so shaken and angry. I remember her presenting us, her children, a list of countries she had written out carefully on a yellow piece of paper in her beautiful script handwriting that we had to boycott because they had done something absolutely horrible. It was Oct. 25, 1971, and these nations had just voted to have communist China replace the Republic of China as a member state of the United Nations. On that date, the ambassador to China of then-communist Albania, Reis Malile, whose country had introduced the resolution, gleefully pointed out that vote was "a great defeat for the United States of America," while exalting the great People's Republic of China as "a bastion of socialism and justice."

Sidelined and Ignored: U.N. Laments Its Inability to Achieve Anything on World Stage. As the world grapples with the Chinese coronavirus pandemic, ongoing turmoil in the Middle East and Beijing's brutal interventions in Hong Kong, the organization once charged with offering solutions to such problems is sidelined with nobody listening to its calls for "peace, harmony and global unity." U.N. Secretary-General Antonio Guterres has bemoaned a "lack of leadership" during the world's worst series of crises since 1945. "Where we see power, we sometimes do not see the necessary leadership," he said recently.

China Working to Assume Control of U.N. Agencies. China is working to assume control of multiple key United Nations agencies in order to subvert U.S. influence and advance its anti-democratic agenda, current and former senior Trump administration officials told the Washington Free Beacon. China currently holds 4 of the top 15 leading positions within the organization, including a seat on the powerful Security Council. The country's sway was on full display this year when it successfully pressured the World Health Organization (WHO) to hide information about the coronavirus pandemic.

UN Human Rights Chief Tries to Scare Countries Into Continuing Lockdowns. The United Nations High Commissioner for Human Rights is suggesting that the draconian lockdowns most countries have enforced on their citizens during the COVID-19 pandemic might need to be extended to avoid a disastrous "second wave" of the virus. Human Rights chief Michelle Bachelet, a socialist and the former president of Chile, issued the warning on Thursday. Bachelet claimed that the disastrous economic effects of the COVID-19 lockdowns are a small price to pay when you consider the possible alternative. [...] Bachelet must not watch much television or go on the Internet. In America at least, re-openings are clearly being driven by unhappy citizens who want to go back to work and start their lives again — not by any "elites." In fact, it seems like many elites — globalist health organizations, Democrat-controlled states and the mainstream media, for example — are the ones pressing to continue these authoritarian lockdowns. The Human Rights High Commissioner is clearly of the belief that only government has the answers to the economic and health concerns brought on by the Chinese coronavirus.

China goes after US over more than $1 billion owed to the UN. China is going after the United States over more than $1 billion that the Trump administration owes the United Nations in unpaid dues for its regular operating budget and arrears for the separate budget for the U.N.'s far-flung peacekeeping operations.

Has the busybodies' 'Agenda 21' worked its magic? "Agenda 21" sounds like one of those conspiratorial rabbit holes like, say, Area 51 or the Bermuda Triangle. It is not. It is as real as is the havoc it has helped wreak. As to whether that havoc was intended, I think not, but I could be wrong. After the last month or two, I would not be surprised to learn that Lucifer himself conceived Agenda 21. Agenda 21 was the end product of the epic U.N. Conference on Environment and Development — more commonly known as the "Earth Summit" — held in Rio de Janeiro in 1992. The "21" referred to 2021, the year by which individual governments around the world were to have achieved the Agenda 21 "action agenda." In 2015, the completion date was pushed back to 2030.

UN chief calls for 'large-scale' coronavirus response of 10 percent of global GDP. U.N. Secretary-General Antonio Guterres this week called for a "large-scale" international response to the global coronavirus crisis, consisting of 10 percent of global GDP — and promising that the U.N. is "fully mobilized" to support such an effort. "What is needed is a large-scale, coordinated and comprehensive multilateral response amounting to at least 10 percent of global GDP," he said in remarks at the launch of a report on the socioeconomic impacts of the virus.

Who Believes WHO? [Scroll down] The astute reader is probably wondering, what do the IPCC and WHO have in common? That's an excellent question. The correct answer is not both organizations are part of that behemoth known as the United Nations. WHO is a specialized agency of the U.N. allegedly responsible for international public health, part of the U.N. Sustainable Development Group. This means in reality, the WHO is a political organization, not a medical one. What the IPCC is to climate science, WHO is to medicine. In other words, put a stethoscope on Bozo the Clown, and he could be the WHO media relations specialist.

Showdown Brews As U.N. Court Targets U.S. GIs. An international prosecutor, Fatou Bensuda, was advised Thursday by a panel at Hague that she should go ahead and investigate alleged war crimes committed by Americans in Afghanistan. It's a shocking development. Secretary of State Mike Pompeo called the International Criminal Court panel's ruling "a truly breathtaking action by an unaccountable political institution masquerading as a legal body." It is, but what to do? In a little noticed address to the American Israel Public Affairs Committee last week, Senator Ted Cruz urged an American push at the United Nations Security Council to ban ICC investigations against Israelis, Americans, or citizens of any other non-member of the Hague-based court.

The UN Human Rights Council's shameful blacklist. The UN has reached a new low. The UN Human Rights Council, usually in the news because it includes countries with the worst records of human rights abuse in the world, has now targeted companies that do business in the West Bank, east Jerusalem and the Golan Heights. The so-called blacklist includes 112 companies with the aim of letting the world know who it is that works in Israel's alleged "occupied territories." The publication of the list has been in the works since 2016. Countries with the worst human-rights records, such as Cuba and Venezuela, pushed the list due to their anti-Israel views, not because of an attachment to international law. The Arab League and the Organization of Islamic Cooperation also supported the list, neither of which are known for having members with stellar human-rights records.

Armed ecoguards funded by WWF 'beat up Congo tribespeople'. Armed ecoguards partly funded by the conservation group WWF to protect wildlife in the Republic of the Congo beat up and intimidated hundreds of Baka pygmies living deep in the rainforests, an investigation into a landmark global conservation project has heard. A team of investigators sent to northern Congo by the UN Development Programme (UNDP) to assess allegations of human rights abuses gathered "credible" evidence from different sources that hunter-gatherer Baka tribespeople living close to a proposed national park had been subjected to violence and physical abuse from the guards over years, according to a leaked draft of the report. The allegations, reported to the UN last year, included Baka tribespeople being beaten by the ecoguards, the criminalisation and illegal imprisonment of Baka men, summary evictions from the forest, the burning and destruction of property, and the confiscation of food.

The Cult of Western Shaming. The U.S. and Europe are often quite critical of violence against women, minorities and gays. The European Union, for example, has often singled out Israel for its supposed mistreatment of Palestinians on the West Bank. Yet if the purpose of Western human rights activism is to curb global bias and hate, then it would be far more cost-effective to concentrate on the greatest offenders. China is currently detaining about a million Muslim Uighurs in re-education camps. Yet activist groups aren't calling for divestment, boycotts and sanctions against Beijing in the same way they target Israel. Homosexuality is a capital crime in Iran. Scores of Iranian gays reportedly have been incarcerated and thousands executed under theocratic law since the fall of the Shah in 1979. Yet rarely do Western activist groups call for global ostracism of Iran. Don't look to the United Nations Human Rights Council for any meaningful condemnation of worldwide prejudice and hatred, although it is a frequent critic of both the U.S. and Israel.

The Gun Control and Confiscation Agenda. Strict gun control legislation, including confiscation of certain types of firearms, in Virginia have lead to a number of Virginia localities declaring themselves "second amendment sanctuaries" that will not enforce what they consider "unconstitutional" gun laws. In response, Virginia Governor Ralph Northam (D) and several other politicians have openly suggested using the Virginia National Guard to implement gun confiscation plans in those jurisdictions that have declared themselves "Second Amendment Sanctuaries." Some outlets have even reported that Virginia state officials are considering UN troops to aid the confiscation, although I cannot independently verify this speculation. However, it is worth noting that the UN is advertising job openings for "DISARMAMENT, DEMOBILIZATION AND REINTEGRATION OFFICERS" to be stationed in the United States. This job advertisement can be viewed on the UN website. I can find no proof that the job announcement and Virginia's gun control efforts are related. However, the situation does bear watching.

The UN Is Hiring English-Speaking Disarmament Officers in New York. As the Second Amendment conflict heats up across the United States, here's another "crazy conspiracy theory" that has turned out to be true. The United Nations is hiring in New York. What positions are they trying to fill? English-speaking disarmament, demobilization, and reintegration officers. This job was posted the day after Christmas. So for all the folks who have been saying "nobody is trying to take your guns" you might want to read this job listing and reconsider your opinion.

UN Begins Process of Handing Internet Control to Ruthless Dictators. We've known this has been coming for a couple of years. Dissatisfied with control of the internet largely in the hands of western democracies — especially the United States — the dictators and religious fanatics of the world have begun the process to seize control of the internet where, I'm sure, you won't be able to insult Islam, call Vladimir Putin a thug, or criticize the Chinese communists. The United Nations General Assembly approved a resolution that would set up a "committee of experts" whose mission would be to stop "the use of information and communications technologies for criminal purposes." Since many countries make it a crime to criticize the government or insult Islam, the resolution does not bode well for internet freedom in the near future.

U.N. peacekeepers in Haiti reportedly impregnated girls as 'young as 11' and then abandoned them. A new study claims that United Nations peacekeepers assigned to Haiti from 2004 through 2017 fathered hundreds of children by Haitian women and girls as young as 11 and abandoned the mothers and children when their time on the island ended. The study was published in the publication The Conversation. It said that 2,500 Haitians were interviewed about the plight of women and girls in the time period and that 265 mentioned that U.N. peacekeepers had fathered children while stationed there. The UN's long-running Stabilization Mission in Haiti ran from 2004 to 2017.

U.N. Imposes Strict Gender Quotas on British Army for Africa Jihadi Fight. The United Nations has placed strict gender quotas on a British Army peacekeeping deployment to Mali in west Africa, demanding more females are sent under the auspices of a special bureaucratic directive. At least 250 soldiers are expected to join the U.N. peacekeeping force helping France to contain the deadly Islamist jihadi threat in the disputed Sahel region, the Daily Express reports.

Madrid Climate Conference Ends in Failure. The Madrid conference was to have engendered a spirit of enhanced climate ambition, a kind of competition of climate virtuousness. All it could manage was a statement expressing "serious concern" about the widening gap between the participating parties' collective efforts and the ambitious emissions trajectory required to keep the rise in global temperatures below 2 degrees Celsius.

The Editor says...
The folly here is that the U.N. has arbitrarily chosen the ideal average temperature of the Earth; that is, the average temperature on some arbitrary date in the 19th or 20th century. And now the UN is trying to have us all believe that industrial activity must be curbed or curtailed to maintain their chosen temperature. This is a goal which is very likely unattainable, no matter how much money is spent, or how many laws are passed.

Red Tide Rising. A borderless world without nations represents the culmination of the communist dream of a world united under the banner of the hammer and sickle. For that dream to be realized, America's sovereignty must be yielded to an international governing body run by the UN, a one-world globalist organization run by an international assortment of socialists-cum-communists. Those who call for a borderless world with no nations are effectively calling for a permanent end to the United States in favor of a "new world order," a world where Americans would be indoctrinated to no longer see themselves as citizens of their country, but as Citizens of the World.

Obama, Clinton Alumni Serve At UN, Continuing Liberal Influence Over International Affairs During Trump Era. Obama-era Democrats are still influencing foreign affairs, now through jobs at the United Nations and at other international organizations where Americans can help shape international politics in ways at odds with the Trump administration. Before and after the start of Donald Trump's presidency, Obama- and Clinton-aligned politicos took the positions, which are not U.S. government jobs but generally are the result of lobbying by U.S. officials. Many are entitled to keep the jobs indefinitely once they are in them. Tensions between the Trump administration and employees in the foreign service and international organizations — including some that serve at the pleasure of the president — have repeatedly come to the fore in recent weeks.

UN Votes Overwhelmingly to Condemn US Embargo on Cuba. The U.N. General Assembly voted overwhelmingly Thursday [11/7/2019] to condemn the American economic embargo of Cuba for the 28th year, rejecting U.S. criticism of human rights violations there and criticizing the Trump administration's increasingly tough enforcement measures.

The United Nations has a cash flow crisis. Good! The United Nations is complaining that it has a $230 million budget shortfall. The problem, the organization says, is that countries aren't paying their dues. One of the nations that has not delivered all of its expected dues is the United States. Good. America has the right to see the U.N. reform itself before we hand over 22% of its budget. U.N. Secretary General António Guterres says his budget shortfall is a disaster, but it's more of an opportunity. The U.N. remains deeply inefficient, wasteful, corrupt, and subservient to malevolent interests. That will not change without leverage. The U.S. has outsized influence here. And as the leader of the free world, it is up to us to take the lead.

The Editor says...
Let the U.N. relocate to another country, far away. Better yet, let the U.N. collapse under its own weight. Then sit back and watch for a few years and see if anyone notices.

30 of The Biggest Lies & Hoaxes Perpetrated on The American People. [#21] The United Nations: One of the seediest organizations is the UN. They are behind the 2030 agenda, have been called out numerous times for rape, sexual misconduct, and pedophiles. When Bill Clinton was made the UN special envoy to Haiti in 2010, that should have been your first red flag, if not your tenth. [#21] The Rescue of Haitian Children After The 2010 Earthquake: This one has had folks puzzled since 2010. Where did all of the children go? How did they get here so fast, before the dust even settled? Most are already aware of the millions of dollars the Clintons pocketed off the aftermath of Haiti's earthquake, and the devastation they caused to the people of Haiti. This report includes details about the children being airlifted to the US, as well as corruption surrounding a child welfare agency in Florida.

Iran's Rouhani backs moving UN out of New York to a 'better' country. Iranian President Hassan Rouhani said Thursday that his country's delegation would vote for the United Nations headquarters to be moved out of New York if given the chance, in the latest sign of escalating tensions with the United States on the sidelines of the U.N. General Assembly. "If we're ever asked, we will, of course, vote for it, for the United Nations headquarters to be transferred to a more secure and better country that does not have the narrow viewpoints that we have been witnessing," he said in response to a question at a press conference. There appears to be no significant movement to move the U.N.

The Editor says...
As I have said before, the UN should move to another country. Here is one ideal spot: France is run by socialists, and the French have a reputation for being somewhat arrogant and having an over-enhanced perception of their own importance to the rest of the world. Everything in France is overpriced and overrated. It's a perfect match.

God Isn't Welcome at the UN and Hasn't Been for a Long, Long Time. God's name is anathema at the UN as it is in much of the secular world the UN now controls. False gods and their destructive Marxist messages live rent-free at the world's biggest bureaucracy, which now counts on indoctrinated school children to continue the Climate Change scare.

We're All Going to Starve to Death, Again. The "experts" insist that deserts are expanding, extreme weather is destroying crops, and 10 percent of the Earth's people are already going without food. Soon mankind as a whole will be short of food, millions will starve, and nations will be plunged into chaos as populations engage in warfare and mass migration in search of food. [...] Unlike [Thomas] Malthus, who felt that mass starvation was inevitable (and that it would "solve" the problem of overpopulation, albeit at a tremendous cost), the IPCC experts appear to have a kinder, gentler solution: put all the Earth's resources and industries under the control of the world climate commissars. Call in the experts to regulate land use, food distribution, and energy production. Give up our freedom to live as we wish, travel as we wish, and dine as we wish, and the experts will save us.

The Editor says...
Bureaucrats don't grow food, raise cattle, mine coal, or drill for oil.

UN Latest Climate Change Report: Saving Planet Will Require 'Drastic Changes' in Land Use, Human Diets. The United Nations' Intergovernmental Panel on Climate Change (IPCC) released a report on Thursday that calls for letting agricultural land return to the wilderness and for people to eat more plants and fewer animals. The report reiterates the globalist organization's claim that man's use of natural resources to improve people's lives around the world is making "global warming" worse and will make food more scarce, more expensive, and less nutritional.

New United Nations Climate Report [is] Yet Another Waste Of Paper. It will eat up more than 1,000 pages and be hailed as the finest document since the Magna Carta. But the United Nations' land-use report will free no man, save not one life, lift no one out of poverty, nor have any perceptible impact on the global climate. Should President Donald Trump be re-elected next year, he should pull the U.S. out of the U.N. the same way he pulled the country out of the 2015 Paris Agreement on climate.

The UN's Latest Example of Double Standards Against Israel. The United Nations Security Council held its quarterly open debate on July 23rd regarding the situation in the Middle East, focusing on the Israeli-Palestinian conflict. As usual, the meeting was an occasion for Israel-bashing.

The Choice Between Bad and Worse. Cholera was not medieval. It spread from Bengal to Europe in the first quarter of the 19th century. Its first appearance in Haiti, a country one might have thought propitious for its ravages, was as late as 2010, brought by the Nepali peacekeeping troops of the United Nations, who dumped their sewage directly into the water supply of a large part of the Haitian population. Unfortunately Nepal had been suffering from cholera at the time the Nepali troops were sent to Haiti.

The UN's extinction warning doesn't add up. Anyone watching the BBC's News at Ten on Monday [5/6/2019] would have been surprised to learn that economic growth poses a dire threat to the future of life on this planet. [...] 'One million species at risk of imminent extinction according to a major UN report,' intoned the BBC. 'It says the Earth's ecosystems are being destroyed by the relentless pursuit of economic growth.' So does this mean the Extinction Rebellion protestors are right? I decided to do some digging to see if one million species really do 'face extinction in the next few decades', as the BBC put it.

The UN's species extinction fraud. We have encroached on the habitat of some animals. But in fact not a single species has been shown to be either threatened or endangered by warming of the Earth by man's increasing use of fossil fuels and the carbon dioxide emissions therefrom. The recent alarmist report, to the contrary, issued by the UN, contains no physical evidence whatever. It is entirely based on cherry picked sampling data which is then fed into a mathematical equation primed to yield the absurd alarmist report which a willing media announces in shrieking tones (as usual). These people know they are lying but are not bothered by it, which is why we get so many horrid politicians.

The Calming Feeling as Jew-Hate Now Takes Deeper Root in the Democrat Party. Ilhan Omar (D-MN) accused Israel of hypnotizing the world. That lie, which seems to have permeated the Somali Muslim community, initially outraged Democrats no less than it did Republicans. If Israel is so good at hypnotizing the world, why does it never win a vote in the United Nations, the vile sewer where that very "world" congregates to lynch Israel regularly?

'Worthless' UN blasted for weak Venezuela response, playing into Maduro's hands. As the Venezuelan government burns aid convoys, represses its people and forces them to eat out of garbage trucks, critics say the United Nations is struggling to find its voice as it issues weak statements of condemnations, while a pro-Maduro coalition digs in at U.N. headquarters[.] "[Secretary General Antonio Guterres] is playing right into #Maduro plans," Florida Sen. Marco Rubio tweeted this month. "Fake @UN 'negotiations' to divide opposition & buy time for protests to die down. Maduro will also want UN "experts" to blame #Venezuela crisis on sanctions."

Congressman Introduces Bill to Get the U.S. Out of the UN. As outrage over the United Nations continues to grow, legislation to restore American sovereignty by withdrawing from the scandal-plagued UN was introduced in Congress this month. In addition to getting the U.S. government out of the UN and evicting the global outfit's headquarters from U.S. soil, the bill would end American involvement in the full panoply of UN agreements and agencies. It would also prohibit putting of U.S. troops under UN command. The legislation has been introduced in Congress for decades. However, the current president's publicly expressed hostility to globalism and his oft-stated support for U.S. sovereignty make the issue especially salient right now.

Survey uncovers rampant sexual harassment at UN. A third of United Nations employees reported experiencing sexual harassment at the agency within the last two years, according to an explosive survey released on Tuesday. According to the findings, some 33 percent of respondents reported at least one instance of sexual harassment in that time, but the figure rose to nearly 40 percent when they were asked about their entire career at the UN. Instances of sexual harassment included offensive jokes or stories, or inappropriate remarks about someone's appearance or sexual activities. Other employees said they had been the victims of unwanted gestures or touching.

Report Finds UN Employs 3,300 Pedophiles, Responsible for 60,000 Rapes in Last 10 Years. An outright frightening dossier released by a former senior United Nations official reveals that United Nations employees have carried out over 60,000 rapes in just the last decade. What's more, the dossier estimates that the organization currently employs at least 3,300 pedophiles.

The UN's Terrifying, But Ever-Receding, Human-Caused Climate Catastrophe. For years I assigned statistics students to pick any apocalyptic climate claim in the media and trace it back through the UN reports to its genesis in a scientific study. I knew they would discover that these reports are not scientific documents based on the peer review process, but political documents "approved by governments" and intended to scare the public into supporting constraints on the production and use of energy. A powerful publicity machine magnifies the alarm, bombarding citizens with exaggerations and claims of certainty that are proven wrong as you dig down to their underlying scientific studies.

United Nations: Trump Must Allow Caravan Migrants into America. International officials with the United Nations (UN) Refugee Agency say President Trump must allow a caravan of Central Americans into the United States to seek asylum. As Breitbart News has chronicled, migrants with an at least 7,000-strong caravan have repeatedly admitted that they are traveling to the U.S. to seek jobs, re-enter the U.S. as previously deported illegal aliens, and flee crime. One previously deported illegal alien with the caravan even admitted that he was convicted of attempted murder in the U.S. None of these cases are eligible asylum claims.

U.N. court's hilarious attempt to order U.S.. You had me at the headline. "U.S. ordered to lift some Iran sanctions by International Court of Justice," blared NBC News, above its Associated Press story. Ordered is a pretty funny word, given U.S. National Security Adviser John Bolton's recent takedown of another global judicial body, just last month. Bolton, in fiery September remarks in Washington, D.C. — delivered first in the context of discussing the International Criminal Court's attempt to investigate U.S. military members for war crimes in Afghanistan, and second in the context of responding to this same court's call to haul Israel in for human rights' abuses against Palestinians — had nothing but scorn.

UN Unleashes LGBT Czar to Promote Homosexuality, Transgenderism. The United Nations "Human Rights Council," which counts some of the world's most ruthless dictatorships as members, sparked global outrage last week by voting to appoint a UN czar to oversee the normalization of homosexuality and transgenderism around the world. In the crosshairs are religious and moral views that reject homosexual behavior as sinful, as well as objective reality and biological facts that until recent years were taken for granted. The deeply controversial scheme was pushed through by communist and socialist rulers with fervent support from the Obama administration, which for years has been lawlessly using American tax dollars and diplomatic resources to bribe and bully foreign governments into compliance with the radical agenda. But there was a great deal of opposition, and criticism of the UN extremism is growing. Officially, the UN LGBT (Lesbian, Gay, Bisexual, Transgender) "expert" will work to combat "violence and discrimination based on sexual orientation and gender identity." In reality, though, forces on both sides of the issue know full well that the UN czar will serve as another weapon in the global war against religion, traditional values, morality, and truth.

U.N. Gets Ready To Rumble. President Trump's coming collision with the United Nations could be something to behold. Later this month he's due to chair the Security Council, where he may give the striped pants set a piece of his mind in respect of Iran. He's barreling toward a showdown with the International Criminal Court. He's cut off funding to the UN Relief and Works Agency. Watch out for the International Monetary Fund. We characterize the coming reckoning as being with the United Nations because all of these institutions are in one way another either parts of or spawn of the world body. So, for that matter, are the Paris Climate Accord and the Iran nuclear accord, from which America has either withdrawn or announced its intention to do so. The United Nations is the focus of vast disappointment.

UN poverty report blasting Trump, US for 'hatred for the poor' uses data from last year of Obama's presidency. A recent United Nations report blasting President Trump and America in general for harboring "contempt" and "hatred for the poor" is based on highly inaccurate data that can't easily be used to compare the U.S. to other nations. The U.N. report's main contentions read like an attack on the Trump administration by the Democratic Party: America has 40 million poor people, including 18.5 million who live in extreme poverty; U.S. policies regarding the poor are "cruel and inhuman;" the Trump tax cuts aren't working and will worsen inequality; and the U.S. needs to spend less on defense of our nation and more on social programs.

As Venezuela's socialist disaster spreads, UN goes after Ecuador and Peru. The United Nations is pressuring Peru and Ecuador to drop their passport requirements, put into place after vast human waves of Venezuelans fleeing socialism inundated those countries. Bad, bad Ecuador and Peru for wanting to control their nation's borders. Borders bad, uncontrolled entry good. How very convenient for Venezuela's Maduro regime, which is at the root of the problem.

Former UN Secretary General And Nobel Peace Laureate Kofi Annan Dies At 80. Former United Nations Secretary General and Nobel Peace Laureate Kofi Annan died at 80 years old on Saturday morning [8/18/2018]. Annan "passed away peacefully" "after a short illness," his family and the Kofi Annan Foundation said in a joint statement, reported Fox News.

Kofi Annan. Yet it is the part of newspaper work to acknowledge that for all the ideals that Annan articulated, his career was pocked with tragedy and scandal. It was on his watch that in 1994 the Rwanda genocide claimed 800,000 lives. The commander of United Nations forces, General Roméo Dallaire, blamed Annan for the failure of the U.N. to act. Annan was head of peacekeeping when, a year later, the Srebrenica massacre took place. It was on Annan's watch that the Oil-for-Food scandal erupted. It grew from a program to relieve hardships laid to the U.N. sanctions on Iraq. Run by the U.N. between 1996 and 2003, the program allowed Iraq to sell oil to buy goods for humanitarian relief. It became corrupt. The scandal engulfed Annan's family when his son was reported to have continued receiving payments from an Oil-for-Food contractor for four years beyond the date on which Annan's U.N. office had said such ties were severed. That disclosure, first reported by Claudia Rosett on the front page of The New York Sun, stunned the world body. Eventually, a team led by a former Federal Reserve chairman, Paul Volcker, uncovered corruption, irregularities, and nepotism in the Oil-for-Food program. There were several indictments and convictions in American courts. Yet Annan himself was not directly implicated.

Whatever Happened to Agenda 21 and Climate Change Policy? It's alive and well in your backyard. The entire policy of using anthropogenic global warming as a false front to implement global governance and impose how we will all live is working with remarkable success.

Media Silent As US Agrees To 'Full Implementation' of United Nations Gun Control Pact. While the United States is typically set apart from other countries when it comes to gun laws, a recent conference with the United Nations has raised major red flags, as the U.S. agreed to enact "full implementation" of an international agreement on gun control that will violate Americans' constitutional rights by adding their personal information to a global database. The Third Review Conference (RevCon) of the United Nations' Program of Action (PoA) on Small Arms and Light Weapons was held in New York last week with a 2018 agreement, which states that its purpose is to serve as "a renewed commitment to prevent, combat and eradicate the illicit trade in small arms and light weapons in all its aspects."

UN's Green Climate Fund at 'Low Point' After Director Resigns. The head of the Green Climate Fund, set up by the United Nations in the fight against global warming, stepped down abruptly after less than two years on the job, leaving the organization's future in doubt. Howard Bamsey, an Australian diplomat who served as the GCF's executive director since January 2017, resigned after a "difficult" meeting in which no new projects were approved, according to a statement released after the gathering in Songdo, South Korea.

UN Continues Their Push To Disarm Americans. The United Nations can't say Agenda 2030 — their plan for global peace — is successful if Americans are still armed and if the Second Amendment still exists. They have to completely get rid of armed citizens in America and the way to go about that is using our peers against us. Our threat is no longer just at home. It's international. It's time for gun owners to wake up to the international threat that sits right before us.

The UN was designed to fail, and it does. Although best-known for its peace-keeping in areas of conflict — where it enjoys a mixed record, at best — the U.N.'s agencies, commissions, and panels have a dismal record of accomplishment, especially while acting as the world's regulator-wannabe for all manner of products, processes and activities. Along with failing to defend human rights, the U.N. regularly panders to activists and, not coincidentally, adopts policies that expand its own scope and responsibilities. Science and free markets routinely get short shrift; in U.N. programs and projects, everything becomes an exercise in PR, politics, and international horse-trading. In an article published last December, two respected commentators called for the U.S. to cut funding for the U.N.'s World Health Organization and its International Agency for Research on Cancer, which is plagued by incompetence and poor science on its good days, and failed to address a major scandal marked by corruption and conflicts of interest.

Forget the Human Rights Council, Why Not Leave the Entire UN? The Trump Administration recently announced that the US will withdraw from the United Nations Human Rights Council. Their justification is that the council consists of human rights violators, such as Cuba, China, and Venezuela, and has demonstrated a bias against Israel. [...] Of course the exact same logic could be used to advocate the United States from pulling out of the UN entirely.

The UN Human Rights Council Is A Sham, And The United States Is Right To Leave It. No matter the lens applied, it is hard to view the United Nations as a serious body. A look at its specialty councils and commissions reveals an Orwellian world where committee titles mean the opposite and the resolutions they pass exacerbate the problems they're supposed to address. Even modest attempts at internal reform have somehow managed to churn out results that make bad situations even worse. Nowhere is this problem more evident than in the UN Human Rights Council (UNHCR), a world body that gives hypocrisy a bad name.

Haley to Sanders: UN Report Decrying Poverty in America Is 'Ridiculous' and 'Misleading'. [Scroll down] The United States' "immense wealth and expertise stand in shocking contrast with the conditions in which vast numbers of its citizens live," the report stated. "About 40 million live in poverty, 18.5 million in extreme poverty, and 5.3 million live in Third World conditions of absolute poverty. It has the highest youth poverty rate in the Organization for Economic Cooperation and Development (OECD), and the highest infant mortality rates among comparable OECD States. Its citizens live shorter and sicker lives compared to those living in all other rich democracies, eradicable tropical diseases are increasingly prevalent, and it has the world's highest incarceration rate, one of the lowest levels of voter registrations among OECD countries and the highest obesity levels in the developed world." [Philip] Alston called those stats and policies behind them "cruel and inhuman" and said Trump administration policies seem "driven primarily by contempt, and sometimes even by hatred for the poor, along with a 'winner takes all' mentality... contempt for the poor has intensified under the Trump Administration."

The Editor says...
Obviously, if they think so little of us, the United Nations should move its headquarters to a more civilized country.

Mystery Grows Over Why a Study Of Palestinian School Books Is Being Kept Secret From Congress. Why does the State Department block the publication of the congressional investigation of Palestinian texts taught in schools run by the United Nations? That is the question two years after the chairman of the Senate's Near East subcommitee, James Risch, asked Congress's Government Accountability Office to look at the schoolbooks now used by the United Nations Relief and Works Agency. Senator Risch ordered the study after Idaho constituents introduced him to the findings of the Center for Near East Policy Research, which purchases, translates and evaluates all schoolbooks that Palestinian Arab children learn in all UNRWA schools.

UN poverty report blasting Trump, US for 'hatred for the poor' uses data from last year of Obama's presidency. A recent United Nations report blasting President Trump and America in general for harboring "contempt" and "hatred for the poor" is based on highly inaccurate data that can't easily be used to compare the U.S. to other nations. The U.N. report's main contentions read like an attack on the Trump administration by the Democratic Party: America has 40 million poor people, including 18.5 million who live in extreme poverty; U.S. policies regarding the poor are "cruel and inhuman;" the Trump tax cuts aren't working and will worsen inequality; and the U.S. needs to spend less on defense of our nation and more on social programs.

US withdraws from UN Human Rights Council as Haley decries 'cesspool of political bias'. The Trump administration announced Tuesday it was withdrawing the U.S. from the United Nations Human Rights Council, with U.N. Ambassador Nikki Haley calling the 47-member council "a protector of human rights abusers, and a cesspool of political bias." Haley noted the move came after a year where "we did not see any progress." Haley threatened the pullout last year, citing longstanding U.S. complaints that the council showed a "chronic bias" against Israel. Calling it "an organization that is not worthy of its name," Haley decried the membership of countries like China, Cuba and Venezuela — which also have been slammed for human-rights violations.

U.S. withdraws from farcical U.N. Human Rights Council. Today [6/19/2018], the Trump administration pulled the U.S. out of the cesspool known as the United Nations Human Rights Council. It did so in protest of the presence of notorious human rights abusers on the commission, as well as the commission's blatant bias against Israel. Nikki Haley, our splendid U.N. ambassador, issued a blistering critique of the Council, explaining that it has become a "protector of human rights abusers and a cesspool of political bias." She cited the admission of Congo as a member even as mass graves were being discovered there. She also noted the failure to address human rights abuses in Venezuela and Iran. Haley and Secretary of State Pompeo are to be congratulated for this move.

Swiss FM Says UNRWA Has Become "Part of the Problem". Switzerland's new foreign minister has once again criticized the United Nations agency in charge of Palestinian refugees, saying that UNRWA has become "part of the problem" in the Middle East, The Times of Israel reported Wednesday [5/30/2018]. Two weeks ago, Ignazio Cassis said that UNRWA hindered the prospects of peace in the Middle East by fueling "unrealistic" hopes of Palestinians returning to their homes. The Times reported that Cassis, who had been discussing Switzerland's funding of UNRWA, said on a radio show that the Swiss should ask questions about what those funds are accomplishing.

A Week of Infamy at the United Nations. When Syria ascended to the role of presidency of the United Nations Conference on Disarmament for one month on Monday, Robert Wood, the United States ambassador to the conference, called it "one of the darkest days in the history of the Conference on Disarmament." The week at the U.N. did not get better. Syria assumed the role of presidency of the conference, despite committing the war crime of deploying chemical weapons against civilians, by virtue of its place in the alphabet — it followed Switzerland. The New York Times explained that the reason for the rotating scheme was "to prevent major powers dominating the forum." The problem is that the U.N., according to its charter, was founded, in part, to "save succeeding generations from the scourge of war, which twice in our lifetime has brought untold sorrow to mankind." How does giving a regime that uses prohibited weapons presidency over a conference devoted to abrogating such weapons save anyone from "the scourge of war?"

Corruption and bribery alleged in UN refugee office in Sudan. And, the allegations are coming from a humanitarian publication under the UN umbrella. Why do you care? Because the UN High Commissioner for Refugees is the first stop for most refugees coming to your towns. (We took 53 from Sudan in the last 7 months). This is just more evidence that the US State Department should be cutting the umbilical cord to the United Nations Refugee Program. If we are going to be taking refugees from third world hell holes we should be doing the choosing and the processing without UN 'help.'

United Nations Quietly Pushes International Gun Control. The United Nations' International Action Network on Small Arms (IANSA) is finishing up their Global Week of Action Against Gun Violence. According to IANSA, the goal of the week-long meeting is "for us to advocate collectively for an end to illicit trade and misuse of small arms and light weapons."

UN Members Only Vote w/US 31% of the Time. When UN Ambassador Nikki Haley first warned that there would be an accounting for the failure of UN members to vote with the US, it was over Israel. But this report goes well beyond Israel.

Why is it our job to clean out UN refugee camps? And, why is the Trump Administration continuing refugee resettlement started for no other reason (by George Bush and Barack Obama) than to please the UN? Previous presidents jumped to the UN piper's tune and said sure, the US will step up to take the Bhutanese and the DR Congolese because the UN asked us to. These people were not our responsibility, no one could say we caused the problems that resulted in their care by the UN. We have no strategic interest or reason other than to make the UN happy (and some big employers who want the cheap labor, the Dems who want voters and the contractors who want the payola!).

Beware: The United Nations Is Taking Aim at Ammo. The United Nations will have a busy year in 2018 on the firearms front. That's not good news for anyone in the U.S. who buys firearms. When it comes to the U.N. and guns, the best form of action is always inaction. Worse, manufacturers and importers at this year's SHOT Show — the Shooting, Hunting, and Outdoor Trade Show, organized by the National Shooting Sports Foundation, the trade association for the firearms industry, which ran from Jan. 23 to 26 — believe they're starting to see the results of past U.N. anti-gun efforts. Bottom line: there are more problems for U.S. gun importers, while China gets a free pass on a critical issue.

UNRWA: The UN Agency that Creates Palestinian Refugees. According to the UN's own definition, the status of "refugee" cannot be passed from generation to generation — as it conveniently has been for the Palestinians. A Palestinian with a European, American or Jordanian passport has no reason to be considered a refugee. Except by UNRWA. "Since the UN took them over, the Palestinians started burying their dead at night, without declaring them, in order to share their rations. As a result, for nearly 20 years, the official death rate in the camps was close to zero. In addition, there was a lot of movement between the camps. But these displacements were rarely recorded, so that a Palestinian could appear in several camps at the same time..." — Said Aburish, Palestinian Refugee and biographer of the late Palestinian Chairman Yasser Arafat. UNRWA is not just a humanitarian agency. Its political stance is evident at all levels of the organization. A report from the Institute for Monitoring Peace and Cultural Tolerance in School Education, says that the 2016-2017 curriculum for elementary schools in PA, partly funded by UNRWA, "teaches students to be martyrs, to demonize and deny the existence of Israel, and to focus on a 'return' to an exclusively Palestinian country."

Moving beyond UNRWA. The recent decision by the American administration to withhold significant funding for the United Nations Relief and Works Agency for Palestine Refugees has been met with warnings of a humanitarian crisis and regional unrest. This is a mistaken reaction. Instead of smearing this bold decision as a perceived slight, the United Nations should seize this moment and use it as a catalyst to implement both short- and long-term changes to UNRWA's mandate. In the immediate future, UNRWA must undergo significant reform and enhanced oversight must be put into place. Then, steps must be taken to finally end the role of this nearly 70-year-old organization.

Report: United Nations Rife With Sexual Harassment And Assault. Now we know what the UN is doing when it's not passing resolutions to condemn Israel or sending peacekeepers around the world to molest local children. According to a report at the Guardian Thursday, the staff at the UN experience frequent sexual harassment and assault, including rape.

U.N. Agency Won't Say How Many Palestinian 'Refugees' It Helps After Census Finds Nearly Two Thirds Less. The U.N. Relief and Works Agency (UNRWA), which ministers to so-called Palestinian refugees, would not comment when asked by Breitbart Jerusalem to provide the total number of Palestinian "refugees" that UNRWA services in Lebanon. This after Lebanon's census data recently placed the number of Palestinian "refugees" living in the country at about one third of the nearly 500,000 reported by UNRWA.

Chicago Needs To Think Twice Before Begging For UN "Peacekeeping" Troops. So the One World Government crowd in Chicago thinks they are doing the right thing by requesting United Nations "peacekeeping" troops to patrol their streets to root out crime and dispense with firearms? If you only had a clue as to what you are asking for — well, maybe some of you do and the idea doesn't bother you. You feel you are taking an important step into the corridors of potential One World government and if only you show the way, others may follow your shining example. Though others may try to follow your example, they will curse you for it in the end, once they wake up and find out what you have unleashed in this country.

Dredging Turtle Bay, Another Swamp Just Begging to Be Drained. There is never enough time or space to mock the United Nations adequately. Almost since the moment it was created the UN's principal purpose has been to provide a forum for the dictators, despots, rogues, and terrorists to bash the United States, to vote to condemn America or Israel — or both — without fear of even the most modest reprisal. After last week, that may change because President Trump and Ambassador Nikki Haley have threatened to cut foreign aid to those nations that voted against us last week. They may also cut our annual funding of the UN. It's high time for us to do so.

Haley announces $285M cut in 2018-19 UN operating budget. Calling it "a big step in the right direction," U.S. Ambassador to the United Nations Nikki Haley on Sunday night announced a historic reduction in the U.N. biennial operating budget. Haley said the plan calls for a $285 million cut for the 2018-19 fiscal year. "The inefficiency and overspending of the United Nations are well known," Haley said. "We will no longer let the generosity of the American people be taken advantage of or remain unchecked."

UN ingrates. At the General Assembly, 128 nations voted whoopee against the United States for its part in recognizing Jerusalem as the capital of Israel. Yes, they stabbed us in the back... even Germany. I mention Germany because when it comes to the United States, let alone Israel, you'd think they'd still be in a mood to atone. Not when the chips are down.

Why Trump Should Stop Funding the U.N.'s Palestinian 'Refugee' Agency. Amid the Trump administration's threats about cutting funding to the United Nations and member states, the White House should seriously consider entirely defunding the scandalous U.N. Relief and Works Agency (UNRWA), which ministers to so-called Palestinian refugees. The U.S. is UNRWA's single largest donor, and the Trump administration has reportedly been mulling whether to continue providing its annual contribution of more than $300 million.

The US Should Pull Out of the UN. President Trump and Ambassador Haley deserve lots of credit for fighting the good fight in the UN. But as this latest vote showed, it's a dead end. The UN is dominated by a corrupt, left-wing bureaucracy. And by bloc votes of Islamic countries and third world dictatorships whom Western countries strive to appease in a pointless bid for influence. Because we fund them. The UN was supposed to be a defense against totalitarian movements. Instead it quickly came to be dominated by them.

Chicago WCKG radio station manager says UN troops [are] already in Chicago. Chicago, a gun-control city ravaged by gun homicides, is in Cook County, Illinois. On December 14, 2017, in complete defiance of protocol and in violation of U.S. sovereignty, County Cook Commissioner Richard Boykin told CBS Chicago that "we're headed to the United Nations to meet with the Assistant Secretary General" to ask that the UN "help out" by dispatching troops ("peacekeepers") to Chicago to quell its gun violence.

Taking names: Guess which countries support the U.S. in the U.N.? Among the small circle of countries that supported the U.S. in the United Nations Thursday, where a vote was taken to condemn the U.S. for moving its Israel embassy to Jerusalem, a few stick out as fairly unexpected — most of all from the Americas. Here is the list: Guatemala, Honduras, Israel, Marshall Islands, Micronesia, Nauru, Palau, and Togo. Honduras? Guatemala? Those countries actually voted "no" on condemning the U.S. They didn't try to weasel out of it by abstaining; they really voted "no." They actually sided with the U.S.'s sovereign prerogative to make its own decisions on where to site the U.S. embassy in Israel in an affirmative way. Compare and contrast with our longtime allies such as the United Kingdom, which couldn't even be bothered to abstain.

Nikki Haley Shoots Down UN Resolution Condemning Trump's Jerusalem Decision. The U.S. vetoed Monday [12/18/2017] a United Nations Security Council resolution calling on President Donald Trump to "withdraw" his decision to recognize Jerusalem as the capital of Israel. Casting the lone opposition vote against 14 votes in favor, U.S. ambassador to the U.N. Nikki Haley called the resolution "an insult" that won't be forgotten. She has repeatedly criticized the U.N. for anti-Israel bias and for holding what she calls "Israel-bashing sessions" in the guise of legitimate diplomatic business.

U.N. Ambassador Nikki Haley Outlines Evidence of Growing Threats From Iran. In a stunning display of international transparency, U.N. Ambassador Nikki Haley presents actual, physical, incontrovertible and, yes, uncomfortable, evidence of Iranian weapons that have been used by proxy fighters against allied nations. The presentation takes place at joint base Anacostia-Bolling in Washington, DC and consists of formerly classified intelligence gathering presented openly to the international community. Ambassador Nikki Haley presents an assembly of actual Iranian missiles and weapons that have been fired against mid-east allies within the peace coalition. [Video clip]

Nikki Haley Stands Tall At UN: Slams UN For Its Hatred Of Israel. Speaking at an emergency meeting of the UN Security Council on Friday [12/8/2017], UN Ambassador Nikki Haley refused to back down from the United States' commitment to recognizing Jerusalem as Israel's capital, asserting, "We must recognize that the prospect of peace is advanced, not set back," by President Trump's move to do so. She said bluntly, "I understand the concerns that members have in calling this session. Change is hard." She added that the United States was more committed to peace "than we've ever been before — and we believe we might be closer to that goal than ever before."

Amina Mohammed, UN dep Sec-Gen fingered in $300m timber scandal. Nigeria's former minister for environment and current United Nations deputy secretary general, Amina J. Mohammed has been identified as allegedly playing a major role in the clearance of over 10,000 containers of illegally harvested logs of Timber. The shipment is said to be worth $300 million. According to a documentary seen by DAILY POST, the Chinese government in 2016 stopped the importation of the containers. But in early 2017 over 4,000 permits were issued by the Nigerian government, thus prompting the Chinese government to release the illegally imported goods into China.

Oops, The UN 'Found' Another Terror Tunnel Under a UN School — Terror In The Classroom Runs Deep. Israel's Ambassador to the UN Danny Danon reacted harshly to the revelation of a terror tunnel under an UNRWA school. 'Yet another terror tunnel under an UNRWA schoolyard. This is what Hamas rule looks like and this is more proof of the double war-crime committed as terror tunnels are built to attack Israelis, while using the children of Gaza as human shields' said Danon.

Cutting Off UNESCO: Nice Start, Now How About The Rest Of The Israel-Hating U.N.? Among the many enduring disappointments of the United Nations is its profound and at times shocking anti-Israel sentiment, which verges on a kind of sick obsession that runs completely contrary to the U.N.'s founding principles. But UNESCO is particularly bad. How bad? In 2011, it went too far even for the Obama administration by giving "Palestine," a state that doesn't exist, full membership in UNESCO. Under President Obama, the U.S. stayed in the organization, but suspended its payments. That's not all, however. [...]

Good Riddance to UNESCO. It was easy to miss it during a hectic week, but on Thursday, the United States announced its withdrawal from the United Nations Educational, Scientific and Cultural Organization (UNESCO). Good riddance. In 2011, the U.S. substantially cut funding to UNESCO after the organization granted the Palestinian Authority full membership. But while Barack Obama asked Congress to restore funding, the Trump administration has taken the appropriate next step. UNESCO's embrace of the Palestinians in 2011 was par for the course for an organization that is a dependable opponent of Israel.

The U.N. Is Designed to Fail. Best-known for its so-called "peace-keeping" efforts in areas of conflict — where it enjoys a mixed record, at best — the organization's other agencies, commissions and panels have a dismal record of accomplishment, especially while acting as the world's regulator-wannabe for all manner of products and processes. The U.N. regularly panders to activists and, not coincidentally, adopts policies that expand its own scope and responsibilities. Science routinely gets short shrift in U.N. brokered international agreements, where everything becomes an exercise in international horse-trading.

President Trump Needs to Ditch the United Nations Now. Donald Trump campaigned and was elected as an agent of radical change. He promised to roll back the policies on big government at home and transnational cooperation abroad that both parties have endorsed for years. His campaign rhetoric about the "useless UN" and the "unfair" Paris Climate Accords suggested he understood that such organizations and treaties fleece Americans while handing over national sovereignty to other countries eager to gain leverage over us. But Trump's recent comments about renegotiating the Paris agreement and reforming the UN imply an acceptance of the assumptions on which both are built: that multilateral cooperation is better able to serve the interests and security of the United States. If this is so, then Trump is buying into the flaws of those assumptions that need to be utterly discredited in order to enact meaningful change.

Check Out The Insidious Evil Of The United Nations' "Replacement Migration" Plan. You ever wonder why the odd and continually determined push/demand that developed nations take in MILLIONS of Muslim refugees?

Replacement Migration. United Nations projections indicate that over the next 50 years, the populations of virtually all countries of Europe as well as Japan will face population decline and population ageing. The new challenges of declining and ageing populations will require comprehensive reassessments of many established policies and programmes, including those relating to international migration. Focusing on these two striking and critical population trends, the report considers replacement migration for eight low-fertility countries (France, Germany, Italy, Japan, Republic of Korea, Russian Federation, United Kingdom and United States) and two regions (Europe and the European Union). Replacement migration refers to the international migration that a country would need to offset population decline and population ageing resulting from low fertility and mortality rates.

UN to name Yankee Stadium a Palestinian Heritage Site. Well why not? If they own the Cave of the Patriarchs all bets are off and they own everything, including Yankee Stadium, which to American culture is hallowed ground for the memories of Babe Ruth, Joe DiMaggio, Mickey Mantle, Reggie Jackson and at this rate, some day Aaron Judge. In fact I'd be surprised if Mahmoud Abbas hasn't already put in his bid. All he has to do is ask and UNESCO says sure, it's yours. When it comes to those UNESCO clowns — the 195 nations that make up the UN's "heritage center" — the other shoe always drops.

Hamas tunnel discovered underneath UNRWA school. A Hamas terrorist tunnel was discovered under a school in Gaza run by the United Nations Relief and Works Agency for Palestine (UNRWA), Israeli media reported on Friday [6/9/2017]. The tunnel was discovered a week and a half ago, according to the reports. The Coordinator of Government Activities in the Territories, Maj. Gen. Yoav Mordechai, confirmed the discovery of the tunnel in a post on his Facebook page in Arabic. "The tunnel was discovered underneath a school for boys in Al-Maazi...It is clear that the entire Arab world understands that it is the Hamas terror organization that destroys Gaza and eliminates any chance of a good future for Gazans," wrote Mordechai.

More Madness at the UN: Big Government Is a Human Right? [Scroll down] While all these nations protect each other from scrutiny, the Human Rights Council vilifies Israel at every turn. In its view, Israel is a greater human rights violator than all other countries combined. But the Council is not the only UN body drowning in unintended irony. The 45-member Commission on the Status of Women — is there a single issue for which a meaningless UN bureaucracy does not exist? — recently selected Saudi Arabia as a member. This auspicious panel, according to the UN, is to be involved in "promoting women's rights, documenting the reality of women's lives throughout the world, and shaping global standards on gender equality and the empowerment of women." Saudi Arabia's role is precisely what? It treats women like chattel. And has provided recruits and money to terrorists who have sold Christian and Yazidi women as sex slaves.

WHO spends more on travel costs than fighting AIDS. The World Health Organization is spending more money on the travel bug than on fighting AIDS or malaria, according to a new report. The UN health agency blows around $200 million a year on travel costs so its honchos can fly business class and stay in five-star hotels — more than what it reserves for battling some of the world's biggest health crisis, the AP reports.

U.N.'s Global Warming Fraudsters Are More Interested In Climate Cash Than Climate Change. Just when you think the climate change lunacy couldn't get any worse, the U.N.'s climate-crats up the ante. Meeting in Bonn, Germany, for yet another unneeded climate conference, attendees are now demanding $300 billion a year more to help less-developed nations cope with anticipated climatic warming. Are they kidding? By the way, that $300 billion is in addition to the $100 billion that the world's governments have already promised to deliver under the Paris Climate Agreement. So now they're asking for a total of $400 billion a year in climate welfare for the developing world. No sane government would sign on to such a scam. Which of course means that most of them probably will.

The squalid sanctimony of the United Nations. It turns out the Office of the UN High Commissioner on Human Rights has cautioned President Trump that repeal of ObamaCare would put the United States "at odds with its international obligations." The five-page "urgent appeal" from the UNHCR office in Geneva warned that taking away health coverage would violate "the right to social security of the people in the United States." Meanwhile, the world body just showed its own contempt for human rights by electing Saudi Arabia to serve on the UN Commission on the Status of Women, whose mission is to promote "gender equality and the empowerment of women" across the globe. Last year's Global Gender Gap report from the World Economic Forum ranked Saudi Arabia 141 out of 144 countries on gender equality. Saudi women can't drive and must let male guardians make most of their decisions and accompany them in public.

UN warned Trump that ObamaCare repeal could violate international law. The United Nations warned the Trump administration earlier this year that repealing ObamaCare without providing an adequate replacement would be a violation of multiple international laws, according to a new report. Though the Trump administration is likely to ignore the U.N. warning, The Washington Post reported the Office of the U.N. High Commission on Human Rights in Geneva sent an "urgent appeal" on Feb 2. The Post reported that the confidential, five-page memo cautioned that the repeal of the Affordable Care Act would put the U.S. "at odds with its international obligations."

US to Withhold $32.5 Million from UN Population Fund, Will Support Life. The State Department announced last Monday [4/3/2017] that the United States will withhold funding of the United Nations Population Fund (UNFPA) due to the serious ethical and moral issues surrounding the controversial UN group — especially regarding concerns about its role in forced abortion in China. The United States will withhold $32.5 million from the population control organization for the 2017 fiscal year on the grounds that the UNFPA "supports, or participates in the management of, a program of coercive abortion or involuntary sterilization." This action by the Trump administration marks the first follow-up to promised cuts to the United Nations budget and comes not long after President Trump reinstated the Mexico City Policy, which prevents taxpayer funds from being distributed to groups that perform or promote abortions internationally.

US withdraws funding for United Nations Population Fund. The US says it is withdrawing funding for the United Nations Population Fund (UNFPA), an agency that promotes family planning in more than 150 countries. The state department says the agency supports or participates in a programme of coercive abortion or involuntary sterilisation in China.

More than Just Another Anti-Israel U.N. Farce. It isn't easy to get worked up at the United Nations, an institution where the egregious is merely business as usual. But even veteran observers of the world body had to sit up and take notice when its Economic and Social Commission for Western Asia published a report about Israel that Secretary General Antonio Gutteres himself immediately disavowed.

Team Trump is already [effective] at the United Nations. As US Ambassador to the UN Nikki Haley pointed out Monday [3/20/2017], only one country is subjected to regular scrutiny and condemnation in each of the three annual sessions of the 47-member Geneva-based human-rights body. Guess which one. "It's not Syria, where the regime has systematically slaughtered and tortured its own people," Haley said. "It's not Iran, where public hangings are a regular occurrence. It's not North Korea, where the regime uses forced labor camps to crush its people into submission. "It's Israel, the only democracy in the Middle East."

Trump wants UN funds cut more than 50 percent: report. President Trump's administration has told the State Department to cut more than 50 percent of U.S. funding to United Nations programs, Foreign Policy reported. The push for the drastic reductions comes as the White House is scheduled to release its 2018 topline budget proposal Thursday [3/16/2017], which is expected to include a 37 percent cut to the State Department and U.S. Agency for International Development budgets. It's not clear if Trump's budget plan, from the Office of Management and Budget, would reflect the full extent of Trump's proposed cuts to the U.N.

Why Trump Should Quit the Dangerous and Immoral United Nations' International Treaty on Climate Change. The New York Times is urging President Trump to ignore the facts and the evidence, and instead listen to the siren voices of his daughter Ivanka, his Secretary of State Rex Tillerson and the various assorted members of the Climate Industrial Complex who would prefer the U.S. to remain shackled to one of the most stupid and pointless agreements in American history. They want him to keep the U.S. stuck in the disastrous and ill-advised United Nations Framework Convention on Climate Change (UNFCCC).

UN Ambassador Nikki Haley Rips Security Council's 'Breathtaking' Anti-Israel Bias. United States Ambassador to the United Nations Nikki Haley issued a scathing criticism of the UN Security Council over their "anti-Israel" bias on Thursday [2/16/2017] after emerging from her first regular monthly meeting at the international body. "I have to admit; it was a bit strange," Haley said of the council's agenda.

Global Effort Launched to "Repeal and Replace" United Nations. A global effort dubbed "Covenant of Democratic Nations" is working to abolish the United Nations, widely ridiculed as the "dictators club," and replace it with an international forum open exclusively to free and democratic nations. Basically, it is a "repeal and replace" campaign to protect the world from the UN and its increasingly vicious attacks on freedom and self-government. A number of lawmakers around the world have expressed interest in the campaign as the movement travels from city to city hosting events to expose the UN and promote an alternative.

Investigation Exposes UN Agents Inciting Terrorism, Hate. The United Nations Relief and Works Agency is under fire yet again over employees who publicly promote terrorism, praise National Socialist mass-murderer Adolf Hitler, support violent jihad, and foment hatred of Jews. The latest accusations, documented in a 130-page report provided to U.S. lawmakers, come from an investigation by the non-profit watchdog group UN Watch. Dozens of UN agents and employees were implicated, including many with access to children.

Obama's last money shower for the UN: some $9.2 billion. In its last year in office, the Obama Administration showered at least some $9.2 billion on the United Nations and its sprawling array of organizations, according to a document recently posted on the State Department website. The total is gleaned from a document that summarizes U.S. government spending for international organizations, and is about 20 percent higher than the $7.7 billion figure given out by State for 2010, before the Obama Administration abruptly quit providing any overall tally for its U.N. support.

Trump's hard-nosed executive order asks what U.N. money is going for-and is it worth it? [H]ow much money does the U.S. give to the United Nations, what is the money going for[,] and is it worth it? The Administration's tough strategy is specifically aimed at reducing, rather than eliminating, U.S. support for the world organization and will not affect, at least in the short term, Washington's current dues-paying commitment to pay 22 percent of the U.N.'s so-called "regular" budget ($5.6 billion for 2016-2017) and 28.5 percent of its peacekeeping obligations ($7.9 billion) this year.

5 Reasons Trump Is Absolutely Right to Slash UN Funding. [#3] UN schools have housed weapons stockpiles for terrorists. The UN's own report found that the Palestinian terrorist group Hamas stored and fired rockets from UNRWA schools in Gaza. These rockets were directed at Israeli innocent civilians. In other words, UN-sponsored facilities were used to engage in war crimes. [...] [#4] UN peacekeepers have recently been found guilty of child sexual abuse. As The Daily Wire reported: "UN peacekeepers sexually abused children in the Central African Republic (CAR). Reports of sexual abuse in CAR first emerged in May 2014. By 2016, NGOs, international papers, and other monitoring groups had uncovered hundreds of cases of pedophilia, rape, and quid pro quo sex abuse directed against the poor, starving, and embattled people of CAR.

Next on Trump's List: Rein in the UN Dictators Club. Establishment globalists were right to be concerned about the fate of their schemes. After a fast-paced first week of putting "America First" by targeting pseudo-"free trade" regimes and rogue regulatory agencies, President Donald Trump is reportedly preparing to take on the United Nations. Its swarms of agencies, programs, bureaucracies, conventions, and associated schemes are also in the crosshairs. According to a January 25 report in the anti-Trump New York Times, which claimed to have seen a set of draft orders being prepared by the administration, Trump plans to drastically reduce the U.S. government's role at the UN and other international organizations. He is also planning a review of sovereignty-stealing UN treaties, with a view toward restoring self-government in various policy areas and saving U.S. taxpayers billions of dollars. Globalists everywhere are in a panic.

Trump team ponders changes to U.S. commitment to United Nations. The Trump administration is considering actions that would reduce the U.S. commitment to the United Nations and evaluate whether the United States should pull out of multi-national treaties, officials said. The results could be reduced American funding for the U.N. agencies and withdrawal from treaties like the Paris climate accord reached by the Obama administration, said the two officials who spoke on condition of anonymity because the actions were not completed yet.

House Bill Wants US To Break From UN. A bill introduced to the House of Representatives, called the American Sovereignty Restoration Act of 2017, is looking to break the United States away from the United Nations completely. The bill, introduced by Republican Alabama Rep. Mike Rogers, was recently sent to the House Committee on Foreign Affairs. Rogers proposed a similar bill in 2015, saying in a statement at that time that, "The U.N. continues to prove it's an inefficient bureaucracy and a complete waste of American tax dollars."

Trump's new bill could pull USA out of United Nations in funding row. President Donald Trump is taking his inauguration promise to put 'America first' seriously with Republicans submitting a new bill to pull the US out of the United Nations. Proposed by congressman Mike Rogers, the American Sovereignty Restoration Act also seeks a complete withdrawal from membership of the World Health Organisation. And Republicans have even demanded the UN remove its headquarters from New York in a shocking blow to global relations.

Trump nominee Nikki Haley set to show skepticism about value of U.N.. South Carolina Gov. Nikki Haley pledged Wednesday to forcefully advance American interests as the U.S. ambassador at the United Nations after what she called a retreat from global leadership under the Obama administration. Haley questioned the priorities and effectiveness of the world body,which President-elect Donald Trump has called a toothless debating society, but said she intends to "fix" what doesn't work.

Samantha Power Warns Against Cutting US Funding to UN. US Ambassador to the UN Samantha Power on Friday [1/13/2017] warned that cutting US funding to the United Nations would be "extremely detrimental" to American interests, one week before Donald Trump's administration takes office. Addressing her final news conference, Power told reporters that "countries like Russia and China" would benefit from Washington's reduced standing at the United Nations if funding were withdrawn.

Disunity and Impotence at the United Nations. The mandate of the United Nations is to preserve peace in the world, but when it comes to the Syrian crisis, the global body has failed badly.

Lindsey Graham and Ted Cruz team up to defund UN over Israel vote. The United States taxpayer must stop paying into the United Nations until it reverses its vote condemning Israel's occupation of the West Bank and East Jerusalem, two top senators said Thursday. Sens. Lindsey Graham, R-S.C., and Ted Cruz, R-Texas, appeared together on MSNBC about a new bill introduced Thursday that would block taxpayer dollars from going toward the U.N. Graham said the resolution passed last month, which the United States abstained from, was a step too far in attacking Israel and it must be undone. "Twenty-two percent of the money to fund the U.N. comes from the American taxpayer. I don't think it's a good investment for the American taxpayer to give money to an organization that condemns the only democracy in the Middle East," he said.

Graham and Cruz Introduce Resolution to End Taxpayer Funding of UN — Unless.... Sens. Lindsey Graham (R-S.C.) and Ted Cruz (R-Texas) announced on Thursday they are introducing a resolution to end all U.S. taxpayer funding for the United Nations "unless and until" the U.N. reverses a measure condemning Israel. U.N. resolution 2334 is the first one condemning Israeli settlements in disputed territories to have been adopted by the Security Council in more than three decades. The U.N. passed the resolution just before Christmas, after the Obama administration abstained, rather than use its veto power to kill it.

Israel to Cut $6 Million in UN Funding Over Anti-Settlement Resolution. Israel on Friday [1/6/2017] suspended about $6 million in funding to the United Nations to protest a Security Council resolution demanding an end to settlements in the West Bank[.] The council adopted the resolution last month after the United States refrained from using a veto to block the measure in a break from its usual practice of shielding its Middle East ally.

UN follows up settlement vote with 'blacklist' plan for Israeli companies. Critics who thought the U.S. opened the UN's anti-Israel floodgates by abstaining on a vote condemning settlements last week say an obscure subsequent move by the world body to establish a "blacklist" of Israeli companies proved them right. Lost amid the angry words that followed the Dec. 23 UN Security Council vote that critics called an American betrayal of Israel was a Christmas Eve appropriation of $138,700 to fund a database of companies doing business in the West Bank. The measure puts UN prestige behind the anti-Israel Boycott, Divestment and Sanctions (BDS) campaign, say critics.

Diplomatic Terrorism at the U.N.. The vicious condemnation of Israel at the UN Security Council on December 23, 2016 is a watershed moment in U.S.-UN relations — albeit not as President Obama hoped. Following the vote of fourteen in favor and one American abstention, Palestinian representative Riyadh Mansour and American Ambassador Samantha Power exchanged a telling handshake. Evidently, President Obama believes that he has put one over on Israel, Prime Minister Netanyahu and the incoming Trump administration. But here's another possibility: treachery at the UN will not be cost-free.

What if Obama dropped Hillary's email bombs? Obama is a major narcissist who always wants to expand his personal power. Being president has not satisfied his power-hungry ego; nothing ever will. For months he has been talking about running for a third term, and he's back at it today. Washington speculation has long focused on Obama's ambition to become SecGen of the U.N., an office he could try to expand into a genuine power center to achieve the utopian fantasy of the left, a world order in which everything is "properly" controlled from a dictatorial center. This is consistent with the worst kind of Marxism, but it is also the dream of jihad: world conquest. Obama has shown time and time again that he is a sort of Marxo-jihadophile.

Huckabee: Cut Funding to UN, Support Vets Instead. Former Arkansas Gov. Mike Huckabee said the United States should stop giving money to the United Nations — and use the money instead on U.S. veterans. In an interview on "The O'Reilly Factor" on Wednesday night [12/28/2016], Huckabee said he hopes a cut-off in funding to the UN will be one of Donald Trump's first acts as president.

The Case for Booting the UN Out of America Grows Stronger. In his lame-duck attempt to undermine the State of Israel with a diplomatic knifing in the front, President Obama has created fertile ground for a campaign to lead the United States out of the United Nations. [... In 2015] Congressman Mike Rogers (R-AL) alongside a number of other Congressmen and women floated the American Sovereignty Restoration Act (ASA). [...] Commenting at the time, Rep. Mike Rogers said: "Why should the American taxpayer bankroll an international organization that works against America's interests around the world?" The time is now to restore and protect American sovereignty and get out of the United Nations."

The Obama Intifada. People across the political spectrum throughout the United States and Israel have called out Obama for his unprecedented, lame-duck abstention allowing for a harshly biased anti-Israel resolution to pass. It is clear that his hands are pulling the strings to make this happen are clear, as is his vindictiveness. The outcome of this will not be a greater likelihood for peace, but rather it will prevent peace breaking out any time soon. Obama has emboldened and played into the hands of — even provided the road map for — terrorists and others who vilify and de-legitimize Israel at every turn. They have internalized that they do not have to negotiate with Israel to score diplomatic victories. All they have to do is whine incessantly and threaten endlessly, and Obama and others will give them what they want.

Now's the time to rein in a failed United Nations. We've come a long way from Daniel Patrick Moynihan excoriating the United Nations' 1975 "Zionism is racism" resolution in one of the finer exhibits of righteous indignation in the history of American speechifying. The Obama administration acceded to — and, reportedly, assisted behind the scenes — a less notorious but still noxious Security Council resolution condemning Israeli settlements. By the administration's lights, the action is clever — it will be extremely difficult to reverse and will increase Israel's international isolation. But the bipartisan outrage over a resolution that, once again, demonstrates the United Nations' hostility to our closet ally in the Middle East affords an opportunity to force an overdue crisis in the US-UN relationship.

UN Withdrawal: Never Wound a King. American should not withdraw from the United Nations without first ensuring that the organization cannot retaliate. [...] Before the UN can be abandoned, it must be defanged, declawed, discredited and otherwise rendered so weak that it cannot be used against us when we finally do exit that noxious relic of World War II. In addition, the actions taken should not only weaken the United Nations, but push as many other members into our camp as possible.

Mounting Evidence of Administration Dishonesty Over U.N. Resolution. Evidence that the Obama administration is being dishonest regarding the anti-Israel U.N. resolution continues to emerge. This article by Adam Kredo in the Washington Free Beacon shows there is good reason to believe that, contrary to the administration's claims, Team Obama was a major architect of and driving force behind the condemnatory resolution. Kredo cites the following: [#1] There is evidence from multiple sources that Joe Biden phoned Ukraine's president to ensure that country voted in favor of the resolution, though Biden denies it. [#2] Documents believed to have been leaked by Egypt show that John Kerry met with senior Palestinian diplomat Saeb Erekat, with Kerry pledging not to veto a condemnatory resolution is worded to the administration's satisfaction. The document has not, to my knowledge, been authenticated, and the White House denies that such a meeting occurred.

Trump Can Reverse Obama's Betrayal Of Israel By Defunding The U.N.. Working hand-in-hand with Israel's enemies, Obama and his Secretary of State John Kerry no doubt thought that they were pulling a clever trick on Israel, which has suffered repeated diplomatic insults and attempts at undermining its very existence during the Obama years. By abstaining in a vote that declared Israeli settlements in the West Bank and East Jerusalem illegal, the U.S. has undermined the possibility of talks between Israel and the Palestinians that will lead to anything even remotely resembling peace.

Drive the U.N. Into the Sea. This weekend, on the eve of the Jewish holiday that marks that people's resistance to savage pagan occupation (Chanukah), the U.N. Security Council adopted a resolution that is stunning in its moral blindness. It condemned all Jewish settlements in the West Bank and East Jerusalem — two regions where Jews lived for thousands of years before an Arab set foot in Palestine. [...] Jews are buying land and moving to the West Bank and East Jerusalem. In theory, this shouldn't be a problem for a new Palestinian state; these Jews would form a tiny minority of its citizens, much smaller than the Arab contingent of Israeli citizens. So why are Jewish settlements considered an obstructionist "barrier to peace"? Why condemn Israel for letting its citizens buy land and live there?

Dershowitz: 'Money Counts At the UN,' U.S. Should Threaten To Defund UN Over Anti-Israel Bias. Wednesday [12/28/2016] on AM 970's "The Joe Piscopo Show," while discussing the recent United Nations security resolution criticizing Israel settlements, lawyer, author and emeritus law professor at Harvard University Alan Dershowitz said the United States needs to "threaten to defund the United Nations." Dershowitz said, "There is an automatic anti Israel bias at the UN. Consider the following story — this happened less than a year ago — the head of the UN Ban Ki-moon put Saudi Arabia on a blacklist of countries that mistreat children during wartime and the head of the Saudis called Ban Ki-moon and said unless you take us off of the blacklist we will stop sending money to the UN, and Ban Ki-moon said alright and he took them off the blacklist."

The United Nations Gets Krauthammered: Trump Should 'Turn It Into Condos' . Conservative pundit Charles Krauthammer launched a verbal assault against the United Nations on Fox News Monday evening [12/26/2016] [Video clip].

Destroy the United Nations. Sometimes enough really is just enough. And so it is here. The United Nations, which emerged out of the ashes of the Second World War and the Shoah but which has come to embody that which it was initially formed to oppose, has long ceased serving any useful function. Ironically founded in no small part to better secure the Jewish fate, the wretched hive of morally relativistic scum and Western values-loathing villainy has long succumbed to strongman sycophancy, noxious Arab supremacism, and perverse Islamist-Leftist dogma.

Obama's Israel Vendetta Opens the Door for Trump to Defund the UN. Donald Trump — who is seeking to spend a ton of taxpayer money on rebuilding our military and infrastructure — is undoubtedly looking for places to save. Nowhere would be better to start than that moribund center of international corruption and megaphone for tin-pot dictators, the United Nations. What started out after World War II as the idealistic coming together of nations to end war ended up being one of the giant ripoffs of all time. The UN oil-for-food scandal during the Iraq War showed how extreme it had become.

US Should Not Only Defund UN But Withdraw From It. The United States pays 22% of the total UN budget. What we get for our $3 billion a year is a corrupt organization whose dysfunctional and hostile agencies are united in opposing us around the world. The United Nations does only two things consistently and effectively: waste money and bash Israel. Sometimes it manages to do both at the same time. After an extended, and no doubt costly, visit to the region, the UN Special Rapporteur on Violence Against Women blamed Muslim men beating their wives on Israeli settlements.

The Editor says...
Yes indeed, defund the UN, withdraw from it, and evict the UN from the United States!

Obama Taught Us Well: We Must Drain the U.N. Swamp. President Obama's refusal to veto the sickening UN Security Council resolution against Israel yesterday was an act of pure malice. The resolution, demanding an immediate halt to all Israeli "settlement" construction, was proposed by New Zealand, Malaysia, Venezuela and Senegal after its original sponsor, Egypt, had withdrawn. No one can be in any doubt, though, that the resolution's real sponsor was Obama, acting behind the backs of the US Congress and the American people. Clearly it makes a negotiated settlement between Israel and the Palestinians very much harder, since the Palestinians will now have no incentive to negotiate the boundaries of a future Palestine state.

U.N. Goes All-In For Unlimited Migration. The United Nations has cooked up a "New Urban Agenda" coming soon to a city near you. It was unveiled this week in Quito, Ecuador, at the so-called Habitat III conference. And part of the plan, enthusiastically embraced by Hillary Clinton, calls for unlimited migration across open borders. Migrants displaced by war, failing economies or other hardships will be seen as having "rights" in nations other than their own. Cities are seen as the key battlegrounds and the U.N. conference in Quito had a lot to say about how your city will be expected to embrace migrants of all types, from all regions of the world.

UN apologizes for Haiti's cholera epidemic without noting it brought the disease. United Nations Secretary Ban Ki-moon has ended — sort of — six years of UN stonewalling over Haiti's mammoth cholera epidemic with a weak apology that the world organization "simply did not do enough" about the epidemic, without mentioning that UN peacekeepers brought the deadly disease to the hemisphere's poorest country in the first place. Ban's statement Thursday [12/1/2016] to the UN General Assembly declared that "we are profoundly sorry for our role," without going into the specifics of what that role actually was.

A Proper Contempt for the UN. In the announcement that South Carolina Governor Nikki Haley will accept the role of American Ambassador to the United Nations under President Donald Trump, there is plenty to celebrate. The foremost of which is perhaps the contempt for the prevailing diplomatic culture in Turtle Bay inherent in the selection.

Top 10 Reasons George Soros Is Dangerous. [#3] Wants to curtail American sovereignty: Soros would like nothing better than for America to become subservient to international bodies. He wants more power for groups such as the World Bank and International Monetary Fund, even while saying the U.S. role in the IMF should be "downsized." In 1998, he wrote: "Insofar as there are collective interests that transcend state boundaries, the sovereignty of states must be subordinated to international law and international institutions."

Congresswomen Carolyn Maloney suggests United Nations as next step for Hillary Clinton. Hillary Clinton may be down, but she's not out. Clinton will never stop working and could do some great work with the United Nations, New York Congresswoman Carolyn Maloney (D-Astoria) suggested to PIX11's Marvin Scott. "She will never stop working," Maloney said. "She will always make a difference and will always be a part of the dialogue in a positive way to advance the values of America and to advance the causes that she believes in." Clinton may be able to do that by working for the United Nations, Maloney said. The congresswoman believes Clinton would make an excellent ambassador to the U.N. and feels President-elect Donald Trump should consider her for the position.

The Editor says...
Let us first wait and see if Hillary's calendar is clear: She might be busy making license plates for the next few years. On the other hand, she might be ideally suited for a job at the UN.

UNsilenced: Whistleblower Exposes UN Culture of Corruption. When she stumbled across massive corruption and made-up statistics in her job at the United Nations, Rasna Warah knew she needed to act. But when she tried to blow the whistle, she was viciously attacked, publicly humiliated, threatened, intimidated, and more. Unfortunately, though, as Warah explains in her new book UNsilenced [...], her case is far from unique. In fact, the corruption and lawlessness across the UN appears to be systemic. Some of the cases described in the book and the pages of The New American magazine make the scandals she exposed and the retaliation she suffered seem mild by comparison. Indeed, in her book, she actually spends very little time dwelling on her own case, but delves instead into some of the many other known and unknown scandals to rock the global organization.

Behind Closed Doors, UN "Health" Agency Plots Global Control. The United Nations World Health Organization (WHO) will be meeting behind closed doors next month to push more and higher taxes around the world, sparking outrage from journalists, stakeholders, taxpayers, and more. Under the guise of reducing tobacco consumption and raising money for governments, the controversial global "health" outfit's Framework Convention on Tobacco Control (FCTC) is also concocting broad policy measures having to do with border security, trade, "public health," and more. And according to experts, some of those policy prescriptions, ironically, contribute to furthering illicit trade and, by extension, end up helping to fund terrorism. Others will fuel increased tobacco use, experts said.

$3 Billion Embezzlement Scandal Could Cost DiCaprio UN Climate Change Position. Hollywood actor Leonardo DiCaprio was urged Friday to step down from his climate change position with the United Nations or renounce connections to a group that allegedly embezzled millions to gain favor with the White House. The Bruno Manser Funds wants the actor to forfeit his special designation as U.N. Messenger of Peace after revelations the Oscar-award winning actor was tied to the Malaysian Fund 1MDB scandal. A foreign businessman used money from the Malaysian Fund to secure a White House visit for relatives of the Malaysian prime minister, according to public officials. The nearly $3 billion scandal is being called the world's biggest white-collar crime.

UNESCO says New York is not part of America. A day after declaring that there is no Jewish connection to the Western Wall and Temple Mount, next on the agenda for UNESCO is New York City, which the UN agency says is also disconnected and not part of the United States. From now on, New York City will be known by its Arabic name. Infidels must leave. "We are looking into Paris as well," a UNESCO official told this reporter. UNESCO is headquartered in Paris. This could create a problem for the thousands the UN employs at what used to be the capital of France. Would they be moved to London? "No," we were told. "London is next to go. There is no evidence that London was ever a part of Britain." What does that mean? "It means that henceforth London will be known by its Arabic name."

UNESCO says Jews have no connection to Temple Mount. The UN passed a resolution Thursday denying the Jewish connection to the Temple Mount and the Western Wall[.] The resolution was supported by 24 states, including Russia and China. 6 countries opposed and 26 abstained. The resolution maintains that the Western Wall and Temple Mount will be referred to by their Arabic names and the Hebrew terms for the sites will only appear in quotation marks in UN references.

US election: Trump presidency 'dangerous', says UN rights chief. Donald Trump's "deeply unsettling and disturbing" views make him a danger internationally, the UN's human rights chief has said. UN High Commissioner for Human Rights Zeid Raad al-Hussein cited Mr Trump's comments on the use of torture and his attitude to "vulnerable communities". The Republican presidential candidate's campaign has been marked by a number of controversial comments. Recent crude remarks about women have caused the biggest political fallout.

For Next UN Secretary-General, A Managerially Incompetent Socialist. In the race for the next United Nations secretary-general, the Security Council has narrowed the field of candidates from a remaining 10 to precisely one: and the winner is, former Prime Minister of Portugal Antonio Guterres. It could have been worse — but not by much. Guterres brings to the job a record that suggests he is a perfect fit to head a UN that is prone to overreach, mismanagement, waste, fraud, abuse and government meddling in every aspect of life — provided we all want even more of the same.

The next UN Secretary General has some history to overcome. The United Nations Security Council has formally agreed on a new Secretary General to succeed outgoing Ban Ki-moon next year: former Portuguese Prime Minister Antonio Guterres, 67. The nomination now goes to the U.N. General Assembly for approval. One of the big questions for the Secretary General-designate might well be: can he do a better administrative job in his new role than he did in the past, as the United Nations High Commissioner for Refugees (UNHCR)? In that area, Guterres has some history to overcome.

Ban Ki Moon's lies justify terrorism. Obama could have prevented this. On September 15, 2016 the Jerusalem Post reported that UN Secretary General Ban Ki Moon condemned Israel for "oppressing" the Palestinians and declared that the settlements are "illegal" under international law. Arutz7 reported that "...the UN chief appeared to excuse Palestinian terror attacks — on the same day as an Israeli woman died of injuries she sustained in a brutal stabbing attack yesterday [1/26/2016]. "Palestinian frustration is growing under the weight of a half century of occupation and the paralysis of the peace process," he said, blaming "the occupation" for causing "hatred and extremism."

UN agreement grants thousands of migrants free access to scores of countries. Hundreds of thousands of refugees will be granted free access to 50 countries as the global political community agrees to share the burden of the migrant crisis. The groundbreaking decision, made at the ongoing UN summit in New York, saw scores of nations agree to take a percentage of 360,000 refugees earmarked for resettlement. This is double the number allowed to enter nations worldwide last year.

88 senators press Obama to uphold US policy to veto one-sided UN resolutions. Eighty-eight US senators submitted a bipartisan letter Monday calling for President Barack Obama to uphold US policy that calls for a veto of any one-sided United Nations Security Council resolutions regarding the Israeli-Palestinian conflict, according to a press release of the American Israel Public Affairs Committee (AIPAC). The letter, initiated by Senators Kristen Gillibrant (D-NY) and Mike Rounds (R-SD) quotes Obama's speech to the General Assembly in 2011, in which he said, "Peace will not come through statements and resolutions at the United Nations."

Look at WHO is in Charge of Sending Refugees to the United States. Americans have overwhelmingly said they do not want refugees brought here. However, Obama and his defenders, denounce all concern. [...] Refugees are selected, not from the State Department, but from the United Nations High Commissioner for Refugee (UNHCR) program. This is a highly frightening reality for many reasons. The United States is relying fully on the UNHCR for selection and pre-screening and deciding who gets to be 'resettled' here. There is also concern for fraud in the way of payoffs or lying by refugees with those foreign workers just believing what the refugees say, without question. Americans are being asked to fully put their faith in UNHCR.

The United Nations: What's the Point? What if the United Nations didn't exist? It's a question easily answered, because for nearly all of human history, it didn't. History "teaches us that order in international relations is the exception, rather than the rule," Kevin Rudd, the former Australian prime minister, writes in a new report on the uncertain future of the UN. "Since the rise of the modern nation-state, bot h prior to and following the Peace of Westphalia in 1648, disorder has been the dominant characteristic of inter-state relations." We tend to think of the United Nations as just another part of the global furniture. But it's actually a recent addition.

An Internet Giveaway to the U.N.. When the Obama administration announced its plan to give up U.S. protection of the internet, it promised the United Nations would never take control. But because of the administration's naiveté or arrogance, U.N. control is the likely result if the U.S. gives up internet stewardship as planned at midnight on Sept. 30.

UN Investigating South Sudan Attack in Which Aid Workers Were Raped, Beaten While Peacekeepers Did Nothing. A United Nations spokesman said Secretary General Ban Ki-moon is "concerned about allegations" that UN soldiers did nothing while aid workers were being raped and beaten nearby in South Sudan and will investigate. After winning a battle against opposition forces in the capital Juba, some South Sudanese troops waged a more than four-hour attack against a compound of foreign aid workers. "They shot dead a local journalist while forcing the foreigners to watch, raped several foreign women, singled out Americans, beat and robbed people and carried out mock executions," reported the Associated Press, based on witness accounts. "For hours throughout the assault, the UN peacekeeping force stationed less than a mile away refused to respond to desperate calls for help. Neither did embassies, including the U.S. embassy." One female aid worker was raped by 15 soldiers.

U.N. Admits Role In Haiti Cholera Outbreak That Has Killed Thousands. In the fall of 2010, months after a devastating earthquake struck Haiti, a new disaster began: a cholera outbreak that killed thousands of people and continues to sicken people across the country. Experts determined that the source of the disease was a U.N. peacekeeping camp. And now, nearly six years later, the United Nations has admitted it played some role in the deadly outbreak.

U.S., U.N. Stood by While South Sudan Troops Raped, Beat Aid Workers. South Sudanese troops ravaged through a hotel complex frequented by foreign aid workers last month while a United Nations force stood by in a neighboring area and the U.S. Embassy did not act despite repeated pleas for help to both. [...] The harrowing incident underscores the failure of the U.N. peacekeeping force to protect civilians despite its mandate to do so, particularly those who are "just a few minutes' drive away," according to the Associated Press. The U.N. approved a U.S.-sponsored resolution last week to send 4,000 more peacekeeping troops to South Sudan to enhance civilian protection in the region amid escalating aggression toward foreigners and aid workers by troops under President Salva Kiir.

Amid Haiti cholera epidemic, UN peacekeepers spill sewage and ignore water treatment, says internal report. While the United Nations touted its efforts in Haiti aimed at ending the world's worst modern cholera epidemic — a calamity many experts assert the U.N. itself caused — U.N. peacekeepers were blatantly violating their own sanitary rules for containing the disease, according to an internal U.N. report that was suppressed for months.

Amid Haiti cholera epidemic, UN peacekeepers spill sewage and ignore water treatment, says internal report. While the United Nations touted its efforts in Haiti aimed at ending the world's worst modern cholera epidemic — a calamity many experts assert the U.N. itself caused — U.N. peacekeepers were blatantly violating their own sanitary rules for containing the disease, according to an internal U.N. report that was suppressed for months. [...] The stunning array of negligent practices are laid out in an 18-page audit report by the U.N.'s watchdog Office of Internal Oversight Services (OIOS), titled, "Audit of waste management in the United Nations Stabilization Mission in Haiti," which blandly declared that the "overall results" were "initially assessed as unsatisfactory."

U.N. Official: U.S. Founded on Land Stolen From Indians, Built on Race-Based Slavery, BLM Movement Is Result. On Wednesday, an official with the United Nations held a press conference and issued a statement following a 17-day tour of the United States, concluding that the country was founded on land stolen from the Indians, built on race-based slavery, and that the Black Lives Matter movement is the result of the country devaluing and destroying black people for "hundreds of years." "The country was founded on land stolen from its indigenous Native Americans; its early economic strength was built on race-based slavery against people of African descent; and successive waves of immigrants have faced discrimination, harassment or worse," Maina Kiai, U.N. Special Rapporteur, said at the press conference in Washington, D.C.

The UN Funds Repressive Regimes at the Expense of US Taxpayers. A new report shows how the U.S. contributes more money to the U.N. than it spends on shipbuilding for the Navy, yet there is a huge disparity in what it receives back compared to many repressive countries. The United Nations recently released a report detailing the countries of registration of the recipient vendors of $17.6 billion the U.N. system spent on goods and services in 2015. The report received some modest attention in the press. However, the general unfamiliarity with the U.N. can lead to misunderstandings about what information this report was actually providing. For instance, a Forbes article misinterpreted the report as one listing which countries contribute most to the U.N. system.

Obama Gives $500 Mil. to U.N. Climate Fund. In a March 8 Senate Foreign Relations Committee (SFRC) hearing, the U.S. State Department announced it had delivered $500 million to the United Nations' Green Climate Fund (GCF), a program intended to help developing countries adapt to and mitigate climate changes. Heather Higginbottom, deputy secretary of state for management and resources, announced the Obama administration had given money to GCF, which drew much criticism from SFRC members because Congress had not approved funding for GCF. While being questioned by Sen. John Barrasso (R-WY), Higginbottom told the committee the funds were diverted from the department's Economic Support Fund, which provides economic funding to foreign countries. "Did Congress authorize the Green Climate Fund? No ... We've reviewed the authority and the process under which we can do it, and our lawyers and we have determined that we have the ability to do it," Higginbottom testified.

After Brexit, UN Climate Regime in Trouble. In addition to the devastating blow dealt to globalism generally, the historic British "Brexit" vote to exit the European Union could have far-reaching implications for the United Nations "climate" regime. Concocted in Paris last year by the UN and its member governments, the controversial deal is unprecedented in terms of its full-blown promotion of regional governments, such as the EU, as crucial players in imposing the international agenda. But with Brexit, that gamble has turned against the globalists, and now they are scrambling to save face amid a victorious "leave" campaign led largely by climate skeptics and realists. Whether the Paris Agreement is doomed yet remains unclear. Either way, though, the UN "climate" agreement is on increasingly shaky ground.

Academics: Nature Needs Seats At UN And 'Crimes Against Biodiversity'. The best way to fix global warming is to punish "crimes against biodiverstiy," and give 25 seats at the United Nations (U.N.) to nature, according to an academic article published Thursday [6/30/2016]. The article, written by Anthony Burke and Stefanie Fishel, professors who study international relations and gender studies respectively, concludes massively empowering the U.N. is the best way to slow global warming. "A 'crimes against biodiversity' law would act like a [crime against humanity] for the environment," Burke and Fishel's article states. "Unlike international laws that punish genocide, our suggested law would not require proof of intent to commit the crime, but merely a strong link between the activity and the destruction of biodiversity or industrial and systemic harm to animals."

LGBT Groups Seek to Entrench Agenda at the UN. The U.N. Human Rights Council, which was created in 2006 to replace the notoriously corrupt and ineffective Commission on Human Rights, has proven disappointing in fulfilling its twofold mandate of promoting the human rights enumerated in international law and holding governments accountable when they violate individuals' fundamental freedoms. Instead, its meetings in Geneva are often a forum for liberal non-governmental organizations and their likeminded allies to further their myriad pet agendas, be they anti-Israel, pro-abortion, or, more recently, LGBT issues. The current session of the Human Rights Council opened this month, amid rumors that a group of South American countries, at the behest of LGBT organizations, would put forward a resolution to create a new independent expert or special rapporteur position for the promotion of sexual orientation and gender identity issues.

What are military UN trucks doing in Virginia? 'Bemused motorists spot white 'combat vehicles' on the interstate. Military U.N. vehicles have been spotted in Virginia, shocking motorists and sparking conspiracy theories. The white trucks, equipped with large off-road tires, were seen being transported on Interstate 81 on Friday [6/24/2016]. They appear to be Alpine Armoring's Pit-Bull VX SWAT Truck models. Jeff Stern posted photos of the vehicles on Facebook, writing: 'Can't begin to tell you how many of these I passed today on 81 near Lexington VA. Interesting times ahead!'

Eyewitness: UN Troops In Texas: "30 UN Vehicles Fully Loaded With Combat Prepared Troops". An eyewitness Facebook post warning is going viral that shares one Vietnam Veterans recent experience down in Dallas, Texas. The warning, reposted by American Gun Rights-Texas who are requesting confirmation of this post, warns of 30 United Nations vehicles, fully loaded with combat prepared troops, driving down I-30 towards Garland, Texas. Are these UN troops here preparing for economic collapse in America? Is this related to Iran ships approaching the US border?

UN military vehicles seen rolling down Virginia interstate. What were United Nations vehicles doing in Virginia on Friday [6/24/2016]? That's what motorists were left to wonder when they saw UN tactical vehicles — with bulletproof glass — on a flatbed truck and rolling down Interstate 81. Jeff Stern posted several photos of Facebook and added the description, "Can't begin to tell you how many of these I passed today on 81 near Lexington, VA. Interesting times ahead!"

UN Tank Vehicles Spotted Moving Across U.S.: "Peace Keepers and Potential for Civil Unrest". Is the occupation of America imminent? While few could say what is coming, there have been some curious sightings that hold ominous tones, as military vehicles and equipment for foreign forces have been sighted on U.S. highways.

U.N. Human Rights Chief Says U.S. Needs 'Robust Gun Regulation'. The United Nations' human rights chief called on the United States Tuesday [6/14/2016] to enforce more effective gun control measures in the aftermath of the Orlando terrorist attack, dismissing as "irresponsible pro-gun propaganda" the notion that firearms make societies safer. U.N. human rights commissioner Zeid Ra'ad Al Hussein urged the U.S. government to live up to its obligations to protect citizens from the "horrifyingly commonplace but preventable violent attacks that are the direct result of insufficient gun control."

Inevitable: UN "peacekeepers" accused of mass murder. For more than a decade, UN peacekeeping forces have faced an avalanche of allegations of sexual exploitation of women and children in areas under their care, only to face no consequences for their crimes. That problem appears to be growing worse as the years roll on, while the member states of the UN wring their hands in public but do little to stop it. Now it appears that the blue helmets have graduated from sex trafficking to murder in the Central African Republic.

UN refugee agency handed over hundreds of millions to partners without monitoring, report says. Over the last two years, as the global refugee crisis spiraled out of control, the United Nations' refugee organization has handed over nearly a billion dollars to private organizations and national governments, much of it without verifying whether those partners had the expertise to buy the goods, or the means to detect fraud in the purchases, according to a report by a U.N. watchdog. More than $400 million of the United Nations High Commissioner for Refugees money was handed over to partners last year — within twelve months after the organization had put in place a mandatory policy intended to streamline partnership arrangements and bring partner policies in line with UNHCR's own procedures.

Candidate for UN health chief eyes global tax to help WHO. A French diplomat competing to be the world's top health official says a tiny international tax can help fill the World Health Organization's coffers, a proposal aimed at bringing order to the U.N. agency's fragmented budget.

Forget NATO. Trump Should Defund the UN. The courage to go after sacred cows is one of Donald Trump's more appealing, if controversial, traits. He raised the issue of NATO, contending the USA pays far too much of the freight in the mutual defense pact. [...] But I have another, somewhat similar, suggestion for Donald about which I have no ambivalence. It's time for the U.S. seriously to curtail, if not end, its mammoth annual contribution to the United Nations that dwarfs those made by all the other 192 member-states[.]

The UN wants global response to (i.e., funding for) everything.
UN urges global response to refugee crisis. The UN high commissioner for refugees says the migrants crisis is now a global phenomenon and that simply turning them away "won't work". Filippo Grandi told the BBC that more nations had to help the "few countries" shouldering the burden, by increasing both funding and resettlement. He said that, last year, fewer than 1% of 20 million refugees had been resettled in another nation. More are fleeing conflict and hardship than at any other time in history.

U.S. has 'overpaid' $1.2 billion for U.N. peacekeeping troops. Despite a Clinton-era law capping U.S. subsidies to the United Nations peacekeeping force, President Obama and a willing Congress have spent over $1.2 billion more than allowed, handing Republican Donald Trump a new issue to hit Hillary Rodham Clinton with. A spending analysis from the Heritage Foundation's U.N. specialist showed that from 2010-15, the difference between the cap and the money sent to U.N. peacekeepers is approximately $1.26 billion.

Moral Turpitude in Turtle Bay. Last month, the United Nations condemned only one country in the world for violating women's rights. Singling out Israel with specious accusations of harming Palestinian women is a popular annual ritual in Turtle Bay — scapegoating democratic Israel while willfully ignoring the many states with actual, well-known egregious policies toward women. Just because the UN repeats this accusation every year does not make it true. The hypocrisy and institutional bias are mind-boggling.

Oops! Federal Law Prohibits Obama Funding UN Climate Bureaucracy. Thanks to a Clinton-era statute and an obscure vote last month by the United Nations, federal law now officially makes it illegal for the Obama administration to send a single penny of your money to the UN climate bureaucracy. That is good news for U.S. taxpayers, of course. But it puts the UN and the Obama administration in an awkward position as they struggle desperately to convince other governments that the UN's much-touted "global-warming" regime, officially signed Friday, is not going to crumble in the face of a hostile Congress and a U.S. Constitution that has been trampled at every turn. Now, dozens of U.S. senators, who Obama and the UN hoped to bypass in imposing the global "climate" treaty in defiance of the U.S. Constitution, are putting the UN and Obama on notice.

Frustration growing as UN agency keeps scandal report under wraps. A tug-of-war is being waged at the World Intellectual Property Organization to decide if 188 member nations will ever get to read a United Nations report on alleged wrongdoing by Francis Gurry, the agency's autocratic director general, who has been accused among other things of ordering illegal break-ins of the offices of his own staffers. So far the answer is no, even though the official report by the U.N.'s Office of Internal Oversight Services (OIOS), into possible illegal behavior by Gurry, has been in the hands of one WIPO dignitary for weeks. Gurry has denied the charges, calling them "without foundation."

What is Obama waiting for? At 54 and soon to be unemployed (though with a nice pension and a feast of travel perks), Barack Obama may well believe that there's still something in the political world ahead for him. [...] There's been a small buzz about the United Nations, with a search under way for a new secretary-general, and deputies to the Great Mentioner, who usually confines himself to presidential possibilities, have mentioned Mr. Obama.

UNESCO changes history, denies existence of Jerusalem Temple. Fraught with "deniers" of every stripe, the latest and most egregious is UNre-E-unSCO (as in re-education, unscientific), whose UN resolution wipes away the focal point of ancient Jewish worship, the Temple of God, that graced Mt. Moriah in Jerusalem for 1000 years. Ludicrous as it seems, a body of 58 board members, evidently unschooled in ancient history, decided to clean the slate of time by rejecting the existence of a building proclaimed a wonder of the ancient world because of its extraordinary opulence. Has UNESCO consulted the Encyclopedia Britannica about removing references to the Temple of Jerusalem? Doubtful. It will take more than a gang of international political hacks simply renaming the Temple Mount with latecomer muslim nomenclature to rewrite history.

Putin ally in UNESCO crony row is favourite to take top job at United Nations when Ban Ki-moon steps down. A former communist backed by Vladimir Putin has become the frontrunner to take over the United Nations as its first ever woman chief. Irina Bokova, a Bulgarian who was educated in Moscow and is said to be a 'darling' of Mr Putin, hopes to succeed Ban Ki-moon when he steps down at the end of this year. However the Daily Mail has obtained secret documents reflecting grave concern about her capacity to handle such an important job.

PA hopes Obama won't veto 'anti-settlement' resolution. The Palestinian Authority (PA) is hoping that the United States will not veto its UN resolution condemning Israeli "settlements" with President Barack Obama in his last months in office. Speaking to The Associated Press on Sunday [4/10/2016], PA Foreign Minister Riad Malki said the hope is that Obama, freed of re-election concerns, will break with American protocol and refrain from vetoing the resolution.

Exclusive: The UN starts toward new control over the world's oceans. The United Nations has launched a far-reaching initiative that could give U.N.-sponsored authorities sway over the biological resources of the high seas — all the waters that lie outside national territories and economic zones. The potential shift in power involves multi-trillion-dollar issues, such as whether large areas — conceivably, as much as 30 percent — of the world's international waters should be designated as no-go areas to protect biological diversity; whether and how to require elaborate "environmental impact assessments" for future ocean development projects; and how to divide up the economic benefits from the future development of "marine genetic resources."

Exposed: UN implicitly honors murderers of Israelis. A Palestinian NGO funded by UN bodies and foreign governments held a tree planting ceremony last Friday [4/1/2016] for "Land Day," in which it honored 209 "martyrs of the intifada" in a mass celebration of the recent terror wave. The event held by the NGO, Union of Agricultural Work Committees (UAWC), was exposed by Palestinian Media Watch (PMW) on Monday. PMW noted that among the "martyrs" were numerous terrorists who murdered or tried to murder Israelis since last September, in a terror surge that has left 34 dead and over 400 wounded. PMW further revealed that UAWC is funded by UNRWA and UNDP, both UN bodies, as well as the governments of Australia, Spain, Netherlands and Japan in addition to numerous European NGOs, as recorded in UAWC's website.

UN sex-abuse scandal: officials scramble amid claims of many more sordid incidents. The ugly record of alleged rape and sexual abuse by international peacekeepers in the battered Central African Republic, one of the worst scandals to stain the United Nations in years, is growing much worse — despite more U.N. assertions that it is moving aggressively to deal with the seemingly endless crisis. According to one of the U.N.'s most persistent and best-informed critics over the sex-abuse issue, nearly 100 new allegations of Central African Republic sexual wrongdoing — one an alleged rape that took place last Monday — have been aired before U.N. investigators in the past two weeks.

98 Central African Rep. girls report shocking abuse by UN peacekeepers. An advocacy group has released horrifying details of how at least 98 Central African Republic (CAR) girls were allegedly sexually abused by international peacekeepers. The report was released by AIDS-Free World, an international advocacy organization, on Wednesday. The group said that MINUSCA, the UN's peacekeeping mission in CAR, met with local leaders and victims "who reported that troops from France and Gabon have sexually abused several girls in their province."

UN names democratic Israel as world's top human rights violator. According to the United Nations, the most evil country in the world today is Israel. On March 24, 2016, the U.N. Commission on the Status of Women (CSW) wrapped up its annual meeting in New York by condemning only one country for violating women's rights anywhere on the planet — Israel, for violating the rights of Palestinian women. On the same day, the U.N. Human Rights Council concluded its month-long session in Geneva by condemning Israel five times more than any other of the 192 UN member states.

Ten Commandments for Our Next Commander-in-Chief. [#9] Speak nicely of, but never rely on, the leadership of the United Nations. Its resolutions were of no value in Libya. It did nothing to stop genocide in Syria. It is run by a majority vote of its members — and the majority of the members of the General Assembly are crudely non-democratic, and many of them are themselves targets of the U.N.'s sanctions. If multilateral action becomes necessary, only the United States can assemble and lead the necessary coalition.

'Unprecedented' UN global data gathering to add huge amounts of information for governments to collect. Six months after giving birth to a cluster of nebulous Sustainable Development Goals that aim to dramatically change the economic, social and environmental course of the planet, the United Nations is working on a drastic renovation of global data gathering to measure progress against its sweeping international agenda. The result that emerged late last week from the U.N. Statistical Commission — an obscure body of national experts that calls itself the "apex entity of the international statistics system" — is a document as sprawling, undefined and ambitious as the sustainable Development Goals, or SDGs, themselves — which lay out 17 goals and 169 sometimes overlapping targets to transform global society.

House Hearing Will Probe U.N. Agency's Illicit Tech Transfers to Iran, North Korea. U.S. lawmakers will hear testimony Wednesday [2/24/2016] on claims that the sitting head of a U.N. agency covertly transferred U.S.-origin computer equipment to Iran and North Korea. In a crackdown on whistleblowers, he allegedly ordered the clandestine collection of staffers' DNA in a bid to track down the author of anonymous letters of complaint. The explosive allegations against the head of the World Intellectual Property Organization (WIPO), Francis Gurry, are also the subject of an internal U.N. oversight investigation, whose findings are expected to be released shortly.

Mugabe First To U.N. Trough In Global Warming Shakedown. Zimbabwe tyrant Robert Mugabe is asking the United Nations for $1.5 billion a year to feed his people, who he says are hungry due to global warming. The looting begins. About a year ago, we said that the global warming scare is not about stewardship of the environment. It is instead an effort to pull down capitalism and redistribute wealth from rich nations that earned it to poorer nations whose governments impoverish their own people. Mugabe fully understands the plan and is making his demands accordingly.

DHS Chief: Obama Administration Working With UN to Make it Easier For Central Americans to Gain Refugee Status in the U.S.. Homeland Security Secretary (DHS) Jeh Johnson said last week that the Obama administration is trying to make it easier for "individuals" from Central America to gain refugee status in the United States in response to the ongoing surge of unaccompanied alien children (UACs) and families entering the country illegally in recent years. "We are preparing to offer vulnerable individuals fleeing the violence in Central America a safe and legal alternate path to a better life," Johnson said in his State of Homeland Security speech at the Woodrow Wilson Center in Washington, D.C., on Thursday [2/11/2016].

The UN's 'violent extremism' scam: What to say when 'radical Islamic terror' is too scary. There is a dangerous scam gaining traction at the United Nations, backstopped by the White House. It's called "violent extremism." Given the U.N.'s long and undistinguished history of being unable to define terrorism, and an American president who chokes on the words "radical Islamic terrorism," pledges to combat "violent extremism" have become all the rage. It turns out that the terminological fast one is a lethal diplomatic dance that needs to be deconstructed, and quickly.

UN group recommends 'reparatory justice' for African Americans. A United Nations working group visiting the United States walks away "extremely concerned about the human rights situation of African Americans," members said in a preliminary report released Friday [1/29/2016], in which they urged the US government to address the legacy of slavery with "reparatory justice," a national human rights commission, and ongoing criminal justice reform.

UN sex abuse scandal: new allegations and more to come. The United Nations has suddenly released a new spate of revelations about rape and sexual abuse carried out by peacekeepers — both U.N. forces and others — in the Central African Republic, involving at least a dozen children aged from 7 to 16. There are more to come, certainly involving U.N. forces. Fox News reported Wednesday [1/27/2016] that the U.N.'s Department of Peacekeeping Operations has informed countries that supply troops and police of 24 separate allegations of sexual exploitation and/or abuse since July 1 alone, bringing the tally for last year to 34.

Netanyahu blasts UN's Ban: Your remarks are a tailwind for terror. Prime Minister Benjamin Netanyahu blasted UN Secretary General Ban Ki-Moon on Tuesday [1/26/2016] for his remarks on the Israeli-Palestinian Israeli conflict. Earlier in the day, Ban condemned the current wave of Palestinian terror against Israel, but added that "it is human nature to react to occupation, which often serves as a potent incubator of hate and extremism." "The secretary-general's remarks provide a tailwind for terror. There is no justification for terror. Those Palestinians who murder do not want to build a state, they want to destroy a state and they say this openly," Netanyahu said.

Venezuela Loses Voting Rights in United Nations as Dues Go Unpaid. The United Nations General Assembly has identified Venezuela among nine countries that are not allowed to vote in the current 70th Session because of arrears in paying their dues. U.N. Secretary-General Ban Ki-moon last week informed the General Assembly that 15 countries are in arrears in paying their annual contribution to the UN regular budget, "which means they can't vote in the 193-member world body unless there are exceptional circumstances."

UN proposes tax on Football tickets. A UN study of new sources of financing for its multi-billion-dollar aid operations is recommending a voluntary tax on football matches or concerts as one option to raise funds. The report released Sunday in Dubai also recommended tapping into Islamic social finance and mandatory alms-giving, or zakat, as well as improving the transparency of relief operations to cut costs.

US Turns to UN to Screen Refugees From Central America. The Obama administration is planning to expand a program to let would-be migrants from Central America apply for refugee status before they attempt to come to the U.S., Secretary of State John Kerry said Wednesday [1/13/2016]. The office of the U.N. High Commissioner for Refugees will now conduct initial screenings to see whether migrants from Honduras, El Salvador and Guatemala may qualify as refugees eligible to come to the United States legally.

Keywords: Abdication, incompetence, one world government, open borders
Should the UN be Picking the Next Americans? The Obama administration has outsourced to the United Nations the selection of Central Americans who will be reclassified as refugees to this country. How many more ways can we lose control of our border?

Obama Could Become President of the Whole World. Word has it is that Obama wants to be Secretary-General of the United Nations. Ban Ki-Moon's term concludes at the end of 2016 and it just so happens that Obama is available. (It would be interesting if Obama resigned on New Year's Day 2017 and let Joe Biden become President for the final 20 days of his term.) For a citizen of the globe like Obama being President of the United States is an office too small for his lifestyle, ambitions, and ideology. Should Obama become UN Secretary-General, he could become President of the Whole World.

The Editor says...
If Vice-President Biden knows Obama will resign and Biden will then become President, that explains why Biden has put no effort into running for the Democratic Party nomination. Even if he's the President for only three weeks, his name goes into the history books along with all the other Presidents. And he also gains a lot of perks, book deals, and highly-overpaid speeches.

Report: Obama Wants to Become UN Secretary General, Netanyahu Doing Everything He Can to Stop Him. It seems President Obama has no intention of stepping out of the White House and fading from the limelight. No, he's got his sights set on the world stage — this time as secretary general of the United Nations, according to Kuwaiti newspaper Al-Jarida. But not all world leaders are keen to see this come to fruition, including first and foremost, Israeli Prime Minister Benjamin Netanyahu.

US quietly maneuvers to cut UN dues. In broad terms, the bottom line will remain the same: the U.S. will continue to pay billions more than everyone else. Last year, the U.S. handed over $3 billion toward the U.N.'s so-called "regular" Secretariat budget and its peacekeeping forces, though the full amount of U.S. contributions to the U.N. system — the Obama administration does not divulge them — was much more. The last official tally of overall U.S. contributions, in 2010, was about $7.6 billion, and that was widely considered a low-ball figure.

Independent panel blasts U.N. for inaction and cover-up in sex abuse cases. The United Nations is guilty of patterns of indifference, inaction, buck-passing and deliberate cover-up in its investigation of sex crimes against young children by non-U.N. peacekeepers in the Central African Republic (CAR), according to an independent panel of jurists and human rights experts. The long-awaited, 143-page report of the three-member panel, appointed by the U.N. and chaired by former Canadian Supreme Court Justice Marie Deschamps, cited repeated examples of U.N. inaction, go-slow investigation, suppression of information and bureaucratic roadblocks erected against investigations by French authorities trying to probe the abuse.

Ginning up war on prosperity, liberty. Yes, nothing says concern for the planet quite like the world's potentates jetting to Paris at Christmastime with the notion of carving up the riches of developed nations whose successes are based in the rule of law and individual property rights. As India environment minister Prakash Javadekar remarked, scoffing at the U.S. pledge of a $100 billion annual fund to salve the shift to green energy among emerging economies, "The cost of action ... is trillions; $100 billion is just a reparation." So, yeah, science. What I do know is the last time anyone in the majoritarian side recommended prosecuting anyone with a contrary opinion — as climate scientists and Sen. Sheldon Whitehouse have urged — Galileo was fiddling with his telescope.

Planned UN 'hub' in Washington aims to influence US counterterrorism strategy. The chief United Nations human rights agency, with the Obama administration's apparent blessing, is creating a new "regional hub" for itself in Washington, to use as a center for organizing against the death penalty, among other things, and for affecting the legal frameworks, policies, and strategies of American counterterrorism. In a management plan covering its activities through 2017, the agency, known as the Office of the High Commissioner for Human Rights, or OHCHR, puts the U.S. in the same category for that counterterrorism "alignment" effort as countries like Iraq and Uganda.

UN planning an 'international tribunal of climate justice' which would allow nations to take developed countries to court. The United Nations may launch an International Tribunal of Climate Justice which could see states who fail to uphold the international deal to tackle climate change brought before a court. The International Tribunal of Climate Justice has been suggested as one of three options to ensure that all parties follow what is agreed during the Paris summit next month.

High Time to Put the World Body Out of Its Misery. Seventy years ago today, the UN Charter came into force, thus inaugurating the latest attempt to create a one-world government. Previously, the world tried to achieve that goal by creating the League of Nations — a weak, ineffective body that failed miserably in its charter to keep the peace. Actually, when you think about it, that perfectly describes the UN. But the League actually thought that a blizzard of paper could stand against totalitarians hell bent on world domination so they signed treaty after treaty, inked convention after convention, to try and stop the armies of Hitler, Mussolini, and Tojo from running wild all over the planet. Needless to say, it didn't work.

The Utopia From Hell. There's been a lot of chatter lately about the United Nation's "Global Goals," which has been termed the elites' blueprint for a "united world." It seems on Sept. 25, the United Nations launched a set of 17 ambitious goals it plans to achieve over the next 15 years. Just 15 years, mind you. "The formal name of this new plan is 'the 2030 Agenda,'" notes ZeroHedge, "but those behind it decided that they needed something catchier when promoting these ideas to the general population. The U.N. has stated that these new 'global goals' represent a 'new universal agenda' for humanity. Virtually every nation on the planet has willingly signed on to this new agenda, and you are expected to participate whether you like it or not."

What to do about UN bribery scandal. Corruption at the United Nations — evidenced by the arrest this week of John Ashe, former president of the U.N. General Assembly, on bribe-taking charges — shouldn't surprise anyone. The fact that the U.N. has largely walked away from the tools needed to do anything about it is the real scandal. I had been at the U.N. for only a couple of weeks in 2005 when the chairman of the U.N. budget committee, a senior Russian diplomat, was arrested for taking bribes. For me, it was a shocking introduction to the institution. I would soon know better.

Top United Nations Official Is Accused in Bribery Scheme. The former president of the United Nations General Assembly, John W. Ashe, a diplomat from Antigua, was one of six people identified in a criminal complaint outlining a bribery scheme that involved more than $1 million in payments from sources in China for assistance in real estate deals and other business interests. The case is highly embarrassing to the United Nations, which has vowed to act with greater transparency and accountability after past scandals.

Obama and the UN 2030 Agenda: An Almost Unbelievably Criminal Plan for One World Government. "Sustainable" is U.N.-speak for "controlled." And that means controlled by governments at the expense of liberty and freedom around the world. The planet is in peril, don't you know, and humanity is the plague infecting it. The U.N., with U.S. compliance, is hammering out an agenda that will determine not only how many people there will be, but where they will live, how they will live, and what governments will permit them to do in order to save the planet. If this sounds familiar, it should, for it is the follow-on for the failed Agenda 21 which was rolled out in 1992 at the U.N. Earth Summit in Rio De Janiero, Brazil. Agenda 21 failed in its attempt to eradict poverty and save the earth, but it did serve as a justification for world governments to enhance their power at the expense of the liberty and freedom of their people. Agenda 2030 is no less ambitious in its goal for global government control, according to the preamble of the document outlining the agenda: [...]

Blue Helmets to Supplant America's Blue Line. Marxism always moves in to fill the vacuum left behind by anarchy. Like all things named by the UN, the 'Strong Cities Network' (SCN) sounds benign and good for society, a society distracted from what is really going on by their own self-serving governments. The Strong Cities Network is being launched in a day when millions of illegal aliens are flooding American borders while the Obama administration looks the other way. SCN makes its debut at a time when the public at large is forbidden to identify Islamic terrorists as Islamic terrorists; when citizens who dare to stand up for individual rights are automatically branded as dissenters who must be cowed into silence. [...] With no public input, no Congress debate or vote, it will be blue helmets and not local cops who will be policing the streets of America, in an initiative underway before its launch date.

Obama Administration and UN Announce Global Police Force to Fight 'Extremism' In U.S.. On Wednesday [9/30/2015], Attorney General Loretta Lynch announced at the United Nations that her office would be working in several American cities to form what she called the Strong Cities Network (SCN), a law enforcement initiative that would encompass the globe. This amounts to nothing less than the overriding of American laws, up to and including the United States Constitution, in favor of United Nations laws that would henceforth be implemented in the United States itself — without any consultation of Congress at all.

Racist Tyrants, Polygamist Islamists, Despots of Every Stripe: Why Are We Funding the U.N.? The parade of dictators and despots taking the U.N. stage on Monday [9/28/2015], as the organization marks its 70th anniversary, was nothing short of spectacular. As were the lies they told without batting an eye to a friendly and respectful audience. U.N. Secretary-General Ban Ki-moon has his hand out for an additional $20 billion this year, so let's look at what American taxpayers are getting for their large chunk (one-quarter) of the U.N's bills.

UN ignores science council warnings in creating vast Sustainable Development Goals. When the United Nations approved a massive agenda of sustainable development goals last week, it over-rode pointed warnings by two international science councils that the program is in many ways uncoordinated, unmeasurable and unrealistically ambitious. Managers of the vast exercise in setting the global, progressive agenda for the next 15 years known as the U.N. Sustainable Development Goals (SDGs) decided it would be "too dangerous" to reopen the sprawling package to improve it, according to Anne-Sophie Stevance, lead coordinator of the critical analysis and a science officer with the International Council for Science (ICSU), the most prominent voice of the international scientific community.

UN's 70th general assembly: the greatest political show on earth. In geopolitics, this is the greatest show on earth. For the best part of a week, the world's leaders — more than 150 of them — will mingle, bargain and argue over the state of the world at the UN general assembly in New York. For much of the proceedings, "show" is the operative word. When the presidents and prime ministers mount the green marble podium, there will be a strong element of theatre. They will be playing to different galleries, declaiming their positions to their peers in the chamber, but also to domestic audiences.

UN summit to approve 15-year blueprint to eradicate poverty. With the bang of a gavel, international leaders approved an ambitious 15-year plan Friday [9/25/2015] to tackle the world's biggest problems, from eradicating poverty to preserving the planet to reducing inequality.

UN Set to Launch 'New Universal Agenda' for Global Governance. The United Nations is set to launch its "new universal agenda" for humanity and the planet September 25, 2015. The UN's "2030 Agenda for Sustainable Development" document is a blueprint to "transform our world for the better by 2030," and yet most major media outlets in the United States refuse to report on the far reaching implications of this document.

UN Bribes Writers: Make Up A Climate Change Story; Win A Free Trip To Paris. The United Nations and Oxfam are offering a prize to young writers who can come up with the best story raising "awareness of the harmful impacts of climate change on communities."

The Terrifying Tentacles of One World Governance. Citizens do not understand U.N. Agenda 21's damaging ramifications to their private property, to their ability to make a living, to use their land, grow food in their gardens, sell their fresh produce freely, engage in agriculture, sell their land, and pass it on to future generations. Local land owners do not have the opportunity to provide their input into the decision-making process; they are at the mercy of "visioning committees" and the board of supervisors, often plants or paid subscribers to the one world government idea.

Agenda 21 soon to become "the 2030 Agenda". In 1992 "Agenda 21" was made public by the United Nations at a UN Conference on Environment and Development held in Rio De Janeiro and signed by 178 countries. It had been modified many times since then. "Agenda 21" is transforming into a new set of laws being pushed through the United Nations. More oppressive and couched in language that hides [its] true meaning, it is based on the UN's Sustainability Goals as part of a sustainable development goals that will complete the submission of sovereign countries to the UN mandates. The new laws called "Agenda 2030" is being finalized at the Sustainable Development Summit" to be held in New York City from September 25th through the 27th. Where Agenda 21 focused primarily on the environment, the 2030 Agenda is the foundation for governing the entire planet. It not only encompasses climate change, but the areas of economics, health, energy, education, agriculture, gender equality and social justice. It is being hailed by the UN as a new universal Agenda for all of humanity.

UN Report Suggests Israel Caused Gaza's Rising Infant Death Rate, Doesn't Mention Hamas. File this one under "UN Sleaze," or perhaps under "UNRWA's Use of Dead Infants to Defend and Abet Terrorists." Though even that may be putting it too mildly. In the run-up to next month's annual opening of the United Nations General Assembly in New York, the latest Israel-trashing report from the propaganda mills of the UN Relief and Works Agency for Palestine Refugees in the Near East (UNRWA) has been released. This one's a doozy, summed up by an UNRWA press release dated August 8 with the headline: "Infant Mortality Rate Rises in Gaza for the First Time in Fifty Years."

UN Body Grants Formal Recognition to Hamas-Linked Group. A key United Nations body on Monday granted official status to a non-governmental organization with alleged links to Hamas, rejecting a bid by Israel, supported by the U.S. and others, to deny it the recognition it sought. As a result of Monday's [7/20/2015] vote by the U.N. Economic and Social Council (ECOSOC), the Palestinian Return Centre (PRC) will now be able to participate in sessions of the U.N. Human Rights Council in Geneva, as well as several other U.N. organs. "Another defeat for Israel," the PRC tweeted after the vote. "Palestine has won again," read another of its tweets.

Our Rulers In The United Nations Now Make America's Treaties. Few constitutional scholars thought it possible for a president to give away unilaterally American representative government to an international body. The United Nations' Iran vote just did.

Obama's U.N. plan backfires on Congress. President Obama's attempt to outmaneuver Congress and win quick United Nations approval for the Iran nuclear agreement is backfiring on him in Congress, and could further erode support among key players. Key senators were already outraged that the administration was taking the lead in negotiating a deal and sidelining Congress' traditional role of being directly involved in haggling the finer points of arms control agreements. They were resigned to let the administration handle the negotiations in return for the promise that they would have ample opportunity to review the deal and vote on it. But Kerry this week moved to exert the maximum global leverage on Congress by circulating a legally binding draft of the deal to the United Nations Security Council.

UN report denies Israel's right of self-defense, advocates arrest of Israelis instead. Arrest Benjamin Netanyahu and any other "suspected" Israeli war criminals wherever and whenever you can get your hands on them. That is the shocking bottom line of a scandalous report released today [6/23/2015] from the U.N. Human Rights Council in Geneva.

Sen. Ted Cruz Warns U.N. about Adding Israel to the List of Terrorist Nations. Among the current crop of Republican presidential candidates, there is no more staunch defender of Israel than Sen. Ted Cruz. And, of course, with the possible exception of Rand Paul, all of the GOP candidates reject Barack Obama and the Democrat Party's deep, open hatred of Israel. This week Cruz directed a formal letter to U.N. Secretary General Ban Ki-moon, slamming the corrupt organization for its threat to add the State of Israel to the the U.N.'s list of "parties to conflict who commit grave violations against children".

World has no choice but to decarbonize: U.N. climate chief. Responding to climate change in the next 15 years is the world's "mega development project", given the need to invest trillions of dollars in infrastructure, creating jobs and economic stability, the United Nations' top climate change official said on Tuesday [5/26/2015].

The Editor says...
Exactly the opposite is true: Every dollar spent on "saving the earth" from global warming is a dollar down the drain. The ultimate goal of the United Nations is a socialist world government: world-wide control and domination. The global warming hoax is just the leverage needed to implement such a government, and socialists like Barack H. Obama are willing to turn over American sovereignty without a fight.

Texas Messes with Agenda 21. Texas is larger than most countries in the United Nations, some not much bigger than the postage stamps they print for collectors, but each with a vote that can cancel ours out. Texas is about to a vote against the U.N.'s sovereignty-destroying Agenda 21, so named because it claims to be setting a "sustainable growth" agenda for the 21st century. Agenda 21 is in fact a global power grab similar to climate-change treaties like the Kyoto Protocol. It uses the imaginary threat of unsustainable growth which allegedly threatens to plunder the planet's finite resources, like climate change allegedly threatens planetary doom, to impose a liberal wish list of restraints on our freedoms to decide how we live our lives in our pursuit of one of those inalienable rights liberals fear — the pursuit of happiness.

United Nations to Sit in Judgment of U.S. Human Rights Record. From police shootings of African-Americans to the failure to close the Guantanamo Bay detention center, the United States' human rights record will be in the spotlight at the U.N. Human Rights Council on Monday [5/11/2015]. A 26-strong multi-agency U.S. delegation will field questions from other members of the Geneva-based council, including communist Cuba, which has submitted queries covering torture, labor rights and poverty.

Scared Green: Sustainability Lies We Teach Our Children. "Without Pharrell, our planet would not survive." So says Marquis Jamont, one of 1,200 middle school children who, according to CBS News, trudged through the snow on the first day of spring to see musician Pharrell Williams talk about climate change at the UN. The event kicked off the meeting of the UN's Open Working Group on new Sustainable Development Goals. No disrespect to Mr. Williams, but the planet could survive without him and his "Happy" song. Likewise, the world could sustain itself without the goals being cooked up by transnational envirocrats in their endless rounds of meetings.

Why Wisconsin protesters want UN to investigate police shooting. A group of protesters called Monday [4/6/2015] for the United Nations to conduct an independent investigation of a white Wisconsin police officer who killed an unarmed biracial man because they feel the US government can't be trusted.

Obama's UN Ambitions. Why does Obama do dangerous and irrational things? By now half of American voters have pretty much figured him out as a power-hungry and self-serving Chicago pol with strange Muslim sympathies, [without regard for] the U.S. Constitution and the law. [...] Obama's eyes have always been on the biggest prize in the world, the virtual Presidency of the Planet. He has been signaling (the way he always does) to the fantasists of the Left, the people who think world government is the answer. That's the point of the global warming scam and similar power grabs. It is also why Obama pretends that the UN can guarantee the Iranian nuclear surrender, rather than the U.S. Senate, as required by the Constitution.

UN says Israel, not Iran, North Korea or Syria worst violator of human rights. What country deserves more condemnation for violating human rights than any other nation on earth? According to the U.N.'s top human rights body, that would be Israel. Last week, Israel was the U.N.'s number one women's rights violator. This week it is the U.N.'s all-round human rights villain. The U.N. Human Rights Council wrapped up its latest session in Geneva on Friday, March 27 by adopting four resolutions condemning Israel. That's four times more than any of the other 192 UN member states.

UN Selects Nations That Abuse Women: One Country Made the List. Who knew that the War on Women has now been isolated to one nation! And if you think it's a Muslim nation, where women are stoned for just about any reason, or where women get acid thrown in their faces for not covering themselves enough, then you simply haven't evolved! No, the one nation where women are still under fire is Israel, at least according to the United Nations.

Obama using the U.N. to enter a "binding" Iran nuclear agreement without Congress. The Wall Street Journal reported yesterday [3/14/2015] that Secretary of State John Kerry is still upset about the open letter Sen. Tom Cotton (R-Ark.) wrote last week that was signed by 46 other Republican senators arguing that it was Congress' role to review treaties. [...] It strikes me as odd that Kerry is doubling down on his non-binding argument. An executive agreement is not binding, unlike a treaty, and therefore not subject to Congressional review. It's also odd that he claims, "as far as we are concerned." Shouldn't the Constitution be the standard by which the Republican claims are judged?

As Race For UN Chief Begins, New Campaigns Demand a Woman. A European ambassador reminded colleagues of a General Assembly resolution nearly as old as the 70-year organization itself, a guiding document for a selection process for U.N. chief that has remained secretive and almost completely male. The January 1946 resolution says a "man of eminence and high attainment" should hold the post.

The coming climate court. [Scroll down] This text agreed to for negotiation by the federal government includes a remarkable proposal. Buried deep inside, it proposes an "International Climate Justice Tribunal in order to oversee, control and sanction the fulfilment [sic] of and compliance with the obligations of Annex I and Annex II Parties under this agreement and the [1992 UNFCCC climate treaty]." Translated, this means that even if the Obama administration refuses to call the Paris agreement a treaty, as it already telegraphed its position: A new climate court would hold us to its terms — even the terms of a prior, "voluntary" agreement.

To become UN Sec General Obama must 'Solve' the Existence of Israel. President Obama is basically a Marxist of the "Third World" variety, which means that he lives in the faith that some elite political minority can rule first the United States and Europe, and then the world. In Washington speculation is rife that the end of the Obama years is only the beginning of a run for UN Secretary General, a job he can fiddle into real power, using leftist and Muslim regimes from around the world to support him. Obama's ambition runs his mind and his life. He can't face the end of power.

The anti-capitalist tyrants at the UN want to reverse the industrial revolution.
UN Climate Chief: We Are Remaking The World Economy. The United Nation's climate chief says that reordering the global economy to fight climate change is the "most difficult" task the international body has ever undertaken. "This is probably the most difficult task we have ever given ourselves, which is to intentionally transform the economic development model, for the first time in human history," Christiana Figueres, who heads up the U.N.'s Framework Convention on Climate Change, told reporters.

UNICEF tech chief quits after Fox News inquiry. The newly appointed chief information officer of UNICEF has abruptly resigned from the job he officially took up at the beginning of January. His departure came days after Fox News raised questions about the selection process that had gotten him the post. The UNICEF CIO, Paul van Essche resigned "for personal reasons," a spokesman for the United Nations Children's Fund told Fox News. "We wish him well in his future career."

Uh-Oh: Kofi Annan to the Rescue. Right on cue, here he is, telling the BBC that politicians have to find a way to "reach out" to Boko Haram. Let's be clear. Boko Haram is not a group of sensitive souls desperate to surrender to politicians or international bureaucrats who come bearing gifts and professing an interest in their grievances. These are terrorists who have been doing quite well for themselves with guns, bombs, abduction, invasion and slaughter. A few days ago they strapped a bomb vest to a girl who may have been as young as 10, and sent her as a suicide bomber into a busy market, to die in an explosion that killed some 20 others. Like ISIS, they are carving out turf for themselves in ways that suggest ambitions unlikely to be addressed by diplomatic group therapy. Reaching out is not cost free.

Fight looms over $3 billion Obama administration payment to UN-linked climate [slush] fund. The Obama administration can expect a knock-down battle with the next Congress over its announced $3 billion contribution to the United Nations-affiliated Green Climate Fund, a centerpiece of talks over a new treaty on greenhouse gas emissions held in Lima, Peru, last week. "If they think they are going to get all that money for the fund, they're mistaken," a senior aide to Sen. James Inhofe, R-Okla., told Fox News. "You're going to see us being more aggressive about not sending more money to the U.N. and elsewhere for climate change."

Syrian al-Qaeda using UN cars to conduct terror operations. Syrian opposition sources say al-Qaeda-linked Syrian rebels, known as the Al-Nusra Front, have taken over areas along the Israeli-Syrian border and have recently been spotted using UN cars to conduct terror operations.

UN panel singles out Chicago Police in US torture condemnation. Police brutality, military interrogations and prisons were among the top concerns of a U.N. panel's report Friday that found the United States to be falling short of full compliance with an international anti-torture treaty.

The UN gave millions to Somalia. Where did it go? The United Nations for years handed out tens of millions of dollars to non-government organizations involved in humanitarian work in strife-battered Somalia with "no assurance" that the money was used for the intended purposes," according to a report by the U.N.'s own internal auditing watchdog. In fact, they concluded, "there was no effective financial monitoring" of the work. According to the watchdogs, any subcontractors used by the NGOs to help carry out their work were not listed in U.N. agreements, meaning that the U.N. may lack any legal right to find out whether the money it handed over went for the proper purposes.

The U.N. and Obama: Creators of a One-World Frankenstein. Signing away of sovereignty and independence is a surefire route to tyrannical subordination of freedom and individual liberty. One-size-fits-all precepts imposed on all nations by an international body would ignore regional needs, interests and values. World governance would eliminate the ability and self-determination of nations to protect their interests and act for the good and security of their people. These functions would be abdicated to an international body without direct consent of the people.

RINOs Threatening to Subvert Maryland's Most Conservative County. Three years ago, five newly elected commissioners in Carroll County, Maryland set precedent by taking a bold stand against Agenda 21 in this dark blue state. They abolished the county "Office of Sustainability" and began extricating Agenda 21 planning concepts from the county master plan. They were also the first governmental organization to revoke membership in the U.N.'s International Council for Local Environmental Initiatives (ICLEI) — the vehicle through which Agenda 21 is injected into local planning without our knowledge or consent. The commissioners' leadership set an example that many local governments ultimately followed. In 2011, ICLEI boasted 600 U.S. local governments as members. Today there are 450, a decline of 25%. Nine states have now considered or enacted laws against Agenda 21. Once an obscure issue, it is now widely recognized for the Trojan Horse it is.

A Rogue Venezuela On The UN Security Council Highlights A Powerless U.S.. Venezuela gleefully won a seat on the U.N. Security Council with a 52-vote surplus. That the Chavistas won't be able to do much isn't the point. It's that a distracted U.S. was unable to stop them.

Global Warming Not Proceeding As Planned. If you haven't noticed, the United Nations is having its annual meeting of the minds in New York. Heads of state and other prominent characters from around the world are gathering to discuss the issues that are supposed to concern us all. You know, important issues such as global warming, radical Islam, climate change, and more global warming. One would think radical Islam would be at the center of the agenda, given how many people it is killing across the Middle East, but it is taking a back seat to global warming.

Since Obama has been in the White House, the Muslims in America have been very lucky.
U.N. to dump flood of Muslim refugees on U.S.. Since the early 1990s, the United Nations high commissioner for refugees has selected 200,000 to 250,000 refugees from Islamic countries to be resettled in the United States. Most of them have come from Somalia and Iraq. Syria could soon be added to the mix in the midst of that country's brutal civil war. The Obama administration has been greasing the skids for the Syrian refugees for months, WND has learned, and the refugees will soon be dumped on American cities throughout the U.S.

UN climate change: Obama gives cash to developing nations without any strings attached. American and European liberals see the climate change debate, as well as the U.N. Millennium Development Goals (MDGs) discussion, as an altruistic response to their global public policy concerns. United Nations officials and leaders from developing nations, however, see the climate change discussion and the fight over MDGs as their future revenue source.

U.N. calls for decriminalization of abortion in Chile. As part of a visit to Chile assessing the country's treatment of women's rights reform, a team of U.N. experts published a report on Wednesday [9/10/2014] expressing support for the legalization of abortion under special circumstances for girls younger than 18 years of age.

Scholar to UN: You Are 'the Leading Global Purveyor of Anti-Semitism'. A leading human rights advocate accused the United Nations and its member nations of being "the leading global purveyor of anti-Semitism" and "inciting murderous intolerance towards" Jewish people during an unprecedented speech Monday [9/8/2014] at the international body's headquarters in New York City. Anne Bayefsky, director of the Touro Institute on Human Rights and the Holocaust (IHRH), stood before the U.N. and lambasted it for fanning the flames of global anti-Semitism and hatred of Israel, according to a copy of her remarks. Bayefsky delivered her rebuke during an informal briefing on the threat anti-Semitism poses to international peace and security that was organized on the sidelines of the U.N. by the permanent mission of Palau.

The UN is Unworthy of Shining Israel's Shoes. It is amazing to observe the moral presumption and ideological arrogance of the world's most absurd organization. An organization whose "blue helmets" not only drank champagne while in Bosnia people were killing each other, but also sexually abused children around the world, from Cambodia to Kenya.An organization which asked Iran to head its department against death penalty. An organization which allowed Saudi Arabia to lead the global fight against female discrimination. An organization once headed by someone whose offspirng managed the world's largest corruption operation (do you remember Kofi Anan's son?) through its channels. An organization which basically stated that genocide in Darfur is part of global warming.

The United Nations at 70: How to fix a broken organization. [Scroll down] Reform efforts have proven unsuccessful or even counterproductive. By the UN's 60th anniversary, for example, the existing Human Rights Commission had become a safe haven for the world's most egregious human-rights abusers. As with other UN bodies, members were typically elected through the consensus judgments of their respective regional groups, one of the least-known but most pernicious UN practices. Under this back-scratching, vote-trading mentality, the Human Rights Commission routinely had Cuba, Libya, Iran and their ilk as members. Their principal activity was producing resolutions and reports on human-rights abuses in the United States and Israel!

Photo of ISIS Driving UN Vehicle (Paid For With Your Tax Dollars). If you're a little bit late to the party, it's true: the United Nations actively supports terrorism. One day, I pray, we elect a Constitutional conservative president. And one of their first acts is to completely defund the UN, boot it out of New York City, and name John Bolton the Secretary of State. For spite.

United Nations Censures American Law Enforcement as Racist Following Ferguson. On August 29, a UN panel on racism urged the United States to "review" its stand your ground-styled self-defense laws and demanded it put a halt to the excessive use of force by police. The U.N. Committee on the Elimination of Racial Discrimination (CERD) claimed that racial minorities are victims of oppression by authorities and apparently targeted by whites with the self-defense laws.

The deadly combination of Obama and the UN will indenture civil society. With Barack Obama now firmly in place as their ex officio leader, the United Nations pooh-bahs have come up with a surefire way to stick it to the taxpayers of the world, while feathering their nests for all time. It's called making global warming/climate change a health issue at their very next summit in November 2015. Christiana Figueres, the top UN climate official, said upcoming negotiations on an international global warming accord should be viewed as a health issue.

UN Climate Chief: 'Not Very Far' from Considering 'Climate Change as a Public Health Emergency'. Secretary of State John Kerry has called climate change "the biggest challenge of all that we face right now," and his French counterpart has warned of climate "chaos" in 500 days, and now the U.N. climate change chief is implying that climate change can be viewed on a par with the deadly Ebola outbreak. Christiana Figueres told a World Health Organization (WHO)-hosted event in Geneva Wednesday that "we are not very far" from the point where climate change should be declared an international public health emergency, according to her prepared remarks.

The UN's crimes against humanity. Instead of being an important direct player that can act against Hamas and its murderous ideology, the UN has become one of its biggest supporters.

Congress must defund the worst of the United Nations' institutions. Although far from central to the ongoing Hamas-Israel hostilities, the United Nations has nonetheless inflicted substantial damage to its own reputation and credibility. So outrageously have several U.N. institutions behaved, before and during the current Gaza crisis, that the United States can no longer ignore or excuse it. Congress must act to defund U.N. bodies that perform unacceptably — thereby denying them the resources and the legitimacy of American support and putting other U.N. agencies on notice they could face a similar fate.

The U.N. Handmaiden of Hamas. During the clashes of recent weeks as Israel sought to stop rocket attacks by Hamas and to destroy the organization's terror tunnels, UNRWA has loomed large on the public stage — with a pronounced Palestinian tilt. Its commissioner-general, Pierre Krahenbuhl, has publicly condemned Israel, accusing the Israelis of "serious violation of international law." On Al Jazeera television, the agency's spokesman, Christopher Gunness, has wept for the Palestinians. Yet the U.N. representatives in Gaza helped cater the conflict and are already setting the table for the next round.

Defund the UNRWA. The UNRWA is on the front lines of the Hamas War in Gaza. In the headlines, its schools are forever being fired on or found to be stockpiling rockets. If individual Gazans are being used as human shields, the UNRWA often seems as if it is one big organizational human shield. But the UNRWA isn't Hamas' human shield. The UNRWA is Hamas. The "UN" part of the UNRWA, the blue logos and symbols, fool us into thinking of it as an international humanitarian organization. But the UNRWA in Gaza functions as a large Palestinian Arab organization with a smattering of foreign supervisory staff. And those foreign staffers often tend to leave during a conflict.

And what does Barack H. Obama do? He throws money at them!
US State Department announces tens of millions in aid to UNRWA. The US State Department announced late Monday [9/22/2014] that it plans to provide over $71 million in humanitarian assistance to the Gaza Strip, a large portion of which is earmarked for the United Nations Relief and Works Agency (UNRWA).

The controversial UN agency that found rockets in its Gaza schools. Critics from Israeli officials to Middle East experts to local analysts say the U.N. [Relief and Works] agency, which is internationally funded, serves a one-sided Palestinian narrative that is biased, implicitly anti-Israel and exhaustively emotional. And fueling even greater criticism, it recently discovered rocket caches of unknown provenance in three of its schools.

Report: Desperate Hamas Stealing UN Food Stamps to Survive. Though Hamas started the latest round of conflict with Israel, it seems to have calculated — wrongly — that Israel would not launch a ground invasion. Members of the Hamas terrorist organization are reportedly so desperate for food after three-and-a-half weeks of war with Israel that they are seizing United Nations food coupons to keep their members fed — and to prevent them from surrendering to Israeli soldiers out of sheer hunger.

Gaza Continued: What Do We Do About the UN? Word came Tuesday that now a third UNRWA school in Gaza was housing rockets for Hamas. (How the missiles were never noticed before was unclear — maybe they were stacked beneath the erasers and paper clips or hidden under student spitballs.)

Rockets found at UNRWA school for third time. Palestinian health officials in the Gaza Strip reported early Wednesday [7/30/2014] that 20 people were killed when a school operated by UNRWA in the Jabaliya refugee camp in the northern Gaza Strip was shelled by the IDF, media reports indicated. The school served as a humanitarian shelter for many displaced Palestinians in Gaza. The IDF has so far been unable to confirm the claim, and the matter is currently under investigation. The incident came hours after UNRWA reported that for the third time in two weeks, it found that weapons had been stored in one of its Gaza schools.

Hamas Terror Tunnels: What Did the UN Know and When Did It Know It? Amidst news the Israelis have turned down secretary of State Kerry's latest, apparently Qatar-inspired, ceasefire, not to mention the other day's nauseatingly familiar anti-Israel fusillade from the mega-Orwellian UN Human Rights Council, comes word that Hamas had been planning a gigantic attack on Israel this September via its dozens of tunnels. [...] Meanwhile, another culprit waits in the wings, perhaps the greatest enabler of all of Hamas terror — the United Nations. I strongly suspect the UN has not just been consistently biased and hateful toward Israel, it has also — at the very least — looked the other way as mass murder and kidnappings (sedatives and handcuffs have been found in the tunnels) were being planned against Israel's citizens.

US Alone Votes No as UN Human Rights Council Adopts Israel-Bashing Resolution. The U.N. Human Rights Council will hold an emergency session on Wednesday [7/23/2014]to consider a draft resolution that condemns Israel repeatedly for its military offensive against Hamas, but does not mention the terrorist group once. The resolution calls for the establishment of an international commission of inquiry to probe allegations that Israel has committed war crimes and violated international law. Alongside multiple criticisms of Israel — whose conduct the council "condemns," "strongly condemns" and "condemns in the strongest terms" — there is a single reference in the three-page typewritten draft to rocket attacks on Israeli civilians.

For second time, rockets found at UN school in Gaza. For the second time in less than a week, rockets have been found in a school in Gaza operated by the United Nations Relief and Works Agency, the body said. "Today, in the course of the regular inspection of its premises, UNRWA discovered rockets hidden in a vacant school in the Gaza Strip," the organization said in a statement issued Tuesday [7/22/2014]. "As soon as the rockets were discovered, UNRWA staff were withdrawn from the premises, and so we are unable to confirm the precise number of rockets. The school is situated between two other UNRWA schools that currently each accommodate 1,500 internally displaced persons." [...] Last Wednesday, UNRWA found some 20 rockets in a school under its auspices, also during a standard inspection. A

The UN wants control of everything, including our vocabulary.
UN Pushes For Migrants to be Called Refugees. United Nations officials are pushing for many of the Central Americans fleeing to the U.S. to be treated as refugees displaced by armed conflict, a designation meant to increase pressure on the United States and Mexico to accept tens of thousands of people currently ineligible for asylum.

UN says Detroit water cutoffs may violate human rights. United Nations experts said Wednesday [6/25/2014] that Detroit's decision to cut off water to residents who haven't paid their bills may violate international human rights. The U.N. Office of the High Commissioner for Human Rights put out a press release from Geneva citing three experts in response to reports that the Detroit Water and Sewerage Department is cutting off water access to thousands of residents in the city.

There is no right to free water. Water is not a human right. It's a human need. Ever since Adam and Eve got booted out of Eden, people have devoted most of their energy and labor to meeting the basic needs of food, water, clothing and shelter. It's the origin of work — you're hungry, you're thirsty, you need some decent threads and a roof over your head, you have to get up in the morning and do something constructive. There will be a lot of folks in the streets of Detroit Friday afternoon [7/18/2014] challenging that truth. The legion of lefties in town for the Netroots Nation gathering have scheduled a march to protest the water shut-offs underway in Detroit as inhumane and a violation of civil rights. Fully half of the water customers in Detroit don't pay their bills.

Obama Calls For MORE Cooperation With The UN. President Barack Obama Wednesday offered the clearest view so far of his progressive-style national security strategy, when he told graduating cadets that the U.S. will be stronger if it entangles itself in a net of international organizations and treaties. Institutions such as the World Bank and the United Nations should be strengthened, he said. "Evolving these institutions to meet the demands of today must be a critical part of American leadership," he said. And the United States will gain by relying on these international groups, he said.

UN Urged to Tell Catholic Church it Has No Right to Oppose Abortion. The Center for Reproductive Rights, a non-governmental organization that advocates for legalized abortion, is urging the United Nations Committee Against Torture to tell the Catholic Church that "the freedom of speech and of religion" do not give the church the right to advocate against abortion. When the committee met in Geneva on Monday for a hearing on the Vatican's compliance with the Convention Against Torture, Vice Chairperson Felice Gaer, an American, said in her opening statement that laws that ban all abortion — which is the position of the Catholic Church — may violate the convention.

Citing International "Law," UN Demands U.S. End Death Penalty. Responding to what has been described as the "botched" execution of convicted rapist and murderer Clayton Lockett this week, the international outfit's "human rights office" called on authorities across America to end the death penalty. It took 43 minutes for the death-row inmate to die of a heart attack. According to the UN "High Commissioner" for "human rights," Lockett's alleged suffering following the April 29 lethal injection could be classified as "cruel, inhuman and degrading treatment" under "international human rights law." It was not clear where the UN thought it derived the authority to create or impose any sort of "law" on its member governments, or what specific treaty the outfit believes was violated.

U.S. Doesn't Object, So Iran Gets a Seat on U.N. Women's Rights Body. The Obama administration on Wednesday [4/23/2014] criticized Iran's election to the U.N.'s Commission on the Status of Women (CSW) — but neither the U.S. nor any other delegation objected when given the opportunity to do so, thus allowing Iran to get the seat "by acclamation." Iran will now serve on the CSW, a body dealing with gender equality and the advancement of women, for another four-year term, having already been a member since 2011.

Iran Wins Seat On UN Women's Rights Commission. Iran made significant strides in gaining power in the United Nations Economic and Social Council this week, confirming their place on five sub-committees. Most controversial among these is their appointment to the Commission on the Status of Women, which would give the nation influence over global women's rights.

Obama Wants to Give the UN Over 30% More of Our Money. The United Nations is a globalist bureaucracy composed of 192 countries. The UN claims to focus on "peacekeeping" missions while promoting peace and prosperity around the world, but is composed of communist regimes, autocratic tyrants, petty dictators, human rights abusers and third world countries. Despite the United States being only one of 192 member nations of the UN, the US contributes at least 22% of the UN's budget. However, President Obama believes that the US should contribute even more money to the UN, and has asked for a major increase in taxpayer funding for the UN in his latest budget proposal.

Exposing Climate Science Corruption. [Tim] Ball logically begins at the modern beginning of stifling environmental activism: Paul Erhlich's egregious and fallacious 1967 book, The Population Bomb. Ball documents how the 1972 Club of Rome report ridiculously preached population growth must be immediately stopped for our planet to avoid imminent and utter catastrophe. Ball then walks us through the 1992 United Nations Rio Conference led by Canadian tycoon Maurice Strong. This conference gave birth to Agenda 21, a bureaucratic justification that — among other things — tied population growth to other perceived evils such as global warming. Strong ultimately conceived of and implemented the United Nations' Intergovernmental Panel on Climate Change, whose purpose is to advance the notion that human activities are bringing about climate catastrophe.

SPLC Launches Hysterical Attack on Critics of UN Agenda 21. The self-styled "civil rights" organization Southern Poverty Law Center, which despite mounting controversy maintains some links to government agencies, released a bizarre and factually challenged screed attacking critics and opponents of the deeply controversial United Nations plot known as Agenda 21. Apparently unfamiliar with the definition of basic words such as "conspiracy" and "theory," or with the UN plan itself, the SPLC also lashed out at "activist groups," "mainstream politicians," voters, "extremists," and others who question or oppose the UN agenda for what it calls "sustainable development" in the United States.

The Principles of Freedom vs. Agenda 21. When the principles of freedom are recognized and adhered to, there is prosperity, justice, and happiness. When the principles have been ignored or rejected, men have suffered poverty, stagnation, and political tyranny. So to obtain freedom it's vital that we know what the principles are. There are three, actually. Individualism, private property, and free enterprise. They are all necessary for freedom to exist. Leave just one out, and freedom is eroded.

Top American official charges U.N. patent organization chief with 'serious violations of national and international law'. The top American official at the United Nations' World Intellectual Property Organization has accused its Director General, Francis Gurry, of "serious misconduct" and "violations of national and international law" in connection with a bizarre series of alleged 2008 burglaries of staffers' offices to obtain samples of their DNA. The official, James Pooley, is one of Gurry's four top deputies, and also a highly regarded U.S. patent lawyer, who was nominated for his WIPO job by the Obama Administration in 2009.

Senator Accuses Obama of Trying to Implement UN Arms Trade Treaty Without Congress. The senator leading the bipartisan coalition against the UN Arms Trade Treaty is concerned about new administration efforts to implement the treaty without bringing it through Congress. Sen. Jerry Moran (R-Kansas) wrote President Obama today to mark the first anniversary of the majority-rule adoption of the treaty by the UN General Assembly. On Oct. 15, 2013, 50 members of the Senate sent a letter to Obama "pledging to oppose ratification of the treaty, and giving notice that we do not regard the U.S. as bound to uphold its object as purpose."

Obama Wants to Pay 33% More to U.N. and Other Int'l Groups. When U.S. Ambassador to the United Nations Samantha Power testifies before a House Appropriations subcommittee on Wednesday, the panel will consider a budget request for international organizations that is 33 percent bigger than last year's, including a 43 percent hike in U.S. contributions to peacekeeping missions. The administration's fiscal year 2015 budget request for the U.N. and other organizations is $4.036 billion, up from $3.031 billion in FY2014. For contributions to peacekeeping missions, it is asking for $2.518 billion, up from $1.765 [billion] last year.

House panel to examine Internet governance. The House Commerce Committee will hold a hearing next month to examine the Obama administration's recent move to relinquish oversight of the technical back end of the Internet, the committee announced Tuesday [3/18/2014]. [...] The hearing comes after last week's announcement by the Department of Commerce's National Telecommunications and Information Administration that it will relinquish its oversight role of the Internet Assigned Numbers Authority (IANA), which manages the technical side of the Internet's domain name system.

When U.S. Steps Back, Will Russia and China Control the Internet? The United States is planning to give up its last remaining authority over the technical management of the Internet. The Commerce Department announced Friday that it will give the Internet Corporation for Assigned Names and Numbers (ICANN), an international nonprofit group, control over the database of names and addresses that allows computers around the world to connect to each other. [Obama] Administration officials say U.S. authority over the Internet address system was always intended to be temporary and that ultimate power should rest with the "global Internet community."

The Editor says...
Until today, when have you ever heard anyone claim that "U.S. authority over the Internet address system was always intended to be temporary"?

The U.S. Should Reject the U.N.'s Authoritarian Control of the Internet. The explosion of Internet capabilities, specifically over the past seven years, has engendered seismic shifts in societies around the globe. This dynamic game changer challenges the economic and political status quo by providing a venue for sharing ideas and practicing innovation. According to a 2011 report by the McKinsey Global Institute, the Internet "accounted for 21 percent of the GDP growth in mature economies" from 2007 to 2011, and greatly benefited "consumers and small, upstart entrepreneurs." Together with other economic, political, and social benefits, the value of an unchained Internet is apparent.

You Bought His Ticket; He Took You for a Ride. Perhaps there is some true justice in the revelation today that Barack Obama, apologist to the world for American greatness, has just given a huge part of that scientific and engineering eminence to a world body that has no legal claim to all that which has come from America's technological genius. Yes, Silicon Valley, it's true, your messiah is telling you, "You didn't build that." How does it feel to have your legs cut from beneath you by this global leveler who has no regard for the huge amount of endeavor and intellect that has gone into this world-changing technology you have created?

Did The Administration Just Weaken Internet Security And Set The Stage For A Global Web Tax? The Obama administration on Friday [3/14/2014] announced plans to relinquish U.S. control over management of the Internet to the "global Internet community." While the announcement of the plan was sure to please international critics (and some Democrats), it created concern among business leaders and others who depend on a smoothly functioning web. Oh, and it may lead to a global web tax, as well. [...] The Department of Commerce announced the decision to give up control of the Internet's core infrastructure, in part, as a result of international pressure following revelations by Edward Snowden about the NSA's global surveillance program.

Internet transition triggers GOP backlash. The Obama administration's decision to relinquish oversight over the group that manages the Internet's architecture has raised an early red flag with Republicans, who blast the move as a threat to free speech. The Internet Corporation for Assigned Names and Numbers has managed the Web's domain-name system under contract with the U.S. government for more than a decade — but the Los Angeles-based nonprofit has worked to transform itself into a global organization free of U.S. ties.

Handing Over the Keys to the Internet. For the uninitiated, this is tech-speak for "the basics." The "DNS's authoritative root zone file" is effectively a master directory of website addresses, kept in one place to avoid duplication and to guarantee that when everybody types "nationalreview.com" into their browser, they get the same page; [...] As you might imagine, it matters a great deal who is in charge of this compendium, for whoever controls it can use the thing essentially as a global on/off switch. As it stands, a tyrant is able to restrict access to certain parts of the Internet in his own country, but he is unable to make a page or a server or a service disappear completely.

Obama Surrenders U.S. Internet Control To Globalists. U.S. officials plan to relinquish federal control over the administration of the Internet to something called the "global Internet community," which is full of tyrants to whom the free flow of information is a threat.

ICANN 101: Who Will Oversee the Internet? The Commerce Department's National Telecommunications and Information Administration said Friday it plans to give up control over the body that manages Internet names and addresses. The action means that the U.S. government will relinquish its oversight of the Internet Corporation for Assigned Names and Numbers, or ICANN, which manages a number of technical functions that help computers locate the correct servers and websites. Here are some basics of what's happening. [...] How did the U.S. get oversight of it in the first place? The Internet was pioneered in the U.S., and for a long time the folks that helped invent it were also in charge of managing it. Until 1998, a computer scientist named Jon Postel at the University of Southern California managed a host of functions related to Internet names and addresses, collectively known as IANA (Internet Assigned Names Authority). When Mr. Postel died in 1998, the Commerce Department issued a contract to ICANN to manage the IANA functions.

US transfer of Internet control years in the making, fueled by foreign pressure. The decision was announced nonchalantly, in trademark Washington fashion on a Friday afternoon: The U.S. government will cede its last bit of control over the Internet. The government has maintained that influence through contracts with the organization that administers the Internet, a Los Angeles-based nonprofit called the Internet Corporation for Assigned Names and Numbers, or ICANN. But a Commerce Department agency announced Friday that it would relinquish control over ICANN, presumably when its contract expires in September 2015. The office said it wants the group to next convene "global stakeholders" to come up with a transition plan — a transition to what remains unknown.

Hiding Behind 'Global Internet Community' the ravening United Nations Wolf. Like the bully taking candy away from the proverbial baby, high-handed President Barack Hussein Obama is giving away the Internet that is in no way his to give. His latest act of out-and-out thievery graduates him from the most unpopular American president of all time, to Enemy of the Free World Numero Uno. [...] The Information Highway known as the Worldwide Web has been the main form of communication for everyday people, and now Obama is taking it away from an America he loathes and, just as been long feared, is handing it over to the United Nations. Make no mistake, the falsely named "global internet Community" they're trying to sell is the ravening wolf in sheep's clothing.

U.S. to relinquish remaining control over the Internet. U.S. officials announced plans Friday [3/14/2014] to relinquish federal government control over the administration of the Internet, a move that pleased international critics but alarmed some business leaders and others who rely on the smooth functioning of the Web. Pressure to let go of the final vestiges of U.S. authority over the system of Web addresses and domain names that organize the Internet has been building for more than a decade and was supercharged by the backlash to revelations about National Security Agency surveillance last year.

The Editor says...
Barack Obama announced (on a Friday, of course) that he is relinquishing U.S. control of the internet to an international body yet to be announced — probably the UN — because he hates America and wants to wreck the economy any way he can. This malicious act can now be added to the long list of impeachable offenses that have accumulated over the last five years.

U.S. to relinquish remaining control over the Internet. U.S. officials announced plans Friday to relinquish federal government control over the administration of the Internet, a move that pleased international critics but alarmed some business leaders and others who rely on the smooth functioning of the Web. Pressure to let go of the final vestiges of U.S. authority over the system of Web addresses and domain names that organize the Internet has been building for more than a decade and was supercharged by the backlash last year to revelations about National Security Agency surveillance. The change would end the long-running contract between the Commerce Department and the Internet Corporation for Assigned Names and Numbers (ICANN), a California-based nonprofit group. That contract is set to expire next year but could be extended if the transition plan is not complete.

US to relinquish control over Internet management system. The U.S. government on Friday announced it is taking steps to relinquish control over the back end of the Internet. The Department of Commerce announced it is beginning a process to transfer control over the technical system that operates the Internet's domain name system, which ensures that Internet users can get to the websites they're looking for. Currently, the National Telecommunications and Information Administration — an agency with Commerce — oversees that technical system, named the Internet Assigned Numbers Authority (IANA). Historically, it has contracted the operation of IANA out to the Internet Corporation for Assigned Names and Number (ICANN) on a biennial basis. The current contract is set to expire in September of 2015.

U.S. To Give Up Key Internet Governance Role. Obama administration officials moved late Friday to end the U.S.'s role in overseeing Internet domain names and addresses, announcing plans to relinquish its role by the end of next year and turning the keys over to the global Internet community. Commerce department officials announced that the U.S. government would relinquish its role overseeing Internet addresses in favor of a to-be-determined global body. The Internet Corporation for Assigned Names and Numbers (ICANN) has managed the use and governance of domain names and Internet addresses for the U.S. government since 1998, when it was awarded the task by the Commerce Department. Based in Los Angeles, ICANN oversees the Internet's address system and has moved in recent years to open up new domain names.

U.S. Government to Give Up Key Internet Powers. Facing international pressure, the U.S. government said Friday it will give up control over important technical aspects of the Internet. The Commerce Department will no longer oversee the Internet Corporation of Assigned Names and Numbers, a nonprofit group that manages the Internet's address system. Larry Strickling, the assistant secretary of Commerce for communications and information, said the "global Internet community" will have the final say over the database of names and addresses that allows computers around the world to communicate with each other. The Internet was invented in the United States, and the country has long maintained a central role. But as the Internet has grown, other countries have demanded a greater voice in its governance.

UN's 'Post-2015 Development Agenda' Aims to Imprison the World. Think of Barack Obama this way and getting the big picture will be yours: Obama is the magician on the world stage; the daily diversion to keep your enrapt attention while the fate of you and your loved ones is being planned elsewhere. The far-reaching fate for a captive new human society is not being planned in Washington, D.C., but in New York City. That fate is no longer somewhere off in the distant future but is being made ready to eclipse all of human society — by the end of 2015.

Climate Prophets and Profiteers: The most cynical part of John Kerry's climate-change speech. The weirdest thing about John Kerry's weekend speech on climate-change — other than the fact that this is the same guy who in 1997 voted to forbid the U.S. from signing the Kyoto Protocol — is that it begins by quoting something Maurice Strong said at the U.N.'s 1992 Earth Summit in Rio de Janeiro: "Every bit of evidence I've seen persuades me that we are on a course leading to tragedy." Maurice who? Mr. Strong, a former oil executive from Canada (he was Pierre Trudeau's pick to run state-owned Petro-Canada in the mid-1970s), was for many years the U.N.'s ultimate mandarin.

Obama's Foreign Policy: Enemy Action. [President Obama seems to think] that America's power is corrupt, we need a foreign policy of withdrawal, retreat, and apologetic humility, with our national sovereignty subjected to transnational institutions like the U.N., the International Court of Justice, and the European Court of Human Rights — exactly the program that Obama has been working on for the last 5 years. Given the damage such policies are serially inflicting on our security and interests, it starts to make sense that inexperience or stupidity is not as cogent an explanation as enemy action.

Report: Obama offers UN climate agreement that doesn't need congressional approval. The Obama administration is quietly forging ahead with plans to offer up an international commitment to reduce carbon dioxide emissions to fight global warming — without congressional approval. Reuters reports that the U.S. submitted its vision for a new international global warming agreement to the United Nations on Wednesday, suggesting a "bifurcated approach" of the 1997 Kyoto Protocol — placing different emissions targets for rich and poor countries.

Bloomberg tapped to be UN cities, climate change envoy. Former New York mayor Michael Bloomberg was appointed Friday [1/31/2014] to be the U.N. special envoy for cities and climate change, a position that will give the billionaire businessman and philanthropist an international stage to press for action to combat global warming.

Global Warming [is] A Back Door To Socialism — And Now Even The UN Admits It. As evidence discredits global warming, resistance to such facts by green elites reveals their real aim is bringing socialism in through the back door. But don't take our word for it. Listen to the climate change boss at the U.N. Christiana Figueres, with the lumpy title of executive secretary of the United Nations Framework Convention on Climate Change (UNFCCC), came right out and said it: Democracy is a poor political system for fighting global warming. The really good model is communist China.

UN climate chief: Communism is best to fight global warming. United Nations climate chief Christiana Figueres said that democracy is a poor political system for fighting global warming. Communist China, she says, is the best model. China may be the world's top emitter of carbon dioxide and struggling with major pollution problems of their own, but the country is "doing it right" when it comes to fighting global warming says Figueres. "They actually want to breathe air that they don't have to look at," she said. "They're not doing this because they want to save the planet. They're doing it because it's in their national interest."

Kerry Tries to Convince Senate that UN Treaty Won't Affect U.S. Sovereignty. The Convention on the Rights of Persons with Disabilities (CRPD) opened for signature in 2007 and came into effect in May 2009 after 20 parties had ratified it. As of October 2013, it has 158 signatories. The U.S. has signed the convention, but a Senate vote last year failed to ratify it. The treaty aims to promote and ensure the enjoyment of equal rights by people with disabilities. [...] The treaty must secure a two-thirds majority for Senate passage. In December 2012, the CRPD fell five votes short as only 61 senators voted in favor and 38 senators — all Republicans — voted against it.

Climate Change Alarm Is A U.N. Extortion Racket. Reports out of Warsaw, Poland, say that 132 nations walked out of the United Nations climate conference Wednesday. Are they upset over global warming? No, they just want more money from rich countries.

Latest from the Climate Fail Files. Of course, whenever you hear the term "equity" at one of these UN gatherings, it is code for the U.S. and Europe to hand over their wealth. The UN is aiming for a new comprehensive climate treaty by 2015. Doesn't look good, unless Iran steps into the picture somehow, thus assuring a U.S. cave in. By the way, kudos to Australia, which sent a low-level diplomat to this round of the climate talks rather than their senior environment or energy minister, as they have always done in the past. We should start following their lead.

Developing countries want to FORCE rich countries to bail them out if they're hit by natural disasters. Developing countries have called for legally-binding rules that force rich countries to provide money when they are affected by extreme weather events such as Typhoon Haiyan. Currently, wealthy nations such as Britain offer donations following a natural disaster. But last night [11/22/2013] a group of nations came together to argue extreme events, such as droughts or typhoons, are becoming more frequent because of man-made global warming.

UN climate talks fall apart as 132 countries storm out. Poor countries pulled out of the United Nations climate talks during a fight over transferring wealth from richer countries to fight global warming. The G77 and China bloc led 132 poor countries in a walk out during talks about "loss and damage" compensation for the consequences of global warming that countries cannot adapt to, like Typhoon Haiyan. The countries that left claim to have the support of other coalitions of poor nations, including the Least Developed Countries, the Alliance of Small Island States and the Africa Group.

Kerry on U.N. Disabilities Treaty: 'No Impact Whatsoever On the Sovereignty of the United States'. Despite what critics claim could lead to restrictions on parenting and educating special needs children in the United States and global abortion promotion, Secretary of State John Kerry told the Senate Foreign Relations Committee on Thursday [11/21/2013] that ratification of the United Nation's Convention on the Rights of Persons with Disabilities will have "no impact" on U.S. sovereignty. "There's no impact whatsoever on the sovereignty of the United States," Kerry said. "In fact, you all are exercising our sovereignty right now by doing what the framers of the Constitution envisioned, which is ratifying a treaty."

U.N. Disabilities Treaty a Trojan Horse. The United Nations Convention on the Rights of Persons with Disabilities, despite its innocent-sounding name, contains a Trojan horse for the pro-life movement. It is the first treaty that contains a reference to "reproductive health." This term may sound innocuous, but it is not. Ever since the U.N. Conference on Population and Development, held in Cairo in 1994, anti-life forces have used the term to try to promote a binding, international legal right to abortion. They have argued — and continue to argue — that the repetition of these words, in various statements in a variety of contexts around the world, has created a "customary law" right to abortion that, in turn, binds every nation in the world.

Obama Seeks 2nd Chance For UN Disabilities Pact. The Obama administration is pushing for ratification of a U.N. accord on the rights of the disabled less than a year after Senate Republicans rejected pleas for its passage from two former GOP presidential nominees and delivered a stinging rebuke to a global treaty modeled largely on American law.

Saudi Arabia, People's Republic of China Will Join UN 'Human Rights' Council. By the end of Tuesday [11/12/2013], a handful of countries notorious for blocking human rights promotion at home and abroad will have rejoined the U.N. Human Rights Council. Due to an absence of competition, Tuesday's vote at the General Assembly in New York will see China, Russia and Saudi Arabia all return to the council in January, just one year after term limits obliged them to stand down. They will be joined by Vietnam, which will take a seat for the first time since the Geneva-based HRC was established in 2006.

The UN came to Haiti and left behind a disaster. A few key lessons can be learnt from the searing experience of Haiti, when no one would seriously deny that the humanitarian response went badly wrong. First of all, forget about the headline figures for the amount of aid that will now be pledged for the Philippines. Between 2010 and 2012, the world promised $9.3 billion for Haiti, but even on the most generous estimate, only about half of this was ever delivered. [...] When I was in Port-au-Prince, almost 700,000 people were sleeping in the open every night because their homes had been destroyed. Astonishingly, after all the promises, about 300,000 of them are still homeless today.

Sell the UN. There are 193 member states of the United Nations General Assembly. Each gets the same number of votes: One. That is true whether the member state is China (population 1.4 billion) or Tuvalu (population 10,698).

A Useless Obama Addresses the Useless United Nations. I don't know who looked more pathetic when President Obama addressed the United Nations Assembly on Tuesday; him or the assembled ambassadors, many from nations where human rights, justice, and liberty don't exist. Like the League of Nations before it, the United Nations has long since demonstrated how useless it is.

Are We Too Late to Stop U.N. Agenda 21? The global cabal of U.N. Agenda 21 is behind global warming, regionalism, zoning, land and water use control, wealth redistribution, weakening and eventual replacement of the dollar as the world's reserve currency, global warming, cap and trade, Smart Grid, Smart Meters, carbon taxes, high gasoline prices, global citizens, IB World Schools, Common Core nationalized education standards, biofuels, Marxist advancement across the globe, food control, water access control via the Law of the Sea Treaty (LOST), gun control, health control, the Arab Spring/Winter, unchecked illegal immigration, and they are unstoppable.

Samantha, Syria and the use of power. Did you ever wonder why we have been teetering on the brink of war with Syria when virtually no one in America wants to go to war? The answer can be summed up in two words: Samantha Power. Power is the new American ambassador to the United Nations and a longtime foreign-policy adviser to President Barack Obama. She is also a dangerously radical proponent of military intervention in humanitarian crises around the globe.

Emperor Obama's Parlor Games. Don't get me wrong: I'm always up for listening to an American president bash the United Nations. But it helps if he does so for the right reason. The United Nations is useless not because the incumbent president considers it to be temporarily dysfunctional or unsupportive of his aims but because it is an inherently corrupt, flawed, and feckless operation that — unlike Congress — has no binding influence on the United States.

Wind farms are a breach of human rights says UN. No, really. The United Nations, as we know, is the very belly of the beast; the onlie begetter of almost all the world's most far-reaching and dangerous environmental policies. It was under the auspices of two UN organisations — the United Nations Environment Programme and the World Meteorological Organisation — that the Intergovernmental Panel on Climate Change was established.

U.S. spy agency bugged U.N. headquarters: Germany's Spiegel. The U.S. National Security Agency has bugged the United Nations' New York headquarters, Germany's Der Spiegel weekly said on Sunday [8/25/2013] in a report on U.S. spying that could further strain relations between Washington and its allies.

The Editor says...
Here's how to fix that problem: Move the UN headquarters.

Haiti cholera epidemic caused by UN, say experts. A group of international scientists studying a deadly cholera epidemic in Haiti has concluded that peacekeepers from the United Nations were the most likely source of the disease. The epidemic, which began in late 2010, has so far claimed over 8,000 lives.

Groups Opposed to Chicago School Closures Seek U.N. Intervention. Advocacy groups opposing the planned shutdown of 49 schools in Chicago are turning to the United Nations for help, urging U.N. officials to investigate and take steps to prevent human rights abuses which, they say, will result from the closures. In the latest in a number of appeals by U.S. civic organizations to the world body, the Midwest Coalition for Human Rights this week submitted a letter to the U.N. human rights apparatus in Geneva, asking that it "investigate and take preventative measures to address the potential domestic and international human rights violations that may result from these school closings."

Bill Ayers, reincarnated ACORN ask United Nations to intervene in Chicago school closings. Noted American terrorist and left-wing radical Bill Ayers is among the signatories of a letter calling on the United Nations to probe the closing of 49 Chicago elementary schools based on claims that it is causing massive human rights violations. The "letter of allegation" is 24 pages long and contains 17 footnotes. [...] In addition to Ayers, others signers of the letter include four people associated with Action Now, an Illinois community-organizing group that split off from ACORN just before it dissolved because of financial problems and scandals.

Should 'illegal' immigrants be rebranded as 'irregular' immigrants? The UN thinks so. "Illegal immigration" apparently carries connotations of criminality, of someone doing something wrong. Like, for example, paying a people smuggler €700 to transport them a rickety boat that might sink with the loss of all on board. Whereas "irregular" is a more "neutral" term. Probably all the same to you and me.

U.S.-funded U.N. camps teach Palestinian kids: Jews are 'wolves'. A video has revealed that youth camps run by a United Nations body and funded in part by the United States teaches Palestinian children to hate Jewish people. The camps are run by the U.N. Relief and Works Agency and are targeted to children, Israel National News reported.

Will the Senate Rubber-Stamp Power's Contempt? Contempt of Congress and obstruction of the Senate's constitutional advice-and-consent obligation is the only way to interpret the performance of Samantha Power during Wednesday's [7/17/2013] hearing on her nomination by President Obama to become U.S. ambassador to the United Nations. Power has a long history of decrying "crimes committed, sponsored, or permitted by the United States." Of demanding that the United States apologize for its sundry "sins."

The UN prepares to go to war for the first time. The UN is about to go to war for the first time in its history after the Security Council voted unanimously to intervene to fight rebels in the Congo. Around 3,000 UN troops wearing the blue insignia, are being deployed to the central African nation which has been wracked by years of civil war and lawlessness. The UN has led a 14-year-long peacekeeping in a bid to end the ethic conflict which was sparked by the genocide in neighbouring Rwanda when thousands of Hutus fled into the Congo to evade justice.

Anti-Americanism Increasing at the United Nations. Anti-Americanism at the United Nations is now routine. Every few days, some kind of statement comes out of the United Nations condemning the United States.

Benghazi and Obama's Ambition to Be U.N. SecGen. In three and a half years, Obama will be out of a job. He is 50 now and wants to soar to greater heights, because that's what matters more than anything else in his life. What's better to Obama's Napoleonic self than being U.N. Sec Gen? He is a man who wants to be worshiped by the world, and the path to that goal is clear. It is also an opportunity to carry out his internationalist and pro-Muslim convictions.

Congress Seeks to Head Off UN Interference in Internet Governance. The bill was not considered in a vacuum. Congress wants to put the U.S. firmly on record opposing a plan by a little-known UN agency, the International Telecommunication Union (ITU), to vastly expand the ability of individual countries to censor the internet, and have a much greater say in naming domains, assigning numbers, and directing internet traffic in their own countries. It's not quite the "UN takeover of the internet" conspiracy theory that some have been pushing. But neither is it as benign and non-controversial as the conspiracy debunkers claim.

A Bad Quarter for the U.N.. On international peace and security, human rights, and issues of management and accountability, the organization has reminded the world just how ineffective, inept, and embarrassing it is.

The Pressure is Building! [Scroll down] The 'green' agenda of Agenda 21 provides a cover for a whole host of abuses by those seeking to dominate the ignorant under the guise of Agenda 21. Global cooling, global warning [sic], climate control, or whatever, is used to advance the agenda, and is leading us to a glacier-like death by 'greenocide'. With this 'greenocide', we are losing personal property rights, and we are staring at mushrooming utility energy costs, as coal, natural gas and oil are under constant attack by ne'er do well elites. Also, the cost of building just about everything is being driven up [...]

Prominent American Scientists Call For Eco-Dictatorship Under UN Rule. [Scroll down] By admitting they are willing to "move beyond existent levels of public permission" to push ahead with draconian environmental policies, these prominent scientists (among whom we find two Nobel laureates and one Paul Ehrlich) have proven their willingness to deceive the American population for their "environmental" control model. As Aaron Dykes put it while interviewing Lord Christopher Monckton, the environmental "cause" is nothing more than "an absolute valued pretext for their absolute control model".

2013: What is the United Nations Organization for? The United Nations Organization was founded in 1945 to stop conflicts and provide a forum for debate, discussion and dialogue for crisis management. It costs around 15 billion USD a year to run, so in indexed terms has already spent some one thousand billion dollars of taxpayers' money.

The 2nd Amendment and the Kool-Aid Drinkers. We are the UN. Other countries mostly join the U.N. to secure money, funding and training and few have any offensive combat capability. Most serve as guards at static locations and have no will to fight. America is the enforcement arm of the U.N. We have the money, equipment, personnel and lift platforms to get the job done. If the president ever let the U.N. in this country, it would be a foreign invasion and armed Americans would stand up and crush them in a day. Our government would break down and the president would be ousted for letting foreign militaries invade our country.

The War against U.N. Agenda 21 Just Got Hotter. Thinking Americans understand now what U.N. Agenda 21 is and are not backing down from fighting the anti-American, anti-prosperity, wealth redistribution scheme of the United Nations against our way of life. The U.N. has deemed commercial agriculture unsustainable and has used taxpayer dollars and local supervisors to re-zone, re-shape, and prohibit land use for local agriculture or building that is not approved by their bio-diversity plan of limiting human habitation — all in the name of saving the planet.

U.S. Taxpayers Will Continue to Pay More Than One-Fifth of the U.N. Budget. In one of its last actions of the year, the United Nations General Assembly on Christmas Eve agreed to extend for another three years the formula that has U.S. taxpayers contributing more than one-fifth of the world body's regular budget. No member-state called for a recorded vote, and the resolution confirming the contributions that each country will make for the 2013-2015 period was summarily adopted. The assembly also approved a two-year U.N. budget of $5.4 billion.

Why Are Broke Local Governments Sending Dues to ICLEI and Pushing Through Agenda 21? ICLEI is an international organization that exists to promote and expand the UN's Agenda 21. Proponents of the "sustainability" movement call anyone who opposes it "conspiracy theorists." Regardless of whether or not you believe this is a plot to take away property rights, force us all into urban living areas, or spread the wealth around, there is still reason to oppose it. ICLEI currently boasts about 600 US members including cities, towns, and counties. Members pay dues based on population, but it isn't easy finding out how much the dues cost.

US Backs UN Measure for Universal Health Coverage. The UN has drafted a resolution that calls for universal health coverage, and unsurprisingly, the Obama Administration has backed it wholeheartedly. There are a host of problems attendant with this action by the U.S. One problem is that according to the UN, member states, civil society and international organizations not only are called upon to support universal health coverage, but to implement the Millenium Development Goals. What are those goals?

U.S. should walk out of the United Nations. Why do western democracies such as the United States remain in the United Nations? After all the politically charged decisions made by this disgraceful organization, it's often difficult to understand the reason. Perhaps the West's laissez-faire attitude toward this growing cesspool of political activity is finally coming to an end. A highly controversial decision with respect to a volatile part of the world could be the proverbial straw that breaks the camel's back.

US rejects UN telecom bill. Saying the scope of the treaty was "problematic," US negotiators have rejected the UN telecom accord recently agreed to in Doha.

White House won't back proposals to regulate Internet in UN treaty talks. White House officials warned on Tuesday that the United States would not support a United Nations treaty that gives governments more control over the Internet. Administration officials argued in a blog post that the World Conference on International Telecommunications (WCIT) taking place in Dubai "should be about updating a public telecommunications treaty to reflect today's market-based realities — not a new venue to create regulations on the Internet, private networks, or the data flowing across them."

The way past Obama is dismantling the United Nations. Dismantling the United Nations is an end-around, out-of-the-box type of tactic that we have yet see anyone consider, yet could well be an effective method of neutering threats on multiple levels. The ongoing plan to fundamentally transform America did not originate with Obama, who is merely the latest Agent of Change working to complete a UN agenda to implement One World Order (OWO).

The incompetence and corruption at the heart of the United Nations exposed. This is the trailer to U.N. Me, a "harrowing, yet often hilarious, trip through the farcical world" exposing the United Nations as nothing but a criminal organization.

The UN's ITU and the Internet: A Cautionary Tale. As the United Nations heads deeper into its Internet grab, a.k.a its 11-day telecom treaty conference, in Dubai, things aren't going so well for America and the friends of freedom. The Hill reports that "A joint proposal from the United States and Canada aimed at keeping Internet regulations out of a global telecommunications treaty failed to secure early approval from other countries on Tuesday" — though talks may continue along these lines.

U.N. Readies Attack on Internet as Obama Dithers. While talk of the United States tumbling over a so-called "fiscal cliff" dominates news cycles in the nation's capital and other major cities, on the other side of the planet, the United Nations is quietly but relentlessly pressing to take control of the Internet. It is being aided in this illicit endeavor by various totalitarian regimes, and by many smaller states that routinely use their strength in numbers to bash America.

After homeschoolers lobby, UN disabilities treaty fails. A United Nations human rights treaty that drew broad ire from conservative groups was rejected by a slender margin on the Senate floor Tuesday afternoon [12/4/2012]. The vote was 61 for to 31 against, six "aye" votes shy of the two-thirds majority necessary to pass a treaty. The United Nations Convention on the Rights of Persons with Disabilities ostensibly would have expanded access and opportunity for the disabled. But opponents, particularly those in homeschooling and faith-based organizations, argued that it redefined parental rights more narrowly while impinging on U.S. sovereignty.

The End of the Free Internet? Russia and China want firms like Google to have to pay to send streaming video into other countries, creating a charge that can be passed on to the users. The idea is to make it so expensive that nobody in their totalitarian countries downloads anything that might open their eyes to the truth Moscow and Beijing want to keep out. The ITU is now charged with regulating long-distance phone services. But Moscow and Beijing want to expand its power to dictate to the Internet and they have a willing tool in [Dr. Hamadoun] Toure, who was educated in Leningrad and Moscow in the pre-glasnost era.

We're trying to stop the UN from regulating the Internet, Ambassador Kramer says. A U.N. conference that kicked off today in Dubai has sparked fear of Internet censorship in the U.S. — something U.S. Ambassador Terry Kramer said he is doing everything in his power to prevent. "Nothing regarding the Internet do we want subject to U.N. review and regulation," Kramer told FoxNews.com.

Agenda 21 explained. This is a plan that's been underway since the 80s and three presidents have signed off on it, starting with George H. W. Bush.

The Fate Of The Free Internet Goes Up For Vote In December. The fate of the free Internet will be decided at a private meeting in Dubai on December 3. UN member nations will argue for or against a plan that would give control of the Internet to the ITU, instead of the current NGO multiple stakeholder approach. Some within the US government have already voiced their opposition, and now the EU is joining them. Wired UK reports that the European Parliament has issued a resolution against a potential takeover of the Web by the ITU.

Global Governance Begins on December 14. The International Telecommunications Union (ITU), an imprint of the UN, is holding its World Conference on International Telecommunications (WCIT) from December 3-14, 2012. The stated purpose of the WCIT is to update the UN's "global treaty" on telecommunications to deal more directly and comprehensively with the internet. Knowing who controls the UN, it is not hard to see that a primary aim of the updated "treaty" will be to give credence to the regulation and monitoring of online activity in ways that are desirable to the (authoritarian) majority of member states.

U.N. Disabilities Treaty Would Limit U.S. Sovereignty. Those who thought that the Americans With Disabilities Act (ADA) adequately guaranteed the rights of the handicapped to have access to all facets of American life were apparently wrong. The U.S. Senate is considering ratifying the Convention on the Rights of Persons with Disabilities (CRPD), which President Obama signed in 2009 and which goes well beyond mandating wheel-chair ramps for public buildings. CRPD doesn't even bother to adequately define what disabilities it covers but rather merely says the definition is "evolving," a loaded term that rivals in its potential expansiveness the phrase "the Secretary shall determine" that is repeatedly found in the Affordable Care Act.

The way out of ObamaNation is the collapse of Agenda 21. Agenda 21 is the carbon monoxide of the world of bureaucratic entrapment. It has already poisoned and killed you before anyone noticed its presence.

Will thugs rule the web? If delegates have their way at next week's World Conference on International Telecommunications in Dubai, the man in charge of the Web will be a Soviet-trained apparatchik from Cold War days. Don't count on the Obama-appointed US delegate to stop the threatened changes in how the Internet works, and how much power governments have to decide what their citizens see on the World Wide Web. Pushing the agenda at Dubai are Russia and China. And anything China, Russia and the United Nations agree on can't be good for America — or the cause of freedom.

Free Internet Under Fire. A Russian government proposal to amend a U.N. treaty at a meeting of the world body's World Conference on International Telecommunications in Dubai next week contains a provision that calls for bringing "IP-based networks" under U.N. control. The U.N. treaty, called the International Telecommunications Regulations (ITR), is currently limited to regulating international telecommunications services. The Russian proposal to amend the treaty has the support of other non-democratic states such as China and Iran.

Will Obama Let the U.N. Seize The Internet? The U.N. plans to control the tool that tyrants fear most — technology that promotes free speech and intellectual freedom — by imposing a global tax in the name of fairness.

Can House Stop U.N. Arms Trade Treaty Gun Grab? A House resolution, as futile as it may be, represents growing opposition to another administration bow to the U.N. encroachment on U.S. sovereignty at the expense of its laws and even our Constitution.

Aw Shucks, Why Not Let the UN Control the Internet? The UN, in one way or another, has been eyeing the internet for years as a potential font of cash and lever of control. And the UN these days is the kind of place where Iran now chairs the Non-Aligned Movement, which consists of 119 member states plus the Palestinians — and accounts for well over half the membership of the UN General Assembly. All the usual old troubles apply: The UN remains an unaccountable, murky bureaucracy, lending itself to the manipulations of its worst members.

National Heritage Sites and Agenda 21. Sustainable development economists and UN promoters have one goal in mind, replacing the current capitalist system with sustainable development, a form of global economics for the "common good," a communist world society in which the United Nations will play the role of benevolent dictator.

A Declaration of Grievances. [Scroll down] The very day after the 2012 election — this past Wednesday — the executive branch, led by Obama, resumed work on an illegal treaty with the U.N. to achieve despotic gun control reforms that could not otherwise be achieved through the legislature. Treaties to accomplish domestic policies — instead of properly international matters — are illegal, and yet Obama pursued this very goal throughout most of 2012, only to curtail his efforts during the campaign and then eerily resume them the very morning after he had guaranteed his continued tenure at the presidential seat.

UN Representative Calls For Establishing A 'World Capital' — In Islamic Istanbul. The world needs a global capital and it should be the capital of Islamic Turkey, Istanbul, according to a UN special representative. Richard Falk, the United Nations Special Rapporteur on Palestinian human rights, wrote a Nov. 1, 2012, opinion piece for the controversial al Jazeera English site calling for a "global capital" because of integration "by markets, by globally constituted battlefields, by changing geopolitical patterns."

Pennsylvania Rep: 'Illegal' for United Nations and DOJ poll watchers to 'step a foot' in our precincts. Pennsylvania Republican Rep. Daryl Metcalfe told The Daily Caller that it is illegal for any United Nations poll watcher or Department of Justice election monitor to enter any polling precinct in his state. Metcalfe, the House State Government Committee majority chairman, said the only reason these individuals would want to observe his state's election is to "intimidate" certified poll workers. He threatened to refer such poll watchers for prosecution.

Iowa is second state to forbid international observers at elections. Iowa on Wednesday [10/31/2012] became the second state to warn international election observers to stay away from its polling sites or face arrest, following Texas.

Secretary of state: Voting monitors face arrest in Iowa. Iowa Secretary of State Matt Schultz warned a group of international voting monitors that they face arrest if they monitor polling locations in Iowa next week. "My office met with two delegation representatives last week to discuss Iowa's election process, and it was explained to them that they are not permitted at the polls," Schultz said in a statement released Tuesday. "Iowa law is very specific about who is permitted at polling places, and there is no exception for members of this group."

The UN Is Learning Not To Mess With Texas. It's insulting to the United States to have bureaucrats from the corrupt United Nations here monitoring our elections like we're Haiti. That's why it's so gratifying to see Texas giving them exactly the respect they deserve.

Ohio says 'no' to international observers in polling places. International observers may be in the United States on Election Day, but they will not be inside Ohio polling places, and the organization says it will honor state law. Earlier this week, Ohio Secretary of State Jon Husted announced that international observers, affiliated with the United Nations, would not be allowed in Ohio polling centers, citing state laws that limit who is present in polling places on Election Day.

Int'l Election Observers Grumble, But Agree Not to Enter U.S. Polling Places Where Law Forbids. The multinational body planning to observe next Tuesday's elections says its monitors won't enter polling stations in states where that would be illegal — but adds that laws barring their entry are not in line with America's international commitments.

Sacramento Veteran Pollster Fired Over Protest Against U.N. Observers. A poll worker is out of a job, and she says it's all because of an email she sent her supervisor. The woman says she was concerned about poll inspectors coming to Sacramento for Tuesday's election. Shannon Lewis has been a poll worker in Sacramento for 15 years. She said she sent that email and was fired 10 minutes later.

Who Is Bolat Bersebayev and Why Is He Monitoring Our Elections? Who is Bolat Bersebayev of Kazakhstan and why is he "monitoring" our polling places in Indianapolis, Indiana and Lansing Michigan? And who is Elchin Musaeyev of Azerbaijan, and why has he been tasked with monitoring the November 6 elections in Boston, Massachusetts, and Concord, New Hampshire? Neither Kazakhstan nor Azerbaijan are notable as paragons of electoral virtue. Nor are they models of liberty, honesty, and decency. The facts show quite the opposite.

Showdown set on bid to give UN control of Internet. When delegates gather in Dubai in December for an obscure UN agency meeting, fighting is expected to be intense over proposals to rewrite global telecom rules to effectively give the United Nations control over the Internet. Russia, China and other countries back a move to place the Internet under the authority of the International Telecommunications Union, a UN agency that sets technical standards for global phone calls.

U.N. Calls for Boycott of Caterpillar, Motorola, and Hewlett-Packard. The U.N. Human Rights Council (HRC) is calling for a boycott of U.S. companies that do business with Israel. Dominated by countries like Saudi Arabia, Qatar, Jordan, and Libya, the HRC is known to be hostile toward Israel. For this reason, the Bush Administration refused to take part in the HRC, yet the Obama administration has fully participated.

Feds to monitor early voting in 2 Texas counties. The U.S. Justice Department says it will monitor portions of the early voting period for the Nov. 6 general election in Dallas and Harris counties to ensure compliance with the Voting Rights Act.

Saudi King Demands UN Resolution Condemning Religious Insults. Saudi King Abdullah demanded a U.N. resolution Saturday [10/27/2012] condemning insults on religions. His calls came in response to the deadly protests that have been erupting throughout the Muslim world, which have been widely blamed on a low-budget film mocking the Prophet Mohamed.

UN affiliate to monitor conservatives during U.S. elections. United Nations-affiliated Organization for Security and Cooperation in Europe will deploy election monitors from Europe and central Asia to polling places around the U.S. looking for voter suppression activities by conservative groups, a concern raised by civil rights groups during a meeting this week, according to a report on Saturday [10/20/2012].

State Dept: Texas can't arrest international election observers. International election observers planning to visit Texas polling places have "full immunity" from being arrested in the United States, the State Department said when discussing a letter from the Texas Attorney General. "I'm not going to get into any kind of hypothetical situations or predict where this is going to go other than to say we have every expectation that this will be worked out and to state the fact, which is that under U.S. law they are eligible for immunities," said State Department spokeswoman Victoria Nuland.

Texas attorney general threatens to arrest monitors observing US election. The Texas attorney general, Greg Abbott, has threatened to arrest international election monitors invited by liberal groups to observe the conduct of next month's presidential vote in states accused of attempting to disenfranchise minorities. Abbott has written to the Organisation for Security and Cooperation in Europe warning that its monitors have no right to monitor the vote even though they have observed previous US elections.

Blue helmets at the ballot box. Those who fear that voter fraud will play a corrupting role on Election Day shouldn't worry. The Europeans are coming to save the day. The Organization for Security and Cooperation in Europe (OSCE) is sending 44 observers to monitor U.S. election procedures.

International monitors at US polling spots draw criticism from voter fraud groups. United Nations-affiliated election monitors from Europe and central Asia will be at polling places around the U.S. looking for voter suppression activities by conservative groups, a concern raised by civil rights groups during a meeting this week. The intervention has drawn criticism from a prominent conservative-leaning group combating election fraud.

Texas threatens prosecution against international poll watchers. Texas officials this week launched a prickly and very public dispute with the Organization for Security and Co-Operation in Europe, which plans to send monitors to polling sites across the U.S. on Election Day. The group has done this since 2002 — but this year, Texas took exception to what officials perceived as a challenge to the latest wave of voter ID laws. Attorney General Greg Abbott is now threatening to prosecute any observer who breaks state law by getting too close to any polling site.

Obama Urged Governors to Celebrate UN Day. President Obama issued a presidential proclamation for "United Nations Day" on October 24 praising the controversial global body while urging governors and officials in all 50 states to celebrate the occasion with "appropriate ceremonies." The statement drew swift criticism from UN opponents and conservative activists, who argue that the U.S. government should instead withdraw from the scandal-plagued international outfit.

Best endorsement yet:
UN Warns Americans: Do Not Elect Mitt Romney. The United Nations Special Rapporteur on Counter-Terrorism and Human Rights has warned Americans not to elect Republican Mitt Romney in next month's presidential election, saying that doing so would be "a democratic mandate for torture."

The UN Tries to Become a Global Government. The United Nations was founded to provide a forum for the world's nations to negotiate differences and avoid armed conflict. Its administrative role was restricted to policing peace agreements after they were concluded and providing humanitarian assistance. But now, the U.N. is trying to become the world's government, superseding national sovereignty and making of the world, one nation. And who is to run this global government? The unelected bureaucrats who staff the United Nations. And who will set policy for them? The corrupt, undemocratic nations that comprise the U.N. General Assembly.

Stop UN Regulation of the Internet. Behind closed doors, the nations of the world are negotiating a treaty — initiated by Russia and China — to regulate the Internet through the United Nations. There are only two reasons we know about these talks in the first place. One is through a WikiLeaks anonymous posting by a participant in the talks and the other is that a signing ceremony has been scheduled in Dubai in December of this year.

US ambassador: Internet fee proposal gaining momentum. U.S. Ambassador Terry Kramer warned on Friday [10/12/2012] that a proposal to give a United Nations agency more control over the Internet is gaining momentum in other countries. Proposals to expand the U.N.'s International Telecommunications Union's (ITU) authority over the Internet could come up at a treaty conference in Dubai in December.

U.N. Agenda 21: Environmental Piracy. When President Obama says, "We don't need more roads in the suburbs," he is pushing and forcing us into the United Nations Agenda 21. On my recent trip to Europe, I experienced the many effects of Agenda 21 compliance.

In second term, Obama will allow UN to tax Americans. It should come as no surprise that President Obama will raise taxes if he is re-elected. But here's the shocker: He will invite the United Nations to tax Americans directly. And the proceeds would go directly to the Third World. In this way, Barack Obama will, indeed, realize the dreams of his father.

Islamic group calls for ban on offending prophet. The head of a leading Islamic organization Saturday [9/29/2012] called for a global ban on offending the character of the Prophet Muhammad, saying that it should be equated with hate speech. [...] [Ekmeleddin] Ihsanoglu's call also echoed the views of other moderate Muslim scholars and leaders, who have urged the U.N. and international bodies to define global standards on religious expression and to help prevent incitement — particularly Islamaphobia.

The Editor asks...
Since when is the U.N. in charge of prosecuting either "hate speech" or blasphemy?

UN council bid aimed at gun control. Australia will push harder for a tough new international gun control regime if it wins a seat at the UN Security Council, in a move to crack down on civil unrest, gang violence and criminal activity.

Taxes Without Borders. In draft guidelines published this September, the WHO Framework Convention on Tobacco Control indicated it may put a cigarette tax on the table at its November conference in Seoul, Korea. "First we had doctors without borders," said David Williams, president of the Taxpayer Protection Alliance. "Now you could have taxes without borders. ... This is a new frontier in taxes. If they're successful with this, consumers and taxpayers should be concerned about what's coming down the pipe."

As the UN opens its General Assembly session, it is already thinking up new global taxes. A 1 percent tax on billionaires around the world. A tax on all currency trading in the U.S. dollar, the euro, the Japanese yen and the British pound sterling. Another "tiny" tax on all financial transactions, including stock and bond trading, and trading in financial derivatives. New taxes on carbon emissions and on airline tickets. A royalty on all undersea mineral resources extracted more than 100 miles offshore of any nation's territory. The United Nations is at it again.

Algeria at UN: Limit free speech, protect Islam. Algeria demanded new efforts Saturday [9/29/2012] to limit freedom of expression to prevent denigrating attacks on Islam, appealing to the United Nations to take a lead as nations engaged in new debate on the tensions between free speech and religious tolerance.

Living the High Life at the U.N. Later in the week, heads of state from Malawi, Rwanda, Sierra Leone, and Haiti will take their turn at the podium. Why highlight these countries? They are among a select group of 49 "least developed countries" (LDCs) that receive substantial reductions in their assessed contributions to the U.N. How low are the reductions, you ask? Currently, the minimum assessment is 0.001 percent of the organization's regular budget. That works out to an annual assessment of $25,852 per LCD.

Push to call blasphemy a crime. Muslim leaders have vowed to discuss the offensive video from their UN platforms, sowing concern among free-speech activists of a fresh push toward an international law that would criminalise blasphemy. Human rights groups and Western democracies resisted such a law for years and thought they had finally quashed the matter after convincing enough nations that repressive regimes used blasphemy laws to imprison or execute dissidents.

UN Promotes Another Gun-Grabbing Program. A United Nations conference aimed at ridding the world of the "scourge" of privately-owned weapons ended recently and the report of the meeting reveals that despite the failure of the Arms Trade Treaty (ATT), the globalists' plan to abolish the Second Amendment remains intact in the form of the "Programme of Action to Prevent, Combat, and Eradicate the Illicit Trade in Small Arms and Light Weapons in All Its Aspects".

The UN Gun Control Treaty Is Bad for Gun Owners Everywhere. Last time I checked, Americans were responsible for making our own laws. We do not invite foreign nations to have a say in how we govern ourselves within our own borders. Yet if you follow what's been going on with the United Nations this year, you know that the USA came perilously close to having other countries dictate our gun laws. And the fight isn't over yet.

Green, Rotten, and Red Sustainability Indoctrination. The Green Festival in D.C. is a "non-profit event, dedicated to celebrating social justice and sharing a vision of a healthier and more just future for us all." I already live in a socially just society with equal opportunity for all citizens. What individual citizens choose to do with their time and the choices they make determine their future. It is not society's responsibility to see that sloth and laziness are rewarded equally to those who work hard to achieve. Who knew that social justice and a just future involved bicycle maintenance, container gardening, home brewing, recycled crafts, yoga classes, NAACP, Washington Peace Center, 350.org, local non-profits, and national initiatives to speed up the transformation of America into the UN Agenda 21's idea of one-world communist governance?

GOP Platform Rejects UN Agenda 21 as Threat to Sovereignty. The official GOP platform approved at the Republican National Convention in Tampa included tough language rejecting the United Nations "sustainability" scheme known as Agenda 21 for the threat it represents to national sovereignty, drawing praise from conservative and Tea Party leaders across the country. The Republican Party document also rejected any form of UN global taxes and slammed a wide range of the international body's controversial programs.

The UN's appeasement of Iran is a symbol of its decline and decay. The reputation of the United Nations has hit new lows in the past decade — the Oil for Food debacle, the peacekeeping scandal in the Congo, the downfall of the dismal Commission on Human Rights (now the increasingly discredited Human Rights Council) — the list is endless. The UN has become a byword for corruption, mismanagement and the appeasement of dictatorial regimes.

U.N. investigation of computer shipment to North Korea looks to be much less than thorough. The United Nations agency that shipped American-made computers and sophisticated servers to North Korea is now attempting to avoid a thorough investigation that includes why the goods were shipped without either notifying United Nations sanctions committees that are trying to block the country's nuclear weapons program, or the U.S. government.

Weird Details of the United Nation's Creepy, Cult-Like Environmental Religion. [Scroll down] Let's not forget that the UN's religious pretensions are a mask for socialism, as both are revealed in Agenda 21, the environmental platform meant to force the world to accept "sustainable development." It is with this background that the importance of dispensing of biblical religions becomes paramount — since the Bible is the source book which released freedom into the modern world. The Ark of Hope is embraced by the UN. [...] The Ark of Hope is a cheesy and presumptuous copy of the original Israeli Ark of the Covenant which housed the Ten Commandments that Moses received from God and carried down from Mt Sinai. This is meant to disrespect the original and also wipe out biblical religion.

A New Documentary Exposes the U.N.'s DNA. In a brief and entertaining 93 minutes, Ami Horowitz and Matt Groff, writers, producers, and directors of the documentary, U.N. Me, take the viewer on a fascinating, disturbing, and often humorous ride through the corruption, criminal activity, ineffectual bureaucracy, and profound uselessness of an institution that was initially created to fight the bad guys and address the problems related to war and peace. As Horowitz, also the star of the film, explains, "In the aftermath of World War II, the leaders of the world created the UN to ensure global security and protect human rights." Alas, by the end of the movie the viewer is left with a sick feeling knowing that the $8 billion of U.S. funding of the U.N. in 2010 is being used to finance some of the world's worst atrocities and line the pockets of many of the vilest dictators and despots in modern history.

The Cost of Kofi. Kofi Annan resigned yesterday [8/2/2012] as the United Nations-Arab League Envoy to Syria after failing to bring an end to the internecine violence that has been raging in Syria since last spring. That Annan failed should not come as a surprise. His default is failure: Whether it was Annan's professed failure to notice that his own son was profiting from the Oil for Food scandal in Iraq, the failure to prevent a genocide in Rwanda, or the failure to prevent mass murder in Srebrenica.

U.N.'s latest trick no treaty. Once again the American people have responded overwhelmingly to block the signing of the United Nations Arms Trade Treaty. Hundreds of thousands of emails were sent to members of the Senate asking them to not support the treaty. As a result, fifty-one Senators sent a letter to Secretary of State Clinton urging her not to sign the treaty on July 27.

Boot Iran from the UN. Every fall, it seems, Americans are subjected to the ugly spectacle of Iran's Mahmoud Ahmadinejad coming to New York to address the UN General Assembly. There, at the podium, he is placed on a par with President Obama, Prime Minister David Cameron, France's Francois Hollande, and other leaders of civilized states. Ahmadinejad has used this podium to spew his anti-American, anti-Israel hatred. And yet he receives hearty applause from the Islamist delegates seated before him.

Behind the UN gun treaty. There's a lot of commotion right now about the forthcoming UN treaty proposing to regulate the international arms trade that critics think, with justification, would be the handgun equivalent of the Kyoto Protocol for the United States. Despite well-founded fears that the treaty might "grow" or "evolve" (since international law is even more "alive" than our Constitution), the Obama Administration indicates it will sign the treaty. Then it will require the two-thirds ratification of the Senate. Good luck with that. The only question in my mind is whether this treaty can gain even single digits in a Senate ratification vote beyond Sanders, Boxer, Feinstein, and one or two others.

U.N. treaties mean LOST U.S. sovereignty. Last week, we defeated LOST by securing commitments to ensure it cannot gain the 67 votes needed for ratification. However, no sooner had the 34th Republican senator signed a letter opposing LOST than the surrender of American sovereignty was put back on the table by foreign diplomats and their internationalist allies in the federal government. With LOST dead, the new treaties being promoted to take its place include the U.N. Convention on the Rights of the Disabled, which calls for government agents to supersede the authority of parents of disabled children and even covers abortion. Also, the Obama administration has begun negotiations on a new U.N. treaty to create international gun control rules that could slowly erode our Second Amendment.

UN Treaty Mischief on Disabilities. The United Nations in collusion with Obama's globalists has cooked up another scheme to slice off a piece of U.S. sovereignty and put us under global government. The plan is to stampede the Senate into ratifying the U.N. Convention on the Rights of Persons with Disabilities, CRPD. This particular piece of globalist mischief had been unnoticed since President Obama ordered U.N. Ambassador Susan Rice to sign this treaty on July 30, 2009. Now he is trying to ram it through to ratification.

The 2nd Amendment Transcends the U.N. Arms Trade Treaty. It's widely known that the U.N. Arms Trade Treaty, being negotiated as I type, is simply gun control by another name. Although it is being sold as a treaty to lessen the number of guns moving across borders illegally, it will ultimately require a national gun registry to be enforceable: perhaps even an international gun registry. And while all of us should be contacting our Senators to demand they refuse to ratify this ridiculous treaty when it comes before them, it behooves us also to remind them (and ourselves) that the 2nd Amendment transcends any U.N. treaty at any time and any place in this country.

A sneaky way to control guns. Gun-control advocates and the Obama administration are rushing to complete negotiations in New York on a proposed international agreement called the United Nations Arms Trade Treaty. They hope to finish the drafting within weeks, perhaps having a document ready for signature so that President Obama could press a lame-duck Senate to ratify it after our Nov. 6 elections. Because these UNATT negotiations had long escaped serious media attention, many Americans are only now learning about their disturbing direction.

The ADA will spread world-wide if the UN gets its way.
Sen. DeMint taps brakes on UN treaty as home-school opposition grows. Sen. Jim DeMint (R-S.C.) is delaying Senate consideration of the United Nations treaty on people with disabilities amid growing opposition from home-schooling advocates. The Senate Foreign Relations Committee was scheduled to take up the U.N. Convention on the Rights of People With Disabilities on Thursday [7/19/2012], with the goal of getting it passed in time for the 22nd anniversary of the Americans With Disabilities Act (ADA) on July 26.

The Editor says...
This illustrates how America has deteriorated to the point where it is today. Bad ideas like the ADA start out in places like Oakland or San Francisco, where the liberal busybodies are constantly pushing to have local and state government spend someone else's money to implement their nanny-state ideas. Then the idea spreads to the rest of the state. Then the idea spreads to the rest of the country. Then, with the help of the United Nations, the idea spreads to the rest of the world. And then the world is an equal opportunity utopia, except that the money runs out long before utopia can include everyone.

U.S. in the U.N. wastes billions. I have long been opposed to the U.S. involvement in the United Nations. All it has done for us is to relieve our treasury of billions of dollars. Most of the members are despotic dictators who have ruled their countries harshly. Yet we continue to give them billions of dollars to continue the lifestyles of the dictators. The two most nauseating reports I heard about this week involved the taxing of U.S. citizen's billionaires to be precise and spread their wealth among the dictators of the third world. This is something out of an opium den smoker to believe that the U.N. could be able to tax other nation's citizens and then redistribute the money the most undeserving people on the planet.

Sustainable Freedom: Surging Opposition to Agenda 21, "Sustainable Development". Alabama banned it. The Republican National Committee (RNC) officially opposes it. Even a group of Democrats has now joined the fight. And the movement to stop it is growing stronger every single day. Twenty years after the United Nations birthed the global "sustainable development" scheme known as Agenda 21, its tentacles have stretched across America into every level of government.

Choose your Poison, Communism or Other Dictatorship? I thought we had choices in a free country but I was wrong. We moved as far away from the metro area as possible to escape [Home Owner Associations]. We could have bought a parcel of land in the woods somewhere, but I am sure, EPA regulations would have made it impossible since everything is close to marshland. In Maryland, you can no longer build in an area without an established sewer system. Governor O'Malley, through executive order, has forbidden septic tanks. Houses can only be built along an approved corridor, thanks to UN Agenda 21's Smart Growth, which requires that a very large portion of our lands be given back to the wilderness. We must move into high rises, five minutes' walk or bike from work, school, and play. We no longer live in a free country; we just have an illusion of freedom.

Tilting at the UN Windmill. Lots of people like the Internet, right? Well, good news! The U.N. wants to take it over. The International Telecommunications Union, a U.N. organization, is secretly debating proposals to claim jurisdiction over the Web and take it out of America's hands. The major forces behind this push: authoritarian regimes eager to censor their domestic Internet and monitor their citizens. Russia and some Arab countries, reports the Wall Street Journal's Gordon Crovitz, want the power to read private email. Others want to tax cross-border Web traffic. And countries like China are working hard to bribe, bully or barter votes in favor of the U.N. takeover.

Tilting at the UN Windmill. Those of us who believe the United States would be best served by pulling out of the United Nations and starting up a more morally and politically serious clubhouse for morally and politically serious nations are often accused of tilting at windmills.

UN Report Pushes Global Taxes to Fight Poverty. The United Nations continues to reveal itself as the main advocate and vehicle for global government, this time by pushing for a global tax on the wealthy to finance development and other needs worldwide, including so-called climate change. The "billionaires' tax," as its been dubbed, has been proposed by the UN's World Economic Social Survey (WESS), which asserts that it will raise nearly $400 billion a year.

U.N. Prepares Arms Trade Treaty That Threatens Second Amendment Rights. The United Nations is putting the finishing touches on an Arms Trade Treaty that transcends borders and may even trample our Constitutional right to bear arms. Every indication is that the president will sign it. Like the New Start and Law of the Sea treaties before it, as well as the Kyoto Protocol and Agenda 21, the Arms Trade Treaty being finalized at the U.N. this month is one of those feel-good, can't-we-all-get-along pieces of parchment whose net effect is to accomplish little except to eat away at American sovereignty and freedom.

Soros Promotes UN Control Over Gun Ownership. George Soros is financing the fight to give the United Nations control of your guns. Through his Media Matters organization, Soros is dumping pro-UN gun control propaganda into the mainstream media to coincide with the United Nations Conference on the Arms Trade Treaty being held in New York July 2-27.

Censorship at the U.N. The United Nations never ceases to impress. As noted here recently, Thor Halvorssen of the Human Rights Foundation appeared before the U.N. Human Rights Council in Geneva on June 28. Halvorssen offered a few frank, bracing words about the state of human rights in Venezuela under Hugo Chavez, and expressly argued that Chavez's government, which is seeking a seat on the council, has no right to such a seat. For good measure, Halvorssen pointed out how disgraceful it is that another tyrannical Latin American government, that of Cuba, currently sits on the council.

The Obama administration is pushing for global arms control.
The U.N. is coming for your guns. The United Nations is deliberating over a treaty that will place comprehensive limits on the international weapons trade. The language of the draft agreement is so expansive it wouldn't take an Obama-appointed judge very long to extend the treaty to cover the domestic firearms market as well. If American jurists continue to be enamored by the popular trend to consider international precedence when making U.S. rulings, you can kiss the Second Amendment goodbye.

Congressmen urge the UN to trample the US Constitution. Today [7/2/2012] begins the most important 26-day period for our Second Amendment freedoms in recent history. That's because today, representatives from many of the world's socialist, tyrannical and dictatorial regimes will gather at United Nations headquarters in New York for a month-long meeting, in which they'll put the finishing touches on an international Arms Trade Treaty that could seriously restrict your freedom to own, purchase and carry a firearm.

Feel-Good Environmentalism at the U.N. The United Nations environment summit in Rio this week is a great example of how good intentions can thwart real progress on global problems. What's the world's biggest environmental challenge? Ask the global elites at U.N. conferences, and they're likely to answer: "global warming." [...] But let's put things in perspective. According to statistics from the emergency disasters database, deaths caused by flooding, droughts, heat waves and storms — including the effects of global warming — now account for about one-twentieth of one percent of all deaths in the developing world.

The Editor says...
There have always been floods, droughts, heat waves and storms. They are as natural as snowfall, rainbows and the morning dew. In case you haven't already guessed, I do not believe that any measurable percentage of the world's problems are the result of man-made global warming.

West must cut appetite for cars and TVs, says UN official. Rich countries will have to stop the consumer high life as part of any deal to heal the world's social and environmental stresses, a top UN official said ahead of a key development summit this week. "We don't need more cars, more TVs, more whatever" UN Development Program chief Helen Clark told AFP in an interview ahead of the Rio+20 summit starting Wednesday [6/20/2012].

TPP Secret Trade Agreement Puts International Tribunal Above U.S. Law. Wednesday morning [6/13/2012] a document was leaked that reveals President Obama's plans to surrender American sovereignty to international tribunals. This is one of several frightening provisions of the Trans-Pacific Strategic Economic Partnership (also known as the Trans-Pacific Partnership, or TPP) being negotiated in secret by American trade representatives.

Lord Monckton Blasts UN Global Agenda; Expresses Optimism. Lord Christopher Monckton told The New American in an exclusive interview Saturday that the United Nations' Rio+20 conference that concluded the day before was not about saving the planet from environmental devastation or about eradicating poverty. Instead, he said, it was about shackling the planet under a global government.

Report: UN to consider $1,300 green tax on US. Diplomats at the United Nations Conference on Sustainable Conference in Rio de Janeiro next week will consider proposals that would levy taxes on American families and energy industries in order to support international efforts to combat global warming, according to a draft agenda for the conference.

The Editor asks...
Since when does the UN have the authority to levy taxes on US citizens — or anybody else?

UN Wants to Control Internet: Censorship, Taxes, Surveillance Next. One of the fastest ways to ruin the Internet would be to put the United Nations in charge of it. Unfortunately, that is exactly what the United Nations wants. The United Nations is now pushing very hard for complete control over the Internet.

Hands off the Internet. The international bureaucrats and influence-seekers who want to hand the Internet over to the United Nations just got a major boost from the European Union. In an apparent about-face from its previous positions, the EU announced last month that it supports transferring the assigning of Internet domain names — currently handled by a California nonprofit — to an international body.

Who Should Control the Internet? The United Nations next week will hold the World Summit on the Information Society (WSIS) in Tunisia, at which national representatives will discuss strategies to bridge the "digital divide" and harness information and communication technologies.

Will the Internet become the UNTERNET? The United Nations wants control of the internet. [...] At the WSIS Preparatory Commission meeting held this past September in Geneva, the European Union joined with countries like China and Iran in rejecting the concept of not fixing what is not broken and decided that increased international supervision — maybe even international control — of the internet has become necessary.

Update:
US retains hold of the internet. The US has won its fight to stay in charge of the internet, despite opposition from many nations.

Alabama Bans U.N. Agenda 21 Sovereignty Surrender. Few have heard of Agenda 21, the U.N. plan for sustainable development that tosses property rights aside. But Alabama has, and it recently secured a victory as important as that over union power in Wisconsin.

Earth is nearing its limits, U.N. says. The Earth's environmental systems "are being pushed towards their biophysical limits," beyond which loom sudden, irreversible and potentially catastrophic changes, the United Nations Environment Program warned Wednesday [6/6/2012].

UN Plans to Expand Its Environmental Agency. The United Nations will be pushing for an expansion of its already powerful global environmental agency at this year's Earth Summit in Rio de Janeiro June 20-22. The UN Environmental Program (UNEP) will be renamed the UN Environmental Organization (UNEO) and promoted to the level of a "specialized agency," giving it more authority and allowing it to receive more funding. The ultimate purpose of the organization's restructuring is to support the Sustainable Development division of the UN, the same division that has imposed the radical and highly controversial Agenda 21 policies on nations across the globe. The expansion is a recommendation of the global sustainability panel put together by UN Secretary General Ban Ki-moon.

Internet Regulation Returns to the International Agenda. A long running debate over regulating the Internet is set to intensify in the coming months, culminating in a December meeting of a United Nations agency that some governments think should control what has been the most open and effective communications tool in history. Past attempts by countries like Russia, India and China to expand international authority — through the U.N. — over the Internet have been unsuccessful, but are expected to make a reappearance at the World Conference of International Telecommunications (WCIT) in Dubai.

The U.N. Wants to Run the Internet. Authoritarian regimes want to prohibit anonymity on the Web, making it easier to find and arrest dissidents.

U.S. officials to further discuss possible U.N. plans to takeover Internet. United States officials are expected to take further action next week to address the threat of a U.N. takeover of the Internet. The House Energy and Commerce Subcommittee on Communications and Technology is scheduled to hold a hearing Thursday [5/31/2012] to discuss the various international proposals to regulate the Internet, which are backed by Russia, China and several former Soviet satellite countries. India and Brazil are also on board with the idea of reforming the "multi-stakeholder process" that currently regulates the Internet.

UN to Regulate the Internet? House of Representatives Set to Examine Bill Next Week. The Hill is reporting that the United States House of Representatives is due to consider an international proposal that would give the United Nations more control over the Internet sometime next week. Backed by China, Russia, Brazil, India and other members of the international body, the proposal is drawing fire on both sides of the aisle in Congress, as members of the Obama administration even move to criticize it.

Lawmakers introduce measure to fight UN regulation of the Net. A bipartisan group of lawmakers on the House Energy and Commerce Committee introduced a resolution on Wednesday urging the Obama administration to oppose efforts to give the United Nations more control over the Internet. Proposals to give the UN's International Telecommunication Union (ITU) more control over the governance of the Internet could come up at a conference in Dubai in December. The move is backed by China, Russia, Brazil, India and other UN members, but is opposed by lawmakers on both sides of the aisle, as well as the Obama administration.

Will Obama Leave The US In Shambles If He Loses the Election? Just like a spoiled child who doesn't know the word "NO", I believe that if Obama loses the upcoming election, he and his communist regime will do everything in their lame-duck power to destroy America to a point of no return for the incoming President. New information on five treaties that are currently being negotiated by Hillary Clinton and other members of the regime's state department could spell grave danger to the soverignty of the United States of America.

Who's Right about Agenda 21? More and more local communities are rising up to oppose local comprehensive land use plans and local ordinances because they claim the policies contained in the documents reflect the recommendations found in the U.N.'s Agenda 21, which result in the loss of property rights and individual freedom. Consequently, proponents of professional planning and sustainable development increase their criticism of the opposition, often resorting to ridicule and personal attacks. So who's right about Agenda 21?

Arizona Bill Would Ban UN Agenda 21 Within State. As nationwide opposition against the controversial United Nations Agenda 21 "sustainability" plan continues to build, a popular bill in Arizona that analysts say looks set to pass would prohibit all state agencies and political subdivisions from implementing or supporting any portion of the UN's so-called "sustainable development" scheme. The legislation was approved by the state Senate last month and has already cleared initial hurdles in Arizona's House of Representatives.

UN: Mt. Rushmore Should be Returned to the Native Americans. Reason one million (I exaggerate, but just a tad) for the United States to withdraw from the United Nations is the UN's increasing interference in property rights, of both nations and individuals. The most recent example of this involves the Native American tribes of the United States. According to the United Nations, the United States government should return Mt. Rushmore to the Native American tribes.

Iconic site is on list of 'sacred lands' that the UN says must be returned to Native Americans.
Could the U.S. give up Mount Rushmore? A UN human rights official is urging the U.S. to turn over control of lands considered to be sacred to Native Americans, including the site of the Mount Rushmore National Memorial. James Anaya, the UN special rapporteur on the rights of indigenous peoples, unveiled his recommendations in Geneva on Friday [5/4/2012] after completing a 12-day visit to the U.S. where he met with representatives of indigenous peoples in six states.

U.N. Chief Calls for Universal Access to Abortion and Contraception for Teen Girls. United Nations Secretary-General Ban Ki-moon said Monday [4/23/2012] that millions of girls — teenagers and younger — need access to abortion and contraceptives in order to "avoid unintended pregnancies, unsafe abortions and sexually transmitted infections."

Obama's Brazilian model. [Brazilian President Dilma] Rousseff is an exemplar of the anti-American hard left that is uniting in the developing world to check U.S. power. One of the main goals of her mission to Washington is to get Mr. Obama's seal of approval for Brasilia's ambition to acquire a permanent seat on the United Nations Security Council. U.S. support for this scheme would be self-destructive as Brazil would provide a reliable vote against American interests in the world body.

UN to Investigate Human Rights of Native Americans in U.S.. In a first-ever investigation of its type, the United Nations dispatched a professor to the United States on an official visit to research and report on the living conditions of America's indigenous population.

UN to investigate plight of US Native Americans for first time. The UN is to conduct an investigation into the plight of US Native Americans, the first such mission in its history. The human rights inquiry led by James Anaya, the UN special rapporteur on indigenous peoples, is scheduled to begin on Monday [4/23/2012].

UN computer shipment to North Korean regime violates US manufacturer's ban. A United Nations agency that quietly shipped computers and computer servers to North Korea several months ago apparently was violating restrictions on the equipment's use imposed by Hewlett-Packard, the U.S.-based maker of the computers and computer servers, which bars any HP equipment from being sent to the communist dictatorship as part of its supplier agreements.

UN Human Rights Council Exposed. According to former US Ambassador to the UN, John Bolton, "there are permanent members of the Security Council and non-permanent members, but Israel is the only permanent non-member." 80% of all 2010 UN resolutions criticizing specific countries for human rights violations were directed at Israel. Only six other UN members faced human rights criticism at all, one of which was the United States.

Lies and Doublespeak of American Planning Association And How to Fight Back. The words "sustainable development" are used in nearly every federal, state, and local development plan; on nearly every federal, state, and local government web site; and in nearly every public statement on new development policies. We even had a President's Council on Sustainable Development, created by an Executive Order of Bill Clinton, with the stated purpose to impose the policies of Agenda 21 into United States law. Many serving on the Council helped write Agenda 21, including John Sawhill of the Nature Conservancy, Jay Hair of the National Wildlife Federation and Michele Perrault, international Vice President of the Sierra Club. So, the exact words "Sustainable Development" come from UN documents and its exact policies are imposed at the local level — yet, we are told by its proponents, none of these development plans have anything to do with UN policy. It's an amazing tap dance. As local residents question their county commissioners, city councilmen, mayors, state legislators, and governors about the origins of their policies, it has become routine for these "representatives of the people" to get a puzzled look on their faces and a wrinkle in their brows, as they say, "I've never heard of Agenda 21." "That's just a conspiracy theory."

Irving, Texas, Becomes Latest City to Drop ICLEI & UN Agenda 21. Officials in Irving, Texas, recently decided not to renew the city government's membership in a highly controversial organization known as ICLEI, an international group linked to the United Nations' "Agenda 21" working to quietly impose so-called "sustainable development" on local communities. Tea Party groups, conservative activists, and supporters of private property rights promptly celebrated the news as yet another victory in the battle against the UN plot.

Oust Obama. Defense Secretary Leon E. Panetta recently gave congressional testimony saying that the United States no longer needs the approval or consent of Congress before launching a major military offensive. In particular, Mr. Panetta — to the amazement of Sen. Jeff Sessions, Alabama Republican — argued that the administration needs only "international permission" to engage in war. In other words, Mr. Panetta stressed that international approval from the United Nations or NATO trumps the sovereign authority of Congress.

Betrayal by any other name. What would you call it if some Americans went overseas to the United Nations Human Rights Council and gave aid and comfort to some of the most repressive regimes on the planet? What if they falsely accused America of suppressing the vote of racial minorities because some states require voter photo ID and other measures to deter fraud? I'd call it "treason," but you also could say it's just liberal politics as usual.

NAACP Brings U.S. Election Law Before United Nations. The United Nations Human Rights Council, comprised of human rights violators like Saudi Arabia, China, and Cuba, has turned its attention to American election laws. Ironically, the council is investigating the impact of American election laws on minorities in the United States, even as some of the Council's member nations have only just recently permitted women the right to vote, and Saudi Arabia still bars women from voting completely. Fox News reports, "Officials from the NAACP are presenting their case against U.S. voter ID laws, arguing to the international diplomats that the requirements disenfranchise voters and suppress the minority vote."

UN rights council delves into US voter I.D. laws. The United Nations Human Rights Council is investigating the issue of American election laws at its gathering on minority rights in Geneva, Switzerland. This, despite the fact that some members of the council have only in the past several years allowed women to vote, and one member, Saudi Arabia, still bars women from the voting booth completely.

The Real Reason the NAACP Went to Geneva. The NAACP move is so absurd and so self-destructive that one has to wonder why the organization has done this. According to the Freedom House 2011 assessment of freedom in the world, of the 41 members of the U.N. Human Rights Council, fewer than half are free countries. Ten are ranked "Not Free," and 12 "Partly Free." Among the "Not Free" members are Angola, China, Congo, Cuba, Jordan, Russia and Saudi Arabia. Those countries' elections, if they have them, are rigged, and prominent opponents are jailed, tortured and killed. To bring a human rights complaint before countries in which there are almost no human rights is truly absurd.

NAACP Urges U.N. to Investigate U.S. for 'Racially Discriminatory Election Laws'. Charging that millions of citizens, two-fifths of them black, have been denied the right to vote because of felony convictions, the National Association for the Advancement of Colored People called on the United Nations this week to investigate America's "racially discriminatory election laws." An NAACP delegation visiting Geneva hosted a panel on the "disenfranchisement" of U.S. citizens and addressed the U.N. Human Rights Council, which is in session in the Swiss city.

Voter-ID Insanity at DOJ Going to the United Nations. The Far Left is making an unprecedented two-track move to derail states' efforts to protect the integrity of the ballot box for this November's elections. While the Department of Justice (DOJ) is blocking state efforts, liberal activists are taking this issue to the United Nations as a human rights violation. Attorney General Eric Holder is invoking Section 5 of the Voting Rights Act (VRA) as giving him the power to block Texas' voter-ID law, which simply requires that voters show that they are who they say they are before they cast a vote to influence an election outcome. This is the same argument Holder made to block South Carolina's voter-ID law, a move that has landed him in federal court.

White House doormat. [Scroll down] The latest, and one of the most ominous, examples of Mr. Obama's low regard for the Constitution came to light in congressional testimony last week by Secretary of Defense Leon E. Panetta. He told incredulous senators that the United States would only go to war in Syria if it got international permission. Wherever you come down on the advisability of America engaging militarily in yet another Middle Eastern nation, if we decide it is in our national interest to do so, it should be up to our elected representatives, not the United Nations, the Arab League or some other multilateral entity.

NAACP Asking U.N. Human Rights Council to Condemn American Voter ID Laws. Riled by state-level voting law changes that it alleges are designed to suppress "the political participation of people of color, the poor, the elderly, and the young," the NAACP is turning to the U.N. Human Rights Council for support.

Obama's Alarming View on Who Wills the US Military. Secretary of Defense Leon Panetta told a Senate committee on Wednesday that the US would "seek permission" from international organizations before committing the military to war. He also made it clear that the Obama administration does not feel it necessary to "inform" Congress or get their authorization for military action.

A Dozen Countries the United Nations Doesn't Need. How hard was it for the 193 member states of the United Nations General Assembly to vote in favor of Thursday's [2/16/2012] resolution condemning human rights violations in Syria? The violations are obvious, and horrific. ... There are the dozen states that didn't just abstain, or duck out of the room, but actively voted against the resolution.

U.N.-Believable. A footnote tucked into the president's recently unveiled budget proposal reveals the administration's intent to resume funding for the United Nations Educational, Scientific and Cultural Organization, otherwise known as UNESCO. UNESCO caused an international firestorm last year when it accepted Palestine as a member — despite the fact that Palestine is neither a state nor a full member of the U.N.

Obama Forms New "Climate" Coalition Led by UN. The Obama administration announced without congressional approval Thursday [2/16/2012] that it was forming a new international coalition overseen by the United Nations, supposedly in an effort to fight "climate change" by regulating certain types of emissions. Dubbed the "Climate and Clean Air Coalition," the emerging alliance includes the governments ruling Mexico, Bangladesh, Canada, Sweden, and Ghana.

Welcome to Sustainable City. As I walked through Washington, D.C. Ronald Reagan National Airport Terminal C on my way to the gate, a large electronic billboard caught my attention. ... Capturing the site on my iphone, the typical fare of environmentalism popped up, presenting Siemens as the leader in "sustainable development," "green buildings," "intelligent buildings," "smart grid," "sustainable urban development," "sustainable communities," "environmental care," and health care. ... Familiar with the UN Agenda 21 propaganda and its buzzwords preceded either by "sustainable" or "green" everything, in the name of saving the planet from human behavior, a clever and devious attempt to control every facet of human activity and life, I stopped immediately.

Who's right about Agenda 21? More and more local communities are rising up to oppose local comprehensive land use plans and local ordinances because they claim the policies contained in the documents reflect the recommendations found in the U.N.'s Agenda 21, which result in the loss of property rights and individual freedom. Consequently, proponents of professional planning and sustainable development increase their criticism of the opposition, often resorting to ridicule and personal attacks.

Obama Wants to Restore U.S. Funding for UNESCO, After It Admitted 'Palestine'. The Obama administration's attempt to circumvent U.S. law that bans funding for any U.N. agency that admits "Palestine" will send a "disastrous message" that U.N. bodies will continue receiving American money irrespective of their actions, a top Republican lawmaker has warned.

Obama Administration Shows Its Pro-UN Color. Late in 2011, U.S. funding for UNESCO (United Nations Educational, Scientific and Cultural Organization) was cut off because the agency had conferred legitimacy on Palestine as a nation. Two U.S. laws, one passed in 1990 and another in 1994, mandated that such funding could not be directed to UNESCO or to any UN agency that recognized statehood for the region controlled by the Palestine Liberation Organization. This action delivered a heavy blow to the UN agency that receives 22 percent of its budget from the United States. But the Obama administration has stated its intention to have America's taxpayers again be forced to pay tens of millions each year to the organization.

The Obama Doctrine: The Obama Doctrine can be summed up as the assertion that for the United States to have influence and standing on the global stage, it must first abandon its interests and its allies. ... The easiest way to spot the problem with this approach is to try and distinguish it from the UN. That's hard to do because, except during the occasional pro-forma trade dispute, there is no distinction.

White House Economic Adviser: 'We Need a Global Minimum Tax'. Gene Sperling, director of the White House's national economic council, said today [2/13/2012] at an official meeting that "we need a global minimum tax".

No 'global tax,' W.H. says. National Economic Council director Gene Sperling's comments that a "global minimum tax" is necessary to curb outsourcing have caused a stir in the blogosphere — but White House officials say there's no United Nations-imposed duty in the works.

Obama Confirms Adviser Sperling's Call for a "Global Minimum Tax". Speaking in Milwaukee on February 15, President Obama, re-ignited a controversy on "global taxation" set off by his top economic adviser during comments on the administration's budget on Monday. Gene Sperling, Assistant to the President for Economic Policy and Director of President Obama's National Economic Council (NEC), caused a commotion this week with his statement that the Obama administration favors "a global minimum tax."

Who are you going to believe? Your eyes and ears, or the White House propagandists?
Obama Confirms Adviser Sperling's Call for a "Global Minimum Tax". Gene Sperling, Assistant to the President for Economic Policy and Director of President Obama's National Economic Council (NEC), caused a commotion this week with his statement that the Obama administration favors "a global minimum tax." Sperling's comment, captured by C-SPAN cameras, was soon spread across the blogosphere in numerous YouTube postings.

The United Nations' Rogue Agency. With the admission of Palestine, UNESCO shows again it is over-politicized and running out of control. The U.S. should head for the exit.

'Agenders' and Right Wing Conspirators. The United Nations cannot govern us because it contradicts our historic system of freedom and self-governance. Government is not the source of our individual rights; rights cannot be given or denied to us by a benevolent government in the interest of the community. Our Creator is the source of our unalienable rights.

U.N. leaders consider world tax to fund social protection, services. The focus of the forum was "universal access to basic social protection and social services." "No one should live below a certain income level," stated Milos Koterec, President of the Economic and Social Council of the United Nations. "Everyone should be able to access at least basic health services, primary education, housing, water, sanitation and other essential services." These services were presented at the forum as basic human rights equal to the rights of "life, liberty and the pursuit of happiness."

A World Tax? Keep Your Eyes on the Internet. [Scroll down] The internet is the perfect vehicle to fund such programs because it's global in nature and it's easily accessible to anyone with a computer or a smartphone no matter where he or she lives. What does that mean in practical terms? It means that we are moving toward a global government with teeth. By that I mean a global political body with taxing and enforcement powers. As things stand now, the U.N. is a paper tiger because it depends on the goodwill of governments around the world to operate, but if a global governing authority had direct access to a substantial tax revenue stream, things would change with lightning speed.

Obama Poised to Betray America Through 4 UN Treaties. Dick Morris is sounding the alarm about four uttely heinous UN treaties that are currently under consideration by the Obama administration that would surrender our sovereignty, cede power to go to war to the UN, enact gun control, and tell us how to raise our children, if ratified by the Senate. These are treaties that the Bush administration and even Clinton administration would never have considered, but as the most radical administration in American history enters it's last year, all stars are in alignment for it to happen.

UN Calls for 'Gay Spring' in Africa. The United Nations may soon impose economic sanctions and halt aid to Africa if countries on the continent continue to oppose the legalization of gay marriage.

Drug Raid at UN Headquarters. Last week, New York police officers seized a bag containing 16kg. (35.15lb) of cocaine at the United Nations headquarters. According to the BBC News, "the drugs were in a bag printed with a version of the UN symbol which arrived at the organization's mailroom, setting off a security alert."

How Obama Betrays Martin Luther's King's Dream. [Scroll down] Susan Rice, America's Ambassador to the United Nations, has kowtowed to dictators, promised that America's joining the disgraceful UN Human Rights Council would lead to its reform and the end of its incessant America and Israel-bashing (it hasn't; there was a reason George W. Bush boycotted the council), has missed important meetings and votes, and has heartily criticized our ally, Israel, at that forum of hate. She has been, according to a former spokesman for four previous U.S. Ambassadors at the UN, wildly inattentive at the United Nations because she has been devoting time to the social scene of Washington and the White House. Was she chosen for the content of her character or the color of her skin?

Even the Warmists Don't Believe In Global Warming. The Durban conference was the seventeenth conference of its kind. They have been held annually since 1995 in places such as Geneva (in July 1996) and Bali (in December 2007). Don't hold your breath for one to be held in Newark, New Jersey, or Fargo, North Dakota. The meeting in Durban provided an opportunity for Progressives to make their latest argument that ordinary people should surrender their freedom and hand all money and power over to unelected, unaccountable "experts" like, well, the people at the conference. This is, of course, in order to "save the planet" from "climate change".

UN Calls For Eco-Fascist World Government At Durban Summit. Bureaucrats at the UN Climate Summit in Durban have outlined plans for the most draconian, harebrained and madcap climate change treaty ever produced, under which the west would be mandated to respect "the rights of Mother Earth" by paying a "climate debt" which would act as a slush fund for bankrolling an all-powerful world government.

Climate Corruption 101. Never mind where you might stand on the question of global warming, global cooling, climate change or plain old weather. If there's one constant to this entire climate debate, it is that in the name of "climate," the United Nations wishes to regulate and tax the economy of the planet — stripping resources from the most productive economies to hand them out as assorted UN bureaucrats deem fit.

Climate Change Debate is about Global Wealth Redistribution. Conferees at the climate talks in Durban, South Africa feared that they would close the conference with no deal, but on Sunday [12/11/2011] in the waning moments after a heated debate, they were able to stitch together a package that the chair said "saved tomorrow, today." That's lofty rhetoric for an arrangement that is less about preventing global warming than it is about redistributing global wealth.

U.N. Floats Global 'Climate Court' to Enforce Emissions Rules. United Nations climate envoys have proposed the creation of a global "climate court" that would be responsible for enforcing a sprawling set of rules requiring developed countries to cut emissions while compensating poorer countries in order to pay off a "historical climate debt." The proposals are contained in a draft document pieced together for the climate conference in Durban, South Africa.

The NAACP Sics the UN on Our Sovereign States. The National Association for the Advancement of Colored People (NAACP) is petitioning the United Nations to investigate alleged disenfranchisement of black and Latino voters in anticipation of next year's presidential election. According to the NAACP, ... more than a dozen states have passed laws aimed at unfairly restricting the constitutionally protected right of black and Hispanic voters to vote.

NAACP Taking Complaints About U.S. Voter Laws to United Nations. The NAACP is calling on the United Nations to intervene as it claims state governments are colluding to "block the vote" for minority communities ahead of the 2012 election — a charge those governments vehemently deny. The nation's biggest civil rights organization this week released a report that claimed a raft of new voting laws at the state level would disenfranchise minority voters. The report said 14 states passed 25 measures "designed to restrict or limit the ballot access of voters of color."

NAACP taking grievances against voter ID laws to the UN, claiming discrimination. The National Association for the Advancement of Colored People (NAACP) is taking its racial grievances against America to the United Nations this weekend. On Saturday [12/10/2011] the NAACP will offer evidence of what it considers a coordinated effort to disenfranchise black and Latino voters in a racist attempt to limit minority voting.

Senator Inhofe Dances On the Climate Change Grave. The United Nations is holding a "climate change" conference in Durban, even as the last shreds of credibility are being sandblasted away from the climate change movement by the latest ClimateGate emails. Senator Jim Inhofe (R-OK), who attended a previous climate change summit as a skeptic, decided to send a video message to Durban, in which he gets in their faces and taunts them.

More U.N. Insanity Paid For By U.S. Taxpayers. One year after U.S. Secretary of State Hillary Clinton pledged at least $100 billion annually by 2020 to help Third World countries address climate problems attributed to America and capitalism at the U.N.-sponsored World Climate-Change Summit in Copenhagen, the Cancun meeting that followed focused primarily upon formulating a plan of action to implement that commitment. This commenced literally with a vengeance, producing the design for a new $100 billion per year "Green Climate Fund" (GCF). Its purpose is nothing less than to fundamentally transform the global economy ... beginning with ours.

Obama envoy: Green Climate Fund coming 'rapidly'. President Obama's special envoy to the United Nations Climate Change conference said that a Green Climate Fund, reportedly funded in part through a financial currency tax that would hit Americans hardest, is "rapidly" approaching. "We are in the international context going to be, hopefully, and I believe that this will be the case, rapidly setting up the Green Fund," Todd Stern, Special Envoy for Climate Change, told reporters at the UN conference. "We will also be working hard to ramp up the funding that is supposed to reach a 100 billion dollars a year by 2020."

Report: Obama, UN to tax US for Green Climate Fund. President Obama's team of negotiators at the United Nations Climate Change Conference may agree to a tax on foreign currency transactions, designed to pay for a "Green Climate Fund," that would fall disproportionately on American travellers and businesses, according to a group attending the conference that is skeptical of the UN position on global warming.

Let's Impose an International Tax to Combat Climate Change! Evidence abounds of government incompetence in forcing the world's populace to comply with ill-thought out standards for a somehow climate-change-free planet, and the general impotence and corruption of the United Nations is certainly no secret. So, here's a great idea: why not tax internationl travelers to contribute to a global 'green climate fund'? The tax burden would, of course, fall disproportionately on Americans, who do the most international travel, and would not apply to transactions within the debt-crisis-wracked eurozone — but that's okay, us [sic] Americans have money to burn, right?

UN Official Questions Biofuel Commitment. The warmist fraud continues to unravel, with the impracticality of the biofuels program impressing even an important United Nations official. He is making a point that skeptics have reiterated for years now, but for the UN, any recognition of reality is to be applauded, no matter how tardy.

Renewable Power Trumps Fossils for First Time as UN Talks Stall. Renewable energy is surpassing fossil fuels for the first time in new power-plant investments, shaking off setbacks from the financial crisis and an impasse at the United Nations global warming talks. Electricity from the wind, sun, waves and biomass attracted $187 billion last year compared with $157 billion for natural gas, oil and coal, according to calculations by Bloomberg New Energy Finance using the most recent data. Accelerating installations of solar and wind power led to lower equipment prices, making clean energy more competitive with coal.

Goodbye UNESCO. A trigger provision, buried in U.S. laws since 1990, quietly took effect at the end of October. The U.S. taxpayers' annual donation of 22 percent to the United Nations Educational Scientific and Cultural Organization's budget was summarily terminated when UNESCO voted 107 to 14 (with 52 abstentions) to approve full membership for Palestine. The cutoff of U.S. handouts includes not only our major annual gift to UNESCO of $80 million, but also some extra-budgetary donations of $2 million and $3 million a year for special projects, mostly in Iraq. The Palestinians can now request admission to three other U.N. agencies and, if accepted, U.S. law will require us to terminate our handouts to those agencies, too.

What is Agenda 21? [Scroll down] From the report produced by the United Nations Conference on Human Settlements, which was the predecessor to Agenda 21: "Land ... cannot be treated as an ordinary asset, controlled by individuals and subject to the pressures and inefficiencies of the market. Private land ownership is also a principal instrument of accumulation and concentration of wealth and therefore contributes to social injustice.... Public control of land use is therefore indispensable...." Our Constitution explicitly protects our private property rights. No wonder President Clinton signed it [the "President's Council on Sustainable Development"] into law without consent from Congress. In fact, those who drafted the plan considered it to be so toxic that they warned proponents not to use the term Agenda 21.

UN Secretary General Calls for $100B Green Climate Fund. United Nations Secretary General Ban Ki-moon called on world leaders Monday to collaborate in financing a multibillion-dollar fund to combat global warming. Speaking at a conference in Bangladesh's capital, Mr. Ban said global efforts must be taken to establish a $100 billion Green Climate Fund dedicated to taming the "damaging" effects of climate change, and that the global economic crisis should not hinder such efforts.

UN chief says it's time to cough up climate cash. United Nations Secretary-General Ban Ki-moon on Monday [11/14/2011] urged governments in rich nations to work around troubled economic times and scale up donations to a global climate change fund that is at risk of becoming an "empty shell".

An ideology that undermines America. Transnationals are not so much anti-democratic as post-democratic. They believe that in the 21st century democracy should be updated to imply the enforcement of "universal principles of human rights" that they, of course, will enumerate and define. They talk not of surrendering sovereignty but of "sharing" it "collectively." The result, they assert, will be a new age of "global authority" that will produce "global justice" under "global rule of law." Indeed, since the end of the Cold War transnational progressives have been establishing international laws — really supranational laws — that no voters can repeal or even amend.

Rubio Moves to Reform U.N. Florida senator Marco Rubio is introducing legislation today [11/10/2011] to reform the United Nations. The United States gives at least 22 percent of the U.N. budget, and consequently has much influence over the multinational organization. Rubio's bill is a companion to Rep. Ileana Ros-Lehtinen's House bill, and would, according to the senator's office, accomplish the following things...

Prohibit Federal Support for a New U.N. Building Until the U.N. Provides Detailed Information. Negotiations to sell or otherwise transfer the Robert Moses Playground property in New York City to the United Nations for the construction of a second tower have proceeded quickly over the summer, and a final deal appears to be imminent. Regrettably, these negotiations have not included robust congressional consultation even though the associated costs of the project for the U.S. federal government, which pays 22 percent of the U.N. regular budget, would likely be significant.

Teaching Your Child to be a Dictator's Lackey. Imagine your child's school teaching him how wonderful dictatorships are by having him and his friends model their very own group of dictatorships as part of their education. Like so many other Orwellian nightmares in the American educational system, this one is very real and takes place through the Model UN program. The Model UN program teaches American students that global government is better than national government and that the corrupt kleptocracy on Turtle Bay is the ideal state of mankind. Finally it trains them to put American presidents on trial for violating United Nations laws.

The U.N. suicide vest. The Palestinian Authority's bid for U.N. recognition has substantial downsides, including wrecking the peace process and increasing regional instability. The upside is that it could drive the United States out of the United Nations. On Monday [10/31/2011], the United Nations Educational, Scientific and Cultural Organization (UNESCO) voted overwhelmingly to admit the Palestinian Authority to full membership. This step triggered an immediate cutoff of U.S. funds to the organization, which total around $70 million annually.

Global Warming: An Obituary. The October 25th edition of The Wall Street Journal sports an editorial titled "The Post-Global Warming World" commenting on the fact that the 17th annual United Nations-sponsored climate change conference in November is likely to be an even greater flop than recent ones. Few, if any, nations will sign on to the huge hoax of reducing carbon dioxide (CO2) to save the world from burning to a crisp. Considering the long years of media-driven drivel about global warming, the hoax should have been over by now, given the exposure in 2009 of thousands of emails between the UN Intergovernmental Panel on Climate Change (IPCC) conspirators and growing body of evidence that everything they asserted was a great steaming pile of horse manure. If there was ever a reason for the U.S. to stop funding the U.N., this is it.

$76 Trillion: UN's Cost of "Going Green" Soars. This is perhaps the most arrogant, "we know what's good for the world," drivel that has ever come out of the UN. And they have done plenty. It is also the most expensive. Just two years ago the "going green" global cost could be achieved for around $600 billion a year over the next decade. That cost appears to have more than tripled.

Grievance-Mongering Leaders Demand Slave Reparations at the United Nations. The reparations racket has been around for years. It has attracted a motley bunch — from jive-talking hustlers to erudite professors of academic disciplines like African-American history and post-colonial studies. But only in recent years have whole countries joined the reparations racket. Besides having large black populations, they share common traits: leftist leaders, ailing economies, and a host of anti-Western grievances propagated by leftist elites.

UN Whistleblowers Get Salaries for Silence. Many wonder if the United Nations is corrupt. They hear many stories of allegations of corruptions, but rarely do whistleblowers speak on-the-record about these allegations. Well, that's because the United Nations uses American taxpayers' dollars to pay the salaries of whistleblowers. Here's the strategy[: A]ll UN employees are required to sign non-disclosure forms when they get hired by the U.N. They are offered a generous salary with benefits. They can't get fired for incompetence, but they can get fired for whistle-blowing on the UN.

Exposing UN Congo Corruption 'On-the-Record'. A United Nations' official terminated from his job for trying to wipe out corruption from the UN mission in Congo sent an 'on-the-record' email to the Dallas Blog. He provides some interesting tidbits of information about Kosovo as well.

Evict the United Nations. And now, the U.N. is about to expand its headquarters building at a cost of about $475 million. Naturally, if they're building in New York, the cost will greatly exceed the estimates. But before the new building goes up, let us test the assumption that the United States must host this party indefinitely.

NYC Mayor Bloomberg: 'Government's Highest Duty' Is to Push 'Healthy' Foods. [Scroll down] Shortly after the address, the UN adopted a political declaration on the prevention and control of non-communicable diseases. ... The political declaration also touches upon taxation of unhealthy food and intervening in it's [sic] production itself to promote, "the development and initiate the implementation, as appropriate, of cost-effective interventions to reduce salt, sugar and saturated fats, and eliminate industrially produced trans-fats in foods, including through discouraging the production and marketing of foods that contribute to unhealthy diet."

Carbon-Credits System Tarnished by WikiLeaks Revelation. As the world gears up for the next round of United Nations climate-change negotiations in Durban, South Africa, in November, evidence has emerged that a cornerstone of the existing global climate agreement, the international greenhouse-gas emissions-trading system, is seriously flawed.

US taxpayers could pay for new UN building. The United Nations is in the final stages of obtaining approval to build a new high-rise on the Robert Moses Playground, located near the U.N. headquarters in New York City. The building, excluding the price of land and security, is estimated to cost $350 to $475 million and would provide a home for U.N. offices that are currently dispersed throughout New York.

Prohibit Federal Support for a New U.N. Building. Constructing a second U.N. building would likely have significant financial implications for the U.S. federal government, which pays 22 percent of the U.N. regular budget and would likely shoulder increased payments to the U.N. in future years resulting from costs associated with the project. The Administration and Congress should demand that the U.N. provide justification for the proposed construction of a second U.N. tower and explain why the current U.N. offices are inadequate.

Isn't it time for the UN to leave US soil? The United Nations in New York City, USA has graciously opened its assembly to any member nation to express its thoughts about serious concerns facing the world. I highly doubt that members of the UN had in mind when the body was formed in 1945, that the podium to discuss world topics would include diatribes against the US at its allies.

Open Government Partnership and United Nations Agenda 21. Adopted, signed into law, and implemented through non-governmental organizations "sub-rosa" work since 1992, UN Agenda 21 grows at the local, state, and federal levels with new rules, regulations, executive orders, private-public partnerships, and declarations, accelerating the United States' inclusion into one world government.

UN diplomats gone wild in NYC. Rwandan President Paul Kagame is living in luxury during the United Nations General Assembly, staying in the $16,000-per-night presidential suite at the Mandarin Oriental. Kagame's rooms have "panoramic views of Central Park, the Hudson River and the Manhattan skyline," says the hotel's Web site. Rwanda's average annual income last year was $1,150, according to the World Bank.

No to the Palestinian 'State'. There is no such thing as a Palestinian state, and the United Nations can't conjure one into existence. That apparently won't stop the Palestinians from seeking recognition as a state in the Security Council this week. We should veto the Palestinian effort without hesitation.

An Accountable U.N. At Long Last? The United Nations has long been a font of waste, corruption, fraud and anti-Americanism. Always in need of "reform," it's never happened. But a House bill may change that, and it can't pass soon enough.

U.N. Group Calls for Abortion as Human Right for 10-Year-Olds. Y-PEER, a youth initiative of the United Nations Population Fund (UNFPA), says "more needs to be done to ensure young people's sexual and reproductive rights" — especially "the right to choose," a reference to abortion. The statement also says all young people globally have the "right to confidentiality" and the right to "be free from judgment."

State Department Funds Anti-American Propaganda. While other U.S. departments and agencies waste tax payer money, no other department does it with quite the counter-productive flair of our friends in Foggy Bottom. First, there was the issue of U.S. money going to pay salaries to jailed Palestinian terrorists, including those who murdered Americans. Now, it turns out that the State Department is paying money to the United Nations Development Program...

Democrats Oppose Obama-U.N. Gun Control Treaty. Twelve Democratic senators have joined 45 Republicans in a fast growing movement to halt progress on an Obama-backed United Nations effort that could bring international gun control into the United States and slap America's gun owners with severe restrictions.

The UN Wildlands Project. The UN issued several policies at the 1992 Earth Summit, one of which was the Convention on Biological Diversity (CBD). Compliance with this UN policy is being driven and managed by the Wildlands Network which shares the same goals as the CBD; to set aside half the land in America for animals.

The Non-Energy Generating Department of Energy and the Smart Grid. The Department of Energy does not generate directly or indirectly one watt of electricity. ... The DOE seems preoccupied with "establishing the safety, reliability, and efficiency of energy supplies in a global marketplace." There seems to be almost an obsession with coordination with the global environment and Agenda 21 stewardship as if we already live under a one-world government of the United Nations.

Global Warming Panel to Earth's Rescue, on the UN's Dime? Hundreds of United Nations global warming scientists have just met in France via Earth-destroying air travel, ironically at a time of unseasonably cool temperatures across France, to once again justify their funding. Apparently the overall temperature of Earth is set to maybe rise 4 degrees Fahrenheit within the next hundred years. And you can bet that when climate scientists get together to discuss "solutions" to these hypothetical "problems," it means they're going to come up with ways to make humans suffer for being jerks to the planet.

The Radical Education Elite and Agenda 21. Americans and the American news media are all but ignoring the shenanigans by those who worship at the altar of the United Nations. ... Presidents as far back as George H.W. Bush have signed Executive Orders allowing implementation of Agenda 21's programs. In fact, the U.N. has ignored the federal government and through its Agenda 21 International Council of Local Environmental Initiative and made deals with local governments numbering upwards of 600 cities, towns and villages.

The Global Warming Hoax: How Soon We Forget. While Americans are rightfully focused on the unemployment situation and the debt limit negotiations, we've pretty much forgotten about global warming as an issue ever since Obama failed to pass his Cap & Trade bill. As a result, we're becoming complacent once again about the huge threat we face from the progressives' attempts to control the world's energy industry based on the greatest scientific hoax in human history. In reality, however, nothing's changed, as Obama is still imposing his will on us through the EPA's regulation of CO2. This hoax still threatens our economy, while advancing the UN's "Agenda 21" in more ways than one. It's also the foundation of Obama's "green jobs" approach to the unemployment issue, since the very concept of "green jobs" is just as bogus as the idea of a "carbon footprint."

There are numerious places to cut federal spending. Leaving the United Nations would save the United States a lot of money and grief. The U.S., while funding about a quarter of all U.N. operations, has seen its influence steadily erode as dictatorships have increasingly been placed in charge of high-profile U.N. committees.

N. Korea an absurd pick for U.N. disarmament group. Is there any greater nuclear threat to the world than North Korea? With a dozen nuclear weapons and a vile record of proliferation, this rogue state and its lunatic leader can be relied upon for just one thing: making terrible trouble for its neighbors and everyone else.

UN environmental initiative is the Tea Party's new nightmare. Tea Party activists have started to sound the alarms over a United Nations initiative most Americans have never heard of, but one that many in the movement see as one of the greatest threats to America's sovereignty. ... Agenda 21 is a UN initiative that 178 governments at the United Nations Conference on Environment and Development (UNCED) adopted in 1992 under the auspices of saving the environment.

The U.N.'s climate of desperation. As the United Nations wrapped up its recent climate conference in Bonn, talks organizer Christiana Figueres proclaimed that climate change is the "the most important negotiation the world has ever faced." Faced with real problems — financial meltdowns, unemployment, war and genuine human suffering — the world no longer agrees.

United Nations gun grabbers at it again. The despots, thugs, scoundrels, punks and various crooks at the United Nations have it all wrong again. Imagine that. Though the details have yet to be released, the U.N. wants to try to force strict small-arms control on the world under the pretense (lie) that such restrictions will make it tougher for terrorists and other assorted subhuman scum to get their hands on guns. How is that working in Mexico, boys and girls?

UN insane asylum. The United Nations this week tabbed North Korea to head its Conference on Disarmament. That would be the North Korea that:
* Was building a nuclear site in Syria before Israeli warplanes put an end to it.
* Was caught by the US Navy smuggling missile parts to Burma's junta.
* Is in constant violation of UN mandates regarding its own nuke program — and was accused by the UN in May of trading missile know-how with Iran.

U.N. Charter Was Flown From Nat'l Archives, With Its Own Parachute. [Scroll down] The U.S. National Archives, however, did not answer questions sent by e-mail to its press office to confirm Ban's statements. Specifically, CNSNews.com asked if the loan of the document was a request by the U.N. or a gesture on the part of the United States. Questions about who paid for the transporting of the document to New York and back to Washington, D.C., and the cost of that transportation also went unanswered.

U.N. climate propaganda exposed. The entire world will soon depend on renewable energy so governments ought to start subsidizing these industries immediately. So said the United Nations Intergovernmental Panel on Climate Change (IPCC) in a report released Tuesday [6/14/2011].

We Must Pay Our U.N. Bills, Obama Administration Insists. Amid continuing calls to reduce U.S. funding of the United Nations, two senior Obama administration officials this week gave speeches asserting the importance of full — and fully-paid up — engagement with the world body.

U.N. Agreement Should Have All Gun Owners Up In Arms. It may not come as surprising news to many of you that the United Nations doesn't approve of our Second Amendment. Not one bit. And they very much hope to do something about it with help from some powerful American friends. Under the guise of a proposed global "Small Arms Treaty" premised to fight "terrorism", "insurgency" and "international crime syndicates" you can be quite certain that an even more insidious threat is being targeted — our Constitutional right for law-abiding citizens to own and bear arms.

U.N. Report Declares Internet Access a Human Right. A United Nations report said Friday [6/3/2011] that disconnecting people from the internet is a human rights violation and against international law. The report railed against France and the United Kingdom, which have passed laws to remove accused copyright scofflaws from the internet. It also protested blocking internet access to quell political unrest.

U.N.-Backed Summit Seeks 'Social Justice' for African Descendants. The event is part of the United Nations-declared International Year of African Descendants. "This International Year of African Descendants provides an opportunity to right historical wrongs: in health, education, poverty, land rights, jobs, and financial credit for economic and social progress," said Pan American Health Organization Director Mirta Roses in a news release.

Time to dump the U.N.. Usama bin Laden did not attack the United Nations; he attacked the United States. What the U.S. did to bring bin Laden to justice is none of the U.N.'s business. This jaw-jacking from the U.N. crowd is just more of the same useless noise that has been flowing from the obsolete institution for several years.

The UN 'disappears' 50 million climate refugees, then botches the cover-up. Oh boy, government idiocy at its finest. Not only is the original claim bogus, the attempts to disappear it are hilariously inept. Apparently, they've never heard of Google Cache at the UN. Rather than simply saying "we were wrong," they've now brought even more distrust onto the UN.

Earth Day and Environmental Insanity: Anyone who has been paying any attention to the environmental movement has got to have concluded it is insane. ... In news from the United Nations — a misnomer if ever there was one — Bolivia is proposing a UN treaty that will give "Mother Earth" the same rights as accorded to human beings. It has just passed a domestic law that grants these rights to bugs, trees, and all other natural things in its own country.

Human Rights for Mother Nature Coming to the UN? As part of its initiative "to end capitalism" and realize "harmony" with Mother Earth, Bolivia will propose a U.N. treaty this month for the protection of what it calls nature's fundamental rights. A "Ministry of Mother Earth" would be created, with an ombudsman to hear nature's cries and translate them for bureaucrats.

U.N. Prepares to Debate Whether 'Mother Earth' Deserves Human Rights Status. United Nations diplomats on Wednesday [4/20/2011] will set aside pressing issues of international peace and security to devote an entire day debating the rights of "Mother Earth." A bloc of mostly socialist governments lead by Bolivia have put the issue on the General Assembly agenda to discuss the creation of a U.N. treaty that would grant the same rights found in the Universal Declaration of Human Rights to Mother Nature.

Mother Earth goes wild at the UN. Bolivia's madcap coca farmer-cum-president, Evo Morales, is leading the charge to create a UN treaty that would give our planet, that mass of molten lava and rock, as well as all of the creatures that inhabit it, the same rights as humans. This is the same Morales who believes that "the central enemy of Mother Earth is capitalism," just in case you were wondering. Certainly, capitalism seems to be the enemy of Morales' vision for Bolivia, which is among the poorest countries in South America, with more than half of its population living in poverty, according to a dire UNICEF assessment that also says the Morales government "restricts the exercise of human rights."

The UN and One World Worship. Bolivia's president Morales, having achieved the establishment of pantheism as his country's official religion, has taken his religious agenda to the UN, which has acceded to his wishes by establishing April 22 as Mother Earth Day, thus establishing the worship of the goddess Pachamama (known as Gaia in other circles). Normally, one would react to a UN resolution giving goddess Mother Earth the same rights as humans with a yawn. But Morales, his Green supporters, fellow globalists, believers in liberation theology and the Marxist dialectic take the resolution quite seriously, as the UN is seen as an international vehicle for accomplishing goals long in the making.

Van Jones Helping to Push 'Human' Rights for Mother Nature. Van Jones, the Obama administration's controversial former "green jobs czar," has found a new calling: helping to push for a new, global architecture of environmental law that would give Mother Nature the same rights status as humans. The new movement is almost certain to be showcased at a U.N.-sponsored global summit on "sustainable development" to take place in Rio de Janeiro in May 2012, when similar issues of "global environmental governance" are a major focus of attention.

Did someone mention Van Jones?

Membership in the United Nations is ... Unthinkable. [Scroll down] The first problem with that is that the U.N. doesn't have the first clue as to how to "march in" on anybody. Have you noticed how effective they are not in solving ANY of the world's problems? They know they're an impotent force and even worse when they can't use our power. Any time there is a tragic event at some point on the planet, the first one in is unfailingly the United States. Even with Obama as POTUS with all his reluctance to help anyone except in those places where there is a majority population of Islams. In the wake of 9/11 he was quoted by the press as saying of them that "I will stand with them should the political winds shift in an ugly direction." (From "Audacity of Hope.")

US demanding gay rights support at UN body. The Obama administration will introduce its first statement calling for the United Nations' top human rights body to combat discrimination against gays and lesbians around the world, completing a U.S. reversal from years of ambiguity on the subject during the presidency of George W. Bush.

Israel threatens unilateral steps if UN recognizes Palestinian state. Israel informed the 15 members of the United Nations Security Council last week, as well as several other prominent European Union countries, that if the Palestinian Authority persists in its efforts to gain recognition in September as a state within the 1967 borders, Israel would respond with a series of unilateral steps of its own.

The Organization of the Islamic Conference Propaganda Machine. Pavlov had a dog. The Organization of the Islamic Conference has the United Nations and President Obama. The OIC, the largest voting bloc at the UN, has an agenda. Their agenda is a one-two punch. First, don't say anything negative about Islam. Second, blame all of the world's problems on Israel, specifically the Jewish communities called "settlements." The UN's and Obama's conditional responses to all things Islam and Israel are helping throw the OIC's one-two punch at the world hard and fast.

War by Global Committee. America's founders gave the powers of Commander in Chief to the President because they knew that war had to be prosecuted with determination, discipline and the national interest foremost in mind. By marked contrast, the use of force against Libya looks like the first war by global committee, with all the limitations and greater risk that entails.

Does Obama Think His Oath Is to the United Nations? After weeks of failing to provide even strong rhetorical support for the uprising in Libya — an uprising in pursuit of liberty and against a United States adversary — President Obama has now apparently decided that he has sufficient international authorization to act. This begs two questions: Where is Congress on Libya? And does President Obama think he took an oath to the United States Constitution, or to the United Nations Charter?

Congress, not the U.N., should authorize force against Libya.
Obama's illegal war. With Thursday's passage of United Natons Security Council resolution 1973, the United States is set to go to war against Libya. Removing Moammar Gadhafi from power would probably advance the cause of freedom, but the United Nations has no legal authority to take a step of this magnitude. By bowing to the will of the U.N. Security Council, President Obama is diluting the sovereign power of the United States.

Agenda 21 and the Death Knell of Liberty. [Scroll down] Why do you think the Democratic (and many Republican) political hacks on Capitol Hill are so dismissive of "we the people"? They are essentially putting on a "dog and pony show" for public consumption, while the final pieces for America's defeat are slid into place. To a great extent the Globalists own the mass media, the entertainment industry, and the Judicial, Executive, and Legislative branches of government. Why should they worry? Already, several generations have been indoctrinated, via our school systems, to value globalization and "social justice," over personal responsibility and free enterprise. They have been repeatedly sold the idea that they should, "Think globally, act locally."

Obama takes a stand on Libya. Obama has finally taken a stand on the ongoing carnage in Libya. After nine days of silence, he has finally, and forcefully, condemned the "outrageous" crackdown by Libyan security forces on protesters. He also said that a unified international response was forming. Whew. Translation: America will stand firmly behind the United Nations.

Has Anyone Told Ambassador Rice There's a Crisis In Libya? When President Obama made Susan Rice his ambassador to the United Nations, in 2009, he thought the job was so vital that he gave her cabinet rank. Now, here we are, with the Arab world in tumult, two dictators gone in the past two months, and the UN aflutter over scenes of Libyans dying this past week by the hundreds, or thousands, in outright rebellion against a raving Moammar Gaddafi — who has been vowing to "fight to the last drop of blood." ... Where's Susan Rice, the cabinet rank ambassador of the free world's superpower?

Nations United Against Israel. Egypt, Bahrain and Yemen are in turmoil. In Libya, Colonel Moammar Gadhafi is using mercenaries to slaughter peaceful protestors. Hezbollah is staging a slow-motion coup in Lebanon. Iran's rulers are executing dissidents daily, developing nuclear weapons and sending warships through Suez. The response of the United Nations to these many threats to global peace and security? Condemn Israel! Is there anything else the UN does as often or as well?

A Snapshot of Today's United Nations. Here are some vital statistics on the current crisis in the Arab and Muslim world and the role not being played by the "global leader," the United Nations.

What Would We Do without the UN? You might expect that Obama's ambassador to the UN, Susan Rice, would be working overtime to enhance the chances that Egypt's uprising will become a portal to democracy, rather than a replay of Iran. You'd be wrong.

UN-seemly Bam slam. Ambassador Susan Rice blocked a Security Council resolution condemning Israeli settlements, using her very first veto to do so. It was the right vote. Too bad she went and opened her mouth right after. Visibly angry at having to wield a veto at all, Rice unleashed a vile attack on Israel, using language far worse than anything in the resolution itself. She growled about the "folly and illegitimacy" of Israel's settlement construction. She blamed the Jewish state for "devastat[ing] trust ... and threaten[ing] the prospects for peace."

U.N.derserved. The administration is embarking on a campaign to promote the U.N. and America's role in the organization. This is exactly the opposite of what it should be doing.

Most recipients of US aid vote against us at the UN. U.S. aid should not go to countries that oppose American positions at the United Nations more often than not, according to one of the hundreds of proposed budget-cutting amendments currently being considered by the U.S. House of Representatives. Whether successful or not, the measure put forward by Texan Republican Rep. Louie Gohmert draws attention to the issue of how many countries, including most major recipients of U.S. foreign assistance, regularly take positions at the U.N. at odds with those of the U.S.

The UN has Become a Clear Danger to Our Energy Future and National Sovereignty. [Christiana] Figueres is not blind to the fact that at least in the western world people are becoming more skeptical of the threat posed by global warming. The vast majority of people do not understand the science that disputes and crushes man-made global warming theory but they can tell when they're being hoodwinked. In 2006 a Gallup poll showed 30 percent of Americans thought that global warming in the news was "generally exaggerated." Today that number has increased significantly to 48 percent and shows signs of continuing an upward trend. To combat this kind of thinking the UN and particularly Ms. Figueres are making more and more alarming statements about how global warming is destroying the world now, and not some time in the distant future.

Could the UN Tax Your Airplane Seat? Almost certainly because of the failure of US Congress to enact carbon legislation and the debacle in Copenhagen last December, the proposal from [Nicholas] Stern is for the UN to be the revenue raiser. The UN has been mentioned for the first time as the vehicle to raise $100 billion per year to fight climate change. This departure from past plans is so outlandish, so far out of any authority that the UN has ever claimed on member states, that it would lend credibility to the pronouncements of not just right-wing radio talk show hosts but the most radical phobias of world governance expressed by fringe groups.

Obama's Justice Department visual acceleration to global governance. Some might recall the Internet controversy that took place last July when the U.S. Department of Justice removed the American flag header from its website, replacing "Old Glory" with a solid black background. In conjunction with the stripping of the stars and stripes, controversy increased with the inclusion of a quote placed on nearly every page of the DOJ web site that reads "The common law is the will of Mankind issuing from the Life of the People." Based on the number of e-mails I've received over the last few days, it is apparent that many seem to be just now learning of the USDOJ web site makeover.

A Miasma of Corruption: The United Nations at 50. UN budgets are shrouded in secrecy, and the actual performance of the myriad bureaucracies is translucent, if not opaque. There is no reliable way to determine whether the various and often competing specialized agencies (at least two dozen UN agencies are involved in food and agricultural policy) are doing their jobs, and many UN activities, even if they are of some value, can be carried out better and more efficiently by other groups. Other activities should not be undertaken at all.

Time to Stop UN Relief Funding. The House Foreign Affairs Committee will hold hearing today on "The United Nations: Urgent Problems that Need Congressional Action," including recommendations to stop funding the UN Relief and Works Agency (UNRWA). Perhaps now that the U.S. debt crossed 14 Trillion dollars, would be a good time to stop funding this corrupt organization that fosters the Palestinian "refugees" problem and funds Hamas.

The Fierce Urgency of UNRWA. UNRWA [the UN Relief and Works Agency] is a "temporary agency" currently in its 62nd year. It was established in 1949 to serve approximately 700,000 Arabs and more than 800,000 Jews who became refugees as a result of the Arab war against Israel. In 1952, UNRWA stopped assisting Jewish refugees, since they had been resettled in Israel and other countries. But in its 62 years, UNRWA has yet to resettle a single Arab refugee.

UN peacekeepers come under threat in Ivory Coast. Some people yell "U.N. out!" as the Jordanian U.N. peacekeepers pass by in their armored personnel carriers, but these soldiers don't understand French.

I'm from the UN and I'm Here to Help. That human action or activity often has unintended consequences is not a new observation. Among the activities that often have results very different from those envisaged or desired is foreign aid. There is probably not a single case of a very poor country being hauled out of poverty by such aid; there are many instances of dictators being kept in power and of civil wars virtually funded by it. Peacekeeping forces may likewise do things other than keep the peace (though they rarely do that). To the roll of unintended consequences must now be added the likely introduction of cholera into Haiti by Bangladeshi troops there who are part of the UN peacekeeping force there.

Being the UN Security Council Means Never Having to Say You're Sorry. At a special session chaired by Vice President Joe Biden, the United Nations Security Council voted Tuesday [12/14/2010] to end the Saddam-era sanctions on Iraq, as well as the remnants of the Oil-for-Food program. Secretary-General Ban Ki-Moon was there, as well as Iraqi Foreign Minister Hoshyar Zebari. In the way of such meetings, there was plenty of speechifying, with each of the five permanent and 10 rotating members delivering orations on the occasion. ... Notably missing was even a single word of apology for UN complicity in the massive corruption of Oil-for-Food.

Scotland Recovers, and Plans to Waste, Oil for Food Kickbacks. A Glasgow-based engineering firm, Weir Group, has been fined 3 million pounds and had 13.9 million pounds of illegal profits confiscated after it admitted paying kickbacks to former Iraqi dictator Saddam Hussein's regime.

From UN Immunity to License to Defraud. When private companies embezzle millions, it's a reasonable bet — at least in the U.S. — that someone will face charges, and maybe do jail time. When more than half a dozen major UN agencies involved in the UN's Oil-for-Food program in Iraq stuffed their own administrative coffers with hundreds of millions of dollars meant to buy relief supplies such as medicine and baby milk, no one faced prosecution.

Obama adopts U.N. manifesto on rights of indigenous peoples. President Obama announced Thursday [12/16/2010] that the U.S. would reverse the position of the Bush administration and become the last nation to drop its opposition to the United Nations Declaration on the Rights of Indigenous Peoples. Mr. Obama made the announcement to enthusiastic applause at the second White House Tribal Nations Conference, a gathering attended by representatives of the nation's 565 recognized American Indian tribes.

Will American Sovereignty Withstand the Onslaught of Global Government Forces? The dream of world government is as old as civilized man. All the old warlords of the past, from the Pharaohs of Egypt to Alexander the Great, Genghis Kahn, Attila the Hun, the Romans, Lenin, Mussolini, Hitler and more had one ambition, to control the masses for as large a geographical area as their armies could conquer. All well-known historical attempts to subjugate the masses were achieved by force of arms.

U.N. Gets New Oversight. It's a delicious irony. Radical feminists' dreams came true recently with the creation of U.N. Women, a new uber-agency that will agitate globally for their pet projects using unrestricted funding from governments. Yet, in an unexpected twist, a Republican congresswoman will soon be in charge of the House Foreign Affairs committees that oversee U.S. involvement at the U.N. And this lady plans to tighten the purse strings.

The United (Muslim) Nations? The United Nations wants to criminalize religious heresy, provided that those making the claim are Islamists. Later this month, the United Nations General Assembly will vote on the nonbinding Defamation of Religions Resolution, which would give international sanction to the type of religious persecution commonplace in Muslim-majority countries. Superficially, the resolution contains feel-good human rights language routinely churned out by the U.N.

'Climate Change Experts' Call for End to Developed World Economic Growth. This would be really funny if it weren't for the fact that so many supposedly informed people, including our president and those who surround him, may actually buy into ideas being proposed at the United Nations-sponsored Cancun climate conference, and will relish the means by which they could be put into place.

United Nations Requests Nearly $1 Billion More for Haiti Peacekeeping. The United Nations, which spent more than $732 million on peacekeeping efforts in earthquake-battered Haiti during its last budgetary year, wants another $864.1 million from donors to cover the cost of the peacekeeping stabilization force on the island through the end of June 2011. The U.S. portion of that tab would be roughly 27 percent of the total — about $234.8 million. One of the stated missions of the stabilization project appears to be making sure that the U.N. takes an active role in ensuring that any aid will not cause a new Haitian economy to have large disparities of wealth among the population.

The Cancun Climate Capers. Today, Nov. 29, marks the beginning of the Cancun COP (Conference of the Parties [to the Kyoto Protocol]). This is the 16th meeting of the nearly two hundred national delegations, which have been convening annually since the Kyoto Protocol was negotiated in 1997 at COP-3. This conference promises to be another two-week extravaganza for some 20,000 delegates and hangers-on, who will be enjoying the sand, surf, and tequila-sours — mostly paid for by taxpayers from the U.S. and Western Europe. For most delegates, this annual vacation has become a lifetime career: it pays for their mortgages and their children's education.

'A million climate change deaths each year'. By 2030, climate change will indirectly cause nearly one million deaths a year and inflict $157 billion in damage in terms of today's economy, according to estimates presented at UN talks.

'War criminal' gets a UN job. A suspected war criminal who allegedly played a key role in the slaughter of 40,000 civilians in Sri Lanka has landed a cushy job at the United Nations — with full diplomatic immunity.

Global Warming, Global Taxes. Within 72 hours of the Tea Party's "shellacking" of Obama and Pelosi, Ban Ki-moon, the UN Secretary-General, called for global taxation of the American public — an idea endorsed by a high-level official of the Obama administration. Ban must not have been watching television on Election Night, because he missed the voters' rejection of big government, higher taxes, and out of control spending. Or perhaps he did see the results and thought it best to get his $100 billion of "climate financing" fees on the agenda of the lame duck Congress.



---
"If the world can have global governance to ration energy — the lifeblood of modern economies — what might global governance not attempt?"

—

Jeremy Rabkin

,

Cornell University political scientist.

---

Obama Nominee Has No U.N. or Diplomatic Experience

. Twenty-two months into his administration and almost a year since a previous effort failed, President Obama has nominated an envoy to the United Nations with a mandate focusing on reform. The delay in putting in place a U.S. permanent representative for U.N. management and reform has drawn fire over the past year. Critics said the delay suggested the administration does not prioritize reform of the organization that gets more than one-fifth of its operating budget from the U.S.

Watch out for "Ecocide"

. Ecocide, a term coined by the former British barrister Polly Higgins, comes with a proposal that asks the United Nations to recognize it as a fifth "crime against peace" — one that could be prosecuted by the International Criminal Court alongside "genocide," "war crimes," "ethnic cleansing," and "crimes against humanity." Higgins defines ecocide as: "The extensive destruction, damage to or loss of ecosystem(s) or a given territory, whether by human agency or by other causes, to such an extent that peaceful enjoyment by the inhabitants of that territory has been severely diminished." For this purpose, the definition of "inhabitants" includes plants and animals, as well as human populations.

Want Human Rights? Leave the United Nations

. Good news, everybody. Saudi Arabia now has a seat on the women's board at the United Nations. That's right, a regime where it's illegal for women to drive or leave the house without being accompanied by a male guardian, where girls were pushed into a burning building because they were trying to flee without covering their 'obscene' female faces... will be a key player in the international effort to empower women.

Time for a Tea Party at Turtle Bay

. Let's hope the new Congress, whatever its configuration, will take a serious interest in at least trying to resume some oversight of how American tax dollars get spent at that international colosseum known as the United Nations. The issue is not solely the billions of dollars Washington pours annually into the UN — providing roughly one-quarter of a system-wide UN budget that now comes to well over $20 billion. The problem is also that along with the usual waste and fraud, the UN spends some of those American billions on activities hostile to U.S. values and interests.

Sixty-Five Years of Circling the Drain

. This week, 65 years ago, the United Nations officially came into existence. It has experienced ups and downs, but never has looked to be a greater a failure than it does today. Its founders would be amazed at the Frankenstein creation that now sits on Manhattan's East River.

No Profile in Courage at U.N.

We saw no profile in courage on the world stage this week. The Secretary General of the UN, South Korean diplomat, Ban Ki-moon, traveled to China. He met in Beijing with Chinese Peoples Republic President Hu Jintao. Although the Secretary General says he has made human rights a priority for the world body, he did not take up the case of imprisoned Nobel Peace Prize winner, Liu Xiaobo, reports the New York Times. This is odd. Since China sits on the UN Human Rights Council, you would think it the most natural thing in the world for the UN official to raise the issue with Liu Xiaobo's imprisonment with his jailers.

Can the UN Come Clean on Bedbugs?

The United Nations has been plagued at the core and from the beginning with huge problems of exactly the kind one might expect from a diplomatically immune, consensus-centered multilateral collective in which some of the world's worst governments have a say in making policy and spending someone else's money (especially yours, dear U.S. taxpayer). These problems have turned up in the form of such scandals as Oil-for-Food and rape by UN peacekeepers. They manifest themselves in the form of exploding UN budgets, accompanied by a continuing lack of accountability, and feckless promises of reform. From the morally bankrupt Human Rights Council (which this year welcomed Libya to take one of the 47 seats) to a General Assembly presided over last year by Libya, and increasingly a creature of the Jeddah-based Organization of the Islamic Conference, the UN is an institution with deep and serious flaws — and these translate into real trouble not just for the U.S., but for the people living under the jackboots of many of the UN's less attractive member governments.

Rangel Should Have Worked for the UN

. For UN senior staff members, as long as they don't get carried away and attempt an act of genuine transparency, it is virtually impossible to fail to properly disclose their personal financial assets to the public. That's not because they are all paragons of disclosure. The reason they can hardly fail is that the UN has redefined the procedure of "public disclosure" to mean that UN officials do not need to disclose to the public anything whatsoever. This is the twisted product of the 2006 "reforms," in which the Oil-for-Food-tainted UN promised greater transparency.

The U.N. at 65

. October 24 is the 65th birthday of the United Nations; a great age for retirement. This institution has consistently failed to achieve the objectives for which it told the world it was created, and has just as consistently drained the coffers of developed nations under the guise of eliminating poverty and maintaining the peace. What a joke. Global poverty is just as rampant today as it was in 1945 — probably worse. U.N. Peacekeepers are routinely caught exploiting the very people they are supposed to protect.

How to Really Reform the U.N.

: The U.N. was originally supposed to be a world body, a forum for the prevention of war and the maintenance of a just and durable peace. That was FDR's great vision. But it never achieved that lofty goal. It never has come close.

Whatever Happened to the United Nations?

How did such a respectable international governmental organization, one that fought a bloody war including 16-member states which beat back a Communist invasion of South Korea from 1950-1953, come to symbolize little more than a leftist think tank embracing a platform for anti-Western rhetoric?

The United Nations' Socialist Land Redistribution Scheme

. Olivier De Schutter, the United Nations Special Rapporteur on the Right to Food, is the author of a report presented on October 20, 2010 to the United Nations General Assembly, which perfectly illustrates the socialist ideology that is all too prevalent amongst United Nations bureaucrats and its so-called 'experts.' The report constitutes little more than an assault on free market capitalism.

U.N. official: U.S. is $1.2 billion in arrears at U.N.

The United States owes $1.2 billion to the United Nations, more than a quarter of the payments owed the world body by all member states, a senior U.N. official said on Thursday [10/14/2010].

Of Course Obama Hasn't Yielded to Americans' Will

. Obama agreed to donate $100 billion to the United Nations. Andrea Lafferty of The Traditional Values Coalition wrote, "The U.S. taxpayer is forced to pay billions to an inefficient organization run by world leaders who hate America and the free market system."

Obama Commits Billions Of American Tax Dollars To United Nations

. President Obama has decided that the United States is the world's piggy bank for every U.N.-inspired project on the planet. In a speech before the U.N. General Assembly on September 22, Obama promised the United Nations that the U.S. is fully committed to helping fund eight United Nations Millennium Development Goals by a target date of 2015.

UN's Taiwan Travesty

. Taiwan, a democratic nation of 23 million, has rule of law, religious freedom, and the 20th largest economy in the world (ironically, just behind Iran) — but, it doesn't have membership in the UN.

U.N. Environmental Extortion

. There are few subtler ways to blatantly extort the world than under the guise of the U.N. Contributions are rarely directly funded, therefore the 2009 budget — 22% of which is funded by U.S. taxpayers — rarely gets dissected, scrutinized, and exhibited. Who wants to read about their constant stupidity and inefficiency? But this new fiasco is worth learning. The Yasuni-ITT Initiative, co-opted by the UNDP, requires 50% of the foregone value of the reserves to be paid by a collaboration of industrialized countries directly to Ecuador... or they will move forward with drilling. At a rough estimate of $76 a barrel, that's almost $32 billion due Ecuador for the pleasure of not becoming an oil producer.

A Vote For A Liberal Democrat Is A Vote For UN Control Of America

. Please! Fellow citizens, do not give the corrupt, power-mad liberals more time in Congress — their goal is to destroy our Constitution, and our Country and be ruled by United Nations tyrants. And this message is also for the other members of the Democratic Party that do not necessarily believe in the unorthodox methods and beliefs of their three radical leaders, Obama, Pelosi and Reid.

The UN is to appoint an astrophysicist to be the first contact for any aliens

. When aliens arrive on Earth, they will no longer have to worry about who will greet them. The United Nations, tackling head-on the problem of what to do if an alien says "take me to your leader", is poised to designate a specific individual for the task.

UN to appoint Earth contact for aliens

. The United Nations was set today to appoint an obscure Malaysian astrophysicist to act as Earth's first contact for any aliens that may come visiting. Mazlan Othman, the head of the UN's little-known Office for Outer Space Affairs (Unoosa), is to describe her potential new role next week at a scientific conference at the Royal Society's Kavli conference centre in Buckinghamshire.

United Nation Appointing Ambassador to Alien World?

Malaysian astrophysicist Mazlan Othman may add a new job to her resume. She is currently director of the United Nations Office for Outer Space Affairs (UNOOSA), which deals space-related issues, ranging from international cooperation in peaceful uses of outer space to managing the growing problem of space debris. According to numerous reports, Othman will be named as the UN ambassador to extraterrestrials, if and when they contact humanity.

Obama Addresses the U.N. and Blames...Wall Street?!

President Barack Obama told the United Nations General Assembly on Thursday [9/23/2010] that America's financial crisis was the reason their economies were suffering and promised to not rest until people around the globe prosper.

Obama 'Pontificus Magnus' Descends Upon UN

. Before Obama took the floor, Ban Ki-Moon continued to attempt to justify his salary and perks against the backdrop of a laugh track in my head when he issued the prime directive: "Let us remember, the world still looks to the United Nations for moral and political leadership." And with that, Pontificus Magnus appeared, brushing aside the 15-minute speech limit Fidel Castro style, and doubling his time allowance.

President Barack Obama Coddles International Outlaws At the United Nations

. President Franklin D. Roosevelt once said that "Normal practices of diplomacy ... are of no possible use in dealing with international outlaws." Rather than listen to FDR's advice, President Barack Obama squandered yet another opportunity to confront today's international outlaws during his annual visit to the United Nations. Instead, Obama delivered meaningless platitudes to the United Nations General Assembly during his speech on September 23, 2010 — just like he did last year.

Obama's Broken Moral Compass On Display at the U.N.

Today, the United Nations opens its annual debate at the General Assembly with President Obama making every effort to appear statesmanlike as he faces increasing criticism in his own backyard. ... At $20 billion dollars a year, the U.N. has become the world's most expensive hot air balloon, with American taxpayers funding a quarter of the bill.

Psycho in Town

. The United Nations played host to the latest version of the president of Iran's road show yesterday [9/23/2010]. This was a subtly different Ahmadinejad than we've seen addressing world leaders in New York heretofore. His trademark mixture of insufferable smugness and blustering defiance was on display to be sure, but this speech was more about the former than the latter and that's something of a change.

Obama Endorses Global Taxes on Eve of U.N. Summit

. In a classic case of misdirection, while the media are preoccupied with the fate of the Bush tax cuts, President Obama is preparing to attend a United Nations summit next week to endorse "innovative finance mechanisms" — global taxes — to drain even more wealth out of the U.S. economy.

U.N. calls for sustainable development, global governance

. The 65th meeting of the U.N. General Assembly kicked off this week with a call from its new president, Joseph Deiss, for the 192-nation body to reclaim the "center of global governance," in order to achieve sustainable development and the Millennium Development Goals adopted in 2000.

Let's decide: U.N. or U.S.?

As if we haven't enough problems to deal with these days, there is lurking in the background a host of sinister issues that will have to be dealt with. The main problem is the United Nations. That organization, overrun with tyrants, dictators and brutal despots, is surviving on the huge dues the U.S. taxpayers provide.

Hillary Clinton: United Nations Is 'Single Most Important Global Institution'

. In a speech before the Council on Foreign Relations (CFR) on Wednesday [9/8/2010], Secretary of State Hillary Clinton praised the work of the United Nations and said it is "the single most important global institution."

Is an Agency of the U.N. More Important Than an Agency of the U.S.?

The administration's report to the U.N. High Commissioner on Human Rights is disgraceful for reasons beyond simple enumeration. Not only does it read like a high school term paper based on a Howard Zinn textbook, but it also conflates America's human rights successes with Obama hagiography.

What American President Would Do That?

Other presidents have been wrong. Other presidents have been misguided. Other presidents have been weak and pusillanimous and pathetic. Only one truly disdains America. His name is Barack Obama. How else to explain his latest outrage against the country that elevated him to the ranks of world leadership? Last week, the Obama State Department submitted a report to the U.N. High Commissioner for Human Rights on the supposed human rights violations taking place in the United States.

The State Dept.'s Campaign Brochure

. When the president violated all traditional comportment and protocol in his State of the Union address in January by blasting Supreme Court justices sitting a few feet away from him, he said he didn't think "American elections should be bankrolled by America's most powerful interests, or worse by foreign entities." Now his administration has reversed that image. Our own State Department has had the taxpayers bankroll what amounts to an Obama campaign pamphlet concocted for the consumption of a foreign entity: the United Nations High Commissioner for Human Rights.

Human Rights Kowtow

. President Obama and his State Department have been widely criticized for downplaying human rights in their efforts to engage abusive regimes in Iran, China, Russia, Burma and even Sudan. But there's at least one country whose human rights record merits the Administration's minute scrutiny: the United States.

America to Be Reviewed by Thugs of U.N. Human Rights Council

. [Scroll down] The [United Nations Human Rights] Council also comprises Malaysia, Mauritania, Uganda, Angola, and Qatar. In Uganda, "wife-beating [is] a husband's prerogative." Monitoring of internet chat rooms and widespread rape of inmates occurs in Angola, while "in Malaysia, religious authorities arrest 'deviants' in order to return them to the 'true path of Islam.'" In Qatar, "the law calls for 10 year sentences for individuals proselytizing anything but Islam, [and] conversion away from Islam is a capital offense."

Human Rights through the Looking Glass

. During this past year, under the guidance of our HRC, Hillary Rodham Clinton, "senior representatives" from "more than a dozen" federal entities wandered the country listening to the self-serving laments of various liberal pressure groups. At the end of the process, they compiled these gripes into a 29-page report and sent it to the U.N. HRC for review. Among the reviewing states of the HRC are human rights luminaries like Cuba, Russia, Red China, Saudi Arabia, and — when not busy sending "emergency transaction" e-mails — Nigeria. Our State Department calls the UPR [Universal Periodic Review] process "a unique avenue for the global community to discuss human rights around the world." Any sane person would call it a self-deluding boondoggle and, if its recommendations are followed, a self-destructive one as well.

Full text of the

US human rights report to the UN

. [PDF]

U.N. report clearly not treason, just treasonous

. Apparently the Obama administration and Hillary Clinton's State Department consider our republican form of government a human rights deficiency.

Obama Asks Thug Nations To Judge America

. Does America engage in massive and widespread violations of human rights? The Obama administration thinks so. That's the takeaway of the "Report of the United States of America Submitted to the U.N. High Commissioner for Human Rights." The introduction says it "gives a partial snapshot of the current human rights situation in the United States, including some of the areas where problems persist in our society." What human rights problems?

Islamic Body Wants U.N. to Outlaw 'Offenses Against Religion'

. Following the uproar over the threatened burning of the Quran by a small Florida church, a leading international Islamic body said Thursday [9/9/20120] that the United Nations should outlaw "all forms of offense against religions." "The Florida Dove World Outreach Center Church's plan to burn copies of the Holy Quran on September 11 ... requires immediate action to outlaw all acts of defamation of religions and religious sanctities," the Morocco-based Islamic Educational, Scientific and Cultural Organization (ISESCO) said in a communique.

Global currency coming

. If the International Monetary Fund gets its way, the U.S. dollar will be replaced by the "bancor" as the world's reserve currency. According to a report published April 13, the IMF would like to adopt a plan of action that would expand the use of SDRs (Special Drawing Rights) to replace the U.S. dollar as the storehouse of value, and eventually create a global currency called the "bancor."

Time to leave Human Rights Council

. Among the first things the Obama administration did to break from the "unilateral" policies of the Bush administration was to join the United Nations Human Rights Council, which the U.S. shunned when it was formed in 2006.

Sen. DeMint Warns Against Ratifying U.N. Children's Rights Treaty

. Sen. Jim DeMint (R-S.C.) said that if President Barack Obama gets his way and the Senate ratifies the United Nations Convention on the Rights of the Child, the precedent would be set to place parental rights under the jurisdiction of the international community.

Helen Thomas' Exquisite 'Weimar Moment' Reflects Progressive America

. There is never a call for an emergency session of the UN Security Council after a suicide bomb goes off in Israel or after a deluge of Hamas-fired rockets falls on Sderot. After Chinese riot police randomly shot 140 Muslims last month, no one called for a Security Council meeting, a meeting of the UN Human Rights Council, or even an international investigation. The day-to-day executions in the Islamic world because of sexual preference do not rise to the UN's level of outrage. The treatment of women has raised such concern in the UN that Iran has been placed on the UN Commission on the Status of Women. As Dennis Prager said, you can't draw an absurd analogy to that because it is the ultimate absurdity.

UN panel: New taxes needed for a climate fund

. Carbon taxes, add-ons to international air fares and a levy on cross-border money movements are among ways being considered by a panel of the world's leading economists to raise a staggering $100 billion a year to fight climate change.

What Is Done Cannot Be UNdone

. [The United Nations] should have been put out of its misery long ago, perhaps euthanized by U Thant. It is hard to imagine a great good emerging from the U.N. today on any front. ... Without falling into the facile equation of Ahmadinejad=Hitler, it is fair to use Hitler as an example of why the U.N. is rigged wrong for resisting monstrosity. If Hitler were alive there would be no basis on which to deny him a vote. The most anyone could do is boycott his speech as the United States did to Ahmadinejad.

UN declares access to clean water a human right

. The United Nations on Wednesday [7/28/2010] declared access to clean water a human right. The 192-nation body approved a resolution put forward by Bolivia and signed by 33 other states to add access to water to its human rights declaration.

U.N. Internet Tax Dead — For Now

. A controversial United Nations plan to impose consumer taxes on such things as Internet activity and paying bills online in order to drastically restructure the world drug industry hit a wall of disagreement on Friday [5/21/2010], and is likely dead — for now.

UN Determined to Destroy America's Second Amendment

. The United Nations wants to control small arms in order to promote peace and security, but their own research contradicts this rhetoric.

Why Do We Need The United Nations?

When did the United Nations become the League of Nations? This intergovernmental agency is just as totally inept as the League yet for some strange reason continues to have far too much influence over the United States. For that matter why do we care so much about what the international community thinks of us?

Joining the Jackals: The Obama administration abandons Israel

. At the United Nations, a lynch mob for Israel is always just a moment away. The Islamic countries are a reliable source of venom, led by the Arab bloc; what we used to call the "non-aligned" are all aligned against Israel and happy to join the fun; and the Europeans can be counted on for hand-wringing rather than staunch resistance. Only the United States, and a few brave allies like Canada and Australia, can be counted upon to oppose diplomatic lynchings year after year; and only the United States can stop them in the Security Council.

World's fish stocks may vanish in 40 years

. More than 20 million people employed in the fishing industry may need to be retrained for other work over the next 40 years if the final collapse of fish stocks in the world's oceans is to be avoided, the United Nations has warned.

The Editor says...

There has never been a shortage of fish, nor is there one today, but apparently the UN bureaucrats want you to believe that it is possible to catch every fish in the ocean, and that when all the fish are gone, everybody in the fishing industry can find work elsewhere... with the help of the UN.

It is time to kiss off the U.N.

. The U.N. is mostly anti Semitic, anti American and anti Sovereignty. They are universalistic, controlling, greedy and masters at redistributing wealth. Even with the largely socialist, Islamic push, directing the focus and decisions of the UN, we still give them 3 billion a year with all the money we don't have.

Global Governance is here!

[Scroll down] Global governance has grown up around us. Except for the Reagan administration, both Democrat and Republican administrations have supported this push toward global governance. The current global economic crises are fueling the construction of the new global economic system that will swallow the U.S. economic system and make it subservient to the new global system. This new international institution, working in conjunction with a strengthened WTO and IMF, and World Bank, will result in de facto Global Governance.

U.N. Treaty to Give American Land Back to Indians

. The Obama Administration is weighing whether to sign off on the United Nations Declaration on the Rights of Indigenous Peoples, which could pose a problem to anyone who's purchased property in the United States in the past several centuries.

We're bailing out Greece

. US taxpayers will be helping to foot the bill for the Greek bailout, via the Interna tional Monetary Fund. And if the Obama administration doesn't draw a clear line, Uncle Sam may soon be on the line for even more and larger European "rescues."

The Big Fat Greek Bailout

. The Obama Administration on Sunday approved U.S. participation in an international bailout of Greece that will cost American taxpayers billions of dollars. ... [T]he President's willingness to pump billions into a small European country such as Greece makes it more likely that other European countries with similar problems — namely, Spain, Portugal, and Italy — will be coming to the United States soon looking for even bigger bailouts.

Who Will Bail Out America?

Social Security, Medicare and the retirement of the baby boom generation wasn't enough of a burden for the American taxpayer. We will now be paying as well for the generous pensions of Greek bureaucrats retiring in the warm Mediterranean sun at age 55, thanks to the foresighted leadership of our very own international statesman, Barack Obama.

Cap-and-Trade: A Scam Based on a Scam

. The United Nations has been the locus of the greatest hoax perpetrated in the modern era, codified in the bogus Kyoto Protocol, an international agreement that many nations signed onto in 1997. The Clinton administration signed the agreement, but did not implement it due to a Senate resolution that unanimously rejected it. The real aim of the global warming scam is the prospect of selling "carbon credits" in exchanges around the world, in effect selling air!

U.N.'s Ballooning $732 Million Haiti Peacekeeping Budget Goes Mostly to Its Own Personnel

. The United Nations has quietly upped this year's peacekeeping budget for earthquake-shattered Haiti to $732.4 million, with two-thirds of that amount going for the salary, perks and upkeep of its own personnel, not residents of the devastated island.

ECB President Favors Global Governance

. The President of the European Central Bank, Jean-Claude Trichet, told Forbes that global governance is extremely necessary if we want to prevent another financial crisis.

British campaigner urges UN to accept 'ecocide' as international crime

. A campaign to declare the mass destruction of ecosystems an international crime against peace — alongside genocide and crimes against humanity — is being launched in the UK. ... The radical idea would have a profound effect on industries blamed for widespread damage to the environment like fossil fuels, mining, agriculture, chemicals and forestry.

New protections denied for polar bears, bluefin tuna

. A U.N. organization that regulates wildlife trade voted Thursday [3/18/2010] against bans on hunting polar bears threatened by shrinking Arctic ice and on fishing for the Atlantic bluefin tuna, a species that can grow to nearly 1,400 pounds and is prized in Japan for sushi and sashimi. The U.S. government backed both proposals at a meeting in Doha, Qatar, of the 175-nation Convention on International Trade in Endangered Species.

Can the EPA Rely on UN Science?

When did America risk coming to be ruled by foreign scientists and apparatchiks at the United Nations? The answer, it would seem, is ever since Lisa Jackson, the administrator of the Environmental Protection Agency (EPA) under President Obama, chose to issue a rule determining that carbon dioxide and other greenhouse gases endanger the public health and welfare.

When Freedom Fails: The Myth of Decolonization

. The British Empire is gone forever. But those Caribbean colonies that resisted the liberalist temptations of independence so ballyhooed by progressive United Nations thinkers clearly dodged a bullet. West Indian independence movements, which yet survive, are in full retreat as the vaunted promises of self-determination have been proven bogus. Today, the security of the entire Caribbean Basin is under threat from burly nations that are increasingly hostile to America, England, capitalism, and the freedom that these little nations thought they had achieved.

I'll never buy another cookie from these hapless pawns.

Girl Scouts Distribute Planned Parenthood Sex Guide at UN Meeting

. The World Association of Girl Scouts and Girl Guides hosted a no-adults-welcome panel at the United Nations this week where Planned Parenthood was allowed to distribute a brochure entitled "Healthy, Happy and Hot." The event was part of the annual United Nations Commission on the Status of Women (CSW) which concludes this week.

Warning: This article contains graphic descriptions of illicit sex.

The Girl Scout Sex Guide

. Sharon Slater, a mother of seven, innocently walked into a panel sponsored by the Girl Scouts USA at the United Nations Commission on the Status of Women a few weeks ago. Almost immediately she was asked to leave. All non-Scout adults were kicked out of the room, which was packed with adolescent girls.

Questions Swirl Around U.N.'s Climate Auditors

. A little-known group called the InterAcademy Council has been made the voice of authority on the credibility of climate change, leaving critics scratching their heads — and some key questions unanswered.

UN bans use of cluster bombs

. The United Nations has passed a convention banning cluster bombs, the controversial weapon that opponents claim cause indiscriminate civilian casualties in old war zones. The ban, which comes into force on 1 August, follows a global campaign against the munitions: the production, stockpiling and use of cluster bombs will be prohibited, and it obliges states that have used them to compensate victims.

The Editor says...

Once again, the U.N. is solving a problem that doesn't exist. Cluster bombs are dropped only on military targets. There are no "indiscriminate civilian casualties." It's easy to see what the U.N. is after: "Compensation" is a code word for redistributing wealth.

U.N. Housecleaning

. The United Nations' global warming chief is resigning. Now how about firing the head of its Intergovernmental Panel on Climate Change and dismantling that worthless agency?

U.N Still Pushing for Global Environmental Control

. Despite the debacle of the failed Copenhagen climate change conference last December, the United Nations is pressing full speed ahead with a plan for a greatly expanded system of global environmental governance and for a multitrillion-dollar economic transfer scheme to ignite the creation of a "global green economy." In other words: Copenhagen without the authority — yet — of Copenhagen.

IMF on Climate Change: We Want to Play

. The International Monetary Fund (IMF) is attempting to do what couldn't be done at the international climate change conference in Copenhagen last December: Transfer large sums of wealth from developed countries to developing ones in the name of climate change.

World should at least halve CO2 by 2050 — U.N. draft

. The world should at least halve greenhouse gas emissions by 2050 with rich nations taking the lead, according to a first draft text on Friday [12/11/2009] seeking to break deadlock on a new climate pact at U.N. talks.

Thatcher adviser: Copenhagen goal is 1-world government

. A former science adviser to British Prime Minister Margaret Thatcher says the real purpose of the United Nations Climate Change Conference in Copenhagen on Dec. 7-18 is to use global warming hype as a pretext to lay the foundation for a one-world government.

I have seen the future and it stinks!

Copenhagen was intended as an important advance toward world governance. ... It's very clear that under global government — because of its size and natural inefficiencies — accountability is nigh on to impossible, transparency nothing but a distant dream, very often not even desired. In short, it's 1984. And COP15 was just that — legions staring at world leaders on Jumbotrons as they blathered platitudes, while negotiations were conducted behind closed doors.

Did someone mention

Copenhagen

?

United Nations' Climate Chief Must Go

. If we're serious about restoring science to its rightful place, the head of the U.N.'s panel on climate change should step down. Evidence shows he quarterbacked a deliberate and premeditated fraud.

Who Commands Obama?

[Scroll down] The ideology that Obama subscribes to is global socialism and communism. He takes his cues from many different special interests who all share his Marxist ideology and desire for global socialism. Nobody tells Obama what to do, instead they tell him what he should do to promote the ideology. His objective is the same as the UN's objective — global socialism and the destruction of capitalism and the American value system. And if Islam can be a part of that plan then more power to them. Islam is a useful tool in destroying American Christian values.

Did Communism Fake Its Own Death in 1991?

Put simply, [Anatoliy] Golitsyn's argument was that beginning in about 1960, the Soviet Union embarked on a strategy of massive long-range strategic deception which would span several decades and result in the destruction of Western capitalism and the erection of a communist world government.

U.N.'s World Health Organization Eyeing Global Tax on Banking, Internet Activity

. The World Health Organization (WHO) is considering a plan to ask governments to impose a global consumer tax on such things as Internet activity or everyday financial transactions like paying bills online. Such a scheme could raise "tens of billions of dollars" on behalf of the United Nations' public health arm from a broad base of consumers...

UN wrongly linked global warming to natural disasters

. The United Nations climate science panel faces new controversy for wrongly linking global warming to an increase in the number and severity of natural disasters such as hurricanes and floods. It based the claims on an unpublished report that had not been subjected to routine scientific scrutiny — and ignored warnings from scientific advisers that the evidence supporting the link too weak. The report's own authors later withdrew the claim because they felt the evidence was not strong enough.

The 'Global Imbalances' Myth

. As the economic crisis has eased in recent months, a questionable international consensus has emerged: The global economy needs to be rebalanced. "We cannot follow the same policies that led to such imbalanced growth," President Barack Obama said during his Asia trip last month.

The Secret Plan to Pass a Global Tax

. With President Barack Obama attacking "fat cat bankers on Wall Street," left-wing non-governmental organizations (NGOs) see a great opportunity to pass a global tax on financial transactions that could generate at least $700 billion a year from the U.S. and other "rich" countries. They are expecting Obama's support.

Get the U.N. Out of the Climate Business

. In the aftermath of the Copenhagen Climate conference, it is clear that the United Nations-driven process is a bust, and that any similar process requiring economic suicide and massive wealth transfers will go nowhere. It is long since time to drop this charade, take the question of climate change out of the hands of the U.N., and implement more reasonable policies.

Global warming just another statist hoax

. [Scroll down] The anti-liberty statists began some years ago screaming that the earth was heating up unnaturally and rapidly because of human activity. They swore that the "science" and the "data" were irrefutable. They told us that unless we stopped driving cars and eating beef and using ice cubes then we would either bake or drown or get blown away in a hurricane. Those who oppose individual freedom and favor government usurpation of your rights soon worshipped at the global warming altar. Global warming mythology also conveniently served the cause of global governance because, after all, how can you stop a global problem if you have independent nations?

The New Socialism

. In the 1970s and early '80s, having seized control of the U.N. apparatus (by power of numbers), Third World countries decided to cash in. OPEC was pulling off the greatest wealth transfer from rich to poor in history. Why not them? So in grand U.N. declarations and conferences, they began calling for a "New International Economic Order."

U.N. Bodies Want Up to $60 Billion to Monitor ... Everything

. An organization representing the grandest ambitions of climate scientists wants Western nations to spend at least $2.1 billion a year for the next five years — and as much as $60 billion overall during that period — to glean huge troves of still undiscovered climate information from the world's land, air and seas.

Socialists Demand Trillions in "Climate Debt"

. You don't need to attend the United Nations climate change conference to know what's really going on. Ignoring the fallacies behind the "science" of man-made global warming, a new U.N. report on "climate justice" says the U.S. and other countries owe $24 trillion in "climate debt" to the rest of the world.

One World Government? Globe may not be big enough

. Even Americans who don't come from the grassy-knoll tradition tend not to regard the United Nations with great confidence. A Gallup poll earlier this year found that 65 percent of respondents thought it was doing a bad job, compared with 26 percent who think it is doing a good job. Ban himself is not terribly nefarious, if only because he is unknown. A Wall Street Journal poll found that 81 percent of those surveyed didn't know who he was.

US sovereignty and the Climate Summit

. Not content with his humiliation at Copenhagen this past September, President Obama will be traveling again to the Danish capital in December to attend the U.N. COP15 Climate Change Conference. This agreement would commit the United States to punitive and expensive greenhouse gas regulations dictated by the United Nations without recourse.

Climategate: the UN investigation will be a whitewash

. Forgive my scepticism over this, but the United Nations happens to be one of the most inefficient, corruption-riddled, unaccountable and untransparent entities on the face of the earth. It is hard to see how the UN is going to conduct this kind of inquiry with a straight face, let alone an ounce of credibility.

Understanding Climategate's Hidden Decline

. As the mainstream media move from abject denial to dismissive whitewashing, CRU co-conspirators move to Copenhagen for tomorrow's UN climate meeting, intent on changing the world as we know it based primarily on their now exposed trickery. Add yesterday's [12/5/2009] announcement of a UN investigation into the matter, which will no doubt be no less corrupt than those being investigated, and public awareness of how and why that trick was performed is now more vital than ever.

Climate challenges

. On December 7, 2009, President Obama will send a delegation to Copenhagen, Denmark, for the U.N. Climate Conference. So what exactly is the goal of this conference? A few months ago Al Gore explained the ultimate goal:

Global Governance

. If the climate alarmists get their way, the U.S. economy would be subject to the whims of a U.N.-led climate government, unaccountable to American taxpayers, but most certainly using American taxpayer funds to operate.

Proposed emissions cuts aren't enough, U.N. says

. Promises by the U.S. and other industrialized countries to cut the emissions causing global warming are insufficient to avoid the worst effects of climate change, the United Nations climate chief said Wednesday [12/2/2009]. The international climate talks, which begin Monday in Copenhagen, are a chance to "finally get climate change under control" and put all countries on a path of sustainable growth, said Yvo de Boer, the U.N. official overseeing the meeting.

The Editor says...

The climate is not, has never has been, and will never be under our control.

The Copenhagen Climate Con

. The whole point of the exercise is to transfer a trillion bucks from the economies of the world's developed nations to Third World kleptocrats — with [considerable] cash sticking to the fingers of well-connected UN bureaucrats. (Remember Oil For Food? Chump change compared to what the world body could be up to this time.)

The Myth of the World Community

. Americans have been imprinted as never before from a very early age with the idea that they are part of a global community, rather than merely one nation. But behind the olive branches and the posters of smiling children, lies a very different truth entirely. The entire notion that there is a world community is itself mostly a myth.

There May Be No Coping with Copenhagen

. Obama's signature on a climate treaty in December could irretrievably compromise American sovereignty.

The Editor says...

It's not a treaty unless it is ratified by the Senate. But now the bad news: The Senate is full of socialists.

Green world government

. Environmental alarmism is being exploited to chip away at national sovereignty. The latest threat to American liberties may be found in the innocuous sounding Copenhagen Climate Treaty, which will be discussed at the United Nations climate-change conference in mid-December. ... The treaty's text is not yet finalized but its principles are aimed at regulating all economic activity in the name of climate security, with a side effect that billions of dollars would be transferred from productive countries to the unproductive.

UN: International Law has "Absolute Authority"

. [Scroll down] But that is not all. In response to my question whether the United Nations' view of international law would trump a contrary decision by the highest court of a functioning democracy with an independent judiciary such as the United States, [Manfred] Nowak said that international law has "absolute priority." His rationale was that a UN member state that voluntarily decides to sign and ratify a treaty is bound by the obligations of that treaty.

Power Derives from Lawful Authority

. The President of the United States has no more legal right to sign a treaty that turns legislative, executive, and judicial functions of our national government over to the United Nations than he has to declare the United States an Islamic Republic and its people henceforward subject to Sharia. Nevertheless, that would be the effect of the proposed United Nations Climate Change Treaty awaiting Mr. Obama's signature in Copenhagen this coming December.

Banished at Turtle Bay

. As part of our public-service reports on the workings of your favorite world body, allow us to introduce you to Anne Bayefsky. The Toronto native is an expert on human-rights law and an accredited United Nations observer. She is also a friend of Israel, which makes her persona non grata as far as the folks at Turtle Bay are concerned.

Politically correct counter-terrorism

. Do counter-terrorism measures targeting bombers who dress as women offend the rights of transexuals? This is one of the pressing questions addressed in a new United Nations report on "Protection of human rights and fundamental freedoms while countering terrorism." The 23-page document is the ultimate politically correct guide to combating terrorism.

The Copenhagen Climate Extortion

. If the upcoming Copenhagen climate change summit fails to result in substantive agreements, as increasingly seems likely, look for the global warming lobby to turn up the extortion heat.

Agenda 21's New World Serfs

. Barack Obama is not only out to destroy America, but out to destroy the Free World. So far nothing seems to be stopping him from getting on with his giddy path of destruction. Barack Obama is the now the leading agent of a One World Government originated and manufactured down to the last detail by the United Nations. ... It's called UN Agenda 21 Sustainable Development, and just two of its cornerstones are the elimination of private property and vehicle ownership.

Agenda 21: The Death Knell of Liberty

. Liberty, after all, is an aberration in mankind's history — a light that has flared here and there over the centuries, only to dissolve back into the darkness. America is barreling towards becoming a bit player on the world's stage, and its vaunted middle class — once the envy of the world — is on the verge of being eliminated. For the good of the planet, for the good of Gaia.

It's never been about global warming

. The whole global warming craze is a massive Ponzi scheme designed to separate wealthy nations from their wealth and pass it over to developing nations without them having to actually go through the process of creating and earning that wealth. It's a gigantic global welfare scheme that if it comes to fruition, will equalize the wealth of all nations, making poor nations wealthier. It will also make wealthy nations poorer. ... It's about the Third World fleecing the West without actually having to create that wealth for itself.

'Kick Me' — Again

. Contrary to the fanciful image the U.N. would like the world to believe, it is an elitist establishment of dictators and governmental panhandlers with their hands in the pockets of U.S. taxpayers. It is also corrupt. The U.N.'s Oil-for-Food Program provided, according to Paul Volcker's investigation, food "unfit for human consumption" while lining the pockets of the secretary general's son. And U.N. "peacekeeping" troops in Africa are as much remembered for their rapes of young girls as for any peace they kept.

The new world devised by Maurice Strong and George Soros

. Have you ever wondered how capitalism was pushed over the edge of the cliff just six weeks before the American presidential election? ... The story of the economic meltdown of 2008 begins and ends with the United Nations and its carefully managed One World Order. Behind the curtain of this dark chapter in human misery are ogres Maurice Strong and George Soros. It is both power lust and an all-consuming hatred of the United States of America that elevated this deadly duo to ogre status.

Obama's UN lesson

. Six months ago, President Obama re versed his predecessor's boycott and accepted a seat for the United States on the vile UN Human Rights Council. As UN Ambassador Susan Rice explained: "We do not see any inherent benefit ... in being outside the tent and simply being critical without having significant influence." So what exactly has Obama's "significant influence" managed to accomplish?

Shamelessness at the UN

. Israeli Prime Minister Benjamin Netanyahu asked the assembled representatives of the UN member states in New York this week, "Have you no shame? No decency?" The answer is no. For in inviting once again holocaust-denier and Iran's President Mahmoud Ahmadinejad to address the General Assembly, the majority of member states confirmed how greatly anti-Semitism is now institutionalized at the UN.

Want Detente? Be Careful What You Wish For

. As the dust settles with an eerie hazmat glitter on this year's opening of the United Nations General Assembly, I'm finally ready to give up on that Bush-coined phrase, "axis of evil." It's not an axis anymore. It's turning into a global conglomerate.

World's cowards exposed

. It's amazing how simple moral clarity slices through the toxic drivel that has come to define the United Nations. Prime Minister Benjamin Netanyahu strode into the world's billion-dollar debating society yesterday [9/24/2009] and, in calm, deliberate tones, reminded us all of the real purpose for the UN's existence — so long forgotten.

Three Dangerous Stooges — Ahmadinejad, Chávez, and Qaddafi

. Last week, three dictators — from Iran, Libya, and Venezuela — delivered lunatic hate-speeches at the General Assembly of the United Nations. ... Take away oil and the money it garners — Iran, Libya, and Venezuela are all large petroleum exporters — and these strongmen would never receive high-profile television venues at the U.N. Oil props up all three economies, which have largely been wrecked by their own incompetence.

What is the point of the United Nations?

So the circus has come to town again. The unspeakable Gaddafi is given a reasonable 15 minutes to speak, and goes on for an hour and three quarters of clowning, tearing up the UN charter and talking complete nonsense about swine flu. Well, you might say, that's what Gaddafi does. But why do they let him?

The UN loves Barack Obama because he is weak

. Barack Obama's Gallup approval rating of 52 percent may well be lower at this stage of his presidency than any US leader in recent times with the exception of Bill Clinton. But he is still worshipped with messiah-like adoration at the United Nations, and is considerably more popular with many of the 192 members of the UN than he is with the American people.

Barack at the UN: Was this Obama's most naïve speech ever?

It's always a bad sign when a US president gets several rounds of heavy applause at the UN General Assembly, as Barack Obama did this morning in New York. Needless to say, the loudest cheers from the gathering of world leaders came when he condemned the actions of a close US ally, Israel, in continuing to build settlements in the West Bank. You can always rely on attacks on the Israelis to generate the biggest roars of approval at any meeting of the United Nations, and Obama dutifully obliged.

And the Winner Is ... Moammar

. Each year we have one — some world leader becomes the stand-out speaker at the United Nations General Assembly for both his antics and his message: Kruschev with his shoe; Arafat with his gun; Castro, Chavez, Ahmadinejad. It never fails. This year's winner is ... Moammar Qaddafi.

100 minutes in the life of Muammar Gaddafi

. [Scroll down] "Terrorism is not just al-Qaida, it takes many forms." In case the point was lost on anyone, he tore up his copy of the UN rule book. Having thus abused and alienated 99.99% of the world's top diplomats, he suddenly changed tack, heaping praise and devotion on the one man he appears to respect. "Now the black man doesn't have to sit in the back of the bus, the American people made him president and we are proud of that. We would be happy if Obama stayed president of America forever."

U.N. climate meeting was propaganda: Czech president

. Czech President Vaclav Klaus sharply criticized a U.N. meeting on climate change on Tuesday [9/22/2009] at which U.S. President Barack Obama was among the top speakers, describing it as propagandistic and undignified. "It was sad and it was frustrating," said Klaus, one of the world's most vocal skeptics on the topic of global warming.

The U.N. Strikes Again

. Though the UN has a disturbing history of cozying up to thugs and tyrants — each dictator has an vote in the General Assembly equal to the United States — it is the international body's unrelenting obsession with Israel that reveals its moral bankruptcy.

Some U.N. members are envious, arrogant beggars

. The diplomats representing the envious countries, some of them little more than tribes with flags and an embassy in a rooming house on a side street in Washington, have cooked up an interesting week to blunt the skepticism of a growing number of scientists who are finding the courage to say what they believed all along, even as Ban Ki-moon, the secretary-general of the United Nations, and others insist that time is running out to make the sun change its spots, the tides recede and the weather behave itself.

Obama's "Progressives"

: With the collapse of the former Soviet Union, many former communists became "environmentalists," often playing major roles in the many organizations serving that cause. Among President Obama's ever-expanding circle of "czars" is Carol Browner, the former Clinton-era director of the Environmental Protection Agency (1993-2000), whose latest appointment also revealed that she served on the Commission for a Sustainable World Society, which is part of Socialist International. Her association with the group has since been scrubbed from their website. Most obvious and notorious is Van Jones, who has never made a secret of his political preference for communism and is Obama's new "Green Jobs" czar. The links between the environmental movement and communist goals are numerous; it should not surprise anyone that the "global warming" hoax was birthed in the bowels of the United Nations.

Obama at the UN: Hazards Large and Small

. President Obama's UN debut is fast approaching. But as he looks forward to his makeover as global conciliator and potentate, all the signs point to a train wreck that has the potential of making health-care reform look easy. Two problems are putting a wrench in his plans: Iranian president Mahmoud Ahmadinejad and Libyan president Col. Moammar Qaddafi. Both are coming to the UN's New York headquarters in less than two weeks with to-do lists that don't include improving Obama's poll numbers.

UN wants new global currency to replace dollar

. The dollar should be replaced with a global currency, the United Nations has said, proposing the biggest overhaul of the world's monetary system since the Second World War.

Where Did the American Flag Go?

The United States Mission to the United Nations has a new look online. If you check out the redesigned site, you see it's decked out in United Nations blue, with the U.N. logo prominently displayed. Fine, the U.N. logo is there. But where is the United States flag?

The UN speaks, and the world listens. Are we nuts?

One of the wonders of the world is the reputation of the United Nations. There are many people in many countries who believe (or claim to believe) that it can be relied on for fairness, honesty and competence. Year after year it embarrasses itself through everything from deep bureaucratic corruption to utter failure in dealing with global crises like the genocide in Darfur. Yet somehow its opinions and "facts" still carry weight.

Varieties of Nothing

. On the international stage, the great arena for doing nothing is the United Nations. ... Had there been no United Nations, it would have been obvious to all and sundry that we were doing nothing — and that could have had dire political consequences at election time. However, thanks to the United Nations, there is a place where political leaders can go to do nothing, with a flurry of highly visible activity — and the media will cover it in detail, with a straight face, so that people will think that something is actually being done.

You can't spell unproductive without the letters "U" and "N"...

. In essence, the new tough stand of the UN, orchestrated by the United States, has two parts. In the first, we essentially reiterate what we've said in the past about interdicting shipments of weapons materials. But this time, folks, we say it with feeling. There is no commitment by anyone to actually stop or inspect North Korean ships and there is no UN mechanism obligating or even sanctioning the use of force.

Obama's UN Gambit: King of the Universe and the Polls

. Looking for a quick and easy boost in the polls, President Obama has decided to go to the one place where merit bears no relationship to adulation: the United Nations. On September 24, the president will take the unprecedented step of presiding over a meeting of the UN Security Council. No American president has ever attempted to acquire the image of King of the Universe by officiating at a meeting of the UN's highest body.

Obama's Titanic arrogance and the folly of ignoring the masses on 9/12

. Obama has now also undertaken another unprecedented political move. This from The Financial Times: "Obama will cement the New Cooperative relationship between the US and the United Nations when he becomes THE FIRST AMERICAN PRESIDENT to Chair the 15-member Security Council." Apparently Obama will enlist the corrupt Third World cesspool and Dictators Club AKA the UN to "help" him with his plans. It begs the question, what exactly DOES the Dear Leader have in store for us, and what will the "International Community" do to assist him?

President Obama's big UN adventure

. President Obama's upcoming visit to the 64th UN General Assembly, which opened yesterday [9/15/2009], will be nothing if not entertaining. Substantively, Obama should be delighted. A confluence of recent events has brought to fruition his campaign promises to launch diplomacy with our adversaries: Negotiations without preconditions are blooming everywhere. Whether these negotiations will benefit the United States is, of course, a different question.

Does 'King of the World' need a birth certificate?

Diplomatic Immunity, which could only have originated at the UN, has created virtual untouchables. According to Reader's Digest, "The UN rarely gets much done, but somehow its officials are still too busy to park legally. Between 1997 and the end of 2002, foreign diplomats racked up more than 150,000 unpaid parking tickets — totaling a staggering $17 million. But thanks to diplomatic immunity, the city has no power to collect.

The Plan For Socialist World Government

. While meaningless United Nations hand-wringing over the North Korean nuclear weapons program garnered the headlines, the world body is moving ahead with a global conference to lay the groundwork for world government financed by global taxes. The communist head of the U.N. General Assembly is leading the effort, but he is getting crucial support from "progressive" economists who advise the Obama Administration and the Democratic Party.

UN Turns off Lights, Pretends to Sleep

. Wherever you turn today, the free world is allowing bad actors to define the rules of the game and call the shots. In Latin America, Hugo Chavez signs off on Manuel Zelaya's assault on Honduran democracy and the American administration concurs. In the Middle East, the Iranian regime murders civil protesters and tells us to butt out, so we do. In the Pacific, Kim Jong Il says that a sneeze will be considered an act of war, so the UN pinches its nose.

UN boss Ban Ki-Moon 'passive, throws fits'

. A senior Norwegian diplomat has slammed Ban Ki-Moon as lacking leadership, ineffectual and prone to angry outbursts, a daily reported today [8/19/2009], just two weeks ahead of the UN chief's visit to Oslo.

Still Going Nowhere Man

. A brutally frank memo from a high-ranking Norwegian diplomat to the United Nations leaked this week, ripping Ban Ki-moon's performance to shreds. The evidence against the U.N.'s feckless leader is mounting.

Experts: UN program to save children didn't work

. The U.N. unveiled a multimillion dollar strategy a dozen years ago to save children worldwide, but a new study has found the program had surprisingly little effect in Bangladesh, one of the world's poorest countries.

Why Should WE Pay For Free Health Insurance for Illegal Aliens?

[Scroll down] There is no getting around the mounting evidence that the liberal Democrats in our Congress are no longer serving the American people; they are instead assisting Obama in his quest to destroy this country and deliver it into the hands of the corrupt and incompetent United Nations. There is some indication in polls that even the real American Democrats are in agreement with that. They now have the votes necessary to carry out just about any vicious and damaging plan they wish and with the concurrent approval and shepherding from the White House, it can be a done deal.

Obama: U.S. to sign U.N. disabilities rights pact

. Marking the 19th anniversary of a landmark U.S. law barring discrimination against people with disabilities, President Obama said Friday [7/24/2009] that the United States will sign a United Nations treaty urging countries around the world to do the same. Obama said he had instructed U.N. Ambassador Susan Rice to sign the document next week, joining 140 other nations.

Pope Endorses "World Political Authority"

. Some in the media are calling it just a statement about "economic justice." But Pope Benedict XVI's "Charity in Truth" statement, also known as an encyclical, is a radical document that puts the Roman Catholic Church firmly on the side of an emerging world government.

Who Will Investigate the U.N.-Vatican Connection?

There is a Pulitzer Prize waiting for the reporter who can figure out why the [Pope] has emerged as an advocate of one of the most corrupt and non-Christian organizations on the face of the earth — the United Nations. The U.N. has been rocked by scandals involving U.N. "peacekeepers" who sexually abuse women and children, the failure to protect populations in danger of genocide, and financial corruption. It is an anti-American institution founded by a Soviet spy that is currently headed by a Communist Catholic Priest, U.N. General Assembly President Miguel D'Escoto, who recently gave a speech at a U.N. financial conference on the need to protect "Mother Earth."

Obama's EPA Ignores Inconvenient Truths

. John Hinderaker of Poweline has alerted everyone to the release of the suppressed EPA Carlin/Davidson report along with incriminating emails by the Competitive Enterprise Institute. President Obama and his administration have again been appropriately exposed. Obama's intent can no longer be in question, and his deceptive activities are instructive as to the role the United Nations will play in his plan to address the use of American wealth.

U.N. to Emerge as Global IRS

. While our media sleep, the United Nations is proceeding, with President Obama's acquiescence, to implement a global plan to create a new international socialist order financed by global taxes on the American people. The Conference on the World Financial and Economic Crisis and its Impact on Development that begins on Wednesday [6/24/2009] will consider adoption of a document calling for "new voluntary and innovative sources of financing initiatives to provide additional stable sources of development finance..." This is U.N.-speak for global taxes. They are anything but "voluntary" for the people forced to pay them.

Communist U.N. Boss Praises "Mother Earth"

. Our media haven't found much time to cover the U.N. Conference on the World Financial and Economic Crisis underway at the world organization's headquarters in New York. But the Obama White House is working hand-in-glove with a Communist Catholic Priest who gave a bizarre speech on Wednesday devoted to saving "Mother Earth" from evil capitalists.

The U.N. bows to the anti-insecticide lobby.

Malaria, Politics and DDT

. In 2006, after 25 years and 50 million preventable deaths, the World Health Organization reversed course and endorsed widespread use of the insecticide DDT to combat malaria. So much for that. Earlier this month, the U.N. agency quietly reverted to promoting less effective methods for attacking the disease. The result is a victory for politics over public health, and millions of the world's poor will suffer as a result. The U.N. now plans to advocate for drastic reductions in the use of DDT, which kills or repels the mosquitoes that spread malaria.

Did someone mention

DDT

?

$196 billion; little proof UN health programs work

. In the last two decades, the world has spent more than $196 billion trying to save people from death and disease in poor countries. But just what the world's gotten for its money isn't clear, according to two studies published Friday in the medical journal Lancet. Millions of people are now protected against diseases like yellow fever, sleeping under anti-malaria bed nets and taking AIDS drugs. Much beyond that, it's tough to gauge the effectiveness of pricey programs led by the United Nations and its partners, and in some cases, big spending may even be counterproductive, the studies say.

A Closer Look at Climate Change

. The Intergovernmental Panel on Climate Change (IPCC) is widely regarded in the media as the ultimate authority on climate change. ... The sponsors of the IPCC, the United Nations, and liberal American politicians all share the goal of reducing Americans' wealth by capping our consumption of energy with a binding international climate change treaty. They are willing to resort to scientific fraud to further their goal.

Putting Our Faith in the UN Cesspool

. The keystone to Barack Obama's foreign policy is a revived faith in international institutions such as the United Nations and deference to the opinion of the same. But despite the seeming popularity of this policy, reasons for disgust at the current state of the UN and its agencies continues to build up.

U.N. Red and U.S. "Progressives" Plan Socialist World Government

. While meaningless United Nations hand-wringing over the North Korean nuclear weapons program garners the headlines, the world body is moving ahead with a global conference to lay the groundwork for world government financed by global taxes. The communist head of the U.N. General Assembly is leading the effort, but he is getting crucial support from "progressive" economists who advise the Obama Administration and the Democratic Party.

U.N. environment chief urges global ban on plastic bags

. Single-use plastic bags, a staple of American life, have got to go, the United Nations' top environmental official said Monday. ... [A total] ban is already being tested in China, where retailers giving out thin bags can be fined up to $1,464. ... In the United States, only San Francisco has completely banned plastic bags.

The Editor says...

Hmmm... Do the governments of San Francisco and China have a lot in common?

'Hebrew book-burning' minister Farouk Hosni is front-runner to head Unesco

. An Egyptian Cabinet minister who offered to burn Hebrew books last year enters the final straight as favourite for leadership of Unesco today in the face of fierce opposition from Jewish groups and intellectuals in Europe. Farouk Hosni, 71, an artist who has served as Culture Minister for 21 years, apologised this week for his book-burning call and is still deemed front-runner among seven contenders for the post of director-general of the Paris-based UN Educational, Scientific and Cultural Organisation.

Obama Endorses Soros Plan to Loot America

. At the G 20 summit in London, President Barack Obama won rave reviews from reporters, many of whom clamored like school kids for the chance to ask him a question at his news conference, but the official conference document proves that plans are being made for what can only be described as the further looting of American taxpayers in order to feed unaccountable and corrupt global entities. This is not "global cooperation," as so many in the media described it, but a massive new expansion of the power and authority of international agencies and institutions such as the United Nations, the International Monetary Fund and the World Bank.

IMF role grows with crisis

. Japan was the first wealthy country to write a $100 billion check to the IMF. The United States and the European Union subsequently pledged $100 billion each as well. The principal beneficiary of this unprecedented funding will be the IMF. Its primary lending program will grow by $500 billion, tripling in size from $250 billion to $750 billion. As recently as last June, the IMF had less than $20 billion in loans outstanding.

World Bank to fund solar projects

. The World Bank announced on Wednesday [12/9/2009] $5.5 billion would be invested in solar energy projects in five countries of the Middle East and North Africa in a bid to combat climate change.

The UN's Platform for Racism

. On the eve of the United Nations World Conference on Racism, Navi Pillay, UN High Commissioner for Human Rights, delivered a sharp warning about the problem of racially motivated hate speech. ... "Hate speech and racist insults will be banned at the UN conference against racism and intolerance." Hate speech and racist insults, of course, were not banned — they were exalted. On Monday [4/20/2009], the day after Pillay's vacuous pledge, the United Nations offered a prime-time platform to the Holocaust-denying Iranian president, Mahmoud Ahmadinejad.

United Nations building receives makeover money

. House Speaker Nancy Pelosi announced Tuesday [4/21/2009] that the United Nations Plaza Federal Building has received $121 million of American Recovery and Reinvestment Act funding to modernize and renovate the structure, which will be used as a General Services Administration regional headquarters.

Durban II Circus

. Like any good circus, the Durban II show shocked right from the beginning. The first representative to speak on racism was the world's most prominent Holocaust denier and anti-Semite, Pres. Mahmoud Ahmadinejad of Iran.

Internationalizing Blasphemy

. The UN's defining role is as enabler of repression and prejudice. Whether protecting Sudanese butchers on behalf of Chinese autocrats, or Iranian theocrats on behalf of Russian autocrats, the UN has inverted the definition of human rights with stunning finality. One can argue about the restorative ideological pendulum that swings inside the United States. But the UN only moves in one direction — anti-Western — by small steps and great leaps.

America slides into the sewer

. While American Jews and many Israelis still have their heads stuck firmly in the sand about Obama, there is huge and growing concern in more informed Israeli governmental circles that Israel faces the most unfriendly or even hostile President that anyone can recall — and this at a time when the drums of Iranian genocide are beating ever more loudly. Such concern has been deepened by his decision at the weekend to 'help plan' the 'Durban 2' UN conference. This event ... is a re-run of the UN's anti-Jew hate-fest that was held a few days before 9/11 under the grotesque misnomer of a human rights conference.

Obama throws Durban II under the bus — finally

. The UN Conference on racism is a thinly disguised conclave that will bash Israel and the US. That the Obama administration insisted on taking a part in planning this insult to both countries revealed either a naivete breathtaking in its scope or just plain idiocy.

"Conspiracy Theorists" Not So Crazy After All

. There is a certain satisfying sense of vindication when the labelers finally admit that maybe you weren't really crazy after all. Maybe your warnings about the dangers of the steady transfers of power and money to an ever-proliferating international bureaucracy weren't so far out. Maybe the United Nations really is being built into an all-powerful world government. And — maybe we should finally get concerned about all of that!

In Bed With The Dregs

. The UN Human Rights Council might well be the most vile of all the world body's panels. So why does the Obama administration want in? UN Ambassador Susan Rice announced this week that the United States will seek a seat on the 47-member body — which is dominated by such human-rights exemplars as China, Cuba, Egypt, Russia and Saudi Arabia — when elections are held next month.

Bad company: U.S. is foolishly joining UN council of hatemongers

. President Obama has decided that the U.S. should seek a seat on the United Nations Human Rights Council under the thinking that America will use its presence to redeem this determinedly irredeemable outfit. We'll refrain from declaring that he's doomed to fail. Suffice it to say, Obama and Secretary of State Clinton are putting the U.S. at risk of legitimizing the group's odious workings. That must not happen.

The suicide of American sovereignty

. As London locks down in feverish anticipation of the arrival of The One, Commentary publishes an important essay by John Bolton on an academic paper articulating what he correctly perceives to be the underlying rationale for Obama's foreign policy — nothing less than the ending of American sovereignty. The progressive classes in Britain and Europe have signed up to this idea for years. Dubbed 'transnational progressivism', it is based on the belief that the nation state is in and of itself the cause of all the ills of the world, from prejudice to war.

O's Unrequited UN Love Affair

: The United Nations "can be an extraordinarily constructive, important partner in bringing about peace and stability and security to people around the world": So said President Obama last Tuesday [3/10/2009], with Secretary-General Ban Ki-moon at his side. The day after Obama praise on the UN, Ban returned the favor by complaining to Congress members that the United States is a "deadbeat" that doesn't pay its UN bills.

Let's Become "Deadbeat" on the UN

. Only in the alternate reality that prevails at the United Nations can its greatest contributor be considered a "deadbeat." United Nations Secretary General Ban Ki-moon tarred the United States with that pejorative during a meeting with Congressional leaders on March 11. ... This seems like cold gratitude for the immense contribution the United States has made to the ineffective world body. The U.S. has been the largest financial contributor to the UN every year since its creation in 1945.

Time for Obama to stop stalling about UN's hateful anti-hate conference

. Under the growing threat of a boycott by the United States and European countries, negotiators planning the U.N.'s Durban II "anti-racism" conference made a new move in Geneva Tuesday. ... The draft jettisons much of the extra baggage Islamic states had piled on throughout the 10-month drafting process (for the sole purpose of "compromising" at the end). The improvements, however, do not meet the minimal conditions that the Obama administration delineated for U.S. participation. It is time to end the equivocation and get out.

Obama Endorses U.N. Declaration Calling for Decriminalization of Homosexuality

. The Obama administration on Wednesday [3/18/2009] formally endorsed a U.N. statement calling for the worldwide decriminalization of homosexuality, a measure that former President George W. Bush had refused to sign. The move was the administration's latest in reversing Bush-era decisions that have been heavily criticized by human rights and other groups. The United States was the only western nation not to sign onto the declaration when it came up at the U.N. General Assembly in December.

The Coming War on Sovereignty

. While the term "sovereignty" has acquired many, often inconsistent, definitions, Americans have historically understood it to mean our collective right to govern ourselves within our Constitutional framework. Today's liberal elite, by contrast, sees sovereignty as something much more abstract and less tangible, and thus a prize of less value to individual citizens than it once might have been.

The United Nations Loves Hillary and Bill

. The Clintons' books are sold at the UN bookstore.

Obama Skipping Durban II — That's One Step Forward

. Yes, here's a chance to applaud Obama for taking a step in the right direction. In the UN arena, such good news is rare enough that I'm tempted to leave it there. ... But let's also beware the danger here of one step forward, two steps back.

Totalitarianism at the U.N.

: Last Wednesday, CNN's Kitty Pilgrim reported that a coalition of 57 Islamic nations will introduce a U.N. anti-blasphemy resolution soon, perhaps as early as this month. If enacted, the resolution would require all member states to prevent defamation of Islam. ... Of course, the Islamic nations cannot succeed in getting the U.N. to adopt a binding resolution that Christopher Hitchens has rightly called "totalitarianism defined" and "a rape and butchery of the First Amendment of our Constitution." Therefore, we can, if we so choose, continue to ignore the antics taking place at the so-called Parliament of Man.

Islamic Nations Seek Legally Binding Way to Counter Religious 'Defamation'

. As support wanes for its campaign to secure controversial but non-binding "defamation of religion" resolutions at the United Nations, the Islamic bloc is pushing ahead with an alternative route — one that would carry the weight of international law.

United States rejoins U.N. rights council

. The United States returned Wednesday to the U.N. Human Rights Council, a body it left nine months ago saying it was biased against Israel and had failed to confront notorious rights abusers. The United States informed the council it will resume participating in meetings as an active observer. Observer status means the United States can engage in debate but not vote.

The Obama Administration Double-Deals On Israel

. Barack Obama just added double-dealing to his foreign policy repertoire. On Friday [2/27/2009], administration officials led many Jewish leaders to believe that the president had decided to boycott the United Nation's "anti-racism" conference known as Durban II. At the same time, however, human rights organizations were being led to believe that the administration was not pulling out and was looking for a way to "re-engage."

Ban Ki-moon's bigotry

: During his 2007 Mideast visit ... he laid a wreath of white flowers on the grave of serial killer Yasir Arafat and met with the parents of young Palestinians serving time in prison for terrorism. He did not lay wreaths on the graves of Arafat's victims, nor did he meet with their families. If Ban Ki-moon is not infected by the world's most ancient form of bigotry, what other explanation is there for his behavior?

A $300 Million Throwaway

. Last May the United Nations broke ground on a $300 million, 175,000-square-foot building on the North Lawn of its property on the East River, to house the Security Council, the U.N. conference organizations, the General Assembly and the organization's eclectic art collection. Yet that new structure, designed by HLW Architects LLP, is scheduled to disappear in as little as five years.

UN ordered to pay legal fees of oil-for-food chief

. The U.N.'s highest internal judicial body has ordered the United Nations to pay legal fees to the former chief of its oil-for-food program, who has been accused of accepting money to illegally influence the $64 billion humanitarian program in Iraq. The program was the biggest humanitarian program in U.N. history, but a U.N.-sanctioned investigation found widespread corruption, involving thousands of parties, that bilked the humanitarian program of $1.8 billion.

The U.S. Votes 'Present' at the U.N.

. Last week, the United Nations Security Council adopted a British resolution calling for a cease-fire in the Gaza Strip. Resolution 1860 was a slap at Israel's self-defense, but, unusually, the United States abstained on the vote. That's no way to lead. If Washington concluded that a harsh resolution on Gaza was warranted, the proper course was to vote for it.

U.N. Follies

: At what point do we realize that the United Nations causes (or, at least, tolerates and foments) far more trouble in the world than it prevents? When do we decide to reclaim that very valuable hunk of real estate on Manhattan and tell this fetid collection of tyrants and parasites to shove off? When do we work on a new international body, composed of actual democracies and genuinely interested in human rights and freedom?

Off the Table

. Islam was born as a religion spread through violence. There is a direct line from the prophet Muhammad to today's Islamic terrorists, whose latest deadly attacks wreaked havoc in Mumbai, India. The ongoing effort in the United Nations and the politically correct media to disassociate Islam from terrorism is a sham.

United Nations forbids defaming religion, specifically Islam

. In a 83-to-53 vote, with 42 abstentions, the U.N. General Assembly urges nations to provide "adequate protections" in their laws or constitutions against "acts of hatred, discrimination, intimidation and coercion resulting from defamation of religions and incitement to religious hatred in general." Only Islam and Muslims are specifically named in this resolution against religious defamation sponsored by Uganda — on behalf of the 57-member Organization of the Islamic Conference — with co-sponsors Belarus and Venezuela.

The U.N.'s Global Warming Muzzle

. When the United Nations insists that man-made global warming is now proved beyond doubt, it's practicing one of the few things it has proved itself good at: censorship of dissenting viewpoints.

Obama Nominees Signal Radical Pro-U.N. Agenda

. [Scroll down] [Ed] Rollins replied, in part: "I think that's one of the greatest compliments to him, is that he's not afraid of smart, strong people around him." This is what passes for media scrutiny of Obama's foreign policy picks. In fact, there is much to question. Two nominees in particular — Senator Hillary Clinton and Susan Rice — were close associates of Brookings Institution president Strobe Talbott, an advocate of world government who was named as a trusted contact of the Russian Intelligence service while he was in the Clinton Administration.

Your U.N. at Work

: The General Assembly of the United Nations voted this week to elect Miguel d'Escoto Brockmann as its new president. Readers with a long memory will recall Father D'Escoto (he's a Catholic priest) as Nicaragua's foreign minister during the Sandinista regime of the 1980s. He's also the winner of the 1985 Lenin Prize. Only at the U.N. does that count as a recommendation.

At the U.N., Many Hope for an Obama Win

. There are no "Obama 2008" buttons, banners or T-shirts visible here at U.N. headquarters, but it might be difficult to find a sliver of territory in the United States more enthusiastic over the prospect of the Illinois senator winning the White House.

The U.N.'s Candidate

. The definition of socialism includes government ownership and control of the means of production, and the Obama administration is prepared to sign agreements and carry out policies that in effect will do just that. The U.N. couldn't be happier. An informal survey of U.N. officials by the Washington Post found overwhelming support for the former Illinois state senator.

Obama & the U.N.

: One of the biggest winners of a Barack Obama victory on Election Day [was] the United Nations. And the biggest losers [were] Americans, who inevitably [will] come under the fat thumb of Turtle Bay. Topping an agenda that will subject U.S. interests to U.N. whimsy is the world body's business-killing climate-control campaign. The operative word here is "control," which is precisely what the U.N. hopes to achieve over the U.S.

U.N.American Agenda

. Nobody is happier about the election of Barack Obama to the Presidency of the United States than the folks at the United Nations. ... The U.N. is an uncomplicated place. Every sick, unsatiated tyrant, European has-been, or miserable wretch brainwashed about the Great Satan wants to take America down — unless they are able to immigrate of course.

Mixing It Up With Left-Wingers

. If I had to describe liberals in a single word it would probably be "feminine." In most cases, I wouldn't regard that word as a pejorative. In its best sense, it conveys sensitivity and an emphasis on the emotional. As it relates to liberals, it simply means that feelings trump everything else. So it is that liberals love the idea of the U.N., excited by the notion of a lot of nations sitting down and talking out their problems, as if to a marriage counselor. Unfortunately, when dealing with evil nations with evil intentions, the U.N. is nothing better than a bad joke.

'Defamation' of Islam Resolution Set to Pass, but Losing Ground

. A United Nations committee has passed a controversial "defamation of religions" draft resolution but, amid freedom of expression concerns, the measure looks set to get less support when it comes to a final vote next month, than in previous years. Monday's vote in the General Assembly's Third Committee, which deals with social, cultural, and humanitarian issues, saw more countries either abstain or oppose the resolution than vote in favor — an indication, critics say, that the push back against the Islamic bloc-driven campaign is gaining traction.

Congresswoman Confident Obama Will Fund UNFPA, Which Supports China's Coercive Abortion Program

. Rep. Carolyn Maloney (D-N.Y.) said she is confident that President-elect Barack Obama will reverse the Bush administration's decision six years ago to stop the $40 million in annual funding to the United Nations Population Fund (UNFPA) because of its support of China's one-child policy — a policy that includes coercive abortion.

'One-Child' Expert Urges Investigation Before UNFPA Funding Resumes

. An American expert on China's "one-child" population control policy is urging President Obama to delay restoring funding to the U.N. Population Fund (UNFPA) pending an independent investigation into whether U.S. taxpayers' money will support coerced abortions in China.

UN unveils new ceiling with price tag that soars

. A $23 million ceiling painting featuring hundreds of dangling icicle shapes that has been criticized for its hefty price tag was unveiled Tuesday [11/18/2008] at the United Nations. The 16,000-square-foot (1,500-square-meter) elliptical dome full of bright colors and torn aluminum took over a year to produce.

U.S. Expected to Reverse Course on United Nations

. The United States' relationship with the United Nations faces a major change under the next administration. Those advocating greater U.S. engagement with the world body are lining up with advice for President-elect Barack Obama.

The U.N.'s Man of Mystery

: Often described as an "international man of mystery," [Maurice] Strong during his long, globe-trotting career has been one of the most influential architects of the opaque cross-border bureaucracy that is today's United Nations. He is probably best known as godfather of the U.N.'s 1997 Kyoto treaty, and as a former U.N. top adviser who in that same year received a check for almost $1 million, bankrolled by the U.N.-sanctioned regime of Saddam Hussein. (Mr. Strong told me that at the time he did not know the money came from Baghdad.)

U.N.'s Anti-Poverty Program Wants Unlimited Spending Power

. The United Nations Development Program, the U.N.'s anti-poverty agency, which systematically ignored its own financial rules and regulations while funneling millions of dollars to North Korea, wants to give its chief operating officer the right to make out discretionary checks of unlimited amounts, without normal budgetary approval. That's up from the current limit of $50,000 which can be dispersed without regulatory oversight.

Moral Poverty at the UN

: The United Nations' World Food Summit held in Rome in 2002 to discuss how to cut world hunger in half by 2015 came under heavy criticism for the lavish feasts held during that conference. … The UN's Food and Agriculture Organization, which planned this year's food summit, provided political cover for two of the cruelest dictators in the world today.

The new world devised by Maurice Strong and George Soros

. In spite of the hype coming out of the Office of the President-elect, Obama is merely a fop for the global elite. He is their, and not the people's true agent of change. The January 20 inauguration with its promise of 5 million observers in Washington, D.C. will be the extravaganza of a lifetime, deepening recession notwithstanding. It is Obama's job to demoralize the 58 million people who did not buy into his campaign and for all of those who do not want One World Order. Starring among all the glitterati at the Inauguration Ball, Barack and Michelle are like the stick figures from a kindergartener's drawing, for this is an emperor who truly has no clothes.

UN-American

. Certain institutions can bring out the worst in people. For the professional peddlers of anti-Americanism, haters of free enterprise, and true believers in global government, there is only one place that it really pays to perform: the United Nations. The U.N. headquarters, in Manhattan, has become the venue of choice for "diplomats" and foreign leaders to condemn America, our values and our virtues. Since the 1960s, star billing has been promised to any dictator or despot who takes to this "world stage" for the purpose of denigrating the United States and our bounty, wealth and power.

The U.N. Monkeys Around

. There is a concerted advocacy campaign underway across several disciplines aimed at knocking human beings off our pedestal of moral exceptionalism and redefining us as merely another animal in the forest. … The point of this ideological drive is to degrade our perceived self-worth so much that we will readily sacrifice human prosperity and welfare "to save the planet" or "for the animals," while undercutting the power of theistic religion in general, and Judeo-Christian moral teaching in particular, to influence public policies.

U.S. Must Give U.N. the Boot

. I've demanded it before, to no avail. Now, the U.S. should again consider getting out of the U.N., and the U.N. out of the U.S. What better timing than in a transitional election year? Nothing of lasting importance ever happens at the U.N. Why throw good money after bad? The straw that broke this camel's back has been the U.N. refusal (or inability) to do anything about the brutal dictatorship in Zimbabwe….

Dems Endorse Expansion of U.N. Power

. Our media are running stories about the planks in the new 2008 Democratic Party platform but they've missed a big one — expansion of the power of the United Nations, and especially more U.S. involvement in U.N.-authorized military operations. In another bow to the world organization, the platform indirectly endorses Senator Barack Obama's controversial pro-U.N. Global Poverty Act. "It is time to make the U.N. Millennium Development Goals, which aim to cut extreme poverty in half by 2015, America's goals as well," the document says. It leaves out the estimated cost — $845 billion over 13 years.

The Editor asks...

What is "extreme" poverty, and how do you cut it in half? More importantly, what part of the US Constitution authorizes the eradication of poverty in other countries?

How to Account for the United Nations?

In February 2007, Mayor Michael Bloomberg — worried by a statement issued by the Secretary General's office speculating that if the United Nations couldn't expand its historic New York headquarters, it might look for a permanent home elsewhere — met with Secretary of State Condoleezza Rice to argue for keeping the UN in Gotham. Losing the UN would be a "disaster," Bloomberg said….

U.N. Thugs

. Support for Israel has never ranked high on the United Nations' agenda. And the upcoming World Conference Against Racism, scheduled for early 2009 in Geneva, Switzerland, presents a valid case. Many observers are concerned that the UN-sponsored event will simply serve as yet another a platform to launch attacks against Israel — as the previous world anti-racism conference did in Durban, South Africa, seven years ago.

Former Ambassador Bolton shows U.N. no quarter in speech at PU

. In a Monday [10/13/2008] speech at Princeton University, former U.S. Ambassador to the United Nations John Bolton offered an unsparing critique of his former workplace and rejected the notion that the United States must adjust its practices to suit the U.N.'s views.

Iran and Iceland Fail to Win U.N. Security Council Seats

. Iran, a country under U.N. sanctions, and Iceland, which has been battered by the recent credit crisis, failed Friday to win nonpermanent seats on the powerful U.N. Security Council. Austria and Turkey beat Iceland in the battle for the two nonpermanent European seats on the 15-member council in voting at a meeting of the U.N. General Assembly while Iran lost out to Japan for the council's Asian seat.

'We Inturrupt This Program'

. Some of the monks wept as they told the foreigners their stories. They said they'd been held in the temple for weeks while the Tibetan capital was jolted by the violent protests that had finally made the world news. Naturally the UN's "Human Rights" Council — long dominated by exemplars of freedom like Cuba, Libya, Saudi Arabia, Sudan, Syria, Vietnam and Zimbabwe — declined to debate the Chinese clampdown on the demonstrations.

So Popular and So Spineless

. Welcome to a world of too much Russian and Chinese power. I am neither a Russia-basher nor a China-basher. But there was something truly filthy about Russia's and China's vetoes of the American-led U.N. Security Council effort to impose targeted sanctions on Robert Mugabe's ruling clique in Zimbabwe.

The UN fails again.

Zimbabwe says sanctions failure a victory over racism

. Zimbabwe on Saturday [7/12/2008] welcomed the failure of a Western-backed U.N. Security Council resolution to impose sanctions over its violent presidential elections, calling it a victory over racism and meddling in its affairs. Russia and China on Friday vetoed the resolution, which would have imposed an arms embargo on the southern African country and financial and travel restrictions on President Robert Mugabe and 13 other officials.

More information about

Zimbabwe

.

U.N. says poor nations need $130B for climate change

. The U.N. climate change organization has said the world's poor countries will need $130 billion a year by 2030 to help them adapt to global warming and curb their carbon emissions. ... The figures were presented Thursday [12/4/2008] during a conference of 190 nations on a new climate treaty.

World Environment Day calls for end to CO2 addiction

. The United Nations urged the world on Thursday [6/4/2008] to kick the habit of producing carbon dioxide, saying everyone must act to fight climate change. U.N. Secretary-General Ban Ki-Moon said global warming was becoming the era's defining issue and would hurt rich and poor.

The Editor says...

It's only natural that he would say such a thing, since he has so much to gain. In reality, carbon dioxide is not addictive inasmuch as it is not something habitually consumed. Inflammatory rhetoric can only go so far — I hope everyone recognizes this as unmitigated propaganda.

This sums up the global warming issue pretty well...

Baby, Baby It's a Cold World

. Global warming has nothing to do with climate or science. What it is all about is the great, historic class struggle between working people and the ruling classes. Global warming is a great excuse for a massive expansion of government power. That, not science, is why the overlords, from the New York Times to the United Nations to Al Gore, so heartily embrace it. The U.N. thinks global warming is a perfect reason for the U.N. to be transformed into a world government.

More information about

global warming

.

U.N. thermostat to be set higher

. Everyone complains about climate change, and the United Nations is finally doing something about it — on Friday [8/1/2008], the temperature inside U.N. headquarters in New York will rise by 5 degrees. Ban Ki-moon, the United Nations' self-professed environmental secretary-general, ordered the "In-House Climate Change Initiative" to save energy, cut carbon emissions and try to mitigate climate change.

Obama Supports Global Tax From United Nations

. Barack Obama and his liberal allies such as Senator Biden have signed on to a bill that would allow the U.N. to tax America (and Americans) an estimated $845 billion over the next 13 years. Obama's plan represents perhaps the greatest affront to our national sovereignty since the War of 1812.

Global Taxes and Global TV Now on the Agenda

. President Obama's pick for Treasury Secretary, Timothy Geithner, is being urged to lay the foundation for "global governance" by considering "international taxation" measures to loot more money from U.S. taxpayers.

Progressives Back Obama Push for Global Tax

. While policymakers debate a few million dollars for ACORN and a few hundred billion dollars more for health care reform, those committed to one-world government are moving ahead with plans for a global tax that could extract trillions of dollars out of Americans' already depleted IRAs and stock holdings. One can't exclude the possibility of such a tax being slipped into a health care or cap-and-trade bill that the Congress or the public could not have time to read before passage.

The UN Stops Pretending

. Several years ago, when the notoriously anti-Israel United Nations Human Rights Committee was replaced by the Human Rights Council, there were some who actually harbored hopes that the Jewish state might get a bit more of a fair shake. That that was just wishful naivete became painfully evident this month when the "human rights" apparatus in Turtle Bay and its Geneva outpost (where the Council sits) revealed its true colors by selecting two outspoken Israel-bashers to serve in significant positions.

Human-rights farce

: The U.N. Human Rights Council was supposed to improve upon the general discredit of its predecessor, the U.N. Commission on Human Rights. Instead, two years after its creation, it continues much the same: Verbiage in homage to human rights is issued at great length while the council excuses the world's worst human-rights abusers. It then proceeds to target Western countries which mostly uphold human rights.

Religious speech debated

. Late last week, I attended a Capitol Hill briefing about an obscure United Nations resolution on "defamation of religions" that some call the "soft jihad." … The chief topic of discussion was a U.N. Commission on Human Rights resolution, backed by the Organization of the Islamic Conference, that addresses "the campaign to defame religions and the ethnic and religious profiling of Muslim minorities" since Sept. 11, 2001. Freedom of expression, the resolution says, would be "subject to limitations" to guard the "respect of the rights and reputations of others; protection of national security or of public order, public health or morals and respect for religions and beliefs."

U.N. Urged to Stop 'Defamation of Islam' Campaign

. Tens of thousands of people have signed a petition urging top United Nations officials to oppose a drive by Islamic governments to outlaw the ?defamation? of Islam. Critics say the move is aimed at shutting down legitimate debate and restricting the freedom to share other faiths.

U.N. scheme to make Christians criminals

. Dozens of nations dominated by Islam are pressing the United Nations to adopt an anti-"defamation" plan that would make Christians criminals under international law, according to a United States organization that has launched a campaign to defend freedom of religion worldwide.

United Nations Assaults Free Speech — Moves To Protect Islam

. The United Nations Human Rights Council (HRC) is an Islam-Marxist-dominated entity that is working to criminalize or suppress any public criticism of Islam around the world. In a recently-concluded session, the Council ruled that any criticism of Islam in the Council proceedings was to be off limits.

Religious "Defamation" on Agenda at UN Rights Session

. The United Nations' Human Rights Council kicks off a new session in Geneva on Monday [9/8/2008], and a controversial push by Islamic states to outlaw religious "defamation" is high on the agenda. In recent months, debate has swirled over efforts to limit freedom of expression in the context of religious discussion. That debate is now moving beyond a small group of concerned non-governmental and legal organizations to a wider audience.

Worldwide Hate Speech Laws?

Especially since 9/11, Islam has been publicly scrutinized, criticized, and sometimes ridiculed in the West to an extent never seen (or permitted) in Muslim lands. Many Muslims feel deeply offended by this, as well as troubled by the violent responses the criticism has sometimes drawn from Muslims — riots, death threats, even murders. Their leaders' solution is to try to halt the cycle by demanding an end to criticism of Islam, even in private speech. For the past decade, the Saudi-based Organization of the Islamic Conference (OIC) has pushed the U.N. to adopt a universal ban on defaming Islam. This measure would aim to curb the freedom not only of Danish cartoonists but also of scholars, writers, dissidents, religious reformers, human rights activists, and anyone at all anywhere in the world who criticizes Islam.

The Editor says...

Even if I end up in the United Nations Sharia prison camp, I will not stop telling others the truth about Islam. Silencing me will not change the facts. Ten thousand years from now, we'll all know whether Islam had any merits.

Move the Useless Notion to Canada

. The United Nations has become a useless notion occupying valuable real estate on the East River. Why do we put up with this consortium of petty dictators and corrupt oligarchies? The recent election of the new president of the General Assembly confirms my suspicion that to achieve success in the United Nations, one must hate the United States.

The Editor says...

Why not move the UN to Venezuela, Nicaragua or Iran? Maybe the problems in

Zimbabwe

would get some attention if the UN moved there.

Simply UN-bearable

: Taking [insolence] from the UN is hard at the best of times, given it's the most monumentally corrupt and ineffective political body since the court of Louis XVI. It elects representatives from some of the world's most vicious, totalitarian governments to its human rights council, where they issue proclamations so anti-Semitic Joseph Goebbels is nudging Hitler in hell and grinning. Its oil-for-food program ensured Saddam Hussein and his psychopathic spawn never ran short of high-performance automobiles or fresh porn during the international embargo against Iraqi oil.

UN-Believable

. When the so-called mainstream media don't want you to know something, they simply spike the story — meaning they just don't cover it. … First there's the strange case of Doudou Diene, the United Nations "Special Rapporteur" on "contemporary forms of racism, racial discrimination, xenophobia and related intolerance." He's really a lawyer from Senegal, traveling first-class on a U.N. ticket, and he arrived in the U.S. May 19 for a three-week "fact-finding trip."

The United Nations Will Investigate America for Racism

. As an African American politician is set to assume for the first time in the country's history the leadership of a major political party, a Geneva-based United Nations human rights investigator plans to come here next week to investigate whether racism plays a role in the presidential campaign, according to a statement released yesterday [5/16/2008].

The Editor says...

Racism has nothing to do with my

opposition

to Barack Obama. I don't care if he's black, but I do care if he's a Socialist, or a Marxist, or worse. Will the UN investigate Jeremiah Wright's all-black church and Obama's membership in it? And what if racism does "play a role" in politics? What is the UN going to do about it?

Theater of the Absurd: We're under investigation — by the U.N.

. While hundreds of thousands are dying due to the callous indifference of the military junta in Burma and millions are fleeing oppression and hunger in Robert Mugabe's brutal Zimbabwe, the U.N.'s farcical Human Rights Council (HRC) is focusing its attention elsewhere — the United States, the freest nation on the face of the earth.

UN Hatemongers to Investigate U.S. "Racism"

. The United Nations Special Rapporteur on "contemporary forms of racism, racial discrimination, xenophobia and related intolerance", Dr. Doudou Diéne, has been invited by the U.S. government … to gather first-hand information on racism in America. … This unwelcome visitor is hardly an objective reporter or impartial judge of racial conditions anywhere. … His cultural and religious biases have led to his obsession with Islamophobia, which he has called "the most serious form of religious defamation."

Texas still plans to execute killer despite U.N. order

. Texas will go ahead with the scheduled Aug. 5 execution of Houston rapist-killer Jose Medellin despite Wednesday's United Nations world court order for a stay, a spokesman for Gov. Rick Perry said.

General Assembly Approves UN Budget

. The General Assembly approved a two-year U.N. budget of $4.17 billion Saturday [11/22/2007], with the United States casting the only "no" vote because of objections to funding for a follow-up to a conference it considered anti-Israel.

In Burma, a U.N. Promise Not Kept

. Who steps in when government abuses or neglects its people? Nearly three years ago, the United Nations announced an answer to that question: It would. At a summit celebrating the organization's 60th birthday, 171 nations agreed that they would intervene, forcefully if necessary, if a state failed to protect its own people.

Kick Burma Out of the U.N.

. The United Nations this week said the refusal of Burma's government to allow workers into the country's devastated agricultural region was unprecedented in the history of humanitarian relief. The human catastrophe produced by Burma's refusal to permit aid in the wake of Cyclone Nargis has stunned the senses of a world that has watched this spectacle for a week.

[Why expel only Burma? What's the difference between Burma and

Zimbabwe

, or Cuba, or North Korea?]

Expenses At U.N. Balloon 25 Percent

. Despite long-standing efforts by successive U.S. administrations to rein in U.N. spending, the United Nations this month presented its top donors with a request for nearly $1.1 billion in additional funds over the next two years — boosting current U.N. expenses by 25 percent and marking the global body's highest-ever administrative budget, according to internal U.N. memos.

U.N. headquarters renovation launched in New York

. Officials in blue U.N. hard hats broke ground on Monday for a temporary building at the United Nations, launching a $1.9 billion renovation project to make U.N. headquarters safer, more comfortable and greener.

UN breaks ground for headquarters overhaul, greening

. The renovation will take at least five years to complete, which will mean the relocation of most of the 4,500 UN personnel to office spaces already rented in New York City. The costs will be 1.8 billion dollars, supported by UN members as long-term, low interest loans. It will involve the relocation of hundreds of journalists from world media covering the UN to temporary space office within the compound, unlike UN staff who will have to work in buildings away from the headquarters.

Democrats eye restoring funds to U.N. agency

. Congress may have found a way to fund the U.N. Population Fund for the first time in seven years, with many lawmakers anticipating that the next U.S. president may have a different view of an organization accused by conservatives of abetting coerced abortion in the developing world. The House Appropriations state, foreign operations and related programs subcommittee last week appropriated $60 million for the U.N. Population Fund (UNFPA) as part of a $600 million package for international family planning and reproductive health for fiscal 2009.

U.N. food program seeks $500M

. A United Nations food program has issued an emergency appeal for donations as the amount of food aid sent abroad from the United States is plunging. The World Food Program, which feeds about 73 million people worldwide, is seeking funding to close a $500 million gap caused by global spikes in food and fuel prices, the United Nations said in a release issued in New York.

U.N. Reformer (Really)

. More than one American has tried to make the United Nations live up to its original ideals — Pat Moynihan, Jeane Kirkpatrick, John Bolton. We'd add to that distinguished list the name of Mark Wallace, an ambassador to the U.S. mission at Turtle Bay who resigned yesterday having tried for two years to make the U.N. a more transparent place.

Ex-U.N. official sentenced to 8 years for corruption

. A former U.N. procurement official was sentenced to 8 years and one month in prison on Tuesday for helping a friend secure at least $50 million in contracts in return for financial favors including a luxury apartment.

UNHRC appointment infuriates Israel

. The United Nations Human Rights Council on Wednesday [3/26/2008] appointed American Jewish law professor Richard A. Falk — who has compared Israel to the Nazis — as special investigator on Israeli actions in the territories for a six-year term.

U.S., Israel wary of second U.N. anti-racism event

. The U.N. 2001 anti-racism conference in Durban, South Africa, provoked a walkout by the United States and Israel, with both nations saying it had been overtaken by anti-Semitism and some in Congress claiming it had cemented the world body's shame in the eyes of America.

Waste, Fraud and UN Headquarters

: The UN is embarking on a multi-billion construction project and the timing could not be better for those who like to waste taxpayer dollars. … The project is the renovation of the United Nations headquarters in New York City and the building is a metaphor for the UN itself. It is outdated, falling apart, and no longer useful. It has never had a major renovation, is full of asbestos, and is energy inefficient. And while it won't pass a fire inspection, it is one of the only buildings in New York where smokers are still allowed to light up.

The Oil Connection

: It's interesting that Hillary Clinton not only was behind the formation of the oil-for-food program, but that it was a direct contact with an agent of Saddam that accomplished the task. So, fast forward a few years. Baghdad has fallen, the doors have been kicked open, and the oil-for-food program has become the oil-for-food scandal. What seems amazing now is not only the extent of the corruption, but how little most Americans even know about it. The left is often proud of its hatred for Enron and the $1.5 billion in corruption it represents. Rightly so — but they so easily excuse nearly 40 billion in corruption in a single UN program.

Volvo to Pay $19.6M in Oil-For-Food Case

. AB Volvo will return nearly $9 million in profits that two of its subsidiaries made under the oil-for-food program in Iraq plus pay fines totaling $11 million in order to avoid prosecution, the truck maker said Thursday. The company said it has entered agreements with the Securities and Exchange Commission and the Department of Justice, resolving issues related to the oil-for-food program.

Iraq lodges $10bn lawsuit over 'Oil-for-Food scam'

. The Iraqi Government is suing dozens of companies for $10 billion (£5 billion) after they allegedly defrauded the country's citizens out of food and medical provisions during Saddam Hussein's rule. Iraq has hired Maney and Purrington, a law firm from Texas, to sue 70 corporations such as Chevron, the oil company, GlaxoSmithKline, the drugs group, BNP Paribas, the French bank, and Chrsyler, the car manufacturer, for allegedly paying bribes to the dictator to secure business contracts under the United Nations Oil-for-Food programme.

Comrade Sid: spy who siphoned off $500 million from Iraq Oil-for-Food deal

. A UN official who held a pivotal post in the Oil-for-Food programme for Iraq has been exposed by a defector as a Russian spy who diverted almost half a billion dollars to top Russian officials in "one of the richest heists in world history".

Crying Wolfowitz while the United Nations bankrolls dictators

. For two of Paul Wolfowitz's most prominent critics, Mark Malloch Brown and Ad Melkert, the war over the World Bank presidency could not have come at a better time. Whatever else the ousting of Wolfowitz has achieved, it has done plenty to distract from the North Korea Cash-for-Kim scandal that just four months ago was threatening to engulf the United Nations agency piloted for the past eight years first by Malloch Brown and now largely by Melkert.

UNder the Law

. In what surely qualifies as the single-most-promising United Nations reform effort to date, federal prosecutors in New York, jointly with the New York District Attorney, have just announced the indictment of the man who ran the U.N.'s former Oil-for-Food program: Benon Sevan. Charged with conspiring to commit fraud and taking close to $160,000 in bribes related to Oil-for-Food deals, Sevan, if convicted, could face a prison sentence of up to 50 years.

Americans Pay for Emerging World Government

. In its new Human Development Report calling for another $86 billion in aid to the rest of the world, supposedly to fight the effects of climate change, the United Nations acts distressed that people in "rich" countries like the U.S. don't take the theory of man-made global warming more seriously. Its answer — and this is actually spelled out in the report — is that too much "editorial balance" in the media has prevented "informed debate" about the need for "urgent action" in the form of higher taxes on energy.

Blue Helmet Bigotry

: As predictable as the sun rising in the east, the United Nations has voted to assault religious liberty. Islam, however, is to be protected from criticism since Muslims are said to be under vicious attack in the West. The offending resolution, which denounces the "defamation of religions," had its genesis in the UN Human Rights Council, created in 2006 to replace the long-discredited Commission on Human Rights.

Your U.N. at Work

. The public housing in question includes the notorious 1930s-era St. Bernard complex, which was already in a bad state before Katrina hit and an even worse state after it. The local housing authority intends to replace the complex with mixed-income housing developments, and in the meantime is granting housing vouchers to former tenants. But some of the new housing will be offered at — horrors! — a "market rate," to which the U.N. naturally objects. We don't remember the U.N.'s human-rights czars being quite so vocal when Zimbabwe's Robert Mugabe evicted 200,000 people from their homes in 2005.

UN Enters the War on Terror — On Whose Side?

After years of speaking out of both sides of its mouth on the issue of terrorism, the United Nations has finally staked out a clear position: Any negative portrayal of Islam will not be tolerated. The General Assembly has just passed a resolution entitled "Combating Defamation of Religions" which deals exclusively with perceived slights committed against the Islamic faith.

UN tells Kosovo to fly a new flag

. Kosovo must give up the black-on-red, double-headed eagle of the Albanian national flag and reflect the multi-ethnicity of the region. The province, most of whose population is ethnic Albanian, has used the flag since NATO drove out Serb forces in 1999.

UN celebrates disability treaty

. The UN is celebrating the coming into force of the Convention on the Rights of Persons with Disabilities (CRPD) — a landmark agreement that aims to give the world's 650m disabled people full equality.

Repairs would empty U.N.

. Authorities are considering emptying the massive U.N. headquarters building for at least three years to get a long-delayed renovation project back on track and on budget, according to people who have been briefed on the plan. Member states' deliberations and security considerations have left the $1.8 billion renovation a year behind schedule, with every month adding roughly $10 million to the overall cost of the project.

The Editor says...

Here's a better idea: Spend that $1.8 billion moving the UN to Paris or Cairo or Havana.

U.N. May Give Black Gold at North Pole to Russia

. The failure by the U.S. State Department to cite historical evidence that American explorers actually discovered the North Pole, in the wake of Russian claims to the oil-rich region, has had the desired effect. Our media are declaring that the matter has to be resolved by the United Nations. One writer, Eric Margolis, even proposes that the U.N. take complete control of the region.

The U.N.'s Human-Rights Sham

: The removal of the diseased commission two years ago was heralded by U.N. officials as "the dawn of a new era." Its replacement was designed to have stricter standards for membership, and rules to prevent politicized voting. But such safeguards were neutered by the time the new Human Rights Council was approved, and the results are that the council is no better than its predecessor.

Free Press Stifled at United Nations, Reporters Say

. Reporters covering the United Nations complain that the organization, whose Universal Declaration of Human Rights calls for freedom of the press, has been trying to stifle reporters covering the U.N. itself. This month, for example, U.N. officials reportedly seized videotapes from journalists who recorded the site of a U.N. helicopter crash in Nepal. In addition, the group Reporters Without Borders says the U.N. yielded to pressure from certain member countries in refusing to recognize "Freedom of Expression Day."

---

The UN Climate Change Conference in Bali

This entire section has been moved to

a page of its own

.

---

Playing on both sides of the fence:

It's an endless cycle! The conflict in Darfur is either the cause or the effect of climate change, or maybe it's both! It just depends on where you get your information.

Darfur conflict hurting environment

. Decades of drought helped trigger Darfur's violence as rival groups fought over scarce water and arable land. Now, experts fear the war and its refugee crisis are making the environment even worse, leaving the land increasingly uninhabitable and intensifying tensions with no end to the drought in sight.

Climate change behind Darfur killing: UN's Ban

. UN Secretary General Ban Ki-moon said that the slaughter in Darfur was triggered by global climate change and that more such conflicts may be on the horizon, in an article published Saturday. "The Darfur conflict began as an ecological crisis, arising at least in part from climate change," Ban said in a Washington Post opinion column.

---

A Disarming Election: Iran and Syria lead the U.N. Disarmament Commission

. On April 9, 2007 there was a United Nations believe-it-or-not moment extraordinaire. At the same time that Iran's President Ahmadinejad declared his country was now capable of industrial-scale uranium enrichment, the U.N. reelected Iran as a vice chairman of the U.N. Disarmament Commission. Yes Ripley, the very U.N. body charged with promoting nuclear nonproliferation installed in a senior position the state that the Security Council recently declared violated its nonproliferation resolutions.

The Last Best Dope of Mankind

. And you thought the United Nations had a serious double-speak problem before? Look at what happened yesterday, as the world body was forced to backtrack from an official transcript that sent alarm bells ringing around the world. The document, released Tuesday [10/16/2007], quoted Syria's U.N. ambassador as confirming that the site attacked by Israeli jets last month was, in fact, a nuclear facility.

Iran, Syria, Zimbabwe: are you laughing yet?

If you randomly drew 100 names from the phone book, those people would be a better guide to how to draw the many debatable and contentious rights-respecting lines that need drawing than anything likely to emerge from the UN or "the international community".

10 More Differences Between Liberals And Conservatives

. Conservatives believe that the United Nations is a corrupt, anti-American, anti-Semitic talking shop that is largely hostile to American interests and is too incompetent to be much of use in areas where it's not.

Congo ruler runs up £207,000 hotel bill

. In two short visits to New York last year the leader of one of Africa's poorest countries spent $400,000 (£207,000) on hotel bills as members of his entourage drank Cristal champagne and charged tens of thousands of dollars of room service to accounts paid by the Republic of Congo's mission to the United Nations.

Editor's note:

This "Congo ruler" link goes to a 404 page. Thanks to a reader by the name of Muscle Daddy for reporting the broken link. The only other source for the story (that I have found so far) is

this site

, which requires registration to read the whole article. (Not recommended.)

U.N. worker charged in immigration scam

. A United Nations employee was arrested Monday on charges that he and two others used U.N. stationery in a visa fraud scheme, prosecutors said. Vyacheslav Manokhin, a U.N. employee based in Manhattan, was accused of helping numerous non-U.S. citizens enter the country illegally by providing fraudulent documents so they could obtain visas to attend conferences that either did not exist or which they did not attend.

Despair at UN over selection of 'faceless' Ban Ki-moon as general secretary

. Senior officials at the United Nations expressed despair yesterday at the prospect of Kofi Annan being succeeded as secretary general by Ban Ki-moon, the South Korean foreign minister. "The mood among staff is glum," one of the officials said. "We are not very excited about the outcome."

UN is rotten to the core

. United Nations Secretary-General Kofi Annan is a prime example, I wrote last week, of Peter's Principle — "an individual in a hierarchical organization rises to the level of his incompetence" — at work. Now, just weeks before his departure from the United Nations, Annan revealed how utterly depraved his politics are when he stated in a BBC interview Iraq is now worse than it was under Saddam Hussein. Annan is of course the ethically void Secretary-General under whose watch the Oil-for-Food program, with Iraq's old regime, turned out to be the worst financial scam in the history of the United Nations.

U.N. Oil-For-Food Sentence Reduced

. A judge has reduced the sentence of South Korean businessman Tongsun Park, who accepted more than $2.5 million to secretly work on Iraq's behalf to influence the United Nations oil-for-food program.

Obama's Iraqi Oil for Food connection

. Rezko's relationship with Barack Obama goes back to at least 1990, when Obama's law firm did work relating to a Rezko housing development. Rezko was a key early-money fund raiser in Obama's state Senate campaigns and his failed run at the US Congress. In June 2005, when the mansion was purchased, Rezko was widely known to be under federal investigation. Rezko also is a key fundraiser for Illinois Democratic Governor Rod Blagojevich.

Former Russian Spy Says Government Stole $500 Million From U.N.'s Oil-For-Food Program in Iraq

. Sergei Tretyakov, who defected to the United States in 2000 as a double agent, says he oversaw an operation that helped Saddam's regime manipulate the price of Iraqi oil sold under the program — and allow Russia to skim profits. Tretyakov, former deputy head of intelligence at Russia's U.N. mission from 1995 to 2000, names some names, but sticks mainly to code names.

UN denies helping Zimbabwe diamond smuggling

. The United Nations said today an independent probe was being conducted into whether UN vehicles were used to smuggle diamonds from a mine in Zimbabwe. Spokeswoman Michele Montas confirmed that Larry Johnson, the deputy legal counsel, had received a letter alleging that at least one vehicle from the UN Development Fund (UNDP) was involved in the smuggling.

The case of Sanjaya Bahel:

Former U.N. official convicted

. A former United Nations official was convicted Thursday of charges that he helped a friend secure $100 million in U.N. contracts in exchange for a huge discount on two luxury Manhattan apartments and cash.

U.N. sees failings in probe of graft

. U.N. officials acknowledge their internal investigation failed to produce evidence against a U.N. procurement officer who was convicted of taking kickbacks in federal court last week, and say U.N. oversight procedures still must be improved.

'UN is human rights nightmare'

. The UN's Human Rights Commission has been told it is a hypocritical and prejudiced body which does nothing to help millions of people in need, due to its obsessive focus on demonizing Israel. In a speech given during a session of the Human Rights Commission on March 23rd, Hillel Neuer, Director of UN Watch, delivered a scathing attack on the commission's track record, describing it as a "human rights nightmare."

Texas oilman Wyatt sentenced in corruption scandal

. Texas oilman Oscar Wyatt Jr. was sentenced to a year in prison Tuesday [11/27/2007] for his role in corrupting the UN oil-for-food program, winning leniency from a judge who cited his military service during World War II and his many good deeds during his lifetime.

Update: Oscar Wyatt reports to prison in Beaumont

. Houston oilman Oscar Wyatt began his one-year prison sentence shortly before noon today when he reported to a federal prison in Beaumont. … Wyatt pleaded guilty on Oct. 1 to a single count of conspiring to make illegal payments for Iraqi oil under the United Nations' Oil-for-Food program. The minimum security federal prison in Beaumont, part of a federal prison complex, is the closest to Wyatt's Houston home.

The Editor says...

Having lived in Beaumont for most of the 1970s, I can tell you that Beaumont is a great place for a prison. A prison would be an improvement in almost any area of the city, even if only as a reminder to all who pass by, that plenty of prison space is available.

El Paso Corp. settles oil-for-food scam case

. Houston pipeline giant El Paso Corp. will pay more than $7.7 million to settle claims that it helped the former Iraqi regime receive millions in kickbacks through a U.N.-sponsored humanitarian program.

Houston men plead guilty in oil-for-food case

. Houston oilman David Chalmers, accused of funneling illegal payments to Saddam Hussein's regime at at time when Iraq was the target of strict economic sanctions, pleaded guilty today to a conspiracy charge.

Wyatt Pleads Guilty in Oil-For-Food Case

. Texas oilman Oscar Wyatt Jr. pleaded guilty Monday to a federal conspiracy charge, abruptly ending his trial by admitting he approved a $200,000 payment directly to an Iraqi bank account knowing it violated the rules of the U.N. oil-for-food program. Under the plea agreement, Wyatt, 83, will be sentenced to 18 to 24 months in prison and forfeit $11 million.

Oil for Hussein

. As front pages report every bit of bad news on the Iraqi war front in bold type, newspapers are giving precious little ink to what could be the biggest kickback scheme in world history. Call it: How Saddam Hussein siphoned $10.1 billion for his regime — thanks to the United Nations.

Annan orders probe of U.N. office

. U.N. Secretary-General Kofi Annan, reacting to an article in The Washington Times, asked U.N. investigators yesterday [12/13/2006] to look into claims of fraud, favoritism and intimidation inside the U.N. Department of Economic and Social Affairs.

Annan laments oil-for-food charges mar his legacy

. Secretary-General Kofi Annan lamented on Tuesday [12/19/2006] that his 10 years as U.N. leader may end up being remembered only for the oil-for-food program for Iraq, saying blame for a financial scandal was misdirected. One of his top regrets as secretary-general, he said, was that the allegations of U.N. mismanagement of the $64 billion Iraqi humanitarian program had been "exploited to undermine the organisation."

What Is Annanism?

Just as with other such ethicists as a lip-biting Bill Clinton or creased-browed Jimmy Carter, [Kofi] Annan is as publicly acclaimed as he is privately ignored. We like such itinerant moralists — more when they are off the job than on, and always in retrospect rather than contemporaneously. As we watch them hedge, we somehow feel apologetic rather than outraged over their latest deception.

Uganda terrorizes its own citizens under the auspices of UN gun control mandate

. For months now, Ugandan army troops have been garrisoned in the northeast part of the country under orders to disarm the local populace ... But in its effort to "disarm," the Ugandan army, supported by tanks and helicopter gunships, is burning down villages, sexually torturing men, raping women, and plundering what few possessions the tribespeople own. Tens of thousands of victims have been turned into refugees.

The United Nations abortion dilemma

: Let's briefly review two contradictory United Nations (U.N.) talking points. (1) Abortion is a matter of "women's rights;" (2) Killing a "girl child" in the womb is "the most extreme form of violence against women." To hold both of these beliefs at the same time means to live with constant cognitive dissonance. It doesn't take a genius to realize that the U.N. is on the horns of a dilemma; that is, the two alternatives are mutually exclusive.

U.S. women doing fine without International Violence Against Women Act

. Feminists have cooked up a new plan to raid the U.S. Treasury for more feminist pork. They want Congress to pass the International Violence Against Women Act. … Who better to introduce the act than Sen. Joe Biden, D-Del., the leading advocate of ratification of the United Nations Convention on the Elimination of All Forms of Discrimination Against Women? Biden never saw a U.N. treaty or a radical feminist spending bill that he didn't like.

More on the Democrats' Violence Against Women Act Hoax

. We noted yesterday [3/15/2012] that the Democrats have continued their phony "war against women" campaign by alleging in fundraising appeals that Senate Republicans "will oppose re-authorizing the Violence Against Women Act," thereby "put[ting] women's lives in danger." This is just one more in a series of Democrat scams, intended to 1) divert attention from the Obama administration's record of failure, and 2) raise money from the Democrats' gullible base.

Re-brand global warming as economic woe: U.N. draft

. A fight against global warming could work better if viewed as part of the world's economic problems and not a purely environmental headache, a draft United Nations report says. The report, due for release in Bangkok on May 4, says economic policies for everything from forestry to insurance can have big spinoffs in limiting greenhouse gas emissions.

Media Promote Global Warming Fraud

. On the matter of global intervention to stop global warming, there seems to be no need for scientific evidence to justify what is shaping up as a global carbon tax of 35 cents a gallon of gas on the American people. Our media want the public to believe that the same organization that gave us the oil-for-food scandal can be trusted on its dire predictions of calamity from alleged man-made global warming.

Scandal number N+1

United Nations Dictator's Program

: Saddam Hussein managed to pull off the $100 billion Oil for Food scam right under the noses of the United Nations officials charged with administering it. Now another dictator with nuclear ambitions has succeeded in a similar trick, this time manipulating the United Nations Development Program in North Korea.

Scandal number N+2

Mystery Surfaces Over Apartment of Kofi Annan

. The apartment was where Mr. Annan and his wife lived before 1997, when he became secretary-general. The Roosevelt Island home is part of an estate of low-rent state-regulated housing. For years, the Annans saved considerable sums by occupying an apartment meant to help financially strapped low- to moderate-income New York families.

Kofi Annan Sidesteps Questions About Roosevelt Island Apartment

. In his last U.N. press conference, Secretary-General Annan yesterday [12/19/2006] sidestepped a question about how the lease of a sought-after low-income residence he once lived in came to be held by a member of his family.

Scandal number N+3

U.N. Official Uses Two Birthdates

. Kamil Idris, has for almost 24 years been using two different birthdates, nine years apart. In recently amending the discrepancy, Idris has changed his current age in U.N. records from 61 to 52. That would be bizarre in any context, but it is an alarming discovery at the World Intellectual Property Organization, or WIPO, a U.N. agency with an annual budget of more than $200 million that is supposed to be one of the world's great bastions of accurate record-keeping.

Scandal number N+4

Head of UN patent agency to quit after row over alleged falsified documents

. The head of the U.N. patent agency is to leave his post a year early, officials said Thursday [12/6/2007]. Kamil Idris, who was due to step down from his post as director-general of the World Intellectual Property Organization in 2009, had faced pressure to resign after using an apparently false birth date to get jobs and win promotions.

Scandal number N+5

Bribery, bid-rigging found in U.N. peacekeeping contracts

. A United Nations task force has uncovered a pervasive pattern of corruption and mismanagement involving hundreds of millions of dollars in contracts for fuel, food, construction and other materials used by U.N. peacekeeping operations, which are in the midst of their largest expansion in 15 years.

Scandal number N+6

U.N.'s World Food Program Sitting on Cash Stockpile

. Just weeks before it announced the onset of a global food crisis and the urgent need for donors to provide at least $775 million in additional funding, the World Food Program was sitting on a cash and near-cash stockpile of more than $1.22 billion.

Scandal number N+7

Scandal Central: UN Corruption Seethes On

. The United Nations likes to sell itself as a mentor of good governance. But the recent deep-sixing of a damning in-house report suggests it might more honestly advertise itself as an example of how to foster bad governance —

and

get away with it. The report in question, labeled "strictly confidential," centers on alleged transgressions by longtime UN staffer Guido Bertucci, the director of — what else? — the UN good-governance office, the Division of Public Administration and Development Management.

Scandal number N+8

Silent Scandals

: In just the last month, an unusual number of what were formerly regarded as scandals went unnoticed and largely unreported by the old media, to wit: ... A report detailing how UN workers are actually stealing food from the starving people for whom it was intended and selling it on the black market was merely a blip on the radar. The UN said it had no idea that the food wasn't getting to the starving people of Somalia until shown pictures of UN-packaged goods on sale.

Journalist Who Exposes U.N. Corruption Disappears From Google

. How big do you have to be to earn the wrath of the United Nations and Internet giant Google? If you're journalist Matthew Lee, all it takes are some critical articles and a scrappy little Web site. Lee is the editor-in-chief, Webmaster and pretty much the only reporter for Inner City Press, a pint-sized Internet news operation that's taken on Goliath-sized entities like Citigroup since 1987.

Requiem for a welterweight

: The concern swirls around this heavily subsidized Roosevelt Island apartment, which was passed on to his brother and his family after the dapper little mouthpiece moved into his UN supplied multi-million dollar mansion, where we contribute some 40% of its operating costs, all courtesy of the monies we shovel into the slavering maw of that failing body of abject sycophants, bandits, and tin pot tyrants. And the main question centers on whether Kobina Annan, some sort of an ambassador to Ghana, and his wife, will remain on our public dole forever.

Kofi and U.N. 'Ideals'

. When Mr. Annan was named Secretary General 10 years ago, he did so as the U.S.-backed candidate of reform. Jesse Helms, then-chairman of the Senate Foreign Relations Committee, told Mr. Annan that "if you choose to be an agent of real and deep-seated change, you will find many supporters — and even allies — here in the U.S. Congress." Senator Helms's expectations were not met. Seven years later — thanks to U.S. military action that Mr. Annan did everything in his power to prevent — we learned that he had presided over the greatest bribery scheme in history, known as Oil for Food.

United Nation's Chief Kofi Annan's Legacy of Failure

: United Nations Secretary General Kofi Annan delivered his swan song last week at the Truman Presidential Library in Missouri. It was a thinly veiled parting shot at U.S. foreign policy delivered by an embittered U.N. leader seething with self-righteous indignation and resentment. Annan's Missouri speech will go down in history as one of the most blatant assaults on a U.S. administration by a serving U.N. official.

UNder strain

: In recent years, the United Nations has often gone out of its way to avoid getting involved in the world's trouble spots. It ignored genocide in Darfur. Pulled out of Iraq in 2003. Done nothing to stem Iran's nuclear ambitions. Can an organization this compromised do much to improve things?

Should America Pull out of the United Nations?

I once worked at the United Nations and have vowed that someday I will write about what a soul-scorching experience it was — especially for someone who was and still is a white Jewish-American feminist and Zionist. I had to absorb the most virulent, almost surreal hatred because of who I am and for the views that I hold. This happened long before I was perceived to have crossed any political aisle.

General Assembly OKs U.N. Renovation

. The General Assembly finally gave a green light to start a $1.9 billion renovation of the U.N.'s landmark headquarters in New York after years of delays, a move welcomed Saturday [12/23/2006] by outgoing Secretary-General Kofi Annan.

Answer Chavez

. America has seen this before, seen Krushchev bang his shoe on the table and say "We will bury you." We grew up watching our flag being burned on TV. So it's tempting to think this is part of a meaningless continuum. But the temperature of the world is very high, and maybe we're not stuck in a continuum but barreling down a dark corridor. The problem with heated words now is that it's not the old world anymore. In the old world, incompetent governments dragged cannons through the mud to set up a ragged front. Now every nut and nation wants, has or is trying to develop nukes.

Tolerating the intolerable

. Last week the impotence of the world Jewish community was on display for all to see. For all the talk of how the Jews control the media, the banks and the American government, a man whose declared intention it is to wipe Israel off the map was treated as an international dignitary in the city that contains more Jews than any other on earth. ... So now the world Jewish community must contend with the sad truth that 60 years after the Holocaust, a man can declare himself the new exterminator of the Jews and still be treated with respect.

United Nations 'army' proposed

. International rapid reaction force could be deployed within 48 hours of a UN green light.

UN Labels on US Parks

. U.N. designations such as "World Heritage Site" and "Biosphere Reserve" are being placed on dozens of U.S parks and monuments, including Independence Hall, the Statue of Liberty and Yellowstone National Park.

And That's the Way It Is

. To my great surprise, I received a form letter from Walter Cronkite inviting me to contribute to the Campaign for Global Change, sponsored by the World Federalist Association. Walter Cronkite has long since identified himself as a liberal, but I didn't know until this letter that he was so committed to plunging America into world government.

Video:

Hillary Clinton and Walter Cronkite

at the World Federalist Association meeting, 1999, where Mr. Crokite was awarded the Norman Cousins Global Governance Award.

The Editor says...

This is a rather alarming piece of video, in which Walter Crokite mocks the idea of a world government ruled by Jesus Christ, and then actually says, "Join me. I'm glad to sit here at the right hand of Satan."

More information about

Walter Crokite

.

Throw the U.N. on the Ash Heap of History

. In his book, "The U.N. Exposed: How the United Nations Sabotages America's Security", Eric Shawn, a senior correspondent and anchor for the Fox News Channel, takes the reader behind the scenes to reveal an utterly corrupt international institution. Like its predecessor, the League of Nations, the U.N. has demonstrated the maniacal insanity of expecting nations to cooperate with one another for any other reason than self-interest.

The Curse of Wilson

: [President] Bush is embracing the international system, which liberals consider to be Woodrow Wilson's gift to mankind. Wilson was the guiding spirit of the Treaty of Versailles and the League of Nations. … Of the many bad habits Woodrow Wilson bequeathed to America, one of the worst was his penchant for talking about countries as if they were people.

UN — The last refuge of scoundrels

. Ah, the UN. We've gone from a relatively well functioning operation under Trygvie Lie and Dag Hammarskjold to the finest of charades under Boutros Boutros Ghalli.

Last chance for UN

. As the United Nations looks for its next secretary-general to replace Kofi Annan at the end of the year, the organisation is rocked by failures and scandals. One of the UN's core goals is to protect human rights. And yet the UN Commission on Human Rights has dictators and tyrants deciding on its membership.

Kofi's Biggest Regret: Saddam's Rape Rooms Are Closed

. This isn't exactly the way he put it, but the fact that Kofi Annan's "biggest regret" upon leaving the United Nations is that he didn't prevent our "invasion" of Iraq, amounts to the same thing.

Plunder Down Under

: At United Nations headquarters, Secretary General Kofi Annan likes to imply that the Oil-for-Food era is over ("If there was a scandal" was his locution earlier this year). But Down Under, that landmark U.N. scam is right now all over the headlines. On Monday [11/27/2006], Australia's Cole commission released the findings of its year-long inquiry into some $220 million in kickbacks allegedly paid by the Australian Wheat Board (AWB) to Saddam Hussein's U.N.-sanctioned regime under Oil-for-Food.

Kofi Annan's Last Cover-up

: The fact is that if Mr. Annan departs Turtle Bay without having made his financial disclosure form public, the public will have reason to wonder. His term at the United Nations will be remembered only for the oil-for-food scandal, the sex-for-food scandal in the Congo, the massacres at Rwanda, Cambodia, and Srebrenica, and inaction in the face of the genocide in Darfur — and establishing that deception, secrecy, and patronage cannot be pierced by the reforms by which he sought to rescue his reputation.

Update: Kofi Annan's Cover-Up

. It was big news in the Washington Times, and the paper deserves credit for covering this important development. Despite claims about being more open, honest and reform-minded, the United Nations will NOT be releasing the financial disclosure form filed by Secretary-General Kofi Annan. The cover-up continues.

The Status of United Nations Reform

: Sixty years ago, the United Nations was founded to maintain international peace and security, promote self-determination and basic human rights, and protect fundamental freedoms. Sadly, weaknesses in the organization have prevented it from fully realizing these high aspirations. An accretion of outdated or duplicative mandates, insufficient transparency and accountability, and the resistance of member states to reform have resulted in a system that is bureaucratic, costly, cumbersome, lacking in oversight, and often incapable of fulfilling the responsibilities placed upon it.

Send Out the Clowns

. From the rostrum of the U.N. General Assembly in New York, Hugo Chávez declared that Bush is the devil. The lectern still smelled like sulfur, the odor left by the U.S. president, he observed. … Not everything that Chávez said should be dismissed, however. Surprisingly, amid that torrent of claptrap, he proposed a luminous initiative that should be immediately considered: Take the United Nations out of New York and move it to the Third World. Bravo!

Indicting the United Nations

: Largely unnoticed is the xenophobia that exists on a daily basis at the United Nations. While the UN constantly hectors the US to send money that constitutes 25% of its budget, Americans hold only 7.2% of its more than 56,000 jobs. A study by the General Accounting Office determined that, at the senior, decision-making level, only 2,076 Americans, 9.5%, hold such positions. This prejudice exists throughout the UN's operations. The World Food Program, for which the US provides more than half of its funding, is staffed by 90% of non-American personnel who, every year, find it difficult to account for tons of food that simply goes missing.

Welcome Back to the 1950s

. With the United Nations, specifically its Security Council, demonstrating anew that it won't or can't do much about the North Korean nuclear threat, it's back to when deterrence was the only weapon left to us: Mutually assured destruction. Or Mini-MAD, if you prefer. That's where we are, thanks to the Security Council, which bypassed a meaningful arms embargo proposal from the Bush administration in favor of toothless resolution 1718, which tries to gum North Korean madman Kim Jong-il into submission.

Kofi's successor

: Kofi Annan, the United Nations Secretary-General, steps down in December, and the race to succeed him is still wide open. The process of choosing his successor is anything but clear: by tradition a candidate "emerges" from discussion in the Security Council, and the name is then put to the General Assembly for approval. In practice, the successful contender is chosen after heated wrangling, horse trading and threats by the veto-wielding members to block anyone they do not like.

Annan's Ugly Exit

. Outgoing U.N. Secretary-General Kofi Annan traveled to the Harry Truman Library yesterday [12/11/2006] to deliver his valedictory. It was yet another sanctimonious broadside against the Bush administration.

Annan's dishonor

: You have to wonder what Annan would have said in 1945 when [President] Truman ordered nuclear attacks on Hiroshima and Nagasaki instead of waiting on the possibility Japan's militarists might surrender. Clearly, Annan, quite undiplomatically, was trying to score cheap political points while molesting American history.

Kofi's Classless Exit

: Departing U.N. chief Kofi Annan has much to answer for during his tenure, including his own possibly criminal behavior. Instead, in one of his final speeches, he lets loose a flood of bile, mostly aimed at the U.S. First in an op-ed in the Washington Post and later in a farewell speech, Annan laid out his case for what ails the world. And for the most part, it can be boiled down to five simple words: the United States of America.

Annan Slammed for Speech Critical of US

. Drawing a cold response from conservatives, outgoing U.N. Secretary-General Kofi Annan Monday [12/11/2006] took a swipe at U.S. military actions abroad and rebuked the Bush administration for abuses during the post-9/11 campaign against Islamist terrorists.

White House Considers Appointing Pro-U.N. Activist as Ambassador to the United Nations

. Various reports indicate that liberal Republican Richard S. Williamson is in the running for the post of U.S. Ambassador to the U.N. Williamson, a former U.S. deputy ambassador at the U.N., is also a former board member of the pro-U.N. lobby group, the U.N. Association, and favors "alternative financing mechanisms" for the world body. This is a euphemism for global taxes.

Shocking Truth Uncovered About U.N. Taxation Plan

: From September 14-16, 2005, the U.N. is holding a "high-level plenary meeting" of the U.N. General Assembly to "review progress in fulfillment of commitments" contained in the U.N. Millennium Declaration. The end result will be more pressure on the U.S. for tens of billions of dollars in more foreign aid. In fact, U.N. pressure is building for imposing global taxes on the U.S.

New U.N. Secretary-General in Early Flap

. New U.N. Secretary-General Ban Ki-moon ran into trouble on his first day of work Tuesday [1/2/2007] over Saddam Hussein's execution when he failed to state the United Nations' opposition to the death penalty and said capital punishment should be a decision of individual countries.

United Nations' Credibility on the Line

. If the United Nations is going to be an effective broker for peace and conduit for diplomacy, it must itself be above reproach. The United Nation's track record with regard to Israel, specifically, is unbalanced at best; anti-Semitic at worst. In just a single session of the UN General Assembly, it passed 21 individual resolutions criticizing Israel.

Last stand for U.N. in Sudan

. Finally, U.N. Secretary-General Kofi Annan pulled the world's attention back to the crisis during a summit this week in Addis Ababa, Ethiopia. As part of his legacy Annan would undoubtedly like to see an end to the warfare. But the United Nations has been feckless and impotent as this fearsome genocide churns on endlessly.

The UN's Dictator Tour 2006

: Not the least unfortunate aspect of the United Nations is its habit of providing Third World despots with a prominent pulpit to speechify against the agency's principal sponsor: the United States.

What really smells at the U.N.

: That dynamic duo of demagoguery — Presidents Hugo Chavez of Venezuela and Mahmoud Ahmadinejad of Iran — visited the United Nations earlier this month. Their outrageous addresses before the U.N. brings to mind the definition of "demagogue" proffered by H.L. Mencken. He said a demagogue was "one who preaches doctrines he knows to be untrue to men he knows to be idiots." Thus, any reasonable person who failed to walk out of the U.N. as these two leaders babbled on deserve the label of "idiot."

U.N. Approves Global Taxes to Fight AIDS

. There was a minor media breakthrough on this matter, with the New York Times noting, "A group of countries led by France plan to raise at least $300 million next year, mostly through taxes on airline tickets, to help pay for the treatment of children with AIDS, tuberculosis, and malaria, a senior French official said yesterday. … The Times was careful not to describe these as international or global taxes. But the taxes are designed to go for global purposes and finance international agencies.

United Nations' AIDS programme under fire

. Authors accuse agency of putting politics before health.

HillaryCare for the World

: The World Health Organization (WHO) is a United Nations body created, in the words of its constitution, to "promote and protect the health of all peoples."

Chaos, conflict, tyranny: would we do better without the UN?

It is funny that the acronym for the United Nations is UN. It always makes me think of negatives. Unhelpful. Unrealistic. Unproductive. Unhappy. … Despite all this, most people still tend to assume that the UN is the best place to look for a solution to this latest crisis in the Middle East.

U.N. Stands for "UnNecessary"

. You might be asking, "What do 'occupying forces' have to do with issues of disability?" The answer is, "Absolutely nothing!" But Middle East Arab countries were willing to trade off their so-called "pro-life stand" in order to see language referring to Israel and the United States in a negative light.

The U.N.'s Masquerade

: The problem with the president's warning is that the United Nations has been one of the chief obstacles to effective action in Darfur. Its failure to stop the killing offers another case study in the U.N.'s debilitating mix of pomposity, cynicism, and moral bewilderment.

An unmitigated disaster

. There is a good reason that Hizbullah chief Hassan Nasrallah has accepted UN Security Council Resolution 1701, which sets the terms for a cease-fire between his jihad army and the State of Israel. The resolution represents a near-total victory for Hizbullah and its state sponsors Iran and Syria, and an unprecedented defeat for Israel and its ally the United States.

The UN Terrorist Enablers Council

: So the top honcho at the UN wants yet another cease-fire in the Middle East? How brilliant! Now why didn't anyone else think of that before? Syndicated columnist and economist Thomas Sowell said in a column Thursday: "… There have been more cease-fires in the Middle East than anywhere else. If cease-fires actually promoted peace, the Middle East would be the most peaceful region on the face of the earth instead of the most violent."

New Report Details U.N. Fall from Grace

. A new study released by The National Center for Public Policy Research details an embarrassing and alarming number of serious controversies involving the United Nations and argues for meaningful reform.

Support for United Nations Justifiably Weakened by Financial, Sex and Human Rights Scandals

. The esteem in which the American public holds the U.N. is sinking. In the opinion of an increasing number of Americans, the U.N. not only assaults U.S. national sovereignty but also is a corrupt and incompetent organization. A June 2005 survey by pollster Scott Rasmussen found 42 percent of Americans held an unfavorable view of the U.N.

U.N. Investigated Over 300 for Sex Abuse

. The United Nations has investigated more than 300 members of U.N. peacekeeping missions for alleged sexual exploitation and abuse during the past three years and more than half were fired or sent home, according to a senior U.N. official.

Call for ban on 'defamation of Islam'

. Pakistani President Pervez Musharraf today called for a ban on the "defamation of Islam" in a speech to the UN General Assembly in which he took a veiled swipe at Pope Benedict XVI for his remarks linking the Muslim faith to violence.

The UN is barking but the US can bite

. If Iran is going to worry about the prospect of sanctions, it should be those that the US is drawing up on its own, not anything trickling out of the UN. There are hints that the US may enforce its current sanctions laws against foreign companies dealing with Iran far more aggressively than it has yet done — and Congress may tighten the laws further. That could hurt Iran and companies dealing with it more than anything the UN laboriously does.

The Great U.N. Delusion

: If religion is the opiate of the masses, then the United Nations is the opiate of the elites. Global U.N. worship is based on an odd mix of delusion and realpolitik. To self-described internationalists, the U.N. is supposed to be a counterweight to America's "unipolar" dominance. In the wake of the U.S.-led victory in the Cold War, America greeted an ungrateful world eager to see the remaining superpower counterbalanced by, well, something. And the U.N. was the only viable candidate.

Kick U.N. out of New York City

. Given the pathetic record of the United Nations over the last 60 years, Bush should tell Kofi Annan and his band of thieves that he is throwing the full weight of his administration behind a plan to remove the United Nations from its New York City digs and withdraw U.S. funding of this corrupt, anti-American, anti-Semitic organization of terrorist sympathizers. Give them until, say, the end of next year to clear out.

Pull Canada out of the UN

. Because of the tragic deaths of a Canadian peacekeeper in a UN bunker near the border, everyone now knows that, in fact, the UN has been there for years — since 1978, in fact. It didn't stop terrorist attacks on Israel in the past, it isn't stopping the war today, and it won't do anything in the future, either.

Gender Equality Gobbledygook

: One would think that the just-released 148-page United Nations Children's Fund (UNICEF) report, "The State of the World's Children 2007" — with its exclusive focus on gender equality — was produced by leftists and feminists. Instead, it is the product of Ann M. Veneman, the Executive Director of UNICEF and a Bush appointee who promised to bring back a sane perspective on children's issues. … The 148-page UNICEF report is all about the left's "women's agenda," albeit papered over with slogans such as "a world fit for women is a world fit for children." We expected more of a Bush appointee who was supposed to bring a whiff of reality to UNICEF. As a result, once again we have to ask, "Can anything good come out of Turtle Bay?"

Your Pennies at Work: UNICEF Funds Hate TV for Palestinian Kids

. Unlike almost every other group linked to United Nations, UNICEF, the United Nations Children's Fund, has retained much of the original goodwill associated with the praiseworthy cause of helping poor kids around the globe. But no one should be surprised that the group, for which American children have traditionally collected pennies on Halloween, is part and parcel of the same international system that nurtures hatred of Israel and the West.

Feminist Scheme for U.N. Reform

: Thank goodness the membership of the new Human Rights Council includes such upholders of individual freedoms and civil liberties as Cuba, China, and Russia. Of course we're all supposed to stand up, applaud, and send in our check. Just for the record, U.S. taxpayers pay $420 million a year to the United Nations for "assessed" dues, plus billions more in "voluntary" contributions to the overall U.N. system.

Feckless UN

: Suppose the UN were to support Mr. Anan's proposal? What is a "stabilization" force? By definition a stabilization force is a small contingent of so-called peace-keepers, embarked upon its mission after fighting has ceased. We saw in the Balkans that those peace-keepers easily become hostages for an aggressor preparing to resume military hostilities. Or worse, as we saw in Africa and the Balkans, peace-keepers become sexual predators exploiting the plight of displaced populations.

Fox News Vs. the U.N., Part Two

. After the U.N.'s number two man delivered a hysterical broadside at Fox News and Rush Limbaugh for being critical of the world body, Eric Shawn of Fox News did a story noting the involvement of convicted inside trader and left-wing anti-Bush eccentric billionaire George Soros in the pro-U.N. event which featured U.N. Deputy Secretary-General Mark Malloch Brown. Soros is a big U.N. backer and even helps underwrite the awards given out by the U.N. Correspondents Association.

UN Bashing is Hardly Enough

. During its six decades, the overall record of the United Nations has been so rife with failure, corruption and incompetence — to say nothing of poor judgment, rudeness and condescension, as exemplified by [deputy secretary-general Mark] Malloch Brown — that it deserves to be disdained.

Oil-for-Food scandal aired in court

. A South Korean acting as a go-between with Boutros Boutros Ghali, the UN Secretary-General at the time, asked for $10 million from Iraq to "take care of some people" before the creation of the UN Oil-for-Food programme, a court in New York has been told. Iraq set aside $15 million for the alleged bribery scheme and sent $3 million in cash to New York in the year that the UN's largest humanitarian programme was set up, the court was told.

Update: South Korean convicted in oil-for-food case

. A U.S. federal court jury found South Korean lobbyist Tongsun Park guilty of acting as an unregistered foreign agent for Iraq and money-laundering on Thursday [7/13/2006] for his role in the U.N. oil-for-food scandal.

U.N. fails to make oil-for-food reforms, according to an investigator

. The United Nations has failed to take on board some of the key recommendations of an investigation into corruption in its oil-for-food programme in Iraq, an investigator told Reuters on Thursday [9/7/2006].

Exposing the U.N. Oil-for-Food Scandal

. As U.S. News and World Report senior writer Michael Barone explained: "The U.N. Oil for Food program, we learn from the reporting of Claudia Rosett in The Wall Street Journal, was a rip-off on the order of $21 billion — with money intended for hungry Iraqis going instead to Saddam Hussein and his henchmen, to bribed French and Russian businesses and, evidently, to the U.N.'s own man in charge, Benon Savan."

Editor's Note:

The article above includes links to numerous other articles about the Oil for Food scandal.

The United Nations in your wallet

. In spite of some pretty torrid scandals in recent years, the United Nations is far from finished. In fact, Kofi Annan, Secretary General of the U.N., is leading the gambit for perhaps its biggest power-grab yet — independent tax-raising powers or globo-taxation.

Cashless Society "Inevitable;" a Boost to Globalist Taxers?

Money won't be around anymore in just a few years, according to trend watchers. And the same globalist taxers that are already trying to confiscate your hard-earned money can't wait for the cashless era to begin.

The UN Plan for Global Migration

: The dream of a New World Order was born long before socialist visionaries (including Franklin Roosevelt and the leaders of the Federal Council of Churches) enthroned Communist Alger Hiss as the first head of the United Nations.

U.S. probe targets U.N. department

. "U.N. resources are unnecessarily vulnerable to mismanagement, waste, fraud and abuse," the GAO report says, "because the procurement process is improperly managed; has not committed to maintaining a professional, trained work force; and has failed to adopt a full range of ethical guidelines."

The Doomsday clock

. Thirty days. That's how long the UN Security Council gave Iran last week to stop trying to enrich uranium, which could be used for an atomic bomb. And if Iran doesn't politely withdraw its application to join the nuclear club by the time the clock runs out, well, the UN will just have to meet again. Doesn't sound like much of a threat, does it?

Australian PM Denies Knowledge of Oil-for-Food Bribery Claims

. Called to answer questions about alleged bribes paid by Australia's wheat export body to the regime of Saddam Hussein, Prime Minister John Howard on Thursday become the country's first political leader to testify before a commission of inquiry in more than two decades.

Possible Saddam-Al Qaeda Link Seen in U.N. Oil-for-Food Program

. Did Saddam Hussein use any of his ill-gotten billions filched from the United Nations Oil-for-Food program to help fund Al Qaeda? Investigations have shown that the former Iraqi dictator grafted and smuggled more than $10 billion from the program that for seven years prior to Saddam's overthrow was meant to bring humanitarian aid to ordinary Iraqis.

Cash-for-Kofi

: Despite frequent declarations of reform, it seems that United Nations Secretary-General Kofi Annan has learned nothing from the U.N.'s Oil-for-Food scandal, in which Saddam Hussein's billions corrupted the U.N.'s entire Iraq embargo bureaucracy. Earlier this month, Annan accepted from the ruler of Dubai an environmental prize of $500,000 — a fat sum that represents the latest in a long series of glaring conflicts of interest.

Environmental advocate arrived in private jet

. The head of the UN's environmental program opted for one of the least environmentally friendly modes of transport to get to this week's conference in Tromsø. He claims he had no choice.

The United States of America Should Withdraw From the United Nations

. The United Nations, founded in 1948, is not simply incapable of stopping wars and genocides, it is so utterly corrupt that it needs to be eliminated entirely in the hope that the many other existing international organizations, treaties, unilateral and bilateral relations can be allowed to do what it will not and cannot.

Congress Passes Ron Paul's Amendment to Reject UN Taxes

. The US House of Representatives today [6/15/2005] unanimously passed legislation introduced by Congressman Ron Paul that ensures no Americans will be forced to pay taxes to the United Nations. Under Paul's amendment to a State Department funding bill, no US taxpayer dollars may be used to develop, implement, or impose any tax on American citizens to raise revenue for the UN.

Citizen Distraction: Who's the terrorist of the day?

The US was close to a civil tax revolt against the 16th amendment to the Constitution when all this occurred. Now who's watching taxes when anthrax is loose? Who's watching the government land grabs now that they're watching out for a plague? Citizen Distraction. It's a great game of domestic subjugation of citizens while they're distracted by mass scare tactics that do not warrant all the media attention causing the scares. And where major media is, there's something behind that curtain they don't want us to see. It might be the UN flag.

How Communism and The U.N. Set Out to Destroy America

: Any limit on UN jurisdiction was deliberately camouflaged by another public relations campaign that painted the organization as a world body of great benevolence that must secure the approval of its members. It is unclear if our World Heritage Sites, which put American land in the hands of and under the control of the United Nations, are examples of such benevolence.

Kofi Annan Aide Shredded Thousands of Documents

. The destruction of highly sensitive documents by Kofi Annan's chief aide is a massive obstruction of justice that demands major congressional investigation. It gives the impression of a huge cover-up at the very heart of the United Nations, and casts a dark cloud over the credibility of the UN secretary-general. It projects an image of impunity, arrogance and unaccountability on the part of the leadership of the United Nations.

How the Oil for Food scandal unfolded

. Around four days after the Iraqi army invaded Kuwait in August 1990, the UN imposed economic sanctions prohibiting member states from trading in Iraqi commodities or products. These remained in place until 2003. In April 1995, the UN agreed to let the Iraq government sell oil, with all funds to be deposited into an escrow bank account monitored by the UN to be used for buying humanitarian goods — dubbed Oil for Food.

Oil for kickbacks

. An investigation of the United Nations' Oil for Food program concluded that thousands of companies and individuals, including several in Houston, paid kickbacks to Saddam Hussein so they could purchase underpriced Iraqi oil or sell goods to Iraq while sanctions were in place. The investigation rightly faults the United Nations and Secretary-General Kofi Annan for not controlling or preventing the corruption. However, the Oil for Food program was doomed to corruption the moment Saddam was allowed to select the oil buyers and goods sellers.

No Rush to Examine Oil-For-Food Documents

. In a secret and secure location, a set of computers holds the hundreds of thousands of files that document how companies and individuals from some 40 countries exploited the U.N. oil-for-food program in league with Saddam Hussein.

Don't Shred on Me

. The most urgent implication of Mr. Volcker's incomplete findings is that his huge and expensively assembled archives must be preserved intact well beyond the Dec. 31 deadline by which Mr. Volcker now plans to start disposing of them. Above all, they must not be handed back to the U.N., where too much related to the corrupt Oil for Food program has already vanished — including, to a fascinating extent, Secretary-General Kofi Annan's own powers of recollection.

More oil-for-food probes may be launched

. Swiss authorities may launch criminal investigations into the conduct of several dozen companies in connection with the United Nations' oil-for-food program in Iraq, officials said Wednesday [11/16/2005].

Oil-for-Food panel to keep records an extra month

. The U.N.-appointed panel investigating the scandal-tainted, oil-for-food program for Iraq said on Wednesday [11/16/2005] it would stay open an extra month to help prosecutors build cases against corrupt companies and officials.

France implicated in oil-for-food

. French authorities reportedly knew of fraud being committed by government officials involved in the oil-for-food program. … A series of investigations in France and in the United States have implicated French politicians and businessmen in a web of kickbacks connected to the oil-for-food program.

Probe to blow the lid off massive U.N. scandal

. Documents prove oil-for-food corruption involving world leaders.

Woes beyond oil-for-food

. So, up at the United Nations, Benon Sevan is out and John Bolton is in. That's one small step for rooting out corruption; one giant leap for American interests.

Our man at the U.N.

: The Senate Foreign Relations Committee is scheduled this morning [7/27/2006] to consider yet again one of President Bush's most inspired nominations — the appointment of John Bolton to the post of U.S. Permanent Representative to the United Nations.

The Anatomy of a Smear

: The U.N. Correspondents Association (UNCA), with few exceptions, is a lapdog of the world organization and its anti-American majority. But Warren Hoge's July 23 hit-piece on U.S. Ambassador to the U.N. John Bolton represented a new low. Hoge, a member of UNCA who covers the U.N. for the New York Times, resorted to using anonymous sources to smear Bolton.

Bravo for Bolton

. Perhaps the best reason to support John Bolton's confirmation as U.S. ambassador to the United Nations is that his approach to foreign policy is radically different from John Kerry's, as shown by their exchange during Mr. Bolton's confirmation hearings. It is a shame anyone missed this delicious slap-down.

Oil for Food comes to Reston

. The U.N. oil-for-food program's many threads continue to unravel, and the latest leads to the Washington area. New York prosecutors announced [10/20/2005] that Reston-based Midway Trading, an oil-trading company, told the New York State Supreme Court that it gave $440,000 to the Saddam Hussein's regime in connection with the U.N. oil-for-food program.

UN team links more oil cash to Galloway wife's bank account

. George Galloway faced new questions last night after a UN inquiry tracked additional payments of Iraqi oil money into his wife's bank account.

George Galloway and the Oil-for-Food Scandal: Time for U.S. and British Inquiries

. The Senate Permanent Subcommittee on Investigations (PSI) today [10/25/2005] unveiled new evidence on British Member of Parliament George Galloway's involvement in the Iraqi Oil-for-Food scandal.

I would have said "canned".

Kofi must be sacked

. World leaders will assemble in New York this week to talk about the urgent task of reforming the UN. Unfortunately, it is likely that talk is all they will do: there is no sign that they will be able to agree on any of the concrete reforms that the UN so desperately needs.

U.N. Procurement Scandal: The Case of the Official Who Never Was

. Trouble in the United Nations Procurement Division is now well established as the world organization's successor scandal to Oil-for-Food.

UN Allows Corruption While Children Starve

. American taxpayers entrust billions of dollars in aid each year to the United Nations and its various agencies that are supposed to alleviate [poverty and starvation], but the organization wants even more. What is worse, is that the UN is mired in corruption and beleaguered by poor management.

Oil-for-Food Report Shows the Limits of UN Ability

. The latest news from Paul Volcker's Independent Inquiry Committee reveals what independent observers of the United Nations have long understood — that there are "serious instances of illicit, unethical, and corrupt behavior within the United Nations," and there was "wholesale corruption" within the Oil-for-Food program.

Beware of the "Tranzis"

. Maybe [Heather] Locklear could play the part of Claudia Rosett, who, almost alone among the fearlessly non-partisan band of investigative journalists, delved deeply into the sleazy details of the oil-for-food program when the establishment media were dismissing it as a storm in an oil can.

This was the most glaring scandal of all

. The US Congress is incensed about a scandal. From 1996 to 2003 the UN's oil-for-food program allegedly enabled Saddam Hussein to misappropriate hundreds of millions of dollars. Certain UN officials – particularly Benon Sevan, the man in charge of the program – are alleged to have pocketed large kickbacks. It is also claimed that foreign politicians took similar advantage of the system. These are serious accusations that warrant detailed investigation.

Of what use is the United Nations?

Sometimes, it seems the answer is: none at all. The U.N. Oil for Food program, we learn from the reporting of Claudia Rosett in The Wall Street Journal, was a rip-off on the order of $21 billion — with money intended for hungry Iraqis going instead to Saddam Hussein and his henchmen, to bribed French and Russian businesses and, evidently, to the U.N.'s own man in charge, Benon Savan.

Oil-for-Food Revisited: The U.N. Should Not Pay Benon Sevan's Legal Fees

. According to media reports, the United Nations' own internal judicial body, the Administrative Tribunal (UNAT), has ordered the U.N. to pay "all reasonable legal fees" to Benon Sevan, the disgraced former chief of the disastrous Iraqi Oil-for-Food Program. Sevan's lawyers are seeking 880,300 U.S. dollars plus interest from the United Nations.

Hungry for answers

: If you leave a fox in charge of the henhouse, don't expect many eggs. That nicely sums up the United Nations Oil-for-Food program. It was supposed to feed starving people in Iraq. Instead, a handful of corrupt bureaucrats in Baghdad and at the U.N. were in charge of the program and pocketed billions of dollars, while innocent Iraqis starved to death.

The UN's Claim to Moral Authority

. Back in 2001, the United States was voted off the UN's Human Rights Commission for the first time since its inception in 1947. When that happened, a variety of reasons were given as to why such a vote occurred: the U.S. opposed the Kyoto treaty on climate change; the U.S. insisted upon creating a missile defense system; the U.S. had the death penalty; the U.S. imposed trade sanctions on Iraq after the Gulf War. The countries voting against the U.S. deemed these actions to be human rights violations.

Senator raps U.N. "brainwashing" on climate

. The U.S. Senate's most vocal global warming skeptic, James Inhofe, on Thursday [11/16/2006] dismissed a U.N. meeting on climate change as a "brainwashing" session. Inhofe, an Oklahoma Republican who will step down as chairman of the Environment and Public Works Committee in January, told a news conference, "The idea that the science (on global warming) is settled is altogether wrong."

What the United Nations Stands For

: The U.N. does not stand for freedom and peace. The U.N. stands for moral equivalency: for pretending that free countries and violent dictatorships are one and the same. Allowed to lead us, the U.N. will be the death of us all.

Refusing to Fund Forced Abortions is Controversial?

On July 16, 2004, President Bush for the third straight year steadfastly declined to make Americans complicit in China's coercive abortive practices. Despite opposition from abortion organizations and media, the Bush administration withheld taxpayer funds from the United Nations Population Fund (UNFPA) because it is connected to China's population control programs.

Loving Thy Enemy

: When will most of us wake up to the fact that the U.N. (and groups like it) are not on our side? Everything they do supports the opposite of freedom, individual rights, and rational values. Never has this been clearer than now. The very idea of U.N. people inspecting American facilities to make sure we treat these war criminals "humanely" is incomprehensible. Now, when freedom and civilization need advocates of individual rights more than ever, the U.N. places the personal comforts of terrorists on an even (or greater) level with the pursuit of justice and safety.

Next scandal:

Overheads take up to 1/3 of tsunami funds

. Up to about a third of the $590 million U.N. fund spent for the Indian Ocean tsunami relief may have gone to pay for overhead. The Financial Times says its two-month investigation showed the money appears to have been spent on administration, staff and related costs. The $590 million was part of the United Nation's $1.1 billion disaster flash appeal.

Tsunami aid 'spent on politics'

. Three years after Australians donated $400 million to rebuild Asian lives devastated by the 2004 tsunami, aid groups are under attack for spending much of the money on social and political engineering. A survey by The Australian of the contributions by non-government organisations to the relief effort found the donations had been spent on politically correct projects promoting left-wing Western values over traditional Asian culture.

The U.N.'s Distortion of Rights

: The "positive rights" championed by the U.N. Declaration are neither positive nor rights. They mandate a profound negative — the initiation of force against the individual — and they are the enemies of genuine rights.

International Coalition Against Terrorism is a Terrible Idea

: There may be instances when some of its closest allies (certainly the United Kingdom and perhaps even other NATO allies) will join its military operations, but the price of entry must be unreserved support for America's political and military objectives to eradicate terrorism.

What the Constitution giveth, the UN taketh away

: The United Nations in their infinite arrogance, and self-assured pomposity have once again found a way to attempt to determine American domestic policy.

Also of interest: It's time to evict the U.N.

My wife would like to see us kick the United Nations out of the United States. I, for one, think it's a swell idea. What's more, I'm certain that most New Yorkers feel the same. After all, for the past 58 years, the gang of scofflaws have taken advantage of their diplomatic immunity to be the worst kind of guests. Double-parking is the least of it.

Bush Supports Incompetent Annan

. The United States expressed confidence in Secretary-General Kofi Annan on Thursday [12/9/2004] and said he should remain at the helm of the United Nations, an abrupt turnaround from its refusal to back him last week after a U.S. senator called for his resignation.

A Crude Fraud

. The first interim report on the oil-for-food scandal is out, and it isn't pretty. It implicates a top U.N. official, and Secretary-General Kofi Annan has yet to be cleared.

U.N. Suspends Two Officials– With Pay! – in the Oil-for-Food Scandal

. The United Nations has suspended the former head of the oil-for-food aid program in Iraq and another senior official who helped select the program's contractors. The move comes after an interim report by an independent commission on Thursday [2/3/2005] that severely criticized the conduct of both men.

Oil For Food Foolery

: Senate hearings in mid-November 2004 revealed that Iraq's Saddam Hussein skimmed over $21 billion from the UN "oil-for-food" program that was supposed to feed and provide medicine for the Iraqi people — and used the money to bribe UN and European officials.

U.N. follies

. Is the United Nations attempting self-parody? How else to explain the announcement that a panel has been elected to decide which complaints will be heard by the U.N. Human Rights Commission at its annual meeting in Geneva this spring — and that three of the five members are Cuba, Zimbabwe and Saudi Arabia?

Fears of top UN role for Zimbabwe

. Western countries are concerned about the expected appointment of Zimbabwe to head a key UN body, the Commission on Sustainable Development.

Millions missing, but UN ignores Zimbabwe's quiet genocide

. Suffer the little children is a phrase never far from your mind in today's Zimbabwe. The horde of painfully thin street kids milling around you at traffic lights is almost the least of it: in a population now down to 11 million or less, there are an estimated 1.3 million orphans. Go to one of the overflowing cemeteries in Bulawayo or Beit Bridge, and you are struck by the long lines of tiny graves for babies and toddlers. Hyena attacks on humans, previously unheard of, are increasingly common.

Did someone mention

Zimbabwe

?

Get Out Of The U.N., Start Over

. The U.N. is involved in a huge scandal which has the potential to escalate beyond anything we have known to date. At a minimum U.N. Secretary General Kofi Annan presided over the misappropriations of billions of dollars in the oil-for-food program designed to help poor Iraqis. Instead, the money never reached the poor. It was used to finance new weapons programs for Saddam Hussein, weapons which were manufactured by those who opposed U.S. intervention in Iraq, namely France, Germany and Russia.

The high price of Kofi:

U.S. out of U.N. - now!

The United Nations does not serve the interests of the United States or the objectives of democracies. The oil-for-food scandal, in which billions of dollars were misappropriated in Iraq, exposed a corrupt bureaucracy, rotting from the head.

Condi's First Test: The Oil-for-Food Scandal

. Although the Iraqi elections on January 30 [2005] will top her incoming agenda, the first real indicator of Condi Rice's tenure as Secretary of State will be how she handles something most in her new department would rather ignore: the United Nations' oil-for-food scandal.

Just scrap it and start over

. In wine, the experts say, vintage is everything. If that's the case, 2004 has turned out to be a very bad year for the United Nations. But the United Nations' vinegar may yet prove to be a very good thing for the rest of us — particularly if the decision is made to break open the casks, pour out the putrid contents and start over.

Humor: U.N. Money-for-Peace Scam May Force Annan to Resign

. U.N. Secretary-General Kofi Annan today vigorously denied allegations that he has overseen a complex, fraudulent scheme to pilfer billions of dollars from 191 nations under the guise of providing "global peace services."

Dare We Surrender America's Future to the UN?

The future of the United States of America cannot be surrendered to the United Nations.

The United Nations: A Totalitarian Appeasing Debating Society

. The United States provides 22 percent of the U.N.'s general operating budget. By contrast, France, Great Britain, China and Russia combined contribute less than 15 percent. However, as members of the Security Council, each of those nations enjoys veto power over the U.S.

The United Nations has sovereign control ( = ownership) of Yellowstone Park

.

The United Nations Versus The United States

: According to this author, the UN intends to secure the power to tax all financial transactions and control the taxation policies of all nations; the UN intends to exercise power over land use throughout the world; the UN already has control over major U.S. historical sites and natural wonders including the Statute of Liberty and Yellowstone National Park; the UN intends to restrict gun ownership worldwide.

Kiss your rights goodbye?

Will the International Criminal Court have the ability to preempt and eliminate the hard-won rights of U.S. citizens? A

treaty signed by former-President Clinton

— that is now being reviewed by President Bush — could easily lead to the destruction of U.S. sovereignty and constitutionally guaranteed protections, warns one veteran U.S. congressman.

The UN: United in Opposition to the US

. United Nations Secretary General Kofi Annan continues to claim that only the UN can grant legitimacy to the United States' successful war to topple Saddam Hussein. Rationally, that claim can be viewed as little more than a pathetic, baseless whine from those clinging to a dying dream of global power.

Role of the UN

: Globalism is out of control and it's far passed time for the United States to secede from the United Nations in its present form unless we intend to ultimately surrender our national sovereignty and be ruled by an omnipotent world government.

Perpetual War

: President Bush did not seek the expected congressional declaration of war as required by the U.S. Constitution. Instead, our commander in chief sought permission and approval from the United Nations. Dragging its feet, the U.N. Security Council finally passed Resolution 1373, authorizing America to fight the "war on terrorism."

The UN Is NOT Your Friend

: Behind the mask of peace, brotherhood, and universal understanding, the United Nations promotes terror and tyranny in order to achieve its real objective: world government.

Conservatives Bristle at 'United Nations Day'

: According to a proclamation released by the White House Wednesday, Oct. 24, 2001, was recognized as United Nations Day, a day to celebrate the U.S. relationship with the U.N. But not everyone was celebrating, especially some conservatives who believe that in light of U.N. treatment of the U.S., America should sever all ties with the organization.

The Immorality of a Self-Defense Consensus

: Do people who value life, liberty, and the pursuit of prosperity understand that they have a right to defend themselves against people who want to kill them? If the answer is yes, then a powerful, free country defends itself. If no, then it seeks consensus, at first with allies and then with enemies, and it proceeds only with their agreement. So far, America has taken the latter path.

Related material:

Environmentalism: A Globalist Tool for Tyranny

. There are plenty of good reasons for a freedom loving people to steer clear of the United Nations, one of the chief ones being the fanatical zeal with which the UN and Friends grasp hold of every worry and woe, make it their own, blow it out of proportion, and insist that they and only they can provide a solution, a solution which must be imposed by force upon the world.

Environmentalism: A Globalist Tool for Tyranny

. There are plenty of good reasons for a freedom loving people to steer clear of the United Nations, one of the chief ones being the fanatical zeal with which the UN and Friends grasp hold of every worry and woe, make it their own, blow it out of proportion, and insist that they and only they can provide a solution, a solution which must be imposed by force upon the world.

Daniel New's essay on UN world government

.

Get Ready to Fork Over Your Money to the U.N.

America's Survival Inc. argues that we do not owe any money to the U.N. in the first place.

Thank Clinton for New UNESCO Fiasco:

Blame Bill Clinton for America's return to UNESCO, the anti-American, corruption-riddled U.N. agency that is allegedly for education, culture, science and communication.

Back to the

Home page