The global warming scare has lost a lot of traction in the last few years because there is no evidence of drastic warming and no evidence that human activity can cause or prevent global changes in climate. Actual measurements -- not computer models -- show that there has been no global warming in at least a decade, even though carbon dioxide levels in the atmosphere are gradually increasing. Obviously there is therefore no need to reduce carbon dioxide emissions.

It is especially difficult to get people interested in global warming theories during record-breaking cold weather. When protesters take to the streets to sound the alarm about drastic warming during a blizzard, not many rational onlookers will be convinced. This condition is called The Gore Effect.

A separate page has commentary about the Akademic Shokalskiy getting stuck in Antarctic ice, in the summer while on a mission to prove the polar ice was all gone.


---
Temperatures in Siberia dip to minus 56 Celsius as record snow blankets Moscow. Temperatures in parts of Siberia plummeted to minus 56 degrees Celsius (minus 69 degrees Fahrenheit) on Monday while blizzards blanketed Moscow in record snowfall and disrupted flights as winter weather swept across Russia. In the Sakha Republic, located in the northeastern part of Siberia and home to Yakutsk, one of the world's coldest cities, temperatures fell below minus 50 C, according to the region's weather stations.
Heavy snow and ice has frozen jets in Munich bound for Dubai's global warming conference. [Tweet with video clip]
Another day, another climate 'tipping point'. Dozens of scientists say we have hit the tipping point... again. It is amazing how often we've hit this tipping point, yet things don't seem to be as dire as "they" predicted. [...] Meanwhile, in 2021, Antarctica had the coldest six months on record, six degrees colder than the average of the last 40 years. California had record snow in 2023, a weather event — not a transition to electric vehicles or less crude oil consumption — which alleviated the state's long drought. Texas also had record cold in February 2021. And in 2023, Los Angeles had the coldest May and June on record. How could a big city like LA — with lots of cars and people, and notorious smog — set record low temperatures for months if everything we are told caused warming actually did? Why doesn't the media highlight record snow and cold periods to show natural variability? The answer is that it wouldn't scare people, and the green pushers would lose all public support.
The Latest On Global Warming Is ... There Is No Global Warming. A new study out of Norway is exactly what was needed to shut down the climate alarmists. Its findings show that man has not set fire to his home planet. Right from the top, in the abstract not 10 lines into the study, the authors get to the point. "Using theoretical arguments and statistical tests we find," the researchers say, "that the effect of man-made CO2 emissions does not appear to be strong enough to cause systematic changes in the temperature fluctuations during the last 200 years." In other words, our words, the greenhouse effect is so weak that it should be sidelined as an argument. From there, the bad news only gets worse for priests of the climate religion. "Even if recent recorded temperature variations should turn out to deviate from previous variation patterns in a systematic way it is still a difficult challenge to establish how much of this change is due to increasing man-made emissions of carbon dioxide (CO2) and other greenhouse gases."
Renowned Arctic Scientist Debunks 'Climate Crisis,' Warns 'Ice Age' Is Coming. A world-renowned Arctic scientist has spoken out to debunk the globalist "climate crisis" narrative and warn the public that the Earth is actually heading for a period of "global cooling." Leading polar expert Andrey Fedotov of the Siberian Branch of the Russian Academy of Sciences declared that "warming is about to end" and the planet is about to enter an "ice age." "We will inevitably transition to an unfavorable cold," he warned, according to the Russian Academy of Sciences (RAS). According to Fedotov, the director of the Limnological Institute of the RAS, the period of "unfavorable cold" will begin around 2030. Fedotov issued the warning in a statement that was published by RAS, the country's leading scientific institution.
How Is the Government Preparing for a Cold Winter? What are the odds of a very cold winter in 2023-24? Several factors are involved. First, we have not had a very cold winter in years. The "abandoned slot machine" theory suggests that it's time to have one, if not this winter, then soon. Second, volcanic activity has been on the rise, and volcanoes do contribute to cold winters. Large volcanoes spew sunlight-blocking ash into the stratosphere, lowering temperatures, as did the 2010 Eyjafjallajökull volcano in Iceland. Recent volcanic activity in Iceland, Indonesia, Guatemala, Tonga, Hawaii, Sicily, Russia, and elsewhere has emitted sunlight-blocking ash with the potential for lower temperatures this winter.
The Editor says...
The volcanic eruption in Tonga occurred 400 feet underwater, so it probably didn't contribute a lot of ash to the atmosphere. Its main contribution was water vapor.
South Africans marvel at snow and sleet in Johannesburg during cold snap. People have woken up to snow and sleet in South Africa's biggest city, Johannesburg, for the first time in over a decade. South Africans are being warned to keep warm as a cold front sweeps across most of the country. "No major disruptions have been caused by the snowfall at this stage," a spokesman for the South African Weather Service (Saws) has told the BBC. Cold weather conditions are expected to continue through the week.
Why hasn't it been a big story that LA has had record cool temperatures in 2023? Shouldn't it be a huge national story that a big city like LA has had a record stretch where it didn't hit 80 degrees in 60 days in May and June? After all, the media always warns us that the earth is getting dangerously warmer? [...] We are told constantly that there are too many people, and that causes warming, so isn't it amazing that the population of LA County in 1880 was around 33,000 and today it is over 10 million? How is it possible that the population is 300 times higher, yet the temperature is lower than at any time in 145 years.
"Global warming" is not global; the northern hemisphere is cooling. When climate alarmists market their "catastrophic anthropogenic climate change" agenda, it is, to a large degree, on the presumption that the Western World is causing "global warming." The largest countries of the West are located in the northern hemisphere. A Twitter user has pointed out an anomaly in monthly temperature changes demonstrating "global warming" is not global nor is the northern hemisphere, and therefore the West, experiencing "warming."
Media Ignore Delhi's Coldest May Since 1901. On May 4, India's capital of New Delhi recorded the third coldest May morning since 1901. At 16 degree Celsius (60 Fahrenheit), the region's 32 million residents woke up to a relatively cold morning in what is usually the hottest month of the year. So why is there a record low temperature when the dominant mainstream narrative tells us that climate change has made our environs warmer than before? Is this just an aberration? While Western media obsessed with the warm weather in Spain, India's capital recorded a very cold summer morning. In fact, most of the cold-weather records in Delhi have gone unreported in Western media, which are mainly interested in showcasing the city's extreme summer temperatures.
Baby, it's still C-O-L-D outside. [Scroll down] It is incredibly frustrating because there is no way to alleviate the suffering. You can't kick hay out to starving deer and antelope. They'll eat it, yes, but their systems cannot process it and often that winds up killing them. You can take a road scraper or plow and push the snow and ice away from whatever is underneath but that tears up the sagebrush. That western shrub is an essential foodstuff for the native artiodactylates (even-toed, hoofed mammals) like the pronghorn and mule deer who inhabit the range. Sagebrush takes years to recover if uprooted or abused, if it recovers at all. Frantic wildlife specialists and gamekeepers are at their wits' end. The state has slashed some species hunting tags for next fall already and there are discussions about instituting multiyear hunting moratoriums in some of the hardest-hit areas, all in an effort allow natural populations to reestablish themselves.
Satellite Data Shows No Global Warming For Eight Years, Nine Months. Satellite readings from the University of Alabama in Huntsville that measure temperatures in the troposphere have shown no global warming for eight years and nine months, from July 2015 to March 2023. Yet again, the society of climate alarmists tells us we have little time left to address global warming. It's a sign of desperation. What else can the merchants of madness do when we're now closing in on nine years of a warming pause? Last month the New York Times published an article that we swear we have read before. "Earth is likely to cross a critical threshold for global warming within the next decade, and nations will need to make an immediate and drastic shift away from fossil fuels to prevent the planet from overheating dangerously beyond that level," the Times' climate scribe wrote, citing a "major new report" issued by the United Nations' Intergovernmental Panel on Climate Change. The IPCC paper reveals that "there is still one last chance to shift course." But it will — naturally — "require industrialized nations to join together immediately to slash greenhouse gases roughly in half by 2030 and then stop adding carbon dioxide to the atmosphere altogether by the early 2050s."
The New Pause lengthens to 8 years 9 months. The least-squares linear-regression trend on the UAH monthly satellite global-temperature dataset shows no global warming from July 2015 to March 2023. As usual, this site is just about the only place where this continuing failure of global temperatures to do as they are told is reported. The start and end dates of the New Pause are not cherry-picked. The end date is the present; the start date is the farthest back one can reach and still find a zero trend. It is what it is.
California: Dodge Ridge Mountain Resort breaks all-time season snowfall record. Repeated atmospheric river storms have produced record snow pack in the Sierra mountains. These repeated winter snowstorms have left California towns' homes buried. This crazy drone video shows multi-story homes completely buried in snow with another storm on the way with forecasts for up to 12 feet of additional snow. Travel across the passes will almost certainly be closed.
Yosemite National Park closed indefinitely after [being] buried in decades-old snowfall record. Cabin roofs at Yosemite National Park are almost completely covered with snow. At the park's Badger Pass ski area, snow is up to the second floor of the lodge. In the Yosemite Valley, snow accumulation broke a 54-year-old daily record — by multiple inches. The historic snowfall in the Sierra Nevada from back-to-back winter storms has closed the world-famous park indefinitely while rangers and park staffers work to respond to the epic snowpack. "In all of my years here, this is the most snow that I've ever seen at one time," said Scott Gediman, a spokesperson for Yosemite and ranger for 27 years. "This is the most any of us have ever seen."
Unprecedented California snowmageddon: 3 FEET of fresh snow in a day. A string of back-to-back winter storms have lashed the West this week, delivering blizzard conditions and heavy snowfall to many areas in California. The days long brutal conditions left many stranded, shut down highways, knocked out power to thousands of homes and buried roads in snow as communities ran low on supplies.
'Scientists' announce record cold due to a warming earth. Leftists are pushing an agenda to destroy industries that produce reasonably priced energy by claiming those industries cause an existential threat of warming, that is causing extreme changes to the climate, that is threatening our survival. Record cold temperatures, along with record snow and rain are obviously causing skepticism, so the pushers of the theory decided it was necessary to put out a piece of pure propaganda: that record cold temperatures occur because the earth is warming. [...] People claim they can control and predict temperatures 100 years out, yet they somehow failed to predict this wet and cold winter. Their dire predictions in the past have been completely wrong; why should we now enact tyrannical policies based on future predictions? If everything that we have been told caused warming actually caused warming, we would not see record cold and snow. We would not have had a 35-year cooling period between 1940-1975. Temperatures have always fluctuated and always will.
Honestly, A Lot Of Really Weird Stuff Is Going On Right Now. Over in Saudi Arabia, it is snowing for the very first time in nearly a century. Needless to say, this is not normal. [Video clip]
Portland paralyzed by historic Pacific Northwest snowfall. Winter storms sowed more chaos across the U.S. on Thursday, shutting down much of Portland with almost a foot of snow and paralyzing travel from parts of the Pacific Coast all the way to the northern Plains. The nearly 11 inches that fell in Portland amounted to the second snowiest day in the city's history.
Hot Air: No Global Warming for Eight Years. Recently published data from the National Oceanic and Atmospheric Administration (NOAA) shows that there has not been global warming for the past eight years. And NASA satellite data reportedly confirms that evidence, showing no global warming for eight years and five months, according to JunkScience's Steve Milloy. [...] Recently published evidence also showed that there was actually a near-record low of major hurricanes in 2022, indicating that weather isn't getting progressively and exponentially worse globally, despite the climate frenzy of the media and governments. And the Northeast is currently experiencing record cold in a harsh winter, with Mt. Washington, N.H., yesterday dropping to -45.5 degrees Fahrenheit and -107 degree wind chill. Axios, which normally loves to scare-monger about global warming, reported today, "Arctic outbreak shatters records in Northeast." I'm going to go out on a limb — or a glacier — and say that the Northeastern U.S. is definitely not about to suffer devastating effects from "global warming."
New England braces for 'generational' cold blast. New England is bracing for "generational" cold weather over the weekend as an intense Arctic front is expected to bring "bitter wind chills" to the region through Sunday, according to the National Weather Service (NWS). "This is an epic, generational Arctic outbreak," a branch of the NWS in Caribou, Maine, said, according to CNN. "The air mass descending on the area Friday into Friday night is the coldest air currently in the Northern Hemisphere."
World's top climate scientists told to 'cover up' the fact that the Earth's temperature hasn't risen for the last 15 years. Scientists working on the most authoritative study on climate change were urged to cover up the fact that the world's temperature hasn't risen for the last 15 years, it is claimed. A leaked copy of a United Nations report, compiled by hundreds of scientists, shows politicians in Belgium, Germany, Hungary and the United States raised concerns about the final draft. Published next week, it is expected to address the fact that 1998 was the hottest year on record and world temperatures have not yet exceeded it, which scientists have so far struggled to explain.
UAH Global Temperature Update for January, 2023: -0.04 deg. C. The Version 6 global average lower tropospheric temperature (LT) anomaly for January 2023 was -0.04 deg. C departure from the 1991-2020 mean. This is down from the December 2022 anomaly of +0.05 deg. C.
Net Zero won't be as pleasant as greenies think. Long before the first steam engine puffed along the first railway, Earth was periodically battered by natural disasters — earthquakes, tidal waves, pole shifts, magnetic reversals, volcanic eruptions, wild weather, and droughts. Huge areas were covered by suffocating continents of ice, desert sands, massive flows of mud and lava, beds of salt, and thick coal seams. Thousands of species disappeared, including dinosaurs, mammoths, and Australia's megafauna. Modern humans are not immune to the threat of extinction, but it will not come from today's warm, moist atmosphere or from the gas of life, carbon dioxide. It will probably come from the next glacial climate cycle of this era, where long, bitter glacial eras are separated by short warm periods. These global weather cycles are triggered by changing orbits in the solar system.
'Greens' Ignore India's Lethal Cold Spells. It is not uncommon to witness freezing temperatures in winter in Europe and North America. However dangerous the cold can be in higher latitudes, such weather is even more so where people and infrastructure are ill prepared for it. One such place is India, well known for its hot, tropical weather. Every year, some Indians find themselves in the midst of record-breaking cold even as the mainstream media and others obsessively speak of catastrophic global warming. Reports indicate that "there has been a 1.6-fold increase in cold wave days in India in the last decade." On Jan. 6, 2022, a cold wave in India intensified, driving temperatures in the capital of Delhi to 2 degrees Celsius (35 Fahrenheit). Visibility dropped to just 50 meters in the early hours, making it almost impossible for people to navigate roads packed with cars, bikes and trucks.
India [is] in the grip of icy cold weather. While climate doomsday preachers in the West talk about heat waves and extreme weather when there is mild or warm weather over a period of time, other parts of the world instead experience problems due to the reverse. In northern India, an unusual and prolonged cold wave has held large areas in its iron grip for almost two weeks. Thick fog and temperatures around zero degrees in the multi-million city of New Delhi have already claimed many lives through accidents and cold — but another threat comes from the risk of poisoning as the freezing residents of the city set fire to everything they come across, including trash and waste.
The Climate Is In Great Shape. It doesn't come as any surprise to regular Power Line readers that the politically and economically motivated climate hysteria with which we are constantly bombarded is false. This piece by Javier Vinós at Watts Up With That, titled "Good 2022 Climate News the MSM didn't tell you," does an excellent job of summing up the reality that is usually obscured. As Vinos says, there has been mild warming during the last 40 years. But the rate of warming has been slowing down, not accelerating as the alarmists' models predict: [...] The "current cooling period" refers to the fact that mean global temperature has declined over the last seven years.
The New Pause lengthens: 100 Months with No Warming At All. The cold weather on both sides of the Atlantic last month seems to have had its effect on temperature, which fell sharply compared with November, lengthening the New Pause to 8 years 4 months, as measured by the satellites designed, built and operated by Dr Roy Spencer and Dr John Christy at the University of Alabama in Huntsville: [Graph] The graph shows the least-squares linear-regression trend on the monthly global mean lower-troposphere anomalies. The least-squares method was recommended by Professor Jones of the University of East Anglia as a reasonable method of showing the trend on stochastic temperature data. Recall that the Pause graph does not constitute a prediction: it simply reports the longest period, working back from the present, during which the temperature trend is not positive.
The Lancet: cold weather 9x more likely to kill than hot. This news shouldn't surprise you a bit, but given the global warming hysteria it might still do so. According to a study published in The Lancet, cold weather is far more deadly than excessive heat. In fact, for every person in the world who dies due to some heat-related cause, 9 die due to excessive cold. Common sense and the barest knowledge of history tells us this, and The Lancet's study merely confirms (and amplifies) what every sentient human being already knows. It's not like there are mass migrations of human beings from warmer climes to colder ones. People rarely retire to Siberia or even Minnesota. The flow goes the other direction.
Media report India's weather to fit doomsday narrative. Usually ignored by the media is that summer heat is generally less dangerous than winter cold. There are multiple ways to adapt to heat. Increasing water consumption, limiting exposure to heat, weather-proofing roofs and increasing green spaces are among them. However, adaptation to cold usually requires a reliable heating source, something that is not readily available to the poorest in developing countries, particularly those which do not typically have cold weather where it wouldn't be needed. Delhi has been witnessing historically cold winter temperatures during the past five years. Lacking access to proper heating, millions of people in the city suffer from cold-induced morbidities. Like any other place, cold kills more people than heat in India. Many burn wood and waste together in open spaces, a common sight even in the city's wealthiest pockets. Observers like me have been pointing out record-breaking cold weather in the country's capital year after year. A 100-year-old record for low temperatures was registered in recent years. Yet, the media in India and around the world seldom recognize these cold spells as contradictions to the dominant climate-change narrative.
Niagara Falls transforms into partially frozen winter wonderland. Niagara Falls has been transformed into a partially frozen winter wonderland thanks to the recent wave of sub-zero temperatures gripping the region. The magical scene was captured in a series of breathtaking photographs that show frozen mist and sheets of ice blanketing parts of the iconic tourist destination at the border of New York state and Ontario, Canada. The icy spectacle formed as winter weather blasted the Northeast over the weekend, bringing frigid temperatures and a deadly blizzard to Buffalo, New York — roughly 25 miles south of Niagara Falls.
Dozens Dead as Extreme Winter Weather Knocks Out Power, Freezes Drivers in Cars. At least 25 people in western New York have died as a result of the historic blizzard that dumped four feet of snow in Buffalo, knocking out power to tens of thousands of homes and businesses, and leaving some motorists stranded in their cars for days. Across the nation, at least 50 deaths reportedly are being blamed on the extreme winter weather that blanketed much of the country, snarling traffic and leading to thousands of canceled flights. About 60 percent of the U.S. population faced some sort of winter-weather advisory or warning over the Christmas weekend, the Associated Press reported.
A cold winter undercuts the warming narrative. The mainstream media (MSM) wants the world to believe that climate change has turned us into rotisserie chickens. However, real-world temperatures are not warming to dangerous levels, nor are they going to. Australia's ABC news, for example, tells its readers that the "influence of climate change ensures nearly every season is now warmer than normal." Yet, in 2022 Australia experienced the coldest spring in 30 years! Major cities like Melbourne, Adelaide, and Canberra recorded their coldest maximum temperatures. This mismatch between reality and the MSM narrative has been widening in recent years. Computer models are becoming increasingly erroneous in their predictions of future weather and misleading policymakers into believing that doomsday is imminent. The danger of cold weather is seldom acknowledged by an MSM that has sold its soul to the apocalyptic narrative. For the common people in the Northern Hemisphere, cold events pose more of a risk because the entire policy framework emphasizes addressing a supposedly warming world than being prepared for frigid spells.
Vicious dogma. The COVID pandemic is just a flash in the pan when compared to the dogmatic hysteria surrounding most aspects of weather and climate. When CBS News periodically covered the enormous blanket of snow that recently fell on Buffalo, NY and environs, they would then immediately jump to coverage of the world climate conference (COP 27) at the Egyptian resort of Sharm el-Sheikh. The abrupt juxtaposition caused me to burst out laughing. Never once was it mentioned that the historically significant northeast blizzard happened a month before the beginning of winter, i.e., the middle of autumn. Just about every news story regarding floods, wildland fires, drops in lake and river levels, high tides, etc. winds up including "climate change" as a significant component. In this year's political season, even candidates for city council included climate activism in their proposed agendas. Imagine, local political hacks saving their constituents from the weather.
Lake Effect Snow is Increasing Because of Global Warming. You may have heard that the forecast for Buffalo, New York, is for up to 5 feet of snow between now and Sunday. That has resulted in the NFL moving the game to Detroit. And you may be wondering if lake effect snow is happening more often. Well, yes it is. The reason? Global Warming.
The Editor says...
If Buffalo didn't get five feet of snow last November, the "global warming" must have happened this year. But there was no "global warming" this year or last year.
Major winter storm buries Mammoth Mountain under 5-feet during one of the biggest November snowstorms on record. A major winter storm is currently barreling its way across the Western Rockies dropping snow from the PNW down to Northern Arizona. The bulk of the storm is dumping snow throughout Utah, Idaho, western Montana, and western Wyoming and further north into Canada. The Sierras are the big winners racking up storm totals upwards of 60".
New Zealand PM's Plane Breaks Down in Cold — as She Studies Climate Change. The weather outside is frightful, but the irony is so delightful. New Zealand Prime Minister Jacinda Ardern, who became famous during the COVID-19 pandemic for saying that unvaccinated people would be second-class citizens in her country, went to study "climate change" in Antarctica — where the freezing weather caused her plane to break down. Ardern was visiting her country's Scott Base in Antarctica to "highlight" supposed "climate change" and mark the Base's 65th anniversary, according to Reuters. [...] But those glaciers aren't melting at disastrous rates yet, apparently. The NZ Air Force Hercules plane took Ardern to Scott Base, but her scheduled departure yesterday was delayed because another plane was required, RNZ reported. The plane broke down due to being grounded in Antarctica for two days, a New Zealand Defence Force spokesperson said. "Experience has shown that cold temperatures can cause the aircraft propeller seals to have issues on start-up due to congealing hydraulic fluid and seal rigidity," RNZ quoted the spokesperson. "The C130H will be repaired and is expected to return to New Zealand in the next few days." Efforts to prevent the breakdown had failed, according to the spokesperson.
Left-wing environmentalists in Germany now pray for warm winter amid coming energy shortage, skyrocketing prices. The one thing you can count on when it comes to the left is hypocrisy and boatloads of it. For years, Western environmentalists have screamed about 'warming winters' signaling the end of the planet, thanks to 'human-caused climate change' — which, by the way, and regardless of what 'official agencies' say, is only a theory, and an unproven theory at that. Nowhere have their shouts of warm winter doom and gloom been so shrill than in Germany, where lunatic leftism appears to be a citizenship requirement these days. For the past decade especially, 'green energy' pushes have led the country to begin shuttering coal and natural gas plants and even zero-emission nuclear power stations in favor of highly unreliable "renewable" energy like wind and solar. Not only are these technologies overrated, the ability for Germany to produce energy from wind and solar is severely limited like it is everywhere else on the planet. Plus, in addition to being unreliable (no wind and no sun equals little-to-no electricity production), natural gas and other fossil fuels are far cheaper and, with today's technology, burn much cleaner than they did at the turn of the current century.
When did global warming become climate change? Since accurate measurements of the lower troposphere temperature began to be measured by NOAA satellites in 1979, the average temperature anomaly has increased by 0.13°C/decade, or 0.013°C/yr., well within the measurement margin of error. It should be noted that from 1979 to 1998, the temperature anomaly decreased every year — global cooling. Arguably, this value is within the measurement margin of error, and it certainly does not constitute a heat wave! Since 2000, NOAA's Argo Float Program has measured changes in the temperature of the world's oceans to be 0.02°C/decade or 0.002°C/yr. This value is well within the margin of error and is not statistically significant. Finally, NOAA records on the temperature of the land mass indicate an increase in average surface temperature of 2°F for the period 1880 [to] 2020. That is an increase of 0.014°F per year, well within the measurement margin of error during a time when temperature measurements were made with thermometers graduated in 1, 3, and 5°F increments. Clearly, the temperature database of the Earth's land, ocean, and atmosphere show no significant increase. [...] If there is no global warming, an increase in CO2 in the Earth's atmosphere has not caused global warming.
I would have guessed 30 years.
Climate Change Is A Lie: The United States Temperature Has Not Risen In 17 Years. The Globalists want everyone to believe that we as a planet are facing an "existential threat" from global warming and we will all die if we don't eat bugs and live in crammed "smart cities" to save it. In reality, many scientists who are not paid off by the elites who pay for the results they want, agree that the world is nowhere near as bad as they are trying to make out it is — the only existential threat to humanity, are the Globalists themselves. According to a rarely referenced dataset from the Natural Oceanic and Atmospheric Administration (NOAA), the United States has had no temperature warming for at least the last 17 years and may in fact be cooler than it was compared to 2005.
Climate Emergency? What A Crock, Part 1. If the global temperature "is just about average" — and it is — "then clearly it must be well below average somewhere else." The facts, not the Democrats and activists' political desperation, show that global temperatures have gone nowhere over the past four decades, which is the only period of time they can be accurately measured and compared. Anyone who believes that the temperature record before 1979 is reliable is fooling themselves (and also a blind ideologue). The only data that can be trusted, that makes a genuine apples-to-apples comparison, are the measurements from satellites. All other temperature reconstructions require faith in subjective readings of often poorly placed primitive instruments, and compromised tree ring signals.
Deep Bore Into Antarctica Finds Freezing Ice, Not Melting as Expected. Scientists have peered into one of the least-explored swaths of ocean on Earth, a vast region located off the coast of West Antarctica. It is locked beneath a crust of ice larger than Spain and more than 1,000 feet thick, making its waters perpetually dark — and extremely difficult for humans to access. Now, a team of researchers has bored a hole through the ice and sampled the ocean beneath it. Their work could shed light on a poorly understood, but ominous episode in Antarctica's recent past. A team of scientists from New Zealand began this two-month expedition in November. A ski-mounted Twin Otter aircraft ferried them 220 miles from the nearest base, landing near the middle of the Ross Ice Shelf — the massive slab of ice and snow, as flat and empty as a prairie, that hangs off the coastline of West Antarctica and floats on the ocean. Amid the glow of 24-hour summer sunlight filtering down through fog, they assembled an automobile-sized contraption of pipes, hoses, and boilers.
Expert scientists wrong again: Bumper snow season kicks off in Australia. Year after year they told us it would get warmer, ski seasons would get shorter and children won't know what snow is. Instead Thredbo in the Australian Alps has just had 125 cm of snow, a full 4 feet in 7 days, which some are calling a 54 year record. Skiers in Australia are thrilled. [...] As Jennifer Marohasy says, they've closed long standing stations, and set limits of minus 10.4 C so if Australia were to break our long time cold records we'll never even know it. Charlottes Pass in Australia reached minus 23 in 1994. How can we even measure that with thermometers that "stop" at minus ten?
Still No Dramatic Global Warming. Although climate catastrophe hysteria has recently been switched into high gear, the cold fact is that the Earth has not warmed in nearly eight years. If the public had not read it in the news, would they have even noticed global warming? Two decades ago, climate catastrophists warned us that winter sports would soon be a thing of the past. However, Vail Mountain ski resort in Colorado recently reported the longest ski season on record: "Even though it was a rare May closing, the weather behaved more like March, with wind and snow creating cold conditions on the slopes." Similarly, Austrian ski industry researcher Günther Aigner studied the impact of climate change on the famous Schmittenhöhe ski resort in the Alps. He found only a slight winter warming of 1°C in the last 50 years that was not statistically significant, and four of the six coldest winters in that period occurred in the previous 16 years. He found no measurable impact on the skiing conditions.
Farmers say cool, wet weather is delaying planting season. More wet weather is making it hard for farmers across the state to start planting their crops. Some of them say they're at least 10 days behind. "I'm hoping we can dodge the rain events for the next couple days," said longtime farmer Brad Dehn. "If we get upwards of an inch, inch and a half, we could be delayed another week." He says a cool and wet April, coupled with recent storms, means he can't plant corn or soybeans yet on his 2,400 acres of fields outside of Buffalo in Wright County.
Nebraska Panhandle slammed with up to 15 inches of May snow. While Lincoln and the rest of eastern Nebraska were getting soaked with a steady rain Monday [5/2/2022], parts of the Panhandle were seeing epic snowfall. There was a report of 15 inches of snow near Kimball and 11 inches near Potter, according to the National Weather Service.
Prayers answered: North Dakota horses saved after rancher battles blizzard. The blizzard of 2022 will be remembered for generations to come on a small North Dakota ranch nestled in the heart of Stark County. When the snowstorm hit, Hollie Wilson knew it was going to be bad. She prepared and then prepared more, thinking it would be enough. But it wasn't. "People said we didn't prepare. Rest assured, we definitely did. We just never imagined that this would have been this bad," said Wilson, the owner of Rockin' 33 Performance Horses in South Heart. Her seven horses were covered in ice and shivered uncontrollably for three days. Snowdrifts, some as tall as 10-feet, trapped them inside their barn as the historic April blizzard pounded the Northern Plains.
Severe April snowstorm dumps almost 4 feet of snow in 24 hours on Tobacco Root Mountains, Montana. This spring storm has brought heavy winds and snow to Jefferson County forcing many motorists to get stuck on the side of the road and road crews to work overtime to try to keep these roadways as clear as possible. "This is the kind of storm we're supposed to have in February and, no, I was in for a total surprise, total shock," said Whitehall resident Gretchen Ressler.
Portland sees first measurable April snow in known history; High Desert also sees late snow. Portland received its first measurable April snowfall in recorded history on Monday as a spring storm brought rare late-season snow elsewhere and large amounts in the Cascades. One inch of snow fell at Portland International Airport, setting a record with the only measurable amount of snow there since official record-keeping for snowfall began there in 1940, the National Weather Service said. Schools across the region were closed and some areas about an hour west of Portland received up to several inches of snow.
Climate Models are Debunked as Global Average Temperature falls at an ever-increasing rate. NOAA data for the past seven years and two months confirms that the Climate Forecasting models are quite simply Wrong. The very latest data shows the cooling trend of the past seven years is actually growing stronger. The planet is cooling faster than before. [Video clip]
Fierce Cold Wave Sweeps East Asia, Chinese City Sees First Snow Since 1893. A powerful Arctic front has engulfed the majority if Eastern Asia of late. Low temperature records are being toppled, as are snowfall benchmarks — particularity in Japan (as noted lat last week), but also in China... The Chinese city of Xiamen, Fujian province (24N) witnessed extremely rare flakes on Sunday morning — it was the first time the city had seen snow in 129 years, since the January of 1893 (the Centennial Minimum). Snow settled ACROSS Southern China over the weekend, breaking many longstanding records: "It's a subtropical climate!", tweeted @SamJermy. "Really odd occurrence."
Linking Extreme Cold and Snow to Global Warming: An Extreme Climate Conundrum? Linking heat waves, floods, and droughts to Global Warming is logical, as the IPCC scientists have been telling again and again that such Warm Weather Events would increase in a warmer world. But linking extreme cold temperatures across the prairies and in parts of BC to Global Warming as a Vancouver weather-forecaster did few days ago, while explaining frigid weather to the CBC TV anchor is stretching the credibility of the art of forecasting[.] Reasonable Canadians are beginning to ask: Is there any climate event that is not linked to global warming?
How Cold Is In It The World Right Now? Check Out This Train, Frozen On The Inside. Greta Thunberg perhaps needs to pipe down a bit as the world has gone into a deep freeze. [...] Check out this train from Sofia Bulgaria. The weather is so cold, the entire train on the inside is frozen, passengers even are sitting next to ice and snow on the seats. [Video clip]
NY and Boston face coldest temperatures since 2019. A powerful cold front is expected to rip through the Northeast and Midwest this week, with extreme temperatures reaching as low as -45 degrees as the US braces for the coldest air chill in three years. The National Weather Service warned that parts of northern New York and Massachusetts could see wind chills between 35 and 40 below zero until 3 pm on Tuesday [1/11/2022]. Such temperatures can cause 'frostbite on exposed skin in as little as 10 minutes.' Buffalo, New York, also expected significant snowfall Monday night, with up to three feet. New York City will see temperatures fall to as low at 17F but with wind chill it will feel as cold as 0F. More than 15 million people were under wind chill advisories after temperatures plummeted to -25 to -45 degrees on Monday.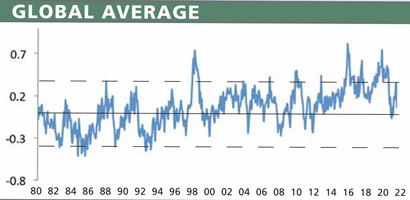 November 2021:. The global average temperature was 0.08°C above average.
Climate indoctrination inhibits people's ability to use logic and reason. Climate propaganda, relentlessly pushed by the media, is contradicted by facts, but that hasn't stopped it or led to corrections. The prophets of doom and their cultist followers pay no heed. We're all going to face catastrophe from rising sea levels, the end of snow, and all the other fantasies. But: Antarctica had the coldest six months on record in 2021, with the summer six degrees below normal. [...] Texas had one of the coldest and snowiest Februarys on record in 2021. [...] The Sierra Nevada had the snowiest December on record in 2021. [...] In January 2017, Europe had an extremely cold January. [...] In the winter of 2017/2018, the U.K. had 55,720 excess deaths because of the extreme cold. [...]
Global warming traps hundreds in the snow. The United Nations warns that "a hotter future is certain" and considers climate change the greatest threat modern humans have ever faced. Before he was even elected, President Biden had a plan for curbing climate change that would also encompass environmental justice, whatever that is. Globe-trotter, or should I say globe-sailor, Greta Thunberg continues to scold that world leaders have stolen her dreams and her childhood by not conforming to green standards that have not been met since the Neanderthals. Meanwhile, Mother Nature didn't get the memo on global warming and dropped a storm on the Fredericksburg area. More than a foot of snow fell. Approximately 400,000 people lost power. A fifty-mile stretch of the I-95 freeway became impassable with snow and ice, trapping hundreds of people in their cars overnight.
Heavy Snow in Virginia Strands Hundreds of Drivers on I-95 in Freezing Temperatures. The heavy snow that buried Virginia has left hundreds of drivers stranded on Interstate 95 in the state, including former governor and Democrat Senator Tim Kaine. Drivers are stranded on a 50-mile stretch of the highway that runs along the length of the eastern United States. The stranding event happened after the pile up of six tractor-trailers and authorities are still trying to reach people on Tuesday.
Tahoe shatters 50-year December snowfall record with more than 16 feet of snow as brutal cold reaches US. California's ski resorts are digging out from under 5 to 9 feet of snow that has fallen over the last several days from a series of storms. And more snow is on the way. A large dip, or trough, in the jet stream across the West is allowing frigid conditions and a relentless series of storms to bring record-breaking snowfall into the Sierra Nevada Mountains. The snow has closed major interstates and even forced the shut down of several ski resorts.

The New Climate of Panic Among the Panic-Mongers. [Scroll down] After that strikingly simple correction to allow for the fact that very nearly all feedback response in 1850 was a response not to preindustrial greenhouse gases but to the sunshine, if the feedback regime today is as it was in 1850 we can expect not 4 [degrees] K warming this century but a net-beneficial 1.1 K. That ends the "climate emergency". Sure enough, the rate of global warming since the end of the Second World War has been equivalent to about 1.1 K per century, or about a third of the 3.3 K/century-equivalent medium-term warming confidently predicted by IPCC in 1990. What is more, as has been widely unreported, there has been no global warming at all for approaching eight years, and no statistically-significant warming for about a decade.
Arctic Sea Freezes Early, Trapping 18 Ships in Ice Near Russia. Fresh off of a post-climate-conference high, MSNBC decided to dedicate a post to all the iconic landmarks around the world that could be lost due to global warming. [...] Yet there is more evidence that what is occurring is related to solar energy output than SUV's. I have noted before, the Sun has likely entered into the modern Grand Solar Minimum (2020-2053) of sunspot activity. This means that there will be a significant reduction of solar magnetic field and activity like during Maunder minimum leading to a noticeable reduction of terrestrial temperature. This theory better aligns with the record-breaking cold in the Antarctic as well as the early freeze in the Arctic that just stranded 18 ships.
Blizzard Warning Issued for Hawaii; 12 Inches of Snow Expected. Officials issued a blizzard warning for Hawaii, forecasting that at least 12 inches of snow will fall over the weekend. "The warning is in effect for the Big Island summits from 6 p.m. Friday through 6 a.m. Sunday local time," ABC News reported Friday [12/3/2021]. Meanwhile, wind gusts reaching more than 100 miles per hour were also expected, the alert from the National Weather Service Honolulu said. "Travel could be very difficult to impossible," the post read. "Blowing snow will significantly reduce visibility at times, with periods of zero visibility." "The strong winds will likely cause significant drifting of snow," it continued.
The Editor says...
Yes, that's an alarming headline, but the blizzard warning is for the mountain tops, not the big cities.
Sulfate aerosols can cool the climate and deplete Earth's ozone layer. The most significant climate impacts from volcanic injections into the stratosphere come from the conversion of sulfur dioxide to sulfuric acid, which condenses rapidly in the stratosphere to form fine sulfate aerosols. The aerosols increase the reflection of radiation from the Sun back into space, cooling the Earth's lower atmosphere or troposphere. Several eruptions during the past century have caused a decline in the average temperature at the Earth's surface of up to half a degree (Fahrenheit scale) for periods of one to three years. The climactic eruption of Mount Pinatubo on June 15, 1991, was one of the largest eruptions of the twentieth century and injected a 20-million ton (metric scale) sulfur dioxide cloud into the stratosphere at an altitude of more than 20 miles. The Pinatubo cloud was the largest sulfur dioxide cloud ever observed in the stratosphere since the beginning of such observations by satellites in 1978. It caused what is believed to be the largest aerosol disturbance of the stratosphere in the twentieth century, though probably smaller than the disturbances from eruptions of Krakatau in 1883 and Tambora in 1815. Consequently, it was a standout in its climate impact and cooled the Earth's surface for three years following the eruption, by as much as 1.3 degrees F at the height of the impact.
Volcanic Emissions & Global Cooling. Sulfur dioxide has the most adverse effect on the atmosphere of any of the volcanic gases. Sulfur dioxide is converted to sulfuric acid within months of the eruption. Winds then spread these newly formed aerosols over the majority of the globe, where they stay in the atmosphere for upwards of two years. Not only do these aerosols cool the earth's surface by reflecting sunlight back into space, but the sulfuric acid also plays a role in the increased depletion of ozone. Ozone is a natural absorbant of solar radiation, so when it is replaced by reflective aerosols the total radiative energy in the atmosphere decreases, resulting in global cooling.
Consecutive cold years reveal climate hoax of COP26. As world leaders met this week at Glasgow for COP26, real-life data such as cold weather and increasing sea ice hints at the falseness of their faux climate crises. Residents of Delhi, for instance, are bracing for another cold winter after the country's meteorological department forecasted below-normal temperatures for November. In fact, a string of exceptionally cold winters for the Indian capital has contradicted continual media predictions of unusual global warming — a dichotomy repeating regionally around the world. When I moved to Delhi in 2019, I was greeted by a colder winter than even the typically frigid weather for that season there. People with lower incomes did not have heaters in their homes. Some resorted to street-side fires of wood and rubbish burned in a pile. I assumed that the cold was an anomaly, but the cold continued, and harsh winter temperatures would come back to haunt the residents in 2020 and appear to be returning in 2021. The winter of 2020-2021 recorded some of the lowest temperatures, even breaking 100-year records for cold.
Temperature Regulated Cooling Dominates Warming and Why the Earth Stopped Cooling At 15°C. It is said that the Earth's surface temperature variations are controlled by [human-induced] greenhouse gases. This is not the case. When cooling systems dominate, surface temperatures are set by the cooling system and not by the system that is warming the surface. On Earth the surface cooling system dominates; temperatures are set by the natural cooling system. The strength of natural surface cooling is set by temperature. Adding greenhouse gases to the atmosphere does not make any difference for surface temperatures. Their initial warming effect is neutralized by extra surface cooling and by a diminished uptake of solar energy. The cooling system dominates.
Europe's Energy Crisis Better Wake America Up. [Scroll down] Britain and various US cities and states want to ban natural gas heating and cooking — and replace them with expensive heat pumps and other electric appliances, powered by expensive, weather-dependent wind turbines and solar panels. Meanwhile, energy prices have been skyrocketing in response to Covid recovery and anti-fossil-fuel policies. Climate theory has long held that most 21st-century warming will occur in northern latitudes during winter months. But now we're now told a warming Arctic could also be causing colder winters, which could endanger far more people than rising temperatures or more frequent heatwaves. Actually,far more people die in cold weather than in hot weather or heat waves. In the United States and Canada, cold causes 45 times more deaths per year than heat: 113,000 from cold versus 2,500 from heat. Worldwide, where air conditioning is far less available, some 1,700,000 people die annually from cold versus 300,000 from heat — a ratio of almost 6:1.
South Pole's Winter Weather Record. The Antarctic interior recorded its coldest April-to-September this year since records began in 1957. According to the US National Snow and Ice Data Centre (NSIDC), the average temperature at the US Amundsen-Scott South Pole Station was minus 60.9°C for the six months. It was also the station's second coldest winter (June, July and August) on record, with an average seasonal temperature of minus 62.9°C. This was an extraordinary 3.4°C below the long-term average (1881-2010) for winter.
The coldest place on Earth just had its coldest winter on record. Unprecedented bouts of extreme heat and increased ice melting events have become the common topics of global warming worries. But in the South Pole, the opposite effects have been just as jarring in recent months. Unlike its flashier cousin, the North Pole, which has been made famous for its mythical holiday residents, the South Pole hasn't been as directly exposed to the effects of a heating climate. While rising temperatures and melting ice shelves have caused some worry for climatologists, the South Pole has been largely spared from the effects seen at the North Pole, which has endured widespread glacial melting and was even shrouded in wildfire smoke this summer. But in the vast tundra of Antarctic ice at the South Pole, temperatures plummeted to levels never seen before this past winter.
The public can't be allowed to see that the Southern Hemisphere is record cold this year. I didn't see the story on the nightly news, or in Democrat talking points that the southern hemisphere just had a six month record cold period. That would be as inconvenient as the over-thirty-year cooling period, where a disastrous ice age was predicted, that proved that there is no correlation between temperatures and CO2, fossil fuels and the number of people on the planet. The public can't be allowed to see that. [...] How many times have we been warned that the ice in the Arctic would soon be gone? It is not true! [...] It is a true shame that children are fed climate predictions as factual and are not shown that the climate has always changed cyclically and naturally. Why aren't they told that an over 500-year little ice age ended in the 1800's and a little warming would be normal after an ice age ended?
South Pole posts most severe cold season on record, an anomaly in a warming world. The chill was exceptional, even for the coldest location on the planet. The average temperature at the Amundsen-Scott South Pole Station between April and September, a frigid minus-78 degrees (minus-61 Celsius), was the coldest on record, dating back to 1957. This was 4.5 degrees lower than the most recent 30-year average. We first learned of this record through a tweet from Stefano Di Battista, who has published research on Antarctic temperatures. The legitimacy of Di Battista's information was confirmed by Richard Cullather, a research scientist at NASA's Global Modeling and Assimilation Office.
The Editor says...
Either the earth is cooling, or there's somewhere else in the world that's extraordinarily hot right now, to bring the average temperature back up.
Scientists Find "Surprising" And "Statistically Significant" Cooling Trend Over Entire Continental Antarctica. East Antarctica, which covers two thirds of the South Pole, has cooled a whopping 2.8°C over the past 4 decades; West Antarctica approximately 1.6°C. Only tiny Antarctic Peninsula saw statistically insignificant warming. German climate website Die kalte Sonne posted its 64th climate video here and examined a new paper on Antarctica by Zhu et al (2021): "An Assessment of ERA5 Reanalysis for Antarctic Near-Surface Air Temperature." The European Center for Medium-Range Weather Forecasts (ECMWF) released its latest ERA5 reanalysis dataset in 2017 and Zhu and his researchers compared the near-surface temperature data from ERA5 and ERA-Interim with the measured data from 41 weather stations.
Warming Causes Cooling, Says Climate Scientist. Let's get this right: global warming caused the record cold in Texas last winter. And the climate will be even colder for decades to come because the climate is warming, so let's spend trillions to make it colder. Global warming is making us cold, so we need to make it colder, or else the Earth will burn up. That's the conclusion of climate scientists in a new report. Now that the climate appears to be cooling, at least in many heavily populated regions, environmentalists are desperate to salvage their theory of global warming since that theory is the only way that government will be able to take control of the energy industry, which constitutes 8% of the U.S. economy. If greens really believed that carbon emissions were a threat to the planet, they would focus on Asia, not on the U.S., where we have already cut carbon emissions to 1990 levels. But little is said about China, India, Indonesia, and other carbon-emitters — and nothing in the Paris climate agreement addresses the vastly greater emissions of those countries.
Frigid polar air brings very rare snowfall, icy rains to southern Brazil. A fierce cold snap brought rare snow, icy rain, and strong winds to parts of southern Brazil on July 29 and 30, 2021. The event comes after several waves of destructive frost since mid-June. According to weather specialists at Somar Meteorologia, at least 40 cities in the southern state of Rio Grande do Sul saw ice while 30 got snow, including Pelotas, São Francisco de Paula, Gramado, Carlos Barbosa, Bagé, Herval, Piratini, Caxias do Sul, Marau, and Farroupilha.
Climate Scientist Warns 'Next 20-30 Years Will Be Cold'. Climate scientist Dr. Willie Soon has urged his fellow academics to pay closer attention to the sun's activity, which suggests several decades of global cooling rather than warming. Speaking this week with Alex Newman of the New American, Soon, a Malaysian astrophysicist and aerospace engineer, said that "what we predict is that the next 20-30 years will be cold. It will be cold, so it will be a very interesting thing for the IPCC to confront." The sun is in a "weakened state" and far less active than during the 1980s and 1990s, Soon noted, which should last until "around 2050." "The whole climate system is powered 99.1 percent by the sun's energy," he stated. Soon, a researcher at the Solar and Stellar Physics Division of the Harvard-Smithsonian Center for Astrophysics, said that global cooling is a far greater source of concern than global warming.
New Study Finds East And West Antarctica Have Profoundly Cooled By -2.8°C And -1.68°C Since 1979. From 1979 [to] 2018 East Antarctica cooled -0.70°C/decade (-2.8°C), West Antarctica cooled -0.42°C/decade (-1.68°C), but the Antarctic Peninsula warmed 0.18°C/decade (0.72°C). Thus, as a whole, the Antarctic continent has cooled by about -1.5°C to -2°C during the same period CO2 rose from 337 to 410 ppm.

El Niño and the lengthening New Pause: now 6 years 10 months. The latest UAH temperature anomalies show that the New Pause has lengthened by another two months to 6 years 10 months. As usual, the Pause is defined as the longest period, up to the most recent month for which data are available, during which the linear-regression trend on the monthly global mean lower-troposphere temperature anomalies shows no increase.
Global warming? Scott Base Antarctica endures -115°F. Global warming appears to have brought near record cold to Scott Base in Antarctica, which a few days ago endured -81.7°C / -115°F, almost 4 degrees below the freezing point of Carbon Dioxide (-78°C / -109°F). Spare a thought for the hardy crew who are wintering down in Antarctica, experiencing near-record breaking cold temperatures. They've come very near to the coldest ever recorded temperature of -89.6°C. While it may have been -16°C when Newshub spoke with the Scott Base crew — that's almost balmy conditions compared to the -81.7°C recorded on the icy continent this week. Antarctica New Zealand science tech Jamie McGaw says he "can't even imagine that extreme cold."
The Editor says...
You didn't ask, but the coldest air I've been in, as far as I know, was minus 8°F., and that was about a month ago when I was reaching waaaaay in the back of the freezer for a box of Choco Tacos at Wal-Mart. But of course I was only in it for five seconds, so it's not at all like trying to survive a night in Antarctica.
Scott Base Antarctica Endures -115F. Its worth noting temperature is only part of the equation The partial pressure of CO2 in the atmosphere is very low, the -78C freezing point really only applies when you have pure CO2 at 1 atmosphere (h/t Dave Middleton, Anthony Watts). At lower pressures or where CO2 is only a trace component (normal atmospheric conditions) sublimation (evaporation of the CO2 ice) appears to dominate, making it highly unlikely there would be any accumulation of CO2 ice. Nevertheless it would have been fascinating to monitor atmospheric CO2 content as the temperature dropped.
Preparing for the coming food shortages associated with the dark, cold years. 1816 was the year without a summer. It was the trough of the Dalton Minimum (not even a grand solar minimum) and was exacerbated by the massive eruption of Mt. Tambora in Indonesia in 1815, which darkened the globe. Violent eruptions tend to coincide with solar minimums. Recently, I've written about the Modern Grand Solar Minimum (GSM) [elsew]here, predicted to run from 2020 through 2053. The trough — the darkest, coldest years — is predicted for 2028 through 2032. It's a once-every-400-years event. Contemplating several years of low harvests, on a global scale, with perhaps more years of lingering bad weather, is largely outside our experience. [...] No matter what else might happen in our lives, our families, our neighborhoods, or our country, our world is facing predictable dark cold years, and we need to prepare.
Greenland Temperatures 2020. [Scroll down] [Numerous charts] Also the 10-year average has been dropping since 2010, and is now comparable to the 1930s and 40s. Indeed it now stands at -0.6[°]C. Between 1930 and 1956, the average never went below this (ie cooler), and apart from 1957 it was to be 1976 before the 10-year average went colder again. This is clear proof that alarmist talk of Greenland meltdowns has no basis in fact.
Cold: More To Come? Solar physicists at the ultra-warmist Potsdam Institute for Climate Impact are warning that Europe may be facing a 'mini ice age' due to a possible protracted solar minimum. For an institute that over the past 20 years has steadfastly insisted that man has been almost the sole factor in climate change over the past century and that the sun no longer plays a role, this is quite remarkable reports Pierre Gosselin. Little noticed by the mainstream media in their obsession with global warming is an exceptionally chilly 2020-2021 winter in the Northern Hemisphere and an unusually early start to the Southern Hemisphere winter. Low temperature and snowfall records are tumbling all over the globe.
Wisconsin Interstate 41 Pileup, April 21, 2021. Due to ice on the road. In the middle of April.[Video clip only]
Global Warming? Devastating Frost Impacts 2021 French Wine Grapes. A third of this year's French wine crop has reportedly been lost to a late season frost. Wine growers resorted to burning fossil fuel to save their plants.
The Coming Modern Grand Solar Minimum. I wrote last week about the coming Grand Solar Minimum, something that will have much more impact on the environment than anything we puny humans can do. It generated a lot of interest from all sides, so it's time to delve deeper into what we can expect. [...] The progressives say that we're so deep into anthropogenically accelerated climate change (AACC) that there's almost no time left to turn things around. If we don't act now, it will be too late. Nope, sorry squad members. What we can predict, instead, is an overall temperature reduction of 1 degree Centigrade by the end of the GSM. Afterward, natural warming at the rate of around 0.5[°]C. every hundred years will continue for the next 600 years or so.
Snow In Mid-April - Winter Blast Headed To Northeast. Weather models suggest significant snowfall could be seen in higher elevation areas across the interior Northeast. Maybe Old Man Winter is about to put up his last fight for the season (let's hope so). The Weather Channel's Felicia Combs reports, "snow will be falling across the Northeast to round out the workweek. Mountain snow will add up to feet in portions of the Green Mountains. Elevation will make all the difference in what snow sticks around."
Dark, Cold Years Are Coming, So You'd Better Get Ready. The sun is a very steady oscillator says Prof. Valentina Zharkova, of Northumbria University. [...] She confidently predicted a Modern Grand Solar Minimum (GSM) running from 2020 through 2053, about half as long as the previous Maunder Minimum but just as intense. Controversial at first, now even U.S. agencies have adopted the science and speak of the current modern GSM. [...] We know about the 11-year solar cycles. They start at the minimum point of solar activity, build over five or six years to maximum activity, then decrease again to a minimum. Solar cycle 25 began in December 2019. Grand solar minimums, where maximum solar activity is dramatically subdued over several cycles, occur every 350 to 400 years. Astrophysics wonks must be over the moon to be living through one. [...] So today we're in the rising phase of a solar cycle (slight warming) at the beginning of a GSM (intense cooling) in the warming phase of a super-grand solar cycle (persistent warming). All generated by the sun, not people. That's us, warming and cooling at the same time.
Greenland And Iceland Mean Winter Temperatures Continue Cooling Since Start Of The Century. The February 2021 data for Iceland and Greenland are available from the Japan Meteorological Agency (JMA), which means the latest meteorological DJF winter mean temperature can be computed. [...] As you'll notice, some winter data for Iceland are missing, but there's enough to show us that winters there have been cooling, and not warming. Earlier this year we plotted the annual data for these three Icelandic stations, and found 2 have cooled and the third was stable.
Storm Brings Rare Snow To Santa Barbara. Wednesday's [3/10/2021] storm brought rare snow to the streets of Santa Barbara. Video from KEYT-TV showed residents playing in the slushy snow in downtown Santa Barbara, while hail also fell in some parts of the county.
Climate change alarmism takes another big hit. Throughout the midsection of the United States in February, record frigid temperatures were inconvenient for those politicians who call global warming an "existential threat." Global warming is already here, we are told. However, it didn't feel like it if you lived in Bismarck, North Dakota, where temperatures fell to decades-low numbers, or in Chicago, Oklahoma City, Dallas or Houston. San Antonio had snow for the first time in recent memory. The environmental apocalyptics say this doesn't prove anything about what is happening with the planet's climate. And you know what? They are 100% correct. But last summer, when hundreds of thousands of acres burned in California, that event was prima-facie evidence of global warming, and if you challenged that premise, you faced ridicule as a "denier."
Why The Texas Blackout Has The Greens So Scared: Deflecting blame to a more exciting apocalypse. Last month, President Biden signed a series of executive orders undermining fossil fuels, on the grounds the "climate crisis" forced his hand. "We can't wait any longer. We see with our own eyes. We know it in our bones. It is time to act." Within days, most of the country was seeing "with our own eyes" and feeling "in our bones" a cold wave so severe that five million people lost electricity and, in a special irony, nearly half of the ballyhooed wind turbines in Texas, which had risen to supply 23% of her energy, were left frozen (and inoperable). This constituted a double whammy to the huge global warming establishment. First was the cold, when the "science" had confidently predicted a steadily warming Texas. Second was the failure of renewables, vastly exacerbating the problems for the energy grid.
Amidst Global Warming Hysteria, NASA Expects Global Cooling. Those promoting CO2 as the reason for global warming are hucksters and those taken in by hucksters. Please consider ["]NASA Sees Climate Cooling Trend Thanks to Low Sun Activity.["] "We see a cooling trend," said Martin Mlynczak of NASA's Langley Research Center. "High above Earth's surface, near the edge of space, our atmosphere is losing heat energy. If current trends continue, it could soon set a Space Age record for cold."
NASA Sees Climate Cooling Trend Thanks to Low Sun Activity. The new data is coming from NASA's Sounding of the Atmosphere using Broadband Emission Radiometry or SABER instrument, which is onboard the space agency's Thermosphere Ionosphere Mesosphere Energetics and Dynamics (TIMED) satellite. SABER monitors infrared radiation from carbon dioxide (CO2) and nitric oxide (NO), two substances that play a vital role in the energy output of our thermosphere, the very top level of our atmosphere. "The thermosphere always cools off during Solar Minimum. It's one of the most important ways the solar cycle affects our planet," said Mlynczak, who is the associate principal investigator for SABER.
Why would Texas have prepared for record cold and snow if they listened to the media and other global warming fanatics the last forty years? Since 1980 Americans have heard that the Earth was warming rapidly, that the South would not have winters anymore and we would see "the end of snow." We were told it is the "scientific consensus" and the science was "settled." So why the heck would politicians prepare for something when they were told by "experts" that it would never happen? [...] Clearly the UN, Al Gore, John Kerry, Bill Gates and all the others that push this garbage on the public, without scientific data to support it, are to blame, not the Texas politicians. John Kerry, who flies on private jets, is out there saying there are only 9 years left to solve the problem. If we had honest reporters, instead of people pushing an agenda, they would tell him that the UN said in 1989 that we only had ten years left to solve the problem.
Climate change is in the Twilight Zone. [Scroll down] Which brings me to my favorite physicist, Leona Woods. She graduated from high school at 14, and college at 18, which made her as smart as Sheldon Cooper. [...] I wrote about her in one of my last newspaper columns, on July 23, 2014. The column said, "In 1979 — when the scientific consensus was global cooling — Dr. Libby forecast a rise in temperatures until the year 2000 when it would get colder again for the next 50 years. "'Easily one to two degrees,' she told the Los Angeles Times. 'And maybe even three or four degrees. It takes only 10 degrees to bring on an Ice Age.' "The first half of her prediction proved true. Temperatures peaked in 1998." As temperatures have fallen, the pseudo-scientists have continued to tell the public the temperatures rise. But they have abandoned their claim of global warming, using climate change instead. This makes no sense but none of this is meant to make sense because these scientists are charlatans. They are using the weather to advance a political agenda. I do not want to panic anyone, but a blizzard in Saudi Arabia is something worth noting.
Wind turbines played significant role in historic Texas power failures, data suggest. The historic power failures in Texas this week amid a major cold snap there appear to have been driven in no small part by the failure of the state's wind turbines to keep up with a spike in demand, according to energy data from federal sources. Once-in-a-century cold weather in much of Texas this week sent energy demands skyrocketing, placing major strains on power grids and leaving millions of residents without power for extended periods of single-digit weather. Weather data show that temperatures throughout the state began plummeting sharply late Saturday, Feb. 13 and throughout the next day. In areas such as Fort Worth, the temperature has hovered around zero at times. February average lows in that area are around 40 degrees.
What Sweeping Power Outages in Texas Tell Us (and Don't Tell Us) About Its Electricity Market. Snow, ice, and negative temperatures in the Lone Star State — what in the world is happening in Texas? And for that matter, in the greater Southeast? The short answer is, demand for power and heat skyrocketed due to bitterly and unusually cold weather, pushing Texas' electricity sector to the brink. It seems some bad timing hasn't helped either, as some power plants were down for scheduled maintenance right when the snow, ice, and cold hit. As the Electric Reliability Council of Texas, the state's electricity market operator, reported, "Approximately 185 generating units have tripped offline for one reason or another. Some factors include frozen wind turbines, limited gas supplies, low gas pressure and frozen instrumentation." Equipment not hardened for such cold temperatures froze along fuel supply infrastructure and at multiple generators, and natural gas resources were diverted from generating electricity to supplying heat.
[The] Green New Deal [is] Frozen in its Tracks. This past week America has been treated to some chilly weather. [...] Kansas City broke a record low temperature set in 1936. Colorado Springs broke an 1895 record on Valentine's Day. Dallas, Austin, and San Antonio also broke cold temperature records. Fort Collins broke a 121-year-old record. Beyond America, the current Grand Solar Minimum is intensifying and so is winter, cooling the entire Northern Hemisphere. [...] At one time, extreme weather was blamed on global warming, but who could, with a straight face, attribute record setting cold temperatures to a warming planet? Conveniently the narrative changed a few years ago, just like the First Amendment also conveniently changed. [...] Warming can be cooling and vice versa, under fluid definitions that change based on political circumstances. [...] [NASA] scientist Martin Mlynczak notes that sunspot activity on the surface of the sun has dropped so low that our outer atmosphere is losing heat energy, and that "If trends continue, it could soon set a Space Age record for cold."
Animals at Texas primate sanctuary freeze to death amid catastrophic power outages. A chimpanzee, several monkeys, lemurs and other animals have died after a Texas primate sanctuary lost power amid a brutal winter storm pounding the southern U.S. this week. Staff and volunteers at Primarily Primates were trying to evacuate the facility when they found about a dozen dead animals, the San Antonio-area nonprofit said Wednesday. One of them was 58-year-old Violet, the sanctuary's oldest chimp.
It's So Cold on the Plains That Calves' Ears Are Falling Off. In Arkansas, ranchers are fitting pantyhose over the heads of calves in a desperate attempt to keep them warm. In Montana, they've been duct-taping calves' ears to their necks to stop them from falling off. In Oklahoma, newborns arrived onto snow-packed frozen ground and perished while ranchers were reportedly sticking the hardest-hit animals in the front seat of pickup trucks and even inside their homes. Across the American Plains, South and Southwest, the unprecedented cold of this past week has been brutal on millions of residents. For the flora and fauna — as well as those who make their living cultivating them — it's been equally disastrous, a Darwinian mix of outlandish and gruesome.
Ri-i-i-ight.
Heating Arctic may be to blame for snowstorms in Texas, scientists argue. Associating climate change, normally connected with roasting heat, with an unusual winter storm that has crippled swaths of Texas and brought freezing temperatures across the southern US can seem counterintuitive. But scientists say there is evidence that the rapid heating of the Arctic can help push frigid air from the north pole much further south, possibly to the US-Mexico border. This week, a blast of winter weather has reached deep into the heart of the US, causing several deaths and knocking out power for about 5 million people.
At least 21 dead as brutal cold from historic storm ravages Texas. The death toll from the historic winter storm sweeping across large swaths of the US has increased to at least 21 — as over 3 million people in Texas remain without power, including 1.4 million in the Houston metropolitan area, according to reports. In addition to the Lone Star State, the brutal storm claimed lives in Louisiana, Kentucky and Missouri, shuttered COVID-19 inoculation centers and hindered vaccine supplies.
Photos from around the world show cities hit by record-setting snowstorms. Cities across the nation and the globe are facing blistering cold winters this year, with many seeing record-breaking snowfall. From Tennessee to Athens, Greece, already freezing temperatures have plunged further this week as the polar vortex envelopes the northern hemisphere. Within the past few weeks, Moscow, Chicago, Madrid and more have been blanketed with snow, in some cases reporting multiple feet of accumulation. The storms in the U.S. particularly ramped up over President's Day weekend.
The Editor says...
If the notion of global warming is valid, then the entire southern hemisphere must be really hot right now. But somehow that hasn't been in the news.
Texas braces for 'unprecedented' storm brought by polar vortex. Texans are preparing themselves for a winter storm predicted to be unlike anything they've seen in decades. A polar vortex will bring temperatures in the Lone Star State to below zero in the coming days, according to the National Weather Service. The service has issued a winter storm warning for the entire state. In Houston, the NWS issued a wind chill warning for the first time in the city. Even as far south as San Antonio, residents are expected to receive two-to-three inches [of snow] between Sunday and Monday morning.
Power outages caused by winter storm force rolling blackouts across Texas. Rolling power blackouts were ordered across Texas early Monday morning [2/15/2021] as a winter storm and frigid temperatures gripped the state. The rotating outages will likely last throughout Monday morning and could continue until the state's weather emergency ends, according to the Electric Reliability Council of Texas (ERCOT), a major grid operator that controls about 90% of the state's electric load. People may be in the dark — at least some of the time — through Tuesday, according to the Houston Office of Emergency Management. "Power outages will likely be reoccurring throughout Monday and Tuesday. We are experiencing winter weather for which we have not experienced in decades," the office tweeted Monday.
The Editor says...
Maybe the electric utilities shouldn't be mothballing coal-fired power plants.
UK cold weather: River Thames freezes over for first time in 60 years. For the first time since 1963, parts of the River Thames were frozen over as witnesses spotted seagulls perching on the icy surface in Teddington. The River Great Ouse in Cambridgeshire was also frozen over leaving boats stuck. It comes as temperatures dropped to below 0°C. in parts of England. In Ravensworth, North Yorkshire, temperatures plummeted to -15.3°C. last night as the UK braced for up to four inches of snow and 50 mph gales today [2/13/2021]. In Newcastle, families woke up to the city blanketed by snow with the wintry weather also hitting parts of northeast Scotland as well as coastal regions in northeast England.
"Power Bills To The Moon": Chaos, Shock As Electricity Prices Across US Explode. Echoing what we said on Friday, Platts wrote that "as arctic air mass continues to blanket much of the central US, the US National Weather Service has issued multiple severe weather notices. Widespread wind chills warnings and advisories are extended through Feb. 14 and likely into the next week for much of the Upper Midwest and Midcontinent, as well as some areas in the Northwest and northern Texas. Daily temperatures across some of the locations will range between 30 [and] 40 degrees below average, according to the NWS.
Lowest temperature recorded in UK for 25 years as parts of Scotland experience -22C conditions. The UK has recorded what is thought to be its lowest temperature since 1995 after conditions in northern Scotland plummeted to minus 22 degrees Celsius. The Met Office recorded a temperature of minus 22.9 degrees in Braemar and its believed to be the coldest temperature since 1995. Footage from February 10 shows the lengthy icicles that formed on a house in the Scottish Highlands village. [Video clip]
Floridians Shiver through the Coldest Winter in Two Decades. In December, Floridians celebrated their ninth coldest Christmas on record, and the coldest in 21 years. Even South Florida, that frost-free region of palm trees and margaritas, was shivering on Christmas Day. Broward County issued a "cold-weather emergency," ensuring shelter for all homeless persons, and further north, residents were outside covering plants to protect them from freezes. It wasn't just Christmas Day. Cold in the Sunshine State this year has been unrelenting. Residents report using three times the natural gas they did last year (when the high temperature on Christmas Day in South Florida reached 71 in many places). And there is no end in sight: as I write, the 14-day forecast for Jacksonville calls for temperatures on many days 10 to 15 degrees below average. It isn't just Florida. Temperatures are colder this year throughout the southeastern U.S., while massive snowfalls have hit the northeast. All in all, it is turning into one of the coldest and snowiest winters in the history of the eastern U.S.
66 People Rescued From Ice Floes Adrift on Wisconsin Bay. The U.S. Coast Guard and several other agencies rescued 66 people stranded on ice floes in a bay in northeastern Wisconsin. Ice boats and helicopters were used to bring the people who were ice fishing to safety Thursday in Door County. Three separate ice floes broke away after cracks developed between the shore and groups of people, the Coast Guard said.
Record Cold of 2021 Reminds Us: Be Wary of Climate Predictions and Energy Priorities. Japan reported 13 deaths and hundreds of hospitalizations in the past week due to the intense snowfall in the country. Residents in Spain were in awe over the record snowfall in their streets. Here in India, Delhi experienced one of its harshest winters in recent memory, with intense cold waves. Does this disprove global warming? Certainly not! However, the extreme cold events bring about questions over the media narrative that climate change is causing milder winters and temperatures increasing to dangerous levels. The most worrying aspect is that these extreme cold events are a reminder that we could be in great danger if our governments continue to adopt climate policies based on faulty forecasts and unreliable renewables.
Modern Iceland's Climate Is Colder With More Ice Than Any Other Time In The Last 8000 Years Except The 1800s. Consequent to the peak cooling, glaciers and sea ice reached their maximum extents of the Holocene just 150 years ago. While Iceland's glaciers and North Shelf sea ice extent did partially recover in the first half of the 20th century, the ice extents are still beyond what they were in the 1700s and earlier. There is nothing to indicate modern warmth or ice recession in and around Iceland is unprecedented or even unusual.
"Beyond Exceptional" Snowstorm Hits the Alps: Austrian Village Literally Buried. An extensive and strong upper-level ridge has developed over the North Atlantic, blocking the westerly zonal flow towards the European continent — a phenomenon found to increase during times of low solar activity (such as we're experiencing now). A particularly dangerous situation was expected to develop across the Alps on Sunday, December 6th, according to severe-weather.eu, and the deep trough certainly didn't disappoint.
It's so cold that waterfalls have started to freeze in South Dakota [in October]. Storm-chaser Justin Frantzen captured the very early freezing of the waterfalls at Sioux Falls in South Dakota. It's rare for the waterfalls to freeze this early and clearly demonstrates just how cold late autumn has been in parts of the northern US states. [Video clip]
Climate Change Is Here: It's Going To Get Cooler, Says NASA. Climate researcher Michael Mann said last week that if President Donald Trump is reelected, it's "game over for the climate." It's the same alarmism we've been hearing for decades, all of it empty. But the alarmists won't stop telling us we're about to set the sky on fire. Even if NASA has said record cold might be on the way. The sun, it seems, has been powering down. "We see a cooling trend," Martin Mlynczak of NASA's Langley Research Center said two years ago, a remark largely ignored but still relevant. "High above Earth's surface, near the edge of space, our atmosphere is losing heat energy. If current trends continue, it could soon set a Space Age record for cold."
Amidst Global Warming Hysteria, NASA Expects Global Cooling. Those promoting CO2 as the reason for global warming are hucksters and those taken in by hucksters. [...] "We see a cooling trend," said Martin Mlynczak of NASA's Langley Research Center. "High above Earth's surface, near the edge of space, our atmosphere is losing heat energy. If current trends continue, it could soon set a Space Age record for cold."
NASA Sees Climate Cooling Trend Thanks to Low Sun Activity. The climate alarmists just can't catch a break. NASA is reporting that the sun is entering one of the deepest Solar Minima of the Space Age; and Earth's atmosphere is responding in kind. So, start pumping out that CO2, everyone. We're going to need all the greenhouse gases we can get. "We see a cooling trend," said Martin Mlynczak of NASA's Langley Research Center. "High above Earth's surface, near the edge of space, our atmosphere is losing heat energy. If current trends continue, it could soon set a Space Age record for cold." The new data is coming from NASA's Sounding of the Atmosphere using Broadband Emission Radiometry or SABER instrument, which is onboard the space agency's Thermosphere Ionosphere Mesosphere Energetics and Dynamics (TIMED) satellite. SABER monitors infrared radiation from carbon dioxide (CO2) and nitric oxide (NO), two substances that play a vital role in the energy output of our thermosphere, the very top level of our atmosphere.
A New Cold Record set at International Falls: Should we be surprised? News has come from the Duluth office of the National Weather Service that both International Falls & Hibbing broke their records for low temperatures on the morning of September 17. The Falls got to 23°, breaking the old record of 24° set in 1959, and Hibbing to 24°. We shouldn't be surprised because the Canadian prairies have been cooling for decades now. Also, President Trump, while in California on September 14, had predicted cooling, saying "It'll start getting cooler. You just watch." Three days later a new cold record is set at the iconic International Falls weather station.
Cold-weather accounts for almost all temperature-related deaths. With the number of extreme weather days rising around the globe in recent years due to global warming, it is no surprise that there has been an upward trend in hospital visits and admissions for injuries caused by high heat over the last several years. But cold temperatures are responsible for almost all temperature-related deaths, according to a new study published in the journal Environmental Research. According to the new study by researchers at the University of Illinois Chicago, patients who died because of cold temperatures were responsible for 94% of temperature-related deaths, even though hypothermia was responsible for only 27% of temperature-related hospital visits.
23 Norwegian Weather Stations Logged their COLDEST-EVER July Temperature last month. July, 2020 was historically cold throughout Scandinavia — and across much of Europe for that matter. The Nordic nation of Norway's average temperature came out at 0.6[°]C below the norm, making for the country's coldest July in 50 years. As reported by kommunikasjon.ntb.no, a staggering 23 weather stations measured their lowest-ever July temperature, mainly in Innlandet, Viken, and Vestland.
Global Cooling Gives Nightmares To Global Warming Alarmists. Cycles of sun spots are fairly predictable and the current cycle is looking more and more like the Maunder Minimum that created the "Little Ice Age" between 1650 and 1715.
The sun has entered a 'lockdown' period, which could cause freezing weather, famine. Our sun has gone into lockdown, which could cause freezing weather, earthquakes and famine, scientists say. The sun is currently in a period of "solar minimum," meaning activity on its surface has fallen dramatically. Experts believe we are about to enter the deepest period of sunshine "recession" ever recorded as sunspots have virtually disappeared. Astronomer Dr. Tony Phillips said: "Solar Minimum is underway and it's a deep one." "Sunspot counts suggest it is one of the deepest of the past century. The sun's magnetic field has become weak,
Polar vortex could bring record low temperatures to NYC this weekend. A polar vortex is sweeping into the Northeast this weekend, and it could bring the Albany region its first measurable May snowfall in 18 years — and potentially record low temperatures to the Big Apple, forecasters predict. The wintry air mass is expected to send a chill through the region beginning on Friday [5/8/2020], according to the Albany branch of the National Weather Service. "We continue to closely watch a storm for Friday afternoon into Friday night that may bring a period of snow to most of eastern NY and western New England," the weather service posted to Facebook.
NOAA Satellite records second largest 2-month temperature drop in history. The Northern Hemisphere temperature anomaly fell from +0.96 deg. C to 0.43 deg. C from February to April, a 0.53 deg. C drop which is the 2nd largest 2-month drop in the 497-month satellite record. The largest 2-month drop was -0.69 deg. C from December 1987 to February 1988.
The Earth's Temperature. Going down.
On April 10, well into the spring:
Snowstorm knocks out power for over 266K Maine residents. A fierce April snowstorm knocked out power for hundreds of thousands of people in Maine as it swept through the state Friday morning [4/9/2020]. The National Weather Service in Caribou said just after 9 a.m. that 32 percent of all power customers — more than 266,000 people — in the state were without power as a result of the storm. Some areas north of Portland took the brunt of the storm, with more than 7 inches of snow, according to the weather service. Central Maine Power asked its customers "to be prepared to be without power for likely more than a day."
Homes in New York become 'IGLOOS' and trap residents inside. An icy blast and blizzard in the East Coast has frozen over a Lake Erie neighborhood in New York, transforming homes into igloos and the water into an ice sheet. Homes in Hamburg, New York were completely covered in ice over the weekend, with icicles hanging down from doors and windows, leaving some homes completely in the dark due to frosted windows. Shocking photographs show homes and trees on Hoover Beach, just in front of the lake, covered in thick muddied snow and ice.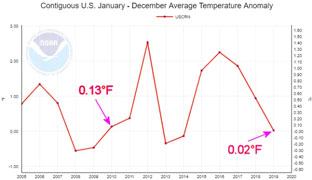 Breaking down the last decade of climate change in 7 charts. [Claim #3] More people accept the basic premises that it's getting hot and that it's our fault. Well, you might think that if you believe the highly adjusted temperature data published by NASA GISS and [University of East Anglia's Climate Research unit] on climate (ground zero for the embarrassing and revealing Climategate affair in 2009). But when you look at unadjusted data, such as is produced by the state-of-the-art United States Climate Reference Network (USCRN) operated by NOAA, you get a wholly different idea about temperature over the last decade.
Grand Solar Minimum May Bring Global Cool-down. As globalists and their media advocates continue to propagandize apocalyptically about climate change and so-called anthropogenic global warming, some scientists are warning that another type of climate change is on its way. Earth may be in for conditions similar to the Little Ice Age, as it seems that the Sun is entering a prolonged solar minimum according to a prominent scientist. Dr. Valentina Zharkova, a professor of mathematics at Northumbria University in Newcastle, England, who also has a doctorate in astrophysics, is warning of a coming Grand Solar Minimum (GSM), similar to the Maunder Minimum that occurred from the mid-16th century until the early 17th century and coincided with a time on Earth known as the Little Ice Age. "The Sun is approaching a hibernation period," said Professor Zharkova. "Less sunspots will be formed on the solar surface and thus less energy and radiation will be emitted toward the planets and Earth."
Saudi Arabia's north-west desert covered in snow after unusual winter storm. A powerful storm bringing sub-zero temperatures has transformed parts of the Saudi Arabian desert into a winter wonderland. Residents of Tabuk, 193 kilometres from the Red Sea, awoke to see the region's dry desert coated in white snow, leaving many in awe.
I-5 over the Grapevine reopens after 36-hour closure due to snow. Some 36 hours after a fierce and cold storm battered Southern California, Interstate 5 over the Grapevine finally reopened Friday morning [12/27/2019] just before 11 a.m. On Christmas Day, a frigid storm from the Gulf of Alaska delivered low-elevation snow to the Tehachapi Mountains, causing a traffic nightmare along a highly traveled stretch of I-5 that passes between the San Joaquin Valley and Los Angeles. The roadway was closed between Parker Road in Castaic and Grapevine Road in Kern County.
San Francisco ties cold record as Bay Area freezes. If you thought Thanksgiving Day was unusually cold this year in San Francisco, you were correct. In fact, it tied a century-old record. The high temperature in the city on Thursday was forty-eight degrees. That tied a record high temperature for the coldest date for San Francisco in the month of November. That record had stood unchallenged since November 27th, 1896, when it last happened.
CHP pacing vehicles on Interstate 5 due to snow. A day of miserable travel conditions continued into the evening as the California Highway Patrol said it was pacing vehicles from the Kern County and Los Angeles line to 25 miles south of Bakersfield due to snow.
Southern California gets a white Thanksgiving with several inches of snow. It was a white Thanksgiving in Southern California, as a "weather whiplash" storm dumped several inches of snow in some regions — and helped to extinguish a wildfire, according to a new report. Up to 8 inches of snow fell in some parts of the Antelope Valley, at the western tip of the Mojave Desert, The Los Angeles Times reported. Over the last two days, Lancaster has seen 4 to 5 inches of snow and 3 inches fell in nearby Palmdale, the paper reported.
Global Warming and the pause was driven by changes in cloud cover, not CO2. Clouds cover two-thirds of the Earths surface, reflecting around 30% of the total energy from the Sun back to space. A small change in cloud cover can easily warm or cool the planet, like a giant pop-up shade-sail. This, on its own, explains all the warming that occurred from 1986 [to] 2000. It explains the pause. We don't know why clouds decreased, but we know it wasn't due to CO2, which kept rising relentlessly year after year, and even faster after the turn of the century. Something else is driving cloud formation, or density or longevity, and the global climate modelers don't know what that is.
Temperature drops more than 50 degrees as 'all-out blizzard' sets sights on Dakotas. A "potentially historic" fall snowstorm is set to wallop a large stretch of the country — evolving into an "all-out blizzard" as it passes over the Dakotas and sending an arctic blast into much of the northern US, forecasters predict. Denver was downright balmy on Wednesday with a high in the lower 80s — but the temperature had already plummeted into the upper 20s by 1 a.m. as snow began to fall, according to Accuweather. From 1 to 3 inches of snow is expected to fall in the Mile High City on Thursday [10/10/2019]. A similar drastic change happened in Rapid City, South Dakota, which reached a high of 80 degrees Tuesday — but the mercury dipped 40 degrees Wednesday, the weather service reported.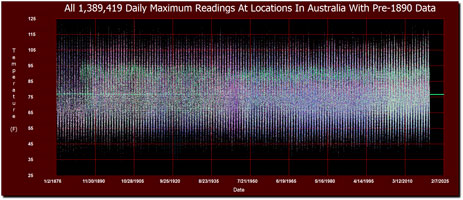 Australia Shows No Warming Since 1876. There are 25 locations in Australia with daily temperature data going back before 1890. This graph shows all 1,389,419 daily maximum temperature readings at those locations since 1876. The actual waveform is a 120 year long cycle. The hottest year was 1902 and the second hottest was 2018. Australia was cold during the 1970s ice age scare, just like everywhere else.
Earliest Spokane snowfall in almost 100 years; more snow in Cascades. In general, it seems the snow in Eastern Washington wasn't as widespread Sunday [9/29/2019] as expected. Even still, there were a few impressive snow totals. Here in the Pacific Northwest, this weather maker, AKA storm system, even dropped a light trace of snow in Spokane Saturday, with 1-4" to come Sunday. This made it the earliest snowfall in the area in almost 100 years!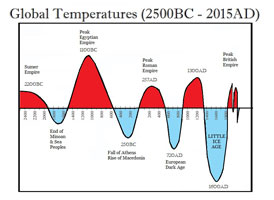 Do We Face Global Cooling or an Ice Age? There appears to be a 20-year cycle in the Arctic to begin with. The mere fact that at times the Northwest Passage has been ice-free and ice blocked proves there is a cycle to absolutely everything. The Arctic has not always been frozen. There are documented accounts from 1817 when the ice melted. The point is nature functions in a cyclical manner — hello, remember four seasons? I do NOT believe we are heading into an "Ice Age" of such a dramatic duration. All the data clearly shows that we are in a declining trend with each warming peak being less than the former. Anyone who thinks humans have caused this last warming period just listens to propaganda and ignores all the historical evidence. There is ABSOLUTELY no period in history absent of a cycle — NONE!
The Next Great Extinction Event Will Not Be Global Warming — It Will Be Global Cooling. Cold, not heat, is by far the greater killer of humanity. Today, cool and cold weather kills about 20 times as many people as warm and hot weather. Excess Winter Deaths, defined as more deaths in the four winter months than equivalent non-winter months, total over two million souls per year, in both cold and warm climates. Earth is colder-than-optimum for humanity, and currently-observed moderate global warming increases life spans.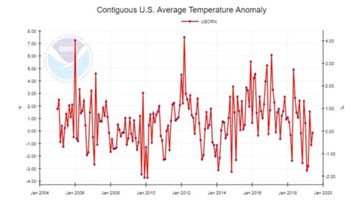 Climate Alarmists Foiled: No U.S. Warming Since 2005. When American climate alarmists claim to have witnessed the effects of global warming, they must be referring to a time beyond 14 years ago. That is because there has been no warming in the United States since at least 2005, according to updated data from the National Oceanic and Atmospheric Administration (NOAA). In January 2005, NOAA began recording temperatures at its newly built U.S. Climate Reference Network (USCRN). USCRN includes 114 pristinely maintained temperature stations spaced relatively uniformly across the lower 48 states. [...] The USCRN has eliminated the need to rely on, and adjust the data from, outdated temperature stations. Strikingly, as shown in the graph [left], USCRN temperature stations show no warming since 2005 when the network went online. If anything, U.S. temperatures are now slightly cooler than they were 14 years ago.
A Short List Of Facts Global Warming Alarmists Don't Want To Face. The U.S. hasn't warmed since 2005. America isn't the entire world. But the alarmists gleefully point out regional heatwaves and the "hottest day on record" when cities endure summer scorchers. So let's look at the data. The U.S. Climate Reference Network, "a sophisticated climate-observing network specifically designed and deployed for quantifying climate change on a national scale," has found there's been no warming in the U.S. going back to 2005. In fact, says meteorologist Anthony Watts, the "little known data from the state-of-the-art" operation, "(which never seems to make it into NOAA's monthly 'state of the climate' reports) show that for the past nine months, six of them were below normal." The data also tell us 2019's average has been cooler than 2005's, the first year of the data set.
300 feet of ice have accumulated since World War II.
WWII Plane Discovered Under 300 Feet of Ice in Greenland. [Scroll down] It was indeed a long-lost p-38 that the team had discovered, residing under 300 feet of Greenland ice. Which means the ice sheet in that particular region has [...] grown!?!? By an average 4 feet per year since 1942. Greenland's 1930s ice melt rates were at least equal to today's. In 80 years there has been zero net ice loss.
Colorado Snowpack Is 40 Times Above Normal Following Summer Solstice Storm. On June 21, a freak snowstorm dropped up to 20 inches of snow on parts of Colorado, adding to an already substantial snow season, which since January has seen snow totals in Colorado at more than 750 percent above normal. The recent snow has ballooned that number to over 4,000 percent above normal. A large part of that percentage is because snow is normally completely absent by June, and this year's abnormally cold temperatures have helped preserve vast amounts of snow that fell earlier in the year.
Colorado's snowpack is 40 times normal after rare summer solstice dump. On summer's opening day, up to 20 inches of snow buried the high terrain of the Colorado Rockies, boosting the state's snowpack to extraordinary levels for the time of year. The solstice flakes marked a continuation of a snowy stretch that began in January and February and lingered through spring. Even before the solstice snow, The Denver Post wrote, the state's snowpack was "in virtually every numerical sense ... off the charts." At the time, the snowpack was 751 percent above normal.
Roll Out Those Lazy, Hazy, SNOWY Days of Summer. The summer solstice passed a few days ago, the longest day of the year with the most sunshine. Only a couple of weeks before July 4th, thoughts are on hitting the beach or pool, with the only worry being about whether sunscreen is going to save your life or kill you. But not this year. Portions of Colorado are under "a winter weather advisory this weekend" as reported by the Denver Post, with "snowfall expected in the mountains." Wait a minute, it's officially summer, isn't it? This is not just a few snow flurries. "Snowfall of 2-6 inches is expected this weekend for altitudes about 9,000 feet, and slush could accumulate along mountain passes. Some road closures have been issued due to adverse weather conditions." Such a forecast is common in January, but not in late June.
Montana Lost 37,000 Cattle To Brutal Winter. Montana ranchers lost more than 37,000 cattle due to weather-related causes in 2018, according to data released by the Farm Service Agency. The Billings Gazette reported Sunday [6/16/2019] the federal Livestock Indemnity Program paid out $11.1 million for the loss of 37,352 cattle in Montana in 2018. Ranchers and the Farm Service Agency (FSA) say there were more weather-related cattle deaths that did not qualify for compensation.
Endless Failure Of Climate Doomsday Tales. On June 29, 2017, the Dailymail in UK ran an article headlined "Four years to save the Earth: 2020 is the deadline to avert climate catastrophe, experts claim in chilling commentary." Two years later and halfway to deadline, the earth has not changed much. If anything, the El Niño of the 2016-17 season gave way for much cooler temperatures across the globe and the past two years have been colder than 2016. This is just one of the many climate doomsday news articles that gets published in our mainstream news media every single day.
[The first] weekend of summer [is] looking a lot like the middle of winter in Colorado and Montana. The summer season in the Northern Hemisphere officially arrived on Friday [6/21/2019], but there were some regions in the United States that apparently didn't get the memo and spent the first day of summer trapped in a winter wonderland. While some may fire up the barbecues and spend time doing outdoor activities this weekend, others will have to bundle up to avoid the cold over the next few days.
Amidst Global Warming Hysteria, NASA Expects Global Cooling. "We see a cooling trend," said Martin Mlynczak of NASA's Langley Research Center. "High above Earth's surface, near the edge of space, our atmosphere is losing heat energy. If current trends continue, it could soon set a Space Age record for cold."
Aspen's Warnin' Warminites are Chillin'. Remember those predictions that polar bears and snow would soon be extinct? Well, here in Aspen and throughout the Colorado mountains, snowpack this spring is nearly 500% of normal. That's not a typo. It's almost five times normal. The ski mountain at Aspen has reopened for skiing every weekend in June, including this weekend. Even the locals — a pretty discerning bunch — say we had a season beyond epic.
National Park Quietly Removes 'Climate Change' Warning After Years of Heavy Snow. The National Park Service for the Glacier National Park has quietly removed a sign saying that the glaciers would disappear in 2020 due to climate change.The park experienced snowfall that was 'above average' in recent years upended computer model projections that NPS based their claim that the glaciers "will all be gone by the year 2020[.]"
150 lakes in the Tahoe Basin are still frozen, and it's June. With the Sierra Nevada wrapped in the claws of winter through May, the mountain range is blanketed in a hefty snowpack. Many mountain lakes are still frozen solid even though it's the first week of June and the summer tourism season is kicking off. In the Tahoe Basin specifically, an estimated 150 lakes are solid or covered in thick sheets of ice with their edges just beginning to melt. "The rangers I have who are in the high country have pretty much concluded anything over 7,000 feet in elevation is still frozen," says Don Lane, supervisory recreation forester for the U.S. Forest Service's Lake Tahoe unit. "Lake Tahoe is at 6,200 feet, and the lakes above it in the mountains are all ice."
10 Of 10 Coastal Antarctic Stations Show Zero Warming Over Past Decades. Failed Scientists Need To Resign. Over the past few years, climate alarmists have increasingly been resorting to weather-ambulance chasing, which has necessitated the trotting of the globe in the search of weather anomalies to behold as proof of man-made climate change. But one place they have been avoiding like the plague is Antarctica as a number of studies have been showing the opposite of what what predicted earlier has been happening down at the South Pole, except for volcanic activity beneath parts of the Antarctic ice shelf.
Australia sees 'rare' snowfall in subtropical Sunshine State of Queensland. Ferocious weather has lashed a 600-mile stretch of coastline in eastern Australia prompting emergency warnings from the authorities as snow fell in subtropical Queensland. Residents near the town of Stanthorpe, 135 miles south-west of Brisbane, had a wintry surprise with the first significant snowfall in the state of Queensland since 2015.
The Summer of Climate Change Discontent. Climate change will be another source of discontent for Democrats as their predictions once again get buried under a snowpack of reality. My local paper, the left-wing Denver Post, reports: "Water content of Colorado's snowpack raises flood concerns, with levels peaking at 728 percent in the San Juans." Imagine that, snowpack over seven times more than normal. How can that be with global warming broiling the planet, with only a decade before Earth burns to a crisp, at least according to a former bartender from the Bronx.
California snowpack 202% of average for this time of year. The amount of snow blanketing the Sierra Nevada is even larger than the 2017 snowpack that pulled the state out of a five-year drought, California water officials said.
Why Climate Skepticism Thrives. Japan's monthly mean temperatures have shown no significant warming in 40 years. North America had one of its highest snowfall years in 2018. The Indian city of Chennai recorded its historic high way back in 2003. Hundreds of cities in North America recorded their historic lows in 2018, beating even 80-year records. Satellite measurements of temperature (generally free from biases common to ground instruments) reveal no significant global warming in the past 18 years. When the climate doomsayers themselves acknowledge this hiatus, why would anyone believe their apocalyptic warnings? And what about recent research by scientists who study the sun? They predict that the next two solar cycles will be the most inactive in recent history, akin to the cycles that caused the Little Ice Age in the 17th century. In all likelihood, even if we escape that devastating experience, there will be no warming to levels preached by alarmists and the mainstream media.
Drop in global temps 'almost a slam dunk'. Climate Depot's exclusive round up of global cooling predictions.
Mammoth Mountain to Stay Open Into August After Recording Its Snowiest May Ever. After receiving a record amount of snow for May, Mammoth Mountain on Friday announced it would be extending its ski and snowboard season into August. Only two previous seasons have lasted into August — in 2017 and 1995 — according to Mammoth Snowman, a site that tracks resort news. With one week left in the month, Mammoth has already received 29 inches of snow, the most ever recorded in the month of May. The total beats the previous record of 28 inches, set in May 2015.


Climate and the fate of corn. It is a remarkable thing that the U.K. and Irish parliaments were able to hypnotize themselves and pass climate emergency legislation when the southern half of the planet has not warmed at all in 120 years. For example, this record of Cape Leeuwin (courtesy of Erl Happ), on the southwest corner of the Australian landmass, shows recent January mean maximum temperature back below the 120 [year] average: [Chart]
The trillions of dollars wasted on global warming hysteria, properly deployed, could have improved and saved many lives. In the developing world, the installation of electrical energy grids has been stalled for decades due to false global warming alarmism. Last winter England and Wales experienced over 50,000 excess winter deaths. That British per-capita excess winter death rate was [about] three times the average excess winter death rate of the USA and Canada. [...] The funds wasted on baseless global warming hysteria, anti-fossil-fuel fanaticism and destructive green energy schemes, properly deployed, could have saved or improved the lives of many millions of people.
Global Warming is Going the way of Russia Collusion. The last thing we expect mid-spring is snow. Yet that's just what we have. As the Weather Channel reports, "It may be late April, but Winter Storm Xyler will make you forget that it is spring in the Midwest this weekend as it is expected to bring some unusually heavy late season snowfall." Snow is heading to New York as well, despite the state's all-out effort to combat global warming by attempting to ban plastic straws and now hot dogs. From the New York Post, "Upstate NY may get up to 3 inches of snow this weekend."
Questioning Global Warming. The question should be asked: are we looking at the wrong phenomenon and should be debating global cooling? A number of climate scientists believe "another major cooling" is likely to happen in this century. Despicably and treacherously GWCC [global warming/climate change] has overtaken all rational discussions about all forms of energy, electricity and the weather. If you question GWCC you are a "climate denier," or worse you're viciously attacked without fully vetting the issue of whether or not man is causing anthropogenic GWCC.
'Historic' blizzard may drop up to 2 feet of snow across Central US. It may be April but winter's icy grip remains firm across the central U.S., where a potential blockbuster storm is set to bring an onslaught of heavy snow and blizzard conditions through Friday [4/12/2019]. Blizzard warnings are now in effect in 6 states, stretching from Colorado all the way up to Minnesota, according to Fox News Senior Meteorologist Janice Dean.
Blizzard forecast for Midwest could break April snow records. It appears winter isn't finished quite yet. A major blizzard is expected to dump heavy snow on parts of the Midwest in the coming days, possibly setting new records for the month of April.
Climate Junk Science and the Utter Nonsense of Twelve Years to Destruction. Yes, of course climate changes. There are cycles when the globe gets warmer and others when earth cools. Yet notice that even the Left increasingly has backtracked from the term "Global Warming." Now it is "Climate Change." Too many polar vortexes.
A Brief Survey of 2020's Psychotic Democratic Roster. [Scroll down] Curiously, in a recent survey of Millennials that sought to determine the top twenty things that worry them, climate change did not make the list. And to anyone paying attention, global cooling is very likely a graver danger.
Baby It's Cold Outside.
• A "bomb cyclone" last week slammed the Rockies and Midwest with hurricane-speed winds and abundant snowfall. As 97-MPH gusts struck Colorado Springs, marooned passengers huddled in horror inside a shuttered Denver International Airport.
• At this point in 2017, Lake Superior was just 7.3 percent covered in ice; 2018's figure: 49 percent. Lake Superior was 94 percent iced over on March 8. This was the first time in four years that the largest Great Lake's ice coverage exceeded 90 percent, the Detroit Free Press reported. Not so far away, Lake Erie was 20 percent ice a year ago. Today: 94.1 percent. Overall, the Great Lakes have gone from 27.8 percent ice in 2018 to 74.6 percent in 2019.
• Lake Erie recently experienced a sort of frozen tsunami, as huge chunks of wind-blown ice washed onto the shore at Hamburg, New York. Footage of this phenomenon is fascinating and terrifying, especially as the solid water violates homes, marinas, and other structures in and around the lake.
• Several polar vortexes pumped Arctic air into the Midwest and parked it there for days. This drove air temperatures to 22 degrees below zero in Chicago and minus-28 Fahrenheit in Minneapolis on January 30.
How Do We Know What We Know? As I sit here writing, a terrible thing is happening. It started mid-week, but there's nothing being reported on the national news. No TV cameras or on-the-street interviews. [...] This was a hard winter and much snow accumulated and ice formed on all the rivers. Then suddenly the weather turned and most of that H2O turned liquid. What didn't melt floated high-speed in chunks the size of cars, ripping out grain elevators and barns, tearing into houses and businesses. I saw one picture of a kitchen filled to the tops of the counters with dirt-laden ice. [...] But what has bothered me the most is the realization that the news tells us so little of what is happening in the world. The TV news rattles on and on 24-7 and not a single story about the heart of this country and the suffering and struggle of our fellow Americans. Not until the story was three days old does it even make honorable mention.
Living in the Real World. Alexandria Ocasio-Cortez responded to those who criticized her hypocrisy as a massive consumer of fossil fuels by saying she is just "living in the world." Well, sort of. In her heavily-cocooned world, it is considered noble to speculate about banning air travel and murdering all of America's cows. Elsewhere — in what some would call the real world — people have to worry about getting those cattle through the winter. Ocasio-Cortez is obsessed with hypothetical global warming, but here in the Midwest we are nearing the end of a brutal winter. For those who live in cities record snowfalls have been an inconvenience, but on the prairie they threaten lives and livelihoods. Try-State Livestock News has an article headlined "March Spring Storm in Midwest Causing Major, Ongoing Issues for Ranchers" that includes remarkable photos and video.
Global Cooling: The Real Climate Threat. Observations of sunspot activity at the Space Weather Prediction Center of the National Oceanic and Atmospheric Administration (NOAA) indicate that there has been a lull in solar activity during the past 18 years — the same period during which there has been no significant warming, confirming a direct correlation between solar activity and global average temperature. Some climate scientists say another major cooling is likely soon. Their claims are not outlandish. Evidence for the lull in solar activity is so clear that even NASA admits the cooling trend. Martin Mlynczak of NASA's Langley Research Center commented, "We see a cooling trend[.] ... High above Earth's surface, near the edge of space, our atmosphere is losing heat energy. If current trends continue, it could soon set a Space Age record for cold." Most recent scientific studies on solar cycles suggest that the next solar cycles (25 and 26) could be similar to the Maunder and Dalton minima that plunged much of the world into disastrous cold.
New All-time Record Low Temperature in Illinois. An Arctic outbreak in late January 2019 led to widespread bitterly cold temperatures across much of the Upper Midwest, including Illinois. On the morning of Jan. 31, the cooperative weather observer at Mt. Carroll, located in Carroll County, reported a temperature of -38 degrees. After a comprehensive review, the State Climate Extremes Committee (SCEC) unanimously voted to validate the -38 degrees reading as the new official state record minimum temperature. This committee ensures that the observation is meteorologically plausible, is within a range that the reporting instrument can detect, and that the instrument is in proper working order.
A February to remembrrr in L.A.: It never even reached 70 degrees. Home restaurant's sprawling outdoor patio in Los Feliz, set under a canopy of large trees, was designed to take advantage of California's temperate climate and typically sunny skies. But this February has been so cold that the restaurant scrambled to set up extra heaters outside the Craftsman-style house to keep diners and workers warm during the record-setting cold winter. [...] For the first time since forecasters began recording data — at least 132 years — the mercury did not reach 70 degrees in downtown Los Angeles for the entire month of February.
Arctic air mass expected to hit US, bringing bitter cold temperatures. The National Weather Service in Glasgow, Mont., said people may experience symptoms of frostbite in 10 minutes and wind chills could "dip into the minus-50s by Sunday morning [3/3/2019]."
Record-setting snowstorm buries parts of Arizona. A winter storm in the U.S. Southwest that dumped snow on Arizona made travel treacherous on Friday [2/22/2019] as strong winds pushed powdery snow into drifts and forecasters predicted the blizzard would continue into the night.
Seattle is having its snowiest February in 70 years — and more is on the way. After a weekend snowstorm pummeled the normally mild Northwestern city — making this month the city's snowiest February since 1949, according to AccuWeather — another one-two punch is expected this week. The next snowstorm is forecast to hit Sunday night [2/10/2019], bringing 1-2 inches of snow, AccuWeather said, and another would pile on 3-6 inches Monday afternoon [2/11/2019] into Tuesday. The snow will ride a wave of record cold: High temperatures were expected in the upper 20s to low 30s, with wind chills from 17 to 22 degrees.
A potentially crippling snowstorm is headed for Seattle. Earlier this week, Seattle was hit with a snowstorm that shut down the city. Some neighborhoods received about half a foot of snow in a city that averages only 6.8 inches in a year. Officially, the Sea-tac airport — which sits only about 400 feet above sea level — received a storm total of about 2.7 inches of snow. But Monday's [2/4/2019] storm may soon seem like just a light dusting after a snowstorm forecast to be even larger slams the region Friday through Saturday.
Lake Michigan Has Completely Frozen Over Amid Dangerous Temperatures. Lake Michigan is freezing over as extreme cold weather hits parts of the U.S. this week. The Midwest, from the Dakotas to Western New York, is experiencing some of the coldest temperatures to hit the region in more than two decades, according to The Weather Channel — and the lake is feeling the effects. As wind chill temperatures in Chicago dropped as low as -51 degrees Farenheit on Wednesday [1/30/2019], according to the National Weather Service, parts of Lake Michigan turned to ice.
Record Cold Forces Rethink on Global Warming. Headlines around the world are reporting exceptionally frigid conditions and unusually high levels of snowfall in recent weeks. They tout these events as records, but few people understand how short the record actually is — usually less than 50 years, a mere instant in Earth's 4.6-billion year history. The reality is that, when viewed in a wider context, there is nothing unusual about current weather patterns. Despite this fact, the media — directly, indirectly, or by inference — often attribute the current weather to global warming. Yes, they now call it climate change. But that is because activists realized, around 2004, that the warming predicted by the computer models on which the scare is based was not actually happening. Carbon dioxide (CO2) levels continued to increase, but the temperature stopped increasing. So, the evidence no longer fit the theory.
Cold weather kills more people than hot weather.
Pre-med student, 18, freezes to death in -51F wind chill-as another 11 people die across the Midwest. The deadly polar vortex wreaking havoc across the United States has left at least 12 people dead, including a college student who was found in the freezing cold at the University of Iowa. Authorities said the body of Gerald Belz was found behind an academic hall just before 3am on Wednesday [1/30/2019] by campus police. The 18-year-old was taken to a hospital, where he was pronounced dead. While officials believe his death was related to dangerously low temperatures at the time he was found, officials have not given a specific cause of death.
Extreme Cold Breaks Daily Temperature Records Across Illinois. Wind chills dipped as low as 56 degrees below zero in northern Illinois as bitter cold weather moved into Illinois.
The Editor says...
Somewhere in the world, it must be blazing hot, if the global average temperature really is going up while it's 26 below in Illinois.
Frigid in Chicago Must Mean Global Warming. Weather can still be predicted a few days to a week in the future. Climate not so much, hence the convenient renaming of global warming to climate change. In fact, climate is impossible to predict. The Intergovernmental Panel on Climate Change explains why. "The climate system is a coupled non-linear chaotic system, and therefore the long-term prediction of future climate states is not possible." Interestingly the previously available reference for this quote has disappeared from the IPCC website with a message "page not found." An inconvenient truth safely hidden away? Since weather can be predicted and climate cannot, it's convenient to use the term climate change rather than weather change. Climate becomes a convenient straw man for the man-made global warming movement.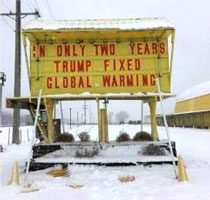 Today's Campaign Update (Because The Campaign Never Ends). Hey, remember when, a decade ago, Climate alarmists were saying that children being born at the time would never see snow? Yeah, fooled them, huh?
Donald Trump Keeps Mocking Global Warming Leftists with Record Cold Temperatures. President Donald Trump continued ridiculing climate change alarmists with the news this week of record cold temperatures in the Midwest. "What [...] is going on with Global Waming? [sic]" Trump asked on Twitter. "Please come back fast, we need you!" The president noted that windchill temperatures were reaching -60 degrees in the Midwest, with expectations of even colder temperatures in some places.
Chicago's record for coldest temperature ever could fall as polar vortex has city 'in the crosshairs'. In Chicago, the coldest temperatures of the year will arrive midweek. After seeing a high around 34 on Monday [1/28/2019] at O'Hare International Airport, temperatures will drop to near zero before the end of the day, according to the National Weather Service. By Tuesday night [1/29/2019], temperatures are expected to take another plunge, to 23 below zero, flirting with Chicago's coldest temperature ever: minus 27 on Jan. 20, 1985.
How cold is it? Sub-zero temperatures are freezing parts of Niagara Falls. It's so cold on the East Coast parts of it are freezing over. If you don't believe us, just take a look at Niagara Falls. According to CNN, visitors captured video of the falls' rushing waters coming to a halt as the sub-zero temperatures affected the Northeast.
City of Cleveland issues extreme cold weather advisory. The City of Cleveland has issued an extreme cold weather advisory due to the upcoming arctic blast.
First 'Polar Vortex' Of 2019 Touted As Evidence Of Global Warming. It's Not. Large swaths of the U.S. are experiencing the first "polar vortex" event of 2019, and The New York Times is out with an article suggesting cold snaps are becoming more frequent because of global warming. [...] The Times' "polar vortex" article, published Saturday [1/19/2019], rests heavily on two scientists who "suspect that the more frequent polar vortex breakdowns can be tied to climate change." [...] Media outlets usually turn to Cohen and Francis during the winter months when brutal cold and snowfall can make it hard to convince people the earth is warming. Both scientists regularly argue human greenhouse gas emissions are driving more frequent, bone-chilling arctic blasts. This is not a widely accepted theory.
Massive blizzard impacting California mountains, Up to 100 inches of snow possible. A large storm is coming ashore on the California coast and it's bringing flooding rains and heavy mountain snow. Above 5,000 feet, the snow is being measured in feet. Multiple feet.
Trump uses winter storm to mock climate change on Twitter and warns people to stay inside. President Donald Trump used the weekend's winter storm to mock global warming on Twitter as he warned citizens to stay inside. 'Be careful and try staying in your house. Large parts of the Country are suffering from tremendous amounts of snow and near record setting cold,' the president tweeted Sunday morning [1/20/2019]. 'Amazing how big this system is. Wouldn't be bad to have a little of that good old fashioned Global Warming right now!' he added.
Brutally cold temps to hit NYC following double dose of snow. Back-to-back snowstorms are set to wallop the Big Apple on Thursday [1/17/2019] and Saturday evenings — and the icing on top will be Sunday's wind chills of as low as minus-20 degrees. One to 3 inches of snow will blanket the city overnight Thursday, making for a slippery Friday morning commute, meteorologists warned. Then, Saturday night, the "big storm" will hit, said AccuWeather meteorologist John Feerick. "That will produce a lot of heavy snow."
Did You Know the Greatest Two-Year Global Cooling Event Just Took Place? Would it surprise you to learn the greatest global two-year cooling event of the last century just occurred? From February 2016 to February 2018 (the latest month available) global average temperatures dropped 0.56°C. [...] The 2016-18 Big Chill was composed of two Little Chills, the biggest five month drop ever (February to June 2016) and the fourth biggest (February to June 2017). A similar event from February to June 2018 would bring global average temperatures below the 1980s average.
Global Temperatures drop for the third year in a row:
UAH Global Temperature Update for December 2018: +0.25 deg. C. The Version 6.0 global average lower tropospheric temperature (LT) anomaly for December, 2018 was +0.25 deg. C, down a little from +0.28 deg. C in November.
Heavy Snow in Germany, Austria Causes Chaos for Travelers. Heavy snow caused travel chaos in parts of Germany and Austria as authorities closed roads and train routes because of avalanche danger and airports reported weather-related cancelations Saturday [1/5/2019].
Recently Dropping Global Temperatures Demonstrate IPCC Claims are Impossible. When you put the claims of the Intergovernmental Panel on Climate Change (IPCC) in perspective, you get a very different picture that defies logic. I decided to do this because of their recent hysterical claims in Special Report 15 (SR-15) designed to frighten and bully the world into completely unnecessary and enormously expensive environmental and energy policies. [...] Even some members of the IPCC admit it is not about climate but involves an excuse for ideological actions such as a transfer of wealth. However, the majority of the IPCC and its proponents would disagree. They would claim the concern and demand for action are based on science set out in the AR5 Working Group I Report, The Physical Science Basis. Well, let's examine what they say. [...]
Climate Change: The Poetry of Dreams and the Prose of Reality. In the mid-1970s, the majority supported global cooling with the same vigor and urgency as they support global warming today. The cover of the April 28, 1975, issue of Newsweek proclaimed "The Coming Ice Age." In the article "The Cooling World," the magazine suggested the disasters similar to those predicted in the government report. In the June 24, 1974, issue of Time magazine, the article "Another Ice Age" painted a bleak picture for the future of our planet: "When meteorologists take an average of temperatures around the globe, they find that the atmosphere has been growing gradually cooler for the past three decades. The trend shows no indication of reversing (emphasis mine).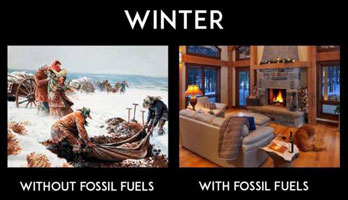 How Would You Prefer To Spend Your Winter? Dear Leftists: Please show us how committed you are to stop global warming: Turn the master switch of your fusebox OFF for the winter. Do it for the planet!
New U.S. Climate Report a 'Scientific Embarrassment'. The past two winters have been especially cold over North America. November 2018 set low temperature records across the contiguous U.S., with three winter storms as of November 28 and the coldest Thanksgiving Week in one hundred years. Among some of the cold records: 19[°]F was recorded at New York City's Central Park on November 22, which was the park's coldest Thanksgiving since 1871; on the same day, the temperature at the top of Mount Washington in northern New Hampshire fell to -26[°]F, the coldest ever recorded for November. This beat the previous record of -20[°]F on Nov. 30, 1958.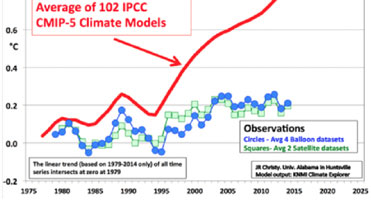 New U.S. Climate Report a 'Scientific Embarrassment'. While NASA's claim that there has been slightly more than 1 degree Celsius (1.8 deg Fahrenheit) of warming since 1880 is likely correct, there has been no additional warming since the new millennium. This is referred to as the "Global Warming Hiatus" by the climate modeling community. Contrary to the outputs of climate models that project continued warming, the Earth's climate appears to be cooling down, with increasing cold weather extremes worldwide in the last six years.
Historic Snowstorm Blankets Chicago Area; Thousands Without Power, Hundreds Of Flights Canceled. One of the worst November snowstorms in Chicago history hammered the city and suburbs Sunday night [11/25/2018] and early Monday, dumping more than 7 inches in the city, and up to a foot in some northwest suburbs.
'Mini Ice Age' Looms As NASA Scientist Warns Lack Of Sunspots Could Bring Record Cold. Our sun was not expected to head into a solar minimum until around 2020, but it appears to be heading in that direction a little early which could prove to be bad news for warm weather lovers. But a prolonged solar minimum could mean a "mini ice age." The last time there was a prolonged solar minimum, it did, in fact, lead to a mini ice-age which was scientifically known as the Maunder minimum[.]
Climate-change Narrative Challenged by Unusual Weather & Scientific Studies. [Scroll down] This is the second year in a row in which South Texas has received snow earlier than New York or Boston. Last year, a December 8 snowstorm blasted much of the Deep South before turning east and north to wreak havoc on people more used to such conditions. If the NASA data is correct, earlier snows and cooler temperatures could be the "new normal" in the coming years. And NASA isn't the only agency reporting things that the IPCC and the mainstream media don't want you to hear. A study published in December of last year by UC-San Diego, which monitored a decrease in ultra-violet flux on the Sun's surface, is also suggesting that the sun may be entering a period of low sunspot activity, which could lead to a Solar Minimum in the near future. Across the ocean, another study done by Northumbria University in Great Britain is also predicting a Grand Minimum, similar to the Maunder Minimum.
Early snowfall stokes Colorado skiers, clouds climate debate. A heavy autumn snowfall has ski resorts across Colorado holding some of their earliest opening days in a decade or more, stoking skiers and fueling another snowball fight over climate change. Vail Mountain and Beaver Creek plan to open this week, shaving several days off their anticipated starts to the ski season and marking the first time that both resorts have launched ahead of time in 10 years, said Vail chief operating officer Doug Lovell.
Texas Sees Snow Before New York on Near-Record Cold in South. Houston reported its earliest snowfall ever, beating places like New York City and Boston as a cold snap descended over Texas. George Bush Intercontinental Airport in Houston set a new record for the first observed snowfall, breaking one set on Nov. 23, 1979, according to a Twitter post from the National Weather Service.
A Mini Ice Age? NASA Scientist Warns That Diminished Solar Activity Could Mean The Coldest Winter In Modern Times. Solar activity has dramatically slowed down, and experts are warning that we could potentially be facing the coldest winter that any of us have ever seen as a result. Throughout 2018, scientists have been troubled by the lack of sunspots. When the sun is very active, there tends to be a lot of sunspots, and when the sun is less active there are fewer sunspots. Since solar changes are the number one driver of climate change, many believe that the lack of solar activity that we have been witnessing means that a bitterly cold winter is ahead for us. In fact, it is being reported that NASA has discovered that the thermosphere has been cooling and shrinking significantly. In the short-term that could mean a rough winter, but in the long-term there is a very real possibility that we could be headed for a "mini ice age".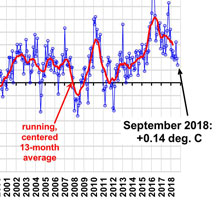 UAH Global Temperature Update for September, 2018: +0.14°C. Globally, the coolest September in the last 10 years.
Why Some Scientists Say Global Warming Is Out and Global Cooling Is In. In a world riddled with climate-change doomsday predictions, a small but growing number of scientists are saying the highly touted climate models predicting steadily increasing global temperature due to humans' carbon-dioxide emissions are wrong and that Earth could soon face something even more dire: global cooling. One such climate scientist is Valentina Zharkova, an astrophysicist at Northumbria University in the United Kingdom. Zharkova and her team of researchers say that based on mathematical models of the Sun's magnetic activity, it's likely Earth will experience decreasing magnetic waves over a 33-year period beginning in 2021. Zharkova is not alone.
NASA Sees Climate Cooling Trend Thanks to Low Sun Activity. The climate alarmists just can't catch a break. NASA is reporting that the sun is entering one of the deepest Solar Minima of the Space Age; and Earth's atmosphere is responding in kind. So, start pumping out that CO2, everyone. We're going to need all the greenhouse gases we can get. "We see a cooling trend," said Martin Mlynczak of NASA's Langley Research Center. "High above Earth's surface, near the edge of space, our atmosphere is losing heat energy. If current trends continue, it could soon set a Space Age record for cold."

450 Graphs That Show No Warming For future reference.
285+ Papers Show Global Cooling in the 1970s. What follows is a list of over 285 papers published during the 1960s, 70s and 80s showing there was a near consensus of an imminent global cooling — a point that some activist scientists falsely dispute.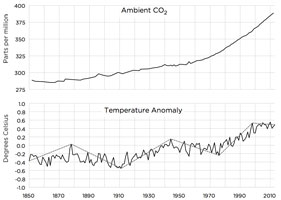 Climate models that can't predict climate. The amount of warming we have experienced is mild by historical standards and it's manageable. Here's another graph of the amount of warming since 1850. [Chart] What we see is what is at least in part a natural warming trend with no dramatic temperature increase. It's tiny compared to what we deal with on a day-to-day, location-to-location, season-to-season basis. The warming isn't significant and it doesn't correlate very strongly with CO2. We can also see that the temperature today is very cold on average in terms of the history of the earth. We're not at all in unprecedented territory temperature-wise or CO2-wise. The amount of CO2 in the atmosphere since the beginning of the industrial revolution has risen from .03% of the atmosphere to .04%. Historically it was 20 times that and these were very fertile periods of the earth.
The Next Ice Age. While most people still worry about global warming, I am more concerned about the next Ice Age. A glaciation would present a serious problem for survival of our present civilization, akin to a nuclear winter that many worried about 30 years ago.
Scientists Observe Coldest Temperatures Ever on Earth's Surface. A team from the National Snow and Ice Data Center (NSIDC) at the University of Colorado Boulder have identified the East Antarctic Plateau — a massive, empty expanse the size of Australia that begins near the South Pole — as the coldest place on the planet. The East Antarctic Plateau sits some 3,500 m (11,500 ft) above sea level and the air over the Plateau is extremely still, dry and thin, providing an ideal environment for extreme cold. "In this area, we see periods of incredibly dry air, and this allows the heat from the snow surface to radiate into space more easily," said Ted Scambos of the University of Colorado Boulder, lead author of the study.
Antarctica [is] actually colder than scientists once believed. Tiny valleys near the top of Antarctica's ice sheet reach temperatures of nearly minus 100 degrees Celsius (minus 148 degrees Fahrenheit) in the winter, a new study finds. The results could change scientists' understanding of just how low temperatures can get at Earth's surface, according to the researchers.
Climate Change Update From Fly-Over. It's frosty here this morning, 46 degrees at 5:00 am to be exact. It was just 38 degrees at the same time 60 miles due north of here. I double checked and yes, it is June 6th. No wonder the Pope is meeting with oil company executives from around the world to discuss climate change. After all, who would know more about the science of climatology than the man of God who is likewise an economic expert?
Is 100 Percent Renewable Energy Possible? Since 1997, the warming of the Earth has been too low, by a factor of eight, compared to the warming expected according to the claims of the believers in global warming as published by the Intergovernmental Panel on Climate Change. All the claims that global warming is advancing according to predictions are simply lies. The measured temperature data, according to the most accurate method of measuring the Earth's temperature, provide no support for global warming theory. The strong global warming from 1910 to 1940, when CO2 was not an issue, cannot be explained by the computer models, casting further doubt on the theory. But global warming is a huge bonanza for the scientists promoting the idea.
Don't Tell Anyone, But We Just Had Two Years Of Record-Breaking Global Cooling. NASA data show that global temperatures dropped sharply over the past two years. Not that you'd know it, since that wasn't deemed news.
Did You Know the Greatest Two-Year Global Cooling Event Just Took Place? Would it surprise you to learn the greatest global two-year cooling event of the last century just occurred? From February 2016 to February 2018 (the latest month available) global average temperatures dropped 0.56°C. You have to go back to 1982-84 for the next biggest two-year drop, 0.47°C — also during the global warming era. All the data in this essay come from GISTEMP Team, 2018: GISS Surface Temperature Analysis (GISTEMP). [...] This is the standard source used in most journalistic reporting of global average temperatures.
There Is No Unprecedented Global Modern Warming. You have heard the wailing and screaming about President Trump's exit from the Paris Climate Accords, but do you understand that the agreement, never ratified by the U.S. government (NOT a treaty) accomplished nothing at all to modify or change the climate. The climate of the earth has been changing mildly for millions of years, and there is no unprecedented Global-Scale modern warming. The "Accords" were designed to transfer large amounts of wealth from the rich nations to the poor nations, ostensibly to allow them to save themselves from that non-existent unprecedented warming.
Antarctic Temperature Data Challenges Warming Claims. Antarctica, considered by many climate alarmists to be a harbinger of future climate conditions for the rest of the globe, apparently is not warming as fast as the doomsayers thought. In fact, it may not be warming at all, with data suggesting that the continent was much warmer than it is now a century ago. The Japanese Meteorological Agency's research outpost, Showa Station in Antarctica's Queen Maud Land, reports a slight cooling trend, even as atmospheric CO2 levels rose sharply from 1985 until 2017, according to Japanese climate blogger Kirye. But lest you think this is some sort of Japanese climate denial scheme, there are other examples. The Australian research outpost Davis Station also reports no warming trend in six decades. Scientist Andy Oz tweeted, "Australia's Antarctic bases have no trend in temperatures over past 60 years."
More spring snow in Chicago, and forecasters call April's start among coldest in 130 years. Chicago area residents may wake up to snow on the ground Thursday, the latest reminder that winter weather's grip is delaying so many spring rites of passage, from Major League Baseball games to bridge-lifting season on the Chicago River downtown — the parade of boats heading for slips offering the surest sign of warm weather ahead. And if those early morning walks to the bus or train stop weren't convincing enough, forecasters say this is the second-coldest start to April across Chicago in 130 years.
Snow records toppled in South Dakota, Minnesota, Wisconsin. The National Weather Service says the 14.9 inches at Minneapolis airport from Friday through Sunday [4/16/2018] set a record for the largest April snowstorm ever there.
Blizzard eases, but snow will continue. Plows roared, snowblowers whirred and shovels clanged as Twin Cities area residents burrowed out Sunday [4/15/2018], even as snow continued to fall and fall. Saturday's rare metro-area blizzard warning had eased into a winter weather advisory for Sunday, with 2 to 4 more inches of snow expected to fall through the day, according to the National Weather Service in Chanhassen. Saturday's blizzard designation, called "historic" by the Weather Service, was the first for the metro area since 1983.
Spring blizzard pounds Midwest; flights canceled, deaths reported. Amid a spring blizzard in the Midwest that prompted hundreds of flights to be canceled Saturday, one runway has reopened at Minneapolis-St. Paul International Airport, officials said Sunday [4/15/2018]. A total of 469 flights had been canceled at the Minnesota airport alone, airport spokesman Patrick Hogan said. All of Saturday's incoming and outgoing flights were canceled because of heavy snowfall and low visibility. The snow was coming down too fast for plows to keep the runways clear or for crews to keep the planes deiced, airport officials said.
Snow could ruin New York Yankee's home opener. Up to six inches of snow is predicted for areas of the East Coast which could impact the New York Yankees home opener on Monday [4/2/2018].
New report reveals a 23 year long pause in stratospheric temperature. A new report from the Global Warming Policy Foundation (GWPF) counters media hype over recent warm global temperatures, showing that almost all of the sudden increase in temperatures in the last couple of years was caused by a record strong natural El Nino phenomenon rather than global warming.
Pennsylvania March Temperatures Declining. It has been ridiculously cold in Philadelphia this month, with afternoon temperatures among the coldest on record. I'm looking out the window watching snow falling. [...] It is cold here again today [3/25/2018], but on this date in 1910 Philadelphia was 82 degrees, and more than half of the US was over 70 degrees. CO2 was 300 PPM at the time.
Spring nor'easter could bury NYC in 15 inches of snow. A spring storm is expected to dump as much as 15 inches of snow on the Big Apple on Wednesday — leaving New Yorkers wondering if they'll ever be able to pack up their winter gear. The late-season strike is the fourth nor-easter to clobber the city in the last three weeks — and led Mayor de Blasio to shut down schools for the day. "Everyone is tired of it," said AccuWeather senior meteorologist Dave Samuhel, noting the recent spats of snowfall and below average temperatures.
Approaching 'grand solar minimum' could cause global cooling. There's a lot of evidence mounting that solar cycle 25 will usher in a new grand solar minimum. Since about October 2005, when the sun's magnetic activity went into a sharp fall, solar activity has been markedly lower, with solar cycle 24 being the lowest in over 100 years.
Rare blue ice stacks 'as high as a three-story building' form along Michigan's Great Lakes. In the middle of her work shift Sunday morning [2/25/2018], Tori Burley received a text message from her father that gave her a tingle of excitement: "The blue ice is back!" It had been seven years since Burley, a photographer who grew up in Mackinaw City, Michigan, spotted blue ice chunks along the Straits of Mackinac, the waterway that flows under the Mackinac Bridge, connecting two Great Lakes — Lake Michigan and Lake Huron. "I was at work and I was like, 'I need this day to be done now,'" Burley told Fox News. "The second I could leave I grabbed the kids and I ran up to the lake to take pictures."
Rome blanketed by snow as Arctic storm sets European records. The Arctic storm dubbed the "Beast from the East" saw temperatures across much of Europe fall Monday to their lowest level this winter and even brought a rare snowstorm to Rome, paralyzing the city and giving its residents the chance to ski, sled and build snowmen in its famous parks and piazzas. Rome's schools were ordered closed, while train, plane and bus services were crippled. Italy's civil protection agency even mobilized the army to help clear slush-covered streets as a city used to mild winters was covered by a thick blanket of snow.
Snow-covered beaches? Chilly iguanas? They are part of a mysterious 'hole' in global warming. Frigid iguanas in Florida. Snowball fights on North Carolina's beaches. Recent winters have delivered a bitter chill to the Southeast, reinforcing attitudes among some that global warming is a fraud. But according to a scientific study published this month, the Southeast's colder winter weather is part of an isolated trend, linked to a more wavy pattern in the jet stream that crosses North America. That dipping jet stream allows artic air to plunge into the Southeast. Scientists call this colder weather a "hole" in overall global warming, or a "warming hole."
Bitter cold at Winter Olympics chills global-warming hype. The bone-chilling cold and icy winds in Pyeongchang have contributed to any number of wipe-outs for Olympic skiers and snowboarders, not to mention a public-relations face plant for the climate-change movement. Its dire warnings about how the Winter Olympics face an existential threat from global warming have been all but buried by the flurry of reports about frigid conditions at the 2018 games in South Korea, which are expected to set an Olympic record for cold temperatures. Climate activists have also been frustrated by a lack of global-warming coverage by NBC Sports, prompting a social-media campaign led by Public Citizen, Protect Our Winters and Climate Nexus urging the network to stop the "climate whiteout."
Minneapolis braces for super cold Super Bowl as Great Lakes, Northeast face frigid temperatures. The Great Lakes and Northeast are dealing with the frigid temperatures as Minneapolis braces for super cold Super Bowl. Wind chills this afternoon reached 14 degrees in Boston and New York, 12 degrees in Philadelphia and Washington, D.C., minus 2 degrees in Pittsburgh, 4 degrees in Chicago and minus 5 degrees in Minneapolis, where Super Bowl preparations are underway.
Bundle Up the Economy and Brace for Colder Winters. For the foreseeable future, we are likely to see the nasty combination of higher fuel costs and colder winter weather. There are three reasons: Oil supplies look set to get interrupted this year, the dollar is weaker, and activity on the surface of the sun portends a period of frigid winters.
Brand-new US Navy warship trapped in Canada amid cold and ice. A brand-new U.S. Navy warship has not moved from Montreal since Christmas Eve and will spend the winter stuck in Canada due to cold and ice. The USS Little Rock — unveiled in a ceremony on Dec. 16 in Buffalo, New York and attended by nearly 9,000 people — has not moved far since due to adverse weather conditions that kept the warship trapped at bay in Canada, the Toronto Star reported.
Tampa Bay record lows burst pipes, threaten berry and fish farms. In winters past, when they ran the irrigation system at Parkesdale Farms to preserve the berry crop in a protective shell of ice, the icicles measured inches. But on Wednesday night [1/17/2018], one of the coldest nights in years, the icicles hung more than a foot long. "I was a kid the last time I saw this much ice," said Matt Parke, who grew up on his family's 145-acre strawberry farm in Dover and now runs it. The mercury there dropped to 22 degrees, Parke said.
Even the eyelashes freeze: Russia sees minus 88.6 degrees F. Even thermometers can't keep up with the plunging temperatures in Russia's remote Yakutia region, which hit minus 67 degrees Celsius (minus 88.6 degrees Fahrenheit) in some areas Tuesday [1/16/2018].
Begging for Global Warming as Global Cooling Becomes Obvious. As each day passes the evidence climbs, as predicted by scientists (not politicians and Popes), that a steep drop of temperatures would ensue — first dropping temperatures to where they were in the very cold late 1800s and then going down from there to ice age conditions that will threaten a great part of the northern latitudes over the next 10 years. We are not ready for any of this mentally or in any other way thanks to people like former president Obama, the Pope, and let's never forget Al Gore. Some of the most unscrupulous people have been championing the cause of manmade global warming even though the science and actual conditions on the ground have been showing for ten years that there is no such thing as manmade warming. It has been a big snow job, pure propaganda and now the gig is up as it starts snowing in Florida of all places. Now we have temperatures crashing, almost the entire continental United States frozen over, snow accumulating in record amounts and ice forming in the great lakes at breathtaking speed. It is not just record breaking cold but record breaking snow fall that is showing us just how difficult global cooling will be compared to global warming.
Warming Projection May Be One Of The Great Scientific Blunders Of Modern Times. Global warming scientists continue struggling to find an explanation for the nearly 2 decades long global warming pause that has taken hold of the planet since the late 1990s. The most recent temperature spike was due to the natural El Nino event at the equatorial Pacific, and that has disappeared over the last months. Alarmists claim that the global temperature is still 0.5°C above normal, yet it's been so for the past 20 years! The search to explain the unexpected lack of warming is about to get a little tougher as 2018 is poised to see a further cooling across the globe.
Baby, it's cold outside. The brutal cold weather making everybody miserable almost everywhere — the mercury has fallen to the low 70s even in Southern California and into the low 60s in Miami. It has to be blamed on something or somebody, so why not blame it on global warming?
The liberal media have all the facts! Except when they don't. There was an article in my Illinois paper this week that said in Illinois, 2017 was the sixth warmest on record. That's another worthless piece of information unless we see the top five. My guess is that some are in the 1930s, which means that eighty years ago, Illinois was warmer than today, and the theory falls apart. When Al Gore, Michael Mann, and the mayor of Boston say the current record cold is caused by warming, journalists should know that this is pure garbage. These people are trying to cover up their bad predictions, but most journalists just repeat what they are told as if that were factual — because, after all, there is an agenda to push.
The Frozen U.S. Is Paying a Terrible Price for Green Lies. The North-Eastern U.S. is experiencing record-breaking cold. Even the very sharks are dying as they swim. Happily the New York Times is here to put it all in context. It's all further evidence of global warming, of course!
This 'Bitter Cold' Is What Global Warming Looks Like, Explains Al Gore. Yep. Where others might see a crisis, Al Gore has spotted a Rahm-Emanuel-style opportunity to promote his renewables scam. This bitter cold, he wants you to know, isn't a sign that his global warming theory is a busted flush. It's a sign that he's even more right than ever before!
Meteorologist blasts those linking brutal blizzard to climate change. Meteorologist Joe Bastardi had a decidedly unscientific term for the effort to link Thursday's frigid winter storm to human-caused climate change: "witchcraft." "This is flat out insanity and deception now," Mr. Bastardi said Thursday in a tweet. "To tell the public that events that have occurred countless times before with no climate change attribution, is now just that, is not science, [it's] witchcraft."
Phony Prophets: Global Warming. Besides record-breaking cold, alarmists ignore that snowfall has increased for more than a century. Up here in my little slice of paradise, researchers were recently shocked that the snowfall has doubled on Mt. Hunter in the Alaska range since the mid-1800s. In that same time frame, southcentral Alaska has experienced a 117 percent increase in winter snowfall and a 49 percent increase in summer snowfall. In addition, from 1950 to 2011, many coastal Alaskan towns have experienced winter snow increases ranging from 26 percent in Yakutat to 67 percent in Kodiak. On December 6, 2017, in the Chugach mountains I call home, Thompson Pass, experienced one of history's most intense snowfalls at a rate of 10 inches per hour. That's a record even for Thompson Pass which often gets between 600 to 900 inches of snow per year. Additionally, the sea ice improved this year.
Christmas temperatures dip to coldest in decade. Chicago shivered through one of its coldest Christmases in a decade as temperatures plummeted to 2 degrees and more than an inch of snow blanketed the city, according to the National Weather Service. Temperatures peaked midnight on Christmas Day at 21 degrees, according to measurements taken at O'Hare International Airport. Christmas 2017 was the coldest since 2008 when temperatures dropped to zero.
Arctic Blast Leaves 200 Million Americans In Record-Smashing, Freezing Temperatures. For those fortunate enough to be spending the holidays somewhere in the southern portion of the United States, it may be difficult to envision just how brutal the recent blast of arctic weather has been for folks living anywhere from Wyoming to Maine. As Weather.com notes this morning, mind-numbing temperatures, which have plunged to nearly -40 degrees in certain cities, are smashing 100-year-old records all across the country.
Deep Freeze Ends a Dreadful 2017 for Climate Activists. It's been a bad year for global warming propagandists, but fear not: Here comes a polar vortex to make it worse for them. The unrelenting Arctic blast arrived on Christmas Eve and it remains the holiday houseguest from Hell that won't leave: Record-breaking cold and snowfall are tormenting the eastern half of the country, and it's only going to get worse.
Trump mocks 'good old Global Warming' as cold spell hits US. President Trump mocked the science behind climate change in a tweet Thursday night that claimed the frigid East Coast could actually use more global warming. "In the East, it could be the COLDEST New Year's Eve on record," Trump noted about the freezing temperatures in New York and other cities. "Perhaps we could use a little bit of that good old Global Warming that our Country, but not other countries, was going to pay TRILLIONS OF DOLLARS to protect against. Bundle up!" The weather forecasts for New York City have temperatures expected to be below freezing into the New Year.
Record-breaking winter storm blankets Pennsylvania's fourth largest city in more than 4 FEET of snow. It's the whitest Christmas on record for Erie, Pennsylvania — with an astonishing total of snow blanketing the area reaching 58 inches, with a whopping 34 inches hitting on Christmas day. The National Weather Service office in Cleveland says Monday's storm brought 34 inches of snow, an all-time daily snowfall record for Erie. Another 24 inches fell before dawn Tuesday, bringing the total to 53 inches, the greatest two-day total in commonwealth history. The previous record was the 44 inches that fell in Morgantown in March 1958.
Deep freeze could be Philly's coldest stretch since 2004. The stretch of below-freezing temperatures that has entered the region will most likely be its longest since 2004, according to meteorologists at the National Weather Service. That would happen if the mercury doesn't climb above 32 for nine consecutive days. And if temperatures Tuesday don't reach the freezing point — and there's a good chance they won't — they probably will stay below freezing until the first week in January.
Earth could be plunged into mini Ice Age - and it could reverse global warming. Earth could be plunged into a mini Ice Age in the next few decades, but there is good news — it could override the damage done by global warming. By 2030 comes about, the temperatures on Earth could be so low that the River Thames freezes over during winter, much like in the last little ice age which spanned from the 13th to 17th century. Maths professor Valentina Zharkova at Northumbria University said the Ice Age could help offset the damage of global warming.
The Editor says...
Obviously, if there's an ice age, there is no global warming.
Snowfall on Alaska mountains has doubled — climate change blamed. Snowfall on a major summit in North America's highest mountain range has more than doubled since the beginning of the Industrial Age, according to a study from Dartmouth College, the University of Maine, and the University of New Hampshire. The research not only finds a dramatic increase in snowfall, it further explains connections in the global climate system by attributing the record accumulation to warmer waters thousands of miles away in the tropical Pacific and Indian Oceans.
Global Temperature Increases Are Lower and Slower, Says New Study. A new study using more than 38 years satellite and weather balloon temperature data hypothesizes that global temperatures are going up more slowly than projected by most climate models. And right on time, these results were challenged by other researchers who defend the scientific climate consensus as embodied in Intergovernmental Panel on Climate Change reports. The new study done by University of Alabama in Huntsville climatologists John Christy and Richard McNider published in the Asia-Pacific Journal of Atmospheric Science argues consensus models may not have accurately captured how storms in the tropics expel excess heat back into space and/or that they have failed to account for how heat is absorbed by the world's oceans.
Inconvenient: oceans continue to cool. From the way media and climate scientists portray the global air temperature this past year, you'd think there was only one place to go — up. [...] September Sea Surface Temperatures (SSTs) are now available, and we see downward spikes in ocean temps everywhere, led by sharp decreases in the Tropics and SH, reversing the bump upward last month. The Tropical cooling in particular factors into forecasters favoring an unusually late La Nina appearance in coming months.
Man-Made Climate Catastrophe Is a Myth, More Studies Confirm. From the world of science — as opposed to grant-troughing junk science — two more studies confirming that the man-made global warming scare is a myth. One, a study by Scafetta et al, published in International Journal of Heat and Technology, confirms that the "Pause" in global warming is real — and that "climate change" is much more likely the result of natural, cyclical fluctuations than man-made CO2 emissions.
The New York Times Embraces Fake Science, Fake Engineering, and Fake Economics. Global warming is now called climate change because the globe has not warmed for two decades. The "science" behind predictions of global warming due to emissions of CO2 has clearly collapsed. The promoters of the catastrophe are most charitably described as bad scientists and less charitably as snake oil salesmen. The predictions are based on computer models that don't agree with each other and that have failed miserably in predicting the actual global temperature. There is no shortage of distinguished scientists screaming that global warming is a fraud. Even if you believe the junk science of climate change, the CO2 emissions are concentrated in Asia. Reducing CO2 emissions in the U.S. at great cost makes no sense because the supposed problem is in Asia.
Another Climate Prediction Gone off the Rails. Winter started early this year. The first blizzard of the season in Montana broke a snow record with 30 inches during the first week of October, barely a few weeks into fall. In my state of Colorado too, with 11 inches of snow in Grand Mesa. Prompting the local CBS affiliate to proclaim, "The snow season is off to a big start in western Colorado!" Town and Country magazine, which caters to one percenters in predominantly blue Northeastern enclaves, had their own forecast. Warning readers, "Prepare to Bundle Up: Winter 2017 & 2018 Is Going to Be Unusually Cold." Predicting for the enlightened #NeverTrump residents of New York and Boston, "an above average amount of snowfall" and "a colder winter than last year." [...] Do the smart set at the NY Times find any irony or contradiction in the Town and Country story about more snow and their own 2014 article titled, "The End of Snow?" Ski mountains predicted to be brown rather than white.
Now it's a War on Pipelines. The prestigious journal Nature Geoscience recently published a careful study that found there has been far less planetary warming since 1998 than alarmist scientists and computer models had predicted. The models are based on the assumption that carbon dioxide drives climate change, and they "run too hot," resulting in predictions that deviate from actual temperature measurements more and more every year. But instead of admitting they were wrong, the usual strident suspects in the climate crisis industry doubled down and attacked the study and any news outlet that called attention to it. Even Britain's BBC denounced the inconvenient study and displayed not a whit of apology over its climate chaos claims.
Judges Forcing Trump to Reverse Climate "Endangerment Finding". Nine years ago, President Obama's Environmental Protection Agency issued an "Endangerment Finding," claiming man-made global warming posed an imminent threat to Americans. The Finding, however, was based on computerized climate models that couldn't even successfully hind-cast the weather we'd had over the past century — much less forecast earth's climate 100 years into the future. The earth's climate has always changed, often abruptly. EPA essentially asserted that 80 percent of our energy "warmed the earth" and represented a long-term risk. Obama's team thus bet in 2009 that the earth's strong warming from 1976-98 would continue. But it didn't. Never mind all those recent "hottest year" claims from NOAA and NASA. Satellites, our most honest indicator, say our planet's temperature has risen an insignificant 0.02 degrees C since 1998.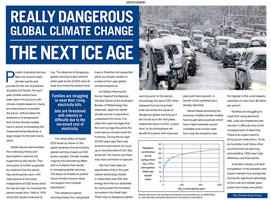 Advert in The Australian describes what real climate change looks like. An advert today describes the real climate change we should afraid of, discusses how past CO2 levels did not cause dangerous global warming, and extra CO2 has a smaller and smaller effect, then connects failed climate models with rising electricity bills.
Leftist Global Warming Mythology. During the Roman Warm Period, the climate was 2°C to 6°C hotter than it is today. The Dark Age Cold Period saw a significantly cooler climate than today. The Medieval Warming Period, which lasted centuries, saw the climate 3°C warmer than it is today, and the Little Ice Age, which ended shortly before the American Civil War, saw temperatures 2°C lower than today. None of these climatic changes in temperature can be explained by human activity, and all of them produced changes greater than what the Chicken Little leftists claim will produce the end of civilization. The left also ignores explanations for any global warming that do not involve human activity. [...]
Going Medieval on global warming. Jennifer Marohasy, an Australian biologist, is a skeptical of anthropogenic global warming. She wrote of her work in trying to determine temperatures centuries ago. It is tedious work, undermined by zealots like Phil Jones of the University of East Anglia, who admitted to fudging facts — "hide the decline" — in emails made public in 2009.
Big data finds the Medieval Warm Period — no denial here. Using the proxy record from the Northern Hemisphere composite, decomposing this through signal analysis and then using the resulting component sine waves as input into an ANN, John Abbot and I generated forecasts for the period from 1830 to 2000. Our results show up to 1°C of warming. The average divergence between the proxy temperature record and our ANN projection is just 0.09 degree Celsius. This suggests that even if there had been no industrial revolution and burning of fossil fuels, there would have still been warming through the twentieth century — to at least 1980, and of almost 1°C. The Intergovernmental Panel on Climate Change, relying on General Circulation Models, and giving us the Paris Accord, also estimates warming of approximately 1°C, but claims this is all our fault (human caused).
Green Delusions and the Wind Bully. An important green big lie is the claim that global warming is affecting the current climate and is responsible for extreme weather events. According to the best measurements, global warming has been absent for 18 years. The scientific link between global warming and extreme weather is not just weak, but negative. Logically, one would expect global warming to make the weather less extreme, because global warming decreases the temperature difference between the poles and the equator that drives weather.
Australian Bureau of Meteorology caught erasing cold temperatures. Amazing, the power of the media. Suddenly, the Bureau of Meteorology needs to replace equipment and answer questions and set up an internal inquiry. But they've had weeks of warning. Lance Pidgeon and Jennifer Marohasy have been watching the automatic weather stations record very cold temperatures, and then astonished when those same readings either got entered into our national raw database as warmer, or simply disappeared. The BOM apparently has a filter set so that super cold temperatures need to be manually checked. Yet the filter is set so high, in Thredbo's case, nearly five whole degrees warmer than temperatures already recorded.
Snowballs in July? Fancy throwing snowballs in summer or going barefoot and T-shirt-clad during a 'snowfall' in July? This weekend in St. Petersburg, Russia would have been perfect after a heavy hailstorm hit the city. On Saturday [7/22/2017], streets in St. Petersburg were covered with piles of snow and the roads resembled winter rivers. City residents took to social media to share the unusual summer scenery.
Global Warming Study Canceled Because There's Too Much Ice. Irony so thick, you need a shovel for it and perhaps an ice ax. In May, an expedition that set out to gather global warming evidence in the Arctic was forced to call it off. Why? Because the ice was too thick and the icebreaker was needed to rescue other ships. So much for that whole 'global warming' thing. [...] The Amundsen is the second most powerful icebreaker in the country and it could barely get through the ice itself. That is very thick ice.
July 4, 2017: Coldest July Temperature Ever Recorded In The Northern Hemisphere. Greenland just set the record for coldest July temperature ever reported in the Northern Hemisphere at -33°C.
Harsh winter took heavy toll on wildlife across western U.S.. Wildlife managers in Colorado, Utah, Idaho, Oregon and Washington also reported higher losses of animals in the wake of one of the coldest and snowiest winters in decades. Parts of the Rockies saw snowfall as late as mid-June. "This year we kind of had all the factors that we don't want — we had deep snow, we had periods of fairly cold weather, subzero, and then we also had some crusting on top of that snow," said Roger Phillips, spokesman for the Idaho Fish and Game Department.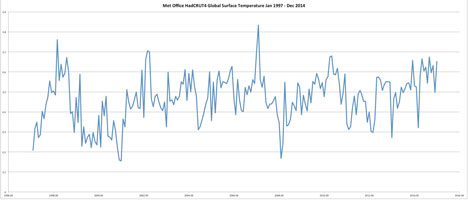 The Truth about the Global Warming Pause. Between the start of 1997 and the end of 2014, average global surface temperature stalled. This 18-year period is known as the global warming pause, also sometimes referred to as the global warming hiatus. The rise in global temperatures that alarmed climate campaigners in the 1990s had slowed so much that the trend was no longer statistically significant. [...] Last week, a group of climate scientists who have analysed temperature data from the lower atmosphere concluded that since around 2000 there had been a hiatus in temperature increases, stressing that this was inconsistent with what is known about natural climatic change. What is more, computer climate simulations, so central to the case for climate alarm, did not predict this might happen and cannot explain why it did. This is another important paper confirming the existence of the hiatus, and another case of the mainstream media's lack of interest. Still, many climate activists claim that the 'missing heat' must have gone into the oceans. In reality, the evidence is not as clear as they maintain.
Top Climate Alarmist: Computer Models Wrong, Skeptics Right on "Pause". Count on the Fake News media to ignore a huge admission by a Climategate scientist that there has been no measurable global warming over the past 20 years — something he has previously vociferously denied. The admission by Dr. Benjamin Santer, a top global-warming alarmist, should have made headlines — but, of course it didn't. Santer was a leading "pause denier," a climate alarmist who refused to accept the growing scientific consensus — based in this case on solid, verifiable evidence — that global surface temperatures have remained essentially stable for the past two decades, since at least 1998. Yes, despite the non-stop activist screaming and media handwringing about alleged approaching doom from anthropogenic (human-caused) global warming (or AGW), the global satellite datasets show that the gradual temperature rise during the 20th century stopped in the 1990s, right as the AGW bandwagon was kicking into high gear. This has been especially troubling for the alarmists, since they have been claiming that man-made CO2 is responsible for global warming (which isn't happening), and the "pause" or "hiatus" has been ongoing, coincident with huge new inputs of human-generated CO2 and other greenhouse gases.
The New Consensus: The Global Warming Hiatus Was Real. Many Warmists did actually say there was a Pause, then would provide all sorts of excuses as to why it occurred and why this totally doesn't mean that we're not all doomed in the future. Usually, their excuses would involve things like it being caused by nature, which brings to mind a significant question: "if the Pause was caused by natural variation, why can't most of the warming be due to natural variation?" What is notable here is that they are admitting that the models are, in a simple word, [faulty]. 95% of them were wrong.
Take A Look At The New 'Consensus' On Global Warming. A scientific consensus has emerged among top mainstream climate scientists that "skeptics" or "lukewarmers" were not long ago derided for suggesting — there was a nearly two-decade long "hiatus" in global warming that climate models failed to accurately predict or replicate. A new paper, led by climate scientist Benjamin Santer, adds to the ever-expanding volume of "hiatus" literature embracing popular arguments advanced by skeptics, and even uses satellite temperature datasets to show reduced atmospheric warming.
California's huge snowfall will keep some ski resorts open until August. The calendar may say it's June, but in some parts of California, it still looks like a Winter Wonderland. The unusually high snowfall from the barrage of storms that hit the western mountains over the winter is still on the ground — and in some places, there's as much as eight feet of it.
Forget the 'warm blob' — opposite 'cool blob' taking up roost in Pacific Ocean. It was the darling of the extended record warm stretch of weather we had in 2015 — a pool of warm waters that had formed off our coast in the Pacific Ocean, given the nickname "The Blob" by our state climatologist. The warm blob is long gone — you might have noticed it wasn't like 55 degrees every day in winter. But now it appears we have the opposite effect going, albeit it in much weaker form. Measurements of sea surface temperatures off our coast in the Northeastern Pacific Ocean are now showing cooler than normal temperatures.
Global Temperatures Plunge 0.5° Celsius In April. Despite widespread denial among climate activists, a growing number of scientific research papers in recent months have confirmed the global warming hiatus, trying to explain its possible reasons. The latest study claims that the Southern Ocean played a critical role in the global warming slowdown.
The dynamics of the warming hiatus over the Northern Hemisphere. A warming hiatus is a period of relatively little change in global mean surface air temperatures (SAT). Many studies have attributed the current warming hiatus to internal climate variability (ICV). But there is less work on discussion of the dynamics about how these ICV modes influence cooling over land in the Northern Hemisphere (NH). Here we demonstrate the warming hiatus was more significant over the continental NH. We explored the dynamics of the warming hiatus from a global perspective and investigated the mechanisms of the reversing from accelerated warming to hiatus, and how ICV modes influence SAT change throughout the NH land. It was found that these ICV modes and Arctic amplification can excite a decadal modulated oscillation (DMO), which enhances or suppresses the long-term trend on decadal to multi-decadal timescales. When the DMO is in an upward (warming) phase, it contributes to an accelerated warming trend, as in last 20 years of twentieth-century. It appears that there is a downward swing in the DMO occurring at present, which has balanced or reduced the radiative forced warming and resulted in the recent global warming hiatus.
The Editor says...
Please forgive the long excerpt, but that was only the first half of the Abstract!
Delayed warming hiatus over the Tibetan Plateau. A reduction in the warming rate for the global surface temperature since the late 1990s has attracted much attention and caused a great deal of controversy. During the same time period, however, most previous studies have reported enhanced warming over the Tibetan Plateau (TP). In this study we further examined the temperature trend of the TP and surrounding areas based on the homogenized temperature records for the period 1980-2014, we found that for the TP regions lower than 4000 m the warming rate has started to slow down since the late 1990s, a similar pattern consistent with the whole China and the global temperature trend. However, for the TP regions higher than 4000 m, this reduction in warming rate did not occur until the mid-2000s. This delayed warming hiatus could be related to changes in regional radiative, energy, and land surface processes in recent years.
Modulation of air-sea fluxes by extratropical planetary waves and its impact during the recent surface warming slowdown. It is widely accepted that natural decadal variability played a major role in the slowdown in global warming observed in the 21st century, with sea surface cooling in the tropical Pacific recognized as a major contributor. However, the warming pause was most pronounced during boreal winter, with Northern Hemisphere flow anomalies also playing a role.
New Study Confirms: The Warming 'Pause' is Real and Revealing. As someone who has paid close attention to the 'pause' for almost a decade I am perhaps more attentive than most when it comes to a retelling of the history of the idea and the observations. The authors say the pause started with claims from outside the scientific community. Well, yes and no. It was tentatively suggested in 2006 and 2007 by climate sceptics many of whom were experienced scientists and quite capable of reading a graph and calculating statistics. A decade after it was raised, every time the 'pause' is debated it is a tribute to those who first noticed it and faced harsh criticism. It was the sceptics who noticed the 'pause,' and in doing so made a valuable contribution to science. For years it was only analysed and discussed on the blogosphere before journals took notice.
Environmentalists Are Dead Wrong. In 2000, climate researcher David Viner told The Independent, a British newspaper, that within "a few years," snowfall would become "a very rare and exciting event" in Britain. "Children just aren't going to know what snow is," he said. "Snowfalls are now just a thing of the past." In the following years, the U.K. saw some of its largest snowfalls and lowest temperatures since records started being kept in 1914.
Sea ice off Newfoundland thickest ever yet another polar bear comes ashore. Amid reports that ice conditions between Newfoundland and southern Labrador are the worst in living memory, another polar bear was reported ashore in the area — just after biologist Andrew Derocher explained to the CBC that bears only come on land when sea ice conditions "fail."
On the Existence of a "Tropical Hot Spot" & The Validity of EPA's CO2 Endangerment Finding. The analysis results invalidate EPA's CO2 Endangerment Finding, including the climate models that EPA has claimed can be relied upon for policy analysis purposes. Moreover, these research results clearly demonstrate that once the solar, volcanic and oceanic activity, that is, natural factor, impacts on temperature data are accounted for, there is no "record setting" warming to be concerned about. In fact, there is no Natural Factor Adjusted Warming at all.
Alaskan city buried under record snowfall. The National Weather Service said 8.8 inches of snow fell on Anchorage between 10 p.m. Tuesday and 1:30 p.m. Wednesday [3/30/2017].
Al Gore Has Made Another Science Fiction Movie About Global Warming. No doubt Gore's next fabulous fable will show "evidence" that man is dangerously warming his planet by pointing out some things that are different than they were in 2006 and fit the warming alarmists' claims that human-driven climate change is going to make things hotter, colder, wetter, drier, windier, less windy, snowier and less snowy. But what hasn't changed is the global temperature. It simply won't budge no matter how much the alarmists want it to soar. Sea levels aren't cooperating with the Goreites, either, rising in slow motion just as they have for quite a few millennia.
Blizzard Watch Issued for New York City, Long Island Ahead of Nor'easter. The metro New York region could see up to 12 to 18 inches of snow, with some spots getting up to 2 feet. Wind gusts will frequently top 40 mph and could near 60 mph at times on Long Island. [March 13, 2017.]
With Ice Growing at Both Poles, Global Warming Theories Implode. As The New American reported last month, virtually every falsifiable prediction made by climate theorists — both the global-cooling mongers of a few decades ago and the warming alarmists more recently — has proven to be spectacularly wrong. In many cases, the opposite of what they forecasted took place. But perhaps nowhere have the failed global-warming doom and gloom predictions been more pronounced than in the Antarctic, where sea-ice levels have continued smashing through previous records.
Claim: Global Warming Creating Thicker Ice in the Baltic. Global warming is apparently making it so difficult to break through thickening Baltic Ice, the Baltic Icebreaker fleet may have to be upgraded.
Democrats' Real Global Warming Fraud Revealed. The Democrats are devastated by their recent lost elections. They will be even more devastated as we learn the details of their massive global warming fraud. Dr. John Bates, a former high level NOAA scientist, set off a furor by revealing that a recent NOAA paper, which claimed global warming hadn't "paused" during the past 20 years, was fraudulent. The paper was timed to undergird Obama's signing of the hugely expensive Paris climate agreement. This is only a tiny fraction of the climate fraud.
We Need To Keep Obamacare Because Of 'Climate Change'. The global temperature has literally gone up just a mere 1.5 degrees Fahrenheit since 1850. It's barely budged since 1998.
Snow Just Hit The Sahara Desert For The First Time In 37 Years. [Photos]
Met Office Data Confirms Record Drop Of Global Temperatures. New official data issued by the Met Office confirms that world average temperatures have plummeted since the middle of the year at a faster and steeper rate than at any time in the recent past.
Polar vortex 2.0? Freezing temps, snow & icy rain to hit 200mn people. Ready, steady, bundle up! Jack Frost is about to dance across the Northeast with a freezing polar vortex making a dramatic return to the US. Chills, snow and rain are expected to make a landfall over the weekend, likely bringing old classics like slippery roads and flight delays. Meteorologists predict that the freezing blast will cover midwestern and northeastern states for at least five to seven days. So, getting out extra scarves and gloves might be a good idea.
Global Warming Hoax: Chicago Breaks Early Snowfall Record. Here's how the global warming hoax works: Liberals convince you that the world is heating up, they hit you with sad photos of polar bears, and you end up voting for a globalist agenda. That's been the plan since day one. Sure, you can throw in the occasional get-rich-quick scheme, a la Al Gore, but for the most part the idea is to install a global government or regime based on the idea that the world is getting too hot too fast and that the only way to combat it is to ditch our sovereignty. Unfortunately for that sill narrative, we have facts. Take Chicago in 2016, for instance.
Trump and the Climate Change Clown Show. Aside from the observations, warming versus cooling, what is the hypothesis as to what is causing the change? Some blame human activity and the burning of fossil fuels. Others attribute temperature changes on Earth to the Sun, our solar system furnace, a million times larger than Earth. Just as a home furnace turns on and off at the direction of a thermostat, the Sun has its own cosmic thermostat, well beyond our comprehension or control. Turn down the Sun's thermostat, meaning reduced solar activity, and the solar system cools down. European researchers predict a "mini ice age" from 2030 to 2040 based on decreased solar activity. They liken it to the Maunder Minimum in the 1600s, which saw the River Thames in London completely frozen.
Steepest drop in global temperature on record. Global average temperatures over land have plummeted by more than 1C since the middle of this year — their biggest and steepest fall on record. According to satellite data, the late 2016 temperatures are returning to the levels they were at after the 1998 El Nino. The news comes amid mounting evidence that the recent run of world record high temperatures is about to end. The fall, revealed by Nasa satellite measurements of the lower atmosphere, has been caused by the end of El Nino — the warming of surface waters in a vast area of the Pacific west of Central America.
Global temperatures have fallen — so why isn't it being reported? Not even Nasa seems interested in reporting its own data for global temperatures. Instead, Nasa last week put out a press release about a study which claimed to have found a reason to explain the hiatus in global temperatures between 1998 and 2013 — the conclusion of which was, in as many words: it was all an illusion. The oceans were still warming up, but they were storing much of the Earth's increased heat, which will be spewed out into the atmosphere in due course. Well, maybe — or maybe not. The authors themselves admit that they need more data to test their theory. But in the meantime, wouldn't it be a bit more newsworthy for Nasa to make a little more of its own data on global temperatures, which show that the sharp rise in 2015 and early 2016 has been equally sharply-reversed. You have to search for it yourself.
Winter really IS coming: 'Siberian snow theory' predicts an early and brutal cold season for the US. The United States could be in for a long, cold winter as snow cover in Siberia reaches its highest point for this time of year in decades, the father of the 'Siberian Snow Theory' has warned. Snow cover in Siberia is sometimes used to predict winter weather in the US, and MIT climatologist Judah Cohen claims this year's conditions are a 'textbook situation,' Bloomberg reports. It's thought that more snow in northern Eurasia signals the frigid temperatures set to hit the regions below. And while the cold blast could strike anywhere among North America, Asia, or Europe, the expert warns the US may get hit harder than forecasters are expecting.
October 2016 Global Surface (Land+Ocean) and Lower Troposphere Temperature Anomaly Update. There are numerous things to note in the trend comparison. First, there is a growing divergence between models and data starting in the early 2000s. The continued rise in the model trends indicates global surface warming is supposed to be accelerating, but the data indicate little to no acceleration since then. Second, the plateau in the data warming rates begins in the early 1990s, indicating that there has been very little acceleration of global warming for more than 2 decades.
Climate Hustle: The Movie That Scares Warming Hoaxers. Global warming has evolved to be blamed for a range of issues beyond just rising temperatures or sea levels some on the very crazy side. Climate Hustle viewers will also get a look at the increasingly outlandish claims of activists who, in a form of "climate astrology," want to blame every bad weather event — and societal evil — on man-made global warming. Some of the craziest claims (at least the ones I have recorded) include The Arab spring, Incredible shrinking sheep, Invasion of jellyfish in the Mediterranean, Surge in fatal shark attacks, Severe acne, Global conflict, Beer tasting different, Suicide of farmers in Australia, Bigger tuna fish, Fish shrinkage, Longer days, Shorter days, Collapse of gingerbread houses in Sweden, Cow infertility, UFO sightings in the UK, Bear attacks in Japan, Frigid Cold Winters in Great Britain, Death from heart disease, diabetes, stroke, respiratory disease and even accidents, Heavier, wetter snowstorms treacherous for travel and ambulation, Lyme disease, swarms of allergy-inducing, stinging insects, along with mosquitoes and devastating pine bark beetle infestations and the spread of forest and crop pests, 40,000 dead crabs, Shorter, higher pitched frog mating calls, Unrest in the Middle East, Screwed-up love making, The Japanese earthquake-tsunami, Horrible rash of tornadoes in southeast United States, Extended severe allergy seasons, Lyme disease, malaria or dengue fever, trauma, depression, high blood pressure and heart disease, Increased threat of wars, violence and military action against the UK, Migration of possibly rabid Vampire bats from Mexico, Extreme weather, disappearing islands and less productive workdays, Giant Snakes, Armed robbery, prostitution, and drug abuse in Ghana, will make you go nuts, The rise of terrorist group Boko Haram, Caused the Seychelles snail to go extinct (its alive and well), Rock Snot, Increase anxiety, fear and depression, Expensive Olives, No more red-haired people, women will become pear-shaped, incontinent, impotent bald guys with extra hair growing from their toes, Global Cooling, The Sinking of The Titanic, Illegal Immigration, Prostitution, ISIS, Walrus "Convention", [and] Shrinking Goats[.]
Global Freezing: 15-year Ice Age to hit in just 4 years as the sun prepares to hibernate. A 15-year long mini ice age could be due to hit the Northern hemisphere in just FOUR years as the sun prepares for 'hibernation' — triggering a barrage of cataclysmic events. A team of experts have warned that huge seismic events, including volcanic eruptions, plunging global temperatures and destabilisation of the Earth's crust will become more common after worrying changes to the surface of the Sun were recorded. It could take up to 15 years for solar activity to return to normal with extreme weather and freezing temperatures continuing until 2035. The warning will infuriate environmental campaigners who argue by 2030 the world faces increased sea levels and flooding due to glacial melt at the poles.
The Editor says...
This is news media hysteria: the sort of material that is written for the purpose of selling newspapers. One or two degrees of global cooling — or the continuation of the current world-wide stability — is not an ice age. Notice also that "extreme weather" is blamed on colder temperatures and warmer temperatures. No matter which direction the average temperature goes, the hysteria will continue until you stop buying the newspapers!
Red Meat, Egg Yolks, and Fat. [Scroll down to page 7] In the 1970s, many scientists confidently told us to fear what they said was inevitable: global cooling. Starting in about 1970, various publications warned about the coming ice age. In 1970 alone, The New York Times, Washington Post, Boston Globe, and LA Times all published stories with headlines such as "Scientists See Ice Age in the Future." Time Magazine's cover story on January 31, 1973 was all about "The Big Freeze." Two years later, Newsweek reported, "There are ominous signs that the earth's weather patterns have begun to change dramatically and that these changes may portend a drastic decline in food production — with serious political implications." The problem Newsweek was referring to wasn't global warming; it was cooling. The story concluded by advising us, "Meteorologists disagree about the cause and extent of the cooling trend," but "they are almost unanimous in the view that it will reduce agricultural productivity for the rest of the century." The Christian Science Monitor reported in 1977 the concern expressed by John A. Eddy of the Harvard-Smithsonian Center for Astrophysics, who said, "Sunspot lull may bring on new ice age."
Coldest Perth September recorded in 120 years of records (must be climate change). In the last 120 years in Perth there has never been a September as cold as this one. We know that thanks to Chris Gillham, who has been tracking Western Australian weather in detail for years at WAClimate.net. The headline in The West Australian today [9/30/2016] was ["]Perth shivers through it's [sic] coldest ever September["]. For some reason (I can't think why) the extreme weather journalists did not mention climate change (has that ever happened on a hottest ever record story?).
The Editor says...
The article immediately below is the article discussed above — which turns out to have a slightly different headline. Also note the contradiction in the final sentence below.
It's official - Perth shivers through record cold. The Bureau of Meteorology has confirmed what everyone in the city was thinking this month — that it was much colder than usual for this time of year. It was the coldest September since records started in Mount Lawley — where the city's weather station is based — with temperatures reaching an average of just 18.5 degrees Celsius. Records have been held at the station since 1994.
The Editor says...
1994 was only 22 years ago, not 120.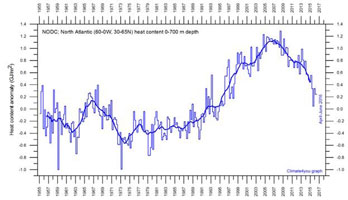 The North Atlantic: Ground Zero of Global Cooling. The warning signs have been there for some time now — persistent failures of the wheat crop in Norway for example. The North Atlantic is cooling. The cooling trend was evident at the time of an expedition to investigate this phenonemon three years ago. The rate of cooling has now steepened up since then based on the latest data collated by Professor Humlum of the University of Oslo.
Global Warming Extremists Try To Silence Science — Again. Global warming advocates like to pretend they are open-minded, all about science. But let someone else's science get in the way of their "consensus," and you find out how little they really believe in science. Just ask Professor Valentina Zharkova of Britain's Northumbria University. She and a team of researchers conducted a study on sunspots, which are known to have a strong effect on solar radiation and thus on the Earth's climate. What they found was remarkable: solar activity, based on models that closely fit past trends, looks to be headed for a sharp downward turn. Indeed, activity could decline to levels not seen since the so-called "Little Ice Age," an unusually cold period that stretched across the Northern Hemisphere and lasted from roughly 1650 to 1850.
Physicist who foresees global cooling says other scientists tried to 'silence' her. A physicist who foresees a 30-year period of global cooling says other climatologists have tried to "silence" her latest research on solar cycles. Valentina Zharkova, a professor at Northumbria University at Newcastle in the United Kingdom, said the Royal Astronomical Society received requests to withdraw a press release on her team's latest research pointing to a significant drop in solar activity by mid-century.
Solar physicist sees global cooling ahead. The research suggests that the next three solar cycles will see solar activity reduce significantly into the middle of the century, producing conditions similar to those last seen in the 1600s — during the Maunder Minimum. This may have implications for temperatures here on Earth. Future solar cycles will serve as a test of the astrophysicists' work, but some climate scientists have not welcomed the research and even tried to suppress the new findings.
Are Scientists Preparing for a FlipFlop Back to Global Cooling Predictions? The alleged weakening of the Atlantic Meridional Overturning Circulation appears to be triggering a growing amount of speculation about abrupt cooling, like the plot of the movie "The Day After Tomorrow". [...] Naturally most of the climate scientists who make such predictions expect the cooling to occur over a relatively short timescale, before the ice melt forcing which causes the predicted cooling is overwhelmed by our continued sinful emissions of CO2. But a fallback prediction of imminent abrupt cooling does conveniently make it rather difficult to falsify anthropogenic climate theories based on temperature alone, should global temperatures suddenly drop.
Global temperatures are heading downward, and fast. It's no surprise to us that the "monster" El Niño of 2015/2016 created a very large global temperature spike, after all, that's what the natural process that creates the phenomenon results in due to the Pacific ocean near the Equator not being able to dissipate heat to space as effectively as it usually does. NOAA says that "ENSO is one of the most important climate phenomena on Earth due to its ability to change the global atmospheric circulation, which in turn, influences temperature and precipitation across the globe.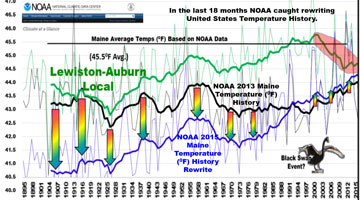 Black Swan Climate Theory. The last four months have been some of the coldest you might ever recall in our lifetime. So far 2015 is the fourth coldest in Maine's history over the last 120 years. Data from 2013 confirm that so far — from January 1 to April 29 — 2015 has required 4249 heating degree days. That rivals 1904, 1918 and 1923 over the last 120 years. But when I recently looked at NOAA's revised 2015 data, these last four months now would not even put us in the top twenty of coldest months. The federal government went into the historical data and lowered those earlier years — and other years in the earlier decades — so that they can keep spending $27 billion a year on pushing global warming. They assumed no one would archive temperature data. But I did.
New England just got several inches of snow in mid-May. New Yorkers' chilly morning was practically balmy compared to the winter wonderland that hit many New England cities on Monday [5/16/2016]. Five inches of snow fell in two Maine cities — Caswell and New Sweden — early Monday, marking the largest snowfall ever recorded in the region this late into spring.
Climate Crisis and Political Power. Al Gore in 2005 predicted that the polar ice caps would be gone by 2015, leading to a catastrophic rise in sea levels. But in 2015, the polar ice caps were not gone. They were, in fact, above the average for the period since 1979. The computer climate models predict steady warming. But the warming stopped in 1998. If the computer models cannot accurately predict what is now the past, why should we rely on them to predict the future?
Cold snap decimates peach crop in Mass. and beyond. For brothers Frank and Bruce Carlson, owners of Carlson Orchards in Harvard, the damage their peach crop sustained after February's cold snap is unlike anything they've seen in decades. "It's the first time in 35 years for us. As a matter of fact, we've had very little loss in 35 years," Frank Carlson explained. Though a majority of the brothers' 100-acre farm remains healthy, the 25 acres where peaches are grown won't bear fruit this year, after the combination of a warm winter and sudden freeze killed off many of their trees' buds.
Snow storm forces cancellation of almost 700 flights at Denver airport. A powerful spring storm is dumping heavy, wet snow in Colorado [4/16/2016], shutting down major highways in the mountains and forcing the cancellation of almost 700 flights at Denver's airport.
East Coast set to be hit by cold snap, up to six inches of snow, and icy roads. Spring has sprung, but people in the Great Lakes and Northeast could be forgiven for thinking it's still winter after an Alberta Clipper system brought frigid Arctic air and gusts of snow down on their heads. AccuWeather reported that snow storms were expected to reach New England overnight [4/2/2016] while New York City, Syracuse, Buffalo, Boston, Burlington and Portland were all liable to suffer wintry weather.
Arctic blast for Northeast USA to give snow, 10's and 20's to New York, Boston. Coupled with cold, it looks like winter wonderland for much of the northeast in the first week of April.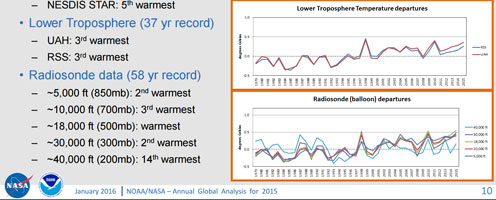 NOAA Radiosonde Data Shows No Warming For 58 Years. In their "hottest year ever" press briefing, NOAA included this graph, which stated that they have a 58 year long radiosonde temperature record. But they only showed the last 37 years in the graph. Here is why they are hiding the rest of the data. The earlier data showed as much pre-1979 cooling as the post-1979 warming.
Global warming? Kurilskoye Lake freezes for first time in 10 years. With thermal waters, and the warming effect of the nearby Sea of Okhotsk, this unusual lake normally does not freeze over. But this year its famous Steller's sea eagles have been forced to relocate because the ice holes in which they catch fish have frozen over. Two weeks of calm weather and low temperatures in February — of minus 20C — shackled the surface of the lake with a thick layer of ice.
Now Even Michael Mann Admits the 'Pause' in Global Warming is Real; Throws Allies to Wolves. The "Pause" in global warming is real — not an urban myth concocted by evil 'deniers' — a study has found, signalling the development of a major schism within the climate alarmist camp. [...] First, the study was published in Nature Climate Change a fervently alarmist journal which rarely if ever runs papers that cast doubt on the man-made-global-warming scare narrative. Secondly, it directly contradicts a widely-reported study produced by the National Oceanic and Atmospheric Administration (NOAA) last year which attempted to deny the existence of the "Pause" (also known as the "hiatus"). This NOAA study was widely mocked, quickly debunked and is now the subject of a Congressional investigation by Rep. Lamar Smith (R-TX).
New paper shows there was a global warming hiatus this century. Climate researchers have published a new paper this week in the journal Nature Climate Change that acknowledges there has been a global warming slowdown from 2000-2014. Their research shows a hiatus did indeed occur and continued into the 21st century, contradicting another study last June that said the hiatus was just an artifact that "vanishes when biases in temperature data are corrected." This is not the first time activists have tried to hide the hiatus by using dodgy methods. This new paper shows a global warming slowdown or hiatus, the authors write, which has been "characterized by a reduced rate of global surface warming, has been overstated, lacks sound scientific basis, or is unsupported by observations." They add, "The evidence presented [in this paper] contradicts these claims."
Man, that greenhouse effect is really something! Coldest greenhouse I've ever heard of.
Polar Vortex Triggers Subzero Temperatures, 'Life-Threatening' Wind Chill. A brutal polar vortex sent temperatures plummeting to "life-threatening" lows across the Midwest and Northeast on Saturday [2/13/2016], with millions of Americans warned of frostbite and other dangers. The coldest air mass of the winter brought the thermometer down to minus 6 degrees overnight in Minneapolis, while New Yorkers were urged to take "extreme precautions" against wind chill.
Don't Be Blown Away by Winter Weather. The D.C. area endured a big weather event in January — more than two feet of snow in places and high winds... blizzard conditions! [...] For the champions of climate catastrophe, selective "unique" events like this recent blizzard translate into "extreme weather" surely brought on by manmade climate change. Championing the claim of meteorological mayhem from people pollution is convenient for two reasons. First, it's so hard to prove or disprove the long-term cause of any particular stormy episode; and second, every weather event is "unique," so the mundane becomes the spectacular simply by designation.
Satellite data shows there hasn't been global warming for 215 months. The numbers are in and the verdict is that there has been no global warming for 17 years and 11 months, according to satellite data. Satellite data prepared by Lord Christopher Monckton shows there has been no warming trend from October of 1996 to August of 2014 — 215 months. To put this in perspective, kids graduating from high school this year have not lived through any global warming in their lifetimes. According to Monckton — the third Viscount Monckton of Brenchley and a former policy adviser to U.K. Prime Minister Margaret Thatcher — the rate of warming has been half of what climate scientists initially predicted in the early 1990s.
Scientists having trouble getting to Antarctica because there's so much ice. So, wait. They are going to spend money predicting how much ice there will be so that they can then get to Antarctica to study global warming? The Daily Caller reminds us that two years ago a Russian vessel loaded with passengers eager to see for themselves the damning effects of global warming got stuck for over a week in the ice. The ice breaker sent to rescue them got stuck as well. There's nothing wrong with scientific research, and there are certainly scientists in Antarctica focused on subjects other than sea levels, but it seems like these scientists are looking for problems where none exist.
Brutal Freeze kills 85+ people in Tropical Taiwan. The global warming which recently hit the USA, has spread to a large area of East Asia, with reports of a brutal cold snap which has killed at least 85 people in Taiwan, and confirmed snowfall as far south as the Japanese island Okinawa, on the Northern edge of the Tropics.
Measuring mix-up leaves DC with underreported snow total. How much snow fell on Washington D.C. during this past weekend's massive snowstorm? Officially, 17.8 inches. But the actual answer may never be known. The Washington Post reports that the snow-measuring device used by a team of weather observers at Washington's Reagan National Airport was buried in the blizzard, leaving them with no way to record the true amount of snow for hours on end. The error promped the National Weather Service (NWS) to announce that it will be looking into the procedures used at Reagan National, where the official snow totals for the nation's capital are recorded.
Lower-than-expected D.C. snowfall total raises questions about its measurement. It's not that 17.8 inches of snow wasn't enough. But the number that will go down in the history books as Washington's official total — recorded at Reagan National Airport — is downright paltry compared with some other spots in the region, raising the question: Why the disparity? The reason, it turns out, may be partly due to the improvised technique used by a small team of weather observers at the airport who lost their snow-measuring device to the elements midway through the blizzard. It was buried by the very snow it was supposed to measure. The mix-up, some say, may have kept the blizzard of 2016 from breaking into the region's top three snowstorms on record, based on accumulations.
Flights from Moscow canceled massively due to weather conditions. Flights are canceled en masse in Moscow because of weather conditions. In particular, the Aeroflot airlines said flights to 14 destinations had been cancelled because of a snowfall, blizzard and squall wind up to 17 meters per second.
The Editor says...
17 m/s is about 38 mph.

Graph vs. Graph = Political Journalism. [Scroll down] Fortunately, people normally do not use a magnified version of the world to proceed with their daily lives. That's why no one drives down a highway guided by a microscope magnifying the road's surface. For the same reason, weather forecasters use the real temperatures instead of magnified temperature anomalies. Because it's so difficult to observe man-made global warming, some experts at NASA GISS believe the accuracy of climate models requires a one hundredfold increase in order to see the small amount of warming. "A doubling in atmospheric carbon dioxide (CO2), predicted to take place in the next 50 to 100 years, is expected to change the radiation balance at the surface by only about 2 percent. If a 2 percent change is that important, then a climate model to be useful must be accurate to something like 0.25%. Thus today's models must be improved by about a hundredfold in accuracy, a very challenging task."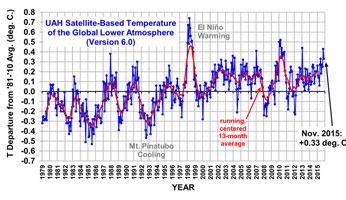 24 days to Al Gore's '10 years to save the planet' and 'point of no return' planetary emergency deadline. As you can see, little has changed since 2006. Note the spike in 1998, in the 18 years since the great El Niño of 97/98, that hasn't been matched, and the current one we are in isn't stronger, and looks to be on the way to decaying. So much for the "monster" El Niño. [...] The real point here is to note that, no matter whether you are looking at the satellite record or the surface temperature record, is that the temperature hasn't risen dramatically in the last 10 years, and the dramatic spikes we see in the surface and satellite temperature records correspond to a natural event that's been going on for millennia; El Niño.
Three Global Warming Stories The Media Don't Want You To See. Let's start with a new paper from NASA — a distinctly American organization — that was covered by the British Express. The newspaper tells us that our space program has "found the Earth has cooled in areas of heavy industrialization where more trees have been lost and more fossil fuel burning takes place." This is, of course, the opposite of what we've been told for decades.
What's Really Going On With the Earth's Climate. The most accurate record we have of modern temperatures comes from satellites. Their readings are, in fact, the only transparent, uncorrupted temperature records in existence. Surface temperature records are unreliable because of siting issues, poor coverage of the oceans, failure to recognize the urban heat island effect, and deliberate falsification by alarmist climate scientists, who constantly revise temperatures recorded decades ago to make the past look cooler. The problem with satellite temperature data, of course, is that it only goes back to 1978. That said, we now have 37 years of satellite data. What trends to those records reveal?
Global Warming Is a Myth. During the 20th century, the earth warmed 0.6 degree Celsius (1 degree Fahrenheit), but that warming has been wiped out in a single year with a drop of 0.63 degree C. (1.13deg;F.) in 2007. A single year does not constitute a trend reversal, but the magnitude of that temperature drop — equal to 100 years of warming — is noteworthy. Of course, it can also be argued that a mere 0.6 degree warming in a century is so tiny it should never have been considered a cause for alarm in the first place. But then how could the idea of global warming be sold to the public? In any case, global cooling has been evident for more than a single year. Global temperature has declined since 1998. Meanwhile, atmospheric carbon dioxide has gone in the other direction, increasing 15-20%. This divergence casts doubt on the validity of the greenhouse hypothesis, but that hasn't discouraged the global warming advocates. They have long been ignoring far greater evidence that the basic assumption of greenhouse warming from increases in carbon dioxide is false.
Surviving an imminent ice age. Solar observers predict a "Little Ice Age (LIA)" to arrive before 2100. While expert economists confirm that a modestly warmer climate benefits both health and human prosperity, a colder climate generally spells more sickness and poses real danger to agricultural yields — with consequent famines and mass starvation. These calamities can be overcome — through adequate and timely preparation of energy supplies, water projects, and croplands. There is some urgency in preparing now for the possibility of such a cold period, similar to the LIA that prevailed off and on during 1400-1800 AD.
The Pause Started In 1993. One of the many papers published to explain the temperature hiatus was one last year from Benjamin Santer and many others, Volcanic contribution to decadal changes in tropospheric temperature, which attempted to blame it on increased volcanic activity.
Cold Sun Rising: New studies flip climate-change notions upside down. Our sun doesn't maintain a constant intensity. Instead, it cycles in spans of approximately 11 years. When it's at its maximum, it has the highest number of sunspots on its surface in that particular cycle. When it's at its minimum, it has almost none. When there are more sunspots, the sun is brighter. When there are fewer, the sun radiates less heat toward Earth. But that's not the only cooling effect of a solar minimum. A dim sun doesn't deflect cosmic rays away from Earth as efficiently as a bright sun. So, when these rays enter our atmosphere, they seed clouds, which in turn cool our planet even more and increase precipitation in the form of rain, snow and hail.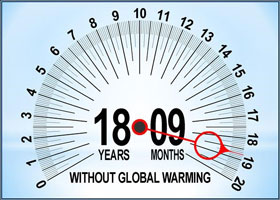 The Pause lengthens again — just in time for Paris. As the faithful gather around their capering shamans in Paris for the New Superstition's annual festival of worship, the Pause lengthens yet again. One-third of Man's entire influence on climate since the Industrial Revolution has occurred since February 1997. Yet the 225 months since then show no global warming at all. With this month's RSS temperature record, the Pause beats last month's record and now stands at 18 years 9 months.
The Next Climate Scandal? With their latest subpoena to the Obama administration, House Republicans risk descending into a rabbit hole, albeit a useful one. Lamar Smith, the Texas GOPer who runs the House science and technology committee, has been seeking, voluntarily and then not so voluntarily, emails and other internal communications related to a study released earlier this year by the National Oceanic and Atmospheric Administration. The study, by adjusting upward temperature readings from certain ocean buoys to match shipboard measurements, eliminated the "pause" in global warming seen in most temperature studies over the past 15 years.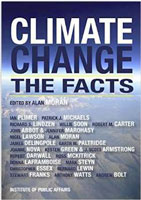 Climate Change: The Facts. Tirelessly promoted by princes, presidents, actors and activists, "climate change" has become a dominant theme of global politics. But what's really going on as the "pause" in global warming prepares to enter its third decade?
Freezing migrants cry foul as German cold bites. "They say they are going to do something, but they are not telling us what. Maybe we are all going to turn to ice," said a 25-year-old Afghan who went by the name Hussein, and who has been living in one of several tent cities set up by authorities in the northern city of Hamburg. "We cannot be under the tent for more than an hour at night," he said. At the major northern port, as in other parts of the country, sleeping without heating is quickly becoming a nightmare as the temperatures tumble close to freezing. And the German winter, infamously harsh and biting, has not even begun.
World is on brink of 50 year Ice Age and Britain will bear the brunt. Crippling blizzards, snowstorms and sub-zero temperatures threaten a yearly dose of Arctic misery for the next fifty years at least — and possibly decades more. Climate experts warn a rare pattern of water cooling in the north Atlantic will trigger a chain reaction of events leading to a "fully-blown ice age". The say the UK is on alert for a "serious climate situation" with regular winter whiteouts pushing emergency services to the limit.
Britain faces longest winter in 50 years after earliest ever arrival of Siberian swan. Britain is facing its longest winter in 50 years after the earliest-ever arrival of a Siberian swan which traditionally heralds the start of the season. [...] The first bird arrived on Sunday [10/11/2015] — a full 25 days earlier than last year and the earliest date on record. It coincided with the first frosts of the autumn in the area and experts say its early return could be a sign of a long, hard winter ahead.
The Climate Is Indeed Changing: Cooling Ahead. Dr. David Evans was a climate modeler for the Australian government. He has six degrees in applied mathematics. In analyzing "complex mathematical assumptions widely used to predict climate change," he predicts stable temperatures until 2017, after which the Earth will cool for the next decade, ushering in a mini-ice age by 2030.
Global warming 'is fake': Volume of ice caps is increasing, claims top geologist. James Kamis suggests "conflicting temperature trends" between oceans and the Earth's atmosphere could dispel the "myth" of man-made global warming. Put simply, he says our atmospheric temperature has remained static for more than 18 years, the Atlantic has got colder, and it is only the Pacific Ocean where things have heated up.
Weather Warning: Coldest winter for 50 years set to bring Months of heavy snow to UK. Sub-zero temperatures and violent snow storms could hit as soon as late October as a freak ocean cooling in the Atlantic threatens to trigger a historic, nationwide whiteout. Emergency services have been warned to prepare for a repeat of the devastating 1962/63 winter which saw rivers and lakes freeze over across Britain. The shock warnings have also sparked fears Britain could face fuel and food shortages as roads and transport networks grind to a halt.
The Old Farmer's Almanac Versus Global Warming Alarmists. Climate change, previously known as global warming, is a national security issue according to President Obama. This was the message he delivered to recent U.S. Coast Guard Academy graduates. Funny, but when I think of national security issues other things come to mind, such as the rise of ISIS, cyber hacking by the Russians and Chinese, nukes in "Death to America" Iran, or our open borders. Global warming, touted by noted climate scientist Al Gore, has morphed into climate change since actual planetary warming stopped in 1998, when Mr. Gore was still the Vice-President. Since then we have been treated to cold snowy winters, not only here but elsewhere in the world.
Sorry, President Pants-On-Fire but Alaska is Cooling Not Warming. President Obama recently visited Alaska in search of the mythical beast they call ManBearPig — as part of his ongoing mission to persuade an increasingly skeptical world that climate change represents the greatest threat of our age. Not even a string of plausible lies could save his mission from failure.
Mankind is threatened by global cooling, not warming. As the Obama administration creates policy based on the premise that the planet is warming, more and more scientists are concluding the real danger is global cooling. One recently painted this scenario: Food shortages from crop failures brought on by cold weather during the summers will produce civil unrest, as in "huge civil unrest." "There's no question of will it occur ... but exactly when," said David Dilley, a former NOAA meteorologist and the current senior research scientist at Global Weather Oscillations.
Global Warming Alarmists Run Into Brick Wall Of Facts. Sydney, Australia, has snow for the first time since 1836. [...] In other news, the Big Island of Hawaii had snowfall in July. Not to be outdone, the Sierra Nevada mountain range in California also had snowfall this July. Antarctica set a new record for ice extent in 2014 and continues to set records for how much ice covers the oceans surrounding this southern hemisphere continent as 2015 progresses. And to confuse the science-is-settled-on-global-warming crowd even further, some solar scientists are now projecting that due to changes in the sun's cycles, the earth is likely to suffer from what is known as a "Little Ice Age" starting in 2030, as the heat-giving star settles into a very rare pattern of inactivity.
A Paradigm Change: Redirecting public concern from Global Warming to Global Cooling. I want to change public concern from Global (GW) to Global Cooling (GC). Presented here are three arguments in favor of such a drastic shift — which involves also a drastic shift in current policies, such as mitigation of the greenhouse (GH) gas carbon dioxide. My main argument relies on the fact, backed by historical evidence, that cooling, even on a regional or local scale, is much more damaging than warming. The key threat is to agriculture, leading to failure of harvests, followed by famine, starvation, disease, and mass deaths.
Arctic ice 'grew by a third' after cool summer in 2013. The volume of Arctic sea ice increased by around a third after an unusually cool summer in 2013. Researchers say the growth continued in 2014 and more than compensated for losses recorded in the three previous years. The scientists involved believe changes in summer temperatures have greater impacts on ice than thought. But they say 2013 was a one-off and that climate change will continue to shrink the ice in the decades ahead.
The Editor says...
There has been no global warming for almost 20 years. If they didn't see this coming, how do they know what will happen "in the decades ahead"?
Satellites: Earth Is Nearly In Its 22nd Year Without Global Warming. After September of this year, the Earth will be entering its 22nd year without statistically significant warming trend, according to satellite-derived temperature data. Since September 1994, University of Alabama in Huntsville's satellite temperature data has shown no statistically significant global warming trend. For over 20 years there's been no warming trend apparent in the satellite records and will soon be entering into year 22 with no warming trend apparent in satellite data — which examines the lowest few miles of the Earth's atmosphere. Satellite data from the Remote Sensing Systems (RSS) group also shows a prolonged "hiatus" in global warming. After November of this year, RSS data will be in its 22nd year without warming.
U.K. Study: Solar Cycles Affect Global Temps; Cooling in 2020s. U.S. Senator Jim Inhofe (R-Okla.) has observed that for over 100 years, "journalists have quoted scientists predicting the destruction of civilization by ... either runaway heat or a new Ice Age." Predictions, however, are easy to make, because so few remember the ones that didn't pan out: rising sea levels, melting ice caps, and other such catastrophes, all supposedly anthropogenic (caused by human activity). The latest blow dealt to anthropogenic climate change is a new study presented at the Royal Astronomical Society meeting at Llandudno, North Wales by Professor Valentina Zharkova, who holds a BSc/MSc in Applied Mathematics and Astronomy and a Ph.D. in Astrophysics.
Climate Alarmism [is] Unfounded. Fear is a powerful emotion, and it is being used by environmental activists to try and manipulate the public conscience and political discourse. However, just as many other past doomsday predictions about impending environmental collapse have proven false, so shall the current climate alarmism likely prove unfounded, as is already being borne out by recent decades of unremarkable climate data.
Protecting Humanity from Ice Ages. I must confess I never much worried about the supposed dangers of global warming — even if we could rely on the predictions of IPCC climate models. In fact, they seem to be failing miserably, as judged by the ongoing pause in GW — while atmospheric levels of anthropogenic CO2 and other greenhouse gases continue to increase. It seems that our climate is mainly controlled by natural forcings, like solar activity and atmosphere-ocean oscillations that are not included in current models.
Climate Change Skeptic: Greenland [Provides] More Proof There's No Global Warming. Don't talk about global warming to residents of Nuuk, Greenland's capital city, where record cold is keeping the city still buried in snow, climate change skeptic Steven Goddard writes. Normally by this date, around 20 percent of Greenland is melting, the Real Science blogger contends. [...] Northeast Greenland also saw its coldest May on record since measurements started back in 1949, while the island as a whole is colder than normal, the Daily Caller reports, citing Danish Meteorological Institute data. "Greenland has gained half a trillion tons of snow and ice since September," Goddard writes.
America's Most Advanced Climate Station Data Shows US In A 10-Year Cooling Trend. Data from America's most advanced climate monitoring system shows the U.S. has undergone a cooling trend over the last decade, despite recent claims by government scientists that warming has accelerated worldwide during that time. The U.S. Climate Reference Network was developed by the National Oceanic and Atmospheric Administration (NOAA) to provide "high-quality" climate data. The network consists of 114 stations across the U.S. in areas NOAA expects no development for the next 50 to 100 years.
Where is All the CO2 Going? It's perfectly reasonable that adding CO2 to the atmosphere could cause some warming, probably minor. This perfectly reasonably supposition was turned into unreasonable dogma by certain scientific disciplines that sensed an opportunity. They realized that if CO2 were inflated into the great Satan, it would be very beneficial for their careers. Backwater scientists in the obscure specialty of atmospheric science became well-traveled celebrities by promoting the doomsday theory of global warming. Radical environmentalists joined the catastrophic global warming chorus. This worked pretty well during the 70's, 80's and 90's when the Earth was warming. But then the warming stopped and now, after 18 years of no warming, the theory of catastrophic global warming is falling apart. To keep the money flowing, the global warming promoters began promoting extreme weather and ocean acidification, two new and bad things that are supposed to happen if we continued burning fossil fuels.
Study Predicts Decades Of Global Cooling Ahead. A new study out of the United Kingdom predicts the Earth is about to go through a major climatic shift that could mean decades of cooler temperatures and fewer hurricanes hitting the United States. Scientists at the University of Southampton predict that a cooling of the Atlantic Ocean could cool global temperatures a half a degree Celsius and may offer a "brief respite from the persistent rise of global temperatures," according to their study. This cooling phase in the Atlantic will influence "temperature, rainfall, drought and even the frequency of hurricanes in many regions of the world," says Dr. Gerard McCarthy. The study's authors based their results on ocean sensor arrays and 100 years of sea-level data.
NOAA Fiddles With Climate Data To Erase The 15-Year Global Warming 'Hiatus'. National Oceanic and Atmospheric Administration scientists have found a solution to the 15-year "pause" in global warming: They "adjusted" the hiatus in warming out of the temperature record. New climate data by NOAA scientists doubles the warming trend since the late 1990s by adjusting pre-hiatus temperatures downward and inflating temperatures in more recent years.
Satellite Data Shows No Global Warming For Nearly 19 Years. Scientists with the National Oceanic and Atmospheric Administration released a study Thursday [6/4/2015] claiming there's no hiatus in global warming. But new satellite-derived temperature measurements show there's been no global warming for 18 years and six months. "For 222 months, since December 1996, there has been no global warming at all," writes climate expert Lord Christopher Monckton, the third viscount Monckton of Brenchley
The climate warming pause goes AWOL (or not). [Scroll down] A quick word about the observed (and genuine) warming interval 1910-40. It can be seen not only in surface thermometers at weather stations, temperature records from ships, but in all published proxy records. Alas, I could not find any atmospheric temperature data for that period. It is generally agreed, however — including by IPCC — that this warming is of natural origin and not from GH gases. Thus there is noevidence whatsoever of anywarming from human-released CO2 during the whole of the 20th century or earlier.
Leaving the Church of Environmentalism. [Alan] Carlin went from being a dedicated environmentalist, based on its initial philosophy of conservation, to an observer of the movement that was taken over and distorted to advocate falsehoods about global warming and a transition from fossil-fuels to "clean energy" meaning wind, solar and bio-fuels. As an economist he understood how absurd it was to suggest rejecting fossil-fuels, the key element of modern industry and society. "The climate alarmists," says Carlin, "have now been making their apocalyptic predictions for almost thirty years and it is now possible to compare their predictions with actual physical observations." Suffice to say all the predictions of a significantly higher temperature — the warming — have been wrong. In fact, the Earth has been in a natural cooling cycle since 1998 and shows no indication of warming[.] Predictions about the North and South Poles melting, a major rise in ocean levels, increased hurricanes and other climate events have been wrong along with countless other climate-related apocalyptic predictions.
2015 was the coldest January through March in the entire record in the 10 Northeast States and DC. The eastern Pacific has driven the climate bus the last two years. The warm water moved into the Gulf of Alaska in 2013 and the Alaska ridge pumped down arctic and at times Siberian air down to the Great Lakes and east. A constant stream of clipper storms brought snow almost every other day to the lakes. In 2014 the warm water was carried south along the west coast and aided by diminished upwelling with a displaced/weakened Pacific high, helped as it did in the mid 1970s, produce the California drought.
Global warming has slowed — and recent changes are down to 'natural variability', says study. Global warming hasn't happened as fast as expected, according to a new study based on 1,000 years of temperature records. The research claims that natural variability in surface temperatures over the course of a decade can account for increases and dips in warming rates.
Preventing a Coming Ice Age. [Scroll down] There is little that can be done to mitigate the 1500-year cycles, if indeed they are controlled by solar activity. Here, adaptation may provide the only means of dealing with the disastrous effects of the cold periods. Research should be directed to discovering the best methods of countering the damaging impacts of cooling on human populations.
Global Warming in Hot Water. As I've said before, if you graduated from college last summer, there's been no "global warming" since you were in kindergarten; if you graduated from high school, there's been none since you were born. For the generation that had Al Gore's Inconvenient Truth (heavily reliant on the hockey stick) shoved down its throat from K through 12, it doesn't feel like that, but nevertheless it's a fact: The "pause" in global warming is about to enter its third decade, and simply being a climate-pause denier (to coin a phrase) is no longer tenable.
On April 8, weeks after spring began:
Icy Traffic Jam On Lake Superior Has 18 Ships Stuck. Huge ice chunks stacked some 8 feet deep on Lake Superior have left 18 freighters stuck. The U.S. and Canadian Coast Guards have gotten involved, sending Canadian icebreakers and American vessels to help the ships break free from Whitefish Bay. Mark Gill, director of Vessel Traffic Services for the U.S. Coast Guard at Ste. Saint Marie, Mich., told NPR's Melissa Block that the ice has created a traffic jam on the water.
Ice conditions tie up shipping traffic on eastern Lake Superior. Ice coverage on eastern Lake Superior has hamstrung ship traffic this week, with 18 vessels waiting Wednesday [4/8/2015] in Whitefish Bay to move through a soup of ice 8 feet thick in some places, with slabs of ice as big as pickup trucks.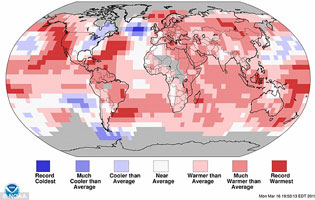 Don't worry about the snow and ice! Meteorologists claim this winter was actually the warmest on record. It may not feel like it to anyone of the East Coast of America, but the winter of 2014 was the warmest since records began, forecasters have revealed. Federal records show that this winter and the first two months of 2015 were the hottest on record globally. Researchers say only the U.S. East 'stuck out like a cold thumb in a toastier world.'
The Editor says...
Notice that a lot of the warm areas on the map are in the oceans, where nobody lives, so it doesn't really matter if they're a fraction of a degree warmer than usual.
Boston breaks snowfall record with 108.6 inches. It's a record that local residents never wanted to break in the first place: On Sunday [3/15/2015], Boston received 2.9 more inches of snow, making this the snowiest winter in the city since records started being kept in 1872.
Snow record only 'Inconvenient Truth' we need, Al Gore. [Boston] just broke the record for the most snow ever in one winter, 108.6 inches. And in an amazing coincidence, Al Gore, the pied piper of global warming, is responding to the unprecedented snowfalls and low temperatures. He has issued a fatwa, calling for a PC jihad against the heathens who actually believe what they see, rather than what they are told by fake scientists waving made-up "hockey-stick" graphics. Gore is quoted in the Chicago Tribune as demanding that the true believers "punish climate-change deniers, saying politicians should pay a price for rejecting 'accepted science.'"
Giant Chunks Of Ice Wash Ashore On Cape Cod. The historic winter of 2015 has left giant chunks of ice on the Cape Cod National Seashore. Cape Cod photographer Dapixara captured images of a person standing next to the massive pieces of ice that washed ashore in Wellfleet over the past few days.
Global warming strands thousands on Kentucky interstates. Floodwaters ruined hundreds of toys wrapped and ready for delivery next Christmas season to needy children, part of wild weather swings in Kentucky that dumped up to 2 feet of snow in some areas and trapped travelers on highways for nearly a day.
Ice buildup on Great Lakes higher than normal. Ice cover on the Great Lakes has surpassed last year's number due to frigid temperatures and a below average summer. "This year we are currently up to about 87 percent of the Great Lakes being ice covered," said Nathan Jeruzal, a meteorologist with the National Weather Service. "And last year it was about 81 percent."
The entire Great Lakes almost completely covered with ice. The entire Great Lakes, shared by Canada and the United States is at 88.8% ice coverage, with the highest totals coming from Lake Huron and Lake Erie at about 96% ice coverage according to Great Lakes Environmental Research Laboratory, part of the US National Oceanic and Atmospheric Administration, NOAA.
Boston's All-Time Snowfall Record in Jeopardy. Boston's all-time snowfall record for one season is 107.6 inches, set in the winter of 1995-96. This year has been a whole other monster altogether, as we have seen a whole winter's worth of snow in just the past month. So far in Boston, we are currently just shy of breaking the record. All we need is another 5.7 inches of snow to break it. I do not think that is going to be a problem.
Global warming news: Chicago ties 1875 record for coldest February. Chicago is concluding a record-tying frigid February. The average temperature this month was 14.6 degrees Fahrenheit (-9.7 Celsius) — the same average temperature Chicagoans endured in 1875. This month began with a bang of a blizzard on Super Bowl Sunday — with Chicago's fifth-largest snowstorm. And it ended with a record low temperature this morning of -10 F (-23 Celsius) — smashing the 1884 record of a relatively balmy 0 F (-17 Celsius). Meanwhile Great Lakes ice cover is well over 80 percent and if it exceeds 94.7 percent — a figure almost reached last year — that will set a record.
NASA photo captures U.S. record breaking cold and snow from space. NASA's Terra satellite captured an image of the snow-covered eastern U.S. that looks like the states have been sitting in a freezer. In addition to the snow cover, Arctic and Siberian air masses have settled in over the Eastern U.S. triggering many record low temperatures in many states. [...] If anthropogenic global warming happened to be true (hint: it's not), it would be a good thing since it appears we face a new and impending Ice Age.
Global Warming Freezes More Ice On Great Lakes Than In All of Recorded History. And there's more Global Warming on the way! One of the coldest Februaries ever. And the Great Lakes more clotted with more ice than at any point in all of recorded history. So much Global Warming. And another blast of it coming next week.
120-year-old record low broken in D.C., one of many today and in the past week. We talk about record highs a lot in Washington, but the recently unfathomable was accomplished this morning. We broke a record low. A temperature of 5 degrees was enough to smash a 120-year-old record for the date — a moment worthy of meteorological reflection. When the city — often the warmest location in the region — is breaking record lows, you know it's a cold one
New York breaks 65-year record as frigid temperatures grip the nation. New Yorkers awakened to the coldest day of the year [2/20/2015] as the mercury dipped down to just 2 degrees in Central Park — shattering the 65-year-old record low for this date of 7 degrees, which was set back in 1950. But relief — if you can call 30 degree temperatures and freezing rain relief — is on the way.
Niagara Falls has frozen over as extreme winter weather continues across the East Coast. Extreme winter weather has been causing problems for millions across the East Coast, but it has also made for some beautiful sights. Among those beautiful sights is Niagara Falls, which has now frozen over due to temperatures which dropped to 16[°]F on Wednesday [2/18/2015].
Frigid, gale-force winds to pound Northeast coast this weekend. Freezing gales are set to pummel the snow-blighted Northeast this weekend, causing dangerous 'white out' conditions in the bitter cold. [...] Frigid temperatures combined with the high winds will being outside in the worst-hit areas feel more like standing in a brutal -21°F, according to forecasters.
Boston Logan Shuttered Again Due to Global Warming and Six Feet of Snow, But Mostly Six Feet of Snow. Six feet of snow in about two weeks?
Reminder: February 7 in New Zealand is summertime.
Ice breaker rushes to free stranded fishing vessel stuck in thick Antarctic ice. The 207-foot ship, the Antarctic Chieftain, suffered propeller damage after hitting a chunk of ice on February 7 in an isolated region near the Ross Sea, south-east of New Zealand. The ship, which is used for harvesting Patagonian toothfish, became stranded in ice floes up to 10 feet thick and lacked the power to break free. Les Scott, managing director of Tasmanian-based Australian Longline, which owns the ship, said an underwater video inspection showed three of the four propeller blade tips were damaged. None of the crew has been injured.
New England Digs Out From Latest Winter Whopper. Snow-choked New England braced for more winter grief later in the week as people dug out from another 2 feet of snow Tuesday [2/9/2015].
Boston buried: Record 40 inches of snow dumped on city in a week. The Northeast was struck by flash freezing and bitter temperatures thanks to frozen blasts of wind today [2/2/2015], with forecasters warning the cold could coat roads in black ice and increase the risk of accidents. Sudden bursts of cold were accompanied by record snowfall in places — including Boston, which was buried by a 40-inch downfall just days after a previous winter storm swamped the city in snow.
Stormy Weather and Politics. It was refreshing to see meteorologists apologize for their dire — and wrong — predictions of an unprecedented snow storm that they had said would devastate the northeast. It was a big storm, but the northeast has seen lots of big snow storms before and will probably see lots of big snow storms again. That's called winter. Unfortunately, we are not likely to hear any similar apologies from those who have been promoting "global warming" hysteria for years, in defiance of data that fail to fit their climate models.
Global Warming Pause: Is the End Near? Global Warming (GW) alarmists are in a pickle: no GW, in spite of rising CO2 levels. [...] The observed absence of a global-warming trend (often described as "pause" or "hiatus"), beginning around Yr 2000 (or perhaps even earlier) contradicts the results of every IPCC climate model — all of them driven by a steady increase in anthropogenic carbon dioxide; [...]
24 Inches of Global Warming Set to Slam NYC. New York braced for one of the biggest blizzards in "the city's history," with over 24 inches of snow expected to blanket Gotham on Monday [1/26/2015] and Tuesday, authorities said. "We are facing one of the largest storms in the city's history," Mayor de Blasio said. "This could be a storm... the likes of which we have never seen before."
Watching the World Fall Apart. The name of the game today is denial of the undeniable all across the spectrum of the major issues that afflict us. [For example,] Denial that temperatures have been stable for the last eighteen years and that the diminution of sunspot activity heralds an age of global cooling rather than warming, as John Casey, president of the Space and Science Research Corporation, has decisively established in his recently published Dark Winter.
Al Gore, Pharrell Williams Team up for New Climate Change Concerts. Al Gore and Pharrell Williams took to the stage at the Davos Economic Forum on Wednesday [1/21/2015] to announce the second iteration of Live Earth, a series of worldwide concerts to raise awareness of climate change.
The Editor says...
That's an over-used yet amusing phrase — "to raise awareness of climate change." I'm certainly not aware of any extraordinary climate change. Maybe that's because there is no extraordinary climate change.
Britain braced for deadly freeze. The Arctic blast which has swept Britain could kill one person every seven minutes a charity has warned, with temperatures set to plummet even further and yet more snow on the way. Almost a million elderly people are at risk from the bitter cold as they cannot afford to heat their homes, Age UK warned.
Eighteen Years, Three Months With No Global Warming. To the embarrassment of global warming alarmists everywhere, the Earth stubbornly refuses to get warmer. In 2009, Kevin Trenberth, one of the leading alarmist scientists, wrote in an email: "The fact is that we can't account for the lack of warming at the moment and it is a travesty that we can't." Since then, things have only gotten worse for the warmists. The Earth has now gone for 18 years and three months with no warming.
Was 2014 really 'the hottest year ever'? We know what they're up to, ever since they began playing it around the time of last month's UN climate conference in Lima. They are trying to whip up hysteria in support of that global climate treaty they hope to see signed in Paris next December. Their claims may come as a surprise to those in eastern Europe, Russia and the Middle East as far south as Jerusalem, for whom this winter has been unusually cold; let alone those in North America where satellite pictures last week showed Canada and much of the US snow-bound. But such "anecdotal evidence" apart, what none of these excitable accounts mention is the startlingly different picture given by the two main official records of world temperatures measured by satellites, as published by the RSS (Remote Sensing Systems) and the University of Alabama, Huntsville (UAH). These are much more comprehensive than the surface records, which have been increasingly questioned for the gaps in their global weather station coverage and for the regular one-sided "adjustments" made to their data, invariably downgrading earlier temperatures and raising those for recent years.
How To Prepare For The Imminent 30-Year Cold Spell (You've Probably Never Heard Of). There are many climatologists who now believe we are on the front edge of a 30-year cooling trend — and there is a good bit of evidence to back them up. In fall 2014, all 50 states experienced cooler-than-normal temperatures. And just a few years ago, all 50 states had some sort of snowfall — at the same time. "All you have to do is trust natural cycles and follow the facts, and that leads you to the inevitable conclusion that the sun controls the climate, and that a new cold era has begun," says climatologist John Casey.
Media Go Into Panic On How To Spin Record Cold. The liberal media are going into panic mode attempting to salvage their precious global warming crisis as yet another record cold winter takes shape across the country. Desperately hoping to purge the public's memory of failed predictions of warm, snowless winters, the media are now going into overdrive trying to claim global warming theory predicted colder and snowier winters all along.
Cause of Pause in Global Warming. There has been essentially no global warming since 1998. Some would choose 1997, others would more conservatively use 2002 as the proper starting date, based on satellite data. Of course, this is quite unexpected, since CO2 — a leading GHG, which climate models presume to cause anthropogenic global warming (AGW) — has been increasing rapidly in the 21st century. Even if we cannot readily find the cause for the "pause" — as it is sometimes called — we can be absolutely sure that it was not predicted by any of the dozens of the UN-IPCC's General Circulation Models (GCMs). Therefore, logically, such non-validated GCMs cannot, and should not, be used to predict the future climate — or as a basis for policy decisions.
Earth's Climate Shows 2,000-Year Cooling Trend. People who swallow global warming alarmism almost never know anything about the Earth's climatic history. Next time one of your friends or relatives starts giving you the global warming routine, ask him or her to graph the temperature history of the last 500,000 years. Or 20,000 years. Or 2,000. Trust me: the supposed climate expert won't be able to do it. Yet putting the modest temperature increase of the latter half of the 20th century into historical context is the first prerequisite of any intelligent evaluation.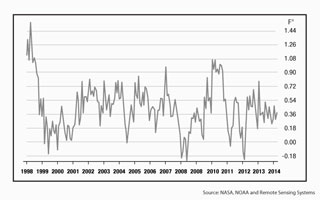 The Cold Truth About Global Warming. The reality is this: The world is 1.08 degrees cooler than it was in 1998. Just take a look at this chart from Remote Sensing Systems, which provides data to NASA, NOAA, and other scientific organizations. If you're like me, this makes a lot of sense. We've had cooler summers and longer winters.

The Branch Carbonian Cult's Actual Deniers and 'Skeptics'. Behold the fact that Al Gore, Barack Obama, NASA bureaucrats, and the entire U.N.-IPCC gaggle of "global warming" alarmists are busy demonizing former NASA and White House space sciences expert Dr. John Casey. For what? For daring to issue a 164-page scientific report — called "Dark Winter" — that forecasts several decades of dangerous global cooling instead of warming.
Billions won't satisfy warmists. Led by the BBC, the usual media suspects were quick to trumpet last week's claims by the Met Office and the World Meteorological Organisation that 2014 is set to be "the hottest year ever". It's funny that the rest of us hadn't noticed; least of all those citizens of North America and Russia whose lives were lately disrupted by record snowfalls. It is true that the temperature records compiled by the avid warmists of the Met Office and the Goddard Institute for Space Studies (the one formerly run by climate activist James Hansen) have managed to show this year squeaking just ahead of 2010 as "the hottest year since records began". But the much more comprehensive and reliable satellite records agree that 2014 is way down the list, with six of the past 16 years ahead of it.
Hundreds of Records Fall During Cold Spell. Mid-November 2014 has been a time of record-setting temperatures and snowfall. Hardly anyone in the United States can avoid it, and even if your locale hasn't experienced record cold itself, somewhere in your region has. This is not how global warming is supposed to work.
"Our Energy Policy is Insane: This is the Inconvenient Truth". A host of data shows all catastrophic events allegedly caused by CAGW occurred in the past when atmospheric carbon dioxide levels were lower and constant. For many weather events, rates of occurrences recently declined. The U.S. government provides data on various climate events CAGW proponents claim are increased — heat waves, record high temperatures, flooding, drought, wildfires, reduced snowfall, tornadoes, hurricanes, sea level rise, and Arctic ice melting. Inspection of data shows CAGW claims are false or exaggerated. Omitted from the data released by climate alarmists is satellite global temperature data show there has been no global warming since the super El Nino in the Spring 1998.
This Could Be The Coldest Thanksgiving Since 1930. Minnesotans woke up to subzero temperatures on Thanksgiving Day, and if the mercury doesn't make it up into the double digits, the day could be one for the record books. As of 8 a.m., it was 2 below in the Twin Cities, and 20 below in Bemidji, in northern Minnesota.
Claim: 'the pause' is caused by small volcanic eruptions. Small volcanic eruptions might eject more of an atmosphere-cooling gas into Earth's upper atmosphere than previously thought, potentially contributing to the recent slowdown in global warming, according to a new study.
More than 700 flights cancelled and tens of thousands left without power in holiday travel misery. There were more 4,688 delays at airports across the U.S by 10 pm Wednesday [11/26/2014] and more are expected Thursday as the storm moves across the East Coast, reports Flight Aware. Snow fell in every state from Virginia to Maine as Winter Coast Storm Cato hit its peak, with over a foot by midday in the Mid-Atlantic region and the same amount expected in New England.
Yet Another Hysterical Article Blaming Cold And Snowy Winters On AGW. These [buffoons] have created a tautology where by nothing can ever disprove their beliefs. Yes, what they are positing is poppycock, [...] but Warmists are too fanatical to understand nor ever give up. They are as far removed from science as those practicing witchcraft.
Buffalo Suburbs May Have Set a Record for 24-Hour Snowfall in a Populated Area. The national record for snowfall in a 24-hour period is 76 inches, up in the mountains of Colorado. Some suburbs of Buffalo approached that amount on Tuesday — "possibly the highest 24 hr snow in a populated area," the National Weather Service Tweeted late Tuesday night.
Massive lake effect snowfall claims at least 6 lives. A ferocious storm dumped massive piles of snow on parts of upstate New York, trapping residents in their homes and stranding motorists on roadways, as temperatures in all 50 states fell to freezing or below. Even hardened Buffalo residents were caught off-guard Tuesday [11/18/2014] as more than 4 feet fell in parts of the city. Authorities said snow totals by Wednesday afternoon could top 6 feet in the hardest-hit areas south of Buffalo, with another storm expected Thursday.
All 50 U.S. states feel freezing temperatures, four dead in New York. Temperatures in all 50 U.S. states dipped to freezing or below on Tuesday as an unseasonably cold blast of weather moved across the country while heavy snow prompted a state of emergency in western New York and contributed to the deaths of four people.
Nearly 3 Feet Of Snow Falls On Buffalo Area [in mid-November]. Parts of Upstate New York are measuring the season's first big snowfall in feet, rather than inches, as nearly 3 feet blanketed the Buffalo area Tuesday [11/18/2014], forcing the closure of a 105-mile stretch of the state Thruway.
Ice Visible on Lake Superior Weeks Ahead of Schedule. Cold temperatures and snow across the Great Lakes in November is certainly nothing out of the ordinary, but this morning, a layer of ice was visible on parts of Lake Superior in Ashland, Wis. While this may not seem unusual given the current stretch of unseasonably cold temperatures, it is actually several weeks earlier than normal.
Climatologist: 30-Year Cold Spell Strikes Earth. With nasty cold fronts thrusting an icy and early winter across the continental U.S. — along with last winter described by USA Today as "one of the snowiest, coldest, most miserable on record" — climatologist John L. Casey thinks the weather pattern is here to stay for decades to come.
Snow Fall in South East America Breaks 100 Year Records, Ushering in Mini Ice-Age. South Eastern America is seeing its earliest and deepest snow falls in over 100 years, whilst temperature records have also been broken. The cold spell is drawing predictions of a new mini ice age between at least 2015 and 2035, or possibly for the rest of this century. Tennessee, North and South Carolina and Georgia all saw unexpected snow, in some places up to a foot deep. The Climatology Office in South Carolina has confirmed that Concord, South Carolina has broken a 125 year record for the earliest snow seen.
Sunspot Trends Suggest Global Cooling Ahead. Reduced periods of sunspot activity correlate with cooler and very cold periods, with higher incidences producing opposite effects. If a leading theory regarding why this occurs is correct, a weaker magnetic heliosphere surrounding our Solar System evidenced by low sunspot activity permits more cosmic rays from deep space to enter Earth's protective magnetosphere and atmosphere. This increased flux of heavy electrons — or "muons" — striking the atmosphere produces increased cloud cover, in turn reflecting more solar radiation away from Earth and back to space.
Reports: There Is No Global Warming. You've heard how the Earth is rapidly heating up[,] causing drought, famine, and mayhem. [...] But how much has the world really warmed? It's an important question, considering the U.S. government spends $22 billion a year to fight the global warming crisis (twice as much as it spends protecting our border).
The "heat went to the oceans" excuse: deep ocean has not warmed since 2005. The cold waters of Earth's deep ocean have not warmed measurably since 2005, according to a new NASA study, leaving unsolved the mystery of why global warming appears to have slowed in recent years.
Cold Temps Set Record as Snow Arrives in Chicago. The earliest snow spotting in Chicago is Sept. 25, which occurred in 1928 and again in 1944, according to the National Weather Service. Saturday's [10/4/2014] snowflakes mark the third earliest snow sighting since the city began recording.
'Where's the global warming?' Expert says public are growing sceptical of climate change. This week saw the 18th anniversary since the Earth's temperature last rose — something that Dr Benny Peiser, from the Global Warming Policy Forum, says experts are struggling to understand. He explains that we are now in the midst of a "crisis of credibility" because the global warming — and accompanied 'Doomsday' effects — that we were once warned about has not happened. Scientists from the Intergovernmental Panel on Climate Change (IPCC) once predicted a temperature rise of 0.2 degrees per decade — but are now baffled by the fact our planet's temperature has not increased for almost two decades.
Satellite Data: No Global Warming For Past 18 Years. The Earth's temperature has "plateaued" and there has been no global warming for at least the last 18 years, says Dr. John Christy, professor of atmospheric science and director of the Earth System Science Center (ESSC) at the University of Alabama/Huntsville. "That's basically a fact. There's not much to comment on," Christy said when CNSNews.com asked him to remark on the lack of global warming for nearly two decades as of October 1st. The "plateau" is evident in the climate record Christy and former NASA scientist Roy Spencer compiled using actual raw temperature data collected from 14 instruments aboard various weather satellites.
Vanishing evidence for climate change. According to NASA satellites and all ground-based temperature measurements, global warming ceased in the late 1990s. This when CO2 levels have risen almost 10 percent since 1997. The post-1997 CO2 emissions represent an astonishing 30 percent of all human-related emissions since the Industrial Revolution began. That we've seen no warming contradicts all CO2-based climate models upon which global-warming concerns are founded.
"Why has there been no global warming for the past decade?". The temperature of the Earth's surface has not changed by more than 0.1C since the year 2000, and it may even have cooled slightly. Most computer models predicted that the increase of CO2, from about 370 to 400ppm during that period, should have caused a warming of around 0.3C. There are many possible reasons for the failure of the models, but one may be insufficient careful attention to important and often neglected details of how CO2 molecules really absorb and emit radiation in the Earth's atmosphere.
Ten questions for Al Gore. Dr. Madhav Khandekar, previously Environment Canada research scientist, suggested Gore be sent photos of the conditions on September 10th in Calgary where more than a foot of snow fell in about 36 hours. He wants Gore asked, "If earth's climate is warming, why did we have one of coldest winters just eight months ago and why do we have snow in NW Canada now when summer is still not over? There is no global warming anywhere now! On the contrary we see cold weather episodes increasing worldwide."
Cold Summer: 1,025 Record Lows in First Three Weeks of August. The NOAA Daily Weather Records for today, August 25, report that in the last 30 days there have been 331 U.S. "High Max" records set. However, there were 2,104 (more than six times as many) "Low Max" records set. The same NOAA page reports in its "Year to Date" section that 2014 has seen 7,053 High Max records set, but nearly three times that number (19,178) of Low Max records were set during the same period. [...] Of course, we continue to see blazing headlines and breathless broadcasts from the establishment news media regarding every new high temperature record, but a near total blackout of the news of low temperature records.
Happy 18th Birthday No Global Warming! After Nearly Two Decades, We're Still Waiting for the Climate to Change. All right, so we're slightly premature. By one measure — according to Bishop Hill — we're still a month away before "no global warming" achieves its coming of age. But by other measurements, as Matt Ridley notes in the Wall Street Journal, we're already as much as 19 or even 26 years into "no global warming" "depending on whether you choose the surface temperature record or one of two satellite records of the lower atmosphere."
Global Temperature Update — No global warming for 17 years 11 months. The Great Pause has now persisted for 17 years 11 months. Indeed, to three decimal places on a per-decade basis, there has been no global warming for 18 full years. Professor Ross McKitrick, however, has upped the ante with a new statistical paper to say there has been no global warming for 19 years. Whichever value one adopts, it is becoming harder and harder to maintain that we face a "climate crisis" caused by our past and present sins of emission.
Pressing the climate hoax. A 127-page draft by the U.N. climate panel insists that humans must drastically reduce their production of carbon dioxide because it's heating the globe. Urgent action is needed lest "abrupt and irreversible change" result. The European Union just banned the most effective vacuum cleaners and has announced it is about to ban powerful hair dryers, lawn mowers, smartphones and kettles, all suspects in the continuing plot against the planet. They're all in a hurry, but the planet isn't.
Global warming slowdown 'could last another decade'. Scientists have struggled to explain the so-called pause that began in 1999, despite ever increasing levels of CO2 in the atmosphere. The latest theory says that a naturally occurring 30-year cycle in the Atlantic Ocean is behind the slowdown. The researchers says this slow-moving current could continue to divert heat into the deep seas for another decade.
Global Warming has Temporarily 'Paused' due to Climate Fluctuations and Weaker Solar Irradiance. Global warming has been temporarily 'paused' according to a group of scientists, who attribute this interlude to climate fluctuations and a more restrained sun. Researchers at ETH Zurich have explained the two reasons behind the warming hiatus in their study published in the latest issue of the journal Nature Geoscience. The first is that global temperatures, which rose significantly in the 1990s, have only risen very slightly since 1998 — which has been used by sceptics to question climate change and the models used to measure it. However, climate fluctuations such as El Niওo and its counter-phenomenon La Niওa have been shown to have caused the high in 1998 and following cooler years respectively. Climate models cannot predict when exactly these fluctuations will happen.
[Emphasis added.]
Summer 2014 is the coldest in a decade. The summer of 2014 has been one of the mildest on the books — and could be the first summer in a decade without a heatwave. [...] Only four days have hit 90 degrees this summer, three in July and one in August, with the hottest temperature on the books clocking in at 91. The last time [New York City] went without a heat wave — classified as three consecutive days of temperatures higher than 90 degrees — was in 2004.
NASA says that global warming could be 'on hiatus'. The nation's space agency his noticed an inconvenient cooling on the planet lately. [...] There's even a new term for the phenomenon. Mr. Loeb's presentation offered the most recent research related to a slowdown in surface warming referred to as the "global warming hiatus," the federal agency says.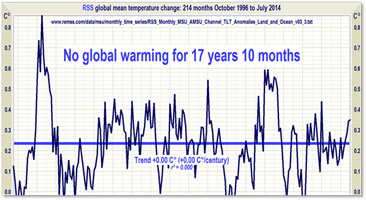 No Global Warming For Nearly 18 Years. Remarkably, the El Niño warming of this year has not yet shortened the Great Pause, which, like l17y-10mast month, stands at 17 years 10 months with no global warming at all. Taking the least-squares linear-regression trend on Remote Sensing Systems' satellite-based monthly global mean lower-troposphere temperature dataset, there has been no global warming — none at all — for 214 months. This is the longest continuous period without any warming in the global instrumental temperature record since the satellites first watched in 1979. It has endured for about half the satellite temperature record. Yet the Great Pause coincides with a continuing, rapid increase in atmospheric CO2 concentration.

United States Undergoing Decade-Long Cooling. Responding to widespread criticism that its temperature station readings were corrupted by poor siting and suspect adjustments, NOAA established a network of 114 pristinely sited temperature stations spread out fairly uniformly throughout the United States. Because the network, known as the U.S. Climate Reference Network (USCRN), is so uniformly and pristinely situated, the temperature data require no adjustments to provide an accurate nationwide temperature record. USCRN began compiling temperature data in January 2005. Now, nearly a decade later, NOAA has finally made the USCRN temperature readings available. According to the USCRN temperature readings, U.S. temperatures are not rising at all, at least not since the network became operational 10 years ago.
California Isn't Warming, It's Probably Getting Colder. Based on this NOAA-NWS data, California has most certainly not been warming over the past three decades. On the contrary, it appears the state has been cooling — in complete contrast to the NOAA-NCDC database and its magical algorithms for calculating statewide and regional temperatures. There is a scientific Pandora's Box to be opened on the raw climate datasets, and if California is any indication, the results will not be favorable for the alarmists.
Record Shows Decade of Cooling in U.S., Despite Warming Predictions. Climate change or not, the United States is still a pretty cool country — and getting cooler, according to temperature data of the National Ocean and Atmospheric Administration (NOAA). The readings show temperatures dropping throughout the United States over the past decade. Nearly 10 years ago, the agency, in response to criticism that its temperature station readings had been skewed higher by poor sitings and questionable adjustments, set up temperature stations in pristine locations throughout the United States. Those stations, known collectively as the U.S. Climate Reference Network, have, a decade later, made the temperature readings available. The records show the United States has cooled by 0.4 degrees Celsius since the networks began operating in January 2005.
Who benefits from overblown climate change forecasts? [Scroll down] In fact, in the last, fifth assessment report — they've produced five of them since 1990, the last one last year — they said, in the pre-final draft, that warming would happen in the next 20 or 30 years at a certain rate. In the final draft, [...] they drastically reduced that forecast. But it's still too high because there's been no global warming at all on any measure for 13 years. There's been no global warming statistically distinguishable from zero for up to 25 years, depending on which record you use. Not one of the computer models that they used to predict the climate predicted that. Every single one of them was incorrect.
Ooops! Data from government agency shows US cooling trend. That well-known bastion of right wing nuttery — the National Oceanic and Atmospheric Administration — has released data showing that US temps have not risen in the last decade and have, in fact, dropped.
United States Experiencing Decade-Long Cooling. The NOAA temperature data are driving a stake through the heart of alarmists claiming accelerating global warming. Responding to widespread criticism that its temperature station readings were corrupted by poor citing issues and suspect adjustments, NOAA established a network of 114 pristinely cited temperature stations spread out fairly uniformly throughout the United States. Because the network, known as the U.S. Climate Reference Network (USCRN), is so uniformly and pristinely situated, the temperature data require no adjustments to provide an accurate nationwide temperature record. USCRN began compiling temperature data in January 2005. Now, nearly a decade later, NOAA has finally made the USCRN temperature readings available.
Global Warming Study Ridiculed After Temperatures Drop. A UK Met Office study that predicted temperatures would rise by up to half a degree centigrade over the past 10 years faces ridicule after it was revealed that temperatures actually dropped over that period. The peer-reviewed study by Doug M. Smith et al, entitled "Improved Surface Temperature Prediction for the Coming Decade from a Global Climate Model" — and which featured in the journal Science — also incorrectly predicted that several years over the past decade would see record heat.
This article describes a reverse hockey-stick graph:
A Cold Dawn Coming. There was a time in climate science when tree rings were used for good instead of evil, a time of innocent enquiry, a time that ended with the noble-cause corruption. From that time, one of the best predictions of climate ever made (weighted for distance and accuracy) was by two Californian researchers, Leona Libby and Louis Pandolfi. In 1979, they used tree ring data from redwoods in Kings Canyon to make a remarkably accurate forecast.
There has been no Global Warming for 17 years, 9 months. According to the latest RSS satellite data, the trend line for global temperatures has remained flat for the last 17 years and 9 months.

Climate scientists struggle to explain warming slowdown. Scientists are struggling to explain a slowdown in climate change that has exposed gaps in their understanding and defies a rise in global greenhouse gas emissions.
It's Memorial Day weekend and there's still ice on Lake Superior. Remember how bad the winter was? The polar vortex, inches upon inches of snow. While the season has passed for most of us and Memorial Day weekend is underway, there are reminders in Michigan's Upper Peninsula of the historically cold and snowy winter. There's still ice on Lake Superior.
Global warming news: Chicago beaches open with record low lake temperatures, hypothermia danger. The planet has a fever, Al Gore says. Tell that to someone foolish enough to swim in one of the twenty-four Lake Michigan beaches in Chicago, which opened today [5/23/2014].
2014 Is U.S.'s Coldest Year Ever So Far. This year has been the coldest year in history through May 6, according to the network of nationwide thermometers monitored by the U.S. Historical Climatology Network. Summer officially arrives later this month, and it better be a warm one if the United States is to avoid setting a new record for its coldest year ever. Southeastern Florida and the U.S. Southwest are the only regions with above-average temperatures so far this year. The Upper Midwest and the Great Lakes region are experiencing the coldest departures from average temperatures.
Pentagon Spending Tax Money Preparing for "Climate Change". The phrase "fighting climate change" has taken on new meaning, with the Department of Defense factoring consensus-based forecasts of a warmer planet into its military preparedness models. [...] The problem, many critics would say, is that the DoD's "mission reality" is based on the outcome of a "political debate" — not on sound science. Climate models that had predicted rising temperatures for the past couple of decades have proved faulty, as there has been no warming now for almost 18 years.
Metro Detroit breaks seasonal snowfall record. The average temperature from November to March, 25.8 degrees, was the fourth coldest stretch since the weather service began keeping records in 1874. It also had the third most days, 79, that failed to rise above freezing.
We're Going to Wish We Still had that Luxury Global Warming 'Problem'!. Of all the many absurdities of the great climate change non-crisis which has been pointlessly obsessing our planet this last three or four decades, surely the most egregious is the way it has ignored one basic fact: global warming is good. No really, it is. As a few bold heretics — such as Australian geologist Ian Plimer in his book Heaven And Earth — have long been trying to tell anyone prepared to listen, the human species is designed for warmth not cold. Ice ages are something we should naturally fear; warming periods are something which for which we should yearn.
Are global warming alarmists just a conglomerate of eco radicals and third world grifters? [Scroll down] The UN was the natural forum for this push and the IPCC, headed by an railway engineer, the natural "scientific" instrument. We know how that story has turned out to this point. No global warming registered for 17 years and 6 months despite all the dire, but apparently scientifically groundless, predictions.
They call it "extreme weather" to avoid calling it extremely COLD weather.
Beef prices hit all-time high in U.S.. Extreme weather has thinned the nation's beef cattle herds to levels last seen in 1951, when there were about half as many mouths to feed in America. "We've seen strong prices before but nothing this extreme," said Dennis Smith, a commodities broker for Archer Financial Services in Chicago. "This is really new territory."
Arctic blast coming to Eastern US: coldest opening to calendar spring in at least 50 years? Weather forecast models such as the ECMWF and NCEP, both of which have had good track records this year in identifying polar vortex outbreaks in advance, are now forecasting a massive cold blast for the beginning of spring.
Great Lakes 91 Percent Frozen, Near All-Time Record. The Great Lakes are 91 percent frozen just two weeks before spring officially begins, marking the second highest ice extent in recorded history. In an average year, the Great Lakes' maximum ice extent is just 50 percent. The all-time record ice extent is 95 percent, set in 1979. It has been 18 years since the Great Lakes were remotely close to their current ice extent.
Niagara Falls comes to a halt. For the second time in what has been a frigid winter in the Northeastern United States, Niagara falls has come to an icy halt as the six million cubic feet of water that typically flow over the falls every minute has frozen over.
Chicago deep freeze: cold, colder, coldest. Chicago broke a history record, although people there aren't rounding a victory lap. Winter temperatures in the city reached zero degrees F. or below the most number of days since recordkeeping began.
Great Lakes tops 90% ice cover, zeroes in on record. The Great Lakes are now more than 90.5% ice-covered — not just a Great Lake; all of them. That's the most ice cover in 34 years. In 1979, there was 94.7% ice cover, the largest ever recorded by scientists. "This year we will pass that, because in the next few days it will be another 5%, easy," said Jia Wang, a research ice climatologist for the Great Lakes Environmental Research Laboratory in Ann Arbor.
The Official Forecast of the U.S. Government Never Saw This Winter Coming. Surprised by how tough this winter has been? You're in good company: Last fall the Climate Prediction Center of the National Oceanic and Atmospheric Administration predicted that temperatures would be above normal from November through January across much of the Lower 48 states. [...] "Not one of our better forecasts," admits Mike Halpert, the Climate Prediction Center's acting director. The center grades itself on what it calls the Heidke skill score, which ranges from 100 (perfection) to -50 (monkeys throwing darts would have done better). October's forecast for the three-month period of November through January came in at -22.
Winters have been getting cooler past 20 years, with more snowfall. Despite Obama administration claims that this year's harsh winter is due to global warming, winters have have been getting colder in the past two decades, according to government climate data. The National Oceanic and Atmospheric Administration's recently released climate data shows that U.S. winters have cooled over the past 20 years at a rate of minus 2.5 degrees Fahrenheit per century.
'Big Chill' Expected to Stay Until 2040. As the largest snowfall of the winter hits the eastern U.S., politicians and interest groups will claim the latest weather is proof of their position in the climate debate, but a prominent climatologist says this is nothing more than the latest development in a cooling cycle that started over a decade ago and could continue into 2040. Climate-change activists regularly assert that volatile weather events are on the rise due to human activity that impacts our climate, while skeptics point to the snow and cold snaps as further proof the earth is not running a fever.
Obama's warmed-over fudge on global warming. Environmentalists were forced several years ago to substitute the term "climate change" for "global warming" because the planet stubbornly refuses to behave as the climate models predicted it would. While the president and his allies fudged the facts on Capitol Hill the other day, a blanket of ice was steadily forming across the Potomac River a mile away. This winter has not been kind to the "warmists."
The end of the snow job. Life is particularly tough on the Great Lakes. Lake Superior is 92 percent frozen over, breaking the February record set two decades ago, and it's getting worse, unless you're an ice fisherman, in which case it's getting better. [...] Life is even tougher for the climate scientists who are trying to keep the global-warming scam alive. The latest villains for the global-warming slowdown, which we were earlier told would never happen, are the trade winds. [...] "The debate is settled," the president told Congress in his State of the Union speech. "Climate change is a fact." Well, of course. The climate is always changing, but never the liberal appetite for spending money in futile attempts to change the unchangeable.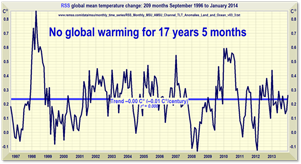 Satellites show no global warming for 17 years 5 months. The monthly satellite lower-troposphere temperature anomaly from Remote Sensing Systems, Inc., is now available. Taking the least-squares linear-regression trend on this dataset (the bright blue horizontal line through the dark blue data), there has now been no global warming — at all — for 17 years 5 months. [...] Would readers like to make a projection of how many mainstream media outlets will report this surely not uninteresting fact?

Great Lakes ice cover spreading rapidly. Ice continued to build this past week on the Great Lakes due to the cold air and temperatures staying below freezing, and Lake Superior's new record shows it. The lake is 92 percent frozen, toppling a 20-year-old record of 91 percent set on Feb. 5, 1994. That statistic helped total Great Lakes ice cover soar, and we can expect to see more form in coming days.
Why Hasn't The Earth Warmed In Nearly 15 Years? There is no statistically significant warming trend since November of 1996 in monthly surface temperature records compiled at the University of East Anglia. Do we now understand why there's been no change in fourteen and a half years?
South still crippled by big chill after snowstorm brings Atlanta to a standstill. Hundreds of Atlanta motorists have yet to even pick up their abandoned cars from the citywide weather-related paralysis earlier this week. Traffic snarled for miles along highways as the nation watched a few inches of snow put the eight-largest city into suspended animation.
Midwest misery: Snow piles up to record levels. A series of winter storms in the Midwest has snow — and removal costs — piling up way above normal in many cities. Chicago, Detroit and Cincinnati already have seen more snow than they typically get for the entire season, and there are two months left in winter. And its [sic] not only been the snow — much of the Midwest is seeing bitterly cold temperatures, including cities such as Indianapolis, which is enduring its coldest winter since 1979, according to the National Weather Service.
NASA data shows that the 'pause' in global warming continues. The so-called "pause" of global warming continued through 2013, according to NASA, as there was no statistically significant rise in global temperatures last year. "The trends over the last 10 to 15 years compared to the trends before do appear to be lower than they were," Gavin Schmidt, climatologist with NASA's Goddard Institute for Space Studies, told reporters.
Do we face a disastrous century due to global cooling? Global warming alarmists have been claiming for decade that increases in carbon dioxide emissions associated with human activity will produce disastrous climate events. Certainly if carbon dioxide emissions were the only factor affecting climate, increases in those emissions would indeed produce global warming. Inconveniently for this theory, world temperatures have not increased in the last 15 years.
Is a mini ice age on the way? The Sun's activity is at its lowest for 100 years, scientists have warned. They say the conditions are eerily similar to those before the Maunder Minimum, a time in 1645 when a mini ice age hit, Freezing London's River Thames. Researcher believe the solar lull could cause major changes, and say there is a 20% chance it could lead to 'major changes' in temperatures.
Another year of global cooling. Global warming is nowhere to be found. The mean global temperature has not risen in 17 years and has been slowly falling for approximately the past 10 years. In 2013, there were more record-low temperatures than record-high temperatures in the United States. At the end of the first week in January, a brutal spell of cold weather settled over most of the country. Multiple cold-temperature records were shattered across the country. Some sites experienced frigid conditions not seen since the 19th century.
Great Lakes froze earlier this year than any year since 1930s. So much for all that melting ice. This year we've got more ice faster than we've had it in any time in recent memory. I know, I know. Global warming isn't weather ... unless it fits the narrative. This definitely does not fit the narrative.
Climate Alarmists Sink to Comedic Low Explaining Historic Cold. Confronted with the embarrassment of historic cold gripping the nation just as the Obama administration launches a new offensive on the mythical global warming crisis, global warming activists and their media allies just invented their most knee-slapping assertion yet; that global warming causes winter cold outbreaks. Global warming activists, after giving us about 48 hours of silence after the cold temperatures hit while they scrambled to come up with an explanation, now say they have always predicted that global warming would cause more frequent and severe winter cold spells.
Is global warming to blame for polar vortex? Global warming may be contributing to the "polar vortex" causing frigid temperatures across most of the nation on Monday [1/6/2014], according to some climate change researchers. While it seems counter-intuitive, the research argues that plunging temperatures could come from changes in the jet stream caused by climate change.
The Editor says...
If that were true, there would have been a proportionally intense heat wave in the southern hemisphere at the same time — and there was no heat wave. So where is all the "global warmth" going? "Polar vortex" is just another catch phrase designed to fool (and alarm) the poorly educated masses a little longer.
What Happened to Global Warming? Midwest wind-chill temperatures could hit -70° tonight, as meteorologists predict the lowest readings in decades. Meanwhile, in the antarctic, pinned near glaciers, a second ice breaker must be freed by the US Coast Guard. This, after the first ice-breaker became trapped while attempting to rescue a research ship cruising to the South Pole to prove Global Warming! The marooned research ship only served to highlight the fact that the South Pole ice shelf has never been thicker.
Executive Order: 'Excessively High Temperatures' 'Already' Harming Public Health. "Excessively high temperatures" are "already" harming public health nationwide, Pres. Obama declared on Nov. 1, 2013, two months before today's assault by record low temperatures. In his executive order on climate change, Obama warned that too much rain — and not enough rain — also dictated that executive action against climate fluctuations[.]
Despite Record Cold, Obama To Press Forward With Executive Action On Global Warming. While climate alarmists are twisting logic into knots trying to blame the current deep freeze on global warming, President Obama is pressing ahead with his plans to use executive action to fight it.
In midst of The Big Freeze, Obama to exert presidential powers on 'global warming'. Seeking to build his legacy on a core issue for many in the Democratic Party, the president and his deputies in the Environmental Protection Agency and elsewhere will take several key actions over the next 12 months as part of the federal government's larger effort to combat climate change, specialists say. Mr. Obama has shown few reservations about using executive powers on climate and environmental issues. In the final few months of 2013, he took executive action directing the government to prepare itself for "the impacts of climate change" and instructed all federal departments and agencies to dramatically increase energy efficiency and reduce fuel consumption at all government facilities.
Antarctic ice shelf melt 'lowest EVER recorded, global warming is NOT eroding it'. Scientists at the British Antarctic Survey say that the melting of the Pine Island Glacier ice shelf in Antarctica has suddenly slowed right down in the last few years, confirming earlier research which suggested that the shelf's melt does not result from human-driven global warming. The Pine Island Glacier in West Antarctica and its associated sea ice shelf is closely watched: this is because unlike most of the sea ice around the austral continent, its melt rate has seemed to be accelerating quickly since scientists first began seriously studying it in the 1990s.
The Global Warming Tipping Point is Near. A group of German scientists predicts dramatic global cooling over the next 90 years toward a new "little ice age." Of course, even many "low information" folks have an awareness of the record increase in Arctic sea ice, as well as the current highly-publicized predicament of the cadre of wealthy global warmists stuck in record-high sea ice while on a cruise to the Antarctic to prove the absence of sea ice. Now the UN's Intergovernmental Panel on Climate Change (IPCC) has quietly downgraded their prediction for global warming for the next 30 years in the final draft of their landmark "Fifth Assessment Report."
Barack Obama's Presidency Is A Complete Failure By His Own, Self-Imposed Standards. [Scroll down] As for the dishonest global warming fantasy, relatively soon the period of no global warming, which started 17 years ago, will be longer then the period of actual global warming, which was a natural cycle that lasted only 20 years, from the late 1970s to the late 1980s. That was preceded by about 30 years of global temperature decline, or global cooling.
NASA Satellite Data Contradict 'Warmest November' Claims. Global warming activists claim this November was the warmest on record, yet NASA and NOAA satellite data show temperatures were only modestly warmer than average. The discrepancy highlights global warming activists' desire to have not only their own opinions, but their own facts as well. NASA satellite instruments report November 2013 was merely the ninth warmest since 1979, when NASA satellites first began uniformly measuring Earth's atmospheric temperatures. Microwave sounders aboard NOAA satellites report November 2013 was merely the 16th warmest since 1979.
Warming Grinches See A New White Christmas Record. Those humming the words to "White Christmas" got their wish big-time as snow covered more than half the lower 48 states as of mid-December, putting snowless winters on the pile of failed climate predictions.
Our enemy is not global warming. In Britain, people are dying of the cold. Fanciful predictions of all the deaths that will result from climate change, decades into the future, are regularly thrown into public debate. Less attention has been given to a real statistic from the here and now, released by the Office of National Statistics this week, which shows the effects of one of the policies designed to tackle climate change: high energy prices. It emerged this week that there were 31,000 'excess' deaths in England and Wales last winter, almost a third more than the previous year. Almost all were, in effect, British pensioners who died of the cold.
It's Time to Take a Look at the Global Warming Spending Racket. International media outlets deserve credit for reporting accurately on the redistribution schemes that flowed out from the United Nations Framework Convention on Climate Change. But they should follow up by asking some hard questions about scientific assumptions that have not materialized. Since the planet appears to be getting colder rather than warmer, it would seem that public policy should be reshaped to reflect challenges that have gone unaddressed at the U.N. Part of doing that involves taking a harder look at the massive amounts of money that are being spent trying to fight a problem that increasingly appears not to exist at all.
Is a Big Chill on the Way? The Northern states have been in a deep freeze for a while now. The Minneapolis Star Tribune reports that northern Minnesota hasn't had a six-day stretch colder than the one the state has just suffered through since the Nixon administration, 1972. From December 6 through 11, the temperature in Duluth averaged 6 degrees.
Study shows it was warmer in Roman times than today. Scientists may have figured out why Romans wore togas and the global warming theorists are not going to be pleased. A new study by Swiss scientists finds the earth was warmer during Roman and Medieval times than it is today, which indicates that greenhouse gases may not be the driving force behind the modern global warming trend.
Antarctica recently experienced the coldest day in recorded history. Just how cold is cold? According to new NASA satellite data, the region hit a bone-chilling -135.7 degrees Fahrenheit (-93.2 degrees Celsius) back in August 2010, shattering the previous world record set at the Russian research station in Vostok, Antarctica, on July 21, 1983 by seven degrees. Then in July of this year, temperatures again nearly dipped to those levels at -135.3 degrees. [...] Indeed, even taking a breath in that temperature range could result in debilitating pain.
The Climate Change Climate Keeps Changing, but the Carbon Tax Is Eternal. There has been no temperature trend over the last 15 or so years despite increasing atmospheric concentrations of carbon dioxide and other greenhouse gases (GHG). This actual record has belied the predictions of the models, yielding some uneasiness among the proponents of the conventional view. More generally, the earth has been emerging from the Little Ice Age since roughly 1850. Accordingly, there has been an upward long-term temperature trend: temperatures increased roughly from the middle of the 19th century through the eruption of Krakatoa in 1883, and then from about 1910 through about 1940. They were roughly constant through about 1980, increased until 1998 (a year with a strong El Niño), and have exhibited no trend since then.
A shameful story of lives lost early in modern Britain. Imagine if 1,500 people had died during the summer from the heat. [...] The reality is that the climate is indeed killing us. Last year it killed not 1,500 people, not even 15,000 people, but more than double that number: 31,100 people died as a result of our climate. But it's not the heat that killed them. It's the cold.
Long, cold winter for 3 million who can't pay their energy bills. Three million elderly people fear they will not be able to stay warm in their own homes this winter, following the recent steep increases in the cost of heating, according to research published today. The plight of many older householders emerged as the Government faced renewed calls to offer immediate help to lower-income families struggling to pay energy bills. Four of the "Big Six" energy companies have raised their prices before the winter surge in demand, with the average combined electricity and gas bill now standing at £1,267 per year.
The Editor says...
The British are paying more for electricity in their cold and harsh winters, because their government is shutting down coal-fired power plants due to an irrational fear of global warming. That's what is known as irony!
"Stadium Wave" Phenomenon Defeats Climate-changers' Claims. The climate-changers have been scrambling lately to explain away the fact that global temperatures haven't changed since 1998.
The 'urgency' of combating 'global warming'. Few challenges facing America and the world are less urgent than combating the non-problem of "global warming". On all measures, there has been no increase in global mean surface temperatures since 1995; and, according to the University of Alabama at Huntsville, near-surface temperatures in 2008 will be lower than in 1980, 28 years ago, the first complete year of satellite observations. On all measures, global temperatures have been falling for seven full years since late 2001.
Global warming 'pause' may last for 20 more years. The 17-year pause in global warming is likely to last into the 2030s and the Arctic sea ice has already started to recover, according to new research. A paper in the peer-reviewed journal Climate Dynamics — by Professor Judith Curry of the Georgia Institute of Technology and Dr Marcia Wyatt — amounts to a stunning challenge to climate science orthodoxy. Not only does it explain the unexpected pause, it suggests that the scientific majority — whose views are represented by the UN Intergovernmental Panel on Climate Change (IPCC) — have underestimated the role of natural cycles and exaggerated that of greenhouse gases.
Global Warming Alarmists are Overrun by the Facts. [Scroll down] Clearly the White House missed the news — isn't that where Obama has learned about various scandals that have suffused his administration? — that there has been no warming since 1997. What's more, it's also missed the news about a peer-reviewed paper that recently appeared in the journal Climate Dynamics. According to the science, the pause in warming that began as temperatures leveled off in the late 1990s could extend into the 2030s.
Is 'global cooling' the new scientific consensus? Is there a new scientific consensus forming around global cooling? That's what environmentalist Lawrence Solomon writes in the Financial Post, citing the fact that solar activity is decreasing at the fastest rate as anytime in the last 10,000 years. "Now an increasing number of scientists are swinging back to the thinking of the 1960s and 1970s," Solomon writes. "The global cooling hypothesis may have been right after all, they say. Earth may be entering a new Little Ice Age."
Tens of thousands of cattle killed in Friday's blizzard, ranchers say. Tens of thousands of cattle lie dead across South Dakota on Monday [10/7/2013] following a blizzard that could become one of the most costly in the history of the state's agriculture industry. As state officials spent the day calculating the multi-million dollar impact to the regional economy from Friday's storm, ranchers began digging up hundreds of cattle that are still buried beneath feet of snow.
Early Snow Kills Thousands of Cattle in SD. A record-breaking storm that dumped 4 feet of snow in parts of western South Dakota left ranchers dealing with heavy losses, in some cases perhaps up to half their herds, as they assess how many of their cattle died during the unseasonably early blizzard.
Networks Embrace IPCC Report's Fraudulent Warnings. Temperatures have flat-lined for 15 years, the Arctic and Antarctic are gaining record amounts of ice, most computer models have been wrong, yet the networks are buying into the alarmists' narrative.
Verbatim "Climate" Journalism. On September 27 I was reading my Wall Street Journal as usual when I turned the page to read the following headline: "U.N. Affirms Human Role in Global Warming." There is no human role in global warming and there is no global warming. The Earth has been in a cooling cycle for the past seventeen years.
It was October 4, not December 4.
Record snowfall, blizzard conditions expected. A powerful storm expected to hit western South Dakota early this morning could break a nearly 100-year record. Rapid City may see the earliest major snowstorm in recorded history, according to the National Weather Service in Rapid City. Records date back to 1888.
Climate of Uncertainty. Between 1998 and 2012 the global economy more than doubled in size — to some $71 trillion in GDP from $30 trillion. That's the good news. Over the same period the world pumped more than 100 billion tons of carbon dioxide into the atmosphere. That is supposedly the bad news. Yet global surface temperatures have remained essentially flat. That's the mystery: If emitting CO2 into the atmosphere causes global warming, why hasn't the globe been warming?
IPCC Backpedals on Extreme Weather Claims. Embarrassed by the current decade-and-a-half period without any global warming, those calling for worldwide action to halt climate change have shifted focus to worries about extreme weather events. It makes sense, of course, for alarmists to direct attention away from something that isn't happening — global warming — towards frightening stories about something that could conceivably be occurring. Unfortunately for the alarmists — but fortunately for the rest of us — both independent scientific observations and the Intergovernmental Panel on Climate Change's own latest report (released on Monday) make it clear that a warming of the Earth is not leading to an increase in extreme weather. In fact, the opposite seems to be the case.
17 Year Warming Hiatus Causes Panic Cover Up. IPCC Duplicity Continues. The tragic fact is that global temperature has declined slightly for 17 years while CO2 levels increased. The Intergovernmental Panel on Climate Change (IPCC) hypothesis said that if CO2 increased temperature would increase. The hypothesis is slain. Instead of acknowledging the hypothesis is wrong, as science requires, the defenders advance bizarre explanations none of which bear examination. According to the IPCC what is happening can't happen.
95 per cent of intelligent people know the new IPCC report is utter drivel. The irony is, of course, that the third, fourth and fifth assessment reports were all produced in a period of rising CO2 levels in which there has been no "global warming" whatsoever. You'd imagine that, had the scientific method been more highly valued by the IPCC, this rather glaring flaw in AGW theory might have been afforded more prominence. But this is not the IPCC Assessment Reports' job. As Christopher Booker and others have often noted, the IPCC's reports are essentially political artefacts rather than scientific ones.
World's top climate scientists told to 'cover up' the fact that the Earth's temperature hasn't risen for the last 15 years. Scientists working on the most authoritative study on climate change were urged to cover up the fact that the world's temperature hasn't risen for the last 15 years, it is claimed. A leaked copy of a United Nations report, compiled by hundreds of scientists, shows politicians in Belgium, Germany, Hungary and the United States raised concerns about the final draft. Published next week, it is expected to address the fact that 1998 was the hottest year on record and world temperatures have not yet exceeded it, which scientists have so far struggled to explain.
The Editor asks...
If it's the truth, why does it need to be covered up?
Siberian Arctic Is Not Warming After All. Sebastian Lüning's and Fritz Vahrenholt's Die kalte Sonne site today writes about a new peer-reviewed study that shows that the Arctic is not warming quickly after all. For years alarmist scientists have told us that nowhere is warming happening faster than in the Arctic. Wrong again!
Global warming is just HALF what we said: World's top climate scientists [...]. A leaked copy of the world's most authoritative climate study reveals scientific forecasts of imminent doom were drastically wrong. The Mail on Sunday has obtained the final draft of a report to be published later this month by the UN Intergovernmental Panel on Climate Change (IPCC), the ultimate watchdog whose massive, six-yearly 'assessments' are accepted by environmentalists, politicians and experts as the gospel of climate science. They are cited worldwide to justify swingeing fossil fuel taxes and subsidies for 'renewable' energy.
The Editor says...
The amount of global warming isn't just half of the predicted amount — it's practically zero.
About that whole global warming thing. A leaked report by the U.N. Intergovernmental Panel on Climate Change says that the world is not warming but actually cooling, and will continue to get colder until the middle of the century. You remember the IPCC, right? It's the group whose 2007 report on global warming said that snow would disappear from everywhere but the highest mountains, icebergs would melt, sea levels would rise, deserts would spread, people would die in heat waves and pretty much the earth was going to end if we didn't immediately destroy our carbon-fueled economy with job-killing government regulations.
Where's The Climate Warming? Nowhere To Be Found In Germany. The German Weather Service recently issued a press release claiming that August had been "one of the warmest on record". Yet German data show no warming at all in the last 20 years.
Man Made Climate Change Arguments Don't Survive Scrutiny. As an example, in 2006 NASA predicted sunspot cycle 24, the current cycle we're in now, would be the strongest in 300 years. The reality is that it will be the weakest in 100 years. They could not have been more wrong. Computer models from the 1990s predicted that global average surface temperature would continue to increase after the year 2000. They were wrong. There has been no measured temperature increase since 1998.
Global warming? No, actually we're cooling, claim scientists. There has been a 60 per cent increase in the amount of ocean covered with ice compared to this time last year, the equivalent of almost a million square miles. In a rebound from 2012's record low an unbroken ice sheet more than half the size of Europe already stretches from the Canadian islands to Russia's northern shores, days before the annual re-freeze is even set to begin. The Northwest Passage from the Atlantic to the Pacific has remained blocked by pack-ice all year, forcing some ships to change their routes.
Arctic ice melt IS a problem because Right-wing newspapers smell, explains Guardian climate expert. At the weekend my old mucker David Rose reported in the Mail On Sunday the shocking news that there is 60 per cent more sea ice at the Arctic than there was this time last year. So too did Hayley Dixon in the Telegraph. The implication of both pieces was that perhaps this global warming thing we've been hearing about ad nauseam this last couple of decades isn't quite the deadly threat the 'scientists' have been telling us it was; that indeed, maybe the more pressing worry ought to be global cooling.
Major Danish Daily Warns: "Globe May Be On Path To Little Ice Age..." Another major European media outlet is asking: Where's the global warming?
North West Passage blocked with ice — yachts caught. The Northwest Passage after decades of so-called global warming has a dramatic 60% more Arctic ice this year than at the same time last year. The future dreams of dozens of adventurous sailors are now threatened. A scattering of yachts attempting the legendary Passage are caught by the ice, which has now become blocked at both ends and the transit season may be ending early.
The New York Times' Global Warming Hysteria Ignores 17 Years Of Flat Global Temperatures. The New York Times feverishly reported on August 10 that the U.N.'s Intergovernmental Panel on Climate Change (IPCC) is about to issue another scary climate report. Dismissing the recent 17 years or so of flat global temperatures, the IPCC will assert that: "It is extremely likely that human influence on climate caused more than half of the observed increase in global average surface temperature from 1951 to 2010."
Leaked draft of climate report struggles with drop in warming. Global surface temperatures rose rapidly during the 70s, but have been relatively flat over the past decade and a half, according to data from the U.K.'s weather-watching Met Office. Climate skeptics have spent months debating the weather pattern, some citing it as evidence that global warming itself has decelerated or even stopped.
2012 Data Confirms [the] Earth [is] In [a] Cooling Trend. The National Oceanic and Atmospheric Administration recently released its "State of the Climate in 2012" report, which states that "worldwide, 2012 was among the 10 warmest years on record." But the report "fails to mention [2012] was one of the coolest of the decade, and thus confirms the cooling trend," according to an analysis by climate blogger Pierre Gosselin. "To no one's surprise, the report gives the reader the impression that warming is galloping ahead out of control," writes Gosselin. "But their data shows just the opposite."
Claim: Global cooling, not warming, is Earth's coming threat. "Like most major climate events, the past sea level rise was caused by the Sun and had little or nothing to do with mankind's industrial greenhouse gas emissions," said John Casey, a former White House and NASA advisor and climate author. "Now that the Sun has entered a state of 'solar hibernation' and is cutting back on the energy by which it warms the Earth, a new and potentially dangerous decades-long drop in global temperatures has begun," he warned.
Major cold/snow into Brazil while Antarctic ice nears record falsifies polar amplification idea. It is behavior consistent with what you should expect as outlined in Leon Festinger's 'When Prophecies Fail'. First after the cessation of warming for 16 years and cooling for 10 and the slowing of sea level rises proved to be persistent, they switched to hyping extremes. [...] But the oceans have shown no trend down to 300m in the tropical Pacific which the theory says should be warming most significantly.
Waiting for the Warming. Looking back at what was reported in the late 90s and the early years of this century everyone was expecting the rise in global temperature seen in the 90s to continue at an IPCC sanctioned rate of 0.3 deg C per decade. Only years later in the face of no temperature rise was it mentioned that what might have been meant was an average rate of 0.3 deg C per decade, sometimes it could be less, sometimes more.
Global warming has 'paused' because of natural causes but will continue to rise, scientists claim. Global warming has 'paused' but this is not unexpected and temperatures will still continue to rise, climate scientists have claimed. Heat going into the deep ocean is part of the reason global average surface temperatures have increased at a lower rate in the past 10 to 15 years than in previous decades, they explained. Recent low solar activity and volcanic eruptions, which send particles into the atmosphere that reflect heat, have also contributed to a slowing in temperature rises, while natural climate variations also play a part.
The Editor says...
How do "the experts" know it won't pause again, or even reverse, if they failed to predict this pause?
Senator Barbara Boxer's Own Experts Contradict Obama On Global Warming. Speaking at a Democratic fundraiser less than a month before directing the U.S. Environmental Protection Agency to impose costly new restrictions on carbon dioxide emissions, Obama said, "we also know that the climate is warming faster than anybody anticipated five or 10 years ago." "I don't have much patience for people who deny climate change," Obama added. However, climate scientists including United Nations Intergovernmental Panel on Climate Change (IPCC) lead author Hans von Storch report temperatures have remained essentially flat for the past 10 years, and indeed for the past 15 years.
Cooling Looms As Earth's True Climate Calamity. Although we have been enmeshed in a long debate over global warming and climate change, this controversy has been politically motivated, not a response to actual global warming, as there has been no warming for 16 years. In fact, it is likely we will soon need to take a long, hard look at adjustments in behavior based not on warmth, which, by and large, results in good things, but, rather, on cold, which creates endless problems for both individuals and society.
Global Warming: There's Nothing To Fight Against. The junkyard of failed green energy efforts is stacked high with the carcasses of Solyndra, A123 Systems Inc., Ener1, Abound Solar, Beacon Power, Evergreen Solar, SpectraWatt and AES subsidiary Eastern Energy, to name some of the many defeats. Making the losses sting even more is the fact there has been no reason to hurry the development of green energy. The feared warming predicted by models simply hasn't materialized.
Obama Launches New Global Warming Video as Phony "Consensus" Crumbles. The president seems to be unaware that even top climate alarmists have admitted that there has been no evidence of global warming for at least the past 15 years. [...] The president's energy program, outlined in [a] White House Fact Sheet and detailed in "The President's Climate Action Plan," both released today [6/25/2013], would place onerous new restrictions on coal fired power plants and other fossil fuels and would direct billions more dollars into funding "renewable energy" sources, such as solar and wind.
Is Climate Change Our No. 1 Crisis, Mr. President? Global temperatures have been flat for 16 years — a curious time to unveil a grand, hugely costly, socially disruptive anti-warming program. Now, this inconvenient finding is not dispositive. It doesn't mean there is no global warming. But it is something that the very complex global warming models that Obama naïvely claims represent settled science have trouble explaining. It therefore highlights the president's presumption in dismissing skeptics as flat-earth know-nothings. On the contrary. It's flat-earthers like Obama who refuse to acknowledge the problematic nature of contradictory data.
Two years to a 1740-type event? One of the puzzles of the last 300 years of climate is the temperature drop of 1740. It came out of the blue after a number of warm years in the 1730s.
A cooling consensus. Global warming has slowed. The rate of warming of over the past 15 years has been lower than that of the preceding 20 years. There is no serious doubt that our planet continues to heat, but it has heated less than most climate scientists had predicted.
How data revisionism hypes global warming. [Scroll down] The HadCRUt4 warming rate from 1976-2001 was equivalent to almost 1.8°C/century (compared with warming at just 1.1°C/century from 1979-1996), but from 2002 to the present HadCRUt4 shows cooling at a rate equivalent to almost 0.5°C/century (compared with warming at almost 0.5°C/century from 1997-2012).
To The Horror Of Global Warming Alarmists, Global Cooling Is Here. The increase in global temperatures since the late 19th century just reflects the end of the Little Ice Age. The global temperature trends since then have followed not rising CO2 trends but the ocean temperature cycles of the Pacific Decadal Oscillation (PDO) and the Atlantic Multidecadal Oscillation (AMO). [...] Those ocean temperature cycles, and the continued recovery from the Little Ice Age, are primarily why global temperatures rose from 1915 until 1945, when CO2 emissions were much lower than in recent years.
Global Microwave SST Update for April, 2013: -0.04°C. The anomalies are computed relative to only 2003-2006 because those years were relatively free of El Nino and La Nina activity, which if included would cause temperature anomaly artifacts in other years. Thus, these anomalies cannot be directly compared to, say, the Reynolds anomalies which extend back to the early 1980s. Nevertheless, they should be useful for monitoring signs of recent ocean surface warming, which appears to have stalled since at least the early 2000's.
Global Cooling on Memorial Day. This strange freezing weather is oddly symbolic on this Memorial Day for the situation of liberalism in general right now, which is being exposed as phony and venal across the board from Benghazi to the IRS to the surveillance of the press — an ideology cracking like thin ice on a winter's day. Anthropogenic global warming was a harbinger of all that, a kind of pseudo-scientific, faithed-based belief in something about as proven as the existence of vampires, only you were supposed to alter the world economic system completely for it. Some still want to, of course, but their power seems to be diminishing. It's up to us finish the job.
3 feet of snow in upstate NY on Memorial weekend. A Memorial Day weekend storm has dropped three feet of snow on a New York ski mountain near the Vermont boarder [sic].
New York, Vermont get late May snow storm. The calendar may say it's late May but it looked more like January in New York and Vermont this weekend with up to nearly 3 feet of snow falling.
Who are the real climate deniers? We know, via proxies like ice core samples, fossil remains, marine specimens, temperature-dependent remanence measurements, as well as historical documents, etc., that there were periods in history when the earth was significantly warmer than it is today, though human beings were not pumping CO2 into the atmosphere — CO2 levels during the Ordovician Age 440 million years ago were ten times higher than they are at present and happened to coincide with an ice age; closer to home, during the Medieval Warm Period the Scandinavians farmed Greenland and in the Roman Warm Period olive groves flourished in Germany. We know that the Northwest Passage was open during the early part of the 20th century and that the Norwegian explorer Roald Amundsen, as recounted in his The North West Passage, navigated the strait between 1903 and 1906.
"A Sensitive Matter" — Flat Temperatures Flummox Climate Scientists. [Scroll down] For its part, The Australian observed, "Debate about the reality of a two-decade pause in global warming and what it means has made its way from skeptical fringe to the mainstream." It continued, "But the fact that global surface temperatures have not followed the expected global warming pattern is now widely accepted." Even the Global Warming Policy Foundation acknowledges the emerging evidence. Its spokesman David Whitehouse lamented, "If we have not passed it already, we are on the threshold of global observations becoming incompatible with the consensus theory of climate change."
Ice Fishing in May. 2013 featured the winter that wouldn't end. Here in Minneapolis, the snow has finally melted and leaves are starting to come out on the trees. Farther north, though, the lakes are still largely frozen. This weekend is the opening of Minnesota's fishing season, one of the most important dates on the calendar. But it's hard to go after those walleyes when you're dodging ice on the lake.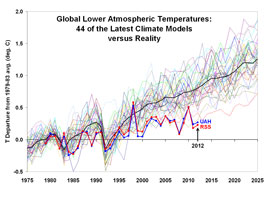 Global Warming Slowdown: The View from Space. Courtesy of John Christy, and based upon data from the KNMI Climate Explorer, [this article includes] a comparison of 44 climate models versus the UAH and RSS satellite observations for global lower tropospheric temperature variations, for the period 1979-2012 from the satellites, and for 1975-2025 for the models. Clearly, there is increasing divergence over the years between the satellite observations (UAH, RSS) and the models.

Scientists hint that global cooling is the new pollution risk. Just in time for the cooler spring that has swept the nation — complete with unseasonal snow in the Rockies region — scientists with the University of Manchester said pollution actually brings on climate cooling, not warming. The logic is that manmade pollutants make clouds brighter, and that impacts how sunlight is allowed to shine — and that brings about cooler temps, scientists say, TG Daily reported.
Climate scientists struggle to explain warming slowdown. Scientists are struggling to explain a slowdown in climate change that has exposed gaps in their understanding and defies a rise in global greenhouse gas emissions.
Is the UK heading for another Arctic winter? Britain's winters are getting colder because of melting Artic ice changing global weather patterns, the Met Office has claimed. Forecasters are concerned that high levels of ice melt in the Arctic in recent years could be behind Britain's increasingly bitter and longer winters.
Historic [May] Snowstorm Hits Plains To Upper Midwest. The list of locations that have received record May snowfall from a storm that brought up to 2 feet of over the central Rockies continues to grow over portions of the Plains and Upper Midwest. The storm will continue to drop accumulating snow through Friday morning [5/3/2013] and reaching even more unlikely locations over the Plains, Midwest and the South before it is all said and done.
May snowstorm dumps nearly a foot on Wyo. and Colo.. Another spring snowstorm — the fourth in as many weeks — dumped around a foot of heavy, wet snow on parts of Wyoming, closing schools and roads but bringing more relief from a prolonged drought.
The Unraveling of Global Warming is Accelerating. Uh oh, somebody in Germany in a position to influence others in the Green movement has started thinking for himself, shrugging off suggestions from a climate scientist that "its all in his head". [...] [Harald] Martenstein also noticed that Britain had endured its coldest winter in 30 years, Florida got covered by icicles, and the cold seemed to be spreading everywhere.
5,000 lives believed to have been lost due to bitter March. The elderly, poor, sick and homeless were among those thought most at risk as Britain shivered through the second-coldest March on record. The grim toll was recorded despite 635,000 cold weather payments — triggered by seven days of below freezing temperatures — being made during the month. There were none in March last year.
Climate scientists struggle to explain warming slowdown. Scientists are struggling to explain a slowdown in climate change that has exposed gaps in their understanding and defies a rise in global greenhouse gas emissions.
Russian Scientists Warn Global Temperatures To Fall 1.5°C By 2050. Strong Doubts About Warming. Stories in Germany about global cooling, hard winters, and ice ages have been popping up faster than dandelions in May lately. Global warming is beginning to look historical. Bild starts by reporting that finally the snow and ice gripping Russia since October are beginning to thaw.
Climythology. [Scroll down] If the atmosphere cools or remains at a constant temperature for long enough in the face of rising CO2 emissions, it will be difficult to maintain the view that man-made global warming is a problem requiring the expenditure of billions of dollars and a resort to wholesale reliance on inefficient and unreliable green energy.
Frigid Spring Silences Global Warming Alarmism. A remarkably frigid spring is putting the freeze on global warming from Russia to the UK and from Alaska to Florida. The Russian International News Agency reports the exceptionally cold spring, even by Russian standards, is delaying the annual bird migration. The UK Guardian reports record cold temperatures killed thousands of newborn lambs throughout the British Isles. The Alaska Dispatch saluted residents with "Welcome to Spring!" while reporting temperatures remaining below zero and threatening longtime records.
Too much green energy is bad for Britain. With the worst snow conditions in the country since 1981, it's worrying, to say the least, that gas supplies are running low. A month ago, The Sunday Telegraph warned in this column of the problems of an energy policy that puts expensive, inefficient green power before coal-fired and nuclear power. [...] Now we are reaping the consequences.
CO2 Keeps Rising but Temperatures Refuse to Follow. New data from the National Oceanic and Atmospheric Administration show atmospheric carbon dioxide levels continue to rise but global temperatures are not following suit. The new data undercut assertions that atmospheric carbon dioxide is causing a global warming crisis. NOAA data show atmospheric carbon dioxide levels rose 2.67 parts per million in 2012 to 395 ppm. The jump was the second-highest since 1959, when scientists began measuring atmospheric carbon dioxide levels.
Old people are freezing to death as hidden taxes make fuel more expensive.
It's the cold, not global warming, that we should be worried about. Each year, an official estimate is made of the "excess winter mortality" — that is, the number of people dying of cold-related illnesses. Last winter was relatively mild, and still 24,000 perished. The indications are that this winter, which has dragged on so long and with such brutality, will claim 30,000 lives, making it one of the biggest killers in the country. And still, no one seems upset.
The Editor says...
Perhaps nobody cares because the British teach "survival of the fittest" in their public schools.
Global Warming: Was It Just A Beautiful Dream After All? I want warmer weather here in the Big City. But I've grown old waiting for the promised global warming. I was 35 when predictions of a looming ice age were supplanted by warmmongering. Now I'm 68, and there's still no sign of warmer weather. It's enough to make one doubt the "settled science" of the government-funded doom-sayers.
The Coming Global Warming Voter Backlash. News is breaking out all over: global warming stopped 20 years ago. [...] While our economy is struggling and our nation in debt, Democrats squandered tens of billions on a climate change hoax. How many voters are unemployed due to climate change polices? Unnecessary regulations are strangling people's jobs and their lives. And then one must wonder: what else were Democrats unbelievably wrong about?
Meet the new climate deniers. The new climate deniers are the liberals who, despite their obsession with climate change, have managed to miss the biggest story in climate science, which is that there hasn't been any global warming for about a decade and a half.
Deaths up by 30,000 in big freeze. Britain's relentless big freeze has sparked fears of the highest winter death rate for five years. The brutal Arctic blast has seen temperatures plummet to -13C (9F) amid what could be the coldest March for almost three decades. Pensioner groups warned the death rate among Britain's elderly has already soared this winter with fears it could hit 30,000 — 6,000 more than last year.
Global Warming? Oops! Never Mind! Almost every place on Earth today has a different temperature from that of any other location. So, is our planet's temperature rising? Do we even know? However, it is officially admitted: Global warming stopped 15-20 years ago. The mainstream media is struggling very hard to explain this away. They admit that the Earth stopped warming 15 to 20 years ago. But just you wait — disaster is coming unless we vote liberals into office. They cannot explain the pause. Yet they "know" global warming will kill us all unless we vote Democrat.
Eco taxes are nonsense if the earth isn't warming. Mysteriously, anything can be produced as evidence of global warming — hot weather, cold weather, wet weather and dry. Climate change has become a religion and any diversion from the orthodox view is pounced on as evidence of heretical wickedness. Those who beg to differ about the global warming creed are held up as wicked rather than merely sceptical. But now new data from the Met Office is at odds with the doomy computer predictions from the United Nations' Intergovernmental Panel on Climate Change. The new data show that the pace of climate change has been wildly overestimated.
Energy gap leaves Britain freezing in the dark. "It's payback time for our insane energy policy," snarled London's Sunday Telegraph newspaper. Hypothermia has killed thousands, losses to the economy have soared into the billions, and the wintry spring has wrought mayhem on the roads, closed businesses and smashed power lines. [...] Why? Because instead of developing its vast natural gas resources to fuel gas-fired generators, Britain has been building wind turbines, which provide almost no electricity during frigid weather.
If only we'd listened to the experts, eh? Sir John Beddington, the government's retiring Chief Scientist has been doing the media rounds today, telling anyone who'll listen how "Climate Change" is still a serious problem about which we should all worry greatly. Has he looked out of the window recently? [...] Actually, though, if you'll look at the facts — something that the Warmists appear increasingly loath to do — what you'll realise is that our winters ARE getting colder. That there has been no statistically significant warming since January 1997.
Climate train wreck. There are now two kinds of people with some understanding of climate science, sceptics and liars. The climate change scam is turning into a train wreck and everyone keeping the score knows it. The most delightful thing about the climate train wreck is that it is happening so slowly. Global temperatures have not risen for about fifteen years which is not quite as predicted. Even worse, people are losing interest as the wild-eyed threats lose their potency.
Green posturing and the great gas fiasco. As the country was hit by snow and freezing weather yesterday, analysts warned that Britain's gas reserves could run out in only 36 hours — leaving us at the mercy of expensive foreign imports. At one stage, real panic gripped the markets when one of the four gas pipes bringing vital supplies from mainland Europe stopped working. The problem was fixed in a few hours, but it was a terrifying insight into just how precarious the UK's position has become.
'It is supposed to be spring', says Met Office as more snow [is] on the way. Parts of Britain could see up to 16 inches of snow before the weekend, as forecasters warn of severe and unusual weather conditions for the time of year.
How are those rooftop solar panels working out?
British gas could run dry in less than two days as bitter weather continues. Households have been forced to turn up their heating as the freezing weather continues, pushing the demand for gas to 20 percent higher than normal in March. Gas stores were at their lowest levels for three years last night, with stocks at just 10 percent full, compared to 49 percent this time last year. The UK could be left relying on expensive imports from Norway through an under-sea pipeline, sparking fears of a huge spike in energy prices, it has been reported.
Snow brings blackouts and travel chaos. Heavy snow and high winds have left tens of thousands of homes without power while dozens of motorists had to be rescued after becoming stranded in snow drifts of up to 15 feet overnight [3/23/2013 - the third day of spring].
New Report: Global Temperature Standstill Is Real. After reviewing the scientific literature the reports concludes that the standstill is an empirical fact and a reality that challenges current climate models. During the time that the Earth's global temperature has remained static the atmospheric composition of carbon dioxide has increased from 370 to 390 ppm. "The standstill is a reality and is not the result of cherry-picking start and end points. Its commencement can be seen clearly in the data, and it continues to this day," said Dr David Whitehouse, the author of the new report.
Heading for ANOTHER top 5 snow year for the Northern Hemisphere. [Scroll down] In a television interview today, I was asked whether global warming could explain this. I replied no, we get snow during cold periods not warm. Global warming would reduce the north south contrast and reduce the strength of storms. Also the warming models and IPCC and NOAA claimed warming would take the rain snow line most often near the major cities of the east and push it inland reducing snow for the cities. Not so.
German Media Reopen Climate Discussion, Concede Warming Has Stopped. If Germany had recorded a record 5 warmer winters in a row, people would be reading and hearing about it for days without end. However, just the opposite has occurred: Germany has now experienced 5 colder than normal winters in a row — "a record" — now made official by the German Weather Service (This winter 0.6°C below 1981-2010 average). Yet, hardly a peep from the media on this.
Over 650 snow records set in USA this week. While pundits spin attempts at linking snowfall in the Northeast USA to AGW, much like they do in the summer during heat waves, we find that Nature is just taunting them with snow as far south as the Mexican border in Arizona. And there is more to come, in the next week, we may see snow into Florida.
How Germany's Climate Scientists Suddenly Changed Their Predictions Of Warm Winters To Cold Snowy Ones. Sebastian Lüning and Klaus-Eckart Puls write the story of how renowned German climate scientists had for years predicted warmer winters with snow becoming increasingly more rare — before they turned on a dime and suddenly claimed global warming would cause colder winters.
Four out of the last five winters have been colder than average. Cold weather usually requires some degree of hibernation. But if you feel like the urge to curl up in your duvet and never leave the house has been getting stronger over the past few winters, well — you're right. Because four out of five of them have been chillier than average, according to the Met Office.
"Climate change" cools off. These are not happy times for the Church of Global Warming, which has been trying to repackage its manufactured hysteria as "climate change" for several years. But according to the New York Times on Thursday [3/7/2013], we've actually come full circle to where we began in the Seventies: global cooling.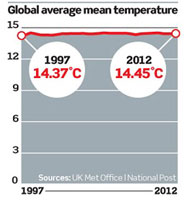 Look at the graph to see the evidence of global warming. Readers of this column do not need to be reminded why it is so important for us to know whether the world is truly in the grip of runaway global warming, or whether this belief has all been based on a colossal misreading of the scientific evidence. [...] Just in Britain alone, paying for our Climate Change Act is officially due to cost us up to £18 billion a year. It is now driving our entire national energy policy, threatening us with ever more crippling bills, power blackouts, and the sight of our countryside being covered in ever more giant wind factories.


Heaviest Snowfall in a Century Hits Moscow. "There hasn't been such a winter in 100 years," Pyotr Biryukov, deputy mayor for residential issues, said Tuesday [2/5/2013] in comments carried by Interfax. "The snow this year has already reached one and a half times the climatic norm," he said.

Climate consensus in free-fall. Whatever the reason for it, GW hasn't been happening for 16 years — and not a single computer model predicted it. Then there is the breaking news that the global sea ice area is above normal — and that in the midst of the Antarctic summer. Not exactly been mainstream news has it?

Temperature Standstill Continues: 2012 just Scrapes into Top Ten. Statistically there has been no change in the average annual temperature of the globe since 1997 meaning that the standstill is now 16 years.

Someone please tell us where's the warming. The Goddard Institute for Space Studies (GISS) has released the global mean temperature figure for 2012. The anomaly is +0.56° Celsius. A look at the last 30 years (a climate-relevant time-period) shows a global temperature stagnation. This has created a commotion in the media. Spiegel has taken notice and reported of "puzzled scientists". Perhaps we can lend them a hand in finding the missing heat. The 5-year moving average has been flat since 2002 — a full decade. There really hasn't been any significant increase since 1997; that's 16 years.

Obama Unveils His Economy-Killing Cap-And-Tax Plan. A nonexistent crisis is a terrible thing to waste, and in justifying his proposal for a cap-and-tax scheme, President Obama claimed in his State Of The Union that "the 12 hottest years on record have all come in the last 15." He was lying. The fact is, according to new data released quietly last October by Britain's Met Office, the world's natural post-Ice Age warming trend stopped about 16 years ago. From the beginning of 1997 until August 2012, there was no discernible rise in aggregate global temperatures.

New England eyes potentially record-setting blizzard. New England braced on Thursday for a possibly record-setting winter storm, with forecasts of up to two feet of snow prompting local officials to urge residents to prepare.

More signs that global warming is just hot air. Global warming is likely to be less extreme than claimed, researchers said yesterday. The most likely temperature rise will be 1.9C (3.4F) compared with the 3.5C predicted by the Intergovernmental Panel on Climate Change. The Norwegian study says earlier predictions were based on rapid warming in the Nineties. But Oslo University's department of geosciences included data since 2000 when temperature rises "levelled off nearly completely".

Britain braced for worst snowstorm in years as Met Office issue rare Red Alert. Britain is braced for the "worst snowstorm in years" to strike tonight bringing up to a foot of snow across the country. The Met Office has issued a nationwide severe weather warning with an almost unheard of red alert for Wales. The entire country faces heavy snowfall and blizzards with up to a foot expected on high ground and several inches elsewhere.

Global warming takes a vacation. Those who dare assert the Earth's temperature isn't on a perilous rise are derided as "deniers." For liberals, the climate debate has ended, and it is an unquestionable article of faith that mankind's carbon-dioxide emanations have set the stage for rising oceans, devastating hurricanes and disasters on a scale never before seen. To say otherwise is unthinkable, and that has created a dilemma. It's not actually getting warmer.

California faces epic cold snap. California was going from cold to colder Friday [1/11/2013] as a chill expected to bring the biggest mercury dips in years descended on much of the state.

Worst Freeze for 20 Years. The biggest freeze in 20 years is set to bring a foot of snow by the start of next week. As the first blizzards hit Cumbria and the North-west yesterday [1/11/2013], the Met Office issued severe weather warnings across much of the UK for the next three days. Forecasters said parts of the North-east and Scotland could be knee-deep in snow by Monday.

The crazy climate change obsession that's made the Met Office a menace. From its infamous 'barbecue summer' washout of 2009 to the snowbound winter it failed to predict in 2010 and the recent forecast-defying floods, our £200 million-a-year official weather forecaster has become a national joke. But of all its recent embarrassments, none come close to matching the Met Office's latest one. Without fanfare — apparently in the desperate hope no one would notice — it has finally conceded what other scientists have known for ages: there is no evidence that 'global warming' is happening.

Global warming has stalled, admits Met Office. The great global warming debate was blown wide open again yesterday when the Met Office predicted cooler than expected temperatures for the next five years. The Met Office, one of the top cheerleaders for the man-made climate change camp, said global temperatures are likely to be lower than it forecast in December 2011.

Northern Hemisphere Snow Was Greatest on Record in December. Northern Hemisphere December snow extent was the greatest on record, with snow from Canada to Mexico and from Siberia to Iran.

Alaska is headed for an ice age. In the Last Frontier, where temperatures can get as cold as 50 degrees below zero, local residents have experienced the increasing chill and scientists now confirm that the Northwest state is indeed seeing a temperature drop. A new report from the research center at the University of Alaska Fairbanks reveals that the 49th state of the union has cooled by 2.4 degrees Fahrenheit since 2000.

Coldest Week Since 1938 Kills 45 Across Russia. How come we never hear about how many people die from hypothermia? It is one of the biggest killers in the world. Hypothermia kills far more than heat and hurricanes combined. Not to mention what it does to crops, which in turn causes more deaths. And yet we never hear about the dangers of cold weather.

There is a bunch of other stuff the news media won't talk about.

Massive winter storm from Dallas to Maine. How long until global warming is blamed for the first white Christmas in Oklahoma City since 1914?

Down to -50C: Russians freeze to death as strongest-in-decades winter hits. Russia is enduring its harshest winter in over 70 years, with temperatures plunging as low as -50 degrees Celsius. Dozens of people have already died, and almost 150 have been hospitalized. The country has not witnessed such a long cold spell since 1938, meteorologists said, with temperatures 10 to 15 degrees lower than the seasonal norm all over Russia.

Cooling Down the Fears of Climate Change. In short: We can now estimate, based on observations, how sensitive the temperature is to carbon dioxide. We do not need to rely heavily on unproven models. Comparing the trend in global temperature over the past 100-150 years with the change in "radiative forcing" (heating or cooling power) from carbon dioxide, aerosols and other sources, minus ocean heat uptake, can now give a good estimate of climate sensitivity. The conclusion — taking the best observational estimates of the change in decadal-average global temperature between 1871-80 and 2002-11, and of the corresponding changes in forcing and ocean heat uptake — is this: A doubling of CO2 will lead to a warming of 1.6°-1.7°C (2.9°-3.1°F). This is much lower than the IPCC's current best estimate, 3°C (5.4°F).

Chilling climate-change news. The last thing government officials want to hear is that the planet isn't actually warming. Reality puts IPCC in a bind. Despite the draft chart's implicit admission that climate models have exaggerated warming, IPCC has not backed down from the tale that carbon dioxide, a natural byproduct of industrial society, is heating the planet. At the same time, the organization realizes it can no longer hide from the widely known temperature data.

Massive snowstorm blamed for deaths in 5 states. A major snowstorm that was sweeping across the Midwest and beyond, left at least eight people dead, clogged highways and forced hundreds of flight delays and cancellations at airports already bracing for the holiday rush. The storm was blamed for deaths in at least five states, with parts of Iowa and Wisconsin hit with more than a foot of snow.

Fourteen Is the New Fifteen! According to the leaders of the global warming doomsday cult, the average surface temperature of Earth is 14 degrees Celsius (57.2 degrees Fahrenheit), but this is a new value which has quietly replaced the original average of 15 degrees Celsius (59 degrees Fahrenheit). [...] A report in the Schenectady-based Daily Gazette indicates that [Dr. James] Hansen and his colleague Helene Wilson used this value at least as late as 1992. Thus, Hansen consistently used 15 degrees Celsius as the baseline average for several years. James Hansen was not the only person to use this value.

Globull Warming Still Stalled. Warmists are attempting to spin: "We are investigating why the temperature rise at the surface has slowed in recent years, including how ocean heat content changes and the effects of aerosols from atmospheric pollution may have influenced global climate." In other words, they have no idea why Nature has decided to blow up the computer model prognostication.

The Earth is Cooling . There is a far greater land area in the northern hemisphere than the south that is affected by seasons. During the Northern hemisphere summer there is a large uptake of CO2 from plants growing causing a drop in the atmospheric CO2 concentration. Cool periods in 1984 and 1992 were caused by the El Chichon and Pinatubo volcanic eruptions. The temperature spikes in 1998 and 2010 were cause by strong El Ninos, which are unrelated to global warming. Natural climate change is much stronger than any effect from carbon dioxide.

Global warming stopped 16 years ago, reveals Met Office report quietly released. The world stopped getting warmer almost 16 years ago, according to new data released last week. The figures, which have triggered debate among climate scientists, reveal that from the beginning of 1997 until August 2012, there was no discernible rise in aggregate global temperatures.

Update and confirmation of 'Global warming stopped 16 years ago' aka 'the pause'. Last week The Mail on Sunday provoked an international storm by publishing a new official world temperature graph showing there has been no global warming since 1997. [...] The Met Office now confirms on its climate blog that no significant warming has occurred recently: 'We agree with Mr Rose that there has only been a very small amount of warming in the 21st Century.'

No Underlying Global Warming In Recent Years. In the debate about the significance of the observed global annual average temperature standstill — whose duration now stands at the past 16 years — some have argued that it has little climatic significance.

NOAA's '15 year statement' from 2008 puts a kibosh on the current Met Office 'insignificance' claims. Either the models are worth something or they aren't. In this case it seems they aren't.

Throwing Money at Climate Lies. The weather changes rapidly; the temperature can go from a hot day to a cool night. Change is constant and only predictable over very brief time frames. [...] Some climatologists are predicting another ice age and they would be right because the interval between ice ages is about 11,500 years and the Earth is at the end of such an interval. It will arrive very swiftly and hang around for thousands of years.

Global Warming 'Stopped In 1997'. Global warming stopped 15 years ago, it was claimed last night [10/14/2012]. Met Office figures show that the average temperature between 1997 and 2012 did not rise at all and that the previous warming trend has levelled off. But critics say the Met Office put this research onto the Internet without publicity — in contrast to the attention it gave to figures released six months ago which reinforced the case for global warming.

Global warming stopped 16 years ago, reveals Met Office report quietly released. The world stopped getting warmer almost 16 years ago, according to new data released last week. The figures, which have triggered debate among climate scientists, reveal that from the beginning of 1997 until August 2012, there was no discernible rise in aggregate global temperatures. This means that the 'plateau' or 'pause' in global warming has now lasted for about the same time as the previous period when temperatures rose, 1980 to 1996. Before that, temperatures had been stable or declining for about 40 years.

Tree-rings prove climate was warmer in Roman and Medieval times than it is now. Rings in fossilised pine trees have proven that the world was much warmer than previously thought — and the earth has been slowly cooling for 2,000 years. Measurements stretching back to 138 BC prove that the Earth is slowly cooling due to changes in the distance between the Earth and the sun.

Two Millennia of Global Cooling? Notwithstanding the latest hysterical claims from the sadly politicized climate scientologists of the National Oceanic and Atmospheric Administration (NOAA), insisting 2011 was somehow "a year of extreme weather," serious investigators at the Johannes Gutenberg University Mainz have just published a sobering analysis in Nature Climate Change which reconstructs 2000 years of climate within northern Europe. Utilizing tree-ring density measurements from sub-fossil pine trees in northern Scandinavia, the investigators created a sequence dating back to 138 BC. The density measurements are closely correlated with the summer temperatures in a targeted region on the edge of the Nordic taiga, enabling them to create a temperature reconstruction of unprecedented quality.

World's Lakes Show Global Temperature Standstill. My preliminary calculations suggest that there is no statistically significant trend post-1997. Hence an alternate description of their findings is that the world's large bodies of water show the well known standstill of the past decade or so seen in global temperatures.

It's no wonder the world's cooling on climate change. In the eternally moving battlefield of claim and counter-claim in the great climate change debate, even the fervently warmist Professor Phil Jones — of the University of East Anglia's Climatic Research Unit — concedes that there has been no 'statistically significant warming' since 1995. In the simplest, human terms, therefore, no one younger than 14 years old has experienced global warming. So why does our Government go on acting as if it's a major problem?

Sorry Global Warming Alarmists, The Earth Is Cooling. Climate change itself is already in the process of definitively rebutting climate alarmists who think human use of fossil fuels is causing ultimately catastrophic global warming. That is because natural climate cycles have already turned from warming to cooling, global temperatures have already been declining for more than 10 years, and global temperatures will continue to decline for another two decades or more.

Temperature Monitors Report Widescale Global Cooling. Over the past year, anecdotal evidence for a cooling planet has exploded. China has its coldest winter in 100 years. Baghdad sees its first snow in all recorded history. North America has the most snowcover in 50 years, with places like Wisconsin the highest since record-keeping began. Record levels of Antarctic sea ice, record cold in Minnesota, Texas, Florida, Mexico, Australia, Iran, Greece, South Africa, Greenland, Argentina, Chile — the list goes on and on.

Global Warming Melts Away. Wondering where things stand on global warming? Let's go to the science of it. And by "science" I mean physical observations. Nothing complicated. What do thermometers say? What's happening with polar ice caps? And carbon dioxide? [...] In short, both temperature data sets (NASA and Hadley Center) show
1. Minimal global warming over the last 130 to 160 years: about half a degree C per century.
2. No statistically significant global warming in the last 14 to 17 years.
3. Global cooling in the last 9 to 13 years.

World temperatures have risen by just 0.29°C in the last two decades. World temperatures have remained almost stagnant in the last two decades, new figures have revealed. Temperatures across the globe rose by around a third of a degree last year from the average of 14 degrees Celsius recorded between 1961 and 1990.

Astronomers: World may be entering period of global cooling. Officials of the National Astronomical Observatory of Japan and the Riken research foundation said on April 19 that the activity of sunspots appeared to resemble a 70-year period in the 17th century in which London's Thames froze over and cherry blossoms bloomed later than usual in Kyoto. In that era, known as the Maunder Minimum, temperatures are estimated to have been about 2.5 degrees lower than in the second half of the 20th century.

Global warming hoax exposed by record global cold. One of the most dramatic results of the record cold over much of the planet is the reversal of the much-reported melt of the icebergs in the Arctic Ocean. Last autumn the world was alarmed to hear from certain climatologists that the ice in the Arctic had melted to its "lowest levels on record." What was carefully omitted from those scare stories was the fact that those records only date back as far as 1972, and that there is anthropological and geological evidence of much greater melts in the past.

"Coldest May in 100 years", forecasters predict. The winter weather follows a wet start to April, with the threat of floods and storms to come over the next few days.

Alaska's Largest City Breaks Seasonal Snow Record. A spring snowfall has broken the nearly 60-year-old seasonal snow record of Alaska's largest city.

No Warming For 17 Years — Game, Set, Match. Temperatures have been dropping since 2005, and are the coldest now in the last seventeen years. Game over for alarmists, based on their own rules.

Two or three weeks of intensely cold weather is more than a "cold snap".
215 Russians die in cold snap; well over 600 in Europe. Some 215 Russians have died this year in a prolonged period of abnormally cold winter weather, the health ministry said Monday [2/13/2012] as the overall death toll for Europe rose to well over 600. Heavy snow continued to fall on Monday in Romania and Bulgaria, but the cold snap that froze much of Europe for the past two weeks began to ease in the west of the continent.

Is catastrophic global warming a mistake ... just like the Millennium Bug? At a public meeting in British House of Commons, the climate scientist Professor Richard Lindzen of Massachusetts Institute of Technology has made a number of declarations that unsettle the claim that global warming is backed by "settled science". ... He gave us a slide with a series of familiar alarms — melting ice caps, disappearing icebergs, receding glaciers, rising sea levels. It was published by the US Weather Bureau in 1922. And one further element of the consensus: there's been no increase in temperature for 15 years.

Race to save pelicans in frozen sea. Authorities are scrambling to save hundreds of starving and endangered Dalmatian pelicans after the Caspian Sea froze for the first time in years.

The Global Warming Hoax is Now Killing People. By Friday, February 10th, an estimated 500 Europeans had died from the freezing weather gripping the continent. This is the price they and British citizens are paying for embracing the global warming hoax, spending billions for wind power when they should have been building coal-fired and other sources of energy to heat their homes and businesses.

Do the Latest Solar Studies Confirm Upcoming Global Cooling? Relations between the length of a sunspot cycle and the average temperature in the same and the next cycle are calculated for a number of meteorological stations in Norway and in the North Atlantic region. No significant trend is found between the length of a cycle and the average temperature in the same cycle, but a significant negative trend is found between the length of a cycle and the temperature in the next cycle. This provides a tool to predict an average temperature decrease of at least 1.0°C from solar cycle 23 to 24 for the stations and areas analyzed.

Peak Climate? The other day I read with interest that the University of East Anglia — ground zero for the Climategate scandal which rocked the scientific community — has quietly released data showing the Earth's temperature had reached its modern peak fifteen years ago. Since then, the temperatures have remained steady or even dropped slightly. So the question has to be asked: have we now passed peak climate?

Energy policy based on renewables won't protect us from frostbite. Russia's main gas-company, Gazprom, was unable to meet demand last weekend as blizzards swept across Europe, and over three hundred people died.

Heaviest snow ever in Bosnia. In Ukraine, the hardest hit area, temperatures have fallen as low as minus 36°C.

The Coming of the New Ice Age: End of the Global Warming Era? As many other pundits and analysts have pointed out, in the mid-to-late 1970s we endured a massive "climate change scare" that was the exact opposite of the one we're enduring now. Back then, the media and activists trumpeted the arrival of a new ice age, with the specter of ice sheets and glaciers covering half the northern hemisphere, and brutal winters in the remaining ice-free zones. The fact that the media and popular culture and academia have veered from one panic-inducing disaster scenario to another one which completely contradicts the first one is funny enough in its own right. But reading The Weather Conspiracy: The Coming of the New Ice Age opened my eyes to an even more significant aspect of this serial crisis-mongering.

When the Earth refuses to warm. Global warming, which was mostly a scam invented by researchers looking for government grants, is over. The great warming phenomenon, which was supposed to have sent polar bears to vacation in Miami Beach by now, ended in 1997.

Europe freeze kills 89, fears rise over Russian gas. Record-low temperatures in parts of Eastern Europe pushed the death toll from Arctic conditions to at least 89 people on Wednesday [2/1/2012], and have forced Russian gas provider Gazprom to warn over supplies to Europe.

Britain colder than Iceland: new alert as temperatures plunge to -11C. Widespread snow and ice threaten chaos as the "Beast from the East" continues to roar in, bringing the country to a standstill. Forecasters say that gusts from Siberia could bring severe and prolonged frosts with a windchill factor making it feel far colder.

Children just aren't going to know what sun is. There's a great piece by David Rose in the Mail On Sunday nicely summing up what a lot of us here knew already: that the thing we really need to fear right now is not global warming but global cooling. And that, on current evidence, it's global cooling we're going to get.

Temperatures fall to 50 below in Fairbanks; small air carriers cancel flights. Winter continued to show her love of Interior Alaska by bestowing yet another cold snap on its beleaguered residents this weekend. The temperature at Fairbanks International Airport hit 50 below zero Saturday morning [1/28/2012] for the first time since 2006, while a low of 57 below was reported in North Pole.

Forget global warming — it's Cycle 25 we need to worry about. The supposed 'consensus' on man-made global warming is facing an inconvenient challenge after the release of new temperature data showing the planet has not warmed for the past 15 years. The figures suggest that we could even be heading for a mini ice age to rival the 70-year temperature drop that saw frost fairs held on the Thames in the 17th Century.

There's no compelling scientific argument for drastic action to 'decarbonize' the world's economy.
No Need to Panic About Global Warming. [Scroll down] Perhaps the most inconvenient fact is the lack of global warming for well over 10 years now. ... The lack of warming for more than a decade — indeed, the smaller-than-predicted warming over the 22 years since the U.N.'s Intergovernmental Panel on Climate Change (IPCC) began issuing projections — suggests that computer models have greatly exaggerated how much warming additional CO2 can cause.

"Global temperature in 2011 was lower than in 1998."
A really inconvenient truth is Earth not melting after all. Even as climate scientists — and an ever-gullible media — are forced by new data to admit that the Earth is not warming, they take pains to assure us that the Earth is still warming. The Associated Press was typical in its contortions, as in this Jan. 20 statement: "The world last year wasn't quite as warm as it has been for most of the past decade, government scientists said Thursday, but it continues a general trend of rising temperatures." Not as warm, but still a "general trend" of rising temperatures.

Ice storm adds to weather woes in Pacific Northwest. A deadly ice storm swept across the Pacific Northwest on Thursday [1/19/2012], adding to the misery of residents struggling with power outages and treacherous roads since an earlier record snowfall.

100 Beluga whales trapped in Russian Far East. Over 100 Beluga whales are trapped in water between ice floes in the Chukotka region of Russia's Far East, the authorities said, calling on the government to send an ice-breaker to free them. "A group of over 100 Beluga whales are cut off from the sea and are prisoners of ice floes in the Bering Sea," the Chukotka region said in a statement on its website, saying the local governor Roman Kopin had requested an ice-breaker.

Even longtime Alaskans taken off guard by deep freeze. For the second time in three days, Fairbanks set a new low temperature record on Thursday. A temperature of 41 degrees below zero — the first 40 below temperature of the season — was recorded at Fairbanks International Airport at 6:29 a.m., according to the National Weather Service in Fairbanks. That broke the old record of 39 below set in 1969.

Don't Stop Doubting. Granted, the Lower 48 aren't the entire world, only a small slice of it. But it is a large portion of the developed world, a significant contributor of man-made carbon dioxide emissions and full of "heat islands" — big cities — that should be skewing temperature data upward. Yet, that's not what's happening. The 2001-to-2011 trend shows a cooling of 0.87 degrees Fahrenheit compared with the 1911-2010 average. Backing up the starting date to 1996 doesn't help the alarmists' case, either. Temperatures are flat over that period.

NCDC data shows that the contiguous USA has not warmed in the past decade. There's been a lot of buzz and conflicting reports over what the BEST data actually says, especially about the last decade where we have dueling opinions on a "slowing down", "leveling off", "standstill", or "slight rise" (depending on whose pronouncements you read) of global warming.

The Climate Scam Continues. In an attempt to revive climate hype, a chart by a Berkeley scientist claims to show global warming has not slowed. In fact, what it shows is no warming for the last 11 years.

World cooling has set in, warns astrophysicist. "Official data shows the world passed its peak temperatures 10 years ago, but sadly the BBC and 'Global Warming apologists' are now attempting to cover up the facts" said Piers Corbyn, 'climate realist', astrophysicist and long range weather and climate forecaster, 24 April, in response to the BBC's 'Quiet Sun baffling astronomers' report.

Surprise! No warming in the last 11 years. Despite the fact that the world's nations continue to spew CO2 with no significant decline (except perhaps in the Great Recession period of 2008-9), the temperature record is remarkably stable. In fact, it looks similar to the period between 1945 and 1970... If global temperature increases really correlated directly to CO2 emissions, we wouldn't see this at all; we'd see ever-escalating rates of increase in global temperatures, which is exactly what the AGW climate models predicted at the turn of the century. They were proven wrong.

The Make-Believe World of Global Warming. What is perhaps the biggest hoax in history is unraveling before us today. It has been a terrible and destructive fraud on the people. ... This hoax has resulted in bad policies and a tremendous unnecessary expense to the world. Those responsible should receive just punishment and ridicule for their misdeeds. For the last 10 to 15 years, we have not even had global warming — we have been in a period of global cooling, and knowledgeable scientists predict that this cooling will continue for some time. Man-made "greenhouse gasses," and CO2 in particular, have little, if anything, to do with global warming or global cooling.

Britain Faces a Mini 'Ice Age'. Britain is set to suffer a mini ice age that could last for decades and bring with it a series of bitterly cold winters. And it could all begin within weeks as experts said last night that the mercury may soon plunge below the record -20C endured last year.

Ultraviolet light shone on cold winter conundrum. Recent cold winters that brought chaos to the UK and other places in northern Europe may have their roots in the Sun's varying ultraviolet emissions. The latest satellite data shows the UV output is far more changeable than scientists had previously thought.

'Consensus' science, global warming, and Obama's reality-blind EPA. [Scroll down] ["]Scientists studying sunspots for the past two decades have concluded that the magnetic field that triggers their formation has been steadily declining. If the current trend continues, by 2016 the sun's face may become spotless and remain that way for decades — a phenomenon that in the 17th century coincided with a prolonged period of cooling on Earth.["] That "prolonged period of cooling?" That would be the Little Ice Age, during which the Thames River froze over in London and New Yorkers walked from Manhattan to Staten Island — on ice. So then, why is the EPA saddling American businesses with a plethora of new "greenhouse gas" emission regulations aimed at stopping "global warming?"

Arctic Ozone Hole Enlarged by Severe Cold Spell. Atmospheric chemists measuring ozone depletion above the Arctic have found that 2011's hole is the largest ever, due to an unusually long cold spell.

Huge Arctic Ozone Hole Leaves Scientists Gaping. The science journal Nature is making headlines this week with news of the largest hole in the ozone layer over the North Pole in history, rivaling the size of its well known Antarctic cousin. Researchers credit this "unprecedented Arctic ozone loss" to "unusually long-lasting cold conditions" in the stratosphere at a time when their colleagues are in turmoil over melting Arctic sea ice a few miles below, supposedly caused by man-made global warming. Of course, humans are also responsible for the chilly stratosphere, they say.

Massive drifts and late-melting snowpack. While the MSM is all hot under the collar about the Killer heat wave in the mid-East US, not a mention about the massive snow accumulation in the Western USA this year. It's not just a few roads being late to open due to the excessive snow clearance effort, the snowpack is way above average this year.

UK summer the coolest for 18 years. Hopes of a sunny summer to offset the UK's economic misery have been dashed by confirmation that the holiday season has been the country's coolest for 18 years. Chill and damp on a scale not seen since 1993 may also break further doleful records if Met Office forecasts are right in predicting a wetter and colder September than usual.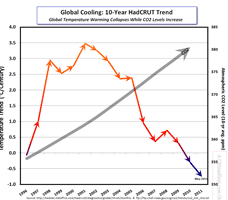 Latest Global Temperature Data Confirms That Unequivocal Global Cooling Is Accelerating. As can be seen, since 2001 the per century trends have conclusively switched from a global warming direction to a global cooling direction. In addition, the early 2011 temperature anomalies confirm what has actually been taking place since 2001. If the May 2011 10-year trend continues, the global temperature by 2100 will have decreased by -0.67°C.

New Iceland current could sway N. Atlantic climate. A newly discovered deep, cold current flowing off Iceland's coast may reveal that the North Atlantic is less sensitive to climate change than previously thought, researchers reported Sunday [8/21/2011].

New Zealand blizzards 'heaviest in 50 years'. Blizzards in New Zealand have grounded flights, closed roads and shut off power in what forecasters are describing as once-in-a-lifetime conditions. The cities of Wellington and Auckland saw their first snow for decades after an Antarctic blast moved north from South Island at the weekend, with the cold snap predicted to continue until Wednesday [8/17/2011].

Ice age threat should freeze EPA global warming regs. Rather than spiraling into a global warming meltdown, we may be heading into the next ice age. The U.S. National Solar Observatory, the U.S. Air Force Research Laboratory and astrophysicists across the planet report that the nearly all-time low sunspot activity may result in a sustained cooling period on Earth. The news has sent global warming theory advocates scrambling to discount and explain away the impact on global temperatures. However, the "news" is not really that new.

Whatever Happened To Global Warming? One of the many great pleasures for those of us on the "Realist" side of the debate over man-made global warming has been watching the contortions of the "Warmists" as they try to explain away a very inconvenient truth: There has been no statistically significant global warming in more than a decade. Yes, you read that right: "global warming" stopped in around 1998. This, as you can imagine, has proved somewhat of an embarrassment for all those various interest groups — grant-hungry scientists, rent-seeking businesses, publicity-grabbing environmental NGOs — whose livelihood depends on the public's continued belief that a) the world is getting hotter and b) it's all our fault.

2011 U.S. Temperature Update: Alarmism Not. The indication is that 2011 will mark the continued return of U.S. national temperatures to conditions much closer to the 20th century mean, down from the unusually elevated temperatures that characterized the 1998-2010 period. If this proves to be the case, it strongly suggests that the unusually warm decade from 1998-2007, was just that — unusual — and does not best represent the expected trend or the climate state of the U.S. for the next several decades to come.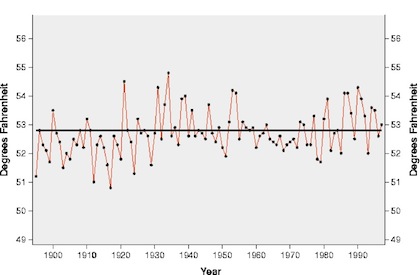 There has been no global warming since 1998. Just as ze war is to the Germans, Chappaquiddick is to the Kennedy family and that Portland masseuse incident to Al Gore, so the recent lack of warming is to the, er, Warmists. They hate it. It's an affront to everything they believe in. [Expletive], if the world isn't warming with the alacrity they'd prefer, how are they going to keep the funding gravy train going, and how are they going to persuade an increasingly sceptical populace that the "science" is "settled", the debate over and the time for action is now?

An inconvenient cooling. Reports of imminent climatic catastrophes are turning out to be rather anticlimactic. That's because rather than heating up to life-threatening levels, new scientific findings indicate it's more likely the Earth will cool in coming years.

Why do we pretend to understand climate change? The winter of 1684 stands out as the most extreme in a spell of cold weather in the late 17th and early 18th centuries now known as the Little Ice Age. The frost, records the diary of Londoner John Evelyn, had started in mid-December and by January 2 the Thames at London Bridge had begun to freeze over. By the 11th there were "streets of booths set up upon the Thames". By February 3 "coaches plied the ice from Westminster to the Temple" and all London had taken to the ice. There were horse races, puppet shows and bull-baiting in a "Bacchanalian carnival on the water".

2 feet of snow, flooding deluge New England, NY. As of 1 p.m., 23.3 inches of snow had fallen at Burlington International Airport — the biggest March snowfall there on record — and it wasn't finished yet.

The Climate is Changing Alright, But It's Getting Cooler. Our government is in the process of imposing strict controls to reduce greenhouse gases in hopes of staving off global warming even though earth's atmosphere is cooling. Monday's Washington Post included an op-ed piece by Fred Hiatt titled On climate change, the GOP is lost in never-never land. It wasn't a particularly good article because it was unfocused and disjointed, but its theme was clear. Hiatt thinks Republicans live in a fantasy world and that climate change denial is just one example of their grand delusion.

The Winter of Al Gore's Discontent. In Utah, Questar Gas set a single-day high mark for natural gas delivery to chilly customers. The weather kept the print edition of the Tulsa World from reaching the public for the first time in a century. More snow fell upon Chicago during February's first two days than normally falls the entire month. A combination of unusually heavy snowfall and the frigid cold stubbornly holding off a melt has unleashed a wave of roof collapses in Massachusetts. Tucson's mercury broke local records by dipping below 20 last week. These are the times that try a man's faith, particularly if that faith is in the Holy Church of Global Warming.

Snow in San Francisco is first in 35 years. Northern California did experience record low temperatures overnight [2/26/2011] in several cities. San Francisco got down to 37 degrees, which tied the previous cold weather record for this day set in 1962, said Chris Stumpf, meteorologist with the National Weather Service. San Jose tied a record low of 33 degrees set way back in 1897, and Oakland got down to 34 degrees, breaking a record set in 1987.

Oklahoma Sees Record cold: -31. Forecasters had predicted lows of minus 11 degrees in northwest Arkansas and minus 10 degrees in parts of Oklahoma. But temperatures instead dipped to minus 18 in Fayetteville and to minus 28 in Bartlesville, Okla. Nowata, Okla., recorded 31 degrees below zero — setting a new record low for the state. The previous lowest temperature in Oklahoma history was 27 below in 1930 and 1905, said Gary McManus, associate state climatologist with the Oklahoma Climatological Survey.

The Winter of Al Gore's Discontent. In Utah, Questar Gas set a single-day high mark for natural gas delivery to chilly customers. The weather kept the print edition of the Tulsa World from reaching the public for the first time in a century. More snow fell upon Chicago during February's first two days than normally falls the entire month. A combination of unusually heavy snowfall and the frigid cold stubbornly holding off a melt has unleashed a wave of roof collapses in Massachusetts. Tucson's mercury broke local records by dipping below 20 last week. These are the times that try a man's faith, particularly if that faith is in the Holy Church of Global Warming.

America Crushed by the Snow and Ice of Global Warming. As the deadly two-day blizzard finally passes, huge swathes of America must now brace for more snow and ice over the next three days as a storm brewing in the South and Texas is projected to move north by Saturday, dumping even more snow on top of already record-setting accumulation totals.

Al Gore Explains 'Snowmageddon'. If the planet is warming, why is a third of America locked in a deep freeze, with record-low temperatures as far south as the Mexican border, where the thermometer in Ciudad Juarez plummeted Wednesday night to a bone-chilling 9-below zero? Self-proclaimed planetary climate czar Al Gore thinks he has answer.

The Editor asks...
Why is Al Gore's opinion of any value?

Blizzard of 2011 'a storm of historic proportions'. In the end, the great Blizzard of 2011 didn't set a record — but still dumped 20.2 inches on the city, shut down schools, closed businesses and even major shopping malls, knocked out power to hundreds of thousands and left hundreds stranded on Lake Shore Drive.

Massive Winter Storm Threatens 100 Million in U.S. With Snow, Ice. By mid-morning [2/1/2011], freezing rain and sleet were already pelting several states from Texas through Ohio. Parts of southwest Missouri already had 6 inches of snow by 8 a.m. About 3,000 were without power in Ohio, 2,600 in Oklahoma. Roads were ice-covered and virtually impassable in several states. Forecasters predicted more than 2 feet of snow in some places, up to an inch of ice plus snow in others. Making matters worse was the expectation of brutal cold and winds gusting to near 60 mph.

Snow job. Wednesday's five-inch layer of snow paralyzed the nation's capital and served as a potent display of nature's fury. A blanket four-times as thick pushed a number of northern cities like New York and Newark into the record books with the heaviest January snowfall ever. The storm's aftermath provides a lesson that should linger long after the chilly nights have passed: Depending upon government to solve our problems inevitably ends in disappointment.

Mid-Atlantic Ocean temperatures peaked in 1998. The water temperature in the subtropical Atlantic Ocean has cooled down since 1998, oceanographers report. Measurements since 1957 had shown a rise of more than 1/4 of a degree up to that point, but between 1998 and 2006 the ocean stopped warming and cooled by 0.15°C in the same area.

Bitter cold closes schools and kills at least two. A bitter cold snap is sweeping the mid-Atlantic and Northeast, with wind chills making it feel as cold as 50 below in some regions and subfreezing temperatures linked to at least two deaths. In New York, the thermometer is dropping to the lowest level in years, and The National Weather service warned city dwellers to beware the risk of frostbite and hypothermia amid arctic chills and brisk winds.

Snow hits Northeast while Midwest freezes. A winter storm in the Northeast was causing hazardous road conditions on Friday [1/21/2011] as the upper Midwest was gripped by a deep freeze. By late Friday morning [1/21/2011], New York City had about four inches of snow, bringing out snow plows and slowing down commuters. The Bronx saw five inches. Parts of New England saw even more.

Record low temperatures, heavy snowfall observed across Japan. A cold air mass caused heavy snowfall across Japan on Sunday [11/16/2011], with temperatures dropping to record lows in some parts of the country, according to the Japan Meteorological Agency.

USA record lows outpace record highs 21 to 1 this week. Since we are often treated to lists of record high temperatures when heat waves occur and they are improperly linked to global warming (like in Russia's heat wave this summer), I thought it only fair that I show the number of record cold and snow records around the USA for the past week that aren't linked to global warming.

December was coldest in 120 years. The past month was Britain's coldest December for 120 years, meteorologists have said. It was also the chilliest individual calendar month since February 1986, according to weather historian Philip Eden, with temperatures dropping as low as -21.1C in the Scottish Highlands.

Kerry, other Dems say hottest year on record a wake-up call on global warming. Sen. John Kerry and other advocates for climate change legislation say data showing that 2010 was tied for the hottest year on record should prompt action. "How many times do we have to be smacked in the face with factual evidence before we address global climate change? Report after report keep confirming it's getting worse every year," Kerry (D-Mass.) said in a statement Wednesday [1/12/2011].

The Editor asks...
How many feet of snowfall would you expect to see in "the hottest year on record"?

Eight Botched Environmental Forecasts. [#1] Within a few years "children just aren't going to know what snow is." Snowfall will be "a very rare and exciting event." Dr. David Viner, senior research scientist at the climatic research unit (CRU) of the University of East Anglia, interviewed by the UK Independent, March 20, 2000. Ten years later, in December 2009, London was hit by the heaviest snowfall seen in 20 years. And just last week, a snowstorm forced Heathrow airport to shut down, stranding thousands of Christmas travelers.

The Abiding Faith Of Warm-ongers. Nothing makes fools of more people than trying to predict the weather. Whether in Los Angeles or London, recent predictions have gone crazily awry. Global warming? How about mini ice age?

How Did All That Happen? When did global warming so easily get away with becoming "climate change"? With record winter low temperatures again this year in Europe, and similar freezing weather in the U.S., we are given a number of contorted exegeses from climatologists and green activists that, in fact, argue terrible cold is proof of global warming. One wonders: if it were now 80 degrees in New York or dry and 70 degrees in London, would we be told such unseasonable heat was not an artifact, but likewise real proof of climate change?

Global Warming Skeptic Predicts Brutal Winter. British meteorologist Piers Corbyn appeared on Fox and Friends to not only celebrate his accurate prediction of a bone-chillingly cold winter, but to also share his disgust with what he believes to be the "failed science" behind global warming.

Time for global warming lobby to admit they could be wrong, says meteorologist. Here's something you'll never hear from the Met Office. Joe Bastardi, a senior meteorologist at AccuWeather, has laid into the the global warming lobby for making absurd claims, especially their assertion that the cold weather is caused by global warming.

Chill Out! Mother Nature has not been helpful to global warming alarmists of late. ... And the icy cold fronts, snow and blizzards just keep coming, stranding motorists and airline travelers throughout the Northern Hemisphere, as these headline stories indicate:
Freezing weather claims 26 lives (Central Europe)
Cold weather expected to return early next week after brief warmup (South Florida)
Freezing Weather: UK Shivers In The Big Chill (Britain)
European freeze haunts Christmas for airlines, shops (Europe)
Atlanta, Georgia: First white Christmas since 1882 (United States)

Why so cold in eastern U.S.? Teeth-chattering, bitterly cold winds have swept across the eastern half of the USA this month, sending December temperatures to near-record cold levels all the way from Minneapolis to Miami.

Severe Weather in Europe Stalls Travelers, Baffles Environmentalists. The record-setting winter weather has ruined Christmas plans for millions of travelers in England and across northern Europe, and promises far-reaching economic consequences. Reuters reports 3,000 European flights were cancelled on Monday [12/20/2010] alone.

Headline 2000: "Snowfalls are now just a thing of the past". On March 20, 2000, The Independent, a British newspaper, reported that "Snowfalls are just a thing of the past." Global warming was simply making the UK too warm for heavy snowfalls. The column quotes Dr. David Viner of the Climatic Research Unit (CRU) of the University of East Anglia — yes, the epicenter of what would become the Climategate scandal — as saying that within a few years snowfall will become "a very rare and exciting event." Indeed, Viner opined, "Children just aren't going to know what snow is."

The green hijack of the Met Office is crippling Britain. By far the biggest story of recent days, of course, has been the astonishing chaos inflicted, to a greater or lesser extent, on all of our lives by the fact that we are not only enjoying what is predicted to be the coldest December since records began in 1659, but also the harshest of three freezing winters in a row.

The Abiding Faith Of Warm-ongers. The sight of confused and angry travelers stuck in airports across Europe because of an arctic freeze that has settled across the continent isn't funny. Sadly, they've been told for more than a decade now that such a thing was an impossibility — that global warming was inevitable, and couldn't be reversed. This is a big problem for those who see human-caused global warming as an irreversible result of the Industrial Revolution's reliance on carbon-based fuels. Based on global warming theory — and according to official weather forecasts made earlier in the year — this winter should be warm and dry. It's anything but. Ice and snow cover vast parts of both Europe and North America, in one of the coldest Decembers in history.

6,000 passengers in seven-hour queue stretching 1.2 miles. Thousands of Eurostar passengers joined giant queues and were forced to wait for up to seven hours today as the Channel Tunnel rail link was thrown into disarray. Police were forced to turn away some passengers after the freezing weather conditions ruined journeys at London's St Pancras station as speed restrictions and cancellations affected the service.

Public Warning: Arctic freeze to last another month. The Big Freeze will hold us in its grip for at least another month, forecasters warn. Arctic conditions are expected to last through the Christmas and New Year bank holidays and beyond. With temperatures expected to fall to -15°C (5°F), the Met Office said this is 'almost certain' to become the coldest December since records began in 1910.

'Worst snow blizzards in a century' set to hit Britain. Britain will be buried by the worst blizzards in almost a century in the coming days — as 12 inches of snow and 60mph-plus winds create 6 ft snowdrifts and cause transport chaos. Forecasters said up to a foot of snow will be dumped across Scotland, northern and western England from tomorrow morning, with several inches in the south.

Sweden in 'coldest December in 100 years'. Power outages, traffic accidents as well as train and flight delays have left Swedes reeling from Thursday's [12/16/2010] snowstorm, which forecasters say isn't over yet.

Coldest December since records began. Swathes of Britain skidded to a halt today as the big freeze returned — grounding flights, closing rail links and leaving traffic at a standstill. And tonight [12/17/2010] the nation was braced for another 10 inches of snow and yet more sub-zero temperatures — with no let-up in the bitterly cold weather for at least a month, forecasters have warned.

NASA Says Earth Is Entering A Cooling Period. Most of the headlines are grabbed by NASA's James Hansen, Head of Goddard Institute for Space Studies in New York. Hansen has been the doomsayer-sayer-in-chief of the climate alarmists along with Al Gore. Hansen has been quoted as saying, "The trains carrying coal to power plants are death trains." But other NASA scientists who use satellites to collect real data, take a different view, and are now saying that "our world should be just beginning to enter a new period of cooling — perhaps the next ice age."

New Shovel-Ready Project. As Arctic air and snow blanket the Midwest and parts of the Mid-Atlantic, cash-strapped cities are creating road and sidewalk clearing rules that penalize residents for failing to do the job or parking in the path of plows. A powerful snowstorm earlier this week stranded motorists, shut highways and collapsed the Metrodome in Minneapolis, where 17 inches of snow fell in less than 24 hours.

Millions of online presents stranded as snow and ice cause huge backlog. A backlog of more than four million parcels is sitting in the warehouses of private courier firms across the country because the snow and ice has made deliveries impossible. The predicted second Big Freeze this week is likely to make the situation even worse for couriers, who are struggling with their most difficult situation in 30 years.

Cold, bitter winter is "proof" of global warming. [Scroll down] The enviros have been doing this for years; indeed, it's why they adopted the term "global climate change" so that any change in climate or even just weather — which obviously this is — can be portrayed as a result of man's nefarious activities in putting greenhouse gases into the air. The report, incidentally, is from the National Wildlife Federation that makes money by promoting global warming in the same way that GM makes money selling trucks. But folks are having trouble buying it.

What happened to the 'warmest year on record'? Last week, halfway through yet another giant, 15,000-delegate UN climate jamboree, being held this time in the tropical splendour of Cancun in Mexico, the Met Office was at it again. Never mind that Britain, just as it was last winter and the winter before, was deep in the grip of a cold snap, which has seen some temperatures plummet to minus 20C, and that here 2010 has been the coolest year since 1996. Globally, it insisted, 2010 was still on course to be the warmest or second warmest year since current records began.

Climate change: the warmist demands heat up as 'green' costs soar. It is probably fair to say that, in the real world, the need to fight runaway global warming was not at the top of most people's agenda last week. The Central England Temperature record, the oldest in the world, showed the fortnight covering the end of November and start of December as the coldest ever since the daily record began in 1772. North of the border, Scotland's First Minister, Alex Salmond, had to call in the Army as much of his country ground to a halt in up to three feet of snow.

Alarmists Try To Have It Both Ways. In 2000, Dr. David Viner, a senior research scientist at the Climatic Research Unit of the University of East Anglia, told the UK Independent that snowfall will become "a very rare and exciting event" within a few years due to global warming. This week, as an unseasonal snow blanketed Northern Europe and caused more than 60 fatalities, University of College London Professor Mark Maslin told the UK Telegraph that the snow was likely due to global warming.

Big freeze causes havoc in Scotland. Roads across Scotland's central belt were brought to a standstill by ice and up to a foot of snow. Some 150 teachers, parents and pupils spent the night at a school in south Lanarkshire after the Arctic weather prevented them from making the journey home.

Heavy snow shuts Paris airport, Eiffel Tower. Heavy snow in Paris on Wednesday [12/8/2010] shut down the city's main airport, its bus system and the Eiffel Tower.

Army on standby in coldest December for 100 years. The Army was called in today [12/9/2010] to help clear away ice and snow as Britain headed towards its coldest December for 100 years.

Uncommon Cold Strikes in Georgia. Temperatures are running 15 to 20 degrees below normal, and forecasters predict a particularly cold winter in the Southeast. In Atlanta, for example, people usually Christmas shop in pleasant weather that hovers in the 50s. In south Georgia, the daytime temperature is normally in the 60s.

Forecasters predict back-to-back 'white-out' winters. Britain is set for another winter of Arctic conditions with blizzards and temperatures as low as -20C, forecasters have warned. The prediction could mean back-to-back 'white-out' winters after last year's proved to be the coldest for 31 years.

The Super La Niña and the Coming Winter. A super La Niña is developing. Historically, these strong La Niña events drop the Earth's average temperature around one degree Fahrenheit, and the drop comes quickly. As a result, some of the same places that had record heat this summer may suffer through record cold this winter.

Cold, bitter winter is "proof" of global warming. "Winter offered as proof of warming" declares a headline in the print edition of the Washington Post, although perhaps the irony of that later struck the editors and they softened it a bit in the online edition to "Harsh winter a sign of disruptive climate change, report says." ... The report, incidentally, is from the National Wildlife Federation that makes money by promoting global warming in the same way that GM makes money selling trucks.

Evidence of Solar Scientists Raise Fears of Imminent Ice Age. Solar scientists, not to be confused with climate scientists, study the most important heat engine driving our planet's temperatures — the sun. Matthew Penn and William Livingston, solar astronomers with the National Solar Observatory (NSO) in Tucson, Arizona, have found a marked decrease in sunspot activity lately. Studies show that such a marked drop in sunspots may lead to a prolonged cooling epoch or even a new ice age.

Global Cooling and the New World Order. [Scroll down] Let me explain briefly why this is a bombshell waiting to explode. Almost every government in the Western world from the USA to Britain to all the other EU states to Australia and New Zealand is currently committed to a policy of "decarbonisation." This in turn is justified to (increasingly sceptical) electorates on the grounds that man-made CO2 is a prime driver of dangerous global warming and must therefore be reduced drastically, at no matter what social, economic and environmental cost. In the Eighties and Nineties, the global elite had a nice run of hot weather to support their (scientifically dubious) claims. But now they don't. Winters are getting colder. Fuel bills are rising (in the name of combating climate change, natch). The wheels are starting to come off the AGW bandwagon. Ordinary people, resisting two decades of concerted brainwashing, are starting to notice. All this, of course, spells big trouble for the global power elite.

Scientist admits there has been no global warming since 1995. The global warming movement is facing a one-two punch today, as a key figure of the Climategate scandal admitted that there is no evidence the earth has warmed recently and new research suggests existing records aren't sufficient support for global warming claims.

Boffins: Arctic cooled to pre-industrial levels from 1950-1990. New research by German and Russian scientists indicates that summer temperatures in the Arctic actually fell for much of the later 20th century, plunging to the levels seen at the beginning of the industrial revolution. The new results are said by their authors to indicate that solar activity exerted a powerful influence over Arctic climate until the 1990s, an assertion which will cause some irritation among academics who contend that atmospheric carbon is the main factor in climate change.

The Carbon Prayer. It's not been a good year for the followers of 'man-made carbon dioxide as key driver of global temperature' theory. Not least because the seemingly inexorable upward trend of global CO2 emissions (courtesy of the fast-industrializing nations) shows no signs of abating while global temperatures persist in flat-lining, even falling. But hey, let's not let scientific fact interfere with a good computer-generated, speculative global scare story.

Are You Ready For Global Cooling? It's not exactly Copenhagen or Kyoto, but the 700 scientists attending the fourth International Conference on Climate Change, sponsored by the Heartland Institute, had some chilling news of their own in the most liberal sense. "Global warming is over — at least for a few decades," Don Easterbrook, emeritus professor of geology at Western Washington University, told the gathering. "However, the bad news is that global cooling is even more harmful to humans than global warming, and a cause for greater concern."

Shameless Science. Al Gore's Ptolemaic epicycles are being rolled onto the scientific stage, to be piled higher and deeper until they fit the curve of real temperatures — a nearly flat line with a little bit of jitter. You could just turn it into a single equation: T = 70° F on an average day, for the average weather station around the world. But ... if you've been betting your whole career on planetary doom, you might try adding enough stratospheric water vapor to your predicted (but never observed) global warming, and yes, then your computer model can still explain why global warming ain't happening. Personally, I'd go for the flat line. It's a lot simpler.

Global Cooling Is Coming — and Beware the Big Chill, Scientist Warns. Contrary to the commonly held scientific conclusion that the Earth is getting warmer, a scientist who has written more than 150 peer-reviewed papers has unveiled evidence for his prediction that global cooling is coming soon.

California snowfall unchanged over past century. California's southern Sierra snowfall has not changed over the past century, according to John Christy, a native Californian and atmospheric researcher who's now in charge of the global temperature-measuring satellites. Christy reconstructed snowfall records at Huntington Lake, CA, from 1916-2009. The station's data since 1972 had been missing, but Christy found two nearby stations had very high correlations with Huntington Lake. That allowed him to assess southern Sierra snowfall over nearly the past century.

Global Warming Causes Blizzards. Really?! The First Great Blizzard of 2010 set all kinds of snowfall records, including in the D.C. area. By the time the second had vented its wrath, parts of the Baltimore metropolitan area had received up to 50 inches of total snowfall from the two storms, amounts not seen in the mid-Atlantic since the Great Blizzard of 1888. Baltimore has already set new records for total winter snowfall, and many weeks of potential winter precipitation still lie ahead.

Snow cover sets new winter record. Summer has been a long time coming for Storlien-Visjövalen ski resort in central Sweden, near the Norwegian border, where the last of the snow only melted away on Wednesday [6/2/2010].

Spring snowstorm blasts Utah. A moisture-packed storm system fouled the Monday morning [5/24/2010] commute along the Wasatch Front, dumped deep snow in the mountains and produced the latest spring snow ever recorded at Salt Lake City International Airport.

Hottest January Ever Say Climate Experts. Climate scientists yesterday [2/25/2010] stunned Britons suffering the coldest winter for 30 years by claiming last month was the hottest January the world has ever seen. The remarkable claim, based on global satellite data, follows Arctic temperatures that brought snow, ice and travel chaos to millions in the UK.

The Editor says...
Thermometers on the ground seem to tell a different story. Keep reading.

British winter was the coldest for 31 years. After suffering snow, sleet, rain and consistently freezing temperatures, the knowledge that the Met Office has officially recognised winter 2009-10 as the coldest in 31 years brings with it a certain grim satisfaction. Provisional figures from the forecaster show the UK winter — which in forecasting terms lasts from the start of December until the end of February — has been the harshest, in temperature terms, since 1978-79.

Antarctic cold snap kills nine in Argentina. A spell of extreme cold weather has brought ice and snow to much of Argentina, killing at least nine. Most of the victims were homeless people in the capital Buenos Aires who died of hypothermia, a local non-governmental organisation said.

People are freezing to death — in July!
175 people killed in South America cold spell. At least 175 people have died in the coldest winter in South America in recent years, officials in six affected countries said. The cold was worst in southern Peru, where temperatures in higher altitudes of the Andes dropped to minus 23 degrees Celsius. Officials said Monday that since the beginning of last week 112 people died of hypothermia and flu.

Peru declares state of emergency amid plunging temperatures. Peru has declared a state of emergency after hundreds of children died from freezing conditions that have seen temperatures across much of the South American country plummet to a 50-year low. In 16 of Peru's 25 regions, temperatures have fallen below -24°C.

A few questions for climate alarmists. If carbon dioxide is causing "runaway global warming," why have average global temperatures not risen since 1995, and why have they been COOLING for the past five years — even as atmospheric carbon dioxide levels have continued to rise to levels unprecedented in the modern era?

Storm could mean snow on ground in all 50 states. An Oklahoma forecaster is predicting an unusual weather phenomenon — snow on the ground in all 50 states at the same time.

Climate-change legislation buried under record snowfall in capital. Record snowfall has buried Washington — and along with it, buried the chances of passing global warming legislation this year.

Record snowfall in Russia. Russians may have scoffed at what US President Barack Obama called "snowmageddon" earlier this month on his country's east coast, but now Muscovites have been stunned by a snowfall that has broken their own 1966 record.

Northern Hemisphere Snow Extent Second Highest on Record. According to Rutgers University Global Snow Lab, last week's Northern Hemisphere winter snow extent was the second highest on record, at 52,166,840 km². This was only topped by the second week in February, 1978 at 53,647,305 km². Rutgers has kept records continuously for the last 2,227 weeks, so being #2 is quite an accomplishment.

Warmists' Stupefying Sense of Snow: Follow the Warmist logic: Absence of winter snow proves the existence of Anthropogenic Global Warming, and winter snowstorms prove its existence as well. Isn't science wonderful! Climate change (AGW) theory cannot be disproved... It is falsifiability-proof.

Global Warming Debate Heats Up in Wake of Record Snowstorms. Scientists and politicians on both sides of the climate change debate have been pointing to the record-breaking snowstorms in the Mid-Atlantic states to promote their theories on the earth's changing temperatures — and the debate is getting downright nasty.
This is an original compilation, Copyright © 2013 by Andrew K. Dart

Blizzard of Lies: Debunking The Warm-Air-Holds-More-Moisture Defense. [Scroll down] Bottom line: the temperature was colder than average on every one of the snow days. On average the snow days were about eight degrees colder than normal. To spin these facts as proof that the blizzards are evidence of global warming because "warm air holds more moisture" is bunk.

Global warming monitoring needs to find 'missing heat', say scientists. Experts need to beef up ways to measure the heat content of oceans as a way to track more reliably the course of global warming, scientists say today [4/15/2010]. Kevin Trenberth and John Fasullo, climate scientists at the National Centre for Atmospheric Research in Boulder, Colorado, say that only about half of the heat believed to have built up in the Earth in recent years can be accounted for.

The Editor says...
If I claimed that only about half of the money believed to have built up in my bank account can be accounted for, then I would be told (by anyone with any sense) that I just don't have as much as I thought. It seems an astonishingly futile effort to go around looking for "missing heat" when heat is radiating out into space every night. But that's the way these people (hope to) make a living.

Global Cooling, Global Warming and Climate Change Weekly Report. [Scroll down] In other news, on April 15 the University Corporation for Atmospheric Research (UCAR) issued a press release stating that up to 50% of the heat that is believed to have been built up on earth by greenhouse gases is missing. Of course, the first thing to blame is inadequate instrumentation. There is no mention that perhaps the belief itself is wrong.

World may not be warming, say scientists. The United Nations climate panel faces a new challenge with scientists casting doubt on its claim that global temperatures are rising inexorably because of human pollution. In its last assessment the Intergovernmental Panel on Climate Change (IPCC) said the evidence that the world was warming was "unequivocal". It warned that greenhouse gases had already heated the world by 0.7°C and that there could be 5°C-6°C more warming by 2100, with devastating impacts on humanity and wildlife. However, new research, including work by British scientists, is casting doubt on such claims. Some even suggest the world may not be warming much at all.

Global cooling was announced in Newsweek April 28, 1978. "There are ominous signs that the Earth's weather patterns have begun to change dramatically and that these changes may portend a drastic decline in food production — with serious political implications for just about every nation on Earth. The drop in food output could begin quite soon, perhaps only 10 years from now."

Global Warming in Last 15 Years Insignificant, U.K.'s Top Climate Scientist Admits. The embattled ex-head of the research center at the heart of the Climate-gate scandal dropped a bombshell over the weekend, admitting in an interview with the BBC that there has been no global warming over the past 15 years.

Scientist admits: There has been no global warming since 1995. The academic at the centre of the 'Climategate' affair, whose raw data is crucial to the theory of climate change, has admitted that he has trouble 'keeping track' of the information. Colleagues say that the reason Professor Phil Jones has refused Freedom of Information requests is that he may have actually lost the relevant papers. ... Professor Jones also conceded the possibility that the world was warmer in medieval times than now — suggesting global warming may not be a man-made phenomenon.

Snowed by Global Warming. Sen. John Kerry, D-Mass., showed why he is one of the educated elite when he pointed out that the record snowstorm that hit the Capital should not deter lawmakers from doing something about global warming.

Cold, bitter winter is "proof" of global warming. [Scroll down] The enviros have been doing this for years; indeed, it's why they adopted the term "global climate change" so that any change in climate or even just weather — which obviously this is — can be portrayed as a result of man's nefarious activities in putting greenhouse gases into the air. The report, incidentally, is from the National Wildlife Federation that makes money by promoting global warming in the same way that GM makes money selling trucks.

China And The "Deniers": [Scroll down] The Chinese media has begun reporting on alternative theories about the climate, including the possibility that global cooling has begun. This group of theorists, led by well-known Russian astronomer Habibullo Abdussamatov, suggests that solar radiation will reach a low value by about 2041 and that global temperatures will decrease by about 1 to 1.5°C. over the next 50 years before temperatures start warming again. Abdussamatov's research is similar to that of Qian Weihong of Beijing University, who expects that global temperatures will decrease continuously until 2030 and then a warming period will ensue in about 2060.

Cognitive Disconnect: Cold Equals Warming. Telling people that it is warming when it is demonstrably getting colder is STUPID. Assuming that people are stupid enough to believe you is a good way to get thrown out of office. The collapse of the recent Copenhagen Climate Change Conference in the midst of a huge blizzard that hit that city and much of the northern hemisphere should mark the end of the huge fraud of "global warming." Now the U.S. and Europe has to walk itself back from all the idiotic laws passed that were based on the global warming hoax, not the least of which is Cap-and-Trade that is still waiting a vote in the Senate.

MSNBC's Ratigan Blames 'Snowpocalypse' on Global Warming. With Washington, D.C. buried beneath at least 20 inches of snow, and with more in the forecast, common sense would suggest global warming alarmists look elsewhere to make the argument to raise awareness for their concerns. But no, Dylan Ratigan thinks it's ridiculous to suggest all the snowfall totals could cast doubt on the theory of anthropogenic global warming.

Could we be in for 30 years of global COOLING? Britain's big freeze is the start of a worldwide trend towards colder weather that seriously challenges global warming theories, eminent scientists claimed yesterday. The world has entered a 'cold mode' which is likely to bring a global dip in temperatures which will last for 20 to 30 years, they say.

Climate Madness and Electricity Realities. Imagine conditions in the once Great Britain. Ice laden wind turbines sit idle in the still air; solar panels covered in snow; gas reserves down to 8 days; pensioners burning books to keep warm, and a bankrupt government. This is happening because politicians have been conned by anti-industrial greens to neglect the UK's reliable and economical coal and nuclear generators, while wasting time and money on pointless climate crusades.

Actually, Weather Is Climate. Sure is cold out there, unusually so. By "unusual," I mean the temperature is on the low end of the observed temperatures from previous winters. Of course, we don't have any more than about 100 years of reliable measurements, so it's possible that the freeze we're experiencing now isn't as unusual as we suspect. But, anyway, it still sure is cold. If you recall, a lot of global warming models predicted it would be hot and not cold, and to risk redundancy, it sure is cold.

Earth's Upper Atmosphere Cooling Dramatically. When the sun is relatively inactive — as it has been in recent years — the outermost layer of Earth's atmosphere cools dramatically, new observations find.

Five Decades Of Cooling Ahead. A peer-reviewed study by a respected Canadian physicist blames the interplay of cosmic rays and chlorofluorocarbons for 20th-century warming. The CFCs are now gone, and so is warming — perhaps for the next 50 years.

RFK, Jr. 15 months ago: Global warming means no snow or cold in DC. Having shoveled my walk five times in the midst of this past weekend's extreme cold and blizzard, I think perhaps RFK, Jr. should leave weather analysis to the meteorologists instead of trying to attribute every global phenomenon to anthropogenic climate change.

It's Freezing: Must Be Global Warming. Great swaths of Britain are buried under more than a foot of snow as the country shivers through the coldest winter since 1981. Airports have been shut down, trains have been canceled, and the army had to be called out to rescue more than 1,000 motorists stranded in Hampshire. In Germany, most of which is also blanketed in white, temperatures have dipped to record lows of -7.6° F. In Norway, reports the AP, the thermometer read -42° F degrees Jan. 5, the coldest reading since 1987.

Lessons to Be Learned in the Climate Alarm Zone. [Scroll down] Quickly swallowing his popcorn to clear a path for his words, my youngest asked how climate change could possibly be killing polar bears. After all, he insisted, how can ice be melting way up north when we've been slipping and sliding on it down here for months? Naturally, I did my best to explain that while the media tout every heat wave as proof of global warming yet ignore the possible global cooling portended by record cold-snaps, extreme short-term weather patterns in either direction are not indicative of long-term climate changes.

Over 40 people die as Europe shivers in new cold snap. Central and eastern Europe is bearing the brunt of a new cold snap as temperatures plummet across the region. Snow has covered much of western Turkey, Bulgaria and Romania, while Poland is again gripped by a deep freeze that has killed more than 200 people since November.

Icy weather claims more lives. A deep freeze gripping Europe claimed more lives on Tuesday [1/26/2010] as record low temperatures combined with snow and ice to disrupt travel, close schools and trigger emergency measures.

Florida manatees die in record numbers from cold. More than 100 manatees have been found dead in Florida waters since the beginning of the year, mostly victims of a nearly two-week cold snap.

Record snowfall brings chaos to Seoul, Beijing. The largest snowfalls in decades blanketed Beijing and northern China before moving on Monday [1/4/2010] to South Korea, snarling traffic and leading to flight cancellations.

Global warming is a falling doctrine. The "doctrine" of global warming, now euphemistically called "climate change," suffered a severe blow last week as much of Europe was buried in record amounts of snow and subfreezing temperatures. "Experts" who believe in global warming, uh climate change, went on television where they bravely tried to make a distinction between weather, which they said was about what happens today, and climate, which is long term. Most of it fell on deaf — and cold — ears as growing numbers disbelieve the "experts," relying more on their own "lying eyes."

100 dead as cold wave grips India. At least 100 people, mostly the homeless and elderly, have died in a cold wave sweeping across the northern and eastern regions of India, media reports said Monday [1/4/2010].

Seoul buried in heaviest snowfall in 70 years. Seoul residents slogged through the heaviest snowfall in modern Korean history after a winter storm dumped more than 11 inches Monday [01/04/2010]...

Frigid temps break winter weather records. Bitterly cold air and howling winds spread across the USA — from the Dakotas to Florida — over the weekend, breaking weather records in the upper Midwest, the Great Lakes and New England. The wintry blast even shocked International Falls, Minn., the self-described "Icebox of the Nation," where temperatures bottomed out at 37 below zero Saturday and Sunday mornings, breaking records that have stood since 1979.

China blames freak storm on global warming. Freak snowstorms and record low temperatures sweeping northern China are linked to global warming, say Chinese officials. But, unlike the unseasonal snow falls that hit Beijing at the start of winter, the dump this week appears to have no link to the Government's relentless efforts to change the micro climate.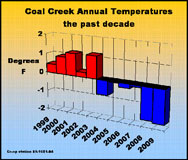 Coal Creek Redux. December was a chilly month across much of the U.S., and at my site (the NWS co-op station for Coal Creek Canyon, Colorado, NW of Denver at an elevation 8950 feet, or 720 millibars, December was the coldest December (and the coldest month of any name) in 27 years of record. The average of 16.5 was 0.8 degrees colder than December 1983.

Global cooling documented in last decade. The mainstream media is reporting the World Meteorological Organization's assessment of global average temperatures asserting this decade is "the warmest on record," without mentioning the WMO data actually documents the United States and Canada experienced cooler-than-average conditions since 2000. The reports circulating from the U.N.'s climate summit in Copenhagen also don't mention scientific climate data that suggest the globe has cooled in the last 10 years.

Flights cancelled as Europe snowed in. Mass flight cancellations heaped fresh misery on European travellers yesterday [12/23/2009], as the freezing weather that has caused at least 90 deaths brought chaos to Christmas holiday plans. Passengers stranded by snow-blocked roads, delayed trains and a three-day suspension of the Eurostar rail service found little relief at airports as icy runways were closed and heavy snow grounded hundreds of flights.

European weather deaths pass 100. More than 100 people have been killed in the cold snap across Europe, with temperatures plummeting and snowfall causing chaos from Moscow to Milan. In Poland, where temperatures have dropped to as low as -20C in some areas, police appealed for tip-offs about people spotted lying around outside. At least 42 people, most of them homeless, died over the weekend.

Snow chaos continues across Europe. More than 80 people have died across Europe and international travel has been severely disrupted as a result of snow and ice. Eurostar has resumed some of its train services, linking London, Paris and Brussels, through the channel tunnel after three days of suspensions.

RFK, Jr. 15 months ago: Global warming means no snow or cold in DC. Robert F. Kennedy Jr., who flies around on private planes so as to tell larger numbers of people how they must live their lives in order to save the planet, wrote a column last year on the lack of winter weather in Washington, D.C. ... Having shoveled my walk five times in the midst of this past weekend's extreme cold and blizzard, I think perhaps RFK, Jr. should leave weather analysis to the meteorologists instead of trying to attribute every global phenomenon to anthropogenic climate change.

Big freeze kills dozens in Europe. The death toll from winter storms across Europe rose to more than 50 on Monday as transport chaos grew amid mounting anger over the failure of Eurostar high-speed trains. With tens of thousands stranded by the cancellation of London to Paris trains and flights in several countries, new accidents added to the big freeze tumult.

Warmest Ever, or Getting Cooler? As I've said before, be wary of "glass half empty" reporting. Yes, recent years are the warmest on record, if you accept NASA's manipulated data. But recent years also indicate the warming has stopped, and there might even cooling, at least temporarily, based on that same data. And even proving there is a warming trend does not prove it is man-caused.

Who said the science was settled?
50 years of cooling predicted. Cosmic rays and chlorofluorocarbons (CFCs), both already implicated in depleting the Earth's ozone layer, are also responsible for changes in the global climate, a University of Waterloo scientist reports in a new peer-reviewed paper.

Edmonton shatters cold record. Edmonton's weather boasted two dubious distinctions Sunday: it was colder here than anywhere else in North America and it marked the coldest Dec. 13 in the city's history. Environment Canada recorded a frigid minus 46°C, or minus 58.4°C with the wind chill, at the Edmonton International Airport at 5 a.m., said meteorologist Pierre Lessard. The old record of minus 36.1°C was set last year. "To break a temperature by 10 degrees is very exceptional," said Lessard.

Where Did the Warming Go? [Kevin] Trenberth's "lack of warming at the moment" has been going on at least a decade. "There has been no [surface-measured] warming since 1997 and no statistically significant warming since 1995," observes MIT meteorologist Richard Lindzen. "According to satellite data, global warming stopped about 10 years ago and there's no way to know whether it's happening now," says former NASA Senior Scientist for Climate Studies Roy Spencer.

Climatologists Baffled by Global Warming Time-Out. Global warming appears to have stalled. Climatologists are puzzled as to why average global temperatures have stopped rising over the last 10 years. Some attribute the trend to a lack of sunspots, while others explain it through ocean currents.

A convenient lie. The objective science shows that, instead of heating up, global temperatures have been cooling over the past decade. Man-made global warming is the most destructive myth of our time — a massive fraud built upon junk science. This is the real meaning of Climategate, the greatest scandal in modern science.

AccuWeather Forecaster: 'It's Ice not Fire You're Going to Be Worried about Down the Road. While the wizards of smart are convening in Copenhagen, attempting to solve what they perceive to be the biggest global societal ill — anthropogenic climate change, one of the things that likely won't be discussed is the possibility of the opposite occurring, global cooling. But AccuWeather's chief hurricane forecaster, Joe Bastardi warns it is a bigger threat than global warming.

Obama's new world order. Global warming is the greatest fraud of our time. The overwhelming scientific evidence shows that, ratherthan getting hotter, the Earth's temperatures are cooling. Increasing numbers of leading scientists are challenging the flawed computer models used by eco-alarmists.

All-time October low recorded in Bavaria. Meteorologists on Tuesday morning [10/20/2009] recorded the lowest ever October temperature in Germany, as the mercury dipped to a chilly -24.3° Celsius in Bavaria's Berchtesgaden national park.

Frosty weather hits North Carolina. The metro region of Charlotte, N.C., faced a frost advisory Monday [10/19/2009] as a local airport set a record with a temperature of 30 degrees, meteorologists say.

Cold first half of October in Minnesota: 1875 record shattered by 5 degrees. October 2009 is going down in the record books in many ways. The normal high temperature for the first two weeks is supposed to be 63 degrees. This year the high temperature was only 47 degrees. That ranks as the coldest first two weeks of the [sic] October. The previous coldest was 52 degrees in 1875.

Snow Falling the World Over as Ski Resorts Open Early. More fresh snow has been falling in the Alps and across the Northern Hemisphere, including in Alaska, California, Canada, the Indian Himalayas and the Japanese Alps. More new snow is expected later this week in Europe and conditions on the Alpine glaciers are reported to be excellent.

CO2, Climate Forcing and Climate Models. Enough data has already been released to unequivocally prove scientific fraud. All of the global temperature datasets that include the actual physical measurements of the global temperature clearly demonstrate that there was a rapid rise in global temperature from around 1910 to about 1942, followed by a slow drop in global temperature from 1942 to 1975, at which time the world reverted to warming which all global temperature datasets clearly show ended after 1998, with a cooling trend that is still continuing.

Scientists Behaving Badly. Slowly and mostly unnoticed by the major news media, the air has been going out of the global warming balloon. Global temperatures stopped rising a few years ago, much to the dismay of the climate campaigners. The U.N.'s upcoming Copenhagen conference — which was supposed to yield a binding greenhouse gas emissions reduction treaty as a successor to the failed Kyoto Protocol — collapsed weeks in advance and remains on life support pending Obama's magical intervention.

The Totalities of Copenhagen. Climate alarmists have become brilliantly adept at changing their terms to suit their convenience. So it's "global warming" when there's a heat wave, but it's "climate change" when there's a cold snap. The earth has registered no discernible warming in the past 10 years: Very well then, they say, natural variability must be the cause. But as for the warming that did occur in the 1980s and 1990s, that plainly was evidence of man-made warming. Am I missing something here?

Is 'Global Warming' the Greenie Weenies' WMDs? First came a fairly steady drip of news that the earth may, in fact, be experiencing a cooling pattern. This past summer, Chicago never once saw a day above 90 degrees. Other stories made skeptics scratch their heads and wonder what was really going on. Then the leaked e-mails surfaced, in which global warming "scientists," including one lauded by Al Gore, are caught manipulating the facts.

Three Decades Of Global Cooling. As a Colorado Rockies playoff game is snowed out, scientists report that Arctic sea ice is thickening and Antarctic snow melt is the lowest in three decades. Whatever happened to global warming? ... It seems that ice at both poles hasn't been paying attention to the computer models. The National Snow and Ice Data Center released its summary of summer sea-ice conditions in the Arctic last week and reported a substantial expansion of "second-year ice" — ice thick enough to have persisted through two summers of seasonal melting.

Obama's Theorems. A number of eminent scientists, along with environmental advocates such as Mr. Gore, lecture us that global warming as a manmade phenomenon is unimpeachable. But this month Americans are shivering through one of the coldest Octobers in memory, whether in Idaho, Colorado, or Michigan. They understand that over the last decade average global temperatures did not spike; in fact, they slightly decreased.

Sugar beets shivering in Montana. Some Montana and Wyoming farmers are getting nervous as cold, wet weather is keeping them from bringing in a record sugar beet crop.

How freezing temperatures are starting to shatter climate change theory: In the freezing foothills of Montana, a distinctly bitter blast of revolution hangs in the air. And while the residents of the icy city of Missoula can stave off the -10C chill with thermals and fires, there may be no easy remedy for the wintry snap's repercussions. The temperature has shattered a 36-year record. Further into the heartlands of America, the city of Billings registered -12C on Sunday [10/11/2009], breaking the 1959 barrier of -5C.

The global-cooling cover-up. The climate-gate revelations have exposed an unprecedented coordinated attempt by academics to distort research for political ends. Anyone interested in accurate science should be appalled at the manipulation of data "to hide the decline [in temperature]" and deletion of e-mail exchanges and data so as not to reveal information that would support global-warming skeptics. These hacks are not just guilty of bad science. In the United Kingdom, deleting e-mail messages to prevent their disclosure from a Freedom of Information Act request is a crime.

The BBC's amazing U-turn on climate change. I think the BBC wanted to slip this one out quietly, but a Matt Drudge link put paid to that. The climate change correspondent of BBC News has admitted that global warming stopped in 1998 — and he reports that leading scientists believe that the earth's cooling-off may last for decades.

Friendly Reminder from the BBC: There's Been No Global Warming Since 1998. After running through the facts, the article concludes: "One thing is for sure. It seems the debate about what is causing global warming is far from over. Indeed some would say it is hotting up."

A big chill on global warming. Something important is happening when even the BBC is compelled to ask, as it did this week, "What happened on global warming?" The British news organization has heretofore insisted that the scientific consensus was cemented long ago that global warming is real and is mainly caused by human use of carbon-based fossil fuels. Put simply, what has happened is global temperatures have dropped every year since 1998, recent peer-reviewed research has uncovered the decisive influence of hot and cold cycles in the oceans on land temperatures, and growing numbers of scientists with unquestioned credentials are stepping forward to question the conventional wisdom.

Biggest news you've never heard: Earth isn't warming. How do you reconcile the early snow in Minneapolis, ski resorts already opening in Nevada, and that August chill in North Dakota with expert warnings about a warming climate? You don't. Why? The Earth isn't warming right now, is why. It may even be cooling down somewhat. Five major climate centers around the world agree that average global temperatures have not risen in the past 11 years, according to the BBC. In fact, in eight of those years, global average temperatures dipped a tad.

What happened to global warming? This headline may come as a bit of a surprise, so too might that fact that the warmest year recorded globally was not in 2008 or 2007, but in 1998. But it is true. For the last 11 years we have not observed any increase in global temperatures.

Sceptics welcome BBC report on 'global cooling'. Under the headline 'Whatever happened to Global Warming?', the BBC has reported that the warmest year recorded globally was 1998, and for the last 11 years no increase in global temperatures has been observed.

Global cooling has arrived. Global warming is dead. There is now irrefutable scientific evidence that far from global warming the earth has now entered a period of global cooling which will last at least for the next two decades. Evidence for this comes from the NASA Microwave Sounding Unit and the Hadley Climate Research Unit while evidence that CO2 levels are continuing to increase comes from the Mauna Loa Observatory in Hawaii.

Cooling Down the Cassandras. The [New York] Times reported that "scientists" — all of them? — say the 11 years of temperature stability has "no bearing," none, on long-term warming. Some scientists say "cool stretches are inevitable." Others say there may be growth of Arctic sea ice, but the growth will be "temporary." ... Warnings about cataclysmic warming increase in stridency as evidence of warming becomes more elusive.

Inconvenient Truth About Cooling May Retard Efforts to Fight Warming. Despite the fact that any skepticism about global warming and the responsibility of humanity for this rise in temperatures is now considered proof of insanity, the [New York] Times reported that it appears more than likely that "global temperatures have been relatively stable for a decade and may even drop in the next few years." This must come as quite a shock to an American public that has been relentlessly propagandized on this issue and convinced that the end of civilization as we know it is just around the corner.

U.S. Media Ignoring About Face by Leading Global Warming Proponent. Imagine if the Pope suddenly announced that the Catholic Church had been wrong for centuries about prohibiting priests from marrying. Would that be considered big news? Of course. And yet something like that has happened in the field of global warming in which a major scientist has announced that the world, in contrast to his previous belief, is actually cooling.

More about media bias pertaining to environmental issues.

Global warming alarmists out in cold. It's snowing in April. Ice is spreading in Antarctica. The Great Barrier Reef is as healthy as ever. And that's just the news of the past week. Truly, it never rains but it pours — and all over our global warming alarmists. Time's up for this absurd scaremongering. The fears are being contradicted by the facts, and more so by the week.

Global warming is so last century. There has been no global warming this century. None. ... Alan Carlin, in a report for the Environmental Protection Racket — whoops, Environmental Protection Agency — that they attempted to suppress, says: "Fossil fuel and cement emissions increased by 3.3 percent per year during 2000-06, compared to 1.3 percent per year in the 1990s. Similarly, atmospheric C02 concentrations increased by 1.93 parts per million per year during 2000-06, compared to 1.58 ppm in the 1990s. And yet, despite accelerating emission rates and concentrations, there's been no net warming in the 21st century and, more accurately, a decline."

Cold facts dispel theories on warming. For more than a decade public opinion on human-caused global warming has been moulded by pronouncements from the Intergovernmental Panel on Climate Change and its army of acolytes. Arguably the zenith of acceptance was the IPCC's fourth assessment in early 2007 followed soon after by the release of the Al Gore movie An Inconvenient Truth. The accompanying recognition by way of an Academy Award for the movie and awarding of the Nobel Peace Prize jointly to Gore and the IPCC only heightened awareness of the message. During more recent months it is not overstating the case to say that there has been a perceptible shift in public opinion.

A Primer on Global Warming. All four major global temperature-tracking outlets (Hadley UK, NASA's Goddard Institute for Space Studies, University of Alabama-Huntsville, and Remote Sensing Systems Santa Rosa) have released updated information showing in 2007 global cooling ranged from 0.65°C. to 0.75°C., a value large enough to erase nearly all the global warming recorded over the past 100 years. This occurred in a single year. NASA satellites measuring global temperatures found 2008 to be the coldest year since 2000 and the 14th coldest of the past 30 years.

Alarmists Abandon Air Temps, But Oceans Also Show Cooling. There has been a change in direction by global warming alarmists, as shown by "Synthesis Report — Climate Change: Global Risks, Challenges & Decisions," published in Copenhagen and released in June. In that report, those claiming there is a human-induced global warming crisis have abandoned air temperature as a measure of global climate and switched to ocean temperature. The change in focus from air temperature to ocean temperature was predictable given the sustained decline in global air temperature over recent years.

A Cooling Trend Toward Global Warming. While the primary promoters of the warming hoax have not "broken and run" yet, there is much evidence that there is an increasing tide of defectors and that climate catastrophists have completely run out of dry powder. Satellite data from NASA shows no increase in average global temperature since 1998, a year when El Niño caused a worldwide spike having nothing to do with carbon dioxide.

Snow falls in western ND, in June. Snow has fallen in Dickinson in June, the first time in nearly 60 years the city has seen snow past May.

In New York, It's the Summer That Isn't. It's a gross, grungy, disgusting summer-in-the-city tradition: the muggy 90-degree day or, worse still, the 99-degree day. But this summer has been conspicuously different in New York City. Not one 99-degree day in Central Park. Not a single day that the temperature even approached 90. For just the second time in 140 years of record keeping, the temperature failed to reach 90 in either June or July.

July sets 85-year Illinois record as coolest. Last month was Illinois' coldest July since 1924. Preliminary data gathered by researchers at the University of Illinois in Urbana-Champaign shows the average temperature last month was 70.4 degrees. That's 5.3 degrees below normal. Climatologist Jim Angel says the previous record, set 85 years ago, was 71.5 degrees.

In the middle of August:
Ice choking the Northwest Passage. Warmist doctrine has it that the Northwest passage (through Arctic waters to reach the North Pacific from the North Atlantic) should be clear sailing anytime now. In fact, according to the Ottawa Citizen: "...the U.S. National Snow and Ice Data Center is predicting another near-record meltdown by the end of this year's summer thaw." Unfortunately for them, reality is not cooperating.

June hasn't been this nice since ... 1913. Meteorologists are reluctant to call a month "nice." They have their data and their science and typically do not describe the weather in such subjective terms. Except now, because the data prove it. ... Thursday [6/18/2009] was the 14th consecutive day to stay below 100 degrees. That's the longest stretch of its kind in any June since 1913.

Crops under stress as temperatures fall. In many parts of the world recently the weather has not been too brilliant for farmers. After a fearsomely cold winter, June brought heavy snowfall across large parts of western Canada and the northern states of the American Midwest. In Manitoba last week, it was -4°C. North Dakota had its first June snow for 60 years. There was midsummer snow not just in Norway and the Cairngorms, but even in Saudi Arabia.

The Editor says...
Crops are always under "stress." So what?

Chicago has its coolest July 8 in 118 years. Wednesday's [7/8/2009] paltry 65-degree high at O'Hare International Airport (an early-May-level temperature and a reading 18 degrees below normal) was also the city's coolest July 8 high in 118 years — since a 61-degree high on the date in 1891.

The chills of Global Cooling. As cap-and-trade advocates tie their knickers in knots over so-called "global warming," Mother Nature refuses to cooperate. Earth's temperatures continue a chill that began 11 years ago. As global cooling accelerates, global-warmists kick, scream, and push their pet theory — just like little kids who cover their ears and stomp their feet when older children tell them not to bother waiting up for Santa Claus on Christmas Eve.

Why The Cool Summer? Back in 1997, El Niño was blamed for everything from horrible weather to the Indians losing the World Series. It became the catch-phrase for everything. So far, this summer, temperatures have been noticibly (sic) cooler than in summers past. Rainfall is down at bit too. Is El Niño the big reason for this?

Global cooling hits Al Gore's home. It was delightfully appropriate that, as large parts of Argentina were swept by severe blizzards last week, on a scale never experienced before, the city of Nashville, Tennessee, should have enjoyed the coolest July 21 in its history, breaking a record established in 1877. Appropriate, because Nashville is the home of Al Gore, the man who for 20 years has been predicting that we should all by now be in the grip of runaway global warming.

Global temperatures 'have plunged .74°F since Gore released 'An Inconvenient Truth'. The latest global averaged satellite temperature data for June 2009 reveals yet another drop in the Earth's temperature. This latest drop in global temperatures means despite his dire warnings, the Earth has cooled .74°F since former Vice President Al Gore released "An Inconvenient Truth" in 2006. ... In addition, New peer-reviewed scientific studies now predict a continued lack of global warming for up to three decades as natural climate factors dominate.

The Bleak Winter's Behind Us, but What's Ahead? Scientists have not been able to measure any increase in global warming since the end of 1998. That, despite their lunkheaded computers forecasting the opposite. During the past two years, temperatures have actually dropped by more than 0.5 degrees Celsius. Button up! I mention all this because 1) it is always amusing to kid Mr. Gore and 2) the price tag for Prophet Obama's climate plan has just jumped to $2 trillion.

Global warming's no longer happening. So far this month, at least 14 major weather stations in Alberta have recorded their lowest-ever March temperatures. I'm not talking about daily records; I mean they've recorded the lowest temperatures they've ever seen in the entire month of March since temperatures began being recorded in Alberta in the 1880s.

We'll Pry Global Warming From Their Cold, Dead Hearts. This is the winter of environmentalists' discontent. They desperately want the earth to be warming to prove Al Gore's truth inviolate and they are going to make you pay thousands of dollars for it no matter whether it's true or not. But the weather has been inconveniently cold.

'Snow and freezing winds' puts Edmonton's Earth Day on ice. Earth Day celebrations in the Albertan capital that were planned for Sunday [4/26/2009] have been postponed because of the cold weather. Organizer Janice Boudreau said exhibitors and entertainers had been pulling out all week as forecasts announced snow and freezing winds. "They did it last year, but they didn't want to do it again," she said. "This is supposed to be an enjoyable experience for everyone."

Global Cooling Report: The Weather News You Didn't See. A list of 100 recent news items about global cooling.

Arctic temperature is still not above 0°C — the latest date in fifty years of record keeping. The average arctic temperature is still not above (take your pick) 32°F 0°C 273.15°K — this the latest date in fifty years of record keeping that this has happened. Usually it is beginning to level off now and if it does so, it will stay near freezing on average in the arctic leading to still less melting than last summer which saw a 9% increase in arctic ice than in 2007.

The Real Climate Deniers. For most of the United States and much of the world, this has been one of the colder autumns in well over a decade, with reports of unseasonable snowfalls and plummeting temperatures from the American Great Plains to the Alps of Europe and into the inner reaches of Asia. Even China's official news agency reported that Tibet had suffered its "worst snowstorm ever" in October. In the U.S., the National Oceanic and Atmospheric Administration registered 63 local snowfall records and 115 lowest-ever temperatures for the month, and ranked it as only the 70th-warmest October in 114 years. In fact, it's likely that 2008 will go down as the coldest year since in the United States since 1997.

Climate Crisis = Logic Crisis. This latest hypothesis is a violation of the most basic of the laws of logic: the principle of non-contradiction. Something cannot be both A and not A. The weather cannot get colder while the climate gets hotter anymore than the earth can be flat while the world is round. This is not science, or logic; this is unabashed nonsense. Yes. Climate science has come to this: We are now being told, in effect, to ignore the data and believe the hypothesis.

'Snowiest winter season Green Bay has seen in well over 100 years'. At 87.7 inches of snow to date, the season is second to none since 1900. It makes last year's winter of 87.4 inches a distant memory, and the winter of 1922-23 has slipped to third place in the record books from 1900 to date.

Explorers On Global Warming Expedition Stranded in North Pole by Cold Weather. Three global warming researchers stranded in the North Pole by cold weather were holding out hope Wednesday as a fourth plane set off in an attempt deliver them supplies. The flight took off during a break in bad weather after "brutal" conditions halted three previous attempts to reach the British explorers who said they were nearly out of food, the Agence France-Presse reported.

Annals of Global Warming [and Cooling]. Is there a cycle in climate hysteria that requires nutters to oscillate between proclaiming that the world is getting too hot and proclaiming that, on the contrary, it is getting too cold? And if you are a paid-up climate hysteric, how do you know which side to champion on a given day?

Senators Debate Global Warming Policy Despite Global Cooling Evidence. Democratic senators told CNSNews.com on Tuesday that despite a recent study that shows global temperatures have been dropping since 2001 and that projects the globe will continue to cool for the next several decades, they think the United States should continue to push forward with aggressive action to curb climate change.

The Editor says...
Full speed ahead, Senators! To hesitate now would be an admission of error, and we can't have that.

Frustrated Warmists Pull Another Cool Fast One. Continued global cooling has forced clamoring climate alarmists to move the goal posts — again. A study released yesterday confirms that global temperatures have remained flat since 2001 "despite rising greenhouse gas concentrations" and predicts they may cool for another 30 years. Needless to say, that won't silence any of the blowhards attacking George Will's February assertion that "there has been no recorded global warming for more than a decade."

Where's global warming? The United States has shivered through an unusually severe winter, with snow falling in such unlikely destinations as New Orleans, Las Vegas, Alabama, and Georgia. On Dec. 25, every Canadian province woke up to a white Christmas, something that hadn't happened in 37 years. Earlier this year, Europe was gripped by such a killing cold wave that trains were shut down in the French Riviera and chimpanzees in the Rome Zoo had to be plied with hot tea. Last week, satellite data showed three of the Great Lakes — Erie, Superior, and Huron — almost completely frozen over. In Washington, D.C., what was supposed to be a massive rally against global warming was upstaged by the heaviest snowfall of the season, which paralyzed the capital.

Snow falls in western ND, in June. Snow has fallen in Dickinson in June, the first time in nearly 60 years the city has seen snow past May. National Weather Service meteorologist Janine Vining in Bismarck says there were unofficial reports of a couple of inches of snow in Dickinson on Saturday [6/6/2009].

Lake Superior is freezing over. Lake Superior last froze over in 2003. It has now, again, frozen over. The frequency of freeze overs has historically been around once every 20 years. Now, in the last decade, we have seen two freeze overs.

A blizzard -- in late March?
Blizzard shuts down parts of Wyoming, South Dakota. A blizzard shut down major highways Monday [3/23/2009] in Wyoming and South Dakota, and meteorologists said one mountainous area might get as much as 40 inches of snow. Mount Rushmore National Memorial closed because of the icy, blinding weather in South Dakota's rugged Black Hills.

Near the end of March...
Storm piles more than two feet of snow on Kansas. A storm has buried parts of Kansas in more than two feet of snow and knocked out power to at least 17,000 homes and businesses. The same storm also dumped heavy snow on parts of Oklahoma and the Texas Panhandle.

Global Cooling Sends Gulls South. Bird enthusiasts are reporting ivory gulls, which usually make their home in the high Arctic, are being seen for the first time in decades in the United States. Separate sightings of ivory gulls this January in Gloucester and Plymouth, Massachusetts are luring bird watchers from as far away as Florida, Maryland, Ohio, and Pennsylvania.



---

The Gore Effect

The Gore Effect is the derisive name given to the unfortunate presence of bitterly cold weather during protests and conferences about the dangers of global warming and the alleged loss of polar ice. It is particularly difficult to convince fellow activists of the severity of global warming when the temperature is well below freezing in the United States, three thousand miles from the north pole. The experts and activists caught in this situation seem to be unashamed of their cluelessness.



Cop28 should prompt a net zero rethink. There is no doubt that divine providence has a sense of humour. As our King and Prime Minister joined tens of thousands of eco-warriors at Cop28, in Dubai, to decry (and contribute to) the threat of carbon emissions warming the planet, Alpine ski slopes were covered in pre-seasonal snow and Britain has had its earliest snowfall in 15 years. It reminded me of the night, 15 years ago, when Parliament passed the Climate Change Act amid terrifying predictions of catastrophic heatwaves. Then, too, providence teased us as, outside Parliament, snow fell in London in October for the first time in 74 years.

Gore Visits Australia to Preach About Global Warming; Snow Falls on Cue. World-renowned carbon-credit salesman Al Gore is currently down under in Australia to preach the word about disastrous anthropogenic global warming to 1,000 willing future "climate leaders" in Brisbane. Gore is in Australia to "communicate the urgency of the climate crisis." That's right. Al Gore and his team boarded a jet that spews more carbon into the atmosphere than most of us will create in a year in order to sermonize to an audience about why they shouldn't, among other things, fly on jets. As if on cue, perhaps to welcome the high priest of climate hysteria, a rare snow fell on Queensland, just west of Brisbane. Winter storms are also battering the state's east coast. In Australia, Queensland is ironically nicknamed the Sunshine State. The Gore Effect rears its head again.

Global Warming Alarmism Meets a Blizzard of Reality. In a bit of irony lost on big media, the government, on the eve of winter and during a slew of recent snowstorms, released a doomsday report on global warming.

Flights canceled, roads treacherous amid spring snowstorms. A storm system stretching from the Gulf Coast to the Great Lakes has buffeted the central U.S. with heavy snow, winds, rain and hail, forcing flight cancellations, creating treacherous road conditions and killing at least three people, including a sleeping 2-year-old Louisiana girl.

The Al Gore Effect Comes to Minnesota. I got excited when I heard that all across the country, activists would be "marching for science" today. Promoting, no doubt, information about X and Y chromosomes and the fact that — scientifically speaking — there are only two genders. Just kidding. Actually, the March For Science "movement" — it gives off a strong odor of Astroturf — covers a broad range of left-wing talking points. But first among them is global warming. When the organizers of the Minnesota March For Science planned their event for April 14, featuring an alarmist weatherman as a speaker, they no doubt thought they were beyond the risk of the Al Gore Effect. They were wrong.

Our Man in Davos reports on '6 feet of global warming'. The New York Times has reported on the great depth of snow blanketing Davos, Switzerland which is hosting the World Economic Forum. Of course the snow disrupted polemics on the dangers of global warming: [...]

Temperatures plummet in Chicago as city hosts climate summit. The second day of the Chicago Climate Charter meetings are taking place on the city's Near North Side as I write this entry. As if on cue, temperatures have dropped from a balmy 65 degrees of Monday to the low 30s. The summit is in response the President Trump's withdrawal from the Paris climate accord, which is an economic attack on the American economy.

Police use tear gas after climate activists throw objects in Paris demonstration. Police fired tear gas at protesters who hurled projectiles at them in Paris as a largely peaceful human chain of several thousand formed nearby to urge action on global warming ahead of the global environment summit. [Video clip]

The Editor says...
Notice in the video that the protestors are all bundled up for cold weather as they express their concerns about warming.

Does God Hate Green Energy? The Gore Effect is well known: wherever greenies gather for a global warming conference, cold weather — frequently, in the form of a blizzard — pursues them. It is hard to escape the sense that the Almighty is trying to send a message. Now we have this: no sooner had the U.S. erected thousands of windmills than the wind stopped blowing[.]

Kerry Warns, 'Our Planet Is Warming' — During Record-Breaking Blizzard. "The bottom line is that our planet is warming," Secretary of State John Kerry said in a statement on Sunday — the same day he braved the cold and and the snow to watch the New England Patriots play football in his home state of Massachusetts. Sunday's [11/2/2014] snowstorm in Foxborough was the strongest early-November snowstorm in over a century. Groundskeepers had to clear the field before the Patriots could play.

Al Gore Effect Slams EPA Hearings with Cold Temps. Al Gore's Climate Reality Project doomed across-the-nation EPA field hearings yesterday [7/30/2014] on global warming restrictions. With Gore' Climate Reality Project putting on global warming stunts outside the hearings, temperatures plummeted in keeping with Mother Nature's proclivity for visiting frigid weather on Gore whenever he overhypes global warming. Temperatures plunged into the 50s in Denver, with people showing up for the EPA hearings wearing jackets in mid-summer. In usually sultry Hotlanta (Atlanta), temperatures dipped into the 50s Wednesday morning before topping out in merely the low 80s. In notoriously hot and muggy Washington DC, the thermometer read a cool 70 degrees as hearings began in the nation's capital.

Al Gore's climate-changers at EPA hearings foiled by cool temperatures. The Climate Reality Project brought its "I'm Too Hot" trucks and offers of free ice cream to this week's Environmental Protection Agency hearings on power-plant emissions, but the climate wasn't cooperating. The plan was to tout the EPA's emissions proposal as a solution for hot weather brought on by global warming, but when the hearings began at 9 a.m. Wednesday [7/30/2014] in Denver, the temperature was a chilly 58 degrees.

Al Gore Forecasted "Ice-Free" Arctic by 2013; Ice Cover Expands 50%. Self-styled "global-warming" guru Al Gore and a gaggle of supposed "climate scientists" have egg all over their faces — big time. In 2007, 2008 and 2009, Gore publicly and very hysterically warned that the North Pole would be "ice-free" by around 2013 because of alleged "man-made global warming." Citing "climate" experts, the government-funded BBC hyped the mass hysteria, running a now-embarrassing article under the headline: "Arctic summers ice-free 'by 2013'." Other establishment media outlets did the same.

'Gore Effect' was in full force at S.F. meeting of global warming 'scientists'. Last year the American Geophysical Union concluded that "human activities are changing the Earth's climate" for the warmer. The AGU met in San Francisco last week and were greeted by a lack of local evidence.

The Gore Effect Strikes Again. No wonder it has been unseasonably cool in the northeast: Al Gore has been in Chicago this week, doing "climate advocacy training" for a new generation of young people, better known to con men everywhere as "easy marks." But The New Republic notes a fresh hypocrisy from Gore: his New York office is in an energy hogging building that boasts of a LEED (Leadership in Energy & Environmental Design) certification, which only shows what a racket the whole LEED business is.

Global Warming Activists Arrive in Nebraska, Begin Shivering. There are places you can safely promote global warming. California, Florida or the surface of the sun. But going to pitch Global Warming in Nebraska or North Dakota or the North Pole is just not going to end well.

Construction of PIK's New €17-Million Facility Gets Shut Down — By Frost, Cold, And Snow! Other than NASA GISS, few institutes are as climate warming-obsessed as the Potsdam Institute for Climate Impact Research (PIK). To keep the global warming fear machine up and running in the future, it looks like the PIK is expanding its facilities.

Bad Science and Bad Journalism are a Bad Combination. On Wednesday, March 6, the House Science, Space and Technology Committee sent out a notice that its hearing on global warming was cancelled due to the chilly weather and a snowstorm that was about to hit the nation's capital. [...] On the same day in 1961, the temperature had hit a record 81 degrees. In 1888, it had been 10 degrees. Anyone who thinks that humans had anything to do with either is mistaken.

D.C. snowstorm scrubs global-warming hearing. The snowquester has claimed yet another casualty: Wednesday's [3/6/2013] House hearing on global warming. The House Science, Space and Technology Committee announced early Wednesday that it's postponing its environmental subcommittee's scheduled 10 a.m. hearing on the state of the science behind climate change. As a reason, it cited "weather."

The Gore Effect: Driving snow froze the hopes of organizers of "the biggest global warming protest in history" Monday in Washington. With the government on a two-hour snow delay and the speaker of the House unable to attend because her flight was grounded by inclement weather, shivering protestors gathered on the west front of the Capitol, the latest victims of a climatological phenomenon known by the scientific community as the Gore Effect. The Gore Effect was first noticed during a January 2004 global warming rally in New York City, held during one of the coldest days in the city's history. Since then, evidence has mounted of a correlation between global warming activism and severely cold weather.

The Gore Effect strikes again:
Delegates freeze as snow falls on global warming debates. World leaders will meet to tackle global warming — in the snow. The temperature in Copenhagen, where a landmark UN summit on climate change is taking place, is tipped to hit minus ten degrees Celsius this week.

Blizzard Dumps Snow on Copenhagen as Leaders Battle Warming. World leaders flying into Copenhagen today to discuss a solution to global warming will first face freezing weather as a blizzard dumped 10 centimeters (4 inches) of snow on the Danish capital overnight.

Snowstorm squelches climate change protest. A downtown protest of the climate change talks in Copenhagen became a victim of Wednesday's [12/30/2009] snowstorm. "Not many people showed up because of the blizzard conditions," said organizer Clea Major, an international studies student at the University of Utah.

The Editor says...
Again, when you're marching in the streets to sound the alarm about global warming during a blizzard, you obviously don't have a clue about what you're protesting.

Global Warmists' Mouths Frozen Shut. As often seems to happen around big "global warming events", Copenhagen was hit with extremely cold weather during the "climate conference," including a blizzard on December 17 ... in a country which hasn't had a white Christmas since 1995. ... But that was just a warm-up for the world's continuing deep-freeze, which seems to have frozen the alarmists' mouths shut.

NOAA: Blizzard Rearranges Climate Change Announcement. Turns out the release was planned prepared ahead of the snowstorm, which shut federal agencies today and forced its senders to hold a press conference by telephone instead of at the National Press Club. It's not the first time inclement weather has put a chill on official efforts to tackle climate change.

Climate-change legislation buried under record snowfall in capital. Record snowfall has buried Washington — and along with it, buried the chances of passing global warming legislation this year. Cars are stranded in banks of snow along the streets of the federal capital, and in the corridors of Congress, climate legislation also has been put on ice.

The unusually chilly global-warming summit. As negotiators from nearly 200 countries met in Cancun to strategize ways to keep the planet from getting hotter, the temperature in the seaside Mexican city plunged to a 100-year record low of 54°F. Climate-change skeptics are gleefully calling Cancun's weather the latest example of the "Gore Effect" — a plunge in temperature they say occurs wherever former Vice President Al Gore, now a Nobel Prize-winning environmental activist, makes a speech about the climate.

More about the Cancun climate conference.



It's Too Cold To Protest Global Warming At Yale. Yale anti-fossil fuel campaigners have indefinitely postponed a protest that was set for this weekend due to "unfavorable weather conditions and other logistical issues." Fossil Free Yale, a group pushing the university to divest itself from fossil fuels, told the Yale Daily News that frigid, snowy weather set for this weekend will mean their global warming protest will have to be postponed.
---



Obama Fixates On Climate, Ignores Faltering Economy. Obama's in Alaska for three days not to celebrate the state's massive storehouse of vital energy resources but to close them off and shut them down. He's there for a cynical photo op in front of massive and magnificent glaciers that he claims are melting due to greenhouse gas emissions. Could his timing possibly be worse? In the midst of a financial minipanic of recent weeks with wild stock market fluctuations, huge losses in retirement savings and an economy that continues to underperform, Obama's message is that climate change is destroying the planet. Only Obama would go to one of the most frigid places in the world, where temperatures can reach minus 50 degrees, to complain about too much warming.

Is It Me, Or Is It Hot In Here? In the middle of the worst spring blizzard of the past thirty years, and with temperatures in the twenties, some of those sharp minds who have "settled" the global warming debate held a protest. I kept thinking of that line from the old folk song "Oh, Susanna": the sun so hot I froze to death." ... Both Steven Biel of Greenpeace and the website for Capitol Climate Action said it was the "largest act of civil disobedience for climate change" in the history of the United States." ... Both of these sources claimed the crowd to be 3000. Really? That's it? That was the biggest global warming protest, ever? There were more people than that in my freshman college biology class.

Excuse Me, Your Leftism is Showing. On March 2nd there was a demonstration in Washington D.C. It was billed as the largest demonstration for green power/global warming awareness/stop dirty coal/let's all go live in a tepee, ever held. It was attended by — are you ready for the number? — 2,500 people. That was the largest one ever! This demonstration was covered by every major television and news service. No station or alleged newspaper gave any coverage to opposing opinions. Ironically there was a blizzard that day another fact which, to the best of my knowledge, was not noted by any major news outlet.

Pelosi Snowed-Out of Global Warming Rally. Speaker of the House Nancy Pelosi (D-Calif.) had to cancel an appearance Monday [3/2/2009] at a global warming rally in Washington, D.C., that was hit by a snowstorm because her flight was delayed, her office told CNSNews.com. Brianna Cayo-Cotter, the spokesman for the Energy Action Coalition that held the rally, told a group of reporters that she had been in contact with Pelosi and that her flight had been delayed because of inclement weather.

Global Warming: On Hold? Earth's climate continues to confound scientists. Following a 30-year trend of warming, global temperatures have flatlined since 2001 despite rising greenhouse gas concentrations, and a heat surplus that should have cranked up the planetary thermostat.

Obama Talks Global Warming to Shivering Crowd. Following a year predicted to be the "hottest in a century" that turned out instead to be the coolest in a decade, you'd think that — given the extraordinarily glacial locale — the supposedly brilliant future leader of the free world would have appreciated the hysterical disconnect in his words.

Climate Confusion. As a new president takes office and elevates global warming alarmism to official federal policy, much of America is experiencing record low temperatures.

Global Warming Freeze? President-elect Barack Obama recently declared his intention to mitigate global warming by enacting a cap-and-trade policy that would reduce carbon emissions 80 percent by the year 2050. But the last two years of global cooling have nearly erased 30 years of temperature increase. To the extent that global warming ever existed, it is now officially over, says David Deming, a geophysicist and adjunct scholar with the National Center for Policy Analysis.

Debate Over; It's Freezing. I've been informed, quite forcefully, that "climate change" can induce weather to warm, make it colder and, miraculously, produce whatever climate condition we happen to be experiencing at that very moment. So I wholeheartedly concur with my environmentalist friends: Climate does indeed make weather fluctuate. The day Waxman delivered his statement, the National Weather Service issued a warning for Chicago about the wind chill index being somewhere in the vicinity of 25 to 40 below zero.

Change You Can't Believe In. [Scroll down] For starters, the rapidly expanding number of Anthropogenic Global Warming (AGW) dissenting international scientists, many rising from within the alarmists' own ranks, has thoroughly shredded the misleading fallacy of "consensus." And a full decade sans warming and concluding with pronounced cooling despite ever-rising atmospheric CO2 levels has left Green House Gas (GHG) force-feeders with frosty egg on their faces. Remember the sea ice that doomsters warned would soon be gone? It's now at the very same level it was in 1979.

It's time to pray for global warming. At December's U.N. Global Warming conference in Poznan, Poland, 650 of the world's top climatologists stood up and said man-made global warming is a media generated myth without basis. Said climatologist Dr. David Gee, Chairman of the International Geological Congress, "For how many years must the planet cool before we begin to understand that the planet is not warming?" I asked myself, why would such obviously smart guy say such a ridiculous thing? But it turns out he's right. The earth's temperature peaked in 1998. It's been falling ever since; it dropped dramatically in 2007 and got worse in 2008, when temperatures touched 1980 levels.

Facts debunk global warming alarmism. The National Oceanic and Atmospheric Administration reported that October in the US was marked by 63 record snowfalls and 115 lowest-ever temperatures. Over the past few years, similar signs of colder than usual weather have been recorded all over the world, causing many people to question the still fashionable, but now long outdated, global warming alarmism. Yet individual weather events or spells, whether warmings or coolings, tell us nothing necessarily about true climate change.

Ice Age or global warming? It looks more like an Ice Age than global warming. There is so much snow in Oslo, where I live, that the city authorities are resorting to dumping truckloads of it in the sea because the usual storage sites on land are full. That is angering environmentalists who say the snow is far too dirty — scraped up from polluted roads — to be added to the fjord.

Flint's 95-year-old record low falls as 19 below zero hits city. Here's the bad news: Flint broke a 95-year-old record early Wednesday morning when the temperature plummeted to a frigid 19 below zero. The previous record? Minus 10, set in 1914, according to the National Weather Service. Here's the even worse news: We won't seeing relief in the next few days.

Al Gore And Climate Ka-Ching: The trend in the world's oceans — as shown by measurements taken by a fleet of 3,000 high-tech ocean buoys first deployed in 2003 — is toward cooling. As Dr. Josh Willis, of NASA's Jet Propulsion Laboratory, noted in a separate interview with National Public Radio, "there has been a very slight cooling" over the buoys' five years of observation. As Joseph D'Aleo, the Weather Channel's first director of meteorology, told National Review Online's Deroy Murdock that the slight warming trend "peaked in 1998, and the temperature trend the last decade has been flat, even as CO2 has increased 5.5%.

The Day After (Inauguration). The temperature at Denver International Airport dropped to 18 below zero on Sunday, breaking the previous record of 14 below set in 1901. White Sulphur Springs, Mont., reported 29 below to the National Weather Service, breaking the record of 17 below set in 1922. Meanwhile, ice storms ravage the Northeast and the upper Midwest. This is not a local phenomenon. Hong Kong had the second-longest cold spell since 1885. Cold in northern Vietnam destroyed 40% of the rice crop and killed 33,000 head of livestock. The British Parliament debated climate change as London experienced the first October snow since 1934.

Warmist hysteria intensifies as temperatures plunge. It snowed in Houston Wednesday tying a record for the earliest appearance of the white stuff in the city's history. There were rare snowfalls in Southern Louisiana, Alabama, and Mississippi Thursday. They're expecting possible record-breaking cold in the Pacific Northwest. Record cold in Montana. Record cold in Denver. Supposed to snow in the San Francisco Bay Area Monday. And the AP thinks we're running out of time to solve global warming.

Cold, Hard Facts: James Hansen, head of NASA's Goddard Institute for Space Studies and global warming alarmist, is Al Gore's favorite scientist, part of that mythical global warming "consensus" that says we are doomed and man is the culprit. On Nov. 10 he announced that last month was the hottest October on record and we were still doomed. ... Christopher Booker, writing in the U.K. Telegraph, reports that Hansen apparently has been spreading disinformation all his own to come up with a conclusion that flies in the face of empirical evidence we can see with our own eyes. Hansen's claim of the hottest October ever came after reports of unseasonal snow and record low temperatures.

Global Warming Update: 'Earth on the Brink of an Ice Age'. As Democrats and their president-elect — with invaluable assistance from their media minions — continue spreading climate hysteria in order to raise taxes and redistribute wealth, a possibly inconvenient truth has just been presented to the international community: "The earth is now on the brink of entering another Ice Age, according to a large and compelling body of evidence from within the field of climate science."

Brrr! Bitter cold grips Minnesota. The thermometer said it was 38 degrees below zero. The National Weather Service said the wind chill was -58.

For the first time in years, the western part of Lake Superior freezes over. If the big lake seems to have an unusually placid appearance off Duluth's shores these days, it's because you're looking at ice. The western tip of Lake Superior has frozen over in December for the first time in recent memory, and that could mean a long season of ice angling that hasn't been seen in years.

2008 was the year man-made global warming was disproved. All over the world, temperatures have been dropping in a way wholly unpredicted by all those computer models which have been used as the main drivers of the scare. Last winter, as temperatures plummeted, many parts of the world had snowfalls on a scale not seen for decades. This winter, with the whole of Canada and half the US under snow, looks likely to be even worse. After several years flatlining, global temperatures have dropped sharply enough to cancel out much of their net rise in the 20th century.

Baby, It's Cold Outside. Al Gore may believe in global warming, but I suggest that he have a word with his fellow environmental catastrophists at the U.K.'s Hadley Centre for Climate Prediction and Research. Since the end of 1998, global warming has ceased. In fact, it is getting colder out there. 2008 was possibly the coldest year of this young century. During the past two years, temperatures have dropped by more than 0.5 degrees Celsius.

Cool 2008 warms climate debate. While the official figures are not yet in, 2008 is widely tipped to be declared the coolest year of the century. Whether this is a serious blow to global warming alarmists depends entirely on who you talk to. Anyone looking for a knockout blow in the global warming debate in 2008 were sorely disappointed.

Truly inconvenient truths about climate change being ignored. For most of the past seven years, those temperatures have actually been on a plateau. For the past year, there's been a sharp cooling. These are facts, not opinion: the major sources of these figures, such as the Hadley Centre in Britain, agree on what has happened, and you can check for yourself by going to their websites. Sure, interpretations of the significance of this halt in global warming vary greatly, but the facts are clear.

Hell Freezes Over. On Friday [12/19/2008], the Las Vegas Sun reported that eight inches of snow had hit the Las Vegas Valley. The 3.6 inches that had already fallen as of late Wednesday near McCarran Airport added up to the most snow recorded for the area in December since they began keeping records 70 years ago. The white powder even dusted Malibu as a winter storm hit parts of California.

Snow and freezing weather threaten to shut down Britain. Arctic blizzards are set to cause a national shutdown on Monday [2/2/2009] as forecasters warn of the most widespread snowfall for almost 20 years.

Skiers enjoy heavy snowfall despite dire predictions. Just three years after the ski runs were blemished with soggy patches of mud and grass, Alpine resorts are enjoying the best snow of a generation, despite predictions that changing weather patterns had doomed the sport

UK snowstorm worst in 18 yrs. The British capital ground to a halt on Monday after the worst snowstorm in 18 years caused hundreds of flight cancellations and virtually shut down public transportation. Shops, schools and courts shut down and long trails of commuters trudged through the streets, looking for scarce taxis or ways to work after more than 10cm of snow fell overnight.

Record snowfalls draw skiers to snap up holiday bargains. Despite the strength of the euro, British bargain hunters are heading to the snow-covered mountains of Europe to enjoy the best start to a skiing season for more than 20 years. Record snowfalls and an oversupply of accommodation caused by the credit crunch have prompted a last-minute rush to snap up savings worth hundreds of pounds.

Branch Gorevidians Explain Harsh Winter. This time of year, especially under the conditions much of the country is experiencing, we see people who are digging out from under tons of snow who are mocking "global warming." ... But a good global warmist wouldn't win an episode of Eco-Fear Factor unless he or she could explain how global warming can indeed bury us in snow (because, as you know, it never snowed before global warming started a few years ago).

Will Nature Soon Cool Hot Debates? Measurements by four major temperature tracking outlets reported that world temperatures dropped by about 0.65°C to 0.75°C during 2007, the fastest temperature changes ever recorded (either up or down). The cooling approached the total of all warming that occurred over the past 100 years, which is commonly estimated at about 1°C. Antarctic sea ice expanded by about 1 million square kilometers — more than the 28-year average since altimeter satellite monitoring began.

Snow blankets London for Global Warming debate. Snow fell as the House of Commons debated Global Warming yesterday — the first October fall in the metropolis since 1922. The Mother of Parliaments was discussing the Mother of All Bills for the last time, in a marathon six hour session.

Cold streak sets new record -- Saskatoon experiences 24 consecutive days of -25°C or lower. How's this for cold comfort? Saskatoon's deep freeze is likely the longest streak of low temperatures below -25 C that has numbed this city since record-keeping began in 1892.

Record Snowfall Slams Las Vegas. A rare snowstorm blanketed the Las Vegas Valley on Wednesday, delaying flights, causing widespread fender-benders and canceling events. More than 6 inches of snow fell in parts of the valley, forecasters said. The rarities continued Wednesday night with the Clark County School District's announcement that students are getting a snow day on Thursday. It's the first snow day for Clark County students since 1979 ... .

Storm forces closure of icy Eiffel Tower in Paris. A winter storm brought blankets of snow across Europe today, forcing the closure of an icy Eiffel Tower in Paris and causing flight cancellations.

Seattle paralyzed by chance of snow. Schools throughout greater Seattle closed Wednesday at the mere threat of snow late in the day, a symptom of the city's deep phobia of the white stuff and near-complete inability to deal with any significant snowstorm. Even though Seattle is the nation's northernmost major city, snow is a rarity here, and the city is ill-equipped to clear the streets of its hilly neighborhoods.

Rare snow covers New Orleans, other areas. A rare snowfall blanketed south Louisiana and parts of Mississippi Thursday [12/11/2008], closing schools, government offices and bridges, triggering crashes on major highways and leaving thousands of people without power.

Ice Skating Down the Bayou. I know, I know: Extreme winters are a sign of "climate change." Except mild winters are also a sign of climate change. Whatever truth there is to global warming, it isn't inconvenient. It's the most easily adaptable "crisis" ever discovered. Not only is it supported by the only scientific theory to be confirmed by contradictory data, but its adherents don't have to worry about defending themselves, because as Barack Obama recently said, "The science is beyond dispute."

Feeling cold, thinking hot. Treasurer Wayne Swan had to get out of his woollies yesterday [10/30/2008] before telling us the world really was warming — and we must pay. You see, just days before he stood in Canberra, waving a Treasury document he claimed would help stop us heating to hell, his own family had shivered through a day that should make him finally wonder if there really is any global warming.

'Worst' snowstorm kills 7 in China. A severe snowstorm in south-west China's Tibet region has killed seven people and stranded another 1,300 in damaged buildings and villages, state media reported on Wednesday [10/29/2008], citing local authorities. The storm, which started on Sunday and dumped 64 cm of snow in one county alone, had also killed 144,400 head of livestock and knocked out telecommunications and traffic in Tibet's Shannan Prefecture, Xinhua news agency said, citing the local government.

The Editor says...
Please note -- this happened in October, not January.

Anchorage suffers one of coldest Octobers ever. Anchorage has logged the eighth coldest October on record, the National Weather Service said today [10/31/2008]. With an average temperature of 29.7 degrees, October landed a spot in history as one of the 10 coldest out of the roughly 90 years since records have been kept in Anchorage.

7 killed in Tibet's 'worst snowstorm'. At least seven people have been found dead after "the worst snowstorm on record in Tibet," China's state-run news agency reported Friday [10/31/2008]. About 1,350 people were rescued in Lhunze County — another 300 were trapped — after nearly five feet of snow blanketed much of Tibet this week.

[October. It's not even winter yet.]

Twelve-month long drop in world temperatures wipes out a century of warming. Over the past year, anecdotal evidence for a cooling planet has exploded. China has its coldest winter in 100 years. Baghdad sees its first snow in all recorded history. North America has the most snowcover in 50 years, with places like Wisconsin the highest since record-keeping began. Record levels of Antarctic sea ice, record cold in Minnesota, Texas, Florida, Mexico, Australia, Iran, Greece, South Africa, Greenland, Argentina, Chile — the list goes on and on.

Cold and Colder. Joe Bastardi, the Chief Long-Range Forecaster at AccuWeather, has released his 2008-09 Winter Season Forecast addressing issues of average temperature and precipitation that will impact the nation. His forecast calls for one of the coldest winters in several years across much of the Eastern portion of the United States, the population-dense third of the nation.

More Global Cooling Ahead, Study Says. Natural variations in climate, driven by shifting ocean currents, could lead to another decade of cooling global temperatures, according to a peer-reviewed study in the scientific journal Nature. The cooling temperatures would add to an ongoing cooling trend that has held sway for the past decade.

Brisbane records coldest August in eight years. The weather experts have confirmed what Brisbane people suspected — the city has just shivered through its coldest August in at least eight years. It also was the driest since 2001, with Brisbane picking up just 16mm of rain, below the long-term norm of 35mm.

We are actually heading towards a new Ice Age, claim scientists. It has plagued scientists and politicians for decades, but scientists now say global warming is not the problem. We are actually heading for the next Ice Age, they claim. British and Canadian experts warned the big freeze could bury the east of Britain in 6,000ft of ice.

Cold Temperatures Continue to Batter United States. Cooling temperatures sent the United States into a deep freeze during the first half of 2008, resulting in some extraordinary weather events. ... Aspen, Colorado decided to reopen its ski resort slopes in mid-June, reporting a snow base up to three feet deep well after the resort normally closes for the season. A mid-June snowstorm also hit the suburbs of Seattle, with snowfall reported at elevations as low as 3,000 feet.

Icy reality cools the climate cultists. The latest blow to the Government's apocalyptic prophet is news from the Norwegian Meteorological Institute that there is more ice than normal in the Arctic waters north of the Svalbard archipelago. According to the Barents Observer there are open areas in this area in most years during July — but this year the area is covered by ice. A fortnight ago a Norwegian research ship, Lance, and a Swedish ship, MV Stockholm, got stuck in the ice in the area and needed to be freed by the Norwegian Coast Guard.

Baby, Baby It's a Cold World. Lord Christopher Monckton, a policy adviser to former British prime minister Margaret Thatcher, was recently referenced by senior climate-science authority Fred Singer as saying: "Global warming stopped ten years ago; it hasn't gotten warmer since 1998. … And in fact in the last seven years, there has been a downturn in global temperatures equivalent on average to about [or] very close to one degree Fahrenheit per decade. We're actually in a period … of global cooling."

Evidence of Global Cooling. Now there is word that all four major global temperature tracking outlets have released data showing that temperatures have dropped significantly over the last year. California meteorologist Anthony Watts says the amount of cooling ranges from 65-hundredths of a degree Centigrade to 75-hundreds of a degree. That is said to be a value large enough to erase nearly all the global warming recorded over the past 100 years. It is reportedly the single fastest temperature change ever recorded — up or down.

Global Warming? It's the Coldest Winter in Decades. New evidence has cast doubt on claims that the world's ice-caps are melting, it emerged last night. Satellite data shows that concerns over the levels of sea ice may have been premature. It was feared that the polar caps were vanishing because of the effects of global warming. But figures from the respected US National Oceanic and Atmospheric Administration show that almost all the "lost" ice has come back.

The Global Warming Bubble: The world hasn't been warming since 1998, and an article in the journal Nature says warming won't pick up again until 2015. Since global warming is a long-term trend, a decade-long or more stall in temperatures doesn't mean much — except that environmentalists have banked so much politically on whipping up hysteria based on imminent catastrophe. The stall in temperatures shows how little we know about global warming.

Are Global Warmists Pulling a Cool Fast One? Mounting evidence of lower temperature trends despite rising atmospheric CO2 levels is becoming a real problem for the greenhouse gas crowd. And reports that the cooling appears to follow a period of dormant solar activity aren't likely to ease their anxieties. Indeed, without an immediate alarmist course correction, years of "the science is settled" campaigning could prove for naught, as prolonged temperature dips decimate the primary anthropogenic argument.

The world has never seen such freezing heat. A surreal scientific blunder last week raised a huge question mark about the temperature records that underpin the worldwide alarm over global warming. On Monday [11/10/2008], Nasa's Goddard Institute for Space Studies (GISS) ... announced that last month was the hottest October on record. This was startling. Across the world there were reports of unseasonal snow and plummeting temperatures last month, from the American Great Plains to China, and from the Alps to New Zealand. China's official news agency reported that Tibet had suffered its "worst snowstorm ever". In the US, the National Oceanic and Atmospheric Administration registered 63 local snowfall records and 115 lowest-ever temperatures for the month, and ranked it as only the 70th-warmest October in 114 years.

Global warming numbers get a little help from their friends. According to the GISS figures, last month was the warmest October on record around the world. This struck some observers as odd. There had been no reports of autumn heat waves in the international press and there is almost always blanket coverage of any unusually warm weather since it fits into the widespread media bias that climate catastrophe lies just ahead. In fact, quite the opposite had occurred; there had been plenty of stories about unseasonably cool weather.

The killer frost for global warming. Turn up the heat, somebody. The globe is freezing. Even Al Gore is looking for an extra blanket. Winter has barely come to the northern latitudes and already we've got bigger goosebumps than usual. So far the National Oceanic and Atmospheric Administration (NOAA) reports 63 record snowfalls in the United States, 115 lowest-ever temperatures for the month. Only 44 Octobers over the past 114 years have been cooler than this last one.

[Much more about GISS errors here.]

New Hope for Global Warming Deniers. Things are looking up for the global warming skeptics. First of all there is the global temperature. After holding constant since 1998 it has dropped markedly in the last two years. … Recently the Germans prudently declared a ten-year hold on non-stop global warming. What with a flip in the Gulf Stream they realized that the numbers weren't going to look too good for the alarmists in the next few years.

NASA measures global temperatures. NASA is spending around 20 million dollars a year to deploy and monitor 3000 robot buoys around the worlds oceans and the data coming in doesn't support their theory on global warming, in fact it turns out the world has cooled slightly in the last five years. It's surprising the mainstream media hasn't picked up on this, you would think the fact that the earth is cooling would be front page news.

NASA Confirms Natural Climate Shift. NASA has confirmed that a developing natural climate pattern will likely result in much colder temperatures. Of course, the climate alarmists' favorite dubious data source was also quick to point out that such natural phenomena should not confuse the issue of manmade greenhouse gas induced global warming.

Global warming is hoax that has become dogma. In South America, last year was one of the coldest ever observed. In Buenos Aires, it snowed for the first time in 89 years. Chile had the roughest winter, according to the agricultural minister, in the past 50 years. Most of Antarctica is actually getting colder. According to a University of Oklahoma temperature specialist David Deming, "unexpected bitter cold swept the entire Southern Hemisphere in 2007."

Antarctica Ain't Cooperating! National Geographic magazine featured a cover story entitled "The Big Thaw," and based on what you would see in that issue, you would think there is absolutely no debate about rapid and undesirable changes occurring in Antarctica all due to the dreaded global warming phenomenon. As we have shown over and over, nothing could be further from the truth!

Snow forecast for mountains tonight. Think it's cold? You have good reason. Seattle just experienced the coldest first week of June, according to climate records dating to 1891, said Cliff Mass, University of Washington metrologist. Both 1999 and 2008 share the record, with 1917 falling in second place, he said. "Just wait until tomorrow," he said, when temperatures are going to be even colder.

A Heat Wave, But ... In late May, despite Green predictions that the Arctic is melting so fast that it will provide a new route, a Northwest Passage, for ships, a group of eco-tourists on a vessel offering polar expeditions found themselves trapped when a former Soviet icebreaker, refitted for visits to the supposedly disappearing ice, was trapped in late May by ice.

June snowstorm chills valley. Tuesday's dumping of snow across the Flathead Valley had locals checking their calendars to be sure it was, indeed, June 10. Flathead Valley snowfall in June is not unprecedented, but after a long string of dry, warm spring seasons the snowfall did surprise some of the newer arrivals to the valley.

Gaiag Me With a Spoon. Gaia can be a fickle goddess, as Earth Day celebrants in Canada discovered this weekend. But the irony of an April blizzard driving an Earth Day celebration indoors, in this age of global warming, seems lost on reporters who have swallowed environmentalism hook, line and sinker.

See Gore, See Spot. Geophysicist Phil Chapman, the first Australian to become a NASA astronaut, and who served as mission specialist on the Apollo 14 lunar mission, writes in the Down Under newspaper the Australian that "the rout of Napoleon's Grand Army from Moscow was at least partly due to the lack of sunspots." This is more than a historical footnote. The same pattern of solar activity that doomed Napoleon is occurring as we speak.

An emerging truth: There is now unequivocal evidence that the temperature of the planet is dropping like a stone. … Here's some other data you may not have seen. The troposphere hasn't warmed for the past five years. And the oceans haven't warmed for five years either … Now, you may not know about this sudden deadly chill in the MMGW atmosphere because the BBC hasn't told you. To be more precise, it did try to report this — but then appears to have altered its report under pressure from a global warming activist.

Global temperatures will drop slightly this year. The World Meteorological Organization's secretary-general, Michel Jarraud, told the BBC it was likely that La Niña would continue into the summer. This would mean global temperatures have not risen since 1998, prompting some to question climate change theory.

Geologist: Sun's shift could mean global chill. Fluctuations in solar radiation could mean colder weather in the decades ahead, despite all the talk about global warming, retired Western Washington University geologist Don Easterbrook said Tuesday [4/8/2008]. Easterbrook is convinced that the threat of global warming from mankind's carbon dioxide pollution is overblown.

A cold spell soon to replace global warming. Stock up on fur coats and felt boots! This is my paradoxical advice to the warm world. Earth is now at the peak of one of its passing warm spells. It started in the 17th century when there was no industrial influence on the climate to speak of and no such thing as the hothouse effect. The current warming is evidently a natural process and utterly independent of hothouse gases. The real reasons for climate changes are uneven solar radiation, terrestrial precession (that is, axis gyration), instability of oceanic currents, regular salinity fluctuations of the Arctic Ocean surface waters, etc. There is another, principal reason — solar activity and luminosity. The greater they are the warmer is our climate.

Economists: extreme cold weather costly, deadly. Fatalities in the continental United States tend to climb for several weeks after severe cold spells, ultimately numbering 360 per chilly day and 14,380 per year, according to a new study co-authored by a University of California, Berkeley, economist. Deaths linked to extreme cold account for 0.8 percent of the nation's annual death rate and outnumber those attributed to leukemia, murder and chronic liver disease combined, the study reports. Cold-related deaths also reduce the average life expectancy of Americans by at least a decade, it says.

It may be cold, but CBC reassures us that calamity still looms. Ah, the weather. … How cold is it? It's so cold the CBC had to rush to assure all of us that global warming is still a big, big problem. With record snow falls, record cold snaps, the return of sea ice to the north, snow in the Middle East and a deep freeze in China, any sensible person might begin to wonder and even have doubts about global-warming theory and climate change. A little skepticism might begin to creep into the public sphere and threaten to undermine public belief in global warming.

Minnesota's fishing opener: The cold truth about ice. With less than three days to go before Minnesota's fishing opener, ice still stubbornly clings to some northern Minnesota lakes, leaving anglers to wonder if the hard water will be gone on their favorite lake by Saturday [5/10/2008]. … It's the latest ice-out since 1996.

Antarctic Deep Sea Gets Colder. The Antarctic deep sea is getting colder, which might stimulate the circulation of the oceanic water masses. … At the same time satellite images from the Antarctic summer have shown the largest sea-ice extent on record. In the coming years autonomous measuring buoys will be used to find out whether the cold Antarctic summer induces a new trend or was only a "slip".

Sorry to ruin the fun, but an ice age cometh. The scariest photo I have seen on the internet is www.spaceweather.com, where you will find a real-time image of the sun from the Solar and Heliospheric Observatory, located in deep space at the equilibrium point between solar and terrestrial gravity. What is scary about the picture is that there is only one tiny sunspot. Disconcerting as it may be to true believers in global warming, the average temperature on Earth has remained steady or slowly declined during the past decade, despite the continued increase in the atmospheric concentration of carbon dioxide, and now the global temperature is falling precipitously.

Sydney's Coolest Summer in 50 Years Leaves Empty Cafes, Gloom. Sydney residents and tourists are cursing La Nina as the harbor city says goodbye to the summer that wasn't. While the La Nina weather pattern is delivering rain to farmers after the worst drought in a century, it's cutting profits for cafe owners, travel agents and insurers.

Tons of Snow Test a Place Where Cold Is No Stranger. People here are divided between those longing for a few more inches of snow to set a record and others who think the 14 feet that has already landed, and mostly lingered, is more than enough.

January Weather Was Exceptionally Cold, Snowy. January 2008 has been an exceptional month for winter weather, not only in North America but across the globe, according to numerous indicators. We've had anecdotal evidence of odd weather in the form of wire reports from China, Iraq, and Saudi Arabia, and record-setting cold and snow have been felt with intensity not seen for 30 to 100 years, depending on the region.

Cold Water on "Global Warming". It has almost become something of a joke when some "global warming" conference has to be cancelled because of a snowstorm or bitterly cold weather. But stampedes and hysteria are no joke — and creating stampedes and hysteria has become a major activity of those hyping a global warming "crisis." They mobilize like-minded people from a variety of occupations, call them all "scientists" and then claim that "all" the experts agree on a global warming crisis. Their biggest argument is that there is no argument.

Cool News About Global Warming: NASA says recent satellite images show that the allegedly endangered polar ice cap — which will melt completely one of these summers and kill off all the polar bears if we don't slash our greedy carbon footprints and revert to the lifestyles of medieval peasants — has recovered to near normal coverage levels. … Meanwhile, in other news too climatically incorrect for U.S. mainstream media to touch, California meteorologist Anthony Watts says January 2008 was the planet's second-coldest January in 15 years.

Skeptics of human-caused global warming point to cold spell. The world has seen some extraordinary winter conditions in both hemispheres over the past year: snow in Johannesburg last June and in Baghdad in January, Arctic sea ice returning with a vengeance after a record retreat last summer, paralyzing blizzards in China, and a sharp drop in the average temperature of the globe.

Best ski conditions for Norway in 20 years. Trysil, Norway's largest alpine ski resort area, reports the best conditions since 1988, when there was 2.2 meters of snow on the ground. … Meanwhile, Hemsedal, another top Scandinavian ski area, has never had as much snow in January as this year.

NOAA: Coolest Winter Since 2001 for U.S., Globe. The average temperature across both the contiguous U.S. and the globe during climatological winter (December 2007-February 2008) was the coolest since 2001, according to scientists at NOAA's National Climatic Data Center in Asheville, N.C. In terms of winter precipitation, Pacific storms, bringing heavy precipitation to large parts of the West, produced high snowpack that will provide welcome runoff this spring.

Snow swallows towns' space, cash. Nearly 3,000 dump trucks piled high with snow have rumbled out of Telluride this year bound for a winter dump where the mountain of dirty white stuff has grown much bigger than any building in town.

Recent cold snap helping Arctic sea ice, scientists find. There's an upside to the extreme cold temperatures northern Canadians have endured in the last few weeks: scientists say it's been helping winter sea ice grow across the Arctic, where the ice shrank to record-low levels last year. Temperatures have stayed well in the -30s C and -40s C range since late January throughout the North, with the mercury dipping past -50 C in some areas. Satellite images are showing that the cold spell is helping the sea ice expand in coverage by about 2 million square kilometres, compared to the average winter coverage in the previous three years.

Top 10 'Global-Warming' Myths: (#6) Global warming has doomed the polar bears! For some reason, Al Gore's computerized polar bear can't swim, unlike the real kind, as one might expect of an animal named Ursa Maritimus. On the whole, these bears are thriving, if a little less well in those areas of the Arctic that are cooling (yes, cooling).

Warmist polar expedition was cancelled due to extreme cold. While losing toes to frostbite is no joke, one has to wonder if these two publicity-seekers were undone by believing their own propaganda. … And how many purportedly harmful carbon dioxide molecules were generated by the rescue airplane to be sent to save them from their folly? I hope the two recover fully and come to realize that it can still be really, really cold in the arctic, no matter what Al Gore tells them.

Amazing pictures of countries joining Britain in the big freeze. Across much of the northern hemisphere, from Greece and Iran to China and Japan, they have been suffering their worst snowfalls for decades. Similarly freakish amounts of snow have been falling over much of the northern United States, from Ohio to the Pacific coast, where in parts of the state of Washington up to 200 inches of snow have fallen in the past fortnight.

Global warming sceptics bouyed by record cold. Global warming sceptics are pointing to recent record cold temperatures in parts of North America and Asia and the return of Arctic Sea ice to suggest fears about climate change may be overblown. According to the US National Climatic Data Center (NCDC), the average temperature of the global land surface in January 2008 was below the 20th century mean (-0.02°F/-0.01°C) for the first time since 1982.

Forget global warming: Welcome to the new Ice Age. Snow cover over North America and much of Siberia, Mongolia and China is greater than at any time since 1966. The U.S. National Climatic Data Center (NCDC) reported that many American cities and towns suffered record cold temperatures in January and early February. According to the NCDC, the average temperature in January "was -0.3°F cooler than the 1901-2000 (20th century) average."

This winter is third worst in decade. Who was it who coined the term "winter wonderland"? Obviously, someone who never lived in Chicago. This winter has been especially bad. It's not just your imagination. According to an array of weather statistics compiled by Illinois state climatologist Jim Angel, it's the third-worst winter in a decade. And weird, besides. "This is some of the most dramatic winter weather I have ever seen," says Angel.

Heavy snow brings Greece to standstill. A raging snow storm that blanketed most of Greece over the weekend also continued into the early morning hours on Monday [2/18/2008], plunging the country into sub-zero temperatures. Public transport buses were at a standstill on Monday in the wider Athens area, while ships remained in ports, public services remained closed, and schools and courthouses in the more severely-stricken prefectures were also closed.

Short-Term Ocean Cooling Suggests Global Warming 'Speed Bump'. The average temperature of the water near the top of the Earth's oceans has significantly cooled since 2003. New research suggests global warming trends are not always steady in their effects on ocean temperatures.

Global Warming Explained: In the 1950s Canada had about 15 permanent weather monitoring stations in the Arctic. Today only five remain, and the Federal Government announced recently that it will shut down some more of those. … Canada always had lousy weather: nine months of winter and three months of poor sledding, but it was quite attractive to the first settlers. It had no income tax returns, low taxes, playing cards for money, and for about 200 years no lawyers. Still, the Canadian weather was always so extreme that Canadians never quit talking about it since they got here.

An Ice Age versus Global Warming. The latest summary of yet another revised edition of a report by the United Nations Intergovernmental Panel on Climate Control has evoked all the usual fears predicting the deaths of millions by 2080, and other end of the world scenarios. 2080 is a mere 73 years from now. In meteorological terms, it is a blink of the eye. Real climatologists measure time far differently than the rest of us. While the IPCC, Al Gore, and the other fear mongers are warning of the horrors of Global Warming, it is useful to look at the time scales. The end of the last Ice Age was 11,500 ago.

Little Ice Age May Return Soon, Russian Scientists Say. A gradual decline in global temperatures will begin by 2015, with temperatures bottoming out in Little IceAge conditions during a 60-year period beginning around 2060, researchers with the Russian Academy of Sciences have concluded. Their finding contradicts predictions of global warming made in recent years by some climate theorists.

These Chinese scientists say the cooling will start sooner -- perhaps about 20 years from now.

Global Warming Suffers a Chilling Effect. The last two months of the year 2000 were the coldest since the United States federal government started keeping records more than a century ago, in 1895.

Extreme cold over South Pole reveals global warming models are wrong: A discovery that it is much colder over the South Pole than believed has exposed a major flaw in the computer models used to predict global warming, a new scientific paper claims.

Top 10 'Global-Warming' Myths: (#6) Global warming has doomed the polar bears! For some reason, Al Gore's computerized polar bear can't swim, unlike the real kind, as one might expect of an animal named Ursa Maritimus. On the whole, these bears are thriving, if a little less well in those areas of the Arctic that are cooling (yes, cooling).

Where is the Boy Who Cried Warming Now That Antarctica Is Cooling? So the Antarctic is cooling after all. Years of news reports claimed that it was warming, and that gigantic icebergs would calve off and melt, turning New York's Central Park into a pond. But the boy who cried "wolf" cried once too often. It turns out that most of the Antarctic measurements in the past had been taken on a small peninsula, and not over the vast wind-blown expanse of the frozen continent.

Minnesota Team Abandons Effort to "Prove" Global Warming. The scaremongers point out as many as seven ice shelves have broken off the Antarctic continent over the past 50 years. They blame global warming, ignoring the inconvenient evidence that the continent is actually cooling dramatically. Between 1986 and 2002, Antarctica cooled by 0.7°C. per decade. There also has been a statistically significant increase in sea ice area, as well as an increase in the length of the sea ice season, since 1990.

Scientists Say Antarctica is Cooling, Not Warming. Parts of Antarctica have cooled sharply in recent years, according to a study published online by Nature, a British weekly science journal. The research was led by Peter Doran of the Department of Earth and Environmental Sciences at the University of Illinois at Chicago.

Antarctica Is Cooling? So the Antarctic is cooling after all. Years of news reports claimed that it was warming, and that gigantic icebergs would calve off and melt, turning New York's Central Park into a pond. But the boy who cried "wolf" cried once too often. It turns out that most of the Antarctic measurements in the past had been taken on a small peninsula, and not over the vast wind-blown expanse of the frozen continent.

The Amazing Disappearing, Reappearing Arctic Ice Cap: "Danger lies not in what we don't know, but in what we think we know that just ain't so." So reads the e-mail signature of Greg Holloway, a scientist with the Institute of Ocean Sciences in British Columbia. The quote, from Mark Twain, is appropriate. On April 24, Holloway presented a paper to an international gathering of Arctic scientists in which he argued that the Arctic ice cap is not melting.

Year of global cooling. Al Gore says global warming is a planetary emergency. It is difficult to see how this can be so when record low temperatures are being set all over the world. In 2007, hundreds of people died, not from global warming, but from cold weather hazards. … South America this year experienced one of its coldest winters in decades. In Buenos Aires, snow fell for the first time since the year 1918. … Unexpected bitter cold swept the entire Southern Hemisphere in 2007. Johannesburg, South Africa, had the first significant snowfall in 26 years.

Global warming protest frosted with snow . It snowed, but they still came. A heavy snowfall blanketed a global warming protest outside the State House in Annapolis this morning, but it did not dampen the shouts of about 400 activists who urged lawmakers to pass the nation's toughest greenhouse gas control law.

Global warming is hoax that has become dogma. On Jan. 4, 2007, BBC News reported "2007 to be 'warmest on record.'" So, what happened? In South America, last year was one of the coldest ever observed. In Buenos Aires, it snowed for the first time in 89 years. Chile had the roughest winter, according to the agricultural minister, in the past 50 years. Most of Antarctica is actually getting colder. … Now, it's even snowing in Baghdad!

China battles "coldest winter in 100 years". Millions remained stranded in China on Monday ahead of the biggest holiday of the year as parts of the country suffered their coldest winter in a century. Freezing weather has killed scores of people and left travelers stranded before the Lunar New Year, or Spring Festival — the only opportunity many people have for a holiday all year.

Br-r-r! Where did global warming go? A funny thing happened on the way to the planetary hot flash: Much of the planet grew bitterly cold. In South America, for example, the start of winter last year was one of the coldest ever observed. According to Eugenio Hackbart, chief meteorologist of the MetSul Weather Center in Brazil, "a brutal cold wave brought record low temperatures, widespread frost, snow, and major energy disruption." In Buenos Aires, it snowed for the first time in 89 years, while in Peru the cold was so intense that hundreds of people died and the government declared a state of emergency in 14 of the country's 24 provinces.

Record snowfalls mean big meltdown. For snow-weary residents of the Midwest and New England, spring can't come soon enough. Locations such as Madison, Wis., and Concord, N.H., endured their snowiest winter since records began, and parts of the western USA also saw a much snowier-than-average winter, according to NOAA's National Climatic Data Center.

Record Cold for Northern Minnesota: 40 Below. It lived up to its name: The temperature in International Falls fell to 40 below zero Monday [2/11/2008], just a few days after the northern Minnesota town won a federal trademark making it officially the "Icebox of the Nation."

Global Warming Is Out and Global Cooling Is In? A researcher at Russia's oceanology institute says global warming has peaked — and the planet is now headed for a cooling period that will last through the end of the century. Oleg Sorokhtin is a fellow of the Russian academy of natural sciences. He writes in an article for the Russian news and information agency that a cold spell will set in by 2012. He believes an even colder period will begin as solar activity reaches a minimum in 2041 — and that it will last 50 to 60 years.

Global Warming Vote on Snowy Day in Washington. Nothing inspires taking on the "planetary emergency" of global warming like the first snow of the winter in Washington, D.C.

Minnesota Town Hits 54 Below Zero. Temperatures plummeted across the eastern half of the nation Monday [1/17/2005], approaching an all-time record in northern Minnesota and freezing the Gulf Coast as a river of Arctic air pushed southward. Thermometers registered a low of 54 degrees below zero at Embarrass, Minnesota.




---
Global warming has halted, at least temporarily.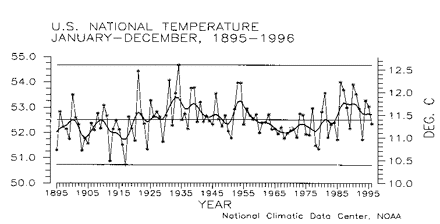 There Has Been No Global Warming for the Past 70 Years.

Global warming hysteria: how the pendulum has swung. It has become commonplace knowledge, and is unchallenged, that global average temperature has not increased since 1998. This corresponds to a 9-year period during which the level of atmospheric carbon dioxide, in contrast, did increase, and that by almost 5%. The greenhouse hypothesis — which asserts that carbon dioxide increases of human origin will cause dangerous global warming — is clearly invalidated by these data. As if that were not enough, a leading computer modelling team has recently published a paper in Nature which acknowledges what climate rationalists (the so-called "sceptics") have always asserted. Which is that, contrary to IPCC assessments, any human influence on global temperature is so small that it cannot yet be differentiated from natural cycles of climate change.

Global warming has paused. Recent studies by the Hadley Climate Research Center (UK), the Japan Meteorological Agency, the National Oceanic and Atmospheric Administration, the University of East Anglia (UK) and the University of Alabama Huntsville show clearly that the rising trend of global average temperature stopped in 2000-2001. Further, NASA data shows that warming in the southern hemisphere has stopped, and that ocean temperatures also have stopped rising.

Has global warming stopped? The fact is that the global temperature of 2007 is statistically the same as 2006 as well as every year since 2001. Global warming has, temporarily or permanently, ceased. Temperatures across the world are not increasing as they should according to the fundamental theory behind global warming — the greenhouse effect. Something else is happening and it is vital that we find out what or else we may spend hundreds of billions of pounds needlessly.

Happy End of Global Warming! Whatever warming trend was going on has flattened out in the last seven years. Which is an odd thing, because China and India have been pumping out more CO2 from cars and industry. A bunch of ugly facts are nailing the biggest scare story in history.

Zealotry over global warming could damage our Earth far more than climate change. Given that nowadays pretty well every adverse development in the natural world is automatically attributed to global warming, perhaps the most surprising fact about it is that it is not, in fact, happening at all. The truth is that there has so far been no recorded global warming at all this century.

Decade has had fewest 90-degree days since 1930. August is the wettest and often the muggiest month of the year. Yet, summer heat continues in short supply, continuing a trend that has dominated much of the 21st Century's opening decade. There have been only 162 days 90 degrees or warmer at Midway Airport over the period from 2000 to 2008. That's by far the fewest 90-degree temperatures in the opening nine years of any decade on record here since 1930.

Key degrees of difference: Has global warming stopped? The question alone is enough to provoke scorn from the mainstream scientific community and from the Government, which says the earth has never been hotter. But tell that to a new army of sceptics who have mushroomed on internet blog sites and elsewhere in recent months to challenge some of the most basic assumptions and claims of climate change science.

Evidence doesn't bare out alarmist claims of global warming. These are the seven graphs that should make the Rudd Government feel sick. These are the seven graphs that should make you ask: What? Has global warming now stopped? Look for yourself. They show that the world hasn't warmed for a decade, and has even cooled for several years. Sea ice now isn't melting, but spreading. The seas have not just stopped rising, but started to fall.

Follow-up:
Our Earth cools slowly while professor babbles. If even a global warming professor can't prove his case, or even address the facts, why on earth should the rest of us turn off the lights? What madness is this? [Professor Barry] Brook's argument was perhaps best summed up by this astonishing claim: "Climate scientists don't use temperature charts to 'prove' global warming." Don't bother showing me the world isn't warming. I trust the theory that says it must.

Prophecy all washed up. Rain sure is falling this week on the parade of our global warming alarmists. Wettest of all is Tim Flannery, who was made Australian of the Year last year for wailing the world was doomed. We were making the planet heat so fast with our filthy gases, Flannery insisted, that the ice caps were vanishing and we had to "picture an eight-storey building by a beach, then imagine waves lapping its roof". No scare seemed too absurd for this Alarmist of the Year.

New climate figures would make a great debate theme. From 2002 until now, average global temperatures have remained fairly constant. This is in contrast to the previous period when, as everyone knows, the temperature trend was upwards. Most people I've mentioned this to were not aware of it. They assumed that temperatures had continued to rise in line with greenhouse gas emissions, which have certainly continued to increase. So it's worth looking at what's happened.

New Jason Satellite Indicates 23-Year Global Cooling. Dr. Henrik Svensmark's recent experiments at the Danish Space Research Institute seem to show that the earth's temperatures are importantly affected by the low, wet clouds that deflect more or less solar heat back into space. The number of such clouds is affected, in turn, by more or fewer cosmic rays hitting the earth. The number of earthbound cosmic rays depends on the extent of the giant magnetic wind thrown out by the sun. All of this defies the "consensus" that human-emitted carbon dioxide has been responsible for our global warming.

New Findings Show Earth is Not Getting Warmer. The reports note two important findings that run counter to the view that human activity is causing catastrophic global warming.

2006 is probably the coldest year in the last five years. The charts speak for themselves.

Buoy Meets Gore. The Argos buoys have disappointed the global warm-mongers in that they have failed to detect any signs of imminent climate change. … Climate-change promoters also are perplexed by the observations of NASA's eight weather satellites. In contrast to some 7,000 land-based stations, they take more than 300,000 temperature readings daily over the surface of the Earth. In 30 years of operation, the satellites have recorded a warming trend of just 0.14°C — well within the range of normal variations.

Still No Signs of Global Warming. Each month, Earth Track updates the global averaged satellite measurements of the Earth's temperature. These numbers are important because they are real — not projections, forecasts, or guesses. Global satellite measurements are made from a series of orbiting platforms that sense the average temperature in various atmospheric layers. Here, we present the lowest level, which climate models say should be warming. The satellite measurements are considered accurate to within 0.01°C.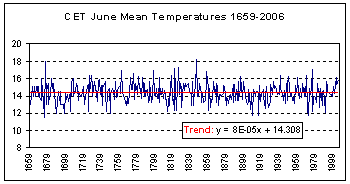 Monthly Mean Central England Temperature, 1659-2006.



There IS a problem with global warming… it stopped in 1998. For many years now, human-caused climate change has been viewed as a large and urgent problem. In truth, however, the biggest part of the problem is neither environmental nor scientific, but a self-created political fiasco. Consider the simple fact, drawn from the official temperature records of the Climate Research Unit at the University of East Anglia, that for the years 1998-2005 global average temperature did not increase (there was actually a slight decrease, though not at a rate that differs significantly from zero).

Nature Study Fails to Dent Satellite Data. Global temperatures show no net warming. "This is the second time in nine months that these journals have let papers be published in the satellite temperature monitoring field that had easily identifiable errors in their methodology."

When Is Global Warming Really a Cooling? A new paper in the journal Nature purports to solve the long standing "problem" of the satellite-based global temperature record not showing much warming over the last 25 years. Instead, all it does is help answer the question: "is the quality of peer review in the popular science journals getting worse?" (The answer is "yes.")

The Best Data Show No Recent Rise At All in Global Temperature. Satellite readings have shown virtually no warming trend since 1979, while ground-based readings have registered significant warming.

No Warming Trend Evident in Twentieth Century. One might pose the question: If we had the ability to set the global thermostat, what temperature would we pick? Would we set it colder or warmer than it is today? What would the optimal temperature be?

Global Warming's Uncertain Future: A recent report by the Environmental Protection Agency includes a notable departure from the last six years.

The real climate change catastrophe. Studies by National Academy of Sciences, NOAA, Danish and other scientists continue to raise inconvenient truths that question and contradict catastrophic climate change theories, computer models and assertions. The "hockey stick" temperature graph (which claimed 1990-2000 was the hottest decade in 1000 years) was shown to be invalid; the Southern Hemisphere has not warmed in the past 25 years; the US is yet to be hit by a major hurricane in 2006; interior Greenland and Antarctica are gaining ice mass, not losing it; and Gulf Stream circulation has not slowed, as claimed in 2005.


---

Back to the The Global Warming Page
Jump to Polar Bears and Polar Ice
Back to the Home page