Federal, state and local governments spent a total of $786.8 billion on education in 2006.* If private schools performed as poorly as most public schools -- at these prices -- they would go out of business! Where else does the price go up and the quality of the end product go down, year after year, except in a government-controlled monopoly like this?

Please note that in some of these articles, the word "student" is used to designate anyone who is enrolled in an educational institution. But secondary school pupils are not necessarily studious. Those who attend reluctantly are probably not learning. I speak from experience.

Related topic: Head Start.


---
Our Nation's Theme Parks Are The Real Dystopian American Vision. From Disney World and Universal Studios to Cedar Point and Six Flags, America's theme parks may offer charm and exciting thrill rides, but they also offer a stark dystopian vision of how far America is from the great country it once was. [...] A college degree is essential for most career paths, yet actual colleges teach less than ever, and entire fields like English and anthropology have become embarrassing jokes. In cities like San Francisco, enormously expensive housing is paired with the need to pay for a private school to avoid a calamitous public system. For millions of Americans, the struggle to maintain the middle class trappings they grew up with has become a path to financial destruction.
Philly schools are spending $4.5 million on air purifiers to curb COVID-19. They won't help much, experts say. Philadelphia school officials are planning to consult with more air quality scientists after meeting Monday with an expert critical of the district's $4.5 million purchase of NASA-originated air purifier technology. The expert, a Drexel professor, said the purifiers were ineffective at reducing the spread of coronavirus and had the potential to create harmful chemicals. [...] The devices have already been purchased and will be installed in every classroom by the end of July, a district spokesperson said. But following the School District's announcement, several experts questioned the purifiers' effectiveness and safety.
The American Descent into Madness. The universities over the past 40 years were intolerant, hard Left, and increasingly anti-constitutional. But they also fostered a golden-goose confidence scheme that administrators dared not injure, given the precious eggs of federally guaranteed student loans that ensured zero academic accountability and sent tuition costs into the stratosphere. There was an unquestioned supposition that a degree of any sort, of any major, was the ticket to American success. In cynical fashion, we shrugged that most prestigious institutions were little more than cattle branders that stamped graduates with imprints that gave them unearned privilege for life. Yet universities now have both hands around their golden goose's neck and are determined to strangle it. The public is becoming repulsed at the woke McCarthyite culture on campus, and will be more turned off when campuses open in the fall in 2019-style. At the Ivy League or major state university campuses, admissions are no longer based on proportional representation in the context of affirmative action, but are defined increasingly by a reparatory character.
Public Schools Still Can't Figure Out How To Reopen. The masks are off, the planes are full, the deaths are way down, and the thriving is high, yet millions of parents still don't know whether their children's schools will be reliably open this fall. That's because many government-run schools, which despite an ongoing enrollment decline are still the main providers of instruction for around 90 percent of the country's 56 million or so K-12 students, have yet to promulgate final rules on the kinds of COVID mitigations that can limit in-person capacity and/or trigger automatic shutdowns. "Up until a couple of weeks ago, you thought we'd be out of the woods by September," Connecticut Gov. Ned Lamont said at a news conference last week. "But now you see the Delta variant, you see what's going on in Australia, you see what's going on in Israel, you see what's going on in Britain, not to mention Arkansas and L.A., so we're going to have to make up our minds on that a little bit later."
Shed a tear for the grown adults who took out gigantic federal loans for a master's degree worth nothing. Carve out some time this weekend for this WSJ piece, one of the best hate-reads I've had in ages.[...] The Journal pulls back the curtain on a preposterous higher-education scam run by corrupt elite universities like Columbia at the expense of imbeciles who can't manage a budget and lavishly enabled by the federal government, which of course also can't manage a budget. During the Bush era, the feds passed a new loan program called Grad Plus to help students who want to pursue a graduate education pay their way. Grad Plus has three distinguishing features. The interest rates on the loans can be quite high, upwards of eight percent. Unlike with undergrad loans, there's no lending limit so some students borrow well into six figures. And if the loans aren't paid off in 20-25 years, taxpayers are on the hook for the balance.
'Financially Hobbled for Life': The Elite Master's Degrees That Don't Pay Off. Recent film program graduates of Columbia University who took out federal student loans had a median debt of $181,000. Yet two years after earning their master's degrees, half of the borrowers were making less than $30,000 a year. The Columbia program offers the most extreme example of how elite universities in recent years have awarded thousands of master's degrees that don't provide graduates enough early career earnings to begin paying down their federal student loans, according to a Wall Street Journal analysis of Education Department data. Recent Columbia film alumni had the highest debt compared with earnings among graduates of any major university master's program in the U.S., the Journal found. The New York City university is among the world's most prestigious schools, and its $11.3 billion endowment ranks it the nation's eighth wealthiest private school.
Preschool and Kindergarten Enrollment Drops 13 Percent Nationally. Public school enrollment in 2020-2021 fell by 3 percent nationally compared to a year earlier, according to preliminary data from the U.S. Department of Education's National Center for Education Statistics (NCES), with pre-K and kindergarten jointly seeing a sharp 13 percent drop. The stark numbers represent the largest year-over-year decline in enrollment since the start of the century, with the drop concentrated among the youngest learners, the NCES figures show. Pre-K saw a 22 percent decrease, kindergarten enrollment fell by 9 percent, grades 1 [through] 8 experienced a 3-percent drop, and grades 9 [through] 12 saw enrollment rise by 0.4 percent. The figures are preliminary, with the final results expected to come next spring.
The Higher Education Bubble Has Popped. The higher education bubble has been rapidly inflating, threatening to pop at any moment. Over the past several decades, our culture has tipped the scales from praising and valuing education to downright socially mandating it. As a result, enrollment has skyrocketed to levels never before seen. While broadening access to higher education is, of course, an ideal to strive for, we're doing a cultural disservice to young generations by stigmatizing alternative options such as trade school. Increasingly, students feel as though they must get a degree to get a halfway decent job — or even just for the sake of social acceptance. As a result, more and more students are phoning it in with degrees in increasingly bizarre and niche fields. These curricula equip them with a handle on abstract theory rather than tangible professional skills. After all, how many scholars of gender studies are actually sustaining themselves outside of the higher-ed bubble?
Parents rip into DOE, say NYC has failed black students. A growing legion of black parents in Queens say the Department of Education has failed their kids through mismanagement and neglect — fueling an exodus out of the public school system. Fed-up families in District 29 — a primarily black area which includes Hollis, Rosedale, and Cambria Heights — said the DOE has long tolerated abysmal math and English proficiency rates, despite high per-student spending. "There are a lot of black middle-class homeowners here," said local activist Michael Duncan of the newly formed Students Improvement Association. "These are successful people, successful families. The results in our schools are not reflective of the community. Something is wrong here."
Christian magazine editor says he won't hire Ivy League graduates anymore. A Christian magazine editor has revealed he'll no longer hire graduates from Ivy League colleges because they're too woke, self-important or scared to speak out against cancel culture even if they don't believe in it. R. R. Reno is the editor of First Things, a monthly religious magazine with a circulation of 30,000. In an op-ed for The Wall Street Journal on Monday, he said used to jump at the chance to hire from Ivy Leagues, but now it turns him off applicants. He said from his experience, kids from colleges like Rutgers in New Jersey are 'as talented but less self-important than Ivy Leaguers' and 'more likely to accept the authority of those more experienced'.
Too 'woke' to work? Magazine editor says elite universities 'damaging' students. A magazine editor explained on "Fox & Friends" Wednesday why he's reconsidering whether to hire Ivy league graduates. "I would just say that 10 years ago I would have seen that as a big positive on their resume and now I see it as a negative that they have to overcome in the interview because obviously there is going to be great kids all over in higher [education] at different schools," said the editor of "First Things" magazine Rusty Reno. Reno said back then, the negative tendencies of Ivy League graduates was that they had a "sense of entitlement" and "arrogance."
Pandemic burnout causing teachers to rethink returning in the fall. For many teachers across the country, the stress of managing their own health concerns during the pandemic, juggling classroom and online education and trying to maintain a connection with students has brought them to a breaking point. A January survey by RAND Corporation found that because of pandemic-related anxieties, one-quarter of U.S. teachers plan to leave the profession by the end of the year. "One of the most consistent narratives you've probably heard over the past year is [that] teachers who are stuck in these hybrid situations feel like they're doing justice neither to the students who are in the school room, physically present, nor to the students who are at home via some sort of remote, virtual instruction," Henry Seton, a former ninth-grade English teacher at KIPP Columbus High School in Columbus, Ohio, told Yahoo News. "Juggling the two of those is no joke."
Texas mom is arrested for posing as her 13-year-old daughter and attending classes all day to 'prove the weaknesses in the middle school's security'. A Texas mother who filmed herself posing as her 13-year-old daughter to sneak into her middle school and attend classes for a day, claims she was did the stunt to prove that security was poor. Casey Garcia, 30, was arrested Friday [6/4/2021] for criminal trespassing, tampering with government records and an unrelated traffic violation, according to El Paso County Jail records, after a video of her sneaking into her daughter's middle school went viral. In the video, Garcia can be seen walking into the building, which was later identified as the Garcia-Enriquez Middle School.
The public school system had stopped teaching children long before the pandemic. Instead of returning to in-person instruction as soon as the science dictated, public school officials clung to superstitions and refused to ditch remote learning. We knew as early as May 2020 that COVID-19 is not a threat to children and that classrooms are not the super-spreader sites teachers feared they would be. [...] The results of this distance learning experiment have been devastating. Students in all grades began failing their classes at alarming rates, and many just stopped virtually showing up. [...] Low-income and minority children were hit hardest by malingering within public school systems. A December analysis by consulting firm McKinsey & Company found that white students were one to three months behind where their learning should have been in mathematics, but nonwhite students were three to five months behind.
A Third of Americans say they are Not sure if sending troops to fight in World War II was the right decision, new poll reveals. More than 75 years after the conclusion of World War Two, one third of Americans are questioning the country's decision to send troops into battle. A new Economist/YouGov poll suggests that doubters believe it to be a mistake or are unsure if it was the right decision. The poll, which was timed to coincide with Memorial Day, asked people for their opinions were on the decision to send American troops to fight in particular wars.
More L.A. Parents Protest Teachers Union Shifting Re-Open Standards. It seems the legacy media is deliberately ignoring these grassroots protests by parents who are concerned, angered, and extremely tired of the American Federation of Teachers (AFT), local school boards, and local teachers unions using their children as pawns. Parents have been rising up in great numbers, but if you watched any legacy media, you would barely know it. [...] On April 27, 2021, Vail, AZ parents stormed a School Board meeting to protest the board's intention to extend the mask mandate for their children. The Board canceled the meeting and then called the police! [...] On May 20, 2021, parents in Palm Beach County, FL flooded a school board meeting to protest mask infractions being used as a cudgel to penalize their children. [...] On May 21, 2021, Orange County, California parents held a "No More Masks Rally" which was extremely well attended. However, in California, the battle over masks is only one aspect of parents' frustrations; particularly in Los Angeles County.
Five Things to Know About Biden's $1.8 Trillion American Families Plan. The American Families Plan includes an unprecedented $109 billion proposal to finance two years of "free" community college, available to first-time students and "workers wanting to reskill." This is a questionable investment. The completion rate stands at just 34% for community college students. To improve these statistics, the proposal aims to send an additional $62 billion to community colleges to increase retention and completion. After decades of lackluster outcomes, more federal spending is unlikely to improve performance.
12 Lessons Learned from Covid-19. [#9] The public is woefully uneducated in history and the human immune system. The media has only been able to create such fear because too few people understand the functioning of the immune system, which fights off Covid-19 in at least 99.5% of cases (probably higher). And watching government so easily dupe the population and take away freedoms show few have learned the lessons of totalitarian governments and virtually every dystopian novel ever written.
DeVos: Teachers' Unions 'Play Politics with Kids' Lives'. Former Secretary of Education Betsy DeVos joined The Story with Martha MacCallum Tuesday [5/11/2021] to sound off on extended school closures and respond to Monday's remarks by president of the American Federation of Teachers Randi Weingarten. In a Monday interview with MacCallum, Weingarten tried to blame the Trump administration for months of extended school closures and distance learning in the name of COVID safety. DeVos responded on Tuesday, calling Weingarten's attempt to pass the buck "an outright lie," adding the Trump administration "knew last spring that it was safe for kids to be back in school." DeVos didn't mince words when it came to evaluating the state of play for America's students through the beginning of the Biden administration: "We have failed kids across this country. I worry for the future of the country when this is how we're treating the most valuable asset we have, our children, they're our future. It's just been heartbreaking to hear some of these stories, to see some of these things first hand. There is no excuse."
San Francisco schools are slammed for fake 're-open' plan [...] so the district can get $12 million in state money. San Francisco's high school seniors will return to school for just one day so the city can qualify for $12 million in state funds. The deal between the district and teachers union, which has been described as a blatant money grab, will see the class of 2021 not even receive any in-person instruction from teachers but will instead have 'in-person supervision'. Most students will not return to their own schools as only two high school sites are being made available to seniors who will be welcomed back 'for at least one day before the end of the school year'.
New Study Analyzes the High Cost of College. As college officials raked in more and more money, they simultaneously turned away from the traditional mission of higher education — giving undergraduates a solid knowledge base — and focused instead on a host of tangential activities. The deluge of money freed them from old-fashioned academic concerns to do lots of other stuff. Any analysis of the cost of college must deal with the several excuses that are often given for the huge increase in tuition and fees over the last half-century. Maybe there are good reasons why, to cite two examples Arnold gives, tuition at the University of Kansas went from $716 in 1980 to over $11,000 in 2020, and tuition at Vanderbilt went from $4,700 to over $52,000 over the same time span. Higher education's defenders have advanced several arguments that purport to absolve schools of blame for the prodigious increases in tuition and Arnold evaluates each of them.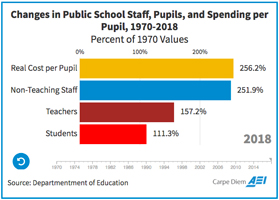 Public school enrollment, staff, and inflation-adjusted cost per pupil, 1970 to 2018. The animated "bar chart race" visualization [left] is an updated version of several previous versions featured on CD over the last several years and shows the growth over nearly the last 50 years in (a) the number of students enrolled in public schools (K-12), (b) the number of public school teachers, (c) the number of non-teaching public school staff (administrators, principals, assistant principals, support staff, librarians, guidance counselors, and instructional aides), and (d) the inflation-adjusted cost of public school education per pupil, all from 1970 to 2018. All of the figures shown in the animated chart are the percentages of 1970 values.
The Decline of American Universities. Not long ago, Americans used to idolize their universities. Indeed, in science, math, engineering, medicine, and business, many of these meritocratic departments and schools remain among the top-ranked in the world. [...] But today's universities and colleges bear little if any resemblance to postwar higher education. Even during the tumultuous 1960s, when campuses were plagued by radical protests and periodic violence, there was still institutionalized free speech. An empirical college curriculum mostly survived the chaos of the '60s. But it is gone now. Instead, imagine a place where the certification of educational excellence, the Bachelor of Arts degree, is no guarantee that a graduate can speak, write, or communicate coherently or think inductively.
Transcripts show apparent ghost students had not received grades in years. Ghost students are kept on the rolls of a school even though they're no longer attending, increasing the amount of tax dollars that school receives. FOX45 News obtained a list of 21 seniors at Augusta Fells who were enrolled on paper but apparently not physically attending the school, some hadn't for years. Now, we've obtained the transcripts for two of these students. One of the students started at Augusta Fells in 2013 and the last credit he earned was in 2017. But two years later, in fall of 2019, he was still on the rolls. In his final year at the school, he had one class listed, yearbook. The other student's transcript tells us he started at the school in 2015. The last credit he earned was during the 2016/17 school year. But he was still on the rolls of Augusta Fells in the fall of 2019 with a 0.8 GPA and a class rank of 91 out of 101 students. Those are just two of 21 seniors on the list, taxpayers would likely have paid North Avenue $331,653 to educate when they were no longer in school.
Ghost students: Failure and apparent fraud at one Baltimore high school. [Scroll down] What's clearly going on at Augusta Fells is probably going on at other city schools. A former city council member who runs a charter school told Fox45 he believes ghost students are haunting all of the city's schools and for the same reasons, i.e. schools are funded based on headcount. "It's an open secret. To be frank with you. It's an open secret that the system is very sloppy in its accounting. And so, it's an open secret that there are thousands of kids who are not coming to school every day who are still on the rolls," Carl Stokes said. Like me, you've probably heard lots of people complaining about systemic racism over the past couple years. Well, I think Fox45 has uncovered something that looks a lot like genuine systemic racism, i.e. a system that is knowingly doing damage to mostly minority students with the winking approval of the adults in charge, adults who appear to be failing at every level.
Words That Confound the Lies of the Left. The U.S. spends 50 percent more per student than the average among the 35 most developed nations, yet in international comparisons is middle-of-the-pack, below, for example, my parents' home of Poland. And regarding education's emotionally appealing claim that education is a staircase up from poverty, despite $22 trillion in 50 years of spending on compensatory education and social programs, the achievement gap remains as wide as ever. That reallocation, for example, dismantling ability grouping and programs for the gifted, has decimated efforts to serve our best and brightest, thereby reducing our society to a lower common denominator.
Seattle parents worried about safety after school allows homeless encampment to stay. One day before his 6-year-old started at Broadview-Thomson Elementary School in Seattle, Ryle Goodrich was on the phone with the police department. He was walking near a sprawling homeless encampment on the edge of school grounds when he spotted a sword in one of the tents. "I have to go right now and call the police because I saw a sword back there," Goodrich told KOMO. "After that, I have to go and calm my child and convince myself and him that it's OK to go back to school tomorrow." Another parent, Ocean Greens, told KIRO-7 he is keeping his children out of school until the area is cleaned up.
Seattle students returning to in-person learning are greeted by homeless encampments on campus, school officials demand they remain. Students who returned to in person learning at Seattle Public Schools on Monday for the first time in over a year found homeless encampments waiting for them on the grounds of two of the district's campuses. This, only two short years after state officials debated legislation prohibiting homeless encampments from being allowed to be established within 1,000 feet from a school. Neighbors have even photographed King County needle exchange vans near the properties as well as dead rats in the encampments tied to sticks. [...] Neighbors attribute area crime, trash, waste and needles to the encampments. Seattle Public School officials have refused to address the situation adequately according to neighbors and parents. School board members have even demanded that the encampments remain.
The Emotional Impact on Schools Being Closed is Incredible, Fight Back With The Women of Watts. There is absolutely no doubt the emotional impact of schools being closed, and the social disconnect created upon children, is severely damaging to their spiritual and mental health. Last week with the help of John Spiropoulos we posted a ground report on the Women of Watts rally. John has produced three more spots, each profiling different parents or grandparents at the rally. In addition John provided the footage to the Women of Watts to help them spread the word and raise money. John's goal was to increase awareness, make these stories more than a 15 second soundbite, and to allow people to tell their story. To understand just how devastating the outcomes are upon our nation's children, consider this emotional plea from Leo Terrell. His tears are actually tears of strength, not weakness, because Terrell knows what horrific outcomes will manifest if we do not immediately make returning to school a priority for our kids. [Video clip]
Electric school buses are expensive but these 2 ideas could make getting them easier. As support grows for increasing the number of electric vehicles to reduce air pollution, environmentalists and activists are turning their sights on school buses. Now, the big yellow buses are almost exclusively powered by diesel engines, but that could slowly change. Gov. Phil Murphy included electric school buses when he announced plans last month for the state to help fund $100 million in grants to help towns buy heavy-duty electric vehicles and build charging infrastructure to meet goals to reduce emissions.
The Editor says...
[#1] The average lifespan of a school bus, if my one-minute internet search yielded the truth, is 10 to 12 years. I find that hard to believe. All the school buses I've seen lately (in Dallas County) appear to be new or nearly new. [#2] If the goal is to "reduce emissions," think before spending millions of dollars: Carbon dioxide is not a pollutant, and even if no carbon dioxide is emitted by any school bus in the U.S., the combustion of coal in India and China will negate any gains.
If we took the future of the nation seriously, we would end public schools tomorrow. A friend who volunteers at a Sunday school in Harlem for low-income children called me the other day, greatly upset: She had been working with a pair of students who failed to learn the assigned reading, which was a short psalm or a prayer. She thought perhaps the fourth graders, a boy and a girl, weren't applying themselves. The truth was much worse: The two children turned out to be illiterate. Their public school teachers had passed them, grade by grade, into the fourth, and no one had ever taught them how to sound out words. Their teachers graded spelling tests and assignments — they knew they were passing kids who couldn't read. The two fourth graders didn't understand words like "will" or "firm." They couldn't read them, and they didn't know what they meant. Yet these children were intelligent. They were eager — touchingly, pathetically eager. And by the end of the hour with my friend they had made tangible progress. But what is one hour, compared with 35 hours every week in public school?
The Miseducation of America's Elites. The dissidents use pseudonyms and turn off their videos when they meet for clandestine Zoom calls. They are usually coordinating soccer practices and carpools, but now they come together to strategize. They say that they could face profound repercussions if anyone knew they were talking. But the situation of late has become too egregious for emails or complaining on conference calls. So one recent weekend, on a leafy street in West Los Angeles, they gathered in person and invited me to join. In a backyard behind a four-bedroom home, ten people sat in a circle of plastic Adirondack chairs, eating bags of Skinny Pop. These are the rebels: well-off Los Angeles parents who send their children to Harvard-Westlake, the most prestigious private school in the city. By normal American standards, they are quite wealthy. By the standards of Harvard-Westlake, they are average. [...] So it strikes them as something more than ironic that a school that costs more than $40,000 a year [...] is teaching students that capitalism is evil.
Public Schools Refusing To Open Should Give Taxpayers Their Money Back. In many school districts across the nation, public school teachers still don't want to go back to work. Private-sector workers have long been hard at work in kitchens, at construction sites, and in hardware and grocery stores. Meanwhile, from Seattle, to Los Angeles, and to Berkeley, California, Teachers' Union representatives insist they simply can't be expected to perform the on-site work in the expensive facilities that the taxpayers have long been paying for. This week, for example, some school teachers in Colorado's Jefferson County turned out to protest the district's plan to return to limited in-person learning later this month. These protestors still insist it's unsafe, even though the very institutions these people have long parroted in favor of endless lockdowns — the CDC and the World Health Organization, for instance — say re-opening schools should be a "top priority."
Baltimore HS student fails all but 3 classes over 4 years, ranks near top half of class. A Baltimore high school student failed all but three classes over four years and almost graduated near the top half of his class with a 0.13 GPA, according to a local report. Tiffany France, the mother of the failing student, thought her son would be receiving his diploma from Augusta Fells Savage Institute of Visual Arts in June. However, she was surprised to discover that he is being sent back to the ninth grade to start over. "He's stressed, and I am, too. I told him I'm probably going to start crying," France told FOX 45 Baltimore.
A Baltimore public school has abandoned educating its students. A Fox News station in Baltimore, Maryland, investigated a small, new(ish) public high school, in a politically correct "green" building, called the August Fells Savage institution of Visual Arts. With only 419 students, it ought to be turning out well-educated young citizens, ready to take their place in the world. However, as WBFF Fox 5 News discovered, this is a school that, despite a $5.3 million annual budget, passes students through like widgets in a factory, without bothering to educate them. Sadly, the parents seem helpless to make a difference. The WBFF report takes as its starting point the tragedy of a 17-year-old boy who was put back to the 9th grade because he had a 0.13 GPA. Year after year, the school kept promoting him despite endless absences and failures, only to decide at the last minute that they couldn't even pretend to graduate him: ["]In four years at Augusta Fells Savage Institute in west Baltimore, [Tiffany] France's 17-year-old son passed just three courses. And despite failing courses like Algebra I, Spanish I and English II. He was promoted to Algebra II, Spanish II, English III. His transcripts show he's ranked near the top half of his class of 120 students with a 0.13 GPA. And with just 2.5 credits, he's just been moved back to ninth grade.["] Did you catch that bit about the young man's class ranking? Despite his dismal GPA, 58 students — almost half of the senior class — had lower GPAs than he did.
The Editor says...
The news media seems to be trying to make the young sluggard appear to be the victim of a terrible school. His mother is, too. Yes, the school promoted him (and half of his classmates) again and again without justification. But the young loafer has only himself to blame for his poor academic performance. Unfortunately, if he had applied himself and ended up as valedictorian, his buddies would have accused him of acting white.
Spiraling out of control': DC-area parents clamor for full return to classrooms. Loudoun County sits about 40 minutes outside of Washington, D.C., and is one of the wealthiest counties in the country, with a median household income of over $142,000. It has just begun sending students back to school part-time by using a hybrid model, in which students spend part of the week in class and the rest learning remotely. Almost 15,000 students, ranging from preschool to fifth grade, whose families chose hybrid learning in a November 2020 survey, were welcomed back to attend school in person twice a week. More than 2,000 teachers also returned to classrooms, according to data from Loudoun County Public Schools shared with the Washington Examiner.
The Editor says...
You are paying for in-person instruction at a public school building, seven days a week. Not just two days a week.
New test results show what many feared: NC students aren't doing well during pandemic. The first round of statewide school test results from this school year are in, and they show that North Carolina students aren't doing as well as they did before the coronavirus pandemic. Test results that will be shared at Wednesday's [3/3/2021] State Board of Education meeting show that the majority of high school students did not pass state end-of-course exams given in the fall. The passing rates are also sharply lower on most of those exams than the prior fall, but the state Department of Public Instruction is cautioning against comparing the results. The test data also show that the majority of third-grade students who took the beginning-of-grade reading exam scored at the lowest level and three quarters aren't proficient in reading.
Now's Our Chance To Create Public School Alternatives. Throughout parts of the United States, children have not been in school for a year. Instead, they are expected to daily attend zoom classes. What that means in practical terms is that many kids sit somewhere at home, log in to class, turn off the camera, and go back to bed or play games on their phone throughout the "school" day. One young man I know is one of only two students in his entire middle school class whose face appears in the zoom classroom — and that is because he is a disabled student whose mother sits with him. The school district cannot force children to turn the camera on. In my work counseling children, numerous children have complained to me of isolation, severe loneliness, and anger. One formerly school-loving boy asserted that teachers don't care about their students and it makes no difference if he does his work or not. He will carry that sentiment back into the classroom, should they ever open up.
Unions Fight Return to Schooling. The little-known Oakley Union Elementary School District, in the sprawling suburbs 50 miles east of San Francisco, isn't accustomed to national attention. The school board's hot mic moment, however, during a video call earlier this month created widespread and justifiable anger because it captured the arrogance, stupidity, and condescension that's typical on some school boards — especially as officials drag their feet on reopenings. The board members didn't realize that their discussion before the start of the public meeting was being broadcast live. Oops. In fact, the video of the moment when they realized as much is one of the most awkward and funniest things that you'll see on YouTube. As they joked and chatted before the start of the official session, trustees mocked parents whose children they presumably represent. [...] After the fracas, the entire school board resigned and apologized — but the story had already spread nationally because it spoke volumes about the attitudes of state and local officials, who show little concern as the pandemic-induced shutdowns approach a full year.
Future Democrat voters:
History teacher stunned when students state Helen Keller conspiracy as truth, don't know Hitler, video purportedly shows. A man purporting to be a U.S. history teacher noted in a now-deleted TikTok video several of his Gen Z didn't know who Adolph Hitler was and believed that disabilities advocate Helen Keller was a "Nazi." In addition, one student believed that "D-Day," — the June 6, 1944, Allied invasion of Europe during World War II — was a rap artist. [...] Recent testing showed that U.S. students' knowledge of history, geography, and civics continue to decline, according to results from the biannual National Assessment of Educational Progress last year. Just 15 percent of 8th-grade students were proficient or above in history while just 25 percent scored sufficiently in geography and civics.
8 Things You Must Know About Deeply Flawed COVID-19 Package. [#3] Its Massive Education Spending Won't Actually Reopen Schools: The package spends $170 billion on education, which supporters say is meant to reopen schools faster. However, the details show something else entirely. First, the nonpartisan Congressional Budget Office reveals that only about a third of the education funds would be spent between now and September 2022, and that more would be spent in 2026 than 2021. That's utterly absurd given the urgency of getting children back in classrooms. Second, about $50 billion in funds for reopening schools have yet to go out the door, most of which was just passed in December. Considering that youths are at the lowest risk from the disease, and that teachers are receiving preferential treatment on vaccinations, $50 billion should be more than enough. In reality, the additional $170 billion is a de facto pay-off to teachers unions, many of which are currently issuing unreasonable demands for reopening schools. Providing the extra funding would reward this counterproductive behavior and should be vehemently opposed.
It's time to starve colleges of students and money, conservative scholars argue. "When enough parents and students decide that colleges are no longer worth it, campuses will start to fail." So said John Ellis, chairman of the California Association of Scholars and distinguished professor emeritus of German literature at UC Santa Cruz. "The most useful thing that critics of higher education can do is to get the public to understand what's really happening on the campuses," Ellis said during a Feb. 11 online Heritage Foundation panel discussion titled "University Indoctrination: How it Started and How to Stop it."
Why aren't school districts giving taxpayers their money back? In Naperville, Illinois, the school board announced it would distribute $10 million back to taxpayers this year. Yes, a tax refund. In a news release, Superintendent Dan Bridges told residents that he "understands the great burden many of our families have faced during the COVID-19 pandemic and hopes that this reimbursement lessens that burden." The typical family will receive a refund of $200 to $500. Good for Naperville. The 10-month pandemic shutdown generated a savings of roughly $20 million, or about 6.5% out of a $300 million school budget. The Naperville Sun reported that the district's expenses for everything from transportation, utilities, staffing needs and so on have been much lower while the doors have been shut. Naperville school board member Paul Leong, a local businessman, told me: "It's amazing that we are the only school district in the area or in the state that has given taxpayers some of their money back."
The Coming Parent Revolt Over School Reopening. The public health community has long since concluded that the perils of prolonged school closures are far greater than the risks posed by COVID-19 to students and teachers. This fact has not been lost on parents, who are growing increasingly impatient with teachers who won't return to the classroom. [...] In most red states, public schools opened up last fall for full time in-person instruction or some hybrid of in-person and distance learning. The blue states have, however, been considerably more dilatory about reopening. These states are, of course, governed by Democrats who are bought and paid for by the teachers unions.
CDC Admits It Based School Guidelines on Teacher Input and Stakeholders. The Centers for Disease Control and Prevention (CDC) admitted during a press conference that it based its new school guidelines on science, but also input from teachers and stakeholders. No wonder the guidelines pretty much give unions and schools an excuse to not return to in-person learning. It's weird how one week officials say schools should reopen and the next they come up with every excuse to keep it all closed.
Maybe the children whose schools are still closed are the lucky ones. In many Republican-run regions across America, schools are back in session and nothing bad has happened. There hasn't been a mass teacher or student die-off. Instead, the kids are once again learning and socializing and their parents are back at work. Life is normal. In many Democrat-run regions, though, the teachers are aggressively resisting returning to school. The Biden administration, which is beholden to the teacher's unions for money and support, is complicit in allowing the teachers to continue to receive paychecks while refusing to do their jobs.
Biden Administration Flip-Flops On School Reopening Goal After Flak For Anti-Science 'One Day A Week' Plan. The Biden administration flip-flopped on its school reopening policy on Thursday [2/11/2021], suddenly claiming it is devoted to getting children back into classrooms full-time. During the Thursday White House press briefing, press secretary Jen Psaki told reporters President Joe Biden's plan, which is a drastic shift from the administration's previous goal of only requiring half of the country's children to return to in-person schooling for a minimum of one day a week by his 100th day in office, meaning students being back in classrooms for only five or six days total would meet the goal. "The president will not rest until every school is open five days a week. That is our goal. That is what we want to achieve," Psaki said Thursday, adding that parents shouldn't be satisfied with only partial school reopenings.
The Editor says...
You're paying for public schools to be open five days a week. (I'm paying school taxes, too, and I haven't had a kid in public schools since way back in the 20th century.) Don't settle for schools being open only one day per week, just because the unionized teachers are too lazy to report for work. On a semi-related topic, have you noticed that school zone speed traps are still in operation even though there are no kids in school? That's because radar traps are all about money, not safety.
You're paying for safe and orderly schools, and this is what you get:
Boy Breaks Up With Girl During Class, Girl Goes Totally [Nuts]. This young fella probably should have waited until after school to break up with this clearly VERY stable girl, preferably via text, from 1000 miles away. [Video clip, language warning (of course).]
The Editor says...
The young man dodged a bullet here, and learned an important lesson. If and when you make life-altering decisions, choose carefully!
If Schools Are Essential, They Should Be Open. Everyone knows that remote education is failing students, especially immigrant children and others whose parents can't fill in the gaps that plague schooling by computer screen. Yet, somehow, education groups that ostensibly are committed to closing the achievement gap are willing to let this separate-but-equal education policy stand. President Joe Biden likes to say that he'll "listen to the scientists." Apparently, there is an exemption to the science-first approach when teachers unions disagree.
Be a tribe of one. Suppose you're a die-hard Democrat. What do you do about such issues as: [...] Schools for minorities. Do you side with Chicago public school teachers — overwhelmingly Democrats — who want to continue receiving their salary while schools are closed indefinitely on the pretense of COVID fears? Or do you side with black parents — overwhelmingly Democrats — who want to see their kids back in school and point to safe school re-openings across the country? There's the same issue on school choice. Do you side with teachers and their unions — overwhelmingly Democrats — who want to restrict school choice by black parents? Or do you side with those black parents — overwhelmingly Democrats — who want to send their kids to the best schools available?
Parents at ultra-elite prep school mobilizing against race-obsessed curriculum changes. One of the very fanciest, most expensive prep schools in the country recently has been convulsed with demands to alter its curriculum and staff to force feed a radical racial agenda on the children of the Ruling Class. But a group of parents has circulated a letter of protest, seeking to ensure that Junior and Muffy will not be dumbed down and radicalized in the name of avenging the death of George Floyd of a drug overdose while in custody of the Minneapolis Police. It is notable that the parents backing the letter remain anonymous; such is power of casual accusations of "racism" today. Nonetheless, at least when their privacy is protected, parents can recognize that the demands of the racialists can harm their offspring, curtailing the breadth and depth of their education, degrading their ability to think and be aware of the intellectual heritage of our civilization, and maybe even cheapening the value of the education they receive, currently at the price of $54,180 a year and certain to rise further every year.
Leftist Teachers Unions are Battling Against their Own Students in order to Keep Getting Paid without Working. Teachers unions claim Covid makes schools too dangerous for teachers. That may be true for elderly teachers, but overall, reopening schools is safe. [...] Studies on tens of thousands of people in the United States do find that closing schools made no difference as far as Covid. Closed schools hurt students, especially poorer kids, because they can't afford the alternatives available to the privileged. California closed government-run schools, while governor Gavin Newsom sent his kids to a private school that's open. [Video clip]
The worst run cities in America. [Scroll down] Even with billions of dollars meant to fund public education, many cities have failing school systems. The deficiencies are reflected in graduation rates across New York, Los Angeles, Philadelphia, Chicago, and Portland, each below 80 percent. New York spends more than double the national average per pupil at $28,800 annually. Its school system often lets down gifted students, running without an accelerated program in an eighth of its districts. A committee created by Mayor Bill de Blasio recommended ending such programs in efforts to push for diversity. Many of the worst run cities have ceded more control of academic policy to teachers unions. The results often place administrators above students. Los Angeles schools ground to a halt in 2019 with a strike led by teachers unions, followed by coronavirus blackmail that schools would not reopen until a list of demands from teachers unions were met.
Why I Am Joining The Jan. 6 DC March For Trump. [Scroll down] Hoping for the best, I enrolled my children in public elementary school that year. Over the course of five years, I watched a son be bullied so badly by other students and his own teacher that I tried homeschooling just to see him smile again. I watched my other son be left behind in math to the point that he couldn't add single-digit numbers properly. I watched a daughter bring home papers about global warming and bad white people who hurt Native Americans. I joined the parent-teacher association only to find that fixing these issues wouldn't happen there because there were no issues more important than selling wrapping paper to buy a new gymnasium and computers to make sure we had the same equipment other schools did. I saw no future for myself or my children there, so I quit the system.
Defenders of Civilization? The American university, once the global model of higher education, is in veritable shambles in ways that translate the value of its steep tuition reduced to laptop zooming. There is no First Amendment on campus. The culture of the Salem Witch Trials applies: save yourself by going woke while going on the offensive to accuse others of witchcraft. Administration has become a memo-writing contest, as both endangered and aspiring white males issue edicts condemning items in the news to illustrate their superior woke bona fides. Most pay as much attention to them as did the vandals to purple toga magistrates reading edicts to the wind in Rome circa fifth-century A.D. We hope only that the firebreaks thrown up around the social sciences and humanities can prevent their infectious nihilism from crossing into the sciences and professional schools. What is most striking is the self-righteousness of the university faculty, administration, and students, despite their collective culpability for the current chaos.
Reporter and Professor: Where Did I Go Wrong? [Scroll down] Someone has said that the coronavirus is speeding up gradual changes that were already coming to society: increased remote working, reduced business travel, decline in higher education. Panic over coronavirus seems to come from the left and it's been interesting to watch growing campus conflict as frightened leftist faculty want classes shut down. But leftist administrators want their schools to be open — they've got payrolls to meet and they know where the money comes from.
The Real Reason Why Your Kids Can't Go Back To School (Hint: It's Not COVID-19). Schools have been closed for the better part of a year now, for the putative reason that COVID-19 makes them unsafe. Only distance learning and Zoom and other online classes are safe enough for both teachers and kids, we're told. Even though the science says otherwise, powerful teachers unions keep schools closed anyway. But why? Let's start with a blunt fact: The teachers unions — including the American Federation of Teachers (AFT) and the National Education Association (NEA), along with a host of radicalized local unions — don't have your kids' best interests at heart, despite their well-funded, slick propaganda to the contrary. They oppose reopening schools, despite overwhelming evidence they should be reopened immediately.
Joe Biden Doesn't Think Schools Should Open For Another Full Year. In a new video interview, Joe Biden claimed that schools should be able to reopen by this time next year or sooner. This time next year? The education of our children is being damaged right now. And has been being damaged for almost a year now. [...] The Washington Post writes that these school shut downs "will exacerbate inequality" and in terms of economic inequality they are not wrong. A student cannot attend a zoom class, without internet, or a computer. This can be extremely damaging and bare many long term effects to young school age children. Not to mention the fact that a remote learning class does not hold even close to the educational value that an in class experience does.
21 facing federal charges in 'large-scale' drug ring involving UNC fraternities. Twenty-one people — including current and former students from University of North Carolina, Duke University, and Appalachian State University — have been arrested for dealing drugs at and on college campuses. United States Attorney Matthew Martin, a UNC alumnus, said the arrested drug dealers were not small-time drug users, but instead "hardened drug dealers." "This is a large drug network and supply chain fueling a drug culture at fraternities and within these universities and around these universities and towns," Martin said. He said the suspects were responsible for moving thousands of pounds of marijuana, hundreds of kilograms of cocaine, LSD, molly, mushrooms, steroids, HGH, Xanax and other narcotics.
Nowhere To Go. Although the American liberals seem poised to restart all projects abandoned in 2016, in reality, they may be leaving themselves with nowhere to go. The main problem with returning to the way things used to be is that institutions have been too badly damaged by the pandemic and its likely aftermath to afford former practices. For example, many colleges are struggling to stay open. They are firing tenured professors and even that may not be enough to keep them afloat.
Why is student loan debt treated differently from other debts? In recent days, political pressure to do something about the $1.5 trillion in student debt owed to the federal government has heightened. An average of about $35,000 is owed by some 43,000 students and their parents. Interestingly, no one seems too concerned about our collective $1.2 trillion in auto debt, where the average loan stands at $32,480 for new vehicles and around $20,000 for used cars, perhaps owed by some of the same struggling people. To most of us, debt is debt, and paying it off is never easy. But politicians seem to see things differently, especially when it is owed mainly to the federal government and the debt holders can vote. After all, the political reduction of federal debt can be done with a bookkeeping entry. Reducing private debt takes real money.
People Are Pulling Their Kids Out of Public Schools. A number of folks are bidding farewell to public education. [...] Massachusetts, for one, has seen shrinkage to the tune of 37,000 kids — a 4% decrease. North Carolina's enrollment is down by the same percentage, having begun the school year at a deficit of 5%. In the case of The Baked Bean State, sign-ups for pre-kindergarten students are a whopping 30% below normal, while kindergarten's been tapered by 12%. As noted by The Daily Wire, "While younger students make up the highest proportion of those no longer enrolled in the public school system in both North Carolina and Massachusetts, other grades have also been experiencing the public school enrollment decline."
Dallas ISD plans to build cell towers, pay for internet to help students. Almost none of the students at W. W. Samuell High School had access to district-issued laptops or internet hotspots in their homes just one year ago. In what would now be viewed as a prescient decision, Principal Jennifer Tecklenburg started handing out Chromebooks to students in December so that every student could have a device to take home. "It was an equity issue," she said. "The students needed the technology at home as much as they needed it at school."
The Editor says...
Squandering money on Chromebook laptops is bad enough. There is no need for the school district to build its own cell towers, when there are already cell phone towers all over Dallas.
Student loan bailout would only pump more money into the higher education scam. In the early months of 2009, as the U.S. economy was reeling from the bursting of the housing bubble and the resulting collapse of financial markets, student loan balances had surpassed $700 billion. One of the lessons of the financial crisis was that individuals, financial companies, and the government should be more careful about accumulating debt. Unfortunately, when it comes to student loans, the government has decided to subsidize profligacy, and the conventional wisdom says we should all encourage it. As we write, overall student loan debt has exploded to $1.7 trillion. And now, Democrats, led by Senate Minority Leader Chuck Schumer and Sen. Elizabeth Warren, are pushing President-elect Joe Biden to forgive much of this debt by executive order. But doing so will just mean that taxpayers will have to absorb the tab for reckless decision-making.
Biden's Student Loan Forgiveness Plan Is Idiotic and Immoral. It is both terrifying and perverse that America's intellectual gatekeepers — the "elite"-forming, credentialing institutions that separate the "deplorables" from the ruling class — impress self-loathing pablum upon impressionable young minds. With some notable exceptions, American higher education today comprises madrasas of wokeness fundamentally hostile to the American regime and the American way of life. Many of the far left's most toxic ideas, whether moral relativism, socialism, "anti-racism" or multiculturalism, either begin on campus or gain steam there. It shouldn't surprise anyone that one of the more popular policies in conservative egghead circles today is to expand loan access to, and accreditation support for, trade school alternatives to traditional four-year bachelor's degree-granting programs. Intellectual bankruptcy notwithstanding, there are manifold more tangible problems associated with the failed higher education status quo. Four years spent on campus between the ages of 18 and 22 means four prime years forgone from acquiring vocational skills, advancing a career, and mating and forming families.
Discrimination Doesn't Explain Problems Facing Black Community. In San Francisco, 70% of white students are proficient in math; for black students, it is 12% — [a] gap of 58%. In Washington, D.C., 83% of white students scored proficient in reading, as did only 23% of black students — a gap of 60%. In Philadelphia, 47% of black students scored below basic in math and 42% scored below basic in reading. In Baltimore, 59% of black students scored below basic in math and 49% in reading. In Detroit, 73% of black students scored below basic in math and 56% in reading. "Below basic" is the score a student receives when he is unable to demonstrate even partial mastery of knowledge and grade level skills. How much can racism explain this? To do well in school, someone must make a kid do his homework, get a good night's rest, have breakfast, and mind the teacher. If these basic family functions are not performed, it makes little difference how much money is put into education, the result will be disappointing.
November 2020 Election Results: Dallas County. [Scroll down] Voters also approved most of Dallas Independent School District's $3.7 billion bond package — the largest local debt proposal in Texas history. Proposition A ($3.3 billion for school facilities) and Proposition B ($270 million for technology equipment) passed; Propositions C, D, and E to fund stadium upgrades, a performing arts theater, and a natatorium, failed. The bonds will cost local taxpayers an estimated $6 billion with interest — a staggering sum on top of the $4.4 billion in bond debt and interest the district already owes. The new bonds won't be paid off until 2061.
The Editor says...
The taxpayers are spending "$270 million for technology equipment." Twenty years from now, if not much sooner, most or all of that equipment will be completely obsolete, yet it won't be paid for until 2061. By then, there will be several more layers of debt.
D.C. sees double-digit drop in student literacy progress following months of remote learning. Students in Washington, D.C. public schools have experienced a marked drop in literacy progress following months of mandated remote learning, the city revealed this week. The drop in proficiency was most pronounced among black students in kindergarten through second grade, who suffered a benchmark regression of over 30%. White and Latino students from those age brackets saw drops of 6% and 12%, respectively, according to the Washington Post. The D.C. public school system "believes these results this year are indicative of the extended time away from the classroom since March," school officials said in a statement.
Democrats' deadly strings on new COVID-19 aid. Families and businesses are watching their bottom lines and stretching each dollar. But House Democrats are pushing a plan to prevent America's schools from doing the same thing. The proposed HEROES Act, laying out their demands for the next federal COVID-19 relief package, pledges $175 billion to K-12 public schools to help cover pandemic-related costs and backfill lost state revenues. But to qualify, states must keep spending as much on education as they averaged during the past three years from now until mid-2022. That condition was a priority for teachers unions, which claimed that otherwise states might shift funds to other priorities. But there's a real chance that state tax receipts won't rebound to their pre-pandemic levels until 2023 or later, meaning states should be looking for long-term fixes instead of short-term bailouts. And no state needs to look more carefully at how it spends education money than New York.
Administering 'Truth' in our Schools. Last week, the Palm Beach County School Board, FL, voted four to three to reinstate William Latson, a former principal of the Spanish River Community High School, Boca Raton, who had emailed a parent: "I can't say the Holocaust is a factual, historical event because I am not in a position to do so as a school district employee." His dismissal of the most well-documented genocide in history, and in a school with the largest Jewish student population in the country at that, caused shockwaves and resulted in his suspension. [...] When Latson was recently reinstated with $152,000 in lost wages, state administrative judge Robert Cohen ruled that the principal "made some unfortunate choices in expressing his thoughts," but should have received a verbal or written reprimand — a mere slap on the wrist. He called for reassigning Latson to a post "commensurate with his qualifications," no punishment at all for doubting the worst genocide in modern history. Surely, if Latson had minimized slavery, he would have been fired.
Will Changes to American Life Become Permanent? Will students revolt over borrowing money simply to watch lectures on their basement computers? Will they be less likely to vote in November when they are isolated at home, rather than congregating on campus near polling places and subject to constant peer pressures to vote — and to do so in predictable ways? With college revenues dropping, will ambitious promises to hire more diversity administrators, build more self-segregated racial theme houses, and increase campus social services be seen as just more costly overhead that shorts classroom teaching?
Trump vs. Biden — 5 reasons why a sane person should vote — again — for Trump. [#1] Education: If you believe in equal opportunity, you want all youngsters to receive a decent education. In many Democrat-led cities, Hispanic and African-American kids do not receive one. And yet the teachers' unions and their Democratic Party backers refuse all accountability or reforms, condemning millions of Black and brown children to second-class status. New York City spends $28,808 per public school pupil but in 2019 only 28% of black kids were proficient in math and 35% made the cut in English. That is unacceptable, but Democratic presidential nominee Joe Biden would respond by handing even more funds over to his union pals and supporting the status quo. Why? Because he needs money from the National Education Association and the American Federation of Teachers, two of our nation's largest political donors. In the past year alone, those two unions spent $25 million on political campaigns, 94% going to Democrats.
Why Johnny Still Can't Read. Public schools from coast to coast are failing to teach young students the most basic skill they need to succeed in school and life: reading. This failure is widespread, tragic, and mostly unnecessary. We know how to teach reading, but many school administrators refuse to use the proven methods. The extent of this self-inflicted catastrophe, which has ruined countless lives, was driven home to me again when the new school year began several weeks ago. Some 20 years ago I founded the Roger Bacon Academy (RBA), which manages a family of four charter schools in southeastern North Carolina. This year, for the first time in RBA's history, the schools enrolled large numbers of students who transferred from the traditional county public schools. Of the 168 first- and second-grade transfer students, 75 (approx. 45 percent) could not pass the basic readiness assessment to begin kindergarten-level reading instruction.
Growth in Administrative Staff, Assistant Principals Far Outpaces Teacher Hiring. Are schools really spending more on administration than they used to? The short answer is yes. A recent Education Next blog post, "Could Covid Finally Disrupt the Top-Down Education Bureaucracy?" by the founder of the Campaign for Common Good, Philip K. Howard, included this passage: "While teacher pay has stagnated over the past two decades, the percentage of school budgets going to administrators has skyrocketed. Half the states now have more noninstructional personnel than teachers. The Charleston County, South Carolina, school system had 30 administrators earning over $100,000 in 2013. Last year it had 133 administrators earning more than $100,000. Union officials and central bureaucrats owe their careers to the bureaucratic labyrinth they create and oversee."
The Progressive Medusa. The Left sought to make the university woke and loud. It succeeded beyond its wildest dreams and so ensured that it is now increasingly mocked and bypassed, its graduates both abjectly ignorant while zealously arrogant. Life on campus was supposed to be an unforgettable, irreplaceable educational experience — a Socratic odyssey of free thought, unconventional ideas, and constant reexamination. But it is not, and outside of the sciences and professions, undergraduate liberal education has turned instead into a sort of summer camp bore for prolonged adolescence, a chorus of nodding and chants. The virus and lockdown reminded America that going into hock for a collective $1.4 trillion in student debt while offering the nation millions of unskilled and poorly educated activists could be bypassed with online replacements at ten cents on the dollar. If universities do not have real core education, unleash ranting ideologues on their classes, and the campus experience is dreary indoctrination, what, then, is exactly lost by distance learning?
Revolution 2020. In 1950, Americans at all levels of government spent 2% of GDP on K-12 education and 0.37% on higher education. In our time we spend 4.4% on K-12 and 1.9% on higher education, of a GDP that is about ten times as large. By any measure, the increases have been huge. These were supposed to uplift Americans intellectually and (maybe) morally. But they have dumbed down the nation to the point of mass illiteracy at the bottom and, at the top, created herds of ignorant, haughty, debt-ridden college graduates, fit only to enforce government edicts against Americans they despise. But the money also built up and entitled a class of monied, entitled, self-indulgent educrats — mostly administrators. U.S. college towns nowadays are islands of luxury, ease, and hate. They act as the ruling class's gatekeepers.
Up to Two-Thirds of Young U.S. Adults [are] Ignorant of the Holocaust. The Holocaust generation who lived through the horror and those that fought in the war to end the atrocities are almost all gone. Will the memory of the greatest crime in history go with them? It seems incredible but a generational ignorance about the Holocaust is taking hold and threatens to make hollow the promise of our fathers and grandfathers never to allow such evil to exist ever again. The evidence is startling, appalling. A survey commissioned by the Conference on Jewish Material Claims Against Germany discovered a radical deficiency in knowledge of the recent past by young Americans ages 18-39.
D.C. Public Schools Spend $30K Per Student; Only 23% of 8th Graders Proficient in Reading. The public elementary and secondary schools in the District of Columbia spent $30,115 per pupil during the 2016-2017 school year, according to Table 236.75 in the Department of Education's "Digest of Education Statistics." But only 23% of the eighth graders in the D.C. public schools were proficient or better in reading in 2019, according to the department's National Assessment of Educational Progress, or NAEP, tests. Similarly, only 23% of eighth graders in the district's public schools were proficient or better in mathematics. Clearly, the government-run schools in our nation's capital did not give taxpayers their money's worth. Yet, the District of Columbia was not the only jurisdiction where public schools cost taxpayers significant money and gave little in return.
School Daze. I'm both a teacher and a parent of a student. I can say with authority that distance learning and the in-school New Normal are beyond bad. They are society-killing, man-made disasters. My students are amazing, and we are making the best of the situation. I know my class will be beneficial to the students, but they are being robbed. Quite literally. They are paying for one academic and social experience and receiving a much diluted and polluted version of college life. We are all starting the semester at a disadvantage. And please don't tell me that it's better than dying, because attending school is not a death sentence, no matter what you have been told. My high school son has said that online learning is "All of the bad parts of school and none of the good." He has had more than one meltdown over the stress and confusion. His experience in the physical school was no better. He is masked and distanced all day long. He said he did not talk to one other child all day long on his first day of hybrid learning!
You're paying for in-person instruction in a classroom.
American families stumble through first weeks of virtual school. The new school year had held promise of some return to normalcy for American families since the pandemic upended daily life and made much of the spring semester unproductive. But the spread of the coronavirus over the summer set off a national debate over whether to resume in-classroom instruction. Public schools in Los Angeles and Chicago moved all classes online and New York City has pushed back the start of its blended program, with in-person and remote classes, after teachers protested against a reopening plan they felt was unsafe. Health experts have warned against opening where COVID-19 transmission is high. But in-person schooling has a positive psychological impact that virtual learning lacks, and is important for kids who rely on school for meals, U.S. top infectious disease official Anthony Fauci told reporters last month.
Public School Funding Per Student Averages 80% More Than Private Schools. According to the New York Times, one of the main reasons why public K-12 schools are reopening more slowly from Covid-19 lockdowns than private schools is because public schools generally have less money. Times reporter Claire Cain Miller makes this claim three times in a single article, but her assertion is the polar opposite of reality and has been so for decades. Twenty-five years ago, the U.S. Department of Education (DOE) estimated that public K-12 schools spent an average of 43 [to] 52% more per student than private schools in the 1991-92 school year. Since then, DOE data shows that inflation-adjusted average spending per public school student has risen by 40%. Consistent with that DOE data, new research by Just Facts reveals that average public K-12 school funding per student is about 80% higher than private schools. Spe
Northeastern University Suspends Students For Not Social Distancing, Won't Refund $36,500 Tuition. Eleven students were suspended from Northeastern University for the rest of the fall semester after staff members found them congregated in a temporary dorm room at the Westin Hotel in Boston. According to the Boston Globe, the students' $36,500 tuition and housing charges will not be refunded due to the policies of a "first-year international experience" program called N.U.in.
How the Progressive Left Ruined Education. Schooling used to be about equipping pupils to succeed in life. These days (with very few exceptions) it is about politicizing them so that as many as possible are indoctrinated into the radical progressive left ideology, thus blighting their adult lives with discontent and grievances, mostly as result of being conditioned to view all life's set-backs as a form of "oppression." The most pressing problems facing most schoolchildren used to be how to avoid being bullied (becoming part of a mutually protective friendship group works best) and how to find some way of making classes enjoyable (by learning to attend to lessons and/or being the class clown). These days they have to worry about having the "right" opinions and not upsetting those who have minority privileges in case denunciation or worse follows. In the old days, children (and parents) relied on the teachers to teach something interesting and useful, and to inspire their pupils to become worthwhile members of society, whatever their attainments. Today it's fashionable to blame our supposedly racist white patriarchal capitalist society for every disaffection felt by those lacking sufficient self-respect to do something worthwhile with their lives.
The college cartel's great coronavirus grift. Toddlers and children are not potent vectors for spreading the coronavirus, the latest evidence suggests, but adolescents and young adults are. Yet even as kindergartens everywhere remain closed, college campuses are reopening. But there's an asterisk. Colleges, in truth, clearly have no intention of being genuinely open once they've cashed students' rent and tuition checks. Countless students have paid full tuition, room, and board. Some did so after being threatened with the loss of their place at their school. Others were promised that they could learn either while socially distanced or live on campus. Unfortunately, students are instead being sent back to an inferior online education session. Or, worse, they are being sent home deeper in debt, to infect homes full of older people.
The Breathtaking Ignorance and Gullibility of America's Elites. There is little doubt that a major contributing factor to the ever-growing ignorance of much of the native-born citizenry can be traced back to Marxist leaning education establishment that has been increasingly focused, for the past 45 years, on indoctrination not education. In the 1960's and 70's the United States had the best educated young people on the planet ranking at or near the top in math, reading and science. However, by 2015 out of 70 developed countries throughout the world, American 15-year-olds ranked 38th in math, 24th in reading and 24th in science. Concurrent with the precipitous drop in these core subjects, curricula previously used for over a century in secondary and higher education, designed to foster appreciation of the Judeo-Christian basis of the nation's founding as well as the development of reason and independent thinking by the students, was deliberately abandoned. Most notably at the nation's colleges and universities. In its place was an emphasis on revisionist American history and so-called self-esteem and its corollary, victimhood. All with an eye toward an eventual fundamental transformation of the United States.
A New Consciousness Is Replacing Education. The public does not know that for many schools K-12, when the schools are open under normal circumstances, what is called "learning" is minimal. At least half of the students are in a non-educational or anti-educational mode. This reality is never mentioned when talking about opening or not opening schools. Adding in masks, plastic dividers, and rules for social distancing in NYC and other madhouse urban schools will, independent of fears about COVID, result in a doubling down on the insanity. All day long, teachers are struggling to have "order." The cursing, mouthing off, restlessness, inattention, screaming, constant talking, lack of homework, assaults, robberies and attempted robberies, throwing of paper and objects, lack of basic supplies, etc. are more typical of the time in class in many schools than the fantasy of "classroom learning." Yet I never see this reality mentioned.
Get Your Kids Out of Public School. We are standing on the precipice of the biggest education revolution in generations. As schools refuse at union behest to reopen full-time instruction in the fall, parents are flooding into alternative options like homeschooling and pandemic "pods." For the first time in modern political memory, there is likely to be an exodus from public schools. It will not just be the worst-served in poorer neighborhoods, to whom most school choice programs are geared, that leave. It will also be middle-class and wealthier families. This presents the biggest opportunity for domestic victory the Right has had in 70 years — if the Republican Party does not squander it.
Emory projects an $84 million hit from COVID. It's hiring yet another diversity and inclusion official. Emory University refuses to shortchange diversity and inclusion even as the private Georgia institution's projected losses attributed to COVID-19 spiral. New President Greg Fenves, who was plagued by scandals at the University of Texas-Austin, told the community in a wide-ranging Thursday update that Emory was creating yet another diversity and inclusion position, a director of education and outreach. It already has a chief diversity officer, and its diversity webpage names four offices besides the Office of Equity and Inclusion with diversity-and-inclusion missions. Emory's estimate of the budget hit it will take from lost revenue and expenses related to the novel coronavirus has nearly doubled since April, when it projected $45 million in net revenue losses through Aug. 31. The new estimate, Fenves told The Emory Wheel: $84 million.
To Save America, Defund the Schools. I've just been informed by a friend that school's closed this year, but you can send your kid to daycare — in the closed school. For money. There are online classes, of course — but why? They're terrible for children, and we know now that the disease itself isn't the issue. Matt Walsh reports that kids are three times more likely to die of the flu than COVID-19. So we know that schools aren't being closed for their safety. We heard that childcare costs hundreds a month, per kid, which we know parents can't pay, since many of them are too poor. We heard that teachers are essential and then were told, by the teachers, that they're inessential. L.A. County told us they'd take the children back — if we could stop all "police brutality" and adopt universal health care and mail-in voting. The solution to this whole fraud is simple. Truth is, our teachers are overpaid and incompetent. Why send your kid back to school when, according to The Root, 75% of all black boys in California, where state spending on students is enormous, can't read or write proficiently? Why put your kids in a classroom where there are 30 students to one teacher? Or where you're a white God-fearing conservative, and the teacher hates America? Or where teachers can't discipline children because doing so is "racist"? Or where you don't have the time to meet and assess all the teachers? Or where grades are curved to pass dunces?
Wrecking the American Dream. One of the basic tasks of the political Left, not only in contemporary America but on a worldwide basis ever since the French Revolution, is to identify those social institutions that are healthy and functional, then ruin them completely, and call this result "reform." [...] Scarcely half a century ago, America's system of higher education was the envy of the world, but that was before the Left instituted the kind of "reform" that produces unemployed Gender Studies majors saddled with tens of thousands of dollars in student-loan debt for degrees that don't qualify them for any gainful employment.
Reversing the trend of liberal indoctrination. I have been teaching for nearly 15 years. I begin each semester with the same two assignments. On the first day, students are given a citizenship quiz. This quiz tests basic knowledge about government, such as identifying the Speaker of the House, naming the authors of the Federalist Papers, specifying the branch of government that has the power to declare war, and knowing what the first 10 Amendments are also known as. Out of approximately 210 students, each semester, only 12-18 students are able to pass the exam. A more troubling trend is that in recent semesters, out of 6 classes, there are usually 2-3 classes where a single student cannot pass the exam.
Our Summer of Cultural Suicide. Lots of American universities became virtual global brands in the 21st century. Sky-high tuition, rich foreign students, guaranteed student loans, and Club Med-like facilities convinced administrators and faculty that higher education was sacrosanct. The universities preached that every successful American had to have a bachelor's degree, as if the higher-education monopoly deserved guaranteed customers. But soon, $1.6 trillion in aggregate student-loan debt, lightweight and trendy curricula, ideological hectoring, administrative bloat, reduced teaching loads, poor placement of graduates, and the suspension of the Bill of Rights on campus began turning off both students and the public. If students can Zoom or Skype their classes from home this fall, why pay $70,000 a year for the campus "experience"?
In my Consititutional Law class, we didn't read the Constitution. Law school is a notorious scam. In the course of three years, young victims pay for courses in property law but don't learn how to buy a house. They take courses in contract law but are never taught how to write one. They take courses in litigation procedures but in a courtroom they literally don't know when to stand up and when to sit down. In fact, it's common for students to graduate without having seen the inside of a courtroom. Never entrust a recent law school graduate with any legal matters. If we trained doctors the way we train lawyers, surgeons would graduate medical school without knowing how to wash their hands or which end of a scalpel is for holding and which end is for cutting.
President Trump Can Use the Crisis to Dramatically Transform Education. The Los Angeles Unified School District spends $18,788 per student. Its goal is to up that spending to $20,000. The mammoth LA school district is 7th in urban spending and has around half a million students. And the costs only went up after a United Teachers strike extracted a 6 percent raise. Last year, LAUSD approved a $7.8 billion budget. Governor Newsom demanded federal aid during the coronavirus and proposed moving over $4 billion in federal pandemic relief to the non-functioning schools. "Cuts to funding at schools will forever impact the lives of children," Superintendent Austin Beutner warned. "The harm children are facing is just as real a threat to them as is the coronavirus." Apparently cutting the budgets of closed schools is just as lethal as a pandemic. "The notion that schools can continue to operate safely in the fall with a decreased state budget is not realistic," deputy superintendent Megan Reilly complained after a proposed 7% budget cut.
Democrats, COVID, and the War on Children. In-person education and opportunity to socialize are critical for students of all ages, especially the youngest ones. And the isolation and quarantine has already taken its toll on children's psychological well-being, which manifests itself in anxiety, emotional disorders, depression, and developmental delay. Setting aside the remarkable inefficiency and even psychological harm of distance learning (not to mention the fact that 163,000,000 Americans still don't have a high-speed Internet at home — how are they to participate in online education?) We are talking about 51,140,573 students nationwide. Can they return to their normal routines? Luckily for some of them, the governors of the corresponding states and local school boards have decided that they can. What about the rest?
Teacher, parent sue Orange County School District to halt reopening of classrooms. The debate over reopening schools may be headed to court. A joint lawsuit filed by an Orange County teacher and parent, whose children are enrolled in the school district, was filed Sunday. It asks a judge to intervene and stop districts from conducting face-to-face learning. The lawsuit states that the school district doesn't have enough resources to follow CDC guidelines for reopening, including social distancing in classrooms and safe transportation for students. The suit says that the Orange County school board is being forced to reopen in August to avoid the risk of losing state funding and claims if schools reopen, the health of teachers and students will be at risk.
The Editor says...
Yes, the students and teachers are at risk, but contagious diseases are not the greatest threat.
Private Schools Are Adapting to Lockdown Better Than the Public School Monopoly. More than 120,000 American schools have closed since March, a change affecting more than 55 million students. As we approach August, an intense debate about reopening schools has been brewing. One side argues that schools should reopen so that families can return to work and children can receive the education taxpayers have paid for. The other side says that schools cannot reopen safely without $116 billion more in federal funding, on top of the $13 billion already allocated to states to reopen schools. This debate wouldn't be so contentious if we funded students instead of school systems. The funding could follow children to wherever their families feel they would receive an effective education, be it a district-run school, a charter school, a private school, or a home setting. In that situation, if an individual school decided not to reopen — or if it reopened unsafely or inadequately — families could take their children's education dollars elsewhere.
Still Believe That a College Degree Is a Great Investment? [Scroll down] There's more to life than money, and more to college than boosting one's earning potential. I'm glad I attended college and am grateful to the taxpayers and private donors that aided me, though my degree was not applicable to the career that ended up supporting my family.
Hilton calls for education tax refund if schools don't reopen. "The Next Revolution" host Steve Hilton suggested on his show Sunday that parents should receive education tax dollar refunds if schools stay shuttered in the fall. "We believe in decentralization on this show and we believe above all in people power," Hilton said during his opening monologue. "It is time to use it over this school fiasco. If your child's school won't open in the fall, demand your money back so you can find an alternative. It is your child, your tax dollars. Why should you pay for service you are not getting?"
A Nightmare Campaign of Outright Idiocy. As we get into high summer, there must be a very large number of Americans now actively considering whether the country is going mad. [...] [The Democratic] party is bound hand-and-foot to the palsied hulk of organized labor and is a tinny echo of the teachers' unions' demands that schools be kept closed until there is a vaccine: an indefinite fully paid holiday for the nation's underworked teachers who, in a great many cases, provide no more education to America's youth than would a daycare center.
This Is A Great Opportunity To Destroy Academia. [Scroll down] Video and computer technology was already making the old giant lecture hall model obsolete even before the bat soup flu. You get the same level of loving personal attention staring at a iPad in your house as you do staring at the TA 100 yards away from you in a behemoth lecture hall, and you don't have to breath in either the viruses or the scent of old Pabst wafting off of the unwashed bodies of your fellow students. And adding insult to insult is the idea that you have to pay upwards of $50,000 or more a year for the "college experience." The Porsche experience is nice, but most people still choose the Chevy experience. You get there either way — just the latter way you aren't impoverished for the rest of your life.
Destroy the 'Public' Education System. State-run schools have undercut two fundamental conditions of a healthy tolerant society. First, they've created millions of civic illiterates who are disconnected from long-held communal values and national identity. Second, they've exacerbated the very inequalities that trigger the tearing apart of fissures.
Clay Travis: Harvard Charging Full Tuition For Online Courses is Lunacy. First of all, the idea of colleges not being back in the fall is pure lunacy. Every college should be back in the fall based on all the data. College kids are more likely to be struck by lightning or die from the flu or pneumonia than the coronavirus. If professors are old, let them stay home and they can teach remotely. But college kids need to be back on campus. Harvard has announced that almost all students will be learning remotely. Tuition is $49,000 a year and they are not cutting the tuition. Tuition is $49,000 per year and students will sit in front of a computer screen and still be charged the full price. This is madness.
Only an academic could be this stupid. The recent riots have revealed that both the Black Lives Matter movement and the corporations bowing down before it (including, but not limited to, the media) are incredibly ignorant about political systems and American history. The common denominator is that the protestors and the corporate actors are mostly made up of recent college grads (say, the last 20 to 25 years). They are not uneducated; they are miseducated — and deliberately so. A recent tweet thread explains why these activists, both on the streets and inside corporate America, are so abysmally ignorant. The answer is that their teachers are morons.
Watch: College Kids Try to Explain What the 4th of July Is About, Fail Miserably. We don't expect college to educate kids on America's history, in fact, we assume the opposite will happen. Turns out that high school isn't much better either. A recent man on the street interview by Campus Reform saw many college-aged kids asked about what they think of America, its history, and what the 4th of July means. Nearly all of them showed an astounding level of ignorance, and not even just ignorance, but disinformation. Most didn't know the 4th of July celebrates the day we declared independence, and all but one couldn't even come close to guessing the year. Guesses as to which war helped us gain our independence ranged from the Civil War to World War 2. What they didn't know isn't even as shocking as what they thought they knew. [Video clip]
The Democrats' Bonfire of Inanities. In this modern Bonfire of Inanities, ignorance reigns supreme. Which is one of the big problems with mob "justice," a painful lesson we history students here in America learned a long time ago. Not that this current crop of uneducated, stupid, self-enthralled miscreants rioting in public streets and parks has the slightest grasp on five minutes of history. Or, wisdom for that matter. This is what post-Obama America looks like. Or, as President Trump calls it, "Joe Biden's America." History is dead. Intelligence is weakness. Wisdom is scorned. Justice is the punchline to a sick joke.
The Activist Never Sleeps. [Scroll down] In a time when the U.S. spends more on education than most of the developed world but gets less in return, the classroom is going to become even more woke than it already is. More time in which Johnny will not learn to read. Then again, if Johnny could read, he might also think. He might question. He might notice that to grow up in the U.S. is to live in an environment where the bottom rungs on Maslow's hierarchy of needs are largely taken for granted. The average American, certainly the average child, has no concept of the grinding poverty experienced in parts of the world where meeting basic physiological needs can be a challenge; nor is there an understanding of what genuine oppression looks like. The never-ending propaganda campaign serves to cultivate the next generation of activists.
How many Seattle students are doing distance learning? The school district can't say. After two months of state-mandated distance learning due to the coronavirus, and distributing 13,500 laptops to students, Seattle Public Schools cannot say how many of its students are showing up to virtual classes, handing in assignments, doing paper packets, or have even made contact with school staff. Many teachers, meanwhile, say their online lessons are only reaching a fraction of their students and that participation rates tend to be lowest among children of color, low-income students, and kids with disabilities. Spokesperson Tim Robinson with Seattle Public Schools said data is sparse. "We don't have any hard numbers or data to provide regarding non-connection between students and teachers," he said.
The Editor says...
Any networking professional could easily tell you how many clients are connected to a multicast at any given moment.
How do we explain the many thousands of Americans who believe they are entitled to steal? Night after night, we have watched thieving thugs break windows of small and large businesses, charge into them, and run out with as much merchandise as they can carry. They stuff their booty into large SUVs, many of which have the license plates removed. They are wearing masks so [they] do not fear facial recognition software. These riots seem to prove that, despite our protestations to the contrary, we do live in something of a third-world nation. When that many people in as many cities that are under siege right now feel no allegiance to the law, to their families, to their neighbors, to civil society, we are indeed a nation in need of a reboot. Fifty-plus years of the left's smearing of American values, their opposition to the nuclear family, the promotion of the idea that out-of-wedlock births are just another lifestyle choice have, as we see now, made for a population sullied by the acceptance of abject criminality. That is what we are all seeing on our TV screens. This is not about race; it is all about respect or the lack of it and values.
Why We Need to Reemphasize America's Founding Principles in Civics Education. We have a serious problem in this country with civics education and history. Not only are there widespread efforts to undermine the country's founding principles, such as Howard Zinn's "A People's History of the United States" and The New York Times' "1619 Project," but the prevalence of civics and history as subjects in schools has declined. In a recent conversation, Angela Sailor, vice president of The Heritage Foundation's Feulner Institute, pointed out that multiple surveys show a negative trend in civic literacy. Fewer Americans think that our nation is the best place of hope, opportunity, and community. That loss of confidence threatens the sanctity of the American ideal, and its validity and relevance to our self-governing republic.
One-way halls, lunch at desk, playing alone. L.A. schools could reopen with stark rules. Sixteen students to a class. One-way hallways. Students lunch at their desks. Children could get one ball to play with — alone. Masks are required. A staggered school day brings on new schedules to juggle. These campus scenarios could play out based on new Los Angeles County school reopening guidelines released Wednesday [5/27/2020]. This planning document will affect 2 million students and their families as educators undertake a challenge forced on them by the coronavirus crisis: fundamentally redesigning the traditional school day.
Kentucky Wildcats fire cheerleading coaches after hazing, nudity probe. The University of Kentucky, which has won 24 national cheerleading titles in the last 35 years, fired all of its coaches on Monday [5/18/2020] following an investigation into allegations of hazing and nudity. Head coach Jomo Thompson and assistants Ben Head, Spencer Clan and Kelsey LaCroix were let go after a three-month probe into the program revealed they failed to oversee off-campus events that included hazing, alcohol use and public nudity.
American Colleges Are Headed for a Meltdown. They've been through riots, protests, and natural disasters — but America's colleges have never seen anything like the financial meltdown the coronavirus is about to bring to their campuses. The rising wave of health fears, added costs, and vanishing tuition payments could crush small colleges, many of which were already hanging by a financial thread. Those that can weather the crisis — including big-name universities with billions in their bank accounts — in turn stand to gain big from the fallout. The emptying out of schools and the mass transition to distance learning has already been "the largest all-sector hit that we've ever seen," Jim Hundrieser, a vice president with the National Association of College and University Business Officers (NACUBO), told the Washington Free Beacon.
Rowe: COVID-19 Aftermath Will Expose 'Luxury Brand' Higher Education, A 'Breathtakingly Overpriced Product'. On Saturday [5/16/2020], Dave Rubin of "The Rubin Report" uploaded part three of a recent interview with Mike Rowe, former host of "Dirty Jobs" and founder of the mikeroweWORKS Foundation, to his YouTube channel. [...] After talking about how many of his guests "come from academia," and that much discussion surrounds "cancel culture" and "outrage culture" at universities, Rubin asked Rowe to discuss his foundation, skilled trades, and what's "happening with higher ed" in the pandemic era.
Bad education: Why shocking public school corruption remains hidden. Even by Hollywood standards, school district fraud can be dramatic. As the new HBO film Bad Education chronicles, Roslyn, New York, School Superintendent Frank Tassone led an embezzlement scheme that siphoned off some $11 million meant for students. For more than six years, he and his assistant superintendent, Pamela Gluckin, lived the high life. Meanwhile, the school board remained blissfully ignorant of the criminal activity committed by its highest-paid employees.
Big Google is watching your children. Schools remain shuttered across the country, 30 million Americans are out of work, and food banks are running low, but the edutech sector is booming. Silicon Valley companies are feasting on an exploding client base of quarantined students held hostage to "online learning." Big Google is leading the way — and that is not OK. Unsuspecting parents cheering all the software and hardware donations during the pandemic shutdown have no idea the privacy price their children are paying. This isn't charity. It's big tech recruitment of vulnerable generations of future Google addicts. In California, Gov. Gavin Newsom and Google inked a deal to provide 4,000 "free" Chromebooks to students, along with "free" Wi-Fi to 100,000 families. In Kentucky, the Jefferson County public schools gave away 25,000 Chromebooks. In Philadelphia, public officials earmarked $11 million to purchase 40,000 Chromebooks for homebound kids.
The Editor says...
As I understand it, a Chromebook is a laptop computer that uses Google as its operating system. I have one, and I presume that everything I do on my Chromebook is visible to somebody at Google. A thousand Chromebooks is a terrible investment of public school funds, because they will be obsolete in a few years, and most likely will have been paid for with borrowed money from school bonds.
Vermont's giant sucking sound: Residents flee government bloat. In 1992, Ross Perot famously stated that NAFTA would cause a "giant sucking sound" as jobs and industries fled the U.S. for Mexico. For years, progressive Vermont's bloated bureaucracy has increased regulations, social programs, and income and real estate taxes in the fantasy that the rich can just be taxed more to achieve every imagined social good. But the COVID-19 crisis has pulled aside the fiscal veil, and now the Green Mountain State is careening into the red. A "giant sucking sound" is heard from Vermonters fleeing the state. Vermont has stubbornly avoided funding its state pension system. It "boasts" the second highest per-pupil school costs in America, the fourth highest health care costs, and the fourth highest welfare benefits. Unsurprisingly, it also distinguishes itself as the 49th worst business climate and the only state to have its credit rating downgraded in 2019 — when economic times were relatively good.
A pandemic is the perfect opportunity to restore education. The COVID-19 pandemic is exposing what many have known for decades: Our education system is broken. But the situation also presents us with a silver lining: the opportunity to uncover the damaging influences and restore education. While millions of families are suddenly home schooling, it's important to know that when our schools were elite and the envy of the world, we were a nation of home-schoolers and small, private, and independent schools. What happened? Government and labor unions intruded, claiming families and educators needed them. But do we? Theressah and Victor Ramirez say, "Absolutely not!"
Angry Undergrads Are Suing Colleges for Billions in Refunds. College students, kicked off campus by the coronavirus, have a new extracurricular activity: litigation. U.S. undergraduates have sued more than 50 schools, demanding partial tuition, room-and-board and fee refunds after they shut down. The proliferating breach-of-contract suits, many of them filed over the last week, target some of the biggest names in higher education: state systems including the University of California and Arizona State, as well as private institutions such as Columbia, Cornell and New York University.
Many Colleges Should Close Permanently. [Scroll down] It's true that colleges were in tough financial times even before COVID, largely due to oversupply of their product, high prices and a demographics-induced shrinking of their customer base. The internet — the most powerful invention since fire — undercuts their business model just as it undercuts every other business model that relies on monopolizing information. Why pay $40,000/year to go to a third rate school in a fourth rate town to hear a fifth rate lecture from a sixth rate ponytailed professor who gets summers off and a month for Christmas while lambasting the suburban parents who are footing the bill, when on the internet you can watch and re-watch for free at your convenience a brilliant talk from a fantastic speaker who's at the top of his game? From the standpoint of the student, the only answer to that question is, because the second option doesn't get him a certificate called "college degree" which he needs for the cubicle job downtown.
Study: Historic Drop in U.S. Reading and Math Scores Since Common Core 'Debacle'. A study released Monday by the Boston-based Pioneer Institute reveals a historic drop in national reading and math scores among U.S. students since the adoption of the Common Core Curriculum Standards a decade ago. "Nearly a decade after states adopted Common Core, the empirical evidence makes it clear that these national standards have yielded underwhelming results for students," said Pioneer executive director Jim Stergios in a statement. "The proponents of this expensive, legally questionable policy initiative have much to answer for."
The schools are closed, and not accomplishing much, but please send $200 billion.
NYC, Newark among cities asking Congress for $200 billion in aid for schools. New York City and Newark were among dozens of city public schools asking for Congress to allocate $200 billion for schools in upcoming relief packages. The letter was sent on behalf of The Council of the Great City Schools which calls itself "the nation's primary coalition of large, urban public school districts." The coalition is asking for $175 billion allocated in educational stabilization funds, $13 billion for IDEA, $12 billion in additional Title I program funding and $2 billion for E-Rate, as well as emergency infrastructure funds.
No Wonder the Kids are Historically Illiterate. Generally, when a buyer is defrauded of services, the demand for the goods diminishes. As more emerges of what colleges and universities across this country are not doing, the demand will dry up unless there are drastic changes. The American Council of Trustees and Alumni (ACTA) has published a report titled "What Will They Learn?" It is a survey of core requirements at our nation's colleges and universities and one does not need a Ph.D. to comprehend the paucity of education now apparent in far too many places.
The Inevitable Conflict When Schools Reopen. Many students across the world have been receiving an education online in recent weeks for the very first time. They are gaining new experiences with their families, along with new experiences with their neighborhood peers, and hopefully reading books to further their own independent education. Many students have always done this, and many more are now discovering it for the very first time. But when students return to their brick-and-mortar schools which they previously attended, student-to-teacher conflict will inevitably rise. Upon return, students may see many of their teachers as lazy or unprofessional, now that many students personally and individually know that factual content is widely available on the internet and said information may not be widely shared, nor allowed within brick-and-mortar school settings.
Imagining Post-Coronavirus America. When kids return to school, parents might be far more attentive to their classrooms. As parents become increasingly aware that their school tax dollars have gone to fraud, waste, abuse, and propaganda, homeschooling becomes increasingly attractive. Many would prefer pure homeschooling, others the hybrid model (mixed classroom and homeschooling). The upward thrust of school budgets will end. The future of K-12 education could well be the kids of Little House on the Prairie learning on laptops.
Coronavirus Pushes Higher Education to the Brink. The problems confronting the nation's colleges and universities long predate today's crisis. But if current trends continue, the pandemic is likely to act as a catalyst for a historic reckoning that may transform the delivery of higher education in this country. It's common knowledge that the cost of attending both public and private institutions has grown far faster than the rate of inflation over the past 40 years. [...] But colleges and universities have their own debt woes. Over the past 40 years, schools, particularly less selective ones, have fought ever harder to attract students. The conventional wisdom held that the best way to do so was to upgrade facilities, build new dormitories and student centers, and provide increasingly luxurious amenities. The result has been a flood of debt, with a growing proportion of revenue dedicated to servicing it.
No school: Can you stop paying your property tax? The property tax in Washington state is a key vehicle to fund government schools. The boss of government schools, and promoter of school curricula that treats kids as sexual beings from birth, Chris Reykdal, has suggested that districts dealing with coronoavirus not teach children, even online, because: "equity." So, can you stop paying your property taxes since Reykdal has caused schools to stop teaching? Maybe Reykdal has a good reason for his official opinion.
U-46 may spend $1.4 million on iPads and Chromebooks for preK-4 students and a digital learning management system. A proposal to purchase 1,700 iPad tablets and 1,100 Chromebook laptops would mean nearly every U-46 student in preschool through fourth grade would have access to a computer, district officials told the school board Monday [2/24/2020]. The nearly $1.4vmillion expenditure would also include the purchase of a new Instructure digital learning management system, which would allow content and resources used by teachers and students throughout the district to be consolidated, officials said.
The Editor says...
[#1] "Access to a computer" is highly overrated, especially for any student under ten, and especially since the kids have plenty of "access to a computer" at home. [#2] Tablets and laptops become obsolete rapidly. Or, in the hands of little kids, they break. They are terrible investments. [#3] Having "access to a computer" 24/7 is the reason teenagers can't make change for a $20 bill without a calculator or do simple arithmetic in their heads.
How Dumb Are America's College Students? For all my life I have been an advocate for higher education, but I have reluctantly come to the conclusion that college is generally a mistake, as young people are mostly misinformed there, rather than educated. There are a few technical fields — medicine, engineering, possibly law — where such education is actually useful. Otherwise, we and our young people would be better off if they eschewed institutions like Colgate in favor of trade and technical schools, or immediate entry into the labor market. They couldn't possibly do worse than to pursue the typical four-year liberal arts degree.
California will pay millions to settle suit claiming it violated children's rights by not teaching them to read. The state of California today agreed to settle a years-long, high-profile lawsuit that accused the state of depriving low-income students of color of their constitutional right to a basic education, by failing to teach them reading skills. Under an agreement reached with plaintiffs in the complaint, Ella T. v. State of California, the state will provide $50 million specifically to improve literacy in the 75 California elementary schools with the highest concentration of third-graders scoring in the bottom tier of the state's standardized reading exam. The agreement, part of which needs the Legislature's approval, also requires the state to advise public schools how to reduce disparities in discipline of students of color, according to an outline of the agreement provided by Public Counsel, the pro-bono firm representing the suit's plaintiffs.
PA school receives $19,011 per student — but runs out of paper months before end of year. A paper shortage at a Pennsylvania school district is revealing important questions about the priorities in public schools, and it's exposing issues in a broken system that have gone unresolved for years. [...] Superintendent Frank Dalmas told the Pittsburg Post-Tribune the "surprising" paper shortage is the result of a "conservative spending budget." The district received $19,011 per student in funding for the 2018-19 school year, according to the National Center for Education Statistics.
It's All Trump's Fault. Unemployment is near historic lows, there are more jobs than job-seekers, but that's somehow a disaster Democrats will fix. Have large student loan debt you can't pay off? It was Donald Trump who made you choose an overpriced out-of-state university rather than attend an affordable in-state college, not to mention how he pressured you into majoring in bi-sexual polar bear with a minor in interpretive social justice dance studies rather than something marketable. If you have a problem, no matter how self-inflicted, there is a Democrat anxiously awaiting a chance to absolve you of responsibility for it, just as they absolve themselves.
My High School's Drift from Excellence Reflects the Progressives' Corruption of Public Education. The public high school in Brooklyn, New York that I attended in the late 1940s had a student population of 10% black and 90% white from families of Italian, Irish, German, Jewish, Polish, British and other ethnic origin. Attendance and graduation exceeded 90% [information from my yearbook and other records.] The principal of Bushwick High School opened assemblies with the reading of a Psalm. [...] In 2004 Bushwick High School's student population was 1% white, 26% black, and 72% Hispanic. Attendance was 56% and the graduation rate 23%. There were no new admissions and the school was about to shut down. Reasons cited for terminating the school: problems with safety, overcrowding, and poor academic achievement. A former student complained: "I went to Bushwick back in '98 and it was bad, some of the teachers didn't care just like the students and there was no discipline."
San Francisco middle school descends into 'Lord of the Flies' environment. Aptos Middle School is located in San Francisco and, from the outside, appears like an ordinary school. But today the San Francisco Chronicle reports a small group of disruptive students, somewhere between 5 and 20, have turned it into something reminiscent of the Lord of the Flies. And, at least so far, school authorities seem unable to do much about it: [...] The schools previous principal and assistant principal left recently and the new principal seems to have a different view of school discipline. It has become normal for kids (ages 11 to 14) to wander through the halls, enter classes they are not in, and direct bad language at other students and teachers.
Democrats Hate What Trump Is Highlighting about Them. Poorer Americans, many of them minorities, are harmed disproportionately when forced to send their children to failing schools. The Democrats, buried in the pockets of the teachers' unions, have no room to maneuver on this issue. The fiscal argument also strongly favors school choice since it is costing more by the year to send kids to public schools. In the Northern Virginia area, where I live, it costs between $15,000 and close to $20,000, depending on the county, to educate each student every year. To spend that much to send students into often unsafe environments where they are certain to fail is ludicrous. As the president noted, "no parent should be forced to send their child to a failing government school." My only quibble is that schools are failing only when examined from an American perspective, since they are doing exactly what Democrats want, which is cranking out postmodern anti-American anti-religious future Democrat voters by the truckload.
Democrats' student debt lies — here's what Sanders and Warren are not telling you. No one can deny that the United States is facing a student debt crisis. With more than $1.6 trillion in outstanding student loan debt, tens of millions of Americans are forced to pay huge sums of money every month — this writer included — to private and government lenders, slowing down growth in other important areas of the economy, like the housing industry. As usual, Democrats' plans to fix this important problem is to throw even more money at it and give greater power to the very same government agents and politicians that messed the system up in the first place.
Colleges Dupe Parents And Taxpayers. Colleges have been around for centuries. College students have also been around for centuries. Yet, college administrators assume that today's students have needs that were unknown to their predecessors. Those needs include diversity and equity personnel, with massive budgets to accommodate. According to Minding the Campus, Penn State University's Office of Vice Provost for Educational Equity employs 66 staff members. The University of Michigan currently employs a diversity staff of 93 full-time diversity administrators, officers, directors, vice provosts, deans, consultants, specialists, investigators, managers, executive assistants, administrative assistants, analysts and coordinators. Amherst College, with a student body of 1,800 students employs 19 diversity people. Top college diversity bureaucrats earn salaries six figures, in some cases approaching $500,000 per year. In the case of the University of Michigan, a quarter (26) of their diversity officers earn annual salaries of more than $100,000. If you add generous fringe benefits and other expenses, you could easily be talking about $13 million a year in diversity costs. The Economist reports that University of California, Berkeley, has 175 diversity bureaucrats.
The Destructiveness of the Liberal Child Mind. The Left's takeover of our schools and media has brainwashed a whole generation. We've got millions of befuddled biological adults walking about with the minds of kids, cheering on the likes of foolish teen Greta, who should be at home practicing for her soccer meet or piano recital. Give any of these kinderlings or their kind the reins of adult power, and what you get is an utter economic and societal wreckage. You get the squalor, poverty, and degradation of the socialism of the Soviet Union, China, Cuba, North Korea, and now Venezuela. You do get nice slogans and cool tee-shirts emblazoned with "Health Care Is a Human Right" and "Medicare for All," but such things won't put food, let alone an MRI scanner or anti-cancer drug, on the table.
Green Energy Firm That Says It's Saved Local Governments Billions Leaves Trail Of Questions. A major "green" firm called Cenergistic says it's saved more than 1,000 schools and local governments $5.5 billion in energy costs, taking portions of those savings as fees. But a new lawsuit, a decade of government investigations, and news reports show that Cenergistic is an Enron-linked, for-profit company that has allegedly talked its way into no-bid contracts after secretly putting school officials on its payroll, and then billed districts for questionable savings whose basis it refuses to explain.
Over 140 NYC schools have grades with 90 percent state exam failure rate. More than 140 New York City elementary and middle schools had at least one grade where more than 90 percent of kids flunked their state exams last academic year, according to a [New York] Post analysis. A total of 23 schools had at least one entire class where not a single student passed a math or English proficiency test given annually to kids in grades 3 to 8. "Behind these figures are individuals," said Yiatin Chu, a member of Manhattan's Community Education Council 1, a parental advisory panel. "These are families who count on our schools to educate their children. This is depressing and it's shocking." With many of the city's lowest-performing schools spending in excess of $30,000 annually per student, Chu called for urgent scrutiny of the Department of Education.
College Students Asked To Recite Pledge Of Allegiance. It Goes How You'd Expect. Last week, street reporter Austen Fletcher, a.k.a Fleccas, took to the University of Southern California campus to ask students if they knew the Pledge of Allegiance. While most students said they knew the pledge, only a handful could actually recite it, surprising even themselves. "This week I went back to USC to see if students could recite the pledge of allegiance," Fleccas captioned the video, adding, "Out of everyone we interviewed, 18 out of 31 people didn't know or botched the pledge. Sad!" One female student, confident in her belief that she knew the pledge, started off with pledging allegiance to "the United States of Republica."
Why isn't this included already?
Florida Will Require All High School Students to Take Civics Course. Florida high school students will likely be required to take a civics course in order to graduate. Republican Florida Governor Ron DeSantis was behind the push to mandate that Florida students have a basic civics education, and a bill mandating civics education is advancing through the state government. According to a report by the Tampa Bay Times, Florida high school students will be required to take a civics course in order to qualify for graduation. The course will teach students about the values that have shaped American political history.
Are Low Test Scores a Problem? [Scroll down] One bizarre aspect of all this reporting: no mention of money. We outspend almost everybody and still get mediocre results. You might think the media would demand better. If all the results were calculated in terms of money spent, the U.S. might be near the bottom of every list. Strangest of all, none of this analysis shows interest in why our schools do such a bad job. Maybe complicit media do know, but they want to keep the public in the dark for another few years.
Half of young adults struggle to tell the time on a clockface with hands. It comes as a surprise even in the digital age — but just half of 18 to 24-year-olds have no problem reading a traditional watch. Staggeringly, more than a fifth of the age group — known as Generation Z — have a problem telling the time on an analogue watch. And the slightly older generation fare little better, as one in five 25 to 34-year-olds admit they also find it difficult to tell the time on a watch with hands.
U.S. Students Show No Improvement on International Tests. Results of the 2018 Program for International Student Assessment (PISA) found American teens showed no actual improvement in reading, math, and science compared to the 2015 results. Though the ranking of U.S. students improved among those of other countries, scores were statistically unchanged compared to those from 2015, when the assessment was last conducted. The ranking of U.S. students improved only because the scores of students in other countries dropped.
Why Your Sons Refuse to Read. [Scroll down] I cite Kansas as an example here only because the Kansas State Department of Education (KSDE) does a good job of testing its students and making test results available. Last year, in the best performing public high school in Kansas, 45 percent of the school's tenth graders tested not proficient in the English Language Arts. In the worst performing school, an incredible 97 percent of the tenth graders tested not proficient. In the average suburban high school, inevitably considered "excellent" by town boosters, 60 to 80 percent of the students failed to reach the low bar of proficiency in language arts.
Five Reasons to be Thankful for School Choice. The children being educated (or indoctrinated) in today's schools will be the lawmakers, business owners, police officers, teachers, and lawyers of the future. You'll encounter them in everything you do — from shopping at the grocery store to getting a cavity filled. Do you really want to live in a society comprised of citizens who can't do basic math? Or be neighbors with people who have no idea what caused the Civil War or what happened during the Holocaust? Or how about living in a town where the mayor believes, as a Massachusetts public school district does, that condoms should be handed out to five-year-old children? Some of these scary scenarios are inevitable, regardless of what school system our nation adopts. However, our country is assuredly doomed if we continue down the current path of widespread government control of education. The good news is that the education choice movement is growing.
Cornell's new library exposes students to more than literature. The sleek new library at Cornell University has a design flaw that allows people to see up the skirts of anyone browsing for books, students and reports say. The state-of-the-art building — which took more than $21 million to build over five years — features elevated platforms with see-through grated floors that put visitors on full view as people pass below, the students say.
The Editor says...
Yes, and this design would allow smoke and fire to spread throughout the whole building in a matter of seconds. And if you drop an earring on the floor, there's no way to know how far it will go. Moreover, all this assumes that the library patrons are all well-behaved citizens who act like adults. Never mind the view from below — what about a homeless drunk on the uppermost floor vomiting (or worse) on everyone below? This is a classic example of money down the drain.
19 Muslim students face charges consisting of rioting, terroristic threats in St. Cloud high school fight. Nineteen Tech High School students in St. Cloud, Minnesota, who were involved in the Sept. 25 fight are facing criminal charges. They were identified as Muslims. "Students of the same race." That is how police characterize the make-up of the gangs of fighting students, according to St. Cloud Times. Charges include third-degree assault, second-degree riot, terroristic threats, and possessing a dangerous weapon on school property, according to the Stearns County Attorney's Office.
Mike Rowe Rips Student-Loan Crisis: 'We're Rewarding Behavior We Should Be Discouraging'. [Scroll down] "Forty years ago, colleges needed a PR campaign," Rowe added. "We needed more people to get into higher education, but when we gave the big push for college back the in '70s, we did it at the expense of alternative education. In other words, we told people, 'If you don't get your degree, you're going to wind up turning a wrench.'" Rowe said the decision by many school systems to do away with shop and metal-working classes has led to a "skills gap" in which millions of vacant jobs have no qualified applicants.
Orwellian Fear Reigns in Vermont. The Vermont pensions for teachers and state workers are among the most underfunded in the nation. The estimated $4.5-billion deficiency is a lie, calculated using accounting gimmicks and absurd forecasts. For every percentage point below the 7.3% "projection" of earnings on invested funds in these pensions, some 600 million additional dollars is suddenly added to that $4.5-billion total. If the national markets dip, Vermont faces a fiscal whirlpool as assets shrink, obligations swell, credit ratings tank, and businesses flounder. No wonder working Vermonters are fleeing the state. But it is really much worse than all that, if Vermonters were willing to look fear in the eye.
Victor Davis Hanson: Universities Breed 'Woke and Broke' Graduates. Conservative writer Victor Davis Hanson is concerned about the quality of college graduates being produced by American universities and colleges in the modern era, who he describes as "woke and broke." [...] Hanson points out that Americans that have graduated from college since the year 2000 have both lower rates of patriotism and home ownership. Recent college graduates are often ill-informed on American history. Hanson believes that colleges and universities are to blame for this recent wave of low-skilled and anti-American graduates.
Test Scores Drop as Teachers Around the Country Strike for More Money. Johnny can't read, or write, do math, or think. But teachers are demanding more and more money and resources that strapped school districts around the country can't pay. The question is why. Recent standardized test scores not only don't show any improvement, they show kids are regressing. And with recent strikes in Denver, West Virginia, and the ongoing strike in Chicago, that question takes on a new urgency. Why should teachers get more money with scores like this?
[The] First Common Core High School Grads [are the] Worst-Prepared For College In 15 Years. For the third time in a row since Common Core was fully phased in nationwide, U.S. student test scores on the nation's broadest and most respected test have dropped, a reversal of an upward trend between 1990 and 2015. Further, the class of 2019, the first to experience all four high school years under Common Core, is the worst-prepared for college in 15 years, according to a new report. The National Assessment of Educational Progress is a federally mandated test given every other year in reading and mathematics to students in grades four and eight. (Periodically it also tests other subjects and grade levels.) In the latest results, released Wednesday [10/30/2019], American students slid yet again on nearly every measure.
College majors and jobs in America:The good, the bad, and the ugly. [Scroll down] The problem with academic selection these days is this: Leftist radicals now running humanities and related "studies" departments have systematically replaced the study of Western literature, philosophy and history with ideological indoctrination consigning our rich literary, historical and cultural traditions to the trash barrel. Marxist academic committees systematically replaced western tradition and culture with "alternative" tracts, texts and historically selective readings. All focus on various flavors of anti-American, anti-Western and Marxist thought. Ruthless replacing history, literature and the arts with Marxist-flavored ideology deprives today's students of historical, social and artistic context. As a result, students who choose to major in these "disciplines" have wasted their money on an academic dead end. Their diplomas mean nothing to most employers. In fact, most employers know a likely HR problem already lives within these graduates' heads. Consequently, earning a BA in these areas today will likely get you a job at McDonalds and not much more.
Elite Universities Have Failed to Produce Elites. Highly ranked and regarded institutions such as Harvard, Yale, and Princeton or "public ivies" like the University of Virginia, University of Michigan, and UC Berkeley have failed to produce men and women who are statesmen, creators, and leaders. Students, parents, and high school administrators spend hundreds of hours and thousands of dollars to get themselves and their students into these institutions. Why? Not because of the promise they will receive an education (one cannot call four years almost entirely devoid of facts and disconnected from reality an education) but because it is expected that the time and money spent will launch them towards financial and professional success. This is a tragedy for the nation and a disaster for these institutions. It is something that cries out for reform and action from conservatives.
The Myth of the 'Exploited' Athlete. For example, regular students typically do not receive free housing. In contrast, college athletes (at least those in the "revenue" sports) are housed in dorms or apartment complexes. If a student athlete had to pay rent and utilities for an apartment or dorm, he'd be shelling out at least $10,000/year. Over three years, this is a $30,000 benefit. The student athlete who redshirts and finishes his eligibility in five years receives a $50,000 benefit in housing alone. College football and basketball players also receive all the food they can eat. In most dining halls, breakfast, lunch, and dinner are spread out in a buffet style that Morrison's customers would envy. Not only are student athletes not going hungry, they probably eat better than 90 percent of Americans anywhere. How many Americans have the opportunity to choose from dozens of menu items — waffle stations, omelet stations, fresh juice stations, four meat choices, eight vegetable choices, salad bars, deserts, any drink they want, with repeat trips allowed? The answer: Probably only athletes who play high-profile sports at big-time colleges.
Fake News, Fake Education. Sight-Words are said to be a legitimate way to teach reading. We know that this is not true because the U.S. has 50 million functional illiterates. We are told endlessly that Reform Math and Common Core Math will improve math scores, but math skills continue to drop. The Education Establishment has embraced Constructivism as an all-purpose elixir suitable for every class, but its only real effect is to prevent teachers from teaching. They must accept the reduced role of passive facilitator, with the demonstrable result that children learn less. We are assured that these empty suits and numerous others represent sincere efforts to improve the skills of students. Arguably, those assurances are straight-up lies. In any case, you won't believe the claims if you look closely at these pedagogical impostors. Once a school system shifts toward social engineering and ideological manipulation, truth is no longer deemed essential. Whatever will move the most people in the direction you want, that becomes truth.
New Jersey teacher loses job, accused of snorting morphine in front of students. A New Jersey elementary school teacher has lost his job for allegedly snorting morphine in front of his students, according to a Tuesday [10/1/2019] report. Michael Palladino, 43, was charged in December with possession of a controlled dangerous substance and official misconduct, according to a complaint from the Ocean County Prosecutor's Office.
Washington state's public schools show their disgusting stuff. Just yesterday [9/20/2019], a Longview public school bus driver who transported 90 kids in two trips was credibly reported to be driving like a drunk — weaving, running red lights, and stinking of alcohol — according to the terrified school children who were stuck on that bus without choice, with one of them calling 911. The cops eventually showed up, found the driver, smelled the alcohol, and made an arrest. The school itself put the driver on paid leave. [...] Washington state is near-one-party blue state and that means a woke culture has taken hold. One would look to affirmative action policies in hiring, perhaps convict hiring, or possibly blue crony hiring, to explain why that bus driver got hired. More likely still, a powerful union may have ensured that the driver stayed hired.
The Editor says...
Whenever the unions are involved, "paid leave" means extra vacation time.
Avoid college — it's a trap. The "need" for college is a masterful example of social engineering and propaganda. Young people are told they MUST get a degree, or else. A college degree will translate into higher lifetime earnings. [...] But if this is true, why are so many young people experiencing the opposite? Rather than settling into well-paying careers, paying back their student loans and hitting the normal milestones of life (marriage, home ownership, children), millions are living with their parents, avoiding marriage because they are too deeply in debt, and working at Starbucks or Walmart. Don't get me wrong, those are fine places to work; but it's not necessary to obtain $20K in debt and a history degree to apply for a job.
Democrat on Illegal Immigration Contributing to Classroom Overcrowding: 'I Don't See That At All'. Rep. Norma Torres (D-Calif.) said she does not think closing detention centers for illegal immigration would further contribute to classroom overcrowding in public schools. According to a 2017 report from The Education Trust-West, more than 250,000 students in public schools had undocumented parents. The report also found that "1 in 13 Californians is undocumented." School districts in cities such as Los Angeles have struggled with classroom overcrowding.
Are Professors Better at Teaching Than Students? The answer appears to be: not much. That's based on research by a trio of European scholars who examined the results at a university in the Netherlands. They wanted to know if students do significantly better when taught by professors versus being taught by grad students or even top undergrads. Their findings were that the latter are nearly as effective as the veteran educators.
America's Children Need Universal School Choice Now More Than Ever. Many of the country's largest school districts give families no alternative to the nearest public school. They offer no charter schools, no school vouchers — no school choice programs of any kind. Instead, kids are consigned to a dysfunctional school. Fourth graders in Baltimore and Philadelphia public schools are reading more than two grade levels behind their peers nationally, according to the Nation's Report Card. Detroit's fourth-graders are reading nearly four grades behind their peers. Yet parents in large public school districts often have even bigger concerns than whether Johnny can read. They're worried more about their children's safety. And with good reason. From September through December last year, Chicago Public Schools dealt with more than 600 allegations of sexual violence. In the year before that, 10% of high school students in Washington, D.C., public schools were threatened or injured with a weapon on school property.
Civics and Civility. Our government is one of limited and separated powers, a design deliberately chosen to secure the promise of self-rule and our liberties and to prevent the accumulation of power in too few hands. Yet, according to Annenberg, today it seems only about a quarter of Americans can name the three branches of government. Approximately a third cannot name any branch. Many do not know why the founders established this separation of powers or how it protects their liberties. Civic education is no longer a central part of the curriculum in many of our public schools.
From Icon to Just a Con. [Scroll down] Universities emulated the ethos of loan sharks and shake-down businesses. The con was as simple as it was insidiously brilliant. Academic lobbyists pressed government for billions in guaranteed student loans, on the rationale that half of all Americans would now be offered a chance for the common, empowering BA degree. The federal government backed student loans. That guarantee greenlighted cash-flush universities to pay inter alia for diversity czars, assistant provosts of "inclusion," and armies of woke aides and facilitators, to reduce teaching loads, and to open more race/class/gender "centers" on campus — by jacking up college costs higher than the rate of inflation. Student debt soared. [...] In a just world, the exempt university would have been subject to the same rules of lending forced upon car dealers, credit card companies, and mortgage lenders.
To take back America, we need to take back the schools. "As recently as 20 years ago, the United States was ranked No. 1 in high school and college education," Jon Guttman, a research director for the World History Group wrote at History Net. "In 2009, the United States was ranked 18th out of 36 industrialized nations. Over that time, complacency and inefficiency, reflective of lower priorities in education, and inconsistencies among the various school systems contribute to a decline." That's partly to blame. So's this: administrative bloat. Between 1950 and 2009, the student population of America's public schools grew by 96%. The growth in teachers during that same time was 252%. But the growth of administrators and other office staffers? That jumped 702%, American Enterprise Institute reported. "America's public schools are bloated with bureaucracy and skinny on results," wrote Benjamin Scafidi at The Friedman Foundation for Educational Choice.
My Childhood Schooling In The Soviet Union Was Better Than My Kids' In U.S. Public Schools Today. Like other Russian-speaking Jews, I am forever thankful to this country for taking me in and for giving me liberty. Yet when I talk to people in our community about their wishes and anxieties, they always express discontentment with U.S. schools. "How is it," some ask, "that we are all engineers, but our children can't do basic math?" "What do the students read, exactly?" Others wonder. "The only reason my child is doing well academically," stated one mom of a second grader, "is because he attends a Russian program on Sundays." Since when do the bright eight-year-olds require tutoring?
Broward's Schools: Doubling Down on Deception. Broward Superintendent of Schools Robert Runcie appeared on this week's edition of Local 10's Sunday morning commentary show in South Florida. There he doubled down on his ongoing promotion of the official deception that he and Broward Schools do not compromise on the law or public safety. The fact is that Robert Runcie and the entire Broward School Board have been compromising on law and public safety for years.
All The People Who Think They Are Better Than You Are Much, Much Worse. Look at the freaks our universities are pumping out — they can't read, they can't write, they think history started in 1996, and the only things they ever created are evermore tiresome and weird gender identities.
Americans Have Almost Entirely Forgotten Their History. Under tyrannical systems, it matters little if the people are informed about political life. Autocrats make decisions for the people whether they like it or not. But in our republic, we rely on the informed decision-making of citizens to judge policies and the leaders who will implement them. Unfortunately, we are not very well-informed. According to a recently released survey, Americans are woefully uneducated about the most basic facts of our history, to the point where most couldn't even pass a basic citizenship test.
What Will They Learn at College? There's another college-related issue not given much voice and that's how important is a college education in the first place. That's an issue raised by a Market Watch article, "Half of young Americans say their degree is irrelevant to their work." Parents think a college education is necessary for success. Their youngsters think differently.
The demise of public education. One may believe that those in charge of public education are qualified to administer the task of educating America's youth. One may believe they have the best interests of society at heart. And one may believe they are doing the best they could do, given the conditions under which they have to work. Abundant evidence, however, points to the conclusion that none of those beliefs is valid.
What Are Schools For, Anyway? In the New York City public schools, only about two-thirds of K-12 students graduate with a high school diploma. Of that two-thirds, a self-selected group then attends the City College of New York. Now, notice that this isn't all of that two-thirds: it's only those graduates who want to go to college, we assume because they imagine that doing so will teach them something useful leading to a job if not a career. Of that self-selected cadre, four out of five of them will require remedial education in the "three R's" before they're prepared to do freshman-level work. [...] New York City schools spend something like $25,000 per student per year to achieve these stellar results.
Where is the technological revolution in education? During the past several decades, we have heard a lot of excited speculation about the future of education. Surely, many experts have asserted, digital tools will be a game-changer. Everything will be improved. But what have we actually experienced? For the most part, we see jazzed up versions of things we had many years ago. PowerPoint and slide presentations. Lectures on television, in effect. Training films. Distance learning.
What American Socialists Say They Want. The promises are relentlessly upbeat and even humanistic. The reality is always more decay, more mediocrity, more people prevented from reaching their potential. My thesis is that public schools are the political reality served up billboard-size. Everyone can understand if they bother to look. For example, public schools claim to teach reading, but we have 50 million functional illiterates. That's socialism in action, also known as liberalism, progressivism, collectivism, communism. The claims are always gimmicks to gain more power. The claims are always without sincere intent. This is the part that the ordinary citizen has trouble with: The people at the top promise things they never intend to deliver.
The High Cost of "Free" College Tuition. What would the American people be paying for with all this "investment"? As a former university dean, someone who has been involved in education policy for decades, and as a parent and grandparent, I've seen firsthand everything from the decline in educational quality to the toll of massive college debt on students and their families. American colleges and universities are failing in one of their most basic missions: to equip students with the tools they need for a career. Many students graduate ill-prepared to earn a living and pay off the enormous debt they accumulated getting their degrees. Forty percent of those who start college don't even finish within six years.
Survey of $1.5 Trillion Student Loan Debt by State: South Dakota Most Debt, Utah Least. The almost $1.5 trillion in student loan debt in the United States is one of the issues candidates running in the 2020 presidential election are touting, with Democrats backing plans ranging from forgiving all debt to making community colleges tuition-free. A new survey shows how debt is distributed across states and the District of Columbia.
Our So-Called 'Rights' Are Expensive! One of the fastest ways to make things more expensive is for the government to provide easy access to money to pay for such things. Nothing illustrates this better than the cost of a college education. [...] As we've also heard often the last few years, these rising costs have resulted in astronomical student loan debt. With the total now north of $1.5 trillion, student loan debt for Americans is nearly equal to the total amount of auto loan debt and credit card debt combined.
Guess what, colleges? Two-thirds of your grads regret their diploma, costs, major. For decades now it's been a sellers' market for American universities. Conventional wisdom held that the most important way to succeed in life was to get a college diploma, no matter the cost. [...] A new poll of nearly a quarter-million Americans has found fully two-thirds of them have buyer's remorse about their diploma, their major and the higher education experience in general. How much longer do you think folks are going to keep paying such fees that produce such dissatisfaction and unhappiness? Not surprisingly perhaps, the new survey found the top regret was incurring immense debts for that higher education, a debt whose payments run on for many years, causing postponed marriages and families. An estimated 70 percent of college graduates this year finished school with loans to repay averaging $33,000.
S.F. school board to spend at least $375k to cover over 'racist' George Washington mural. Historical images of George Washington's life will soon vanish from San Francisco's Washington High School over accusations of racism. In 1936, Victor Arnautoff, a left-leaning artist who went on to join the Communist Party, created a 13-panel mural that was meant to show an accurate depiction of U.S. history — warts and all. His art, however, was deemed so offensive this week by school board officials that they will spend anywhere from $375,000 to $825,000 to hide it from public view.
Did Your Child Return From College a Better Person? Let's begin with behavioral issues. There is a good chance your son or daughter will have spent much of his or her free time at college partying, which often means getting drunk, smoking marijuana and hooking up with someone for casual sex. While none of those activities necessarily means your son or daughter became a worse human being, all of us can agree that none of them made your child a better one.
Report: Nashville schools spent $1.8 million in no-bid contracts for software that went unused. Nashville taxpayers shelled out millions just a few years ago for special new software designed to track the academic progress of every student in the city based on the recommendation of schools director Shawn Joseph. Now they're learning Joseph misled the public as he worked to secure the no-bid contracts and his personal connection to the education contractor, Performance Matters. Metro Nashville Public Schools acknowledged it broke state law by awarding a $1 million no-bid contract to Performance Matters for a student assessment platform at the behest of Joseph, who alleged the company was already working "effectively" in the state at Shelby County Schools, WTVF reports.
The End of Legitimacy and the Collapse of Democracy. College student debt now exceeds consumer debt and colleges, originally designed to educate the top 7.5 to 15% of the college-age population, now reach down far below that. In the meantime, colleges have become propaganda mills generating useless degrees that provide no skills for the work force and a host of attitudes — such as the need to avoid controversy — that are counterproductive in a competitive economic environment. For many, having acquired no useful economic skills, there is no way to get rid of the albatross of student debt.
Oberlin College ignored the First Law of Holes responding to the jury verdict against it. The entire higher education industry is on the edge of an apocalypse. Prices have been jacked up to unsustainable levels, in large part to fund an unproductive bureaucracy, much of it devoted to "diversity," just as a demographic decline in the age cohort eligible for college is upon them. The broader public observes the excesses on campuses from Berkeley to Oberlin, and realizes the contempt with which denizens of the ivory tower regards them.
Colorado school officials ask voters to consider tearing down, rebuilding Columbine High School. It was the place that spawned a new breed of attacks on innocent people. Now, 20 years later, Columbine High School faces scrutiny of another kind: Whether it should be torn down and replaced. Calling the infamous Colorado shooting "a macabre source of inspiration" for troubled people around the globe, the superintendent of the school system overseeing the high school said in a letter posted Thursday [6/6/2019] that it might be time to consider a change. Jefferson Public Schools Superintendent Jason E. Glass said in the letter, sent to the Columbine community, that the idea is in the very early stages and may not happen. It would entail asking voters to approve $70 million "at some point" to construct a new school.
The Editor says...
Education bureaucrats love to brag about new school buildings. They constantly campaign to get new buildings built. If schools have to be torn down and replaced every time there is a shooting, there will be no end to the construction. Incidentally, when I was a kid, the schools that I attended were all about 40 years old at the time, and they are all still standing.
The College Bureaucracy That Never Shrinks. The discourse around student debt — which now stands at $1.5 trillion — holds colleges harmless in causing that debt. The sole focus of discussion is instead how best to underwrite rising tuitions with public or private money. But college tuition is not an act of God, beyond human control. It is a result of decisions taken by colleges themselves — above all, decisions to bulk up their bureaucracies. Bureaucratic outlays rose at nearly twice the rate as teaching outlays from 1993 to 2007, according to the Goldwater Institute. From 1997 to 2012, colleges hired new administrators at twice the rate of any student-body increase, the New England Center for Investigative Reporting found. Colleges inevitably claim that government mandates force this administrative bloat upon them. But the vast majority of administrative hires are voluntary: for every dollar in mandated bureaucratic spending from 1987 to 2011, public universities added an additional $2 in discretionary bureaucracy, and private universities added $3, according to economists Robert Martin and Carter Hill. Fiefdoms focused on diversity and student services grew at the fastest clip, in the name of fighting the campus oppression to which minority and female students are allegedly subjected.
Keywords: Deadbeat, hippie, good riddance.
These Americans fled the country to escape their giant student debt. Chad Haag considered living in a cave to escape his student debt. He had a friend doing it. But after some plotting, he settled on what he considered a less risky plan. This year, he relocated to a jungle in India. "I've put America behind me," Haag, 29, said. Today he lives in a concrete house in the village of Uchakkada for $50 a month. His backyard is filled with coconut trees and chickens. "I saw four elephants just yesterday," he said, adding that he hopes never to set foot in a Walmart again. More than 9,000 miles away from Colorado, Haag said, his student loans don't feel real anymore. "It's kind of like, if a tree falls in the woods and no one hears it, does it really exist?" he said.
The Editor says...
Why was he in college at all?
Educrats Are Parasites. Parents in American K-12 often see that their children are unhappy and not learning much. But parents for the most part tolerate this abuse. Why? Teachers accept danger, disrespect, and the constant prospect of burnout. The autonomous activity that teachers traditionally engaged in is effectively prohibited. Why do they accept this? Meanwhile, unnecessary administrators swarm through the system, and superintendents are notoriously overpaid, many above $200,000 a year. Principals and administrators hardly deign to negotiate with the community except to say, "No, you can't." The Education Establishment has changed public education into a lucrative private business. Why do taxpayers tolerate this underperforming but overcharging colossus?
Schools from New York to California shell out money for illegals. Schools spanning the United States offer benefits to illegal alien applicants and students. These range from scholarships and "creative workshops" to mental health counseling and free food.
Higher Education in America. Distinguished Professor Emeritus of Economics at Ohio University Richard Vedder's new book, "Restoring the Promise," published by the Independent Institute based in Oakland, California, is about the crisis in higher education. He summarizes the three major problems faced by America's colleges and universities. First, our universities "are vastly too expensive, often costing twice as much per student compared with institutions in other industrialized democracies." Second, though there are some important exceptions, students "on average are learning relatively little, spend little time in academic preparation and in some disciplines are indoctrinated by highly subjective ideology." Third, "there is a mismatch between student occupational expectations after graduation and labor market realities." College graduates often find themselves employed as baristas, retail clerks and taxi drivers.
More Than 130 Six-Figure School District Administrators Oppose Education Efficiency Bill. An Illinois House bill that would allow more education funding dollars reach the classroom before getting trapped in administration has earned support from both parties — and the opposition of administrators.
Should we shutter the Department of Education? Since its inception 40 years ago as a political payoff from President Jimmy Carter to the National Education Association, the Department of Education has engaged in scores of dubious actions that have made millions of Americans yearn for its expulsion. The most recent example of comes from a long string of audits showing the federal department is doing a lousy job keeping tabs on the $38 billion it receives to administer federally funded K-12 programs. "Complex and persistent" is how Congress' spending watchdog, the Government Accountability Office, described the agency's mismanagement of data, oversight, and evaluation.
Academia and False Advertising. When famous and affluent Hollywood celebrities were exposed recently for bribing their children's way into some of America's most prestigious academic institutions, far too many observers seemed to have missed the fact that this episode is but a symptom of a cancer that has metastasized throughout the entire academic world. To put it in its simplest terms, "the College Admissions Scandal" revealed that colleges and universities are guilty of false advertising insofar as they would have Americans believe that applicants are admitted as students on the basis of their qualifications — not the size of their parents' bank accounts. But these same colleges and universities have been engaged in false advertising for decades insofar as they have been deceiving the American public into thinking that they are educational institutions that, as such, provide an open market place of ideas. They are no such thing, sadly.
Another college bribery scam: Delaware State University registrar faces 10 years in prison. A former employee at Delaware State University allegedly took more than $70,000 in bribes to give students discounts on their tuition. Crystal Martin, 35, who once worked as a registrar at the public university, told a court on Tuesday [4/16/2019] that she accepted money from out-of-state students to reclassify them as in-state residents. The scheme took place between 2013 and 2017 and cost the college more than $3 million, according to prosecutors.
The Editor says...
Why spend money on bribes to get a discount on tuition? Why not just pay the tuition?
Jordan Peterson: Young People's Ignorance of Socialism Risks "Absolute Catastrophe". Canadian academic Jordan Peterson warns that socialism is so appealing to young people because they are "unbelievably ignorant" about the history of the 20th century. During an event hosted by The Heritage Foundation this week, the clinical psychologist and best-selling author said that millennials are embracing far-left ideology because they weren't taught about its disastrous outcomes at school. "People are unbelievably ignorant of history," said Peterson. "What young people know about 20th-century history is nonexistent, especially about the history of the radical left. How would you know? They are never taught about it so why would they be concerned about it?"
The Biggest College Scandal of All. College tuition, room-and-board costs can now exceed $50,000 to $70,000 a year. This is a massive financial hardship for the families that actually pay out of pocket the $200,000 to $300,000 tab for a four-year degree and for those who get loans. The debt for a 22-year-old graduate can easily exceed $100,000. Meanwhile, the size of the student loan debt nationwide has reached some $1.5 trillion. As one solution, leading voices in the Democratic Party — ranging from Sens. Bernie Sanders to Kamala Harris to Rep. Alexandria Ocasio-Cortez — are touting "free college" or even more guaranteed student loans for families. The worst idea of all is student loan forgiveness of up to $1 trillion. This would only shift the costs of expensive colleges onto the back of taxpayers — many of whom never even went to college.
Duke University to pay $112.5 million settlement for faked research. Duke University agreed to a deal Monday [3/25/2019] that will require it to repay the federal government $112.5 million to settle claims it falsified scientific research at taxpayers' expense. The prestigious private school in Durham, North Carolina, said it will take additional steps on "research integrity" and says it already has implemented more monitoring of research in the wake of the scandal, which involved a health researcher and her supervisors.
Duke Whistleblower Gets More Than $33 Million In Research Fraud Settlement. Duke University is paying the U.S. government $112.5 million to settle accusations that it submitted bogus data to win federal research grants. The settlement will also bring a $33.75 million payment to Joseph Thomas, the whistleblower who drew attention to the fraud when he worked for Duke. Thomas, a former Duke lab analyst, sued the university on behalf of the federal government, saying that a Duke researcher fudged data to help the university win and keep lucrative grants from two agencies, the National Institutes of Health and the Environmental Protection Agency.
More Misconceptions about College. While the numbers of high-school graduates heading off to college have increased in recent years, the percentages graduating with a four-year degree have not increased much. Many students, especially those who are the first in their families to attend college, drop out before receiving a degree. (They cannot drop out of student-loan payments, though.)
Trump's Most Daunting Task: Educating on Socialism. Because of a sclerotic leftwing education system, our youth have been indoctrinated in a simple-minded version of socialism for decades without knowing it. Meanwhile, the right has been extraordinarily lazy in confronting this, acting in a basically uneducated manner themselves. It's almost criminal. Ask your average college student who is history's greatest mass murderer and almost none of them would name Mao. They have no idea what the Great Leap Forward was when some thirty million Chinese were starved to death by the Chairman in the name of socialism or why that might have happened. One could go on with the history of megadeath from Stalin to Hitler to Pol Pot (who?) — all socialists — and get plenty of blank stares.
College Scam: That's Not the Half of It. College tuition and textbook costs have climbed faster than any other component of the economy. At the same time, the value of a college degree in fields of questionable economic utility have correspondingly diminished. This has left many dropouts as well as graduates with large debt obligations and no real means to repay them. Some seventy percent of college graduates carry student debt, which now amounts to over a trillion and a half dollars. Part of this is the unintended consequence of easily available government-backed loan programs, and the propagation of the myth that a college degree translates into much higher income over a lifetime. [...] About 44% of college graduates end up in jobs that do not require a college education.
Only 1 state passes US citizenship test, DC fails big. A majority in every state except Vermont has failed the U.S. Citizenship test, the latest sign that Americans aren't very good history students. In the multiple choice version of the test given to immigrants seeking citizenship, 53 percent of Vermonters passed.
Alexandria Ocasio-Cortez, the voice of an ignorant generation. The seed of Millennial miseducation, which grew into the Tree of the Lack of Knowledge as activist educators substituted ideology for scholarship, is finally bearing its rotten fruit. According to one survey, one third of Millennials believe President George W. Bush killed more people than Soviet dictator Joseph Stalin. Over 40 percent of Millennials have never heard of Mao Zedong; another 40 percent and 30 percent, respectively, are unfamiliar with Vladimir Lenin and Che Guevara. Two-thirds of Millennials cannot identify Auschwitz, and 22 percent have never heard of the Holocaust, twice the percentage of American adults on average.
The Dems Who Cried 'Wolf!' Sure, 40 percent of Americans are locked-in hating Trump, and are quite willing to believe the worst about him. But large constituencies of Americans also believe all kinds of other falsehoods. Sixteen million Americans believe chocolate milk comes from brown cows. Twelve million Americans believe Lizard People run our country. Eleven percent believe that HTML is a sexually transmitted disease. Nearly 30 percent believe in Bigfoot. Fifty-six percent of American women believe in ghosts, as do 38 percent of the men. More than half believe in outer-space aliens, and just under 38 percent believe they have visited Earth. So it is to be expected that a solid 40 percent will believe any lie or calumny against Trump.
The shutdown proves how redundant a lot of the government is. [President Trump should] Propose the permanent shuttering of non-essential cabinet level departments. Closing the Department of Energy would save $32.5 billion, Department of Commerce, $61.8 billion, and the Department of Education, $59.9 billion. These are not new or radical ideas for Republicans. Reagan tried to close the Department of Education in 1981. And the current Secretary of Energy, Rick Perry, proposed closing his own Department when running for president. Are they really non-essential? In a word, yes. But let me put it in perspective with a few questions: The Department of Education was created in 1979. Does anyone believe that American education has improved since then? Does anyone think American commerce would cease if the department were closed?
Government shutdown exposes redundancy in Washington. Back in 1979, when Jimmy Carter proposed spending about $6 billion to fund a brand new Department of Education (F.Y. 2019 budget is $60 billion), one of the strongest selling points was that education programs were scattered in every department and agency across the government. Just think how much money we can save if we bring all those programs under the control of one, federal department! It didn't work. Today, there are still education programs in many federal agencies, and the Education Department has become a gigantic presence.
Wealth, Poverty, and Flight: The Same Old State of California. The top California income-tax rate is 13.3 percent (the nation's highest). The state's average sales tax is (conservatively) about 8.5 percent (ninth in the nation). California's bewildering combined array of gasoline taxes are about 55 cents per gallon and rising (second-highest in the nation). In exchange, California public-school test scores rank between 44th and 46th in the nation. Its roads and infrastructure are rated in various surveys between 42nd and 45th.
Birthright Citizenship is the Biggest Cost of Illegal Immigration. The great libertarian economist Milton Friedman famously argued decades ago that illegal immigration was preferable to low-skilled legal immigration because illegals at least can't apply for welfare benefits. It's basically true in that illegals cannot apply for federal assistance (though Friedman overlooked the existence of welfare fraud), but the real major cost of illegal immigration is indirect; through their American-born, and thus legal-citizen children. Education is the biggest cost. According to the Pew Research Center, from 1995 to 2012, the percentage of K-12 students with at least one undocumented immigrant parent rose from 3.2 to 6.9%. And according to a handful of studies, the cost to taxpayers to educate the children of illegals comes out to: $44.5 billion annually [according to] The Atlanta Journal-Constitution, reported in 2010. [Or] $59 billion annually [according to the Federation] for American Immigration Reform, reported in 2016. Both estimates were calculated by simply multiplying the number of students with illegal immigrant parents by the average cost of educating a child K-12.
44 Percent of Young Americans Believe Barack Obama Had "Bigger Impact" Than George Washington. According to a recent survey, 44 percent of Milennials believe that Barack Obama had a "bigger impact" on America than George Washington. The Foundation for Liberty and American Greatness (FLAG) released a survey conducted by YouGov and commissioned by FLAG, the results of which are disturbing and demonstrate a dearth of belief in American exceptionalism and in comprehension of basic American political tenets.
Snack-loving rat spotted in Florida school's vending machine: 'I was horrified'. Students at Atlantic Community High School in Delray Beach. Fla., were treated to an unlikely sight on Wednesday after spotting a rat scurrying through the school's vending machine, Fox 13 reports. Footage taken by one of the 11th-graders shows the rodent crawling amid the snacks and candy as excited students are heard warning each other of the intruder.
Bill Gates Tacitly Admits His Common Core Experiment Was A Failure. Bill and Melinda Gates run the world's richest nonprofit, with assets at $40 billion and annual giving around $4 billion. [...] Since 2009, the Gates Foundation's primary U.S. activity has focused on establishing and implementing Common Core, a set of centrally mandated curriculum rules and tests for what children are to learn in each K-12 grade, with the results linked to school and teacher ratings and punitive measures for low performers. The Gates Foundation has spent more than $400 million itself and influenced $4 trillion in U.S. taxpayer funds towards this goal. Eight years later, however, Bill Gates is admitting failure on that project, and a "pivot" to another that is not likely to go any better.
Financial Hype, Flawed Policies, and Corruption Abound in NYC Schools. We must wonder why New Yorkers now need a $17-billion school building program. Could this be connected to the failed policies of the previous NYC mayor, Michael Bloomberg, and his schools chancellor, Joel Klein? They systematically closed so-called failing high schools and turned those properties into three or four academy schools. Those closures were based on the New Vision ideal of small academy schools as being more agreeable learning environments for less academically inclined students. This lowered the student population in each of those large buildings, which added significantly to the space crunch. For example, this writer taught in a high school that became three small academy high schools and, in so doing, went from 2,700 students to an official enrollment of 1,950. Space for the other 750 students had to be found elsewhere. Often overcrowding in other high schools resulted, and New Yorkers are still in that dismal dilemma of studying in unduly restrictive environments.
Worst College Majors. The worst college majors are fields of study that leave the student with relatively few job opportunities and often a distorted or ultra-liberal view of the world. Students incur an average debt in excess of $25,000 for attending college, and these college majors can leave such students without the ability to pay off their loans, which are typically not dischargeable in bankruptcy. Adding insult to injury, many public colleges have begun charging students more if they decline one of the Worst College Majors, and study something of value instead. Incidentally, a study by USA Today and the non-profit Education Sector showed that 514 colleges are more likely to produce defaults in student loans than graduates.
9 Years Into Common Core, Test Scores Are Down, Indoctrination Up. It's been about nine years since the Obama administration lured states into adopting Common Core sight unseen, with promises it would improve student achievement. Like President Obama's other big promises — "If you like your doctor, you can keep your doctor" — this one's been proven a scam. [...] So here we are, nine years later. Common Core has been officially rolled out into U.S. public and even many private schools for at least three to five years now. Are American children increasingly prepared for the "the challenges of the 21st century"? We're actually seeing the opposite. They're increasingly less prepared. And there's mounting evidence that Common Core deserves some of the blame.
More about Common Core.

Race gaps in SAT math scores are as big as ever. Analyzing data published by the College Board for college-bound seniors in 2015, we find very large racial achievement gaps. Blacks and Latinos remain clustered at the very bottom of the distribution. Blacks in particular lag far behind, with an average score of 428 out of 800, significantly below the average score of 534 for whites and 598 for Asians. These inequalities are especially concentrated at the tails of the score distribution; we estimate that at most only 1,000 blacks and 2,400 Latinos scored above a 750, compared to some 16,000 whites and 29,600 Asians. Perhaps most disappointingly, we find that the black-white score gap has remained virtually unchanged over the past 15 years, despite significant efforts to close the achievement gap.
Walk Away. You've heard the rumors, or you have seen the results yourself. Kids can't read, not fluently. Incoherent Common Core homework makes them cry. Students don't know the simplest things about geography, history, science, or anything else. Jay Leno, Jesse Watters, Mark Dice, and now Jimmy Kimmel have shown this over and over. The incompetent, ideological extremists perpetuating this educational malpractice should be rejected or at least rebuked. What's a simple way to do that? You don't need to send them a card. Just walk away...if not physically, at least emotionally.
It Doesn't Matter If You Love The Constitution If Your Neighbors Don't Know What It Says. A study conducted last year by the Annenberg Center of Public Policy at the University of Pennsylvania showed that only 26 percent of Americans could name all three branches of government, while more than a third (37 percent) surveyed couldn't name even one of the five freedoms or rights guaranteed by the First Amendment — religion, speech, press, assembly, and petition. Former Supreme Court Justice Antonin Scalia once lamented Americans' ignorance of the Federalist Papers: "It is such a profound exposition of political science that it is studied in political science courses in Europe. And yet we have raised a generation of Americans who are not familiar with it." Indeed, most states' history and civics classes today are "mediocre to awful," according to a 2011 study published by the American Bar Association. When states' standards for history classes were graded for "content and rigor" and "clarity and specificity" on scales from A to F, a whopping 28 states earned grades of D or F, while only 9 earned an A- or B. This self-destruction of our popular constitutional culture has gone hand-in-hand with another dangerous trend. With civic awareness at dismal lows, the people's unique relationship to the Constitution has also been systematically usurped by lawyers and legal elites.
High school teacher shortage forcing schools to go digital. Teacher shortages across the country are getting so dire that they're forcing some school districts to live stream lessons, replacing educators in many classrooms. According to The Wall Street Journal, tens of thousands of high school students nationwide are now getting lessons taught by a remote teacher to occupy many hard-to-fill positions in areas like science, math and special education. All 50 states and Washington D.C. have reported teacher shortages over the last few years. The U.S. Department of Education said the number of people completing teacher programs has dropped from 217,506 in 2011 to 159,598 in 2016.
An academic hoax to expose a massive academic scam. Much of academia has risen up in arms over an audacious year-long hoax perpetrated by three scholars who wrote 20 phony papers in various fields of gender and identity studies that used "politically fashionable" language to support blatantly outlandish conclusions. And it worked: Seven of the papers got accepted for publication before the hoax's exposure last week, and seven more are still in the peer-review process. Only six were rejected outright. Which means the howls condemning the hoax are outrageously misdirected.
Many NYC students are bombing the writing portion of state exam. An alarming number of NYC students have scored three or more "zeroes" for their writing answers on the statewide English exams, a new study reveals. On the English Language Arts exams between 2013 and 2016, in addition to multiple-choice questions, students had to read nine or 10 short stories or texts, then write responses aimed at showing their ability to think critically and cite evidence to support their answers. A score of zero (out of 2 to 4 possible points per question) means a student wrote something "totally inaccurate," "unintelligible," or "indecipherable."
Poll: 69% of Millennials Can't Define Socialism. There's one quote I'll never forget overhearing from a co-worker in my teenage years: "We're all socialists if you think about it. When you go to the store you have to talk to the cashier, so that's social." He was dead serious. So it comes as no surprise that a poll shows 69% of millennials can't define socialism. My co-worker may have been clueless about socialism, and apparently that's the rule rather than the exception among self-professed socialists. VICE magazine, which caters to an audience of hipster millennials, recently wrote about the burgeoning socialist movement among young people, and cited a poll that showed two-thirds of socialists can't even define their ideology. (For the record, socialism is government ownership of the means of production, like land, labor, and capital).
Our Education System Flunks The Citizenship Test. A new survey finds that only a third of Americans could pass the U.S. Citizenship test. It's a dismal testament to the abject failure of the country's education system. And a looming threat to the nation's future.
New York's state English exams are a horrific waste. Another year, another ridiculous effort to see how schools are faring by using state tests, then negating the usefulness of those tests by waiting months to release scores and ultimately disregarding the scores and passing kids on to the next grade anyway. It's a system only a government bureaucrat could love. The two statewide tests in English Language Arts and math begin in third grade. The math test is fairly straightforward and so gets much less criticism, although the usefulness of the actual test is debatable. But the ELA has come to represent everything that is wrong with New York's entire education system. The ELA state test for third- graders consists of six short essays and one long essay. That's essentially a full day of writing for an 8-year-old, something that adults would find difficult. It's a test of endurance more than reading proficiency.
Startling number of city public school students don't understand basic math, English. More than half of city public school students still don't have a basic grasp of math and English, according to the latest round of state test results released Wednesday [9/26/2018]. Overall, 46.7 percent of kids in grades 3 to 8 were proficient in English and just 42.7 percent in math, according to the data. State Education Commissioner MaryEllen Elia stressed Wednesday that year-to-year comparisons were pointless because of constant changes to testing formats and evaluation methods.
The 50 N.J. school districts spending the most per student. Statewide, per-pupil spending ranged from about $10,000 at one charter school to about $60,000 at a tiny district along the Jersey Shore. Some of the highest spending districts are some of the smallest, those that need a building and full staff for just a small number of students. But there are also plenty of large districts that spend a lot per student, including both K-12 districts and regional high schools.
College Students Have NO CLUE Why 9/11 Happened! This is just sad and pathetic. Young Americans Foundation interviewed American kids at college about why terrorists struck the USA on 9/11. Their answers will [surprise and discourage you]. [Video clip] I realize that perhaps schools aren't teaching history properly, but this horrific event happened within their lifespan and took the lives of nearly 4,000 of their own countrymen!! How [...] could you be so intellectually un-curious that you have no idea why terrorists are targeting you?!
The Higher Education Bubble Is Bursting — And That's A Good Thing. A good indication of a tightening labor market is the fact that several major corporations have dropped their college degree requirements. College just became an even bigger waste of time and money for many.
A Perfect Storm Threatens America's Survival. Increasingly parents, particularly conservatives, need to be concerned about sending their offspring to expensive universities and having them return as poorly educated dedicated leftists, struggling to find a job, loaded with debt, and unable to think clearly about the world or their place in it. Free speech is often not just discouraged, but essentially banned. High school students are taught little or no history or patriotism. Street interviews reveal young people so uneducated that they can't identify the vice president, state who won the Civil War, explain what the Fourth of July celebrates, find any country on a map, or qualify for military service. There can be no greater danger to our civilization than a poorly educated public, but increasingly, it seems that's what we've got.
10 Ways Big Government Harms You. [#4] Big government makes education cost more and worth less when you get it. [...] Saddled with debt and faced with a job market producing fewer attractive employment opportunities due to big government constricting policies, graduates can quickly find themselves in a desperate position. More and more 22 year olds are being forced to continue to live with their parents, take part-time work instead of full-time work, or even seek some sort of additional government relief because they can't make ends meet. The promises they were made at their high school graduations about the success to come from continuing education, now ring hollow.
Report: Public Schools Failed On Every Level To Stop Abuse In Chicago Schools. According to a new report, Chicago public schools aren't doing enough to protect students from sexual abuse. An independent review of sexual misconduct shows there were failures at every level. A prominent law firm conducted the study over the summer and found deficiencies in training, reporting, data collection and tracking trends in misconduct cases. The report details a failure to report potential sexual harassment, a lack of communication with the Department of Children and Family Services as well as employee misconduct allegations between students and staff.
Even the Pentagon Says Morons Are Inheriting the Earth. This has become a legitimate crisis for the U.S. military, which is having a devil of a time finding sufficient numbers of recruits who are not stupid, obese, and/or convicted criminals. Less than 50 years ago, America's military was the employer of last resort for some citizens; indeed judges might send you to the local recruiting station as an alternative to prison. The 21st century military is a very different place, professional and high-tech, and even raw recruits need to be literate and somewhat trustworthy, not to mention physically fit enough to get through basic training.
Identity Politics Are Rapidly Destroying The Value Of College Degrees. [Scroll down] A fifth of undergrads now say it's acceptable to use physical force to silence a speaker who makes 'offensive and hurtful statements.'" The same survey indicates that about four in every ten students believes the First Amendment does not allow "hate speech." Meanwhile, even at elite colleges like the liberal arts school Pomona, nearly 90 percent of students say their campus climate chills speech because they fear saying things others might find offensive. Those illiberal trends are bad enough on their own, but the format of college also makes little sense. Its incentives are poorly aligned with what is valued in the workplace. Students are incentivized to be obedient and compliant, not to set themselves apart from the pack. Many college students end up slinging impressive sounding extracurriculars together that any hiring manager can easily see through.
The Deflation of the Academic Brand. [Scroll down] Indeed, [Alexandria] Ocasio-Cortez has repeatedly noted that she graduated fourth in her class at Boston University, with a joint degree in economics and international relations. Yet most of her major statements that she has made since coming onto the national scene have proven either wrong or unhinged. In an interview on the rebirthed Firing Line, the international-relations major was forced to admit that she knew relatively little about the facts on the ground in the Israeli-Palestinian dispute, other than boilerplate left-wing anti-Israeli talking points. She claimed that the unemployment rate is low because "everyone has two jobs" In truth, only one in 20 do, about 5 percent of the American workforce. Crazier was her statement that the "upper middle class does not exist anymore." In fact, its numbers are at a near all-time high, nearly encompassing one-third of adults. A series of Ocasio-Cortez's assertions about Medicare and Obamacare turn out to be equally fallacious.
University gives radical leftist Noam Chomsky $750k contract. The University of Arizona will pay Noam Chomsky, a radical leftist professor who has previously expressed support for the terrorist group Hezbollah, a total of $750,000 over three years to teach a course on politics. Chomsky's $250,000 annual salary dwarfs the compensation offered to other UA faculty members, according to Judicial Watch, which notes that the average engineering professor at UA earns only about $80,000.
Obama Education Chief Arne Duncan: American School System 'Runs on Lies'. Former Secretary of Education Arne Duncan writes in his new book that the American education system "runs on lies." The man who served as Barack Obama's education secretary for most of the former president's two terms makes this assertion in How Schools Work, reports CBS News. During an interview that aired Sunday [8/5/2018] on Face the Nation, Duncan said, "We say we value education but we never vote on education, we never hold politicians accountable local, state, or national level for getting better results, higher graduation rates, more people graduate from college."
Watch: Ivy League Students Try To Explain First Amendment. Campus Reform released a new video on Monday that showed how clueless many millennials on college campuses are about the protections guaranteed to them by the First Amendment to the United States Constitution. Campus Reform's Cabot Phillips traveled to Columbia University, an Ivy League school, and offered $20 to any person who could name all five freedoms guaranteed by the First Amendment. Not one student was able to list the five freedoms, which are freedom of speech, religion, assembly, press, and petition.
Shock Survey: 40% Of Americans Cannot Name A Single Right Guaranteed By The First Amendment. The survey of 1,009 American adults was conducted in May and June of 2018 by the Fors Marsh Group in partnership with Lata Nott and Gene Policinski of FFI. The survey has a margin of error of 3.7%. When asked to name the freedoms guaranteed by the First Amendment, only one person was able to name all five. 2% of respondents were able to name the right to petition the government for redress of grievances; 12% were able to name the right of peaceful assembly; 13% were able to name freedom of the press; 15% were able to name freedom of religion; and 56% were able to name freedom of speech.
Columnist Questions If College Students Can Differentiate Between Republicans And Nazis. Columnist Dennis Prager wondered whether college students could differentiate between Republicans and Nazis on "Tucker Carlson Tonight" on Friday evening [8/3/2018]. [Video clip] "Well everything they are doing can hurt the country. Calling the man a Nazi and all his supporters are Nazis and comparing the Helsinki conferences, they did on MSNBC for example, to Pearl Harbor and Kristallnacht[.] Kristallnacht was the opening of the Holocaust. As I wrote in my column, I think a lot of college-educated kids have no idea what the Holocaust or the Nazis were," Prager stated.
The Left Are the Locusts of Culture. [Scroll down] The majority have no idea of the complex interweb of relationships, or the weave of technology, finance and just plain work that allows them their comfortable first world lives. They have no idea what it would mean if it collapsed. To an extent, they assume that every time and every place had this quality of life and that their "diversity" will only make it better.
The Origins of Our Second Civil War. Universities grew not just increasingly left-wing but far more intolerant than they were during the radicalism of the Sixties — but again in an infantile way. Speakers were shouted down to prove social-justice fides. "Studies" courses squeezed out philosophy and Latin. History became a melodramatic game of finding sinners and saints, rather than shared tragedy. Standards fell to accommodate poorly prepared incoming students, on the logic that old norms were arbitrary and discriminatory constructs anyway. The curriculum now was recalibrated as therapeutic; it no longer aimed to challenge students by demanding wide reading, composition skills, and mastery of the inductive method. The net result was the worst of all possible worlds: An entire generation of students left college with record debt, mostly ignorant of the skills necessary to read, write, and argue effectively, lacking a general body of shared knowledge — and angry.
Is There a Cure for the Modern University? So much has gone wrong with the modern university that one scarcely knows where to begin. Innumerable books have been written on the subject, from Hilda Neatby's 1953 So Little for the Mind to Michael Rectenwald's 2018 Springtime for Snowflakes. Articles abound in the thousands. As a former laborer in the educational vineyards, I have attempted a modest contribution to the literature, consisting of three books and dozens of essays and articles, to no particular avail. The academic outlook continues to degenerate, following an agenda that seems to be unstoppable, as if programmed by some ideological Doomsday Machine. The reasons for the precipitous decline in academic rigor, standards, and outcomes are many and have been thoroughly canvassed.
Boston University's Fake-O-Nomics Darling. The annual list price to attend Boston University — including tuition, fees, room and board — currently rounds out to $70,000. To acquire a degree in economics from this tony institution of higher learning, an undergrad must complete courses in calculus, microeconomic and macroeconomic analysis, empirical economics, statistics and assorted electives. Four years, 52 credits and nearly $300,000 later, the school promises that BU economics majors will depart "with a firm understanding of core microeconomic and macroeconomic theory" and the "empirical skills that are essential to applying economic reasoning in our increasingly data-driven world." How, then, to explain the abject economic illiteracy of meteoric media darling and democratic socialist "political rock star" Alexandria Ocasio-Cortez?
The case for abolishing public schools. Here are the reasons why a public school system should be abandoned. [...] [#3] Results or Return on Investment. A common retort I hear is that an educated population benefits all Americans. By any accounting of how well we are educating American kids in public schools, we are failing miserably, and not receiving any benefit for your money is a common attribute of "bait and switch" scams. Public schools are not functioning at any reasonably acceptable level.
Oberlin College Faces 'Negative' Rating by Credit Agencies Due to 'Declining Enrollment'. New reports suggest that social justice haven Oberlin College is facing a myriad of financial issues. Oberlin College in Ohio is notorious for its over-emphasis on social justice politics. It's the alma mater of social justice icon Lena Dunham, who once published an art video that celebrated the "extinction of white men." In 2015, Oberlin students accused their school of "cultural appropriation" over accuracy issues with certain cultural dishes that were offered in the dining hall. In December 2017, a local business claimed that Oberlin administrators slandered them by calling them racist for prosecuting alleged shoplifters.
'Access to Literacy' Is Not a Constitutional Right, Judge in Detroit Rules. Do students at poorly performing schools have a constitutional right to a better education? On Friday [6/29/2018], a Federal District Court judge in Michigan decided that they did not when he dismissed a class-action lawsuit filed by students at troubled schools in Detroit. The suit, filed in September 2016, argued that students at some of the city's most underperforming schools — serving mostly racial minorities — had been denied "access to literacy" because of underfunding, mismanagement and discrimination.
If Johnny Can't Read, Who's to Blame? [Scroll down] And the school board, invariably re-elected by loyal Detroit residents to govern the district, were manifestly incompetent and entirely ungovernable themselves: [...] Democrat board members weren't even organized enough to blow $1.5 billion in taxpayer funds. And it's not as if they didn't have time while being chauffeured around in limousines. When the school board was ousted and replaced with an unelected reform board in 1999, Detroit residents were outraged, calling it undemocratic to replace an elected school board, and racist that white politicians (Mayor Archer was black) should be making decisions over what happens in majority-black Detroit. Under the reform board things improved, but not much, as the damage was too deep. Enrollment continued to drop, taking per-pupil funding with it. In 2004, Detroiters voted to return to an elected school board. But soon, "budget missteps, corruption, financial mismanagement and enrollment losses ushered in" another round of state intervention, this time under a Democrat, Governor Jennifer Granholm.
1 in 4 Chicago schools fail in new inspections spurred by dirty schools reports. Chicago Public Schools officials say their efforts to improve school cleanliness are working, but data they released late Tuesday showed that one in four schools still failed "blitz" inspections despite heightened awareness prompted by Chicago Sun-Times reports. Just ahead of the July 4 holiday, CPS released school-by-school summary results of inspections by central office staffers and employees of Aramark and SodexoMAGIC, which have major contracts to clean and oversee facilities services in the school system. CPS officials still would not release copies of the new inspection reports, though.
New study suggests young people's IQs are in decline. A new study, conducted by Norwegian scientists, shows that IQ scores of today's young people are in decline, putting an end to the post-war trend of rising intelligence. After the Second World War young people's IQs were steadily rising. It was dubbed the Flynn effect after New Zealand intelligence researcher James Flynn. This phenomenon saw average IQ scores rise about three points per decade. But researches from the Ragnar Frisch Centre for Economic Research in Oslo say the Flynn effect is now past its peak. In a paper, published in the PNAS journal, Norwegian scientists Ole Rogeberg and Bernt Bratsberg analyzed the data from standardized IQ tests of about 730,000 men, born between 1962 and 1991, who underwent mandatory IQ tests to join the national service.
High school yanks yearbook sales after discovering that unattributed senior quote is linked to Adolf Hitler. A Massachusetts high school has halted yearbook sales after realizing that a senior quote inside was linked to Adolf Hitler. 'Make the lie big, make it simple, keep saying it, and eventually they will believe it,' read the quote under one senior's photo in the Andover High School yearbook, the school realized this week. The quote, though not word-for-word, seems to reference the concept of the 'big lie' famous from the writings of both Hitler and Nazi propaganda minister Joseph Goebbles.
The Editor says...
Quoting Hitler? Is that reason enough to recall the yearbooks? Doesn't the yearbook have an editor?
Prof exposes $11 million payroll for 'diversicrats' at UMich. The University of Michigan spends more than $11 million per year on salaries for 93 full-time diversity employees, according to one of its own professors. Mark Perry, an economics and finance professor who is also an American Enterprise Institute (AEI) scholar, recently convinced UM to conduct an internal investigation of 11 programs that benefit female students while excluding men. While the university recently closed that investigation without offering an explanation, Perry argues in a recent post on AEI's blog that UM has more than enough diversity-related resources to conduct regular audits of its programs without prompting from a formal complaint.
What everyone's afraid to say about college and jobs. At most schools you can crash college lectures for free. But almost no one does that. "In people's bones, they realize that what really counts is that diploma," concludes Caplan. Because that diploma is now usually subsidized by taxpayers, college costs more. Tuition has risen at triple the rate of inflation. It's not clear students learn more for their extra tuition, but colleges' facilities sure have gotten fancier. They compete by offering things like luxurious swimming pools and gourmet dining. That probably won't help you get a job.
James Mattis warns: Number of Americans qualified for military service continues to drop. The number of Americans qualified for military service is dropping, Defense Secretary James N. Mattis warned late Wednesday [5/23/2018], citing drug abuse, obesity and a lack of "morals" as key reasons why nearly three-quarters of young people can't meet the minimum requirements. "We are no longer receiving people from the society who are as much in step with the qualities that our institution must have for success on the battlefield," Mr. Mattis told reporters Wednesday, following his address to Air Force Academy graduates in Colorado Springs, Colorado. The military for years has struggled with a declining pool from which to pull its recruits, but Mr. Mattis made clear the problem is getting worse.
K-12: Let the Peasants Eat Popcorn. This country's K-12 system has created 50 million functional illiterates, give or take. Where are all the people with consciences, social consciousness, or even just the smallest sense of fair play? Reading is easy to teach. Why do we allow people to remain illiterate?
The Consequences of Historical Ignorance. America is suffering through a crisis in education, especially when it comes to history. Many were horrified when a poll, released in April, showed that two-thirds of millennials don't know what Auschwitz is, despite the fact that it was the most notorious Nazi death camp in World War II. That was hardly the only worrisome poll of late. Americans should be outraged that our schools have failed to teach even the most basic historical facts to the younger generations. Worse, the education they receive has often only turned into a justification for superficial social activism, lacking in depth and veracity.
Can We Make American Education Great Again? Not With Teacher Walkouts. The results released a couple of weeks ago were disappointing, showing that scores on reading and math tests for fourth and eight graders remained flat in 2017. Meanwhile, as those results were coming out, across the nation, in West Virginia, Kentucky, Oklahoma, Arizona and Colorado, schools were hit with teacher walkouts and strikes. The bad test scores and the walkouts are not unrelated. The weak test scores say a lot. After a brief burst of improvements in the early 2000s, test scores have shown little change or improvement for nearly a decade — essentially the Obama years until today. For all their talk, the Obama administration was a huge failure at continuing early-2000 improvements in 8-12 education.
65% of Public School 8th Graders Not Proficient in Reading; 67% Not Proficient in Math. Among the 27 large urban districts for which the Department of Education published 2017 NAEP test scores, the Detroit public schools had the lowest percentage of students who scored proficient or better in math and the lowest percentage who scored proficient or better in reading. Only 5 percent of Detroit public-school eighth graders were proficient or better in math. Only 7 percent were proficient or better in reading. In the Cleveland public schools, only 11 percent of eight graders were proficient or better in math and only 10 percent were proficient or better in reading. In the Baltimore public schools, only 11 percent were proficient or better in math and only 13 percent were proficient or better in reading. In the Fresno public schools, only 11 percent were proficient or better in math and only 14 percent were proficient or better in reading.
The Editor says...
Hmmm... what do all these cities have in common? They're all run by Democrats!
Educational Fraud Continues. Nationally, our high school graduation rate is over 80 percent. That means high school diplomas, which attest that these students can read and compute at a 12th-grade level, are conferred when 63 percent are not proficient in reading and 75 percent are not proficient in math. For blacks, the news is worse. Roughly 75 percent of black students received high school diplomas attesting that they could read and compute at the 12th-grade level. However, 83 percent could not read at that level, and 93 percent could not do math at that level. It's grossly dishonest for the education establishment and politicians to boast about unprecedented graduation rates when the high school diplomas, for the most part, do not represent academic achievement. At best, they certify attendance.
Tucker Asks 'Is College Worth It?': 'More Students Are Failing, Yet Almost Nobody Fails'. College has become "crushingly expensive," but is it worth it? Tucker Carlson posed the question Wednesday night [4/25/2018], asking whether American families are getting what they pay for out of the nation's institutions of higher learning. He pointed to research based on tracking 2,000 college students over several years. It found that 45 percent of students "did not demonstrate any significant improvement in learning" over the first two years of college and 40 percent "didn't learn anything at all over all four years." [Video clip]
Schools are removing analogue clocks from exam halls as teenagers 'cannot tell the time'. Schools are removing analogue clocks from examination halls because teenagers are unable to tell the time, a head teachers' union has said. Teachers are now installing digital devices after pupils sitting their GCSE and A-level exams complained that they were struggling to read the correct time on an analogue clock. Malcolm Trobe, deputy general secretary at the Association of School and College Leaders (ASCL), said youngsters have become accustomed to using digital devices. "The current generation aren't as good at reading the traditional clock face as older generations," he told The Telegraph.
7 Forces Driving America Toward Civil War. [#4] Moral Decline: A large number of Americans have lost their principles, manners and virtue and it shows through from the sort of politicians they elect, to their rudeness online, to the sort of shallow hedonism and fame whoring they find appealing. Americans are increasingly becoming a soft and decadent people which is problematic because the challenges may change, but we can be certain that Americans will face future challenges every bit as difficult as the ones past generations had to tackle. This is frightening because if you look at the "principles, manners and virtue" of Americans today, they don't seem capable of dealing with monumental events like the War of 1812, the Civil War, the Depression or World War II. Most people in their twenties probably couldn't tell you why all those events were such challenges in the first place. When America faces a challenge bigger than we can handle because of ineffective politicians and our "amusing ourselves to death" population, there are no guarantees our republic will survive.
The $100 Million Parkland Boondoggle Broward Schools Doesn't Want You to Hear. Kenneth Preston is another side of the Parkland shooting story. The hushed-up school-safety side. [...] All he's done since the Valentine's Day serial shooting of 17 people at Marjory Stoneman Douglas High School is spend more than 100 hours searching through thousands of pages of local government documents that most taxpayers would never dream of reading. He's spoken with dozens of school and law enforcement officials, parents of victims and members of the media. The kind of investigation you would expect only from a well-trained special prosecutor. The story first was reported by DML News but avoided by most mainstream media who chose instead to expend their resources on the Washington anti-guns march. Immediately after the story became public, Broward Schools Superintendent Robert Runcie tweeted out a message calling it "fake news." What Preston alleges is that the Broward school system, superintendent and School Board members in particular, are directly responsible for shooter Nikolas Cruz and the student and teacher deaths not only by their liberal policies, but by holding back money directly intended to address school safety.
Ecosexual' University of Michigan Professor Writes About 'Talking Erotically to Plants'. University of Michigan Professor Sarah Ensor published an academic journal article this month that argues that humans should establish erotic relationships with plants. Originally highlighted by the Twitter account New Real Peer Review, Ensor's journal article explores the field of "ecosexuality," a term which means the sexual relationship between humans and plants. Advocates in the field argue that the Earth needs to be treated with love. In addition to reducing harmful environmental practices, ecosexuals believe that humans should physically make love to the Earth.
The Editor says...
In the good old days, insane people were locked up.
Council of Great City Schools Pushes Anti-Second Amendment Resolution. The Council of Great City Schools (CGCS) is an organization of 70 urban public school systems, first formed in 1956. It started with 10 large, urban schools and has grown with federal funding. As such, it is not surprising it pushes causes dear to those pushing for more and bigger government, more taxes, more spending, more federal funding. It's member are nearly funded by tax dollars. Most of its teachers would be members of the far left National Education Association. When the CGCS says they wish to improve education, they are essentially saying: Give us more money.
Millennials know a lot of stuff, just not history. They know a lot about "The Bachelor" and "Star Wars." They can text more than 60 words per minute. They know that George W. Bush was responsible for more deaths than Joseph Stalin. They know that capitalism is a dangerous concept and communism isn't really a problem. They are unfamiliar with that Lenin fellow and Mao Tse-tung, who are dead, by the way. So, why bother knowing or caring? Yes, sure, three-quarters of millennial parents are still paying some of their adult children's bills, as our Jazz Shaw has noted. And thanks to the Federal Trade Commission, Jazz was able to show that Americans in their twenties who are so good adept at taking selfies, are easily the most susceptible to scams, not grandparents in their seventies. So, it was quite encouraging to learn the other day that fully one-in-three millennials knows what Auschwitz was. Yes, yes, that means that two-thirds of this hip new generation never heard of the infamous Nazi death camp.
Survey: 66 Percent of Millennials in the U.S. Do Not Know Auschwitz Was Part of the Holocaust. Sixty-six percent of American Millennials between the ages of 18 and 34 years old did not know that Auschwitz was part of the Holocaust, according to a survey released Thursday [4/12/2018]. The Holocaust Knowledge and Awareness Study, released on Holocaust Remembrance Day, found that many U.S. adults lack basic knowledge of the events that occurred during the Holocaust — and that the lack of Holocaust knowledge was more pronounced among American Millennials ages 18 to 34. One of the more striking findings found that 41 percent of U.S. adults — and 66 percent of U.S. millennials — could not explain that Auschwitz was a concentration camp in Poland where the Nazis detained 1.3 million people and exterminated 1.1 million during World War II.
Robbins: No way to spin lack of education progress. Conservative educators and education analysts were once again disappointed in the recently-released National Assessment of Education Progress results. The NAEP scores show fourth- and eighth-graders have made little to no gains in math and reading since 2015. Jane Robbins of the American Principles Project says even progressives who support Common Core are hard pressed to put a positive spin on this biennial report. "We're sort of stuck in the mud," she observes, "and unfortunately it's at a lower level than we had known 10 years ago."
The Limits of American Patience. Universities and colleges have taken for granted that they can count on massive federal student loan subsidies to increase vastly the number of administrators, pay for an expanding apparat of politicized and nonteaching staff, increase tuition beyond the rate of inflation and not dare to be held accountable for dismal graduation rates, poorly educated graduates, or ossified systems of tenure. They recoil at the mention of exit exams for graduates. But when at some institutions nearly half the units are taught by poorly paid temporarily lecturers, and national aggregate student debt reaches $1 trillion, and the First and Fourth Amendments are under assault, what cannot go on, will not go on.
Chicago Public Schools cheated to pass cleanliness audits, janitors say. When parents, teachers or students have complained in recent years about dirty classrooms and lunchrooms, Chicago Public Schools officials have pointed to high "pass" rates found in audits by an independent firm that monitors the work of private companies overseeing the cleaning. But following Chicago Sun-Times reports revealing that CPS staffers found filthy conditions at 91 of 125 schools they examined, janitors now tell the newspaper that supervisors cheated to pass those cleanliness audits. Janitors at two Chicago schools say their bosses alerted them whenever the auditing company would be coming — sometimes several days ahead — and also tipped them about where to clean.
One-Third of Millennials Don't Know the Earth Is Round. Just how unforgivably has government-run education been letting down youth? One indication is the percentage of 18- to 24-year olds who don't know the Earth is round: [...] On the positive side, they know how to recycle, that economic freedom makes it be too hot out for the sacred man-eating polar bears, and that America is racist.
A Third Of Millennials Aren't Sure The Earth Is Round, Survey Finds. A new survey has found that a third of young millennials in the U.S. aren't convinced the Earth is actually round. The national poll reveals that 18 to 24-year-olds are the largest group in the country who refuse to accept the scientific facts of the world's shape. YouGov, a British market research firm, polled 8,215 adults in the United States to find out if they ever believed in the "flat Earth" movement. Only 66 percent of young millennials answered that they "always believe the world is round." Science teachers across the U.S. will be shaking their heads after learning that nine percent of young adults answered that they have "always believed" the planet was flat.
The Battle of Woke Island.&nbsp [Scroll down] Here, then, is yet another example of how the politics and rhetoric of the university have slowly colonized America's economic, cultural, and political institutions, how recent graduates are carrying with them into the workforce all the bad ideas they learned from their humanities courses, independent research, and campus programming. I am talking about the modes and categories of identity politics, of viewing all human phenomena through the prism of race and gender (and sometimes, though rarely, of class), of robbing individual human beings of their moral agency and reducing them to membership in a group, and of organizing these groups into a hierarchy of victimization and grievance.
40% of teachers doubt their school security against a shooter. Here's something to cause profound concern for many parents: Four-out-of-ten teachers in this country do not think their school has sufficiently strong security to keep out a would-be mass shooter.
Don't Go To College. "Higher education" is terrible. Please note the quotation marks, you doofy liberals who will no doubt fill the comments with high-pitched typing about how "Conservatives hate knowing stuff." What passes for "education" today is nothing of the sort, and what calls itself "academia" is really just a venal trade guild packed with mediocrities desperately trying to keep fooling people into forking over $60,000 a year — usually obtained via ruinous borrowing that ties a financial anchor around the defrauded grads' necks for the rest of their lives. Today, academia's product is largely garbage — gender studies, twisted history, and pointless sociology spin-offs like communications and political science.
Homeschooling: The Best Hope for America's Future. Homeschooling is far superior to government indoctrination camps, obsessed with teaching social justice, white guilt, gun control, homosexuality, abortion, and conspiring against and disobedience toward parents. Eighty-two percent of public schools are failing. Despite spending $1.4 billion annually, around $16,000 per student, reading proficiency rates for Baltimore high school grads is around 11%, with 12% in math proficiency. And yet, the Baltimore school system graduates around 70% of its students every year. In other words, a large number of Baltimore's graduates can barely read their diplomas.
Politico, House Democrats Unintentionally Launch the Dismantling of the 'Deep State'. Just about every American not employed as union "muscle" was enraged by New York City's "rubber room" scandal. The city's most incompetent public school teachers were being paid to not work — they would clock in and literally sit in a room each day for years(!) on full salary and benefits. The "deal" the city had struck with the United Federation of Teachers made them virtually impossible to fire.
The Left and Distraction: Pulling It All Apart. Our university system is a shadow of itself. That was the plan: take over the university system, and make it in the image of their leftist heroes. Make the youth of America believe insane things that aren't true or helpful. Deconstruct, and make them hate their own culture. Wow, were they successful. That education remake has gone farther, down into our K-12 public schools, and into many private schools as well.
The Fight over Flunked-Out Teachers. At the direction of Bill de Blasio's administration, New York City public school principals have begun filling vacancies with teachers languishing on the city's Absent Teacher Reserve. Everyone knows that this decision is lousy for city kids, especially those most in need of top instructors. In hindsight, though, it was also inevitable: the rules that govern public schools are designed to look out for the interests of adults, not children. The ATR is an example of what happens when commonsense reforms run up against an inflexible system.
The Demons of Higher Ed. A recent study of abuses in for-profit postsecondary education highlights a reputational disparity within American higher education. For-profit programs and colleges are distrusted and maligned. Their proven value to populations for whom traditional college is out of reach and the various good-faith reforms win little or no notice. Neither do the abuses of nonprofit colleges, themselves rife with institutional decadence and dishonesty. The study, a 780-page doorstopper from the University of San Diego's Child Advocacy Center entitled "Failing U.," asks whether state laws adequately protect students from "for-profit predators." It lines up one critique after the next of recruitment and regulatory oversight.
6-year graduation rates at many HBCUs lower than 20 percent. In analyzing federal data for an in-depth examination of the nation's historically black colleges and universities, the AJC found that the six-year graduation rates at 20 schools were 20 percent or lower in 2015. This means that four of five beginning freshmen at those schools didn't earn a degree within six years.
Muslim professor goes on 'frightening Islamic rant', students call 911. Students attending a lecture at Tarrant County College were so frightened by their professor's behavior during a recent class that they had to leave the room. When TCC Adjunct Professor Daniel Mashburn walked into his Astronomy class Tuesday night, several students were alarmed by his behavior. Some thought it was a joke while others called police. Student April McLeod says her teacher got to class about 20 minutes late and turned off the lights and was wearing a ball cap, a toboggan, a scarf over his face and gloves. She says Mashburn never took any of it off even when police questioned him after responding to calls from students.
Is The Higher Ed Bubble Starting to Pop? Talk of the "higher education bubble" has been around for a while, but two news items today make me think it is starting to pop — and remember, bubbles usually don't pop instantaneously. The housing crash of 2008 was signaled by visibly deteriorating conditions in the summer of 2007. Likewise, the higher ed bubble is going to resemble the old line about how some rich person went bankrupt — first slowly, then all at once.
California Sued by Students & Parents for Failing to Teach Literacy. A group of parents and students has filed what it hopes will be a landmark lawsuit against the State of California for its public schools failing to teach literacy. Public Counsel and the prestigious Law Firm of Morrison & Foerster sued the State of California, the State Board of Education, the State Department of Education, and State Superintendent of Public Instruction Tom Torlakson for their collective failure to provide every child in the state access to literacy as required under the California Constitution.
California Is Being Sued Because So Few Of Their Public School Children Can Read. At one elementary school in California, 96 percent of the students are not proficient in either English or math. How is that even possible? Unfortunately, the more the federal government gets involved in education, the worse it seems to get. At one time the United States had the greatest system of public education on the entire planet, but these days we only seem to make headlines when news comes out about how poorly we are doing.
Federal College Aid Programs Are A $150 Billion Disaster — But There Is Hope. Thanks to years of extremely bad public policies, the federal higher education programs dump tens of billions of dollars a year in grants and aid, only to produce an ocean of debt and millions of graduates ill-suited for the workforce. House Republicans are set to introduce a sweeping reform plan that would start to repair this wreckage.
Unaccountable Public Schools. Educational bureaucrats complain that charter and private schools are "unaccountable." But in reality, no institution in America is less accountable than unionized, government-run school systems. Virtually no one gets fired when they do a poor job, and when Johnny can't read, it's not because he wasn't taught well, but rather because funding was insufficient, class sizes were too big, poverty was overwhelming — or Betsy DeVos was making everything worse. And when the public schools are shown not to be living up to their promises, the educrats move the goalposts to disguise their shortcomings. The latest example of this pattern is unfolding right now.
Black Self-Sabotage. In 2016, in 13 of Baltimore's 39 high schools, not a single student scored proficient on the state's mathematics exam. In six other high schools, only one percent tested proficient in math. In raw numbers, 3,804 Baltimore students took the state's math test, and 14 tested proficient. Citywide, only 15 percent of Baltimore students passed the state's English test. Last spring, graduation exercises were held at one Baltimore high school, 90 percent of whose students received the lowest possible math score. Just one student came even close to being proficient. Parents and family members applauded the conferring of diplomas. Some of the students won achievement awards and college scholarships. [...] Baltimore's black students receive diplomas that attest that they can function at a 12th-grade level when in fact they may not be able to do so at a seventh- or eighth-grade level. These students and their families have little reason to suspect that their diplomas are fraudulent. Thus, if they cannot land a good job, cannot pass a civil service exam, get poor grades in college and flunk out of college, they will attribute their plight to racism.
At last! Major California newspaper calls for crooked Janet Napolitano to be fired. By deciding to tolerate a corrupt president, Janet Napolitano, the Regents of the University of California have failed in their duty to the citizens of California, who own the university and subsidize that institution with $3 billion a year of their hard-earned taxes. There is no doubt that Napolitano is corrupt: the behavior that she engaged in, once it was uncovered, has been made a crime. But because ex post facto laws cannot be applied to behavior that predated them, she is escaping prosecution.
Texas High School's Re-Brand from Lee to L.E.E. Will Cost $300K. The Texas school district that recently voted to re-imagine a campus named for Confederate General Robert E. Lee with a more welcoming 21st Century nomenclature, unveiled that the projected costs to re-brand hovers around $300,000. North East Independent School District Superintendent Brian Gottardy presented a report to the trustees Monday estimating a $299,098 price tag to rename Lee High. However, this is not a complete makeover. He said that would have totaled more than $1.3 million and included changing the school's mascot and spirit colors.
Where Did All The Public School Money Go? Paper-Pushers. The National Education Association blasted the GOP tax reform plan saying that eliminating the state and local tax deduction for those who itemize taxes would be a severe blow to schools, putting 250,000 education jobs at risk. [...] There are other provisions in the tax bill that might worry teachers' unions, such as letting parents use 529 college savings plans to pay for elementary and secondary school costs. That would help make private schools more affordable — a small step toward encouraging school choice. But it's the so-called SALT deduction that has the unions up in arms. Why? Because getting rid of it might force high-tax states — which benefit the most from the deduction — to cut taxes and rein in their own spending.
The government spends billions to help send low-income students to college. Only half are graduating. It's no secret finishing college is more difficult for low-income students. But new government data show just how hard that struggle can be. At four-year colleges, just under half of students who received Pell Grants — federal aid awarded to millions of low income families each year — went on to earn a bachelor's degree within six years, according to a Money analysis of Education Department data released Thursday [10/19/2017]. That's compared with 67% of students who did not receive the grant.
Most College Students Clueless About the First Amendment. Last week at Columbia University, conservative pundit Tommy Robinson attempted to give a speech on mass immigration in Europe. Instead, the event devolved into chaos. Students consistently shouted down Robinson, effectively preventing him from speaking as he Skyped into the campus auditorium from the United Kingdom. He gave up on trying to speak and instead fielded questions from protesters. "This is our free speech, this is our First Amendment right," repeated some of the protesters as they shouted over Robinson. It was clear that many students had a warped understanding of the First Amendment.
NYC school staff salaries up $555M, 'Occupy' teacher gets over $300G, report says. School workers in the nation's largest city took home a half-billion dollars more last year than they did the previous year, with the biggest paycheck going to a teacher who hasn't been in a classroom regularly since November 2011. The payroll data from the Empire Center for Public Policy obtained by the New York Daily News showed New York City's total pay to workers in 2016 rose to $10.73 billion for the 2016-17 school year, up from $10.18 billion.
The End of the University? Colleges and universities have become flashpoints for the most heated culture war conflicts of the day. Our former institutions of higher learning are now the sites of anarchic violence against the few conservative speakers who manage to get invited on campus. With a Republican in the White House, academics with a far leftwing bias indoctrinate students more aggressively than ever before. Some of those same professors, and timid school administrators, are under literal siege from radicalized minority students demanding racial payback for perceived oppression. Instead of allowing their worldviews to be expanded by the campus diversity they claim to value so highly, students wail about racist and sexual "microaggressions" and retreat into segregated safe spaces. Universities have degenerated into circuses of irrationality and radicalism.
Principal accused of grade-fixing has new six-figure job. A Brooklyn principal accused of bringing grade-fixing to new heights has resigned, but was given another six-figure job, city officials said. Marc Williams, after less than two years as principal of the Secondary School for Journalism in Park Slope, quit amid an investigation of course-credit schemes exposed by The [New York] Post in July. A teacher said Williams turned a blind eye when a student got a passing grade in a course by taking online tests — with help from a classmate. Williams has been made a "case manager" in the Department of Education's human resources department, officials said. His new $127,443 salary is less than the $156,131 he made last school year, but "it was not a demotion," said DOE spokesman Michael Aciman.
Including the classes you paid big money to attend...
UC Berkeley Faculty Calls for Campus-Wide Boycott of Class. Over 200 University of California, Berkeley professors and faculty are calling for the shutdown of classes and activities during "free speech week," an event scheduled Sept. 24 to 27 that features some "alt-right" speakers. In an open letter to Berkeley community and campus members, the group called for the boycott of classes and for the closing of all buildings, the Los Angeles Times reported.
The scariest stat you'll see all day. When you consider the fact that a third of American adults cannot name a single branch of their federal government, you cease to wonder why things are so bad and begin to wonder why they are not already worse. In a poll conducted for the Annenberg Public Policy Center ahead of this weekend's celebration of the 229th anniversary of the ratification of the Constitution, only 26 percent of respondents could identify the executive, legislative and judicial branches, while 40 percent could name only one or two.
Stossel: Government-Run Schools Crush Innovation. The late Andrew Coulson, a leading advocate of free-market education and a former senior fellow at the Cato Institute, partnered with the Free to Choose Network to create the recent PBS film School, Inc., which examines the problems with America's government-run schools and how to fix them. But School, Inc. is three hours! So John Stossel made a two-part short-attention-span version.
Don't buy the spin on CPS. It's still a dumpster fire. As all the world knows by now, Springfield is getting close to another fiscal crisis, this time over school funding. At the center of the crisis is how much more to give to CPS. The district and Mayor Rahm Emanuel make a good case for added money, particularly to help fund teacher pensions, which everywhere else in Illinois outside of Chicago are fully financed by the state. But CPS admits that, even if it gets every penny of the roughly $300 million in net new aid it wants from the state, City Hall will have to come up with another $269 million — and that's just for this school year. The truth is, CPS has been fiscally mismanaged for decades.
Guess who pays for those $150,000 Columbia journalism degrees? There's been some brouhaha about Columbia University's Graduate School of Journalism's new data journalism degree, which comes with a whopping $150,000 price tag for the three-semester Master's degree. [...] What is questionable is the issue of who pays for the degree. President Obama put limits on repaying back student loans at the 20-year mark, meaning anyone who takes out debt at the $150,000 level is only going to be repaying a fraction of that debt. The taxpayers will pick up the remainder of the tab. Should the taxpayers be paying for that? Particularly if the journalists being turned out end up being advocacy journalists on just one side of the political spectrum? That is worth asking.
Journalists to pay $147,514 to earn $37,820. The reason journalists as a trade missed the biggest election in their lifetimes last November is they relied on polls instead of shoe leather to read the mood of the nation. Numbers failed them, so their answer is to double down on numbers. [...] For $147,514, you too can be a member of the next generation of newsroom leaders.
Columbia University Uses Trump To Sell $100,000 Journalism Degrees. Columbia Journalism School is rolling out a new master's degree in data journalism. The Ivy League university, apparently unsatisfied with its $9.6 billion endowment, will charge $106,282 for the twelve-month program. Estimated living expenses bring the total price tag up to $147,514. Many observers, including journalists, were quick to point out that paying over $100,000 for a journalism degree probably isn't worth it. That would be true if students were actually paying for it. But in all likelihood, taxpayers will foot a substantial portion of the bill for Columbia's data journalism program.
Most states don't have plans to fix their worst public schools. The Every Student Succeeds Act was passed in 2015 to give power back to the states and local leaders to make necessary changes in their school's systems to increase students' test scores and create standards to hold teachers accountable. This reformed and replaced former President George W. Bush's 2002 No Child Left Behind program. Each state is required to turn in an ESSA proposal by September 18th. So far, only 16 states and the District of Columbia have met the deadline.
Iran sentences Princeton graduate student to 10 years for espionage, report says. A Chinese American student whom Iran has accused of espionage was sentenced by an Iranian court to 10 years in prison, the judiciary's official news agency reported Sunday, a move likely to raise tensions with the Trump administration ahead of a deadline to waive some Iran sanctions. The Mizan news agency identified the American as Xiyue Wang, 37, a graduate student and researcher at Princeton University. The report said he was born in Beijing and is a dual citizen of the United States and China, but that information could not be confirmed. Earlier in the day, judicial spokesman Gholam Hossein Mohseni-Ejei announced that a U.S. citizen had been sentenced for "infiltration" but did not give further details.
The Editor says...
If he graduated from Princeton, he's probably not a missionary, and if he's not a spy, then he has no sensible reason to be in Iran. This case represents the failure of American education: This fellow graduated from a university without knowing there are some places in the world to which you should not go. He was probably told that Islam is a "religion of peace." He was probably misinformed about a number of other things, but those subjects are irrelevant now.
The Next Right-Wing Populist Will Rise to Prominence by Attacking American Higher Education. Republican voters may disagree on policy and principle, but they can agree on whom they don't like: Radical professors, race-obsessed provocateurs, gender-studies grifters, anti-Israel fanatics, weak-kneed administrators, disgusting libertines, angry feminists, and illiberal student protesters. Conservatives can get on board with this critique. They have long railed against the liberal bias of colleges and its effect on America's young.
14 Facts That Prove That America's Absolutely Pathetic System Of Public Education Deserves An 'F' Grade. One thing that almost everyone can agree upon is that our system of public education is broken. We spend far more money on public education than anyone else in the world, and yet the results are depressing to say the least. Considering how much we are putting into education, we should be producing the best students on the entire planet, but it just isn't happening. Personally, I attended public schools from kindergarten all the way up through law school, and the quality of education that I received was extremely poor. Even on the collegiate level, most of the courses were so "dumbed down" that even the family dog could have passed them.
Colleges Are Preparing Kids For An Economy That No Longer Exists. As I sat down to enjoy some smoked salmon at a recent BBQ I attended, I ended up at a table with two recent high school graduates. To my disappointment, when I asked them what their plans were for the summer and beyond, both said they were heading to college. With student loans and a wasteful four years in front of them, I couldn't help but ask why.
Why Government Schools Fail. Why haven't American schools improved? The education establishment says, "We don't have enough money!" But American schools spend more per student than other countries. Spending tripled during Coulson's lifetime and class sizes dropped. But test scores stay flat. "Schools adopted all sorts of new technologies, from projectors to personal computers to 'smart' whiteboards," says Coulson. "None of these inventions improved outcomes ... Educational quality has been stuck in the era of disco and leisure suits for 40 years, while the rest of the world has passed it by." The main reason for that is that most schools are controlled by government. Government is a monopoly, and monopolies resist change.
Don't Fall For The College Scam. [Scroll down] Meanwhile, over at Aspen High School, nearly everyone goes to college because, well, college is where nearly everyone from Aspen High School goes. Administrators say with unintended irony that they teach independent thinking, and so everyone must march lockstep to college to be force-fed more of it. This narrow-mindedness in the educational-industrial complex is worse than self-serving. Teachers are privileged to exert an influence over young minds. When teachers tell kids that only losers don't go to college, kids believe them. That blind belief costs taxpayers and students a lot of money.
The surprising number of American adults who think chocolate milk comes from brown cows. Seven percent of all American adults believe that chocolate milk comes from brown cows, according to a nationally representative online survey commissioned by the Innovation Center of U.S. Dairy. If you do the math, that works out to 16.4 million misinformed, milk-drinking people.
Is college worth it? Increasing numbers say no. Enrollment has been no better than flat at large four-year universities, and law school enrollment plunged 31 percent from 2010 to 2015. And freshman enrollment at the University of Missouri fell 35 percent since the riots in which a faculty member called for "muscle" against a student journalist and administrators caved in to rioters' demands.
Trump budget would undo Obama's massive student loan forgiveness program for the wealthy. The truth is that the so-called "public service loan forgiveness" (PSLF) program has been abused and mostly benefits the most successful Americans. The program was started in 2007, and by 2012, just 25,600 people qualified for the program. Then, the Obama administration exponentially expanded the program to benefit 553,000 people by 2016. Why the dramatic increase?
California regents party at university's expense, report says. The University of California Board of Regents spent tens of thousands of dollars on parties, including a $17,600 banquet the night before they voted in January to raise student tuition, according to a newspaper report Sunday [5/28/2017].
Chicago math: CPS has 378K students and $9 billion in debt. Picking through details from an article on the WBEZ web site — oh, that's the Chicago NPR affiliate, so this information does not come from a conservative outlet such as the Wall Street Journal — I came across a couple of interesting nuggets. Chicago Public Schools wants to borrow $900 million to survive the school year and make a massive pension payment — instead of the $400 million it was asking for just last week. Digging deeper into that article you learn that CPS is burdened by $9 billion in debt. Which comes out to $24,000 per student. If CPS manages to borrow the new cash that will bring the troubled and ineffective school system's debt to nearly $10 billion. But it may not be able to — Chicago Public School's bonds have been rated as junk for two years.
6 Baltimore schools, no students proficient in state tests. A Project Baltimore investigation has found five Baltimore City high schools and one middle school do not have a single student proficient in the state tested subjects of math and English.
Nearly half of Illinois education spending goes to pensions. Some form of bankruptcy is coming to Illinois. What we have now in the Land of Lincoln — what would Abe think? — is absolutely unsustainable. [...] Chicago Public Schools has their own pension system — it's a financial sinkhole too.
Good Jobs Are Out There — It's the Schools that Are Failing. It's the public schools that are failing, more than the job market. Last summer set an all-time record of 5.9 million unfilled jobs. Manufacturing job openings were at the highest level in years, with 300,000 new jobs becoming available each month. A Wall Street Journal interview with the CEO of United Technologies, Greg Hayes — who famously caved to Trump and kept the Indiana Carrier plant in the U.S. — has some surprising information about jobs and American workers. His company has jobs for machinists, with only a high-school degree required, that pay $100K a year. The jobs are going begging. Applicants cannot read or do math.
Therapeutic Universities and Soft Despotism. [Scroll down] This need to service students' psychological health has contributed to the expensive administrative bloat in higher education, which has led to fewer full-time professors, more exploited adjuncts, and higher tuition costs.
New York State Democrat Assemblyman introduces a bill requiring "Halal Compliant" lunches for public schools. Don't you find it interesting that such a bill has NEVER before been proposed for Kosher lunches in New York City schools, even though Jewish students make up a vastly larger percentage of the student population than Muslims do? Whatever happened to bringing a bag lunch when you don't like what's on the menu?
K-12: Quacks Rule. The Education Establishment is always whining about more funding. They would like you to forget that many people make good money in this field, probably more than they can make outside. While teachers average $40,000 (and college English professors average $90,000), principals, administrators, and superintendents are often over $150,000 and pushing past $200,000. People at the top get grants, awards, publishing deals, promotions, and sabbaticals. These compensations buy loyalty.
Hogwash 101. [Scroll down] Ironically, during this era of hate and violence on America's campuses, they have never been more opulently landscaped nor more luxuriously outfitted with amenities. A distant relative of mine is in the business of equipping college campuses with elaborate swimming-pool complexes. She visits the most expensive hotels in the world, and then replicates their facilities at state flagship universities. Despite her best efforts to make old State U. look like a Dubai resort, student activists on her campus denounce the microaggressions they claim to endure and complain that the paradisiacal campus isn't a safe space. Yet few seem to be in any hurry to leave.
Report: School-Issued Computers 'Spy' on Children Without Parental Consent. A new report finds that, under the guise of "personalized learning," school-issued computer devices — now distributed to one-third of K-12 students in schools across the United States — are serving to collect and store an unprecedented amount of personal data on children without their parents' notice or consent. A newly released investigation by Electronic Frontier Foundation (EFF) reveals student use of technology in school has grown at a profound rate, especially with free or low-fee devices issued by schools. The education technology industry, according to the report, is now valued at over $8 billion.
The Editor says...
Please note that laptop computers, which are obsolete after only a few years, are often paid for with 30-year municipal bonds. So you're paying for outdated computers long after they're in the landfill.
How the ruling class reproduces itself, with the involuntary help of taxpayers. The University of Virginia is owned and funded by the taxpayers of the Commonwealth of Virginia. They are subsidizing an institution that discriminates against the children of non-wealthy and non-influential taxpayers in order to hand out a highly-prized ticket into an elite college. This is part of the deep rot within American higher education, which has assumed a critical role in keeping the ruling class comfortably in power, and keeping the "wrong" people away from access to opportunities to join the higher echelons of society. The reason why so many families are willing to go deeply in debt to finance college for their children (4 years at a private university easily costs more than a quarter million dollars) is that college plays the major role in sorting out people and justifying privilege through the concept of "meritocracy."
Student Loan Forgiveness Program Approval Letters May Be Invalid, Education Dept. Says. More than 550,000 people have signed up for a federal program that promises to repay their remaining student loans after they work 10 years in a public service job. But now, some of those workers are left to wonder if the government will hold up its end of the bargain — or leave them stuck with thousands of dollars in debt that they thought would be eliminated. In a legal filing submitted last week, the Education Department suggested that borrowers could not rely on the program's administrator to say accurately whether they qualify for debt forgiveness.
80 out-of-state trips taken after Metro Schools imposed travel freeze. Employees and top administrators for Metro Nashville Public Schools continued to travel out-of-state in the weeks and months following a travel freeze imposed by Superintendent Dr. Shawn Joseph. A Channel 4 I-Team investigation revealed that employees embarked on 80 out-of-state work trips from late October to early March, according to an open records request. Joseph imposed the temporary travel freeze on September 26 in hopes of scrutinizing work-related travel and ensuring the trips aligned with the district's priorities.
A Plan to Reform Our Failing Universities. According to HSDC's (Homeland Security Defense Coalition) annual report for 2016, the average cost of tuition fees in the U.S. is in the vicinity of $33,000 per academic year, rising in the elite universities to $60,000 and more. This is unacceptable. As I've written previously, "Tuition fees will need to come down, perhaps by decoupling Pell grants from tuition hikes," and subsequently capped at a rate tied to inflation. Universities will then have to devise ways of living within their means, by drastically shrinking administrative bloat, reducing professorial salaries by a percentage to be determined, and downsizing or eliminating Humanities departments that are either irrelevant or marginal, that is, courses of study that cannot deliver basic competence in reading and writing, knowledge of civics and history, familiarity with the classics of the Western tradition, and economic productivity.
Your Tax Dollars At Work: Subsidizing Elite Colleges That Produce Intolerant Bigots. In early March, distinguished author and social scientist Charles Murray was scheduled to talk at Middlebury College, a Vermont school that charges $64,000 a year in tuition. Several students erupted in noisy demonstrations that ended up with the 74-year-old Murray being shoved and Middlebury political science professor Allison Singer in a neck brace. The attack was so vicious and unwarranted that even some liberals who normally ignore such outbursts when they target conservatives were shocked. They should hardly have been surprised. Elite schools that cater mainly to the children of wealthy parents have become havens for militant, narrow-minded and often-violent bigots.
The Education Every Student Really Needs. Sixty percent of college graduates don't know any of the steps necessary to ratify a constitutional amendment. Fifty percent don't know how long the terms of representatives and senators are. Forty percent didn't know that Congress has the power to declare war. Such dismal trends continue after graduation: Forty-three percent of Americans don't know that the First Amendment gives them the right to freedom of speech, and a full third can't identify a single right it gives them. Our nation is experiencing a crisis in civic education. A 2016 American Council of Trustees and Alumni report showed that, even though nearly all twelfth-grade students took a course in civics, less than a quarter of them passed a basic examination at "proficient" or above.
Judicial Watch Sues Education Department over Cover up Of Increasing Student Loan Failures. Judicial Watch announced that it today filed a Freedom of Information (FOIA) lawsuit in the U.S. District Court for the District of Columbia against the U.S. Department of Education seeking records relating to then Obama administration's "coding error" that resulted in masking that most borrowers are failing to pay down their federally-subsidized student loans (Judicial Watch v. U.S. Department of Education). The Obama administration's Obamacare legislation also included provisions that resulted in the federal takeover of the student loan industry, which radically increased taxpayer subsidies of higher education loans.
The Federal Government's Student-Loan Fraud. All told, the federal government's portfolio of student loans now stands at a whopping $1.3 trillion. As the Washington Post notes, "What's striking about the findings is that Americans have a variety of repayment options to avoid default. The Obama administration expanded programs that cap monthly payments to a percentage of earnings, but even though millions of people are enrolled in those income-driven plans, there is still a disconnect." Actually, there is no disconnect at all. As we noted earlier, just under one-half of millennials today believe their student debts will be forgiven, and an increasing number even use their loans for exotic spring break vacations, booze, and partying. So, by that logic, you'd be a fool to pay.
Manhattan public-school complex has been without hot water for nearly 3 years. There's been an extended ice age at this Manhattan public-school complex. The hot-water system at the Park West Educational Campus — which houses five public high schools in Hell's Kitchen — was knocked out during construction back in 2014, and it still hasn't been restored, The [New York] Post has learned. Tired of hand-washings that leave their fingers numb with cold and concerned over cleaning and cafeteria practices, some students have resorted to calling 311 themselves after complaints to administrators went nowhere.
Today's Riot-Prone Mobs Are A Product Of America's Cult-Like Education System. The last 50 years have produced a huge wave of kids who are functionally uneducated, even if they're at the top in their class at elite schools. So many are unable to think independently, lack context, and try mightily to adapt to various PC lines. All of the above must be like living in a fog, or floating in the cold depths of outer space with nothing to hold on to. It's bound to weaken relationships, and create the loneliness epidemic we are seeing in today's society. They have learned through their environmental studies, non-stop identity politics, and a steady diet of hostility towards Christianity that if they want to be accepted, they must bow to the politically correct formula. After so much indoctrination and propaganda, a human being becomes highly malleable and vulnerable to a cult mindset. Indeed, cults operate by disrupting recruits' capacity to think independently and clearly.
New York Public Schools Prefer Illiterate Teachers. Today, one of parents' greatest fears is making certain their kids receive a good education. It's gotten so ridiculous in some sectors of society that expecting parents are interviewing and reserving space in the finest kindergarten long before the child is born. Liberal elitists are especially susceptible to this inter-parent peer pressure — to get their children into the finest schools. And of course the elites, in places like Washington D.C, San Francisco, L.A. or New York, would never stoop so low as to allow little Penelope or Reginald to attend a public school, where they might have to interact with the serfdom class. The country club class insists on the finest education for their offspring, and despite their rhetoric, don't believe this can be achieved in a public school.
Thanks To Obama, Taxpayers Are On The Hook For Spring Break Bacchanalia. In a nationwide survey, LendEDU asked students whether they were planning to use any loan money to help pay for travel or lodging for Spring Break. What they found was that nearly 31% said yes. That translates into nearly 2.4 million students, who will be using at least some of their student loan money to help pay for drunken revelries in Miami, Daytona, Cancun, the Bahamas, or wherever else college kids go for Spring Break. The survey also found that substantial numbers of students admit to using student loan money for things other than education: 24% say they've used some of the money to pay for alcohol, a third for clothing or to eat out, 7% to pay for drugs, and 6% to gamble.
Obama's Legacy: Half Of College Students Now Expect Taxpayers To Bail Them Out. A recent survey by LendEDU of 500 current college students found that 49.8% of them think that the federal government will forgive their loans after they graduate. "In reality," LendEDU's Mike Brown notes, "a very small percentage of graduates will even qualify for Public Service Loan Forgiveness. It is worrisome that current students may be over-borrowing on the hope that their student debt will be forgiven in the future." Worrisome, indeed, particularly given that the amount federal student loan debt is currently $1.3 trillion, and rising fast.
College Socialism Has Nearly Triumphed: Our Nation Is Doomed. I really hope this isn't true. If the latest survey by student loan refinancing company LendEDU is correct, our nation is doomed. Question 15 in the survey asked 500 students "Do you believe that you will be helped by federal student loan forgiveness programs after graduation?" ["]When asked, 49.80% of college students believed they would in fact be helped by federal student loan forgiveness programs after graduation.["] Even worse: the entire survey was about a program called FAFSA, which stands for "Free Application for Federal Student Aid." The application is free — the money isn't. But the kids don't know this.
Rutgers University spent nearly $1.5M for Barack Obama's 2016 commencement address. Rutgers University spent nearly $1.5 million on its 2016 commencement ceremony because of that year's keynote speaker, then-President Barack Obama. The hefty price tag is $523,000 more than it cost the university the year before, when its commencement speaker was Bill Nye 'The Science Guy,' according to NJ Advance Media. A final accounting by the university found that most of the money was spent on the extensive security measures needed to accommodate the president as well as the record crowd that witnessed the event at the school's football stadium in Piscataway, New Jersey.
Today's Riot-Prone Mobs Are A Product Of America's Cult-Like Education System. Today's street theater is the culmination of decades of radical education revision. The radical Left's systematic attack on the study of Western Civilization has essentially been an attack against the study of any and all civil societies. It is an attack on the features that make a society civil and free. Those features include freedom of expression, civil discourse, the Socratic method of figuring out truth, value of the individual, and a common knowledge of the classics of history and literature that help us understand what's universal in the human experience. All of that had to go. Now, as we see students marching to demonize as "fascists" proponents of free speech, their ignorance is in full view.
How About "America First" for College Admissions? The percentage of foreign students enrolling in both public and private colleges and universities has skyrocketed. Their sponsors, Middle East governments and regimes like China, buy their way into American colleges and universities for their own students, forcing up costs for the dwindling number of Americans fortunate enough to gain admission. It is estimated that over one million international students are enrolled in U.S. colleges and universities. That figure has doubled in 15 years. The growing international enrollment is crowding out qualified U.S. students.
Cosmetology Schools Sue Betsy DeVos Over Obama-Era Rules. The American Association of Cosmetology Schools sued Education Secretary Betsy DeVos claiming that a gainful-employment rule implemented by the Obama administration shouldn't be applied to beauty schools. The lawsuit, filed Friday [2/10/2017] in federal court in Washington, seeks an order barring the rule that threatens career schools' access to federal student aid if they saddle their graduates with too much debt relative to their earnings. The trade group said the rule is harmful when applied to beauty schools, whose graduates typically underreport income from cash tips.
Education at a Crossroads. In just a matter of days — perhaps next Monday — a decision will be made in Washington affecting the futures of millions of children in low-income communities, and in the very troubled area of race relations in America. An opportunity has arisen — belatedly — that may not come again in this generation. That is an opportunity to greatly expand the kinds of schools that have successfully educated, to a high level, inner-city youngsters whom the great bulk of public schools fail to educate to even minimally adequate levels.
Principal hid disruptive students in trailer during review visits. During the last two visits by the district superintendent for a "quality review," Rachelle Legions, the leader of PS 106 in Far Rockaway, Queens, rounded up six to eight of the most disruptive students and hid them in a trailer in the schoolyard, insiders told The [New York] Post. Children in several grades who frequently scream, fight and throw things were allegedly stashed out of sight and earshot while District 27 Superintendent Mary Barton toured classrooms to evaluate the troubled school — now on a state watch list because of rock-bottom test scores.
The $7 billion school improvement grant program: Greatest failure in the history of the US Department of Education? The final IES report on the School Improvement Grant program is devastating to Arne Duncan's and the Obama administration's education legacy. A major evaluation commissioned by the U.S. Department of Education and conducted by two highly respected research institutions delivered a crushing verdict: The program failed and failed badly. (The Washington Post's article by Emma Brown does an exceptional job recounting the administration's $7 billion folly.)
Education Department report finds billions spent under Obama had 'no impact' on achievement. The Obama administration pumped more than $7 billion into an education program, first authorized under President George W. Bush, that had no impact on student achievement — according to a report released by the Department of Education in the final days of the 44th president's term. The Department of Education's findings were contained in its "School Improvement Grants: Implementation and Effectiveness" report. The study could energize the debate over national education policy just as the Senate considers President Trump's controversial pick to lead the department, Betsy DeVos, an outspoken school choice advocate who has questioned the way federal education dollars are spent.
Obama administration spent billions to fix failing schools, and it didn't work. One of the Obama administration's signature efforts in education, which pumped billions of federal dollars into overhauling the nation's worst schools, failed to produce meaningful results, according to a federal analysis. Test scores, graduation rates and college enrollment were no different in schools that received money through the School Improvement Grants program — the largest federal investment ever targeted to failing schools — than in schools that did not. The Education Department published the findings on the website of its research division on Wednesday, hours before President Obama's political appointees walked out the door.
Presidential protestors don't understand America. It's time that Americans demand that their schools once again teach American history (so students know that the popular vote winner does not always win the presidential election), American government (so they know we are a republic and not a democracy), the Constitution (so they understand our bicameral federal and election system), and absolute truth (that personal opinion must submit to truth and reality). If we don't make these changes, we will not want to imagine, much less experience, the horrifying results from Abraham Lincoln's warning that "the philosophy of the schoolroom in one generation will be the philosophy of government in the next."
The Brainwashing of a Nation. Why are the hallowed halls of the Ivy League institutions offering worthless degrees designed to keep graduates from obtaining economic independence and thus remain perpetually immature students? Because that was the whole plan, wasn't it? Take the young brains and promise them the world without them having to work hard for anything. Make them feel that everything is a right that others have to pay for. Fight against the status quo of a good work ethic to achieve success. Occupy Wall Street, Black Lives Matter and other protest organizations were perfect examples of blind subservience to Marxist dogma and ignorance of reality.
Before and After Obama: 10 Signs of a Diminished America. While politicians feud over how much money should be spent and how to measure educational performance, data from the School of Hard Knocks keeps flowing in, and it's not pretty. We're constantly told the "skills gap" drives chronic high unemployment, both in general and for specific groups, and better education is the answer. We're constantly told we must import more skilled, and more determined, workers to do the jobs Americans can't or won't do. This is a [scathing] indictment of our education system, which no stack of carefully-worded government reports from the Department of Education can paper over.
Junior college president grotesquely livin' large at taxpayer expense. The sad truth is that higher education has gone from being a calling to a racket, in all too many cases. And the rot extends from the top to the bottom of the status hierarchy. Arguably, higher education is the biggest industry on the country, and certainly for many families with children in college, it is the second most expensive purchase in a lifetime, after a house. That pile of money draws all sorts of scavengers.
We're Number 25! It will not come as a surprise, but American children are still lagging the world in academic performance. When it comes to competing with their peers in foreign countries, they are not even close to the top. In most areas of academic achievement American children were average. In science we're number 25 in the world! A recent test, called the 2015 Program for International Student Assessment was administered by Organization for Economic Cooperation and Development. Evidently, something is not quite right.
New tests show US education lags foreign competitors. Last week and this morning the results of two major international exams came out: the Trends in International Mathematics and Science Study and the Program in International Student Assessment. Together, they offer a mixed bag of overall mediocre news for the United States. On TIMSS — an exam that tends to use "traditional" questions such as directly multiplying two numbers — American students saw fourth grade math scores dip a bit between 2011 and 2015, eighth grade math scores rise a statistically significant amount, and fourth and eighth grade science scores rise slightly. We also placed pretty high compared to other countries, though we finished behind Kazakhstan on all tests.
K-12: Occupied Territory. The U.S. government published the dark truth about K-12 schools in the famous "A Nation at Risk" report of 1983. Here is that truth: if a foreign country created the schools we have now, we would conclude that they were "an act of war" against our children. A Nation at Risk told us that the simplest way to understand the mediocrity and malaise so common in K-12. We shouldn't assume there is anything natural about this decline or anything mysterious. It's a man-made attack by a vicious enemy who infiltrated our schools and made them dysfunctional. But what country would that be? [...] We all know there's only one country with a tradition of aggressive meddling in the internal affairs of other countries.
Solar Activity Weakest In More Than A Century. Professors usually spend about 3-6 months (sometimes longer) researching and writing a 25-page article to submit an article to an academic journal. And most experience a twinge of excitement when, months later, they open a letter informing them that their article has been accepted for publication, and will therefore be read by ... an average of ten people. Yes, you read that correctly. The numbers reported by recent studies are pretty bleak: — 82 percent of articles published in the humanities are not even cited once. Of those articles that are cited, only 20 percent have actually been read. Half of academic papers are never read by anyone other than their authors, peer reviewers, and journal editors. All of this is very unfortunate. Ideally, the great academic minds of a society should be put to work for the sake of building up that society and addressing its problems. Instead, most Western academics today are using their intellectual capital to answer questions that nobody's asking on pages that nobody's reading.
The Decline and Fall of Higher Education. [Scroll down] After a few years as a philosophy professor, I began to wonder how anyone could find a life fulfilling, devoted to topics so abstract, specialized, and lacking in practical value. I also became alarmed as I saw students accumulating huge debts while graduating with a diminished capacity for real world work; and dismayed when, upon relating my concerns to colleagues, they neither disagreed nor cared. It took me a while to see that my wonder, alarm, and dismay were related. The overwhelming majority of university professors are people who were very good at school but not much else. Almost none of my colleagues had ever had a job outside of school; almost to a person, an academic career was a way of staying in school and avoiding the difficulties of having to work with others to achieve real world results. In school, we excelled at writing papers that served no purpose besides being testaments to our cleverness. Eventually, I began to see that academic research is largely just a continuation of these meaningless scholastic exercises for those who lack the wherewithal to do anything else.
After Trump University, Why Not Sue All Colleges? Why attend college? Several reasons. Job opportunities, security in a changing economy, higher income, and family stability. Similar to the promises of Trump University? This current academic year, nearly 4 million will graduate with degrees ranging from associate to doctor. What are their prospects in an anemic economy with a record low labor participation rate of under 63 percent? Never mind the media-touted unemployment rate which only counts those actively looking for a job. The market that college graduates find themselves in is one where a third of those who could be working are not. The new grads join 94 million Americans currently outside the labor force. How are the millennial grads faring in the workplace? They make up 40 percent of the unemployed, about 14 percent of them without a job.
Study: 80 percent of students can't differentiate between real and fake news. Fake news stories aren't limited to elections, but it appears that most students don't have the skills to detect fake stories. A Stanford University study found most students in junior high through college can't tell the difference between fake news stories and the real thing, according to Fortune. Stanford's History Education Group tested for "civic online reasoning" — the ability to assess the credibility of information served up by smartphones, tablets, and computers. From January 2015 through June 2016 the group collected and studied responses from 7,804 students from 12 states. The schools ranged from "under-resourced" inner-city schools in Los Angeles to "well-resourced" suburban schools in Minneapolis.
Trump's Chance to Fix American Higher Education. College was once a responsible choice and a solid investment in a young person's economic future. It was considered a sure[-]fire ticket to the middle class and a worthwhile monetary sacrifice for families to make in giving their children a chance to succeed in life. Today, costs have soared to the point that college has become a costly albatross for many students, who face decades of debt despite diminished employment prospects. The situation has gotten so bad that many thoughtful students now question whether their financial future might be brighter if they avoided college altogether.
Spending a $100 Million a Year to Pay Teachers to Do Nothing. The New York Post ran a story Sunday [11/6/2016] about a man who was suing New York City. He wasn't after money (he's making $94,000 a year). He was suing to be allowed to earn his money. David Suker, 48, is one of hundreds of teachers in the Absent Teacher Reserve. He gets paid to show up. "I come to work every day, sit down and do nothing," Suker told the Post. I'd heard of such instances before, but I was unaware just how large the program is. The Post says there are currently 1,304 people in the ATR.
Dumb American Youth. Do you wonder why Sen. Bernie Sanders and his ideas are so popular among American college students? The answer is that they, like so many other young people who think they know it all, are really uninformed and ignorant. You say, "Williams, how dare you say that?! We've mortgaged our home to send our children to college." Let's start with the 2006 geographic literacy survey of youngsters between 18 and 24 years of age by National Geographic and Roper Public Affairs. Less than half could identify New York and Ohio on a U.S. map. Sixty percent could not find Iraq or Saudi Arabia on a map of the Middle East, and three-quarters could not find Iran or Israel.
New union backed tax would hammer Oregonians.. Targeted at big businesses, Measure 97 would impose a new 2.5 percent tax on companies that gross over $25 million a year. The trick is, the tax would not be on net profits but on gross revenues after the $25 million mark. In other words, companies are not taxed on how much money they actually make after expenses but on how much money comes through the door. [...] Measure 97 is being sold as a way to fund education, but there is nothing in its text that would keep the Legislature from using the money for any old thing that it prefers. Our Oregon, the group behind the measure, is union-funded.
Medieval America. In medieval Europe, widespread literacy disappeared. Superstition reigned in place of reason. Despite spending some $11,000 per student each year, are we all that much different? In many polls, more than a quarter of Americans believe in astrology. A quarter think aliens have visited Earth. More than 40 percent can't name their own vice president. Nearly three-quarters of Americans have no idea what the Cold War was about.
What's Scary, Scarier, and Scariest about Hillary. [Scroll down] One of the clearest examples of how certain types of jobs drive out other more valuable jobs is in public schooling. Teaching the young how to read, write and sum isn't rocket science. It isn't even model airplane science. Nor does it take a lot of manpower. But the layering on with new government jobs year after year; school psychologists, nurses, "professional" unionized custodians, assistant teachers, grievance counselors, teacher aides, curriculum specialists and junior teachers, playground monitors, security guards, nutritionists and in some cases more administrators than classroom teachers has meant that spiraling school taxes have helped drive something like two million manufacturing jobs out of my state and into oblivion.
Why the Obamas did not send their daughters to Chicago's public schools. The latest from Chicago's public schools is rather scary, specially if you are a parent concerned with a good education or paying taxes to finance it.
Reforming Higher Education. As the price of higher education has gone up, both the quality of the education and the opportunities it creates have vastly diminished. What has survived is the myth of higher education: the idea that higher education is a means to a professional career and social mobility. For tens of thousands of college graduates each year, that has proven to be a cruel hoax. For too many, graduation has meant carrying the burden of staggering debt without the marketable skills to pay it off. How did we get here? The basic intellectual skills required to get through a real education are possessed by probably no more than 7.5% to 15% of the college-age population.
K-12: Parent X Takes On Principal Zero. [Scroll down] Truth is, the dumbing down starts in kindergarten. Kids don't learn to read promptly. They don't learn basic information. By the time they reach ninth grade, they're dumb enough to think this principal's high school is a reasonable place, not the illegitimate fraud it actually is. What does this principal do all day? Put another way, what is his real job? I think the best word is enforcer. His job is to lay down the law to irritating parents who are slow to get the message. If they or their kids still have any dreams, they should give them up. Accept average.
What Can Discrimination Explain? According to the National Assessment of Educational Progress, sometimes referred to as The Nation's Report Card, nationally, the average black 12th-grader's test scores are either basic or below basic in reading, writing, math and science. "Below basic" is the score received when a student is unable to demonstrate even partial mastery of knowledge and skills fundamental for proficient work at his grade level. "Basic" indicates only partial mastery. Put another way, the average black 12th-grader has the academic achievement level of the average white seventh- or eighth-grader. In some cities, there's even a larger achievement gap. Is this a result of racial discrimination? Hardly. The cities where black academic achievement is the lowest are the very cities where Democrats have been in charge for decades and where blacks have been mayors, city councilors, superintendents, school principals and teachers. Plus, these cities have large educational budgets.
Report calls most of Michigan's universities dropout factories. The bulk of Michigan's public universities are "dropout factories" a new report charges, much to the consternation of those universities, who say the report is flawed from its first sentence. The report, issued by Third Way, a nonpartisan think tank based in Washington, D.C., says that if Michigan's 15 public universities were judged by the same criteria as K-12 schools, 12 of them would be labeled as dropout factories that fail to graduate fewer than two-thirds of their students. The report also says a student entering a Michigan public university has only a one in two shot of graduating. That's because the average six-year graduation rate is 52.28%. The report also says one-third of students make less than $25,000 six years after graduation.
If There's One Thing Millennials Regret, It's Going To College. They may be the most educated generation in history, but if there's one thing millennials regret, it's going to college. More than a third of 18- to 35-year-olds say they wish they had not gone to university, according to a new survey, while almost half say they would have got to where they are now without a degree. The findings come as levels of graduate debt soar to record high and parents are increasingly having to shoulder the burden of their child's university career.
These Fancypants Colleges Cost Over $50,000 Per Year And Offer Robberies Galore. If you are looking for an insanely expensive college located in a place where you and your fellow students will be subjected to a relatively high frequency of robberies, The Daily Caller is here to help. Using the most recent data from the U.S. Department of Education's Office of Postsecondary Education, Chicago media giant WGN has created a searchable database of America's college campuses by the number of robberies per 10,000 students.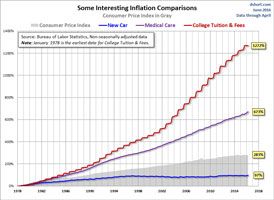 The Mother Of All Inflations: College Tuition & Fees Since 1978.
Fed Set to Unload Explosive Student Loan Rule That Will Dump Billions on Taxpayers. Regulations are flying out the door in in Washington, where an already hyper-aggressive Obama administration is looking at its last chance to move its agenda forward while sidestepping Congress. Many of the expensive rules in areas like energy, health care, and finance have drawn widespread public and media scrutiny — which makes it all the more curious that what is likely to be the single most expensive proposed regulation of the year, a Department of Education rule that would discharge billions in student loans, has gone almost completely unnoticed.
Student-Loan Defaulters in Standoff With Government. The U.S. government desperately wants [Jason] Osborne and his wife to start repaying their combined $46,500 in federal student debt. But they are among the more than seven million Americans in default on their loans, many of them effectively in a standoff with the government. These borrowers have gone at least a year without making a payment — ignoring hundreds of phone calls, emails, text messages and letters from federally hired debt collectors. Borrowers in long-term default represent about 16% of the roughly 43 million Americans with student debt, now totaling $1.3 trillion across the U.S., and their numbers have continued to climb despite the expanding labor market.
'Green Lives Matter' college course title has some critics seeing red. [Scroll down] 'Green Lives Matter' isn't the only eccentrically named course offered at the school[:] university administrators encourage faculty to develop creative titles for mandatory freshmen seminars, according to [social sciences dean Scott] Furlong. Freshmen can also choose to enroll in "Food Politics," "The Science and History of Monsters" and "From Disney's Pocahontas to the NFL: Stereotypes and the Realities of the First Nations People."
Obama's Balloon: Federal Student Loan Debt Up 517% in 5 Years. Since President Barack Obama took office in January 2009, the cumulative outstanding balance on federal direct student loans has jumped 517.4 percent. The balance owed as of the end of May was $739,641,000,000.00. That is an increase of $619,838,000,000.00 from the balance that was owed as of the end of January 2009, when it was $119,803,000,000.00, according to the Monthly Treasury Statement. Earlier this month, Obama announced new executive actions to allow five million student-loan borrowers to cap their monthly payments at 10% of their income, according to the White House.
Spoiled College Grad Demands New Dress Code at Job, Gets the Boot. College kids have a pretty easy time getting their way on campus. Just make enough of a stink and the universities cave. Unfortunately, these students eventually reach a little place called the real world, where things aren't so forgiving. One recently wrote in to an advice columnist because the antics he'd gotten away with elsewhere suddenly didn't work. You see, Junior was at his internship, and he wanted the company to have a more lax dress code. Plus, they noticed one of the regular staff wearing shoes that weren't in line with the standard dress code, and that just wasn't right. So, this individual got together with his fellow interns and wrote up a proposal for an alternate dress code (hmm ... ) accompanied with a petition (whoops!) and sent it on.
Pennsylvania pension agency docks 'ghost teachers' credit. The Public School Employees' Retirement System, the agency that administers the pensions of Pennsylvania teachers, is revoking pension credits accrued by so-called ghost teachers working for an Allentown teachers union. In a brief filed in Commonwealth Court as part of a lawsuit seeking to stop the practice of teachers leaving the classroom to work full-time for the Allentown Education Association, PSERS said those employees are not eligible to receive pension credits for the time they worked exclusively for the union. PSERS revoked a total of $76,891.93 connected to AEA President Debra Tretter and former president Melvin Riddick that may be returned to the Allentown School District. The agency ruled more than $1 million in public wages for the past two union heads does not legally qualify for retirement credit.
Trump Univ is a Convent Compared to the Dept of Education. Regardless of what you think of Trump University, one thing is for sure; colleges and universities in America are far worse. America's education system is a Ponzi schemes for the most part. Truth be told, the sports programs and STEM classes pay for all the nonsense degrees, like Ethnic Studies, Art History, Philosophy, and so o[n]. These majors should have long been abandoned. How colleges charge hundreds of thousands of dollars for degrees that nobody wants or uses is what should be investigated.
Michigan governor signs $617 million Detroit schools bailout. Michigan's governor signed a $617 million bailout and restructuring plan for Detroit's public schools on Tuesday [6/21/2016], two years after the state committed money to help end the city's bankruptcy.
An Expensive Law Degree, and No Place to Use It. [Scroll down] Yet in financial terms, there is almost no way for Mr. Acosta to climb out of the crater he dug for himself in law school, when he borrowed over $200,000. The government will eventually forgive the loan — in 25 years — if he's unable to repay it, as is likely on his small-town lawyer's salary. But the Internal Revenue Service will probably treat the forgiven amount as income, leaving him what could easily be a $70,000 tax bill on the eve of retirement, and possibly much higher. Mr. Acosta is just one of tens of thousands of recent law school graduates caught up in a broad transformation of the legal profession. While demand for other white-collar jobs has grown substantially since the start of the recession, law firms and corporations are finding they can make do with far fewer in-house lawyers than before, squeezing those just starting their careers.
Philadelphia set to pass 1.5 cent-per-ounce soda tax. Philadelphia could soon become the first major U.S. city with a sugary drinks tax after a city council committee voted Wednesday [6/8/2016] to approve an amended version of a soda tax proposal that would set a 1.5 cent-per-ounce tax on sugary and diet drinks.
Detroit Free Press Editor Calls For Murder Of GOP Lawmakers. [Scroll down] Yesterday [6/6/2016] Michigan's Republican legislators voted to bail out Detroit's abysmally run schools with $617 million in taxpayer funding. The same bill also fought efforts to constrain charter school choices in Detroit.
How the Democratic Party Ruined Atlanta. As in so many Democrat-run U.S. cities, Atlanta's public-school system has grown, over time, into a bureaucratic monstrosity of waste and ineptitude — exhibiting efficiency only in its ability to separate taxpayers from their hard-earned money. Every year the Atlanta Public Schools (APS) system gobbles up some $15,000 in taxpayer funds — about 50% more than the national average — for the education-related expenses of each K-12 pupil in its jurisdiction. Notwithstanding these massive investments, APS students perform abysmally on achievement tests designed to measure their academic competence. In 2013, for example, proficiency rates for APS eighth-graders were a meager 22% in reading and 17% in math. Moreover, the high-school graduation rates of APS students in recent years have ranged between 51% and 59%, far below the national average of 78%.
Time to Shut Down the Department of Education. The Department of Education was created under President Carter in 1979 under the same misguided pretense that has driven much of the growth of our massively bloated federal government — that if there is something we really care about, we should give more money and power to Washington bureaucrats. It would be good news if the Department of Education just wasted the money it gets from our hard-earned taxes. But it uses the money to do real damage. Nothing could provide a better example than the newly issued guidance letter that the Department of Education, jointly with the Justice Department, just sent to public school districts across the country, threatening to cut of [sic] federal funds if public schools do not comply with guidelines for treatment of so-called transgender students.
Transgender Teacher Gets $60k After Co-Workers Won't Call Her 'They'. A "transmasculine" teacher at an Oregon elementary school has been awarded $60,000 by her school district as compensation for harassment she claims to have suffered on the job, including being referred to by the wrong pronoun. According to The Oregonian, Leo Soell was born a woman, but now prefers to identify as "transmasculine" and "genderqueer," meaning she does not consider herself to be male or female. After getting breast cancer in late 2014, she had her breasts amputated to create a more masculine appearance and changed her name to Leo. Once she returned from medical school in May, 2015, Soell was fully public with her gender-neutral identity.
Detroit Public School Official Charged In $1.2 Million Tutoring Scheme. Children in the Detroit Public School system were shortchanged out of $1.2 million in tutoring services that never took place, according to the U.S. Attorney's office. Carolyn Starkey-Darden, the former director of grant development at DPS, is charged with billing the Detroit Public Schools $1.275 million over seven years for tutoring services never rendered through companies she created, the Detroit Free Press reports. Court records show she submitted phony documents to the school district, included doctored test scores, forged attendance records and parent signatures.
USDA Awards $746,827 to Improve 'Shopping Practices of Adolescents'. Secretary of Agriculture Tom Vilsack announced Thursday [5/19/2016] six universities have been awarded nearly $3.8 million in funding by the U.S. Department of Agriculture (USDA) for programs designed to help fight obesity. The USDA's program descriptions for the six grants include:
• $746,827 to the University of Kentucky for the testing of the program "Smart Shopping." According to the program description, Smart Shopping is "aimed at improving the shopping practices of adolescents with the ultimate goal of increasing fruit and vegetable intake."
• $797,995 was awarded to the University of New England, Biddeford, Maine for the "Supermarket Science: Multipronged Approaches to Increasing Fresh, Frozen and Canned Fruit and Vegetable Purchases" program.
• The University of Maryland received $943,287 for a program designed to enhance implementation of school wellness policies. The efforts['] goal "is to create health promoting school environments that support healthy growth/development of children to prevent obesity."
Burlington College. You might neither know nor care much about this tiny institution of higher learning tucked away in Vermont's largest city, but we find it significant because Burlington College just made the decision to shut its doors due to the impact of "crushing" debt it has run up over the years. And why should we care about that? Well, from 2004 to 2011, the president of Burlington College was one Jane Sanders, the wife of Democrat presidential hopeful and lifelong socialist huckster Bernie Sanders. It seems the Sanders better half was not a particularly miserly chief executive; she in fact thought it would be a good idea to buy up an entire new campus than the one the school had been situated on, with the concept that the brand new campus financed by debt would produce a sensational increase in enrollment and revenue. The pool of new college entrants being of stagnant size, that didn't happen and the college is folding at the end of the month. Just imagine what Jane's husband, who has never held a private sector job, could do atop a larger institution.
Milwaukee school officials say budget item listing $471G for Black Lives Matter [is] a misunderstanding. An item in the Milwaukee Public Schools' proposed budget listing $471,073 for Black Lives Matter has critics fuming, but district officials said Monday it is all a misunderstanding. Although the budget draft lists the controversial activist group, whose members have called for attacks on police officers, as the recipient of the funds, school officials said much of the money would go to hiring and training three social studies teachers. "No funding is going to any Black Lives Matter organization," Tony Tagliavia, a spokesman for Milwaukee Public Schools told FoxNews.com in a statement.
Detroit Public Schools principal: Kickbacks spent on jewelry, perfume. A former principal who spent 28 years working for the Detroit Public Schools pleaded guilty to bribery today, admitting she accepted roughly $22,000 in kickbacks from a vendor and spent the money two ways: buying jewelry, perfume and clothing for herself and helping her school. "Other than the gift cards, it was used for the schools," ex-DPS principal Gerlma Johnson said today [5/11/2016] in U.S. District Court, where she sought to explain how she spent the rewards she received for helping a vendor submit phony invoices for paper and other school supplies.
The only word this French teacher knows is 'bonjour'. A Texas high school teacher who teaches French could have to bid adieu to his job — because he doesn't know how to speak the language. Albert Moyer has been teaching French classes at the Houston Independent School District's Energy Institute High School for about five months, but the only word he knows how to speak is "bonjour," students told local TV station KHOU. "I thought it was a joke, I couldn't believe this was happening," said Sharonda White, whose son Nathanial is in one of Moyer's classes. Nathanial said his teacher, who only took one year of French in high school, can't even answer any of the students' questions.
Is College Too Pricey? Wait Till It's Free. As he panders for the youth vote, Democratic presidential hopeful Bernie Sanders promises free tuition at public colleges and universities because, he says, "a college degree is the new high school diploma." Rival Hillary Clinton supports President Barack Obama's plan to make community college tuition-free — that is, publicly funded. Beware, America: Imagine how expensive college tuition will be if Democrats somehow manage to make more of it "free." As for value, if Sanders has his way, you can expect the college degree to be the new high school diploma.
FAIL: Busted Wind Turbines Give College Whopping Negative 99.14% Return On Investment. Lake Land College recently announced plans to tear down broken wind turbines on campus, after the school got $987,697.20 in taxpayer support for wind power. The turbines were funded by a $2.5 million grant from the U.S. Department of Labor, but the turbines lasted for less than four years and were incredibly costly to maintain. "Since the installation in 2012, the college has spent $240,000 in parts and labor to maintain the turbines," Kelly Allee, Director of Public Relations at Lake Land College, told The Daily Caller News Foundation. The college estimates it would take another $100,000 in repairs to make the turbines function again after one of them was struck by lightning and likely suffered electrical damage last summer.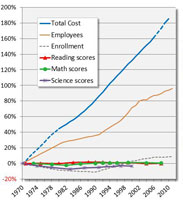 A Picture Is Worth a Thousand Words. This chart, put together by my Cato colleague Andrew Coulson, is a devastating indictment of the government monopoly education establishment. They've received huge amounts of money in recent decades, and dramatically expanded the bureaucracy, but student achievement is stagnant.




Philly 'ghost teachers' making $1.5 million this year. Sixteen Philadelphia public school teachers are earning $1.5 million during the current school year not to teach. As part of the contract with the School District of Philadelphia, the local teachers union is permitted to take up to 63 teachers out of the classroom to work full-time for the Philadelphia Federation of Teachers. The practice, known as "release time" or "official time," allows public school teachers to leave the classroom and continue to earn a public salary, benefits, pension and seniority. These so-called ghost teachers perform a variety of jobs for the PFT, serving as either information officers for other teachers or carrying out the union's political agenda.

Vendor in Detroit schools corruption case lived like a king. In 2002, Norman Shy was settling into his new, custom-built mansion in Farmington Hills, Mich. — complete with an indoor lap pool, massive marble foyer, paneled library, movie theater and nine bathrooms. Life was good for the school supply vendor. But behind the glamour was a scammer, prosecutors allege in a federal criminal case, and he would go undetected for years.

The down side of socialism isn't taught in public schools, so the kids see nothing wrong with it.
The Character of a Socialist. Upon initial inspection, Bernie Sanders' near monolithic appeal to America's youngest voters is perplexing. Why would the first generation of the 21st Century gravitate toward a living relic of the 20th Century who has made it his objective to rehabilitate the very worst idea of the 19th Century? Some say that it is a lamentable aspect of the modern age that history is poorly taught, and its lessons must be eternally relearned. The appeal of Bernie Sanders-style socialism may, however, have as many roots in the simple absence of a degree of prudence and wisdom, qualities that cannot be conferred in a classroom.

Four Big Myths about CPS Funding. Chicago Public Schools, or CPS, CEO Forrest Claypool is trying to guilt the state of Illinois into a massive bailout of the broke school district. To do this, he's using divisive rhetoric, even implying that the state's education funding system is racist. The problem with Claypool's argument is that his numbers don't add up. [...] [E]ven a cursory look at the data over the last decade shows that rather than suffering discrimination, Chicago has received more than its fair share of education funding from the state — and then some.

Nearly 10 Million Americans Are Behind on Their Student Debt. A huge amount of Americans with student debt are finding it hard to keep up with their loans. More than 40% of Americans with federal student loans are behind in their payments or aren't making them at all. The data comes from a quarterly snapshot of the government's $1.2 trillion student-loan portfolio put out by the Department of Education. That means only 12.5 million Americans are current on their federal loan repayments of the 22 million who are out of school and took out loans.

College forces students to fund scholarship for illegal immigrants. A private college in Arizona is charging students a fee to fund a scholarship for illegal immigrants, a controversial move which supporters say gives a hand to those who need it but which anti-illegal immigration advocates call irresponsible. Prescott College is tacking a $30 annual fee onto its $28,000 annual tuition to establish an annual scholarship for "undocumented" students, as part of a policy first proposed by students and faculty from the undergraduate and Social Justice and Human Rights Master of Arts divisions. While students can opt out of paying the fee, if they do nothing, it will be automatically imposed. Backers say it helps reverse what they call Arizona's reputation as a "national example of discriminatory politics."

Free College Is Too Expensive. The current government loan/grant/financial aid scenario distorts and masks the true cost and competitive potential of the higher education industry. Since all colleges — including "public" colleges — realize that a very significant swath of their students get artificially low-rate loans and generous grants/financial aid, the colleges themselves simply jack up their tuition, salaries and fees — at a rate far in excess of inflation — secure in the knowledge that the Government will be doling out free money for the students to pay for a major portion of it. Lavish resort-quality dorms, overpaid, questionably-qualified tenured 'professors' who are free to spout any non-academic drivel they please, college sports programs unhinged, etc., are all indications of the over-priced, inefficient conditions at many (but not all) colleges, where rigorous, verifiable, accountable academic study seems almost incidental to a college's existence.

Feds: 12 Detroit principals stole $1M in kickback scheme. In its latest crackdown on school corruption in Detroit, the federal government today [3/30/2016] dropped a legal bomb on 12 current and former principals, one administrator and a vendor — all of them charged with running a nearly $1-million bribery and kickback scheme involving school supplies that were rarely ever delivered. At the heart of the alleged scheme is businessman Norman Shy, 74, of Franklin, who is accused of paying $908,500 in kickbacks and bribes to at least 12 Detroit Public Schools principals who used him as a school supply vendor in exchange for money — some for as little as $4,000, another for $324,000. He secretly did this for 13 years, scamming school after school to the tune of $2.7 million with the help of principals who benefited along the way, prosecutors allege.

12 Detroit school principals charged in $2.7 million kickback scheme. As I've said before, if Al Capone was around today he'd be a public school big shot. That's where the big money is.

It's Little Mystery Why So Many College Students Are Illiterate. The American Council of Trustees and Alumni publishes occasional reports on what college students know. Nearly 10 percent of the college graduates surveyed thought Judith Sheindlin, TV's "Judge Judy," is a member of the U.S. Supreme Court. Less than 20 percent of the college graduates knew the effect of the Emancipation Proclamation. More than a quarter of the college graduates did not know Franklin D. Roosevelt was president during World War II; one-third did not know he was the president who spearheaded the New Deal. But it is little mystery why so many college students are illiterate, innumerate and resistant to understanding.

How can I possibly grade these students? [Scroll down] When I ask students how often they have read a newspaper, one student proudly stated that he does not read the New York Times because it is owned by "rich people." Clearly, the left has a devoted follower. In addition, many of these college students have never learned capitalization rules, so "White House" is not capitalized, nor is "American," "Christian," or "English." [...] Specious logic and convoluted sentences describe the vast number of submissions that I must wade through each week. But no one will truly acknowledge the elephant in the room: that these students are totally unprepared for college.

Akron Public Schools is a good case study of how education spending often defies common sense. In 2012-13, the district spent $110,847 on upscale hotels around the nation for various professional conferences, $540,807 on legal fees, $138,368 on various forms of student entertainment, $44,327 on restaurants and catering, $31,066 on a program for adolescent boys based on African drum beats, and $25,445 to rent space at various convention centers and country clubs. Then there's the $1.6 million in salary paid to the 14 highest compensated employees in the district. That's a full 10 percent of the entire budget deficit.

Jefferson County district spent nearly $300K on hotels and millions on inflated salaries, union perks. Last May, citing budget concerns, the district laid off 41 teachers. In August the school board increased property taxes by 1.4 percent. [...] But in the 2012-13 academic year, the Jefferson County district spent a whopping $298,039 on hotel accommodations, $165,861 on travel agencies, more than $100,000 on restaurant and catering tabs, $355,981 on legal fees and $243,287 on various forms of entertainment for students. On top of that, the 10 highest paid administrators made a combined $1.7 million in salary, and the district spent nearly $17 million on a handful of pointless contractual perks for union teachers.

Federal Student Aid Is Responsible for Ever-Increasing College Tuition Costs. A consensus is growing that federal student aid, however well-intentioned, is directly responsible for increases in college tuition over the past few decades. One study estimates that expansions of federal student aid roughly doubled tuition costs relative to a baseline, while another finds that each dollar of subsidized Stafford student loans boost tuition by 65 cents. The logic is simple: when students have access to a generous line of credit, colleges will raise their prices because their students can easily borrow the money to pay them. In theory, since there is a cap on how much students may borrow through the Stafford student loan program (the most common form of student loan), there should be an upper limit to how much federal student aid can fuel tuition increases. Currently, the aggregate cap stands at $31,000 for undergraduate dependent students. But as the cost of college approaches this cap, more and more borrowers may take advantage of a back door — the Parent Loans for Undergraduate Students (PLUS) program.

Rochester district spent $37 million on six-figure salaries in 2012-13, while laying off teachers, cutting programs. The district clearly has academic problems. In 2013 only four percent of eighth-graders were proficient in math and only six percent in English. In 2012 the graduation rate was a miserable 43.4 percent. The district also has serious financial issues. It was facing a $44 million budget deficit headed into the 2012-13 school year. That shortfall prompted the layoff of 56 teachers, one year after the layoff of approximately 700 teachers. Given all of this, one might expect Rochester school officials to spend every available dime to help kids get up to par academically. But instead they chose to pay themselves way too much money.

Big salaries, legal expenses, travel, cell phones strain Syracuse school district budget. Syracuse school officials have cut roughly 1,000 jobs from the district's payroll over the last five years, despite a general increase in overall spending. [...] They dropped more than a half million dollars on legal expenses, $1.1 million on police services, about $150,000 on hotels and travel expenses, $114,000 on employee cell phones, $32,000 on entertainment venues and about $18,000 on restaurant tabs. Even more disturbing is the fact that 137 administrators and other employees made more than $100,000 in straight salary in 2012, which came to a combined total of $15.2 million. How can a district on such a tight budget justify those types of salaries?

Law Graduate Gets Her Day in Court, Suing Law School. Nearly a decade has passed since an aspiring young lawyer in California, Anna Alaburda, graduated in the top tier of her class, passed the state bar exam and set out to use the law degree she had spent about $150,000 to acquire. But on Monday [3/7/2016], in a San Diego courtroom, she will tell a story that has become all too familiar among law students in the United States: Since graduating from the Thomas Jefferson School of Law in 2008, she has yet to find a full-time salaried job as a lawyer. From there, though, her story has taken an unusual twist: Ms. Alaburda, 37, is the first former law student whose case against a law school, charging that it inflated the employment data for its graduates as a way to lure students to enroll, will go to trial.

Data reveals the obscene, lavish compensation for NY's Long Island administrators. Superintendent Carole Hankin — who retired October 31st — raked in $511,333 in compensation annually, according to SeeThroughNY.net, a transparency website maintained by the Empire Center. But a review of her contract reveals the fringe benefits are equally eyebrow-raising. The contract stipulated Hankin's base pay for the 2012-13 school year to be $405,244.23 and it could never decrease. President Barack Obama, by the way, makes a base salary of $400,000 per year.

Failing Camden schools wasting lots of taxpayer money, students not learning. Camden City schools spent $306,457,458 taxpayer dollars during the 2011-12 school year, the most recent year for which state figures are available. That works out to roughly $24,000 per student, well-above the New Jersey average of $18,000, reports Trentonian.com. That allowed the district to drop a lot of money — $987,564 on legal fees, $394,818 on professional conferences and workshops, $708,817 on various consultants, $86,939 on restaurants and catering and $160,666 on drug and alcohol treatment — with little to show for it in the way of student achievement. That's obvious, judging from the district's embarrassing graduation rate (49 percent) and test scores. NJ.com reports that only one in five Camden students rate as "proficient" (or competent) on the state's math and English tests.

A furious mother grills Bernie and Hillary on how they would fix the problems facing Detroit public schools if elected. Nearly every public school in Detroit had to close back in January after teachers called out sick in protest of deplorable conditions at the schools. [...] The teachers' union in Detroit has repeatedly complained about mold, rodent infestations, too-large class sizes and other issues. Photos that surfaced on social media starting in early January show black mold growing on the ceiling of schools, old food, unfixed bullet holes, and rodent droppings on the floor, according to Business Insider.

Media That Curse CEO Pay, Find College Presidents Make Double. For all that the liberal media and politicians rake CEOs over the coals for being paid too much, it turns out there is a group of people getting paid even more. Turns out, the average college president is making $377,261 per year, more than twice the annual haul for the average CEO, according to the Federal Reserve Bank of Cleveland and CBSNews.com. Academia is known to be a bastion of liberal thought, and can be confirmed by Open Secrets information on political donations from the education industry. The industry wildly favors donating to democrats over republicans.

America is on the Road to Declinistan. [Scroll down] In the age of reality television and social media, college students cannot identify Joe Biden but resoundingly know Kim Kardashian. They have no idea who fought in and won the Civil War but know that Snookie appeared on The Jersey Shore. Hollywood elites are distressed over alleged discrimination against black actors who live in $10 million homes, ignoring the real tragedies occurring in inner cities where blacks are killing each other in record numbers. Progressives co-opted K-12 education with Common Core and an anti-American AP U.S. History curriculum. College campuses are rapt with progressive professors more obsessed with their hatred of democracy and capitalism than teaching facts and promoting critical thinking. Radical 1960's crazies are now respected professors and their hate speech against America and Israel is common in lectures.

Cost effectiveness of NC's green schools debated. A new report for the John Locke Foundation says green schools in North Carolina and nationally fall short of their promised energy savings and can be less energy-efficient than traditional schools. The report looked at green schools in four North Carolina school districts, including Wake and Durham counties, and found most were less energy-efficient than similar schools in their districts. The report, which was released this week, says that the failure of those schools to produce energy savings as promised is an "environmental failure." Proponents of green building say that most schools built according to environmentally sensitive principles do save money and can have other benefits for students.

Weimar America. No one can figure out how and why America's youth have borrowed a collective $1 trillion for college tuition, and yet received so little education and skills in the bargain. Today's campuses have become as foreign to American traditions of tolerance and free expression as what followed the Weimar Republic. To appreciate cry-bully censorship, visit a campus "free-speech" area. To witness segregation, walk into a college "safe space." To hear unapologetic anti-Semitism, attend a university lecture. To learn of the absence of due process, read of a campus hearing on alleged sexual assault. To see a brown shirt in action, watch faculty call for muscle at a campus demonstration. To relearn the mentality of a Chamberlain or Daladier, listen to the contextualizations of a college president. And to talk to an uneducated person, approach a recent college graduate.

How a Generation Lost Its Common Culture. My students are know-nothings. They are exceedingly nice, pleasant, trustworthy, mostly honest, well-intentioned, and utterly decent. But their brains are largely empty, devoid of any substantial knowledge that might be the fruits of an education in an inheritance and a gift of a previous generation. They are the culmination of western civilization, a civilization that has forgotten nearly everything about itself, and as a result, has achieved near-perfect indifference to its own culture. [...] Our students' ignorance is not a failing of the educational system — it is its crowning achievement. Efforts by several generations of philosophers and reformers and public policy experts — whom our students (and most of us) know nothing about — have combined to produce a generation of know-nothings.

Bernie Sanders's Free College Tuition Problem. Bernie Sanders is running for president of the United States proclaiming that under his presidency, all Americans will have the opportunity to attend public college for free. There's only one fly in the ointment of this free college proposal: today in Illinois, half of the public college and university tuition goes not toward education, but toward pensions for college professors who no longer work. So in order for Sanders to make college free, someone, other than students, has to pick up the huge cost of the retired professors' pensions. He has said nothing about eliminating this cost by forcing public university professors to save for their own retirements. Sanders is in an awkward situation. He has to gain the support of young voters by criticizing the high cost of college but can't acknowledge that his party not only depends on this money, but established this quid pro quo setup.

Indenturing Students. Young voters should be very cautious in accepting Bernie Sanders' idea that college should be free. Anybody who thinks this socialist-spun fantasy is a responsible plan should look at the rising student loan debt. It is now at $1.3 trillion and is stifling the finances of young people who want to get married, buy a house, buy a car, or pursue any other financial goals. Socialism is a millstone around the necks of America's middle class and poor. Anyone who disagrees with this should look at how the cost of a college education has risen much faster than wages. This was only possible because student loans became a substitute for incomes. They seemed to make college more affordable but that was not only an illusion: it was a hurtful, intentional fraud.

African Americans often pick low-paying college majors, study says. The high school graduation rate for African American students in New Jersey eclipsed 80 percent for the first time in 2015, according to state data. But a new study released Tuesday [2/9/2016] found that African American students headed to college are likely to end up in some of the lowest-paying college majors. Georgetown University's Center on Education and the Workforce found that while more African Americans are attending college, they are also highly concentrated in lower-paying majors, such as social work or human services and community organization.

Teachers who can't teach. It's called the "law of the vital few" — better known as the 80/20 rule. It states that a disproportionate impact comes from a small input. Eighty-four percent of total income tax payments, for instance, are paid by 20 percent of earners. And more than two-thirds of all drunken-driving fatalities are caused by the tiny fraction of drivers with at least a 0.15 blood-alcohol level (the hard-core drunk drivers). Perhaps nowhere is this rule more apparent than in the U.S. education system. Education economist Erik Hanushek has found that a small percentage of teachers are responsible for virtually all of the United States' poor global education ranking. (U.S. students score worse on international tests than students from countries like Vietnam, Poland and Latvia.)

The regrettable decline of higher learning. What do campus microaggressions, safe spaces, trigger warnings, speech codes and censorship have to do with higher learning? [...] In fact, today's campuses mimic ideological boot camps. Tenured professors seek to indoctrinate young people in certain preconceived progressive political agendas. Environmental studies classes are not very open to debating the "settled science" of man-caused, carbon-induced global warming — or the need for immediate and massive government intervention to address it. Grade-conscious and indebted students make the necessary ideological adjustments.

15,029 Chicago school employees make over $100k, despite poor results. Any way you slice it, the [Chicago] school district is a financial mess, with its most recent budget deficit estimated at a mind-numbing $480 million. It's well documented that retirement costs are a big part of the problem in the district. In fiscal 2015, CPS contributed an incredible $676 million to the Chicago Teachers Pension Fund. But retirees are not the only ones draining the district of its financial resources. Thousands of current employees make top dollar, at least by public education standards, and it seems obvious that the district can no longer sustain such high salaries.

The Good News in American Higher Education. [Scroll down] The public and even college administrators are increasingly fed-up with extreme, over-the-top campus politics that seem to have reached their own absurd conclusion. Recent expletive-filled, mob-rule protests, fueled by outrageous demands and coupled with histrionic cowering in so-called "safe spaces" have led many observers to conclude that the inmates are running the asylum and that this nonsense has to stop. All this for just $65,000 a year? Does anyone even go to class?

Confronting the hard truths of America's civic illiteracy. With the primary and caucus season beginning today, voters will no doubt have heard candidates' calls for tuition-free college or easier access to higher education. They have yet to hear those candidates call for education that prepares graduates for informed citizenship. Before considering college without cost, the nation should ensure college is worthwhile as our institutions prepare a new generation of leaders. We have strayed far from the vision of Thomas Jefferson, who said, "No nation is permitted to live in ignorance with impunity." If universities, legislators, and the citizenry ignore this crisis, these words will continue to haunt us as we confront the hard truths of American civic illiteracy that can turn democracy to chaos.

Taking aim at New York's academic fat cats. Gov. Cuomo has picked a truly obese target by telling New York's public university systems to get serious about cutting the fat — starting with bloated executive salaries. Fact is, getting to the high rungs of both SUNY and CUNY looks to be the most lucrative career path in state government. As the Empire Center for Public Policy notes in its yearly review of taxpayer-funded salaries, 47 of New York's top 50 publicly paid employees work for SUNY — and the other three for CUNY. That includes SUNY Stony Brook's basketball coach and SUNY Buffalo's football coach, each paid nearly $450,000 — more than 2½ times what Cuomo makes.

Education Insanity. Many see smaller class sizes and more money as part of the general solution to our nation's educational problems. It turns out that since 1955 the average number of students per teacher has fallen from 27 to 16. During the same period real per-pupil expenditures have increased more than fourfold. Today, expenditures per pupil in the United States exceed those of nearly every other country in the world. The Program for International Student Assessment, or PISA, ranks 15-year-old student academic performance in 34 OECD countries. In 2012, the U.S. students performed below average in mathematics and ranked 27th. In reading, U.S. students ranked 17th; and in science, they ranked 20th.

In 2024 retirees will cost Illinois more than teachers in the classroom. Public-sector unions and their enablers, mainly but not exclusively Democratic politicians, have ruined Illinois.

New York State Student Algebra Performance Drops Despite Lowered Standards. The percentage of students passing the New York State Regents algebra test fell from 72 percent in 2014 to 63 percent in 2015, even after the New York Education Department (NYDE) used a process called "equating" in hopes of ensuring a similar pass rate. After the first Common Core State Standards (CCSS) exams given to New York 3rd through 8th graders in 2013 resulted in plummeting scores for both English and math, NYDE changed the test to make it easier for students to pass in 2014. In addition, the department manipulated the scores on the 2014 Regents exam given to 9th through 12th graders so the same percentage would pass the test as before, ostensibly because of its nature as a high-stakes test for seniors, who must pass six Regent exams to graduate.

Detroit teachers illegally strike with sick-outs and no one cares. Last week five public schools in Detroit were closed due to sick-outs, that is, these for-the-kids educators called in sick when they weren't, likely by the direction of the Detroit Federation of Teachers. This is a strike in everything but name, and teacher strikes are illegal in Michigan. And no one it seems, except for Detroit News reporter Ingrid Jacques, to be angry about these phone-in walk outs. Why aren't the parents up in arms? [...] Will the "sick" teachers be punished? Will their union be cited for organizing an illegal strike? Will Detroit parents finally get angry? The parents should already be angry because for the fourth straight year Detroit's elementary schools ranked last in reading and math scores among big cities.

Harvard's Tuition in 1840 Was $75. The annual tuition at Harvard in 1840 was $75 a year. What if the price of Harvard over time had risen at the same rate as prices generally — that is equaled the rate of inflation? The tuition at Harvard today would be $1,703 — instead of the actual $45,278. In inflation-adjusted terms, the "sticker price" of going to Harvard has risen by over 26 times (at Princeton, it has risen even more — 48 fold). Even at the public University of Virginia, today's inflation-adjusted tuition for in-state students is over eight times what it was in 1840. The compounded growth in Harvard's tuition, adjusting for changing prices, is 1.87 percent a year.

Squandered Resources on College Education. Most college students do not belong in college. I am not by myself in this assessment. Washington Post columnist Robert Samuelson said, "It's time to drop the college-for-all crusade," adding that "the college-for-all crusade has outlived its usefulness." Richard Vedder, professor emeritus of economics at Ohio University, reports that "the U.S. Labor Department says the majority of new American jobs over the next decade do not need a college degree. We have a six-digit number of college-educated janitors in the U.S." Vedder adds that there are "one-third of a million waiters and waitresses with college degrees." More than one-third of currently working college graduates are in jobs that do not require a degree, such as flight attendants, taxi drivers and salesmen. College was not a wise use of these students', their parents' and taxpayer resources.

The Editor says...
I've heard [1] [2] that 19 percent of the prostitutes in New York City have college degrees. But this might not mean that their degrees are worthless, or that these people are unemployable. It might have more to do with the lack of stigma

associated with prostitution, especially in New York City.

Brown University unveils $100 million plan to address campus diversity. Brown University has unveiled a $100 million plan aimed at boosting diversity on its Rhode Island campus over the next 10 years, including doubling the number of faculty members from minority and other underrepresented populations. The plan is spelled out in a 19-page document that Brown President Christina Paxson posted on the Ivy League university's website earlier this week.

US student-loan forgiveness program proves costly. At issue is a 2007 program that forgives any federal student debt after a borrower has made a decade of payments, which are pegged to a low percentage of salary, while working for government or nonprofit entities. It was designed to encourage young Americans to pursue traditionally hard-to-fill jobs: public defenders, social workers, teachers and modestly paid doctors in underserved areas. But the program is encompassing far more workers than envisioned, many of them well-paid. Thousands of workers with pricey graduate degrees are on track to discharge five- and six-figure debts on their way to typically lucrative careers, according to enrollment figures and financial advisers.

The Most Expensive Day Care in the World. Over the past few days we have seen evidence of just how far gone American academia is, complete with screaming hysterics and forced resignations over Halloween costumes at Yale and screaming hysterics and forced resignations over artistic displays of indeterminate ideology at the University of Missouri. The latter appears to be the most full exposition of pathology on campus available for examination, and perhaps the best example yet of how the Left is eating its own in the institutions it dominates.

The 7 Keys To Trapping As Many Americans As Possible In Poverty. You want to make as many Americans poor as possible? Then start by... [#5] Screwing Up The Education System: [...] First, it's important to keep pouring money into the public school system. That gives middle class Americans the false impression that something is being done to improve education; yet it never actually seems to improve education in our public schools. Additionally, kids who are homeschooled or go to private schools consistently outperform kids who go to public schools, which makes it very important to fight to keep as many children as possible stuck in failing public schools. A kid who can't read is likely to stay poor.

America's Real Education Woes. Despite ever-growing educational spending and endless experimentation to discover magic bullets, the recent news from the education front is depressing. For example, scores on the National Assessment for Educational Progress (the NAEP) showed a lack of progress in reading and math proficiency — only a third of the nation's eighth-graders were "proficient" (or above) in math while the figure was only slightly higher for fourth-graders. Even worst news comes from Washington DC and New York City. Both have made expensive efforts to uplift students and close the race-related academic achievement gap. In DC eighty-two percent of white students met the proficiency standard in English; the corresponding figure for Hispanics was 8%, for blacks it was 4%. Meanwhile, in New York City the school Chancellor tried to spin truly dreadful outcomes into a "success." She hailed the substantial uptick in blacks and Hispanics taking the Advanced Placement (AP) tests but her celebration failed to mention that 95% of the Hispanic students and 97% of the African Americans students could not pass a single AP test (and this despite Hispanic students being able to take an AP test in the Spanish language and culture).

Take the Cities Back from Democrats. The National Assessment of Educational Progress, a survey administered by the U.S. Department of Education, has just released its 2015 report on school performance. The school districts of most big cities are awful, but two stand out as utter, pathetic failures: Cleveland and Detroit. In Cleveland, 90 percent of students are unable to read "proficiently"; 91 percent are non-proficient at math. Detroit, remarkably, is even worse: 93 percent of kids fail at reading and 96 percent fail at math.

Detroit Public Schools: 93% Not Proficient in Reading; 96% Not Proficient in Math. Only 4 percent of Detroit public school eighth graders are proficient or better in math and only 7 percent in reading. This is despite the fact that in the 2011-2012 school year — the latest for which the Department of Education has reported the financial data — the Detroit public schools had "total expenditures" of $18,361 per student and "current expenditures" of $13,330 per student. According to data published by the Detroit Public Schools, the school district's operating expenses in the fiscal year that ended on June 30, 2014 amounted to approximately $14,743 per student.

U.S. student performance slips on national test. Fourth-graders and eighth-graders across the United States lost ground on national mathematics tests this year, the first declines in scores since the federal government began administering the exams in 1990. Reading performance also was sobering: Eighth-grade scores dropped, according to results released Wednesday [10/28/2015], while fourth-grade performance was stagnant compared with 2013, the last time students took the test.

Math test scores down for the first time in 25 years. For 25 years, through four presidential administrations, U.S. schools could rely on one small truth: Math scores on the National Assessment of Educational Progress, or NAEP test, always went up. Not this year.

GAO: 73% of 8th Graders Don't Know Much About Geography. Seventy-three percent of American eighth graders tested below the proficiency level in geography last year, according to a report to Congress by the Government Accountability Office (GAO). Analyzing nationally representative test data from the U.S. Department of Education, GAO found that only 27 percent of eighth graders nationwide scored at either the proficient (24%) or advanced (3%) level on standardized geography tests in 2014.

Islamic State Raked in Over $1 Billion in 2014. The Islamic State remains one of the most well-armed and well-funded terrorist groups in the world, raking in over $1 billion in revenues last year and capturing up to $50 billion in Iraqi weapons, according to a State Department security report. "ISIL's sophisticated military skill and brutality has been key to its success in Iraq and Syria," states an Oct. 19 report by the Overseas Security Advisory Council.

How To Help Your Child Survive Public Schools. The problem with most government-run schools is that, (1) they are mediocre because they are unaccountable to parents and students, and, (2) they teach stupid ideas such as 'Barack is Great' or the urban religion of environmentalism. The good news (if there is any good news) is that the very fact that these schools are mediocre makes it doubtful that they can effectively advance the ridiculous ideas they're teaching. Children are not stupid. If schools are not giving them anything of value, they'll sense it.

UT Arlington gets $2.62 million federal grant for student services. The aroma of coffee may fill the second floor of UT Arlington's Central Library, but a new $2.62 million federal grant assures that a lot more than lattes will soon be served there. The University of Texas at Arlington will use some of the funds to renovate the library space to consolidate many tutoring, mentoring and counseling services — now scattered around campus — for lower-income and nontraditional students.

Americans Are Devoid of Critical Thinking Skills. Never has there been a time in history requiring that an individual be equipped with critical thinking skills more than now. The biggest problem that America is facing today is the inability of the vast majority of the citizenry to think critically. Matt Drudge went so far as to say that Americans are sick. Lack of the ability to think critically is a mental symptom that affects all people regardless of their level of education, economic status, age, race, ethnicity, sex, or political party (although it appears that liberals are more likely to lack such skills). If we are to ever bring America back to the point where she is great again, the majority of the citizens are going to have to acquire and hone critical thinking skills.

Public school students think every movie is a documentary.
Scores of people believe blockbuster movie The Martian is based on a true story. It's said to be the closest any Hollywood space movie has come to being scientifically accurate. But it appears that The Martian, starring Matt Damon, is being taken a little too seriously by some, with scores of people believing the sci-fi flick was based on a true story. Tweets from people who watched the Ridley Scott film, which came out on Friday, reveal that a surprisingly large number of people are unaware that humankind has never set foot on Mars.

A Nation's Demise by its Own Design. We are a loving nation, open armed and understanding. But, as the inflow of foreigners entering our country threatens to accelerate and as our schools become less American, the teaching of American History is hitting new lows. With the loss of our history is the loss of national identity. With this unchecked inflow, and the lack of teaching of our history, we decline. Yet we allow it.

The Liberal Solution to Ferguson, MO? More Liberalism. [Scroll down] In the Normandy school district — Michael Brown's alma mater — 93 percent of students who took the standard college entrance examination scored below the national average. Normandy students taking the ACT test had an average score of 16 — not high enough to gain admittance to most four-year state institutions. It isn't funding that is keeping these students from going to college. It is their abysmal K-12 preparation. Predictably, the Ferguson Commission urges the state to invest in a universal pre-K program and move the compulsory education age down to 5 from 7. This would become a new (and hugely expensive) entitlement, while adding another layer onto K-12 schools that are not meeting the needs of low-income, African-American students (who make up 80 percent of Ferguson-Florissant students and more than 96 percent of students in nearby Normandy). How is expanding a broken system going to help anyone?

Average NYC school janitor makes $109K a year. School custodians are cleaning up — in the hallways and in their paychecks — because the city doesn't want to hire enough of them. Custodians took home an average pay of $109,467 in the 2013-14 school year — and 634 of the city's 799 custodians earned more than $100,000 in salary and overtime during that time, city payroll records show. That's because of the city's 1,500 school buildings, 238 have no full-time custodian on site, up 74 percent from the 137 empty slots in 2012, according to data from the custodians union.

College Students Totally Clueless About Why US Attacked on 9/11. Those who were old enough to remember Sept. 11 vow to never forget what happened that day. But the next generation, it seems, already has — or never knew to begin with. When asked by the Young America's Foundation what caused 9/11, many students at George Mason University in northern Virginia had no clue, gave vague responses, or were just flat out wrong.

Public University To Cough Up $3,500 For 'Hoodies Up' Speech From Trayvon Martin Personal Injury Lawyer. Close to four years after George Zimmerman killed Trayvon Martin in 2012, and over two years after Zimmerman was acquitted in a criminal trial, an attorney for Martin's family is still cashing in on the case with speaking engagements. Later this week, on Sept. 10, attorney Jasmine Rand will deliver a lecture entitled "I Am Trayvon Martin: Hoodies Up" at the taxpayer-funded University of Georgia, reports The College Fix. Rand will receive $3,500 for her speech, a school spokeswoman indicated.

SAT Scores Hit Four-Decade Low. Graduating high school students' SAT college admission scores fell again this year — to the lowest level in four decades. Rapidly growing expenditure on education seems to be producing poor test results. A record 1.7 million graduating seniors took the SAT test last year. With a highest possible score this year of 800 on each SAT section, according to the College Board, students scored a worst since 1999 math score of 511, worst since 1972 reading score of 495, and worst writing score since the section was added in 2005.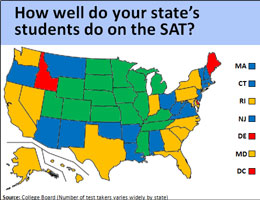 How well do the students in your state perform on the SAT? Typically, when fewer members of a graduating class take the SAT, the average score tends to be higher. In all four of the lowest-scoring states, 91 to 100 percent of the graduating classes took the SAT. In the 12 highest-scoring states, 10 percent of the graduating class or less took the SAT.
Why Home Schooling? Many public schools not only are dangerous but produce poor educational results. According to the National Assessment of Educational Progress for 2013, sometimes called the Nation's Report Card, only 33 percent of white 12th-graders tested proficient in math, and 47 percent tested proficient in reading. For black 12th-graders, it was a true tragedy, with only 7 percent testing proficient in math and 16 percent in reading. These grossly disappointing educational results exist despite massive increases in public education spending.
Nine Signs of the Impending American Collapse. There can be no doubt that the university has been in free fall since the radical takeover of its mission in the festering 1960s, though its decline can be traced back to the "progressive," child-centered pedagogy of John Dewey in the early 20th century. Standards have been lowered to admit those who are unfit for the rigors of post-secondary education; the curriculum has been both diluted and politicized; the campus has become a hotbed of revolutionary sentiment and activism; debate, argument and the free exchange of ideas are no longer part of its intellectual currency as a left consensus has shut down the expression of contrary views; feminist orthodoxy has exerted a castrating effect on university teaching and policy; trigger warnings prioritize feelings over knowledge, infantilizing a student body that must be spared the slightest twitch of emotional discomfort; and draconian language laws meant to combat expressions of "micro-aggression," no matter how vanilla, have prohibited statements like "America is the land of opportunity" or "I believe the most qualified person should get the job." In short, the utopian ideal of "social justice" has snookered the pursuit of truth and the formation of inquiring minds.
Obama's $1.2 Trillion Student Loan Program Is Falling Apart. In less than five years, President Obama turned a relatively small, privately run, guaranteed student-loan program into a massive government-run disaster. What's his answer? More government, naturally.
The White Guilt-White Privilege Shakedown. The inconvenient truth is that most of the people who promote coursework and seminars in white privilege, gay studies, women's studies, womyn's studies, Africana studies, and so on have few genuine work skills that qualify them to (1) manufacture a product or (2) deliver a genuine service such as medicine, accounting, law, or education in a value-adding trade or profession. This is why they must posture, and foment feelings of white guilt and white privilege to sell their meaningless and worthless "services."
Construction companies pushed building of two unneeded schools. Lincoln-Way High School District 210 is on the state's financial watch list. The problem goes back to 2005 when voters in the Will County Illinois district voted to double the number of high schools from two to four. Much of the impetus was based on population projections that enrollment in far southwestern Chicago district would double from 5,000 to 10,000. But ten years later only 7,000 students attend Lincoln-Way schools. Now the district will likely close one of its high schools.
How Taxpayer Subsidies for Students Drives Up College Tuition. Many observers have been puzzled by the relentless increase in tuitions charged by private and public schools alike — at a growth rate greater than that of any component of the consumer price index, including health care. Some blame the price increases on the greed of campus administrators. But that assessment is an unfair oversimplification that fails to ask: what has enabled schools to hike tuitions so much?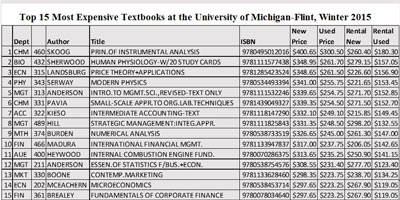 The $400 College Textbook is Here: Thanks, Government Intervention into Student Loans and Higher Education! A new milestone must have been established recently — we're now officially in a new era of the $400 new college textbook and the $300 used college textbook, see accompanying graphic showing the top 15 most expensive textbooks at the University of Michigan-Flint based on a new unpublished report by Matthew Wolverton, an electronic resource management librarian at the Thompson Library (UM-Flint's library). The graphic [to the left] shows the most expensive college textbooks by discipline at UM-Flint, based on the average price of new textbooks for each discipline in winter 2015 semester.
Education and America's Third World. Just 20 percent of tenth-graders in Alabama's Mobile County are proficient in math. In Holmes County, Mississippi — home to the lowest life expectancy in the United States earlier this decade and a center of extreme poverty — a meager 28 percent of 8th graders are proficient in language arts. In McDowell County, the poorest in West Virginia, only a quarter of high school students can claim reading proficiency according to the latest available test results. Urban areas with the means to invest heavily in the status quo haven't seen results, either. Despite spending among the largest sums in the nation on a per-pupil basis, roughly $18,000 per student, Baltimore's schools achieve an 8th grade reading proficiency rate of 16 percent. On the most recent Maryland school standardized tests, only 29 percent of Baltimore city 8th grade students passed the math portion. These are pitiful results.
Study blames college tuition arms race on schools addicted to federal aid. A new explosive study has found a direct link between expanded federal aid and rising tuition rates among the nation's colleges and universities, re-energizing a debate over the escalating cost of post-secondary education for millions of Americans. Critics say the findings prove a long-held theory that current aid policy is not helping, and may be actually hurting families who are struggling more than ever to afford college, and paying off a mountain of debt for the privilege.
Fed research: Student aid mostly raises the price of college tuition. Increasing federal student aid leads colleges to raise tuitions, offsetting the benefit to students, according to new research published by economists with the Federal Reserve Bank of New York. The new analysis finds that the majority of an increase in subsidized student loans or grants translates to higher tuitions, and that at least in the short run, added loans do not boost enrollment.
Chicago Public Schools lays off 1,400 so it can make pension payment. In order to make a massive pension payment today [6/30/2015], Chicago Public Schools announced it will have to lay off 1,400 employees. Even before these firings there were already more retirees collecting pensions than current workers paying into the pension system. If that sounds unsustainable — it is. The devil's bargain Democratic politicians made with the teachers unions is a disaster for Chicago taxpayers. And for Chicago school children.
CPS Makes Full Pension Payment; 1,400 Layoffs Expected. The Chicago Board of Education made its pension payment on schedule Tuesday [6/30/2015], but at a cost — massive layoffs. The meet the $634 million obligation, the board used a combination of borrowed money, $200 million dollars in cuts and layoffs it promised before talks with the Chicago Teachers Union broke down last week.
'NYC is lost. Totally.'. The following letter (sent via iPhone) is from Marilyn T., a teacher. She has worked in the greater New York City area for many years and wants everyone to know how debased and crazy our classrooms have become. She sums it up this way: "NYC is lost. Totally." Every American should be keenly concerned about understanding and saving New York City, because your own city is probably using the same bad methods and heading toward the same level of failure.
Fire administrators to fix higher ed. Is the air finally gushing out of the higher education bubble? Well, enrollment dropped last year, and even some pretty tony colleges have closed. Perhaps the most dramatic sign of all was spotted by New York Times' Frank Bruni: The new president of University of Texas-Austin has turned down the offered million dollar salary. Instead, he'll settle for a still-posh $750,000. But a new university president making 25% less is still news. The question is whether this trend will trickle down, as it must if higher education is to reform.
LSU's $85M 'lazy river' leisure project rolls on, despite school's budget woes. Students at Louisiana State University will soon be able to soak up the sun in a manmade "lazy river," part of an $85 million leisure project under way despite the school's desperate financial situation. The "river," which is more like a pool and spells out "LSU," is part of a campus recreation project that includes an outdoor adventure center, a rope-climbing course and a 21,000-square-foot sun deck. The Baton Rouge school hopes to have the project done in time for fall of 2016.
School Districts Spending Millions on 'White Privilege' Training for Employees. The Pacific Educational Group (PEG) espouses a lot of controversial and stereotypical concepts regarding minority students in K-12 schools. For instance, the organization teaches that black kids are less likely to respond to fundamental ideas like working hard to achieve success, or being on time for school or work, because those ideas are supposedly foreign to African-American culture. PEG is literally selling notions like that to American public schools, and the schools are buying them, at a cost of millions of tax dollars every year.
The Crisis of the Blue Model. The Corinthian network of schools, based in California has shut down Heald College, Everest College and WyoTech College leaving 16,000 students across six states "with questions about how they would finish their educations and how they would pay off the loans that they had taken out to 'get ahead.'" But perhaps "education" isn't exactly the right word for what they were offering. The system is being closed in response to accusations of being a diploma mill that encouraged students to take out government student loans amounting to over a billion dollars. This enormous debt enabled the hopeful to pay Corinthian fees in exchange for instruction of questionable quality that left many unemployable but loaded with student loans.
Flunking civics means apathy reigns. Each week, Jesse Watters of Fox News interviews mostly young people about politics, government, current events and history. He claims their displays of ignorance are not edited. The worst part is that the interviewees don't seem to care that they know little about their government and country.
Is College even necessary anymore? If truth be known, the institutions of higher learning have become instruments for our decline. [...] Thanks to the Internet, the only benefit now from a degree from an Ivy League university is networking with alumnae to secure high paying positions. But now with a good high school education and an ability to access the World Wide Web, one can supplement one's learning with the multiple of courses offered free of charge from numerous sources.
Why Should Taxpayers Bail Out Students Buried in Debt? To set the story up, the NPR reporter focused on the plight of Clementine Lindley, who recalls how after graduating she had to "decide whether to pay rent, buy food or make her student loan payments" because her debt was so massive. How did Lindley rack up so much debt? NPR doesn't say, but a little sleuthing shows that Lindley got her Bachelor's degree in "Liberal Studies" from the private Seattle University and then went on to get a Master's in "Peace and Conflict Resolution" from University of Ulster in Northern Ireland. And now she's executive director of a non-profit in Montana. There's nothing wrong with pursuing such degrees or careers. But Lindley clearly dug a financial hole for herself by choosing to combine expensive colleges with degrees that aren't exactly in high demand.
Is the Modern American University a Failed State? A bachelor's degree is no longer proof that any graduate can read critically or write effectively. National college entrance test scores have generally declined the last few years, and grading standards have as well. Too often, universities emulate greenhouses where fragile adults are coddled as if they were hothouse orchids. Hypersensitive students are warned about "micro-aggressions" that in the real world would be imperceptible. Apprehensive professors are sometimes supposed to offer "trigger warnings" that assume students are delicate Victorians who cannot handle landmark authors such as Joseph Conrad or Mark Twain. "Safe spaces" are designated areas where traumatized students can be shielded from supposedly hurtful or unwelcome language that should not exist in a just and fair world.
The Real Reason College Tuition Costs So Much. [Scroll down] In fact, public investment in higher education in America is vastly larger today, in inflation-adjusted dollars, than it was during the supposed golden age of public funding in the 1960s. Such spending has increased at a much faster rate than government spending in general. For example, the military's budget is about 1.8 times higher today than it was in 1960, while legislative appropriations to higher education are more than 10 times higher. In other words, far from being caused by funding cuts, the astonishing rise in college tuition correlates closely with a huge increase in public subsidies for higher education. If over the past three decades car prices had gone up as fast as tuition, the average new car would cost more than $80,000.
The things professors say. Colleges have been able to raise tuition at three times the rate of inflation for about half a century, thanks to massive subsidies and credit financed by the federal government, and their gatekeeper role as certifiers of intelligence for prospective employers. Intelligence tests have been forbidden as a means of screening applicants, so as a means of screening, employers have had to rely on the certification provided by a college degree. This has enabled prestigious colleges to act as the gatekeepers to high paying careers, and thereby extract crippling levels of tuition from parents desperate to launch their children on high-paying and prestigious careers. Occidental College, for example, currently charges $47,522 a year for tuition. Add in room and board, textbooks, travel and incidentals, and a parent must cough up a quarter million bucks or so to certify a child with an Oxy diploma.
New York City is rife with underperforming schools. Just 29% of students in the nation's largest public school system scored at the appropriate grade level on state reading tests. Or do the quick calculation: Only one in three city students meets state standards in math. A [New York] Daily News analysis indicates New York City is rife with underperforming schools, at least according to the standardized tests used by the state.
Cleaning up the Boondoggles. Since the late 1960s state universities have established departments and "learning" centers that have nothing to do with education and everything to do with advocacy for a certain narrow points of view — say minority studies, feminist studies, advocacy for the poor, the people with eating disorders, the chronic bedwetters — that sort of thing. State governments too have allowed taxpayers' dollars to be skimmed off into similar projects. Now state governments, recently taken over by conservative Republicans — possibly even by Tea Partiers — are closing down such boondoggles and provoking howls of indignation from the so-called aggrieved.
36 Million Americans Lack Basic Work Skills. A report conducted by the OECD and commissioned by the U.S. Department of Education entitled Time for the U.S. to Reskill? has found that a staggering 36 million adults in the U.S. are "low-skilled." That is, they lack the most basic skills in literacy, numeracy and problem-solving deemed minimally necessary for meaningful employment in a high-tech global economy. According to the OECD, black and Hispanics are "three to four times more likely to have low skills than whites."
L.A. schools can't afford computers for all, Cortines says. Los Angeles Unified School Supt. Ramon C. Cortines said Friday the district cannot afford to provide a computer to every student, signaling a major reversal for his predecessor's ill-fated $1.3-billion effort to distribute iPads to all students, teachers and school administrators. Instead, Cortines said, the L.A. Unified School District will try to provide computers to students when needed for instruction and testing. "I don't believe we can afford a device for every student," said Cortines, who added that the district never had a fleshed-out framework for how the devices would be used in the classroom and paid for over time.
4 out of 10 Jersey City schools still don't make the grade, superintendent tells state. In a city where 40 percent of schools fail to meet state standards, Jersey City Superintendent Marcia Lyles says the primary focus has to be on college and career prep. [...] Jersey City, with about 28,000 students, faces issues that encompass poverty, chronic absenteeism, low test scores, and above-average dropout rates at the high school level. Of its 40 schools, 16 are classified by the state as "low-performing."
Kansas high school's $47,000 piano strikes a sour note. A $47,000 concert grand piano for a Kansas City, Kan., high school is hitting some sour notes in the state's school finance debate. Some critics of school spending are questioning whether a public high school really needs such a high-end instrument and have adopted the piano as kind of a symbolic example of wasteful school spending.
Gov. Jerry Brown Hit With Massive $1 Billion Common Core Bill. A rather expensive development has surfaced on the way to installing Common Core in California's hundreds of school districts statewide. Officials have figured out that the big government initiative could collectively cost districts $1 billion every year to set up a new statewide testing system supporting the new curriculum. The question is, who's going to pay for it? According to the Santa Ana School District, the state, not the district, should foot the bill.
No to 'Free' Community College; America's Cultural College Obsession Needs [to be] Changed. President Obama has proposed making community college free for students, claiming that this move would expand opportunities for Americans and better train our workforce. Others have criticized the plan, pointing out that it will cost taxpayers and won't encourage colleges to be effective and efficient. Fiscal conservatives are quick to oppose any expansion of government, and rightly so: There's no such thing as a free lunch, "free" education or free health care. That said, this proposal is aimed at solving real and significant problems in the U.S., namely the affordability barrier in higher ed. and the mismatch of available jobs and well-trained job seekers. These problems deserve our attention.
The moldy food, brown water and roaches of Florida's revolting 'high school of horror'. High school is a tough time for any teenager, but the students at Miami Sunset Senior High School seem to have it a little harder. Photos from inside the school have surfaced on social media showing horrifying conditions, from a moldy carton of fruit punch, to brown tap water and cockroaches on the walls and the food.
1,800 computers missing from NYC schools, audit finds. New York City's Department of Education, the nation's largest school system, doesn't seem to know where thousands of computers have gone. CBS New York reports on a new audit that found 1,800 desktop and laptop computers are missing from eight schools in Manhattan, the Bronx, Brooklyn and Queens and from the department's headquarters. The audit also tracked the whereabouts of another 400 devices that were found in closets and in unopened boxes that had not been touched for three years.
$20 Mil to Boost Reading Skills in the Dominican Republic. While America's failing public schools remain on a perpetual downward spiral, the U.S. government is spending tens of millions of dollars to help struggling students and improve academics in the Dominican Republic. It may seem crazy, but unfortunately it's simply one of a myriad of real-life stories illustrating how government wastes our tax dollars. To be fair, state governments and the feds — mostly via the U.S. Department of Education — spend boatloads of cash on public schools in this country, though it's done little over the years to improve performance in the nation's inner cities.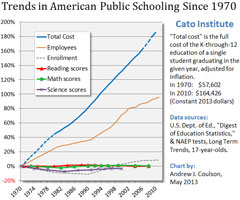 Public School Spending vs Achievement. [This chart] shows the performance over time of U.S. 17-year-olds on the "Long Term Trends" testing program of the National Assessment of Educational Progress. The spending line corresponds to the trend in the total cost of a complete K-through-12 public school education (i.e., what it cost to send a high-school graduate all the way through public school). For good measure, it shows how the number of public school employees has roughly doubled since 1970 — from about 3.3 to about 6.4 million people.

The price of pre-K in 2016 might be higher than you think. Over the past couple of years, a number of red and blue states across the country have joined the pre-K bandwagon, including Republican strongholds like Oklahoma and Georgia. And the trend might continue: last month, the Obama administration announced its new Preschool Grant Program in which states are eligible for a chunk of $250 million to build or expand preschool programs. The administration's tempting offer has begun to place a growing group of Republican governors, members of Congress, and mayors in the pro-pre-K posse.
Five California Cities Make Forbes 'Least Educated' List. A survey ranking the most and least educated American cities offers a bleak picture of California; only one of the top ten educated cities is in the state, while a whopping five of the least-educated cities hail from the Golden State, according to Forbes.
Paterson school district pays $1.1M for retirees' leave days. The city school district paid out more than $1.1 million for unused sick and vacation days to 47 former employees who retired on July 1. Most of the employees had been teachers, but the list also included a few maintenance workers and aides.
The survey that proves the republic is unsalvageable. One in three Americans can't name a single branch of the U.S. government, according to a poll from the Annenberg Public Policy Center of the University of Pennsylvania. The survey, which was conducted from July 8 to 14, and published Sept. 17, found that only 36 percent of respondents could name all three branches of government, while an alarming 35 percent of survey respondents couldn't name a single branch. The poll, which contains a margin of error of plus or minus 3.06 percent, surveyed 1,416 U.S. adults aged 18 and older. The report also found that only 27 percent of respondents say they are aware Congress needs a two-thirds majority in order to override a presidential veto.
School district blasted for adding $85,000 administrative position. Redundant, wasteful and ridiculous are a few of the ways current and former school board members are describing the creation of a new administrative position within Liberal USD 480. At an annual salary of $85,000, Liberal School Board members voted last week to hire Vanessa Jones to fill the role of bond project manager after the district's successful passage of a $127 million bond election earlier this year.
Report: Illinois schools spent $11.1 million on taxi cabs last year. Tuesday, OpenTheBooks.com released a spending report for 928 Illinois school districts. Each report covers pensions, salaries, and vendor spending. Each individual school district is benchmarked on spending vs. consumer price index (CPI) inflation. "In my hometown of Hinsdale, the salary spending since 2000 is up over 76% vs. inflation," OpenTheBooks founder Adam Andrzejewski said. "The average salary is over $105,000 (2012) and 223 employees making over $100,000 per year. Incredibly, the teachers are threatening to strike."
30 Blocks of Squalor & Cigarette Taxes for the Children. It's that time of year again — when the little juvenile delinquents, future prison inmates, and functionally illiterate junior members of the free [stuff] army pick up their "free" backpacks and "free" school supplies they will never use and shuffle off to the decaying prison like schools in the City of Philadelphia to eat "free" breakfasts and "free" lunches, while being taught government sanctioned pablum by overpaid mediocre union teachers. It's a repeat of every year for the [Philadelphia] school district. As the school year approaches they are shocked to report a massive deficit and beg the State of PA for more funding. The $12,000 per child simply isn't enough, even though Parochial schools provide ten times the education for $9,000 per child.
4 Charts Every Mom With Kids Going Back to School Should See. Even though the Obama Administration proposes spending $25 billion specifically to "provide support for hundreds of thousands of education jobs" in order to "keep teachers in the classroom," research by both Heritage and The Fordham Institute reveal alarming numbers: only half of education jobs belong to teachers. Heritage's education policy expert Lindsey Burke says "school districts should trim bureaucracy and work on long-term reform options for better targeting taxpayer resources," instead of putting taxpayers on the hook for more federal spending.
Study: Half of All School Employees Not Teachers, 130% Increase Since 1970. The ranks of non-teachers — such as administrators, counselors, teacher aides and cafeteria workers — has swelled 130 percent since 1970 and they now make up 50 percent of all public school employees according to a new study, The Hidden Half: School Employees Who Don't Teach. Looking at data from the National Center for Education Statistics (NCES), the Thomas B. Fordham Institute found that the growth of non-teaching staff has greatly outpaced student growth over the past four decades.
The Hidden Half: School Employees Who Don't Teach. The number of non-teaching staff in the United States (those employed by school systems but not serving as classroom teachers) has grown by 130 percent since 1970. Non-teachers — more than three million strong — now comprise half of the public school workforce. Their salaries and benefits absorb one-quarter of current education expenditures.
America's worker shortage: One million and counting. America has a deficit of workers. Willing workers. Capable workers. Skilled, or at least semi-skilled workers, who can do a job and do it well. There are at least one million jobs that go begging day after day if only employers could find workers to fill them. [...] Why is it so hard to fill these jobs? One reason is the curse of the so-called "skills mismatch." American workers with high school or even college degrees just aren't technically qualified to do the jobs that are open. This is a stunning indictment of our school system at all levels considering that all in parents and taxpayers often invest as much as $200,000 or more in a child's education. We're not turning our kids into competent workers.
Why Hoboken is Throwing Away All of its Student Laptops. Inside Hoboken's combined junior-senior high school is a storage closet. Behind the locked door, some mothballed laptop computers are strewn among brown cardboard boxes. Others are stacked one atop another. Dozens more are stored on mobile computer carts, many of them on their last legs. That's all that remains from a failed experiment to assign every student a laptop at Hoboken Junior Senior High School. It began five years ago with an unexpected windfall of stimulus money from Washington, D.C., and good intentions to help the district's students, the majority of whom are under or near the poverty line, keep up with their wealthier peers. But Hoboken faced problem after problem and is abandoning the laptops entirely this summer.
New database details pay of California public school employees. Last year, James Hammond, the superintendent of the Montclair-Ontario Unified School District in the Inland Empire, was paid $492,077. Jonathan Eagan, the principal of a junior high school in the Bay Area city of Martinez made $279,669. And 31 custodians at California public schools were paid more than $100,000 in 2013. That is a sample of statistics found in a newly released online database that allows users to search and download detailed employee compensation figures for superintendents, teachers, principals and other staff members at school districts across the state.
Pro-Amnesty Elites Treat People as 'Commodities'. Rupert Murdoch also recently argued for a dramatic expansion of the controversial H1B guest worker program. Murdoch writes that "there is a shortage of qualified American candidates," to fill jobs in STEM fields like computer services and engineering. But the evidence shows the opposite: the US graduates approximately twice as many STEM-trained students each year as there are STEM jobs to fill.
Obama's Move to Help Students Is Not as Forgiving as It Seems. Mr. Obama formally widened the pool of eligible participants in the Pay as You Earn program (PAYE) and said it could save recent graduates hundreds of dollars every month, helping an additional five million people manage their student debt. [...] But if you look at the numbers closely, PAYE saves you money only if you borrowed big and earn little. The revised program caps monthly loan payments at 10 percent of discretionary income, defined as income exceeding 150 percent of the federal poverty level for a single person.
From barista to bachelor's degree ... and back to barista. Starbucks wants to give an espresso shot to its workers' career dreams — and retain talent — by providing financial aid to employees who enroll in an online bachelor's degree program. But will those baristas without college degrees put in the hard work only to end up as baristas with a college degree?
Chicago Teachers Union-Run School Bombs at the Prom. In the "you can't make this up" file, Paul Robeson High School in Chicago just had its prom and its theme was "This Is Are Story." Sadly, this isn't a joke or a bit of intentional irony on the part of the students. Turns out that Paul Robeson High School is a symptom of a school district that is failing its students. [...] The taxpayers pay these teachers $76,000 a year and the school's administration can't even distinguish between "are" and "our" on printed cards they hand out on prom night?
UT Regent Uncovered Waste, Fraud And Abuse... And Might Be Fired For It. Days after taking office as a regent of the University of Texas, Wallace Hall began making discoveries that pointed toward considerable administrative wrongdoing, questionable admissions decisions and misuse of public funds. Three years later, UT-Austin President Bill Powers and his friends in the Texas legislature are doing everything they can to silence Hall — and may take the unprecedented step of forcibly removing him from office. As a pretext, administrators have claimed that Hall's insatiable demand for UT records (he has requested that over 800,000 pages of documents be made public) hampered university operations.
Fire watch officers at Paterson high school cost $445,000. The cost of assigning special fire watch officers to International High School continues to climb even though state officials say they completed work on a requisite smoke control system seven months ago.
U.S. Pours Millions Into Failing Black Colleges, Breaks New Student Loan Rules. The institutions are known as Historically Black Colleges and Universities (HBCU) and JW's probe has uncovered documents that show American taxpayers are being forced to fund them even when their accreditation has been stripped, they have dismal graduation rates and rank among the nation's worst medical schools. For instance, Meharry Medical College (where the late Jackson's physician, Conrad Murray, got his degree) is renowned for producing an alarming number of inept doctors along with third-world institutions like Manila Central University in the Philippines and the Autonomous University of Guadalajara in Mexico, according to records obtained by JW.
DC Schools: $29,349 Per Pupil, 83% Not Proficient in Reading. The public schools in Washington, D.C., spent $29,349 per pupil in the 2010-2011 school year, according to the latest data from National Center for Education Statistics, but in 2013 fully 83 percent of the eighth graders in these schools were not "proficient" in reading and 81 percent were not "proficient" in math. These are the government schools in our nation's capital city — where for decades politicians of both parties have obstreperously pushed for more federal involvement in education and more federal spending on education.
Average NJ per-student spending is close to $19K, new report finds. New Jersey schools spent an average of $18,891 to educate each student last year, an increase of $866, or almost 5 percent, from 2012, according to figures released yesterday by the New Jersey Department of Education, with costs varying widely among districts. The annual "Taxpayer's Guide to Education Spending" showed wealthy Avalon Borough in Cape May County at the top of the list of districts and charter schools, spending $43,775 a student. The lowest district, Rockaway Borough, spent $12,587.
Math, reading performance is stagnant among U.S. 12th-graders, assessment finds. The nation's high school seniors have shown no improvement in math and reading performance since 2009, and large racial achievement gaps persist, according to the results of a test administered by the federal government last year. The results, released at an event Wednesday at Dunbar High School in Northwest Washington, detail students' performance on the National Assessment of Educational Progress, or NAEP. Also called the Nation's Report Card, NAEP is widely regarded as the most consistent measure of U.S. students' achievement over time.
NM college spends $5 million on solar array to save $200,000 in utility bills. Santa Fe Community College has just unveiled a solar array that, it says, will save the college at least $200,000 a year on its utility bills. But the array, funded by taxpayers in a 2010 bond election, will cost $5 million. You don't have to be a math major at the college to figure out it would take 25 years of $200,000 cost savings per year to reach the $5 million mark for the project to just break even.
Education Department releases names of 55 schools facing sex assault probes. The Education Department on Thursday [5/1/2014] released a list of 55 colleges and universities under investigation for their handling of sexual abuse claims, in an unprecedented step aimed at increasing transparency regarding sex assault in higher education. The schools listed are all facing a Title IX investigation.
Is a bachelor's degree still worthwhile? For a long time, the argument against earning a bachelor's degree was largely a question of dollars and cents. Everyone understood the value of a degree, but not everyone could afford one. Now the argument is starting to shift to "dollars and sense," meaning that potential students are starting to ask not only if a degree is economically prudent, but also whether it makes sense as a credential[.]
The Math Behind a Pricey College Degree. By relating the amount of debt you are willing to take on to the amount you expect to earn in a career based on that degree you can keep the payments to a level that are mathematically possible. What doesn't work is taking out $100,000 in loans to pursue a career that sees annual incomes cap out at $50,000. There just isn't enough income "pie" to go around in that situation. So parents and students, please think long and hard about how you want to allocate your post-graduation income pie before selecting a school.
No connection between school spending, student outcomes. For decades, it's probably the most troublesome question facing education: Why are results for U.S. public school students so mediocre, despite the billions of taxpayer dollars spent? Andrew Coulson thinks he's got the answer: Because there is no discernible correlation between spending and outcomes. "The takeaway from this study is that what we've done over the past 40 years hasn't worked," said Coulson, director of the Center For Educational Freedom at the CATO Institute. "The average performance change nationwide has declined 3 percent in mathematical and verbal skills. Moreover, there's been no relationship, effectively, between spending and academic outcomes."
No connection between education spending and student outcomes. For decades, it's probably the most troublesome question facing education: Why are results for U.S. public school students so mediocre, despite the billions of taxpayer dollars spent? Andrew Coulson thinks he's got the answer: Because there is no discernible correlation between spending and outcomes.
Why More Federal Education Spending Is Not the Answer. Rather than shift the tax burden from households with children to relatively high-earning households without children, Felix Salmon of Reuters proposes increasing federal education funding. This strikes me as ill-conceived for a number of reasons. If anything, I would suggest that we move in the opposite direction. Though federal spending represents a relatively small share of K-12 spending at present (13 percent of the total as of 2010), this understates the extent of federal influence, as federal mandates shape how much of the remaining spending is disbursed. And so the U.S. has a far more centralized, far more tightly-regulated K-12 system than is commonly understood.
Superintendent's pay in South Bay district called 'excessive'. New York City Chancellor Carmen Farina oversees more than a million students, 1,700 schools and a budget the size of many states. Her pay: $412,193. Los Angeles Unified Supt. John Deasy has half a million students, 1,000-plus schools, a $7-billion budget — and made $393,106 last year. Supt. Jose Fernandez's South Bay school district has just 6,600 students, five high schools and a $70-million budget. His earnings: $674,559 last year. "I don't know of anybody, in any major city, who makes anything close to that, even with extra bonuses or compensation," said Michael Casserly, executive director of the Council of the Great City Schools, based in Washington.
What's the least valuable college degree in the U.S.? The survey may add to parents' doubts about the value of a college degree, especially given that rising tuition costs have far outpaced the pace of inflation and the tough job market for some majors (think liberal arts). Those trends have saddled graduates with a combined $1 trillion in debt. The worst off? Arts, humanities and education majors at more than a dozen institutions — including respected schools such as Ohio State University and Indiana University — where the 20-year net return falls lower than -$100,000.
The Editor says...
That's right. Negative 100,000 dollars.
College Students Fail to Name a Single U.S. Senator. Last week, MRCTV's Dan Joseph went to American University to give the student body a little general knowledge quiz. When asked if they could name a single U.S. senator, the students blanked. Also, very few knew that each state has two senators. The guesses were all over the map, with some crediting each state with twelve, thirteen, and five senators.
Early Results Indicate $4.6 Billion in School Turnarounds was a Waste. A $4.6 billion federal school improvement program aimed at the bottom 5 percent of U.S. schools has at best done nothing for them, and at worst spent money as some schools worsened, federal data show, and analysts and educators are questioning the program. The U.S. Department of Education released a report Nov. 21 comparing average proficiency rates of School Improvement Grant (S(G) schools in 2011-2012 to the year prior. Although some schools' academic performance improved, many worsened. "SIG is almost certainly going to go down as one of the U.S. Department of Education's biggest and most expensive mistakes — possibly the biggest," said Andy Smarick, a partner at Bellwether Education Partners. "Schools are getting millions, and we're just not seeing anything close to the gains that were promised and are needed."
Ex-Jersey City schools monitor tops watchdog's list of highly paid 'part-time' state workers. Cathy Coyle, the former Jersey City school official brought on as a state monitor in 2012, was the most expensive "part-time temp" in state government last year, according to a New Jersey Watchdog report. Coyle was paid $151,862 last year as a "special services" employee, while collecting a $73,765 pension, the report says. Coyle was one of four of these kinds of workers who collected more than $200,000 last year, including pensions, according to the report. The 40 part-time workers on the watchdog's list collected $6 million in income last year.
Proficient Reading Remains Elusive for U.S. Kids. Although U.S. kids have made progress in decoding words, leading to a slight uptick in elementary-grade reading scores over the past two decades, they're still shaky at the second part of reading -- understanding what they sound out. That's crucial to upper-level reading, where scores have remained stagnant since national tests began. Improving that element of reading may be an even bigger challenge than revitalizing phonics, because understanding requires background knowledge gained in a variety of life experiences that families, rather than educators, probably have to provide.
Despite outrageous school spending, students actually dumber than in 1972. The amount of money that the American taxpayers have been forced to spend on public schools has more than doubled in the last few years — even though such spending has had no demonstrable impact on students' intelligence levels, a bombshell new study found. On average, student academic performance actually declined slightly over the last 40 years — an astonishing fact, given the huge amount of money spent on public education and the general boost that technological improvements have provided to virtually every other sector of U.S. life.
Academic Performance and Spending over the Past 40 Years. Long-term trends in academic performance and spending are valuable tools for evaluating past education policies and informing current ones. [...] State-level academic performance data are either nonexistent prior to 1990 or, as in the case of the SAT, are unrepresentative of statewide student populations. Using a time-series regression approach described in a separate publication, this paper adjusts state SAT score averages for factors such as participation rate and student demographics, which are known to affect outcomes, then validates the results against recent state-level National Assessment of Educational Progress (NAEP) test scores. This produces continuous, state-representative estimated SAT score trends reaching back to 1972.
Gov't Spending $4.8M to Tell Students to 'Get Fruved'. If a college student dressed up as a giant bunch of grapes jumped out of the shadows and told you to "get fruved," what could you possibly say? The University of Tennessee-Knoxville is getting more than $4.8 million taxpayer dollars to develop a healthy-eating campaign that has students — dressed up as fruits and vegetables — cavorting in the hallways of higher education.
Feds spend millions dressing creepy students up as fruits, vegetables. The federal government gave nearly $5 million to the University of Tennessee in support of its creepy healthy-eating campaign, which dresses students up as fruits and vegetables and films them terrorizing the residence halls. [...] Most of the campaign is designed and run by students. The grant for the project was made through the U.S. Department of Agriculture.
Dartmouth Caves to Student Threats. [Scroll down] The initial student letter called for greater diversity in the faculty and post-doctoral program as well as an increase in enrollment for Black, Latino, and Native American students to 10 percent of the student population each. The anonymous students also demanded that all students be required to take classes on "social justice" and "marginalization," that gender-neutral housing be available for all students, and that restrictions on the use of the term "illegal immigrants" be imposed. In response to the demands for racial quotas, Dartmouth plans to allocate $1 million to hire faculty "who bring diverse perspectives to campus." Another $30 million will also be spent to bring in more minorities for the post-doctorate program.
One in four Americans 'do not know the Earth circles the Sun'. One in four Americans are completely unfamiliar with Nicolaus Copernicus's 1543 theory that the Earth circles the Sun, according to a study by the National Science Foundation. The survey, released on Friday [2/14/2014] at an annual meeting of the American Association for the Advancement of Science, asked 2,200 people nine factual questions about physical and biological science, with the average score being just 5.8 correct answers. The question — "Does the Earth go around the Sun, or does the Sun go around the Earth" — was answered incorrectly by 26 percent of respondents.
Obama: Coffee shops shouldn't have better Internet than schools. "In a country where we expect free Wi-Fi with our coffee, we should definitely demand it in our schools," Obama said in Adelphi, Md., highlighting $750 million in new commitments from private companies to put digital learning labs in schools. Under his plan, the Federal Communications Commission will also spend $2 billion to connect 20 million students to wireless technologies. Obama did not get into the details of the new spending, but White House officials have said funds will be shifted into the FCC's E-Rate program.
Here's How You'll Pay to Bring High-Speed Internet to Schools. President Obama has a plan to connect 99 percent of U.S. schools to high-speed Internet within five years without adding "a dime to the deficit" and "without waiting for Congress." It sounds too good to be true, but the administration has a trick up its sleeve: a federal program that collects fees on American phone bills and uses the revenue to fund Internet access at schools and libraries in rural and low-income areas. The program, known as E-Rate, was created in 1996 and is administered by the Federal Communications Commission as part of the Universal Service Fund. The program is currently capped at about $2.3 billion per year, but the FCC has the power to lift the program's cap — even without congressional approval — and raise funds for it by bumping up phone fees.
No Space, No Books, No Clue At NYC's Worst Elementary School. Students at PS 106 in Far Rockaway, Queens, have gotten no math or reading and writing books for the rigorous Common Core curriculum, whistleblowers say. The 234 kids get no gym or art classes. Instead, they watch movies every day. "The kids have seen more movies than Siskel and Ebert," a source said.
The failure factory at PS 106. Bill de Blasio and Carmen Farina: Meet the test of your education policy. It's called PS 106 in Far Rockaway. And as The [New York] Post's Susan Edelman laid out in horrific detail Sunday, it's one of this city's failure factories. So the question is: What do the mayor and his new schools chancellor intend to do about it?
No, Public Schools Are Not 'Jammed' with Students. It's remarkable how often the conventional wisdom conflicts with data and evidence. A recent article in the New York Times illustrates the case of public-school class sizes. It describes schools as "jammed" because of an up-tick in student-teacher ratios coming out of the recession. It's the type of story that fits comfortably within the (erroneous) conventional wisdom about underfunded schools. How about some long-run perspective? Student-teacher ratios — not the same thing as class size, but a similar concept that's easier to measure — have dropped substantially in the last 50 years, according to the National Center for Education Statistics. There were 26 students for every teacher in 1960. The ratio was reduced to 22 by 1970, and then it went down to 19 in 1980, to 17 in 1990, and to 16 in 2000.
Only 3 Students Scored College-Ready in Camden, NJ. The new school superintendent in Camden, N.J., says it was a "kick-in-the-stomach moment" when he learned that only three district high school students who took the SAT in the 2011-12 school year scored as college-ready.
Bizarro Lake Woebegon. Welcome to Camden, New Jersey, where the new superintendent of schools recently announced that only three students in the public school system who took the SAT tests in the 2011-12 academic year scored high enough to qualify as college-ready, according to AP.
Obama's Cash for Universal Preschool Clunkers. It's elementary: When Democrats find themselves in political trouble, they reach for your wallets. After squandering billions on an ineffectual stimulus, failed green energy boondoggles and the disastrous Unaffordable Care Act, the Obama White House wants to dump $75 billion more into "free" preschool for all. That'll solve everything.
American education's race to the bottom. We are paying filet mignon prices and getting Sonic Burger results, in other words. I guess the upside is that our unionized teachers have such great job security that they can hardly be fired once they get "tenure." Oh, and the benefits and retirement pay are outstanding. Naturally, Arne Duncan, Secretary of Education, is calling for even more money. [...] America's government schools have been run for the benefit of teacher unions, not for the students. There is an obvious solution staring us in the face: awarding education funds to parents, and allowing them to choose schools suited to their children.
Colleges Substitute Western Greats With Gender Studies. Parents pay a fortune to send their kids to big-name colleges, and they expect strong scholarship in return. More and more, what they're getting ranges from drivel to leftist indoctrination.
Second largest California school district pays teachers for not teaching. California has a 1971 state law — the Stull Act — that mandates student performance be included in teacher evaluations. This is just the sort of approach that President Obama and Education Secretary Arne Duncan like as part of their push to eliminate the 10 percent or so of teachers they say are too incompetent to be allowed in the classroom. But guess what: The law has been ignored for decades in California. Why? Because for at least 20 years, the most powerful special interest in the state has been the teacher unions — the California Teachers Association and the California Federation of Teachers. Keeping the CTA and CFT happy has been a higher priority in local school districts and in the Legislature than actually honoring a clearly written state law.
Voters Defeat Amendment 66, But What If Judges Get the Final Say on Education Spending? On Tuesday, Colorado voters wisely rejected Amendment 66, which would have pumped almost $1 billion in new taxes into the state's wasteful and inefficient public-school system. The amendment had powerful supporters from all corners of the education establishment — the teacher's unions, the governor, almost every elected Democrat, Michael Bloomberg, Arne Duncan, the Gates Foundation, and many others. Remarkably, nearly two-thirds of Colorado voters still rejected Amendment 66. It's a gratifying demonstration that the political class, for all its wealth and influence, can still be defeated by ordinary citizens exercising the vote.
New N.C. exams paint bleak picture of skills in state, CMS. The 2013 scores indicate that most African-American, Hispanic and low-income students performed below grade level in reading, math and science. Those groups had begun catching up with white and Asian classmates on the old exams, but they saw the sharpest drop on the new ones. In CMS, for instance, more than 70 percent of white students passed elementary, middle and high school math tests, but fewer than 30 percent of black students did. Both groups of CMS students outperformed state averages, the white students by more than 15 percentage points.
Up With Teachers, Down With Doctors? Pay teachers more. Shrink class sizes. Upgrade classroom materials. These are the standard positions taken by teachers' unions and their political allies on the left. The belief is that more school spending, especially on across-the-board pay raises for teachers, is essential to improving education. These views are mistaken. Teachers are not underpaid, and total education spending — which has more than doubled in real terms since the 1970s, with little change in test scores — is wasteful and excessive.
What Government Schools Can Teach Us About Government Healthcare. So what can single-payer education teach us about single-payer healthcare? For one thing, it shows that the government will not necessarily cut costs just because it has the power to do so. Teachers unions have allied with politicians to ratchet up public education spending over time, with no significant increase in quality.
J-school failure: Just 26 percent of new reporters have skills to do the job. A journalism degree can cost nearly $100,000 for graduate students, but for many it's a waste of money because they are leaving school without the skills needed in the new age of digital reporting and publishing, according to a sweeping new survey of the industry. The highly-regarded Poynter Institute, an international strategy center and leader in journalism education, found in their 2013 "Future of Journalism" study that only one quarter of journalism school students showed up on the job ready for work.
U.S. adults below par on math, reading test. In math, reading and problem-solving using technology — skills considered critical for global competitiveness and economic strength — American adults scored below the international average on a global test, according to results released Tuesday [10/8/2013].
SAT scores show less than five percent of Paterson high school students ready for college and careers. Just 26 of the 598 high school students in Paterson Public Schools who took the SAT tests this year had scores that reached the college and career readiness benchmark, according to statistics released by city education officials. That rate of 4.3 percent of pretty much matches last year's performance when 4.4 percent, or 26 of 591 students, reached the college-career ready mark, the data shows. In 2011, 21 of 513 were college-career ready, or 4 percent.
Bankrupt ideas lead to bankrupt governments. Outside of government, almost every good or service becomes better and less expensive in real terms each year. Government, though, is most heavily involved in education and health care. In both cases, costs have risen far faster than inflation for decades. With education, there has been almost no measurable improvement in quality as measured by what students know.
SAT scores stagnant; many unprepared for college, officials say. The combined average SAT score of 1498 was the same as last year; a perfect score on the three-section test is 2400. In California, the combined average score of 1505 dropped two points from last year and 12 points from 2010. Perhaps more telling, only 48% of test takers reached the "SAT Benchmark" — a score of 1550 that indicates a 65% likelihood that students will obtain a first-year college grade-point average of B- or higher, according to the College Board.
Rich, Arrogant, and Stupid. [Consider] the continuing failure of our schools to give our children the skills necessary to be productive members of our economy and good citizens worthy of political freedom. For nearly a century our so-called "educators" have pursued every fad of pseudo-sciences like psychology to throw out traditional learning and replace it with voodoo like "self-esteem," "collaborative learning," "values clarification," and other nostrums reflecting progressive ideology and pop-psych snake oil. The result has been abysmal ignorance of basic skills evident in comparisons with other countries. For example, in a 2010 report, only 6% of U.S. students were performing at an advanced level in math, a percentage lower than 30 other countries, and only 32% of 8th graders were proficient in math.
The Decline of College. Almost all the old campus protocols are now tragically outdated or antithetical to their original mission. Tenure — virtual lifelong job security for full-time faculty after six years — was supposed to protect free speech on campus. How, then, did campus ideology become more monotonous than diverse, more intolerant of politically unpopular views than open-minded? Universities have so little job flexibility that campuses cannot fire the incompetent tenured or hire full-time competent newcomers.
Three-quarters of Americans think teachers paid less than they really are. Seventy-four percent of Americans think teachers make less than they really do, according to a new poll from Rasmussen. The average teacher salary in America is $55,000 (upward of $75,000 in Chicago), but three quarters of Americans think teachers earn less than that.
Justice Sandra Day O'Connor on Political Ignorance. Retired Supreme Court Justice Sandra Day O'Connor recently gave a speech lamenting widespread political ignorance in the United States. [...] About one-third can name the three branches of government. Fewer than one-fifth of high school seniors can explain how citizen participation benefits democracy. "Less than one-third of eighth-graders can identify the historical purpose of the Declaration of Independence, and it's right there in the name," she said.
America the ignorant. One of the frequently depressing things you encounter when writing about politics and government, or talking to the sorts of people who read about it on a daily basis, is the false impression you form that everyone knows this stuff. [...] But I'm sorry to report that you are in a shockingly tiny minority.
American Education: a Lesson in Incoherence. The USA has a below-average employment rate for tertiary educated 25-64 year olds, ranked 10th worst among 35 countries, with the corresponding unemployment rate in this same group well above the OECD average. America also has a below average proportion of full-time earners among 25-64 year-old tertiary-educated individuals with earnings from employment. World Bank data also shows that the percentage of total unemployment comprised of those with tertiary education is extremely high in the USA.
The Educators' War on the Working Class. They say that capitalism is the deadliest threat to poor Americans. But that's not true — it's actually Big Education. We are constantly told that educators are "dedicated" to improving the lives of students and that a good education opens the door to a good career and financial success. But while this rhetoric may have been true at one time, in the last ten years the economic reality of property taxes and student loan debt are starting to overcome the positives. Educators may now be the greatest source of financial hardship faced by middle-class and poor working Americans.
Obama's Crackpot Scheme to Make College 'More Affordable'. Begin with the obvious. A cardinal political rule is that thou shall not harm one vital constituency, and it is hard to think of a more loyal, energetic, and financially generous Democratic constituency than today's campus. These loyal voters will never be given pink slips, at least not by a Democratic president. Less obvious, but ultimately of greater importance, today's universities, with scant exception, are vital to the long-term ideological health of the Democratic Party's progressive wing. If colleges are slimmed down, who will teach the next generation about "social justice" or the evils of the white male patriarchy?
Not for the Children. [Recently there was] an announcement by Dunbar High School in Washington, D.C., that it plans on August 19 to begin "an entire week of activities to celebrate the grand opening of our new $160 million state-of-the-art school building." The painful irony in all this is that the original Dunbar High School building, which opened in 1916, housed a school with a record of high academic achievements for generations of black students, despite the inadequacies of the building and the inadequacies of the financial support that the school received. By contrast, today's Dunbar High School is just another ghetto school with abysmal standards, despite Washington's record of having some of the country's highest levels of money spent per pupil — and some of the lowest test-score results.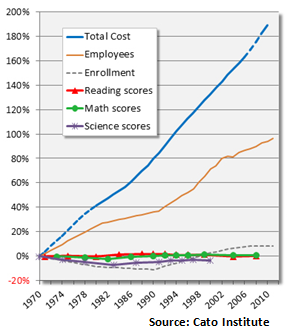 America's Educational Madness. Imagine you were the CEO of something called "American K-12 Public Schools" and it was the annual Board meeting. With everyone assembled, the firm's Chief of Research distributed this one-page "progress" report. [...] In a nutshell, and in constant 2013 dollars, the cost of a K-12 education in 1970 was $57,602; the same education in 2010 was $164,426 all the while employment in education rose sharply and school enrollments remained flat. Clearly, if our hypothetical firm was a real business, it would have long vanished.


A $147 Million Signal of Faith in Atlanta's Public Schools. The most expensive public high school ever built in Georgia opens Wednesday in an old I.B.M. office building. With 11 stories, a 900-car parking deck and views fit for a corporate executive, the school, North Atlanta High, looks very much like the fancy office buildings and glittery shopping strips that populate its Buckhead community. The school cost about $147 million. That is small change compared with the Robert F. Kennedy high school complex in Los Angeles, built in 2010 for $578 million — a figure critics liked to point out was more expensive than Beijing's Olympic stadium.

Test Scores Sink as New York Adopts Tougher Benchmarks. The number of New York students passing state reading and math exams dropped drastically this year, education officials reported on Wednesday, unsettling parents, principals and teachers and posing new challenges to a national effort to toughen academic standards. In New York City, 26 percent of students in third through eighth grade passed the tests in English, and 30 percent passed in math, according to the New York State Education Department.

Cory Booker Spent $100 Million in Education Money on Political Consultants. Newark Mayor and U.S. Senate Candidate Cory Booker claims he cares about education, but a new ad produced by the American Commitment Fund shows Booker squandered $100 million in education funds donated by Facebook CEO Mark Zuckerberg on political consultants, focus groups, mailing and polling.

The College Degree Scam. For years we've heard the propaganda line that everyone needs to go to college — that a degree will improve your status and standard of living. It has become politically incorrect to even suggest that a higher education degree might not be right for every young American. So it's not surprising that those without a college degree often feel inferior and marginalized. Has a college degree become the litmus test for whether a person is well educated and successful? These highly successfully individuals would likely disagree with that premise.

Lying as a Way of Life. The Washington Post says that "fewer than half of D.C. children are proficient in reading, according to standardized tests, and more than a third of all city residents are functionally illiterate, according to a 2007 report." This despite the availability of "public education" which by rights should have made illiteracy a thing of the past. But public education's achievements — or lack thereof — can be gauged by the Post's further reporting that in certain DC schools districts lagging children are no longer invited to remedial summer classes because they "are too far behind." They can't even be included in remediation for fear they will prove an anchor round the necks of any students who might actually have a chance to escape the government-funded shipwreck.

The Editor says...
That's an important bit of information: There are some kids who are too far behind to qualify for "no child left behind."

Being Schooled About Transgenders. Education these days involves indoctrination, far more than teaching children to think clearly and to recognize demagoguery and propaganda. Too often, our schools — from pre-school to graduate programs — are saturated with so-called "progressive" ideology. Even when they cannot read or do basic math, children can spout the latest cultural truism [...] They know where to buy condoms or obtain birth control; they "know" that global warming is the greatest threat facing mankind. And, today, it is becoming perfectly normal for "transgender" students to pop in and out of whichever bathroom they want to use.

Black Education Tragedy. Some of that evidence unfolded when [George] Zimmerman's defense attorney asked 19-year-old [Rachel] Jeantel to read a letter that she allegedly had written to Trayvon Martin's mother. She responded that she doesn't read cursive, and that's in addition to her poor grammar, syntax and communication skills. Jeantel is a senior at Miami Norland Senior High School. How in the world did she manage to become a 12th-grader without being able to read cursive writing? That's a skill one would expect from a fourth-grader. Jeantel is by no means an exception at her school.

Drunk College Kids Know Almost Nothing About Independence Day. These kids don't know why we celebrate the 4th of July, who America gained independence from or what year it happened. They even had trouble coming up with how many stars and stripes are on the American flag. If these kids represent the future of America, we have a lot more to worry about than the IRS or the NSA.

Democrats put Blacks in the Back of the Bus. Currently the unemployment rate for black Americans is 13.5%, vs. 6.7% for whites, but the rate for black teens is 42.6%, vs. 21.6% for whites. It's clear that the Obama economy has had a very disparate impact on blacks. This is in large part due to the much lower skill levels of blacks than whites. While 94.4% of whites finish High School only 88.1% of blacks do. Similarly while 39.2% of whites have at least a Bachelors degree only 20.1% of blacks do. There are many theories as to why this gap exists but a likely cause is the horrible state of public education in the inner cities where Democrat politicians and teachers unions work together with little concern for the children they're supposed to serve.

Study: U.S. Teacher Training 'Dismal'. A report released on Tuesday [6/18/2013] by the National Council on Teacher Quality finds that U.S. teacher training is "an industry of mediocrity" that produces teachers without a clue. "The results were dismal," said Kate Walsh, president of the bipartisan research group. Walsh told Reuters that new teachers "don't know how to teach reading, don't know how to master a classroom, don't know how to use data."

Dewey: Stalin's Propagandist, the World's Teacher. [In 1928], The New Republic published Dewey's Impressions of Soviet Russia and the revolutionary world. This polemic stands as a remarkable testament to progressivism's disdain for mankind, reason, and truth. It is also Dewey's most honest and concise primer on the principles of his progressive education method. Anyone prepared to defend the idea of government-controlled schooling after reading this work is perhaps beyond reach of rational argument.

The Soul Abstracted from Life. Modern civilization willingly consigns almost all of its children to the living hell of forced retardation. Everyone knows the educational establishment is beset with problems, corruptions, and the downward ratchet of lowest common denominator standards. And yet parents continue to send their children to government schools, hoping, perhaps even half-believing, that this will not significantly harm the children's adult lives. They are dead wrong.

Powerful Evidence for School Choice. Simply stated, it's increasingly difficult for defenders of the status quo to rationalize pouring more money into the failed government education monopoly. To paraphrase Winston Churchill, never has so much been spent so recklessly with such meager results.

Boola, Boola, Save Your Moolah. Snapping your wallets shut now is the last option left to us to retake these now failing institutions and remake them into what the nation needs — places where capable students are taught, at reasonable cost, how to provide the goods, services, and civic skills to carry on our great democratic republic.

New Jersey spent $18,047 per pupil in public schools last year. Among regular Bergen districts, total per-pupil spending ranged from a high of $25,938 in the small, wealthy and high-achieving district of Alpine to $13,317 in the immigrant, blue-collar community of Fairview. The Bergen County Special Services district, which serves severely disabled children, spends $87,588.

'If We Can Save Just One Child...' By the time Adam Lanza was ten years old, Connecticut schools were required by law to have an anti-bullying policy in place. This requirement was strengthened in 2008 and again in 2011. None of these laws helped protect Adam Lanza, nor did they keep him from growing up into an angry young man known to us only for a final horrific act at the scene of his own torment. Teacher trainers, consultants, anti-bullying policy coordinators, and such benefited from the legislation, but Lanza did not.

Facing the Hardest Truth on Public Education. Were public schools better twenty, forty, or sixty years ago? Of course they were. But it no more follows from this that public education is not such a bad idea than it follows from the fact that the welfare state of sixty years ago had not yet incorporated socialized medicine that socialism is not such a bad idea. Today's extensions of progressive control over an ever-increasing range of our lives did not arise from nowhere; they were made possible by earlier, gradual insinuations of the concepts and moral perspectives of tyranny into the modern West's soul.

Teachers Pensions: Revealing What States Are Hiding. How much are we spending on education? Actually, far more than we know — because as it turns out, states are hiding some of the teachers' benefits. In a new paper, Heritage expert Jason Richwine reveals that "Proper accounting would reveal tens of billions of dollars in extra teacher pension costs, equivalent to somewhere around $1,000 in unreported spending per student." That's right — the real cost of education is far higher than we've been told, but it's not because of extra classroom resources or newer facilities. It's because of teachers' pensions.

Official Education Spending Figures Do Not Incorporate Full Cost of Teacher Pensions. Despite the centrality of pensions in debates over government budgeting and education policy, the federal government dramatically underestimates teacher pension costs in its official education spending figures. States report to the federal government only the yearly contributions to teacher pension funds rather than the present value of accrued benefits.

No Guns, No School: Liberal Racism In Obama's Chicago. Facing a billion-dollar budget shortfall, the Chicago Public Schools' plan to close 54 schools, mostly in black and low-income neighborhoods, forces many students to cross gang boundaries to get a mediocre education.

Teachers' Unions Panic as Scott Walker Moves to Expand School Vouchers. There is a reason why teachers' unions oppose standardized ratings. Hard numbers highlight performance and mandate reforms. Scott Walker is proposing to give parents an exit strategy from broken schools, but those broken schools are the bread and butter of the Educrats who can use their failures as bottomless money pits.

Christie to announce state takeover of Camden schools. As part of the takeover of what the state considers the worst-performing district in New Jersey, Christie will appoint a new superintendent and leadership team, shifting the school board to an advisory role, according to Christie administration officials briefed on the plan.

Panic in Faculty Lounges. It's always a knee-slapper when American university professors and administrators, representatives of one of the most extravagantly funded and unaccountable industries in the history of the world, complain they are being underfunded and that the world will suffer as a result. [...] If university officials are in a dither about how to replace lost research funds, they have plenty of options, as the sheer waste in the university industry is staggering. A great first step would be for universities to sluff off all the useless administrators that have been added to payrolls over the fat years of the recent decades. The railroads have nothing on universities for featherbedding.

Swelling Educational Bureaucracy Declares War On Children. What is happening these days in education? Children are being demonized and expelled from public schools for "crimes" associated with plastic army men or gun-shaped cookies. A monster is growing. Ever since the Department of Education took in more than $100 billion in 2009 stimulus cash to "improve education" the incidents of petty tyranny traumatizing children from its bureaucrats and teachers unions has grown exponentially in schools.

Curricula and Social Engineering. In this day of solicitous, competitive parenting, can you conceive of parents willingly turning their child over to a school with a curriculum geared to the least common denominator? One that's designed to systematically indoctrinate him with socialist, anti-capitalist concepts? Yet nearly 90% of American families send their children off to the local public schools for just such and education. Between the embedded social engineering/indoctrination and the dumbing down of the academic curriculum, public education today hosts serious and systemic problems.

A Looming Political Firestorm In Wyoming. Concerned citizens can expect to see their children's academic well being relegated to inconsequential status, while untold sums of tax money disappear once more down unspecified rat holes. This has been "business as usual" for many years, and its devotees and beneficiaries see no reason for things to change.

Ensuring Black Kids Get Inferior Education: a Civil Rights Issue? The single greatest civil rights issue in modern America is the inferior quality of education that so many black Americans are receiving. If the KKK were in charge of the school system in cities like Detroit and Atlanta, the kids couldn't be getting a much poorer education. But, as long as there are black, liberal Democrats running the show and wetting their beaks, nobody seems to care whether the children get educated.

Non-Teaching School Staff Costing Taxpayers Money. The U.S. public education system has seen an enormous increase in staff over the past few decades. But unlike private companies, which base staffing decisions on product demand, the number of school staff positions has increased rapidly without a commensurate increase in the number of students served by the system.

Officials: 80 Percent Of Recent NYC High School Graduates Cannot Read. Nearly 80 percent of New York City high school graduates need to relearn basic skills before they can enter the City University's community college system. The number of kids behind the 8-ball is the highest in years, CBS 2's Marcia Kramer reported Thursday [3/7/2013].

Rebuttal:
No, 80 Percent of NYC High School Graduates Are Not Illiterate. An unfortunate story on CBS New York Thursday [3/7/2013] carried this headline: "Officials: 80 Percent Of Recent NYC High School Graduates Cannot Read." It's a shocker, but it's also untrue. And to make things worse, the story that followed was riddled with typos.

California's expensive education failure. According to RAND Corp., as late as the 1970s California's public schools still had an "excellent" reputation. Then, in 1975, Brown (in his first stint as California's governor) signed the Rodda Act, giving government unions the power to take money directly out of government employees' paychecks. The California Teachers Association quickly poured this new revenue stream into an organizing drive, more than doubling the union's ranks. The Golden State's politics have never been the same since — nor has the quality of its public schools.

The Logic of Liberalism. Education in the USA is in rather deep trouble. We have masses of students graduating with hardly the ability to do basic math and basic language skills. We have high school dropouts at record levels. We have U.S. students doing poorly on international exams. A dearth of solutions abound. No one really knows what to do. But liberals have their patented resolution. Spend more money.

The Real State of the Union. The growing crisis in the government's student loan programs may be the least publicized trillion-dollar mess in world history. Outstanding balances have grown by $400 billion during just the past four years. During that time, the percentage of loans which is 90 or more days delinquent has skyrocketed from an already awful 8 percent to 11 percent, with most of that increase occurring during just the past few reported quarters. Why is this happening — and why will the situation probably get much worse? High school grads are going on to college at a record high percentage, but an unprecedented percentage of those who do are ill equipped to succeed in their studies. When they fail, their student loans don't go away, not even in bankruptcy.

Cut role of feds in local police, fire and education. [Scroll down] Take K-12 education, which the federal government had almost zero role in funding until President Carter created the Department of Education in 1979. Since then, federal education spending has grown more than 350 percent. Yet math, reading and science scores are virtually identical to those of the 1970s. Every dime of federal education spending appears to have been completely wasted.

Yeah, so is grammar.
Improperly assigned teachers [are] a problem. Untrained teachers have been assigned to a variety of difficult classes, including those filled with English-language learners and others with special intellectual and physical needs. In many cases, these teachers lack training in a particular subject that they've been assigned to teach, such as English or math.

Poor Kids Are No Excuse For America's Poor Education. It's a depressingly common annual headline: U.S. students fare poorly compared with those in other countries even though America spends far more on its schools. But a new report wants you to believe that U.S. schools really aren't so bad compared with other developed countries. It's just the greater number of poor kids they have to educate that makes them appear bad. This is nothing more than a rehash of the tired ideology that schools cannot be held responsible for how well students learn.

Subsidies create glut of college grads. A new study finds almost half of Americans with college degrees are working at jobs that don't require one. It's the latest example of how federal subsidies are creating a massive higher-education bubble.

Majoring in Useless: College grads taking jobs that don't even require degree. With record numbers of college graduates underemployed in jobs that don't actually require degrees, economists are joking that even aspiring janitors may soon have to get master's degrees to compete for jobs. A study released Monday by the Center for College Affordability and Productivity found that 37 percent of employed graduates didn't need to attend college at all to successfully perform their current jobs.

Administrative Bloat at America's Colleges and Universities. Forty years ago, one presumes the university had no Office of Equity and Diversity. Now, it's a burgeoning enterprise. And, bureaucracies being what they are, one suspects the Office will continue to grow long after its original purpose has been fulfilled.

An Anatomy of a Most Peculiar Institution. A student's life on campus is a zero-sum game. For each elective like "The modern comic book," or "Chicana feminisms" or "Queering the text," students have no time (or desire to) take more difficult and instructive classes on the British Enlightenment or A History of World War I or Classical English Grammar. [...] The result is perhaps a fourth of the liberal arts courses — many would judge more like 50% — would never have been allowed in the curriculum just 40 years ago. They tend to foster the two most regrettable traits in a young mind — ignorance of the uninformed combined with the arrogance of the zealot. All too often students in these courses become revved up over a particular writ — solar power, gay marriage, the war on women, multiculturalism — without the skills to present their views logically and persuasively in response to criticism.

Heads of 36 private colleges earn more than $1 million. For the second straight year, the chief executives of 36 private U.S. colleges or universities earned more than $1 million in 2010, according to an annual study by the Chronicle of Higher Education. Topping the list in Pennsylvania was Amy Gutmann, president of the University of Pennsylvania, who earned a base salary of $915,000 and total compensation of $1,463,000.

Tax-the-Rich Obama Fairy Tale Won't Magically Restore Public Services. [Scroll down] Since Ronald Reagan became president and began wielding those menacing scissors to cut tax rates, total education spending per student has nearly doubled. On the federal level, the U.S. Department of Education spent $14.2 billion in constant dollars when Reagan came to Washington, but the budget rose to $56 billion in 2006 under President George W. Bush. From that point forward, with the reduced Bush tax rates firmly in place, spending soared again to $71 billion in 2011.

Advance Illinois releases dismal report on education in Illinois. Years of overhaul efforts have done little to improve schools in Illinois, and a comprehensive and sustained program to change how children are educated in the state's public schools is needed, leaders of an education reform group said Tuesday [11/13/2012]. "We're going to have to hit this with a 2-by-4," said Robin Steans, executive director of Advance Illinois. According to a report released by the organization Tuesday, only one-third of Illinois students complete fourth grade proficient in reading; the same percentage of students is academically prepared at the start of high school; and fewer than one-third of students leave high school ready for college.

Changing Demographics? More Like Enduring Ignorance. On election night, for the umpteenth time, I went to the local food mart, and gave the high school kid working the register a five dollar bill for something that cost $2.32. She punched it into the computer, after which I gave her the thirty-two cents. By now, most of you know where this is going: the dazed look, alternating between the change and me, as if I'd handed her the Dead Sea Scrolls and demanded a translation on the spot. Of course if I'd used that analogy to make light of the moment, it wouldn't have mattered: these kids aren't just mathematically illiterate, they wouldn't know what the Dead Sea Scrolls are either — unless it was the name of a new app for their I-phones.

Students sickened after eating lunches contaminated with droppings. Students at a Chicago high school fell ill Wednesday [10/10/2012] after eating contaminated school lunches, a CPS spokesperson confirmed. Two students reportedly became sick at Hirsch High School on the city's south side after eating hot school lunches that were contaminated with rat or mouse droppings. The food appeared to have been chewed by either a rat or a mouse. The students were hospitalized after becoming sick and are expected to be ok. The kitchen has been shut down for inspection.

The Imaginary Teacher Shortage. For decades we have tried to boost academic outcomes by hiring more teachers, and we have essentially nothing to show for it. In 1970, public schools employed 2.06 million teachers, or one for every 22.3 students, according to the U.S. Department of Education's Digest of Education Statistics. In 2012, we have 3.27 million teachers, one for every 15.2 students. Yet math and reading scores for 17-year-olds have remained virtually unchanged since 1970, according to the U.S. Department of Education's National Assessment of Educational Progress.

Obama's America: Student Reading SAT Scores Hit Record Lows. No doubt the Obama administration will combat this problem by complaining about racial discrepancies in education and suggesting pouring billions more down the rathole that is the public education system — all the while avoiding scrutiny for teachers unions. That's the all-purpose liberal solution: cash, cash, and more cash.

OSU president expenses in the millions. E. Gordon Gee makes millions as president of Ohio State University, but a Dayton Daily News investigation found the university spends almost as much for Gee to travel the globe, throw parties, wine and dine donors, woo prospective faculty, hang out with students and staff and maintain a 9,600-square-foot mansion on 1.3 acres.

10 Public Colleges with Insanely Luxurious Dorms. Competition for students who have more sophisticated tastes than in past years is creating the perfect environment for schools to try to outdo each other with ever-more posh on-campus housing.

Obama Administration 'Strengthening the American Workforce' with $500 Million 'Investment' in Schools. Labor Secretary Hilda Solis announced on Wednesday [9/19/2012] that her department and the Department of Education are giving out $500 million in grants to community colleges and universities around the country as part of a $2 billion, four-year plan to expand training programs.

Academic Dishonesty. In today's college climate, we shouldn't be surprised by the outcomes. A survey conducted by the Center for Survey Research and Analysis at the University of Connecticut gave 81 percent of the seniors a D or an F in their knowledge of American history. Many students could not identify Valley Forge, words from the Gettysburg Address or even the basic principles of the U.S. Constitution. The National Center for Education Statistics reported that only 31 percent of college graduates can read and understand a complex book.

Useless, Costly Teacher's Unions. [Scroll down] Heartland's S.T. Karnick, Director of Research, noted that "The average teacher salary in Chicago is $74,839, plus benefits far better than those available in the private sector. Yet Chicago Public Schools are among the nation's worst, which is saying a lot." According their own data, Chicago's public schools "failed to make adequate yearly progress in student achievement last year. Children in the city's private and charter schools do much better at a fraction of the cost."

Gallup: Americans Rate Public Schools the Worst Place to Educate Children. A new Gallup poll released today indicates that Americans rate public schools the worst place to educate children. In the national survey conducted Aug. 9-12, private independent schools, parochial and church-related schools, charter schools and home-schooling all rated higher than public schools.

Federal Subsidies to Chicago Schools: $4 Billion in 4 Years; $10,540 Per Student. Taxpayers in places as divergent as Florida and Montana, Nevada and New Hampshire, Arizona and Maine — as well as their children who will eventually need to pay the interest on the federal government's growing debt — may not think they have a stake in the Chicago teachers strike, but in fact the budgets of the Chicago Public Schools show that American taxpayers everywhere have literally billions at stake in what goes on in this one city's public school system. Over the past four years, the Chicago public schools have churned through total revenues of approximately $20.27 billion and about $4.26 billion of that revenue — or almost 21 percent of it — has come from the federal government.

President Obama wants to improve the education of black students. Why not all students?
Obama's Educational Excellence Initiative. President Barack Obama recently wrote an executive order that established a White House initiative on educational excellence for black Americans that will be housed in the Department of Education. It proposes "to identify evidence-based best practices" to improve black achievement in school and college. Though black education is in desperate straits, the president's executive order will accomplish absolutely nothing to improve black education. The reason is that it does not address the root causes of educational rot among black Americans.

How American Public Education Has Become a Criminal Enterprise (Part 2). Back in 1983, the National Commission on Excellence in Education produced its long-awaited and by now totally ignored report entitled "A Nation at Risk." [...] This harsh indictment was handed down 29 years ago, and the schools have only gotten worse. Dumbing down an entire nation is certainly a crime of such magnitude that it is barely understandable. What kind of Americans would have dreamed up such a plan and callously implemented it, knowing full well that it would undermine the nation's economic and cultural health as well as inflict untold mental suffering on millions of Americans who are now adults trying to cope with the handicaps their schools gave them?

The Education Blob. Since progressives want government to run health care, let's look at what government management did to K-12 education. While most every other service in life has gotten better and cheaper, American education remains stagnant. Spending has tripled! Why no improvement? Because K-12 education is a virtual government monopoly — and monopolies don't improve. In every other sector of the economy, market competition forces providers to improve constantly. It's why most things get better — often cheaper, too (except when government interferes, as in health care).

The Underclass. In one essay, "We Don't Want No Education," reprinted by City Journal, [Theodore] Dalrymple says that he cannot recall meeting a 16-year-old from the public housing project near his hospital who could perform simple multiplication operations, such as nine times seven. One 17-year-old told him, "We didn't get that far." This was after 12 years of attending school.

We Don't Want No Education. Just as it was impossible to go broke underestimating the taste of the American public, so it is impossible to overstate the abysmal educational depths to which a large proportion of the English have now sunk, boding ill for the country's future in the global market. Very few of the 16 year olds whom I meet as patients can read and write with facility; they do not even regard my question as to whether they can read and write as in the least surprising or insulting. I now test the basic literacy of nearly every such youth I meet, in case illiteracy should prove to be one of the causes of his misery. One can tell merely by the way these youths handle a pen or a book that they are unfamiliar with these instruments.

Toronto schools pay high prices for small jobs. Here's what taxpayers were charged for work done at Toronto public schools:
Installing a $17 pencil sharpener: $143 to put in four screws.
The installation of a sign on a school's front lawn: $19,000
An electrical outlet on the wall in a school library: $3,000
A "breakfast club" kitchen: $250,000

Obama the Reactionary. [Scroll down] You have to remember that Obama was given nearly 100 million dollars of play money by the Chicago Annenberg Challenge, courtesy of Bill Ayers, supposedly to fix the inner city school system. When the money was all spent Obama's campaign was launched, but nothing had changed in Chicago's schools.

Not worth the debt. Pretty much everyone agrees that the increases in tuition (which have vastly outpaced consumer prices and family incomes) and the growth in student-loan debt (which now exceeds credit-card or auto-loan debt) are unsustainable. As economist Herb Stein famously said, something that can't go on forever, won't.

New Normal: Majority Of Unemployed Attended College. For the first time in history, the number of jobless workers age 25 and up who have attended some college now exceeds the ranks of those who settled for a high school diploma or less. Out of 9 million unemployed in April, 4.7 million had gone to college or graduated and 4.3 million had not, seasonally adjusted Labor Department data show.

In Obama's economy, it's better to forget college. For how many generations have parents told their offspring that a college education would virtually guarantee economic success in life? Well, not in Obama's economy. All part of his hopeless change.

Why College Football Should Be Banned: In more than 20 years I've spent studying the issue, I have yet to hear a convincing argument that college football has anything do with what is presumably the primary purpose of higher education: academics. That's because college football has no academic purpose. Which is why it needs to be banned. A radical solution, yes. But necessary in today's times.

Higher Education Theatre of the Absurd. Higher education today is a nightmare. There are a trillion dollars in potentially toxic student debt. We see people with PhDs on food stamps, a 400% rise in tuition over 20 years, and only 49% of college grads finding jobs within a year. According to the left, these woes result from a "conservative war on professors." But wait. If conservatives dislike the professoriate, it is because the professoriate has done an excellent job excluding right-wingers.

The fruits of the public school system:
One in three Americans would 'fail citizenship test'. A survey has found that around one third of U.S. citizens would fail the country's citizenship test for immigrants. The study, conducted by the Center for the Study of the American Dream at Xavier University, in Cincinnati, Ohio, found that one in three respondents would fail the civics portion of the test given to those applying for U.S. citizenship. More than 1,000 Americans over the age of 18 were asked 10 random questions from the civics test, which asks about US history and government topics.

Obama to Speak at 'Luxury' Public School. [Scroll down] What the official announcement left out was that this isn't just any public school ... it's a luxury school. "Arlington's new Washington-Lee High School is nearing completion," the Washington Post reported in August 2007. "In January, students at the school will begin a transition into a $95 million building with a vegetated 'green' roof, a 10-lane swimming pool and a cyber cafe. Some parts of the old school will remain in use after January while construction is completed on the new building."

Illinois considers charging kids for riding school buses. The big yellow school bus, that enduring symbol of free public education, may not be so free in the future in Illinois. State education officials, struggling to find savings as the Legislature reduces funding, are considering a plan that would allow school districts to charge students for transportation.

Taxpayers Finance a $537,767-Per-Year Bureaucrat. [Long Island school Superintendent Carole] Hankin and the other bureaucrats mentioned [in this article] are extreme examples, but they help underscore the problem that exists when politicians and bureaucrat unions make insider deals, swapping political support for lavish compensation levels.

American Education Fails Because It Isn't Education. Twenty years ago the U.S. ranked first in the world in the number of young adults who had high school diplomas and college degrees. Today we rank ninth and seventh, respectively, among industrialized nations. Compared to Europe and Asia, 15-year-olds in the United States are below average in applying math skills to real-life tasks. The United States ranks 18 out of 24 industrialized nations in terms of relative effectiveness of its education system. Knowledge in history, geography, grammar, civics and literature are all in decline in terms of academic understanding and achievement.

Want to Be Unemployed? Get This College Degree. A study released Wednesday [1/4/2012] by Georgetown University's Center on Education and the Workforce found that among recent college graduates with undergraduate degrees, architecture had the highest rate of unemployment at 13.9 percent, followed by the arts (11.1 percent) and the humanities (9.4 percent).

Cup stacking is a silly excuse for a sport. Stacking is about as ridiculous as the Olympic sport of curling, but offers far less cardiovascular benefit. It's also surprisingly expensive. ... The thing that drives me wild is that, according to Speed Stacks' official website, 10,511 schools have incorporated cup stacking into their gym curriculum. You read that correctly -- gym curriculum! Childhood obesity rates are rising, but we have millions of children standing around in gym classes across America building pyramids with plastic cups. Meanwhile, playgrounds lie abandoned, balls wait unbounced in dark storage rooms and outdoor tracks silently bake under the sun.

Why is Public Education Failing? It's a fact. Most of today's school children can barely read or write. They can't perform math problems without a calculator. They barely know who the Founding Fathers were and know even less of their achievements. Most can't tell you the name of the President of the United States. It's pure and simple; today's children aren't coming out of school with an academics education. Colleges know it. They have to set up remedial courses for incoming freshmen just to prepare them for classes. Parents know it. Their children grow dumber everyday. The politicians say they know it. They hold hearings to grill education "experts," and they hold high-powered education "summits" to debate and discuss the "problem." And they keep coming up with more federal programs and dictate more standards and spend more taxpayer dollars to fix the problem. But the problem continues to explode. Why?

$600,000 spent; two students pass.
Advanced Placement programs not paying off. Few of the students who attend Charleston's lowest-performing schools can pass the rigorous Advanced Placement tests, but school leaders say they're committed to changing that. The school district has poured more than $600,000 into downtown Burke High during the past three years for its AP Academy, a program started in the fall of 2008 to give the school a needed academic boost. Only two students have earned "passing" scores to receive college credit during the past two years.

So When Are We Allowed to Be Intolerant? [Scroll down] Education, a core function of state and local governments, is an industry where performance is measured by inputs rather than by outputs. If the quality of performance decreases, governments at all levels say we're not paying teachers enough, or we need smaller class sizes, or newer schools, or we need more money to throw at the problem. Between 1970 and 2005, school spending per pupil, adjusted for inflation, doubled, while standardized achievement test scores did not improve. Over almost that same time period, public-school employment doubled per student.

Ohio's 'Excellent' School Ratings a Farce. More than 50 percent of the state's eighth graders scored at an accelerated or advanced level in reading, and 33.7 percent in math, according to Ohio's assessment, but the NAEP score showed just 3 percent of eighth-grade students scoring at advanced levels in reading and 8 percent in math. "States and districts have strong incentives to claim their students are performing at the highest level even when they are not," said Paul Peterson, a senior fellow at the Hoover Institution.

The fruits of the public school system:
80% of minorities ineligible to join military. The Pentagon is struggling to meet President Obama's demands for more diversity in officer-ranks because a stunning 80 percent of minority teens who might consider military service are ineligible because of bad grades, criminal records, obesity and drug use, the head of the Military Leadership Diversity Commission revealed Tuesday [3/6/2012].

These Are The Worst Teachers In New York City. After a prolonged legal battle, the New York City Department of Education on Friday [2/24/2012] released individual performance rankings for 18,000 public school teachers. The data rates teachers based on their students' gains on the state's math and English exams over five years in fourth- through eighth-grade classrooms, according to the Wall Street Journal's Lisa Fleisher. The teachers' union had filed a lawsuit to stop the data from being released, but last week a judge sided with the city and ruled that it could be made public.

Department of Education: Catholic Schools Beat Public Schools. When two schools meet in a basketball game, the winner is indisputable. One team outscores the other. The same is true in certain types of academic competition. When students take standardized national tests, students from some schools outscore students from others. In the most recent round of National Assessment of Educational Progress tests, which are administered by the U.S. Department of Education, the winners were indeed indisputable. Catholic schools thrashed public schools.

Why Math Matters: [Scroll down] It turns out that only 7 percent of U.S. students perform at the advanced level in math. Forty-five percent of the students in Shanghai are advanced in math, compared with 20 percent in South Korea and Switzerland and 15 percent of students in Japan, Belgium, Finland, the Netherlands, New Zealand and Canada.

Public school students flunk pop quiz:
Video Evidence That Our Education Dollars are Well Spent. In the public education system, the United States spends over $10,000 per pupil per year. Where does it all go?

The Editor says...
The video clip in the article above is truly remarkable. It is surprising to see how many "students", evidently in a public high school, do not know how many states are in the U.S., or how many countries border the U.S. These are things they should have learned in the 4th or 5th grade. There is no doubt in my mind that the same interviews could be conducted in South Dallas with even more shocking results.

Sick, sick, sick. More than 300 CPS principals and administrators each grabbed more than $100,000, cashing out unused sick days and vacation days, from 2006 to 2011, the BGA [Better Government Association] reported.

Why "No Child Left Behind" Hasn't Worked: Of course, none of these federal programs does anything to raise the test scores of minority children because they are stuck with all of these progressive programs that refuse to teach children to read with intensive, systematic phonics. And that's why dropout rates keep climbing, and the SAT reading scores have dropped to their lowest point in decades.

Disgraced teacher is worth $10M, makes $100,000 a year, does nothing, & refuses to leave. In a defiant raspberry to the city Department of Education — and taxpayers — disgraced teacher Alan Rosenfeld, 66, won't retire. Deemed a danger to kids, the typing teacher with a $10 million real estate portfolio hasn't been allowed in a classroom for more than a decade, but still collects $100,049 a year in city salary — plus health benefits, a growing pension nest egg, vacation and sick pay.

Public Union Hero of the Day. This is working the rules exactly as the unions have negotiated it. The rubber rooms, by the way, were for teachers accused of questionable behavior — not the totally incompetent. And there are plenty of totally incompetent teachers in the NYC system. All those credentials mean bupkis, when one considers that education majors tend to be the weakest academically in most colleges. I would say that's ironic, but it's pretty much guaranteed.

SI teacher puts himself on camera languishing in the rubber room. This Staten Island teacher wants the world to know he is paid $75,000 a year to do nothing all day long. More than two years after the city shut down the so-called rubber rooms that served as detention centers for teachers, Francesco Portelos sat in front of a live cam Thursday [10/4/2012], killing time. "I want people to see where their tax dollars are going," said Portelos, 34, who taught technology at Intermediate School 49 until last spring, when he got yanked from the classroom, he said. "I'm getting paid $75,000 to sit around."



One year on the job, 13 years in rubber room earns perv teacher $1M. He worked just one year as a full-time teacher in New York. But he has collected nearly $1 million for 13 years for doing almost nothing. Aryeh Eller, 46, a former music teacher at Hillcrest HS in Queens, is the longest-sitting "rubber room" teacher in the city. He was yanked from the classroom in 1999 and confessed to repeated sexual harassment of female students, according to a 2000 investigative report.

The return of 'rubber rooms' — another step backward for de Blasio's schools. Under Mayor de Blasio, New York public schools seem to be moving in only one direction — and it's not forward. For evidence, note Susan Edelman's story in Sunday's [1/17/2016] [New York] Post. The ridiculous "rubber rooms" — where the city Department of Education keeps teachers it's trying to fire for incompetence or misconduct — are back. The power of the United Federation of Teachers is such that out-and-out firing these teachers is a nonstarter. Thus the rubber rooms — officially, "reassignment centers" — where these teachers get paid to twiddle their thumbs.

Rubber Rooms' Kissing Cousin: New York City's Absent Teacher Reserve Program. New York City government schools have had some pretty outrageous policies. Rubber rooms were a great example. They were special places created for teachers accused of crimes, incompetence and the like. Due to state tenure laws, it actually cost less to house the failed teachers in a location where they couldn't inflict more damage on students, than to go through the lengthy and expensive legal process necessary to fire them. Thanks Big Labor! Now New York administrators are trying to deep-six a program created a few years ago in the collective bargaining agreement with the United Federation of Teachers: the Absent Teacher Reserve.

Disgraced millionaire typing teacher collects $100k a year from NYC. Alan Rosenfeld — a 66-year-old disgraced typing teacher — hasn't taught since he was accused of making inappropriate comments and leering at 8th grade girls in 2001, but still collects $100,049 a year from the city, the New York Post reports. Rosenfeld, a millionaire businessman and attorney, could have retired at 62 but, a friend told the Post, "It's an F-U" to the school system. And every year he stays onboard, his $85,400 yearly pension grows by another $1,700.

Charter Schools Beat the Daylights Out of Public Schools. Is it any surprise that the mainstream media is ignoring the many recent reports that confirm the vast qualitative divide between public and charter schools? First was the news that the most recent Scholastic Aptitude Test (SAT) scores in reading and writing (for the 2011 high school graduating class) have hit a new low. About 1.6 million students — mainly high school seniors planning on attending college — take the SAT every year. The average national SAT scores for 2011 fell in every area of the exam — reading, math, and writing. In fact, the reading and writing scores were the lowest ever. Moreover, the SAT scores show that only 43% of the test-takers had full college-level skill, which is defined as a composite score of 1550 out of 2400.

If America Spends More Than Most Countries Per Student, Then Why Are Its Schools So Bad? Comparatively speaking, the United States does not starve its education system of revenue. The U.S. is one of the leaders in spending on Education, and yet it's [sic] schools are rated "average" by international bodies.

Report: Half of American Schools Failed Federal Standards. Nearly half of America's public schools didn't meet federal achievement standards this year, marking the largest failure rate since the much-criticized No Child Left Behind Law took effect a decade ago, according to a national report released Thursday [12/15/2011]. The Center on Education Policy report shows more than 43,000 schools — or 48 percent — did not make "adequate yearly progress" this year. The failure rates range from a low of 11 percent in Wisconsin to a high of 89 percent in Florida.

Why Pay Teachers More For Poor Student Performance? Does anyone poor-mouth their pay more than public school teachers? A new study finds that to the contrary, teachers make 50% more than comparable private workers. So what do taxpayers get for this premium? The short answer is poor schools, falling test scores, high dropout-rates, foolish policies, a free ride for the academic bottom dwellers and a growing home-school movement fleeing the system. In sum, a Big-Labor dominated system that serves itself — not the public.

This Texas Town Is Building A $40M Bus Barn, To Go With Its $60M Football Stadium. The same board that approved a $60 million high school football stadium in Allen, Texas a few years back now intends to throw tax dollars at a $40 million industrial bus depot one block from a local elementary school, according to a group of local residents embittered over the school district's new plans.

The opposition has its own web site:
Stop the Barn. Allen ISD wants to build a massive 130,000 sq. ft. industrial bus depot, warehouse, and distribution center on a 42 acre lot, right next to residential neighborhoods. ... There's no question this will be an industrial facility. As we discuss in our Residents' Report, the zoning for Watters land prohibits nearly all the above. But unfortunately, AISD is not subject to the city's zoning.

After $60M stadium, Texas school now wants $32M 'bus barn'. The latest controversy in Texas' education saga is unfolding in Allen, a Dallas suburb, where school officials are following construction of a new $60M school stadium with the quest to build a new service center, at a cost projection of $32M, which would combine the transportation, facility and maintenance, distribution center, and food service departments all at one site. Called a "bus barn" by the opposition, the new center is projected to save the school district a total annual estimated cost savings of $139,695, making the payback period 230 years.

Allen Throws Taxpayers Under Bus. There is no doubt Allen has experienced rampant population growth over the past few decades, so the school district is building a new bus barn. Rather than renovate the existing facility, bureaucrats naturally want to instead build a brand new $40 million structure.

The higher ed bubble is bursting, so what comes next? A couple of years back, I suggested in these pages that higher education was facing a bubble much like the housing bubble: An overpriced good, propped up by cheap government-subsidized credit, luring borrowers and lenders alike into a potentially disastrous mess. Subsequent events have proved me right as students have begun to think twice about indebtedness and schools have begun to face pressure over tuition. For higher education, costs have skyrocketed even as the value of their product has been declining, and people are starting to notice.

President Obama Promotes Plan to Raise College Tuitions. By limiting student obligations to repay, and by passing more of the repayment burden onto taxpayers, colleges and universities will be able to continue to raise tuitions at a rate that outpaces nearly every other cost center in the American economy.

Save the World on Your Own Dime. One public university in North Carolina has just found money to start (in the midst of a budget crisis) a new scholarship to reward feminists for engaging in feminist political activism on the job. Here in the Tar Heel state, this year's budget cut in higher education is nearly 16%. But there was still enough money in the pot to create a new Janet Mason Ellerby Women and Gender Studies Scholarly Award. The award was created to recognize Ellerby's "significant contributions to feminist scholarship and activism." What are those contributions?

Obama Gets a Failing Grade on Education. This from a Huffington Post article — 2011 National Math, Reading Test Scores Show Sluggish Growth: ["]On the 2011 National Assessment of Educational Progress, administered every two years, average scores in fourth and eighth-grade math increased slightly, gaining one point each on a 500-point scale since 2009 and continuing a trend of minimal increases since 2003.["] ... While the writer is a master of the understatement the article is missing one little fact — The Obama administration has increased Department of Education spending by 40% annually since taking office. If you consider the result of the extra $30 billion in annual spending is a .000667 times average increase in yearly testing scores from 2009-2011, I would say it's more likely a huge failure than a minimal increase.

Occupy Wall Street gets the ink, Tea Party gets the voters. [Scroll down] If education is so great, after all, why are so many educated people unemployed and camping out in public parks? ... It's not that the education system is our only public-spending failure, it's just that the Occupy movement has done such a persuasive job of illustrating the particular failures of the education system.

College Has Been Oversold. Education is the key to the future: You've heard it a million times, and it's not wrong. Educated people have higher wages and lower unemployment rates, and better educated countries grow faster and innovate more than other countries. But going to college is not enough. You also have to study the right subjects.

Education Spending Up 64% Under No Child Left Behind But Test Scores Improve Little. Although federal education spending has increased by nearly 64 percent since the inception of the No Child Left Behind education law, there has been little improvement in America's test scores and an overall further diminishment of U.S. education on the world stage.

Exciting Schools. School spending has doubled over the past 30 years. Yet what do we get? More buildings and more assistant principals — but student learning? No improvement. If you graph the numbers, the spending line slopes steeply, while the lines for reading, math and science scores are as flat as a dead man's EKG. Why no improvement? Because K-12 education is a government monopoly, and monopolies don't improve.

Illiteracy, the scourge of Philadelphia. Among the nation's largest cities, Philadelphia has the highest percentage of poor people and the lowest percentage of college graduates. Compounding the problem, perhaps the city's greatest challenge, is a staggering and profound lack of literacy.

SAT reading scores at all-time low. SAT reading scores for the high school class of 2011 were the lowest on record, and combined reading and math scores fell to their lowest point since 1995.

SAT reading scores drop to lowest point in decades. SAT reading scores for graduating high school seniors this year reached the lowest point in nearly four decades, reflecting a steady decline in performance in that subject on the college admissions test, the College Board reported Wednesday [9/14/2011]. In the Washington area, one of the nation's leading producers of college-bound students, educators were scrambling to understand double-digit drops in test scores in Montgomery and Prince William counties and elsewhere.

The Statist Dictionary: _______ Studies. Indicates a university course where little actual scholarship is required (Women's Studies, Black Studies, Queer Studies, Religious Studies, Islamic Studies, Environmental Studies), which prepares students for careers as Walmart greeters, burger-flippers, and government employees. If your child is majoring in a field that ends in Studies, you may expect to have your basement occupied until the first property tax bill arrives after your death.

Pay More To Get Less? Paying teachers $150,000 salaries will transform public schools, promises Education Secretary Arne Duncan. Would a better-paid crew have saved the Titanic as it was sinking?

Florida schools have a spending problem, not a funding problem. Florida's taxpayers should be asking why their schools have scads of non-instructional employees on the payroll when that work could be outsourced to private companies, for a fraction of the cost. That would free up a bunch of money that schools could then spend in the classroom educating students. As it currently stands, Florida's school employee unions have turned public education into their private financial playground, ensuring that the adult workers are getting automatic pay raises, retirement bonuses, lavish benefits, and anything else they can sneak into their contracts.

The Superiority of School Vouchers Demonstrated. The failure of the American K-12 public school system has been obvious for decades. Some of us fossils can recall the public uproar that accompanied the release of the report "A Nation at Risk" back in 1987, documenting the mediocre at best, disastrously bad at worst performance of the nation's public schools. The public school special interest groups (the PSSIGs) — that is, public school administrators, education department professors, "labor studies" professors, textbook publishers, and most notoriously teachers unions and their members — managed to turn the outrage into support for jacking up spending.

Tennessee schools get $3 million for fresh fruit, veggies. Tennessee schools will share $3 million in federal funding for more students to eat healthy fresh fruit and vegetables this school year. The state was awarded a $3.15 million grant by the U.S. Department of Agriculture to prepare the healthy snacks at no charge to students in 156 low-income elementary and middle schools.

The Editor says...
Bring your own lunch, freeloaders! It is not the proper role of government to hand out "free" food to individuals of any age. To put it another way, it is not the proper role of government to take money out of my paycheck in order to buy snacks for someone else's illegitimate children.

It Strikes Me As Odd. One of the hardy perennials of American politics is an insatiable demand for more educational spending. Outlays for education have been steadily and massively growing year by year, while the academic achievements of American kids have been dropping. If it were only about money, schools in Washington, D.C. would be the best, not the last, in the nation.

The coming college crash. We flatter ourselves that America is the land of individuality, and that college is the place we go to "find" our unique "selves." In fact, at prohibitive cost, college is churning out a single kind of person — self-entitled, immature and compliant. The nation's prestigious cookie-cutters, and the human cookies they mass produce, are luxuries we can no longer afford.

Michigan to Take Over Detroit's Worst Schools. Detroit's poorest-performing schools will be placed in the hands of a new statewide authority next year, the latest attempt to turn around one of the worst education systems in the nation. Michigan Governor Rick Snyder announced on Monday [6/20/2011] that a new authority, dubbed the Education Achievement System, will operate the lowest 5 percent of schools in Michigan.

Superintendent Brings Home $500,000. Fox 5 News reports that Syosset schools superintendent Carole Hankin rakes in more than half million dollars a year. She heads what is billed as one of the top school districts in the country, and people pay steep property taxes to fund the schools.

L.A. public school system wastes $500 million on pointless training, report says. The Los Angeles Unified School District squanders more than $500 million a year on an academic-improvement strategy that has consistently proven to be ineffective, researchers concluded in a report released Tuesday [6/7/2011]. The nation's second-largest school system spends 25% of its teacher payroll ($519 million a year) to compensate teachers for completing graduate coursework. These courses are a primary means by which teachers earn credits that translate to raises.

So You Have a College Diploma. Now that your time and money are tapped out, this diploma will serve as lasting reminder of everything you accomplished during your magical four to seven years on campus. Please take it with our compliments, and treasure its distinctive elegance during the many, many free hours you will soon have after moving back home with your parents.

Perpetuating Federal Spending on Education. We've spent $2 trillion on education since federal aid began in 1965. The specified goals were to improve student achievement, eliminate or narrow the gap between upper-income and low-income students, and increase graduation rates from high school and college. We have little or nothing to show for the taxpayers' generosity. Even Education Secretary Arne Duncan admitted that 82 percent of public schools should be ranked as failing.

$500 Million Program Will Help Kids 'Sit Still' in Kindergarten. Health and Human Services Secretary Kathleen Sebelius told CNSNews.com on Wednesday that the administration's new $500 million early learning initiative is designed to deal with children from birth onward to prevent such problems as 5-year olds who "can't sit still" in a kindergarten classroom.

The Editor says...
The Mennonites accomplish this at no cost. How? Strict discipline and no television!

Taj Mahal Schools. The latest installment of this expensive misguided endeavor is a $100 million dollar school located in New York City's largely black Harlem targeting under-performing students. ... The facilities include 52 classrooms equipped with state-of-the art electronics, three science labs, a two-story library, a fitness room and dance studio. Also included are in-school access to medical doctors, psychologists and a dentist while a school chef will prepare low-fat meals for breakfast and lunch. Add a longer school day and extended school year plus after-school programs to help with homework and for those who stay around until 9:00 pm, sports, music and other activities. ... There is nothing in this catalogue of costly measures that will fix academic insufficiency.

Government Schools: Antiques Preserved in Political Amber. No one will fix the schools; everyone who can depends on their staying as they are. A genuine fix would destroy the public education empire exactly as the industrial revolution destroyed agrarian society. That looming threat cements the status quo in place at any cost. That cost, paid by students, parents, voters and the country, is high: dropouts, incompetence and political indoctrination instead of education at about twice the cost per pupil needed in other places that do better. Politicians defer to the teachers' unions; it's national news when one doesn't.

Stimulus Pays Off With Obama Teachers Union Endorsement. [Scroll down] So we have to ask ourselves: What did we get for the money? Tens of thousands of teachers remain employed, the unions reaped tens of millions in dues, but what was the return on the investment for taxpayers and students. The answer is very little. As we've seen over and over again, government education dollars are for the teachers and their unions, not the kids who are supposed to be learning.

More about the teachers' unions.

55% of Americans Prove Failure of Education. Last Friday, a new CNN survey showed that 80% of Americans believe the economy is in poor shape. Who could argue with them? With unemployment ticking back up to 9%, home values still sliding, surging gas prices, lackluster confidence on the part of consumers as well as business leaders, and an apparently out-of-control national debt with no visible signs of solutions that are agreeable to both sides, we seem to be stuck in doldrums for the long run. Here is the shocker in the same survey: 55% of Americans blame former President Bush and the Republicans for the mess we are in!

High-schoolers' civics knowledge waning. Three out of 4 U.S. students lack a basic understanding of democracy, of how the U.S. political system works and what it means to be a citizen of this country, according to national test scores released Wednesday [5/4/2011]. That equals a failing grade in civics.

'The war people are trying to take money from our school'. The word "education" appears in the Constitution exactly zero times. Constitutionally, education is not (nor should it be) a function of the federal government. Further, the overwhelming majority of funding for public schools comes from local and state taxes. The federal defense budget, no matter how bloated, has no impact on education whatsoever. Every college graduate should be able to easily explain this. Overall, the U.S. has quadrupled (adjusted for inflation) spending on education in the last 50 years, and has nothing to show for it whatsoever.

The Schools Scandal. American spending on public education, adjusted for inflation, has more than doubled over the last three decades. What did taxpayers get for their money? The average math and reading scores of American 17-year-olds have not improved since the early 1970s, according to the National Assessment of Educational Progress long-term trend assessment. Twice the money. Zero progress.

Report: Journalism Degrees Are Probably Just As Useless As You Expected. Getting into a good university, as anyone will tell you, is hard work. Harder still is mustering up the confidence that your (often all too pricey) education will be put to good use, so that one does not find oneself spending an entire semester reading The Canterbury Tales in its original middle English for nothing. It's good to know ahead of time, then, that your degree has some sort of worth, that it will eventually lead to a well-paying job rife with opportunities for advancement. Which is exactly why I will dissuade my hypothetical children from majoring in journalism...

The Myth of Racial Disparities in Public School Funding. Achievement disparities among racial and ethnic groups persist in the American education system. Asian and white students consistently perform better on standardized tests than Hispanic and black students. While many commentators blame the achievement gap on alleged disparities in school funding, this Heritage Foundation paper demonstrates that public education spending per pupil is broadly similar across racial and ethnic groups. To the extent that funding differences exist at all, they tend to slightly favor lower-performing groups, especially blacks. Since unequal funding for minority students is largely a myth, it cannot be a valid explanation for racial and ethnic differences in school achievement, and there is little evidence that increasing public spending will close the gaps.

A liberal arts education is a degree in B.S.. Instead of teaching students how to approach problems from a multidisciplinary perspective, today's U.S. higher education system is teaching students how to deceive people. Employers looking to hire hard-working, competent employees may want to think twice about the quality of a liberal arts education. According to a 2010 study from the Association of American College and Universities, employers desire workers with broad educations, but is this really what modern liberal arts programs are supplying? As someone who is about to graduate from a well-regarded liberal arts school, I can firmly say no.

Education Spending Won't Create Jobs. A report by the Federal Reserve Bank of Cleveland confirmed that when it comes to long-term unemployment, the length of unemployment is unrelated to education level. Although employment is higher for people with more years of education, the duration of unemployment is the same for all education levels. ... The Obama administration continues to propagate the falsehood that solving the unemployment problem requires "more investments in education." Investment is a favorite liberal code word for more spending and higher taxes.

The Education Department's 82% Failure Rate. Education Secretary Arne Duncan blames — you guessed it — George W. Bush for the steep decline of public schools. How much failure does it take for politicians to recognize government as the problem?

Education Spending Has a Simple Solution. We have precious little to show for the $2 trillion in federal education spending over the past half century, and Andrew J. Coulson of CATO has the charts to prove it. It now costs three times as much to provide essentially the same education as we provided in 1970. Even this bad news fails to give the big picture because, as productivity was falling in public schools, it was rising everywhere else. Nearly all the products and services most of us buy have gotten better, more affordable, or both, over the past two generations.

Teacher Training Provides an Education on Government Waste. In fiscal year 2009, the federal government spent $4 billion on professional development for teachers. But a report from the nonpartisan Government Accountability Office says the money was divided among 82 different programs spread through 10 different government agencies. Within the Department of Education itself, eight different offices administer 60 programs for teacher retraining.

Eliminating the U.S. Department of Education: The Department of Education was established to promote "student achievement and prepare them for global competitiveness by fostering educational excellence and insuring equal access." Since 1979 when the Department of Education was created and with the passage of laws regulating education, such as the No Child Left Behind, the result has been an education system where compliance with laws becomes the rule of the day rather than the primary focus being quality education.

Wisconsin's Teachers: Betraying Students, Robbing Taxpayers. The average salary of a Milwaukee public school teacher is $56,500. But factor in the enormous benefits packages, including health care and pensions, and the annual average compensation is $100,005! In spite of such well-compensated instructors, and per-pupil spending higher any other Midwestern state, two thirds of Wisconsin 8th graders cannot read at a proficient level, according to 2009 data from the U.S. Department of Education. Twenty-two percent, or nearly one in four students, cannot even read at a "basic" level. True, that is slightly higher than the national average — but what a pathetically weak average it is! An atrocious 30 percent of 8th graders nationwide are "proficient" readers.

Doin' the Madison Mis-Step. Our educational system has become a money pit where funding levels bear no relationship to results. No, the simple truth is that [teachers have] earned this exalted status not as a reward for excellence but through extortion, by coercive collective bargaining, a monopoly status that fosters inefficiency, waste and mediocrity, and making generous contributions of time and money to a political party that has become little more than an operating arm of the teacher and other public employee unions.

"Reverse seniority" rules are harmful to American education. Since the 1960s, the National Education Association (NEA) and the American Federation of Teachers (AFT) have used their massive campaign war chests — they spent some $59.3 million in the 2009-10 election cycle alone — and collective-bargaining power to insulate teachers from the kinds of performance management found in the private sector. For Baby Boomers, who account for 26 percent of the nation's teachers, the deals are especially sweet.

A college degree does not guarantee a job.
Hollowing Out Science and Engineering Careers. To aggravate the unemployment problem, the US government has brought in hundreds of thousands of foreign professionals by issuing H-1B visas and by utilizing a host of other programs known by their bureaucratic designations: TN, L-1, etc. These programs were created by Congress under pressure from US employers, who cited the shortage of qualified American candidates. ... [However] Michael S. Teitelbaum, Vice President of the Alfred P. Sloan Foundation, said that no one "has been able to find any objective data suggesting general 'shortages' of scientists and engineers." Milton Friedman, a Nobel Prize winning economist, called the program a corporate subsidy.

Bubbles, Bubbles Everywhere. [Scroll down] Lots of poor college students and their strapped parents are floating huge government-subsidized student loans to pay for ever more costly bachelor's degrees that no longer ensure that the recipients are either well educated, will find a job upon graduation or, if employed, will be better-paid than the vocationally trained. Going to college has somehow become seen as a national right rather than a privilege predicated on superior academic achievement, financial sacrifice and continued academic discipline.

Cash for Education Clunkers. Our government already spends more per capita on education than any other of the 34 wealthiest countries in the world except for Switzerland, according to recent analysis of data from the Organization for Economic Cooperation and Development. Overall inflation-adjusted K-12 spending has tripled over the past 40 years, the Michigan-based Mackinac Center for Public Policy points out. Yet American test scores and graduation rates are stagnant. One in 10 high schools is a dropout factory. And our students' performance in one of the most prestigious global math competitions has been so abysmal that the U.S. simply withdrew altogether.

Many Students Learn Little to Nothing in College. The recent study of 2,300 college students showing that half of them learn nearly nothing in the first two years is generating a lot of conversation. As someone who spent more than three decades in the professoriate, what surprises me is why this is news.

Excuses, Excuses. Spending on education has increased more rapidly in the past two years than any sector other than alternative energy. Yet the president reports that America continues to fall behind its competitors. There is no measurable evidence that Obama's injection of funds has had any effect other than to enrich teachers' unions, which are then able to contribute to the political campaigns of Democratic candidates. Obama's call for more spending on education is nothing more than another payoff for his political constituency.

Obviously Obama is paying back the unions for their support.

U.S Receives Report Card — Failing Grade in Science. Scores released Tuesday [1/25/2011] from the 2009 National Assessment of Educational Progress indicate there are still vast numbers of students with rudimentary levels of science knowledge.

Socialism Is Back. [Scroll down] The well-off and well-connected tend to enjoy reasonably good public schools, which help sustain high residential real-estate values in the largely suburban communities that host them. But other Americans are much less pleased with their government schools, particularly the poor, non-whites, and those living in inner cities. Black families, in particular, consistently rate their government schools as performing poorly, and their subjective impressions are borne out by empirical data. The public schools are not a random or inexplicable failure. They are a classical socialist failure, with massively misallocated resources, an ensconced bureaucratic class, and a needlessly impoverished client class.

America Without Government Schools. The public schools use the most boring textbooks to teach bored kids what they really don't care to know. In fact, most public schools don't even teach kids to read properly. They use teaching methods that create reading disability. Now, if you were in charge of teaching your own children to read, would you use a teaching method that produced reading disability? Of course not. You'd seek out a program that produced learning success. Such programs do exist, despite the fact that many public schools refuse to use them.

Death by Ignorance. [Scroll down] The Department of Education (DOE) spends over $160 Billion of our tax dollars: $63.7 Billion in discretionary appropriations plus $96.8 Billion in "bailout" money. There are additional billions spent by states, and billions more in property taxes for local school districts. (For example, the Texas Education Agency spent about $26 Billion in 2009.) The AP article reported that 25% of high school graduates are obese, making them ineligible for military service. This affords an opportunity to highlight one of the most successful functions of government: the opportunity to exploit crises in order to expand.

Quarter of students fail exam for Army. Nearly one-fourth of the students who try to join the U.S. Army fail its entrance exam, painting a grim picture of an education system that produces graduates who can't answer basic math, science and reading questions, according to a new study released Tuesday [12/21/2010].

Black Education Disaster. SAT scores confirm the poor education received by blacks. In 2009, average SAT reading test scores were: whites (528), Asians (516) and blacks (429). In math it was whites (536), Asians (587) and blacks (426). Twelve years of fraudulent primary and secondary education received by most blacks are not erased by four or five years of college. This is evidenced by examination scores taken for admission to graduate schools.

The good life on 36 weeks a year of work. Champion News has just published data on the top teacher salaries in Illinois, making it clear that unionization has enabled a massive raid on the taxpayers' funds. Teaching can be a noble profession, but many of these teachers are cleaning up like bandits for a 9-month work year. In all, over 14,000 teachers in this one state make more than 100,000 a year in salary. When you add in pension, health care, and other benefits (15 days a year of sick leave, payable upon retirement if not used), which can add another 40% or more to salary, these teachers are doing much better than most college professors and many doctors.

Phys Ed teacher pulls down $191,124, Superintendent $350,154. As Illinois citizens struggle with the severe economic downturn plaguing the state, Illinois public school employees enjoy another record year of salaries, fringe benefits and pensions.

Needed Reforms for Public Higher Education in Texas. University costs have gotten out of control, as the universities themselves have become more politicized.

Coburn Report Shows Billions in Education Budget Spent on 'School House Pork'. What do mariachi classes, wine studies and the Rock and Roll Hall of Fame have in common? They were all funded by federal Department of Education earmarks, according to an extensive new report released Thursday [9/30/2010] by Sen. Tom Coburn. The Oklahoma Republican, in a study called "School House Pork," is urging the federal government to suspend these education "slush funds" after finding that lawmakers have secured 5,563 such earmarks, worth $2.3 billion over the past decade.

Spending Less for Better Education: Successful cost-cutting requires satisfying three conditions. First, reductions must improve education, not just make mediocrity less expensive. Second, measures must defeat interests who sustain an expensive, personally lucrative status quo. Finally, cutbacks must create powerful counter-constituencies to resist the inevitable rear-guard action from teachers' unions and all profiting from government's largess.

Detroit Public Schools to lose $19 million. The Detroit Public Schools could face more budget cuts or fall deeper into a financial hole this year, preliminary enrollment counts show. Results reported by the state's Center for Educational Performance and Information from the statewide Sept. 29 enrollment count day show the district has 73,460 students, or 2,593 fewer students than anticipated. The enrollment loss means the district won't get about $19 million in state funds it was counting on.

California, where the graft is greener. The Antelope Valley Union High School District has entered into public-private partnership (taxpayer beware!) with private firm PsomasFMG to build a 9.6 megawatt photovoltaic system, according to a report in Climatewire. And what a deal it is. The school system, which expects to save $40 million over the life of the panels (no word of how long "life" is), will not have to put any money down, instead signing a 20-year power purchase agreement with PsomasFMG for about 80 percent of its power needs. Southern California Edison will generously provide the other 20 percent at a reduced rate.

The Erosion of American Higher Education. In America, the cost of higher education has been rising faster than inflation and health care costs for more than two decades. Money Magazine calculated that college tuition rose by 439 percent from 1982-2007. According to Mark C. Taylor ... four years at a top-tier school will increase from $330,000 in 2020 to $785,000 in 2035 if recent trends continue. What are colleges and universities spending all that money on? If you think it's on initiatives that improve the quality of education for students, you're wrong.

Sorry, But We Deserve Our Schools. The U.S. now spends more per pupil on education than any other major industrialized country. So much is spent that the schools are now hiding the information; a Cato Institute report ... found that public schools across the country are reporting only a portion of their spending. It took a lot of research and some Freedom of Information effort for Cato to assemble the data. For examples, the Los Angeles Unified School District reported a cost per pupil of $10,053, whereas Cato found it was actually $25,208. Washington, D.C. reported $17,542 to Cato's $28,170. Chicago reported $11,536, while Cato came up with $15,875. Cato estimated private school costs for comparison, finding that in Los Angeles, the public school cost per pupil was 201 percent greater than the cost at the average private school there. It was 155 percent greater in Washington, D.C. and 79 percent greater in Chicago. Brainwashing instead of educating isn't cheap.

The Federal Takeover of Education. Federal control over education has been growing since the 1960s despite the fact that the word education does not appear in the Constitution of the United States. ... Look how federal funding for No Child Left Behind led to mandatory testing and proficiency requirements for the states. Did that federal intervention actually lead to higher academic standards or improved student outcomes? No, it led to the dumbing down of many state standards and zero improvement in student outcomes. In fact, ever since President Lyndon Johnson implemented the Elementary and Secondary Education Act in 1965, federal involvement in education has led to zero improvement in student outcomes.

New K-12 school in Los Angeles costs taxpayers $578 million. There's been an ongoing budget crisis in Los Angeles this year. Mayor Antonio Villaraigosa was at one point threatening to shut city services down two days a week to make ends meet. Despite this, it does not appear that the city has been cutting back.

L.A.'s 'Taj Mahal' School's Real Cost. For anyone who ever doubted bureaucrats' ability to spend, one need look only at Los Angeles' newest public school, the most expensive ever built. If only the education inside was as rich. With a price tag of $578 million, the new Robert F. Kennedy Community Schools is an impressive building — perhaps indicative of what some call the Los Angeles Unified School District's edifice complex.

How does a $578 million school get built amid cuts, layoffs in L.A.? A football-field-sized lawn — lined with walks and trees — stretches from the street to a five-story, glass-front building in this otherwise scruffy neighborhood just west of downtown skyscrapers.

Broke — and Building the Most Expensive School in U.S. History. At $578 million — or about $140,000 per student — the 24-acre Robert F. Kennedy Community Schools complex in mid-Wilshire is the most expensive school ever constructed in U.S. history. To put the price in context, this city's Staples sports and entertainment center cost $375 million. To put it in a more important context, the school district is currently running a $640 million deficit and has had to lay off 3,000 teachers in the last two years. It also has one of the lowest graduation rates in the country and some of the worst test scores.

Obama Continues Pushing Absurd College Agenda. If we already are graduating many young people from college who learn little and will wind up in jobs that most high school kids could do, why should we want more of them? ... But shouldn't we worry about "falling behind" other countries? No. We can't magically transform our anemic economy into a powerhouse by scraping the bottom of the barrel to find more disengaged kids to process through our credential factories. The truth is that there is no direct connection between national prosperity and "educational attainment."

Back to the Classroom. How bad are public schools? Much worse than most people realize. So bad that they blight the futures of the young people in them. So bad that if we don't turn back the clock to real education, we will most certainly lose our republic.

America's Educational System: Enough is Enough. One year after the federal government pumped $100 billion into school districts, Education Secretary Arne Duncan has requested an extra $26 billion to fund teachers' jobs. Some of you may be asking, "To what end?" And you're certainly right. However, we should consider another important question: What exactly is your hard-earned cash paying for?

Magical Education and the Slide into Third-Worldism. Instigating Detroit's third-world slide is its schoolchildren's woeful academic performance. A mere 2% of its high school graduates are prepared for college-level math; just 11% are ready for college-level reading. In 2008-2009, its graduation rate was 58% compared to the national average of 89%. In 2009, Detroit public-school students posted the worst math scores in the forty-year history of the National Assessment of Educational Progress test. Students are fleeing at jailbreak speed — between 1997 enrollment dropped from 175,168 students to 84,000 and continues to fall, and those remaining are probably the worst of the worst.

1 in 4 Americans Don't Know Who We Fought for Independence. As grills across America fire up this weekend some Americans may want to crack open a history book instead of a cold beer. A Marist poll finds that 26 percent of Americans dont know whom the United States declared its independence from.

The Editor says...
Evidently many others don't know that a sentence should not end with a preposition, or that contractions contain apostrophes.

Grade-A dunces dumping desks. Here's one way to flunk economics. Officials at a downtown public school wastefully threw out hoards of pricey desks, chairs, cabinets and other classroom furniture yesterday [8/11/2010] despite steep budget cuts to city schools. Residents who live near the Greenwich Village Middle School on Hudson Street said they watched in horror as sanitation workers crushed more than 50 pieces of perfectly good furniture — and perhaps twice that — in the back of a garbage truck.

Putting on the Ritz ... with Title I dollars. [East St. Louis School District 189] consistently underperforms — and can clearly use every penny it's been allocated — yet it has spent $3.1 million on consultants, $200,000 on airline tickets to conferences and stays in ritzy hotels, and $10,000 on original artwork.

End Them, Don't Mend Them. [Scroll down] Policy analyst Adam Schaeffer made a detailed examination of the budgets of 18 school districts in the five largest U.S. metro areas and the District of Columbia. ... Schaeffer calculated that Los Angeles, which claims $19,000 per-pupil spending, actually spends $25,000. The New York metropolitan area admits to a per-pupil average of $18,700, but the true cost is about $26,900. The District of Columbia's per-pupil outlay is claimed to be $17,542. The real number is an astonishing $28,170 — 155 percent more than the average tuition at the famously pricey private academies of the capital region.

Many in college lack basic skills. It has been the dirty little secret of higher education for decades: Tens of thousands of college students can't do the work. Developmental education — reteaching basic skills in reading, writing and math — is a $200 million-a-year problem in Texas, funded by taxpayers, colleges and the students themselves. Private groups also spend millions of dollars on the issue. But relatively few students who need the classes go on to earn a degree, raising questions about whether money spent on developmental education is a wise investment.

Fund students, not schools. [Scroll down to page 12] Free and universal K-12 education is generally agreed to be one of the core functions of state government. But by international and historical standards, public schools in the U.S. are costly and yield poor achievement results. According to education economist Caroline Hoxby, the productivity of public schools in the U.S. (measured by dividing a measure of student achievement by per-pupil spending in inflation-adjusted dollars) has fallen more than 50 percent in the past 30 years. Many of the school districts with the highest per-capita spending — in Chicago, New York, Washington, D.C., and other major cities — report the worst academic performance.

Public schools are underperforming. The failure of public schools to graduate students who are academically prepared to become productive members of society is well documented: Fewer than 1 in 3 (30 percent) eighth-graders scored at proficient or above in the 2003 Urban National Assessment of Educational Progress (NAEP) reading test. In Chicago, the figure was only 15 percent, and in Cleveland and the District of Columbia, the figure was only 10 percent. The U.S. high school graduation rate for 1998 was only 74 percent, indicating that 1 in 4 students drops out before graduating. Latino and black graduation rates are only 56 percent and 54 percent respectively.

Detroit Public Schools reading scores at the bottom. Detroit Public Schools students registered historically low scores again on a national test — this time in reading — prompting cries for change from parents, educators and government leaders. ... Among Detroit fourth-graders, 73 percent scored below the "basic" level on the NAEP reading test, meaning they lack the basic skills that are the building blocks of reading. The test showed 22 percent of students are at the basic level, with just 5 percent scoring "proficient." Less than 1 percent of students scored at the advanced level.

No teacher left behind. The black-hole of public education which continues to suck in obscene amounts of tax dollars in spite of the economic plight of their benefactors show what can happen when the liberals have near total control of any institution for a lengthy period of time. The left has removed the foundation of objective knowledge in favor of agenda based indoctrination and now we are dealing with the consequences. ... Hey, here's an idea. Why not teach the students how to read, write and do arithmetic instead of devoting endless hours teaching them to sing and dance in praise of Obama!

National study lists Dallas school district as 'dropout epicenter'. Texas high school students are more likely to graduate than a decade ago, but more than a third of them still won't earn a diploma in four years, a new national study found. Plus, the Dallas and Houston school districts are among the 25 "dropout epicenters" that produce one-fifth of all dropouts in the U.S.

'Black flight' changing the makeup of Dallas schools. [Scroll down] Black students formed a majority in Dallas schools through the 1980s and '90s. Over the last 10 years, though, the number of black children has fallen by nearly 20,000, or about a third. Meanwhile, Hispanic children have filled their seats as the district's overall enrollment remains fairly flat at about 157,000. Today, about 41,000 black students attend DISD schools. They make up 26 percent of the district compared with 106,000 Hispanic children, or 68 percent. White students are 5 percent of the district.

LAUSD wants to spend another $360 million. Spending other peoples money is the number one pastime of the Los Angeles Unified School District. Spending $13 Billion a year of the taxpayers money apprarently isn't good enough for the school board members, today [4/13/2010] they will decide if they are going to borrow $360 million and send the IOU to the taxpayers. What do they want to spend the money on? Well, $100 Million of it will go towards trendy solar panels. They claim that by spending $100 Million now, they will spend $5 Million less each year on electricity.

LAUSD Announces Solar Energy Program. The school district announces a $350-million goal of putting enough solar panels on schools and other district buildings to generate 50 megawatts of electricity by 2012 and lower its electricity bill.

LAUSD furloughs teachers, shortens school year — and buys solar panels! If roofs were threatening to fall down on students' heads or school buses were in danger of exploding, the district could justify using what amounts to a credit card purchase. But solar panels? Fancy green school buses? What is Superintendent Ramon Cortines thinking?

L.A.'s green schools: Propane buses, solar panels and environmental education. In March, hundreds of decades-old buses will be upgraded to less-polluting, more-energy-efficient propane models. Eight schools, out of a planned 250, will have solar power installed. Still others will be outfitted with "smart" irrigation systems to reduce the millions of gallons of imported water the district guzzles each day, more than half of which is used for outdoor watering. "One of our goals is to be the No. 1 greenest school district in the country," said Yoli Flores Aguilar, an L.A. Board of Education member who co-sponsored the Green LAUSD resolution in 2007.

The Editor asks...
Why not try to achieve the highest graduation rate, or try to be the most economically efficient school district, or the safest school district in the country? Not a chance? Okay, perhaps becoming the "greenest" school district is their only achievable goal.

Your Money for 'Green' Schools? A large chunk of your state income taxes goes to education, and schools benefit from a portion of your local property taxes, too. Now the federal government is considering a big increase in its spending on school construction — with your money. Already, as federal taxpayers, we pay $70 billion a year for K-12 education, much of it going to teacher salaries and school lunches. Then last year, Congress approved another $56 billion for school construction, renovation and repairs in the economic stimulus bill.

Islamic links to Utah's Beehive Academy probed. The school is $300,000 in the red, yet, teachers say, the geography class is without maps, the computer labs are stocked full of second-hand equipment and the school can't afford a janitor. The administration's unusual approach to education has driven many to question: what is the school spending its money on?

Obama's Education Spending Frenzy. [Scroll down] The stimulus package allocated $100 billion to public education. This unprecedented federal funding, nearly twice the Department of Education's annual budget, was touted as a vehicle for transforming public education rather than doubling down on a failed system. But most of the $69 billion released as of this writing has gone to backfill state education budgets and maintain teaching jobs.

'The Cartel' is a Damning Expose of Public Education. Despite the fact that the United States spends more per student on education than any other nation in the world, students of the American educational system have scored well below average on worldwide rankings of mathematical and literacy proficiency. Why is this?

A Nation of Dependents. The more we expect government to provide our basic needs, the more we become a nation dependent on government largesse, rather than independent individuals personally empowered to earn the values we seek. It has already happened in education. Government programs have crowded out private alternatives, currently providing 90% of primary and secondary schooling. Without affordable private alternatives, parents are reduced to lobbying politicians for funding and supporting campaigns to squeeze more tax money from their neighbors.

Kansas City Schools, A Case Study in Liberal Stupidity. [Scroll down slowly] And now the KC school system is broke and has to close down half its schools. This, after a court-ordered $2 billion injection. I would call that $2 billion quite a stimulus for the KC system. See how well it turned out?

Popping the Higher-Education Bubble. The administration has called for dramatic increases in federal subsidies for student aid. His 2011 budget request includes $156 billion for such programs. But experience shows that increasing student aid has failed to solve the college-affordability problem. Some economists have even found that increased spending on student aid contributes to rising costs. ... Since 1982, college tuition has increased by 439 percent — more than four times the rate of inflation and twice the rate of increase for medical care.

L.A. school district spent millions firing just seven teachers. In the past decade, LAUSD officials spent $3.5 million trying to fire just seven of the district's 33,000 teachers for poor classroom performance — and only four were fired, during legal struggles that wore on, on average, for five years each. Two of the three others were paid large settlements, and one was reinstated. The average cost of each battle is $500,000.

On national test, 69 percent of Detroit children score below basic on fourth grade math. According to results being released today, Detroit schoolchildren ranked the lowest in the nation of participants on the National Assessment of Educational Progress (NAEP) math test. In terms of performance levels in the fourth grade in Detroit on the math test, 69 percent of students scored at a below basic level. In terms of performance levels in the eighth grade in Detroit, 77 percent were below basic.

What Suckers We Are. Still paying full price for your kids' meals at school? The government currently provides free or reduced-price lunch, breakfast or both for nearly 60% of all school-age children nationwide. Households with incomes of up to 185% of poverty level are eligible. In Philadelphia public schools, 72% of students have access to a universal feeding program — regardless of income. Pennsylvania Sen. Bob Casey wants to nationalize that program.

Choice & Education Across the States. There is widespread agreement in the education reform community that more accountability and better results are needed from the nation's public school system. ... During the 2000 presidential election, George W. Bush pledged to end the "soft bigotry of low expectations." But seven years and billions of dollars later, there has been only limited improvement.

In education, it's family, not funding. Since 1965, when the Elementary and Secondary Education Act allowed the federal government to poke its nose into education, taxpayers have been hosed for billions of dollars that have gone to our public schools. Have we gotten a bang for our buck?

Exiled Queens teacher on payroll despite knocking up student. Three strikes and he wasn't out. At the beginning of his 32-year career as a math teacher in Queens, Francisco Olivares allegedly im pregnated and married a 16-year-old girl he had met when she was a 13-year-old student at his Corona junior high, IS 61, The [New York] Post learned.

Los Angeles teacher should be fired immediately, judge again rules. A city schoolteacher removed from the classroom more than seven years ago for alleged misconduct — and who continued to receive a full paycheck the entire time — should be fired immediately, a Los Angeles County Superior Court judge ordered Tuesday [1/12/2010].

Pay has stopped for jailed Alabama teacher, AP reports. The Alabama Department of Education has stopped the pay of a Washington County teacher who was still getting her salary while locked up in federal prison serving a 10-year sentence for child enticement.

California math scores among nation's worst. About 30 percent of fourth-graders and 23 percent of eight-graders in California tested proficient math tests from the National Assessment of Education Progress, ranking the state near the bottom nationally. ... Nationwide, 38 percent of fourth-graders and 33 percent of eighth-graders performed at proficient levels.

75 Percent of Oklahoma High School Students Can't Name the First President of the U.S.. Only one in four Oklahoma public high school students can name the first President of the United States, according to a survey released today [9/16/2009]. The survey was commissioned by the Oklahoma Council of Public Affairs in observance of Constitution Day on Thursday.

What the Public Thinks of Public Schools. [Scroll down] But when it comes to actual dollars spent per pupil, Americans get the numbers wrong. Those polled by Education Next estimated that schools in their own districts spend a little more than $4,000 per pupil, on average. In fact, schools in those districts spend an average of $10,000. ... When those surveyed are told how much is actually being spent in their own school district, only 38% say they support higher spending.

The Great Escape: After many students go through a dozen years in the public schools, at a total cost of $100,000 or more per student — and emerge semi-literate and with little understanding of the society in which they live, much less the larger world and its history — most discussions of what is wrong leave out the fact that many such students may have chosen to use school as a place to fool around, act up, organize gangs or even peddle drugs.

SAT Scores Fall as Gap Widens; Asians Gain. High-school students' performance last year on the SAT college-entrance exam fell slightly, and the score gap generally widened between lower-performing minority groups and white and Asian-American students, raising questions about the effectiveness of national education reform efforts.

Duncan Wields $100 Billion to Make U.S. Schools Like Chicago's. Sue Duncan has taught poor kids at her after-school center on Chicago's South Side for 48 years. She says her son Arne spent seven days a week there as he was growing up. ... What he absorbed matters because Duncan is now U.S. education secretary, in charge of improving a public school system that ranks below those of other developed nations in some studies. He's armed with $100 billion in stimulus money from his friend, President Barack Obama, more than twice the budget of any of his predecessors.

Don't Get That College Degree! A student who secures a degree is increasingly unlikely to make up its cost, despite higher pay, and the employer who requires a degree puts faith in a system whose standards are slipping. Too many professors who are bound to degree teaching can't truly profess; they don't proclaim loudly the things they know but instead whisper them to a chosen few, whom they must then accommodate with inflated grades.

5 Character Flaws That Are Destroying America's Future. [#3] Excessive Self-Esteem: Perhaps because we've spent decades trying to pump up the self-esteem of children in our public schools, irregardless (sic) of whether they've done anything to merit it, we have legions of people in our society who have an excessive level of confidence in their beliefs and abilities. They're just so darn sure that what they believe is right just by virtue of the fact they believe it. Traditions? Codes of conduct? Religious beliefs? Customs? There's no need to even understand why previous generations believed what they did or to question what purpose it served. Just remember that they were racist back then and so they couldn't have had any good ideas.

Time To End The Monopoly In Education. To boost the economy out of the recession, President Obama has chosen to spend an additional $100 billion on public schooling over the next two years. His education secretary, Arne Duncan, is touring the nation to promote this education "stimulus." However well-intentioned, their effort isn't just futile; it's also counterproductive. Far from being an engine of wealth creation, the education system is bleeding the economy to death.

Obama Revisionism. During his 4th of July message to the United States, Barack Obama engaged in another round of historical revisionism. Many have probably not heard the speech ... but the message Obama attempted to sell was a clear distortion of the founding principles of the United States. Uneducated or undereducated Americans, the products of liberal, politically correct "instruction" in most public schools, probably would not be able to challenge his slick, deceitful incorporation of the founding generation into a speech about big government.

Dumbest Generation Getting Dumber. The Program for International Student Assessment (PISA) is an international comparison of 15-year-olds conducted by The Organisation for Economic Co-operation and Development (OECD) that measures applied learning and problem-solving ability. In 2006, U.S. students ranked 25th of 30 advanced nations in math and 24th in science.

Disability, Inc.. This is not a joke. Monday, the U.S. Supreme Court issued a 6-3 decision that required an Oregon public school district to pay a $5,200 monthly tuition (plus fees) for a private boarding school for a high-school senior whose psychologist had diagnosed him with ADHD, depression, math disorder and cannabis abuse. Also not a joke: The Obama administration had urged the big bench to so rule. Thus the Individuals with Disabilities Education Act (IDEA), which mandates that all "children with disabilities" have the right to a "free appropriate public education," is turning into a cash cow for disability lawyers and private schools.

Chicago schools report contradicts Obama and Duncan. New research from a Chicago civic group takes direct aim at the city's "abysmal" public high school performance — and puts a new spin on the academic gains made during the seven years that Arne Duncan led the Chicago schools before he was named U.S. Education secretary.

Citizen's Guide to California Public School Finance. In any given state, legislatures spend more on elementary and secondary education than any other major program, including healthcare, higher education, social services, and the criminal justice system. California is no exception. At $40 billion, K-12 education represents the largest share of the state general-fund budget. Yet few people comprehend how — or how much — funding public schools receive because of the complexity and murkiness of the California public-school finance system.

D.C. Graduation Rates Down. The on-time graduation rate for D.C. public schools has fallen below 50 percent, according to a new study, while the rates for Maryland and Virginia have not improved since the mid-1990s. The study, released today by researchers affiliated with the trade publication Education Week, examined data from 1996 to 2006, the latest available federal figures, to calculate the percentage of students who graduate from high school within four years of starting ninth grade. In 2006, the study found, the D.C. graduation rate fell to 48.8 percent, down 8.8 percentage points from the previous year. The figure did not include public charter schools.

Obama's Government Health Plan Will Look Like Public Schools. Horace Mann's education reform exhortations in the late 1830's and 40's were eerily parallel to the pitch for Obama today: full inclusion, mandatory attendance, standardized pedagogy, along with coerced community participation by virtue of local taxes providing funding. It promised to eradicate illiteracy, violence and vice. For decades, the payoff was impressive. But one hundred years later, Mann's idealism would be corrupted by John Dewey's progressive advocacy of self esteem replacing subject matter mastery.

Giving Failure a Pass. The Los Angeles Unified School District, the largest in California, spends $10 million a year to "house," with full pay and benefits, about 160 teachers deemed unsuitable for the classroom, according to "Failure Gets a Pass," a recent series in the Los Angeles Times. "If I had my way, I would fire [all of them], and they would not get another d----- penny," LAUSD superintendent Ramon C. Cortines told the Times. "They're milking the system."

Twenty-Five Years Later, A Nation Still at Risk. [Scroll down] Our school results haven't appreciably improved, whether one looks at test scores or graduation rates. Sure, there are up and down blips in the data, but no big and lasting changes in performance, even though we're also spending tons more money. (In constant dollars, per-pupil spending in 1983 was 56% of today's.) And just as "A Nation at Risk" warned, other countries are beginning to eat our education lunch.

More freedom, less government, for education. For Obama, the solution to everything seems to be government and spending. But in improving education, more of neither seems to work. According to Department of Education data, reported by the Cato Institute, K-12 spending per student, adjusted for inflation, went from $5,393 in 1970 to $11,470 in 2004. Over the same period, there were tiny increases in math scores among 17-year-olds and no improvement in reading scores.

Senator: Parents worrisome about D.C. schools system. "Parents tell us, they know in many cases, in D.C., if they're sending their kids off to the public schools the chances are very good they're going to end up in a gang rather than graduating high school," Sen. Jim DeMint, South Carolina Republican, said during a news conference Thursday [3/5/2009].

The Great College Hoax. Higher education can be a financial disaster. Especially with the return on degrees down and student loan sharks on the prowl.

I Feel Your Pain. Not Theirs. Yours. In the now-famous firefighters' case, Ricci v. DeStefano, the New Haven Fire Department administered a civil service exam to choose a new batch of lieutenants and captains. The city went so far as to hire an outside consultant to design the test in order to ensure that it was job-related and not racially biased. But when the results came in, only whites and Hispanics scored high enough to earn promotions. Such results never entice Democrats to reconsider their undying devotion to the teachers' unions that routinely produce students who can't read, write or do basic math.

California School Spends $10G a Year to Teach AP Spanish to Kids Who Speak Spanish. A middle school in Southern California is spending $10,000 a year to teach Advanced Placement Spanish to 35 of its 650 students — and all but one of them are already fluent in Spanish. Thirty-four of the kids in the AP class are from Mexico or are the children of Mexican immigrants. They all grew up speaking Spanish at home.

Another Cohort of Kids Failed by Government Schools. [Scroll down] Here in the United States you can't listen to the radio for an hour without hearing an ad for franchised educational tutoring from Sylvan Learning Center or Mathnasium. It's pretty odd, all things considered, that parents elect to pay for such extra tutoring when the governments at all levels in 2008 are expected to spend $837.7 billion, according to usgovernmentspending.com. Using the US Census 2000 number of 80 million Americans between 5 and 24, that's about $10,500 per young American.

Obama speaks the truth. Our President has a habit of saying what he means when he doesn't mean to say what he means. ... This week, while telling us about his plan to limit earmarks in Congressional bills, he once again did it by telling us his true feeling about public-versus-private entities. ... Mr. Obama's Stimulus Bill hands the Detroit school system $355 million with no strings attached even though recent audits have shown millions of dollars missing. No, Mr. Obama was defining his basic philosophy from his inner core — business is bad; government is good.

Higher (Priced) Education. How is it that Americans who lived hard scrabble lives 150 years ago could read, write, do math problems and quote at length from Shakespeare and the Bible, while today, in spite of "Sesame Street," pre-school, Operation Head Start, computers and mind-numbing hours of homework, millions of youngsters entering college can do none of those things? It seems obvious to me that our education system, which costs us billions and billions of dollars, is a wreck.

Special Speech. [Scroll down] Witness the District of Columbia, which spends more per public-school student than any other school system in the country. In terms of academic outcome, school discipline, and almost every other conceivable measure, the D.C. schools are a notorious disaster, and for children with special needs they are an absolute scandal. The idea that throwing more federal dollars into this sinkhole is a solution of some sort is laughable.

You Can't Be Half-Socialist. Our shoddy educational curriculum that has left most younger Americans so deficient in the study of history that vast numbers of them think George Washington was a Civil War general, or a lumberman who chopped down cherry trees. They have no real understanding of the economic system that allowed us to become the wealthiest and most powerful nation since the Roman Empire ruled most of the known world 2000 years ago.

The Real Obama: Part III. The education situation in Obama's home base of Chicago is one of the worst in the nation for the children — and one of the best for the unionized teachers. Fewer than one-third of Chicago's high-school juniors meet the statewide standards on tests. Only 6 percent of the youngsters who enter Chicago high schools become college graduates by the time they are 25 years old. The problem is not money: Chicago spends more than $10,000 per student.

Why Obama's Communist Connections Are Not Headlines: I have seen for quite some time that although we won the Cold War — and defeated the Soviet communist empire — America is vulnerable to varying degrees of collectivism, wealth redistribution, "creeping socialism" (Ronald Reagan's phrase), class-warfare rhetoric, and generally milder, more palatable (but still dangerous) forms of disguised Marxism. Why? How? The answer is simple: The history and truth about communism is not taught by our educators.

How to spend limited taxpayer education dollars. The Department of Education was established in 1979 by President Jimmy Carter to improve education in our country. The department's budget then was $14.5 billion. Today, its budget has grown sixfold. Yet over the same period of time there has been virtually zero change, on average, in test scores.

Boston Suburb's 'Taj Mahal' Brings Ban on Luxury High Schools. A $200 million high school scheduled to open in 2010 in the Boston suburb of Newton, Massachusetts, will be the state's most expensive. It may also be the last of its kind. The 413,000-square-foot (33,368 square-meter) Newton North High, featuring an arts complex and an athletic wing with swimming pool and climbing wall, has become a symbol of excess in Massachusetts, where households bear the country's eighth-highest property-tax burden, according to the Washington-based Tax Foundation.

Chicago schools' espresso machines a waste of money, inspector reports. One Chicago Public Schools manager must have really been jonesing for a cup of coffee when officials say she spent nearly $70,000 of the district's money to buy 30 cappuccino/espresso machines for a high school program.

$500 billion spent on education. The Bush administration has issued a booklet declaring that U.S. taxpayers spent more than $500 billion for public schools in the 2003-04 school year, after months of attacks by Democrats and teachers unions who say that federal requirements for school improvement are underfunded.

Teachers Union Exposed. According to the New York Times, an international comparison finds that the United States has the worst educational quality per dollar spent on schooling, ranking 18th in reading and 28th in math. Why are we getting so little for our money?

Public school spending: The District of Columbia spent more money per student ($13,187) than any state in the country in 2001-2002, according to a June 2004 report by the U.S. Census Bureau. Near the top of the list were New York ($11,546), New Jersey ($11,436), Connecticut ($10,001) and Massachusetts ($9,856).

How much money does the United States spend on public elementary and secondary schools? Chart shows current expenditure per pupil in fall enrollment in public elementary and secondary schools: Selected years, 1961-62 through 2004-05.

Public Education Finances Report. Includes an interesting chart: "Elementary-Secondary Per Pupil Current Spending Amounts by State: 2005-06."
NY: 14,884
NJ: 14,630
DC: 13,446
VT: 12,614

Expensive and easy fixes haven't solved education woes. It would be a godsend if pumping more capital into the district could raise achievement levels. Instead, the quest for easy fixes to our underperforming educational system marches on. We've tried just about everything we can think of. We've reduced class sizes, we've pumped up teacher training requirements, and we've poured tons of money into free food programs. If we're really interested in what works, why not look at the top performing public schools in the state?

Time to Draw a Line in the Sand on Dysfunctional Schools. The Arizona Daily Star … conducted a ten-month investigation and found that one-third of Tucson middle and high school students failed a core academic class, but nonetheless, 90 percent were promoted to the next grade. … Seventy-nine percent of Tucson students attending community college must take remedial math; 48 percent take remedial writing, and 32 percent are placed in remedial reading.

Nevada Should Embrace Charter Schools. Nevada's school age population increased by 21 percent between 2000 and 2005 and is expected to increase by some 60 percent between 2000 and 2016. Nevada is struggling to keep up with these demands. In 2003, Nevada's per-pupil public school spending for buildings was more than 40 percent above the national average. Nevada's school quality issue represents an even more serious problem. According to the Nation's Report Card from 2007, 43 percent of Nevada fourth graders cannot read at a basic level. Nevada's quality and quantity problems are interrelated.

Congress Is Destroying America's Schools. Why any town or city bothers to hold an election for members of the local board of education is a mystery to me. Between the U.S. Department of Education and a union, the National Education Association, masquerading as just a group of concerned teachers, local boards have no real power to reverse the subjugation and destruction of the nation's education system. Since the Constitution does not even mention education, it is a continuing mystery why the U.S. has a department devoted to it.

School Choice Is Change You Can Believe In. Just how rotten are the D.C. public schools? In a recent survey by Education Week, the D.C. public schools ranked fourth from the bottom in terms of graduation rates. Test scores for basics like math and reading are also near the bottom. It's not for lack of money: A recent U.S. Census Bureau report says the district school spending clocks in at more than $13,400 per child — third highest in the nation. It takes a lot of money to run a school system as lousy as D.C.'s.

The Union War on the No Child Left Behind Act: Spending per pupil has skyrocketed over the last three decades -- going from just over $3,000 a year to more than $8,194 a year. In our nation's biggest districts, such as Washington, D.C., that number has reached more than $16,000 a year. Yet, despite this increased spending, fewer than one-third of our fourth graders (and an equivalent proportion of our eighth graders) read proficiently. Reading performance has improved only slightly over the past fifteen years among fourth graders and has not improved at all among eighth graders.

Public School System, Not Vouchers, Is What's Unfair. The District of Columbia is widely cited as having one of the worst public school systems in the country, with reported graduation rates at a mere 57 percent and politicians crying foul over an alleged lack of funding. But as Andrew Coulson of the Cato Institute noted in the Washington Post, public funding of DC schools is commonly claimed to be $8,322 per pupil, which is higher than the tuition for many private schools in the area. And when Coulson accounted for all education expenditures in the district, he found actual public school spending was about $24,600 per child! You could send your kids to the toniest of private schools for that kind of money, yet the DC schools are a disaster.

Congress putting D.C. kids in danger. The D.C. Opportunity Scholarship Program saves lives. The fate of the nonprofit outfit, which takes poor children out of failing schools and gives them scholarships to private institutions, is currently up in the air — in the hands of Congress and, ultimately, the president. Supporters of the program cite its strong record of academic improvement, but its value goes beyond grades. It quite literally saves lives. Children enrolled in the DCOSP, now in its fifth year, are physically safer than they were in District public schools, some of the most violent in the nation.

Black Education. The education establishment and politicians tell us that we need to spend more for higher teacher pay and smaller class size. The fact of business is higher teacher salaries and smaller class sizes mean little or nothing in terms of academic achievement. Washington, D.C., for example spends over $15,000 per student, has class sizes smaller than the nation's average, and with an average annual salary of $61,195, its teachers are the most highly paid in the nation.

Why such high pay for school-district lawyers? While Philadelphia School District officials continue combing their books for nearly $40 million in spending cuts needed to balance next year's budget, one group of school employees appears to be safe from the ax: lawyers. The district's Office of General Counsel will receive a slight increase of $325,074 in 2008-09, bringing its total outlay to $13.5 million, according to the budget proposal presented during City Council hearings April 28 and 29.

Average SAT scores are lowest since 1999. This year's declines follow a seven-point drop last year for the first class to take a lengthened and redesigned SAT, which included higher-level math questions and eliminated analogies.

US Can't Pass English 101. The students' chosen path to increased emoluments is not easy, for many of them are not well prepared for college work. Never mind the agonies of the "compare-and-contrast paper, the argument paper, the process-analysis paper... and the dreaded research paper." Many of the students "cannot write a coherent sentence."

Algebra I stumping high school freshmen. Thousands of high school freshmen across Michigan are failing Algebra I, the first of four math courses this class of students must take and pass to fulfill what are among the toughest graduation requirements in the nation. The failure rate — estimated at 20% to 30% of about 113,000 freshmen — has some predicting a crisis by the time these students are juniors and must take Algebra II.

American Education Fails Because It Isn't Education. We have been focusing on a massive national campaign to "fix" the schools for the past decade or more. Now we have ultra high-tech, carpeted, air-conditioned school buildings with computers and television sets. We have education programs full of new ideas, new methods, and new directions. In the 1990's we set "national standards," accountability through "national testing" through Goals 2000. Through that program we declared that every child would come to school "ready to learn," "no child would be left behind," and pledged that our kids would be "second to none" in the world. Above all, we've spent money, money and more money. The result, American students have fallen further behind, placing 19th out of 21 nations in math, 16th in science, and dead last in physics.

Why is Public Education Failing? It's a fact. Most of today's school children can barely read or write. They can't perform math problems without a calculator. They barely know who the Founding Fathers were and know even less of their achievements. Most can't tell you the name of the President of the United States. It's pure and simple; today's children aren't coming out of school with an academics education.

U.S. Students' Achievement Is Mediocre in International Study. According to a new report comparing academic achievement for the 50 U.S. states with international scores, students in even the highest-achieving states are mediocre when compared with the rest of the developed world. … Nationally, the United States had a significantly smaller percentage of students score "proficient" in mathematics on the combined scale than did six, primarily Asian, countries, including Japan and Singapore. … In science, five Asian countries, plus England, Estonia, and Hungary, had significantly larger percentages of students score at proficient levels than the United States.

Will Detroit save its kids or bureaucracy? Recently, on "Fox News Sunday," as an example of why entrenched bureaucratic systems don't work, I pointed to the Detroit Public Schools as the worst big city school system ... Yet, I was not giving my personal opinion. I was reporting the results of an independent study funded by the Gates Foundation. It asserted the Detroit school system graduates only one-fourth of its entering freshmen on time, placing Detroit dead last on its list.

States' Data Obscure How Few Finish High School. When it comes to high school graduation rates, Mississippi keeps two sets of books. One team of statisticians working at the state education headquarters here recently calculated the official graduation rate at a respectable 87 percent, which Mississippi reported to Washington. But in another office piled with computer printouts, a second team of number crunchers came up with a different rate: a more sobering 63 percent.

N.J. struggling under tax burden. Between 2002 and 2007, property-tax collections went from $16 billion to $22.1 billion -- a 38 percent jump caused largely by the ballooning costs of running schools and towns. That increase was more than double the inflation rate in the same period.

Study: Detroit schools rank last in graduation rate. Detroit has the worst graduation rate among principal school districts serving the country's 50 largest cities, according to a national study released this morning by a coalition of education policy makers. The region as a whole placed 11th among the country's large metropolitan areas, according to the report by Washington, D.C.-based America's Promise Alliance.

High school graduation called 'coin toss'. A teenager living in one of the nation's 50 largest cities has about a 50 percent chance of graduating high school, a new report finds.

School grant program wastes billions. Just how much improvement of low-accomplishing public schools have Californians purchased with the $1.25 billion in their taxes spent on No Child Left Behind special programs? The disturbing answer, apparently: "little if any academic improvement."

Less than half of Va. 4th, 8th-graders proficient in math, reading. Virginia's fourth- and eighth-graders have a better grasp of math and reading skills than their peers nationwide, but less than half are proficient in either subject.

The End of America As We Know It: About a third of the students in our country aren't even getting high school degrees and at the bottom end of the scale, in places like Detroit, fewer than 25% of the students go on to graduate. Even the students who do graduate are getting a watered down, politically correct education that's inferior in most ways to the one that people received in this country 50 years ago.

Eight Facts about Teacher Pay and Teacher Retention in Texas Public Schools: There is no overall teacher shortage in Texas at this time, and Texas teachers are not underpaid; however, after five years in a classroom, nearly 60 percent of teachers quit the profession. [There must be a reason!]

One Salary Doesn't Fit All. School officials can give their star teachers considerably more money, without raising taxes, by modernizing their teacher pay system. … The research is clear. Teacher performance does not improve with each additional year in the classroom after the first couple of years. Eric Hanushek, a well-respected education researcher with the Hoover Institution at Stanford University, finds that a teacher with 15 years of experience is no more effective than a teacher with five years of experience.

A Teaching Moment From the District of Columbia. The District of Columbia … is proving that spending more on public schools is a waste of money. That was the unintended lesson of the press conference District Mayor Adrian Fenty called this week to announce that half the District's public schools would not have proper textbooks for opening day and half the school buildings would not have air conditioning. This is not because the District has been frugal. Its public schools wallow in cash.

Higher Grades Contradict Test Scores. Forty-three percent of white students scored at or above proficient levels on the reading test, compared with 20 percent of Hispanic students and 16 percent of black students. On the math test, 29 percent of white students reached the proficient level, compared with 8 percent of Hispanics and 6 percent of blacks. The gap in reading scores between whites and minorities was relatively unchanged since 2002. One of the stated goals of the federal No Child Left Behind law is to reduce the gaps in achievement between whites and minorities.

Can D.C. Schools Be Fixed? The schools spent $25 million on a computer system to manage personnel that had to be discarded because there was no accurate list of employees to use as a starting point. The school system relies on paper records stacked in 200 cardboard boxes to keep track of its employees, and in some cases is five years behind in processing staff paperwork. It also lacks an accurate list of its 55,000-plus students, although it pays $900,000 to a consultant each year to keep count.

To Live and Take in D.C.: The Santa Clausiness of the D.C. government is almost beyond comprehension. It seems that all you have to do is work there and money just falls into your lap. For instance, The [Washington] Post reported just last week on how a former principal requested a grant to train teachers and the school system authorized $3 million in a single day. And when she went to pick up the first $1 million, the school system just handed over the money — no silly, fussy contract or anything like that.


---

A few words from the Editor:

Use your favorite search engine and look for aerial photos of Duncanville High School, southwest of Dallas. You'll see the school has 12 tennis courts, two baseball fields, two soccer fields, a football stadium, a band hall, a natatorium, and untold numbers of classrooms in several very nice buildings. The band hall alone is bigger than the high school I attended 40 years ago. And yet the academic situation is dismal at best. My wife taught math there for a couple of months (that was all she could stand), and she reports that many of the kids in Algebra II don't know how to multiply fractions, they don't know what a decimal point does, and they can't multiply two numbers without a calculator. Cheating is rampant: the kids send text messages to one another during tests (instead of whispering or passing notes). Money is not going to fix these kids' academic problems. Millions of dollars have been spent already on this school — mainly to assure the success of the football and basketball teams — and the kids are dumber than ever.

And why should the kids put forth any effort anyway? Uncle Sam will make sure they have jobs. After all, there's always the Army. If no jobs are available, some government agency will buy groceries and pay the rent. Illegitimate children are a big plus — the girls see pregnancy as a goal rather than a pitfall. The boys take pride in laziness and stupidity, and any display of intellect is stigmatized as "acting white." In my opinion, if these kids are any indication of America's future, it's time to start building more prisons.

Duncanville High School is proof that "more money for education" -- a common campaign promise -- is not going to improve the end product of America's schools.


---

Stemming the dropout tide. Our nation has been asleep at the dropout switch for three decades. Consider that 24 years ago, the National Commission on Excellence in Education sounded a call to action: "Our Nation is at risk... the educational foundations of our society are presently being eroded by a rising tide of mediocrity that threatens our very future as a Nation and a people." … Since that time, however, our country has made virtually no progress in improving graduation rates even though education reform has been high on the public agenda.

No state meets the teacher quality goal set by Bush. Not a single state will have a highly qualified teacher in every core class this school year as promised by President Bush's education law. Nine states along with the District of Columbia and Puerto Rico face penalties.

Shakespeare is not to be at most colleges. They're calling it "the unkindest cut of all." As Shakespeare fans prepare to celebrate the Bard's 443rd birthday Monday, researchers for a non-profit group say fewer colleges appear to require students to study the influential author.

Robbing Parents To Pay Teachers. "According to the U.S. Department of Education, the average private school charged $4,689 per student in tuition for the 1999-2000 school years. That same year, the average public school spent $8,032 per pupil." Somehow, private schools are able to out-perform public schools when it comes to imparting knowledge and skills despite the fact their students have less than half as much funding as public school students and the success of home-schooled students over their contemporaries is already legendary.

More Money Doesn't Mean Better Education in Kansas. A January report issued by the Topeka-based Flint Hills Center for Public Policy challenges prevailing wisdom about the adequacy of public school spending in Kansas. … The report finds no connection between total per-pupil spending and eighth-grade reading assessment scores from each of the state's 300 school districts between 1993-94 and 2004-05, even among districts with the same rates of student poverty.

Lansing schools spend $100K on staff trip. Lansing schools sent 56 staff members to a weeklong magnet schools conference in Las Vegas earlier this month, spending an estimated $100,000 in federal grant money on fees, airfare, lodging, meals and substitute teachers.

California schools experience a drop in performance. Just over half of California's public schools have met the state's expectations for academic improvement, a sharp drop from a year ago, when more than two-thirds hit their target.

60% of Tennesseans give state 'C' or worse in teaching students. Education is not the top public priority to Tennesseans, even though they are dissatisfied with the job the state is doing educating students, a recent Vanderbilt University survey found. A poll by Vanderbilt's Peabody Center for Education Policy found 44 percent of Tennesseans identified it as the most important issue among a list of seven issues, second to the 54 percent who chose health care.

Where's the courage in education reform? The dropout rate among Latino students in the Los Angeles Unified School District is 60 percent. Among black students it's 57 percent. Average proficiency in English and math is under 30 percent. By the California Department of Education's own Academic Performance Index, 46 percent of elementary schools score 3 or below out of a possible 10, 72 percent of middle schools score 3 or below, and 66 percent of high schools score 3 or below.

It is a myth that schools don't have enough money. Government schools, like most monopolies, squander money. America spends more on schooling than the vast majority of countries that outscore us on the international tests. But the bureaucrats still blame school failure on lack of funds, and demand more money.

Bad apples and public schools. If there is one thing the Department of Education does well, it is collect statistics about schools. According to its National Center for Education Statistics, Americans in recent decades paid for a massive increase in spending on government schools. Between the 1970 and 2002 school years, average per-pupil spending in public elementary and secondary schools rose 111 percent, from $4,170 (in constant 2001-2002 dollars) to $8,802. From just 1990 to 2003, average per-pupil spending increased 25 percent, from $7,692 (in constant 2003-2004 dollars) to 9,644. This big run-up in spending did not cause a big run-up in student performance.

This article includes a state-by-state chart of spending per student.
D.C.'s Distinction: $16,344 Per Student, But Only 12% Read Proficiently: The District of Columbia spends far more money per student in its public elementary and secondary schools each year than the tuition costs at many private elementary schools, or even college-preparatory secondary schools. Yet, District 8th-graders ranked dead last in 2005 in national reading and math tests.

Study finds one-third in D.C. are illiterate. About one-third of the people living in the national's capital are functionally illiterate, compared with about one-fifth nationally, according to a report on the District of Columbia. Adults are considered functionally illiterate if they have trouble doing such things as comprehending bus schedules, reading maps and filling out job applications.

$500 billion spent on education. The Bush administration has issued a booklet declaring that U.S. taxpayers spent more than $500 billion for public schools in the 2003-04 school year, after months of attacks by Democrats and teachers unions who say that federal requirements for school improvement are underfunded.

Technology Has Made Our Public Schools Less Efficient. Spending on technology in public schools increased from essentially zero in 1970 to more than $100 per student in 2004, according to Education Week, a leading publication for teachers and school administrators. … Between 1997 and 2004, the federal government appropriated more than $4 billion to help states purchase educational technology. Meanwhile, these huge new investments in technology were coupled with a massive increase in the teacher workforce that drove the student-teacher ratio from 22 students per teacher in 1970 to 16 per teacher in 2001. There is no reputable analysis suggesting that the billions invested in technology have enhanced the productivity or performance of America's schools.

More teachers' union myths: The United States spends $83,910 per student from ages 6 to 15. The Slovak Republic, which outperforms the United States in this study, spends $17,612 per student.

What other institution can fail one-third of the time and survive? Time reported last week that only two out of every three young people who enter America's high schools complete enough of their work to graduate. The other third just disappear into society's wasteland.

Academic Gravy Train Derailment. In their quest for support for the lifestyle to which they have become accustomed, professors and administrators at state universities have traditionally looked at Republicans with disdain and pinned their hopes on elected Democrats. But now, even some of their traditional partisan angels are becoming skeptical of their claims of imminent need.

Cypress Ridge High School rated 'dangerous' by the state. The suburban, middle-class Cypress Ridge High School is the first Houston-area campus to be deemed "persistently dangerous," an emotionally charged label that it earned, in part, for reporting a high number of drug violations. … The high school is one of just five Texas schools to make this year's list. Fewer than 40 U.S. schools were deemed dangerous last year. … In Texas, schools are considered persistently dangerous if they report three or more mandatory expulsion incidents per 1,000 students in each of the previous three years.

Seven Myths Regarding School Finance and Tax Reform in Texas. Like many states, Texas must now respond to a judicial mandate regarding funding for public schools. The Texas Supreme Court has ruled that school districts lack meaningful discretion in setting property tax rates. In the Court's view this constitutes a statewide property tax, which is prohibited by the Texas Constitution. This is one more example of the education lobby's efforts to mandate increased spending for public education, a strategy that they have successfully pursued nationwide.

No Magic Bullet — Top Ten Myths about Government-Run Universal Preschool. The case for government-run universal preschool is based on selective, limited, and nonexistent evidence. What evidence there is argues for targeted pilot or demonstration programs that have research components attached to determine whether the programs are actually producing better student outcomes both in the short and long terms. Given the empirical holes that exist in the evidence for universal preschool, it would seem premature in the extreme to entrench an untested expensive program, run by poorly performing government bureaucracies, into the state constitution.

Special children, special needs, big bucks. A state report also showed that 25 percent of city high school seniors in special education received diplomas last spring without meeting graduation requirements. Baltimore City's school system is an excellent example of a situation where both mainstream and special-education students would benefit greatly from the opportunity to take their per-pupil money elsewhere to a better school.

In the trenches of the public schools — A review of 'The Emergency Teacher'. One is hard pressed, in my humble estimation, to come up with a more urgent domestic policy issue today than education policy. It is no secret that American public education is in shambles.

College illiteracy stuns educators. Shocked, stunned, and appalled are American educators as they study the recent report from the National Center of Education Statistics, which reveals that only 31 percent of college graduates can read a complex book and extrapolate from it. "It's really astounding," said Michael Gorman, president of the American Library Association. "That's not saying much for the remainder," he added, meaning that 69 percent of our college graduates cannot read at or above a "proficient" level.

History as she is wrote. If you want to know why kids these days don't seem to know much of anything useful — or have a command of proper facts — you should take a look at their textbooks. Terry Graves says they are filled with "facts" that will make your head spin.

Impoverishing everyone, educating no one. The word "education" does not appear anywhere in the US Constitution. The founders of this nation understood that education was best served at the local level and somehow, prior to around the midpoint of the last century, America's schools managed to turn out students so well educated they created the world's greatest economy, most powerful agricultural system, a constant stream of technological advances, and what is arguably the most effective military fighting force on the face of the earth.

Diplomythology: Any conservative understands that students in colleges are largely taught false, bitter rhetoric in place of knowledge and inquiry. Not only do modern universities destroy minds, but they consume huge amounts of wealth in the process. Is this, however, part of the price for providing a good education for our children?

Specious science in our schools. In September, millions of America's school children will return to their classrooms where their textbooks are teaching an utterly polluted stream of environmental and other science misinformation. Like so many issues involving our debased educational system, this is not evoking much public outcry. It should.

The illusion of formal education: Few myths resist experience more than the value of formal education. The briefest overview of human thought shows how little schooling has to do genius. Science? Pythagoras, Archimedes, Galileo, Newton, and Einstein each leaped far beyond the horizon, and each did so largely alone. Academia snuggled up to Einstein after his breakthroughs, and published his finding, but Einstein was a Swiss Patent Office clerk without a diploma when he made those breakthroughs.

Young Americans Geographically Illiterate, Survey Suggests. Young adults in the United States fail to understand the world and their place in it, according to a survey-based report on geographic literacy released today [5/2/2006]. Take Iraq, for example. Despite nearly constant news coverage since the war there began in 2003, 63 percent of Americans aged 18 to 24 failed to correctly locate the country on a map of the Middle East. Seventy percent could not find Iran or Israel.

[Yes, but one of the questions was, "Which of these cities is the setting for the original television series CSI: Crime Scene Investigation?" That's a question about television, not geography. Is a knowledge of prime-time television essential to a good education?]

"Change-Agents" change American education. Academic subjects such as math, science, and history have been deliberately hollowed out of their content. These, and most other disciplines, have been replaced with meaningless, mind-numbing psychobabble. Dumbed down methods such as whole language, new math, guessing, and others, are meant to cripple the minds of our young people. These methods create the mental dissonance required to stanch the development of cognitive thinking. Traditional values have been undermined with sex education, values clarification, "remediation," new age, and more psychobabble.

The Separation of State and Schools: We need to abolish the cabinet level office of Department of Education. The only function a department of education would have in Washington would be a clearinghouse of ideas with no control over local schools. That would be dealt with on the state level.

The Dirty Dozen: America's Most Bizarre and Politically Correct College Courses. As tuition rates climb to an average of over $21,000 per year, today's college students study prostitution, teeth whitening, and Beavis and Butthead. The Dirty Dozen highlights the most bizarre and troubling instances of leftist activism supplanting traditional scholarship in our nation's colleges and universities.

Judge tosses out No Child Left Behind lawsuit. A judge threw out a lawsuit Wednesday [11/23/2005] that sought to block the No Child Left Behind law, President Bush's signature education policy. … The National Education Association and school districts in three states had argued that schools should not have to comply with requirements that were not paid for by the federal government.

Editor's Note: That's called a "costly unfunded mandate" — a cliché used all over the internet. The lesson here is that neither states, cities nor individuals can get money from the federal government without a lot of strings attached.

Colleges find many lacking. In the lowest-level writing class at Columbia College, freshmen learn about the pitfalls of run-on sentences and the correct places for commas. In basic math, they learn about fractions, decimals and simple geometry. Sarah Rehder didn't expect to start college in either of these courses. A graduate of Curie High School in Chicago, she assumed she was prepared for college.

Education: then and now. Some years ago, when I looked at the math textbooks that my nieces in Harlem were using, I discovered that they were being taught in the 11th grade what I had been taught in the 9th grade. Even if they were the best students around, they would still be two years behind — with their chances in life correspondingly reduced.

Are We Learning Our Lessons About Education Spending?. From 2001 to 2004, federal spending on elementary and secondary education has jumped 68 percent, to $38 billion. Aid to higher education has more than tripled, to $28 billion. And what's this generosity buying? Less educated students.

Taxpayer Billions Wasted on Education. "Despite the huge infusion of federal cash," writes [Neal] McCluskey, "and the near tripling of overall per pupil funding since 1965, national academic performance has not improved. Math and reading scores have stagnated, graduation rates have flat lined, and researchers have shown numerous billion-dollar federal programs to be failures."

Florida — where "bad" is "good". Get this: There's a new principle in American education — namely, that public schools are to be "uniformly" bad. Such is the rock-bottom meaning of that 5-2 Florida Supreme Court decision last week scuttling a public school voucher program. You needn't sift for long the legal gobbledygook to figure out that the Florida decision cuts aspiring students off at the knees and rewards substandard performance by their teachers and administrators.

A for Error. In the fabled past, students in colleges and universities were penalized for giving an incorrect answer on an exam, now they risk a lower grade if they don't. "Memorize the wrong answer and give it back to them," advised Trey Winslett, a junior at the University of North Carolina at Chapel Hill, when asked how he handled inaccuracies in textbooks and lectures that he and his classmates had to remember for tests.

The Glass Ceiling of Women's Studies: Colleges and universities spend billions on women's studies programs, mostly at the taxpayers' expense, but coeds are avoiding these programs to a greater extent than television viewers avoid the WB.

Why Professor Johnny can't spell. Rebecca Beach is a freshman at Warren County Community College (WCCC) in Washington, New Jersey. Recently, she sent an email to the faculty at her school announcing the appearance of a decorated Iraq war hero named Lt. Colonel Scott Rutter.

Cheating the children. Last week, Florida's supreme court ruled that public money can't be spent on private schools because the state constitution commands the funding of only "uniform … high-quality" schools. How absurd. As if government schools are uniformly high quality. Or even mostly decent. Apparently competition, which made even the Postal Service improve, is unconstitutional when it comes to public education in Florida.

Abraham Lincoln Was a Home Schooler; Woodrow Wilson Went to Princeton. How many students or professors at the most respected liberal arts colleges in the country can name one of the liberal arts, or give a clear account of what the liberal arts are (or were)?

Students show almost no gains in reading. In the latest snapshot of how well American schoolchildren are learning, national test results showed a small gain in math proficiency in the past two years but nearly zero improvement in reading scores since 1992 despite more than a decade of focus on boosting student achievement.

College Spending Spree: Every year, when millionaire college presidents and lobbyists go to Capitol Hill in Washington, D. C. to plead for more federal money from American taxpayers in order to educate the public, there is not a dry eye in the House of Representatives among either lawmakers or their legislative assistants. And that's just on the Republican side. You get a different story when you actually go to a few college towns.

Schools Beset by Computer Errors. D.C schools continue to experience problems with a new computer system, with some principals saying yesterday that their schools have been unable to record attendance, print student schedules or even access the Internet since Wednesday [9/7/2005].

Illinois Schools Use Hidden Tax to Evade Property Tax Caps. Hundreds of school districts across Illinois have sharply increased a special tax that is meant to pay for legal claims and insurance expenses, some of them apparently doing so to divert the money to other purposes.

Thousands of Students Were Not Taught to Read, Then Labeled Disabled. Tens of thousands of students in California's special education system have been placed there not because of a serious mental or emotional handicap, but because they were never taught to read properly.

A Time to Remember and Preserve. Recently, I asked a student about to enter the 10th grade in one of Alabama's top public high schools what she knew about the Declaration of Independence. She said, "The Declaration of Independence is the declaration that gave us our freedom." I asked what the Constitution meant to her and she said, "I really don't know much about it because our history teacher is from Pakistan and all he taught us about in 9th grade history is about Pakistan."

Victims of the blackboard jungle. Only after the girl's father called police himself did law enforcement come to the scene. By the time the cops arrived, all of the administrators had gone home for the day. The principal is now in the process of being fired.

Duh! 81% of kids fail test. A stunning 81% of [New York City]'s eighth-graders flunked the state's basic social studies exam last year – and the scores have gone down annually since the test debuted in 2001.

Time to get an accurate read on the performance of public schools. While national media are filled with pictures of horrors all over the world, the biggest tragedy in the United States rates only local stories. I'm referring to the sad, sad tale of how public school systems promote millions of children all the way into high school without ever teaching them how to read.

Michigan Rethinks Laptop Giveaway Program. In 2000, on the heels of the tech boom, then-Gov. John Engler set aside $110 million to give laptop computers to Michigan's 91,000 public school teachers. While that may have been a nice perk for teachers, a survey conducted by Michigan Virtual University found that fewer than one in nine teachers felt they could use the laptops to enhance their lessons. Perhaps unsurprisingly, the program has resulted in no significant jump in student achievement.

Duke study: Internet makes children dumber. Before your school district gets the bright idea of giving away laptops and getting all of the children online, have a look at this study from researchers at Duke...

An iPod for every kid? We have come to the conclusion that the crisis Michigan faces is not a shortage of revenue, but an excess of idiocy. Facing a budget deficit that has passed the $1 billion mark, House Democrats Thursday [4/5/2007] offered a spending plan that would buy a MP3 player or iPod for every school child in Michigan. No cost estimate was attached to their hare-brained idea to "invest" in education. Details, we are promised, will follow.

Update:
Democrats try to bury iPod idea. House Democrats tried to bury a distracting controversy Thursday, saying a statement made last week about providing iPods for Michigan students had been misconstrued and was unfairly overshadowing the state's budget crisis.

Prince George's County to monitor its school buses with GPS. The District recently outfitted its fleet of 650 school buses, which transport the city's special-education students, with GPS tracking devices. WJLA-TV reported that the system cost D.C. Public Schools $1.6 million and will cost about $800,000 a year to maintain.

Note: That's $2460 per bus, plus $1230 per year (per bus) to maintain the system. What needs to be maintained once the system is up and running? For that amount of money, they could reinstall a whole new system every three years. And even when such a system works perfectly, all it shows is the location and speed of every bus. This appears to be an expensive solution for which there is no problem.

The 65 percent solution: Nationally, 61.5 percent of education operational budgets reach the classrooms. Why make a fuss about 3.5 percent? Because it amounts to $13 billion. Only four states (Utah, Tennessee, New York, Maine) spend at least 65 percent of their budgets in classrooms. Fifteen states spend less than 60 percent. The worst jurisdiction — Washington, D.C., of course — spends less than 50 percent.

No basketball player left behind. Leftists love to talk about the structural problems that purportedly keep down the poor, and by that they mean a free market system. But one structural problem truly does exist: the tragedy of inner city public school systems that make a future of poverty likely for large numbers of students.

Survey Finds Fewer Drug-Free Schools. More teens are saying there are drugs in their schools, and those who have access to them are more likely to try them, said a Columbia University survey released Thursday [8/18/2005].

Minorities, "racism," and the UMASS flap: On average, Asian students spend twice as much time doing homework as their non-Asian classmates. They believe they'll get in trouble at home if their grades fall below A-, while for whites the "trouble threshold" is B-, and for blacks and Hispanics, C-. They don't believe that success or failure in school depends on factors beyond their control.

Protecting Our Public Schools: There is no acceptable level of school crime, but violent crime against students and educators cannot be tolerated at any level in a civilized society. The duty to keep school property free of the foreseeable risks of crime falls on our school districts; and our teachers and administrators are charged with ensuring that violence inside school buildings is quickly terminated.

Public Education Productivity Declines 71% in 35 Years. In today's more technology-oriented and competitive world, the U.S. should be producing much higher SAT results than 35 years ago, with real diplomas reflecting real mastery of all subjects, especially with three times more real spending per student.

The Impact Of Violence On Public Education: Our states and their school districts have set about establishing a variety of school security programs designed to both limit school violence and to react to it after it occurs. But uniformed security personnel, gates, locks and alarms do little to assist the classroom teacher to maintain order in the very places where learning is supposed to be going on.

Building Unwanted Schools in Illinois. While taxpayers in Florida's Miami-Dade School District aren't getting the new schools they want and need, taxpayers in Jersey County, Illinois, are getting new schools they don't want and don't need, despite rejecting — by a 71–to–29 percent vote — a 1999 school district referendum to build two new schools. School enrollment in Jersey County has been falling for the past eight years.

Phony "ethics". We have known for a long time that teenagers in Japan scored much higher on international math tests than American teenagers do. But did you know that teenagers in Poland, the Slovak Republic, Iceland, Canada, and Korea — among other places — also score higher than our teenagers? Out of 29 countries whose teenagers took a recent international math test, American teenagers ranked 24th. Americans also scored near the bottom on tests of general problem-solving.

Higher education in decline. College costs have risen dramatically over the last several decades. In many cases, it's difficult to find a college where per-student costs are under $20,000 each year. Most often, tuition doesn't measure the true cost because taxpayer and donor subsidies pay part of the expenses. While costs are rising, education quality is in precipitous decline, particularly at the undergraduate level. Part of the reason is the political climate on college campuses, where professors use their classrooms for proselytizing and indoctrination and teach classes that have little or no academic content.

Smaller class sizes fail to raise standards in primary schools. Academics at the University of London found that class size had no impact on progress in the subjects among nine and 10-year-olds.

Raw Data on the Sources and Uses of Public Education Dollars. If per-pupil expenditures continue to increase at 6% a year, average U.S. spending for K-12 education for the school year starting this fall [2004] would be about $11,000 per student, with total expenditures exceeding a half a trillion dollars.

Editor's Note: The chart on this page shows that the District of Columbia spends more than 2.66 times as much per pupil as the State of Utah. Which of these two places has better, safer schools?

Calvert Commie Public Schools: In this era of entitlement, it's laughable that public school budgets financed by taxpayers are in any way lacking. Maryland's per pupil expenditure has been rising steadily over the years, and the state currently spends on average about $9,000 per year on every student in its public schools. And this doesn't even take into account state and federal grants. It seems the only thing lacking these days is the intelligence of public school bureaucrats.

Corruption in Public Schools Costs Taxpayers, Impedes Reform. Ongoing news reports from across the country indicate incidents of corruption and mismanagement in the public schools occur frequently, often on a massive scale. Ignoring the scale of the problem not only costs taxpayers millions of dollars but also hinders school reform efforts, according to New York University law professor Lydia G. Segal. In her recent book, Battling Corruption in America's Public Schools (Northwestern University Press, 2003), Segal argues, "one impediment to reform that no one is seriously studying in the debate over how to improve public schools is systematic fraud, waste, and abuse." Her careful documentation of the pervasive corruption and waste in the nation's three largest school districts — New York City, Chicago, and Los Angeles — leaves little doubt the problem merits serious study.

Signature Disappointment: Last week, Republican delegates objected to a draft platform that bragged about education spending increases worthy of LBJ. A reference to the Great Society's architect was dropped in favor of boasting about the Bush administration's being responsible for the biggest boost in federal education spending in 40 years. Although the 50 percent increase in federal spending over the past three years is far more than Democrats ever dreamed of committing to Jimmy Carter's Education Department, they complain that the expensive reform is under-funded.

Education plus money does not equal achievement. Observation and common sense have told me for years that there is no relationship between the amount of money spent on education and student achievement. Now a new study to be released July 7 [2004] by the Cato Institute provides irrefutable facts that lead to the same conclusion.

Here is that report:
A Lesson in Waste: Where Does All the Federal Education Money Go? Despite the huge infusion of federal cash and the near tripling of overall per pupil funding since 1965, national academic performance has not improved. Math and reading scores have stagnated, graduation rates have flatlined, and researchers have shown numerous billion-dollar federal programs to be failures.



    2002 Federal Education Spending in the Top Seven Departments
    Department of Education:                     $46,324,352,000
    Department of Health and Human Services:     $22,858,490,000
    Department of Agriculture:                   $11,896,064,000
    Department of Labor:                          $6,364,200,000
    Department of Defense:                        $4,749,222,000
    Department of Energy:                         $3,625,124,000
    National Science Foundation:                  $3,230,812,000


Scandals Prevalent In Public Schools: Recent cases in Milwaukee and Florida involving the misuse of funds have raised questions about how accountable school choice programs are for their use of public tax dollars and charitable donations. Media accounts of these isolated incidents imply that fraud and fiscal mismanagement are somehow a byproduct of the private sector's involvement in school programs. Yet the public school sector has persistently been burdened with ongoing incidents of financial mismanagement and cases of large-scale fraud.

Texas Teacher says the State's Education System is Wasteful and Poorly Run . As an example of typical mismanagement, the Texas teacher points to the huge salaries of the state's education superintendents, some of whom are involved in private consultancies and whose side-line dealings should probably be flagged as conflicts of interest.

The Rise of a Judicial Dictatorship: [In Washington DC,] integration seems to have proven a false promise and a colossal failure. While per-pupil expenditures are among the highest in the nation, the test scores of children in these D.C. schools are among the lowest. In too many, the kids are learning at levels three and four grades below the national norm.

District fails to check students. D.C. school officials did not verify residency requirements for more than 200 students at schools and facilities receiving city funding during the past two years, violations that potentially cost the District nearly $3 million, according to a report by the D.C. inspector general.

Do Away With Public Schools. Consider Washington, home of the nation's most devoted government-lovers and, ironically, the city with arguably the worst public schools in the country. Out of the 100 largest school districts, according to the Washington Post, D.C. ranks third in spending for each pupil ($12,979) but last in spending on instruction. Fifty-six cents out of every dollar go to administrators who, it's no secret, do a miserable job administrating, even though D.C. schools have been in a state of "reform" for nearly 40 years.

Educational ineptitude: While teacher ineptitude is neither flattering nor comfortable to confront, confront it we must if we're to do anything about our sorry state of education.

Educational ineptitude II: The unflattering fact that we must own up to is that many, perhaps most, of those who choose teaching as a profession represent the very bottom of the academic barrel.

Brown v Board of Education, 50 years later: When a school is found to be in need of improvement, parents, school officials and community organizations must work together to turn things around. For the past fifty years we've failed to do that.

Brown after 50 Years: Looking for Equality and Raising Expectations. Fifty years ago, in May 1954, the Supreme Court decision in Brown v. Board of Education got the law right but fell short of the mark. The May 1896 decision in Plessy v. Ferguson had determined that "separate but equal" was constitutional. The Brown decision overruled the "separate" part, but made no mention of "equal." Fifty years later, public education remains unequal, with a persistently wide gap in educational achievement between students of color and white students.

Study Shows Texas Must Focus on Productivity. A new study by the Texas Public Policy Foundation (TPPF) challenges assertions that poor student achievement in Texas is the result of inadequate funding and that higher taxes are the best way to improve achievement. The Texas legislature is considering proposals for changing the state's education funding system. Any new system of taxation, the TPPF authors contend, should preserve local control and promote parental choice.

Just the Facts: U.S. Science Achievement. For more than three decades, the long-term trend studies of the National Assessment of Educational Progress have tracked how well U.S. students perform in science at three age/grade levels. The trends in test scores for 9-year-olds and 13-year-olds have been relatively flat. For 17-year-olds, scores dropped sharply during the 1970s and have since risen steadily, though not to the level achieved when the tests were first administered.

Poor education prognosis: Drs. Abigail and Stephan Thernstrom's new book shows that the government education whites receive is nothing to write home about, but for blacks, it's no less than a disgraceful disaster.

Reforming education against all odds: Teachers unions recoil from accountability and resent evidence that all is not well, or that whatever is wrong cannot be cured by increased funding of current practices. But per-pupil spending, adjusted for inflation, is three times what it was 40 years ago, and the pupil-teacher ratio is 40 percent lower, yet reading scores are essentially unchanged.

No Tax Dollar Left Behind: Dept. of Education statistics indicate increased federal spending doesn't improve education.

More Children Left Behind: Despite a 20-year record of failure, Title I funding was reauthorized in the No Child Left Behind Act. Federal spending on education has grown by $11 billion since President Bush took office.

Public Schools: Spending Money in all the Wrong Places. Reducing teacher workloads does not improve student achievement. Between 1950 and 1994, the pupil-teacher ratio in American schools fell by 35%. Student achievement deteriorated. The achievement decline is not explained by changes in family structure, poverty, special education, or increasing numbers of immigrants.

Mission Creep: Larger school districts tend to veer "off task".

Government and Education: They Don't Mix. Members of the nonprofit Separation of School & State Alliance advocate the elimination of any government role in K-12 education. "Government-run schools are built on forced attendance and tax-financing," said Marshall Fritz, former private school principal who founded the group in 1994. "These coercion-steeped schools are now producing the most violent, illiterate and ignorant generation this nation has ever known. Only when we end state coercion can educators and families be free enough to improve education."

Why Buying Government Bonds is a Bad Investment for Yourself, and Our Future: The U.S. Department of Health and Human Services (HHS) spends 80% of its budget on administrative overhead, while private charities are prosecuted for fraud if more than 20-30% of donations goes for staff. In California, there are an average of 132 administrators for every 100 teachers in the public schools, while there are only 18 per 100 teachers in the parochial schools. Average cost per high-school student: $5200 public vs. $2200 private.

International Scorecard for U.S. Education: Big Spending, So-So Results. The latest international scorecard for education looks to be little changed in one respect: The United States continues to be at or very near the top in level of spending on education. At the same time, the U.S. is falling in the international standings of student performance.

Who Says Government Programs Have to Work? The list of programs that fail, whose unintended consequences exacerbate problems, simply boggles the mind. Take the recently expanded Title I. Secretary of Education Rod Paige once said, "After spending $125 billion … over 25 years, we have virtually nothing to show for it. Fewer than a third of fourth-graders can read at grade level."

College Seniors No More Knowledgeable Than 1950s High School Grads: The college seniors of today have no better grasp of general knowledge than the high school graduates of almost half a century ago, according to the results of a new study.

Fiddling whilst Rome burns: If one didn't know better, one would think that Washington's predominantly black public school system was being run by the grand dragon of the Ku Klux Klan, hell-bent on a mission to sabotage black academic excellence. Instead, it's a system being run by blacks for blacks.

"School Days, School Days, Dear Old Golden Rule Days…": Every time you turn around these days, you read or hear about how deplorable the state of public education is in the United States. Yet, we continue to seem to have a singular answer… "throw more money at it". We've been doing that for years now and the results just aren't there. Our young people are exiting the educational system without being able to perform basic tasks. And, we just keep throwing more money at the problem.

What Should We Expect from Smaller Classes? In a thoughtful review of studies of class size and academic performance in last November's Scientific American, Ronald G. Ehrenberg and colleagues point out class-size reduction has one obvious drawback: "It costs plenty." They note the state of California alone has spent more than $1.5 billion annually over the past several years to reduce class sizes to 20 or fewer in kindergarten through third grade …with only a "tiny effect."

The Education Bill: The compromise education bill just passed by Congress and signed into law by President Bush provided some good political theater and even a little humor, with the president embracing Ted Kennedy. But what did it do for American education?

Education Fraud in Philadelphia: Today's education expenditures are higher than in earlier periods, when there was higher academic achievement. In fact, if anything, there's a negative correlation between education expenditures and academic achievement.

More Money for Education, Lots More Money: The education bill President Bush signed into law Tuesday [1/8/2002] authorizes $26.5 billion to be spent in the current fiscal year on kindergarten through 12th grade programs. That's $8 billion more than what was budgeted a year ago for education and $4 billion more than what the president originally wanted to spend on the new package.

Investing in Public Education: Does It Add Up? In reality, tuition at many parochial and other low-budget private schools will in fact be covered by half of what the public schools spend per pupil in many communities.

Less Government, Not More, Is the Key to Academic Achievement and Accountability. Question: What does the state of Michigan call schools with 37, 46, or 48 percent of their students receiving passing composite scores on the MEAP exam? Answer: award-winning schools.

Schoolhouse Crock: Why George W. Bush's education reforms won't change anything. President Bush has proposed to increase the Department of Education's budget by 11 percent, to $44.5 billion. Assuming his budget is passed as is, Title I, which continues to be the largest single item in the federal education budget, would spend approximately $10 billion for a program that has consistently failed to produce any measurable results for close to four decades.

Free Lunch: Title I's formula for determining aid -- and its recipe for fraud: Individual schools receive Title I funding based on the percentage of students that are eligible for the federally subsidized free-lunch program. Though the lunch program is designed to provide food to low-income students who might otherwise go hungry, its guidelines do not require schools to verify the parental income of students who enroll. The process to qualify for a free lunch comes down to parents self-reporting their income on a form that is turned in to their local school. Federal free-lunch program administrators argue that the program has little potential for abuse because "the worst that happens is a kid gets a free lunch."

How Bad Is the Education Bill? As the Senate completes its blunting of President Bush's once-bold plan to overhaul the federal role in elementary-secondary education, most of the final decisions await a House-Senate conference committee. But the measure's outlines are clear and, for the most part, dismaying. There will be no real school choice or empowering of parents. There will be no true flexibility for change-minded states to channel their federal education dollars into reforms of their own devising. Few of today's hundreds of narrow "categorical" programs will be merged. There will, in fact, be no fundamental overhaul of this LBJ-era legislation, despite decades of evidence of its failure. But there will definitely be a whopping price tag, as billions of additional dollars are attached to these meager reforms.

Up from Mediocrity: Giving parents the financial reins is the key to accountability in education. For too long, the establishment has passed the buck when students fail, and generations of children have paid the price. Since 1970, student achievement has stagnated or declined, despite a two-fold increase in spending, smaller class sizes and improved teacher salaries.

School Funding: Lack of Money or Lack of Money Management?

Put a stake through its heart; don't fund the federal education system. There are now seven different versions of H.R. 1, a bill that would spend $5 billion more on the same failed system! This is a noxious piece of legislation that should be scrapped along with the entire US Department of Education. The reason for this is that the Department is the reason for the failure of our schools.

In England:
Thank Marx for our children's low marks. Isn't it time the lies stopped, and the Government owned up to the severe failings of the education system? This is where the Marxist drivel taught in teacher training colleges for the past 40 years or so has got us. The odd stand has been made against this poison — notably by Chris Woodhead when he was chief inspector of schools — but little impact has been made. In fact, just as the Government is having to create all these training places because its school system has failed, it continues to seek to do ever more damage.

In Scotland:
Education chief fails spelling test. A senior education leader in charge of efforts to improve children's literacy has been left embarrassed after he sent out a letter containing glaring spelling mistakes.

Cooking the Books at Education: The sad truth, which has escaped the attention of most of the major media, is that there is no real guarantee that any of this money will actually get to the students that may need it. This is because the Department of Education has been so mismanaged that it can't account for the money it is spending.

Anti-choice Education Bill Clears Last Hurdle: The legislation authorizes unprecedented spending on education - more than $15 billion for "disadvantaged" schools alone next year as compared to around $8 billion this year.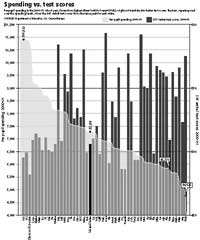 Increased school spending reduces literacy: If we built fewer government schools, that would increase pressure on parents to either home-school or get their kids into private schools, which would rescue more millions of souls from the enervating government youth indoctrination camps.



Chart: Spending versus test scores



Back to Education issues.
Back to the Home page.