Introduction by The Editor:

The Democratic Party is rapidly moving further to the political left, and adjectives like socialist, once derogatory, are no longer being avoided. Some of the candidates who are being enthusiastically promoted by the party are indistinguishable from communists. For years, the Democratic Party platform has been completely out of sync with the American mainstream, even though it has the reliable support of the national news media. But some of the newcomers have ideas that are really odious.
One symptom of this is the introduction of the risible "Green New Deal," which is an amalgamation of pie-in-the-sky utopian fantasies, none of which will ever be implemented in any country in the world. Yet the left-wing extremists among the Socialist Democrats are openly in favor of adopting it as part of their platform.
The poster child for this lunacy is Alexandria Ocasio-Cortez, a newly-elected U.S. Representative from New York. She had already begun to build a reputation as an airhead before the "Green New Deal" hit the internet in the first week of February. Now, her enthusiastic support of this flimflam will allow all of us to dismiss any ideas she has in the future. Her understanding of the way the real world works is so badly flawed, it makes one wonder how she could graduate from college with such an inadequate education.
The way things are in the real world isn't perfect by any means, with the military-industrial complex, the Establishment, and the Deep State pulling all the strings in Washington DC, but we can learn to live with it. Conversely, if any part of the Green New Deal were to be implemented, the U.S. economy would soon collapse.
Moreover, the whole point of the Green New Deal is the elimination of carbon dioxide emissions, under the mistaken notion that CO2 is a pollutant, which it is not, and that global warming is going to reach a thermal runaway state (any day now!) and quickly destroy all of civilization. These ideas are peddled in the public schools, in an effort to get tomorrow's voters to expand and strengthen the already-overgrown federal government. Global warming hysteria is based entirely on flawed computer models, dishonest record keeping, and inaccurate measurements. The biased and incompetent news media spread disinformation continually, because there is a lot of money and political power at stake.
The long list of ways to reduce CO2 emissions (embedded in the Green New Deal) is ridiculous, especially when you consider that every other country in the world will be using coal and petroleum and natural gas like they always have. The communists in the Democratic Party may eliminate internal combustion engines and air travel and coal consumption, but no other country in the world is going to follow suit. And no harebrained scheme will stop the emission of carbon dioxide from volcanos, termites, swamps, and the other seven billion people on this planet.
The Green New Deal is a solution for which we do not have a problem.
Subsections on this page:
The Green New Deal
Alexandria Ocasio-Cortez herself


Related topics on other pages:
The Democratic Party's Far-Left Candidates
The Socialist Democratic Party platform
Liberals are out of step with America
Liberals lie about everything
Windmills
Solar panels
Mass transit
Nuclear energy
Coal
Leftists oppose every practical source of energy
Lies about energy production



---
The Green New Deal
Green New Deal? Slay the Socialist Monster Now. Although Rep. Alexandria Ocasio-Cortez is most closely associated with the Green New Deal, she is little more than a paid advertising spokeswoman for the revolutionary legislation, which aims to completely overthrow the American economic order within 10 years. [...] The resolution before Congress declares that it is the duty of the federal government "to create millions of good, high-wage jobs and ensure prosperity and economic security for all people of the United States." This one tiny component by itself demonstrates the socialist agenda underlying the GND. How exactly does the federal government "create" millions of jobs? How do federal bureaucrats ensure that they are high-wage jobs? How do they guarantee prosperity? Have Democrats never heard of a recession? Do they think that economic downturns can be legislated out of existence?
AOC Isn't Even a Good Environmentalist. The Green New Deal is an unserious effort predicated upon the absurd notion of "environmental justice." You see, for today's Greens, unlike the idealistic environmentalists of yesteryear, punishing the United States to make up for its purported past sins is the goal. Greens, such as AOC, care little for actual progress. They merely want to hurt Americans (while enriching themselves). Embracing the Green New Deal will cost taxpayers as much as $7 trillion over a decade * and make life harder on average Americans. For a fraction of that cost, the United States could build nuclear fission power plants, invest in carbon capture technology to clean our air, while at the same time develop nuclear fusion technology that will provide abundant, advanced, and clean energy for all — and still allow for humans to live comfortably. But, that's not the goal of the Green New Deal.
Footnote:
* Many other estimates are far higher than $7 trilion. See below.
Democratic Presidential Candidates Perfect Orwell's Language Manipulation. Take defenses of the "Green New Deal." Alexandria Ocasio-Cortez, who popularized the idea (which has been around for a decade or more), doesn't seem to have any comprehension of its cost, or the cost of anything else. When asked about how she would pay for it, her initial response was "tax the rich." The truth is that there aren't that many rich, and under her 70% and up federal tax plan, there soon wouldn't be any. Now she seems to believe that one can simply print money to pay for it all. This radical extension of Modern Monetary Theory would bankrupt the country and render our currency worthless. [...] This expansion of government power over its citizens is the true intent of the Green New Deal and of every other progressive initiative. The oil and gas sector constitutes 8% of the U.S. economy. Eliminating this sector and shifting to government-controlled green power has been a longstanding aspiration of the left, along with socialized medicine and centralized control of education. Now, in an extremely divisive political atmosphere, progressives see an opportunity to make their dreams come true.
AFL-CIO shreds Green New Deal: AOC's plan could cause 'immediate harm to millions'. Big labor has come out swinging against the Green New Deal, with the AFL-CIO claiming the sweeping energy and economic reforms proposed by Sen. Ed Markey and Rep. Alexandria Ocasio-Cortez could cause "immediate harm to millions" of union workers. The largest federation of unions in the country sent a letter to Mr. Markey and Ms. Ocasio-Cortez last week, saying the Green New Deal resolution makes promises that are "not achievable or realistic." "We welcome the call for labor rights and dialogue with labor, but the Green New Deal resolution is far too short on specific solutions that speak to the jobs of our members and the critical sections of our economy," reads the March 8 letter, which was signed by 10 national labor unions on the AFL-CIO's Energy Committee.
Fake Scientist Bill Nye Joins Real Socialists to Push Green New Deal. One of the most famous history deniers alive today is a person named Bill Nye. He is not a scientist and, really, is not very smart. But a lot of people listen to him because he is selling a brand of hysteria about the end of the world that is, well, pretty engaging for people who believe him and pretty entertaining for those of us who know he is lying. It is like pro wrestling — something for everyone. Mr. Nye refuses to acknowledge history or science, which taken together proves conclusively that planet Earth has been naturally warming and cooling for millions of years. We even once had an ice age, known as the Ice Age!
The 1972 Progressive Pathway to Oblivion. Much has been written about the "Green New Deal," specifically its socialist redistribution schemes, and its notorious rapid phasing out of the internal combustion engine, which drew the polite ridicule from Feinstein and even House Speaker Nancy Pelosi (D-Calif.). The timing was certainly absurd. The rapid growth in domestic natural gas use has ensured that the United States has exceeded even most "green" European countries in meeting the now abandoned Paris Climate Accords. U.S. energy production has all but eliminated the prior strategic stranglehold of the Persian Gulf states over U.S. Middle East policy or, for that matter, over American foreign policy itself. At a time when government-funded high-speed rail is failing and gasoline is below $3 a gallon (well below the price in Europe), few voters would prefer ending gas and oil use or trying to do what leftwing California could not. One reason the U.S. economy is booming and may continue to do so is that American electricity-intensive industries increasingly are enjoying substantial cost savings in their power costs over European and Asian rivals.
Ocasio-Cortez's Green New Deal wouldn't slow climate change, but your electricity costs would skyrocket. Rep. Alexandria Ocasio-Cortez's Green New Deal would require Americans to rely on unreliable solar and wind energy that would raise electric bills by several hundred percent for every family and business, hit us with power blackouts and brownouts, worsen poverty and do nothing to slow climate change. [...] Even the drastic, unrealistic and multitrillion-dollar energy schemes in the Green New Deal would have no measureable impact on global temperatures in our lives or our grandchildren's lifetimes.
Civil War Would Erupt If "Green Deal" Socialists Actually Get What They Want. With "socialists" like Bernie Sanders or Alexandria Ocasio-Cortez receiving more public and media attention than ever, it is clear that there is an agenda by the establishment to generate manufactured excitement over socialist/communist policies. To be clear, the way our system operates today is ALREADY quite socialist, with big government interference in almost every aspect of business and life. However, the green new deal represents a full blown Marxist approach to government control. It is essentially soviet level communism, repackaged as environmental socialism. [...] Some people might argue that the green new deal is a sideshow, and that the American people would never support such measures or any presidential candidates that would implement them. And I would agree IF we were to hold an election today. After all, front-muppet Cortez comes off like an angry teenager who just discovered Marx and Alinsky and decided to base her entire identity around the cliff notes of their manifestos. But, by 2020 the story may be much different.
Life in the Green New Deal 'Paradise': Nasty, Brutish, and Short. Not long ago, Alexandria Ocasio-Cortez (@AOC — one of the best comedy accounts on Twitter) released (then retracted, and then disclaimed) the "Justice Democrats'" Green New Deal FAQ. The GND's promises just didn't add up, but mere arithmetic often doesn't discourage a true believer. I started pondering what life would be like under the Green New Deal.
The Left: Seething with apoplectic rage. The right: Happy and optimistic. So virulent is this crowd that its members advocate for the absurd Green New Deal offered up by the benighted Ocasio-Cortez, which, if ever implemented, would effectively destroy the economy of the U.S. As Patrick Moore, the founder of Greenpeace, tweeted, "Pompous little twit. You don't have a plan to grow food for 8 billion people without fossil fuels, or get food into the cities. Horses? If fossil fuels were banned every tree in the world would be cut down for fuel for cooking and heating. You would bring about mass death."
Green New Deal is unworkable and unaffordable. An analysis found that if fully implemented, the proposal would cost up to $93 trillion over the next decade. That's more than 90 percent of the combined wealth of all American households. It would cost every American family as much as $65,000 per year — more than the average household makes in a year. One of the key tenets of this proposal is a mandate to move to 100 percent renewable energy. Doing so would eliminate abundant, affordable and reliable energy that currently powers three out of five U.S. homes. Even if it were possible — and it isn't — the massive costs would be passed directly to consumers in the form of higher electricity and heating bills. One estimate concludes that households could see their energy bills spike by as much as $3,800 a year.
The farcical 'Green New Deal'. The dominant source of energy for the foreseeable future for both the United States and the world will be fossil fuels, chiefly in the form of oil, natural gas, and coal. Throughout the world, many groups will push hard for massive subsidies to wind and solar energy. Yet, that attempt, no matter how bold, will fail to shift the overall balance of energy production toward green sources. The fatal drawback of wind and solar is their lack of storability. Solar works when the sun shines. Wind works when breezes blow. Both often provide energy when it is not needed and fail to provide it when required. Any legal diktat that puts these renewable sources first will only produce a prolonged economic dislocation. Pie-in-the-sky proposals like Rep. Alexandria Ocasio-Cortez's Green New Deal, which stipulates 100 percent of energy needs be supplied by "clean, renewable, and zero emissions" sources, should be dead on arrival.
The Green New Plan is irresponsible. Road and air travel dominate most people's lives in industrialized countries and emerging markets. Airlines are conducting more than 100,000 flights a day around the world. Commercial aviation, with 23,000 commercial airplanes worldwide that has been accommodating 4 billion passenger annually. Cruise liners, each of which consumes 80,000 gallons of fuels daily, have been accommodating more than 25 million passengers annually worldwide. Electricity alone, especially intermittent electricity from renewables, has not, and will not, run the economies around the world, as electricity alone is unable to support the energy demands of the military, airlines, cruise ships, supertankers, container shipping, trucking infrastructures, and our space program. [...] The intermittent electricity from wind, solar, or from batteries and storage units made from exotic materials like cobalt and lithium CANNOT supply the thousands of products from petroleum that are demanded by every transportation infrastructure, electricity generation, medications, cooling, heating, manufacturing, agriculture, and virtually all the products that are the basis of everyone's standard of living across the globe have led to reduced infant mortality, extended lifespans, and allowed the movement of goods and people anywhere in the world.
The Rickety Bread Machine. Make no mistake, those who embrace the Green New Deal — GND — want to take us down the road that has always produced misery for the many and affluence for the few. Those like Senator Warren, Bernie Sanders, or Alexandria Ocasia-Cortez may have noble motives but they are built on a foundation of illusion. The government they want to create will not be run by angels who are motivated only by what's right and best for the nation, it will be run by humans who pursue their own self-interest and respond to incentives that flow from laws and regulations that too often are influenced by those — crony capitalists — with the wealth and influence to shape them to their advantage. Supporters of the Green New Deal have convinced themselves that the economy can be run better by the elites through centralized decision making than by the many dispersed parties that comprise our market economy.
Why Do Progressives Reject Policies That Would Achieve Their Aims? Rep. Alexandria Ocasio-Cortez (D-Sesame Street) has delivered yet another statement that bespeaks the progressives' chronic myopia. This time she's pondering the dilemma about whether or not it's "still okay to have children," given the apocalyptic future being created by climate change. The point has nothing to do with demography, as birth-rates in the U.S. are already starting to decline. The real point, of course, is to rouse the old progressive battle-cry of a "crisis" that "urgently" needs resolving, mainly by increasing the power and rapacity of bloated federal agencies and their growth-killing regulations.
The Green New Deal is a disaster for Democrats, too. I think the Green New Deal is a disaster for Democrats. Senators Harris, Warren, Gillibrand, Booker and Sanders have endorsed all or large parts of it. They are all presidential candidates: the Democratic Party has dangerously endorsed a plan that amounts to nothing more than fantastical economic nonsense. Because... we now have a price tag. We now know what it would cost: $93 trillion. That works out to $600,000 for every household in the land. Now that's not some off-the-wall estimate from an obscure lobbying group. It's from Douglas Holtz-Eakin, who is a former director of the congressional budget office.
An Environmentalist's Blistering Article Against Renewable Energy Wrecks AOC's Green New Deal. The Green New Deal created by New York's Rep. Alexandria Ocasio-Cortez has been heralded as one of the most nonsensical pieces of legislation to ever come out of Washington, and for good reason. For one, she essentially advocates for a high-speed rail fantasy that could never come true, guaranteed a livable wage and healthcare for everyone, and declared that she would move us to 100% renewable energy. A rule of thumb says that if it sounds too good to be true, then it often is. AOC's Green New Deal sounds way too good.
Climate brainwashing in schools and the Democrats' lurch to the left. Representative Ocasio-Cortez is convinced the world will end in 12 years without adoption of all parts of the Green New Deal, and since she has taken the initiative, she also wants us to know that for now, she is the boss (so much for our elected officials serving the people). People, she tells us, should stop having children, since they have no future if temperatures rise another degree or two. Get rid of all meat-eating (except for the nomenklatura), ban air travel (trains will take their place: track 7 for Australia), rebuild all structures to make them energy-efficient without the use of fossil fuels, Medicare for all, and free college education. And the rich will pay for all this (estimated at $50-90 trillion over ten years) with a higher marginal tax rate.
Democrats Con Their Base with Green New Deal. [Scroll down] For those keeping score at home, that's five prominent contenders for the 2020 Democratic presidential nomination embracing the Green New Deal. They haven't just made vague promises to "combat climate change" or "reduce greenhouse gases." They've signed on to a specific document with specific provisions that urge a series of truly immense political, economic, and cultural changes to fundamentally remake the United States. Forget the Ocasio-Cortez background document; the actual Green New Deal is extraordinarily radical. It calls for a ten-year "national mobilization" to not only achieve "net zero" emissions but also provide "economic security for all people of the United States." This means meeting 100 percent of America's power demand "through clean, renewable, and zero-emission energy sources." It does appear that many Green New Deal proponents do at least include nuclear power in that mix, but even with nuclear power, that single plank of the Green New Deal is, well, a practical impossibility
America's Second Civil War Has Already Begun. Why vote for someone who promises equal opportunity when someone else promises a better outcome? Nuclear winter became global warming became climate change became "we want total control over everything." The reason why Democrat candidates for the presidency so quickly signed on to my congresswoman Alexandria Ocasio-Cortez's Green New Deal is its promise of comprehensive control over every aspect of our lives. Eliminating planes, trains, and automobiles will keep us close to our homes and jobs or for those "unwilling to work" in their basement enjoying their "universal basic income." Dependent people without mobility are easier to control.
The Green New Deal Versus Rural America. If the Green New Deal becomes a reality, it will dramatically increase electricity costs and concentrate economic and political power in big business and in Washington. In short, the biggest costs of the all-renewable-energy push will be paid not by urban liberals such as Ocasio-Cortez, who are pushing the Green New Deal, but by rural Americans who probably voted for Donald Trump. [...] It is an established fact that big renewable-energy mandates result in big increases in prices for consumers. That can be seen in Germany, Ontario, and California.
Sebastian Gorka: The Green New Deal Is a Watermelon — 'Green on the Outside and Deep, Deep Communist Red on the Inside'. Former Deputy Assistant to President Donald Trump Sebastian Gorka, speaking at the CPAC conference in National Harbor, Md., on Thursday [2/28/2019], said the Democrats' Green New Deal is "a watermelon," because it's "green on the outside" and "deep, deep red communist on the inside." "According to the amazing Victims of Communism Memorial Foundation, they did a poll last year in which they found that 52 percent of American millennials would like to live in a socialist or communist America," Gorka said, which is why 40 Democrat candidates in the last midterm election called themselves socialists." [...] "They want to take your pickup truck. They want to rebuild your home. They want to take away your hamburgers. This is what Stalin dreamt about but never achieved.
The Obliviousness and Conniving of the Democratic Party. The unleashed and unhinged Democratic Party and their mad dash to bankrupt the country in combination with what is currently being spent totals: $178.7 Trillion over ten years. [...] With so little capital available to the private sector, and taxes on all productive members of society, by necessity at confiscatory levels, there would be, at first, a stagnant and quickly thereafter a rapidly declining economy. The vast majority of citizens would no longer be productive, as they would have guaranteed income from the government as long as the government was able to pay — which would not be for long.
Democrat House Oversight Subcommittee Schedules Hearing on Climate Change, Democrats Don't Show Up. You can't make this stuff up if you tried. All we ever needed to know about the purely political use of 'climate change' as a manufactured tool for electoral votes is visible in this one moment. Democrats, led by Alexandria Ocasio-Cortez and the Green New Deal, have been claiming the world will end in twelve years if Climate Change is not addressed. To highlight their commitment to the urgent need, Speaker Nancy Pelosi created a House subcommittee dedicated to selling the need for the Green New Deal. [...] A panel was set to deliver testimonials and statements to advance the priorities of the Democrat congressional team selling the Green New Deal; except, well, the majority Democrats ran into a problem: they didn't show up for the hearing.
Cortez's 'Green New Deal' [is] leading to the Self-Destruction of the Democrat Party. It would be one thing for Democrats to alter America's lifestyle forever to avert a real and present danger to the planet and quite another to destroy the thriving U.S. economy to advance a political and personal agenda. But with a plan like Cortez's GND, there is much more at stake for the survivability of the Democrat party. In their race to full-blown socialism, the fringe elements within the Democrat party have managed to drag their weak leadership down with them.
The Red Queen. [Scroll down] But even if money were no object the total commitment required by the Green New Deal incurs the opportunity cost of not pursuing an alternative strategy based on cheaper energy and climate adaptation — or even doing nothing. The Green New Deal for example rules out clean nuclear power. It can brook no rivals because solving Global Warming requires every resource we can muster. If we spend trillions on the GND we've no money left for anything else if it bombs.
The Green New Deal's Impossible Electric Grid. The Democrats' Green New Deal calls for a fully renewable electric power grid. Regardless of the economic or political challenges of bringing this about, it is likely technologically impossible. An electric power grid involves second-by-second balancing between generated supply and consumer demand. In the case of a sudden imbalance — such as from the loss of a generator's output — all the remaining generators on the grid instantaneously pool together. Each one pitches in a small part of the required power to make up for the lost generator fast enough to keep supply and demand balanced. This doesn't work for wind and solar because you can't spontaneously increase wind or sunshine. Hydro power is limited and unevenly distributed around the country. And for safety reasons, nuclear power — even if the Green New Dealers accepted it — can't be cranked up to neutralize imbalances. Nor can consumer demand be suddenly reduced enough.
Flaws With a "Green New Deal," Part 1. Although it is of course cloaked in the mantle of peer-reviewed natural science, the Green New Deal is clearly a political program, designed to check every box on the progressive wish-list. [...] [T]his really isn't about climate change at all. That is simply the pretext to fundamentally transform every aspect of society and culture the way progressive leftists have wanted to do even before people talked about "global warming."
Flaws with a "Green New Deal," Part 2. Especially when we are realistic about the political process, it should be obvious that funneling more than one trillion dollars in green "investment" spending through Washington will involve a gross misallocation of resources. For example, the draft text's call for "retrofitting all buildings to be energy efficient" is a blank check to funnel money into the coffers of politically powerful groups in the construction industry.
Alexandria Ocasio-Cortez's Green New Deal Could Cost $93 Trillion, Group Says. The so-called Green New Deal may tally between $51 trillion and $93 trillion over 10-years, concludes American Action Forum, which is run by Douglas Holtz-Eakin, who directed the non-partisan CBO from from 2003 to 2005. That includes between $8.3 trillion and $12.3 trillion to meet the plan's call to eliminate carbon emissions from the power and transportation sectors and between $42.8 trillion and $80.6 trillion for its economic agenda including providing jobs and health care for all.
AOC wants America to lead the world — backward. Asserting yet again that "manmade climate change" poses an "existential threat" to people and planet — with only a dozen years before total disaster strikes — the Green New Deal demands that the United States convert to 100% "renewable" energy within ten years. It also proclaims an equally urgent need to abandon free enterprise capitalism in favor of 100% socialist economic and "social justice" policies. In the energy arena, AOC's GND requires that fossil fuels, nuclear power and even waste-to-energy and large-scale hydroelectric facilities be eliminated from the US energy mix. Coal, oil and natural gas leasing and development on federally controlled Western lands would be banned, as would exports of those fuels. Internal combustion cars, trucks, buses, trains and boats would be replaced with electric versions, or eradicated. Airplanes would be replaced by high-speed rail. And every house and building in America would be gutted, rebuilt or retrofitted with "state of the art efficiency" technologies. That's for starters.
The Green New Dealers want 100 trillion dollars! Polls indicate that roughly half of Americans do not even believe in the idea of human caused global warming, much less that it is an "existential threat" as Representative Ocasio-Cortez claims it is. The fraction that thinks we need to go onto a prolonged and desperate war footing must therefore be quite small. Given these stupendous dollars and the great personal sacrifices they will require from all Americans, one wonders if the supporters of the Green New Deal know what they are asking for.
Social-justice Democrats' 'Green New Deal' will turn America into Venezuela. [AOC] is the most perfect example ever offered to the public at large of a Greener who says what is on the Green mind, who doesn't water down the message to avoid scaring off people whose feet occasionally make contact with the ground, one who puts in writing for all to read what it really means if you believe all the stuff about skinny polar bears and deliquescent ice caps, shrinking lobsters and sinking cities, the whole dreary catalogue of infinite earthly degradation about to fall on us all, if "climate change" as the cause of wars, warts, pestilence and famine and whatever else can be put on a bullet-list, is not stopped in its tracks — now!
The Green New Deal Is a Trojan Horse for Socialism. Among other modest goals, authors of the Green New Deal intend to eliminate fossil fuels altogether. Good luck to the 3.4 million Americans who would lose their jobs as a result — not to mention anyone who drives a car. But the dream of making fossil fuel go the way of the dinosaur is hardly the most absurd element of this program. While not in the legislation, early background documents outlined plans to eliminate air travel and even get rid of flatulating cows. Other aspects of the Green New Deal seem wildly out of place for an environmental resolution. Consider the promise of massive new entitlement programs that could only be achieved through a radical redistribution of wealth. Here, the proposal shows its true colors. This is not some run-of-the-mill progressive policy — it is a Trojan Horse for socialism.
The Green New Deal Is Communist Manifesto, 21st Century. A 21st-century take on Karl Marx and Friedrich Engels' Communist Manifesto was introduced in the form of a nonbinding resolution introduced by Rep. Alexandria Ocasio-Cortez (D-N.Y.) and Sen. Ed Markey (D-Mass.). The resolution effectively does nothing other than express the sense that Congress should pass a so-called "Green New Deal" whose wholly unattainable goals would almost certainly wreak havoc on the economy and drive the United States further into debt. The term "insane" understates how bad the ideas presented in this resolution really are. Both the Green New Deal resolution and the FAQ document released with it read like something concocted in a drunken haze in a college dorm room. Although it's certainly imaginative, it's not remotely close to serious public policy. Perhaps that explains why Rep. Ocasio-Cortez removed the documents from her congressional website.
The Urgency of the Green New Deal Will Only Give the State Mob-Like Power. My late brother once pointed out to me that the Mafia, or organized crime generally, thrives wherever time is hugely important. He drove a fish truck out of the old Fulton Fish Market and he saw some of this first hand. Fish have a short shelf-life and that's why the mob had suppliers and buyers over a barrel. Similarly, the mob was notoriously embedded in the newspaper-delivery truck racket. If you can't deliver newspapers on time, the newspapers become, literally, old news and therefore worthless. Tim Carney recently noted that the key reason why the Green New Deal will become a cronyist-fecal festival is the need to rush. "A Green New Deal," their resolution reads, "must be developed through transparent and inclusive consultation, collaboration, and partnership with frontline and vulnerable communities, labor unions, worker cooperatives, civil society groups, academia, and businesses." But you can't have this intricate, collaborative, and inclusive process unless you take a very long time. The entire premise of this moon-shot, new deal, grand mobilization is that we don't have a lot of time before the planet melts.
Also posted under What's the rush?
The Green New Deal would takes us back to medieval times. A hopeful, non-binding resolution has been introduced to both houses of Congress. Representative Alexander Ocasio-Cortez, (D) for the 14th District of New York, god bless her fast beating heart, and Senator Ed Markey (D) from Massachusetts are jumpstarting again the notion that the world can change in its entirety in fifteen years. Suffice it to say nether congresspersons were history majors at their alma maters. The resolution is aggressive in its nature and far-reaching in its concepts. The Green New Deal (GND) proposes getting off fossil fuels altogether and becoming "carbon-neutral" by 2030. The U.S. has had a presence in Afghanistan and Iraq longer than that with no real end in sight. I don't think the world changes that fast even in the high-speed communications culture we live in today.
Alexandria Ocasio-Cortez's 'Green New Deal' accidentally exposes the left's big lie. Rep. Alexandria Ocasio-Cortez's now infamous talking points on the Green New Deal are the most unintentionally honest explanation of the neo-socialism now gripping the Democratic Party. Too honest, apparently. After her office sent the "FAQ" to NPR, The Washington Post and other news organizations, and posted a similar version on her congressional website, they were met with withering criticism — prompting Ocasio-Cortez to furiously backtrack, seeking to disown and discredit documents her office had produced, posted and distributed. Sorry, you don't get to do that. Ocasio-Cortez told us what is really behind her Green New Deal. Now she, and the Democrats who endorsed her plan, have to live with it.
Socialist "Green New Deal" Laughably Ridiculous. Not long ago advancing the idea that every building in the nation must be retrofitted to meet entirely arbitrary standards to protect against the entirely un-dangerous, pretend threat of global warming would have been a non-starter, even among the looniest of the loony left. [...] The only way such schemes can be implemented is by force. At the point of a gun, or at least by the threat of punishment, physical, fiscal or otherwise. The socialistic redistribution of wealth is what really is behind the global warming scare. The trouble is, people refuse to give their money to other people simply because the others' want it. That's why every socialist state enforces its diktats at gunpoint. Being exposed as absurd, as AOC has been, won't stop socialist, redistributionist authoritarians. They intend for you to submit to government control, and to pay for the indignity.
Ocasio-Cortez's 'Green New Deal' Is About Socialism, Not Global Warming. The Green New Deal has been hailed by Democrats and liberal pundits as one of the most important proposals to tackle global warming in decades, but don't be fooled: Many supporters of the Green New Deal know it will do absolutely nothing to reduce global temperature or prevent future temperature rise — the primary purpose of the proposal, according to Ocasio-Cortez. The real goal of the Green New Deal is to impose a series of radical, socialistic programs — policies that would dramatically increase the size and power of the federal government, cause immense harm to the U.S. economy, and run up the national debt by trillions of dollars.
The 'Green New Deal' is a prescription for poverty. Behind the rhetorical smokescreen, the ugly truth is that a mandatory shift to higher-cost solar and wind energy before the market is ready to support those, as the Green New Deal does, would serve as a regressive tax on the poor. Ironically, it would be minorities and the poorest of the poor who would be disproportionately harmed. Low-income households already pay 7.2 percent of household income on home energy costs, more than three times the proportion paid by higher-income households on average, according to an American Council for an Energy-Efficient Economy report. According to that same report, low-income African-American and Latino families are particularly hard hit by any increase in utility costs. Higher home energy costs mean that lower-income families would descend yet deeper into poverty, because they would be forced to allocate an even greater share of their limited incomes to home energy costs. Increases to energy costs in public schools and hospitals do nothing to help meet the needs of the poor and minorities. And for older Americans, higher-cost energy may present stark choices between medicine, food, or staying warm in the dead of winter.
The Antithesis of Green. Achieving happiness has never been easy. Even harder will be the Green New Deal's aim of completely eliminating the use of coal, oil, and natural gas by 2050. How all this happiness and energy legerdemain will be achieved is anyone's guess. Supporters are particularly vague about how they would find the hundreds of billions — or even trillions — of dollars needed to attempt such a plan. Nevertheless, there is one unassailable fact about the Green New Deal: It is not green. Indeed, the entire notion of an all-renewable-energy system is the antithesis of environmental protection and scenic conservation.
Green New Deal: It's The Dr. Oz Of Environmental Policy. If any among you thought that environmental activists might have a few good ideas about the future of our planet, let this resolution remove all doubt. The document, introduced by freshman Congresswoman Alexandria Ocasio-Cortez and Senator Edward Markey, reads as if it was written by somebody without a shred of common sense, let alone a working grasp of physics, public health, or economics. [...] The only way a team of sitting Congressmen and Congresswomen could come up with a "plan" so detached from reality is because scientific illiteracy is rampant in our country.
Sheer Madness From Ms. Ocasio-Cortez. Now for the charming topics of Alexandra Ocasio-Cortez, Ed Markey, and the so-called "Green New Deal." If ever there was a multi-pronged way to snatch Depression from the Jaws of prosperity, Ms. Ocasio-Cortez seems to have hit upon it. Ms. AOC has discovered that the planet is warming to an alarming degree. Never mind that she is in no sense a scientist. Never mind that many climatologists say that climate change is a hoax — and many say it's not a hoax at all. Never mind that there are many different possible causes of climate change and that human activity is only one of several possible culprits. Never mind that the huge bulk of air pollution spreading over the earth comes from China, far beyond the reach of our laws. And India and Brazil and other places far beyond our legal control. Ms. AOC has reached the conclusion that the earth is warming to a degree that will end all animal life on the planet in about 12 years. And she's sure she knows who's responsible. Corporate America is killing the earth, or so Ms. AOC is certain.
Political Incompetence and Questionable Science. Who benefits from the complete abolition of nuclear energy and the complete rejection of the use of coal, oil and natural gas, as the authors of the Green New Deal are planning? Of course, both scientific charlatans and political charlatans do not need this: they are not going to give up the comfort of the civilization built by American capitalism. What the leaders of the socialist movement in America really want is comprehensive government control.
Green New Deal Will be All Pain and No Gain. The Green New Deal sounds really good. But as the details start to come out, it looks worse and worse. In fact, the costs would be stupendous, and the damage done by its policies would be catastrophic. First, how much will it cost? One of the main promoters of the Green New Deal, freshman Rep. Alexandria Ocasio-Cortez, said recently that paying for it may require raising the top tax rate on incomes above $10 million to 70 percent. The experts developing the Green New Deal openly admit that it will cost not billions, but rather trillions of dollars. Although how many trillions is open to debate, the fact is that the money will have to come from somewhere. Progressive economists have argued that the federal government can print as much money as it needs and that spending so much will fully mobilize the economy and thereby create growth. How has that worked out in Venezuela?
The Editor says...
When the government prints "as much money as it needs," the inevitable result is inflation. Ask anyone in Zimbabwe what runaway inflation is like. One would presume that AOC, who graduated "in 2011, majoring in international relations and economics" (according to Wikipedia), would know what causes inflation.
The Green New Deal is wrong for America. Radical liberals led by Rep. Alexandria Ocasio-Cortez, D-N.Y., and Sen. Ed Markey, D-Mass., also want to minimize air travel. It's all outlined in their Green New Deal, a proposal to fend off a supposed climate apocalypse. Never mind that China, the world's largest polluter, emits more carbon dioxide into the atmosphere than the U.S. and the EU combined or that the Philippines, Indonesia, Thailand, Vietnam and China are dumping more plastic waste and debris into the ocean than the rest of the planet is. Far-left lawmakers pushing the utopian Green New Deal don't want to talk about that or the fact that China opens a new coal plant every week on average, illustrating that the Green New Deal isn't really about protecting Mother Earth from the effects of climate change; it's about giving Democrats and big-government socialists control over the entire U.S. economy — and our lives. It's a massive power grab under the guise of curtailing the alleged "cataclysmic" effects of climate change — a pseudoscience that is far from settled.
Trump as Hercules Cleaning Out the Augean Stables. For decades now, under the guise of environmental protection, the far left has tied down America's economy. It's been largely gradual, hidden in fancy language and supported by those little harmed by these restrictions. Last week, freshman congresswoman Alexandria Ocasio-Cortez, whose previous experience was bartending, and Senator Ed Markey, whose commercial experience before entering the political ring was driving an ice cream truck, proposed a Green New Deal. Without reading it, all or most (I can't keep track of all of them) of the announced Democratic presidential candidates endorsed it, to their subsequent embarrassment when the details they hadn't bothered to read became known. Ocasio-Cortez kindly provided a FAQ cheat sheet, which revealed how insane the plan was. When the details were known, she withdrew it, offering up various versions of why it wasn't the real Cliff's Notes of the deal. In any event, taking advantage of the opportunity to put the Democrats to the test, Senator majority leader Mitch McConnell announced he'd bring the resolution to the Senate floor for a vote, at which time cosponsor Ed Markey accused McConnell of "sabotage" and trying to "silence" voters.
Alexandria's Suicide Note for America. On the Left, the first principle is "from each," and the Green New Deal would take away your choice in a gas-powered car, your airline travel, and even your food. With retrofitting in the mix, it even makes a grab for your current house and the sort of buildings you favor. It's a massive property grab, eminent domain on steroids. With marginal rates of 70 percent and beyond, the socialists would also take plenty of money from people who work and give it to people unwilling to work.
Liz Cheney Stumps Green New Dealers With One Question: Did You Fly Here? Republican Wyoming Rep. Liz Cheney grilled environmental experts on their travel methods at a House hearing on climate change while discussing the Green New Deal's call to phase out air travel. "My constituents are obviously very concerned about this notion that we are somehow going to transition over the course of 10 years here to an economy that is entirely run on green energy," Cheney said during a Natural Resources subcommittee hearing. "Certainly, they have concerns about the fossil fuel aspect of that." [Video clip]
Why CO2 does not spell end of the world. Though you wouldn't know it from the braying of the doom-and-gloomers in the media, not to mention the political activists ready to reinvent the global political economy to head off a carbon-dioxide apocalypse, there's actually good news to report on the greenhouse-gas front. You may not have to give up air travel. You may not have to give up driving or air-conditioning or 90 percent of your income to the global war on climate change. It turns out capitalism might just solve the problem before the sea rises and the arctic ice cap melts.
Green New Deal FAQ: Appears to have been written by people who hate capitalism.
The Green New Fascist Deal. The "Green New Deal" is a fascist utopian plan written by environmentalist lawyers that is purportedly designed to tackle the global warming apocalypse which capitalism, particularly of the American kind drunk on fossil fuels, has precipitated through economic recklessness and colonial racism. CO2, a trace gas measured in parts per million, is the primary culprit of a semi-apocalyptic global warming crisis that can only be averted through an all-wise cadre of Democratic green lawyers. [...] While [Ernst] Haeckel coined the term "ecology" in 1866, he mixed racial eugenics with his environmentalism. Today, environmentalism proffers anti-humanism, population control, ecological totalitarianism, and indigenous multicultural tribal racism that "The New Green Deal" is chock full of.
Green New Deal co-author Sen. Markey mocked for accusing McConnell of 'rushing' Senate vote. One of the co-authors of the Green New Deal is slamming Senate Majority Leader Mitch McConnell, R-Ky., for announcing he's bringing the resolution to a vote. Last week, Sen. Ed Markey, D-Mass, and Rep. Alexandria Ocasio-Cortez, D-N.Y., introduced a sprawling blueprint of an environmental and economic overhaul that has gotten the support of numerous Democrats, including most of the candidates who have announced 2020 presidential runs.
Phony 'Justice' through Phony Climate Policy. [T]he draft released last Thursday by Rep. Alexandria Ocasio-Cortez, D-N.Y., and Sen. Ed Markey, D-Mass, of their "Green New Deal" Bill was, in fact, as long on "social justice" as it was short on common sense. [...] Conspicuously missing from the resolution was the promise of "economic security for all who are unable or unwilling to work," found in its accompanying "overview." Perhaps it's destined to be subtly "airdropped" in later. And if expressions the likes of "sustainably meet the challenges of the 21st century" and "sustainable environment" sound familiar, they should. The expressed goal of Agenda 21 was "achieving global sustainable development in the 21st Century." The term is lib-speak for tackling "poverty, inequality, climate, environmental degradation, prosperity, and peace and justice" as a single issue with essentially a lone antagonist. Surely, many of these individual goals are genuine and quite laudable; still, many have no place in a piece of U.S. Climate Legislation. So once again, we're faced with a fraudulent attempt to address the left's laundry list of woes in the name of meting out imaginary "climate justice."
Ocasio-Cortez's Green New Deal is dead on arrival, economist says. The Dean of the Columbia University School of Business, Glenn Hubbard, said Alexandria Ocasio-Cortez's Green New Deal doesn't make fiscal sense and is dead on arrival. "The Green New Deal isn't just about the environment. It's a fundamental remaking of the American economy at a cost of almost one-third of GDP," he told Gerry Baker on "WSJ at Large," on Friday [2/152019]. "The United States isn't going to do that... It is simply not possible."
The Democrats' radical extremist plan for America is a form of insanity. Here comes a bunch of politicians, like they have in so many other countries, and so many other times in different variations, now they're going to get rid of the combustion engine, all fossil fuels, they're going to put up charging stations for the little baby box Priuses they're going to want us to drive, they're going to guarantee a family-sustaining wage, family leave, medical leave, vacations — everyone gets to go to Hawaii once a year, I guess. You know, retirement security — all your retirement is there, whether you have to pay for it or not. Obviously, not.
The Green New Deal Is Make-Believe. The "Green New Deal" is upon us, and the question is what to make of it. The Democratic proposal mandates that, within a decade, virtually all fossil fuels — which represent about four-fifths of the nation's energy supply — shall be replaced with clean fuels that don't worsen global warming. Just how is this task to be accomplished? The main sponsors of the Green New Deal — Rep. Alexandria Ocasio-Cortez, D-N.Y., and Sen. Edward J. Markey, D-Mass. — don't say. [...] To put it mildly, this seems a tall order.
California's High-Speed Rail To Nowhere Trailblazes For The Green New Deal. [Scroll down] So how much does building an 800-mile high-speed rail line from San Francisco to L.A. and San Diego cost? Depends on when you ask, because the number has changed many times in last 12 years. In 2006, the initial estimated cost for planning and construction from San Francisco to L.A. and San Diego was around $35 billion and promised to be up and running in 2020. Then in 2008, California voters were told the total estimated cost would be around $45 billion. When California voters approved Proposition 1A — which came with a beautiful title: "Safe, Reliable High-Speed Passenger Train Bond Act" — they were also told that they only authorized the state to sell $9.95 billion in general obligation bonds.
The Green New Deal Isn't Just About Energy, It's Also About Controlling What Americans Eat. The Green New Deal isn't just a climate change manifesto targeting U.S. energy, it also looks to drastically change how food is produced and, ultimately, what Americans eat. "I think it's pretty clear they want to change people's consumption habits," Nic Loris, an energy economist at the conservative Heritage Foundation, told The Daily Caller News Foundation. New York Democratic Rep. Alexandria Ocasio-Cortez and Massachusetts Democratic Sen. Ed Markey introduced highly anticipated Green New Deal bills in early February, calling for "net-zero" greenhouse gas emissions within 10 years through a radical transformation of America. The bills also call for a slew of new social justice and welfare programs totally unrelated to global warming.
A Unicorn in Every Pot. Most of the declared Democratic candidates have [...] endorsed the Green New Deal — a proposal so detached from the laws of economics and physics that the bill's Senate sponsor vehemently objects to bringing it up for a vote. Ed Markey (D-MA) coordinated his introduction of the Senate version (SR-59) with the rollout of its House variant (HR-109) by Rep. Alexandria Ocasio-Cortez (D-NY). Inexplicably, however, when the Senate Majority Leader, Mitch McConnell, announced that he will call up the Green New Deal for a vote in the Senate, Markey accused him of sabotage. [...] Senator Markey failed to explain exactly how a floor vote will silence anyone. His real problem, of course, is precisely the reverse. Every Democratic senator running for president is a co-sponsor of the Green New Deal and, if it gets a vote, they will look like fools when it is overwhelmingly defeated.
Green New Deal Launched with Support from Democratic Presidential Candidates. Rep. Alexandria Ocasio-Cortez (D-NY) and Sen. Edward Markey (D-MA) held a press conference outside the Capitol building on February 7th to introduce their House and Senate resolutions for a Green New Deal. Original co-sponsors include 64 House Democrats and 9 Senate Democrats. Six declared and potential presidential candidates signed up as co-sponsors: Senators Kamala Harris (D-CA), Elizabeth Warren (D-MA), Cory Booker (D-NJ), Kirsten Gillibrand (D-NY), Jeff Merkley (D-OR), and Bernie Sanders (Independent Socialist-VT). [...] The fact sheet calls for "a massive mobilization of all our resources" and states that "the level of investment required is massive." In addition to saving the world from global warming, the Green New Deal aims to achieve economic and social justice at the same time, not just through massive investments in green energy, but also by guaranteeing good-paying jobs, unionizing the green workforce, and banning monopolies and unfair competition. As Rep. Ocasio-Cortez said at the press conference, "Today is a day that we truly embark on a comprehensive agenda of economic, social, and racial justice in the United States of America."
CA Gov. Newsom Just Delivered a Huge Blow to AOC's 'Green New Deal'. During his State of the State address, California Gov. Gavin Newsom (D) on Tuesday said his administration is putting a halt to the highly anticipated high-speed rail that would travel between San Francisco and Los Angeles. "Let's be real. The current project, as planned, would cost too much and respectfully take too long. There's been too little oversight and not enough transparency," Newsom said during his first address. The cost of building the train, at last estimate, was put at $77 billion and wouldn't be completed until 2033, the Associated Press reported.
Green New Deal is a religious document. It punishes America for the sins of its prosperity. Just a few years ago, they were telling us we could fight global warming with carbon offsets and slightly higher gas taxes. Now, they are demanding we give up airplanes and walk to work. But you have got to give it this, the Green New Deal does make kind of internal sense. Hysterical predictions require a hysterical reaction. Half measures don't cut it when you are fighting a world war for the future of this planet. Maybe that's why Democrats seem all in on this.
Union leaders warn Green New Deal may lead to poverty: 'Members are worried about putting food on the table'. While conservatives have fiercely criticized the Green New Deal resolution for promising a job to "all people of the United States" — including those "unwilling to work," according to an accompanying document published, and later disavowed, by Ocasio-Cortez's office — the pushback from union leaders indicates that the progressive proposal has not won over a core element of the liberal base. Speaking to Reuters, a spokesman for the coal industry union United Mine Workers (UMWA) specifically took umbrage at the Green New Deal's resolution's call for a "fair and just transition for all communities and workers" in order to "achieve net-zero greenhouse gas emissions" in the span of just ten years.
Menendez threatens to call police on reporter asking about Green New Deal: report. U.S. Sen. Bob Menendez, D-N.J., had a fiery exchange with a reporter on Capitol Hill on Wednesday [2/13/2019] when asked to comment on the Green New Deal. Henry Rodgers, the Daily Caller's Capitol Hill reporter, approached the senator at a subway station and asked him if he supported Rep. Alexandria Ocasio-Cortez's legislative proposal. Menendez avoided the question and asked where Rodgers worked. Rodgers said that when he told Menendez he worked for the Daily Caller, the Democrat responded by saying he would not answer any questions. An intern who was with Rodgers asked a follow-up question, and tensions apparently rose.
The Democrats' French Dilemma. An eminent former cabinet member and I are having an amicable running debate about what level of concern is justified by the steadily more extreme espousal of lunatic policy positions by influential Democrats. Personal income top tax rates of 70 percent (Elizabeth Warren, Bernie Sanders), nationalized health care (Kamala Harris), open borders and sanctuaries against federal immigration laws (most audible Democrats), the killing of live new-born children (flirtations by many, apart from the governor of Virginia, who took the initial plunge on his way all the way down last week), and now, a green dictatorship that would radically renovate every building in America, abolish road and air transportation, and require brigades of people to diaper flatulent cows (the inevitable Alexandria Ocasio-Cortez and Senator Ed Markey, inter alia). My well-travelled friend thinks that as the polls seem to support a good deal of this foolishness, it is very dangerous.
Dem Senator Complains About Voting on His Own Legislation. Sen. Ed Markey (D., Mass.) railed against Senate Majority Leader Mitch McConnell's (R., Ky.) decision to call the Green New Deal resolution to a vote, legislation he co-sponsored along with freshman Rep. Alexandria Ocasio-Cortez (D., N.Y.). "Don't let Mitch McConnell fool you: this is nothing but an attempt to sabotage the movement we are building. He wants to silence your voice so Republicans don't have to explain why they are climate change deniers. McConnell wants this to be the end, this is just the beginning," Markey wrote Tuesday [2/12/2019].
Cotton says media was 'Stalin-like' in Ocasio-Cortez Green Deal cover up. Arkansas Republican Sen. Tom Cotton unloaded on Rep. Alexandria Ocasio-Cortez's Green New Deal and said the media were "complicit" in burying the most radical parts of the deal. Cotton, a staunch Republican, appeared on The Hugh Hewitt Show on Tuesday and discussed the widely ridiculed Green New Deal that aims to implement sweeping changes across the nation. But what particularly caught Cotton's eye was how the media became complicit in hiding the now-infamous FAQ document circulated by the Ocasio-Cortez office, which included lines such as promising a job to "all people of the United States" — including those "unwilling to work" — and making air travel industry obsolete.
How to Destroy Civilization by Alexandria Ocasio-Cortez. Alexandria Ocasio-Cortez push for higher taxes to fund her Green New-Deal is just the tip of the iceberg. If the people who elected her really understood what she is calling for, just maybe they would come to their senses and throw her out in 2020. Her New Deal calls for the end of milk cows, no more airplanes, we all drive electric cars, and anyone not willing to work will get guaranteed income for staying home and watching TV. She is clueless to even understand the implications of what she is even talking about. The end of air travel will send the world back to the stone age. She will then realize that ships produce more CO2 than cars show she will ban those as well and the only ships will be by sail. When there is no wind, then perhaps they can use criminals to row the boats as did the Romans (see Ben Hur).
Kudos to Sandy O. I am guilty of speaking badly of the new congresswoman from New York. She is obviously the product of failing educational systems unable to do anything but pump her full of fatuous self-esteem. [...] This young woman wants to shut down American energy — nuclear included. She seems not to worry about how we'll heat our homes or cook our food or travel from one place to another. She's utterly unaware that it takes a great deal of energy to grow crops, manufacture goods, and build houses. She plans on — within 10 years — getting rid of 99% of the gasoline-powered cars in this country. She wants to stop of air travel and substitute high-speed rail — which we don't have, which has proved a disastrous waste of money in California, and which will make it tricky to cross oceans. She wants the government to provide everyone, whether they work or not, with a guaranteed income, good housing, medical care, free education, and a vegan diet — the latter to cure the problem of cow flatulence, which, if not stopped, will destroy the planet.
Democrats evolve into a headless monster: No leadership, no brains. What are we supposed to think of this? A 29-year-old bartender and newly elected House legislator launches a half-baked "green" plan for taking over the country, to include ending jet travel, getting rid of cows, replacing every building in the country, reserving cars for the elites, destroying the fossil fuel industry, and every Democrat vying to be the next president jumps onboard. It's lunacy. How is it that Alexandria Ocasio-Cortez's "Green New Deal" can be taken this seriously as Democratic contenders — Kirsten Gillibrand, Cory Booker, Kamala Harris, Elizabeth Warren, and the rest — all leap in and say they've signed on? (Bernie Sanders hasn't been mentioned in the reports, but I imagine he's sympathetic.) The whole thing should be dismissed as barstool dreams of a drunk who's had a few too many.
Trump: Ocasio-Cortez's 'Green New Deal' sounds like a 'high school term paper'. Trump was holding a rally in El Paso where he said Ocasio-Cortez's signature plan to combat climate change "sounds like a high school term paper that got a low mark." Trump claimed the plan would mean taking away cars, tearing down buildings and shutting down air travel. "How do you take a train to Europe?" Trump joked at his rally in Texas.
The Editor says...
You wouldn't have to take the train to Europe. You would only have to take the train to the nearest sensible country, Canada or Mexico, because their airports would be thriving. Of course, at that point, if you live in Hawaii and you depend on tourism, you're toast. You're also completely washed up, when the socialists get their way, if you work in any business connected to coal or petroleum or cattle. In other words, Texas.
AOC's ridiculous 'Green Leap Forward'. On Thursday, Rep. Alexandria Ocasio-Cortez of New York and Sen. Ed Markey of Massachusetts introduced what many news outlets described as "legislation" for the Green New Deal, a wildly ambitious plan to eliminate the American fossil-fuel industry within a decade or so. It's worth noting that it isn't legislation as people normally understand the term. It's a resolution titled "Recognizing the Duty of the Federal Government to Create a Green New Deal." In other words, even if it passed — a considerable if — nothing would really happen. House Speaker Nancy Pelosi isn't taking it too seriously. She didn't put Ocasio-Cortez on the new Select Committee on the Climate Crisis, and when asked about the resolution, she was dismissive.
The 10 Most Insane Requirements Of The Green New Deal: The timeline is ten years. Here are some of the goals:
• Ban affordable energy.
• Eliminate nuclear energy.
• Eliminate 99 percent of cars.
• Gut and rebuild every building in America.
• Eliminate air travel.
• A government-guaranteed job.
• Free education for life.
• The government will provide "healthy food" to every American.
• The government will provide, "safe, affordable, adequate housing" for every American citizen.
• The GND aims to provide, and I am not making this up, "economic security" for all who are "unable or unwilling" to work.
• Bonus insanity: Ban meat.
The Editor says...
At the risk of dignifying this patently insane concept, allow me to offer point-by-point rebuttals:
[#1] The elimination of all fossil fuel energy production is presumably to save the earth. If you freeze to death in the winter because your windmill is frozen, for whom are you saving the earth?
[#2] Nuclear energy is the only renewable energy that doesn't produce carbon dioxide as a by-product, yet the environmentalists hate it.
[#3] The remaining one percent of cars will be driven on the wide-open freeways by anyone who can get a license to drive. In other words, Democrats, bureaucrats, abortionists, unionized teachers, and cops. The Army isn't going to give up its diesel-engine tanks, especially since there will be a massive insurrection if this plan is implemented.
[#4] There aren't enough carpenters, plumbers, and HVAC technicians in the country (or raw materials) to retrofit every building in Oklahoma in the next ten years, to say nothing of the whole country.
[#5] The elimination of air travel would have spin-off benefits: The TSA could be eliminated, and Muslims wouldn't be able to fly hijacked planes into office buildings, as they have been known to do. Unless they hijack an airplane in Canada or Mexico, both of which will still have airplanes.
[#6] Nobody will need a job, because the government will pay us to do nothing. See point #10.
[#7] Nobody will need an education, because nobody needs a job. See above.
[#8] If nobody needs a job, who will grow and deliver all the healthy food?
[#9] "Safe, affordable, adequate housing" is not a right, and never has been, nor is it the government's job to keep everyone safe.
[#10] Free money for people who are unwilling to work. Brilliant. Let's all participate and see what happens. If nobody does any work, yet we all get paid, what is the gross national product?
[#11] Cows produce carbon dioxide, but they also produce hamburger. People produce carbon dioxide, too, just by breathing. (Will that be outlawed?) If every other country in the world still has cows and airplanes, what's the point of banning them here?
[#97] This entire plan must be implemented immediately, they say, because without it, the world will end in 12 years. (Really? What will the world look like in 11 years?) Any time this level of urgency accompanies a government spending plan, like the USA Patriot Act or Obamacare, for example, the urgency is a cover for deception. Congressmen will vote for anything if the public is in an uproar to do something -- quickly!
[#98] California has been working on a high-speed railroad for several years already, and even if they don't abandon the idea, which they have already, it wouldn't be completed until at least 2033.
[#99] No part of the Green New Deal is authorized by the Constitution. None of it promotes the general welfare, or provides for the common defense, and as a whole, the Green New Deal will eliminate the blessings of liberty to ourselves and our posterity. Moreover, as pointed out above, it's futile to do any of this unless every other country in the world plays along, and there's not the slightest chance that will ever happen. So far, there has been no extraordinary global warming. Global warming has stopped, all by itself. Let's wait until we actually have a problem.
The Green New Deal Is About Punishing Working-Class Americans. The Green New Deal policy says that all of these newfangled processes will be tried on "The frontline communities that are already facing the ravages of climate change and pollution and working-class communities reliant on fossil fuel industries." Interestingly, the Democratic Party's vast new social engineering project will not be tried in the towns and communities where America's billionaires and pentamillionaires reside. No, according to the Green New Dealers, it's not their wealthy friends who are the cause of global warming. It's you and your struggling family. You are the dirty, rotten polluters who have to rely on the far more efficient and affordable fossil fuel-driven technology to get through the day. America's democratic globalist managerial elite can afford to drive Teslas and subside on overpriced Kale juice from Whole Foods. It's you SUV-driving, God-fearing, hard-working, mortgage-paying, middle-class Americans with your pesky 2.5 kids that are the problem!
Are Liberals Going Mad, or Are They Out of Ideas? What these lefties cannot get into their heads is: what if they are wrong? It is all very well to declare that the planet is going to fry and propose a comprehensive and mandatory program of decarbonization. What happens if they are wrong about their climate prophecy? And what happens if their transformation of transportation and energy production leads to economic disaster and famine and the deaths of millions of people? It wouldn't be the first socialist scheme to crash and burn.
The 'Green New Deal' Is Even Crazier Than You Thought. The "Green New Deal" provides only scant details on how the progressive caucus plans on paying for this complete overhaul of both the American energy and financial systems, just a vague allusion to "billionaires," who will be first asked and then forced to underwrite the full complement of programs. But that won't be enough: "even if every billionaire and company came together and were willing to pour all the resources at their disposal into this investment, the aggregate value of the investments they could make would not be sufficient." Ocasio-Cortez does mention that the massive program will be paid for "the same way we did the New Deal, the 2008 bank bailouts and extend quantitative easing," but those are all burdens the government is struggling to pay off. The "New Deal" required a complete transition to total war and full American industrialization. All they know is, some day, the Green New Deal will pay for itself and perhaps turn a profit.
Progressives Bearing Gifts. Policy-wise the 2020 choice will be between Trump's mostly doctrinaire conservatism, spiced with populist trade and immigration agendas, and what is a now a new Democrat orthodoxy of Bernie Sanders' adolescent socialism and incoherent Alexandria Ocasio-Cortez's Neverland something or other. Trump legitimately will be able to say of a 2020 opponent, "Candidate X wants over the next 10 years to junk your present car, to scrap your combine, to stop your jet travel, to ban your cruise ship, to take away your lawn mower and snow blower, to outlaw your snowmobiles and jet skis, to shut down the fracking industry, the heavy equipment manufacturing sector (I doubt there will be a replacement battery-powered Cat D-11), the pipeline and rail business, and to make every homeowner an indebted remodeler, refitting his house while for all his green trouble and expense he still will be paying more for solar and wind-generated electricity.["]
AOC ain't A-OK. Once the outlines of the ridiculous "Green New Deal" were released, AOC began her latest media tour, accepting yet again the fawning accolades of the Democrat operatives with press passes. Thursday morning, on NPR, she denounced the blowback from the GOP, saying, "The right does try to mischaracterize what we're doing as though it's some kind of massive government takeover." A few hours later, on Thursday night, even sniveling NBC Democrat hack Chuck Todd felt compelled, after scratching his squirrelly goatee, to ask her the obvious question — doesn't your scheme to destroy the U.S. economy require, uh, massive government intervention? "It does, it does. Yeah, I have no problem saying that."
Dems Squirm as Graham Calls for a Vote on the Green New Deal. Keep talking, Democrats. It will do no good to say that you're for a Green New Deal — just not the Green New Deal proposed by Rep. Alexandria Ocasio-Cortez. Her proposal will live on and be solely identified with the issue — much to the delight of Republicans who will crank out campaign ads targeting the really stupid stuff, like eliminating cow flatulence and taking airplanes out of the sky. [...] This cockamamie scheme is not about saving the planet. It's about massively expanding the size and scope of the U.S. government, making mincemeat of the Constitution, and spending trillions upon trillions of dollars to make us all dependent on government.
President Trump Mocks Democrats Over Disastrous Green New Deal. Democrat darling Alexandria Ocasio-Cortez released information on the Democrat Party's radical and lunatic Green New Deal on Thursday [2/7/2019]. It was a complete disaster. The Green New Deal is a Communist scam that included guaranteed income for Americans 'unwilling to work.' The 14-page Commie wishlist also included a plan to transition to all electric cars and completely eliminate airplane travel — because trains over the ocean is a genius idea!
The mysterious case of AOC's scrubbed 'Green New Deal' details. On Feb. 5, the congressional office of Rep. Alexandria Ocasio-Cortez posted a new blog entry under "energy issues" detailing her "Green New Deal" proposal and answering "frequently asked questions." The page, announcing an 8:30 a.m. launch on Feb. 7, is now gone, and a top adviser suggested Friday [2/8/2019] it was actually authored and distributed by the GOP. By the afternoon of Feb. 7, Ocasio-Cortez, D-N.Y., removed the document from her website without explanation but following backlash and even ridicule over the radical plans outlined within it, including a call to "eliminate emissions from cows or air travel" — which would functionally ban the latter — and to provide "economic security for all who are unable or unwilling to work."
Ocasio-Cortez Draws Fire For Adviser's False Claim About Green New Deal on Tucker Carlson. Last night, Fox News' Tucker Carlson sparred with Robert Hockett, a Cornell professor and adviser to Congresswoman Alexandria Ocasio-Cortez on the Green New Deal and some of the claims in the initial FAQ her office had released. Carlson picked up on one section in particular — which offered protections for those "unwilling to work" — and asked, "Why would we ever pay people who are 'unwilling to work'?" "We never would, right, and AOC has never said anything like that," Hockett responded. "I think you're referring to some sort of document that some — I think some doctored document that somebody other than us has been circulating." "I thought that came right from her. That was in the backgrounder from her office is my understanding," Carlson responded.
The Editor says...
AOC has only been in Congress for a month, and she already has a spokesman claiming she didn't say what she said.
The Green New Deal — We've Seen This Movie Before. Dear Congresswoman Ocasio-Cortez: I've read your Green New Deal. It would be difficult to imagine a plan more divorced from reality or more clearly demonstrative of a complete lack of critical reasoning skills. Still, I find myself compelled to respond, not out of any hope that you personally will reconsider your positions, but out of a desire that others might not be misled into believing that your proposals have merit. [...] In short your ideas do not simply represent a shocking lack of knowledge and critical reasoning skills, they demonstrate a complete lack of understanding of the history of this planet over the last 75 years.
Ocasio-Cortez's plan properly should be called the 'Green Leap Forward'. Lunatic schemes based on technological and redistributionist fantasies have been implemented on a huge scale within my lifetime with disastrous results. The delusional collection of progressive goals that has acquired the label "Green New Deal" is named after the wrong historical precedent. Franklin Delano Roosevelt's economic program that lengthened a recession into a decade-long depression may have permanently expanded the scope of the federal government, but it embraced no crackpot technological schemes and did not try to restructure human nature around sharing. The closure of nuclear and fossil fuel-powered energy sources and reliance on wind and solar that the GND envisions surely would be destined to fail and cause millions to starve or freeze to death. Fertilizer is produced from banned hydrocarbons, and the solar- and wind-powered trucks and trains to carry the reduced food supply to urban areas would never reach their destinations in time to feed the masses with the remaining agricultural output.
The truth about the 'Green New Deal'. The non-binding resolution from Rep. Alexandria Ocasio-Cortez and Sen. Ed Markey isn't a plan but a fantasy — a wish list not just for environmentalists, but for every faction of the modern left. Far too many on the right rush to call AOC dumb or ignorant, but this bill actually shows that she (like Markey and their allies) is fundamentally dishonest. Why? Because it's not remotely focused on their stated belief that the nation and world must act fast to minimize climate change. If you really saw an impending climate catastrophe, you'd prioritize ending carbon emissions above all else — not tack on, most notably, a goal of also shuttering every (carbon-free) nuclear plant. Let alone all the other items on the list, such as providing guaranteed incomes for all, even those who just don't want to work.
'We're nuts!' isn't a great pitch for a Green New Deal. Going by my experience at energy-efficiencizing, I'd estimate that the Ocasio-Cortez plan would require the entire population of the United States — or at least those who aren't "unwilling to work" — to drop whatever they're doing and start training to become insulation installers, HVAC technicians, electricians, automotive engineers or demolition experts. But even a quarter of that effort doesn't really seem very practical. Nor politically enticing. The only historical operation even approaching such scale was the U.S. mobilization for World War II, and unfortunately for Green New Dealers, the coal industry probably won't cooperate by bombing Pearl Harbor. The FAQ now seems to have been taken down, and the actual measure introduced to Congress was slightly less exuberant. Notably, it makes a nod to the need for technological and economic feasibility. But it's still rather breathtaking. If Obamacare's architects had suggested that their plan included finding a universal cancer cure within 10 years, at a cost of only 15 cents a dose, you'd kind of wonder about the people who drafted it.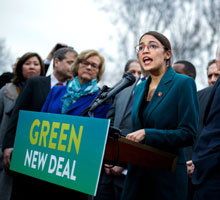 Democrats Need an Ambitious Climate Plan. The Green New Deal Isn't It. The next time it gains control of the federal government, the Democratic Party is going to need to quickly implement an ambitious program to reduce carbon emissions. So far all the political oxygen on this problem has been sucked up by a slogan, "Green New Deal," for which a blueprint was unveiled by New York representative Alexandria Ocasio-Cortez and Massachusetts senator Ed Markey. The strategy they have produced is at best grossly undercooked, and at worst fatally misconceived.
How Much Will the Green New Deal Cost? As it happens, a team of Stanford engineers led by Mark Jacobson outlined just such a plan back in 2015. Jacobson's repowering plan would involve installing 335,000 onshore wind turbines; 154,000 offshore wind turbines; 75 million residential photovoltaic systems; 2.75 million commercial photovoltaic systems; 46,000 utility-scale photovoltaic facilities; 3,600 concentrated solar power facilities with onsite heat storage; and an extensive array of underground thermal storage facilities. Assuming steep declines in the costs of each form of renewable electric power generation, just running the electrical grid using only renewable power would still cost roughly $7 trillion by 2030. The Information Technology and Innovation Foundation calculated that the total cost of an earlier version of Jacobson's scheme would amount to $13 trillion. And based on how fast it has taken to install energy generation infrastructure in the past, Jacobson's repowering plan would require a sustained installation rate that is more than 14 times the U.S. average over the last 55 years and more than six times the peak rate.
Democrats' 'Green New Deal' Is Really A Call For Enviro-Socialism. The individual planks in the plan, individually and collectively, sound like the rantings of someone who should be institutionalized, not like a rational political plan to solve a real problem. Let's begin with what the plan promises: "a massive transformation of our society with clear goals and a timeline." That's a sweeping, explicit pledge of radical socialist change. And that's not all. It offers "a 10-year plan to mobilize every aspect of American society at a scale not seen since World War 2 to achieve net-zero greenhouse gas emissions and create economic prosperity for all." That's right: 10 years. They've made it the "moral equivalent of war," that phrase by American philosopher William James that the left pulls out every time they want to impose radical change on the rest of us. This is how all truly radical disasters begin, with a glorious Utopian promise of "massive transformation."
Green With... Laughter? [Scroll down] This passage on how the extreme environmental makeover might be financed may have sounded great in a college dorm. A freshman dorm. But this is a frightening level of ignorance about the structure, legal authorities, independence and role of the Federal Reserve when it comes from a Congressperson as part of a legislative package[.]
Alexandria Ocasio-Cortez's Green New Deal Aims to Eliminate Air Travel. The resolution's aims include "overhauling transportation systems in the United States to eliminate pollution and 19 greenhouse gas emissions from the transportation sector as much as is technologically feasible." According to an overview of the resolution, this will be accomplished, in part, by "build[ing] out highspeed rail at a scale where air travel stops becoming necessary." In other words, the Green New Deal wants to make commercial air travel obsolete. Is this in any way feasible? The short answer is no.
White House Ridicules Alexandria Ocasio-Cortez 'Rainbows and Unicorns' Green Deal. White House director of strategic communications Mercedes Schlapp on Friday dismissed the New Green Deal offered by Rep. Alexandria Ocasio-Cortez as a socialist fantasy. [...] The "New Green Deal" plan, announced Thursday, calls for the United States to eliminate planes and internal combustion engines in ten years. "'No Planes, Trains, or Automobiles,' that will be the name of a new movie for Alexandria Ocasio-Cortez," joked Schlapp.
Reality check: Cost of 'Green New Deal' would dwarf moon landing, highway system, and New Deal itself. [Scroll down] In addition, it includes a provision for free college, a job guarantee at a "family-sustaining wage," and for a vast high-speed rail network. So, here's an idea of what some of that could cost. The 10-year cost of Sen. Bernie Sanders' "Medicare for all" plan was pegged at $32 trillion in 2016 by the liberal Urban institute. A job guarantee at a $15 per hour minimum wage would cost about $409-$543 billion a year, according to an estimate from the Brookings Institute-affiliated Hamilton Project. Meaning, the 10-year cost could exceed $5 trillion. Sanders has estimated the cost of his free college program at $47 billion a year (or another half-trillion dollars over a decade). The Center for American Progress estimated its more targeted "Homes for All" program would "require a minimum of $20 billion in funding annually over the next five years," but that estimate is only for construction costs and does not consider the cost of land acquisition. The California High Speed Rail project, which was first approved over a decade ago and is already above cost and behind schedule, is currently projected to cost $77 billion just to connect Los Angeles and San Francisco. The Green New Deal calls for the construction of high-speed rail across the country, "at a scale where air travel stops becoming necessary."
The 'Green New Deal' Is Even Crazier Than You Thought. The full "Green New Deal" reads a bit like a socialist wish-list, with calls for everything from a nationalized high-speed rail system to an almost complete rebuilding of every structure currently standing in the United States today. Here are some exciting highlights from the extensive plan to reshape the country's energy future. [#1] The full elimination of all fossil fuel consumption, including natural gas, within the next ten years. This includes the full elimination of motor vehicles that operate on fossil fuels, including any vehicle with a combustion engine, be that vehicle a car, truck, boat, or plane. It's not super clear whether Ocasio-Cortez and her cohorts realize that electric cars also run on fossil fuels (the Green New Deal requires all parking lots to have electric vehicle charging stations, regardless). [#2] The full elimination of nuclear power, even though nuclear power is widely recognized as the most effective and widely available alternative energy source. They don't know how to do it, but they plan on doing it anyway: [...] [#4] The complete elimination of air travel.
Green New Deal Demands 'Economic Security' for Americans 'Unwilling to Work'. The Green New Deal promises not just to guarantee jobs to all Americans willing and able to work — but also to guarantee "economic security" for those "unwilling to work." Rep. Alexandria Ocasio-Cortez (D-NY), a self-described Democratic Socialist, introduced the Green New Deal on Thursday. It outlines a plan to abandon the economic system that has dominated American society since its inception, fundamentally changing the patterns of industry output, employment, consumption, and the relation of government to the market. One of its most radical proposals is issued almost in passing: a guarantee of "Economic security for all who are unable or unwilling to work."
The 5 Most Hilarious And Insane Things In Alexandria Ocasio-Cortez's 'Green New Deal' Proposal. Alexandrai Ocasio-Cortez has finally released her much-hyped "Green New Deal" proposal. The plan — if you can call it that — is to totally upend and reshape our economy while eliminating all carbon emissions. And she does mean all carbon emissions. [...] The proposal itself is so vague in parts, delusional in other parts, and unbelievably childish through every part, that serious engagement with its ideas is impossible. It reads like something a four-year-old in Soviet Russia may have dreamt up. All I can do, all I need to do, is tell you exactly what it says. You will soon realize why a thorough rebuttal is not necessary.
Alexandria Ocasio-Cortez: Trump Attacked Socialism Using Venezuela To "Confuse The Public". Rep. Alexandria Ocasio-Cortez (D-NY) responded to President Trump denouncing socialism in his State of the Union address on Tuesday night. In an appearance on MSNBC shortly after, Ocasio-Cortez said Trump is "losing on the issues" and that is why he made an "ad hominem" attack on socialism. She said he attacked socialism and tied it to Venezuela as a way to "confuse the public."
'Green New Deal' Is a Parody of the Democratic Platform. Rep. Alexandria Ocasio-Cortez (D-NY) released her "Green New Deal" on Thursday [2/7/2019] through National Public Radio (NPR). As predicted, it is pure socialism. The legislation, co-authored by Sen. Ed Markey (D-MA), is a non-binding resolution that reads, to borrow a phrase from the late Jeanne Kirkpatrick, like a letter to Santa Claus — or, in this case, a wish list to Gaia or Mother Nature.
Trump Urges Fight Against Child Sex Trafficking; Watch How Ocasio-Cortez Responds. Socialist Rep. Alexandria Ocasio-Cortez begrudgingly stood during President Donald Trump's State of the Union address as he called for action to end sex trafficking. "Not one more American life should be lost because our nation failed to control it's very dangerous border," Trump said. "In the last two years, our brave I.C.E. officers made 266,000 arrests of criminal aliens including those charged or convicted of nearly 100,000 assaults, 30,000 sex crimes, and 4,000 killings or murders." [...] Everyone stood up and applauded at that moment, except for Ocasio-Cortez, who took several moments to look around to see if she should stand.
Ocasio-Cortez, Warren, other 2020 Dems have decided wealth is just evil (and your money belongs to them). Watch out, America: Democrats' class warfare is back with a vengeance. Your money belongs to them to redistribute as they see fit. As New York Mayor Bill de Blasio put it recently, "The money is in the wrong hands." That is, it's in your hands, not his. Take Elizabeth Warren, echoing socialist Bernie Sanders and his mini-me Alexandria Ocasio-Cortez. Warren's pitching an "ultra millionaire tax" on wealth. And having fun berating rich people. On Twitter, she fired at Henry Kravis, a private-equity billionaire, for the sale of his $46 million ranch.
Green New Deal: Is 100% Renewable Energy Even Possible, Or Good For The Environment? First, consider the fact that as of today, the U.S. gets less than 12% of its energy production from renewable sources. Those include wind and solar (which accounts for 4% of domestic energy production), biomass (4.6%) and 2.7% from hydroelectric power. Nuclear energy accounts for 9% of the nation's energy production. The rest is made up of fossil fuels: oil (23%), natural gas (34%), and coal (16%). According to the Energy Information Administration, which is the research arm of the Department of Energy, on current trends, by 2050 renewables will still account for less than 15% of the nation's energy supplies, with fossil fuels making up 78%. In other words, attempting to turn the country's energy supply to 100% renewable would be a monumental task. It would involve fundamentally reshaping the nation's energy economy. And it would add significantly to energy costs — since renewable energy is generally more expensive. How that could be achieved without crashing the economy is anyone's guess.
The Green New Deal Is a Trojan Horse for Socialism. While Democratic House leadership has so far balked at the Green New Deal, it enjoys strong support from over 40 members of Congress, per The Daily Caller. A poll released in December also shows Americans might be more inclined than you'd think to support the plan. The poll, from the Yale Program on Climate Change Communication and the George Mason University Center for Climate Change Communication, showed that 8 out of 10 Americans hadn't heard about it. But when asked if they would support it — albeit with a very favorable description of the deal that didn't discuss higher taxes, for instance — 81 percent of registered voters said they would back it. However, polls tend to change quickly when people learn about how much policies cost them, and the details of the Green New Deal demonstrate that it's about more than just a higher tax on a tiny number of rich people.
Ocasio-Cortez's 'Green New Deal' to Transform the US Economy Was Drafted Over a Single Weekend by a Bunch of Millennial Staffers, Activists. New York Rep. Alexandria Ocasio-Cortez's signature "Green New Deal" plan was drafted in a single weekend by a group of millennial staffers and environmental activists, according to the Democrat's chief of staff. Draft legislative text for "Green New Deal" legislation "was written over a single December weekend by the staff of the freshman representative Alexandria Ocasio-Cortez and three like-minded progressive groups," reads an article published in The New Yorker Thursday [1/17/2019]. "We spent the weekend learning how to put laws together," Saikat Chakrabarti, Ocasio-Cortez's chief of staff, told The New Yorker. "We looked up how to write resolutions."
Alexandria Ocasio-Cortez [and] other Dems want you to embrace a socialist agenda. [#2] The elimination of all fossil fuels; socialized energy: One of the Democrats' most controversial and destructive proposals is newly-elected Rep. Alexandria Ocasio-Cortez's, D-N.Y., "Green New Deal." This far-reaching plan would eliminate all fossil fuels by 2030, including from agriculture, manufacturing, transportation, and the entire electric grid. Ending the fossil-fuel industry would potentially destroy millions of jobs and require an unprecedented investment in expensive and unreliable renewable energy sources like wind and solar power generation. Even worse, because wind and solar cost two to five times more than existing conventional energy sources, requiring huge sectors of the economy to rely on these renewables would increase the cost of all goods and services and drive countless businesses out of the country. The "Green New Deal" doesn't stop there, however. It would also socialize much of the newly-created renewable energy industry and require "upgrades" to nearly every building in the country — a provision that would likely cost trillions of dollars and insert the federal government into every American's home.
Green New Deal Is Neither New, Nor A Deal; It's A Fraud. The biggest news to come out the 2018 midterm elections is the meteoric rise of Representative-elect Alexandria Ocasio-Cortez (D-NY) and her Green New Deal. But if you scratch the surface, you'll find that the Green New Deal is neither new nor hers. Here are four facts you need to know about the Green New Deal: [#1] The Green New Deal is the latest incarnation of the Keep It in the Ground movement. [...] [#2] The Green New Deal movement is being orchestrated by Bill McKibben and his 350.org network.
Democrats are really good at solving problems we don't have.
Millennial Socialism 101. The Green New Deal calls for a top-down revolution in the operation of American society so sweeping that it would be disturbing if it weren't so wholly ridiculous. It shows all the thoughtfulness of a college sophomore pulling an all-nighter to write a term paper for his Millennial Socialism 101 class. The Green New Deal, as explained in draft legislation to create a congressional committee to pursue it, would transition to 100 percent renewable sources of national power in 10 years. Since renewables only account for 17 percent of U.S. power now (7.5 percent from hydropower, which might not pass muster under the Green New Deal), the plan would require shuttering more than 80 percent of current sources of American power.
The 'Green New Deal': A Radical Mandate for Government Control of American Society. Incoming New York Rep. Alexandria Ocasio-Cortez brings with her a massive online following, influence she says she'll deploy only in support of candidates and politicians who support her plan for a "Green New Deal." [...] Between its calls for "upgrading" homes and overhauling travel, public infrastructure, and even the way Americans consume electricity, the plan leaves virtually no facet of everyday life untouched. Think of how often you don't use electricity to imagine how much of your average day the plan wouldn't impact. The proposed committee would also have seemingly total oversight of American industry, with a mandate for pushing union membership. Under "Scope of the Plan," a section on labor states the committee's final plan shall: "Require strong enforcement of labor, workplace safety, and wage standards that recognize the rights of workers to organize and unionize free of coercion, intimidation, and harassment, and creation of meaningful, quality, career employment." Later in the document, Ocasio Cortez's plan imagines creating a national jobs force to help people participate in this "transition." The Green New Deal, it says, shall "provide all members of our society, across all regions and all communities, the opportunity, training and education to be a full and equal participant in the transition, including through a job guarantee program to assure a living wage job to every person who wants one."
The Editor says...
Promising a "job to every person who wants one" sounds great on the surface, except for the simple fact that America has millions of freeloaders who don't want to work — and don't have to, since the government subsidizes laziness.
Dems take House pushing massive government expansion, as party lurches left. The growing socialist wing of the Democratic Party will flex its muscle Thursday [1/3/2019] with the seating of the new Congress, as more self-described Democratic Socialists join the ranks and dozens of sitting and incoming members — including likely 2020 hopefuls — embrace a massive government expansion that would make FDR look like a penny pincher. The party agenda is increasingly embracing big-government policies like "Medicare-for-all" and guaranteed jobs programs — as well as an aggressive "Green New Deal" that would include all this and more as part of a fundamental overhaul to America's economy and specifically its energy sector.
Ocasio-Cortez: 'There's no debate' that fossil fuel production should stop. Democratic House candidate Alexandria Ocasio-Cortez rallied an audience of supporters in Washington Thursday evening [10/11/2018] with calls to implement single-payer health care and tuition-free college — along with an appeal to stop fossil fuel production entirely. Ocasio-Cortez, who is running to represent New York's 14th Congressional District, has made no secret of her opposition to fossil fuels. She's called for politicians to forsake donations from the industry and is pushing a "Green New Deal" plan which entails a shift to 100 percent renewable energy by 2035.
House Democrats are Lining Up Behind What Could Be The Largest Expansion of Government in Decades. Democrats are increasingly lining up to support a "Green New Deal," which, while vague on details, could end up being the largest expansion of government in decades. As it stands, the "Green New Deal" is more aspirational than actual policy. Indeed, it takes its name from the New Deal of the 1930s, and its main backer, incoming Democratic New York Rep. Alexandria Ocasio-Cortez, compared it to the Great Society of the 1960s. More than 40 Democratic lawmakers support the "Green New Deal" as part of a broad plan to fight global warming and bring about what they see as "economic, social and racial justice." A poll found most Americans supported the deal, but knew little about it.
Green New Deal Is Bad Deal for All Americans. Besides the dubiousness of the left's premise that climate change is man-made and endangers the future of the planet, it is highly likely that the Green New Deal will cause an economic apocalypse while failing to solve a nonexistent climate crisis. In short, the Green New Deal would destroy the lifeblood of the U.S. economy: fossil fuel energy. Not only would the Green New Deal lead to an economic crash of unforeseen proportions, but it is equally laughable to believe that the rest of the world would get on board. The Green New Deal would inflict an economic deathblow to the U.S. economy, while making little to no impact on worldwide carbon [dioxide] emissions. Even if you ardently believe in global warming gloom and doom, why in the world would you support a law that would have little effect on the climate and inflict widespread poverty?
It's Climate Alarmists Who Remain in Denial. 20th-century warming and cooling patterns do not correspond to man-made atmospheric CO2 concentrations but do correspond to natural solar, ocean, and cloud variations. And yet, the left wants to legislate a "Green New Deal" that would completely rewire the U.S. economy and add tens of trillions of dollars to the national debt in order to reduce atmospheric CO2.
Presidential hopefuls pushed to go big on climate change. Environmental activists are ramping up a pressure campaign designed to drum up Democratic support for a sweeping agenda to fight climate change, with the 2020 presidential campaign in their sights. Hundreds of young demonstrators turned out Monday on Capitol Hill to push Democrats on a package of ambitious environmental goals — including a nationwide transition to 100 percent power from renewable sources within as little as 10 years — that's collectively dubbed the Green New Deal. Already embraced by Rep.-elect Alexandria Ocasio-Cortez, D-N.Y., an increasingly influential figure on the left, the Green New Deal is designed to nudge prospective Democratic presidential candidates to stake out aggressive positions on climate change. Some cast the goals as idealistic and politically risky.
Alexandria Ocasio-Cortez's Green New Deal Is 'Pretty Much All Fantasy-land'. Since sweeping into Congress atop a wave of far-left support, Rep.-elect Alexandria Ocasio-Cortez (D., N.Y.) has been very clear what her number one goal is: a Green New Deal for America. The freshman congresswoman first attracted attention to the proposal when she joined more than 200 protesters staging a sit-in in support of a GND in Minority Leader Nancy Pelosi's (D., Calif.) office. Since then and with Ocasio-Cortez's backing, the idea has swept through left-leaning media, attracting fawning reviews. It also has the support of a number of prominent left-wing environmental activists: deindustrialization advocate Bill McKibben has come out in favor, as has former Vice President Al Gore. "This is going to be the Great Society, the moonshot, the civil rights movement of our generation. That is the scale of the ambition that this movement is going to require," Ocasio-Cortez said during a Monday [12/3/2018] town hall with Sen. Bernie Sanders (I., Vt.).
Alexandria Ocasio-Cortez Is Setting Women Back Light Years In Politics. Ocasio-Cortez is not the feminist hero most media coverage has made her out to be. If anything, her time in the spotlight has set women in politics back. [...] She just doesn't seem to care much about facts and numbers when she's tweeting. Or, for that matter, when she's speaking. In discussing with Cooper her proposal for a "Green New Deal," which would use the full force of the government in an attempt to convert the United States to 100 percent renewable energy by 2030, she could not offer an actual answer for how such an enormous transformation would be possible. "It's going to require a lot of rapid change that we don't even conceive as possible right now," was all she could say. Shockingly, the reason we "don't conceive of it as possible" is because it is not possible.
This 'Green New Deal' looks awfully familiar. Hailed, by some, as the new youthful face of the Democratic Party Alexandria Ocasio-Cortez seems to be reading from the same old page written by the old Club of Rome. Nothing new under the sun, and nothing new about the socialist-progressive quest for absolute power over the masses and acquiescence by the deplorables. Climate change is the new scapegoat, and control of energy sources the new shape of the ruling iron fist.
Alexandria Ocasio-Cortez's 'Green New Deal' Is Powered By Unicorns. In a 60 Minutes interview that aired Sunday, the darling of democratic socialism proposed eliminating carbon emissions within 12 years. Ocasio-Cortez has previously avoided specifying how she would pay for her Green New Deal. The Frequently Asked Questions section accompanying her draft resolution claims it could be funded in the same ways that we paid for the 2008 bank bailout and extended quantitative easing programs, the same ways we paid for World War II and many other wars. The Federal Reserve can extend credit to power these projects and investments, new public banks can be created (as in WWII) to extend credit and a combination of various taxation tools (including taxes on carbon and other emissions and progressive wealth taxes) can be employed. The war metaphor is among the classics of collectivism.
The Editor says...
The World War II comparison is specious. We are not at war with the weather; and even if we declared war on climate change, we'd lose. The climate is inevitably going to change.
Era of the Trumper Tantrum. [Scroll down] Then there's the "poor girl" from the Bronx. She's my congresswoman. AOC is so intellectually deep, she was surprised to find that after winning her election, her House seat didn't come with an actual house. She's also championing a "Green New Deal" estimated to cost tens of trillions of dollars. When queried as to how the nation would pay for it, she seemed confused, but then she turned it around "360°" and answered, "Taxing the rich." She's mad at what America is doing to the world and if she must destroy our economy and bankrupt every man woman and child in the country to save humanity, she will.
Alexandria Ocasio-Cortez's Green New Deal Is 'Pretty Much All Fantasy-land'. Since sweeping into Congress atop a wave of far-left support, Rep.-elect Alexandria Ocasio-Cortez (D., N.Y.) has been very clear what her number one goal is: a Green New Deal for America. The freshman congresswoman first attracted attention to the proposal when she joined more than 200 protesters staging a sit-in in support of a GND in Minority Leader Nancy Pelosi's (D., Calif.) office. Since then and with Ocasio-Cortez's backing, the idea has swept through left-leaning media, attracting fawning reviews. It also has the support of a number of prominent left-wing environmental activists: deindustrialization advocate Bill McKibben has come out in favor, as has former Vice President Al Gore. "This is going to be the Great Society, the moonshot, the civil rights movement of our generation. That is the scale of the ambition that this movement is going to require," Ocasio-Cortez said during a Monday [12/3/2018] town hall with Sen. Bernie Sanders (I., Vt.).
Alexandria Ocasio-Cortez herself
Alexandria Ocasio-Cortez and the Progressive University. How is it, considering the economic nonsense she spouts, that Alexandria Ocasio-Cortez could graduate cum laude from Boston University, with a degree in international relations and economics? Worse, how is it that her generation could embrace the very economic system that destroyed Eastern Europe and collapsed Venezuela, which sixty years ago was one of the top three economies in the world?
Ocasio-Cortez and top aide officially removed from board of Justice Democrats PAC after FEC complaint. Democratic Rep. Alexandria-Ocasio Cortez and her top aide are no longer board members of the outside PAC credited with orchestrating her political rise, according to a corporate document filed Friday to a Washington, D.C. agency. The New York Democrat and her chief of staff, Saikat Chakrabarti, who served as her campaign chair, joined the board of Justice Democrats in December 2017, according to the political action committee's website. It also said the two held "legal control over the entity" at the same time it was playing a key role in supporting Ocasio-Cortez's campaign prior to her shock victory over incumbent Democratic Rep. Joe Crowley in June 2018.
A Lesson in Socialism for Alexandria Ocasio-Cortez. [Scroll down] This is really the thrust of Ocasio-Cortez's socialist agenda: man must not labor for our sustenance, and man can change the nature of the human condition from tragic to utopian. Through governmental planning and positive legislation, Ocasio-Cortez can guarantee everyone jobs and pay people not for their labor, but for simply existing, creating universal happiness in her socialist paradise. This is exactly what Rudyard Kipling meant in his poem "The Gods of the Copybook Headings" (1919): "And that after this is accomplished, and the brave new world begins / When all men are paid for existing and no man must pay for his sins."
My Unfair Lady. AOC Denies Being a Puppet Candidate, She's Not Being Entirely Truthful. Amid growing revelations surrounding Alexandria Ocasio-Cortez as a puppet candidate, enlisted by a group of far-left activists, Ms. AOC tweets a firm denial. [...] Unfortunately, the AOC denial breaks an Alinsky rule. When a leftist breaks an Alinsky rule, the opposite of their claim is generally accurate; counter-intuitively affirming a stronger likelihood Representative AOC is actually steered by a group of leftists. The evidence to support the puppet proposition is quite strong, albeit somewhat overblown in construct; and unfortunately for Ms. AOC, the evidence that does exist completely reconciles what is factually visible. However, the issues are more nuanced that most are willing to admit. [Video clip]
Poll shows Trump now more popular than Ocasio-Cortez in New York. Socialist "it girl" Rep. Alexandria Ocasio-Cortez is no match for President Trump on the popularity front in their mutual home state of New York. [...] It's also an indicator of the obvious, given that this is New York, a practical state often focused on whether things work or not: Trump creates jobs. Ocasio-Cortez kills them off.
Ocasio-Cortez Explodes After Learning Her 'Unfavorable' Rating Has Skyrocketed. Socialist Rep. Alexandria Ocasio-Cortez's "unfavorable" rating has skyrocketed now that she has become more well-known, according to a new poll from left-leaning Gallup. The poll, released on Friday [3/15/2019], found that the increase in Ocasio-Cortez's "unfavorable" rating in recent months has more than doubled her increase in "favorable ratings." "Half of U.S. adults were unfamiliar with or had no opinion of her in September after her seismic primary win over the summer, but that figure has shrunk to 29% today," Gallup reported. "But the increased visibility has not improved her overall standing with Americans."
At least she didn't blame global warming.
Ocasio-Cortez Blames Low Favorability on Racism, Sexism, Fox News. New York Democratic congresswoman Alexandria Ocasio-Cortez on Monday shared a tweet blaming her low favorability numbers in a newly released poll on bigotry and Fox News. A Siena College poll of New York State voters found that Ocasio-Cortez's favorability is underwater, with 31 percent viewing her favorably and 44 percent viewing her unfavorably. Those results mirror national polling from Gallup and Fox News, which found that Ocasio-Cortez has a net approval rating of -10 and -13 points, respectively. Ocasio-Cortez notably struggles even with some members of her own party, with 30 percent of New York Democrats viewing her unfavorably.
Poll Shows Glowing Media Coverage Backfired on Alexandria Ocasio-Cortez. U.S. Rep. Alexandria Ocasio-Cortez (D-NY) is becoming more unpopular as the American people get to know her. According to the latest national polling from Gallup, the freshman congresswoman and social media superstar is not wearing well at all, despite all the gushing coverage she receives from the establishment media. At the national level, she is already much better known than most politicians. This will surprise no one who watches cable news, but back in September, a full 50 percent of those polled said they never heard of her.
If "constituents" means "members of the electorate," I hope she's wrong.
Ocasio-Cortez: Illegal Aliens Are 'My Constituents'. Freshman Rep. Alexandria Ocasio-Cortez (D., N.Y.) referred to illegal immigrants as her "constituents" during a Thursday [3/14/2019] House Oversight and Reform Committee hearing. Ocasio-Cortez was questioning Wilbur Ross, President Donald Trump's secretary of commerce, when she made the statement. She began by referencing remarks Republican Kris Kobach made while he was Kansas secretary of state. Kobach encouraged Trump early on in his administration to add a 2020 consensus question about citizenship. "Kobach said, 'I raised the issue with the president shortly after he was inaugurated' and 'he was absolutely interested in this,'" Ocasio-Cortez said. "Shortly thereafter, in April of 2017, Steve Bannon asked you to speak with Mr. Kobach about his 'ideas about including a citizenship question on the 2020 decennial census.'" Ross acknowledged he did speak with Kobach early on in the administration, but he was cut off by Ocasio-Cortez before he could clarify what exactly the conversation was about.
Ocasio-Cortez's 'unfavorable' rating skyrockets, with most people viewing her negatively: poll. U.S. Rep. Alexandria Ocasio-Cortez's unfavorable rating has spiked after just months in Congress, with most of the public viewing her negatively rather than favorably, a new poll shows. The New York Democrat shot to fame amid the party's lurch to the left and embracement of socialist policies such as the Green New Deal, yet the more people learned about the 29-year-old freshman congresswoman, the more they were turned off by her.
Poor Ocasio-Cortez complains about her workload. Representative Alexandria Ocasio-Cortez is upset that her new job in Congress — which mostly consists of talking — is too demanding. We can infer from her shock the night that she won her primary battle against the ten-term incumbent that she defeated (and therefore presumptively won the seat in the general election) that she didn't really expect to assume the responsibility of a member of the House of Representatives. Which might explain her embarrassing questioning of the president of Wells Fargo Bank Wednesday [3/13/2019] [.]
She's not dumb! That's a conspiracy theory!. Just hours before the incredibly dumb Congresswoman from the State of Twitter bashed people for praying, her personal Rasputin went on Twitter to defend her brilliance. [...] Of course, what the Man Behind the Curtain is referring to is a video that was released a while ago arguing that Congresswoman Clap-Back is nothing but a puppet and her Chief of Staff is the "brains" behind the operation. I don't know if it's true or not. But if Chakrabarti really is the "brains" behind her speeches and committee questions (and her tweets), he's not helping things. Because the dumb girl is still coming off as mind-bogglingly dumb.
Wallowing In Stupidity. Now that we now that Alexandria Ocasio-Cortez and her friends are running the Democratic Party, or wielding a veto power over the party leaders, attention must be paid. Attention comes at a cost, for her musings present an extended case study in stupidity. She spouts stupidity in stream of consciousness form. How long before we are treated to a little red book compiling quotations from Chairman AOC?
AOC: To hell with your 'thoughts and prayers' for victims of New Zealand massacre. Rep. Alexandria Ocasio-Cortez is mad again. Her perpetual outrage at the world around her is one of her more endearing qualities — that and her wide-eyed innocence and towering ignorance. AOC criticized the prime minister of New Zealand who asked for the world's "thoughts and prayers" following the mosque massacre that killed 49 in Christchurch. This is perfectly understandable. "Thoughts and prayers" involve the two least favorite things for the left; thinking and praying.
Ocasio-Cortez hits NRA after New Zealand shooting: 'What good are your thoughts and prayers?'. Rep. Alexandria Ocasio-Cortez (D-N.Y.) on Friday tore into the National Rifle Association (NRA) after at least one gunman opened fire at two New Zealand mosques, leaving at least 49 people dead. The New York lawmaker condemned the fatal attack on Twitter, focusing her message on the American gun group. "At 1st I thought of saying, 'Imagine being told your house of faith isn't safe anymore.' But I couldn't say 'imagine,'" the lawmaker wrote, citing the deadly shootings at a Charleston, S.C., church, a Pittsburgh synagogue and a Sutherland Springs, Texas, church. "What good are your thoughts & prayers when they don't even keep the pews safe?" She added.
Living in the Real World. Alexandria Ocasio-Cortez responded to those who criticized her hypocrisy as a massive consumer of fossil fuels by saying she is just "living in the world." Well, sort of. In her heavily-cocooned world, it is considered noble to speculate about banning air travel and murdering all of America's cows. Elsewhere — in what some would call the real world — people have to worry about getting those cattle through the winter. Ocasio-Cortez is obsessed with hypothetical global warming, but here in the Midwest we are nearing the end of a brutal winter. For those who live in cities record snowfalls have been an inconvenience, but on the prairie they threaten lives and livelihoods. Try-State Livestock News has an article headlined "March Spring Storm in Midwest Causing Major, Ongoing Issues for Ranchers" that includes remarkable photos and video.
AOC draws ire ripping 'your thoughts and prayers' after Christchurch mosque shootings. U.S. Rep. Alexandria Ocasio-Cortez, D-N.Y., slammed those expressing thoughts and prayers for the victims of Friday's [3/15/2019] mass shooting that killed 49 people in Christchurch, New Zealand. Reacting to remarks made by New Zealand Prime Minister Jacinda Ardern, Ocasio-Cortez took to Twitter and invoked other mass shootings that took place in houses of worship.
Ocasio-Cortez again proves she's clueless on economics. Rep. Alexandria Ocasio-Cortez, D-N.Y., exposed her economic ignorance again this week when she argued that bankers should be liable for borrowers' mistakes. During Capitol Hill testimony from Wells Fargo CEO Timothy Sloan, Ocasio-Cortez contended that if in the event of an oil spill on the Dakota Access Pipeline, which Wells Fargo helped finance, the bank should be held responsible. "If there was a leak from the Dakota Access Pipeline," Ocasio-Cortez asked rhetorically, "why shouldn't Wells Fargo pay for the cleanup of it, since it paid for the construction of the pipeline itself?" [...] Ocasio-Cortez's point betrays a total naïveté about how financing works. Her contention is akin to claiming that a bank holding a car loan should be responsible if the owner gets into a crash. It's like saying a bank holding a home mortgage should pay to fix the pipes when they burst.
The Editor says...
Remember, AOC got a university degree cum laude in international relations and economics, yet she apparently knows very little about economics.
Ocasio-Cortez is so far out of line that she must surely be a 'bubble'. The South by Southwest Festival has become a gathering point for left of center politics. Heavily attended by millennials. And guess who emerged as the shining star — Rep. Alexandria Ocasio-Cortez of New York — she drew the biggest crowd. It was bigger than the crowd for some presidential candidates! What she had to say was simply ridiculous. For example, "We don't have to worry about robots taking our jobs because if they did, it would just give us more time to be creative: to paint, sculpt, or go into space." Tell that to all the youngsters who no longer get starter-level jobs because, at $15 an hour, technology aces them out. Are they all enjoying a life of culture? What nonsense. But then AOC got even more ridiculous. She said, "We live in a society where if you don't have a job, you are left to die."
AOC Research Staff Fail — Ocasio-Cortez Embarrasses Herself During Finance Committee Hearing. I've seen people say that Ms. Alexandria Ocasio-Cortez is a hired actor without any cognitive intellect, and needs a script to avoid embarrassing herself. I thought those claims were overstated, until now. Ms. AOC uses a set of talking points during a Finance Committee hearing to question the CEO of Wells Fargo Bank. The outcome is, well, rather stunning. The whole segment is just goofy.
AOC: You Know, My Experience Tells Me That Being A Banker Is Exactly Like Being A Bartender. My colleagues Brandon Morse and bonchie have chronicled some of the hilarity brought by Democrat freshman New York representative and all-around dunderkind, former bartender Alexandria Ocasio Cortez to yesterday's hearing involving Wells Fargo CEO Timothy Sloan. The overarching theme of Ocasio Cortez's largely incoherent and totally riotous clown act was here insistence that a bank is responsible for all the actions of its customers.
AOC Doubles Down On Insane Questioning, Doesn't Understand Liability. Yesterday [3/12/2019], Brandon Morse covered the hilarious questioning of a Wells Fargo CEO by de-facto Democratic leader Alexandria Ocasio-Cortez. In it, she tried to blame Wells Fargo for the supposed "caging of children" at the border. His answer was classic. [Video clip] If that were all, it'd have been hilarious enough. But AOC is a giving person so she decided to give us even more ridiculous fodder in her questioning. For example, Ocasio-Cortez decided to show the world that she has no idea how liability works.
She's Delusional: AOC Thinks People Having To Work Is a 'Real Problem'. Rep. Alexandria Ocasio-Cortez (D-NY) made an appearance at SWSX [sic]. During a talk at the conference, the Congresswoman was asked about the threat of automation and technology eliminating jobs. Her response was strange and not very well thought out. "We should not be haunted by the specter of being automated out of work," she said, The Verge reported. "We should be excited by that. But the reason we're not excited by it is because we live in a society where if you don't have a job, you are left to die. And that is, at its core, our problem."
Meet Alexandria Ocasio-Cortez's Rasputin. In the space of just a few short months, Alexandra Ocasio-Cortez, with fewer than 16,000 votes in a primary election, went from the role of obscure bartender to perhaps the most famous and powerful freshman member of Congress ever. She instantly became a media darling who drives ratings and Internet clicks. Senior Democrats such as Sen. Ed Markey gush over her and edge in to get their picture taken with her as they appear to hang on her every word. Ocasio-Cortez was given a plum seat on the House Financial Services Committee. Her placement on the exclusive House Banking Committee, as well as the appointments of other newbie progressives to top committees was part of a larger deal to re-secure the speakership for Nancy Pelosi ahead of the midterms. Pelosi agreed to 40 percent progressive representation on the five top House committees. How could this have happened? Look behind the curtain. You'll find her mysterious chief of staff, Saikat Chakrabarti, a well-funded radical left wing activist who, with other veterans of the 2016 Sanders campaign, including "Young Turks" host Cenk Uygur (later purged over past allegedly sexist, racist, pro-rape statements), established a web of campaign organizations and LLC's, including Justice Democrats and Brand New Congress. As many as 16 groups were housed in the same office space in Knoxville, TN, with no apparent legally-required "walls of separation."
Alexandria Ocasio-Cortez: The Face of the Left. Leftists teaching children to hate the race that God made them is evil. White students as young as six years old are outrageously taught that they are born racist, should feel guilty for their "white privilege" and have a responsibility to pay back blacks. Black students have been taught the same leftist lies which has created in them victim mindsets, a sense of entitlement and hatred for fellow Americans who are white. Democrat presidential candidates further white guilt and the lie that blacks are still victims of racist America. They absurdly want to pay $100 billion in reparations to blacks as payback for slavery. As a black man who is proud to be an American, I say our country would be far better off if Democrats would stop exploiting race. Stop pandering to black voters and guilt-tripping white voters with the slavery of our past.
Ocasio-Cortez: 'Capitalism is irredeemable'. Rep. Alexandria Ocasio-Cortez (D-N.Y.) on Saturday called capitalism "irredeemable." "Capitalism is an ideology of capital — the most important thing is the concentration of capital and to seek and maximize profit," she said during an interview at the South by Southwest conference in Austin, Texas, according to Bloomberg News. "To me, capitalism is irredeemable," she added, arguing that capitalism's goals come at a cost to people and the environment, Bloomberg reported.
Ocasio-Cortez Suggests America Is 'Garbage', Claims Reagan Stirred Conflict Between White Americans and Minorities. Rep. Alexandria Ocasio-Cortez (D., N.Y.) suggested the current state of America is "garbage" and argued former president Ronald Reagan stirred up conflict between white Americans and minorities during an appearance at the South by Southwest Conference in Austin, Texas on Saturday [3/9/2019]. Ocasio-Cortez was asked why more politicians haven't more readily embraced policies like the Green New Deal, Medicare for All, and a $15 minimum wage.
Ocasio-Cortez's failed company is a tax deadbeat: warrant filed over unpaid taxes to New York State. Despite being the object of a huge amount of media attention, few people seem to know that Alexandria Ocasio-Cortez tried to be an entrepreneur and fell flat on her face. Her media pals certainly have no interest in publicizing the fact the she embraced socialism after she proved to be utterly, embarrassingly incompetent at earning her way. [...] In addition to failing at developing any products that people would voluntarily pay money for, Ocasio-Cortez also failed to keep on top of her tax obligations, leading to her tax delinquency and eventual warrant issued against her company. In fact, it appears that she let the company go out of business, and promptly consigned it to the Memory Hole, leaving New York State's tax collectors high and dry.
Who Is Behind The Braying Ass? The Story Of Alexandria Ocasio-Cortez. There's an interesting video below the fold that speaks to the defensible suggestion that AOC (Alexandria Donkey-Chompers to her friends) is a figurehead who was chosen (almost literally) from central casting to be the face of some very bad people. Whether the gentleman in the video is correct seems to be of less importance than the reality that dear old Donkey-Chompers is spewing socialist pablum rechewed for our current crop of poorly educated idiots. Don't be fooled by your visceral dislike for her. She is relatively attractive, speaks the language of the college-graduate barrista, and affects the image of a young and earnest "community activist" who is being attacked by the entrenched interests that want nothing of her unicorns and rainbows world. [Video clip]
Ocasio Cortez's Venezuela on the Hudson. Rep. Alexandria Ocasio Cortez cost 25,000 Amazon jobs that New Yorkers could ill afford to lose. The year that Cortez won her election, New York suffered the worst population decline of any other state. Why are they leaving? Some, like Alexandria Ocasio Cortez's mother, are leaving because of high taxes. "I was paying $10,000 a year in real estate taxes up north. I'm paying $600 a year in Florida," Blanca Ocasio-Cortez explained. Some claim that nobody leaves New York because of the taxes. Cortez's mother proves them wrong. But millennials are leaving in record numbers because there are no jobs. New York's under eighteen population is down 4%. That's not surprising since their unemployment rate is 78% higher than the New York City average. That leaves 100,000+ New York millennials with no jobs and no future. New York City offers few options for a middle class outside government work.
AOC Campaign Emails 'The Jews Are Out To Get Us'. You just can't make this stuff up. At almost the exact same time Speaker Nancy Pelosi brings an anti-bigotry resolution to the floor for a vote, representative Alexandria Ocasio-Cortez sends out a campaign email proclaiming the Jews are out to get her.
Alexandria Ocasio-Cortez's mom shows the socialist disconnect from reality on taxes. Like Sen. Kamala Harris, who was rebuked by her own father for perpetrating the stereotype of Jamaicans as potheads, socialist Democrat Rep. Alexandria Ocasio-Cortez was effectively rebuked by her own mother, who told the Daily Mail she moved to Florida from New York to get away from all those high taxes.
AOC Spox Simultaneously Collected Salary From Campaign and Justice Democrats. Rep. Alexandria Ocasio-Cortez's spokesperson collected nearly $20,000 in overlapping salary payments from the New York Democrat's campaign committee and the Justice Democrats political action committee over a two-month span last year, filings to the Federal Election Commission show. Corbin Trent, Ocasio-Cortez's communications director in her Washington, D.C. office, was a leader of the Justice Democrats, the far-left group behind the freshman Democrat's sharp political rise and surprise upset victory over seasoned Democratic representative Joseph Crowley. As Trent was acting as a spokesperson for Ocasio-Cortez's campaign last year, he was receiving a salary from the Justice Democrats PAC. Between September 9, 2017 and October 15, 2018, $73,000 in salary disbursements were paid to Trent from the group's PAC. Trent began collecting payments from Ocasio-Cortez's campaign in August 2018 while he was still being compensated from the Justice Democrats PAC.
Federal Election Commission Complaint: Alexandria Ocasio-Cortez, Aide Hid $1M. An FEC complaint filed Monday [3/4/2019] charges Congresswoman Alexandria Ocasio-Cortez, her Chief of Staff, and others with using two PACs and LLCs to hide hundreds of thousands in campaign dollars. A Federal Election Commission (FEC) complaint the National Legal and Policy Center (NLPC) filed Monday [3/4/2019] accused Cortez chief of staff Saikat Chakrabarti of using two PACs (Political Action Committees) he founded to funnel around $1 million to two of his private companies, according to the Washington Examiner. The companies may have been used to hide what funds were spent on.
The Bernie Sanders/Ocasio-Cortez Waking Nightmare. While an ongoing Deep State coup d'état seeks to remove President Donald Trump from office, Democrat 'progressives' are working a dangerous and devious little coup of their own. Just two months after being sworn in as New York representative, Bernie Sander's protégé Alexandria Ocasio-Cortez has already replaced Nancy Pelosi as de facto House Speaker, according to the usually spot-on Washington Examiner. AOC ending up as House Speaker came from a combination of Pelosi losing her grip on her party as the Democrat Party itself is throwing in with the newly-elected "freshman" socialists.
Ocasio-Cortez refuses to denounce Maduro when asked. Alexandria Ocasio-Cortez demonstrated her notable dancing skills yesterday by tap-dancing around a question about whether, as a democratic socialist, she would denounce the Maduro regime. The strongest condemnation she could come up with for a dictator who is starving his people, forcing millions to flee to market economies that are able to feed them, is "this is absolutely a complex issue." She goes on to caution against U.S. intervention, which is what really concerns her — not the toll exacted on the Venezuelan people themselves. All she has are recycled slogans and accusations against Elliott Abrams, President Trump's special envoy. Because America is the only real problem when it comes to Venezuela.
Ocasio-Cortez: I Drive Republicans Crazy Because 'I Am as Powerful as a Man'. In a Sunday [3/3/2019] New Yorker magazine profile, David Remnick read Ocasio-Cortez a quote from a Jezebel writer who said that in politics, "women are often either characterized as hideous harpies like Hillary Clinton or pretty idiot whose 'craziness is bound up with their ex appeal." Remnick pointed out that Ocasio-Cortez is "firmly in the latter category." "I feel like I predicted it from day one," Ocasio-Cortez told Remnick. "The idea that a woman can be as powerful as a man is something that our society can't deal with. But I am as powerful as a man and it drives them crazy."
AOC Chief of Staff Caught Using Sketchy PAC Activity for Dark Money Scheme. Mr. Saikat Chakrabarti, the chief-of-staff for Ms. Alexandria Ocasio-Cortez, has been caught using sketchy financial PAC constructs to construct dark money schemes. [...] To be fair, all of the best corrupt capitalists participate in this PAC scheme. However, it does lend to a particular bit of irony for the freshman socialist to be advocating for her new system of wealth distribution while utilizing the sketchy financial benefits of an unlawful dark money scheme constructed for personal benefit. But wait, it gets worse (or better), when you overlay AOC's statements from a recent committee finance conversation about dark money and the exploitation of PAC's. No, seriously... you gotta take a minute to absorb this irony. [Video clip]
Ocasio-Cortez and her puppet-master Chakrabarti Scandal #2: A million bucks is unaccounted for. Money raised from donors by two political action committees (at least one of them problematic) was mysteriously "transferred" to two private corporations (LLCs) controlled by Saikat Chakrabarti, the founder of Justice Democrats, the group that recruited, trained, and ran the campaign that got Alexandria Ocasio-Cortez elected to Congress. There is no record of those private corporations providing services in exchange for the donations, which raises the question of what was done with this money.
Alexandria Ocasio-Cortez Says She Would Have Opposed Use of Force After 9/11. Rep. Alexandria Ocasio-Cortez (D-NY) tweeted Monday evening that she would have voted against the Authorization for Use of Military Force (AUMF) after the September 11, 2001 terror attacks. Ocasio-Cortez was responding to tweets by fellow Democrat Rep. Juan Vargas (D-CA), who criticized Rep. Ilhan Omar (D-MN) for her repeated use of antisemitic rhetoric.
Who Is Paying for Sandy O? In Hollywood, stars are launched, not "discovered" by magic. They represent huge studio investments. Launch the wrong star, and somebody loses a ton of money. Hollywood is not in biz to lose money. So here is the puzzle. Alexandria O-C, AKA Sandy O, is suddenly rising to high headline status, followed by a gazillion Twitter-heads, including some actual human beings, perhaps, and it all happened with amazing speed. Just as the Dem field for 2020 is forming. What a coincidence. It's just like the miraculous rise of that other Big Star in Demo politics, one Barack Hussein Obama.
It's already Speaker Ocasio-Cortez. Rep. Alexandria Ocasio-Cortez, D-N.Y., is now setting the Democratic agenda in both houses of Congress. You don't believe us? Witness how, with the aid of a friendly media that seems to enjoy her ignorant tongue-lashings as much as it bristles at President Trump's, Ocasio-Cortez lured six Democratic senators running for president into a trap that could well cost the party their White House. They committed to her insane, embarrassingly half-baked Green New Deal proposal and will soon be forced to vote for a resolution supporting it. In the House, things are just as bad. On Wednesday, Ocasio-Cortez was giving orders to House Democrats behind closed doors on how they are to vote, lest they face a primary challenge next year backed by her wealthy chief-of-staff and his super PAC.
New FEC Complaint Filed Against AOC's Chief Of Staff. The Washington Examiner reports that an FEC complaint has been filed today against Alexandria Ocasio-Cortez' Chief of Staff, Saikat Chakrabarti, questioning the financial arrangements between two PACs and two LLCs that he controls. [...] Money was raised by the PACs and then transferred to the LLCs which were not required by law to designate who received the money. In all, hundreds of thousands of dollars were transferred between the PACs and the LLCs.
Ocasio-Cortez, chief of staff illegally moved $885K in campaign contributions 'off the books,' FEC complaint alleges. ew York Rep. Alexandria Ocasio-Cortez and Saikat Chakrabarti, the progressive firebrand's multimillionaire chief of staff, apparently violated campaign finance law by funneling nearly $1 million in contributions from political action committees Chakrabarti established to private companies that he also controlled, according to an explosive complaint filed Monday with the Federal Election Commission (FEC) and obtained by Fox News.
AOC's Chief of Staff Funneled Big Money From PACs to Private Corporations to Hide Donations. Rep. Alexandria Ocasio-Cortez's (D-NY) chief of staff, Saikat Chakrabart, allegedly created multiple LLCs to funnel campaign contributions from various political action committees (PACs), a Federal Election Commission (FEC) complaint from the National Legal and Policy Center (NLPC) said. According to the NLPC, Chakrabarti's entity, Brand New Congress LLC, 'served as a "cutout,' for at least $885,735 received from Ocasio-Cortez's campaign and two federal political action committees, Brand New Congress PAC and Justice Democrats PAC." Under the Federal Election Campaign Act of 1971, all expenditures of $200 or more are required to be reported to the FEC. It appears that this structure was established to skirt FEC requirements on PAC donations, which are limited to $5,000 per election cycle.
Alexandria Ocasio-Cortez chief of staff accused of hiding more than $1 million in campaign cash. Rep. Alexandria Ocasio-Cortez's top aide illegally funneled campaign donations to two companies he owned, according to a complaint filed Monday with the Federal Elections Commission. Saikat Chakrabarti set up Brand New Congress PAC to collect and bundle donations for newbie politicians including Ms. Ocasio-Cortez. He then diverted more than $1 million to two of his companies that did campaign work, skirting reporting requirements, said the complaint by the National Legal and Policy Center.
AOC's chief of staff ran $1M slush fund by diverting campaign cash to his own companies. Two political action committees founded by Rep. Alexandria Ocasio-Cortez's top aide funneled over $1 million in political donations into two of his own private companies, according to a complaint filed with the Federal Election Commission on Monday [3/4/2019]. The cash transfers from the PACs — overseen by Saikat Chakrabarti, the freshman socialist Democrat's chief of staff — run counter to her pledges to increase transparency and reduce the influence of "dark money" in politics. Chakrabarti's companies appear to have been set up for the sole purpose of obscuring how the political donations were used.
Ocasio-Cortez's Mom Left New York Because of High Taxes. Blanca Ocasio-Cortez, the mother of Rep. Alexandria Ocasio-Cortez (D., N.Y.), said in a new interview that she moved from New York to Florida to pay less in taxes. Blanca told the Daily Mail about the family's financial difficulties after her husband, Sergio, passed away, and how she faced foreclosure twice. "It was scary," Blanca said. "I had to take medicine I was so scared. I had to stop paying for the mortgage for almost a year. I was expecting someone knocking on the door to kick me out at any time. There were even real estate people coming around to take photos of the house for when it was going to be auctioned. The worst is that I only had $50,000 left to pay on the loan." Blanca eventually made a deal with the bank to avoid eviction.
Ocasio-Cortez's home cooking video contradicts address claims. Rep. Alexandria Ocasio-Cortez is still spinning tales about her home. Her spokesman on Sunday [3/3/2019] insisted she moved to new digs in mid-February. But the kitchen seen in a cooking video Ocasio-Cortez posted to Instagram Sunday night matches the one in other cooking videos she posted on Nov. 9 and Dec. 27. So how could she have moved to her new place two weeks ago if she was apparently already living there last fall?
Well Deserved Mocking Derision: Ocasio Cortez Childrens Books. [Tweets]
'Pompous Little Twit': Greenpeace Co-Founder Unloads On Ocasio-Cortez. Patrick Moore, the co-founder of Greenpeace, slammed socialist Rep. Alexandria Ocasio-Cortez (D-NY) on Saturday [3/2/2019] for being a hypocrite over living a lifestyle that does not align with her extremist views on climate change. Moore, who has a Ph.D. in ecology, called out Ocasio-Cortez after she mocked a New York Post article that highlighted her numerous flights and car travel — which are things she attacked in her Green New Deal.
Co-Founder of Greenpeace Rips Ocasio Cortez. Patrick Moore, the co-founder of Greenpeace, lectured Democrat darling and chatterbox Alexandria Ocasio-Cortez on the rules of life. Moore opened up with the best line of the week: "Pompous little twit." Then he went on to explain the impossibility of heating homes without fossil fuels.
Former ICE Director Explodes! Blasts Ocasio-Cortez for Rank Lies and Ignorance on ICE. Democrat Socialist Rep. Alexandria Ocasio-Cortez felt a bit feisty on Saturday [3/2/2019]. The Socialist Democrat accused ICE of injecting children with unknown substances and raping women. [Tweet] And AOC blamed ICE for children dying in custody after the kids were dragged through a blistering desert by the parents before the entered the US.
Pigs on Two Legs Turn on Each Other. Recently Ocasio-Cortez attacked former Democratic vice-presidential candidate and long-time Connecticut Senator Joe Lieberman for not supporting her Green New Deal. Ocasio-Cortez simply Trotskyized Lieberman as someone of so little importance that the new Democrat 29-year-old had never even heard of him: "New party, who dis?" Ocasio-Cortez, who now calls herself the "boss" in the matter of the porcine revolutionary leader "Napoleon" in Orwell's Animal Farm, now claims that she is taking names and is making a "list" of counterrevolutionary "moderate" progressives (think of the ostracized "Snowball" of Animal Farm) who do unmentionable things like voting not to allow illegal aliens to purchase guns.
Ocasio-Cortez responds after report accuses her of 'Green New Deal' hypocrisy: 'I also fly & use A/C'. U.S. Rep. Alexandria Ocasio-Cortez responded Saturday night after a published report excoriated the freshman congresswoman for pushing her Green New Deal initiative while still traveling on airplanes and using ridesharing services — instead greener travel methods such as public transportation. [...] "But the woman who boasts of a "razor-sharp BS detector" seems to have trouble sniffing out her own," the New York Post reported. "Since declaring her candidacy in May 2017, Ocasio-Cortez's campaign heavily relied on those combustible-engine cars — even though a subway station was just 138 feet from her Elmhurst [Queens] campaign office. She listed 1,049 transactions for Uber, Lyft, Juno and other car services, federal filings show. The campaign had 505 Uber expenses alone."
Gas-guzzling car rides expose AOC's hypocrisy amid Green New Deal pledge. Freshman Rep. Alexandria Ocasio-Cortez wants to save the planet with her Green New Deal, but she keeps tripping over her own giant carbon footprint. [...] And while she is quick to dispense all sorts of planet-saving tips to her constituents and fans, [...] she doesn't always take her own green advice. In a Feb. 24 Instagram video filmed in her kitchen, Ocasio-Cortez railed against plastic grocery bags — then appeared to toss two of the sacks, which can be recycled, into the trash. "It drives me crazy," she said of plastic bags. "I wish they didn't exist."
The Mouth That Won't Stop Chattering: Democrat Socialist Ocasio-Cortez Accuses ICE of Rape. Democrat mouthpiece Rep. Alexandria Ocasio-Cortez must feel a little feisty this morning [3/2/2019]. The Socialist Democrat accused ICE of injecting children with unknown substances and rape.
House Democrats explode in recriminations as liberals lash out at moderates. House Democrats exploded in recriminations Thursday over moderates bucking the party, with liberal Rep. Alexandria Ocasio-Cortez threatening to put those voting with Republicans "on a list" for a primary challenge. In a closed-door session, a frustrated Speaker Nancy Pelosi (D-Calif.) lashed out at about two dozen moderates and pressured them to get on board. "We are either a team or we're not, and we have to make that decision," Pelosi said, according to two people present but not authorized to discuss the remarks publicly. But Ocasio-Cortez (D-N.Y.), the unquestioned media superstar of the freshman class, upped the ante, admonishing the moderates and indicating she would help liberal activists unseat them in the 2020 election.
Meet the Greatest GOP Salesperson in History. With enemies like AOC, who needs friends? No friend of mine, or any friend of the GOP, could ever do for Republicans what Ocasio-Cortez is doing on a daily basis. The more AOC and her communist cabal talk about killing [...] cows; trains that cross oceans; ending all cars, trucks, boats and planes; "upgrading" all homes and buildings; free housing for all provided by Big Brother; a guaranteed income, whether you feel like working or not; their love for socialist hellholes such as Venezuela; and their hatred for Israel, it spells a Trump landslide in 2020. AOC is the best thing to ever happen to Trump and the GOP.
Ocasio-Cortez's chief of staff might have broken campaign finance laws. The most powerful person in Rep. Alexandria Ocasio-Cortez's office is a tech millionaire with homes in the West Village and Maryland, who is behind a set of inter-related companies raising ethical eyebrows with good-government groups. Saikat Chakrabarti, 33, is the hard-left freshman's chief of staff — the brains behind initiatives like the Green New Deal and the founder of a trio of companies that catapulted Ocasio-Cortez into Congress. But those companies raise red flags with government-watchdog groups who say Chakrabarti may have skirted campaign finance law.
Federal Election Commission complaint says Ocasio-Cortez laundered money to pay her boyfriend. The Washington, D.C.-based Coolidge Reagan Foundation alleges Ocasio-Cortez "funneled thousands of dollars of official campaign funds" through Brand New Congress — a PAC associated with by Ocasio-Cortez's campaign — to pay her boyfriend, Riley Roberts. The complaint says the PAC paid Riley Roberts twice — once in August of 2017 and once in September of 2017 — for "consulting" work. The complaint alleges that.transactions, which totaled just over $6,000, may have violated campaign finance law.
AOC Allegedly Broke Campaign Finance Law By Funneling Money To Her Boyfriend Thru A PAC. Alexandria Ocasio-Cortez, the Left's favorite congressperson — and also, oddly, the Washington politician who seems to have the least understanding of anything of anyone who's ever tried to understand anything ever in any way — could be in trouble. On Wednesday [2/27/2019], the Coolidge Reagan Foundation filed a complaint with the Federal Election Commission over the New York representative's alleged illegal funneling of money to her boyfriend via a political action committee. According to the filing, when the Brand New Congress PAC — a branch of the company hired by AOC to run her campaign — paid Riley Roberts, campaign finance law was broken.
Republican group files FEC complaint alleging Alexandria Ocasio-Cortez's campaign team illegally funneled thousands of dollars to her boyfriend through an allied PAC. A conservative non-profit has filed a Federal Elections Commission complaint against Democrat Alexandria Ocasio-Cortez, alleging the freshman congresswoman's campaign team illegally funneled thousands of dollars to her boyfriend through an allied political action committee. Lawyers for the Coolidge Reagan Foundation asked the FEC to review the matter on Wednesday [1/127/2019] after questions about AOC's campaign finance activities were raised earlier this month.
Alexandria Ocasio-Cortez's campaign may have illegally paid her boyfriend. Freshman Rep. Alexandria Ocasio-Cortez's campaign may have illegally paid her boyfriend through a political action committee during her congressional race, a Republican group alleges in a new complaint with the FEC. The Coolidge Reagan Foundation alleged in the complaint that Brand New Congress PAC paid Ocasio-Cortez's boyfriend, Riley Roberts, for marketing services after the PAC was hired by her campaign. Using the third-party PAC to pay her boyfriend may have violated campaign-finance laws, a lawyer for the Coolidge Reagan Foundation told The [New York] Post.
Ocasio-Cortez led closed-door crackdown on moderate House Democrats. A Democratic Party civil war is brewing — and Rep. Alexandria Ocasio-Cortez is smack in the middle of it. The hard-left freshman congresswoman threw fuel on the fire this week by threatening to put Democratic moderates who vote alongside Republicans "on a list" and run them out of office in the 2020 primaries. The power play came during a closed-door meeting with Speaker Nancy Pelosi on Thursday [2/28/2019], a day after the House passed a gun-control bill that would broaden federal background checks for sales at gun shows and on the Internet.
Comrade Ocasio-Cortez has a list. Roll Call reports that Democrats are in the midst of internecine warfare, fighting among themselves over the merest of legislative procedural moves called "motion to recommit," which permits dissenting voices to say something or maybe try to persuade for moderating amendments when extremely radical bills are presented in the House and headed to a vote. If nothing else, it's a desire to be heard. House minority Republicans use it, and that's enough for Democrats to want to shut it down. But it's also employed by moderate Democrats, many of whom do not want to come across as left-wing nuts to their constituents in red-tinged districts.
Ocasio-Cortez warns of 'list' for moderate Dems who vote with Republicans: report. After more than two dozen moderate Democrats broke from their party's progressive wing and sided with Republicans on a legislative amendment Wednesday [2/27/2019], New York Democratic Rep. Alexandria Ocasio-Cortez reportedly sounded the alarm in a closed-door meeting Thursday and said those Democrats were "putting themselves on a list." The legislation that prompted the infighting was a bill that would expand federal background checks for gun purchases, the Washington Post reported. But a key provision requiring U.S. Immigration and Customs Enforcement (ICE) to be notified if illegal immigrants attempt to purchase guns saw 26 moderate Democrats side with Republicans.
Newcomers are in no position to be insolent.
Ocasio-Cortez led closed-door crackdown on moderate House Democrats. Rep. Alexandria Ocasio-Cortez was among House Democrats who laced into moderates Thursday — threatening to run those who side with Republicans out of office in the 2020 primaries, according to a new report. The hard-left freshman congresswoman led the charge in a closed-door session, saying some of her moderate colleagues are "putting themselves on a list," her spokesman Corbin Trent told the Washington Post. Ocasio-Cortez suggested she would help liberal activists to unseat moderates in the next election.
Ocasio-Cortez brags she has a 'razor-sharp BS detector'. No doubt, bartender is a "skill job," and the good bartenders are highly skilled at mixology. But how much skill does it take to read a bunch of questions prepared by staff? Seriously, does anyone not know that 90% of politicians leave the drudgery of coming up with questions for witnesses at congressional hearings to people who know a [...] lot more about the issue than they do? Here is Ocasio-Cortez, faithfully reading her questions like a good little staff puppet. [Video clip]
Details Of Ocasio-Cortez's Ties To George Soros Revealed. New details have emerged showing the ties between Communist Alexandria Ocasio-Cortez and wealthy elitist, George Soros. Soros' media network helped ensure that the socialist would win the primary election. According to The Daily Caller, in an attempt to put 400 Bernie Sanders-like politicians in Congress, George Soros has propped up the political career of now infamous communist, Alexandria Ocasio-Cortez. Ocasio-Cortez was formerly a Bernie Sanders presidential campaign organizer. The New York Times wrote that the communist was able to defeat her opponent, who greatly outspent her, due to her online presence. In an interview with a "progressive" and communist-leaning digital media outlet The Young Turks, which is a member of a Soros-funded network of far-left publications called The Media Consortium, Ocasio-Cortez also admits that their coverage helped her achieve her win.
Ocasio-Cortez lashes out at 'dude' who 'creepily' took photo of burger meal. Rep. Alexandria Ocasio-Cortez, D-N.Y., lashed out at an anonymous shutterbug who "creepily" snapped a picture of her at a restaurant with an aide who was feasting on a juicy burger — an image that soon made the rounds on social media, as it was taken days after she questioned whether Americans needed to eat so much meat. [...] The picture, posted by conservative social media strategist Caleb Hull, showed Ocasio-Cortez and Chief of Staff Saikat Chakrabarti eating at an unidentified restaurant. Notably, Chakrabarti was munching on a burger, just days after Ocasio-Cortez had warned against eating too much of America's favorite dish.
Occasional Cortex is Blowing Smoke. We all knew little girls like Rep. Alexandria Ocasio-Cortez in our childhood and avoided them like the plague in the playground because they didn't play nice and lived only to boss others around. Born an extrovert who would become the top social media star of her day, AOC is out there laying it on thick that she's "THE BOSS!" Little does she seem to know that if you really are the boss, you don't have to keep on saying it.
Socialism talk will sink Democrats: How left-wing overreach could backfire big-time in 2020. The problem for the Democrats at the moment is that much attention is being focused on political novelties such as Rep. Alexandria Ocasio-Cortez who espouse both socialism and reparations. She is ferociously telegenic, infectiously likable and clearly inexhaustible. She is also political poison, the product of a freak election in a New York City district where the past has taken root — socialism and a lot of rot about the evils of capitalism. She cheered Amazon's decision to forsake New York for friendlier climes, taking at least 25,000 jobs with it. (Amazon Founder and CEO Jeff Bezos owns The Washington Post.) For a mere first-termer, this is quite an accomplishment. It usually takes much more seniority to do this much damage.
AOC would make a great poster child for Russia. The Green New Deal's push to bad mouth deep earth fuels and transform the U.S. The Green New Deal is the Left's worst enemyand eventually the world into an ecologically sound "utopia" of intermittent electricity is a dream come true for Putin and it seems his poster child is Alexandria Ocasia-Cortez. She has wrestled the microphone away from the clear-headed thinkers in our country and started a movement that stinks of Putin and his desire to dominate the world. It's either a rookie mistake or a well thought out plan concocted by the once high colonel of the KGB, Vladimir Putin.
Occasional-Cortex: The Twilight Zone's monster. She not only wants to deprive us all of cars, machines, etc. — all of our modern conveniences that derive from fossil fuels — but has declared herself the "boss" of us. Because she's the boss, we are all "just shouting from the cheap seats." No one in her party is reining her in, pushing back against her ridiculous Green New Deal. They all know it's absurd, but they seem to fear her as the people of Peaksville feared little Anthony. It's hard to imagine that Nancy Pelosi is afraid of her, but it appears she is. Ocasio-Cortez claims to be speaking for the party. Some seventy Democrats have declared they are on board supporting the Green New Deal, including five or six of their declared presidential candidates. This would all seem like a comic parody if it were not happening before our eyes.
How Does 'Boss' AOC Plan To Pay For Her $93 Trillion Green New Deal? Alexandria Ocasio-Cortez has declared herself "boss" of the "Green New Deal." Maybe she can explain were the money will come from to pay its $93 trillion cost. Because taxing the rich won't even scratch the surface.
AOC wants America to lead the world — backward. [Scroll down] Ms. Cortez has no such qualms. When asked whether implementing her GND would require "massive government intervention," she replied: "It does. Yeah. I have no problem saying that." [...] AOC says don't worry about the price tag. Just tax the rich more and borrow trillions more. Whether the cost is $1 trillion per year or $40 to $100 trillion in total, that is an ignorant, cavalier response. Either way, she must provide the numbers, calculations and wherewithal — transparently and with full debate. But on environmental matters, Ms. Cortez and her cosponsors have no clue what they are talking about.
The Fatuous Democrats. Spurred on by the ubiquitous and demiurgically verbose Congresswoman Alexandria Ocasio-Cortez, an inexhaustible storehouse of naïve political opinions, these candidates outdo each other in policy fatuities. She proposed 70 percent tax rates on the highest personal incomes, and the venerable Bernie Sanders, two generations ahead of her, chimed in at 77 percent. [...] Ms. Ocasio-Cortez surged back into the lead, (not that she is a presidential candidate at this point, but why not?), with a fascistic green plan that declared war on all non-renewable energy, called for the retrofitting of every building in the country and the end of air and automotive travel, and incited visions of vast brigades (doubtless from what would be the innumerable masses of the unemployed), diapering the nation's cows to save the eco-system from their flatulence.
Ocasio-Cortez redistributes her staff's incomes. A young woman with no real-world experience is about to learn the hard way that her ideology is impractical. I have to give Alexandria Ocasio-Cortez credit for sincerity in her announcement on Twitter that she plans to compress the pay scale of her staff, reallocating the budget she receives for staff, and cutting the pay at the top, while increasing the pay at the bottom. [...] Because Ocasio-Cortez has no real-world experience, she will not see the foreseeable consequences. For a while, she will retain senior staff at low pay because they are committed to the ideological goals they think that they share with her. [...] But sooner or later, staff will begin to resent her luxuries compared to their own sacrifices.
Social-justice Democrats' 'Green New Deal' will turn America into Venezuela. If Al Gore had wed Jane Goodall, and Elizabeth May presided at the ceremony, eventually the world would have cheered the nativity of someone very likely to grow up as Alexandria Ocasio-Cortez, the Captain Marvel of the Green movement.
Ocasio-Cortez temper tantrum caught on video: 'I am the boss!' Sandy O's contemplated power grab illustrates that the strategy of Al Gore and the Warmists has worked. They have panicked people who have no interest or ability in critical thinking, using the prestige of "science" and a phony statistic supporting "scientific consensus" to create a demand for vast government regulatory and tax expansions. It's hard to feel sorry for someone so self-righteous, arrogant, and unreflective, but Sandy is a victim of her own sudden success in attaining an office for which she was unprepared and a degree of fame that would be hard for someone with thirty IQ points and two decades of experience on her. Because she blindly follows leftist cant and intends to use her vastly inflated sense of her own influence and abilities to accomplish goals that violate human nature and the laws of physics, she will self-destruct.
Where in the world does Alexandria Ocasio-Cortez live? She may be America's most famous freshman congresswoman, but in New York, Rep. Alexandria Ocasio-Cortez is a virtual ghost. She has no district office and no local phone number, unlike the state's three other freshman members. And it's unclear whether the 29-year-old lawmaker, who represents the Bronx and Queens, actually still lives in the Parkchester neighborhood that has been so closely tied to her rise — even though she won her upset victory over fellow Democrat Rep. Joe Crowley with accusations that his home in Virginia made him too Washington-focused to serve his district. Ocasio-Cortez has used her deceased father's Bronx condo on her voter registration since 2012, and even posed in the one-bedroom Bronx flat for celebrity photographer Annie Leibovitz in a Vogue magazine profile after her stunning November election. But The [New York] Post could find little indication she continues to live there.
Keywords: Shacking up, fornication, living in sin.
Alexandria Ocasio-Cortez now says she lives with her boyfriend in a two-bedroom apartment. Alexandria Ocasio-Cortez clambered to explain why neighbors at her listed Bronx address claimed they'd never seen here there. The Democrats' rising star actually lives down the road in a much larger apartment, her spokesman revealed. The New Yorker strongly denied a Saturday [2/23/2019] report in the New York Post, which claimed there was scant evidence that she lives in the Bronx condo where she is registered to vote.
Vulgar Socialists Are the Face of the New Democrat Party. Rashida Commie Tlaib and Alexandria OMao-Cortez had a grand old time mocking anyone who has a problem with Tlaib calling the President a "m*****f*****." These two are the face of the New Democrat Party. And they are what we have sunk to in this country. They are clueless in matters of etiquette, good decorum, and respect for the offices they hold. Speaking together on "Desus & Mero," a new far-left program for dummies on Showtime, the trio described the term as a "boo-boo word." They complained about the alleged "double standard." "Rashida got into a little trouble for saying a boo-boo word," AOC said condescendingly.
Ocasio-Cortez: People Maybe Shouldn't Reproduce Due To Climate Change. Democratic socialist Rep. Alexandria Ocasio-Cortez (D-NY) suggested on Sunday night [2/24/2019] that people should consider not having children due to climate change because there is a "scientific consensus" that life will be hard for kids. "Our planet is going to hit disaster if we don't turn this ship around and so it's basically like, there's a scientific consensus that the lives of children are going to be very difficult," Ocasio-Cortez said while chopping up food in her kitchen during an Instagram live video.
Too bad her mother didn't think so.
Ocasio-Cortez: Probably time to stop having kids because 'there's scientific consensus that the lives of children will be very difficult'. In a stream-of-consciousness livestream video yesterday, Congresswoman Alexandria Ocasio-Cortez revealed a lot more than she intended about her life in the shallow end of the gene pool. It's pretty clear that she regards herself as a fount of insight and wisdom, apparently because her education at Boston University and 29 years of life experience have provided discernment superior to that available to the rest of us — so much so that her random thoughts while cooking are worthy of mass dissemination via livestream video. [...] The most egregious pseudo-wisdom was her cogitation that maybe we shouldn't be having kids because "there's scientific consensus that the lives of children will be very difficult."
How the Socialists Will Steal Election 2020. In age, AOC's as fresh as a baby compared to the Dinosaur Democrat Old Guard. Count on hearing the elderly Dems dissing AOC but bear in mind that it's all part of the act. If people just listened to her voice rather than just reading about her Democrat supported Green New Deal, they'd have AOC's number. She sounds like bratty, know-it-all,29-year-old teenager because that's exactly what she is.
Ocasio-Cortez and Newsom: Stupid-East Meets Stupid-West. Rightly , many on the reality side of the political spectrum wonder how dumb Ocasio-Cortez must be to think there was a pot of taxpayer money being handed over to Amazon. Now that the deal is dead, instead of Amazon being able to keep $3 billion of what it earns as a temporary incentive to bring thousands of jobs and many billions of dollars in future tax revenue to the area, there will be zip, zero, nada for progressives to "invest" (given that's all they really care about). I wonder if Ocasio-Cortez will take a vow of poverty, put her current lack of money where her mouth is, and fight the urge to magically turn her $170K-per-year salary into multi-millions (while producing nothing) before she finally exits Congress.
'Clearly most reckless politician in America': AOC deletes tweet with false accusations against GOP operative. Rep. Alexander Ocasio-Cortez, D-N.Y., truly is the gift that keeps on giving for the Republican Party, as the Bronx nitwit's blunders are so frequent she struggles to get through a single day without making herself and her party look foolish. The self-avowed democratic socialist stepped in it again Thursday when she falsely accused Senate Majority Leader Mitch McConnell's former chief of staff of running a bot network. In a tweet Ocasio-Cortez has since deleted — surely she knows the web is forever — the newly-elected Democrat claimed Republican consultant Josh Holmes "helps run a multimillion dollar operation to have bot accounts manipulate online discourse."
Amazon opponent Alexandria Ocasio-Cortez spent thousands on the site during campaign — including $300 on chalk. Apparently AOC stands for Amazon Online Customer. Before freshman Rep. Alexandria Ocasio-Cortez celebrated scaring away the online retail giant, she spent thousands on the site. The democratic socialist's campaign spent nearly $9,000 on Amazon last year over a six month period — including nearly $300 in chalk. Last week, Ocasio-Cortez applauded local politicians and advocates for Amazon's decision to pull out of its plans to build a second headquarters in Long Island City, Queens.
Alexandria Ocasio-Cortez stars as a 'butt-kicking' political superhero in new comic book. Devil's Due Comics announced on Friday that it has assembled a team of artists to create what it calls the "mother of all one-off commemorative comics: Alexandria Ocasio-Cortez And The Freshman Force. [...] The Chicago-based publishing company said in a release that the new comic book will see Ocasio-Cortez "engage in a series of super-heroic mini-adventures, taking on the GOP establishment from within."
Alexandria Ocasio-Cortez Has A Serious Billionaire Problem. Democrats have recently discovered a new threat to the American way of life: billionaires. An interviewer recently asked socialist Ocasio-Cortez: "Do we live in a moral world that allows for billionaires? Is that a moral outcome?" Her answer: "No, it's not. It's not. It's not. And I think it's important to say that." Her policy advisor, Dan Riffle, said that "every billionaire is a policy failure."
Report Suggests AOC Is Up To Her Neck In Swamp Water, Possibly Illegally. For all the integrity and principles New York Democrat Alexandria Ocasio-Cortez is purported to have, new research suggests she swims in the same swamp as many of her D.C. colleagues on the left. Not long ago, National Review contributor Luke Thompson stumbled across documentation that showed her boyfriend Riley Roberts as a staff member in the House of Representatives. When Thompson called her out, AOC defended herself by claiming it was so that he could have access to the calendar, and that this is common practice among spouses.
Marc Thiessen: Alexandria Ocasio-Cortez is an economic illiterate — And that's bad news for America. The left complains that conservatives are "obsessing" over Alexandria Ocasio-Cortez. Well, there is a reason for that: Ocasio-Cortez is driving the agenda of today's Democratic Party — and her economic illiteracy is dangerous. Case in point: Last week, Ocasio-Cortez celebrated the tanking of a deal negotiated by her fellow Democrats in which Amazon promised to build a new headquarters in Long Island City, New York, right next to her congressional district. Amazon's departure cost the city between 25,000 and 40,000 new jobs. Forget the tech workers whom Amazon would have employed. Gone are all the unionized construction jobs to build the headquarters, as well as thousands of jobs created by all the small businesses — restaurants, bodegas, dry cleaners and food carts — that were preparing to open or expand to serve Amazon employees. They are devastated by Amazon's withdrawal.
'Thanks for Nothing, AOC!': Massive Billboard In NYC Blasts Ocasio-Cortez. Job Creators Network, a nonpartisan organization founded by entrepreneurs like Home Depot co-founder Bernie Marcus, purchased a billboard in New York City slamming socialist Rep. Alexandria Ocasio-Cortez (D-NY) for killing tens of thousands of jobs for New Yorkers that would have generated billions of dollars in economic activity.
Alexandria Ocasio-Cortez's campaign finance hypocrisy. The crux of Ocasio-Cortez' position, explained on her campaign website, is that "the wealthiest people in this country [have] the opportunity to purchase the U.S. Government," which "discourages those who are less privileged from even considering a run." Ocasio-Cortez crusades against "special interests," but every interest is "special" to those who care about it. That's as true for the pro-abortion groups publicly endorsing Ocasio-Cortez as it is for the labor unions funding her campaign committee. They just happen to be "special interests" she likes, unlike (for example) the 25,000 New Yorkers who won't be getting jobs at Amazon thanks in part to her work.
Ocasio-Cortez Boyfriend Troubles Reveal the Corruption at the Heart of Her Campaign. Last week, an enterprising conservative political consultant unearthed evidence that Rep. Alexandria Ocasio-Cortez (D-N.Y.) may have hired her boyfriend, Riley Roberts, to work in Congress. This news actually unraveled a far bigger story of corruption, however. As it turns out, a political group helping Ocasio-Cortez's campaign had already paid Roberts during the campaign — and those payments from that shady organization may be the reason Ocasio-Cortez is in Congress today. On Wednesday, Luke Thompson, a podcast host and former staffer for the National Republican Senatorial Committee (NRSC), shared some damning research into Ocasio-Cortez's campaign. He discovered more about the relationship between Riley Roberts and the campaign, but he also unearthed a humongous corruption story.
The Danger of Not Taking Alexandria Ocasio-Cortez Seriously. The left's new darling is Rep. Alexandria Ocasio-Cortez ("AOC"). The 29-year-old congresswoman from New York catapulted into the political scene in November as the face of a new "democratic" socialism. The media hang on to her every word and fawn over every gesture. Her "New Green Deal" is the talk of the nation. Conservatives take note of and ridicule her antics, hyperbole and errors. She is the center of attention wherever she goes. She shocks, amuses, alarms and flabbergasts the public. The political circus around her is such that many say that she must not be taken seriously.
The populist sledgehammer kills Amazon jobs that Middle America would love to have. Tito Brown can't imagine driving a perfectly good thing out of a town that hasn't had a perfectly good thing come its way in a very long time. At least, a perfectly good thing the size and scope of the Amazon headquarters that ideological politics drove out of Long Island City on Thursday, when Democrats including Rep. Alexandria Ocasio-Cortez, D-N.Y., danced on the grave of the deal as Amazon walked away from the New York project. Brown doesn't really get that. He governs a city with a declining population, a 40 percent poverty rate, and would welcome the opportunity for a project such as Amazon to have considered locating here.
Stupid Midwesterners Don't Understand AOC's Job-Killing Joy. Amazon was about to deliver thousands of new jobs to New Yorkers, and billions of dollars in tax revenue to the city's coffers — but don't you worry, Alexandria Ocasio-Cortez has proudly helped put a stop to all that.
Ocasio-Cortez Doesn't Understand Difference Between Berlin Wall, Border Wall. Democratic socialist Rep. Alexandria Ocasio-Cortez (D-NY) suggested late last week that she does not understand the difference between the Berlin Wall and President Donald Trump's proposed border wall. During an Instagram live video on Friday, the freshman congresswoman said that she thought the wall was a "moral abomination. I think it's like the Berlin Wall." That Ocasio-Cortez thinks the border wall is "like the Berlin Wall" suggests she knows very little about history and concepts of border security.
Dems' long knives unsheathed on Ocasio-Cortez on Meet the Press. Three days ago, I predicted that Alexandria Ocasio-Cortez was sealing her fate when she took (and probably deserved) credit for killing the deal that would have brought 25,000 high-paying Amazon jobs to New York City. It's not that the young woman with boundless self-confidence in her views has no clue about how tax incentives work (though that is obviously true, since she crowed that the $3 billion in tax abatements could be spent on subways, schools, and the like). Ignorance and simple-mindedness are no obstacles to a Democrat winning approval from party bosses.
Why the Media Can't Stop Promoting Alexandria Ocasio-Cortez. By this point, not yet seven weeks into the current congressional term, the whole country has grown tired of Alexandria Ocasio-Cortez. The freshman radical socialist phenom from New York's 14th congressional district has been radically overexposed by the media. Her gaffes are getting old. Her narcissistic, defensive tweeting is tedious. And yet, the media keeps obliging her with photo ops, social media clips, and endless sound bites. They cannot look away, lest they forfeit clicks.
Ocasio-Cortez: An Economics Major? [Scroll down] The remainder of the coursework in the International Relations track she likely followed is more politically oriented in the usual Leftist slant. Her identification with Socialism is an extension of her studies, and is not based on a rigorous analysis of conditions in the less-developed world, but more on her politically-oriented viewpoint. So — to sum up AOC's much-hyped Economics Knowledge. She likely has a bare knowledge of the basic concepts. That good beginning has been overlaid with a heavy mass of Standard College Leftism — and only the last part of that education, seemingly, stuck.
The New Nihilism. For about a half century, universities have eroded inductive and empirical education. Instead, deduction and advocacy took its place — and to such a degree that to question man-made global warming, the dogma of racial separatism and chauvinism, radical abortion, or gay marriage became taboo and proof of near criminality. But advocacy for generations of youth also came at a price of not learning history, languages, science, math, and literature, the age-old menu of broad liberal arts education. And the result is reified by the emergence of Rep. Alexandria Ocasio-Cortez, whose arrogance and ignorance are emblematic of the worth of a costly Boston University degree.
Smollett and AOC: Dems Reach New Heights of 'Magical Thinking'. It is as if the Democratic Party has decided, once and for all, to adopt the psychological concept of "Magical Thinking" as its modus vivendi. [...] Calling this Trump Derangement Syndrome is an understatement because it's more psychologically disturbing than a mere political catchphrase can capture. With Smollett and AOC, this actual psychopathology — because that's what it is — has reached new heights, in an apotheosis of magical thinking.
Ocasio-Cortez Delivers 'Inaugural Address': 'Right to Migrate' Not Negotiable. Rep. Alexandria Ocasio-Cortez (D-NY) delivered an "inaugural address" in her Congressional District on Saturday afternoon [2/16/2019], declaring that issues like the "right to migrate" will not be negotiable. Addressing hundreds of supporters in the Bronx, the freshman lawmaker even had a swearing-in ceremony before uttering mostly platitudes. Defending the Green New Deal after she and her office botched the rollout to much ridicule this week, the Democratic-Socialist claimed that the "Green New Deal is the legislation of indigenous communities in the United states" and many others.
The Editor says...
Citizens of foreign countries do not have the right to immigrate to the United States. They can apply for legal residency, but there are no guarantees. The vast majority of the other seven billion people around the world would likely be a "public charge," i.e., dependent on welfare programs, and a net drain on the economy, and therefor inadmissible under existing federal law. AOC is hoping you don't know that.
How Dumb is Ocasio-Cortez? The context was Amazon's announcement that it would not, after all, build a second corporate headquarters in Long Island City, which I understand is close to, but not within, Ocasio-Cortez's district. The project reportedly would have entailed 25,000 new jobs — normally considered a good thing by Congressmen. But Ocasio-Cortez thought it was wonderful that her constituents would not have the option to compete for those jobs: [...] I suppose if AOC's constituents thought they would be "exploited" by Amazon they wouldn't have to apply for jobs there. Now, they don't have the choice.
AOC is no outlier. The Democratic Party has deceived much of the public into believing that its positions aren't extreme, but the truth is coming out now for all to see. Such veritable crackpots as Rep. Alexandria Ocasio-Cortez are not merely fringe fruitcakes; they are just bringing the party out of the closet. It's as if half this decades-long leftist conspiracy to turn America into a socialist hellhole has finally been exposed by the unwitting soldiers of the revolution, who have understood everything about it but were told to keep their mouths shut about their ultimate goals.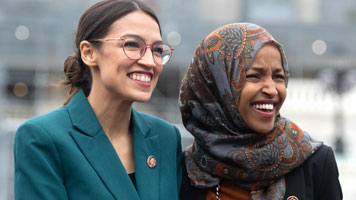 Pelosi's Untouchables. Reps. Ilhan Omar, D-Minn., Rashida Tlaib, D-Mich., and Alexandria Ocasio-Cortez, D-N.Y., are becoming examples of a new super-class of human being, riding roughshod over all their peers, proudly displaying their ignorance of, and hatred toward, all things American. They are Pelosi's Untouchables. Deriding the traditional patriotism and conservatism of the American people, the socialist club in Congress spews kook theology, far-left ideology, and outrageous cultural Marxism. They are the tip of the sword that will skewer this nation and engulf us all into a prolonged civil war based on race and religion. And Pelosi is allowing all of it.
The Left Has Ensured that this Will Never be a Socialist Country. The breathtaking ignorance, unabashed espousal of authoritarian policies and nonsensical concepts by the current poster child of the American Left, Alexandria Ocasio-Cortez, is a window into the end-product of the indoctrination and resultant mindset of a significant demographic segment of nearly two generations. While Marxist philosophy still undergirds this mindset, a uniquely American doctrine has become the tip of the spear in what will be a failed attempt in transforming the United States into a socialist nation.
Alexandria Ocasio-Cortez is destroying opportunity for fellow Democrats. Congratulations, Alexandria Ocasio-Cortez! You just killed 25,000 jobs for urban Democrats in one of the most racially and ethnically diverse areas in the entire world! Congresswoman AOC, the thought leader of the Democratic party, was the loudest and feistiest political opponent when Amazon announced it would build (half of) its second headquarters in Long Island City, Queens, promising to create 25,000 jobs and generate some $27.5 billion in tax revenue over the next 25 years. Amazon employs a range of people from unskilled workers to tech geniuses and would have pumped large amounts of money into the city economy. It estimated the average salary of its New York City workforce would have been $150,000. Real-estate prices in Long Island City jumped 15 percent since Amazon's announcement last November.
MSNBC's Deutsch: 'Dangerous' Ocasio-Cortez Will 'Hand Presidency Back to Trump'. Democrats are starting to figure out that Alexandria Ocasio-Cortez is the gift that keeps on giving — to Republicans. [...] On today's [2/15/2019] Morning Joe, there was consensus condemnation of Ocasio-Cortez's opposition to NYC's deal with Amazon to establish an HQ in NYC, which contributed to Amazon's decision to cancel its plans. Donny Deutsch put it in starkest terms, saying Ocasio-Cortez is "extremely dangerous," and "does not know what she's talking about." Deutsch fretted that, from a Dem perspective, Ocasio-Cortez and her socialist sidekicks will "hand the presidency back to Donald Trump."
Amazon Spokesperson Blames Ocasio-Cortez for NYC Retreat. An Amazon spokesperson blamed Rep. Alexandria Ocasio-Cortez (D-N.Y.) and her vocal resistance for the company's shocking decision to cancel plans for its New York City headquarters on Thursday [2/14/2019]. Polls showed that 70 percent of New Yorkers supported Amazon's planned investment in the state. Thus, Amazon stunned many New Yorkers and the nation at large when the company bowed to intense opposition from some state and local officials on Thursday and announced it was abandoning the Big Apple for its second headquarters.
With Amazon NYC 'second HQ' deal cancelled, Ocasio Cortez now officially is a huge problem for Dems. Move over, Speaker Pelosi, and make room for New York governor Andrew Cuomo and New York City mayor Bill de Blasio as Democrats waking up to the disaster the rise of Alexandria Ocasio-Cortez is inflicting on the Democratic Party. She is no longer just a potential threat to their schemes and operating principles; she has taken a wrecking ball to them. [...] The Amazon tax breaks, calculated to be worth $3 billion over a period of many years, were going to bring 25,000 high-paying jobs to Ocasio-Cortez's district in Queens and generate many times that sum in increased tax receipts, according to Cuomo and de Blasio, who exulted over the deal. But offering any kind of benefit to a big corporation founded and headed by the richest man in the world is anathema to the radical left. Ocasio-Cortez may not fully realize that her political party is now the party of big business, trading government favors of all sorts for massive political donations (and censorship of conservatives on internet forums controlled by the tech giants).
Alexandria Ocasio-Cortez faces questions after her boyfriend gets congressional email account. Rep. Alexandria Ocasio-Cortez is facing ethics questions after revelations the freshman lawmaker's office gave her boyfriend a congressional email account. The democratic socialist waded into the issue in response to a tweet alleging boyfriend Riley Roberts had been put on staff. The tweet included a screenshot of an official House email address. Ocasio-Cortez insisted that he was only given the email account so he could access her calendar.
Ocasio-Cortez's boyfriend granted House email account. Rep. Alexandria Ocasio-Cortez's relationship with boyfriend Riley Roberts is official. Roberts has been granted a government "house.gov" email address so he can access Ocasio-Cortez's congressional calendar, the 29-year-old congresswoman confirmed Friday [2/15/2019]. Spouses of members of Congress are afforded privileges, such as a House email address, a congressional pin to bypass security and a House license plate to enter Capitol grounds and enjoy parking privileges, House aides say.
The Editor says...
No, their relationship is not "official" until they are legally married.
Ocasio-Cortez Living in Luxury Navy Yard Apartment Building. After fretting about whether she'd be able to afford rent, Rep. Alexandria Ocasio-Cortez (D., N.Y.) has moved into a luxury apartment building in the District of Columbia's Navy Yard neighborhood, the Washington Free Beacon has learned. Ocasio-Cortez, a member of the Democratic Socialists of America, got a big raise with her election to Congress, a job that comes with a $174,000 annual salary. She told the New York Times she was concerned about how she would get an apartment before that salary kicked in. She ended up moving into a luxury apartment building with a wide array of amenities where rent for even a studio apartment exceeds $2,000 a month.
AOC thinks there's vast right-wing conspiracy to make her look stupid. Who wants to tell her? Is there a doctor in the house? Newly minted Democratic socialist Rep. Alexandria Ocasio-Cortez seems to think so. After the rollout statement of her New Green Deal was posted on her website, then rapidly deleted, she claimed that the original text had been "doctored" by someone out to make her look bad. [...] Expect to see more of this as Ocasio-Cortez moves into her second month in Congress. She is no stranger to the dog-ate-my-homework excuse that her policy statements are being "doctored," obviously be her detractors on the Right.
The Brains Behind Alexandria Ocasio-Cortez. I have previously posted that the socialist congresswoman Alexandria Ocasio-Cortez has been using, in a very skilful manner, Leninist type tactics to advance her socialist cause. Those attacking her for being ignorant, simple, etc. miss the point. She knows nothing about economics or doesn't care. Her game is completely about politics and the power game. To understand this, you need to understand how she entered the race that allowed her to capture New York's 14th congressional district seat. The short answer is she entered a contest or to be more precise her brother entered her name. The contest was run by Justice Democrats to determine who they would support in the 2018 mid-term elections. Justice Democrats identifies as a progressive group (read: "democratic socialist" group). They don't know anything about economics or how the structures of societies work and what must occur in different structures, but they are very savvy about political activism and politics.
CBS's Outrageous Cover Up on Behalf of Socialist Ocasio-Cortez. CBS News showed part of a cross examination by Alexandria Ocasio-Cortez on campaign finance laws. They cut off the rebuttal. The radical Socialist is trying to make her capitalist colleagues and all lobbyists into criminals with superficial questioning in her usual arrogant manner. The news outlet cut off the ending of the testimony. The dishonesty would be unbelievable but this is the U.S media today.
Alexandria Ocasio-Cortez: 'Reconquistador!' Hispanic rights activists postulate a land called Aztlan, originally extending up to the State of Oregon, all of Texas, and the Western third of the U.S.A. They want to seize the Southwest of the United States and Texas and (re)create a new, independent nation. They envision that they are taking "back" this land. [...] In reality, of course, these populations do not speak Mayan or Aztec or any Native American languages. They speak Spanish. Their names are Spanish. Their cultural features are Spanish. The Conquistadors — the Spaniards from Europe — conquered and occupied South America, Central America, and the islands of the Caribbean basin. But they claim the United States as well. There can be little doubt that Ocasio-Cortez lacks the education and analytical ability to comprehend any of this, but she has joined this movement with both feet.
Ocasio-Cortez: I'm Not Clapping When 'Authoritarian' Trump Says He Wants to 'Make America Great'. Rep. Alexandria Ocasio-Cortez (D-NY) on Friday said that there is no way she will clap when "authoritarian" President Donald Trump says he wants to "make America great." Appearing on New York's "Ebro in the Morning" on Hot 97, Ocasio-Cortez discussed the "stern" look on her face during Trump's State of the Union address, which prompted Peggy Noonan to say that the Democratic-Socialist looked "sullen, teenaged and at a loss."
Dems Looking at Eliminating Ocasio-Cortez's District, Consider Primary Challenge. Alexandria Ocasio-Cortez is not going to have a great weekend after learning that her seat in Congress might not be secure after 2020. A new report says Democrats are looking into eliminating her district, and AOC herself acknowledges that New York may lose a seat. What's worse, if you're Ocasio-Cortez, is that liberals are considering finding a primary challenger to the freshman lawmaker.
AOC: The Perfect Graduate of Today's Biased Colleges. In the immediate sense, Alexandria Ocasio-Cortez may be the best thing to happen to the Republican Party since Abraham Lincoln. Her Green New Deal is as much dead in the water as it is brain dead and constitutes a fabulous talking point for the GOP to run on in 2020. [...] Consider the level of writing and thinking in her Green Deal in whatever ever-changing iteration, with or without the banning of cow flatulence and air travel, and notwithstanding the guaranteed income for those unwilling to work. This document, if one can call it that, resembles nothing more than the kind of swill presented to — and highly approved by — professors in today's grievance-obsessed colleges, where Shakespeare and Milton are dismissed or rejected and actual thought (i.e., intellectual reasoning) is ridiculed as manifestations of "white privilege." Actually, AOC is a nascent (or not-so-nascent) totalitarian. Nevertheless, she has brought along with her almost all of the declared Democratic Party candidates (Gillibrand, Harris, Warren, Booker, Sanders, etc.), a couple of whom, one would hope, might be smart enough to know her ideas are fantastical and so expensive as to bankrupt not just the USA but most of the world along with it.
Netflix Pays $10M for Ocasio-Cortez Documentary That Won Award at Sundance. On Thursday, Netflix announced it had acquired the rights to Knock Down the House, a documentary featuring Rep. Alexandria Ocasio-Cortez (D-N.Y.) that won an award at the Sundance Film Festival earlier this year. The streaming company reportedly paid $10 million for the film. "Netflix has acquired worldwide distribution rights to award-winning documentary Knock Down the House, which chronicles the campaigns of four female progressive candidates including Alexandria Ocasio-Cortez, against powerful incumbents in the 2018 midterm elections," Netflix announced in a statement Thursday [2/7/2019].
The wild and wacky mind of Alexandria Ocasio-Cortez. Rep. Alexandria Ocasio-Cortez could utter absolute gibberish, and the media would swoon before her, and her supporters would declare her a genius. How do we know? Because Ocasio-Cortez frequently utters gibberish, and the media and her supporters swoon before her. [...] She is fundamentally a monumentally stupid woman who knows so little about so much that she doesn't even try to hide it. Her "Green New Deal" was so flawed as both a political document and an exercise in proposing public policy that she has pulled it from her website. Even hysterical climate change advocates were saying it was an impossible task to get to "net zero" carbon emissions in ten years. Mirth-makers on Twitter mercilessly made sport of her ignorance to the point that she felt it necessary to remove the document from public view.
The Socialist That Could. The Republican Party has a secret weapon for 2020. It's especially effective because it's stealthy: The Democrats seem oblivious to its power. And the GOP needn't lift a finger for it to work. All Republicans have to do is sit back and watch 29-year-old Rep. Alexandria Ocasio-Cortez ... exist. AOC, as she's better known, today exists largely in front of the cameras. In a few months she's gone from an unknown New York bartender to the democratic socialist darling of the left and its media hordes. Her megaphone is so loud that she rivals Speaker Nancy Pelosi as the face of the Democratic Party. Republicans don't know whether to applaud or laugh. Most do both. For them, what's not to love? She's set off a fratricidal war on the left, with her chief of staff, Saikat Chakrabarti, this week slamming the "radical conservatives" among the Democrats holding the party "hostage." She's made friends with Jeremy Corbyn, leader of Britain's Labour Party, who has been accused of anti-Semitism. She's called the American system of wealth creation "immoral" and believes government has a duty to provide "economic security" to people who are "unwilling to work." As a representative of New York, she's making California look sensible.
Ocasio-Cortez: Latinos Can't Be Illegals Because They're 'Descendants of Native People'. Rep. Alexandria Ocasio-Cortez (D., N.Y.) on Thursday [2/7/2019] criticized U.S. Immigrations and Customs Enforcement and argued in support of undocumented Latinos in the United States, saying the latter cannot be "criminalized" on "Native" U.S. land because they are "descendants of Native people." The self-described Democratic socialist spoke on Thursday alongside several liberal groups, including MoveOn and United We Dream, a pro-immigration group that calls for ICE to be abolished. She repeatedly slammed ICE, claiming it "repeatedly and systematically violates human rights."
Ocasio Cortez Gets Weepy As She Calls For The Abolition Of ICE And Says America Belongs To Illegal Immigrants. [Scroll down] Some thoughts here. There is no "right of human mobility." That is [false] on its face. ICE is heavily policed internally and by a brigade of leftwing, anti-American lawyers who actively try to create cases to damage the ability of ICE to operate. She is standing on "native land," alright. Native American, not American Indian or First Nations or Indigenous Peoples or whatever we're calling them this week. It is the native land of people who settled this land and who brought forth from wilderness a civilization that is the envy of the world. To paraphrase someone, "you didn't build this." Sorry about the Indians losing their land and all, but if you want to see what happens when you allow untrammeled illegal immigration just look to their example and tell me again why it's a great idea. Even were I to agree that someone other than American citizens, of all races and ethnic extractions, had a call on this land, her claim that Hispanics are descendants of "natives peoples" is [false]. Latin American Hispanics have a wide variety of ethnic mixes (Mexico recognized 16 different racial classes) and their ancestry does not give them any unique rights to enter my country. In fact, they have exactly the same claim to being allowed to live in the United States as they do to being allowed to live in Spain, or I do to living in England, based on their ancestry.
Ocasio-Cortez: ICE Doesn't 'Deserve a Dime' of Funding. Representative Alexandria Ocasio-Cortez (D., N.Y.) said Thursday that she would work to deprive the Department of Homeland Security of funding until the agency adopts more permissive immigration-enforcement policies.
The PMS Caucus. Rather than demonstrate that women politicians on a combative national stage can govern in a sober and diplomatic way, female Democrats in Congress — don't call them ladies — unfortunately are playing into the very stereotypes that they claim to want to disprove. They are moody, petulant, and impulsive. [...] Their de facto leader, Representative Alexandria Ocasio-Cortez (D-N.Y.) glowered throughout the president's speech. The youngest person ever to serve in the people's house didn't applaud when the president heralded a federal agent who rescued hundreds of women and girls from sex traffickers. She also refused to stand when First Lady Melania Trump was introduced; at the introduction of American war veterans; for record low unemployment among minorities; and for plans to eliminate the scourge of AIDS. Her Cycle Sisters joined their leader in an extended public pout, rising only to cheer themselves.
Wean socialists like Ocasio-Cortez off of America's Accommodating Teat. New York Democrat Rep. Alexandria Ocasio Cortez's poison ivy 'Green New Deal' didn't originate from one of her said to be "occasional cortex" spurts, it was lifted from fellow traveller radical environmentalists in the country next door. [...] Yep, we have them here in the Land of the Maple Leaf too, along with the thousands of NGOs created by the late, Canadian God Father of the Environment, Maurice Strong. Nor were the far-left environmentalists in Canada being innovative, visionary or original because they, in turn swiped the Green New Deal from the UN, which aims to force Agenda 21(Agenda 2030) on an unsuspecting society come hell or high water. The clear and present danger here is that the UN has now managed to get its own agent provocateur in Congress in the person of Alexandria Ocasio-Cortez (AOC).
Trump supporter castigated for calling Alexandria Ocasio-Cortez a '29-year-old coffee barista'. A former congressman who supports Donald Trump has been scolded for branding Alexandria Ocasio-Cortez a "29-year-old coffee barista". MSNBC host Ari Melber hit back at Jack Kingston, an ex-Republican congressman from Georgia, on Tuesday night [2/5/2019] after he dismissed the congresswoman as a coffeemaker.
MS-13 Murders Man on 7 Train in New York City In Ocasio-Cortez's District — She's Bringing Illegal to SOTU. A MS-13 murder was captured on the 7 train in New York City. The horrific footage was captured by Progressive Action. [...] Meanwhile, Rep. Alexandria Ocasio-Cortez invited Soros-funded, illegal alien activist Ana Maria Archila to the State of the Union Address by President Trump on Tuesday. While MS-13 is terrorizing her district.
Ocasio-Cortez Praises Notorious Anti-Semitic British Political Leader. Socialist Rep. Alexandria Ocasio-Cortez (D-NY) praised notorious anti-Semitic Labour Party leader Jeremy Corbyn on Sunday [2/3/2019] following an apparent phone conversation the two far-left politicians had. [...] Allegations of anti-Semitism against Corbyn started getting significant media attention following Corbyn's rise in 2015 from a leftist Member of Parliament to the leader of Britain's Labour Party.
Ocasio-Cortez: I Acknowledge My Privilege Being Born 'Cisgendered'. Even intersectionality Democratic darling Alexandria Ocasio-Cortez acknowledges she has some privilege. And, no, it's not the privilege of growing up in the largely affluent Westchester county. According to the freshman congresswoman, she inherited "cisgender privilege."
Ocasio-Cortez: 'Weird American Dream mythology' requires 'painful' changes for poor whites. Rep. Alexandria Ocasio-Cortez says the nation's "weird American Dream mythology" needs to change — particularly in the minds of "cisgendered" and poor white citizens. The rising Democratic Party lawmaker from New York told the Intercept's "Deconstructed" podcast this week that poor white people need to accept that they "benefit" from their skin color, and more so if they identify as their birth sex.
The Editor says...
In other words, if you're not white and not heterosexual, or at least not male, you're doubly entitled to liberal victim status.
Former Bartender Ocasio-Cortez Doesn't Think Howard Schultz Has Enough Experience to be President. Irony is completely lost on Democrat Alexandria Ocasio-Cortez, the freshman Congresswoman from New York, who suggested Wednesday morning that former Starbucks CEO Howard Schultz does not have the experience necessary to run for President. 'Why don't people ever tell billionaires who want to run for President that they need to 'work their way up' or that 'maybe they should start with city council first?" the former bartender-turned Congresswoman asked on Twitter.
Ocasio-Cortez: Billionaires Like Howard Schultz Should "Work Their Way Up". Rep. Alexandria Ocasio-Cortez says that Billionaires who want to run for president should work their way up — starting perhaps with city council. Referring to former Starbucks CEO Howard Schultz's bid for President in 2020, the former bartender and Bernie Sanders 2016 organizer tweeted on Wednesday [1/30/2019]: "Why don't people ever tell billionaires who want to run for President that they need to "work their way up" or that "maybe they should start with city council first"?"
Ryan Saavedra quotes Ben Stein. "We have a society in which there are an awful lot of people who have no idea that Stalin, Hitler, Mao Tse-Tung all came to power promising the same kinds of things that Ocasio-Cortez is promising. And it led to mass murder, it led to dictatorship, it led to genocide."
Alexandria Ocasio-Cortez Engages of Battle of Wits with Fact Checkers, Loses, then Absurdly Declares Victory. If you have ever had a debate with a liberal, you will be familiar with the process. First the liberal makes an outrageously untrue, a-historical, or flat out factually incorrect statement. You tell them the truth and even back it up with a link or some facts. The liberal responds by moving the goal posts and adds with an absurd non sequitur. You correct that idiocy, too. Then the liberal calls you names and claims they won the debate despite getting everything wrong and engaging in name calling. This is essentially the path that Ocasio-Cortez took with her Twitter feud with the fact checkers.
CNN Panel Defends & Praises Alexandria Ocasio-Cortez For "Threatening White Men". Well, I guess she might be the anti-Trump because she's the exact opposite of the President. No brains, no experience, no ideas that work, and not a clue. "She's got a lot of power." Someone, please explain that to me. She's done nothing except run her mouth and post tweets. That's power today? If so America is doomed.
The Progressive Race to the Bottom. The subtext of these charades is that 28-year-old socialist Alexandra Ocasio-Cortez (who won her Democratic primary with 15,897 votes and with that victory an assured congressional seat in a gerrymandered Democratic district) is the new Robespierre — warning that the earth as we know it will end in twelve years, ICE must be disbanded, all student debt abolished, wealth taxes levied, and Medicare provided for all. And her political guillotine awaits any progressive with lingering stains of the Ancien Régime. Presidential elections are now to be seen by the Left not as the end of a four-year political cycle. Instead, they are the beginning of an any-means-necessary, existential effort to reverse the proverbial will of the people and to remove or delegitimize the president.
Socialist Talk! Chris Cuomo, O-Cortez Say Poverty is 100% Preventable! Alexandria Ocasio-Cortez, the face of the New hard-left Democrat Party, really likes what Chris Cuomo says in this clip. She thinks that the irrational response he gives to one of the people he's debating is, This is what swiftly cutting through nonsense looks like. She's pathetic and so is Cuomo. CNN's Chris Cuomo has shown his true colors in the past. He went to Cuba when Obama made his one-way deal in favor of the Communist dictator Castro. While there, he talked about how "uplifting" communism is. He is also an apologist for Antifa. You can't make this stuff up.
Ocasio-Cortez Leads Toward Disaster. Elected to Congress in November with no viable opponent, 29-year-old Alexandria Ocasio-Cortez is already being considered the future of the Democrat Party, even the nation itself. What she has promised for her New York City constituents, and what will surely be the agenda for others eagerly lining up to follow her lead, spells big trouble for America. If fully adopted, her socialism will accomplish for the United States the suffering in Venezuela and other nations where socialism has replaced even a small amount of freedom. Demagogues regularly insist that their program is the route to progress, even calling themselves "progressives." What they seek, however, is a proven path toward oblivion.
Alexandria "Chicken Little" Ocasio-Cortez: The World Is Going To End In 12 Years. Sometimes, I wonder if we aren't succumbing to a plot to give this woman more face time due to her utterly stupid and ignorant statements, but still, addressing the woman who has apparently been loosed from an insane asylum with no grasp of economics or apparently the Constitution, will be a tedious task over the next four years. [...] On Martin Luther King, Jr. Day, Ocasio-Cortez appeared at the fourth annual MLK event at Riverside Church in Harlem and warned the crowd in attendance that climate change would be the death of the world in twelve years if it wasn't addressed. The New York congresswoman said that this was the "World War II" for millennials and Gen Z.
Ocasio-Cortez: World That Allows For Billionaires Is Immoral, Except Bill Gates. Progressive Democrat lawmaker Alexandria Ocasio Cortez has increasingly become a one-stop shop for ludicrous remarks from everything to climate change to tax increases. But the liberal congresswoman recently turned her attention to Billionaires, seemingly agreeing with the idea that a world that allows for billionaires is immoral.
Ocasio-Cortez was the only Dem to vote 'no' on bill to reopen the government. Rep. Alexandria Ocasio-Cortez was the lone House Democrat Wednesday to vote against leadership-backed bills to reopen the government because she opposes money for Immigration and Customs Enforcement or additional border security measures. "We were having conversations with our community after we voted for DHS [Department of Homeland Security] funding the first time," Ocasio-Cortez told The [New York] Post after House votes. "We're hearing back a lot from our local community and they're uncomfortable with any vote on funding for ICE."
Ocasio-Cortez: System that allows billionaires is 'immoral'. Rep. Alexandria Ocasio-Cortez said in an interview on Monday [1/21/2019]that she believes a system that allows people to become billionaires is "immoral." The New York Democrat made the statement while responding to a question from writer Ta-Nehisi Coates at a Martin Luther King Jr. Day event in Harlem.
Ocasio-Cortez Preaches The End Of The World In 12 Years Due To Climate Change, Calls It Millennial's WW2. According to Fox News, the fresh-faced democratic socialist New York congresswoman, Alexandria Ocasio-Cortez has joined the doom and gloom ranks of Bill Nye and Al Gore in her prophesying the end times via climate change. She even compared it to fighting the Nazis: [...] Of course, Ocasio-Cortez didn't explain how the world would end in 12 years, as she's not typically inclined to explain everything. Just trust her. We're going to see the world end in 12 years because corporations are producing things and generating waste.
Ocasio-Cortez [doesn't care] about what other Democrats think. Rep. Alexandria Ocasio-Cortez admitted that she [doesn't care] when her Democratic colleagues criticize the youngest woman elected to the House for speaking her mind. Appearing on "The Late Show with Stephen Colbert" on Monday [1/21/2019], she was asked about how she feels when other Democrats admonish her by saying "Wait your turn" and "Don't make waves."
The Left vs. Logic. Just recently Alexandria Ocasio-Cortez made the remark that she'd rather be morally correct than factually correct. She fails to realize that being factually correct is part of being moral. To use loose, sloppy, or fictitious "facts" to support something you think is ethically awesome is to undercut your own argument.
Wall Street wary of progressive Democrats on the House finance committee. Wall Street is bunkering down for a wave of intense scrutiny as a group of progressive Democrats, including social media star Alexandria Ocasio-Cortez, have joined a powerful House of Representatives committee overseeing banking activities. "It's a huge victory," said Ocasio-Cortez, at 29 the youngest member of Congress and a self-described socialist — a word that shocks conservatives, who brandish it as a dire threat.
Dan Bongino Calls on Ocasio-Cortez to Donate 70% of Her Income to Government. Following recent calls for tax hikes on the wealthy from Alexandria Ocasio-Cortez, former Obama-assigned Secret Service agent-turned-conservative commentator Dan Bongino has challenged the Democratic Socialist to lead by example. New York Democrat Rep. Alexandria Ocasio-Cortez recently announced that high-earners should be hit with paying 70 percent tax on their income. Writing in an op-ed for Fox News, Bongino has called on Ocasio-Cortez to practice what she preaches and donate 70% of her own earnings to the US Government.Bongino blasted the newly elected Congresswoman, saying she "relies on a lot of economic ignorance to get you to believe what's not true, could be true."
Ocasio-Cortez Urges Fellow Activists To Oust Incumbent Democrats. Since winning the primary over incumbent Joseph Crowley, who many believed would be the next leader of the House Democrats, democratic socialist Alexandria Ocasio-Cortez has made it increasingly clear that one of her key goals is to create more candidates like herself: ones who embrace a more radical left agenda and who are willing to take on establishment Democrats.
Newly elected and too big for her britches. At age 29, Ms. Ocasio-Cortez thundered into Congress after unseating a longtime Democratic congressman. With her relative youth, Taylor Swift red lipstick, deft use of social media and unapologetic embrace of socialism, she became an instant political celebrity. The mainstream media panted after her and her radical ideas (Medicare for all, a green "new deal," a 70 percent top tax rate), her dripping sarcasm on Twitter and even her announcement of a "self-care" break before being sworn in. The media loved her even more when, just a week after being elected, she joined a climate change sit-in in now-Speaker Nancy Pelosi's office. The Democratic establishment? Not so much. She was the stereotypical millennial who at her first job interview asks for the corner office and eight weeks' vacation. The Tall Poppy needed to be taken down a notch.
Ocasio-Cortez set to join Maxine Waters on key financial services committee. Self-described socialist Alexandria Ocasio-Cortez announced on Twitter late Tuesday [1/15/2019] that she will join California Democratic Rep. Maxine Waters on the influential House Financial Services Committee, which oversees Wall Street and the housing industry. California Rep. Katie Porter, Michigan's Rashida Tlaib, Hawaii Rep. Tulsi Gabbard, and Massachusetts Rep. Ayanna Pressley have also reportedly been tapped for the committee by Democratic House leaders, and a vote finalizing their appointments is expected within days.
Alexandria Ocasio-Cortez to Serve on House Financial Services Committee. Even though freshman lawmakers are rarely afforded the opportunity to serve on the powerful House committee, Ocasio-Cortez lobbied the Democratic Steering and Policy Committee to seat her on the committee. The financial committee assignment would not only give the freshman Democrat a platform to advance her agenda — which includes policies such as the New Green Deal to abolish fossil fuels and universal Medicaid — but it would also allow her to shift the Democrats' stance on financial issues further to the left.
Ocasio-Cortez Uses Violent Sexual Term To Describe Her Far-Left Agenda. Former law enforcement officials called out socialist Rep. Alexandria Ocasio-Cortez (D-NY) for using a violent sexual term on Wednesday [1/16/2019] in an interview that was published in The Washington Post. Ocasio-Cortez complained in the interview that the media was "focusing on taking quotes out of context or manipulating them or making it seem as though I said things that I didn't say." A few sentences later, she said, "So enjoy being exhausted for the next two years while we run train on the progressive agenda." [...] The Washington Free Beacon noted that while Ocasio-Cortez most likely meant "she and her fellow liberal Democrats would enthusiastically pursue their agenda items, 'run train' is known as a crude sexual term, which is sometimes used to denote acting in an aggressive manner."
The devil is using the Democratic Party to destroy America. New York Rep. Alexandria Ocasio-Cortez is the party's new "star" and a symbol and proponent of democratic socialism. She told "60 Minutes" she was a "radical"; "advocated free health care for everyone"; and proposed a "top tax rate of 70 percent like the U.K. (falsehood — it's 45 percent), Finland or Sweden" (miniscule and easily manageable populations of 5 and 10 million compared to our 350 million). Our already $22 trillion debt would quickly explode from this delusional scheme, devastating millions, collapse our economy and result in rioting like in Venezuela. New York City Mayor Bill de Blasio, a communist, has announced the availability of total health care — primary, specialty, pediatric, OBGYN, geriatric and mental — for all 9.5 million residents, including 300,000 illegal immigrants, 600,000 uninsured and anyone with pre-existing conditions. Simply call a 311 number. He proposes the government assume authority over everyone's property and pushes for universal free pre-K child-care and marijuana legalization. Additionally, Gov. Andrew Cuomo and Hillary Clinton propose the "Reproductive Health Act" be enacted immediately to codify abortion guaranteed up until birth in New York.
Alexandria Ocasio-Cortez, the voice of an ignorant generation. Alexandria Ocasio-Cortez's ignorance of economics and foreign affairs typifies her generation. Despite holding expensive degrees in both Economics and International Relations from Boston University, Ocasio-Cortez threw up her hands in exasperation during an interview on Margaret Hoover's "Firing Line" program, laughing, "I'm not the expert on geopolitics." Fortunately for her, in the land of the blind, the one eyed man is king; and among a blithely ignorant generation, the lightly educated activist is congresswoman. The seed of Millennial miseducation, which grew into the Tree of the Lack of Knowledge as activist educators substituted ideology for scholarship, is finally bearing its rotten fruit.
Alexandria Ocasio-Cortez, Keep Destroying the Democratic Party. A split in the Democratic Party has developed. New Socialist U.S. Representative Alexandria Ocasio-Cortez has taken no time in rocking the left-wing boat led by establishment politicians Senate Minority Leader Chuck Schumer (D-NY) and House Speaker Nancy Pelosi (D-CA). Since day one, she stated that the policies were not progressive enough. This week she made fun of former vice presidential candidate Joe Lieberman's age. As she tries to pull the party further to the left, the Democrats will not be the only ones suffering. Lieberman who has not been in the news much lately made an appearance on Fox News Business and interviewed on Neil Cavuto Coast to Coast. Lieberman offered a sharp rebuke of AOC as she also is known. He said that she was not the future of the liberal caucus and if she was the party was over.
Ocasio-Cortez zooms to #2 on Twitter during the past month. [I]t increasingly seems as if 29-year-old democratic socialist Alexandria Ocasio-Cortez is quickly becoming the best known House member, Democrat, and politician (with the exception of the POTUS) in the United States. Ocasio-Cortez, having dispatched a ten-term congressman in a primary election last June, became the youngest female elected to the Congress when she took her seat in the House on January 3. Since exploding into public awareness last summer, she has increased her profile and become the leading voice of the new far left socialist base of the Democratic Party.
Ocasio-Cortez rules: Dems built her up, now she's battling Dem attempts to control her. The House Democrats have more on their plate than fighting against President Donald Trump and his wall: Democratic Socialist Rep. Alexandria Ocasio-Cortez or AOC as she's known by her posse. Ever since Ocasio-Cortez won her primary against a veteran congressman the light has shown brightly on her. This has left a lot of veteran Democrats to grow weary of her.
Exasperated Democrats try to rein in Ocasio-Cortez. Alexandria Ocasio-Cortez is already making enemies in the House Democratic Caucus — and some of its members are mounting an operation to bring the anti-establishment, democratic socialist with 2.2 million Twitter followers into the fold. The effort, described by nearly 20 lawmakers and aides, is part carrot, part stick: Some lawmakers with ties to Ocasio-Cortez are hoping to coax her into using her star power to unite Democrats and turn her fire on Republicans. Others simultaneously warn Ocasio-Cortez is destined for a lonely, ineffectual career in Congress if she continues to treat her own party as the enemy.
Ocasio-Cortez passed over for influential House committee. Rep. Alexandria Ocasio-Cortez didn't get a seat on the powerful tax writing committee where she sought to push her progressive agenda of Medicare for All, free college tuition and a green new deal. Instead, the open downstate New York slot on the House Ways and Means Committee went to a moderate Democrat, Long Island Rep. Tom Suozzi, a former CPA, attorney and county executive. Suozzi will assume the committee seat of Rep. Joe Crowley, the Queens Democrat Ocasio-Cortez defeated last year in a stunning upset.
Is Alexandria Ocasio-Cortez Really the Democratic Future? There is little doubt that Congresswoman Alexandria Ocasio-Cortez, representing parts of Queens and the Bronx, is being treated as a leader of a new Democratic swing to the left. Nor is there much doubt that the media-savvy upset winner in New York's 14th congressional district combines personal charisma with a knack for policy packaging, as with her "Green New Deal." But before she's anointed as representative of a political trend, it's worth looking closely at how many — or how few — votes she received compared with other members of Congress, including moderate Democrats, and what that says about a little-discussed aspect of how congressional districts are drawn: the role of non-citizen immigrants. [...] In Ocasio-Cortez's district, Census data show that 47 percent of residents are foreign-born, compared with 13 percent for the nation overall. That helps explain how the self-styled democratic socialist won her key primary election with so few votes: just 16,898, out of a total of just 29,000 cast.
'Democratic Socialist' Alexandria Ocasio-Cortez Fined by New York for Failing to Provide Workers' Comp. "Democratic socialist" Alexandria Ocasio-Cortez (D-NY) has been fined by the State of New York for failing to carry workers' compensation insurance for a month during her congressional campaign last year. [...] Ocasio-Cortez has styled herself as a champion of workers' rights — against greedy employers.
Ocasio-Cortez Has Twitter Meltdown After Finally Being Fact-Checked By The Liberal Media. On Monday [1/7/2019], openly Socialist Congresswoman Alexandria Ocasio-Cortez ("AOC" for short) had a meltdown on Twitter after finally being held to the fact-checking standards that President Trump is. Her meltdown began after The Washington Post published a piece called "Alexandria Ocasio-Cortez's very bad defense of her falsehoods," where they called her out for showing a "tendency to exaggerate or misstate basic facts."
The Racist Nerve of Alexandria Ocasio-Cortez. In July, Ocasio-Cortez gave her now-infamous interview on PBS's "Firing Line," in which she was unable to articulate any knowledge of the Middle East, save for her assertion that there was an "occupation of Palestine" causing an "increasing crisis of humanitarian condition." Pressed, she referred to "settlements that are increasing in some of these areas ... where Palestinians are experiencing difficulty in access to their housing." In reality, Israel's stunning victory against explicitly genocidal Arab armies in 1967 brought superior healthcare, increased longevity, higher education, and economic opportunity to Arabs in the region previously derided by Jordan as the "West Bank."
Socialism's call to the deluded. As every public-spirited citizen of these United States knows by now, 29-year-old Alexandria Ocasio-Cortez is the youngest woman ever elected to Congress. She, of a sudden, represents New York's 14th Congresional District, having beaten what the mainstream media calls an old white male by the name of Joe Crowley, though why the color of his skin should matter is a mystery. Miss Ocasio-Cortez also has perfectly lovely white skin, much like Mr. Crowley and even Sen. Elizabeth Warren, despite her ever-changing genealogy. Yet only Mr. Crowley receives the media's "white skin" charge. Actually, I am not certain Miss Ocasio-Cortez is really 29 years old. I have reviewed her public utterances since she entered public life some 12 months ago and she sounds more like a 14-year-old. Yet somewhere along the way she acquired a taste for economics, which in her flighty mind she confuses with expropriation of the wealth of those she considers "rich."
Ocasio-Cortez Suggests Illegal Immigrants 'More American' Than Trump Supporters. Rep. Alexandria Ocasio-Cortez (D-NY) responded to President Donald Trump's Oval Office address Tuesday evening, claiming illegal immigrants "act more American" than proponents of strong border security. In an interview with MSNBC's Rachel Maddow, Ocasio-Cortez accused President Trump of holding the paychecks of furloughed government workers "hostage" to build a wall on the U.S.-Mexico border, a proposal the self-avowed Democrat-socialist described as a "campaign fantasy." "In the actual address, there was falsehood after falsehood and we have to make sure that we get our facts straight. Everyday immigrants commit crimes at a far lower rate than native-born Americans," Ocasio-Cortez said. "And not only that but the women and children on that border that are trying to seek refuge and seek opportunity in the United States of America with nothing but the shirt on their backs are acting more American than any person who seeks to keep them out ever will be."
The Editor says...
Unfortunately, the poorly-educated masses, fresh out of public schools, are susceptible to tear-jerking rhetoric of this sort, and the Socialists know it.
Alexandria Ocasio-Cortez flaunts her ignorance. [Scroll down] I don't know what's more pathetic: the fact that Ms. Ocasio-Cortez is unable to differentiate between a constitutional monarchy and a constitutional republic or the fact that Anderson Cooper may not know, either. [...] While Ms. Cortez may not recall the boring details of Tsar Nicholas II and his family's savage demise by the socialists, I have no doubt she will continue to indulge the media by flaunting more of her effervescing ignorance.
Our New 'Most Dangerous of Morons'. You see, like Barack Obama, Alexandria Ocasio-Cortez is a most dangerous of morons: the moron who doesn't know she's a moron. And she's not afraid to prove it every day. Like Barry, she is almost too easy to mock, as CRTV host Allie Stuckey did way back in July. I'm looking forward to doing the same.
We Have Met The Enemy, And He Is Not At All What We Had Expected. I am seeing more and more articles popping up confirming that Alexandria Ocasio-Cortez is not the dumb girl from the Bronx she pretended to be on her way to getting elected. The new Congresswoman for New York's 14th congressional district is now only loosely maintaining the ditzy ruse she and the DNC cooked up in order to attract more of the emerging, dumbbell, snowflake left. [...] She is NOT stupid, folks. She is DECEPTIVE. When she staged the hammy protest outside of Pelosi's office last November, I am certain she had cleared the whole matter with Nancy before it ever happened. But the morons it was supposed to impress completely swallowed the bait.
Cream puff journalism: CBS's 60 Minutes 'interviews' Alexandria Ocasio-Cortez. In an example of journalism used to conceal, rather than expose, truth, CBS's 60 Minutes can stand up and take a bow for its mother of all puff pieces on New York's newly elected socialist congresswoman, Alexandria Ocasio-Cortez. Cream puff journalism at its finest. [Indeed], it was a campaign ad. Or call it a belated campaign contribution, because it was anything but hard-hitting.
Ocasio-Cortez Blasts Politifact, WaPo for Fact Checking: 'I Say True Things All the Time'. Rep. Alexandria Ocasio-Cortez (D., N.Y.) on Monday [1/7/2019] blasted multiple fact-checking media sources for their coverage of her statements, saying, "I say true things all the time." Ocasio-Cortez, who was sworn into office last Thursday, is evidently not happy about the scrutiny she's received from fact-checkers. In a Twitter thread, she targeted the Washington Post and Politifact, saying "false equivalency [and] bias creeps in" with their fact checks.
Socialist Rep. Ocasio-Cortez Accidentally Endorses Social Security Privatization, Minimum Wage Repeal, Corporate Tax Cuts. Newly minted Rep. Alexandria Ocasio-Cortez says she isn't modeling her brand of socialism on socialist basket cases like Venezuela, but on successes like Sweden, Norway and Finland. Apparently, she hasn't bothered to look at just what sorts of economic policies those "socialist" countries have been pursuing lately.
She went there — Ocasio-Cortez calls Trump a racist on '60 Minutes'. "The president certainly didn't invent racism," Ocasio-Cortez said. "But he's certainly given a voice to it and expanded it and created a platform for those things." "Do you believe President Trump is a racist?" [Anderson] Cooper asked. "Yeah. Yeah. No question," Ocasio-Cortez replied. Cooper asked her to explain why. "When you look at the words that he uses, which are historic dog whistles of white supremacy," she answered.
The New Kakistocracy. The Democrats didn't bring in any new blood from their previous team of leadership — the one which frittered away their previous majority. You've still got Steny Hoyer as the majority leader and James Clyburn as the whip, neither of whom are particularly good spokesmen for what they'd like to present as a youthful, hip, and energetic political movement. For that presentation, by the way, on offer is the freshman class — the most prominent names in which are Ilhan Omar, a Somali Muslim from Minneapolis who it appears might be married to her own brother and whose only contribution to the national debate so far seems to be a radical hatred of Israel, and the comically ignorant Alexandria Ocasio-Cortez, whose façade of street-kid tough upbringing is as poorly constructed as her understanding of civics and economics.
AOC: Shadow Speaker. To get a sense of how powerful freshman Congressmember (her preferred title) Alexandria Ocasio-Cortez is, just look at her effect on House Speaker Nancy Pelosi. Specifically, look at the difference between Pelosi's inaugural speech in 2019 and her speech in 2007, when the California Democrat was elected the first female speaker in U.S. history. Back then, Pelosi offered several tributes to American soldiers fighting in Iraq. We must honor our military, veterans and first responders as "the heroes that they are," she graciously offered. That sentiment was met with a rousing standing ovation from both sides of the aisle. The question of climate change — then gaining attention as a key issue thanks to Al Gore's documentary, "An Inconvenient Truth," released the year before — merited only one sentence. But Pelosi's message on Thursday [1/3/2019] was almost directly and proportionately reversed.
Ocasio-Cortez says 'gotta run' when asked about shutdown pay. Rep. Alexandria Ocasio-Cortez still won't say whether she's giving up her salary during the partial government shutdown — a move she previously advocated for all lawmakers. "I've gotta run!" Ocasio-Cortez told The Post when asked the question Thursday [1/3/2019] on Capitol Hill. She then scampered down a crowded hallway to get in line for her mock swearing-in with House Speaker Nancy Pelosi.
Ocasio-Cortez Accuses White House Of 'Starving Out' Puerto Rico. Democratic New York Rep-Elect Alexandria Ocasio-Cortez amplified her criticism of President Trump's handling of Puerto Rico's recovery in a late-night tweet on Friday [12/28/2018]. "The White House is starving out the island of Puerto Rico by denying the disaster recovery funds it needs," Ocasio-Cortez said. "First went the schools. Now, women are going missing across the island. If we let this to happen to some Americans, what prevents it from happening to others? To all of us?"
Also posted under Emotional outbursts.
Ocasio-Cortez Must Have Missed Sunday School Because Even Her Account of Jesus' Birth Is False. Congresswoman-elect Alexandria Ocasio-Cortez, the socialist darling from New York, never seems to take a break from political gaffes, even on Christmas. Instead, she used the day to push the false notion that Jesus was a refugee. It wasn't long before conservatives tore into her utterly false statements. After all, Ocasio-Cortez decided to use the biggest holiday in the world to push her own political agenda.
Scripture Scholar Alexandria Ocasio-Cortez, SJW. Following in the footsteps left by Elizabeth Warren's moccasins, this past Hanukah, while speaking to a Jewish group, Alexandria announced her Jewish ancestry. Weeks later, for Christmas, AOC got in touch with her Catholic roots when she compared Mary, Joseph, and baby Jesus, asleep in a manger, to the hordes of unrestrained refugees illegally forcing their way across America's southern border. [...] Conveniently, Ocasio-Cortez left out the part [in the Biblical account] about Christ being born in Bethlehem after Joseph and Mary returned home to participate in a census. [...] When cherry-picking for someone, anyone to support her weak argument, Alexandria selected a renowned liberal left-wing priest whose article compared Jesus's family fleeing to Egypt to avoid Herod's edict to slaughter male babies with refugee children escaping Central America in the arms of felonious parents.
The Editor says...
Godless baby-killing Democrats have no use for Christianity or Christmas except as an emotional tool to promote socialism.
Ocasio-Cortez completely schooled when she lists better ways to spend $5.7 billion than on border wall. Schooling Representative-elect Alexandria Ocasio-Cortez may never get old. The New York Democratic socialist who regularly entertains with her embarrassing political gaffes just sparked another round of social media face-palms. Ocasio-Cortez questioned how Republicans planned to pay for President Trump's proposed border wall after passing a spending bill allocating $5.7 billion for it. The freshman lawmaker suggested other options for spending the money, such as increasing pay for teachers, subsidies for college tuition and "green jobs."
The Editor says...
Democrats can always suggest ways to spend money. Ways to avoid spending money (or cut back on waste) never come to mind.
Alexandria Ocasio-Cortez Uses Obamacare Con to Lead Millennials Astray. It can be painful to watch the government, media, and left lead America's young people, most especially millennials, astray. On top of being brainwashed into humorless censors and joyless puritans, the debt they are pressured to take on is beyond belief. To begin with, there is college tuition. I graduated high school in 1984 (barely), and even during those saner times, when tuition was much more reasonable, I had no desire to go to college, primarily due to the cost. The idea of enslaving myself to a monthly payment before I even had the chance to be young and free was intolerable. Nowadays, though, tuition costs are not only insane, a number of degrees that once required four years of study, now require five. Talk about a scam.
Alexandria Ocasio-Cortez announces 'self-care' break before congressional session even starts. Alexandria Ocasio-Cortez needs a break. The Bronx-bred democratic socialist heading into her freshman term in the House of Representatives announced Monday she's taking some time off to take care of herself before she officially starts her new job — and she's taking her supporters along for the ride. "I'm taking a few days to take care of myself before what is sure to be an eventful term," the incoming New York congresswoman tweeted.
Alexandria Ocasio-Cortez ramps up the teacher's-pet act. Out of the blue, socialist congresswoman-elect Alexandria Ocasio-Cortez, 29, has started something with outgoing White House chief of staff John Kelly, calling on him to apologize for the "he-said, she-said" scrap he had a while back with Florida Democratic congresswoman Frederica Wilson over the sensitivity of an official phone call to a slain serviceman's grieving family. Talk about a baseless argument. And talk about a useless fight she has nothing to gain from. She's not going to get the apology she wants from Kelly, who is unlikely to have been lying, as Wilson claims, and what's more, she wouldn't benefit politically even if she did. Just taking the side of the clownish posturer Wilson with her many sequined cowboy hats over the ramrod-straight Kelly, who lost a son in Afghanistan, makes Ocasio-Cortez look like a fool.
Why Alexandria Ocasio-Cortez drives conservatives crazy. One can partly understand why Alexandria Ocasio-Cortez, the hilariously ignorant young socialist recently elected to a House seat from the Bronx and Queens, has soared to the top of the Republicans' naughty list. For one thing, the Democrats and their reliably obsequious media allies already have elevated her far above what one might expect for a safe-seat shoo-in from an abjectly Democratic district who has not yet served a single day in office: They're already asking her about running for president, perhaps sharing a ticket with Robert Francis O'Rourke, the Texas Democrat formerly known as "Who?" Politics in the age of the 120-second news cycle is an endless game of Whac-a-Mole, and Ocasio-Cortez is the one with her head currently above ground.
Curt Schilling ripped for his attack on Ocasio-Cortez's intelligence. Former Red Sox pitcher Curt Schilling took a swing at Bronx Congresswoman-elect Alexandria Ocasio-Cortez, slamming her intelligence after she complained that her ideas are being scrutinized because of her young age. The 29-year-old Democratic Socialist responded this week to what she considered a double standard she has observed in press coverage of herself compared to House Speaker Paul Ryan, the Boston Globe reported. "Double standards are Paul Ryan being elected at 28 and immediately being given the benefit of his ill-considered policies considered genius; and me winning a primary at 28 to immediately be treated with suspicion & scrutinized, down to my clothing, of being a fraud," she tweeted.
Ocasio-Cortez Is a Pain in Pelosi's Agenda. Nancy Pelosi should be happier than she seems. The Democrats recently harvested enough votes to retake the House of Representatives, and she will again be elected Speaker of that body in January. But a lot has changed since 2011, when she last held the gavel. She isn't accustomed to being ambushed on live television by the President about border security, or having newly minted members of her own caucus demand the creation of select committees while encouraging activists to besiege her office. Pelosi no doubt feels nostalgic about Barack Obama and Joe Crowley when musing about Donald Trump and Alexandria Ocasio-Cortez.
Jerry Brown Says Dems Are Becoming Too Extreme — Ocasio-Cortez Proves Him Right. Things must be pretty bad in the Democratic Party if outgoing California Gov. Jerry Brown thinks the party is out of touch with mainstream America. But then again, look at what the party's new socialist darling, Alexandria Ocasio-Cortez, is now successfully pushing. In a radio interview this week, Brown said that the Democratic Party has gone "further out than I think the majority of people want." Brown was talking mostly about his own state's Democrats, which now completely dominate the state government and might go off the deep end.
Alexandria Ocasio-Cortez goes full Fredo (and beyond). Alexandria Ocasio-Cortez is upset that people don't appreciate her intelligence and depth. It turns out that people notice when she says stupid things, such as nattering on about the "three chambers of government" or not understanding that Pentagon accounting errors don't yield a pot of money available for her pet scheme of "Medicare for All." Preparing to become a solon in the House of Representatives is not at all like being a hot chick working her previous occupation of bartending, where pretty much anything she said was eagerly appreciated by her male customers. Lots of generous tips, but few factual corrections in that environment for a slender, comely female with high cheekbones and a taste for fashionable clothing.
Disgrace: Alexandria Ocasio-Cortez Attacks Gold Star Father John Kelly as a Coward. Woke 29-year-old Congresswoman-elect Alexandria Ocasio-Cortez went after White House Chief of Staff John Kelly yesterday. Why? She wants him to apologize to Democrat Rep. Frederica Wilson for supposedly "lying" about her to reporters. [Tweet] "Cowardice." Quite a big word to use against a four-star Marine Corps general whose son was killed in Afghanistan. Wilson's spat with Kelly came last year when she alleged President Trump disrespected a military family during a phone call.
Ocasio-Cortez, 29, Should Be Able to Run for President, Argues This Group. Wednesday's lengthy piece, "It's ridiculous that it's unconstitutional for Alexandria Ocasio-Cortez to run for president," declared that everyone from immigrants to recent college grads should be eligible. Vox co-founder and senior correspondent Matthew Yglesias wrote that "phenomenon" Ocasio-Cortez "is the biggest star in the Democratic Party," and therefore it is "completely ridiculous" that the Constitution makes anyone under the age of 35 ineligible to run for president of the United States.
Ocasio-Cortez Claims Jewish Ancestry During Hanukkah Event. Socialist Alexandria Ocasio-Cortez claimed for the first time publicly on Sunday that she has Jewish ancestry while speaking during a Hanukkah event in her home borough of Queens. [...] "[My family has] been doing a lot of family trees in the last couple of years," Ocasio-Cortez said. "And one of the things a lot of people don't know about Puerto Rico, and something we discovered ourselves, is that a long time ago, many generations ago, my family consisted of Sephardic Jews."
Alexandria Ocasio-Cortez reveals Jewish ancestry: 'I knew it!'. Rep.-elect Alexandria Ocasio-Cortez revealed she has Jewish ancestry during a Hanukkah candle-lighting event Sunday in New York. The newly elected Democrat told a Queens audience at an event organized by Jews for Racial and Economic Justice that she recently traced her ancestry back to 15th-century Sephardic Jews. "I knew it! I sensed it!" Ms. Ocasio-Cortez said, pointing out an audience member who reacted to her news, NBC reported.
Elizabeth Warren II: Alexandria Ocasio-Cortez [is] Now Claiming Jewish Ancestry. Also a political movement that goes nuts over white kids wearing sombreros is really casual about lefties falsely claiming to be Indian and Jewish. Cortez is the daughter of an architect from Westchester who claimed to be the girl from the Bronx. She had plenty of cash, but claimed to be unable to afford a D.C. apartment. And she wants to run for president, but knows less about civics than most first graders. So why not? Alexandria Ocasio Cortez is anti-Israel, but is claiming Jewish ancestry at an event by a radical leftist hate group that has defended anti-Semites.
Why Ocasio-Cortez Must Be Engaged, Critiqued, And Winsomely Trolled. A socialist who hasn't even taken power yet — already threatening to use to said power to leverage revenge against someone for saying something she can't laugh off — and willing to threaten the viability of the first amendment in the process. [...] I've never witnessed an incoming freshman in the House that has ever had as much force behind them. In spite of a readily evident vapid knowledge of basics, she is a fast adapter, and an emotional and effective communicator and social media consumer. For all of those reasons we must engage, confront with truth and winsomely dispense with her most emotionally charged but intellectually dishonest ideas.
Alexandria Ocasio-Cortez: 'Eliminate' Electoral College, It 'Undermines' Democracy. Now that the Senate has confirmed Brett Kavanaugh to the Supreme Court, some Democrats are turning their fire on the idea that each state should be equally represented in the upper chamber of Congress. "The idea that North Dakota and New York get the same representation in the Senate has to change," NBC national security reporter Ken Dilanian tweeted. Others, like GQ correspondent Julia Ioffe, took issue with the Electoral College, which allowed Presidents George W. Bush and Donald Trump to place four justices on the Court, even though Bush and Trump lost the popular vote in 2000 and 2016, respectively. One politician who endorsed Ioffe's argument is Alexandria Ocasio-Cortez, the democratic socialist running to represent New York's 14th Congressional District.
Ocasio-Cortez Violates House Ethics Rules, Threatens Trump Jr. For Trolling Her On Twitter. Last night [12/6/2018], Donald Trump Jr. sparked a bit of a feud with incoming Congresswoman Alexandria Ocasio-Cortez (D-NY). He posted a meme to his Instagram account that directly poked fun at Ocasio-Cortez and her self-proclaimed socialist affiliations, along with the caption "It's funny cuz it's true!!!": [...] Ocasio-Cortez escalated by seemingly threatening to subpoena Trump Jr. once she takes office in a month. Not only is this horrifically immature, it's also a violation of the House Ethics Manual.
Ocasio-Cortez already threatening to abuse her office before even being sworn-in. Once again, Alexandria Ocasio-Cortez is demonstrating her shaky understanding of the job she was elected to do in what she called one of the "three chambers of government." Yesterday [12/7/2018], she was obviously ticked off when Donald Trump, Jr sent out a meme on Instagram mocking her love for socialism, even in the face of the specter of the actual consequences of socialism on view in Venezuela, where people are starving and eating anything they can get their hands on, including zoo animals and even beloved household pets.
Criminal Act: Democrat Ocasio-Cortez Broke 42 US Code § 1983 By Threatening Donald Trump Jr. with Retaliation Over Snarky Meme. It appears [Alexandrea] Ocasio-Cortez broke federal law by threatening a US citizen with retaliation for snarky tweets. You can't use the power of the law to get back at people for their Instagram memes, Alexandria!
Rep-Elect Ocasio-Cortez proves Mark Twain's quip. Newly minted Dem congresswoman Alexandria Ocasio-Cortez once more validated Mark Twain's quip, "Suppose you were an idiot, and suppose you were a member of Congress; but I repeat myself." Numerous reports have accompanied O-C's tweet whereby she will pay her interns $15 an hour. [...] Unless she will pay interns out of her own pocket, her virtue-mongering would easily fit within a congressional budget allotted to each member of Congress [which is] approximately $1.3 mil, while sacrificing nothing.
O-Cortez Says Administration Is Criminal for Enforcing Borders. Alexandria Ocommie-Cortez condemned the Trump administration on Monday for its immigration policies, tweeting that this "Admin has been criminal from the start."
Ocasio-Cortez Is Embarrassingly Wrong About 'Death Panels'. Democrat Alexandria Ocasio-Cortez, who will represent New York in Congress in January, has once again proven she's more interested in misleading Americans about single-payer health care than having an honest debate that's based on the facts.
Ocasio-Cortez didn't get memo Congress exempted itself from Obamacare. It accidentally blows up in her face. Socialist congresswoman-elect Alexandria Ocasio-Cortez managed this weekend to accidentally prove why the socialist-styled healthcare she seeks would never in a million years actually work. She unwittingly accomplished this feat by tweeting out complaints about America's current healthcare debacle, which as a reminder exists because of the former President Barack Hussein Obama's socialist-light healthcare policy, the Affordable Care Act, aka Obamacare. "In my on-boarding to Congress, I get to pick my insurance plan," she tweeted Saturday evening. "As a waitress, I had to pay more than TWICE what I'd pay as a member of Congress."
Ocasio-Cortez: We Could Pay For Two-Thirds Of Medicare For All With That $21 Trillion We Spent On The Pentagon. Even some lefties on Twitter are giving her the side-eye for this. Imagine how wrong you'd have to be on the numbers for defense spending for liberals to say, "You're exaggerating the problem."
Alexandria Ocasio-Cortez: Impeach Trump now. Rep.-elect Alexandria Ocasio-Cortez suggested Democrats, who take power in the House next month, should not wait to begin impeachment proceedings against President Trump because "we have far surpassed" the "standard" that the Republican Party used to impeach former President Bill Clinton. Ocasio-Cortez, D-N.Y., during comments to reporters Friday [11/30/2018] on Capitol Hill, was asked if seeking impeachment is premature. "Not to me," she replied. Democratic leaders during the 2018 campaign sought to play down the prospect that they would try to remove the president from office.
Alexandria Ocasio-Cortez likens her election win to America's historic moon landing. Congresswoman-elect Alexandria Ocasio-Cortez sees her recent election victory as a watershed moment in world history akin to landing on the moon. The New York Democrat told reporters on Friday that once again the U.S. is "at the brink, at the cusp of an abyss" that requires citizens of a special kind of mettle. She says that such an elite group exists — and that she and other newly elected Democrats are in it.
Are you sure she's just pretending to be ignorant? I think it's genuine.
Ocasio-Cortez Says She Feels Like An 'American Revolutionary,' Gets Mocked. Far-left Democrat Alexandria Ocasio-Cortez said online Wednesday night that she felt like an "American revolutionary" — and was promptly mocked by conservatives. [...] The representative-elect's attempt to identify herself with the American revolutionaries was too much for some of her critics, who responded online in hilarious fashion. "Wait until you hear about their perspective on limited government and individual rights!" tweeted Daily Wire Editor-in-Chief Ben Shapiro. Others made similar remarks, noting that the Founding Fathers "advocated against *almost* everything she stands for."
Alexandria Ocasio-Cortez Promotes Death And Destruction Due To Climate Change With, Of Course, Bad Information. The Democrat darling Alexandria Ocasio-Cortez is coming along nicely in her embrace of the Democrats' more radical agendas as she is now heralding the coming death and destruction brought about by climate change with a Gore-like gusto. "People are going to die if we don't start addressing climate change ASAP," Ocasio-Cortez Tweeted out.
The Editor says...
"People are going to die" means nobody has died yet. An average temperature change of one degree per century is imperceptible and won't hurt anyone.
In order to portray Trump as Hitler, there has to be a Holocaust in the news somewhere.
Alexandria Ocasio-Cortez Compares Migrant Caravan To Jews Fleeing Holocaust. New York Democratic Rep.-elect Alexandria Ocasio-Cortez on Sunday [11/25/2018] compared members of the migrant caravan attempting to enter the United States to Jews fleeing Nazi Germany during the Holocaust.
Ocasio-Cortez, Graham feud over Holocaust refugee comparison. Congresswoman-elect Alexandria Ocasio-Cortez, who is set to represent New York's 14th congressional district in the US House of Representatives next January, doubled down on her comparison between Jewish Holocaust refugees fleeing genocide in Europe to illegal immigrants making their way towards the US in the so-called "migrant caravan". Ocasio-Cortez, who at 29 is set to become Congress's youngest female lawmaker ever, sparked controversy on Monday when she compared illegal immigrants from Central America who attempted to cross into the United States over the weekend in what has been dubbed the "migrant caravan" with Jews attempting to escape Nazi Germany.
Senator Lindsey Graham Calls Out Anti-Semitic Democrat Congresswoman For Her Inane Holocaust Statement. Alexandria Ocasio-Cortez's is dangerously dumb and today [11/26/2018] Senator Lindsey Graham rightfully called out another of her stunningly stupid comments. This one came in the form of a pro-invasion stance in which Congresswoman Ocasio-Cortez likened the would-be illegals crashing the gates of the U.S. southern border to Jewish Holocaust victims and families fleeing Rwandan genocide in the 1990's.
Alexandria Ocasio-Cortez: From Renegade Star to Party Tool. Fresh off their victory in the United States House of Representatives, the new batch of young, social democrats are goose-stepping their way up to Capitol Hill already. The most prominent among these young socialist guns is New York's Alexandria Ocasio-Cortez. She recently made waves when she bashed Amazon's decision to split their second headquarters in two, placing one in her congressional district in New York City (the other will be placed in Northern Virginia, just outside of Washington, D.C.). [...] Unfortunately for her, the tech sector (and, specifically Jeff Bezos' Amazon) overwhelmingly support the Democratic Party. What Cortez did was to effectively bite the hand that feeds her (and her party). This is a strange occurrence, since Cortez (and those other young democratic socialists who won in 2018) is seen as the face of the future Democratic Party.
Alexandria Ocasio-Cortez Won't Be the One to Finally Make Socialism Work. I receive near-daily emails from The Nation, the hard-left publication that never acknowledged a communist atrocity nor has recognized any socialist failure. From what I can tell, the editors are downright giddy, as they see socialism in the USA on the rise, with the bookends of the elderly Bernie Sanders on one side and the camera-friendly Alexandria Ocasio-Cortez on the other, both ably promoting socialism to a new generation of people ready to overthrow the alleged chains of capitalism. My many writings on Bernie Sanders do not need anything new to add. If his past association with groups supporting the murderous and violent Leon Trotsky and Che Guevera do not discredit him with the modern media, then nothing will, and no further expose of his utterly-flawed worldview will change any minds or educate an adoring media that refuses to recognize the evils of totalitarianism.
House Democrats Don't Know What to Make of Alexandria Ocasio-Cortez. She came into Washington like a wrecking ball. Just on Saturday [11/17/2018], Alexandria Ocasio-Cortez announced that she will be working with progressive activists to bring primary challenges against some of the more conservative Democrats in Congress, her own soon-to-be colleagues. This was after she joined a protest in the office of Democratic Minority Leader Nancy Pelosi, and after she'd spent a week doggedly documenting congressional orientation on Instagram for her followers and clapping back at her many critics on Twitter.
Ocasio-Cortez: These Democrats Opposing Pelosi As Speaker Don't Seem Very Progressive. It's true, as she says, that the 16 Dems who signed the letter yesterday [11/19/2018] opposing Pelosi's Speakership aren't from the caucus's left wing. It's not true that no one's attacking Pelosi from the left, though.
Ocasio-Cortez Responds to Republicans Criticizing Her Over Latest Mistake. Alexandria Ocasio-Cortez hit back at Republicans for criticizing her latest misstep, saying they need to stop "drooling" over every word that comes out of her mouth. "Maybe instead of Republicans drooling over every minute of footage of me in slow-mo, waiting to chop up word slips that I correct in real-tomd, they actually step up enough to make the argument they want to make: that they don't believe people deserve a right to healthcare," she said in response to a Republican state lawmaker wondering if the Democratic Socialist could explain a "chamber of government."
Nor does she care.
Ocasio-Cortez Has No Idea What The 3 Branches Of Government Are. Democratic Socialist Alexandria Ocasio-Cortez revealed this weekend that she has no idea what the three branches of the U.S. government are during a conference call with prospective far-left political candidates. "If we work [hard] to make sure that we take back all three chambers of Congress — uh, rather, all three chambers of government: the presidency, the Senate, and the House," Ocasio-Cortez said on Saturday [11/17/2018] while on a call with Justice Democrats.
World Socialists Go On Attack Against Alexandria Ocasio-Cortez. See, it is not only libertarians who split into factions, some being more hardcore than others. The World Socialist Web Site published by the International Committee of the Fourth International has just published a fierce attack on Democratic Socialist Alexandria Ocasio-Cortez. [...] The hardcore WSWS has a point. Ocasio-Cortez is a sellout commie. She will do whatever it takes to get attention and there is no way she is going to be radical on tough issues. This babe will pay attention to which way the wind is blowing and only take "extreme" lefty positions when it will gain her positive support from the establishment lefty media.
Ocasio-Cortez plays victim after taking heat for flubbing the 3 branches of government — Twice. For someone who has thrust herself on the national stage, Alexandra Ocasio-Cortez sure has thin skin. The proud democratic socialist and newly elected congresswoman from New York has a knack for making confusing statements, or "word slips," as she calls them, and is real quick to play the victim if anyone calls attention to them. Her latest flub occurred on Saturday when Ocasio-Cortez called for taking back "all three chambers of Congress," before quickly correcting herself to say "all three chambers of government," naming the presidency along with the House and Senate.
Ocasio-Cortez Prepares For War - On Her Own Party. She hasn't even drawn her first paycheck as a member of Congress yet and won't be casting any votes for a couple of months, but the political media is already flitting around Alexandria Ocasio-Cortez like moths surrounding a streetlight. And she's responding to all the attention by setting a big agenda for herself. Rather than worrying about expanding the Democratic majority in the House two years from now or taking back the Senate, however, the newly elected socialist from New York has a different target in mind. She's heading up a new coalition aimed at removing more Democrats in the next round of primaries and replacing them with more "diverse" candidates. You won't need three guesses to figure out what that means.
The Manchurian Counterfeit. Encapsulating the point I am trying to make here (that we have generally raised impressionable morons for our citizenry) is the sad fact that only 40% of law grads managed to pass the California Bar exam this year. No doubt, given the trend at hand they, and maybe other states, will dumb down future exams. Or perhaps all the dumb grads will just be given law licenses for having participated in attending law school.
The Manchurian Counterfeit. Don't let anyone tell you that Alexandria Ocasio-Cortez is another dumbbell added to the roster of liberal morons. Because neither assessment is accurate. Cortez and the people she is in league with are as dumb as the devil who runs that political party. [...] She and all that comes with her constitute an unprecedented level of danger to an America that is, as we watch, slipping into unconsciousness. There is nothing sweet or innocent about her. She should be handled like a pit viper.
Ocasio-Cortez gets in closed-door fight with veteran lawmaker over climate change. A fight broke out in a closed-door meeting of House Democrats over climate change as a powerful veteran lawmaker fought with freshman star Rep.-elect Alexandria Ocasio-Cortez and other members-elect over the creation of a special panel for the issue. New Jersey Rep. Frank Pallone, incoming chairman of the powerful Energy and Commerce Committee — backed by a number of other committee members — slammed the creation of the new climate panel, according to multiple sources in the room. Pallone argued that his committee and other existing panels within the House could take on the issue aggressively.
It's the Ocasio-Cortez party now — Nancy Pelosi is just leading it. Socialist know-nothing Alexandria Ocasio-Cortez is the future of the Democrat Party. Nancy Pelosi is its past, but she's probably its present too despite threats to deny her another Speakership. The Ocasio-Cortez contingent in the party has determined that Nancy Pelosi simply isn't radical enough. That will be news to many on the American Right for whom she has served as a longtime bête noir and whose strident advocacy of San Francisco values provided fodder for countless Republican campaign ads and fundraising letters. For Republicans she's a radical who favors amnesty, citizenship, and voting rights for illegal aliens, government funded abortion on demand, and impeaching the president. But in the current Democrat Party she's a mushy moderate. For her part, Ocasio-Cortez spent Tuesday, her first day in Washington, DC, protesting climate change in Pelosi's office. And here I thought climate change was President Trump's fault.
Ocasio-Cortez turning into a nightmare for Congressional Dems. Alexandria Ocasio-Cortez is claiming that she is being discriminated against by House Democrats, implying racism. It turns out that she not only brings lots of media attention, she also carries a truckload of attitude.
Ocasio-Cortez's rise reveals rampant economic illiteracy in US. Rep.-elect Alexandria Ocasio-Cortez (D-N.Y.), made headlines when she revealed that she wouldn't be able to afford Washington, D.C. rent until her government salary kicks in. The lack of affordable housing in Washington is no joke, but the predicament also speaks to the young lawmaker's financial literacy — or lack thereof. The 29-year-old didn't think to consider something as basic as the relocation expenses of a new job opportunity. If she doesn't know how much an apartment costs, how much confidence should taxpayers have in her ability to effectively deliver trillions of dollars in campaign promises?
Ocasio-Cortez claims she can't afford DC apartment, but records show she has at least $15,000 in savings. Democratic Socialist Alexandria Ocasio-Cortez claims that she's unable to afford an apartment in Washington, D.C., until she begins collecting her congressional salary, but records show she has more than enough to plunk down on an apartment in the U.S. capital. The 29-year-old congresswoman-elect rose to fame after she defeated 10-term incumbent Rep. Joe Crowley in New York's June primary and was elected to represent the state's 14th Congressional District last week.
Ocasio-Cortez flirts with run for presidency — while dancing, making mac-n-cheese on Instagram. During an Instagram Live Q&A session on Friday night [11/9/2018], the 29-year-old socialist discussed her election victory on Tuesday and flirted with the idea of maybe running for president in the future.
Ocasio-Cortez rips Fox News for cracking 'jokes' about her finances: It shows what they really think of working-class people. Rep.-elect Alexandria Ocasio-Cortez (D-N.Y.) tore into Fox News hosts on Friday for "gleefully" cracking jokes about her finances, saying that the hosts' comments revealed what their thoughts about working-class people. Ocasio-Cortez revealed on Thursday [11/8/2018] that she will need to wait for her congressional salary to kick in before she can afford to rent an apartment in D.C. A Fox News panel laughed on Friday [11/9/2018] as they discussed the incoming freshman lawmaker's finances.
Ocasio-Cortez whining about not having a salary for three months to pay rent on a DC apartment. Representative-elect Alexandria Ocasio-Cortez has a habit of wanting things that she has no idea how to pay for. Not merely government programs like single-payer nationalized healthcare (currently being re-branded as "Medicare for all"), but her personal expenditures. With federal programs, she claims to be puzzled by questions over how to pay for them. But with personal issues such as writing a check for rent, at least she realizes that the money has to come from somewhere.
Rep. Alexandria Ocasio-Cortez Can't Figure Out How to Rent an Apartment on $174,000. Socialists are very unfamiliar with the financial system. [#1] Alexandria Ocasio-Cortez isn't working class. She's an obnoxious hipster and the daughter of an architect who grew up in Westchester. [#2] Intelligent adults prepare for stuff like this. Cortez beat Crowley in June. At that point she knew that she was going to D.C. What was the plan then? This woman claims to have all the answers to our economy, yet only began thinking about an apartment now? This is socialism in a nutshell. She's talking about this in public because she's looking for someone else to do it for her. [...] [#4] Alexandria Ocasio-Cortez is a dimwit and a grifter. It's a bad combination. That's why she's announcing this now.
Ocasio-Cortez For House Speaker? 'I Don't Want to Bite Off More Than I Can Chew'. Democrat socialist Alexandria Ocasio-Cortez was still celebrating her victory in New York's 14th Congressional District Tuesday night when she was asked her thoughts on becoming speaker in the Democratic-controlled House. The 29-year-old laughed, and told Amy Goodman of the left-wing news program Democracy Now, "I mean, I don't want to bite off more than I can chew." Goodman had asked Ocasio-Cortez her stance on Rep. Nancy Pelosi (D-Calif.) returning as House speaker.
The Great Progressive Collapse. Twenty-eight-year-old Alexandria Ocasio-Cortez pulled off an amazing feat. No, not emerging victorious in her candidacy to represent New York's 14th District in Congress, an area that favors Democrats by almost 30 points. Ocasio-Cortez's real accomplishment was how she managed to navigate several months of intense media scrutiny without ever formulating a coherent response to the many interviewers who asked her how she intends to bridge the financial gap between her hopes and dreams and their 13-figure price tags. In this high-wire act, she had the help of some willing accomplices in the press. How should the country pay for the estimated $32 trillion it would cost to nationalize the health-insurance industry, Ocasio-Cortez was recently asked? "You just pay for it," she averred to credulous nods.
Ocasio-Cortez: Trump Impeachment 'No-Brainer'. If anyone is familiar with "no-brainers," it is New York congressional candidate Alexandria Ocasio-Cortez. After all, she believes in socialism, a prime indicator of having no brain. Ocasio-Cortez ramped up her anti-Trump rhetoric, calling for his impeachment before she is even elected to Congress.
Ocasio-Cortez on 'puzzling' question of how to fund Medicare for All: 'You just pay for it'. Democratic congressional candidate Alexandria Ocasio-Cortez (N.Y) offered some vague answers to questions about how the country would pay for Democratic Socialist initiatives like Medicare for All, again raising questions about whether there is any substance behind the ambitious talking points. This is important because: Candidates like Ocasio-Cortez are becoming increasingly common and popular, particularly among young voters who find their message appealing and inspiring. But, at some point, someone is going to have to realistically explain how they plan to accomplish the things they're promising to voters. What is her stance? Ocasio-Cortez starts off with a broad appeal to a "basic level of human dignity:" "In a modern, moral and wealthy society, no person should be too poor to live. We should treat healthcare, housing, and education as rights," she said.
Here's the latest blindingly stupid thing commie Ocasio-Cortez said! She's like a cartoonish caricature of commies, and she doesn't even know it. It's amazing to me that anyone could listen to this absolute drivel and really think she is competent enough to hold office in this wonderful country.
O-Cortez Sends Out a Hate-Filled Email in the Spirit of 'Dialing It Down'. A writer for Daily Wire tweeted the revolting email sent out by communist/socialist Alexandria Ocasio-Cortez. It was hate-filled and meant to instill fear. Writer Kassy Dillon added she should be ashamed. A world led by people like Cortez will be very dark indeed.
The Nazi Roots of Climate Change. Alexandria Ocasio-Cortez, Democratic candidate for Congress from New York's 14th Congressional District (the Bronx and Queens), recently compared dealing with those who deny climate change and oppose her party's measures to counter this "existential threat" to fighting the Nazis in WW II. We owe Ms. Ocasio-Cortez a high degree of thanks for this important warning, but one awakening has to occur before we can take full advantage of its true value. When it comes to "climate change" as well as other "environmentalist" issues, it is Ocasio-Cortez and her party who have more in common with Hitler's Third Reich than the Republicans and conservatives who oppose them and whom they smear as "Nazis" with remarks like hers. [...] The fact that modern Democrats share with the Nazis the claim that the only way to heal what ails this planet and perhaps even prevent the demise of all of humanity is to put them in power certainly has my alarms flashing.
The Ever More Delusional Left. If Ocasio-Cortez wins a seat in the House, we can only pity her constituents. She is very likely the most ignorant person ever to run for high office. "Beto" O'Rourk, that Irish guy pretending to be Hispanic, is proud of his "F" rating from the NRA — in Texas! That is only one strike against this man; there are many more. Krysten Simena regularly insults her state and its residents. She has called Arizona the "meth laboratory of democracy." She believes "stay-at-home Moms are leeches." That only Joe Manchin voted to confirm Judge Kavanaugh is proof that all-but-one Democrat in the Senate no longer believe in due process or the doctrine of innocent until proven guilty. Each of them embraces the politics of personal destruction writ large.
Ocasio-Cortez refuses to endorse Bernie Sanders 2020 run. Alexandria Ocasio-Cortez, the Democratic socialist congressional candidate who has spent weeks campaigning with fellow socialist Sen. Bernie Sanders, on Thursday refused to endorse his prospective candidacy in the 2020 presidential race. Ocasio-Cortez, 29, worked as an organizer for Sanders' failed presidential campaign in 2016 before winning in a surprise upset over longtime establishment Rep. Joe Crowley, D-N.Y., in the state's 14th Congressional District primary in May.
Alexandria Ocasio-Cortez: Nazis And Global Warming Are Like The Same Thing DUH! Alexandria Ocasio-Cortez is just the most fascinating person to follow in the area of politics. She won the Democratic primary in New York's 14th congressional district defeating the incumbent Congressman, Democrat Chair Joe Crowley and she has been a tour de force nationally ever since. Why? Because she says interesting things. Also really stupid things. The apple of the eye of the American socialist movement said last night that we need to go after global warming like we did the Nazis in Germany. Yup. If there is something that fascists & socialists know is making comparisons to political systems they agree with.
Alexandria Ocasio-Cortez Reveals Her Plan to Overthrow the Supreme Court. Alexandria Ocasio-Cortez has shown her disdain for American institutions, based on a false understanding of history. If she had power, she would destroy America's federal system by abolishing the Electoral College and packing the Supreme Court. Yet more and more liberals are blaming the system for their political losses, suggesting that the Senate — never intended to be democratic — isn't democratic enough!
Ocasio-Cortez: 'There's no debate' that fossil fuel production should stop. Democratic House candidate Alexandria Ocasio-Cortez rallied an audience of supporters in Washington Thursday evening [10/11/2018] with calls to implement single-payer health care and tuition-free college — along with an appeal to stop fossil fuel production entirely. Ocasio-Cortez, who is running to represent New York's 14th Congressional District, has made no secret of her opposition to fossil fuels. She's called for politicians to forsake donations from the industry and is pushing a "Green New Deal" plan which entails a shift to 100 percent renewable energy by 2035.
Alexandria Ocasio-Cortez: We must 'eliminate the Electoral College'. New York congressional candidate Alexandria Ocasio-Cortez, a member of the Democratic Socialists of America, is calling for the abolition of the Electoral College, which she referred to as a "shadow of slavery's power." "It is well past time we eliminate the Electoral College, a shadow of slavery's power on America today that undermines our nation as a democratic republic," the 28-year-old tweeted Saturday [10/6/2018].
Far-Left Democrat Ocasio-Cortez Calls To Abolish Electoral College. Far-left Democrat Alexandria Ocasio-Cortez is ramping-up attacks against the constitution. The Democrat hopeful took to Twitter over the weekend to slam the electoral college as a "shadow of slavery's power."
Ocasio-Cortez and Reality. [Scroll down] The young New York City native is a graduate of Boston University, where she graduated cum laude with a degree in economics and international relations. She is proof of the claim that leftist professors teach Marxism, not classical economics, when they indoctrinate the eager young people before them. Hardly any of the collegians studying economics today are taught sound economic fundamentals. So Boston University is far from alone in laundering the brains and common sense of young people, all of whom at these institutions are led to believe that the rosy promises of government control never materialize. In a televised interview shortly after her primary victory, veteran CNN anchor Jake Tapper asked the democratic socialist how she would finance her calls for universal healthcare, housing as a federal right, job guarantees, tuition-free public college, cancellation of student college debt, and more. He told her that the left-leaning Tax Policy Center estimated her goals would cost upwards of $40 trillion over 10 years. The somewhat befuddled Ocasio-Cortez commented fuzzily that covering their costs could be achieved by increasing taxes on both the wealthy and the corporate world.
Ocasio-Cortez is asked for her 'plan' for Congress — her answer is a word salad mess. Alexandria Ocasio-Cortez appeared on MSNBC in the wake of the stunning news about Brett Kavanaugh heading towards confirmation, and gave a jumbled bizarre word salad of an answer for an important question. [Video clip]
Ocasio-Cortez Describes Herself As 'Therapist' For Her District Because Of 'Re-Traumatizing' Trump Policies. New York Congressional candidate Alexandria Ocasio-Cortez on Friday characterized herself as "something of a social worker or even a therapist" to people in her district to whom President Trump's policies have been "re-traumatizing." [Video clip]
Ocasio-Cortez: We Can't Compromise With 'Insane People' on the Right 'Holding the Country Hostage'. Asked by Vanity Fair how she intended to balance her desire for rapid, progressive change with the need in Washington to make deals, Ocasio-Cortez said Democrats too often compromise even before getting to the table. "When you're dealing with these insane people holding the country hostage on the right, you can't go in with your end point. You have to go in with a strong position," she said. "If they're trying to end Planned Parenthood, I don't think we go in with, 'No, let's keep Planned Parenthood.' I think we go in with, 'Let's expand women's rights to health care and have it guaranteed in every state.' I think we can compromise on our tactics and how we get there, but we can't compromise where we're going."
Ocasio-Cortez already plotting run for president? Alexandria Ocasio-Cortez hasn't even been elected to Congress yet, but she's apparently already moved onto running for president. While speaking to folks in what appears to be a basement, the socialist darling is already thinking about being "inaugurated," an event reserved for a commander-in-chief.
Ocasio-Cortez Hints Fox News Should Be Punished For Reporting On Her. Democratic socialist Alexandria Ocasio-Cortez hinted on Wednesday that Fox News should be punished for the network's reporting on her, claiming that they are "obsessed." Ocasio-Cortez's remarks came after Fox News published an article based on a Tuesday report from The Daily Wire that showed the 28-year-old suggesting that she would be "inaugurated" into office if she won her congressional race in November and that she looked forward to signing bills into law.
Ocasio-Cortez Proves She Has No Idea What Congress Does. Democratic socialist Alexandria Ocasio-Cortez showed her extreme lack of knowledge about the basic roles of the three branches of the federal government during a speech on Monday, suggesting that after she is "inaugurated" into office that she will begin signing bills into law. "After being spurned over, and over, and over again, short-changed on healthcare, short-changed on criminal justice, short-changed on education, there's a lot of folks who don't want to believe anymore," Ocasio-Cortez said. "And that's why what we have accomplished is such an immense responsibility. It is a responsibility." "It doesn't mean you get everything tomorrow," Ocasio-Cortez rambled. "As much as I would love that. I would love to get inaugurated January 3rd [and on] January 4th we're signing healthcare, we're signing this..." Ocasio-Cortez seemed to be completely unaware of the fact that members of Congress are sworn into office, not inaugurated like the President of the United States.
Ocasio-Cortez Can't Answer How She Will Pay for $40 Trillion in Government Programs. Alexandria Ocasio-Cortez was unable to answer on Sunday on how she will pay for her progressive agenda, which some think tanks have estimated would cost $40 trillion. "Various new programs including Medicare for all, housing is a federal right, federal jobs guaranteed, tuition free public college, canceling all student loan debt. According to nonpartisan and left leaning, tax policy center, the overall price tag is more than $40 trillion in the next decade," CNN "State of the Union" host Jake Tapper said. "You recently said in an interview increasing taxes on the very wealthy, [an] increased corporate tax rate, would make $2 trillion over the next 10 years. Where is the other $38 trillion going to come from?" Ocasio-Cortez responded by stating Medicare for all would end up saving the country money.
'Socialist' Alexandria Ocasio-Cortez Wears $3,500 Outfit For Photo Shoot With Construction Workers. Socialists want everybody to get everything — as long as they get theirs first. And socialists looooove money. Take Sen. Bernie Sanders, the Vermont Independent who touts himself as a socialist. He's got three houses, including a shorefront house on Lake Champlain. Same goes for the hot new socialist, Alexandria Ocasio-Cortez. She's everywhere now as she runs for a New York seat in the U.S. House. And with that comes money — and bling. In a photo shoot for Interview magazine, Ocasio-Cortez was pictured wearing a $3,500 outfit as she posed with construction workers. She was decked out in a Gabriela Hearst blazer ($1,990), Gabriela Hearst pants ($890), and some Monolo Blahnik shoes ($625).
Gues [sic] How Much Socialist Ocasio-Cortez' Outfit Cost — $49? $180? $3,500? If NYT weren't so busy reporting misleading stories about Nikki Haley's curtains, maybe they would pick up on the hypocrisy of the budding Democrat Socialist Superstar, Alexandria Ocasio-Cortez. The New York Times, with their usual smug satisfaction, thought they'd scored with a 'gotcha' story implicating our take-no-prisoners Ambassador to the UN, Nikki Haley.
The "New" Left: The Democratic Socialists of America. A radical leftist upstart's unexpected trouncing of a key member of the House Democratic leadership in a primary is sending shockwaves through the Democratic Party establishment. I refer to Democratic Socialists of America (DSA) member and first-time candidate Alexandria Ocasio-Cortez, at the time a 28-year-old of Puerto Rican ancestry, who crushed longtime U.S. Rep. Joe Crowley, a 56-year-old Irish-American Catholic, in the June 26 primary election for the 14th congressional district in New York, covering parts of the boroughs of Queens and the Bronx. Crowley chairs the House Democratic Caucus, the fourth-highest leadership position among House Democrats, and he was a leading contender to become House Speaker, if Democrats regained control of that chamber. Ocasio-Cortez's victory made her an instant star in leftist circles. Democratic National Committee (DNC) chairman Tom Perez promptly hailed her as "the future of our party."
Ocasio-Cortez: ICE 'sexually assaults women with impunity'. Socialist darling Alexandria Ocasio-Cortez wants to abolish Immigration and Customs Enforcement because it's full of rapists and child abusers. Or something. Ocasio-Cortez, who won an upset primary against Chairman of the House Democratic Caucus U.S. Rep. Joe Crowley, took offense to a post on Twitter by Townhall editor Katie Pavlich this week and attempted to set the record straight.
Socialist Alexandria Ocasio-Cortez recruits children to help 'kick out' Trump. In Chicago, Democrats recruit the dead to vote. In New York, they recruit children for their agenda. While Alexandria Ocasio-Cortez was campaigning in Queens today [9/1/2018], she attempted to sway a group of kids to her cause. [Video clip]
These are the real scandals plaguing our country. Political suicide is the path other Dems are taking, as shown by their embrace of any shiny new thing, including socialism. The leftward lurch got a jolt last June, when Alexandria Ocasio-Cortez, a 28-year-old former bartender, defeated incumbent Joe Crowley in a primary for a House seat in Queens. In a flash, Ocasio-Cortez was the darling of the party, and some insiders declared she was its future. The movement toward things that not even Bernie Sanders endorsed surged when she called for abolishing the Immigration and Customs Enforcement police, known as ICE. Briefly, the idea felt unstoppable until cooler heads realized that [#1] abolishing the agency would lead to border chaos and [#2] border chaos would lead to a GOP rout in the midterms. Besides, Ocasio-Cortez turned out to know next to nothing about many things. Her claim that unemployment was low "because everyone has two jobs" was a gift to comedians and Republicans.
The Dems' big problem. My neighbors know they are being coaxed, prodded, and pushed to vote into office the new breed of progressive, socialist Democrats. They know deep inside that the likes of the know-nothing new Dem members of Congress, the kid from Queens, Alexandria Ocasio-Cortez, and Muslim radical Ashida Tlaib from Michigan, would spell financial disaster for them, but they have the required (D) after their names, and that's all they're supposed to consider.
Alexandria Ocasio-Cortez Praised John McCain. Then Things Got Really Weird. Alexandria Ocasio-Cortez did a very nice thing Saturday, tweeting out a heartfelt tribute to the late Senator John McCain, whom she called "an unparalleled example of human decency and American service." Being (mostly) a political amateur in a severely partisan social media landscape, Ocasio-Cortez probably should have known that praise for a member of the opposing party wouldn't be received by her progressive colleagues as a collegial olive branch extended in the spirit of McCain's "Maverick" reputation, but rather as an open invitation to question her progressive bona fides. Things got heated, as leftists roasted Ocasio-Cortez from straying from the party line and daring to suggest anyone right of Karl Marx might have had some good ideas.
Ocasio-Cortez Campaign Spends Nearly $4,000 on Uber After Blaming Company's Success for Taxi Driver Suicides. New York congressional candidate and Democratic socialist Alexandria Ocasio-Cortez has repeatedly castigated ride-sharing giant Uber and blamed its "unregulated expansion" after a yellow cab driver commited suicide, but her campaign has taken nearly $4,000 worth of Uber rides between April and late June. Ocasio-Cortez, who became a household name after defeating Democratic incumbent Rep. Joe Crowley (D., N.Y.) back in June, has criticized Uber several times on Twitter as recently as March, in a post flagged by Fox News. "NYC's fourth driver suicide. Yellow cab drivers are in financial ruin due to the unregulated expansion of Uber. What was a living wage job now pays under minimum," she tweeted.
Ocasio-Cortez Criticizes Uber Despite Campaign Spending Over $4K On Rides. New York congressional candidate Alexandria Ocasio-Cortez is being criticized for her contradicting stance on the state's ride-sharing cap. The self-proclaimed Democratic socialist slammed Uber, saying the company led Yellow Cab drivers to suicide. Additionally, she said the company exploits its drivers by not paying them enough.
She hasn't even been elected yet (to anything) and Salon is already going there. Salon wants to know if Alexandria Ocasio-Cortez is the next Barack Obama.
How Far Left Can Democrats Go? Democratic Socialist congressional candidate Alexandria Ocasio-Cortez has become a media star and "future of the Democratic Party" for her Far-Left platform, her amazingly ill-informed (if not just plain dumb) comments during interviews and the near-zero batting average of her endorsed candidates. The old guard of the Democratic Party's national leadership has studiously avoided being too closely associated with Ms. Ocasio-Cortez — former President Barack Obama pointedly failed to include her in his first list of endorsees — and Democrat-oriented pundits have tended to dismiss her radicalism as a phenomenon of New York City's leftwing politics. But as our friend John Gizzi documented in a recent column for NewsMax, Alexandria Ocasio-Cortez is hardly the only radical Far-Left Democrat on the ballot this November, nor is she in many respects the most radical.
Ocasio-Cortez Mourns Restaurant Driven Out Of Business By Minimum Wage Law She Backs. This week, Alexandria Ocasio-Cortez "swung by" to say goodbye to a restaurant where she used to work. What she didn't say is that it is closing because the owners can't afford New York City's soon-to-be $15 minimum wage — the very job-killing policy Ocasio-Cortez and her fellow Democrats want to impose nationwide.
Don't blame Ocasio-Cortez — blame her schooling. The Left's new IT Girl, Alexandria Ocasio Cortez can't seem to get it straight on anything. We should not be amazed that this newly hatched Socialist Democrat is so clueless about the economy and international relations: namely, at the moment, the Palestinian-Arab/Israeli conflict. On the economy, she's prepared to give everything away for free — healthcare and education gratis for all, with no mention from where the money is coming. On the Middle East, she's prepared to hand over territory that was Jewish since time immemorial. In her lopsided view, the land belongs to the "Palestinians." That's her story and she is sticking to it — though not fully. On PBS'S "Firing Line," she admitted that she is "not the expert" on the topic. On what topic is she the expert? Nothing much, apparently, yet she will be sitting pretty in the next Congress after her surprising defeat over a veteran incumbent.
Media Barred From Townhall Held By ... Alexandria Ocasio-Cortez; Update: Attendees Needed To Feel "Safe". Historically, when have socialists ever been enemies of press freedom? Get excited for "Reliable Sources" this weekend on CNN, when stalwart media defender Brian Stelter will respond to this troubling precedent from a left-wing Democrat by ignoring it.
Ocasio-Cortez is now banning the media from her public town halls! Does Ocasio-Cortez now agree with Trump that the Fake News Media is the enemy of the people? Or is she just tired of being mocked for her dumb statements?
Incompetent from day one:
If Ocasio-Cortez is going to run from debate, then she isn't really running [for office]. Alexandria Ocasio-Cortez, a Democratic socialist congressional candidate from New York City, missed an opportunity when she recently refused conservative political commentator Ben Shapiro's invitation to debate. By turning down Shapiro's offer to donate $10,000 to her campaign if she would agree to a one-hour televised debate on the issues and her socialist ideas, Ocasio-Cortez gave up a significant amount of money. But more importantly, she showed she is afraid to defend her radical leftist ideas in a debate. Since the House of Representatives is in the business of debating legislation whenever it is in session, it seems curious that a candidate who is afraid to debate wants to become a member.
Alexandria Ocasio-Cortez is a Gift to Conservatives. The 28-year-old bartender-turned Democrat is turning out to be an endless fountain of hilariously bad political moments and brilliantly incorrect one-liners. Since she made her debut on the political scene late June, she has had one blunder after another, demonstrating that she is consistently able to speak authoritatively on anything other than bumper-sticker-slogan paraphrases of "democratic socialism" (don't ask her to define democratic socialism, though).
Ocasio-Cortez Proves Once Again That She is NOT Ready for the Spotlight. The election of 2016 may have been just the first of many signs of a dying regime. Not only was the DNC in utter financial peril, but they then allowed themselves to be co-opted by Hillary Clinton's coffers in exchange for a clear shot at the nomination. It was collusion at its finest, but, given that The Clintons were involved, not a great many folks were surprised. Now it looks as though the left is ready to hang their hopes on a democratic socialist named Alexandria Ocasio-Cortez who, at 28 years young, has shown her age for more often than her acumen.
Will the media ever call out Alexandria Ocasio-Cortez's ignorance? I know it's racist to call LeBron James dumb, but what about Alexandria Ocasio-Cortez? The New York Democratic congressional candidate got at least some real questions during an interview this week on CNN. If weren't for Ocasio-Cortez being an attractive minority, the rest of the media would be calling her the next Sarah Palin. Democrats, if they're ethnic and look good on TV, typically get one question from the press: "Are you running for president?"
Another candidate endorsed by socialist darling loses badly. Is an endorsement smooch from the socialist Alexandria Ocasio-Cortez actually a kiss of electoral death? For Hawaii congressional candidate Kaniela Ing, the answer was yes, as he became the fourth high-profile endorsee of Cortez to go down in flames in a primary this week, based on returns.
Is Ocasio-Cortez Afraid of Candace Owens? Everyone's favorite Democratic socialite continues to entertain, and not merely because of her unique views about how the world works beyond Westchester, NY. She has kept us in stitches with her claim that Medicare-for-All will save the nation zillions in funeral expenses, her weird belief that questions about the costs of M4A are merely GOP talking points, and her unique theory about the SCOTUS ruling in NFIB v. Sebelius. Now she has us slapping our thighs with comical excuses for refusing to participate in a debate about the virtues of socialism versus those of capitalism with black conservative Candace Owens.
The Ocasio-Cortez Fizzle : It's Not a Beverage. On June 26, 2018, [Alexandria] Ocasio-Cortez garnered 15,897 votes to Joe Crowley's 11,761, defeating the 10-term incumbent by almost 15 percentage points. A surprising loss sending Crowley home weeping in disbelief. However, considering there are over 300,000 registered voters, 4.4% of the populous isn't a huge bragging point for Cortez. And one should consider that in a district where Hispanics outnumber whites over 2.5 times, a young socialist leaning girl with a "everything for free" message could draw more attention than a older white guy even though he outspent her 19 times.
Lou Dobbs Crushes Alexandria Ocasio-Cortez's Dreams In Brutal Rant. Democrats are cheering on their latest idol, socialist Alexandria Ocasio-Cortez. She gained popularity by saying she will give everyone a lot of free things. When Ocasio-Cortez was asked how she would pay for all these things, she claimed that since Medicaid will save everyone's lives, there will be no more funeral expenses. Fox News anchor Lou Dobbs commented on this bizarre politician. He was spot on. "Ocasio-Cortez is suddenly anointed the face of the Democratic Party. I have to say, it is a motion that I would hardly second and endorse fully because she knows nothing about economics," said Dobbs.
Alexandria Ocasio-Cortez, Airhead. Alexandria Ocasio-Cortez, girl socialist, may know what the Gini coefficient is, but she doesn't know much else. The Washington Post fact checked a series of recent claims by Ocasio-Cortez and found all of them to be false.
New Dem Rock Star O-Cortez Struggles to Describe Pelosi's Role. Democratic Socialist Alexandria Ocasio-Cortez won the Primary for the congressional seat in NY14 — the Bronx — because so few showed up to vote and her opponent didn't bother to campaign. She grew up in one of the more elite suburbs of New York but she thought she was a Capitalist then. Her endless gaffes promise to hurt her as the "future of the Democrat Party", a label she was given by the DNC Chair Tom Perez. In another failed TV interview, she rambled nearly incoherently as she attempted to describe Pelosi's position in the party during an interview with Cuomo Prime Time on Wednesday.
Alexandria Ocasio-Cortez: Socialized Medicine Will Save Money On People's Funerals. It's amazing how the media is holding this woman up as the person who is going to somehow save the Democratic party. She says such outrageous things that the media would never let slide for anyone else. Her recent comment about socialized medicine and funerals was downright creepy.
Ocasio-Cortez dismisses Shapiro's debate offer. Democratic congressional candidate Alexandria Ocasio-Cortez on Thursday [8/9/2018] dismissed an offer from conservative commentator Ben Shapiro challenging her to a debate, saying she doesn't "owe a response to unsolicited requests from men with bad intentions."
No Borders, No Nation. [Scroll down] OK, you say, but Ocasio-Cortez and her cheering section are a tiny, noisy coterie of hard-left overwrought subordinates who have hijacked a small part of the Democratic Party; they don't represent the majority of registered Democrats. Au contraire! The party's leadership says otherwise. Following her surprise victory, Democratic National Committee Chairman Tom Perez joined the hosanna choir proclaiming Ocasio-Cortez to be "the future of the Democrat party." (Emphasis added.) Representative Keith Ellison (D-Minn.), who is the deputy chair of the DNC and formerly served as chair of the Congressional Progressive Caucus, is also on board the bandwagon. Ellison, a Marxist Muslim and one of the most radical members of Congress, says that not allowing foreign people to enter the United States at will is "an injustice." At a May Day parade in Minneapolis this year, he wore a T-shirt emblazoned with the slogan, "Yo no creo en fronteras," which translates from Spanish into "I don't believe in borders."
Ocasio-Cortez Thinks Menendez Is From Florida, Knocks Him and Manchin For Not Being 'Working-Class Champion'. Democratic congressional candidate Alexandria Ocasio-Cortez on Monday knocked a couple key members of her own party, Sens. Joe Manchin (W.Va.) and Bob Menendez (N.J.), saying they don't represent the "working-class champion." She also wrongly identified Menendez as being from Florida before being corrected by her interviewer. The self-described democratic socialist took aim at Manchin and Menendez during an appearance on the podcast "Pod Save America," which is hosted by former Obama administration staff members.
Oops: Socialist 'Star' Ocasio-Cortez Thinks NJ Sen. Menendez Is From Florida. This is the new voice of the Democrat Party.
Socialist star Ocasio-Cortez strikes out: All endorsed candidates lose Tuesday primaries. Alexandria Ocasio-Cortez's record on Tuesday night for her chosen primary candidates was as bare as a Venezuelan supermarket shelf. The socialist pulled off a stunning victory last month in New York, and is now attempting to parlay that win into helping other leftists win Democratic primaries.
New York Socialist Cortez: 'The Whole Country Is Further Left Than Congress'. Alexandria Ocasio-Cortez thinks the rest of the country is as far left as she is. During a recent interview, she claimed that the American people side with her, not the representatives they elected.
Ocasio-Cortez Says Upper Middle Class 'Does Not Exist Anymore' In America. New York congressional candidate and socialist Alexandria Ocasio-Cortez does not believe there is an "upper middle class" in American any longer, a point even liberal news networks contest. Ocasio-Cortez has made some fairly eyebrow raising statements on the economy in America during her meteoric rise to stardom in the Democratic party. Ocasio-Cortez has claimed that unemployment is low because people are working "two jobs" and that people are working "70 or 80 hours a week." These claims have been rated "pants on fire" by fact checkers.
Teaching Good Little Girls to Hate and to Fear. [J[ust when we deplorables had finished digesting the incomparable Democratic Socialist Alexandria Ocasio-Cortez, along comes another tasty dish: the New York Times' pet racist and sexist, Sarah Jeong. AOC's claim to fame is a B.A. at Boston University, which explains everything. So I wondered about Korean-born Sarah Jeong. Sure enough, says La Wik: ["]She attended the University of California Berkeley and Harvard Law School, where she was editor of Harvard Journal of Law & Gender.["] [Expletive deleted] Of course, Jeong is an anti-white racist and an anti-male sexist, for that is what she was carefully taught by her lefty teachers and administrators.
Sorry, Democratic Socialists — you're still pushing poison. The second-most famous Democratic Socialist in America right now, after kingmaker Democratic Socialist Bernie Sanders, is New York City congressional candidate Alexandria Ocasio-Cortez. The newcomer does her best to explain the snake oil: It's "the basic belief" that "in a moral and wealthy America ... no person should be too poor to live in this country." Note the word "wealthy." How exactly does she think the US got that way? It certainly wasn't because of socialistic transfers from wealth-producers to wealth-consumers. In fact, whatever funds are shifted are available only because some Americans are motivated to produce wealth in the first place. Alas, all that escapes those pushing an economic system that has yet to work anywhere.
My Declaration of Incivility. The media's latest crush, the Democrats new Obama — of course I am talking about Westchester socialist Alexandria Ocasio-Cortez, just went on a foreign news service, Al Jazeera, to accuse America of "human rights abuses," even after it was Trump who put an end to the Obama policy of separating adults and children at the border.
Alexandria Ocasio-Cortez Obama's Latest Political Ploy. The MSM and social media are either in on it or just don't get it. Barack Obama's supposed "snub" of the Big Apple's rising star, Bernie Sander boutonniere and strictly socialist Alexandria Ocasio-Cortez, that is. [...] In fact leaving Alexandria Ocasio-Cortez off his list of endorsed candidates is straight out of Democratic Election Strategy 101. Ocasio-Cortez was only trotted out as a congressional candidate in order to make it appear that the garden variety of crazed Dems are 'courageously' fighting off socialism. What a joke when we know that the Dems embrace socialism rather than fight it. When Obama and ex-vice president Joe Biden chowed down over lunch a few days ago, they probably giggled like a couple of school girls convinced they had succeeded in pulling off the Ocasio-Cortez con on the voting masses.
Obama's First Round of Endorsements Doesn't Include Ocasio-Cortez. Former President Obama released his first round of midterm endorsements today, and the young Bronx native who defeated 10-term incumbent House Democratic Caucus Chairman Joe Crowley (D-N.Y.) in the June primary is not on list. For the state of New York, Obama's list only includes two races: Antonio Delgado, who is trying to unseat Rep. John Faso (R-N.Y.), and Anna Kaplan, who is challenging a GOP incumbent for a state senate seat that could determine which party is in control. [...] In all, Obama picked 81 candidates to endorse from across the country.
Alexandria Ocasio-Cortez Thrills San Francisco 'Progressives'. Alexandria Ocasio-Cortez, the 28-year-old "democratic socialist" who defeated a 10-term Democratic incumbent in New York's June primary, made waves with her fellow progressives in San Francisco's Mission District Tuesday night as she described her plans to provide free Medicare and college for all. The San Francisco Chronicle noted that Ocasio-Cortez had proposed those policies in her successful campaign in New York's 14th congressional district, where a Democratic Party primary victory virtually guarantees victory in the general election.
Far Left Street Cred: Alexandria Ocasio-Cortez Attends Event With Anti-Israel Activist Linda Sarsour. Well, Alexandria Ocasio-Cortez, the insurgent democratic socialists who beat top House Democrat Joe Crowley in a primary, is off to a great start in her career in public life, and as the new face of the Democratic Party. She's brain-dead on economics and the Israeli-Palestinian conflict. On her socioeconomic agenda, well, she doesn't know how to pay for it. She doesn't even know how much we spend on the military, [whereas] the military is one of the big-ticket items in our budget. So, given that, you think she has a clue about the complex and ultimately ruinous tax structure that will need to be implemented to pay for her socialist goodie bag — all of which does not have a chance [of] passing Congress.
Ocasio-Cortez's primary win backed by Young Turks, George Soros. Researcher Richard Weinstein joined Glenn Beck and Stu Burguiere on Wednesday's show to discuss his stunning discovery of the deep pockets behind Alexandria Ocasio-Cortez's "grassroots" campaign. Wondering how Ocasio-Cortez achieved her primary win in the 14th district of New York without really knowing any policy, Weinstein began a preliminary search for answers. He quickly discovered that in 2017, Ocasio-Cortez's website belonged to a group called "Brand New Congress."
Socialist candidate Ocasio-Cortez once saw herself as Smithian capitalist, viewed feminism as 'relic'. Alexandria Ocasio-Cortez, the socialist congressional candidate from New York who touts honesty and authenticity as her greatest strengths, used to describe herself as a follower of Adam Smith, the so-called father of capitalism — and said that terms like "feminism" and "empowerment" were "relics from the past." Since then, Ocasio-Cortez has come out as an unapologetic democratic socialist, wishing to see greater taxation and expansion and creation of wide-ranging social programs such as a single-payer health care system, free education, and housing as a right. "I think my strength is I'm honest and authentic," she told "The Daily Show" host Trevor Noah last week. Those qualities helped her in June to beat top Democrat Joe Crowley, whose name was floated as the next speaker of the U.S. House.
Democrats become socialists, so let's look at the costs. Sen. Bernie Sanders, I-Vt., used to stand at the left extreme of the Democratic Party. Now he's in the middle. After the primary victories by Ben Jealous in Maryland, and Alexandria Ocasio-Cortez in New York, some Democrats understandably feel a growing need to deny the obvious truth that the party is becoming socialist. Maxine Waters and Nancy Pelosi, two far-left senior congresswomen from California, both recently denied that theirs is a socialist party. But that's becoming a hard fiction to uphold. And the two of them are indistinguishable from standard socialists elsewhere in the world. Ocasio-Cortez and many Democratic nominees around the country are literally from the ranks of the Democratic Socialists of America. These are brass-knuckle radicals who want class warfare and to constrict individual freedom in order to create their heaven on Earth. They are gaining control over a major political party.
Alexandria Ocasio-Cortez and Linda Sarsour co-headline political action conference. Socialist Democratic Alexandria Ocasio-Cortez and Women's March co-leader Linda Sarsour were featured speakers at the 16th Annual Universal Muslim Association of America (UMAA) held on July 29, 2018. [...] Ocasio-Cortez doesn't hide her hatred towards Israel, but fumbled answers on the subject and admitted that she's "not the expert on geopolitics on this issue."
Democrats have a new millennial problem: Young socialist candidates. While Democrats have always embraced socialist policies to a certain extent, claiming to be a "socialist" was taboo until recently, with the change thanks in large part to a surge in millennial candidates running for office. Even though the 2018 midterm elections are more than three months out, Democrats have quickly lost control of their agenda for the American people. Any plan that Senate Minority Leader Chuck Schumer and House Minority Leader Nancy Pelosi may have had for their divided caucus is now being forcibly pulled further to the left by Sen. Bernie Sanders, I-Vt., and Democratic congressional candidate Alexandria Ocasio-Cortez, a 28 year-old progressive darling of the Bronx who is almost certain to win her election in an overwhelmingly Democratic district.
Soros's Powerful Media Consortium Helped Commie-Cinderella O-Cortez Win. The Communist Cinderella Alexandria Ocasio-Cortez found her prince, George Soros, and that is who helped her defeat Rep. Joe Crowley in NY 14. As far-left as Crowley is, and he is, he wasn't far-left enough or young enough or pretty enough for Soros. They want to put lipstick on the Communist pig. Soros's people always go for the most Progressive [Communist/Socialist] candidates. Ocasio-Cortez was a Bernie Sanders organizer. She was also backed by the powerful George Soros-funded Media Consortium.
I've been wondering about Alexandria Ocasio-Cortez and just how she emerged as a politico. [Scroll down] In a nutshell, Alexandria Ocasio-Cortez's political career was spawned by Cenk Uygur, who's history is sexism & venture capital money, in an attempt to put 400 Bernie Sanders carbon copies into our political system and move the Dems far far left.
Alexandria Ocasio-Cortez's Primary Win Linked To George Soros's Pockets. Alexandria Ocasio-Cortez's primary win in the14th district of New York was astounding. With no experience and a political plan similar to that of we-wish-we-had-toilet-paper Venezuela, she wasn't exactly packing heat. Yet, she managed to defeat incumbent Joseph Crowley, who vastly outspent her. As the 28-year-old prepares her Thank You notes, she should address one to left-wing billionaire George Soros.
The Unserious Face of an Unserious Movement. When, last Thursday [7/26/2018], she was asked an elementary question about spending, Alexandria Ocasio-Cortez struck her best Cobra Kai pose. "I sat down with a Nobel Prize economist last week," she exclaimed, contorting her face into Jack Nicholson's and attempting to shoot webs from her fingers. "I can't believe I can say that," she added. "It's really weird!" Alas, nothing from this brush with greatness appears to have worn off on her. Mere seconds elapsed between the boast and the disaster that followed.
Examining Ocasio-Cortez's Painful Answer on Funding Her Socialist Utopia. As we flagged on Friday [7/27/2018], media sensation and instant lefty icon Alexandria Ocasio Cortez appeared on the Daily Show last week, where she was confronted with a relatively simple question by host Trevor Noah. Ocasio Cortez is campaigning on a laundry list of new government programs and entitlements, including "Medicare for All," free college, and a "universal jobs guarantee." But how does she intend to pay for for this calorie-exploding buffet of government largesse? Her response to that fundamental challenge was a bit of a jumbled mess, to put it rather mildly: [Video clip]
All-renewable energy is a prescription for disaster. Alexandria Ocasio-Cortez stunned the Democratic establishment by crushing incumbent Rep. Joe Crowley in the primary race in New York's 14th Congressional District. [...] Ocasio-Cortez's website says: "In order to address runaway global climate change, Alexandria strongly supports transitioning the United States to a carbon-free, 100 percent renewable energy system." Perhaps it's not surprising that Ocasio-Cortez, who campaigned for Bernie Sanders, has endorsed the same all-renewable agenda that Sanders pushed in his failed bid for the White House. What is surprising is that for all her apparent political savvy, she didn't bother to see if such a scheme is workable or affordable.
The Editor says...
There is no need "to address runaway global climate change" because there is no runaway global climate change.
There's No Such Thing as 'Democratic Socialism'. The new darling of the Democratic Party and the liberal mainstream media is Alexandria Ocasio-Cortez, the bright-eyed twenty-something who upended long-time House member Joe Crowley in a New York state Democratic primary a few weeks ago. In their breathless, frenzied rush to anoint Ocasio-Cortez as the coming of the Savior of the Nation, liberals across the land have wholeheartedly embraced her call for "Democratic Socialism." Ignoring the fact that Bernie Sanders espoused essentially the exact same things in the last presidential campaign but was unceremoniously and dishonestly pushed aside by the Democratic Party in favor of Hillary Clinton, what exactly is this "democratic socialism" that seems to have everyone on that side of the fence so atwitter these days?
The seduction of socialism. Sen. Bernie Sanders, Vermont independent, and 28-year-old Alexandria Ocasio-Cortez, winner of a New York Democratic primary, are the old and new faces of socialist America. Their platforms, it appears, hinge on the concept of shared wealth — in other words, handing out free stuff to just about everyone. How far we've come from JFK's admonition not to ask what your country can do for you, but what you can do for your country. Today, for many, it's all about what you should expect from your country with little or no reciprocity.
Vast Majority of Americans Won't Vote For a Socialist, New Poll Finds. Seventy-six percent of respondents in a recent survey said they would not vote for a "socialist candidate," while 24 percent of those polled said they have no problem with the hypothetical candidate. Those results conflict with Democratic National Committee Chairman Tom Perez's prediction that young politicians like Alexandria Ocasio-Cortez — a dues-paying member of New York City's chapter of the Democratic Socialists of America — represent his party's "future."
Ocasio-Cortez Supporters Stumped on How Democratic Socialism Would Be Funded. Supporters of political newcomer Alexandria Ocasio-Cortez (N.Y.) were unable to surmise how all of the monetary freedoms she is promising will be paid for. Campus Reform Media Director Cabot Phillips asked people in Astoria, Queens if they favored her Democratic socialist platform and her mission of "Medicare for all" and tuition-free colleges and universities. Astoria is a portion of the 14th Congressional District in which Ocasio-Cortez won her nomination against Rep. Joe Crowley (D). On "Fox & Friends" Saturday, Phillips said that some of her millennial supporters don't have the right historical context to know about failed attempts at socialism.
Watters: Ocasio-Cortez' Economic Plan Like Raising '$500 to Buy a BMW'. Jesse Watters and the panel on "The Five" reacted to New York congressional candidate Alexandria Ocasio-Cortez' (D-Bronx) laying out part of her economic plan in a Comedy Central interview. Ocasio-Cortez told "Daily Show" host Trevor Noah that if Congress "reverse[s] the tax bill but raised our corporate tax to 28 percent... that's $2 trillion right there." She also called for people to "pay their fair share" and said that a "carbon tax" could bring in additional revenue. "We gave the military a $700 billion budget increase which they didn't even ask for," she said. Ocasio-Cortez is a heavy favorite against St. Johns University economics professor Anthony Pappas (R-Queens).
Democrat Socialist Rising Red Star Ocasia-Cortez: Enforcing the Border Is "On the Same Spectrum as Ethnic Cleansing". Why aren't the media asking other Democrats if they agree with this idea? That is standard media procedure for Republicans whenever one Republican makes a statement that commands less than majority support.
Democrats Embracing Crazy Could Be A Gift To The GOP. Democratic Socialist Alexandria Ocasio-Cortez could not ask for more fawning media coverage, it makes her campaign's own press releases read like hate mail. Slathered in the drool of her questioners, however, there lies Olympic-level ignorance. It'd be easy to call her stupid, and I have on social media, but it's worse than that. Her lack of basic understanding is coupled with the arrogance of certainty. She knows she's right because she's been taught socialism works, she feels it does. Ocasio-Cortez displayed a frightening level of economic illiteracy on The Daily Show this week, getting even basic information wrong. It was enough to make you wonder if she is capable of making change for a dollar. Yet they still rally around her, propping her up as hero with many leading 2020 Democrats taking their lead from this economic Exxon Valdez.
Democratic-Socialist Explains How She'll Raise a Trillion Here, A Trillion There. Alexandria Ocasio-Cortez, appearing on Trevor Noah's show Thursday night, advocated for a "moral and ethical economy" that provides free health care, free college education, and "bold action on climate change" for the American people. "We're here to talk about wages; we're here to talk about education; we're here to talk about saving our planet; we're here to talk about a carbon tax; we're here to talk about people paying their fair share, and we're here to talk about saving the country, frankly," Ocasio-Cortez said. [Video clip and transcript omitted for brevity, among other things.] Ocasio-Cortez said she believes "we are morally obliged to pursue" her view of where the nation needs to go.
The Editor says...
By all means, let's "talk about saving the country," from people like her!
The supremacy of stupidity. We are suffocating in the stupidity of politicians such as up and coming Democrat Rep.-to-be Alexandria Ocasio-Cortez, a frank socialist. We are suffocating in the stupidity of the Democratic Party's media adjunct such as MSNBC's Chris Hayes.
The Polls Are Crazy. [Scroll down] [H]ow out of the mainstream are the Democrats, really? Pretty far out. Back to Rasmussen, on what voters think about socialism: ["]51% of Democrats have a favorable impression of socialism, with 13% who share a Very Favorable one.["] So it's no accident that Bernie Sanders, Alexandria Ocasio-Cortez and Elizabeth Warren are the Democrats du jour. Still, Democrats betray an odd ambivalence toward the economic system that most of them yearn for.
Ocasio-Cortez hits the campaign trail for other Dems. Alexandria Ocasio-Cortez hits the road to Michigan this weekend, where she'll lend her star power to a crop of political progressives — including the first Muslim women to run for Congress. Since she snuffed out Queens Rep. Joe Crowley in June, Ocasio-Cortez has dedicated significant resources to building up a brigade of new progressives across the country seeking to shake up the establishment. Her public appearances and social media shout outs have helped underdog candidates garner national attention, fresh donations and volunteer support.
Ocasio-Cortez: Trump Zero-Tolerance Policy on Spectrum of 'Ethnic Cleansing'. Democratic-Socialist Alexandria Ocasio-Cortez thinks President Donald Trump's "zero-tolerance" enforcement policy is on the spectrum of "ethnic cleansing." [...] This is not the first time left-wing activists vehemently opposed to President Donald Trump's immigration agenda have made sensational accusations about "ethnic cleansing." After Trump referred to MS-13 illegal immigrant gangsters as "animals" earlier this year, the pro-amnesty group United We Dream group also accused Trump of "building up a racially motivated rationale for his immoral and brutal campaign of ethnic cleansing."
Left Is Not Happy About Allie Beth Stuckey's Parody Video on Ocasio-Cortez. CRTV host Allie Beth Stuckey released a parody video featuring Alexandria Ocasio-Cortez — and those on the Left are not happy about it. [Video clip]
Ocasio-Cortez Channels FALN on Puerto Rico. When Republican Rep. Ron DeSantis suggested that "this girl Ocasio-Cortez" is a symptom of Democratic disarray, the self-styled "girl from the Bronx" (who actually grew up in Westchester County) retorted with a tweet wherein she claimed: "I am a Puerto Rican woman." Leaving aside the possibility that she suffers from multiple personality disorder, Ocasio-Cortez doesn't seem to know any more about the history of her newfound homeland than she does about the Middle East. She delivered herself of several tweets on Wednesday that suggest she believes Puerto Rico was an independent and sovereign nation before the U.S. arrived in 1898.
Is Ocasio-Cortez your kind of GIRL? Moments ago, Florida Rep. Ron DeSantis was on TV, Fox News, explaining why he objects to the Democrats' new IT-Girl from Da Bronx, Alexandria Ocasio-Cortez. Let alone her Socialist views, "She says Israel is occupying Palestinian land. Well, there is no Palestine. She is plainly anti-Israel." No doubt about that, plus... Did someone just say GIRL? Oh yes, I did. No, wait, so did DeSantis, and that's how he got all those Progressives going after his scalp.
Valerie Jarrett Welcomes Socialists Into the Democrat Party. "We have a big tent, and I think there is room for a lot of voices in our party," Valerie Jarrett said. The former senior advisor and close confidant to the last president Barack Obama, welcomes Democratic Socialists [they have a more statist platform than Communist Party USA] to the Democratic Party. She made her comments to the harpies of ABC's 'The View' on Wednesday [7/25/2018]. Co-host Meghan McCain asked Jarrett if she thinks Alexandria Ocasio-Cortez is the future of the Democratic Party. Cortez defeated the powerful incumbent Joe Crowley (D-NY) in the primary.
Alexandria Ocasio-Cortez Missouri Visit Poses Obstacle for Claire McCaskill. Alexandria Ocasio-Cortez, the 28-year-old New York socialist who rose to political stardom by championing far-left policies such as abolishing ICE and pushing a federal jobs guarantee on her way to an upset primary win, is headed to Missouri to help topple another incumbent Democrat. Ocasio-Cortez will be campaigning in St. Louis for Cori Bush, a fellow activist running as a Justice Democrat with hopes of defeating incumbent Democrat Rep. Lacy Clay, a member of Congress since 2001, in an August primary.
Alexandria Ocasio-Cortez Is The Flaky Future of the Democratic Party. Democratic National Committee chair Tom Perez was quick to pronounce young democratic socialist Alexandria Ocasio-Cortez the "future" of his party following her surprising primary win in June. Since that time, she's offered "pants on fire" takes about the U.S. unemployment rate, supported and then immediately retracted that support for a two-state solution for Israel and the Palestinians, confessed to not being an "expert" on geopolitics after calling the Israeli military massacrers, and fretted about "black sites" run by Immigrations and Customs Enforcement. And that's after less than a month! [Video clip]
Democrats embrace Ayn Rand's wary blueprint for the decline of America. The current poster child of the century-long campaign to replace American prosperity with the failed slogans of socialism is Alexandria Ocasio-Cortez, the 28-year-old political activist who unseated 10-term Democratic Congressman Joe Crowley in New York's 14th District. As an avowed Democratic Socialist who played the role of David to Crowley's Goliath, Ocasio-Cortez has enjoyed the spotlight in the national media for the past month and brought attention to the socialist cause espoused by Grandpa Karl Marx, Uncle Joe Stalin and Sen. Bernie Sanders. So here's a bit of the socialist agenda coming to a failed republic near you if Ocasio-Cortez has her way: free college tuition, free health care, universal jobs guarantee, paid child and sick leave for all, open borders.
Nicaragua, Venezuela, and Cuba put Democrats and their beloved S-word on the spot in Florida. Democrats have been feeling their oats with socialism these days, basking in the wins they've gotten. The ascent of Democratic Socialists of America member Alexandria Ocasio-Cortez, in a Democratic congressional primary in New York, has given them a new battery. Ocasio's their new "it" girl. But it might not play the way they think it will play beyond New York.
Socialist Dingbat Alexandria O-Cortez Says Congress Has Too Many Men. Gaffe-prone, know-nothing Alexandria Ocasio-Cortez is on a campaign swing around red states with Bernie Sanders pushing Socialist/Communist candidates. On Face the Nation, O-Cortez said Congress being "80 percent male" created "blind spots in our legislation." Host Margaret Brennan asked if she would say gender was not a factor in her defeat of powerful Democrat Joe Crowley. O-Cortez then went into a barely-coherent and sexist response.
The Editor says...
An elected representative can be dangerous even if he or she is not very bright.
Lieberman slams Ocasio-Cortez, urges voters to pick Joe Crowley. Joe Lieberman, the former Democratic senator, appealed to voters in New York's 14th Congressional District on Tuesday to vote in November for top Democrat Joe Crowley and not the Democratic Socialist Alexandria Ocasio-Cortez. In a scorching article for the Wall Street Journal, Lieberman, who's now an Independent, criticized Ocasio-Cortez's agenda as "more Socialist than Democratic" and said her presence in Congress will "make it harder for Congress to stop fighting and start fixing problems."
The Left's Newest Star Is None Too Bright. Since her surprise primary victory over 10-term Congressman Joe Crowley in New York's 14th District, Alexandria Ocasio-Cortez has been promoted by the legacy media as the prototype of a new generation of young progressives destined to replace the leadership of the Democratic Party. Unfortunately for her media boosters, however, she keeps blowing her lines. It's not just her rote advocacy of single-payer healthcare and guaranteed government jobs, or even that she backs wacky ideas like abolishing ICE and occupying airports — Ocasio-Cortez is genuinely clueless. She outed herself, in several recent interviews, as functionally illiterate in economics, international relations, and history. During a PBS interview with Margaret Hoover, for example, Ocasio-Cortez was unable to provide a coherent answer to a softball economics question that could have been successfully fielded by any Econ 101 student at a community college.
Democrat Ladies of the Lie. The "new rising star" of the Donkeys, according to Newsweek, [Alexandria] Ocasio-Cortez unseated ten-term Democrat incumbent Joe Crowley in the recent New York City primary. Crowley is part of the Democrat establishment, a creature of the bipartisan D.C. swamp inhabited by career politicians from both sides of the political aisle. Ocasio-Cortez also has her eyes on the biggest prize of all, the White House, according to her own mother. The self-proclaimed working-class "girl from the Bronx" actually grew up in Westchester County, New York, one of the ten wealthiest counties in the U.S. It's also the county Bill and Hillary Clinton now call home. She lived there from age 5 through her high school graduation and was even registered to vote there until 2016. Her campaign website bio makes no mention of her upper-middle-class suburban upbringing, instead mentioning only the Bronx.
Boston University's Fake-O-Nomics Darling. The annual list price to attend Boston University — including tuition, fees, room and board — currently rounds out to $70,000. To acquire a degree in economics from this tony institution of higher learning, an undergrad must complete courses in calculus, microeconomic and macroeconomic analysis, empirical economics, statistics and assorted electives. Four years, 52 credits and nearly $300,000 later, the school promises that BU economics majors will depart "with a firm understanding of core microeconomic and macroeconomic theory" and the "empirical skills that are essential to applying economic reasoning in our increasingly data-driven world." How, then, to explain the abject economic illiteracy of meteoric media darling and democratic socialist "political rock star" Alexandria Ocasio-Cortez?
Will Schumer Drop Israel for Ocasio-Cortez? No one's arguing Israel is the only, or even primary, issue before Congress. Nor is [Chuck] Schumer the only Democrat of the ilk whose more centrist policies are being challenged by [Alexandria] Ocasio-Cortez. Schumer, though, has spent a career presenting himself as Israel's greatest defender. How's Schumer going to protect that brand if Ocasio-Cortez wins in November? Even the liberal Israeli daily Haaretz reports that Ocasio-Cortez "is seen as the embodiment of the Democrats shifting away from Israel." It's not hard to see why.
Ocasio-Cortez: Occupy Every Airport! The more I learn about Alexandria Ocasio-Cortez, the happier I am that she is the new face of the Democratic Party. Ocasio-Cortez is an ignoramus on foreign policy, and is devoted to socialism, an ideology detested by all who would rather hug their pets than eat them. This news makes me even more glad that Ocasio-Cortez is officially Ms. Democratic Party: she is urging Democrats to shut down all American airports.
For Dems, Alexandria Ocasio-Cortez is a fox who's gotten loose in the Democratic henhouse. If there's anything that lays out how arrogant and entitled the Democratic Party is, take a look at how many Democratic grandees' feathers are being ruffled by Democratic Socialist "it girl" Alexandria Ocasio-Cortez, who defeated a ten-term Democratic incumbent in their Bronx-Queens congressional district earlier this month and who now outshines them all. It's not that her socialism or her ignorance of world affairs bothers them, the way it does us. It's that she's showing bad machine politics sense, the one thing that keeps Democrats going in the absence of being able to admit they actually are all a bunch of socialists.
Exposed: The Ignorance of Alexandria Ocasio-Cortez. "Abolish ICE" is an ascendant litmus test for the Democratic Party's left-wing base, attracting sufficient support as to inspire hilarious backflips from craven panderers with presidential ambitions. Some "progressives" went so far as to file a bill to dismantle the immigration enforcement agency. The GOP plan, based on widespread reports, was to give Democrats a chance to actually vote on their colleagues' idea. Recognizing the trap, the authors of the legislation balked at their own idea, amusingly denouncing the planned vote, on the exact bill they championed, as a "stunt." And now Republicans have called the whole thing off, it appears.
Democrats' 'Sudden' Hard-Left Turn Has Been Years In The Making. Recent events show just how far things have gone:
• 28-year-old Democratic Socialist Alexandria Ocasio-Cortes beat New York Rep. Joe Crowley, the No. 4 ranking Democrat in the House, in a primary challenge. Despite a series of embarrassing gaffes in just over a week, the Democrat-safe New York district she's in guarantees she'll win.
• In California, far left state Senator Kevin de Leon challenged four-term incumbent Sen. Dianne Feinstein for the endorsement of the state's Democratic Party and won hands down, 65% to just 7%. Feinstein, 85, whose liberal credentials are impeccable, wasn't far left enough, even though she trounced de Leon in the actual primary, 44% to 12%.
• House Minority Leader Nancy Pelosi faces an increasingly open challenge to her leadership in the House. Younger, more radical members of her party now push to replace her with someone from the far left of the party.
• Driving the point home, on July 3 a giddy Democratic National Committee Chairman Tom Perez called self-proclaimed democratic socialist Ocasio-Cortez "the future of our party."
More Ocasio-Cortez: Low unemployment rate is because more people have two jobs, you know. Jazz earlier described Democratic Socialist Alexandria Ocasio-Cortez as a gift to the GOP, but perhaps more accurately, she's a gift that keeps on giving. So too for that matter is her appearance with Margaret Hoover on PBS' Firing Line this weekend. Not only did she fumble an answer on the "Palestinian occupation," Ocasio-Cortez managed to err completely on a basic economic question — despite her supposed expertise in the subject: [...]
Leftist Darling Alexandria Ocasio-Cortez Swiftly Wearing Out Her Welcome Among Democrats. Alexandria Ocasio-Cortez saw her star rise swiftly and shine brightly after her victory over New York Rep. Joseph Crowley, but with all eyes now focusing on her, she's beginning to look less and less like a superstar, and more like a thorn in the side of Democrats. According to The Hill, Ocasio-Cortez is using her new-found fame to attack Democrats from her position on the far-left, which they fear will cause them to divide from within and fall short of retaking the house during the midterm elections. Particularly, Ocasio-Cortez has found it appropriate to attack Crowley, accusing him of trying to get around his defeat by running against her as a third party candidate. Crowley has openly endorsed Ocasio-Cortez following his defeat and has no intentions of continuing to run, however, his name will remain on the ballot regardless due to New York election rules, and cannot be removed unless he dies, or moves away, as he explained to her after she publicly attempted to paint Crowley as an election saboteur.
Alexandria Ocasio-Cortez proves that "socialism makes you stupid". You'd think that if you wanted to be a U.S. congressman, you'd bone up on some of the most important geo-political issues of our time. Apparently not! New darling of the Democratic Party, avowed socialist Alexandria Ocasio-Cortez has been making the media rounds, and PBS was one of the few outlets that pushed back on any of her statements.
Alexandria Ocasio-Cortez is the best thing to happen to the GOP all year. In the midst of a growing number of dismal news cycles, let's take a moment to pause once again and at least be grateful for the unexpected primary victory of Alexandria Ocasio-Cortez, the socialist wonder from the Bronx. Yesterday, Ed brought up her rather, er... remarkable interview in which she demonstrated her policy chops on Mideast unrest. But there's not only more to that story, but some additional highlights from her cross-country adventure which should put a smile on the faces of conservatives hoping for a good result in the midterms. As Ed noted, Ocasio-Cortez's knowledge of the history of Israel and the Palestinians is dismal at best, but she really begins to shine when she attempts to draw comparisons between that conflict and "similar" situations in the United States. The Free Beacon brings us the extended video and her rationale as to why conflict in Gaza is pretty much the same as what you find in places like... Ferguson, Missouri.
Abolishing the Democrats. It's almost as if the Democrats cultured their newest and shiniest pet in a petri dish. Person of color? Check. Not male, pale, or stale? You bet. Millennial? Goody. Tenuous link to the struggles of people Democrats used to care about? Gotcha. Alexandria Ocasia-Cortez is the "future" of the party, at least according to Democratic National Committee Chairman Tom Perez. Her shock primary win in New York certainly stirred a denuded Democratic Party eager to marry the narrative of the enbubbled, to the "oppressed" they're keen to "help." [...] Ocasia-Cortez enjoyed muted support within the pages of The Nation and The New Republic, but non-groupies hadn't heard of her until a few weeks ago.
Alexandria Ocasio-Cortez is one very low-information voter on Israel and Palestinians. Twenty-eight-year-old socialist sensation Alexandria Ocasio-Cortez isn't all that, you know, ummm, up on the news. Good thing she never met Bill Buckley, because on PBS's current version of his old show, Firing Line with Margaret Hoover, she came out looking like an idiot. [Video clip]
Socialist Alexandria Ocasio-Cortez Says Capitalism Will 'Not Always Exist'. Socialist Alexandria Ocasio-Cortez is the new darling of the Democratic party. In a recent interview, however, the upstart politico running in a hyper-liberal district in New York did not show command of the issues. Ocasio-Cortez was being interviewed by Margaret Hoover on the PBS show 'Firing Line.' Hoover asked very basic, softball questions of the young congressional candidate. In explaining her positions on the economy, Hoover asked Ocasio-Cortez "Do you think that capitalism has failed to deliver for working class Americans?" Hoover cited a currently booming US economy and low unemployment.
Socialist Darling Ocasio-Cortz Trashes Israel, Calls Them "Occupiers" of Palestine. Democrat Socialist darling Ocasio-Cortez sent shock waves through the Democrat Party when she defeated the fourth most powerful Democrat in the House of Representatives, Rep. Joe Crowley, in the New York primary in June. The Democrat Socialists of America support no borders, no profit, no prisons and no cash bail.
New Dem star to rattle DC establishment. Democrats are racing to figure out how to handle Alexandria Ocasio-Cortez, whose primary win over a longtime incumbent is set to shake up the party's Washington establishment. [...] A source close to Ocasio-Cortez said the candidate is not interested in following the conventional Democratic playbook.
Two fresh faces from NY — and both are dangerous. Does it make me sexist if I refer to Alexandria Ocasio-Cortez as a pretty woman? Well she sure is prettier than Rep. Joe Crowley, the Dem heavyweight she beat for District 14, which makes this femme fatale a rising star for the Party, and she did not do it on looks alone. The lady is young, witty, smart, and most definitely anti-Semitic. That makes her a shoo-in when she runs as a self-described Democratic Socialist. The Bernie Sanders wing, which includes Keith Ellison and Tom Perez — they love that type. They love it even more when she talks dirty like Farrakhan, blaming the Jews for everything. Just listen to her. She knows the whole story about that and everything else, and she's only 28.
New Democrat Superstar Has Already Given Her Party Reason To Beware. For Democrats, it may be a case of be careful what you wish for. There appears to be a steadily growing apprehension that their new superstar might turn on them. Democrats finally received an infusion of fresh blood when the young and telegenic Alexandria Ocasio-Cortez shocked the nation with her monumental upset win on June 26, in the Democratic primary for New York's 14th congressional district. But there was a catch: she won by defeating ten-term incumbent Rep. Joseph Crowley, the number four Democrat in the House.
Alexandria Ocasio-Cortez Paints The Party Red. I have written on New York's elected Democratic Socialist of America member Alexandria Ocasio-Cortez several times. It always amazes me that people comment on my social media that she is a one-off and nothing to worry about. Nothing could be further from the truth and the left is hoping you keep believing that nonsense. She is the snake in the progressive garden and the DNC has taken a big ole bite of the rotten apple. [...] The young Latina is going to shake the DNC to its very core. She's literally painting the party red as others follow her lead. Gubernatorial candidate, Cynthia Nixon, is now saying she's a member of DSA. Julia Salazar is another DSAer looking to unseat Queens state Sen. Martin Dilan. But if you thought this was just wacky New York and California where this is a threat, you would be sadly and tragically mistaken. This is not hyperbole or fear mongering. This is a clear a present danger to our freedoms here in the U.S. Ocasio-Cortez's victory may have been a shock, but it shouldn't have been. DSA has been aggressively pushing candidates this year.
Who was behind Alexandria Ocasio Cortez's astonishing makeover? Somebody with deep expertise on image creation got ahold of the latest darling of the left and glammed her up for her current role as the standard bearer for the socialist wing of the Democrats, the Great Hispanic Hope to lead the "browning of Amerca" toward a radical future. Sometime between 2011 and 2018, Alexandria Ocasio Cortez was transformed from an earnest and nerdy wannabe entrepreneur into a glamorous radical crusader for socialism, the delusion-of-the-moment that has captured the imagination of the malcontent demographic slice of America.
Democrats Love Socialism Because They Want To Take Your Stuff And Enslave You. Alexandria Ocasio-Cortez is less hideously unattractive than the usual Democrat potentate or potentatette and has therefore been anointed the new face of her pathetic party. This dumb woman, who looks like Huma Abedin without the pedohubby and the weird relationship with Felonia Milhous von Pantsuit, took advantage of her even dumber New York district in order to get elected to Congress by calling herself a "socialist." [...] Here's how bad she is — she apparently went to college, got a degree in economics, and still ended up a socialist. If she went to med school, she would have probably left a chain smoker. As for life experience, she was a bartender.
Socialist Darling Called For Tax Cuts When She Was Running A Business, Now Wants To Raise Taxes To Fund Her Radical Agenda. [Alexandria] Ocasio-Cortez, 28, is a dues-paying member of the Democratic Socialists of America (DSA), an organization that calls for the abolishment of capitalism and argues that "private corporate property is not only wrong, but also nonsensical." Her campaign platform calls for instituting a single-payer health care system, a federal jobs guarantee and housing as a human right, radical and expensive policies she says will be funded through raising taxes on corporations and high-income Americans. But Ocasio-Cortez appeared to have a different outlook on capitalism and taxes in 2012 when she was running a business of her own, Brook Avenue Press, an incorporated publishing firm for children's books set in the Bronx.
The Editor says...
Ms. Ocasio-Cortez is newsworthy partly because she upset an establishment who thought he was going to be routinely re-elected, but also because she is an extreme left-wing socialist, whose beliefs and values are far outside the American mainstream, yet the Democratic Party seems to think it's a good idea to endorse and emulate her. But since she's practically a communist, the real shocker is that she has run a business at some time in the past, unlike Barack H. Obama. But she must not have been an good at it, because she's turning to politics.
Fact Check: 'Girl from the Bronx' Alexandria Ocasio-Cortez Grew Up in One of Richest U.S. Counties. Alexandria Ocasio-Cortez, the Democratic Party's rising socialist star, describes herself as "a girl from the Bronx" to project a working-class image. However, this claim is only half true — to borrow a phrase from the left-wing website PolitiFact. [...] Ocasio-Cortez omits that for most of her formative years, she was actually raised in one of the United States' wealthiest counties. Around the age of five, Alexandria's architect father Sergio Ocasio moved the family from the "planned community" of Parkchester in the Bronx to a home in Yorktown Heights, a wealthy suburb in Westchester County.
'Abolish ICE' is a sign of the left's rising extremism. It's becoming the new litmus test of the Democratic Party's resurgent left: As Alexandria Ocasio-Cortez put it soon after her upset primary win over the No. 4 House Democrat, "If they're not actively calling for the abolition of ICE ... they need to go." Now, spurred by last weekend's celebrity-driven protests against the breakup of families at the border, ambitious Democrats are hopping aboard the bandwagon. Sens. Elizabeth Warren and Kirsten Gillibrand and Mayor Bill de Blasio, among others, are all calling for Immigration Customs and Enforcement to be shut down. Even though President Trump has suspended the breakups — and it was the Border Patrol, not ICE, separating the families.
The socialists are coming. House Democratic Caucus Chairman Joe Crowley's loss at the hands of a millennial socialist barmaid in New York has shocked Democratic Washington. But Republicans merely seem amused by the lopsided victory that Alexandria Ocasio-Cortez won over Crowley's amply funded campaign. They assume, with good reasons, that candidates like Ocasio-Cortez, the sort that reject private ownership of business and want to abolish immigration enforcement and even law enforcement altogether, cannot win on a national scale. They expect to capitalize by, amongst other things, winning more seats in Congress if there is a bitter clash among Democrats between traditional social democrats and out-and-out socialists.
The Democrat-Left: Stupid, Insane, And Very, Very Violent. The Democrat National Committee (DNC) is co-run by a self-avowed Communist (Tom Perez) and a radical anti-Jew Nation of Islam adherent (Keith Ellerson). In the 2016 Democrat presidential primary, Hillary Clinton was the alleged moderate alternative to Communist Bernie Sanders. But when both were in the Senate[,] her voting record was but 0.1% less Left than his. Oh — and there were five Senators more Left than the both of them. The Left just eradicated one of the last non-completely-insane of the Democrat Party's members. Ten-term NY Congressional incumbent Joseph Crowley — in DC leadership and oft mentioned as an heir to radical Minority Leader Nancy Pelosi — just lost a primary to yet another avowed Communist... this one an already-proven-liar named Alexandria Ocasio-Cortez. In short[,] the radical Left-Democrat Party merger is nigh complete and total.
Democrat Communist May Win House Seat in New York. A radical leftist upstart's unexpected primary trouncing of a key member of the House Democratic leadership is sending shockwaves through the Democratic Party establishment. Democratic Socialists of America (DSA) member and first-time candidate Alexandria Ocasio-Cortez, a 28-year-old of Puerto Rican ancestry, crushed longtime U.S. Rep. Joe Crowley, a 56-year Irish-American Catholic, in the primary election June 26 for the 14th congressional district in New York, covering parts of the boroughs of Queens and The Bronx. Ocasio-Cortez, who previously worked as an organizer for Sen. Bernie Sanders' presidential bid, garnered 57.5 percent of the vote compared to the 42.5 percent Crowley earned. Of course, democratic socialism is a profoundly dishonest euphemism calculated to make the horrors of communism more palatable.
Here's a one-word piece of advice for America's growing socialist left: Venezuela. For Democrats planning to head down the path of socialism, especially after Alexandria Ocasio-Cortez's stunning primary win Tuesday [6/26/2018], we have one word: Venezuela. Ocasio-Cortez's lopsided victory is only the latest example of Democratic voters signing on to hard-left candidates. Self-professed socialist Bernie Sanders, for example, has been successfully pushing the party to the left since 2016. Even nonsocialists are embracing many of his themes, like "Medicare for All," free college tuition, whopping minimum-wage hikes [etc.] Before they go down that road, they might consider the real-life consequences of the failed socialistic economic system now destroying Venezuela. Hyperinflation in Nicolas Maduro's socialist paradise is now running at 43,378 percent. It takes a full fifth of a minimum-wage worker's monthly salary just to buy a cup of coffee in a cafe, Bloomberg reports.
Primary defeat of fourth-ranking House Democrat a portent of the radical left takeover of the Democratic Party. The architecture of the 20th-century Democratic Party is slowly dissolving before our eyes, as identity politics and socialism replace the old center-left coalition. Alexandria Ocasio-Cortez, a 28-year-old Bernie Sanders organizer and endorsee of the Democratic Socialists of America, resoundingly defeated Rep. Joe Crowley, a ten-term incumbent who hadn't faced a primary opponent in 14 years, and who spent at least ten times as much money in the race.
Democrats are in a crisis and the media won't talk about it. The Democratic Party is in an ongoing crisis, but most of the national media aren't interested. They'd rather talk about the new "rock star," Democratic Socialist Alexandria Ocasio-Coretz, and ignore that the party is up in flames. Both Republican and Democratic voters are turning out in record numbers for their primary elections this year, according to analysis published this week by the Hill. Democrats have a slight advantage by about a million votes, but that's only in primaries.
Top House Democrat Joe Crowley stunned in primary upset from progressive challenger. Progressive challenger Alexandria Ocasio-Cortez defeated incumbent Rep. Joe Crowley, D-N.Y., Tuesday night [6/26/2018], delivering the greatest primary upset of the 2018 cycle to date. Ocasio-Cortez, 28, bested the 10-term congressman in the primary for New York's 14th District, all but assuring her a November victory in the Democratic stronghold. Crowley's stunning loss echoes the 2014 defeat of House Republican Majority Leader Eric Cantor at the hands of a previously unknown college professor named Dave Brat.
28-year-old socialist's primary upset of key Dem House leader exposes major rift. Alexandria Ocasio-Cortez, a former campaign organizer for Bernie Sanders, pulled off a stunning upset in New York City on Tuesday [6/26/2018] by defeating Rep. Joseph Crowley, D-N.Y., a member of party leadership who was considered all but a shoo-in. Crowley, 56, a 10-term incumbent from Queens and fierce Trump-basher, was a steady fundraiser for fellow Democrats and was thought by some to be a future speaker of the House.
28-year-old socialist knocks off powerful Democrat in primary stunner. Rep. Joe Crowley, the chairman of the House Democratic Caucus who was thought by some to be a future Speaker of the House, suffered a shocking primary defeat in New York's 14th House District Tuesday [6/27/2018]. With 88 percent of precincts reporting, 28-year-old Alexandria Ocasio-Cortez — who has never held elected office — led Crowley by more than 3,600 votes.
She won because she is Hispanic. The New York Times staff was stunned when Democratic Congressman Joe Crowley lost his primary. [...] This was not a rebuke of party bosses. This was not a reform. This was simple arithmetic. Larry Sabato got it wrong, too. He told the Times, "Political machines have been on the decline almost everywhere for decades, and that process has accelerated. Crowley is a perfect example. He grew up in another time and another way of doing business." Baloney. Sabato cannot see what is plainly in front of his eyes. He is a numbers man, and yet he ignored the key to Crowley's District 14 in New York: its demographics. The district is 49.80% Hispanic, 18.41% Non-Hispanic White, 16.24% Asian, 11.39% Black, and so on.
The Democrats' New Evita Peron Needs to Spend 3 Months in Venezuela. As a Christian, I hope that each of us gets better than we deserve. And I pray that Americans don't fall for politicians like the one that just bobbed up to the surface, Alexandria Ocasio-Cortez. A photogenic socialist, she won the Democratic primary in a New York congressional district. (That means she's a shoe-in in November.) Cortez crushed the long-term incumbent, Rep. Joe Crowley. Many had seen him as the likely heir to Nancy Pelosi as leader of Democrats in the House. Just a few months ago, Cortez worked as a bartender in Greenwich Village. Blind-sided political journalists are now scrambling to see where she came from, and why she won.
After Its Hard Left Turn, Will Democratic Party Officially Admit It's Socialist? The shocking primary victory of 28-year-old socialist Alexandria Ocasio-Cortez over Congress' No. 4, Democrat Joe Crowley, underscores what we have long noted: The Democratic Party is no longer a party of moderation, but a party of the extreme left. And it's moving ever faster and farther leftward with each election cycle.
With Ocasio-Cortez's rise, Dems now own their loony far-left flank. Nancy Pelosi tried to wave away the obvious Tea Party parallels by saying the 14th is simply a "very progressive district ... They made a choice in one district. Let's not get yourself carried away." But it's becoming clearer and clearer that Democrats' days of flirting with the more radical wing of their party are over. They're now in a committed relationship with each other, the hammer entwined with the sickle. Party bigwigs should've seen it coming. In the 2016 presidential nomination race, Sanders was supposed to be Hillary Clinton's tomato can. Instead, he gave her a serious run for her money, such that the party had to lean on the scales in Hillary's favor just to make sure she limped across the finish line.
Ocasio-Cortez pockets the tip cup? [Scroll down] Wasn't it Ocasio-Cortez who said, "The definition of Democratic Socialism to me, again, is the fact that in a modern, moral, and wealthy society, no American should be too poor to live"? Is this the same woman who allegedly gave a waitress $50 for a night's work and kept $510 for herself? The server was so shocked by the small amount of money she received that a complaint was registered with the management, who wrested another 50 bucks from Alexandria's tightfisted Democrat-Socialist hands.
Voters Overwhelmingly Reject Socialism. In the Democratic Party, socialism is all the rage. Socialist Bernie Sanders probably would have won the party's presidential nomination in 2016 if the DNC hadn't had its thumb on the scale in favor of Mrs. Clinton, and the Democrats' new "star" is Alexandria Ocasio-Cortez, a socialist like Sanders albeit a far younger one. And how many times have we heard that socialism is sweeping the nation's campuses? Of course, liberals have been telling us that socialism is coming soon for a while now. [...] And a great many liberals, when they heard Barack Obama promise to "fundamentally transform" the United States, were confident that socialism was what he had in mind. But most voters apparently aren't convinced. Rasmussen Reports finds that given a choice between free enterprise and socialism, the overwhelming majority prefer freedom.
Democratic Socialist Alexandria Ocasio-Cortez draws Bronx cheer for misleading campaign bio. The Democratic Socialist candidate seeking to represent New York's 14th Congressional District is facing backlash over her working class "Bronx girl" campaign narrative. As the Journal News reported, the original online bio for Alexandria Ocasio-Cortez — the 28-year-old Bernie Sanders protégé who defeated longtime Democratic incumbent U.S. Rep. Joseph Crowley on June 26 — seemed to suggest that she commuted to a school in the suburbs from her family's home in the Bronx borough of New York City. But after critics noted that she and her family left the Bronx when she was 5 years old, the bio was changed to imply that the Bronx was home to her "extended family," the newspaper reported.
Busted: Democrat Socialist Ocasio-Cortez Is Caught Fudging Her Bio on Campaign Website. Ocasio-Cartez claimed she commuted to school everyday 40 minutes from her home in the Bronx. But after she got caught the Socialist Democrat changed her bio to reflect that she was not commuting 40 minutes a day which was a complete lie.
Did Alexandria Ocasio-Cortez's socialist fanaticism come from bitter failure in business? Far from being the tough, scappy, woikin' class Bronx girl tending bar in New York, as Alexandria Ocasio-Cortez was portrayed in her adoring press, the socialist sensation, who toppled the Democratic establishment's Rep. Joseph Crowley in a surprise primary result, is actually pretty different. Far from being Sandy from the block, she seems to be a ragged remnant of state planning and failed venture capital projects. It raises the question that maybe that's why she turned to socialism. Disappointment can be that kind of motivator, and socialism's only proven outcome is destruction. She's already been outed as someone who's actually from a pretty upper middle class background, who grew up in leafy Yorktown up in Westchester County. She's college-educated, she's young, glamorous, and attractive — somebody gave her a makeover with that famous red lipstick.
Alexandria Ocasio-Cortez tweaks bio after residency questions. U.S. congressional candidate Alexandria Ocasio-Cortez's online bio was tweaked days after she faced scrutiny over where she grew up. Ocasio-Cortez, 28, drew national attention when she won a Democratic Party primary against longtime U.S. Rep. Joseph Crowley in a district that represents parts of the Bronx and Queens. Her bio was called into question by some conservatives after the victory because she lived and went to school in Westchester County, New York, which some critics charged contradicted her Bronx girl campaign narrative.
---

Jump to Liberals - Intro Page
Back to the Home page