Donald Trump, with all his well-known flaws, won the 2016 election and has defeated both the Clinton machine and the news media. Had he stopped there, his presidency would have been a success. The news media will never be trusted again, the political polls won't be taken without a grain of salt, and Hillary Clinton is now so badly damaged politically that she wouldn't dare run again.

But he didn't stop there, and this page is a partial catalog of his accomplishments.



---
Anti-Trump Chihuahuas Overlook the President's Many Achievements. The anti-Trump chihuahuas keep yammering about his tweets, his being in cahoots with Putin, and his not understanding the complexities of foreign affairs. But this summary of Donald Trump's achievements in just 10 months is difficult to gainsay: ["]Economic growth has been over 3 percent the last two quarters and is going higher. Unemployment is at its lowest level in 17 years. The stock market has gained trillions of dollars in value since my election and has reached record highs. We are massively increasing our military budget to historic levels. The House has just passed a nearly $700 billion defense package, and it could not come at a better time for our nation. Once again our country is optimistic about the future, confident in our values, and proud of our history and role in the world.["]
Trump ends the War on Fossil Fuels and we all come out winners. For eight long years, President Obama waged a relentless war on the fossil fuels that provide us with the abundant, affordable and efficient energy that makes modern American life possible. One of President Trump's greatest accomplishments has been to end that ill-advised war, and now his actions are bringing about a peace dividend that will benefit us all. By terminating President Obama's Climate Action Plan, Clean Power Plan, biased climate research and other programs, as well as withdrawing from the Paris Climate Agreement, President Trump will save the American people billions of dollars. Already, the fossil fuels peace dividend is creating growing employment, a resurgent economy and rising wages. America's ingenuity and muscle are once again being unleashed, after being shackled for years by the Big Government regulators of the Obama administration.
Trump Shines in Foreign Policy. Remember ISIS? When Obama left office, it was still a growing network of eager sadistic killers, with secret sponsorship by Turkey, by some Gulf Arab regimes, the Wahhabi radicals, and by the Iranians. Today a lot of those boastful YouTube killers are just smoking splotches in the sand. A single MOAB bomb was dropped on a mountain tunnel complex in Afghanistan, apparently a clean target with no "weddings" going on. The day afterwards the media said that 94 ISIS killers died, but that assumes that somebody had already cleaned up that collapsed tunnel structure; not a chance. So a hundred or more of the worst human beings since Hitler died in one big explosion. Most important, the United States sent a strong signal of determination. Trump-Mattis announced a strategy of "surround and kill the enemy in place." For mass-murdering criminals there will be no mercy.
Trump's First Year In Office Has Been Wildly Successful. On the economic front, consumer confidence has hit its highest level in 17 years. Over one million jobs have been created. The post-election stock market rally is the second largest since the Kennedy administration. The destructive tariffs and trade wars conservatives feared have not materialized. Tax reform awaits congressional Republicans' whipping the votes. On the so-called social issues, Trump repealed the Obama mandate that forced states to fund Planned Parenthood, and he reinstated the Mexico City Policy that protects U.S. taxpayers from having to fund abortions overseas. Unlike his predecessor, Trump has refrained from refashioning the White House into a giant glowing rainbow to celebrate activist judges' abuse of the Constitution. Quite to the contrary, Trump appointed Neil Gorsuch to the Supreme Court, an originalist justice in the tradition Antonin Scalia. He's also appointed 12 other textualist judges to the lower courts, and many others who await confirmation.
Poll: Dem favorability drops to lowest point in 25 years. Only 37 percent of Americans have a favorable view of the Democratic Party, according to a new survey. A CNN poll conducted by SSRS found favorable views of the Democrats are at their lowest point in the poll in more than 25 years. A majority, 54 percent, have an unfavorable view of the Democrats, according to the poll. About one-third of liberals have an unfavorable view of the Democratic Party.
Why the Left Has Been So Wrong About the Trump Boom. Are the editors at Time and the Times so ideologically blinded that they are incapable of connecting the dots? The U.S. economic revival of 3 percent growth has already defied the predictions of almost every Donald Trump critic. I vividly remember debating Hillary Clinton's economic gurus during the campaign: They accused Trump and advisers such as myself of "lying" when we said that pro-growth policies would speed up economic growth to 3 to 4 percent. Jason Furman, who chaired the Council of Economic Advisers under President Barack Obama, told reporters earlier this year that the chances of reaching 3 percent growth over a decade were about 1 in 25 — which is what many political experts said was Trump's chance of winning the election. Another Obama economist, Alan Krueger, called the 3 percent growth forecast "extremely rosy."
Trump's spectacular first year. Upon election last November 8, President Trump did something none of his predecessors did. He began his presidency the very next day. From high atop Trump Tower on Fifth Avenue, Trump held court with businessmen, celebrities, and the prime minister of Japan. The stock market soared. The economy rebounded because after eight years of Marxism, capitalism was back, baby, and kicking down the door.
Donald Trump's administration set to deport 300,000 refugees from US. Donald Trump's government has announced around 300,000 refugees living in the country can be deported over the next few months. The US State Department said that Central Americans and Haitians granted temporary status, some who have lived in the country for 20 years, could now be sent to their home countries. They had originally been given Temporary Protected Status because their nations had been deemed unstable due to armed conflict and natural disasters.
Burying "Sue And Settle". Whether you consider yourself pro-regulation, anti-regulation or something in between, chances are you're in favor of clear, open rules. Whatever the policy a particular government agency is following, it should be transparent to all, right? That's why we should be grateful that Scott Pruitt, head of the Environmental Protection Agency (EPA), recently announced the demise of "sue and settle." It's a legal strategy that environmental groups have been using for years to impose new regulations quietly — and to enrich their allies in the process.
Trump's a Big Mouth; Journalists are Villains. I don't like bullies and I prefer a president who thinks before he opens his mouth. I do, on the other hand, very much like many of the things Trump has accomplished: the great judicial nominations, the taming of the regulatory state, the restoration of the rule of law at the border, leaving the silly Paris accord, the annihilation of ISIS, the attempts to hurry the implosion of Obamacare by suspending utterly illegal payments to insurance companies, calling out the NFL on its lack of patriotism, and calling out the media on a leftward bias that now amounts to simple malfeasance and corruption. That's an awful lot of good stuff, and it surely makes up for the big mouthery.
Melania Trump cuts bloated first lady payroll from Michelle Obama days. According to a Fox News analysis of White House personnel reports, Melania Trump has significantly reduced the number of aides on the first lady's office payroll in comparison to her predecessor, Michelle Obama. During then-President Barack Obama's first year in office, 16 people were listed working for Michelle Obama, earning a combined $1.24 million a year.
Trump Defeats ISIS In Months — After Years Of Excuses From Obama. Nine months after President Trump promised to defeat ISIS "quickly and effectively," U.S.-backed forces captured Raqqa, which until Tuesday had served as the ISIS capital. The battle now is over who deserves credit: Trump or President Obama. Trump, not surprisingly, claims it for himself: "It had to do with the people I put in and it had to do with rules of engagement," Trump said in a radio interview. Before dismissing this as typical Trump self-aggrandizement, consider that for several years Obama insisted that a quick and decisive victory against ISIS was all but impossible.
White House Places CNN, MSNBC In The Back Row Of Presser. The White House placed CNN and MSNBC in the last two rows of the foreign press section during Tuesday's joint press conference with Greek Prime Minister Alexis Tsipras. CNN political analyst and Sentinel editor Brian Karem tweeted Tuesday complaining about the situation. "I am not saying that they are punishing MSNBC and CNN," he wrote. "What I am saying is that they are in the last two rows of the foreign press section."
To Fix Everything Wrong With Obama's Failed Iran Nuke Deal, Trump Had To Decertify It. In decertifying the Iran nuclear deal, which Obama concluded in 2015 without Congress, Trump now puts the ball in Congress' court. Under legislation passed by Congress in response to Obama's deeply flawed Iran treaty — a deal so bad he didn't even dare submit it to Congress for approval — Congress now has 60 days to determine whether to reimpose sanctions on Iran, to withdraw from what most unbiased observers would agree is a very bad deal, or to come up with a plan that will actually work to keep Iran from getting nuclear weapons.
The flimsiness of Obama's 'legacy'. Virtually all of the things Trump has done to destroy the Obama legacy were actions taken by the previous president on his own initiative without any of the building blocks of legislation or consent of the public that really do ensure a legacy. Executive orders, treaties, even Obamacare were never executed in any bipartisan spirit or with consideration for the sentiment. Obama issued the executive orders on his own and did the treaties on his own, and even on the one legislative achievement, Obamacare, he passed the law on a monopartisan basis. Of course it was an unstable house of cards. The Obama legacy was never grounded in the institutional framework that could really ensure a lasting legacy.
Trump and the dismantling of Obama's legacy. Brick by brick, the demolition job has begun: since taking office less than a year ago, Donald Trump has launched an all-out assault on the legacy of Barack Obama. Climate, free trade, health care, immigration, foreign policy — the 45th US president has set about undoing just about everything done by the 44th.
Good Riddance to UNESCO. It was easy to miss it during a hectic week, but on Thursday, the United States announced its withdrawal from the United Nations Educational, Scientific and Cultural Organization (UNESCO). Good riddance. In 2011, the U.S. substantially cut funding to UNESCO after the organization granted the Palestinian Authority full membership. But while Barack Obama asked Congress to restore funding, the Trump administration has taken the appropriate next step. UNESCO's embrace of the Palestinians in 2011 was par for the course for an organization that is a dependable opponent of Israel.
Media's shrill coverage conceals some first-rate moves by Trump on Obamacare. Having gotten rid of the subsidies to Big Insurance, the chief problem with this "hurts the poor" narrative is that it's the opposite of the truth. A look at President Trump's actual executive order Thursday tells an entirely different story from what the media is reporting, vindicating the arguments of Trump apologists such as Steve Bannon, that Trump's capacity to reach Americans directly without media mediators is key to his connection to the voters. Without the media's obscuring lens, Trump's actions really look pretty good — especially in this Obamacare instance.
Here's How Trump Has Silently Gutted Obama's Legacy. President Donald Trump has surgically dismantled Obamacare over the course of his first year in office, largely under the noses of the American public, Democrats and members of his party that have spent the last nine months trying to upend the American health care system. Over the course of his first nine months in office, he rolled back funding for a program intended to help individuals navigate the insurance marketplace, signed an executive order to allow for groups to purchase insurance across state lines and stopped federal funding for Obamacare subsidies. Taken in tandem, it appears the administration is working to overhaul the American health care system without the help of Congress, a body that has failed a handful of times to repeal and replace Obamacare during the first months of Trump's presidency.
Supreme Court Tosses Case Against Trump's 'Travel Ban'. The U.S. Supreme Court dismissed a case against President Donald Trump's controversial executive order restricting travel and immigration from several terror-prone states on Tuesday [10/10/2017]. The reason: the president issued a new version of the order last month that replaces the older version that had been the subject of litigation in the Fourth Circuit, rendering the case moot. Though many lower federal courts in liberal circuits ruled against the executive order, the Trump administration was set for victory in June, when the Supreme Court lifted an injunction against the enforcement of the so-called "travel ban," leaving the case to be argued in the fall.
In victory for Trump, Supreme Court dismisses travel ban case. The Supreme Court dismissed a major challenge to President Trump's travel ban on majority-Muslim countries Tuesday [10/10/2017] because it has been replaced by a new version, sending the controversy back to the starting block. The ruling is a victory for the Trump administration, which had asked the court to drop the case after Trump signed a proclamation Sept. 24 that replaced the temporary travel ban on six nations with a new, indefinite ban affecting eight countries. That action made the court challenge moot, the justices ruled. "We express no view on the merits," the justices said in a one-page order.
Clean Power Plan Repeal Will Save $33 Billion in Compliance Costs. Repealing the Clean Power Plan will save $33 billion in costs passed onto energy consumers, according to senior Trump administration officials. The Environmental Protection Agency formally began the process of repealing the Obama era rules on limiting carbon emissions of power plants on Tuesday [10/10/2017], with Administrator Scott Pruitt declaring the "war on coal is over." The EPA entered a Notice of Proposed Rulemaking into the Federal Register and will be open 60 days for public comment. White House officials said repealing the regulations, which set strict emission standards for coal-burning power plants, was following through on President Donald Trump's promises to protect the coal industry.
U.S. Chamber of Commerce President Tom Donohue Rages: President Trump is Existential Threat to NAFTA. U.S. Chamber of Commerce President Tom Donohue is now engaged in a direct fight with U.S. President Donald Trump. As would be expected, and as we specifically predicted, Tom Donohue is now specifically aligning himself with Canada and Mexico against the interests of the United States economy.
Trump is overwriting Obama's unlawful green schemes. The first year of Donald Trump's presidency has been characterized — despite his bumptiousness — not by executive overreach, but executive retrenchment. The populist Trump has operated within constitutional lines better than his technocratic predecessor, who used tendentious readings of the law and sweeping bureaucratic actions to impose his policies on immigration, health care, college campuses and the environment. The Clean Power Plan, which sought to reduce US carbon emissions to 32 percent below 2005 levels by 2030, was government by the administrative state on a scale that has never been attempted before.
Trump's EPA Officially Ends Obama's War On Coal (America Won). In a major boost to jobs and the economy, EPA Administrator Scott Pruitt announced Monday [10/9/2017] that the administration is moving to officially scrap the Clean Power Plan, President Obama's signature regulatory program to kill the coal industry by curbing emissions from coal-fired power plants[.]
Trump Drains Obamacare's Regulatory Swamp. [Scroll down] Millions of Americans are paying astronomical premiums for Obamacare plans and are not eligible for subsidies. These people will not allow this to continue if they have any choice, and these altered plans will provide a less expensive choice. The real objection progressives have to such plans is that they will accelerate the collapse of Obamacare's exchanges.
Good News: Interior Deportations Under Trump Are Surging. We can call this the Trump Effect On Illegal Immigration. Deportations from those caught crossing the border have declined, as fewer attempt to cross the U.S.-Mexico border because of the harsh measures Team Trump has implemented (meaning they are enforcing the laws on the books), which includes catching and deporting illegals already in the country[.]
Good News: Trump Just Privatized A Piece Of ObamaCare. In late August, the administration announced that it was sharply cutting the promotional budget for ObamaCare as well as money spent on "navigators" paid to help people enroll when open enrollment starts on November 1. Both cuts were more than justified. The Obama administration nearly doubled ObamaCare promotional spending in 2016 to more than $100 million, only to see overall enrollment decline by 400,000 and the number of new enrollees drop by 42%. This year, the Department of Health and Human Services is slashing the ad budget to $10 million.
Lots Of Presidents Talked About Getting Rid Of Bad Regulations — Trump Is Actually Doing It. Getting rid of unneeded regulations may be the single-most effective spur to economic growth that's available to the federal government. Thankfully, unlike most recent presidents, President Trump is taking the job of cutting bad regulations seriously.
Trump Keeps Winning On Judicial Nominations. [Scroll down] Judge Engelhardt did not exaggerate when he described the Obama Justice Department's conduct as "bizarre," "appalling," and "grotesque." The Fifth Circuit did not err in finding that the Justice Department lawyers stoked a "mob mentality" against police officers, and in affirming Judge Engelhardt's decision to order a new trial. Judge Engelhardt deserves great credit for blowing the whistle so loudly and decisively on the misconduct of the Obama Justice Department. If his decision in the New Orleans police case is a good indicator of his overall jurisprudence, then his nomination is another win for President Trump and for justice.
Trump authorizes waiver to loosen shipping regulations for Puerto Rico. The White House has authorized a waiver to loosen shipping rules regarding Puerto Rico that island officials say would be a significant help for recovery efforts from Hurricane Maria. "At @ricardorossello request, @POTUS has authorized the Jones Act be waived for Puerto Rico. It will go into effect immediately," White House press secretary Sarah Sanders tweeted Thursday morning [9/28/2017].
President Trump Waives Jones Act, Enables Rescue Shipments For Puerto Rico. On Wednesday [9/27/2017], DHS officials said that the administration was considering lifting the law, which bans foreign-flagged ships from carrying freight between U.S. ports. As a reminder, The 1920 Jones Act requires shipments of goods between two U.S. ports to be made with American-flagged vessels, limiting the amount of shipping and driving up its cost, and had been holding up shipments of much needed support equipment and supplies for Puerto Rico. A number of lawmakers had urged the Trump administration to waive the law and to do it immediately. Among them is Sen. John McCain (R-Ariz.), who wrote a letter Tuesday to acting Homeland Security Secretary Elaine Duke demanding she take action.
Employer Hit with $100 Million Penalty for Hiring Illegal Aliens. Asplundh, the tree-trimming company, has been hit by a $96 million penalty for hiring (and rehiring) illegal alien workers. According to the federal prosecutors it is the largest payment ever levied in an immigration case. The company pled guilty to criminal charges in a federal court in Pennsylvania, where its headquarters is located, apparently moving swiftly to minimize the damage to the corporation's image. As a result of the guilty plea, there will not be a public trial.
It's About Time — Employer Hit by $96 Million Penalty for Hiring Illegal Aliens. [Scroll down] This was not a garden-variety illegal alien hiring violation, according to court documents. As a result of an E-Verify check, some 100 Asplundh workers were identified as not being in the country legally and were laid off by the firm. Then some of them were knowingly rehired under new, phony names bearing new, phony documents. The information filed against the company cited four examples of this double-dealing, with, for instance, a worker who had been Danny Palao prior to his being laid off, being rehired as Jose Feliciano.
DOJ files suit against company for allegedly not hiring Americans. The Department of Justice announced Thursday [9/28/2017] it has filed a lawsuit against a Colorado corporation for allegedly discriminating against U.S. workers. The complaint alleges that in 2016, Crop Production discriminated against at least three United States citizens by refusing to employ them as seasonal technicians in El Campo, Texas, because Crop Production preferred to hire temporary foreign workers under the H-2A visa program.
Fighting Fire with Fire: A Republican Finally Co-opts Alinsky's Rules for Radicals. Democrats are adept at using Alinsky's rules to further their agenda. Many conservatives bemoan the fact that Republicans are unaware of these tactics or are unwilling to use them. Much like a baseball team not knowing they can bunt or run double plays and then wondering why the other team uses these tactics and wins games. The rules can easily be used by the right too. In Alinsky's own words, "In this book we are concerned with how to create mass organizations to seize power and give it to the people." Who else in the GOP might say similar words? Paul Ryan? Mitch McConnell? Mitt Romney? Jeb Bush? None of the above. Only Donald Trump.
Trump: The Warriors are not invited to the White House. President Trump had a reply to Stephen Curry, a basketball player who said he did not want his team to go to the White House to celebrate its NBA championship: Get lost. Trump does not want the Golden State Warriors at the White House. The Warriors can pound salt. Trump tweeted this morning [9/23/2017]: "Going to the White House is considered a great honor for a championship team. Stephen Curry is hesitating, therefore invitation is withdrawn!"
White House confirms Trump's plans to withdraw from Paris climate deal. White House officials told foreign energy ministers Monday that President Trump still intends to withdraw from the Paris climate agreement unless the U.S. obtains "more favorable" terms. At a breakfast meeting on the sidelines of the annual United Nations general assembly in New York, White House economic adviser Gary Cohn and other officials emphasized that Mr. Trump's position hasn't changed, the White House said.
President Trump Sets Record for Most Stock Market Closing Highs in First Year — Obama Had None His Entire First Term. President Trump is already the only President in US history to oversee two stock market rallies of nine days or more where the markets set new highs each and every day. On February 28th President Trump matched President Reagan's 1987 record for most continuous closing high trading days when the DOW reached a new high for its 12th day in a row! [...] The stock markets under President Obama moved in nearly the exact opposite direction in the nine months after President Obama's election win in November 2008.
Betsy DeVos announces Education Department's new approach to Title IX investigations. In a highly-anticipated speech delivered Thursday [9/7/2017], Education Secretary Betsy DeVos announced the department is shifting its approach to Title IX enforcement away from that of the Obama administration, implementing a notice-and-comment process to develop an improved strategy based on feedback from the public.
Trump, in DACA decision, restores constitutional sanity to immigration laws. By executive fiat, President Obama granted amnesty to immigrants living illegally in the United States. It was an unconstitutional act, to be sure. Obama had previously admitted he had no authority to end deportations of illegal aliens when he said, "The notion that somehow I can just change the laws unilaterally is just not true." Then he went about doing it anyway, conjuring a new breadth of hypocrisy. His successor, President Trump, is now taking the first step toward restoring sanity to the rule of law as it applies to the Constitution and immigration.
Trump Immigration Crackdown Raises Middle-Class Construction Wages In America By 30%. Open borders kills the American Middle Class and replaces them with millions willing to work for less. That is an undeniable economic truth but one the Establishment media and political class refuse to admit to the American people. Regulated common-sense immigration is a benefit to all. Open borders immigration is of benefit to corporations demanding cheap labor and politicians wanting to supplement legal voters with illegal ones.
Trump's immigration policy means more jobs for Americans. A report in Politico shows President Trump's crackdown on illegal aliens has led to more jobs and better wages. And liberals are crying.
Trump schools Obama on U.S. Constitution. President Trump never took a single law class — at least not that we know of. Because if he had, Mr. Trump would surely find a way to remind us every time he wanted to strut his legal stuff. Anyway, Trump University didn't even have a law school. Yet, Mr. Trump effortlessly runs legal circles around the Great Law Lecturer Barack Obama when it comes to understanding the Constitution.
Also posted under Obama's greatly overrated intellect.
Manufacturing Sector Increased Jobs at Fastest Pace in More Than 4 Years. The manufacturing sector increased jobs at the fastest pace in the month of July than the sector had in more than four years, the New York Times reported. While the jobs report showed there were fewer jobs created than were expected overall, jobs in the manufacturing sector showed improvement. "The latest payroll data underscores the striking rebound at American factories, which lost more than two million jobs in the recession, but have clawed their way back and recovered more than one million positions since 2010," the article states.
Obama's 'pen and phone' have been trumped when it comes to DACA. Imagine a rogue president, frustrated with Congress for repeatedly failing to pass his administration's wish list on immigration, disregarding the separation of powers and unilaterally implementing his legislative prerogatives by executive fiat. No, this isn't a constitutional law hypothetical. This is the story of how the Deferred Action for Childhood Arrivals (DACA) amnesty program came into being. For nearly two decades, Congress has considered varying versions of the Development, Relief, and Education for Alien Minors (DREAM) Act, a legislative amnesty for certain illegal aliens who claimed to have entered the country unlawfully as minors, while meeting other criteria. Every time the DREAM Act was brought up for a vote, it failed to pass both chambers of Congress to become law.
President Donald Trump Serves Meals to Hurricane Victims at Houston Relief Center. President Donald Trump spent time meeting with Hurricane Harvey victims at the Houston NRG hurricane relief center on Saturday before serving meals from the Red Cross. Gov. Greg Abbott, the state's first lady Cecilia Abbott, and Houston Mayor Sylvester Turner met Trump and first lady Melania Trump upon their arrival at Ellington Field in Houston. The Texas governor and Houston Mayor continued on with Trump to the relief center.
Trump Administration Slashes Funds For Health Care Sign-Ups. Affirming its disdain for "Obamacare," the Trump administration on Thursday [8/31/2017] announced sharp cuts in programs promoting health care enrollment under the Affordable Care Act for next year.
Looks like Andrew Jackson will stay on the $20 bill. Currently, as you might know if you just got paid, it's Andrew Jackson, an early Democrat, on the $20. He was a hero of the War of 1812 and a rough-hewn two-term president. He was also a successful military leader in battles against native Americans during his era. Last year, another two-term president, Barack Obama, approved a change that would delete Old Hickory's visage from the front and substituted it with Harriet Tubman's face. The Bureau of Engraving and Printing says it has received no instructions yet to implement the changes, which candidate Donald Trump criticized as "pure political correctness."
Trump Administration Won't Commit To Putting Harriet Tubman On $20 Bill. Anyone expecting to someday see Harriet Tubman's image grace the front of the $20 bill may be in for a long wait. In a new interview, Treasury Secretary Steve Mnuchin hinted that the Trump administration may back off the planned change that would have had Tubman take Andrew Jackson's place on the bill. Speaking to CNBC today [8/31/2017], Mnuchin would only say that the Treasury will "consider" whether or not to move forward with the change from Jackson to Tubman. The $20 bill is up for a scheduled redesign in 2020, regardless of whose face is on the front.
Trump Reverses Obama Plan to Collect Wage Information Based on Gender, Race, Ethnicity. A year before leaving office, President Barack Obama announced new steps to narrow what was described as a gender pay gap. Obama directed the Equal Employment Opportunity Commission (EEOC), in partnership with the Department of Labor, to annually collect pay data by gender, race and ethnicity from businesses with 100 or more employees. On Wednesday [8/30/2017], the Trump administration put that Obama-era order on hold. In a memo to the EEOC, the White House Office of Management and Budget (OMB) said it is launching a review of the effectiveness of the equal pay data collection initiative. (Companies are still required to annually file information on the race/ethnicity and gender of their employees, but the wage information sought by Obama will not be included.)
Mexico Economy Minister Ildefonso Guajardo Now Fears NAFTA Collapse. Mexico's Economy Minister Ildefonso Guajardo has a different perspective today than prior to the beginning of NAFTA renegotiation. Before NAFTA round #1 began Minister Guajardo stated angrily if the U.S. did not concede to the demands of Mexico his government would flood the U.S. with drugs and illegal aliens. However, in the face of actually seeing NAFTA discussions possibly leading to collapse, Mr. Guajardo has a change in tone.
Trump just nuked the Mueller Inquisition. The pardon of Joe Arpaio was about justice. The government refused his God-given right to a trial by a jury of his peers over a criminal contempt of court charge. President Trump ended that railroading of an 85-year-old man whose only crime was upholding federal law. Congress may wish to seek impeachment of the judges involved for denying Arpaio his civil rights.
Levin: If Exposing Media Is Only Thing Trump Does, He Will Have Been a Successful President. On his nationally syndicated radio talk show Wednesday, host Mark Levin lambasted the media and praised Donald Trump, saying if exposing the media is the only thing Trump does, he will have been a successful president. "I honestly believe if this is the only thing President Trump succeeds in doing he will have been a successful president — that is, exposing the media," said Mark Levin. "For decade, after decade, after decade, and now it's worse than ever, the media have fraudulently presented themselves to the American people — to you — as some kind of objective nonpartisan entity just reporting the news. Now they're all out of the closet, and it's not very pretty."
Trump signs directive banning transgender military recruits. President Donald Trump on Friday [8/25/2017] directed the military not to move forward with an Obama-era plan that would have allowed transgender individuals to be recruited into the armed forces, following through on his intentions announced a month earlier to ban transgender people from serving. The presidential memorandum also bans the Department of Defense from using its resources to provide medical treatment regimens for transgender individuals currently serving in the military.
Trump pardons controversial Arizona sheriff Joe Arpaio. President Donald Trump has granted a pardon to controversial former Arizona sheriff and political ally Joe Arpaio less than a month after he was convicted of criminal contempt in a case involving racial profiling. Trump signed the pardon for the 85-year-old Arpaio on Friday night [8/25/2017] citing his long history of public service.
Trump pardons former Sheriff Joe Arpaio. President Donald Trump pardoned Joe Arpaio on Friday [8/25/2017], sparing the controversial former Arizona sheriff a jail sentence after he was convicted of criminal contempt related to his hard-line tactics going after undocumented immigrants. The move drew outcry from civil rights groups, which accuse Arpaio of violating the Constitution in his crackdown on illegal immigration. During last year's presidential campaign, Arpaio was a vocal proponent of Trump's candidacy, and used his national notoriety to advocate for Trump's similarly aggressive stance on border security and deportations.
Sheriff Joe Arpaio — yes, let him go. President Donald Trump hinted — well, more than hinted, really — during his Phoenix rally he was going to pardon former Maricopa County Sheriff Joe Arpaio soon. And well he should. What happened to Arpaio was a political hit job.
White House Has Reportedly Prepared Paperwork For Trump's Sheriff Arpaio Pardon. During President Trump's campaign style rally in Phoenix last night [8/22/2017], he strongly hinted a presidential pardon will be coming for former Maricopa County Sheriff Joe Arpaio. [...] It was heavily speculated Trump would pardon Arpaio while he was in Arizona. Although he telegraphed the move during his remarks, he didn't make an official announcement.
Trump Lops Off Another of the Green Blob's Tentacles. President Trump has disbanded something called the Advisory Committee for the Sustained National Climate Assessment (ACSNCA). Good. That shrieking you can hear is the sound of the Green Blob, mourning the loss of another of its tentacles. If you believe the liberal media, the ACSNCA — as probably no one ever called it — was a vital organization established by President Obama in 2015 as part of his career-defining mission to combat climate change.
New Gov't Regulations Absolutely Plummet Under Trump. The pace of new government regulations has plunged in President Donald Trump's first seven months in office, a welcome relief to businesses and banks that have long pushed for less interference in the economy. In the first half of 2017, the Office of Information and Regulatory Affairs has processed some 67 regulatory actions, ranging from notices to final rules. During the first six months of former President Barack Obama's first term, the department coursed through three times as many, processing 216 regulatory actions.
Trump Ends Obama's 'Water Bottle Ban'. The Trump administration is ending a policy implemented by former president Barack Obama that attempted to ban water bottles at national parks. The National Park Service announced last week it was ending the so-called Water Bottle Ban, which the Obama administration implemented in 2011 to "reduce our carbon footprint."
In January, President Trump vowed to hire 5,000 new Border Patrol agents. It never happened. Five days after President Donald Trump took office, he signed an executive order that promised a swift, sharp crackdown on illegal immigration — immediate construction of a massive border wall, quick hiring of 5,000 new Border Patrol agents and stepped-up deportation of undocumented migrants. [...] Seven months later, construction of the wall has yet to begin, the number of Border Patrol officers has actually dropped by 220, and immigration agents are on track to deport 10,000 fewer people this year than in President Barack Obama's last year in office, the latest figures show.
Why I Wouldn't Change a Word of Trump's Statement. "Egregious" displays of "hatred, bigotry and violence" have no place in America he told us, with stunning clarity. No exceptions. No qualifications. Whoever you are, whatever you are, whatever your grievance, there shall be one law, one standard. The first thing to be done was "a swift restoration of law and order and the protection of innocent lives... [for] no citizen should ever fear for their safety and security in our society." Had Trump stopped there, it would have been enough. It would have been more than Barack Obama had said in eight years. Obama was on the wrong side of violence. He sympathized with the rioters in Ferguson, Missouri, and made excuses for the riots in Baltimore. Worse still, he failed even to mention the need to establish law and order and protect the lives and property of innocent people. And he put lives in danger by blaming the violence on the police.
Trump's Pershing Tweet in Response to Barcelona Was More Than Just Genius Trolling. One of the big mistakes Trump's critics make is to assume he is very stupid. Hence the liberal media's delight in his Pershing tweet in the aftermath of the Barcelona massacre. They think it shows the president to be an historically illiterate and gullible fool because — or so they claim — he is repeating a debunked myth that General Pershing used bullets dipped in pig blood when fighting Muslim terrorists in the Philippines. [...] Trump was telling it as a "story" to illustrate an important point about the psychology of war. When your enemy fights dirty, you don't cower and apologize and ask what we have done to deserve such punishment. You give as good as you get.
Whose Side Is He On? I see that, as of late Tuesday night [8/15/2017], [the] media is going berserk with rage about President Trump saying there were lawbreakers on both sides in [Charlottesville]. But clearly, Mr. Trump was right. The pro-statue people were strange looking, but they had a permit and they had the First Amendment. The ones who attacked them with clubs were the instigators. Yes, of course I hate anyone who even hints at sympathy for the Nazis. The monstrous evil of those demons is unmatched. But they have the right to speak when not inciting violence and when not committing violence. Otherwise, the Constitution is trash. For Trump to point out that while the KKK and the Nazis are nauseating, they have free speech rights, is not only correct, but actually brave of him.
Delighted with Trump. Normal Americans have watched our politics turn to mud for a quarter-century, since Bill Clinton, the Arkansas corruptocrat. We've watched it and watched it while the media turned into a copycat Soviet propaganda ministry, and now, finally, somebody is acting like an adult and talking without having to explain every single word.
Stand with President Trump. The commander in chief is undaunted, and determined to do what he promised during the campaign. He seated a solidly conservative Supreme Court justice. He has reduced regulations and increased jobs — another 209,000 in July; caused a dramatic drop in the number of illegal immigrants entering our country and taking jobs from Americans. Criminal illegal aliens like MS-13 members and convicted felons are being hunted down and thrown out. The President is restoring the strength of our military; making sure that our veterans receive the medical care and services they need; stopping the transgender and sex reassignment policies that have damaged morale and distracted our armed forces from their core mission; waging aggressive war against ISIS; and warning North Korea and other adversaries that American might is back.
Trump takes action: 9,000 federal employees slashed in first six months. President Trump's hiring freeze helped cut the size of federal government by about 9,000 employees in his first six months in office, but that is just a drop in the bucket of a workforce of more than 2.8 million, and the administration has ended the freeze to fill mission-critical positions at agencies. Mr. Trump ordered the hiring freeze on his first day in office and embarked on the most ambitious agenda to shrink government since Ronald Reagan. His early success, although modest, is a testament to the president's tenacity and to the daunting task he has undertaken. Reagan also imposed a hiring freeze on his first day in office, but the federal workforce grew by more than 100,000 employees by the time he left office eight years later.
Food Stamp Enrollments Down in 46 Out of 50 States. Food stamp enrollment went down over the past year in 46 out of 50 states, according to the latest U.S. Department of Agriculture (USDA) statistics on food stamp enrollment. The states of Connecticut, North Carolina, and the District of Columbia saw the biggest drops in Supplemental Nutrition Assistance Program (SNAP) enrollment. Connecticut saw the largest drop, with SNAP enrollment dropping 25.4 percent from May 2016 to May 2017. The state also saw a pretty hefty drop in enrollment over one month — Connecticut's enrollment in the food stamp program dropped 14.2 percent from April 2017 to May 2017.
Regulation revolution: 'Historic' Trump cuts, 1/20th of Obama's deluge, $23B slashed. The Trump administration is making good on its promise to limit new regulations and kill old ones, setting a record low for issuing rules, a pace at just one-twentieth of former President Obama. What's more, a new regulatory report card said that the administration has proposed 6 million fewer hours of regulatory paperwork than the Obama administration did in its first 200 days.
Swamp Drainage Update: Guess How Many Federal Jobs We've Cut In Six Months? The public workers unions are powerful and entrenched, and they have many allies in Congress, making Trump's job on par with cleaning King Augeas' stables. So how's that going so far? Government Executive reports that despite all expectations and opposition, the ax has already fallen and more than 10,000 positions have been cut.
Trump Immigration Crackdown Leads to Higher Construction Wages. President Donald Trump's crackdown on illegal immigration is already having a positive impact on American workers through increased wages in the construction industry. In a new report by Fox News, Texas construction companies admitted that Trump's increased enforcement of immigration was forcing them to pay higher wages to U.S. construction workers.
Resisting the Tranny State. It's absolutely none of my business how any adult decides to express him/her/itself sexually. But the thing is, these days trannies are not content to just go be trannies; they insist that we become accomplices to their fantasy. We have to pretend to see what they see. We have to use pronouns that we know are misapplied. We have to allow dudes [...] to shower, change, and go to the bathroom alongside our daughters. We have to foot the bill for sex change surgeries. To even suggest that sex change operations are elective and not a "medical necessity" is to challenge the tranny illusion. This is at the heart of the controversy surrounding President Trump's announcement that trans folk will no longer be allowed to serve in the military. Trannies, their leftist allies, and "moderate Republicans" think soldiers are as entitled to state-funded sex change operations as they are to first aid on the battlefront.
Someone Just Noticed That Trump Is Getting Stuff Done. Border crossings, for example, have plummeted, even though all Trump has done so far is promise to enforce existing laws. The Supreme Court approved parts of Trump's travel ban, a success made possible by Trump's appointment of Neil Gorsuch to the bench. Trump is busy filling lower court positions with conservative justices. Ron Klain, a White House aide to Bill Clinton and Barack Obama, said that Trump "is proving wildly successful in one respect: naming youthful conservative nominees to the federal bench in record-setting numbers." What else? Well, Trump pulled out of the Paris climate change deal, which as we noted in this space is a yuuuge win for the economy. The EPA, meanwhile, is dismantling Obama's coal-killing, growth-choking Clean Power Plan, and draining the heavy-handed Waters of the United States rule. [...] Trump promised to kill two regulations for every new one enacted, but in his first six months the ratio was 16-to-1. Trump also approved the Keystone XL and other pipeline projects held up by Obama. He's also rolled back a ban on coal mining on public lands.
Record 153,513,000 Employed in July; 62.9% Labor Force Participation. President Trump was awake early on this "employment report" Friday [8/4/2017], tweeting about jobs, regulation-busting, and consumer confidence, among other things. A few hours later, the Labor Department's Bureau of Labor Statistics said the economy added 209,000 jobs in July; the number of employed people jumped by 345,000 to 153,513,000 in July, setting a third straight monthly record; the number of Americans counted as not in the labor force, meaning they don't have a job and are not looking for one, dropped for a third straight month to 94,657,000; and the nation's unemployment rate also dropped a tenth of a point, to 4.3 percent. The labor force participation rate, held down in part by a wave of Baby Boomer retirements, was 62.9 percent in July, slightly better than it has been in recent months, but still close to its 38-year low of 62.4 percent in September 2015.
U.S. Has Crushed Expectations In Creating Jobs- 200,000+ In July Alone! Where is this new employment coming from? Employment stats are rising in the areas of restaurants and bars, meaning that Americans are feeling confident enough to spend money on entertainment, and also in the white collar office job arena and in health care. So far, employment in the mining and manufacturing sectors are unchanged. Mining and manufacturing were some of Trump's major areas of focus during the campaign, and an unchanged number of jobs in these areas could easily indicate that the job losses that have been feared over years are being held back.
Trump Economy BOOMS Despite Political & Media Establishment Fighting Against Him. For Middle Class America, the chart above is a beautiful thing to behold. It represents more retirement account earnings, more job opportunities, more home values, more freedom to purchase goods and services, and more choice. While the Establishment Media and politicians have been wasting time with fabricated Russian conspiracies and personal taunts against POTUS Trump and his administration, just the thought of some of Mr. Trump's policies becoming reality is enough to send the U.S. economy into a growth spurt not seen in years.
Yes, we needed a transgender military ban. Ed Morrissey wrote about this subject this morning, but there are a couple of other points I wanted to hit. Now, of course, Politico is reporting that the only reason Trump announced the ban was because it was a trade-off to get funding for the border wall in the next spending bill. [...] Is it true? Who knows anymore? It's coming from yet more of the infamous "anonymous sources" inside the Beltway.
Former Transgender: Trump 'Made Right Decision,' 'Military Is a Fighting Force, Not a Gender Clinic'. A man who lived for eight years as a transgender female says President Donald Trump did the right thing for the U.S. military, as well as for all Americans, by banning transgenders from serving in the military. Walt Heyer, who has transitioned back to his birth gender, writes in a commentary that his personal experience leads him to support Trump's announcement.
Let the Dems Be the Transgender Party. Trump's uncomplicated defense of common sense is nothing if not conservative. He doesn't need "commissions" to tell him whether or not enlisting men who pretend to be women and women who pretend to be men hurts military readiness. Anyone with five senses and a functioning intellect can see that it does. It is only under the vast experiment against common sense that is liberalism could such obvious truths fall into disfavor. Of course, the stupid party is joining the evil party in this experiment against common sense.
Treasury Department Ending Ineffective Obama Retirement Program. The Treasury Department is ending an ineffective Obama program that promised to help millions of Americans save for retirement, the government announced Friday [7/28/2017]. Treasury announced the myRA program would be phased out, after costing taxpayers $70 million though few Americans used the program. Former president Barack Obama used his 2014 State of the Union address to launch the myRA program, with a promise to "help millions" to save for retirement. Two years later, only 20,000 had signed up.
Ten Accomplishments By John Kelly At Homeland Security. [#1] He sidelined most of the top staff picked by Obama and allowed the department's border and enforcement agents to actually enforce the nation's immigration law. The result is that more than 70,000 illegals have been sent home by motivated agents, including many of the MS-13 gang members invited by Obama to live in the United States since 2011.
Army Was Preparing Women To Shower With Men As Part of Transgender Training. Have you heard of the Pentagon's "Transgender Inclusion" agenda, first launched by President Obama? Near the end of Obama's second term, his Secretary of Defense Ash Carter set out "transgender inclusive" military policies that were supposed to be put in effect a few weeks ago on July 1st, 2017. Right now, this policy has not been completely removed, it has only been "delayed" for another six months.
An attack by Trump "on the whole LGBT community"? The question of whether transgender people should serve in the military is first and foremost a decision about how best to defend America militarily. The purpose of our armed forces is not to promote or reject the LGBT agenda. Its purpose is not to serve as a model for tolerance of transgender and other LGBT people, or to afford them employment opportunities, or even to treat them fairly as individuals. The purpose of our armed forces is to defend the country from its enemies.
Combat Veteran: War Is No Place For The Gender Confused. Combat veteran J.R. Salzman said Wednesday morning [7/26/2017] in the wake of President Donald Trump's military transgender ban that a war theater is no place for the gender confused. In a tweet series, Salzman recounted his experiences in Iraq in 2006, when he was stationed at an isolated firebase in the blazing heat and experienced constant stress from the intense nature of his job.
Transgender Surgeries Would Cost Pentagon $1.3 Billion. Taxpayer-funded sex-change surgeries would cost the Pentagon $1.3 billion over 10 years. President Donald Trump announced Wednesday [7/26/2017] that transgender individuals will not be eligible to serve in the military, with the White House citing cost and military readiness concerns. Internal data provided to the Washington Free Beacon from Rep. Vicky Hartzler (R., Mo.), a leading opponent of taxpayer-funded sex changes, show that even by using a conservative estimate, the costs associated with 0.7 percent of the military population is great.
Trump Donating $100K Quarterly Salary to Education Department. The White House announced Wednesday [7/26/2017] that President Donald Trump is donating his quarterly salary to the Education Department. "Last quarter, the president's salary went toward the restoration of two projects at a national battlefield. After his donation, additional donors quickly stepped up to bring the total gift to over $260,000," White House Press Secretary Sarah Huckabee Sanders said.
President Trump Ends President Obama Transgender Military Policy. President Donald Trump announced Wednesday [7/26/2017] he does not plan to plans to continue with President Obama's transgender military policy. The previous policy from President Obama, which was still under final review, would have allowed transgender individuals to openly serve in the military.
Donald Trump's 'Transgender' Declaration Preserves Americans' Two-Sex Society. President Donald Trump's dramatic decision to exclude so-called "transgender" people from the military is a direct rejection of the progressives' revolutionary demand that Americans' society should be remade to eliminate all civic recognition of the two different-and-complementary male and female sexes.
Trump BANS transgender people from joining the military after 'consulting with generals and experts'. President Donald Trump sent out a series of tweets Wednesday morning saying that transgender people wouldn't be allowed to serve in the U.S. military 'in any capacity.' Trump fired off the tweets without warning, injecting a contentious social issue into the debate on a day after the Senate GOP's health care bill suffered a bad defeat and when a Senate panel was set to hold a public hearing that would touch on Russian foreign nationals' influence efforts.
Trump announces ban on transgender people in the military. President Trump tweeted on Wednesday [7/26/2017] that "transgender individuals" should not be allowed to serve in "any capacity" in the US military. "After consultation with my Generals and military experts, please be advised that the United States Government will not accept or allow ...," he wrote on Twitter. "Transgender individuals to serve in any capacity in the U.S. Military. Our military must be focused on decisive and overwhelming ..." He finished up by writing: "victory and cannot be burdened with the tremendous medical costs and disruption that transgender in the military would entail. Thank you."
Trump: Transgender people will not be allowed to serve in US military. President Donald Trump said Wednesday [7/26/2017] he wants transgender people barred from serving in the U.S. military "in any capacity," citing "tremendous medical costs and disruption." Trump's announcement on Twitter would reverse the effort under President Barack Obama to open the armed services to transgender people. He did not say what would happen to transgender troops already in the military.
Trump calls Obama a liar. "Obamacare was a big lie," Mr. Trump said in a White House meeting [7/19/2017] with Republican senators seeking to craft a new health care plan. He went on. "You can keep your doctor? Lie." "You can keep your plan? Lie." "It was a lie, directly from the president," Mr. Trump said.
I'm glad somebody finally said it -- other than me, of course. Obama lied about almost everything.
President Trump Reverses Obama's Anti-Christian Refugee Policy. After declaring that Christians have "been horribly treated" by the refugee program under former President Barack Obama, President Donald Trump has reversed the Obama administration's disgraceful discrimination against Christian refugees. According to a Pew Research Center analysis of U.S. State Department refugee data, during the period from January 21, 2017 — President Trump's first full day in office — through June 30, "9,598 Christian refugees arrived in the U.S., compared with 7,250 Muslim refugees. Christians made up 50% of all refugee arrivals in this period, compared with 38% who are Muslim."
Border Patrol union chief praises 'miraculous' drop in illegal immigration under Trump. The significant downturn in the number of illegal border crossers between the U.S. and Mexico is "nothing short of miraculous," National Border Patrol Council President Brandon Judd said on C-SPAN Monday [7/17/2017]. "As far as the Trump administration's efforts on immigration, this is something they campaigned heavily on," he said. "At six months, where we are on meeting those promises, we are seeing nothing short of miraculous. If you look at the rhetoric that President Trump has given, it has caused a number of illegal border crossings to go down. We have never seen such a drop that we currently have."
Trump's Powerful Speech in Poland. President Trump landed in Poland to an enthusiastic welcome, and he responded in kind. In the best statement yet of his foreign policy, Trump showed a clear-eyed recognition of the threats from Russia and radical Islam, promised continued U.S. engagement in Europe, offered to support Poland against Moscow, and wrapped it all in a full-throated defense of Western civilization and its achievements.
Our President Is a Street Fighter. President Trump is naturally combative, having honed his skills on construction sites among hard-hat workers. He knows the common man and he believes that if you don't stand up to a bully, he'll run over you and enjoy doing it. He does not back off from a fight, and that's exactly why working class and middle-America elected him President.
Trumps Spend $5 Million Less Than Obamas On White House Salaries. An analysis of White House salary data reveals that President Donald Trump's administration is spending $5 million less of taxpayer money on his staff than his predecessor. Trump employs 377 people at the White House, with a total of $35.8 million, while former President Barack Obama paid $40.9 million for 476 employees in 2015, according to data analyzed by Open The Books.
EPA moves to kill Waters of the U.S. rule. The Trump administration on Tuesday began the process of formally rescinding the highly controversial "Waters of the U.S." rule, an Obama-era regulation that gave Washington broad powers over streams and other small bodies of water across the country. The rule, put forth in 2015 but subsequently stayed by the Supreme Court before going into effect, was one of EPA Administrator Scott Pruitt's top targets when he took the helm at the agency. President Trump earlier this year signed an executive order directing Mr. Pruitt to review the rule, and with Tuesday's [6/27/2017] action, the EPA says it's finalized that review and will move to permanently strike the regulation from the books.
The annual Ramadan 'Iftar' dinner for Muslims at the White House isn't the only thing the Trump Administration has axed. Administration officials also have eliminated plans to use millions of hard-earned taxpayer dollars to fund Islamic organizations and alleged Muslim charities allied with former President Barack Obama, including anti-American Muslim individuals like sharia-proponent Linda Sarsour. Also eliminated are Muslim government employees from the Obama team who were linked to these nefarious Islamic organizations.
US coal mining surges in 2017 following last year's record decline. The United States, China and India, the world's largest coal users, have increased coal mining this year by 6 percent following 2016's record global decline. Among the three counties, production through May is up by at least 121 million tons compared to the same period last year, according to data reviewed by The Associated Press. The change is most dramatic in the United States where production is up 19 percent within just the first five months of 2017, according to the U.S. Department of Energy.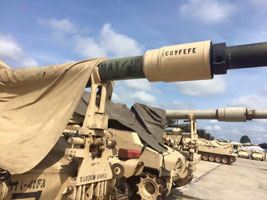 Army Howitzer Has 'Covfefe' Stamped On The Gun. A U.S. Army howitzer is trolling the world thanks to a Trump-related message one soldier stamped on the gun. A photo provided to The Daily Caller shows the word "Covfefe' stamped on the gun of an M109 Paladin. A source told TheDC that an individual made the stamp, not the U.S. Army.

What does 'COVFEFE' mean? Try rising military morale. COVFEFE was the subject of much speculation, mostly on the left, as to what it might have meant. In this case, one of the troops has helpfully given the answer: rising military morale. You never saw such repetitions of presidential words during the Obama administration. Did anyone ever stamp 'You didn't build that' or 'If you like your health care' on one of the barrels of a howitzer? It comes against the backdrop of two things. One, military morale has been disastrously low, with the military rating the legacy of Commander in Chief Obama in acidic terms across every service.




Trump administration removes protections for Yellowstone grizzly bears. The Trump administration is removing Endangered Species Act protections for Yellowstone grizzly bears, after they spent more than four decades on the threatened list. The Interior Department's Fish and Wildlife Service announced the delisting decision Thursday [6/22/2017], which immediately drew rebukes from conservationists and Democrats. Officials said that conservation efforts for the bear, a more than fourfold increase in its population and state policies designed to protect the bears show that the delisting is warranted.

Trump scraps Obama policy that protected immigrant parents from deportation. An Obama-era immigration program intended to protect parents of U.S. citizens and legal residents from deportation has been formally cancelled, fulfilling a key campaign promise from President Trump, the Homeland Security Department announced late Thursday [6/15/2017]. Homeland Security John Kelly formally revoked a policy memo that created the Deferred Action for Parents of Americans program. The revocation came on the fifth anniversary of another effort that has protected hundreds of thousands of young immigrants from deportation.

Trump: Opening of New Pennsylvania Coal Mine Is Due to "Less Regulation". In a videotaped message played during the opening ceremony of a new coal mine in Friedens, Pennsylvania, on June 1 President Trump celebrated the opening as an example of what can be accomplished when government eliminates the regulations that have stifled the coal industry. "One by one, we're eliminating the regulations that threaten your jobs, and that's one of the big reasons you're opening today: Less regulation," Trump said. "We have withdrawn the United States from the horrendous Paris Climate Accord, something that would have put our country back decades and decades; we would have never allowed ourselves to be great again."

Media ignore another Trump diplomatic triumph yesterday. President Trump is delivering on his promise to end the role of America as "Uncle Sugar" for its allies, bearing the major burden of collective defense. American taxpayers and American military personnel have ponied up money and lives for more than 70 years, while allies have devoted their resources elsewhere, freed up by the generosity of the superpower created by victory in World War 2. Yesterday [6/9/2017], an extraordinary thing happened: The president of Romania, the former Soviet-era puppet enslaved by Stalin's troops, came to the White House, and stood up during [a] Rose Garden press conference with President Trump, and stated that his country will start paying up its share of the burden for NATO — because of President Trump.

Romanian President: We're Increasing Our NATO Contribution Because of Trump. Romanian President Klaus Iohannis said Friday that his country is increasing its contribution to NATO after hearing President Donald Trump's speech last month at NATO headquarters in Brussels. During a joint press conference at the White House, Trump praised Iohannis for committing to increase Romania's defense spending to NATO from 1.4 percent to two percent, as Trump called for during his speech in Brussels on May 25. Trump said other nations are also starting to "realize that it's time to pay up."

Good News: Illegal Aliens With Old Deportation Orders Are Being Detained. Of course, this is terrifying people who are unlawfully present in the United States. [...] They should be terrified. Better yet, they should simply leave. They were ordered deported, and Obama and his administration allowed these people who are unlawfully present to remain in the country.

DOJ ends Holder-era 'slush fund' payouts to outside groups. The Justice Department announced Wednesday [6/7/2017] it will no longer allow prosecutors to strike settlement agreements with big companies directing them to make payouts to outside groups, ending an Obama-era practice that Republicans decried as a "slush fund" that padded the accounts of liberal interest groups. In a memo sent to 94 U.S. attorneys' offices early Wednesday, Attorney General Jeff Sessions said he would end the practice that allowed companies to meet settlement burdens by giving money to groups that were neither victims nor parties to the case. Sessions said the money should, instead, go to the Treasury Department or victims.

Fear of deportation drives people off food stamps in US. A crackdown on illegal immigration under President Donald Trump has driven some poor people to take a drastic step: opt out of federal food assistance because they are fearful of deportation, activists and immigrants say.

Trump Is More Transparent Than Obama Ever Was. President Trump's administration has decided not to invoke executive privilege to keep former FBI Director James Comey from testifying under oath before Congress. [...] Obama used executive privilege to keep the White House out of then-Attorney General Eric Holder and his Justice Department's "Fast & Furious" gun-walking debacle. Obama's defense was "George W. Bush did it."

Proof that Trump Is Right About Paris. [Scroll down] Note that while the Germans are willing to incur inefficiency as long as other countries go along — or at least pretend to go along — if they have to choose between their economy and the purported threat of global climate catastrophe, they will choose their economy. Which means that they don't believe in the reality of the supposed climate calamity any more than we do.

You're Fired, Paris Climate Accord. [President] Trump is taking on all of this global warming poppycock that rests on the utterly ridiculous notion that carbon dioxide, the natural gas humans and other earthly life forms constantly produce and expel, the same gas that promotes plant growth, is a pollutant. It is a truly insane idea that has no support in science but leftists are running with it because they hope to browbeat and intimidate Americans into accepting shrinking the economy by drastically reducing carbon emissions.

Germany's car industry association officially confirms the truth of President Trump's reasons for withdrawal from Paris Climate Accord. President Trump complained that the "unfair" terms of the Paris Climate Accord made it difficult for American manufacturers to compete globally. Protecting and expanding those jobs was the primary reason offered for his withdrawal. He should now write a thank-you note to Germany's powerful auto industry lobby, the VBA (Verband der Autoindustrie), which just validated his argument.

The case for nixing the Paris Agreement. Real pollutants from fossil fuel combustion, such as oxides of sulfur, nitrogen and fly ash, are rightly controlled, and by cost-effective technology. But more CO2 is not a pollutant but is a benefit to humanity. The "social cost of carbon," aka CO2, is negative. It is immoral to prevent developing countries from using reliable, inexpensive fossil fuels to escape centuries of poverty. Most developing countries have offered no plans to limit CO2 emissions any time soon, rhetoric about Paris' universal inclusivity notwithstanding. Without their cooperation, stabilizing atmospheric levels of CO2 is not possible, nor would this stop climate change if it could be done.

Trump pulls plug on global warming scam — Environmentalists, globalists go nuts! Today [6/1/2017], Donald Trump pulled the plug on the global warming scam — not just the junk science, but more importantly, the entire industry built up around it. Bureaucrats, diplomats, politicians, lobbyists and people seeking grants for this and taxes for that. But did he go far enough? Either it's a scam or it isn't, and you can't Make America Great Again if you believe economic decisions should be made by the UN — and that's what the global warming agreement is. It's an economic plan of taxes and penalties and subsidies that doesn't have anything to do with the weather and anyone who thinks a carbon tax will change the weather, doesn't believe in science, they believe in superstition. Not even the UN's own IPCC argues their plans will change the weather.

Trump Has Dirt on Comey: Strategic Firing of Swamp Rat James Comey. The narrative of the Left is that former FBI Director James Comey is a good guy caught in bad circumstances. Nothing could be further from the truth. Comey was a leftist plant, and President Trump knew it. [...] He is a deep-water Swamp Denizen who has been highly paid to deliberately provide cover for high-level corruption by the Clintons and Obama. He has been central to trying to destroy the Trump campaign and then the Trump administration from the start. He is as dirty as they come in DC. Comey had highest-level cover (the FBI no less) and was deep into an effort to eliminate Trump. Trump had to move hard, fast, and at exactly the right time to cut the head off the snake without getting bitten by the snake or being finished by the other swamp denizens. Notice that the President fired Comey when Comey was 3,000 miles away from his office. Comey had no inkling he was being cut, and that all his files, computers, and everything in his office were seized by his boss Sessions and the justice department. This was not a violation of protocol, it was tactical. Notice how Prez Trump compartmentalized the strike and did not inform any of his White House "staff" to prevent leaks. [...] In one masterstroke, Trump has eliminated a truly toxic and dangerous enemy to his administration and our country, dealt a horrendous blow to the Clinton/Obama and deep state machines, begun the restoration of the integrity of the FBI and the DOJ, and gained incredible ammunition to begin hunting the foul creatures in the swamp.

Trump Steps on the Paris Agreement, Stands for Sovereignty. President Donald J. Trump has announced the U.S. withdrawal from the Paris Agreement, "an agreement within the United Nations Framework Convention on Climate Change (UNFCCC) dealing with greenhouse gas emissions mitigation," signed originally during the presidency of Barack Obama with 194 other countries. Trump's speech, despite some redundancies, was one of the most defining moments in U.S. history.

A path forward after the Paris climate agreement. [Scroll down] So, even if Hillary Clinton had beaten Mr. Trump and had kept the United States in the treaty, and even if every single national leader on the planet (and their successors) had unflinchingly stood by every single treaty promise for year after year, regardless of economic downturn or political crisis, the Paris Treaty would have left 99 percent of the problem in place. Before Mr. Trump axed the treaty, many environmentalists quietly acknowledged this. They praised the agreement regardless, because of the political value of world leaders focusing on climate change and because they believed that much larger carbon-cutting promises would come later. That foolhardy assumption flew in the face of history.

Paris Can Wait — It Was A Bad Deal. Supporters of the Paris climate deal present a false choice. You either (a) believe in the scientific consensus about climate change (in which case, you support Paris), or (b) you are a denier. But they are missing a third option, which is that (c) this is simply a bad deal in terms of the cost-benefit analysis. Why is it a bad deal? There are no consistent standards for participation. Countries unilaterally decided what voluntary and non-binding commitment they wanted to pledge. [...] Here's where the deal really falls apart. According to another study, the Paris deal would shave about 0.2 degrees off warming by 2100. You heard me right. Assuming everything works perfectly according to plan, we could plausibly be trading 6.5 million jobs for a 0.2-degree payoff. But remember, there is no enforcement mechanism.

The Non-Existent Case for the Paris Accord. For a bull in the china shop, President Donald Trump has so far gingerly stepped around the Paris climate accord. That dance could end as soon as this week, with Trump deciding whether to stay in or opt out. "Out" should be the obvious answer. No U.S. interest is served by remaining part of the accord, which even its supporters say is mostly an exercise in window dressing — that is, when they aren't insisting that the fate of the planet depends on it.

Memorial Day Was Marked by a POTUS Who Actually Cares About Our Military. On Memorial Day, President Donald Trump and Vice President Mike Pence made a special trip to the graves of our soldiers who fell in Iraq and Afghanistan. Most touching, was the impromptu meeting our president shared with two mothers of fallen soldiers during ceremonies at Arlington National Cemetery.

President Trump Has Perfectly Positioned Angela Merkel as The De Facto Head of The EU. President Trump has strategically positioned Angela Merkel to own the downside of consequences for the EU's predicable problems which are just over the horizon. When the U.K is finally out of the EU, Germany will have to try and fill the financial void. Great Britain currently provides more than £1.5 billion per month to the EU. The U.K. is most likely going to close the gates to open-EU migration. This means that not only will the EU lose the biggest source of financing for their socialist systems, but also that North African and Mid-East refugees are going to bottleneck within the social systems of the EU financially. This will enhance the severity and simultaneously speed-up the politically correct economic collapse.

66 more reasons to love President Trump. The Hill just posted, "66 programs eliminated in Trump's budget." They are a mass of boondoggles Congresses (mainly Democratic, but Republicans are almost as bad) created to use social problems to employ political operatives back home. Bobby Byrd's Appalachian Regional Commission is the best example. It was supposed to close the gap in education, income, and the like in West Virginia and parts of 12 other states. In the 50-plus years of the commission's existence, the gap widened. The 66 programs waste "only" $26.7 billion a year, but they help re-elect rejects like Maxine Waters, Patrick Leahy, and the detestable Nancy Pelosi.

Donald Trump Declines to Endorse Paris Climate Agreement. Despite heavy lobbying from G7 leaders, President Donald Trump declined to endorse the Paris Climate Agreement in a joint pledge of support for one of former President Barack Obama's signature achievements in office. Trump's decision upset world leaders like German Chancellor Angela Merkel, desperate to convince the president of the agreement's merits.

Tillerson declines to host Ramadan event at State Department. Secretary of State Rex Tillerson has declined a request to host an event to mark Islam's holy month of Ramadan, two U.S. officials said, apparently breaking with a bipartisan tradition in place with few exceptions for nearly 20 years. Since 1999, Republican and Democratic secretaries of state have nearly always hosted either an iftar dinner to break the day's fast during Ramadan or a reception marking the Eid al-Fitr holiday at the end of the month, at the State Department.

Trump Budget Stops Cash Payments to Illegal Immigrants. The president's proposed 2018 budget would put a stop to a government program that has paid out more than $35 billion over the past ten years to illegal immigrants in lump-sum payments, disguised as a "tax credit." The use of the credit by illegal immigrants, which has allowed them to get up to $1,000 for each child they claim, including children who are not theirs and who don't live in the United States, has been referred to as "a multi-billion-dollar fraud scheme" that has taken money out of the hands of hard-working Americans.

Here are the 66 programs eliminated in Trump's budget. President Trump's fiscal 2018 budget proposal would completely eliminate 66 federal programs, for a savings of $26.7 billion. Some of the programs would receive funding for 2018 as part of a phasing-out plan. Here are the programs the administration wants on the chopping block.

Trump Effect? Household Income Hits 15-Year High. In April, real median household income reached $59,361, according to the latest report from Sentier Research. That's up 2% since January, and is as high as it's been since February 2002. Expressed as an index, median household income was 100.9 in April, which is the first time this index has topped 100 since December 2008.

Strong Enough. Trump voters are far greater in diversity of class, background, and concerns than the left believes. Most Trump voters decided their vote for a host of reasons, but high among them was given to his being strong enough. The one thing the Democratic/media collusion is misjudging is this: they aren't changing the minds of Trump voters. Polls show this conclusively. MSNBC just did a piece in North Carolina and were shocked to learn Trump voters haven't been swayed. For all the breathless daily Trump gotchas, the ones where they think they have Trump in full retreat, they aren't changing the electorates' mind. Trump voters are staying the course.

Trump budget saves taxpayer money by weeding out welfare freeloaders. Office of Management and Budget director Mick Mulvaney delivered a tough message on Tuesday [5/23/2017] as he explained the cornerstone of the Trump administration's budget blueprint for fiscal year 2018; ween capable, low income Americans off of welfare programs and put them back to work.

Forget What You Hear: Our Narcissist President Is Winning. He restarted the Keystone and Dakota Access pipelines, a surefire signal to the fossil fuel industry that they are no longer the enemy. Reversing another of Barry's foolish policies, he has opened the Atlantic and Pacific coasts as well as the Arctic Ocean to fossil fuel exploration. In addition, he has shown rightful skepticism for global warming religious cultism, which demands we destroy our economy today to prevent something that may or may not happen in a hundred years. He appointed Neil Gorsuch to the Supreme Court and deftly allowed the Democrats to burn themselves to the ground, negating any possibility they might have ever had of stopping his next Supreme appointment. Just as Obama talked up illegal immigration, Trump has talked it down, resulting in an astounding reduction in illegal border crossing.

Trump Is POTUS, and Leftist Hysteria Is Noise. It's helpful to watch the SecDef press conference on YouTube, if you want to see how Trump's troops are taking charge. Obama's limp-wristed and arguably pro-jihad policies, which had some of our military in despair about the crimes against children they were forced to witness in places like Syria, are being replaced by solid, competent, humane but forceful military actions.

Trump's flight from Saudi Arabia to Israel possibly first direct flight between countries. President Donald Trump's trip to Israel on Monday may have already made history even before Air Force One touched down in Tel Aviv. Trump took a direct flight from Riyadh to Tel Aviv, believed to be the first direct flight between Saudi Arabia and Israel. The two countries do not have diplomatic relations and Saudi Arabia does not recognize Israel as a state. Trump arrived at Ben-Gurion International Airport to start the second leg of his first foreign trip since taking office. Trump will also be visiting the Palestinian territories during his two-day trip in Israel.

Donald Trump's Invigorating Speech in Riyadh. Compare, if you will, Barack Obama's 2009 speech in Cairo to the Muslim world with Donald Trump's speech today [5/21/2017] in Riyadh, Saudi Arabia. There was some overlap: both indulged heartily in the usual political boilerplate and délicatesse: honored to be here, working together, Islam's great contribution to culture, how splendid is the Middle East, terrorism is not coterminous with Islam, etc., etc. But that's where the similarity ended. Trump's speech was a forthright, America First, speech, Obama's an accommodationist's dream.

The Underreported Success of the Trump Presidency. While the Democrat/media complex tries to whip their base, and the country into a frenzy, this administration is putting good things in place. First and foremost for our culture is the restoration of law and order. That begins with giving the respect due to our law enforcement officials, which has been a hallmark of this administration. The outrageous demonization of law enforcement by the previous administration is gone. [...] The existing border laws are being enforced. Illegal crossings are down 70%. ICE agents have been reenergized, rounding up criminals and deporting them.

Immigration Arrests Jump Nearly 40% Under Trump. Immigration arrests climbed yet again in April as federal agents continued to track down both criminal and noncriminal aliens in far greater numbers over the first 100 days of the Trump administration than they did under former President Barack Obama a year ago. Immigration and Customs Enforcement's Enforcement and Removal Operations deportation officers administratively arrested 41,318 illegal immigrants on civil immigration charges between Jan. 22 and April 29, according to agency data released Wednesday. That was a 38 percent jump over the 30,028 arrests made in the same time period in 2016, the final year of the Obama administration.

Trump KOs State-Run Retirement Accounts for Private Sector Workers. President Donald Trump reversed another eleventh-hour Obama administration regulation, rolling back Democrats' effort to push private sector workers into state government retirement plans. Trump signed House Resolution 66 on Wednesday [5/17/2017], undoing a regulation adopted by the Department of Labor on October 31, 2016. The department's rule would have allowed state and local governments to create IRA accounts for private sector workers and automatically deduct contributions from their paychecks without the protections savers enjoy under the Employee Retirement Income Security Act.

Report: Illegal Aliens Forego Food Stamps to Stay off Trump's Radar. Illegal aliens in San Francisco have reportedly begun abstaining from food stamps in the belief it will help them avoid being detecting by the Trump administration. In fact, so many residents have turned against food stamps that "the city is concerned." According to the San Francisco Chronicle, local Human Services Agency director Trent Rhorer has noted that "households with one illegal" are wondering how much information will reach administration officials if they use food stamps, also known as CalFresh. Eligible families also wonder "whether the administration will cut food stamp benefits to immigrants."

After Trump Executive Orders, ICE Making 400 Arrests Per Day. Immigration and Customs Enforcement announced Wednesday [5/17/2017] that it has arrested more than 400 individuals per day since President Trump signed executive orders calling for tougher immigration policies. Between Jan. 22 and April 29, the immigration enforcement agency arrested 41,318 individuals on civil immigration charges, 75 percent of whom were convicted criminals, after Trump signed immigration-related executive orders in January. That number represents a 37.6 percent increase from the same period in 2016.

Trump administration encourages states to ask for Obamacare waivers. The Trump administration on Tuesday [5/16/2017] encouraged states to ask for Obamacare waivers to set up high-risk pools, creating a pathway for interested states to begin to adopt key parts of the GOP's repeal plans even before they pass a bill through Congress. Officials said the flexibility is needed to save Obamacare from its own shortcomings, saying states need to start experimenting with what works for them, rather than being bound to the top-down model of the Affordable Care Act.

Trump cuts all health care aid to international groups performing or promoting abortion. The Trump administration announced a massive expansion Monday of the pro-life Mexico City Policy, issuing guidelines that will strip billions of dollars in aid from international groups that perform or promote abortion. Originally a ban covering roughly $600 million in family planning money, the Trump policy now applies to all international health care aid doled out by the U.S. government — nearly $9 billion.

Professor: Trump's Refusal to Feel Guilty Stole Liberals' Main Weapon. For years, conservatives have been told that just by existing, we're wrong. We've been told to "check our privilege," so we have. We've been told that American exceptionalism is rude to other countries, so we've tempered it. We've been told that everything we've been brought up to believe is somehow racist, patriarchal, and bigoted, so we've paused and evaluated our beliefs. Then came Donald Trump who absolutely obliterated the way the Left tries to make the Right feel.

Trump Brings Back Half of Lost Mining Jobs — Already! Remember when liberals said there was NO WAY Donald Trump could or would ever revive the coal industry? He was called a liar and a charlatan for going to West Virginia and Pennsylvania and other parts of economically depressed Appalachia promising that he would bring back coal jobs. "Coal is dead," the Sierra Club declared triumphantly to its donors last year. The standard refrain from the left was that Trump is "lying" when he said coal jobs will can be resurrected. Well, coal is back.

Trump's immigration enforcement helps slow illegal border crossings by 76%. Illegal immigration across the southwestern border is down a stunning 76 percent since President Trump was elected, with the flow of children and families dropping even faster as analysts say the administration's commitment to enforcing the law has changed the reality along the border. Overall apprehensions by the Border Patrol dropped to just 11,129 in April, according to numbers released Tuesday [5/9/2017], marking the lowest monthly total for any month in decades.

Trump's Quiet Victories. In office, the fallback position of the irreconcilables has been that he could not get anything done. Yet he has dismantled the entire self-garrote apparatus promoting global warming and impeding off-shore and shale-oil production, and is dismantling and reversing the welter of financial regulation designed to promote the Dodd-Frank myth that Congress had lacked the authority to prevent the economic calamities created by official inflation of the housing bubble up to 2008, (with the full approval of the Congress). There is steady promotion of charter schools over the ignorance factories of the state school systems reduced to mockery by the teachers' unions to which the Democratic Party is bound from sandal to mortarboard.

Trump to sign executive order lifting ban on political activity by churches. President Trump will sign an executive order Thursday to make it easier for churches to actively participate in politics without risking their tax-exempt status, and to protect faith-based groups from being forced to pay for abortion services under Obamacare, the White House said. A senior White House official confirmed Wednesday night that Mr. Trump will take the action at a National Day of Prayer event as he hosts conservative religious leaders at the White House. The official said the order is "another example of the president fulfilling his campaign promises." The order is aimed at easing an IRS provision that prohibits churches from directly opposing or endorsing political candidates. Mr. Trump has been promising to get rid of the measure.

Trump signs order aimed at allowing churches to engage in more political activity. The order, which Trump unveiled with great fanfare in a Rose Garden ceremony, was cheered by some conservative Christians but seen as a disappointment by others, who said it fell short of the broader changes they wanted as part of a highly anticipated measure on religious liberties. The order, Trump said, removes the financial threat faced by tax-exempt churches from the Internal Revenue Service when pastors speak out on behalf of political candidates. But some experts said it amounts to a mostly symbolic gesture with little likelihood of changing how the agency polices the issue.

50,000 Haitians face being deported by Trump back to their country. More than 50,000 Haitians are at risk of being deported to a country still reeling from a series of natural disasters, after Donald Trump's immigration agency recommended ending their temporary right to live in the US. Up to 55,000 Haitians are living in America under so-called temporary protected status (TPS), initially granted to them after the 2010 earthquake, that killed an estimated 150,000 people. The status has been updated every 18 months, as Haiti has confronted the challenges of a cholera epidemic triggered by UN peacekeepers, a sexual abuse scandal involving those peacekeepers and political uncertainty following the postponing of elections that eventually saw Jovenel Moïse become president.

Tillerson Cuts 2,300 Jobs From Bloated State Department. Secretary of State Rex Tillerson has begun fulfilling President Donald Trump's mission to reduce the size of government and save taxpayers a boatload of money by proposing to eliminate 2,300 jobs at the State Department. If implemented, the plan would trim the State Department's budget by more than a quarter and its staff by approximately 3 percent, according to The Associated Press.

Study: Obama Imposed $4B More in Regulations Than Trump Did During First 100 Days. President Donald Trump imposed less than one percent of the regulatory burdens that former President Barack Obama did during his first 100 days, according to a new study from the American Action Forum. The conservative think tank tracked regulatory costs created by each administration during their first 100 days. AAF found that Obama imposed $4 billion in regulatory costs while Trump imposed less than one percent of that at $28 million. Trump, whose deregulatory actions AAF suggested were a "success," didn't approve any major new regulations during his first 100 days but was able to slash regulatory costs. The Market Stabilization Rule, enacted under Trump to regulate health care markets, did not impose any new burdens. Trump's other regulatory change, a delay in the Fiduciary Rule, resulted in a $78 billion drop in regulatory costs.

13 Ways Trump Has Rolled Back Government Regulations in His First 100 Days. As President Donald Trump reaches his 100th day in the White House on April 29, he will have worked with Congress to rescind more regulations using the Congressional Review Act than any other president. "We're excited about what we're doing so far. We've done more than that's ever been done in the history of Congress with the CRA," Rep. Doug Collins, R-Ga., told The Daily Signal in an interview, referring to the law called the Congressional Review Act. The Congressional Review Act, the tool Trump and lawmakers are using to undo these regulations, allows Congress to repeal executive branch regulations in a certain window of time.

Report: Trump Rolls Back $60 Billion More in Regulatory Savings. President Donald Trump and Congress have saved an additional $60 billion in regulatory costs by rolling back Obama administration rules, according to a new report. The American Action Forum, a center-right policy institute, released a report Tuesday documenting the most recent ways the administration and Congress have used the Congressional Review Act to repeal regulations. The report found the recent repeal and delay of regulations could lead to $86 billion in net fiscal effects for taxpayers from deregulation.

Coal's Colossal Comeback. Liberals have been saying that Donald Trump was lying to the American people when he said that he could bring coal jobs back. Well, so far, he has delivered on his promise. There's more good news for the coal industry. Earlier this month, Peabody Energy — America's largest coal producer — moved out of bankruptcy, and its stock is actively trading again. Its market cap had sunk by almost 90% during Barack Obama's years in office. Arch Coal is also out of bankruptcy. It turns out that, after all, elections do have consequences. The Obama administration and its allies, such as the Sierra Club, tried to kill coal because of their obsession with global warming. Regime change in Washington has brought King Coal back to life.

Trump Has All the Right Enemies. Signing bills into law requires two branches of government; therefore, it isn't exactly fair to blame the Trump administration for a Republican-controlled Congress divided against itself. Though Trump lacks a signature legislative accomplishment in his first 100 days [...] Trump has signed several meaningful pieces of legislation that thrilled different parts of his political base — a pro-life bill allowing states to strip money from Planned Parenthood; a bill repealing Obama-era anti-coal regulations; and a bill scrapping anti-gun rules signed by Obama. These were core promises to conservative Republicans kept by President Trump. And along the way, he nominated, and saw confirmed, Neil Gorsuch to the U.S. Supreme Court.

21,362 Illegal Aliens Arrested Under Trump So Far. Immigration and Customs Enforcement has ramped-up arrests of illegal aliens during the first weeks of President Trump's term. According to newly released statistics by Immigration and Customs Enforcement (ICE), originally requested by The Washington Post, arrests of illegal aliens increased 32.6 percent during the first several weeks of the Trump Administration. Immigration and Customs Enforcement arrested 21,362 illegal aliens from January 20 through March 13, an increase of 5,258 from the same period in 2016.

Trump is reviving the energy industry Obama tried to kill. Buried in an otherwise humdrum jobs report for March was the jaw-dropping pronouncement by the Labor Department that mining jobs in America were up by 11,000 in March. Since the low point in October 2016 and following years of painful layoffs in the mining industry, the mining sector has added 35,000 jobs. What a turnaround. It comes at a time when liberals have been saying that Donald Trump has been lying to the American people when he has said that he can bring coal jobs back. Well, so far he has.

Trump Won't Be Punked By Foreign Dirtbags Like Obama Was. Donald Trump is in the process of doing what Barack Obama never did and what he and his coterie of pompous twits and political hacks masquerading as a foreign policy brain trust could never do. Trump is establishing a successful foreign policy doctrine. It's not precisely old school Republican doctrine. [...] Trump's policy is "America First." Obama's policy was "Blame America First." Obama employed force only after extensive agonizing and never in the amount required to actually win. The Obama Doctrine was about staving off defeat just long enough so the next sucker would get stuck dealing with the resulting mess [...]

Trump Revokes Obama's Parting Gift to Planned Parenthood. States will once again be able to defund Planned Parenthood after President Trump overturned an 11th-hour Obama administration regulation protecting funding for the nation's biggest abortion provider. Trump signed into law on Thursday [4/13/2017] a bill reversing a Department of Health and Human Services regulation signed in December that prevented states from blocking funding for Planned Parenthood. Obama's regulation reversed the policies of more than a dozen states that had prevented federal Medicaid dollars or other federal reimbursements from going to clinics that perform abortions. Trump signed the legislation one month after he said that he would continue to direct taxpayer dollars to Planned Parenthood if it stopped performing abortions. The organization performs more than 300,000 abortions each year — about one-third of the national total.

Trump Signs Resolution Overturning Obama Planned Parenthood State Funding Mandate. President Donald Trump signed a resolution Thursday that overturns former President Barack Obama's rule that forced states to provide family planning grants under Title X to Planned Parenthood and other abortion providers. In a signing ceremony that was closed to the press, Trump signed H.J. Res. 43, which allows states to withhold federal funds from facilities that provide abortions. In attendance were Centers for Medicare and Medicaid Services (CMS) administrator Seema Verma, Susan B. Anthony president Marjorie Dannenfelser, and Penny Nance, CEO of Concerned Women for America.

American Resurrection. The statistics on illegal immigration are in. Apparently, the wave of illegals has been cut by 70% since Trump's inauguration. And the Wall doesn't even exist yet. So much for all those who said we couldn't halt this illegal flood. ICE is deporting criminals (and leftists are squealing), sanctuary cities are going to lose a lot of funds, Lansing, Michigan, just voted to stop being a sanctuary city, overcoming their foolish mayor.

Ex-Obama officials say hesitation to use force in Syria, elsewhere, emboldened adversaries. News of President Trump's response to the Syrian chemical attack left several Obama administration officials with a sense of frustration and a reluctant feeling of vindication. Trump's decision to act swiftly and decisively, with an airstrike, was what they had wanted to see Barack Obama do in 2013 when he was president and the world learned of the Syrian government's chemical attack that killed some 1,400 people, including hundreds of children. But Obama, they say, was too hesitant and too guided by a belief that dialogue was the way to deal with rogue leaders. He preferred the olive branch to the stick in his efforts to appeal to leaders with dangerous instincts, they say.

Illegal Aliens Caught Committing "Minor" Crimes Are Now Getting... Arrested. [Scroll down] Perhaps they aren't the ones that Trump said he would go after, but, he's not sitting their approving each and every illegal who ICE goes to detain. Furthermore, ICE typically picks up the low and no crime illegals because they have outstanding deportation orders already on the books. Double furthermore, this same thing happened under Obama. Because Obama was only going to micro-manage ICE operations so much. Just because Trump said he would "prioritize" does not mean ICE won't pick up those with other crimes or no crimes. And, really, is DUI not a serious crime? When you drive under the influence, usually alcohol, you are drastically increasing the danger to other people. Fraud usually involves stealing legal citizen's information, which can ruin their lives. Oh, and none should be here in the first place.

Fear of Trump Makes Migrants Disappear From Mexican Border. [President] Trump hasn't yet made good on his bombastic campaign trail promises. The wall is still just a twinkle in his eye, and the deportation force hiring sprees haven't happened yet. ICE agents have conducted raids targeting undocumented immigrants, but they aren't actually that different in scale from raids that happened during the early years of the Obama administration. But the symbolism of Trump in the Oval Office and the threat of extended detention has already deterred many migrants. Migrants are scared, explained Jose, a young Honduran man staying at the San Bosco shelter in hopes of getting to the U.S. They might be less scared in the future, he said, but for now they're waiting.

Arrests of illegal criminals jumps 250% in one week. As promised, immigration police have expanded their campaign to deport illegals with criminal records, announcing the seizure of 368 illegals in seven states and Washington, D.C. That nearly a 250 percent increase over the 106 announced a week earlier. The biggest seizures by Immigration and Customs Enforcement agents were in Texas, but they made arrests as far north as Wyoming.

Trump Blows Up Obama's Foreign Policy Straw Men. President Trump did more than retaliate for Bashar al-Assad's illegal and inhumane use of nerve agents against civilians when he ordered the launch of 59 Tomahawk missiles to destroy al-Shayrat airbase in Syria. He also detonated a few shibboleths of his predecessor's foreign policy. First is the idea that President Obama's 2013 deal to remove Assad's weapons of mass destruction was a success.

President Trump's military strike against Syria is perfectly legal. Senator Rand Paul may be a fine doctor, but his knowledge of the law and Constitution appears misguided. He proved it when he accused President Trump of acting unconstitutionally by launching a military strike against a Syrian airbase without congressional approval. Senator Paul is mistaken. It is true that under Article 1, Section 8 of the Constitutional [sic], only Congress has the power to declare war. But a singular strike against a limited asset hardly constitutes war. It is a military action intended to confront hostilities which does not rise to the level of a declared war as the Founders envisioned.

Trump administration revokes Obama-era directive blocking controversial water project. The Trump administration issued a memo late last week revoking two federal directives implemented under President Obama that had blocked a controversial water project in California's Mojave Desert. An acting assistant director at the U.S. Bureau of Land Management (BLM) rescinded two legal guidances that reinforced the agency's 2015 decision that Cadiz Inc. could not use an existing federal railroad right-of-way in its long-standing project to pump groundwater from the project's planned well field in the Mojave Desert and sell it to urban areas throughout Southern California that rely on the Colorado River Aqueduct.

Illegal immigration down 67 percent under Trump. Illegal immigration across the southwest border is down more than 60 percent so far under President Trump, officials revealed Tuesday [4/4/2017], even before the first new agent is hired or the first mile of his promised border wall is constructed. Mr. Trump took a victory lap over the "record reductions" in illegal crossers, saying he is already saving Americans' jobs by preventing them from having to compete with unauthorized workers.

Bit by bit, Trump methodically undoing Obama policies. Amid the turmoil over staff shake-ups, blocked travel bans and the Russia cloud hanging overhead, President Donald Trump is steadily plugging away at a major piece of his agenda: Undoing Obama.

Sessions says border crossings down 60 percent due to Trump's leadership. Attorney General Jeff Sessions told Fox News' "The O'Reilly Factor" Thursday that illegal border crossings "are down 60 percent due to President Trump's strong leadership." Sessions gave a wide-ranging interview and said that the administration would look at other possible actions against so-called "sanctuary cities" after he announced this week that federal funds would be cut off to locales that refuse to work with Immigration and Customs Enforcement agents after detaining illegal immigrants.

Team Trump is already [effective] at the United Nations. As US Ambassador to the UN Nikki Haley pointed out Monday [3/20/2017], only one country is subjected to regular scrutiny and condemnation in each of the three annual sessions of the 47-member Geneva-based human-rights body. Guess which one. "It's not Syria, where the regime has systematically slaughtered and tortured its own people," Haley said. "It's not Iran, where public hangings are a regular occurrence. It's not North Korea, where the regime uses forced labor camps to crush its people into submission. "It's Israel, the only democracy in the Middle East."

Trump was right to fire Preet Bharara. Fake News outlets portray Preet Bharara as a "storied prosecutor" who went after Wall Street and political corruption. [...] Obama appointed him as United States Attorney for the Southern District of New York, taking office on August 13, 2009. His turf included Wall Street. Under Bush 43, that office successfully prosecuted a score of CEOs. Topping the list of those convicted was Ken Lay, CEO of Enron, who died before he could be sent to prison. The rest did prison time. But Obama changed that. Through Preet Bharara, Barack Obama sold Get Out Of Jail Free cards to corrupt CEOs on Wall Street.

Preet Bharara 'fired': A phony scandal created by an Obama appointee. In 2009, President Barack Obama asked for the resignation of George W. Bush-appointed U.S. Attorneys. When he replaced virtually all of them, it was treated as nothing out of the ordinary. That's because it wasn't. In March 1993 President Bill Clinton had Attorney General Janet Reno fire 93 of the 94 U.S. Attorneys appointed by the prior administration. (Only Michael Chertoff was retained, apparently at the request of Sen. Bill Bradley, D-N.J.) Again, there was no outrage over these firings. Yet today, Preet Bharara, Obama's U.S. Attorney for the Southern District of New York, is being portrayed by some as a political martyr because he was "fired" after he refused the Trump administration's request to resign along with the remaining 45 Obama appointees in the U.S. Attorney slots.

Saint Preet. President Trump axed 46 Democratic political appointees this weekend whom Barack Obama had appointed as U.S. attorneys. He asked for their resignations, but the guy in Manhattan refused to do the honorable thing. So Trump fired Preet Bharara — whom the press immediately lionized.

Trump's Wall Is Already Paid For. Critics of the border wall proposed by President Trump have said the cost is prohibitive under current budget and economic conditions, that no way is Mexico going to pay for it, and shifting funds away from the TSA, Coast Guard, and FEMA are counterproductive in terms of national security. These criticisms ignore the costs to the U.S. in terms other than money — increased crime, overtaxed law enforcement, the drain on public resources such as education, medical care, etc., and the driving down of real wages through an endless supply of cheap labor. In fact, thanks in large part to the mere threat of the wall, the sudden enforcement of existing law, and the stripping of funding from sanctuary cities by President Trump, illegal immigration has plummeted by 40 percent in February, a trend that if continued will reduce the costs and burdens of illegal immigration to the point that the benefits of enhanced border security, including the wall, will be more than paid for.

Repealing Obama. Repealing and replacing Obamacare is nice. But President Trump is doing so much more. He is repealing and replacing Obama legacy of Obama's failure to improve the economy, of Obama's failure to balance the books, and of Obama's failure to protect the border. President Trump rolled back jobless claims to their lowest since 1973, added 473,000 jobs, overseen double-digit improvements in the stock market since his election, collected $60 billion more in tax revenue than he has spent, and has seen new illegal immigration drop 40% in his first full-month in office.

Don't Look Now, But Trump Is Already Winning On Border Security. Just by saying that he would strictly enforce immigration laws already on the books, President Trump is already on his way to solving the illegal immigration problem. Imagine if previous presidents had done the same. In February, border agents apprehended just 18,762 people at the U.S./Mexican border, a 40% drop from January, which was itself a 27% decline from December. In fact, illegal border crossings have fallen every month since Trump won the election. And February's number was lower than any month in the previous five years, according to data from the U.S. Customs and Border Protection.

BUMMER: Did President Trump Just Nuke Obamacare with a Single Executive Order? Earlier this month, the IRS made a seemingly insignificant change to its policy, undermining the Obamacare mandate in a very significant way. For the last several years, individual filers were required by law to fill out line 61 of form 1040, which indicates whether you have maintained coverage or paid the penalty. This is otherwise known as a "shared responsibility statement." Taxpayers could also claim exemption by filing a 8965 form. Tax returns that don't indicate coverage status (silent returns) were to be automatically rejected. However, due to an executive order issued by President Trump, that line is now optional, making it incredibly difficult to enforce the Obamacare mandate.

America Is Safer, in Less Than a Month. During the campaign, many who were slow to embrace Trump saw him as a mere showman, largely because he was already known for that. I subscribed for a time to this view myself. But there is more to Trump than this. As any comedian or jazz musician can attest, good improvisation indicates fully rounded virtuosity. The political showman who regards his TelePrompTer as essential is the one who deserves the word "mere."

State Dept. carries out layoffs under Rex Tillerson. While Rex Tillerson is on his first overseas trip as Secretary of State, his aides laid off staff at the State Department on Thursday. Much of seventh-floor staff, who work for the Deputy Secretary of State for Management and Resources and the Counselor offices, were told today that their services were no longer needed. These staffers in particular are often the conduit between the secretary's office to the country bureaus, where the regional expertise is centered. Inside the State Department, some officials fear that this is a politically-minded purge that cuts out much-needed expertise from the policy-making, rather than simply reorganizing the bureaucracy. There are clear signals being sent that many key foreign policy portfolios will be controlled directly by the White House, rather than through the professional diplomats.

It's a bloodbath at the State Department. Secretary of State Rex Tillerson is cleaning house at the State Department, according to a report. Staffers in the offices of deputy secretary of state for management and resources as well as counselor were shown the door Thursday [2/16/2017], according to CBS News. Many of those let go were on the building's seventh floor — top-floor bigs — a symbolically important sign to the rest of the diplomatic corps that their new boss has different priorities than the last one. The staffing changes came as Tillerson was on his first foreign trip — attending a G-20 meeting in Bonn, Germany.

Trump has kept his promise: Health insurance mandate is history. President Trump has kept at least one of his campaign promises, effectively ending the mandate that required people to buy health insurance. While approved by the Supreme Court, this mandate was unconstitutional because Americans cannot be compelled to buy health insurance, or to buy anything. President Trump did not actually terminate the requirement to buy health insurance, but he tweaked the rules so enforcement is very unlikely to occur.

Trump, GOP Congress have already cut $2.8 billion in regulations. Nearly $3 billion in Obama-era federal regulations have already been slashed by President Trump and Republicans in Congress, a benefit that also saves Americans 41 million hours of paperwork. A new report from the regulation watchdog American Action Forum said that Trump's executive orders and congressional passage of cuts to regulation via the Congressional Review Act have saved $2.8 billion in potential costs.

Union Leaders Praise President Trump After Meeting — Cheer for Removal of TPP. Union leadership met today [1/23/2017] with a pro-jobs, pro-growth, pro-USA president. Leadership from construction/manufacturing, pipe fitters, steel workers and industrial machinist unions met today with President Trump and exit the meeting with incredible praise for the respect he showed them.

Trump Wins Praise From Democrats on TPP Withdrawal. One of President Trump's first moves as president is getting a big thumbs up from some of our more liberal members of Congress. Senators Bernie Sanders (I., Vt.), Bob Casey (D., Penn.), and Tammy Baldwin (D., Wis.) praised Trump today for signing an executive action to withdraw from the Trans-Pacific Partnership.

Carrier Announces Deal With Trump To Keep 1,000 Jobs In Indiana. The bigger story here is that: A.) A U.S. President-Elect actually cares about blue collar jobs, and B.) United Technologies, ie. Carrier's parent company, recognizes their best interests are now to focus on "America First".

Trump to reveal deal to keep nearly 1,000 Carrier jobs in Indiana. Carrier had planned to move production from a key factory in that state to Mexico, taking with it the roughly 1,400 jobs of those who work at the Indiana plant. But shortly after CNBC revealed that Donald Trump was expected to travel to Indiana on Thursday to announce that a deal had been reached, Carrier itself confirmed the agreement.

Trump Cuts Another Deal to Keep Jobs in America. Earlier this month, Ford Chairman Bill Ford notified Trump that Lincoln scrapped a plan to move production of the MKC crossover south of the border, a decision that Ford acknowledged was influenced by the Republican's victory on Election Day. On Tuesday evening, another target of criticism during Trump's run to the White House announced that an Indianapolis factory will remain open for business. Carrier, maker of air conditioners and commercial refrigeration products, revealed on Twitter that it "reached a deal" with Trump and Vice President-elect Mike Pence to "keep close to 1,000 jobs" in Indiana.

Flashback June 2016: Obama Says Trump's Plan To Keep Carrier In U.S. Is Unrealistic. At a town hall event hosted by PBS in June 2016, President Obama said it was unrealistic to try to neogtiate with companies to keep jobs in the U.S. Obama was responding to a question from an empoyee of Carrier Air Conditioners, who had announced months earlier that they were closing a factory in the U.S. and moving to Mexico. Six months later, President-elect Donald Trump announced a deal with Carrier's parent company to keep the factory open.


Back to the Home page