Introduction by The Editor:
Donald Trump is a political outsider, starting his political career at the top. His election has upset the political establishment on the left and the right. Mostly the left. The party that lost the 2016 election immediately began a campaign to impeach and remove Donald Trump by any means. Apparently it doesn't matter if there are any legitimate grounds for his impeachment.
The Democratic Party has abandoned almost every activity other than the unjustified impeachment of President Trump. All but the most extreme voters are tired of the everyday drumbeat of impeachment and the Democrats are getting a lot of negative feedback from their constituents; yet the Democrats persist. This makes no sense, politically, because the Democrats insist on impeachment even though they are unable to offer any evidence of a crime.
Related topics:
The clamor for President Trump's impeachment
The Deep State "Whistleblower" Scandal
Televised Impeachment Hearings
Leftists' departures from the truth
The Democrats are out of step with the American mainstream
Media bias against President Trump
---
Overview / recap articles:
Adam Schiff: The Sacrificial Lamb. The Democrats' tireless effort to remove President Trump from office via impeachment will fail. That much, along with death and taxes, is certain. There is no longer a question as to whether the Democrats will lose in their quest to upend 2016, the only remaining unknowns are where, when, and how badly. And, of course, who is to take the blame? If the buzz around Washington is to be believed, it's Adam Schiff. The Democrats have their choice as to where they will fail, which, in large part, can help determine the extent of the self-inflicted damage their party will ultimately suffer. They can lose in the House by failing to garner enough votes from their own caucus to secure impeachment, or, if they so choose, they can lose in the Senate on a much larger and more damning stage. Either way, they lose.
The Democrats are engaged in a coup. What do we do about it? The Democrats have been telling a story. The Republicans have noted (quite properly in my view) that this particular story has quickly morphed from mere political maneuvering into grave legal proceeding, and as such can no longer be permitted to hide beneath cloaks of insinuation, emotion, and supposition. They have rightfully demanded that the "story" be stripped, so all can see clearly whether there is indeed a skeleton of facts, or merely a rush of hot air keeping the story upright, like some grotesque inflatable yard decoration. The rules of order have been twisted and warped by the House Democrats to prevent the examination of the story. Legal prohibitions on conduct have been disregarded, longstanding rules of evidence dismissed, all to protect the story from revealing its framework. Make no mistake: there is hard evidence to be presented, examined, and adjudicated. It just isn't to be found among the slanderous ephemera the Democrats are calling a case for impeachment. The hard evidence is on the side of the president.
Timely news and commentary:
Impeachment jackpot: Senate GOP raises more than $10M in January. The National Republican Senatorial Committee raised more than $10 million in January, besting its Democratic counterpart as the Senate was adjudicating two articles of impeachment against President Trump. The Democratic Senatorial Campaign Committee raised $8.5 million in the first month of the election year, finishing the period with $19.75 million in cash on hand. The NRSC's haul stemmed from robust online fundraising from grassroots donors that surpassed what the committee accumulated digitally during the first five months of 2018.
Panicked Democrat Establishment Turns To Bloomberg. This wasn't how the 2020 race was supposed to be. The establishment had a plan to take back control of Washington, D.C. Donald Trump had seized control and they needed to get it back. After surveying the options, the plan was to give Joe Biden, President Obama's vice president, the nomination. The media did their part, suppressing negative messaging about the 77-year-old who has never won a presidential primary or caucus. They pushed an impeachment designed to suppress President Trump's numbers heading into the election year. Instead, it helped Trump and hurt Democrats.
Poll Shows Impeachment Torpedoes Hit Joe Biden, Not Donald Trump. The latest polling leaves no doubt Joe Biden was severely damaged by an impeachment process that was supposed to ruin President Trump. Obviously, the far-left Politico will never frame its own Morning Consult poll in that way, but that is definitely the takeaway to anyone interested in the facts. Here are the bottom-line numbers. A majority of "52 percent of voters believe it was inappropriate for the former vice president's son, Hunter Biden, to take the job with the firm Burisma." Only 18 percent said it was appropriate.
Granny Winebox Is Going to Hand This Election to Trump. The House investigation and impeachment of the president last year were, by any objective measure, monumental failures. Trump emerged from the tawdry spectacle stronger than ever. After being harangued and slandered by every Democrat on Capitol Hill throughout the impeachment drama, the president's approval ratings actually got better. It was the radioactive spider that bit him and gave him superpowers. Now the Democrats are looking for more spiders. [...] Pelosi should be leading the party in a direction that at least gives the appearance of wanting to find cohesion and a path to victory. Instead, she wants to revisit her greatest failure, which just happened to have wrapped up a week ago.
New Hampshire Takeaways the Mainstream Media Missed. [#3] The Pelosi Stillborn Impeachment Helped Kill Biden. One of the main purposes of the Pelosi Stillborn Impeachment ostensibly was to help Biden by severely weakening Trump while sidelining senators opposing Biden by forcing them off the campaign trail and locking them in the Senate. Thus, Cory Booker, Kamala Harris, Bernie Sanders, Elizabeth Warren, and Amy Klobuchar were stuck in D.C. when they needed to be eating barbecue and corn dogs at Iowa and New Hampshire state fairs. Yet the opposite transpired. The impeachment bolstered President Trump's popularity and ratings enormously. And the impeachment hoax kept the story of the Bidens and Ukraine in the news for months, despite media efforts to bury it, all on the eve of the first caucuses and primaries. Everywhere Joe Biden campaigned, he was asked about Hunter and Burisma, and those questions typically generated the horribly nasty and hurtful responses with which he hit back. Interesting how things work out.
Pollster: Impeachment will cause Democrats to lose House in 2020. According to pollster John McLaughlin, the impeachment process in the House has backfired on Democrats. While speaking in an interview Sunday, he predicted the proceedings will cause Democrats to lose their House majority in 2020.
Impeaching Trump Probably Destroyed Biden's Presidential Campaign. Should Biden's campaign crash and burn there will be much speculation over what went wrong. How did the frontrunner go from smooth sailing to the nomination to an epic disaster? Well, I think the answer is already clear. When you look at the Real Clear Politics tracking in the early states of Iowa and New Hampshire, you will notice a pattern: Biden starts losing support, or some other candidate starts to rise, around mid-September 2019. Mid-September happens to be the same time the whistleblower complaint that launched Trump's impeachment became public.
Trump campaign and RNC raise more than $100 million during impeachment. The Republican National Committee and President Trump's reelection campaign raised more than $100 million over the course of the impeachment investigation and the trial. The two entities, combined with a joint fundraising committee, revealed that they raised $117 million through online fundraising, ranging from late September, when House Speaker Nancy Pelosi announced the impeachment proceedings, to Wednesday [2/5/2020], when the Senate acquitted him, according to McClatchyDC. They raised that money from about a million new donors.
Marc Thiessen: Impeachment hurt turnout for Democrats in Iowa. Fox News contributor and former George W. Bush speechwriter Marc Thiessen theorized Tuesday that the Senate impeachment trial had a negative impact on the turnout for Monday night's Iowa Democratic caucuses. "It was a very low turnout," Thiessen said on "The Story with Martha MacCallum." "There is an enthusiasm gap right now. And it's partly because of impeachment."
Impeachment was political suicide. Democrats should drop blue as their color in favor of maroon because that is what they are: maroons. As I write this, the Iowa caucuses have not begun, but it is clear that the impeachment has boomeranged in two ways. One, it was a failure that showed — no, proved — Democrats are petty incompetents who only want to bring down the president who made America great again. Democrats wanted to ruin President Donald John Trump's re-election chances. This fiasco strengthened his hand. Two, impeachment mortally wounded the DNC's favored candidate, Joe Biden. Suddenly people knew he was the head of a political crime machine. Adam Schiff and his whistle blowers inadvertently became President Trump's oppo research team.
Democrats are about to go through hell now that the Senate trial is over. I suspect that, when Democratic voters asked for impeachment, they weren't thinking of a scenario wherein Trump remains in office. I suspect that when Democratic Reps. Maxine Waters, Rashida Tlaib, and Alexandria Ocasio-Cortez worked their wild base into a frothy mess by pushing House Speaker Nancy Pelosi to impeach, the expected outcome wasn't that Trump gets ready for a reelection campaign to spend another four years in the White House. This absolutely anticlimactic impeachment is going to do nothing but frustrate and depress Democratic voters, who were hoping for some sign that their hatred of Trump would bear fruit. How is that going to work out for the 2020 Democratic candidates who need all those people to turn out for them?
WH counsel buries Dems for 'domestic election interference,' turns Pelosi's own words against her. White House counsel Pat Cipollone buried Democrats in the final day of questions from senators in President Trump's impeachment trial. Trump's lead defense lawyer leveled one scathing rebuke after another at Democrats and the impeachment managers pressing the sham case against the president, calling them out Thursday for committing "domestic election interference" and warning them that they will pay the price at the ballot box.
Laura Ingraham warns moderate Republican senators that siding with Dems on witnesses 'political suicide'. Laura Ingraham took aim at Democrats tonight [1/28/2020], saying they likely do not feel as confident today in their Senate impeachment trial push than they did yesterday. "After the Trump defense team wrapped up its arguments, even yielding back time to the Senate, the mood on the left seems to have, well, shifted," Ingraham said on "The Ingraham Angle." She said Rep. Adam Schiff, D-Calif., was unhappy Trump's legal team ended early Tuesday. "Well, only in the land of fraudulent impeachments would the lead house manager complain that the other side didn't spend more time arguing their case."
Smelling defeat, the impeachment Democrats' united front is showing signs of breaking apart. [Scroll down] It wasn't just Trump's string of hardcore victories — over Iran, with our top trading partners in China and between the three amigos, as well on the Mexican border where illegal border crossings fell a staggering 90%. And don't forget Brexit with an awesome U.S.-U.K. trade treaty in the wings. It wasn't just the lack of public interest in House impeachment manager Adam Schiff's long, long, long speeches that kept even the Senate visitor galleries empty. It wasn't even a new poll out showing Trump's public approval soaring to the highest level of his entire presidency. Internal polls must have been even worse, because now we are seeing restless Democrats looking to break from the pack, [...]
6 Democratic Senators To Watch In Impeachment Trial. [Scroll down] Gary Peters of Michigan is in a state that Trump won and is competitive heading into this election. The media focus on Collins and Gardner — and not Peters — because they want Collins and Gardner to lose. Yet impeachment isn't popular in Michigan, and voters who had planned to split their vote may find it more difficult if Peters sides with partisans such as impeachment manager Rep. Adam Schiff, the man who perpetrated the Russia collusion hoax.
The Tenuous Future of the Democratic Party. [Scroll down] Another, more immediate problem looms over Democratic candidates as they try to oust Trump in November: Trump's impeachment trial. From watching the primary debates, it's clear that impeachment is the elephant in the room that the candidates want to avoid. The reason for this is simple: each candidate feels that he/she has something unique to offer and wants his/her ideas and platforms to shine through the shadow of a messy, highly politicized impeachment trial that isn't popular with independents. Jumping on the impeachment bandwagon not only makes the candidates look opportunistic and, ironically, undemocratic but also fuels the narrative that Democrats are running primarily on an anti-Trump platform, which, as evidenced by Hillary's campaign, is an optic that isn't likely to get out the vote.
Romney loses GOP support in Utah after challenging Trump on impeachment. Utah Republican Sen. Mitt Romney lost support from Republicans and independents in his home state during the weeks after he called for witnesses in President Trump's Senate impeachment trial, a new poll shows. [...] The Utah Republican senator, however, did gain among Democrats in his state.
Rand Paul puts fellow Republicans on notice; stand with Trump on impeachment or 'you will lose your election'. Sen. Rand Paul warned his Republican colleagues to stand strong behind President Trump in the upcoming impeachment trial or risk political suicide as voters will be "very, very unhappy with them." The Kentucky lawmaker believes there will be a "political price to pay" for Republicans who vote to allow Democrats to call the witnesses of their choice in the process, telling The Gateway Pundit in an interview that he also would like for the impeachment trial to be over with quickly.
House impeachers can hide from a trial, but they can't run. What is going on between [Pelosi] and McConnell is not a "standoff" or an "impasse," as the media would have you believe. It is a straight-up defeat for House Democrats. Having hastily impeached without gathering the requisite evidence and testimony that they are now demanding after-the-fact, Democrats are left with no good choices. They hardly sound credible whining that the Senate needs to hear from a bunch of new witnesses — after all, they didn't need any of those witnesses to impeach, did they? If House Democrats send the impeachment to the Senate to be voted down, then they will look weak. Trump will spend the next 10 months running around, claiming that he has been vindicated. If House Democrats instead chicken out and swallow their own articles of impeachment, then they also lose. McConnell will shrug and smirk while Trump spends the next 10 months crowing about how they tried to impeach him but lacked the guts to make their case.
Democrat Suicide: Trump's Approval Keeps Skyrocketing After Impeachment. After the Democrats completed their circus impeachment vote to impeach President Donald Trump officially, their decision has backfired tremendously. President Trump's job approval rating has increased a staggering six percentage points since the beginning of the Democrat's impeachment inquiry. His overall approval rating went up to 45 percent from initially 39 percent. This has been the third consecutive increase in the president's approval rating, which just proves that the Democratic Party really does have to be worried.
Have the Democrats Reached Their Stalingrad? [Scroll down] Despite the fact that a significant part of Stalingrad was captured by the Nazis (and this seemed like a victory), the prestige of the German army did not increase; rather, it fell. As a result of impeachment, Trump's ratings increased, and the Democrats' ratings fell. In particular, as a result of impeachment, Trump has been beating all of his potential Democrat rivals in the polls. Another distinguishing feature of these two battles is that in both cases, the attacking forces were a motley conglomerate. The main contingent of occupying forces in Stalingrad was not German, but Russian, Romanian, and Italian units of the Wehrmacht. The main contingent of modern American Democrats is not the Democrats of World War II, but a bunch of socialists, Social Democrats, communists, Trotskyists, Stalinists, and other leftists. At the end of winter in 1943, the German command threw its troops surrounded at Stalingrad to their own devices. Similarly, the leaders of the Democratic Party abandoned 31 members of Congress, who were forced to impeach Trump. These Democrats are not quite ordinary. They were elected in 2018, not in the traditional Democrat, but the Republican districts — in those districts where Trump won in 2016. Speaker Nancy Pelosi actually threw her fellow Democrats to the mercy of the winners.
Democrats are the ones who stand to suffer by delaying the Senate impeachment trial. A collision is coming, one that Democrats are giving themselves very little time or maneuvering room to avert. On Friday [1/3/2020], the Republican-led Senate returns to Washington and resumes its standoff with the House over the terms and timing of President Trump's impeachment trial. On the very same day, the one-month countdown to the first presidential contest in Iowa begins. After Iowa, the primary season will accelerate quickly. On March 3, Super Tuesday, states representing more than one-third of the U.S. population are set to vote. By the end of March, chances are that one of the 14 Democratic candidates now in the race will be close to nailing down the nomination, or the party will be headed toward a contested convention.
The Left Goes Over the Edge. [Scroll down] The Impeachment — This is clearly the result of the Dems caught in an echo chamber and beginning to believe their own rhetoric. It was kicked off by the party's freakshow leadership — the Mummy Woman, the Human Lemur, and Jerry the Fat Boy — with absolutely no hope of any positive result. They pressed on regardless, even as sympathies swung toward President Trump and the status of the Democrats eroded to the point that their hold on the House is now threatened. They hammered through the vote all the same, constantly accelerating, until... Until Nancy Pelosi, unable to look failure in the face, refused to turn the articles over to the Senate on specious grounds — and did this at the beginning of the Christmas recess, when absolutely nothing could be done to alter the situation. So for three weeks, there she is, hanging like Wile E. Coyote waiting for gravity to take hold. She is now in the worst position a politician can envision: a situation in which all possible alternatives mean even more public humiliation for herself and her party.
Corrupt Impeachment Attempts Have Consequences: Chris Christie thinks Republicans will flip three New Jersey congressional seats. Former New Jersey governor and 2016 presidential contender Chris Christie said Democrats' irrational and unfounded drive to impeach President Donald Trump could cost them three congressional seats in his blue home state next year. "You know what's happening in blue New Jersey, a very blue state. Jeff Van Drew switches from Democrat to Republican, from the majority party to the minority party in the middle of impeachment because of impeachment," Christie told ABC's "This Week" program on Sunday [12/29/2019].
Impeachment of Trump Is Backfiring Already. This impeachment sham strategy was created with one single purpose in mind: to try to sabotage Trump's chances to win his reelection bid next November. Thus far, this strategy appears to have massively backfired. Public support for Trump's impeachment didn't increase during the closed and then open hearings in the House; instead, it decreased, even among Democrats, as the more recent polls demonstrate. Obstinately pressing forward with impeachment also resulted in another record fundraising month for Trump and the Republican Party, which just recorded its best November ever, at $20.6 million raised from donors, many of them small donors. That fundraising bonanza stands in stark contrast to that of the Democratic Party, which is currently more than $7 million in debt while having just over $6 million in cash on hand.
WSJ Columnist Details What the Democrats Are Really Doing with This Impeachment Holdup Game. The Senate Republican playbook should be put House Speaker Nancy Pelosi on mute and get this trial started. Pelosi and the Democrats have no say in the matter. They don't. And by withholding the articles of impeachment against President Trump because they know it faces certain death in the Republican Senate creates a new constitutional crisis of its own. This isn't about a fair trial. As Wall Street Journal columnist Kimberley Strassel noted, a trial would only further degrade their position in the polls on this impeachment push. It was never popular from the start, and now it's underwater nationally. It's especially not popular in the key swing states that Democrats have to win in 2020. I think Democrats know this is a fiasco, the smart ones at least, but they made a 2018 promise to the base to impeach the president. They have to keep it.
The Editor says...
Really? Breaking promises has never been a problem before.
New Year Ahead: Nothing Will Help Them. It looks as if Nancy Pelosi, who argues that the President was such a threat to the life of the Republic that he had to be speedily impeached in a show trial in which Schiff and Nadler prevented a real defense, now thinks that, like a president who can veto a bill by tucking it away without signing it, she can avoid a Senate overview and vote by failing to appoint managers for the impeachment and send it up to the Senate. It hardly matters, though — the exercise in futility by the House Democrats has padded the Republican larder with a tsunami of contributions, raised Trump's approval in poll after poll, greatly diminished support for impeachment, energized the thousands of people (about 20% of whom identify as Democrats) to wait for hours even in cold and inclement weather to fill his rally venues. The stock market has hit a new high, unemployment a new low.
Why The Democratic Primary Seems Invisible. [Scroll down] Honestly, how can this possibly be? This is, after all, a contest to decide which Democratic hero will square off against a president that most party members view as a combination of Hitler, Darth Vader, and Benedict Arnold. [...] There [are] a few plausible reasons why this primary just can't seem to get much traction. One often cited reason is that Democrats have essentially overshadowed their own primary with impeachment. After all, networks like CNN and MSNBC that should be laser focused on the primary instead spend approximately 58 out of every 60 minutes predicting Trump's imminent doom, as they have been for three years.
The Democrats Have Stuck Their Heads in a Meat Grinder. The Democrats allege that Trump must be impeached because he abused the power of his office by threatening to withhold military aid from Ukraine unless that country helped investigate possible corruption by former Vice President Joe Biden, a potential political rival. The House Republicans have exposed the factual weakness of this charge by amply demonstrating that there was no such quid pro quo. Now it is recognized that neither this claim nor the equally fatuous charge that Trump has obstructed Congress by asserting executive privilege will result in the necessary two-thirds removal vote by the Senate. Trump will win. [...] President Trump's request for assistance was absolutely legal, ethical, proper, and mandated by what is known so far. That should be the primary line of attack against impeachment.
Exactly what part of Nancy Pelosi's partisan impeachment plan is actually working? Let's examine the impact so far of what was widely touted as a historic impeachment of President Donald Trump: His job approval rating is back at its highest level since taking office 1,068 long days ago. That's up six points since the House began impeachment.
Ari Fleischer: Impeachment Will Go Down As One Of The Greatest Political Mistakes Pelosi Has Ever Made. Media consultant and former Bush press secretary Ari Fleischer criticized Pelosi for politicizing impeachment by holding on to the articles of impeachment in the House. Fleischer said Friday if Pelosi really believed that Trump is an urgent threat to the country she would get it to the Senate as soon as possible. "This will go down as one of the greatest political mistakes the speaker has ever made," Fleischer declared. "When you have the momentum of impeachment because your party earnestly believes in it and thinks it's the right thing to do, and it's urgent that they remove the president from power because the peril he presents, and then you sit on it, all you're doing is showing that this was a hollow exercise all along." "Democrats, since they took the House, are going to been known for one thing, and that was wasting the nation's time with an impeachment," he said.
Impeachment Celebration will be short-lived. These Democrats will regret their insistence that the President be impeached, for the entire sordid affair will only guarantee his second term. Current polls show that most of the American people do not approve of the Trump impeachment and do not want to see the President removed from office. As he runs for a second term, the President will use impeachment as a political weapon to wield against his Democratic Party opponents.
Candace Owens: 'Impeachment Fiasco' Is Good for 2020 Election. Blexit founder Candace Owens told Breitbart News on Friday she believes the "impeachment fiasco" is good for President Donald Trump's 2020 reelection campaign, as more and more moderate Democrats are waking up to the fact their party stands for "damaging America as a whole." "I see the silver lining in that, I think it's great for Trump," said Owens, after speaking to thousands of young conservatives at Turning Point USA's fifth annual Student Action Summit in West Palm Beach, Florida. [Video clip]
Dems Sign Own Death Warrant — Brace for 2020 Doomsday. You might imagine that today would be an occasion of celebration among the Swamp elites; they have achieved a goal more than three years in the making. Yet despite fanfare from the left-leaning media, Democrats themselves are not as jubilant as one would expect. Immediately after the House voted to impeach the president, Representative Nancy Pelosi (D-CA) — the architect or the patsy depending on your point of view — was asked about the next steps. She refused to say when — or even if — the articles would be sent across to the upper chamber. Could this be because any political capital gained from last night's events would be squandered if the Senate dismissed the charges or acquitted Trump in short order?
Impeachment Democrats Commit Political Suicide. The Democrats from disticts that Trump won in 2016 who voted for impeachment for a supposed "crime" based entirely on hearsay have signed their own political death notices. The voters in their districts will NOT forget their support for a shampeachment. They can thank Nancy Pelosi for forcing them to walk the plank and plunge into the political abyss for the early termination of their short careers. [Video clip]
Why Donald Trump will win 2020. It is easy to see what is really going on here. Democrats have weaponized the impeachment process and are using it as another political tool against an opponent they cannot beat. That is not why the Founders established impeachment. Indeed, they feared that impeachment could be used by one party in control of the House against a president of the other party. But the good news is that Americans see through this. The polls are swinging against Democrats, and this charade of an impeachment is simply benefiting the reelection campaign of Trump.
Dems Learning the Hard Way Why Impeachments Are So Rare. Trump is clearly winning with this impeachment charade, but that's overshadowed by how badly Democrats are losing. Democrats never had much to gain on impeachment, or even a strong hand to play in order to sell its necessity. One might be inclined to say that what Democrats did in impeaching President Trump was a risky political gamble. But that's an incredible understatement.
Why Impeachment Is A Massive Blunder For Nancy Pelosi. It's been an ugly fall in Washington. Wet, dreary and deeply stupid. In the season we're supposed to be shopping for the perfect gift for our loved ones, instead most of us are busily shopping for a reason to give America what they say she wants more than her two front teeth: impeachment. But despite Wednesday's long-expected vote and the media cheer group accompanying it, this is going terribly for the Democrats.
Rep. Van Drew Flips Republican and Pledges 'Undying Support' for Donald Trump. Democrat Rep. Jeff Van Drew of New Jersey officially announced his decision to switch political parties and pledged his support for President Donald Trump on Thursday. "I believe that this is just a better fit for me," Van Drew told reporters on Thursday at the White House. "This is who I am. It's who I always was, but there was more tolerance of moderate Democrats, of Blue Dog Democrats, of Conservative Democrats, and I think that's going away."
New Jersey Rep. Jeff Van Drew, anti-impeachment Democrat, flips to Republican Party. Rep. Jeff Van Drew, one of just three Democrats to vote against President Donald Trump's impeachment in the House of Representatives, will become a Republican, Trump announced Thursday [12/19/2019]. Van Drew's flip was revealed at the White House less than one day after the House passed two articles of impeachment against Trump for abuse of power and obstruction of Congress. Trump, speaking to reporters in the Oval Office, delivered the "very big announcement" that "Jeff will be joining the Republican Party."
6 Reasons Pelosi's Senate Obstruction Gambit On Impeachment Articles Is A Disaster. Immediately after impeaching President Donald Trump for allegedly obstructing the House and abusing his power as president, House Speaker Nancy Pelosi obstructed the Senate's constitutional obligation to hold an impeachment trial and abused her power by trying to steal power that belongs solely to the Senate under the Constitution. Pelosi told reporters on Thursday that she is in no rush to formally transmit to the Senate the articles of impeachment her party in the House had just approved. Here are six reasons Pelosi's impeachment obstruction stunt undermines the entire basis of the Democrats' effort to eject Trump from office. [#1] After impeaching Trump for supposed obstruction of House, Pelosi moves to obstruct the Senate[.] Pelosi said she'll wait to send over the articles until she finds out how the Senate will conduct the trial, which looks a lot like obstructing the Senate, given that the Constitution clearly states that the Senate has "the sole power to try all [i]mpeachments."
Impeachment is hurting the GOP so badly that they just broke a fundraising record. Here's yet another, albeit less official metric to keep an eye on in terms of how the voters are responding to the Democrats' impeachment circus. Enthusiasm among the GOP base appears to have shifted gears and people are responding enthusiastically. The RNC is reporting that they've hit a milestone in fundraising while all of this drama has been playing out in the House of Representatives.
Extortion: Nancy Pelosi Threatens to Withhold Impeachment Articles from Senate Republicans. Today was truly a clown show, with scores of Democrats trying to make the case that Trump is an existential threat to the United States. There was a lot of hot air. The evidence against Trump is the very definition of weak sauce. It's so thin and so nakedly partisan that swing-state voters are sour on impeachment. This move by Democrats has increased the president's popularity. It hasn't moved the needle. In fact, the approval numbers for impeachment are now underwater. It has done the exact opposite of what Democrats had hoped, and this could be one massive in-kind contribution to the 2020 Trump campaign. Maybe within the leadership, they know this too, but they're at the point of no return.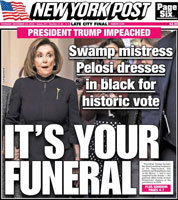 Nancy Pelosi dubbed 'swamp mistress' on New York Post impeachment front page: 'It's your funeral'. The New York Post labeled House Speaker Nancy Pelosi, D-Calif., the "Swamp mistress" on its Thursday [12/19/2019] post-impeachment cover that says the decision will backfire for Democrats in 2020. The tabloid put the news of President Trump's impeachment along the top of the front page before declaring "Swamp mistress Pelosi dresses in black for historic vote," with the message, "It's your funeral." The "swamp mistress" moniker accompanies an opinion piece by Michael Goodwin that labels Trump's impeachment a "stomach-turning charade" that "damages America."
Those vaunted red-state Democrats are underwater, according to internal poll. As Democrats intone piously about saving the republic from a president who has "abused his power" and "committed high crimes," and the news media call it all "historic," somewhere, behind the scenes, the red-state Democrats are panicking.
Facing a 2020 drubbing, the left begins lining up its excuses. The left and its Democrats in power are in bad shape. [...] They're sinking in the polls. Their favorite networks are seeing collapsing ratings. They have a string of bad candidates, each more socialist than the next. Voters hate socialism, along with guys who are too old to run. The Horowitz report exposed the dishonesty and absence of integrity of their Deep State allies. The object of their ire, by contrast, is rising in the polls, with sharp drops in his high-negative numbers and strong gains in traditional Democratic bulwarks such as black and Latino votes and more. A recent poll showed that Trump would smash any Democrat in a head-to-head lineup. There's no arguing with a stellar economy and promises kept.
Jeffrey Toobin Melts Down as CNN Discusses Their Own Poll Showing Impeachment Support Cratering. As we've documented here for the last two months, support for impeachment has been in a steady decline among independent voters since before the first public impeachment inquiry hearing started in November. But as Nick Arama pointed out earlier, according to a new CNN poll support has dropped dramatically in recent weeks — with Democrats. It was 90% in a CNN poll among Democrats when Schiff's show trials were underway, but now it's at 77%, a 13% drop. The news that CNN's own polling showed even Democratic support in a freefall was just too much for CNN legal analyst Jeffrey Toobin to handle.
Prediction About Pro-Impeachment House Democrats: 12 or More Could Lose Their Seats. Two House Democrats — one of whom is flirting with switching to the Republican Party — are on the record as against the impeachment of President Donald Trump. The rest of the 31 House Dems who represent districts that President Donald Trump won in the 2016 presidential election have either come out for impeachment or are thought to be leaning toward impeachment. As of yet, there is not a single Republican in the House or Senate who has publicly backed impeachment and/or the removal from office of President Trump. So, an almost straight party-line process is in the cards.
RNC Collects $25+ Million From 600,000 New Donors Since House Took Up Sham Impeachment. As Nancy Pelosi and her minions continue full bore with the impeachment show trial, the Republican National Committee is raking in millions of dollars to spend retaking the House next year, while the DNC sputters.
Adam Schiff Event Shut Down: Dems Don't Like Protesting When the Shoe Is on the Other Foot. Yelling and screaming and interrupting people while they eat dinner or try to have an event is the Democrats' favorite activity — until it's used on them. Adam Schiff (D-Calif.) hosted a town hall event celebrating a bill recognizing the Armenian genocide Saturday. His remarks came to a screeching halt when protesters began to jeer and chant "LIAR" and "you're going to jail!" at him. It was beautiful. Many people in the room seemed confused as to why people were protesting the shampeachment clown show. This is not surprising to anyone who only watches mainstream news, which makes it appear that Americans hate Donald Trump. At least one protester made sure to point out several times that they were not there to protest the Armenian people being recognized but to protest Schiff and the impeachment of the people's president.
Trump Supporters Erupt At Democratic Rep. Slotkin Town Hall After Coming Out In Favor Of Impeachment. A group of President Donald Trump supporters on Monday [12/16/2019] showed up to Michigan Democratic Rep. Elissa Slotkin's town hall to protest her decision to vote in favor of impeachment. Slotkin, who was undecided on impeachment until Monday, after taking the weekend to make up her mind on how she would vote, said she has came to the conclusion that she will vote to impeach Trump after reviewing the two articles of impeachment passed by the House Judiciary Committee.
Trump Campaign Raises $10 Million In Just One Week Amid Impeachment Probe. The Trump campaign managed to raise $10 million in just one week as House Democrats advanced their impeachment inquiry, according to Trump campaign manager Brad Parscale. Parscale listed some of the president's accomplishments on his Twitter account Sunday, including the completion of a first phase trade deal with China and an executive order aimed at combatting anti-Semitism on college campuses, while highlighting the campaign's massive fundraising haul.
Support for Impeachment Dips ahead of House Vote. The level of support for Trump's impeachment and removal dipped below the level of opposition for first time since the inquiry was formalized in October, according to a RealClearPolitics polling average updated just two days before the impending House vote on impeachment. RCP's average tipped in Trump's favor, 47.3 to 46.7 percent on Monday [12/16/2019] following the addition of two new national polls, NPR/PBS/Marist and USA Today/Suffolk, which found that opposition to impeachment outweighed support by three and five percentage points, respectively.
NFL Great Burgess Owens Announces Run Against Pro-Impeachment Utah Democrat Ben McAdams. At least 20 of the 31 Democrats in Trump districts announced they will support the sham Trump impeachment this week. Democrat Ben McAdams announced on Monday [12/16/2019] he will support the sham impeachment. McAdams won by 694 votes in 2018 over Republican Mia Love in 2018.
Adam Schiff town hall on Armenian Genocide erupts when pro-Trump hecklers call the congressman a 'liar' who is guilty of 'treason' over impeachment. A California town hall meeting attended by Adam Schiff descended into chaos after pro-Trump hecklers clashed with constituents after calling the congressman a 'liar over the president's impeachment. Schiff was at the event in Glendale, near Los Angeles, hosted by the Armenian National Committee of America on Saturday to discussing how recognizing the Armenian Genocide was a significant bipartisan issue. However, a number of people in the crowd began shouting at him a few minutes into his remarks and protesters held up signs reading 'Don't Impeach.' Guests at the event asked them to lower their signs, which they refused to do.
CNN Impeachment Poll Has Bad News For Democrats: Support Among Democrats Drops By Double Digits. A new CNN impeachment poll released on Monday found that not only is support for impeachment and removal underwater nationwide, but that support has dropped among Democrat voters by double-digits. "Support for impeaching Trump and removing him from office stands at 45% in the new poll, down from 50% in a poll conducted in mid-November just after the conclusion of the House Intelligence Committee's public hearings," CNN reported. "Opposition to impeachment and removal stands at 47% in the new poll, up from 43% in November." CNN added, "Support for impeachment and removal among Democrats has dipped from 90% in November to 77% now."
The Impeachment Show Trial. House Speaker Nancy Pelosi was initially reluctant to risk the electoral backlash of impeachment. She finally bowed to far-left pressure, ignoring the President's astounding economic and foreign policy successes. Her worst nightmare is coming true — rising approval for President Trump and rising disapproval for the Democrat Party and their presidential candidates. This is because the impeachment process we are witnessing is decidedly un-American. Using secretive, totalitarian-style, one-party interrogations is not due process and is unworthy of a constitutional republic.
Conservative Groups Using Impeachment to Oust Democratic Lawmakers. Conservatives are poised to launch a massive offensive against Democrats in districts in which they are vulnerable. The weapon of choice? Impeachment. Many have viewed the Democrats' obsession with impeachment as a double-edged sword, one that could help Trump and the GOP more than harming them. If the planned moves by an alliance of right-leaning organizations are any indication, the political strategy on which the Democrats have relied for 2020 could be their undoing.
Alternate Realities and Impeachment. [Scroll down] I don't doubt that Pelosi would throw herself on the sword for the party but only if the upside were all but guaranteed or things were so bad she had nothing to lose — neither of which is the case. As addled as she sounds at times, I find it hard to believe she's lost her strategic mojo and is hellbent on taking down Trump uber alles — personal consequences to her and the party [notwithstanding]. That would be asking her to throw away control of the House with the presidential bathwater. Not to mention the mess she'll have to clean up during campaign season after the Senate acquits Trump — not a guaranteed outcome but the most likely one. But the speaker has to know there is a 50/50 chance that a Senate trial could expose the House of cards on which the impeachment is built and derail both the presidential and congressional races for Democrats. I think that's too risky for her.
Oklahoma Dem gets an earful from angry constituents over impeachment. An Oklahoma congresswoman became another on a growing list of Democrat lawmakers facing angry constituents over their efforts to impeach President Donald Trump. Rep. Kendra Horn got an earful from voters last week who were angry about the relentless focus of Democrats on impeachment while ignoring the real issues Americans care about.
Nadler can't close elevator door fast enough when confronted by angry voters. House Judiciary chairman Jerry Nadler was confronted by a small group of angry voters for leading the Democratic Party's sham impeachment. One voter warned Nadler that his shameless attempted coup will backfire on Democrats when President Trump wins the 2020 election in a landslide. Trump supporter Ben Bergquam and several other protesters shouted at Nadler as he wormed his way to the elevator in a bid to make a quick getaway after yesterday's impeachment debate.
Unconstitutional Impeachment: The Real Abuse of Power. The House has filed articles of impeachment against President Trump. The charges are vague, not criminal, not in line with constitutional requirements, but Democrats don't care. The American people are opposed to this illegal impeachment, but again, Democrats don't care. They have a mission, and nothing will stand in their way.
[The] Impeachment disaster [is] only going to get worse for Democrats. Democrats have reached their point of inflection. Either they can admit they have failed to convince the total American public that President Trump should be removed from office by virtue of the impeachment process, or they can suffer the consequences at the ballot box. It's hard to argue that, to date, the combination of the Democrats in the House controlling the process, coupled with coverage from the mainstream media, is anything other than a drumbeat that the facts are horrible for the president, that they demand impeachment, and failure to impeach is nothing short of constitutional malfeasance.
Fake moderate Virginia Democrat Abigail Spanberger feels the heat from fed up, impeachment-weary constituents. The first signs of trouble ahead for newly elected so-called moderate representatives in swing districts are being felt here in Virginia's 7th District. Rep. Abigail Spanberger hopped on the moderate train in 2018, touting her CIA background ad nauseam to the people of the traditionally Republican 7th District. With the help of millions of dollars from pro-abortion PACs and Soros-funded outfits, volunteers from Northern Virginia spread out over the western and southwestern suburbs of Richmond to give her a slim margin of victory over Republican Dave Brat. But Spanberger's cover as an across-the-aisle moderate is not holding up well under the pressure of an impeachment hoax and a newly elected majority-Democrat Legislature.
Democrats [are] between a rock and a hard place. They are exclusively focused on removing President Donald Trump, and they only discuss policy during their somniferous debates. In the Democrats' defense, their mainstream media bosses cover nothing but Trump and Trump crucified. Also, some Democratic Party leaders probably realize that their ideas don't fully resonate with the people and so it is in their interests to keep the focus on Trump. But to their surprise, it seems they have made a grave tactical error in putting all their rotten eggs in the impeachment basket. Polls indicate their strategy has backfired, especially among independents and particularly in the swing states.
Impeachment is Backfiring in the Midwest. In Wisconsin, the Marquette University Law School Poll offered good news for President Trump last week. His 47 percent favorability rating is the highest on record with the poll. Trump won Wisconsin in 2016 when his favorability was at 35 percent among likely voters, according to the final Marquette Poll of 2016. Most devastating for Democrats is Trump's strong position in head-to-head matchups compared to where he was prior to the impeachment inquiry.
New Poll Shows Voters Aren't Buying Into the Progressive Sales-Pitch for Socialism. While soak-the-rich progressives lead the Democratic presidential field, a new poll released Tuesday [11/26/2019] shows voters remain skeptical of their socialist policies. Just 12 percent of likely voters reported preferring a socialist economic system, according to a new Heartland Institute/Rasmussen poll. Sixty-nine percent said they preferred "a free-market economic system." When it came to the 2020 contenders, only 26 percent of likely voters said they would vote for a presidential candidate that identified as a socialist. Fifty-percent said they would not.
They brought all this trouble upon themselves.
Vanity Fair's Impeachment Data Is Terrible News for Democrats. The far-left Vanity Fair got its Trump-hating hands on some exclusive impeachment data, and it is all bad news for Democrats and their fellow coup plotters in the media. The headline reads: "Polling Suggests Democrats' Impeachment Push Could Alienate Key Voters." The sub-headline reads: "Data exclusive to Vanity Fair shows impeachment could be a losing issue for Democrats hoping to recruit Independents in 2020. 'Lots of people who don't like Trump who are still prepared to vote for him,' says one political science expert."
New Impeachment Poll Shows Pelosi and Schiff May Be Setting Democrats up for a 2020 Election Disaster. In spite of what the national media and Democrats have been saying about voter support for impeaching President Trump, the writing has been on the wall for weeks suggesting they're on a path to disaster come election time. A new Politico-Morning Consult poll bears that out, but first, let's look at what other revealing polls have said over the last few weeks. Roughly two weeks before the public impeachment inquiry hearings began, a Suffolk University poll showed that when it comes to the impeachment issue, the devil is in the details. In that poll, 31% of those surveyed believed the July call between Trump and Ukrainian President Zelensky was not a big deal. 21% said that even though they felt the call was wrong, they didn't feel he should be impeached over it, meaning a total of 52% of the 1,000 registered voters surveyed believed Trump had not committed an impeachable offense with the call.
Impeachment is not Playing in Peoria. In the days of vaudeville when a show was destined to not play well in Peoria the producers would cut their losses and shelve the production. So, Nancy Pelosi what are you going to do? Stick with The Ukraine debacle to the bitter end rather than admit a mistake? Try and create out of whole cloth yet another impeachment theory? Slink off into the shadows and not have an impeachment vote?
Impeachment shows shouting a lie does not make it true. Rasmussen reported, "Most voters don't expect fair play from the media when it comes to news coverage of the Democrats' impeachment attempt. "53% of Likely U.S. Voters think most reporters are trying to help impeach President Trump when they write or talk about the impeachment effort. The latest Rasmussen Reports national telephone and online survey finds that just 32% believe most reporters are simply interested in reporting the news in an unbiased manner. 8% say most are trying to block Trump's impeachment." The story also said, "90% of voters who Strongly Approve of the job Trump is doing think most reporters are trying to help impeach the president."
Impeachment hearings! Is that all they've got? [Scroll down] Something is manifestly wrong with Adam Schiff. [...] He does not, apparently cannot, differentiate between the truth and lies. [...] He has become a joke and his own Democrat colleagues know it. He is an embarrassment. If she were wise, which she is not, Pelosi would shut this faux inquiry down now. But wisdom is not her strong point. When Trump wins the 2020 election in a landslide, the Democrats will blame Schiff. They will never admit that Trump won because he is a great president and has gone a long way toward making American great again. If what we saw and heard on Wednesday [11/13/2019] was any indication of what the Democrats have in support of their effort to depose him, if that is all there is, they are making the biggest mistake of their political lives.
Polls Suggest Impeachment Will Help Trump Reelection in Swing States. Democrats took a tremendous gamble by formally voting for an impeachment inquiry into President Donald Trump on Thursday. While polls suggest Americans support the inquiry, the general public is divided on whether or not Trump should be impeached and removed from office. Those in key swing states are more likely to oppose impeachment and removal, suggesting that the impeachment battle may help Trump's reelection in 2020. "We've known for a long time that everybody in California and New York want Trump to be impeached, they've wanted that since the day he came into office," an anonymous Trump campaign official told The Hill. "But in these states where the election is really going to be fought, we're seeing that voters oppose impeachment, and there's an intensity to that opposition."
RNC Polling: Support for Trump Rises amid Democrat Impeachment Efforts. Support for President Trump has increased amid the Democrats' pursuit of impeachment, Republican National Committee (RNC) polling shows. The House is soon to vote on an impeachment resolution, which Republicans say does little to nothing to address their mounting concerns. Under the resolution put forth by Democrats, Republicans would not be able to call the "whistleblower" to testify. It also includes a "loophole" that gives Democrats unprecedented power throughout the process.
New York Times Upshot/Siena College Poll: Majority of Voters Oppose Impeachment and Removal in Battlegrounds. A New York Times Upshot/Siena College Poll released on Wednesday [10/30/2019] shows residents of six battleground states oppose impeaching and removing President Trump from office by a 52 percent to 44 percent margin, but support the House impeachment inquiry by a 51 percent to 44 percent margin.
Impeachment Not Looking Too Popular in These Key Swing States. We've written about impeachment polling for quite some time, noting that public support for that process was deep underwater following the release of the Mueller report, then tracking voter sentiment evolving from unchanged to generally supportive of at least an impeachment inquiry, as related to the Ukraine/quid pro quo matter. As things currently stand, national surveys show a clear majority in favor of the inquiry, with opinions split on the question of conviction and removal. [...] Polling does not and should not affect the substance of presidential misconduct or potentially impeachable offenses (here's the latest on the quid pro quo question), but because the whole process is inherently and explicitly political, public opinion considerations matter a great deal.
Adam Schiff Staff Refuses to Meet Senior Citizens, Citing 'Security'. Staff for Rep. Adam Schiff (D-CA) refused to meet with a group of ten senior citizens opposed to the impeachment of President Donald Trump at his district office in Burbank on Thursday, citing a "new policy" on "security." The group, which included several constituents of Schiff's 28th congressional district, Trump supporters, and Tea Party activists, had informed Schiff's staff ahead of time that they would be coming. They carried home-made signs that read, "Don't Impeach!", "Pink Slip for Adam Schiff!", and "Schiff, is a Shifty Character and a Liar!" They also carried a document listing 200 of Trump's accomplishments, as part of their opposition to impeachment.
Democrat Congressman: Voters 'Hate' and 'Don't Trust' the Democrats. Rep. Max Rose (D-NY) said people "hate the Democrats" for beating around the bush when it comes to the policies and positions they support. Rose himself recently flip-flopped on opposing the House Democrats' impeachment inquiry after coming out against the investigation.
How Unreasoned Impeachment Dysfunction Is Trashing Democrats. The socialist/progressives whom AOC represents are now in charge of the "blue" party, whose character is clearly defined by the most left-wing New York and California politicians and voters. While these progressives love their unfounded impeachment dreams, they have no sense of what it is doing to the traditional, common-sense, family-oriented center of the Democrat party.
Protesters Swarm Max Rose's Office Over His Support of Impeachment. Protesters on Monday swarmed Rep. Max Rose's (D-NY) office over his newfound support of the partisan-fueled impeachment inquiry. Rose — who represents New York's 11th district, which Trump won by ten percentage points in 2016 — recently caved and announced his support for an impeachment inquiry. "I will support and I will defend the United States Constitution, and it is for that reason that I intend to fully support this impeachment inquiry and follow the facts," he told supporters at a town hall last week.
Freshman House Democrat backing impeachment inquiry faces boos and heckling at town hall. Michigan Rep. Elissa Slotkin received pushback from her constituents recently over her support for an impeachment inquiry of President Trump. During a weekend town hall in Hartland, the first-term Democrat's remarks were interrupted by boos and hecklers as she opened the session discussing a Washington Post op-ed she and six colleagues wrote explaining their support of an impeachment inquiry.
Alabama Democratic Sen. Jones in a bind on impeachment. U.S. Sen. Doug Jones walked into a recent town hall and declared he was ready for whatever his constituents wanted to throw at him. But first, he wanted to address the biggest news from Washington: The House impeachment inquiry of President Donald Trump.
Democrats in Red States Having a Rough Time Defending Impeachment Back Home. House Democrats in red states who have come out in support of impeachment are having a rough time defending their decision back home. Democrats who are back home for two weeks in districts that supported President Trump in 2016 are having to answer questions on impeachment — whether they like it or not.
Democratic Rep. Elissa Slotkin Gets Booed After Announcing Support For Impeachment. Democratic Michigan Rep. Elissa Slotkin received a cold welcome from her constituents last week after she gave her support for an impeachment inquiry targeting President Donald Trump. Slotkin and six other freshman Democrats wrote an op-ed in the Washington Post late last month announcing support for an impeachment inquiry over Trump's now-infamous phone call with Ukrainian President Volodymyr Zelensky. The call prompted House Speaker Nancy Pelosi to launch an official impeachment inquiry after months of pressure from her caucus.
Warren Surrounded in Reno Airport by Trump Supporters Shouting 'Stop the Impeachment'. Trump supporters swarmed Sen. Elizabeth Warren (D-MA) at a Reno airport and demanded her to "stop the impeachment" of President Trump, according to a video posted by the Nevada GOP on Wednesday [10/2/2019]. The Nevada GOP posted a video of Trump supporters flocking the presidential candidate, holding signs and shouting, "Stop the impeachment" and "don't impeach," as she scurried along, dragging her luggage across the airport. One individual can be heard referring to her as "Pocahontas."
RNC spokeswoman: 50,000 New Donors Since Democrat Impeachment Announcement, $5 Million in First 24 Hours. Since House Speaker Nancy Pelosi announced her caucus would proceed with the impeachment of President Donald Trump, it has done anything except demoralize Republicans based on the immediately fundraising efforts of the Republican National Committee. During an appearance on Huntsville, AL radio's WVNN on Tuesday, RNC national spokeswoman Elizabeth Harrington pointed out that much like the drama of last year's Brett Kavanaugh confirmation hearings, Republicans have responded to Democrat efforts to "undo" the 2016 presidential election. In this case, they have done so with their pocketbooks.
New poll: Majority of Americans against impeachment and removal of Trump. A new Quinnipiac University poll released Wednesday shows a majority of Americans do not think President Donald Trump should be impeached and removed from office. Only 37% of respondents think the president should be impeached and removed, while 57% do not. In a clear partisan divide, 4% of Republicans and 73% of Democrats surveyed support impeachment. Those who responded against impeachment include 95% of Republicans surveyed and 21% of Democrats.
Dems Poke The Silent Majority Bear (Again) — Trump 2020 Campaign Raises $5 Million In Just 24 Hours. It appears millions of supporters of President Trump are riled up over the latest anti-Trump attempt by Democrat members of Congress and the far-left media to destroy a president who, in less than three years, has turned around the U.S. economy, put millions of Americans back to work, and made the world safer for all people around the globe. These are small-dollar donations — everyday people from who get up and go to work to try and put food on the table for their families. They recognize how much President Trump has helped them to be able to do so and are not happy to see the increasingly radical witch-hunt against him continue.
GOP Raises Approximately $1 Million On [the] First Day Of 'Impeachment'. The Republican National Committee (RNC) raised approximately $1 million dollars Tuesday [9/24/2019], after Speaker of the House Nancy Pelosi came out in favor of the impeachment of President Donald Trump for the first time after meeting with her caucus. The reelection campaign and a joint fundraising committee started fundraising in regards to impeachment around 2 p.m. and pulled in $1 million by 8 p.m, Tuesday night, according to The Hill. RNC Chairwoman Ronna McDaniel sent out a tweet Tuesday afternoon, saying the RNC raised 350,000 in Michigan Democratic Rep. Elissa Slotkin's district for backing impeachment.
After the big Schiff show finale, public support craters for impeachment -poll. [Scroll down] Three things stand out. One, the Democrats didn't have much of a case, so they put their thumbs on the scale.
New Jersey Democrat Congressman, Jeff Van Drew, Will Switch Parties Over Impeachment Fraud. Jeff Van Drew is a democrat congressman from New Jersey CD-02. According to multiple media reports he is likely to switch to the republican party next week due to the fraudulent impeachment effort. Van Drew was one of two democrats who did not support the vote for the impeachment inquiry.
N.J. Democrat who opposes Trump impeachment plans to become a Republican. New Jersey Democratic U.S. Rep. Jeff Van Drew, who opposes his party's effort to impeach President Donald Trump, is poised to switch sides and become a Republican. Van Drew made the decision following a White House meeting Friday with Trump, a Democratic member of the New Jersey congressional delegation told NJ Advance Media. The lawmaker is not authorized to speak for Van Drew and requested anonymity.
We Asked The 31 House Democrats From Trump Districts How They Would Vote On Impeachment — Not One Was Fully Committed. Democrats in the House of Representatives are poised to impeach President Donald Trump but not all members are on board, as there are 31 lawmakers in question. The Daily Caller contacted the offices of all 31 House Democrats from districts where President Trump won in 2016 to ask them if they would vote to impeach President Trump, as many have not publicly stated where they stand on impeachment. Each office was contacted at least three times and all offices were given ample time to respond. All Democratic offices that responded had very similar messages, saying they have not yet made a decision and are still weighing out the facts.
Impeachment is a vicious crime against voters who elected Trump president — He broke no laws. House Democrats are redefining "impeachable offense" to mean whatever President Trump does. Democratic leaders announced two articles of impeachment against the president Tuesday that marked a radical departure from all of American history. For the first time, the House is rushing to impeach a president without even claiming he broke the law. Days before the announcement, Democrats on the House Judiciary Committee heralded their unprecedented move by unveiling what they called constitutional grounds for presidential impeachment. The Democrats argued that President Trump should be impeached despite acting legally. They said a president can be impeached "for exercising power with a corrupt purpose, even if his action would otherwise be permissible."
Pelosi Rushing Impeachment Vote to Keep Wavering Democrats in Line Before Christmas Recess. Speaker of the House Nancy Pelosi (D-CA) is rushing the impeachment vote to the floor of the House before the Christmas recess to keep wavering Democrats in key battleground districts away from their constituents, the majority of whom are potentially uncomfortable with impeaching the president. "House Democrats on Tuesday [12/10/2019] unveiled two articles of impeachment against President Donald Trump over his contacts with Ukraine: Abuse of power and obstruction of Congress," Breitbart News Network reported. The House Judiciary Committee is expected to vote on these articles this week, setting up an up or down floor vote on both articles of impeachment in the full House before next Friday, December 20, the Washington Examiner reported[.]
Also posted under What's the rush?
Impeachment Is Destroying CNN. If Democrats and their media allies thought that the impeachment of President Trump would be his undoing, I've got bad news for them: it's actually undoing them. The Democrats' favorite (fake) news channel CNN is suffering from a three-year low in ratings.
Also posted under beneficial side effects.
Impeachment Is Slowly Destroying Democrats' 2020 Political Hopes. [Scroll down] Speaker of the House Nancy Pelosi announced Thursday [12/5/2019] that she would like articles of impeachment drafted, a foregone conclusion ever since Democrats won the House in 2018. Some members, such as Rep. Al Green [...] had joined the media in calling for Trump's impeachment since before he was even inaugurated. The precise reasons keep changing (earlier this year, nearly 100 Democrats voted to impeach Trump for the high crime of criticizing Democratic lawmakers Ilhan Omar and Alexandria Ocasio Cortez on Twitter), but the fervor to retaliate against Trump for beating Hillary Clinton 2016 remains unchanged.
Having learned nothing...
Pelosi Jamming Through Impeachment with Same Partisan Power Tactics that Passed Obamacare, Then Lost the House. Speaker Nancy Pelosi is using the same partisan power tactics to jam impeachment through the House of Representatives in 2019 that she used to pass Obamacare on a straight party line vote in March 2010.
The Dems' Lose-Lose Situation. [Scroll down] Their choices are limited: They can impeach the president and send the matter to trial in the Senate, where chances of success in the Republican-controlled upper chamber are zero. In addition, having a trial with actual rules giving the president due process will likely boost Trump's public support, while forcing the 31 Democrats from districts won by Trump in 2016 to go on the record, probably costing some, if not many, their seats. Perhaps even costing Pelosi her majority and guaranteeing Trump's reelection. They can drop impeachment and censure the president. This will anger her base, who will accept nothing less than impeachment, perhaps convincing many to stay home next November — potentially costing Nancy her gavel and giving Trump four more years. They can drop the entire thing and live to fight another day as they await the election.
ImpeachmentTV: Season 2, episode 1: The House Judiciary Caper. [Scroll down] This was always one of the main purposes of the impeachment sham. Pelosi was smart to avoid putting her members on the record voting to open an impeachment inquiry but she needed to open the inquiry in order to obtain certain powers and pretense to get more dirt to smear Trump and his advocates. Some people "in the know" think the Democrats won't actually vote on impeachment because it's very risky politically: Pelosi will put her members in Trump districts on the record and once the articles of impeachment head to the Senate, the Democrats will lose control of the information stream.
GOP Rep. Biggs: Some House Dems [are] Looking for an 'Off-Ramp' on Impeachment. On Friday's [11/29/2019] broadcast of Fox News Channel's "Hannity," Rep. Andy Biggs (R-AZ), the chairman of the House Freedom Caucus, explained how the impeachment efforts underway in the House of Representatives and spearheaded by Democrats was causing problems for vulnerable Democratic members in swing districts.
Impeachment Makes the Best Case to Unseat Dems. The recent sad spectacle of the impeachment hearings in the House of Representatives is but the latest example of the disdain the political Left shows for both substance and process in a quest for power. If the current crop of Democratic presidential hopefuls is any indication, that power will be exercised by pursuing divisive and destructive policies that will hurt America for generations. But excoriating those policies will require volumes best authored elsewhere. Consider first the impeachment circus. Whether the "high crime" is called quid pro quo, extortion, or bribery, the premise is fundamentally flawed.
Would they have the votes? Dozens of moderate Democrats face impeachment pressure. A House vote to impeach President Trump could put a critical faction of moderate Democrats at risk in 2020. Two weeks of public impeachment hearings have failed to ramp up support for ejecting Trump, polls show, and it has raised questions about the political risks of voting to impeach him.
Adam Schiff's Impeachment Antics Are Pushing This Key Battleground State Out of Reach for Democrats. Wisconsin, Pennsylvania, and Michigan. The core of the blue wall Democrats maintained since the 1980s. States that Republicans haven't won in decades. Until 2016, the last time Wisconsin went Republican was 1984, with Pennsylvania and Michigan last going for the GOP in 1988. Trump tapped into the white working class, he had an agenda, and voters responded. The margin wasn't massive, but it was big enough. Now, Democrats have to win these states back in order to beat Trump. And it's no cakewalk. With Rep. Adam Schiff (D-CA), chair of the House Intelligence Committee, spearheading this shoddy and laughable impeachment push of Donald Trump, it's making it that much harder for his party to retake these states.
Is Impeachment Backfiring on the Democrats? At first, Democrats claimed that polls were irrelevant because impeachment was a moral and patriotic imperative. Once national support spiked, numbers suddenly mattered very much, and the usual suspects couldn't stop talking about them. What most polls now confirm is that while Americans were paying attention to the breathless media coverage, public support for the inquiry is at best stagnant and probably declining.
Support for Impeachment Collapses Among Black, Hispanic Voters. Support for impeaching President Donald Trump has collapsed among Hispanic and black voters — a situation that could doom Democrats in 2020. A recent national poll released by Emerson College indicates that black Americans, a key constituency of the Democrat Party, narrowly opposes Trump's impeachment. The poll found that 38 percent of black voters are opposed, while 37 percent are in favor, with 25 percent unsure.
Impeachment Is Falling Apart as Moderate Democrats Get Cold Feet. On Sunday morning [11/24/2019], Washington Post reporter Rachael Bade told a CNN panel that she's hearing that moderate Democrats have been looking at the public shift in the polls on impeachment and are getting cold feet.
Swing State Dem Flips on Impeachment. Over the summer, Congresswoman Brenda Lawrence fully backed the move to impeach President Trump, but the Detroit-area Democrat said over the weekend that she has since changed her mind. "I feel we should begin that process," Lawrence told CNN on June 12. "If we impeach him, he is still sitting in the White House because the Senate must act." [...] Now, however, Lawrence said she sees things differently. "You can censure, you don't have to remove the president," Lawrence said Sunday [11/24/2019] [...]
House Dem now sees no 'value' in impeachment, as polls show falling support among independents. Michigan Democratic Rep. Brenda Lawrence, a prominent supporter of Kamala Harris who has previously supported the impeachment inquiry into President Trump, abruptly announced Sunday [11/24/2019] that she no longer saw any "value" in the process and called for her fellow Democrats to throw their support behind a symbolic censure resolution. Lawrence's about-face came as polls have shown that independents are souring on the idea of impeaching and removing Trump from office, including in critical battleground states like Wisconsin, even as House Democrats aggressively presented their poll-tested "bribery" case against the president over the past two weeks.
Impeachment fiasco is a Dem gift to Donald Trump. Adam Schiff and Nancy Pelosi have managed to pull off a miracle with their impeachment gambit. They've united Republicans around Donald Trump, a feat once thought impossible, and for which the president owes a great deal to Schiff's dogged Republican counterpart Devin Nunes. "There has never been so much unity and spirit in the Republican Party, as there is right now!" trumpeted Trump on Twitter Friday [11/22/2019]. As support for the president edges up nationally and, notably, in the battleground state of Wisconsin, where 94 percent of Republicans oppose impeachment, he has been gifted a remarkable campaign advantage by his opponents.
Impeachment Is Destroying Democrats. The goal of the House Speaker Nancy Pelosi (D-CA) and other Democratic Party leaders in the U.S. House of Representatives has been to use the impeachment inquiry to destroy President Donald Trump. They hope to impeach him, followed by conviction and removal from the U.S. Senate. Otherwise, they believe he will be so politically damaged that he will resign before the next election. Ironically, the exact opposite political result is occurring.
Democrat Cindy Axne: 'I Didn't Run' to 'Impeach the President'. Freshman swing-district Democrat Rep. Cindy Axne (D-IA) said Saturday that she "did not run" to "impeach" President Donald Trump despite her backing of the impeachment inquiry. Swing-district Democrat Rep. Axne traveled to Mount Ayr, Iowa, to meet with roughly twenty constituents to discuss the United States-Mexico-Canada Agreement (USMCA) as well as her support for the impeachment inquiry against President Trump.
Do Democrats Realize How Much Trouble They're In? The latest polls show the public turning against the Democrats' attempt to remove President Donald Trump from office. The party's presidential field looks weaker by the day. Trump's approval rating is tied with what President Barack Obama's was at the same point in his first term. And the economy keeps chugging along. Wasn't Trump supposed to be packing his bags by now? Start with the impeachment polls. Whatever hopes Democrats had of removing Trump from office, or even significantly damaging his reelection hopes, appear to be fading — a fact even the mainstream media is having to admit.
WaPo reporter: We're hearing behind the scenes that more House Dems are getting "cold feet" about impeachment. I'll take the opportunity up front to double down on [another] post from Friday [11/22/2019]. I'd bet my life savings plus several internal organs that Pelosi will have 218 to impeach. That's based on the simple reality that failing to do so at this point would cost Democrats more politically than proceeding with impeachment would. Voters who hate Trump would be furious and voters who like Trump wouldn't give Pelosi and Schiff an ounce of credit for standing down in the end. The president would gloat about it every day unto eternity. Pelosi, long respected by both sides for her ability to whip votes, would be humiliated utterly. Her legacy would be in ruins. They'll have 218.
Support flips against impeachment as Trump approval rating jumps: Poll. A new poll shows support for the impeachment of President Trump has declined since public hearings have started. The Emerson poll released Thursday [11/22/2019] found support for impeachment has dropped from 48% to 43% since October, while opposition to impeachment has risen from 44% to 45%. Independents are key in the shift, with 49% opposing impeachment and only 34% supporting impeachment. In October, 48% of independents supported impeachment and 39% opposed. The poll also showed Trump's approval rating rising to a net positive.
Poll: Opposition to Impeachment Grows Among Independents. A poll by Emerson polling conducted Nov. 17 to 20 shows 49 percent of independent voters oppose impeaching Trump, while 34 percent of independents support it. Compare that to October when 39 percent of independents opposed impeachment and 48 percent supported it. That represents a 10 percent increase in opposition to impeachment among independent voters and a 14 percent drop in support for impeachment among independents.
The 31 Democrats in Trump Districts Who Will Lose Their Seat If They Vote to Impeach Trump. Since Nancy Pelosi, Shifty Adam Schiff and Democrats launched their public impeachment hearings they have continued to lose the public's trust. Democrats changed the rules, stacked the hearings with second-hand and third-hand witnesses, cut off Republicans from any decisions or requested witnesses, blocked Republicans and the White House from interviewing their original "whistleblower" Eric Ciaramella who is linked to Schiff, John Brenna, Susan Rice and Joe Biden. The entire process has been a complete affront to justice. And the public has turned on this Schiff sham. Independents and swing state voters are opposed to the impeachment scam and President Trump is rising in the polls.
Marquette Poll shows support for impeachment has slipped in Wisconsin. Support for impeachment has slipped in Wisconsin, according to Wednesday's Marquette University Law School Poll. And for the first time, President Donald Trump has surged ahead of all four top Democratic rivals in potential head-to-head matchups. Just 40% of Wisconsin registered voters believe Trump should be impeached and removed from office, while 53% disagreed, according to the survey[.] The poll of 801 registered Wisconsin voters was conducted Nov. 13 through Sunday, during the opening week of public hearings in the House impeachment inquiry.
Why Dems are so worried after latest round of impeachment hearings. If coup-coup Nancy Pelosi has a panic button, now would be a good time to lean on it. With signs that Americans are tuning out the impeachment hearings, the clock is ticking on Democrats' chance to make their case. Pelosi is clearly worried, telling fellow Dems it's a "weak response" to "let the election decide" whether President Trump should be removed. "That dangerous position only adds to the urgency of our action, because POTUS is jeopardizing the integrity of the 2020 elections," the speaker wrote in a "Dear Colleague" letter to her House members. The letter seemed strange enough when it became public Monday [11/18/2019], but Tuesday's hearing more than justified her fear and desperation. With her party now having failed to hit anything close to pay dirt after three long days of public testimony, she is trying to keep her members on board the impeachment train, lest the whole effort crash in failure and disgrace.
Democrats are losing the impeachment. [Scroll down] President Trump is on the offense. It is his forte. Calling the prosecutor a pencil-necked geek amused his supporters. And he scored big yesterday when he tweeted a reminder that Marie Yovanovitch served at the will and pleasure of the president. The reminder was so devastating that Democrats and their whores in the media tried to conflate this into witness tampering. President Trump thus far has played this well. With Nixon, they said the cover-up was worse than the crime. President Trump has released the documents every time. They wanted the Mueller report, he gave it to them (in both senses of the phrase). Ditto the Ukrainian phone call transcript. Democrats meanwhile are fumbling and throwing interceptions. None of the first three witnesses offered anything but hearsay evidence.
Top Democrats Concede They're Losing The Impeachment Battle. CNN reported Thursday evening [11/14/2019] that top Democrats are privately acknowledging that the impeachment hearings will do little to persuade the vast majority of the public that President Trump committed an impeachable offense. According to CNN, in a private meeting earlier this week, "House Speaker Nancy Pelosi and her top lieutenants were skeptical about the prospects of a dramatic shift in opinion even as public impeachment hearings began this week, according to multiple sources familiar with the matter." Nevertheless, they intend to carry on, in the hopes that things might change. [...] It seems Democrats fault the American public, for apparently not being smart enough to understand what abuse of power is.
Trump 2020 Spox: Donors 'Coming Out of the Woodwork,' 100k More Volunteers Because of Impeachment. While impeachment proceeds are being applauded by many on the side of the Democratic Party, it is also affecting Republicans. During a Wednesday [11/13/2019] appearance on Huntsville AL radio's WVNN, Trump 2020 director of strategic communications Marc Lotter explained how Trump supporters were getting involved because of the impeachment efforts conducted by House Democrats.
Donald Trump Campaign Raises $3.1 Million in Small Donations During Impeachment Hearings. President Donald Trump's 2020 re-election campaign announced it raised $3.1 million in small-dollar donations during the first 24 hours of House Democrats launching public impeachment hearings on Wednesday. The news was announced by Trump campaign manager Brad Parscale.
Fallout from impeachment will be felt far and wide. It is foreseeable that Sens. Liz Warren, Bernie Sanders, Kamala Harris, Amy Klobuchar and Cory Booker are essentially sequestered in the solemn chamber right up to and through the Iowa caucuses, New Hampshire primary, and even Super Tuesday. Using the Clinton/Nixon impeachment timelines this is very possible. That would leave the second- and third-tier candidates to rampage through diners in New Hampshire and bowling alleys in Iowa and fill inches in local newspapers while the establishment national media is wall-to-wall impeachment.
Scalise: 'A Lot of Buyer's Remorse' Within House Democrat Caucus on Impeachment. Tuesday during an appearance on Fox News Channel's "The Ingraham Angle," House Minority Whip Steve Scalise (R-LA) said he detected "buyer's remorse" from his House Democrat colleagues across the aisle on the issue of impeachment. The Louisiana Republican told host Laura Ingraham the focus on impeachment could come back to haunt Democrats when they return to their districts and have nothing to show for their majority.
Why Impeachment Will Stay Partisan. Nobody doubts a Democratic House can produce 218 votes for impeachment. It probably doesn't matter much what the charges are. In some sense, that's where impeachment should land: The charges matter less than whether, under the totality of considerations, a president should be removed before his term ends. Democrats are still living down previous quotes about the need for a broadly supported impeachment. Nancy Pelosi, for one, likely regarded herself as handcuffed by the Ukraine whistleblower.
5 Reasons A Senate Trial Would Be A Nightmare For Democrats. Over the weekend if you were very quiet and listened very carefully, a new word started emerging. That word is "censure." Censuring, rather than impeaching, the president would allow Democrats to claim some measure of holding Trump accountable without the parade of horribles listed above. It might also deprive Trump of the ability to claim total exoneration. But alas, it may be too late for that.
Support for impeachment slips 4 points from October: poll. Support for President Trump's impeachment slipped 4 percentage points since mid-October, according to a poll released Wednesday [11/6/2019]. The Morning Consult survey found that 47 percent of respondents now back impeachment. In mid-October, a record-high majority — 51 percent — supported it.
'Meet the Press' Asks What Voters Really Think of Impeachment. The Responses Don't Bode Well For Dems. [Scroll down] "I think it's a waste of time," said Minnesota voter Jim Baird. "You have a bunch of kids fighting and not accomplishing what they are elected for." Gary Chynoweth of New Hampshire pointed to the checks and balances within the government to take care of any issue. "I think we have a system of checks and balances, and the way it should work is that the House and the Senate should do what is set out in the Constitution," he said. In South Carolina, Tracy Veillette did her due diligence and read the transcript between President Trump and Ukrainian President Zelensky and said "there was absolutely nothing concerning to me. From one president to another, it was absolutely appropriate."
Doing the Impeachment Math. Until 15 minutes ago, I'd wager, many people believed it was a synonym for "remove from office." But with the House shouting "impeach him, impeach him, impeach him" in tones more or less like those that emanated from that angry mob which sided with Barabbas in front of Pontius Pilate, lo, these many years ago, we have all been reminded that while the House may bring articles of impeachment, it takes two-thirds of the Senate to convict the accused and remove him from office. Two-thirds. I was told there would be no math, but I am pretty sure that means 67 senators, when 53 of them are now Republicans. According to my abacus, that means that 20 Republican senators would have to jump ship and vote with Senate Minority Leader Chuck Schumer (D-N.Y.) to remove the president from office. How likely is that?
Dems' Impeachment Charade [is] a Disaster for Them, Not the American People. What does it mean after the House of Representatives — on an almost one-hundred-percent pure partisan vote, save for two Democrats who wisely demurred — decides to expand an impeachment investigation on what they claim to be serious charges when... the very next day... the stock market zooms to all-time highs, breaking records substantially on all major indexes, and black unemployment goes to all-time lows? Well, the latter spells big trouble for the Democrats a year from now and the former means the investment world thinks impeachment is a bunch of horse hockey that will never happen (the Republican Senate will never convict Trump, not even envious Mitt) and the real news was the job figures.
Strassel: Democrats Handling Of Impeachment Process May Have Already Given Republicans The Win. There's been a great deal of discussion of late that Democrats' threats to impeach Trump are not simply idle ones; that they, in fact, really mean to do it. They promise. It's been like watching a child threaten to hold his breath indefinitely if he doesn't get his way. The adult knows they've won because they're aware of things the child isn't. In this case, that the child is not only incapable of making his plan work because his body won't let him, but that he'll only be hurting himself in trying. That's pretty much what's going on with the Democrats' plans to impeach — not only are they unlikely to have any evidence to make it work, but also, as Kimberly Strassel writes at the Wall Street Journal, they are only hurting themselves by trying.
'I think it's going to fail': Van Drew and Peterson break with Democrats on impeachment measure. Two Democratic members voted against the impeachment measure brought to the floor Thursday [10/31/2019] by their caucus. New Jersey Democratic Rep. Jeff Van Drew and Minnesota Democratic Rep. Collin Peterson voted against the resolution that passed 232-196 largely along party lines. No Republicans voted for the measure. Peterson, a veteran Democrat elected to Congress in 1991, sits in a district on the edge of western Minnesota that was won by President Trump by 31 points in 2016. He has long resisted calls to impeach the president from the more liberal wing of his party and faces an uphill reelection battle in 2020.
Impeachment Vote Will Cost These Dems Their Seats. During the 2018 midterms, dozens of "moderate" Democrats won House seats in swing districts by forswearing partisan feuds in order to concentrate on the needs of their constituents. They pledged to focus less on conflict than on finding common ground with their Republican colleagues. They also modulated their comments concerning President Trump and, when the subject of impeachment arose, insisted that it would be a divisive and unproductive exercise. Thursday, however, all but two voted in favor of a hyper-partisan impeachment resolution, exposing their campaign promises as cynical lies and ensuring that the Democrats will lose their House majority in 2020. The Democrats, their bluster about the 2018 "blue wave" notwithstanding, have a particularly tenuous grasp on the House majority.
The Impeachment Farce Limps Along to Its Anticlimax. This sordid, contemptible impeachment ruse is finally disintegrating. It was another fraud, and I predict that this time the polls will move clearly in the president's favor. [...] My research and intuition indicate that we have reached a turning point, and that all but the outright Trump-haters are disconcerted, and in growing numbers disgusted, by the cumulative pettiness, nastiness, and dishonesty of the assault on this president. [...] I believe the country is now sick of it.
The Long Game on Impeachment. [Nancy] Pelosi understands the efforts to frame President Trump could boomerang on her party. It would be a stunning reversal of fortune not seen since the Book of Esther when Haman was hanged on the gallows he constructed for his enemy. (Note that the release of the Mueller report marked the public unraveling of the Russian collusion narrative. The delivery of that report to the attorney general earlier this year coincided with the ancient holiday commemorating Haman's undoing.) The speaker also recognizes the weak slate of Democratic presidential candidates poses dangers for the re-election of her own the House majority. This is the context in which Pelosi decided unilaterally to launch an "impeachment inquiry."
Poll: Only 36% Say House Should Impeach Trump. A USA Today/Suffolk poll states 36 percent of respondents support the House voting to remove the president, while 22 percent say Congress should continue with its impeachment inquiry but should not vote to remove him. Further, 37 percent say lawmakers should end their impeachment probe, while four percent remain undecided on the matter. When it comes to a Senate impeachment trial, 46 percent are in favor of convicting President Trump and 47percent are against.
House Democrat Jeff Van Drew Signals He's Not Voting for Pelosi's Impeachment Bill. Rep. Jeff Van Drew (D-NJ) said Tuesday [10/29/2019] that he will likely vote against a resolution by House Democrats to formalize their secret impeachment inquiry against President Donald Trump, prompting more uncertainly around whether Thursday's expected vote will go on as planned. Asked by NBC News reporter Alex Moe if he supports the measure, Van Drew replied: "I would imagine that I'm not voting for it."
Booker: We Have to Conduct Impeachment in a Way 'That Brings Our Country Together'. Impeachment as a way to bring the country together? That's what Sen. Cory Booker said at Tuesday night's debate: "So first of all, we must be fair," Booker said. [...] Booker's call for a "fair" process will get a rousing endorsement from House Republicans, who say the secretive and closed-door proceedings being run by House intelligence committee Chairman Adam Schiff (D-Calif.) are anything but fair. South Bend Mayor Pete Buttigieg said Trump "has left the Congress with no choice" but to impeach him.
The Editor says...
The Democrat platform includes open borders, Obamacare, windmills and solar panels everywhere, high taxes, gun confiscation, homosexuality, atheism, activist judges, racial discrimination in the form of "affirmative action," one-part socialist government, and above all, abortion. No part of the Democrat platform "brings our country together."
Newt Gingrich: Democrats 'terrified' of Bidens, Ukraine being investigated. The impeachment push against President Trump began the day he was elected, former Speaker of the House Newt Gingrich said Friday [10/11/2019], claiming Democrats are "terrified" of an investigation into Ukraine. Appearing on "America's Newsroom" with host Sandra Smith, Gingrich said that looking at the timeline is "astonishing." "He's declared the winner about 2:30 AM and the next day you already have eight or nine cities where left-wingers have organized anti-Trump rallies," he told Smith.
There is No Middle Ground with Today's Democrats or the Deep State. Like a child with a box of matches, deranged Democrats seem to think they have their hands on a good idea. Their thinking goes something like this: "If we can't be in control, let's burn it all down, destroy norms, throw an epic political tantrum, hold the American people hostage! That'll show the irredeemable deplorables to question their betters!" The Democrats' sycophant propagandists in the corporate leftist media are barking and clapping away like circus seals, cheering them on. Both sets of deranged people appear perplexed, however, that outside of their bubble within the Acela corridor people in real America, as Politico chronicled, think the idea of impeachment is absurd. The corporate leftist media's reaction, from Chuck Todd's meltdown over the weekend to the Politico piece, is one of shock and disgust that people are not listening to their enlightened masters on this matter.
Democrats in Red States Having a Rough Time Defending Impeachment Back Home. House Democrats in red states who have come out in support of impeachment are having a rough time defending their decision back home. Democrats who are back home for two weeks in districts that supported President Trump in 2016 are having to answer questions on impeachment — whether they like it or not.
Pence and GOP to Start Campaigning Against Democrat Coup in Trump Districts with Democrat Representatives. The Democrats and their fake news media are pushing another complete hoax on the American public. They are determined to impeach the US president using unprecedented tactics while pushing a complete lie. They want President Trump impeached for daring to discuss the Biden Crime Family's pay-for-play schemes in Russia and Ukraine? Seriously? Trump hasn't even started talking about Biden's corrupt dealings with Romania.
CNN's Van Jones on Impeachment: 'Democrats Are in a Lose-lose Situation. During an appearance on CNN's "OutFront" on Thursday, CNN contributor and former Obama adviser Van Jones acknowledged Democrats were not in the best of situations regarding their pursuit of the impeachment of President Donald Trump. [Video clip]
Impeachment Is About Putting Down the Peasants' Revolt. It should by now be obvious to the meanest intelligence that the Democrats are determined to impeach President Trump with or without credible evidence that he has committed any act resembling "high crimes and misdemeanors." The "whistleblower complaint" that Nancy Pelosi used as the pretext for launching her ersatz impeachment inquiry contains little but hearsay and fabrication, while her claim that it proves Trump has "violated the Constitution" fails the laugh test. In the end, however, impeachment is less about offenses committed by the president than the desire of the Washington establishment to put down what they see as a peasants' revolt. Impeachment is, in other words, an attempt to restore the old order that the voters overturned in 2016. [...] They began planning Trump's impeachment before he was inaugurated because he is the leader of the insurrection, and they know full well that it can't be put down until he is gone.
Chalupa is not merely a Taco Bell menu item; it's also an exploding cigar. Democrats have opened Pandora's Box by taking up the subject of election influence coming from Ukraine. They seized upon the conversation between President Trump and Ukraine's President Zelensky, leaked by a Deep State operative embedded in the White House to someone claiming the status of whistleblower as the basis for their public impeachment hoax. It is a hoax for three reasons:
[#1] Because no actual impeachment committee has been established, as that would require their vulnerable members from districts Trump carried in 2016 to take an actual position on a dodgy impeachment enterprise.
[#2] Because Trump said nothing wrong in his conversation. They expected him to keep the text of the call secret, but his transparency foiled their efforts to mischaracterize it.
[#3] Because they know that Democrats enlisted help from Ukraine in 2016, so this impugning of Trump is yet another case of Democrats accusing Republicans of doing what they have done. And they are terrified of this coming out.
The Dems are doomed. After nearly three years since Trump's inauguration, Democrats have finally mustered up the courage to go full throttle into impeachment mode, proceeding from the president's whistleblower-stricken phone call with Ukrainian president Volodymyr Zelensky. Zelensky stated at a press conference with Trump that when in talks with the president over Hunter and Joe Biden's Ukrainian scandal, he felt no pressure as it relates to United States aid to Ukraine. Despite this overwhelmingly important factor, Democrats are proceeding full force with impeachment — and it couldn't be better for the president. If the economy didn't seal it for the "on the fence" soccer moms, the humiliation of Democrats cannibalizing themselves with impeachment would flip voters like clockwork.
Impeachment: The Democrat campaign to re-elect Trump. As the release of I.G. Horowitz's report on FISA abuse, the results of AG Barr's investigation, and John Durham's report on the origins of the Russia collusion hoax are about to be made public, the Democratic Party has begun to melt down in true Wicked Witch style. They are inventing new "crimes" to accuse the president of having committed each week, and each new allegation is sillier than the previous one.
8 Things I Learned From Mark Levin This Week. [#2] Speaker of the House Nancy Pelosi (D-San Francisco) won't hold a vote of the House on impeachment — which happens to be the only way an impeachment process has ever begun — because she knows she's transforming impeachment into a political act, not a constitutional or legal one. She knows Democrats in swing districts will get destroyed at the ballot box in 2020 if they're on record as voting for impeachment.
Adam Schiff's Impeachment Fun Playhouse. In tacit recognition that his party will never beat the President in 2020 with the gang of whackos vying to head their ticket and that no real impeachment will ever occur, Congressman Adam Schiff, with the acquiescence of Speaker Nancy Pelosi, called to order what they are calling an "impeachment inquiry." It's presumably designed to see whether formal impeachment proceedings should begin. (Impeachment proceedings cannot take place without a vote to do so in the House. Vulnerable Democrats would never vote for it any more than would almost all Republican Congressmen. And conviction and removal from office for impeachment would have to occur after a full hearing and two-thirds vote in the Senate. Which also will not happen. The Democrats, again, are counting on the civics and Constitutional ignorance of their base.)
Nancy Pelosi: 'Doesn't Matter' if Impeachment Cost Democrats the House. House Speaker Nancy Pelosi (D-CA) said Saturday [9/28/2019] that pursuing an impeachment inquiry against President Donald Trump is worth House Democrats losing a majority. Appearing at the Texas Tribune's Tribune Fest, Pelosi stated it's more important for Congress to uphold its duty of holding the president accountable than maintaining power over the lower chamber.
Democrats' Excessiveness Will Backfire. How many times do Democrats get to cry wolf before a rational body politic tells them to go fly a kite? Instead of retreating with tails between their legs over their failed Russia hoax, they're already at it again. Did any Democrats leading the false charge that President Trump colluded with Russia to steal the 2016 election ever apologize for putting the country through this nightmare? Did any of their media water carriers ever backpedal from their anti-Trump sensationalism? Of course not, because in their minds Trump is so evil and his presidency so bad for the country that even ignoble efforts to remove him are morally warranted.
Dems' impeachment frenzy is the prelude to the coming time bombs about to explode in their faces. The three time bombs have names: Horowitz, Huber, and Durham. When the Department of Justice Inspector General issues his report then John Huber and John Durham, the US Attorneys tasked with investigating crimes suspected in the Clinton Foundation, Uranium One, and the FISA warrants used to spy on the Trump campaign, transition, and presidency, will be free to start seeking indictments, or to unseal indictments that may have already been issued by their grand juries. The reports and the unleashing of the two US Attorneys are coming soon, as those mentioned in the IG report are currently submitting their responses for inclusion in the final report. One poker tell of the Dems' panic is the demand that Attorney General Barr recuse himself, or even be impeached. Having left his lucrative law practice and returned to the Attorney Generalship out of a sense of duty to correct the corruption that has spread through the Justice Department and its subsidiary, the FBI, William Barr will not flinch in going after miscreants once they are indicted. That's why they desperately want him out of the game.
Andrew Yang: Dems increase odds of 2020 loss if 'Donald Trump bad' is their big pitch. Mr. Yang offered support for starting the impeachment process, given what he's heard about the president's private conversations with Ukrainian President Volodymyr Zelensky, but he also warned the party of wearing de facto impeachment blinders. "This is the trap," Mr. Yang said Thursday [9/26/2019]. "Anytime we're talking about Donald Trump, Donald Trump is winning and Democrats need an affirmative vision that people are just as excited about. Like, if the Democratic message is 'Donald Trump: bad. Impeach Donald Trump,' then we're actually increasing the chances of him getting a second term."
Impeachment Isn't Supported by Evidence or the Electorate. Democrats are now pursuing what House Speaker Nancy Pelosi mischaracterizes as "an official impeachment inquiry" without evidence of presidential wrongdoing and precious little support from the electorate. The unredacted transcript of President Trump's July conversation with Ukrainian President Zelensky debunks the latest conspiracy theory about a quid pro quo arrangement between the two involving the 2020 election. Moreover, public opinion polls show that the majority of voters are against impeachment. Yet the Democrats seem confused about what these facts mean and have responded to them in a way that is irrational and self-destructive.
Pelosi's impeachment scheme: Fool's gold for radical Democrats. On Tuesday [9/24/2019], House speaker Nancy Pelosi looked serious and somber as she made the big announcement to the country. "Therefore, today, I'm announcing the House of Representatives is moving forward with an official impeachment inquiry," she said. Sounds serious, as if drastic changes will commence. What Pelosi promised her radical members was the gold they have waited three years for: to impeach Trump. What Pelosi instead did was send them on a trip to El Dorado. In fact, nothing has changed, since the House never officially voted on the issue.
Dems' Inquiry Won't End Trump's Term, But May Get Him a Second. Donald Trump is not going to be removed from office. There is no shortcut to overturning the 2016 election. This is just the latest in a long line of increasingly weak attempts by House Democrats to discredit the president, and the inevitable futility of this effort is crucial to understanding the Democrats' true motivations.
Rudy Giuliani tells Dems they've walked into a trap. Rudy Giuliani, President Trump's personal lawyer and old friend from New York, was on fire last night, clearly ecstatic over what lies ahead for the Democrats now that they have made impeachment theatre the public focus of the House of Representatives going into a presidential election year. Of course, they do this without actually voting on impeachment, which would require her members to go on the record, regarded as poisonous for the 2018 class of new Democrats elected in districts that Trump carried in 2016. But Giuliani knows that they have opened Pandora's Box with massive scandals involving Joe Biden and other members of the Obama Administration.
Former CIA Officer: 'Pelosi Launched The Titanic Tonight Into A Gigantic Iceberg In November 2020'. A former CIA officer who is a self-described Democrat compared House Speaker Nancy Pelosi's impeachment inquiry to the Titanic being launched "into a giant iceberg in 2020." Speaking on Tuesday night's [9/24/2019] edition of "Tucker Carlson Tonight," Bryan Dean Wright — introduced as a lifelong Democrat — was asked by Fox News host Tucker Carlson if impeachment was a "wise idea." [Video clip]
The Impeachment Farce Is A Slap In The Face To American Voters. Summoning all the courage of the Cowardly Lion, House Speaker Nancy Pelosi (D-Calif.) stood before a flag, compared herself to Thomas Paine, and told the American people she was kinda, sorta, almost ready to maybe attempt to impeach President Trump. Bold leadership. For weeks now, Democrats have been divided over whether they were already holding an impeachment inquiry. Not articles of impeachment, but an impeachment inquiry. As Allen Iverson once said, "We up in here talking about practice. Not a game, not a game. Practice." So now Pelosi wants to run lay-up drills without having the guts or desire to actually impeach the president. Why? Because they have no justification to impeach the president, just a fever-driven hatred of him and his supporters.
Dem Rep. Hill: We Know Trump Impeachment 'Is Coming Potentially with the Risk of Us Losing Our Seats'. Tuesday on MSNBC's "All In," Rep. Katie Hill (D-CA), the vice-chairman of the House Oversight Committee, spoke about the day's announcement from House Speaker Nancy Pelosi that congressional Democrats would pursue impeachment against President Donald Trump. Hill joined her colleagues earlier in the day in support of the measure, adding that Trump's impeachment was not her objective when she ran for Congress. However, she acknowledged there was a risk in supporting impeachment for reelection chances for her and some of her colleagues.
Mainstream media savaged Nadler's impeachment hearing questioning of Corey Lewandowski (with an assist from Nancy Pelosi). The mainstream media chorus turned on their Democrat allies over the questioning of Corey Lewandowski by Chairman Nadler's House Judiciary Committee on Tuesday. The breadth and depth of the rare media attack on Democrats needs explanation. We are well accustomed to the mainstream media following nearly identical talking points, so the question becomes: who sent the signal that beating up the impeachment hearings was the order of the day? The most obvious candidate is Speaker Nancy Pelosi, the highest-ranking elected Democrat, who understands that an impeachment circus could lose many of the seats Democrats turned over in 2018 and cost the Democrats their House majority and her speakership.
This is Who Showed Up For the "Impeach Trump" Rally. The Impeach Trump Rally turned out to be a complete failure as less than 100 people appeared to show up for the futile event. [Video clip]
What If You Held an Impeach Protest and Nobody Came? The far left MoveOn org reportedly held 130 "Impeach Trump" protests on Saturday across the nation. It was a complete bust.
Impeachment Fever: Democrats whip themselves into a frenzy. [A] new CNN poll out shows that 76% of Democrats now support impeachment. They don't want health care reform; they don't want infrastructure or more pro-union protections or gun control, any of the usuals that motivate them to pass more laws and regulations. They want Trump's head. It's a frenzy, albeit with an asterisk that it's CNN putting this poll out. It may well be a push poll to alter perceptions, but if it is, it's suicidal, given that the public doesn't want this.
Alan Dershowitz: Impeachment Is 'Kiss of Death for Democrats' in 2020. "I think it would backfire terribly," said Dershowitz of Democrats impeaching Trump. "I think they should learn the lesson of what happened when Bill Clinton was impeached. His popularity went up. I think this would guarantee Trump's re-election if he were to be impeached, because he's not going to be removed and it would just be a show trial, and it would be unconstitutional, because there is no real evidence of obstruction."