This page is set aside for news about President Trump that doesn't fit into another specific category.
---
Criminalizing Politics: Michigan GOP Lawmakers Threatened With Criminal Investigation For Meeting With Trump On Certification. Last week, some Michigan lawmakers met with Trump to discuss the certification of the election. They are now facing threats of criminal investigation from the attorney general of Michigan. This comes after members of Trump's legal team have faced threats for nothing more than representing the President of the United States. [...] Democrats have used a 'by any means necessary' approach to getting rid of Trump for the last four years. They're not in a position to threaten anyone over political norms.
Law Firm Withdraws From Representing Boockvar in Trump Campaign's Pennsylvania Lawsuit. Law firm Kirkland & Ellis has requested withdrawal from representing Pennsylvania Secretary of State Kathy Boockvar in a lawsuit brought forward by the Trump campaign, with Kramer Levin attorney Barry Berke stepping in as a substitute. Kirkland & Ellis attorneys made the request in a notice of substitution of counsel filed on Nov. 20, noting that Boockvar would be represented by law firm Kramer Levin, Myers Brier & Kelly, and the Pennsylvania Office of Attorney General, until the end of legal proceedings. This is not the first time Berke is to confront President Donald Trump's legal team, with the National Law Journal reporting that Berke served as special counsel to the House Judiciary Committee as it built its impeachment case against Trump.
Time for a New Declaration? Ten years ago, millions of furious Americans began protesting the federal government's suicide pact forced upon the states in the forms of our untenable national debt and the Democrats' insistence on burdening future generations with even more unfunded liabilities arising from government-run health care and other new entitlements. "Tea Parties" sprang up across the country to draw attention to the ticking financial time bomb hanging over us all. Obama mocked them. The media pretended they were dangerous. Nobody listened to their pleas. So they set to work flipping first the House and then the Senate for the Republicans. When that didn't work, they voted in an "outsider" president who took both parties by surprise.
Another surprise: Hispanic, Democratic voters backed Trump immigration limits. President Trump's policies limiting immigration, decried by liberals and the Biden-Harris ticket, won broad bipartisan and Hispanic support in the election and even turned several border towns red for the first time in years. According to two reviews, majorities of Hispanics and Democrats supported the administration's curbs on immigration to stop the coronavirus, protect jobs, and maintain the current population mix. And in several heavily immigrant border counties, voters rejected the demonization of Trump's policies and agents of U.S. Customs and Border Protection and U.S. Immigration and Customs Enforcement. In a voter exit survey for the Federation for American Immigration Reform, 78% said immigration was an "important" issue for them and was key to who they voted for. Support for Trump's border closings to block further COVID-19 exposure won 80% support.
Trumpism won, despite election results. You just had to see the enthusiastic cheer of tens of thousands of pro-Trump protesters who flocked to Washington, DC, over the weekend to understand it doesn't really matter what the final electoral vote tally is: Trumpism has won. For four years, Donald Trump was written off, attacked, spied upon, lied about and impeached, and yet, after all that, just by standing firm for traditional American values, he increased his vote by 10 million. More than 73 million free-thinking Americans refused to be intimidated, tricked or shamed out of voting for Trump. They saw through four years of lies about Russia collusion, golden showers in Moscow hotels, corruption in Ukraine, "suckers and losers," and "white supremacists."
Massive Crowd Of Americans Descend On The DC Swamp To Show Their Support For President Trump. Trump supporters came together in Washington DC and across our nation in an unprecedented grassroots show of support for a President. Dan Scavino tweeted this incredible video of a massive crowd of Americans singing the Star-Spangled Banner while waving American and Trump flags. [Video clip]
Top Trump advisor Peter Navarro claims president 'clearly' won the election and claims White House is 'moving forward' with second term plans. White House economic advisor Peter Navarro said Friday he is operating under the assumption of a 'second Trump term' as he parroted the president's claims of voter fraud. Navarro made the comments at the White House, where President Trump has not spoken publicly in days, instead blasting out repeated tweets claiming fraud in states that Joe Biden won or where Biden is leading. 'We're moving forward here at the White House under the assumption that there will be a second Trump term,' Navarro told host Maria Bartiromo on Fox Business Network.
If Anyone Can Win This Monumental Election Challenge, It's Donald Trump. Most people who have followed politics for a while have not seen anything quite like this nationwide but we know the script. Democrats in counties with large cities always seem to find ballots left in closets when someone was sweeping to get those clumsy boxes out of the way. Those ballots are always found jussssssst in the nick of time to pull out the victory for someone who was in a really close election with a Republican. Almost like Santa delivering presents early, yet it is always just for Democrats. [...] The question we face is not if there is election fraud (we know there is) but if enough of it can be found before certain deadlines in December and January.
This Is How The Left Is Planning To Destroy Trump If He Leaves Office. The far left isn't only happy about the possibility of former Vice President Joe Biden becoming the next president, they are also salivating about the thought of how they will begin their attempts to destroy President Trump if he leaves the White House. Trump might be facing a slew of legal attacks if he does not win the election, and you can best believe that progressives will come at him with everything they've got. According to 9 News, "Mr. Trump is currently facing multiple investigations looking into possible fraud in his financial business dealings as a private citizen — both as an individual and through his company." As president, Trump has been protected from legal action. But if he is no longer the president, his enemies will pounce on the opportunity to try to drown him in litigation.
Look Closely: Trump Still Has A Shot At Winning Reelection. he Biden/Harris team and their complicit allies in the mainstream news industry are attempting one of the most audacious heists in American political history. In "calling"Joe Biden the winner Saturday, political prognosticators in the major cable news outlets reveal not only their continued bias but also their strong sense of dread of the ultimate outcome for their basement-dwelling candidate of choice. The facts are, as of Monday, a full week after election day, Biden is behind President Donald Trump in the undisputed electoral count — Biden's 226 to Trump's 232 (assuming Trump wins North Carolina) — with a full 80 outstanding electoral votes in seven states still in a legal fog and unlikely to be determined much before the Dec. 14 state deadlines to report the count to Congress. Only the candidate with at least 270 actual electoral votes reported to Congress on that date will be declared the winner. Nothing more and nothing less. And it certainly won't be "declared" by CNN's Anderson Cooper.
Trump Is Still Fighting, Don't You Give Up. We knew we would win and that the Democrats would attempt to steal the election by large-scale voter fraud. President Trump foresaw this danger and began fundraising and hiring a team of litigators months ago, preparing for a legal battle royale. I spent almost an hour on the phone with the head of the GOP litigation team this fall — the Trump team had already raised a huge war chest, and were positioning themselves legally for victory by pre-emptive strikes in the courts. Conservatives have little trust in the courts to save us. We have seen that Supreme Court Justice John Roberts wants to protect the institution of the court more than he wants to protect America. He believes in appeasing the elite more than he believes in the constitution. Will the Court stand up for us this time? Few conservatives want to bet our country on that one shot. The media has declared Joe Biden president of the United States, as if we choose presidents by acclamation of the mob. This is psyops and the target is the Supreme Court, which won't like the appearance of overturning the election.
Who Were the "Shy Trump Voters"? The biggest surprise for the mainstream media and the conventional pollsters was that there were a significant number of "shy Trump voters." Who were these voters? One segment was non-white voters, especially Hispanics but also blacks. Trump received the largest GOP share of the non-white vote in 60 years. Liberals are spinning furiously to explain this away. [...] The other group of shy Trump voters appear to have been ... suburban college educated women — the group the mainstream media claimed Trump had permanently alienated. Exit polls from both Public Opinion Strategies and the Edison Poll finds that Trump got half or more of this group. This shift helps explain why Republicans outperformed especially in House races. Even the GOP did not pick up on this.
The NeverTrump Never Again. After the election, we can now see better the contours of who and what these NeverTrump cliques were. Give the hardcore tiny credit for consistency: they hated candidate Trump. They swore that he would never be nominated, never be elected, never finish his term, and never be reelected. [...] They did not just vote against Trump, but voted enthusiastically for Biden and raised many millions for their affiliated firms and friends to work toward his victory. [...] How strange that in their fury against a purported racist, corrupt, and mentally enfeebled Trump, they voted for a race-jabbering, segregationist-praising careerist, of a corrupt family syndicate, and someone who would likely flunk the much-ballyhooed Montreal Cognitive Assessment Test.
'President-Elect' Biden Won't Be For Long. The mainstream media has attempted to designate Joe Biden as the ironclad "President-elect" who will reside in the White House on January 20th. Forget it. One, they have no such authority, and two, it's not going to happen. I have Republican friends across the country who have mentally and emotionally thrown in the towel, and have said "what's the use." They have resigned themselves to the Democrat's political coup. There is no reason to do so. Considerable evidence of election fraud exists, in all of the contested swing states. The prospects of Joe Biden dipping under 270 electoral votes, within a couple of weeks, are healthy. Donald Trump knew months, if not years, in advance that this level of election fraud would be attempted by the Left. As such, he readied himself and his team to meet the challenge head-on. He has no intention of losing to the Democrats, and in the days that unfold, this will become more apparent.
Now's the Time to Really Fight for Trump. [Scroll down] We love Donald Trump and we love America. He has done more in four years than anyone else could do in eight. We must stand by him during this entire election debacle. And being the fighter he is, Donald Trump is thankfully not conceding. Think how much easier it would be for him to congratulate Joe and walk away from another month of hell, glide right back up that gilded escalator and resume his life. But he didn't choose that for one reason: for us and our future. He wants to preserve the American way of life for his children and grandchildren, just as we do. So he has chosen, instead, to take the long and painful route of exposing the corruption and collusion between the DNC machine, the media monopoly, our Democrat-run cities and states, and our foul culture. In the end, he might not win but he's not going down without a fight.
The Democrats' Chickens Come Home to Roost. [Scroll down] But let's say that, after a fair judicial review, it emerges that, in all honesty, the election squeaker went against the president. So it is. He faced a once-in-a-century plague of near-Biblical proportions. The corrupt media would not allow his message to be presented, while they lied, cheated, and corrupted the "news" to advocate for the other side. He was forced to put up with so much dishonesty, corruption, deceit. The FBI and CIA of Comey, Brennan, and Clapper used the apparatus of national intelligence and law enforcement to sabotage a freely elected president. The Mueller Investigation. The Impeachment. The "Durham Investigation" that proved bull. The prosecutions of the Strzoks and McCabes that never happened. Garbage after garbage after garbage.
Thoughts on Where We Stand Now. [#1] My guess is that in a perfect world, where only legal voters vote, and everyone votes only once, President Trump won the election. The problem is that, while there is ample evidence of many instances of voter fraud as well as innocent mistakes, there is no time to investigate them thoroughly and "prove" — as the press keeps demanding — that fraud or error swayed the election in a particular state. This is an inherent problem that can be solved only by better electoral procedures, which the Democrats will fight to the bitter end. [#2] Investigative journalism no longer exists, so the press outlets demanding that President Trump prove the prevalence of voter fraud will themselves do absolutely nothing to investigate whether the election was honestly decided. [#3] Trump is right to play his hand to the end. Lawsuits are pending in several states, and it may or may not prove possible to overturn the result in any state. In all likelihood, it won't. But the Democrats shouldn't be allowed to get away, unchallenged, with what in some cases was blatant fraud and abuse of the election process.
The "Trump Is a Racist" Narrative Dies a Nasty Death as Numbers Reveal Amazing Minority Turnout for Him. The left has thrown the word "racist" at President Donald Trump and his supporters for so long that the word has lost all meaning, but for being a racist and having racist supporters, perhaps the left can explain why Trump attracted a huge amount of the minority vote. According to the New York Post, Trump attracted 26 percent of the minority vote this election, driving a stake into the heart of the narrative that Trump is the most Hitlerian political figure since Hitler himself.
Preliminary data shows Trump wins highest share of nonwhite vote for GOP in 60 years. Polling data from Tuesday night suggests President Trump earned the highest share of the nonwhite vote for any Republican candidate since 1960. Political strategist Adrian Gray posted preliminary data showing Trump earning 26% of the "non-white" vote, which would register as the highest share since 1960, with many states across the country still tallying votes.
Win or lose, Trump provides road map for attracting GOP and minority voters. President Trump may not earn four more years in the White House, but he gave the Republican Party perhaps something far more valuable: lessons on how to win elections for decades to come. As results from Florida began trickling in Tuesday night, a dramatic shift was taking place within the Republican coalition. Polls predicted a narrow race there, with some giving Democratic presidential nominee Joe Biden a lead by as much as 5 points. But after Miami-Dade County's results finalized — the first votes in the state to be counted — it became clear that Trump's numbers with minorities were some of the best in GOP history.
Trump Massively Exceeded Expectations With Minority Voters. Here's How He Did It. No matter how the election ultimately shakes out, Democrats have reason to be worried about the dramatic erosion of support among minority voters. Defying most expectations, early data shows that President Trump not only suffered no great backlash from non-whites, but actually earned more of their votes this time around. Indeed, it seems he won more minority votes than any Republican in 60 years. According to exit polls, while Trump's white male support dipped by five percent, it rose among women and minorities of both sexes. 17% of black men broke for Trump, as opposed to 13% in 2016. His support among black women doubled from 4% to 8%. Latino men and women both rose by 3%. This dynamic is the opposite of what you'd expect from one of the most racist presidents in history, as Biden and the rest of the Democrat Party have dubbed him.
Yes, there is a hidden Trump vote. A man who came to President Trump's giant rally at a local airport Saturday night said he knew someone who planned to vote for Trump but felt too intimidated to say so publicly. I asked who it was. It was his mother, he answered, but she would kill him if she found out that he told anyone. "There are a lot of people who are too afraid to put up a sign [for Trump]," he said, explaining that his neighborhood, more than an hour away, was mixed between Trump and Biden voters, and black and white voters. During the protests that followed the death of George Floyd, he said, "I pulled the Trump magnet off my Jeep. Everybody took their signs down. People don't want to be a target."
'Red Sky at Night': Massive Crowd for Trump in Kenosha, Wisconsin. Tens of thousands of supporters of President Donald Trump gathered under a red evening sky in Kenosha, Wisconsin, for the penultimate rally of the 2020 presidential campaign. With temperatures at 47° Fahrenheit, and the wind blowing steadily from the west, the weather was cold, with the wind chill at 41°. But that did not deter the faithful from attending a rally in a town that was devastated by Black Lives Matter riots in August — as Democratic Party nominee Joe Biden criticized police.
Win Or Lose, Trump Isn't Going Away. Yesterday [11/1/2020], President Trump held five rallies in five different states, barnstorming through Michigan, Iowa, North Carolina, Georgia, and Florida. On Saturday, he did four rallies in Pennsylvania alone, including one that drew 57,000 people to the small town of Butler about 30 miles north of Pittsburgh. All Trump rallies are celebratory affairs, but these seemed even more so. Trump himself was in a jaunty mood, doing a little dance to "Y.M.C.A." on a freezing stage in Michigan, laughing along with the crowd at Biden memes, and generally hamming it up for his supporters, who came out in droves. [...] What these rallies really show is that win or lose, Trump isn't going away after this election. He's the most popular Republican in the country by far — and will remain so, no matter what happens on Tuesday.
October Surprise: This Race Is Over. [Scroll down] In fact, there's no better source of actionable data than a Trump rally, because everyone who wants to attend has to provide contact information to get a free ticket. The campaign then uses this data to turn every event into a force-multiplier. First, each rally reaches millions of voters live at the venue, on cable TV, and on YouTube. Then millions more engage on Facebook and Twitter. After the rally, a campaign team targets those who attended with digital ads that recipients can retarget to their contacts as look-alike campaigns on social media. The party also mines the same data for useful insights and information it can convert into turnout. Republican National Committee Chair Ronna McDaniel noted that 45 percent of the attendees at an October New Hampshire rally were not registered Republicans and 20 percent did not vote in 2016. Who would wait in line for hours to see a Trump rally in October and then not vote for Trump in November?
President Donald J. Trump : My Message to Black America. In 2016, I had a straightforward question for Black Americans: "What do you have to lose? Black Americans don't have to ask what they have to lose in 2020. Instead, the question should now be, "how much more do we have to gain?" As your President, I've done more for the Black community than Democrats like Joe Biden have done in 47 years, and we are going to do so much more. [...] I've committed to adding 3 million new jobs for the Black community, creating 500,000 new Black-owned businesses and increasing access to capital in Black communities by almost $500 Billion to create an era of new prosperity and to finally close the wealth gap. We are increasing access to capital and economic empowerment for the Black community as a way to build Black generational wealth. I knew that I could do more for Black America than the Democrat Party has ever done because I am about action. In fact, it's the Democrats who exploit the sympathies and trust of Black Americans with false promises and empty rhetoric.
The black community's best chance may be four more years of Trump. I was recently chatting with a black friend who leans left politically when she said she would like to see President Trump win. I was surprised: She's spoken out against the president on social media because of some of his past comments, especially when he told the Proud Boys "to stand back and stand by" during the first presidential debate. But my friend, like many young people in the black community, knows about Joe Biden's history, which should repel far more black voters than Trump's racially insensitive comments. I'm hardly the only black voter who feels this way. Biden's policies have devastated the black community. The infamous 1994 crime bill, for example, which Biden authored, cost taxpayers $30 billion yet only reduced violent crime by 1.3 percent — and in the process, sent a shamefully high number of black youths to jail for marijuana crimes that some states have decriminalized.
Minority Youth Talk Supporting Trump In 2020. On Thursday [10/29/2020], Campus Reform released part one of a four-part video series in which reporter Jezzamine Wolk speaks with minority youth about why they have chosen to vote for President Trump in the 2020 election. Jahmarri Green, a student at Friends University, told Wolk that in 2016, he was a "Bernie bro to the fullest." Green noted that because he was surrounded by Democrats growing up, that was "the only way of thinking" available to him. When asked why he has decided to support Trump this election, Green said that while Trump is "blunt" — specifically mentioning his Twitter account — the president has accomplished much. Green cited the prison reform bill, funding for Historically Black Colleges and Universities (HBCUs), and low black unemployment prior to the pandemic as some of Trump's achievements.
ABC Shocked By Trump's Post-COVID Energy to Campaign, 'We Love You' Chants. With just two days to go until Election Day, ABC chief White House correspondent Jon Karl literally marveled at President Trump's energy to hold 14 rallies in just three days, especially since the President had recently fought off coronavirus. In his election update during Sunday's This Week, Karl also seemed shocked by the chants of "we love you" from Trump supporters that broke out at most of his Pennsylvania rallies. With chief anchor and Clinton lackey George Stephanopoulos giving the floor to Karl, the latter announced that "the President is in an all-out sprint to Election Day." "Look where he is just today, rallies in Michigan, Iowa, North Carolina, Georgia, and Florida. Tomorrow, another five rallies in four different states. The last one in Grand Rapids, Michigan. That's where he had his last rally in 2016," he reported.
Thousands Stand in Line for Trump in Windy, Snowy, Frigid Michigan. Thousands of people stood in line for hours on Sunday morning to attend a rally for President Donald Trump in Washington Township in Macomb County, Michigan — despite frigid temperatures, gusts of wind, and snow flurries.
Take A Look At The Breathtaking Scenery And Crowd Size At Trump's Rally In Butler, PA. President Trump held his 3rd rally of the day in Butler, PA and it was a thing of beauty. On a 40 degree night in Western Pennsylvania, the scenery and the crowd size is one of for the history books. Thousands of people witnessing our President giving one final pitch to the American people just as the day turned to night.
Donald Trump's letter removed from millions of Farmers to Families food boxes by local lib officials. President Donald Trump's letter to millions of Colorado families receiving food boxes was removed by one of the groups distributing the packages. The Denver Community Food Access Coalition excused its actions with a dubious complaint about the potential misinformation by the president. Trump's letters included in the Farmers to Families Food Boxes, sponsored by the U.S. Department of Agriculture and in operation through most of the coronavirus pandemic, were reportedly removed by the group before the food was distributed.
FBI Investigating 'Trump Train' That Surrounded Biden Bus In Texas, Report Says. The FBI is reportedly investigating a "Trump Train" incident in which dozens of supporters of President Trump driving pickup trucks in Texas surrounded a Biden campaign bus on an interstate. "The Federal Bureau of Investigation is looking into a Friday [10/30/2020] incident in which a group of Trump supporters, driving trucks and waving Trump flags, surrounded and followed a Biden campaign bus as it drove up I-35 in Hays County, a law enforcement official confirmed to The Texas Tribune Saturday," the paper reported. The incident, caught on video and posted across social media, prompted the Biden campaign to say they were canceling an event in the state. The Washington Post reported that Biden campaign staffers called 911 to to get a police escorted to their next location.
The Editor says...
Since when does the FBI investigate fender-benders?
Democrats cancel Central Texas events after Trump supporters surround, follow Biden bus on I-35. Supporters of President Donald Trump allegedly harassed a Joe Biden-Kamala Harris bus as it traveled through Central Texas on Friday [10/30/2020], according to local Democratic activists. Videos and photos posted on social media show a long line of vehicles flying Trump flags trailing the Biden-Harris bus as it traveled from San Antonio to Austin on I-35. In some images, the bus appears to be boxed in by the vehicles. President Donald Trump also tweeted what appeared to be video of the caravan surrounding the the bus saying, "I LOVE TEXAS!"
After Texas car stunt, Biden crybabies call in the FBI. After a humorous car stunt on a Texas highway outside Austin, where Trump-flag flying cars surrounded a big Biden/Harris campaign bus like a swarm of butterflies, the Biden team has cancelled now three events in Texas and called in the FBI. [...] The Biden camp also made a big deal about cancelling now three events, based on all those dangerous Trump supporters who must be policed in (though of course, they don't like the police). Some news accounts have reported that that wasn't the reason they cancelled the events, the low public interest was, with the majority of attendees being Trump supporters who came to heckle. But now they're busy branding the Trump supporters killers — and calling in the FBI. As I argued here yesterday, one of them probably figured that the publicity of painting Trump supporters as wicked, evil campaign suppressors was worth more to them than holding the actual low-attendence rallies. Cost-benefit, which every campaign operative must know.
The Editor says...
The Biden voters are the ones rioting in the streets in Oregon, Minnesota, Wisconsin, and elsewhere. The Democrats don't renounce that behavior, but when the Biden bus gets stuck in traffic (albeit an intentional traffic jam), they call in the police: The very police that they want to defund.
Local Police Say Biden Staffer May Have Been 'At Fault' in 'Trump Train' Highway Incident. Local police in Texas said over the weekend that the vehicle of a Joe Biden staffer may be "at fault" in a minor collision that occurred during an incident where Trump supporters in trucks surrounded and followed a Biden campaign bus. The incident occurred on I-35 in Hays County and involved a Biden staffer's white SUV making contact with a Trump supporter's black truck. The San Marcos Police Department, which is handling any potential police reports on the crash, said it has researched the collision and watched footage of the incident online. "The at-fault vehicle may be the white SUV and the victim appears to be the black truck," the police department said in a statement.
Police: Biden Staffer 'At Fault' For Fender Bender With Texas Trump Caravan. San Marcos Police determined that a Friday afternoon road altercation involving a group of Trump supporters and the Joe Biden presidential campaign appears to be a Biden staffer's fault. The incident occurred after vehicles displaying "Trump 2020" and other Trump-Pence paraphernalia surrounded the Biden-Harris campaign bus between San Antonio and Austin, Texas on Friday. While corporate media and Democrats attempted to construe the event as an "ambush," claiming that the Trump supporters wanted to attack the Biden caravan, local police concluded differently.
After Excusing Rioting for Months, What the Media Are Freaking Out Over Now Is Hilarious. Since early summer, the country has been rocked with almost non-stop rioting via probable Biden voters that has spread to well over a dozen different cities. As recently as last week, we once again saw widespread looting and violence, this time in Philadelphia because the police shot a man who tried to attack them with a knife. Given the circumstances of this latest instance, you'd hope that even those who have previously excused rioting and looting would have said enough is enough. But that's not what happened, and we instead got another round of MSNBC and CNN ignoring and/or downplaying what was happening. That's what makes this next clip so hilarious. [Video clip]
The greatest stunt of the 2020 election has now produced the most inspiring ad of the campaign. Remember when a "Trump" sign, stylistically resembling the famous hillside "Hollywood" sign, suddenly appeared one morning along a busy Los Angeles freeway? Caltrans quickly forced its removal from the private land on which it sat, as a purported "distraction," but the mere fact of its mysterious materialization was so remarkable and iconic that it immediately joined the pantheon of the greatest campaign stunts in American history. It has also inspired at least one imitator. Now, Kira Davis, one of the rare put and proud Hollywood conservatives, has tweeted a stunning two minute Trump commercial featuring the inside story of operation that erected the sign and making the point that President Trump inspires us to never accept "impossible" as a limit on what we attempt. Even winning California back. [Video clip]
Trump greets throngs of fans outside Minnesota rally after state allows just 250 seats. President Trump greeted hundreds of supporters gathered outside a Minnesota rally venue Friday night [10/30/2020] after Democratic state officials limited attendance to just 250 socially distanced seats. A crowd many times larger than the number of people allowed a seat near Trump gathered outside the gates in Rochester, southeastern Minnesota, images tweeted by journalists indicate. Trump took a motorcade to the overflow crowd rather than the state-sanctioned stage after disembarking Air Force One. "There are thousands of people all because the governor wants to play games," Trump said as he approached within feet of the large group of supporters gathered behind a barricade.
There is a preference cascade for Trump among black voters. Before Trump took office, conventional wisdom was that American blacks would never vote Republican. [...] This year, though, after Trump spent four years making a positive difference for black America, blacks are breaking ranks and openly supporting President Trump. Thomas Sowell wrote in 2016, shortly before Trump was elected, "Black votes matter. If Republicans could get 20 percent of black votes, the Democrats would be ruined." He added, though, "This is highly unlikely, given the approach used by Republicans." Thankfully, Trump jettisoned the traditional Republican approach to blacks, which was to ignore them. He supercharged the economy, which helped blacks. He choked off illegal immigration, which helped blacks. He reversed the disastrous 1994 Crime Bill that sent generations of black sons, brothers, and fathers to prison. He partnered with Sen. Tim Scott to create opportunity zones in black communities. He also worked with faith leaders, academics, musicians, and Kardashians, always with an eye, not to aggrandizing himself, but truly to improving the quality of black life in America.
Even so, that's ten times the size of a Biden crowd.
Desperate Dems limit attendance at Trump rally in Minnesota today to 250. Minnesota's 10 Electoral votes are up for grabs, remarkable in a state that has not supported a GOP presidential candidate for almost half a century. So desperate are the state's governor Tim Walz and Attorney General Keith Ellison (a former Black Muslim spokesman) — both Democrats — that they have imposed an attendance cap of 250 people (how is this constitutional?) on today's planned Trump rally at Rochester International Airport. [...] Officially, the campaign will admit only the first 250 people who show up, but does anyone expect that thousands of other people who arrive will simply turn around and drive home?
Polling Narratives Collapse, Democrat COVID Strategy Backfires, MAGA Resolve Stronger Than Ever. Perhaps no headline best showcases the current state of the media narrative than Politico: "Democrats Sound The Alarm in Miami." ... Except, it's not just Miami, Florida; it is also Philadelphia, Pennsylvania; and states like Michigan, Wisconsin and even Minnesota. Yes, the middle-class insurgency is fully engaged, and with us all activated the media polling narratives are collapsing by the hour. President Trump is surging at precisely the right moment. Momentum is building and you can see all across social media platforms the MAGA movement is pushing back against censorship.
President Trump's Arizona Rally: 20% of Attendees Weren't Republicans — 36% Didn't Vote in 2016. While Joe Biden's rallies draw attendees by the dozens, President Donald Trump continues attracting people by the thousands. We know who is attending Biden's rallies: Democrats who would've voted Democrat no matter what. Biden isn't pulling support from anywhere else. [...] Trump is expected to win a larger share of the Republican vote than he did in 2016. Seven percent of Republicans defected and voted for Hillary Clinton in 2016, but only 5% plan on voting for Biden this year. Of note, 8% of Republicans voted for Obama in 2008. Meanwhile, President Trump is even pulling some support from Democrats. Party Chair Ronna McDaniel posted statistics from Trump's rally in Goodyear, Arizona yesterday, and it turns out that 19.5% of attendees weren't even Republicans.
Trump's Most Exciting Campaign Pitch: A Return to Normal Life. "A normal life — that's all we want, a normal life." That was President Trump's message one Monday evening in Sanford, and the following Friday in Ocala, Florida. He repeated the idea in Carson City, Nevada: "Normal life, that's all we want. We want normal life." Normalcy may seem an unlikely theme for a re-election campaign, but it's one that strikes a chord in 2020, which has clearly not been a normal year.
'Anonymous tree climber' in Texas places Trump flags out of reach of thieves, gets love from POTUS. President Donald Trump gave a shoutout of thanks to an "anonymous tree climber" in Texas who has deliberately been placing Trump 2020 flags out of the reach of vandals and thieves. Trump tweeted on Tuesday [10/27/2020] about the mysterious person who is being called the "Flag Fairy" of Angelina County, sharing a photo of a campaign flag flying high atop a tree in Lufkin. The daring feat, and others like it, have reportedly come as a challenge and response to Trump campaign materials being repeatedly stolen or vandalized by the left. Flags have reportedly been popping up all over the town and many of the residents are happy about both the support for the president and the fact that he noticed.
Actor/Free Speech Campaigner Laurence Fox — 'I'm Unashamedly Pro-Trump'. Actor turned politician Laurence Fox has spoken of his fervent desire that Donald Trump should win the presidential election — and of his fear that it might be sabotaged by Big Tech. [...] Fox knows whereof he speaks. Earlier this year, after speaking up for free speech and against political correctness and identity politics on the BBC political show Question Time, Fox was hounded by left-wing activists to the point where his once hugely successful acting career was effectively cancelled. This is one of the reasons why he is launching the Reclaim party — supported by £5 million from mostly conservative donors — which will defend free speech and British traditions.
There's a Reason Why Trump Keeps Telling Voters He's Immune to COVID-19. Early in the final debate, President Trump made a comment, almost an aside, about his personal battle with COVID-19 that the media have largely ignored but that could have considerable impact on the election results. "I got better very fast," Trump said, "and now they say I'm immune. Whether it's four months or a lifetime, nobody's been able to say that, but I'm immune." The next night at a rally at The Villages, a Florida retirement community, Trump reiterated his claim that his medical team has declared him immune to COVID. From that day on, Trump has repeated this message to rally audiences in North Carolina, Ohio, Wisconsin, and Nebraska and to the millions of voters watching the rallies nationally. "But the fact is, I had it. It worked out well. Now I'm immune," Trump declared to an Ohio audience. At rally after rally, amid seemingly innocuous personal anecdotes about his recovery from the disease, Trump weaves an unspoken message that subtly undermines his opponent even without directly mentioning him: President Trump is immune to COVID-19, and Joe Biden is not.
Expensify CEO Tells 10 Million Customers To Vote For Biden Or Face Possible 'Civil War.' Clients Pummel Him. Expensify CEO David Barrett sent an email to his company's 10 million customers on Thursday [10/22/2020] urging them to vote for Democratic presidential nominee Joe Biden or face "civil war" under President Trump. Barrett's email riled critics who accused the software company CEO of abusing his mailing list to gin up support for the Democratic nominee. Barrett alienated many of his company's customer base by asserting that any vote not cast for Biden is "a vote against democracy." "We are facing an unprecedented attack on the foundations of democracy itself. If you are a US citizen, anything less than a vote for Biden is a vote against democracy," Barrett wrote (full email below). "That's right, I'm saying a vote for Trump, a vote for a third-party candidate, or simply not voting at all — they're all the same." Barrett went on to claim that a Trump reelection would bring "civil war" to the United States.
The Editor says...
I guess I'm a deplorable flyover bumpkin, because I've never heard of Expensify. And yet I'm still indifferent.
The Trump Support You Don't See. [Scroll down] But there are also pro-Trump events that aren't covered in the media. A case in point was a recent road rally, with thousands of Trump supporters jumping in their cars and pickup trucks to drive through parts of Pennsylvania, Ohio, and West Virginia. Organizers estimated the rally included about 2,000 vehicles, each with two, three, or more people inside. Gatherings like it have been going on for months in some of the places President Trump needs to win most if he is to be reelected. And here is a striking part — the rallies are not the work of the Trump campaign. The tri-state road rally was organized and staged by local Trump supporters, linked together largely by Facebook, who want to show that enthusiasm for the president in western Pennsylvania and surrounding areas is not just strong, but stronger than it was when Trump eked out a victory in Pennsylvania in 2016.
If We're Doing a Mask Mandate, Do It Right! The alleged "party of science" is condemning the president for failing to "control" the novel coronavirus, which is the most unsciency thing ever because it's impossible to control a virus without the widespread use of immunizations over a long period of time and even that isn't a guarantee. Only a few deadly viruses in history, perhaps unbeknownst to the Democratic Party's credentialed class, have been completely eradicated. The annual flu vaccine can combat just a handful of influenza strains. The Centers for Disease Control admits that "Flu viruses are constantly changing so it's not unusual for new flu viruses to appear each year." Despite Herculean efforts to "control" influenza, a vaccine is only about 40 to 60 percent effective. Millions of Americans still contract the illness and tens of thousands, including children, die each year. This year's vaccine targets a form of the Hong Kong flu first identified in 1968, the year I was born. But somehow, Donald Trump was supposed to contain, control, or completely stop a novel (that means new) coronavirus within a matter of months.
The Editor says...
It certainly sounds like the Democrats have very high expectations of Mr. Trump!
Boston Herald Endorses Trump: Biden's Platform Is a 'Risky Love Letter to Social Justice Warriors'. The Boston Herald formally endorsed President Trump for reelection one week from Election Day, describing Joe Biden's (D) platform as "a risky love letter to social justice warriors and those who believe capitalism is the root of all evil." In a Tuesday endorsement penned by the editorial staff, the Herald recognized that the left's devotion has been, solely, to remove Trump from office — an objective it has held since 2016. While Biden "allegedly offers a return to 'normalcy,'" the Herald asked, "But, what's normal in 2020?"
Donald Trump is Poised to Become Among the Most Transformative Presidents in American History. The nation stands on the cusp of the third and perhaps most notable political realignment in the past 160 years, as those on both sides of the political spectrum recognize that the 2020 election has evolved into a watershed moment in American history. Since 2016, the Ruling Class has recognized the existential threat Donald Trump poses to them. The power structure of the Ruling Class and the objectives of the left have been upended by him and his ongoing transformation of the Republican Party, threatening their status and sinecures. The Democrat party's leftist political allies have acknowledged that he is a dire threat to their grand scheme of radically transforming the United States[.] This cabal knows 2020 is their last chance to take advantage of what remains of the old Democrat coalition in order to seize the reins of power in near perpetuity.
Five MSM Outlets Act in Unison to Suppress Information and Assist Biden Campaign. At 12:10 pm EST Monday the Gateway Pundit sent out a breaking news email to subscribers indicating that Rasmussen had released a poll showing that President Trump is slightly ahead of Joe Biden in the Presidential race. The group's latest poll has the President leading Biden 48-47%. Last Wednesday Biden held a 49-46% lead in the same poll. Rasmussen also reported in its daily presidential tracking poll, the longest running poll of its kind, that the President has a 52% approval rating among likely voters compared to a disapproval rating of 46%. This compares to a low of a 42% approval rating for the President during the past 30 days in the same poll. Trumps 52% approval compares to Barack Obama's 48% approval rating on the same date in 2012.
New York Post, Washington Examiner Endorse Trump For Reelection. The New York Post and the Washington Examiner endorsed President Donald Trump for reelection in separate Monday [10/26/2020] op-eds. The Post praised Trump's purported economic success before the coronavirus reached U.S. shores in late January and advocated against "cancel culture and censorship" in a front-page cover story. "We can return to the explosive job creation, rising wages and general prosperity we had before the pandemic," the Post piece said. "We can have economic freedom and opportunity, and resist cancel culture and censorship. We can put annus horribilis, 2020, behind us and make America great again, again. We can do all this — if we make the right choice on Nov. 3."
Twenty-two Reasons Why American Jews Should Vote for President Trump. Yair Netanyahu, the Israeli prime minister's son has called Trump "a rock star" in Israel and the "best friend that Israel and the Jewish people have ever had in the White House." Curiously, at the same time, many American Jews have an unfavorable view of Trump's policies and have been critical of his dealings with the Jewish State. In reality, President Trump has taken several steps that are beneficial to Jews and the Jewish State in his first term. A look at some of them should give American Jews sufficient reasons to reassess their opinion of the president and even motivate them to vote for his reelection in November. [...]
Prediction Markets and the Elections. [Scroll down] In a prediction market, purchasable shares have binary outcomes of paying either $1 if an event occurs, or zero if it does not. Share prices reflect in cents adding up to $1 the designated probabilities of opposed outcomes. For example, Polymarket shares for the question "Will Trump win the 2020 U.S. presidential election?" recently traded at "Yes" $.36 and "No" $.64, reflecting an estimation that President Donald Trump has a 36 percent chance of reelection, while Augur gives Trump a 55% chance.
Donald Trump Recognizes Pennsylvania Dutch: 'They Work Hard' and Cannot Support 'Sleepy Joe'. President Donald Trump rallied with members of the Pennsylvania Dutch community in Lititz, Pennsylvania, thanking them for their support. "You know, we have Pennsylvania Dutch," Trump said as the crowd cheered. The Pennsylvania Dutch communities are typically made up of Amish, Mennonite, Lutheran, German Reformed, Moravian, and other groups. "I heard that the other day," Trump said. "They said, 'We can't have a man who sleeps,' They work hard. 'We can't have a guy that sleeps all day in the basement. We can't. We like Trump.'" Trump turned and acknowledged a group of the Pennsylvania Dutch who attended his rally wearing traditional clothing and hats.
Bartiromo Releases Exclusive Segment With President Trump. During an interview segment with Homeland Security Committee Chairman Ron Johnson discussing the Chinese pay-offs to the Biden family, Ms. Bartiromo plays an audio soundbite from President Trump outlining the motive for DC to blame Russia not China. As noted by President Trump the DC system cannot use China as the foil for their political attack narratives because Beijing has used financial schemes as an intelligence operation to compromise most of the more influential politicians. The Chinese payments to Joe Biden and family are only one example; there are likely dozens of high-powered DC politicians who have taken bribes from the Chinese Communist Party; thus DC has willfully created a corrupt system of mutually assured destruction, ergo they must ignore. [Video clip]
President Trump's Promise. When Americans go to the polls November 3, The New York Sun urges a vote to re-elect President Trump and Vice President Pence. We do so in the belief that the principles for which the President, the Vice President, and the Republican Party stand offer far more promising prospects for the kind of economic growth — and full employment — that can best return our politics to a state of amity. We have no illusions about how bitter — and personal — things have become. To those who say that Mr. Trump is unfit, we say, compared to whom? Not, in our view, Mr. Biden and his camarilla. In any event, we prefer the advice offered in Cato I, the first of the two letters from the anonymous American revolutionary pamphleteer who enjoins: "Attach yourselves to measures, not to men."
Music Publicist Says She Was Fired By Email For Attending Trump Rally. When Danielle Reiss attended President Trump's campaign rally in Henderson, Nevada, on Sep. 13, she had no idea it would cost her job. Reiss is a music publicist partnered with Pop Off, a Boston-based advertising agency that connects publicists like Reiss with artists. [...] But on Sept. 13, Reiss went to a campaign rally for President Trump. Afterward she posted on social media a photo of herself with a "Make America Great Again" sign and the caption: "I saw our president speak in Anaheim, California in 2016. Yesterday, I watched him speak in Las Vegas, Nevada. God Bless America." Four days after the rally, Reiss says she received an email from Pop Off announcing the agency's plans to terminate their business relationship as soon as their contract ended.
MAGA Hats Allowed in California Polling Places. Hats and clothing bearing the slogan "Make America Great Again," or MAGA, will be allowed in polling places in California because they do not advocate specifically for any particular presidential candidate. The Los Angeles Times pointed out the contradiction Thursday: supporters of Joe Biden cannot wear their campaign swag, most of which includes the candidate's name, but Trump supporters can wear anything that says "MAGA."
Trump's Best Presidential Debate Ever. [Scroll down] But Trump was great. I loved that he asked Biden: "Who built the cages, Joe?" And when Biden would not respond, I love that Trump asked it again: "Who built the cages, Joe?" And a third time. And when Biden just would not respond, I loved that Trump asked the moderator to ask Biden who built the cages. Of course she was not going to put Biden on the spot. Like all the "moderators," she is a leftist Democrat. But Trump got the point in. As he did, again and again, reminding viewers that Biden had 47 years in Washington to perform the initiatives he now says he will undertake.
Trump managed to drive debate despite Welker's interruptions. Thursday night [10/22/2020] in Nashville, the Commission on Presidential Debates did what the news media have been trying to do for four years — silence President Donald Trump. That lasted for only two minutes at a clip. After that, moderator Kristen Welker of NBC News spent all night interrupting the president. But despite that, a debate did happen and it didn't go anywhere near as she planned. Trump forced discussion of the economy, scandal allegations against Biden and Biden's 1994 crime bill that harmed tens of thousands of African-American young men. And Trump did it with a kinder, gentler tone. In fact, it was Biden who came across as angrier — probably not the last look he wanted to give voters who seldom see him.
Trump Hits Biden's Agenda: Why Didn't You Do It 4 Years Ago? I Ran Because Of You. President Trump distinguished himself as an outsider to politics relative to Democratic nominee Joe Biden on Thursday night, asserting that he ran for president in 2016 "because of" the former vice president. Trump met Biden, who served as vice president under the Obama administration, on a stage in Nashville for the second and final presidential debate of the 2020 campaign. In a discussion over criminal justice reform, Trump knocked Biden putting forward plans ostensibly to help the black community that the Obama administration never implemented in eight years. "But why didn't he do it four years ago? Why didn't you do that four years ago, even less than that? Why didn't you do it?" Trump asked Biden. "You were vice president. You keep talking about all these things you're gonna do, and you're gonna do this, but you were there just a short time ago and you guys did nothing."
3 Ways Donald Trump's Debate Performance Will Affect The Race. [Scroll down] "That may be the biggest statement," Trump said, savoring the moment as the first part of the exchange came to a close. "In terms of business, that's the biggest statement, because basically what he's saying is he is going to destroy the oil industry. Will you remember that, Texas? Will you remember that, Pennsylvania? Will you remember that, Oklahoma?" And he was right. Pennsylvania is a very important state to a Trump Electoral College win, and despite signs it has been trending more red, it is still very much a toss-up that could help sink a second term. Why, when so much of the country seems to be trending blue, is Pennsylvania going the other direction? In a word, energy.
A calm, masterful Donald Trump made mincemeat of Joe Biden. The moment Donald Trump and Joe Biden appeared on the stage, Trump was in control. He looked robust, while Biden appeared frail and slow. Trump's dominance extended beyond looks. He ably defended his record against attacks from both Biden and the moderator, Kristen Welker. He also politely, but insistently, pressed Biden on his decades of failure, the damage he caused to the black community, and his corrupt dealings with his son, Hunter. It was a rout. [...] As expected, Welker was a biased moderator. To her credit, she asked Biden about China and Ukraine, although she left the topic as quickly as possible. Otherwise, as with Chris Wallace and, during the town hall, Savannah Guthrie, every question that Welker posed to Trump came from a Democrat, not a neutral, position. Even more irritating than the premise of her questions, though, was Welker's determination to cut Trump's rebuttals off immediately while letting Biden answer at length.
Twelve Days That Will Shake the World. President Trump needed a strong debate performance to have any hope of slowing Joe Biden's momentum in the closing days of the 2020 campaign. And a strong debate performance is what he delivered. [...] And Trump was on message. He contrasted his record, policies, and outsider persona with Biden's. He argued for coping with the pandemic while reopening the economy and resuming in-person schooling. Perhaps most important, he defined Biden as a typical politician who is all talk and no action. And he seized on Biden's unforced error toward the end of the debate, when the former vice president admitted that he wants to "transition" from an economy fueled by oil and gas.
Trump's Path to an Electoral College Win is Much Easier Than Biden's. As we enter the last two weeks of Election 2020, we should start to consider the Electoral College Result for the 2020 Election. During the last several weeks, I have stated that Trump is likely going to win a lot of the Swing States that Democrats want to pretend, are in play. From my analysis, this isn't an uphill battle for Trump to reelection, it is an uphill battle for Democrats and Joe Biden.
Dem Mayor In Pennsylvania Blasts Biden, Predicts a President Trump Landslide. During an interview with the War Room, Democratic mayor of Carbondale, Pennsylvania Justin Taylor unloaded on former Vice President Joe Biden as he predicted that President Donald Trump will win in a landslide in November. The mayor explained that there will be a "huge victory and huge numbers" for President Trump as he explained how the Democratic party has strayed too far left.
Biased late-night shows told 97 percent of their gags about Trump in September and almost NONE about Democrat candidate. A survey of late-night shows has found that in September two of the main U.S. hosts cracked jokes almost exclusively at the expense of Donald Trump. Ninety seven per cent of the jokes Stephen Colbert and Jimmy Fallon told about the candidates in September targeted Trump, a study released on Monday [10/19/2020] found. The researchers found 455 jokes about Trump and 14 about Democrat Joe Biden, according to the Center for Media and Public Affairs at George Mason University.
Which candidate is working harder to win the White House? It's not even close. A most striking difference in the current presidential campaigns of President Donald Trump and former Vice President Joe Biden is the stark contrast in the efforts put forth by these two men in their 70s. In 1960, Richard Nixon vowed to visit every state. Big mistake. He lost. Truth is, most states do not matter when it comes to winning the White House through the Electoral College. Remember that fact when you see the media's repetitious reports on one candidate's lead in national polling. Ever since 1960, except for occasional travel head-fakes, candidates have focused their precious time and resources on the most important states, according to their individual strategies. You won't, for instance, see Biden waste one minute in California or Massachusetts, just as Trump will not sidetrack himself seeking votes in Wyoming, Utah or Mississippi. They already own those.
President Trump just got a very important endorsement. Years ago, a young man told me that his generation doesn't care about Rush Limbaugh or Rachel Maddow. Instead, they get their cultural and political information from podcasts and videos. And in the world of podcasts and videos, one of the biggest political stars is 36-year-old Ben Shapiro — who refused to vote for Trump in 2016. This time around, Shapiro has given Trump an enthusiastic thumbs-up, both because of Trump's proven history of conservative governance and because the Democrats have become insane.
Rapper 50 Cent Endorses President Trump & Blasts Biden, Democrats Explode. On Monday [10/19/2020], rapper 50 Cent took to social media to make his official presidential endorsement. The rapper defied Hollywood and decided to endorse President Donald Trump over former Vice President Joe Biden. 50 Cent's decision to endorse President Trump came after the rapper saw Biden's proposed tax plan.
Massive Crowds Line California Streets Cheering for President Trump. Momentum is building: All across social media platforms the MAGA movement is pushing back against censorship. Massive boat parades; incredible vehicle parades; both replete with flags and banners supporting our President. Yard signs are now going out in force and the MAGA gear is visible everywhere. In the past week the latest viral platform videos are of Trump dancing, Trumpy dance and Tik Tok duets. Good stuff. The biggest single attribute connecting all of these visible events is joy, fellowship and the visible spirit of a patriotic movement happy to stand with President Trump. Tens-of-thousands for rallies and events; and even surrogates for President Trump are drawing exponentially larger crowds than the democrat candidate.
Trump says US would be in 'massive depression' if he listened to experts. President Trump said the US would be in the throes of a "massive depression" if he had "totally" heeded advice from scientists on coronavirus-related lockdown measures. Trump made the economic prediction at his Sunday rally in Carson City, Nevada, adding that the country would endure another Great Depression if Joe Biden is elected president. "He's gonna lock down. This guy wants to lock down," Trump said of Biden, referring to the coronavirus lockdowns for public safety. "He'll listen to the scientists. If I listened totally to the scientists, we would right now have a country that would be in a massive depression."
Trump: "No, I Don't Owe Russia Money," $400 Million Debt Is "A Peanut" Compared To My Properties. NBC's Savannah Guthrie again asked President Trump at a Thursday town hall about "New York Times" reporting that he owes roughly $400 million, some of which might be owed to foreign banks such as Deutsche Bank. Trump essentially confirmed the veracity of that reporting, but noted that compared to the total value of all of his properties, $400 million is "peanuts."
Most 'swing voters' [are] sticking with Trump, [and] don't blame him for COVID. A six-month survey of battleground "swing voters," those who chose Barack Obama in 2012, then President Trump in 2016, has found that most not only plan to stick with the Republican but expect him to be reelected by a wide margin. Overall, the survey said that 68% of swing voters polled in Minnesota, Ohio, Pennsylvania, Michigan, and Wisconsin are voting for Trump. They believe that he has done a good job with the economy and is "working hard" to end the coronavirus crisis.
Mayra Joli, nodding lady at Trump town hall, is ex-beauty queen who ran for Congress. The mystery "nodding woman" who went viral during President Trump's town hall Thursday night has been revealed as a pro-Trump immigration attorney and former beauty queen who once ran for Congress. Mayra Joli was identified as the woman who nodded enthusiastically and even flashed a thumbs-up sign behind the president as he fielded questions from undecided voters in Miami, according to the Miami Herald.
Voter-registration patterns give Trump an edge invisible to polls: JPMorgan. The 2020 presidential race may be closer than the polls suggest, according to an analysis of voter registration trends by JPMorgan Chase. Changes in the number of voters registered to each of the major parties have proven to be a significant variable in election outcomes in the past, according to strategists at the New York-based bank, which analyzed trends in some of the battleground states that will be crucial to an electoral college victory. Former Vice President Joe Biden leads President Trump by 9.2 points nationally, according to an average of polls compiled by RealClearPolitics, but his lead is at a tighter 4.9 points in hotly contested states.
Trump is Literally the Only Person Who can Stop the Revolution. And, the revolution is real! We are not in the midst of a euphemistic revolution but a real one! We are the closest we have ever come to being overthrown by real revolutionaries working to advance the New World Order. And, only one man stands in the way!
Supreme Court Denies Democrats' appeal of emoluments case against Trump. Back in July, The Hill reported that Democratic lawmakers appealed their emoluments case against President Trump to the Supreme Court after a federal appeals court ruled that they lacked standing to sue over alleged constitutional violations. Today [10/13/2020], the Supreme Court has denied the appeal of Democratic lawmakers.
Democrats' Emoluments Clause Lawsuit Against President Trump Is Dead. The Supreme Court has refused to take up an emoluments case filed by Democrats back in 2017. That means the lower court ruling that Democrats do not have standing to bring the case will stand. This little corner of the resistance is dead: [...] One more little tidbit worth noting here. Guess which judge was all for letting this case go forward initially: [...]
President Trump's Florida Rally: 16% of Attendees Were Democrats, 24% Didn't Vote in 2016. President Donald Trump roared back to the campaign trail for an energetic rally in Florida last night [10/12/2020]. It was his first rally since his short battle with the coronavirus, and if the attendee data from that rally is any indicator, Trump is set to defeat Joe Biden as swiftly as he did the coronavirus. Ronna McDaniel posted attendee data to Twitter last night showing that President Trump has continued to bring in a broad coalition of voters — and first time voters.
It's About President Trump's Manhood. Name for me one member of the left-wing, Democratic, political elite who reminds you of John Wayne. Or George Patton. Or Charles Bronson. [...] America is a masculine nation. From the first settlers, to the later gold prospectors, to the legendary figure of the plains cowboy, and then the GI and the Marines of World War II, ours is a nation defined by the classic ideal of a man — an individual who is strong, unemotional, resilient, and prepared to use violence in the cause of righteousness. Even the the first, original Americans, our native Indians, are forever depicted as stoic, self-reliant warriors. The Democrats lack such archetypal figures. And that's why Trump must be destroyed.
Trump appears energized at first major campaign rally since COVID-19 recovery. President Trump on Monday evening [10/12/2020] appeared at his first campaign rally outside the White House since he tested positive for the coronavirus earlier this month. Trump tossed MAGA facemasks to the crowd of thousands, who chanted praise for the president, soon before he took the podium. He then spoke about his bout with COVID-19, promising to distribute his treatment to hospitals across the country. "We're going to take whatever [...] they gave me and distribute it around to hospitals, everyone is going to have the same [...] thing," he said. Trump then sounded off on a range of issues, repeatedly blasting Joe Biden and the Democratic Party, who he said would turn America into a communist state.
Sparsely Attended 'Ridin' With Biden' Events Overshadowed By Yuge Grassroots Trump Parades. This past weekend saw another round of massive Trump caravans and convoys throughout the nation, underscoring yet again the enormous enthusiasm gap between President Trump and his Democrat opponent Joe Biden. American Greatness attended a Trump Car Parade in Overland Park, Kansas, on Saturday that had thousands of participants. [Video clip] Following the Trump car Parade, there was a big Back the Blue rally featuring Mark and Patricia McCloskey, the St. Louis Couple who were indicted for brandishing weapons after a Black Lives Matter mob invaded their property. Nearly 2,000 people attended the rally. [...] A "Ridin' With Biden" parade in Kansas City brought out approximately two dozen supporters, according to KSHB. It's hard to find pictures online of the poorly attended Biden event, so we have to take KSHB's word for it that 24 cars participated.
The Editor says...
When a presidential candidate comes to town, the Secret Service and the local police and the reporters could easily occupy 24 cars, and an ambulance, and a dozen motorcycles. I suspect that if you subtract all those vehicles, and count only the cars occupied by enthusiastic Biden fans, the total is ZERO.
Large and Diverse Pro-Trump Rally Descends on Beverly Hills. An October 10, 2020, a pro-Trump rally in Beverly Hills, California, was not only large and energetic, but was comprised of people from all walks of life, various races, and even genders. [...] Whitney R., who attended last Saturday's rally and the one before it, told Breitbart News that today's was "the largest" rally with the "most diverse turnout." Whitney added, "The energy was running high and American pride was everywhere."
First-ever presidential endorsement of the Florida Police Chiefs Association goes to Donald J. Trump. The Florida Police Chiefs Association has come out in support of Donald Trump's reelection in the organization's first-ever endorsement of a presidential candidate. In remarks posted online Friday [10/9/2020], Jeff Pearson, chief of the Satellite Beach Police Department and head of the association, said he was "honored to announce our endorsement" of the president. "Time and time again, President Trump has demonstrated his unwavering support for law enforcement and for the men and women that risk their lives to protect the peace," Pearson said.
Miami PD Estimates More Than 30,000 Cars Participated in Anti-Communist, Latinos For Trump Caravan in South Florida. Latinos in South Florida love President Trump. Latinos from Nicaragua, Venezuela and Cuba living in South Florida know the dangers of Socialism and Communism which is why they reject Joe Biden and Kamala Harris. Thousands of cars participated in Saturday's anti-Communist, Latinos for Trump caravan on Saturday [10/10/2020].
Organizers scrap next presidential debate after Trump said he wouldn't agree to virtual format. The Commission on Presidential Debates (CPD) has canceled the debate planned for next Thursday, after one day earlier announcing the debate would be virtual. The face-off planned between President Trump and Democratic nominee Joe Biden was moved to a virtual setting after last Friday the president announced he'd contracted coronavirus. Trump promptly announced he wouldn't participate in the virtual format, calling it a "waste of time." "It is now apparent there will be no debate on October 15, and the CPD will turn its attention to preparations for the final presidential debate scheduled for October 22," the CPD said in a statement.
WH physician clears POTUS to start public events on Saturday, and Trump is off to the races: 'I feel so good'. President Trump may be attending weekend rallies following a green light from his doctor on getting back to public activities after his positive coronavirus diagnosis. The president told Fox News host Sean Hannity on Thursday that his reelection campaign is working out arrangements to potentially hold the rallies in Florida and Pennsylvania following White House physician Dr. Sean Conley's report that he may have a "safe return to public engagements" as early as Saturday. "I think I'm going to try doing a rally on Saturday night if we have enough time to put it together," Trump said on "Hannity." "We want to do a rally probably in Florida on Saturday night. I might come back and do one in Pennsylvania the following night," he added, telling Hannity that "it's incredible what's going on. I feel so good."
Trump Is Now One With Countless Essential Workers. [Scroll down] In this context, Trump is not the reckless one. He no more deserved to get the virus than did the 210,000 who have died — died with and without masks, distancing and not so much, and meticulously clean and sometimes not. Trump is president. He's not a professor, not a journalist, not a stockbroker, not an actor. The Left has it upside-down. It is narcissistic for a president to hibernate on the theory that he can't be replaced, even as he does the nation psychological damage. It is leadership to go out and, with proper caution, to brave the contagion, on the theory Trump is indeed replaceable while cowering is inexcusable. His job description is to be one with the people, and to take measured risks, when necessary. That's what leaders must do.
DC Debate Commission Announces "Virtual Debates" Without Consulting Campaigns. In March 2020, even before the DNC nominee was selected, CTH noted one of the important objectives for the use of the COVID-19 fear would be to protect their candidate through the use of the "virtual debate" format. After the DNC club installed Joe Biden as the avatar for the Obama/Clyburn/Perez objective, again in June, we shared the presidential debate format would require deployment of "virtual debates". Quite simply, a cognitively impaired candidate cannot be relied upon to deliver a debate performance, so everything must be controlled. Including mail-in voting. The fact the presidential debate commission would not first approach the Trump or Biden campaign, prior to their announcement of "virtual debates", is evidence of the commission corrupt intent.
The End of Covid Hysteria. [Scroll down] Fact is, most of the country is sick of the hysteria. Most simply want to live their lives, intelligently with caution, and return back to what we all remember was a decent life. [...] And of course, the Democrat response has been "to not let this crisis go to waste." Meaning: let's try to hurt Trump's re-election prospects by blaming it on him, by shutting down Democrat-run states with harder lock downs. It'[s] hiding behind "protecting the public" in order to hold down economic data so Trump can be blamed for a poor economy. You might ask, what kind of people would do that? Well, the modern Democrats would. Let me say it loud and clear, the Democrat-media complex has attempted to use this crisis with hysterical responses to everything to hurt Trump. Hurting the American people? Who cares? They don't care. What kind of people do that in the middle of a pandemic?
Trump doctor anticipates 'safe return' to public events on Saturday after COVID-19 treatment. President Trump's doctor on Thursday [10/8/2020] said that he's likely to return public engagements on Saturday after completing treatment for COVID-19. "Today the President has completed his course of therapy for COVID-19 as prescribed by his team of physicians," Dr. Sean Conley said in a public memo. "Since returning home, his physical exam has remained stable and devoid of any indications to suggest progression of illness," Conley wrote. "Overall he's responded extremely well to treatment, without evidence on examination of adverse therapeutic effects. Saturday will be day 10 since Thursday's diagnosis, and based on the trajectory of advanced diagnostics the team has been conducting, I fully anticipate the President's safe return to public engagements at that time."
Pelosi questions Trump's health, says 'we're going to be talking about the 25th Amendment'. House Speaker Nancy Pelosi made a dramatic announcement during her weekly press conference Thursday by telling reporters that she intends to discuss a constitutional measure to remove President Trump from office, following questions regarding Trump's health as he recovers from coronavirus. The 25th Amendment allows for the vice president to become acting president if is determined that the president "is unable to discharge the powers and duties of his office." "Tomorrow, by the way, tomorrow, come here tomorrow," Pelosi said. "We're going to be talking about the 25th Amendment." The president fired back in a Thursday afternoon [10/8/2020] tweet. "Crazy Nancy is the one who should be under observation," he said. "They don't call her Crazy for nothing!"
Trump Refuses to Do 'Virtual' Town Hall, Says 'They're Trying to Protect Biden'. President Donald Trump on Thursday [10/8/2020] said he would not waste his time participating in a "virtual" town hall with the teleprompter-dependent Joe Biden, after the Commission on Presidential Debates announced that the Oct. 15 forum would be conducted virtually. "I'm not going to waste my time on virtual debate. That's not what debating is all about," Trump said in an interview on Fox Business. "You sit behind a computer and do a debate. It's ridiculous, and then they cut you off whenever they want." Trump told host Maria Bartiromo that even though the host of the C-SPAN forum was a "never-Trumper," he was looking forward to sparring again with Biden. "They're trying to protect Biden," the president said. "Like that NBC disaster with Lester Holt. It was meant for a child," he added disdainfully.
President Trump Went On an EPIC Tweet Storm Last Night — Crooked Obama, Pelosi and Deep State Prime Targets. After his 72 hour bout with the China Coronavirus President Trump was back in the White House on Tuesday and ready to start swinging. The President took aim at anything that moved. [Numerous tweets]
Trump Appears Poised To Win Obama Swing Counties North Of Detroit. The weather is changing in Michigan as Election Day draws near. Leaves are turning, the air is getting colder, and Michiganders are anxious to get back to work after a brutal seven months of pandemic lockdowns. Last week the state's governor, Gretchen Whitmer, who made a name for herself with some of the harshest lockdown restrictions in the country, was rebuked by the state supreme court. Her rolling and often arbitrary executive orders, which closed businesses across the state and left thousands jobless, violated the Michigan Constitution, the court ruled. The ruling was mostly a symbolic victory for critics of the governor, whose health and human services director circumvented the court by issuing his own emergency order Monday, relying on a different state statue. While many spoke of the feeling of relief the lockdown was nearing an end, others were less sure it would be the end of their troubles.
October Surprises Everyone. The startling revelation that President Trump and his wife have contracted COVID-19 not only contributes another imponderable complexity to this torrid election campaign, it brings forth — amid a general tide of goodwill in favor of the president and his wife — the worst traits of the Trump-haters. The media response ranged from Joy Reid's piercing aperçu that he was faking the illness to attract sympathy, to the Lemon-Tapper school of Trump-hate at CNN, which saw it as a direct consequence of the president supposedly taking the virus lightly, leading the resistance to it incompetently, and pretending that it was a fiction, "a hoax." The large number of comments on social media, including from a former director of publicity for the Hillary Clinton campaign of 2016, expressing hopefulness that the president and his wife would die from the illness, shows how far the Trump-haters have decamped from America's preferred self-image confected by Norman Rockwell, Walt Disney, and Grandma Moses.
Petty:
Democrat Congressman Requests Briefing On Trump's 'Joyride' Outside Walter Reed. A Democratic congressman is requesting a briefing from the Secret Service on President Donald Trump's recent ride past supporters gathered outside Walter Reed Medical Center on Sunday [10/4/2020]. Rep. Bennie Thompson (D-MS) claimed Trump is being "increasingly reckless" regarding the coronavirus, according to Jackson, Mississippi, NBC affiliate WLBT. Thompson accused the president of placing Secret Service agents and their families "at risk" when he rode in a hermetically sealed car, despite the fact that the president was masked and the agents with him were decked out in necessary PPE. Trump's brief drive-by sparked outrage among many others, according to The Washington Post, which reported that "current and former Secret Service agents and medical professionals were aghast" at the move.
To All Those Who 'Vote for the Man, Not the Party'. [Scroll down] And since slavery, there has never been a time when the two major parties differed as much as they do today. Therefore, the notion that one should vote "for the individual, not the party" has never made less sense. It would be as if someone in the mid-1800s had said, "I strongly oppose slavery, but the Democratic candidate is a much finer and more likeable individual than the Republican candidate." Fine Democrats who defended slavery did as much harm to blacks and to America as disreputable Democrats. And elected officials vote with their party more often than in principled opposition to it, however fine they may be as individuals. Nevertheless, a great number of Americans still vote for "the individual." The most obvious examples are Republican "Never Trumpers." They say that they would vote for any Republican except Donald Trump because they find his character so objectionable.
Trump's Getting COVID Could Be Good News For Him, And The Country. Almost as soon as President Donald Trump announced that he had tested positive for COVID-19, the left erupted in cheers, stopping only to suggest he was faking it to get out of future debates. Pundits everywhere speculated on the impact of Trump's illness on the presidential race, with most of the comments along the lines of: "Will Trump's presidency be a casualty of COVID-19?" There's another possibility. That this turn of events will not only benefit Trump but could help snap the country out of its COVID-mania, which treats every case as a death sentence. Here's why. In all likelihood, Trump will recover just fine. [...] Trump's return to the White House after suffering what, by all indications, were not terribly serious health effects, will let him boast that he beat COVID-19. He will also be able to claim that he was right not to hide in the basement, or act like a scared rabbit when he's out in public, like a certain Democratic presidential candidate. The contrast is not going to help Joe Biden's campaign.
In an October filled with surprises, can President Trump still win? It didn't take long for this election's first official October surprise to occur. Less than 22 hours into the new month, President Donald Trump tweeted that he and his wife, Melania, had tested positive for COVID-19. That came just five days after a late September surprise, publication of a newspaper report with private details from Trump's income taxes, showing that he avoided paying large sums of income taxes in recent years, legally but politically damaging nonetheless. Who illegally released private IRS tax records remains an unanswered question. But just hours later, if you can believe it, Democrats were running TV ads about it. [...] And you can pretty much count on more such attempts to influence the November presidential election's outcome, although the sources will likely be masked to make verification difficult.
Trump Releases New Positive Video Following Hospital Stay: Don't Live In Fear. President Donald Trump released a positive video message on Monday evening following his release from Walter Reed Medical Center, telling people not to live in fear of the pandemic. "I just left Walter Reed Medical Center, and it's really something very special — the doctors, the nurses, the first responders — and I learned so much about coronavirus" Trump said. "And one thing that's for certain, don't let it dominate you. Don't be afraid of it. You're gonna beat it. We have the best medical equipment; we have the best medicines — all developed recently — and you're gonna beat it."
Trump discharged from Walter Reed, returns to White House. President Trump was discharged from Walter Reed National Military Medical Center and returned to the White House on Monday evening [10/5/2020] to continue his fight against the novel coronavirus, after his medical team warned that he "may not entirely be out of the woods yet." Dressed in a navy suit and tie and wearing a face mask, Trump walked out of Walter Reed on his own. Upon walking out the doors of the hospital, he made a low fist pump and gave a thumbs up to the press as he got into a black SUV to head to Marine One. The president teased his return to the White House Monday afternoon, saying he is "feeling really good!" "Don't be afraid of Covid," the president tweeted.
President Trump gives a magnificent statement on his return to the White House. Since February, thanks in large part to Democrats hoping to drive Trump out of office by weaponizing the Wuhan virus, Americans have allowed the Wuhan virus to dominate every aspect of their lives. We've entered a form of purgatory, where we're just marking time until we finally, passively, get sent to some final destination, whatever [...] it might be. This attitude is utterly foreign to what America has been since its inception. Starting with the original thirteen colonies, America has been defined by its energy, enthusiasm, and courage. Collectively, we march bravely forward — yet we've spent this year cowering. This needs to stop. At a certain point — and the left is counting on this — helplessness becomes a self-fulfilling prophecy. Because we believe ourselves helpless, we lose the will, desire, and skill to help ourselves.
The Editor says...
Most of America's coronavirus problem is the 24-hour televised panic. Most television viewers are reluctant to turn off the TV while the talking heads are in the middle of a tantrum, but the tantrum never stops. Without politically-motivated television coverage, this virus would never have been noticed.
Trump Just Became "Captain America," and Democrats are Losing Their Minds. When President Trump and First Lady Melania tested positive for Covid, Democrats were gloating and hoping for the worst. They thought a sick (or dying) Trump would be unable to campaign down the homestretch and hand a victory to Basement Biden. [...] Trump has three traits above all others. First, he is relentless. He never gives up. He always finds a way to come out on top. My favorite saying is, "NBAT: Never Bet Against Trump." Second, he's like Houdini — a great escape artist. He is adept at turning lemons into lemonades. Just when you think he's lost, he comes roaring back to life. Third, Trump is a human tornado. He is a man of superhuman energy and willpower. He makes things happen through force of personality that seem unimaginable. Those three traits are the essence of Trump.
Trump Floated Like A Butterfly And Stung Like A Bee. The first presidential debate on Tuesday was also the first bit of fun we've had in a while. True, President Trump failed to float his theory about that "big fat shot in the ass" Joe Biden likely got from his handlers, to allow the Democratic candidate to nimbly prance onto the debate stage and, "for two hours," be "better than ever before." But, like Muhammad Ali, the heavyweight boxing legend, the president floated like a butterfly and stung like a bee. A masculine force at full tilt, Trump provided plenty of energy and entertainment as he battered Joe Biden, while being funny in the process.
Trump infuriates the left by feeling better and going for a ride. On Sunday, President Trump issued another of his short videos from Walter Reed Hospital. In it, he promised his supporters a surprise. He then followed through with that surprise by taking a car ride past those of his supporters gathered outside the hospital and waving as he drove by. Trump's supporters were thrilled. Leftists, both inside and outside of the hospital, had a collective mental breakdown which, coming on top of their sustained four-year-long breakdown, was even more irrational than usual. It all started with a sweet video in which Trump, looking great, said that he's doing well, thanked his caregivers, talked about some of the military patients at the hospital, and promised that he was "about to make a little surprise visit." He also said he learned a lot about Covid from going to the "real school."
FNC's Hilton: Trump's COVID Recovery 'a Powerful Symbol of America's Recovery'. Fox News Channel's Steve Hilton, on his Sunday show "The Next Revolution," reacted to President Donald Trump's coronavirus diagnosis and his recovery. Hilton argued Trump's recovery from COVID is "a powerful symbol of America's recovery," slamming 2020 Democratic presidential nominee Joe Biden for "hiding in his basement." "The president's recovery is a powerful symbol of America's recovery," Hilton stated. "Yes, he got the virus because he was out there fighting for the future of the country, not hiding in a basement. [...]"
Experts raise questions about severity of Trump's COVID-19. Doctors not involved in treating President Donald Trump for COVID-19 said the fact that he has been started on dexamethasone — a generic steroid widely used in other diseases to reduce inflammation — is the strongest evidence yet that his case may be severe. Trump's medical team on Sunday said the president was started on the steroid after experiencing low oxygen levels, but his condition was improving and he could be discharged from the hospital on Monday [10/5/2020]. "What I heard in the news conference description suggested the President has more severe illness than the generally upbeat picture painted," said Dr. Daniel McQuillen, an infectious disease specialist at Lahey Hospital & Medical Center in Burlington, Massachusetts.
Trump's Covid experience will re-define him and reset the election. Rather than seal the doom of President Trump's re-election battle, as most of his haters expect and not a few of his supporters fear, I see strong signs that President Trump will use his experience with Covid to re-define himself and act as an inflection point, resetting the election. Watch carefully for a "New Trump" to emerge from Walter Reed Hospital, dare I say a kinder, gentler Trump, one humbled by his brush with mortality and a far more sympathetic figure in the eyes of many voters who have found him a bit too much to take. Too rough around the edges, too aggressive, too arrogant, too crude... the whole nine yards of distaste that he has evoked in the eyes of his enemies and even some who support his policies. [Video clip]
Donald Trump Surprises Supporters Gathered at Walter Reed in an SUV Drive-by. President Donald Trump surprised supporters on Sunday by taking a slow drive-by in an SUV past the crowd showing support for him as he is treated for the coronavirus at Walter Reed hospital. The president, wearing a mask and seated inside a Secret Service SUV, waved at his supporters as they cheered and waved back.
Democratic Bile Will Reelect Trump. The Democrats and their friends in the Fourth Estate could hardly believe their luck when the news broke that President Trump had contracted COVID-19. They clearly believe he is finished politically and that their Potemkin presidential candidate will now win the upcoming election in a walk. The following headline from Politico captures this collective delusion: "Biden looks to seal election after Trump's week from hell." This is precisely how they reacted to the Hollywood Access tape that was released at the same point in the 2016 presidential race. Most "experts" pronounced the Trump campaign dead, and Hillary Clinton began measuring the drapes for the Oval Office. [...] In the end, of course, Trump voters ignored the Hollywood Access tape, and he had far more supporters in key battleground states than the pollsters and pundits imagined in their wildest nightmares.
Down Goes Biden. [Scroll down] Spare me the "Trump did not act presidential" hogwash. Considering that Biden received a pass for referring to Trump as the "worst president" the country ever had, called him a "clown" and a "racist," and told him to "shut up," the national media has zero credibility lecturing Trump about presidential decorum. Trump's winning strategy was clear from the start. He forced Biden to either embrace the radical left wing of his party or disavow it. Whichever answer Biden provided would be a losing proposition for him. Embracing the far left would provide Trump the opportunity to paint him as a socialist who supports the Bernie Sanders/Alexandria Ocasio-Cortez agenda. Disavowing the radical left would cause Biden to lose support from the extreme wing of his party. Biden chose the latter, further playing right into Trump's hands. "You agreed with Bernie's manifesto," Trump said. "There is no manifesto," Biden responded. "You just lost the left," an elated Trump said. Checkmate.
Trump versus Coronavirus — You Will Watch. I never got to write the post about how the chaos of the first presidential debate may end up helping Trump because he came across as strong, and Biden as weak. The conventional wisdom was to the contrary. That debate now seems like a gazillion years ago. Trump testing positive for coronavirus took the debate off the screens, giving rise to initial Resistance claims that Trump made it up, that he really didn't test positive. For once in its miserable existence, the Resistance may be onto something — not about faking a positive test, but that Trump contracting the virus may inure to his political benefit — assuming he survives it. Trump is the master of the reality show, and now he is the complete center of attention with the whole world watching.
The left's sickening lack of decency on ailing President Trump. The president of the United States tests positive for the coronavirus, is soon moved to a hospital and given a cocktail of drugs to fortify his body for the fight ahead. Whereupon truly awful people erupt in joy, revealing themselves to be self-hating Americans. Some take to Twitter to exhibit their soullessness, enough so that the site, which too often blocks routine conservative viewpoints, vows it will suspend users who wish for the president's death. It is shameful that such a statement is even necessary. Others try to veil their pleasure, yet their satisfaction is unmistakable in their self-righteous scolds of "We told you so" and "He had it coming." House Speaker Nancy Pelosi displayed her heart of stone by saying the president had issued a "brazen invitation" to the deadly virus by meeting with people and holding rallies.
Poll: Donald Trump Now Leads Joe Biden in National Popular Vote. President Donald Trump now leads Democratic presidential candidate Joe Biden in the national popular vote by one point, according to the Sunday Express/Democracy Institute Poll released on Sunday [10/4/2020]. The poll found that 46 percent of likely voters nationwide support Trump while 45 percent support Biden. The poll of 1,500 likely voters was conducted between September 30 and October 2 and has a margin of error of 2.5 percent, which means the results indicate a statistical tie between Trump and Biden.
Speculation mounts about the source of President Trump's illness. [Scroll down] Lin Wood, a high-profile lawyer representing Nick Sandman and Kyle Rittenhouse, tweeted, "Many leaders in administration of @realDonaldTrump are quarantined by what almost appears to almost be targeted strike of Covid-19." He later tweeted, "There are no coincidences. Zero. None. Hard stop." Deanna Lorraine, who ran for Congress against Nancy Pelosi, also picked up the theme of a "targeted strike" in her tweet, "Does anyone else find it odd that no prominent Democrats have had the virus but the list of Republicans goes on and on?" And Omar Navarro, a Republican politician in California, developed the theme: "1. RBG dies. 2. Trump announces he will nominate new justice before election. 3. Pelosi makes "Arrow in our quivers comment to stop him." Week later Trump, his top aide, his campaign manager, two Senators all come down with COVID[.] 5. Schumer immediately requests to delay nomination." [...] In the almost four years since Trump has become president, Republicans have suffered three potentially mass fatality events.
'Biological weapons attack' conspiracies surface over 'suspicious' timing of Trump, GOP senators, suddenly getting COVID-19. Scores of Americans are developing conspiracy theories about what they see as suspicious timing after President Donald Trump announced Friday he and first lady Melania Trump — and other Republicans — have suddenly contracted the disease. First and foremost, there are the optics of the president getting sick: Conspirators note the irony that Trump has now come down with an illness he has, in the past, downplayed as not so serious — which is technically true, given that the earliest models predicting millions of deaths in the United States alone were grossly inaccurate. [...] On the same day the president and first lady announced they were sick, news broke that Trump adviser Hope Hicks, Republican National Committee Chairwoman Ronna McDaniel, and Sens. Mike Lee (R-Utah) and Ron Johnson (R-Wis.), had all contracted the virus as well. But no Democrats. That seems odd, given the intense precautions taken to protect the president and those in his inner circle, the conspirators argue.
Trump coronavirus symptoms 'resolving and improving,' doctor says. President Donald Trump's symptoms are "resolving and improving", his physician said Saturday, and he said doctors were "extremely happy" with the president's progress, after news early Friday that Trump had COVID-19. "The team and I are extremely happy with the progress the president has made," said Dr. Sean Conley at Walter Reed Medical Center in Bethesda, Md., where the president is staying. "He had a mild cough and nasal congestion and fatigue, all of which are now resolving and improving," said Conley. Conley said that Trump had no fever for 24 hours and that the president was not currently on oxygen. But he did not say whether Trump had ever been on oxygen despite reporters' repeated questions.
The Editor says...
Rabid Democrats in the news media were among those rooting for the HIPAA laws, 20 years ago, which keep your "protected health information" from being revealed to anyone else, such as random strangers and newspaper reporters. Now they want to ignore those laws and demand the details of President Trump's medical treatment.
Trump has enough support from Latinos to win Texas, study finds. President Donald Trump has enough support from Latino voters to win Texas, but Joe Biden could pull off an upset if he wins two-thirds of the Latino vote in the state — something Hillary Clinton came close to doing in 2016 — a new analysis finds. The analysis, by the Texas Hispanic Policy Foundation, says Trump currently holds enough support from Latino voters, 41 percent, to stave off a loss in the state. On the other hand, a poll released this week found otherwise, showing Biden with 66 percent of the Latino vote.
How much pushing does it require?
DHS intel chief says staffers were pushed to characterize activities as 'Antifa'. The head of the Homeland Security Department's intelligence unit told Congress on Friday that there was an attempt to push staffers in the division to characterize certain people as "Antifa," and he said that is now being reviewed by an inspector general. Joseph Maher said he became aware of an email by his predecessor, Brian Murphy, that carried that directive. "The email instructed intelligence professionals to characterize activities of certain individuals in a certain way," he said.
Get Well Soon, Mr. President. News that President and Mrs. Trump have tested positive for the coronavirus, announced by the President this morning, will no doubt be met by sneering and ill wishes by many of the President's detractors. Yet it is being met by many more — millions of Americans, ourselves among them, and by millions abroad — with hopes and prayers for a speedy recovery. [...] It is a moment to remember that the presidency is different from the legislative and the judicial branches. The executive is the only branch in which all the powers granted to it are assigned by the Constitution to a single individual. His duties may be carried out by various secretaries and envoys and camp aides. They serve, though, only at the President's pleasure. The Constitution does provide for the contingency that the president becomes incapacitated. The 25th Amendment, which was ratified in 1967, provides for, on the president's signal, the temporary transfer of power to the vice president. Presidents Reagan and George W. Bush both did this when they were sedated for a medical procedure.
When the Bogeyman Comes Down With Covid. On Thursday night, President Trump announced that he and Melania had contracted Covid-19 and were both in quarantine. His physician reported that the president was showing mild symptoms, and on Friday evening he was taken to Walter Reed Hospital. As expected, many on the left openly celebrated Trump's illness, wishing upon him all manner of suffering and death. In general, though, the response of mainstream Democratic players was muted, even polite. Why? Perhaps because they know a sick person (even this president) engenders sympathy among decent people, many of whom are undecided voters. If contracting Covid suddenly reveals Trump as a vulnerable human being like the rest of us, he loses his primary value to Democrats — that of a bogeyman: a frightening, demonic creature, useful for dividing Republicans from Trump and driving Democrats to Biden.
The COVID Chaos Is a Net Plus for Trump's Campaign. [Scroll down] Suddenly, Biden is not the only one who is going to try and do a presidential run from his house. And all the advantages Biden had of being able to hide and not being the center of attention suddenly vanish. And all the problems associated with being in the spotlight vanish for Trump. While people who aren't sissies enjoy Trump's two-fisted, take-no-prisoners style, Trump fatigue is a real thing. He can be exhausting to the weak and squishy who sadly make up a substantial part of the electorate. This diagnosis gives him a chance to pull back, to chill a bit, and when he does that his approval tends to rise as his achievements speak for themselves.
Why Is President Trump in the Hospital? Friday morning [10/2/2020], America awoke to news of Mr. and Mrs. Trump both testing positive for the China virus. Most serious human beings expressed well wishes and prayers, but a number of the "tolerant and compassionate" leftist politicians, entertainers, and media were gloating and wishing a painful death for the president. Vice President Pence tested negative. As the day wore on, so did the surprises. President Trump was flown to Walter Reed Medical Center for "the next few days," not because he was sick, but as a "precautionary" measure.
Last Night's Debate Was a Disaster. That's Exactly Why There Should Be More of Them. The first debate between President Donald Trump and former vice president Joe Biden was, for the most part, an unwatchable disaster. We should have more debates between these two men. A lot more. In the rare moments on Tuesday night when Trump and Biden weren't talking over each other or engaging in shouting matches with the debate's moderator, Chris Wallace of Fox News, they struggled to move behind the most basic of talking points before quickly returning to the shouting, mocking, and general nonsense. Trump was, of course, the more disruptive of the two — but both candidates deserve blame for wasting 90 minutes of everyone's time.
The Trump debate decoded: He won, and he won big. With 24 hours having passed since the first presidential debate, it's becoming clear that Trump won in a big way. It wasn't an apparent victory, but it was a real one: He showed his base and ordinary Americans that he will always fight while forcing Biden to disavow both his hard-left base and the last of the old-fashioned Democrats who still support him[.] Don't pay too much attention to the pessimistic pundits. The worriers worried, the haters hated, the ambivalent were ambivalent, the cheerleaders cheered. [...] At a rough estimate, Americans are 40% for Trump, 40% for Biden, and 20% up for grabs. Most candidates try to get half of their supporters to the polls and hope for 51% of the independent votes. In this bizarre election year, Trump did something different: He wants to get 100% of his base to show up.
Presidential debates need less, not more structure. Utterly predictably, the Commission Presidential Debates, along with the grandees of the (progressive) mainstream media, has come to precisely the wrong conclusion on changes to the form of presidential debates, in the wake of Chris Wallace's inept moderation of the first of three presidential debates. [...] This view presumes that voters would be better served if each candidate had precisely equal, uninterrupted time to make oral presentations to the American people, basically reading aloud the sort of talking points that could just as well be communicated in print. It's the logic of bureaucrats and schoolteachers, prioritizing order above spontaneity and form above content. The entire point of presidential debates is to help voters make up their minds about whom to support. A no-holds-bared debate, with the moderator's role minimal, would far better help acquaint voters with the substance and character of each candidate. If one of them interrupts the other, so what? That tells people a lot about the character of each. Is one of them a bully and the other a doormat?
Two October Surprises The Democrats Can't Do Anything About. Joe Biden wants the public to think the country is falling apart under President Donald Trump. COVID-19 is running rampant. The economy is in shambles. It's all Trump's fault. [...] But Biden will have to confront two major economic reports that both will provide very good news about the economic recovery from the pandemic shutdowns, which has been growing faster than economists had projected. Both will come as surprises to a public that has been fed a steady diet of Democratic doom-and-gloom talking points.
Trump trashes Joe Biden and Chris Wallace after bitter debate. President Trump on Wednesday [9/30/2020] tore into Democratic presidential candidate Joe Biden and Fox News host Chris Wallace after a chaotic and acrimonious first presidential debate. Trump highlighted Biden distancing himself from left-wing policy goals such as the Green New Deal and slammed Wallace as a biased moderator following the Tuesday night forum. "Nobody wants Sleepy Joe as a leader, including the Radical Left (which he lost last night!). He disrespected Bernie, effectively calling him a loser!" Trump tweeted. In another tweet, he wrote: "Chris had a tough night. Two on one was not surprising, but fun. Many important points made, like throwing Bernie, AOC PLUS 3, and the rest, to the wolves! Radical Left is dumping Sleepy Joe. Zero Democrat enthusiasm, WEAK Leadership!"
Trump is waging asymmetric warfare — and it's working. From the starting shot, President Trump was on the front foot, peppering Biden with a flurry of verbal blows: taunts, accusations, barbed criticisms for Biden, declarations of sublime political skill, triumph against longs odds, and exemplary selflessness for himself. Biden didn't know what hit him. But he should have. And so should have his advisers and debate coaches. This is Trump's style. Trump is a streetfighter waging asymmetric warfare against a traditional foe who is reviewing the rules of engagement and consulting the lawyers back at headquarters before doing anything. And all the while he's getting pummelled. Idealists will say that it wasn't very presidential, that they didn't dig into policy and educate the American people, where was the dignity? Welcome to electoral politics. It's always been thus.
Next major doc declass by WH said to show Russia was actually trying to hurt Trump, not collude with him. The White House is set to declassify a major trove of documents that include evidence showing Russian President Vladimir Putin was actually working against then-GOP presidential nominee Donald Trump, not 'colluding' with him as Democrats have long charged, a report said Tuesday [9/29/2020]. The declassification and its potential to flip the narrative — set for this week according to multiple sources who spoke to Just The News — would come four years after the Obama-era FBI launched a counterintelligence probe over claims that people within the Trump campaign were working with Moscow to manipulate the outcome in the GOP contender's favor.
NYT Admits Trump Actually Paid Nearly $6 Million in Taxes in 2016 and 2017. Trump PAID, as in transferred to the US Treasury, $1 million in 2016 and $4.2 million in 2017. Note also that most of the overpayment was rolled forward, not refunded. The $750 figure is an ADDITIONAL $750. Thus every single story saying he paid $750 is a lie.
The President's Tax Return and $467 of Italian Bolillos. Background: I was an accountant. I worked for Fortune 50 Banks, Investment Houses, and Insurance Companies, ending as a partner in a small brokerage firm out of Miami. [...] I was a CFP, a ChFC, a CLU, and RHU, and an LUTCF. [...] I've testified as an expert, and back in the day, I was one heckuva forensic accountant. For the President's tax return, it would have taken a team of 30-50 people, probably far better than me, and two years of time (at least), to accurately audit a single year. Yeah, at least two years and maybe more like 5 years. [...] President Trump is a named principal in over 512 entities. He owns portions of many more companies, in many states and countries. Imagine the overwhelming task of auditing such a tax return.
How the left's vast anti-Trump conspiracies turned to dust. President Trump has been confronted with a series of false and unfounded conspiracy stories from the same liberal establishment that condemns the QAnon phenomenon, according to an analysis of the president's nearly four years in office. The press has lambasted the right-wing mystery persona of QAnon and its internet-driven conspiracy theory that a cabal of Hollywood big shots, Democrats and federal officials is involved in a pedophile ring determined to bring down the president. The unfounded claims have captured the emotions of some conservatives. Mr. Trump hesitated at a press briefing to criticize the "Q" crowd even after Republican lawmakers roundly condemned its tales.
Donald Trump, laughing his way to victory. If there's one thing you can say about President Donald Trump on the campaign trail for reelection, it's this: He sure is comfortable. So comfortable, in fact, he gives all appearances of enjoying himself. Having fun, even. Joe Biden, on the other hand — painful. Painful and slow, awkward, stilted. Stifled? Probably. His handlers are afraid of what he might say, and have no doubt scripted his appearances down to the facial expression. Cue "Smile Joe!" Card. Cue "Squint Like A Wise Man Joe!" card.
Momentum Trump : Over 187,000 Supporters Attend Trump Rallies Since Labor Day to Joe Biden's 84. In the 2016 election we kept track of event attendance after the Party Conventions for both candidate Trump and Crooked Hillary. We did this because the future President was setting records at seemingly every venue he visited while Hillary could barely fill half a high school gymnasium. By mid-August we determined that President Trump had 10 times the number of attendees at his rallies than Hillary did during the same time. This year it's worse.
Trump's mastery of business is Biden's biggest obstacle. During a recent trip to southern Georgia to visit family, my wife described the area as "Trump Country." Her observation was spurred by the numerous Trump billboards and intersections overflowing with Trump lawn signs. The sheer volume of signs surprised me. While I'm certainly not a political junkie, I know enough about regional demographics to assume the southern part of Georgia leans Republican. So why would Donald Trump spend money on billboards in a part of the country that was already solidly his? [...] I believe the Trump campaign follows a fundamental principle of successful business operations: focusing on re-selling the base they already have. The importance of re-selling your current customer is common knowledge in the business world. Research indicates re-selling an existing customer is 60 to 80 percent easier than getting a new customer. Or, to paraphrase what one of my first business mentors told me: "Why sell someone something once when you can sell that person the same thing multiple times?"
President Trump says November election is matter of 'economic survival'. According to President Trump, the very survival of the American economy is at stake this election. During his "Great American Comeback" event at Pittsburgh International Airport this week, the President vowed to continue working on behalf of everyday Americans. "42 days from now, we're going to win Pennsylvania and we're going to win four more years in the White House," he stated. "With your vote, we're going to lift our nation to extraordinary new heights, we're going to turn the page forever on the failed political class, ...we're going to defend our jobs, our families, our borders and our treasured way of life."
Debating the Trump-Biden debates: Will they matter this time? In politics, you never know what can happen, and in 2020, that applies to most everything. A number of important Democrats, most prominently House Speaker Nancy Pelosi, have urged Biden to drop out of this cycle's scheduled debates, beginning next Tuesday in Cleveland. The alleged reason is because Trump is so dishonest that he would fill the air with lies and misstatements and soil the process. There would be some political damage if Biden did that, of course. And he would miss the opportunity to criticize Trump's Supreme Court nominee.
Trumpistas: Latinos and the GOP. Ferociously anti-Trump publications like The Atlantic have been sounding the alarm on the president's growing support among Latinos during an election where both sides have declared a war to the knife. The unabated demographic rise to electoral prominence of Latinos has turned them into kingmakers. Having been unwilling or unable to stop this rise, Republicans now find themselves having to court Latinos in an attempt to stave off permanent minority party status. Only a political animal like President Trump could continue to hold sway over a third of Latinos as a Republican while being denounced 24/7 by the legacy media as an unrepentant racist with a special animus toward that same community.
Concentrated, Deadly Ricin Sent to White House, Addressed to President Trump. The package was found at an off-site mail facility that handles all mail deliveries for the White House. The discovery of the ricin was apparently made days ago, but law enforcement officials have spent the last few days conducting tests on the substance to confirm it was indeed ricin.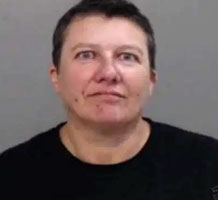 Ricin suspect was a "solution finder" — used the hashtag 'killTrump'. The ricin story is ignored by the media. Ricin is a deadly poison and it was sent to President Trump in a letter but intercepted before it got to his desk. A woman is being held in connection to this crime. Pascale Ferrier is a 53-year-old Canadian woman who was arrested in connection with a letter containing ricin that was sent to President Donald Trump last week, CBC reported.
Authorities are investigating a package sent — but not delivered — to President Trump that contained the poison ricin. A package addressed to President Donald Trump that tested positive for the poison ricin was intercepted by federal authorities in the past week, a law enforcement official said Saturday [9/19/2020]. The official said the FBI, Secret Service and U.S. Postal Service inspectors are investigating the source of the package. Mail addressed to the White House is screened at an off-site location. The FBI, in a brief statement, described the missive as "a suspicious letter received at a U.S. government mail facility."
Update:
Woman is taken into custody for 'sending letter with the deadly poison RICIN to Donald Trump in a package addressed to the White House'. A female suspect has been taken into custody for allegedly sending a letter containing the deadly poison ricin to Donald Trump in a package addressed to the White House. The unidentified woman was arrested by Customs and Border Protection agents trying to enter the US from Canada at a border crossing in New York state, a law enforcement official told CNN Sunday [9/20/2020]. She was allegedly armed with a gun when she was detained by officers.
Reports: Woman suspected of sending ricin-tainted package to Donald Trump at White House arrested at US-Canada border. A woman suspected of sending a package containing the poison ricin to the White House has been arrested at the U.S.-Canada border, a law enforcement official said. The suspect was taken into custody by U.S. Customs and Border Protection officers at the Peace Bridge border crossing near Buffalo and is expected to face federal charges in connection with the package which was intercepted in the past week, said the official who is not authorized to comment publicly.
America's China Class Launches a New War Against Trump. Chances are that by the time you get to the end of this article, there will be news of another information operation targeting Donald Trump. There's one a day now — each trumpeting a new mortal threat to the republic or some dastardly revelation based on sources that are usually anonymous. Whatever it is, it will serve the same purpose as the hundreds of similar sallies launched over the last four years — namely, to preserve and protect the position and privileges of America's ruling elite. Trump stories are rarely about Trump. The same stories, or versions of them, would have targeted anyone who threatened to sever the American political, corporate, and cultural elite's economic lifeline to the Chinese Communist Party. It is largely because Trump sought to decouple the United States from the CCP that America's China Class, which owns the platforms on which Americans communicate, has waged a relentless campaign of information warfare against him through its social media and prestige media brands.
Nearly 800 Military Family Members Sign Open Letter in Support of Trump. Nearly 800 military family members — including Gold Star families — have signed an open letter to voice their support for President Donald Trump, in the face of attacks in the mainstream media on his patriotism and care for the military. [...] The letter's signatories include Gold Star families, military spouses, military mothers, military sons and daughters, and veterans, according to the authors. The letter garnered more than 700 signatures in just three days, and has continued to collected more after the signature deadline, they said. They said in a statement to Breitbart News accompanying the letter that they decided to write it after observing liberal military spouses appearing to speak out for all of them collectively.
Rasmussen Poll: Black Lives Matter Riots Turning People in Riot Zones into Trump Voters. The violent Black Lives Matter riots that rocked multiple American cities this summer have turned voters who live in those riot zones into Trump supporters, a new Rasmussen poll finds. [...] In more good news for the president, Rasmussen showed the president's overall approval rating at 51 percent for the second day in a row. Former President Barack Obama had a 49 percent approval rating at this stage of his presidency and he sailed easily to reelection.
'Proven leader': More than 200 former military leaders endorse Trump in open letter. The Trump campaign released an open letter Monday signed by 235 retired military leaders expressing their support for President Trump's reelection. "As senior leaders of America's military, we took an oath to defend the United States from all enemies, foreign and domestic. At present, our country is now confronted with enemies here and abroad, as well as a once in a century pandemic," the letter reads. The group, which includes three retired Air Force generals and five Navy admirals, contends that Trump "has been tested as few other presidents have and is the proven leader to confront these dangers." "With the Democratic Party welcoming to socialists and Marxists, our historic way of life is at stake," the letter says.
Paul Craig Roberts: The US & Its Constitution Have 2 Months Left. When Generals and the CIA say that a president is unfit and dangerous, they mean he is dangerous to their budget. By "unfit" they mean he is not a reliable cold warrior who will keep hyping America's enemies so that money keeps pouring into the military/security budget. By serving defense contractors instead of their country, generals end up very wealthy. Both Kennedy and Trump wanted to normalize relations with Russia and to bring home US troops involved in make-war operations overseas that boost the profits of defense contractors. To stop Kennedy they assassinated him. To stop Trump they concocted Russiagate, Impeachgate, and a variety of wild and unsubstantiated accusations. The presstitutes repeat the various accusations as if they are absolute proven truth. The presstitutes never investigated a single one of the false accusations. These efforts to remove Trump did not succeed. Having pulled off numerous color revolutions in which the US has overthrown foreign governments, the tactics are now being employed against Trump. The November presidential election will not be an election. It will be a color revolution.
Trump's victory must be a rout. While benevolence is a wonderful and aspiring trait, it cannot be extended to the ideas of the left. The field is not fair, and the umpires in the media are one-sided. Although many may not have the stomach for such defeat, it nevertheless remains the only path to save the country. Trump simply winning the election cannot be the goal — demolishing and demoralizing the left must remain paramount. All evidence supports America's existence requiring the 2020 election to be irrefutable rather than a "squeaker."
The Left Is Setting The Stage For A Coup If Trump Wins. It's been hard to miss the steady drumbeat of articles and think-pieces over the past few months about Election Day war games and post-election planning underway on the left, rooted in obsessive fears that President Trump will refuse to accept an electoral loss, triggering a constitutional crisis and maybe even widespread civic unrest, all in a desperate attempt to cling to power. [...] The news hook for most of these articles is a series of elaborate election war games hosted in June by a newly formed organization called the Transition Integrity Project, [...] [T]he Transition Integrity Project is a cross-section of our elite ruling class. In its own executive summary of the war games, the group states it was founded "out of concern that the Trump Administration may seek to manipulate, ignore, undermine or disrupt the 2020 presidential election and transition process" — never mind the many ways Democrats in Congress and the executive bureaucracy, aided by the media, have been doing just that since before Trump won the 2016 election.
Trump has the momentum as Biden looks rattled. The political winds are now trending in Trump's favor, and the polls are tightening to the president's benefit in a handful of battleground states that will decide this election. Don't tell that to the Democrats and Biden campaign surrogates and those masquerading as political journalists who want to convince you that the race is over and has been for some time. Trump supporters and Republican-leaning voters shouldn't fall for the doom-and-gloom poison being churned out by the national media daily. There are plenty of indicators that Trump can and will win in November.
Trump hits Biden's record on jobs at packed Michigan rally. President Trump tore apart Joe Biden's job creation record at a raucous rally in the key battleground state of Michigan on Thursday evening, calling the former veep a "Washington vulture." "If Biden's elected, China will own America. Washington vultures like Biden and others ripped apart entire towns all across your state," Trump told a crowd of supporters at an overflowing airport hangar in Freeland, Michigan. "Michigan lost half of all manufacturing jobs after the trade deals that Biden supported," the president continued during a 90-minute address. Trump won the state by a razor-thin margin of 10,704 votes in 2016 in a huge upset over Hillary Clinton and is hoping for a more resounding victory in the must-win Wolverine State this November.
Trump's Glorious Path to Victory in November. Just look at who the movement's enemies are:
• The NeverTrumps. Such frauds, such disingenuous grifters. Virtual parasites on the conservative movement for decades.
• The Clintons. Power-mad. Greedy. Bitter.
• The Deep State. Under the guise of "a higher loyalty," these people lied about Russian influence, ruined the lives of innocent people, and tried to undo a fair election by colluding and using their powers illegally and immorally. Then they covered up their own wrongdoing.
• Antifa and BLM. Two of the most violent organizations in our history.
• The communist Chinese. A bigger threat to real freedom cannot be found. Just ask the citizens of Hong Kong and the displaced factory workers in the Midwest.
• The globalists. Those who want to use American foreign policy to enrich themselves at the expense of average Americans, who tried to give everything good about America away to its enemies.
• The hard-left media. Nuff said.
There are many more, but that's an astonishing core group of enemies — all rotten influences and corrupt to the core. Their enmity counts for a lot.
Joe Biden Arrives in Michigan and is Greeted by a Crowd of Trump Supporters Chanting "4 More Years!" — And ZERO Biden Supporters. The internal polls must be bad for Biden because he left his Delaware basement and headed to Michigan on Wednesday [9/9/2020]. Biden, who openly supported NAFTA, will be speaking at an event in the Detroit suburb of Warren and will reportedly propose a new policy aimed at tackling "offshoring." As Biden arrived in Michigan, he was greeted by a crowd of Trump supporters! Trump supporters waved American flags and Trump 2020 flags chanting, "Four more years! Four more years!"
AG Barr defends having DOJ lawyers rep Trump in E. Jean Carroll suit. Attorney General William Barr on Wednesday [9/9/2020] defended his Justice Department's request to replace President Trump's lawyers and defend him in a defamation suit brought by advice columnist E. Jean Carroll, who accused him of rape. On Tuesday evening [9/8/2020], the DOJ filed a motion requesting to intervene in the case and said Trump was "acting within the scope of his office" when he last year accused Carroll of "totally lying" when she claimed Trump raped her in a Bergdorf Goodman changing room in the mid-1990s. While the move is very rare, Barr told NBC News that it is "not particularly unusual" for the Justice Department to step in when an elected government official is sued civilly in court.
Dr. Anthony Fauci Defends Trump on Coronavirus: 'I Don't Think He Ever Distorted Things'. Dr. Anthony Fauci defended President Donald Trump from claims Wednesday that he lied about the coronavirus, telling Fox News: "I don't recall anything that was any gross distortion in things that I spoke to him about." On Wednesday [9/9/2020], it was revealed that Trump told journalist Bob Woodward that he had downplayed the threat of the coronavirus pandemic to prevent the public from panicking.
Donald Trump: Joe Biden Will Appease Domestic Terrorists, I Will Arrest Them. President Donald Trump on Tuesday continued campaigning against the violent radical left rioters in America's major cities, describing them as "domestic terrorists." "Biden's plan is to appease the domestic terrorists. My plan is to arrest them," Trump said as the crowd cheered.
Trump Takes on the Real Pandemic. To be a freedom-loving individual in the year 2020, and to have a proper understanding of modern history and current events, is to be terrifyingly aware of just how much the liberty, prosperity, and stability of America and the free world depend on one thing and one thing alone — namely, the continued physical and intellectual health of a certain preternaturally brave, brilliant, and energetic 74-year-old named Donald Trump. Rarely have so many owed so much to one extraordinarily dynamic and world-historical figure. And rarely has a head of state been so outnumbered by his enemies. The Democrats are against him. The media and academy are against him. The deep state, which is to say officials in government departments and agencies and bureaus that are nominally under his own control, is against him. An increasing number of corporate leaders are against him. And even most of the members of his own party are against him — either that, or they're cowards and careerists who, aware that no one else can fill his shoes, are hedging their bets, waiting to see whether he prevails or not.
Democrat threats to the contrary, the riots will end if Trump wins. Democrats openly say that, if Trump is reelected, they are going to redouble their four years of madness, with special emphasis on the last three months of open violence. Indeed, they're already planning to destabilize the election and to contest it if Trump wins, in hopes of a violent coup. The latest leftist to say this is Bernie Sanders, who just opined that Trump would not accept defeat. It appears that the Democrat's plans don't account for is the fact that, if Trump wins the Electoral College, he holds all the cards — although, their awareness of that fact could explain the recent attempt, via the defamatory The Atlantic article, to smear Trump with the military.
Nearly 10 Miles Of Cars Line Up For Trump — And A Raucous Night In Small Town America. There are three roads to Arnold Palmer Regional Airport. The traffic jam stretches 1.5 miles into Unity Township, out a mile toward the country club, and eight miles toward Pittsburgh. Parking by a mailbox and hoping we don't get towed, we hustle past as the red flag-waving line of packed cars, trucks, station wagons and occasional motorcycles creeps slowly onward toward this evening's festivities. The county paper predicted a crowd of 2,000-plus for President Donald Trump's 7 p.m. hangar stop. There are more than twice that many vehicles in the parking lots and fields by 4, with some camping out overnight and miles more on their way, slowly passing the Trump signs that decorate every other yard.
America's Largest Police Union Endorses Donald Trump. The Fraternal Order of Police on Friday endorsed President Donald Trump for re-election in 2020. The endorsement was made through canvassing the more than 355,000 members throughout the country, according to a release from the union. National President Patrick Yoes said that the endorsement was unanimous.
Drain the Swamp, Or Be Drowned By It. The principal variables for the last eight weeks of this campaign appear to be progress on the coronavirus, on the related unemployment levels, and whether serious indictments against the fabricators of the Trump-Russian collusion fraud can be brought down forcefully and believably without being vulnerable to the already warmed-up charge of political direction of the Justice Department. And beyond all of this, there looms the question of vote-harvesting and posted ballot fraud on a grand scale. It all makes for a very unsettled pre-electoral climate.

Thousands of Supporters Watch President Trump's Pennsylvania Rally From Overflow Lot. President Trump arrived in Latrobe, Pennsylvania Thursday evening [9/3/2020] for a rally. This is President Trump's second visit to the key battleground state in two weeks. The latest Rasmussen poll shows the presidential race all tied up in Pennsylvania. Supporters were so excited about President Trump's visit that they lined up several hours ahead of the rally and stood in the pouring rain.
Rand Paul bashes Trump anti-eviction action as illegal. Libertarian-minded members of Congress, led by Sen. Rand Paul, have come out against the Trump administration's eviction moratorium order, calling it illegal and unconstitutional. The Trump administration announced an eviction moratorium on Tuesday using the Centers for Disease Control and Prevention's quarantine authority. The CDC said in an order released Tuesday evening that it would temporarily stop renters from being evicted until the end of 2020. "CDC does not have the authority to do this. It's dangerous precedent and bad policy," said Paul, a Republican from Kentucky who has supported President Trump.
Goya CEO: 'Destruction and hatred, tearing down businesses' driving Latinos to Trump. Amid riots, looting and violence in the streets, Goya Foods' CEO says polling showing President Trump's support rising among Latinos is because immigrants arriving in America seeking opportunity don't come to "tear things down, cancel things." A new Hill-HarrisX poll conducted last week found support for Trump among Hispanic voters growing by 2 points, from 30% in the last poll to 32%. After the 2016 election, The Atlantic noticed exit polls analyzed by the Pew Research Center showed that 28% of Latino voters supported Trump, and that figure had risen to 30% support as of February.
Trump's stop in Kenosha wasn't risky. It was smart politics. You can understand why Democrats didn't want President Donald Trump to visit Kenosha to respond to last week's mob violence, looting and arson. They're embarrassed. They're worried about the election in a few months. It's getting close, and Democrat Joe Biden's lead in key Midwestern swing states is shrinking. Trump is trying to take advantage of their weakness. He's the president. He's in a campaign. And if he had not visited Kenosha, he'd be guilty of political malpractice. He applauded the cops there for restoring order to the city that had burned, talked to business owners who lost everything, and brought with him $47 million in federal money to rebuild ruined businesses and bolster law enforcement.
Biden's Laughable Pivot. Democratic Presidential Candidate Joe Biden has sat silent while roving bands of outlaws tore American cities to shreds. He said nothing when an Antifa leader in Portland called for "the abolition of the United States as we know it." His own vice-presidential pick, Kamala Harris, grinned as she warned that the riots are "not gonna stop. And they should not." Until about five minutes ago, Harris and Biden thought they could use the Marxist revolutionaries of BLM and Antifa as their own pet militia. They thought that once the brownshirts had made a hellscape of America, they could come sailing in to convince voters that Grandpa Joe and Mamala were going to make it all better.
Ilhan Omar Rages after Trump Calls for Joy Reid Firing over Muslim Remark. Rep. Ilhan Omar (D-MN) raged after President Donald Trump suggested that MSNBC fire Joy Reid after her heated remark on Muslims — which drew ire from Omar herself — telling the president that she rejects his "fascist solidarity." "Joy was right about one thing — you are radicalizing and inciting violence and must be condemned for it," Omar said just one day after criticizing Reid for displaying "casual Islamophobia."
A Tyranny Perpetual and Universal? Our government in no way functions according to the elevated words on the parchment, and President Trump does not control the executive branch. I say this not to disparage the president but only to state a plain fact. No doubt, he has done his best. I doubt that anyone else could have done better. But while facing a near-universal rebellion from every power center in our society, emphatically including the agencies he was elected to lead, naturally he has found it very difficult to make the federal bureaucracy do what he tells it to do. That difficulty has astonished even me. [...] Never in my wildest dreams did I imagine that federal intelligence and law enforcement agencies would try to frame the president with a phony "crime," launch a pointless two-year investigation over a fraud, then impeach him over the timing of foreign aid payments, all the while lying daily to the American public.
C-SPAN Had So Many Democrats Calling In Support For Trump That They Had To Change Their Protocol. C-SPAN changed their open phone line labels after an overwhelming number of Democratic viewers called on Wednesday night proclaiming their support for President Donald Trump in the upcoming election. "I'm a longtime Democrat, born and raised ... After watching tonight ... I have made up my mind. I am definitely gonna vote for Donald Trump," said one of the many voters who dialed in. Before the Republican National Convention, C-SPAN's open phone lines were labeled as open for "Democrats," "Republicans," and "Other" viewers to call into and share their opinions on-air. After Trump's acceptance speech at the Republican National Convention, however, C-SPAN received an influx of callers who identified as Democrat but said they would be voting for Trump in November.
Trump Takes $0 Salary, Reportedly Lost $300 Million This Year; Biden Made Millions After Leaving Office. Supporters of President Donald Trump contended during the Republican National Convention this week the former businessman and reality television star has truly been seeking to serve the American people since taking office. It has come at a financial cost to him. Meanwhile, former Vice President Joe Biden, now the Democratic Party's nominee for president, took in $15.6 million in his first two years after leaving office, according to The Wall Street Journal.
Biden Faces Backlash For Misleading Attack On Trump Regarding Violence In Democrat Cities. Biden's attack, featured in a tweet, came in response to Trump hammering him during the Republican National Convention on the issue of violence in the inner cities. "We must never allow mob rule, we can never allow mob rule," Trump said. "In the strongest possible terms, the Republican Party condemns the rioting, looting, arson, and violence we have seen in Democrat run cities all, like Kenosha, Minneapolis, Portland, Chicago, and New York, and many others Democrat-run. There is violence and danger in the streets of many Democrat-run cities throughout America." "This problem could easily be fixed if they wanted to," Trump continued. "Just call; we are ready to go in. We will take care of your problem in a matter of hours. Just call. We have to wait for the call. It's too bad we have to, but we have to wait for the call. We must always have law and order."
Donald Trump accepts Republican nomination for a second term. President Donald Trump accepted the Republican Party's nomination for a second term on Thursday and painted a stark choice for voters this November: a second term for himself or voting for Joe Biden, a man who would 'demolish' the nation. 'Despite all of our greatness as a nation, everything we have achieved is now endangered,' the president warned in his acceptance speech, given on the South Lawn of the White House. 'This is the most important election in the history of our country. At no time before have voters faced a clearer choice between two parties, two visions, two philosophies, or two agendas.' 'This election will decide whether we save the American Dream, or whether we allow a socialist agenda to demolish our cherished destiny,' he said.
Lib Media Ignores Biggest Convention Story: Trump's Aggressive Outreach To Black Voters. If Kim Klacik were a Democrat, she would be the talk of the town. An inspiring, energetic, fresh face on the political scene who has produced one of the best political ads in memory. Instead, her talk at the Republican convention was ignored by the press, which thought the biggest story coming out of the GOP meeting was that biased "fact checkers" (who were apparently on a week-long vacation during the Democrats' convention) were able to come up with a long list of things they could complain about. There's a good reason for the media to ignore Klacik. Her message. It's simple and direct: "Joe Biden believes we can't think for ourselves, that the color of someone's skin dictates their political views. We're not buying the lies anymore."
President Trump Requests that Drug Tests of Candidates Be Taken Before the 2020 Presidential Debates. Something is going on with Joe Biden. We can all see it. President Trump sees it too which is why he is calling for drug tests before the 2020 Presidential debates. Joe Biden just isn't right. In events over the past year Biden looks crazy and says even crazier things. It's no wonder President Trump wants Biden drug tested before their debates this fall.
CNBC Swing State Poll: COVID-19 Fears Falling, Donald Trump Approval Rising. A CNBC poll of swing states reports likely voters are growing less concerned about COVID-19 and slightly more approving of President Donald Trump's job performance. Sixty-six percent of likely voters in the CNBC/Change poll of swing states said they have serious concerns about the virus, down three points from two weeks ago. The poll included voters in Arizona, Florida, Michigan, North Carolina, Pennsylvania, and Wisconsin.
Doctor Veteran Nun Blasts Abortion, Says Trump Is Most Pro-Life President In History. Sister Deirdre Byrne has served under a wide array of diverse titles. A sister, soldier, and surgeon, the nun took on the title of a speaker at Wednesday's Republican National Convention, where she spoke on behalf of the unborn and fulfilled a wish she prayed for. "I must confess that I recently prayed while in chapel begging God to allow me to be a voice and instrument for human life, and now here I am, speaking at the Republican National Convention," Byrne said. "I guess you better be careful for what you pray for."
Trump accepted his nomination with a rousing speech. At the end of their grim convention, the Democrats formally nominated Biden. A fragile-looking Biden gave a short, anodyne stump speech that garnered enthusiastic praise from Democrats grateful that he didn't get confused or say, "you know, the thing." Republicans did things differently. They nominated Trump on the first day. Trump then appeared in North Carolina before a small, live audience and, showing his usual boundless energy, Borscht Belt comic timing, and mastery of the material, gave a 52-minute stemwinder. Trump could not have presented a starker contrast to Biden's geriatric minimalism.
Herschel Walker: 'I Have Seen Racism Up Close. I Know What It Is. And It Isn't Donald Trump.'. On Monday night, Heisman Trophy winner Herschel Walker, who won the trophy at the University of Georgia before starring for the New Jersey Generals of the USFL and the Dallas Cowboys in the NFL, spoke at the Republican National Convention, where he stated of President Trump, "It hurts my soul to hear the terrible names that people call Donald. The worst one is 'racist.' I take it as a personal insult that people would think I would have a 37-year friendship with a racist." "I'm Herschel Walker," he began. "Most of you know me as a football player. I'm also a father, a man of faith, and a very good judge of character. I have known Donald Trump for 37 years. And I don't mean we just casually ran into each other from time to time. I'm talking about a deep personal friendship."
New York State Troopers union boss endorses Trump for re-election. The head of the union representing 4,000 New York State Police Troopers — a workforce overseen by Democratic Gov. Andrew Cuomo — is backing Republican President Trump's re-election bid. "Donald Trump has our back. President Trump has supported us when so many people have turned against us," NYS Troopers PBA president Thomas Mungeer told the Post on the eve of the Republican National Convention. "Joe Biden supported cops in the past but he's turned his back on us," said Mungeer, referring to the former vice president and Democratic presidential nominee who is taking on Trump in the Nov. 3 general election.
The Stench of Mendacity at the Democratic Convention. President Trump's concern about huge numbers of ballots being mailed to nonexistent voters or to the wrong addresses and filled out and returned through the post office fraudulently by party organizers is well-founded. He has appointed a postmaster general with a mandate to shape up the Postal Service, but there is no reason for optimism that in its present condition it could handle 75 million presidential election ballots coming and going. The occasional deployment of federal marshals and national guardsmen has been to prevent urban guerrillas and hooligans from burning down federal buildings and destroying the monuments to America's great men. Trump expressed concern that the Democratic plan to flood the country with posted ballots and harvest them to their own advantage might provoke litigation that would not allow the winner to be identified by inauguration day. He has said that, of course, he would leave office on January 20 if he lost the election. This entire argument is an unutterable fabrication.
Rasmussen Poll: 51% of Likely Voters approve of President Trump's Job Performance. In its daily Presidential Tracking Poll, Rasmussen Reports states that among "likely U.S. voters," 51% approve of the job President Trump is doing. "The Rasmussen Reports daily Presidential Tracking Poll sponsored by Liberty Nation for Thursday shows that 51% of Likely U.S. Voters approve of President Trump's job performance. Forty-eight percent (48%) disapprove," said the polling firm.
Susan B. Anthony memorial refuses to accept Trump's pardon of civil rights leader. A group honoring the life and legacy of American civil rights icon Susan B. Anthony has refused to accept President Trump's posthumous pardon of her, arguing the effort would give unearned legitimacy to the 1873 court proceedings that found her guilty of breaking a law that prohibited women from voting. Trump this week announced he was pardoning Anthony for the conviction, a measure the president took on the 100th anniversary of the ratification of the 19th Amendment to the Constitution, which recognized the right of women to vote. Yet the National Susan B. Anthony Museum & House this week rejected the president's gesture, telling the president in a press release that the memorial organization "must decline [his] offer of a pardon."
Trump's decision to pardon Susan B. Anthony enrages leftists. On Tuesday, President Trump did something that ought to have gladdened feminist hearts throughout the land: he pardoned Susan B. Anthony, who was convicted of voting illegally in the 1872 presidential election. As first- and second-generation feminists know, Anthony was one of the colossi of the suffrage movement in the United States, spending five decades working to get American women the right to vote. Sadly, she didn't live to see the 19th Amendment pass, having died 14 years before. In addition to being a Suffragette, Anthony was a classical liberal in other ways. At the height of the Civil War, she and her colleague, Elizabeth Cady Stanton, founded the Women's Loyal National League. The League wrote a petition demanding the abolition of slavery. They then conducted what was then the largest petition drive in American history, eventually collecting 400,000 signatures for that laudable goal. Anthony is also celebrated in the pro-life movement for being against abortion, although pro-abortion scholars strenuously deny that she was. Because of the perception that Anthony opposed abortion, whether that's historically correct or not, she is no longer in good odor with today's third-generation feminists.
Poll: Assimilated Second Generation Hispanics Prefer Trump over Biden. Second-generation Hispanics in Texas are much more likely to choose President Trump over Democrat nominee Joe Biden, as well as Hispanic voters who speak mostly English, a new survey finds. An online survey by YouGov for the Texas Hispanic Policy Foundation and Rice University's Baker Institute reveals that second-generation Hispanic Texans — those whose grandparents were immigrants but whose parents were born in the United States — support Trump by a majority of 50.7 percent to Biden's 40.9 percent.
Don't Trust the Polls. Trump Will Prevail. The atmosphere, so far this year, is not dissimilar to that of 2016. Many political analysts have stated with great glee that Trump will lose; they have knocked him for his Axios interview, and they have said they look forward to the resumption of "normal service." Well, I'm willing to stick my neck out again and predict that Trump will win on November 3, 2020. There has never been a president so assailed from all sides, even before he took the oath at his inauguration. From the Russia conspiracy to the impeachment process, every attempt has been made to delegitimize the 45th president of the United States. Yet through it all, despite his own huge personal frustration, the man has been as solid as a rock. Unlike the careerists Barack Obama and Bill Clinton, Trump has regarded pledges made during the 2016 election campaign as promises, and has kept his word as far as circumstances have allowed — although if he is to achieve his ambition of draining the Swamp properly, he will certainly need a second term.
Flashback: The Obama-Biden Administration Removed Thousands of USPS Collection Boxes. Did you hear the conspiracy theory that Donald Trump is sabotaging the U.S. Postal Service (USPS) by removing mail collection boxes in several states? Yeah, it's a real doozy, but apparently that's what the left wants us to believe. Outcry over the removal of collection boxes actually forced the USPS to suspend the removal of collection boxes until after the election. [...] But the fact is the removal of mail collection boxes has been going on for years as part of cost-cutting efforts for the postal service and had nothing to do with the 2020 election. In September 2016, the USPS inspector general noted that "Nationally, the number of collection boxes declined by more than 12,000 in the past 5 years." This means that the USPS, during the Obama-Biden administration, removed thousands of mail collection boxes. Was this a diabolical plan by Obama and Biden to suppress the vote in 2020? Did Trump make them do it?
Trumpism — A Look Backward and Forward to November. NeverTrumpers talk of Trump's demise and their own resurrection as Phoenixes to rebirth the GOP. They have no idea that those who despise them had ensured their Beltway-preferred candidates could rarely win; nothing has changed since. Trumpist conservatism is usually defined as not free, but fair trade, strict enforcement of immigration laws, an end to optional interventions that will not likely, in a cost-to-benefit analysis, result in U.S. interests or strategic calm for a purported troubled region, and a belief that industry and manufacturing are not brick-and-mortar anachronisms, but the creators of what we cook on, sit on, live in, drive, and work in; our non-virtual world that everyone relies on and yet takes for granted as so passé. If Trump left his agenda at that, NeverTrumpers likely would be disgruntled but mostly quiet.
Media, Some Democrats Use Death Of Trump's Brother To Attack The President: The Wrong Trump' Died. Some media organizations, partisan talking heads, and Democrats used the death of President Donald Trump's brother, Robert Trump, to attack the president on Saturday night. "It is with heavy heart I share that my wonderful brother, Robert, peacefully passed away tonight," Trump said in a statement. "He was not just my brother, he was my best friend. He will be greatly missed, but we will meet again. His memory will live on in my heart forever. Robert, I love you. Rest in peace." Some media organizations used Robert Trump's death to attack the president or the Trump family in general.
Only Reagan and Trump Understand America. President Reagan understood the threat to a greater degree than any post-World War II president before him. Reagan's military build-up and tough foreign policy did, in fact, force the Soviets to change their behavior, and those policies led to the dissolution of the Soviet Union and the pulling back of the Iron Curtain. Unfortunately, Reagan's successors — George H.W. Bush, Bill Clinton, George W. Bush and Barack Obama — were all committed globalists, more concerned with world economic equality; "social justice"; the introduction of distorted societal values (such as unbiological redefinition of sex); open U.S. borders; outsourcing our manufacturing through one-sided international trade agreements designed, inexplicably, to give other nations economic parity — or advantage! — over America; and the intentional use of seemingly random issues like climate to forge multi-national wealth transfer arrangements from the U.S to third-world countries, at the expense of American workers and American jobs, [...]
Trump might give nomination speech from the White House — just like FDR. Democrats are practically foaming at the mouth over an idea being floated by President Trump (which is hardly news — that's been said almost every week since Jan. 20, 2017). What has the opposition party riled up now is the possibility of Trump accepting the Republican Party's presidential nomination at the White House. With the COVID-19 pandemic upending plans for both the Democratic and Republican national conventions, GOP strategists are scrambling to come up with a Plan B for the acceptance speech, the traditional grand finale of the once-every-four-years gatherings. Using the White House, Democrats growl, would violate the federal ban on conducting political activity on government property. Even the media are piling on the outrage. [...] Except it wouldn't be unprecedented at all.
The Case for Trump. Americans who want to remain citizens of a united country that at least makes some desultory attempt to protect them and further their interests have no choice but to stay the course. As the saying goes, the only way out is through. [...] [T]here's little wrong with President Trump that more Trump couldn't solve. More populism. More nationalism. More patriotism. More law and order. [...] In short, more adherence to the 2016 agenda. The only way to get more Trump is, literally, to get more Trump. Which means the president being reelected and implementing his core agenda in a second term. But that alone will not be enough. Saving America as a unified, self-governing republic is a long-term — possibly generational — project.
Swalwell says Trump should face 'Crimes Commission' after leaving office. A House Democrat on Friday proposed the creation of a Presidential Crimes Commission, a panel that would investigate allegations against President Trump and his administration after he leaves office.
The Editor says...
If there's anyone who should face a "Crimes Commission" after leaving office, it's Barack H. Obama.
A winning slogan for Trump: Make America Normal Again. This post could have discussed headline-grabbing issues, such as the Black Lives Matter riots in Chicago (where looting now equals reparations), schoolteachers refusing to teach while demanding pay, or any other leftist retreat from reality. But frankly, I'm bored. I have had it up to here and beyond with the leftists' dystopian flights from reality. I want normal life back again, and I think a lot of other people do, too. Therefore, I'd like to propose a new Trump/Pence campaign slogan: Make America Normal Again.
Trump haters realize that there are things worse than Trump. There are three groups of people who will vote for Trump: those who supported Trump in 2016, those who have come to support Trump, and those who are so frightened of Biden and the Democrats that they'll do anything to see Trump win. This has the potential to be a sizable voting bloc, one that may give Trump more than the 30 states he won in 2016. Don Surber (whose blog you should be reading) is predicting that Trump will not only win the 30 states he won in 2016, but will add another seven. I'm beginning to think Don is on to something. Don's starting point is that, subject to a vanishingly small number of exceptions, those people who supported Trump in 2016 still support him. That means he'll get 63 million or so votes at a minimum. That's a good start. Next, add the people who have grown to appreciate Trump. [...]
Why I Want Biden to Lose More than I Want Trump to Win. As regular readers of my column know, I'm no fan of Donald Trump. And that's putting it mildly. I don't like his chronic dishonesty. I don't like narcissism. I don't like his nastiness and his silly name-calling. I detest his need to constantly cause chaos, as he did with a recent tweet suggesting we should postpone the 2020 presidential election. There's nothing about this man's character that I like. And I hope he wins re-election in a landslide. Actually what I mean is that I hope the Republican candidate beats the Democratic candidate. And I wish the Republican candidate were almost anybody else.
The Editor says...
I suspect Mr. Goldberg voted enthusiastically for Barack H. Obama — twice — so he doesn't really have a problem voting for someone who exhibits chronic dishonesty or narcissism.
Trump's Secret Weapon: "The Black Silent Minority". No, I'm not kidding. I believe the black vote will be the key to President Trump's coming electoral landslide. No, it's not a "Black Silent Majority." Trump and Republicans aren't winning a majority of black votes in 2020. But we don't need a majority. We just need a "Black Silent Minority" to clinch a Trump victory. [...] I believe a "Silent Minority" of black Americans are conservative. I believe this "Silent Minority" will vote for Trump, now more than ever. Not in spite of Black Lives Matter, or defund the police movement, or riots across America. But because of all of that. Will it be big enough to give Trump 30%, or 40% of the black vote? Of course not. But all Trump needs to guarantee re-election is to double his black vote percentage from the 8% in 2016 to 16% in 2020. If Trump gets 16%, Democrats have literally no path to victory.
This is good:
Bill Gates whines Team Trump won't listen to him. Bill Gates is the smartest guy in the room, nay, on the planet, and he wants everybody, from the White House to the medical community to John Q. Citizen in Anytown, U.S.A., to know it. How else to explain his feigned incredulity on CNN of America's coronavirus test process to that of other nations? Let's remember: Gates is a computer guy. He's not actually a medical expert. This is what he said when asked by CNN host Fareed Zakaria to explain America's handling of the pandemic, as Mediaite noted: "I wouldn't have predicted that we would do so poorly."
Trump Stands Between You and the Poverty the Democrats Have Ready for You. Speaking at the Whirlpool Manufacturing Plant in Clyde, Ohio, on Thursday, President Donald Trump once again articulated the guiding principle of his administration: "The duty of a president is to put this nation's own citizens first. That's why my administration swears by two simple, but crucial rules, buy American and hire American." His twilight struggle with the Democrats over the future of the nation, or whether the nation will even have a future at all, is coming down to the question of whether that principle will be upheld and defended, or consigned forever to the dustbin of history.
Navarro and Mnuchin say DOJ cleared Trump executive actions as Democrats mull legal challenge. White House trade adviser Peter Navarro is sure President Trump's recent executive actions on coronavirus relief will pass any legal challenge against them. "I'm confident that every single one of those orders, which cleared through the Office of Legal Counsel, will stand up," Navarro said Sunday [8/9/2020] on NBC's Meet the Press. Over the weekend, Trump signed an executive order and memorandums regarding economic relief for those who have faced job losses and financial hardship due to the COVID-19 pandemic. Trump's move came after Congress failed to reach a deal to pass a second relief package. Trump's actions called for a payroll tax cut, enhanced unemployment benefits, an eviction moratorium, and student loan relief. The actions, however, have come under attack from Democrats and some Republicans who believe the president getting involved with congressional decisions is an overreach of power from the executive branch.
Letter to an Anti-Trump Christian Friend. The question is, "Which of two package deals is better for the nation?" (a) Donald Trump and Republican policies or (b) Joe Biden and Democratic policies? There are no other choices. The nation will either have the option (a) or option (b) as a whole package for at least the next four years, and probably longer. If I withhold support from Trump, that makes it easier for Biden to win, and thereby for Democratic policies to bring (in my opinion) great destructiveness to the nation.
President Trump wittily shuts down a snarky reporter. [Scroll down] One of the reporters opened, not with a question, but with an accusation. "You said that the pandemic is disappearing, but we lost 6,000 Americans this week, And just in this room, you have dozens of people that are not following guidelines in New Jersey, which say we should not have more than 25 people...." Trump answered, "No, they don't have to. It's a political activity..." At that point, the people assembled booed the reporter so loudly that the President fell silent. When the room was quiet again, he resumed. "You're wrong about that because it's a political activity. They have exceptions. Political activity. And it's also a peaceful protest." The room exploded with laughter, as Trump continued, "And as you know, they asked if they could be here. And to me they look like they all have, they pretty much all have masks on. [...] A president with that kind of quick wit — "I would call it peaceful protests" — is a strong president. Americans recognize that he has the mental acuity and toughness to take on whatever the world throws at him.
Why President Trump is Our Only Hope. [Scroll down] This man, left his massive gold-covered mansion where he could retire happily and play golf all day long. But this man put his wealth aside and went to work for free, for $1 a year, for me, for you, for us, for AMERICA. While other presidents became rich from the presidency, this man LOST over 2 billion dollars of his wealth during this short 4 years of his life. Yet, he donated 1 million dollars to flood victims in Houston. He put aside his amazing retirement lifestyle for getting ambushed every single day by the media and the Radical Left Democrats that trash this man who works for them until 1 AM for free. He doesn't do it for money or power, he already had it. He is doing it so their houses will be safe, so their schools will get better, so they will be able to find jobs or start a new business easier, so they will be able to keep few dollars in their pockets at the end of the month while other presidents before him made sure to keep digging in their pockets and empty them for taxes.
Trump campaign credits rebooted nightly briefings for surge in polls. President Trump's re-election team says his rebooted nightly coronavirus briefings are the new campaign trail stump speech — crediting them with a recent surge in his poll numbers. "We know that every time the president is able to speak directly to the American people, it's a needle mover," one senior campaign official told The [New York] Post. "They want to see the president is out front and leading and they can see that's exactly what he's doing," they added, pointing to the fact that opponent Joe Biden hasn't been seen outside his Delaware bolthole for weeks.
"Sentence first; verdict afterwards."
Biden Says He Wouldn't Stand in the Way of a Trump Prosecution. Wednesday [8/5/2020] during an interview at the 2020 National Association of Black Journalists and National Association of Hispanic Journalists Joint Virtual Convention, 2020 Democratic presidential candidate former Vice President Joe Biden said that while prosecuting a former president would not be "good for democracy," if elected he would not stand in the way of the Justice Department pursuing criminal charges against President Donald Trump after he is out of office.
The Editor says...
It would be very dangerous to play that game, if the Republican Party had any backbone at all. Barack H. Obama still has a lot to answer for.
How the Media Could Get the Election Story Wrong. I spoke last week to executives, TV hosts and election analysts across leading American newsrooms, and I was struck by the blithe confidence among some top managers and hosts, who generally said they've handled complicated elections before and can do so again. And I was alarmed by the near panic among some of the people paying the closest attention — the analysts and producers trying, and often failing, to get answers from state election officials about how and when they will count the ballots and report results. "The nerds are freaking out," said Brandon Finnigan, the founder of Decision Desk HQ, which delivers election results to media outlets. "I don't think it's penetrated enough in the average viewer's mind that there's not going to be an election night. The usual razzmatazz of a panel sitting around discussing election results — that's dead," he said.
Trump to accept GOP nomination without press, RNC official says. The vote to renominate President Donald Trump is set to be conducted in private later this month, without members of the press present, said a spokeswoman for the Republican National Convention, citing the coronavirus. While Trump called off the public components of the convention in Florida last month, citing spiking cases of the virus across the country, 336 delegates are scheduled to gather in Charlotte, North Carolina, on Aug. 24 to formally vote to make Trump the GOP standard-bearer once more.
Trump scores win over Stormy Daniels' libel suit. President Donald Trump scored a legal victory Friday [7/31/2020] as a federal appeals court upheld a lower court ruling tossing out a libel lawsuit filed against him by adult film star Stormy Daniels over a tweet Trump fired off about her in 2018. The 9th U.S. Circuit Court of Appeals accepted arguments by Trump's lawyers that he was merely offering his opinion and not leveling any factual claims of his own when he issued the tweet casting doubt on her claims that she faced intimidation as she prepared to go public with allegations that she and Trump had a sexual encounter.
Tick, Tick, Boom, Boom, Time's Up, Obama Goons? Three fuses have been set and are now burning: (1) the explosive origin story of the Russia hoax, (2) the growing backlash against Democratic Party-endorsed Antifa domestic terrorism, and (3) the bottled up economy being shaken right now with one little thumb preventing a carbonated eruption. They have the potential to redefine the final hundred days of this race in a way that the Democrats' electoral fraud cannot overcome. It's a contest between a news media establishment that has gaslighted the American people regarding a Russia hoax of the Democrats' creation and all the Americans who have felt that their votes have been taken hostage since 2016. It's a contest between Democrat mayors turning American cities into war zones where Antifa insurrectionists can throw Molotov cocktails and bricks at police officers free from consequences and a growing number of Americans who finally understand that the socialists running the Democratic Party mean to keep going until the whole nation burns.
Levin slams Washington Post publisher over Reagan Foundation 'conflict of interest'. Conservative talk radio host Mark Levin criticized Washington Post Publisher and CEO Fred Ryan Sunday [7/26/2020], describing Ryan's dual role as chairman of the Ronald Reagan Presidential Foundation & Institute as a clear conflict of interest. On Saturday, the Post reported that the Reagan Foundation had demanded Trump and the Republican National Committee (RNC) cease fundraising off of the 40th president's name and likeness. According to the report, the foundation took particular issue with the Trump 2020 campaign offering — in exchange for a $45 donation — a commemorative coin set that included one piece with Trump's likeness and another with Reagan's, mounted on a photograph featuring both men from 1987.
Trump responds to Reagan Foundation request to stop using Ronald's image. President Trump is hitting back at former President Ronald Reagan's presidential foundation for asking his campaign and the Republican National Committee to stop using his likeness for fundraising. In a tweet posted Sunday afternoon [7/26/2020], the commander-in-chief called out Frederick J. Ryan Jr., chairman of the Reagan Foundation board and publisher and CEO of The Washington Post, after the foundation told numerous news outlets it had asked the RNC to stop using the former president's name and image to raise money.
Biden and the Democrats Can't Win by Insulting Americans. It turns out you can insult your way to the presidency, so long as you're insulting the same people Americans dream of insulting, too. Donald Trump insulted the D.C. mammon-worshippers who sold out American workers for communist China, and 68% of Americans agreed. He insulted a political class that had done nothing but aid and abet illegal immigration at the southern border, and 57% of Americans agreed. He insulted the self-appointed priests of political correctness, and 65% of Americans agreed. He insulted an American government golem that has spent more time and money fighting foreign wars than building bridges, fixing roads, and constructing state-of-the-art airports at home, and 58% of Americans agreed. Sometimes he did it with a well crafted speech, sometimes with a raucous rallying cry, and other times with a schoolyard taunt that fixed itself firmly around his opponent's neck like a clove of freshly cut garlic. What he never did was insult indiscriminately, and he never turned his ire toward the American people.
Trump: No 'Big, Crowded' Republican National Convention in Jacksonville This Year. President Donald Trump announced Thursday that he would cancel the in-person mass gathering of the Republican National Convention (RNC) scheduled for August in Jacksonville, Florida. "To have a big convention, it's just not right," he said. Trump said that the recent flareup of the coronavirus in Florida would put too many people in danger, including people traveling to the convention.
President Trump Cancels Jacksonville Portion of RNC. President Trump on Thursday cancelled the Jacksonville portion of the RNC Convention in Jacksonville, Florida. [...] President Trump made the announcement today [7/23/2020]. [Video clip]
Police Officers Association of Michigan Endorses Donald Trump. The Police Officers Association of Michigan on Thursday [7/23/2020] endorsed President Donald Trump for re-election. "Unlike most elections where political opponents share many opinions and goals, this presidential election presents two very different candidates," President James Tignanelli wrote in a letter announcing the endorsement of President Trump over former Vice President Joe Biden.
More Evidence That Trump's Silent Majority Is Real. When President Trump insisted last month that his supporters included a substantial silent majority that isn't represented in the polls, the Democrats and the corporate media devoted a surprisingly large amount of energy to "debunking" the claim. Indeed, their reaction was so shrill and ubiquitous that they seemed, to paraphrase Hamlet's hapless mother, to be protesting too much. A new poll released Wednesday by the Cato Institute suggests a reason for this frantic reaction to Trump's assertion. The survey of 2,000 Americans 18 years of age and older unambiguously indicates that the reluctance of moderates and conservatives to share their political views has increased significantly since 2017.
Joe Biden's advantage over Trump with Black voters is currently smaller than Hillary Clinton's was. The death of George Floyd and subsequent protests reshaped the presidential race. It brought race relations, racism and police brutality to the forefront. In that time, former Vice President Joe Biden's advantage over President Donald Trump expanded from about six points to closer to 10 points. Interestingly, however, Trump continues to do something perhaps unexpectedly among Black voters: Hold his own against Biden relative to many people's expectations. There have been over 10 national live interview polls since the protests began for which I could assess Black voter sentiment in the presidential race. Altogether, we're looking at well more than 1,000 interviews.
Rev Al Sharpton calls Trump a 'bigot' after he joked that he would rename Fort Bragg after him. Reverend Al Sharpton has hit back at President Donald Trump after he used the civil rights activist's name to mock efforts to rename Fort Bragg. In an interview on Fox News on Sunday, President Trump poked fun at the efforts of those seeking to rename the military base in North Carolina which is currently named after the Confederate General Braxton Bragg. Speaking to news anchor Chris Wallace, the president said: 'Because I think that Fort Bragg, Fort Robert E. Lee, all these forts that have been named that way for a very long time.
As city violence surges, liberal mayors engage in social media feuds with Trump officials. [Scroll down] Meanwhile, in Portland, Democratic Mayor Ted Wheeler has been dealing with violence and rioting that has plagued the city for weeks. The Department of Homeland Security has sent in federal law enforcement, leading to accusations from Wheeler and others that they have been exacerbating the violence. [...] DHS has still not left the city, which led to a major controversy on Friday when officials were videoed bundling a protester into an unmarked vehicle. Democrats demanded an investigation by the DHS inspector general, arguing that it was excessive and illegal. DHS defended the move, saying they had information that the individual was suspected of assaulting agents or destroying property — and were acting quickly due to an approaching mob.
Doubts. I had doubts about Trump at the very beginning. Since 1992 I have shied away from this thing about "so-and-so would be perfect because he has his own money and can't be bought." So I had doubts about them with Donald Trump. But, he did make it work. Then the establishment DC types came down on him like a ton of bricks, including the establishment Republicans, and so the time came to admit there was such a thing as a Deep State. Couldn't doubt it anymore.
Will Black Voters Abandon Democrats in 2024? Joe Biden owes his nomination to black Democrats, who never joined the revolution led by Sen. Bernie Sanders, closed ranks around the former vice president, and overpowered the rest of the Democratic coalition to rescue his candidacy. But Biden is struggling with black men and younger black voters and Democrats know the votes of black Americans will become more difficult with each future election. Many black Americans feel taken for granted by the party and have become increasingly disillusioned with politics and politicians in general. In particular, younger non-white voters consider Biden an out of step relic from an era of leadership they believe failed them on policing and criminal justice, climate, the influence of corporate money in politics, and tolerance of discrimination of all stripes. They are more open to President Trump's message than party officials could have imagined following his upset election in 2016.
Trump Remains the Only Man in Washington to See the Danger. Donald Trump is still the only man in Washington who understands that America is in trouble and the nature of the trouble it is in. We were reminded of this during his moving speech at Mount Rushmore, in which he honored our greatest of all statesmen while calling on Americans to defend — without apology — our home, our people, our heritage, and our principles. Most importantly, Trump put his finger squarely on the designs of the revolutionaries seeking to destroy our Republic, replace the equal protection of the law with arbitrary privilege, and transform America into a despotism "completely alien" to a nation founded in liberty.
A Pandemic of Democrat Proportions. The most virulent scourge affecting the United States today is not the Wuhan coronavirus; rather, it's the politicization of the pandemic by leftist Democrats to remove a duly elected President. History has never witnessed a more concerted effort to negate the will of the American electorate. Donald J. Trump has endured this unprecedented onslaught of vitriol, hate, and falsehoods perpetrated by leftist Democrat politicians, mainstream propagandists, and liberal progressives. Consequently, the government has been at a virtual standstill as Democrats inflict one manufactured crisis after another on the American people with the goal of removing the President.
Donald Trump Tears into Joe Biden's Entire Agenda at White House Press Conference. President Donald Trump unleashed a torrent of criticism at the White House against former Vice President Joe Biden on Tuesday [7/14/2020]. "Joe Biden's entire career has been a gift to the Chinese Communist Party," Trump said. The president spoke during an evening press conference in the White House Rose Garden on China. "Joe Biden and President Obama freely allowed China to pillage our factories, plunder our communities, and steal our most precious secrets," Trump said. But Trump's criticism of the former Vice President did not stop at China. The president repeatedly referred to a list of Biden's policy proposals on several issues, including infrastructure, immigration, energy, law enforcement, and education. "This is Biden. Biden's gone radical left," Trump said.
It's called "the silent majority."
Does Trump have a secret well of unreported support? In Alabama, the Republican party nomination for senator provided a surprisingly large victory (over 25% points with 50% of the vote counted) for Jeff Sessions's opponent, Tommy Tuberville, the former Auburn football coach. This likely ends the long political career of Sessions after Donald Trump supported Tuberville. It appears that the Trump faithful have determined that the former attorney general's recusal over the Russian investigation cannot be forgiven. Alabamans have decided that a political novice such as Tuberville is preferable for the general election against sitting Senator Doug Jones (D). This is a likely pick-up in the U.S. Senate for Republicans.
Goya Boycott Doesn't Bode Well for Civil Society. There must be no real outrages left in America if so-called progressives have nothing better to do than turn their collective rage on Goya, because the ubiquitous food company's president went to the White House where he announced he was giving 1 million cans of chickpeas and another million pounds of food to American food banks. The brute, Goya President Bob Unanue, had the cheek to praise America's chief executive during a round-table with Hispanic leaders. Unanue said America was "blessed" to have a leader like President Trump who is "an incredible builder." He added: "And we pray. We pray for our leadership, our president, and we pray for our country, that we will continue to prosper and grow."
Viva Goya!. "Goya (food products) CEO Robert Unanue, whose great grandfather founded the company as a Spanish immigrant in 1936, praised President Trump last Thursday [7/16/2020] at a White House event, saying the U.S. is "truly blessed" to have a leader like him. The comments immediately sparked a backlash among Latino leaders, (italics mine) including former Housing Secretary Julián Castro and Rep. Alexandria Ocasio-Cortez (D-N.Y.), who called for a boycott of the brand," reports The Hill. Result? "Goya Foods is doing GREAT. The Radical Left smear machine backfired, people are buying like crazy!" (President Trump tweet, July 15). Indeed, some have rebranded the boycott as a BUY-cott.
Bodega Owners Reject Goya Boycott, AOC Hardest Hit. Following Goya CEO Robert Unanue's praise for President Trump at a White House event, social media was alight with calls to boycott the food maker. Leading the fight was Representative Alexandria Ocasio-Cortez. Proving that Twitter isn't real life, the boycott has already proven to be a failure and it took yet another hit today. The United Bodegas of America (UBA) said it will keep stocking Goya products.
Why Hispanic business owners are urging you to BUY-cott Goya products. It all began after Bob Unanue, Goya's CEO, committed the grave sin this month of praising President Trump. As The New York Times reported, the backlash surged following Unanue's recent visit to the White House, where he dared to suggest that America was "blessed" to have Trump as its leader. Cue the Twitter hysterics. Did any of these boycotters stop to think about the impact their actions would have on the more than 13,000 bodegas in the Big Apple — and on hundreds of thousands more stores all over the country that sell Goya products, a staple of the Hispanic dining table? Did they stop to think about the thousands of black and Latino workers Goya employs? The boycotters say that Unanue crossed the line with his words, because Trump has disparaged Hispanic immigrants. Even if they are right, however, their own actions would, if successful, do greater harm to Hispanics than any of Trump's words.
Cancel Culture is a Mighty Tool of Fascism's Advance. [Scroll down] AOC is but one of the geniuses urging a boycott of Goya Foods because its CEO, Robert Unanue, dared to praise President Trump. Mr. Unanue, of course, is not alone. The list is long, from the coaches who use the wrong words, to the proposed rescinding of admission of the student who also praised Mr. Trump (the rescinding has been, for now, aborted), and even to the canceling of a virtual speech by the President's daughter. That is but a small sample, and readers undoubtedly know of many more that, especially, do not involve the President such as a Superbowl-winning quarterback being forced to grovel for criticizing the practice of kneeling during the anthem. And, ridiculously, they've canceled The Duke, John Wayne! This is all done, of course, not in the name of fascist totalitarianism but to correct the evils of capitalism or to improve race relations or in the name of some other liberal cause, [...]
Trump says Goya boycott backfired: 'People are buying like crazy!' President Trump on Wednesday said the boycott on Goya Foods "backfired," claiming people are now buying their products "like crazy." [Annoying pop-up advertisement] "@GoyaFoods is doing GREAT. The Radical Left smear machine backfired, people are buying like crazy!" Trump tweeted. [Tweet] The president's tweet comes as Goya Foods, the largest Hispanic-owned food label in the country, faced backlash after its CEO Robert Unanue praised the president during an event at the White House last week.
Ivanka Trump helps Goya 'buy-cott' with message in Spanish; AOC and the left are up in arms. First daughter Ivanka Trump has entered the Goya Foods tug of war, with the senior adviser to President Donald Trump featuring the company's slogan in a tweet. "If it's Goya, it has to be good," the president's daughter tweeted, along with a photo of herself holding up a can of Goya black beans in a Vanna White-like pose. And to be sure the message reached as far as it could, Ivanka repeated the slogan in Spanish: "Si es Goya, tiene que ser bueno."
Uh-Oh: AOC's Goya Boycott is Having a Massive Effect Across the Country. After Goya Foods CEO Robert Unanue visited the White House for a Hispanic jobs initiative and said nice things about President Trump, the wise and tolerant left had a tantrum and threatened to destroy his company unless he bends the knee to them. AOC, the job-killing congresswoman and Joe Biden climate adviser from New York, took to Twitter to support a boycott.
Black Lives Matter Mural at Trump Tower Draws Angry Crowd. [Scroll down] Remember #DefundThePolice? That sure went away in a hurry, didn't it? It turns out people don't want to leave their neighborhoods defenseless against violent crime, no matter how many times you call them racists. All of this lying, race-baiting, and violence isn't just random chaos. This lunacy is all part of the Democrats' plan. If you want to control people, you need to set them against each other. You need to make them afraid to say the wrong thing, and "the wrong thing" can change at any moment, for any reason or no reason at all. If people can get killed for saying all lives matter, they'll stop saying it.
Reaction to the article above:
I Will Not Be Purged. The 2 operative phrases here are "if you want to control people" — YES THEY DO! — and "you need to set them against each other." What better way to do that than through fear and outrage? Once you understand that you've explained 99% of the Democrat/Progressive strategy employed since the day Donald J. Trump announced he was running for president. The allegations he was racist/sexist/homophobic — which continue unabated to this day without substantiating evidence, the collusion hoax — which people believe to this day, without substantiating evidence, the Ukrainian affair, the "kids in cages" outrage, the endless COVID lies, BLM allegations and demands, "systemic racism" claims, the continuing demand for police defunding: all explained when you understand the basic strategy of fear-mongering and control. And now, a new way to wedge the Hispanic community against their enemy: boycott Goya! Their CEO went to the White House! And praised President Trump! Destroy his company!
An Attack On Goya Is An Attack On U.S. Hispanics. As a first-generation Cuban American raised on Goya products, it is revolting to see the far-left's attack on the largest Hispanic-owned business in the United States, simply for supporting President Trump's Hispanic Prosperity Initiative. This is an initiative to help communities like mine obtain better access to educational and economic opportunities. Goya has an impressive history of helping Hispanics like myself. They have helped families, students, churches, Hurricane Maria victims in Puerto Rico, and even orphanages. Last year, President Trump helped Goya's charitable arm, Goya Gives, successfully deliver truckloads of food to Venezuelans who are starving under the Nicolas Maduro regime. This week as part of the Hispanic Prosperity Initiative, Goya announced its donation of one million cans of food, and one million pounds of product to food banks across the United States, which would benefit individuals and families in need as a result of the COVID-19 pandemic. Goya has not only given back to the people from my community, but it's also a staple of Hispanic culture.
Goya Outrage Shows Cancel Culture [is] Out of Control. It was the kind of program that, ordinarily, liberals would cheer. To hear them tell it, expanding the opportunities for minorities has always been their party's idea. But when President Donald Trump took a stab at it, announcing a business and educational project aimed directly at Hispanic people, the left wasn't about to cut him some slack. And worse than that, they're out to destroy anyone who does. For Goya CEO Robert Unanue, Thursday's executive order had been a long time coming. Like most Hispanic Americans, he was eager to work with the administration to improve his community's way of life. When Trump invited Unanue to join his Hispanic Prosperity Initiative, he eagerly accepted. And, at the signing ceremony, he praised Trump, saying: "We are all truly blessed ... to have a leader like President Trump who is a builder. We have an incredible builder, and we pray. We pray for our leadership, our president."
Behind The Goya Boycott Is The Legacy Media. The rolling fallout of the Cancel Culture targeting Goya Foods is the perfect education point for the dynamics of how the loudest, angriest fringes on Twitter leverage the agenda-driven media to create hysterical responses devoid of context or rationality. It all started at a routine Rose Garden affair last week when the CEO of Goya Foods Robert Unanue spoke at the White House's Hispanic Prosperity Initiative along with President Trump. Unanue said the blasphemous unthinkable: The United States was "blessed" to have a leader like Trump "who is a builder." Unanue's grandfather was a builder who came to America — via Spain and Puerto Rico — and where he ended up starting Goya Foods in New Jersey. Unanue has an obvious and understandable fondness for builders. Of course no one is allowed to say something even nuanced about the President, let alone actually nice, without the leftist hordes of haters raining down a fiery hail of digital and financial destruction on them.
Trump Needs to Scale the Real Wall of 2020. Donald Trump is trying to break through a 2020 wall. By January 2019, after over three years of failed efforts to impeach him, sue him, indict him, impoverish him, and destroy him, the Left had failed. The economy was booming. Trump's tweets were mostly bragging about his accomplishments. And the Left was dumbfounded that both impeachment and Mueller, in Nietzschean fashion, had only made Trump stronger. Then came an unexpected trifecta catastrophe — plague, a quarantine-induced recession, and a leftist cultural revolution in the streets. Suddenly, the Left saw all of that as a gift that might succeed where its own self-constructed melodramas had failed. [...] The discredited pollsters of 2016 reemerged, this time even convincing once-burned, never-again Las Vegas bookies that Trump was toast. Leftists, depressed over the progressive implosion in the Democratic primaries, now rebranded Joe Biden as a useful septuagenarian. He could carry them to victory before being pushed aside.
Poll Shows Trump on Track to Win Reelection. A new poll conducted by the Washington based Democracy Institute for the Sunday Express shows President Trump tied with his rival Joe Biden at 47 percent, but surpassing him in the electoral college 309 to 229. These positive results for Trump come amid a constant drumbeat of negative media coverage in recent weeks that paints his electoral chances in November as virtually nil. According to the shock poll, Trump is "on course to win the crucial swing states including Florida, Iowa, Michigan, Minnesota, Pennsylvania and Wisconsin where he outpolls Vice President Biden by 48 percent to 44 percent."
Here's What Happened When One Man Wore a MAGA Mask to the Mall. The cultural battle brewing in the United States has bled into almost every element of public life, including online interactions, media, public statues, and academia. That battle has also now bled into shopping, an activity that once separated political discord from civil life. One supporter of President Trump learned that his opinions were not at all welcome in an Arizona shopping mall when a manager of Bath & Body Works literally shrieked an expletive at him for daring to don a "MAGA" face covering while walking past the store.
Goya boycott backfires bigly as Trump supporters buy up Goya products like it's Christmas. The Left's "Boycott Goya" campaign to bully and silence Goya Food CEO Robert Unanue for praising President Trump backfired in epic fashion after scores of Trump supporters launched their own counter-boycott called "Goya Buy-cott." The "Buy-cott" campaign inspired countless Trump supporters to go to their local stores and buy up Goya olives, seasonings, beans, and frozen foods like it's Christmas. In fact, Goya couldn't have asked for better marketing if it had paid millions of dollars in prime-time TV and newspaper ads.
Goya CEO defies boycott led by AOC and Chrissy Teigen after he said 'we are blessed to have a leader like Donald Trump'. The CEO of Goya Foods admitted Friday he is facing a backlash after praising President Donald Trump at White House event - but said: 'I'm not apologizing.' Among those calling for a boycott were Democratic congresswoman Alexandria Ocasio-Cortez, and model Chrissy Teigen, an outspoken Trump critic who is also a cookbook author, who tweeted: 'Don't care how good the beans taste though. Bye bye.' Others included Lin-Manuel Miranda, the Hamilton playwright, and former presidential candidate Julian Castro who said Unanue praised someone who villainizes Goya's customer base.
Goya Foods CEO won't apologize in face of boycott, backlash for pro-Trump remarks: 'Suppression of speech'. Goya Foods President and CEO Bob Unanue said on Friday that he is not backing down in the face of a boycott over his visit to the White House. "We were part of a commission called the White House Hispanic Prosperity Initiative and they called on us to be there to see how we could help opportunities within the economic and educational realm for prosperity among Hispanics and among the United States," Unanue told "Fox & Friends." Unanue said that the United States is the second-largest Hispanic country in the world behind Mexico.
Alexandria Ocasio-Cortez seeks to 'cancel' Goya, America's top Latino-owned food company. The president of Goya Foods, America's largest Latino-owned food company with $1.5 billion in sales, did something virtually every other U.S. CEO has been way too chicken to do: he praised President Trump. And for far leftists such as Rep. Alexandria Ocasio-Cortez, that was ample reason to put the successful minority-owned company out of business. Here's what the man said to merit the socialist death sentence. [...]
The Editor says...
I would never have heard of Goya, except that I discovered they make really good rice pudding, also known as arroz con leche.
A One-Hundred Percent American. Many Americans, after they have been in Washington, D.C., for a few years, become less fervent about their beliefs. Donald Trump has become more fervent about the things he believes. [...] For some reason Americans both on the left and the right have taken a pass on defending American values and beliefs. Donald Trump is not taking a pass. He is indignant. If he has to stand alone he will stand alone for American values. He did not come to Washington to get along with the Establishment. He came to defend our values and to use the American system of capitalism and democratic values to assure our prosperity. He is doing just that. Did you note this past week's economic news? Or how about the good economic news of the month before? My guess is that Donald will not be standing alone this election day. That is my prophecy. He will have the American people with him, and Official Washington will again be without a clue.
Point of No Return. Since Trump led a revolution against all the established factions of both parties, they joined hands to deny him any honeymoon. The first three years of his presidency were consumed by the almost certainly criminal Trump-Russian collusion hoax and the spurious impeachment attempt. By late January, Trump's success in almost eliminating unemployment, oil imports, and illegal immigration, and his revival of economic growth, revision of trade agreements, and elevation of nearly 200 constitutionalist judges, had made his election appear almost inevitable. The Democrats naturally shrieked with glee at the prospect of shutting down the economy to fight the COVID-19 virus, and have continually demanded an economically self-strangling shutdown for an indefinite period. The pandemic has had the additional blessing of giving Democrats an excuse to hide their candidate in his basement, as Joe Biden is obviously not up to the very tough process that a successful presidential candidacy requires.
Here's how Trump gets reelected. "Panic sets in at the White House over Trump's reelection prospects." That was the headline on a piece this week by Axios reporter Jonathan Swan, who we trust to tell the truth. He said President Trump's advisers are, "sounding alarms. There's widespread panic and pessimism over fears the economic comeback will be derailed by surging coronavirus cases. The failure of the Tulsa rally to reignite momentum and seemingly continuous missteps like retweeting a video with the words white power in it." Well, here's what I think about all that. There is no need to panic but there is an urgent need for a plan.
Act or Be Acted Upon. Information without action is antithetical to its purpose. This is why we miss Andrew Breitbart so much. Additionally, what a shallow example would I be to myself if cast against this site's masthead. We all need to summon the courage to be Andrew Breitbart. With that in mind; and entirely based on a carefully catalogued and irrefutably true set of records; on a very specific and consequential issue that cuts to the core of some of the most powerful interests in our nation; I set about planning an insurance policy of sorts. An "in case of emergency, break glass" kind of approach; perhaps even a 'broken arrow'. I have been working this since late summer 2018, specifically the evening after I said President Donald Trump was going to fire Jeff Sessions on the day after the 2018 election. (He did) By December '18 it was seriously underway. I have gamed-out every possible outcome you can imagine; and now enter a phase where I shall be organizing the specific details, and hopefully allies, in order to get an unstoppable chain of events in motion.
A Night at Mt. Rushmore. Friday's celebration at Mount Rushmore reminded me of Mussorgsky's "Night on Bald Mountain" where after a wild witches' sabbath, church bells ring, the sun comes out and the witches vanish. For weeks now we've watched the Antifa-BLM-just plain thugs and looters' witches' sabbath — rampaging through our streets, defacing and destroying treasured memorials, looting, shooting, beating innocents and murdering them. Not a single Democrat leader has condemned these things, choosing instead to pretend these are peaceful protests against police brutality. Every four years they gin up some incident to create the impression that this is a racist society that requires radical reformation and conservatives are to blame. The media once again played along, hiding the faces of those arrested for the mayhem, downplaying the destruction of lives and property and foolishly finding racism everywhere, [...]
At last!
Report: Trump Regrets Taking Jared Kushner's Advice, Done With His 'Woke (Expletive)'. A new report is out claiming that Donald Trump has recognized his current track isn't one to victory and that he's changing course. Specifically, he's taking aim at son-in-law Jared Kushner for giving him bad advice and pushing policies that haven't helped the President's re-election chances. This is coming from Axios, and all caveats when dealing with the anonymous reports apply, but Jonathan Swan has been pretty solid when it comes to sourcing within the White House.
Are we being set up for another stunning Trump win? With five months until the election, things couldn't look any worse for the president of the United States. His approval rating is down to 40%. People are getting tired of his antics and the insults he hurls at his opponents. The media is increasingly confident that, come November, the voters will elect a new chief executive. This might sound like June 2020, but I'm actually referring to June 1948 — when President Harry Truman, a Democrat, was running to keep his job against Republican Thomas Dewey. The similarities between the 1948 and 2020 elections are striking. Like President Trump, Truman often ruffled feathers with his salty language. At one point, Truman even described Dewey as a fascist, a term not taken lightly just three years after World War II.
Trump Will Win If He Responds to Righteous Voter Rage. The 2020 election will be decided in the fall by swing voters in ten or 15 states. Prior to the COVID-19 outbreak, those voters were leaning to reelect President Trump, largely on the powers of incumbency and a near-record vibrant economy. The Democratic left-wing primary agendas, from the New Green Deal to reparations, the clownish candidates of the Beto O'Rourke and Corey Booker sort, the arrogance and meltdown of Mike Bloomberg, and Joe Biden's cognitive impairment collectively frightened voters. Meanwhile, the booming economy, record energy production, record-low minority unemployment and reckoning with China had overshadowed Trump's cul de sac tweeting, 93 percent unfavorable media coverage, and the three-year slow-motion coup of the 25th Amendment nonsense, Russian "collusion," Robert Mueller, Ukraine, and impeachment. Then came the contagion, the lockdown, the recession, and the collective madness of looting and arson, which in turn led to the present anarchy of statue toppling, cancel culture, name-changing, and McCarthyism 2.0.
This is not something one would expect with Trump in the White House:
Navy bans troops from indoor religious services but permits protests and house parties, law firm says. The Navy is banning service members from attending indoor religious services due to the coronavirus and troops could be court-martialed as punishment, a religious freedom law firm tells Fox News. Major Daniel Schultz, USAF, currently assigned to a Navy command, is requesting a religious accommodation to attend the church where he leads worship after the Navy issued an order on June 24 stating "service members are prohibited from visiting, patronizing, or engaging in ... indoor religious services." Mike Berry, the First Liberty Institute general counsel who sent a letter on behalf of Shultz on Monday morning, called the order "unlawful and immoral" and is calling on President Trump to immediately demand its removal.
2020 Election Will Be a Contest of the Angry. The old 2020 election was supposed to be about many familiar issues. It is not anymore. Up until now, the candidates themselves would supposedly be the story in November. The left had cited Trump's tweets and erratic firings as windows into his dark soul. The right had replied that an addled and befuddled Joe Biden was not really a candidate at all. Instead, he was a mere facsimile who would have to be carried to Election Day on the shoulders of the Democratic Party, only shortly to fade away. Then a radical vice president soon could implement a hard-left agenda through succession that she could not through election.
Trump's planned trip to Mount Rushmore draws fire from Native American activists. President Donald Trump's plans to kick off Independence Day with a showy display at Mount Rushmore are drawing sharp criticism from Native Americans who view the monument as a desecration of land violently stolen from them and used to pay homage to leaders hostile to native people.
Bolton's Memoir Undercuts Hype as Impeachment's Would-Be Star Witness. In late January, John Bolton became the latest — and unlikeliest — official to enjoy a moment of Resistance glory. A New York Times report about Bolton's forthcoming memoir fueled round-the-clock expectations that the former national security adviser would substantiate the core allegation at the heart of President Trump's then-ongoing Senate impeachment trial — that the president tried to coerce Ukraine into opening an investigation of Joe and Hunter Biden in a quid pro quo for military aid. Compelling his testimony was cast as a matter of national urgency. Bolton was never given the chance as Senate Republicans voted to block witnesses and acquit Trump on both impeachment counts. In the publicity blitz for his new memoir, "The Room Where It Happened," Bolton has tried to keep the initial narrative alive.
Trump Fights the Last War. [Scroll down] The point being that the president is not a conservative, in the sense either of political ideology or temperament. He has some conservative sensibilities and has mastered some right-wing tropes. But he's not a conservative thinker wedded to a conservative policy agenda. That's hardly a revelation. He's not wired to think in those terms. He's not a progressive, either. What is he, then? Does it matter? After all, he's president not because of what he is but what he isn't — which is Hillary Clinton. That's fine, but Republicans and conservatives who've been supportive of Trump should not delude themselves that things have changed, that the president has evolved into a conservative because we'd like him to be one, or because he occasionally proclaims himself one.
The Editor says...
Okay, at least he isn't Hillary Clinton, nor is he Joe Biden. That's enough for me. Everything else is gravy.
The Political Genius of Donald Trump. The word 'genius' is not often appended to Donald Trump, except perhaps by himself, but he has demonstrated since early 2016 that he does indeed have a rare political genius. A man not given to modesty, President Trump can rightfully claim he embodies the American ideal of an assured sense of purpose that comes from totally believing in one's own greatness. His campaign slogan of 2016 — "Make America Great Again" — was as much about his own greatness rubbing off on America as it was about America's destiny. It is precisely this quality of character that has enabled Trump to be what he has become: the current symbol of the greatness that America once was and is already becoming again.
Trump Wars Sequel — Return of the Coronavirus. Return of the Coronavirus is the latest episode in the ongoing Trump Wars saga. It began with the Access Hollywood Tapes, followed by the Obama administration illegally spying on Trump and his campaign, then on his transition team and administration. There was Stormy, Avenatti, and Omarosa. Then came the Ukraine phone call and impeachment. Finally, the Chinese virus. Coincidentally, or not, the first person in the US with the Wuhan Coronavirus arrived in Seattle on the same day the House arrived in the Capitol carrying impeachment articles. The virus led to shutting down the US economy over fears, some reasonable but many unfounded. As the economy began to reopen, at least in red states, another sequel was released, Prosperity Wars. Protests and riots, mass property and business destruction, an actual war on prosperity, along with cancellation of anything and everything offensive to Democrats and their media, anarchist, Marxists, and white guilt allies.
Smartypants HBO comedian John Oliver owes President Trump a deep apology for mocking his prophecy that just came true. John Oliver embodies the mentality of the elitists who look down on President Trump and his supporters as ignorant buffoons even better than his HBO colleague, Bill Maher. The very people whose self-regard is dependent on their academic credentials, social standing and career prestige adore Oliver as the sort of person they'd like to be. [...] With all this standing as an Important Voice, Oliver should face a reckoning for mocking President Trump when he warned us in 2017 that after the mob was done with Confederate monuments, the Founding Fathers would be next, a prophecy that played out just last week.
'A Much Dirtier Game' — Trump Wants To 'Get Involved' In Making Advertiser Boycotts Illegal. President Donald Trump wants to personally "get involved" in making advertiser boycotts illegal, he told the Daily Caller in an exclusive interview. Trump spoke with the Caller for more than an hour on a variety of issues — including racial inequality, coronavirus, China, John Bolton and the 2020 election — but opened the conversation by accusing activist groups calling for advertising boycotts, a means of protesting platforms or groups they don't agree with, of playing "a much dirtier game." "A friend of mine bought a couple of conservative sites," the president stated from behind the Resolute Desk. "And he said, anybody that advertises on the site is being harassed."
This Leftist Tantrum Is an Information Operation and Trump Is Winning It. [Scroll down] This still an information operation, not a kinetic one. They want to convince us we are powerless, that everyone else supports their commie agenda, that we cannot win. Their tactics are designed to create that impression and crush our morale. These include the 24/7 media hype, the outright media lies, the movie stars with their dumb PSAs, the staged statue attacks, the corporate solidarity proclamations, the social media cancellations, and the craven kneeling by people who are supposed to stand up for us. But another tactic, familiar to any student of insurgencies, is to provoke an overreaction by those in power in order to undermine its moral authority. They want is to make us (including the president) think this is a kinetic operation, and get our side to make fundamental strategic errors by failing to recognize the true nature of the threat. They hope that such a mismatch between perception and reality will then lead to gravely damaging blunders.
Voice of America director, deputy resign amid Trump clash. The director of Voice of America and her deputy resigned Monday [6/15/2020] following recent clashes with the Trump administration that have sparked fears about the independence of the U.S. government-funded news organization. Amanda Bennett and Deputy Director Sandy Sugawara announced they were leaving the organization as Trump ally and conservative filmmaker Michael Pack takes over leadership of the agency that oversees VOA.
Trump niece reveals she leaked tax documents to New York Times. President Trump's niece is set to reveal herself in a tell-all book as the confidential source behind a prize-winning story on the family's finances. In Too Much and Never Enough, due in August, the daughter of Trump's late brother Fred Trump Jr. will detail "harrowing and salacious" stories about the president, people with knowledge of the book told the Daily Beast. Mary Trump is expected to explain how she was a primary source for the New York Times's blockbuster investigation into Fred Trump Sr.'s business dealings, supplying tax returns and other confidential documents that showed how the president received nearly $413 million from his father's real estate empire, starting when he was a young child.
The Enthusiasm Gap. Are Democrats fired up for the 2020 election? Undoubtedly. But are they as fired up as Republicans? I don't think so. [...] The Democrats know they can't match Republicans' eagerness to go to the polls, so they have come up with an alternative — no one goes to the polls. Instead, we have a mail-in vote system in which many millions of ballots are mailed to people who have died, moved or are ineligible to vote. Those ballots will fall into a wide variety of hands, but the Democrats know that law-abiding Republicans won't fill them out and fraudulently send them back. Many Democrats will. In order to combat voter fraud, Republicans need a wide advantage in voter enthusiasm. At the moment, I think they have it.
More Than One Million People Sign Up For Trump's MAGA Rally in Tulsa, Oklahoma. President Trump's mega MAGA rally in Tulsa, Oklahoma is the hottest ticket ever! By Sunday [6/14/2020], more than 800,000 people signed up for tickets to attend Trump's first rally after the COVID-19 lockdowns. And by Monday OVER ONE MILLION Trump supporters signed up to attend the rally!
More Than 800,000 People Sign Up For Trump's MAGA Rally in Tulsa, Oklahoma. President Trump's mega MAGA rally in Tulsa, Oklahoma is the hottest ticket ever! By Sunday [6/14/2020], more than 800,000 people signed up for tickets to attend Trump's first rally after the COVID-19 lockdowns. The mega MAGA rally was originally scheduled for June 19 (Juneteenth), however, President Trump moved the rally to Saturday, June 20th.
The Editor says...
The number of people who have signed up for tickets is twice the population of the host city.
Trump's planned Tulsa rally has leftists in a panic. Trump is careful to pick his battles. Sticking to the June 19 date for his rally in Tulsa, Oklahoma was an unnecessary battle, so the rally is currently set for June 20, a date that even leftists can't challenge. Despite the date switch, it looks as if over 800,000 people have signed up to attend. Faced with that datum, the media have stepped up their efforts to try to reinstate Wuhan Virus fear. When the Trump campaign announced that Trump's first post-lockdown rally would be in Tulsa, Oklahoma, on June 19, leftists, both within and outside the media, tried to shut down the rally by contending that the date chosen was racist because it coincided with "Juneteenth," a remembrance of the emancipation announcement in Texas in 1865. As a backup, they argued that the location was racist because, in 1921, local Democrats engaged in a horrific racist attack against Tulsa's black community. Trump, who knows when to fight and when to walk away, didn't take the bait on this one.
Never Trumpers are always wrong. Democrats are despicable in their mendacity, race-baiting and incitement of violence, but they have the excuse of trying to win an election. It's Never Trumpers who deserve the most scorn, especially the inadequates from the Lincoln Project. With anarchy on the streets and China on the warpath, they empower America's enemies. We must never forget their treachery. They claim to be conservatives, yet they do everything they can to ensure America falls into socialist hands in November. They style themselves as defenders of the traditional GOP, yet they endorse Joe Biden, with his problematic moral history, and promise to disarm Americans. The Lincoln Project is the brainchild of embittered former GOP grifters who failed to anticipate the Trump phenomenon and were not talented enough to overcome their miscalculation. Trump derangement is the only occupation open to their washed-up careers, so they are doomed forever to tilt at windmills.
Donald Trump Backs Police: Do Not Falsely Label Decent Americans as Racist. President Donald Trump on Thursday defended police officers across the country, urging Americans to work together to improve race relations. "We have to work together to confront bigotry and prejudice wherever they appear, but we will make no progress and heal no wounds by falsely labeling tens of millions of decent Americans as racist or bigots," Trump said.
Rioters have given Trump a landslide re-election victory. The recent turmoil that has gripped our nation in the form of riots, looting, arson, and other criminal acts is another reason why President Trump will be re-elected in a landslide. When you look across our country and see masked marauders beating store-owners unmercifully because they were trying to save their businesses, and there are no cops in sight to protect them, you know that liberals are in charge in those places. When you see news clips of rioters roaming through commercial districts in large cities, ripping down storefronts, pillaging the contents, and running off with flat-screen TVs on their shoulders, cases of liquor, and shopping baskets filled with high-priced sneakers, you might think you're watching a sci-fi flick depicting the end of civilization. However, it's important to keep in mind that the violent behavior of those uncivilized thugs is being watched by hundreds of millions of civilized Americans who are seeing the results of liberal policies in those cities. When hoodlums know that the city's leaders are on their side, why should they obey laws? Undoubtedly, the liberal elected officials in those blue states refuse to take necessary action against the rioters because they view them as a large part of their voting bloc. Does anyone with an I.Q. higher than a fire hydrant think any of those rioters will be voting for President Trump? He, along with other strong Republican leaders, have been calling for the use of force to put the savages back in their cages. Only morons believe that placating ferocious animals will make them stop attacking us.
The Editor says...
President Trump already had a landslide re-election coming after the impeachment fiasco. His re-election was guaranteed by the coronavirus lockdown tyranny. Everything the left throws at him works for his benefit, because it shows the American people how dangerous the socialist Democrats really are.
Trump versus all the crazed liberal lies. Brace for the fight of your life. The biggest difference between today and four years ago is that this time they know Donald Trump can win. Sure, it was ugly last time. They despised him, because they despise you. They wanted to destroy him, because they don't care about you. They told endless lies about him because they are fundamentally dishonest people incapable of arguing about the vital issues Mr. Trump built his campaign around. But honestly, none of them in 2016 ever thought he could win. Until he did. [...] It is true, these people threw everything they had at Mr. Trump in 2016. They lied about him relentlessly. They blamed him for every ill known to man. But that was a tame, little mutton race compared to what these people will do to Mr. Trump this time — now that they know he can win.
Law-and-Order African Americans Stand With Trump. Leftists have launched yet another campaign to destroy President Trump, the economy, and the hopes of the African-American community which had been seeing record employment numbers. If you believe the media, African-Americans are rising up against President Trump because of a police incident in Minneapolis, a Democrat city, run by radical lefties who voted to disband the police, in Minnesota, a Democrat state, which had not voted for a Republican since Nixon, over 1,000 miles away from Washington D.C. And, if you believe the media, the economy is doomed, and every state that opened before the riots has streets filled with piles of the pandemic dead. The latest Rasmussen tracking poll shows that President Trump's approval rating among likely black voters is at 41%. That's up from 40% in the fall of 2018 which had been a high at the time.
'Somebody cooked up the plot': The hunt for the origins of the Russia collusion narrative. Armed with subpoenas, Sens. Lindsey Graham, R-S.C., and Ron Johnson, R-Wis., want to interrogate a slew of Obama-era intelligence and law enforcement officials hoping to identify who invented and sustained the bogus Russia collusion narrative that hampered Donald Trump's early presidency. And while Graham and Johnson aren't exactly Sean Connery and Alec Baldwin, they and their GOP cohorts have a theory worthy of a Tom Clancy novel-turned-movie: The Russia collusion investigation was really a plot by an outgoing administration to thwart the new president. "What we had was a very quiet insurrection that took place," Sen. Marsha Blackburn, the Tennessee Republican, told Just the News on Thursday as she described the theory of Senate investigators. "And there were probably dozens of people at DOJ and FBI that knew what was going on.
Seven Thoughts on the Civil War the Other Side Wants So Badly. [#7] Today's Democrats are too stupid to understand history, and they're reelecting Trump with every building that burns. You don't have to go any further back than 1968 to know that when America gets its fill of domestic violence and insurrection, it votes for the most conservative candidate it can find. [...] Nixon was the law-and-order candidate. It didn't really matter what else he was; the Silent Majority gave him the job and a mandate to put an end to The Sixties. Democrats have been trying to recreate The Sixties ever since, and the public has been trying to tell them The Sixties weren't all that awesome.
Unhinged Episcopal Bishop Calls in to CNN to Trash President Trump for Holding Bible without Her Permission — Says Nothing About Criminals Who Torched Church!. Following President Trump's visit to the torched church the Episcopal Bishop Mariann Budde attacked the US President for holding a Bible at the church without her permission. [...] It's not clear why this woman believes she gets to decide who can, and who cannot, carry a Bible.
Pelosi, Clinton and Schumer triggered by Trump's boss-walk to St. John's church amid riots. Senator Marco Rubio defended President Trump for visiting St. John's Episcopal Church after leftists set fire to it the previous day during the mass riots and looting that occurred in Democrat-run cities across the country. [...] Predictably, Democrats Nancy Pelosi and Chuck Schumer pounced on President Trump for visiting the church and in so doing, sending the message to rioters that he will not cede the country to lawlessness and anarchy. In a statement, Speaker Pelosi and Senate Minority Leader Schumer blasted Trump. [...] Naturally, Pelosi and Schumer said nothing when their presidential candidate, Joe Biden, staged a contrived photo op where he opportunistically tokenized a black protester to shamelessly pander for black votes.
The Editor says...
It would be interesting to know the last calendar date Pelosi, Clinton, or Schumer saw the inside of a church, for any occasion other than a funeral.
Tucker Carlson Rips Jared Kushner: Trump's Instincts 'Have Been Subverted At Every Level'. Fox News host Tucker Carlson blasted White House adviser Jared Kushner as one of those responsible for subverting President Donald Trump's "instincts" on key issues that affect his presidency. Commenting on the ongoing protests, riots and general lawlessness taking place in the wake of the death of George Floyd in Minneapolis last week, Carlson used part of Monday night's "Tucker Carlson Tonight" opening monologue to take aim at "key advisers," including Kushner, who don't understand the "gravity of the moment."
When the riots aren't just a news story anymore. When Donald Trump tweeted "when the looting starts, the shooting starts," he was saying nothing more than the truth. He was not glorifying violence, no matter what the imbecilic, micro-brained morons at Twitter claimed. [...] Trump wasn't glorifying violence. He was warning the rioters and looters that they are poking the sleeping dragon. In World War II, the Japanese and Germans (who declared war on America two days after Pearl Harbor) thought that one good Japanese bombing and a German threat would keep America out of the war. They were wrong. Instead, they roused the arsenal of democracy. Today's rioters are wrong too, but we may be in for an ugly time in America as roused law-abiding Americans teach the rioters a well-deserved lesson.
The Economic Fallout of the Lockdown and Riots will not Diminish Support for Trump. Since November 9, 2016, the nation's elites have been obsessively determined to either use the unchecked clout of the deep state to force Donald Trump to resign, or failing that, so besmirch him and his voter base as to ensure his defeat in 2020. For the first three years of the Trump presidency both stratagems were employed in tandem. However, with the abject failure of the Russian collusion hoax and the Ukrainian impeachment fiasco, these conspirators are now left with relying on the besmirchment option and doing everything possible to make certain that the coronavirus lockdown and the burning of American cities by the militant wing of the American left will deleteriously affect the economy going into November of 2020.
Chaos is now Donald Trump's biggest threat. For most of Donald Trump's brief political career, chaos has been his friend. He draws energy from an endless storm of difficulties and controversies that would send most presidents into the fetal position. Critics and supporters alike compare his presidency to a reality television show, one that always ends with the leading man getting the last word. From Russia, Russia, Russia to Ukraine and impeachment, Trump's time in the White House has been a continuing roller-coaster ride between danger on one side and disaster on the other. A political Houdini, he has always escaped and emerged stronger in victory, but now comes the biggest test. He is in the middle of his reelection campaign just as public disorder is expanding and accelerating, leaving many Americans extremely unsettled and fearful about the future.
Let's look at the latest strategic distraction-deception-misdirection Donald Trump is undertaking. [Thread reader] Look what Trump can do: "Section 706 [of the Communications Act of 1934) could effectively function as a 'kill switch' in the U.S. — one that would be available to the president. It could also give the president power to assume control over U.S. internet traffic." [Link] I highly recommend that you read this list of all the new powers Trump has under our current national state of emergency: [Link] Trump has no desire to publicly pound the tech giants into the dirt. He knows he needs to work WITH them. So he's telling them to knock it off, because he has the power to FORCE THEM. This is how Trump negotiates. In secret. So REGARDLESS of what executive order Trump signs, the REAL deal is that the tech giant know that they MUST cooperate and stop interfering in the election.
Trump on Russia Hoax: 'When the Papers Come Out' We Will Learn Obama 'Knew Everything'. President Trump sat down with Fox News' Maria Bartiromo on Sunday [5/17/2020] to discuss the shocking decision that was heard 'round the politics world on Friday. National Intelligence Director Richard Grenell announced his office will "strip the FBI of its duties briefing the presidential 2020 candidates." Grenell's decision comes after an overwhelming amount of newly released documents show the questionable actions and political bias that took place in the 2016 election. Bartiromo mentions the "former FBI director Jim Comey infamously briefed President-elect Donald Trump on January 6th, 2017, just one day after he met with President Obama and other top officials in the oval office."
Beware the Confident Experts, Take 2. Discussing Trump's reelection chances with anchorman Brian Williams, prominent Democratic strategist James Carville was caustically dismissive. "They were going to lose before this [coronavirus] hit. They're just going to lose worse now," Carville said. "...It don't matter if the Dow is 35,000, he's not going to win. He wasn't going to win when unemployment was 3.5%; he's certainly not going to win now." That sounds a lot like the misplaced certitude we heard in 2016. Don't fall for it again. Trump may lose in November, or he may win, and James Carville doesn't know any better than you or I what the outcome will be 5½ months from now.
Trump Will Survive the COVID-19 Economy. As recently as Friday [5/15/2020], Gallup confirmed that Trump's job approval rating remains at 49 percent, unchanged from April and tied for the best of his presidency. These polls belie the claim that Trump is the Hoover of our era and show that the voters already know where the blame lies.
On Trump-Hatred. It's not rocket science to say the beginning of Trump hatred came from the Clinton campaign. He was once feted in New York, even by liberals. How did it change from high regard to hated? One thing is clear, dislike was instant once Trump entered the race as a Republican, increased as he ran, and took a quantum leap forward when he won the election. To this day the hatred has grown on a level hardly thought possible.
Trump cans Obama appointee. Media alarmed. President Donald John Trump finally fired Democrat henchman Steve Linick as inspector general at the State Department. Obama appointed him in 2013 and a Democrat Senate confirmed him. He apparently wiled away his time giving documents to House Democrats. Politico made this politico out to be a martyr. Its story described him as a Justice Department veteran, which is true but he is also politically active. Having someone in your administration who is working to have you impeached and removed from office is unacceptable. The story said, "Trump's move infuriated Democrats who say he's trying to circumvent oversight of his administration, undermining the ability of other branches to hold him accountable. The move follows Trump's anger at being impeached, but it also comes as the White House struggles to combat the corona virus pandemic just months before the presidential election." How does firing a mole circumvent oversight?
Trump fires Steve Linick, Obama appointee who briefed Congress on Biden-Ukraine ties. President Trump on Friday night [5/15/2020] fired the State Department's inspector general, saying in a letter to Congress that he no longer had confidence in the Obama administration appointee. The president's letter did not mention Steve Linick by name but said his removal would take effect in 30 days, The Associated Press reported. Linick, a former assistant U.S. attorney in California and Virginia who has held the IG position since 2013, had overseen reports that were highly critical of the State Department's management policies since Trump took office.
Obama-Appointed State Department Inspector General Fired. The State Department's Inspector General, Steve Linick, who was appointed by former President Barack Obama, was fired Friday night [5/15/2020]. Ambassador Steven Akard, a former career foreign service officer, will replace him, according to Politico.
The Peculiar World of Dr. Fauci. The previous president deployed the upper reaches of the FBI and DOJ against candidate and President Trump. As the president says, these were "dirty cops," and despite Robert Mueller and his squad of partisan Democrats, their efforts came to nothing. The dust had barely settled when some mysterious "whistleblower" outed a Trump phone call. That brought in State Department troops such as George Kent, William Taylor, Gordon Sondland and Marie Yovanovitch. They produced no evidence that Trump had done anything wrong but did showcase their own bias, incompetence and arrogance.The same was true of National Security Council drones Fiona Hill and Alexander Vindman. This show-trial led to impeachment proceedings that also failed to remove Trump from office. The economy was booming and Trump holding forth at rallies, but then came the coronavirus.
U.S. Supreme Court wary of presidential 'harassment' in Trump finances fight. In a major showdown over presidential powers, U.S. Supreme Court justices on Tuesday appeared divided over President Donald Trump's bid to prevent congressional Democrats from obtaining his financial records but seemed more open toward a New York prosecutor's attempt to secure similar records.
Trump's Critics Can't Have It Both Ways. The left's position on the nation's proper response to the pandemic, though shrouded in the language of compassion, is incoherent and morally repugnant virtue signaling. Since this calamity began, many national Democratic leaders, the left-wing media and various never-Trumpers have been more interested in smearing President Donald Trump — no change there — than helping to solve the myriad problems caused by the coronavirus. They wanted it both ways. President Trump was doing too much, and he wasn't doing enough. Before the outbreak, numerous Democrats were downplaying the virus and condemning Trump as a racist for his China and Europe travel bans. Later they blamed Trump for not taking the virus seriously, when in fact, they were taking it less seriously than he was. But being a progressive means never having to say you're sorry — and that yesterday's inconsistent positions are deemed wiped from our collective memory.
Liberal Media Scream: Bill Maher wants cops to drag Trump out after loss. In this week's Liberal Media Scream, talk show host Bill Maher, speaking with Obama-era Attorney General Eric Holder, is so convinced that President Trump will lose reelection and refuse to leave the White House that police will have to be called in to drag him out. But while Holder said that federal agents have the power to force Trump out, Maher doubted that they would because they like Trump.
Trump on course for reelection, even if he loses the popular vote. The ongoing chaotic mismanagement of the coronavirus crisis would seem to jeopardize President Trump's reelection prospects; however, an analysis of the Electoral College vote puts Trump in a favorable reelection position. [...] Several factors work in Trump's favor. First, former Vice President Joe Biden's debating and campaigning performances have ranged from inarticulate to incoherent. Also, his expressions and tone of speech focus on the past and do not resonate with younger voters. Second, despite an endorsement from Bernie Sanders, the especially fervent Sanders supporters will not vote for Biden. They are driven by issues and ideology, not loyalty to Sanders personally.
New Yorker journalist Hendrik Hertzberg asks about 'military coup' against Trump, claims he was sarcastic. Liberal journalist Hendrik Hertzberg courted controversy Sunday by bashing President Trump and openly questioning in a tweet: "Time for a military coup?" After a request for comment, the left-wing New Yorker magazine reporter weakly attempted to defend himself in a tweet, claiming he was being "sarcastic." Hertzberg, a longtime political commentator and staff writer at the New Yorker, was a conscientious objector during the Vietnam War and later served as then-President Jimmy Carter's chief White House speechwriter. Over three hours after his initial tweet made waves, Hertzberg followed up by tweeting: "As somebody or other once said, I was being ... sarcastic."
White House officials say Trump works so hard, he often misses lunch. President Trump's schedule is so packed amid the coronavirus crisis that he sometimes skips lunch, his aides told The [New York] Post — refuting a report that the commander-in-chief spends his days obsessing over TV coverage and eating fries. White House staffers said the president works around the clock and can make five dozen work-related calls a day during the pandemic. "I can tell you that the biggest concern I have as a new chief of staff is making sure he gets some time to get a quick bite to eat," White House chief of staff Mark Meadows told The Post.
No, Poison Control Calls Aren't Suddenly Spiking After Trump's Disinfectant Comments. On Thursday [4/23/2020], the president suggested that perhaps an "injection" of disinfectant could help cure people of COVID-19. Critics of Donald Trump went to town — and rightfully so! — while supporters scrambled to settle on a defense (both "he didn't really say that" and "he did but it was sarcasm" have been in play). By Saturday morning, social media was abuzz with articles about people calling poison control centers, each crafted to illustrate how Americans had apparently taken Trump's ramblings to heart and consumed household disinfectants like Lysol and bleach. The problem? Articles shared as illustrations of this actually said no such thing.
Dr. Deborah Birx says Trump meant no harm with disinfectant comments: 'He likes to talk that through out loud'. White House coronavirus response coordinator Dr. Deborah Birx defended President Trump in an interview on "Watters' World" that aired Saturday, saying the president meant no harm by inquiring about using disinfectant to possibly treat coronavirus. Trump, in his White House coronavirus task force briefing Thursday, appeared to suggest that light and disinfectants, respectively, might have the potential to treat the coronavirus — prompting a number of stories condemning the comments, others seeking to defend the president and a scathing tweet from presumptive Democratic presidential nominee Joe Biden. The president has since said he was being "sarcastic" with his comments.
Hydroxychloroquine Derangement Syndrome. Trump derangement syndrome (TDS), according to Urban Dictionary, is a "Contagious, debilitating psychiatric disorder manifesting in a precipitous decline in intellectual and emotional stability and resilience." The contagious and debilitating bits sound much like the Wuhan flu. TDS, also known in infectious disease circles as Covfefe-45, not to be confused with Covid-19, has mutated into another form, namely hydroxychloroquine derangement syndrome, referring to the abject media hysteria over the innocuous prescription medication. Attorney General William Barr even noticed and, "Claimed that the Washington press corps is on a 'jihad' against President Trump over his promotion of an anti-malaria drug to treat the novel coronavirus." This is simply a small battle in the larger war against all things Trump, which the left and the media (sorry to be repetitive) have been engaged in since June 2015 when candidate Trump rode down the escalator at Trump Tower announcing his candidacy.
Why Does an Epidemic Bring Out the Worst In Liberals? Over the last month or two, as the coronavirus has burst into public consciousness, we have witnessed a long-running show called Liberals Behaving Badly. Liberals like Nancy Pelosi initially pooh-poohed the virus and criticized President Trump for taking meaningful action against it by blocking travel from China. But once it became apparent that the virus would be a significant problem, they did a 180 and began to accuse Trump of not doing enough. We have all seen this ad nauseam, and there is no need to catalog thousands of instances. [...] We have also seen an outpouring of hope from liberals that conservatives will die from the virus. I can't readily think of a parallel in our history.
Newly Declassified Evidence: Russia Didn't Try to Help Elect Trump in 2016. It has become conventional "wisdom" on the left that Russia wanted Trump to win in 2016, and therefore they helped his campaign. The latter belief was debunked by the Mueller report — though many on the left still believe it. The theory that Russia wanted Trump to win has also persisted, but newly declassified evidence suggesting that Russia was spreading false information about Donald Trump during the 2016 campaign "is calling into question the Obama administration's intelligence assessment that Moscow was trying to help the Republican win the 2016 election," according to a report from Just The News's John Solomon. Evidence recently declassified by DNI Richard Grenell and Attorney General Barr revealed that as early as July 2016 British intelligence operative and FBI informant Christopher Steele was involved in an FBI investigation of Trump. The same evidence showed that the FBI was repeatedly warned that Steele was susceptible to Russia disinformation and that U.S. intelligence had "concluded some of his Hillary Clinton-funded dossier's claims about Trump were false information planted by Moscow's intelligence services."
Trump plays clip of Gov. Cuomo praising federal coronavirus response. President Trump played a clip of New York Gov. Andrew Cuomo praising his administration during a briefing from the White House coronavirus task force on Sunday [4/19/2020]. In the 2-minute clip from Cuomo's own briefing on the virus earlier Sunday, the governor said that the federal government had "stepped up and was a great partner" to the Empire state. "These were just extraordinary efforts and acts of mobilization," Cuomo said, referring to the Navy-built hospital at the Javits Center and the USNS Comfort. After the footage played, Trump said the clip had left out "the good part" — apparently more compliments from Cuomo.
Was Trump the Only One in Washington Innocent of Russian Collusion? [Scroll down] Consider just how much of DC ended up taking part in the lie. Brennan and the CIA constructed fake Russian spy rings throughout Europe; Nellie Ohr passed this same imaginary Russian intel to her husband, Bruce, and the FBI; Lynch, Comey, and McCabe used this elaborate but fake Russian conspiracy to file fraudulent FISA applications and pursue Section 702 bulk surveillance on anyone and everyone who ever worked near or for Donald Trump; Robert Mueller used all this American-made kompromat to bully Trump campaign associates into accepting unethical plea deals, while hiding real Russian collusion by the Clinton campaign; Senator Feinstein repeatedly covered for Fusion GPS's perjury by leaking confidential transcripts, while her former intelligence staffer, Daniel Jones, worked to raise funds for Fusion GPS's defense and continued counterintelligence operations against President Trump; Richard Burr joined Mark Warner on the Senate Select Committee on Intelligence to give our intelligence agencies cover by justifying their illegal spying on a domestic political campaign; Adam Schiff spent the last four years doing the Russians' bidding by further dividing the country with reckless and wholesale lies that the sitting president is a Russian agent; and the whole apparatus of the American press spun this fantastic tail of Russian collusion, while giving each other First Amendment prizes for their bravery, acumen, and Jayson Blair-like persistence. Only in Obama's America could a hoax as fraudulent and unsubstantial as this one come to fruition.
Political Elite Plays Its Last Card. Every day, the battle lines are drawn more clearly for what promises to be a memorable election. The Democrats infamously lumbered the president with an investigation into his relations with Russia that they knew to be unfounded. Then they attempted a completely spurious impeachment proceeding (with no believable evidence that he had committed the alleged offenses which, in any case, were not impeachable). [...] Then the coronavirus epidemic miraculously appeared, just when all hope seemed lost. They lunged to seize their last, best, chance. They accused the president of responding to the virus frivolously, but he shaped up quickly and got ahead of the play by shutting down direct flights from China on January 31. Then Democrats and their abettors in the press accused Trump of ignoring science, which was quickly aggregated up to an accusation of being an anti-science know-nothing. [...] The Democrats and their media partisans whipped up a state of panic and conjured a virtual Old Testament plague that mortally threatened everyone.
Treasury Department was right to keep Trump tax returns private, watchdog says. President Trump can keep his elusive tax returns under wraps — for now — with the collapse of House Democrats' latest attempt to make them public. The Treasury Department's top watchdog ruled that Treasury Secretary Steven Mnuchin acted correctly when he withheld six years' worth of Trump's IRS filings from prying eyes on the House Ways and Means Committee. "The Department processed the request properly," acting Inspector General Richard Delmar wrote to committee chairman Richard Neal (D-Mass.) in a letter made public Friday [4/10/2020].
Admiral Giroir Exposes Obama Holdovers Who Released "IG Report" In the Middle of a Pandemic. One of the things that bugs me the most about some in the conservative media is the incessant demand that we continue to give people the benefit of the doubt when they've earned none. We've seen this dynamic in how criticism of the FBI has been handled despite the obvious evidence of widespread malfeasance. For another example, two Obama holdovers recently released an IG report during the ongoing Wuhan Virus pandemic that makes claims about testing wait times. Immediately, some suspected politics were at play while others claimed it was out of bounds to suggest such. My opinion is that you'd have to be incredibly naive to not ask questions about the timing of such a release. When is the last time an IG released a critical report while a crisis was still unfolding?
Ohio State Rep Wants to See Trump Prosecuted at the Hague for Touting Untested Drug. An Ohio state lawmaker said Sunday that she wants to see President Trump prosecuted in the international court for alleged crimes against humanity. The crimes in question? The president's continuous promotion of the antimalarial drug hydroxychloroquine as a promising treatment for the coronavirus[.]
President Trump Is Taking The Lead In The Campaign To Save America. Will this deadly pandemic give renewed life to those wanting to fully transform America's delivery of health care? Will we opt to travel less and commute less? Will face-to-face communication, both at work and at home, be replaced more and more by Skype and Zoom and Facetime and Google Duo? Will we gather and commune differently? Will we save more, spend more or simply bury all our valuables under the mattress? As COVID-19 makes uncertainty an everyday reality, where no one and no thing is spared, all bets are off when it comes to predicting what lies ahead, and who will lead us there. Yet if you had to make one wager today, bet on President Donald Trump to keep his job for another four years. Here are three reasons why: [...]
Wars Visible and Invisible. Dealing with a viral epidemic is a complex matter for any leader. It requires a balancing act between reassurance and caution. Avoiding panic is one priority; sounding sufficient alarm so that potential targets will take precautions is another; and the two can obviously be in conflict. That's why in wartime if the nation's leader mis-speaks, or makes mistakes in assessing the battlefield, his countrymen who are dependent for their survival on his leadership normally rally around him, and hope he will do better. The last thing they do is exaggerate his errors, and do everything in their power to undermine his effectiveness as their leader. Not so with Trump. The visible war to destroy his presidency by destroying the man has continued unabated throughout this crisis. Trump's first action against the invisible enemy was his decision in January to ban all travel from China, the epicenter of the contagion. This life-saving move was immediately denounced by his chief political rival, former vice-president Joe Biden: [...]
Trump's approval rating is up most among those who don't vote. There's no doubt now that Trump is experiencing a bump in his popularity following his response to the coronavirus pandemic. The ABC News/Washington Post poll is quite similar to the Monmouth University poll that came out earlier this week, for instance. But what is interesting to me is that Trump's jump is coming disproportionality from non-voters. Normally Trump does considerably better among voters than among adults.
How Donald Trump Has Turned the Pandemic to His Advantage. Covid-19: The Reality Show has taken cable TV by storm. The plot is nominally about a war against an invisible Chinese invader that has already killed over 1,200 Americans. [...] The star is Daddy Donald, a brilliant if erratic father figure, who sometimes rambles on, as fathers are wont to do. He is ably supported by his younger brother, Uncle Mike, who is loyal, steady, competent, and boring. With every strand of his snow-white hair perfectly in place, Uncle Mike always says the right thing. He is as predictable as Donald is unpredictable. Consequently, we pay more attention to Donald, wondering what he will do next. Donald understands this and cultivates his reputation for unpredictability. After a generation in which males, especially TV fathers, were portrayed as bumbling fools, Donald breaks the stereotype. He is a wartime president who appeals to about half the population, mostly male, as a decisive and creative leader who says what we had been thinking but were afraid to say.
'Dr. Win-the-War' vs. the Mouse. [Scroll down] The unelectable Trump had given way to the impeachable Trump, who was replaced by the distinctly beatable Trump, a vision it was increasingly hard to believe in as the economy disobediently boomed and the president's poll numbers rose. Then, like the Seventh Cavalry guided by a beatific apparition, the coronavirus pandemic descended. It wasn't quite the Trump exit his enemies had wished, but it would do and it was providential. Trump would shut everything down after being pilloried for overconfidence and ineffectiveness, the economy would wither, the pandemic would do to him politically what the Iran hostages did to Jimmy Carter, and the Democrats could claim in the autumn that if he had just acted more quickly, all would be well, and the disease-driven poverty of America was Trump's doing.
Democrats Might Find It Better To Concede 2020 To Trump. A lot of Americans may be put off by the gruff, in-your-face, even braggadocious manner of leadership exercised by President Donald Trump. They may not believe everything they hear this president say. But seeing a 73-year-old tycoon with a reputation for self-promotion, who could be doing any kind of work or leisure he likes, yet instead pressing his nose to the grindstone in public service, day after day — actually hour after hour, apparently — amidst much ridicule, can assuage any and all reservations, probably even for many who voted against him. "He is being the kind of leader that people need — at least in tone, today and yesterday — that people need and want and yearn for in times of crisis and uncertainty," said Dana Bash of CNN, not one of this president's favorite news sources. She said Trump "used the bully pulpit in the way presidents are supposed to."
Trump['s] Job Approval Rating Surges to [the] Highest Point of [His] Presidency. According to the RealClearPoltiics poll of polls, Trump's approval rating sits at a very healthy 47 percent, beating his previous record of 46 percent by a full point. What's more, Trump's disapproval rating dipped to 49.5 percent, his best showing since February of 2017, the month after he assumed the presidency.
No, Trump is not in Violation of the Emoluments Clause. The Trump administration has been under siege from the left's self-professed "legal resistance," which has accused the president of violating the Foreign Emoluments Clause since part of the earned revenue from his hotels, for example, come from non-Americans who pay to stay there. This past Sunday during a coronavirus briefing President Trump defended himself saying he was not breaking any law and even said that President George Washington "had two desks... a presidential desk and a business desk" — this was a deja-vu of last year when, after reversing his decision to host world leaders at one of his own properties during next year's Group of 7, he dismissed Democratic efforts as the "phony emoluments clause" of the Constitution that prohibits a president from illegally profiting from his business while in office.
Who is Our John Galt? [Scroll down] In China, the communist government refused to acknowledge the danger of the coronavirus. They silenced doctors that tried to warn the world, lied about the virus' infectivity (human to human), and refused USA CDC professional help. The Chinese government allowed the whistleblower to die. They are the end result of accumulated power by politicos. John Galt is not perfect, but he takes a stand. Donald Trump is not either. Trump tried to calm the hysteria that the media helped whip up. As he lost control of the narrative, he adapted to the realities and changed the focus to ramp up the national response. Flexibility is his strong suit. Political acumen is another quality that he possesses.
Coronavirus will give Trump a second term. Donald Trump is right now facing easily the biggest test of his presidency. That's a crazy thought considering Trump was impeached just three months ago, spent his first two-plus years in office battling claims his campaign colluded with Russia, and faced allegations of campaign finance violations that included paying hush money to a porn star. But the pandemic caused by the novel coronavirus is totally out of Trump's wheelhouse.
CNN's Axelrod Warns: Trump Leading in Virus Crisis Will Help in Election. While most of the liberal media were sniping at President Trump by trying to suggest he didn't take the coronavirus seriously or that he should face murder charges, CNN senior political commentator and former Obama adviser David Axelrod took time out of their Democratic primary night coverage to warn his colleagues not sleep on how the President was handling the situation, because he could ride it to victory in November. Despite his big Super Tuesday wins that evening, Axelrod seemed concerned for former Vice President Joe Biden's chances against a President constantly on TV, leading the nation through the storm. Shifting away from discussing how Senator Bernie Sanders (I-VT) needed to drop out of the race so that people weren't compelled to go to the polls and possibly contract the virus, Axelrod agreed with a previous point that the outbreak took away Trump's ability to hold large rallies.
MSNBC host and Trump critic Scarborough urges Americans to support the president amid coronavirus pandemic. Joe Scarborough, co-host of the MSNBC show "Morning Joe," has spent the past few years slamming pretty much all things Trump, but on Tuesday, in the face of the growing pandemic, he had this change of heart: 'We only have one president at a time. We have to do everything we can do to make sure this president succeeds.'
Coronavirus Will Give President Trump His Biggest Win. The peace and prosperity of President Trump's first term in office was his biggest reelection asset, but also the greatest roadblock to his agenda. A strong economy and a lack of major domestic threats lulled much of the country into a false sense of security. [...] The border crisis was remote for most people. As were the continuing deaths in Afghanistan. The media's torrent of smears and hit jobs, the sabotage of the administration by the bureaucracy, and a Democrat House bent on impeachment, made D.C. politics into the single greatest national crisis. And that was exactly how they wanted it. The Democrats didn't really think that they could impeach President Trump and the media didn't seriously believe that its hit pieces would force him out of office, but they contrived to divert the attention of the White House from its agenda with its Weapons of Mass Distraction.
They really got old Donald John Trump this time. Forget the Russian Collusion hoax. And the Emoluments Clause. And Hurricane Maria. And the Creepy Porn Lawyer. And the 25th Amendment. And the worst-since-the-Depression stock market crash of 2018. And the Mueller Report. And the Impeachment. And the World War 3s with Syria, North Korea, and Iran. No, this time, the Globalists Who Took Over America really have him with the corona virus.
Yale Psychiatrist Who Has Called Trump Mentally Unfit For Office Refuses To Offer Diagnosis Of Joe Biden. A Yale psychiatrist named Bandy Lee has repeatedly claimed that Trump is mentally unfit for office. Democrats in Congress have even had official meetings with her. This woman has never even met Trump, but she feels perfectly fine offering her diagnosis, in a clear ethical violation of her profession. Now that Joe Biden has become an increasing cause for concern, due to his aging mind, Bandy Lee refuses to offer a diagnosis of Biden.
Yale Psychiatrist Who Has Repeatedly Called Trump Mentally Unfit Refuses to Diagnose Biden. Yale psychiatrist Bandy Lee has repeatedly called Trump mentally unfit for office, despite the fact that she has never even met him. This has been widely condemned as an ethical violation of her profession. As concerns grow about Joe Biden's mental health, Lee is now refusing to apply the same standard to the former Vice President.
Clinton strategist: Trump 'guaranteed' to throw Pence 'under the bus' and tap Nikki Haley for VP. Former Bill Clinton strategist Paul Begala thinks President Trump is going to swap running mates in 2020. The CNN political analyst made the prediction during a Monday panel event at the American Israel Public Affairs Committee's annual conference. Begala, who was a chief strategist during Clinton's 1992 campaign, said he thinks Pence will be replaced as vice president on Trump's ticket with Nikki Haley, his former U.N. ambassador.
That Went Well. IMHO Trump was looking at this the wrong way. He approached this as if the stock market was an ongoing referendum on his Presidency. It's not - the underlying economy is what counts. As to this coronavirus, its real, the danger is hard to quantify, and there are no obvious comparisons. SARS was a million years ago before China became the world's manufacturer and a key part of so many supply chains. So yes, if it gets bad enough the global economy could slide into recession and take the US with it. But unlike in the 2008 collapse, where slack regulatory oversight of the mortgage market was a real problem, it would be hard to blame a coronavirus recession on Trump. After all, he's the guy who wanted to cut back our dependence on China and bring manufacturing back to this country.
(Re-)launching Russiagate 2020. On the heels of their impeachment debacle, somehow it seemed a propitious time for the Left to launch its sequel — Russiagate 2020: This Time We Get Him — No, Really! [...] Defending oneself against the Left's Russiagate lie is not proof of the lie. Rather, it is proof that people such as Chris Murphy are lying with impunity, thanks to the complicit collusion media.
CBS News poll: Most voters expect Trump will be reelected. Whether or not they're voting for him, 65% of registered voters nationwide think President Trump will definitely or probably be reelected, including more than a third of Democrats who think so. Republicans are especially optimistic: more than 9 in 10 expect him to win.
Sara Carter: Dems acting as Russian 'tools' in attempts to further Putin agenda, delegitimize Trump. Investigative reporter Sara Carter said Sunday that the Democrats' response to reports that Russia allegedly tried to interfere in the 2020 election proves they are mere "tools" helping to further the narrative created by Russian President Vladimir Putin. "Democrats and 'Never Trumpers'... they keep bringing up that Vladimir Putin has this grand scheme and people placed inside the Republican and Democratic Party," Carter said on "The Next Revolution." "Listen", she continued, saying that Russian intelligence offers didn't "need to look far for Russian agents because [Democrats] are doing all the work for Russia. It must be a celebration. All they have to do is say something and plant a little seed out there that 'Putin wants Bernie [Sanders]... Putin wants Trump... Putin wants Joe Biden,' and America is tearing itself apart."
The Next Coup Against Trump Has Begun. It was inevitable. After the Democrats failed to evict Donald Trump from office through the Mueller investigation and then the ridiculous impeachment over the Zelensky telephone call, they would have to try something else to ruin him before the November election. Rush Limbaugh was the first to predict that they'd go back to the "Russia collusion" narrative, and they have.
Trump suggests 'calling Bob Mueller' after Sanders win following Russia report. President Trump teased Democrats following a significant win by Sen. Bernie Sanders, I-Vt., in the Nevada Caucuses and a Washington Post report that Russia was trying to help Sanders win the Democratic primary race. Sanders' victory Saturday — his second after being narrowly edged out in Iowa — has the Democratic establishment reeling, with former Vice President Joe Biden looking to turn things around quickly after finishing a distant second. Trump offered some free advice. "Are any Democrat operatives, the DNC, or Crooked Hillary Clinton, blaming Russia, Russia, Russia for the Bernie Sanders win in Nevada. If so I suggest calling Bob Mueller & the 13 Angry Democrats to do a new Mueller Report, Democrat Edition," Trump tweeted Sunday afternoon. "Bob will get to the bottom of it!"
Trump says NOBODY briefed him about Russia helping Sanders campaign and claims Schiff leaked the story. President Donald Trump has denied getting told by to intelligence officials that Russia is intervening in the 2020 primaries and — following an explosive report about a Capitol briefing on Russia's intentions. 'Nobody said it to me at all,' Trump told reporters at the White House Sunday [2/23/2020] as he departed for a trip to India, asked if he has been briefed that Russia is trying to help Sanders. Trump also blasted House Intelligence Committee Chairman Rep. Adam Schiff, who served as the lead House impeachment manager and whose committee got a briefing with a top intelligence official that led Trump to dress down outgoing Director of Intelligence Joseph Maguire.
Deep State snakes slither back after FBI, CIA swamp draining. [Scroll down] Soon The Washington Post had its own scoop, a report that "Russia is trying to help Bernie Sanders' campaign." Whoa, Nellie! Inquiring minds are confused. Whose side are the Russians on? How can it be that Putin is trying to help both the Republican nominee and the likely Democratic nominee at the same time? Is he stupid? The better question is this: Do Deep Staters and their media handmaidens think Americans are stupid? Yes, they do. They count on it. It is troubling that Trump and Sanders were given conflicting information, suggesting that the intel officials don't have their facts right. More telling about the aim is the fact that both briefings were leaked, demonstrating that nothing has changed and that insiders are still using classified information for political purposes.
John Bolton Admits Last-Minute Impeachment Leak Was A Publicity Stunt. Former National Security Advisor John Bolton admitted Wednesday that his testimony in President Donald Trump's recent impeachment proceedings involving Ukraine would have had no impact on the trial's outcome even after sections of his upcoming book leaked attempting to convict the president in its final days. "People can argue about what I should have said and what I should have done," Bolton said at Vanderbilt University Wednesday night during a forum with his predecessor Susan Rice, according to ABC News. "I will bet you a dollar right here and now my testimony would have made no difference to the ultimate outcome."
Left Goes Bananas On Barr's DOJ After Ignoring Far Worse Under Obama. No one should be above the law, Republican or Democrat. Nor should our elected leaders undermine equal justice under the law. Okay, now that these obvious statements have been made, what should we make of the 1,100 signatures to a letter calling on Attorney General Barr to resign amid all the debate regarding the Department of Justice (DOJ)? As someone who served, albeit briefly, as a federal prosecutor, this question is of particular interest to me. First, consider that the DOJ resides in the Robert F. Kennedy, Jr. Department of Justice Building. Bobby Kennedy was his brother's closest political ally and advisor. Does the media suggest we should re-name the building or raise a fuss because the younger Kennedy was political?
Too Often, Trump Critics Rely on False, Dangerous Ideas About National Security. No question, President Donald Trump is an unconventional statesman. On the global stage he looks like a fullback at a field hockey match. Different doesn't always mean wrong — except to the critics who have gone to absurd lengths to weaponize policy differences to undermine the legitimacy of the president's decisions. One of the most extreme and wrongheaded complaints is that this administration has violated how policy must be made. Critics complain the president seems to have a mind of his own and the audacity to not reflexively implement the recommendations the bureaucracy cranks out. Nonsense. Not only is it wrong to suggest the White House must follow only the policy proposals its "experts" devise, it can at times be the worse step a president can take.
What Exactly Is Wrong with a President Putting America First? While roughly half of the American population today thinks that the current occupant of the White House is one of the worst presidents in history, an active danger to the nation, there is still that pesky other half, which refuses to bow to our socialist, internationalist moral superiors and regards president Trump as an unparalleled champion of the American people, a true defender of the common man in a way that has not been seen in Washington for many, many decades. On this President's Day, it's worthwhile to ask the question: what exactly is wrong with being America First? If the president of the United States doesn't put America first, exactly which country should he put first?
Left Loses It Over Big Tech Chairman's Pro-Trump Fundraiser. The left went bonkers on Twitter when news broke that Big Tech billionaire Larry Ellison was hosting a pro-Trump fundraiser at his estate. Lefty outlet Vox Recode characterized the billionaire founder of Oracle Corporation's decision to support President Donald Trump as "unthinkable for a tech titan" and "a major coup for the Trump team." Recode continued: "Ellison is, after all, the country's fifth-richest person, with a net worth of almost $70 billion." Vox Recode also issued a harbinger in its February 12 report: "[T]he fundraiser is sure to expose the flamboyant 75-year-old billionaire [Ellison] to a new wave of political and corporate scrutiny."
What 'illegal order' is John Kelly referring to about Alexander Vindman? It's former White House chief of staff John Kelly's turn to be the media's new hero for a moment after he said some mildly critical things about President Trump. But I'm really confused about the part of his recent speech to some college students that's getting the most play on cable news because it suggests Kelly has either a false recollection of events or simply doesn't know what he's talking about.
Sen. McConnell urges Senate against passing War Powers Resolution. Senate Majority Leader Mitch McConnell (R-Ky.) is warning against limiting the president's war powers. On Wednesday [2/12/2020], McConnell called Democrat Sen. Tim Kaine's (D-Va.) War Powers Resolution "blunt and clumsy." He went on to say the legislation "severely limits" the White House's power to mitigate threats from Iran.
A Ruth Bader Ginsburg Opinion Helped Trump Beat The Democrats' Emoluments Lawsuit. President Donald Trump had an unlikely ally in his fight against an anti-corruption lawsuit from congressional Democrats — Supreme Court Justice Ruth Bader Ginsburg. Democratic Sen. Richard Blumenthal of Connecticut is leading a coalition of 186 House members and 29 senators alleging the president has unlawfully profited from foreign patronage at the Trump International Hotel in Washington, D.C., in violation of an ethics provision in the Constitution called the foreign emoluments clause. A three-judge panel of the U.S. Court of Appeals for the District of Columbia Circuit dismissed the lawsuit on Feb. 7 on technical grounds, relying in part on a 2019 Ginsburg opinion.
Let's Stop Calling Them Never Trump 'Republicans'. The faux "Republicans" behind the Never Trump tantrum "Lincoln Project" are so desperate to destroy Trump and real Republicans running for office that they're OK "even if that means Democratic control of the Senate and an expanded Democratic majority in the House." That's not principled opposition, that's backstabbing. The media and the Nevers insist on using the word "Republicans" because they want to create the illusion of some statistically significant, allegedly principled, resistance to the president from within his own party.
Trump's Supporters Are Not Cult Members. We're Americans. Former one-term Republican congressman and radio host Joe Walsh recently withdrew from running against Trump in the Republican primary. He apparently got the message that his candidacy was dead when the Iowa caucus crowd responded with raucous cheers for Trump to his comment "if you want four more year of the Donald Trump show" and roundly booed his claim that the president "makes every day about himself." Any birdbrain knows that Trump makes every day about us and the U.S. The only reason he has had to talk about himself is because he's been under constant attack, and Democrats demanded his head.
The temerity of Tom Steyer. Craven audacity in US politics knows no bounds. Billionaire intruder Tom Steyer is currently running television ads in New Hampshire lamenting that Donald Trump has received a political boost from the Democrats' botched impeachment crusade, which ended this week in failure and humiliation — as is true for most Democratic crusades. Trump is therefore going to be tougher to beat, he suggests in the new ad, and nominating an outsider like Tom is increasingly necessary. What Tom forgot to mention is that no single private individual in the entire country was more responsible than him for fomenting the hysterical drive toward impeachment. He launched a massive pro-impeachment pressure campaign in October 2017, long before a Trump/Ukraine phone call was a glimmer in anyone's eye. Incongruously, Tom boasted about his impeachment advocacy this week on two separate national TV sages, a CNN town hall and last night's debate, without any apparent awareness of the contradiction in doing so while simultaneously complaining that "Democratic insiders"' impeachment bungle has helped Trump.
He wasn't scared before the debate, either.
ABC's Jon Karl: After This Debate, Trump Isn't Scared. ABC News chief White House correspondent Jon Karl said that President Donald Trump's reelection campaign isn't exactly "quaking in their boots" after Friday night's Democratic debate. During post-debate analysis Friday night, Karl was asked by ABC's Martha Raddatz about who he thinks "stood out" when it comes to the task of "going after Donald Trump."
Javanka's Concerning Ties To Google. Former Google CEO Eric Schmidt is in hot water over a salacious affair allegation revealed by an ex-business associate. While the gossip rags are having a field day with those allegations, the more important story revealed in the leaks is Schmidt's ties to Jared Kushner, Donald Trump's son-in-law and senior adviser.
Trump Impeachment Backfires on Democrats, and Nancy Pelosi Has a Meltdown. The people turned off this farce of Democratic Impeachment Theater long ago. Americans aren't as dumb as some politicians think they are. They paid attention for a while. They read the transcript of his phone call to Ukraine — which needed military assistance — asking for an investigation into the Bidens. But they figured this thing out. They saw the flaws in the arguments. Independent voters didn't think the call — which didn't ultimately prevent Ukraine from getting military aid and didn't lead to a Ukraine investigation into the Bidens — was grounds to remove a president. Many Republicans don't think Trump's call was "perfect," as he insists, but they didn't want to remove him from office for it. And they knew that a presidential election was less than a year away. So, they decided to move on.
Never-Trumper Joe Walsh Ends Presidential Campaign: 'He Can't Be Beat'. Appearing Friday [2/7/2020] on CNN's New Day, former Rep. Joe Walsh (R-IL) ended his longshot 2020 Republican presidential primary challenge against President Donald Trump, conceding that the president "can't be beat" after receiving a mere 1 percent of the vote in the Iowa GOP caucuses.
Why Trump Keeps Winning. [Scroll down] Gallup goes on to point out that a huge percentage of all major demographic and political subgroups are content with the way their lives are going. Significantly, this includes Independents, 89 percent of whom declare themselves satisfied. In other words, most Americans are happy with the quality of their lives. As long as that continues, Democratic show trials in Congress, tearing up a copy of the SOTU speech, and gratuitous personal slander will have little downside effect on the president's political fortunes. In fact, according to yet another Gallup poll released Tuesday, his approval rating has now hit an all-time high of 49 percent. As if to underscore the futility of the Democrats' attempt to oust President Trump, this new peak in his approval rating was reached during his Senate impeachment trial.
After an enforced silence during the impeachment process, Trump finally lets loose. Trump is no ordinary president — but he's also been under extraordinary pressures unique to his presidency. It was Trump's appearance on the political scene that catapulted the Democrats into a stance of permanent and aggressive hysteria. They traveled from using the state to spy on him, to lying about his being a Russian asset, to impeaching him for investigating the prior administration's corruption, but he held strong. Trump is also a showman and an eccentric. He is not your typical bland, polished statesman. Having been put through the wringer and come out the other side, intact and politically stronger than ever, Trump opted not to pretend to be gracious to his enemies. Instead, on Thursday [2/6/2020], he spiked the football.
Can we ever go back to establishment centrist moderate RINOs?
America After Trump: Another well-known name that has been circling around in the political arena, is Sen. Ted Cruz. I must confess, in the 2016 election Cruz was my first choice and Trump was second. The minute Senator Cruz ended his campaign, I fully supported Donald Trump. It is no secret that in the primaries, you support your candidate with all you got, but you stand with the winner of party nomination in the end. "Look, I hope to run again," Cruz said in September. "We came very, very close in 2016. And it's the most fun I've ever had in my life." "Politics makes strange bedfellows" is not just a cliché. Everyone knows the political vendetta between President Donald Trump and Ted Cruz during the 2016 election was one of the nastiest in recent history. Trump called Cruz "lyin' Ted" and attacked his family. That was then. This is now — "Lyin' Ted" is now "Beautiful Ted." In October 2018 Trump's rally in support of Sen. Cruz at the Toyota Center in Houston, both men embraced.
Alinsky's revenge haunts the Democrats as they turn to billionaire Bloomberg. The oldest political party in the world is on the verge of implosion. While a lot can happen in nine months (ask any obstetrician), the tectonic plates of American politics are shifting, and the Democrats' political edifice is built on top of a gigantic set of fault lines. Were Saul Alinsky still alive, instead of spending quality time with the entity to whom he dedicated Rules for Radicals, he would be laughing his head off over the mess the party that claims the mantle of advancing the poor has made of its election prospects. I have long suspected that Donald J. Trump has absorbed Alinsky, for he is a skillful practitioner of most, if not all of Alinsky's rules.
Today's Democrat Shiny Object: Trump's Accuser Is Back and She Wants the President's DNA. The last we heard from book author and weird raconteur, E. Jean Carroll, she was telling a non-plussed Anderson Cooper that "rape is sexy" and added, in a sultrier tone, "you're fascinating to talk to." After that car crash of an interview on CNN (see below), the woman who claimed Donald Trump raped her in a dressing room at a New York Bergdorf Goodman Department store more than 30 years ago disappeared from national view. But now she's back. She has an attorney. And she claims she has the still un-cleaned work dress she wore that day all those years ago and now demands a sample of Trump's DNA to cross-reference with whatever [...] is still on the pre-Monica Lewinsky era dress.
Massive Pro Trump Crowd Swarms Wildwood, New Jersey — Stunning Aerial Video. Ahead of tonight's President Trump rally in Wildwood, New Jersey, a massive crowd of Trump supporters has descended upon the entire town and venue. Incredible aerial footage of the crowd highlights tens-of-thousands of people turning out to show their support for President Donald Trump.
God's Anointed Leader Isn't Always What We Expect. resident Trump certainly has a "colorful" past, and that is the key reason why I did not support him in the Republican presidential primary of 2016. I just couldn't imagine a man of his moral failings representing this nation and becoming the leader of the free world. However, when it ultimately came down to a choice between Donald Trump and Hillary Clinton on November 8, it was a no-brainer. I would have crawled on my hands and knees to the polls, if necessary, to vote against her. That's exactly what my vote was at that time — a vote against Hillary Clinton. It turns out, however, that millions of us who held our noses and voted for Trump have been quite pleasantly surprised by his ardent support of the values and policies that we hold dear.
Former Chief of Staff to John Bolton: Withdraw Your Book Immediately. Fred Fleitz, former CIA official and former National Security Council chief of staff, urged his friend and former boss, former National Security Adviser John Bolton, to withdraw his tell-all book from his publisher "immediately." Fleitz, who served as Bolton's chief of staff twice, said it was "crushing" to read weekend press reports that Bolton planned to publish a book on his time in the Trump White House.
Brother, Yevgeny, May have Reviewed Bolton Book at NSC. The twin brother of controversial anti-Trump NSC aide Lt. Col. Alexander S. Vindman may have seen a draft of former National Security Adviser John Bolton's controversial new book, raising the possibility that he or someone who works with him leaked key passages to the New York Times.
Wonder How the NYT Got the Leak From Bolton's Unpublished Book? Look Who's Reportedly Vetting It. Over the weekend the New York Times leaked a newsy item reportedly from former National Security Council Adviser John Bolton's as yet unpublished book. The book reportedly includes information about President Trump's desire to hold up aid for Ukraine — aid that was, in fact, given to the troubled country. [...] Did Bolton orchestrate the leak? Such a leak would subject him to sanctions before his book was properly vetted to prevent the release of classified information. No, Bolton's attorney told The Washington Times. The leak showed "the prepublication review process [at the NSC] has been corrupted."
Bolton's People Deny He's Behind Leak, But People Aren't Buying the Coincidences. As my colleague Bonchie reported earlier, the New York Times dropped a "bombshell" about what supposedly was in a draft of John Bolton's new book that supposedly has President Donald Trump saying to Bolton that he wants to withhold aid in exchange for investigations. There are of course many other questions about this last minute drop just as Republicans are destroying the Democrats's impeachment case. It's all about breaking the wall to get in witnesses and damage Trump. But the basic response is a simple one: no actual quid pro quo was ever asked for, the transcript and President Volodymyr Zelensky confirm that. So whatever was actually said, if anything was, it's completely irrelevant.
The Role of Julie Swetnick Will Be Played by John Bolton. If you liked Julie Swetnick in the Kavanaugh confirmation hearing TV movie, you'll love John Bolton in the impeachment TV movie. John Bolton has a book coming out. Can you believe that the week the president's team gets a platform to respond to the Democrats' wild accusations, the details of Bolton's book somehow make it to the pages of New York Times? If this tactic seems familiar, it's because it is. This is the Comey maneuver. Remember, when Comey's memos and positive spin showed up in the Times? It's almost as if James Comey and John Bolton have the same book publicist.
John Bolton and Mick Mulvaney don't need to testify because we already know what they have to say. No matter how many times CNN refers to the new report about John Bolton as a "bombshell," it doesn't change that everything we need to know about President Trump, Ukraine, and the delay in foreign aid, we already know and have known for a month. Calling in Bolton to testify to the Senate that Trump has a long-standing grudge against Ukraine sheds precisely no new light on anything. The New York Times on Sunday [1/26/2020] said that it has spoken with people who reviewed the manuscript of Bolton's forthcoming book about his time as national security adviser in the White House. Without directly quoting a single thing from the manuscript, the New York Times reported this: [...]
John Bolton Sells Out. Revenge, the saying goes, is a dish best served cold, but John Bolton's strike back at President Trump after being fired as National Security Adviser is the hottest thing in the news today. According to a report in The New York Times, Trump told Bolton "that he wanted to continue freezing $391 million in security assistance to Ukraine until officials there helped with investigations into Democrats including the Bidens." Nor is this simply the Times trying to rally the dispirited pro-impeachment troops for one last charge in their multiply discredited impeachment case: Fox News reported that "Bolton's representatives made clear he was not denying the Times' claim concerning the Ukraine aid holdup and the possible investigation of the Bidens."
Washington Democrat Forced to Take Down Trump Sign, Will Put Up an Even Bigger One. Kevin Chambers is a local radio host in Bremerton, Washington, and a Democrat — albeit one with a good sense of humor. While out of town in November, a Republican friend put up a Trump/Pence 2020 field sign in his yard as a joke. The sign got defaced with graffiti, so another sign took its place — this time on 15-foot stilts. That's when, Chambers says, things got a little weird. Two days before Christmas, he received a letter from the city of Bremerton informing him that the new sign violated city code concerning commercial signs. And that's when he became defiant.
Rudy Giuliani Responds to Media Claims by Lev Parnas. President Trump's personal attorney Rudy Giuliani says he was 'misled' by Lev Parnas who Giuliani identifies as an egregious liar. During the interview on Fox News and Laura Ingraham Rudy Giuliani says Mr. Parnas motive to tell false statements is identical to the reason for Michael Cohen to lie; he is trying to get a plea deal with New York prosecutors. [Video clip]
Take impeachment as seriously as Nadler takes a diet. Lev Parnas is Lieutenant Colonel Vindman v2.0. Parnas too was born in Ukraine and brought to America as a young child. The difference is he doesn't have a twin brother or a Class A uniform. But just like Vindman, Parnas has never talked to the president and has only hearsay evidence to present. In fact, it is all hearsay. And that won't get President Trump supporters to abandon him.
People Are Actually Wondering If VP Mike Pence Is About to Resign. [Scroll down] If there is any talk of bumping Pence for Haley or someone else, that is just talking going on. This type of chatter is also not new being we went through this with Quayle in 1992 and Cheney in 2004. If memory serves, Obama had some talk about dumping Biden in 2012. All these rumors were squashed in quick order.
Lev Parnas isn't a 'bombshell' in the impeachment case. He's stalling on his way to prison. The latest "bombshell" in our national nightmare, wherein we actually have to pay attention to Ukraine, is that Parnas wants to testify in the Senate impeachment trial that Trump was knowingly attempting a quid pro quo scheme. As part of that, Parnas has supplied House Democrats with a bunch of new texts that purport to show him stalking Marie Yovanovitch for unknown purposes when she was the U.S. ambassador to Ukraine. Mind you, Parnas is currently trying to stay out of jail (and perhaps to flee the country, according to prosecutors) while awaiting trial for big charges on campaign finance violations.
Pelosi's Pen not Mightier than Trump's Sword. [Scroll down] Lev Parnas is the latest in a series of lying felons used by Democrats to slime President Trump in vain and follows in the proud tradition of Michael Cohen and Michael Avenatti. Each time one of these clowns is introduced, we are told that this is Trump's swan song, that the walls are closing in. Parnas is a lawbreaker like Cohen and Avenatti who hopes to get a better deal in exchange for more lies. The Democrats want to call him as a witness in the Senate even though they could have and didn't in the House. Maybe they already had too many hearsay witnesses with no direct knowledge of the Ukraine phone call to use one that could have testified in his orange jumpsuit.
CNN's Jake Tapper: Lev Parnas Has a 'Serious Credibility Problem'. CNN The Lead host Jake Tapper on Thursday criticized Democrats for touting evidence brought forth by indicted Rudy Giuliani associate Lev Parnas, reminding viewers that the former Trump supporter has a "serious credibility problem." "We can't ignore Parnas has a serious credibility problem," Tapper said during a panel discussion on Parnas. "He's under indictment for campaign finance charges. The foreign minister of Ukraine told CNN's Christiane Amanpour that he doesn't trust a word Parnas is saying. [...]"
The Parnas problem. New evidence from Lev Parnas has Democrats more insistent than ever that the Senate impeachment trial include testimony from witnesses who did not appear before the House. Parnas joins the ranks of John Bolton and Mick Mulvaney as key witnesses the Dems say they need testimony from. Even the Democrats can't deny that Parnas is a problematic witness. He appears to be a crook with a motive to lie.
GAO Hit Piece on Trump Gets It Wrong. President Trump is accused of "withholding" funds appropriated by Congress as a gift to Ukraine for 58 days. The Budget Control and Impoundment Act regulates some of the federal budgeting process. Now mind you the Congress has not complied with the federal budgeting process for years. When it comes to violating the Budget Control Act, the Congress is in a stupor in a heroin den while Trump is accused of jay-walking. The Act (among many other things) allows the Administration to cancel (rescind) a federal appropriation or to defer an expenditure. So the President does have the power to rescind or defer. But the Act does requires that the President notify Congress under 2 U.S. Code §684 if the Administration proposes to (1) rescind an appropriation or (2) defer the spending of federal appropriations.
Parnas Undermines Democrats' Case Against Trump — on CNN. Lev Parnas, whom Democrats now cite as a potential witness in the impeachment trial of President Donald Trump, actually undermined their case against the president in an interview with CNN's Anderson Cooper that aired Thursday morning [1/16/2020]. [...] But Parnas also suggested that the reason for an announcement by Ukrainian President Volodymyr Zelensky was that no one "trusted" Ukraine to conduct an investigation. The implication is that the administration did not trust Ukraine, a notoriously corrupt country, to investigate specific cases of corruption without making a public commitment to do so first.
Kimberley Strassel on Lev Parnas' claims about Trump, Ukraine: 'This is just sort of a fantastical tale'. Lev Parnas has a credibility problem — and so do some of the media outlets that have been covering him, Wall Street Journal columnist and editorial board member Kimberley Strassel said Thursday [1/16/2020]. Parnas is the indicted associate of President Trump's personal lawyer Rudy Giuliani — and this week his media blitz ahead of expected court appearances included interviews on MSNBC and CNN. "The problem ... for the media is that this goes beyond the question of Lev Parnas' credibility," Strassel observed on Fox News' "The Ingraham Angle." "I mean, that's a big first strike. But also the information that he claims to impart is irrelevant or unbelievable.
House Scheme Unfolds — Adam Schiff Transmits "New Evidence" to Nadler. Yesterday's ridiculous, albeit proactive, New York Times narrative about Russians hacking Burisma now makes sense. Today the Lawfare team (Mary McCord et al) within Adam Schiff's impeachment crew send additional files of evidence to be included in the impeachment articles constructed by HJC Chairman Jerry Nadler. [...] It is all coordinated. The "new evidence" relates to information turned over by Lev Parnas, an SDNY indicted former associate of Trump's personal attorney Rudy Giuliani. The Lawfare purpose is to bolster their premise that President Trump was trying to force Ukraine President Volodymyr Zelensky to investigate Joe Biden's corrupt activity around the Ukrainian company Burisma.
Critics Discount Too Much of Trump's Job Performance. The rational people who dislike this president should remember that the state of the country had deteriorated so far in the 20 years preceding the last presidential election that something altogether different was required. [...] Still, the president is correct that he has been very successful, and he is right that no one has ever had to execute that office for almost a full term with such obstructive and unjustified harassment.
'Never Trump' Revisited. Many of us would prefer a more articulate and chaste classical liberal as our president. I don't have any special fondness for Trump, either, but I also don't hold any special antagonism for him. Political support is a transactional arrangement, not a religious oath, and Trump has done much to like. I support policies, not people. If Trump protects the constitutional order, he deserves to be praised for it. If not, he doesn't. But the notion of some Trump critics that conservatives have a moral duty to uniformly oppose the president for the sake of principle or patriotism — or because they once opposed him during a GOP primary — is plainly silly.
Useful Idiots on the Right: The Never Trumpers. One could perhaps have excused them their earlier indiscretions of November 2016. He was, after all, an unknown quantity, an outsider of questionable conservative pedigree. Indeed, Donald Trump had been a fairly typical New York liberal Democrat for much of his life. And he had led a less than stellar moral life. And so the pile-on at the time by National Review and others could perhaps have been forgiven, although not really, when one considered the alternative.
Congress Can't Make War. Yes, Congress has deep and exclusive mandates on military organization, funding and some management of U.S. military forces. What it does not have is the ability to use military forces. Only the President can use them; he does so as Commander in Chief. He (or she) does not generally need Congressional permission to use the military. In fact, Congress has prohibited some uses; e.g. laws that prohibit the use of the federal military to enforce civilian laws. It also prohibited sending draftees outside the Western Hemisphere in 1940.
Mike Lee Slams 'Un-American' Iran Intel Briefing, Calls on Congress To Rein In Administration. A classified briefing on the intelligence behind Qasem Soleimani's killing caused Senate Republicans Mike Lee and Rand Paul to excoriate the assessment, while Lindsey Graham and Marco Rubio praised the intel. Lee called the meeting "probably the worst briefing I've seen, at least on a military issues, in the nine years I've served in the United States Senate," and while he commended Trump for showing "a lot of restraint" in foreign policy, he added that he wanted to speak to the president directly about the lack of clarity in the assessment. "I went in there hoping to get more specifics as far as the factual, legal, moral justification for what they did," Lee said. "I'm still undecided on that issue, in part because we never got to the details."
U.S. Air Force performs huge show of strength with 52 fully-armed F-35A Lightning II stealth fighters. The U.S. Air Force has performed a huge show of strength by launching 52 fully-armed Lightning II stealth fighters in a single wave from a base in Utah. The F-35A aircraft, which are worth a total of $4.2 billion, took off in quick succession from the Hill Air Force Base in Utah on Monday [1/6/2020] as tensions mount in the Middle East over the killing of Iranian general Qassem Soleimani. Fifty two is the number of American diplomats and civilians seized by Iran during the 1979 hostage crisis, and the number of targets that Trump has threatened to strike in Iran if the regime retaliates over Soleimani's death.
Iran Puts $80M Bounty on Trump's Head for Soleimani Hit. The mullahs of Iran have placed an $80 million bounty on the head of President Donald Trump in revenge for the hit that killed Quds Force leader Qasem Soleimani. Iranian state television announced the bounty, framing it as an offer on behalf of the Iranian people.
Trump Derangement Syndrome Skyrockets Over Soleimani. Remember "politics stops at the water's edge"? In the Trump era, that patriotic phrase isn't only dead, it's decomposed. And ironically so, since the latest manifestation of this decomposition is over the termination of Qassem Soleimani, the terror mastermind who was, on analysis, even more dangerous to the United States and the world than Osama bin Laden and Abu Bakr al-Baghdadi, monumentally evil as they were. Neither bin Laden nor al-Baghdadi ever had remotely the power at their disposals — even when the latter controlled his caliphate — that Soleimani did as the military leader of by far the greatest state sponsor of terrorism. They weren't even close to the man who was head of Iran's Quds force and the second most powerful person in that country of 80-plus million, with all its attendant weaponry and technology and ties to China and Russia. Besides the thousands of Americans who either died or were maimed for life because of Soleimani, hundreds of thousands across the Middle East have met their fates at least in part through this man's ministrations.
Note To Democrats: Obama Launched 2,800 Strikes On Iraq, Syria Without Congressional Approval. After President Donald Trump ordered the U.S. military to take out Iran's secretive Quds Force commander, Qassem Suleimani, House Speaker Nancy Pelosi (D-CA) said the president should have asked for permission from Congress before conducting the airstrike. "The Administration has conducted tonight's strikes in Iraq targeting high-level Iranian military officials and killing Iranian Quds Force Commander Qasem Soleimani without an Authorization for Use of Military Force (AUMF) against Iran. Further, this action was taken without the consultation of the Congress," she said Thursday night [1/2/2020] in a statement. [...] But Trump's predecessor, Barack Obama, launched more than 2,800 on Iraq and Syria without congressional approval.
More about President Obama's Drones and the Secret Kill List.
Our Lady of Perpetual Impeachment vs. America. During this coming year our nation is likely to be shaken to its foundations either by the indictment and trials of powerful individuals, or by the lack thereof. The left may stop threatening to kill the president and actually do it. It is quite possible that our southern borders will be overrun. It's even more likely that we will be traumatized again and again by Islamic incursions, both anti-Semitic and anti-American. It's looking like some terrible showdown is brewing in Virginia over the right to bear arms, and who knows what will happen with Iran, North Korea, or China? We must choose our leadership wisely. [...] Were there a viable, responsible, clear-thinking candidate to run against Trump in November, small things might make the difference. But this year we choose between a man who has been doing the job splendidly and Corruption Central.
The Progressive Socialists Are Guilty of Treason. I do not doubt that all the progressive socialists will continue to wring their hands and whine about not consulting Congress or our allies. These same people were silent when Obama took us into Libya.
Levin: Trump Didn't Have to Alert Democrats of Airstrike — Especially When They're 'Orchestrating a Coup'. Constitutional scholar and conservative commentator Mark Levin is defending President Donald Trump's decision not to consult Congress before authorizing Thursday's U.S. airstrike in Baghdad, Iraq that killed Major-General Qassem Soleimani, commander of the Islamic Revolutionary Guard Corps-Qods Force. Democrats were quick to condemn President Trump for not first consulting them and obtaining Congressional authorization before ordering the airstrike killing the top Iranian military commander the Pentagon says is responsible for hundreds of American deaths and was orchestrating additional imminent attacks. In a Friday post on his Facebook page, Levin explains that President Trump not only has the authority to authorize such military strikes, but also has little reason to do so, considering how Democrats, such as those in the House Intelligence Committee, are actively seeking to effect a coup against him and leaking information that endangers U.S military personnel.
Will Dems Impeach Trump For Killing Soleimani, Too? hortly after the news broke that U.S. forces had killed Qassem Soleimani with a precision drone strike, Rep. Ilhan Omar tweeted that "Trump wants war, knows this leads to war and needs the distraction." That's a pretty serious charge, since she's saying that Trump is taking the country to war for personal political gain. Doesn't that constitute a high crime?
The Editor says...
If you're looking for an example of a "wag the dog" president, you need to look no further back than the last two Democrat presidents.
Yale psychiatrist Bandy X. Lee calls on Pelosi to submit Pres. Trump to involuntary psych evaluation. Bandy Xenobia Lee, MD, MDiv, 49, is an assistant clinical professor of psychiatry at the Yale University School of Medicine. [...] Bandy X. Lee is also a rabid anti-Trumper who misuses her psychiatric profession to engage in the sort of dangerous psychological diagnosis employed by the former Soviet Union and present-day China to silence and incarcerate political dissidents. She is part of a movement demanding that the House Judiciary Committee bring a panel of "mental health experts" to join the impeachment proceedings against President Trump.
Ex-NFL player: 'Tremendous awakening' among blacks spells Trump victory. A former NFL player who once raised money for Barack Obama says a political "awakening" among African-Americans is underway that could translate into President Trump winning 20% of the black vote in 2020. Jack Brewer, now a businessman who formerly played for the Minnesota Vikings, New York Giants, Philadelphia Eagles and the Arizona Cardinals, said the move to Trump is easily explained by policies that are making life better for his children, the Washington Times reported.
Max Rose: Democrats Will Beat GOP by 'Wide Margin' in 2020. Freshman swing district Rep. Max Rose (D-NY) said Saturday [12/21/2019 that Democrats will defeat Republicans by a "large margin" during the 2020 elections.
The Editor says...
He says this without even knowing the name of the Democratic Party nominee. Unless the outcome of the election has been pre-programmed into the voting machines, how can he be so sure?
Trump's approval rating is more stable than any president in the history of polling. Through months of impeachment proceedings, Democrats, with the help of a parade of witnesses, have hammered away at President Trump for abusing power. Yet as the House prepares to vote on impeaching him, Trump's approval rating is virtually unchanged from before the process started — neither cratering from the negative news or benefiting from any large-scale backlash against impeachment. This has become a pattern for Trump, whose approval rating (while historically low) is the most stable in history — or at least since Gallup started measuring presidential approval during the Harry Truman presidency.
Black voter support for Trump at 'highest levels' and could seal 2020 win. A growing number of polls show that President Trump is gaining the support of black voters above what any Republican president has ever received. Both Emerson Polling and Rasmussen Reports have it at about 34%, a stunning number. And a new Zogby Analytics survey found that African American support is at the "highest levels of the year," driven by a strong economy, historically low black unemployment, and Trump's agenda to support minority small businesses, historically black colleges and universities, and passage of criminal justice reform. "Not surprisingly, all African Americans do not hate Trump!" pollster Jonathan Zogby said in sharing his data with us.
Supreme Court Will Take Up Trump Financial Records and Tax Cases. As we expected the Supreme Court has granted the petition for a writ of certiorari and will hear cases related to attempts to gain President Trump financial records and tax filings. The Supreme Court has issued a stay upon all lower court action and consolidated the cases into one writ. The court will hear arguments in March and release a ruling later in the summer of 2020.
Why the elites really hate Trump. Donald Trump is a salesman. What he sells is himself and the Trump brand. Bill Gates made his money with computer software, so he might not be too concerned with how people view the name Gates. Donald Trump made his money in hotels and resorts, where it's important to have a name like Hilton as opposed to a name like Motel 6. Donald Trump played the role of a loud, bigger than life ringmaster to build the Trump brand. He brags, he exaggerates, and sometimes he tells bald-faced lies. When attacked, he will always respond to the attack in order to protect his brand. Donald Trump is a modern-day P.T. Barnum. This is a role that Donald Trump has played for so long that it's become part of who he is, but deep down, it's not who he is. It is merely a role he has played as a salesman.
America's first black billionaire: No current Democratic candidate can beat Trump. BET founder Robert Johnson is not convinced any of the Democratic candidates seeking to face President Trump in 2020 has a shot at winning the White House. Johnson, America's first black billionaire and a lifelong Democrat, told CNBC that the Trump economy is strong and he has an ability "to dominate the news cycle" that makes it hard for his Democratic challengers to focus on substance. "If you take a snapshot today, I don't think that group is capable of beating Donald Trump despite what the polls say," Johnson said.
Christian Trump Supporters Don't Have A 'Branding Problem,' The Left Has A Lying Problem. It's been three years since I and many other Christians voted for Donald Trump, and I for one am done defending that decision. At long last, I'm finished explaining my values to people who are hell-bent on misconstruing them. Among those people are the left's media foot-soldiers, who insist Trump-voting Christians have a "branding problem." They conclude that because we could elect a man like Trump and because the number of Christians in America is shrinking, the two must be inextricable, and the culture wars we now fight are decidedly "post-Christian." Ezra Klein says as much in his latest column at Vox, "The post-Christian culture wars." It seems Klein largely understands why many Christians voted for Trump.
The Number of Democrats Showing Up at Trump Rallies Continues to Stun. President Trump's campaign manager, Brad Parscale, released some very surprising data gathered from attendees at his Tuesday night [11/26/2019] rally in Broward, FL, which is guaranteed to send a shiver up Adam Schiff's spine. Of the 31,177 voters who provided data, 24% were Democrats. The significance of this is monumental. I wonder what the percentage of Republicans attending Democratic rallies is. I imagine it would be low to nil.
President Trump's Broward County Florida 'Homecoming Rally' — 1 in 4 Attendees were Democrats!. President Donald Trump held a "Homecoming Rally" in Sunrise, Florida on Tuesday night [11/26/2019]. [...] Following the rally last night Trump 2020 Campaign Manager Brad Parscale posted this on the attendees. This ought to keep the radical socialists running the Democrat Party up late at night! 24% of the crowd was Democrat and 27% of the crowd was Hispanic.
A dozen document troves that could change the Ukraine scandal if Trump released them. There are still wide swaths of documentation kept under wraps inside government agencies like the State Department that could substantially alter the public's understanding of what has happened in the U.S.-Ukraine relationships now at the heart of the impeachment probe. As House Democrats mull whether to pursue impeachment articles and the GOP-led Senate braces for a possible trial, here are 12 tranches of government documents that could benefit the public if President Trump ordered them released, and the questions these memos might answer.
Esper Did the Right Thing by Chief Gallagher. Congratulations are in order for Secretary of Defense Mark Esper — and the authors of the United States Constitution — over the firing of Navy Secretary Richard V. Spencer. It just can't be acceptable under the American parchment for a member of the chain of command that controls our military to be seen, as Mr. Spencer was, undercutting publicly, or privately, the constitutional commander in chief. Which is what happened in the case of Chief Petty Officer Edward Gallagher.
Good order and discipline. CNN reported that "Navy Secretary [Richard Spencer was] forced out after Trump's war crimes intervention causes division and chaos in military." The Independent said that "the ousted chief of the US Navy has attacked Donald Trump in his resignation letter, telling the president they do not hold compatible views on 'good order and discipline' in the military." Ironically, Spencer was himself fired for violating the chain of command, for undermining good order and discipline. Spencer offered a secret deal to the White House which would have allowed a Navy SEAL [Eddie Gallagher], found to have posed for a photo with the corpse of an enemy combatant, to retire offering "a secret guarantee that Gallagher would be allowed to keep his status as a Navy SEAL, according to the senior defense official." When Spencer's boss found out Spencer was cutting a deal behind his back, he was fired.
Will Joe Biden Take the Fifth in a Senate Trial? Recently, I asked a liberal friend whether Joe Biden would assert his Fifth Amendment rights in an eventual trial before the Senate. "That's never going to happen," my friend sniffed. He went on to mock the "conspiracy theory" that the Ukrainians interfered in the election and the "debunked" theory that Hunter Biden somehow broke a law by taking money from Burisma. "Yes it will," I responded. "The whole theory for impeachment hinges on the assumption that the investigation of the Bidens was just a personal political hit job to help in 2020. If Trump can establish a legitimate law enforcement concern in looking into the Bidens and/or Ukrainian interference in the 2016 election, the whole thing falls apart." And it doesn't stop there. As I've pointed out, the "whistleblower" and Representative Adam Schiff (D-Calif.) have also claimed to have access to secret evidence of presidential wrongdoing. Both have smeared the president in the court of public opinion. Thus, it's only fair that both be asked to show the American people where they got their information.
California Supreme Court knocks down Trump tax requirement for primary run. California lawmakers' attempt to require President Trump to release his tax returns to run in next year's primary came to an abrupt end Thursday [11/21/2019] when the state Supreme Court ruled unanimously that the legislation, sponsored by Democrats, violated a state constitutional requirement to include all "recognized" presidential candidates on the primary ballot. The state law, the first of its kind in the nation, "is in conflict with the Constitution's specification of an inclusive open presidential primary ballot," said Chief Justice Tani Cantil-Sakauye. The ruling came just 15 days after the court heard arguments in the case.
Poll: Trump surges against nearly all Democrats in Wisconsin. Here's one the Beltway punditocracy didn't see coming: Trump is soaring against nearly all Democrats in head-to-head matchups in Wisconsin. According to a Marquette University Law School Poll, which is a generally reliable barometer of voter sentiment in the Midwest, Trump is beating the daylights out of Joe Biden, Bernie Sanders, Elizabeth Warren, Pete Buttigieg and Amy Klobuchar. Only Cory Booker has a measly one-point advantage over Trump and that's within the margin of error. The rest of the Democratic cavalcade of candidates have polling numbers so low it's unlikely their even worth asking about.
White House official sues Politico, targets Schiff's role in impeachment. The impeachment inquiry against President Trump has triggered a wave of charges, countercharges, court battles, subpoenas and legal threats. Now it has produced its first libel suit. A White House official on Monday sued Politico and one of its reporters over stories and tweets that he says falsely accuse him of "lying, deceit and unethical conduct." Kash Patel, the National Security Council's senior counterterrorism director, is seeking more than $25 million in damages in the suit filed in Virginia.
Donald Trump Asks Supreme Court to Block Subpoena for His Taxes. President Donald Trump is asking the Supreme Court to block a subpoena for his tax returns, in a test of the president's ability to defy investigations.
Has the Coup Already Happened? By trying to overthrow the results of a presidential election, the political elite is merely showing its hand; America has an elite that believes it now rules in America. We have an elite that does not accept the American idea of government — government by, for, and of the people. According to our self-selected rulers, the election of Hillary Clinton was the whole point of 2016. They had designated Hillary to succeed Obama. She was to continue the project of fundamentally transforming America that was the focus of the Obama Administration. The voters were supposed to ratify the elite's selection of Clinton. But voters failed to do what they were supposed to do. From their point of view, if you voted for Trump, you let them down. By voting for Trump, you enraged the people who have designated themselves to rule you.
Steve Schmidt: 'Overwhelming Chance' Trump Will 'Dump Pence' in 2020, Replace Him with Nikki Haley. Steve Schmidt, John McCain's 2008 presidential campaign manager, during Tuesday's "Morning Joe" on MSNBC predicted former U.S. Ambassador to the United Nations Nikki Haley could be on President Donald Trump's ticket for reelection in 2020. Schmidt said Haley is "clearly angling for the job" with her new book "With All Due Respect," adding Trump "has an enormous problem with women" that would be solved by the former South Carolina governor being his running mate.
The death rattle of the Never Trump Republicans. Why has [Nikki] Haley come out so strongly in favor of Trump? Why has [Mark] Sanford given up the fight for the nomination? Because both of them accept something that the remaining Never Trump Republicans simply refuse to admit to themselves: The party they once knew and loved, the party that I once admired (while also dissenting from it in numerous areas of policy), is dead and gone, replaced by a party whose voters strongly, overwhelmingly support the presidency of Donald Trump.
Proxy war:
In Defense Of Sean Spicer's Delightfully Talentless Romp Through 'Dancing with the Stars'. Sean Spicer is cruising through "Dancing with the Stars" on two left feet. He's certainly not surviving on the merits of his dancing, and I'm not sure it's his natural charm, either. So what's the deal with Spicey's surge? It's Trump, of course. For one thing, the president of the United States has been using his leader-of-the-free-world sized platform to get out the vote. That helps. But it's also the affiliation. For many, a vote for Spicer is a vote for Trump, and sometimes a vote for Trump is a vote against the haters.
New York Judge Orders Trump To Pay $2 Million For Misusing Charity. New York Judge Saliann Scarpulla ordered President Donald Trump to pay $2 million to various charities Thursday for misusing his own charity organization, according to court documents. Scarpulla accused the president of breaching his obligation to the Donald J. Trump Foundation nonprofit by allowing his campaign staff to plan a fundraiser for veterans ahead of the 2016 Iowa caucuses, thus giving his actions political motive, The Associated Press reported citing the judge's declaration.
Orwellian Fear Reigns in Vermont. [Scroll down] This is not random — this is strategy. The people are diverted away from real problems by useless "solutions" that enrich corporate "stakeholders" and government lackeys. Our nation sees this Democrat ploy in the attacks against President Donald J Trump, labeled the bogeyman to avoid policy discussions or financial analysis. Fear just makes thievery so easy. And what could be easier than reducing all issues — opioids response, environmental policy, economic growth — to just one person?
New poll shows Trump supporters won't be swayed — by anything. Sixty-two percent of people who approve of the job President Trump is doing say that there would be nothing the commander in chief could do to shake their support, according to a Monmouth University poll out Tuesday. On the other hand, 70 percent of those who don't approve of his job performance say there is nothing he could do that would win them over.
The Editor says...
I don't recall seeing a poll like this when Obama was president, but I suspect the percentages would have been higher.
President Trump Loses Appeal To Protect Tax Returns. An appeals court in New York ruled against President Donald Trump Monday, rejecting the president's bid to protect his financial records, including possibly his tax returns, from zealous New York City prosecutors. A three-judge appeals panel for the United States Court of Appeals for the 2nd Circuit issued the unanimous decision, taking pains to refuse the president's argument that his status provides him absolute immunity from grand jury investigations of criminal conduct that allegedly occurred before his election, according to USA Today.
The Number of Democrats Showing Up at Trump Rallies Is Stunning. On Sunday night [11/3/2019], Trump's campaign manager, Brad Parscale, released some very surprising data guaranteed to send a shiver up Democrats' spines. Of the 16,432 voters who provided data, 27% were Democrats. The significance of this is monumental. I wonder what the percentage of Republicans attending Democratic rallies is. I imagine it would be low to nil. This tells us that a certain percentage of Democrats are looking at the weak field of candidates and are searching for an alternative. I would guess many of them are turned off by the injustice of the current impeachment inquiry as well as the party's sharp left turn. It might surprise Democrats to hear that not every Democrat supports impeachment or the vision of a socialist America.
Four White House Officials Defy Impeachment Subpoenas for Testimony. Four White House officials summoned by House Democrat impeachment investigators will not testify behind closed doors Monday, defying subpoenas to appear. John Eisenberg, the National Security Council's lawyer; his deputy, Michael Ellis; Robert Blair, a senior adviser to Acting Chief of Staff Mick Mulvaney; and Brian McCormack, the associate director for natural resources at the Office of Management and Budget, are all refusing to participate in their scheduled deposition Monday.
10 Reasons I Like Donald Trump, From A Female, Former-Democrat Immigrant. As a voter who lives far away from the Beltway bubble, I increasingly find myself harboring an uncomfortable secret: I like Donald Trump, and think he's the perfect president for these times. Now, I know that's a big no-no. In fact, I probably should keep it to myself. After all, the mainstream media has been working non-stop to make me and countless others hate the president and see him as Public Enemy No. 1.
The Impeachment Dog Bites Orange Man Scam. [Scroll down] Specifically, the Democrats and their kept media use the apparatus and reputation of what it calls "intelligence" to veil the fact that the canines who are biting Trump are not run-of-the-kennel bureaucrats acting on their own account and motivated merely by policy views different from his. The secret — the news that the Democrats and the media are hiding in plain sight — is that the attackers are a special breed that attacks as a coordinated pack.
Kim Jong Un is 'fascinated' by Trump, views him as father figure, new book claims. A new book claims to shed light on President Trump's relationship with North Korea and what former President Obama said that Trump could expect when he entered office. Author Doug Wead interviewed Trump on the issue and was able to read some of the personal letters exchanged between the president and his North Korean counterpart, Kim Jong Un.
The Reserve Army of the GOP. At first glance, President Trump's reelection chances don't look good. Stories about impeachment and presidential misbehavior dominate the news. [...] Trump's win in 2016, when some 78,000 voters in three states gave him the Electoral College, was a close-run thing. Seems hard to repeat. And yet liberals are filled with apprehension. They are coming to recognize the potential size of the president's pool of supporters. They fret over the capacities and liabilities of the eventual Democratic nominee. And their concerns are related: Trump's ability to recapitulate or expand his winning coalition depends in large part on the identity of his opponent. Given these uncertainties, it would be foolish to predict Trump's fate. He might even be stronger than he appears.
Lifelong New Yorker Donald Trump and wife Melania declare themselves Florida residents. President Donald Trump and his wife have filed paperwork to change their official residence from New York City to Palm Beach, Florida. Trump quietly filed documents in September with the Palm Beach County Circuit Court changing his primary residence from Trump Tower to Mar-a-Lago, his resort in Palm Beach.
Reversing the Venality of American Politics. [Scroll down] The crassness of our current president might well have offended the aristocratic sensibilities of some of the Founders, but if, as Donald Trump maintains, he is sacrificing a considerable part of his fortune to serve as president, they might find much to admire in him. He is the antithesis of the professional politician they feared, as our first president not to have served in prior political office or the military. The Trump Organization's recent consideration of selling its Washington Hotel property, if carried out, will demonstrate that this president has begun to awaken to the notion that he must do more to avoid the appearance of profiting from his office, a development of which the Founders would have approved.
Anonymous Author Behind Trump 'Resistance' Op-Ed Writes 'Tell-All' Book. The anonymous author of a New York Times op-ed claiming to be part of the "resistance" inside the Trump administration will publish a "tell-all" book on November 18th, according to multiple reports. The soon-to-be-released book, entitled A Warning, is being touted as a so-called "unprecedented behind-the-scenes portrait of the Trump presidency," which claims to build upon the Times article, according to the Washington Post.
The Editor says...
Seems to me that an author who tells all would start by telling us his or her name, on the front cover of the book. We will all know, eventually, who the author is.
Trump says being president has cost him $2B-$5B. President Trump said on Monday [10/21/2019] that being president has cost him billions of dollars in what he could have earned if he didn't run for office. "It's cost me anywhere from $2 [billion] to $5 billion to be president ... between what I lose and what I could have made," Trump said during a cabinet meeting at the White House. "I would've made a fortune if I just ran my business — I was doing it really well." Trump also discussed looking at different locations to host the G7 summit, after the administration reneged on its decision to host the event at the Doral resort near Miami.
Critics not Syria-ous. The House voted 354-60 to condemn President Donald John Trump's decision not to get involved in a dispute between Turkey and Syria. If members were Syria-ous, they would have voted to declare war. Put up or shut up. But 2½ years earlier, these chicken hawks in Washington accused President Donald John Trump of trying to start World War III in Syria.
Democrats Denounce President Trump For Ending Syrian War They Never Authorized. The level of political nonsense today from the House of Representatives is off-the-charts. Speaker Pelosi calls a resolution to the House floor to denounce President Trump for removing 28 troops from a foreign war never authorized by the same House. If Pelosi wants to have a war with Syria, then declare one. Or, Pelosi could call a resolution to the House floor to condemn Turkish President Erdogan for invading Syria. Instead, the House votes to denounce President Trump for getting our military out of the way. The Democrats are the party of war, and a whole bunch of republicans are supporting them. Why? Simply, because war is a big business from K-Street.
Appeals Court Upholds Subpoena For Trump Accounting Records, Teeing Up Supreme Court Fight. The U.S. Court of Appeals for the District of Columbia Circuit upheld a subpoena for President Donald Trump's accounting records Friday [10/11/2019], potentially teeing up a landmark fight between the president and Congress in the Supreme Court. The House Oversight and Government Reform Committee issued a subpoena to Mazars USA LLP after former Trump associate Michael Cohen accused the president of inflating assets and erasing liabilities on federal financial disclosures during testimony before the panel in February. U.S. District Judge Amit Mehta upheld the subpoena in May.
The Rudy Giuliani Interview The Left Doesn't Want You To See. [Video clip]
Report: Trey Gowdy Joins Trump's Legal Team to Fight Impeachment. Gowdy, who retired from Congress last year, represented South Carolina's 4th Congressional District for eight years. The former lawmaker served as House Oversight Committee chairman and oversaw the investigation into former Secretary of State Hilary Clinton and the events surrounding the 2012 terror attack in Benghazi, Libya. Since leaving Washington, D.C., Gowdy joined the law firm Nelson Mullins Riley & Scarborough and signed on as a Fox News Channel contributor.
American Greatness Itself is at Stake in 2020, and Trump Knows It. Democrats and progressives want a secular public square, but Trump and his supporters reflect an earlier America, when it was believed that there could be no order without law, no law without morality, and no morality without religion. That was the view of the framers like George Washington and Alexander Hamilton, and it still resonates in red-state America. Consistent with that view, of course, is that our rights, as Thomas Jefferson noted in the Declaration of Independence, come from our Creator, and not from our government. Those who would remove Trump, in the final analysis, seek not only to remove a constitutionally selected chief executive, but to eviscerate our traditional national ethos.
A Strong Economy Will Trump Impeachment Antics. The Democrats face an insurmountable obstacle in their ongoing quest to oust the president. [...] If the House impeaches him, the chances of a Senate conviction are nil. Thus, the president's fate will be decided in November 2020. Will the voters support an impeached president? If the economy remains strong, he'll win in a landslide. Given the choice between reelecting a chief executive who presided over a robust economy while fending off an illegitimate impeachment and replacing him with one of the Democratic authors of that outrage, the voters will back the president in huge numbers.
President Trump Files Emergency Appeal and Wins Delay in NY Court Fight For His Tax Returns. A Clinton-appointed federal judge tossed President Donald Trump's lawsuit on Monday [10/7/2019] to keep his tax returns concealed. The President filed an emergency appeal and the US Court of Appeals for the Second Circuit on Monday handed Trump a win granted him a stay to delay the release of 8 years of his tax returns. The lawsuit was filed last week by crooked Manhattan District Attorney Cy Vance. The Clinton-appointed judge wrote a 75-page order and called Trump's presidential immunity argument "unqualified and boundless."
Many American Jews Need to Atone for Their Sins against Donald Trump. America has seen many presidents who have been good to Israel and the Jewish people. None has been better than Donald Trump. Beyond doubt, he has done unmatched and extraordinary things for Israel and has publicly spoken against anti-Semitism in the United Nations and repeatedly during his State of the Union addresses. The whole world has seen the priority Mr. Trump bestows on Israel and safety for Jews. Additionally, he and his father were tremendous friends and benefactors to Jews and Israel, much prior to his entering politics. Yet the establishment Jewish organizations and temples have too often falsely maligned him, and liberal American Jewry (about 70% of American Jewry) have been his most vocal critics.
Rudy Giuliani: 'My mission is to disrupt the world' by exposing Dems' 'massive corruption'. Former federal prosecutor Rudy Giuliani says his mission as President Trump's attorney is not only to defend his client against sham left-wing attacks but to "disrupt the world" by exposing the Democrats' decades-long "massive corruption" with both Ukraine and China.
Anti-Trump Fraternity and NeverTrump Sorority Collude in Impeachment Scam. A moderately intelligent six-year-old could see that the whole "Trump-colluded-with-Russia-to-steal-the-election" wheeze was just silly. It did, however, illustrate the power of inertia. For once that narrative was set in motion, once the bureaucracy got behind it and the resources of the federal government — lubricated by a complicit media — were mobilized, it just kept rolling along, getting bigger and bigger like some monstrous snowball thundering down an infernal snowclad mountain slope. It crashed into nothingness only because of the dogged work of a handful of public spirited sleuths, primus inter pares being Rep. Devin Nunes (R.-Calif.), whose work as head of the House Intelligence Committee first brought some of the scandalous details of the plot to rig an election and destroy a presidency to light.
Federal Judge Halts California Law Requiring Trump to Release Tax Returns in Order to Appear on 2020 Primary Ballot. US District Judge Morrison England on Tuesday issued a temporary injunction against a California law which required Trump to release his tax returns in order to appear on the 2020 primary ballot. Last month, the federal judge temporarily suspended the law and announced he would be releasing a formal written injunction by October 1st. On Tuesday [10/1/2019], Judge Morrison, a George W. Bush appointee, released a written opinion and argued the law signed by Governor Gavin Newsom violated the Presidential Qualifications Clause contained in Article II of the US Constitution and violated the Constitution's Equal Protection Clause as set forth in the 14th Amendment.
Confirmed: PM Told Trump Australia Would Assist Probe Into Origins of Russia Probe. The Australian government confirmed on Tuesday that Prime Minister Scott Morrison in a phone conversation with President Trump reaffirmed Australia's willingness to "help shed further light on" investigations into the origins of the Mueller investigation into Russian election meddling. "The Australian government has always been ready to assist and cooperate with efforts that help shed further light on the matters under investigation," a spokesman for the prime minister said in a statement. "The PM confirmed this readiness once again in conversation with the President."
Political Realignment Is Coming to America. Just over three years ago, presidential candidate Hillary Clinton, speaking at a fundraiser in New York City, characterized half of Donald Trump's supporters as a "basket of deplorables." And for more than three years, Trump, along with everyone who supports him, has been subjected to passionate hatred from nearly everyone who would rather have seen Clinton elected. [... But] There are a surprising number of liberals, progressives, and even socialists, who are not only anti-Clinton, but are begrudgingly, and increasingly, capable of seeing the positive side of the Trump presidency.
Transcript of Trump-Zelensky call released, impeachment now likely. With the release this morning of the unredacted transcript of President Trump's July 25 call to Ukraine President Volodymyr Zelensky, the bait has been set in a trap, and the House Democrats are very likely to vote to begin impeachment proceedings for President Trump. President Trump and his advisors hastened to release it because the[y] now want impeachment. There is no quid pro quo offer or demand in the call and no mention of military aid, but there is plenty of expression of Trump's desire to have the affair investigated.
Hypocrite Democrat Senators Wrote Ukraine Last Year to Investigate President Trump. On Tuesday Democrat Speaker Nancy Pelosi announced impeachment investigations against President Donald Trump for allegedly putting pressure on Ukrainian President Zelensky to investigate the Biden Crime Family for laundering hundreds of thousands of dollars from Ukraine. The bogus accusations were based on hearsay from an anti-Trump "whistleblower" who supports a rival political opponent.
Whistleblower Scandal Has Fusion GPS Connection and Suspicious Timing. After the Russiagate hoax didn't work, and the fake racism charges fell to the wayside, the anti-Trump movement came up with the Ukraine phone call whistleblower scandal in their efforts to push Donald Trump out of the Oval Office. What they didn't anticipate is that the scandal is snapping back on Joe Biden, the Democratic Party, and the Hillary Clinton Steele Dossier may be the next to receive a dose of Ukraine whistleblower hoax Karma. And in the end, the entire phone call scandal may just be a way to divert attention away from the upcoming Horowitz report regarding FISA abuse.
Corruption blinders of the media and other Democrats. From this story, it appears that the media and other Democrats believe that every phone call that Trump makes to a foreign leader should become public knowledge if any bureaucrat makes a whistle blower report when they disagree with something the president does. That would certainly be cumbersome, and foreign leaders would no longer want to have discussions if every discussion could be made public.
Leftist NY judge orders Trump to give video deposition in protesters' lawsuit. On Friday [9/20/2019], a progressive New York Supreme Court judge presiding over a lawsuit ordered President Trump to give a videotaped deposition, saying Trump's testimony is "indispensable." State Supreme Court Judge Doris Gonzalez of the Bronx denied Trump attorneys' efforts to halt the subpoena requiring him to videotape a deposition for the trial before jury selection begins September 26. The suit was filed by protesters "involved in an incident" outside Trump Tower in September 2015, claiming they were assaulted by security staff.
Reports Identify The Country At Center Of Mysterious Trump Whistleblower Complaint. The Trump phone call at the center of a mysterious intelligence community whistleblower complaint reportedly involves Ukraine. Both The Washington Post and The New York Times report that an intelligence official who worked in the White House filed the complaint Aug. 12 after growing alarmed about the details of a phone call that President Donald Trump had with Ukrainian President Volodymyr Zelensky, citing two people familiar with the matter.
The Editor says...
Is there something wrong with the President having a conversation with another head of state? That's his job!
Barack Obama takes aim at Donald Trump telling a tech conference 'not watching TV or reading social media' is his advice. Twitter and TV can 'cloud your judgement' as president, former President Barack Obama said in a not-subtle dig at President Donald Trump during a speech to a high-tech conference in San Francisco Wednesday [9/18/2019]. The president made the remarks at a conference for big data software firm Splunk, a day after Trump breezed through town for $100,000-per-couple fundraiser in Palo Alto. He said as president he benefited by hearing from a team 'with a diversity of opinion.' 'The other thing that is helpful is not watching TV or reading social media,' he quipped, in a reference to Trump's regular TV viewership and Twitter focus.
The Editor says...
Barack H. Obama once said, "I spend most of my time watching ESPN in the morning." [Source]
'It Was Just A Rant': Lewandowski Stonewalls House Judiciary Democrats. During a House Judiciary Committee hearing on Tuesday [9/17/2019], former Trump campaign manager Corey Lewandowski would not give Democrats an inch, balking at their questions about President Trump's alleged attempts to obstruct special counsel Robert Mueller's investigation. Lewandowski even dodged questions that fell within the narrow scope of what the White House permitted to him to testify about, as he at times he refused to affirmatively confirm minor facts in Mueller's report. "It was just a rant," Lewandowski said of Rep. Sheila Jackson Lee's (D-TX) requests that he at least acknowledge quotes from Mueller's report displayed on a screen in the hearing room.
Lewandowski: 'Fake Russia Collusion Narrative Is the Greatest Crime Committed Against' Americans. Former Trump campaign manager Corey Lewandowski told the House Judiciary Committee Tuesday that the "fake Russia collusion narrative is the greatest crime committed against the American people in our generation, if not ever." Rep. Mike Johnson asked Lewandowski to elaborate on his assertion that the investigation is a witch hunt.
Illegal Aliens Sue Trump Administration To Ensure They Can Get Taxpayer Money Via Welfare. Two illegal aliens who were granted the right to stay in the United States by Barack Obama have filed a lawsuit against the Trump administration to make sure they can continue to receive taxpayer money in the form of welfare and still be able to obtain green cards to permanently stay in the country. "The open borders group CASA de Maryland and two DACA illegal aliens are suing the Trump administration over its soon-to-be enforcement of the 'public charge' rule, which would save American taxpayers billions by effectively ending welfare-dependent legal immigration to the U.S.," Breitbart reports.
Trump's Plastic Straws And Sharpies Are Netting His Campaign Nearly $1 Million In Cash. President Donald Trump's move to sell merchandise as a means of piggybacking off his recent media antics has managed to net his campaign nearly $1 million in donations. The campaign has sold nearly 55,000 packs of plastic straws, netting over $823,000 in sales, whereas campaign officials have sold about $50,000 worth of Sharpie pens, campaign communication director Tim Murtaugh told The New York Times.
U.S. appeals court rules against Trump in foreign payments case. A U.S. federal appeals court on Friday [9/13/2019] revived a lawsuit alleging President Donald Trump violated the U.S. Constitution by profiting from foreign and domestic officials who patronized his hotels and restaurants, moving a watchdog group closer to obtaining financial records from his real estate company.
Donald Trump Mocks 'Loser' Primary Challenger Mark Sanford for Appalachian Trail Scandal. President Donald Trump ridiculed Mark Sanford after the former Governor and Congressman announced his decision to challenge him for the Republican presidential nomination in 2020. Trump recalled the bogus "Appalachian trail" cover-up of the governor visiting his secret mistress in Argentina which was exposed in 2009.
Assume nothing: Will President Trump keep Mike Pence on the ticket in 2020? Any contemporary challenger from the GOP faces a mountainous hurdle, taking on a president with upwards of 90% Republican approval, even one with Trump's steady but lackluster job approval record. Unnoticed, for now, is any discussion of Trump's vice presidential running mate in 2020. The natural assumption is he'll stick with Vice President Mike Pence. Assumptions in politics are always dangerous. Ask Hillary Clinton about her presumed 2016 victory. And assumptions are especially dangerous when they involve a mercurial chief executive who values unpredictability and wants to win at any cost.
The Editor says...
Here's what Donald Trump needs to stop all the impeachment talk dead in its tracks: Vice-President Ted Cruz.
Why There Is No Justification For Forcing Taxpayers To Pay For Art. An opinion article in The Baltimore Sun last week criticized President Donald Trump's record of musicians and other artists he's invited to perform at the White House. It's apparently zero. The article commits a number of digressions and blunders: It engages in remote psychology by speculating on Trump possibly having "musical anhedonia"; its closing charge seems to confound refinement with some degree of moral virtue; and the author grounds the meaningfulness of music in its service of "evolutionary goals."
Low-level terrorism:
Rashida Tlaib's Palestinian Grandmother Casts a Spell Over President Trump: 'May Allah Ruin Him'. Rashida Tlaib's Palestinian grandmother, Muftia Tlaib, cursed President Trump in Arabic after he said she was the only winner in the decision by her granddaughter to not visit her in the West Bank after a back and forth with Israel about whether the anti-Israel Democrat Rep. Rashid (MI) would be allowed by Israel to enter the country and also visit the Palestinian territories. The 90-year-old grandmother made these remarks during an interview with Reuters.
MLK's niece denounces Democrats' 'race baiting' of Trump. The niece of civil-rights icon Martin Luther King Jr. has a question for Democrats who accuse President Trump of being a white supremacist. "I'd like to ask anyone who calls him that — have they ever met one?" Alveda King said Thursday [8/8/2019]. Ms. King, a Trump supporter, said on Fox News that she knows all about white supremacists. "I've had the experience of going head-to-head with genuine racists," she said. "Back in the 20th Century, I was a youth organizer. At the time, my uncle, Reverend Dr. Martin Luther King was killed [in 1968]... I was in a home that was bombed. A racist is a person who really does believe that their race, their category of humanity, is superior or different." She said Mr. Trump "is not a racist."
Never Trump quandary: When you want Trump to lose but can't bear his Democratic opponents. The Democratic debates have been hard on Never Trumpers. The small but vocal group of Republicans and former Republicans who oppose President Trump has watched in horror as Democrats veered leftward, embracing "Medicare-for-all," virtually open borders, sky-high taxes, and other positions no conservative could ever accept. The Never Trumpers see disaster coming in the form of the president winning reelection over a Democrat who moved too far left for the American voter. So they issue warnings. The Democrats' performance in the most recent debate was "worse than farcical," the New York Times' Bret Stephens wrote. "It's tragic. It will make the Trump campaign's job of selling the president as the non-insane option in next year's election shamefully easy."
Presidency Inc. The president is one of the most known personalities in America today, subjected to fierce and constant exposure well beyond the dry newspaper copy and fireside chats of yore. And if Americans have pioneered one thing in the 21st century, it's how to monetize fame — and not just fame, but attention, with every second of our day competed for viciously by data-crunching online advertisers. The president, because we've made him omnipresent, thus has tremendous money-making potential. That's why even the obsessively anti-Trump CNN can't seem to take its eyes off of The Donald: he moves product, just as Obama did for Fox News. We've turned the presidency into a business, and it makes sense that it isn't just the middlemen who want to cash in.
Donald Trump at the Overton Window. Trump attacks "the squad" not because they are female or "people of color," but because the are anti-American fanatics. He attacks Elijah Cummings not because he is black but because he is a corrupt pol who has done ill by his district. He attacks Sharpton not because he is black but because he is a race-baiting con-man. Donald Trump is an equal opportunity scourge. He doesn't care if you are black or white, male or female, if you behave badly and violate the public trust, he will call you out, baldly.
Proud of yourselves, lefties? Leftists turn 'deplorable' beauty queen into Trump magnet. Simply for liking President Trump, the left was going to make an example of that deplorable 20-year-old. They were going to make her pay. And for awhile there, they got away with it. Young Kathy Zhu, the newly crowned Miss Michigan, lost her title on account of her "offensive" tweets. The press went through every last one of the crown winner's tweets over the years and found a couple they decided were 'offensive,' 'racist,' and 'insensitive,' broadcasting those. After that, the Miss World pageant organization de-throned her. Justice. The left triumphs. That'll teach those Trump-supporting deplorables their lesson. Except that now in place of a mere beauty queen, the left has got a Frankenstein's monster on their hands. Zhu has been offered a prominent place on the Trump 2020 campaign.
Aide fired after fake presidential seal displayed next to Trump at Turning Point USA event. An aide has been fired after President Trump took the stage at a Turning Point USA event earlier this week in front of a doctored presidential seal that featured pro-Russian imagery and said "45 is a puppet." White House spokesman Judd Deere told the Associated Press officials "never saw the seal" before it was projected on a screen behind Trump as he was introduced Tuesday at Turning Point USA's teen summit. The altered seal appeared on the projector screen for at least 80 seconds behind Trump before it was taken down, the Washington Times reported.
President Trump Awards International Religious Freedom Award to Muslim Imam. Conservatives are told that President Donald Trump is a racist on a daily basis by the MSM. So, leftists can pardon our confusion when we read on the State Department's page that Trump's administration honored a Muslim Imam from Nigeria. It seems completely contradictory for an Islamophobic racist to honor a Muslim from an African nation. In fact, the list of this year's honorees for the International Religious Freedom is quite diverse: Muslims, people of color, and women. I encourage you to [...] read about all the deserving honorees, but I want to focus on Imam Abubakar Abdullahi of Nigeria who put his own life in danger to protect Christians fleeing from persecution.
The hopeless Never Trumper running against Trump. The Weld 2020 campaign site features an old photo and raw video of his campaign announcement. It's early July and the latest update on the site is from the beginning of May. That's incompetence as usual in the hopeless campaign by the former Massachusetts governor which is being run by his stepson. The Never Trumper competing against President Trump for the 2020 GOP nomination claimed back in March that he could "start Monday in the Oval Office." Three months later, he barely has a website.
Epstein plea deal rehash: A political strategy to turn people, who have moral scruples, against the President. After the Russian collusion scam collapsed, Democrats and their media accomplices were looking for anything to impugn the President's character. So they dug up the Epstein plea deal to impugn Acosta's character and, by association, the President's. Bear in mind that the Epstein plea deal only became a problem after Acosta became part of the Trump administration. That's because the rehash of the plea deal isn't about justice; it's about politics. It's just more of the same old "get Trump" operation that started by illegally spying on the Trump campaign.
The NeverTrump-Left Alliance Crumbles. The political misfits known as NeverTrumpers are begging for allies ahead of next year's presidential election — and, as usual, they aren't looking to the Right. This collection of failed magazine editors, Iraq War propagandists, washed-up columnists, Russian collusion pimps, and losing campaign consultants have dogged Donald Trump and his supporters for three years. While some anti-Trump "conservatives" who contributed to National Review's infamous "Against Trump" issue in early 2016 have become supporters of the president, others cannot let go — but their obstinance is less about principle and more about grift: Acting as the useful conservative idiot for the Washington Post or MSNBC has breathed new life into once stale careers and burned reputations.
The right to Trump tweets. The Second Circuit has affirmed a district court decision holding that President Trump cannot block his critics on Twitter. Plaintiffs wanted to get Trump's tweets directly and contended that their inability to view, retweet, and reply to Trump's tweets limited their ability to participate with other members of the public in the comment threads that appear below the President's tweets. The court agreed in a 29-page opinion [...]
Florida Democrat Who Has Never Won An Election Declares Trump Supporters To No Longer Be Christians. One of the more interesting revelations... and I choose that word carefully... over the past three years has been the assertion by NeverTrump, that a Christian who votes for Trump, no matter the reason, can't really be a Christian. Though, presumably, a Christian who voted for Hillary Clinton was just fine. This is because that Trump is so uniquely odious as a politician because he let a woman drown to cover his drunk driving of his hair style and mannerisms and, supposedly his serial infidelities (or so the thrice married Charlie Sykes and adulterous Joe Scarborough tell us) that no one's soul is safe who voted for him. [...] This nonsense is going to last as long as Trump is in office. Maybe longer.
A stain on the Lincoln Memorial. The white marble steps of the Lincoln Memorial are a sacred place for America. And they're about to get stained. It's the place of reckoning for our great nation's original sin — the practice of slavery and the segregation and racism that still rock this country today. And it's a place that honors sacrifice and the earth-moving impact of eloquence on American history. Now a showman with no appreciation for that history is going to squat on that spot this July Fourth.
The Editor says...
How very dramatic. I suppose the monuments in Washington really are sacred, if you're a humanist, and the government is your god. But the writer (of the article immediately above) seems to have forgotten all about Barack H. Obama's highly political speech at the Lincoln Memorial on August 28, 2013.
Trump delivers July 4 speech saluting the US military and free of political statements. President Trump appeared to stick the script and delivered a Fourth of July speech saluting the five branches of the U.S. military. The decision to hold this "Salute to America," which included flyovers from military planes and the presence of tanks of the National Mall, drew considerable controversy in the days leading up to it, including concerns about the militarization of the holiday and the cost. An estimated $2.5 million was spent by the National Park Service to fund Trump's event. Still, when it came to the speech itself, Trump sidestepped saying anything overtly controversial.
Obnoxious tanks? What does MSNBC think 'rockets red glare, the bombs bursting in air' means? The resistance to President Donald Trump has become so toxic that nothing is off-limits when it comes to finding reasons to denigrate the president, not even the 4th of July. [...] With Trump getting involved in the annual 4th of July celebration in Washington, an MSNBC panel took great exception to plans to display brand new Abrams tanks — the president toured the manufacturing plant in Lima, Ohio, in March and heaven forbid he should be proud of what is being produced. Of course, what really irks the left is that Trump opted to get involved in the annual event, and is putting his own stamp on the festivities.
The Steele Dossier Has Been Discredited — Is the IC Report Next? The three-year orchestrated campaign to discredit Donald Trump and destroy his presidency is littered with sketchy reports authored by partisan characters motivated by power and revenge. From the Steele dossier and the personal memos of former FBI Director James Comey to Special Counsel Robert Mueller's report, a trove of dubious documents is burnished as compelling evidence to show the president is an illegitimate occupant of the Oval Office, a Kremlin stooge, or worse, a criminal in plain sight trying to subvert the rule of law and torch our democracy. What truly should alarm Americans — and, one hopes, interest future historians far removed from this debacle — is how these clearly questionable materials earned the imprimatur of the world's most powerful law enforcement and intelligence agencies.
Justice Department sues former Trump staffer Omarosa Manigault Newman, seeks $50,000 penalty. The Justice Department filed a lawsuit Tuesday [6/25/2019] against Omarosa Manigault Newman alleging that the former "Apprentice" star who served as an adviser to President Donald Trump before becoming a prominent critic of his administration failed to file a financial disclosure report after she was fired from the White House. In a civil complaint filed in federal court in Washington, the department said Manigault Newman failed to file the report despite several emails reminding her to do so. Such a report is required of employees who leave government jobs. The Justice Department is seeking a $50,000 penalty against Manigault Newman.
Woman Who Claimed Trump Raped Her Backtracks, Makes Insane Statement Even CNN Can't Handle. In a new book, advice columnist E. Jean Carroll claims Donald Trump raped her in a dressing room stall nearly 25 years ago. As soon as she made her claim, the Democrat media complex jumped all over the story and gave it credibility. [...] Last night [6/24/2019] during an interview with CNN, Carroll backtracked her claims and then made an insane statement about rape.
Trump Rape Accuser, E Jean Carrol, Has a Rather Unusual History of Perspectives on Men. E Jean Carrol made headlines recently with her rather bizarre and sketchy claims of a forced sexual encounter with Donald Trump in a Bergdorf Goodman dressing room two decades ago. President Trump denies even knowing who she is... but the media, well, you know, OrangeManBad; so anything goes. In addition to personifying an abject lack of credibility Ms. Carrol just imploded on CNN with Anderson Cooper, explaining her definition of rape is not sexual, nor doe it include sex. However, before getting to that recent development, a historic reference to Ms. Carrol is, well, weird. [...]
Anderson Cooper cuts to commercial after Trump accuser E. Jean Carroll calls rape 'sexy'. CNN host Anderson Cooper moved quickly to a commercial break when the woman who has recently accused President Trump of assaulting her in the mid-1990s suggested that rape was "sexy." Cooper had asked writer E. Jean Carroll, 75, if she felt like she was a victim. During a discussion of her allegations with the CNN host, Carroll maintained that there was nothing "sexual" about her alleged rape in the dressing room of a New York department store. "I was not thrown on the ground and ravaged," Carroll said, denying that she was a victim. "The word rape carries so many sexual connotations. This was not sexual. It just hurt." Carroll described the alleged event between Trump and her as a "fight" rather than "rape."
Dangerous Derangement. America cannot continue as a republic without the acceptance that one party routinely will be turned out of office. Democrats no longer accept that bedrock principle of American liberty. They see themselves as the only party entitled to govern. "Trump Derangement Syndrome" and the Russian collusion frame-up are two faces of the same coin: Democrats now reject the orderly succession of power through duly constituted elections. Democrats have whipped the nation into mass hysteria for three years. It's a destructive game, manipulating people into a rage until Americans see each other as enemies. Most dangerous of all, driven by the social justice agenda of Obama progressives, Democrats are purposely delegitimizing our democratic institutions.
Biden's Correct, Trump's a Threat to Democracy. "Our democracy is at risk. I never thought I would say those words. But it's true. Everywhere you turn, Trump is tearing down the guardrails of democracy," said Biden. I wish I could have run up to the place where Biden was speaking into that microphone to pat him on the back and congratulate him on such a wonderful statement. The problem is, he followed his statement with a sentence that wasn't exactly true, ruining the moment. "It's the abuse of power. And if there is one thing I can't stand — it's the abuse of power." Realize, those words came out of the mouth of the man who served as Vice President of the United States under President Barack Obama, one of the worst abusers of presidential power in history. When we recite the Pledge of Allegiance we don't pledge to the flag of the democracy for which it stands. The United States of America, a voluntary union of states who came together to form a mighty country, was never intended to be a democracy. The Founding Fathers designed our system to be a republic, and a very unique one at that.
Does anyone doubt that Trump is the Rocky of American politics? President Trump's rally on Tuesday [6/18/2019] to officially launch his 2020 campaign for re-election was a tour-de-force. The twenty thousand people in the arena, along with the thousands of people outside watching on jumbo screens were all on the same page: He has been a great President these past two and a half years and they want more of the same.
The Editor says...
Reuters posted a deliberately misleading series of crowd photos, making it look like there were maybe two or thee hundred people present, and almost that many press photographers. When Trump speaks about fake news, this is what he's talking about.
U.S. embassies defying Trump admin by flying 'gay pride' flag: 'This is category one insurrection'. The U.S. diplomatic corps, much of which hails from far-Left Ivy League institutions, has been the most defiant when it comes to obeying POTUS Donald Trump's policies, as evident by the fact that several American embassies have hoisted the "gay pride" rainbow flag in defiance of the president. After the Trump administration formally denied requests from multiple United States embassies to hoist the LGBT flag in honor of "Pride Month," several of them, along with other diplomatic missions, are doing it anyway. As reported by the Washington Post, several U.S. embassies are finding ways to either defy or show opposition to, the White House's instructions.
Looks like libs trying to nail Trump family for Europe trip on taxpayers dime will be sorely disappointed. While there is nothing "inherently untoward about such arrangements," as noted in the Washington Post, there is much ado being made in the anti-Trump media about who foot the bill for President Donald Trump's family to join their father this week during his state visit to the United Kingdom. Unfortunately for the cabal, according to a source who spoke with the Daily Mail, his sons, Donald Jr., Tiffany and Eric, and his wife, Lara, paid their own way.
The Editor says...
The people who suspect Donald Trump may have taken his family on a taxpayer-funded junket are the same people who looked the other way when Obama did exactly that, on multiple occasions.
Democrats To Fly Psychiatrists To Washington To Question Trump's Mental Health. Democrats want to bring a panel of psychiatrists to Washington to suggest that President Donald Trump is mentally unfit to be president. Kentucky Democratic Rep. John Yarmuth has been tasked with coordinating the project, now planned for July, the Washington Examiner reported Wednesday [6/5/2019]. "We're planning to put together an event ... a town hall. We haven't actually determined the format," Yarmuth said. Dr. Bandy Lee, a persistent critic of the president who believes Trump's state of mental health makes him unfit for office, is slated to lead the team of psychiatrists.
Dems fume over Trump plans to address public from Lincoln Memorial on July 4. Democrats on Capitol Hill are fuming over President Trump's plan to deliver a speech at the Lincoln Memorial during the traditional July 4th celebration on the National Mall, saying the event should appear non-political. The U.S. Park Police confirmed this week that Trump planned to attend this year's celebration, which typically brings thousands to the nation's capital. "President Trump's efforts to insert politics into a celebration of our nation's history is extremely alarming," House Majority Leader Steny Hoyer, D-Md., said in a statement on Thursday [6/6/2019]. "Forcing taxpayers to foot the bill for what amounts to a political rally is irresponsible and a misuse of funds. I strongly urge the president to reconsider his proposed event."
The Editor says...
Perhaps Mr. Hoyer has forgotten about Barack H. Obama's highly political speech at the Lincoln Memorial, August 28, 2013.
Evangelical pastor apologizes for 'hurt' caused by praying for Trump during unscheduled visit. The pastor of McLean Bible Church apologized for hurting some members of his congregation by praying for President Trump during an unscheduled visit. Trump visited the northern Virginia church on Sunday on his way back to the White House during a golf outing. His appearance at the church came the same day that evangelist Franklin Graham called for a special day of prayer for Trump. Pastor David Platt said Trump's visit was unexpected and he didn't have time to think through his actions.
The Editor says...
Suppose the "pastor" did have time to think through his actions. What would he have done differently? Would a pastor refuse to pray for Mr. Trump (or anybody else) because he was unworthy of prayer? Is the pastor leading a church or a left-wing social club? Is the pastor a Christian, or just a Master of Ceremonies?
Exposing the RINO Underground By Smoking Out the 'Never Trumpers' One-by-One. It took a complete outsider with political views no one completely knew, and in whose consistency no one could be completely certain, to come in and change not only Washington but to save the Republican Party. Most fair-minded sincere Republicans who legitimately doubted in 2016 whether Trump would be true to his promises and remain sincerely consistently conservative have come aboard, fully persuaded by now that he truly is the first real Republican conservative President since Reagan and thus only the second in nearly a century. But what of the others?
Regretful Trump voters hard to come by in Michigan. Robert Rasch had never voted for president before 2016. Then Donald Trump came along, and finally there was a candidate he could get excited about. Rasch admired Trump's business background and political courage. "For somebody to stand up and run for president that has no political background, that's a set of brass," he said. Rasch is one of millions of so-called lost voters whom Trump coaxed back to the voting booth in 2016. Rasch has already decided he'll be voting for Trump again in 2020, based largely on the president's stewardship of the economy.
Britain decides no palace stay or parliamentary speech for Trump in low-key state visit. Opening his speech to British parliamentarians in 2011, President Barack Obama said, "I have known few greater honors than the opportunity to address the Mother of Parliaments at Westminster Hall." It is an honor that will not be extended to President Trump next week during his first state visit to Britain, one of a number of differences from the trips made by his predecessors.
Why obstruction and cover-up charges smack of desperation. [Scroll down] This cloud of supposed collusion, a crime that never happened, hung over Trump month after month until it dragged on for years. For someone who's innocent, it would obviously begin to look like the fix was in. Trump's alleged conversations about trying to switch out Mueller, as documented in interviews with the special counsel, could fairly be interpreted as attempts to seek justice, not to obstruct it. The story would be entirely different, of course, if Trump had turned out to be Putin's agent — and for two years, I and many others fully suspected that could be the outcome of the Mueller probe, based on all the leaks and reporting. But it wasn't the case. Those who think Trump is unfit for office, or who otherwise oppose him, might carry more weight if they publicly acknowledge that they chased their tails for two years and, when they finally snagged it, realized they hadn't captured the enemy. Then, they could more credibly move forward to another focus, such as targeting the Trump policies they find objectionable.
Gallup: Trump Approval 42%, Congress Approval 20%. The latest polling data from Gallup show that President Trump's job approval rating is at 42% and Congress' job approval is less than half of that at 20%. In the Congress, Republicans dominate in the Senate (53-47) and Democrats dominate in the House of Representatives (235-198). Gallup's numbers for the president's job approval are from May 12, 2019, and are based on daily tracking averages and periodic multiday polls, according to the survey firm. As of May 12, 42% of Americans approve of Trump's job performance and 52% disapprove.
Trump Correctly Cannot Work Productively With People Aiming to Destroy Him. Anyone who ever has been in any business or profession knows the difference between the challenges of trying to get something done with others who have differing, even competing, goals versus the utter impossibility of accomplishing anything serious and meaningful with people bent on personal vendettas of destruction. When Trump tries to engineer a revamped trade deal with Mexico and Canada, he knows that each side will negotiate to achieve its respective goals. [...] By contrast, when dealing with Democrats driven by an insane desire to impeach Trump or "at least" to destroy him personally — to ferret through his personal taxes, to go after his family and associates, to concoct one hoax after another aimed at bringing down his very reputation and raising preposterous specters regarding treasonous collusion with enemies or engaging in "cover-ups" — there is no point in his proceeding with them. No matter what is agreed, they ultimately will sabotage him and the agreement.
Donald Trump — A Triumphant President: A Psychoanalyst's Observations and Opinions. In my opinion, Trump's obvious narcissism is a prominent thread within the complex skein of his remarkable ego strength and type A personality. A strong ego is not egotistical in the common-sense usage of the expression "big ego," but indicates accurate intuition, street-smart intelligence, and judgement. Strong enough to withstand the attacks of bitter Democrats who never thought Trump would win the presidency. Strong enough to take on "the swamp" of Washington politics, politically correct liberal university professor enemies, and a massively anti-Trump and vicious liberal American press.
Alexandria Ocasio-Cortez Calls For Lindsey Graham To Resign. On Tuesday [5/14/2019], New York Rep. Alexandria Ocasio-Cortez joined a trending-on-Twitter call for Sen. Lindsey Graham to quit Congress. And why? Because Lindsey told Donald Trump Jr. not to yap it up to investigators. Last week — just a day after Mitch McConnell'd given the Mueller probe the ol' "Case closed" — news broke that Senate Intelligence Committee Chairman Richard Burr had subpoenaed the President's son. Therefore: Not so closed.
Trump's Greatest Show of Power Lies in His Reluctance to Use Power. Secretary of State Mike Pompeo canceled a trip to Berlin this week and instead made an abrupt visit to Iraq. There he met with the Iraqi Prime Minister and President to brief them on the latest U.S intelligence regarding threatening behavior from the Iranians. Up to this point, it has not been publicly disclosed what intelligence personnel believe the Iranians are doing that has administration officials concerned.
Democrats Continue Presidential Harassment — Committee Chair Subpoenas Trump's Tax Returns. Democrat House Ways and Means Committee Chairman Richard Neal issued a subpoena Friday for President Trump's tax returns. Demmocrats want the billionaire's returns so they can find something to attack him with. Trump knows this and refuses to release them.
Trump's Homemade Media Strategy Is Genius and Dumb. When it comes to White House media strategy, President Trump is an absolute genius. And his own worst enemy. There's an excellent reason why his communications directors — all five of them — have come and gone so quickly. And there isn't one now. Trump not only thinks he knows more than they do. He knows he knows more than they do. And guess who's the boss in a president's shop.
Ocasio-Cortez suggests Trump [is] 'vulnerable to shady activity' due to alleged business losses decades ago. Rep. Alexandria Ocasio-Cortez said President Trump may be "vulnerable to shady activity" after a report claiming he lost billions of dollars from his businesses over three decades ago. The New York Democrat offered up her two cents on Twitter concerning a New York Times report that alleged that Trump claimed to have lost $1.17 billion from his real estate businesses on his federal income tax returns for the decade between 1985 and 1994.
What did she say that isn't absolutely true?
[#1] Trump's tax returns from the 1980s are irrlevant and immaterial. [#2] What was Obama doing in 1985?
Is A Major Real Scandal About To Break Soon? With the Bill Clinton/Monica Lewinsky scandal, at least there was a stained dress. With Watergate, at least there was a burglary, hush money and an enemies list. With this hoax, nothing... not even Russia. The whole Mueller investigation was launched on phony grounds. So why persist? The two main culprits are Jerrold Nadler and Adam Schiff who are basically nobodies hailing from districts where a sea slug with a "D" after its name will win an election. It provides them with daily press opportunities to feed their worthless egos. Nixon was accused of going after his political enemies, but what are Schiff and Nadler doing?
White House Correspondents' Dinner Replaces Comedy With 'Dark Sermons'. Speakers at Saturday night's White House Correspondents' Association dinner struck a somber tone amid signs that the once ultra-trendy, star-studded "nerd prom" just isn't the event it once was. President Donald Trump announced several weeks ago that he would not appear at the annual event — which technically raises money for journalism scholarships and awards achievements in covering White House-specific events — for the third year in a row. For the first time, however, the president said all senior members of the White House staff will "boycott" the event. White House officials, including press secretary Sarah Huckabee Sanders, instead appeared alongside the president at a rally Saturday night [4/27/2019].
Ad prices for Trump's favorite TV shows soar 400% in clamor to appeal to audience of one. First come the president's own words. "America will never be a socialist country," he says. Then the voiceover. "You are right, Mr. President," the spot says, deploying flattery before pivoting to warn that his administration is considering "socialist" price controls on medicines that would thwart innovation and investment. This would all be unremarkable in the world of political advertising were it not for the fact that the spot was made by Americans for Tax Reform to run only in the West Palm Beach, Fla., television market over Easter weekend when President Trump was staying at Mar-a-Lago.
Trump: 'Faith and Family, Not Government and Bureaucracy, Are the Center of American Life'. Americans worship God, not government, President Donald Trump said Friday [4/26/2019] in an address to the National Rifle Association (NRA). In his speech, Trump declared that "faith and family" constitute the foundation of life in America.
What Trump is guilty of. Donald Trump, the president of the United States, behaved as any innocent man would, behave having been framed by fabricated propaganda prepared by foreign intelligence agents and paid for by his political enemies. He behaved as any innocent man might when prosecutors hounding him were enabled and appointed by his political enemies. He behaved as any innocent man might when he realized that his prosecutors included the chief counsel of the Clinton Family Foundation and Barack Obama's deputy assistant attorney general and that the chief witness against him was represented by Hillary Clinton's longstanding lawyer whom the Washington Post called "The Ultimate Clinton Loyalist." He acted as any innocent man might who realized that his home, phone lines, offices, and associates were being spied on, wiretapped, surveilled, followed, photographed, and even infiltrated by paid spies and foreign agents sent by his domestic political enemies who deliberately set him and his family up in a sting operation. Meanwhile, the selfsame people vehemently denied that the spying took place.
President Trump Should Never Publicly Release His Tax Returns. There is no benefit that any reasonable, fair-minded person now will achieve for herself, her spouse, her children, her parents, or anyone else by seeing Donald Trump's tax returns. There might have been a benefit when he first sought the Presidency — for example, to know whether he had financial interests that would conflict with his loyalty to America's primacy — and the voters then could have rejected his candidacy in 2016 for that refusal to disclose. The matter was litigated thoroughly during the 2016 elections, and the voters chose him anyway.
Why do the least-bright people rise to the top? Why would a truly intelligent and informed person, knowledgeable about world and American history, want to subject himself or herself to the cesspool that is American politics? Why put their family at risk of a reputational assault like Brett Kavanaugh suffered? Remember what Clarence Thomas endured at the hands of a racist left that could not abide a brilliant black conservative. The Left embraces, has long embraced, thugs like Ted Kennedy, Bill Clinton, Tom Perez, Tom Steyer, Chuck Schumer, Dick Durbin, Sheldon Whitehouse, Dick Blumenthal, but rises to blubbering outrage at Trump! Donald Trump is the nicest, most authentic real man when compared to the throng of leftist thugs. He may not be the most eloquent of presidential speakers, but he is the real deal, a real man in the true sense of the word; imperfect but in the end selfless, a true patriot and a great President.
34% at Trump's Michigan rally were Democrats. Brad Parscale, Donald John Trump's 2020 campaign manager, told Jesse Watters last night that 34% of the people who attended the president's rally in Grand Rapids were registered Democrats. Parscale knows that because people needed to give the campaign their cellphone numbers to get tickets. The campaign then used the information to check their voting record.
The Five Wings Of The Republican Party. When President Trump entered office, it wasn't clear if he would consolidate control of the Republican Party, or even his own administration. We used to write a lot about various power centers in his administration, for example. But the president gradually forced out people who didn't agree with him.
George Conway's Spat With Donald Trump Illustrates Psychiatry's Pernicious Influence on the Debate About the President's Fitness. This week George Conway, a Republican lawyer and prominent critic of Donald Trump who happens to be married to presidential adviser Kellyanne Conway, diagnosed the president with "narcissistic personality disorder." [...] Conway is by no means the first Trump critic to notice that the president seems to fit the diagnostic criteria for narcissistic personality disorder, which include grandiosity, attention seeking, self-centeredness, "exaggerated self-appraisal," condescension, feelings of entitlement, lack of empathy, and relationships that are "largely superficial and exist to serve self-esteem regulation."
The Editor says...
The same symptoms were exhibited by Barack H. Obama and nobody in the press had any objections.
What Trump does not do. When Democrats lost to a non-politician in 2016, they could not swallow the failure and began to degrade their opponent's victory (by manufacturing "Russia collusion"), insult people who voted for the winner (calling them racist), and assassinate the character of the winner (calling him a dictator). To make the case for the third act, they invented a story that Donald Trump likes dictators and wants to be one and will not leave office if not elected in 2020. But his actions show the opposite. Trump does not want to be a king or a dictator, while his predecessors behaved as if they wanted to be. To demonstrate this fact, I will provide examples of what Trump has not done and what King Barack H. Obama and King George W. Bush did. [...]
Support for Trump dwindles among ICE officers. ICE officers who endorsed President Trump in 2016 now say he has failed to follow through on his get-tough promises, saying catch-and-release of immigrants living illegally in the U.S. is not only still happening, but has gone into "overdrive." Immigration and Customs Enforcement officers say they're being roped into such mundane tasks as opening the doors on vans to release immigrants already caught by Border Patrol agents. That's dragging the officers from their usual duties of nabbing fugitives, or scouring local prisons and jails for immigrant criminals who lived illegally in the U.S. ready to be deported.
U.S. judge dismisses boys' lawsuit against Trump climate rollbacks. A federal judge has dismissed a lawsuit by two Pennsylvania boys and an environmental group seeking to stop U.S. President Donald Trump from rolling back regulations addressing climate change, saying the court does not have power to tell the White House what to do.
Schiffting to Phase 2 of Collusion. There's been no more reliable regurgitator of fantastical Trump-Russia collusion theories than Democratic Rep. Adam Schiff. So when the House Intelligence Committee chairman sits down to describe a "new phase" of the Trump investigation, pay attention. These are the fever swamps into which we will descend after Robert Mueller's probe. The collusionists need a "new phase" as signs grow that the special counsel won't help realize their reveries of a Donald Trump takedown. They had said Mr. Mueller would provide all the answers. Now that it seems they won't like his answers, Democrats and media insist that any report will likely prove "anticlimactic" and "inconclusive." "This is merely the end of Chapter 1," said Renatto Mariotti, a CNN legal "analyst."
Trump inaugural receives civil subpoena from New Jersey State attorney general. The committee that put together President Donald Trump's inauguration celebrations has now received a second subpoena as questions grow about the fundraising and expenditures around the most lucrative inauguration in the nation's history. Lawyers for the president's inauguration received a civil subpoena from the New Jersey State Attorney General's office within the last few days, according to sources familiar with the matter.
The Editor says...
Compare this to the commentary about Barack H. Obama's inauguration at the top of this page.
Furious Dem. Armed Services chairman accuses Trump of 'stealing money from the military'. The Democrat who leads the House Armed Services Committee denounced President Trump's plan to use billions of dollars from the Pentagon's military construction budget to fund his border wall, calling it an "appalling decision" and "an egregious example of the President putting his political agenda ahead of the interest of the United States." Rep. Adam Smith, D-Wash., also took exception to President Trump's assertion that "some of the generals think that this [the wall] is more important," and when they described the projects that would lose funding, "it didn't sound too important to me."
Trump's declaration of national emergency was unnecessarily 'dramatic': Victor Davis Hanson. The pending legal battle over the national emergency declared by President Trump may all center around "semantics," Hoover Institution fellow Victor Davis Hanson argued Friday [2/15/2019]. Earlier in the day, President Trump officially declared a national emergency in order to allocate funding for the border wall that wasn't included in the compromise border security bill that Congress passed and that the president signed into law. On Friday's "Special Report" All-Star panel, Hanson — along with Townhall.com political editor Guy Benson and former Obama White House Deputy Chief of Staff Jim Messina — weighed in on the political fallout from the president's decision.
The SDNY Investigation Is Real Peril for President Trump. All eyes are on Capitol Hill. House Democrats, flexing their new majority muscles, wasted no time after President Trump's State of the Union address to announce expansive investigations of the president and those around him: There will be probes into his administration, the 2017 presidential transition, the 2016 Trump campaign, and the Trump Organization — the real-estate business Donald Trump spent a lifetime conducting. It's a dragnet, or at least as much of a dragnet as congressional committees can muster. Their investigative powers do not compare with those of federal prosecutors and FBI agents, who compel grand-jury testimony, execute search warrants, arrest suspects, and file indictments to squeeze cooperation from potential witnesses. That is one reason why the most consequential Trump action may be happening in the place getting the least attention from the national media: the U.S. attorney's office for the Southern District of New York (SDNY).
The march of the 2020 phonies begins. Of the many expectations President Trump has blown to smithereens, perhaps the most basic is that a candidate has to be someone they're not in order to win over voters. [...] As a candidate and as president, Mr. Trump never had to craft a public persona in order to "humanize" himself. Having been a prominent figure for decades, he had no need for public reintroduction. And having been a successful businessman, he doesn't have the time or patience for a personality masquerade.
Trump Inaugural Committee Is Subpoenaed for Documents. Lawyers for President Trump's inaugural committee on Monday [2/4/2019] received a subpoena for documents from the Manhattan U.S. attorney's office, which has been investigating the fund, according to people familiar with the matter. The subpoena requests documents related to the committee's donors and spending, according to a copy viewed by The Wall Street Journal. A spokeswoman for the committee said in a statement: "We have just received a subpoena for documents. While we are still reviewing the subpoena, it is our intention to cooperate with the inquiry."
Trump campaign says it is preparing to sue Cliff Sims for tell-all book after president rips 'low level staffer'. President Trump's re-election campaign said Monday it is preparing to sue former White House staffer Cliff Sims for violating his confidentiality agreement, a declaration that comes the day Sims' tell-all book about his experience in the White House hits shelves.
Against Trump: Three Years Later. Three years ago this month, National Review published its controversial and now infamous entreaty, "Against Trump." The issue was singularly devoted to making a case against Donald Trump's then surging primary candidacy; it featured a roster of notable conservative influencers explaining why the brash Manhattan billionaire posed a dire threat to conservatism. Exactly three years later, the magazine's online version issued an apology for its early condemnation of Covington Catholic High School students, who, while attending the March for Life in Washington D.C., became the innocent victims of a social media ambush orchestrated and executed by the Left. Some conservative commentators who had contributed to the "Against Trump" issue quietly deleted their tweets criticizing the teens, without apology.
The state of Nancy Pelosi's union. The new majority party has elected to marshal all resources to destroy President Trump. Their strategy is to refuse to engage him on public policy (i.e. do their jobs). Instead, they are pouring all of their energy into investigating every aspect of his life. Rather than provide solutions, they obsess about how much money people from Liechtenstein might be spending at Trump hotels. Democrats use their bully pulpit not to sell good ideas, but to complain and whine about the president day in and day out. For voters who just want peace and a strong economy, it is exhausting, unproductive and ultimately unattractive.
The left's bigoted obsession with MAGA hats. For much of progressive America, if you are wearing the hat, you are suiting up for Team Racist. You are marking yourself out as a bigot and a goon. Your individuality doesn't matter anymore, only the cap.
Trump is not a race.
Army vet dress coded at gym for wearing 'racist' Trump shirt. An Army veteran says he was asked not to wear a shirt that read "2016 Trump for President" at a gym in Troy, Mo., on the ground that it made members uncomfortable and was "racist." Staff Sgt. Jake Talbot told St. Louis news station KMOV that he had worn the pro-Trump shirt to CDY Fitness in Troy before. But on Sunday [1/20/2019], the owner of the gym asked him not to wear the political shirt again.
2020 GOP poll: Trump 64 percent, Romney 9 percent, Flake 1 percent, primary challenge unlikely. The Trump re-election campaign is cleared for takeoff and landing, according to a new 2020 GOP poll. However, he stands at his lowest approval rating in a year, undermining his re-election plans. The latest Zogby Poll, provided to Secrets, has President Trump dominating the upcoming primary race among Republican voters with no potential challenger higher than 9 percent.
Poll: Trump Gains 19 Points with Latino Voters During Border Wall Shutdown. In the latest NPR/PBS NewsHour/Marist poll released Thursday, President Donald Trump may have suffered some among Republicans overall, but he saw a huge point gain in a different demographic breakdown, and an unexpected one by conventional wisdom.
Two years of Trump hatred and Democrats' 'resistance' has accomplished what, exactly? From the moment Trump was elected, protests spread all over the U.S. and in many countries overseas. In the weeks that followed, students boycotted classes, activists blocked roads, the president's name was stripped from his buildings, and one overwrought man set himself on fire — all to protest Trump's election by 63 million Americans. And the liberal media lost their minds. Trump's sin? Beating the "inevitable" Hillary Clinton, daring to suggest that open borders were a stain on the country's rule of law, proposing that carefully vetting immigrants from some Muslim-majority countries known to be terror havens might help protect Americans from ISIS, disputing the value of the Paris Climate Accord, and making crude remarks about women in a decade-old recording.
Trump's Re-Election Chances May Be Better Than You Think. What are Donald Trump's chances for re-election in 2020? If history is any guide, pretty good. [...] The public has been hearing a lot from radical new House representatives such as Alexandria Ocasio-Cortez (D-N.Y.) and Rashida Tlaib (D-Mich.). Their pledges to deliver "Medicare for All," to phase out fossil fuels and to abolish the Immigration and Customs Enforcement Service are occasionally delivered with snark. Tlaib recently used profanity to punctuate her desire to see Trump impeached. But much of the public supports Trump's agenda of deregulation, increased oil and gas production, getting tough with China on trade, and stopping illegal immigration. What if the Democrats impeach Trump, even knowing that a Republican Senate would never convict him?
Sorry, but hush-money payments won't send Trump to prison. The most legally fraught part of the Russian "collusion" probe now revolves around payments to an American porn star. As of yet, instead of a dastardly scheme to participate with the Kremlin in the hacking of Democratic emails to subvert the election, prosecutors have uncovered a dastardly scheme to try to keep from the voters — as if they weren't already aware — that Trump is a womanizer. [...] Everyone should agree that these payments were sleazy. But that's not the live issue here. Because Democrats want to see Trump impeached or even jailed, the question is whether he can be successfully prosecuted for the payments after leaving office. The law, and common sense, suggest the answer is "no."
Report: Federal Prosecutors Investigating Trump Inauguration Spending. Federal prosecutors in New York are investigating President Donald Trump's inaugural committee amid suspicion that a portion of the $107 million it raised was misspent, according to a report. The Wall Street Journal states the Manhattan U.S. attorney's office is in the beginning stages of probing whether the committee's most prominent donors made sizable contributions "in exchange for access to the incoming Trump administration, policy concessions or to influence official administration positions."
Does 'Make X Great Again' Ever Happen in History? [Scroll down] In some sense, if Trump's election as the first president without either political or military experience was unprecedented, equally unparalleled was a 90 percent hostile media, coup-like attempts to abort a presidency through absurd resorts to the Logan Act, Emoluments Clause, the 25th Amendment, lawsuits, impeachment writs, and non-stop celebrity talk of assassination, and death and destruction to the Trump family. Almost any other man Trump's age would long ago have collapsed under the stress and venom.
Trump generates media hysteria by telling the truth about telling the truth. Honestly, I don't know if President Trump was consciously baiting the media, or if the words that are generating pompous outrage were spontaneously and unselfconsciously expressed. Probably the latter, not that it matters, because Trump has found his groove, and it is working for him. He said something to Jonathan Karl of ABC News that no other president would ever say: "When I can, I tell the truth."
Trump Lawyers Send Stormy Daniels a Bill for $341,559.50 — Fees Awarded by Judge For Defending Frivolous Lawsuit. Attorneys representing the interests of President Trump in the case of Gifford v. Trump previously won a dismissal of all claims against Mr. Trump. As a consequence the court ordered the plaintiff "Stormy Daniels" and her creepy porn lawyer, Michael Avenatti, to reimburse Donald Trump's legal team for all expenses incurred during their defense of the frivolous lawsuit. The lawyers representing Mr. Trump filed a motion with the court and now submit a claim for $341,559.50 for legal costs incurred.
Trump seeks more than $300,000 in legal fees from Stormy Daniels after defamation suit tossed. President Trump wants more than $300,000 in legal fees from porn star Stormy Daniels, after a federal judge dismissed her defamation lawsuit against the president and determined he was entitled to attorney fees. In a court filing on Monday [10/29/2018], Trump's attorneys said they are seeking $341,559.50 in attorney's fees from Daniels, who has been involved in a legal battle with Trump since the beginning of this year due to an alleged extramarital affair. She filed a separate defamation lawsuit against Trump in the spring for suggesting she lied.
Senator Grassley Wants Details on Why DOJ Declined to Prosecute Senior FBI Official. The DOJ Office of Inspector General released an interesting investigative summary report today following a review of a "senior FBI official" accepting tickets from a "television news corespondent" and lying to investigators about the events. The IG noted "criminal prosecution was declined". Now Senator Chuck Grassley wants the details.
Stormy Daniels defamation suit against Trump tossed on 1st Amendment grounds. President Trump awarded attorneys' fees in suit dismissal. A federal judge in Los Angeles on Monday threw out adult-film actress Stormy Daniel's defamation lawsuit against President Trump on free-speech grounds. "The court agrees with Mr. Trump's argument because the tweet in question constitutes 'rhetorical hyperbole' normally associated with politics and public discourse in the U.S.," U.S. District Judge S. James Otero in Los Angeles said in a ruling Monday [10/15/2018], as Bloomberg reported. "The First Amendment protects this type of rhetorical statement."
Woodward: No Evidence Of Trump-Russia Collusion, I Searched For Two Years. In an interview with Hugh Hewitt on Friday [9/14/2018], Bob Woodward said that in his two years of investigating for his new book, 'Fear,' he found no evidence of collusion or espionage between Trump and Russia. Woodward said he looked for it "hard" and yet turned up nothing.
Trump Campaign Adviser George Papadopoulos Sentenced to 14 Days in Jail. George Papadopoulos, the Trump campaign adviser who triggered the Russia investigation, was sentenced to 14 days in prison after pleading guilty to one count of making false statements to the FBI. Further, Papadopoulos was sentenced to 12 months of supervised release and 200 hours of community service. The 31-year-old was also ordered to pay a $9,500 fine.
George Papadopoulos Sentenced To 14 Days in Prison, 1 Year Supervision, $9,500 Fine. The former part-time volunteer Trump campaign advisor George Papadopoulos has been sentenced today to 14 days in prison for lying to FBI investigators about the timing of his contact with the sketchy Maltese professor Joseph Misfud. Special Counsel Robert Mueller had recommended 30 days in prison.
The management and governance of Puerto Rico is none of New York's business, nor is it Trump's fault.
New York to file lawsuit against Trump for lack of assistance to Puerto Rico. New York Governor Andrew Cuomo announced Sunday [9/2/2018] that the state will file a lawsuit against President Trump and the federal government in light of the damage from Hurricane Maria that struck Puerto Rico in September 2017. The Governor's Office says the lawsuit will be filed against the federal government for failing to provide assistance to Puerto Rico and having an inadequate response to Hurricane Maria.
Lock her up!
Omarosa Secretly Taped 'Nearly Every Conversation' She Ever Had at White House. It wasn't just the few conversations that she brought to news networks when her book came out that are in Omarosa's stash of secretly recorded conversations from the White House, apparently. According to Axios, she recorded "nearly every conversation" that she was part of during her time there, especially those with "all of the Trumps," it seems. Citing a source "who watched her make many of the tapes," Axios explains that Omarosa used her personal cell phone to record the conversations, including those in the supposedly secure Situation Room in the White House. The source says that Omarosa would keep both her government phone and her personal phone on her person, and use the work phone for conducting business while recording with her own. "She would often press "record" on her personal phone — which she carried in her pocket or in a small purse," the report says.
Woodward Book, Anonymous NYTimes Op-Ed Reveal Trump's Done Nothing Wrong. As the corrupt media fabricate a "fitness for office" crisis, remember[,] Trump has done nothing wrong. Even those hiding behind anonymity, even those hiding behind those hiding behind anonymity, no one has made a single allegation that Trump has done anything wrong. All this ginned up media hysteria, all this Never Trump nonsense about the 25th Amendment, all this #Resistance adulation over a glory-seeking narcissist hiding behind the skirts of the New York Times — where is this narcissist's allegation of wrongdoing?
Why Do Ex-Clinton Attack Dogs Davis and Stephanopoulos Get a Pass? Lanny Davis represents Michael Cohen, the lawyer who secretly taped his then-client, now-President Donald Trump. If you're keeping score, Davis is the same defense lawyer who represented President Bill Clinton during the investigation by special prosecutor Kenneth Starr. [...] To defend his current client, Davis went on television and said that Cohen has the goods on Trump and can prove Trump directed him to break campaign finance law to pay off Stormy Daniels. Or something like that. Davis' interviewer? George Stephanopoulos. Yes, this would be the same Stephanopoulos, now ABC News' "chief news anchor," who worked as communications director during the Bill Clinton presidential campaign and as Clinton's senior adviser in the White House. Stephanopoulos worked with Davis to employ the aforementioned scorched-earth, attack-Starr strategy. Shouldn't there have been some sort of disclosure by ABC?
Robert Reich and the Tragedy of TDS. Robert Reich was once a proponent of the "Third Way," a center-left governing philosophy that ostensibly embraced deregulation, privatization, smaller safety nets, and fiscal responsibility. He brought this theory of governance to Washington while serving as Bill Clinton's Secretary of Labor, and was occasionally cited as a moderating influence on the Democratic Party. Since the 2016 presidential election, however, Reich has been brought low by Trump Derangement Syndrome (TDS). The symptoms of TDS include the inability to think rationally, as well as verbal incontinence. Reich exhibited both symptoms six days ago on Facebook, where he suggested annulling "Trump's unconstitutional presidency."
Why Deep State Sabotage Is Way Worse Than Trump's Atrocious Infidelities. [W]hile conservatives detest Trump's philandering ways, they have long since tired of politicians' puffery: Trump may lie to his wife and to Americans, but he delivers. Still, some conservatives, such as Michael Medved, have suggested that Trump should resign — for the better of his party, his country, and ultimately his own place in history. Wouldn't the sacrosanct Mike Pence silence the storm and mend the societal rupture surrounding Trump's presidency? No, because this storm was never about the president's past infidelity or Trump arranging for Cohen to use cash to silence the stripper. The left's effortless pivot from their two-year investment in establishing that Trump colluded with Russia reveals the their real dispute with the president: Trump won, and Hillary lost. Replacing Trump with Pence will not be enough. Only when Democrats regain what they believe should rightfully be theirs — control of the government — will amends be made.
Donald Trump Points to Massive Barack Obama FEC Settlement. President Donald Trump defied the notion that campaign finance violations were a serious crime, pointing on Wednesday [8/22/2018] to a former financial settlement with former President Barack Obama's campaign. "Michael Cohen plead guilty to two counts of campaign finance violations that are not a crime," Trump wrote on Twitter about his personal lawyer. "President Obama had a big campaign finance violation and it was easily settled! Cohen plead guilty to campaign finance fraud, claiming that Trump directed him to pay off two women who claimed to have an affair with Trump before he ran for president.
Flashback: Remember When Obama Campaign Was Fined $375,000 for Campaign Reporting Violations And NO Jail Time? Michael Cohen admitted he violated campaign finance laws in relation to the Stormy Daniels payment at direction of a 'candidate.' He paid off the porn star over $100,000 in a hush money agreement which she later violated. Democrats and their liberal media cheered that this was the end of the Trump "regime." But it wasn't that long ago that a presidential campaign was charged with much worse. In 2013 Maggie Haberman at Politico reported on the criminal campaign reporting violations against the Obama campaign.
Candace Owens: Paris Dennard Faces 'Public Lynching' for Supporting Trump. Prominent conservative commentator Candace Owens tweeted Thursday morning that the media were attempting a "public lynching" of fellow black conservative Paris Dennard because he had proven an effective advocate for President Donald Trump.
Do we want the government second-guessing decisions to publish or not to publish? What happens when a media organization finds itself at the center of an investigation into alleged campaign finance violations? Does it plead the Fifth, or the First? For the National Enquirer's David Pecker, it was neither. Pecker, CEO of the company that publishes the National Enquirer, has been granted immunity by federal prosecutors in exchange for information about hush money deals arranged by President Trump's former personal attorney, Michael Cohen. The Enquirer reportedly bought the rights to women's stories alleging affairs with Trump, then didn't publish them. According to Cohen's court filings, the Enquirer spiked the stories as a favor to Trump.
Trump Is Not Only Right To Criticize Jeff Sessions, It's His Constitutional Duty. Several have observed that the rule of law appears to mean the "rule of two laws," one for those who oppose Trump and another for those who support him. Paul Manafort might be guilty as sin. But would he have been prosecuted but for his efforts to help Trump? No, according to a very thoughtful piece by K.S. Bruce in Real Clear Life. And the next Manafort trial appears to involve precisely the same thing that Tony Podesta did with no consequence.
What Did Tuesday's Legal Decisions Really Change in the Long Term? Despite Tuesday's [8/21/2018] dramatic courtroom revelations, the long-term outlook for President Trump doesn't seem to have changed all that much. Assume the scenario that Trump is predicting, that the 2018 midterms produce a "Red Wave." The sheer number of open seats, the discouraging results for Republicans in recent special House elections, and the general indicators that the Democratic grassroots are fired up are all counter-evidence of this GOP dream scenario, but maybe the increased talk of impeachment will fire up and motivate the Trump voters of 2016.
Trump trolls ex-CIA CNN analyst Phillip Mudd, who went berserk on air. President Trump, the most successful reality television producer in the history of the medium, knows how to spot a compelling villain, and now he has provoked the Deep Staters into defending the indefensible. When several conservative writers, including me, highlighted the on-air breakdown of former CIA executive Phillip Mudd when Paris Dennard opined that revoking John Brennan's security clearance was justified, President Trump evidently took the time to watch this video: [Video clip]
HR McMaster talked Trump out of blocking Obama's access to intelligence: Report. Ex-national security adviser H.R. McMaster talked President Trump out of blocking former President Barack Obama's access to intelligence briefings last year, according to a report Monday [8/20/2018]. Around March 2017, when Trump accused his predecessor, without evidence, of wiretapping Trump Tower, some of his associates in the White House were pushing their boss to pull the security clearances of Obama administration officials they saw as political rivals.
Keywords: Triggering, snowflakes, fragile, crybabies.
Counselors Claim Clients Face Trump Anxiety: 'Fear of the World Ending'. A correspondent with the Canadian Broadcasting Corporation (CBC) based in Washington, DC, ferreted out a counselor who is treating people for a "collective anxiety" caused by President Donald Trump "volatility." "There is a fear of the world ending," Elisabeth LaMotte, founder of D.C. Counseling and Psychotherapy Center, told CBC. "It's very disorienting and constantly unsettling."
Therapists claim patients are experiencing President-related anxiety due to Potus' policies and Twitter feuds. Therapists across the United States say that ever since president Donald Trump took office patients have been experiencing more anxiety — and it's affecting both Trump critics and supporters. Several therapists spoke to Canada's CBC News saying that many of their patients have a fear about the country's future and if Trump will 'blow us all up.' 'There is a fear of the world ending,' DC therapist Elisabeth LaMotte said. 'It's very disorienting and constantly unsettling.' LaMotte said there is a 'collective anxiety' about how Trump's decisions could affect everyone. Patients and therapists refer to it as 'Trump Anxiety Disorder', although it is not an official diagnosis.
The Editor says...
[A] foolish man built his house upon the sand: And the rain descended, and the floods came, and the winds blew, and beat upon that house; and it fell: and great was the fall of it.
Trump critics [are] among the least popular senators in the country. The five least popular senators, according to a Morning Consult poll, have all clashed with President Trump. Senate Majority Leader Mitch McConnell, R-Ky., leads the list with a 30 percent approval rating while a staggering 56 percent disapprove. Frequent Trump foil Sen. Jeff Flake, R-Ariz., comes next at 30 percent approval and 51 percent disapproval. Perhaps more surprisingly, Sen. John McCain, R-Ariz., has a 42 percent approval rating while 46 percent of Arizonans disapprove of his job performance.
Trump knows more about dealing with bad guys than Congress, hysterical media combined. As a trial judge in New Jersey during the Ronald Reagan and George H.W. Bush years, I spent much of my time trying to settle cases. This process involved bringing into my chambers the lawyers for the disputants and asking them in the absence of their adversaries to lay their cards on the table. After I found out what the litigants truly wanted and I did some pushing and shoving and jawboning, more often than not, agreements were reached. The threat of an imminent jury trial — with its expenses, complexities and uncertainties — was often enough to bring the parties to a quick, sensible and relatively inexpensive resolution. Occasionally, flattery — even fatuous flattery — helped.
At Helsinki, Trump Undermined Our Power-Abusing Intelligence Agencies, Not America. During President Trump's summit with Russian President Vladimir Putin in Helsinki, Associated Press reporter Jonathan Lemire asked him about Russian interference in the 2016 election. Trump — as he has done many times before — responded with an answer that cast doubt on the U.S. intelligence agencies' assessment of massive Russian election-interference.
Dershowitz confronts smug Avenatti on ethics: Why do you know things you shouldn't legally know about Cohen case? Michael Avenatti, attorney for porn star Stormy Daniels, made a rather remarkable claim in light of a reports that President Donald Trump's personal attorney, Michael Cohen, secretly recording a conversation with his client regarding a former Playboy Playmate who said she had an affair with Trump. Appearing on ABC News' "This Week," [7/22/2018] Avenatti said the tape would impact Daniels' case against Trump "in a big way," while insisting more tapes exist. This prompted a critical question from Harvard Law professor Alan Dershowitz — which Avenatti refused to answer.
A Playboy model payoff? Is that all Mueller has? The latest news in the Democratic Party's nonstop effort to bring Russia, Russia, Russia to us, is in this story, reported by the Washington Post: [...] It's a ridiculous story, tawdry, silly, and unimportant, of interest only to the tabloid crowd. What did this tape have to do with collusion with the Russians, and what would have been illegal about it anyway? In other words, why does Special Counsel Robert Mueller, charged with investigating how President Trump colluded with the Russians to steal the election from Hillary Clinton, care about this tape? Wouldn't a private conversation between Trump and his attorney be privileged and private?
Why are people so angry about Donald Trump's UK visit given we rolled out the red carpet for Robert Mugabe? The on-off visit of Donald Trump to the UK is happening — but that doesn't mean the controversy has stopped. Thousands are taking to the street to condemn the arrival of the leader of the free world, while a giant baby blimp has mocked the US president from the sky. Any yet Britain has entertained some equally controversial world leaders before him. So why are people so unhappy this time and why didn't Mr Trump get the state visit treatment Britain offered to Robert Mugabe?
The generic editorial against Trump's next pick. Writing newspaper editorials is an exercise in exasperating futility. They have scant impact. 243 newspapers endorsed Hillary. 20 endorsed Donald John Trump. Who won? To those still laboring at a craft that last had impact in the 19th century, I draw upon my 27 years of experience to offer this generic editorial on whomever President Trump nominates for the Supreme Court. You may cut and paste it, and your boss will not notice the difference.
When PC Comes Back to Bite You. Donald Trump has been on the national political stage for two and a half years. He is as unwelcome today as he was that first day he descended the escalators at Trump Tower. In fact, the presumptive resistance to anything and everything Trump continues to grow. Neither side appears willing to change its ways and means.
Trump Taunts Protester Forcibly Removed From Minnesota Rally. President Trump traveled to Duluth, Minnesota Wednesday [6/20/2018] to hold a rally. The crowd was so massive they had to move to AMSOIL Arena to accommodate more people. The rally was previously planned for the DECC Arena, reported Fox News.
Schumer Says He'd Rather 'Keep The Focus On Trump' Than Solve Border Problems. In a news story published Tuesday by The Hill headlined "Schumer rejects GOP proposal to address border crisis," the writer included this paragraph: "Asked if that meant Democrats would not support a bill backed by Senate Majority Leader Mitch McConnell (R-Ky.) to keep immigrant families together while seeking asylum on the U.S. border, Schumer said they want to keep the focus on Trump."
Revealed: Christopher Steele Visited State Department Shortly Before 2016 Election. Former British spy Christopher Steele visited the State Department in October 2016 and briefed officials there about his work on the infamous anti-Trump dossier, it was revealed on Wednesday [6/20/2018]. "Based upon our review of the visitor logs at the State Department, Mr. Steele visited the State Department, briefing officials on the dossier in October 2016," Senate Select Committee on Intelligence Chairman Richard Burr said during a hearing held to review the U.S. government's response to Russian meddling in the 2016 election.
Clinton Foundation Never Probed, Frivolous Suit Brought Against Trump. On the day the Office of the Inspector General released a report about egregious DoJ/FBI behavior, the New York Attorney General announced a $2.8 million lawsuit against the Trump's Charitable Foundation. Notice how the Feds and the NY AG work together? This is a civil suit and they want to shut down the charity. The fact is the Foundation raised 18.8 million dollars while giving 19.2 million to charity with virtually zero expenses. This is a frivolous suit meant to hurt the President and counteract the OIG report.
For New York AG, law only applies to some. The law is supposed to apply equally to all of us. But some of us seem to be more equal that others. In what appears to be a not-so-coincidental effort by the anti-Trump deep state to distract from the damning Department of Justice Inspector General's report yesterday — shedding light on the FBI's gross mishandling of the Clinton email investigation — New York's attorney general dropped a headline-grabbing lawsuit against Donald Trump, his three eldest children and Trump foundation directors.
The Entitled 'Comedy' Elites. What is it about our entertainment elites that makes them think they are so much wiser than everyone else? Why do they seem to think that comedians like Samantha Bee and Donald Trump impersonators like Alec Baldwin are going to save America with their rants? [...] "(D)on't sweat it. I'm a comedian" is a Get Out of Jail Free card. They can compare conservatives to Hitler, Stalin, Pol Pot, Osama bin Laden and Satan, but if you think that's too rough, "I'm a comedian." They can pretend to be policy wonks, and when their "facts" crumble, "I'm a comedian." They can make "jokes" about beheading the president, and that's not vicious ... when done by a comedian.
The Editor says...
This is a very common Democrat tactic: They will say or do something outrageous, and if there are any objections, follow up a few days later with, "Can't you take a joke?" Examples abound:

[1] [2] [3] [4] [5] [6] [7] [8] [9] [10] [11] [12] [13] [14] [15] [16] [17] [18] [19] [20] [21] [22] [23] [24] [25] [26] [27] [28] [29] [30] [31] [32]
Most "comedians" are really left-wing activists who hate to see capitalism succeed.
'Bring on the Recession': Bill Maher 'Hoping' for Economic Crash to Oust Trump. Liberal comedian Bill Maher on Friday [6/8/2018] said that he hopes the economy crashes in order to "get rid" of President Donald Trump. Maher made the remarks on his HBO talk show, "Real Time with Bill Maher." "I feel like the bottom has to fall out at some point," he said. "By the way, I'm hoping for it because one way you get rid of Trump is a crashing economy. So please, bring on the recession."
The Editor says...
I don't recall Mr. Maher campaigning to get rid of Barack H. Obama due to the sluggish economy throughout the Obama years. In fact, there were several indications that Mr. Obama was intentionally sabotaging the economy. But of course, Mr. Obama was immune to criticism, to say nothing of impeachment, because he was an Affirmative Action sacred cow.
Dems demand counterintelligence probe of Trump cellphone, warn of 'grave danger' to security. Top Democrats asked Thursday that the intelligence community do a threat review on President Trump's cellphone behavior after reports that he uses unsecured devices to communicate with friends and to post on Twitter. Both CNN and Politico have reported in recent months that Mr. Trump relies on his personal cellphone to call friends, circumventing White House policies. Mr. Trump says the protocols his security experts want him to follow are "too inconvenient," Politico reported. Four Democrats, including members of the Senate intelligence committee, asked Thursday [6/7/2018] for a counterintelligence probe to see what risks the president was running.
So much for freedom of association:
Trump ordered to stop blocking people on Twitter. President Trump cannot block people from his @realDonaldTrump account just because he doesn't like their political views, a Manhattan federal judge ruled on Wednesday [5/23/2018]. Doing so violates their First Amendment right to free speech because Twitter is a "public forum," Judge Naomi Reice Buchwald wrote in a landmark ruling that could change how public officials use Twitter. "We reject the defendants' contentions that the First Amendment does not apply in this case and that the President's personal First Amendment interests supersede those of plaintiffs," the judge wrote in her 75-page decision. The judge stopped short, however, of ordering Trump to unblock people, saying that her ruling speaks for itself.
The Editor says...
If the Twitter account was set up by Mr. Trump before his presidential campaign began, then it is not a public forum open to everyone.
Environmental red tape stalls border agents trying to fill drug-smuggler tunnels. Environmental red tape is causing "long delays" for border agents as they try to fill tunnels used to smuggle people and dangerous drugs into the U.S. from Mexico, according to border officials and Republican lawmakers who have discussed the problem with agents. Frustrated agents complain the lengthy federal review process can stall critical tunnel-plugging efforts for months after passageways are first discovered. The tunnels are being used to move people, illegal drugs and even fake pharmaceuticals. But regulations stemming from laws like the Endangered Species Act, the National Environmental Policy Act and the Migratory Bird Treaty Act are putting "remediation" on hold.
Manafort's Lawyers Suggest Key Mueller Deputy Is Leaking To Media. A senior assistant special counsel to Robert Mueller's investigation is facing allegations he leaked information to reporters concerning the Russian collusion investigation, according to a Monday court filing. Paul Manafort's defense attorney Kevin Downing officially leveled the leaking allegation against key Mueller deputy Andrew Weissmann as part of a new legal offensive against Mueller's indictment of Manafort, who served briefly as Trump's campaign manager. Downing charges that a flood of media leaks has prevented his client from getting a fair trial. Downing asked presiding federal Judge T.S. Ellis III on April 30 to convene a hearing on media leaks. The judge has yet to rule on the request.
How Democracies End: A Bureaucratic Whimper. One strange trait of the die hard NeverTrump Republicans and progressives is their charge that Donald Trump poses an existential threat to democracy. Trump, as is his wont, says a lot of outrageous and weird things. But it is hard in his 16 months of rule to find any proof that Trump has subverted the rule of law. Most of the furor is over what we are told what Trump might do, or what Trump has said, or which unsavory character in Europe likes Trump. These could be legitimate worries if they were followed by Trump's anti-democratic concrete subversions. But so far, we have not seen them. And there has certainly been nothing yet in this administration comparable to the Obama-era efforts to curb civil liberties.
Lawsuit By Dems: A Sad Attempt To Push 'Reset Button' On Hillary's Disastrous 2016 Loss. As any reasonably objective legal expert will tell you, the Democrats' law suit is a mish-mash of finger-pointing and blame backed by virtually no evidence. It asserts a conspiracy of the Republicans, Russians and WikiLeaks to get Donald Trump elected president during the 2016 campaign. Yes, they expect people to believe it. In that respect, it is a pitiful echo of the Russian investigation launched by the Democrats and "Never Trumpers" in Congress to look into allegations of "collusion" — which is nowhere, by the way, defined as a crime in the U.S. legal code — between the Trump campaign and Russia. That investigation, headed by Robert Mueller, has netted so far exactly zero public evidence of collusion — even as we near the two-year anniversary of the ongoing investigation.
Democrat on Internal DNC Call About Russia Lawsuit Asks Why DNC Is Spending Money to Sue Russia. On Friday [4/20/2018], the Democratic National Committee filed a lawsuit against Russia, WikiLeaks, and several figures from the Trump 2016 campaign. The suit, prepared by the law firm Cohen Milstein, seeks damages related to Russia's hack of DNC computer systems and the Trump campaign's alleged involvement therein. However: [#1] Russia and WikiLeaks are unlikely to cooperate with a U.S. civil proceeding. [#2] The DNC's evidence of Trump participation in the scheme is limited to suggestive but not conclusive information that has already appeared in media reports. [#3] There's already an investigation into Trump-Russia collaboration being led by the special counsel's office — which not only has subpoena power, as the DNC conceivably could during legal discovery, but can apply for search warrants and threaten uncooperative witnesses with jail time. The question that naturally arises, then, is... what's the point?
Democrats are getting desperate as Mueller stalls. It's not just Hillary Clinton who can't quit Russia. The whole Democratic Party keeps going back to 2016. In a move that reeks of desperation, the DNC filed a civil suit Friday [4/20/2018] against President Trump's campaign, Russia and WikiLeaks, alleging a vast (right-wing!) conspiracy to tip the election to Trump. The suit's flamboyant charges made headlines, but that only served to obscure the real meaning. Namely, that top Dems are giving up their fantasies that special counsel Robert Mueller will deliver them from political purgatory by getting the goods on Trump.
Democratic lawsuit will cost them in November. Democrats suffered their biggest presidential loss in 28 years on November 8, 2016, as people in 30 states rejected them and the woman they nominated. And for the first time since 1860, there was no peaceful transition of power. Barack Obama set President Trump up with that Fake Russian Dossier that the Democratic Party purchased. Replete with tall tales of pissing prostitutes, Democrats used this to stick a special counsel on Trump. For more than a year, Democrats have used their operatives embedded in government to thwart the Trump administration. They slowed the confirmation process to a crawl. Nothing has worked.
Trump Camp Responds to Frivolous DNC Lawsuit. In 2016 the Democrat National Committee claimed their websites were hacked by Russia and the information was given to Wikileaks. Wikileaks has always maintained their source for the Podesta-DNC emails was not Russia. [...] The Obama FBI under James Comey NEVER looked at the DNC servers after the leak. The DNC would not allow it. Today [4/20/2018] the DNC sued the Trump Campaign, Russia and Wikileaks for conspiring to disrupt the 2016 election. This afternoon the Trump campaign responded to the lawsuit.
Judge Denies Stormy Daniels' Motion to Depose President Trump. A judge ruled Thursday [3/29/2018] that attorneys for Stormy Daniels cannot fast-track a deposition of President Trump over the porn star's claims that she had a sexual relationship with him. Attorney Michael Avenatti asked a federal judge for an expedited trial and deposition of Trump and his attorney Michael Cohen. On "Outnumbered Overtime," Fox News White House correspondent Kevin Corke said the judge is not allowing the case to be fast-tracked, but a deposition could happen down the line.
WashPost Frets: Trump Is Hiring Media Stars! Do the names Strobe Talbott, Rick Stengel and Jay Carney ring a bell? Talbott was a longtime journalist, among other things the Moscow correspondent for Time magazine. His friend Bill Clinton made him Deputy Secretary of State. Stengel, like Talbott, worked for Time magazine, in this case as managing editor. President Obama appointed him to the State Department as Undersecretary for Public Diplomacy and Public Affairs. And Jay Carney? A twenty-year reporter for Time magazine who was an ABC regular on the networks This Week with George Stephanopoulos was the director of communications first for Vice President Joe Biden before becoming the Obama White House press secretary.
Climate Alarmists Lament Tillerson's Departure. A Year Ago They Opposed His Appointment. Activists howled indignation when Rex Tillerson was nominated to head the State Department, and now they are lamenting President Donald Trump's decision to fire the former ExxonMobil CEO. Alarmists at Union of Concerned Scientists are hailing outgoing Secretary of State Tillerson as a voice of reason inside a tumultuous Trump administration. Support for the former oil producer within activist circles contrasts with their invective-filled criticism when Tillerson was first nominated.
Why Gary Cohn's departure from the White House could be good news. The usual media spin is being applied to the announcement of Gary Cohn's pending departure from his post as President Trump's economic adviser. It just has to be a disaster, an indicator of "chaos" in the White House and evidence that all right-thinking people agree that the newly announced proposed tariffs in steel and aluminum import are a bad, bad, bad idea.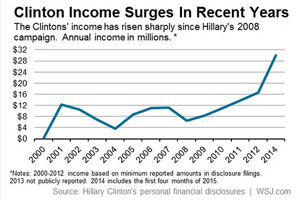 President Trump's Wealth Falls $400M On Forbes Billionaires List. While previous presidents used the office to enrich themselves, President Trump is sacrificing hundreds of millions of dollars of his personal wealth by trying to save America. [...] Contrast Trump losing money with the Clintons becoming fabulously wealthy despite producing nothing of value: [Chart] That doesn't even include the hundreds of millions which was funneled through the Clinton Foundation. You don't have to agree with everything Trump does to recognize he's a different type of politician.
7 Anti-Trump Politicians and Institutions Who Colluded with the Russians. For months and months, our fake news media have been freaking out over a meeting Donald Trump Jr. took with a Russian lawyer in the hopes of getting some dirt on Hillary Clinton. Again and again, we have been told that this is the smoking gun of collusion between the Trump campaign and the Russian government. Of course, that is nonsense. Moreover, Don Jr. and the others in attendance caught on to the scheme within a few minutes, and as far as we now know, that was the end of that. Unfortunately, the same cannot be said of others, who actually have colluded with the Russians as a means to dig up dirt on Trump.
Chuck Schumer 2014: You Know What We Should Have? A Military Parade. A nifty catch by the Daily Wire's Ryan Saavedra. Do we know for a fact that Schumer is against Trump's new proposal for a military parade? He has to be, right? If it ends up happening, opinions on the right will be mixed but opinions on the left will not. Your membership card in the #Resistance will require you to hate the idea. A lot. Which means Schumer's going to have to figure out some way to explain this: [...]
Democrats & Media Attack Trump's Military Parade Idea — Yet Just 3 Years Ago Media & Democrats Called For A Military Parade!. When Barack Obama was POTUS an idea to celebrate our military with a parade = GOOD. When Donald Trump is POTUS that same idea now = BAD. [Video clip]
ACLU Complains: "Trump Used the Word 'America' More Than 80 Times". The American Civil Liberties Union — note the word "American" in its title — complained Tuesday night [1/30/2018] about President Trump's repeated use of the word "America" in his State of the Union speech.
No class.
Democrats scoff, boo, groan, glower at Trump's State of the Union. Many Democrats showed how little stock they put in Trump's calls for cooperation by staying seated during rhetoric that would have prompted bipartisan applause if it came from almost any other president. And on Twitter, Democrats splashed cold water in real-time on Trump's proposals, even on traditionally noncontroversial items like infrastructure spending and combating the opioid epidemic.
Christopher Steele Gave FBI A 2nd Dossier From Notorious Clinton 'Hatchet Man'. Former British spy Christopher Steele gave the FBI a copy of a second dossier on Donald Trump, this one put together by a Democratic political operative who has been referred to as a "hatchet man" for the Clinton family. The Guardian reports that Steele passed the so-called "Shearer memo" — compiled by Cody Shearer — to the FBI in October 2016. Steele, an ex-MI6 officer, had been given the document by an American contact who is unnamed in The Guardian report.
The Stormy Daniels outrage shows the media still don't get Trump and why he won. It's confounding reporters and TV commentators without critical thinking skills (take your pick off the "Morning Joe" set) that people just don't seem to care about Stormy Daniels, the porn actress President Trump allegedly paid off to keep quiet before the 2016 election. Why isn't this hurting him?! The answer is simple: 1) Everyone knows Trump has a tacky history; voters chose him anyway, and 2) by the way — we have a country we're trying to save here! Point one still scandalizes the media, but the rest of the country has its eyes on point two.
What alleged illegality is Mueller investigating? Trump exercising lawful presidential authority? Special Counsel Robert Mueller wants to interview President Trump. We know that is true because the areas of inquiry that Mueller is interested in have been leaked. But the questions Mueller is looking at are not about the issue the special counsel was supposed to examine: collusion with Russians to fix the 2016 presidential election. Rather, the Washington Post reports that Mueller "is seeking to question President Trump in the coming weeks about his decisions to oust national security adviser Michael Flynn and FBI Director James B. Comey, according to two people familiar with his plans." The two acts, according to the Post, are related to "efforts by the president or others to hamper the special counsel's probe."
Source: Strzok Hadn't Seen Evidence Of Collusion After 10 Months On Russia Probe. After 10 months of leading the FBI's Trump-Russia investigation, counterintelligence official Peter Strzok had not seen compelling evidence that President Trump or high-level campaign officials colluded with the Russian government, according to a person familiar with his thinking. That account comports with a May 19, 2017 text exchange between Strzok and FBI lawyer Lisa Page that was released earlier this week.
Russia probe grand jury looks like 'a Black Lives Matter rally,' says witness. The federal grand jury handing down indictments for special counsel Robert Mueller doesn't appear to include any supporters of President Donald Trump, according to one witness who recently testified before the panel. "The grand jury room looks like a Bernie Sanders rally," my source said. "Maybe they found these jurors in central casting, or at a Black Lives Matter rally in Berkeley [Calif.]" Of the 20 jurors, 11 are African-Americans and two were wearing "peace T-shirts," the witness said. "There was only one white male in the room, and he was a prosecutor." Mueller was not present.
Reminder: Benghazi was also the Democrats' Benghazi.
Collusion has become the Democrats' Benghazi. No matter what special counsel Robert S. Mueller III finds, Democrats and their allies in the mainstream media will never accept that Trump didn't collude with the Russians. Democrats are already operating on the basis that collusion between the Trump campaign and Russia is a foregone conclusion — but not because they believe it. Just as it would have been heresy for a Republican to admit that Hillary was not to blame for Benghazi, Democrats are now in a position where they will draw the ire of the party's most zealous members and risk primary challenges from the left if they question the certainty of Trump's collusion with Russia. Democrats who want to avoid intra-party trouble are relying on dishonest hyperbole and tangential facts to build their defenses.
All of Hillary's Foreigners. The media's cheerleaders for the investigation into the Trump-Russia fable claim that its importance lies in keeping American elections pure of foreign interference. They have been posturing as great defenders of American sovereignty, a stance that normally makes them uneasy. But even as they pretend to worry about foreign interference, they seek to sanitize an investigation that is the product of foreign interference: the Obama administration, according to increasingly desperate reports, relied on the "intelligence" of a shifting array of foreign spies and diplomats to launch its probe into Trumpworld. Such reliance is supposed to make the investigation sound more credible, as if Hillary's supporters in the Obama administration were loath to undertake the investigation but only did so after receiving devastating intelligence from "trusted allies."
The Never-Ending Mueller Witch Hunt: An Affront to the Constitution. Over the holidays, Robert Mueller, the special counsel, leaked word to the hate-Trump media that in the coming year of 2018, he would not stop with a simple failure to find any truth in the "Russian collusion" charges against POTUS Trump. In a display of truly Stalinist police abuse, Mr. Mueller will keep going until he finds a crime, any crime at all. The FBI, apparently led by Trump-hater Strzok, performed a raid on the Paul Manafort home while the family was still asleep, a surprise intimidation tactic commonly used by Hitler's Gestapo against innocent civilian families, with the purpose of frightening and punishing unarmed victims without due process.
The sane way to view the Mueller probe — and politics. Firmness and prudence, energy and tact weren't given to [President Trump] in equal measure, and every time things have turned his way, he's made an equal and opposite gaffe. But he's not the villain he's made out to be by the media. Unlike Barack Obama, he's played by the Constitution's rules, and is nothing like the dictator he's said to be. As for evidence of collusion with Russia, from what we've seen, it's just not there.
Trump First President Since Eisenhower Not to Visit California in First Year. The Los Angeles Times points out an odd bit of presidential trivia as 2017 comes to a close: President Donald Trump could become the first president since Republican Dwight D. Eisenhower not to visit the State of California in his first full year in office.
Judge dismisses lawsuit against Trump over Emoluments Clause. A federal judge on Thursday dismissed a lawsuit from a liberal watchdog organization arguing President Trump is violating the Emoluments Clause of the Constitution by paying foreign governments. Judge George Daniels dismissed the case on "lack of standing," agreeing with Trump's lawyers' argument that the claims do not fall within the interests of the Emoluments Clause, and should be resolved through the "political process," according to the ruling. Citizens for Responsibility and Ethics in Washington (CREW) filed a lawsuit earlier this year claiming that because Trump has not fully divested from his businesses, he is receiving "cash and favors from foreign governments, through guests and events at his hotels, leases in his buildings, and valuable real estate deals abroad."
Judge dismisses emoluments clause lawsuit against Trump. A federal judge in New York dismissed one of the lawsuits against President Trump's business dealings, ruling Thursday [12/21/2017] that a watchdog group didn't have standing to challenge whether the president's continued connection to his hotel chain violates the Constitution's emoluments clause. Citizens for Responsibility and Ethics in Washington had sued, saying that the president was benefiting from foreign government cash when employees of those governments held events or stayed at Trump hotels. The emoluments clause prevents the president from accepting a gift from another government without the consent of Congress. But Judge George B. Daniels, sitting in the Southern District of New York, said the group wasn't able to bring the action.
The Answers America Needs Are Behind Questions Not Being Asked. Almost two weeks ago it was announced that U.S. District Court Judge Rudolph Contreras was mysteriously recused from the Special Counsel case against General Mike Flynn, five days after Judge Contreras accepting the initial pleading. No explanation as to 'why'?
Trump accuser lobbied to be his makeup artist months before her sex assault allegations roiled campaign. A New York cosmetics executive who publicly alleged Donald Trump sexually assaulted her in the 1990s repeatedly solicited the future president to become his campaign makeup artist and to pitch her new product line in the months before her story roiled the 2016 race, according to the woman and her contemporaneous emails.
House Intel Committee Set To Question Wasserman Shultz, Goldstone. Former DNC chair Debbie Wasserman Schultz and publicist Rob Goldstone are scheduled to be interviewed Monday [12/18/2017]. Goldstone is said to be of interest because he set-up the meeting between Donald Trump Junior and a Russian lawyer at Trump Tower back in June. Meanwhile, the panel is expected to question Wasserman Schultz about the DNC's help funding the now debunked anti-Trump dossier. The Florida lawmaker denies having any knowledge of the arrangement.
Trump accusers being financially backed by George Soros, other left-wing groups. A left-wing group funded by billionaire globalist George Soros is working with the women who accused President Donald Trump of sexual misconduct to demand a congressional investigation into the allegations. The leftist group, Brave New Films, held a press conference with the accusers on Monday [12/11/2017] and called for a congressional investigation into the President.
The Bloom is On The Ruse — Evidence Surfaces Attorney Lisa Bloom Arranged Payments for Trump Accusers. Attorney Lisa Bloom is the daughter of Gloria Allred. The apple certainly doesn't fall far from the poisonous tree. Both Gloria Allred and Lisa Bloom have a history of planned and strategic attacks against candidate Donald Trump and President Donald Trump.
Attorney Lisa Bloom Arranged Payments From Donors For Some Of Trump's Accusers. The Hill has a story today [12/15/2017] detailing some behind-the-scenes negotiations between a would-be Trump accuser and attorney Lisa Bloom. The story is based on documents, including texts, gathered by one woman who considered coming forward prior to the election to accuse Trump of making some kind of pass toward her. In exchange, she wanted money to relocate and to send her daughter to college. Over a series of weeks, the amount of money discussed climbed from $10,000 to $750,000. The money being offered came from unidentified donors.
It's An Industry: Thanks to Lisa Bloom We Now Know Trump Accusers are Paid $750,000 by Dem Donors to Say Trump Abused Them. Thanks to Lisa Bloom, spawn of Gloria Allred, we now know that Trump accusers are paid $750,000 by top Democrat donors to accuse the billionaire president of sexual abuse. With Democrats it's all about power by any means necessary.
Well well ... Lisa Bloom asked donors for cash to pay Trump accusers. We didn't pay much attention to the big press conference last week featuring President Trump's sexual-misbehavior accusers because a) there was nothing new; b) there was nothing all that shocking; c) some of it was over 40 years old. If it's news to you that Donald Trump had a history as a bit of a playboy cad, I don't know what to tell you. There's this rich, famous guy named Donald Trump... But there's something new now. Attorney Lisa Bloom, who oh by is Gloria Allred's daughter, was apparently hitting up big-money donors to raise money to pay the accusers. And The Hill has seen documents that prove it.
Gloria Allred's Daughter Raised Cash to Pay Trump Accusers. John Solomon and Alison Spann write at TheHill.com: "A well-known women's rights lawyer" Lisa Bloom, the daughter of Gloria Allred "sought to arrange compensation from donors and tabloid media outlets for women who made or considered making sexual misconduct allegations against Donald Trump during the final months of the 2016 presidential race, according to documents and interviews." Now, let's be clear what this story says. The story says that Lisa Bloom "sought to arrange ... for women who" would come forward and accuse Trump of sexual harassment, to be paid by either tabloid media or donors, in order to get them to come forward. She offered "to sell alleged victims' stories to TV outlets in return for a commission for herself, arranging a donor to pay off one Trump accuser's mortgage and attempting to secure a six-figure payment for another woman who ultimately declined to come forward after being offered as much as $750,000..."
What if Jeff Sessions is not asleep, but instead playing possum? Conventional wisdom is that Attorney General Jeff Sessions is asleep at the wheel — from recusing himself unnecessarily from the Trump-Russia collusion investigation to doing nothing about the politicization and weaponization of the Department of Justice. He also gave free rein to his deputy A.G., Rod Rosenstein, who is in turn allowing Special Counsel Robert Mueller unlimited time, money, and jurisdiction to investigate President Trump's entire life. Last summer, Trump expressed disappointment in Sessions, calling him "beleaguered," wondering why Sessions wasn't looking into Hillary Clinton's emails and true election chicanery. Rudy Giuliani was floated as a possible replacement. Was Trump truly upset, or was this a calculated head fake?
'Whistleblower' Account Claiming Flynn Sent Text About Ending Russia Sanctions Just Took A Massive Blow. A whistleblower claiming to have been privy to text messages exchanged between ACU Strategic Partners official, Alex Copson, and then-incoming National Security Advisor Michael Flynn, appears to have been lying. Flynn had reportedly told Copson that sanctions against Russia would be "ripped up," in an effort to boost relations between Washington and Moscow. According to AT&T phone records, the conversation did not take place as the whistleblower claims.
Case Closed: FBI says Sessions didn't have to reveal Russia talks. The FBI has put to bed a controversy whipped up by liberal critics of Attorney General Jeff Sessions over his contacts with foreign officials including Russian Ambassador Sergey Kislyak during the 2016 presidential campaign. An FBI email released through the Freedom of Information Act said that Sessions had no obligation to reveal any contacts with foreign officials unless he "developed personal relationships" with them. The bottom line: His two contacts with Kislyak in 2016 did not have to be revealed to the FBI on his SF-86 security clearance application, part of his confirmation process.
Robert Mueller and his politically biased team of prosecutors need to go. Special Counsel Robert Mueller has sabotaged his own investigation of Russian meddling into the 2016 election. He has only himself to blame for ruining what could have been a credible probe. As I will document below, Mueller deliberately assembled a team of partisans with a history of political bias who appear determined to undo the results of the 2016 presidential election and drive President Trump from office. Because Mueller improperly stacked the deck of his special counsel staff with biased crusaders, he transformed what was supposed to be an impartial investigation into an illegitimate and seemingly corrupt one. To restore integrity, Attorney General Jeff Sessions should un-recuse himself from the case for the limited purpose of cleaning up Mueller's mess. There is no law that prevents the attorney general from doing this.
Mueller Probe Cost Almost $7 Million in Less Than 6 Months. The Department of Justice issued the first financial report for Special Counsel Robert Mueller's "Russia" investigation Tuesday, indicating the costs ran well into the millions months ago. The report, which covers the investigation from its inauguration on May 17 to the end of September, shows a total expenditure to that point of $3,213,695. But buried in the report is the fact that the Department of Justice spent an additional $3,546,000 outside the Special Counsel's budget to support Mueller's investigation, yielding a total expenditure through September of $6,759,695.
If Michael Flynn's 'crime' is all Robert Mueller has, it is time to move on. On Friday, President Trump's former national security adviser, Michael Flynn, pleaded guilty to lying to federal investigators about a perfectly legal conversation he had during the presidential transition with then-Russian Ambassador Sergey Kislyak. Flynn should not have lied, and why he chose to remains a mystery, but the substance of the single-count indictment against Flynn shows that special counsel Robert Mueller's investigation has strayed far from its original purpose. We have come down quite a way from the hyperventilation about Russia "hacking the election" a year ago.
Sorry, left, Mike Flynn not the smoking gun. The left, including much of the media, are going nuts now, drooling at Michael Flynn's guilty plea as if it's the final nail in President Donald Trump's coffin — the long-sought means to the impeachment end. It's not. That's ludicrous. [...] Here are the facts: Flynn, Trump's former national security adviser, pleaded guilty to lying to the FBI about communications he had with Russian Ambassador Sergey Kislyak on Dec. 22 and 29. In December — after Trump had already won the White House. The timing makes moot the left's long-running mantra that Team Trump colluded with the Russians to steal away the election from Hillary Clinton.
Report: Special Counsel on Russian Interference Has Cost U.S. Taxpayers $5 Million. Special Counsel Robert Mueller's investigation into Russian interference in the 2016 election and whether there was any collusion with the Trump campaign has cost taxpayers more than $5 million, according to a report. The expenses, since the special counsel was appointed in May, include money for a staff of more than 16 attorneys, dozens of FBI agents, support staff, travel,and office supplies, according to ABC News's Pierre Thomas. A detailed breakdown of the costs is expected to be released by the Justice Department in coming days.
Diplomacy after the election is not the same as collusion before the election. Retired Lt. Gen. Mike Flynn on Friday pleaded guilty to lying about a non-crime. Even Adam Schiff, the House Democrat most determined to ride the Russia collusion story to bigger and better things, acknowledged that conferring with a representative of Russia about the incoming administration's Russia policy is not illegal or improper. These discussions concerned a United Nations Security Council vote on Israel (in effect the Trump team was asking Moscow for a favor on behalf of a U.S. ally, Israel). The discussions concerned Russia's response to President Obama's lame-duck sanctions for Russian meddling in the U.S. election.
The Scalp-Taking of Gen. Flynn. What is arguably most disturbing about this case is that then-National Security Adviser Flynn was pushed into a perjury trap by Obama administration holdovers at the Justice Department who concocted an unorthodox legal rationale for subjecting Flynn to an FBI interrogation four days after he took office, testing Flynn's recollection of the conversations while the FBI agents had transcripts of the calls intercepted by the National Security Agency. In other words, the Justice Department wasn't seeking information about what Flynn said to Russian Ambassador Sergey Kislyak — the intelligence agencies already had that information. Instead, Flynn was being quizzed on his precise recollection of the conversations and nailed for lying when his recollections deviated from the transcripts.
Why is Robert Mueller even investigating the presidential transition? It is clear from the prosecution of Flynn that Mueller views the transition as within the scope of Mueller's investigation, otherwise there would have been no reason for Mueller to prosecute Flynn. The lying took place before Mueller was appointed and did not concern conversations during the Trump campaign. For lying to the FBI when he did, Flynn could have been prosecuted by DOJ itself. Yet Mueller's team took it on themselves to prosecute the case involving a crime (lying) that took place after the new administration was sworn in regarding a conversation during the transition. The public documents regarding Flynn's plea make clear that the transition is in focus. If news reports have any credibility (and they may not), then Mueller is investigating the political actions of the Trump transition team during the transition period.
Deep meaning of the Mueller probe. The reporters covering developments in the ongoing special counsel investigation conducted by Robert Mueller are so excited by the prospect of President Trump's removal from office impeachment that they can barely keep their tongues from hanging out of their mouths. They demonstrate what it's all about even if they don't have a clue what's going on. It is a striking fact that the charge to which Michael Flynn pleaded yesterday involves lying about conversations that were not themselves illegal. Flynn was not charged with any substantive criminal offense under the Logan Act or anything else. Rather, he pleaded guilty to lying to the FBI.
Did Flynn or the Trump transition team violate the Logan Act? No. Michael Flynn lied. Not once, but twice. He lied to Vice President Mike Pence about his conversations with Russia. For that, he was fired by President Trump as national security adviser. Flynn also lied to the FBI about the same subject. For that, he was charged and pleaded guilty in federal court Friday to a single count of making false statements. As part of his plea, Flynn agreed to cooperate with Special Counsel Robert Mueller's investigation. This inexorably invites two questions: Will Flynn implicate anyone else in the Trump administration, including the president? And if so, for what crime?
Charge Against Flynn is More Evidence That Mueller Has Nothing. News media are breathlessly reporting that Gen. Michael Flynn has agreed to plead guilty to lying to the FBI. [...] That's it, after a year of huffing and puffing. Nothing about the election, nothing about the long-awaited "collusion" between the Trump campaign and Russia. I have no idea why Flynn apparently lied to an FBI agent, assuming that he did. But the communications described in the information are exactly the sorts of contacts that a national security advisor to an incoming president should be having with foreign powers. In short, the allegations against Flynn suggest that Robert Mueller has nothing significant against President Trump or other members of his administration.
ABC News issues correction: Trump did not ask Michael Flynn to contact the Russians as a candidate. ABC News issued a correction Friday [12/1/2017] on a report published earlier in the day that stated former National Security Advisor Michael Flynn was instructed by President Trump to contact Russians while Trump was still a candidate. Instead, the "clarification," later changed to a "correction," noted that Trump's request came after the election — a significant detail as Trump would have been transitioning from campaign mode to preparing for the start of his administration, but still might put Flynn in danger of violating the 1799 Logan Act because he was a private citizen at the time.
There Is No Evidence of 'Collusion' in Michael Flynn's Offense Statement. Moments ago [12/1/2017], the special counsel released Michael Flynn's "Statement of the Offense." This document lays out Flynn's crimes in far greater detail than the short "information" released earlier today. It's important to state this clearly as possible — the statement contains no evidence of collusion with Russia to influence the presidential election. Instead, it amplifies the fact that Flynn apparently lied about contacts that were lawful and appropriate.
Michael Flynn Pleads Guilty to Lying To FBI — Same Misleading Statements That Got Him Fired. Former National Security Adviser General Michael Flynn has pleaded guilty to a process crime of lying to FBI investigators about the content of a December 29th phone call with Russian Ambassador Sergei Kislyak. The conversation occurred the same day that then-president Barack Obama announced sanctions against Russia for its interference in the 2016 election. This is the same misleading information that led to the White House firing Michael Flynn. Special Counsel Robert Mueller has charged Flynn with falsely telling FBI agents that he did not ask the ambassador "to refrain from escalating the situation" in response to the sanctions.
Flynn pleads guilty in plea deal with Mueller. Cue sustained hysteria among Trump-haters in the media and everywhere else. Stay tuned for demands for Trump's impeachment and cries of treason. [...] Flynn already is a proven liar and was fired for lying to Vice President Pence. His word is not worth much. There would have to be corroborative evidence to convict Trump of anything. But absence of evidence would not stop the demands for impeachment. Give the Democrats control of the House next year, and impeachment is what we'll get.
What the Flynn Plea Means. Former Trump-administration national-security adviser Michael Flynn is expected to plead guilty today to lying to the FBI regarding his conversations with Russia's ambassador to the United States. Flynn, who is reportedly cooperating with the investigation of special counsel Robert Mueller, is pleading guilty in federal district court in Washington, D.C., to a one-count criminal information (which is filed by a prosecutor in cases when a defendant waives his right to be indicted by a grand jury). The false-statement charge, brought under Section 1001 of the federal penal code, stems from Flynn's conversation on December 29, 2016, with Russian ambassador Sergei Kislyak. At the time, Flynn was slated to become the national-security adviser to President-elect Donald Trump. The conversation occurred on the same day that then-president Barack Obama announced sanctions against Russia for its interference in the 2016 election. It is believed to have been recorded by the FBI because Kislyak, as an agent of a foreign power, was subject to monitoring under the Foreign Intelligence Surveillance Act (FISA).
Trump Blasts Theresa the Appeaser: 'Don't focus on me, focus on the destructive Radical Islamic Terrorism in the UK'. President Donald Trump answered critics — including U.K. Prime Minister Theresa May — of his November 29 tweets on Islamic attacks with another tweet urging them to focus on "Radical Islamic Terrorism." He was responding to the uproar in the United Kingdom following his retweet of three tweets from the "Britain First" group, which is a considered extreme in the United Kingdom. A spokesman for the prime minister said the group spreads "hateful narratives which peddle lies and stoke tensions."
NSA Veteran Bill Binney: The Public is Being Lied To About Russia Election Meddling. Thirty-year National Security Agency veteran turned whistleblower Bill Binney has come out and said that the allegations of Russia election meddling are nothing more than propaganda. Central Intelligence Agency Director Mike Pompeo met with Binney last month at the request of President Donald Trump.
Has Mueller Abandoned The Trump/Russia Collusion Investigation? Just as the FBI and Justice Department is telling Congress that they haven't been able to verify anything of importance in the Trump/Russia collusion dossier, Special Counsel Robert Mueller has decided to cast a much wider net in his fishing expedition. Is this a coincidence? Or is it a sign that Mueller also realizes there's no there there?
Basketball Player's Dad Disrespects Trump After He Rescued His Criminal Son From China. There is no faster way to lose my respect than to bad mouth someone who has done you a kindness that you'll never be able to repay. That is exactly what happened when Trump brought home the three UCLA basketball players who were at risk of spending the next 10 years in a Chinese prison for shoplifting. Instead of being grateful that his son wasn't going to prison, LaVar Ball decided to pull the most uncool move on the planet: He began to disrespect President Trump.
Here are some of the biggest myths of the Russian-collusion story. MYTH: "We have 17 intelligence agencies that know — with great certitude — that [the DNC hacking] was done by the Russians [to help Trump]," House Intelligence Committee member Rep. Jackie Speier (D-Calif.) recently said, echoing AP, CNN, The New York Times, NBC and CBS, among others. FACT: The Obama administration's Jan. 6 assessment reflected the views of just three intelligence agencies — and one of them, the NSA, which captures Russian signals, expressed only "moderate confidence" in the conclusion. The others, the CIA and FBI, cautioned their judgment "might be wrong." The FBI and CIA reached their conclusion based on the forensic analysis of a private contractor who was hired by the DNC to examine its hacked e-mail server. "We didn't get direct access [to the server]," former FBI Director James Comey testified.
Hillary Clinton, breathing easy now, hints at Trump impeachment. Hillary Clinton may not be running for any particular political seat right now, but she sure does know how to sling a political punch — and boy, is she taking advantage of this Paul Manafort indictment thing. She's like that kid that hangs with the playground bully, coming in after the beating's been administered with a sharp kick to the guy on the ground, a "take that" jab when the guy's rendered defenseless. Impeachment, anyone? That's what Clinton seems to now be suggesting in a thinly veiled appeal to Congress delivered during her book tour. And just when you thought the Russia talk had turned Clinton's way. What impeccable timing; these indictments couldn't have come at a more opportune moment for Clinton.
Tucker Carlson Expands on Podesta Source Story — Shares Podesta Group Threats Against Him. Against the backdrop of the Paul Manafort indictment, Fox News host Tucker Carlson expanded on his exclusive source insight (from a former employee) into the Podesta Group and the lobbying activity on behalf of Russian interests. Additionally, Mr. Carlson shares the legal threats he and his broadcast have recently received from lawyers representing Tony and John Podesta and the DC Lobbying Group they founded. [Video clip]
Manafort indicted, National Review says impeach Trump. Robert Mueller indicted Paul Manafort and Rick Gates, an associate, for money-laundering. The charges seem reasonable, and a prosecution worth pursuing. If guilty, Manafort and Gates deserve prison and a seven- or eight-figure fine (including restitution). The opposite of reasonable is the response by National Review, "What The Paul Manafort Indictment Means." [...] It was published as one big glob in a 274-word paragraph that read like a third grader running in from outside to tell mommy what happened all in one breath. The I-word — impeachment — should not be used by writers, not because it is offensive but because calling for impeachment informs readers of how desperately and rabidly partisan you are.
Mueller May Have Been Illegally Appointed to Job, Legal Expert Says. t's pretty clear that Trump is not a fan of special counsel Robert Mueller. There have been reports that he's even considering firing him or at least getting someone from DOJ to do it for him. This week, The Wall Street Journal's editorial board called for Mueller to resign saying that "he lacks the critical distance to conduct a credible probe of the bureau he ran for a dozen years." However, according to one legal expert, he might not need to resign or be fired: Mueller might have been illegally appointed.
Still no evidence of Trump-Russia 'collusion' — but Hillary is a different matter. Over the weekend, the mainstream media was absolutely giddy with delight upon learning there would be an indictment by special counsel, Robert Mueller. This was proof positive, they insisted, that Trump "colluded" with Russia to influence the 2016 presidential election. Their exuberance was the equivalent of a two day-long tailgate party. Too bad it was premature. The celebration came to a crashing end when the indictments of Paul Manafort and his business associate, Rick Gates, were unsealed Monday morning [10/30/2017]. It turns out the charges are, basically, a tax fraud case. The two men stand accused of hiding their income from their lobbying work for Ukraine in order to avoid paying taxes, then lying about it. That's it.
Trump's Name Doesn't Appear Once In Manafort Indictment. President Donald Trump's name does not appear one time in his former campaign manager Paul Manafort's indictment records released Monday [10/30/2017]. Manafort and his business associate, Rick Gates, were indicted in a federal court on 12 counts, including conspiracy to launder money, conspiracy against the United States, and making false and misleading statements. The indictment related to the core of Mueller's Russia probe, which began in May when the former FBI director was appointed special counsel, does not mention Trump's name once.
The Manafort Incictment Has Absolutely Nothing To Do With Trump. [Scroll down] The world-class bias of the [New York] Times shows up at the end — as you might expect — implying that the only logical outcome of the investigation is a takedown of Donald Trump. Of course, the Times' reprot ignores the concrete evidence of the treasonous Clinton Foundation deal with Uranium One. And the ties between the Podesta Group and Russia. And the fact that Tony Podesta suddenly resigned from his lobbying group today. Of course, if you're looking for real news, the last place you'd look is the Times. But you knew that already.
Mueller's Indictment Of Manafort: Desperate Prosecutorial Hail Mary, Or Trap For Trump? Fast-moving rumors over the weekend — actually, illegal leaks to CNN from special counsel Robert Mueller's office — were confirmed Monday after Donald Trump's former campaign manager, Paul Manafort, was indicted on 12 charges stemming from his ties to Russia. A disaster for Trump? Not yet. In fact, the indictment carefully avoids mention of either Trump or his campaign.
Manafort, Gates Indicted — But Not For Russian Shenanigans. Two former senior Trump campaign staffers pled not guilty yesterday [10/30/2017] to evading taxes on millions of dollars over a period of years and a litany of other charges sought by Special Counsel Robert S. Mueller III that appear wholly unrelated to the alleged Russian intervention in last year's election that he was commissioned to investigate.
So Where Are the Podesta Indictments? If Paul Manafort is guilty of failing to register as an agent of a foreign government, something that occurred when Manafort was not running the Trump campaign, then so is Tony Podesta, the brother of Hillary Clinton campaign manager, who is also up to his eyeballs in collusion between the Democrats and Hillary Clinton and Russia and Ukraine.
The Manafort Political Theatre Project Launched. The theory under which prosecutors work, of course, is to squeeze the little guy with the threat of prison and get him to implicate the higher-ups. But for that strategy to work for Mueller on Manafort, there have to be facts to reveal. So far, despite extensive private and prosecutorial research for over a year, there are no facts. It's all a cover for Uranium One, and for a while, it is a pretty good one.
Robert Mueller should resign. Forgive yourself if you are confused about developments in the Russia, Russia, Russia storyline. In fact, there are so many moving parts that you shouldn't trust anybody who isn't confused. Consider this, then, a guide to the perplexed, where we start with two things that are certain. First, special counsel Robert Mueller will never be able to untangle the tangled webs with any credibility and needs to step aside. Mueller, whose office is apparently leaking the "secret" news that a grand jury has approved charges against an unidentified defendant, assumed his role with one big conflict, his relationship with his successor at the FBI, James Comey. That conflict has morphed into several more that are fixable only by resignation.
FEC complaint accuses Clinton campaign, DNC of violating campaign finance law with dossier payments. Hillary Clinton's campaign and the Democratic National Committee violated campaign finance law by failing to disclose payments for a dossier on Donald Trump, according to a complaint filed Wednesday [10/25/2017] with the Federal Election Commission. The complaint from the nonprofit Campaign Legal Center said the Democrats effectively hid the payments from public scrutiny, contrary to the requirements of federal law. By law, campaign and party committees must disclose the reason money is spent and its recipient.
Supreme Court dismisses Hawaii's challenge to Trump travel ban. The U.S. Supreme Court on Tuesday [10/24/2017] formally dropped plans to hear the last remaining challenge to an earlier version of President Donald Trump's travel ban targeting several Muslim-majority countries and a ban on refugees, but a fight over the legality of his latest restrictions still could reach the nine justices.
Senate Probe Asks Whether Robert Mueller Alerted Obama Administration to Russian Bribery Scheme. The Senate Judiciary Committee is looking into the 2010 sale of U.S. uranium to Russia under then-Secretary of State Hillary Clinton and whether then-FBI Director Robert Mueller alerted the Obama administration about its investigation into Russians involved in the deal, according to Newsweek. [...] Despite the existence of the FBI investigation into Tenex, a Rosatom subsidiary, the Obama administration allowed the sale of Uranium One, a Canadian-based company with U.S. uranium assets, to Rosatom.
Is Mueller Actually Working For Trump? [Scroll down] To recap: from the outset Trump hired Mueller via Rosenstein to carry out the investigation of the Dems, most notably Podesta, but likely ending with the Clinton Crime Family Foundation (as Rush Limbaugh calls it). This is exactly what Steve Bannon told me on two occasions, that no one would get Hillary Clinton on the e-mails, "but you might get her on something else ... the Foundation." Further, this is being carried out in utter secrecy on Mueller/Sessions' part. Finally, word is starting to leak out from targets that the investigation has shifted. Oh, and none other than Jimmy Carter just came out praising Trump, and says the election wasn't rigged. What's that all about? I'll tell you: Carter got word from a target of the investigation's real objectives, and [Carter] wants no part of this. [...] I suspect we have about three more months, taking us into 2018 election season, before Mueller begins to drop indictments.
10 reasons to stay calm about those Russia Facebook ads. [#1] Of the group of 3,000 ads turned over to Congress by Facebook, a majority of the impressions came after the election, not before. Indeed, in a news release Monday [10/2/2017], Facebook said 56 percent of the ads' impressions came after the 2016 vote. [#2] Twenty-five percent of the ads were never seen by anybody. (Facebook also revealed that Monday.) [#3] Most of the ads, which Facebook estimates were seen by a total of 10 million people in the United States, never mentioned the election or any candidate.
Kellogg, Ford Foundations Donated Millions To Anti-Trump Resistance Group. The previously undisclosed donors to a major anti-Trump "resistance" group were exposed in unredacted tax forms the Washington Free Beacon obtained, and some of them are high-profile foundations. The largest donation to the Center for Community Change, which had not revealed its donors in the past, came from the W.K. Kellogg Foundation, created by Will Kellogg, the founder of the food manufacturer, Kellogg. The liberal foundation dished out $3 million to the group, which has worked against President Trump and Republicans both before and after the 2016 election. The second highest donation — $2,350,000 — came from The Ford Foundation, which was first set up by the founders of the Ford Motor Company, although the latter has not had an affiliation with the foundation for roughly four decades, according to Fox News.
Library Considers Dr. Seuss To Be "Racist Propaganda". A library in Massachusetts had a moonbat meltdown over the gift over some Dr. Seuss books. Why? Because they were given by Melania Trump[.]
Mueller's Team Is Reportedly Researching Trump's Pardon Power. Special Counsel Robert Mueller's top legal aide is researching what powers President Trump may have to pardon any of his associates caught up in the ongoing Russia investigation. According to Bloomberg News, Michael Dreeben, deputy solicitor general and former Justice Department appeals lawyer, is researching past pardon cases to what limits might exist on Trump's ability to grant pre-emptive pardons to his associates. Dreeben is also tasked with making sure that Mueller's investigative moves are legally sound.
Trump won't fire Mueller because the president did nothing wrong. Firing Robert Mueller is a media invention. Always has been. But it was resurrected on Tuesday [9/26/2017] by Roger Stone. The informal adviser to President Trump offered his opinion, eagerly solicited by reporters, that the president should sack the special counsel because his impartiality is hopelessly compromised by a myriad of conflicts of interests. Stone was correct, in part. Mueller is deeply conflicted.
End nears for Hillary's Russian excuse. In short, the president will pardon [Julian] Assange if Assange names the DNC staffer who leaked the emails that showed the Democrats were in cahoots with the media — or produces the thumbnail drive used to leak the emails. This is where Bradley (aka Chelsea) Manning comes into play. In granting clemency to a spy who leaked military secrets, Barack Obama enabled President Trump to pardon a man who leaked political information. You see how that works?
Fortunately, Jesse Jackson is not the one who decides.
Jesse Jackson: Trump 'Would Not Qualify to Get Into Jesus' Kingdom'. President Donald Trump may want to tighten requirements on who can immigrate to the United States, but Rev. Jesse Jackson thinks he should instead worry about his own citizenship in heaven. "Trump says you must be able to speak the language of English, [be] qualified, and have a job skill," Jackson said Monday [8/28/2017]. "Jesus would not qualify to come in Trump's country — he would not qualify to get into Jesus' kingdom." Jackson made the comment Monday at the "Ministers March for Justice," which was spearheaded by Rev. Al Sharpton and featured ministers from various traditions united in opposing the Trump administration.
Trump has friendly meeting with two Texas Democrats who called for his removal. President Trump had a friendly meeting with two of his biggest critics in the House after visiting with victims of Hurricane Harvey in Texas on Saturday. Reps. Al Green, D-Texas, and Sheila Jackson Lee, D-Texas, both met with Trump on the steps at Air Force One at Ellington Field in Houston as the president departed to visit flood victims in Louisiana. Both Green and Lee have advocated for Trump's impeachment in the past. Green has actually filed articles of impeachment; while Jackson has also supported the notion of using the 25th Amendment to remove Trump.
Professor Says, Texans 'Deserve' Harvey Because They Voted For Trump, Gets Fired. A sociology professor at the University of Tampa published a tweet on Sunday afternoon [8/27/2017] suggesting that Texas residents deserve the death, destruction and suffering caused by Hurricane Harvey because a majority of Texas voters supported Donald Trump in the 2016 presidential election.
James Clapper Questions Trump's 'Fitness' For Office: 'I Just Find This Extremely Disturbing'. Shortly after President Donald Trump wrapped up his off-the-rails rally speech in Phoenix Tuesday night, the former Director of National Intelligence straight-up questioned the president's fitness for office and ability to carry out his duties. Speaking to CNN anchor Don Lemon, ex-DNI and current CNN commentator James Clapper said that the speech was "objectionable on so many levels."
The Editor says...
I guess if you find President Trump to be "extremely disturbing," you should vote for the lying baby-killing socialist Democrat instead.
Federal judge rules Trump's personal tax returns cannot be compelled through FOIA. A federal judge ruled said Friday [8/18/2017] that President Trump's personal tax returns could not be released through the Freedom of Information Act (FOIA), reports The Hill. The Electronic Privacy Information Center launched a lawsuit against the IRS earlier this year after the group requested the records, citing FOIA. The group sought Mr. Trump's personal tax returns from 2010 to now, but the court said personal tax forms are confidential and can only be obtained if Mr. Trump gave his permission.
The DNC 'hack' might have been an inside job. You should read a story in the Aug. 9 issue of The Nation magazine entitled, "A New Report Raises Big Questions About Last Year's DNC Hack." The first thing you need to know is that The Nation is a liberal/progressive publication. So if there is any bias there it's in favor of the Democrats. The magazine's conclusion: there wasn't a computer "hack" at all. Hard evidence, it says, shows that the DNC e-mails — including those of Hillary Clinton adviser John Podesta — were leaked by someone inside the party. That would change everything, of course, especially since numerous other investigations concluded that the Russians did it.
WaPo: Documents Show Russians Sought Meetings With Trump Campaign, and Team Trump Declined. [Scroll down] These freshly-revealed emails look like a conscientious campaign doing the right thing and expressing appropriate skepticism when approached about opportunities to huddle with the Russians. You can argue that maybe they turned down these contacts because they were involved with the Kremlin at a higher level elsewhere, but there's no proof of that. You can also contend, as WaPo's story does, that this further demonstrates Moscow's keen interest in establishing ties with the Trump camp. That's fine, but that Russian interest would need to have been improperly reciprocated and acted upon to be a scandal. Collusion requires at least two parties, by definition. So this strand of evidence cuts in Trump's favor.
Mueller Raids Manafort's Home — Because He Has Nothing. All the king's horses and all the king's men have not found Russian collusion with Trump. Even Mueller likely knows it, because he is now investigating everything but Russian collusion. You do not expand an investigation's scope because you have found a deep vein of criminality tied to prima facie Russian collusion — if you did, you would be going deep into that vein. Every week, more evidence comes out that the Democratic Party computers were not hacked — something vital to the concept of the Russians stealing those emails and giving to them to WikiLeaks. The fundamental requirement that the Russians stole Democratic emails might have been overturned if the FBI looked at the servers — which they chose not to do. Who among us would be able to tell the FBI that we do not choose to give them our servers for an investigation?
How Obama Handled An Attack By A Racial Nationalist. In July of 2016, an avowed black nationalist murdered five police officers during a Black Lives Matter demonstration in Dallas, Texas. The act of violence was well-planned and was motivated entirely by the hate-filled ideology of the shooter, Micah Xavier Johnson. With several officers dead by the hand of a committed black nationalist, one might think the Obama administration may have considered the assassinations domestic terror and launched an investigation into groups associated with this ideology. Not at all. Barack Obama condemned the shootings, but he did not call out or even allude to Johnson's hateful views. He did, however, blame "powerful weapons" for the violence.
Breaking News: Donald Trump Is President. Donald J Trump is president. Really. He won it fair and square, he was inaugurated seven — almost eight — months ago, and he very probably is going to be president for another three and a half years. Minimum. So, now, children, let's calm down. All of you people over there saying Trump is unqualified and should be removed? Give it up. He's qualified by the only qualification that matters: he is over 35, he is a native U.S. citizen, and he won the [...] election. The Constitution doesn't have a clause in it for removal by vote of the media, or because his political opponents don't like him. The only reason he can be removed constitutionally is if someone finds high crimes and misdemeanors.
Trump Criticized For 'Fire and Fury' Rhetoric But Bill Clinton Said Basically The Same Thing. For days now the media and regular Trump critics on Capitol Hill have berated the President for his rhetoric about North Korea. Specifically, they've said his words about "fire and fury" were particularly incendiary. But back in the 1990s when North Korea was causing problems and issuing threats about atomic bombs, President Bill Clinton essentially said the same thing.
Choose Sides in This Civil War. [Scroll down] There is yet to emerge any serious evidence that anyone committed a crime in this area. The entire confection of Russian collusion arose immediately after the election, despite the fact that Democratic officials such as John Podesta had a great deal more to do with the Russians than the Republicans did, and that by historic criteria, there was no justification for a special counsel to be named at all.
Russian election interference: Where, oh, where is the evidence? We are bombarded daily by the Democrats and the Destroy Trump Media screeching about Russian "meddling" and "interference" regarding our 2016 election. "Meddling" and "interference" are vague charges unless one specifies the concrete evidence. Since Mueller is authorized to investigate this "meddling," the lawyerly questions are, what is the evidence, and what did the evidence cause, if anything? Never mind that the Obama intelligence agencies and FBI investigated this before Mueller was appointed and found no concrete evidence.
Attorney Plans to Call President Trump to Testify in Seth Rich Lawsuit. Investigator Rod Wheeler is suing Fox News over a story that indicated that former Democratic National Committee staffer Seth Rich was killed as a result of communications he had with WikiLeaks, and now Wheeler's attorney says he wants key White House figures to testify. Wheeler, one of the main sources for the article which was later retracted, claims that Fox News fabricated quotes that they attributed to him to support their story, and that they allegedly ran the story at the behest of the Trump administration. Now, Wheeler's attorney says he wants to depose President Donald Trump and former White House Press Secretary Sean Spicer. Fox News has vigorously denied many of the allegations in the lawsuit. Wigdor confirmed to LawNewz.com that Trump and Spicer are among witnesses he wants to testify at depositions for the case. The complaint Wigdor filed on Tuesday [8/1/2017] alleges that Fox News reporter Malia Zimmerman and contributor Ed Butowski met with Spicer to discuss the story, and that President Trump himself had a hand in the editing process.
Time for the GOP to teach the Democrats a scandal lesson. The only way the Democrats will become reluctant to use investigations as a means to harass President Trump is if they experience the weapon themselves and come to the conclusion that it ought to be used only in genuine scandals, as in crimes. There has never been any crime alleged in the "Russia collusion" narrative, which is why a special counsel request should never have been entertained, much less the A.G. recused over the matter. (Yes, it was a "matter," not an "investigation" — because there was no crime alleged.) That is why Robert Mueller's investigation is by its charter a witch hunt, seeking to find a crime, not investigating evidence of a crime that already has been identified.
Full of Schiff. Democratic Rep. Adam Schiff has made himself a leading purveyor of the "collusion" hysteria with which we have been inundated since the election. [...] Every day it becomes clearer that the "collusion" hysteria is more a function of the Democrats' "collusion" with the mainstream media than anything else.
Trump's Transgender Ban Is a Legal Land Mine. President Donald Trump's Wednesday announcement on Twitter that transgender men and women will not be allowed to serve in the military "in any capacity" was not a complete surprise: Last month, Defense Secretary James Mattis announced that the military was hitting the pause button on an Obama-era plan to welcome openly transgender people into the military. But the announcement was a legal land mine. The Trump administration may soon learn that singling out a class of people for exclusion violates the constitutional guarantee of equal protection under the law. And as to those transgender soldiers already serving openly, any effort to expel them would face even more profound difficulties.
Poll: 3-in-4 White Democrats Find It 'Stressful' to Talk to Trump Supporters. Three-in-four white Democrats and left-leaning Americans find it "frustrating" and "stressful" to talk politics with people who have a different opinion of President Trump, according to a Pew Research poll released Thursday [7/27/2017]. While more than half of Americans find it stressful talking to people they disagree with on Trump, white Democrats were the most likely to find it uncomfortable — much more than Republicans of any race.
The quest to prove collusion is crumbling. While everyone is fixated on President Trump's unbecoming and inexplicable assault on Attorney General Jeff Sessions, the media has been trying to sneak away from the "Russian collusion" story. That's right. For all the breathless hype, the on-air furrowed brows and the not-so-veiled hopes that this could be Watergate, Jared Kushner's statement and testimony before Congress have made Democrats and many in the media come to the realization that the collusion they were counting on just isn't there.
Yes, a President May Be Indicted, and May Pardon Himself. As we've pointed out many times, collusion is not a crime; conspiracy is. To prove a conspiracy, you need more than mere association and collaborative action; you need an agreement to commit a specific statutory violation of penal law. Thus far, there is no indication that an actual crime has been committed. Under the regulations for special-counsel appointments, there is supposed to be cause to believe a crime has been committed before a prosecutor is appointed. Yet, we have a prosecutor assigned to the case even though there is, as yet, no crime.
Don't Tread on Me You Trump-Hating Traitors! The Left has become absolutely unhinged over the allegations of collusion with the Russians. Allegations, by the way — in spite of everything that you've read, everything you have heard on the radio, everything you have seen on television — that are still unfounded. Based on the reporting by The New York Times there is still no hard evidence that Donald Trump Junior broke any laws. Now, his meetings with the Russians may have been ill advised, maybe even downright idiotic, stupid. But as near as I can tell, it's not illegal in this country to be stupid.
President Trump sued for blocking people on Twitter. President Donald Trump has been party to an eye-watering 4,000 lawsuits over the last 30 years, US media say. And now the mogul turned commander-in-chief has attracted one more, after seven people sued him for blocking them on Twitter. Mr Trump is an avid user of the social media forum, which he deploys to praise allies and lambast critics. The lawsuit was filed by the Knight First Amendment Institute, a free speech group at Columbia University. The seven Twitter users involved claim their accounts were blocked by the president, or his aides, after they replied to his tweets with mocking or critical comments. People on Twitter are unable to see or respond to tweets from accounts that block them.
How Hermitage Capital, Ziff Brothers And The Clinton Global Initiative Prompted The Trump Jr. Meeting. So what "information" was Veselnitskaya peddling that could be used as a political weapon in the 2016 presidential election? According to a note from Bloomberg this morning, the answer to that question is a very sordid tale that involves Hermitage Capital, Ziff Brothers Investments, The Clinton Global Initiative, a decade-old story on an international tax evasion scandal and a new film Veselnitskaya had been eagerly promoting called "The Magnitsky Act — Behind the Scenes"... all of which probably helps explain why a British publicist was involved in setting up the original meeting, why Trump Jr. was confused by Veselnitskaya's "inane nonsense" and why Jared Kushner decided to leave the meeting after 5-10 minutes.
Liberal Legal Scholar Scoffs At Claims Donald Trump Jr. Guilty Of Treason. Liberal constitutional scholar Jonathan Turley laid to rest many of the claims Tuesday [7/11/2017] from the media and politicos of illegality and collusion surrounding Donald Trump Jr.'s meeting with a "Kremlin-connected" lawyer. Turley, a legal scholar at George Washington University, batted away claims of criminality, asking "does any of this constitute a clear crime or even a vague inkblot image of a crime?" His answer: no, not on the facts.
Trump Jr. Dared to Talk to a Russian Woman. From the fever swamps of the Left, the unsubstantiated, over-the-top Russian electoral collusion conspiracy theory now includes President Trump's son who now stands accused of a 20-minute meeting with a Russian lawyer who allegedly has Kremlin ties. This is merely the latest part of the Left's rolling coup attempt against President Trump.
Trump Jr.'s Emails Undermine Collusion Conspiracy Theory. The emails do not indicate any knowledge of Russian government wrongdoing, such as hacking, or Trump campaign involvement in such activities. Yet the mainstream media is going berserk, hyping the overheated ravings of leftist idiots like Sen. Tim Kaine (D-Va.) whose disastrous performance in the vice presidential debate against Republican Mike Pence may have helped to sink the Democrat ticket last year.
Donald Trump Jr. was within his rights to meet with Russian lawyer. This story is hardly as inane as the collective furor that has been generated around the Russia issue writ large. Although four (or, according to the Clinton camp, 17) intelligence agencies concluded the Russian government attempted to influence the 2016 election, there is no evidence that any of these attempts succeeded. Donald Trump won fair and square, unless you want to assert that somehow Russia hacked Michigan's paper ballot system. But those who are dead-set on invalidating the election results by other means still persisted. Lacking evidence of actual crimes, they have been forced to drum up narratives around more nebulous, subjective offenses like "obstruction," "misleading conduct," and of course "collusion," which this email chain supposedly points to. However, the case is pathetically weak.
Soros-Funded Protest at White House Demands Prosecution for Donald Trump Jr. [Scroll down] Protesters could be seen holding placards produced by the progressive PAC MoveOn.org with the phrases "Resist" and "Investigate Trump," with substantial funding from left-wing billionaire George Soros. [...] Other participating organizations included the Center for American Progress Action Fund, People For the American Way, Public Citizen, Common Cause, UltraViolet, Democracy for America, Common Defense, and the Daily Kos.
Don Jr.'s Russia meeting wasn't collusion — just amateur hour. Washington began its week again with its collective Rorschach test: another Russian-related meeting that was immediately declared to be the "smoking gun" of criminal collusion or even "treason." In the 1960s when Swiss psychologist Hermann Rorschach created his projective test, he found that people could reveal their motivations and perceptions in describing what they saw in amorphous inkblots. In the continuing Russia Rorschach test, it turns out that every amorphous blob looks like a crime to media and many legal experts.
Lawsuit says Trump commission has no legal authority' to collect voter data. President Trump's voter integrity commission has "no legal authority" to collect information from states about their voter rolls, a privacy group said in a new court filing Thursday [7/6/2017], escalating a legal clash with the panel. The Electronic Privacy Information Center, which has filed an emergency lawsuit to try to derail the Trump commission, says that it doesn't matter what sort of information states will allow, the mere act of the panel requesting data, without having safeguards in place, violates federal privacy and electronic records laws.
Linda Sarsour: Resisting Trump Is a 'Form of Jihad'. Anti-Israel activist Linda Sarsour said that resisting President Donald Trump is a "form of jihad" at the Islamic Society of North America's 54th annual convention on Saturday [7/1/2017]. Sarsour, who has vocally expressed sympathy towards terrorists, was the keynote speaker at a community service recognition luncheon during the convention. "I hope that when we stand up to those who oppress our communities, that Allah accepts from us that as a form of jihad," Sarsour said of Trump's administration.
'Collusion' as Farce: The Hunt for Hillary's Hackers. [Scroll down] The embarrassing information in question (emails hacked from the Democratic National Committee and Clinton campaign chairman John Podesta), while interesting to political wonks, had no impact on the public, the vast majority of whom have no idea what a John Podesta is. More importantly, there is neither evidence nor commonsense reason to believe that Putin involved Trump in his shenanigans. Thus, the narrative is morphing from "collusion" into "obstruction" — a half-baked accusation based on actions that were within Trump's lawful discretion and defensible on the merits (viz., recommending against the prosecution of former National Security Adviser Michael Flynn, and dismissing FBI Director James Comey).
Nearly 200 Democrats sue Trump citing emoluments clause violation. Democratic members of Congress on Wednesday [6/14/2017] sued President Trump in federal court, claiming he had violated the emoluments clause of the Constitution by accepting foreign funds through the Trump Organization without Congressional approval. The Washington Post broke the news early Wednesday morning, reporting that 196 lawmakers had joined the complaint, more than any lawmakers ever to sign on to sue a president. Sen. Richard Blumenthal (D-Conn.) led the filing in federal district court and said Tuesday that while no Republicans had joined the lawsuit, they were welcome to do so. Rep. John Conyers Jr. (D-Mich.) led the legal effort in the House.
An Investigation of Nothing. [Attorney General Jeff] Sessions must have wondered, at times, why in the world he was there. He testified that he knew nothing about the alleged Russian spear phishing of the RNC's and DNC's email accounts. [...] Sessions also elaborated on why he concurred with Rod Rosenstein's recommendation that Comey be fired as FBI Director. It was a good reminder of what a terrible job Comey did, and how badly he departed from traditional standards of the Department of Justice and the FBI in connection with the criminal investigation of Hillary Clinton.
Taxpayers Give $30 Million so NYC's Shakespeare Festival can Assassinate Trump Onstage. After learning that an actor dressed to look just like his father gets brutally murdered on stage in a production of William Shakespeare's Julius Caesar, Donald Trump, Jr. asked, "I wonder how much of this 'art' is funded by taxpayers?" Well, thanks to some digging by Adam Andrzejewski, founder of the federal watchdog OpenTheBooks.com, we now know the answer: [...]
Despite not knowing a anything about it, 66% of millennials oppose Trump budget. Just like Congress passes bills before they know what's in them, millennials are passing judgement on President Donald Trump's budget before the full details are known and understood. Millennials, which mostly get their news from Facebook, couldn't possibly understand the impacts of Trump's budget overhaul, but in a GenForward poll, 66 percent of young Americans say they oppose the budget because it helps the rich. How exactly does the Trump budget help the rich?
COVFEFE Act would preserve Trump's tweets as official statements. From the incomprehensible "covfefe" to a post labeling fired FBI director James Comey a "leaker," President Donald Trump's tweets would be preserved as presidential records if a Democratic lawmaker's proposed COVFEFE Act becomes law.
Dem Sen Manchin: No Evidence 'Whatsoever' of Collusion. Sunday [6/11/2017] on ABC's "This Week," Senate Intelligence Committee member Sen. Joe Manchin (D-WV) said that he had seen no evidence of collusion "whatsoever" between the Trump campaign and Russian during their investigation into Russia's role in the 2016 presidential election.
D.C. and Maryland to sue President Trump, alleging breach of constitutional oath. Attorneys general for the District of Columbia and the state of Maryland sued President Trump on Monday [6/12/2017], alleging that he has violated anti-corruption clauses in the Constitution by accepting millions in payments and benefits from foreign governments since moving into the White House. The lawsuit, the first of its kind brought by government entities, centers on the fact that Trump chose to retain ownership of his company when he became president. Trump said in January that he was shifting his business assets into a trust managed by his sons to eliminate potential conflicts of interests.
Carlson: Trump-Russia 'Hoax' an Effort to Topple a Democratically Elected Government. Friday [6/9/2017] during the opening monologue of "Tucker Carlson Tonight," host Tucker Carlson sounded off on the effect of former FBI Director James Comey's testimony before the Senate Intelligence Committee a day earlier. Carlson argued Comey's testimony did not further the Trump-Russia conspiracy narrative, which many had hoped would bring the beginning of the end to the Donald Trump presidency.
Drivers in at Least 21 States Claim 'Covfefe' Vanity Plates. Drivers across the country are racing to their local Department of Motor Vehicles offices to claim "covfefe" vanity license plates just days following President Trump's tweet, where he meant to type "negative press coverage" and instead wrote "covfefe." Drivers have already claimed their "covfefe" vanity plate in at least 21 states, including California, North Carolina, Maine, and Nebraska since Trump sent out his tweet early Wednesday morning, CNN reported.
When No One Knows the Answer. Liberal commenters reacted with amusement and glee after Donald Trump misspelled a word in a tweet. He typed "covfefe" instead of the possibly intended "coverage." Hillary Clinton "mocked the President's made-up word, joking to a Code Conference in California that she 'thought it was a hidden message to the Russians', according to The Hill." It pointed up, if that were still necessary, how deficient in literacy and elocution The Donald is. But inevitably, every Trump malapropism and gaffe raises the invidious comparison: if he's so stupid, then how about the people he beat? One can always explain a loss to Napoleon. But how does one justify a loss to a person regarded as a moron? One can lose to a genius without shame; it's harder to avoid mortification at being worsted by covfefe. And Hillary lost to covfefe.
Has Anyone Ever Leaked So Much To So Little Effect? [Scroll down] First, as the world's leading nuclear powers, we have an interest in avoiding nuclear proliferation and catastrophic war. Second, Islamic terrorism poses a problem for both us and the Russians; it is actually worse for them. In principle, we should be able to work together, to some degree, on this issue. Third, China is aggressive and expansionist in the Far East. Russia shares our interest in containing Chinese ambitions. So it is entirely appropriate that our leaders should seek common ground with the Russians, where possible, in pursuit of our national interests. George W. Bush did it, Barack Obama did it, and Donald Trump is doing it. The main difference between Obama and Trump is that Obama was a pushover for Putin, and Trump isn't.
In the 'Russia' Investigation, Democrats, Spooks and Media Have Most to Fear. The notion that Russia "hacked" the American election — to the extent that it changed the outcome — never made any sense. A fever dream cooked up by Sore Loser Hillary and her malignant consigliere, John Podesta, it began its demonic life as a way to explain Mrs. Clinton's astonishment and anger at losing an election all her media buddies told her was in the bag, and for which she felt sure the fix was in. It wasn't until the day of the vote, when the New York Times and Nate Silver got the spanking of their lives, that the roof finally conked her on the noggin. Those of us who habitually smell rats knew right off that there was nothing to it. But from that night forward, the Clintons, the Leftist media and the Democrats have been pounding the notion that, somehow, the Russians affected the election and that Trump is corrupt, morally unfit, an imbecile and an embarrassment to America.
Forget What You Hear: Our Narcissist President Is Winning. I first became aware of Donald Trump in the late seventies. I was not impressed. In fact, I didn't like him. I thought he was a braggart and a man who went out of his way to disrespect women. I wouldn't have said so at the time, but he was clearly a narcissist. Growing up in an Italian neighborhood in the Bronx, I have been around men like him all my life. They're going to do this; they're going to do that. They have this; they have that. I took him to be a person so full of himself that his company would be unbearable. I didn't give him much hope of winning the presidency, either, but as election day neared, friends would ask what I thought a Trump presidency would look like. [...] In any case, while I didn't hold out much hope of Trump winning the election, I wasn't exactly terrified of a Trump presidency.
Chris Cuomo to GOP Rep Sean Duffy: There Is No Proof of No Evidence of Trump-Russia Collusion. Friday [5/19/2017] on CNN's "New Day," host Chris Cuomo and Rep. Sean Duffy (R-WI) went back and forth on whether or not there was the existence of evidence that President Donald Trump's 2016 presidential campaign and Russia. While Duffy maintained there was no evidence of collusion, Cuomo insisted Duffy offer proof there was no evidence of collusion.
Trump under attack (from all sides). For lots of Trump backers, absolutely every single thing he has done since occupying the Oval Office is understandable. Those millions who voted for him never expected or wanted him to behave like any other candidate, or president. He was expected to break some glass, and turn convention on its head. That was his appeal. They knew he'd make mistakes. Polling shows they really don't care when he does. [...] Absolutely none of his voters care about his tax returns; they're delighted he might even be able to hold off the feds and they wish they could, too.
Guess Who Barack Obama Idolized When He Attended Harvard. [T]he Left worshiped Donald Trump. Then they didn't. All Donald Trump needed to do to get the Left to turn on him is not be a Democrat.
What Crime Would a 'Special Prosecutor' Prosecute? Readers of these columns will recall that I am a naysayer on the constitutional chimera interchangeably called a "special prosecutor" or an "independent counsel." I won't rehash all the arguments yet again. Suffice it to say there is no such thing as a prosecutor who exercises prosecutorial power independent of the executive branch. Were the Trump administration to cave in to media-Democrat pressure and appoint a "special prosecutor," that lawyer would be chosen by the Trump Justice Department and answer to the president. As night follows day, the next line of politicized attack would be that President Trump had rigged the investigation by choosing a crony to make the scandal disappear.
Democrat Ivanka Trump to determine the fate of U.S. Global Warming policy. El Presidente Trumpo is leaning towards getting the U.S. out of our global warming treaties, BUT he might reconsider after he hears from his favorite Democrat in the world — his daughter Ivanka Trump. [...] What's odd is that he promised he would stop all Global Warming schemes during the campaign, but he's putting the policy in the hands of a woman he knows believes in Global Warming, AND met with Al Gore about it!!
Report: Jared Kushner Didn't Disclose $1 Billion in Loans, Investment Ties to Goldman Sachs and George Soros. President Trump's son-in-law and senior adviser Jared Kushner didn't disclose his part ownership of a real-estate finance startup known as Cadre, according to a Wall Street Journal review of Kushner's securities and other filings. The Journal notes that Kushner's Cadre stake "means the senior White House official is currently a business partner of Goldman Sachs Group and billionaires including George Soros and Peter Thiel." The Journal also reports that Kushner didn't disclose a number of loans "totaling at least $1 billion, from more than 20 lenders," on properties and companies he co-owns; and Kushner "has also provided personal guarantees on more than $300 million of the debt." An analysis of the debt on these assets "found ties to a broad swath of U.S. and foreign banks, private-equity firms, real-estate companies and government-owned lenders."
Jared Kushner left a lot off his financial disclosure. Jared Kushner failed to disclose his ownership of a real estate startup linked to Goldman Sachs and George Soros, according to a report Tuesday [5/2/2017]. Kushner, President Trump's son-in-law and top adviser, didn't note on his government financial disclosure form that he is a part-owner of real estate finance firm Cadre, which matches investors with real estate projects, the Wall Street Journal reported. Cadre's other investors include Goldman Sachs, billionaire and top Democratic donor Soros and PayPal co-founder Peter Thiel. Kushner also didn't disclose at least $1 billion in loans from more than 20 lenders, as well as various properties and companies he partly owns, according to the Journal, which reviewed securities and other filings.
Trump has been sued 134 times in federal court since inauguration. President Trump, who has struggled to press his agenda in Washington but has shown a knack for unsettling opponents and triggering protests, has also become an unprecedented lightning rod for federal lawsuits filed by plaintiffs across the country seeking court relief on an unusually broad array of issues. Trump has been sued 134 times in federal court since he was sworn into office, according to a Globe tally based on federal court databases, nearly three times the number of his three predecessors in their early months combined.
Ivanka Trump's uncomfortable embrace of refugees. Ivanka Trump, already under growing fire from some in the conservative camps who think she's exerting too much influence over dad Donald, is now calling for the White House to open doors to Syrian refugees. Conservatives and border control advocates are quite right to be concerned. Ivanka's soft stance on refugees would seem a direct conflict with President Donald Trump's campaign promises to crack down on borders — and particularly, on the entrance of refugees from terror-tied nations who could prove a national security danger to American citizens.
Left-Leaning Ivanka Becoming Donald Trump's Problem Child. Ivanka Trump's left-of-center positions are causing trouble for President Trump. Many passionate supporters of Trump didn't like it one bit when he gave her a prominent advisory role in his government. Both the "alt-right" and actual conservatives feared she would push her farther left on a host of pivotal issues, including on the Planned Parenthood funding battle and the Syrian migrant security issue.
Shep Smith: 'Fox News Cannot Confirm Judge Napolitano's Commentary'. With all the attention on Fox News right now because of a report from Judge Andrew Napolitano about surveillance on Trump being conducted by British intel agency GCHQ, it didn't take long after President Trump's presser for Shep Smith to respond on Fox. GCHQ is outraged that the White House shared this report, and when the president was confronted about his tweets today, he said, "You shouldn't be talking to me, you should be talking to Fox." When Sean Spicer was asked about whether the White House apologized today, he indicated there was no apology and said, "I don't think we regret anything."
Russian Bank Claims Trump Server Story May Have Been a Hoax. Shortly before the 2016 election, the anti-Trump media treated as a political bombshell a story that a Russian bank purportedly had communications with an email server tied to Trump's business empire. The FBI concluded last fall that there was likely an innocuous reason for the "odd stream of activity," but some in the media kept clinging to the narrative, in hopes that a smoking gun would emerge to blow their RussiaGate conspiracy theory wide open. As recently as last week, CNN reported that federal investigators and computer scientists were still examining whether there was a server connection between the Trump Organization and Alfa Bank. According to a new report in Circa News, Alfa Bank has told authorities that the mysterious communications have resumed — and that they have evidence it could be "the work of a hacker trying to create a political hoax." They have asked the Justice Department to investigate, and have pledged to cooperate fully.
DOJ sends wiretap materials to congressional investigators. Justice Department officials delivered materials to the House and Senate Intelligence Committees on Friday in connection to President Trump's claim that the Obama administration had his campaign headquarters wiretapped. "The Department of Justice has complied with the request from leaders of the House and Senate Intelligence Committees and Judiciary Committees seeking information related to surveillance during the 2016 election," Justice Department spokeswoman Sarah Isgur Flores told CNN. Investigators on both committees are currently working to determine whether evidence exists to substantiate Trump's claim. The chairmen of both committees said separately earlier this week that they have yet to find proof that would corroborate the allegations coming from the White House.
Did Obama spy on Trump? Sources have told me that the British foreign surveillance service, the Government Communications Headquarters, known as GCHQ, most likely provided Obama with transcripts of Trump's calls. The NSA has given GCHQ full 24/7 access to its computers, so GCHQ — a foreign intelligence agency that, like the NSA, operates outside our constitutional norms — has the digital versions of all electronic communications made in America in 2016, including Trump's. So by bypassing all American intelligence services, Obama would have had access to what he wanted with no Obama administration fingerprints. Thus, when senior American intelligence officials denied that their agencies knew about this, they were probably being truthful. Adding to this ominous scenario is the fact that three days after Trump's inauguration, the head of GCHQ, Robert Hannigan, abruptly resigned, stating that he wished to spend more time with his family.
Judge Napolitano: Three sources tell Fox News that Obama used the British NSA to secretly surveil Trump. Via the Daily Wire, that's quite a claim. The president of the United States using a foreign intelligence agency to spy on the other party's presidential candidate, for the obviously illicit purpose of erasing any domestic paper trail of his actions? "Scandal of the decade" material. And yet it falls not to the Fox News investigative team to break the story but to legal commentator Andrew Napolitano — and not on one of Fox's marquee shows like O'Reilly or Tucker but on Fox & Friends and Martha MacCallum's program.
The Russia Insinuation Collapses. he ignominious collapse of the Democratic claims and insinuations that Donald Trump was improperly connected to the Russian government has de-escalated the Democrats' campaign against the president — from a frenzied assault seeking impeachment and removal for a cause to be named later, to guerrilla war. Russian collusion has vanished down the same deep hole as the charges of sexism, racism, and a will to autocracy.
Judge Napolitano: Obama used British spy agency to spy on Trump. Ok this is a pretty incredible story from Judge Napolitano on Fox News. He alleges, via three intelligence sources who've come forward to Fox News, that Obama actually used the GCHQ — the British Intelligence Agency who he says has 24/7 access to the NSA's database — to get spy on Trump's phone calls during the campaign and his transition period to president. [Video clip]
Judge Nap: Obama 'Went Outside Chain of Command,' Used British Spy Agency to Surveil Trump. The Justice Department on Monday asked lawmakers for more time to gather evidence related to President Trump's claim that former President Obama ordered wiretaps on Trump Tower's phones during last year's presidential campaign. The House Intelligence Committee said it would give the Justice Department until March 20 to comply. Current and former administration officials have been unable to provide any evidence of the Obama administration wiretapping Trump Tower, yet the president's aides have been reluctant to publicly contradict their boss.
Judge Napolitano says that British Intelligence provided Obama admin with surveillance data on Trump Tower phone conversations. In a startling segment on the Fox News program The First 100 Days, Judge Andrew Napolitano told viewers that there will be no paper trail linking President Obama to any surveillance of telephone calls in Trump Tower during the presidential transition period. (President Obama called it "wiretapping" even though no wires were involved.) The reason is that British intelligence had access to NSA surveillance data — which captures every phone call in the United States — and were able to provide such intelligence to President Obama without a FISA court warrant or any other paper trail that would expose an American intelligence agency that used the same NSA data.
Former Democrat Congressman on Trump Wiretap Claims: 'It Happened to Me'. Former Ohio Democrat Congressman Dennis Kucinich defended President Donald Trump's claims about being wiretapped by the Obama administration during the 2016 presidential election. "It's important because there are people who are saying about President Trump's claim, 'Oh, it could never happen.' Well, frankly, it happened to me," Kucinich told Fox News on Friday [3/10/2017]. Also on Friday, the former congressman penned an article on Fox News describing the incident — a phone call in his congressional office from a foreign leader had been tapped in 2011, and he listened to a recording of it in 2015.
Where Does FISAgate End Up? Probably Nowhere. If, as Democrats suggest, the Russian interference was significant and there was evidence of Trump-campaign collusion in it, it would have been irresponsible for the Justice Department and the FBI not to investigate, including by monitoring communications under the Foreign Intelligence Surveillance Act (FISA). But if, as Republicans counter, Russian interference was immaterial (some say nonexistent), and there was no real proof of Trump-campaign collusion in anything nefarious, then the "hacking conspiracy" was just a pretext for the incumbent administration to investigate the opposition party's political campaign, a stunning abuse of power. Where does this all end up? I suspect it goes nowhere.
Trump accuses Obama administration of wiretapping Trump Tower phones. President Trump made a startling claim Saturday [3/4/2017] that former President Barack Obama had Trump Tower phones tapped in the weeks before the November 2016 election. In early Saturday morning tweets that began at 6:35 a.m., the president said the alleged wiretapping was "McCarthyism" and "Nixon/Watergate." "Terrible! Just found out that Obama had my 'wires tapped' in Trump Tower just before the victory. Nothing found. This is McCarthyism," Trump wrote.
Is There More to the Flynn Story? The American media is ignoring a story from London about the abrupt resignation of Robert Hannigan, the head of Britain's highly secretive Government Communications Headquarters (GCHQ), which is the codebreaking equivalent of the U.S. National Security Agency (NSA). Hannigan's resignation on January 23 surprised everyone, with only a few hours' notice provided to his staff. [...] The Hannigan resignation is not occurring in a vacuum, and some in the large and highly networked retired intelligence community have come to believe that it is connected to the investigation and downfall of Trump's first national-security advisor, Lt. Gen. Michael Flynn.
Why accusations about Trump and the Russians will go nowhere. The recent controversy surrounding President Trump and his supposed ties to Moscow has always been a non-starter for me. We are supposed to believe the word of unnamed intelligence officials ensconced in the Beltway suburbs without a drop of firsthand experience, busy leaking to reporters because they are upset about the result of the last election? Already there's a motivation problem right there. But I have my own experience that makes me think the whole thing is nonsense except as a partisan setup.
White House Pushes Back on Issa: A Special Prosecutor For What? Over the weekend former House Oversight Committee Chairman Darrell Issa, who aggressively investigated the Obama administration on a number of issues, called for a special prosecutor to look into alleged ties between the Russian government and the Trump campaign. [...] Monday [2/27/2017] the White House hit back on that assertion, saying months of media reports have turned up nothing substantial and therefore an outside investigation in unnecessary.
Rand Paul: Stop 'Hysteria of a Special Prosecutor' on Trump-Russia Probe. Monday [2/27/2017] on the "The Mike Gallagher Show," while discussing the investigations into Russia's hacking during last year's presidential election, Sen. Rand Paul (R-KY) said, [...] "Law enforcement ought to look into whether it happened. I wouldn't really want a special investigator if all we're hearing is gossip in the media and nobody's presented any proof that there have been connections or that any law has been broken for that matter."
House Intelligence chairman says he hasn't found evidence of Trump team's ties to Russia. Congressional Republicans are divided over how aggressively to pursue the allegations that President Trump's associates had contact with Russia, with some lawmakers calling for a full-scale look at the former national security adviser's communication with Russia while others say there is no evidence of such contacts. House Intelligence Committee Chairman Devin Nunes (R-Calif.) made clear that he was more interested in nefarious reports published in the news media than in alleged contacts between the Trump team and Russian officials, saying the focus of the House's probe would be on information leaks — which he called "major crimes."
Leaked Audio Reveals Anti-Trump Forces Manufacturing Hostile Town Hall. Leaked audio from an anti-Trump protest group meeting reveals activists with anti-Trump group Indivisible plotting how to best manufacture a hostile environment at a town hall with Republican Sen. Bill Cassidy in Breaux Bridge, Louisiana on Friday [2/24/2017]. The audio, obtained by local radio station KPEL, reveals a coordinated effort to create the public impression that Cassidy's support for Trump is unpopular with his constituents. The activists, who describe themselves as liberals in the audio, can be heard strategizing how to best turn a local town hall into a political victory.
Obama Lawyers Unite to Launch Legal Attacks Against Trump Administration. Lawyers who worked with former President Barack Obama have formed a nonprofit called United to Protect Democracy, which aims at filing lawsuits against President Donald Trump's administration. The group plans to investigate Trump, give information to the press to build the pressure for Congressional investigations, and eventually file lawsuits, Politico reported on Thursday [2/23/2017]. The leader of the group and former associate White House counsel Ian Bassin warned that democracies don't end quickly. He said they often "decline over a period of years that happen through a series of much smaller steps," in an apparent suggestion that the Trump administration would contribute to that decline.
Why Are Trump's Approval Numbers Low? Ask The Haters. There several conflicting polls out about President Trump's approval rating. But one thing is clear in all of them: The only reason his numbers are low is because Democrats despise him. The latest approval numbers come from the Pew Research Center, which found that Trump's overall approval rating in his first month in office is just 39%. That's far below every other president since Reagan.
Senate Dems want details on Trump's use of personal smartphone. A pair of Senate Democrats voiced concerns about reports that President Trump is using a unsecured personal smartphone, arguing it's a security risk. Sens. Claire McCaskill (Mo.) and Tom Carper (Del.) — two Democrats on the Senate Homeland Security and Governmental Affairs Committee — released a letter on Monday to Defense Secretary James Mattis asking for details on the president's phone. "The national security risks of compromising a smartphone used by a senior government official, such as the President of the United States, are considerable," they wrote in the letter.
The Threat to the Integrity of an Independent Judiciary. President Trump's executive order on refugees was temporarily halted by a federal judge in Seattle without much in the way of legal reasoning, and it will shortly be ruled on again by a three-judge panel of the Ninth Circuit, one of whom is an Obama appointee, another a Carter appointee. If the rule of written law is the point of judicial independence, it shouldn't matter who appointed the judges, since their independence should produce uniform results regardless of their political leanings. And if you believe this is the way courts actually work, then naturally it is outrageously improper for prominent political figures to harangue the courts in an effort to influence their decisions. Trump has been doing a lot of haranguing.
Trump ally: Reince Priebus in over his head, should be canned. An ally to President Trump said the White House chief of staff is "in way over his head" and should be dumped. Christopher Ruddy, CEO of Newsmax Media and a member of Trump's Mar-a-Lago resort in Florida, said Sunday that Reince Priebus is the "problem." "I think there's a lot of weakness coming out of chief of staff," Ruddy told CNN's "Reliable Sources." "I think Reince Priebus [is a] good guy, well-intentioned, but he clearly doesn't know how the federal agencies work."
The Consequences of Trump's Bungled Immigration Order. On Thursday [2/9/2017], the Ninth Circuit federal appeals court upheld a restraining order against Donald Trump's executive order temporarily halting refugee processing and travel from seven Muslim-majority countries. The Ninth Circuit is notoriously liberal, and its decisions are overturned 80 percent of the time by the Supreme Court, post-certiorari. This latest decision is particularly egregious. The court's reasoning is unsound, the authority it has arrogated to itself is unprecedented, and the consequences to national security are potentially serious. The Supreme Court has good reason to overturn the Ninth Circuit's ruling. But the fact that the White House finds itself requiring rescue by the high court demonstrates just how badly the administration fumbled its opening gambit.
CNN mocks Trump's list of terror attacks the media is hiding. Earlier Trump said that the media was hiding a bunch of terror attacks because of their left-wing bias, and afterward Sean Spicer promised that they would supply the media with a list of these attacks. Not surprisingly, the list includes attacks widely reported for days and days, and multiple spelling errors, because they take their job seriously. The Muslim collaborators at CNN mocked the list, thereby clearly revealing themselves to be secret ISIS operatives: [...] There's always a kernel of truth, but Trump has to exaggerate wildly, delegitimize the honest criticism, and make us all look stupid in the process.
Mr. Trump doesn't seem to understand that stuff like this is why we voted against Hillary Clinton.
Vice-President Mike Pence says anti-LGBT discrimination has 'no place' in Donald Trump's administration. [Vice-President Mike] Pence told ABC News anchor George Stephanopoulos during an interview aired Sunday that 'in the patriot's heart, there's no room for prejudice'. The White House on Tuesday [1/31/2017] released a statement saying an executive order signed by Barack Obama to protect LGBT federal workers against discrimination would remain in place.
Ivanka Trump Promotes Gay and Transgender Rights. She's been labeled the "Daughter-in-Chief" by the tabloids and, in this case, it appears to be the truth. According to several news accounts that have not been denied or debunked, Ivanka Trump and her husband, Jared Kushner, persuaded President Donald Trump to retain an executive order from the Obama administration that prohibits companies from doing business with the federal government unless they hire and promote open homosexuals and transgendered people. The so-called "transgendered" are people confused about their "gender identity" who may be in various phases of transition to the opposite sex, in some cases involving gender mutilation and surgery. In short, they are DNA deniers, a category of people considered to be engaged in immoral and perverted conduct by the standards of traditional morality and religion.
Trump Keeps Obama's Top Gay Rights Envoy at State Department. The Trump administration has decided to keep President Barack Obama's top advocate for gay rights issues at the State Department in defiance of evangelical groups who called for his immediate expulsion, Foreign Policy has learned. Randy Berry, the Special Envoy for the Human Rights of LGBTI Persons, is continuing "in his role under the current administration," a State Department spokesperson said on Monday [2/13/2017].
Judge Who Will Rule on Trump Travel Order Won ACLU 'LGBT Award'. Judge Michelle T. Friedland, who is on the three-judge panel that will rule on President Donald Trump's executive order aimed at stopping terrorists from traveling to the United States, won the ACLU of Southern California's LGBT Award in 2009, according to the Democratic Sen. Patrick Leahy of Vermont. "She received the President's Pro Bono Service Award in 2013 from the State Bar of California and the LGBT Award from the American Civil Liberties Union of Southern California in 2009," Leahy said in the U.S. Senate on April 10, 2014, stating his approval of Friedland's confirmation to the U.S. Court of Appeals for the 9th Circuit.
Stay Alert, America: The Worst Is Yet To Come. It's early days yet, but President-elect Trump — like his predecessors — has already begun to dial back many of the campaign promises that pledged to reform a broken system of government. The candidate who railed against big government and vowed to "drain the swamp" of lobbyists and special interest donors has already given lobbyists, corporate donors and members of the governmental elite starring roles in his new administration. America, you've been played.
Trump Says White House Leaks Coming From Obama Admin Holdovers. President Donald Trump pointed the finger at Obama administration holdovers at the White House and National Security Council for leaking information about private phone conversations he had with leaders of Australia and Mexico.
Report: About 900 State Dept. Officials Sign Dissent Memo on Executive Order. About 900 State Department officials have reportedly signed on to a memo disagreeing with the Trump administration's refugee ban and block of people entering the country from a handful of Muslim-majority nations despite White House warnings that they should fall in line.
Should Sally Yates Be Indicted? No matter what your attitude about the substance of Donald Trump's executive order temporarily suspending visas from seven countries involved in terrorism, that an acting attorney general took it upon herself to disobey it is nothing less than the deliberate subversion of the rule of law in the United States of America. She deserves to be indicted — or at least be disbarred. Not only did Sally Yates announce she would not enforce the order, she gave absolutely no legal justification for her inaction.
Judicial Watch Statement on the Firing of Acting Attorney General Sally Yates. President Trump is to be commended for upholding the rule of law in firing Yates for her politicization of the Justice Department.
Trump fires acting AG for refusing to defend travel ban. President Trump fired acting Attorney General Sally Yates on Monday just hours after she defied him by refusing to have the Justice Department defend his controversial executive order blocking people from seven Muslim-majority countries from entering the United States. The White House acted swiftly, issuing a statement declaring that Yates, who was appointed by former President Obama, had "betrayed" the U.S. government. Trump selected Dana Boente, U.S. attorney for the Eastern District of Virginia, to replace Yates until his attorney general nominee, Sen. Jeff Sessions (R-Ala.), is confirmed by the Senate. That vote could occur this week.
Why Yates Had to Go. Like most Democrats, Yates objects to the president's executive order. Fair enough. But she is not a political operative, she was a Justice Department official — the highest such official. If her opposition to the president's policy was as deeply held as she says, her choice was clear: enforce the president's policy or quit. Instead, she chose insubordination: Knowing she would be out the moment Senator Sessions is confirmed, she announced on Monday night that the Justice Department would not enforce the president's order. She did not issue this statement on the grounds that the order is illegal. She declined to take a definitive position on that question. She rested her decision, rather, on her disagreement with the justice of the order.
Trump's PATCO Moment. President Donald Trump's firing of a politically motivated official — now-former Acting Attorney General Sally Yates, for her refusal to enforce the laws of the nation and carry out the administration's policy — harkens back to a previous president who faced a similar crisis at the beginning of his administration. CNN has been framing this in its lower-third chyron throughout the evening as "the Monday Night Massacre" — a reference to President Richard Nixon's firing of both his Attorney General and Deputy Attorney General when they refused to get rid of a special prosecutor who was investigating him — with the intent to paint Trump as an off-the-rails tyrant. But even Watergate journalist Carl Bernstein, appearing on CNN late Monday night [1/30/2017], rejected the comparison his own network CNN was making to the Nixon administration's "Saturday Night Massacre."
High school teacher stages mock assassination of Trump. A Texas high school art teacher has been placed on administrative leave after video surfaced showing her "shooting" President Donald Trump inside a classroom while screaming, "Die!" The Secret Service field office in Irving tells me they are aware of the incident, but declined further comment.
Fears of diplomatic row as Donald Trump 'won't be lectured' by Prince Charles on climate change during visit. Palace aides have been warned Donald Trump will not be "lectured" by Prince Charles about climate change during his visit to Britain, according to reports. The President is due to visit the UK in June and be welcomed by members of the royal family. But according to the Sunday Times, fears of a diplomatic row during the trip are mounting.
Secret Service spouses circulate petition calling for agent's firing. The spouses of several Secret Service agents are circulating a petition calling for the immediate removal of the special agent who wrote on Facebook that she would rather face "jail time" than take "a bullet" for President Trump. The spouses, who requested anonymity out of fear of retribution against their husbands and wives, are speaking out against the special agent in question, Kerry O'Grady, because they say they no longer have faith that she can lead the Denver district office where their spouses work.
Secret Service agent who suggested she won't take bullet for Trump on paid leave, report says. A Denver-based Secret Service agent who reportedly suggested that she would rather go to jail than take a bullet for President Trump has been placed on administrative leave. The Washington Examiner reported Friday that Kerry O'Grady, the special agent in charge of the Secret Service's Denver district, was placed on paid leave during an investigation.
Secret Service agent who suggested she wouldn't take 'a bullet' for Trump expelled from group for retired agents. The premier association for former U.S. Secret Service agents Wednesday expelled the special agent who suggested she wouldn't take "a bullet" to defend President Trump because she considered him "a disaster" for the country.
Secret Service vague on action taken against agent who suggested she wouldn't take 'a bullet' for Trump. The Secret Service is weighing how far to take its disciplinary action against a senior special agent who suggested she would rather do jail time than take "a bullet" for President Trump. The agency on Tuesday said it has taken "appropriate action" against Kerry O'Grady, who is the special agent in charge of the Denver office, but has not indicated whether she has been placed on administrative leave, which would be forced leave with pay, a common first disciplinary step when the Secret Service is taking a behavioral incident seriously.
Senior Secret Service Agent Says She Would Allow Trump's Assassination. Since when does a Secret Service agent refuse to protect the president which is their chief duty? She needs to be fired immediately so she can start a new career [...]
Secret Service Agent Implies She Wouldn't 'Take a Bullet' for Trump. It's Now Backfiring, Big-Time. A senior U.S. Secret Service agent is under scrutiny after she shared several controversial Facebook posts excoriating President Donald Trump, at one point implying she would rather go to jail than "take a bullet" for Trump. The Secret Service told The Washington Examiner that they are "looking into" the posts made by Kerry O'Grady, the special agent in charge of the USSS Denver district. In an October Facebook post, O'Grady appeared to openly defy the Hatch Act, which bars some federal employees from advocating for a partisan political party, group or candidate, and proclaimed her support for Hillary Clinton.
Senior Secret Service agent suggests she wouldn't take 'a bullet' for Trump. A senior U.S. Secret Service agent posted Facebook condemnations of President Trump during the past seven months, including one in which she said she wouldn't want to "take a bullet" for him. She explained herself saying she viewed his presidential candidacy as a "disaster" for the country, and especially for women and minorities.
The Editor says...
The men and women of the Secret Service are supposed to be anonymous and apolitical. And in any event, the President's bodyguards should all be men, because a man who hides behind a girl when the bullets start flying is not a man at all.
The first (and frivolous) lawsuit against President Trump. If you're in the mood for a good chuckle, try reading the first lawsuit filed against the new president since he was sworn in. The man hasn't even unpacked his collection of red silk ties... and already he stands accused of corruption while in office. Predictably, the plaintiffs are a clique of law professors serving as "arm candy" for a liberal group called Citizens for Responsibility and Ethics in Washington (an oxymoron, to be sure). Their pleadings read like a dime novel. Or a comic book.
Enough already: Back-of-the-napkin inaugural crowd analysis. I had the privilege of attending the Trump inauguration, and I can assure you that there was no shortage of attendees. While the MSM, spearheaded by The New York Times, attempts to spread half-truths and even full lies, they will also debunk their own garbage from time to time. CNN was kind enough to release a gigapixel of the crowd, which shows a sea of humanity in the non-ticketed area as far back as allowed. [... But] Hillary Clinton eked out an 86.8% margin of victory in the District of Columbia to take its three electoral votes on election night. [...] Had she won, it is likely that a vast majority of those 282,830 bloated government-dependent voters would have spilled into the National Mall to see her ceremony, just as they did for Barack Obama on two occasions.
Notice the Transparently Absent — It's Who Was Not at The White House That Also Tells a Story. Yesterday [1/23/2017] President Trump held a day of meetings with corporate business titans, CEO's, and also skilled labor union officials. However, two men were transparently absent from both group meetings: U.S. CoC President Tom Donohue, and AFL-CIO President Richard Trumka. The reasoning for their absence is more sunlight upon the UniParty swamp. Insofar as politics in DC is a false choice assembly of two political parties sharing the same goals and ideology, the uniparty, so too are Donohue and Trumka two sides of the same coin.
A Smithsonian Gift Shop Sells Anti-Trump and Pro-Hillary Paper Dolls. The museum strives for an 'equal opportunity' apolitical approach. Maybe it should strive harder.
Trump told leaders 'illegals' cost him popular vote. President Trump's first White House meeting with congressional leaders was, by all accounts, a cordial affair. But Trump apparently couldn't resist taking a jab across the aisle, telling the gathering of bipartisan leaders that he'd lost the popular vote only because of rampant voter fraud by "illegals," according to a pair of sources familiar with the conversation.
Ethics Group To Sue Trump, Claiming Constitutional Violations. A group of ethics experts and constitutional scholars plans to file a lawsuit against President Donald Trump on Monday morning, claiming that Trump is breaking the law by allowing his hotels and other businesses to profit from foreign governments. Trump was pressed to divest his business holdings before he took office, but did not, instead passing day-to-day operations to his two adult sons. The group, the Citizens for Responsibility and Ethics in Washington, claims that Trump is breaking the Constitution's foreign emoluments clause.
Interior Department told to stop tweeting after unflattering retweets about Trump. The Interior Department reactivated its official Twitter accounts early Saturday after an abrupt shutdown following shares of two tweets during the inauguration the agency considered unsympathetic to President Trump. National Park Service spokesman Thomas Crosson, whose agency retweeted the offending tweets, apologized on Twitter for the "mistaken RT's from our account," referring to retweets.
President Donald Trump's Inauguration Speech Was A Declaration Of War. President Donald J. Trump did not walk to the microphone in front of the Capitol today to salve wounds or mend hurt feelings. There were no calls for unity or attempts to bridge the political divide. After being sworn in as the 45th President of the United States, Trump issued a call to arms and declared war on the ruling class.
Bill O'Reilly: Efforts to 'Delegitimize' Donald Trump 'Border on Sedition'. On Wednesday night [1/18/2017], Fox News' Bill O'Reilly condemned the Democratic politicians who argue that Donald Trump is not a "legitimate" president, saying their comments bordered on seditious conspiracy.
Judge Dismisses Cheri Jacobus "Dummy" Lawsuit Against Trump. In a decision made public Tuesday [1/10/2017], a New York judge dismissed a lawsuit filed last year against the Republican president-elect by a political strategist who said her reputation was trashed when he called her a "dummy" on Twitter.
Anti-Trump Derangement in Los Angeles Schools. As Inauguration Day nears, "Post-Traumatic Trump Disorder" is ubiquitous. Many of the president-elect's supporters "suffer" from excessive jubilance, bordering on ecstasy, while many of his detractors are wallowing in angst, panic, and rage, and the latter, PTTD group is making life miserable for children across the country. Los Angeles may be ground zero for the disorder. The United Teachers of Los Angeles — or, more aptly, the United Trump-Loathers Association — led by its radical, agenda-driven president, Alex Caputo-Pearl, is planning a major demonstration before school on January 19, the day before the new president is sworn in. The demonstrators are being instructed to launch a tweetstorm to Trump (#schooltrump) and hold symbolic shields at school sites, to show that "educators are united with our students and our communities against Trump's racially charged and anti-immigrant proposals and that we will continue to fight attempts to privatize public education."
Why Trump is spot-on about the Russians and the election. President-elect Donald Trump has recently questioned President Barack Obama's finger pointing at the Russians for election-related cyberattacks; and the current media and pundit frenzy alleging a Russian cyber-strike targeting Secretary Hillary Clinton in order to assure a Trump presidency. President-elect Trump plans to press U.S. intelligence agencies to defend their conclusions, stating, "I know a lot about hacking. And hacking is a very hard thing to prove. So it could be somebody else. And I also know things that other people don't know, and so they cannot be sure of the situation." Having worked since 1995 as a first-responder to cyber-attacks, including serving 11 years as Chief of the SEC's Office of Internet Enforcement, I whole-heartedly agree with President-elect Trump. His skepticism is not only appropriate and warranted — it's spot-on.
Hayden: Intelligence report a 'brick short of a load'. Michael Hayden, a former head of the CIA and National Security Agency, said Saturday that the newly-released intelligence report describing Russia's efforts to undermine the US election was "a brick short of a load." The report, released Friday [1/6/2017], outlines how Russian President Vladimir Putin aimed to hurt Hillary Clinton and help President-elect Donald Trump by using by "an influence campaign" which included hacking Democratic groups and figures.
Ford cancels Mexico plant. Will create 700 U.S. jobs in 'vote of confidence' in Trump. Ford is canceling plans to build a new plant in Mexico. It will invest $700 million in Michigan instead, creating 700 new U.S. jobs. Ford CEO Mark Fields said the investment is a "vote of confidence" in the pro-business environment being created by Donald Trump. However, he stressed Ford did not do any sort of special deal with the president-elect. "We didn't cut a deal with Trump. We did it for our business," Fields told CNN's Poppy Harlow in an exclusive interview Tuesday [1/3/2017].
Eichenwald: My Trump Mental Hospital Accusation Was A Joke And A "Signal" To A Source To Contact Me. In his interview with George Stephanopoulos this morning [12/20/2016] [Newsweek senior writer Kurt] Eichenwald said his accusation that Trump was in a mental hospital was really a way to respond, in a joking matter, to FOX News Channel's coverage of Hillary Clinton's health. Clinton was the 2016 Democratic nominee for president. However, he did say there was a "reporting purpose for that tweet going out." Eichenwald also said his joke, made on national cable news, was a "signal" to a source to contact him.
Trump Is Already Ditching His Movement. Beyond Capitol Hill, Trump has stocked his staff and his cabinet with establishment fixtures and billionaires. His chief of staff is Reince Priebus, the former head of the RNC. His cabinet nominees include long-serving generals, the longest-serving governor in the history of Texas, the CEO of ExxonMobil, and a former Goldman Sachs partner. Sure, he has a sprinkling of insurgents in the ranks, but his early supporters — insiders in outsiders' clothing, such as Newt Gingrich, Rick Santorum, Mike Huckabee, Rudy Giuliani, and Chris Christie — are notable mainly for their absence. Not one has yet earned a significant place by his side. They hitched a ride on the Trump Train and were ushered off before the last stop. If Trump didn't "burn it down," he sure didn't "drain the swamp." In fact, just today Gingrich, interviewed by NPR, said, "I'm told he now just disclaims that. He now says it was cute, but he doesn't want to use it anymore." Well, how could he? Government by Goldman Sachs and ExxonMobil is government by the swamp, of the swamp, and for the swamp. This isn't a revolution, it's a thoroughly conventional changing of the guard.
Update:
Gingrich says he 'goofed' by saying Trump discarded 'drain the swamp'. Newt Gingrich on Thursday [12/22/2016] said he "goofed" by saying a day earlier that President-elect Trump had discarded his "drain the swamp" mentality. "I want to report that I made a big boo boo," the former speaker said in a video he posted online. "I talked this morning with President-elect Donald Trump. He reminded me he likes draining the swamp. I mischaracterized it the other day. He intends to drain the swamp. He even describes it as 'DTS.'"
The NeverTrump crowd is still a nuisance, and still wrong. On issue after issue, for the last 20 years or so, the bipartisan Establishment has delivered policies that were not moderate, or even safe. No rallying around the White House, or lectures about unity, for [Peter] Wehner. Instead, in a column in The New York Times, he continues his attacks on the president-elect while celebrating what he calls the "ancient virtue" of moderation. He fears that moderation is "out of step with the times, which are characterized by populist anger and widespread anxiety." He's right about the anger and anxiety. But, as usual, he's wrong in his diagnosis. The voters didn't turn on the Clinton/Bush Establishment because it was too moderate — instead, they turned on it because it was too radical.
Obama warns Trump not to overuse executive orders. With about one month to go before he leaves office, President Barack Obama gave some exit interview-type advice to his successor Donald Trump: Don't rely too heavily on executive orders. In an interview with NPR's Steve Inskeep on Thursday [12/15/2016] that aired in its entirety Monday on Morning Edition, Obama said it's preferable to work with Congress.
Psychiatric Professors Wonder If Trump Is Mentally Ill, Call For Neuropsychiatric Evaluation. Judith Herman, M.D. is a professor of psychiatry at Harvard Medical School. Nanette Gartrell, M.D., was once at Harvard Medical School, too, in an assistant professor of psychiatry role. Dee Mosbacher, M.D., Ph.D., on the other hand (read: coast), was an assistant clinical professor at the University of California San Francisco. What do they have in common? Well, these high-ranking professors in the psychiatric field have all banded together to write a letter to President Barack Obama about their concerns that President-elect Donald Trump might have a mental illness that should preclude him from the office.
The Editor says...
Where was their concern when Barack H. Obama was nominated for the presidency? Obama admits to years of marijuana and cocaine use, which could permanently impair his judgment, and he shows signs of being a raging narcissist.
Obama was never criticized for this, but...
Ex-CIA chief says Trump risks blame for an attack if he skips briefings. Former CIA director Leon Panetta said on Wednesday [12/14/2016] that President-elect Donald Trump risked being blamed after any potential attack on the United States if he refused to receive more regular intelligence briefings. U.S. officials told Reuters that Trump is receiving an average of one presidential intelligence briefing a week — far fewer than most of his recent predecessors — but that his deputy Mike Pence gets briefings around six days a week.
Obama warns Trump on briefings: 'It doesn't matter how smart you are'. President Obama urged President-elect Trump on Monday night to take as many security briefings as he can, no matter how smart he is. On Sunday [12/11/2016], Trump dismissed criticism that he gets intelligence briefings only once a week, and said he only needs to be briefed when the situation changes. "I'm, like, a smart person," he said. "I don't have to be told the same thing in the same words every single day for the next eight years."
Suddenly Obama cares about Intel Briefings. Am I to understand that the President who avoided intel briefings at an alarming rate for eight years suddenly cares about intel briefings? [...] In case you've forgotten, let me remind you. The Government Accountability Institute reported back in September 2014 that Barack Obama attended only 42.09% of his daily briefings since the day he was inaugurated. The GAI also pointed out that in 2014 alone, Obama missed 62.5% of his Presidential Daily Briefings.
Donald Trump sold all stockholdings in June, spokesman says. A spokesman for Donald Trump said the president-elect sold all of his stockholdings in June, which could help him avoid potential conflicts of interest. The announcement comes after Trump on Tuesday morning said he wants to cancel the government's order for the development of a new Air Force One, citing a $4 billion cost.
Trump sells his stake in Dakota Access Pipeline developer. Donald Trump has sold his entire stake in Energy Transfer Partners (ETP), the company overseeing construction of the controversial Dakota Access Pipeline, a Trump spokeswoman told NBC News. Trump's shares of the company created a possible conflict of interest for the president-elect, as his administration may determine the project's fate amid ongoing protests from Native Americans and climate activists. Trump has supported the 1,172-mile pipeline and broader efforts to produce more fossil fuels in the United States.
'Panic in Progressive Park' — What If Trump Is Actually Good? Reason for the panic — the dawning realization, repressed and often unrecognized though it may be, that Donald Trump may even a be a good president, possibly a great one. Then what? If anything could cause panic among liberals, progressives, and the media (apologies for the redundancy), that's it.
The latest parlour game — what will Trump do with his business? In the 19th century, "parlour games" (yes, that's how it was spelled) were a popular way for gentlemen and ladies of leisure to amuse themselves. The games often involved suspense, intrigue and a healthy dose of conjecture. And so it remains today among the Washington elite as they speculate on what President-elect Donald Trump will do on December 15 when he reveals how he intends to avoid conflicts of interest by "leaving my great business."
Where are Trump Foundation Funds Actually Going? A new 2015 IRS filing calls into question just how charitable the Donald J. Trump Foundation really is. The forms, posted late Monday [11/21/2016] on nonprofit tracking site GuideStar and first discovered by the Washington Post, reveal the foundation has admitted to violating the legal ban on "self-dealing," meaning the charity's funds were improperly used by an insider, their friends or family members. Representatives for the foundation checked "yes" on the section of the form asking whether assets had been transferred "to a disqualified person" in 2015 and in previous years. In the case of the Trump Foundation, a disqualified person could include Trump himself, people close to him or even his businesses.
Experts: Trump's Conflict-of-Interest With His D.C. Hotel Raises Impeachment Concerns. Steven Schooner, a law professor at George Washington University, raised serious legal concerns about Donald Trump and his ongoing interest in Trump International Hotel in Washington D.C., especially after a report in The Washington Post that said foreign diplomats felt pressure to stay there. He's not the only legal expert to raise constitutional questions. "Why wouldn't I stay at his hotel blocks from the White House, so I can tell the new president, 'I love your new hotel!' Isn't it rude to come to his city and say, 'I am staying at your competitor?"one Asian diplomat told The Post. During an appearance on MSNBC Monday morning, Schooner not only raised issues about the ethics of the situation, but also said that Trump could have an "impeachment issue because you have foreign states basically paying money to the Trump Organization by using their hotels."
The Editor says...
Can a president be impeached for perceived rudeness? Or because he owns a business? Who was the last president who owned a business at the time he was sworn in?
The president's hesitance to live in his residence: Where's Dr. Seuss when we need him?
Will Donald Trump live in the White House? Donald Trump is planning to spend as little time in the White House as possible, according to reports. The president-elect's preference for his $100 million New York penthouse has called into question who will pay for the 90-minute commute to the capital by helicopter. During the campaign trail, the businessman would often fly back late at night to his gold-bedecked luxury home in Trump Tower so he could wake up in his own bed. The New York Times claimed that Trump is already having discussions with advisers about how many days of the week he is required to spend in the White House.
---


Back to the Home page