Introduction:
The race riots in Ferguson, Missouri, were the result of perpetually aggrieved political opportunists. A young thug was shot by a police officer in an act of self defense after the thug picked a fight with the cop and lost. Even after the facts of the case were made public, riots and looting took place in the city where the shooting took place. That's largely because facts don't matter to a lot of people these days, but it is also because so-called 'community leaders,' supported and encouraged by the sensationlist news media, fanned the flames in an effort to stay relevant. For this reason, protests and riots broke out in other cities far removed from Missouri.
Related pages:
Race-based political opportunism
News media sensationalism and dishonesty
---
(Scroll down for news and opinion about Ferguson itself, or click here.)
2015: Ferguson's mess spills over onto the University of Missouri
Editor's note:
The University of Missouri is about a two-hour drive from Ferguson.
University of Missouri enrollment hits new low. Enrollment at the University of Missouri continues to crater in the wake of the November 2015 race protests, with this year's incoming class down 33 percent from the one two years ago. Official figures released by the school Wednesday [9/20/2017] put the freshman class at 4,134 — up from the university's initial estimate of 4,009. But enrollment is still down 546 from the fall of 2016 and 2,060 from the fall of 2015. Total enrollment is down nearly 13 percent since 2015.
Update:
Long After Protests, Students Shun the University of Missouri. In the fall of 2015, a grassy quadrangle at the center of the University of Missouri became known nationwide as the command center of an escalating protest. Students complaining of official inaction in the face of racial bigotry joined forces with a graduate student on a hunger strike. Within weeks, with the aid of the football team, they had forced the university system president and the campus chancellor to resign. It was a moment of triumph for the protesting students. But it has been a disaster for the university.
Mizzou Still Displays Melissa Click's Résumé Six Months After She was Fired for Mob Violence Threat. Nearly six months after the board of curators at the University of Missouri fired mass communication professor Melissa Click for threatening a student cameraman with mob violence, the disgraced professor's curriculum vitae — academia's glorified, lengthy version of a résumé — remains emblazoned on the taxpayer-funded school's website.
College Profs Investigated for Acknowledging Existence of Other Opinions. Whether transgender is a real thing, a psychological condition, or the result of a science fiction experiment brought to life by a howler monkey on meth is irrelevant. Honestly, the professor not having expressed his personal opinions on the matter is irrelevant. What is relevant is that American college students just can't handle opinions different from their own. This is just another element in a phenomenon many have been watching since the fiasco at the University of Missouri brought whiny college liberal tantrums to our attention. These students, who are allegedly adults, are unable to handle even the concept that someone doesn't conform to their worldview.
Melissa Click just (accidentally) outed the campus PC Gestapo. Americans first met Assistant Professor Click in video clips taken last year during the campus protests roiling Mizzou. In one, Click called for some "muscle" to remove a journalist attempting to cover the protest. Another showed Click cursing at police officers. The university's Board of Curators voted to fire her, carefully noting that it wasn't due to her views or support for the protesters, but because she wasn't supposed to "interfere with the rights of others, to confront members of law enforcement or to encourage potential physical intimidation against a student." That's a pretty low bar for employment at a state university.
Melissa Click: Mizzou Fired Me Because I'm White. Remember Melissa Click, the University of Missouri professor who lost her job after assaulting a student on camera and asking for some "muscle" to help get rid of him? According to Click, her dismissal from Mizzou wasn't because she attacked a student in a pathetic bid to shut down free speech. Nope. Click says she was fired for being white.
Melissa Click claims she was fired because she's white. After being fired by the University of Missouri for assaulting a student journalist during a protest and threatening to call for "muscle" to intimidate him, Click has not been able to go quietly into the unemployment line.
A Message For Higher Ed From Mizzou's 1,500 Missing Students. "I am writing to you today to confirm that we project a very significant budget shortfall due to an unexpected sharp decline in first-year enrollments and student retention this coming fall," wrote Interim Chancellor Hank Foley in a university memo Wednesday [3/9/2016]. Instead of a 900-student drop, as Mizzou expected, the university was looking at a 1,500 student drop, and that meant a continuing revenue shortfall as a smaller freshman class moves toward graduation, he explained. With U.S. News and World Report reporting a 46% four-year graduation rate for the school, it's a steep loss indeed. As a result, Mizzou has been hit with a $32 million revenue shortfall, and will have to cut expenses 5% and impose a hiring freeze.
Missouri Update: Crazy Campus Radicals Are Financially Crippling the University. For months, news has trickled out of Missouri regarding the negative fallout from the fall student protests. The university capitulated in the face of a racial "crisis" wholly of the protesters' manufacture (demanding a chancellor's resignation over random racial incidents completely outside his control), and the chickens are truly coming home to roost. Previously, I've posted about declining student applications and declining donations, yet the true dimensions of the financial disaster are only just now coming into focus.
Mizzou Protests Lead to Plunge In Freshmen, Massive Budget Deficits. The fallout from the fake Mizzou protests continues to destablize the University of Missouri. Today the interim chancellor of the university emailed students that the university will enroll 1500 less students than projected and faces a budget shortfall of $32 million this year. While the 1500 fewer students aren't broken out by year, the vast majority of them will come from the entering freshman class. How substantial is the decline in enrollment? Based on Mizzou admission data from past years we're talking about a potential 20% drop in enrolled freshmen.
Mizzou professor who pushed reporter away from protesters is fired. Melissa Click, a professor who gained national notoriety during the protests at the University of Missouri, has been fired. Click made headlines when a video of her pushing a reporter away from protesters went viral; she could be heard calling for "muscle" to toss out reporters trying to cover the news. The protests at the flagship state university over race and other bias issues had paralyzed the campus and forced the resignation of the system president and chancellor. When a student journalist said he had a First Amendment right to be there and take photos, Click said, "I can't hear you!" and started chanting, according to a transcript released by the university system, "Hey hey! Ho ho! Reporters have got to go!"
University of Missouri curators vote to fire Melissa Click. Assistant Professor Melissa Click, captured on video calling for "some muscle" to remove reporters from a campus protest site, was fired Wednesday [2/24/2016] by the University of Missouri Board of Curators, Chairwoman Pam Henrickson said in a prepared statement. The board voted 4-2 in favor of termination during a closed session in Kansas City, with Henrickson and curator John Phillips opposing the move, UM System spokesman John Fougere wrote in an email Thursday. Curators David Steelman, Donald Cupps, Maurice Graham and Phil Snowden voted in favor of firing Click.
Disgraced Missouri professor seen yelling profanity at police in new video. A since-suspended University of Missouri professor is seen yelling profanities at police officers trying to clear activists blocking traffic in a video that surfaced late Sunday night [2/14/2016] of an October protest. Assistant Professor of Communication Melissa Click was suspended from her position in late January after she was charged with misdemeanor assault following a different videotaped skirmish with a student journalist in November. The prosecutor has said he'll drop the charge in a year if Click completes community service, though her position at Missouri is still being reviewed.
New Video Surfaces of Melissa Click Confronting Police. New video, posted on YouTube by The Columbia Missourian, appears to show suspended University of Missouri professor Melissa Click cursing at police officers during Mizzou's Homecoming Parade. [Video clip]
Journos kicked out of Concerned Student 1950 town hall at Mizzou, threatened with arrest. Journalists covering student activism on the campus of the University of Missouri still face a hostile environment. According to Higher Education news site The College Fix, one of their student videographers had the cops called on him after he refused to leave a Wednesday evening [2/10/2016] town hall meeting organized by Concerned Student 1950. The "Concerned Town Hall" was advertised on campus as a meeting for "black students and students of color" and many white journalists were asked to leave before it began at a chapel located on campus.
Tenured Thugs and Thieves. Professor Melissa Click of the University of Missouri criminally assaulted an undergraduate student and, though local prosecutors were slow to move on the case — there was video of the incident, and the facts were not in question — she eventually was charged with third-degree assault. She will not be convicted of a crime, and, so far, her tenure-track position is safe.
Mizzou Suspends Melissa Click in Wake of Assault Charges. Embattled University of Missouri professor Melissa Click was suspended Wednesday night [1/27/2016] by the UM Board of Curators, pending further investigation. This comes three days after Click was charged with third-degree assault for an incident that occurred during a campus protest last November.
Interim Missouri chancellor rebuffs calls to fire professor. An interim chancellor on Monday [1/25/2016] rebuffed demands for the ouster of an assistant University of Missouri professor that have been rekindled in the wake of her being criminally charged for a campus run-in with student journalists during protests.
University of Missouri professor charged with assault in fracas with journalist. The University of Missouri communications professor caught on video scuffling with a journalist during a November campus demonstration was charged with third-degree assault Monday morning [1/25/2016], the Columbia city prosecutor's office confirmed to FoxNews.com. A summons with a yet-to-be determined court date is set to be mailed to UM assistant professor of communications Melissa Click.
MU professor Melissa Click, who called for 'muscle' to remove reporter, charged with assault. Melissa Click, the University of Missouri communications professor who garnered widespread scorn for trying to physically remove a student reporter from a campus protest, was formally charged with assault Monday morning [1/25/2016]. A spokeswoman for the Columbia prosecutor's office said Click was charged with third-degree assault, a class C misdemeanor that carries a possible 15-day jail sentence.
Time to Take Back State U. What happened at the University of Missouri last fall could have happened at any major state university save perhaps one: Purdue. In that I live in Missouri (and have a wife on the faculty) and in that I got my Ph.D. from Purdue, I have had a front row seat to this entirely predictable saga. If, six months ago, you asked the University of Missouri curators which major state university was most likely to melt down, not a one of them would have said, "Mizzou!" But that, I suspect, is because they had long since accepted the reigning absurdity on campus as normative.
Black college students demanding more black professors don't realize 'they are demanding the impossible.'. In recent weeks, America's campuses have been on the front page. Instances of racial insensitivity and acts have caused black students primarily to protest campus climates that sometimes are hostile. The epicenter was Columbia, Missouri, but demonstrations have sprouted from coast to coast. [...] Some of the demands have called for changes in leadership, both administrators and student leaders. Some have asked for mandatory diversity training for all members of the campus community. Still others have asked for counseling and academic support targeted toward underrepresented groups on campus. They all ask for one thing: More black faculty. There is unanimity in the belief more faculty who look like them will go a long way in solving these issues. There is an old saying that you can't get blood from a turnip. In the same regard, you cannot hire black faculty that do not exist.
What Do Yale, Missou, Alinksy, Cloward-Piven and Obama's Organizing for Action Add Up To? It ought to be obvious that the snowflake fascists are ruling-class supporters. Taught by government teachers and professors, lovingly recorded by Democratic operatives with by-lines, given a light touch by the justice system, these youngsters are nothing less than shock troops of the ruling class. So when President Obama sics the demonstrators on us, when George Soros is funding them, when the sons of multimillionaire railroad executives are leading the "peaceful protests," when college administrators are encouraging the demonstrators, then we are not witnessing the people protesting, we are looking at government in action, the ruling class enforcing its will through its regime supporters hoping for preferment. We are talking about injustice, of the ruling class, by the ruling class, for the ruling class.
Does Any of This Campus Turmoil Have to Do with Race? No, Yale is not a hotbed of racism. Neither is Dartmouth. Neither is Columbia. Neither is Princeton. No reasonable person of color on any of these campuses really believes that he suffers interminable racial discrimination sanctioned by such institutions. [...] No, there is not a climate of bigotry poisoning the air at the University of Missouri. That's where a gay black student council president and a hunger striker with a multi-millionaire father teamed up to get a few people fired and a whole country obsessed with their campus until Paris fell apart on international TV. The high point of the Mizzou Affair was of course a swastika traced in ostensible human excrement, which for some reason the press failed to recognize as likely anti-Jewish, not anti-black.
Universities [are] No Longer Even Pretend to be Institutions of Higher Learning. Students at several universities have been protesting over some legitimate, and even some illegitimate, grievances and "injustices" recently. In unsurprisingly duplicitous fashion, they have engaged in the same type of tactics they denounce: bullying, intimidation, and bigotry, in what should be the most open and diverse setting — institutions of higher learning. At the University of Missouri, there was a report of a swastika of human excrement on a wall in a lavatory. Surprisingly, in this era of everyone having a cell phone that takes pictures, not a soul on a campus of 30,000 students was able to document it. Then apparently some inebriated student said some inappropriate things of a racial nature. He was suspended. So basically, a couple of incidents of bad behavior.
Student protests continue almost two weeks after U. of Missouri resignations. Almost two weeks after protests resulted in the resignation of University of Missouri System President Tim Wolfe, increasing numbers of students nationwide are rallying in support of the students there and for radical changes within higher education. From the University of Nebraska-Lincoln to the University of Kansas to Lewis & Clark, students are demanding that schools, and some state governments, address what they say is the systematic racism found both in their schools and off. Here's a round up of some of the latest rallies that took place this week: [...]
White House: Colleges Should Create 'Safe Spaces' and 'Welcoming Climate' For Student Protesters. The Obama administration is delivering a list of guidelines for college administrators who must respond to allegations of racial mistreatment and "white privilege" on college campuses, after widely publicized incidents at Yale and the University of Missouri created by student protesters. "We can do better in our responses to these incidents and creating more welcoming climates," Obama's Department of Education Secretary Arne Duncan explains in an op-ed in the St. Louis Post-Dispatch.
From Missouri to Paris. For years, the liberal academy shunned conservative teachers. Progressive students extended the logic: Failure to shout down certain views, they say, is itself immoral. Now these students organize themselves into mini-mobs — recently at Missouri, Yale and Dartmouth — to silence anyone on campus who they imagine disagrees with them. Once it is established that "hostile speech is not free speech," they can do anything they want to their targets, because the opposition is ... no good.
America's Potential Great Proletarian Cultural Revolution. [Scroll down] As with Mao's Red Guards, the current American student movement has been galvanized by an attack on university administrators. The Red Guards accused university officials of "intellectual elitism" and "bourgeois tendencies." A number of university officials were toppled, just as in the recent case of the University of Missouri president. In China, fired school administrators were then forced to perform such degrading labor as cleaning toilets. Fellow students were also subjected to Red Guard ridicule for "bad class" backgrounds (usually descendants of the landlord class, capitalists, or intellectuals) in a manner similar to the current attacks on "white male privilege" on some U.S. campuses. The labeling by the Red Guards of individuals as "capitalist roader" was as devastating as the current labeling as "racist" is in America. The Red Guards sought the repression of any divergent ideas.
Students Offended Again. [Scroll down] These events have taken place in an atmosphere of racial tension brought upon this country by groups such as "Black Lives Matter" and liberal professors whose intent is to make every student toe the party line of political correctness. The students who fail to follow the proscribed thoughts are there to get an education, not to be coddled and be told whatever happens is someone else's fault. What is taking place only reinforces the mob mentality that pervades academia today. The tactics being used on today's college campuses are straight out of the socialist playbook, where small unruly mobs can change the environment for those who want to learn and to think for themselves. All aspects of critical thinking, of talking about differing viewpoints, and even the possibility of agreeing to disagree are no longer taught. It is now easier to be an angry mob, to use those mobs to crush the enemy, to listen to no dissent. An aspect that I found to be silly was the Concerned Students 1950 put up signs that claimed there was no safe space for reporters. I find it silly because the press is the biggest cheerleaders for groups such as this[.] How can you require safe spaces without giving it to others? Why mob around the husband of someone who said something you disagreed with and not allow him to have a safe space. This shows that all this talk of safe space is hypocrisy.
Some University of Missouri students want to help choose school's next chancellor, president. Some University of Missouri students told the system's governing body Friday [11/20/2015] they want some say in deciding who will become the next chancellor and president at the school's main campus in Columbia and raised the argument the university needs more faculty of color. The Board of Curators meeting was the first open for student input since protests over the administration's handling of racial issues and the subsequent resignations of Columbia campus Chancellor R. Bowen Loftin and President Tim Wolfe.
Wimpy colleges surrender to lunatic fringe. In a month when Western Civilization has come under renewed attack from jihadists, that other bastion of opposition to the economic and political freedom the West embodies has gone haywire: college campuses. While it's tempting to blame precious students who are demanding safe zones and freedom from unwelcome ideas, the real culprits are wimpy college administrators. The latest chapter of political-correctness lunacy comes from Princeton's campus, where a group of students staged an illegal sit-in at the offices of university president Eisgruber. The students were outraged that the man who ran Princeton before becoming our 28th president in 1913, Woodrow Wilson, was unable to see a century into the future during his life and comply with our contemporary racial sensibilities.
Sticks and Stones. The door has swung open and now we can see what's really in there. [...] In fact, I'm even having trouble figuring out what their problem is. One kid says he's against white privilege, but his family, which is all black, is solidly part of that famous and much maligned 1%. So if a black man can earn millions of dollars a year in Middle America, what's his son so mad about? What privilege can he possibly gain from disrupting a major college campus?
Enemies Foreign and Domestic. We've only just realized in the last week that a significant cadre of college-age Americans put no stock in the Enlightenment principles enshrined in our Constitution. Maybe you saw the vice president of the University of Missouri's student body telling an MSBNC anchor, "I personally am tired of hearing that First Amendment rights protect students when they are creating a hostile and unsafe learning environment for myself and for other students here." [...] Maybe, too, you noticed how the adults at Missouri and Yale (and at other schools) reacted to these bullies. They scampered. They caved. They groveled. They apologized. And they resigned.
How Obama is bankrolling a non-stop protest against invented outrage. Barack Obama's presidency has been pockmarked by rioting, looting and protests. That's no coincidence. It's what the former community organizer sought from Day One. And it's just going to get worse before he leaves office. The senseless protests we're seeing break out on the campuses of the University of Missouri, Yale and other colleges, as well as on bridges and highway overpasses and outside police stations, are precisely the kind of thing Obama was trained to organize while attending leftist agitation schools founded by Chicago communist Saul Alinsky.
FYI: You're paying to persecute a conservative college professor. As everyone and their brother knows, Yale and the University of Missouri are facing manufactured crises-turned-real-crises as students (and, occasionally, professors and administrators) demand everything but the kitchen sink be given to accommodate demands of "safe space" from things like reality and the U.S. Constitution. In the meantime, a leader of the #MillionStudentMarch thoroughly embarrassed herself by knowing nothing about economics in her fight for free college, a $15-an-hour minimum wage, and cancellation of student debt.
President Obama Praises University of Missouri Protesters: 'I Want an Activist Citizenry'. President Obama weighed in on the recent protests at the University of Missouri for the first time in an exclusive interview with ABC News' Chief Anchor George Stephanopoulos. The president lauded the students' activism, but also warned they need to maintain an open dialogue with those who hold differing views.
'Safe spaces' on college campuses run at odds with First Amendment, say law experts. So-called "safe spaces" — where students can shield themselves from uncomfortable or dissenting viewpoints — might be all the rage on college campuses, but they would not have been too popular with the founding fathers, say Constitutional law experts. "I think the problem is they're trying to use this word 'safe' — which conveys the image of a violent attack — and turning it into safe from ideas and statements we find offensive," said UCLA law professor Eugene Volokh. "There is no right to be safe from that." "That is directly contrary to what universities are all about," Volokh told FoxNews.com Friday.
Liberal Activists Upset Paris Terrorist Attacks Are Getting Attention, Not Mizzou Protests. Upon hearing of the terrorist attacks in Paris and the massive loss of life, social media focused on sympathy and prayers for the victims. But some people were upset not over the massive loss of life, but because the attention they'd been getting for protests over perceived racial injustices on college campuses was now being directed toward the 160 innocent murder victims in the capital of France.
Sorry, kids: A real movement needs more than hurt feelings. The protests at the University of Missouri and Yale University have given us endless tales of racial slights and looming violence at campuses nationwide. But where's the agenda? The alleged offenses range from the horrific — fecal swastikas, social-media threats against black students — to more trivial questions about skin tone, hair texture and economic status. Stung by a seemingly endless barrage of race-based attacks, Missouri students feel "awkward," "exhausted" and "uncomfortable," The New York Times reports.
Vanderbilt students move to oust professor who suggested radical Islam might be a problem. The story coming out of Vanderbilt this week might have been shocking in years past, but by now it's just a footnote to the daily rap sheet. The students at this esteemed university, having seen the "success" of their fellow seekers of knowledge at Mizzou, are looking to give the boot to one of their professors. Her crime? Penning an editorial many months ago suggesting that we might be having a problem with Islam.
Chaos on campus: Students protest, call for heads to roll at schools around country. Chaos swept over college campuses around the nation Thursday [11/12/2015], as the ousters of the embattled University of Missouri system's president and chancellor earlier this week were followed by dozens of other student protests calling for more faculty and staff heads to roll. A popular professor at Missouri said he resigned Wednesday after students lashed out at him for pledging to give a scheduled exam amid spiraling protests, but the university said Thursday it rejected his resignation.
The Million Student March's 'Generation E' — for Entitlement. Student activists are getting a lot of press with their calls for free college as a national issue. Call us curmudgeons, but when is someone going to get up and call them the spoiled brats that they are?
Mizzou Head Football Coach Gary Pinkel Will Resign. Only days after tweeting support for the student protestors at the University of Missouri, head football coach Gary Pinkel has announced his resignation at season's end.
American Fascism: Call the Campus Protests What They Are. The racist, McCarthyite, totalitarian movement rearing its ugly head on college campuses as diverse as Missouri, Yale and Vanderbilt is being treated by conservatives as a case of kids too fragile to handle views with which they disagree. This may work as a debating tactic but it misunderstands both the malignancy of the politics behind the campaign and the ferocity of its radical leaders. Now they are calling for the heads of liberals (and getting them). But quaint American prejudices like the First Amendment still stand in their way. But for how long?
Inside Job: Mizzou's New Interim President Made 'Race-Relations' Video With Activist Leader. Mike Middleton, the man just named as the interim president of the University of Missouri, worked as a political activist with the protestors who forced out his predecessor. [...] Middleton retired in August after teaching at the law school for 17 years. But he subsequently worked with the black protestors who created racial tensions by staging a series of direct actions designed to antagonize other students.
The Gulag: The Coming Fear Under A Life Of Lies. Considering that most, if not all by now, of the claims by the Revolutionary students at the University of Missouri have either been debunked or were always simply too absurd on their face to be taken seriously Normal, mentally healthy people; considering that the Radical students at Yale are demanding a preposterous and utterly inane and idiotic set of conditions be met; and considering the fact, despite all this, that these budding Nihilist Wobblies have gone from triumph to triumph, it is worth looking at where these kind of things will lead us if we do not stop them immediately. Such behavior as that exhibited by the Revolutionaries [and that is what they are because that is what they seek: the overthrow and destruction of the American Way Of Life in favor of the grand and beautiful 'safe-space' of a Leftist Utopia] is not new or unique. It has been seen before in History, no more blatantly than in pre-Revolutionary and Revolutionary Russia.
The Million Student March Movement: the New Khmer Rouge. College campuses used to be a safe space for controversial debates. These leftists are turning this on its head: A safe space on a college campus means a place where you are not allowed to challenge the party line, and where, if you do, you get threatened or attacked. Dogma and intimidation rule where once freedom of thought roamed unfettered. The campus has morphed from a place for education, to a re-education camp. They were not satisfied with controlling the faculties of departments in the humanities and arts. They want to control all aspects of campus life — as a way of eventually controlling all aspects of life in the USA.
Big Mess on Campus. The football coup at the U. of Missouri was particularly intriguing because the sport has such power in American universities, but much of it plays out beneath the surface. [...] But the recent history of Missouri football ought to teach us something about America in 2015. Americans love a winner. And the easiest way to win at college football is to recruit violent young men other coaches wouldn't dare bring on campus. For example, although Coach Gary Pinkel is being praised for backing his players in their crusade to have the college president fired for being white, he's presided over at least two major rape scandals.
The Campus Purges are Only Going to Get a Lot Worse. It's in the nature of campus revolts that the leaders aren't going to be satisfied with limited reforms to the school; they are inspired by inflated rhetoric, and they see themselves at the center of a great moment in world history. They have, after all, been told that they are the Next Big Thing, the new elite, those destined to govern. Or rule, as the case may be. So they must constantly demonstrate their power versus the hated "Establishment." That the Establishment gave them these misguided notions is beside the point, it's part and parcel of the phenomenon, as several professors are being reminded. So the purge is on, and my guess is that it will get a lot worse before the inevitable reaction sets in.
Campus Crazies on 'Million Student March'. Protesters are calling for tuition-free public college, cancellation of student debt, and a $15 minimum wage for college workers... plus a lot of other stuff about "straight white male patriarchy" and rape culture on campus.
Free Tuition And Debt Forgiveness For Bad Behavior? The students at the University of Missouri and Yale who have whipped up student protests and intimidated college officials based on spurious claims of victimhood are the generational spawn of the radical 1960s. Egged on by an aging cohort of far-left faculty members schooled in the socialist bullying tactics of Saul Alinsky, they've intimidated two institutions of higher learning into submitting to their irrational nonsense. But it didn't end there. On Thursday, students walked out of class across the country to protest rising student loan debt and to demand free tuition.
Protest Organizer: The 1% Can Afford to Cover Free Tuition, Loan Forgiveness. College students across the country are protesting student loan debt, arguing that public university tuition should be free. The rallies come just days after fast food workers across the country marched in favor of a minimum wage hike to $15 an hour. Organizers of the Million Student March argue that students today are taking on "crippling" debt in order to obtain a degree, calling for outstanding loans to be forgiven.
Universities Have Become Totalitarian Gulags. The diversity fascists are coming to get you. They've criminalized dissent by formulating rules that are inherently stacked against Christians and conservatives (and especially Christian conservatives). Then, to add insult to injury, they ignore all their own rules and simply govern by whim. In my case, the university violated four deadlines, their own confidentiality guidelines, and rules of evidence and impartiality, and the code of student conduct. The final decision from the provost included charges I had never heard prior to being judged, witnesses never mentioned to me, and details I never had the opportunity to dispute. The diversity police change the regulations or contravene them whenever they face the possibility that you might win.
Click Got Grant to Attend Twilight Convention. It turns out Melissa Click should have been more careful in preserving her own safe space; her Curriculum Vitae is posted online, and provide you with all the information you need to understand why Ms. Click is as unable to cope with the real world as her students. A few highlights? She received a "graduate certificate" in "Advanced Feminist Studies," which is not actually a thing. She thinks home canning will subvert the capitalist food culture. She's done he best work while studying Lady Gaga and Martha Stewart, and she once wasted taxpayer money on a very special trip to Texas.
The Cultural Revolution Comes to America's Campuses. [Scroll down] Recent events at the University of Missouri and Yale (where I attended graduate school), plus now other institutions, have only increased my apprehension. It's not at the level of the Cultural Revolution — professors haven't been asked to wear dunce caps yet and no one (to my knowledge) has been killed — but the portents are not reassuring. Mob rule, not anything close to democracy, is at play. The so-called SJWs (Social Justice Warriors) seem to be functioning as early avatars of the infamous Red Guard, bullying and then threatening violence to anyone whose thoughts run outside what is deemed to be correct.
A Generation that Hates Free Speech. It's beginning to become hard to ignore how woefully ignorant a burgeoning generation of Americans seems to be in even the bedrock philosophical tenets upon which the United States was founded. You might think that a principal notion so central to the American identity as the freedoms of speech, expression, and assembly — rights so essential the Founders made it the first — would enjoy at least modest respect if not veneration from all citizens, young and old. Increasingly, the next generation seems to view First Amendment protections not as a bulwark against the dangers of tyranny, but as a threat to their comfort and preferred intellectual isolation.
Mizzou Team store not selling MU "Whiteout" shirts for BYU game. The Mizzou Team Store was not selling Mizzou Tigers "whiteout" shirts for the upcoming game against BYU at its store or on its website Wednesday [10/11/2015]. The shirts were listed on the store's website as the official 2015 whiteout shirt for Saturday's game against the BYU Cougars the weekend prior to the game. The attached picture is a screen shot of the shirt listed on the store's website for sale still on November 7th. On Wednesday [11/11/2015] the link to find that shirt on the store's website no longer worked.
Editor in Chief of Student Newspaper Blocks Reporters During Campus Protest. Days after a University of Missouri media professor came under scrutiny for blocking and harassing protesters, the editor in chief of a Loyola Univerity campus newspaper has done the same. According to the Chicago Tribune's Tony Briscoe, during a protest called for by the campus African-American paper The Black Tribune, protesters "locked hands and members of The Black Tribune asked the media, not including those from their own publication, to stand outside the perimeter."
Mizzou and the Master of Our Universe. Ironic his name is Wolfe. The incidents surrounding University of Missouri president Tim Wolfe's resignation following protests of racial insensitivity on campus might as well be plot points in a novel by Tom Wolfe. They are certainly as funny. The graduate student on hunger strike against oppression is the son of a millionaire railroad executive. The administrators who gave in to the radicals' demands did so not out of sympathy or solidarity but out of fear of a football strike. The professor who called for "muscle" to help her expel a reporter from a protest held a "courtesy post" in the department of journalism. The details of the saga — including, and I am not making this up, a "poop swastika" — read like a missing chapter of Wolfe's 2004 novel I Am Charlotte Simmons.
The Missouri Poop Swastika Is the Moment Social Justice Jumped the Shark. No evidence has yet surfaced that a Nazi symbol made of human feces was left on campus at Missouri, less still that it was a racially-charged statement. It seems more likely that the swastika is a hoax, just as — whisper it — so many other high-profile black victims on American campuses celebrated endlessly by progressive journalists turn out to be mendacious frauds. But "facts" haven't stopped students, and even some idiotic professors, from hurling themselves into grievance-fuelled hysteria on campuses all over the country, even at Yale. Such are the levels of hysteria following this fecal fabrication that Mizzou students hallucinated the KKK into existence yesterday [11/10/2015].
Mizzou Relents, Releases 'Poop-Swastika' Report, Images. It took media pressure and a Freedom of Information Act request filed with the University of Missouri's custodian of records, but the infamous "poop-swastika" photo and police report were released late Wednesday [10/11/2015]. The reaction by school officials to an Oct. 24 incident in the university's Gateway Hall was used by activists to pressure system's president Timothy Wolfe to resign.
Activists Enforce Segregation: 'Black-Only Healing Space'. University of Missouri race activists have adopted a separate-but-equal philosophy for the creation of their "black only healing space." Concerned Student 1950, the group behind Monday's resignation of the university system's president Timothy Wolfe, directed white people to leave a room on campus so black students could "be vulnerable and real."
Is the Entire Mizzou Protest Based On Lies? The first column I wrote on the Mizzou controversy analyzed the allegations and pointed out that firing a president had zero connection to any of the allegations or the demands for the protesters. In that column I accepted the protester's allegations as true. But as the week has gone on and the protesters have been exposed as anti-first amendment, selectively racist, and, last night, willing to perpetrate actual lies to get more attention, isn't it time to examine whether these incidents are actually real? That is, what if there's actually zero basis for the strike in the first place? What if these alleged incidents never happened and the media just accepted them without asking any questions at all?
The First Amendment Is Dying. [Scroll down] And where is the faculty, those brave souls who value the freedom to debate and champion sometimes-controversial ideas when mobs of student are making wild accusations against their school without any real evidence? Where are they when students shut down conservative, libertarian, or not-progressive-enough Democrats from speaking at their schools? In fact, the campus police — not the hissy-fitting communications professor or the would-be authoritarian student — asked students to call authorities and report "incidents of hateful and/or hurtful speech" in detail. A school, the place where young people supposedly ponder challenging ideas, now has students reporting any instances of unsavory speech. What does "hurtful speech" entail, anyway?
The Most Expensive Day Care in the World. Over the past few days we have seen evidence of just how far gone American academia is, complete with screaming hysterics and forced resignations over Halloween costumes at Yale and screaming hysterics and forced resignations over artistic displays of indeterminate ideology at the University of Missouri. The latter appears to be the most full exposition of pathology on campus available for examination, and perhaps the best example yet of how the Left is eating its own in the institutions it dominates.
The coming campus revolution. We may be seeing the beginnings of a full-blown campus revolution. Not a revolution based on actual oppression, but a revolution stemming from perceived oppression and a desire to attain victimhood status. The seeds of the revolution sprouted in full force this week, with protests at Yale and the University of Missouri. At Mizzou, students began protesting alleged incidents of racism. In addition to whatever true allegations there might be, false ones have contributed to the mass hysteria, as when Mizzou's student president was forced to retract a Facebook post informing students that the Ku Klux Klan was on campus.
The Fraudulence of Leftist Professors. Melissa Click is the harridan seen calling for "muscle" to get rid of reporters and camera men covering left-wing festivities at the University of Missouri: [Video clip] So who is Melissa Click? She is an Assistant Professor at Missouri and has a PhD in communication from the University of Massachusetts. What was the subject of her dissertation? "It's 'a good thing': The commodification of femininity, affluence and whiteness in the Martha Stewart phenomenon."
Center for American Progress kerfuffle accidentally reveals Palestinians were advising demonstrators in Ferguson. As a byproduct of an internal dispute at the far-left think-tank the Center for American Progress (CAP), it has been revealed that Palestinian advisers were brought into the Ferguson, Missouri demonstrations to advise the rioters. Exactly who paid for them to apparently fly halfway around the world (or otherwise build "strong relationships") and stick their noses into an American political dispute is unclear, though it has been bandied about that George Soros has played a major role in funding the #BlackLivesMatter movement that is ginning up black anger, and presumably 2016 election turnout for Hillary.
A Plague of Unruly Children. We have generations of children now who were born but not raised. I don't know the particular circumstance of this student's family, but in far too many black families (and a growing number of white and Hispanic families) the norm is a single mother. The stats are three out of four black children are born out of wedlock. While there is no question this is the worse situation for the child and the "parental unit," it's been encouraged since the "Great Society," an oxymoron almost as bad as "rap artist." The federal government told one generation after another, "Young ladies, have kids, Uncle Sam has become Uncle Sugar, we'll pay for the kid. We'll send you money, a rent voucher and food stamps. Young men, have as many kids as you want, don't worry about supporting them, we'll 'raise' them and you don't have to worry about getting a job.
University of Missouri associate professor resigns amid backlash after refusing to cancel exam. An associate professor at the University of Missouri has resigned following backlash after he refused to cancel an exam for students who claimed to feel unsafe, the latest twist in turmoil that is increasingly being seen as a threat to free speech on campus. "If you don't feel safe coming to class, then don't come to class," Dale E. Brigham, an associate professor at the school's Department of Nutrition and Exercise Physiology, initially told students in an email, Campus Reform reported.
Black-only meeting of Klein students stirs segregation concerns. Parents from one local high school now say school officials are stirring up problems where there aren't any. "(I was at the meeting) it was (catered to) black kids (and) not to live up to stereotype," said Justin Wharton, student at Klein Oak H.S. What parents thought was a segregated event was anything but according to students at the meeting. "I don't think it was segregation it was misinformation on how it was supposed to go," said another student.
Ferguson Effect: UC to Join 'Million Student March'. The student demonstrations that have thrown the University of Missouri and other campuses around the nation into chaos will sweep across California on Thursday [11/12/2015] as part of a national effort called the "Million Student March." Although preparations for the "march" have been under way for weeks already, the demonstrations are capitalizing on the sensational news from "Mizzou," where both the president and chancellor of the University of Missouri system resigned earlier this week in the face of student complaints that they had not been responsive enough to the shooting of unarmed black teen Michael Brown in Ferguson, MO last year, or to recent racial incidents on campus.
Mizzou Student VP: 1st Amendment Creates 'Hostile and Unsafe Learning Environment'. While most people were following the story of the University of Missouri media studies professor who bullied a student journalist in several viral videos, the school's student body vice president had a blunt response for journalists who claimed their first amendment rights were being violated. Mizzou student body VP Brenda Smith-Lezama spoke with MSNBC about the declared safe spaces and why students (and some faculty) were trying to keep reporters out of them. When questioned about these "teachable moments" — with the caveat that "the cameras are going to go away soon" — Smith-Lezama said "journalists... cannot approach these situations with hostility and anger as it only escalates the situation."
Mizzou hunger striker protesting 'white privilege' has a father making $6 million last year. [Scroll down] And the organization in which his father is an executive is the Union Pacific Railroad, one of the biggest companies in the country, where he earned over $6 million last year as executive vice president for marketing and sales.
Campus Activists Weaponize 'Safe Space'. At the University of Missouri, student activists succeeded this week in forcing the resignation of President Timothy M. Wolfe, charging that he has not done enough to address persistent racism on campus. Tim Tai, a University of Missouri student, got a freelance assignment from ESPN to photograph the reaction of victorious activists at the tent city they set up in a public area of campus. As a matter of law, he had an indisputable First Amendment right to photograph events transpiring outdoors on public property. But student activists did not want their tent city or the people in it photographed, and forcibly prevented him from taking pictures.
Was The Poop Swastika Incident At Mizzou A Giant Hoax? Something stinks at the University of Missouri. A reported incident of vandalism at Mizzou sparked university-wide protests, a boycott by the school's 4-5 football team, and eventually the resignation of the university's president and chancellor. There's only one problem: no evidence of the alleged incident, in which a poop swastika on the wall of a dormitory restroom was reported, has ever been made publicly available.
MU faculty member resigns courtesy appointment, apologizes for photojournalist incident. MU faculty member Melissa Click has apologized. And Tuesday night [11/10/2015], she resigned her courtesy appointment with the Missouri School of Journalism. Click was caught up in an incident Monday between a freelance photographer and protesters near the Concerned Student 1950 camp on Mel Carnahan Quadrangle.
The Left Eats Its Own at MU. As the social justice movement enters its Jacobin phase, I can only wonder what a James Meredith might think about the incidents that caused the protest. [...] The president of student government said that people in a passing pickup truck shouted racial slurs at him. (Meredith was never in any danger of being elected student body president at Mississippi.) In early October, a drunken white student made a "hurtful" remark to members of the Legion of Black Collegians (LBC). He was promptly thrown out of school. In a third incident, someone reportedly smeared feces into a swastika in a dormitory bathroom. What this has to with African-Americans I am not at all certain.
The Editor says...
Everybody on a college campus has a cell phone with a camera in it. So where are the pictures of the poop swastika? Who cleaned it up (so promptly)? Wouldn't DNA analysis show whose excrement it was? Is a swastika offensive only to blacks? Were the Nazis rounding up blacks and sending them to death camps?
Mizzou's 'Safe-Space Enforcers' Face Backlash. Three members of the University of Missouri faculty are facing a backlash after a shocking video showed them taunting and harassing student journalists during a campus protest on Monday [11/9/2015]. Disgraced MU faculty member Melissa Click apologized for her part in the embarrassing spectacle, and Tuesday night [11/10/2015], under pressure, she resigned her courtesy appointment with the Missouri School of Journalism. Erik Wemple of the Washington Post's media blog is calling for more than just resignations from courtesy appointments, however. He wants Mizzou to fire Richard J. "Chip" Callahan, Janna Basler, and Click because of their thuggish behavior and shocking disregard for the 1st Amendment.
University of Missouri, please immediately fire employees who taunted media. To watch the video of photographer Tim Tai getting pushed around by a turf-protecting scrum of protesters at the University of Missouri is to experience constitutional angst. "You don't have a right to take our photos," said one protester at the university's Mel Carnahan Quadrangle following the news that University system President Tim Wolfe and chancellor R. Bowen Loftin would resign amid an uproar about racial issues on campus. "I do have the right to take photos," replied Tai, a 20-year-old senior at the university who was shooting the proceedings on Monday [11/9/2015] on assignment for ESPN.com. A former staff photographer for the Columbia Missourian, Tai was forced by circumstances to double-task as he attempted to take photographs and provide civics lessons.
Hey Mizzou, Where's the Poop? I noted earlier that I will not believe the incidents of racism happened as alleged by University of Missouri agitators until some convincing proof is offered. Skepticism is the best policy given the plethora of false allegations of criminal and otherwise heinous misconduct on college campuses. Plus, most of us come from the due process culture campus leftists are trying to eradicate — the culture that presumes innocence and demands proof before we condemn.
Why the last few days at Mizzou have college administrators everywhere scared. The intention, presumably, was to show strength and solidarity. On the surface, Missouri's two most powerful athletics officials did that in a press conference here on Monday [11/9/2015]. Gary Pinkel, the football coach, talked of supporting his players. Mack Rhoades, the athletics director, talked of using an extraordinary last few days to improve life on campus. But underneath all of that is a layer of fear, which is an awkward look for those used to power. The fear is here at the state's flagship university the same as it is growing at Kansas and Kansas State and every other school across the country in the billion dollar business of major college sports. This is a major moment. College sports, or at least the power dynamics within college sports, will never be quite the same. Coaches and administrators can be divided into two categories: those who adjust the way they deal with athletes, and those who will struggle and even lose their jobs because they refuse.
University of Missouri Police Ask Students to Report 'Hurtful Speech'. The Missouri University Police Department (MUPD) sent an email to students Tuesday morning [11/10/2015] urging them to call them and report any hurtful speech they encounter on the campus. In an email that was flagged by several Missouri-based journalists, the MUPD asked "individuals who witness incidents of hateful and/or hurtful speech or actions" to call the department's general phone line "to continue to ensure that the University of Missouri campus remains safe."
The Editor says...
Just because someone utters offensive language in your direction, that doesn't mean you're not safe. (Nor is it the government's duty to keep you safe -- it's the government's job to guarantee our freedom, not our safety.) Thousands of angry people yell insults at professional football players (and referees) every week, but that doesn't put the players in any danger. In a society where free speech is protected, offensive speech is part of the system.
Mizzou and the Hillary campaign. The ongoing Black Lives Matter campaign to make African-Americans so angry that they turn out in large numbers for Hillary Clinton reached a new level yesterday at the University of Missouri. The alleged sins that caused the resignations of the university president and chancellor are transparently absurd — not "doing enough" over very few incidents of misbehavior, one of which resulted in the suspension and soon expulsion of the miscreant, the others of which have no identifiable suspects.
White Racism at Mizzou and Berkeley: Racial Hoaxes of the Week. A mediocre team of subliterate football players is now running the University of Missouri. Maybe no one will notice the difference. The takeover occurred over the last week, when members of the sub .500 football team joined black activists in demanding the university president resign. They insisted there was lots and lots of white racism on the campus — and the president's white privilege made him blind to see it — or do anything about it. Lots of white students joined in, admitting they too were guilty of white racism. And because they could not quite figure out what it was, it had to be subconscious. So the president had to go. And he did, leaving behind a plea for "more diversity."
Black Lives Matter activists seek political clout. A year after protests in Ferguson, Mo., riveted the nation, activists at the center of the unrest that became known as the Black Lives Matter movement want to channel the outrage and the energy of marches into political clout, but their calls for action have drawn mixed results. A handful of leaders who emerged from protests that followed the shooting death of Michael Brown, an unarmed, black 18-year-old, by Darren Wilson, a white police officer, launched Campaign Zero in August.
How Cop Killer-Quoting Activists Forced the University of Missouri President Out. The Concerned Student 1950 activists at the University of Missouri, connected to the Black Lives Matter movement, got their scalp, and it's just the beginning. The resignation of of University of Missouri System President Tim Wolfe is major victory for the student movement, and their supporters know it.
Seven Lessons from the University of Missouri Debacle. With the President of the University of Missouri stepping down from his position for the grave sin of being a white person, the left's internal purge continues. We've already seen transgenderism warring with feminism, and transgenderism cleansing old-style feminists from the ranks of the initiated; we've seen the hard-core anti-Israel doves in the Democratic Party marginalize the few pro-Israel votes left; we've seen the pro-abortion movement run out of town on a rail any remnant blue dog Democrats. Now, the racial radicals are coming for their ideological grandparents.
White House Praises Protestors After Forcing University of Missouri President To Step Down. The Obama administration is praising protesters who successfully forced University of Missouri President Tim Wolfe to announce his resignation. White House Press Secretary Josh Earnest praised the group of protesters for rallying together and demanding change, pointing out that Obama's first presidential campaign was embodied by the same spirit. [...] Wolfe resigned after members of the college football team joined the protests, saying they wouldn't suit up for the next game.
The Editor says...
If I had been in Mr. Wolfe's position, I would have let the football team disband before resigning over petty schoolyard nane-calling incidents that may or may not have happened.
Meet The Mizzou Media Professor Who's Trying To Ban Media Coverage. After desperately trying to gin up media coverage of student protests at the University of Missouri, one of the school's media professors is now furiously trying to "muscle" the press off campus to prevent them from covering student protests that rapidly spiraled out of control Monday [11/9/2015]. Mizzou president Timothy Wolfe announced his resignation on Monday after members of the school's 4-5 football team announced they would boycott team activities unless the school acceded to certain demands surrounding racial equality. Unsurprisingly, Wolfe's resignation did little to quell the mob.
Missouri Confirms It: US Campuses Are Sliding into PC Chaos. The African-American student government president claims that in September, he was on the receiving end of racial slurs from people driving a passing pick-up truck. Other black students have also reported racial slurs, and, more recently, a "poop swastika" was found smeared across a campus bathroom. The swastika thing is just an allegation, of course — and anonymous swastikas on campus do have an unfortunate history of turning out to be hoaxes. There have been a lot of campus hoaxes involving black students, of course — though for the sake of politeness you're not supposed to say so. Normally it involves students who have been ginned up by race hustlers.
Ferguson protests influence actions at U. of Missouri. Among other things, [activists] want a say in Wolfe's successor, an emphasis on shared governance, more inclusivity for minority students and more black faculty.
The Editor says...
If there is never another white person hired by the university, how will that prevent racial animosity?
Second Scalp for Black Radicals as University of Missouri Chancellor Resigns. Just hours after the apologetic resignation of University of Missouri President Tim Wolfe, the small Black Lives Matter-influenced activist group #ConcernedStudents1950 got another major scalp, as Chancellor R. Bowen Loftin announced he was resigning, effective at the end of year, and "transitioning" to another role.
The Theater of White Guilt. Mizzou's ousted president, Tim Wolfe, seems to have been forced out of his half-million dollar per year job — not for what he did, but rather for what he didn't do. The students who drove him out have been complaining that Wolfe did not respond forcibly enough in the wake of certain racist incidents on campus. The most scandalous of these several incidents involves the student body president, who is black. He says that several months ago someone drove by and insulted him with a racial slur. I also read that someone made a swastika out of feces in a campus bathroom. Black students who organized protests in recent days say they feel "marginalized" on campus. But what did Tim Wolfe have to do with any of this?
The University of Missouri is a football team with a university attached to it.
Mizzou: No Longer An Actual University. [Scroll down] Days later, a group of black protesters surrounded a car carrying Wolfe in a parade, and refused to let him pass. Wolfe's driver "bumped" a couple of protesters in an effort to get away. Well, if you are going to prevent a car from driving on a road, don't be surprised when you get bumped, morons! But that was seen as another sign of the racist character of the Mizzou administration. And then someone painted a swastika in feces on a residence hall wall. This person has not been identified. Nobody knows if this was a genuine act of hate, or a hate crime hoax carried out by a provocateur (this has been a documented problem on campuses). But it didn't matter to protesters. It was useful to the cause.
Mizzou Protest Shuts Down First Amendment. A young photojournalist tried to do his job today and take pictures of a protest movement roiling the University of Missouri. The protest, named #ConcernedStudent1950, complains of institutionalized racism at the Mizzou campus and society at large. Their disruption has gotten so bad, the university president decided to resign earlier today [11/9/2015]. Since this is obviously news, sympathetic reporters are there to spread the protesters' progressive message. Unfortunately for the journalists, Mizzou doesn't seem to teach its students about the First Amendment. [Video clip]
---
Ferguson:
These 6 Stupendous Hoaxes Are Reasons to Give Media Narrative About 'Asian Hate' the Hairy Eyeball. [#4] Hands Up, Don't Shoot: Michael "Big Mike" Brown was shot by Ferguson, Missouri, police officer Darren Wilson in 2014. The incident fueled riots and it's out of this milieu that BLM blew up — literally — into public consciousness. Brown was an unarmed, college-bound high schooler and Officer Wilson shot him simply because the 18-year-old, 6-foot-4-inch, nearly 300-pound kid was walking in the middle of the street. He begged for his life with his hands up, begging Wilson not to shoot him — or so the narrative goes. But, as you've probably figured out by now, the narrative was fake news. All of it. The truth is much blunter — literally and figuratively — than that. Multiple investigations showed explicitly that the "hands up, don't shoot" mantra heard at protests and riots afterward was a big, fat lie. Wilson was the one fighting for his life. Brown attacked him. Reporters took the word of Brown's friend and hand-me-down hearsay to fashion a narrative that continues to this day in some circles. The Brown case showed that it's much easier and expedient for reporters to convey a narrative than to actually report a story. And it also showed once again that mythology is more important to a movement than facts.
The Rising Body Count of Liberalism. After the left's anti-police agitation went into hyperdrive following the death of George Floyd, the easiest prediction in the world to make was that the chief victims of this ideologically-driven rage would be the very people liberals claim to champion — low income minorities. Heather Mac Donald called it "the Ferguson effect," after the anti-police riots in Ferguson, Missouri in 2015. Told that they are the enemy, the police are curtailing their presence and enforcement activity in minority neighborhoods.
A Decade of Deceit and Division: What Trayvon Wrought. [Scroll down] Outraged by the [George Zimmerman] verdict, three Marxists "of color" promptly formed a group called Black Lives Matter. Working their combined magic in Ferguson a year after George's acquittal, BLM and the media helped reverse an eight-year downward trend in homicides. As a result of the so-called "Ferguson effect," 3,000 more Americans were murdered in 2016 than in 2014. BLM was just warming up. The multi-city mania BLM helped generate in 2020 — Minneapolis, Louisville, Kenosha — triggered a nationwide 30-percent-plus increase in homicides over 2019, the greatest annual spike ever recorded. Had the media paid any attention to Los Angeles filmmaker Joel Gilbert's brilliantly researched book and film, The Trayvon Hoax: Unmasking the Witness Fraud that Divided America, released in the fall of 2019, much of the death and destruction could have been avoided.
Elon Blows Apart Liberal Myth on Ferguson, Makes It Even Better With Big Vow for Twitter. [Scroll down] How dare Musk post the truth! That fiend! The cop didn't just claim it was in self-defense, the evidence and the investigations supported that it was. Gizmodo knows that, but they still want to pump the anger, rather than the truth. But liberals don't want the truth and that's what Musk has truly been showing with his takeover of Twitter. Musk made another comment about how much the world's conversation had been distorted by Twitter which shows he truly gets it. This is why the left is so mad, that they could spread all the radical narrative across the world when they had control but now they can't. And Elon vowed he's going to stop that "thumb on the scale."
Brawl At St. Louis Walmart Had People Throwing Items At Each Other. Ferguson police are now investigating an altercation that broke out inside a Walmart store, which has since gone viral through videos all over social media. "I've seen some videos on social media, and it's disgraceful. I'm going to call it like it is," said Ferguson Police Chief Frank McCall. The video shows chaos in the self-checkout area of the Walmart off West Florissant Avenue. Multiple people become entangled in a brawl, as some individuals throw objects and set off fire extinguishers. "You're looking at probably anywhere from 10 to maybe 25 people [involved]," said McCall.
A grandiose Rep. Cori Bush says the quiet part out loud. Cori Bush is the first-term congresswoman from Missouri's first congressional district (St. Louis, mostly). She is an RN, a pastor and, most importantly, a hard-left activist who came to political prominence following the Ferguson riots that followed after Michael Brown robbed a store, tried to steal a police officer's weapon, and was killed in the resulting struggle. The BLM lie was that he had his hands up and said, "Don't shoot." Bush rode that lie into Congress and has been one of the loudest advocates for defunding police all over America. Thanks to the effects of this policy, poor and middle-class people have been slaughtered in Democrat-run American cities in unprecedented numbers. Many parts of cities such as Chicago and New York are like war zones, only scarier.
Michael Brown's father and other Ferguson activists demand $20m from BLM after organization was revealed to have made $90m in donations last year. Michael Brown Sr. is among the Black Lives Matter activists demanding $20 million from the Black Lives Matter Global Network Foundation after its finances were disclosed for the first time — revealing the group raked in $90 million in donations last year. The nonprofit shared its financial snapshot with The Associated Press amid accusations from local chapters that they are not being given any of the money. Brown, whose son Michael Brown Jr., was killed by police in Ferguson, Missouri, in 2014 says he and his advocacy group have been short-changed by the larger BLM organization.
The Upside-Down World of the Woke. Consider this. One hundred years ago, in the institutionally racist Jim Crow South, if a black man killed a white woman in Kentucky, there might be tremendous social pressure to indict him, even if the facts of the case could fully exonerate him in a court of law. Today, can anyone dispute that there is tremendous social pressure to indict white officers involved the death of a black American, even if the facts of the case do fully exonerate the officer in a court of law? Officer Darren Wilson was fully exonerated by several local and federal investigations into Michael Brown's death in Ferguson, Missouri, yet the fake "Hands Up, Don't Shoot" myth persists, and Darren Wilson remains a villain to the legions of social justice warriors out there.
What we know about Michael Brown. The Black Lives Matter or BLM movement was started around 2013 in response to the George Zimmerman acquittal in the murder of 17-year-old Trayvon Martin. The movement exploded after 18-year-old Michael Brown was killed in Ferguson, Missouri in 2014 and the ensuing riots and looting destroyed many businesses. Brown's friend Dorian Johnson falsely stated that Michael had his hands up when he was shot by the white police officer. Soon millionaire athletes were wearing T-shirts reading "hands up, don't shoot" and they started and continue funding this movement. And here's the rest of the story. Police officer Darren Wilson was not indicted by the Grand Jury because the forensic evidence proved that he shot Brown in self defense... Michael Brown's DNA was found on Wilson's gun and his thigh. All the so-called witnesses who claimed Brown had his hands up finally admitted they hadn't even seen the incident. The forensic evidence and legitimate witnesses backed Wilson's statement. Nevertheless, the narrative of "Hand's Up, don't shoot" still persists till today with low-info 'woke' protesters.
Yet Another Grand Jury Defies the Fake News Narrative. The media stirred a frenzy in Ferguson. Poor innocent Michael Brown had raised his arms to the skies, pleading to the bloodthirsty cop facing him, "Hands Up, Don't Shoot!" But the murderous policeman shot him to death in cold blood anyway. Soon enough, after Ferguson was burned down, a grand jury was convened. The conviction was a certainty, easier than a ham sandwich. The only obstacle was that witnesses came in to testify, and facts were presented. It turned out that Michael Brown was not a darling sweetie pie but a thug who had held up a convenience store. In his encounter with officer Darren Wilson, Michael Brown did not raise his arms and say, "Hands Up, Don't Shoot." Rather, he wrestled the policeman for his gun. The officer understood that, if Brown managed to gain control of that pistol, he would murder the cop. The officer secured his weapon, and Brown was shot to death. The grand jury refused to indict.
How the Underground Press Will Thwart the Media and Re-Elect Donald Trump. [Scroll down] In a just world, the Minneapolis police who arrested George Floyd will likely be cleared as well. New York Times readers do not know this. Those who follow the samizdat do. The same holds true for the Louisville cops involved in the Breonna Taylor shooting and quite likely for the Atlanta cops involved in the shooting of Rayshard Brooks. The samizdat understands the consequences of these celebrated police-perp encounters: cops begin to pull back from actively policing black neighborhoods. Sensing opportunity, criminals moved into the void. Attorney and Manhattan Institute fellow Heather Mac Donald has dubbed this phenomenon the "Ferguson Effect." According to FBI data, the murder rate in the United States rose nearly 11 percent the year after the Ferguson riots in late 2014, its greatest one-year jump in a half-century. In 2016, the trend continued with an 8.5-percent increase over the year before, more than half of those murdered being black.
The Left's New Martyrology. Michael Brown was shot by a Ferguson, Mo. law enforcement officer after Brown more likely than not tried to take the officer's sidearm and turn it against him. "The physical evidence establishes that Wilson shot Brown once in the hand, at close range, while Wilson sat in his police SUV, struggling with Brown for control of Wilson's gun." Left-wing extremists nonetheless used Brown's purported martyrdom as a pretext to re-enact the Night of the Broken Glass in Ferguson. Kamala Harris and Elizabeth Warren joined in (August 9, 2019) by falsely accusing the police officer of "murdering" Brown even though, as lawyers, they knew better.
Misinformed Voters Are the Single Greatest Threat to the United States. [Scroll down] The evil genius of the media is that they've tied being misinformed with morality. In other words, they are able to brainwash people because they make people believe that A. they're not brainwashed, and B. they're good people for believing the things they do. For example, the "Hands up, don't shoot!" Michael Brown slogan was a total lie, yet it spread so quickly and so far because people wanted to believe it. People recognized on some level that it was socially desirable to do so. To believe Michael Brown was an innocent victim of not only a racist police officer but a racist criminal justice system was to be in alignment with the prevailing moral standards as defined by the media, Hollywood and other cultural elites. You were seen as a bad person if you pointed out that A. Michael Brown was not innocent, B. Michael Brown was not targeted because of his race, and C. He never said "Hands up, don't shoot" to the officer. Those things were all facts, yet anyone who pointed them out was considered Bad and Racist.
No injustice, no peace. Darren Wilson is the former Ferguson, Missouri police officer who shot and killed Michael Brown, who assaulted him. The shooting was a wholly justified act of self defense. Yet, it triggered the Black Lives Matter movement. It's fitting that a phony justice movement originated with a phony claim of police misconduct. Wilson has been cleared of any criminal conduct by a grand jury and by the Obama-Holder Justice Department. But the left never gives up. Thus, as Bill Otis notes, yet another prosecutor, Wesley Bell elected in 2018, reopened the investigation of Wilson. Bell, who is African-American, gained office by attacking Robert McCulloch, the incumbent prosecutor. McCulloch led the grand jury proceeding that resulted in no indictment of Wilson. Yet, Bell reached the same conclusion as McCulloch: Darren Wilson is not guilty of any crime that could be proven to a jury under the same standards applied to everyone else.
In 2014 shooting of Michael Brown, St. Louis' top prosecutor announces no charges against Darren Wilson. A St. Louis County, Mo., prosecutor said Thursday [7/30/2020] that he will not be charging the White police officer who shot 18-year-old Michael Brown in 2014, after quietly reopening the investigation. Civil rights leaders and Brown's mother reportedly hoped that Prosecuting Attorney Wesley Bell, who became the county's first Black prosecutor in January 2019, might reopen the investigation into police officer Darren Wilson, who shot Brown six years ago. Bell told reporters today that his decision was "one of the most difficult things I've had to do."
Breakdown. It took several months for the first iteration of the Ferguson Effect to become obvious. Michael Brown was fatally shot by a Ferguson, Missouri, police officer in August 2014, triggering local riots and a national narrative about lethally racist police. Officers backed off proactive policing in minority neighborhoods, having been told that such discretionary enforcement was racially oppressive. By early 2015, the resulting spike in shootings and homicides had become patent and would lead to an additional 2,000 black homicide victims in 2015 and 2016, compared with 2014 numbers. Today's violent-crime increase — call it Ferguson Effect 2.0 or the Minneapolis Effect — has come on with a speed and magnitude that make Ferguson 1.0 seem tranquil. [...] The young children recently shot inside their homes also recall Ferguson 1.0 incidents. In August 2016, a nine-year-old girl was shot to death in Ferguson on her mother's bed while doing homework. The gunman was a 21-year-old felon on probation from a robbery conviction who deliberately shot at least six bullets into the home, located near a memorial for Michael Brown.
Black Lives Are a Pretext. [The "Hands Up, Don't Shoot"] slogan was designed to highlight the movement's baseless claim that a 19-year-old resident of Ferguson Missouri Michael Brown was singled out because he was black and shot by a police officer while he was surrendering with his hands up. The protesters demanded that the officer be convicted of murder in advance of any trial — in other words, lynched. However, the facts as revealed in Grand Jury testimony and subsequent investigations by the Obama Justice Department, were quite different. The officer singled out the 300-pound Brown because he had just committed a strong-arm robbery at a convenience store owned by a much smaller Asian shopkeeper, whom he brutalized. When the officer attempted to arrest Brown, he responded by attacking the officer and attempting to seize his gun, which was discharged in the scuffle wounding the attacker. According to the sworn testimony of six black eye-witnesses, Brown was fatally shot while charging the officer, who fired another five rounds in self-defense. Yet, so disregardful of the facts were the protesters' claims that they demanded the officer be convicted of a racial homicide, and the chant "Hands Up Don't Shoot" continued to live on as a battle cry.
A Decade of Fake News. 2014: "Hands up, don't shoot." The media reported — and celebrated — the infamously false claim that black teenager Michael Brown had been shot in the back while attempting to surrender to police; in fact he had grabbed an officer's gun and was charging him when he was shot in self-defense. That fake news story damaged race relations and disrupted policing in urban neighborhoods — ironically, making black Americans more unsafe.
Journalists Have Become Hoaxers. The Trayvon hoax spawned racial strife on a scale not seen in decades. From "hands up don't shoot," to the Ferguson effect of police backing away from traditional policing activities, to the detriment of poor and minority neighborhoods. We were treated to Freddie Gray, Jussie Smollett, and kneeling professional athletes. Political careers were born after the Trayvon hoax including attorney Benjamin Crump and the almost-governor of Florida, Andrew Gillum, just as the Tawana Brawley hoax thrust Al Sharpton onto the national stage several decades ago.
An Interview with The Trayvon Hoax Director Joel Gilbert. The Zimmerman trial literally divided America. Prior to the trial in 2013, both blacks and whites rated race relations as positive. These numbers have been negative ever since. The trial spawned Black Lives Matter and subsequently the Ferguson Effect, a crime disaster for black neighborhoods with homicides up 33 percent nationwide.
Police Union Rips Warren Over Ferguson Tweet: 'Unacceptable And Dangerous'. The Massachusetts Police Union blasted presidential hopeful Sen. Elizabeth Warren (D., Mass.) for her misleading tweets about the death of Michael Brown, saying she unfairly accused the police of "causing our society grievous harm." Scott Hovsepian, president of the Massachusetts Coalition of Police, authored a letter criticizing Warren for misleading her followers by tweeting that Michael Brown "was murdered by a white police officer in Ferguson, Missouri."
WaPo Gives Four Pinocchios to 2020 Dems Who Say Michael Brown Was Murdered. Sens. Elizabeth Warren (D., Mass.) and Kamala Harris (D., Calif.) both tweeted last Friday [8/9/2019] — which was the fifth anniversary of Brown's death in Ferguson, Missouri — that Brown had been murdered by Officer Darren Wilson. However, Wilson was not indicted for a crime, and the Obama administration Justice Department issued an 86-page investigative report concluding there was no credible evidence that Wilson wasn't telling the truth that he killed Brown in self-defense.
Harris, Warren ignore DOJ report to claim Michael Brown was 'murdered'. In November 2014, a grand jury decided not to indict [Darren] Wilson after finding that witness reports did not match with evidence. On March 4, 2015, the Obama administration's Justice Department issued an 86-page investigative report, based on testimony from 40 witnesses and a review of forensic evidence, on the shooting that concluded "there is no credible evidence that Wilson willfully shot [Michael] Brown as he was attempting to surrender or was otherwise not posing a threat." The same day, the Justice Department also published the results of its investigation into the Ferguson Police Department, which highlighted systemic exploitation and racial profiling of black residents in Ferguson, such as racial disparities in traffic stops even though black drivers were less likely to be found with contraband. [Kamala] Harris and [Elizabeth] Warren appear to accept the results of one report and not the other.
Sharyl Attkisson Fact-Checks 2020 Democrats Over The 'Murder' Of Michael Brown. Investigative reporter Sharyl Attkisson fired back at Democratic Massachusetts Sen. Elizabeth Warren over a tweet memorializing the 2014 death of Michael Brown in Ferguson, Missouri. Brown's death on August 9, 2014, at the hands of Ferguson police officer Darren Wilson, sparked nationwide protests as the public seized on later-debunked claims that Brown had thrown up his hands in surrender prior to Wilson shooting him.
Elizabeth Warren's Ferguson Lie. Michael Brown was not murdered. Michael Brown was shot by officer Darren Wilson in an act of self-defense. This is why the grand jury declined to indict Wilson for murder or manslaughter, and it was also the conclusion of the Obama administration's Department of Justice. "Every police officer in America should be offended by Sen. Warren's ill-informed, inflammatory tweet today," Jeff Roorda of the St. Louis Police Officers Association told me via email. "Holding a would-be cop killer out as some sort of victim or worse yet, a hero, does no justice to the truth or to reconciliation. Her careless words disqualify her from fitness to serve impartially as commander-in-chief."
John McWhorter: 'We were lied to' about what happened in Ferguson. John McWhorter is an academic and author who describes himself as a Democrat but who occasionally veers from ideological orthodoxy on issues involving race. He also once worked for the conservative Manhattan Institute which means some people on the left view him as a Republican. So I'll say upfront that while I don't always agree with McWhorter, he's often interesting to read and frequently says something a lot more reasonable than many other writers of similar think-pieces on these topics. And that's the case again today on the 5th anniversary of the death of Michael Brown.
Five years after Ferguson, Michael Brown's father wants case reopened. Friday [8/9/2019] marks the fifth anniversary of the death of Michael Brown in Ferguson, Mo. An unarmed black teenager, he was shot and killed by Police Officer Darren Wilson, who said Brown attacked him. A grand jury later chose not to indict Wilson. Brown's father, Michael Brown Sr., tells CBS News' Jeff Pegues he wants the case re-opened.
Five years ago Michael Brown died, and a movement based on lies was born. Five years ago, on August 9, 2014, Michael Brown was shot and killed in Ferguson, Missouri, by police officer Darren Wilson. The death, and the claim that Brown was shot with his hands up asking not to shoot, sparked riots and launched the Black Lives Matter Movement to national prominence. But the narrative was based on a lie. Brown was shot because he attacked and attempted to take Wilson's pistol. His hands weren't up, and he didn't ask not to shoot, as an Obama-Holder Justice Department investigation later proved. Yet on this 5th Anniversary, the lies are being spread again by many people, including by presidential candidates Kamala Harris and Elizabeth Warren, who falsely claim Brown was murdered.
How municipalities in St. Louis County, Mo., profit from poverty. The death of Michael Brown at the hands of Ferguson, Mo., police officer Darren Wilson in August and the ensuing protests, crackdowns and violence have drawn lots of attention to St. Louis County, and spawned lots of discussions about issues like race and racism, police brutality, poverty, police shootings, police militarization and the relationship between police departments and the communities they serve. But these of course are problems that extend well beyond the St. Louis area. Local officials, scholars, and activists say that whatever happened between Brown and Wilson, St. Louis County's unique political geography, heightened class-consciousness, and the regrettable history that created both have made the St. Louis suburbs especially prone to a Ferguson-like eruption.
In Praise of Broken Windows Policing. There is ample evidence that, insofar as police do not do or stop doing broken windows policing, crime is high or increases. The most famous example of this phenomenon is the Ferguson effect. According to Wikipedia, "the term was coined by Doyle Sam Dotson III, the chief of the St. Louis police, to account for an increased murder rate in some U.S. cities following the Ferguson unrest." Why, then, isn't broken windows policing the norm in the U.S.? Why is it so controversial for police to clear the streets in neighborhoods where it's reasonable to believe that not doing so may allow for violent crime, or rather, more of it?
CNN is More Dangerous Than Banned Voices. You know what CNN is. It's the network that took the lead in promoting the false narratives that Michael Brown and others killed while violently resisting arrest were, instead, innocent victims of racist American cops. You might remember that photo of "CNN Newsroom" hosts Sally Kohn, Mel Robbins and Margaret Hoover with their hands in the air while their co-host Sunny Hostin held up a sign saying, "I can't breathe." The fake news about Michael Brown and others like Eric Garner who were killed while resisting lawful arrest was so widely broadcast that everyone knew exactly what the celebrity anchors meant without even seeing the so-called victims' names. The smug and self-righteous look on their faces alone was almost enough to tell the tale.
Mother of Michael Brown loses bid for public office in Ferguson, Mo. Michael Brown's mother was defeated Tuesday in a three-way race for a seat on the City Council in Ferguson, Mo., where her son was fatally shot by a police officer in 2014. Lesley McSpadden, 39, finished third in the race for Ferguson's 3rd Ward with 20 percent of the vote, the St. Louis Post-Dispatch reported. Fran Griffin, who has been active on several local boards, won with 44 percent. Incumbent Keith Kallstrom received 36 percent.
Puzzling Number of Men Tied to Ferguson Protests Have Died. Police say there is no evidence the deaths have anything to do with the protests stemming from a white police officer's fatal shooting of 18-year-old Michael Brown, and that only two were homicides with no known link to the protests.
The Editor says...
This is not a mysterious coincidence. The simplest explanation is that the homicide victims probably had the same reckless mindset as Michael Brown, and they live in a violent city where the police, thanks to the Michael Brown incident, are hesitant to enforce the law or put themselves into situations where they might have to shoot somebody. It's called the Ferguson Effect.
Update:
AP Issues 'Clarification' to Piece Highlighting Ferguson Body Count Conspiracy. The Associated Press issued a clarification to a piece on a conspiracy theory about a number of Ferguson protesters following criticism from the Washington Free Beacon. "Puzzling number of men tied to Ferguson protests have died," reads a Monday headline from the AP. The piece reported that many Ferguson Black Lives Matter activists were concerned that the deaths of six men were tied to their roles in the Ferguson protests and the deaths were somehow connected. The piece was criticized by, among others, a reporter at the Washington Free Beacon, in a column headlined "Associated Press Fans the Flames of Dubious Ferguson 'Body Count' Conspiracy."
'Guilty until proven innocent' is a dangerous bylaw. In 2014, white police officer Darren Wilson was summarily destroyed in the press after he shot and killed a suspect who happened to be black: Michael Brown. The media jumped on the unsupported narrative that Wilson had executed Brown for being black, as he stood with his hands raised, begging, "Don't shoot." That inflammatory notion started riots and movements. Some in the media even raised their hands in symbolic support of Brown in a horrific racial crime that — as it turned out — never happened. Today, I'll bet a lot of people probably aren't aware that an Obama Justice Department investigation ultimately determined the entire "Hands Up, Don't Shoot" scenario was likely fabricated, and that the shooting by Wilson was justified.
Shouting 'F*** CNN' live on CNN is becoming a thing in Ferguson. Ferguson residents and protesters are taking out their frustrations over CNN's coverage of the grand jury verdict by heartily shouting "f*** CNN" in the background of correspondents' pieces-to-camera. It all started with Don Lemon's disastrous reportage in the St Louis suburb, during which he said "Obviously, there's a smell of marijuana in the air", leading one man to lean over his shoulder and shout the slur into the camera.
When Media Foist False Narratives to Sow Social Discord, They Indeed Are the Enemy of the People. Social discord leads to streets being set on fire — witness Ferguson and Baltimore during the Obama Years. Social discord dispirits potentially valuable citizens who could help build a society, instead turning them against that society and motivating them to work towards its downfall or simply to drop out.
Leftists Say "Black Lives Matter." Their Actions Say Something Else. In 2014, Ferguson police officer Darren Wilson fatally shot an African American man named Michael Brown. Wilson said he fired in self-defense after Brown attacked him — a claim supported by eye witness accounts and two autopsies. Nevertheless, Black Lives Matter activists and their media allies alleged that Brown had been shot with his hands up while begging for his life. The incident was followed by violent protests, while Wilson lost his job and was forced into hiding. It's not surprising then that a Pew Research poll published last year showed 72% of law enforcement officers believed their colleagues were now less likely to stop and question suspicious individuals. Known as "the Ferguson Effect," this phenomenon means that criminals get ignored, and the results have been deadly. Baltimore saw a surge of violence following protests there, and the city isn't unique.
A Haunting in Ferguson. Four years ago, the trendy city of Ferguson, Mo. — an up-and-coming gentrifying community in north St. Louis county — went up in flames after a very large black man assaulted a police officer, grabbed for his gun, and was shot to death. George Soros-linked groups spent $33 million dollars shipping rioters into the community to loot and pillage. A grand jury was convened to assess whether Officer Darren Wilson should be charged with a crime in the killing, and this after a DoJ investigation found no substantial evidence to charge Wilson. The grand jury announced they were not going to indict Wilson, and St. Louis County Prosecutor Bob McCullough announced he was closing the case. But that was then. [...]
Governor won't order another Michael Brown investigation. The Missouri governor's office said Friday it doesn't have the authority to appoint a special prosecutor to reinvestigate the 2014 fatal police shooting of Michael Brown in Ferguson, despite pressure from Brown's mother to do so. Lezley McSpadden said earlier in the day that she'd launched an online petition seeking a new investigation into her 18-year-old son's death, a case that sparked months of protests and helped fuel the Black Lives Matter movement nationally. McSpadden also announced that she planned to run for a seat on the Ferguson City Council in April.
Michael Brown's mother announces plan to run for Ferguson city council, four years after her son was killed. The mother of Michael Brown, the black teen who was murdered by a white police officer in Missouri, has announced she is running for city council. Lezley McSpadden announced her candidacy Friday on Canfield Drive, near where her son was shot and killed on August 9, 2014. [...] McSpadden has been an activist since her son's death but has never held public office.
Trump [is] Blamed for Death of Reporters. Did Media Blame Obama for Cop Killers? Then there's Ferguson. A grim President Obama, at an address before the United Nations, said: "In a summer marked by instability in the Middle East and Eastern Europe, I know the world also took notice of the small American city of Ferguson, Missouri — where a young man was killed, and a community was divided. So yes, we have our own racial and ethnic tensions." But the Ferguson grand jury did not indict the officer who shot and killed Michael Brown, and a Department of Justice report exonerated the cop. Contrary to the lies told by his friend who witnessed the shooting, Michael Brown did not have his hands up when the officer shot and killed him. Brown, did not say, "Hands up. Don't shoot." Yet before the investigation even began, Obama's BFF, Sharpton, took to the streets of Ferguson yelling, "No justice, no peace." The DOJ's investigation of Ferguson's nearly all-white police department criticized its alleged "institutional racism." But its actual findings do not support that conclusion.
The Anti-Profiling Movement Is Killing Black Pedestrians. From 2006 to 2014, homicides nationwide declined steadily save for a minor blip in 2012. This trend resulted in 3,000 fewer murders in 2014 than in 2006. After August 2014, the trend abruptly reversed itself. In 2015, murders rose at their fastest pace in a quarter-century. In 2016, America experienced 17,250 murders, 3,086 more than in 2014. In sum, from 2014 to 2016, homicides increased 21 percent, and pedestrian traffic deaths increased 22 percent. There appears to have been a precipitating event, certainly for homicides. In August 2014, Officer Darren Wilson shot and killed Michael Brown in the streets of Ferguson, Missouri. A furor ensued, particularly in the St. Louis area, where Ferguson is located. The police pulled back to protect themselves from physical harm and legal jeopardy, and the thugs moved in to fill the void left behind. Not surprisingly, the so-called "Ferguson effect" has had its most dramatic impact on Missouri. In 2013, there were 120 murders in St. Louis. In 2015, post-Ferguson, there were 188. In 2017, there were 205, a 71-percent increase from 2013. Kansas City went from 76 homicides in 2014 to 149 in 2017, a 96-percent increase.
Fear of the Left: The Most Powerful Force in America Today. Since the left began spreading the lie that a white police officer in Ferguson, Missouri, shot a black youth because he, like most police officers, is a racist, police officers in many cities have feared taking proactive measures to prevent violent crime in black neighborhoods. They fear the left-wing mob known as the news media will ruin their reputation and end their career.
A tale of two Michael Browns. Both were big men. Both black. Both teenagers. Both enjoyed all the opportunities our nation offers. Michael D. Brown chose the thug life. It's the easy way out. Michael Brown of Houston chose hard work, which paid off in an opportunity to work even harder for an even bigger payoff. [...] Which decision did the press and the Marxists turn into a national cause?
5 Of The Most Violent Cities In The World Are Right Here In America. [#13] St. Louis, Missouri: Since the Ferguson riots, the entire state of Missouri has seen a sharp increase in violence. This has culminated in the city of St. Louis, which had a 2017 murder rate of 65.83 per hundred thousand people. There are thousands of violent crimes each year in the city, which only has a population of about 320,000 people.
President Trump's Murder Report Card. One reason Donald Trump is president is because of the Obama administration's own goal in setting off a major murder wave in Ferguson in 2014, in an era when both technology and prosperity should have been lowering the death toll from crime. [...] The FBI won't release its 2017 murder statistics for many months. But to shed light on the important question of how the Trump administration is doing, I've sifted through year-end local newspaper reports and police department databases from the 51 biggest municipalities in America. The impact of the Ferguson Effect is statistically vivid in Ferguson's neighbor St. Louis, where the number of homicides ranged from 113 to 120 from 2011 to 2013. Then in 2014, when the Obama administration and the prestige press took the side of anti-police rioters in promoting the Michael Brown fake news, homicides jumped to 159. Killings numbered 188 the next two years, and in 2017 had reached 205 by Dec. 29. While St. Louis used to be the fourth-biggest city in America back when it hosted the 1904 Olympics, it is now merely the 61st-largest city, with only 311,000 people. So St. Louis' murder rate (65.8 per 100,000 in 2017) is now 27 times that of increasingly utopian San Diego (2.4), the least murderous of the country's fifty biggest cities.
That FBI Report Is Making The Ferguson Effect Hard To Ignore. We've already looked at a couple of items from the latest FBI crime report and some of the dark news revealed within. But when you match up some of their numbers with recent historical facts, even more trends become evident. As the Daily Caller reports this week, one disturbing trend can be found by matching up locations recording rising murder rates with the homes of of widespread riots and anti-police protests. As we discussed when looking at the rising murder and violent crime rates, the increases are not homogeneous across the country. Much of the spike in those figures is being driven by the shockingly higher murder numbers in a dozen or so cities. What some analysts are now doing is matching up those hot spots with the locations of the aforementioned anti-police protests. The result? The Ferguson Effect is almost undoubtedly real.
If 'Hands Up, Don't Shoot' Is a Myth, Why Do So Many Black Americans Believe It? According to every reliable report, my young namesake Michael Brown was not shot in the back, nor did he have his hands up, nor did he utter the words, "Hands up, don't shoot." If any of this had been true, the Department of Justice would have nailed Darren Wilson, the policeman involved in the incident, since the DOJ was quite motivated to find fault with the police. Why, then, do so many black Americans believe (and repeat) the "hands up, don't shoot" narrative?
Ferguson settles with Michael Brown family for $1.5 million in wrongful death suit. The city attorney in Ferguson, Missouri, says the city's insurance company paid $1.5 million to settle a lawsuit filed by the family of Michael Brown.
Settlement reached in lawsuit over Michael Brown's death. A federal judge on Tuesday approved a settlement in the wrongful-death lawsuit filed by the parents of Michael Brown, an unarmed, black 18-year-old, whose fatal shooting by a white police officer nearly three years ago in Ferguson, Missouri, set off months of protests.
Ferguson Protester From Iconic Photo Found Dead. Edward Crawford, a St. Louis resident who was the subject of an iconic photo epitomizing the 2014 protests in Ferguson, Missouri, is dead. Crawford was photographed throwing a flaming tear gas canister in an image broadcast widely during the months of unrest that followed the fatal shooting of Michael Brown Jr. by a police officer. His death was confirmed to NBC News by the St. Louis Office of the Medical Examiner.
Media Tries and Fails to Re-invent Ferguson Thug Michael Brown as Victim with Meaningless 'New' Video. In yet another attempt to turn Ferguson thug Michael Brown into a victim, a new "documentary" filmmaker released a segment of film showing Brown inside the market he was thought to have robbed just before he was shot and killed by a local policeman back in 2014. The filmmaker claimed that is "proved" Brown did not rob the store. But in only a day the whole claim unsurprisingly fell apart. A segment of film showing 18-year-old Michael Brown in the Ferguson quick-mart was released late last week by documentary film maker Jason Pollock. The filmmaker insisted that the video "proved" that Brown could not have robbed the market on the day he was killed resisting arrest a few blocks away. The snippet of footage appears in Pollock's new movie entitled Stranger Fruit.
Unhinged and Shouting Mike Brown Documentary Filmmaker Explodes During Interview. A seriously unstable Jason Pollock appeared on Fox News for an interview about his ridiculous, and entirely false, documentary claims. What happened next is rather unsettling. [Video clip]
New footage suggests Michael Brown made drug deal before shooting death. New video shows that Michael Brown — the unarmed black man whose 2014 shooting death at the hands of police sparked violent protests in Ferguson, MO — may not have committed the convenience store robbery that led to his fatal police encounter. A documentary filmmaker has released never-before-seen security camera footage that appears to show Brown making a drug deal with store clerks in exchange for the cigarillos he was accused of stealing just hours later, the New York Times reported.
CNN Tries Another Michael Brown Con Job — Everything About The "New" Mike Brown Video is Fraud. The obvious motivation behind "Stranger Fruit", the [Jason] Pollock documentary, is to stir up political leverage toward a fraudulent civil lawsuit against the city of Ferguson Missouri. If Jason Pollock and Mike Brown Sr. had just kept their [disinformation] to a minimum, I would never have engaged. Unfortunately, they didn't — and specifically because they chose CNN as the outlet to promote their Very Fake News — enough is enough.
Shots Fired At Ferguson Market After CNN Broadcasts Fake News and Edited CCTV Footage. CNN is promoting this fake documentary, "Stranger Fruit", that uses heavily edited footage of an earlier Mike Brown visit to the store. According to the documentary Mike Brown was exchanging marijuana for store product at 1:13am the night (early morning) prior to his return and strong arm robbery of the same store. The footage is edited to give the appearance of store employees accepting weed as barter for product. This is false. Secondarily, the producer of the video, Jason Pollock, is claiming the police never released the earlier in the day CCTV footage and instead tried to hide it. Again, this is false.
'Ferguson effect': 72% of U.S. cops reluctant to make stops. More than three-quarters of U.S. law enforcement officers say they are reluctant to use force when necessary, and nearly as many — 72% — say they or their colleagues are more reluctant to stop and question people who seem suspicious as a result of increased scrutiny of police, according to a new study published Wednesday by the Pew Research Center. The 2014 officer-involved shooting death of a black teen in the St. Louis suburb of Ferguson put the national spotlight on police use of force and officers' interactions with minorities. Since then, top-ranking law enforcement officers and policymakers have debated the impact of the so-called "Ferguson effect" — officers becoming less proactive in their policing out of a fear their actions will be second-guessed by their superiors and the public.
When the Suspect Is an Armed Black Man — and the Cop Is Black. [Scroll down] The focus on the number of blacks killed by police kicked into high gear after the death of Ferguson's Michael Brown. Never mind Brown did not, as his friend at the scene initially told the police, have his hands up while supposedly telling the cop, "Don't shoot." Both the Ferguson grand jury and the U.S. Department of Justice found that many witnesses observed otherwise, and that forensic evidence showed that Brown charged the officer and attempted to wrestle the cop's gun away from him. Facts don't matter. It doesn't matter that over the last 47 years, according to the Centers for Disease Control, there has been an almost 75 percent decline in the number of blacks killed by cops. It doesn't matter that, compared with blacks, twice as many whites are killed by cops. It doesn't matter that, according to economist John Lott, black teens commit murder at nine times the rate of white teens.
Michael Brown's Family Fights Ferguson Push for His Records. Michael Brown's parents are objecting to a request from Ferguson for their son's medical and academic records as the city defends itself against a lawsuit the parents filed over the 2014 police shooting death of the unarmed 18-year-old. [...] Brown's parents argue in their lawsuit that the death of their son during an August 2014 confrontation with Ferguson police officer Darren Wilson deprived them of financial support through his future potential wages.
The Editor says...
How much money had Michael Brown legitimately earned in his short, miserable life? What was his life expectancy anyway, given his proclivity toward violent crime? Cases like this are what juries are for. The plaintiffs appear to be playing the courtroom lottery, hoping to get anything they can out of this tragic situation.
Sheriff Clarke: Liberal Media Created Fake News With 'Hands Up Don't Shoot' Lie. Liberal journalists and activists spread far and wide the myth that Michael Brown had his hands up before being gunned down by police officer Darren Wilson. That claim was the origin of the Black Lives Matter movement and eventually lead to violent rioting in Ferguson. The facts of the case showed the 'Hands up don't shoot' claim to be false and that Wilson was justified in shooting Brown.
The Ferguson Effect Is Real: Officer beaten unconscious after deciding not to pull her gun. Protestors keep complaining that no one is listening to them. So they keep protesting. Some even think that more action is necessary, like property damage, rioting, and violence, to get people's attention. They are wrong. They have people's attention, but unfortunately, because of the ill-considered methods they are using to protest, the consequences are more negative outcomes.
Judge Throws Out Ferguson Rioters' 'Excessive Force' Lawsuit. A federal judge dismissed Ferguson, Mo., rioters' $40 million civil rights that claimed police used excessive force against them Monday [10/3/2016]. U.S. District Judge Henry Autrey ruled in favor of the Missouri law enforcement, reports WWMT. The nine plaintiffs, "have completely failed to present any credible evidence that any of the actions taken by these individuals were taken with malice or were committed in bad faith," Autrey wrote in his ruling.
Judge tosses $40 million civil rights lawsuit over police tactics in Ferguson. A federal judge has tossed out a $40 million lawsuit filed by Malik Shabazz on behalf of protesters who claimed their civil rights were violated in Ferguson, MO in the aftermath of the shooting of Mike Brown. [...] What the judge actually found was that some of the plaintiffs in the case had made false claims which did not match up with video of the incidents.
Darren Seals, Ferguson Protest Leader, Killed. Darren Seals, a leader in the protest against the shooting of Michael Brown in Ferguson, was found dead in a burning car in St. Louis County yesterday. The arson squad responded to a car fire and, after extinguishing it, found Seals' body. He had been shot. Naturally, the case is being treated as a homicide. According to the St. Louis American, Seals recently uploaded a Facebook Live video saying that Ferguson police officers had drawn guns on him and his younger brother. It has also been said that Seals tweeted in July that he and his brother were pulled over at gunpoint by police who warned him to "choose your enemies wisely." USA TODAY, which reported these allegations, says it could not independently find either social media posting.
Police probing mysterious death of Ferguson protests leader. Authorities here are investigating the death of a leader of the protests that followed the fatal police shooting of Michael Brown in Ferguson, Missouri in August 2014. The body of Darren Seals, 29, was found inside a burned car very early on Tuesday in the city of Riverview, reports CBS St. Louis affiliate KMOV-TV. He'd suffered a gunshot wound, authorities said.
Why Were 6 Men In Ferguson/St. Louis Shot To Death And Left In Burning Cars? Darren Seals was killed late into the night of September 5th, really more early morning September 6th in a parking lot in Riverview in north St. Louis. Seals' death excited comment because he had been a Ferguson activist and of the circumstances of his death. He had been shot to death and left in a burning car, an unusual form of death, clearly a homicide. Immediately questions were raised. Black Lives Matter folks, always looking for a way to exploit even in death, suggested he had been killed by police. Questions were raised about the enmity that the Black Lives Matter folks themselves held toward Darren Seals since he called them out for their exploitation and was working to follow the money. But in looking at the case, I realized something else was unusual, that six men in total had in fact been shot to death and left in their burning cars. BLM began spreading names of the men without the backgrounds of the cases, suggesting thereby that someone was mysteriously killing black men.
Another implausible Black Lives Matter martyr. The left tried to pass off Michael Brown, the thug who robbed a convenience store, roughed up an employee, and then assaulted a police officer, as a "gentle giant." Okay, anyone can make a mistake before the facts are all in. But even after the Obama Justice Department exploded the gentle giant myth and found that the officer who killed Brown acted in self defense, the left continues to treat Brown as a victim. With much better cases of bad police conduct to tout, it still won't let go of the "hands up, don't shoot" Ferguson lie. And now the movement is pressing the case of Korryn Gaines. She's the woman whom the Baltimore County police shot and killed after she pointed a shotgun at officers for hours while police officers tried to talk her down, and eventually threatened to kill them.
What A Horrible Country. My takeaway from the Democratic National Convention so far is that we're a sexist, racist, homophobic country full of monsters hunting young black men, sex traffickers, and greedy people [...] The "Mothers of the Movement" speeches were the most exploitive thing I've seen this year. The speakers were mothers of people who either committed suicide (Sandra Bland), were killed by someone they were attacking (Trayvon Martin), or killed by some random guy (Jordan Davis), not the #BlackLivesMatter "victims" of police they were billed as. Nothing Hillary, or any politician, could do would have saved any of them. Having Michael Brown's mother up there was a direct slap in the face of police and the concept of law and order. He ripped off a liquor store and attacked a cop, trying to take away his gun for reasons we can only assume weren't friendly. He was killed because of his violence against an innocent man. You can argue he didn't deserve to die, but his actions earned it.
Democratic Convention Celebrated an Attempted Cop Killer. Let's be blunt about this. Not only did Democrats on the floor of the convention interrupt a moment of silence for fallen police officers. The official, mainstream, establishment leadership of the Democratic National Committee celebrated, by inviting his mother onstage, a man who actually attempted to kill a police officer. Honored along with other mothers of blacks killed by white police officers, in an event titled "Mothers of the movement," was Lezley McSpadden, whose son Michael Brown was shot in August 2014 by Darren Wilson, a white Ferguson, Mo., police officer.
A True Story of 'Hands Up, Don't Shoot' for Hillary's Convention. Now let us praise the most damaging hoax of our generation: The 'hands ups, don't shoot' fairy tale surrounding the shooting death of St. Michael Brown of Ferguson — which is about to be glorified at the Democrat convention tonight [7/26/2016]. Your humble correspondent documented on these pages all the lies surrounding Brown's shooting within a few days of his death on August 9, 2014. It took the Washington Post 16 months to reach the same conclusion: "Hands up, don't shoot did not happen in Ferguson," intoned the headlines. But not before police were shot, citizens hurt, and property damaged. All while the Democrat governor gave the looters plenty of room to destroy. All while obliging national reporters insisted the riots were, in turn, "largely peaceful", and then justified. Curiously, Post reporters still refer to the events of Ferguson as if they really happened. Which is exactly the treatment the Democrats are giving the sainted Michael Brown at their convention: His mother has been invited to tell her story of denial, deceit, and delusion Tuesday night [7/26/2016].
N.S.W.E.R.Coalition not letting Ferguson crisis go to waste. A complex organization stands behind the A.N.S.W.E.R.Coalition.org signs in Ferguson, Missouri.
N.S.W.E.R.Coalition is Marxist-Leninist Activism in Ferguson. The Party for Socialism and Liberation marches along with the A.N.S.W.E.R.Coalition.org signs in Ferguson, Missouri. The Party for Socialism and Liberation (PSL) is the political campaign wing of the A.N.S.W.E.R. Coalition. The PSL was formed in 2004 by former members of the Workers World Party (WWP) who broke away from the WWP, which was itself a fissure of the Socialist Workers Party.
Don't Shoot Coalition in Ferguson: a facade for progressive social activists. MORE, a member of the Don't Shoot Coalition (DSC), "seeks to be a powerful organization of low- and moderate-income people building power in our communities. We strive to transcend divisions of class, age and race as we envision and build the more just, sustainable world in which we would like to live." A "powerful organization" in a "sustainable world." MORE's leadership believes that "Missouri is positioned at a unique intersection of social, economic, climate, and environmental injustice.... We have joined the Hands Up United coalition that is led by our allies at Organization for Black Struggle and many other national groups. We are also locally part of the Don't Shoot coalition." As an aside, the Hands Up United's website lists their address as a second floor suite above a short, strip-shopping center. No phone number for the organization is listed at the address. Existing second floor suites house three healthcare-related businesses and a limousine service — but no Hands Up United.
Hands Up, Don't Shoot: A myth born from a lie. In the context of interviewing a key organizer of the "Don't Shoot Coalition," the on-site ad hoc group that stood behind the Ferguson protests, I was told two things that, in hindsight, testify that the movement was knowingly founded on a lie. The source was working in Ferguson as an employee of one of the major organizations engaged in funding, staffing, and coordinating the street protests against the shooting of Michael Brown by Ferguson Police Officer Darren Wilson. The source spoke from extensive legal training and experience. In the context of the phone interview, the source told me two things that, while interesting then, have become more noteworthy with the passage of time; it's coming up on two years this November.
Everything was accurate. But none of it was true. [Scroll down] On August 9, 2016 [sic], a large black male robbed a storeowner in Ferguson MO, then attempted to take a police officer's weapon. After charging the officer, who was half the young man's size, the officer justifiably shot him. In the immediate aftermath Mike Brown's criminal partner lied to anyone he could, saying Officer Darren Wilson, "Shot him like a dog...", as Brown tried to surrender. Three autopsies, numerous investigations by local, state, federal and media agencies, all supported Officer Wilson's statements. But never let the facts get in the way of a good story. An aside point I've made of the Wilson-Brown incident. The over 100 witness who came forward after Brown was shot by a police officer would have never said anything if the "Gentle Giant" had been shot in the middle of the street by another gang banger. But the fact a white cop did the shooting gave them their 15 minutes of fame.
Obama's Ferguson Sellout. On November 24, 2014, President Obama betrayed the nation. Even as he went on national television to respond to the grand jury's decision not to indict Officer Darren Wilson for fatally shooting 18-year-old Michael Brown in Ferguson, Missouri, the looting and arson that had followed Brown's shooting in August were being reprised, destroying businesses and livelihoods over the next several hours. Obama had one job and one job only in his address that day: to defend the workings of the criminal-justice system and the rule of law. Instead, he turned his talk into a primer on police racism and criminal-justice bias. In so doing, he perverted his role as the leader of all Americans and as the country's most visible symbol of the primacy of the law.
Better Get Used to It: The Ferguson Effect Is Real. The only thing preventing some neighborhoods in Los Angeles, Chicago, Baltimore and many other cities from being even deadlier than they are is the fear of the police. Where that fear is diminished, violence will only increase.
Blame Black Lives Matter Movement for Dallas Carnage. [Scroll down] In their eyes police are guilty of racism until proven innocent. That BlackLivesMatter was credited by the assassin of being a source of his racial hatred and hatred of police is not surprising. After the Ferguson riots, the movement quickly spread, framing the confrontation as not one between criminals, such as the black youth who had just committed a strong-arm robbery of a convenience store, and law enforcement. They painted Officer Darren Wilson, who was later found to be justified in shooting the black youth who tried to kill him with his own gun, as the poster child for police brutality that willfully and indiscriminately targets minority communities.
Lynch: 'I have not seen' Ferguson effect. Attorney General Loretta Lynch said Friday that she hasn't seen evidence that police around the country are less likely to do their jobs and confront possible law-breakers over fears that they might be charged with police brutality. Earlier this year, FBI Director James Comey said he believed there is a "Ferguson effect" hitting police, named after the unrest that happened in 2014 when a Missouri cop shot and killed a black teenager, Michael Brown. Lynch didn't dismiss that claim, but said she has not seen anything resembling that in her experience.
The Ferguson Effect reaches the federal level:
Justice Dept. mandates 'implicit bias' training for agents, lawyers. The U.S. Justice Department announced on Monday [6/27/2016] that more than 33,000 federal agents and prosecutors will receive training aimed at preventing unconscious bias from influencing their law enforcement decisions. The training will bring Justice Department employees in line with many local police departments across the country that have implemented bias prevention plans following a spate of shootings of unarmed black men by white police officers.
Heather Mac Donald on the Ferguson Effect. Heather Mac Donald appeared on Fox News Monday morning [6/20/2016] to discuss the controversial Ferguson Effect. After showing a graphic indicating that homicide was up 9% in America's 63 largest cities, the host asked Mac Donald to explain the Ferguson Effect. Mac Donald replied, "The Ferguson Effect refers to... officers backing off of proactive policing in inner city neighborhoods and, as a result, criminals becoming emboldened." She continued, "No only are we seeing a crime increase this year, last year there was a 17% homicide increase in the 56 largest cities. And in cities with large black populations 50% more increase in homicides. Black lives are being taken at an enormous rate to not a word of protest from the Black Lives Matter protesters." Mac Donald continued her attack on the BLM movement saying, "We need officers to act courteously, responsibly, within the confines of the law but the Black Lives Matter movement is a fraud. It is based on a lie, that the biggest threat facing young, black men today is the police. That's simply not true."
'Ferguson Effect' is a plausible reason for spike in violent US crime, study says. A new justice department-funded study concludes that a version of the so-called "Ferguson Effect" is a "plausible" explanation for the spike in violent crime seen in most of the country's largest cities in 2015, but cautions that more research is still needed. The study, released by the National Institute of Justice on Wednesday, suggests three possible drivers for the more than 16% spike in homicide from 2014 to 2015 in 56 of the nation's largest cities. But based on the timing of the increase, University of Missouri St Louis criminologist Richard Rosenfeld concluded, there is "stronger support" for some version of the Ferguson Effect hypothesis than its alternatives.
Federal Judge Orders Unredacted Release of Grand Jury Witness Testimony Including Names In Michael Brown Case. According to the Associated Press a federal judge, U.S. District Judge E. Richard Webber, has ordered St. Louis County Prosecuting Attorney Robert McCulloch's office to release the full unredacted transcripts from the Grand Jury testimony in the Michael Brown shooting case against officer Darren Wilson. Specifically, Judge Webber is forcing McCulloch's office to also release the names of the Grand Jury witnesses who gave testimony during the investigation. The names will be given to Anthony Gray, a monumentally corrupt attorney who represents the family of Michael Brown.
Ferguson Effect Claims Chief of San Francisco PD. The mob has claimed another victim. This time the setting was the beautiful though peculiar city of San Francisco, where they came with the torches and pitchforks to place (now former) police chief Greg Suhr's head atop a fencepost, there to join that of (now former) Chicago police superintendent Garry McCarthy. Recall that the mob had been screaming for McCarthy's head for some time in Chicago, and that Mayor Rahm Emanuel, in the furor that erupted after the Laquan McDonald shooting, chose to hand it over in the hope of saving his own. It surely came as no surprise to McCarthy; he knows how the game is played.
Black Lives Matter Leader Charged With Sex Trafficking Is Also An Alleged Charity 'Scammer'. In addition to being an accused child sex trafficker, Black Lives Matter activist Charles Wade is a financial "scammer," says a lawyer for a St. Louis real estate developer who lost more than $10,000 after Wade skipped town last year without paying rent. By some estimates, Wade, a former stylist for Beyonce Knowles' sister Solange, took in hundreds of thousands of dollars in online donations for a group called Operation Help or Hush (OHOH) that he co-founded in the wake of the Aug. 9, 2014 police shooting of Michael Brown. The group's stated mission was to provide temporary housing for protesters in the St. Louis area.
'Ferguson Effect' Is Real, and It Threatens to Harm Black Americans Most. University of Missouri at St. Louis criminologist Richard Rosenfeld has had "second thoughts." Like many academic criminologists, he had pooh-poohed charges that skyrocketing murder rates in many cities in 2015 and 2016 result from a "Ferguson effect" — a skittering back from proactive policing for fear of accusations of racism like those that followed the death of Michael Brown in Ferguson, Missouri, in August 2014. Now, after looking over 2015 data from 56 large cities, he's changed his mind. Homicides in those cities were up 17 percent from 2014. And 10 cities, all with large black populations, saw homicides up 33 percent on average.
The Ferguson Effect Strikes the Chicago PD. So far this year the city has averaged more than nine people shot and 1.5 homicide victims per day. And amid all this carnage we are told that the trouble in Chicago is not that people shoot each other with such casual alacrity and alarming frequency. No, they say, the trouble in Chicago is that the police officers aren't nice enough.
Crime researcher reverses course, Ferguson Effect now 'leading hypothesis'. University of Missouri-St. Louis criminologist Richard Rosenfeld published a paper last June which argued that the "Ferguson Effect" was not real. [...] But Rosenfeld has recently announced that he has changed his mind.
Witnesses: Massive Los Angeles arson was reaction to Mike Brown shooting. According to witness testimony, a December 2014 fire that burned down an unfinished, 7-story apartment building in Los Angeles was set by a man who was angry about the death of Mike Brown in Ferguson, MO.
Back to Bedlam. In response to the incessant accusations of racism and the heightened hostility in the streets that has followed the Michael Brown shooting, officers have pulled back from making investigatory stops and enforcing low-level offenses in many urban areas. As a result, violent crime in cities with large black populations has shot up — homicides in the largest 50 cities rose nearly 17 percent in 2015. And the Left is once again denouncing the police — this time for not doing enough policing.
The Legal Arm Of The Left. On Wednesday [2/10/2016], Attorney General Loretta Lynch announced her agency was pursuing a lawsuit against the St. Louis suburb for massive civil rights violations. The DoJ has investigated Ferguson with incredible zeal ever since the 2014 police shooting death of Michael Brown. Brown's death was later ruled a justified act of self-defense both by the local district attorney and then-U.S. Attorney General Eric Holder. But that finding hasn't stopped Obama's Justice Department from seeking vengeance on the town which has became a focal point for America's racial turmoil.
Justice Dept sues the City of Ferguson to force policing reform. The Department of Justice filed a 56-page civil lawsuit Wednesday against the City of Ferguson, Mo. alleging that, 18 months after the police shooting of Michael Brown, the city's police and court system continue to violate black residents' civil rights. The suit — a contentious next-step in what has been a months-long negotiation process between federal and city officials over potential reforms — says these "ongoing and pervasive" violations come from the city's use of law enforcement to generate revenue.
Is the Left Even on America's Side Anymore? [Scroll down] Black Lives Matter is a movement built on the fiction that police have declared open season on innocent black Americans. [...] One incident in the St. Louis suburb of Ferguson, Mo., became the launching point for the Black Lives Matter movement and its malicious claim that innocent blacks were being wantonly gunned down by racist police. The alleged "victim," Michael Brown, had just committed a strong-armed robbery and refused to comply with Officer Darren Wilson's order to surrender. Instead the 300-pound street thug attacked Wilson in his vehicle, tried to wrest his gun from him, and then walked away before turning and charging him. Several shots failed to stop Brown, until one killed him. Ignoring the facts, Black Lives Matter promoted the lie, invented by Brown's robbery accomplice, that Brown had his hands up and was attempting to surrender when he was shot.
Washington Post: 'Hands Up, Don't Shoot' One of Biggest Lies of 2015. Washington Post Fact Checker Glenn Kessler released his annual list of the biggest whoppers of the year, including the contention that Michael Brown was surrendering with his hands up when he was killed by a Ferguson police officer.
Year after death, Michael Brown lies in relative obscurity. Brown is among the most notable residents of 160-year-old St. Peter's Cemetery, but there is no headstone marking his grave.
Barack Obama's War On Police. [Scroll down] It's unprecedented that our own DOJ would continue to use the example of Ferguson to highlight the need for changes within police communities given the fact that Michael Brown was in no way innocent of the actions that led to his death. The entire narrative that surrounded his death was fabricated and built upon a lie that to this day the media, the DOJ, and the Obama administration continue to peddle.
How Obama Exploited Ferguson By Pushing A False Narrative. On Monday, November 24th [2014], a grand jury in Ferguson decided not to indict officer Darren WIlson for the fatal shooting that resulted in the death of Michael Brown. While the St. Louis County prosecutor announced the reasoning as to why there was no indictment, Obama took to the air-waives to discredit and vilify our legal system. Specifically, Obama made it a point to note that the "grand jury made a decision that upset a lot of people". As Hans von Spakovsky of the Daily Signal writes, "Obama added more fuel to the fire of the false claim that racial bias was at the root of what happened".
Obama Is Tearing This Country Apart. Speaking in regards to the shooting incident that took place this summer between a police officer and a civilian in Ferguson, MI., Nation of Islam leader Louis Farrakhan proclaimed that violence was justified in response to the grand jury decision not to indict officer Darren Wilson for the death of Michael Brown. Farrakhan threatened that if the demands on behalf of those protesting the police weren't met, "We'll tear this g**d*** country apart". Arguing that violence was justified by the "law of retaliation" mentioned in the Koran, Farrakhan concluded his threat by stating, "We going to die anyway. Let's die for something".
Interim police chief in Ferguson resigns early. Andre Anderson, a 50-year-old black man with 25 years of law enforcement experience, was hired in July on a six-month appointment, after the St. Louis suburb's police force came under fire over the fatal shooting of an unarmed, black 18-year-old in August last year.
What the Steinle and Brown Shootings Reveal About Democratic National Strategy. President Obama asked his Justice Department to investigate the Ferguson, Missouri police department for evidence of civil rights violations. In a detailed report the Justice Department found a pattern of conduct that violates some civil rights, there was not enough evidence to prosecute Police Officer Darren Wilson for federal civil rights violations in the Michael Brown incident. Significantly, President Obama has not asked the Justice Department to investigate if Kate Steinle's civil right to public safety was violated by the sheriff, the mayor, or San Francisco supervisors for failing to take positive actions to defend the rights of citizens against violence perpetrated by illegal immigrants.
The Fiction of "Truth". The Black Lives Matter movement grew out of the fatal shooting of Michael Brown by Officer Darren Wilson in Ferguson, Missouri. The protestors' signature slogan, "Hands up, don't shoot," evolved from the belief that Brown raised his hands after Wilson had fired the first shot and told the officer, "I don't have a gun, stop shooting" in the seconds before his death. Yet the Justice Department exonerated Wilson, concluding that Brown was shot after struggling with, and then charging toward, Wilson. Brown, who had allegedly stolen cigars from a liquor store shortly before his encounter with Wilson, neither put up his hands to surrender nor was shot in the back while fleeing, according to the Justice Department report. Utter disregard for old-fashioned truth is now deeply embedded in contemporary America, largely because it advances a particular agenda.
A Tale of Two Shootings. A few comparative observations: Michael Brown's supporters claimed that he was shot in the back, an allegation that sparked days of violent rioting and yet was proven false both by the autopsy and forensic evidence, along with eyewitness accounts. Kate Steinle was indisputably shot in the back, a fact that was never questioned. No demonstrations followed her death. In both cases, the government was alleged to have been culpable for the shootings. Yet Darren Wilson was cleared of all charges by both state and federal authorities. In contrast, San Francisco sheriff's officials argued with Immigration and Customs Enforcement authorities over which bureaucracy was at fault for releasing a convicted felon and seven-time deported alien felon into the general public. Neither agency initially argued that the release was legal or wise, but rather blamed the other for letting Sanchez go.
Black Lives Matter's numbers are bogus. Thanks to the Ferguson Effect, blistering anti-law-enforcement rhetoric and sometimes fatal attacks on police have made cops timid, if not terrified. The result? A murder explosion that, ironically, is killing the very black people whom Black Lives Matter claims to champion. Year to date, homicides are up 8.3 percent in New York, 19.2 percent in Chicago, 51.5 percent in St. Louis and 52.5 percent in Baltimore. On average, 4,472 black men were killed by other black men annually between Jan. 1, 2009, and Dec. 31, 2012, according to the FBI's Supplementary Homicide Reports. Using FBI and CDC statistics, Professor Johnson calculates that 112 black men, on average, suffered both justified and unjustified police-involved deaths annually during this period.
DEA head: Police more wary, less aggressive in wake of Ferguson unrest. The head of the U.S. Drug Enforcement Administration said Wednesday [11/4/2015] that law enforcement officers nationwide are policing less aggressively, because of some high-profile racially-charged incidents and the explosion of videotaped encounters. Acting Administrator Chuck Rosenberg became the latest police official to agree that there has been a so-called "Ferguson effect," a controversial assessment made most prominently by FBI Director James Comey.
DEA chief: Comey 'spot on' linking Ferguson impact to crime surge. The nation's top drug enforcement official said Wednesday that FBI Director James Comey was "spot on" when he recently offered the controversial assessment that violent crime surges in some cities may be linked to police officers' reluctance to engage suspects. "I think there is something to it," Drug Enforcement Administration chief Chuck Rosenberg told reporters, referring to the so-called "Ferguson-effect" in which police have been reportedly hesitant to act for fear of prompting the kind of civil unrest that engulfed Ferguson, Mo., last year. "I think (Comey) was spot on."
Man sent to jail for trying to burn down store during Ferguson riots. Antonio Whiteside, 27, who had pleaded guilty in April to one count of attempted arson at the Ferguson Supermarket, was sentenced by US District Judge John Ross, the Bureau of Alcohol, Tobacco, Firearms and Explosives said in a statement. Dozens of businesses were damaged or ruined last year during the rioting that broke out after the killing of Michael Brown in Ferguson, a St. Louis suburb that became the touchstone for a national movement against racial profiling and police use of lethal force.
Taking Back the Neighborhood. Ferguson and Baltimore are perfect examples of the anarchy that results from allowing that kind of behavior to continue unchecked. It is difficult enough to deal with one person like that, but when you have hundreds gathered together that are beyond the reach of reason, your cities are on the road to hell. Chicago has been on that road for quite a while and I know who to blame. When you listen to the mayors of these cities, you soon learn it isn't just their criminals that are beyond the reach of reason.
FBI chief tries to deal with the 'Ferguson effect'. A year after unrest in Ferguson, Mo., brought increased scrutiny of police, FBI Director James Comey has thrown his weight behind the idea that restraint by cops in the wake of criticism is at least partly to blame for a surge in violent crime in some cities. The tensions over policing and crime come when, for the first time in a generation, unusual political forces have aligned and the nation appears on the verge of relaxing tough criminal sentencing laws. Liberals and conservatives now seem to agree that 1980's-era anti-drug laws boosted U.S. prison populations too much, with the burden falling disproportionately on minority communities.
FBI Director Ties Spike In Urban Crime To Cops' Fear Of Doing Their Jobs. FBI director James Comey lent credence to a controversial theory Friday [10/23/2015] when he said during a speech in Chicago that violent crime has spiked in many big U.S. cities this year because police officers are worried that performing their policing duties puts them at risk of being accused of a crime themselves. "I don't know whether that explains it entirely, but I do have a strong sense that some part of the explanation is a chill wind that has blown through American law enforcement over the last year," Comey said at a forum held at the University of Chicago Law School, according to news reports.
Update:
Liberal hero James Comey now the enemy for telling the truth about cops. When James Comey threatened to quit the Bush administration over a wiretapping dispute, he was an instant liberal hero. [...] But now that Comey is resisting Obama's party-line claims about police brutality and mass incarceration, the White House is furious with him. Its chief propaganda arm, The New York Times editorial page, is harshly denouncing the man it praised for resisting Bush. Same Comey, same streak of independence, but now he's goring the wrong ox. Thou shalt not contradict Dear Leader!
Police: Officer Shortage in St. Louis County Due to Lack of Quality Applicants. The St. Louis County Police Department says a difficult part of hiring about 30 officers needed to be fully staffed is finding quality applicants. About 900 officers are working in St. Louis County, including municipalities that contract with the department, says recruitment officer Kevin Minor. He says they are suffering from what they call the "Ferguson effect" and a lack of trust, and many officers have chosen to go to the private sector.
Black Lives Matter leader compares Ferguson rioters to those behind Boston Tea Party. A prominent Black Lives Matter activist has offered a defense of violent looters who plundered U.S. cities like Ferguson and Baltimore in a lecture series delivered at Yale. DeRay McKesson, 30, was invited to the prestigious school to lecture on the movement, which began in earnest after unarmed black teen Michael Brown was killed by a white cop in Ferguson, Missouri. McKesson was hired for a two-part series, and as part of the preparation for the for-credit course at Yale's School of Divinity, he told students to read an article which describes looting as a 'righteous tactic'.
According to the left there is no 'war on cops'. The "war on cops" began in the wake of the shooting death of Michael Brown, aka the Gentle Giant. The killing set off the Black Lives Matters movement that began based upon the "hands up, don't shoot" lie; that the black punk had his hands up attempting to surrender when he was killed by former white Ferguson police officer, Darren Wilson. It did not seem to matter that Brown did not have his hands up to surrender; rather he was rushing the officer. Nor did it seem to matter that Brown had previously tried to get a hold of Wilson's firearm. No doubt had he obtained the gun, the innocent student would have taken it to school for show-and-tell.
The Liberal Solution to Ferguson, MO? More Liberalism. Commissioned by Missouri Gov. Jay Nixon, the report is long on liberal pieties and dogma, including the advocacy of some policies that will only worsen existing problems, but short of practical suggestions for improving economic or social conditions in a close-in, big-city suburb that went from predominantly white to predominantly black in the space of two decades. For example, the Ferguson Commission calls for expanded job opportunities for black youth. Who can argue with that? [...] But then the report endorses calls for almost doubling the minimum wage to $15 an hour.
Is Kentucky Cop Killer, Joseph Thomas Johnson-Shanks, — The Same BLM Ferguson Activist "Jay Mile High"? If it's the same guy, he was deeply involved in the Michael Brown shooting and subsequent protests, riots, looting, arson, etc. and even attended the funeral and graveside services for Michael Brown.
Holder's Hatchet Job. One lesson should have been driven home from the shooting of Michael Brown by Ferguson police officer Darren Wilson in August 2014: racial interpretations of complex events are dangerous. The media and Eric Holder's Justice Department initially cast Wilson as a racist who shot an innocent black youth. They were, as we now know, flat wrong. Not only did a state grand jury decline to prosecute Wilson last fall, but the Justice Department itself backtracked and recommended against federal prosecution. The evidence confirmed that Wilson acted in self-defense and didn't provide a whiff of support for allegations of anti-black bias.
The Ferguson Commission Has Released its Long-Awaited Report. Now What? The Ferguson Commission wasn't built just to churn out a report. Assembled by an executive order from Governor Jay Nixon, the commission's sixteen members have spent the past ten months compiling data, holding public hearings and listening to experts. Among their goals? Catalog the racial inequalities in the St. Louis region — which affect everything from income to life-expectancy to education — that place black residents in Jim Crow conditions and propose meaningful reforms. It's that last part where the Commission's work has attracted cynicism and, in some circles, outright derision.
America's descent into lawlessness. In Ferguson, Mo., law enforcement eased off and allowed a city to burn. But the cause of the rioting — the supposed improper police killing of criminal suspect Michael Brown — was based on the lie that Brown was shot with his hands up. No matter. The ensuing public outrage seemingly exempted arsonists and looters from arrest.
Ferguson bombers sentenced. A foiled plot to use bombs to assassinate the police chief, county prosecutor, and other officials in troubled Ferguson, Mo., and also blow up the iconic Gateway Arch in nearby St. Louis, has ended in federal prison terms for two New Black Panther Party members. In a sweetheart plea bargain deal, Olajuwon Davis and Brandon Orlando Baldwin, both radical black Muslim men in their twenties, received mere seven-year custodial sentences last week from U.S. District Judge Henry Autrey when they could have been sent to prison for decades.
New Black Panther Party Activists Sentenced for Bomb Plot Against Ferguson Police Dept. #BlackLivesMatter is a dangerous "movement." It is a movement centered on what the left would call "hate speech" (if it were whites saying these things) and violence. Two Black Panthers are now doing hard time for plotting to bomb the Ferguson Police Department — [an] act that they would have accomplished if only they hadn't run out of food stamp money.
Officers wanted: Police departments struggle with recruiting. Philadelphia is one of several big cities struggling to find recruits; the police department is about 200 officers short. "Right now policing is not the most attractive occupation that they could probably get into," said Philadelphia Police Commissioner Charles Ramsey. Ramsey says relatively low pay and tougher application requirements, combined with high profile police incidents from Cincinnati to Baltimore to Ferguson, are having a negative impact.
Network Media, Black Leaders Sit Idly By as #BlackLivesMatter Rhetoric Grows Dangerous. It's obvious we're heading into dangerous territory now. The race wars that the likes of Dylan Roof and Vester Lee Flanagan are looking to ignite are only fueled by words and chants like this that go largely ignored. Reasonable heads need to prevail here before we have another Baltimore, another Ferguson, or something much worse, something like a wildfire that can't be controlled. Major media ignores a movement that openly chants for the death of police officers: How isn't this a story worth a three-minute package on? And before you say that group in Minnesota is just a rogue chapter, an aberration, ask yourself this: If that's the case, why hasn't BLM leadership spoken out against such rhetoric yet? Because they don't necessarily disagree with the message, that's why.
Man Charged in Death of 9-Year-Old Girl in Ferguson. St. Louis County prosecutor Bob McCulloch charged De'Eris Brown, 21, of O'Fallon, Missouri, with second-degree murder in the Aug. 18 killing of Jamyla Bolden.
Obama's Dishonest "I Feel" Ferguson Speech. The rhetoric of "I feel" is the bane of truth. It allows for the creation of power structures based not on facts, but on feelings, based not on laws, but on attitudes. Obama's Ferguson address doesn't focus on the facts. It can't. Even his militant pal Holder couldn't find enough to be able to indict anyone. Instead the administration had to settle for lynching some city officials over politically incorrect emails. No gentle giant. No "Hands up, Don't Shoot". It was a lie. It was all a lie. Even Obama can't keep that lie going.
The Tragic and Complete Collapse of Racial Relations. [Scroll down] Obama evokes "Ferguson" as an example of racism, without any context that Michael Brown resisted arrest, was under the influence and walking down the middle of the street — after recently committing a felony. If the president's own attorney general can exonerate Officer Darren Wilson and the president can still persist in referencing Ferguson, racial relations, as the polls suggest, are going to get even worse.
The Ferguson Effect spreads across the country:
Officer Beaten by a Convicted Felon Hesitated for Fear of Being Called Racist: Welcome to Post-Ferguson Policing. Last Friday [8/14/2015], a Birmingham plainclothes detective pulled over a car being driven erratically. The officer, who has chosen to remain anonymous to protect his family, told the driver to stay in the car while he called for backup. Instead, according to CNN, the driver got out and became belligerent, angrily and repeatedly asking why he'd been stopped. The driver, a 34-year-old convicted felon, allegedly grabbed the detective's gun and pistol-whipped him with it until the detective lost consciousness. The felon, Janard Cunningham, reportedly fled the scene but was later apprehended. His record includes convictions for robbery and assault, among other crimes, and an attempted-murder charge, according to ABC 3340 and WVTM 13.
Something Is Sketchy In Ferguson. Activist Deray McKesson has close ties to the White House. McKesson has also traveled around the U.S. stoking the fires of racial animus in Ferguson, Madison, Baltimore, Charleston, Cincinnatti and McKinney Texas. [...] But it gets even more weird. WeaselZippers is pointing out that Tryone Harris was previously arrested on a weapons charge, and his bond was paid by the George Soros group M.O.V.E which is a replacement of ACORN.
Please Tell Black Lives Matter to Shut Up and Go Away! So, here we go again. To commemorate the one-year anniversary of the death of black thug Michael Brown, Black Lives Matter thugs trashed Ferguson again. Liberals still advise government to walk on eggshells to appease the BLM terrorists. Michael Brown robbed and assaulted the clerk of a convenience store. He died attacking a police officer. Period. End of story. Why in the name of all that is righteous would intelligent people, black and white, reward this thug with civil rights hero status?
George Soros funds Ferguson protests, hopes to spur civil action. There's a solitary man at the financial center of the Ferguson protest movement. No, it's not victim Michael Brown or Officer Darren Wilson. It's not even the Rev. Al Sharpton, despite his ubiquitous campaign on TV and the streets. Rather, it's liberal billionaire George Soros, who has built a business empire that dominates across the ocean in Europe while forging a political machine powered by nonprofit foundations that impacts American politics and policy, not unlike what he did with MoveOn.org.
Not News: Unarmed White Teen Killed by Cop; Two White Cops Killed by Blacks. The media enthusiastically remind us that it's the first anniversary of the death of Ferguson's Michael Brown, a death that spawned the so-called Black Lives Matter movement. In a September speech at the United Nations, President Barack Obama said, "The world also took notice of the small American city of Ferguson, Missouri — where a young man was killed, and a community was divided." Never mind that both a grand jury and the federal Department of Justice exonerated the officer who shot and killed Brown. Never mind that neither the physical evidence nor eyewitness testimony corroborated the assertions that Brown had his hands up or that he said, "Don't shoot." Never mind that cops, fearing false accusation of racial profiling and police brutality, are increasingly reluctant to engage in proactive policing — to look for suspicious activity in an effort to prevent crime. As a result crime has gone up, particularly in cities with high-profile cases of alleged racial profiling. Call it the "Ferguson effect."
One Man Now Rules Ferguson. It's more than a little eerie to hear that authorities have declared a state of emergency in Ferguson, Missouri. The state of emergency, aka the state of siege, casts a long shadow over the history of government attempts to produce and maintain public order. States of emergency are the favored tool of dictators and would-be dictators who want to suspend regular, constitutional procedures. Their invocation often heralds a crackdown on civil liberties. In the case of St. Louis County, the reality is more complicated. The declared state of emergency does in fact give the elected county executive, Steve Stenger, almost absolute authority to declare a curfew and thereby order arrests and end protests.
Gun battle during Ferguson anniversary protest ends with man shot by police. St. Louis County police said a gun battle in Ferguson, Mo. late Sunday [8/9/2015] climaxed when one of the suspects involved opened fire on plainclothes detectives before being pursued and shot by the officers after a day of peaceful demonstrations in Ferguson marking the anniversary of Michael Brown's death. Chief Jon Belmar did not identify the suspect, whom he said was in "critical, unstable" condition at a local hospital. However, the St. Louis Post-Dispatch identified the man as 18-year-old Tyrone Harris Jr. Harris' father, also named Tyrone, told the paper that his son had just come out of surgery early Monday, and noted that his son and Brown "were real close."
Vet Confronts Ferguson Protesters Stomping on the American Flag. Tense video captures the moment a Vietnam veteran confronts Ferguson protesters who are stomping on the American flag. Indianapolis-based reporter Patrick Calvert tweeted the intense video out on Monday [8/10/2015].
More than a dozen arrests in 4th night of Ferguson protests. Police arrested more than a dozen people in Ferguson on Monday night [8/10/2015] after protesters blocked traffic during a fourth consecutive night of demonstrations marking the anniversary of the fatal shooting of 18-year-old Michael Brown.
Congressman on Difference Between Ferguson Protesters, Criminals: 'You Can't Shoot and Think at the Same Time'. The former chairman of the Congressional Black Caucus said the violence that erupted night before last at the Ferguson protests isn't indicative of the demonstrators in the Missouri city. Tyrone Harris, 18, was wounded in a shootout with police that was captured live by TV crews covering the protests. He was out on bond at the time and now faces 10 felony counts.
Heavily armed 'Oath Keepers' inject disquieting element in Ferguson. Four white men carrying military-style rifles and sidearms added a disquieting element to riot-torn Ferguson, Missouri, when they began patrolling the streets before dawn on Tuesday [8/11/2015], which police quickly labeled "inflammatory." The men said they were part of a group called "Oath Keepers," which describes itself as a non-partisan association of current and former U.S. soldiers, police and first responders who aim to protect the U.S. Constitution. They told reporters on the street that they were in Ferguson to protect a media organization.
Anger outruns the facts in Ferguson. If there is any growing national sense of weariness over the unrest and protests in Ferguson, it was personified by a white Army veteran talking with an activist here Monday night [8/10/2015]. "When you guys first started all this, I was with you. I hate the pigs, too!" said the man, who wouldn't give his name but had no problem speaking his mind.
The Plight of the Unarmed Perp. Michael Brown's case was a classic. The "gentle giant" robbed a convenience store, shoved the clerk aside, walked down the middle of the road, and, when questioned by Officer Darren Wilson, responded by beating on Wilson through his open vehicle window and trying to steal his gun. When the gun discharged, Brown ran. Wilson got out of his car and demanded that Brown stop and surrender; instead of doing so, the 6' 4", 292-pound Brown charged Wilson. What could possibly make him think that was a good idea?
Apparently the Ferguson riots are an annual event.
Police: Officers come under heavy gunfire at Ferguson protest. Police arrested several people Monday evening [8/10/2015] after protesters who gathered along West Florissant Avenue refused their instructions to get out of the street. Around 10:20 p.m. CT, hundreds of protesters started marching into the street. Immediately, police on a loudspeaker told them to move out of traffic. When they didn't comply, officers advanced and took several people into custody, handcuffing them on the ground.
"Mostly Peaceful" Ferguson Protest Features Gun Battle, Looting. [Scroll down] The gun battle lasted 45 seconds, with dozens of spent casings found. [Tyrone] Harris was found with a 9mm Sig Sauer pistol, stolen in Cape Girardeau. But, hey, there's probably some sort of conspiracy going on, according to his father! And, hey, he was totally not with the protesters! Even though plain-clothes officers followed him through the protesting crowd.
Ferguson is in a state of emergency Again — after police are shot at and shops looted. Ferguson was put under a state of emergency yet again today [8/9/2015] after commemorations of the anniversary of Michael Brown being shot dead by a police officer descended into violence. St Louis County executive Steve Stenger declared a state of emergency following the renewed violence in Ferguson. Stenger said in a statement that his decision was because of the 'criminal unrest' and 'attacks on businesses and law enforcement' that had put public safety at risk.
'Feels like August 2014 all over again': Ferguson on edge. St. Louis County Police Chief Jon Belmar said after a shootout between at least six people, a suspect ran away, but then shot at police who were chasing him in an unmarked vehicle with emergency lights flashing. The incident happened exactly one year after 18-year-old Brown was shot and killed by then-Ferguson police officer Darren Wilson. After Sunday's [8/9/2015] shooting, several people said another officer-involved shooting would threaten progress made by Ferguson in the last year.
Ferguson protesters march with roasted pig's head that has Darren Wilson's name scrawled on it. Ferguson protesters used a roasted pig's head during a demonstration marking the eve of the one-year anniversary of Michael Brown's shooting death. After a peaceful march during the day [8/8/2015], hundreds of protesters converged outside the police department after 10 pm. They carved and ate from the pig's head, which was placed on a concrete barrier near the building. Earlier in the day, someone had scrawled the name 'Darren Wilson' on the side of the animal.
Ferguson one year later: It is now fashionable to vilify police regardless of the facts. As the first anniversary of the fatal Ferguson, Missouri police encounter approaches, we can expect activists and opportunists to return to the small town and take to their soapboxes to stage protests, disparage law officers, and call for additional limits on the police. Sadly, the anniversary of this watershed moment in policing finds a much degraded image of law enforcement in America, increasingly polarized views on crime and policing, and concerning increases in homicide in cities across the country. While clear-headed opportunities for positive change have been ever-present, conflict and negativity have ruled the discussion[.]
The Cop. [Darren] Wilson has twice been exonerated of criminal wrongdoing. In November, after a grand jury chose not to indict him, the prosecutor, Robert P. McCulloch, was widely accused of having been soft on him, in part because McCulloch's father was a police officer who had been killed in a shootout with a black suspect. In March, the U.S. Department of Justice issued two official reports on Ferguson. One was a painstaking analysis of the shooting that weighed physical, ballistic, forensic, and crime-scene evidence, and statements from purported eyewitnesses. The report cleared Wilson of willfully violating Brown's civil rights, and concluded that his use of force was defensible. It also contradicted many details that the media had reported about the incident, including that Brown had raised his hands in surrender and had been shot in the back. The evidence supported Wilson's contention that Brown had been advancing toward him. The Justice Department also released a broader assessment of the police and the courts in Ferguson, and it was scathing.
March, civil disobedience planned next month in Ferguson. A silent march and a day of civil disobedience are among the events being planned for next month in Ferguson to mark the first anniversary of the fatal shooting of a black 18-year-old by a white police officer, an event that galvanized the "Black Lives Matter" movement.
City of Ferguson names black officer from Arizona department as new interim police chief. Officials in Ferguson, Mo., have hired a black police officer from an Arizona department to serve as interim police chief, just days before the first anniversary of Michael Brown's shooting death at the hands of Officer Darren Wilson. Andre Anderson, 50, will take over as the suburban St. Louis department's chief after spending 24 years with the Glendale, Ariz., police, where he rose to the rank of commander. In 2013, Anderson was a finalist for the police chief's job in Casa Grande, Ariz., according to The Dispatch.
Saint Louis Judge Throws Out Ridiculous Legal Call For Probe of Prosecutor In Mike Brown Shooting. Black Lives Matter activists have continued the insufferable demand to have the Grand Jury decision nullified. Another recent maneuver has been thrown out.
Ferguson police 'denied Michael Brown protesters civil rights as they used dogs to incite fear and deployed tear gas without warning', DOJ finds. Police trying to control the Ferguson protests wound up the crowds and violated free-speech rights, the Department of Justice has claimed. The report by the DOJ found that officers used dogs to incite fear and deployed tear gas without warning on people who could not safely retreat.
Hillary arrives by private jet for Ferguson-area speech on race relations and Charleston 'terrorism'. Hillary Clinton arrived in a private jet on Tuesday [6/23/2015] to talk race relations at a church whose rooftops can see Ferguson, Missouri. And she left some in St. Louis's urban black community feeling cold, coming to town for a campaign speech nearly a year after the riot-inducing shooting death of Michael Brown.
Genosuicide and its causes. "Black lives matter" became the slogan of the anti-police protests that followed the 2014 police shooting of Michael Brown in Ferguson, Missouri. Do they? Does yours? Parts of black America appear determined to destroy themselves — black men, that is, rather than black women, who graduate from university at twice the male rate and hold more full-time jobs. Call it genosuicide, the self-willed extinction of a people, and it happens all the time, especially when young men decide that to matter, they must assert themselves violently.
The Education Establishment vs. Black Education. Last summer's Ferguson, Missouri, disturbances revealed that while blacks were 67 percent of its population, only three members of its 53-officer police force were black. Some might conclude that such a statistic is evidence of hiring discrimination. That's a possibility, but we might ask what percentage of blacks met hiring qualifications on the civil service examination. Are there hundreds of blacks in Ferguson and elsewhere who achieve passing scores on civil service examinations who are then refused employment? There is no evidence suggesting an affirmative answer to that question.
Ferguson Mayor Recall Petition Fails Due To Invalid Signatures and Fraud. A group called Ground Level Support delivered the petition to recall Mayor James Knowles on May 28th, saying they had 400 more than the 1,800 signatures required. All signatures must be from Ferguson residents who were registered to vote during the last mayoral election. The St. Louis County Board of Education Commissioners began verifying the signatures' validity the day the petition was turned in. Tuesday, the board announced the required number of valid signatures was not met. It says of the 2,133 signatures submitted, only 1,008 were valid.
Police Practicing Defensive Medicine. [Scroll down] Move west to Ferguson, Missouri where police officer Darren Wilson had his life turned upside down after shooting the "gentle giant" Michael Brown. The "hands up don't shoot" meme, perpetuated by the media, politicians, and athletes turned out to be a lie. Although accused of police malpractice, Officer Wilson actually did adhere to the "standard of care" of policing.
Protestors Plan Rally in Ferguson in Support of Boston Terror Suspect. A Black Lives Matter protest group has planned a rally Friday in Ferguson in support of Usaama Rahim, the ISIS-inspired terror suspect who was shot dead in Boston after pulling a knife on officers. On a Facebook page called "Justice for Usaama Rahim in Ferguson," the activists have announced that the rally will take place June 5 at 5pm CDT in front of the Ferguson Police Department and will include a "FREE Halal BBQ dinner."
'Ferguson Effect' Crime Wave Hits 7 Democrat-Run Cities. The seven cities the Wall Street Journal cited as having tremendous spikes in violent crime since the Ferguson protests have all been run by Democrats for decades. What a coincidence, huh?
Mosby says she'll seek order to block release of Freddie Gray autopsy report. Baltimore State's Attorney Marilyn Mosby plans to seek a protective order that would block the release of Freddie Gray's autopsy report and other "sensitive" documents as she prosecutes the six police officers involved in his arrest. Mosby told The Baltimore Sun that prosecutors "have a duty to ensure a fair and impartial process for all parties involved" and "will not be baited into litigating this case through the media." But an attorney for one of the officers said the effort shows that "there is something in that autopsy report that they are trying to hide."
Two Black Panthers, Advocates for ISIS, Admit Plot To Bomb Ferguson and Saint Louis Police. This story is interesting both for the content the media share and for the content the media avoid sharing. Both Saint Louis suspects are admitted members of the New Black Panther organization; both suspects are also admitted Islamist Radicals and believers in ISIS jihad. However, as previously pointed out, you'll have a hard time finding the connection between NBPP and ISIS in any media article. Contrast against the media reports yesterday about "right-wing" domestic terror threats and the DOJ inquiry.
New Black Panther Party Members Who Met in Ferguson Admit Planning to Kill Prosecutor, Blow Up Police Station. Two members of the New Black Panther Party who met in Ferguson during protests over Michael Brown's death admitted in court Tuesday [6/2/2015] they planned to blow up a police station and kill the prosecutor involved in the case. The St. Louis Post-Dispatch reports 23-year-old Olajuwon Ali Davis and 24-year-old Brandon Orlando Baldwin each pleaded guilty to multiple explosive and gun related charges in federal court today.
More about the Black Panthers.
Our Biggest Problem Is A Lying, Stinking Media. When Michael Brown was shot by a white cop in Ferguson, his friend lied that Brown had his hands up to surrender but forensic evidence proved otherwise. Nevertheless the media and dumb celebrities started promoting and wearing 'Hands up, don't shoot' t-shirts and every time, their pictures showed up all over the press. Riots followed and the town burned down.
The New Nationwide Crime Wave. The consequences of the 'Ferguson effect' are already appearing. The main victims of growing violence will be the inner-city poor.
'Ferguson Effect': America's New Crime Wave Is All Part of the Plan. The Wall Street Journal is calling the dramatic end of America's two-decade-long drop in crime "The Ferguson Effect." Led behind the scenes by President Obama, America's fraudulent civil rights leaders (Al Sharpton) and the mainstream media (especially CNN), worked together — starting with their lies in Ferguson — to launch hate campaigns against the police. The result is an empowered criminal element and by extension a horrific increase in murders, shootings, and other violent crimes.
Looks like MORE — an ACORN Successor — Paid "Protesters" to "Protest" in Ferguson. Apparently MORE is angering "protesters" by not paying them as they say they were promised.
Ferguson unveils permanent Michael Brown memorial plaque to be drilled into the road where he was shot. A permanent plaque has been unveiled to honor Michael Brown, the black 18-year-old who was shot dead by a police officer in Ferguson last August. The steel and gold plate will be drilled into the road on Canfield Drive where Brown was shot, replacing a makeshift memorial of flowers and toys, which had become a safety hazard. It features an engraving of the teenager in his graduation mortar board, with a message that his family 'would like the memory of Michael Brown to be a happy one.'
Ferguson Rent-A-Mobs Exposed. ACORN's successor group in Missouri has been paying protesters $5,000 a month to generate civil unrest in Ferguson, the troubled St. Louis suburb where black youth Michael Brown was killed by a white police officer last August. We know this because some of the protesters haven't been paid and, now, they are demanding what they were promised. They held a sit-in at the offices of Missourians Organizing for Reform and Empowerment (MORE) and posted a demand letter online.
Hired Ferguson Protesters Demand Pay. "Black Lives Matter" protesters who were apparently hired to cause a ruckus in Ferguson, Missouri, are angry because, they say, they haven't been paid for their hard work. So they've launched a #CutTheCheck hashtag on Twitter and held a sit-in at the offices of Missourians Organizing for Reform and Empowerment, or MORE — the successor group to the Association of Community Organizations for Reform Now, or ACORN, in Missouri.
'It Sure Looks Like Some Ferguson Protestors Were Paid To Do So By Liberal Organize Missouri'. "Remember the protests (and riots) in Ferguson last summer? It looks like at least some of the protestors were told they would be paid to show up and now they're upset the checks haven't arrived yet," Katie Pavlich writes at Townhall. "Weaselzippers has the full story and the screen shots showing "protestors" using the Twitter hashtag #cutthecheck in response to non-payment.
How leaders encourage riots even as they condemn them. It's an iron rule of economics: If you want less of something, tax it. If you want more of something, subsidize it. This iron rule captures a deep truth not just about money but about human nature — and we are seeing it play out in horrifying and dispiriting images of Baltimore under siege from within. Of late, America has been offering a moral subsidy of sorts to rioting and looting.
When elites lie without much consequence, the public follows their examples. Everyone knows that "Hands up, Don't Shoot" was an outright lie. Michael Brown never did or said that. Forensics, logic, and the majority of eyewitness accounts confirm that the strong-armed robber struggled with a policeman, lunged at his weapon, ran away, and then turned and charged him, not that he was executed in polite submission. Does that lie matter? Not at all. "Ferguson" is routinely listed as proof of police racist brutality — and by no less than the president of the United States. Michael Brown is now the Paul Bunyan of the inner city.
Dorian Johnson trying to cash in on Ferguson shooting, sues city and Darren Wilson. The man who created the false "hands up, don't shoot" narrative surrounding the death of Michael Brown is not merely contented with having stirred racial strife and anti-police sentiment. Now, according to the Right Scoop, Dorian Johnson is looking to once again cash in on the fictitious narrative.
Dorian 'Hands Up, Don't Shoot!' Johnson Is Arrested. In a "completely unexpected" (no, not really) development, Dorian Johnson, the person who was with Michael Brown in Ferguson, Missouri when Brown was killed by police officer Darren Wilson, has been arrested. I know, I know, it's a real shock to learn that the guy who completely fabricated the "hands up, don't shoot" lie and, along with Brown, "stole a box of cigars" from a store before their fateful encounter with Wilson could possibly have broken the law.
It should only be surprising if this didn't happen.
Michael Brown's friend who witnessed Ferguson shooting and fabricated 'hands up, don't shoot' line arrested on drug charges. A key witness to the police shooting of Michael Brown in Ferguson, Missouri, has been arrested on charges of drug possession and resisitng arrest. Dorian Johnson, best known for falsely claiming that Brown, 18, called out 'hands up, don't shoot' before Officer Darren Wilson opened fire on him in August 2014, was taken into custody Wednesday afternoon [5/6/2015].
Dorian Johnson Arrested In Saint Louis — Three Days After Announcing Intent To Sue Police. Dorian Johnson, the man who was with Michael Brown Jr. when Brown was fatally shot by a Ferguson police officer last summer, has been arrested on suspicion of drug charges and resisting arrest, St. Louis police said.
Dorian Johnson has been arrested again. For those of you who followed the events in Ferguson last summer at all closely, you're probably familiar with the name. He was the accomplice of Michael Brown in the strongarm robbery of the convenience store just prior to the shooting and the only witness to the subsequent events aside from Officer Wilson. But lest you think he's gone off into retirement since his fifteen minutes of fame expired, fear not. He's apparently still keeping busy.
George Soros funds Ferguson protests, hopes to spur civil action. There's a solitary man at the financial center of the Ferguson protest movement. No, it's not victim Michael Brown or Officer Darren Wilson. It's not even the Rev. Al Sharpton, despite his ubiquitous campaign on TV and the streets. Rather, it's liberal billionaire George Soros, who has built a business empire that dominates across the ocean in Europe while forging a political machine powered by nonprofit foundations that impacts American politics and policy, not unlike what he did with MoveOn.org. Mr. Soros spurred the Ferguson protest movement through years of funding and mobilizing groups across the U.S., according to interviews with key players and financial records reviewed by The Washington Times.
Witness to Michael Brown Shooting Sues Ferguson and Darren Wilson. A witness to a police officer's fatal shooting of Michael Brown last summer in Ferguson, Missouri, has filed a lawsuit alleging that he was wrongly stopped and fired on during the encounter on a city street. The lawsuit, filed last week by Dorian Johnson, claims that the officer, Darren Wilson, fired at him and Brown as they ran away from him on Aug. 9. The lawsuit claims Wilson targeted him without probable cause.
Ferguson to pay attorney Dan K. Webb $1,335 an hour. Ferguson is paying an attorney $1,335 an hour to help the St. Louis suburb negotiate and possibly litigate reforms pressed by the Justice Department since Michael Brown's shooting death by a police officer there last summer, according to a newspaper report.
Black Thugs Hammer Black Citizens. Dear Black Thugs: [...] From Ferguson to Baltimore, the whole world is watching as you run wild. Thanks to you, plate-glass store windows shatter into shards. You pry ATMs from walls to drain them of cash. One of you joy-rode a car through flaming debris along a smoldering street. You set homes, workplaces, and shops ablaze. You burned a 60-bed nursing home for seniors, still under construction, and literally knifed Baltimore firefighters' water hoses as they tried to douse this inferno. And you enjoyed a 100-percent-off shopping spree — [regardless of] the consequences. How does ripping off a bottle of whiskey from a smoldering liquor store help us overcome?
Social media analysis suggests links between Baltimore and Ferguson violence. An analysis of social media traffic in downtown Baltimore Monday has unearthed striking connections to the protests in Ferguson, Mo. last year, according to a leading data mining firm that shared its findings exclusively with Fox News. The firm, which asked to remain anonymous because of its government work, found between 20 and 50 social media accounts in Baltimore that were also tied to the peak period of violence in Ferguson. While further analysis is being conducted on the data, it suggests the presence of "professional protesters" or anarchists taking advantage of Freddie Gray's death to incite more violence.
Two black candidates elected to Ferguson City Council. The election [4/21/2015] means that half of the six-member city council in Ferguson, a town where two-thirds of the 21,000 residents are black, will now be African-American.
Michael Brown's family set to sue city of Ferguson. The parents of Michael Brown filed a wrongful-death lawsuit Thursday [4/23/2015] against the city of Ferguson, Missouri over the fatal shooting of their son by a white police officer, a confrontation that sparked a protest movement across the United States.
Michael Brown's family files civil lawsuit, seeks $75,000 in Ferguson case. The family of Michael Brown has filed a civil lawsuit against the city of Ferguson under Missouri's "wrongful death statute," family attorney Benjamin Crump said in a statement Thursday [4/23/2015]. The suit seeks punitive and compensatory damages in excess of $75,000, in addition to attorney fees.
"Ferguson" Actors Can't Handle the Truth. I wrote here about the staging in Washington, DC of a portion of "Ferguson," a play based exclusively on the testimony presented to the grand jury that declined to indict Officer Darren Wilson. The full play is scheduled to debut tomorrow [4/26/2015] in Los Angeles. However, the Daily Caller reports that this week several actors quit the production because once they read the script, they felt it didn't portray Michael Brown in a sufficiently positive light.
Ferguson Tears Down Buildings, to Rebuild Again. After months of burned-out buildings lining the streets, the city of Ferguson, Missouri, has reached a milestone in the recovery process: demolishing buildings that had been damaged in the aftermath of the killing of Michael Brown.
Missouri lieutenant governor: 'There is more racism in the Justice Department' than in the St. Louis area. Missouri's lieutenant governor lashed out at the Justice Department on Monday [4/6/2015], accusing U.S. Attorney General Eric Holder and the Obama administration of racism in the wake of the fatal police shooting of Michael Brown, an unarmed black teenager, in Ferguson last year. "There is more racism in the Justice Department than there is in anywhere I see in the St. Louis area," Lt. Gov. Peter Kinder said in an interview with NewsMaxTV Monday [3/16/2015].
More about the politicized Justice Department.
Ferguson election results in half-black City Council. Two black candidates were among three people elected to the Ferguson City Council Tuesday [4/7/2015], tripling African-American representation in the St. Louis suburb where poor race relations have been a focal point since the August shooting death of an 18-year-old black by a white police officer. [...] Until Tuesday, five of six City Council members were white.
NY Times Public Editor Retracts Criticism of Ferguson Reporting. New York Times Public Editor Margaret Sullivan retracted her criticisms over the Times' early Ferguson reporting Monday morning [3/23/2015], calling her initial critique "substantially flawed." Sullivan's retraction follows the Department of Justice's report earlier this month essentially vindicating officer Darren Wilson's side of the story in the shooting of Michael Brown. The report concluded that Brown did not have his hands raised when Wilson shot him, undercutting the subsequent "hands up, don't shoot" slogan adopted by Ferguson protesters. Sullivan's is the second retraction, after Washington Post columnist Jonathan Capehart retracted his earlier columns on Ferguson last week.
Journalistic liars cost 8,000 households $250 million in Ferguson. Ferguson, Missouri, was an inner suburb of St. Louis in August when the media began repeating the lie that Michael Brown, 18, was "hunted down" (to use the words of Comcast's Al Sharpton) by a racist white cop. Today it is a shambles.
Race Baiting And Ferguson. The most recent news from Ferguson concerns what Eric Holder has rightly called the "ambush shooting" of two police officers outside the city's police department. This incident occurred in the wake of two detailed reports released by the Department of Justice. The first report deals in depth with the shooting of Michael Brown by Ferguson police officer Darren Wilson. The report recommended that the case against him be closed. The second DOJ report contained a scathing indictment of the sad state of affairs within the entire criminal justice system of Ferguson. The combined effect of these two reports is likely to make matters worse in Ferguson by combining the back-handed exoneration of Darren Wilson with the unstinting condemnation of the City of Ferguson.
The farcical Ferguson report. The NBA consists of 76 percent black players. But blacks are just 13 percent of the country. Clearly, the league engages in racial discrimination against whites. Silly, right? Well, this is exactly what the sleight-of-hand Department of Justice pulled off to find that the Ferguson Police Department engages in "implicit and explicit racial bias"! The report insults anybody who's ever studied the statistics, or logic.
Ferguson cop shooter's story spinning out of control. The spin surrounding the alleged Ferguson cop shooter, Jeffrey Williams, keeps getting weirder and weirder. On Monday [3/16/2015], a protest organizer, Derrick Robinson, who also goes by the name Bishop D. Demond Robinson, told MSNBC's Tamron Hall the March 12 shooting of two officers outside Ferguson's police department was a set up.
Ferguson Shooter Jeffrey Williams Caught on Video In Fight Shortly Before Shooting Police. Yesterday Ferguson police shooter Jeffrey Williams' attorney, Jerryl Christmas, made the claim that his client was beaten by Saint Louis Police during his arrest. Attorney Christmas, and Ferguson protest leader, Bishop Derrick Robinson, have now both made that claim. [...] However, we have uncovered media video taken by KMOV on the night of the shooting which clearly shows Jeffrey Williams in a fight directly in front of the police department.
Black Caucus Pushes Hard for Ferguson-Inspired Reform in Missouri Legislature. Missouri House Speaker John Diehl (R) promised in January that the state's legislature, the General Assembly, would not "have a Ferguson agenda" in response to the rioting that followed the shooting death of Michael Brown. [...] But then the Department of Justice released a report detailing racist emails that had been sent by police and court officials in Ferguson. It was followed by a flurry of legislation that rained down on the Missouri statehouse. Proposals have been introduced that would mandate body cameras on police officers, cut the revenue local governments pull in from traffic tickets, and tighten reporting policies to detect racial profiling. Legislation has also been introduced that would do away with Missouri's grand jury system. However, members of the Missouri Legislative Black Caucus are accusing Republicans of blocking their proposals.
The Ferguson Report Reminds Me Why I Became a Conservative. Reading the DOJ's Ferguson report took me back to the bad old days. It is the story of a small class of the local power brokers creating two sets of rules, one for the connected and another for the mass of people who are forced — often at gunpoint — to pay for the "privilege" of being governed. This is a very old story, and if the poor of Ferguson are overwhelmingly black, then it's inevitable that a government built on exploitation will disproportionately exploit black citizens. I have no doubt that there are some racists in Ferguson's leadership, but we also know that even black leaders will exploit black citizens in the cities they lead — setting up de facto rules that benefit the governing class at the expense of the poor. See, for example, Detroit.
Judge sets bond for suspect in Ferguson cop shootings, who is a repeat fugitive. A county judge has decided to allow a man accused of shooting two policemen at a protest rally outside police headquarters in Ferguson, Missouri, potentially to post bond even though that man has a history of failing to appear in court. St. Louis County Circuit Court Judge Joseph Dueker set the bond for 20-year-old Jeffrey Williams at $300,000 on Monday on charges that he wounded the two policemen last Thursday at an anti-cop demonstration. There was no immediate indication Monday night that Mr. Williams had posted the bond and been freed before trial.
The Jeffrey L Williams Criminal Complaint Destroys Self Defense Claim. From the Complaint: ..."in the County of St. Louis, State of Missouri, the defendant, knowingly shot a firearm from a 2003 Pontiac Grand Am, a motor vehicle, and caused serious physical injury as a result".... This phrase alone essentially deconstructs the "self defense" claim of Ferguson Shooter Jeffrey L Williams because the vehicle described in the complaint is in a video of the shooting.
Ex-FBI Official: Holder Deliberately 'Eclipsed' Darren Wilson's Exoneration. Attorney General Eric Holder deliberately "eclipsed" a report exonerating former Ferguson, Missouri Police Officer Darren Wilson in the Aug. 9, 2014 shooting death of Michael Brown by releasing another report the same day accusing the Ferguson Police Department of racism, a former FBI official told CNSNews.com. "Eric Holder knew in the fall that there was zero evidence to continue pursuing a case against Darren Wilson. He had seven months to make an announcement," former FBI assistant director Ronald Hosko pointed out.
Washington Post's Jonathan Capehart: 'Hands up, don't shoot' was built on a lie — While Missing The Media Chose To Sell It. Jonathan Capehart was one of the early media pundits who took to the broadcast airwaves and penned numerous columns about how police officer Darren Wilson was guilty of murder. Today [3/16/2015], he tries — and fails — to walk it back.
MSM Continues Trying Desperately To Protect Ferguson Protestors From Their Role In Shooting Police. Within minutes of the Ferguson protesters shooting two police officers in Ferguson Missouri the insufferable media went into overdrive trying to protect them from the consequences of their violent exhibition. Police union representative, Jeff Roorda rightly pointed out the goal of the FTP movement has continued to be violence against police since the outbreak of the activity in August of 2014. The protestors have conducted physical assaults, spat on police, initiated riots, conducted arson, engaged in looting, and most recently shot two police officers.
Campaign underway to oust Ferguson mayor. Five Ferguson residents have taken a first step toward ousting the city's mayor in the wake of a federal probe into the police killing of unarmed black youth Michael Brown, activists said Saturday [3/14/2015]. The residents delivered their affidavit for James Knowles's recall to city hall on Friday [3/13/2015], the Organization for Black Struggle said on its Twitter feed, just as the mayor was telling US news media he has no intention of stepping down.
Many Conservatives are Blowing it on the Ferguson DOJ Report. It's unfortunate, the way news is consumed and interpreted in the age of twitter. Everyone feels tremendous pressure to form an opinion quickly and state it loudly and with certainty. Once this has been done, people are highly resistant to changing their minds and they become impervious to new evidence, often dismissing out of hand outright facts just because they are reported by a given source (e.g., "the media is untrustworthy" or "you can't trust the Holder Department of Justice.") Perhaps nowhere has this phenomenon been more obvious (or regrettable) than in Ferguson, Missouri, in the wake of the shooting death of Michael Brown.
The Community Activism Presidency That's Ruining America. It wasn't another president who was elected on Nov. 4, 2008, it was the official election of Community Activism. Nowhere is proof of presidency by Community Activism more visible than it is in Ferguson, Missouri. Community Activism gets to shy away from observation because it speaks two main languages. It's the deceitful language of sanctimony; community activism speaks to folks who assume there are no community activists in public office, and the language of provocation to Marxist agitators seeking anarchy.
MO Lt. Governor: Holder Incited Mob Many Times. Sunday [3/15/2015] on Fox News Channel's "America's News HQ," Lt. Governor Peter Kinder (R-MO) said Attorney General Eric Holder "on many occasions" seemed to "be inciting the mob." Kinder said, "He is sounding the right notes today, this afternoon. I just wish he had been more judicious and measured in his comments since the August 9. [sic] Because Mr. Holder came in and seemed on many occasions to be inciting the mob. [...]"
Ferguson Police: Public info led to arrest of man in shootings of two officers. Jeffrey Williams was arrested late Saturday [3/14/2015], and he has been charged with two counts of first-degree assault, a count of firing a weapon from a vehicle and three counts of armed criminal activity, St. Louis County Prosecuting Attorney Bob McCulloch said at a news conference in Clayton. "The demonstrations were pretty much over (when the officers were shot). People were leaving, and that's when this happened," he said, describing Williams as a demonstrator who had taken part in protests on numerous occasions.
Arrest Made in Shooting of Ferguson Cops — Shooter Was a 'Hands Up' Protester. St. Louis County police have announced that an arrest has been made in the shooting of two police officers that occurred during protesting at the Ferguson Police Department building last Thursday.
Protester charged with shooting officers in Ferguson. A 20-year-old protester has been charged with shooting two police officers in Ferguson, Mo., last week, authorities said Sunday. County Prosecuting Attorney Robert McCulloch said Jeffrey Williams was charged with two counts of assault in the first degree, one count of firing a weapon from a vehicle and three counts of armed criminal action. McCulloch said Williams admitted firing the shots but said he was shooting at someone else.
Ferguson Pastor Stuns Tamron Hall: Shooting Suspect 'Set Up' by Police. Over the weekend, 20-year-old Jeffrey Williams was arrested in connection with the shooting of two police officers in Ferguson, Missouri. But according to Bishop Derrick Robinson, who visited the suspect in jail, the whole thing is a "set-up." Robinson, who has helped organize protests in Ferguson, said that he was "upset" and "reacting out of frustration and anger." He added that Williams "showed a lot of remorse, was very sorry, apologetic" and "wished he had not done it."
The Editor says...
I suspect the remorse developed after he got caught. If he is so remorseful, why was he on the run for two days?
Salt in our race wounds. Another shooting has taken place in Ferguson, Mo. — and this time, two police officers were the victims. The violence should not come as a surprise, given the ugly tone set by the nation's top law-enforcement officer, Attorney General Eric Holder. The most divisive attorney general since Richard Nixon's John Mitchell, Holder has fanned the flames of racial grievance for much of his tenure. In his early days in office, he called America "a nation of cowards" on racial issues. Last week, his target was the Ferguson Police Department. [...] No, he didn't intend for someone to try to kill two police officers by shooting them in the face. But by portraying the police department as racist to the core, he contributed to the culture of vengeance that led to the shooting.
A lesson in Ferguson: Big government is not a victimless crime. "What happened last night was a pure ambush," Attorney General Eric Holder said Thursday [3/12/2015], the day after two police officers were shot at a demonstration in Ferguson, Mo. "This wasn't someone trying to bring healing to Ferguson." That's putting it mildly. The shootings are just the latest violent act in the Ferguson saga, which began last year when Michael Brown was shot by a police officer. Holder's Justice Department has pretty much exonerated the officer who shot Brown in the violent confrontation. The "hands up, don't shoot" version of Brown's story was always a lie — one exploited by hucksters such as Al Sharpton and amplified by the media, with tragic results.
Protester charged with shooting officers in Ferguson. A 20-year-old protester has been charged with shooting two police officers in Ferguson, Mo., last week, authorities said Sunday [3/15/2015]. County Prosecuting Attorney Robert McCulloch said Jeffrey Williams was charged with two counts of assault in the first degree, one count of firing a weapon from a vehicle and thee counts of armed criminal action. McCulloch said Williams admitted firing the shots but said he was shooting at someone else.
The Editor mocks:
Right. He was shooting as "someone else," yet to be named, while he was participating in a protest at the police station and two cops happened to get in the way. Put me on that jury!
Suspect Arrested In Ferguson Shooting Of Police Officers — Was Regular Ferguson Protestor. Obviously the Ferguson Protest Support Network [...] is trying desperately to seperate themselves from Jeffrey L Williams[,] and quickly deleting him from social media networks.
Ferguson: A Murderous Mob Incited by Holder and Obama. Two police officers in Ferguson, MO were shot at a protest early Thursday [3/12/2015] against alleged racism in the department and the city itself. It was not enough that the chief of police had just resigned. It was not enough that a local judge had quit. It was not enough that the Department of Justice had exonerated former officer Darren Wilson. No — the mob, told by President Barack Obama and Attorney General Eric Holder that Ferguson was still guilty of racism, wanted "justice."
U.S. Ferguson: St. Louis Police, Missouri State Highway Patrol to Take Over Security. A manhunt for suspects in the ambush shootings of two police officers in Ferguson, Missouri, continued tonight [3/12/2015] as demonstrators gathered outside the headquarters of the city's police department for a candlelight vigil. More than 100 demonstrators gathered, along with media and police presence, but the tone was much different than a night before, when a large crowd gathered following the resignation of the St. Louis suburb's police chief. It was during that gathering that shots rang out and the two officers were injured.
Fueling cop-hate: How politicians fan the flames. Government-fueled cop hatred has claimed more victims. Two St. Louis-area police officers were shot Wednesday night during a protest outside the Ferguson, Mo., police department, one in the face, the other in the shoulder. Both are expected to survive, unlike the two New York City police officers assassinated in December. Such violence is the sadly predictable outcome of the lies about the police that government officials and the media have stoked for the last year.
Milwaukee Police Chief Practically Blames Obama for Shootings. Milwaukee Sheriff David Clarke today indicated that President Obama and Attorney General Eric Holder have helped create the climate that has led to the shooting of two police officers in Ferguson, Missouri. Obama's response to the shooting was an insult — a tweet. Holder got himself worked up, calling the shooter "a punk." None of this impressed Clarke, who said "this war on our nation's finest continues ... to be fueled by some very important people."
Holder Gets His Wish: An Open War On Police Officers. The latest casualties in Eric Holder's anti-cop race war are two Ferguson, Mo., officers shot at a protest rally. The ambush follows the attorney general smearing the entire Ferguson police force as racist.
Police advocates: Ambush shooting in Ferguson part of disturbing trend. Two police officers shot and wounded while standing guard outside the Ferguson, Missouri, Police Department early Thursday were deliberately targeted in what a police official called an "ambush." Such ambush-style attacks were the leading circumstance in the surging number of shooting deaths of law enforcement officers, according to the nonprofit, Washington-based National Law Enforcement Officers Memorial Fund.
Inflaming Ferguson. Now we have two more cops who were ambushed because of their uniforms. This time, the attack occurred in troubled Ferguson, Mo., where two officers were both shot in front of the police station. The shootings came less than a week after we learned that the activists' narrative about the death of black teenager Michael Brown at the hands of a white police officer was false. A new Justice Department report confirms that the account given by Officer Darren Wilson was largely true. Meaning the whole "hands up, don't shoot" narrative promoted by activists and the media was false from the start.
Two Officers Shot Outside of Ferguson Police Department During Protest: Police. Two police officers were shot outside the Ferguson Police Department during protests on Wednesday night [3/11/2015], St. Louis County Police confirmed early Thursday. [...] St. Louis County Police Chief Jon Belmar said an officer from St. Louis County was shot in the shoulder and an officer from Webster Groves was shot in the face. He said the officers "were shot just because they were police officers."
2 police officers shot as Ferguson protests turn violent. With tensions running high after the shooting of two officers in Ferguson, Missouri, state and county police took over protest security in the St. Louis suburb Thursday [3/12/2015]. St. Louis County Police and the Missouri State Highway Patrol are assuming "command of the security detail regarding protests," St. Louis County Police said, while Ferguson Police will remain responsible for "routine policing services" in the city.
Embattled Ferguson police chief resigns, city council says. The embattled chief of the Ferguson, Mo. police department has resigned, effective next week, as part of a "mutual separation" between him and the city, the Ferguson council said Wednesday [3/11/2015]. Tom Jackson's resignation, which is effective next Thursday, is the latest leadership shakeup in the city following a scalding federal probe into its police force and court system. Lt. Col. Al Eickhoff will serve as acting chief, and the city will begin a "nationwide search" for a new police leader, the city said in a statement.
Ferguson fake out: Justice Department's bogus report. The Justice report doesn't prove disparate treatment, let alone discrimination. In fact, it looks more like something ginned up to distract from the embarrassing fact that Justice (in another report released the same day) wound up fully validating the findings of the Ferguson grand jury. Racism is serious, and those engaging in it should be shamed — but we should have real evidence before accusing others of it. And every one of the Justice report's main claims of evidence of discrimination falls short.
Ferguson Mayor Questions 'Assertions' in DOJ Report. Ferguson Mayor James Knowles has been speaking out this week about the DOJ report on racially-motivated policing, and in one interview he questioned some of the "assertions" made in the report. Earlier this week, Knowles addressed the media about the report, announced action being taken against the individuals who sent the racist emails, and said, "This type of behavior will not be tolerated in the Ferguson Police Department, or in any department in the city of Ferguson."
Obama to Ferguson: Accept the DOJ Findings — or Else. Remember, its the agenda that matters. Not the processes. The Constitution, the separation of powers, the rule of law — those are quaint constructs irrelevant to the modern march toward Social Justice.
DOJ to Ferguson: Adopt Strategy That Killed Trayvon. [Scroll down] In transitional areas like Ferguson, younger white people with children are the first to move. Older families tend to hang on. It is altogether likely that the black percentage in the high-crime cohort of young men aged fifteen to twenty-nine would have been 80 percent or more. According to the Center on Juvenile and Criminal Justice, black youths nationwide — who make up roughly 13 percent of their age group population — account for 26 percent of juvenile arrests, 44 percent of youth who are detained, 46 percent of the youth who are judicially waived to criminal court, and 58 percent of the youth admitted to state prisons. The Ferguson numbers are well within the national norm.
Judge resigns, Ferguson cases moved after scathing DOJ report. Ferguson's municipal judge has resigned and the city's court cases are getting moved after the U.S. Justice Department said the court discriminated against African-Americans. "To help restore public trust and confidence in the Ferguson municipal court division, the Supreme Court of Missouri today [3/9/2015] transferred Judge Roy L. Richter of the Missouri Court of Appeals, Eastern District, to the St. Louis County Circuit Court, where he will be assigned to hear all of Ferguson's pending and future municipal division cases," the Supreme Court said in a statement Monday [3/9/2015].
2 Ferguson police officers quit; court clerk fired after Justice report. Racist emails — like one that depicted President Obama as a chimpanzee — resulted in three Ferguson, Missouri, city employees resigning or being fired, the city spokesman said Friday [3/6/2015]. Police officers Capt. Rick Henke and Sgt. William Mudd resigned Thursday over the emails discovered during the U.S. Department of Justice investigation of racial prejudice in the city's police and judicial system, city spokesman Jeff Small said on Friday, citing the city attorney.
Ferguson officer speaks out after devastating probe branded department racist. A serving Ferguson police officer revealed that he broke down in tears after he read the Department of Justice report which condemned his force and said: 'I just close my eyes and wish it wasn't like that'. The officer said that his colleagues were 'good cops' and that they were 'hurting' just like the rest of the community. In an exclusive interview with Daily Mail Online he said they were all standing behind embattled Ferguson police chief Tom Jackson but were fearful they would lose their jobs if the department was shut down.
Obama warns Ferguson: Clean up your act or face federal lawsuit. Days after the Justice Department issued a scathing review of police practices in Ferguson, Missouri, President Obama on Friday said the embattled city "will now have to make a decision" to either end discriminatory practices or face a federal lawsuit. Speaking at a town-hall meeting at Benedict College in Columbia, South Carolina, the president said the Justice Department findings aren't a broad indictment of police procedure across the country but rather proof that bad actors exist in law enforcement and that institutionalized bias is not merely a fantasy.
Black Lies Matter. [The] Department of Justice has been forced to admit that the "Hands Up Don't Shoot" meme which fueled the Ferguson riots was a lie of the first magnitude. And, after a thorough investigation, they could find no grounds for civil rights charges against former officer Darren Wilson. So the question lingers: where can Mr. Wilson go to get his reputation back? This is a question which emerges from every race-mongering incident that RINO (reverend-in-name-only) Al Sharpton has ever participated in.
Connecticut prepping new report on racial, ethnic disparities in traffic stops. When the most detailed analysis of statewide traffic stops in Connecticut history is released at the end of the month, it will show that more minority drivers were pulled over in the last year than their share of the driving population warrants. For a handful of police departments where the disparity is especially pronounced, the state intends to offer training and other assistance. The goal is to address biased policing before it produces a crisis of confidence, as it did recently in the St. Louis suburb of Ferguson, where a federal Justice Department probe found that officers routinely discriminate against blacks.
Holder: I'm Prepared To Dismantle Ferguson PD, If Necessary. Attorney General Eric Holder is convinced that there's major problems within the Ferguson Police Department, and he's willing to dismantle the entire force if necessary. In an interview with Friday's White House pool reporter on the Department of Justice's critical Ferguson report, Holder said, "We are prepared to use all the powers that we have... to ensure that the situation changes there. That means everything from working with them to coming up with an entirely new structure."
Holder: I'm Prepared to Dismantle the Ferguson Police Force. Despite a Justice Department report clearing police officer Darren Wilson in the death of Michael Brown, Attorney General Eric Holder says he will do everything he can to change the law enforcement culture in Ferguson, Mo. If he feels the need to, Holder says he will seek to dismantle the Ferguson Police Department.
Holder Frames Ferguson PD For Racism Using Bogus 'Disparate Impact' Stats. Unable to pin racism charges on Ferguson policeman Darren Wilson in the shooting death of Michael Brown, Attorney General Eric Holder is using half-baked data to manufacture a case of racism against his entire police force.
The Biggest Lie of Our Generation: Ferguson Was All About Traffic Tickets.
Hands up, don't shoot? Lie.
Gentle giant? Lie.
Minding his own business? Lie.
Shot in the back? Lie.
Did not attack the police officer? Lie.
'Didn't do nothing' to the Asian shopkeeper? Lie.
Relatives did not try to start a riot? Lie.
Protests were "largely peaceful?" Lie.
National Guard would protect the business owners from looting...
This is a very long list of of the bodyguard of lies that reporters and activists (sorry for the redundancy) hoped would protect anyone from challenging the core truth of the racial grievance industry, which is the biggest lie of this generation: Black people are relentless victims of relentless white racism. All the time. Everywhere. That explains everything. And it is not just Ferguson. Lying about race and racial violence is now the default position for American reporters.
Ferguson police chief stays on the job; mayor says his role is not to 'just chop heads'. Ferguson Police Chief Tom Jackson was still on the job Friday, two days after a government report blasted his beleaguered department for years of racial profiling, and the mayor refused to speculate about the chief's future, saying his role was not to "just chop heads."
Obama: Type Of Racial Discrimination In Ferguson Police Department Not Isolated. President Barack Obama said the type of racial discrimination found in Ferguson, Missouri, is not unique to that police department, and he cast law enforcement reform as a chief struggle for today's civil rights movement.
DOJ Report States "Hands Up — Don't Shoot" Narrative Was Completely False — We Again Explain Its Origin. Today [3/4/2015] the DOJ released their comprehensive finding report on the Mike Brown shooting. The DOJ Report states unequivocally the "Hands Up - Don't Shoot" narrative was a completely false construct, but yet the media ran with it for months. Why?
Megyn Kelly Loses It over Ferguson Report: 'Hands Up, Don't Shoot Did Not Happen!' Following the release of a Justice Department report concluding insufficient evidence to charge Ferguson Officer Darren Wilson for civil rights violation in the shooting death of Michael Brown, Fox News' Megyn Kelly got into a heated argument with guests Wednesday night [3/4/2015] over what she views are unfair treatment of Wilson by the court of public opinion.
Holder Admits 'Hands Up, Don't Shoot' Claim Was Bogus. The "hands up, don't shoot" slogan used by Democratic activists since August 2013 is a complete falsehood, outgoing Attorney General Eric Holder admitted Wednesday [3/4/2015]. He acknowledge the faked story as he released the Justice Department's investigation of the August 2014 shooting of Michael Brown, in Ferguson, Mo.
Family of slain Missouri teen to file wrongful death lawsuit. Michael Brown's parents will file a wrongful death civil lawsuit against Ferguson, Missouri and the white police officer who shot dead the unarmed 18-year-old black man last August in the St. Louis suburb, a family attorney said on Thursday [3/5/2015].
Prosecutors Mull Charges In Brown Family Attack. Prosecutors are now considering criminal charges against members of Michael Brown's family in connection with a violent confrontation over the sale of merchandise commemorating the late teenager, who was shot to death last year by a police officer. The St. Louis County Prosecuting Attorney recently received the results of a months-long investigation by Ferguson Police Department detectives who probed the October 18 beating and robbery of t-shirt vendors, one of whom was hospitalized following the assault.
Milwaukee Co Sheriff Clarke: 'Not Buying One Word' of Eric Holder's Ferguson Report. Calling the new Department of Justice investigation on widespread discrimination in the Ferguson, Mo., justice system a "witch hunt," Milwaukee County Sheriff David Clarke said he was "not buying one word" of the report. Released on Wednesday [3/4/2015], the report alleges that Ferguson police routinely targeted African Americans for traffic stops and other small infractions, charging detainees with multiple crimes in the process. But in an interview with Fox News's Neil Cavuto, Sheriff Clarke rejected the department's findings. "Two words: witch hunt," he began.
DOJ Exonerates Officer Wilson, Excoriates Ferguson Police in 'Searing' Report. The Justice Department said today that there isn't evidence to support federal civil rights charges against Officer Darren Wilson in the shooting death of Michael Brown, but issued a scathing report on racism within the Ferguson Police Department. In a 105-page report, the DOJ found that the department "engaged in a pattern or practice of conduct that violates the First, Fourth, and 14th Amendments of the Constitution."
Ferguson Report: DOJ Will Not Charge Darren Wilson in Michael Brown Shooting. The department of Justice announced today that police officer Darren Wilson will not be charged in the death of Michael Brown. "There is no evidence upon which prosecutors can rely to disprove Wilson's stated subjective belief that he feared for his safety," the DOJ criminal report said.
Racist Obama joke revealed in scathing Justice Department report on 'biased' Ferguson police practices. [Scroll down] The Justice Department also found that blacks were 68 percent less likely than others to have their cases dismissed by a municipal court judge, and that from April to September of last year, 95 percent of people kept at the city jail for more than two days were black, according to the officials.
Obama on police reform: 'The moment is now'. President Obama on Monday [3/2/2015] said police departments needed to do more to build trust in their communities, as a task force he appointed in the wake of the shooting of Missouri teenager Michael Brown recommended increased civilian oversight of officers and more body cameras for cops. "The moment is now for us to make these changes," Obama said from the White House during a meeting with his Task Force on 21st Century Policing.
Justice Department to Fault Ferguson Police, Seeing Racial Bias in Traffic Stops. The Justice Department has nearly completed a highly critical report accusing the police in Ferguson, Mo., of making discriminatory traffic stops of African-Americans that created years of racial animosity leading up to an officer's shooting of a black teenager last summer, law enforcement officials said. According to several officials who have been briefed on the report's conclusions, the report criticizes the city for disproportionately ticketing and arresting African-Americans and relying on the fines to balance the city's budget.
The Ferguson protest movement: Ripe For The Plucking. [Scroll down] The next step is where those in the leadership who display the right combination of ambition and bootlicking get to join the establishment (and burnish their fifteen minutes of streetcred for the rest of their lives), while the husks of the movements all get taken over by the blackshirts and used to advocate a permanent, violent Marxist ideology.
Police today are working in a new reality. Sadly, this is not some hyperbolic warning about a possible future. The bell has already been rung and police are being hunted for sport. And we can't reverse this tide by chasing individual criminals or hearing pontifications from politicians.
Missouri National Guard was not authorized to stop Ferguson violence. For months, critics have questioned why the Missouri National Guard did not respond more quickly as buildings burned along Ferguson's main business corridors. But even had guardsmen arrived sooner that night in November, interviews and newly released documents show they would not have had the authority to stop the violence. The Guard was never meant to engage with protesters, Adjutant General Stephen Danner said on Tuesday [2/17/2015]. Troops were to stand guard over sites critical to the region, sometimes as invisibly as possible, documents show.
Justice Dept. could sue Ferguson for racial discrimination. The Justice Department is preparing to bring a lawsuit against the Ferguson, Missouri, police department over a pattern of racially discriminatory tactics used by officers, if the police department does not agree to make changes on its own, sources tell CNN. Attorney General Eric Holder said this week he expects to announce the results of the department's investigation of the shooting death of Michael Brown and a broader probe of the Ferguson Police Department before he leaves office in the coming weeks.
Eric Holder May Take Legal Action Against Ferguson Police Before He Leaves. CNN is reporting tonight [2/18/2015] that the Justice Department may take legal action against the Ferguson police department after concluding its investigation into racially discriminatory policing, and it may take action before current Attorney General Eric Holder leaves office. CNN's Evan Perez said tonight the DOJ is expected to announce their findings of a "pattern of discriminatory policing" in Ferguson against minorities, and if Ferguson does not rectify these issues, they can expect Holder to "announce a lawsuit against Ferguson."
Don't spend a lot of time trying to map out this logic:
Ellison: Ferguson Occurred 'Because We Have Allowed Collective Bargaining to Weaken'. Rep. Keith Ellison (D-Minn.) told a gathering at Georgetown University that Officer Darren Wilson and Michael Brown were on "a collision course", which ultimately resulted in Brown's fatal shooting, because we have "not been invested in our nation's infrastructure" and "because we have allowed collective bargaining to weaken."
Tragic School Stories. The grossly poor education that so many blacks receive exacerbates racial problems. During last year's disturbances in Ferguson, Missouri, some people complained that of the city's 53 police officers, only four were black. Such an observation typically leads to suggestions of racial discrimination but never leads to a question about the ability of black high-school graduates to pass a civil service exam. It's natural for a black man with a high-school diploma to see himself as equal to a white man with a high-school diploma. In his eyes, differences in employer treatment are ascribed to racial discrimination. It dawns on few that the average black high-school graduate has the level of academic achievement of a white seventh- or eighth-grader or lower.
White House: Taliban are not terrorists. I suppose that if Daniel Patrick Moynihan was right and we can define deviancy down, there is really no good reason why terrorism can't be defined down, too. [...] Based on what we've seen after Ferguson, I suppose this means the White House now considers them to be community organizers.
Decline and Fall of Obama's America. [Scroll down] Let's not fall into the trap of thinking that the black man who attacked the policeman in Ferguson was "unarmed." He was a hopped up, hyper muscular 6'4" drugged up loon attacking a policeman in his car. The youth was not "unarmed." He was armed with his muscles and his fists and his rage. He was trying to get the policeman's gun. If that isn't enough to scare a policeman into using his weapon, what is? By the way, my pals at the BBC gleefully tell me that the rioters in Ferguson now claim the Hamas as their blood brothers. And so they are: foolish, bent on killing, unable to face truth. Brothers indeed.
Mike Brown Family Attorney: "May File Civil Suit Against Officer Darren Wilson and Ferguson Police Dept". Obviously many people may find this alarming, however it is entirely predictable. The entire construct of the "Scheme Team's" objectives is to file civil (wrongful death) lawsuits. This is their version of justice, albeit financial justice. The filing of wrongful death lawsuits is the entire reason why the Daryl Parks and Benjamin Crump law firm exist, and the entire reason why they were called upon by Mike Brown's parents, Lesley McSpadden and Mike Brown.
Even the Thoroughly Politicized DOJ Reluctantly Admits it Can't Find Reason to Charge Darren Wilson. It would seem that even the most corrupt Attorney General in modern American history (surpassing John Mitchell, in my view) couldn't find a reason to charge Officer Darren Wilson of the beleaguered Ferguson P.D. Say, maybe it was the videotape of the "Gentle Giant" ripping off a convenience store and roughing up the owner. And all of the physical evidence at the scene. And the witnesses of every race that backed up Wilson's story. Et cetera.
Justice Dept. Moving to Clear Ferguson Officer of Civil Rights Charges. Justice Department lawyers will recommend that no civil rights charges be brought against the police officer who fatally shot an unarmed teenager in Ferguson, Mo., after an F.B.I. investigation found no evidence to support charges, law enforcement officials said Wednesday [1/21/2015].
Ferguson Protestors Travel to Palestinian Territories. Organizers of the protests against police officers in Ferguson, Mo., reportedly spent "10 days in Palestine" recently, where they "sought to forge connections with Palestinian activists," according to alternate news website Color Lines: News for Action. The protest leaders and members of the groups Dream Defenders and Black Lives Matter spent their time in the Palestinian territories activists who hate Israel.
Black Democrats to gather in Ferguson. Black Democrats will celebrate the legacy of Martin Luther King Jr. this weekend by gathering near Ferguson, Mo., where a black teenager was killed by a white police officer last summer. The lawmakers, all members of the Congressional Black Caucus (CBC), say they'll use the holiday to call on voters to get more involved in social justice issues while urging Congress to pass legislation overhauling the criminal justice system.
George Soros funds Ferguson protests, hopes to spur civil action. There's a solitary man at the financial center of the Ferguson protest movement. No, it's not victim Michael Brown or Officer Darren Wilson. It's not even the Rev. Al Sharpton, despite his ubiquitous campaign on TV and the streets. Rather, it's liberal billionaire George Soros, who has built a business empire that dominates across the ocean in Europe while forging a political machine powered by nonprofit foundations that impacts American politics and policy, not unlike what he did with MoveOn.org.
Missouri Leaders Pressured Ferguson For Chief's Resignation. Some of Missouri's top leaders tried unsuccessfully to pressure Ferguson Police Chief Tom Jackson to resign after the fatal shooting of Michael Brown, interviews with several elected officials and newly released records show.
Police release photos of suspected Ferguson looters. Police are looking for help in identifying suspected looters who burglarized a gas station during unrest in Ferguson, Mo. St. Louis County Police on Tuesday released more than nine minutes of surveillance video and 28 still images of people who can be seen entering a Phillips 66 gas station near Ferguson that was looted during the night of the unrest.
Somewhat related:
The real racial bias: Cops more willing to shoot whites than blacks, research finds. It's widely assumed that white police officers are more likely to shoot black suspects as a result of racial bias, but recent research suggests the opposite is true. An innovative study published in the Journal of Experimental Criminology found that participants in realistic simulations felt more threatened by black suspects yet took longer to pull the trigger on black men than on white or Hispanic men.
Ferguson grand juror sues over gag order. A member of the grand jury that declined to indict the Ferguson police officer who fatally shot 18-year-old Michael Brown asked a federal court Monday [1/5/2015] to remove a lifetime gag order preventing jurors from discussing the case.
The Editor says...
Never before have I heard of a lifetime gag order imposed upon a juror.
Snopes is wrong: Communists are leading the Ferguson protests. There have been articles circulating Conservative media recently suggesting that the Revolutionary Communist Party is involved with organizing and leading the rallies around the country against police violence.
The Fabrication of Courage by Sports Media. I'll admit it — this symbolic "hands-up" gesture has had remarkable staying power beyond my expectations. Call me naïve and a bit more faithful in humanity's capacity for reason than reality suggests than I should be, but the "Hands up, don't shoot!" narrative should have been understood as nonsense and unfounded symbolism long ago in consideration to the mountain of evidence which suggests that it never took place.
Black Lives (and All Others) Only Matter if Property Does. At the root of the Black Lives Matter movement, and the several controversies which have fueled it, lies a critical disagreement over the nature and importance of property. At first glance, in the midst of an unarmed shooting and a death by choke-hold, it may not seem like property rights stand out. But they do. From the moment Michael Brown committed a strong arm robbery, through the looting and arson which have characterized the response to his shooting death, to the trespass and harassment which have been committed and sanctioned by protestors across the nation, the implicit (and sometimes explicit) narrative has been that property does not matter.
Nearly 100 protesters storm St.Louis police headquarters, at least 25 of whom are arrested as others are pepper sprayed. Protesters stormed the St. Louis Metropolitan Police Department Headquarters on Wednesday morning [12/31/2014] and at least 25 arrests were made as other demonstrators were pepper sprayed. Protesters planned to occupy the police department for four and a half hours until their demands were met, one of which include amnesty for protesters charged with non-violent offenses. The protesters also want Officers Flannery and Hayes, responsible for recent shootings, to be fired immediately, among other grievances.
Happy New Year, Al Sharpton. Call it "Obama's Paradox." A young hopped-up black man in Ferguson robs a store and then tries to kill a policeman. The policeman defends himself and the young man dies. The media go crazy. Black agitators like the most loathsome being on the planet (just IMHO), Al Sharpton, appear on TV insulting the police and the entire white population of America (just IMHO). Black criminals riot. The President seemingly takes their side against the police. Ooops. Major mistake, but inevitable. Obama had to play to his most basic base, angry, disaffected, alienated black youths. That's who he is, at heart, except when he's a billionaire in training, golf-playing fool. So, Mr. Obama and his arch henchman, Eric Holder, take up with Al Sharpton and the rioters and looters and against the police and the white community. As I say, he had to do it. That's what he's all about at heart.
New Year's Eve Ferguson Protests Begin in St. Louis. New Year's Eve protests began early in St. Louis as protesters rushed the doors of the 1915 Olive St Police Headquarters in Missouri with chants of, "We say fight back," "We're going to occupy," and calling police officers racists. A Ferguson livestream playing at approximately 11am CST showed protesters marching to St. Louis Police Department headquarters with the family, making the discredited "hands up, don't shoot" gesture.
Diversity set Ferguson on fire. Commentators offer different reasons why Ferguson is burning. They blame racial injustice or militarized police or the police officer who shot an unarmed teenager. Some even blame Michael Brown. But all these explanations miss the truth: Ferguson is symptom, not cause, and the cause is diversity.
Yes, this Administration has Blood on its Hands. [Scroll down] And at the time, as I pointed out, Obama and Holder and their surrogates were throwing fuel on the fire, and that's exactly what they did. Holder even went there, to personally throw fuel on the fire! Then all of a sudden, they say it's not just a Ferguson problem, it's a national problem! [...] It's a war on the cops. They want to nationalize local police departments. Nationalize them to ruin them! To control them! Every miscreant and malcontent suddenly has a say-so over how our police officers are supposed to conduct themselves. All of a sudden, every cop is supposed to war a video camera. Why? 'Cause they can't be trusted, you know.
Meet the Communist Group at the Michael Brown and Eric Garner Protests. Mixed among the faces of protesters nationwide calling for justice in the deaths of Eric Garner and Michael Brown is a group of Communists fueling a movement against police officers and calling for mass demonstrations. The Revolutionary Communist Party USA actively organizes and participates in protests against the deaths of Garner and Brown, who were both black and were killed by police officers. Now, the group is preparing for a New Year's Eve protest that calls for an end to police brutality through whatever means possible. The Chicago-based group, founded in 1975 and led by chairman Bob Avakian, advocates for socialism with the "final goal of a communist world."
Black Lies Matter. In Ferguson, Missouri, the evidence shows that, on August 8, 2014, "Big Mike" Brown committed several crimes in a very brief amount of time. He committed a strong-arm robbery, assaulted a police officer, fought for the officer's gun, refused the officer's orders to stop, and charged the officer "like a football player with his head down". Actions have consequences, and the consequences of Mike's choices and actions that morning were exactly what anyone of any skin color should expect.
Sick Political Theater. The events in Ferguson, Missouri are the latest example of sick political theater, carefully orchestrated to shape public policy. The theatrical productions are pure fiction, but are presented as fact. They are morality plays with heroes and villains and are intended to create strong emotions directed at a political objective. All of the elaborate productions are based on central lies. None would be possible without a complicit media to carry the script. [...] Obama, who is always happy to attack America in an international forum, discussed Ferguson at the U.N. as a sign of America's moral failing. He met with the mob leaders and urged them to "stay the course". Missouri's Governor, along with many other Democrats, acted as lynch mob leaders calling for Officer Wilson's head prior to an examination of the facts.
Michael Brown's Adult Criminal Record. Speaks for itself.
Ferguson Police Officer Put "On Leave" For Calling Mike Brown Road Memorial, A "Pile of Trash". Which it is, but in today's politically correct and culturally Marxist world you dare speak the truth in case you hurt the feelings of the perpetually aggrieved.
Ferguson's Media Darling Flames Out. Joshua Williams has been everywhere: protesting in Ferguson, Mo., Washington, D.C., and Cleveland, Ohio. Now, he is in St. Louis, where police have arrested him for arson. During the Ferguson protests, Williams perfected the skill of catching the attention of journalists and using them to elevate his claims of police brutality to national attention. Quoted or photographed in countless articles in publications including the New York Times and USA Today, Williams claims police in Ferguson, Mo., targeted him because he is black. The truth, caught on tape by National Review Online, is much different.
Well-known Ferguson activist charged with arson, burglary. St. Louis prosecutors on Saturday charged well-known Ferguson, Mo., activist Joshua Williams, 19, with setting fire to a convenience store during protests sparked by the police shooting of teenager earlier this week. St. Louis County police said in a criminal complaint said that surveillance video and news footage show Williams starting multiple fires inside and outside the Quick Trip convenience store as it was being looted early Wednesday morning [11/24/2014].
Ferguson Protesters Abuse Janitor at Police Union Headquarters. Protesters in Portland, OR demonstrated out front of the police union building on Christmas eve, and when this man drove up, they immediately began to assume that he is a racist cop, and they launch into the "I Can't Breathe" song. The man claimed he was the janitor, but that didn't stop the protesters from shoving cameras in his face and accusing the man of being drunk, even asking if he could do a sobriety test.
The Monsters Who Screamed for Dead Cops. A little over a week ago, a group of people marched down the streets of Manhattan and called for police to be killed. But exactly who cried out for violence has been something of a mystery as New York goes through its most tense moment in more than a decade. Evidence from photos, videos, social-media posts and interviews suggest that a group — the New York chapter of the Trayvon Martin Organizing Committee, or TMOC — might have been involved. There is no definitive proof that TMOC led the call for dead cops, but there is a web of circumstantial ties with the group at its center.
Stop lying about the cops. The "national conversation" about race and policing we've been having ever since Michael Brown was shot by Officer Darren Wilson in Ferguson, Mo., last summer has been based on lies. The lie that Officer Wilson shot Brown while he had his hands up and was pleading "Don't shoot." The lie that New York City policemen targeted Eric Garner for a violent arrest because he was black. The lie, peddled especially by the progressive prince of New York City, Mayor de Blasio, that the police are racist.
Meet The Agitators Behind The New York Protests And Cop Killings. The radical Leftist group, ANSWER, is behind much of this. ANSWER stands for Act Now to Stop War and End Racism. One of the major "anti-war" fronts of the Stalinist Workers War Party from the early 1990's through 2010, ANSWER International sponsored many large protests over US involvement in Iraq during both the Gulf War and Operation Iraqi Freedom endeavors. Its leadership has consisted almost solely of WWP or Youth Against War and Fascism members. Since 2006, ANSWER has come under the influence of the Party for Socialism and Liberation, a split from the Workers World Party. In other words, communists.
Racial unrest in Ferguson and New York [is part of] a Communist Revolution. The overnight outbreak of violence in Ferguson and New York, including looting and burning in Ferguson, is not a spontaneous grassroots community response to the Grand Jury decisions not to indict Michael Brown and Eric Garner. It is being fully scripted and orchestrated by the Revolutionary Communist Party USA as a beefed-up "orientation for making revolution in the imperialist countries such as the U.S." It was not the mainstream media who tore the mask off the Communist Party USA intentions for open revolution on the streets of America, but blogger Andrew Benjamin: [...]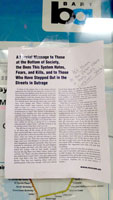 These are not "peaceful protests": They want a race war that will lead to communist revolution. After one of the recent anti-police riots in the San Francisco Bay Area, I stumbled across this flyer posted in a BART (subway) station: [see image] It was made by the Revolutionary Communist Party, one of several communist groups that have been leading the protests and going all-out to ignite a race war in the aftermath of the Mike Brown and Eric Garner incidents.

Ferguson Protestors Cheer Execution Style Murder Of NYPD Cops. The Grievance Industry finds itself scrambling now that, after months of denouncing police departments around the country as systemically anti-black, a black thug with possible gang ties savagely gunned down two NYPD officers. To wit, Al Sharpton penned an op-ed in the New York Daily News today [12/21/2014] calling the murder a "vicious act of senseless violence." He further stated that "violence to answer violence is inexcusable and unacceptable," which is exactly the false premise that has incited the marching, looting, and vandalism since the death of Michael Brown.
Gangbangers Unbound. [M]edia reports swept aside the fact that Michael Brown had ransacked a local convenience store, attacked a clerk, and then waltzed off with his loot, a handful of cigarillos. It was this, and not rampant white bigotry, that led Darren Wilson to confront him.
Weekend protests against police violence planned in Cleveland. Protesters from Ferguson, Missouri will be joining local demonstrators this weekend for several planned events.
Second Graders Hold 'Student-Sponsored' Ferguson Protest. When cars drove by New Bedford, Massachusetts' Alma Del Mar Charter School around lunch on December 12, they saw an unusual sight: seven and 8-year-old students standing by the roadway holding signs in support of deceased strong-arm robbery suspect Michael Brown. School founder and executive director Will Gardner claimed the students came up with idea themselves.
The Editor says...
If you are stupid enough to believe that a bunch of second-grade kids came up with this idea on their own, you deserve to live under Big Brother's thumb.
McCulloch: Some witnesses 'clearly lied'. St. Louis County Prosecutor Bob McCulloch says some witnesses quote "clearly lied" to the Michael Brown grand jury. [...] He said he had no regrets about letting the grand jury hear from non-credible witnesses, and he's not planning to pursue charges against any witnesses who lied.
Searching for the Next Michael Brown. Families are lining up to make their son the next Michael Brown. Waiting to tell their story of how racist cops killed their child For No Reason Whatsoever. The latest example comes from Philadelphia, where, early Monday morning, police shot Brandon Tate-Brown. The details are familiar enough: the 26-year old Tate-Brown was driving at 3 a.m. without headlights when two officers stopped him. If this stop was anything like most others, then Tate-Brown convinced himself he was being pulled over for one reason only: driving while black.
Reformers Target Traffic Courts in Ferguson. In the aftermath of Michael Brown's death, legal activists suggested that some of the raw anger in suburban St. Louis had its roots in an unlikely place — traffic court.
PolitiFact ignored the real lie of the year. The lie of the year is Dorian Johnson's statement to Wolf Blitzer about the shooting and death of Michael Brown in Ferguson, Missouri, last August: "I saw the officer proceeding after my friend Big Mike with his gun drawn, and he fired a second shot and that struck my friend Big Mike. And at that time, he turned around with his hands up, beginning to tell the officer that he was unarmed and to tell him to stop shooting. But at that time, the officer firing several more shots into my friend, and he hit the ground and died." That was a lie. The autopsy and testimony from at least a half-dozen witnesses confirm that Dorian Johnson lied through his teeth. But PolitiFact is too spineless to call that the Lie of the Year because the American press in the 21st century is afraid of being called racist by liberal black organizations.
And yet CNN wonders why their ratings are so lousy? Multiple autopsies, including one conducted by Eric Holder's Justice Department, have reached similar conclusions — one being that Michael Brown's hands weren't up and he wasn't trying to surrender when Darren Wilson shot him. But don't tell that to these CNN dopes who care more about contributing to pushing a false narrative than reporting the known facts of the case: [...]
WH task force to review grand juries' handling of police killings. A White House panel is examining whether grand juries are the best way to review the use of deadly force by law enforcement in the aftermath of controversial decisions not to indict police officers who killed unarmed black men. [...] In addition to reviewing the grand jury process, the panel is looking at ways it could change the handling of federal grants to compel police departments to adopt new training procedures.
Saint Louis Prosecutor Releases 73 Page August FBI/County Police Interview With Dorian Johnson. Prior to today [12/13/2014,] the Federal Department of Justice had refused to release the official record and transcript of that interview with Dorian Johnson. Speculation has grown as to what the motives of the FBI would be to keep it hidden. Apparently the FBI changed position and allowed Saint Louis Prosecutor to release the information. Today the transcript was released.
Lena Dunham, Al Sharpton, Eric Holder and the New Barbarism. Bill Whittle shows how events like the rioting in Ferguson do not occur in a vacuum, and how Progressives not only tolerate this lawlessness, this New Barbarism — they teach it.
Protestors rely on skewed reading of facts. In the tumultuous matter of White Cops 2, Black Victims 0, let's stipulate this at the top: Complaints against aggressive policing in predominately black communities are not without merit. Neither are they without recourse. Responsible agencies constantly review their tactics, strategies and engagement policies. [...] That conceded, the incidents in dispute, while regrettable and unfortunate, provide poor scaffolding to hang arguments against excessive police force. Two grand juries have seen the evidence; two grand juries have declined to indict. Many of the demonstrations prompted by these parallel conclusions smack mostly of opportunism.
St. Louis Police Officer to be Disciplined for Wearing 'Darren Wilson' Nametag. A St. Louis police officer will face disciplinary action for wearing a nametag that read "Darren Wilson" while he was on the job. Wilson is at the center of the controversial shooting death of Michael Brown back in August. St. Louis Police Chief Sam Dotson told the St. Louis Post-Dispatch he "couldn't be more disappointed" and that he thinks the officer will get "some days off for his actions."
Ferguson protesters win injunction to stop cops using tear gas. A federal judge ruled Thursday [12/11/2014] that police can no longer use tear gas on protesters without declaring an illegal assembly, giving them fair warning and time to vacate the area. The temporary restraining order comes just weeks after the last rounds of heavy protest in Ferguson in response to a St. Louis County grand jury's decision not to indict the police officer who shot and killed Michael Brown Jr. A group of protesters had filed the lawsuit asking for a restriction on police use of tear gas and excessive force during demonstrations.
Police Now Have To Warn Ferguson Protesters Before Firing Tear Gas. The order — which was issued by U.S. District Judge Carol Jackson — also requires police to give protesters a "reasonable" time to disperse before actually pulling the trigger, according to the St. Louis Post-Dispatch. The judge issued the order in a case filed by a group of protesters, a St. Louis University professor, and a legal observer for the National Lawyers Guild.
The Other Victims: Nigerian Immigrant Store Owner Looted in Ferguson. Just a few months ago, Idowu Ajibola was the owner and manager of the small Rehoboth Pharmacy in the quiet St. Louis suburb of Ferguson, Mo., a small but stable business nestled within a row of locally owned shops on one of the few main drags running through the small city of 52,000 people. Now, there's barely a building left.
The Editor says...
This fellow is probably the only actual African-American in town and it's his store that gets looted. The people rioting in the streets call themselves African-Americans, but it's almost certain that none of them were born in Africa, have never been to Africa, can't name half the countries in Africa, and don't know how their ancestors came to America, or from which country, or in which century.
Attorneys demand Ferguson Officer Darren Wilson be banned from policing in Missouri. Darren Wilson may have resigned from the Ferguson Police Department, but a group of attorneys wants the controversial officer stripped of his right to carry a badge anywhere in Missouri. In a nine-page petition, the National Bar Association — the country's oldest and largest group of African American attorneys and judges — asks the Missouri Department of Public Safety to revoke Wilson's law enforcement license.
National Bar Association Wants Darren Wilson's Police License Revoked. The National Bar Association, a national organization representing mostly black attorneys and judges, has filed a lawsuit to get Officer Darren Wilson's police license revoked. One of the leaders of the National Bar Association is Benjamin Crump, one of the attorneys representing Michael Brown's family, and the statement the group put out about the lawsuit reads that Wilson "committed a criminal act and did so under color of law with disregard for Michael Brown's life or public safety." Wilson resigned from the Ferguson police force and it's doubtful he'll return to that work again.
UCLA law professor learns Ferguson-related exam question taboo. Law school exams often present legal conundrums ripped from headlines of the day, but one UCLA law professor is apologizing for basing a test question on what is apparently a taboo subject — the fallout from the police shooting of a black man in Ferguson, Mo.
Awash in a Sea of Progressive Lies. Let me start with Michael Brown. The evidence presented the grand jury has been released. How can any rational human being read that stuff and not conclude that the policeman, Darren Wilson, was plainly within his rights to use lethal force against the rampaging giant thug Brown? The whole story of "hands up" was as false as false can be. Made up. It, however, fit the endless movie loop running in the heads of the progressive mountebanks who dominate our media and entertainment industries, and fit in nicely with the narrative of the race hustlers and corruptocrats who comprise this misadministration in Washington. The truth doesn't matter.
Not All Ferguson Grand Jury Documents Released. You guys already know this, but apparently the media had to hire a team of private investigators and investigative journalists to figure it out. The most significant document missing is the one we first noticed absent on the very first night. Dorian Johnson's joint State and FBI interview conducted on August 13th. In our researched opinion this is directly because there was a deal made with Dorian for his "story".
Why Obama's police plan is toxic propaganda. Following the unrest in Ferguson President Obama convened a police summit at the White House. Following the meeting he released details of a four point policing program. [...] But the four-point plan isn't really the whole message. It may not be half of it. That's because the core of the president's policing program is an unspoken, psychologically powerful (and profoundly toxic) fifth point: To encourage distrust of local and state police by American citizens.
White Cops Aren't Victimizing Black Youth. Of 1,265 murder victims in St. Louis between 2003 and 2012, 1,138 (89.9 percent) were black, according to University of Missouri-St. Louis criminologist David Klinger, a former police officer. About 90 percent of the black decedents (1,025) were slain by other blacks, his research indicates. Thirty-two were killed by police officers, 22 (1.93 percent) by white cops.
Politically Intimidated Police Afraid to Shoot Maniac Who Chased Them With Butcher Knife. The insane consequences of the fabricated "police brutality" spectacle that began in Ferguson are already putting lives at risk.
The DOJ's Policing Statistics Don't Lie. Three is a pattern, they say, and protesters in Times Square and elsewhere can cite more than three examples — Michael Brown in Missouri, Eric Garner in New York, and John Crawford and Tamir Rice in Ohio — to back up their claim that there is a pattern of excessive force by white law enforcement against black citizens revealing itself in America. But, compelling as these anecdotal examples may be, they are outliers amid a decade's worth of data that indicate nothing in the way of systemic bias in encounters between law enforcement and citizens (of every color).
Former DOJ Lawyer: Obama and Holder Endanger Criminal Justice System. Hans von Spakovsky, writing in The National Interest, makes a powerful case that Barack Obama and Attorney General Eric Holder have endangered the criminal justice system in their response to the Ferguson grand jury's verdict. Spakovsky writes, "Perhaps the biggest problem with the reaction of President Obama and his attorney general, Eric Holder, to the grand jury verdict in Ferguson is their non-support for the difficult work of the grand jury. That and their support for the mistaken proposition that the administration of justice is unfair, biased, and prejudiced towards 'communities of color' undermine our criminal justice system."
Off-duty cops protect Darren Wilson, as death threats come in. Darren Wilson has lived in the shadows for nearly four months, changing residence from house to house, spending spare time in dark movie theaters, in hopes he won't be spotted. But he has not sneaked around alone. He has had protectors.
Has Black America Reached the Point of No Return? I never imagined that we would reach a point in this country where facts would be ignored on a national level. We seem to have reached it with the Michael Brown case. As I watched the spectacle of our elected official in the Congressional Black Caucus stand on the house floor and use the debunked "hands up, don't shoot" gesture, I realized that black America has reached a point of no return. Every day since the Grand Jury decision was released (along with the autopsy findings and witness testimonies), our so-called black elected leaders along with black academics have appeared on network news programs making absurd pronouncements as though there had not been a Grand Jury proceeding.
When Black Lives Don't Matter. It wasn't Darren Wilson who decided that black lives don't matter. Michael Brown did. He did not grow up with a sense that his life was worth anything more than violent posturing could make of it. Just like Martin, that violent posturing eventually killed him. Rappers recorded a tribute song to Michael Brown titled, "Don't Shoot." But Brown's own songs had a different theme with lyrics like "My favorite part of killing people is when they hit the ground."
Smoking gun video of Michael Brown's stepfather: 'I'm going to start a riot'. Proof of intent doesn't get any clearer than a videotape of a suspect proclaiming, "I'm going to start a riot...." Those words were from the lips of Louis Head, uttered before he climbed on a car and shouted, "Burn this b**** down," would seem to indicate the need for him to be prosecuted. The super-sleuths at Conservative Treehouse uncovered the smoking gun video taken by, of all sources, Al Jazeera.
Berkeley erupts in violent protest over police, racism, and 'whaddya got?' My general impression is that many of the protestors had little grasp of either the details of the incidents in Ferguson and New York, or of the violent intent of the revolutionaries who seek to spread chaos and unrest. They were probably genuinely surprised to learn that police could and would lawfully deploy force and declare a gathering illegal once violence was used by demonstrators. But in mass gatherings, the initiative always lies with those willing to use physical means. And in the wave of demonstrations currently underway, a well financed and organized core of people are exploiting the fates of Michael Brown and Eric Garner to sow violence.
Hannity Rips Into Eleanor Holmes Norton: You Didn't Read Ferguson Evidence?! Sean Hannity and Democratic Congresswoman Eleanor Holmes Norton came to blows over Ferguson tonight [12/4/2014] after Norton told a stunned Hannity that she didn't read the evidence of the case. Norton said she wants to talk about moving forward and larger issues of race in America, but Hannity didn't let that slide. He repeatedly asked her why she wouldn't read the evidence, accused her of pushing "a narrative that has been proven false," and asking her bewilderedly, "The truth isn't your concern?!" Norton shot back, "My interest is not in what happened, my interest is in what should happen!"
Liberalism Is a Hoax. [Scroll down] Indeed, the foundations of the Brown story have been eroding from the moment a St. Louis television station broadcast security video from the convenience store where Michael Brown, prior to his fatal encounter, stole merchandise and assaulted a clerk. It was for example claimed that Brown was shot in the back. The evidence before the grand jury showed that he was not. Is the movement to "de-militarize" the police that was sparked by Brown's death therefore based on lies?
Saul Alinsky Lives in Ferguson. As we witness the continuing racial unrest sparked by the shooting of Michael Brown and the Ferguson grand jury's subsequent decision not to indict Officer Darren Wilson, it is vital to understand that everything the protesters/rioters are doing — in Ferguson and elsewhere — is straight out of Alinsky's most famous publications, Rules For Radicals and Reveille For Radicals. And Obama has encouraged them, every step of the way.
Ferguson Activist Who Met With Obama Charged With Assault. A Ferguson protester who met with President Obama earlier this week was charged with assault stemming from an incident that occurred last week during protests over a grand jury's decision in the shooting death of Michael Brown. Rasheen Aldridge, 22, and two fellow protesters were charged with misdemeanor assault on Thursday [12/4/2014], according to the St. Louis Post-Dispatch. Aldridge, who serves as director of Young Activists United and is a co-chair of Missouri Jobs with Justice, is seen in a video of the protest outside of St. Louis City Hall shoving a marshal who was blocking the entrance to the building.
Liberal indoctrination generates gleeful exhibition of hatred:
Denver Police Officer Crushed by Vehicle During School "Mike Brown Walkout". A police officer remains in critical condition as a result of a Denver High School student Ferguson protest walkout. Four officers responded to students marching down the street, as the officers tried to protect the students from traffic a motorist slammed into the police. One officer was horrifically injured as his body was run over and dragged by a vehicle. Details now surface of the protesting students cheering the injury and chanting "hit him again, hit him again" while marching around the fallen officers.
Denver student protesters cheered when car struck officer, union official says. Denver high school students protesting recent civilian deaths involving police chanted "Hit him again!" after a car struck four bicycle officers — injuring one critically — Wednesday night [12/3/2014], the city's police union charged. Officer John Adsit underwent six hours of surgery Thursday for injuries sustained in the accident and was in critical, but stable condition. But the reaction of young students, reported by the Denver Post, left residents stunned and members of the Denver Police Protection Association angry. Students were heard chanting and cheering after the officers were hit. Teachers looked on and did not intervene while the students chanted, Fox 31 Denver reports.
Michael Brown's stepfather apologizes for comments. The stepfather of Michael Brown has apologized for angry comments he made after the grand jury decided not to indict the police officer who killed his stepson, but said his remarks had nothing to do with the arson and looting that ravaged Ferguson and the surrounding area. Louis Head said Wednesday [12/3/2014] in a statement that he was full of emotion on the night of Nov. 24, when he yelled "Burn this b**** down!" in a crowd of protesters.
Crimes and Commissions. Two weeks ago, Governor Jay Nixon, of Missouri, announced the swearing in of sixteen members of a commission to examine police procedures and community relations in Ferguson. The announcement was made in advance of the grand-jury decision in the death of Michael Brown, which resulted in renewed rioting in the city and demonstrations across the country. Nixon, whose handling of the situation had already been severely criticized, holds the distinction of creating a commission whose existence preceded the unrest that it will presumably be charged with addressing. This was a sign of either governmental prescience or resignation — or, possibly, both. A defining achievement of American bureaucracy is that even assaults on its authority wind up generating more bureaucracy.
How to Make Your Own Race Riot. The race riot isn't a bubbling stew of outrage out of which wounded souls emerge to cry out for justice. It's a complicated criminal conspiracy in which the perpetrators rarely suffer any consequences. Here's how a race riot is actually put together.
2 cops hit by car as a result of Ferguson protesters taking up the street. It appears two police officers in the Denver area were hit by a police car while keeping an eye on students who were blocking the street during a Ferguson protest. This why rules and laws exist for legal and peaceful protests. Unfortunately, not everyone cares about the rule of law in this country.
Mark Levin: The Left Is Whipping Up Ferguson To Cover Their Failures. My reaction is that Farrakhan is a violent, hateful racist anti-semite and the fact that the president of the United States didn't denounce those comments, the fact that the attorney general of the United States didn't denounce those comments, the fact that not a single Democrat went to the floor of the House or the floor of the Senate and denounced that man and what he stands for, and not even a Republican, as far as I know is unbelievable to me. As far as Jesse Jackson is concerned, Ferguson is not Selma and Michael Brown is not Emmett Till.
'Kill this white cop.' Wash. state man arrested for death threats against Darren Wilson. Meet Jaleel Tariq Abdul-Jabbaar, a 46-year-old man from Kirkland, Wash. who the Feds arrested yesterday [12/2/2014] on charges of making death threats against former Ferguson Police Office Darren Wilson.
For Those Who Think Unarmed Black Thugs Are No Threat To Cops — Watch This. Just because someone is unarmed doesn't mean they aren't a threat. [Video clip]
The Mike Brown PBS "Lie Chart" — The False PBS Claims Deconstructed Visually. A Treeper has been reviewing every piece of testimony in the case and comparing it with the chart that PBS published. Turns out they misrepresented almost all of the statements.
Michael Brown's Magically Missing Marijuana. The media is not subtle about whose side it is on. Imagine if Darren Wilson had been known to have consumed a beer within the past three hours before the Gentle Giant's martyrdom. Everyone in the country would know what brand and how many swallows it took him to down it. Yet Brown's marijuana goes missing from virtually all reports.
The Real Racist Conspiracy In Ferguson. After a grand jury in St. Louis, Missouri, voted against the indictment of Officer Darren Wilson in the killing of 18-year-old black man Michael Brown, President Obama gave a short address to the nation. In it, he said he understood why some would feel disappointed at the verdict — an odd statement, given that all available evidence showed that Brown had robbed a convenience store, attacked Wilson in his vehicle, attempted to grab his gun and charged Wilson before Wilson shot him.
Man arrested for threatening Ferguson police may have ties to radical group lauded by CAIR. A Washington State man arrested for issuing interstate threats targeting Ferguson Police officer Darren Wilson may have ties to the radical Islamist group known as "Al-Ummah" led by Jamil Abdullah Amin and Luqman Abdullah, two radical imams recently lauded by a Council on American Islamic Relations representative on a phone conference for the Muslims for Ferguson group as reported by Fox News. Jaleel Tariq Abdul-Jabber, a Kirkland, Washington man and former convicted felon, was arrested for allegedly threatening to murder police in connection to ongoing protests in Ferguson, Missouri. Abdul-Jabber, whose social media profile indicates that he self-identifies as a Muslim, reportedly wrote numerous threats targeting Ferguson Police officer Darren Wilson, as well as other law enforcement officers.
These New Statistics On Blacks Shot By Police Are Going To Make Race Hustlers VERY Angry. Ferguson supporters around the nation continue to rail against police, claiming there's massive injustice going on in the way blacks are treated by law enforcement. According to some pretty revealing statistics, that's not entirely accurate.
Ferguson Schools Let Students Leave to Protest in Streets — Without Notifying Parents. Hundreds of students were allowed to leave several high schools in Ferguson, Mo., Tuesday morning [12/2/2014] to protest in the city's streets — a decision the school district made without notifying the children's parents before or during the protest. Teachers and administrators also walked with the students as they blocked traffic and clogged congested intersections.
Also posted under the use of public schools as indoctrination centers.
UC Irvine Offers Students 'Grief' Counseling over Ferguson. Former University of California regent Ward Connerly lashed out on Sunday at University of California, Irvine after the school held a "healing, grieving, and support" counseling session in the wake of a Ferguson grand jury's decision not to indict police officer Darren Wilson for the killing of Michael Brown. The counseling session was held on November 25th and was attended by about 80 students and faculty members, according to Fox News.
As National Guard Prepares to Leave Ferguson, Michael Brown's Stepfather Faces Investigation. As National Guard troops began withdrawing from this troubled region, police officials said on Tuesday [12/2/2014] that they were investigating whether the stepfather of Michael Brown, the unarmed black teenager fatally shot by a white police officer in August, incited a riot by issuing an invective-filled call to action outside the police department Nov. 24, not long before protesters began smashing windows and burning cars.
Louis Head Under Investigation For (More Than Just) Inciting Riot. The Pretorian Guard media is being dragged kicking and screaming toward the sunlight. Mike Brown's mom's boyfriend, Louis Head, is being investigated for his leadership role in coordinating the riots, looting and arson which came as an outcome of his screaming commands on the night of the Ferguson Grand Jury announcement.
Are the media ignoring another St Louis killing? The murder [of Zemir Begic] has stunned the city's Bosnian community, one of the largest in the US. On Sunday [11/30/2014] more than 150 residents took to the street to protest what they see as increasing incidents of violence in their neighbourhood. Given that the attack occurred less than 14 miles from the town of Ferguson, which has been under a bright media spotlight since the August shooting of a black teen by a white police officer, local residents have been quick to draw comparisons.
The Mind of a Looting Apologist. "In Defense of Looting." That's the title of an essay over at The New Inquiry which offers a glimpse into the mindset of those justifying the looting, arson, and property damage seen in Ferguson, Missouri, since last week's announcement that Officer Darren Wilson would not be indicted for the shooting death of Michael Brown. The piece confirms two things I have been saying about Ferguson from the start. First, that there is no genuine desire among rioters to pursue justice, despite their flaunting the word. Second, that the ideological underpinnings of the protest reject private property as such.
Ferguson Activist to CNN: Charles Barkley Doesn't Speak for Us. Charles Barkely was certain to get some pushback for his comments to CNN yesterday over the tumult in Ferguson, in which he called the protesters in Ferguson "scumbags" and claimed that racial profiling was sometimes right. That pushback came Wednesday morning in the form of Ashley Yates, the co-creator of Millennial Activists United, who said "you'd be hard pressed to find anyone whose comments are less valid than Charles Barkley's."
The Oath Keepers in Ferguson: Three Updates. Yesterday [12/1/2014] I noted that the Oath Keepers, a controversial group that I've covered in the past, had organized rooftop anti-arson patrols in Ferguson, Missouri — and that police there had ordered them to stop. Here are some updates on the story: [#1] The Oath Keepers are challenging the order in court. The authorities "claim that they had a St. Louis County ordinance that prevented anyone from securing a building or conducting a security operation without a St. Louis County license," one of the group's organizers, Sam Andrews, tells KTVI. The Oath Keepers intend to argue that the regulation restricts businesses, not volunteers. [#2] The rooftop patrols have not ceased entirely. There are a number of retired cops in the Oath Keepers, and they're still on the roofs.
The Search For Racism. The self-appointed champions of "civil rights" render the term racism increasingly meaningless. Where juries see self-defense, they see homicidal racial animus. They turn aggressors into victims and demand that society accord the victims the status of heroes, deserving of memorials in public schools, a suggestion that the White House recently touted for Michael Brown. A desire for power, not justice, is driving their protests.
A Few Problems in the Black Community That Needed a WH Summit More Than Ferguson. The recent White House summit regarding the events in Ferguson was held to address (as New York mayor Bill de Blasio put it) the "scourge" of killings by police of blacks. According to a study by USA Today, an average of 96 blacks are killed by white cops per year. Last year, 6,000 blacks were murdered by other blacks — more than 60 times the number of blacks killed by white cops. Time for another White House summit? In 2013, 409 whites were murdered by blacks. Summit? The figures [in this article] suggest the White House also may want to consider summits on black unemployment, educational achievement, single motherhood, household income, poverty rates, and school discipline — just to name a few concerns that have an impact on American blacks at least as profound as blacks being killed by white cops.
Terrence Williams Is Cleaning Up Ferguson and Spreading a Message You'll Want to Hear. Terrence Williams, 23, is a St. Louis native working hard to change the narrative that has inundated this city over the past several weeks. While riots and looting have turned Ferguson into a catalyst for the race debate in the 21st century, Williams takes to the streets with a garbage bag in hand — helping to clean up and rebuild both the city and its relationships.
Report: Police investigating Michael Brown's stepfather. Police are investigating Michael Brown's stepfather for his actions in the hours after a grand jury determined that the officer who fatally shot Brown would not be charged, Ferguson Police Chief Tom Jackson said Tuesday [12/2/2014]. CNN reports that police are trying to determine whether Brown's stepfather, Louis Head, was attempting to incite a riot on Nov. 24 when he screamed "Burn this ---- down" to a crowd of protesters after St. Louis County prosecutor Robert McCulloch announced the grand jury's decision. Jackson also told Fox News that charges against Head are possible.
Congressional Black Caucus Brings 'Hands Up! Don't Shoot' To the House Floor. Speaking on the House floor, members of the Congressional Black Caucus used the "Hands up! Don't Shoot" gesture popular with Ferguson protesters reacting to the shooting of Michael Brown. "Hands up, don't shoot," said Rep. Hakeem Jeffries. "It's a rallying cry of people all across America who are fed up with police violence."
The Editor says...
I'd be fed up with police violence, too, if you could show me an example of it. But the violence in Ferguson wasn't started by the police. As far as I know, the police weren't looting and burning businesses and setting cars afire.
How To Not Get Shot By The Police. [Here is] the first key to not getting shot by the police. Don't think of the police as a threat. They're really not going to randomly beat you, arrest you or shoot you for no reason whatsoever. It's like a bee. Don't start swatting at it and chances are, it's not going to sting you.
Congressional Black Caucus Takes the Floor to Talk About Ferguson and Race in America. Late Monday night [12/1/2014], after the House took its final votes, members of the Congressional Black Caucus took the floor to speak for about one hour about race in the wake of a grand jury's decision last week not to indict police officer Darren Wilson in the August shooting death of Michael Brown in Ferguson, Mo. "Hands up, don't shoot," Rep. Hakeem Jeffries of New York began.
On Ferguson, Obama is mostly thoughts and little action. After a week of Ferguson protests that have roiled the country, President Obama on Monday did what he generally does in times of crisis: He had a meeting. Actually, he had three of them, all behind closed doors. He met with his Cabinet. He met with civil rights leaders. He met with law enforcement officials and community and faith leaders. And when all the chin-wags and palavers were done, Obama invited the cameras into the room and announced that he had decided ... to talk some more. He created a task force to spend 90 days studying police "best practices."
After Ferguson: Yeah, Let's Have a Conversation Mr. President. Here's the conversation that every non-liberal in the nation is having right now. They are saying: so this is what electing the first black president is all about. We progress from riots in the inner cities to riots in the suburbs.
Obama: 'Simmering Distrust' Between Police, Minorities Is a 'National Problem'. "I think Ferguson laid bare a problem that is not unique to St. Louis or that area, and is not unique to our times," President Obama said on Monday. "And that is a simmering distrust that exists between too many police departments and too many communities of color."
The Prez and the Rev. The Rev. Al has been careful to say he condemns violence. But he also stokes the flames. Missouri Lt. Gov. Peter Kinder wasn't too far off the mark when he said this weekend that Sharpton "is an inciter of mobs, and he demands mob justice." And there should be no welcome for such a man at any White House.
Watch Sheriff David Clarke Destroy Eric Holder, Al Sharpton For Fanning Ferguson Flames. Milwaukee Sheriff David Clarke gained notoriety last year after releasing a series of radio advertisements encouraging people to arm themselves for self defense purposes. He just won a tough re-election battle in Wisconsin. Now, Clarke is calling out Attorney General Eric Holder in a big way for his meddling in Ferguson in the case of Officer Darren Wilson and Michael Brown.
Ferguson and Obama's No-Responsibility America. Instead of a colloquy on how black communities can change so that the violence in their neighborhoods is reduced, Obama has several meetings devoted to the topic of how we can restrain police trying to restore order.
Grand Juries and Ferguson. Shortly after a Missouri grand jury declined to indict police offer Darren Wilson for shooting Michael Brown, the leftist legal commentariat jumped on prosecutor Robert McCulloch for not presenting evidence in a way that would have produced an indictment. This goes under the well-worn idea that a decent prosecutor can indict a ham sandwich if he or she is so inclined. Had McCulloch presented a biased case against Wilson, which is what many prosecutors routinely do, there is little doubt that the grand jury in the case would have returned an indictment. In other words, the case against McCulloch is that he did not abuse his office, like, say, Eric Holder might have been counted on to do, and thus produce an unjust result to satisfy the mob.
Eric Holder: We Must 'Seize' the 'Unique Opportunity' Ferguson Presents. On Monday evening, Attorney General Eric Holder told activists and law enforcement officials in Atlanta that Ferguson presents an opportunity to deal with issues like racial injustice and the perception that police treat minorities unfairly before announcing that new federal standards against racial profiling are on the way. "This presents this nation with, I think, a unique opportunity," Holder said, according to CNN. "And I think it's incumbent on all of us to seize this opportunity to deal with issues that for too long have been ignored."
Obama vows to 'follow through' on national conversation initiated by Ferguson. President Barack Obama promised on Monday [12/1/2014] to 'follow through' on the national conversation started by the unrest in Ferguson, Missouri, during his final two years in office and vowed not to let the recommendations of a just-announced task force on the militarization on police collect dust in a corner.
Ferguson's Potemkin Protests. As shattered glass, car fires and protests blight Ferguson, an interesting fact is emerging: Nearly all of the arrestees hollering revolution are from other cities. Obviously, this isn't about Michael Brown.
Administration exploits Ferguson to undermine race relations and rule of law. I wish there were a way to address the Ferguson controversy without generating further controversy. But that's not an easy task. I have believed for some time that the Obama administration has fanned the flames of racial tension in this country rather than attempt to extinguish them, despite its claims to the contrary. President Obama and Attorney General Eric Holder, in my view, have been the main culprits, which is exceedingly unfortunate, considering the opportunity their historic roles present for making great strides toward racial harmony. The question is: Do these gentlemen truly want to promote racial harmony?
The last stand of the old line civil rights establishment: Ferguson as Selma. We are still feeling the effects of Selma today. And now, the old-line civil rights establishment is attempting to channel Selma into Ferguson. We have the marches, the demonstrations[,] the attempt to cast the police as the villains, oppressing the black citizens. We're told, against all the facts[,] that the cops shoot innocent, and defenseless young black men. They're stopped (and frisked) by the police, just as 50 years ago a young black man would get stopped, and beaten, for walking in the wrong part of town, or drinking from the wrong fountain, or sitting in the front of the bus. The black leadership in this country wants to "go back to the future" and tell us that nothing has changed. America is still rotten, still evil, still oppressing its poor. It is the sole rational for their existence, to perpetuate the big lie.
Holder to Release New Federal Guidelines on Racial Profiling. [Eric] Holder is in Atlanta today to discuss issues of race and policing raised by recent events in Ferguson. There are still two federal investigations going on into Ferguson; one into the Michael Brown shooting, and one into the local police force. Holder said today at Ebenezer Baptist Church that he will be putting out new guidelines meant to "limit racial profiling by federal law enforcement."
The Editor says...
Why go to Atlanta to have a discussion about problems in St. Louis? How is public policy being formulated in a Baptist Church without any protest from the "separation of church and state" people?
Liberalism in Ruins. [Scroll down] The natural outcome of the reactionary approach to race relations — identity politics, the salad bowl in lieu of the melting pot, the effusions of trillions of dollars over the last half-century into Great Society dependencies — is Ferguson. We are left with the movement's slogan, "Hands up; don't shoot!" which now joins a growing historical corpus of racial mythography — "If it doesn't fit, you must acquit," and "If I had a son, he'd look like Trayvon."
Scarborough leads backlash against Ferguson riots. After watching five St. Louis Rams show their public support for looting and rioting in Ferguson, Missouri, Joe Scarborough has had it. He told his MSNBC audience this morning that he reached a tipping point. Sidekick Donny Deutsch agreed. And I believe so has middle-class America. Watching rioters turn Ferguson, Missouri, into an American Fallujah, opened many eyes.
Pastors Join Communists as Protests Linger Over Ferguson. Communist Party members from New York, pastors from Atlanta and the Korean Culture Association helped form a gathering of more than 300 people over the weekend in a St. Louis church with agendas as far flung as their origins. The activists passed around water bottles and fliers as they huddled Nov. 29 in the church basement to plan protests over the killing of a black teenager by a white police officer in nearby Ferguson. Outside, members of the National Association for the Advancement of Colored People marched past the church en route to the state capital in Jefferson City, 124 miles (200 kilometers) away.
Scarborough Has Had It: Michael Brown 'Is Your Hero? Really?'. "Someone needs to tell me why Michael Brown has been chosen as the face of black oppression," Scarborough said, arguing the left's martyrdom of Brown mirrored the right's lionization of George Zimmerman.
Obama requests $263 million for federal response to Ferguson. U.S. President Barack Obama asked Congress on Monday [12/1/2014] for $263 million for the federal response to the civil rights upheaval in Ferguson, Missouri, and is setting up a task force to study how to improve modern-day policing.
Ferguson Agitator Warns USA Today: Some 'Going to Have to Die,' 'There Should Be Bloodshed'. USA Today proclaims the aftermath of the shooting of a black teen in Ferguson, Missouri is a "defining moment for race relations in USA." Sadly, the paper also gave space for one protester to call for murder to be committed for the "cause."
When the Law Is a Drag. Civilization cannot long work if youths strong-arm shop owners and take what they want. Or walk down the middle of highways high on illicit drugs. Or attack police officers and seek to grab their weapons. Or fail to obey an officer's command to halt. Or deliberately give false testimonies to authorities. Or riot, burn, and loot. Or, in the more abstract sense, simply ignore the legal findings of a grand jury; or, in critical legal theory fashion, seek to dismiss the authority of the law because it is not deemed useful to some preconceived theory of social justice. Do that and society crumbles.
Sharpton to Attend White House Meeting on Ferguson Riots. National Action Network's Reverend Al Sharpton tweeted that he would be attending the White House meetings on Ferguson and law enforcement that President Barack Obama is hosting.
The Editor says...
Imagine if a Republican president invited a conservative religious leader ("Reverend" somebody) to the White House to help formulate official policy. The "separation of church and state" people would make sure it was a front-page news story until the White House issued an apology.
Ferguson protesters lawyer up after scores of arrests. "Occupy Wall Street is the gift that keeps on giving," said Wylie Stecklow, a New York-based lawyer.
Finding Meaning in Ferguson. The New York Times has now pronounced on the "meaning of the Ferguson riots." A more perfect example of what the late Daniel Patrick Moynihan called "defining deviancy down" would be hard to find. The Times' editorial encapsulates the elite narrative around the fatal police shooting of unarmed Michael Brown last August, and the mayhem that twice followed that shooting. Unfortunately, the editorial is also a harbinger of the poisonous anti-police ideology that will drive law-enforcement policy under the remainder of the Obama administration.
A few seconds of truth on Ferguson and progressives go nuts! "If you look at the most credible evidence [of Michael Brown's death at the hands of a Ferguson, Mo., police officer], the lessons are really basic," Lowry said during an appearance on Meet the Press [11/30/2014]. "Don't rob a convenience store. Don't fight with a policeman when he stops you and try to take his gun. And when he yells at you to stop, just stop."
Two Americas. The problem with Liberalism is that, as Margaret Thatcher observed, reality is conservative. Therefore Liberalism has to live on lies — lies of intent, lies of policy, lies of outcomes, lies of interpretation, lies of statistics. We saw that in ObamaCare. We see that in Ferguson today. Michael Brown fit the description of an APB that was put out after the robbery of the convenience store, which, in fact, he had committed. When Darren Wilson came across him, he fit the description of the APB and in fact had the stolen goods on him. Wilson had every reason to stop Brown. But those facts are not permitted in the public presentation of the case. Liberal lies are presented instead. And when rage flares up, what happens?v Welfare America attacks Enterprise America. Businesses with no relationship to the altercation are burned down because they are not seen as an authentic part of the community.
Leftist organizers are using Ferguson to rehearse the Big Ugly. [L]eftist, community organizing groups — meaning those that openly define their guiding ideology with socialist/communist language (quoting Marx & Lenin, while avoiding any mention of Stalin) — have been using Ferguson to stretch their muscles, largely unused after the 2008 election of an ally in the White House. For them, the Ferguson protests have little to do with Michael Brown's death, and more to do with anti-capitalist rants, punctuated by chants against police brutality against young, innocent, black men. Their stage setting is Brown's death — the play is about anti-capitalism.
NAACP Begins Seven-Day, 120-Mile March from Ferguson to Missouri State Capital. The NAACP — disappointed Officer Darren Wilson was not indicted for the death of Michael Brown despite the evidence exonerating him — has organized and initiated a seven-day, 120-mile march called the "Journey for Justice" from Ferguson, Missouri to the state capital, Jefferson City.
Left Out of the Narrative. Everybody recognizes the names of Michael Brown and Darren Wilson in connection with the riots in Ferguson. But here's a question. What was the name of the manager of the convenience store who Michael Brown strongarmed?
10 Signs That the Ferguson Protests Could Signal the Start of a Communist Revolution In America. Certainly I am not saying that everyone involved in the Ferguson protests is a communist. That is not true at all. In fact, communists and other far left groups only make up a minority of the protesters. But they have repeatedly been at the forefront of the violence, and they are taking advantage of the anger and frustration caused by the death of Michael Brown to promote their far left radical ideologies. Sadly, they are finding a receptive audience — especially among young people in our poor and disadvantaged communities.
Do not rebuild in Ferguson. From a kid who survived the Hough Riots in Cleveland nearly a half century ago, some unsolicited advice to the business owners in Ferguson, Missouri: Do not bother rebuilding. Your customers do not want you. They tore up your stores — twice. And after one of them robbed a store. These are not protests. They are pogroms aimed at the middle class. Take the insurance money and run. Police officers, too, should leave. Why risk a criminal trial or worse for doing your job? Homeowners, too. Black, white, Asian, Hispanic — it does not matter. You are middle class. They do not want you. Leave.
Please Don't Take Away My Oppression!. As one egregious incident of racial oppression after another turns out to be imaginary — the Duke lacrosse players didn't rape Crystal Magnum, George Zimmerman didn't murder Trayvon Martin, Darren Wilson didn't murder Michael Brown — the purveyors of the racism narrative are getting desperate. [...] America is the least racist multi-cultural society since the Roman empire. There's really never been anywhere on earth where so many different peoples live together so well. The trouble that besets us is not white against black, and it's not black against white either. It's the left against liberty.
Laura Ingraham to St. Louis Rams: 'Shut Up and Play'. "I don't know about you, but when I watch football, I want to watch football," Van Susteren said at the top of the segment Monday evening [12/1/2014]. "I don't want to watch someone's political agenda shoved down my throat, whether I'm in agreement with it or not." The host went on to ask why there weren't similar displays in reaction to the Ray Rice domestic abuse scandal, asking, "Why ruin football with politics and controversy? It's just a game."
Police angry at 'hands up' gesture by St. Louis Rams players. A group representing police in St. Louis says it's infuriated after five St. Louis Rams players raised their hands Sunday in solidarity with protesters upset at Michael Brown's death. The St. Louis Police Officers Association says it's "profoundly disappointed" with those football players who sent a silent but strong message before playing Sunday against the Oakland Raiders.
NFL says it won't discipline Rams players for Ferguson protest. The NFL will not adhere to a request from the St. Louis Police Officer's Association to discipline St. Louis Rams players who did the "hands up, don't shoot" pose used by protesters in Ferguson, Mo. during pre-game introductions on Sunday. [...] The police officer's association issued a letter late Sunday condemning the players' actions as "tasteless, offensive and inflammatory" given a grand jury's decision not to indict Ferguson police officer Darren Wilson in the fatal shooting of black teenager Michael Brown.
St. Louis Police Demand Rams Punish Players for 'Hands Up, Don't Shoot' Pose. Before Sunday's game against the Oakland Raiders, several St. Louis Rams players entered the field with a "hands up, don't shoot" pose, a reference to the shooting death of Michael Brown, which has roiled nearby Ferguson, MO. Guess who didn't appreciate that: the St. Louis Police Officers Association, which is demanding that the team apologize and the players be punished.
Rams players use 'hands up, don't shoot' pose while taking field. Five St. Louis Rams players took the field for Sunday's [11/30/2014] home game against the Oakland Raiders with a "Hands Up, Don't Shoot" pose that has been used by protestors in Ferguson, Mo., and across the country recently.
St. Louis police group demands punishment for Rams players in Ferguson protest. A St. Louis police officers' group called on the NFL to punish five Rams players who stood with their hands raised before trotting onto the field for pregame introductions Sunday [11/30/2014]. The St. Louis Police Officers' Association said it was "profoundly disappointed" with what it called a "display that police officers around the nation found tasteless, offensive and inflammatory." It called for the players involved to be disciplined and for both the league and team to issue a "very public apology."
The Editor says...
I can see how the lowest-class unemployed simpleton in the streets (with nothing to lose) might be drawn into a stunt of this sort, but not a well-paid professional athlete. The participants in this case can't conceal their identity, and their employer can't be happy about the publicity.
Obama to discuss Ferguson with cabinet. The White House says Obama's Cabinet meeting will focus on his administration's review of federal programs that provide military-style equipment to law enforcement agencies.
More about the militarization of the police.
Private Enteprise A Casualty In Ferguson And Beyond. Ferguson's QuikTrip store is only one example of the senseless destruction of private enterprise, but it serves as a powerful example. If an entire community — indeed an entire nation — isn't taught to observe and appreciate the contributions of entrepreneurs and business owners, their disappearance is inevitable.
The Chilling Photos From the Ferguson Riots. Photos from the rioting in Ferguson and around the country after the jury announced its decision not to indict Officer Darren Wilson over the shooting of Michael Brown on November 24th.
Race and Justice in Ferguson Missouri. The facts, from a rational perspective, point directly at Brown bringing his own death upon himself. The matter must, to be understood properly, be viewed as one of individual choices leading to a sad outcome. Brown did not have to rob a convenience store, but he chose to do so. This may have been his first robbery, but it is more likely that it wasn't. He did not have to walk in the street and attract attention, but he chose to do so. When the officer attempted to arrest him he resisted when he should have accepted arrest. All of these choices, bad choices, are what led to his death.
Mayor vows to rebuild riot-torn US town of Ferguson. The mayor of the US suburb at the center of a deadly police shooting that sparked repeated nights of racially charged unrest pledged Sunday to rebuild the riot-hit town. [...] "We are recommitted to rebuilding the city and to once again becoming a thriving community for economic development and residential stability," Ferguson Mayor James Knowles said at a news conference.
Ferguson mayor: No severance package for Wilson. Ferguson police Officer Darren Wilson did not receive a severance package when he resigned over the weekend, the St. Louis suburb's mayor said Sunday [11/30/2014].
Ferguson police shut down armed 'Oath Keeper' vigilantes guarding rooftops of besieged town. A 'mysterious' militia group that appeared on rooftop patrols in Ferguson pledging to protect private property has been ordered to stand down. Oath Keepers, a vigilante organization consisting of former and current military, police and firefighters, abandoned their posts on Saturday night after being threatened with arrest. Equipped with militia-style clothing and firearms, the Oath Keepers had been offering free security for businesses at risk of looting and arson in Ferguson.
On Rooftops of Ferguson, Volunteers — With Guns. [Sam] Andrews, a former Defense Department contractor who is now a weapons engineer in the St. Louis area, set to work. Under the auspices of a national group called the Oath Keepers, Mr. Andrews accelerated plans to recruit and organize private security details for businesses in Ferguson, which are receiving the services for free. The volunteers, who are sometimes described as a citizen militia — but do not call themselves that — have taken up armed positions on rooftops here on recent nights.
Update:
Police shut down mysterious 'Oath Keepers' guarding rooftops in downtown Ferguson. [Scroll down] In fact, they are volunteers affiliated with a 35,000-member national organization called Oath Keepers. Yale Law School graduate and libertarian Stewart Rhodes said by telephone from Montana that he founded the group in 2009 to protect constitutional rights, including those of protesters confronted by what he described as overly militarized police. Police questioned group members early in the week and allowed them to stay. But Saturday [11/29/2014], after media inquiries, St. Louis County police officers ordered the Oath Keepers to leave the rooftops.
The Editor says...
The group called Oath Keepers is only "mysterious" if you've never been on the internet and you get all your information from television.
Enough with The Ferguson Pandering. In all the media coverage of the riots in Ferguson, an annoying false premise has been allowed to stand as though it were an unquestionable truth. Talking heads on the left and right are saying while rioting is not the way, there is a need for change in America. What [...] change are they talking about? By embracing the "need for change" premise promoted by Al Sharpton and company, the media is complicit in spreading the lie that America is racist and blacks are mistreated. For crying out loud, folks, look around. Blacks are thriving in every area of the American experience. The real need for change is for blacks to stop voting for Democrats in exchange for just-enough-to-get-by handouts and endless failed big government spending programs that make problems worse; the death of the black family. That is what desperately needs to change in America.
Why Is Everyone, Including Mike Brown Investigators, Ignoring The Obvious Cohort Contradictions And His Bracelet? Mike Brown's cigarillo robbery cohort, Dorian Johnson, claims in his grand jury testimony he and Mike Brown initially met up that Saturday morning around 7am. However, the robbery at the Ferguson Liquor Store and Market didn't take place until 11:40am. The store is only a 10-15 minute walk.
Ferguson officer's resignation fails to quell controversy. The white police officer who resigned almost four months after fatally shooting a black teen, setting off months of sometimes violent protests in Ferguson, Mo., was not asked to leave — but "it's best that we continue to move on as a community," Mayor James Knowles said Sunday [11/30/2014]. Knowles said that Darren Wilson, who was earning about $45,000 per year, was given no severance when he resigned Saturday effective immediately.
CNN Panel: 'Very Cynical' to Say Media Wanted Ferguson Violence for Ratings. Reliable Sources host Brian Stelter pointed out the massive increase in ratings Monday night for the Ferguson Grand Jury announcement and its subsequent discontents, and then posed the question of a thousand comments sections: did the media want a violent reaction for more dramatic television?
Brown attorney indicates civil suit planned. An attorney for the family of Michael Brown indicated Sunday [11/30/2014] the family to sue either the Ferguson, Mo., Police Department, the police officer who shot and killed Brown, or both. Appearing on "Fox News Sunday," lawyer Daryl Parks said in response to a question about a potential civil suit: "We'll certainly give the parties involved a chance to work it out." Parks further explained: "It could be a settlement. It could be a chance for litigation."
Attorney for Michael Brown family keeps open possibility of civil suit. An attorney for Michael Brown's family said Sunday the grand jury proceedings that ended without an indictment for the police officer who shot and killed the unarmed 18-year-old was flawed — and left open the possibility the Brown family could pursue a civil rights case. "They have that option," attorney Daryl Parks told "Fox News Sunday [11/30/2014]." But "this is not something being discussed publicly."
A Glance at Developments in Ferguson. The officer who fatally shot 18-year-old Michael Brown resigned Saturday [11/29/2014] from the police department in Ferguson, Missouri, where protests continued but were far more muted than the violence sparked by a grand jury's decision not to indict the officer earlier in the week.
Why Officer Darren Wilson wasn't indicted. A cop may use lethal force when he or she "reasonably believes that the action is in defense of human life, including the officer's own life" and in the Ferguson incident, that's precisely what happened.
Brown Revealed to Have Charged Wilson; MSNBC Declares the Word Charge to Be Racist. The grand jury found that Darren Wilson was justified in shooting Michael Brown in part because forensic evidence and eyewitness accounts reveal that the oversized maniac was charging him. Liberals respond as you might expect: by barking that the word charge is racist.
What about good & evil? Disconnect. That is the feeling any sane person must have when watching the rioting in Ferguson, or when listening to the self-proclaimed wise men justify the rioting. How can anyone blame the policeman who killed Michael Brown for defending himself and the rest of us from violence? How can anyone turn Michael Brown, who first attacked a store owner and stole from him, and then beat a policeman, into a hero? Does attacking a policeman until you are shot dead now qualify you to be a hero?
Who Is In Control Of The "Ferguson Protests?". The "Ferguson Demonstrators" C&C system is comprised of so many "organizations" with "interlocking directorships" that it is hard to decide exactly who is in charge. At the street level, elements of a dozen Socialist groups are apparently involved, with the names of the Communist Party, USA's revcom.usa a major player. Other names that have appeared on demonstrators placards include socialistworkers.org, the International Socialist Organization, the Socialist International, and a half a hundred other far left groups have put their names on one of the placards seen on websites such as Jim Hort's Gateway Pundit. However, it appears Command and Control is directed by just three organizations, the Communist Party USA, Socialist International, and the Democratic Socialists of America.
Darren Wilson resigns from Ferguson police police force. Darren Wilson, the police officer who fatally shot an unarmed teenager in August, has resigned from the police department in Ferguson, Missouri, his attorney, Neil Bruntrager, confirmed to CNN Saturday night [11/29/204]. In a telephone interview with the St. Louis Post-Dispatch, Wilson said he resigned after the police department told him it received threats of violence if he remained an employee.
Follow-Up on Ferguson Witness 40. In an American Thinker article Friday [11/28/2014], "The Strange Case of Ferguson Witness 40," I speculated that the diary entries of this witness might well be fraudulent as she seems to have pulled key details on the case from the Conservative Treehouse blog. It turns out I was right, both on the fraud and the source of her details.
Common Sense: Deconstructing Dorian Johnson — And Why The FBI and State Officials Will Not Prosecute Him. [Scroll down] It should be noted the Medical Examiner did find two $5 bills ($10) on Big Mike. So Big Mike could have paid for a few cigarillos and avoided this whole mess.
Farrakhan On Ferguson: 'We'll Tear This G**d*** Country Up!'. Nation of Islam leader Louis Farrakhan went on a fiery tirade about Ferguson on Saturday [11/29/2014] — threatening that if the demands of protesters aren't met, "we'll tear this g**d*** country apart!" Farrakhan stated in his speech — given at Morgan State University, a black college located in Baltimore, Md. — that violence was justified in response to the decision not to indict officer Darren Wilson and peaceful protests are only in the interest of "white folks." "We going to die anyway. Let's die for something," the radical figure told the crowd to roaring applause.
Obama White House Pushes Public Schools To "Honor" Mike Brown. When will the insanity end? While tragic Michael Brown died prior to his 19th birthday, he was clearly a young man engaged in negative and abusive behavior that led to his shooting death. He died due to poor choices. Despite the facts of Brown's death, the Obama White House is now urging public schools (with YOUR tax dollars no less) to honor Michael Brown with classroom memorials as a way of forming "classroom solidarity." It is a blatantly disgusting act of divisive lies being used to manipulate students into conforming with the far left, anti-American ideals of this Age of Obama.
More about the use of public schools as indoctrination centers.
Ferguson and the sad state of American protesting. The Occupy movement was probably one of the biggest fails in recent history, largely because they managed to annoy — if not horrify — the communities where they set up their squalid camps filled with rape tents and peppered with people defecating on police cruisers. This latest crop of activists seems to be following in that fine tradition.
More about Occupy Wall Street.
Black Ferguson Residents Armed with AR-15s Save White Owner's Business. A group of black Ferguson residents armed with AR-15s and other weapons stood guard around a Conoco station, owned by a white man, and saved it from being burned after looters began wreaking havoc on November 24. Because of the armed citizens, the Conoco was not only spared, but the owner did not even have to board up the station's windows.
Guard Encounters Armed Blacks with Guns in Ferguson — Cooperation Ensues. Some National Guardsmen patrolling the wreckage of Ferguson, Missouri came on a remarkable, and alarming, sight: black men with guns, their leader a 6'8" giant cradling an AR-15. They stood in the forecourt of a Conoco gas station, a building that rose, unmolested, like a meth addict's last solitary tooth in a micro-Hiroshima landscape of boarded-up, or, worse, looted and burned, small businesses. This was a building that did not burn, despite containing fuel enough to delight the nihilistic rioters. It wasn't just standing, it was open.
Angry father with three jobs takes on students who were blocking highway in Ferguson protest. Father-of-six Tyree Landrum was driving to one of his three jobs when he came across a line of Ferguson protesters blocking the road in the middle of the San Diego rush hour. Furious that the demonstrators might make him late to work and risk him getting fired, he decided to get out of his car on the I-5 in La Jolla to confront the group of students. He then told a photographer for ABC News 10: 'If I don't get there, I'm going to get fired. I've got six f****** kids to feed.'
The Real Tragedy of Ferguson Is... In light of comments such as those by American Federation of Teachers President Randi Weingarten, one needs to consider the context of recent events in Ferguson. [...] Weingarten epitomizes the leftist ideology that continually must find a racial basis for anything that occurs in this country.
Damaged and Destroyed Ferguson Businesses May Get State, Federal Assistance to Rebuild. "I came to the United States 11 years ago," said Sam Chow, the owner of On On Chop Suey Restaurant. Chow says he worked as a cook in other establishments and eventually opened up his own restaurant in 2009. That restaurant was badly damaged by vandals during Monday night's riots in Ferguson, Missouri.
15 Arrested as Demonstrations Return to Ferguson. Disrupting commerce, transit and traffic became focal points for demonstrators across the country days after the announcement that a grand jury in Ferguson, Missouri declined to indict the police officer who fatally shot 18-year-old Michael Brown.
Ferguson protesters in San Francisco break store windows. Demonstrators in San Francisco shattered store windows in the downtown tourist and shopping district during a march Friday night to protest the Ferguson, Mo., grand jury decision. The protesters tried to disrupt the annual Union Square tree-lighting ceremony at the height of one of the busiest shopping days of the year, but were turned back by San Francisco police, Sgt. Monica Macdonald said.
Progressive Media Failed Again in the Brown Case. What we saw in their handling of the Brown case is a rerun of the Martin case. The facts don't seem to fit with the left's views and even after substantial evidence comes to light showing what did happen, they refuse to believe it. [...] Comparisons to the Martin case began with the NAACP which made the connection almost immediately. That comparison was more apt than the spokesman knew and not in the way he probably intended. In case the details are no longer in the forefront of your mind, recall that major news outlets repeatedly bungled the evidence in the Martin story and always in a way that made Zimmerman out to be something worse that he was.
Call Ferguson Demonstrations What They Are: 'Obama Riots'. The truth is that these riots are about so much more than Brown. They are about the monstrous discontent over every aspect of life for so many people finally boiling over. Mr. Obama ran and won two presidential campaigns on promises that he would heal these very people. It was either stupidity or dishonesty to make such reckless promises to such vulnerable people just to win a couple of political elections. The rioting lays bare the complete failure that is this presidency. In the end, the only thing this president has accomplished is proving that the American people, for all their flaws, would elect a black president. And then re-elect him despite a very disappointing first four years.
Sheriff Clarke doesn't mince words. Ever. Including on Ferguson. And Democrats. Milwaukee County Sheriff David Clarke tells it like it is. He's a stellar reminder of what true leadership looks like and what it means to uphold the rule of law. It is a relief to hear someone speak with such honesty and candor. To give you a taste of how fearlessly this man puts truth on display, here are two videos of Sherriff Clarke speaking about Ferguson.
The DeAndre Joshua Murder. DeAndre Joshua, 20, was murdered on the same night of the Saint Louis Grand Jury announcement. DeAndre was shot in the head, and then a flammable liquid poured on him and set afire inside his vehicle. Perhaps coincidentally DeAndre Joshua also fits the social profile of an eye-witness who gave a police/FBI statement and testified before the Grand Jury in the Mike Brown shooting case. If that were the only coincidence it might be easy to dismiss. Alas, it's not.
Democrats Own The Ferguson Riots And We Shouldn't Let Them Forget It. Imagine just for a moment if the Tea Party acted like the Ferguson rioters after the passage of Obamacare. The press would be demonizing the protesters 24/7 and every single Republican who appeared on TV would be forced to denounce the riots without exception. Where are the journalists asking Democrats to denounce the Ferguson riots? Nowhere, of course. The media was just as bad as the Democratic Party in creating this mess.
'Hands Up, Don't Shoot': An Ignoble Lie for the Ages. When the facts conflicted with the broader political preconception, the anti-prejudice activists opted for their anti-police prejudice. They still stick their heads in the sand on the robbery in the store, the belligerent middle-of-the-street jaywalking, the blood trail confirming an advancing suspect, the gunpowder residue on the decedent's hand, and much else.
Liberal Media Types Advocate Riots in Ferguson. In the course of the last few days, at least two writers from liberal outlets have tried to justify and even advocate for the violent rioting in Ferguson.
Here Are The Dumbest 'Ferguson' Signs Protesters Used On Black Friday. The dullards with nothing else better to do on Black Friday than protest the Ferguson grand jury decision, have some of the most moronic signs I've ever seen. I mean it's almost as if they're out there trying to mock themselves.
Missouri governor calls special session for patrol, National Guard funding. Missouri Gov. Jay Nixon called for a special state legislative session to address "critical funding" needs for the National Guard and state police amid violent protests in Ferguson this week. In a late-night call with state legislative leaders, Nixon highlighted the session's urgency to ensure Guard members are paid on December 15, his office said in a statement. "Time is of the essence," he said.
The Grand Jury System is Broken. The announcement of the grand jury's decision in the Ferguson case could hardly have been worse handled. The prosecutor waited until well after nightfall to make the announcement and the governor, having mobilized the national guard to protect persons and property, kept them in their barracks while the rioters ran wild. But many on the left are blaming the way the prosecuting attorney, Robert McCulloch, presented the case to the grand jury.
Can Ferguson' Businesses Ever Rise From Rubble? It will be a quiet Black Friday on Ferguson's West Florissant Avenue. The modest commercial strip that runs through the heart of the embattled city has been devastated by rioting and looting. Now, a haze of doubt hangs over many workers and merchants there who wonder whether their businesses can survive the terrible toll — and the fear of possible uprisings to come. Some retailers, like Mohamad Yaacoub, have been slammed twice by violence. His store, Sam's Meat Market, was looted in August after unarmed, 18-year-old Michael Brown was fatally shot by Ferguson police officer Darren Wilson. On Monday night [11/24/2014], arsonists nearly burned that market to the ground.
A Victim of "Social Justice". A black woman who sold cake at flea markets to save enough money to open her own shop saw it vandalized and looted by those who claim white cops are the major problem facing black America.
Ferguson's forgotten victims. Jay Johnson, the owner of the Queen's Royal Touch beauty salon and barber shop, didn't shoot anyone. He was never subjected to a grand jury inquiry after an incident involving a monstrous attacker and him. No hordes of frenzied miscreants descended on his town seeking his blood for some imagined crime. He built a small business in Ferguson, for Fergusonians, staffed by Fergusonians. And then, because a grand jury on which he didn't serve voted not to indict a police officer for a crime Johnson didn't commit against a man who didn't deserve his sympathy, rioters destroyed his shop.
Portland police order Michael Brown protester to put down feather; Activist open-carries AK-47. Tensions remain high in Portland, where protesters and police clashed again during Michael Brown protests. LaughingAtLiberals captured a protester being ordered to drop a feather, which riot police had mistaken for a knife. The man complied, and officers can be seen approaching him and kicking the feather.
Why Was Wilson Not Indicted? Because the Grand Jury Dismissed Incoherent, Nearly Retarded Testimony. A witness told the FBI after the shooting that he saw Wilson shoot Brown in the back and then stand over his prone body to finish him off. But in his grand jury testimony, this witness, acknowledged that he had not seen that part of the shooting, and that what he told the FBI was 'based on me being where I'm from, and that can be the only assumption that I have.' The witness, who lives in the predominantly black neighborhood where Brown was killed, also acknowledged that he changed his story to fit details of the autopsy that he had learned about on TV.
Cop at center of Ferguson case to leave force. The Missouri police officer who killed an unarmed black teen sparking months of protests in the city of Ferguson will never return to policing, his lawyer said.
In Ferguson, Witness Intimidation, Lying by 'Community of Color'. On Monday night [11/24/2014], [...] President Obama took to the microphones. "We need to recognize that this is not just an issue for Ferguson, this is an issue for America," he said. "[T]here are still problems and communities of color aren't just making these problems up." Obama was wrong, at least in the case of Darren Wilson. In viewing thousands of pages of FBI interviews and grand jury testimony, it becomes eminently clear that many members of the local community did make up the story about Michael Brown being executed by Wilson — and pressured others to lie to police or keep silent.
Blinded Pregnant Ferguson Protestor's Boyfriend Tried Killing Cops With Car, Is Criminal. Law enforcement sources in the Ferguson police department describe the boyfriend, wanted on previous charges, as trying to hit Ferguson police officers with his car. The media predictably seized on the story of the pregnant woman, Dornella Connors, who was wounded when police fired the bean bag at her boyfriend's car and blinded her. The media didn't discuss her felon boyfriend DeAngelas Lee, who is a wanted man, according to his criminal record partially posted here.
The Strange Case of Ferguson Witness 40. Given the scrutiny, I would bet that the diary entry is authentic. But given the stakes, I would not rule out fraud. It would make no sense for the pro-Wilson forces to fabricate a racist eyewitness, but it would make great deal of sense for the anti-Wilson forces — perhaps those within the DOJ — to do just that. The Soviets and their spiritual heirs have been manufacturing incendiary racial documents for a century.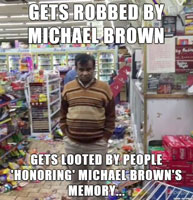 Brit Hume: When's Al Sharpton 'going to stick up for this poor guy?' Twitchy reported on how the store Michael Brown stole cigars from also ended up a victim of looting during the riots in Ferguson.


The Ferguson case with the colors reversed gets no media coverage:
Ferguson decision could spark renewed interest in Utah case of Dillon Taylor. A grand jury's decision not to indict a white police officer who killed an unarmed black teenager in Ferguson, Missouri, announced this week, could spark renewed interest in a case in Utah involving a young, unarmed man killed by a police officer outside a 7-Eleven. The case of 20-year-old Dillon Taylor had lingered in the public mind for months but did not rise to the level of the attention devoted to the case in Ferguson, which saw a confluence of racial tension, national media interest and public statements on the matter from President Obama and Attorney General Eric H. Holder Jr.

Here's another one:
White teen killed by black cop in Alabama mirrors Ferguson. A two-year-old case involving the shooting death of an unarmed 18-year-old white man by a black police officer is gaining attention on social media in the wake of this week's protests and rioting in Ferguson, Missouri. Gilbert Collar, a white, unarmed 18-year-old under the influence of drugs was shot and killed Oct. 6, 2012, by Officer Trevis Austin, who is black, in Mobile, Alabama. Despite public pressure for an indictment, a Mobile County grand jury refused to bring charges against Officer Austin, concluding that the officer acted in self-defense.

The Left Favors the State Over the People in Ferguson. Michael Brown was a thief. He had used drugs, robbed a store, punched a cop, then the cop fatally shot him. Those are the facts. To the left, that Officer Wilson was not found guilty of killing Michael Brown was an outrage. It was an outrage too when George Zimmerman was found not guilty of killing Trayvon Martin. Essentially, the left is opposed to the people and instead prefers left-wing Democrats to the citizenry in our democratic form of government. When a jury of peers, whether a petit jury or grand jury, does not see things the way the left sees things, the system has failed, the people are stupid, and the result is an injustice.

Come To Ferguson At Thanksgiving, It's A Riot — Black Friday Protests Planned. The relative calm leading up to Thanksgiving continued Thursday with reports of sporadic protests at St. Louis-area big-box stores sparsely populated by shoppers taking advantage of expanded holiday shopping hours. Throughout the day and early evening, police and in some instances National Guard units responded to Twitter posts pointing to imminent demonstrations at area Target and WalMart locations.

For Some, [the] Location of Brown's Hands [is] Irrelevant. Some of the witness accounts of the shooting differed so much they didn't seem like the same scene.

New York Times responds to criticism about Darren Wilson's address. On Monday [11/24/2014], the [New York] Times published a scoop by Julie Bosman and Campbell Robertson reporting that Wilson had married fellow officer Barbara Spradling in a "quiet wedding" last month. It noted that the two "own a home together" and identified the town and the name of the street. Breitbart's John Nolte writes, "the New York Times had no qualms whatsoever about publishing almost all the information needed for Officer Darren Wilson's enemies to track him and his wife down at home." Other outlets, including the New York Post and Fox News, have highlighted the newspaper's decision. "If anything happens to that man, his family or that home, I hold them — the culpability is with [the New York Times]," said Fox News's Sean Hannity.

The controversial rules for white people who were told 'not to take up space' at Michael Brown vigil in Toronto. A set of rules for white people at a vigil for Michael Brown in Canada has sparked controversy with critics accusing organizers of promoting segregation. 'Non black allies' were told to 'refrain from taking up space in all ways possible' and 'never be at the centre of anything' at the event in Toronto on November 25. The Facebook page also advised white demonstrators to 'refrain from speaking to the media' and 'stand behind black folks or between us and the police'.

The Shocking Thing Mike Brown Protesters Just Said About White People Proves How Racist They Are. As protests extend from Ferguson, Mo., to include violent and disruptive demonstrations across the nation and beyond, one event staged in Canada is gaining some especially negative criticism due to its implementation of blatantly race-based rules. The Toronto protest held earlier this week boasted a list of guidelines for white and non-black allies who chose to take part. Among the rules posted in a social media description of the protest was the very general instruction that whites "refrain from taking up space in all ways possible."

Ferguson grand jury witnesses often cited fear in testifying. From the first day a grand jury met, it is clear that fear and anxiety played major roles in the struggle to paint a precise picture of what unfolded between Wilson and Brown on Aug. 9. The jurors' decision not to indict Wilson prompted prosecutors to make public more than 4,700 pages of transcripts and reports in hope of quashing suspicions that Wilson got away with murder. The tactic did not work, and rioting erupted in Ferguson this week. But the documents do provide a look at what some witnesses went through as they wrestled with the fallout of witnessing a controversial killing.

Ferguson Too Complicated for Easy Allegory. In a community where cops are feared, resented or reviled, it's almost inevitable that bad things will happen when cops try to do their job, even if they do everything by the book. Moreover, to simply say that the resentment of the police is unwarranted does nothing to solve the problem.

Variety Magazine Hawks Bloodthirsty Communist Revolution. All that mumbo jumbo has the ring of "fundamental transformation" — which is another linguistic siren song that attracts useful idiots just as Communist doctrine during the 1950's attracted Americans with the same intellectual DNA as Revcom.us sign-carriers, along with their close cousins, the fellow travelers. In the Cold War, these folks were supporters of Communism, but not official "card-carrying members" of a Communist party. The useful idiots abound among us.

Ferguson Protests Move to Target, Wal-Mart Stores. According to Johnetta Elzie, who had been tweeting and posting videos of the protests, demonstrations occurred at a Wal-Mart and Target in Brentwood, two Wal-Marts in St. Charles and one Wal-Mart in Manchester.

Is 'professor' who helped with Michael Brown autopsy who he says he is? [Shawn] Parcells became an overnight media star in August when he assisted in an autopsy commissioned by Brown's family. He appeared time and again on major media outlets as a forensic pathology expert. He said over the years he's testified in court dozens of times in several states. But an investigation by CNN that included interviews with attorneys, law enforcement and physicians suggests Parcells isn't the expert he seems to be.

Fake Mike Brown Family Autopsy Pathologist Shawn Parcells To Be Exposed Tonight On CNN. Anderson Cooper is previewing his intention to reveal the fraud behind one of the Brown Family "pathologists" who conducted their "private autopsy". The segment, scheduled to broadcast on CNN at 8:00 pm, will focus on Scheme Team co-conspirator, Shawn Parcells.

FBI: Saint Louis Black Panther Explosives Plot Involved Bombing Gateway Arch. The PC media is desperate to avoid using the chosen names of the black panther terror suspects Brandon Muhammad, and Olajuwon, also known as Olajuwon Ali and Brother Ali. This is a follow-up to the previous outline where the FBI revealed the two men were involved in straw purchases for firearms and making pipe bombs. We now know they were plotting assassinations of Ferguson Police Chief Tom Jackson, and Saint Louis Prosecutor Robert McCulloch, in addition to bombing the Gateway arch.

What Obama's Ferguson Sermon Left Out. In his 967-word statement to the nation about the Ferguson grand jury decision on Tuesday night [11/25/2014], President Obama devoted precisely one sentence to the risks and sacrifices police officers make to keep the peace. One.

Ferguson Obscures Much Bigger Problems in the 'Black Community'. The apparent would-be star witness, Dorian Johnson, was with Brown when the shooting occurred. He gave a dramatic account of a trigger-happy bigoted cop who shot "my friend" in the back and gunned him down despite the victim attempting to surrender by placing his hands up. Other alleged eyewitnesses came forward with similar, if not identical, descriptions of an aggressive, out-of-control cop. Several witnesses, according to McCulloch, later changed their testimony, with some admitting that they really didn't see the incident — just heard about it and so filled in the blanks in their own mind. And some witnesses were simply proven wrong by the physical evidence. Others corroborated the officer's account.

Sorry, but the Grand Jury Got it Right. For many in the media, the St. Louis County grand jury's decision was going to confirm the existence of deep American injustice one way or another. If it found there was insufficient evidence for an indictment against Darren Wilson — the white police officer who shot and killed Michael Brown, a black teenager, in August in Ferguson, Missouri — it would mean that the American justice system is corrupt, unjust and rife with racism. If the grand jury decided to move forward with an indictment, it could only mean that American law enforcement is corrupt, unjust and rife with racism. Even if many of your grievances are legitimate, "justice" doesn't exist to soothe your anger. In the end, there wasn't probable cause to file charges against Wilson.

Liberals Willing to Fight to the Last Drop of Black Blood. The riot in Ferguson reminds me, I hate criminals, but I hate liberals more. They planned this riot. They stoked the fire, lied about the evidence and produced a made-to-order riot. Every other riot I've ever heard of was touched off by some spontaneous event that exploded into mob violence long before any media trucks arrived. This time, the networks gave us a countdown to the riot, as if it were a Super Bowl kickoff.

Footage shows elderly man attacked with his own oxygen supply and carjacked by protesters in Ferguson. The victim is shown lying face down on the pavement with his oxygen tank beside him. 'You need to take us live. Some gentlemen was in his car, he was on oxygen, they stole his car, left him on the ground. We're standing here where he is,' said reporter Robin Smith of KMOV-TV. According to witnesses the man, who is dependent on oxygen, was attacked by two men as he returned to his vehicle to replace his almost empty tank.

Did Holder Cause the National Guard to be Kept From Ferguson? The Republican Lieutenant governor of Missouri today said he believes the state's Democratic Governor, Jay Nixon, did not deploy National Guard troops to Ferguson to prevent the outbreak of violence because of pressure from the Obama administration to keep them away. "Here's my question that the governor must answer," Lt. Gov. Peter Kinder said today [11/25/2014]. "Is the reason that the national guard was not in there is because the Obama administration and the Holder Justice Department leaned on you to keep them out?"

The Ferguson Disaster: The Wreckage of Obama & Marx. Ferguson shows the destructive consequences of Marxist ideological theory and its application in practice. Let's examine those ideas that drove the devastation and how those ideas were implemented in Ferguson. In this article, I'll discuss the central idea that's behind the rise of the unrest in Ferguson: Marx's view of the world as a struggle between the oppressor and the oppressed. In an upcoming article, I'll look at the very specific ways that that ideology was implemented by the Obama administration in Ferguson.

The message is in the signs, which are basically advertising. Study the photos of demonstrations in Ferguson, and about Ferguson across the U.S. and it becomes clear who is driving the new civil rights movement.

Pandering to Thugs Gets You Nowhere. The foolish hands on this store window in Ferguson represent the lie that Michael Brown had his hands up when he was put out of society's misery. The store owners must have thought this shameful display of groveling would cause the savages to respect their property. A shotgun would have been far more effective.

Milwaukee County Sheriff David Clarke suggests that Barack Obama encouraged Ferguson rioting. If you notice, liberals have been generally trying to stir things up in Ferguson, not calm them down. That's because liberals believe it serves them to have black Americans angry, alienated and generally upset. There are visions of, "Vote for Hillary Clinton to prevent another Mike Brown" going through their heads. Plus, riots can be used to justify new government program, new commissions, new studies, new departments — more government. If a few people get killed, a few businesses get burned and Ferguson never recovers, well that's a small price to pay.

The Protesters in Ferguson, Living Down to Your Worst Expectations. For all of the people who see the events in Ferguson, Mo., as deeply symbolic, an example of giant, pressing national problems and deep-rooted injustices and discrimination against the African-American community, particularly in poorer communities ... I cannot help but suspect that millions of Americans don't find it symbolic of much of anything at all. Correction; if it symbolizes anything, it reflects the media's appetite for a preconceived storyline involving a "gentle giant" and a villainous cop.

Testimony, Evidence Suggests Textbook Self-Defense Shooting. The Washington Post is one of many media outlets which has opted to post copies of the evidence reviewed by the grand jury investigating the shooting death of strong-arm robbery suspect Michael Brown by Ferguson, Missouri police officer Darren Wilson. Of particular interest to many readers will be Officer Wilson's testimony to the grand jury, which can be found starting on page 196 of Grand Jury Transcript Volume 5. Feel free to read the entire transcript, or all of Wilson's testimony at your leisure.

A morning-after lesson from Ferguson. When the progressive welfare state goes broke, some large African-American neighborhoods in Big Blue Cities will be left to burn by the police. On the morning after the Grand Jury No True Bill decision was announcement, it was clear that the policing authorities followed a planned, minimum-response strategy. They offered little resistance to looting and property destruction, perhaps in order to avoid bloodshed and media scrutiny. The outcome: On the morning after, there were few, if any, reports of serious injuries. No media videos went viral showing police physically subduing looters. No ambulances were filmed loading bleeding rioters or police. Just the burned and broken evidence of an orgy of looting and property destruction. The African-American communities in the Big Blue Cities should note the absence of law enforcement in Ferguson the night after the Grand Jury decision. When the welfare state begins to dial-down, and the value of EBT cards atrophy, some of those neighborhoods will burn at the hands of their own thug-teens. And policing authorizes will either be unwilling, or unable, to confront the lawlessness.

FBI (ATF) Investigate Ferguson Arson Targeting. The arson, looting and rampage in/around Ferguson is not random, it's targeted. The groups, organizations and businesses are targeted for specific reasons. "The 187 Police Is In Charge" This has been happening since Day #1 when the Quick Trip was first thought to have been the business who called 911 about the cigarillo robbery. Following the Quick Trip, on the day the police released the CCTV video from the Ferguson Market and Liquors, August 15th, they too became the target for looting and arson. When the call comes to "burn this b---- down", there is a group of very specific entities who know where exactly to target their activity. This is not random.

Darren Wilson in talks to leave Ferguson PD. Days after he fatally shot an unarmed black teen in August, Officer Darren Wilson was cutting grass when he was told his home address was circulating online. Within three hours, he'd grabbed some bags and gone into hiding, according to his attorneys. "He had to leave the grass, literally half mowed," his lawyer, Neil Bruntrager, told CNN's Don Lemon late Wednesday [11/26/2014]. Since then, he's stayed under the radar by moving from house to house, including briefly living with one of his lawyers, and spending time watching movies in dark theaters to avoid detection.

Pharrell accuses Michael Brown of 'bully-ish' behavior and says unarmed teen was 'asking for trouble'. Pharrell Williams, one of the biggest black figures in the music industry, has spoken out about the shooting of 18-year-old Michael Brown, saying he is 'troubled' a grand jury decided not to indict the white police officer responsible. But the 'Happy' singer also sparked heated debate by calling Brown's behavior leading up to his August 9 death 'bully-ish'. Before he was shot dead, Brown was caught on surveillance camera stealing a handful of cigarillos from a convenience store in Ferguson, Missouri, and intimidating the shop owner.

Three mistakes journalists should avoid in reporting tragedies like Ferguson. [#1] Bending the rules: In early reports on Ferguson, the Associated Press repeatedly referred to Michael Brown as a "teen" or "teenager." Brown was 18 at the time he was killed. The AP Stylebook, a standard guide followed by countless other news publications across the country, clearly states that individuals 18 and older should be referred to as "man" or "woman" or by his or her specific age. When AP's spokesperson Paul Coleford was asked about the wire service's decision to stray from its own rules, he didn't respond.

A Culture of Lies. The hucksters who falsely accused Darren Wilson of a racially motivated "killing" won't face justice, even though they have ruined his life and inspired monstrous race riots. The media should treat them as permanently discredited, but of course it won't. Outlets will continue to give them platforms from which to pontificate on all the "changes" that should come from the controversy. Self-reflection will not be one of them, as they search for new outrages to stoke.

How Far Down Do You Define Deviancy in Ferguson? What used to be a civil rights movement has drawn a bright line behind the late Michael Brown, whose guilt in two violent felonies (robbing a convenience store while assaulting a store clerk, and assaulting a police officer) is not in dispute. It is sad, to be sure, that Brown died in a confrontation with a police officer, but no legal case can be made that the police officer rather than Brown chose to make the confrontation deadly.

Holder: Federal Ferguson Probes Moving Ahead 'Rigorously and in Timely Manner'. Attorney General Eric Holder said the federal investigations into the shooting of Michael Brown and the Ferguson police will be conducted "rigorously and in a timely manner so we can move forward as expeditiously as we can to restore trust, to rebuild understanding and to foster cooperation between law enforcement and community members." Holder said Tuesday [11/25/2014] that he's been continuously briefed on "events in and around Ferguson."

Obama and the Roots of the Ferguson Rage. [Scroll down] One is left to marvel at one of two realities. Either we have a president so utterly naive he believes a hoax-perpetrating, riot-inciting Al Sharpton, who denigrated the grand jury process, pre-organized protest rallies in 25 American cities, and uses his MSNBC platform to fire up racial unrest, is a man of peace. Or the president, who once urged his Latino followers to "punish our enemies," remains as wedded to the same racial "us against them" mentality as America's foremost racial arsonist. Is it really possible to believe the former?

By Publishing Darren Wilson's Street, NY Times on Level of Hacktivists. [A]s Voltaire once wrote, and uncle Ben Parker later said, "With great power comes great responsibility." And the Times really blew the last part of the previous sentence is spectacularly bad fashion recently. As you may have heard by now, the Old Gray Lady felt it pertinent to publish the street of Officer Darren Wilson's home, which is totally relevant to the grand jury decision announced on Monday. The paper also proceeded to offer up Wilson's marriage license, which happened to include the name of his wife, a fellow officer.

Ferguson grand jury papers full of inconsistencies. An Associated Press review of thousands of pages of grand jury documents reveals numerous examples of statements made during the shooting investigation that were inconsistent, fabricated or provably wrong.

The Ferguson Protests Aren't a Movement for Civil Rights. The response of the African-American "civil rights" establishment and the American Left to the verdict in Ferguson came quickly and predictably. Al Sharpton and other racial demagogues urged their followers to take to the streets if anything but a first degree murder indictment was handed down for Officer Darren Wilson. The protestors and rioters were prepared, but Missouri's governor wasn't. He failed to call out the National Guard on the day the verdict was released. What is particularly galling is the argument that the events in Ferguson, and the no bill for Wilson, are a throwback to the segregationist era of the 1950s and 1960s, when the modern civil rights movement engaged in non-violent civil disobedience.

Prosecutors laud McCulloch for handling of police-shooting probe. The Missouri prosecutor who oversaw the grand jury probe of Ferguson police officer Darren Wilson won praise from his peers for what they said was appropriate handling of a tough job under difficult circumstances. St. Louis County Prosecuting Attorney Robert McCulloch, whose announcement and lengthy explanation of the grand jury's findings two days ago touched off violent protests in Ferguson, "handled it perfectly" in conducting the investigation and disclosing the results, said William I. Aronwald, a former assistant district attorney and federal prosecutor in New York.

51 Arrested In Boston Ferguson Protests, Trooper Bitten. State Police say 51 people were arrested in Boston late Tuesday night during protests of a grand jury's decision not to indict a white Ferguson, Missouri, officer who fatally shot an unarmed black teenager. All but one were turned over to Boston police for booking Wednesday, most on disorderly conduct charges. One state trooper was hurt when he was bitten on the wrist by a protester, according to police. He was treated at the scene.

Darren Wilson's friends demand that 'star' witness in Michael Brown case be charged with perjury for his 'hands up, don't shoot lie'. Close friends of Darren Wilson have called for the star witness in the Michael Brown shooting to be charged for lying about what he saw. Two of the Ferguson police officer's best friends told MailOnline that Dorian Johnson — who was next to Brown at the time — should be arrested for his statements in numerous TV interviews he made days afterwards. They say that he made up the claim that Brown had his hands up which kickstarted the 'Hands up, don't shoot' protest movement.

Ferguson 'witness' account was colorful. But was it true? Of all the 60 witnesses who testified before the Ferguson grand jury in the case of the fatal shooting of an unarmed Michael Brown, one offered a particularly vivid account that bolstered police officer Darren Wilson's version of events. Brown, the witness said, "dived in" to Wilson's patrol SUV, "lunging" into the car till he was waist-in. She said she saw Wilson "getting punched by Brown," and that Brown's fist "kept going up and down." She said Brown was "running right at the cop like a football player, head down." But the woman turns out to have made some, if not all, of it up, according to court documents released by the St. Louis prosecutor's office. Her name was redacted.

Global jihadists tweet in bid to recruit Ferguson protesters. Islamic jihadists worldwide have launched a barrage of recruitment messages amid the latest unrest in Ferguson, Mo., using Twitter accounts to call on African-Americans and others in the United States to join their cause. Some messages urge direct revolt against the U.S. government, while others evoke the names of former black leaders — among them Malcolm X — in a bid to convince people of color that living under an Islamic caliphate is in their best interests.

Donors Give Ferguson Bakery More Than $90,000 To Repair Vandalized Shop. Donors from across the country have given more than $90,000 to support a local bakery that was damaged during Monday night's violent riots after the Darren Wilson grand jury announcement.

The Ferguson Fraud. The bitter irony of the Michael Brown case is that if he had actually put his hands up and said don't shoot, he would almost certainly be alive today. His family would have been spared an unspeakable loss, and Ferguson, Missouri wouldn't have experienced multiple bouts of rioting, including the torching of at least a dozen businesses the night it was announced that Officer Darren Wilson wouldn't be charged with a crime. Instead, the credible evidence (i.e., the testimony that doesn't contradict itself or the physical evidence) suggests that Michael Brown had no interest in surrendering. After committing an act of petty robbery at a local business, he attacked Officer Wilson when he stopped him on the street. Brown punched Wilson when the officer was still in his patrol car and attempted to take his gun from him.

Confirmed: Valerie Jarrett Keeping In Touch With Gov. Nixon During Ferguson Fiasco. Missouri Governor Jay Nixon adamantly denies that the White House pressured him to resist sending in the National Guard in response to violent protesters unhappy with the Michael Brown shooting decision. It is clear, however, that Nixon has been in close contact with President Obama's senior advisor Valerie Jarrett as the chaotic situation unfolded. According to the White House, Jarrett spoke with Nixon the first night of the protests as well as the morning after.

St. Louis County Prosecutor Bob McCulloch faces new criticism over Ferguson case. Attorneys for [Michael] Brown's family and activists said Tuesday [11/25/2014] that everything from how evidence was presented to the grand jury to the way McCulloch delivered the news of its decision bolstered their belief that the outcome was predetermined by McCulloch, who has deep family roots and relationships with police.

The Editor says...
Even if all that is true, Michael Brown brought his problems — including his own death — upon himself. The entire Ferguson fiasco — including the strong-arm robbery, the fatal confrontation with the police, and the subsequent race riots — was initiated by one person, and that person is not the St. Louis County Prosecutor. An objective observer can now see that the Ferguson strife would have happened somewhere sooner or later, because a number of political opportunists were on the lookout for exactly this kind of situation. That's how troublemakers and community organizers stay relevant: They never let a crisis go to waste.

Carson: Race Relations Worse Under Obama. Dr. Ben Carson, author of "One Nation: What We Can All Do to Save America's Future" argued that race relations were worse under President Obama on Tuesday's "Hugh Hewitt Show." "I actually believe that things were better before this president was elected. And I think that things have gotten worse because of his unusual emphasis [on race]" he stated.

The Riddle of The Dorian Johnson's Quid Pro Quo — August 13th FBI Interrogation, and Missing Statement. According to Saint Louis Prosecutor, Robert McCulloch, the Grand Jury was given ALL the evidence, including all of the witness statements during their investigative inquiry. McCulloch went out of his way to state local investigators and the FBI shared ALL of their information/evidence during their investigation into the Mike Brown shooting. Additionally, McCulloch went one step further and stated that ALL of the witness statements, recorded and transcribed, would be open for media review. OK, so where's this one? [Video clip]

Obama, Holder Could Have Protected Ferguson. In ways possible for no one else, a black president and a black attorney general could have quelled the latest violence in Ferguson, Mo. Instead, they invited mayhem.

Evidence: Brown's DNA Was on Interior Door Handle of Police Vehicle. DNA Analysis Report released Monday night [11/24/2014] following the grand jury's decision not to indict Ferguson police officer Darren Wilson in the shooting death of 18-year-old Michael Brown shows Brown's DNA was on the interior driver's-side door handle of Wilson's police vehicle. That evidence matches with Wilson's story that Brown reached inside the car and attacked him. Many DNA samples were taken from the scene where Wilson shot and killed Brown, including from the exterior and interior of Wilson's police vehicle.

Hillary Clinton's Deafening Silence On Ferguson. Most of the Repubicans seeking their party's nomination for the presidency in 2016 said little or nothing about the grand jury decision and the events that followed. This was wise and reflected a strategic environment in which Republicans no longer compete for African American votes. By saying anything at all, Republican candidates such as Ted Cruz, Marco Rubio or Bobby Jindal would only risk making a verbal gaffe that would hurt them with the white moderates they need to win in a general election. [...] The voice most glaringly absent in recent days has been that of Hillary Clinton.

Obama Disappoints the Black Community and the Country. President Obama dropped the ball in Ferguson — not by interjecting himself into the scene during the riots, but by ignoring the plight of struggling communities like Ferguson across the U.S. that teeter on the edge of poverty. Rather than pursuing policies that might have given African-Americans hope that they might finally progress, along with the rest of the country, Obama has pursued a progressive agenda aimed at building his political fortunes and his legacy. Ferguson, where unemployment more than doubled over the past decade to more than 13 percent, needs jobs.

Reporters Attacked, Robbed at Gunpoint in Ferguson. Four freelance reporters were robbed at gunpoint on Tuesday night around 8 p.m., when they attempted to shoot video at the Canfield Drive memorial, a street off of West Florissant Avenue, the Daily Riverfront Times reports. Emily Molli, a freelancer filing for the Chinese Xinhua News Agency, told Daily RFT she was standing behind her cameraman Marcus DiPaola while he was filming. She saw a large group of armed young men wearing masks walking towards them. "They got closer and then I heard them say, 'Turn the camera off, turn the camera off," Molli told Daily RFT. "They came sort of at us and tried to grab the camera."

Holder: 'Disappointed' by Violence in Ferguson. [Scroll down] Separate from the county grand jury probe, the Justice Department is conducting a civil rights investigation into the Aug. 9 shooting of Brown, an unarmed black 18-year-old, and is also investigating the policing practices of the entire Ferguson police department.

Ferguson: A Sorry Showing By Local Leaders, Too. As midnight rioters started to trash, burn and loot mostly black-owned shops, National Guardsmen sent by the governor and the supposedly oppressive local police they were rioting against were on the scene. But rather than use force, the police just stood by, with one officer pleading pathetically from a loudspeaker: "You need to stop destroying the city of Ferguson." No surprise, he was ignored. Nor did they heed Missouri Gov. Jay Nixon. When outside agitators showed up in Ferguson in August, his first impulse was to appease — first by replacing local police leadership with a state agency, then putting an African-American in charge, and finally forming a commission on race relations. Predators were only emboldened.

How a false media narrative made Ferguson worse. It was a split-screen spectacle, the president of the United States appealing for calm while Ferguson was starting to erupt in flames. As Obama was saying "there is inevitably going to be some negative reaction, and it will make for good TV," the images of tear gas and looting were competing for attention. I don't know that anything the president said at that point could have deterred the protestors and agitators after no indictment was returned, and here's why: They were reacting to a media narrative that hardened into cement soon after the tragedy. And we now know that narrative was filled with misinformation.

These are no looter-day saints. Events in Ferguson, Mo., are disturbing because they take the nation backward. For those of us who came of age in the real civil-rights era, it is painful to watch the remarkable progress be torched like so much trash. Split-screen televisions captured a confused country at a dangerous crossroads. As one screen showed the first black president urging calm while expressing sympathy for the anger and demanding that cops show restraint, the other screen showed flames rising from the first arson fires.

Why Don't We Talk About What Made Brown Act 'Bully-ish'? In the interview, which took place well before Monday evening's grand jury decision not to indict Officer Darren Wilson for the death of 18-year-old Michael Brown, [Pharrell] Williams said the video of the late teenager robbing a convenience store minutes before his death "looked very bully-ish." "That in itself I had a problem with," he explained. "Not with the kid, but with whatever happened in his life for him to arrive at a place where that behavior is OK. Why aren't we talking about that?"

Darren Wilson reveals shooting Michael Brown was the first time he had used his gun in his five-year career. Darren Wilson was on the way to grab lunch on August 9, when he came across 18-year-old Michael Brown and friend Dorian Johnson walking single file in the middle of a Ferguson, Missouri street. Just a few minutes later, Brown would be shot dead after allegedly starting a fist-fight with the five-year police veteran. But Wilson says Brown would be alive today if he had just followed his original request to stop walking on the street, and move to the sidewalk.

Media an unbridled disgrace on Ferguson decision. NBC News interrupted State of Affairs last night with an urgent update, featuring Brian Williams's very concerned-looking face. The Grand Jury in Ferguson, Williams "reported," "has failed to come up with an indictment" against police officer Darren Wilson. Has failed? Williams's overwrought interpretation — he stressed the word failed — proved characteristic of how the media treated yesterday's much-hyped Grand Jury decision in Missouri.

He had better things to do? Like what?
Obama Did Not Watch St. Louis County Prosecutor's Announcement. CBS News reports that Obama did not watch St. Louis County Prosecutor Bob McCulloch's announcement, but his aides did and briefed him.

Eric Holder promises 'thorough' civil-rights probe in Ferguson. The Justice Department's civil rights investigation in Ferguson will be "thorough," Attorney General Eric Holder said Tuesday, adding that law enforcement must work to "restore trust" and "foster understanding." Mr. Holder's comments come the day after a grand jury decided not to indict Officer Darren Wilson for the death of black teenager Michael Brown. The announcement set off a wave of protests around the country and rioting in Ferguson.

New York Times Publishes Darren Wilson's Address Info. The New York Times has posted a correction to the story: "An earlier version of this post included a photograph that contained information that should not have been made public. The image has been removed." However, the "information that should not have been made public," in the Times' view, is not the name of the street where Officer Wilson's home is located. The story still contains that information. The Times has merely removed the photo of Wilson's marriage license from the article.

Michael Brown Parents' Bad Influence Plays Out on the National Stage. As bad as Sybrina Fulton's neglect and financial exploitation of little angel Trayvon Martin was, Lesley McSpadden's profanity-laced rant after the grand jury decided not to indict Officer Wilson makes Fulton look like Mother of the Year. Take a listen to Mama McSpadden and Michael Brown's convicted felon stepdad, Louis Head. Yes, the same pair, along with twenty others who allegedly tried to crack a few skulls after they caught granny and a cousin selling Michael Brown merchandise in Ferguson a month ago. Both could be charged with felony assault for that little temper tantrum. [Video clip]

Ferguson on guard for another night of unrest as governor vows tough response. Residents and business owners around the Ferguson, Mo. area remained vigilant Tuesday evening for displays of the lawlessness that ravaged the city 24 hours earlier. After round of protests police were able to make 44 arrests as protesters returned to the embattled streets of Ferguson. Other than a cop car being torched and another flipped over, protesters' clashes with law enforcement were small. Four of the 44 arrested received felony charges for either unlawful use of a weapon or assault of a police officer.

Flames of Ferguson Illuminate Age of Obama. When history remembers the Obama administration, the flames of Ferguson will light up our memories. It wasn't just an AutoZone and Jade Nails burning up in the fires of Ferguson, it was also the "Hope" of 2008 going up in smoke. Instead of hope, the age of Obama has been characterized by racial division and discord. Obama and Holder commanded the police to behave themselves. The police behaved, and look what happened. [...] Just like calling for calm while stoking the protests, prolonging the promise of a federal indictment against Officer Wilson keeps the folks energized on the side of the administration.

What If? Convicting Darren Wilson Would Have Been Difficult. [Scroll down] Subsequent court rulings have interpreted that judgment to give officers more leeway in using deadly force, and Missouri's own law hews closely to it, said Roger Goldman, Callis Family Professor of Law emeritus at St. Louis University Law School. [...] "If I'm representing the police officer, I'm arguing that Missouri law allows an officer to use deadly force to stop a fleeing felon even if he is not a danger to the public or fellow officers," Goldman told NBC News.

Guard Reinforcements Contain Damage in Ferguson. National Guard reinforcements helped contain the latest protests in Ferguson, preventing a second night of the chaos that led to arson and looting after a grand jury decided not to indict the white police officer who killed Michael Brown.

'Show Me' Missouri Shows Up the Media over Ferguson. It is commonly known that a prosecutor can indict a ham sandwich without any difficulty in the grand jury system, and President Obama was visibly irritated after the no-indictment verdict was announced. Unanimity is not even required for a grand jury to indict; in Missouri, merely nine out of twelve votes are sufficient for an indictment. In very rare instances where a grand jury rejects an attempt by a prosecutor to indict, the prosecutor can simply find a new grand jury that is more favorable and then obtain the same indictment from a new grand jury. As a result, when the liberal media want an indictment, they are accustomed to getting one.

Shop after shop destroyed by night of rage on Ferguson's main shopping street. Ferguson was still smoldering this morning [11/25/2014] after a night of rage that left large part of the city in flames or ruins. At least two dozen businesses were torched during the night of chaos leaving one entire block looking like a warzone. At the corner of West Florissant Avenue and Chambers street a strip of seven shops had been ransacked or burned down.

Protestors torched Michael Brown family's church during Monday night's Ferguson protests. The Missouri church attended by Michael Brown's father and his family was one of a dozen or so buildings burned to the ground during Monday night's protests in the wake of a grand jury's decision not to indict Officer Darren Wilson. While the majority of the buildings destroyed on Monday were in downtown Ferguson, the Flood Christian Church is located some three miles away from the protests in a remote section of Country Club Hills. Pastor Carlton Lee, who has been a vocal advocate for the Browns since their son was shot in August, has said he believes that white supremacists rather than protesters were to blame for the destruction.

The Editor says...
If Michael Brown regularly attended this church, or any church (other than one of these), why was he a foul-mouthed pot-smoking thug who picked a fight with a cop?

Ferguson Grand Jury evidence: Police Officer's Account of Shooting. As promised, the transcripts of the Ferguson Grand Jury have been released to the public. That's the good news. The bad news is that the transcripts amount to 4,799 pages. That's not a typo: four thousand, seven hundred and ninety-nine pages. So, it's going to take a little time to work through and present in a useful form here.

Don Lemon Griills Jesse Jackson: 'How Does Burning Down a Store Get You a Job?' Tuesday on CNN, host Don Lemon took Rev. Jesse Jackson to task for claiming the riots last night in Ferguson were caused by "unending consistent pain and neglect" of urban plight and joblessness. At one point Lemon interrupted Jackson saying, "Reverend, with all due respect, if people need jobs in the community, why would you burn down a store or a place where you could possibly get work?"

CNN's Jones, Lemon Rip into Each Other over Ferguson Protests. The late night might be wearing on CNN's Ferguson reporting team. Just hours after being tear gassed on-air, Don Lemon and Van Jones sharply disagreed over the nature of Monday night's Ferguson protests, with Jones accusing Lemon of "insulting" the people of Ferguson by painting the demonstrations as predominantly violent. "In my estimation there's been too much political correctness, trying to appease protesters," Lemon began. "I don't mean appease the people out there peacefully. There was nothing peaceful about last night."

Most Businesses Destroyed in Ferguson Minority Owned. KMOV-TV reports that the majority of stores that were damaged or completely destroyed during Monday night's violent riots in Ferguson were minority owned. Fire Departments around the St. Louis County Area put out 25 structural fires caused by vandals and looters following the announcement from the grand jury that Ferguson Police Officer Darren Wilson would not be indicted in the death of Mike Brown.

Mark Levin on Ferguson: 'What We Are Witnessing Now Is the Left's War on the Civil Society'. From Mark Levin's Facebook page: [... "]The lies about why and how Officer Darrin Wilson shot Michael Brown started on day one and never ended. The indisputable facts are that Brown was shot because he assaulted a police officer, attempted to take the officer's pistol resulting in two close range gun shots in the police cruiser, and then turned around and charged the officer as he was being pursued. The entire event was precipitated by Brown earlier stealing cigars from a local store and assaulting the owner. What we are witnessing now is the left's war on the civil society.["]

An Ohio Congresswoman second-guesses the St. Louis grand jury:
Congressional Black Caucus Chair: 'Unwritten Rule That Black Lives Hold No Value'. On Monday Rep. Marcia Fudge (D-OH) called the grand jury's decision not to indict officer Darren Wilson in the shooting death of Michael Brown a "miscarriage of justice." In a statement released through the Congressional Black Caucus, which she chairs, Fudge said the decision not to indict Wilson "is a slap in the face to Americans nationwide who continue to hope and believe that justice will prevail."

Ferguson witnesses' account differs from story on street. The St. Louis County grand jury that declined to indict a white police officer in the shooting death of Michael Brown, an unarmed black 18-year-old, heard wildly contrasting testimony, including witness accounts that the hulking Brown was charging at Officer Darren Wilson when he was shot, and Wilson's own claim that Brown taunted him as he grabbed for his gun, saying, "you are too much of a p---- to shoot me." The grand jury decision came late Monday in Missouri after more than 70 hours of testimony from roughly 60 witnesses, spanning 25 days over three months, and touched off fresh looting and rioting on the streets of Ferguson and St. Louis.

The Editor says...
I think it's easy to see that Mr. Brown brought all of his problems upon himself, including his untimely death.

Evidence: Michael Brown Was High on Pot and Carrying a Bag of It. Michael Brown had THC, a behavior-altering substance found in marijuana, in his system when he was killed on August 9th by Ferguson, Missouri, police officer Darren Wilson, according to a toxicology report performed at a St. Louis University lab. The toxicology screen, which was done on Aug. 10th, found "12 nanograms/ML of Delta-9-THC", the primary psychoactive ingredient in pot, in Brown's bloodstream at the time of his death. This amount of Delta-9-THC in Brown's blood was more than twice the amount that in Washington State — where marijuana is legal — would allow someone to be arrested for driving under the influence.

Obama's Split-Screen Appeal Lost in Ferguson's Anger. It will be an image that may endure beyond Barack Obama's tenure: The president calling for calm on one side of the TV screen; the scene in Ferguson, Mo. escalating with sirens, smoke, flash grenades, and furious residents on the other. Obama emerged into the White House Briefing Room shortly after 10 pm ET, a little more than 90 minutes after prosecutors in St. Louis County announced that a grand jury had voted to not indict Officer Darren Wilson in the summer shooting death of Michael Brown.

Read Officer Darren Wilson's Testimony to Ferguson Grand Jury. The St. Louis County Prosecutor's Office has put out all the evidence and testimony tonight in the Ferguson grand jury case, including testimony from Officer Darren Wilson himself. Wilson explained that he first saw Brown and Dorian Johnson when they were walking down the middle of the road. He said, "As he [Brown] came around to the mirror I said, 'Well, what's wrong with the sidewalk?' Brown then replied... 'F*** what you have to say.'" Wilson then reportedly saw the Cigarillos, realized he must have been the suspect who stole from a convenience store he heard about in his police car, and angled the vehicle to cut him off. He opened his car door and beckoned Brown over.

Ferguson Protestor Has Phone Stolen — While Live-Streaming Riot. Bassem Masri, a pro-Palestinian activist who is live-streaming the violent protests in Ferguson, Missouri, had his smartphone stolen as he was live-streaming the action. The thief's escape was broadcast to some 90,000 viewers around the world as he retreated, breathless, to a park. The video was captured and reposted to YouTube.

Black Mob Violence Now a Sickness. Thank you, Ferguson: Thanks to you we learned that black mob violence is now a sickness — not just a problem. And no one is sicker than the reporters who ignore, condone, excuse, and even encourage it, as we learned from the latest riot. For reporters, Mike Brown has always been a moving target: At first the Gentle Giant was cut down for no reason whatsoever. Reporters ate it up and black mob violence followed. When that fairy tale evaporated, they replaced it — with ease.

Ferguson riots claim first casualty as 20-year-old found 'shot' dead in his car. A man has died during the Ferguson riots just yards from where Michael Brown was shot dead. Residents on Canfield Drive said that DeAndre Joshua, 20, was shot whilst in his car though police at the scene refused to confirm any details. DeAndre's grandmother Renita Towns said that 'somebody killed him' during the carnage.

The Editor says...
When you participate in a riot, you should assume all risk and liability.

Darren Wilson on why he shot Michael Brown. The officer who fatally gunned down Michael Brown in Ferguson, Mo., described to the grand jury how the unarmed teen overpowered and taunted him. "I drew my gun," Officer Darren Wilson recalled. "I said, 'Get back or I'm going to shoot you.' He immediately grabs my gun and says, 'You are too much of a pu--y to shoot me.'" The officer said he was sitting in his patrol car when he drew his firearm after Brown slugged him twice in the face through an open window. They proceeded to struggle over the weapon and Wilson — who is 6 feet 4 — said he was overmatched.

82 arrested, buildings burn to the ground in Ferguson riots. Cops arrested 61 people during riots in Ferguson, Mo., and 21 more in nearby St. Louis, officials said Tuesday [11/25/2014], as smoke cleared from a chaotic night of looting and arson. At least 11 businesses were burned down or damaged by flames in Ferguson — the epicenter of unrest after a grand jury on Monday failed to indict a white police officer, who fatally shot an unarmed black teenager in August.

What Obama said about the grand jury (and what he could have said). President Obama could have discussed the thorough process of evidence review undertaken by the grand jury. He could have discussed why grand jury secrecy is an important feature of the justice system in all 50 states. He could have stressed that all Americans of all races are protected by the process of checks and balances built into the grand jury system. [...] But instead he stated that anger was "understandable."

When pigs fly, perhaps.
Rep. King: Obama should invite Darren Wilson to White House. Rep. Pete King (R-N.Y.) is urging President Obama to invite Ferguson police officer Darren Wilson to the White House, after a grand jury decided not to bring charges against him in a case that has captured the nation's attention. "I think it would be very helpful if President Obama went and met with the police officer, or invited him to the White House and said, you've gone through four months of smear and slander, and the least we can do is tell you that it's unfortunate that it happened and thank you for doing your job," King said Tuesday on Fox Business.

Streets of Ferguson smolder after grand jury declines to indict officer. This is what Ferguson looked like Tuesday morning [11/25/2014]. Shattered glass from looted stores covered the asphalt. Shell casings from unknown shooters littered the ground. And more than a dozen buildings, including stores owned by local residents, had been set ablaze. As protesters hurled bottles, batteries and rocks at police, officers in riot gear responded by shooting bean bags and tear gas.

Ferguson decision: Ruling sparks night of violence. Michael Brown was shot by a white police officer, Darren Wilson, on 9 August, sparking protests. A police chief said violence in the suburb of St Louis, Missouri, was "probably much worse" than on any night since the teenager's death. St Louis County police chief Jon Belmar said rioters had fired 150 shots.

Fires Burn in Ferguson, Gunshots Heard in Streets. Flames engulfed at least a dozen businesses in Ferguson early Tuesday and gunfire kept firefighters at bay after protests over the decision not to indict a police officer in Michael Brown's death turned violent, despite pleas for peace from Brown's family and others.

Obama on Ferguson: 'Communities of Color Aren't Just Making These Problems Up'. President Obama emerged in the White House briefing room soon after the announcement of a grand jury's decision to not indict Officer Darren Wilson in the shooting death of Michael Brown. Obama noted that "either way" the verdict "was going to be subject to intense disagreement," so he wanted to concentrate on dialogue that "won't be done by smashing car windows."

The Editor interjects...
"Communities of color?" That's a new one.

Protesters gather in 90 cities across the U.S. Traffic on New York City bridges was reportedly shut down as demonstrators marched in traffic lanes over the Brooklyn, Manhattan and Triboro bridges as peaceful protests occurred in 90 cities across the U.S. Thousands of people rallied late on Monday in cities including Los Angeles and Washington, D.C., to passionately but peacefully protest a grand jury's decision not to indict a white police officer who killed a black 18-year-old in Ferguson, Missouri.

Prosecutor a Democrat. The prosecutor that announced Darren Wilson will not face charges for the murder of Michael Brown is a Democrat. From the 8th paragraph of a CBS report from the summer: ["]McCulloch, a Democrat who has been in office since 1991, referenced his father's death in his initial campaign. He survived a Democratic primary earlier this month and faces no Republican opposition in his re-election bid.["]

Congressional Black Caucus denounces Ferguson grand jury. Members of the Congressional Black Caucus on Monday called the grand jury decision not to indict Ferguson Police Officer Darren Wilson a "slap in the face" for those seeking justice for the death of Michael Brown[.] "The Ferguson grand jury's decision not to indict Officer Darren Wilson in the death of Michael Brown is a miscarriage of justice," CBC Chair Marcia Fudge (D-Ohio) said in a statement released after the decision was announced late Monday evening in Missouri. "It is a slap in the face to Americans nationwide who continue to hope and believe that justice will prevail."

State Senator: This Is St Louis' Race War. Monday night on MSNBC's "The Last Word with Lawrence O'Donnell," Missouri State Sen. Maria Chappelle-Nadali (D) said of the riots after the grand jury announcement that Ferguson police officer Darren Wilson will not face charges for fatally shooting Michael Brown, "This is St. Louis's race war. We didn't have a race war like other cities throughout the U.S. This is our race war."

Ferguson police lob tear gas as protestors vandalize police cars, damage storefronts. Rioting broke out in Ferguson Monday night following the announcement that Officer Darren Wilson would face no charges in the August shooting of Michael Brown. The grand jury decided "no probable cause exists" to bring any charges against Officer Wilson, St. Louis County prosecutor Robert McCulloch said when announcing the St. Louis County grand jury's findings.

This pronouncement would be easier to swallow if it came from someone else.
Obama: 'We are a nation built on the rule of law'. "Fist and foremost we are a nation built on the rule of law, so we need to accept the decision was the grand jury's to make," Obama said. "There are Americans who agree with it, and there are Americans who are deeply disappointed... It's an understandable reaction. I join Michael's parents in asking anyone who protests this decision to do so peacefully."

Firefighters Getting Shot Putting Out Fires in Ferguson. Firefighters are letting Ferguson burn because the New Black Panther Party is shooting at firefighters, Gotnews.com has learned.

Obama Administration Isn't Done With Darren Wilson Yet. A grand jury announced on Monday night that Darren Wilson would not be indicted for the shooting death of 18-year-old Michael Brown. The announcement was followed by celebration on the part of Wilson's supporters, and outrage from those who felt that Brown was shot for no reason. Shortly after the official decision came down, Attorney General Eric Holder issued this statement regarding what comes next: [...]

10 Of The Most Disturbing Pictures And Videos From The Ferguson Rioting Last Night. The pictures speak for themselves.

New York Daily News front page: Killer cop goes free. The leftist media has acted like the rioters all over the country tonight. Tomorrow's front age [sic] of the New York Daily News reads: Killer Cop goes free. Yes, killer cop, who dared defend himself (as pictures have now shown) who feared for his life.

'60 Minutes': Disaster Looms, U.S. Must Raise Taxes by 'Hundreds of Billions'. The Obama administration has already wasted nearly $1 trillion of stimulus money that was supposed to go toward "shovel ready" construction projects and create millions of jobs. Now special interest says it needs "hundreds of billions of dollars" more to prevent an infrastructure catastrophe. CBS's "60 Minutes" claimed in a segment on Nov. 23 that the federal government needed to increase taxes, especially the gas tax, by billions of dollars to fund supposedly vital transportation projects. By doing so, the popular news magazine show followed the broadcast news networks' long-standing practice of supporting massive spending increases favored by the transportation industry.

CNN Sara Sidner hit in head by rock reporting live in Ferguson. CNN report Sara Sidner was hit in the head by a rock in Ferguson, as she was live, on air reporting in the thug rioters. [This article includes] the video of Sara Sidner getting hit in the head with a rock: [Video clip]

CNN hosts get teargassed after almost being run over by protesters. CNN's Chris Cuomo and Don Lemon got teargassed just after they were almost run over by protesters. They quickly had to evacuate: [Video clip]

Ferguson Verdict Explodes Media's Lying Racial Narrative. On Monday night [11/24/2014], the grand jury in Ferguson, Missouri freed Officer Darren Wilson from the possibility of indictment over his shooting of 18-year-old black man Michael Brown. The prosecutor before the grand jury, Robert McCulloch, explained why the indictment had been rejected: the evidence, both physical and eyewitness, supported Wilson's case that he had acted in self-defense. McCulloch added pointed criticism of the media that drove the case in the first place, ripping the "insatiable appetite" of social media and "non-stop rumors" driven by it.

Police officer Darren Wilson WILL NOT face charges for shooting Michael Brown. A grand jury has decided that police officer Darren Wilson will not face charges for shooting dead unarmed teenager Michael Brown. After months of waiting, the decision was finally made public late on Monday as the St Louis suburb of Ferguson braced for protests following months of unrest in a case which has become a flash point for race relations in the U.S.

Officer Darren Wilson Reacts to Grand Jury Decision. Officer Darren Wilson has, through his legal team, put out a statement reacting to the news tonight he will not be indicted by the Ferguson grand jury for the shooting of Michael Brown. Here is the statement in full: [...]

Ferguson Officer Darren Wilson Thanks Supporters After No Indictment. Ferguson Officer Darren Wilson thanked his supporters Monday night after the announcement that a grand jury decided not to indict him for the fatal shooting of unarmed teenager Michael Brown. A statement issued by Wilson's lawyers said he "followed his training and followed the law" when he opened fire on the 18-year-old during an Aug. 9 confrontation in the Missouri city. "We recognize that many people will want to second-guess the grand jury's decision," the lawyers said in a statement, according to the St. Louis Post-Dispatch. "We would encourage anyone who wants to express an opinion do so in a respectful and peaceful manner.

Holder: We're Not Done Investigating Ferguson Police Officer Yet. Attorney General Eric Holder emphasized Monday night [11/24/2014] that while a St. Louis grand jury chose not to indict Officer Darren Wilson, the Justice Department's investigation isn't over yet. "While the grand jury proceeding in St. Louis County has concluded, the Justice Department's investigation into the shooting of Michael Brown remains ongoing," Holder said in a statement Monday night. "Though we have shared information with local prosecutors during the course of our investigation, the federal inquiry has been independent of the local one from the start, and remains so now."

The Editor says...
Sounds like double jeopardy to me. Mr. Holder pretends to know something that the grand jury did not.

Justice Was Served in Ferguson — This Isn't Jim Crow America. Sadly, hundreds if not thousands of individuals descended upon this small St. Louis suburb to agitate for an outcome based on their ideology rather than the facts under consideration by the grand jury. Even though the grand jury elected not to find Officer Darren Wilson responsible for the shooting death of teenager Michael Brown, I sadly never believed that the gathering protesters gathered in Ferguson were seeking justice or a peaceful resolution to the case, which has roiled race relations in America to levels I haven't seen in decades. How else to explain those chanting "No Justice, No Peace" in the days leading up to the grand jury's determination?

The grand jury says no. Now St. Louis must make the most of it. All of St. Louis owes a debt of gratitude to the 12 St. Louis County citizens who served on the grand jury that has decided that Ferguson Police Officer Darren Wilson will not stand trial for the Aug. 9 shooting death of Michael Brown. The debt is owed not for the decision. The debt would have been owed had the grand jurors come back with an indictment. The debt is owed for hanging in there while all about them the experts and would-be experts speculated about what happened on Canfield Drive shortly after noon on that warm Saturday afternoon. Many people decided immediately that they knew what happened. Others decided as rumors surfaced and leaks bubbled up. Others chose sides strictly based on the color of their skin.

Ferguson crowd erupts in anger at no indictment. Police cars have been vandalized and several gunshots have been heard on the streets of Ferguson after the announcement that a white police officer will not be indicted in the shooting death of an unarmed black 18-year-old.

Sacramento NAACP Leader Prepares Excuses for Ferguson Violence. The President of Sacramento's NAACP branch has stated that he hopes there will not be violence once the decision in the case of Officer Darren Wilson is handed down, but also asserted that he understands that members of the NAACP community have animosity for police.

No indictment in Ferguson case. A white police officer will not face charges for fatally shooting an unarmed black teenager in a case that set off violent protests and racial unrest throughout the nation. A St. Louis County grand jury declined to indict officer Darren Wilson, 28, for firing six shots in an August confrontation that killed 18-year-old Michael Brown, St. Louis County prosecutor Robert McCulloch said Monday night [11/24/2014].

Private Military Contractors Hired to Move Guns and Gold Out of Ferguson. Business owners in the St. Louis, Missouri area have hired private military contractors to transport guns and gold, fearing their shops will be targeted by looters if a grand jury does not indict Darren Wilson, the police officer who shot and killed Michael Brown in the St. Louis County suburb of Ferguson. "There's a lot of people that brought in a lot of money to have people secure their assets," said Stephen King, owner of Metro Shooting Supplies gun shop, a 15-minute drive from Ferguson. "Some of those people spent $10 an hour on security guards and some people have $1,000 a day private contractors."

Capt. Ron Johnson: There Will Be Protests 'No Matter What the Grand Jury' Decision is. Missouri Highway Patrol Capt. Ron Johnson believes that there will be protests no matter what the grand jury decision is in the shooting of Michael Brown by Ferguson officer Darren Wilson.

Ferguson Protesters Scream "F--- You!" and "Honkey!" at Police Officers. The left showed its true colors in this profanity-laden video, protesting outside the Ferguson Police station in Missouri. This is the kind of crude, violent anarchist behavior that race baiters like Al Sharpton and Jesse Jackson have successfully stirred up over the years. The irony is that many of these police officers they are targeting are black or another minority.

Get Ready for the Super Bowl of Outrage in Ferguson. Many of those on the streets of Ferguson, Mo., have legitimate concerns about police conduct and the possibility of wrongful force regarding Officer Darren Wilson's fatal shooting of 18-year-old Michael Brown. Unfortunately, Ferguson also has become a huge electromagnet for professional protesters who bounce from one focus of fury to the next.

Rudy Giuliani causes racial firestorm for citing black crime stats in debate on Michael Brown shooting. The former mayor was accused of using 'the defensive mechanism of white supremacy' when he questioned why people are protesting ahead of that Missouri grand jury decision on indicting Officer Darren Wilson for fatally shooting Brown.

Court: Judge hasn't agreed to release Ferguson grand jury evidence if no indictment. For months, St. Louis County Prosecuting Attorney Robert McCulloch has promised to seek a court order immediately releasing nearly all evidence before the grand jury in the Michael Brown shooting case if Officer Darren Wilson is not indicted. And he has said that the judge overseeing the grand jury, St. Louis County Circuit Judge Carolyn Whittington, already has agreed to order such release if requested. But, with the grand jury's decision expected this week, the county court's top administrator on Sunday said no such agreement exists.

Ferguson Protests Grow Larger. The protests in Ferguson, Mo., on Friday night [11/21/2014] grew larger than previous days' gatherings of protesters, despite the rain and cold weather. Police officers used a megaphone to ask protesters to leave the street outside the Ferguson Police Department or they would be arrested.

Ferguson needs facts, not passions. In anticipation of the decision on whether to indict officer Darren Wilson for the killing of Michael Brown, the town of Ferguson, Mo., is a virtual armed camp. Schools are closed. The National Guard was called out when the governor declared a state of emergency. The emergency? A grand jury announcement. While most protesters have engaged in legitimate and lawful speech, others used the shooting of the black teenager by a white police officer as justification to loot the town. State and federal forces are assembling in Ferguson in expectation that some protesters will riot unless there is a criminal charge. Those who insist that "justice" can be found only in jail for Wilson are speaking not of real justice but mob justice.

10 Examples Of The Social Decay That Is Eating Away At America Like Cancer. Police in Ferguson are warning citizens that they better buy guns because they "will not be able to protect you or your family". And CNN is reporting that gun sales in Ferguson are indeed surging. Hopefully this grand jury decision will come and go and peace will prevail in Ferguson and elsewhere. But without a doubt, the thin veneer of civilization that we all take for granted on a daily basis is disappearing.

FBI Sends 100 Agents to Ferguson Ahead of Grand Jury Decision. The FBI has sent about 100 agents to the St. Louis area to help deal with any problems that could arise from the grand jury decision in the police shooting of Ferguson teenager Michael Brown. In addition to the FBI, other federal agencies have also mobilized staffers to get to St. Louis today [11/21/2014], sources told ABC News.

Why TV anchors met secretly with Ferguson officer who shot Michael Brown. Practically every journalist covering the death of Michael Brown would like to interview Darren Wilson, the police officer who shot and killed Brown. In the pursuit of that interview, several high-profile television anchors have secretly met with Wilson, according to sources at several TV networks. All of the meetings were off the record, meaning the anchors could not describe what was said.

Ferguson Grand Jury 'Unfair,' Michael Brown Family Lawyer Says. A lawyer for the family of the black 18-year-old fatally shot by a white police officer said today the grand jury process playing out in Missouri is unlike anything he's seen before and is unfair. The St. Louis County prosecuting attorney, Robert McCulloch, has said that, unlike with a typical grand jury, he would present to this grand jury all the evidence gathered in the police investigation and offer the jurors the opportunity to hear from any witness with relevant information.

NAACP president "concerned" about Ferguson grand jury decision. NAACP President Cornell William Brooks said he was "concerned" about the forthcoming grand jury decision in the Michael Brown shooting case because the prosecutor failed to act upon previous complaints about the Ferguson, Missouri police department and didn't give the jurors sufficient instructions.

So much for the presumption of innocence.
Congressional Black Caucus Chairman Hopes Ferguson Grand Jury Finds Evidence of a Crime. North Carolina Rep. G.K. Butterfield, who was elected chairman of the Congressional Black Caucus (CBC) this week, told WUNC on Wednesday [11/19/2014] that the CBC is "laser-focused on what's happening in Ferguson." He added, "We are very, very concerned about it."

St. Louis Guns: "We're Selling Everything That's Not Nailed Down". Missouri Governor Jay Nixon has declared a state of emergency and called out the National Guard in advance of an expected decision by the grand jury in the police shooting death of suspected Ferguson robber Michael Brown, and gun shops in the St. Louis area are selling everything they can get their hands on.

Ferguson Protesters Erupt Outside Police Department: 'What Do We Want? Darren Wilson! How Do We Want Him? Dead!' Protesters in Ferguson, Mo., have taken to the streets and chosen not to wait for a grand jury's decision before clashing with police once again. A grand jury is expected to decide whether to indict police officer Darren Wilson, who is accused of shooting 18-year-old Michael Brown, in the coming days. But protesters made their voices heard outside the Ferguson Police Department on Thursday night shouting, "What do we want? Darren Wilson! How do we want him? Dead!"

The Editor says...
A lynch mob is still a lynch mob if their intent is made clear, even if they don't follow through with the lynching.

'Bracing' for Violence in Ferguson. Fifty years after the cataclysmic riots of the 1960s, rioting is still regarded as virtually a black entitlement. No one is "bracing," in press parlance, for white riots or police violence should Officer Wilson be indicted. Nor were there preparations for Asian riots last month in Los Angeles as a jury heard a murder case against a 22-year-old thug from South Central L.A., who, along with an accomplice, had shot two Chinese engineering students attending the University of Southern California in 2012. That murder, as the Ph.D. candidates sat quietly in their car near campus, was part of a horrific pattern of attacks on Asian students at USC, one that has not resulted in either the threat or the reality of Asian "unrest."

Police in St. Louis agree to 'rules of engagement'. The negotiations have centered on 19 "Rules of Engagement" proposed by a coalition of 50 community and civil rights groups. The list is largely a docket of best police practices, such as "the first priority shall be preservation of human life" and "excessive force and other forms of police misconduct will not be tolerated." In general, protesters have agreed to peaceful demonstrations if police don't interfere, while police agree to respect demonstrators' right to assemble as long as there is no violence.

NAACP Condemns Ferguson State of Emergency, Compares Rioters, Looters to Boston Tea Partiers. After Missouri Gov. Jay Nixon (D) declared a state of emergency on Monday [11/17/2014] days before the Ferguson grand jury is expected to make its decision on whether to indict the officer who shot and killed Michael Brown, the NAACP condemned the decision as "presumptuous." NAACP President and CEO Cornell Brooks said the state of emergency declaration only threatens to "stir up tension" and is "both premature in its application and presumptuous in intention" to the "hundreds of peaceful demonstrators who have embraced their Constitutional right to protest."

Gun sales surge ahead of jury's Ferguson decision. Some suburban St. Louis gun dealers have been doing brisk business, particularly among first-time buyers, as fearful residents await a grand jury's decision on whether to indict the police officer who fatally shot Michael Brown.

Media hype trumps appeal for calm in Ferguson. The media that for months have hyped the protests involving the shooting have been all but declaring the small city will soon become a battle zone. CNN's Carol Costello introduced one Nov. 13, story with typical moderation: "If the town explodes in unrest one female pastor says she will stand between police and protesters appealing for calm." Correspondent Sara Sidner followed with a prediction that violence would occur, claiming, "we do know there is a small group of people who are planning violent acts."

Organizers Train Newly Minted Protesters in St. Louis. In a small room located on South Jefferson Avenue in a building used by IUOE Local 148, organizers like Rev. Osagyefo Sekou are instructing groups of individuals about tactics relating to resisting police commands during demonstrations. Sekou is a St. Louis native who grew up in the area but now lives in Massachusetts. Topics covered by organizers like Sekou as well as Deray McKesson and others included decentralized protest actions, jail support, first aid, legal issues, as well as staying safe on the streets during demonstrations.

And we all know how "non-violent" black mobs can be.
Rep. John Lewis Calls for 'Massive, Non-Violent Protests' Nationwide if Wilson Isn't Indicted. Civil rights icon and Congressman John Lewis (D-GA) believes that Ferguson is a "turning point" for the modern civil rights movement, and that the nation will see massive protests if a grand jury does not indict Officer Darren Wilson in the death of 18-year-old Michael Brown. While appearing on Roland Martin's radio show, Rep. Lewis was asked whether the numerous stories of African-American men being shot by police — Brown's death chief among them — was "the modern-day Selma", referring to the 1963 march that saw hundreds of protestors beaten and arrested for demanding African-American voting rights.

Muslim groups seek to co-opt Ferguson protests, says watchdog group. Muslim groups have stepped up efforts to co-opt protests over the fatal shooting of Michael Brown in Ferguson, Mo., with a drive to equate the teen's death to the death of a radical Islamist shot during an FBI raid in 2009, a Washington-based security watchdog group is warning. Using social media, conference calling and traditional outreach methods, leaders of the Council on American-Islamic Relations (CAIR) are portraying Brown and Detroit mosque leader Imam Luqman Ameen Abdullah as African-American victims of police targeting, according to the Washington-based Center for Security Policy (CSP).

'If you do not have a gun, get one and get one soon'. Families have been warned to arm themselves amid fears of more violent protests over the shooting of black teenager Michael Brown in Ferguson. Missouri is bracing itself for renewed demonstrations ahead of a grand jury verdict on whether to charge a white police officer over the 18-year-old's death in St Louis. Protesters are gathering in and around the city as they nervously await what many believe will be an inevitable no-indictment vote.

Ferguson Police: Officer Darren Wilson Will Return to Work if Not Indicted. If the grand jury does not indict Officer Darren Wilson in the shooting death of unarmed teenager Michael Brown, he will be returning to duty immediately. That's what Ferguson Police Chief Tom Jackson told local KSDK-TV reporters Friday night in anticipation of the pending decision. Jackson did not say what assignment Wilson would get upon his potential return and added that he would likely be fired if the grand jury does choose to indict him.

Suppose They Gave a 'Ferguson' and Nobody Came? Here we go again. Ferguson... a place — let's be honest — almost no one had heard of a few months ago... is once more going to be the center of the media universe. All the usual suspects will be there — the tedious mega-reactionaries from MSNBC, the unwatchable bores from CNN, the wildly overheated conservatives from FOX — giving us wall-to-wall coverage of a sad but quotidian event that should have made, at best, the police blotter of the local paper. A cop shot a violent teenager who was attacking him in his car, loaded on dope. That's national news?

Are liberal news outlets begging for a race riot in Ferguson? Why is so much of liberal cable news begging for a race riot in Ferguson, Missouri? Riots create chaos and disorder in black communities like Ferguson. They threaten the public safety of black families, drive down real estate prices in black neighborhoods and hurt the trade of black-owned businesses in the area. We saw this with the Rodney King riots in Los Angeles in 1992. During the LA Riots, 50 people were killed, hundreds more injured and millions of dollars of property destroyed in the black community. Let me repeat, black people did not profit from riots.

Missouri Governor Activates National Guard. As a grand jury weighs possible criminal charges against the white police officer who fatally shot Michael Brown, Missouri's governor has again activated the National Guard in an effort to avoid more unrest in the St. Louis suburb of Ferguson.

Why I Fear for the People of Ferguson. The St. Louis County grand jury has for several weeks been hearing evidence in the case of Michael Brown, the so-called "gentle giant" who was shot to death by Ferguson police officer Darren Wilson on August 9. Their decision in the matter is expected soon, and if we are to believe leaked details of the investigation, the substance of which is that Brown attempted to disarm Officer Wilson before being shot, it appears unlikely Wilson will be indicted. And when that decision is announced, the street violence that followed the shooting will seem tame by comparison.

Dr. Baden, The Media, And The Ridiculous Second Mike Brown Autopsy. Dr. Baden is expected to speak to the Saint Louis Grand Jury today [11/13/2014] about his efforts on behalf of the Mike Brown family to conduct and independent autopsy. With that in mind it's worthwhile to showcase how ridiculous this entire episode is, and why it's taking place.

Michael Brown Family Coroner Called Before Ferguson Case Grand Jury. The medical examiner hired by Ferguson police-shooting victim Michael Brown's family to examine his body has been called before the grand jury deciding whether indict the cop who killed the teen, their attorney said Wednesday. Lawyer Anthony Gray said the legal team would not comment further on the unusual development until after Dr. Michael Baden is done testifying before the panel.

The Braintrust Behind "Anonymous Operation Ferguson" Is A Guy In Pakistan. The grievances expressed by Ferguson agitators bear more than a cursory similarity to the Palestinian/Hamas Islamists and their grievances — they are of spawned from the same origin, the Mid East in general, and for Ferguson Missouri, specifically a guy in Pakistan.

Don't Shoot Coalition in Ferguson: a facade for progressive social activists. Ferguson's Don't Shoot Coalition members are supplemented by professional social activists, from in, and outside, Missouri. Two such groups are profiled [in this article] — one that is a member of the coalition, and one from outside Missouri that saw the crisis in Ferguson as an opportunity to "accelerated the quest for social justice."

Naturally, the Washington Post is very sympathetic toward the protesters.
Ferguson protest organizers: 'I sleep, eat and breathe this.'. Regardless of whether the grand jury indicts Wilson, protest leaders say they plan to keep pricking the consciousness of whites and the political establishment, using confrontational tactics to make it clear that the lives of African Americans must be protected.

Mo. governor reveals state plans for Brown grand jury. Missouri Gov. Jay Nixon said he would activate the National Guard to respond to any unrest that erupts after the grand jury delivers its decision in the case of a white Ferguson, Mo., police officer who shot and killed an unarmed black teenager. "This is America. People have the right to express views and grievances, but they do not have the right to put fellow citizens and property at risk," Nixon said Tuesday. "Violence will not be tolerated."

Playing racial games. Race riots, that urban staple of the '60s and '70s, are making a comeback. They rattled the St. Louis suburb of Ferguson, Mo., after a white police officer shot a black teenager. More violence is expected if, as seems likely, the officer is not indicted. Desperate to hold onto power, some Democratic candidates spent election season trying to scare black voters to polls. They claimed shootings like the one in Ferguson and the 2012 Trayvon Martin case in Florida would become common if Republicans prevailed. At the bottom of the barrel was the scurrilous comment by Harlem's Rep. Charlie Rangel that some in the GOP "believe that slavery isn't over."

Michael Brown's Parents Tell U.N. His Death Amounts to Torture. The parents of Michael Brown are in Geneva, Switzerland Tuesday [11/11/2014] to tell the United Nations Committee Against Torture about the police "murder" of their son and the "excessive use of force" by Ferguson police against "peaceful protesters" following the August 9 shooting. "Both issues represent violations of the Convention against Torture and Other Cruel, Inhuman or Degrading Treatment or Punishment," said the 13-page statement submitted to the U.N. Committee Against Torture by the Brown family and the family's various support groups.

Behind the Don't Shoot Coalition in Ferguson. The publicized list of the 45 DSC group names breaks down into these categorizes: (1) Labor Unions; (2) African-American Organizations; (3) Other Ethnic Groups; (4) Faith-based Organizations; (5) Anti-War Activists; (6) Defined Causes; (7) All-purpose Progressive Activists; (8) Unidentified; and (9) Outlier. [...] Despite diverse agendas, the list, generally, has one thing in common: Some grievance against an authority — police, corporations, or otherwise — that they feel has abused their rights, or the rights of others. The protest movement that emerged after the death of Michael Brown now offers each a platform to air their particular grievance before a wider audience.

How Ferguson Is Prepping for the Darren Wilson Grand Jury Decision. It doesn't look good for those hoping for criminal charges in the August killing of unarmed 18-year-old Michael Brown. Pessimism has started to set in after a series of leaks that supported the story of Ferguson police officer Darren Wilson, who has remained out of public view through the months-long grand jury process. With an official decision expected soon, possibly in a matter of days, the city of Ferguson is bracing for impact, both by hosting discussions with protest groups and stocking up on new riot gear.

Coalition wants advance notice, de-militarized police response after Michael Brown grand jury decision. A coalition of roughly 50 groups, concerned about issues brought to prominence by the fatal shooting of Michael Brown, asked officials Wednesday [11/5/2014] to agree to "rules of engagement" for protests expected to follow a grand jury decision about whether the killing was justified. At a news conference here, "Don't Shoot Coalition" members said police should value safety first, and agree to a "de-militarized response" that would bar the use of armored vehicles, rubber bullets, rifles and tear gas.

Obama calls Mo. Gov. Nixon ahead of Ferguson grand jury report. With fears rising over the potential for rioting in Ferguson, Missouri, President Obama spoke by phone Friday night [11/7/2014] with Gov. Jay Nixon to discuss the situation in the community. The White House said Mr. Obama "emphasized the administration's commitment to continue to provide assistance as needed." A decision is expected soon by a grand jury investigating the shooting of black teenager Michael Brown in August by a white police officer in Ferguson.

Ferguson Waits Uneasily for Grand Jury's Decision. [Scroll down] "I hate this," said Dan McMullen, the president of Solo Insurance Services, as he sat behind his desk on Thursday [11/6/2014]. During the course of a 20-minute conversation, his phone did not ring; no customers walked through the door. "Business is terrible," he lamented.

The Editor says...
Here is my advice to anyone who owns a business in Ferguson, Missouri: Your business is never going to improve, because the rioting thugs have ruined it. Abandon the city now, before the looters burn it to the ground.

Ferguson Decision — The High Probability Decision Zone Starts Today. With the election in the rear view the probability calendar for the Saint Louis Grand Jury decision is now at the apex and will remain there for the next two weekends.

Because attacking white strangers is what they do best...
White Boy Bleed A Lot — White Student Goes To Support Mike Brown Protestors, Attacked By Mob. A young white man and student of Saint Louis University named Chris Schaefer attended a meeting of Ferguson protestors at St. Mark's church. The church acts as a safe house for the organizing protestors. Apparently while there, Mr. Schaefer began recording the meeting; or at least he was perceived to be recording the meeting. The mob, who ironically demand all police wear body cameras, did not like the thought of their meeting being recorded — so they attacked him.

Michael Brown's mother accused in armed robbery of Ferguson vendors selling t-shirts commemorating her son's death. Michael Brown's mother has been named as one of the 'attackers' who assaulted and robbed vendors selling t-shirts commemorating the youngster's death. A report from Ferguson police identified Lesley McSpadden, 34, as one of a group of up to 30 people that ran into the tent and ransacked the stall in the Missouri city on Saturday October 18. Pearlie Gordon, 54, Brown's mother-in-law, and two men were selling 'Justice for Mike Brown' merchandise when the subjects 'jumped out of vehicles and rushed them' during what police are classifying as an armed robbery.

Federal civil rights charges unlikely against police officer in Ferguson shooting. Justice Department investigators have all but concluded they do not have a strong enough case to bring civil rights charges against Darren Wilson, the white police officer who shot and killed an unarmed black teenager in Ferguson, Mo., law enforcement officials said.

Evidence of Why President Obama and Eric Holder Wanted Ferguson Missouri To Burn? Democrats are using racial ads intended to stoke racial strife with images of Ferguson and Trayvon Martin[.] But not all Democrats are happy with the transparent tactic.

Democrat Religious Fanatics. In order to rile up African-Americans, the Democrat clerics have created a completely false narrative in Ferguson, Missouri. A street thug who had just robbed a convenience store brutally attacks a police officer and is shot dead for his trouble. Had the cop been black or the same race as the perp, the clerics would have moved on, ignoring the crime and anxiously waited for the next incident to exploit.

Five Felony Cases Dropped in Ferguson, Mo. No more than five felony criminal cases will be dropped due to Ferguson police Officer Darren Wilson's absence, the St. Louis County Prosecuting Attorney announced Wednesday [10/29/2014].

Our Make-It-Up World. Do bothersome facts matter anymore? Not really. [...] It no longer really matters much what the grand jury will find in the Michael Brown fatal-shooting case. Whether he had just robbed a store, was high on drugs, was walking down the middle of the road and prompted a violent confrontation with a police officer, or whether the officer was the aggressor in the confrontation, these have become mere competing narratives. The facts pale in comparison with the higher truth that Brown was black and unarmed, while Officer Darren Wilson was white and armed. The latter scenario is all that matters.

The Stubborn Facts in Ferguson. According to the source cited in the [St. Louis] Post-Dispatch, Officer Wilson told of struggling with Brown inside the Chevrolet Tahoe that Wilson was driving, and of firing two shots from his pistol. One of those shots struck Brown in the arm. Brown then ran a short distance from the SUV but then turned around and advanced on Officer Wilson, who had begun to give chase. Fearing that Brown would overpower him and take his weapon, Wilson fired more shots, killing Brown. There is nothing in the autopsy that refutes any of this. Furthermore, Brown's blood was reportedly found inside the Tahoe and on Officer Wilson's handgun. And, contrary to some accounts reported in the media, Brown was not shot in the back, and not one of his wounds indicates that his hands were up when he was shot.

Crimes of Exactly What? [Michael] Brown was black and unarmed and the officer white; but it is equally true that the 292-pound Brown likely committed a number of crimes in the minutes before his death. He was high on drugs; he robbed a store and strong-armed the clerk; he was walking down the middle of a road; and he started a physical altercation with policeman Darren Wilson (who tried to question him), inflicting injuries on the officer before being fatally shot. If that were a typical day in the life of an American citizen, then civilization, as we now know it, could no longer exist.

The Ferguson Collapse. What happens next in Ferguson may well be, to quote Al Sharpton, a "defining moment," though not in the way he, other progressives, and Ferguson protesters mean. To their minds, the case required little scrutiny: Michael Brown was a new Emmett Till; Ferguson, a new Selma. But that determination was made well in advance of a careful sifting of available evidence — evidence that shows that the events of August 9 do not lend themselves to a convenient racial parable.

The Safari Principle — Ferguson Missouri Thugs Attack Community While Paralyzed Police Do Nothing. Apparently law and order in Ferguson Missouri has completely collapsed. The black street thugs now appear to control the community. Empowered by the non-response of state and federal officials to stop their lawless behavior, the street mobs — no, wait, these are not "mobs" these are beyond mobs, they're animals — have gained a foothold promoting anarchy. It is important to understand exactly how far the police have withdrawn in their ability to control the street gangs. In this short video from 2 days ago you see a police officer who attempted to drive through the safari and was surrounded by the mob/animals.

Democrats Join The Ferguson Lynch Mob Right As The Case Against Officer Wilson Collapses. Everyone who hasn't drunk the progressive Kool-Aid is aware that during elections Democrats resort to the race card to scare African Americans, for whose intelligence they have limitless contempt, into voting for them. If Republicans are elected, their propaganda claims, "black churches will burn" or the racial clock will be turned back to the era of segregation, an era that Democrats happen to have been directly responsible for. This year it's the mythical threat white policeman allegedly pose to black youth, as Democrats and their media enablers encourage a "lynch mob" mentality — as Howard Kurtz put it recently — in a desperate attempt to pocket black votes.

Ferguson on edge as doubts raised over Darren Wilson indictment. It's tough to predict the mood each night. On Tuesday, a small group of about 50 protesters caused no disturbances, and there were no arrests, police said. The next night, five police officers were assaulted with rocks, water bottles and a metal rod as demonstrators blocked traffic and knocked down barricades outside the police department. Protesters, many of them increasingly suspicious of a recent spate of leaks surrounding the Brown investigation, say there will be more nights like Wednesday than Tuesday should a grand jury not indict Wilson.

Leaked autopsy raises questions about Michael Brown narrative. The narrative surrounding Michael Brown's death continues to evolve as a leaked autopsy report appears to support the claim that Mr. Brown at one point reached for Officer Darren Wilson's gun. It also raises questions about whether Brown was raising his hands in surrender when he was killed. The Aug. 9 shooting of Brown by Officer Wilson in Ferguson, Mo., has led to social unrest led by youths who have used raucous civil disobedience to protest what they see as the mistreatment of blacks by whites in authority. The eyewitness accounts at the heart of those protests — that a white cop basically executed an unarmed black teenager holding his hands up in surrender — are now facing forensic scrutiny.

Michael Brown and Faux 'Civil-Rights' Victims. [Scroll down] The autopsy (first released in September) shows that Brown was not shot in the back. He was hit in the chest, arm, and forehead. The entry wounds show that his hands were not raised when he was hit, and blood-spatter evidence suggests he was advancing on Officer Darren Wilson. A wound on Brown's hand contained gunpowder residue, supporting Wilson's claim that Brown went for his gun while Wilson was seated in the car. There is forensic evidence showing that the gun did, as Wilson testified, go off in the car. Seven or eight African-American eyewitnesses, reports the Post, support Wilson's account of what happened that afternoon but have remained out of the public eye for their own safety.

Report: At least seven black witnesses have corroborated Darren Wilson's testimony before the Ferguson grand jury. [Scroll down] The [Washington] Post doesn't specify which details from Wilson's account were supported by the witnesses (none of whom want to be named, of course, lest they face reprisals for being honest). Did they corroborate the fight in the front seat of the squad car when, Wilson claims, Brown grabbed his gun? The physical evidence supports that too: One forensic pathologist who reviewed the autopsy report noted that Brown's hand wound wouldn't have had gunpowder particulate in it unless his hand had been on or right next to Wilson's gun.

Ferguson Police Break Up Ugly Brawl Involving Michael Brown's Mother, Grandmother and Cousin. A 911 call went out Saturday in Ferguson, Missouri where Michael Brown's mother Lesley McSpadden was allegedly involved in a violent brawl with her dead son's grandmother and cousin. According to a Fox affiliate, the fight started a few blocks from the street where Brown was shot and killed on August 9. The altercation allegedly ensued from a dispute about who had the right to sell Mike Brown merchandise.

State Senator Arrested Carrying Concealed Weapon In Ferguson, Possibly Under The Influence. Missouri state senator Jamilah Nasheed is a supporter of harsh gun control laws — for other people. [...] Nasheed was the co-sponsor of last years Missouri Senate Bill 124, which would have required gun owners with children in Missouri schools to notify the schools that they owned firearms, and threatened to filibuster any legislation supported by the National Rifle Association. I suspect that law enforcement would be well within their rights to revoke Nasheed's permit for refusing to take the breathalyzer while carrying.

Evidence supports officer's account of shooting in Ferguson. Ferguson, Mo., police officer Darren Wilson and Michael Brown fought for control of the officer's gun, and Wilson fatally shot the unarmed teenager after he moved toward the officer as they faced off in the street, according to interviews, news accounts and the full report of the St. Louis County autopsy of Brown's body.

Holder "exasperated" about Ferguson investigation leaks. Attorney General Eric Holder told Justice Department lawyers that he was "exasperated" about leaks from the federal investigation into last summer's police shooting of an unarmed 18-year-old in a St. Louis suburb, a Justice official told CBS News Thursday [10/23/2014].

The truth about young black men and police shootings. On Friday [10/17/2014], it was reported forensics showed Brown's blood was on both the inside of police officer Darren Wilson's car as well as Wilson's gun. The gun had also been fired twice within the car. This evidence hardly squares with early witness accounts that Brown was shot with his hands in the air while he was surrendering. With forensic evidence finally coming in, Officer Wilson's shooting Brown is looking as if it were justifiable self-defense. But that hasn't stopped people from making it a racial issue.

Source: Darren Wilson says Michael Brown kept charging at him. Police Officer Darren Wilson told investigators that in a struggle for his pistol inside a police SUV, Michael Brown pressed the barrel of Wilson's gun against the officer's hip, according to a source with knowledge of his statements. Wilson tried to prevent Brown from reaching the trigger, the source said, and when he thought he had control he fired. But Brown's hand was blocking the mechanism. When Wilson got two shots off, Brown was hit in the hand and ran. Wilson fired again when Brown turned back and charged at him, Wilson told investigators.

Michael Brown autopsy, officer's account indicate teen went for Ferguson cop's gun, had marijuana in his system: report. Ferguson Police Officer Darren WIlson's account of the confrontation in which Michael Brown was fatally shot has reportedly been leaked, with an independent medical examiner's report backing up his version of events. Brown had marijuana in his system and was shot at close range in the hand, backing up claims by a police officer that that there was a violent struggle between the Ferguson, Mo. teen and the cop, an independent medical examiner told the St. Louis Post-Dispatch.

Brown's Aunt Warns Officer Wilson Will 'Feel the Wrath of God's Vengeance'. Michael Brown's aunt believes Ferguson police officer Darren Wilson will "feel the wrath of God's vengeance" for the shooting death of the 18-year-old.

The Editor says...
A thousand years from now, lots of people are gonna be very surprised about who's in Heaven and who's in Hell.

New Information Released on Michael Brown Case. A report by the St. Louis Post-Dispatch this morning shows the official autopsy supports Ferguson officer Darren Wilson's claim that Michael Brown struggled with him in his patrol vehicle, and that Brown did not have his hands up when he was shot Aug. 9. A source tells the Post-Dispatch that Wilson testified to the Grand Jury that when he tried to get out of his SUV to talk to Brown and his friend Dorian Johnson about the theft of cigarillos, Brown slammed the door shut and punched him in the face.

Former Police Chief Speaks on Latest Michael Brown Shooting Information. Information about the Michael Brown fatal police shooting is beginning to leak out, and former St. Louis County Police Chief Tim Fitch says it's no accident the feds are allowing the information. Fitch discussed a New York Times article indicating, according to federal investigators, there was a struggle that led up to the fatal police shooting of Brown, with KMOX's Mark Reardon on Monday [10/20/2014]. Fitch calls the information from the investigation coming out as phase two — to "coordinate leaks to the media, and to start getting some of the facts out there to kind of let people down slowly," he says.

Report: Autopsy analysis shows Michael Brown may have gone for Darren Wilson's gun. In protests held in Ferguson, Mo., for more than two months, some said 18-year-old Michael Brown had his hands up when he was killed by police officer Darren Wilson. [...] But a St. Louis Post-Dispatch analysis of Brown's official county autopsy it has obtained suggests the teenager may not have had his hands raised after all. Experts told the newspaper Brown was shot Aug. 9., at close range — and may have been reaching for Wilson's weapon.

Ferguson cop's full version of why he shot Michael Brown. A Missouri police officer's full account of why he shot dead unarmed teen Michael Brown has been revealed for the first time — and he describes a frantic struggle inside his police car during which Brown grabbed his, twisted it around and pointed it at him — making him fear for his life. Darren Wilson's testimony runs contrary to most eye-witness accounts and significantly makes the claim that Brown, 18, charged him after the initial struggle and never raised his arms in surrender.

The Democrats Go Back to Their Racist Roots. The Democratic Party is trying to use the shooting of Michael Brown by police officer Darren Wilson in Ferguson, Missouri to stimulate black turnout. There is zero reason to believe that the Brown incident had anything to do with race. Is there any evidence that Wilson, if attacked by a 6' 4", 292 pound white man, would not have shot him? No. Wilson may or may not have overreacted; we may never know for sure. But connecting the incident to race is sheer political opportunism by the Democrats.

'Fake Journalists!': Ferguson Protestors Shout Down CNN Live Broadcast. Monday evening in Ferguson, Mo., protestors shouted down a CNN camera crew's live shot reporting on developments in the story involving Officer Darren Wilson killing of 18-year-old Michael Brown earlier this year. During the 11 p.m. hour, host Don Lemon attempted to throw to CNN reporter Sarah Sidner for an update, but the broadcast was overwhelmed by shouting and interruptions from protestors surrounding the crew. Sidner attempted to talk through the shouting, but her audio was clearly problematic. Lemon cut her off and ended the satellite broadcast due to technical issues.

Is ACORN behind violent unrest in Ferguson? ACORN's old Missouri chapter is playing at least a supporting role in the violent unrest and crime wave that has plagued Ferguson and St. Louis, Missouri since the Aug. 9 death of Michael Brown. With all the pathologies on parade right now in and around Ferguson, really, how could the loyalists of ACORN, which once claimed a membership of 400,000, have stayed away from the opportunity to lynch a white police officer for doing his job? The recruiting and fundraising opportunities for the cop-hating progressive movement are virtually unlimited. What's going on in Ferguson is mobocracy at its ugliest.

The Evidence Supports Darren Wilson, But Only One Audience Is Paying Attention. In the final analysis the evidence within the details of the Mike Brown shooting support only one version of events, the factual version. All other claims are like a manufactured ball of rubber bands, where each false claim espoused to the media is represented by another single band wrapped on top of the bands that preceded it. Unravelling the concentric circles of manufactured lies, which create the individual bands, is exhausting. Unfortunately, we have watched this and participated in the unfolding on more than one occasion.

Darren Wilson Account Backed With Forensics. The police officer who fatally shot Michael Brown in Ferguson, Mo., two months ago has told investigators that he was pinned in his vehicle and in fear for his life as he struggled over his gun with Mr. Brown, according to government officials briefed on the federal civil rights investigation into the matter.

New York Times publishes Officer Darren Wilson's account of the Michael Brown shooting. It is the first time we are hearing details from what is reportedly the story given by Ferguson police officer Darren Wilson and some of the physical evidence tied to the case. The New York Times says they got the information from justice department sources in Washington with access to the same evidence being presented to the grand jury here in St. Louis.

Police Officer in Ferguson Is Said to Recount a Struggle. The police officer who fatally shot Michael Brown in Ferguson, Mo., two months ago has told investigators that he was pinned in his vehicle and in fear for his life as he struggled over his gun with Mr. Brown, according to government officials briefed on the federal civil rights investigation into the matter.

Cop Says He Feared for Life in Struggle With Brown. The police officer who fatally shot an unarmed 18-year-old in a St. Louis suburb last summer has told investigators that he was pinned in his vehicle and in fear for his life as they struggled over his gun, The New York Times reported.

Ferguson cop unlikely to face civil rights charges. The white Ferguson, Mo., cop who shot and killed an unarmed black teen is unlikely to face federal civil rights charges because of a lack of evidence, a new report said Friday [10/17/2014]. Police Officer Darren Wilson told investigators he feared for his life as he struggled for his gun with Michael Brown inside his police cruiser, The New York Times reported, citing sources familiar with the US Justice Department's probe into the case.

Weariness of Ferguson protests grows. It's been nearly 70 days since Ferguson police Officer Darren Wilson fatally shot Michael Brown, 18. Since then, protests have sprung up around the region, spreading most recently to downtown St. Louis, St. Louis University, Webster Groves and also the Shaw neighborhood, where crowds have gathered to protest the fatal shooting of teenager Vonderitt Myers Jr. by St. Louis police. In one incident, video cameras captured a heated back-and-forth between protesters and Cardinals fans outside of Busch Stadium.

Ferguson Saint Louis Protestors Burn The USA Flag. In what will probably be known as the worst PR move since the insufferable Ferguson protests began — last night the mob descended upon another Saint Louis neighborhood to reflect their contempt for the U.S.A.

Comparing American Cops with Islamic Terrorists. The idea that the Ferguson riots were the result of a predatory police force tantamount to sectarian murderers in the Middle East is a poisonous calumny. The threat to America's blacks comes almost exclusively from other blacks, not from the police. Every year, thousands of African Americans are gunned down by other African Americans, with no attention from the media and local government officials.

Ferguson Braces for Lynch Mob Revival. In the minutes before the altercation with [Officer] Wilson, [Michael] Brown was captured on video bullying a much smaller East Indian shopkeeper during a robbery, an act that some might consider a hate crime. Local agitators connected to the former Association of Community Organizations for Reform Now (ACORN) are knee-deep in the unrest in Ferguson. Missourians Organizing for Reform & Empowerment (MORE) has been active in the protests and in efforts to free jailed demonstrators so they can continue vandalizing businesses, intimidating perceived adversaries, setting fires, throwing projectiles and urine at cops, and engaging in the Left's usual modes of so-called nonviolent protest.

Proactive Policing Is Not 'Racial Profiling'. Here's the latest definition of "racial profiling:" taking legitimate police action against a black criminal. This definition comes to us by way of St. Louis, where a new set of property-destroying protests have broken out, in addition to the daily agitation in Ferguson, Mo. The protest trigger this time: An officer killed a black teenager who had been shooting at the officer with a stolen handgun. This latest agitation and the rhetoric around it are a troubling indication that the demagoguery against the police is spinning dangerously out of control.

Communists Continue to Agitate on Ferguson. The American Communist Party has long exploited racial flare-ups for its own revolutionary purposes. America's tragic racist past has long been a gift to Communist Party USA (CPUSA) and like-minded fellow-travelers. They joyously seize racial incidents as opportunities to put America in the crosshairs. In my article, I pointed to the example of the Scottsboro Boys in the 1930s, which CPUSA converted into a campaign to smear America and recruit black Americans — including a Chicago activist named Frank Marshall Davis, future mentor to Barack Obama. But while Ferguson has disappeared from the national front pages, it hasn't disappeared from communists' priorities.

Corporate Business Abandon Ferguson. [A] Kmart store was looted during the August riots. This is a typical consequence by corporate businesses as they view "high risk" neighborhoods and communities. The operational risks, crime, lawsuits, et al, are too high to remain in business — and the actuaries recommend closure.

A slow-motion lynch mob:
Michael Brown Activists Call for Arrest of Officer Darren Wilson. Activists crowded into a Missouri church Sunday [10/5/2014] to demand the arrest of the white police officer who fatally shot an unarmed black 18-year-old in August, sparking weeks of protest and a national debate on policing and race. [...] Brown's parents, who did not speak at the 3:30 p.m. ET event, stood solemnly behind Rev. Lee.

The Editor says...
The "separation of church and state" people are all completely silent in this case.

Ferguson Demands High Fees To Turn Over City Files. Officials in Ferguson, Missouri, are charging nearly 10 times the cost of some of their own employees' salaries before they will agree to turn over files under public records laws about the fatal shooting of 18-year-old Michael Brown.

LA Times: 'Worst is Yet to Come' If Ferguson Officer Not Indicted. The L.A. Times is warning that the "worst is yet to come" if a grand jury fails to indict white officer Darren Wilson for shooting and killing black 18-year-old Michael Brown.

Mike Brown Shooting "Eye Witness" Claims To Have Witnessed Police Burning Down Mike Brown Memorial. Just to put an exclamation point on concerns of witness validity, reliability and/or even stability. Ms. Piaget Crenshaw, the witness who claims she saw Officer Darren Wilson murder Mike Brown, is now claiming she witnessed the Ferguson Police Department burn down a Mike Brown memorial constructed of "candles and plush bears". It couldn't be the candles and the Teddy bears came into contact. No, that wouldn't be nefarious enough for the Ferguson crew.

Michael Brown memorial burns and Ferguson explodes. After a memorial to the Ferguson, MO man who was shot by a white police officer was destroyed by fire on Tuesday afternoon [9/23/2014], protestors gathered in downtown Ferguson and proceeded to loot a beauty supply store for the 3rd time.

Let Me Get This Straight. [This summer we] learned that it's probably not a great idea to attack a policeman in his car and try to take his weapon away from him even if you are 6'4" and 300 pounds of muscle. And we learned that if the man who has this bad idea is shot by a white man, it's cause for riots and looting. But if 15,000 black people are killed by other black people every year, that's not worth mentioning.

Ferguson Mob Threatens StL County Leaders. Hundreds of Ferguson protesters and local far left activists packed the St. Louis County Council meeting last night in Clayton, demanding action in the Michael Brown shooting case.

These Newly Discovered Michael Brown Images Could Destroy The Liberal Media's Ferguson Narrative. The website gotnews.com, run by independent news hound Charles C. Johnson, has been persistently digging into the story of the police shooting that left Ferguson teenager Michael Brown dead in the street. Now, in an exclusive story, Johnson reveals what he claims are never-before-disclosed social media postings of Michael Brown — contents of Brown's Instagram account that Johnson says will destroy the popular narrative that Brown was a harmless, non-violent "gentle giant."

Why Ferguson Could Lead To Federal Takeovers Of Local Police. In response to a white police officer shooting Michael Brown in Missouri, U.S. Attorney General Eric Holder has announced a broader civil rights probe into the Ferguson Police Department — an action that could lead to a federal takeover of the police. While such probes might not lead to Department of Justice punishment for past local police conduct, it could pave the way for "systemic legal reform going forward," according to CNN senior legal analyst Jeffrey Toobin. "It's very serious," Toobin said of the investigation, before it was formally announced, "because it can lead to a virtual federal takeover of the police, as happened recently in New Orleans."

Just How Confidential IS Mike Brown's Confidential Juvenile Record? [Scroll down] Indeed, there are several rationales behind the public policy of juvenile record confidentiality, all centered on the notion that confidentiality of such records is in the best interests of the juvenile, and a lack of confidentiality would likely hamper the ability of the juvenile to "turn their life around," as the cliche has it. All of these rationales, however, are personal to the juvenile. And as such, they pass away when the juvenile passes away. Upon death, the juvenile has no further prospects for "turning their life around," and thus a lack of confidentiality cannot harm such prospects. The very rationale for confidentiality disappears entirely.

Justice Dept. to probe Ferguson police force. Attorney General Eric H. Holder Jr. this week will launch a broad civil rights investigation into the Ferguson, Mo., Police Department, according to two federal law enforcement officials. The investigation, which could be announced as early as Thursday afternoon [9/4/2014], will be conducted by the Justice Department's civil rights division and follow a process similar to that used to investigate complaints of profiling and the use of excessive force in other police departments across the country, the officials said.

Ferguson Fizzles. It is always tempting to regard the more dramatic of our transient political events as the ground zero of radical change. But, in truth, this incident never had about it the quality of the game-changer. If one is going to throw around terms such as "execution," "lynching," and "gunned down" — or to charge that a particular episode is indicative of a wider "war on young black men" — one had better hope that the facts quickly bear out one's positions. As of yet, they have not.

Holder Announces Civil Rights Investigation Of Ferguson Police. The Justice Department will begin a civil rights investigation of the Ferguson, Missouri police department, Attorney General Eric Holder announced Thursday [9/4/2014]. The investigation, which will be led by the agency's Office of Civil Rights, will look into whether the police departments' policies have engaged in a pattern of civil rights violations.

When can you legally use a gun against an unarmed person? One of the most common laments to come out of Ferguson these last days has been that surely it was outrageous for Office Darren Wilson to use his service pistol to shoot an "unarmed" Mike Brown. (Earlier iterations of this narrative went further in their misinformation, describing the 18-year-old 6'4" 292 pound Brown as a "kid" or "child," as well as falsely claiming that Wilson shot Brown in the back, but such misinformation falls outside the scope of this post.) Similar arguments were made in the context of the shooting by George Zimmerman of the "unarmed" Trayvon Martin. The notion that a defender may use a firearm in self-defense only if they themselves are faced with a firearm is entertainingly naive, but has no basis in actual law, nor in common sense.

On Scene Evidence Shows Mike Brown Accomplice Was Part of Physical Assault Against Darren Wilson. Dorian Johnson has repeatedly claimed he was not involved in assaulting Officer Wilson. Johnson blamed Mike Brown for the violence that occurred at the vehicle. Logically this seemed to make sense because obviously when presented with two subjects officer Wilson identified Mike Brown as the greater of the two threats, and did not pursue Dorian — Wilson's focus was on Big Mike Brown. However, evidence now suggests that both Mike Brown AND Dorian Johnson were involved physically at the SUV in the initial struggle with Darren Wilson.

Report: Fed Gov't Autopsy Also Finds Michael Brown Not Shot in Back. It took the Washington Post 2,017 words and 59 paragraphs in a feature about Dorian Johnson, who initially said that his friend Michael Brown was shot in the back, to reveal that the federal government's autopsy also reportedly did not find that to be the case. As the Post noted in its profile of Dorian Johnson, Brown's "body had been autopsied three times — once each by St. Louis County police, a pathologist hired by Brown's family and federal authorities. All found that Brown had been shot at least six times, including twice in the head but not in the back."

Race-Baiting CNN Falls For Another Trayvonesque Hoax. Desperate to frame the shooting death of Michael Brown in racial terms, CNN has bitten hard on what appears to be faked evidence. The network did the same thing during the Trayvon Martin case.

Ferguson Witness Coached By The Black Panthers? Was Ferguson hands up meme invented by the Black Panthers? Were the Black Panthers behind Michael Brown story? Gotnews.com has obtained an exclusive video that casts serious doubt on the reliability of one of the alleged eye witnesses of the Michael Brown shooting.

How One Saint Louis Man Originated The "Hands Up, Don't Shoot" Controversy. When we first began digging in to the Mike Brown story something odd was immediately identifiable. The individual witness statements, when compared over time, were case studies in the evolution of self-contradiction. But why? It's generally a true statement that eye witnesses testimonials can often be unreliable; but the statements of the people hitting the New York media circuit were beyond unreliable — they were contradicting themselves from show to show, often within hours.

Would It Kill You to Hire More Black Cops? (Yes). In a massive, detailed 2000 study of the effect of court-ordered affirmative action plans on police departments, economist John Lott found that the more minorities on a police force, the higher the rates of murder, manslaughter, violent crime, robbery, and aggravated assault will be. Violent crime increased by a minimum of 3.3 percent every year after affirmative action policies went into effect — and the spike in crime was highest in black neighborhoods. The problem was not, Lott showed, with black cops, but rather with the lowering of standards across the board, resulting in less-qualified officers of every race.

Lawsuit Filed for Alleged Michael Brown Juvenile Records. The Citizen Journalist website GotNews has filed suit in St. Louis County circuit court seeking possible juvenile records on Michael Brown. Attorney Johnathon Burns of the Burns Law Firm in St. Louis is handling the case. "What we're arguing is that since he is deceased, those documents revert from being confidential, they revert back into the public sphere," Burns says. "Missouri common law applies, and under Missouri common law, court records and virtually all other documents are open to the public."

Five Ferguson protesters sue police for $41.5 million over arrests. A federal lawsuit filed Thursday against police and the governments of Ferguson and St. Louis County seeks $41.5 million on behalf of five protesters who say that they were arrested and beaten, tear-gassed or shot with rubber bullets. The suit was filed by the Black Lawyers for Justice, of Washington, D.C., against Ferguson, St. Louis County, and the police chiefs of both, as well as named and unnamed police officers for police actions between Aug. 10 and 13. Its president and founder, Malik Z. Shabazz, said in a press conference that "police were completely out of control" and "used excessive force on a regular basis," calling it "virtually a police riot."

The Editor says...
Yes, there was a riot, but the police didn't start it.

Gov. Nixon requests help from SBA for businesses affected by Ferguson. Gov. Jay Nixon is asking the U.S. Small Business Administration to provide low-interest loans to businesses affected by the recent events in Ferguson. "Businesses impacted by recent events in the Ferguson area are in need of assistance to help them recover," Nixon said. "This is part of our ongoing and long-term commitment to help Ferguson and surrounding communities move forward."

The Editor says...
I have a better idea: Board up all those businesses and let the town rot for a couple of years, as a monument to the perpetually aggrieved.

$200M class-action lawsuit postponed. The organization Black Lawyers for Justice said it will file a $200 million class action lawsuit on behalf of the protesters in Ferguson. [...] The release said the lawsuit is against St. Louis County, Ferguson Police and the mayor of Ferguson.

St. Louis Medical Examiner Slams Brown Family Hire. The chief medical examiner of St. Louis County, who performed the first autopsy on Michael Brown after he was shot on Aug. 9, says that she is concerned by one of the men hired by the Brown family to conduct its own exam. "I can tell you absolutely that I find what Parcells does to be abysmal," Dr. Mary Case told The Daily Caller when asked about Shawn Parcells, a Kansas-based forensic pathologist assistant. He has been accused in the past of fabricating his job title and of conducting autopsies without a license.

CNN Experts Question Authenticity of Audio Provided By Brown Family Attorney. Sooner or later someone in the mainstream media is going to catch on to the reality that Daryl Parks and Benjamin Crump have a grievance manual which they follow to get their financial rewards.

CNN Now Worried Ferguson Shooting Audio Is Hoax. When CNN first broadcast the unverified audio of the shooting of Michael Brown in Ferguson, MO, it was with all the sturm and drang of breathless breaking news. The audio led almost every hour and was the biggest story of the day. What a difference a day makes. The language coming from "New Day" anchor Michaela Pereira Wednesday morning [8/27/2014] is much more cautious. "Do you think it's authentic?", she squeaked to two law enforcement experts, both of whom believe it is a hoax.

Trayvon Martin and Mike Brown The Similarities Continue To Mount — 51 Identical Aspects and Counting. [#1] The ages of both both Mike Brown and Trayvon Martin were originally misreported. Trayvon was 13, then 15, then 16 and eventually 17. Mike Brown was 17 in most original reports, and then eventually 18. [#2] Both Mike Brown and Trayvon Martin were at a convenience store immediately before the shooting. [#3] Both Mike Brown and Trayvon Martin were legally represented by attorneys' Benjamin Crump, and Daryl Parks from the Law Firm: Parks and Crump. [#4] For both shootings Benjamin Crump enlisted the assistance of MSNBC and Al Sharpton. [#5] Al Sharpton enlisted the AME church network, and Jamal Bryant in both shootings. [#6] Benjamin Crump and Al Sharpton called for the NAACP's assistance in both shootings. [#7] The New Black Panther Party involved themselves in both shootings. [#8] The congressional Black Caucus involved themselves in both shootings. [#9] Neither Brown nor Martin lived in the neighborhood where they were staying.

Of 163 arrests in protest area since police shooting, just 7 are Ferguson residents. Unrest in Ferguson since Michael Brown's death has resulted in 163 arrests in the area where protesters have gathered nightly, and although the majority of those arrested are Missourians just seven live in the St. Louis suburb where the shooting occurred, authorities said today [8/21/2014].

Ferguson: We Need To Stop Talking About "Media Bias" — And Start Talking About Media Evil. Reports today that Michael ("Gentle Giant") Brown inflicted an eye socket fracture on Ferguson police office Darren Wilson could further threaten the Main Stream Media's white-guilt morality play — but they'll figure something out. The plain fact is that, probably via what seems from the outside to be some sort of a Journolist II-type co-ordination, the MSM has made huge contributions to the Ferguson fiasco — and above all to the paralysis of the police and to the near invisibility of the GOP, once again ducking its role as GAP, the Generic American Party.

Rush Limbaugh: New Media Prevented Mainstream Media from Turning 'Gentle Giant' into Rodney King. [Scroll down] Limbaugh said the original story of "the gentle giant walking innocently down the street on the way to grandmother's house, eagerly thinking about the soon-to-commence college classes, shot in the back by a racist white St. Louis cop" is falling apart. After the mainstream press tried to rebuild the myth of the "gentle giant," surveillance video of his strong-arm robbery was released, "and the gentle giant was no longer gentle," Limbaugh noted. "He was a thief. Forty-four dollar box of Swisher Sweets, and furthermore, he was abusive to the clerk, shoving him away, as the clerk attempted to keep him from walking out of the store with the stolen cigars," Limbaugh said.

Ferguson logic: rebuild local businesses 'or it's going to be be hell to pay'. Having burned down and looted many businesses that serve their community, some residents of Ferguson (or maybe it is just the outsiders who came in to join the outrage) are realizing that it is going to be inconvenient to have nowhere nearby to buy food, liquor, tobacco, and other merchandise. Burned out stores also hire very few people, in case anyone actually wants a job.

Iraq vet in Mississippi left in medically-induced coma due to severe Narrative violation. The same media outlets that couldn't wait to hype the shooting of Michael Brown in Ferguson, Missouri are tiptoeing very delicately around the beating of Iraq veteran Ralph Weems in Mississippi. Weems is a white man severely beaten last Saturday night, allegedly by a mob of black men upset about the Brown shooting.

Poverty Is Not The Cause of Criminal Behavior. [L]aziness and idleness contribute more to crime than anything else does. How does the individual in Ferguson have the time to show up at a moment's notice to protest and riot? No gainfully employed individual has the time to protest (even if he or she wanted to) and continue at it for hours.

Obama Made Sure He Widened the Racial Divide at Brown Funeral. Mr. Obama won't attend Michael Brown's funeral but he is certainly there in spirit. Leftwing blacks who serve in the White House will attend in his stead along with famed race-baiter Rev. Al Sharpton who will give the eulogy. One of the attendees founded the organization leading the effort to turn Texas blue. The movement will result in the United States becoming a Democrat/Progressive-only country. Politico Magazine, an arm of the Obama press corps, posted an article this week stating that Rev. Al Sharpton is Obama's go-to man. Sharpton is a man with a shady past, but nonetheless, he is an advisor to the president and has visited the White House on a number of occasions. He is doing Obama's bidding in Ferguson or he wouldn't be doing what he is doing.

The beatification of Michael Brown. It is essential to the Democrats' hopes for a strong black turnout in November that the manufactured narrative of evil white cops assassinating an innocent black teenager be maintained. As Richard Baehr noted to me, "...after the video appeared of the robbery and theft, a new narrative was needed for Michael Brown. It is not only the robbery/ assault/in the store, but the reports of violence to the officer (damaged eye socket), and admission by Brown's team that he was in an altercation with officer in the car, that has impacted public opinion that he was a choirboy." The New York Times, the semi-official Democratic Party organ, stepped up and does the job today, with this article by John Eligon: [...]

The Editor says...
I saw a little of the televised coverage of the Michael Brown funeral, and it looked a lot like the Michael Jackson funeral in several ways: [1a] The overwhelming majority of the people in the audience had (almost certainly) never met the deceased guest of honor and [1b] with the exception of political opportunists, everyone in the audience appeared to be black. [2] The entire ceremony in each case was an attempt to retroactively convert the deceased into a Christian, by putting on a big ostensibly Christian show. [3] At least 99.98 percent of the expressions of grief appeared to have been performances for the television cameras.

Funeral Pastors Compare Michael Brown's Death To Jesus Christ's Crucifixion. A crowd of family, friends, music stars, civil rights leaders and preachers gathered at the Friendly Temple Missionary Baptist Church on Monday for the memorial of Michael Brown, an 18-year-old robbery suspect who was fatally shot by local police officer Darren Wilson in Ferguson, Mo. Brown's uncle, Pastor Charles Ewing, gave a passionate eulogy and made parallels of his nephew's life and that of the life of Jesus Christ.

At Michael Brown funeral, Al Sharpton's double-edged eulogy evokes anger. The shooting death of Michael Brown in Ferguson, Mo., has been so heavily politicized that it would have been unreasonable to expect Brown's funeral to be free of politics — especially when it featured a eulogy by the Rev. Al Sharpton. And indeed, the Brown service, held Monday at Friendly Temple Missionary Baptist Church in St. Louis, was intensely political. But not in the way some observers expected. It's probably safe to say most white viewers thought Sharpton would deliver a rabble-rousing condemnation of the police, the government, and the American system, concluding that they all combined to end a promising 18-year-old life. On that, Sharpton came through; the first half of his speech and his summation were essentially restatements of much of the anti-cop rhetoric surrounding the Brown shooting.

Harvard Law Professor: Ferguson Shooting 'Just Like' King Assassination. Harvard Law School professor Charles Ogletree grouped the shooting of Michael Brown, who was fatally shot by a police officer in Ferguson, Mo., earlier this month, with two of the most monumental deaths American civil-rights history on MSNBC. Ogletree, a renowned legal scholar who taught President Obama and first lady Michelle Obama during their time in Cambridge, described the state of affairs following Brown's funeral as being "just like the assassination of" Dr. Martin Luther King, Jr. in 1968.

Sharpton blasts police at Brown funeral. Rev. Al Sharpton delivered a eulogy at slain teenager Michael Brown's funeral in St. Louis Monday [8/25/2014], saying it was "time to deal with policing" and questioning the use of military equipment and tactics by local cops. Sharpton blasted the practice of sending surplus military equipment to local police forces, when "we don't have money for training and public education and money to train our children."

Michael Brown Funeral: Cop-Lynching Pep Rally. An Al Sharpton-led memorial service yesterday [8/25/2014] for Michael Brown, the black 18-year-old thug who gave a white Ferguson, Mo. police officer a severe head injury while trying to seize his handgun, became the grotesque political rally some observers feared it would be. The distinctly anti-police tone of the service was proof that the lie that Brown tried to surrender to white police officer Darren Wilson, rather than trying to beat the life out of him, won't die. The racial-grievance industry, egged on by President Obama, won't let it go. [...] The funeral sets the stage for the mob-led lynching of Officer Wilson, an outcome eagerly sought by U.S. Attorney General Eric Holder and Missouri's governor, Jay Nixon (D).

Brown's Funeral, the Exploiters, and America's Police. Though skillfully orchestrated to transform convenience store robber Michael Brown into a heroic martyr for civil rights, his funeral was hijacked into becoming a platform for the evil and obscene slander of police and America, perpetrated by the usual deplorable suspects: Al Sharpton, Democrats, and the MSM. [...] Folks, in a nutshell, the left's selective outrage over Brown's death is about getting paid and ginning up rage-based black voter turnout for Democrats in November. Apparently, the Democrats and MSM consider a young black male's life of value only when it is taken by a white person. Epidemic black-on-black shootings get only a yawn from Dems and the MSM while they sip their mocha lattes.

Eric Holder's 'Fair' Investigation in Ferguson? Attorney General Eric Holder travelled to Ferguson, Missouri, Wednesday [8/20/2014] to personally intervene in the investigation of the police shooting of Michael Brown, an unprecedented and highly questionable move. In a column published in the St. Louis Post-Dispatch, Holder claimed that the Justice Department would conduct an investigation that would be "fair" and "independent." But given Holder's biased views on race and the history of his tenure at DOJ [...] we have serious doubts that his department can conduct an impartial investigation.

A collection of race hustlers. Circumstances surrounding the events of the shooting death of Michael Brown in Ferguson, Mo., on Aug. 9 continue to unfold and dominate national headlines. A family, community and country have been captivated by the events that evolve daily. The events in Ferguson are tragic on many levels. A young man lost his life, a police officer's future hangs in the balance, and the aftermath of the shooting includes nightly protests and the looting of property, on display for the world to see. Another misfortune was the swiftness of how this unfortunate situation was hijacked and exploited by outsiders seeking to advance their personal agendas. Black activists were among the first agitators to arrive in Ferguson.

Some Ferguson Protests Start To Look Like "Occupy". Four nights ago, Ned Alexander IV and Steve Wash sat down in an overgrown parking lot and never left. [...] Alexander and Wash are part of a small but growing group of protesters in Ferguson who are digging in for the long haul. In their case, a furniture store is letting them camp out in the parking lot, and for the time being police are leaving them alone as well.

Ferguson Missouri: Introducing Mike Brown Friend "Tyrone" aka "Ty da shooter". There's a significant amount of media effort currently airing while trying to convince you that Ferguson Missouri is a relative Mayberryesque outlying suburb of Saint Louis. The reason for playing up the peaceful community angle is part of the optic. Painting an easier picture that Officer Darren Wilson was responding in an over aggressive manner to a moderate or innocuous threat presented toward him.

Key Michael Brown shooting witness Dorian Johnson has arrest warrant for theft and was busted for lying to cops. The key witness in the shooting of unarmed black teenager Michael Brown was arrested for lying to cops three years ago and currently has an outstanding arrest warrant. [...] When cops asked [Dorian] Johnson for his name, he told them he was Derrick Johnson and that he was 16 — though he gave officer a birth date that would have made him 17, according to an arrest report obtained by MailOnline. Officers later found a student ID in Johnson's sock that gave his real name.

Looting Decimates Small Businesses in Ferguson. It's not easy running a business with riots going on. In the ten days since Michael Brown was shot in Ferguson, Missouri, the small businesses that line the streets have suffered a major financial blow from the constant rioting, vandalism, and looting, owners said. Looters and vandals have smashed windows of store fronts, spray painted graffiti, stolen property, and burned down businesses. Some stores re-opened with plywood plugging up their smashed windows.

Communists Descend on Ferguson. It must be understood that communists are superb at agitating, instigating, and organizing. Liberals constantly yap that we shouldn't worry about their communist friends because communists represent such a small minority. Nonsense. Communists have never needed millions to create the chaos and foment the unrest they thrive upon. They are skilled propagandists. They conceive and coordinate tightly, smartly orchestrated campaigns that work wondrously in duping liberals. [...] The priority once again is to place America in the crosshairs, riling up as many emotions and collaborators as possible in the process. The black victim in Ferguson, like the black victims in Scottsboro [in 1931], is a pawn to be used for larger goals.

Police Blame Media for Race Riots. At one point in the Fox News video of the chaos, the riot-geared police can be seen backing off, passing a shoulder-to-shoulder mass of photographers with their cameras, rows thick, perhaps several score of them, some possibly standing on bleachers in the rear to give them better shots of the police firing into the menacing crowd of "peaceful" protesters. The question is: Why aren't the "protesters" attacking the newsies? Because the protesters are on TV now, on camera. They're hamming it up for the news media, putting on their best "America's Got Chanting Angry Mob Talent" performances.

The Real Reason for the Tantrum in Ferguson. [P]rudent legal examination is a less savory prospect than that "justice" desired by looters from Ferguson and the surrounding areas taking more practical advantage of the anger about Brown's death. Their brand of "justice" is better carried out by looting a private storeowners' wares, and getting that expensive cell phone equipment they've wanted, that expensive liquor, those expensive hair-weaves, etc. If one were not to know better, one might think that Michael Brown's death is just a convenient excuse for them to get those things that they desire but could not previously attain. And that, when you peel back all of the racial overtones, is the lesson you are meant to learn. That people with less than you are entitled to what they desire, even at the expense of your own labor and property. That the "have-nots" plundering the wealth of the "haves" is just an expected episode in our quest for social justice.

Joy-Ann Reid and Goldie Taylor Find The Root Problem In Ferguson. Five days ago we shared how the media "scheme" to continue pressure on Ferguson local authorities would follow a specific pattern. A specific pattern replete with specific media people — associated within the Parks and Crump network — would each carryout a specific role. [...] Understand what they do. Parks and Crump sell a specific narrative, a false narrative, a series of coordinated lies and manipulations, through willing media personalities.

Just What Is an Unarmed Man? The officer has a seriously damaged eye from a very hard, crushing shot from a very large fist. That indicates that the perp in this situation had the opportunity to throw at least one clearly damaging punch at the officer and effectively connect before the officer even could exit his vehicle. The severity of the damage to the officer's eye and cheekbone indicates what could be expected from a sucker-punch from a 6'4" almost 300-pound assailant. And because I've been there and done that as a young man, there lies my problem with this media meme of the assailant being unarmed. The shoulders and arms of a 6'4" 300-pound man driving a large clinched fist render that fist a lethal weapon. Ask anyone who's ever been on the receiving end of one. People are regularly beaten to death all around the world by such fists. Add to that the widespread availability of martial arts training in today's society, and you can never be sure that any human you go up against doesn't possess the ability to kill you with his bare hands, regardless of size.

Trayvon's Death Taught Liberals Nothing. One would have hoped that their twisted performance in Florida during the previous two years would have taught America's liberals something — prudence, restraint, skepticism — but it did not. Led by their media, liberals once again rushed in where wise men fear to tread. As expected, the media insisted on telling the same embarrassingly fraudulent story they had told in the Martin shooting: innocent teen, academically ambitious, minding his own business, profiled by racist white vigilante — this time a cop — and shot for no reason other than his race.

We've Seen Enough to Know That Mike Brown Was a Thug, Cop Innocent. New reports are finally making their way out of the morass in Ferguson and revealing that police officer Darren Wilson was attacked through his cruiser window by the hulking, thuggish Michael Brown who may have struggled with the smaller officer for control of his service pistol. There is also new evidence that the police have upwards to a dozen witnesses who substantiate the officer's version of events.

Race pimps and war tanks: Why Ferguson was a perfect storm. You have a nasty thug boosting Swisher Sweets from the corner store and roughing up the merchant. Then, like flies to a barnyard, you have swarms of race pimps breathlessly buzzing to the scene to further fuel the rage and delegitimize the very banner behind which they march. Then come the "po-po," dressed in military gear and riding in tanks of war — all of it the final designs of a big government welfare state that came to power promising to solve all your problems.

St. Louis Media Report — Dorian Johnson Recants Media Statement? A local Saint Louis radio station is reporting that Dorian Johnson has recanted his prior media espousals and now asserts that he and Mike Brown did indeed engage in a physical confrontation with Officer Darren Wilson. As a consequence the same Radio Station is asserting the local prosecutor essentially advises it's doubtful charges would be filed.

What does the Obama White House stand for? [Scroll down] And then there is Ferguson Missouri. The violence in the streets there is now widening in concentric circles to encompass larger cities like St Louis and the contagion is spreading further. Every rabble-rousing racial orator in the country is heading for the action and there is little sign of an immediate solution. The election of a black president was supposed to have marked the official end of America's shameful racial history.

Missouri cop was badly beaten before shooting Michael Brown, says source. Darren Wilson, the Ferguson, Mo., police officer whose fatal shooting of Michael Brown touched off more than a week of demonstrations, suffered severe facial injuries, including an orbital (eye socket) fracture, and was nearly beaten unconscious by Brown moments before firing his gun, a source close to the department's top brass told FoxNews.com. "The Assistant (Police) Chief took him to the hospital, his face all swollen on one side," said the insider. "He was beaten very severely."

Missouri cop was badly beaten before shooting Michael Brown, says source. Darren Wilson, the Ferguson, Mo., police officer whose fatal shooting of Michael Brown touched off more than a week of demonstrations, suffered severe facial injuries, including an orbital (eye socket) fracture, and was nearly beaten unconscious by Brown moments before firing his gun, a source close to the department's top brass told FoxNews.com. "The Assistant (Police) Chief took him to the hospital, his face all swollen on one side," said the insider. "He was beaten very severely."

Hands Up, Don't Loot. The violence in Ferguson didn't begin when a police officer shot Michael Brown. It began when a 300 lb thug robbed the Ferguson Market and abused a clerk. The release of the video showing the obese criminal assaulting the clerk led to a terrified statement from the store manager that he had not called the police and had nothing to do with the release of the video. "They kill us if they think we are responsible," he said. That is what this conflict is about. The police exist so that Ferguson Market and a hundred other stores can do business without being robbed or murdered. Darren Wilson, the officer who shot Michael Brown, was holding down the thin line that makes it possible for stores to stay open.

The Upper and Nether Millstones. Ironically Michael Brown and the paramilitarized Ferguson police department are two sides of the same coin. They are the joint product of the politics of grievance and the growing expansion of government. The taxes that made the mobs dependent also armed the paramilitary police that contain them. You have one government department handing out Obamaphones and another handing out MRAPs to the cops. HHS gives out Obamacare and the IRS enforces it. A giant bureaucracy tasked with providing all "positive rights" rumbles on, even as progressive politics unleashes more 'community organizers' while erecting a giant political machine to meet those same growing expectations. It calls to and answers itself. The result on a community scale is Ferguson. The result on a national scale is Barack Obama.

Neither Just Nor Peaceful. "No justice, no peace," scream protesters in Ferguson, Missouri. Implicit in this menacing chant is that the rioting on display there for over a week has been justified. Al Sharpton and Jesse Jackson, among other hucksters, disclaim the violence, even as they stoke it with reckless rhetoric. They aren't interested in peace but power. Were they truly opposed to the violence, they wouldn't coin chants that condone it. "We're not looters. We're liberators," says Sharpton. Liberating society from what? The rule of law? His view of justice is that the law be permanently suspended for the racially aggrieved. A police department can only satisfy his measure of racial progress by going soft on politically favored criminals. Sharpton is a "liberator" who enables looters.

The Ferguson Lie Comes Undone. The Big Fat Ferguson Lie has come undone. First they told us Michael Brown was a gentle giant. That wasn't true. He was a thug, high on pot, fresh from a robbery a few minutes before a police officer killed him on the troubled streets of Ferguson, Missouri. Then they told us this 18-year old, 6'4, 280-pounder was shot in the back, trying to get away. That's not true either. Then they told us the militarized police caused the days and nights of rioting. Not true. Or the curfew did. Not true. Or the lack of diversity on the police department was to blame. Not true either.

The Race to be Wrong in Ferguson. The rush to condemn [officer Darren] Wilson's conduct and the gallop to martyr [Michael] Brown may have set land speed records. The New Yorker, like numerous outlets, reported that Brown was walking to his grandmother's home when confronted by Wilson. A video released from the, by turns, hapless and devious Ferguson Police Department alleges that he was actually walking from a thuggish and brazen shoplifting of a box of cigars from a convenience store. That video is almost surely irrelevant to Wilson's state of mind, since the police said he didn't know about the shoplifting incident. It is, however, inconvenient from the martyrdom angle.

Eric Holder: Michael Brown Death Cause for 'Robust Action' to Increase Police Diversity. Attorney General Eric Holder vowed to use Michael Brown's death and the riots in Ferguson, Missouri, to push for more police diversity and even combat unintentional "disparate treatment under the law" of minorities.

Michael Brown: A Criminal and a Thug. As the media-sanctioned rioting, bloodshed and looting continue in Ferguson, Missouri, evidence is emerging that police shooting victim Michael Brown wasn't the upstanding citizen that many on the Left have claimed him to be. All of this is happening as mobs have been attacking cops with Molotov cocktails and destroying community infrastructure. Some blacks in the region are reportedly randomly assaulting non-blacks as collective payback for what happened to Brown. Looting and property destruction are rampant. Scores of people have been arrested. Aircraft were ordered to fly at least 3,000 feet over Ferguson airspace after police said their helicopters were fired on from the ground.

Peaceful protests in Ferguson marred by clashes as police arrest 47 people overnight after bottles of urine are thrown at them. Protests on the streets of Ferguson, Missouri, were significantly calmer on Tuesday night [8/19/2014], but the peaceful atmosphere disintegrated amid a series of clashes that led to 47 arrests, with police claiming they were pelted with bottles containing urine.

Media Clueless About the Inner City. The media's frenzy that descended upon Ferguson, Mo. once again demonstrates its complete ignorance of life in the inner city. Anyone who has survived the barrios and the ghettos would recognize the usual cast of characters that converge on these incidents and would stay far away from them. But no-these media lapdogs shove mikes in their faces and actually believe their 'eyewitness' versions that nearly always turn out to be bogus and nothing other than a self-serving photo op.

Best of facts-free reporting hands-down... I mean up. I began to lose interest in Ferguson, Mo., when it was first reported that the late Michael Brown was an "aspiring rapper." Hadn't heard that one yet? It was in the LA Times, under the headline: "Michael Brown's raps: Money, sex, drugs — and a vulnerable side." Of course he had to have a vulnerable side. That's why he was known as "the Gentle Giant." He didn't look terribly gentle in that closed-circuit video, shoving the owner of the Ferguson Market when he was stealing the box of Swisher Sweets just before he got shot. But the demonstrators could see right through that — "the man" had photoshopped the video, or so they said live on national TV.

This Animated GIF of Ferguson Protesters Throwing Rocks at Chris Hayes Will Restore Your Faith in Humanity. There is a lot of negativity coming out of Ferguson. Many people feel like it's a hopeless cycle of violence that will never end. But the one thing that we can agree on is that seeing protesters throwing rocks at MSNBC's Chris Hayes restores our faith in humanity. Whether you're a cop with a sniper rifle or a looter with fist full of stolen nachos, this animated GIF of rocks being thrown at the smuggest man on the smuggest news network in America shows that there is hope for all of us.

Ferguson: Don't Shoot, We're Throwing Bottles of Urine. So far the peaceful protesters have...
1. Looted and burned stores
2. Shot at police officers
3. Thrown rocks at Chris Hayes
4. Made death threats
5. Threw Molotov cocktails
And are now throwing bottles of urine.
Clearly more outreach is needed.

40 FBI agents search for 'civil rights' crimes in Ferguson. The Department of Justice has 40 FBI agents canvassing Ferguson, Missouri to learn whether a white police officer should be charged with a 'civil rights' crime for shooting an unarmed black teen, the agency confirmed on Tuesday [8/19/2014]. Reporters in Missouri have tallied up stories from at least 12 witnesses who back the account of Ferguson police officer Darren Wilson, who shot Michael Brown, 18, last week. Still, a civil rights verdict against Wilson could subject him to execution under federal law.

The Editor says...
The FBI isn't there to help round up the rioters who are throwing blood and urine at the cops. No, they are in Ferguson looking for a way to blame Officer Wilson for the whole mess.

Jail Records at Odds With Ferguson Cop's Claims That Outsiders Causing Trouble. People arrested during protests in Ferguson, Missouri, have come from as far away as New York City and California, but the overwhelming majority of those detained for refusing to disperse are from Ferguson and the surrounding area, according to jail records. Capt. Ron Johnson of the Missouri Highway Patrol, who is in charge of the law enforcement efforts in Ferguson, said this morning [8/19/2014] that those arrested mainly had come from out of town.

Most Americans Disapprove of Media's Coverage of Ferguson. Most Americans say that things would be different in Ferguson, Mo., if the racial roles had been reversed. According to a Rasmussen Poll released today, many believe the media's coverage of the incident would differ if a black police officer had shot a white teenager. A majority, 54 percent, agree the media would have reported the death of Michael Brown differently according to the color of his skin. Regardless of race — white, black and other minority adults — most believe the shooting would garner less media attention.

Related development:
Police officers shoot dead 23-year-old black suspect in St Louis who 'charged at cops with a knife yelling shoot me'. An African-American man was shot dead today by St Louis police officers after allegedly robbing a convenience store with a knife. A large crowd gathered behind police tape as news of the fatal shooting spread, raising their arms and chanting, 'hands up, don't shoot', a refrain which has become the war-cry for protesters on the streets of nearby Ferguson following the cop killing of Michael Brown.

St. Louis Police Officers Shoot and Kill 23-Year-Old Knife-Wielding Man. Reporters are on the scene in St. Louis, Missouri, just miles from Ferguson, where police officers reportedly shot and killed a 23-year-old African-American man wielding a knife. Initial reports indicate that the man entered a store with a knife and refused to leave after police were called. He was shot and killed after he allegedly lunged at police with the knife. In a press conference, police claimed the man was yelling, "Shoot me now, kill me now" before he was shot.

Looter: 'I'm Proud Of Us. We Deserve This'. According to the Washington Post, a looter in Ferguson, Missouri, expressed pride and admiration for looters and said their actions are justified. "I'm proud of us. We deserve this, and this is what's supposed to happen when there's injustice in your community," said DeAndre Smith, whom the Washington Post says was "fresh from looting the QuikTrip." One officer told the Post that widespread looting has spawned "looting tourism" wherein thieves as far away as Illinois and Texas are traveling to Ferguson to steal.

Anderson Cooper Accidentally Tweets Mindset Of Ferguson Community Protestors. Every once in a while serendipity strikes the background.

Why Did They Burn Down The Quick Trip? The word on the street, the "rumor" was, the theft was at the Quick Trip — and ergo the Quick Trip was the source of the initial call to police. So what did the street thugs do the very next night? They punished the Quick Trip, who was thought to be the cause of Mike Brown being busted by the Police because the convenience store "snitched" on him.

Street Battle Against Cops Again in Ferguson Despite Midnight Curfew. That outsiders have inserted themselves into the situation may not be surprising. For a week now reports of a surprisingly hyper-militarized police force in this small suburb of St. Louis and a series of disturbing developments regarding Brown's death have captured the attention of the world. Prior to the latest round of this conflict Saturday night [8/9/2014], representatives of another group, many of whom are not from Ferguson, played an entirely different role than the radical group from Chicago. The New Black Panther Party made their presence known Saturday night. Their leader, Malik Shabazz, implored protesters to abide by the curfew for hours preceding the violence.

Ferguson Shooting Cohort, and Robbery Accomplice, Dorian Johnson, Has Outstanding Arrest Warrant. Dorian Johnson, the friend of Michael Brown who claims he witnessed the police shooting death of the 18-year-old in Ferguson, Missouri, has an outstanding arrest warrant for theft, according to authorities. Barbara Schaffer, court clerk for the Municipal Court of Jefferson City, confirmed to WND there is a warrant for Johnson's arrest for a 2011 incident. Johnson was arrested June 24, 2011, and a trial was set for July 31, 2013, but he did not appear in court, authorities said.

The Editor says...
It would be amusing to see a list of the criminal histories and outstanding warrants for everyone in the Ferguson protest crowd.

What A Sham. According to the liberal media who are gleefully reporting any perceived slights to the black population in Ferguson, Missouri, when a group of rioters forms and begins looting, throwing bricks and Molotov cocktails and shooting, the police should turn around and go home. Taking action against those criminals is just racist.

Free societies require more of police than turning tough situations into militarized zones. We ask more of police in a free society than creating militarized zones out of tough situations. This requires more bravery, more risk, more patience than being a cop in a society where cops can do what they like when they like with impunity. As a result, many Americans have great respect, sometimes reverence, for law enforcement. But when an official response, even to a tough situation, looks like martial law with federally issued no-fly zones, the state isn't honoring its part of agreement in a free society.

In 1970 we had a riot; what we have in Ferguson looks like a war. In the Asbury Park riots, the police used billy clubs and shotguns. The rioters responded with rocks, bottles and some homemade bombs. It was unpleasant and dangerous, but it was a riot. In Ferguson, there are armored vehicles and it looks more like a war, with one side unarmed. There were officers in military camouflage gear, and the federal government declared the skies above a no-fly zone. This was an occupying force not appropriate for a free country. As Mary Katharine Ham noted, "We ask more of police in a free society than creating militarized zones out of tough situations."

Ferguson rioters harass, threaten reporters. Reporters trying to cover the renewed chaos in this town faced a new threat on Friday [8/15/2014]: the demonstrators themselves. Print, video and photo-journalists were all repeatedly and aggressively threatened and harassed when attempting to photograph or videotape any of the looting or property destruction. Many of the demonstrators expressed concern about being identified by police or told reporters that the looting was none of their concern.

Race Riot Romance. The fatal police shooting of a young black suspect in a Midwestern town last weekend has given the Left yet another opportunity to advance its destructive, racially polarizing agenda. After 18-year-old Michael Brown, a black man was killed by police in Ferguson, a mostly black community in St. Louis County, Mo., the city and region surrounding it have been under siege. Not content to wait for the wheels of the justice system to spin, some view this tragedy as a license to riot.

Riots For 3rd Straight Night As St Louis Violence Escalates. Police responded about an hour after midnight to reports of four or five men with shotguns and wearing ski masks. They encountered multiple suspects running, one of whom pulled a gun on an officer, who fired at him, the county officer said.

FAA Issues Flight Restriction After Rioters Fired 'Multiple Times' At Police Helicopter. A heavy police presence appeared as protesters gathered on Saturday [8/9/2014], and community anger spilled over into looting and rioting Sunday night, following a vigil. A number of stores were set on fire, numerous gunshots were reported and 32 people were arrested. The anger boiled over to the point that someone on the ground fired at a county police helicopter.

St. Louis Protesters Throw 'Blood-Like Substance' On Reporter's Car, Rocks At Police. On Monday evening [8/11/2014], protesters in St. Louis who chaotically clashed with police over the shooting of an unarmed black resident jumped on a reporter's car and threw a "blood-like substance" on the hood. New York Times reporter Julie Bosman, who covers the region, said they apologized after realizing she "wasn't police."

St. Louis, Missouri, Shopping Mall Closed Down After Massive Brawl. A shopping mall in downtown St. Louis was abruptly shut down by police late Monday night after a brawl started among a crowd of youths. The Galleria in St. Louis set a new curfew due to the recent troubles and to try and cut down on theft and violence. However, on Monday [8/11/2014] the mall was closed even earlier due to a fight that broke out.

Relatives of unarmed black teen shot dead by police condemn St Louis riot. The family of an unarmed Missouri 18-year-old who was shot dead by police this weekend have condemned a frightening riot that erupted in St Louis last night claiming the violence was not what the teen would have wanted. In a statement to Fox News last night, a cousin of victim Mike Brown said the looting, which followed a peaceful vigil for the teen, was 'very upsetting' to their family.

Reporter Assaulted Amid Heavy Looting Following Protest Over Black Teen Killed By Police. Dozens of looters descended on stores in a St. Louis suburb and a reporter was sucker-punched Sunday following a vigil being held for an unarmed man who was fatally shot by a police officer on Saturday [8/9/2014]. "We are currently experiencing a riot," said a Ferguson, Missouri police dispatcher Sunday, according to Reuters. Tension escalated through the day after residents gathered to protest the shooting death of 18-year-old Michael Brown.

Vandalism, Looting & Violence: Riot Explodes in Missouri Town After Unarmed Teen Killed by Police. It's a shame that people feel the need to destroy private property to make a political point — it appears that most who were doing the looting didn't really care about the issue, but were just base opportunists. But why did it have to get to this point at all?



---

Back to Violent black-on-white crime
Back to the Home page