Many illegal immigrants were already violent criminals when they arrived.
Illegal aliens charged with rape. [Numerous examples]
Kavanaugh backs Trump administration on jailing and deporting immigrants for crimes committed years earlier. Newly seated Justice Brett Kavanaugh spoke up Wednesday in defense of the Trump administration's view that legal immigrants with criminal records must be arrested and held for deportation, even years after they were convicted and completed their sentences. At issue is a federal law that calls for mandatory detention and possible deportation for "criminal aliens," including legal immigrants convicted of crimes ranging from violent felonies to simple drug possession. The law says the Homeland Security secretary "shall take into custody any alien" with a criminal record that could lead to deportation "when the alien is released." The debate focuses on when, exactly, is when.
Sanctuary City: Previously Deported Illegal Alien Accused of Brutally Raping Long Island Mother for an Hour. A previously deported illegal alien has been arrested and charged with brutally raping a woman in Long Island, New York for an hour, according to police. Ever Martinez-Reyes, a 24-year-old illegal alien from El Salvador, allegedly followed a 36-year-old mother of two to her home, knocked her unconscious, then repeatedly raped her for an hour, investigators say, according to Newsday.
MS-13 Gang Member Apprehensions this Year up 244 Percent, Says Border Patrol Sector Chief. During a recent interview with Breitbart Texas Editor-in-Chief Brandon Darby, Rio Grande Valley (RGV) Sector Chief Manuel Padilla, Jr. reported an increase in the arrest of MS-13 gang members well in excess of 200 percent. The chief explained this is a national security risk because these criminal gang members do not stay in South Texas, but rather, travel all across the U.S. "What we have here in the valley," Chief Padilla explained to Darby, "we have a unique dynamic where the traffic that is coming here, it's actually not staying here. I can tell you we are well over a 200 percent increase [in the apprehension of] MS-13 gang members."
Illegal immigrant charged in New York with vicious rape of woman: police. An illegal immigrant was charged with allegedly "viciously" raping a woman on Long Island for an hour after following her home and knocking her out, officials said. Ever Martinez-Reyes, 24, a native of El Salvador, was ordered held without bail at an arraignment Saturday on rape, sexual assault, and assault charges. The Nassau County District Attorney Madeline Singas said the Sept. 28 rape was "one of the most brutal" she has ever seen, Newsday reported.
Hamptons millionaires build luxe panic rooms to hide from MS-13. There is a specter haunting the Hamptons — one that's turning some of the priciest properties in the country into fortresses equipped with bulletproof glass, weaponry and panic rooms. "I sleep with a gun underneath my pillow: a Walther PPK/S, the same one James Bond carried," said John Catsimatidis, owner of Red Apple Group and Gristedes Foods, who has a vacation property in East Quogue. "[My wife] Margo prefers a shotgun. Although, once, she thought she heard something, got the shotgun out and shot through the door." The billionaire and his family, like others in the Hamptons, are shaken up over concerns that the vicious Salvadorian gang MS-13 is too close for comfort.
Treat Brett Kavanaugh as good as illegal alien criminals. Why is Kavanaugh, against whom there is no evidence, treated like the world's worst person, while the powers that be in these hopelessly corrupt blue districts bend over backward trying to shield Third World fiends from being brought to justice for their savage crimes against females? Is it because they're future, if not present, Democrat voters? The vast majority of them are on one form of welfare or another, they're not married to the women they impregnate (so they won't be on the hook for child support), they live totally on the arm — no insurance, no driver's licenses, no responsibility for anything whatsoever. In other words, undocumented Democrats. American taxpayers pick up the tab for these layabout career criminals' lawyers when they get arrested over and over, as well as their translators, and the court psychologists to say that they can't be held accountable for their crimes since they come from such primitive backgrounds.
Despite repeated deportations, suspect in homeless beating deaths cut a bloody swath across L.A., police say. Just days after his aunt and uncle were reported missing in Houston, Ramon Escobar got in his Honda CR-V and drove west. The 47-year-old native of El Salvador traveled more than 1,500 miles along Interstate 10, stopping when he hit the Pacific Ocean on Sept. 5. Three days later, Santa Monica police found a homeless man battered and bruised on the beach. Someone had beaten the victim, causing severe injuries to his head, as he slept.
Suspect in fatal baseball bat attacks on LA homeless had been deported 6 times: ICE. The suspect who police say was behind a string of brutal baseball bat attacks on sleeping homeless men in Southern California that left three dead and several more in critical condition had been deported six times, federal immigration officials said Tuesday night [9/25/2018]. Ramon Escobar, 47, who was originally from El Salvador, was arrested Monday after allegedly attacking a homeless man in Santa Monica. He was charged in connection to three murders and four attempted murders this month, ABC 7 reported.
Manhunt under way for illegal immigrant, 32, wanted for the killing of a 35-year-old mother of five. A man who was in the United States illegally allegedly killed a mother of five before fleeing across the border to Mexico, police have said. Dallas police found the body of Martha Alva, 35, in Northwest Dallas on Sunday morning near a dead end. Investigators believe her on-again, off-again boyfriend, Ernesto Carrillo Hernandez, killed her. Hernandez, 32, who was living in Monterrey, did not have legal status in the U.S., according to Fox 4 TV.
16-Year-Old Girl Stabbed to Death by Illegal Alien as New Jersey Goes Sanctuary State. They say that you can't make an omelet without breaking a few eggs. And you also can't make New Jersey into a sanctuary state without stabbing a few teenage girls to death.
Attorney in Mollie Tibbetts Murder Trial: Illegal Alien Has 'Constitutional Right' to Taxpayer Funding. The defense attorneys representing the illegal alien accused of murdering 20-year-old Mollie Tibbetts say it is the foreign national's "constitutional right" to receive American taxpayer funding to fight the murder charges against him. As Breitbart News reported this week, 24-year-old illegal alien Cristhian Bahena-Rivera has been given $5,000 in U.S. taxpayer dollars to hire an independent investigative team to fight the murder charges against him.
Nike Fighting to Keep Oregon a 'Sanctuary State' After Illegal Alien Kills Young Couple. The multinational Nike corporation — accused of employing slave labor — is fighting to keep Oregon a "sanctuary state" for all illegal aliens less than a month after an illegal alien has been accused of killing a young couple in a drunk driving car crash. In a statement this week, Nike CEO Mark Parker announced the corporation's opposition to a statewide measure that would repeal Oregon's sanctuary state law that has protected criminal illegal aliens for three decades.
Previous Deportee Accused of Raping [his] Own Daughter [has been] Caught near [the] Texas Border. El Paso Sector Border Patrol agents arrested a previously-deported illegal immigrant accused of repeatedly raping his 15-year-old daughter in Tennessee. Agents working near the El Paso-Juarez Metropolitan Border Area found tracks left by a group of migrants who illegally crossed the border near the Yselta Port of Entry during a routine patrol. The agents followed the tracks and caught up with the group and placed them in custody for immigration violations, according to a report by KTSM in El Paso.
Man accused of raping daughter caught illegally crossing U.S. border. A Mexican national who was previously accused of raping his teenage daughter was caught trying to illegally enter the U.S. at the Texas border on Tuesday, WKRN-TV reported. Border agents found Rusbel Zamorano-Calderon, 39, near the Ysleta Port of Entry, about 14 miles south of El Paso. The agents said they caught up with Zamorano-Calderon, who was among a group of people, according to a press release.
Somewhat related:
Green Card Holder Goes On Mass Shooting Spree, Murders 5 People, Police Say. A green card holder in the state of California allegedly went on a mass shooting spree on Wednesday [9/12/2018], murdering five people before turning the gun on himself after being confronted by law enforcement. Kern County Sheriff Donny Youngblood identified the suspect as a 54-year-old Hispanic male and stated that he used a .50-caliber handgun to murder his victims.
4 Illegal Aliens Connected to Mexican Cartel Arrested With Nearly $6M in Drugs, Cash, and Weapons on Hand. Thanks to a combined effort of the U.S. Drug Enforcement Administration, the Lawrenceville Police Department, East Point Police, and the Georgia State Patrol four Mexican nationals have been arrested in Gwinnett County, GA this week for their connection to a Mexican drug cartel. These illegal aliens were found with 5 million dollars worth of methamphetamine, cocaine, and heroin laced with fentanyl as well as $850,000 in cash and weapons located in a storehouse in the metro Atlanta area. According to NBC 11 Alive, DEA Special Agent in Charge Robert Murphy said the investigation into the cartel started last year. Friday's drug bust of the men's home occurred after a tip came in on Thursday evening [8/30/2018].
Illegal Alien Attacks on ICE & Border Agents Are Increasing, Thank a Democrat. The Washington Times reports that attacks on border agents are increasing as illegal aliens grow more violent. Catering to anonymous foreigners and claiming ICE and border agents are terrorists while calling for abolishing ICE isn't helping. We can thank Democrats for that. Blame prosecutors too. They won't bring charges in most cases.
Assaults on ICE, Border Patrol surge as illegal immigrants get more violent. Assaults on ICE agents reached a decade high in 2017, and assaults on Border Patrol agents have also surged in recent years, according to new government numbers that seem to back up agents' claims that illegal immigrants are increasingly looking to fight rather than flee. The new numbers, reported by Homeland Security's inspector general, could even be underselling the problem, investigators said, because the government doesn't do a good job of tracking incidents, and agents and officers don't always report them properly. But the report does signal renewed danger particularly on the southwest border, where agents say a surge in illegal immigration in recent years generally correlates with growing violence.
Illegals emboldened and getting more violent as judges thwart Trump. Violence? From illegals? The report is a contradiction of the "narrative" put out by the left, its press allies, and even some libertarians, that illegals commit far fewer crimes than the average American and therefore rule of law is unimportant. Illegals, after all, are just moms and toddlers, coming here to celebrate Mother's Day, aren't they?
Man charged in Mollie Tibbetts' death was known by another name. The Mexican man charged with abducting and killing an Iowa college student was known for years on the dairy farm where he worked by another name: John Budd. The alias has emerged as Cristhian Bahena Rivera's employer, a cattle operation owned by a prominent Republican family, faces questions over whether its managers were aware of any warning signs that he was in the country illegally. The name under which Rivera was hired and paid for the last four years was confirmed by three people with knowledge of his employment history. They spoke on condition of anonymity because they were not authorized to release the information during an ongoing criminal investigation. One of the people said Rivera's work identity as John Budd appears in official government records.
Washington Post Chronicles Hardships of Iowa's Immigrants in Wake of Mollie Tibbetts' Murder. In the wake of 20-year-old college student Mollie Tibbetts' alleged murder by an illegal alien, the Washington Post profiled the small community of Brooklyn, Iowa, which has been shaken by the crime, focusing primarily on the hardships of the town's immigrants. As Breitbart News has reported extensively, 24-year-old illegal alien Cristhian Bahena-Rivera has been charged with first-degree murder in Tibbetts' death after police say he admitted to confronting and chasing down the young woman. The illegal alien lived in a region of Iowa that was surrounded by sanctuary cities, as Breitbart News noted, and worked on a dairy farm using a stolen ID and Social Security card after allegedly crossing the U.S.-Mexico border as a child.
Dozens of MS-13 members are charged with murder, assault and drug trafficking. More than two dozen MS-13 gang members are facing charges following a murder and drug trafficking investigation in a rural California farm city, according to the US attorney in Sacramento. The notorious street gang is said to have taken advantage of an understaffed police department in Mendota and terrorized the city of about 11,000 people. McGregor Scott revealed the charges in a press conference Friday [8/31/2018] in Fresno, about 35 miles to the east of Mendota.
Halt criminals at border. Illegal immigration must be combated with resolve. We cannot allow the issue to be framed by amnesty advocates as a referendum on Emma Lazarus' poem "The New Colossus," inscribed on the Statue of Liberty, with its famous line, "Give me your tired, your poor ..." As again evidenced last week with the alleged murder of Mollie Tibbetts at the hands of an undocumented immigrant, there are violent criminals among the many who cross the border. No state is immune from crimes committed by illegal immigrants, certainly not Massachusetts. Yesterday brought news that a man was arrested in Texas and is facing child rape charges in Framingham.
The Editor says...
The after-market poem attached to the base of the Statue of Liberty is all very nice, but it is not federal law.
MS-13 'Animal' Is Charged After Police Find Remains of Missing Long Island Teen. The murder case of an unidentified Long Island teenager has led authorities to a known MS-13 gang member whom immigration officials already had in custody. Carlos Benitez-Hernandez (shown above), a 21-year-old who has confessed to being a member of MS-13, is believed to have used a machete and sharp objects to hack and stab a teenager to death about a year ago, Newsday reported. Authorities are holding Benitez-Hernandez and four other members of the El Salvador gang syndicate in connection to the murder.
Illegal Alien Started Fire In Hospital Emergency Room. A highly inebriated man set a fire within the Washington Adventist Hospital emergency room, putting dozens of lives at risk, the Montgomery County Fire Marshal's Office tells ABC7. It was 9:15 a.m. on Sunday, May 27. Hospital staff found patient Henry Padilla-Martinez, 20, of an unknown address, wandering the halls of the ER. As an employee attempted to guide Padilla-Martinez back to his room, he noticed the drunken man's hospital bed was ablaze. Staff ran to grab a fire extinguisher and frantically sprayed down the bed to prevent the fire from spreading further.
The latest murder by an illegal alien. Knowing Kate Steinle's name has been painful enough. We know of her because she was killed by a criminal illegal alien in 2015. We now know Mollie Tibbetts' name, murdered last month, and an illegal alien has been arrested for that crime as well. For many who did not originally support Donald Trump for president, a turning point for us was the existential danger of our open southern border. In Mr. Trump, it became clear we had a candidate who understood and was serious about dealing with the disaster of our southern border. Being blunt about the criminals enjoying the open door into our nation, liberals and the establishment gave us our first taste of the hysteria about President Trump that would come to consume them.
The November Election Is About Illegal Alien Crime. If you're cool with Americans being butchered by illegal aliens, this November you should vote Democrat. They're certainly cool with Americans being butchered by illegal aliens. Oh, in theory they would probably prefer that the foreigners sneaking into our country in defiance of the laws we American citizens made through our elected representatives would stop butchering Americans. They don't particularly want your kids to be butchered. They just want uncontrolled illegal immigration more than your kids' safety. So, they've made a choice to be the party of illegal immigration. And the resulting body count is a price Democrats are willing to pay to replace an electorate of Normal Americans who refuse to obey. The Democrats are the party of No Borders, of Abolish ICE, and of murdered Americans.
Texas AG Says Dems' Call to Decriminalize Illegal Entry Could 'Cost Lives'. Texas Attorney General Ken Paxton said Sunday on "Fox & Friends" that a push by three Democrats running for office in the state to decriminalize illegal entry could cost lives. Paxton said that the issue is "a little scary" and that simply advocating for more open borders could draw more people to cross illegally. "The reality is we already struggle with this," he said. "It's going to cost lives if we go down this path."
Dear CNN: This Previously Deported 'Dreamer' Brutally Slaughtered a Minnesota Woman — Is That 'News?'. Here's another story that you won't see on CNN. It doesn't fit the sweet, innocent border-crosser just looking for a better life. Enedelia Perez Garcia, 27, was stabbed to death on August 12 in Shakopee, Minnesota. An illegal immigrant, Fraider Diaz-Carbajal, 35, has been charged with second-degree murder (not premeditated) in relation to her death. And guess what? He had a lengthy criminal record.
Steve King: 'Importing Millions' of Young Men from Central America 'Means Death for Americans'. Rep. Steve King (R-IA) says "importing millions" of young men from one of the most violent regions in the world, Central and South America, "means death for Americans. Following the revelations of the Mollie Tibbetts Iowa murder case — where the 20-year-old young woman was allegedly stabbed to death by an illegal alien from Mexico — King posted online a statement in which he indicates that the United States will only become more violent as more than 1.5 million illegal and legal immigrants, mostly from Central and South America, continue being imported to the country every year.
Open Borders Geraldo Goes Bonkers Over Criticism by Texas' Lt. Gov.. [Scroll down] Geraldo said to the Fox audience, "I'm begging you" to "stop branding this entire population". In other words, the Fox audience are bigots who stereotype all illegal immigrants. Martha [McCallum] called him on that. He went off again, throwing out more straw man arguments about how people of all races commit these crimes. He argued that illegal aliens commit fewer crimes. That is the biggest straw man of all. They don't belong here and they need to come in legally. It doesn't matter if they are by-and-large good people. Any crimes committed by people here illegally would not have happened if they weren't in the country. Geraldo isn't even accurate. Illegal aliens commit more crimes and more serious crimes and the figures are shocking.
Five Other Heinous Illegal Alien Crimes You Didn't Hear About This Week. Mollie Tibbetts, a 20-year-old Brooklyn, Iowa, college student, was murdered by Cristhian Bahena Rivera, 24, who was charged with first-degree murder after confessing and leading authorities to the cornfield where he had tried to hide her body. Rivera is an illegal alien from Mexico who has been in the U.S. for at least four years, but many in the mainstream media are far from eager to report that fact. In its story on Wednesday [8/22/2018], for example, about how law enforcement cracked the case, CNN said nothing about Rivera's immigration status. Readers had to click on a link nearly at the end of the post to go to a second story, and, even then, CNN only described Rivera as "a Mexican man who officials said came to the U.S. illegally ..." That somewhat oblique reference came only in the fourth graph, and it was not repeated until the end of the story in a reference to President Donald Trump.
CNN's Chris Cuomo: 'Offensive' for Trump to Say Mollie Tibbetts 'Permanently Separated from Her Family'. CNN host Chris Cuomo wondered Wednesday whether Americans outraged over the death of Mollie Tibbetts would be as upset if the alleged killer was a white American instead of an illegal alien. In reference to Tibbetts's death and other murders by illegal aliens, Chris Cuomo asked, "I wonder if these sympathizers would be as full-throated about these tragedies if the killers were white citizens, if the victims were not young white women. If that were the case, would we see a video like this from Trump today?" He then played a clip of President Donald Trump talking about Tibbetts's death.
Autopsy: Illegal Alien Allegedly Stabbed Mollie Tibbetts to Death. The illegal alien accused of murdering 20-year-old college student Mollie Tibbetts allegedly stabbed her to death, an autopsy report reveals. This week, law enforcement announced that Tibbetts' body was found in a cornfield in her rural hometown of Brooklyn, Iowa after she was last seen jogging on July 18. Illegal alien Cristhian Bahena-Rivera, a 24-year-old from Mexico, has been charged with first-degree murder in her death after police say he admitted to confronting and chasing down Tibbetts, eventually leaving her body in the cornfield. The illegal alien lived in a region of Iowa that was surrounded by sanctuary cities, as Breitbart News noted.
Mollie Tibbetts Killer Used Stolen and Fake Identification To Remain Illegally in the U.S.. Cristhian Rivera is the illegal alien who killed 20-year-old Mollie Tibbetts in Iowa. Today it is revealed that Rivera used fraudulent and stolen identification to apply for work, a VERY common way for illegal aliens to gain employment in the U.S. The farm where he worked ran the social security number through the authentication process, after completing the I-9 form; however, they did not use E-Verify which is connected to the Department of Homeland Security.
Attorney For Accused Murderer Of Mollie Tibbetts: He's An 'All-American Boy'. On Thursday [8/23/2018], speaking at a hearing for his client, Cristhian Bahena Rivera, who is accused of murdering 20-year-old Mollie Tibbetts, attorney Allan Richards made a claim that would turn the stomach of those who heard it, calling Rivera "an All-American boy." Richards spoke at the Poweshiek County Courthouse in Iowa, where he argued that expanded news media coverage of the case would be inappropriate, saying, "The coverage that's out there is leaning all one way and in fact, government has weighed in at the highest levels. In our system of justice, he's entitled to that presumption of innocence until some evidence is presented. Portraying Cristhian as something that he isn't, in some ways I view that as a political payback for what's swirling around."
New York Times Deletes Immigration Status Of Mollie Tibbetts's Killer From Headline. The New York Times opted to delete the immigration status of the man suspected of killing Iowa college student Mollie Tibbetts in an update to a headline about the incident Wednesday [8/22/2018]. According to the Twitter account Editing TheGrayLady, The Times made a number of changes to the headline of its story on Tibbetts's murder before finally falling on "Immigrant Is Charged In Mollie Tibbetts Murder in Iowa, and Trump Seizes on Case."
Farm says suspect in Mollie Tibbetts murder passed background check despite immigration status. Yarrabee Farms, the Iowa farm that employed the suspect charged with killing Mollie Tibbetts, defended its vetting of Cristhian Bahena Rivera late Tuesday [8/21/2018]. The farm says Rivera passed the government's background check and it had no idea he was an undocumented immigrant. Rivera, who the Iowa Division of Criminal Investigation said Tuesday afternoon is responsible for the 20-year-old University of Iowa student's death last month, was called an "employee in good standing."
Press mocks the murder of Mollie Tibbetts soon as it became an illegal alien story. After whipping up such a brouhaha about illegal immigrants being separated from their children as a result of their lawbreaking, the press was confronted with new story about illegals to report and comment upon, and it didn't quite tug on the heartstrings the way the crying toddlers narrative did.
Suspect in Mollie Tibbetts' murder worked on farm owned by Iowa GOP family. The illegal immigrant who allegedly killed college student Mollie Tibbetts had worked for years at a farm owned by a prominent Iowa Republican family, a report said Tuesday night [8/21/2018]. Cristhian Rivera — the 24-year-old man who is suspected of murdering Tibbetts while she was out jogging — was an "employee in good standing" at Yarrabee Farms, which is owned by the family of former Iowa official Craig Lang, according to the Des Moines Register.
Mollie Tibbetts' suspected murderer identified as 24-year-old Christian Rivera, in US illegally. A suspect in connection with Mollie Tibbetts' murder is in custody and has been identified as a 24-year-old man in the U.S. illegally, investigators announced at a news conference Tuesday [8/21/2018]. Christian Rivera was charged with first-degree murder in Tibbetts' death, officials confirmed Tuesday afternoon. Authorities said that Rivera, of the rural Poweshiek County area, is being held on a federal immigration detainer. He's believed to have been in the area for four to seven years.
Illegal immigrant, 24, charged with murdering missing Mollie Tibbetts. A 24-year-old illegal immigrant from Mexico has been charged with the murder of missing Mollie Tibbetts. Cristhian Rivera, 24, was charged on Tuesday after leading police to the corn field where he dumped Mollie's body after attacking her on July 18. Rivera, who has been in the US illegally for between four and seven years but is from Guayabillo in Guerrero, Mexico, followed her in his black car as she ran at around 7.30pm on July 18.
Mollie Tibbetts' ex-classmate gave birth to murder suspect's baby. A former schoolmate of slain Iowa college student Mollie Tibbetts bore the child of the man accused of killing her, according to a report. Iris Monarrez was a cheerleader at Brooklyn, Guernsey, and Malcom High School while Tibbetts was on the track team there, a picture in their yearbook obtained by the Daily Mail shows. While in school, Monarrez dated Cristhian Rivera, 24, who is accused of abducting and killing Tibbetts. "Iris was very quiet, she kept to her friends. From what I can see she was a really nice person, shy but kind," Bailey Gibson, 18, told the Mail. "I'm sure she's as shocked as we are."
Accused Tibbetts Murderer Has Himself An Anchor Baby. And his Lawyer doesn't want you calling him an Illegal Alien. Cristhian Bahena-Rivera, the illegal alien from Mexico has himself an American-born baby. If Cuomo was wondering why Trump used this issue to point out our desperate need for immigration reform, both with a secure border, and an end to chain migration, here is a good reason. One of Mollie's former high school schoolmates (one grade older) has borne the accused a daughter, who is now three years old.
Media ignore key detail in story about ICE arresting father driving pregnant wife to hospital. The mainstream media were aghast on Saturday after Immigration and Customs Enforcement arrested an illegal immigrant who was driving to the hospital with his pregnant wife to deliver their baby. However, most outlets conveniently buried the story's most important detail: the man was wanted for murder.
Man detained by ICE while driving his pregnant wife to the hospital to give birth is wanted for murder in Mexico. A California man detained by immigration agents while he was driving his pregnant wife to the hospital for a scheduled C-section is wanted in connection to a murder in Mexico. Joel Arrona Lara's arrest in San Bernardino, California on Wednesday [8/15/2018] prompted outrage after his wife Maria del Carmen Venegas revealed she was forced to drive herself to the hospital to give birth. But Immigration and Customs Enforcement officials have since revealed that Arrona, 35, was detained because he was wanted on an outstanding arrest warrant in a homicide case in Mexico.
Fake News Cries a River About Illegal Alien Arrested While Taking His Pregnant Wife to Hospital — Leaves Out Fact He Was Murderer!. The mainstream media cried a river about the arrest of an illegal alien who was caught by police while taking his pregnant wife to the hospital. They left off the part that he is a murderer.
Nearly All Criminal Foreigners in U.S. Are from Central, South America. Nearly all of the criminal illegal and legal immigrants incarcerated in American prisons derive from six countries in Central and South America. The newest Government Accountability Office (GAO) report reveals how mass immigration to the United States from primarily Central America is leading to a booming foreign incarcerated population from the region. Between Fiscal Year 2011 and 2016, about 91 percent of all criminal illegal and legal immigrants in federal U.S. prisons were nationals from Mexico, Honduras, El Salvador, Dominican Republic, Colombia, and Guatemala.
Govt. spent $2.5 billion to jail criminal migrants in 2016: Study. The federal government spends about $1.4 billion a year incarcerating migrants charged or convicted of crimes, and states spent at least $1.1 billion more, Congress's chief investigative arm said in a report Thursday [8/16/2018]. Nearly all of them — 95 percent — were either illegal immigrants at the time of their crimes or were deemed deportable because of the seriousness of their offenses, and removed from the country when their sentences were up, the Government Accountability Office said. But 15 percent of those released from 2011 to 2016 managed to reoffend and end up in a federal or state prison anyway, the investigators said.
DOJ: One in Five Federal Inmates Is An Illegal Alien. On Thursday [6/7/2018], the Department of Justice report released a report, showing that 20 percent of those serving time in federal prisons are in the United States illegally.
FYI: One Of The Alleged New Mexico Terror Suspects Lived In The U.S. Illegally For 20 Years. It's a story that would have been all over the media if it had been a conservative, an anti-IRS activist, an NRA member, or any organization liberals think are right leaning. In early August, authorities raided a compound in New Mexico, where three women, a man, and 11 children were found in deplorable conditions. One child's remains were also found. They were reportedly being trained by Siraj Wahhaj to commit school shootings. Siraj's father, same name, was an unindicted conspirator of the 1993 World Trade Center bombing. To make things more controversial, the judge in the case, Sarah Backus, granted four of the five potential terror suspects to be released on bond. Siraj remains in custody since he was an outstanding warrant from Georgia regarding the alleged kidnapping of his son, who may or may not be the deceased child police found at the compound. Backus is a Democrat and known for setting low bailfor violent offenders.
More about The New Mexico jihadist compound.
7X Deported Criminal Alien Stabs a Man for No Reason in Sanctuary California. An illegal alien is accused of an "unprovoked and brutal stabbing" at a market in California last month. There are witnesses and other evidence. The man has a criminal record and was deported seven times. They keep coming back because they know it's safe in the sanctuary state. Ricardo Velasquez-Romero, 39, who also goes by the name Eulalio Miniz Orozco, was arrested last month. He stabbed an innocent 61-year-old man in the neck at Lola's Market in Santa Rosa on Dec. 21, a man he hadn't spoken to.
Previously Deported Sex Offender from Africa Caught Trying to Enter Daycare Center. An undocumented immigrant and wanted sex offender has been arrested by U.S. Border Patrol agents and police in Detroit, officials said. Authorities have identified the man as Yemaneh Gebremedhin, 53, an immigrant from Eritrea, a country in northeast Africa on the Red Sea coast. Border Patrol officials said agents were called by the Detroit Police on Tuesday to help identify a man who had attempted to get into a Detroit church that has a child care facility.
Colorado Springs: Is Iraqi who shot police officer in the head a refugee? Here we go again, another violent crime and no one seems to know if the alleged perpetrator is a refugee, or if he is here through some other legal immigration program? The story in The Gazette (and on Fox News this morning [8/6/2018]) reminded me that Colorado Springs has the distinction of being the location where five Iraqis who supposedly 'helped' our troops in Iraq were arrested in 2011 (several were ultimately convicted) for brutally raping a local woman. Frankly, authorities do know what sort of visa the latest Iraqi arrested Thursday used to get here, they just don't want the public to know!
Media Blackout: 13-Year-Old Girl was Decapitated by a Pair of Illegal Aliens in Alabama. A preliminary hearing Thursday [7/12/2018] gave more information into a grisly double homicide in Madison County. Mariah Lopez, a 13-year-old, was decapitated and her grandmother, Oralia Mendoza, was also killed. Investigators now believe the case has connections to a drug cartel. 26 year-old Yoni Martinez Aguilar, one of the capital murder suspects, appeared before a judge on Thursday.
Illegal Alien from Mexico Accused of Raping 11-Year-Old Girl. An illegal alien living in northwest Arkansas is accused of raping an 11-year-old girl after convincing her to meet up with him through the messaging app known as "Snapchat." Luis Mario Rodriguez-Torres, a 21-year-old illegal alien from Mexico, allegedly messaged the 11-year-old girl through Snapchat and convinced her to meet up with him, according to KFSM.
Illegal Alien Gang Member Fires Gun on Sidewalk, Claims 2nd Amendment Rights. An illegal alien gang member accused of firing a gun on a public sidewalk in the sanctuary city of New York is now claiming that he has Second Amendment rights just like every United States citizen. Javier Perez, a 28-year-old illegal alien from Mexico, is claiming that he has Second Amendment rights under the U.S. Constitution and therefore is being unfairly charged with possession of a gun. In July 2016, Perez allegedly fired a .380-caliber semiautomatic pistol on a public sidewalk in Brooklyn, New York to fight off a rival street gang, according to the New York Daily News.
Seven Armed Illegal Aliens Charged in Texas Mall Robbery. Seven Mexican nationals who entered the U.S. illegally were arraigned on Monday after they attempted to rob a jewelry store at gunpoint in the La Plaza Mall in McAllen, Texas, on Saturday [7/28/2018], local media and Fox News reported. The seven men were charged with aggravated robbery. During they robbery they brandished handguns and smashed the glass display cases. There were no injuries or gunfire during the attempted robbery, and an undercover police officer with a concealed-carry handgun helped stop the crime.
TX Mall Robbery Was Not Gun Violence But Rather Illegal Alien Criminal Violence. The attempted mall robbery in Texas has disappeared from the news. It was dramatically reported at first as gun violence. Gun grabbers thought they had a great case against guns until they realized no shots were fired. The noise was glass breaking. Seven suspects who were arrested in connection with an attempted robbery at a jewelry store in Texas over the weekend have been identified as Mexican nationals that were in the U.S. illegally. Until these bozos complete their sentences, we won't know the details of how they got here, how long they've been here, and what other crimes they might have committed. At that time, they will be turned over to CPB.
Florida Police Officer Dies After [He was] Allegedly Shot by Illegal Alien. A Florida police officer has died after allegedly being shot in the head by an illegal alien. Law enforcement confirmed to the media this week that Fort Meyers Officer Adam Jobbers-Miller died in the hospital after being in critical condition for a week following a shootout with an illegal alien from Haiti.
The Crimes Committed By Illegals This Month You Probably Didn't Hear About. The liberal media has been too busy breathlessly reporting on the Trump administration's "Zero Tolerance" policy to give attention to the heinous crimes committed by people who shouldn't be in this country in the first place. Now of course these crimes go ignored or underreported because they don't fit the liberal agenda, and they also make the case for actually enforcing our immigration laws and building Trump's wall.
'Dreamer' Charged With Molesting 6-Year-Old Boy Inside Public Library. A man sexually assaulted a boy inside a library in Riverside, authorities announced on Monday [7/23/2018]. Juan Francisco Palacios, a 29-year-old Riverside transient, was caught on camera watching the 6-year-old boy walk into the bathroom alone on July 18, according the Riverside Police Department. Palacios allegedly followed inside and assaulted him.
ICE Just Arrested Dozens of Illegal Aliens in a Sanctuary City, the Majority Have Serious Criminal Records. Immigration and Customs Enforcement, an agency many Democrats want to abolish, recently conducted a raid in Newark, New Jersey and arrested dozens of illegal aliens. The overwhelming majority have serious criminal records. ICE targeted Illegal aliens who had been incarcerated in the Middlesex County Jail and released into the community by local law enforcement without notice to federal immigration officials. The aliens arrested had ICE detainers that were not honored. Newark is a "sanctuary city." "Of those arrested, 16 subjects had been previously released by MCJ without honoring the ICE detainer and 78% had prior criminal convictions or pending criminal charges. The individuals arrested as part of the operation were nationals of Brazil, Dominican Republic, Ecuador, El Salvador, Guatemala, Haiti, Honduras, India, Ivory Coast, Mexico, Nigeria, Peru, and Turkey," ICE released Friday [7/20/2018].
Illegal Alien Raped 4 Women in Sanctuary City. Who is the sanctuary city for? San Francisco provided no shelter or sanctuary for Orlando Vilchez Lazo's victims. But it was certainly happy to provide sanctuary for the ride share rapist while he committed his crimes,
Suspected San Francisco Serial Rapist in America Illegally. Authorities arrested Orlando Vilchez Lazo, 36, who allegedly posed as a Lyft driver in San Francisco, CA, in order to lure victims. Lazo received four counts of felony of rape. ICE said he is in the country illegally and "plans to deport" him back to "Peru if he's released from custody on the rape case."
ICE Slaps Detainer on Man in Dallas Held for Sexually Assaulting a Child. A seemingly minor misstep by 24-year-old Jose Nahun Lopez-Cruz, of parking in a handicapped spot in West Dallas, Texas, was only the beginning of a cascade of charges that came crashing down on him when Immigration and Customs Enforcement (ICE) slapped him with a detainer in early July. "It's OK, she's gonna be 16 soon," the man inexplicably said to police about his live-in girlfriend, whom an officer had spotted in the Toyota Camry in a parking lot near Trinity Groves, as The Dallas Morning News reported. It's not "OK" at all — not for him, for her, or for the American people — until justice is served.
MS-13 Gang Member Arrested Again After 4 Deportations. ABC 7 KVIA reports that Texas Border Patrol agents have arrested two MS-13 gang members on two separate occasions this week for illegally entering the country. One of these illegal aliens has previously been deported from the United States four times. Last Sunday, Border Patrol agents working near El Paso monitored a group of nine individuals walking through the desert close to the southern border on the American side. After several hours, the agents confronted the group and all members admitted to illegally entering the country.
ICE: California man who allegedly attacked wife with chainsaw was deported 11 times. A so-called "serial immigration violator" tried to kill his wife with a chainsaw at the couple's home this week in Whittier, California. Alejandro Alvarez Villegas, 32, is facing charges relating to suspicion of attempted murder, child endangerment, hit-and-run, and grand theft auto, according to the Whittier Daily News. He was previously deported 11 times, according to immigration officials.
Chainsaw Attack Suspect Was Removed from US 11 Times: ICE. The man arrested and accused of using a chainsaw to attack his wife had been removed from the U.S. 11 times since 2005, immigration officials confirmed Friday [7/13/2018]. Alejandro Alvarez Villegas, 32, was arrested in Chula Vista, California on allegations he tried to kill his wife with a chainsaw in front of their three children at the couple's home in Whittier. "Department of Homeland Security databases indicate Mr. Alvarez-Villegas is a serial immigration violator who has been removed from the United States 11 times since 2005," a spokesperson for the U.S. Immigration and Customs Enforcement (ICE) said.
Judicial Watch: New HHS Docs Reveal 'Unaccompanied Alien Children' Processed by Obama Admin Included MS-13 Killers, Drug Smugglers. On Tuesday [7/10/2018], conservative watchdog group, Judicial Watch released new documents containing over 1,000 summaries of Significant Incident Reports (SIRs) revealing the "Unaccompanied Alien Children" processed by the Obama administration included admitted murderers, rapists, drug smugglers, prostitutes, and human traffickers.
New HHS Documents Reveal that 'Unaccompanied Alien Children' Processed During Obama Years Included Violent Criminals, Drug Smugglers, and Human Traffickers. Judicial Watch today [7/10/2018] released 224 pages of documents containing nearly 1,000 summaries of Significant Incident Reports from the U.S. Department of Health and Human Services revealing that "Unaccompanied Alien Children" processed during the Obama administration included admitted murderers, rapists, drug smugglers, prostitutes, and human traffickers. The documents, from the HHS Administration for Children and Families reported to the Office of Refugee Resettlement (ORR), are for the approximate six-month period May to November 2014. They were produced to Judicial Watch after a three-year delay in response to a November 12, 2014, Freedom of Information Act (FOIA) request [...]
Illegal Alien Operating Unlicensed Day Care in Sanctuary City Broke Baby's Legs. A 66-year-old unlicensed day care worker is facing felony child abuse charges after a baby boy in her care went to the hospital with two broken legs, according to KSTU. Elvira Ortega, who runs an unlicensed day care out of her Salt Lake City home, is accused of intentionally inflicting serious physical harm on the child, Salt Lake police Detective Greg Wilking said.
Illegal Alien Gang Member Committed String of Armed Robberies in 'Sanctuary County'. A 20-year-old woman was sentenced to 95 years in prison for setting up several gang-related armed robberies that took place in Montgomery County last year. The robberies spanned from September to November and were all believed to be part of an overreaching conspiracy to benefit the MS-13 gang and to send money back to El Salvador.
'Unimaginable Violence and Brutality' — Liberian War Criminal Illegally Living in Philadelphia Convicted. A federal jury has convicted a Liberian war criminal of immigration fraud and perjury after federal authorities charged the man with lying on his immigration application regarding his past anti-government violent activities including advocating rape, murder, child soldiers, and torture. According to an Immigration and Customs Enforcement press release on July 3rd, Jucontee Thomas Woewiyu "lied on his application for U.S. citizenship by denying that he advocated the overthrow of any government by force or violence and by denying that he ever persecuted any person because of membership in a social group or their political opinion."
Police launch dragnet for 3 non-US citizens accused of raping Ohio sisters. The U.S. Immigration and Customs Enforcement Agency joined the nationwide search for three men accused of kidnapping and raping two teen girls in Ohio, authorities said. A fourth suspect has been arrested and charged in the alleged crime, police said Tuesday [7/3/2018]. Bowling Green police are searching for David Ramos Contreras, 27, Juan Garcia Rios Adiel and Arnulfo Ramos. Police said Contreras is from Mexico. It is uncelar where the others are from, though Adiel possess a fraudulent permanent resident I.D. out of Florida, police said. Adiel and Ramos are not believed to be U.S. citizens, according to WKRC-TV.
Report: Dozens of Criminal Illegal Immigrants Shielded by NYC's Sanctuary Policy Rearrested for New Crimes. A new report reveals that dozens of criminal illegal immigrants shielded by New York City's sanctuary policy were released from jail and quickly rearrested for new crimes. According to U.S. Immigration and Customs Enforcement (ICE), 440 criminal aliens were released from New York's jails between January and April despite having ICE detainers placed against them. Of those 440, 40 have already re-offended and been rearrested, ICE said. "In just three months, more than three dozen criminal aliens were released from local custody. Simply put, the politics and rhetoric in this city are putting its own communities at an unnecessary risk," said Scott Mechowski, acting field office director for ICE Enforcement and Removal Operations (ERO) in New York.
Texas homicides by illegal immigrants have surpassed 1,200: AG Ken Paxton. Homicidal crimes committed by illegal immigrants have reached over 1,200 in Texas, according to Attorney General Ken Paxton. "We have a lot of crime. We have over 1,200 homicides, we have thousands of crimes," the Texas Attorney General told FOX Business' Charles Payne on Tuesday [7/3/2018]. The Texas Department of Public Safety keeps a database of crimes associated with illegal immigration. "So the narrative that is, you know there's no crime associated with illegal immigration, well that's just not true," Paxton said.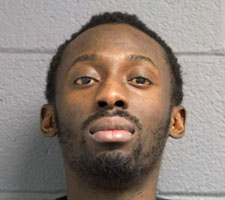 Diversity Visa Program: Violent ICE Escapee Caught, Convicted. Brooklyn jurors swiftly convicted the Senegalese man who managed to ditch immigration officers during a layover at JFK airport. It took the panel a mere 90 minutes to declare Mohamadou Lamine Mbacke guilty Friday. He now faces up to a year in a US jail before being deported to Senegal. Upon hearing the news, Mbacke sat back in his chair and smiled. [...] It should be noted that Mbacke came to the U.S. in 2005 on a 'diversity visa' from the African nation of Senegal, and has a long record of arrests and convictions including three weapons charges and the armed abduction and rape of a woman in Detroit.
Illegal Alien Starts 40,000 Acre Fire in Colorado, It's Still Burning. An illegal alien living in Colorado was arrested Saturday [6/30/2018] on suspicion of setting a series of wildfires that consumed more than 40,000 acres and it's still burning. Jasper Joergensen, 52 years, was apprehended after the announcement was made at a community meeting, the Costilla County Sheriff's Office confirmed. Joergensen is not a U.S. citizen and will be given to U.S. Immigration and Customs Enforcement (ICE) after he faces arson charges, a Costilla County official said at the meeting.
African 'Migrant' Arrested Twice in One Day for Public Indecency. A Dayton man taken into custody early Monday for public indecency was back in the Montgomery County Jail the same night after dancing downtown naked, according to Dayton police reports. Samuel Tumaini, 25, was detained on suspicion of public indecency, read the report. Police received multiple calls around 11:30 p.m. Monday about the incident, ranging from a man standing in front of an RTA bus to a naked man urinating in the street to a naked man lying in a field, according to the report.
Illegal Alien Protected By Sanctuary Policies Convicted In Savage Murder Of Air Force Veteran. This week a Santa Barbara County jury found Victor Martinez, an illegal alien who had been previously convicted of sexual assault, guilty of first degree murder in the brutal 2015 sexual assault, torture, and murder of 64-year-old Air Force Veteran Marilyn Pharis. Though Pharis was murdered just weeks after Kate Steinle was shot and killed on a pier in San Francisco, and sanctuary policies also directly led to her murder, Pharis's case has never attracted the publicity Steinle's case did — and that's a shame. The only reason the country heard about Kate Steinle's case was because the media couldn't ignore it. Steinle was murdered in broad daylight, in a big city, on a busy pier filled with tourists. San Francisco authorities couldn't hide or downplay her murder. And, because we still have access to public records in our country, they couldn't hide her killer's history. Marilyn Pharis was murdered under different, easier-to-ignore circumstances.
Media Blackout: Miami Serial Killer Turns Out to Be an Illegal Alien. A Honduran national in the United States illegally has been charged with killing two women in Miami over the past three months and dumping their bodies on the street, police announced Monday [6/18/2018]. Juan Carlos Hernandez-Caseres, 37, was arrested Saturday morning [6/23/2018] for the murders of Ann Farrin, 41, and Neidy Roche, 39. Both women, police said, were prostitutes.
U.S. Attorneys' Report: CBP and ICE Both Catch More Criminals Than FBI. U.S. Customs and Border Protection and U.S. Immigration and Customs Enforcement both caught more criminals who pled guilty or were found guilty in federal district courts in the last fiscal year on record than did the Federal Bureau of Investigation, according to the latest U.S. Attorneys' Annual Statistical Report. In fiscal 2016, according to data published in Table 3D of the report, 66,670 criminals either pleaded guilty or were found guilty in U.S. District Courts. CBP had referred 14,869 of these convicted criminals to U.S. attorneys. That was more than any other federal agency. ICE had referred 10,608. That ranked it second only to CBP.
Border Agents arrest 5,000 illegal immigrants with criminal records trying to cross the border. Hundreds of gang members and more than 5,000 convicted criminals were arrested trying to sneak back into the U.S. in just eight months. They included 505 confirmed members of violent groups MS-13, 18th Street gang, and the Mexican Mafia hoping to rejoin their organizations. Last week six violent criminals were detained for deportation after crossing the border, including a convicted murder and pedophile.
Illegal immigrant, 41, 'raped and impregnated a special needs girl. An undocumented immigrant has been accused of raping and impregnating a 13-year-old nonverbal girl he was babysitting in Maryland. Reynaldo Mora, 41, of Bethesda, is accused of assaulting the teenager who communicates with 'gestures and writing' and has the 'intellect of a first grader,' police said, in the bedroom at her home, while her two siblings were there. Mora is currently charged with sex abuse of a minor, plus two counts of second-degree rape.
MS-13 gang members, including 10 illegal immigrants, charged in deaths of teens. Eleven MS-13 gang members — all of whom are illegal immigrants except one — are facing life in prison after being charged in the kidnappings and deaths of two teens whose bodies were dug up in a Virginia park last year. The ages of the male gang members charged Friday [6/22/2018] ranged from 20 to 27. All of them are from El Salvador and only one — who is believed to have fled the country — is not in police custody, according to NBC Washington. Police uncovered the bodies of 17-year-old Edvin Escobar Mendez and 14-year-old Sergio Arita Triminio at Holmes Run Park in March 2017 after receiving a tip.
The Real Cost of Illegal Immigration Is Measured in American Lives. Alexander Mazin was just 27 years old when Ernesto Castellanos Martinez allegedly shot him in cold blood behind a San Diego area gym and left him there to die in late February of this year, ABC 10 News reported. Dr. Jeffrey Mazin, Alexander's father, joined Fox News host Laura Ingraham on "The Ingraham Angle" Tuesday night [6/19/2018] just north of Tijuana, where she was broadcasting live from the U.S.-Mexico border as tempers flare over the issue of illegal immigration and how to solve some of the thorniest challenges connected to it.
Border Patrol Confirms that Human Traffickers Recycle Children. It is not uncommon for illegal aliens, including criminals, to pretend children they are traveling with are their own. White House official Stephen Miller revealed that the number of illegal aliens using children to enter the U.S. at the southern border has increased about 315 percent between October 2017 and February 2018. Obviously, the human traffickers understand the bleeding-heart Leftists, and work the system in America. So these minors are smuggled through the southern border with illegal aliens posing as family units. They utilize the "Catch and Release" program to stay here.
Moms Of Children Killed By Illegal Aliens Slam Media For Hypocritical Coverage Of Border Separations. The mothers told TheDC that there was huge hypocrisy in the mainstream media focusing on migrant parents instead of American parents who were permanently separated from their children after those children were killed by illegal aliens. "There is hypocrisy in many ways. The total disregard for American families ripped apart because of illegal criminals, the total lack of concern for children in the U.S. being raped in North Carolina by illegals at disgusting numbers (some months over 400 child rapes by illegals), no concern [for] homeless American children or Veterans who would do anything to have what's provided [to] these children. Yet, our politicians call it inhumane treatment. Would they rather these kids coming across our borders stay with the adults who aren't their biological parents but have kidnapped them to get across the border as a 'family unit?'" Mary Ann Mendoza told TheDC.
Undocumented immigrant killed two women in Miami, dumped bodies on street, police say. A Honduran national in the United States illegally has been charged with killing two women in Miami over the past three months and dumping their bodies on the street, police announced Monday [6/18/2018]. [...] Hernandez-Caseres told police he had picked Farrin up in his car for the purpose of paying her for sex, but sometime during intercourse, he became "enraged" and punched her in the throat and neck. Surveillance footage taken at the time shows a black vehicle coming to a stop between Northwest 38th Street and Northwest 37th Street. The driver gets out, removes a body from the passenger side and leaves it on the sidewalk.
DACA kids approved despite murder, rape and sex crimes arrests. Ten people who'd been arrested on murder charges were nonetheless granted permission to remain and work in the U.S. under the Obama-era DACA amnesty, according to new government data released Monday [6/18/2018]. Thirty-one "Dreamers" had rape charges on their records, nearly 500 had been accused of sex crimes, and more than 2,000 had been arrested for drunken driving — yet were approved for DACA status. All told, 53,000 people who have been approved for DACA — 7 percent of the total — had a criminal record when the government granted them status. Nearly 8,000 racked up criminal charges after they'd been approved, according to the data from U.S. Citizenship and Immigration Services.
'Dreamers' Caught Trafficking Methamphetamine in North Carolina. Four people from Georgia are behind bars in the east, accused of trafficking more than 11 pounds of meth. Greenville police arrested Arturto Bahena, 27, Ana Karen Bahena, 25, Elizabeth Mondragon, 19, and Christian Toledo, 22, all of Athens, Georgia, on Wednesday [6/13/2018].
7 Truths Liberals Will Never Acknowledge About Illegal Immigration. [#6] The crime committed by illegal aliens is a big problem. As someone who hired a researcher to come up with illegal alien crime research, I can tell you that there is no such nationwide data. Why? I strongly suspect that it's because if we had data, it would contradict the frequently heard claim that illegals don't commit very much crime. Certainly there is plenty of anecdotal evidence that illegals commit horrible crimes in America, but in some of the places where there are a lot of illegals and we do have data, the numbers suggest there is an extremely serious crime problem with illegals:
MS-13 Brings Its Terror And Recruiting To Middle Schools. The violent gang known as MS-13 has brought its terror and recruiting tactics to a middle school in Maryland, The Washington Post reported. Members of Mara Salvatrucha, the notorious El Salvadorian street gang also known as MS-13, have infiltrated an overwhelmingly Hispanic school, William Wirt Middle School in Riverdale, Md., to sell drugs, draw pro-MS-13 graffiti, and recruit immigrants from Central America who have fled their respective countries because of the brutal gang. School teachers estimate about a dozen members are there now, The Post reported. Fights between gang members and others are now an almost daily occurrence there and the police have been called there at least 74 times in the 2017-18 school year, according to The Post.
Killer, gang members, rapists among 91 arrested in 5-day sweep across N.J., ICE says. Federal officials said that 91 foreign nationals — including some with violent criminal records — were arrested in a five-day sweep across the state. The U.S. Immigration and Customs Enforcement operation netted an El Salvadoran national in West New York who was wanted on a warrant from international policing group Interpol for being a member of the MS-13 gang, and trafficking drugs and guns, ICE said Monday [6/11/2018]. The roundup also included those with convictions for aggravated assault, child endangerment, criminal sexual contact, kidnapping, homicide, drug offenses and other crimes, officials said. About 70 of the people arrested were previously convicted of criminal offenses.
Victims of illegal immigrant crime describe heartbreak, frustration. Senator Grassley began investigating after cases like Emmanuel Jesus Rangel-Hernandez. In 2013, he was mistakenly granted amnesty under President Obama's executive action. His gang membership and previous drug arrest should have excluded him. In February, Rangel-Hernandez was charged with killing four people in a North Carolina murder spree. One of the victims — a former contestant on America's Next Top Model. "You've got an administration that thinks more highly of their interest in protecting undocumented workers than there is enforcing the law and in the process of making that decision, violating their constitutional oath to faithfully execute the laws of this country," said Grassley.
Illegal immigrant found guilty of killing Kansas mom, kidnapping her 6-day old baby. A woman who faked a pregnancy for several months was found guilty on Tuesday of killing her former co-worker and kidnapping the victim's newborn baby with the intent to raise the child as her own. Yesenia Sesmas, 36, an illegal immigrant who was living in Dallas at the time, drove to Wichita, Kan. to shoot 27-year-old Laura Abarca on Nov. 17, 2016, and kidnap 6-day-old Sophia Gonzales. The baby was found safe two days later in Sesmas' Dallas apartment and was returned to relatives.
30 percent of federal prisoners are immigrants, DOJ/DHS reports. Immigrants accounted for more than 30 percent of the federal prison population and nearly all of them are confirmed or suspected illegal immigrants, the government said in a new report Tuesday [6/5/2018]. The government said it had 57,820 migrants in its prisons as of Dec. 31, Homeland Security and the Justice Department said in the joint report. Nearly 20,000 other immigrants were held in pretrial detention by the U.S. Marshals Service, most of them in contracted facilities, costing the government $134 million for just three months. That works out to nearly $90 a day for each person in those contract facilities. Attorney General Jeff Sessions said there shouldn't be any illegal immigrants in prisons, because they shouldn't have been in the country in the first place.
Yes, the House-passed jailbreak bill releases criminal aliens from prison. Something funny happens when you actually take time to analyze a gravely transformative piece of legislation. It's something that not a single member of the House who voted for the aptly named First Step Act got a chance to do: You understand the consequences of the bill. Proponents of the bill, many of whom are pro-illegal alien to begin with, defensively insist that because deportable aliens (both illegal immigrants and criminal legal immigrants) are not eligible for good time credits, they will not be among those released into home confinement or let out early under the provisions of this bill. The problem is that Section 402, which is extremely dangerous as it pertains to the entire prison population, will mandate that the Bureau of Prisons (BOP) release a number of criminal aliens into home confinement at some point. This is what happens when no section-by-section summary of the bill is released, no hearings are held, and no amendments are made eligible.
Twice Deported Illegal Alien Re-Enters Country and Kills Daughter. Walter DaSilva admitted to shooting and killing his 19 year-old daughter because she continued to date an older man against his wishes. This apparently upset DSilva who felt further insulted when she refused to visit him on Father's Day in 2016. DaSilva had been separated from his daughter for a lengthy amount of time because he had also attempted to kill her mother, Lillian Silva, in 2002. DaSilva spent 8-10 years in jail and then was deported back to his home country of Brazil. This was the second time that he had been deported. He was also removed from the country in 1999.
Twice-deported illegal immigrant held in connection to missing toddler. A twice-deported illegal immigrant from Mexico was being held Tuesday in the disappearance of a 14-month-old boy who became the subject of an Amber Alert last week after his mother was found dead upstate. Evarardo Donoteo-Reyes, 25, is currently charged with tampering with evidence, but prosecutors expect to file more charges against him once cops determine how his 18-year-old girlfriend, Selena Hidalgo-Calderon, was killed. The young woman's son, Owen Hidalgo-Calderon, is feared dead following an extensive search of the couple's home in Wayne County and surrounding areas. The toddler was reported missing on May 23 after his mom's body was discovered near their residence.
Democrats' dishonesty about MS-13 hands Trump a winning issue. How evil is MS-13? Last year, two gang members in Texas reportedly murdered a teenage girl as an offering to Satan. According to prosecutors, the gang leader (known as "Diabolico") told the young girl that "the Beast" wanted "a soul" before having his partner shoot her in the head and dump her body on a street corner. As charges were read against the two, the Houston Chronicle reported, they "laughed, smiled and waved for the media cameras." MS-13 gang members, police have said, also stabbed a Maryland man more than 100 times before decapitating him and cutting out his heart ... lured a 34-year-old man to his already dug grave ... and stoned an 18-year-old boy to death and dumped his body under a bridge. MS-13 is a demonic death cult. And President Trump has Nancy Pelosi defending its members' humanity. When Trump declared at a White House roundtable "You wouldn't believe how bad these people are. These aren't people. These are animals," he was clearly referring to MS-13. But the media and Democrats took the president's quote out of context and declared that he had referred to all illegal immigrants as animals.
Media Blackout: DACA Recipient Threatens to Commit Mass Shooting at New York High School. A student with a shotgun made a terrorist threat against East High School on social media, according to Rochester police. Abigail Hernandez, 21, is charged with making a terroristic threat, a felony. She is currently in the Buffalo Federal Detention Center in Batavia because she is an undocumented immigrant, Rochester Deputy Mayor Cedric Alexander said. Police said, "The initial threat came from an anonymous Facebook account, which our investigators had to track down and determine the author of the Facebook account."
Why the 'Racist America' Meme is Collapsing. The controversy over Trump's "animal" remark was, as we now know, fake news. The [New York] Times didn't mention until later that his comments were directed at criminal aliens, like those in MS-13. But because we live in an era in which Trump can never, ever be right, the Left is now defending MS-13 and other criminals without comment from our media watchdogs. Incredibly, House Minority Leader Nancy Pelosi (D-Calif.) has defended MS-13 as "God's children" with whom we all share an inviolable "spark of divinity." What would the family of an unnamed man who was stabbed 100 times, dismembered, beheaded, and had his heart cut out say to that? The killer was 19-year-old Miguel Angel Lopez-Abrego, a citizen of El Salvador, illegally residing in the United States.


"Unaccompanied Alien Child" MS-13 Illegal Alien Killed Man, Burned Body. Some people are just animals. Or undocumented animals, if you want to be politically correct. [...] Now let's get that RINO DACA fix passed so that MS-13 gang members can create more jobs by murdering and burning the people that lazy American gang members just won't murder and burn.
Protect Hispanics by attacking MS-13. "These aren't people, these are animals. And we're taking them out of the country at a rate that's never happened before." This quote was President Trump's response to a question on MS-13 transnational gang members from a California sheriff who disagrees with her state's recent so-called "sanctuary" protections for dangerous illegal immigrants. Predictably, many in the mainstream media, including the New York Times and Andrea Mitchell of NBC reported that Trump called all illegal immigrants "animals," even though it was exceedingly clear to any fair observer that his statement impugned specifically MS-13 criminals. But even once that point was clarified (Associated Press was forced to issue an official retraction on its first misbegotten reporting), some on the Left still protested. Most notably, House Minority Leader Nancy Pelosi, D-Calif., pushed back at the president. As an aside, Pelosi amazingly sees much value in the life of MS-13 cretins, but none in innocent babies in the womb.
Illegal Alien Raped a 14-Year-Old Girl in North Carolina. A Winston-Salem man was convicted Monday on charges that he sexually abused and raped a 14-year-old girl in 2016. Adrian Valadez-Lopez, 36, of Weatherwood Court, entered an Alford plea in Forsyth Superior Court to second-degree forcible rape, second-degree forcible sex offense and indecent liberties with a child. An Alford plea means that Lopez did not admit guilt but acknowledged that Forsyth County prosecutors had enough evidence to convict him if the case had gone to trial.
Father of Daughter Killed by MS-13 Gang Members Praises Donald Trump for Using 'Correct Word' to Describe Them. President Donald Trump met with parents of children on Wednesday [2/23/2018] who were killed by MS-13 gang members, promising to continue deporting illegal immigrant gangs and secure the Southern border. One father praised the president for describing the gang members as "animals" despite the controversy that followed. "I think you used the correct word. Animals. That they are," said Freddy Cuevas, the father of a girl murdered by MS-13 said.
Criminal Lobby is Rolling in Cash — Thank Soros. Mexican national Juan Corona was deported in 1956 but again violated U.S. immigration law. By 1960, the Mexican became a labor contractor for local American farmers, including Goro Kagehiro. Corona murdered, sodomized and mutilated at least 25 farm workers, and not a single one was Mexican. Today, if employer Goro Kagehiro reported Juan Corona to federal authorities, California Attorney General Xavier Becerra would fine the grower and let Corona do as he pleased. If ICE agents sought to contact Corona in a courthouse, state Supreme Court boss [Tani] Cantil-Sakauye would call that "stalking."
MS-13 gang member nicknamed 'Animal' sentenced to 40 years. An MS-13 member who goes by the gang name "Animal" received a 40-year prison sentence this week for a conspiracy that included the murder of a 15-year-old boy, the U.S. attorney's office in Massachusetts said Tuesday [5/22/2018]. The nickname, which the prosecutors highlighted in the headline of a press release, is particularly telling, coming just a week after President Trump called members of the violent, immigrant-fueled MS-13 gang "animals." Joel Martinez, 23, admitted he murdered the 15-year-old as part of his initiation as a "homeboy" in Mara Salvatrucha, the gang's full name.
MS-13 gang member known as 'Animal' sentenced to 40 years in prison over killing of 15-year-old boy. A member of the notorious MS-13 street gang known as "Animal," who admitted to the 2015 killing of a teenage boy in Massachusetts, was sentenced to 40 years in prison, officials said Tuesday [5/22/2018]. The U.S. Attorney's Office in Massachusetts announced that 23-year-old Joel Martinez, who went by the street name of "Animal," will be subject to deportation once he's released from federal prison.
Two Previously Deported Rapists Re-Arrested in California. Border Patrol agents arrest two convicted sex offenders in Calexico suspected of making an illegal entry into the United States on two separate occasions this week. Eduardo Murillo-Lobo, 21, a citizen and national of Honduras, was arrested Monday night at around 11:30 pm after being spotted by agents operating the Remote Video Surveillance System climbing over the international border fence. Border Patrol agents were notified and they arrested and transported Murillo-Lobo to El Centro Station for identification and processing.
11 Animalistic Crimes Committed Against Americans by MS-13 Gang. When President Trump recently referred to MS-13 gang members as "animals," the mainstream media, left-wing pundits, and Democrats were outraged by the statement. House Speaker Nancy Pelosi slammed Trump's attack on MS-13 gang members, saying, "Does he not believe in the spark of divinity, the dignity and worth of every person?"
NC Police Find $90 Million in Meth Hidden in Truck Driven by Alleged Illegal Alien. Officials in Linden, North Carolina, discovered 120 gallons of liquid methamphetamine hidden inside the fuel tank of a semi truck being driven by an alleged illegal alien, reports say. Harnett County Sheriff's officers pulled the truck over on May 19 and discovered the large amount of the liquefied drug. According to WRAL, the liquid was destined to be turned into 454 kilograms of crystal methamphetamine and would have had a street value of $90.8 million. The seizure was part of a wider investigation into the trafficking of meth in the area.
A grim spectacle: The left fully revealed. [Scroll down] And then, for two days now, they are proudly and openly vilifying President Trump for referring to MS-13 gang members as "animals," which is an insult to animals. These migrants from El Salvador are savages who rape and murder in the most unspeakable ways. The media grasped the "animal" quote and ran with it, most of them with the full knowledge that it was taken out of context. Only the AP retracted the claim that Trump was not talking about all illegal aliens. The rest of them kept up the faux outrage. Pelosi said these gang members all have a "spark of divinity." Tell that to the families of their victims.
Yes MS-13 Gang Members Are Animals. Here's Why. Much to do has been made over the last couple of days regarding President Trump's remarks about MS-13. If you only read the headlines one would think that he called ALL illegal immigrants animals. But of course, very few have bothered to check the actual transcript or video, [...]
Chuck Schumer spends the day defending MS-13 from Trump's 'animal' comments. Democrats sure do seem to have a lot of strange "protected classes" lately. Obviously, they've always liked to put people into groups, fan the flames of a victim mentality, and then play those groups against each other. It's just what they do. But, in the last couple of weeks, they've decided to defend Iran, Hamas, and now — the icing on the cake — MS-13. If you're unfamiliar with MS-13, and I pray to God you are, they're a violent gang made up mostly of Salvadorans whose motto is "Murder, Rape, and Control." They are, unarguably, one of the most violent gangs on the face of the earth, and the horror stories shared by their victims' families are heartbreaking beyond words.
MS-13 Gang Members Murdered Man, Set Body On Fire in Virginia. Police arrested four MS-13 gang members for allegedly murdering a man, dumping his body in the trunk of his car, and setting it on fire at Veterans Park in Woodbridge, Va. Manuel Enrique Robles Lopez, 21; as Erick Alexander Contreras Navarro, 23; Denis Ludwin Espinal Alvares, 19; and a 17-year-old boy were arrested in March.
Mother-of-two, 25, was the 'CEO' of a huge Minnesota meth smuggling gang. A mother-of-two, 25, has been accused of serving as 'CEO' of one of the biggest meth trafficking operations Minnesota has ever seen with its roots stretching across the border to cartels in Mexico. Macrina Perez worked with Mexican drug lords to move wholesale amounts of meth to the Twin Cities metro area, according to prosecutors who charged her nearly two years ago but kept the indictment sealed to protect informers. Investigators have been tracing the cell for three years, and identified Perez by tracing her to a haul of 140 pounds of meth seized at a Brooklyn Center stash house in May 2016, reported the Star Tribune.
Yes, NPR: Illegal Immigration Does Increase Violent Crime. As members of an alien caravan beat their fists at the gates, the experts provide the rationalization for inviting them in. John Burnett wrote last week for National Public Radio, "four academic studies show that illegal immigration does not increase the prevalence of violent crime or drug and alcohol problems." But Burnett curated studies that conflate much and misinform plenty. My favorite among the four is Alex Nowrasteh's Cato Institute study, because you could tell Burnett pulled it from the top of a pile he kept on hand for just such occasions, to convince Americans that the decay they're witnessing in their communities is actually "cultural enrichment."
'Dreamer' Stabs Couple To Death In Their Texas Home. A teenage boy is arrested in connection to a double stabbing that happened at a home in the southeast side of San Antonio. The Bexar County Sheriff's Office arrested 17-year-old Jorge Carmond in the case.
Mexican Cocaine Trafficker Busted In North Carolina. A 36-year-old man is facing multiple charges after a month long investigation into area drug trafficking. Detectives charged Abimael Marco Alvarez-Villaseno, AKA Juan Alonso Alvarez-Villaseno or "Chato," after seizing more than 75 grams of cocaine and more than $1,600 in cash late Thursday [5/3/2018].
Admitted MS-13 illegals placed around the country. Loopholes in immigration laws being squeezed by the Trump administration but embraced by the Obama administration have allowed youthful illegal immigrants who self-identified as MS-13 gangbangers to be placed around the country instead of sent home, according to newly released documents. Unlike illegal criminals who avoided border security, those cited by Senate Homeland Security and Governmental Affairs Chairman Sen. Ron Johnson in a letter to a key immigration agency were initially held by the Obama administration then put in placement centers throughout the nation and eventually with "sponsors" despite their gang ties.
Previously deported immigrant accused of shooting his co-worker with a nail gun. A previously deported immigrant who returned to live in the US illegally has been accused of shooting his co-worker multiple times with a nail gun. Mexican national Jesus Ascencio Molina, 24, was charged with attempted murder and first-degree assault in the construction site rampage on April 13 in Happy Valley, Oregon. The victim, 24-year-old Andres C. Marcelo, was rushed by Life Flight to an area hospital and is in stable condition after suffering multiple nail impacts.
MS-13 directs members to 'take out a cop'. MS-13 has directed its members to "take out a cop" in a terrifying directive that has police on high alert across the New York area, according to a new memo obtained by The [New York] Post. Police are hunting for the gang member suspected of putting out the hit order — a tall, light-skinned Hispanic man with a thin build and a tattoo of three dots next to his eye. Cops in Hempstead, one of the Long Island towns the violent gang has terrorized, were tipped off to the threat Wednesday [4/18/2018] by a "credible" informant, the NYPD memo said.
Vietnamese National Tried to Kidnap 5-Year-Old Girl in Georgia. Police have arrested a man after they say he tried to grab a 5-year-old girl out of a taxi in Gainesville. The Gainesville Police Department said they were called to the 400 block of Atlanta Highway on Friday night by a taxi driver. The driver told them that she had been approached by an Asian man "who was acting oddly," who asked for a ride to Oakwood, Georgia. After she declined the ride, police say that the suspect, 35-year-old Tuan Van Nguyen, grabbed her daughter, who was in the cab at the time.
Illegal immigrant Uber driver raped passenger then fled to native Ghana, police say. An Uber driver charged with raping a passenger earlier this month was able to walk free because officials failed to notify immigration agents about his arrest, authorities said. Frederick Amfo, 30, an illegal immigrant from Ghana, was arrested after a female passenger said that on April 8 he forced her into the backseat of his car and raped her, police said. Hours after he was released from police custody, he fled to his native Ghana. He was supposed to surrender his passport but did not.
Liberal Sanctuary Cities Protecting Blood-Thirsty MS-13 From Deportation. Liberals in sanctuary cities are now protecting the bloodiest and deadliest gang members in the world from deportation. They are actively choosing to release dangerous gang members back into our communities than cooperate with ICE and enforce immigration laws on the books. [...] They're literally protecting deadly gang members, and placing Americans in danger.
Sanctuary Cities Protecting MS-13 Gang Members from Deportation, Says ICE. There is a "rather long list" of sanctuary cities across the United States that choose to release incarcerated members of the notoriously violent Mara Salvatrucha (MS-13) gang back into U.S. communities rather than allow immigration agents to prosecute and deport them, testified a federal officer under oath before lawmakers.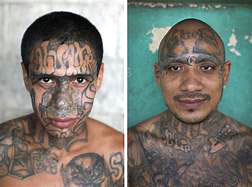 MS-13 Members Claiming to be 'Unaccompanied Minors' at [the] Border. According to Border Patrol officials, a member of the notorious MS-13 gang was captured, posing as a minor traveling as part of the "migrant caravan" which was making its way toward the U.S. border. Some parts of the so-called caravan are also now arriving on United States soil. Agents at the Yuma Station discovered a large group of immigrants who crossed the border illegally this week near southern Arizona. The group contained 1 Mexican national, 59 Guatemalans, and one Salvadoran. The Salvadoran claimed to be a minor, unaccompanied, and this is when they caught him.
MS-13 Member Posing as Unaccompanied Minor was Linked to the 'Migrant Caravan,' Says Border Patrol. Border Patrol officials told Breitbart Texas that the MS-13 gang member who presented himself as an unaccompanied minor and the group he traveled with were part of the Central American "migrant caravan." Individuals from and portions of that caravan are now arriving on U.S. soil. Agents assigned to the Yuma Station came upon a large group of 61 illegal immigrants who crossed the border Monday afternoon near the San Luis Port of Entry in southern Arizona. The illegal border crossers consisted of a single Mexican national, 59 Guatemalans, and one Salvadoran who claimed to be an unaccompanied minor, according to information provided to Breitbart Texas by Yuma Sector Public Affairs officials.
Gang members admit to firebombing black families in Boyle Heights housing development. Members of a Latino street gang have admitted to carrying out a racially motivated firebombing attack on black families in a Los Angeles housing project, prosecutors announced Thursday. Three men belonging to the Big Hazard gang will plead guilty to federal hate crimes stemming from the 2014 attack, according to written plea agreements. In exchange for the confessions, prosecutors for U.S. Atty. Nicola T. Hanna agreed to seek some leniency for the men when they are sentenced. Each faces more than 30 years in federal prison.
Trump: Migrant 'women are raped at levels that nobody has ever seen'. Tossing his "boring" prepared remarks into the air, President Donald Trump on Thursday [4/5/2018] unleashed a fierce denunciation of the nation's immigration policies, calling for tougher border security while repeating his unsubstantiated claim that "millions" of people voted illegally in California.
Attempted Mass Poisoning: Illegal Alien Poured Drain Cleaner Into Food At Florida Restaurant. Pleading guilty to putting lye in sauce led to a seven-year prison sentence for a Florida restaurant worker — and possibly more punitive action at the federal level. Margarito Padilla began serving his sentence Monday [2/5/2018], according to Florida Department of Corrections records. On Tuesday, Immigration and Customs Enforcement's Tampa office filed a detainer on the 54-year-old Guadalajara, Mexico, native, meaning ICE wants to know when Padilla finishes doing his time. Padilla's employment at a Hibachi Express in Lakeland ended last June, after franchise owner Zhong Jiang thought the Yum-Yum sauce refrigerated in a 55-gallon barrel didn't look so yummy.
The Military Can Secure the Border and Build the Wall. El Salvadoran migration has inflicted 207 murderers on this country. The migrant caravan threatening to invade this country includes migrants from El Salvador. Some of them may be MS-13 members. The Pueblo Sin Fronteras caravan of 1,000 migrants is the product of an alliance between international leftists and migrant invaders. Their goal is the invasion, colonization and occupation of America. And the only ones defending us against them are the members of an outnumbered border patrol, threatened by both drug cartels on the other side of the border and sanctuary states in this country. That's why President Trump is mobilizing the troops to do the job that the Democrats won't do.
Border Control Arrests Convicted Sex Offender Trying To Cross Into The US. Border Patrol agents in Tucson say they have arrested a previously convicted child sex offender as he allegedly tried to illegally re-enter the United States.
Report Shows that Illegals Are Destroying our National Parks. According to a new report from park services, illegal immigration and drug running have destroyed border parklands. Illegals and drug smugglers have threatened two species on the endangered list and led federal officials to ban visitors and campers in areas considered too dangerous to visit.
85-Year-Old Illegal Alien Raped 10-Year-Old Girl in North Carolina. An 85-year-old man from Mexico was arrested after deputies in Iredell County said he sexually assaulted a 10-year-old child. According to the Iredell County Sheriff's Office, deputies received a tip on March 20 in reference to the sexual assault of a child that allegedly occurred on March 15, 2018.
America Is In Utter Jeopardy. President Trump recently signed the largest six month spending bill in United States history. Illegal border crossers are having a field day crossing our southern border like they did during the Obama presidency. Border officials are back to catching and releasing those who shuffle into our republic illegally. Leftist democrats like Nancy Pelosi and Chuckie Schumer are still celebrating the massive funding of sanctuary cities. Obviously neither Chuckie or Nancy have any regard for American born sovereigns and legal immigrants who are often raped, robbed, or beaten to death by illegal border crossers who moonlight as dastardly MS 13 gang members. History has proven ever since the barbarians sacked Rome, that enemies will infiltrate any nation foolish enough to not secure their borders.
MS-13 Pour Into LI, Some Are 'Unaccompanied Minors'. About 475 gang members have been arrested by the Immigration and Customs Enforcement (ICE) agency's "Operation Matador" sting, with 99 of those gang members arrested having arrived in the U.S. as "unaccompanied minors," Breitbart reported. Sixty-four of the 99 were granted Special Immigrant Juvenile Status (SIJ), which acts basically as amnesty.
Alleged MS-13 members charged after yearlong Vegas killing spree, police say. MS-13 has brought "third-world violence" to Las Vegas, a local pastor said, as authorities announced the breakup of a yearlong killing spree allegedly committed by the gang. Four illegal immigrant MS-13 members who police say are responsible nearly a dozen slayings during the past year were charged Tuesday [3/27/2018] in federal court, police in Las Vegas said. The news comes on the heels of recent declarations by President Donald Trump and Attorney General Jeff Sessions that they are committed to cracking down on MS-13.
Suspected Mexican cartel leader smuggled 44 pounds of fentanyl into NYC, officials say. A suspected Mexican cartel drug kingpin was charged Tuesday in the seizure of 44 pounds of fentanyl from a sting operation late last year, officials said. Francisco Quiroz-Zamora, 41, was arrested in November after he traveled to New York City to collect a payment from an undercover agent posing as a drug dealer, authorities said. Officials charged him in connection with the opioid seizure at a Bronx hotel and a posh Manhattan apartment. Authorities used undercover agents to track Quiroz-Zamora's shipments from Mexico to Arizona and Californian and New York, according to the New York Post.
This is the 'violent' deportee who escaped ICE custody. A "violent" immigrant being deported to Senegal completely humiliated federal agents escorting him through JFK — when he broke free, dashed out of the terminal and sped off in a yellow cab, authorities said Wednesday. Mohamadou Lamine Mbacke, 31, was still on the loose Wednesday night as Immigration and Customs Enforcement were scrambling to figure out how he escaped — and where he went. Mbacke, who most recently lived in Detroit, has ties to New York dating back to at least 2006, when he racked up the first of 10 arrests in the city, an NYPD source said.
Vegas police say 5 arrests in MS-13 case solves 10 murders. Five members of the MS-13 street gang have been arrested in the killings of 10 victims in the Las Vegas area over the past year, authorities said Monday.
Illegal immigrant who has already been deported back to Guatemala TWICE 'repeatedly raped a girl under the age of 14' after sneaking back into the US. A man who was deported twice to Guatemala has been charged with the rape of a girl younger than 14 in Oregon. Anastacio Eugenio Lopez-Fabian, 24, was arrested by Seaside police in Oregon in February after investigators found he had sex with the underage girl multiple times. He has been charged with rape as well as assault and harassment. He posted bail and was released but was later detained again on March 7 after police learned of his illegal status in the US and that he had been deported twice before. He is currently held at a detention center in Tacoma, Washington.
Illegal Alien Heroin Dealer has been Charged 41 Times in 10 Years. A career criminal and suspected illegal immigrant with a history of eight immigration violations, at least 10 aliases, dozens of prior arrests and fingertips sliced to obscure his prints was nabbed on heroin dealing charges by state police Friday, court records show. Eddy Cabral, 53, was ordered held on $75,000 bail by Wareham District Court Judge Lisa F. Edmonds, while Immigration and Customs Enforcement placed a detainer on him for probable immigration violations, an ICE spokesman said.
Illegal Alien Burglarized Home Three Days After Crossing Border. A Superior Court judge handed down a six-month prison sentence to an undocumented immigrant who spent the night in a residence in Rio Rico that he and another suspect entered illegally. Cristian Manuel Cortez Ruiz, 25, was sentenced Feb. 26 by Judge Thomas Fink after he pleaded guilty to one count of criminal trespass, a Class 6 felony. The judge gave him credit for 135 days served prior to the time of sentencing.
Texas home nurse, reportedly in the US illegally and facing murder charge, now being eyed in other deaths. A home health care nurse who reportedly is in the U.S. illegally and is accused of smothering an 81-year-old Texas woman to death may have more victims, police said Friday [3/23/2018]. Billy Kipkorir Chemirmir, 45, was taken into custody Tuesday after Lu Thi Harris was found dead from homicidal violence in her Dallas home, police said. A source told FOX 4 News that she was found with a pillow nearby and her makeup was smeared, and that Chemirmir worked as a home health care nurse. [...] Records show Chemirmir is in the U.S. illegally and has an immigration hold on him, according to Fox 4. Two Kenyan news websites reported that he hails from the African country.
Dad Whose Son Was Shot By Illegal Immigrant Destroys Oakland Mayor For Sanctuary City Policy. Jamiel Shaw Sr., whose son was killed by an illegal immigrant, called out the Democratic mayor of Oakland, Calif., for "allowing Americans to be murdered." Mayor Libby Schaaf has been criticized by media pundits and federal officials for tipping off a group of wanted illegals [sic] aliens and warning them about an impending federal raid. "You know, it was just disgusting," Shaw said on "Fox & Friends" Friday. "Her job is to protect the citizens, the American citizens, you know. And for her to take a stand like that, she's allowing Americans to be murdered."
Illegal immigrants, who dodged California ICE raid after Dem mayor's tip-off, re-arrested for new crimes. Three illegal immigrants, who avoided capture after Oakland Mayor Libby Schaaf blew the whistle on a raid by federal immigration authorities last month, have since been re-arrested for new crimes including robbery and spousal abuse, ICE officials said. Schaaf tweeted out a warning ahead of the raid in northern California last month, infuriating Immigration and Customs Enforcement officials and the Trump administration. "How dare you!" Attorney General Jeff Sessions said in California this month, addressing Schaaf. "How dare you needlessly endanger the lives of our law enforcement officers to promote a radical, open borders agenda."
Calif. judge bars LA from enforcing gang restrictions that authorities credited with reducing crime. The city of Los Angeles has been barred from enforcing the vast majority of its gang injunctions, which applied restrictions on gang associations that authorities have long credited with reducing crime. The ruling Thursday by U.S. District Judge Virginia A. Phillips, an appointee of former President Bill Clinton, agreed with the American Civil Liberties Union that the injunctions were likely to be unconstitutionally broad, and affect people who did not have adequate opportunity to challenge them in court. The gang injunctions are civil court orders that have applied to nearly 9,000 people and 79 gang sets since 2000, the Los Angeles Times reported.
Kate Steinle's killer launches new battle to sue America and stay in the U.S.. After firing a stolen gun and killing Kate Steinle on the San Francisco waterfront in 2015, and then getting away with it in front of a leftwing jury which signaled motivation to strike back at President Trump, do you think Jose Ines Garcia-Zarate, is going away quietly? Do you think the five-times-deported illegal alien drug dealer and transient, with a record of seven felonies, will just allow himself to be deported, and then come back as he always does? Nope, not the case. He's apparently gotten a pile of leftwing-lawyer backing to sue the federal government over his 'vindictive prosecution.'
Anchor Baby Suspected of Murdering Nursing Student has Fled to Nicaragua. On Friday [3/9/2018], Binghamton police officers found the body of 22-year-old Haley Anderson at 23 Oak Street. Police have labeled the death as a homicide. According to Binghamton Police Chief Joseph Zikuski, Haley Anderson was last seen around 4 a.m. on Thursday and she had stopped returning texts on Thursday afternoon. He also notes they believe Anderson was not forced to come to 23 Oak Street. Zikuski says they believe Orlando Tercero, 22, is the suspect in Anderson's death. Tercero, a United States citizen born in Florida, flew out of John F. Kennedy International Airport around 8 a.m. on Friday and is now in Nicaragua.
WaPo: A Teen Warned That MS-13 Was 'Taking Over' Her New York High School. Then She was Murdered. Over the course of our national immigration debate — speaking of which, has anyone noticed that the DACA deadline expired without Congressional action? — border hawks are sometimes scolded for highlighting examples of violent crimes committed by illegal immigrants. I tend to agree that judging groups of people by their worst elements is an unfair practice that can cross into toxic demagoguery and scapegoating. It's true, for example, that immigrants commit fewer crimes on a percentage basis than natural-born Americans, though the same truth doesn't apply to illegal immigrants. But we shouldn't airbrush tough truths, either. Part of the conversation must entail the brutal crimes committed by some people who've entered the US illegally. Simply declaring such topics off-limits or unseemly amounts to a refusal to confront reality.
Illegal alien has gun. Police look the other way. The Indianapolis Star and other outlets report that police arrested an illegal alien from Saudi Arabia for possessing guns and ammo outside of a hotel where women were preparing for their Women's March in Indianapolis. "Federal law prohibits someone in the country illegally from possessing guns or ammo, but court records say police found him with weapons on two occasions in January," the Star reported. So twice they found him with illegal guns, and let him go — even though he threatened to kill two people.
Man had rifle with scope and bump stock outside downtown Indy hotel on day of Women's March. A man in the country illegally has been charged with a federal crime after two gun scares, including one involving an AR-15-styled rifle equipped with a scope and bump stock outside a downtown Indianapolis hotel on the day of the Women's March with thousands of attendees. Ahmed Alaklouk, described in federal court documents as a Tunisian native and Saudi Arabian citizen, has been living in Indiana on a terminated student visa.
California Sanctuary City Laws Likely Responsible for 5K Crimes by Released Criminal Illegal Aliens. The state of California and the sanctuary city laws that make it a safe-haven for criminal illegal aliens is likely responsible for at least 5,000 crimes that were committed by criminal illegal aliens released by local authorities rather than being handed over to federal immigration officials. According to data conducted for Breitbart News by the Center for Immigration Studies' Director of Policy Jessica Vaughan, the state of California — which refuses to hand over criminal illegal aliens to the Immigration and Customs Enforcement (ICE) agency — makes up about half of all non-cooperation with federal immigration officials in the U.S.
Meet Some Of The Criminal Illegals California Has Set Free. The White House released a list of criminal illegal immigrants set free by the state of California in lieu of allowing ICE to detain them, in a Thursday morning [3/8/2018] statement. The Trump administration filed suit against the state of California Wednesday for classifying itself as a sanctuary state. "California is using every power it has — and some it doesn't — to frustrate federal law enforcement. So you can be sure I'm going to use every power I have to stop them," Attorney General Jeff Sessions said in his announcement of the lawsuit Thursday.
Illegal immigrants with sex, robbery convictions among those who evaded capture after Dem mayor's warning. A Democratic mayor's warning to illegal immigrants of an incoming ICE raid in northern California may have led to a number of illegal immigrants with violent and sex-related convictions evading capture and deportation. Oakland Mayor Libby Schaaf tweeted out an impending warning of the four-day raid last week, alerting targeted individuals to the imminent arrests, and infuriating Immigrations and Customs Enforcement (ICE) officials, who say that many more could have been caught if they hadn't been warned.
Violent criminals among illegal immigrants caught in California raid derailed by Dem mayor. A sweep of Northern California by federal immigration officials this week, which was partly thwarted when the Oakland mayor sounded the alarm, nabbed a number of illegal immigrants convicted of a variety of serious and violent crimes. Immigrations and Customs Enforcement (ICE) officials announced this week that the four-day raid led to the arrest of 232 illegal immigrants in the San Francisco Bay Area. Of those 232, 180 "were either convicted criminals, had been issued a final order of removal and failed to depart the United States, or had been previously removed" from the country and had come back illegally.
Accused MS-13 members laugh in court near victim's family. Five accused members of the bloodthirsty MS-13 street gang palled around like they were having a grand old time in court Tuesday as the family of a 16-year-old girl they're accused of slaughtering looked on grimly from the gallery. Enrique Portillo, Alexi Saenz and Jairo Saenz laughed and grinned amongst themselves, their shackles clanking, as prosecutors said they'd yet to hear if the Justice Department will allow them to seek the death penalty for the murder of best friends Nisa Mickens and Kayla Cuevas in Brentwood in 2016. Mickens, 15, and Cuevas, 16, were bludgeoned with a baseball bat and hacked to death with machetes by the men as the girls headed home from school, authorities have said.
How DACA Shields Violent Gang Members. The March 5 deadline to end protections under the Deferred Action for Childhood Arrivals (DACA) program is rapidly approaching and Congress still doesn't have its act together. Democrats claim that failure to act is putting lives on the line by threatening upheaval and deportation to thousands — unless Congress intervenes. On this point, Democrats are right, but not in the way they think they are. A failure to act on DACA, and illegal immigration more generally, is indeed putting lives on the line. A recent report issued by the Center for Immigration Studies (CIS) shows just how many. CIS reviewed more than 500 cases of MS-13 gang members arrested nationwide since 2012. The group's conclusions reveal startling facts about the danger that illegal alien gang members pose to Americans.
Illegal Alien Murdered Man, Set His Body On Fire. A short time after beginning the death investigation, officers began receiving tips advising that a man by the name of Arturo had killed a man named Jorge Martinez, according to Somerset Police. Further investigation revealed that "Arturo" was an alias allegedly used by Humberto Mesa-Vasquez, 34, of 431 South Main Street in Somerset. Officers went to that address and located Mesa-Vasquez and two other Hispanic males; Mesa-Vasquez was found wearing clothing that had blood stains on them, according to SPD. All three individuals were driven to the Pulaski County Sheriff's Office for questioning, and a search warrant was executed on the South Main Street address.
DACA Illegal Alien Arrested for School Shooting Threats in New York. An illegal alien shielded from deportation by the President Obama-created Deferred Action for Childhood Arrivals (DACA) program was arrested after allegedly threatening a school shooting in upstate New York.
200 Murders by MS-13 in 22 States since 2012, Claims Report. A new report from the Center for Immigration Studies (CIS) reveals that the hyper-violent MS-13 transnational criminal gang has spread to 22 U.S. states. The gang accounted for 207 murders, mostly in California, Maryland, New York, and Virginia since 2012. The rapid growth is attributed in the report to the influx of Unaccompanied Alien Children from Central American countries like El Salvador, Honduras, and Guatemala.
MS-13 Resurgence: Immigration Enforcement Needed to Take Back Our Streets. All criminal gangs are a threat to public safety, but MS-13 is a unique problem because of the unusually brutal crimes its members have committed, its success in using intimidation to victimize and control people in its territory, and its focus on recruiting young members, often in schools. Nevertheless, because such a large share of MS-13 members are not citizens, they are especially vulnerable to law enforcement, and many can be removed from the communities they terrorize. Strategic use of immigration enforcement is a necessary element to disrupting and dismantling MS-13 gangs and any other transnational criminal organization operating in our communities. The proliferation of sanctuary policies that interfere with cooperation between state and local law enforcement agencies threatens to hamper efforts to stifle MS-13 activity. The federal government must take steps to clarify how federal law permits such cooperation and also must set up consequences for those jurisdictions and officials who impose sanctuary policies.
An MS-13 Horror Story that the Press Has Largely Ignored. In a December 2017 post captioned "No Sanctuary for MS-13", I discussed how members of the notorious MS-13 gang were preying on the residents of Prince George's County, Md., a sanctuary county in the National Capital Region. Recently, however, a handful of press outlets have been reporting on a particularly horrific offense allegedly perpetrated in neighboring Montgomery County, Md. Montgomery County denies that it is a "sanctuary jurisdiction", but its leaders make it sound like one. In particular, the press reported in February 2017 that: ["]Amid reports that parents are keeping children home from school because they fear deportation, leaders in Montgomery County, Maryland, are reassuring immigrants that they are welcome and safe.["]
MS-13 spreads to 22 states, fed by 300,000 illegals, DACA recipients, tied to 207 murders. The vicious MS-13 gang, stifled under former President George W. Bush, exploded during the Obama era fueled by 300,000 illegals, including those given amnesty under the DACA program, and has now been linked to crimes in 22 states, according to a new report. Since 2012, 207 murders have been tied to the gang called "Mara Salvatrucha," and there are over 500 cases nationwide of MS-13 members being charged in major crimes, according to the report from the Center for Immigration Studies.
GOP Rep Introduces Legislation to Revoke Citizenship From MS-13 Gang Members. Rep. Lee Zeldin (R., N.Y.) on Tuesday [2/20/2018] introduced legislation to revoke the citizenship of naturalized immigrants who are involved in gang-related crimes. The Protecting Our Communities from Gang Violence Act would allow the U.S. government to revoke the citizenship of individuals who came to the country as immigrants and got involved in gang activity either prior to or within 10 years of becoming a naturalized citizen. The act seems to be the direct result of an increase in the numbers of crimes being committed by MS-13 gang members in Zeldin's congressional district and the state of New York as a whole.
The Editor says...
How many members of MS-13 are U.S. citizens? Few, if any. MS-13 people don't care if they have citizenship or not. I suspect the majority of them don't have plans for a long life.
212 ICE Immigration Arrests in L.A.: 195 Repeat Offenders, More Than Half Serious or Violent Criminals. Eighty-eight percent of the 212 individuals arrested in the Los Angeles area this week for immigration law violations were previously convicted criminals. Over the course of five days, U.S. Immigration and Customs Enforcement (ICE) deportation officers and special agents made the arrests and served 122 notices of inspection (NOIs) to businesses in the Los Angeles area of responsibility. This is in addition to notices of inspection issued to 77 businesses in northern California just weeks ago. One hundred and ninety-five of the 212 arrested included convicted criminals, those who failed to leave the United States after being issued a final order of removal, and those who returned to the U.S. after being removed.
Tucker: Violent Criminal Illegals Now a 'Protected Class' in California. Illegal aliens — including violent criminals — have become a protected class in California, Fox News host Tucker Carlson declared Tuesday [2/13/2018], reacting to the state's new sanctuary policy: "It doesn't matter even if they have a history of crime, even violent crime. In California, illegal aliens are now a protected class. And even more significant, the state itself is now in direct opposition to this country's most basic laws." Carlson listed several ways California's laws give special treatment to illegal aliens: [...]
Three Illegal Aliens Gang-Raped Handicapped Woman in New Jersey. ICE has placed detainers on three restaurant workers charged with sexually assaulting an incapacitated woman in East Rutherford. Records show that dishwasher Rene Jimenez, 29, and kitchen helper Emeterio Castelan, 25, are both Mexican citizens sharing an East Rutherford apartment across from the borough post office and a day-care center. The third defendant, 20-year-old Luis Tenecela, is an Ecuadoran citizen living in Hackensack.
Manhunt: DACA Recipient Wanted For Murder In Texas. On Friday [2/9/2018], authorities in Texas revealed that a man they believe is responsible for the murder of a good Samaritan who attempted to help another victim shot by the suspect is an illegal immigrant who is in the United States under the Deferred Action for Childhood Arrivals (DACA) program. Authorities say that Judas Deluna, 21, shot and killed a man outside DJ's Food Mart in Harris County on January 26, after the man came to the aid of another man that they say Deluna also shot.
Police: man charged with murder in Tukwila human remains case was in country illegally. A Tukwila man accused of stabbing his cousin then dismembering the man last month should have been in the custody of federal immigration agents, according to Kent police. Rosalio Ramos-Ramos, 37, was being sought by Immigrations and Customs Enforcement (ICE) late last year and was almost turned over, when an apparent lack of communication between police and Harborview Medical Center resulted in his discharge from the Seattle trauma hospital, police said. "I believe this person needed to be off the streets. He had been deported four times prior, he is a convicted felon and he's a very violent person," Kent police Chief Ken Thomas told KOMO on Thursday [2/8/2018].
Man is slashed in the face and neck with a box-cutter at Maryland bus stop after asking 'drunk' illegal immigrant to stop urinating in public. A man was slashed in the face and neck at a Maryland bus stop after asking a 'drunk' and 'belligerent' stranger to stop urinating in public. Salvador Gomez-Lopez, 46, of Montgomery County, was arrested on two counts of assault, public intoxication and possession of a dangerous weapon with intent to injure after the incident last November. He has recently been indicted. A spokeswoman with Immigration Customs and Enforcement told Fox News that Gomez-Lopez was a wanted fugitive, in the country illegally from El Salvador. ICE have since 'lodged a detainer'.
Six MS-13 gang members busted in Long Island teens' murders. Two Long Island teens, inseparable in life, walked together into a deadly September attack by four homicidal gangbangers swinging baseball bats and a machete. The quartet of killers, along with their two leaders in the brutal MS-13 street gang, were charged Thursday [2/1/2018] in the revenge killings of Nisa Mickens, 15, and Kayla Cuevas, 16, federal authorities said. The horrific Sept. 13 slaughter of the unarmed girls was a homicidal overreaction to a Brentwood High School dispute just one week earlier, a 34-pagefederal indictment charged.
'Dreamers' and Demons. The bright hopes of young Xinran Ji, a University of Southern California engineering student from Inner Mongolia, died in 2014 at the hands of a then-19-year-old "Dreamer" and his thug pals. Mexican illegal alien Jonathan DelCarmen, who first jumped the southern border at age 12, pleaded guilty to second-degree murder last summer in the savage robbery and fatal beating of Ji — who was walking home from a study group after midnight. No, it wasn't President Trump, ICE agents, Republicans or conservative talk show hosts who racially profiled Xinran Ji. It was "Dreamer" DelCarmen and his partners in crime: Alberto Ochoa, 17, Andrew Garcia, 18, and Alejandra Guerrero, 16. The gangsters targeted Ji because he was Asian and assumed he "must have money."
Parents Of MS-13 Victim At SOTU Had This to Say About MSNBC Host's Comments. In discussing the problem of criminal illegal aliens in America during his State of the Union Address Tuesday night, President Trump invited as guests Elizabeth Alvarado and Robert Mickens, whose teenage daughter was murdered by the gang, to put a face to the issue. But MSNBC's Joy Reid didn't find the president's discussion of the problem terribly important, as she dismissed the gang as something only Fox News talks about. "He gives a speech tonight, in which he makes it sound like the biggest issue in the United States, the biggest threat is MS-13, a gang nobody that doesn't watch Fox News has ever heard of. So he makes it sound like they're the biggest threat," she said. Alvarado and Mickens got their chance to respond Wednesday on Laura Ingraham's Fox News program.
Dem Rep Brenda Lawrence Slams Trump For Focusing On "M-16" Street Gang. Michigan Representative Brenda Lawrence (D) has apparently never even heard of MS-13. After Trump's State of the Union address on Tuesday, she went on C-SPAN2 to slam the president for being "so focused" on this "M-16" street gang, which she says "spoke nothing about crime in America." "To be so focused on this M-16, or, the, this illegal immigrant gang that he speaks of, spoke nothing about crime in America, about his commitment to America First," Rep Lawrence said. "What about fighting the crime that's in our streets? It's not by immigrants!"
Corona Para Los Muertos. As it happens, three days after the president's 2016 election victory, California denied parole to Juan Corona, the Mexican serial killer who makes an even stronger case for border enforcement. Corona was born in the Mexican state of Jalisco in 1934 and in 1950 illegally crossed the border into the United States. He picked carrots and melons in Imperial Valley then moved north to the Yuba City area, near Sacramento. Deported in 1956, Corona had no trouble entering the United States illegally a second time. By 1960, the Mexican became a labor contractor for local American farmers, including Goro Kagehiro. On May 19, 1971, Kagehiro noticed that someone dug a man-sized space in his peach orchard and filled in the hole. This turned out to be the grave of Kenneth Whiteacre, whom somebody had sodomized before stabbing him to death then chopping apart his head with a machete.
New Crime Stats Prove 'Peaceful' Illegals Have a Mean Violent Streak. Non-leftists have been trying to warn everyone about illegals' less-than-optimal track record on crime since before Hillary Clinton's first full body regeneration. All along, leftists have been calling us a bunch of prejudicial haters of brown people. Except, now we've got the cold hard numbers on our side. Try rebutting these crime stats: [...]
Illegals commit crimes at double the rate of native-born: Study. The crime rate among illegal immigrants in Arizona is twice that of other residents, Attorney General Jeff Sessions said Friday, citing a new report based on conviction data. The report, from the Crime Prevention Research Center, used a previously untapped set of data from Arizona that detailed criminal convictions and found that illegal immigrants between 15 and 35 are less than 3 percent of the state's population, but nearly 8 percent of its prison population.
Illegal immigration numbers: MS-13 exploding, 1,100 border arrests a day, 1M on deport list. The White House is steeling for battle with Democrats and moderate Republicans over immigration reform, raising new concerns that the illegal population is out of control — and violent. The White House released Homeland Security numbers about the troubling elements of illegal immigration created by legal loopholes that have helped to expand the killer MS-13 gang is expanding.
MS-13 wants to send 'younger, more violent offenders' to the US, officials say. Frustrated MS-13 gang leaders feeling the pressure from the Trump administration's crackdown are looking to send "younger, more violent offenders" to the United States to take over the role of being enforcers, officials say. The revelations were made Thursday [1/18/2018] during a House Committee on Homeland Security meeting on fighting international criminal organizations, where officials discussed the arrests and imprisonment of MS-13 members and leadership over the last year.
Mexican Uber driver in US illegally charged with four rapes. A California Uber driver living in the country illegally has been charged with raping, assaulting and robbing at least four young women. Alfonso Alarcon-Nunez, 39, faces 10 criminal charges, including forcible rape, rape of an intoxicated victim, oral copulation of an intoxicated victim and first degree burglary. He pleaded not guilty to all 10 counts Monday [1/22/2018] and was being held on $1.4 million bail. San Luis Obispo County District Attorney Dan Dow said Alarcon-Nunez was not always driving for Uber when he picked up those women but added that the alleged crimes show that the company should improve its driver screening process.
Illegal immigrant accused of stabbing stranger in neck at California market had been deported seven times. A man accused of an "unprovoked and brutal stabbing" at a market in California last month is an illegal immigrant with a criminal record who had been previously deported seven times, a U.S. Immigration and Customs Enforcement spokesman told Fox News. Ricardo Velasquez-Romero, 39, who also goes by the name Eulalio Miniz Orozco, was arrested last month after local police say he stabbed a 61-year-old man in the neck at Lola's Market in Santa Rosa on Dec. 21. Department of Homeland Security databases indicate Velasquez-Romero "has been repatriated to his native Mexico seven times since 2007," a spokesman for ICE said.
Illegal charged with cop-killing: 'Wish I had killed more'. An illegal immigrant facing murder charges for the killing of two law enforcement officers in Northern California went off the rails during his most recent court hearing and said, with a grin on his face, "I wish I had killed more," Fox News reported. This is what the sanctuary-loving left wants to shelter from the deportation storm? Luis Enrique Monroy Bracamontes, 37, is a Mexican citizen who stands accused of killing two officers, Sacramento Sheriff's Deputy Danny Oliver and Placer Sheriff's Deputy Michael Davis Jr., in 2014 — at a time when he was in America illegally. His past court appearances have been marked by strange outbursts where he blurted even stranger statements and mocked everyone from witnesses to members of the media.
Newly Released Arizona Crime Data Just Shattered a Key Liberal Narrative on Immigration. "Undocumented immigrants are at least 142% more likely to be convicted of crime than other Arizonans," [John] Lott concludes from the data. While documented immigrants, or legal permanent residents, accounted for 3.9 percent of Arizona's population in 2014, but only 1.5 percent of the prison population (which again shows why it's inaccurate to lump documented and undocumented immigrants for any statistical purposes), undocumented immigrants account for 11.6 percent of first and second most serious offenses. Further, undocumented immigrants in Arizona are consistently more likely to be convicted of murder, manslaughter, armed robbery, sexual assault of a minor, sexual assault, DUI or DWI, and kidnapping, among other serious crimes. And undocumented immigrants are 163 percent more likely to commit first degree murder than are U.S. citizens in the state.
Report: 'Dreamer'-age Illegals Have Crime Rate Double Young Americans. DACA-aged illegals commit crimes at twice the rate of young Americans, says a comprehensive summary of crimes and convictions in Arizona during the past 32 years. The report punctures claims by pro-amnesty advocates that young 'dreamer' illegals are vital to U.S. industry and civic life, and indicate that any amnesty will ensure that many more crimes — including murders and rapes — will be inflicted against Americans and legal immigrants, including Hispanics and blacks.
Illegal Alien Assassins Kill Wrong Woman in Florida. Midway into a Florida murder-for-hire plot, a boyfriend-girlfriend hit team realized they'd zip-tied and duct-taped the wrong woman — and then killed her anyway, officials said. Victim Janice Marie Zengotita-Torres, 42, of Kissimmee, was forced into the trunk of her own car, tortured for her ATM card and then suffocated with garbage bags, officials said. The mother of a 14-year-old son, she was found Monday, dumped in Ormond Beach, six miles north of Daytona, ABC News reported.
Man who threatened to kill Greyhound passengers had been previously deported, officials say. A man who has been living in the country illegally was arrested after authorities say he threatened to kill passengers on a Chicago-bound Greyhound bus. Margarito Vargas-Rosas, 33, has been charged with making terrorist threats, a felony, and disorderly conduct. He had been previously deported to Mexico and came back to the United States, where he lived in Chicago and worked at a restaurant in Milwaukee, Racine County Sheriff Christopher Schmaling told reporters at a news conference Saturday [1/13/2018]. The bus was traveling southbound on I-94 in Milwaukee just before 10 p.m. Central time Friday, when authorities received at least two 911 calls from passengers. Schmaling said Vargas-Rosas had gotten into an argument with two other passengers and later, for reasons still unclear, threatened to shoot everyone on board as he dug into his waistband.
Greyhound bus chased by police after illegal immigrant threatens passengers. An illegal immigrant on a Greyhound bus who allegedly threatened to shoot and kill passengers on Friday — leading police on a chase from Wisconsin to Illinois — was deported five times, a U.S. Customs and Border Protection spokesperson told Fox News. The spokesperson said on Sunday [1/14/2018] that Margarito Vargas-Rosas, 33, who faces terror charges, was in the U.S. illegally and was "removed" from the U.S. the last five times Border Patrol agents encountered him. He also had a previous DUI arrest to his name.
One in Fifteen Oregon Prisoners Is a Criminal Alien; Nearly Half Convicted of Sex Crimes. The murder of Kate Steinle in California highlighted the fact that we have a serious criminal illegal alien problem in this country. Many of these individuals, after breaking the law to enter the country, go on to commit other crimes — theft, rape, and even murder. David Olen Cross released a December 2017 report based on Oregon Department of Corrections (DOC) data, announcing that there are "973 foreign nationals (criminal aliens) incarcerated in the state's prison system." Oregon has 14,739 inmates incarcerated in its 14 prisons scattered across the state. "Approximately one in every fifteen prisoners incarcerated by the state was a criminal alien, 6.60 percent of the total prison population," the report said. According to Cross, all of the 973 criminal aliens currently in the state's prisons were identified by U.S. Immigration and Customs Enforcement (ICE). Anytime that happens, DOC officials will place an "ICE detainer" on the inmate. "After the inmate completes his/her state sanction, prison officials will transfer custody of the inmate to ICE," he said.
"Combative" Mohammed Abraar Ali Killed Police Officer Andrew Camilleri. Initial reports identified him only as a 22-year-old man who had allegedly been intoxicated on alcohol and high on marijuana. A drunk, stoned driver killing a police officer is a serious matter, and many Californians wondered why the CHP had not released the driver's name, booking photo, and any background information of interest. Nothing emerged until more than a week later, on January 2, 2018. The CHP explains the delay as due to hospitalization but Californians could be forgiven for their doubts. As it happened, the state's new sanctuary legislation kicked in on January 1, and the driver who had taken officer Camilleri's life was identified as "Hayward man" Mohammed Abraar Ali. The CHP did not inquire about his immigration status.
MS-13 Gang Member Stabbed Girl To Death, Sliced Off Her Tattoo. A teenager who sought to avenge the death of her boyfriend and told a 15-year-old girl she would "see her in hell" before stabbing her 13 times pleaded guilty Monday [1/8/2018] to the brutal slaying that raised the spotlight on MS-13's presence in the suburbs of the nation's capital. Venus Romero Iraheta, who was 17 at the time of the January 2017 murder, pleaded guilty in a Virginia courtroom as an adult in the murder of Damaris Alexandra Reyes Rivas, the Washington Post reported. Iraheta, now 18, faces a a maximum of life in prison plus 20 years when she is sentenced on May 25.
Illegal Immigration And Crime: The stunning numbers the Left cannot refute. On December 21, 2017 the Department of Justice issued a press release, "Departments of Justice and Homeland Security Release Data on Incarcerated Aliens — 94 Percent of All Confirmed Aliens in DOJ Custody Are Unlawfully Present." The initial statistic cited in the title of that DOJ press release shows that there is a truly significant distinction to be drawn between aliens who are lawfully present in the United States and aliens who are illegally present in the United States, either because they have entered the United States illegally or they have violated the terms of admission after entering the United States via the inspections procedure at ports of entry. [...] Although immigration anarchists have consistently manipulated language, engaged in tactics of bullying and intimidation and, when all else failed, flat-out lied about every aspect of immigration, the Trump administration is providing the truth.
Illegal Immigration And Crime. On December 21, 2017 the Department of Justice issued a press release, "Departments of Justice and Homeland Security Release Data on Incarcerated Aliens — 94 Percent of All Confirmed Aliens in DOJ Custody Are Unlawfully Present." The initial statistic cited in the title of that DOJ press release shows that there is a truly significant distinction to be drawn between aliens who are lawfully present in the United States and aliens who are illegally present in the United States, either because they have entered the United States illegally or they have violated the terms of admission after entering the United States via the inspections procedure at ports of entry.
Illegal Alien Sold LSD and Cocaine to Undercover Officer. A Raleigh man accused of selling drugs to the same undercover police officer three times in less than a week is facing several charges. Tomas Aguayo-Moreno, 25, was charged by Wake County sheriff's deputies with eight counts of trafficking in LSD, one count of trafficking in cocaine, three counts of maintaining a dwelling or vehicle for drug purposes, felony marijuana possession and one count each of cocaine possession, cocaine sale and cocaine delivery. Aguayo-Moreno was arrested about 5 p.m. Tuesday [12/19/2017] when deputies stopped his black Audi on New Bern Avenue in east Raleigh. Deputies say they stopped the car after Aguayo-Moreno sold between 500 and 1,000 doses of LSD to the undercover officer.
Mystery in West Texas: How Did a Border Patrol Agent Die? President Trump called it proof of the need to build a wall; Senator Ted Cruz said it was a "stark reminder" of insecurity along the border. To everyone, it seemed like a horrendous example of the dangers that border patrol officers face as they cover vast, remote and unforgiving territories. But a month after a middle-of-the-night incident in which one border patrol agent was killed and another, who is said to have no memory of what happened, was severely injured, no one seems to know how the men came into harm's way off an interstate in West Texas.
North Carolina's Children [are] Still Being Victimized by Illegal Aliens. Unfortunately, as we have reported in several previous articles, though North Carolina's capital city of Raleigh is more than 1,500 miles from the nearest border crossing with Mexico, the children of that state have been preyed upon as if they live in a border state. Though, the numbers of reported child sexual assaults are down significantly from just a few years ago (reaching an all-time high of 672 charges in April 2014), one is too many, and completely preventable. Between January 1, 2017 and November 30, 2017, at least 530 child sexual assault charges were filed against illegal aliens in the Tarheel State.
Anchor Baby Raped 10-Year-Old Girl in Arkansas. A Siloam Springs man is behind bars after police say he raped a 10-year-old girl. The Siloam Springs Police Department said Jose Garcia-Chicol, 33, was booked into the Benton County Jail on Monday. He faces a charge of rape (two counts). Police said the victim came forward on Saturday [12/16/2017] to speak with authorities.
Previously Deported Violent Mexican Shot Sheriff's Deputy in California. The man suspected of shooting a three-year Humboldt County sheriff's deputy in the left shoulder with a 12-gauge shotgun at a Ferndale dairy farm early Sunday morning was a Mexican national here illegally who was previously deported in 2015, according to Humboldt County Sheriff William Honsal. At a press conference Monday morning, Honsal said both the injured deputy, whose name is not being released at this time, and the suspect Hugo Parral-Aguirre, 30, are in stable condition and are no longer in the hospital. Hugo had three gunshot wounds after two deputies returned fire, Honsal said. Honsal said the outcome was "very lucky" because the female deputy who was shot could have been killed if the shot had struck her a few inches away.
Tucker Carlson Unveils 'Never-Before-Seen' Statistics Proving Illegal Aliens Commit 'Massively Disproportionate' Amount of Crime. Fox News host Tucker Carlson unveiled 'never before seen,' statistics Thursday night [12/21/2017], proving convictions among illegal aliens are significantly higher than U.S. citizens. Carlson kicked off the segment by walking through the Democrats' textbook argument for illegal immigration, recounting how liberals claim non-citizens commit less crime than U.S. citizens.
Four Criminals on the FBI's Top Ten Most Wanted List Are Immigrants. Looked at the FBI's Most Wanted list lately? If not, you might be surprised to learn that four of the 10 criminals on the list are immigrants — including at least two who were in this country illegally when they committed their heinous crimes. The makeup of the list highlights the problem of illegal immigration and crime in this country that President Donald Trump raised throughout his presidential campaign — something he's continued to emphasize, with the creation of a special unit at the Department of Homeland Security called Victims Of Immigration Crime Engagement (VOICE). Of the six American citizens on the list, three are Spanish speakers. Two of those three have ties to Mexico and are thought to possibly be hiding out in that country.
Pair of 'Dreamers' Murdered a Man in North Carolina. Two Siler City residents pleaded guilty this week to charges in connection to the October 2015 death of a man. On Thursday [12/14/2017], Miguel Angel Munoz, 19, pleaded guilty to second-degree murder and concealing an unnatural death in the death of Francisco Rivas Galves, also of Siler City, according to the Randolph County Sheriff's Office. Randolph County Superior Court Judge V. Bradford Long sentenced Munoz to 200 to 252 months in prison. Munoz is a citizen of El Salvador and will be returned to his home country based on an pre-existing federal warrant.
Illegal immigrant acquitted of Kate Steinle's murder seeks new trial for firearm conviction. The illegal immigrant who was acquitted of the murder of Kate Steinle late last month is seeking a new trial for his firearm possession conviction. Lawyers for Jose Ines Garcia Zarate on Thursday [12/14/2017] claimed that the judge presiding over the murder trial failed to properly instruct jurors before they acquitted him.
80% of 101 Illegals Arrested in NJ ICE Operation Are Convicted Felons. A five-day sweep in New Jersey last week nabbed 101 illegal aliens, 80% of whom are convicted felons, U.S. Immigration and Customs Enforcement (ICE) announced Tuesday. In all, ICE reports that 88% of the 101 illegal aliens arrested in the operation had prior criminal convictions. Examples of the sex crime, assault, drug and pornography convictions of the illegal aliens arrested reported by ICE include: [...]
Illegal Alien Found Guilty of Murdering Family of 5. An illegal immigrant from Vietnam faces life in prison after being convicted Monday in the 2012 hammer-killing of a family of five after losing money at a casino earlier in the evening. Binh Thai Luc, who had a violent criminal history and was supposed to be deported in 2006, was found guilty in the murders of a family of Chinese immigrants. He was also found guilty of five counts of attempted robbery and two counts of burglary. Luc, who was in debt and served an eviction notice, killed the family during a robbery after he lost money at a casino on March 23, 2012.
California Sheriff 'Mistakenly' Released Illegal Alien Who Repeatedly Molested 5-Year-Old Girl. A California sheriff says a "screw-up" led to the mistaken release of an inmate who had pleaded guilty to child molestation. The Merced Sun-Star reported Thursday that Merced County jailers mistakenly allowed 38-year-old Primitivo Gonzalez to post bail on Nov. 22. Gonzalez had pleaded guilty to repeatedly molesting a 5-year-old girl. A judge had ordered him held without bail until sentencing, when he faced 35 years-to-life in prison.
ICE report: 92 percent illegal aliens arrested have criminal convictions. According to a new report released Tuesday by Immigration and Customs Enforcement (ICE), 92 percent of illegal aliens arrested this year had "criminal convictions, pending criminal charges, were an immigration fugitive, or were an illegal reentrant." In addition, arrests of members of the violent MS-13 narco-terrorist organization surged 83 percent. Under new management since the Trump administration began, ICE has seen huge enforcement improvement. "The most significant changes in immigration enforcement strategy can be found in the interior of the United States. The executive orders issued by President Trump in January 2017 strongly emphasized the role of interior enforcement in protecting national security and public safety, and upholding the rule of law," said the report.
Feds Indict Kate Steinle's Killer. This is not double jeopardy, principally because the federal government is a separate sovereign, and double jeopardy applies only to charges from the same sovereign.
New immigration, gun charges filed against illegal immigrant acquitted in Kate Steinle trial. Federal officials filed a new set of immigration and gun charges Friday against Jose Ines Garcia Zarate, the illegal immigrant found not guilty last week in the murder of Kate Steinle. "A federal grand jury indicted Jose Inez Garcia-Zarate today for being a felon in possession of a firearm and ammunition, and for being an illegally present alien in possession of a firearm and ammunition," according to a statement released by the Department of Justice. If convicted of either charge, he could face a maximum of ten years in jail.
3-strikes felon released early, now back behind bars, facing murder charges. It was supposed to be a second chance at a new life. A three-strikes felon serving life in prison was released early. But, two years later, he and another man showed up to the Kent Regional Justice Center Monday to face murder charges. The alleged victim's family was also there. The Cabrera family said it was a struggle to show up in court and come face-to-face with the two men suspected of killing their loved one, 24-year-old David Cabrera.
Illegal Alien Sexually Assaulted Woman at Bus Stop While She Was Having a Seizure. A disabled woman's trip to her local 7-Eleven morphed into a terrifying experience when a stranger sexually assaulted her during an unforeseen medical emergency. The victim, whom ABC7 is not identifying, told police she had just purchased a pack of cigarettes at the 7-Eleven along the 12800 block of Clopper Road in Germantown. It was around 11:30 p.m. While walking home, the woman suffered a seizure, causing her to collapse onto a bench at a Ride On bus stop. It's unclear how long the woman was unconscious, but when she came to, she realized an unknown man had one of his hands down her pants.
Mexican immigrant deported 20 times gets 35 years in Portland sex assaults. An undocumented immigrant, with a history of arrests and deportations, was sentenced to 35 years in prison Friday after his sexual assault conviction earlier this year. KATU News reported that Mexican national Sergio Jose Martinez, 31, attacked two women in Portland, Ore., on the same day. The first was a 65-year-old whose car he stole, and a younger woman. He was arrested July 24, the report said. Prior to the attacks, Martinez had been deported 20 times, had a series of probation violations for illegal crossings into the United States and had a felony burglary conviction, KGW.com reported, citing court documents filed in March.
Border Patrol Agent Dead, Partner in Serious Condition in Texas. [W]e need to build a border wall to save the lives of our border patrol agents who are being targeted by criminals breaking into our country. Do their lives matter, or is this a small price to pay for "diversity" and an end to "racism"?
Exclusive: Illegal Aliens Killed Border Agent by Crushing in His Skull with Rocks, Says NBPC. Exclusive details have emerged on the early morning attack against Border Patrol agents that left one agent dead and another hospitalized in serious condition on November 19, 2017. Breitbart Texas first broke the news of the death and injuries and now the National Border Patrol Council (NBPC) says that their agents on the ground have stated that the agents were tracking a group of illegal aliens who then beat the agents with rocks until one was killed and the other hospitalized.
Trump renews call for border wall after patrol officer dies in Texas. President Trump on Sunday [11/19/2017] reiterated his calls to build a wall along the country's southern border after a U.S. Border Patrol agent died from injuries he sustained on patrol in Texas.
Almost 300 MS-13 Gang Members Arrested in Nationwide Bust. Nearly 300 members and associates of the infamous transnational drug gang MS-13 have been arrested in an interdepartmental collaboration called Operation: Raging Bull, leadership of the Immigration and Customs Enforcement (ICE) Agency announced Thursday [11/16/2017]. Led by ICE Homeland Security Investigations' (HSI) National Gang Unit, the operation was a multi-phase, multi-month project of numerous federal law enforcement agencies, including ICE, U.S. Customs and Immigration Service, the U.S. Border Patrol, and the Department of Justice. The operation led to a total of 267 arrests of MS-13 members and associates. In September, ICE announced initial arrests of 53 MS-13 gang members in El Salvador, the product of 18 months of investigation. On Thursday [11/16/2017], the results of an additional month of investigation were further revealed. Over that second phase, between October and November of 2017, 214 members of MS-13 were arrested. 93 of those were arrested on federal or state criminal charges, while the other 121 face immigration violation charges.
Illegal immigrant charged in 2015 murder of New York socialite. An illegal immigrant was charged this week in the death of a New York socialite who was found bludgeoned to death in her hilltop estate two years ago, the end result of an elaborate international manhunt. Esdras Marroquin Gomez, 32, pleaded not guilty Monday at his arraignment on a murder charge in the death of 83-year-old Lois Colley, according to the Westchester County district attorney's office, who said he was indicted by a grand jury last year.
Where does America's 3rd-world violence come from? The term "body count" is something we usually read in a story about Juarez or Kabul. Yet that is the headline of an AP article over the weekend describing the growing problem of MS-13 violence in Long Island, a once peaceful and prosperous suburb. Although it's hard to tell for sure because the AP tends to view illegal aliens as citizens, the story appears to refer to illegal alien children slain by MS-13. [...] A profound irony is lost on the AP and other advocates of open borders and the vicious cycle of amnesty. It is this endless cycle of amnesty and lawlessness they advocate that has turned our country into the very third world, like Honduras, that many immigrants, both legal and illegal, would like to escape. You do nobody any favors by making America like the countries of origin of illegal immigrants.
African 'Migrant' Kidnapped Autistic 6-Year-Old Boy In New York. Police have located an autistic Brooklyn boy who was kidnapped by his babysitter over the weekend. Six-year-old Devin Monroe was found Monday morning and is said to be in good health while his 39-year-old sitter, identified as Emmanuel Kolajo, was taken into police custody for questioning. The NYPD had been searching for the boy since receiving a call from his frantic mother on Sunday afternoon after she couldn't reach Kolajo.
Illegal Alien Raped 12-Year-Old Girl, Forced Her Into Prostitution. A Winston-Salem man was convicted Monday of sexually abusing a 12-year-old girl and allowing other men to rape the girl in exchange for money numerous times over a two-year period, resulting in her getting pregnant and contracting a sexually-transmitted disease. Armando Graciano, 43, pleaded guilty in Forsyth Superior Court to attempted rape of a child, human trafficking, sexual servitude and two counts of taking indecent liberties with a child.
Sessions unleashes organized crime task force on MS-13. Attorney General Jeff Sessions announced Monday [10/23/2017] that he's designated the MS-13 street gang as a priority for the Justice Department's Organized Crime Drug Enforcement Task Forces — enabling authorities to target the gang with broader array of federal resources.
Illegal immigrant who paved way for Massachusetts' 'sanctuary' policy arrested in stunning robbery. The illegal immigrant whose case turned Massachusetts into a "sanctuary" state is behind bars yet again. Police say he committed a stunning daylight robbery by taking a wheelchair-bound woman, slapping her and stealing the $2,000 she had just carried out of the bank. Sreynuon Lunn had been free on the streets of Boston because his home country won't take him back, leaving immigration officers no choice but to release him under a 2001 U.S. Supreme Court ruling.
Illegal Alien Caught Trying to Rape Elderly, Bed-Ridden Woman. Officers arrested a Donna man Saturday after he sexually assaulted an 80-year-old woman, according to the criminal complaint against him. At 4:20 p.m. Saturday, the Donna Police Department dispatched officers to the 600 block of South 10th Street. Officers met with a 60-year-old man who said he caught Jacobo Zelaya, 43, of Donna sexually assaulting his mother, according to the criminal complaint.
Illegal Alien Drowns Her Two Sons Over Worries Of Deportation. In another horrific killing, a Delaware mother has been taken into custody for drowning murders of her infant son and his older brother. Kula Pelima is the 30 [year old] mother that is being charged is charged, and has been brought up on two counts of first-degree murder of her 5-year-old son, as well as her 3-month-old.
Man Connected To Starting California Fire Is Illegal Alien- Deported TWICE Before. Oh this should be a fun debate to watch. Progressives in California are now being forced to choose between their two greatest loves: Harping on people about "man-made" climate change and welcoming illegal aliens into our country with no regard for safety. As it turns out, the person who set a blazing wild fire in Sonoma County Wine Country is an illegal alien who had been deported not once but twice before. Meanwhile, liberal heads continue to explode as they attempt to figure out who/what they should defend here.
ICE Director: Suspected Wine Country Arsonist Is Illegal Alien Mexican National. U.S. Immigration and Customs Enforcement (ICE) Acting Director Tom Homan confirmed on Thursday that a man arrested in connection with setting a fire in Sonoma County Wine Country is an illegal alien from Mexico who has been twice returned to his "home country." Homan also confirmed that ICE has issued detainer requests for Jesus Fabian Gonzalez five times now in the past year alone, including the one issued on October 16 in relation to his most recent arrest on suspicion of arson. All of the arrests were made "by Sonoma County on various felony and misdemeanor charges," according to Homan.
Illegal Alien Charged with California Wildfire that Killed 40 People. The U.S. Immigration & Customs Enforcement Agency (ICE) issued a detainer request on the Sonoma County Jail for Jesus Fabian Gonzalez, who was arrested Sunday on suspicion of arson in Wine Country fires that have killed at least 40 residents. Breitbart News reported earlier this week that Sonoma County Sheriffs had arrested Jesus Fabian Gonzalez, 29, at Maxwell Regional Park in Sonoma County after a series of reports of ongoing fires in the region. Mr. Gonzalez was observed around 3:00 p.m. PDT wearing a jacket and walking "out of the creek area and a plume of smoke behind him," according to the Santa Rosa Press Democrat.
ICE Detainer Issued for Suspected Wine Country Arsonist in Sonoma Jail. Breitbart News reported earlier this week that Sonoma County Sheriffs had arrested Jesus Fabian Gonzalez, 29, at Maxwell Regional Park in Sonoma County after a series of reports of ongoing fires in the region. Mr. Gonzalez was observed around 3:00 p.m. PDT wearing a jacket and walking "out of the creek area and a plume of smoke behind him," according to the Santa Rosa Press Democrat. Mr. Gonzalez, who is homeless and reportedly known by law enforcement to have been living under a nearby bridge, claimed he was cold and had lit the fire to stay warm. But it was a balmy 78 degrees when he and the plume of smoke were first observed. Mr. Gonzalez was booked into the Sonoma County Jail for suspicion of felony arson.
Sanctuary Cities Allowed Criminal Alien to Remain in U.S., Murder Kansas Deputy. An illegal alien who was drunk driving has pleaded guilty to killing a Kansas deputy sheriff after causing a deadly car crash last year. Sanctuary city policies in two jurisdictions allowed the previously convicted drunk driver to remain in the U.S. leading to the murder of the deputy. Adrian Espinosa-Flores, a 39-year-old illegal alien, pleaded guilty to reckless second-degree murder charges in Johnson County, Kansas after crashing his vehicle into Master Deputy Brandon Collins, killing him, as Kansas City Star reported.
Illegal alien accused of murdering teen girl was in DACA program. A man accused of killing a South Carolina high school student had been protected from deportation under the DACA program, U.S. officials confirmed to Fox News Thursday evening [10/12/2017]. Daniel De Jesus Rangel-Sherrer, 19, is accused of murder, kidnapping and possession of a weapon during a violent crime in connection with the death of 18-year-old Diana Martinez-Gonzalez. Martinez-Gonzalez, a junior at Greenville High School, was found dead in a wooded area Oct. 4. Officials said she had been forced into the woods and shot multiple times in the head.
8 Alleged MS-13 Gang Members Charged With Murder, Extortion In Maryland. A group of suspected MS-13 gang members in Maryland are facing charges in connection with a racketeering operation. Federal court documents released Wednesday show the eight men are accused of four murders and extortion as well as drug trafficking. The September indictment alleges that from 2015 to 2017 the group extorted owners of illegal businesses, and sent the profits to gang members in El Salvador.
Illegal immigrant breaks into NJ home, rapes 6-year-old girl, police say. An illegal immigrant in New Jersey is accused of raping a 6-year-old girl then jumping out of a second-floor window after her father walked in during the assault, police said. Edgar Mendoza, 32, is accused of breaking into a Trenton, N.J. home at about 1:30 a.m. on Sept. 19 and molesting a 6-year-old girl while she was in bed, according to the Trentonian. [...] Mendoza, originally from Guatemala, faces charges of burglary, endangering the welfare of a child, sexual assault and aggravated sexual assault, the newspaper reported.
Convicted rapist throws a fit while being deported. A convicted rapist from Africa threw a fit as he was being deported from the US — telling federal agents that he "would rather die than go back to Togo" — during a violent confrontation at Dulles International Airport, a report says. "I am not going back to Togo," seethed Koffi Ameyapoh, 51, of Maryland. "You will be shipping a dead body back to Togo," he told the agents, according to court filings obtained by NBC Washington on Monday [9/18/2017].
Alleged SF killer had been released from jail despite request for immigration hold. One of three men accused of using a gun stolen from a San Francisco police officer to kill a man in the Mission District last month had been released from County Jail earlier in the year despite a request from federal immigration agents that he be held and turned over for potential deportation, officials said Friday [9/15/2017]. U.S. Immigration and Customs Enforcement officials lodged what is known as a detainer request for Jesus Perez-Araujo, 24, after he was arrested three months before the Aug. 15 street killing of 23-year-old Abel Enrique Esquivel Jr., said ICE spokesman James Schwab. The agency asked the city to hold him for up to 48 hours after his release.
Anguish, outrage over street killing of SF man with gun stolen from cop. [Scroll down] According to a complaint filed by the district attorney's office, Perez-Araujo served as the driver the night Esquivel was killed, as the three men cruised the city, looking for targets to rob. After midnight they held up three people, and encountered Esquivel about 2 a.m. at 26th Street and South Van Ness Avenue, authorities said. Pineda is accused of firing the fatal bullet. At the time, Pineda was wearing a GPS tracker that U.S. Immigration and Customs Enforcement agents had strapped to his ankle, and data from the monitor is evidence in the case, according to law enforcement sources familiar with the matter.
9 Family Members of Americans Killed by Illegal Aliens Respond to Possible DACA Deal with Democrats. Nine Americans who have lost loved ones at the hands of illegal aliens spoke out in response to reports out of a Wednesday night [9/13/2017] dinner meeting between President Donald Trump, Senate Minority Leader Chuck Schumer, and House Minority Leader Nancy Pelosi that the discussions involved a deal to shield DACA illegal aliens from deportation.
Assaults against Border Patrol agents hits record high. New government data shows a record-high 671 Border Patrol agents have been assaulted this fiscal year while on the job. U.S. Customs and Border Protection reported 720 total assaults against its Border Patrol, Air and Marine Operations, and Office of Field Operations teams since Fiscal Year 2017 started Oct. 1, 2016. Last year, 585 total assaults against the agency's three branches were documented. Border agents by far bore the brunt of the attacks. The total number of assaults specifically against Border patrol is up 167 percent since the same period last year, when 403 assaults were reported.
Dream Act 2017 Is Pretty Generous On Allowing Dreamers To Commit Crimes. The normal process for applying for citizenship is pretty burdensome, and requires that people have good moral character, ie, do not commit crimes. Certain crimes will immediately knock a candidate out, no matter how long they've resided in the U.S. Other crimes will most likely knock them out. What about with the Dream Act?
The Virtuous Republic. News articles about crimes committed by illegal aliens.
Enough with DACA! Where's the sympathy for THESE Americans? Here is the proper context of the broader immigration issue that will be absent from the media coverage and the political posturing from the derelict politicians — the reality that the swamp political elites refuse to acknowledge.
• Illegal aliens account for 13.6 percent of all offenders sentenced for crimes committed in the United States, even though they only represent 3.5 percent of the population.
• Illegals account for 12 percent of murder sentences, 20 percent of kidnapping sentences, and 16 percent of drug-trafficking sentences.
• There are 2.1 million illegal and legal immigrants convicted of crimes, but 1.2 million criminal aliens remain at large in the United States and have not been deported. Remember, the prime demographic for violent crime is young males, broadly covered by the "dream" amnesty.
Father Of Murdered Florida Mother Reveals Killer Was DACA Recipient. A grieving father in Florida has now revealed who murdered his daughter outside of a bar in Naples: Carlos Rodriguez, a convicted, illegal alien who is under protection by the Deferred Action for Childhood Arrivals program.
2,139 DACA Recipients Convicted or Accused of Crimes Against Americans. As Attorney General Jeff Sessions announced the end of the Obama-created Deferred Action for Childhood Arrivals (DACA), from which more than 800,000 un-vetted young illegal aliens have been given protected status and work permits, the number of them who are convicted criminals, gang members, or suspects in crimes remains staggering. Below, Breitbart News has compiled a list of 50 of the 2,139 DACA recipients, deemed "DREAMers" by the open borders lobby, who have had their temporary protected status revoked due to crimes including: [...]
2,139 DACA "kids" convicted of other crimes. Barack Obama's unconstitutional "law" that protects people who claim they jumped the border as "children" is actually keeping 800,000 adults here who arrived illegally. Breitbart reports that 2,139 of these adults protected by Obama committed crimes including murder — and cannot be deported as judges pretend DACA is the law.
California Crime Wave Follows Criminal Justice Reform. In November 2014, California voters approved Proposition 47, which downgraded drug possession and many property crimes from a felony to a misdemeanor. As Debra Saunders reminds us, proponents argued that lesser punishment for low-level offenders would enhance public safety. Unfortunately, this utterly counterintuitive notion has not panned out. In San Francisco, according to a police spokesman, theft from cars is up 47 percent this year over the same period in 2014. Auto theft is up by 17 percent. Robberies are up 23 percent. And aggravated assaults are up 2 percent. (To be fair, burglaries are down 5 percent). How about Los Angeles? It has seen a 12.7 percent increase in the overall crime this year, according to the Los Angeles Times. Violent offenses are up 20.6 percent; property crimes by 11 percent.
Judge Sentences Illegal To 15 Years After Evidence Presented. Illegal immigration is a massive problem plaguing our country. Despite this, many on the left continue to advocate for policies protecting undocumented aliens from deportation. Because of this, innocent people are currently being harmed by people who shouldn't be in this country in the first place. For example, an illegal immigrant living in Danbury, Connecticut, was recently sentenced to prison for torturing a young girl in her care after "nanny cam" footage caught her burning, beating, and dragging the helpless child. [...] As a consequence, she was sentenced to 15 years behind bars.
DREAMer With Long History Of Arrests Charged With Murder. A 24-year-old man is in the Collier County Jail after one woman died and another was injured in an early Sunday morning [8/27/2017] shooting outside an East Naples bar, authorities said. Carlos Ruben Rodriguez, of the 4500 block of Gulfstream Drive, is charged with murder, aggravated battery with a deadly weapon and possession of a firearm by a convicted felon, the Collier County Sheriff's Office said in a news release Sunday.
32 convicted sex offenders nabbed on Long Island, held by ICE. During a sweep, immigration agents nabbed 32 convicted sex offenders on Long Island and held them for deportation. The offenders, with convictions ranging from sex abuse to attempted rape, were grabbed during a 10-day crackdown that ended Aug. 3, Immigration and Customs Enforcement officials said. The initiative was dubbed "Operation SOAR," an acronym for Sex Offender Alien Removal.
Illegal Alien Shot a Woman In North Carolina. A woman is recovering at home after being shot during a disturbance in Seven Springs. The Wayne County Sheriff's Office says it happened around one o'clock Monday morning [8/7/2017] on the 2300 block of Piney Grove Church Road in LaGrange. When deputies arrived they found Megan Goodman with shotgun pellet wounds to her legs Willis Lane. Investigators say Goodman told them she had been shot during a disturbance at hone on Pine Grove Church Road. Deputies say the victim was able to get away and hid in field until seeking help. Goodman was treated and released from the hospital.
Group of Illegal Aliens Charged With String of Robberies in Denver. Denver prosecutors have charged four men accused of participating in two bank heists and robbing several businesses, including an adult entertainment shop, with felonies including aggravated robbery and kidnapping. The defendants are variously alleged to have been involved in five robberies and one attempted robbery that occurred in May and June this year, according to a news release Monday from the Denver district attorney's office. Alfredo Ray Garcia, 48, faces 44 counts, including violation of the Colorado Organized Crime Control Act, one count of second-degree kidnapping and 12 counts of aggravated robbery.
'Dreamer' from Honduras Beat Man to Death with Crowbar in VA.. A Newport News man who beat one of his co-workers to death and injured another last year was found not guilty by reason of insanity Tuesday [8/1/2017]. Circuit Judge Mary Jane Hall ruled after reviewing two psychiatric evaluations for Edwin Meza, 28, during a hearing on second-degree murder and aggravated malicious wounding charges. Meza attacked two of his co-workers without provocation while they were doing construction work last August on a house on Lake Whitehurst, prosecutors have said.
Homeless sex offender arrested for rubbing up on 12-year-old girl. A homeless sex offender with more than 40 prior arrests violated a 12-year-old girl from Ohio who was staying at a Midtown hotel with her family [8/2/2017], police said. [...] The girl then told her family, who alerted police. The pervert was captured a short time later as officers were canvassing the area for him.
Immigrants are 22 percent of federal prison population. A stunning 22 percent of the federal prison population is immigrants who have either already been deemed to be in the country illegally or who the government is looking to put in deportation proceedings, the administration said Tuesday [8/1/2017]. [...] The 22 percent is much higher than the population of foreign-born in the U.S. as a whole, which is about 13.5 percent. All told, the government counted more than 42,000 aliens in federal prisons as of June 24. About 47 percent already face final deportation orders, making them illegal immigrants, and 3 percent are currently in immigration courts facing deportation proceedings.
Prosecutors Look To Treat Illegal Alien Crimes Different From Actual Citizen Crimes. [Scroll down] In other words, there are games being played with the criminal justice system in order to protect illegal aliens who commit crimes above already being unlawfully present. This is the point where the federal system should jump in and charge prosecutors and district attorneys with things like prosecutorial misconduct and violations of immigration law, such as 8 U.S. 1324, providing shelter to an illegal alien.
Horrific Crime by Dreamer in a Sanctuary City Leads To Backlash. The crime by a so-called DREAMer in a Washington state sanctuary city was horrific. The teen girl suffered a broken orbital bone, a broken jaw, her ear was dangling off, her lip was damaged, she had head injuries, she lost teeth, her nose was broken, she couldn't talk and she was raped. Salvador Diaz-Garcia, 23 years of age, is charged with second-degree assault, second-degree rape and third-degree child molestation for perverted acts that occurred on June 25 at a kid's pool. The woman's mother called police about 10 p.m. that night, reporting that her daughter came home with a bloody head, missing teeth and wearing only a tank top.
Man Deported 20 Times Before Sexually Assaulting Elderly Woman, Police Say. Sergio Jose Martinez has a lot to answer for, say cops in Portland, Oregon. On Monday, the 31-year-old broke into a 65-year-old woman's home, sexually assaulted her, threatened to kill her before beating her up, stole her car, then attacked another victim, police claim. And it's not his first time violating the law. Besides prior criminal convictions, this suspect, an undocumented immigrant from Mexico, has been deported 20 times according to court documents obtained by KGW. Commissioners for Multnomah County, in which Portland lies, unanimously voted to expand their sanctuary policy for immigrants in December. The Department of Homeland Security said that they issued a detainer for Martinez that same month, but local authorities did not notify them after he was released from custody. For years, Multnomah had already stopped holding suspects for Immigration and Customs Enforcement.
Illegal Alien Allegedly Burns Apartments for Revenge, 130 Left Homeless. An illegal alien from Mexico sits in a North Carolina jail after allegedly setting fire to an apartment complex to get revenge on an ex-girlfriend. The fire left 130 residents homeless. Police arrested Jesus Reyes Lopez, 20, after he reportedly started a fire at the Woodscape Apartments in Charlotte, North Carolina late last week. The fire damaged 40 apartment units and drove 130 people from their homes, the Charlotte Observer reported.
U.S. immigration raids to target teenaged suspected gang members. U.S. immigration agents are planning nationwide raids next week to arrest, among others, teenagers who entered the country without guardians and are suspected gang members, in a widening of President Donald Trump's crackdown on illegal immigrants.
Or, to put it another way ...
U.S. ICE Officials Focus on Apprehending Obama's Criminal UAC Admissions. Many people might be familiar with the 2013/2014/2015 "Unaccompanied Alien Children" (UAC) crisis which stemmed from a specific President Obama policy/construct to allow a massive influx of South American migrants to enter the U.S. Despite most media reports to the contrary, a considerable number of those UAC's were teen and young gang members from South America, including MS-13 members. The aliens were granted entry by the Obama administration, supported by false assertions of refugee status and shipped to various regional locales.
Previously Deported Illegal Alien Caught Selling Cocaine in North Carolina. An illegal immigrant deported in 2016 after his arrest on drug charges in Johnston County has been arrested after he allegedly returned to the area and was caught selling cocaine. Luis Lauro Sarmiento, 51, of Clayton was deported after his arrest last year. The Johnston County Sheriff's Office was conducting an undercover investigation in April 2017 and learned Sarmiento had returned to the area.
Illegal Immigrants Face Criminal Charges for First Offenses. Migrants who are caught crossing the border illegally for the first time are now facing criminal charges in federal court in Arizona as the Trump administration steps up efforts to deter illegal immigration.
Cartel Violence Spills into Texas as Gunmen Storm Past U.S. Border Security. Two cartel gunmen fleeing from a raging gun battle with Mexican authorities ran through U.S. border security measures twice as they crossed into Texas and back; using their vehicle to ram barriers. The cartel gunmen were able to cross into Eagle Pass through International Bridge #2 by running the security checkpoints. Shortly after they crossed back through a second bridge that was closed at the time. The gunmen used their vehicle to ram security barriers and later ditched it escape on foot.
Ignorance of the Law is no Excuse — Unless You're a Refugee. A man in Manchester, NH was arrested on six counts of domestic violence. "According to court paperwork, he was accused of striking, pushing, grabbing, kicking and pulling out the hair of a woman who was 27 weeks pregnant at the time." It was evidently an open and shut case. The man, 33 year old Augustin Bahati, is a refugee from the Congo who was "resettled" in 2015. He, like many refugees, has been placed in Manchester, and many cities like it, without the permission, and quite often without even the knowledge of the city. The feds, under Obama, just brought in refugees and quietly bussed them to cities around the country. [...] You may be thinking — oh great — another immigrant clogging up the judicial system, and another for which we taxpayers must pay to incarcerate. You'd be wrong. He got off scot-free.
Illegal Alien Left a Man Facing Surgery After Horrific Beating. A Jacksonville man is accused of causing such damage to another man's face, he'll need reconstructive surgery. Johan Rivera-Hervert, 28, of Daisy Street in Jacksonville was arrested Friday by the Jacksonville Police Department and charged with felony assault inflicting serious bodily injury. Rivera-Hervert is accused of damaging a man's right orbital socket to the point that he'll need reconstructive surgery, according to warrants.
Anchor Baby Tried to Murder Family by Setting Fire to Home. A Fayetteville man will spend more than 35 years behind bars after pleading guilty to Arson and Attempted Murder. 32-year-old Nicholas Rodriguez set fire to his home in 2015, while three kids and three adults were still inside.
Illegalophilia and Islamophilia. When Nabra Hassanen was killed by Darwin Martinez Torres, the media rushed to blame Islamophobia and Trump. The truth was simpler. It was the left's own Illegalophilia that killed the Muslim teenager. [...] The murder happened in Fairfax County. Earlier this year, Fairfax County Chief of Police Ed Roessler had assured illegal aliens that they had nothing to worry about. The police were not going to do anything about them until they killed someone. "We're not targeting someone on the street that we may or may not know is here unlawfully," Deputy County Executive David Rohrer soothed.
Almost 10,000 refugees suspected of (organised) crimes in 2015 and 2016 alone. A Dutch police report that was supposed to remain hidden from the public now unveils that in 2015 and 2016 there are 104 cases of status-holders suspected of serious crimes, like armed robbery and sex offences. Furthermore, 183 are repeat offenders, while 9300 of them are suspected of committing a single offence. What makes this worse, is that large groups of asylum seekers seem to be part of organised crime groups, that trek from country to country, stealing on order.
Report: After Phoenix Dropped Sanctuary City Status, Crime Rate Fell. When the City of Phoenix ended its sanctuary city status crime began to fall, the Arizona Police Association reports. Their statement contrasts sharply with politically motivated chiefs of police from around the country. "When we eliminated our sanctuary policy back in 2008, we saw crime, violent and stolen vehicles fall by 25 percent," former Phoenix police officer and Executive Director of the Arizona Police Association Levi Bolton told Fox News Channel's William La Jeunesse in an interview. "We saw a 20-year low crime rate. When we were allowed and had the discretion to contact our federal immigration partners, crime fell drastically."
Mother: 'My Son Is Dead Because Politicians... Put Illegal Aliens Ahead of American Citizens'. Maureen Maloney, whose son was killed in August 2011 by a drunken, unlicensed undocumented immigrant, was addressing parents and relatives of Americans who have been victimized by people who came to this country illegally.
Deported MS-13 Gangsters Keep Sneaking Back Across U.S. Border. U.S. immigration officers keep apprehending and deporting members of the brutal Mara Salvatrucha (MS-13) gang, but they keep sneaking back across the southwest border into the United States, a high-ranking Immigration and Customs Enforcement (ICE) official told lawmakers. "In many cases, we know who these individuals are. We have biometric identifiers. They've been arrested by the Border Patrol [USBP] or been arrested by ICE previously and removed and then re-entered the country unlawfully," testified Matthew Albence, the executive associate director for Enforcement and Removal Operations (ERO) at ICE, under oath.
Leftist Illegalophilia, Not Islamophobia, Killed a Muslim Teen. The murder happened in Fairfax County. Earlier this year, Fairfax County Chief of Police Ed Roessler had assured illegal aliens that they had nothing to worry about. The police were not going to do anything about them until they killed someone. [...] Fairfax County's refusal to investigate illegal aliens made it a magnet for a rising illegal alien population. Its jails have nearly 2,000 illegal aliens and the area has become a magnet for the El Salvadoran MS-13 gang. It's unknown whether Torres was an MS-13 member, but his behavior matches the extreme brutality and fearless savagery that the group, which has been lethally active in Fairfax, is known for.
A Renewed MS-13 — Courtesy of Obama's Lax Immigration. From 2009 to 2014, the number of UACs apprehended by the Border Patrol, mostly teenaged boys, increased 13-fold from El Salvador, 15-fold from Guatemala, and 19-fold from Honduras. Despite tendentious suggestions to the contrary, this was not a natural, unavoidable development. The increased crime and disorder in these three so-called Northern Triangle countries of Central America no doubt sparked greater interest in heading to El Norte, but it was Obama's response to the initial flow that transformed it into a flood. Mexicans caught at our southern border are sent back right away with relatively little fuss. But Mexico won't take back non-Mexicans — even though its officials often wave people through on their way north — so returning these OTMs (Other Than Mexicans) to their countries takes more time. That presents the authorities with two options: either detain them until they can be repatriated or, if you run out of detention space, give them a summons to report to an immigration court (called a "notice to appear") and let them go, even though it could be years before their scheduled court dates.
Judge Frees Illegal Immigrant MS-13 Member Because Of 'Rights Violations'. An Obama-appointed federal judge in Virginia early this month released a Honduran teen who sold drugs, illegally crossed the U.S. border, and was a member of the violent street gang MS-13. U.S. District Judge Elizabeth K. Dillon ordered the 17-year-old to be released because his "rights had been violated" after he crossed the Rio Grande and turned himself in to U.S. Border Patrol, the Washington Post reported. "The judge ruled that, by holding the illegal alien gangbanger without a hearing, the government violated his rights to due process and family unity," according to Judicial Watch. The former gang-member's identity has not been revealed due to his status as a minor.
Nearly 30% of illegal immigrant children at border have ties to MS-13 or other gangs. Nearly 30 percent of the illegal immigrant children the U.S. is currently holding in its secure dormitories have ties to criminal gangs, the government revealed Wednesday [6/21/2017], suggesting the Obama-era surge of Central Americans has fed the country's growing problem with MS-13 and other gangs. Federal officials refused even to guess at the true scope of the problem, telling the Senate Judiciary Committee that they can give only small snapshots of what they see. But they said the devastation on communities across the country is clear: killings and chaos, particularly among other immigrants — both legal and illegal.
Obama-Appointed BLM Activist Blames White People For Illegal Alien Murdering Muslim Girl. Leftists initially blamed Trump supporters and Islamophobes for the murder of 17-year-old Muslim teenager Nabra Hassanen, who was killed early in the morning on Sunday [6/18/2017] in Virginia. After police said the murder was not a hate crime, but was instead related to road rage and the suspect arrested for the crime was a 22-year-old illegal immigrant from El Salvador named Darwin Martinez Torres, their "Islamophobic Trump supporter" narrative was shattered.
Illegal Aliens Made Up 66% of Criminal Alien Convictions in Texas in 6 Years. The Texas Department of Public Safety (DPS) reported that in the last six years around 220,000 criminal aliens have been booked in Texas jails. DHS confirmed to DPS that at least 148,000 or 66% of those criminal aliens had entered the U.S. illegally. The DPS report showed that almost 600,000 criminal offenses were filed against the criminal aliens from June 1, 2011, and May 31, 2017. 266,000 of those charges resulted in convictions.
Virginia: Muslim girl a victim of illegal alien's road rage, not hate crime. A young illegal alien is accused of brutally murdering a Muslim teenager in Fairfax County, Virginia near a mosque. Darwin Martinez Torres, a 22 of El Salvador, is responsible for the beating death of 17-year-old Nabra Hassanen, according to police, NBC Washington reported.
Liberals Blamed White Supremacy For Muslim Teen Murdered By Illegal Immigrant From El Salvador. Liberals on Twitter are blaming white supremacy and Donald Trump for the murder of a Muslim teen, despite the fact that the suspected murderer is an illegal immigrant from El Salvador.
20 Phoenix Cops Murdered Since 1981 — 7 by Illegal Aliens. The Phoenix Police Department (PPD) has lost 20 officers to murder since 1981 — seven of those officers were killed by illegal aliens. With its close proximity to the U.S.-Mexico border and being situated in the path of main drug trafficking routes for Mexican transnational organized criminal groups (cartels), the PPD and other law enforcement agencies in the Phoenix metro area have suffered numerous deaths and serious injuries to officers at the hands of criminals illegally in the United States. Some of these criminals had numerous previous deportations, but were able to re-enter the U.S. through its porous southern border.
Illegal Alien Murderer Had Murdered Before. The illegal alien who murdered a father and two sons in San Francisco in 2008 not only evaded deportation with the city's help but also had murdered before, the San Francisco Chronicle has revealed. Even worse, the FBI knew it and did nothing. According to the Chronicle, an informant from the Salvadoran MS-13 gang told the FBI that Edwin Ramos, convicted on July 30 for murdering 49-year-old Tony Bologna and his sons, Michael and Matthew, had murdered a gang foe before he cut down the three Bolognas in a hail of gunfire. Another son, Andrew, survived the attack. The revelation adds another shocking detail to the story of an illegal alien who received the protection of leftist San Francisco officials in defiance of federal immigration law.
Previously Deported Would-Be Cop Killer and Child Rapist Re-Arrested in Arizona. Border Patrol agents working in the Tucson Sector arrested two previously-deported Honduran nationals with felony convictions. One of the men had previously been convicted of attempting to kill a police officer while the second had a conviction for sexual activity with a child. The agents assigned to the Ajo Station observed a man illegally crossing the border near the Lukeville Port of Entry early on Thursday [6/8/2017]. After he made his way into Arizona, agents apprehended him and took him to the Ajo Station for processing, information obtained from U.S. Customs and Border Protection (CBP) officials by Breitbart Texas revealed.
Media Blackout: Border Patrol Agent Kidnapped, Fingers Cut Off by Assailants. An off-duty Border Patrol agent suffered serious injuries Friday night [6/9/2017] after an apparent assault in New Mexico. At about 11 p.m. Friday, a motorist found the off-duty agent "on the side of the road" in Doña Ana County, New Mexico, according to a news release from U.S. Customs and Border Protection. "The agent suffered multiple, serious injuries to his head, chest and hands," according to the news release. "Emergency Medical Services transported the agent to a nearby hospital where he is being treated for his wounds. The agent is in stable condition."
Border Patrol Agent was Kidnapped, FBI Leads Investigation. A leaked official document from the El Paso Sector Intelligence and Operations Center reveals that the injured off-duty Border Patrol agent who was discovered on the side of a roadway on June 9, 2017, is believed to have been kidnapped prior to sustaining severe injuries to his "head, chest, and hands." Breitbart Texas exclusively obtained the document from a trusted source operating under the umbrella of Customs and Border Protection (CBP).
Lawrence illegal immigrants swept up in raid prove Sununu, LePage right. Where do New Hampshire Gov. Chris Sununu and Maine Gov. Paul LePage go to get their apologies from the Democrat hacks and the fake-news media who were so recently blasting them as xenophobes and nativists for pointing the finger at the illegal immigrant drug dealers wreaking havoc on their states? As recently as March, Sununu said there's "no doubt" illegal Dominican drug dealers from Lawrence are involved in peddling heroin in the Granite State.
Presidents Bush and Obama to blame for harm caused by illegal immigrant deported 17 times. Former Presidents Bush and Obama owe a personal apology to the family of a California boy gravely injured by an illegal alien. They should also pay for the child's medical bills.
The Democrats' Second Secession & America's New Civil War. [Scroll down] Mexico is composed of two main ethnic groups: the descendants of the Spanish conquistadors who enslaved and slaughtered the indigenous Indians, and the descendants of the Indians. In other words, actual oppressors and actual oppressed. When members of these two groups cross into the United States, however, they both become "people of color," therefore oppressed; therefore, deserving of special sensitivities, special allowances, special privileges — all without regard to their individual histories and merits. That is why criminal migrants from Mexico, who are here illegally, can commit felonies against Americans, including rape and murder, and become a cause for progressives and Democrats, who create "sanctuary cities" and policies to protect them. Because they are people of color and allegedly oppressed.
Obama admin knew gang members were part of illegal immigrant surge: Whistleblower. The Obama administration knowingly let in at least 16 admitted MS-13 gang members who arrived at the U.S. as illegal immigrant teenagers in 2014, a top senator said Wednesday [5/24/2017], citing internal documents that showed the teens were shipped to juvenile homes throughout the country. Sen. Ron Johnson, chairman of the Senate Homeland Security Committee, said a whistleblower turned over Customs and Border Protection documents from 2014 detailing the 16 persons who were caught crossing the border.
Almost two dozen MS-13 gang suspects arrested in early-morning sweep. Twenty-one people accused of being part of the notoriously violent MS-13 gang were arrested Wednesday as federal and local investigators forced their way into homes and businesses across Los Angeles County in a pre-dawn sweep that came as a result of a more than two-year racketeering investigation. At least two dozen locations were raided by investigators with the federal Bureau of Alcohol, Tobacco, Firearms and Explosives, the FBI and officers with the Los Angeles Police Department.
Previously Deported Felon Shot Limo Driver in Arizona. A man suspected of shooting a limo driver in the leg twice on Sunday in Phoenix has been linked to two other shootings, Maricopa County court records show. Zhair Zamora-Sepulveda, 29, was booked into Maricopa County's Fourth Avenue Jail Sunday [5/14/2017], police said.
Three Illegal Immigrants Arrested For Kidnapping Texas Lawyer. Police in Orange County, Tex. have arrested three illegal immigrants connected to the abduction and robbery of a local attorney. Detectives with the Orange County Sheriff's Office tracked down German Adalid Borjas-Benitez, 19, Henrry Eduar Rivera-Antunez, 17, and Erik Pagoada-Bustillo, 17, in Port Arthur, Tex. on Friday [5/12/2017], 12NEWS reported. All three suspects are illegal aliens from Honduras, police confirmed.
Three Illegals Arrested for Kidnapping — Mainstream Media Silent. 3 Illegal teens have been arrested in Orange County, Texas in a vicious kidnapping. Because this sick crime goes against the liberal media and Obama era narrative of all illegals being innocent little dreamers, there is a complete media blackout and the story has only been covered by outlets such as Breitbart and the local news.
Biggest ICE gang raid ever: 1,378 arrests, 21 murder charges, 3 'Dreamers'. In pure numbers, ICE said, "Of the 1,378 total arrested, 1,098 were arrested on federal and/or state criminal charges, including 21 individuals arrested on murder related charges and seven for rape and sexual assault charges. The remaining 280 were arrested on administrative immigration violations. Of the total arrested, 933 were U.S. citizens and 445 were foreign nationals from 21 countries in South and Central America, Asia, Africa, Europe and the Caribbean." The Trump administration has made criminal gangs and illegals with criminal records a priority. The administration has put a special focus on MS-13, the gang from Latin America.
Twilight Zone: Mexicans Are Upset About Immigrants Bringing Crime To Their City. Residents of a Mexican city are upset about immigrants causing crime, according to a Tuesday report from El Universal. The report said that there was a press conference held in Tapachula by a leader of a local group called: "For a different Mexico." The group's president, Victorino Alvarez Fuentes, said that immigrants were urinating in public and sexually assaulting women and minors. Tapachula is near the Guatemalan border and besides immigrants from Central American countries, there has been a recent influx of African immigrants entering Mexico seeking to eventually get to the U.S.
Baltimore Sun: Say, Could Someone Explain Why Illegal Aliens Are Treated Better Than U.S. Citizens in Court? On the bright side, illegal aliens are mostly not responsible for the massive spike in crimes, shootings, stabbings, and murders in Charm City. What with all that crime, one can understand that the police would have illegals as lower rungs on the ladder. But, they still go after people who violate traffic laws, do they not? Of course, the number of police working for Baltimore has dropped precipitiously since the city decided to demonize the police.
Group reportedly chanting 'MS-13' stabs and robs man in New York City. A group of men reportedly shouting "MS-13" stabbed and robbed a man in New York City on Saturday [5/6/2017]. Three men stabbed the victim at around 8 p.m. in Queens and stole $600 from him on the sidewalk, authorities told NBC New York. Police told the station the group was screaming "MS-13" during the attack.
Thousands Flee Chicago For Safer Areas Of The Country As America's Third Largest City Becomes A Gang-Infested Wasteland. Of course we aren't supposed to talk about the fact that this is quietly happening in communities all over America. This is one of the reasons why there is such a disparity in real estate prices these days. The wealthy are willing to pay a substantial premium to live with other wealthy people in areas that are far away from all the violence. [...] Would you want to raise your children in an area where this was going on?
DoJ Releases First Estimate of Number of Foreigners Held in Federal Prisons: Over 45,000. This is the first time we've troubled ourselves to attempt a first-pass count — we count everything in this country. We have whole sections of government devoting to counting every thing in America — air conditioners, cars, gay and transgender students at risk, etc. The only things we don't count are the things the Ruling Class doesn't want the public to know the numbers on.
Housing Illegal Aliens in America's Jails Costs $1.2 Billion. Nearly a quarter of the inmates in federal prisons were born outside the U.S., and more than half of those have final deportation orders, the Department of Justice said Tuesday [5/2/2017].
DOJ: One in Four Federal Inmates Is Foreign-Born. The Justice Department published statistics on the prison population to comply with directives in President Donald Trump's January executive order overhauling the immigration system. The foreign-born prison population as of March 25 totals 45,493, or 24 percent of all federal inmates. Of that group, 3,939 now are American citizens. That leaves 41,554 inmates who remain citizens of foreign countries. Some 22,541 of them, or 54.4 percent, have final orders to be deported once they've completed their sentences. Another 33.4 percent, 13,886, are under investigation by Immigration and Customs Enforcement agents for possible deportation.
Rape charges dropped against immigrant teens in Maryland high school case. Rape charges against two teenage illegal immigrants accused of raping a 14-year-old girl in a Maryland high school bathroom in March were dropped on Friday [5/5/2017]. A judge granted the defense attorney's request to drop charges of first-degree rape and first-degree sexual offense charges against 17-year-old Jose Montano. "Facts in this case do not support the original charges," John McCarthy, state attorney for Montgomery County, said. "Prosecution is untenable." McCarthy said that Montano will be released immediately and referred to juvenile court on pornography charges, and 18-year-old Henry Sanchez will now face pornography charges. No other charges are being pursued.
Sanctuary City Cops Refused to Release These Images of an Illegal Immigrant Fugitive Accused of Rape. A once-deported illegal immigrant accused of raping a Massachusetts college student is on the run, according to Immigration and Customs Enforcement officials. Luis Baez, 34, also known as Pedro Valentin, has fled town after a state judge released the Dominican national on $2,500 bail — despite requests from the state prosecutor to set bail at $100,000, and despite ICE's request to place an immigration detainer on him.
Three illegal immigrant MS-13 gang members arrested for attempted murder in Long Island machete attack. Police in New York say three members of the MS-13 gang, all illegal immigrants, have been charged with attempted murder. Brothers Fidel Hernandez, 23, and Jose Hernandez, 26, and 18-year-old Miguel Urias Arguenta face attempted murder charges in a Sunday [4/30/2017] machete attack in Westbury, New York. Nassau County police said the attack took place shortly after 1am, after the Hernandez brothers got into a dispute with a 19-year-old.
New Orleans Mother Raped And Murdered By Illegal Immigrant Released In 2015. The direct result of Obama's catch and release policies.
Baltimore Announces Illegal Aliens Can Commit Any Crimes They Want. Baltimore's murder rate is out of control. It's so bad that they've asked for Federal help. Meanwhile their split lefty personality is taking sanctuary city to its logical conclusion. California and other sanctuary jurisdictions have been complaining of Federal personnel showing up to bust illegal aliens. But they can't bust them if you never charge them.
'Dreamer' Molested 6-Year-Old Girl at Shopping Center. A 26-year-old man has been arrested and charged with sexually assaulting a 6-year-old girl at a shopping center in Panorama City. Jorge Enrique Lopez-Maza is accused of assaulting the girl behind some recycling bins in a parking lot on Friday [4/21/2017].
Man in U.S. illegally admits he kidnapped, raped girlfriend. A Honduran man who has repeatedly been deported pleaded guilty Thursday [4/27/2017] to kidnapping, interstate domestic violence and illegally entering the country, U.S. Attorney for New Jersey William Fitzpatrick said. Jose Amaya-Vasquez, 32, was arrested in Texas in 2005 for attempting to enter the country illegally. He was released but failed to appear for a court date. In June 2014, police in Kansas City arrested Amaya-Vasquez for domestic assault after he pushed his girlfriend into a table. He was later turned over to immigration officials, who deported him.
Suspect in Rape of 9-Year-Old Girl Had Already Been Deported. These are the people who Democrat-donating judges are going out of their way to protect as they "resist" law and order.
Man accused of sexually assaulting 9-year-old Oregon girl was deported to Mexico in 2001. The man accused of sexually assaulting a 9-year-old Oregon girl is a career criminal who was once deported to Mexico, authorities said. Investigators are still searching for Santiago Martinez-Flores, 48, who they have linked to the crime through physical evidence gathered at the scene. Martinez-Flores allegedly assaulted the girl while she was asleep in her Clackamas County home on Feb. 26.
Ganging Up in America. Out on Long Island, law enforcement seems one step behind the infamous MS-13 gang who recently killed another four teens and are suspected of killing scores of people in Suffolk County, New York alone. In Rockville, Maryland, despite the media's best attempt not to report it, outrage spread across the country when two immigrant teens, of which at least one is in the country illegally, allegedly raped and solemnized a 14-year old girl in a public school restroom. Over shadowed in this horrific story is that the prosecution is in possession of photographs showing both suspects flashing gang symbols.
Twice-Deported MS-13 Member Wanted For Three Murders Caught In Texas. A law enforcement fugitive from El Salvador and member of the Mara Salvatrucha (MS-13) gang, who is wanted for aggravated homicide and discharging a firearm, was deported Friday by officers with U.S. Immigration and Customs Enforcement's (ICE) Enforcement and Removal Operations (ERO) in San Antonio. The government of El Salvador has a program called "Los 100 Mas Buscados," among which today's detainee is part of.
Wife beater's delight: Authorities shield abuser from justice keep him from being deported. Have the sanctuary cities' quest to shield everyone from deportation superceded every other claim on justice? That's certainly the case in San Jose.
Half of FBI's 'Most Wanted' [are] not Americans, one [is] here illegally. There's something missing on the FBI's Most Wanted list — the expected domination of Americans. On the current list, which includes two who have recently been captured, four of the remaining eight are non-Americans, one of whom entered the country illegally. Walter Y. Gomez is Honduran and wanted for an MS-13 murder.
21,362 Illegal Aliens Arrested Under Trump So Far. Immigration and Customs Enforcement has ramped-up arrests of illegal aliens during the first weeks of President Trump's term. According to newly released statistics by Immigration and Customs Enforcement (ICE), originally requested by The Washington Post, arrests of illegal aliens increased 32.6 percent during the first several weeks of the Trump Administration. Immigration and Customs Enforcement arrested 21,362 illegal aliens from January 20 through March 13, an increase of 5,258 from the same period in 2016.
Illegal Alien Kidnapped, Repeatedly Raped Autistic Woman. Two men, one who is an undocumented resident living in the United States illegally, have been charged with kidnapping, rape, and sexual abuse after a missing 22-year-old woman with autism was found in Greene County. 25-year-old Luis Arnold Lopez-Lara, an illegal alien, and 23-year-old Helmer Alexander Erazo were charged with two counts of rape, one count of sexual abuse, and two counts of kidnapping. Two other men involved also have pending charges.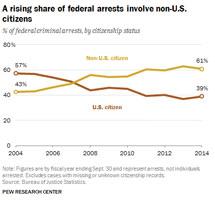 61% of federal criminal arrests are of non-citizens. The liberal Pew Research Center analyzed new data from the Bureau of Justice Statistics and found that most of the people arrested and charged with crimes by the federal government are not citizens. While immigration violations now are half the arrests made by federal agents, non-citizens also made up a disproportionately high percentage of those charged with crimes by the federal government.
John Kelly: 'Even A Single DUI' Could Start Deportation For Illegal Aliens. Department of Homeland Security (DHS) Secretary John Kelly confirmed Sunday that federal immigration authorities won't shy away from arresting illegal immigrants who would have been ignored under the Obama administration. New categories of criminal aliens will be targeted for deportation, not just those who've committed headline-grabbing crimes like rape and murder, Kelly said on NBC's "Meet the Press." "Someone, as an example, with multiple DUIs," he said, is the kind of illegal immigrant that would draw attention from immigration authorities. "Even a single DUI, depending on other aspects, would get you into the system," he added.
Illegal Aliens Caught Committing "Minor" Crimes Are Now Getting... Arrested. [Scroll down] Perhaps they aren't the ones that Trump said he would go after, but, he's not sitting their approving each and every illegal who ICE goes to detain. Furthermore, ICE typically picks up the low and no crime illegals because they have outstanding deportation orders already on the books. Double furthermore, this same thing happened under Obama. Because Obama was only going to micro-manage ICE operations so much. Just because Trump said he would "prioritize" does not mean ICE won't pick up those with other crimes or no crimes. And, really, is DUI not a serious crime? When you drive under the influence, usually alcohol, you are drastically increasing the danger to other people. Fraud usually involves stealing legal citizen's information, which can ruin their lives. Oh, and none should be here in the first place.
'Dreamer' Repeatedly Molested 7-Year-Old Girl in North Carolina. A 19-year-old Raleigh man was charged early Wednesday with three counts of taking indecent liberties with a child between Dec. 1 and Monday [4/3/2017]. Detectives who investigate sex crimes charged Douglas Benjerman Henriquez-Martinez after questioning him at their offices on Green Dairy Road, records showed. Police said the victim in the case was a 7-year-old girl who already knew Henriquez-Martinez. Henriquez-Martinez was 18 at the start of the period police listed in the charges.
Three MS-13 gang members are charged with second-degree murder of a missing 17-year-old Virginia teen. Three MS-13 gang members have been charged with second degree murder of a missing teenager. The body of 17-year-old Raymond Wood was found lying in the middle of Roaring Run Road by a motorist in Bedford County, Virginia, on Monday. Authorities detained and charged Victor A. Rodas, 19, Jose Corea-Ventura, 21, and Lasandro A. Vasquez, 24, of Maryland, with second-degree murder of Wood. Police said all three men are known MS-13 gang members and are illegal aliens.
Suspects in death of teen are gang members, Bedford County sheriff says. Three Salvadoran MS-13 gang members have been charged with second-degree murder in relation to the death of 17-year-old Raymond Wood, Bedford County Sheriff Mike Brown announced Friday afternoon [3/31/2017]. Victor Arnoldo Rodas, 19; Jose Coreas-Ventura, 21; and Lisandro Posada-Vazquez, 24, have been arrested and charged with second-degree murder, Brown said during a news conference at Central Virginia Community College's Bedford campus. All three are undocumented immigrants and were arrested by U.S. Immigration and Customs Enforcement on Tuesday after initially being detained by the Bedford County Sheriff's Office, according to an ICE spokesperson.
Attorney General Sessions Has A Plan To Deport Illegals As Quickly As Possible. This has made Democrats very sad and very angry, which, to be fair, is their normal state of being. Even though Democrats constantly state that they want to get rid of the bad illegal aliens, they seem to be hell bent on defending them. Because the bad ones are the ones that ICE is mostly scooping up. Ones convicted of crimes like arson, burglary, robbery, major drug offenses, identity theft, homicide, rape, and child molestation.
Alleged rape only latest violent incident at Rockville H.S.. A videotaped alleged assault at Rockville High apparently took place before the infamous alleged rape and one victim and parents wonder whether officials are committed to safety.
ICE Report Dumps Cold Water On A Favorite Defense Of Sanctuary Cities. An Immigration and Customs Enforcement report puts a damper on the argument that sanctuary cities aren't a problem because they only shield non-violent illegal immigrants. Sanctuary city proponents often say their policies limiting cooperation with federal immigration authorities don't endanger public safety. As ICE's latest weekly declined detainer report shows, however, many county and city law enforcement agencies regularly release criminal aliens who have been convicted of violent crimes, including domestic battery and sexual assault. The report, which covers February 4-10, tallied 47 declined detainer requests from two dozen jurisdictions across the country.
Two More Deported Sex Offenders Busted Crossing Border. Border Patrol agents apprehended two Mexican nationals crossing the border in southern Arizona after being previously deported for sex crimes. Agents assigned to the Tucson Border Patrol Station arrested Vicente Gonzalez-Hernandez hear Sasabe, Arizona, late Thursday. Agents transported the Mexican national to the Tucson station for processing. U.S. Customs and Border Protection (CBP) records revealed that Gonzalez-Hernandez has a lengthy criminal history that includes a conviction for "felony assault to commit mayhem/rape" in the state of California, according to information received by Breitbart Texas from CBP spokesman Rob Daniels. Immigration and Customs Enforcement officers removed him from the country following his one-year prison sentence.
What Does It Take to Declare a School 'Unsafe'? [Montgomery County, Maryland] citizens have since learned that an illegal immigrant can be 18 years old, enroll in the public schools, undergo no background check, and because they have no verifiable high school credits, automatically be enrolled as a freshman, putting them in the same classes as 14 and 15-year-olds. Under the law, the school cannot ask about the student's immigration status; the school system chooses to not perform background checks on incoming students. In this light, the shock is not that this happened, the shock is that this hasn't happened until now.
CNN hammers Fox News for covering alleged gang rape of 14-year-old by illegal immigrant. CNN's Brian Stelter condemned Fox News for covering the alleged gang rape of a 14-year-old Maryland high school student by at least one illegal immigrant. He said coverage of rape is normally reserved for the local news and suggested Fox News is only covering this one because of the ongoing debate about illegal immigration.
Father of Maryland high school rape suspect arrested by ICE. The father of an 18-year-old Rockville High School student charged with the rape of a fellow classmate has been arrested for being in the country illegally, according to U.S. Immigration and Customs Enforcement (ICE). ICE spokesperson Sarah Rodriguez said 43-year-old Adolfo Sanchez-Reyes was arrested last Friday "after a review of his immigration history revealed he was unlawfully present in the United States" from Guatemala.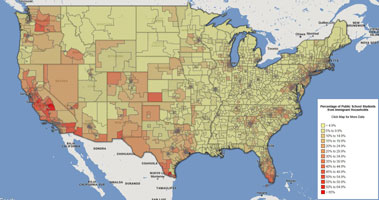 The Consequences of Immigration for America's Public Schools. It is difficult to overstate the impact that immigration is having on our nation's schools. In a recent report based on Census Bureau data authored by myself and colleagues Bryan Griffith and Karen Ziegler, we map the profound impact immigration has had on schools across the country.
On FNC, Defense Attorney for Rockville Rape Blames Trump for Public Outrage. Friday night [3/24/2017] on Fox News' The First 100 Days, host Martha MacCallum interviewed the attorneys defending one of the illegal immigrants accused of raping a 14-year-old girl at Rockville High School, just over a week ago. The two lawyers defending 17-year-old Jose Montano blasted what they called the "sensationalized" coverage of the story, (despite the media blackout of its coverage). The primary defense attorney even blamed Trump's immigration policies for spurring undue outrage at the story.
Anchor Baby Raped 14-Year-Old Girl, Allowed to Bond-Out. Gabino Vargas-Perez was a junior at Central High School when a 14-year-old girl told police he raped her. He posted $5,000 bond and then disappeared. Prosecutors said Vargas-Perez, 20, is a legal U.S. resident, but his parents are in Guatemala. The victim's family says the damage has been done, and now they fear justice will never be served.
In Maryland Rape Case, Liberals Adhere to Political Correctness. On the morning of March 16, a 14-year old girl was allegedly raped by two illegal aliens in a high school bathroom in Rockville, Maryland. One of the alleged rapists, Henry Sanchez-Milian, is an adult, 18 years old, while the other suspect, Jose O. Montano, is 17-years old. They have been charged with first-degree rape and two counts of first-degree sexual offense for allegedly dragging the young girl into the boys' bathroom, sexually assaulting her and forcing her to perform sexual acts. This incident has shocked the nation and exposed the dangers of open borders and lax immigration enforcement. By allowing millions of illegal aliens into this country, the safety of law abiding Americans has been put at risk. Daily, tragic stories are reported of Americans being victimized by illegal aliens. This case is even more disturbing for the victim is an innocent 14-year old girl.
Rape of Maryland schoolgirl has illegal alien advocates in desperation mode. Advocates for illegal alien immigration and diversity proponents are on the defensive as a result of the brutal rape of a 14-year-old girl at a Maryland school by 2 illegals. But they are trying to defend the indefensible, and in so doing, they have resorted to ignoring the immigration status of the attackers, or, as in the case of major media outlets, pretending the attack didn't happen.
Illegal immigrant, 54, strangles popular 49-year- old teacher's aide to death in her Boston home. An illegal immigrant is alleged to have strangled a 49-year-old woman to death inside her home in the Boston suburb of Worcester, Massachusetts earlier this month. Sandra Hehir's body was found in her apartment on February 5, according to The Boston Globe. The Worcester district attorney's office said it obtained DNA evidence which links Jose Melendez, 54, to the crime. Melendez, who was arrested last week, has a history of run-ins with law enforcement.
5 Facts About Sandra Hehir And Her Illegal Immigrant Murderer. The case of a slain teachers aide has caused much concern in the Boston suburb of Worcester, MA since Sandra Hehir's body was found in her home on February 5th of this year.
High School Rapists Entered U.S. as Unaccompanied Alien Children, Lived in Sanctuary County. The teenage illegal immigrants charged with raping a 14-year-old girl in the bathroom of a Maryland public high school last week entered the United States under an Obama program that's accommodated tens of thousands of Central American youths who crossed the Mexican border. The administration coined them Unaccompanied Alien Children (UAC) and portrayed them as innocent, desperate kids fleeing violence and famine in their homeland. Most are from Honduras, El Salvador and Guatemala and the influx has overwhelmed border agents, government health agencies and military bases that serve as shelters not to mention public schools nationwide.
Reading, writing, and raping. Rape was once a capital crime almost everywhere. But the politically correct culture, with its gift for dumbing down everything, regards rape now not as a felony, but a misdemeanor, something like shoplifting. The abduction of a 14-year-old girl at Rockville High School in Maryland's Montgomery County by two classmates, newly arrived illegal immigrants, who are charged with torturing, raping and sodomizing her in the boys' restroom, has outraged most of the residents of the county. But some of the county officials, not so much. Outrage is fatiguing. In Montgomery County, which aspires to be a sanctuary for illegal aliens in trouble with the law, it's more fashionable to be outraged by Donald Trump.
Networks censor rape story involving illegal immigrant. The "big three" networks — ABC, CBS, and NBC — continued their shameful blackout into Wednesday night of the horrifying rape of a teenage girl in a Maryland high school bathroom, allegedly by two men, including one who police say is in the U.S. illegally. Instead, the pathetic liberal media that's shown no interest in the Rockville High School case complied with Rolling Stone in giving more than 10 minutes of coverage in two days to the fake 2014 claim that a University of Virginia fraternity gang-raped a female student.
Mayors of sanctuary cities should be thrown in jail. Moms and dads in Montgomery County, Maryland are terrified and angry — and with good reason. They don't know how many more illegal immigrant predators might be living among them — waiting to brutally rape another 14-year-old American school girl. The Washington Post reports the two men accused of raping a ninth-grader on March 16 at Rockville High School came into this country illegally. Jose Montano, 17, and Henry Sanchez Milian, 18, were among tens of thousands of young people who crossed the U.S.-Mexico border illegally in 2016, the Post reported. In other words, former President Obama let them into the country.
MS-13 gang member deported 4 times stabbed 2 women, abused child, cops say. A member of the MS-13 street gang who had been deported from the U.S. four times stabbed two women and sexually assaulted a 2-year-old girl in a New York City suburb, according to local police. Tommy Vladim Alvarado-Ventura, 31, attacked the child Tuesday in the Long Island town of Hempstead while the girl's mother was at work and he was babysitting, Nassau County Police said in a news release. Prosecutors said he later attacked a woman outside a bar early Wednesday after getting into an argument over buying marijuana, punching and stabbing her in the back, thigh and mouth before running away, according to police. The woman was hospitalized with a collapsed lung.
Border union: Obama policies cause of 14-year-old's rape in school. Open door immigration policies put in place by the Obama administration were cited a cause for the alleged rape of a 14-year-old student inside Maryland high school by two illegals, according to the head of the Border Patrol union. Brandon Judd, president of the National Border Patrol Council, cited the former administration's "catch and release" program for letting the two illegals charged in the rape into the United States. In Senate testimony, he said, "Had we done our job that 14-year-old girl would never have been raped. Period. That's all there is to it."
Dreamer Charged with Murder of Two Teens in Colorado. A 19-year-old man was booked on first-degree murder and kidnapping charges in the deaths of two teens who were found dead on the side of a Colorado road, authorities said. Gustavo Marquez, 19, was also charged with aggravated robbery and child abuse resulting in the deaths of Derek Benjamin Greer, 15, and Natalie Partida, 16, according to the El Paso County Sheriff's Office. The victims' bodies were found on the side of a road about 15 miles from their Colorado Springs high school.
Are alleged Rockville rapists Unaccompanied Alien Children? That is the question I have about the story you can't possibly have missed over the last day or two. Were the pair (one from Guatemala and the other from El Salvador), who are behind bars in Maryland for dragging a 14-year-old girl into a boys bathroom and raping her considered 'refugees' by the Obama Administration that would have been in charge of them if they turned themselves in at the border as part of the flood of 'children' that invaded our border for years during the Obama presidency, so-called UACs? Keep an eye out for any news about whether they were actually under the protection of the federal Office of Refugee Resettlement.
Rockville High School Rape - Montgomery County School Superintendent Press Conference. The Montgomery County Public School superintendent, Jack R. Smith, held a press conference last night [3/21/2017] to discuss the rape of a 14-year-old ninth grade student by two illegal alien students, also enrolled in the ninth grade, aged 17 and 18. Mr. Smith begins the press conference by stating anyone who opposes undocumented adult illegal aliens being allowed to enroll in Montgomery County Public Schools with young students is a bigot and a racist. The far-left political advocacy of this progressive School Superintendent is stunning. This school district is so far over the ideological deep end, it seems hopeless for the residents and parents.
The Editor asks...
How many more 19-year-olds are enrolled in 9th grade classes in Montgomery County?
18-Year-Old Illegals Allowed into the 9th Grade Brutally Rape a 14-Year-Old Girl Right in a School Bathroom. Two dangerous and violent Obama "DREAMERs," both illegals from Guatemala, were arrested for brutally raping a 14-year-old girl right in a Maryland high school bathroom last week. The two males are both nearly past high school age but were put into the 9th grade with 14 and 15 year old American children even as they should never have been allowed into government funded schools at all. The two monsters, Henry E. Sanchez, 18, and Jose O. Montano, 17, were allowed to enter the ninth grade due to their relative ill-educated ignorance. This is typical with the people who streamed into our country during Obama's reign of terror on this nation. They have no education, often cannot speak English, and usually can't even write in their own language, much less English. Yet these lawbreakers come here, and what is the first thing our left-wing lawmakers allow? That's right, they let them enter school on our dime. It is also very common for these illegal aliens to be put in grades with children several years younger than they.
Obama tried to legalize migrant accused of murdering 15-year-old step-daughter. The Obama administration last year began the process of granting legal status to a 36-year-old illegal immigrant with a long criminal rap sheet whom agents had twice tried to deport and who now stands accused of killing his 15-year-old girlfriend, mother of one child with him, and pregnant with another. The Texas case, involving Armando Garcia-Ramirez, a Mexican, is raising new questions about immigration enforcement under President Obama, as supporters of President Trump point to the matter as proof of a broken-immigration system. Mr. Garcia may even have been the girl's stepfather at the time he impregnated her — something federal authorities apparently missed last year after he was arrested for smuggling five other illegal immigrants into the U.S.
30 Countries Are Refusing To Take Back Illegal Immigrants Convicted Of Serious Crimes. Approximately 30 countries are refusing to accept the deportations of illegal immigrants who have committed serious crimes in the U.S., according to Texas Rep. Henry Cuellar. While these countries are refusing to accept the deportations of these criminals, the U.S. government is still issuing visas and student visas to citizens of those countries, according to the Texan congressman. There is already a law on the books which allows the U.S. to hold visas from a country that is not taking back its criminals, but according to Cuellar, the U.S. is not enforcing it.
Deported killer caught heading back into US from Mexico. Border Patrol agents have arrested a Mexican man who had been deported from the United States last month after serving a prison term for reckless homicide in Tennessee.
Police: 2 students charged with raping girl in high school bathroom. Police have charged 17-year-old Jose Montano and 18-year-old Henry Sanchez with first-degree rape and two counts of first-degree sexual offenses. The suspects were arrested at Rockville High School by investigators. They are both are being charged as adults. [...] Although the two suspects are 17 and 18 years old, they were enrolled as freshmen because they both arrived in the United States only a few months ago and were taking English as a Second Language (ESL) classes. U.S. Immigration and Customs Enforcement has now lodged an immigration detainer on Sanchez. Prosecutors said he came to the U.S. from Guatemala and has only been in the country for seven months.
Two of President Obama's Undocumented Alien "Children" Brutally Rape 14-Year-Old Maryland Student During School. Those of you who have followed the Undocumented Alien Children (UAC) story, which began in the summer of 2014, will note the nationality of two UAC's who brutally raped a 14-Year-Old Rockville Maryland Student. Henry Sanchez, 18, originally from Guatemala and Jose Montano, 17, a native of El Salvador, brutally raped a 14-year-old high school student on Thursday [3/16/2017]. Sanchez had a pending illegal alien removal case (deportation order) pending, which was not carried out while immigration activists tried to block the deportation.
ICE targets 'sanctuary city' Philadelphia in arrest of 248 criminal illegals. Making good on the president's campaign pledge to target illegal immigrants with criminal records or facing charges, Immigration and Customs Enforcement Tuesday announced the arrest of 248 in just three states, including 50 previously deported. ICE officials said that the arrests by Enforcement and Removal Operations were in Pennsylvania, West Virginia and Delaware. They occurred Monday, Feb. 27, 2017 through Friday, Mar. 10, 2017. "ICE officers make extraordinary efforts to keep our communities safe, and this operation is just a small example of what they do every day. ERO officers took oaths to protect the homeland and to arrest individuals in violation of immigration laws," said ERO Philadelphia Acting Field Office Director Jennifer Ritchey in a statement. "This operation resulted in multiple arrests of individuals with violent criminal arrests or convictions in the three-state region," she added.
Illegal Immigrant Crime: The Real Story. Deal with it, Democrats: illegal immigrants commit crime far more often than legal immigrants. [...] Why is the media fabricating a false narrative that illegal immigrants commit fewer crimes than American citizens? Here's why: To attack President Trump's immigration policies, most notably his travel ban. How moronic do the journalists at CNN[,] the New York Times and the rest of the mainstream media think we are? And why is no one exposing this huge scandal?
Guatemalan teen killed cousin, fled to Missouri, authorities allege. Authorities have arrested a Guatemalan teen who they say murdered his cousin, then fled the state. Jose Lazaro Gonzalez, 18, has been charged with the Feb. 26 murder of 27-year-old Marvin Lazaro, Acting Essex County Prosecutor Carolyn Murray and Caldwell Police Chief James Bongiorno announced in a release Wednesday [3/8/2017].
Illegal Migrant Beheads Mother in North Carolina. Police arriving on scene in North Carolina were shocked to find illegal migrant, Oliver Mauricio Funes Machado, holding his 35 year-old mother's head in one hand and a large knife in the other. Eighteen year-old Machado is from Honduras and lived with his mother in Franklin County.
Illegal Immigrant Teen Beheaded His Mother, Say Police. An illegal immigrant has been charged with first degree murder after allegedly beheading his mother with a butcher knife. Oliver Mauricio Funes-Machada, 18, has been confirmed to Breitbart Texas by the Immigration and Customs Enforcement (ICE) agency as an illegal immigrant living in North Carolina from Honduras.
2 Salvadoran murder, kidnapping suspects had Satanic shrine. Authorities say two gang members from El Salvador who had a Satanic shrine in their Houston apartment are suspects in the killing of one teenager and the kidnapping of another.
Dreamers Brutal Murders: From Dreams to Nightmares. Twelve of Obama's DREAMERS recently murdered 7 American citizens and kidnapped another. All suspects belong to MS-13, a gang that runs drugs and mayhem across the Western hemisphere. Two criminal illegals in Houston stand accused of kidnapping, rape, and murder. Miguel Angel Alvarez-Flores, 22 and 18-year-old Diego Alexan Hernandez-Rivera are from El Salvador. Reminiscent of hardened serial killers, the pair laughed, smiled, and waved in court on Wednesday [3/1/2017].
Obama's DREAMers accused of killing eight people. Thirteen DREAMers from El Salvador stand accused of seven murders, including beating to death two Long Island girls with a baseball bat. In Houston, two more DREAMers from El Salvador face charges of kidnapping one girl and murdering another girl in a Satanic ritual in their apartment. They are members of MS-13, a gang that runs drugs and mayhem in America thanks to decades of open borders policies by both Presidents Bush as well as Clinton and Obama. While Congress never passed the DREAM Act, it is de facto law as the Washington Establishment has prevented the border patrol from going after minors or illegal aliens brought here as minors.
Six MS-13 gang members busted in Long Island teens' murders. Two Long Island teens, inseparable in life, walked together into a deadly September attack by four homicidal gangbangers swinging baseball bats and a machete. The quartet of killers, along with their two leaders in the brutal MS-13 street gang, were charged Thursday [3/2/2017] in the revenge killings of Nisa Mickens, 15, and Kayla Cuevas, 16, federal authorities said.
MS-13 gang members indicted in killings of three NY teens. Several members of the notorious Salvadoran gang MS-13 have been arrested and indicted on federal charges in the killing of three teenagers that shocked a Long Island community last year. The arrests were made in a series of raids Thursday morning [3/2/2017] in Suffolk County executed by FBI and Suffolk police. Local and federal law enforcement have been cracking down on gang violence following the murders of the teenagers in Brentwood, N.Y., last year. MS-13 has been blamed for 30 other killings on Long Island since 2010.
Alleged MS-13 gang members accused in Houston woman's 'Satanic' murder. Two alleged MS-123 gang members, Diego Hernandez-Riversa, 18, and Miguel Alvarez-Flores, 22, were charged Wednesday [3/1/2017] in a case involving the killing of a Hispanic woman in Houston as part of a 'Satanic' ritual. The pair had been arrested Monday and charged the following day with aggravated kidnapping in a different case. The MS-13 gang, also known as the Mara Salvatrucha, has roots in El Salvador and a violent record in several countries. The MS-13 first reached into the U.S. in the 1980s and has become a well known international street gang.
A Nation of Immigrants — Only If They Assimilate. Anyone who visits Japan is struck by the ethnic homogeneity of the nation. If you meet a Caucasian, a black or a Hispanic in Japan, you can be all but certain that the person is visiting or studying there, not a citizen. Likewise in the United States, there is direct correlation between ethnic homogeneity and low levels of violence. According to 2016-2017 data, the four states with the lowest percentages of violence are:
Vermont — where 95 percent of the population is one race (white).
Maine — where 95 percent of the population is one race (white).
Wyoming — where roughly 93 percent of the population is one race (white).
New Hampshire — where roughly 94 percent of the population is one race (white).
Man suspected in Amber Alert had been previously deported, immigration officials say. The man suspected of taking a 6-year-old Connecticut girl prompting an Amber Alert on Friday [2/24/2017] had previously been deported, federal immigration officials said. Oscar Hernandez was taken into custody on Friday following a high-speed car chase and crash on Interstate 99 in Benner Township, Pennsylvania. State police said he had refused to pull over when a state trooper spotted the car, which had been the subject of an Amber Alert. Federal immigration officials said Hernandez is a citizen of El Salvador and had been previously deported on Nov. 27, 2013. He has prior felony convictions including assault and threatening. U.S. Immigration and Customs Enforcement had placed a detainer on him, an agency spokesman said in a statement.
Previously Deported Illegal Goes On Murderous Rampage Days After CT Gov Refused To Work With ICE. Just days after Connecticut Governor Dannel Malloy ordered police not to cooperate with ICE in enforcing immigration laws, a previously deported illegal alien went on a murderous rampage killing a mother and stabbing her friend.
Arizona Sheriff Releasing 400 "Criminal Illegal Immigrants" Every 10 Days. An average of 400 "criminal illegal immigrants" are being released every 10 days by the newly elected sheriff in Arizona's most populous county, federal law enforcement sources tell Judicial Watch, many of them violent offenders. It's part of Maricopa County Sheriff Paul Penzone's new policy to protect illegal aliens, even those who have committed serious state crimes, from deportation. [...] During a recent 10-day period, more than 400 criminal illegal immigrants were released from the Maricopa County Jail, according to federal law enforcement officials directly involved in the process in Phoenix. Weekdays are the busiest, with an average of about 40 criminal illegal aliens getting released from Maricopa County Jail facilities, the sources said. On weekends the number drops to about ten each day.
Supreme Court divided over U.S.-Mexico border shooting. A closely divided Supreme Court struggled Tuesday [2/21/2017] with what one justice called the "very sympathetic case" of a Mexican teenager shot and killed from across the border by a U.S. Border Patrol agent. Denied any legal recourse by lower courts that said Sergio Adrián Hernández Güereca lacked constitutional protection inside Mexico, the 15-year-old's parents received encouraging support from the high court's liberal justices during an hour[-]long oral argument that could prove pivotal.
ICE: Yes, 75 Percent Of Illegal Immigrants We Arrested Have Criminal Records. Over the past couple of days, immigration enforcement agents have round up almost 700 illegal aliens — 75 percent of which had criminal records. Rep. Nancy Pelosi disputed the claim, but Immigration and Customs Enforcement also confirmed the figure released by the Department of Homeland Security.
Dingbat Nancy Pelosi Stands Up for "Our Values" Defending a Self-Confessed Gangbanger. Democrat dingbat Nancy Pelosi once again demonstrated some very sketchy Democrat values. She is characterizing an ICE action as against "our values". ICE took a gangbanger into custody. She left that out when she made her statements in his defense. "In another assault on our values in the past week we had witnessed ICE raids across our nation targeting parents, students and a DACA-protected DREAMer. We talked about some of this yesterday with their members," the dingbat said. But Nancy is advocating breaking up the family! The criminal father is being deported.
ICE Wanted to Deport This Man: His Release Led to Murder. Ever Valles, 19, was arrested in October for multiple charges, including possession of a weapon, vehicle theft and eluding. The Immigration and Customs Enforcement agents (ICE) flagged him to be detained with the expectation that when he was released by Denver jail officials, ICE agents would be notified and then would take Valles into federal custody. [...] According to ICE, Valles is a known gang member and a citizen of Mexico. He was made an ICE priority due to his criminal history and gang affiliation. On Friday [2/17/2017], he and his partner, Nathan Valdez, were arrested in a violent crime on the Denver-Lakewood border, which resulted in murder of the first degree. Had Valles been properly handled, this tragedy would never have occurred.
MS-13 Gang Linked to Disappearance Of Young Girls in Maryland. Baltimore's most violent gang, the MS-13, has been linked to a number of kidnappings which may have likely resulted in murder. Reports from authorities indicate that the gang could be recruiting children as young as 11-years-old! The gang had been dismantled a decade ago when most of its members were imprisoned. However, the spate of attacks reveals a probable resurgence. A fifteen-year-old Damaris Reyes from Gaithersburg is a notable victim who fell prey to MS-13. She was eventually killed and details of her murder captured in a video described by Virginia's Fairfax County Police Chief as "horrific"
Two charged with sex assault on Morristown child. Two undocumented immigrants from Honduras were indicted Thursday [2/16/2017] on multiple charges of sexually assaulting a girl in Morristown beginning when she was 8 years old until last year, when she was 14. A third man who also is undocumented — Jose Bueso, 20 — was charged last year with abusing the same girl, but he quickly pleaded guilty in October to touching an intimate part of her body in June and was sentenced last month to four years in state prison. Bueso, who also lived in Morristown, faces deportation to Honduras when he finishes his sentence.
Arizona Bill Would Dish Out Harsher Penalties For Illegal Immigrants. Activists in Arizona are rattled over a new bill brought before the state Senate that would dish out harsher sentences for undocumented immigrants compared to U.S. citizens, according to AZfamily.com. The bill under consideration, SB 1279, will also make it impossible for undocumented felons to be released early on parole.
Hundreds of immigrants convicted and not deported committed more crimes — even murder. At least 121 killings within a four-year span were carried out by convicted immigrants who were not deported, according to a 2015 U.S. Senate Judiciary Committee document recently reviewed by el Nuevo Herald. Every year, federal immigration authorities release foreign nationals convicted of crimes — including murder — both because the U.S. Supreme Court has prohibited indefinite detention or because their countries refuse to take them back even after immigration judges have ordered deportation.
Mother Of Son Killed By Illegal to Pelosi: Which One Of Your Children Is Expendable For An Illegal Life? At a CNN townhall Tuesday night [1/31/2017], Nancy Pelosi was asked by a sobbing mother who lost her son to an illegal immigrant, who she said brutally tortured him before death, which one of her grandchildren she would give up to make room for an illegal. "If you need to go home tonight and line up your babies as you say, and your grandbabies, which one of them could you look in their eyes today, and tell them that they're expendable for another foreign person to have an a nicer life? Which one would you look to say, you, my child, are expendable for someone else to come over here and not follow the law and have a nicer life?" Laura Wilkerson, who said her son was "slaughtered" by an illegal immigrant, asked Pelosi.
Border Patrol agent assaulted by undocumented immigrant. A U.S. Border Patrol agent avoided getting stabbed by an undocumented immigrant thanks to his radio.
Trump to publicize crimes by illegal immigrants in 'sanctuary cities'. President Trump plans to publish a weekly list of crimes committed by illegal immigrants in the Big Apple and all other sanctuary cities that do not cooperate with federal immigration authorities. The list will inform citizens and others about "public safety threats associated with sanctuary" cities, according to an executive order Trump signed Wednesday. "The [Homeland Security] Secretary shall utilize the Declined Detainer Outcome Report or its equivalent and, on a weekly basis, make public a comprehensive list of criminal actions committed by aliens and any jurisdiction that ignored or otherwise failed to honor any detainers with respect to such aliens," the order said.
Man who allegedly stole $1.6M in gold flakes in NYC arrested in Ecuador; was reportedly deported 4 times. The man police say snatched $1.6 million worth of gold flakes from an armored truck in New York City in September was arrested Thursday [1/19/2017] in Ecuador, The [New York] Daily News reported. The report said Julio Nivelo, 53, was deported four times to Ecuador, but managed to make his way back to the U.S. Federal agents from Homeland Security assisted in his capture. The report said authorities believe Nivelo made his way from New York to Florida and then to California. It is believed he made his way to Ecuador from California.
Authorities: Trooper was shot by driver he sought to help. The man who shot and severely beat an Arizona state trooper last week was a former member of the Mexican federal police who was in the country illegally, authorities said.
Illegal Alien Rapes 5-Year-Old Girl In 'Sanctuary State' California. The entire basis for the liberal claim that Donald Trump is a racist stems from from his announcement to run for president. Back in 2015 Trump promised he would put an end to illegal immigration and said that some illegal aliens are rapists. Hillary Clinton and the willing liberal media twisted this true statement into a false allegation that Trump called all immigrants, especially Latino ones, criminals. The reality is that Trump only called some illegals rapists and part of that reality is that he was 100% correct.
Illegal immigrant suspected of sexually assaulting 5-year-old in California. Authorities in Southern California were searching for an illegal immigrant from El Salvador on Wednesday [1/11/2017] who is accused of sexually assaulting a 5-year-old girl. Fullerton police said Rigoberto Arevalo Cubias, 30, is suspected of engaging in sexual intercourse of sodomy with a child under the age of 10 years old after an investigation, which started in late December. Authorities believe Cubias might have a fraudulent California driver's license, according to CBS Los Angeles. Cubias also has an outstanding $50,000 arrest warrant from a 2014 DUI. Police say he goes under many different aliases, including Jose Cubias, Jose Cubias Arevalo, Jose Riberto Cubias and Jose Alfonso Cubias Arevalo. Investigators Cubias may have ditched his car and cellphone in an attempt to throw off police.
Mexican man accused of rape had 19 deportations, removals. A Mexican man accused of raping a 13-year-old girl on a Greyhound bus that traveled through Kansas had been deported 10 times and voluntarily removed from the U.S. another nine times since 2003, records obtained by The Associated Press show.
Trump is Set to Deport 820,000 Criminal Illegal Aliens — 81% are Felons. President-elect Donald Trump has said that he will deport many of the illegal aliens who are criminals. A recent report indicates that there are at least 820,000 illegal aliens in the US with criminal records. Among those, 81% are convicted felons. While many have theorized that illegals who have been convicted of crimes other than being here illegal number about 2,000,000, the Center for Immigration Studies indicates that the number of criminal illegals are larger than the populations of the states of Wyoming, Alaska, Vermont and North Dakota.
Report: 820,000 criminal illegals, 84% with felonies, serious misdemeanors. Illegal immigrants with criminal records, the deportation priority of President-elect Trump, total at least 820,000, with most having felony and serious misdemeanor convictions, according to a new report. Some estimates have suggested up to two million criminal illegals, but the numbers cited by the Center for Immigration Studies still show an enormous group larger than the populations of four states, Alaska, North Dakota, Vermont or Wyoming. The immigration think tank cited numbers from the Urban Institute. That group downplayed the crimes and also questioned deporting any of those who are parents of children who might get left behind.
Illegal immigrant accused of killing 2 in hit and run had been deported 8 times. The illegal immigrant wanted for allegedly killing two people in a hit-and-run case in Kentucky had been deported eight times, the Department of Justice has confirmed. Miguel Angel Villasenor-Saucedo, 40, is wanted for the Oct. 22 drunken car crash that killed two women in Louisville. Villasenor-Saucedo was most recently deported in 2013.
Land of the Free, Home of the 33,000 Violent Street Gangs. The FBI says that altogether, the United States is now home to about 33,000 violent street gangs, with a presence in all 50 states. There are an estimated 1,350 gangs in Los Angeles alone. [...] There are a total of 1.4 million criminally active gang members across the country. That means for every two sworn law enforcement officers in America, there are three gang members. The number of violent gang members today is 40 percent higher than in 2009, and 25 times higher than in 1975. And the figure keeps growing each year.
Border Patrol agents continue to be attacked in the Rio Grande Valley. The incident occurred Thursday evening [11/24/2016] when Weslaco Station Border Patrol agents assigned to the riverine unit were patrolling the Rio Grande near Hidalgo, Texas. The agents reported that three subjects on the Mexican side of the river began throwing rocks at them.
Woman accused of murder, kidnapping baby was living in US illegally. A Dallas woman accused of killing a Wichita mother and taking her baby was in the country illegally when she was released from a Kansas jail this summer before immigration officials had a chance to request she be held, law enforcement authorities said Wednesday [11/24/2016].
Man who indirectly caused death of Florida deputy had been deported twice before. A man from El Salvador who indirectly caused the death of a Florida sheriff's deputy had been deported twice before, most recently in September. During a court hearing on Monday, Francisco Portillo-Fuentes told a federal judge he wanted to plead guilty to illegally re-entering the United States but claimed his innocence in regard to Deputy Eric Oliver's death. Oliver, a Nassau County deputy, was fatally struck by a passing SUV while he was chasing Portillo-Fuentes on foot.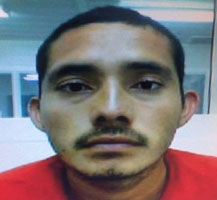 Two-time deportee arrested in killing of Florida sheriff's deputy. Nassau County Sheriff's deputy Eric Oliver might still be alive if the Obama administration took illegal immigration more seriously. Oliver was struck by a vehicle full of illegal aliens that fled from Florida Border Patrol agents on Tuesday, law enforcement officials say.
America's Sanctuary City Nightmare. A litigation battle is raging between the states and President Barack Obama over his attempt to impose a nationwide "sanctuary" policy for illegal aliens. Yet, there is no question that existing sanctuary policies implemented by numerous towns and cities have victimized innocent Americans. Those sanctuary policies have enabled illegal aliens to commit thousands of crimes — crimes that would not have occurred had their perpetrators been deported in keeping with existing law. In 2011, the Government Accountability Office (GAO) released a study on approximately 250,000 illegal aliens locked up in our federal, state, and local prisons. They represent more than a quarter of all of the prisoners in the federal prison system alone. The GAO's "study population" had been arrested nearly 1.7 million times and committed three million offenses, averaging about seven arrests and 12 offenses per criminal alien.
Illegal Alien Rapes Girl in Ditch as Border Apprehensions Skyrocket. On Halloween night in Northern Virginia, a young woman's horrific nightmare really did come true. An illegal alien forced her car off the road with his SUV. He then dragged her out of her vehicle into a ditch and raped her for hours. He left his shirt behind with her when he took off. The victim was finally able to call for help. She was taken to a hospital for treatment. Three days later, Roberto Carlos Flores Sibrian was arrested at the construction site that he works at in North Carolina. Authorities ascertained that he was an illegal alien with no documentation and no ID.
Uncle Charged In Death Of Child Found In Well; Was In US Illegally. Smith County Sheriffs have confirmed that Gustavo Zavala-Garcia, 24, was charged with Capital Murder for the death of Kayla Gomez-Orozco, 10. "He's given us information from him, and we've been able gather enough evidence in our investigation to charge him with that crime," said Smith County Sheriff Larry Smith. A relative of the slain little girl, Zavala-Garcia was the lone suspect in the case.
Report: East Texas Child Murdered by Previously Deported Illegal Alien. Law enforcement officials in East Texas are reporting the alleged murderer of 10-year-old Kayla Gomez-Orozco is a previously deported illegal alien from Mexico. Officials with the Smith County jail confirmed to Breitbart Texas that Gustavo Gonzalez, 24, is currently being held in the jail on an immigration detainer from Immigration and Customs Enforcement officers. Gonzalez was also confirmed to be a Mexican national by the jail official.
Previously deported illegal immigrant charged with sex crimes. A Union County man who was previously deported and is in the country illegally was arrested on Thursday on sex charges involving two victims, including a minor, the sheriff's office said. Felipe Carrera Santiago, 36, was charged with second-degree sex offense and attempted second-degree sex offense. He was jailed on $50,000 bail. U.S. Immigration and Customs Enforcement has filed an immigration detainer against Santiago. He will remain in custody pending disposition of the Union County charges, the sheriff's office said.
The safety of US citizens must come before criminal aliens. Last year, Jean Jacques brutally murder Casey Chadwick, a 25 year-old young woman in Connecticut. Jacques had been released from prison a year earlier after serving seventeen years for attempted murder. Rather than being deported by the federal government — as he was in the U.S. illegally — Jacques was simply put back on the streets in the U.S. because his native Haiti refused to take him back. Casey and hundreds of others have had their lives taken by criminal aliens, and thousands more have been victims of rape, molestation, assault and theft. There is absolutely no reason that criminal aliens — those who are non-citizens with criminal convictions — should be put back onto American streets, yet that is exactly what is happening by the thousands each and every year.
Sanctuary city illegal immigrant sparks $61M fire in national forest. Angel Gilberto Garcia-Avalos had been deported five times in just the past four years, yet each time he has managed to sneak from Mexico back into the U.S., where he ended up in more mischief: driving without a license, attempted burglary and felony weapons charges. In August, he graduated to full-fledged mayhem, sparking a fire in the Sequoia National Forest that has already cost the government $61 million and left some of the country's most beautiful landscape scarred for years to come.
Texas soccer coach, an undocumented immigrant, accused of abusing 8 players. A soccer coach in Texas was arrested after he was accused of sexually abused eight of his players — boys between 10 and 15. Police say more players are likely to come forward. Marcos Ramos, an undocumented immigrant living in Corsicana, Texas, is also is wanted in his native Guatemala for sexually assaulting children, police said. He faces three counts of aggravated sexual assault of a child and five counts of indecency with a child.
35 members of notorious gang with links to El Salvador arrested in N.Y.. Thirty-five suspected members of a Long Island gang have been arrested amid a string of brutal killings, including the discovery of a teenager's skeletal remains.
Criminal Aliens Sexually Assault 70,000 American Women — But Paul Ryan Targets Trump. In July of 2015, an illegal alien allegedly broke into the home a 64-year-old Air Force veteran Marilyn Pharis while she was asleep in her bedroom. Using a claw hammer, the illegal alien and his accomplice began savagely beating the elderly woman, according to police. Authorities say they shattered her eye sockets, strangled her, broke her neck bone, raped her, and left her for dead. Pharis, described by her family as a "gentle" woman, desperately tried to fight back as she was pinned down in her own bed under the heavy weight of her assailant as he was crushing the bones in her face with his hammer, according to police. Pharis died a few days later in the hospital.
10-times deported Mexican man accused of raping a child on a Greyhound bus. A man from Mexico who had been deported 10 times in the last six years is behind bars on charges of raping a child on a Greyhound bus. Hays Post reported Tomas Martinez-Maldonado, 41, sexually abused a 12-year-old girl while on Interstate 70, in Kansas' Geary County, late last month. "A Greyhound bus had made a stop in Kansas City and there was an alleged rape that occurred on the bus, however they had no idea where this rape took place," Geary County Sheriff Tony Wolf told Hays Post.
Mexican Illegal Alien Deported Ten Times Since 2010 Charged With Child Rape. A Mexican illegal alien allegedly raped a girl in Kansas in September after being deported ten times in the past six years alone, according to reports. Tomas Martinez-Maldonado, reportedly born around 1978, allegedly raped his child victim on September 27.
Getting Facts Straight on Illegal Alien Crime. Kimberly Mehlman-Orozco, writing in Washington's The Hill newspaper on October 10 about the issue of deporting illegal aliens, claimed, "In fact, there is a scholarly consensus, which has concluded for years that these foreign nationals [referring to illegal aliens], despite their violation of civil immigration law, commit proportionally fewer criminal offenses than U.S. citizens." She is identified as having a Ph.D. in criminology, law and society so she should know, right? Wrong. There is a scholarly consensus that immigrants in general — legal and illegal — commit fewer criminal offenses than U.S. citizens, but that is only because the legally admitted immigrants have a much lower crime incidence than the native-born population and outnumber the illegal aliens by three to one. That statistic based on the combined foreign-born population, disguises the incidence of criminality by illegal aliens alone.
Mother Tells Story of Daughter's Murder at Hands of Illegal Alien. The cold-blooded murder of 22-year-old Shayley Estes, at the hands of Russian illegal alien Igor Zubko, is the subject of a new video produced by the Federation for American Immigration Reform (FAIR). "Illegal immigration is not a victimless crime," said FAIR President Dan Stein. "More often than not, those in favor of mass immigration attempt to sweep that fact under the carpet," he said. "But we refuse to let that happen." The video features a moving testimonial by Shannon Estes, Shayley's mother, who discusses the tragic loss of her daughter and the heartbreak her family suffered after her daughter alerted police that she was being stalked by Zubko, who was in the United States on an expired visa.
Previously deported man shoots woman, good Samaritan who came to her rescue. Brian Geer was shot on Oct. 1 after he went running to help a woman who was frantically banging on his front door. Geer's home surveillance camera captured the whole thing as the woman was trying to escape the suspect, Jesus Garcia-Chavez, at Geer's front door. [...] Garcia-Chavez has a long criminal record and was wanted on two outstanding warrants. He was illegally in the U.S. after previously being deported.
Illegal Alien Kidnaps and Rapes Six-Year-Old Girl in Texas. Police say Edis Moya Alas kidnapped the girl Saturday [10/8/2016] from her home in southeast Fort Worth. [...] Alas was interviewed by Immigration Customs Enforcement and it was determined he is in the country illegally.
Reverend offers sanctuary to undocumented man with domestic battery charge. Rev. Jose Landaverde and his church, St. Peter the Apostle Mission, have become a safe haven for an undocumented man and his 7-year-old daughter. Lorenzo Solorzano Morales is facing deportation for a domestic battery charge arrest in 2011. According to Kane County Court and police records, he pleaded guilty to the misdemeanor offense a few months following the arrest. He was accused of pulling a woman's hair during an argument.
US immigration policies allow gangs to thrive in violence-plagued NY community, say critics. Critics say a combination of federal and local policies is being blamed for rolling out the red carpet for illegal immigrants, some of whom have committed violent crimes, allowing them to pour into a Long Island, N.Y., neighborhood where four teens have been murdered in recent weeks. Federal policy that allows Central American children apprehended by Border Patrol to be placed with illegal immigrant sponsors has sent thousands of teens to the region in recent years. While most don't arrive as hardened gang members, many are placed in homes with little supervision, say critics.
'They Keep Finding Bodies': Gang Violence in Long Island Town Fuels Immigration Debate. Brentwood, a hardscrabble town of nearly 60,000 on Long Island, 40 miles east of Manhattan, has reached another crisis point. For nearly two decades, MS-13, a gang with roots in Los Angeles and El Salvador, has been terrorizing the town, the authorities say, especially its young people. Since 2009, its members have been accused of at least 14 murders, court and police records show. School officials are scrambling. Police officers are searching. Students are frightened. Parents are anguished.
Unarmed black man killed by police near San Diego had twice been ordered deported. A Ugandan refugee fatally shot by police in El Cajon, Calif., on Tuesday [9/27/2016] had twice been ordered by an immigration judge to be deported because of criminal convictions but was allowed to remain in the United States when Uganda refused to accept him, officials said Thursday [9/29/2016].
Suspect in two Texas killings, kidnapping had been deported three times, authorities say. Juan Navarro Rios, 40, was arrested Tuesday night after he barricaded himself in an apartment complex in an Austin suburb and set fire to part of the building, according to police, who said they grabbed him as he tried to flee down a staircase. He is suspected of shooting and killing two motorists in the Dallas area, and kidnapping a landscape worker in Austin.
NY town mourns 4 murdered teens, and some blame federal immigration policy. The village of Brentwood, on New York's Long Island, is nearly 2,000 miles from the Mexican border, but with four dead teenagers, it has become a flashpoint in the debate over federal immigration policies and their possible links to gang violence. The murder last week of Brentwood High School students, Nisa Mickens, 15, and Kayla Cuevas, 15, and the discovery of two sets of human remains, males ages 17 and 19, in a wooded area adjacent to the Long Island Railroad have allegedly been linked to the MS-13 gang that has wreaked havoc in Brentwood.
Trump to Victims of Illegal Alien Crime: You Have Been 'Forced into the Shadows'. On Saturday [9/17/2016], Republican nominee Donald Trump addressed the American families victimized by open borders that have been "forced into the shadows" by both establishment politicians and media elites. "Help is coming," Trump told the angel families, assuring them that "their loved ones will not have died in vain." At a Saturday luncheon hosted by the Remembrance Project, a group that represents the American victims of illegal alien crime, Trump honored the "stolen American lives" and pledged to "advocate for justice on behalf of all American victims."
Trump: Open Borders Cost American Lives. Donald Trump says he is "shining a national spotlight" on Americans killed by immigrants living in the United States illegally and vowed to deliver justice to the families of the victims. "What is the acceptable number of lives to be lost in the name of illegal immigration? Let me tell you what that number is: zero," Trump said Saturday [9/17/2016] at anti-illegal immigration group's conference in Houston, Texas.
Sanctuary Jurisdictions Protect Nearly 12,000 Criminal Illegal Immigrants in 19 Months. The recent murder committed by a twice-deported illegal immigrant gangbanger in a Maryland sanctuary county makes the following information both enraging and unbelievable; nearly 12,000 illegal immigrants with criminal histories were protected from federal authorities by sanctuary jurisdictions in the U.S. during a 19-month period, according to Immigration and Customs Enforcement (ICE) figures obtained by the Washington D.C.-based Center for Immigration Studies (CIS). A few weeks ago CIS published a map identifying about 300 jurisdictions that have official policies shielding illegal aliens from federal authorities. During a 19-month stretch from January 1, 2014, to September 30, 2015, more than 17,000 federal detainers were rejected by these sanctuary jurisdictions, CIS found. Around 11,800 of the detainers, or 68%, were issued for individuals with a prior criminal history.
An Illegal Immigrant Sexual Predator Terrorizes Austin, Texas. Nicodemo Coria-Gonzalez, a 26-year-old illegal alien from Mexico now in custody in Austin, Texas, is thought by detectives to be a violent serial sexual predator who since December had terrorized women in North and Northeast Austin. Previously deported five times, he could serve as Donald Trump's new poster boy for get-tough deportation policies and a massive border wall — replacing San Francisco's Juan Francisco Lopez-Sanchez, the undocumented Mexican immigrant facing murder charges for shooting 32-year-old Kathryn Steinle as she strolled with her father along a trendy pier. That crime inspired "Kate's Law." Like Austin's Coria-Gonzalez, Lopez-Sanchez had a long rap sheet and had been deported five times.
Unaccompanied minors swelling ranks of American gangs, say experts. A surge of unaccompanied children coming across the southern border could be swelling the ranks of one of America's most dangerous gangs, either as fresh recruits or hardened sleepers, according to federal authorities. Some 227,149 unaccompanied children have been apprehended at the border over the last six years, according to the U.S. Border Patrol. They remain in federal custody until a sponsor can be located, at which time they are often sent to communities where they are ripe for recruitment by Latin gangs such as the infamous MS-13.
Hispanic Activist Who Criticized Trump's Mexican Rapist Comments Arrested for Raping Illegal Immigrant. You might remember a Hispanic political activist named Tony Yapias, who was extremely critical of Donald Trump's assertion that some illegal Mexican aliens were rapists. [...] This week Tony Yapias has been arrested for rape. However, not only was Yapias arrested for rape — his victim was, ...wait for it..., yep, an illegal alien.
Sanctuary State: New Mexico State Police refuse to ask for cop killer's citizenship status! The Alamogordo, New Mexico Alamogordo Daily News reported on September 2, 2016 that 33-year-old Police Officer Clint Corvinus was fatally shot on September 3, 2016 by 38-yr-old wanted fugitive Joseph Moreno. In the shootout, following a routine traffic stop, involving Moreno, Officer Corvinus, and a second Police Officer, Christopher Welch, Moreno was also fatally shot.
Meet Thong Vang: Illegal Alien Child Rapist Hillary's State Department Did Not Deport, Shoots Two Officers. An illegal alien and convicted child rapist was able to shoot two California corrections officers on Saturday [9/3/2016] because Hillary Clinton's State Department refused to enforce the law and take actions that would have forced his home country to repatriate him. On Saturday, Thong Vang, a 37-year-old Laotian national, shot and critically injured two corrections officers in Fresno, California. Vang had previously served sixteen years in prison for gang raping three girls under the age of 14[.]
Illegal alien charged in daughter's 'chilling' slaying. An illegal immigrant twice kicked out of the country — and sporting a "Kiss My A--" tattoo on his neck — vowed to see his teenage daughter "in hell" as he shot her in the face and pumped her back full of bullets for snubbing him on Father's Day, authorities said. "It is disturbing that he'd been deported and came back into the country illegally, but he's here," Bristol District Attorney Thomas M. Quinn III said yesterday [9/6/2016] after Walter Gomes Da-Silva, a 45-year-old Brazilian, grinned widely as he pleaded not guilty to murder and firearm charges. "This is a very chilling set of circumstances — a father being accused of killing his teenage daughter. We'll just have to see how it plays out."
Left-Wing Journalist: Moms Whose Sons Were Murdered By Illegals Like 'Hate Group'. On Wednesday night [8/31/2016], Donald Trump gave an immigration speech that managed to elate the likes of Immigration-obsessed Ann Coulter while successfully pulling off Trump Pivot 5.0. In one powerful moment nearing the end of the speech, the Republican nominee invited the mothers of children who were murdered at the hands of illegal immigrants, referred to as "Angel Moms," on stage. A left-wing journalist with a past steeped in anti-Americanism and anti-Semitism likened these "Angel Moms" to a "hate Group."
More Than 28,000 Mexican Citizens [are] Housed in U.S. Federal Prisons. There are 28,683 Mexican citizens being housed in U.S. federal prisons as of the most recent statistics, PJM has learned. The figure represents the total number of inmates with Mexican citizenship in the custody of the U.S. Federal Bureau of Prisons as of July 30, 2016, out of the total 193,391 inmates. Mexican inmates are currently the second largest group of inmates based on citizenship of the total federal prison population at 14.8 percent, behind U.S. citizens at 77.8 percent. In May, the number of Mexican citizens housed in federal prisons was higher at 29,371 out of 194,991 total inmates. The bureau could not provide the specific number of inmates in their custody who are illegal immigrants.
FBI Agent Affidavit Reveals MS-13 Gang Member Was Instructed to Say He Was a Refugee. A February affidavit from a Federal Bureau of Investigation special agent about the transnational gang MS-13 reveals a member was instructed to say he is "fleeing the violence in El Salvador" when dealing with police. The FBI special agent details how Joel Martinez, aka "Animal," was promoted to "homeboy" status in a Boston MS13 gang after stabbing 15-year-old Irvin De Paz to death in September 2015. According to the affidavit, rival 18th street gang members sought to kill Martinez and he had to flee. One MS-13 member, "told Martinez that when dealing with the police he should be humble and say that he is fleeing from the violence in El Salvador," FBI special agent Jeffrey Wood wrote.
17,000 criminal illegals shielded from deportation by 'Sanctuary Cities,' 1,591 jails ignore feds. Republican presidential candidate Donald Trump on Wednesday [8/31/2016] said he will end the practice of some 300 cities, towns and states giving "sanctuary" to illegal criminal immigrants instead of handing them over to federal authorities for deportation. In a statement issued as he readied for a meeting with Mexico's president and later his delivery of a major address on immigration, his campaign issued a statement detailing the outlines of his plan.
Report: Sanctuary Cities Ignored 17,000 ICE Detainer Requests. Sanctuary jurisdictions across the U.S. ignored 17,000 requests to detain illegal aliens eligible for deportation, the overwhelming majority of whom had prior criminal records, in less than two years according to a new report. According to the Center for Immigration Studies, there are approximately 300 sanctuary jurisdictions, from cities to counties to states, that hinder immigration law enforcement and protect dangerous illegal aliens from deportation. Sixty-eight percent of the 17,000 requests were made for illegal aliens with criminal histories.
Court says cockfighting conviction should not be deportable offense. The court discussion boiled down to this: How similarly should chickens and people be viewed? An immigration court ruling held that being involved in an illegal activity — such as cockfighting — that hurt a chicken was, in essence, harming a member of a "protected class of victim," and thus a crime involving "moral turpitude." That view of cockfights denied a Mexican man, Agustin Ortega-Lopez, the right to contest his deportation. But on Tuesday, a federal appeals court said that in this case, chickens were not the same as people, and remanded the case back to immigration court, according to the Los Angeles Times.
Trump brings mothers of children 'slaughtered' by illegal immigrants on stage at Texas rally. Donald Trump charged Hillary Clinton with planning to 'let everybody in' to the country as he met with the mothers of children 'slaughtered' by illegal immigrants and vowed to go after criminal immigrants. Trump charged Clinton of planning a 'massive amnesty' just hours after he told Fox News host Sean Hannity there could be a 'softening' in his deportation plans. 'There have been hundreds of immigrants and their children [killed] inside the United States since 9/11 and a number of terrible attacks like the Boston bombing, San Bernardino, and Orlando,' Trump told a cheering crowd in Austin Tuesday evening [8/23/2016].
Obama chills while nation simmers. Nero fiddled while Rome burned. Obama is playing round after round of golf and eating on the arm at la-de-da restaurants on Martha's Vineyard as Milwaukee burns, Louisiana floods and illegal aliens hunt down and rape American women and children on mainland Massachusetts. In Haverhill, two illegals are arraigned for the Friday night rape of a woman at Riverside Park. One was deported in 2013, returned to the U.S. through Laredo last year and was issued a notice to appear before an immigration court in May 2015, an appearance the alleged rapist did not make.
Sanctuary for Crime Part 1. There are nearly 300 so called "sanctuary cities" in the U.S. Laws in these cities help shield illegal immigrants from deportation, even after they've committed felonies. Full Measure found the problem of the U.S. as a Sanctuary for Crime is much larger, and often understated by politicians and advocates with special interests at stake.
ICE: Deportations at 10-year low, criminal illegal expulsions cut 60%. Despite a series of crimes committed by illegal immigrants and public polls showing anger at three years of juvenile Latin Americans crossing the border, deportations have dropped to a 10-year low and under President Obama, the eviction of those convicted of criminals has plummeted 60 percent, according to new immigration statistics. U.S. Immigration and Customs Enforcement statistics reported to Congress show that 230,000 illegal immigrants will be deported this year. That is slightly more than half of the 400,000 that were deported in 2012, and come after the country has been flooded with juvenile illegals, a situation continuing today.
New immigration scandal: Foreign nations refusing to take back criminal illegals. Instead of forcing nations to take back 19,723 illegal immigrants convicted of many crimes including rape and murder, the administration simply let them go, just a quarter of the tens of thousands of criminal illegals set free in the past three years, a House oversight committee revealed Thursday [7/14/2016]. Outraged with the administration's actions, Rep. Jason Chaffetz, chairman of the House Oversight and Government Reform Committee, told top Obama aides at a hearing, "Pull the trigger... get rid of them."
Just Under 20,000 Illegals Convicted of Robbery, Rape, Murder, Set Free Last Year. Instead of forcing nations to take back 19,723 illegal immigrants convicted of many crimes including rape and murder, the administration simply let them go, just a quarter of the tens of thousands of criminal illegals set free in the past three years, a House oversight committee revealed Thursday [7/14/2016].
Texas Most Wanted List Filled with 'White' Fugitives Who Aren't White At All. The 10 most wanted fugitives in Texas are nearly all male, save one, and every one of them is listed as white. Except, they're not. At first glance, it appears that only one fugitive is actually white and the rest are Hispanic. This must be the George Zimmerman Effect, after the media's initially labeling of him as the "white" shooter of Trayvon Martin, only to later change it to "white Hispanic." But these obviously non-white Hispanic fugitives are a rowdy, disgusting bunch wanted for offenses including murder, child rape, child pornography, drugs, and burglary. Three of the "white males" have gang affiliations with groups like the Latin Kings, Barrio Azteca, and the Texas Syndicate. Some of their names include Raul Ambrosio Jimenez, Jr., Jose Fernando Bustos-Diaz, Jaime Gonzalez, and Eusebio DeLeon. The only "white female" on the list is named Iris Iliana Rodriguez, wanted for indecency with a child by sexual contact.
200K Criminal Aliens Booked Into Texas Jails Over Past 5 Years, Says DPS. Nearly 200,000 criminal aliens have been booked into local Texas jails over the past five years. Those numbers included more than 155,000 criminal illegal aliens. A report recently released by the Texas Department of Public Safety (DPS) revealed that Texas taxpayers have been forced to foot the expense of over 195,000 criminal aliens who were booked into Texas jails between June 1, 2011 and June 30, 2016. Sixty-six percent of those criminal aliens identified by the DPS were aliens whose Department of Homeland Security (DHS) status was that of being illegally present in the United States at the time of their arrest. These numbers do not include those criminal aliens who have had no previous contact with DHS where fingerprints or other biometric information was obtained.
Illegal immigrant, 29, who 'murdered three and critically injured another' at an Oregon pot farm had been deported SIX Times. An illegal immigrant from Mexican who was charged with aggravated murder in the shooting deaths of three people at a rural Oregon blueberry farm had been deported six times. According to U.S. Immigration and Customs Enforcement, Bonifacio Oseguera-Gonzalez, 29, was most recently deported in 2013 and had no significant prior criminal convictions. Oseguera-Gonzalez pleaded not guilty to three counts of aggravated murder and one count of attempted murder Tuesday [6/28/2016] in Marion County Superior Court.
Oregon triple murder suspect had been deported six times. A Mexican national charged with aggravated murder in the shooting deaths of three people at a rural Oregon blueberry farm had been deported six times, most recently in 2013, according to U.S. Immigration and Customs Enforcement.
Illegal Alien Who Butchered Conn. Woman Not Deported After Serving 15 Yrs. for Murder Because Haiti Refused to Repatriate. An illegal immigrant who stabbed a young Connecticut woman to death after completing a 15-year sentence for murder couldn't be deported by the U.S. government because his homeland, which receives billions in aid from Uncle Sam, wouldn't take him back — three times! So federal authorities released the violent criminal, a Haitian national, and didn't even bother tracking his whereabouts allowing him to commit yet another heinous crime. Now, a year after an innocent woman was viciously butchered to death in her own apartment, the Department of Homeland Security (DHS) is getting a bit of a spanking from its watchdog for failing to do its job.
Illegal immigrant makes Donald Trump's point by attempting to assassinate Donald Trump. You're supposed to believe that every impulse to crack down on illegal immigration is rooted in nothing more than abject racism. Never mind the fact that illegals come in all shapes, sizes, colors, and nationalities. If you want to enforce America's border security laws, you're a "phobe" who hates the "brown people." At least that's the moronic story that progressives try to peddle. Fortunately, we have illegal immigrants who are doing everything they can to disprove the left's fantasy.
Illegal alien charged with five horrific murders in LA. The man charged burning five people to death in Los Angeles is an illegal alien from Honduras. He was caught by the border patrol in 2012. However, the Obama administration ordered the border patrol to release him into the public. The Obama administration has a "catch and release" policy because the goal is to transform the US electorate via open borders and 3rd world immigration.
Homeless Man Charged Fire Deaths Was In US Illegally. A homeless man charged with setting a fire that killed five people at a vacant Los Angeles building was in the country illegally, and was arrested for drug possession days before the blaze.
Suspect in fire that killed 5 was here illegally, fought with another transient before slayings. A Honduran citizen charged with murdering five homeless people in an arson fire was in the United States illegally and had been arrested three times in the months before the blaze in a vacant Westlake building where transients were squatting, officials said Friday [6/17/2016]. Johnny Josue Sanchez, 21, started the fire to avenge a beating he took in a dispute over occupying a room in the building, a law enforcement source said.
Exclusive: Border Patrol Agent Brutally Attacked in Arizona — Alien Shot Dead. A Border Patrol agent was brutally attacked by an illegal alien in the Yuma Sector on the U.S.-Mexico border on the night of June 9 and the agent responded with deadly force and killed the illegal alien. Multiple sources operating under the umbrella of Customs and Border Protection (CBP) discussed the issue with Breitbart Texas on the condition of anonymity. The Border Patrol agency confirmed the incident to Breitbart Texas when called.
Over 50 arrested in police crackdown on Latino gangs near Los Angeles. More than 300 law enforcement personnel swept an area east of Los Angeles in an operation targeting two Latino gangs that resulted in 52 arrests and the seizure of drugs with a street value of $1.6 million, California's Attorney General's Office said in a statement. Police seized 67 firearms, including assault rifles and semi-automatic weapons, as well as $100,000 in cash and quantities of methamphetamines, cocaine and marijuana, in Thursday's [6/9/2016] raids in Riverside County.
Great News, Only a Third of Obama's Freed Criminal Aliens Committing New Crimes! The Boston Globe conducted an investigation review of 323 criminal aliens released in New England from 2008 to 2012 and found that 30% of these criminal aliens went on to commit more crimes, including rape, robbery, and murder, after being released. This is a much higher rate than ICE and the Obama administration have reported. Pres. Obama has claimed that deporting criminal aliens is a "priority" under his Priority Enforcement Program (PEP), but under this new policy 60% of all criminal aliens were released in 2015 alone according to ICE. PEP prohibits ICE agents from targeting most illegal aliens for removal, unless they commit a "serious" crime or are considered a national security threat. In February a letter from ICE to Sen. Chuck Grassley (R-Iowa), showed that 130 murders or attempted murders have been committed by released criminal aliens since 2010.
Criminal immigrants reoffend at higher rates than ICE has suggested. They were among the nation's top priorities for deportation, criminals who were supposed to be sent back to their home countries. But instead they were released, one by one, in secret across the United States. Federal officials said that many of the criminals posed little threat to the public, but did little to verify whether that was true. It wasn't.
Report: Secretly-Released Criminal Illegal Aliens Continued to Commit Serious Crimes, Managed to Register to Vote. Illegals released by Obama administration officials stabbed an old girlfriend, robbed a man outside a 7-11, and murdered a young woman in New England after failing to be deported. The mayhem caused by Obama was discovered when the Boston Globe sued the Obama administration and found illegal aliens who were top deportation priorities were secretly turned loose back into New England communities — with as many as 30 percent going on to commit serious crimes such as attempted murder and rape.
ICE Has Been Lying About Criminal Immigrants. Federal officials have been secretly releasing illegal immigrants who have committed a crime across the country, saying that the criminals were not a dangerous threat to the public. Now a new Boston Globe review of the matter finds that Immigration and Customs Enforcement (ICE) has been misleading Congress and the public, if not outright lying to them.
Why, I'm sure this has nothing at all to do with illegal immigration. Not to put too fine a point on it, illegal immigration correlates directly with high rates of auto theft: More than 71 percent of all recovered stolen cars in 2005 in Texas, New Mexico, Arizona, Nevada, and California were stolen by illegal aliens or by "transport coyotes," those who bring in illegals across the Mexican border.
Many immigrants released to reoffend. A [Boston] Globe review of 323 criminals released in New England from 2008 to 2012 found that as many as 30 percent committed new offenses, including rape, attempted murder, and child molestation — a rate that is markedly higher than Immigration and Customs Enforcement officials have suggested to Congress in the past. The names of these criminals have never before been made public and are coming to light now only because the Globe sued the federal government for the list of criminals immigration authorities returned to neighborhoods across the country. A judge ordered the names released in 2013, and the Globe then undertook the work that the federal government didn't, scouring court records to find out how many released criminals reoffended.
Report: Obama Admin. Lied About Rate That Criminal Immigrants Re-Commit Violent Crimes. A new report from the Boston Globe shows that Immigration and Customs Enforcement officers may have lied to Congress and the public about the likelihood of criminal immigrants, who should have been deported, to re-commit violent crimes when released into the general population. The Boston Globe reviewed the cases of immigrants who had been set free in New England from 2008-2012, rather than being deported to their native countries. Of the 323 criminal immigrants tracked, 30 percent were found to re-commit violent crimes, "including rape, attempted murder and child molestation."
ICE Released 19,723 Criminal Aliens in 2015. In 2015, ICE freed 19,723 criminal aliens, who had a total of 64,197 convictions among them. These included 8,234 violent convictions and 208 homicide convictions. While the total number of releases is lower than the past two years, since the number of arrests has declined quite dramatically, the rate of releases is approximately the same — meaning that this is no progress at all, and certainly will be no consolation for the victims of these criminal aliens.
Congressman: Obama Admin Withholding Info About 86,000 Criminal Illegal Immigrants. The Obama administration is withholding from Congress and the American people detailed information about more than 86,000 illegal aliens who have committed serious crimes and continue to walk the streets in the United States, according to conversations with a member of Congress, who disclosed to the Washington Free Beacon that "if the public knew about this there would be total absolute outrage" over the matter. Rep. Brian Babin (R., Texas) told the Free Beacon that the administration is trying to suppress information about the release of some 86,000 criminal illegal immigrants who have committed 231,000 crimes in just the past two and a half years.
Declining Deportations and Increasing Criminal Alien Releases. The Obama administration has embraced a radical new approach to immigration law. It has, without the consent of Congress, transformed violation of immigration law into a "secondary offense." That is to say, the goal is to ensure that an alien faces consequences for breaking immigration law only if he also breaks some other, "real," law involving, say, violence or drug dealing. And even then, the primary violation has to be quite severe to warrant deportation for the (secondary) immigration offense.
Truck full of illegal immigrants crashes into Naval Air Station. Three people were recovering in a hospital Monday and 12 were in custody after a truck carrying 15 illegal immigrants crashed into a barrier at a Texas Naval Air Station on Saturday night, The Corpus Christi Caller Times reported. The vehicle ran the initial entry gate at Naval Air Station Kingsville before crashing into the base's "final denial barrier," a news release said. The vehicle was not the subject of a pursuit prior to the crash, air station spokesman Kevin Clarke told The Austin American-Statesman.
Armed Citizens Saving Police Officers. This article was originally by Ohioans for Concealed Carry PAC and then by the Kentucky Concealed Carry Coalition. It has ceased to exist on those pages. I found it on learnaboutguns.com, where it was republished. It is a compilation worth keeping. The article was originally published before February 8th, 2009. It has not been updated since then. I know that it is only a partial listing. For example it does not list the case of Rory Vertigan, who shot, then captured one of three drug dealers who ambushed and killed Officer Marc Atkinson of the Phoenix Police Department on March 26, 1999. All three drug dealers were illegal aliens.
Teenage member of El Salvador's MS-13 gang gets 12 years in prison for raping and robbing girl, 16. A teenage gang member was sentenced to 12 years in prison Wednesday for raping a teenage girl on a Long Island golf course last year. Joel Escobar, 18, was the second teen to be sentenced in what Suffolk County District Attorney Thomas Spota called the 'brutal' robbery, rape and sodomy of a 16-year-old girl on May 29, 2015. Spota said Escobar and Jose Cornejo, 17, who is serving a 15-year prison sentence in the same case, took turns raping the girl while a third teen, Bryan Larios, allegedly acted as a lookout.
DHS freed nearly 20,000 convicted criminal immigrants in 2015. The U.S. tried repeatedly to deport Jean Jacques, an immigrant living in the U.S. illegally, but his native Haiti wouldn't take him back after he served more than a decade in a state prison for attempted murder and committed multiple parole violations. Each time Jacques was arrested on a parole violation, he would serve a sentence in state prison and then be released to immigration custody. At least three times, Haiti refused to take him back, so Immigration and Customs Enforcement officials in early 2015 did the same thing they do thousands of times a year — they released a violent criminal immigrant from jail.
Sanctuary City: Criminals Welcome. Last June, when he said he was running as a Republican for president, billionaire Donald Trump famously called out Mexico for sending "people that have lots of problems" across the border. [...] Many were offended to hear Trump equate undocumented immigrants with dangerous criminals. Yet the same thing is happening on the Left Coast. Tuesday the San Francisco Board of Supervisors will vote on a measure to reinforce a sanctuary city policy — named "Due Process for All" and passed in 2013.
Illegal Alien Convicted of Murder After Stabbing Father of Two to Death, Ripping Out His Liver. An illegal alien from El Salvador, Mauricio Morales-Caceres, faces life in prison without parole after being convicted of stabbing acquaintance Oscar Navarro, father of two, "at least" 89 times with a 15-inch butcher knife and tearing out his liver with his bare hands — but no comments on this shocking murder by a foreign national, who smiled cheerfully in his mugshot, are allowed, according to the Washington Post.
WashPost Buries Uncomfortable Fact: Gruesome, Slashing Killer Is An Illegal Alien. On the front of Sunday's [5/1/2016] Metro section of The Washington Post came this headline: "Gruesome images test jury during trial in Md." Post reporter Dan Morse reported on a trial in suburban Montgomery County surrounding the murder of 36-year-old Oscar Navarro: "prosecutors were allowed to show jurors eight of the most disturbing photos — a key to their obtaining a first-degree murder conviction Friday [4/29/2016] against Mauricio Morales-Caceres, 24." It was only in paragraphs 29 and 30 that the Post acknowledged what they clearly felt was the least relevant news detail in this court case: The convicted murder is an illegal alien.
ICE under fire for releasing thousands of illegal immigrants with rap sheets. The Obama administration took fire at a House hearing Thursday for releasing back into society thousands of illegal immigrants who had committed crimes on U.S. soil — including those behind more than 200 murders. "These are people that were here illegally, got caught committing a crime, were convicted of that crime and instead of deporting them, they were just released back out in the United States of America," House Oversight and Government Reform Committee Chairman Jason Chaffetz, R-Utah, said. According to a new report from the Center for Immigration Studies, Immigration and Customs Enforcement in 2015 "freed 19,723 criminal aliens, who had a total of 64,197 convictions among them." This included "8,234 violent convictions and 208 homicide convictions."
Good News! Obama Only Released 20,000 Criminal Illegal Aliens in 2015! ICE continued to release deportable criminal aliens from its custody at an alarming rate in 2015, according to figures the agency provided to members of Congress this week in advance of a hearing taking place Thursday, April 28. In 2015, ICE freed 19,723 criminal aliens, who had a total of 64,197 convictions among them. These included 8,234 violent convictions and 208 homicide convictions. While the total number of releases is lower than the past two years, since the number of arrests has declined quite dramatically, the rate of releases is approximately the same — meaning that this is no progress at all, and certainly will be no consolation for the victims of these criminal aliens.
ICE under fire for releasing thousands of illegal immigrants with rap sheets. The Obama administration took fire at a House hearing Thursday for releasing back into society thousands of illegal immigrants who had committed crimes on U.S. soil — including those behind more than 200 murders. "These are people that were here illegally, got caught committing a crime, were convicted of that crime and instead of deporting them, they were just released back out in the United States of America," House Oversight and Government Reform Committee Chairman Jason Chaffetz, R-Utah, said.
20,000 illegals with criminal convictions released into U.S. communities in 2015. Homeland Security has made some gains in detaining criminal aliens but still released into the community nearly 20,000 immigrants last year who'd already been convicted of crimes — including hundreds charges with sexual assault, kidnapping or homicide — according to figures sent to Congress this week. Between them the aliens notched a total of 64,000 crimes, including 12,307 drunken driving convictions, 1,728 cases of assault, 216 kidnappings and more than 200 homicide or manslaughter convictions, U.S. Immigration and Customs Enforcement (ICE) told the House Committee on Oversight and Government Reform ahead of a hearing Thursday [4/28/2016].
ICE Released 19,723 Criminal Aliens in 2015. ICE continued to release deportable criminal aliens from its custody at an alarming rate in 2015, according to figures the agency provided to members of Congress this week in advance of a hearing taking place Thursday, April 28. In 2015, ICE freed 19,723 criminal aliens, who had a total of 64,197 convictions among them. These included 8,234 violent convictions and 208 homicide convictions. While the total number of releases is lower than the past two years, since the number of arrests has declined quite dramatically, the rate of releases is approximately the same — meaning that this is no progress at all, and certainly will be no consolation for the victims of these criminal aliens.
President Obama: Accessory To The Crimes Committed By Illegal Aliens? Congressman Lamar Smith of Texas had previously chaired the House Immigration Subcommittee and the House Judiciary Committee. [...] Smith's understandable outrage at the April 19th hearing became readily apparent when he stated rhetorically that he wondered if President Obama might be an accessory to the crimes committed by illegal aliens since he has implemented policies that he knows are going to result in the loss of life to innocent Americans, noting that the administration had released from custody some 100,000 aliens who had been convicted of committing serious crimes. He also noted that although it has been estimated that illegal aliens account for about 3% of the U.S. population, they account for 30% of all murders — making illegal aliens 10 times more likely to commit murder than anyone else.
America Has The World's Most Predatory "Victims". Any non-liberal white man who disagrees with a non-conservative black or Hispanic person is immediately presumed to be racist. Decent people are incessantly called "racists" just for disagreeing with liberal policies. We're told black Americans are such victims that they must be helped out with Affirmative Action. But who's really getting victimized when the son of a white cop is passed over for the son of a black CEO purely because of the color of his skin? It has gotten so bad that illegal aliens, who broke the law KNOWING that the penalty for it is deportation, are now considered to be victims. Enforcing the law against illegal aliens? We're not supposed to do that because they're a protected victim class that has to be allowed to break the law with impunity.
Press Ignores Testimony of Parents of Illegal-Immigrant Murder Victims. Three important things happened at Tuesday's hearing of the House Judiciary Committee's Subcommittee on Immigration and Border Security. The first was the testimony of two mothers of children killed by illegal immigrants. The second was the outrageous and false contention by a Methodist bishop that the mere act of bringing attention to these heinous offenses is a form of "blind vengeance" over "isolated ... incidents." (In other words, it is our moral duty to shut up.) The third explains why very few Americans have no idea that the first two items occurred, namely that the establishment press, consistent with its practice since Republicans took over the House of Representative in early 2011, chose not to cover what happened at yet another congressional hearing.
Mother of Son Murdered by an Illegal Breaks Down in Tears Before Congress. The mother of a teenage son who was tortured and murdered by an illegal immigrant broke down in tears Tuesday [4/19/2016] before a House panel, begging for the government to enforce immigration law. Laura Wilkerson, the mother of Josh Wilkerson, described in vivid detail the manner in which Hermilo Vildo Moralez, an illegal immigrant, beat, tortured, and eventually killed her son Josh then went to a movie.
Trey Gowdy: [There are] More Illegal Immigrants Convicted of Crimes At Large in the U.S. Than the Population of Pittsburgh. There are more illegal immigrant criminals in the United States than the population of major U.S. cities, Rep. Trey Gowdy (R-SC) argues, expressing frustration at the Obama administration's focus on the plight of illegal immigrants rather than the victims of their crimes. "Today there are over 350,000 known criminal aliens in the United States who are not detained by ICE, 350,000," Gowdy, the chairman of the Immigration and Border Security Subcommittee, said opening a hearing examining the victims of illegal immigrant crime.
Bipartisan Sentencing Reform Bill Will Release Criminal Aliens. The bipartisan sentencing reform push in Congress would cause the premature release of many criminal aliens without a guarantee of deportation, according to NumbersUSA. The immigration reduction group predicts that legislation the House and Senate is considering will disproportionately benefit criminal aliens and represents a "Trojan Horse Amnesty" for their release.
Border Patrol Agents Catch Previously Deported Child Sex Offenders Sneaking Back In. Two previously deported child rapists were captured after re-entering the United States by Border Patrol agents operating in southern New Mexico. Another man was busted for human smuggling. Agents operating in Santa Teresa, New Mexico, found a group of illegal aliens and discovered that one of the men had previously been convicted for sexual assault of a child, according to a statement from the Border Patrol obtained by Breitbart Texas. The 59-year-old man from El Salvador, Manuel Saravia Guerrero, was arrested and is being processed for prosecution and removal by federal authorities.
Alien Crime Victims to Wisconsin on Eve of Vote: Stop 'Traitor' Ryan from Stealing Delegates. On the the heels of new reports indicating Speaker Rep. Paul Ryan (R-WI) could likely emerge as the GOP nominee should the "#NeverTrump" clique keep Donald Trump from getting 1,237 delegates outright, the American victims of illegal alien crime are now speaking out against the possibility of a President Ryan. Paul Ryan's position on immigration is "treasonous," said Dan Golvach, whose 25-year-old son Spencer was murdered and shot in the head during a drive-by shooting carried out by an illegal alien.
TX: Illegal Immigrant Arrested for Raping, Impregnating 12-Year-Old. An illegal immigrant has been arrested and charged with raping and impregnating a 12-year-old Texas girl, authorities say. Prosecutors charged that in 2015 an illegal immigrant, Jose Alejandro Najarro, tried to convince his 12-year-old victim to have sex with him, but she refused. Refusing to take "no" for an answer, the suspect allegedly raped her at his home in Kyle, Texas. Several months later, the girl was found to be pregnant and an investigation into her predicament was begun at that time. The girl told authorities she only had sex one time and that was with the suspect.
A border first: Smugglers buy U.S. land, build house to hide tunnel, feds say. For the first time on the border, drug traffickers allegedly bought U.S. property for the sole purpose of building a house to conceal the end of a 415-yard smuggling tunnel from Mexico, authorities said Wednesday [3/23/2016]. Four people were arrested this week in connection with a raid on the tunnel underneath a three-bedroom house in Calexico, California, that sits about 300 yards north of the international line, authorities said.
MS-13 gang killings linked to immigrant surge. The notoriously violent MS-13 street gang, known for slashing victims to death with knives and machetes, is reviving its brutal brand of violence to reassert its dominance in the Washington metropolitan area — with authorities linking at least eight homicides in Virginia and Maryland over the past year to the gang. The recent uptick in violence can be traced to a failed gang truce in El Salvador and, in part, to a surge of unaccompanied Central American children who entered the United States last year to flee violence at home, according to gang analysts.
Four illegal immigrants charged in rape, beating; two were previously deported. Four illegal aliens from Guatemala are charged in the rape of a Massachusetts woman and the vicious beating of her boyfriend, and one of the suspects was arrested less than a month before the attack — but he was not reported to immigration authorities. Federal immigration officials have requested detainers on Elmer Diaz, 19, Ariel Diaz, 24, Adan Diaz, 32, and Marlon Josue Jarquin-Felipe, 27, following their arrests in the March 13 incident in Framingham, The Boston Herald reported. The three Diaz men are brothers.
Illegals held in vicious Framingham rape. Federal immigration officials are requesting detainers on four illegal aliens accused of a heinous attack on a Framingham couple in which the woman was raped and her boyfriend was beaten and threatened with death, the [Boston] Herald has learned. Two of the illegals had previously been deported to Guatemala, said Immigration and Customs Enforcement spokesman Shawn Neudauer.
President Obama's collateral damage. Mr. Obama's stubborn devotion to his agenda of change reveals a closed mind with lethal consequences. There are more than a hundred Americans who should be alive but are not, along with thousands of surviving victims of lesser crimes, the grim result of the president's determination to keep the nation's southern border porous. He may consider that a small price to pay for reshaping the nation to match his vision, but he's not the one who must pay.
How a Suspected Murderer and Criminally Convicted Illegal Immigrant Avoided Deportation. Before Pablo A. Serrano-Vitorino became the suspect in a murder spree across two states, the man, a once-deported Mexican living in the United States illegally, was convicted of multiple crimes, across different agencies, but still free. Serrano-Vitorino's case involved a series of errors that kept him from being detained by federal immigration authorities, and from facing another deportation last year when he should have been removed from the country.
Grieving Mom Responds To Kasich's Amnesty-In-100-Days Pledge: Visit the Grave Of My Murdered Child. "It's all so senseless," Maureen Maloney said of the death of countless Americans at the hands of illegal aliens. Maloney's 23 year-old son Matthew was hit by a repeat-offending illegal alien drunk driver. Although Matthew survived the initial crash, he died as he was subsequently dragged a quarter of a mile — caught in the wheel well of the illegal alien's pick up truck — as the alien sought to flee the crime scene. "Witnesses who saw [Matthew] pinned screaming under the truck ran out and pounded on the vehicle, crying out to the driver who kept going...' [Matthew] was alive for a good portion of it,'" wrote one report from the time.
124 illegal immigrants released by DHS later charged with murder: report. More than 100 illegal immigrants caught but released by the Obama administration over the last five years have gone on to be charged with murders after they were set free, according to a new report being released Monday [3/14/2016] from the Center for Immigration Studies. In all, some 121 immigrants who were freed by U.S. Immigration and Customs Enforcement between 2010 and 2014 went on to be charged with a total of 135 homicide-related crimes. Another three immigrants were charged with murders in 2015, bringing to 124 the total number of murder suspects the government had, then released.
ICE: 124 illegal immigrants freed from jail later charged in 138 murder cases. U.S. Immigration and Customs Enforcement has revealed that 124 illegal immigrant criminals released from jail by the Obama administration since 2010 have been subsequently charged with murder. A Center for Immigration Studies report on the data from ICE to the Senate Judiciary Committee added that the committee is not releasing the names of the murder suspects.
Illegal Alien Arrested for Serial Murder Spree. Another one of Obama's "Dreamers" has been nabbed after a state-wide manhunt. This week the Missouri State Patrol arrested an illegal migrant who was suspected of going on a murder spree after being "accidentally" released by federal immigration officials. Police apprehended Pablo Antonio Serrano-Vitorino around midnight on Wednesday as he fled authorities in central Missouri nearly 175 miles away from the scene of the murder of four people in Kansas City.
Feds Missed Not One BUT TWO Chances To Deport Illegal Alien Accused Of Slaughtering Five. U.S. Immigration and Customs Enforcement (ICE) failed on two occasions last year to detain and deport a 46-year-old illegal alien who is accused of slaughtering five strangers with an AK-47 in Kansas and Missouri earlier this week. It was reported early Wednesday [3/9/2016] that the suspect in the killings, Pablo Serrano-Vitorino, slipped through ICE hands following a traffic arrest in September in Overland Park, Kan. ICE erroneously filed a request to detain the Mexican national — who had been deported in 2004 — with the Johnson Co., Kan. sheriff's office. But that agency never had Serrano-Vitorino in its custody so he went free.
Illegal immigrant arrested after murder spree. A man suspected of killing five people across Kansas and Missouri was arrested early Wednesday [3/9/2016] after an extensive manhunt, the Missouri Highway Patrol said. Highway Patrol officials told the Kansas City Star that Pablo Antonio Serrano-Vitorino was arrested in Montgomery County, Missouri. He was found lying on a hill just north of Interstate 70 and no shots were fired, according to The Star.
Mom of Son Murdered by Illegal Alien: Reject Rubio, 'Deliver Justice' to American Victims. Donald Trump's Saturday [3/5/2016] rally in Orlando, Florida featured Laura Wilkerson, whose 18 year-old son, Joshua, was tortured to death by an illegal alien. [...] "Florida voters have a chance to deliver justice for all of the families who have suffered from our open borders and can finally stop amnesty with their vote," Wilkerson declared.
Victims of illegal immigrant violence tell GOP to reject Marco Rubio. Victims of illegal immigrant violence released a letter Monday [2/29/2016] demanding Republican voters reject Sen. Marco Rubio's presidential campaign, saying he made himself unacceptable by pushing for "amnesty" in 2013. "The inconvenient truth is that we have been betrayed by politicians," the letter, from the Remembrance Project said. More than three dozen people whose relatives were killed by illegal immigrants signed onto the letter.
Almost 90,000 dangerous illegal immigrants go free. Nearly 60 percent of illegal immigrants identified by the U.S. Immigration and Customs Enforcement as criminal threats are not deported and are eventually released, the latest example of the Obama administration's failed immigration policy. Internal ICE figures show that in fiscal 2015, the agency encountered 152,393 illegal immigrants labeled a criminal threat, mostly in jails, but charged 64,116. About another 88,000 were not processed for deportation, according to the Center for Immigration Studies' Jessica Vaughan.
U.S. Failed 3 Times to Deport Illegal Alien Who Murdered Woman. Before delving into the details of this gruesome case, it's important to mention that Connecticut has long protected illegal immigrants with sanctuary policies and even offers them special drivers' licenses, known as Drive Only. The state also gives illegal aliens discounted tuition at public colleges and universities and authorities work hard to restrict the feds from deporting illegal immigrants. In fact, despite President Obama's amnesty and open-borders policies, Connecticut is always a step ahead when it comes to protecting illegal immigrants and granting them rights. Undoubtedly, this attracts a large population of undocumented aliens like the murderer in this case.
Report: MS-13 foot soldiers use 'surge' to cross border, 'colonize new criminal territory'. Criminal networks with Latin American roots, such as MS-13 and the 18th Street gang, are using the administration's open-door policy at the border to slip in recruits that are causing a huge spike in murder and violence throughout the nation, according to an immigration expert. Testifying Thursday at a House hearing on the border surge of young Latinos, the expert said, "Established gangs have been able to transfer an unknown number of experienced foot soldiers from Central America to help colonize new criminal territory in the United States."
Authorities arrest more than 50 members of MS-13 gang in Boston area. More than 50 members of the MS-13 gang in and around Boston have been indicted on federal racketeering charges, federal authorities announced Friday [1/29/2016].
Escaped California inmate was ordered deported in 1998, but never left. One of the three violent convicts who escaped from a Southern California jail Friday [1/22/2016] had been ordered deported to his native Vietnam in 1998, but was able to remain in the U.S. and rack up more criminal convictions. Immigration and Customs Enforcement said Tuesday [1/26/2016] that Bac Duong, 43, came to the United States legally in 1991 but was ordered removed seven years later after he served time in state prison for a 1997 burglary conviction. However, the Orange County Register reported that Vietnam routinely refused requests from the U.S. to accept Duong and other deportees.
Obama Dealing Terror. President Obama began releasing illegal aliens with criminal records from the early days of his presidency and well before the sequester that he used as an excuse for doing so. Despite Obama's misrepresentation to the American people that these criminals were not dangerous, tens of thousands of illegal immigrants, many with violent criminal records, have been released from jail including illegals "charged with kidnapping, sexual assault, drug trafficking and homicide." A House Judiciary Committee report revealed that between 2009-2011, the Obama administration released criminal illegal aliens who were later charged with 19 murders, three attempted murders and 142 sex crimes. Kathryn Steinle's murder last summer by an illegal alien with seven prior felony convictions was inevitable.
Ninth Circus Court: Car Theft No Longer Grounds For Deportation. Vehicle theft does not constitute a crime of moral turpitude for the purposes of deporting an immigrant, the en banc Ninth Circuit ruled Monday [12/28/2015].
Relief for Immigrant Convicted of CA Car Theft. In the case at hand, an immigration judge ordered the deportation of Gabriel Almanza-Arenas after finding that his conviction for vehicle theft in California met the statutory bar as a crime involving moral turpitude. The Board of Immigration Appeals had affirmed that finding, concluding that Almanza-Arenas had a duty he did not meet to produce evidence showing that he did not intend to permanently deprive anyone of the vehicle he stole.
Illegal immigrant sentenced to 4 life sentences for rape, sodomy of minors. The Baldwin County District Attorney's Office has charged 40-year-old Michael Rodriguez Garcia with rape and sodomy of two minor victims. Garcia, who came to America illegally, was convicted by a jury and sentenced to four life sentences to run concurrently for the rape and sodomy charges. He also received an additional 10 years on the charge of enticing a child for purposes of performing sexual acts.
Obama's Recipe for Disaster. When millions are here illegally who don't speak English and won't learn, who care nothing about our culture and history and prefer that which they left behind, who gobble up benefits provided by the American taxpayer, who wind up displacing American workers who need jobs, not to mention that every day the news includes more stories about illegal aliens who have murdered, raped, driven drunk and killed innocent Americans and then fill our streets demanding their "rights" — and do so without any fear of being deported by the Obama administration — is it any wonder that Americans feel like they are indeed strangers in their own land?
Teen among three MS-13 members charged with murder. Three documented MS-13 gangmembers are behind bars on charges of murder, accused of gunning down a man last month, prosecutors said Tuesday [12/8/2015]. In court for the initial appearance of Jonathan Steven Guevara, 17, prosecutors asked the judge to prohibit contact between Guevara and Anibal Antonio Guevara, 30, and Giovani Antonio Herrera, 20. Assistant Harris County District Attorney Lisa Collins said the three documented gangmembers are accused in the fatal shooting of Hector Daniel Diaz, 27.
Congress: More Than 179,000 Criminal Illegal Immigrants Roaming Free in U.S.. More than 179,000 illegal immigrants convicted of committing crimes, including violent ones, continue to roam free across the United States, with reports indicating that these illegal immigrants commit new crimes "every day," according to lawmakers and the director of the Immigration and Customs Enforcement agency, also known as ICE. Sarah Saldana, ICE's director, disclosed to Congress on Wednesday that the agency is apprehending and removing fewer illegal immigrants than in past years. Somewhere around 179,029 "undocumented criminals with final orders of removal" from the United States currently remain at large across the country and are essentially untraceable, according to Sen. Chuck Grassley (R., Iowa), chairman of the Senate Judiciary Committee, who disclosed these numbers during a Wednesday [12/2/2015] hearing. The total number of criminal illegal aliens in the United States is in the millions.
Illegal Immigrants Attack And Bite Summerdale Cop. Summerdale police Corporal Vince Miller was forced to call for emergency back-up when he and his partner were overpowered and attacked by three men on a traffic stop. The driver was the one who initially resisted when he was arrested for DUI, but Cpl. Miller says the situation took a potentially deadly turn when the driver's two buddies got out of the car. Miller took two or three good licks and was bitten by one of the men.
Exclusive: Los Zetas Cartel Gunmen Crossed into Texas — Disappeared into U.S.. Breitbart Texas traveled to the Mexican States of Tamaulipas and Coahuila to recruit citizen journalists willing to risk their lives and expose the cartels silencing their communities. The writers would face certain death at the hands of the various cartels that operate in those areas including the Gulf Cartel and Los Zetas if a pseudonym were not used.
Sheriffs fume at mass release of 6,000 federal inmates. Local sheriffs across America are voicing concern for the safety of the citizens they've sworn to protect after the biggest one-time release of federal inmates in U.S. history — though advocates of criminal justice reform maintain the release is being handled responsibly. The 6,112 inmates were released from federal prison at the beginning of November in response to a decision by the U.S. Sentencing Commission to reduce sentences for most drug trafficking offenses and apply them retroactively. It coincides with a broader and bipartisan push for rethinking federal sentencing. But the mass release raises immediate practical questions about how the ex-inmates can adjust.
Man who ran over Dallas cop outside nightclub had been deported 3 times. The man accused of running over a Dallas, Texas, police officer Monday night is in the United States illegally and had been deported three times, immigration authorities say. [...] The Mexican man was shot in the arm, treated and released from the hospital Tuesday. He has been charged with three counts of aggravated assault and is being detained on an immigration hold in the Dallas County jail.
'NCIS' actress Pauley Perrette assaulted by homeless man who threatened to kill her. "NCIS" actress Pauley Perrette tweeted Friday morning [11/13/2015] that she was assaulted overnight by a "psychotic homeless man" who said he was going to kill her. Perrette plays forensic scientist Abby Sciuto on the hit CBS show. She posted a tweet including an image of a long document that described the incident.
Trail of theft, destruction in Englewood: Teen accused of squatting in home of soldier. [Scroll down] One of the alleged squatters, identified as Carlos Rosales-Campos, 18, was charged with armed robbery, possession of an illegal handgun, burglary, theft and criminal trespass, police said. Rosales-Campos was in the Bergen County Jail on $500,000 bail. The four other men, accused of criminal trespass, were identified as Rosalio Valencia-Hernandez, 49; Rene Contreras-Ixtla, 39; Evaristo Chavez, 34; and Oswaldo Meneses-Arango, 47. The four were taken to the county jail and held on $2,500 bail. Rosales-Campos, the man charged with armed robbery and a string of at least seven burglaries since late September, is from El Salvador and living in the United States illegally, Detective Capt. Timothy Torell said.
Sheriffs fume at mass release of 6,000 federal inmates. Local sheriffs across America are voicing concern for the safety of the citizens they've sworn to protect after the biggest one-time release of federal inmates in U.S. history — though advocates of criminal justice reform maintain the release is being handled responsibly. The 6,112 inmates were released from federal prison at the beginning of November in response to a decision by the U.S. Sentencing Commission to reduce sentences for most drug trafficking offenses and apply them retroactively. It coincides with a broader and bipartisan push for rethinking federal sentencing.
Anti-cop violence spreads as illegal immigrant gang member slugs deputy sitting in car. An illegal immigrant MS-13 gang member the Obama administration had released on bond committed an unprovoked attack on a sheriff's deputy, slugging the deputy as he worked on a traffic report while sitting in his car, the Frederick County, Md., sheriff's department said Friday [11/6/2015]. Jose Misael Reyes-Reyes, 18, had been arrested in May on weapons charges and in June on charges of malicious destruction of property, but federal immigration authorities had left him free on bond while he awaited a deportation hearing, the sheriff's office said.
Va. high school student was killed on orders from gang leaders in El Salvador. A 17-year-old MS-13 gang member known as "the Enforcer" of Sterling, Virginia, shot and killed a high school student on orders handed down from gang leaders in El Salvador because the boy had left the gang and joined a rival group, according to testimony given Thursday [11/5/2015] by law enforcement officials investigating the homicide. The testimony was given during a preliminary hearing in Loudoun County for two illegal Salvadoran immigrants accused of stashing the gun used in the September killing. It sheds new light on the motivation for a homicide that has elicited outrage from a U.S. senator.
Watch Ted Cruz Destroy Harry Reid Over Opposition To Kate's Law. Ted Cruz has been on the Senate floor fighting for the passage of Kate's law, the law named for Kate Steinle who was murdered by an illegal alien in July of this year. The bill would block states and cities from receiving federal law enforcement funding if they refuse to communicate with the Immigration and Customs Enforcement due to that state or city's "sanctuary city" policies. One of the bill[']s most vocal opponents has been Senate Minority Leader Harry Reid. During yesterday's debate on the Senate floor, Reid falsely characterized the bill as one that would "tear innocent families apart." [Video clip]
Harry Reid: Kate's Law 'Yet Another Attack on the Immigrant Community'. Senator Ted Cruz skirmished with Senate minority leader Harry Reid Wednesday [11/4/2015] over a bill that would impose mandatory-minimum sentences on criminal immigrants who return to the United States following deportation. The Texas Republican took to the Senate floor to celebrate last night's electoral defeat of San Francisco sheriff Ross Mirkarimi, who defended the city's sanctuary policy this summer after Kathryn Steinle was killed there by an immigrant who had been deported five times. "That is a striking statement of where the American people are on this issue," he said Wednesday [11/4/2015].
Georgia becomes 'border state' for violent illegal immigrants. A groundbreaking Channel 2 Action News investigation has exposed a pattern involving thousands of unauthorized immigrants convicted of violent crimes. Many are removed from the United States multiple times after committing even more crimes.
The Criminal Alien Emergency: American Lives Matter. [Scroll down] Obama has already released 66,000 criminal aliens in FY 2013 and 2014. Who knows how many more he has recently released. The released illegal immigrants had a total of 166,000 convictions on their collective rap sheets: 30k DUIs, 414 kidnappings, 11,000 sex assaults, 395 homicides. At least 121 of them went on to commit more murders after being released. According to DHS, there are an estimated 179,027 illegal aliens with criminal convictions at large in the country who have already been ordered deported. And those are just the ones ordered deported. There are an estimated 2.1 million illegal and legal immigrants convicted of crimes in this country, but 1.2 million criminal aliens remain at large in the U.S. Imagine how many more criminal aliens have never been arrested, convicted, or ordered deported?
Obama's Mass Release of Felons: How many more Americans will be killed or maimed as a result? This scandalous act comes on the heels of the adminisration releasing multiple waves of criminal illegal aliens into American communities, including murderers, rapists, and drug-dealers among them. Simultaneously, the American justice system is allowing illegal aliens the right to bail, despite the fact that they are almost certain flight risks. The courts have even prohibited states from Arizona from enforcing immigration law.
Nearly 180,000 criminal illegal aliens ordered deported but still at large. The Department of Homeland Security told the Senate immigration subcommittee that nearly 1 million illegal aliens who have been ordered to leave the country are still at large, with 179,027 of them possessing criminal records. [...] A deportation program that rarely deports anyone. Does that sound like a government operation or what?
AZ Sheriff Babeu: 'No Chance' Illegal Immigrants Released From Prison Will Be Deported. [Scroll down] ["T]hey're releasing — they released a murderer, in my county, from Russia. This guy stabbed a guy, poured fuel on him, lit him on fire, tortured him to his death, and they released him in my county and let me know two weeks after they released him. There's no business that any of these criminals that — we're talking the small portion of illegals who are here, that are committing these heinous acts, murder, rape, kidnapping, a small portion, they should have no option, they should be deported to their country of origin, never to return again, and the president can't even do that right."
Families of Victims Murdered By Illegals To House GOP: 'No Paul Ryan'. Following his endorsement by Rep. Mick Mulvaney (R-SC), founder of the House Freedom Caucus, Ryan is effectively ensured the Speakership. That will put him in an even more powerful position than the Vice Presidency, potentially able to complete his widely-documented two-decade push for amnesty and unlimited migration.
Who wants to be "Willie Hortoned"? I bring up Willie Horton because bipartisan legislation pending in Congress would free thousands of felons for prison. Given the rate at which released prisoners are rearrested — around 75 percent within five years — these freed federal felons will commit thousands of crimes. [...] It's true that this isn't the same America that existed in 1988. A modern Willie Horton might well receive partially sympathetic treatment in the press.
These Illegal Alien Crime Stats Should Scare The Living Daylights Out Of You. Several recent reviews of crime statistics suggest that illegal immigrants are responsible for a disproportionate amount of the murders in in a number of states. [...] Despite the veritable crime wave, sanctuary cities continue to allow illegal immigrants to walk the streets with impunity. Texas Governor Greg Abbott is not standing for it.
Sanctuary City Policies Will 'No Longer be Tolerated in Texas,' says Governor Abbott. Texas Governor Greg Abbott admonished Dallas County Sheriff Lupe Valdez over her recent decision to consider honoring immigration detainers on a "case-by-case" basis. The governor said sanctuary city policies like this will "no longer be tolerated in Texas." Governor Abbott wrote the tersely worded letter to Sheriff Valdez after her decision to scale back on honoring immigration detainers sent to her jail by the federal government's Immigration and Customs Enforcement (ICE).
Families of Victims Murdered by Illegal Aliens Storm Washington. Families of Americans murdered by illegal aliens are in Washington, D.C. demanding the political class put a stop to the alien invasion that took the lives of their beloved family members.
Sanctuary for Crime Pt.2. For tens of thousands of illegal immigrants, the U-S has become a Sanctuary for Crime. A spokesman from Immigration and Customs Enforcement told Sharyl Attkisson that it is "focused on smart, effective enforcement that prioritizes the removal of criminal aliens." But, Congress has repeatedly asked ICE to explain why, then, so many dangerous criminals are set free.
Toddler's brutal beating prompts call to withhold bail from illegal immigrants. When Francisco Javier Chavez posted bail on charges of beating a California toddler within an inch of her life in late July, there was little reason to expect the illegal immigrant, who has spent much of his adult life hopping back and forth across the Mexican border, would return to face justice. Two weeks later, at his scheduled arraignment on Aug. 13, Chavez was a no-show. The 27-year-old career criminal had put up $10,000, or 10 percent of the amount set for his alleged crimes by California's bail schedule. His disappearance is hardly a surprise to critics who believe violent illegal immigrants are, by definition, flight risks who should be denied bail in such serious cases.
5 Obama Scandals The Mainstream Press Is Ignoring. Every time there's a shooting, gun control takes center stage. But when illegal immigrants kill and maim, there's not a peep about Obama's failed immigration-enforcement policies. Where are the tearful stories of families ripped apart by a violent illegal let loose by Obama's immigration department?
My Gun Control Debate With a Liberal. [Scroll down] But since we're talking about saving the children, shouldn't we be more worried about the epidemic of violent crime by illegal aliens (by the Obama administration's own numbers, 37 percent of all federal sentences were levied against illegal aliens). In fact, the Government Accountability Office reports that more than 25,000 homicides (1,000 Sandy Hooks!) were committed by illegal aliens over the last few years. So, in fact, if you would like to save thousands of lives without having to repeal the Bill of Rights, perhaps sealing the border might serve as an excellent appetizer.
These are the real numbers on Illegal Immigrant Crime in America. The media and progressives tell us everyday how amazing the illegal immigrants coming into the country are. Whether they're spewing the usual "immigrants commit less crimes than native-born Americans" talking points or citing figures that don't exist, they always seem to ignore the facts.
Illegal Immigrant Accused of Gruesome Executions and Burning Corpses in Texas. One illegal immigrant has been formally charged with capital murder and another is expected to be charged soon in connection with the execution of two men and the burning of the victims' corpses in Texas. The two jailed illegal immigrants are said to be members of a fearsome gang called the Tri-City Bombers which has been tied to multiple massacres and high profile murders in the past.
Alleged gang member deported to El Salvador to face multiple murder charges. An accused Salvadorian gang member implicated in multiple homicides was flown out of Louisiana last week by Immigration and Customs Enforcement officers to face murder charges in El Salvador. Cesar Amauri Cruz-Marin, 42, is accused of shooting three men in the head in December 2009 in El Salvador, according to a press release sent Monday (Sept. 28) by U.S. Immigration and Customs Enforcement. Authorities say he is a member of the M-16 gang, also known as Mara Salvatruch.
Invasion of Obama "Dreamers" Adding Thousands of Members to Ultra-Violent MS-13 Street Gang. The tens of thousands of illegal immigrants, coined Unaccompanied Alien Children (UAC) by the government, came mostly from Honduras, El Salvador and Guatemala. The Obama administration rolled out the welcome mat, quickly offering housing, food, medical treatment and a free education. The UACs have brought in dangerous diseases — including swine flu, dengue fever, Ebola virus and tuberculosis — and have occupied our military bases as shelters. Many have been disbursed throughout the U.S., igniting a crisis for overwhelmed public school districts nationwide. As soon as the UACs started arriving, Homeland Security sources told Judicial Watch that many had ties to gang members in the U.S.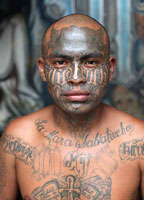 Gang Threat Increasing Thanks To Lax Obama Border Policy. Donald Trump got a standing ovation from some 20,000 supporters Monday [9/14/2015] after vowing to kick illegal alien gangsters out of the country. An alarming new Texas study on the MS-13 threat shows why. Conducted by the Texas Department of Public Safety, the study reveals that the nation's most violent street gang — MS-13 — has been energized by the flood of illegal immigrant minors entering the U.S. through Mexico, after President Obama rolled out the welcome mat for them. El Salvador-based MS-13 has now emerged as a "top-tier" threat in Texas, responsible for a rash of gruesome machete murders in Houston and other Texas cities.
Elusive crime wave data shows frightening toll of illegal immigrant criminals. The federal government can tell you how many "Native Hawaiian or Other Pacific Islanders" stole a car, the precise number of "American Indian or Alaska Natives" who were arrested for vagrancy or how many whites were busted for counterfeiting in any given year. But the government agencies that crunch crime numbers are utterly unable — or unwilling — to pinpoint for the public how many illegal immigrants are arrested within U.S. borders each year. In the absence of comprehensive data, FoxNews.com examined a patchwork of local, state and federal statistics that revealed a wildly disproportionate number of murderers, rapists and drug dealers are crossing into the U.S. amid the wave of hard-working families seeking a better life.
Some 20 Percent Of Illegal Immigrants Caught At The Border Have Criminal Records. If nothing else, Donald Trump deserves credit for cutting through the politically-correct fog that had settled onto the immigration issue by noting that a large number of the illegal aliens coming across the border were criminals. While the elites gasped at so vulgar a statement, citizens of states like Texas, where illegals have committed more than 600,000 crimes since 2009, were refreshed that finally, someone in politics was willing to call a spade a spade.
America's descent into lawlessness. Barack Obama once warned Latino activists that he had no legal authority to suspend enforcement of federal immigration law, stop deportations and offer de facto amnesties. But that caution was only a campaigning talking point. After his re-election in 2012 and the midterm elections in 2014, Obama made a mockery of immigration law. Hundreds of liberal sanctuary cities have announced that federal immigration law does not apply to them. That scary, neo-Confederate idea of legal nullification was sanctioned by the Obama administration — in a way it never would have been if a city had suspended the Endangered Species Act, emissions standards or gun-control legislation. As a result, once-detained and later-released immigrants with criminal records have murdered innocent American citizens.
Three Illegal Alien/MS13 Gang Members Kill Teen In Virginia — Arrested Today. Looking at the names, ages and origins of the murder suspects gives a clear profile of identity within the South American "Unaccompanied Alien Children" influx. [...] This is not the first, nor will it be the last. Recently: [1] [2] [3] [4] [5] [6] [7] [8]
Virginia Town Rocked By 'MS-13' Vandalism Just Days After Illegals Murder High Schooler. Multiple buildings and vehicles in Loudoun County, VA were vandalized with graffiti tags bearing the moniker of a notorious El Salvadorian street gang early Tuesday morning [9/8/2015]. According to WUSA9, several vehicles on Gatwick Square and Wintergrove Drive were discovered with "MS-13" spray painted on the exteriors. MS-13 is known as one of the most violent gangs in the world, and has been connected to a string of murders on both the East and West coasts.
3 illegal immigrants charged in shooting death of 17-year-old high school student. Three illegal immigrants were charged Saturday [9/5/2015] in connection with the murder of a 17-year-old Virginia high school student who was gunned down on his way to a bus stop Friday morning. According to The Washington Post, Danny Centeno-Miranda, who attended Park View High in Loudoun County, was about 50 yards from the school bus stop when he was shot twice in the back. Centeno-Miranda, who moved to Virginia from his native El Salvador to live with relatives in 2013, died later at Inova Fairfax Hospital.
244 undocumented immigrants arrested in L.A. sweep, most had a criminal record. More than 240 undocumented immigrants from 21 countries were arrested by federal officials during a four-day sweep by the U.S. Immigration and Customs Enforcement in the Los Angeles area. Officials announced Monday [8/31/2015] that the sweep ended Thursday with the arrest of 244 people — with the majority having at least one criminal conviction to their name. ICE officials said 56 percent had criminal records that included felony convictions such as child sex crimes, weapons charges and drug violations. The rest had "significant or multiple misdemeanors."
Three Muslim Immigrants Spend Hours Beating a Christian Man to Death in Portland, Maine. Portland, Maine has been shocked by a monstrous crime perpetrated by three Muslim immigrants who spent hours beating a Christian man to death after being invited to his home for a party. The three Muslims were at the home of Freddy Akoa when at some point they decided to slowly murder him by spending hours kicking him, punching him, and hitting him with a piece of furniture until he finally died from his grievous injuries.
Illegal Immigrant Accused Of Bludgeoning To Death An Elderly Man With A Hot Frying Pan. Every day in America, citizens must deal with the consequences of illegal immigration. While most of us must deal with their crimes by paying more in taxes, some pay the ultimate price and deal with the violence that comes with welcoming millions of illegals into the U.S.
America's Sanctuary City Nightmare. A litigation battle is raging between the states and President Barack Obama over his attempt to impose a nationwide "sanctuary" policy for illegal aliens. Yet, there is no question that existing sanctuary policies implemented by numerous towns and cities have victimized innocent Americans. Those sanctuary policies have enabled illegal aliens to commit thousands of crimes — crimes that would not have occurred had their perpetrators been deported in keeping with existing law. In 2011, the Government Accountability Office (GAO) released a study on approximately 250,000 illegal aliens locked up in our federal, state, and local prisons. They represent more than a quarter of all of the prisoners in the federal prison system alone. The GAO's "study population" had been arrested nearly 1.7 million times and committed three million offenses, averaging about seven arrests and 12 offenses per criminal alien.
DHS Kept Secret the Release Of Violent Criminal Illegal Immigrants. Obama administration officials only began notifying local law enforcement officials of the release of violent criminal illegal immigrants within the last two weeks, according to Arizona law enforcement officials, who say they have for years been kept in the dark about the release of illegal immigrants back into local towns. The Department of Homeland Security (DHS) had been keeping secret its release of illegal immigrants with violent criminal records from local law enforcement for at least two years, denying for a time that this was taking place, law enforcement officials disclosed to the Washington Free Beacon. The public disclosure of this practice, in which Immigration and Customs Enforcement (ICE) frees criminal illegal immigrants back into U.S. communities, came to light earlier this week, when Arizona law enforcement was made aware that three illegal aliens with violent criminal records had been released back onto the streets.
3-Time Deported Top Mexican Drug Trafficker Caught Illegally Re-Entering Texas. A three-time deported Mexican drug trafficker was caught at the Texas border once again re-entering the country illegally. His arrest comes just a little over a month after his last deportation. The previously convicted drug dealer was described by DEA agents as one of the top methamphetamine distributors in Des Moines, Iowa. U.S. Border Patrol agents arrested 27-year-old Daniel Gonzalez Hernandez in the border city of Donna. He was arrested just after he had crossed into the country illegally, court records obtained by Breitbart Texas revealed.
Out-Of-Control Big Government Is Destroying Us. Consider the vast bureaucracy of U.S. Immigration and Customs Enforcement. Is it culpable for knowingly not enforcing immigration law and thus allowing some undocumented immigrants to commit violent crimes? In cases where innocent Americans are killed by undocumented immigrants with long histories of felonies and deportations — such as the recent killing of Kate Steinle in San Francisco — can the victims' families sue ICE or sanctuary cities for either releasing or hosting criminals who were residing in the U.S. illegally? In our litigious society in which plaintiffs sue fast-food franchises for serving excessively hot coffee, why do government bureaucrats escape culpability when the innocent die or are injured as a result of bureaucratic negligence?
Letter: Obama Administration Releasing Violent Illegal Immigrants Back into U.S. Towns. The Department of Homeland Security (DHS) has been releasing illegal immigrants with violent criminal records back into local U.S. communities, where they have often gone on to commit violent crimes against American citizens, according to new disclosures by a leading lawmaker and local law enforcement agencies. Rep. Matt Salmon (R., Ariz.) and law enforcement officials petitioned the Obama administration on Wednesday [8/19/2015] to end a policy that enables illegal immigrants with criminal records to be released back into the United States. Arizona law enforcement officials announced on Tuesday that three illegal aliens with violent criminal records had been released by DHS and Immigration and Customs Enforcement (ICE) back onto the streets, where they went on to commit crimes including kidnapping and murdering an infant.
Obama Illegal Kills Three in Florida. Brian Omar Hyde is the latest Obama illegal alien to kills Americans. This time three Americans in Florida were killed by illegal alien Brian Omar Hyde from Belize. This wasn't some illegal alien drunk driver who killed three Americans. Brian Omar Hyde killed Dorla Pitts, daughter Starlette Pitts (who was pregnant), and Michael Kelly, Jr., 19. The three killed by the Obama/Jeb illegal died from repeated, sharp force trauma to the head and neck. So someone needs to ask Jeb Bush if this is just another 'act of love' by illegals invading this country.
Illegal alien arrested in Billings on drug charges after multiple deportations. An illegal immigrant who prosecutors said has been deported from the U.S. more than a dozen times was arraigned in Yellowstone County District Court Thursday [8/13/2015] on drug charges. Alejandro Gonzales Marquez, 37, denied Thursday the charge of felony criminal possession with intent to distribute.
Illegal immigrant, 19, accused of stabbing his aunt, her pregnant daughter, 17, and the daughter's boyfriend to death in Florida. A teenage illegal immigrant has been charged with stabbing his 37-year-old aunt, her pregnant daughter, 17, and the daughter's boyfriend, 19, to death in a frenzied attack. Brian Omar Hyde, 19, who is from Belize but has been living in Florida for seven months, is alleged to have attacked his cousin, Starlett Pitts and her boyfriend Michael Kelly Jr at their home on Tuesday [8/11/2015]. Cops say Hyde's aunt, 37-year-old Dorla Pitts, then arrived back to her house in Lehigh Acres, Florida, while talking on the phone to her husband, before also being killed.
Top chairman: 'How many Americans must die at the hands of unlawful criminal immigrants?' The top House Republican on immigration matters blasted the Obama administration Friday as more reports surfaced of crimes committed by illegal immigrants, insisting more attention be paid to rounding them up. "How many Americans must die at the hands of unlawful criminal immigrants before the Obama administration takes a serious look at the failure of its own policies?" said Rep. Robert W. Goodlatte, Virginia Republican and chairman of the House Judiciary Committee.
Illegal Alien Beats Two-Year-Old Child Near Death — Now Walking Around On Bond. I never quite understand the position of affording illegal aliens U.S. constitutional rights, when they are illegal to begin with. Seriously, what makes the protection of U.S. constitutional law applicable to an illegal entrant.
Sanctuary State Is a Haven for Criminals. On July 24, two burglars allegedly broke in to [Marilyn] Pharis' home as she slept. They sexually assaulted and beat her. Pharis, 64, a U.S. Air Force veteran, died in the hospital Aug. 1. It turns out that one of the two men charged for the crime, Victor Aureliano Martinez Ramirez, 29, is an undocumented immigrant against whom Immigration and Customs Enforcement issued a detainer in 2014. Ramirez has pleaded not guilty.
Another Brutal Murder By Illegal Alien — Another Sanctuary City Release. A man who allegedly attacked a 64-year-old California woman and brutally raped her is an illegal alien from Mexico who has been arrested four times in the past two years. The victim, Marilyn Pharis, died eight days after the attack, which occurred July 24 while she was asleep in her Santa Maria home. An autopsy is being conducted to help determine if Pharis died as a direct result of the heinous crime.
Suspect charged with capital murder in death of 6 children, 2 adults. The man accused in the murderous rampage that left six children and two adults dead inside a northwest Harris County home climbed through an unlocked window, restrained them and shot each one in the head, according to prosecutors. "He restrained, shot and killed eight people," Celeste Byrom, an assistant district attorney said during a brief court hearing in which David Ray Conley III, 49, who is charged with multiple counts of capital murder, was ordered held without bail.
Illegal immigrant admits murdering his pizza parlor co-worker and setting her body on fire. An illegal immigrant from Mexico has admitted to strangling a 30-year-old New Jersey woman he worked with, and setting her body and house on fire to cover up the crime. Juan Jimenez-Olivera, 30, pleaded guilty Wednesday [8/5/2015] to murder, aggravated arson, desecrating human remains, theft and related offenses in the slaying of Sviatlana Dranko, his co-worker at a pizzeria.
Illegal Alien on Probation Allegedly Rapes, Beats Woman with Hammer During Home Invasion. Victor Aureliano Martinez Ramirez, an illegal alien who allegedly broke into 64-year-old Marilyn Pharis's home, raped her and savagely beat her with a hammer, had been arrested four times by Santa Maria police in California — and was on probation at the time of his arrest. Police say Ramirez broke into Pharis's home on July 24, raped her and beat her with a claw hammer, leaving her for dead before trying to break into another home.
Illegal Alien Arrested Four Times In Two Years Allegedly Beat California Woman With Hammer, Raped Her. A man who allegedly attacked a 64-year-old California woman and brutally raped her is an illegal alien from Mexico who has been arrested four times in the past two years. The victim, Marilyn Pharis, died eight days after the attack, which occurred July 24 while she was asleep in her Santa Maria home. An autopsy is being conducted to help determine if Pharis died as a direct result of the heinous crime. Victor Aureliano Martinez Ramirez, 29, was arrested shortly after the attack while he was inside another home nearby.
String of Driver Murders Invoke Militarized Transport for El Salvador. Last week, members of the two largest and most violent gangs in El Salvador — Barrio 18 and the Mara Salvatrucha — brought the country's public transportation system to a standstill. The gangs ordered public buses stop running and killed nine drivers who disobeyed their demands, all in an attempt to [apply] pressure to Salvadoran government to negotiate and ease their crackdown, according to officials.
Human Smugglers Running Wild in Texas Border City. In the most open area of the Texas border, human smugglers are running wild in their efforts to circumvent U.S. Border Patrol Agents. Earlier this week, border patrol agents arrested 10 suspected human smugglers in connection with various conspiracies to smuggle more than 75 illegal aliens in total. Breitbart Texas researched the court records for the 10 suspected smugglers who have all been formally charged in federal court in this border city.
Mothers of Children Killed by Illegals Condemn 'Hate-Filled' Luis Gutierrez. After Democratic Rep. Luis Gutierrez (D-IL) exploded with rage at Jessica Vaughan of the Center for Immigration Studies for daring to quote him as saying Kathryn Steinle's death was a "little thing," three mothers whose children were murdered by illegal aliens walked out of the hearing in disgust. Now, those mothers want their voices to be heard.
Obama's Border Patrol Releases Another Illegal Alien Who Murdered and Raped Americans. Obama's immigration department has freed another criminal illegal into the heartland this time by releasing a rapist who went on to murder an American citizen in Ohio.
Feds: 664,607 illegals granted amnesty, some linked to terrorism, gangs. The administration's program to grant amnesty to illegal immigrants under the Deferred Action for Childhood Arrival program has given the green light to 664,607 since 2012, including several linked to fraud, terrorism and gangs, according to the U.S Citizenship and Immigration Services agency. What's more, applications for permanent residence have surged from 3,000 to 7,500 a month, far above projections, according to agency answers provided to Senate Judiciary Immigration and the National Interest Subcommittee Republicans and obtained by [the Washington Examiner].
Lake County murder suspect found to be in country illegally during July 7 traffic stop. Lake County sheriff's deputies learned that Juan Emmanuel Razo was in the U.S. illegally from Mexico more than two weeks before his arrest in the death of a 60-year-old Concord Township woman. Razo made his first court appearance Tuesday [7/28/2015] in the death of Margaret Kostelnik where a judge set a $10 million bond. He's also accused in the attempted rape of a 14-year-old girl and the shooting of another woman who survived.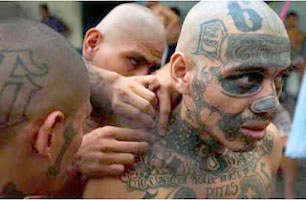 Because We're Not Broke Enough: Obama Poised to Give College Education Grants to Prisoners. I have this queasy feeling in my stomach that upon leaving office, Barack Obama will mass-pardon tens of thousands of federal prisoners. The odious Slate Magazine hinted at this last year. But I just have this strange vibe, which only grows stronger when I read something like this.




Escalating Violence in Mexico and the Southwest Border as a Result of the Illicit Drug Trade? Within the United States, DEA has worked with DHS to implement its "License Plate Reader Initiative" (LPR) in the Southwest border region to gather intelligence, particularly on movements of weapons and cash into Mexico. The system uses optical character recognition technology to read license plates on vehicles in the United States traveling southbound towards the border. The system also takes photographs of drivers and records statistical information such as the date, time, and traffic lane of the record. This information can be compared with DEA and CBP databases to help identify and interdict vehicles that are carrying large quantities of cash, weapons, and other illegal contraband toward Mexico. DEA and other law enforcement agencies will soon be able to submit queries to the database and obtain near real-time responses and can place alerts on suspect license plates.

The Coming Confrontation, Part 2. In 2014, this administration released 30,558 criminal immigrants with a total of 79,059 criminal convictions, including convictions for 86 homicides, 186 kidnappings, 373 sexual assaults, 449 other sexual offenses, 1,194 battery, 1,346 domestic abuse, 13,636 DUI, 994 aggravated assaults, 56 arsons, and 31 smuggling offenses. The Supreme Court set the precedent for this in Zadvydas vs. Davis by ruling that an illegal immigrant cannot be held indefinitely if his home country refuses to take him back. It works well for the illegal's home country. They get rid of a criminal and refuse to take him back. He gets to further his criminal career in this country. Our adminstraton says there is nothing we can do but release them. That is inaccurate, the ruling leaves a great deal of room for interpretation. The State Department can impose visa restrictions on countries that will not take these criminals back.

Illegal Immigrant In Deportation Proceedings Arrested For Sexually Assaulting 14-Year Old. An illegal immigrant sex offender in deportation proceedings is being charged with sexually assaulting a 14-year old girl after he was released on bond, according to reports. Keane Dean, a 26-year old from the Philippines, was arrested last week in Los Angeles County after authorities discovered a 14-year old girl — whose parents reported her missing — was in Dean's garage, according to the Associated Press. The girl told authorities that Dean had befriend her at a grocery store and sexually assaulted her.

Illegal immigrant victim's mother: 'We are at war right here in this country'. Choking back tears, parents whose children were slain by illegal immigrants said Tuesday [7/21/2015] the federal government and so-called sanctuary cities both share blame for their children's deaths, and pleaded with Congress for an all-out effort to secure the border and deport those who already snuck in. "I don't want your sympathy, I want you to do something," demanded Laura Wilkerson, whose 18-year-old son was strangled, had his throat smashed and his body lit on fire by an illegal immigrant trained in mixed martial arts.

Mother of Son Murdered by Illegal Alien Slams Sanctuary Cities, Politicians. At a Tuesday [7/21/2015] Senate hearing dedicated to the families who lost loved ones thanks to illegal aliens, Laura Wilkerson gave testimony on her youngest son Joshua's horrific death while some in the silent audience wept. Wilkerson called on Congress to place American lives and interests over foreigners, especially those illegally living in the country.

Sex offender accused of assaulting teen was in U.S. illegally, officials say. A convicted sex offender charged last week with sexually assaulting a 14-year-old girl in Santa Clarita is in the country illegally and had recently been released on bail from immigration custody, according to federal authorities. Keane Dean, 26, a citizen of the Philippines, was released in April on $10,000 bond so he could be free while he contested his immigration case. He had been targeted for deportation because of his criminal record.

Deportation's revolving door: Suspects in Lawrence shooting shouldn't have been in U.S.. Dominican Republic nationals Wilton Lara-Calmona and Jose M. Lara-Mejia were arrested on drug charges by police investigating the shooting death of Mirta Rivera, 41. The Lawrence nurse was killed in her sleep by a gunshot fired through the ceiling from an upstairs apartment, where both men lived. But Immigration and Customs Enforcement records reviewed by the Herald show the men shouldn't have been in the country in the first place.

Immigration Activist Smears Victims of Illegal Alien Crime Before Their Congressional Hearing. An advocate of mass immigration defended sanctuary cities and scoffed that an upcoming congressional hearing featuring families whose children were murdered by illegals would be a "circus" during a Monday [7/20/2015] press call.

The Democrat Crime Wave: 8,100 Criminal Illegal Aliens Released in 276 "Sanctuary Cities". As more attention is placed on sanctuary cities and how the policy affects those communities, a new report out from the Center for Immigration Studies (CIS) shows that thousands of criminal aliens sought by Immigration and Customs Enforcement (ICE) have been released by state and local jurisdictions with sanctuary policies. According to the report, the 276 jurisdictions in 43 states and the District of Columbia (See map here) released 8,145 criminal aliens with detainers from ICE. Of these, 63% had prior criminal histories or were labeled a public safety concern at the time of their release. Nearly 1,900 of the released criminal aliens were arrested [for] another crime within the eight month period the study looked at, from January 1, 2014, to August 31, 2014. The report went on to document that a majority, 63%, of the criminal aliens released from state and local custody had serious prior criminal records with a quarter of them being convicted of a felony.

Rejecting Detainers, Endangering Communities: Sanctuaries release thousands of criminals. State and local sanctuary policies caused the release of more than 8,000 criminal alien offenders sought by ICE for deportation in 276 jurisdictions around the country over an eight-month period, according to ICE records obtained by the Center for Immigration Studies in a FOIA request. Sixty-three percent of the individuals freed by local authorities had prior criminal histories or were labeled a public safety concern at the time of their release. Nearly 1,900 of the released offenders subsequently were arrested for another crime within that eight-month period. ICE arrested approximately 750 of the recidivists, but just over 1,000 (60 percent) remained at large.

Jeh Johnson's Stunning Statements on Sanctuary Cities and Immigration Law. Jeh Johnson warned Congress not to pass any laws to stop sanctuary cities. He also made it clear he won't use the tools available to him to return criminals from countries who don't want them back. It's not just hardworking men and women crossing the southwest border, but drugs, weapons, victims of human trafficking and people with terrorism ties, as well. The border is not secure and we don't have a southern border, according to testimony in March of this year by border agent Chris Cabrera. Jeh Johnson was asked about it on Tuesday and evaded the questions, answering with diversionary responses. Johnson did say he does not want to see nor does he want to enforce any law against sanctuary cities. Nor will he use the powers he has as DHS Chief against countries who refuse to repatriate illegal aliens from their country. He will talk with them instead.

Illegal Alien Accused of Brutal CT Murder Was Spared Deportation by Democrats. How many more crimes — on top of the thousands of killings, rapes, abductions and child abuse already suffered — will Americans tolerate before demanding that Democrats and Republican Crony Crapitalists finally seal the border?

DHS Documents Show 260 Criminal Illegal Aliens Criminals Released in Arizona in Just Three Weeks. Judicial Watch announced today [7/15/2015] that it obtained records from the Department of Homeland Security (DHS) revealing that nearly 260 illegal alien criminals, including 40 incarcerated for violent crimes, were released from Arizona detention facilities during the last week of February and the first two weeks of March 2013. After first denying that the mass release had taken place, the Obama administration claimed the releases were due to the anticipated sequestration budget cuts.

Alien With Four Felonies Arrested In SC Brutal Beating And Rape Case. A foreign-born alien who sought help with his immigration papers has been arrested for the alleged brutal beating and rape of the woman who was helping him. Zenen Alvarez-Alguezabal, is behind bars in Seneca, South Carolina and has four previous felony convictions in the United States. It is currently unclear how the man had immigration papers, considering he had four felonies that spanned South Carolina, Texas, California, and Washington state.

Every 12 Days Someone is Murdered by an Illegal Alien Criminal Obama Released From Custody. Spotted an important piece at, of all places, the Washington Post, where Marc A. Thiessen simply obliterates the President and his henchmen, who have gutted U.S. immigration law and needlessly endangered thousands of Americans.

10 Insanely Vicious Crimes Committed By Illegal Immigrants, Most of Which Media Refuse to Report. [I]llegal immigrants have a murder rate that is 3 to 10 times higher than the general population. So anyone that suggests that illegal immigrants don't commit more crime than the rest of us is simply lying to you. Unfortunately, even though we could prevent thousands upon thousands of violent crimes by securing our borders, the Obama administration refuses to do so and it has become very politically incorrect to even talk about this. Every single day, American citizens are being murdered and raped by people that should not be in this country and yet nobody is supposed to address this issue. No wonder our nation is in the process of self-destructing.

Illegal Aliens Murder at a Much Higher Rate Than US Citizens Do. [Scroll down] Per the GAO, "as of fiscal 2009, the total alien — non-U.S.-citizen — population was about 25.3 million, including about 10.8 million aliens without lawful immigration status." Since the population of the U.S. was about 306.8 million in 2009, non-citizens comprised 8.25% of the population and illegal aliens about 3.52%. (Recall that they represented 25% of the federal prison population then, and almost 39% in 2013.) How many crimes did they commit? Almost three million.

Trump is Right: Illegal Alien Crime is Staggering in Scope and Savagery. It is estimated that there are some 133,741 foreign criminals in prisons and jails in the USA. They are not there for spitting on the sidewalk or jaywalking, and very few are there for immigration violations, as those illegal alien criminals are typically deported in fairly short order or simply let go as we have seen time and time again. They are there in large part for molesting, raping, killing, maiming and murdering people in America, as you will see [in this article]. Add in the 168,680 convicted criminal immigrants who have final orders of removal but who remain at large in the U.S., and another 179,018 convicted criminal aliens with deportation cases pending but who are also at large [...]

Missing Florida girl found with alleged kidnapper by Van Buren County officials. The Van Buren County Sheriff's Office helped recover a 13-year-old girl reported missing from Florida Thursday night [7/9/2015]. On Thursday, the Van Buren County Sheriff's Office learned a girl reported missing from Polk County, Florida might be at a residence on 48th Avenue in Hartford Township, Michigan, with a male. The Van Buren County Sheriff's Department went to the home and found the missing 13-year-old girl. The man, 23-year-old Aurelio Hernandez-Gomez of Chiapas, Mexico was found hiding inside the residence.

The Coming Confrontation. A five-time offender just killed a girl in San Francisco. What was he doing here? How many criminals has ICE and DHS let loose on our streets, to commit more crimes, and even legal immigration has been taken over. [The latest figure is 350,000 illegal alien criminals have been released on to our streets.] Disneyland hired over 200 illegals, and Southern California Edison hired over 400 H1B visa immigrants who will work for less money than a citizen. The employees they replace are forced to train them.

Slain Football Player Jamiel Shaw's Father: Donald Trump 'Is Telling the Truth' on Immigration. Relatives of Jamiel Shaw Jr. met with Trump at an undisclosed location Friday afternoon [7/10/2015] and later attended a news conference with him. Shaw died at age 17 in a 2008 shooting near his Arlington Heights home when gang member Pedro Espinoza mistook him for a rival gang member because of the victim's red Spider-Man backpack. Espinoza, who was in the country illegally, was in 2012 sentenced to death for the murder. He had jumped out of a vehicle, shot Shaw in the stomach and then fired a second execution-style shot in his head.

Here's a helpful tip: Don't hurl rocks at cops.
Family of man shot by Washington police seeks more than $4 million in damages. The family of a man who was shot and killed by police in Washington state early this year is seeking nearly $4.8 million in damages, according to public records obtained by CNN. Authorities say that Antonio Zambrano-Montes, a Mexican national and migrant worker, was throwing rocks at police in Pasco, Washington, before he was fatally shot on February 10. Officers had used a Taser on him, but it wasn't effective, police said. Two officers were hit by the rocks, one of which police claim was as large as a softball, according to authorities.

'Illegal immigrant' charged with groping 2 girls at Michigan's Adventure. An Indiana resident called an "illegal immigrant" on court documents has been charged with sexually groping two 17-year-old girls on the Fourth of July in a Michigan's Adventure wave pool. Eliazar Rivas-Rodriguez, 29, of Middlebury, Indiana, was arraigned Tuesday, July 7, on two counts of fourth-degree criminal sexual conduct involving force or coercion. The arraignment was conducted through a Spanish-speaking interpreter, according to court records.

The Democrat Open Borders Crowd: Accessories to Rape, Mayhem and Murder. It is absolutely indisputable that San Francisco's sanctuary policies contributed to the horrific, senseless, shooting death of 32-year-old Kate Steinle on July 2. Francisco Sanchez, the illegal alien who admitted killing her, has said that it was the city's sanctuary policies that attracted him to it. City leaders have Kate's blood on their hands. But that blood is a drop in the bucket compared to the outrages regularly being committed by the illegals among us, while politicians of both parties sing their praises.

According to the ACLU, La Raza, the New York Times, and the SSA, 75% of illegal aliens commit felonies. According to these organizations, as many as 75 percent of illegal immigrants use unlawfully obtained Social Security numbers to pay payroll (Social Security) taxes. That, in turn, means that the vast majority of illegal immigrants are committing multiple federal and state felonies including forgery, Social Security fraud, perjury on I-9 forms, and identity theft. It also means that potentially millions of Americans, including an untold number of innocent children, are victims of identity theft when their Social Security numbers are used by illegal immigrants.

Trump is Right About Illegals, Says Grieving Father. A fiery black opponent of so-called sanctuary cities whose teenaged son was murdered in cold blood by an illegal alien gangster from Mexico is cheering on Donald Trump for demanding that the U.S. government enforce existing immigration laws.

What ever happened to the Democrat warcry of "If we can only save one child?". Between November 1, 2013 and October 31, 2014, there have been 4,317 charges of child sexual assault filed against illegal aliens in North Carolina, according to the citizens advocacy group known as NCFIRE. 12 months, 4,300 charges of sexual assault on kids by illegal invaders. In one state.

So Much For Obama's Slogan-Infested Immigration Stand. Nobody worries about deportation these days. The Obama administration favors illegals, using executive orders to protect them. In 2014, Obama ordered the Department of Homeland Security to release 30,558 illegals with criminal records onto U.S. streets, after releasing 36,007 illegals in 2013. And in the past three years, these same illegals murdered 131 Americans, not counting Steinle or the El Paso woman murdered by an illegal with a hammer last weekend. How big a problem is the illegal crime wave? A 2011 Government Accountability Office report says some 300,000 inmates of federal prisons are illegals.

250 Murders by Criminal Illegals Intentionally Released in 2014. Crime figures released at a hearing before the House Judiciary Committee show a massive number of criminal illegals released by ICE in 2014 have come back to haunt American society. Despite his big talk about focusing resources of dangerous criminal illegal aliens, President Obama's record on preventing illegal immigration and now enforcement of current law is seriously lacking.

41.7 Percent of Federal Criminal Cases in 5 Districts on US-Mexico Border. According to data released by the U.S. Justice Department, 41.7 percent of the federal criminal cases that U.S. attorneys filed in U.S. district courts in fiscal 2014 were in the five U.S. attorneys' districts that sit along the U.S.-Mexico border. In fact, the five districts that sit along the border — those for Southern California, Arizona, New Mexico, Western Texas and Southern Texas — were the top five in the country for criminal cases filed in U.S. district courts.

House Judiciary Chair: 'This Administration Is Releasing Criminals Back Onto the Streets'. Rep. Bob Goodlatte (R-Va.), chairman of the House Judiciary Committee, is criticizing the Obama administration for "releasing criminals back onto the streets." He was talking about the murder of a 32-year-old woman in San Francisco last Wednesday [7/1/2015], allegedly by an illegal alien with seven felony convictions who had been deported five times to Mexico. Because San Francisco is a "sanctuary city," local authorities did not honor a U.S. Customs and Enforcement Agency detainer for Francisco Sanchez. The detainer could have kept Sanchez in jail until ICE officials picked him up.

Kathryn Steinle killing fuels outrage over Democrats' deportation opposition. The Democratic campaign to relax national, state and local deportation policies is fueling outrage ignited by the shocking slaying of a woman in San Francisco by an oft-deported illegal immigrant with seven felony convictions. House Judiciary Committee Chairman Bob Goodlatte slammed the Obama administration for turning federal requests to detain illegal immigrants into "something voluntary" and "releasing criminals back onto the streets." "This administration is not enforcing our immigration laws," the Virginia Republican said. "And, quite frankly, I don't think they care."

Trump: 'Infectious disease is pouring across the border'. Donald Trump doubled down on his controversial comments about illegal immigration from Mexico on Monday [7/6/2015], saying, "infectious disease is pouring across the border." Trump issued a lengthy — nearly 900 word — statement invoking the death of a San Francisco woman shot and killed last week by a suspect who had previously been deported to Mexico five times. "This is merely one of thousands of similar incidents throughout the United States," Trump said Monday [7/6/2015]. "In other words, the worst elements in Mexico are being pushed into the United States by the Mexican government."

The Sanctuary Country. When national politicians fret about states that defy federal laws or even national attitudes, they aren't talking about "sanctuary cities." No, that kind of defiance meets with their approval. If those cities flew confederate flags or tardily issued gay marriage licenses, pols could work themselves up into a lather about them. But ignoring federal immigration law? That's no big deal, until an illegal immigrant in one of those cities shoots somebody and then the finger-pointing begins.

Donald Trump's Criminal Illegal Immigrants. President Obama has been releasing illegal immigrants from jails for committing felonies that would put all legal citizens into prison. This gives the impression that he is following the law and deporting more illegal immigrants than ever. Unfortunately, it also enables tragedies such as the murder of an innocent young woman in San Francisco by an illegal immigrant who had been deported, and allowed by liberal policies to return across the southern border, five times.

O'Reilly: Trump Right About Border Wall, San Francisco Officials 'Directly Responsible' For Steinle Murder. On Monday's [7/6/2015] broadcast of "The O'Reilly Factor," host Bill O'Reilly took real estate mogul and GOP presidential candidate Donald Trump's side in the immigration. O'Reilly said Trump was correct on two calls — the wall on the southern border he had proposed and who was responsible for the death of Kate Steinle, which was the result of murder by an illegal immigrant that had been deported five times.

It Happened Again: Local PD Failed To Report Illegal Alien, And Now Someone Is Dead. A man who confessed to murdering his wife with a hammer in Texas is a four-time deported illegal alien who has had repeated run-ins with the law, Breitbart is reporting. Juan Francisco De Luna Vasquez had been captured in the U.S. and deported multiple times back to Mexico but repeatedly returned illegally. Amazingly, the Laredo Police Department had previously intervened between the illegal alien in his wife, but did not tell Border Patrol he was in the United States.

Trump Is Right About Mexican Illegals Committing Crimes. Despite attempts to take his comments out of context, Donald Trump was clearly talking about illegal immigration. So, if you want to say, "My grandfather came here legally from Mexico..." or "I know a legal Mexican immigrant who serves in the military," it has nothing to do with what Trump said. Even when it comes to illegals, Trump noted that some of them are "good people." So what's really upsetting people on the Left is Trump's assertion that Mexican illegal aliens are committing a substantial amount of crime in America. That is inarguably true.

Trump On Criminal Illegals: 'Both Sides Need To Grow Up And Put America's Interests First'. [Scroll down] "According to a Government Accountability Office (GAO) 2011 report, America's prisons house 351,000 criminal aliens who committed a crime after having already broken the law by entering America illegally." Trump added, "Making taxpayers pay for 351,000 criminals who should never have been here in the first place is ridiculous." Trump noted that even the government's own figures estimated the incarceration costs of these illegal criminals is $1.1 billion.

Two Previously Deported Illegal Immigrants Allegedly Murder Two Women in Two States — In 24 Hours. In both instances, the women's murder could have been prevented by authorities had they enforced existing U.S. immigration laws and/or had the U.S.-Mexico border been functionally secured.

The Progressive Policies That Murdered Kate Steinle. [Scroll down] Although this violent thug pulled the trigger, progressives, through the laws they have enacted, put this man on the streets which allowed him to murder. Federal authorities had Lopez-Sanchez in custody in March after he was set free from a federal prison. They transferred him to San Francisco authorities because he was wanted by them on drug-related charges. The feds filed what's called an "immigration detainer" requesting that the local authorities notify them before releasing the man. But San Francisco, home of the most militant leftists in America, refused the request because local policy forbids it. The prisoner in effect got a "get out of jail free card" from the left-wing open-borders movement which argues that keeping illegals in jail violates their constitutional rights.

San Francisco — A "Sanctuary City" For Whom Exactly? A San Francisco article gives some insight into how the decision to make a "sanctuary city", has now made them a safe harbor for illegal alien criminals, murderers and rapists. Alternate headline: "Donald Trump Is Right".

Flashback: 'Christmas Story,' 'Waitress' Directors Killed By Illegal Aliens. The media, Democrats, and weak-kneed Republicans who defend and dismiss our porous Southern border, have plenty of blood on their hands — and not just the everyday Americans victimized by people who simply shouldn't be here. Due to our unwillingness to secure the border and protect our own citizens, this country lost two major American artists in the last decade, Bob Clark and Adrienne Shelly.

Obama, Brown, Harris Allowed S.F. Murderer To Stalk The Streets. The senseless, random murder of 32-year-old Kathryn Steinle last week, allegedly by illegal alien Juan Francisco Lopez-Sanchez, has shocked the city of San Francisco and outraged the nation. The alleged murderer was free because of a local policy and state law that prevent cooperation with federal immigration detainers — and because of a federal government that encourages such disobedience.

Feds: Cops should not have freed suspect now charged in random killing. U.S. immigration officials said Friday [7/3/2015] that the San Francisco Police Department did not honor a request they made in March to hold onto a Mexican citizen now charged in the random shooting of a tourist on the San Francisco pier. Francisco Sanchez, 45, has been charged with killing a 31-year-old woman who was strolling with her family along the scenic Embarcadero waterfront on Wednesday evening, police said.

Man arrested in connection with San Francisco killing had been deported several times, officials say. The man arrested in connection with the seemingly random killing of a woman who was out for a stroll with her father along the San Francisco waterfront is an illegal immigrant who previously had been deported five times, federal immigration officials say. Further, Immigration and Customs Enforcement says San Francisco had him in their custody earlier this year but failed to notify ICE when he was released.

Police identify motel intruder shot by ex-CNN reporter. Tomorio Walton had absconded from parole out of Memphis, and it wasn't clear how long he had been in New Mexico, Albuquerque Police Department spokesman Tanner Tixier said late Thursday [7/2/2015].

Random killing Trumps San Francisco's sanctuary city policy. The horrific murder of a pretty young woman by an illegal alien at a prime tourist location in San Francisco is validating the argument of Donald Trump on the influx of violent criminals, and causing at least some local media reflection in arguably the nation's most politically correct city. This morning edition of the San Francisco Chronicle website (which reflects the newspaper's front page to some extent) gives prominent placement to Trump's contention that the murder of Kathryn Steinle shows that he's right.

Woman is 'randomly shot to death at popular San Francisco pier in broad daylight. The man accused of randomly shooting dead a California woman as she walked along a popular San Francisco pier has a serious criminal history and has been deported to Mexico multiple times, according to reports. What's more, Francisco Sanchez, 45, was already on probation out of Texas and should have been sent to federal authorities as an 'enforcement priority' following a Bay Area arrest four months ago.

Woman mourned, suspect held in random killing on S.F. pier. The suspect was identified as Francisco Sanchez, who is approximately 45 and whose last known address was in Texas. He spoke with homicide inspectors and was later jailed on suspicion of murder, officials said. Sanchez was on probation, said Sgt. Michael Andraychak, who wouldn't elaborate.

Media Hide Facts, Call Everyone Else a Liar. When Donald Trump said something not exuberantly enthusiastic about Mexican immigrants, the media's response was to boycott him. One thing they didn't do was produce any facts showing he was wrong. Trump said: "When Mexico sends its people, they're not sending their best. They're not sending you. They're not sending you. They're sending people that have lots of problems, and they're bringing those problems to us. They're bringing drugs. They're bringing crime. They're rapists. And some, I assume, are good people." The first thing a news fact-checker would have noticed is: THE GOVERNMENT WON'T TELL US HOW MANY IMMIGRANTS ARE COMMITTING CRIMES IN AMERICA. Wouldn't that make any person of average intelligence suspicious? Not our media. They're in on the cover-up.

Coulter: 'I'm Offended' Is Not An Argument Against Trump, Facts Back Him Up. Monday [6/29/2015], NBC announced it was cutting ties with Trump following the backlash over the GOP presidential contender's view that Mexican immigrants are bringing their problems to the U.S. "They're bringing drugs. They're bringing crime. They're rapists. And some, I assume, are good people," Trump said during his campaign announcement earlier this month. Coulter, who devotes a goodly portion of her new book to immigrant crime and the media's failure to report fully on the "immigrant crime wave," points out that arguments against Trump amount to a straw man claim that "not all Mexicans are rapists." "The point is: Why should America be taking in ANY RAPISTS?" Coulter wrote in an email to Breitbart News. "Were we short on rapists? By definition, we're talking about people who have no right to be here. If Mexico is sending us 2 rapists — THEY'RE SENDING US RAPISTS."

Obama extending amnesty to illegals in prisons, jails. The administration has ordered agents to begin ignoring many of the illegal immigrants they encounter in prisons and jails, as President Obama begins to implement a lesser-known part of his deportation amnesty policy — though his program isn't sitting well with either side of the immigration debate. In a nod to so-called sanctuary cities, the president's policy prohibits U.S. Immigration and Customs Enforcement agents from targeting most illegal immigrants for deportation, including most of those who come into contact with state and local police.

Obama DHS freed thousands of violent illegal aliens. Thousands of illegal immigrants convicted of serious crimes — including rape, child molestation and kidnapping — have been released in the United States by the Department of Homeland Security (DHS) and the agency doesn't bother keeping track of the alien convicts. The DHS agency responsible for removing dangerous illegal aliens, Immigration and Customs Enforcement (ICE), simply releases sex offenders when they complete their criminal sentence and fails to monitor or force them to register with local authorities in the communities where they resettle. The incredulous story of this outrageous system comes via an investigative series published this week in a Boston newspaper that sued the government for the records.

Terrorists and Criminals Yes, Trans Fats No. Obama's tragicomic reign recently has taken several truly frightful turns. On his eagle-eyed watch, we now learn, easily preventable homicides actually occurred, and designated potential terrorists are manning the secure areas of U.S. airports. Meanwhile, Obama deployed the federal government's ferocious power ... against a food additive. For starters, Obama's hands are soaked with the blood of as many as 121 people who were murdered by illegal-alien criminal convicts after he failed to deport them and, instead, released them onto America's streets.

Enforcement? What Enforcement? Three recent items highlight the continuing collapse of interior immigration enforcement under Obama. The first is information pried out of DHS by Senators Grassley and Sessions: ["]One hundred twenty-one convicted criminals who faced deportation orders between 2010 and 2014 were never removed from the country and now face murder charges, according to Immigration and Customs Enforcement (ICE).["] Just to be clear, these were convicted criminals, in ICE custody, who had been ordered deported but were instead released back into U.S. communities, and then went on to murder Americans.

Illegal Alien Rapists, Child Molesters Freed in U.S. Instead of Deported. For years, doctors warned federal immigration officials: Do not take your eyes off Santos Hernandez Carrera. He had raped a woman at knifepoint and spent roughly half his life in jail, where immigration officials hoped to keep him until they could send him home to Cuba. As far as the public knew, the strategy worked: Until last month, the public sex offender registry said Hernandez Carrera, who has been diagnosed with a mental illness, had been deported. He never was. Instead, the Globe discovered that Hernandez Carrera is in Florida, one of hundreds of immigrants convicted of sex crimes who should have been deported but instead were released in the United States because their homelands refused to take them back. They are convicted rapists, child molesters, and kidnappers — among "the worst of the worst," as one law enforcement agency put it. Yet the Globe found that immigration officials have released them without making sure they register with local authorities as sex offenders.

121 murders attributed to illegals released by Obama administration. More than 100 immigrants whom the Obama administration released back into the community went on to be charged with subsequent killings, according to government data released Monday that raises more questions about whether immigration authorities are doing enough to detail illegal immigrants awaiting deportation. In one case, U.S. Immigration and Customs Enforcement acknowledged that its agents didn't find out about an illegal immigrant's death threats and court injunctions against him — which should have put him back in detention — until after the man was accused of murder.

Another of Obama's "Dreamers" caps off a life of crime with mass murder. The Washington Times reports that Immigration and Customs Enforcement has flagged Darron Wint for deportation, should he ever be released from prison. That's unlikely, since he murdered four people, including a 10-year-old boy who was tortured first, in the Washington, D.C., "Mansion Murders." Though ICE's action is a necessary formality, to call it a day late and a dollar short is a ghoulish understatement. Little has been reported about how Wint got here, other than he came, legally, from Guyana in 2000 at age 20, probably under one of the family categories. But the relevant question here is why this depraved monster was allowed to remain in the United States?

What Happens When You Don't Enforce the Immigration Laws. Needless to say, Darron Wint will never receive the punishment he deserves. But here's the point: he never should have been in this country in the first place. He immigrated from Guyana in 2000, at age 20. His arrival here was legal, apparently because he was related to others from Guyana who were already in the U.S. So he was a "legal permanent resident." But a permanent resident doesn't get to stay forever; that designation merely means that there is no legal end point to the person's stay at the time when he arrives.

Abbott Signs Sweeping Border Security Bill. To Gov. Greg Abbott, signing a sweeping, multimillion-dollar border security bill hundreds of miles from the Rio Grande made sense. "Here in Houston, there are more than 20,000 dangerous gang members that are associated with cross border traffic-related crime," Abbott said Tuesday [6/9/2015] as he was flanked by lawmakers and peace officers at a Texas Department of Public Safety facility. "More than 100,000 of those gang members operate across the state of Texas."

Illegal Alien Sends Border Patrol Agent to Hospital after Assault. An illegal alien from Honduras has been accused of attacking a U.S. Border Patrol Agent who was trying to stop a group of illegal immigrants that had just crossed the Rio Grande. The assault took place last week near the border community called Sullivan City, when a group of agents riding all-terrain vehicles were notified about a group of 20 illegal immigrants making their way north from the river, court records obtained by Breitbart Texas revealed.

Three El Salvadorean MS-13 gang members arrested for 'brutal, heinous' attack. Three teenage reputed members of the MS-13 street gang were ordered held without bail Friday [6/5/2015] on charges they forced a 16-year-old into a wooded area of a Long Island golf course, where two of them took turns raping her while the third stood as a lookout.

Obama Releases 3,700 'Worst of the Worst' Criminal Illegals Into the US. Once again we see Obama's administration releasing criminal illegal aliens arrested for vicious crimes released right back into the US with no penalties for the criminals. Obama is releasing murderers, rapists, drunk drivers, thieves, and other major criminals into the country after they have been arrested.

Actual New York Headline: 3 Held Without Bail in "Brutal, Barbaric" Rape of 16-Year-Old Girl in Long Island Woods. You'd have to go more that a little deep into the article to see the part where "Four Salvadorian Nationals", are under arrest for the most brutal and barbaric rape of a 16-year-old. Those same "Salvadorian Nationals" are also known as the "2014 Unaccompanied Alien Children" that Glenn Beck and Dana Loesch were desperate to provide 'teddy bears and soccer balls' for last summer.

3,700 illegal immigrant 'Threat Level 1' criminals released into U.S. by DHS. Most of the illegal immigrant criminals Homeland Security officials released from custody last year were discretionary, meaning the department could have kept them in detention but chose instead to let them onto the streets as their deportation cases moved through the system, according to new numbers from Congress. Some of those released were the worst of the worst — more than 3,700 "Threat Level 1" criminals, who are deemed the top priority for deportation, were still released out into the community even as they waited for their immigration cases to be heard.

ICE Still Releasing Criminal Aliens Into U.S. Population at a Frightening Pace. The Atlanta Journal-Constitution has published an investigative report on violent criminals released by ICE. Aptly titled "Convicted, but free to roam: Giving little notice, federal authorities have released thousands of detained undeportable immigrants — sometimes with grave results", the article tells the story of a rapist and a murderer turned loose by ICE. Such criminal alien releases are continuing at an alarming pace in 2015.

Epidemic of MS-13 Gang Busts Reveal Disastrous Results of Executive Amnesty. Authorities Wednesday [5/20/2015] rounded up 37 MS-13 gang members in Charlotte, N.C., on racketeering conspiracy charges, along with charges of murder, attempted murder and firearms violations. All of them are illegal aliens from El Salvador, Honduras and Guatemala. Several are round-trippers — illegals who broke in once, committed crimes, got deported and broke back into the U.S. — proving that our border is porous and unsecured. Charlotte police discovered the rat's nest of foreign gangsters after some of them started shooting up local nightclubs and bars. Reading the indictment, much of the money these immigrant hoods raise from illegal gang activity is wired back to El Salvador to arrange for even more gangsters to come across the border.

MS-13 Gang Epidemic Tests Obama's Amnesty Excuse. Recent busts of murderous MS-13 gangsters put the lie to President Obama's sympathetic amnesty narrative of illegal immigrants as "workers who mow our lawns, make our beds (and) clean out bedpans." Authorities Wednesday rounded up 37 MS-13 gang members in Charlotte, N.C., on racketeering conspiracy charges, along with charges of murder, attempted murder and firearms violations. All of them are illegal aliens from El Salvador, Honduras and Guatemala. Several are round-trippers — illegals who broke in once, committed crimes, got deported and broke back into the U.S. — proving that our border is porous and unsecured. Charlotte police discovered the rat's nest of foreign gangsters after some of them started shooting up local nightclubs and bars.

Two Illegals Plead Guilty to Baseball Bat-Machete Murder of Teen. Two illegal aliens in Walker County, Texas, have pleaded guilty to murdering and dismembering a 16-year-old high school student with a baseball bat and a machete in a national park nearly two years ago. According to investigators, the crime was a revenge killing ordered by the infamously violent Latin American gang Mara Salvatrucha, or MS-13.

Don't let gangbangers get immigration benefits. North Carolina's Republican senators have joined Sen. Chuck Grassley, R-Iowa, to file legislation prohibiting people with gang ties from gaining immigration benefits. The bill comes after federal immigration officials admitted that, in 2013, they stopped the deportation of a gang member who is now the suspect in the February slayings of four people in Charlotte. Emmanuel Jesus Rangel-Hernandez was granted special immigration status two years ago, despite being listed in a federal database as a gang member.

Obama Administration Admits Granting Known Gang Member Amnesty. The Obama administration is admitting it granted executive amnesty protections to a known gang member — one charged with four counts of murder — and is now reviewing prior approvals to double check that other gang members have not also been approved for deferred status. In a letter to Senate Judiciary Chairman Chuck Grassley (R-IA) dated Friday [4/17/2015], U.S. Citizenship and Immigration Services (USCIS) Director Leon Rodriguez explains that Emmanuel Jesus Rangel-Hernandez's request for deferred status under President Obama's Deferred Action for Childhood Arrivals (DACA) program "should not have been approved" based on standard procedure.

Feds releasing hundreds of illegal immigrant rapists, murderers: report. The administration is deporting fewer criminal aliens than it did last year, according to new statistics released Tuesday that undercut President Obama's justification for his new amnesty, which he said was intended to free agents to focus on the most dangerous of criminals by focusing on "felons not families." Instead, both arrests and deportations of criminal aliens are down about 30 percent through the first six months of fiscal year 2015, signaling that agents, who have been told to stop focusing on rank-and-file illegal immigrants, have not been able to refocus on criminal illegal immigrants instead.

Obama DREAMER Accused Of Killing Four. Just another illegal alien doing the 1st degree murder that Americans won't.

ICE: 167,527 Criminal Aliens Loose in U.S.A.. According to weekly detention and departure reports from U.S. Immigration and Customs Enforcement, there were 167,527 non-detained convicted criminal aliens in the United States as of Jan. 26 of this year, a congressional hearing revealed Thursday [3/19/2015]. House Oversight and Government Reform Chairman Jason Chaffetz (R-Utah.) read the statistic aloud Thursday durin a hearing examining ICE's priorities and procedures for removing criminal aliens currently living in the United States. "In that report, it said that there are 167,527 non-detained, final-order convicted criminals on the loose in the United States," Chaffetz pointed out while questioning ICE Director Sarah Saldana.

23 Dreamers from Obama amnesty snared in criminal dragnet. Nearly two dozen of the illegal immigrants picked up in a nationwide sweep for criminal aliens earlier this month had previously been approved for President Obama's deportation amnesty, the Homeland Security Department said Wednesday [3/18/2015]. All 23 were part of Mr. Obama's original program for so-called Dreamers, which began in 2012 and which had granted tentative legal legal status to nearly 640,000 as of the end of last year. Of the 23, 15 were still actively part of the amnesty, while eight had been approved once but had not gotten their status renewed after the first two-year period expired.

DHS released another 30,000 criminal aliens onto streets. Federal immigration officers released another 30,000 immigrants with criminal records last year, following the 36,000 it released in 2013, the government announced Wednesday — though it promised to take steps to cut down on the problem. U.S. Immigration and Customs Enforcement, the agency that handles detention and removal of illegal immigrants, said it will no longer allow overcrowding to be the main reason a dangerous illegal immigrant is released, and will require a top supervisor to approve the cases of any serious criminals that officers want to release. Overall, ICE released 30,558 criminal aliens in fiscal 2014, which is down from the 36,007 criminals released a year before.

1,000 'criminal aliens' released by ICE committed new crimes, Grassley says. The chairman of the Senate Judiciary Committee said Friday that 1,000 of the more than 36,000 "criminal aliens" released by federal immigration authorities in 2013 have been convicted of new crimes. Sen. Chuck Grassley, R-Iowa, cited Department of Homeland Security statistics in a statement released by his office. The list of crimes included assault with a deadly weapon, terrorist threats, failure to register as a sex offender, lewd acts with a child under 14 and spousal rape by force.

Talks continue as FBI, Federal Bureau of Prisons relocate about 2,800 inmates from South Texas facility. The owner of the Willacy County Correctional Center provided an update on Sunday morning in regard to a plan, announced Saturday, to move 2,900 inmates to other federal prisons in the region in the wake of a Friday morning riot. More than 300 inmates from the Willacy County Correctional Center were transferred to other Federal Bureau of Prisons in the region, according to a statement from the center's owner, Management and Training Corp.

Illegal Aliens Riot in Texas Prison Near Border. Approximately 2,000 inmates at a federal detention center near the border that primarily houses immigration detainees rioted and set off fires, requiring a massive mobilization of law enforcement to secure the perimeter and restore order. The uprising began Friday morning [2/20/2015] at the MTC Detention Center in Raymondville when a group of prisoners began getting agitated about the medical services in the private prison facility, KGBT reported.

2,000 inmates armed with pipes seize control of part of Texas prison. Thousands of federal prisoners will have to be moved to other penitentiaries after 2,000 inmates armed with pipes set fire to part of a South Texas prison after seizing control of the area. The uprising began on Friday when prisoners at the Willacy County Correctional Center refused to perform their work duties in protest of the current state of their medical services. The conflict erupted around noon when prisoners stormed the recreation yard and set fire to three of the prison's ten housing facilities.

The Costly Asylum Racket. Did you hear about the El Cajon, California Iraqi man who was found guilty of murdering his wife after writing a phony note from supposed Islamophobes telling the family to leave the U.S.? Did you know that the Tsarnaev Boston Bombers came to our country with false claims of persecution and then cashed in to receive $100,000 in U.S. welfare handouts? Did you hear about the Oregon Somali Christmas tree bomber? Did you hear about the Somali youths who left Minneapolis to join Al-Shabaab and ISIS? [...] If you didn't hear those facts, put it down to the secrecy of the refugee racket, which does its best to operate under the radar.

AZ Sheriff: 30% of Illegals Caught at Border Have Criminal History in U.S.. Speaking before the House Judiciary Committee on the issue of illegal immigration, Sheriff Paul Babeu, from Pinal County, Ariz., said up to 30 percent of the roughly 120,000 illegal aliens apprehended every year at the southwest U.S. border around his county have some kind of criminal record in the United States, adding that "the border is not more secure than ever" as President Barack Obama has stated.

Illegal immigrants released from custody committed 1,000 new crimes. One thousand of the 36,000 illegal immigrant criminals the government released in 2013 have gone on to commit other crimes, including child sex abuse, hit-and-run and child cruelty, according to new data released Friday evening by Senate Judiciary Committee Chairman Charles E. Grassley. The information, which the Homeland Security Department provided to Mr. Grassley, details all 1,000 convictions including dozens of drunk-driving convictions, drug offenses and weapons convictions. But the more serious crimes include domestic abuse, carjacking and aggravated assault.

Sen. Chuck Grassley Introduces Legislation to Stop 'Catch and Release' Policy for Dangerous Illegal Immigrants. Ever since Homeland Security instituted a policy of "catch and release" for illegal immigrants accused of serious felonies, they have been found time and time again committing violent assaults and murders. When their home countries refuse to take them back, they are sent back out into the streets, at most being required to post bond. With Republicans now in control of both the House and the Senate, perhaps Congress will be able to override this dangerous practiced ordered by Obama.

1,000 'criminal aliens' released by ICE committed new crimes, Grassley says. The chairman of the Senate Judiciary Committee said Friday [1/30/2015] that 1,000 of the more than 36,000 "criminal aliens" released by federal immigration authorities in 2013 have been convicted of new crimes. Sen. Chuck Grassley, R-Iowa, cited Department of Homeland Security statistics in a statement released by his office. The list of crimes included assault with a deadly weapon, terrorist threats, failure to register as a sex offender, lewd acts with a child under 14 and spousal rape by force.

Illegal Alien Felon Kills American for No Particular Reason. There is a price to be paid for the lawless open borders policy of our moonbat rulers. Unfortunately, they don't have to pay it; normal people do.

Illegal Alien Free On Bond Allegedly Murders Store Clerk. An illegal immigrant — who video surveillance reportedly shows calmly murdering a young store clerk in order to steal a box of cigarettes — was already out on bond from U.S. Immigration services and even had a previous conviction from which he had received no jail time.

Should police issue commands in Spanish when facing a suspect at gunpoint? Three McMinnville police officers faced off with Juventino Bermudez-Arenas as he held the large blade he'd just used to kill a 20-year-old Linfield College student. Officers pulled their guns. One, who spoke Spanish, reached for her Taser but dropped it and grabbed her pistol as Bermudez-Arenas lowered his head and his hands and appeared to move forward. Seconds before they fatally shot the 33-year-old Mexican man, police yelled, "Get on the ground," and, "Drop the knife," again and again. They yelled their commands in English, the dominant language in the U.S. But in the days after the Nov. 15 shooting of Bermudez-Arenas, his family and his employer told detectives he had understood few English words and couldn't speak the language.

The Editor says...
A reasonable and sober person could surmise that if the cops in any country are yelling at you in any language, and pointing their guns at you, that's a clear signal that you should get passive quickly. So here's a tip for all knife-wielding homicidal immigrants: Learn enough English to understand the cops, or you might get yourself killed.

The Mexican Mafia Is the Daddy of All Street Gangs. The indictment of 38 members of Los Angeles street gang Big Hazard once again puts the national spotlight on the Mexican Mafia, a treacherous and violent criminal organization also known as La Eme that has deep roots inside California's prison system. Federal officials spent Wednesday arresting members of the Boyle Heights-based street gang which has strong ties to La Eme.

DHS' New Guidelines on Deporting Illegals: Longtime Aliens, Some Criminals Get Special Consideration. On Nov. 20, the same day President Barack Obama announced executive action to shield millions of illegal aliens from deportation, Homeland Security (DHS) Secretary Jeh Johnson issued an agency-wide memorandum explaining new guidelines for enforcing the nation's immigration laws — or not enforcing them based on a wide range of "circumstances."

'You're Not Going to Be Deported,' Obama Assures 'Ordinary' Illegal Immigrants. Speaking about his new immigration program in Nashville on Tuesday [10/9/2014], President Obama assured "ordinary" illegal immigrants, "You're not going to be deported," even if they don't register with the U.S. government. [...] Obama explained that the Homeland Security Department has set deportation priorities: "And at the top are criminals, people who pose a threat, and at the bottom are ordinary people who are otherwise law-abiding. And what we're saying, essentially, is in that low-priority list, you won't — you won't be a priority for deportation. You're not going to be deported. We're not going to keep on separating families."

Obama Deputies Free 30,862 Foreign Criminals. President Barack Obama's immigration deputies released 30,862 foreign criminals into the United States' cities and neighborhoods, according to a federal document. The document also showed that Obama repatriated less than 1 percent of the 12 million illegals living in the United States during the 12 months up to October 2014.

Top 5 Whoppers From Obama's Announcement That He's Nullifying U.S. Immigration Law. [#5] Obama claims he is going to focus on deporting felons. Yet, he has done the opposite. 36,000 convicted criminal aliens were released last year, 80,000 criminal aliens encountered by ICE weren't even placed into deportation proceedings, 167,000 criminal aliens who were ordered deported are still at large, 341,000 criminal aliens released by ICE without deportation orders are known to be free and at large in the US. Again, this is cessation of deportations for everyone.

Obama Amnesty as Feds Bust Illegal Aliens That Got $7.2 Mil from IRS with Stolen IDs. In the same week that President Obama issued his administrative amnesty sparing millions from deportation, the feds busted a criminal ring of illegal immigrants that used stolen identities to defraud the U.S. government out of $7.2 million in tax refunds. The mastermind of this sophisticated operation is a resourceful delinquent in Frankfurt, Delaware who runs a landscaping and cleaning business called "Las Tres Mujeres" (the three women). Her name is Linda Avila and she's admitted in federal court that she filed more than 1,700 fraudulent tax returns with the Internal Revenue Service (IRS) using stolen identities assigned to migrant workers — mostly from Mexico — living in the U.S. illegally.

Obama ends Secure Communities program as part of immigration action. For the immigrant advocates who for years have been calling on President Obama to curtail deportations, the Secure Communities program symbolized what was wrong with the nation's immigration enforcement strategy. Designed to identify potentially deportable immigrants who had committed crimes, the program provided immigration agents with fingerprint records collected at local jails. In many cases, agents would ask local law enforcement officials to hold inmates believed to be in the country illegally beyond the length of their jail terms so that they could be transferred to federal custody.

As Illegals Flow Across Border, MS-13 Members In MD Charged With Violent Crimes. In the midst of the Obama administration transporting around 1,000 unaccompanied minors from Border Patrol centers in Texas to facilities in Baltimore, MD, and Richmond, VA, U.S. Immigration and Customs Enforcement announced in a press release on Wednesday [6/18/2014] that a Federal Grand Jury returned a second superseding indictment charging four Maryland men in connection with a conspiracy to participate in murder in aid of a racketeering enterprise known as the La Mara Salvatrucha or MS-13.

New DHS immigration rules: Drunk drivers, sex abusers, drug dealers, gun offenders not top deportation priorities. The Department of Homeland Security has just released new "Policies for the Apprehension, Detention, and Removal of Undocumented Immigrants." Designed to fill in the details after President Obama's announcement that at least four million currently illegal immigrants will be given work permits, Social Security numbers and protection from deportation, the DHS guidelines are instructions for the nation's immigration and border security officers as they administer the president's directive.

ICE lawyer's lawsuit exposes how feds release illegals. The Obama administration told federal immigration lawyers to release illegal immigrants with "old" drunken-driving convictions and those found guilty of stealing other people's identities, according to a lawsuit filed by one of the lawyers at the center of the operation. Patricia M. Vroom, a top attorney for U.S. Immigration and Customs Enforcement in Arizona, filed a 67-page discrimination complaint that details repeated battles with agency higher-ups who told her to close cases and not deport people whom President Obama deemed low-priority.

Illegals Commit Over 400 Child Sexual Assaults in One Month in This Non-Border State. Obama's illegal-immigrant "dreamers" have been racking up some interesting headlines of late. [...] An illegal drunk driver killing a three-year-old waiting in line for the ice cream truck... and then driving away? Check. Illegal immigrants bringing a deadly, virus-carrying triatomine bug over the border into the United States? Check. An illegal immigrant shooting a carjacking victim in the face while smiling? Check!

Father Asks Obama to Use Executive Order to Bring Son Slain by Illegal Alien Back to Life. A grieving father is asking President Barack Obama to bring his son, who was killed by an illegal alien, back to life with an executive order on immigration. "While your Executive Order pad is out, can you write one to bring my son and the tens of thousands (actually over 100,000) killed by illegal aliens back to life and to bring our destroyed families back together?" asks Don Rosenberg in a letter to Obama. His son Drew was killed by an illegal alien who ran over him in 2010.

Lawsuit: Obama Officials Pressured Prosecutors to Release Convicted Criminal Illegal Aliens. An award-winning, career prosecutor at U.S. Immigration and Customs Enforcement (ICE) alleged in a blistering new lawsuit she was punished for resisting orders to release convicted criminal illegal aliens from custody. The allegations from Patricia M. Vroom, 59, implicate Peter Vincent, the recently-resigned top lawyer at the agency.

A Lawless Flood Of Illegal Aliens. "Jeanne Shaheen's support for amnesty for illegal aliens through her vote for the Gang of Eight bill and through her support for President Obama's planned executive amnesty is endangering all families across New Hampshire," Maria Espinoza, the national director of The Remembrance Project, told Matt Boyle of Breitbart News on Sunday [11/2/2014]. But Americans should not limit the effects of Barack Obama's lawless immigration policies to just one campaign, in just one state. "The very illegal aliens she wants to help Obama grant amnesty to — and steal your job — are in many cases also violent criminals, driver's without licenses, members of gangs, or are in some way endangering the welfare of New Hampshire families," Espinoza told Breitbart.

Report: DHS Released Criminal Illegal Immigrants and Murderers in Texas Cities. Last month, records were produced showing that officials with U.S. Immigration and Customs Enforcement (ICE) misled Congress and the American people when they claimed that 2,200 undocumented immigrants released from detention facilities to save money were only "low-risk offenders who do not have serious criminal records." In fact, the released detainees included some who had been charged or convicted of serious, violent crimes, including kidnapping, sexual assault, drug trafficking, and homicide, [...]

List of 134 Cities Where Violent, Criminal Illegal Aliens Were Sent After Release by Obama DHS. According to the Immigration and Customs Enforcement arm of DHS, 36,007 criminal illegal aliens were released into the United States in 2013. Responding to a request by Sen. Chuck Grassley, ICE recently provided a list of raw ZIP codes — not cities and states — where criminal illegals, many convicted of violent offenses including murder, rape and kidnapping, have been dumped by the administration.

Rampant Drug Smuggling, And 37,000 Criminal Aliens Who Were Freed Last Year. Drug smugglers are welcomed into the United States. We can assume nothing else. If they weren't, they wouldn't be allowed to pour across our borders; they wouldn't be released willy nilly from prisons each year without any accountability: and we wouldn't have a dormant deportation policy. If we at least attempted to stop illegal immigration, a 17-year old illegal alien might not have been free to rape and murder his 5-year old cousin. An off-duty officer might be alive today. There is a family of four who might be living their lives as they should be.

How Barack Obama and Jerry Brown Killed Two California Police Officers. Oh, they will tell you that it was not them, but an illegal alien named Luis Enrique Monroy-Bracamonte who pulled the trigger — or maybe the killer's name was Marcelo Marquez of Salt Lake City, Utah (the name he gave when captured) or some other alias he may have used since he was first deported for drug crimes back in 1997. [...] One reason Monroy-Bracamonte was still in the United States and able to kill deputies Davis and Oliver is California Governor Jerry Brown policy that all Mexicans, including illegal aliens, are welcome in California. Back during the summer illegal alien tsunami Gov. Brown said, "If we can put a man on the moon, we can put a man from Mexico to California in 20 minutes." Never mind, it seems, whether or not that man is a violent criminal.

Needed: Broken-Windows Immigration Policing. President Obama's "prosecutorial discretion" policy in immigration enforcement claimed two more lives Friday [10/24/2014]. Mexican illegal alien Luis Enrique Monroy-Bracamonte murdered two police officers, and seriously wounded a motorist in the Sacramento area. The cop-killer had been deported twice, the first time for dealing drugs, but was living unmolested in a Salt Lake City suburb with his wife, also charged with the murders. Prosecutorial discretion is supposed to mean the kind of case-by-case prioritization that every cop has to engage in ("I'm not going to give you a ticket this time, ma'am, but slow down in the future"). Under this administration, however, it has been used as a pretext for exempting the vast majority of illegal aliens from the immigration laws.

Obama & Brown Guilty of Shielding Alleged Illegal Alien Cop Killer. [Scroll down] Monroy-Bracamonte's alleged crimes would have been deemed minor under this law, and he would have been "legally" permitted to remain here, had his arrests been in California instead of other states. That means this policy endorsed by Gov. Jerry Brown, Attorney General Kamala Harris, and even some police chiefs, are complicit in protecting this dangerous man from being deported before he allegedly committed this unconscionable double-murder.

Man Accused Of Killing Two California Deputies Friday Was Deported Twice, Gave False Name. Marcelo Marquez, the man accused to killing two sheriff's deputies in California was in the country illegally and had been deported twice to Mexico — once in 1997, and again in 2001. Marquez, 34, is accused of killing two sheriff's deputies Friday during a 6-hour crime spree in northern California. And Marcelo Marquez is not even his real name, it's actually Luis Enrique Monroy-Bracamonte, according to U.S. Immigration and Customs Enforcement. ICE filed paperwork Saturday to ensure he is turned over to immigration officials if he is ever released, though that is unlikely.

Officials say suspect in killings of California deputies was deported twice. The suspect alleged to have shot three northern California sheriff's deputies Friday, killing two, was deported twice and has a criminal record, federal officials said late Saturday [10/25/2014]. A U.S. Immigration and Customs Enforcement spokeswoman said that the fingerprints of the suspected shooter match those of a man named Luis Enrique Monroy-Bracamonte. Monroy-Bracamonte was initially deported to Mexico in 1997 after being convicted of drug possession in Arizona. Four years later, he was arrested and deported again for an unspecified offense.

Releasing Criminally Convicted Illegals onto Our Streets. Despite last year's furor surrounding the release, the administration continued to insist that only "low-risk offenders who do not have serious criminal records," had been set free. [...] USA Today, which obtained the ICE data via a Freedom of Information Act request, reveals the fraudulence of Morton's claims, noting there was "one person in Texas charged with aggravated kidnapping and sexually assaulting a child, as well as others charged with armed assaults or assaulting police officers," the paper states. "Another immigrant released from Miami had been charged with conspiracy to commit homicide. Two detainees from Boston had been charged with aggravated assault using a weapon."

Suspect in killing of deputies was twice deported. A man suspected of killing two deputies during a shooting rampage in Northern California was deported twice to Mexico and had a drug conviction, federal authorities said Saturday [10/25/2014].

Obama Administration Released Illegal Aliens Charged With Murder Into the U.S.. USA Today softens news of Yet Another Obama Administration Scandal™ as best it can, using the headline "U.S. misinformed Congress, public on immigrant release." Translated into English, it means "Obama Administration Released Illegal Immigrants Charged with Homicide."

The original USA Today headline carefully avoided mentioning Obama.
[The Obama administration] misinformed Congress, public on immigrant release. New records contradict the Obama administration's assurances to Congress and the public that the 2,200 people it freed from immigration jails last year to save money had only minor criminal records. The records, obtained by USA TODAY, show immigration officials released some undocumented immigrants who had faced far more serious criminal charges, including people charged with kidnapping, sexual assault, drug trafficking and homicide.

Leaked DHS Document: 167,000 Convicted Criminal Aliens At Large In US. Deportations from the interior of the United States declined 34 percent this year from last, according to a new report from the Center for Immigration Studies, derived largely from an internal Department of Homeland Security document. The CIS report released Wednesday [10/15/2014] and authored by the group's director of policy studies, Jessica Vaughan, details the decline in immigration enforcement and reveals that there remain nearly 167,000 convicted criminal immigrants with final orders of removal still in the United States and "currently at large."

Judicial Watch Sues Department of Homeland Security for Records Relating to ICE 2013 Release of 36,000 Criminal Aliens. Judicial Watch announced today [10/2/2014 that] on July 21, 2014, it filed a Freedom of Information Act (FOIA) lawsuit against the Department of Homeland Security (DHS) to obtain records relating to the release by Immigration and Customs Enforcement (ICE) of 36,000 criminal aliens in 2013 (Judicial Watch v. U.S. Department of Homeland Security (No. 1:14-cv-01237)). According to a report published by the Washington, DC-based group Center for Immigration Studies (CIS), the criminal aliens had been convicted of violent and serious crimes, including homicide, sexual assault, kidnapping, and aggravated assault.

A Town Near You? ICE Reveals Locations of Convicted Murderers It Freed. The 169 aliens with homicide-related convictions who were freed by ICE in 2013 were booked out of detention facilities in 24 different states, with the largest number in California, according to information provided to Sen. Chuck Grassley (R-Iowa). ICE records show that these convicted killers were associated with 96 different cities and towns across America.

Fearless Illegals Caught Breaking Into Homes in Search of Guns. Police in South Texas captured two illegal alien teens who they say were part of a burglary ring which targeted ranch homes in secluded areas looking mainly for firearms. Strangely enough, pro-amnesty supporters did not assemble outside the Hidalgo County courthouse yesterday to plead for a path to citizenship for 17-year-old Julio Zapien Calderon or his 14-year-old accomplice. The two teens, one of whom was arraigned on Saturday, each faced nine charges of theft, stemming from a dozen burglaries of ranch properties around the McCook, Texas, area, about 40 miles inland from the US-Mexico border.

Cops Searching For Teenage Illegal Alien For Cartel Assassination Attempt In Texas. Cops are on the hunt for a previously deported 14-year-old illegal alien suspected of trying to execute a teenaged human smuggler on the Texas border in an apparent cartel hit. The victim in the case had a lengthy criminal history that had already resulted in two deaths.

As Businesses Flee, Jerry Brown's California Attracts A Different Kind Of "Investment". Roping off 100 blocks of downtown Los Angeles this week, federal agents from the U.S. attorney's office raided roughly 70 garment district businesses along with a few houses in tony Westwood and Beverly Hills. The suspected crime was laundering money for Mexico's Sinaloa cartel. Agents hauled out $65 million in cash stuffed in duffel bags, suitcases and boxes, some of it blood-spattered. The cash came from hostage ransoms, drug sales and alien-smuggling fees. Some of those arrested were charged with "various immigration offenses," according to the affidavit.

Unprovoked machete attack by illegal aliens caught on camera in Chicago. A horrific machete attack by an illegal alien gang on two innocent young men waiting on a platform for a Chicago El train has been caught on surveillance camera, and is making big news in Chicago. Chicago is, of course, a sanctuary city for illegal aliens under the policies of Democratic Mayor Rahm Emanuel.

This Crime Chronicles Our Broken Border Perfectly. Previously deported illegal aliens and an American citizen who went uncharged multiple times for alleged alien smuggling were among a half dozen men who were part of a kidnapping scheme targeted at an American teenager in Tucson, Arizona, according to Breitbart.

Border Patrol Agents Speak Out Against Being Assaulted by Aliens. The National Council of Border Patrol Agents (NBPC) is responding to the increasing assaults against the agents who protect our border with the production of a documentary movie that tells their story. While violent assaults frequently leave agents injured and even hospitalized, U.S. Attorneys often fail to prosecute the illegal aliens who commit the assaults.

ICE refuses to identify convicted killers released from custody. Federal immigration authorities on Monday [8/25/2014] refused to identify the seven convicted murderers with Atlanta-area addresses that they released during the last fiscal year, citing privacy reasons. U.S. Immigration and Customs Enforcement also could not immediately say why they were released or identify the charges for which they were convicted.

Group Identifies Towns Associated with Releases of Immigrants Convicted of Homicide. Thursday [8/21/2014], Iowa Republican Sen. Chuck Grassley released a recent letter from Immigration and Customs Enforcement revealing the zip codes of most of the 169 immigrants convicted of homicide-related crimes who were awaiting deportation proceedings but released last year. ICE provided the information after Grassley called on the Department of Homeland Security for answers earlier this summer following confirmed reports that ICE released 36,007 immigrants convicted of nearly 88,000 crimes last year. The criminal immigrants were all awaiting the outcome of deportation proceedings.

ICE Releases Zip Codes 'Associated With' Released Aliens Convicted of Homicide. Immigration and Customs Enforcement has released the zip codes associated with the Obama administration's release of 169 immigrants convicted of "homicide-related" offenses who were awaiting deportation proceedings. ICE released the new information about the 169 immigrant convicts to Iowa Republican Sen. Chuck Grassley. The senator pressed the Department of Homeland Security for answers in June following confirmed reports that, in 2013, ICE released 36,007 immigrants convicted of nearly 88,000 crimes (including murder, kidnapping, and sexual assault). All were awaiting the outcome of deportation proceedings.

Man admits running Trenton brothel, will likely be deported to Mexico. A man who pleaded guilty yesterday to running a brothel out of a Trenton home is likely to be deported back to his native Mexico, court officials said. Cervando Sanchez, 35, was indicted on charges of promoting prostitution and maintaining a nuisance at a house on the 800 block of Division Street between January and May 2013. Superior Court Judge Pedro Jimenez Jr. accepted Sanchez's guilty plea despite initial confusion caused by Sanchez telling the judge, through an interpreter, that though he was pleading guilty he was actually innocent.

HHS Placing Unaccompanied Minors With Possible MS-13 Ties in Top Gang-Plagued Cities. Reports show thousands of unaccompanied illegal alien minors, some of them identified as obvious gang members by U.S. Border Patrol agents, have been transferred to several of the largest metropolitan areas in the United States, including Baltimore, Los Angeles, New York City, Houston and the Washington, D.C. area — cities that all rank among the top strongholds of the Latin American gang Mara Salvatrucha, or MS-13. A 2008 report by the Congressional Research Service lists several major U.S. cities as having some of the heaviest MS-13 presence in the nation. These cities include Washington, D.C. and the surrounding area in Northern Virginia, Los Angeles, Houston, New York City, Baltimore and Nashville.

AZ Sheriff: ICE Doesn't Verify the Legal Status of People Turned Over to Them. Pinal County, AZ Sheriff Paul Babeu said that when his deputies turn individuals that they suspect are in the county illegal over to ICE, the agency doesn't verify that the suspect is in the country legally. "The troubling part of this is that when we do call ICE, what they say is 'well, the person has been here five years,' nothing confirming or finding out or verifying this, 'treat them as any other citizen,' and then we release them" he said on Wednesday's [8/13/2014] "On the Record" on the Fox News Channel.

Report: White House didn't OK immigrant releases. More than 2,000 immigrants facing deportation in 2013 were released strictly for budget reasons by immigration agency officials who kept the homeland security secretary in the dark about the plan, according to a federal watchdog's report.

More than 600 criminal illegal immigrants were released in 2013 because of budget shortfall. The year-long investigation found that ICE released 2,226 illegal immigrants in February 2013 just before the sequestration went into effect in an effort to cut costs. On the weekend of February 23 alone, the inspector general report says ICE released 1,450 illegal immigrants. Conservative news website The Daily Signal, which first obtained the audit, reports that 617 of the aliens released were criminals whose detention was mandatory.

The Editor says...
Apparently we don't have enough money to keep alien criminals in prison, but we do have money for this and this and this and this and this and this and this and this and this.

El Salvador robbery suspect arrested in California. Authorities in California say they've arrested a man who's wanted in El Salvador for his alleged involvement with a gang that hijacked military and police arms shipments and used them to rob banks.

Boy, 14, charged as adult in San Jose slaying. A 14-year-old alleged gang member was charged as an adult Thursday [8/7/2014] with murder, accused of stabbing a man to death in downtown San Jose. Marvin Garcia and two other defendants, Garcia's brother, Luis Garcia, 21, and Luis Alvarez, 20, are now charged with murder as well as a gang enhancement in the slaying of 33-year-old Marvin Maynard. About 2:15 a.m. July 29, someone called police about a group of five or six people attacking Maynard near Market Street and Park Avenue, said Officer Albert Morales, a San Jose police spokesman.

Illegals become repeat criminals. Criminal aliens set free on the streets of America — instead of being deported after serving their time — are being rearrested as many as six more times by U.S. authorities, according to a government audit released yesterday [1/8/2007]. But the Justice Department's Office of Inspector General said it did not know how many of 262,105 illegals in the audit, who had been charged with a crime and then released, had been rearrested.

Some Illegal Immigrants are Re-arrested Six Times. Illegal immigrants who were caught but released in the United States may have been re-arrested as many as six times, Justice Department data released Monday [1/8/2007] indicates. The findings by Justice Department Inspector General Glenn A. Fine are based on a sampling of 100 illegal immigrants arrested by local and state authorities in 2004, the latest complete data available.

Border Patrol lets some illegals go … over and over again. Josefa Gonzalez Loya has sneaked across the Mexican border at least 128 times in the past eight years. And each time, the Border Patrol has been nice enough to give her a lift home. Gonzalez and a group of other women and children — all Indians from the southern Mexican state of Oaxaca — have no interest in staying in the United States. All they want to do is panhandle outside El Paso businesses, using the children as lures.



Rape, Death, and Police Pursuits Continue as Illegal Immigrants Flood Texas County. The death toll continues to climb in the Falfurrias death march region also known as the ranch lands and highways of Brooks County. The toll on illegal immigrants who have died attempting to cross these ranch fields and bypass the Border Patrol checkpoint located in the center of Brooks County now stands at 44 as a woman was found dead this week.

Suspects in murder of Border Patrol agent arrested and deported numerous times. Two illegal immigrants from Mexico who were charged with first-degree murder in the shooting death of an off-duty U.S. Border Patrol agent in front of his family in Texas have been arrested and deported numerous times, police sources told FoxNews.com. One suspect has been arrested no fewer than four times for entering the U.S. illegally, according to federal court records. The other has been deported twice after entering the U.S. illegally, sources said.

Parents of USC Student Slain by Illegal Alien Were Delayed Entry by U.S. State Department. One of the four teens charged Tuesday with murder in the beating of University of Southern California grad student Xinran Ji was an illegal immigrant, a fact that has only increased the frustration for many — including the L.A. County Supervisor — with the U.S. State Department's delaying of visas for the slain student's parents.

Suspected Killer Of USC Student Has Been In U.S. Illegally For Seven Years. A 19-year-old who was part of a group suspected of fatally beating a USC graduate student with a baseball bat told authorities that he has been in the U.S. illegally for seven years. The suspect, Jonathan Del Carmen, told authorities of his illegal status in an interview at the Los Angeles County jail, according to a federal source reached by The Daily Caller with knowledge of the interview who was not authorized to speak to the press about the investigation. The Los Angeles Times issued a similar report confirming Del Carmen's immigration status.

Report reveals 'disturbing trend' of brazen attacks against border security by gangs, drug and human traffickers. A game warden hit in the head with a rock while trying to seize a raft. Police officers wounded in an hours-long standoff with a gang member wanted for murder. Criminals spewing obscenities and death threats at local cops before asking for — and receiving — medical treatment. And that was just last week.

Perry Right In Warning Of Border-Surge Crime. Texas Gov. Rick Perry correctly warns that illegal immigrants are responsible for 3,000 murders and 8,000 sexual assaults in the past five years. And with the new border surge, there's more trouble on the way.

Texas Police Look for Cartel Connection in Massive La Joya Shootout. Yellow police tape still hung from fences as Texas rangers walked through the scene where just a day earlier a gang member had gone down in a hail of gunfire in an hours-long shootout with authorities that left two cops wounded. Some police officers spent more than three hours pinned down by the close to 500 shots that were exchanged between authorities and 29-year-old Joaquin Cibrian, a member of the Texas Syndicate gang.

Texas jails 203,000 'criminal aliens' for 640K crimes. Texas Gov. Rick Perry has already spent $500 million trying to maintain order and security in the Rio Grand Valley. He's ordered Texas Adjutant General John Nichols to deploy up to 1,000 National Guard troops on the borderlands. Now Mr. Perry reveals a few more numbers. The governor himself reports that in the past six years, Texas county jails have incarcerated 203,000 "criminal aliens" who have committed 640,000 crimes, including over 3,000 homicides. Such statistics may silence critics who accuse Mr. Perry of politicizing the border crisis to bolster his profile for a presidential run in 2016.

Stop the Illegal Sanctuaries. A Government Accountability Office study found that 55,322 criminal aliens were arrested a total of at least 459,614 times, averaging over eight arrests per alien. The Department of Justice expressed its surprise at the "extremely high" rate of re-arrests for criminal aliens when it found that that 73 criminal aliens in a study group were arrested a total of 429 times. Localities that adopt "sanctuary" policies, in an effort to be welcoming to both legal and illegal immigrants, need to consider whether such policies have the effect of attracting and incubating crime.

8 crack dealers shielded by S.F. walk away. An effort by San Francisco to shield eight young Honduran crack dealers from federal immigration officials backfired when the youths escaped from Southern California group homes within days of their arrival, officials said Monday [6/30/2008]. The walkaways are the latest in a string of embarrassments for city officials who are protecting illegal-immigrant drug dealers from federal authorities and possible deportation because of San Francisco's 1989 declaration that the city is a sanctuary for undocumented immigrants.

Slaying suspect once found sanctuary in San Francisco. The man charged with killing a father and two sons on a San Francisco street last month was one of the youths who benefited from the city's long-standing practice of shielding illegal immigrant juveniles who committed felonies from possible deportation, The Chronicle has learned.

Bush Should Strip Sanctuary Cities of Federal Funds. Three good men are dead thanks largely to San Francisco's outrageous sanctuary-city policy, which forbids city authorities from notifying federal immigration authorities when they arrest illegal aliens for crimes they commit, and it's time for President Bush to crack down on all the cities in the United States that follow this absurd policy.

Enough with the obfuscation, already. In April 2005 the Government Accountability Office released a study of 55,322 illegal aliens incarcerated during 2003. These are its main findings:
• The 55,322 illegal aliens studied had been arrested a total of 459,614 times, over eight arrests per person;
• These 459,614 arrests represented about 700,000 criminal offenses, some 13 offenses per person.
These figures were available in June '07, when half the U.S. Senate, President Bush, top Federal Government officials, a vast business lobby, and the entire apparatus of the Democratic Party pulled out all the stops to ram through a legalization of an estimated 12-20 million illegal aliens.



Released Alien from Border Crisis Arrested for Murder, Kidnapping in Texas. An illegal immigrant who was released by U.S. authorities with a Notice to Appear has been arrested for the alleged murder of a woman and kidnapping of children on U.S. soil. The alleged crimes occurred after the man was released. The man, Pedro Alberto Monterroso-Navas, entered the U.S. illegally with children and turned himself in to U.S. Border Patrol agents. He was processed and released, as are all illegal immigrants who come as unaccompanied minors or incomplete family units from Central America. The alien is from Honduras.

Legalized, Not Prosecuted: Illegal Alien Who Stole Identity of Dead SSI-Collecting Baby Son. The U.S. government not only failed to prosecute an illegal alien who stole the identity of his dead baby son — who had collected SSI before he died — but granted the father legal status to work in the United States. This one-time illegal alien, the Office of Inspector General for the Social Security Administration believes, fraudulently used his son's Social Security Number for at least three years. Yet, he was not prosecuted, according to the IG's office, because his case did not meet the prosecutorial guidelines of the U.S. attorney for New Jersey. In fact, this case might never have come to light had the IG not launched an audit aimed at uncovering the misuse of children's Social Security Numbers.

Four-Time Deportee Arrested For Allegedly Molesting 9-Year-Old Girl. A Mexican national who records show has been deported from the U.S. four times was arrested Saturday [7/12/2014] for allegedly fondling a 9-year-old Texas girl. According to the Parker County sheriff's office, 35 year-old Israel Andrade allegedly broke into a Springtown, Tex. home around 6 a.m. and molested the young girl while her family was asleep, WFAA reports. Following the attack, the girl ran screaming to wake her parents. Andrade allegedly stole the family's computer and their cell phones, forcing the girl's mother to have to call 911 from a nearby convenience store.

MS-13 Actively Recruiting Illegal Alien Minors at U.S. Shelters. [Judicial Watch] has reported extensively on the crisis created by the sudden influx of mostly Central American minors that have crossed into the U.S. through the Mexican border in recent weeks. It has created havoc and will end up costing American taxpayers billions of dollars to house, process, medically treat, feed and inevitably educate the Unaccompanied Alien Children (UAC) which are being dispersed throughout the country. They are bringing in dangerous diseases — including swine flu, dengue fever, Ebola virus and tuberculosis — and occupying our military bases as shelters. As if all this weren't bad enough, the invasion is also supplying the nation's most dangerous street gangs with new soldiers. The Mara Salvatrucha (MS-13) and the 18th Street gangs are on a recruiting frenzy at the various facilities housing the newly arrived illegal aliens, according to JW's source.

Illegal Unaccompanied Minors Being Held For Placement in U.S. Admit to Engaging in Torture and Murder. Despite Homeland Security Secretary Jeh Johnson vowing to "stem the tide" of unaccompanied illegal minors across the southern border with Mexico, thousands more are expected to enter the United States by the end of the year. With the system being overwhelmed, Border Patrol agents are concerned about minors who have admitted to being MS-13 members, a brutal street gang from El Salvador that has been successful in infiltrating American communities. Agents are also concerned about minors who have committed acts like torture and murder in their home countries before heading north to the United States.

Two-time illegal immigrant charged with rape in Philly's sanctuary city. He could become the Willie Horton of the immigration crisis. Milton Mateo Garcia, 28, was caught one year ago entering the U.S. illegally across the Mexican border and was deported back to his native Honduras. But Mr. Garcia soon re-entered the U.S. illegally — federal authorities either don't know how, or they won't say. He settled with relatives in Philadelphia, where Mayor Michael Nutter had signed an executive order in April declaring it a "sanctuary city" for illegal immigrants.

ICE data: 36,000 illegals with criminal convictions were released during deportation proceedings. A preemptive strike on DHS from the Center for Immigration Studies, designed to make Obama's upcoming "relaxation" of U.S. deportation procedures as politically painful as possible. He's desperate to pander to his base, which is impatient after waiting more than five years for amnesty and has now convinced itself based on cooked numbers that he's some sort of crazed border hawk. That's where the "relaxation" comes in — and that's the beauty of CIS's otherwise grim data, which shows just how relaxed the system already is.

Lamar Smith Calls Ice Release of 36,000 Criminal Immigrants a President-Sanctioned Prison Break. Texas Republican Rep. Lamar Smith reacted harshly to a new report detailing the crimes committed by 36,007 criminal immigrants that Immigration and Customs Enforcement released last year. "This would be considered the worst prison break in American history, except it was sanctioned by the President and perpetrated by our own immigration officials. These criminal immigrants should have been deported to ensure that they could never commit crimes on U.S. soil. But instead, ICE officials chose not to detain them and instead released them back onto American streets," Smith said in a statement Monday.

Jailbreak: Obama Releases 36,007 Criminal Aliens Into U.S.. Here's everything you need to know about immigration reform: last year the Obama administration released 36,000 criminal aliens into the United States population. The jailbreak was deliberate and included 193 murderers. The Center for Immigration Studies obtained the information and released a report documenting the number and nature of the crimes committed by the aliens. If 36,000 criminal aliens walking around your community wasn't enough, Obama's Department of Homeland Security is aiming to make it even easier for aliens to be released from detention. That's what the groups agitating for immigration reform are demanding. That's what the groups are likely to get. The 2013 jailbreak included rapists, kidnappers, arsonists, burglars, sex offenders, and car thieves. That's merely for 2013.

Feds released hundreds of immigrant murderers, drunk drivers, sex-crimes convicts. Immigration officials knowingly released dozens of murderers and thousands of drunken drivers back into the U.S. in 2013, according to Obama administration statistics that could undercut the president's argument that he is trying to focus on the most serious criminals in his immigration enforcement. Among the 36,000 immigrants whom U.S. Immigration and Customs Enforcement released from custody last year there were 116 with convictions for homicide, 43 for negligent manslaughter, 14 for voluntary manslaughter and one with a conviction classified by ICE as "homicide-willful kill-public official-gun."

The Editor says...
Fidel Castro did the same thing 20 years ago.

Exclusive: Assassination Threat from Mexico Against Family of US Border Sheriff. A routine traffic stop in a small Arizona town near the Mexican border has left one man dead from the gun of a police officer and "credible" assassination threats against the officer and his father, the county sheriff, according to law enforcement sources including the sheriff. The threats originated from a region in Mexico predominantly controlled by the notorious Sinaloa cartel — and are directly related to the police officer's shooting of the now-deceased man, identified as Lauro Avechuco, officials say.

35 'Acts of Love'. Former Florida Governor Jeb Bush insisted that many of the instances of illegal immigrants coming into the U.S. were "acts of love." Though many of the human beings who enter the U.S. illegally or overstay their legally permitted time in the U.S. are doing so to earn more resources and provide for families, many of the illegal immigrants who come into the U.S. are doing so for highly criminal reasons — a fact often left out of the discussion or otherwise barely mentioned. Breitbart Texas has provided 35 of these other "acts of love" for our readers.

Graphic Images Justify Border Patrol's Use of Deadly Force Against Rock Attacks. Breitbart Texas has reported extensively on the left-of-center campaign to restrict the ability of Border Patrol agents to defend themselves and on the false narratives such open-borders advocates use in their political and media attacks against the men and women of the Border Patrol. The reality being far from the false narrative of "kids throwing pebbles," the life-threatening rock attacks against Border Patrol agents often occur in remote areas when a solitary Border Patrol agent may be up to a 90-minute drive from their nearest backup.

Report: Obama administration released 68,000 convicted criminal aliens last year. The Obama administration is threatening public safety by deliberately hampering immigration law and releasing aliens with criminal records, according to a new review of internal Immigration and Customs Enforcement data. A Center for Immigration Studies report to be released Monday and obtained in advance by The Daily Caller, found that last year ICE reported nearly 722,000 encounters with illegal or criminal immigrants. But ICE officers filed immigration charges against less than 195,000 aliens.

7,000+ Sex Offenders Deported from Texas in Past 3 Years. U.S. Immigrations and Custom Enforcement (ICE) has deported more than 860 sex offenders from the State of Texas this year, according to an official press release from the agency. More than 7,000 sex offenders have been deported from Texas alone in the past three years. The release reveals 27% of the deported 860+ alien sex offenders from the past three months committed sex offenses against children.

Illegal Alien Convicted of Raping 13 Year Old Girl. What was it that we are importing through illegal immigration? Good, hard working people? That is what we are constantly told. Yet, as we found out, 45% of all aliens caught at the border were convicted criminals in 2013. Today, we have another manifestation of that imported criminality, the rape and impregnation of a 13 year old girl by an illegal immigrant.

59 Percent of Illegal Aliens Deported Were Convicted Criminals in FY 2013. Almost half of those caught at the border, have criminal histories, of which over 20% have violent convictions. What do these numbers say about the alien population that does make it across the border? Well, certainly, it should put to rest the idea that only hard working, honest people are illegally entering our nation. Instead, our politicians have unleashed a horde of criminals on us. Illegal immigration not only depresses wages, but ruins the quality of life in the United States by allowing unfit and dangerous people in our nation.

Illegal Wanted for Murder in Mexico Enjoys 13-Year Crime Spree in U.S.. Because our elites care more about illegal immigrants than American citizens, this is allowed to happen and it ought to make your blood boil.

US deports 109,511 convicted criminal illegal immigrants in 2013!. How many more criminal illegals are here who have yet to be convicted of their crimes? How many of those not stopped at the border have criminals backgrounds in their native countries?

Violent Illegal Alien California Refused To Deport Kills His Wife. California encourages illegal immigration. It has even gone so far as to refuse to turn over illegals to ICE. They liberals responsible for that policy might feel differently if they lived in the same neighborhoods as men like Mario Chavez.

Feds step up efforts to deport Somalis on Minnesota criminal court rolls. The federal government is engaging in an aggressive effort to deport Somali immigrants who run afoul of U.S. law, after refraining for years from shipping people back to a country wracked by civil war and lacking a functioning government. The policy change affects more than 3,100 Somali nationals who have received final orders for removal from the United States since 2001, either because of violations of immigration law or criminal convictions.

Obama hides aid for criminals in immigration bill. The White House is trying to hide unpopular provisions in the Senate's immigration bill that would allow immigrant criminals to stay in the country and would increase the inflow of low-skill refugees from war-torn countries, says a top White House official. "The bill has a number of other important provisions that have stayed under the radar, and we'd actually like to keep them under the radar," said Esther Olavarria, the White House's director of immigration reform.

Term you will not hear about Atlanta kidnapping perp: Illegal Alien. The Associated Press and numerous other media outlets have banned the terms "illegal alien" or "illegal immigrant" after a relentless campaign by immigration activists who illogically claimed the terms were racist, and who want to soften the reality of crime committed by people in the country illegally. The recent kidnapping and rescue of a teenager in Atlanta demonstrates how the media is wording around the term, and diminishing the facts by making it unclear if the perpetrator was in the country illegally.

The Illegal Alien Murderer of Vanessa Pham. Why is gun control the only policy we're allowed to discuss when horrific murders occur? In the liberal mindset, "root causes" of crime begin and end with the Second Amendment. But who pays the price when our public guardians fail to secure our borders, refuse to deport serial criminal offenders, and enable drug-crazed menaces to prey upon innocent citizens?

Mexican pirates attack Texas fishermen on Falcon Lake. Falcon Lake is famous for its monster bass and for the maniacal obsession of the fishermen who come from all over Texas — and the world — to stalk them. Now this remote reservoir that straddles the international boundary is known for something else: pirates.

Be aware of border if fishing at Falcon. Summer fishing at Falcon International Reservoir is heating up, but authorities are warning anglers not to venture into troubled waters beyond the center line of the Rio Grande.

Pirates shoot US man in Mexican waters. An American tourist was shot in the back of the head in Mexican waters on Thursday after being ambushed by armed boaters, a Texas sheriff said. ... The shooting renewed warnings of pirates on Falcon Lake, which is about 96km down the border from Laredo and is popular with water skiers and bass fishing.

Search continues for Falcon Lake victim. Texas officials on Friday [10/1/2010] reissued warnings of danger on the Mexican side of Falcon Lake reservoir as hopes dimmed for finding a 30-year-old oil worker reportedly shot through the head during an outing to view ruins past the international line.

A 'stupid' mistake or murder? It was planned as a day of recreation for the young couple but turned into tragedy. A 30-year-old man dead, his body lost — possibly forever. As his grieving widow waits for answers, suspicion is cast on her. Then an investigator is murdered as he looks into the crime. Today, nearly six months later, some of the puzzle pieces are falling into place regarding what happened to Americans David and Tiffany Hartley that September day on Falcon Lake, which straddles the U.S.-Mexico border.



Alleged Mexican cartel member reportedly confesses to 30 killings across United States. An alleged member of multiple Mexican drug cartels reportedly confessed to more than 30 killings across the United States. Jose Manuel Martinez allegedly admitted to the killings while being questioned by police about his connection to another murder in Alabama, police announced Thursday [6/13/2013]. Authorities say they have connected him to 10 murders in California and two in Florida, MyFoxAl.com reported.

Rep. Steve King: 'Illegal aliens' invaded my office. Rep. Steve King, a Republican from Iowa and the House's leading immigration hawk, complained Thursday [6/13/2013] about young immigrants who had shown up to protest his bill that would defund President Barack Obama's deferred action program. King wrote on Twitter that "20 brazen self professed illegal aliens have invaded my DC office. Obama's lawless order gives them de facto immunity from U.S. law."

Illegal Alien Rapes Baltimore Girl 1 Year after City Becomes Sanctuary. A year after Baltimore's mayor signed an order officially converting the city into a sanctuary for illegal immigrants, federal authorities announce the arrest of an undocumented Ecuadorian national "wanted for the brutal rape of a 9-year-old girl." It marks the latest in a series of heartbreaking examples involving an illegal alien haven blowing up in a local government's face. We've seen this nationwide in municipalities that enable illegal immigrants to commit atrocious crimes by protecting them from the feds.

ICE admits hundreds of illegal immigrants with criminal records [have been] released. Hundreds of illegal immigrants with criminal records were released earlier this year as the Obama administration prepared for budget cuts, according to newly released data that challenged claims the program involved "low-risk" individuals. Immigration and Customs Enforcement released the figures to two top senators, after a three-month delay and under the threat of congressional subpoenas. Of the 2,226 detainees that were released in February, the department revealed, "622 have been identified as having some type of criminal conviction."

Mexican Cartels Getting Strong and Violent Foothold in the United States. The Associated Press is out with an extensive piece today showing just how far Mexican drug cartels have infiltrated American society. The cartel problem is no longer a border problem, it's a problem for the entire country. Violent cartel members are carrying out crimes in our backyards with the potential to develop into something much worse.

Breitbart News Interview with Assassinated Texas DA Before His Death. A national security expert who has spent several years in intelligence gathering operations around the Mexican drug cartels' criminal insurgency into the continental United States told Breitbart News, "This assassination of DA McClellend and his wife is meant to send a message: no one is safe, no one is beyond our reach. We will kill you and your loved ones. We are in control here." "This is a significant point of escalation in the crisis," he continued. "This type of high-profile targeting of public officials is a classic insurgent tactic. [...]"

Heroin dealer nabbed for reentering U.S. illegally for 4th time. A three-time deportee from the Dominican Republic who's been charged with trafficking heroin in Massachusetts will be arraigned in federal court today for illegally reentering the United States for a fourth time. Juan Miguel Laboy, who is believed to be 38 or 39 years old, was spotted in Lawrence last month by a special agent from the federal Drug Enforcement Administration, according to court documents.

Terrorism in Arizona? Does anyone know about this? We've talked about immigration policy before and we've certainly noted the Federal government's outright refusal to enforce our nation's laws concerning some illegal immigrants. But what about those legally here and in violation of the law or deemed a threat? Wasn't that supposed to be the breaking point, the point at which this administration would step in and take action?

Rep raises alarm after murders by illegals blocked from deportation by home countries. Long after they were ordered out of the country, thousands of criminal aliens from places like China, Cuba, Vietnam and Pakistan remain free in the United States to commit new crimes because their home countries refuse to take them back. For years, this unique problem percolated under the political radar. But recent crimes by immigrant felons have lawmakers scrambling to punish nations that refuse to repatriate their own citizens.

The Editor says...
The solution is quite simple: Put a parachute on each of these guys, and push them out of a C-130 flying over their native land. The word will spread quickly, and the problem will be solved.

Man Accused In Baby Death Had Been Recently Deported. Federal agents said the man accused of sexually assaulting and killing a 1-month-old baby girl had recently sneaked back into the United States after being deported to Mexico four months before the crime.

Report: Illegals released by feds committed 19 murders, 142 sex crimes. The Obama administration released illegal immigrants who went on to commit more crimes, including charges of 19 murders, 3 attempted murders and 142 sex crimes, the House Judiciary Committee said in a report Tuesday [7/31/2012]. All told, the nearly 47,000 illegal immigrants the administration was notified of but declined to deport between 2008 and 2011 under its Secure Communities program had a recidivism rate of 16 percent, the committee said.

Illegal Alien Murderer Had Murdered Before. The illegal alien who murdered a father and two sons in San Francisco in 2008 not only evaded deportation with the city's help but also had murdered before, the San Francisco Chronicle has revealed. Even worse, the FBI knew it and did nothing.

Drunk-Driving Illegal Alien Gets 55 Years For Killing Cop. Johoan Rodriguez, a 27-year-old veteran border jumper from Mexico who killed Houston police officer Kevin Will on May 29, 2011 as the officer, a husband and father, was investigating a another crash, was sentenced to 55 years in prison. Rodriguez was a member of the Salvadoran drug and murder gang MS-13, prosecutors said.

Obama's Willie Horton. Illegal immigrant whose deportation was blocked by the Obama administration alleged to have murdered 15-year-old girl.

13 American Gangs That Are Keeping The FBI Up At Night. More than 1.4 million Americans are wearing the colors of more than 33,000 gangs across the country, according to a report by the Federal Bureau of Investigation. Based on evidence from federal, state, local, and tribal law enforcement, the FBI says gangs commit 48% of violent crime, and are only becoming more dangerous.

GAO report links Arizona wildfires to immigrants. A study by Congress' investigative arm shows investigators have linked 30 fires that erupted in a five-year period in Arizona's border region to people who crossed into the United States illegally — a finding Sen. John McCain said backs up earlier statements he made about illegal immigrants and wildfires.

Illegal immigrants have no right to arms - court. Illegal immigrants do not have a right to bear arms under the U.S. Constitution, a federal appeals court ruled on Friday [12/16/2011]. The U.S. Court of Appeals for the 8th Circuit, based in Missouri, rejected an appeal brought by Joaquin Bravo Flores, who was charged with possessing a firearm. Agreeing with the 5th Circuit, the court concluded that the protections of the Second Amendment do not extend to undocumented immigrants.

Child rape suspect in U.S. illegally, police say. Metro police on Tuesday night [11/22/2011] arrested an illegal immigrant wanted for raping an 11-year-old girl and robbing her parents at the family's Antioch apartment last Sunday evening. Olbin Euceda is in the United States illegally, the Davidson County Sheriff's Office confirmed late Wednesday afternoon [11/23/2011].

Armed illegals stalked Border Patrol. Five illegal immigrants armed with at least two AK-47 semi-automatic assault rifles were hunting for U.S. Border Patrol agents near a desert watering hole known as Mesquite Seep just north of the Arizona-Mexico border when a firefight erupted and one U.S. agent was killed, records show.

Report ties 2006-10 Arizona fires to immigrants. People entering the U.S. illegally from Mexico are believed responsible for more than one-third of human-ignited wildfires in Arizona over a five-year period, according to a government report that could stoke congressional debate over illegal immigration. Sen. John McCain, R-Ariz., said the Government Accountability Office (GAO) report supports remarks he made earlier this year after his state was hit hard by wildfires. At the time, McCain was accused of "scapegoating" immigrants.

Woman, 45, slain while walking to parked car. An apparent carjacking attempt described as a random act of violence has taken the life of a 45-year-old Albion woman and led to the capture of an illegal immigrant charged with her murder, Orleans County sheriff's officials said Monday [10/31/2011]. ... A massive search, aided by K-9 dogs and a State Police helicopter, led to the apprehension of Luis A. Rodriguez-Flamenco, 24, identified by authorities as a Honduran national.

Napolitano silent on alternatives while criminal aliens released in US. Homeland Security Secretary Janet Napolitano told a House committee that she is "not aware" of any actions the Obama administration has taken against countries that will not accept back illegal immigrants in "deportation status," some of whom have committed crimes. After a "six-month detention period," the illegal immigrants are released within the United States.

Illegal alien accused in death may go free — without trial. An illegal alien accused of running down a disabled Waltham man in a crosswalk the day before Thanksgiving, then fleeing the scene, may be deported to Guatemala a free woman without ever standing trial. Federal officials, the Middlesex District Attorney's Office and the victim's heartbroken parents are calling the impending release of Blanca Contreras a nightmare.

ICE HQ Ordered Agents Not to Arrest Illegals — Including Fugitives. Chris Crane, president of a union that represents Immigration and Customs Enforcement officers, testified in the House Judiciary Subcommittee on Immigration last week that ICE agents have been told by ICE headquarters not to arrest illegal aliens who do not have a prior criminal conviction even if they are fugitives who have been ordered deported by an immigration judge or are individuals who have illegally re-entered the United States after being deported and thus have perpetrated a felony.

Man with multiple deportations, DUIs arrested. Police arrested a man who had been previously deported three times on suspicion of drunken driving, resisting arrest and hit-and-run, according to the Escondido Police Department. ... The man had been formally deported three times and had voluntarily returned to Mexico 12 times, [Lt. Craig] Carter said. He also had five previous drunken driving arrests, Carter said.

Top 10 Examples of San Francisco Silliness. San Francisco is a sanctuary city, where illegal immigrants can find safe haven. Since 1989, city police officers have been forbidden from inquiring into an offender's immigration status. As a result, the city has been plagued by violence committed by illegal immigrants who should have been deported for earlier, less serious offenses.

All Illegal Aliens Must Go. Three weeks have elapsed since the final "hearing" by the governor's kangaroo panel was conducted in Brockton — a town where Maria Palaguachi-Cela's body and that of her 2-year-old son were left in a dumpster, allegedly murdered by multi-time violent offender and illegal alien Luis Guaman.

Suspect's immigration status surfaces in HPD officer's death. The suspect accused of driving his vehicle through a police barricade and killing a Houston police officer Sunday may be an illegal immigrant, officials say. Johoan Rodriguez, 26, charged with the intoxicated manslaughter of Houston officer Kevin Will, has a federal immigration detainer placed in his arrest records after investigators found "reason to believe" he was not a citizen.

In a Sanctuary City, An Illegal Immigrant Gets the Death Penalty. Areli Carbajal Escobar, a violent 32-year-old illegal immigrant from Mexico, had a long rap sheet. Over the years in the sanctuary city of Austin, Texas, police and prosecutors had many contacts with him. Yet Escobar was never deported. Now, immigration problems are the least of Escobar's worries. Last week, a Travis County jury sentenced him to death for the brutal rape and murder of a high school honor student.

Deport California's Illegal Alien Convicts. If the U.S. Supreme Court says California has to create room in its prisons by releasing convicts, the least the federal government can do is send those who are illegal aliens back over the border. The message is simple: If you come to our country and don't follow the rules, you're outta here.

Three Convicted in Terror-Related Cases Later Granted U.S. Citizenship. Three people convicted of crimes as a result of a terrorism-related investigation by the Department of Justice (DOJ) were later naturalized as U.S. citizens by the Obama administration, according to federal auditors.

Don't We Have Enough Criminal Citizens Now? Of all the fighting we legal citizens of this country have had to do to try to stop this anti-American, anti-U. S. Constitution, anti-responsible fiscal housekeeping, Socialist-communist government save for one half of the otherwise corrupt Congress from absolute criminal actions intent on the total destruction of our once good and honest country; we are now faced with openly dishonest and country killing "in-your-face-America" decisions by its leadership.

Eight Out of Ten Illegal Aliens Apprehended in 2010 Never Prosecuted, Says Border Congressman. An illegal alien apprehended by the U.S. Customs and Border Protection agency during the last fiscal year had an estimated 84 percent chance of never being prosecuted, according to figures compiled by the office of Rep. John Culberson (R-Texas). Culberson submitted the figures for the record during a hearing Wednesday [3/16/2011] of the House Appropriations subcommittee on homeland security.

Kick criminal aliens out. While those who support amnesty and those who support the rule of law may never agree on how to reform our broken immigration system, there is one area where I believe members on both sides of the aisle in Washington can and must agree: When someone who is here illegally is convicted of a crime, he should not be released back into American communities. Criminal aliens — that is, illegal immigrants who have been convicted of a crime — should be removed from the United States upon release from incarceration. Unfortunately, criminal aliens all too often are released from prison and go right back onto America's streets, where they re-enter a life of crime.

Illegal alien in nun's traffic death had offenses handled inconsistently. A long-awaited report on the deportation status of a Prince William illegal alien whose alcohol-related head-on collision killed a Richmond-based nun shows repeated instances of a failure to report his crimes to Homeland Security as well as a shift in emphasis by the Obama administration in dealing with illegal aliens.

Illegal Immigrant Charged With First-Degree Murder in Virginia. A Salvadoran man who was ordered deported nearly a decade ago but never left has been charged with three counts of first-degree murder in a series of shootings and a knife attack in a Virginia suburb of Washington, authorities said Friday [2/11/2011].

Why won't feds come clean about Chandra Levy's killer? Ingmar Guandique, the 29-year-old illegal immigrant from El Salvador sentenced to 60 years in prison earlier this month for the murder of former congressional intern Chandra Levy, had a history of violent attacks on women pre-dating his unlawful entry into the United States via the Texas border — as thousands like him continue to do every year. It's a one-way ticket to America with no questions asked.

Deportee is linked to 3 cold-case murders. Long Beach Police have arrested a 33-year-old known gang member, who was awaiting deportation from New York to Mexico, for the murders of three Long Beach-area people dating back to the early 2000s.

Bandits who prey on illegals gun down Border Patrol agent. A U.S. Border Patrol agent attempting to arrest bandits who prey on illegal immigrants was killed during a gunfight about 10 miles north of the U.S.-Mexico border near Rio Rico, Ariz., 60 miles south of Tucson.

GOP Senators Demand ICE Stop Release of Criminal Aliens. Senate Judiciary Committee Republicans are demanding Immigration and Customs Enforcement (ICE) stop its policy of selective law enforcement against illegal aliens including the termination of deportation proceedings for a number of dangerous criminal aliens. Led by Sen. Jeff Sessions (R-Ala.), top Republican on the Senate Judiciary Committee, Judiciary Republicans want an explanation from Homeland Security Secretary Janet Napolitano of new selective and lax law enforcement policies for crimes including domestic violence, sexual crimes and driving while intoxicated.

The Shoes Liberal Celebrities Won't Wear. Althea Rae Shaw of Los Angeles wrote an outraged open letter to Colbert after last week's Capitol Hill circus. She is the aunt of 17-year-old Jamiel Andre Shaw II, a young black high-school student who was gunned down by an illegal-alien gang member in 2008 amid brown-on-black violence in southern California. The Shaw family has spearheaded efforts to repeal dangerous sanctuary policies in Los Angeles that protect criminal illegal aliens and handcuff local law enforcement.

Solving the Obama Problem. [Scroll down] Some would go even further. Former Colorado representative Tom Tancredo has cited the president's refusal to enforce immigration law as an impeachable offense, and Arizona state senator Russell Pearce, in a recent interview, has strongly — "absolutely" is the word he used — concurred. "Five to ten thousand folks come across that border daily," he declares, "and what's coming across — 20 percent have criminal convictions — are gang members, drug smugglers, human smugglers, child molesters, rapists. It's an invasion. It's in violation of the Constitution. Yes, it's impeachable. He [Obama] not only neglects to do it, now he's refusing to do it. It's impeachable."

More about The Clamor for Obama's Impeachment.

The Five Most Crime-Ridden U.S. Judicial Districts Are All on the Mexican Border. When measured by the number of criminal defendants charged with federal crimes by U.S. attorneys, the top five U.S. judicial districts for fiscal 2009 were all on the U.S.-Mexico border. In fact, these five judicial districts are the only five on the U.S.-Mexico border — covering its entire expanse from the Gulf of Mexico to the Pacific Ocean.

Prosecutors dismiss rape charges against illegal immigrant. Snohomish County prosecutors have dismissed rape charges against an illegal immigrant whose arrest in Edmonds sparked outrage because he had been deported 10 times before.

Suspect in teen's slaying was deported twice. As she made arrangements Thursday to bury her 14-year-old daughter, Keisha Lambert learned that the suspected gunman in the teenager's killing had been previously deported twice from the U.S.

Pirates terrorize boaters on Texas lake. With machine-guns in hand, Mexico's deadliest cartel is patrolling the waters of a Texas border lake. These pirates have already ambushed three, possibly four boats, operating with virtual impunity as they make off with cash and electronics. It's happening on Falcon Lake in Zapata, 200 yards from the Mexican border.

The Pirates Of Zapata County. There are five bass-fishing tournaments between now and July on [Falcon] lake that help the local economy. So the Zapata County Chamber of Commerce has issued a press release saying that boaters are safe — as long as they stay on the American side. That's understandable but perhaps unwise. After all, pirates that have no compunction about laws against armed robbery probably don't have much concern about border laws either.

Search for missing tourist thwarted by drug gangs. A search for a missing American tourist presumably shot and killed by Mexican pirates on a border lake has been thwarted by threats of an ambush from drug gangs, U.S. officials said Thursday [10/7/2010].

Rape suspect deported 4 times. The man accused of raping a woman behind an Edmonds grocery store has been deported at least four times in the past 15 years, reports KIRO Radio.

If America Were a Free Country, Immigration Would Not Be a Problem. In addition to exploding the dependent population, our porous borders have allowed violent gangs and drug cartels to advance north into the American southwest. People who live in areas close to the border such as southern Arizona are in the crossfire of violent drug traffickers who commit murders, kidnappings, home invasions and robberies.

17 Illegal Aliens Arrested After Drug Smugglers Shoot Arizona Sheriff's Deputy. Authorities searching for drug smugglers who shot and wounded an Arizona sheriff's deputy in the desert south of Phoenix said they captured 17 suspected illegal immigrants Saturday [5/1/2010], including three who may have been involved in the incident.

In Arizona County, Of 64 Highway Chases Last Month, Not One Perp a U.S. Citizen. As media elites in their Sixth Avenue towers look down and tut-tut about those racist reactionaries in Arizona, the real people who have to deal with the real-world problems and ramifications of leftist open border political correctness are not backing down. This weekend on Phoenix' KFYI, radio host Terry Gilberg interviewed Pinal County Sheriff Paul Babeu. The Sheriff's message to Contessa, Katie and all the rest? Come ride alongside me in the patrol car. You'll see the real story.

Rape suspect had prior allegations. The 20-year-old illegal immigrant arrested for sexually assaulting a 6-year old girl at an Albuquerque gym on Tuesday [5/4/2010] had been accused of raping children before.

Holder Rules Out Death Penalty for Illegal Aliens Charged With Murder. Attorney General Eric Holder has directed prosecutors in a federal conspiracy and murder trial not to seek the death penalty for three El Salvadoran men who are in the United States illegally. The three are accused of robbing and shooting Claros Luna on July 29, 2009 in Alexandria, Va., just a few miles from the Justice Department, as Luna transported a prostitute from Maryland to Virginia.

Officers' hands tied on illegal immigrants. It began as a tip to America's Most Wanted: An anonymous caller said the No. 1 fugitive was holed up in a South Side house. With the TV show's cameras in tow, deputy U.S. marshals raided 788 Stambaugh Ave. on Jan. 7 looking for Manuel Penaloza, who was wanted in two killings and a carjacking in Pasadena, Calif. Instead, they found five undocumented immigrants in the tiny bungalow.

Border Patrol Agents Under Attack. Assaults against agents in the Yuma sector have shot up to 126 in the first six months of this fiscal year. That's approaching the number of assaults all last year. Agent Ben Vick was lucky he was wearing a helmet when this brick hit his head. "I looked down and though, 'Oh, that's what hit me.' Because before that, I had no idea. It was just such a huge blow," Vick says.

Officer's killer no stranger to police. The gunman who shot and killed an undercover police officer during a Tuesday night [6/23/2009] sting operation was an illegal immigrant who had been picked up by the U.S. Border Patrol in El Paso and allowed to return home to Mexico 10 years ago. Municipal records also show that Roberto Pedroza Carrillo, 37, had been stopped and ticketed by the Houston Police Department at least four times since 2002...

Immigrant who shot HPD officer was in US illegally. Houston police identified the suspect in a shooting last week that critically injured a police officer as an illegal immigrant from El Salvador, saying federal immigration officials missed multiple opportunities to deport him. On Tuesday, Mayor Bill White said the disclosure about the immigration status of Wilfido Joel Alfaro, who was fatally shot by officers executing a drug search warrant Thursday night, highlights the federal government's failure to identify and deport illegal immigrants convicted of crimes.

Border Patrol Agents Shoot Man as He Runs Over Fellow Officer. U.S. Border Patrol agents shot a man described as a suspected drug smuggler in the New Mexico desert Thursday night, federal officials said Friday. Doug Mosier, a Border Patrol spokesman in El Paso, said agents were trying to stop a pickup truck headed north along a desert ranch road about 11 p.m. Thursday night, when the driver ran over an agent.

Illegal alien pleads guilty to raping 9-year-old. A Dale County [Alabama] man who pleaded guilty to raping a 9-year-old girl was sentenced to a full 18 years in prison, according to authorities. Marcos Velasquez-Morales, 31, of Level Plains, was charged July 30 with first-degree rape after authorities said he lived with the victim's mother.

Widow of slain HPD officer sues Quintero employer. The widow of slain Houston police officer Rodney Johnson filed a wrongful death lawsuit Monday [5/19/2008] against the landscaper who employed Johnson's killer, as jurors continued deliberating Juan Leonardo Quintero's fate. Quintero was convicted earlier this month of shooting Johnson seven times after he was arrested during a traffic stop.

Man Dies in Shootout With California Cops. A man suspected of shooting two police officers during a traffic stop was killed in a wild shootout with police in a strip mall parking lot, authorities said Thursday [12/28/2006]. More than 50 shots were fired between Santa Ana police officers and 33-year-old Oscar Gabriel Gallegos on Wednesday, Santa Ana Police Chief Paul Walters said. … Gallegos was an illegal immigrant who had been deported three times and had a criminal record dating back to 1990, including arrests for drug offenses and assault with a deadly weapon, authorities said.

Suspect identified in market owner's murder. Metro police have identified the suspect in last Friday's murder of Vinod Shah inside his Discount Beer Market at 15116 Old Hickory Blvd. Edgar Rodriguez, 19, is wanted for criminal homicide and is believed to have fled the country to Mexico. Police detectives have been in contact with the FBI regarding the issuance of a federal unlawful flight warrant.

Family blames sanctuary policy in 3 slayings. San Francisco's immigrant sanctuary policies played a "substantial" role in the slayings of a father and two of his sons by allowing city officials to shield the alleged killer from deportation, despite his violent history, according to a legal claim filed Friday [8/22/2008] on behalf of the victims' family. The claim is likely to be followed by a wrongful death lawsuit in which the family of Tony Bologna and his sons could seek millions of dollars from the city.

'Where You From?' The common factor in these killings, as with so many others: The alleged killers came to the country illegally. Federal officials estimate that 40,000 of the 170,000 inmates held in Los Angeles County jails each year are illegal immigrants. And in the cases of Espinoza and Ramos, the police had previously arrested each and — for reasons that remain unclear — the authorities either never referred the arrested alien to Immigration and Customs Enforcement for deportation or ICE failed to institute deportation proceedings.

Mexican Smugglers Make US Lands Unsafe. Interior Secretary Dirk Kempthorne has said that drug traffickers sneaking into the United States from Mexico through U.S. lands administered by his department have made some of those lands unsafe for American families.

Illegal immigrant convicted of assaulting girl gets 57 more months. A deported illegal immigrant who returned to the United States and sexually assaulted a young girl will be spending another 57 months in federal prison. Sergio Hugo Hernandez, 31, of Las Vegas, received that sentence Friday [7/11/2008] on top of a sentence of 10 years to life that he received in state prison for assaulting the girl, said Gregory A. Brower, U.S. Attorney for the District of Nevada.

Daly City police seeking suspect in pry-bar beating of elderly woman. Police are searching for a 28-year-old South San Francisco man suspected of savagely beating a 78-year-old widow inside her Daly City home and leaving her for dead after she surprised him during a robbery attempt. … They identified the suspect in the attack as Jose Perez-Gonzalez, 28, an illegal alien originally from Guadalajara, Mexico, who has been living in South San Francisco.

Hillary's Flip-Flops Border on Insanity. According to Lt. Steve Rogers, a decorated cop in New Jersey and an award-winning writer, there are tens of thousands of murderers, rapists, child predators, robbers and drug dealers who are illegally in the United States. One study shows over 200,000 criminal aliens are preying on US citizens. Border Patrol agents in the Tucson, AZ Sector have apprehended 27,834 illegal aliens with criminal records, 74 of which were for homicide.

The world's most dangerous gang: MS-13 — or Mara Salvatrucha — is the biggest and fastest-growing of the Latin American street gangs. In Maryland alone, MS-13 members are accused of being responsible for a long series of violent crimes including murder. Favoured tactics include decapitation by machete. MS-13 started life as a group of young immigrants on the streets of California in the 1980s.

Deporting some immigrant inmates a big break for states. Programs in New York and Arizona aimed at cutting the prison sentences of certain immigrant inmates so they can be deported faster have federal officials urging other states to adopt similar policies. Officials in the two states say they have saved millions by turning over for early deportation some non-violent immigrant criminals who have served at least half of their sentences.

Our illegal-alien criminal class. One of the first signs of anarchy is when law-enforcement officers arrest common sense while allowing political correctness to roam free. In Virginia Beach, near Norfolk, the reaction of city officials to the deaths of two beautiful teen-age girls is a case in point.

DNA Links Suspect to Freeway Rapes. A man who allegedly raped a 24-year-old woman whose car broke down on a San Diego freeway was expected to enter a plea today to six felony charges, prosecutors said. ... [Alejandro Martinez] Leyva, a gardener and apparent illegal immigrant, was being held at the Orange County Jail, and an immigration hold was placed on him, [sheriff's spokesman Jim] Amormino said.

Slain officer missed suspect's gun in search. The Houston police officer who was gunned down by a suspect Thursday [9/21/2006] after a routine traffic stop apparently missed the man's weapon in a pat-down search, Capt. Dale Brown told reporters today. Juan Leonardo Quintero, a 32-year-old illegal immigrant, has been charged with capital murder in the shooting death of Houston Police Officer Rodney Johnson. … Brown said that Quintero had a criminal history from 1995 to 1999, convicted for DWI, failure to stop and give information and indecency with a child. His driver's license was suspended and he was deported to Mexico by immigration officials in 1999, Brown said.

Cop Killing Sparks Immigration Debate. The shooting of a Houston police officer has sparked a new battle over immigration. Juan Leonardo Quintero, an illegal immigrant, has been charged with killing a Houston police officer last week after a routine traffic stop. Police Chief Harold Hurtt blamed the federal government for failing to secure U.S. borders.

Cop murder spotlights crisis of killer aliens. Though no government agency in the U.S. — not the FBI nor Immigration and Customs Enforcement — tracks violent crimes by illegal aliens, even murders of police officers, a search by WND of news reports in the last three years shows law enforcement personnel are hardly immune to deadly carnage wrought by untracked, undocumented armed predators inside the country.

Sex offender database changed to include deported illegals. More than 2,000 illegal immigrant sex offenders, whose names were absent from a public statewide database because they were deported, have been restored to the Texas Department of Public Safety public Internet site after a Houston police officer's slaying a month ago.

Man charged with child rape is in U.S. illegally, police say. Detectives have arrested a man they say admitted having sex with a 12-year-old girl. Diego Francisco Escobar-Landaverde, 18, of Clayton Estates in La Vergne, was charged him with rape of a child. The incident was reported Saturday afternoon and the suspect was located less than an hour after police began work on the case, Chief Ted Boyd said.

Congressman calls Mexico a "drug cartel". Tom Tancredo, a Republican congressman and presidential candidate, said Wednesday [11/14/2007] that the United States cannot trust the Mexican government in combating narcotics and called the neighbouring counry a 'drug cartel.' 'Mexico is a drug cartel,' Tancredo said. 'The degree of corruption inside the government and the military is so great that it's hard to see where the government ends and where the cartels begin.'

Tijuana police abandon posts. The municipal police force in this troubled border city walked off the job Thursday [1/4/2007] after soldiers and federal agents ordered its members to turn over their weapons in connection with homicide investigations. The surprising turn of events came two days after Mexican President Felipe Calderon dispatched 3,300 federal troops and police to the city in an effort to combat violence linked to drug cartels.

Man who led immigrant brothel ring pleads guilty. A man accused of managing brothels in Texas and Oklahoma as part of a nationwide ring that forced immigrant women into prostitution has pleaded guilty to federal charges. Juan Balderas-Orosco, 34, faces up to 30 years in prison for transportation for prostitution, importation of illegal aliens and conspiracy to smuggle, transport and harbor illegal aliens.

36 indicted in Mexican Mafia crackdown. A former San Diegan and other leaders of the Mexican Mafia prison gang led a massive crime syndicate in Southern California that ordered murders and controlled street gangs, according to a sweeping federal indictment announced yesterday [6/16/2006].

Americans speaking out against illegal immigration. Seven weeks after the collapse of legislation in Congress, the outcry against illegal immigration is louder than ever. It is manifested by proposed clampdowns at the state and local level and an uproar over the arrest of an undocumented immigrant in the execution-style slayings of three New Jersey college students.

The Color of Crime: The execution-style murder of three African-American college students in Newark, N.J., forced to kneel and shot in the head — allegedly by an illegal alien from Peru who was out on bail for the serial rape of a 5-year-old — has the makings of a Willie Horton issue in 2008. Newark, like New York, is a "sanctuary city," where cops are not to ask criminal suspects if they are in the country legally.

For Illegal Aliens, Crime Pays — and So Do We. Except for when an illegal alien does something horrific … we rarely hear that these crimes are committed specifically by illegals. This is due to two factors: first, illegal aliens are often silent on family violence and afraid to report crime within their communities. And second, the mainstream media seem to go out of their way not to inform us, as they rarely make any distinction between crimes committed by US citizen perpetrators or those committed by illegal alien perpetrators, and this is an egregious violation of the press's mandate.

Government Not Tracking Illegal Alien Crime Even As It Spirals Up. Operation Predator began on July 9, 2003, and resulted in 6,085 child predator arrests throughout the country — an average of roughly 250 arrests per month and eight arrests per day. However, while Operation Predator is a noble effort, it is making only a small dent in the criminal activity of illegal aliens. In fact, the criminal activity in the illegal alien community is now so bad that illegal aliens are being held for ransom and as slaves by other illegal aliens, andsmugglersare kidnapping illegal aliens from other smugglers!

[The article above contains numerous additional links. Check it out.]

Illegal Alien Criminal Activity Will Shock You. There are currently over 400,000 unaccounted-for illegal alien criminals with outstanding deportation orders. Those are just the ones we managed to apprehend at some point. At least one fourth of these are hard core criminals. No one knows how many more there are. As noted above, however, they are numerous and roaming your neighborhoods, preying on you and your family.

Mexican drug cartels take over U.S. cities. Mexican drug cartels operating in cities in the U.S. are buying up legitimate businesses to launder money and using some of the proceeds to win local mayoral and city council seats for politicians who can shape the policies and personnel decisions of their police forces, according to Rep. Tom Tancredo, R-Colo., who has led the fight to secure the U.S.-Mexico border and enforce the nation's immigration laws.

Brutal gang tests officers, cities and FBI. A poor soul suspected of cooperating with the authorities is abducted at gunpoint, beaten unmercifully, tortured and decapitated; another is gang-raped and shot repeatedly. … It is not Muslin extremists in America who are perpetrating such acts of extreme violence within our own borders, but members of a large, highly-organized and well-funded street gang known as MS-13. You'd better watch out, because they may be coming to a neighborhood near you.

The Coming Gang War: According to the FBI's National Gang Task Force Director Robert Clifford, MS-13 is following the same paths as do Mexican illegal workers. Clifford said: "The migrant moves and the gang follows. If you follow the construction trade, that is where a lot of these immigrants go."

'Most wanted' lists are filled with hard-to-track Latinos. "We have no way to track down people like this," Johnston Sheriff's Lt. Fred Dees said. "They're anonymous — invisible, really." Law enforcement agencies often search in vain for suspects who may not be in the country legally. As a result, Latinos — the bulk of the 300,000 illegal immigrants in the state [of North Carolina] — dominate the lists of "most wanted" crime suspects in Wake and Johnston counties.

The gangstas in my neighborhood: The peaceful suburbs of Washington, D.C., are beginning to look and feel like East Los Angeles. The violent illegal alien gang Mara Salvatrucha (or MS-13) has thoroughly penetrated the region — and its murderous members continue to be aided and abetted by reckless government officials at every level who refuse to enforce our immigration laws.

MS-13 in Your Backyard. They are vicious, they are violent, they murder, rob, rape and behead their victims. MS-13 appears to be in control of much of the Mexican border. To sustain themselves financially, they smuggle people, drugs and guns across borders. They collect money from illegals. Where MS-13 goes, violence goes. They stop at nothing.

The victims of illegal immigration. President Bush accuses those of us who want to secure America's borders and fully enforce our immigration laws of lacking "compassion." Huh. Well, I have yet to hear an ounce of compassion from President Bush for America's countless casualties of lax immigration enforcement. Where's the sympathy for innocent, law-abiding citizens who have lost their lives at the hands of illegal aliens and their open-borders enablers?

Illegal Alien Crime Wave: On April 7, 2005, the US Justice Department issued a report on criminal aliens that were incarcerated in federal and state prisons and local jails. In the population study of 55,322 illegal aliens, researchers found that they were arrested at least a total of 459,614 times, averaging about eight arrests per illegal alien.

Fired illegal indicted in crimes. An illegal alien who lost his job because of Arizona's still-pending employer-sanctions law has been indicted by a grand jury in Phoenix on charges of armed robbery, theft and aggravated assault.

Illegal Aliens Linked to Rise in Crime Statistics. In the population study of a sample of 55,322 illegal aliens, researchers found that they were arrested at least a total of 459,614 times, averaging about eight arrests per illegal alien. Nearly all had more than one arrest. Thirty-eight percent (about 21,000) had between two and five arrests, 32 percent (about 18,000) had between six and ten arrests, and 26 percent (about 15,000) had 11 or more arrests. Most of the arrests occurred after 1990.

Border control: The Bush Administration would have us believe that most illegal immigrants (or "undocumented workers" in the lingo of political correctness) are merely looking for a better life and taking only those jobs that Americans do not want. Kerry Morales isn't buying that line. "Maybe 20 years ago the illegals were innocent, hard-working people," she tells the San Antonio Express-News. "Not any more. Now they're extremely dangerous. They mean violence."

Crime 'franchise' hub in Denver. Federal and state authorities are working to permanently close a metro Denver counterfeit documents ring allegedly masterminded by a Mexico-based crime family they believe operates in at least 33 states, churning out tens of millions of dollars worth of fake IDs.

Five illegals face deportation after killing principal. Deportation to Mexico is possible, if not likely, for five illegal aliens involved in a fatal traffic crash this week that claimed the life of a popular school principal in South Florida.

Immigration Insanity: Largely unknown to most Americans is the large percentage of the nation's incarcerated criminal population representing the failure of those agencies responsible to protect this nation against the dangers posed by illegal aliens.

Deputy David March: On April 29, 2002, Deputy Dave March was murdered on the streets of Los Angeles County. The suspected gunman then fled the Country to Mexico. It is believed by many that the Mexican Government has refused to extradite the suspected killer because he may be imprisoned for life or executed for the crime.

Aztlan group blamed for newspaper theft. Police at Pasadena City College in Southern California say they have no suspects in the theft of 5,000 copies of the campus newspaper despite a claim by students identifying themselves as members of Movimiento Estudiantil Chicano de Aztlan — MEChA — saying they were responsible.

MEChA — The Mexican Nazi Movement. MEChA ("Movimiento Estudiantil Chicano de Aztlan" or Chicano Students Movement of Aztlan) is neither a fraternity nor a "good-natured and altruistic college campus organization". Rather, it is the Hispanic version of the Nazis, Ku Klux Klan or Islamic Jihad — take your pick or mix 'n match.

Illegal immigrant who killed nun in accident was released by feds. The Virginia man suspected in a drunken-driving crash that killed a Catholic nun in Prince William County this weekend is an illegal immigrant and repeat offender who was awaiting deportation and whom federal immigration authorities had released pending further proceedings, police said Monday [8/2/2010].

It's 'Only' One Dead Nun. It reads like a Hollywood script: one nun killed, two critically injured by an illegal alien driving drunk. Perpetrator Carlos A. Martinelly Montano has been here for several years. He has two prior drunk driving convictions, for which he received a 30-day jail sentence for the first — and served no time — and served only 20 days of an approximately one-year sentence for the second.

Sisters of Political Futbol. Note to Democrat press secretaries: even the mainstream media will ask embarrassing questions regarding immigration after a drunk illegal runs over a nun.

Illegal immigrant indicted for murder in nun's death. The illegal immigrant accused of killing a Benedictine nun in a drunken driving crash in Prince William County has been indicted for murder.

Back to the Immigration Issues page
Back to the Home page