News Media Bias in Joe Biden's Favor
Editor's note:
The entire TV news industry is obviously pulling for Joe Biden. This became severely obvious on or about November 4, 2020, when the news media began to refer to him as "President-Elect Biden," even though no state had certified his win at that point. After repeating that lie multiple times daily, over the next few weeks, Biden's status as "President Elect" became "common knowledge." Mr. Biden started making appearances in front of a made-for-TV backdrop that said, "Office of the President Elect." There is no such office. It's all a part of the news media fabrication, designed to make us believe that Biden was legitimately elected, which he was not.
Related topics on other pages:

Joe Biden (in general)
Media bias (in general)
Specific examples of media bias
Media bias in Barack H. Obama's favor
Media bias in Hillary Clinton's favor
Media bias in opposition to Donald Trump
---
Overview:
The press just can't stop propping up Democrats. Here are a few examples of what the media does as they campaign for Biden: They falsely repeat the claim that Biden inherited a disastrous economy and that his excellent economic policies turned it around. [...] They mostly ignore the disaster of the open border policies. They seek to destroy the Supreme Court for daring to block the dictatorial edict of Biden on student loan forgiveness, instead of admitting that that was a clear abuse of power. And every day, there are stories that blame humans, oil, and coal for causing fires, warming, tornadoes, hurricanes, floods, and droughts as they push Biden's radical green agenda to destroy companies that produce reasonably priced energy. What these stories lack is scientific data that shows any direct correlation, but facts haven't mattered for a long time. Then there is a great effort to hide the truth about Joe Biden's extensive involvement in Hunter and Jim Biden's massive kickback scheme no matter how much evidence they see.
ABC, CBS, NBC Circle the Wagons Around Biden After First Impeachment Hearing. The House Oversight and Government Reform Committee held the first hearing Thursday in the chamber's impeachment inquiry against President Joe Biden into the litany of disturbing facts showing a life of corruption and ruin inside his family led by his son Hunter and brother Jim. Naturally, the major broadcast networks of ABC, CBS, and NBC used their flagship Thursday night and Friday morning news shows to insist there's nothing to see here. ABC's World News Tonight anchor David Muir framed Republicans Thursday as though the party writ large was unconcerned with the possible government shutdown: "Meanwhile, as millions brace for a shutdown, and what this could mean for their pay, House Republicans moving forward on something else: the impeachment inquiry into President Biden."
Media Do Biden's Bidding With Blackout On Republicans' Impeachment Inquiry. Corporate media like CNN, MSNBC, NBC, CBS, and ABC, which were once eager to amplify Democrats' sham impeachments of former President Donald Trump, did the bidding of the Biden administration on Thursday when they refused to air footage of Republicans' impeachment hearing. Instead of covering the GOP's impeachment inquiry and showing the public the latest round of Biden corruption evidence, several notorious Trump impeachment cheerleaders such as CNN and MSNBC chose to flood their front pages and the airwaves with footage of Biden's "democracy"-themed Arizona speech. Those media organizations that acknowledged the impeachment inquiry was happening only did so to cartoonishly glad-hand Democrats for using "GOP's own talking points against them" and pen dishonest "fact-checks" designed to discredit evidence of Biden's corruption.
Can You Spot The Difference Between The Menendez And Biden Foreign Influence Scandals? [Scroll down] A number of astute people noted how CNN was credulous to the point of absurdity, but near as I can tell, no one has yet noted that CNN's "fact check" needs... a fact check. "On the allegation that these dinners with Joe Biden 'resulted in cars,' [Hunter Biden business partner Devon] Archer said the businessman Rakishev wired Hunter Biden the exact amount of money that Hunter used to buy a Porsche. This car has nothing to do with Joe Biden," notes CNN. To start, the $142,300 wasn't used to buy a Porsche — it was used to buy a Fisker Karma, an EV sports car made by an automotive start-up that got $192 million in loans from the Department of Energy to, among other things, take over an abandoned General Motors factory in Wilmington, Delaware, which is coincidentally the Bidens' hometown. Fisker defaulted on those massive loans, costing American taxpayers $132 million, and Hunter later traded the Karma for a Porsche.
NBC Notices Border Crisis as Nets Scramble to Insist Biden Is in Control, 'Taking Action'. After having been out to lunch this week on the latest surges of illegal immigrants across the U.S./Mexico border, NBC finally arrived on scene with Thursday's Today, but only gave 73 seconds to the issue and was delivered entirely from Rockefeller Plaza and the White House. And, though ABC and CBS kept up their coverage, they insisted President Biden was in charge, touting him "taking action" with "a major move" supposedly to control the flood as though his administration had nothing to do with the invasions of unregulated illegal immigration.
Think Impeachment Will Help Biden? Then Why Is He Behaving Like A Cornered Rat? Over the weekend, we came across a story warning Republicans about their decision to start an impeachment inquiry into President Joe Biden. [...] In just the past few days we've seen a multitude of such warnings. Here's a small sampling:
• "Impeaching Biden Is a Desperate Gamble That Will Backfire"
• "Republicans would love to impeach Biden. It would backfire on them."
• "How Republicans' Push to Impeach Joe Biden Could Backfire"
• "Could the Biden impeachment inquiry backfire on Republicans?"
• "Will the House GOP's Biden impeachment probe backfire?"
• "This is the White House's Dream!"
Here's the strange thing. Every one of these headlines appeared in leftist newspapers, were penned by leftist authors, or were uttered on leftist cable news programs. It's almost as though these outlets all got their marching orders from a single source. Which, it turns, out, they did — the Biden White House.
The media cannot save lyin' Joe Biden — even with his demands. Hunter Biden finally has been indicted and House Republicans have formally turned their sights on President Biden by opening an impeachment inquiry. Those are major developments, but perhaps the most important thing Americans learned last week is that the media is immune to embarrassment. The White House letter demanding that news outlets "ramp up scrutiny" of the GOP revealed the unspoken assumption that the Washington press corps can be counted on to rescue a failing Democratic president. As such, it is a giant insult to the outlets that proclaim themselves free of both fear and favor. How strange, then, that there was nary a peep of media protest over the expectation they would do the president's bidding.
The deep state is through with Joe Biden. When WaPo's David Ignatius declares the man he did so much to install in the Oval Office should not seek re-election, it means something. Actually, it means a lot. Ignatius is a despicable excuse for a "journalist." As I stated here, Ignatius was a primary mouthpiece for deep state actors peddling the Russiagate conspiracy. Any journalist with a modicum of integrity and self-respect — given what everyone should know now, and anyone with any intellectual curiosity should have suspected even then — would have outed the sources that fed him such bogus and blatantly false information. Alas, there have been no "mea culpas" from Mr. Ignatius or any outing of his deep state sources. Ignatius wasn't an unwitting dupe; he was an active participant in the deep state coup to overthrow a democratically elected president. If this isn't the definition of sedition, I can't imagine what would be. The logical conclusion that Ignatius is no more than a mouthpiece for the CIA is hard to escape. This is what makes his call for Biden to bow out now so significant.
Media's covert protection of scandal-plagued Bidens comes to light and yet they still push president, Hunter's innocence. What a desperately presumptuous act it is for the White House Counsel's Office to blast out a memo ordering media organizations to apply the blowtorch to Republicans and defend President Biden in the impending House impeachment inquiry. Ian Sams, the grandly titled special assistant to the president and senior adviser and spokesman for the White House Counsel's Office, declared: "It's Time For The Media To Do More To Scrutinize House Republicans' Demonstrably False Claims That They're Basing Impeachment Stunt On." Talk about ungrateful. The White House is making overt what has been covert, and humiliating their media handmaidens in the process. That section of the media that ought to have been scrutinizing the president rather than covering him must be scratching their heads, and red-faced with embarrassment. They don't need a public rallying cry. They already know what to do. They have been carrying water for Joe Biden since he first shuffled out of the basement.
American Pravda: The White House tells the newspapers what to publish and what to omit.
White House Sending Letter to News Outlets Urging them to 'Ramp Up' Scrutiny of GOP Over Impeachment Inquiry. The White House intends to urge the top executives of several mainstream news outlets to "ramp up" their scrutiny of House Republicans one day after House Speaker Kevin McCarthy opened an impeachment inquiry into President Joe Biden, according to a draft letter obtained by CNN. "It's time for the media to ramp up its scrutiny of House Republicans for opening an impeachment inquiry based on lies," Ian Sams, a spokesman for the White House Counsel's Office, wrote in the draft letter, which is expected to be sent on Wednesday. The letter does not include the list of media organizations, although a separate White House official reportedly said it will be sent to CNN, the New York Times, Fox News, the Associated Press, CBS News, and other outlets.
Rewriting history... it works more often than you think. It's maddening, but true. If there is a choice between confronting a difficult truth and believing an obvious lie many people will choose the latter. [...] Karine Jean-Pierre will look the Washington Press Corps in the eyes and lie with a straight face nearly every day, and they dutifully report what she says as if it is plausible. [...] Our MSM pulls this same sort of [stuff] all the time on a range of issues. How many clips of reporters denying that there is a shred of evidence that Joe Biden helped his son engage in influence peddling? The Washington Post's Philip Bump beclowned himself by claiming (again) that there is zero evidence that Joe Biden had anything to do with Hunter's business, and when pressed left a podcast in a huff. [...] Rest assured, though, that Bump will continue pushing the lie, and vast numbers of people will continue to believe it because the alternative is confronting a hard truth. How many TV anchors have repeated the same lie that there is no evidence that Biden was deeply involved in his son's business? [Tweet with video clip] It's not just Bump. Almost every MSM reporter and commentator has had a changing story about Joe Biden and Hunter for years now; the only consistent part of that story is that Joe is totally innocent and ignorant about Hunter's antics.
Washington Post Reporter Implodes When Pressed About Hunter Biden Bribery Story. They are wrong about everything. The Russian collusion hoax remains in the hall of fame regarding institutional failures. The story never gained traction because there was no solid evidence. Every 'bombshell' died days after being outright debunked or was more than light on corroborating documentation. It soon took a life of its own as anti-Trump liberals became engulfed in conspiratorial paranoia. No one has ever been fired or apologized for perpetuating this journalistic fraud on the masses, a fake news story that's believed by the core of liberal America. But given liberals' penchant for self-righteousness and insufferable condescension, it's not shocking that we'll never get an apology.
From One Unapologetic Media Hoax to the Next. Joe Biden lied repeatedly when he claimed he knew nothing of his son Hunter's influence-peddling businesses. The President further prevaricated that he had no involvement in Hunter's various shake down schemes. Yet, the media continued to misinform by serially ignoring these facts. Had journalists just been honest and independent, then candidate Joe Biden might have lost a presidential debate and even the 2020 election. The public would have learned that Hunter's business associates and his laptop proved Joe was deeply involved in his son's illicit businesses.
Two Presidents, Two Disasters, Two Narratives. Speaking of vacations, Joe is now in the record books, "President Joe Biden just took his 367th day of vacation in just 2.5 years, which sets a record compared to any other president in recent history." Congrats to Vacation Joe. He has taken more than a year of vacation in two and a half years. Maybe we should be grateful although this begs the question of who is running the country? Who's paying for this lavish Biden family vacation? Few in the media are asking. When Supreme Court Justice Clarence Thomas is the guest of some rich friend, the media and the left are calling for his impeachment and imprisonment. Not so for the Bidens. The New York Post did investigate and found, "The First Family is renting the home for fair market value." What's fair market value? The Big Guy rate? Is Hunter paying the tab as he does for most of his father's and family's expenses? The media is incurious.
Regime Media Launder Dirty Details Of Hunter Biden's Plea Deal And His Dad's Filthy DOJ. The recently imploded sweetheart plea deal for Hunter Biden was even more sugar-infused than previously known, weekend stories by Politico and The New York Times revealed. But rather than condemn the Department of Justice for interjecting itself in the case against the president's son to pressure Delaware U.S. Attorney David Weiss to end the investigation, the lengthy articles by Politico and the Times attempted to spin that fact and many more as evidence that Hunter Biden was being unfairly targeted. The narrative, however, just won't fly. Instead, it exposes more troubling details and provides further proof the House of Representatives needs to open impeachment inquiries against President Joe Biden, Attorney General Merrick Garland, U.S. Attorney Weiss (and possibly the D.C. and California U.S. attorneys), and FBI Director Christopher Wray.
The sad demise of mainstream political reporting. Picture this: You're a budding journalist, fresh out of college, ready to change the world with your pen. You've studied the greats, internalized the importance of truth, and promised yourself that you'd never back down from a good story. But then, reality knocks on your door in the form of newsroom politics, corporate and political pressures, and perhaps even some well-placed incentives. You find yourself caught in the gears of an industry that is more focused on sensationalism and narrative-building than on unbiased truth-telling. [...] And then there's the Hunter Biden laptop story. Ah, the delicate dance between doing your job as a reporter and the promotion of the deep state's narrative. You see, you tell yourself, sometimes a story feels so outlandish that it must surely be a Russian disinformation campaign and a nefarious attempt to influence an election. It's your duty, as a responsible journalist, to verify sources, weigh credibility and report the truth without fear nor favor. Yet, in doing so, you risk alienating the left-wing readership, causing them doubt about your loyalty to the cause, and, heaven forbid, damaging your career prospects.
Today is Not the Day. In "$20 million and counting" I noted the latest House Oversight Committee memo detailing the results of their investigation of the Biden family business. I concluded that maybe someone would make something of it one of these days. A reader shared the results of his research to let me know that today is not the day. He writes: ["]I just did a little experiment to see how NBC News and Google present the news on the Biden corruption scandal. Say you want to read the latest reporting from NBC News on that subject. You might google "NBC News on House Oversight Committee Hearings." So I did. What filled the first screen were three reports: a July 26 report entitled "Lawmakers call for greater transparency on UFOs during hearing," a June 2 report titled "FBI to show House Oversight leaders document in Biden probe ..." and a February 25 report titled "House Republicans seek Treasury testimony in Hunter Biden probe." If you didn't look any further, you would be forgiven for not thinking there was any new news to report, right? Nothing new to see, and it must not be very important, right? June and February. Big deal.[..."]
Sunday Shows on Liberal Networks Completely Ignore Devon Archer Testimony in Biden Scandal. The majority of Sunday news shows this weekend completely ignored the devastating testimony from Hunter Biden business partner Devon Archer last week. It's not surprising because most people know at this point that the liberal media is now basically the public relations arm of the Democrat party. They're not going to report on or discuss anything that might harm Joe Biden, or any other Democrat for that matter.
A brief, sad history of bias in the news. A glaring example of the bias by omission is the virtual disappearance of the Biden family's bribery scam from the airwaves and pages of the same major media outlets. This in spite of congressional hearings and alternative media interviews, let alone the magnitude of the corruption being revealed.
America and the Common Characteristics of Authoritarian Regimes. [#2] Media Control: In authoritarian countries, the media is the propaganda wing of the regime. Every syllable that appears is approved by the regime. There may be a variety of news outlets, but all of them follow the groupthink assiduously. Violators are dismissed from the mainstream. The regime always works toward hounding and dismantling adversarial media. When PM Indira Gandhi suspended democracy in India from 1971 to 1977, restricting media freedoms was one of her first actions.
Liberal media bends over backward to dismiss new Joe Biden revelations. The president of the United States denies that he ever had anything to do with his son's efforts to sell access to him. The denials crumble, one after one, bringing the story ever closer to home. Multiple members of the president's family receive millions from shady foreign interests through shell entities. Multiple figures in the story have been convicted of crimes — including official bribery conducted through family businesses of foreign leaders. The influence-peddling saga covers America's number one enemy (China) and the country the president is now backing with tens of billions of taxpayer dollars (Ukraine) — the very place where his predecessor got impeached for digging into what he'd been doing there. The son's sweetheart plea deal with prosecutors who ultimately answer to his father collapses in open court. The prosecutors admit that there's no precedent for the deal they cut, and it only falls apart after the judge catches wind of parts of the deal they tried to hide from her view.
A Country Descending into Madness. Since 2016, the D.C. Uniparty and permanent Deep State have hyperventilated about Trump starting WWIII, destroying the economy, locking up his enemies, and using the powers of his office to enrich himself. None of that happened. He was the "peace president" who brought wealth back to the middle class, while taking no salary for his public service. His reward? Unending attacks from the corrupt FBI, an avalanche of legal bills, and D.C.'s obsession with throwing him in the gulag for life. [...] The D.C. Uniparty warned that Donald Trump would act as a tyrant, flout the law, fleece citizens of their paychecks, and make the world a more dangerous place. He did not. However, his illegitimate successor — Deep State stooge Joe Biden — has done all of these things. Incurious, imbecilic reporters cannot see the irony.
Media Talking Points About The Biden-Forced Firing Of Ukraine's Prosecutor Are Laughable. Joe Biden famously bragged that while vice president, he forced the firing of Ukraine's prosecutor general, Viktor Shokin, by threatening to withhold $1 billion in U.S. government aid from the financially strapped European country. Biden's boast, however, now threatens his presidency because overwhelming evidence indicates the Ukrainian energy company, Burisma, paid Hunter Biden millions to have his father deal with Shokin. In response to this most serious of scandals, Biden and his Democrat and media backers are pushing the most ridiculous of narratives: Biden didn't want Shokin fired for investigating Burisma, but for not investigating Burisma. Then-Vice President Biden was only executing American policy — a policy supported by our allies, you see? So neither Joe nor Hunter Biden did anything wrong, the party line goes.
Stop Saying That 'It Can't Happen Here' — It IS Happening Here. But make no mistake, tyranny is here. It's hidden by state-run news outlets that distract us from the truth with stories about little green men and Lizzo's latest chunky stunt. They lie to Americans on their 24-hour news propaganda platforms about our own president's skullduggery with China and downplay or ignore the ramifications that chicanery presents, such as spy balloons left unfettered, a border left open, secret Chinese police stations, and more than 13,000 military-aged Chinese people flooding into our nation. Our leaders lie to us with "The sky is falling" flapdoodle about how climate change and phantom white supremacy, not the tyranny they sponsor, will be our downfall.
By next week the MSM will name Joe Biden "Dear Leader". I keep waiting for somebody in the MSM to grow a conscience. [...] None of these people has a conscience, and as a group, they have less integrity than your average con man. The MSM is just trash. Anybody with half a brain by now knows that Joe Biden was at least peripherally involved with — as in aware and complicit in — Hunter Biden's business and even his dissolute life filled with illegal activities. We also know that Joe Biden personally benefited from Hunter's activities, given that they shared bank accounts, and that the entire Biden family got disbursements of cash from Hunter's ill-gotten millions. We have circumstantial evidence — very strong — that Joe Biden knew exactly what Hunter was doing and colluded with him to convince Hunter's clients and business partners that he could deliver on promises, using Joe's political power to get results for his clients. On this latter point we don't have absolute proof, but at the very least the preponderance of the evidence is that Joe corruptly solicited bribes and perhaps delivered on the goods (for instance, getting the Ukrainian prosecutor fired).
Biden Allies Spread Photoshopped Pictures of the President to 'Prove' He's Fit for Second Term. As a growing number of Americans believe President Biden is too old for a second term in office, White House allies are employing a desperate strategy to convince voters that the President is fit enough to serve: They are photoshopping Biden's pictures. Their efforts appear to be part of a months-long campaign to sway the 68% of voters who think Biden is too old for a second term. Since Biden launched his re-election campaign on April 25, White House allies have shared the same four digitally altered photos of Biden repeatedly — without acknowledging that the photos have been edited. One edited photo even retained its original Getty Images watermark, adding to its supposed authenticity. In each case, Democrat influencers contrast the images with unflattering pictures of Trump, arguing that the comparison proves Biden is not only fit for office, but also more fit than Donald Trump is.
What is the Future for America's Experiment with Democracy? The real election issues are the changes that were made in voting procedures and the manipulation and suppression of information relevant to the voters. Now-Secretary of State Antony Blinken organized a lying fest in which he got 50 national security types to state in writing that the Hunter Biden laptop (which had been in the FBI's possession for more than a year) was a Russian disinformation operation. We know it was not. What it was was an Antony Blinken disinformation operation. Then, as we learned from Facebook's Mark Zuckerberg, the FBI piled on, warning media outlets that the impending dump of anti-Biden information gleaned from the laptop was probably a Russian plot. That's why you heard almost nothing about it from the mainstream press during the election.
CNN Buries Devon Archer, Hunter Biden Revelations. CNN buried the story Tuesday of Devon Archer's explosive testimony at the House Oversight Committee the day before, which implicated President Joe Biden in his son Hunter's influence-peddling schemes and suggested the president lied to the country. Archer testified, among other things, that Hunter Biden had put his father on a speakerphone to talk to his business associates at least 20 times, contradicting repeated claims by the president that he had never spoken to his family about their business affairs.
MSNBC Hack Claims Joe Biden Was Not Aware of Hunter's Mega-Millions Influence Peddling Because He Was Sad. This is the type of thoughtful, in depth commentary you can expect from MSNBC. After Monday's historic Congressional deposition by Devon Archer, Hunter Biden's best friend and business associate, the left is in a panic. Devon Archer sang like a bird. Archer told House investigators that Joe Biden met with Hunter Biden's clients numerous times, joined into meetings over the phone, and the family was rewarded with tens of millions of dollars for influence peddling and bribery schemes. This was damning testimony that directly ties Joe Biden to the family business and foreign bribes. Hunter and Joe Biden "sold the brand" for millions in political favors.
How Investigative Journalists Have Become Cover-Up Promoters. While this evolution from clean to corrupt has been proceeding apace for fifty years, there is no better incarnation of this perverse role change than the recent journalism concerning ostensible Biden family corruption. There is much room for legitimate, good-faith debate about the strength of evidence against Hunter Biden and, separately, his father Joe. But the debate is properly about the unseemly activities of Hunter and the practiced neglect of same, at the least, by his father. Whatever the strength of evidence, all of it is ugly, worrisome, problematic. There is no way to sugarcoat this: there is a noisome stench emanating from Bidenville that cries out for further investigation. This tableau of potential Biden family corruption amounts to a test of the bona fides of modern "investigative" journalists. Will they investigate facts in a dispassionate way, or will they act as partisan publicity agents covering up wrongdoing, perhaps treason?
Nets Ignore Four New Biden Scandals on Burisma, Hunter's Life of Corruption. Between Monday and Tuesday, four new Biden family scandals emerged, ranging from Hunter Biden's artwork to business dealings inside Delaware to conflicts of interest in his tax probe to a former ally finally agreeing to spill the beans to a House committee about the Biden family's ties to Burisma. If course, none of these scandals made it on the flagship morning and evening newscasts of ABC, CBS, and NBC. Instead, the networks had other priorities, such as lying about Florida's Department of Education and screeching about Israel's judicial reforms signaling the end of its democracy. And, in the case of ABC, Good Morning America shelled out 12 minutes and 41 seconds to their first two stops on a tour of MLB ballparks, including a look at some of their unique snacks.
Media beg Republicans to 'move on' from Hunter Biden — because they know scandal is serious. "I wonder after this plea happens if you would advise your party to move on?" That question from CBS's "Face the Nation" host Margaret Brennan to Republican presidential candidate Chris Christie was raised just days before a former business associate of Hunter Biden, Devon Archer, gives potentially explosive testimony to a House committee in the Biden corruption scandal. The media's desire to "move on" from the scandal is reaching an almost frantic level, as millions in foreign payments and dozens of corporate shell companies are revealed, and incriminating emails are released. The same plaintive demand was made in congressional hearings.
Media Can't Understand Why Biden Is So Unpopular (After Everything They've Done For Him). Over the weekend, CNN ran a segment titled "Why isn't Joe Biden more popular?" noting that only one president in modern times had a lower approval rating at this point in his first term. That president was Jimmy Carter. CNN pointed to an analysis by poll aggregator FiveThirtyEight, which finds that 57.6% disapproved of Jimmy Carter 915 days into his term, while 55% disapprove of Biden. At this point, Trump had a disapproval rating of 52.6%. Biden is also far more unpopular than George H.W. Bush (36% disapproval), who went on to lose his reelection bid to Bill Clinton, and Lyndon Johnson (33% disapproval), who decided not to run for reelection. To say this is baffling to the mainstream media is putting it mildly. For years, they've been scratching their heads to understand why Biden has been underwater with voters.
Media Blackout: Corporate Media Ignore Hunter Biden Revelations. Most corporate media outlets completely ignored bombshell revelations on Thursday involving allegations that Hunter Biden and then-Vice President Joe Biden were involved in a bribery scheme in 2015 and 2016. Sen. Chuck Grassley (R-IA) on Thursday released an unclassified FBI document that memorialized a conversation between the FBI and one of their trusted informants, who passed on to the FBI detailed allegations from the founder of the Ukrainian natural gas and oil company who employed Hunter Biden, that Hunter Biden and then-Vice President Joe Biden were both involved in a bribery scheme.
When Republicans Win, the Media Are Hearings-Impaired. On July 19, the House Oversight Committee — with both parties represented — held a hearing with two IRS whistleblowers who alleged that the Biden Justice Department interfered dramatically with the Hunter Biden investigation. Not only did no network outside C-SPAN cover this afternoon's hearing live for hours on end, but some networks didn't even report that the hearing happened. ABC identified itself as a Mickey Mouse news outfit by airing nothing on "World News Tonight" or "Good Morning America." National Public Radio mocked its evening news title, "All Things Considered," and skipped it on "Morning Edition." Even some national newspapers let democracy die in darkness. Yes, that means The Washington Post didn't have a story in its July 20 newspaper. USA Today didn't either, but that's because they closed down their reporting for the next day's paper in mid-afternoon. Both these papers had front-page Trump-scandal stories on July 20.
Media brownout. It is not quite the case that the media totally ignored the IRS whistleblower testimony to the House Oversight Committee. But they sure did a good job of burying the news down deep in the equivalent of dropping an important fact in the 38th paragraph of an article. If you go to the websites of the major news outlets you have to search for the story, since it doesn't appear on the front pages of any but a couple, and on those it is treated as a secondary story buried well under the headlines.
Preparing America for the unthinkable. Recently, I was watching Meet the Press with Chuck Todd. [...] As a teaser just before the Data Download on this particular show, Chuck Todd said, "It is not uncommon for former leaders to be jailed or prosecuted after leaving office." He went on to use banana republics like Guatemala and Panama as his first examples. [...] Although no American President has ever been jailed after leaving office, Chuck Todd's point was clear: It's not so bad that former President Trump, who has been charged with 37 felonies by Joe Biden, will go to jail for possibly 400 years. It happens all the time. No big deal. Get over it America.
In order to get senile Joe Biden off the front page:
Schumer moves to declassify most or all UFO data. Over the course of the several years that Congress has been wrestling with the UFO question and establishing offices to study the matter, one of the leading figures in the Senate driving this effort has been New York Democrat Kirsten Gillibrand. She was the principal author of the original NDAA amendment that established the first UFO/UAP study office in the modern era. She has received bipartisan support in the upper chamber in these efforts from Florida Republican Marco Rubio. But her partner in the Empire State, Senate Majority Leader Chuck Schumer, has been mostly silent on the issue. In the wake of UFO whistleblower David Grusch's bombshell claims about a secret UAP recovery program and alien bodies, this week, however, that changed in a big way. Schumer introduced an amendment of his own to the National Defense Authorization Act for 2024 that would declassify documents, videos, and other government data regarding UFOs, allowing them to be released to the public. His amendment is a companion piece to one already submitted in the House by Tennessee Congressman Tim Burchett.
Press roosters crow about Joe Biden for a fake economic sunrise. Washington Post columnist Catherine Rampell would have you think what Joe Biden thinks — that he is the hero of the American economy just because inflation has stopped ballooning: [...] It's garbage. Joe Biden is still attempting to force people to buy electric cars and is handing out green goodies to people who claim they can control the climate. There is also his intentional destruction of companies that produce reasonably priced energy. The price of crude oil is down from its high but is still over 75% higher than it was before he took office. (Note to Catherine: Please describe which of Biden's policies brought crude oil down.) The price of energy affects everything. Crude oil is used in over 6,000 products. Statistical inflation increases have been reduced to 3% or 4% but Americans are still suffering. He is forcing all federal projects to use prevailing wages which inflate costs. He is taking away the ability for healthy people to buy reasonably priced health insurance policies.
Hilarious and Sad Mika Brzezinski Defense of Biden Shows How Far Media Has Fallen. Once upon a time, media was supposed to be about challenging those in power and asking tough questions on behalf of the American people. But now, a lot of the liberal media are just sycophants for the Democrats, stenographers getting the talking points and spewing out what they have been given to say. Even so far as to be in favor of shutting down speech, as we saw in the case of the Hunter Biden laptop, with some pushing the falsehood that it was Russian disinformation. But even by that measure, MSNBC's Mika Brzezinski's take on Joe Biden hit a new level of hilarity. According to Mika, the problem is Joe Biden's staff, not Joe Biden. She and her husband, Joe Scarborough, were talking about Joe Biden's age when she blamed the staff for his problems. [Tweet with video clip]
Are the media turning against Joe Biden? It's nearly impossible to get as much favorable press coverage as President Biden received in the first two years of his administration. Compare him to former President Trump, for example. The Washington Post kept a running total of all the "false or misleading claims" Trump made, no matter how insignificant or irrelevant they happened to be. [...] Biden, in contrast, has repeatedly claimed to have cut the deficit by almost $2 trillion (four Pinocchios) and to have marched in the Civil Rights Movement (pants on fire), among many other things. Just this past fall he was still telling that odd story of his about being detained in South Africa decades ago, despite abundant evidence that it never happened. And yes, Biden's claim to have "lowered the deficit — the debt" was at last eventually given "a Bottomless Pinocchio" by the Post. But his persistent mendacity (if this is how we are to judge presidents) has not filtered into their other coverage. Instead, equally implausible claims are simply taken at face value in the paper's headlines: "Biden touts deficit reduction amid high inflation"; "Biden touts plunging deficit as GOP prepares for spending fights"; "Biden budget pivots to deficit concerns while boosting military, domestic programs."
13 Reasons Joe Biden Isn't The 'Ethical' President Time Magazine Claims. The corporate media kicked off the week with another outrageous story to spin President Joe Biden, the man guilty of politically persecuting his chief political opponent and potentially selling American policy out to foreign adversaries, as an "ethical" president. Biden is "reset[ting] the guardrails against ... abuses of power" and "increas[ing] public trust in government," reads a Time magazine article unironically titled, "Biden Is Resetting the Ethical Norms Trump Trampled as President." "President Biden is proud to have restored respect for the rule of law and will not exploit his office with convention events on the White House lawn," Deputy Press Secretary Andrew Bates told the magazine. "He will not exploit his office for political gain in the way that we saw in the last administration," Press Secretary Karine Jean-Pierre added. Below are 13 reasons Biden is not "ethical," and may in fact go down as one of the most corrupt and immoral presidents in American history.
The Liberal Media Need Shock Treatment.
• The IRS whistleblowers in the Hunter Biden matter are ignored by the liberal media.
• Biden steals thousands of classified documents — without the authority to declassify them — when he was a senator and vice-president and the story disappears.
• FBI insiders bravely reveal the blatant pro-Democratic bias of the organization and their testimony is sloughed off.
• Joe Biden commits one embarrassing verbal gaffe after another, demonstrating an unarguable diminution of mental acuity, and the video clips are nowhere to be seen on the mainstream stations.
• James Comer finds one ironclad, tangible example after another of inappropriate, even illegal, financial dealings by the entire Biden family and Comer's investigation is dismissed by the liberal media as unfounded hearsay.
• Talk of the 2016 presidential election being stolen by President Trump from Hillary is hailed as heroic, patriotic protest, but presenting the mountains of indisputable evidence of 2020 election fraud committed by the Democrats against President Trump gets you branded as a traitor by the mainstream media.
This list of examples could go on and on, but for the sake of brevity and current relevance, we'll leave it there.
Was Joe Biden aware of it? Or was he taking a nap in Delaware?
Were you aware that the White House grounds were evacuated? I saw this on Twitter and thought it must have been a joke. After all, if the White House grounds were evacuated and a Hazmat team called in, I would have thought it would be all the talk. Apparently not if the substance is found to be cocaine on a day that Hunter Biden was supposedly at the White House. Such coincidences are not worth bringing up, even if roads are closed, Hazmat teams brought out, and the White House grounds partially evacuated. Just another day at the office.
Tucker Carlson tackles Rachel Levine. Rick Levine, now known as Rachel Levine, is a man. [Video clip]
Tucker Carlson: 'Pride' is a 'religious war' that may bring same fate as Sodom and Gomorrah. In a less than five-minute Twitter monologue on Friday, Tucker Carlson unpacked the possible ramifications of the "Pride" campaign and its violation of "rules that no human being made, but that people could ignore only at their peril, at great risk." Using Richard "Rachel" Levine, a man "identifying" as a woman, as a symbol, Carlson observed that the "Pride" campaign being imposed by the powerful is "just another religious war" between "the people who think they're God versus everybody else," and the first category includes "virtually everybody... in a position of authority in the United States." [Tweet with video clip]
Under Biden, Fake News Soars to Whole New Level. "Biden calls China's Xi a dictator; Beijing slams remark as 'provocation,'" headlined the Washington Post on June 20. "Biden calls Xi a dictator, who was kept in the dark about spy balloon," chimed in the New York Times. [...] That is not exactly the same as saying "China's Xi Jinping is a dictator," or "Xi Jinping is like other dictators." Contrary to what the reports assume, Xi Jinping would have no problem with the label. The People's Republic of China is a Communist country, and in Marxist-Leninist doctrine the dictatorship of the proletariat rules. Mao Zedong, Deng Xiaoping, Jiang Zemin, Hu-Wen and Xi Jinping are all totalitarian dictators in the true sense. Marxist-Leninist doctrine allows no party but the Communist Party, and the Party decides who will run the show. Xi Jinping is the man of the hour, and the notion he "didn't know" about the balloon is ludicrous.
Media talking points to cover for Joe Biden are getting dumber every day. Let's hear from the chief Biden apologist at the New York Times, Nicholas Kristoff: The real meaning of the Hunter Biden saga, as I see it, isn't about presidential corruption, but is about how widespread addiction is — and about how a determined parent with unconditional love can sometimes reel a child back. Here is the situation as Nick Kristoff understands it: a 53-year-old man using his father's political position to enrich himself, skipping on tax payments, and breaking multiple laws is just "a child" in need of "unconditional love" from his dad. And Joe Biden is happy to oblige — because, according to Sunny Hostin of The View, being a president of the United States is not about governing effectively, or upholding the law, or even about being an honest public official. "The Hunter Biden story, the scandal, the this or that, is also the story of a father's love."
MRC Poll Finds Most CNN & MSNBC Viewers Don't Know About Biden Scandals and Bad News. A comprehensive new poll from the Media Research Center finds voters who rely on CNN and MSNBC are significantly less informed about a host of important issues: from the lack of security on the border and the impact of Joe Biden's economic policies; to the financial scandals swirling around the President and his family, including suggestions his administration interceded to get his son "preferential treatment" during the tax fraud investigation of Hunter Biden. On every issue we examined, a majority of those who reported mainly watching Fox News or Newsmax said they recalled hearing about the various news stories we polled, while never more than 50 percent of those who watched CNN and MSNBC had the same information. Depending on the issue, the gap between the two groups averaged 23.5 percent, a huge deficit in the factual information of viewers of liberal cable news.
New York Times 'Buries' The Lede, Confirms Hunter Biden Probe Whistleblower Claims. A new report from The New York Times tells of a source confirming whistleblower allegations that constraints were placed on the federal investigation into Hunter Biden, but it takes some digging to find it. As noted Tuesday by Washington Free Beacon reporter Chuck Ross, the publication waited 20 paragraphs to state the newsworthy tidbit about the source who added credibility to claims of additional charges against President Joe Biden's son getting blocked. The New York Times reported in the 20th paragraph that IRS supervisory special agent Gary Shapley's whistleblower testimony claimed that a mid-2022 bid by Delaware's U.S. Attorney David Weiss to pursue charges in Washington, D.C., got rejected by the top federal prosecutor in the nation's capital. "A similar request to prosecutors in the Central District of California, which includes Los Angeles, was also rejected, Mr. Shapley testified," the report added in the 21st paragraph.
All Of A Sudden, Outbreaks Of Malaria, H5N1, Swine Flu And Monkeypox Are All In The News. After a bit of a lull, it appears that pestilences are going to start making headline news once again. Of course that is the last thing that many of us want to hear. Many Americans are finally getting their lives back to normal after the last pandemic, and a lot of people are hoping that we won't have to go through another for a long time to come. Unfortunately, the truth is that we have entered a period of history when major outbreaks will be quite common. In secret labs all over the planet, mad scientists are monkeying around with some of the deadliest bugs ever known to humanity, and as we have seen, it is way too easy for an "accident" to happen. One of the diseases that our scientists have been playing around with is Malaria, and now there are four confirmed cases in Florida and one in Texas.
Media Use Failed Russia 'Coup' To Knock Bombshell Biden Scandal Off The Front Page. Last Thursday, House Republicans released two explosive testimonies from IRS whistleblowers that, if true, further suggest President Joe Biden sold his political power for profit from our enemies abroad via his son Hunter's business dealings. Moreover, they allege the Department of Justice has done everything in its power to for years protect the Bidens, even to the point of massively interfering in an American election. This story is huge — bigger than Monica Lewinsky and Watergate combined. If confirmed, it means that the sitting President of the United States is potentially compromised by our nation's adversaries, and the intelligence apparatus are enabling his corruption. We have no choice but to tear it down. Yet you wouldn't know any of that from the headlines this weekend.
On PBS, NPR Legal Reporter Claims Hunter Plea Deal 'Somewhat Harsher' Than Usual. Hunter Biden, the controversial son of President Biden, announced he would pled guilty to two federal charges of tax fraud and a felony charge of gun possession last Tuesday, and that evening's taxpayer-funded PBS News Hour proved itself eager to move along, dismissing Republican accusations of a cushy plea deal from his father's Department of Justice, appealing to emotion by painting the President as a distraught father who deserves sympathy, not suspicion of possibly benefiting from his son's sordid business undertakings in China and Ukraine, even suggesting Hunter's plea deal was "somewhat harsher" than usual.
The Biden Administration Knew the Fate of the Missing Submarine and Didn't Tell Anyone. A bombshell report from the Wall Street Journal details how the U.S. Navy and the Biden administration had evidence that the Titan Submersible, which has captivated obsessive Americans' attentions for days, had imploded just hours after its journey had begun. There are increasingly pressing questions that are surfacing as to the Biden administration's motivations to withhold this information until a days-long, international search effort had concluded — despite evidence that the passengers had already suffered their fate. The timing on this revelations is certainly suspicious, considering that House Republicans just recently made public an IRS Whistleblower's bombshell testimony, which alleged gross misconduct and abuse by the Department of Justice with regards to their investigation into the Biden Crime Family. [Video clip]
Oceangate-Gate. [Scroll down] Because both comms and a locater (two seperate systems) had gone out at the same time, it was very likely a catastrophic failure of the hull causing a similar tragedy for the passengers inside. And therefore the debris was sitting somewhere just below where the event happened, an hour and forty five minutes into the trip, near the Titanic shipwreck on the ocean floor. This is logical deduction and if you add to the story, revealed later, that the navy picked up the sound of something exploding in the ocean exactly when the Titan went silent — one can only shake one's head at the fake story that took off in the media. Even without the navy's audio evidence — implosion was the most likely scenario. I am very curious why the navy never seemed to weigh in with the most direct data point. Why was the audio kept under wraps?
These Are Not the Crooks You're Looking For. Between imploding subs and mercenary mutinies, the American public could be forgiven for not keeping fully up to speed with the latest developments in the Hunter Biden saga. Yes, he did just reach a settlement agreement to pay less money to the mother of his never-acknowledged four-year-old daughter — he's fallen on hard times, you see — and yes, he did just plead guilty to tax offenses and receive a slap on the wrist for those and his lying on a federal firearms purchase form — he was in the throes of addiction, you see — but the president's son isn't really newsworthy, after all. That might, at least, be the conclusion one could come to if obtaining their news from the legacy media. Yes, it's a shame poor Hunter has lost his way, but the real story here is just how much his Pops loves him. Never mind the millions of dollars funneled through multiple shell corporations to Hunter and other Bidens for their thus-far-undetermined expertise. This is a story of redemption.
MSM pilot fish like NYT, WaPo, CNN and CBS signal that Biden is on his way out. It took over 8 hours for the biggest of the big foot corporate media to decide to publicize the evidence of Biden family criminality exposed by the IRS whistleblowers. But when they did, they did it bigtime. The IRS whistleblowers heard Thursday by the House Ways and Means Committee provided devastating testimony about what Kimberly Strassel of the WSJ summarized as: "blocked search warrants, tip-offs to Mr. Biden's team, squelched avenues of investigation, downgraded charges, and interference by Joe Biden's appointees" protecting Hunter Biden. [...] My guess is that the same people that decided that Joe Biden was to be the nominee to stop Bernie Sanders, who was leading in the quest for the 2020 nomination, and who engineered his triumph in South Carolina when he had been languishing in fourth place, have decided that Joe just can't be allowed to be the 2024 nominee because he will lose. And it took a few hours for this decision to be made and to be diffused to the apparat.
NY Post Columnist: Here's Why the Biden Administration Held Off Announcing Titanic Sub Deaths. The US Navy revealed that they knew the Titan submersible, which was diving to see the remains of the Titanic wreck, imploded on Sunday. We have sonar detection and acoustic networks for our national defense, and this classified system picked up the moment when this craft and the five people inside it perished. So, why did we waste an inordinate amount of time rushing to rescue people some in the government knew to be dead? The Coast Guard, Canadian military units, and unmanned submersibles from France that can go to these extreme depths joined the rescue effort that covered at least 10,000 square miles.
The Navy Detected the Titanic Submersible's Implosion 5 Days Ago, But It Was Kept Quiet: Report. Shortly after the Titan submersible lost communication with the surface, the U.S. Navy, using classified technology, detected sounds the military "suspected" were caused by the implosion of the vessel, according to officials involved in the search. The Wall Street Journal on Thursday published an exclusive report citing those officials, who said the search commander had been informed of the discovery but that defense officials had withheld the information[.] Other sounds, including something that sounded like "knocking," were detected at various points during the search, but nothing has yet been conclusively linked to the implosion of the Titan.
Navy knew of Titan's implosion on Sunday, but allowed wall-to-wall media coverage to overshadow bad news for Biden and the Democrats. Of course, the now-politicized Navy is claiming they didn't have definitive knowledge that it was the sound of the implosion Titan that it picked up on Sunday, so that's why the public was kept in the dark and the media were allowed to obsess over the drama of possibly rescuing the doomed passengers. But oddly enough, that didn't prevent it from sharing this possibly, just barely possibly unrelated data to the people who would act on it. [...] Hunter Biden's wrist-slap plea deal, the Pentagon's "accounting error" that is sending billions more to Ukraine, John Durham's congressional testimony, and yesterday's IRS whistleblower testimony were all shoved aside form media space by obsessive coverage of the "drama" whose grim conclusion the Navy picked up last Sunday.
11 Brand New Biden Family Scandals the Networks Are CENSORING. On Wednesday House Oversight Committee Chairman James Comer led a press conference that extensively detailed how the Biden family and their business associates may have received more than $10 million from foreign nationals during Joe Biden's term as Vice President. The charges of influence peddling by the Biden family are so serious and startling that it could have dominated the broadcast network (ABC, CBS, NBC) evening and morning shows. So how much time did the Big Three nets (on their Wednesday evening and Thursday morning shows) actually devote to the press conference led by House Oversight Committee Chairman James Comer? Zero seconds.
NYT Faces Heat After Claiming Biden Has 'Striking Stamina' Despite Repeated Senior Moments. The New York Times faces criticism after publishing an article attempting to paint President Joe Biden as a young, vibrant man who never embarrasses himself or the country. Titled "Inside the Complicated Reality of Being America's Oldest President," reporters Peter Baker, Michael Shear, Katie Rogers, and Zolan Kanno-Youngs fawned over Biden's achievements, describing him as a "fit, sharp" 80-year-old who has "striking stamina." "The two Joe Bidens coexist in the same octogenarian president: Sharp and wise at critical moments, the product of decades of seasoning, able to rise to the occasion even in the dead of night to confront a dangerous world," the article read. Despite acknowledging Biden's diminishing cognitive and physical health, the reporters downplayed his repeated public gaffes and instead said the president was just a "quirky" man.
Biden's Unpopularity Mystifies the Media. If you spend much time perusing the musings of political pundits you may have noticed the emergence of a subgenre of opinion writing that devotes itself to the following question: Why is President Biden so unpopular? A recent contribution to this growing body of work was offered a few days ago in Newsweek. Matt Robison, a former congressional staffer turned podcaster, laments that Biden boasts a long list of "massive achievements" yet somehow endures historically low approval ratings. For anyone rude enough to ask for examples of these achievements, Robison credits Biden for the low unemployment rate, though most economists trace it to the COVID-driven drop in the labor force participation rate. Oddly, he fails to connect the President's policies to the continuing decline in real wages, the slow economic growth rate, or the stubborn persistence of inflation. Robison does praise him for "the most successful American vaccination program in history," despite the vexing fact that he inherited it from his predecessor.
How the Media Reacted to Biden Falling Versus Trump Not Falling. Then: In 2020, then-President Donald Trump slowly descended a ramp at West Point in New York after taking a weird sip of water, and mainstream media pretended it was a national crisis. [...] Now: Joe Biden, 80 and seen as too old to be president by most Americans, fell at the U.S. Air Force Academy in Colorado on Thursday, and media rushed to assure the nation that the president was totally "fine," as per the White House.
'The Official Truth': The End of Free Speech That Will End America. While corporate news fixated on purported Trump-Russia collusion since 2016, majorities of Americans now see this story "as a hoax and a fraud." While the news media hid behind the Intelligence Community's claims that Hunter Biden's potentially incriminating laptop (allegedly containing evidence of his family's influence-peddling) was a product of "Russian disinformation" and consequently enforced an information blackout on the explosive story during the final weeks of the 2020 presidential election, strong majorities of Americans currently believe the laptop's contents are "real." In other words, Americans have correctly concluded that journalists and spies advanced a "fraud" on voters as part of an effort to censor a damaging story and "help Biden win." Nevertheless, The New York Times and The Washington Post have yet to return the Pulitzer Prizes they received for reporting totally discredited "fake news."
WaPo columnist lies through her teeth and says Joe Biden has 'underrated deal-making prowess'. For months, Joe Biden said he absolutely would not negotiate. His spokespuppets repeatedly said there would be no negotiations. [...] With all the government's endless spending, we always reach the next "debt ceiling" — Biden knew this was coming, and he essentially did nothing. When he finally decided to "negotiate" at the very last second, he left town in the middle of the back-and-forth! But now, according to Jennifer Rubin of The Washington Post, the 100-page deal between Biden and Kevin McCarthy displays Biden's superior negotiating skills.
CBS News suddenly turns against Biden — a sign that he is being pressured to drop his re-election plans? I was shocked when CBS News aired an interview with the IRS whistleblower who revealed what looks like preferential treatment of Hunter Biden in his tax investigation: "multiple steps that were slow-walked.... It was way outside the norm of what I've experienced in the past." [Tweet with video clip] This more or less broke what has been a legacy media blockade of coverage of the Biden family's scandalous receipt of millions of dollars from foreign sources and associated tax scandals.
Who are the Unseen Biden Handlers Always Chasing the Media Away? On the rare, and getting rarer, occasions when Biden's handlers place him in front of cameras as a proof-of-life kind of thing, the handpicked "journalists" granted press passes are permitted to ask two questions (three tops) before getting chased away by a chorus of white, female voices braying "thank you" in unison while corralling the press corps out the door. Such an event occurred recently on Cinco de Mayo when Biden declared he was doing a "major press conference" later that afternoon, which in fact was not a press conference at all and actually a highly scripted MSNBC interview. [Video clip] "Thank you, thank you, thank you," erupted a chorus of Valley Girl-aesthetic vocal intonations which for some reason increase in inflection at the end of their silken commands even though there is no question being asked.
Corruption Of President Biden — And Of The Justice Department, And Of The Media. The performance of the Justice Department and its affiliate the FBI becomes more and more despicable each day. Even as Comer, et al., were holding their long-scheduled press conference in Washington, the prosecutors in the Eastern District of New York chose the exact same moment to arrest and arraign freshman Congressman George Santos of Long Island. Santos is a bizarre creature, and I don't intend to stand up for his conduct. But the charges against him appear really trivial compared to what Biden was up to. And Santos is a freshman member of Congress, while Biden is President of the United States. But the timing was clearly orchestrated to give the media the chance to focus coverage on Santos and bury the Biden story. How do you feel about your FBI running cover for the favored political party in that way?
Networks Ignore Hearing on FBI Retaliation Against Whistleblowers. On Thursday, the House Judiciary Committee held a hearing on the weaponization of the federal government against its citizens. A sad occurrence that has become more frequent as the government continues to grow out of control. During the hearing, numerous whistleblowers testified about being retaliated against by the FBI for coming forward to report either corruption or abuse of power by the government or its affiliated agencies. Being members of the fourth estate that were supposed to report on government and its excesses, you would think the big three evening news broadcasts would jump at the opportunity to report on this hearing and the shocking accounts that were revealed. Sadly, like most stories of any consequence these days, the big three networks ignored it because they rightly believe coverage would hurt the Biden administration. Instead, all three networks: ABC's World News Tonight, CBS Evening News, and NBC Nightly News decided to keep their viewers in the dark and waste precious airtime on stories like a fire at a North Carolina construction site or a security scare at the Vatican.
America's state media: The blackout on Biden corruption is truly 'Pulitzer-level stuff'. This week, Rep. Byron Donalds (R-Fla.) tried to do the impossible. After he and his colleagues presented a labyrinth of LLC shell companies and accounts used to funnel as much as $10 million to Biden family members, Donalds tried to induce the press to show some interest in the massive corruption scandal. "For those in the press, this easy pickings & Pulitzer-level stuff right here," he pleaded. The response was virtually immediate. Despite showing nine Biden family members allegedly receiving funds from corrupt figures in Romania, China and other countries, The New Republic quickly ran a story headlined "Republicans Finally Admit They Have No Incriminating Evidence on Joe Biden." For many of us, it was otherworldly. A decade ago, when then-Vice President Joe Biden was denouncing corruption in Romania and Ukraine and promising action by the United States, massive payments were flowing to his son Hunter Biden and a variety of family members, including Biden grandchildren.
Media play duck and cover up for Joe Biden. The combination of domestic and foreign turbulence is creating a crises of confidence in the nation's leadership, making these days especially difficult for one group of Americans: the media people whose job is to shield Joe Biden from any and all blame. Talk about a tough assignment! Fortunately for the president, there is a creative cadre of bunco artists who can be counted on to see no evil when he throws open the southern border or when his extended family gets fat checks from foreign potentates and princelings. Move along, nothing to see here, they proclaim, their eyes wide shut. These people used to be known as journalists but then came a man named Donald Trump and, by winning an election, caused them to lose their minds and morals.
ABC, CBS, NBC Devote ZERO Seconds to Oversight Committee's Bombshell Findings on Biden Family Corruption. The broadcast network morning and evening news shows devoted precisely zero seconds to the House Oversight and Accountability Committee's stunning interim report detailing the Biden family's corrupt influence-peddling operation, according to a Newsbusters analysis of the Big Three networks' news coverage. On Wednesday, the Republican-led panel released bank records showing that the Biden family and their business associates received more than $10 million from foreign entities. During a press conference yesterday to discuss the report, Oversight Committee Chairman James Comer (R-Ky.) noted that many of these wire transfers occurred while Joe Biden was Vice President "leading the United States' efforts in those countries." The panels' findings include a $1 million payment to the Biden family's coffers from a 'corrupt' Romanian oligarch while then-vice president Joe Biden was lecturing the country on ethics.
Propaganda media doing their best to stonewall Comer's evidence of massive Biden corruption in the pay of foreign countries. As a friend emailed me yesterday, "In a reasonable world, this would be the biggest story about the biggest corruption episode at the highest level in our history." Accordingly, now that the former news media of this country have been repurposed as propaganda organs, suppressing the documentary evidence of Biden family corruption revealed Wednesday morning [5/10/2023] by the House Oversight Committee headed by James Comer was a major priority of the day. The press conference was 49 minutes long but was not televised by ABCNBCCBSCNNMSNBC. You can watch it here: [Video clip] [...] Nobody has ever suggested that there were legitimate goods or services performed for the foreign entities from China and Romania that sent an 8-figure sum to Biden family members. The only reasonable conclusion (for a jury, for instance) would be that political influence was being purchased, provided by the only member of the family capable of providing it: Joseph Robinette Biden, Jr.
Joe Biden says Hunter has done 'nothing wrong.' Really? Let's count the ways. In an interview with MSNBC on Friday, Biden repeated the same mantra that he has maintained since the 2020 election when his son's laptop revealed an array of possible criminal acts: Hunter has "done nothing wrong." In the interview, Biden declared "My son has done nothing wrong. I trust him. I have faith in him, and it impacts my presidency by making me feel proud of him." As with media over the last four years, MSNBC's Stephanie Ruhle did not challenge the clearly absurd statement. Instead, she prefaced her question by stressing that there are "no ties to you" in any of his son's alleged crimes. That is, of course, ignoring the mounting evidence of influence peddling, repeated references to the involvement of the president, and reports of a whistleblower alleging the president's involvement in a bribery scheme.
Media's long con to bury Hunter Biden's laptop scandal. It's the biggest con ever perpetuated by the national media. For all of their hysterics over "disinformation" and "collusion," we know now that they were indisputably the most guilty of both. Recent reports show how the Washington ruling class, including career intelligence officials, the media and Big Tech, plotted well in advance to suppress and discredit the fully authentic and legitimate Hunter Biden laptop story, solely for the purpose of influencing the 2020 election. The greatest offense was on behalf of the news media, the constitutionally protected institution charged with holding the powerful to account. In 2020, they abandoned that mission to do the complete opposite. Journalist Matt Taibbi laid out in meticulous detail Thursday how the influential left-wing Aspen Institute, with events attended by members of every major news publication, literally coached the media in the months leading up to the election on how to handle materials that would cast the Biden family in a negative light. No, not just any potential or unnamed political figure, literally the Biden family, specifically with relation to Hunter.
Government-Endorsed Corporate Media Gives Award to Dishonest WaPo Hack for "Capturing the Spirit of Joe Biden". Last night the government-endorsed corporate media gave an award to WaPo hack Matt Viser for his dishonest portrayals of Joe Biden. Matt Viser was awarded for his reporting on Joe Biden that did not include ONE MENTION of his obvious dementia, his myriads of known criminal actions and canoodling with dictators, lying about his son's laptop to the American public during a major election, disowning his grand-child, and his serial groping of women and children. It takes some real talent to be THAT dishonest!
Reporter Who Secretly Gave Biden Question in Advance Gets Relentlessly Trolled. As RedState reported, Joe Biden got caught red-handed again with a "cheat sheet" while giving a press conference on Wednesday. This time was a bit different than past occurrences, though. Biden has previously been observed having a pre-approved list of reporters on hand as well as outlines spelling out every syllable he's supposed to utter. What made this time more concerning was that he had the actual question the reporter was set to ask him as well. In all my time following politics, I've never seen anything like this. [...] The excuse here will likely be that because this was a joint presser with a foreign dignitary, questions needed to be pre-screened. To the extent that such might be true (and I'm not sure that's happened in past administrations), there's a difference between pre-screening the topics of questions and receiving questions word for word so the president can write them down and pre-formulate an answer. The latter is obviously cheating and not how press conferences are supposed to go. It eliminates the entire purpose of even having Biden up there.
News Blackout in Effect: The Michael Morell story is disposed of by press janitors. An all-time media blackout is in effect. We're experiencing real-time Sovietization. It transpires that the infamous incident before the 2020 election in which 50 former intelligence officials signed an open letter declared a New York Post expose about Hunter Biden's laptop to have the "classic earmarks of a Russian information operation" was instigated at the behest of the Joe Biden campaign. This at least is the allegation in a letter to Secretary of State Anthony Blinken released by Jim Jordan, chair of the House Judiciary Committee, and Subcommittee on the Weaponization of Government. In that letter, which is not easy to find, you'll see three snippets of dialogue from questioning of Morell, who appears to have organized the open letter. In the first snippet, he explains that the idea originated with a call from Blinken, then of the Biden campaign, and that absent that call, Morell wouldn't have done what he did: [...]
Ignoring Hunter Revelations, PBS Hypes Biden 2024: No 'Big Scandals'. The weekly table discussion on PBS NewsHour between Washington Post Associate Editor Jonathan Capehart and New York Times columnist David Brooks spent some time on Friday discussing President Biden's upcoming re-election campaign. Ignoring all the week's developments surrounding Hunter, Brooks claimed Biden's in a good spot, "There hasn't been any obvious gaffes, big scandals or anything like that." Guest host Geoff Bennett also thought Biden is well positioned for 2024, "President Biden's allies say the fact that he's facing only token primary opposition from author Marianne Williamson and anti-vaccine activist Robert F. Kennedy Jr. really is a show of strength for him."
ABC, NBC Hide Brital News on So-Called 'Disinformation' Letter About Hunter's Laptop. On the heels of news Wednesday that an IRS whistleblower is prepared to allege political meddling in the Hunter Biden investigation, the news got worse Thursday for the First Son and his life of ruin as it was revealed that now-Secretary of State Antony Blinken was the catalyst behind the debunked and infamous October 2020 letter from former intelligence officials dismissing the surfacing of Hunter Biden's laptop as Russian disinformation. This bombshell showing more interference in the 2020 election was nowhere to be found on the Thursday night newscasts on broadcast networks ABC, CBS, and NBC or Friday morning during ABC's Good Morning America or NBC's Today. In contrast, CBS Mornings gave the story its due with a two-minute-and-38-second report (with 17 seconds of that on the IRS angle). CBS's thoroughness was particularly ironic considering how, as we reported at the time, they accepted the letter as air-tight and factual, so they went ahead with the premise that the laptop's accuracy was fishy. By November 2022, they changed their tune.
The left ignores the real Biden Delaware drama to satisfy their bias. New York Times opinionista Michelle Goldberg complained bitterly this week that she had trekked all the way to Wilmington, Del., at the brutal hour of 7 a.m. to watch the Dominion-vs.-Fox News defamation trial, only for the parties to settle before the show began. "Deeply disappointing" was her reaction. But here's a thought. All the disappointed media operatives huddled at Wilmington's Superior Court, like Goldberg and CNN's crestfallen Oliver Darcy, could make themselves useful in the president's hometown. They could investigate a story that is bigger than Watergate but which they have shamefully avoided or downplayed for almost three years: Biden family corruption and the associated coverup, including by the FBI and Big Tech. After all, the House Oversight and Judiciary committees have given them plenty of ammo.
If Ronald Reagan had done this, would the press have been so disinterested?
Joe Biden Calls a Lid First Thing This Morning, Hasn't Been Seen in Days. Biden returned from a 4-day trip to Ireland very late Friday night/early Saturday morning and he hasn't been seen since. Joe Biden's crackhead son Hunter and grifter sister Valerie joined the president in Ireland. Hunter Biden had to intervene several times to help his old man answer questions. Biden has nothing on his public schedule all day after a disastrous trip to Ireland and the media refuses to ask questions.
Don't you dare blame lame Joe Biden as America faces changing tides on global stage. The geopolitical plates are shifting violently as China and Russia form a new axis of evil and once-reliable allies are moving away from the United States and toward our adversaries. Even a major NATO member is openly rejecting American leadership on Taiwan. But don't even think about blaming any of this on Joe Biden. The world is churning but the buck never, ever stops on his desk. The latest example of his media free pass appears via a front-page New York Times article that bemoans what it calls a "dearth of diplomacy." [...] "Bargaining tables sit empty these days. Shuttle diplomacy planes have been grounded. Treaties are more likely to be broken than brokered," writer Peter Baker declares. [...] So what's the problem? The answer is something else Baker can't or won't say: Biden is the weakest president America has had since Jimmy Carter and the world knows it. That single fact explains why China, Russia and Iran are making common cause like never before.
Nets Skip News Hunter's Associates Visited Obama/Biden White House Over 80 Times. Fox News Digital reported on another bombshell in the Hunter Biden scandal which added to the mounting evidence that despite what President Joe Biden claims, it appears he did in fact know about his delinquent drug addict son Hunter's business dealings. In Fox's report, "Four business partners, a vice president, and two assistants at Hunter Biden's now-defunct firm visited the White House more than 80 times when his father was vice president in the Obama administration." Despite this news, all three evening news broadcasts ignored this bombshell revelation. Instead, the "big three" network news broadcasts ABC's World News Tonight, CBS Evening News, and NBC Nightly News were preoccupied with stories on rising sea levels in the Gulf of Mexico (ABC), the rising cost of postage stamps (CBS), and another segment on Artificial Intelligence (NBC).
The Trump Trials: Changing the Subject. Going into a presidential election year, the incumbent president looks to be facing a difficult reelection campaign. Persistently high inflation numbers remain a problem. Energy prices are still up. America's southern border is being overrun with illegal border-crossers and fentanyl. Major bank failures have raised the specter of a banking crisis. There are multiple House of Representatives investigations covering Biden family finances, the weaponization of government agencies, China, and the origins of COVID. For the current administration and its supporters, the answer is as easy as it is familiar: change the subject to Donald Trump.
The media-Deep State mind meld. ABC recently went so far as to blur out the front of the podium at which Donald Trump was delivering his post-indictment speech, so those watching couldn't see the number that was placed there for them to text if they wanted to receive official campaign notifications and updates. Yet no network has ever deigned to prevent people from reading any message on any podium at which Joe Biden was speaking, before or after he became president.
Unequal Under the Law for One Means Unequal for All. I've been listening to CNN daily for two solid weeks. I have yet to hear anyone mention anything about corruption within Biden's family. But CNN frequently alleges that Jared Kushner's deal with the Saudis is somehow illegal. Not at all the same or even similar! Thousands of words and messages, even by Biden acolytes, would lead any thinking person to believe that Biden should at least be suspected of influence peddling. I found that CNN isn't interested in that consequential possibility. Listen to the many shocking excerpts from Hunter Biden's laptop or Bobulinsky's testimony. There are significant differences between the situations of Hunter Biden and Jared Kushner. For example, what has Hunter accomplished in life compared to Jared?
Nets Spend 273 Minutes on Trump, 0 Seconds on Biden Family Corruption. The Big Three (ABC, CBS, NBC) networks continue to bury the Hunter Biden probe and the growing scandals surrounding the Biden family's corruption, including the House Oversight Committee's revelations that Hunter, the President's brother Jim and Hallie Biden (widow of son Beau) received payments from a Chinese energy firm — something President Joe Biden firmly denied. However, their voracious appetite for covering the various investigations (Stormy Daniels, Mara Lago documents, January 6th) surrounding former President Donald Trump remains unsatiated. Beginning with the House Oversight Committee's breaking of the Hallie Biden news through the evening of Trump's indictment, MRC analysts tracked the glaring double-standard.
Sunday Shows Spend Nearly An Hour on Trump, Ignore Hunter Biden Scandal. Continuing the week-long trend of the leftist media ignoring each and every new revelation in the rapidly growing scandal surrounding the Biden family's corrupt overseas business dealings, the Sunday shows all blatantly ignored this latest Biden scandal in favor of a familiar media spectacle: Donald Trump. The four liberal Sunday talk shows, which consist of ABC's This Week, CBS's Face the Nation, NBC's Meet the Press, and CNN's State of the Union spent a combined 46 minutes and 46 seconds obsessing and sometimes gleefully reporting on the news that former President Donald Trump could be indicted over his involvement with former porn star Stormy Daniels.
Most underreported story: Evidence of the Biden family's $ millions from China now documented with bank records. It comes as no surprise that the propaganda arm of the Democrats called the "mainstream media" has no interest in informing the American people of the gravity of the evidence piling up that Joe Biden has been bought off by the Chinese Communist Party. Thanks to the efforts of James Comer, we already have bank records of $1 million flowing to Biden family members through a cutout named Rob Walker, shortly after Biden left office as VP. There is no indication of any particular services performed for this treasure, nor is there any expertise among the recipients, who include the current POTUS's son Hunter, his brother James, Hunter's mistress-at-the time Hallie Biden (who is also his brother's widow and Biden's daughter-in-law) and an entity simply named "Biden." Rep. Comer, appearing on Maria Bartiromo's Sunday Morning Futures program on Fox News, said that this is "only the beginning." There are "as many as 11 other deals" that are being examined by his committee.
China Hires the Biden Administration. Whenever SKDK sends out a press release, it makes sure to mention that Politico had once called it "the loyal opposition where powerful Democrats plot the anti-Trump agenda" and that the Holmes Report had described the firm "the hub of the resistance." The "loyal opposition" now works for Communist China. And the "hub of the resistance" is being employed on behalf of a company operating out of one of the world's most totalitarian regimes. Faced with a possible ban on its destructive social media app, TikTok has gone out and hired the Biden administration and its "resistance" apparatus. And it probably even got a good deal. SKDK's managing director, Anita Dunn, is Biden's senior advisor and unofficial campaign manager who took control and steered him through the Democrat primaries.Dunn, an Obama vet, is now in charge of crafting the response to Biden's classified documents scandal. SKDK people became Biden's campaign comms and they've continued to fill that role in the administration.
Establishment Media Continue Defending Biden Family Business Scandal. The establishment media have continued to defend the Biden family business schemes from House Oversight Committee Chair James Comer's (R-KY) probe, calling the findings "debunked," "phony," and "wild." Comer's investigation, launched in November, has begun to yield results. This week, Comer revealed the Biden family business received a $3 million wire transfer and subsequent payments from a Chinese energy company between 2015 and 2017 upon receiving Suspicious Activity Reports (SARs) from the Treasury and subpoenaed records from Bank of America. The $3 million payment was in turn split between four Biden family members — Hunter, James, Hallie, and an unidentified "Biden" — from State Energy HK Limited. The family members received $1.3 million collectively.
CNN: China funneling the Bidens money is A-OK! The narrative about that huge flow of money from China to Joe Biden's family has coalesced: "what's the big deal?" It's perfectly normal for our biggest adversary to secretly send money to the Vice President and then President's family. I mean, if you could help support the Bidens with a bit of extra cash, wouldn't you? [Tweet] Besides, the money involved came from a Chinese energy company, and we all know that Hunter Biden has extensive knowledge of energy companies, given his experience helping Burisma. The very same Burisma that was under investigation in Ukraine, until Joe Biden forced the Ukraine government to fire the prosecutor investigating it. [Tweet]
Manipulating the news media:
Democrat Plans [are] Looking Bad, So Biden Pivots Again. As the news of the Silicon Valley Bank (SVB) failure and Joe Biden's proposed 2024 budget begins to unfold, the Biden administration begins to try to distract the American people from the sweeping and profound consequences of things like this. For instance, Ben Shapiro points out that today, only a few days after the SVB failure, something that could be extremely dire and foreboding for the American economy, Biden decided to propose (again) banning assault-style rifles, and then proceeded to post on Twitter a handwritten letter, allegedly written by a child, that he received that decried what the "child" saw as an "unfair" pay disparity between men and women. Why, amid all this recent chaos, did Biden decide to bring gun control and the "pay gap" (which is not a gap at all, but that is a discussion for another day) back into the national conversation? He did this to distract the American people from a more fundamental, serious, and overarching problem, like the state of the American economy.
Wonder why most of the media aren't trusted? Because most of the media continue to show how much they are in the tank for Joe Biden. This week, Republicans have shown millions of dollars in transfers to the Biden family from China, and yet it doesn't make the nightly news. [...] Hunter got paid millions from a corrupt company in Ukraine for a no-show job, and the media and other Democrats didn't care. Joe bragged about extorting Ukraine with a billion dollars in taxpayer money if they didn't fire a prosecutor investigating the company that paid Hunter millions — and the media and other Democrats didn't care. Not only did the media and other Democrats not care about the pure corruption and kickbacks from Ukraine, but Trump was also impeached for even asking about it. The wife of a Moscow mayor pays Hunter $3 million, and the media and other Democrats don't care. The Hunter laptop story shows that Hunter used some of his money to pay Dad's bills and that some deals involved giving 10% to the big guy. Not only do the media, the Justice Department, and other Democrats not care about the story, but they and social media intentionally buried the story so the public wouldn't see it before the election.
ABC News admits it still hasn't reviewed Hunter Biden's laptop after more than two years. ABC News acknowledged on Friday that it has yet to verify Hunter Biden's infamous laptop nearly two-and-a-half years after it first surfaced publicly. While reporting on Biden's counter lawsuit against the Delaware computer repairman who handed a copy of the laptop's hard drive to the FBI and former Trump personal attorney Rudy Giuliani, the Disney-owned outlet admitted to readers it has yet to authenticate the controversial device. "ABC News has not reviewed nor verified the contents of the laptop or hard drive," ABC News wrote in an article.
Media Uninterested in CCP $$$ the Biden Family Received. Rep. Jim Comer, Chair of the House Oversight Committee, is investigating the Biden family's ties to the Chinese Communist Party (CCP). Rep. Comer received documents indicating the Biden family took payments directly from the CCP, but the media is uninterested. Comer had subpoenaed records of three Hunter Biden business associates. One bank complied with this one account belonging to John Rob Walker. Walker wired $3 million to three Biden family members. As we learned today, Hallie Biden received a cut of $35,000.
Watching the wheels fall off the statist juggernaut. [Scroll down] The release of the full load of Jan. 6 surveillance footage has tipped the scale. This was foreshadowed by the obvious rigging of the congressional hearing on the subject — where so much information was withheld and the members of the panel were selected almost entirely for their bias. The resulting political demise of Liz Cheney meshes well with today's cascade of dominoes. Although the Jan. 6 "event" will have little, if any, actual effect on the destiny of our nation, the Deep State's big guns had to come out. Why? Because they have to destroy Trump. Their lapdog media's bullets are just bouncing off his chest...and their many malfeasances are becoming ever more obvious. Proving Trump a criminal is their only way out, and their acquired sloppiness is helping to escort them to the losing side of history.
Biden: Worse than Jimmy Carter. There are striking parallels — and contrasts — between Jimmy Carter's leadership during the 1970s Oil Crisis and Joe Biden's initiatives during the current "Climate" Crisis. The Organization of the Petroleum Exporting Countries (OPEC) instigated the 1973 crisis in U.S. gasoline prices that sparked inflation, and Jimmy Carter responded by supporting conservation and alternative energy plans (as well as a shift to "plentiful coal"). In contrast, Joe Biden seeded current fuel price inflation with wasteful overspending and attacks on oil production, and embraces yet more inefficient spending on renewable manufacturing projects that accelerate pollution and increase American vulnerability to China and Russia. [...] Liberal media seek to compare Biden's policies to Carter's, presenting the current energy crisis as one in which Joe Biden is similarly the victim of conditions beyond his control.
This week we saw more proof of the Democrats' disdain for democracy. Journalists Matt Taibbi and Michael Shellenberger, who are among the authors of the Twitter Files, were in D.C. to testify regarding Twitter's inner workings before the Select Subcommittee on the Weaponization of the Federal Government. Twitter had suppressed the expose of Hunter Biden's Laptop which was the most important story of the 2020 election cycle. A NewsBusters poll revealed that 16% of Biden voters would have voted differently had they known of Hunter's laptop. Another survey showed that 79 percent of Americans think Trump would have won reelection if voters had known facts about Hunter's laptop. The Twitter Files series that began last December revealed how the Social Media giant was colluding with government agencies and Democrat politicians to manipulate the narrative in favor of the Democrats. For every claim they made, they provided evidence of documents or screenshots of correspondence. Rep. Jim Jordan, R-Ohio chaired the hearings and made it clear that selective state-sponsored targeting 'disinformation' is an attack on the First Amendment.
Widespread public distrust in media baffles mainstream pundits. For over two years, the mainstream media has regurgitated Biden administration talking points about how great leftist economic policies are, and find themselves "confused" as to why the public just doesn't believe them. [...] So why doesn't the public believe the media when they brag about how great Biden's policies are? Because the media so reliably fabricates "news" as they campaign for leftist policies — it shouldn't be that hard to understand.
Networks Ignore Hunter Biden Refusing Congressional Documents Request. On Wednesday night, the three evening network broadcasts ignored a report that Joe Biden's delinquent crackhead son Hunter hasn't been cooperating with congressional requests for documents related to his corrupt foreign business dealings. This is just the latest example of the leftist news networks covering for the Biden crime family. Instead of reporting on Hunter Biden's refusal to cooperate with congressional inquiries, the three networks: ABC's World News Tonight, CBS Evening News, and NBC Nightly News decided to focus on weather forecasts (ABC), CBS Mornings co-host Gayle King receiving the Walter Cronkite Award for Excellence in Journalism (CBS), and a story on some companies adopting the four day work week (NBC). Instead, the heavy journalistic lifting was left to Fox News Channel's Special Report.
Hunter Biden's latest rebrand is just smoke and errors. Hunter has long been a reclamation project for the media and the Biden team. Despite ample evidence that he and his family may have engaged in one of the largest influence-peddling operations in history, the media have struggled to find a redeeming image for someone who's committed his life to a toxic mix of nepotism, narcissism and narcotics. First there was "Hunter: the wrongly accused international businessman." This blanket denial of wrongdoing was maintained by his father and dutifully repeated by the media. Hunter Biden did "nothing wrong," and reporters pressing questions of corruption were immediately attacked. Then came "Hunter Biden: victim of Russian disinformation." Before the 2020 election, the media repeated the false claim that the Hunter laptop was likely "Russian disinformation." Despite the denial of American intelligence and self-verifying emails on the laptop, the media accepted without question the dubious claims of former intelligence figures pushed by longtime Democratic operatives. Then it was "Hunter Biden: heroic recovering addict."
NY Times Already Busy Repackaging Biden as Working Class and Thoughtful for 2024. If Joe Biden is truly running for re-election, then his flying monkeys in the mainstream media are going to have to work even harder than they did in 2020 to create a fictional version of him that appeals to voters. Working in conjunction with the Democratic National Committee, legacy media propagandists worked to fashion out of whole cloth a Joe Biden who didn't exist. They weren't evoking a Biden from a bygone era either — the guy they presented to the American public in 2019-20 never existed. Fake 2020 Joe Biden was a thoughtful man who used his moderate political stances to bring people together. Real Joe Biden is — and always has been — a hateful, divisive piece of work who shoots from the lip and whose politics are malleable so he can adjust to whatever the moment requires of him.
NPR Touts Biden as 'Strong and Vigorous Man,' Hails His State Of The Union Lies. On NPR's Weekend Edition Saturday, host Scott Simon sounded like state-run radio as he touted Biden's latest physical showed "a strong and vigorous man" as Republican presidential candidate Nikki Haley "openly played the age card" in her announcement. NPR political analyst Ron Elving insisted "any kind of dissing of old folks is a risky strategy and likely to backfire." Liberals parade around their hopes as "news." [...] And since NPR hates Fox News, they wrapped up with enjoying how the Dominion lawsuit against Fox ended with juicy revelations that hosts didn't believe in the election-fraud stories they were promoting after the 2020 votes were cast. "Did it surprise you, Ron, that they just deliberately lied to their own viewers?" Elving wasn't surprised, that "Some of these conversations among the Fox stars suggest they knew better, but thought it was their job to play to the sentiments of the people they perceived to be their audience."
Constant Government Lies Spark Resistance Movements. In the digital public square of social media, I have seen a noticeable uptick in biting memes and political cartoons calling out the U.S. government for its constant lies. In one example, a cyber-billboard screams, "I don't know if I'm being distracted by vaccine deaths so I don't notice inflation, or if inflation is the distraction to Ukraine money laundering, or if Ukraine is a distraction for rampant pedophilia, or if pedos are distracting me from election fraud." Clearly, that was produced before the great balloon scare gripped the nation. [...] What I see today is a bubbling movement of frustration and anger that is as acidic as anything I've come across. [...] Whether it is White House press secretary Karine Jean-Pierre claiming that Slow Joe is the "best communicator" around; Treasury secretary Janet Yellen insisting for over a year that skyrocketing inflation would be "transitory"; government economists redefining words to avoid admitting that we're in a recession; Homeland Security secretary Alejandro Mayorkas flat-out lying about the southern border being "secure"; or former chief of staff Ron Klain preposterously labeling the disastrous Afghanistan withdrawal, in which thirteen U.S. servicemembers lost their lives for no reason, a "tremendous humanitarian achievement," the people occupying the highest positions of power and authority in the U.S. government do not bat an eye while telling the American people the most outrageous falsehoods drenched in risibly nauseating sanctimony.
White House Demands Media 'Comply,' Hauls Specific Reporters Out Of Biden's UFO Brief. The White House heavily controlled which reporters had access to President Joe Biden's remarks on "aerial objects" Thursday, telling the media to "comply," and asking reporters — including the Daily Caller's correspondent — to leave the room. Biden's remarks were scheduled for 2:00 p.m., and reporters were notified less than an hour before that they would need a "pre-credentialed" pass to attend the press conference. Biden's team walked the press over to the South Court Auditorium, where the remarks were to be delivered, at approximately 1:50 p.m. When reporters entered the auditorium, White House staff approached every correspondent and pressed each of them to show an email containing a "pre-credential," as there was not enough space in the room.
Now the WaPo 'factchecker' is rationalizing the letter from 51 lying intelligence officials. The Republicans in the House are having an investigation into the collusion of the media, Justice Department, and Intelligence officials as they censored the true story of the Biden family corruption right before the 2020 election. This was pure election interference to mislead the public. Now, Glenn Kessler, the designated fact checker at the WaPo, is claiming that the intelligence officials who lied about Russian disinformation were very careful in their wording of the letter but the media either misinterpreted or misused the letter. That is a load of garbage.
Polls? We Don't Need No Stinking Polls! MSNBC's Mika Brzezinski Claims Biden 'Extremely Well-Liked'. This one was almost too stupid to cover, but sometimes the really stupid silliness is hard to pass up, which is nearly always the case with anything to do with MSNBC's Morning Joe and its lovebird co-hosts, Joe Scarborough and Mika Brzezinski. [...] Joe Biden is a disastrous president who has intentionally taken America down the wrong path since Day One of his miserable presidency. Bottom line: Stick a fork in Joe; it's past time to kick him to the curb. Au contraire, according to Brzezinski. With a straight face, mind you, Mika actually declared Biden is "extremely well-liked" by the American people.
10 Brand New Hunter Biden Breaking Stories the Nets Are Burying. On Wednesday, Congress begins their first public hearings on President Joe Biden's family, including his son Hunter and his ties (revealed in his infamous laptop) to foreign companies. These hearings give the broadcast networks a new opportunity to actually cover these new developments, especially the ones linked to Joe "Big Guy" Biden. At NewsBusters we've been documenting how the Big Three (ABC, CBS, NBC) news networks have been censoring the revelations from Hunter's laptop on their evening, morning and Sunday roundtable shows. It's not just the salacious stories being ignored (drug use, illegal gun possession, hookers, nude photos) that would've been widely covered if it was a Republican President's son. There are the more pertinent cases that put a lie to President Biden's 2019 claim: "I've never spoken to my son [Hunter] about his overseas business dealings!"
So when is the FEC going to fine the media outlets that bury stories or post false ones to influence elections? The National Enquirer was fined $187,500 by the Federal Election commission for squelching a story about Donald Trump because they said it was a prohibited in-kind contribution to influence an election. [...] What about fining all the news outlets that continuously published fake news stories about Russian collusion? Those were obviously in-kind contributions seeking to destroy Trump and influence elections, too. The fines should be huge for all the media outlets that caught and killed the true Hunter Biden abandoned laptop story showing the corruption of the Biden family before the 2020 election. They are still killing the story. They are also killing all the information out of Twitter that shows how corrupt the media has been as they colluded to elect Democrats. How many years did the media catch and kill stories about the Clintons' serial mental and physical abuse of women in their attempt to influence elections? Did ABC News bury the Jeffrey Epstein story to protect Bill Clinton and others?
The real state of the union. The Washington Post reported, "Americans not feeling impact of Biden agenda, Post-ABC poll finds." Of course, they are feeling the impact of his agenda. Inflation remains at 1970s levels, we humiliated ourselves by surrendering Afghanistan, and we are depleting our military to protect Ukraine's border while ignoring our own. According to the story, "62% of Americans think Biden has accomplished not very much or little or nothing during his presidency, while 36% say he has accomplished a great deal or a good amount." What WaPo — a house organ for the deep state — measured was the popularity of what he has accomplished. Not much of it is good. ABC's report on the very same poll began, "Four in 10 Americans say they've gotten worse off financially since Joe Biden became president, the most in ABC News/Washington Post polls dating back 37 years." That is quite an accomplishment. He set a record by ruining the finances of 41% of Americans.
Ex-Twitter executives now say they forget key details of censoring Post's Hunter Biden laptop scoop. A trio of former bigwigs at Twitter told the House Oversight Committee Wednesday they could not recall major facts about the decision to suppress The Post's bombshell October 2020 stories on Hunter Biden's laptop — though one claimed the decision was based in part on the social media giant's own echo chamber rather than the demands of federal law enforcement. Under questioning led by Rep. Jim Jordan (R-Ohio), former Twitter deputy general counsel James Baker, ex-head of trust and safety Yoel Roth and former policy director Vijaya Gadde took turns deflecting allegations of "collusion" between the FBI and Twitter to censor The [New York] Post. "Simple question, did you talk to the FBI about the Hunter Biden story?" Jordan asked Baker point-blank at one point. "To the best of my recollection, I did not talk to the FBI about the Hunter Biden story before that day," replied Baker, referencing Oct. 14, 2020, when The Post published the first of its world-exclusive reports. "Did you talk to them after?" Jordan pressed, to which Baker said, "I do not recall."
Hunter Biden, victim. Did I say DNC spin-writers are good? They're grrrrrrrrrrreat! Look at how their spin on Hunter Biden's laptop and its evidence of multiple felonies. In their fantasy, Hunter is not the betrayer of the nation but a victim of property theft and invasion of privacy. New York magazine was among the first to peddle this fiction to its readers in a September 12, 2022, story by Andrew Rice and Olivia Nuzzi. They wrote, "Now imagine that you are both the son of a man running for president and a lawyer and lobbyist accustomed to mixing with powerful people and doing business overseas premised on your proximity to those powerful people, and that you are in the throes of a divorce and a midlife catastrophe brought on by the early death of your older brother and that, in your distortion field of grief, on a hell-bent drug-and-alcohol binge, you have been making even more horrible choices, taking up with your brother's widow and, while in considerable financial debt, hiring prostitutes and zoning out with camgirls and staying awake for days at a time on crack cocaine and generally hurting everyone in your life who is trying to help you with your cruel and idiotic behavior." That poor man. [...] How dare the media — well, just the New York Post — report on his felonies. [...] Maybe he should not have taken bribes. Maybe he should not put stuff on his laptop that foreign countries could use as blackmail. Maybe he should not abandon his laptop at a computer repair shop. Making a big deal about his corruption and seedy lifestyle is so unfair.
MSNBC Guest Assures Us That There's No [Incriminating] Info About Joe Biden On Hunter's Laptop. During a Thursday appearance on MSNBC, Washington Post columnist Matt Viser desperately tried to cover for his President, assuring the audience that there's "nothing" on Hunter Biden's laptop that ties Joe Biden to any wrongdoing. Yes, he actually said that with a straight face. "We've spent a lot of time with [Hunter Biden's] laptop ... and there isn't much that ties the President to any wrongdoing, which I think has got to be the focus in order to be relevant" said Viser. [Video clip]
Biden's 'Cooperation' With The FBI Is Meaningless And Misleading. It's hard to read the news and not keep coming to the conclusion that the media think you're stupid. Case in point: On Wednesday, it was reported that the FBI was at President Biden's home in Rehoboth, Delaware, once again scouring the place as part of its investigation into Biden's mishandling of classified documents. It is at least the third time the FBI has searched Biden's effects as part of the investigation, and one of those searches was done so discreetly it wasn't public knowledge until months after the fact. In addition to his home, classified documents were also found at the Penn-Biden center, the president's Chinese-funded think tank. The Justice Department has also graciously trusted Biden's personal attorneys — who did not have security clearances — to sift through his papers and identify any potentially incriminating documents without DOJ supervision. These searches of Biden's home and private papers came just a few months after the FBI raided former President Donald Trump's home at Mar-a-Lago for the identical crime of mishandling classified documents. The Biden situation is arguably worse since he allegedly retained classified documents from his Senate tenure, which doesn't have any declassification authority that comes with the presidency.
New York Times Waited More than 500 Days Before Reporting It Authenticated Hunter Biden Laptop Emails. The New York Times, self-proclaimed "paper of record," waited more than 500 days before finally reporting it had authenticated critical emails from now-President Joe Biden's son Hunter Biden's infamous laptop. The Times allowed the false narrative that the Hunter Biden laptop was somehow "Russian disinformation" to permeate the public debate for over a year when it had obtained evidence to the contrary, according to emails obtained exclusively by Breitbart News.
NBC Rediscovers Hunter's 'Much Talked About' Laptop. On Thursday morning [2/2/2023], NBC's Today rediscovered Hunter Biden's "much talked about laptop" (which in and of itself is comical for a liberal outlet to assert) in order to trumpet Hunter's "aggressive new legal strategy" to force his father's Justice Department and allies in Delaware law enforcement to open criminal investigations of those that shared and promoted its contents, which resulted in "a series of salacious and frankly damaging media stories". The one minute and 45 seconds of coverage were tacked onto a segment that began with the latest in President Joe Biden's documents scandal. [...] "Much talked about laptop"? According to a Nexis search, NBC's Today and evening counterpart NBC Nightly News only covered Hunter Biden's life of corruption 16 times in 2022 (eight times on Today, seven on NBC Nightly News) with only six of those hits mentioning the laptop. This was despite the fact that NBC itself confirmed it was real on May 18 (after The New York Times did so on March 16 and The Washington Post followed on March 30).
It is no wonder the media has lost the trust of the people. The media, government bureaucrats, and other Democrats pedaled lies about Russian collusion for years to destroy Trump. That was not subjective reporting. Those were intentional lies. In 2020, the media, government bureaucrats, and other Democrats buried the truth about Biden family corruption by falsely calling it Russian disinformation. Those were intentional lies, not subjective reporting. Democrats have challenged elections for years. Yet, the media did not call them far-left, extremist, election deniers who were seeking to destroy our country and who should not be allowed to hold office. The name-calling was reserved for Republicans, especially Trump. That was subjective and biased reporting meant to mislead the American people. The media went along when Biden falsely called voter integrity laws Jim Crow laws. The lies were meant to gin up racial hate and division. No matter how much the CDC and Fauci got wrong, the media pretended that everything they did was based on science and set out to silence anyone who disagreed with them. People who didn't take an experimental vaccine that did not prevent the virus were said to want people to die and were fired. That was supported by subjective and biased reporting.
Democrats' Trojan horse is taking on a life of its own. A silly older man sniffing women was sold to the American people as the safe alternative to President Donald Trump. Joe Biden's assignment was to wear a suit, read words on a teleprompter, and quip. [...] The propaganda media, working with the Department of Justice, to obscure the Biden family's long history of corruption was remarkable. The tell-all interview regarding the long partnership between a Chinese energy firm and the Biden family by Hunter Biden's partner, Tony Bobulinski, on the Tucker Carlson show was squashed. The FBI did a marvelously malevolent job lying to the American people regarding the content and even the existence of Hunter Biden's laptop. So the Trojan horse flawlessly performed the task it was designed to perform. But now comes the glitch: lo and behold, the fake leader of the free world wants to stay.
African Reporter Goes All Emperor's-New-Clothes on Karine Jean-Pierre: 'You Don't Seem a Good Fit for This Job'. The whole world knows that Karine Jean-Pierre is unfit to be White House press secretary; any doubters can consult the evidence of every day's press briefing for fresh evidence. KJP has become notorious for giving answers that have nothing to do with the questions she is supposed to be answering, relying over-heavily upon the canned answers provided in her briefing book, and ignoring reporters who are liable to ask inconvenient questions. But for the same reasons that she got the job in the first place, the establishment media has been reluctant to call her out and state the obvious: that a random person off the street would likely do a better job than she does. On Tuesday, however, Karine Jean-Pierre finally had her Emperor's-New-Clothes moment: Cameroonian reporter Simon Ateba told her during a White House press briefing, "You don't seem a good fit for this job."
As Biden's Border Death Toll Hits Record Highs, Dems Are Mute. In a data dump Friday, the Biden administration announced that more than a quarter million people crossed the border illegally in December — the highest ever recorded. The timing of this release was designed to bury the news, not that it mattered, since the mainstream media have ignored the growing border crisis with fierce determination. But that's not the worst of it. Border deaths also reached all-time highs. That news is so bad, the "most transparent administration in history" tried to keep it hidden altogether, coughing it up only in response to a Freedom of Information Act request. When that data did come out ... crickets. This silence is particularly galling, given that the left was screaming bloody murder about border deaths during the Trump administration.
Lib Networks Reward Biden Ploy to Bury Absolutely Awful Border News. It's a longstanding trick used by administrations hoping to bury bad news: dump it on a Friday night, knowing that weekend news staffs are thin and audiences are smaller than during the week. The news media are not oblivious to this, and have often chosen to push back at politicians' attempt to manage the news by hammering such a bad news story even harder. That's not what happened this weekend, though. This weekend, the networks did exactly what the Biden administration hoped they would do by barely covering a devastating report about the crisis at the U.S.-Mexican border. Friday evening, U.S. Customs and Border Protection disclosed that there were a record 251,487 border encounters in December, bringing the total for the calendar year 2022 to a whopping 2,577,669 — more than the population of fifteen U.S. states. And that doesn't count the estimated hundreds of thousands of additional migrants who are believed to be "got aways," i.e., those who successfully evaded an encounter with CBP.
Are Americans Still Capable of Self-Government? In a 1789 letter to the British philosopher Richard Price, Thomas Jefferson observed that "wherever the people are well informed they can be trusted with their own government." By that standard, it's no longer clear that the American electorate is equipped for the task. Jefferson was, of course, an ardent advocate of a free press whose primary function would be to provide the voters with enough information about the government's actions to assess the soundness of its policies. Unfortunately, it's unlikely that he would dignify today's corporate media with the appellation "free press." Jefferson's definition of the term would not, for example, apply to "news" organizations that collude with government officials to suppress debate on important national issues such as the COVID-19 lockdowns. Nor would it include the major broadcast networks that collectively refuse to report a major government-censorship scandal like the Twitter Files. This kind of story is why First Amendment protections for the press exist.
The Manic Methods of Mad Democrats. Before any presidential or midterm election, strict news suppression ensures that all bad news will follow, not precede, the voting. The Twitter files, Project Veritas ambush interviews, the Podesta emails, and occasional left-wing braggadocio like Molly Ball's now infamous post-2020 election revelations in Time magazine, confirm the fusion between the media and the Democratic Party. To the degree there is any independent journalistic inquiry about Biden — such as we are only now seeing with Biden's security violations — it is likely only because the party wants the 80-year-old enfeebled Biden out of office. The Democratic-media-deep-state nexus quashed all 2020 pre-election revelations about the embarrassing Hunter Biden laptop. Its contents more or less proved that the Biden family was corrupt. Twitter and Facebook confessionals show how, in lapdog fashion, social media forbade coverage of the truth about the laptop.
Anita Dunn was behind the decision to keep the classified documents story from the press. So Joe Biden is finally, officially in trouble for something. While many in the media are eager to point out that Biden's classified document scandal isn't as bad in some ways as Trump's classified document scandal, some realists have admitted that they're similar enough that there's probably not a lot to be gained here. And one reason that's true is that while Biden's people did quickly call the National Archives to, in effect, turn themselves in once the documents were found, they sat on the findings as far as the public was concerned. If you've watched any of the White House press briefings this week then you already know this has been something the White House press corps has repeatedly brought up. Why did you wait to inform the public until after the election? Why wasn't the White House as forthcoming with Americans as it was with the bureaucrats?
Liberal Media Bias Is Alive and More Embarrassing Than Ever. I began writing about politics almost 22 years ago. My main focus when I started was liberal bias in the mainstream media. I didn't intend for it to be my sole focus but, these two-plus decades later, it's what I've written about the most. It's kind of my thing. It would be nice if it didn't have to be, but those people are awful, and I still like calling them out. [...] It's really gotten weird with President LOLEightyonemillion in office. They have to prop up the mindless loon in the Oval Office, which must be exhausting. The more Biden obviously deteriorates, the more the flying monkeys in the mainstream media go out of their way to make it seem like he's not.
Media Reach New Low With Biden's Classified Docs. If you weighed the importance of a scandal based on the amount of media coverage generated in recent weeks, you'd think that George Santos is the biggest threat the nation currently faces. Bigger even than Donald Trump, and much bigger than President Joe Biden, who has hoarded highly classified documents in unsecured locations for the past six years. Who is George Santos, you ask? He's nobody. He's just one of 435 congressmen elected in the 2022 midterms. He's someone who would normally get zero press attention, even if he had done something incredibly stupid like lie about his background to get elected. But Santos, you see, is a newly elected Republican lawmaker from New York, one of a handful from that state, who won a swing district on Long Island and now serves in a House where the GOP holds a tiny majority. For that reason — and that alone — he's become the subject of an absolute media frenzy. An army of reporters follows him wherever he goes, demanding that he answer for his "crimes" and explain why he won't step down. Reporters are plumbing every angle and looking into every crack and crevice to keep this story on the front page.
Is MSNBC panicked about Biden documents scandal? I have a secret to share: I think both the Trump and Biden classified document scandals are big fat nothingburgers. It's not that I don't think classified documents are important, or that they shouldn't be protected, or anything like that. If anybody outside the elite of the elite did what these guys did they would be toast. But at this level? Does anybody think that a former VP or President isn't a walking classified document already? These guys write their own rules, for good or ill. If either of them wanted to blow the whistle on anything nobody could stop them. Hillary Clinton did much worse and got away with it — literally taking hammers to the evidence, and everybody shrugged. Sandy Berger stuffed documents in his underwear and it was a mild scandal. Presidents? People only care if it benefits them politically. So no big deal, right? Well, MSNBC apparently doesn't think so. They have gone into full panic mode on Twitter for some reason.
For Biden Supporters, No Lie Is Too Much To Break The Faith. The Constitutional Crisis that is the Biden regime continues to exceed previous levels of cover-up, denial, and dishonesty. Through it all, media members and other Biden supporters keep getting played for fools, but they always come back for more. [...] Journalists should be really, really angry that they have been lied to — again — and as they were directed to run interference and damage control for Biden — again. After all, they've been thoroughly embarrassed because they have stepped on a rake and have been smacked forcibly in the face with the long handle of inescapable truth. And yet they've still got Biden's back. A Special Counsel has been appointed as of midday Thursday, January 12, 2023. Forgive me, but I will not be holding my breath for an honest investigation.
'The View' Goes off Into Loony Conspiracy Land Over the Biden Classified Docs. The ladies on "The View" were in typical form on Thursday as they whined about how inconvenient the burgeoning Biden classified documents scandal was interfering in their hoped for efforts to somehow get President Donald Trump. In the process, they implied that somehow the documents may have been planted. "You know what I think? I've never seen a luckier person than Donald Trump. Just as we're this close to getting him, somehow these documents appear!" Joy Behar complained. That in itself is so delusional on so many levels. That she thinks like so many Trump Derangement Syndrome folks that this time they've finally got him. Then, she's never seen a "luckier person" — not exactly lucky that the Democrats have been trying to get him since before he got into office because he was a threat to their power.
Media begins squirming over Biden. [Scroll down] Times were good. Trump made the economy strong and kept us out of more wars. The press was free to indulge in its dreams of making history. Now eggs are $8 a dozen at Piggly Wiggly and Putin's invaded Ukraine. Republicans control the House and they are ready to look at Hunter's laptop and into Biden's presidency. The press is alarmed. AP wrote, "House Republicans on Wednesday opened their long-promised investigation into President Joe Biden and his family, wielding the power of their new majority to demand information from the Treasury Department and former Twitter executives as they laid the groundwork for public hearings." Oh no. They are demanding information! Information! Nooooo!
Shameless media immediately make excuses for Biden's mishandled classified documents. A stash of classified and top-secret documents, some with the "sensitive compartmented information" designation, has just been found at Joe Biden's private office at the Penn Biden Center for Diplomacy and Global Engagement at the University of Pennsylvania and, just breaking, at least one additional batch has been found at other locations. Unfortunately, the administration that boasts "Highest Standards of Transparency" has not condescended to say where the new stash has been found, the peasants having no right to know. Quite surprisingly (or maybe not), the reaction to this from just about everybody in what passes for our "news" media was completely different from the reaction to Trump's classified and top-secret documents at his guarded compound in Mar-a-Lago, which was raided last August. In Trump's case no distinctions, no qualifications, no nuance needed to be considered. Trump was guilty of putting our national security at risk. He's going to get us all killed! Michael Beschloss, a "presidential historian" with no history degree and a dependable virtue-signaling Democrat party groupie, suggested that Trump deserved the death penalty for retaining classified documents. Former CIA Director Michael Hayden, who has been accused of lying to Congress, agreed, saying, "sounds about right." CNN's Laura Coates, atypically at a loss for words, said she simply does not know what to say about "the seriousness of [Trump's] threats to national security." Carl Bernstein, who was fortunate to be standing beside Bob Woodward when the latter brought down Nixon, said that Trump "has played fast and loose with American national security." Nicole Wallace, who used to pretend to be a Republican until MSNBC made her an offer she couldn't refuse, described the situation as a national security crisis. Joy Reid of MSNBC was deeply upset with the "extreme risk Trump was willing to take with our national security" and so on. Biden himself, prompted by Pelly's invitation to trash Trump, was very clear that there could be no excuse whatsoever for a president's taking classified documents when they left office. Quite surprisingly, once Biden was found in possession of classified and top-secret documents, all sorts of excuses have suddenly materialized.
Joy Behar Says Biden Deserves 'Benefit Of The Doubt' But Trump Doesn't. "The View" co-host Joy Behar said Tuesday [1/10/2023] that President Joe Biden, unlike former President Donald Trump, deserves the "benefit of the doubt" in regards to allegations he removed classified material to a non-secure location. Biden's personal attorneys said they stumbled across the documents while packing files in a private office and notified the National Archives and Records Administration, CNN reported, citing two sources familiar with the matter. The sources told the outlet the documents allegedly pertain to Ukraine, Iran and the U.K., and date back to Biden's time as vice president. Biden was reportedly unaware the documents were found at the office and was notified through the White House counsel's office.
Only an economic illiterate could say that Biden's policies are working well. Here is a headline in Yahoo Finance on December 30th: "This week in Bidenomics: It was a pretty good year." The author is Rick Newman, whose title is "Senior Columnist. Newman admits that the S & P 500 was down 20% for the year, the Dow Jones was down 10%, and the Nasdaq was down 34%. Nevertheless, he brags that gas prices are down from their high to $3.15 per gallon, never acknowledging that gas was $2.17 when Biden won the election. Bragging about prices that are up 45% in two years does not show any ability to think cognitively. Diesel prices are also down from their Biden-era high. Still, their Biden-era "low" is $4.53, which is 90% higher than the $2.38 price for diesel when Biden was elected. Crude oil is around $80 or up 100% from $40 when Biden was elected. That is what happens when one of your major goals is to destroy industries that provide reasonably priced energy.
The Democrats are desperate to make Biden appear younger. In the December 1921 issue of Printer's Ink, Frederick R. Barnard published a piece titled "One Look is Worth a Thousand Words." His article focused on how an image is often more effective than writing thousands of words on the same topic. From that article came the well-known saying that "a picture is worth a thousand words." The phrase came to mind on December 17, when Democrat strategist Chris D. Jackson tweeted a photo of a "youthful looking" Joe Biden leaving the White House with his grandson Beau and First Nurse Jill. As many pointed out, the since-deleted image of Joe appears to have been photoshopped to make the elderly 80-year-old look like a younger, healthier man in his 60s. [...] Democrats are worried that if Joe "Big Guy" Biden runs for re-election in 2024, his age, frailty, and dementia-like comments will be a constant focus. From past to current dictators, there never were or will be published photos that show them in a bad light.
Nets Ignore the Courtroom Drama With Hunter Biden's Baby Mama. In an Arkansas courtroom on Tuesday, the attorneys for Hunter Biden's stripper baby mama, Lunden Alexis Roberts, filed a motion to have their daughter's (Navy Joan Roberts) last name changed to reflect that of the presidential family tree she hails from. It's the kind of embarrassing family drama the liberal broadcast networks would be all over if their last name were "Trump" and it involved one of the former President's adult sons.
Most reporters are shills for Democrats and the latest string of news proves it. Here are a few stories that the media ignores while campaigning for leftist policies:
Pelosi's failure to secure the Capitol on Jan. 6, 2021, despite warnings.
The collusion of FBI and other government agencies with social media outlets to interfere in elections.
The Biden family corruption.
All of Biden's lies as he rewrites his history and resume.
An overstatement of jobs by one million.
This is why Joe Biden won't go to the border. As I described last week, the crisis at the border is about to get dramatically worse. There are tens of thousands of people waiting in camps on the Mexican side of the border for the end of Title 42. Whenever that happens, estimates suggest there could be 12,000 to 14,000 arrivals at the border per day. Meanwhile, the Biden administration has no coherent plan to deal with it. Through all of this, Joe Biden has remained consistently on the sidelines. His refusal to go to the border to see the crisis he helped create up close has become a point of perverse pride. And the media, naturally, has sided with Biden.
Slate: spend Christmas "debunking" family's "conspiracy theories". I am definitely in the camp of people who advise "avoid politics at the Christmas dinner." As you might guess, I care a lot about politics and can have a difficult time doing this myself as the only conservative in my family. [...] Every year we are confronted with advice about how to convince your Uncle Joe that socialism is really a good thing or that he is a racist in need of reform. I like to go through these articles just to find out what the narrative pushers are trying to convince the masses to believe. Slate's version this year is a doozy. As a "news and opinion" publication that is mainstream-adjacent, if not exactly MSM itself, it has taken up the task of convincing the average IQ Lefty that debunking the Hunter Biden laptop "conspiracy theories." It does an especially poor job of it because the laptop itself is filled with conspiracy proofs. There is pretty much no way to spin the laptop in such a way that anybody involved comes out looking good, so their argument boils down to "there is no proof that Joe himself was involved" in all the evil stuff revealed in it. And besides, since there is no proof nobody should care.
Why Did the FBI Want Joe Biden to Become President? Just imagine for a moment that Donald Trump, Jr. (or Eric) sat on the board of directors for a foreign company and "earned" millions of dollars for literally doing nothing. He didn't know the industry and didn't speak the language. The only thing Junior brought to the table was his last name. [...] The media coverage would be nonstop. After years of witch hunts, they would finally have legitimate criminal behavior to investigate. The thousands of hours of airtime devoted to fake scandals would finally have paid off. But change the name from Donald Trump, Jr. to Hunter Biden and the political party that stands to suffer from the revelations from Republican to Democrat, and the media becomes curiously uninterested in doing their job, which is to report the truth: That Hunter Biden is the bagman for the Biden family crime syndicate. The latest Twitter Files information drop proves it. Not only has Hunter's corrupt and criminal business deals been exposed, the extraordinary lengths to which the FBI acted to suppress a true story have been exposed, too.
Reaction to the Hunter Biden laptop story perfectly illustrates how the elite media have given up doing their job. In years past, when journalism was trusted by consumers much more than it is today, The New York Post might have been nominated for a Pulitzer Prize for its reporting about Hunter Biden's laptop. New Twitter owner Elon Musk might have also won awards for his revelations of collusion between Twitter, intelligence officials who claimed the story was Russian disinformation and leading Democrats who were in touch with social-media owners to suppress stories that might have harmed Joe Biden's election as president. There is a snobbery among the journalistic elite, which distrusts information that doesn't come from certain organs, like The New York Times, The Washington Post and major broadcast media. One of many examples occurred prior to the 2020 election when "60 Minutes" reporter Lesley Stahl interviewed President Donald Trump. The president mentioned the Biden laptop, and Stahl cut him off, twice saying "it can't be verified." Just days ago and long after even some major media reluctantly "verified" the laptop and its contents, even CBS acknowledged its existence. All of this had implications for the outcome of the 2020 presidential election and the continued decline of public trust in the major media.
The Media Undertakers Must be Getting Exhausted. Among the stories Twitter actively blocked was that of the salacious Hunter Biden laptop contents. So shocking was the material on this laptop, so revealing of the perversity of Hunter and the corruption of Joe Biden, that one post-election survey reports that 16% of persons who voted for Biden said they would not have had they known of the contents of this laptop. One major newspaper, the NY Post, did publish a story about it, and several online posters did as well. The most detailed, should you care to see for yourself what was on the laptop, is [elsew]here. The laptop reveals not only sexual depravity and illegal drug use, but corruption and influence buying as well. Taibbi reports "Twitter took extraordinary steps to suppress the story, removing links and posting warnings that it may be 'unsafe'." The only person it was unsafe for was Joe Biden, the Democrat party's presidential candidate[.] Even then, White House spokesperson Kayleigh McEnany was locked out of her account for tweeting about it. Several insiders questioned what was going on and received the untrue defense that the material was removed because it violated the company's "hacked materials" policy. The laptop was never hacked. It was abandoned by Hunter, then was unlocked while in the possession of the NY Post, and it and its contents are authentic. At any other time in history of which I am aware such a scandal would have been front-page news in the weeks preceding an election.
Leftist Journo Still Believes Hunter Laptop Is Russian Misinformation and Trump Colluded with Russia. In 2020, when we first learned about Hunter Biden's "laptop from hell," we all knew it was real. It wasn't until after the 2020 election was over that the mainstream media slowly but surely started to concede the laptop was genuine, but at least one left-wing journalist still thinks the laptop story is dubious. David Corn, the D.C. bureau chief of Mother Jones and an MSNBC analyst, apparently still believes that the laptop isn't legit.
McCarthy: Twitter Disclosures Show Biden Doesn't Want Free Speech, I Wonder What Facebook, Google Are Hiding. On Friday's broadcast of the Fox News Channel's "Jesse Watters Primetime," House Minority Leader Rep. Kevin McCarthy (R-CA) reacted to disclosures on Twitter's suppression of the Hunter Biden laptop story by saying he thinks the disclosures are just the tip of the iceberg, he wonders what internal machinations at Facebook and Google have been hidden, and the disclosures show "why the White House is going after Elon. They do not want him to tell the truth and they do not want to have free speech."
Elon Musk Drops Explosive Hunter Biden Files. Elon Musk has done it again. He's managed to make all the right people mad, this time by releasing the internal files detailing Twitter's censorship of the Hunter Biden laptop story. As RedState reported, though, things go even further than that, with the Biden administration directly colluding with Twitter to do its bidding for political purposes. That follows another recent revelation that the FBI was also working with social media companies to suppress the Hunter Biden bombshell. As expected, instead of reacting with horror at the corruption (and collusion) that existed on social media during the 2020 election, "journalists" are trashing Musk for daring to expose all this. Transparency is bad again. [Tweet] [...] NBC News' supposed disinformation reporter is not mad that something that was true was suppressed. Instead, he's mad that the details of how that happened are being revealed.
Hunter Biden laptop bombshell: Elon Musk's Twitter drops Post censorship details. Twitter "just freelanced" its baseless decision to censor The [New York] Post's bombshell Hunter Biden laptop scoop in the run up to the 2020 election — with top-level workers at the social media giant agreeing that controversial decision was "[bad]," [embarrasssing] insider communications released by CEO Elon Musk Friday [12/2/2022] reveal. The chaos and confusion behind closed doors at Twitter in the immediate aftermath of the October 2020 Hunter Biden expose show that a small group of top-level execs decided to label the Post's story as "hacked material" without any evidence — behind the back of then-CEO and founder Jack Dorsey. Musk tweeted a link to the account of independent journalist Matt Taibbi shortly after 6 p.m., who shed light on Twitter's shady censorship decision by posting what appeared to be redacted emails between Twitter employees. The decision to censor The Post's story was made "at the highest levels of the company," according to Taibbi, but without Dorsey's involvement.
How Twitter Helped Elect Joe Biden. As Elon Musk promised, Twitter is releasing internal documents about how and why they suppressed information about Joe Biden's corruption, as documented on his son's laptop, in the last weeks of the 2020 campaign. Twitter apparently outsourced the task to liberal (but not crazy) commentator Matt Taibbi. [...] So far, I would say it tells us pretty much what we already knew. Liberal Twitter employees seized on a flimsy pretext to suppress a story that would hurt the Biden campaign in the closing days before the election. Taibbi comments that one striking feature is that the censorship was carried out without the involvement of Jack Dorsey, Twitter's CEO, who later apologized for it. Perhaps the partisans at Twitter thought Dorsey may not be on board with their censorship. It is also interesting to read the many replies by liberals who think that what Twitter did was A-OK.
Our Lying Idiot Media Really Is That Dumb. It's not just that the media lies all the time in the service of its cause, but that its wretches no longer have the skill or even understanding to tell the lies apart from the truth. And so they simplify matters in the timeless fashion of extremists by declaring everything they believe to be the truth and everything that they disagree with to be a lie. Or disinformation. Faced with Hunter Biden's laptop, they phone up a few experts from their contact list who tell them what they want to hear and the media proclaims it's Russian disinformation. Faced with actual Russian disinformation accusing Trump of frolicking with prostitutes in Moscow, they cheerfully amplify it as loudly as they can. And they are too dumb to even know any better. Like their old Pravda predecessors in Moscow, they don't know anything except the party line.
RIP: CBS News (1927-2022). The decline and fall of CBS News has been something to watch in recent years. The network was founded in 1927, and just recently passed away from pure stupidity. [Tweet] The exact cause of the illness that finally brought down CBS News was the Hunter Biden laptop story. Here's CBS News in 2020 telling its audience that the contents of Hunter Biden's laptop isn't real — it's disinformation. [Tweet] The 60 Minutes anchor Lesley Stahl was briefly released from the Dan Rather Rest Home for Disgraced Journalists to interview President Trump in the run-up to the 2020 election. Stahl spent her time during the interview gaslighting the American public about the laptop. (She also insisted that the Obama administration did not spy on the Trump campaign.) [...] It was an open secret at the time why CBS News — and the rest of the major corporate media outlets — tried to discredit the Hunter Biden laptop story. It was well known that Obama/Biden political operatives had warned the big media outlets that anyone who reported the truth about Hunter Biden's laptop would be frozen out by the Biden Administration (if he won). In other words, CBS News protected the Bidens — and sold out its remaining viewers. Two years later — and two years too late — the network has now changed its tune because it doesn't matter anymore.
Media still trying to trick Americans about Hunter Biden. The Biden family's influence peddling has always been a scandal left to the eye of the beholder. For some, it was dismissed as Russian disinformation or, more recently, simply the result of a drug addicted son of the president. Neither is true, but Hunter Biden has always been an example of motivated perception, or perceptual bias, where we tend to see what we want to see and turn a "blind eye" to what we do not want to see. That phenomenon was on full display this week in an Associated Press article that made an extraordinary claim: that there is no evidence even suggesting that President Joe Biden ever spoke to his son about his foreign dealings. I previously discussed how the Bidens have succeeded in a Houdini-like trick in making this elephant of a scandal disappear from the public stage. They did so by enlisting the media in the illusion. However, this level of audience participation in the trick truly defies belief.
Jordan rips media, intel experts for dismissing Hunter Biden emails as 'Russian disinformation'. Rep. Jim Jordan tore into the media and Washington intelligence experts Thursday for accepting the explanation that Hunter Biden's controversial emails were nothing more than a Russian disinformation plot hatched days before the 2020 presidential election. Jordan, R-Ohio, and his Republican colleagues announced that partly because of those emails from Biden's abandoned laptop, they have assembled a broad range of evidence showing that Biden and then-Vice President Joe Biden were involved in influence peddling in dozens of countries around the world. Rep. James Comer, R-Ky., said the Bidens got rich by "offering access to the family," and said this raises serious national security issues that need to be investigated. After Comer described the evidence collected so far, Jordan ripped the dozens of intelligence officials who told the world that information found on Hunter Biden's laptop was most likely fake news from Russia.
What's behind the sudden media focus on Biden's big lies? All of a sudden, even left-leaning media are flagging President Joe Biden's lies. Those fibs are no more enormous or absurd than before; why did they become "news" just before the midterm elections? In recent days, CNN's fact-checker recounted a boatload of Biden's whoppers, calling them outright "false, misleading or lacking important context." The New York Times — which has repeatedly gone to bat for the prez — ran not one but two stories flagging his lies. The Washington Post awarded Biden his first "bottomless Pinocchio" for falsely claiming he's traveled 17,000 miles with Chinese President Xi Jinping. The prize signals a fabrication that's repeated at least 20 times and so far from true that it had previously earned at least three WaPo "Pinocchios." It sure took these outlets long enough. Biden's been selling whoppers since forever, and they've been unmissable since he took the White House.
The Press Has Officially Lost Its Grip On Reality. Consider the recent string of events involving President Biden. In the span of a few days, he called Kamala Harris a "great president," got disoriented at an event on the White House lawn, claimed that his student loan giveaway was a law passed by Congress not his own executive order, misstated the name of Britain's new prime minister, suffered another embarrassing teleprompter failure, appeared to nearly drift off into sleep during a TV interview, got confused about how to exit a stage he'd climbed up just moments before. A neutral press would be demanding answers from the White House about Biden's condition. They be talking to experts about the grave risks of having a president suffering from dementia in charge. They'd have their pollsters ask the public about its concerns with Biden's mental health. Instead, reporters are feverishly sweeping Biden's rapid deterioration under the rug. Indeed, if it weren't for conservative news outlets, the public would have virtually no idea of how disturbing Biden's decline has become.
See no evil on Joe Biden's China links. To announce charges in three cases against foreign operatives working in the United States, Justice Department officials held a press conference last week that recalled the Red Scare days of the 1950s. This time, the alleged Communist evil doers are Chinese, not Russians. Attorney General Merrick Garland, FBI director Christopher Wray and others adopted a striking anti-China tone in describing a level of venality. They are willing to "lie, cheat and steal their way to dominance," Wray said, pointing to criminal cases involving agriculture, academia, green technology and governments. Deputy Attorney General Lisa Monaco, citing evidence that bribes were offered to obtain inside information about Justice's investigation of Huawei, the Chinese telecommunications giant, said the case "shows the interconnection between ... intelligence officers and Chinese companies."
John Kennedy: 'Media Has Turned Biden Into Caricature Of a Nice Elderly Gentleman'. Everything President Joe Biden touches turns to dust. He was handed a country with a recovering economy, cities where crime was under control, a secure border, and a time when people can afford to live. All he had to do was nothing. But he didn't, and now the U.S. is at one of its worst times in history. Sen. John Kennedy (R-LA) has had enough of the Democratic Party making excuses and covering up Biden's many bluffs and mistakes. Talking to Jesse Watters during his Fox News Primetime show, Kennedy said that Americans no longer believe Biden's lies when he says his policies are improving the state of the country. "The American people have learned over the past 20 months that if you want something screwed up, President Biden is your man," Kennedy said, adding "it has been 20 months of misery and vexation and Homer Simpson goes to Washington. I mean, pick your issue. The infrastructure bill, COVID, crime, the border, Congress, the economy, inflation, gas prices, Afghanistan, baby formula, [indeed]."
When Was the Last Time That the Democrats Told the Truth About Anything? [Scroll down] The Democrats and the Democrat FBI and other agencies suppressed news about the Hunter Biden laptop because it exposed and documented the Biden family's international influence-peddling scheme and threatened the election of Democrat Joe Biden to the Presidency. Fifty Democrat members of the intelligence community signed a letter claiming that the laptop was Russian disinformation. The Democrat big tech, cable news, and mainstream newspapers all suppressed the story in order to ensure that it would not influence voters against Biden. Once again, outright lies to benefit the Democrat Party at the expense of American citizens. With Biden finally elected, the media could finally admit that the story was true all along.
Media Go To Increasingly Absurd Lengths To Protect Biden. Just how far will the leftist media go to protect President Joe Biden? If the past couple of weeks are any indication, there is no limit. Take the incident in late September where Biden repeatedly called out for a dead congresswoman to come forward. It happened when he was speaking at a White House conference on nutrition and health and started thanking lawmakers who'd worked on the issue. [...] Most cognizant Americans saw this for what it was: Another worrisome sign that Biden's mental acuity is rapidly declining. For the press, however, it was an opportunity to praise the 79-year-old. Jill Lawrence, a former commentary editor at USA Today, wrote that "there's another way to look at this." Namely, she said, it shows "how generous and professional Biden is." He was just trying to be nice to a lawmaker, and a Republican one to boot, she wrote. What a guy! And how refreshingly different from that evil Trump! "Some things," she concludes, "are more important than age and a perfect memory." How touching.
Jill Biden's Appearance At Cowboys / Eagles Game Inspires Perfect Meme Summing Up The Trump vs. Biden Economy — The Meme Is Now Removed From Every Social Media. First lady Jill Biden was an honorary captain for the Philadelphia Eagles on Sunday as the team looked to stay undefeated against NFC East rival Dallas Cowboys in Week 6. Like several Eagles players and Santa Claus before her, fans of the only unbeaten team left in NFL reportedly booed Biden when she stepped onto Lincoln Financial Field. Several people in attendance for the Eagles game tweeted about the apparent loud boos she received. [Numerous tweets] And that leads us to a meme that's directed more toward FLOTUS's husband and the Democrats who support him! Social media giants also removed the meme from everywhere but we managed to download the meme which could be the most accurate economic depiction of the last few years.
Former CNN & MSNBC Chiefs Give Absurd Reasons for 'Blackout' of Hunter Biden Story Before 2020 Election. Former CNN and MSNBC executives sat down with Michael Smerconish and were pressed on their lack of coverage for the Hunter Biden story prior to the 2020 election. "[There's a] controversy that you may think is bullsh*t," Smerconish said. "Let me give you an example. I believe — they know this, because I talked about it on air. I think that the Hunter laptop was worthy of more airing than it received right before the election. Either of you agree with me on that? Do you regret? How about — if I ask you this way, specifically, do you regret not dealing with it before the election?" "Well, I mean, I think — I think we — the question is, we did deal with it,' former CNN chief Jeff Zucker respondedd. "But to the degree that, you know, you would have thought was appropriate. I think the answer is in the final two weeks, you know, it was looked at. We did not know enough about it. There was not, you know, there was not within two weeks of the election, the ability when the messenger on that story was Rudy Giuliani, okay?"
New York Times Races to Defend Biden's Lies. In the latest installment of "things the mainstream media would never do for conservatives," The New York Times is again rushing to President Joe Biden's aid to defend his frequent use of outright lies in his... creative... storytelling. Headlined "Biden, Storyteller in Chief, Spins Yarns That Often Unravel," the Times points to Biden's usual lies used to pander to audiences but characterizes the blatant falsehoods as merely a "habit of embellishing narratives to weave a political identity." How nice to be Joe Biden and have the Times around to make your literally unbelievable anecdotes an endearing quality, or whatever.
Did Tucker Carlson's Bobulinski Home Run Crack the Media Protection Racket of the Bidens? Uh-oh. Reports on news of investigations involving Hunter Biden in The Washington Post, CBS and NBC? After Tucker Carlson's Bobulinski sit-down? One would be justified in thinking that maybe, just maybe, the liberal media Biden protection racket may finally be cracking. The bottom line, as expressed this week by Fox's Jesse Watters is clear: "This isn't a Hunter Biden story," said Jesse. "This is a Joe Biden story." Bingo.
Nets Refuse to Mention What Biden Was Up to as Hurricane Ian Wreaked Havoc on FL. Hurricane Ian has, for good reason, consumed the news cycles this week in light of its record devastation across southwest Florida, but in the midst of their substantial coverage, the broadcast networks of ABC, CBS, and NBC have refused to mention President Biden chose to attend a Democratic Governors Association (DGA) fundraiser on Wednesday night as billions of dollars in damage were being inflicted, lives lost, and storm surge inundated the region. In contrast, at least five Fox News Channel shows cared to mention Biden's decision to spend time raising money to put Florida Governor Ron DeSantis (R) out of office as his state faces one of the worst hurricanes to strike the country.
Study: PolitiFact Is Nearly 6 Times More Likely to Defend Biden Than Check His Facts. This week, the Poynter Institute and their PolitiFact website are hosting their "United Facts of America" conference to "celebrate facts" with a cast of liberal journalists, including PBS anchor Judy Woodruff, NPR TV critic Eric Deggans, CNN "misinformation" reporter Donie O'Sullivan and CNN legal analyst Joan Biskupic. We've also found the "fact checking" at PolitiFact has a liberal tilt. Earlier this year, a NewsBusters study of Biden's first year in office — from January 20, 2021 through January 19, 2022 — found Biden was fact-checked 40 times, while Biden critics were checked on 230 occasions. In other words, they're much more sensitive about someone mangling the truth about Biden than they are about Biden mangling the truth. Now MRC analysts have updated the research to include another eight months to the count. The pattern continues. From January 20 to September 19, 2022, we counted 18 PolitiFact checks on Joe Biden, compared to 108 "fact checks" of Biden critics. That's exactly a six-to-one ratio.
Xi Whiz. Aren't we lucky that both the mainstream and social media blocked the news about Hunter's laptop? Aside from all the disgusting images found on it of Hunter's drug and orgy-filled days and nights, the "Big Guy's" take from the Chinese bribery was kept from the voters when it surely would have made a difference. [...] Bought Biden stays bought. Here's his payback to Xi: Energy policies that hamstring domestic energy production, fueling inflated prices, and shortages of everything including food. Policies which benefit China, which is presently spewing more carbon-dioxide emissions into the world's atmosphere than any other country on the planet — 30%. And this will probably rise as the U.S. and Europe stupidly abandon fossil fuels before there are any viable alternatives. Now we learn that in addition to China's long-known industrial espionage, the administration has made it easy for China to steal our nuclear secrets.
MSNBC Praises 'War Hero' Biden Who Was 'Chopping Wood' in the Mountains 'Til His Country Called. Do you envision Joe Biden as a war hero? Do you see him shirtless and sweaty, axing oak for the fire he's busting at the biceps to build? From the sound of things on MSNBC, it wouldn't be wrong. Last week on Deadline: White House, host Nicolle Wallace welcomed network contributor and Morgan State University journalism Professor Dr. Jason Johnson. Discussion turned to the Charlottesville conflict of August 2017, during which a man drove his car into a crowd. Horrifically, he killed one person and injured several others. [...] Did Joe Biden — who previously held no interest in ascending to the land's highest office — see the shock of Charlottesville as a sign he had to suit up and save America? It seems Dr. Jason believes so.
60 Minutes' Scott Pelley Gets an 'F' for His Joe Biden Interview. Until last weekend, President Joe Biden hadn't given an interview to an American news network in seven months, or some 223 days. Think about that. We literally have a United States president who is not answerable to the public, and who spends his days hiding behind his handlers, Teleprompters, cheat sheets, and wife Jill. He did finally deign to appear on CBS News 60 Minutes on Sunday, and he dropped enough news to keep RedState reporters working overtime. Yours truly reported how Biden warned Putin not to use nukes in the Ukraine war; streiff reported how the president pledged to defend Taiwan even though that is not the official U.S. position; Nick Arama told us how Joe bragged that he'd been busy depleting the Strategic Petroleum Reserve and then dismissed any concerns about the business dealings of his troubled son Hunter; Bonchie wrote about Joe's brushing off skyrocketing inflation before he suddenly declared that COVID is over... Phew. The list goes on. [Tweet with video clip]
Joe Biden Puts Humpty Dumpty To Shame. Last week, the Biden administration tried to convince the public that inflation was a thing of the past and the southern border was secure. Before that, the president attempted to redefine inflation. It's been a running theme of this administration, one Joe Biden never gets called on because the press is too busy accepting whatever meaning he chooses. So here, as a reader service, is a collection of how Humpty Dumpty Biden is choosing what words will mean. [...]
Give Him an Inch. I would be embarrassed to conduct an interview with the president that was as lame as Scott Pelley's lovefest with President Biden on 60 Minutes last night. The Biden administration accorded Pelley a substantial amount of time to chat with Biden and Pelley returned the favor with a variety of softballs and dropped balls as well as his own apologetics — to no one's surprise, of course, but still. It was an embarrassment. [...] The lack of follow-up questions was one striking feature of the interview. You'd almost think that Pelley himself doesn't follow the news. He appears to be somewhat less knowledgeable than the average voter. The good news is that "the pandemic is over." That's what the man said. The pandemic is over — until it's not. You may recall that the administration now relies entirely on the pandemic to support it's illegal student-loan giveaway. It's an emergency. You may recall, but Pelley did not.
Why has fact-checking disappeared under Biden? Fact-checking under President Trump was a bustling business. Seemingly every day, and sometimes by the hour, the 45th president's every word was scrutinized, which all comes with the job. But under President Biden, fact checkers are enjoying what feels like extended vacations or have simply checked out in terms of scrutinizing the many ways that he is misleading the public. Take CNN fact-checker Daniel Dale as a prime example of apathy around holding the current president accountable. From June 2019 until November 2020, Dale appeared or was mentioned on CNN more than once per day, on average, according to Mediaite. Estimating conservatively, that's more than 500 appearances or mentions on a national network in the span of just 16 months. But Dale has become the fact-checker version of Edward Snowden under Biden. He's almost impossible to find these days. In fact, Dale has not conducted even one fact-check of the president since June. Of course, Biden supporters will insist that Dale simply doesn't have any material to work with. But that's not true.
Media's Top Eight Hunter Biden Laptop Deniers — And Many, Many Honorable Mentions. In commemoration of the launch of our first movie, My Son Hunter, I have attempted to find the origins of the contagion that is Hunter Biden laptop denial. It was one of the biggest stories of the century, broken in one of the country's oldest papers (the New York Post), and by a terrific reporter (Breitbart's own Emma-Jo Morris). In an era of endless spin and fake news, this story was 100% factual. Yet it was almost instantly dismissed as Russian disinformation and censored from the Internet. Who was behind this massive hoax? How did they pull it off?
Networks Isolate Biden From Blame for 'Disappointing' Inflation Report. While each took a different approach, the major broadcast networks of ABC, CBS, and NBC worked Wednesday [7/14/2022] to isolate President Biden from blame for the pitiful August inflation report showing it came out to 8.3 percent (when the predicted number was 8.1 percent) with energy, food, and rent still soaring. Instead, some of them trumpeted Biden's "positive spin" and that he's "not worried about" it while one ignored Biden completely. ABC's Good Morning America co-host and former Clinton official George Stephanopoulos opened with a tease warning of "[t]he sharpest one-day stock market loss in two years and the inflation fallout" following "[t]he disappointing new economic report showing prices still climbing more than expected."
Dems want the midterms to be a referendum on Trump, not bungling Biden — and the media are compliant. Teddy Roosevelt's daughter Alice once said that he was "the bride at every wedding, the corpse at every funeral." No matter what was going on, he always wound up the center of attention. The same could be said for former President Donald Trump. No matter what's going on, he somehow seems to wind up driving the conversation. And today's news almost seems calculated to bring Trump to the forefront. You have the FBI's questionable raid on Mar-a-Lago, where the same agency that covered up Hunter Biden's laptop sent G-men to run their fingers through Melania's underwear. You have President Joe Biden's positively Mephistophelean red-lit speech in Philadelphia following his declaration that his opponents are "semi-fascists." You have Democratic officeholders in New York and Georgia trying to prosecute Trump. All generating steady Trump-related headlines. Well, if it seems calculated to bring Trump to the forefront, it's because it is calculated to bring Trump to the forefront. The truth is, the Biden people would rather this election be a referendum on Trump than a referendum on Biden. That's because if it's a referendum on Biden, the Democrats will lose, hands-down. And the press knows this, which is why it's cooperating.
CNN questioned after altering blood-red background of Biden's speech. CNN is facing questions from critics after the network was busted altering the lighting for President Biden's Thursday address, softening the blood-red hues to calmer shades of pink. The president came in for withering mockery online for the harsh black and red backdrop, with many comparing the optics to "Star Wars" and "V for Vendetta." While networks like CNN, MSNBC, CBS and C-SPAN carrying the speech all originally appeared consistent, CNN noticeably altered the color of the background from red to pink in real-time.
Dishonest 'journalism' rules the airwaves. The media have a history of burying stories that are not convenient to their leftist agenda and reporting fake stories — like Russian collusion — that harm people they oppose. The withdrawal from Afghanistan was a disaster. The people are starving. Women and girls are being stripped of their humanity. Terrorists have a strategic military base from which to build. Yet we rarely see a story on the news. It is understandable why the Biden administration wants the story off the front page — yet the media's compliance is disgusting. The truth is very inconvenient for most members of the media, who campaign for Democrats. In efforts to shield the public from Biden's disastrous policy, they relegate honest reporting to the back pages.
Biden's plum job reward for ex-intel officer who protected his scandal-laden son stinks. If Jeremy Bash's appointment last week to the President's Intelligence Advisory Board is any guide to how the White House picks its top intel folks, the nation can forget about getting reliable intel. Bash exposed himself as a political hack eager to exploit his authority for partisan purposes back in October 2020, when he joined 50 other former intelligence officials and signed an open letter pretending that The [New York] Post's reporting off Hunter Biden's laptop was likely Russian disinformation. It has "has the classic earmarks of a Russian information operation," the 51 claimed — without actually explaining how, because it didn't. It was just info they didn't want voters seeing in advance of the election. With the same motive, The New York Times, Washington Post, NPR and other outlets used the letter as an excuse to ignore and deny our scoops. "We don't want to waste our time on stories that are not really stories, and we don't want to waste the listener's and readers' time on stories that are just pure distractions," huffed NPR managing editor Terence Samuels. Oops: The Times, WaPo and so on have now admitted The Post's reports were 100% accurate. So the "experts" were actually the ones pushing disinformation.
The Economic News Is All Bad, And The American Public Knows It. Reporters and analysts are getting used to describing news about the U.S. economy as "mixed." The public, however, knows it's all bad, because the results of President Joe Biden's economic and energy policies are hitting Americans right in their pocketbooks. The latest ostensibly good news was Thursday's Bureau of Economic Analysis report that the second quarter decline in U.S. gross domestic product was a little less than previously stated: -0.6% instead of -0.9%. That's good only if your definition of success is slightly slower failure. The reality is that the U.S. economy is in serious decline and getting worse.
Washington Post: Mean Tweets Now Good! (from Biden). The Washington Post published a glowing profile on Friday [8/26/2022] of the official White House account, suggesting that "mean tweets," once a key point of criticism against President Donald Trump, are now great. [Tweet] The Post noted approvingly that the normally boring White House official Twitter feed "decided to hit back" against critics of Biden's massive student loan bailout by attacking those who had obtained Paycheck Protection Program (PPP) loans during the pandemic, and whose loans had been forgiven. [Tweet]
79% say 'truthful' coverage of Hunter Biden's laptop would have changed 2020 election. Nearly four of five Americans who've been following the Hunter Biden laptop scandal believe that "truthful" coverage would have changed the outcome of the 2020 presidential election, according to a new poll. A similar percentage also said they're convinced that information on the computer is real, with just 11% saying they thought it was "created by Russia," according to the survey conducted by the New Jersey-based Technometrica Institute of Policy and Politics. And an even higher number — 81% — said US Attorney General Merrick Garland should appoint a special counsel to investigate matters related to the first son's infamous laptop, the existence of which was exclusively revealed by The Post in October 2020.
The media myth of Democratic momentum. Many in the media really, really want you to believe that the Democratic agenda led by President Biden is capturing the hearts and minds of voters. That what was supposed to be a red wave is now becoming a ripple, with the Blue Team instead poised to make gains in November. It's all wishful thinking, if recent polls — particularly one from NBC News on Sunday — are any indication. Because any objective person who understands political history knows it's hard to envision how a president who is polling lower than any first-termer in polling history (from Truman to Trump) can possibly galvanize voters to pull the lever for his party.
Joe Biden's Lies Have Caught up With Him. One of the least impressive aspects of this amazingly inept White House administration is its blithe disregard of truth and enthused embrace of lying. As if uttering an untruth makes what they want come true because they think Americans are dumb enough to fall for it. Safe to say, most presidents, certainly the modern ones, have failed to live up to George Washington's fabled inability to tell a lie. And at one time or another — or perhaps several times — told what Mark Twain deliciously called "stretchers." Sometimes mainstream media call them out. Not during the Obama administration, of course. But certainly when Republicans are chief executives. During our previous presidency, some media delightedly counted the president's untruths up into the thousands. They're way too busy to do that now naturally, though they're missing a real opportunity to show their watchdog bona fides with Joe Biden and his crowd. There are real-life consequences to serial lying.
CNN Finally Reports on Hunter's Laptop It Once Called 'Breitbart Rabbit Hole'. More than 18 months after describing Hunter Biden's laptop as a "Breitbart rabbit hole," far-left CNN has begun to report on it. [...] Oh, but now that Biden is damaged goods... Now that the left wants Biden not to seek reelection... Now the Breitbart rabbit hole is not so much of a rabbit hole. Now that the Breitbart rabbit hole is useful to the left in holding on to the presidency in 2024 with a different nominee than Biden, CNNLOL is all up in that rabbit hole reporting on the laptop.
Ministry of Truth: Wikipedia Editors Feverishly Change Article on Recessions to Match Biden Talking Points. An edit war broke out on Wikipedia this week over the definition of "recession," as the Biden administration and the corporate media take the unprecedented step of denying the U.S. is in recession even after two consecutive quarters of negative growth. More than 70 edits to the page about recessions were made before the site locked the entry preventing further changes. The edits successfully de-emphasize the broad consensus definition of recession — two consecutive quarters of negative GDP growth — instead parroting the Biden Administration's talking points. Editors of the leftist-dominated online encyclopedia are pushing a definition of "recession" that is unusually broad and favors the Biden administration's claims that no recession has occurred. This definition, from the National Bureau of Economic Research (NBER), claims that a recession is a "significant decline in economic activity spread across the market, lasting more than a few months."
CNN's John King pushes 'grace' for Dems over inflation: 'Governing is hard'. CNN host John King thinks voters are being too harsh on Democrats over inflation and is calling for them to be shown "grace" as the fractured party gets slammed over skyrocketing prices and catastrophic policies. With midterms looming in November when Democrats are widely expected to get thrashed and as Americans are crushed by out-of-control inflation, it has become the overriding factor for most voters and that has Democrats terrified. The higher inflation goes, the lower President Biden's poll numbers are and they are already at historic lows. His disapproval rating on inflation is currently a whopping 70 percent, according to CNN's Harry Enten who pointed out the disastrous number on Wednesday.
Twitter Is Suppressing Hunter Information to Protect 'The Big Guy'. In 2019, when The New York Post broke the Hunter Biden story, Twitter dutifully turned into the information KGB. The second any news of Hunter appeared, it disappeared like a dissident with a sign in Red Square. For information distribution Twitter was Pravda. It amplified propaganda disparaging the Hunter news as "classic Russian disinformation." So did MSNBC and CNN and their cadre of faithful DNC mouthpieces. The irony was not lost on anyone. Twitter hid the story and the DNC hid Joe in a basement.
Don Lemon: 'We're Not Doing Our Jobs' if Media is Fair to GOP. Recently, CNN's New Day has been on a streak of providing fairly objective reporting. Alas, it was a streak that Don Lemon decided to end this Thursday morning [7/14/2022], ambling over from his nightly slots for what seemed to be a monthly Festivus tradition of his: complaining that the media isn't doing enough to attack Republicans. Essentially openly opposing new CNN boss Chris Licht's reported desire to bring CNN back to journalism and away from Lemon's brand of partisanship.
As Democrats And The Press Turn On Biden, Remember: They Are The Regime That Empowered Him. [Scroll down] Just look back two years: In February 2020, Biden had come in fourth place in Iowa. A week later, he'd come in fifth in New Hampshire. In public appearances, he alternated between sinister whispers about the future and yelling angrily into the crowd. Still, his campaign was less radical than those of his colleagues, who had endorsed open borders and gun seizures. [...] And after South Caroline poobah Rep. James Clyburn endorsed his candidacy in that state, he began to win, counting in particular on the black vote. With this switch, a press (and party) that had openly challenged his past positions and his competency began a steady drumbeat touting his morality and ability to do the job. Questioning his cognitive decline suddenly went from common in both corporate news analysis and political debates to forbidden. Some public figures who'd questioned his capacity even deleted their tweets. While the former vice president ran a bunker campaign with barely any press access, corporate media breathlessly covered Trump's Covid fight, comparing it to the Vietnam War. The District of Columbia even erected crosses for the dead, next to a digital counter keeping tabs of deaths attributed to the disease. (The display was removed after Trump lost the election.)
Biden's Mental Decay. The President of the sole global superpower is confounded by a teleprompter. The Commander in Chief of the most powerful military in the world, with 700+ military spanning the globe and nearly 4,000 nuclear warheads, can barely make it through public appearances. [...] Apparently he goes nowhere without the paper crutch prepared by his handlers. Issues relating to Russia — from the war in Ukraine to the expansion of NATO, etc. — are certainly briefed to the President on a daily basis. And his memory is so bad, his intellect is so defeated, that he cannot recall his constant briefing. If you need further proof of his mental state, there's this "cheat sheet," where he is instructed on how and when to enter the room and leave the room. [...] Make no mistake, Biden's senility is one of the biggest stories in the world. The media's silence on this matter is telling. Never before has the press tried to so hard to ignore so big a story (I venture this is bigger than Hunter's laptop), as they're afraid of what a correct assessment of Biden's facilities might reveal.
Investigation Reveals White House Press Corps Is 12 To 1 Democrat. Research for a new book out next week reveals an implicit bias present throughout the White House press corps: Reporters attending in-person briefings rank 12:1 Democrat to Republican. In "Suppression, Deception, Snobbery, and Bias: Why the Press Gets So Much Wrong — And Just Doesn't Care," Fox News Contributor and former Bush White House Press Secretary Ari Fleischer unearths the political affiliations of those present at a White House briefing on June 7, 2021. "Every seat was filled for the first time in over a year as the social distancing rules resulting from the COVID pandemic were relaxed," Fleischer wrote in an excerpt shared exclusively with The Federalist. "By a ratio of 12:1, the seats were occupied by Democrats!" Fleischer drew upon research solicited by the D.C.-based investigative firm Delve, which combed through publicly available data.
Now That Fake Media Want Biden Gone in 2024, They Protest Press Restrictions. For the past 18 months His Fraudulency Joe Biden has been in office, the corporate media have said nothing about Biden using the China Flu to restrict access to big press avails. Worse still, for 18 months, Biden has almost always called on "reporters" based on a pre-screening process from his staff. He uses an actual list from his staff, something I have never seen before. [...] Nevertheless, for 18 months, the fake media rolled over like the good, little lapdogs they are and took it. Until now. [...] Put another way; the corporate media want Joe Biden out. They want to force him out. They want another Democrat at the top of the 2024 ticket, someone who has a chance at holding on to the White House. That's all that's going on with this protest. This is just more left-wing activism from a left-wing media that was more than happy to roll over like dogs when rolling over aided The Cause.
Mainstream media urging voters to ignore inflation, focus on imperiled democracy. Recent surveys have consistently shown that runaway inflation is the most troubling issue to most Americans. This has led many talking heads and media outlets to express deep concern that historically high gas prices and generally rampant inflation might lead to significant Democrat losses in the upcoming midterm elections. The horror! To help prevent this, Washington Post columnist Catherine Rampell, for example, informed her readers that it was a "wild fantasy" to believe that the GOP could lower gas prices. Furthermore, in a Sunday opinion piece, she condescendingly warned voters to "think carefully about what they'll get if they cast their ballot based on gas prices." By that she means evil Republicans who are pro-life and pro-Bill of Rights. Rampell added, "The president does not have some super-secret special dial on his desk that can adjust gas prices, but many voters believe otherwise." Yes, Catherine, I'm sure many voters think Biden has a "dial" on his desk that can adjust gas prices in real time. (Not that he'd know how to use it if he did.) In reality, most voters know that Biden killed the Keystone Pipeline on Day One, has rescinded or denied drilling leases, and has made it clear he is an implacable foe of the fossil fuel industry in every shape and form. That is why gas prices have skyrocketed since he took office, and that is why voters are rightfully angry.
CNN reporter defends Biden's mental strength, says the 'gears of his mind are working'. CNN correspondent John Harwood defended President Biden against critics who have concerns over the president's age during a segment on Sunday's "Reliable Sources." [...] CNN host Brian Stelter discussed how there is a growing concern among those in the media and politics, that Biden may be too old to run for president for a second term. While Harwood agreed that Biden is old, he said it was false that Biden is incapable of doing his job.
How Bad Is It For Biden And Democrats? Even CNN Is Clobbering Them. If the mainstream media is indeed merely a pseudo communications department of the Democratic Party — which it is — then CNN is the co-chair of that department, with MSNBC as the other. There is no outlet in America's corrupt collection of leftwing media that better serves as a Democrat cheerleader than CNN, though MSNBC occasionally gives them a run for their money. Therefore, a question: How bad must the situation be in order for CNN to not only report on bad news for President Joe Biden and his party — which is itself highly unusual — but to also accurately interpret that news and offer a reasonable opinion? The answer: That situation must be really, really bad. And indeed, it truly is.
Even With The Media Tossing Her Softballs, Biden Press Secretary Karine Jean-Pierre Can't Get The Bat Off Her Shoulder. You'd think every Biden White House press conference would be a home run because, despite the president being largely incoherent, the press corps is exceedingly friendly to Democrats. Nonetheless, there are no home runs for President Joe Biden's new press secretary, Karine Jean-Pierre. It seems everything she says is a swing and a miss. That's been the case since Jean-Pierre inherited her post from her predecessor Jen Psaki, who left the White House spin team for the one over at MSNBC. But Monday was particularly bad for Jean-Pierre, who stuttered, lied, and fumbled her way through her massive binder to avoid saying what anyone with eyes knows: Everything is a disaster. Perhaps most disastrous is the state of the American economy, and when Fox News' Peter Doocy asked about it, a flustered Jean-Pierre parroted the tired "Putin price hike" defense.
CNN Decimates Biden and Dems' Hopes in the Midterms With Devastating Facts. One of the few people at CNN who has been fairly honest about how badly Joe Biden has been doing in the polls with Americans is Harry Enten, their senior data reporter. But what's interesting is that lately, they are featuring him more and more, which means that CNN is putting out some honesty that is just decimating Biden. If Democrats lose CNN, you know they are in big trouble, and the network seems unafraid about airing negative news on the Dems now. [...] But the biggest takeaway from all this, Enten explains, is how Republicans are doing on the generic congressional ballot. He looked at it going back to 1938 and it's "the best Republican position on the generic congressional ballot basically of all time." In other words, the Republican position is even better than it was in the years there were huge waves in 1994 and 2010, sweeping Republicans in. You know Democrats are going to throw all kinds of dirt against the wall to try to win. But it's clear people are tired of the nonsense, tired of the Democrats, tired of Joe Biden, tired of inflation and the tsunami is on the way.
Headline ambiguity: Is he turning them on, or turning on them?
Biden turns on news media as midterm elections loom. President Joe Biden is griping about his press coverage as he struggles to break through back-to-back negative news cycles before the 2022 midterm elections. But complaining about the news media is unlikely to help Biden or congressional Democrats before November as Biden's job approval numbers plummet into former President Donald Trump territory. Biden campaigned, in part, to normalize press relations after his predecessor, Trump, slammed the news media as "the enemy of the people." But public officials have the tendency to "lash out" at journalists and reporters when they encounter "political turbulence," according to former Republican staffer-turned-Claremont McKenna College politics professor John Pitney. "In most cases, the bad coverage is a symptom of their woes, not the cause," Pitney told the Washington Examiner.
Progressive Writer Doggedly Tracks Down [the] Creator of Biden 'I Did That' Gas Pump Stickers. The media complex in this country loves to drape itself with a veil of objectivity and unbiased delivery of the facts. They claim to be adherents to only the facts, while holding those in power accountable. Yet we see frequently that there are times when simple Americans break through the press narratives with inconvenient messaging. When that occurs we see that the press reacts by holding those common citizens accountable. [For example, Joe The Plumbe and Nick Sandmann.] The latest example of the media looking to blunt an effective political message is seen at gas stations. Throughout the country, it has become commonplace for people to feel the sting of spiking gas prices, but that pain is assuaged slightly by the appearance of a small sticker affixed to the front of the gas pump. Variations exist, but mostly the meme is an image of President Biden pointing, with the words 'I DID THAT' in bold type, his finger gesturing at the swollen price-per-gallon visible in the window. These stickers have proliferated across the country and across sales platforms.
It takes someone in the tank, if not brain-dead, to call this a 'Goldilocks econony'. Because of a decent jobs report and a lot of job openings, Catherine Rampell, a de facto Democrat campaign worker at the Washington Post posing as a journalist, believes we are close to a "Goldilocks economy" (not too hot, not too cold, as is said in the markets) when most of us know the economy is pretty [...] cold. Rampell also says that the consumer is in great shape, but many economic statistics show that is not true. [...] Inflation is over 8%, a 40 year high, while after-tax earnings are going up around half that level. For consumers, that's losing ground. Crude oil is up over 200% from under $40 per barrel to around $120 today since the day Biden was elected. That is what you get when one of the main Democrat policies is to destroy the fossil fuel industry. They certainly don't care about the massive harm to the poor, middle class, and small businesses. The retail gas price was around $2.20 when Biden was elected. and is around $5 today, up around 130%. The inflation rate for the poor and middle class is clearly much higher than 8% when one of their major necessities is up 130% in 19 months.
'Anonymous' Gets Dropped by Secret Service After Spreading January 6th Claim. Maggie Haberman of The New York Times dropped a "scoop" on Friday that captured the mainstream media's imagination. The report centered on a "warning," supposedly from January 5th, 2021, that Donald Trump was going to "turn" on Mike Pence, putting the latter's life in danger the next day. Haberman also claimed via her sources that the danger was grave enough that it was reported to the Secret Service by Pence's staff. [Tweet] When I first saw this, my reaction was "who cares?" It's currently June 2022. January 6th is simply not a thing anymore to anyone outside the beltway. Speaking to the issue of Trump turning on Pence, that was hardly a secret in the days leading up to the Capitol breach, and it's not really noteworthy now — given the crises currently plaguing the country. Haberman's report does nothing to move the ball forward on January 6th, simply serving as another moment for the press to go "wow," instead of focusing on Joe Biden's failures.
The optics of the stale Jan. 6 hearings and pro-abortion protests. [Scroll down] The real story of course will be unfolding at the Supreme Court with the pending decision to overturn the horrible Roe v. Wade decision. It's there, that a mob of unhinged left-wing radicals will be threatening justices and intimidating fellow Americans who dare exercise their free speech rights by declaring "I support life." This will be happening a month after Associate Justice Samuel A. Alito Jr.'s draft opinion was illegally leaked in order to change the subject from Joe Biden's disastrous presidency. Since the leak, leftist thugs have started showing up at the homes of justices who dare follow the law and the Constitution. We will see over the next month that no arrests will be made in connection with the leak and the liberal media will stop giving updates about the investigation because the identity of the leaker will damage their preferred political narrative.
Media standards for covering Biden and Trump? Make that a double. It's truly amazing how differently news stories are handled, depending on whether or not Donald Trump can be painted as the villain. [...] This week's example was yet another previously unthinkable event happening in Dementia Joe Biden's dysfunctional, dystopian America: a nationwide shortage of baby formula. Ask yourself, how loud would the media be screaming if Donald Trump had done absolutely nothing as this shortage of baby formula developed. And the suddenly the shelves were empty and young families were panicking over whether they'd have enough food to feed their infants. And simultaneously, the criminal illegal aliens swarming across the Southern border were being delivered endless pallets of free formula that law-abiding American taxpayers can't even buy — let alone get for free, forever, on every welfare program known to man.
Brian Stelter's gushing Psaki farewell sets off social media. In a highly opinionated and, at times, almost wistful homage to outgoing White House press secretary Jen Psaki's tenure, CNN's Brian Stelter bid a fond farewell to the future MSNBC contributor in a manner "that would make the editors of Pravda blush." As Psaki made way Friday for her successor, Karine Jean-Pierre, Stelter released an "analysis" of her 224 press briefings and myriad news appearances loaded with gushing quotes from his favored and "reliable" sources. In so doing, the CNN host couldn't help but take potshots at the previous administration, Fox News, and pretty much anyone who failed to subscribe to his worldview.
The opinions expressed in the following article are those of the author, not me. I'm just passing it along, for what it's worth.
Fox News Is Headed For Disaster. Fox News has been on a collision course with its own audience since the stolen 2020 election — and you can almost feel the impact coming. [...] It's been perfectly obvious for years now that Rupert Murdoch and his feckless sons turned against President Trump and actually helped Joe Biden — which is not just unforgivable. It's unsustainable. Why? Because it requires the silence of other prominent conservatives, and the short term memories of GOP voters, to allow Fox News to continue pretending that it's a conservative news network. Guess what: GOP voters have not forgotten about Fox News calling Arizona early — and prominent conservatives are no longer interested in ignoring Fox's treachery. [...] Fox News might as well be Helen Keller right now: it can't see or hear anything about the stolen election. So it cannot allow Dinesh D'Souza's new documentary "2000 Mules" to be mentioned on their shows because Fox News told its audience for the last 18 months that election fraud was a myth pushed by conspiracy theorists.
Press pumps up Joe Biden. "History will be kind to me," Winston Churchill said, "because I intend to write it." Britain's great statesman did as he promised, but Joe Biden has an even sweeter deal. He doesn't need to put pen to paper because a cottage industry of so-called journalists is already twisting truth to make the failing president a victim, if not a hero. It's as if somebody in an old newsroom called out, "Sweetheart, get me rewrite," and a thousand scribes raised their hands to volunteer to make Biden look like something other than the second coming of Jimmy Carter. History, schmistory. No need to wait — this is fiction on the fly! "What Choice Does Biden Have?" The New Yorker magazine asked, before answering: "With the impending evisceration of Roe v. Wade, partisanship is the only course for a President in our broken system." See, the "system" is always "broken" when Democrats don't get their way. Only when they win is America a real democracy.
CNN Sees Biden's Political Troubles as Nearly Unfixable. To hear Democrats today, outrage over the possible overturning of Roe v. Wade will cause a blue wave this November. It's an amusing theory that doesn't quite hold up under scrutiny. Even Sen. Joe Manchin (D-W.V.) pointed out earlier this week that abortion is by no means the number one issue in his state. "Inflation is the number one driving factor I believe in my state. Right now, it's hurting everybody, not just at the pump, but at the grocery store, at the drug store, at the pharmaceutical. Everything they do," he explained. Joe Biden's cheerleaders at CNN seem to agree.
Boyd: Media Fixed the Hunter Biden Story to Absolve Joe of Biden Family Corruption. "There's plenty, plenty of evidence out there that Joe Biden did know about his son's overseas business dealings and may have even profited off of them. But guess who's dropped the ball the last four years or so on that? The corporate media. It's not accidental. They're doing it on purpose. They ran interference for Biden while he was on the campaign trail," Federalist Staff Writer Jordan Boyd told Andrew Wilkow of "The Wilkow Majority" on the Salem News Channel. [Video clip]
Inflation Can't Be Censored. An increasingly disturbing feature of American politics is the routine suppression of major news stories that reflect poorly on candidates favored by the Fourth Estate. The most egregious example in recent years occurred in October of 2020 when corporate news outlets and social media platforms colluded to bury a New York Post article on Hunter Biden. Fortunately, some stories just aren't susceptible to such censorship. Inflation is a case in point. It can't be hidden from the voters because soaring prices shout the bad news from every grocery store shelf and gas pump in the nation. And the voters don't like what they're hearing. A new Gallup poll reports: "Americans' confidence in the economy remains very low, and mentions of economic issues as the most important problem in the U.S. are at their highest point since 2016." Moreover, when asked to specify the most important economic issue, inflation topped the list. Not coincidentally, the survey found that Americans identified "the government/poor leadership" as the most important non-economic problem facing the country.
White House Correspondents' Dinner: Scholarship Money Dwarfed by Lavish Party Spending. On Saturday, the annual orgy of media self-congratulation known as the White House Correspondents' Association Dinner will draw D.C. elites and Hollywood stars together to celebrate the event's supposed primary mission — handing out scholarships to aspiring journalists. LOL. In reality, the real reason anyone shows up is for the party. When the hangover dissipates, the money given to j-school students is easily dwarfed by the lavish spending required to put on the vulgar show. Orbiting the main event, a slew of pre and post-parties hosted by the likes of CNN, NBCUniversal, Politico, and even two Hollywood talent agencies is keeping the party vibe going all weekend. The White House Correspondents' Association said it has given out more than $1.5 million in scholarships since 1991, and last year awarded a total of $105,900.
Joe Biden finds his political base — in the fawning, slobbering, press. Joe Biden is detested by pretty much everyone. He's lost massive support among black voters, Latino voters, Asian voters, young voters, and political independents. Democrats won't let him campaign with them, and his party faces the mother-of-all-shellackings come November. Even many Bernie-ites don't like him. He can't get his phone calls returned by world leaders. He's a doddering buffoon on social media posts, the subject of meme stickers saying "I did that" at gas stations, and the unflattering topic of the popular "Let's go Brandon" chant which has spread so widely it's been seen on the t-shirt of a major league ballplayer, (who's having a [good] season this year). But last night's White House Correspondent's Association dinner, Biden was among friends.
Compare and Contrast: Trump White House Correspondents Dinner vs. Biden White House Correspondents Dinner. The media cheered and applauded Joe Biden Saturday night at the White House Correspondents' Dinner. The dinner is an annual event where media hacks join together to bash Republicans and give each other awards for their fake news reporting. The reporters were thrilled to honor Joe Biden as the country goes to hell outside of their bubble. In his speech Biden attacked President Trump and Republicans and misquoted Ronald Reagan. It was typical Biden. But the media hacks loved him. This was a far cry from how they treated President Trump and his press secretary.
Media to Americans — The Economy Is Awesome, You Dolts!. When things go bad for Democrat presidents, the corporate media generally circle the wagons in two ways. We are either told no president could solve these problems, so don't blame the Democrat, or we're told things are double-plus good, and we're just too stupid to see it. Well, the truth — and we all know it — is that things are strikingly awful with His Fraudulency Joe Biden at the helm, so the media's gaslighting campaigns are in full bloom.
Democrats' Endless 'State of Emergency' Is Why They're About to Get Walloped. When Trump was in office, COVID-19 was a crisis and every unmasked presidential appearance all but an act of potential genocide. With Biden, it's time to turn the page, even as the death count has mounted. With Trump sidelined, for now, and Biden plummeting in the polls, Democrats and the liberal media have returned again and again to the manufactured emergency to try and control the narrative. Remember the Georgia voting law (ridiculously called Jim Crow 2.0)? How about the viral images of border agents whipping Haitians seeking asylum? (After the agents' actions were condemned by Biden, Vice President Kamala Harris, and DHS Secretary Alejandro Mayorkas, it turned out they were merely split horse reins.) Or how about one from the Trump era that is relevant again: Russia paying bonuses for dead American troops? (There seems to be no evidence this happened.) Meanwhile, real emergencies like the border, Afghanistan, crime, and inflation were downplayed by the Biden administration and the MSM... until ignoring these problems became impossible.
Facts Matter, Unless They're Bad For Joe Biden. Big Tech suppression of right-wing content is obvious to anyone paying attention but is difficult to prove. [...] Censorship, however, is different from suppression, though equally problematic. And censorship is measurable. A terrific recent examination of this issue by The Media Research Center focused on the censorship of unfavorable content concerning President Joe Biden, and their findings were disturbing, though not surprising. Not only has Big Tech been silencing Biden's detractors, they've been doing so with remarkable regularity. [...] The shutting down of the Hunter Biden laptop story has received the most attention of such censorship, and for good reason. Big Tech and the mainstream media put their thumbs on the scale of the 2020 election by halting the story and quite possibly changing the election's outcome.
Big Tech [has censored] criticism of Biden more than 600 times: Study. In a two-year time span, Big Tech censored President Joe Biden's critics 646 times. The censored cases, including deleted social media accounts or posts and those given "warning labels" that stopped people from sharing or commenting, were counted between March 2020 and March 2022 by Free Speech America's Media Research Center. Of the 646 cases, 140 involved the New York Post's story about Hunter Biden's laptop, with Twitter being the most aggressive censor. The largest category of censored cases, however, included 232 posts that attempted to blast the president's behavior with women and children.
Carter 2.0 — Media Runs Interference for Joe Just Like They Did for Jimmy. Now that Joe Biden's approval rating has fallen — it's hovering in the low 40s, and it can't get up — the Main Stream Media have come up with a new line of defense for their man. Okay, goes this new line, Biden isn't doing so well, but that's to be expected — because no president can do well. That is, the problems are just too tough, the job is just too hard, the country is just too polarized, yada yada yada. As we shall see, history suggests that the American people won't buy an argument based on hopelessness, which we can call the desperation defense. After all, Americans tend to be optimistic and solution-oriented. And so if an elected official can't solve the problem, throw him out and give someone else a chance. That's the American Way.
Wikipedia Removes Entry for Hunter Biden's Firm "Rosemont Seneca" Because It Risked Becoming a "Magnet for Conspiracy Theories About Hunter Biden". [Scroll down] Maybe Wikipedia doesn't want their readers to know that Rosemont Seneca invested in Ukrainian biolabs. These labs were recently identified in Ukraine and are very suspicious because labs like this were laced around the world. It hasn't been publicly reported what the labs in Ukraine were specifically doing and who was profiting from these actions.
Wikipedia deletes entry for Hunter Biden investment firm Rosemont Seneca Partners. Wikipedia editors removed the entry for Rosemont Seneca Partners earlier this week on the ground that it was "not notable," archived comments from its Talk Page reveal. The deletion happened Wednesday. The investment company co-founded by Hunter Biden has been at the heart of numerous questions surrounding his overseas business dealings. "This organization is only mentioned in connection with its famous founders, Hunter Biden and Christopher Heinz," said a Wiki editor identified only as Alex who additionally warned that "keeping it around" ran the risk of the page becoming "a magnet for conspiracy theories about Hunter Biden." Arguments to merge the story with Hunter Biden's official wikipedia page were also overruled.
The Regime Media's Quandary: By Exposing Joe Biden They Exonerate Donald Trump. The regime media (the amalgamation of the legacy media, elitist opinion writers, and the internet troika: Google/Facebook/Twitter) finds itself in a quandary of its own making. As the nation descends into recession and societal turmoil, the candidate for whom they prostituted themselves, Joe Biden, reveals on a daily basis that he is not mentally or physically capable of being President. Further, it has become increasingly more difficult to continuously obfuscate not only the ongoing revelations in Hunter Biden's laptop but Joe's life-long history of corruption and mendacity. By comparison, for four years, despite a lack of evidence coupled with numerous exculpatory investigations, this same cabal incessantly promoted the fictitious narrative that Donald Trump was a racist, a xenophobe, a demagogue, and the most corrupt person to ever serve as president of the United States. Accordingly, the regime media proclaimed that was in the nation's vital interest to replace Trump with the "decent, honest, and honorable" Joe Biden.
CBS Outlines Causes of Massive Inflation, Identifies Everything Except Biden Policy. This Sunday [4/17/2022] segment from CBS's Margaret Brennan allows us to watch narrative engineering in real time. During a segment outlining the reasons behind the major economic issues American's are feeling, CBS notes everything except the reason the economy is struggling. It really is quite a remarkable example of professional gaslighting. Watch the segment, note the inflation crisis has been underway for more than 18 months, and notice how many justifications are made-up illusions. (1) A Texas-Mexico cargo checkpoint issue that started less than a week ago; (2) Trucker shortages; (3) Ukraine-Russia which started only 6 weeks ago; and (4) Pandemic lockdowns, now causing an excess in demand. None of these issues are even close to the source of the issue. [Video clip]
CNN: There's nothing Biden can do about anything. On Easter Sunday, CNN political analyst John Harwood decided to absolve Joe Biden of all of his sins. Harwood wrote a piece stating that there's really nothing Biden can do about any of the major problems his administration faces. [...] Obviously, it would be very convenient for the Biden administration if this conclusion were widely accepted. They could argue that while quite a few problems exist, they aren't responsible for any of them. But as you read on you quickly learn that's not quite what Harwood is saying.
'Fact Checkers' Claim Biden Wasn't 'Shaking Hands With Thin Air.' Oh, Really? Last Thursday [4/14/2022], Joe Biden spoke to students and faculty at North Carolina Agricultural and Technical State University in Greensboro. It was boilerplate political stuff — blaming the supply chain problems on COVID-19, increased fuel prices on the Russians, and inflation wasn't his fault. At the end of the speech, Biden's eyes became a little glassy and he turned around slowly and extended his hand. Except there was no one there. He turned the other way and mumbled something to himself with his hand still extended.
NBC Panics Over More Bad Polling for Dems. On Sunday morning's [4/17/2022] Meet the Press, anchor Chuck Todd and his panelists were clearly concerned about some recent polling that shows voters under 35 years old, and Hispanic voters are starting to "peel away" from Joe Biden and the Democrat Party, which is disastrous news for congressional Democrats this November. Todd was cognizant of this throughout the segment. "There's one demographic group I want to single out, and it's voters under 35," Todd said, noting how they "have never experienced inflation in their lifetime." "Look at these numbers here," Todd said despondently, before giving a rundown of the topline numbers: "Right now 82 percent of the public thinks the economy is only fair or poor. Adults under thirty five, it's 87 percent."
Media Has a New Talking Point to Defend Joe Biden, but It Makes Him Sound Even Worse. While sometimes you get a little truth from the liberal media, such as when CNN polling guy Harry Enten said how "really, really, really bad" the polling numbers for Joe Biden were — indeed, the worst ever for anyone at this stage of their term — a lot of the liberal media is still an acid bath of people hidebound to push the Democratic narrative to do what they can for Joe Biden. One of the worst shills for the Democratic narrative is CNN's John Harwood. But his excuse for Joe Biden — the latest Democratic talking point to excuse his failures — isn't going to help him. Indeed, it makes him sound worse. According to Harwood, there's not much Biden can do about any of the problems that are plaguing the country.
This portion of The Big Morning Show is brought to you by ... the Socialist Democratic Party!
Morning Nets Largely Ignore Inflation Announcement — Again. The NBC, CBS and ABC morning news shows largely ignored a new inflation report that showed inflation raging at 8.5 percent. That was the highest increase since 1981 — the same year Raiders of the Lost Ark hit the box office. The Bureau of Labor Statistics reported at 8:30 a.m. ET April 12 that inflation increased by a terrifying 8.5 percent over the past year. This was the "largest 12-month increase" since December 1981. Energy inflation fared the worst at a shocking 32 percent rise over last year, with gasoline alone rising 48 percent. Food inflation also took a steep hike at 8.8 percent. Housing and shelter inflation rose 5 percent over the past year in the biggest increase in over 30 years. This was critical news for Americans who have already been suffering from painfully high prices at the gas pump and the grocery store, but where were the morning networks?
The Chicago Thinker Staged a Media Regime Takedown This Week. This week, the University of Chicago's Institute of Politics (IOP) and The Atlantic magazine hosted a "Disinformation and the Erosion of Democracy" conference, and we have to hand it to IOP Director David Axlerod for bringing in true experts on the subject. The conference featured some of America's greatest purveyors of disinformation, such as Barack Obama, Brian Stelter, Anne Applebaum, and a few token conservatives, including Jonah Goldberg and Adam Kinzinger. The media, government, and academia elites speaking at the conference weren't expecting to be challenged as they self-righteously spewed more lies — but our team at the Chicago Thinker was prepared to hold them accountable. Student journalists from the Chicago Thinker respectfully listened, asked honest questions, and reported. Our efforts soon went viral, garnering millions of views on social media. We successfully turned the IOP's "Disinformation Conference" on its head and sparked a national conversation about the corporate media's disinformation.
Has Biden become expendable? Why are the media suddenly attacking the president when they supported many of his policies during the 2020 primaries? [...] The corrupt media called President Trump's border fence "racist" while praising Biden's promise to provide free health care for anyone crossing the southern border illegally. With such a generous and rewarding immigration policy, the media knew that the southern border would see an explosion of illegal crossings — and so there was. As illegal entries hit record levels, murder, drug crimes, and sex crimes skyrocketed in the border states. Suddenly, Biden's border policy was being criticized by the propaganda media. They were all in until things started collapsing.
There's Something Happening Here. Scott has been writing about the strange case of the two men "of Washington, D.C." who are under arrest, having purported to be high-level Department of Homeland Security agents. The men are Arian Taherzadeh and Haider Ali, which might give the politically incorrect some ideas. [...] It strikes me that Mr. Taherzadeh and Mr. Ali are likely to take their place in a line of news stories with respect to which we never got to hear the punch line: the Pakistanis who handled tech services for the Democratic House caucus until their arrest; the Chinese spy who, for years, was Dianne Feinstein's driver; the Chinese spy Fang Fang who bedded Eric Swalwell — the life of a spy is not an easy one; and I suppose we should add the Chinese companies that slid millions of dollars to Joe Biden and his relatives. (Can I say it one more time? No one has ever bribed the unemployable crack addict Hunter Biden. Any money that wound up with him was a transaction cost.) Such stories are allowed to die a quiet death, because one of the requirements to be a reporter these days is a total lack of curiosity about anything that reflects poorly on the establishment in general, and the Democratic Party in particular. So, yeah, there is something happening with the two "Washington, D.C." men.
The Legacy Media Have Not Conceded the Laptop Reporting — And They Don't Deserve Credit. In the last two weeks, the New York Times, CNN, and the Washington Post all came forward to admit that the Hunter Biden hard drive — which I originally reported a year and a half ago in the lead-up to the 2020 election and saw those outlets dismiss and smear the stories as "baroque mythology," "made up," "Soviet tradecraft," and "disparaging Biden" — was authentic. However, despite initial admissions, the media are now stopping short of acknowledging the reporting on the information the hard drive contained — namely, that Joe Biden was a direct beneficiary of Hunter's deals. Instead, they are inviting the people who come from the very institutions that outright lied and purposely misrepresented the laptop and its contents in the first place to continue lying and misrepresenting the laptop and its contents.
Liberal Media Breaks Sound Barrier Rushing to Protect Joe. Less than three weeks before the 2020 election, The New York Post, on October 14, 2020, reported it was in possession of emails between a Ukrainian businessman and Joe Biden's grifter son, Hunter. As ironically reported by The Washington Post, so-called "mainstream" media outlets and social media giants "balked" at (ignored or dismissed outright) the explosive story's claims, enraging conservatives across America. [...] Biden's simultaneous claims that he and Hunter have never discussed the latter's business dealings and that Joe himself has "never taken a foreign penny," AND his insistence that his grifter son has never been involved in "unethical behavior" and "never broke the law" are virtually mutually exclusive claims.
Heartbreak on ABC's 'This Week' as Chris Christie Nails Media on Suppression of Hunter Biden Story. Chris Christie is one of those "hit or miss" types of Republicans who unfortunately misses way more than he hits. But during an appearance on Sunday's "This Week" program on ABC, Christie didn't just take a strong swing, he hit a home run. The former Governor of New Jersey is a regular panelist on the George Stephanopoulos-hosted show, and at one point the discussion turned to President Joe Biden's son Hunter Biden, who is currently being investigated by the feds for his questionable overseas business dealings where he and his uncle James reportedly made millions. Christie made sure to point out that the mainstream media deliberately suppressed the New York Post's original reporting on the Hunter Biden emails scandal with just weeks to go before the 2020 presidential election, which was in stark contrast with how they ran with the allegations made by the fake Steele dossier about Trump and Russia collusion.
Washington Post Editorial Board Admits Its Complicity In Covering Up Hunter Biden Laptop Story. Last month, the mainstream media finally admitted that the contents of Hunter Biden's laptops were accurate after sitting on the story for nearly a year and a half and discrediting it as 'Russian disinformation.' The Washington Post is allegedly one of the outlets that was given a copy of Hunter Biden's hard drive roughly a year ago and just chose to 'verify' its contents less than a week ago. This morning [4/3/2022], the Washington Post released an article saying that the mainstream media's admission that Hunter Biden's laptop was real is an opportunity for a 'reckoning.'
A World Gone Mad. Governments everywhere, including here in the USA, have abandoned God, good government, law and order, common sense, and traditional Judeo-Christian values. They have jumped in with both feet into the dark and shadow without bothering to look back at seeing what they have already wrought. [...] The political absurdity and hypocrisy has reached the highest level I have ever seen. The 3.8% unemployment announced in February is an historic achievement, but the 3.6% unemployment rate during the Trump years is a crisis.
Jen Psaki Transfers To MSNBC Bureau Of The Biden White House Comms Team. President Joe Biden's first press secretary, Jen Psaki, plans to leave her position in the White House soon for a shiny new gig at MSNBC, but her duties as the administration's primary spin chief won't change much even after she switches jobs. Axios first reported in a scoop on Friday [4/1/2022] that Psaki would soon depart the White House. While Psaki has yet to sign an official contract, the report notes that the progressive network has been chipping away at negotiations with her for weeks. MSNBC hopes to bring on the former CNN contributor to host a show on the outlet's streaming platform Peacock and offer frequent commentary on the outlet's regular programming, something she already does in her current position.
Suddenly The Media Desperately Wants You To Know The Hunter Biden Laptop Story Is Real. After calling it a fake Russian disinformation plot or just ignoring it altogether for over a year, the media is suddenly desperate for Americans to know that the Hunter Biden laptop from hell story is totally real. Why? The Washington Post covered the story, admitting that documents which were first reported on by The New York Post in October 2020 "illustrate the ways in which his family profited from relationships built over Joe Biden's decades in public service." [Tweet] At the time, the Post's 'fact checkers' dismissed the revelations as disinformation, calling it "laptop stuff." The New York Times has also done a complete about face, admitting that the story is real and not disinformation. [Tweet]
Hunter Biden, the New York Times, and the Coming Impeachment. [Scroll down] Some people, perhaps many people, lost friends when they claimed that the 2020 election was stolen. Their former friends said there simply wasn't enough evidence to support that claim. But how do we know — or rather, how do they know? If you ask them, they will tell you only what they have read or heard from the media, media that we know now (well, we knew it all along) are dishonest: we know that because that is the import of the New York Times's confession of error. The awful truth is that you, Mr. and Mrs. America, wherever you are, have no idea whether the election was honest or not, because your only way of determining that is by what you read and hear from the media — which is shamefully dishonest and was totally in the bag for Joe Biden.
The Sudden Biden Epiphany at the Washington Post. Just when you thought the Hunter Biden scandals had died in darkness, The Washington Post published more than 6,300 words on March 30 admitting that a notable fraction of his laptop contents was authentic. Why now? Why not last year? Why did liberal outlets act like everyone expressing concern about Biden was a Trump-adoring kook? We reported at NewsBusters that the broadcast network morning and evening newscasts went 260 days without mentioning Biden. (And it was more like 11 months of silence at ABC.) These were the same networks that frantically obsessed over one brief and failed meeting Donald Trump Jr. hosted in Trump Tower in 2016 to discuss negative information on Hillary Clinton. The one consistent thread in the liberal media's approach was the notion that all attempts to dig up negative information on Democrats during a campaign are a scandal. But all attempts to dig up negative information on Republicans during a campaign are always the best and the brightest journalism one could find.
Even The Big Media Can No Longer Ignore Biden Family's Corruption. At long last, the mainstream media are paying some attention to the obvious corruption of President Joe Biden's family and its many business partners, which include the Chinese government and Russian oligarchs. These things have been known for years. Why are the Big Media only now looking into them? And why, not really knowing anything at all about what was going on, do Twitter and Facebook still censor those who report on the Bidens' questionable overseas business activities? Finally, both the New York Times and Washington Post have been forced to admit that Hunter Biden's lost laptop is real, not a "fake" or a Russian fabrication, and that it contains a trove of damning evidence (22,000 emails "authenticated") of Biden family corruption. The family's dealings with the communist Chinese government and powerful officials in both Russia and Ukraine are so numerous and so byzantine it's not possible to describe them all in this limited space.
Media Is Forced to Cover Hunter's Laptop as Even CNN Teases Interesting Info. When Sen. Ron Johnson (R-WI) and Sen. Chuck Grassley (R-IA) brought out more information this week about payments to Hunter Biden's firm from a company that they called an "effective arm" of the Chinese government, this was not new to our readers as we have extensively covered the Biden contacts with China. Even though Republicans have also been talking about this for the past two years, suddenly the liberal media is reporting on Hunter Biden after spinning and ignoring the issue for most of the time. We saw the Washington Post join the New York Times in finally getting around to reporting on some of the issues. That's how you know that they know something is coming, they're just trying to get out in front of it and spin it as best as they can.
The media are still intentionally misleading the public about the Bidens. The New York Times, Washington Post, CNN, AP and others have somehow all gotten the message that it is OK to cover the criminal activity revealed on Hunter Biden's laptop. It is about time. However, every article I see about his laptop being genuinely his says there is no indication that Joe was involved — which is a bald faced lie. If they examined the data on the laptop, they know Hunter references giving 10% to the big guy, know that Hunter co-mingled funds with Joe, and know that Hunter used the criminal kickbacks to pay Joe's bills. That is corruption to the core. They also know that Joe blackmailed Ukraine with taxpayer money to fire the prosecutor. This is massive corruption by Joe and, yet the media covers for him.
Morning Joe Gushes Over Biden's Putin Regime-Change Gaffe. Morning Joe was out in force with its shovels on Monday [3/28/2022], doing the dirty work of cleaning up after Biden's latest — and most dangerous — gaffe. Co-host Mika Brzezinski began by claiming that Biden's regime-change gaffe was "far more tame" than President Reagan's hot mic moment in which he spoke about bombing Russia. The difference, of course, was that Reagan was obviously joking, whereas Biden was dead serious. And Mika praised the gaffe for having "put the Kremlin back on his heels." Joe Scarborough agreed, saying the gaffe was "a good thing." And in a laughable moment, he described Biden as having engaged in "psyops," forcing Putin "to sleep with one eye open." Only a hard-core sycophant like Scarborough could keep a straight face while promoting the notion that notoriously bumbling Biden is capable of engaging in psyops.
CNN's Harwood: Not a 'pretty picture... but so far zero evidence' Biden did anything wrong related to Hunter. The mainstream liberal media must perhaps be getting worried about the repercussions of the ongoing U.S. Department of Justice investigation into the Hunter Biden laptop scandal and related allegations of influence pedaling. Big Tech and the corporate media censored or sought to discredit the story, a scoop by the New York Post, during the 2020 election cycle because they apparently perceived that it would harm candidate Joe Biden and Democrats generally. As the scandal gains further traction, however, journalists, or those perhaps more accurately described as publicists, now appear to be circling the wagons around the Biden administration. In the clip embedded above, CNN White House correspondent John Harwood, for example, served up a helping of word salad on the ratings-challenged network that President Donald J. Trump memorably labeled as "very fake news."
Now Washington Post reverses course! Paper joins NYT in finally admitting Hunter Biden's laptop is real. The Washington Post has finally admitted Hunter Biden's laptop is real, nine months after first receiving a copy and a full year after DailyMail.com authenticated it. The Post had cyber forensics experts validate material on the abandoned laptop hard drive, using similar methods that experts hired by DailyMail.com used back in March 2021. After months of publishing articles suggesting the laptop could be Russian disinformation, the analysis published by the newspaper on Wednesday marks a startling u-turn. Its admission also follows the New York Times, which quietly noted 1,200 words into a long story published earlier this month that it had also validated material from the laptop.
CNN's spin-machine sputters trying to downplay Biden's gaffes, cover 'incredibly successful week'. If CNN was capable of describing itself honestly, the best definition would be that it's a word-laundering spin machine for the Democrats and President Joe Biden. On the heels of Biden's tour of Europe, the White House has scrambled — as it seemingly must every single day — to mend the latest series of gaffes spilling forth from Joe Biden's incongruous and unfiltered manner of speech, and ever-devoted CNN was there to bat cleanup for the regime. The pundits of "New Day" discussed Biden's recent statement that Russian President Vladimir Putin "cannot remain in power" on Monday's show, with senior political analyst John Avlon providing cover and referring to Biden's statement as "a mistake to the extent that it is a gaffe" and merely an "outburst."
Concha marvels at the '259 days' media has ignored Hunter Biden story, says blackout days are numbered. Despite The New York Times finally admitting that Hunter Biden's laptop is real and the emails that have surfaced from it are authentic, the media has been silent on the whole suppressed story for 259 days and counting, according to Fox News contributor Joe Concha. On Tuesday's [3/29/2022] airing of "Fox & Friends First," co-host Todd Piro kicked things off by addressing Concha on the subject, saying, "259 days since ABC, CBS, and NBC morning and evening newscasts mentioned Hunter Biden. What has to happen, Joe, in the investigation of Hunter for the media to eventually touch the story?" "Wow, Todd, Carly... it's the eleventh commandment of journalism, 'Thou shall not broach anything about Hunter Biden unless it's to talk about his artwork or overcoming drug addiction.' But as this investigation intensifies, as Cheryl was just describing, this story will be impossible to ignore, particularly if indictments start getting handed down," he pointed out.
Reporter Mocked For Claiming Biden Has Most Foreign Policy Experience of Any President Ever. A White House correspondent was mocked online for flattering President Joe Biden on Monday [3/28/2022] by telling him that he had "more foreign policy experience than any President who has ever held this office" before asking him a question. The statement arose as the president answered questions following his presentation of his budget proposals. The reporter, who was described online as a PBS correspondent (but neither named nor confirmed as such) made the statement before asking about his remarks in Warsaw declaring that Russian President Vladimir Putin cannot remain in power: "Whether those are your personal feelings or your feelings as President, do you understand why people would believe you, as someone commanding one of the largest nuclear arsenals in the world, saying someone cannot remain in power is a statement of U.S. policy?" she asked.
Former News Executive Reveals the Government 'Warning' Given to Networks to Air Covid Propaganda. The Covid pandemic response beginning in 2020 was one of the most sweeping cases of media propaganda in world history. Governments not only lied to the masses ("15 days to slow the spread," e.g.) and made dubious claims based on poor evidence ("mask up" to end the pandemic), but it censored even civilians for doubting the mainstream narrative. Now, a former news executive at international network Sky News, as well as a veteran of ITV, has come forward to reveal what news audiences have only previously been able to surmise: Some news networks must have been ordered to adhere to the government's pandemic narratives or risk serious consequences (such as losing broadcasting licenses and other reprisals). Mark Sharman revealed his disturbing insights into the astoundingly coordinated media coverage of the Covid pandemic in a sit-down interview on British channel GBN's "The Lockdown Inquiry" with host Dan Wootton.
US Government Paid News Media $1 Billion For Propaganda to Promote mRNA Vaccines. A Freedom of Information Act (FOIA) request by TheBlaze shows Health and Human Services spent $1 billion for a media campaign to build public confidence in, and uptake of, COVID-19 vaccines using mainstream news outlets[.] News outlets that did respond to TheBlaze assured them the editorial staff are not influenced by advertising money, but it's not hard to imagine management would not look kindly on editorial staff who write content that doesn't align with the advertising narrative[.] Mounting evidence demonstrates why the government is paying for good press since insurance companies reported a rise in all-cause mortality in late 2021[.] The first batch of Pfizer documents the FDA used to approve Comirnaty (Pfizer COVID-19 vaccine) were released March 1, 2022; mRNA technology inventor Dr. Robert Malone believes these papers show a break in the indemnification clauses, exposing Pfizer to potential civil and criminal liability[.]
Google's censorship of jokes about Biden. Someone had shared his grandma's funny joke about Joe Biden, and after passing it along, a friend asked me to "find me another." A Google search for "Biden jokes" results in many pages of "Biden jokes about this or that in recent presser"-type headlines. Pretty much no jokes "about" Biden. [...] Doing a search for "Biden jokes" on DuckDuckGo provided a wonderful assortment of jokes about Biden, as well as about Trump. It appears that this whole censorship and steering opinion thing runs much deeper and more subtly than most people, including myself, would likely have thought.
Almost 1/4 of Democrat Voters Believe Biden Would Not Be President Today if The Media Had Fully Reported About Hunter's Laptop. Following the New York Times' recent acknowledgment that the infamous Hunter Biden laptop is actually 100% legit, new polling released this week by Rasmussen Reports shows that a growing number of Democrat voters are waking up to the fact that the 2020 election was, at the very least, rigged, if not outright stolen. In other words, the narrative is crumbling — it's impossible to hide the fact that Biden is an illegitimate and incompetent president. According to the poll from March 24th, nearly a quarter of registered Democrat voters now believe that Joe would not be president today if the media had done their jobs and fully reported the story about Hunter's laptop when the contents were released in the lead up to the 2020 election.
The Stealing of the Presidency, 2020. The left-wing news media didn't just poison the information environment with their incessantly negative coverage of President Trump going into the 2020 election. They also refused to give airtime to important arguments of the Republican campaign — both pro-Trump and anti-Biden — which meant millions of voters cast their ballots knowing only what the media permitted them to know about the candidates. To measure the true effect of the media's censorship on the election, the Media Research Center asked The Polling Company to survey 1,750 Biden voters in seven swing states (Arizona, Georgia, Michigan, Nevada, North Carolina, Pennsylvania and Wisconsin), six of which (all but North Carolina) were called for Biden. We tested these voters' knowledge of eight news stories — all important topics that our ongoing analysis had shown the liberal news media had failed to cover properly. We found that a huge majority (82%) of Biden voters were unaware of at least one of these key items, with five percent saying they were unaware of all eight of the issues we tested. This lack of information proved crucial: One of every six Biden voters we surveyed (17%) said they would have abandoned the Democratic candidate had they known the facts about one or more of these news stories. A shift of this magnitude would have changed the outcome in all six of the swing states won by Joe Biden, and Donald Trump would have comfortably won a second term as president.
4 Big Takeaways From The New York Times's Attempt To Control The Hunter Biden Narrative. [#1] If the Laptop Is Legit, So Are the Scandals the Laptop Exposed: The first key takeaway from The New York Times article concerns what it means for the scandals spawned by the October 2020 release of the emails and text messages contained on Hunter Biden's MacBook. The supposed standard-bearers of journalism ignored those scandals for the last year-and-a-half by framing the material "Russian disinformation." Now that the Times has acknowledged that the Biden-related emails and other documents recovered from the abandoned laptop are authentic, that means the scandals they exposed are also legitimate. As summarized at The Federalist [elsew]here, there are eight Joe Biden scandals that deserve investigation.
ABC Entertainment Breaks Silence With 6 Seconds on Hunter: 'Made Up Stories'. ABC journalists, along with the rest of the media, are still burying the revelation from The New York Times on March 16 that the Hunter Biden laptop story is, in fact, real. It's not Russian disinformation. Except for two seconds on MSNBC, ABC, CBS, NBC and CNN have all been silent. And while ABC News still refuses to cover the story, ABC Entertainment discussed Hunter Biden for a scant six seconds. Of course, it wasn't six seconds of substance or six seconds of making fun of the President's son. Instead the eponymous host of Jimmy Kimmel Live claimed that Donald Trump was trying to "make up stories about Hunter Biden." Even when faced with reality, media figures like Kimmel are still hiding the truth.
Flashback: MSNBC, CNN, CBS told viewers Hunter Biden laptop story was Russian disinformation. The New York Times last week confirmed the authenticity of Hunter Biden's missing laptop, a story which was originally dismissed as Russian disinformation by many liberal media outlets leading up to the 2020 presidential election. Television hosts, guests and journalists quickly took to the airwaves in October 2020, reassuring viewers that the laptop was "unverifiable," likely tied to the Kremlin, and the product of a smear campaign orchestrated by former President Trump and his allies. "We start this hour with the tale of international espionage connected to a close confidante of the President of the United States," MSNBC's Ali Velshi said on Oct. 17, 2020. "The president was reportedly warned that his personal attorney, former New York City mayor Rudy Giuliani was the target of a Russian intelligence operation, a story that is unraveling to reveal allegations of disinformation, dirty tricks and a federal probe over Russian efforts to disparage Joe Biden."
Hunter Biden and the media's feedback loop. Well over a year after the presidential election, long after all mainstream media outlets killed a legitimate story about Hunter Biden's infamous laptop, the New York Times finally announced it had "authenticated" the computer and its messages. [...] It's still unclear how deeply and directly Hunter's father, Joe, is implicated in this sleazy business, which went on for years. Not that the Times wanted to know any of this when it mattered most, before the 2020 election. [...] NPR and the Times were hardly alone in killing the story. The Post was the only major paper that investigated and ran the [bad] news. Fox News was the only TV source that reported on it. For that investigative work, the Post deserved a roomful of journalistic prizes but, predictably, it received none. Why "predictably"? Because the folks who award prizes are the same hall monitors who try to control public discussion. They were the ones who suppressed the laptop story. The media malfeasance doesn't end there. [...]
A Warning for the Gatekeepers in the Liberal Media. On Thursday, the New York Times confirmed that Hunter Biden's laptop, which was full of illicit material and damaging information on the Bidens, was indeed authentic. In a report on a Justice Department investigation of Hunter Biden's business dealings, they cited emails from the very laptop the mainstream media previously dismissed as Russian disinformation. "Those emails were obtained by The New York Times from a cache of files that appears to have come from a laptop abandoned by Mr. Biden in a Delaware repair shop. The email and others in the cache were authenticated by people familiar with them and with the investigation," the newspaper admitted. Is that so? That's funny because I remember when 50 former senior intelligence officials signed on to a letter claiming that the Hunter Biden laptop story had "all the classic earmarks of a Russian information operation." Their letter gave Joe Biden cover to pretend it didn't exist, gave the media an excuse not to cover the story, and provided social media the pretense to censor any discussion about it. But we knew the truth. And we refused to be bullied into silence.
Juan Williams Lies on Hunter Biden Laptop Reaction: 'Nobody Said It Wasn't True'. At the end of Fox News Sunday [3/20/2022], fill-in host Trace Gallagher set up a "quick back-and-forth" on the New York Times quietly admitting the emails on Hunter Biden's laptop were real. Juan Williams preposterously said "nobody said it wasn't true." That's obviously false. Fox News has been playing 2020 clips of Biden on 60 Minutes saying it was a "smear campaign" and a "hoax" in a debate with Donald Trump. Biden said it was "foul play." Maybe Juan doesn't watch Fox? Gallagher began: "The New York Times comes out and says, hey, it's legit after all. You know, Facebook was going to do a fact-check. Never did it. Twitter, never happened. And you think nobody has apologized at all for this. They were wrong across the media, Juan, and nobody has said, you know what, we screwed that up, it wasn't Russian disinformation."
15 Media Personalities Who Have Permanently Damaged Their Reputation by Peddling the Lie That the Hunter Biden Laptop Story Was the Work of Russian Propagandists:. MSNBC's executive producer Kyle Griffin; Publisher of the Ink Anand Giridharadas; Daily Beast reporter Wajahat Ali; Managing editor of Truthorfiction.com Brooke Binkowski; NBC News correspondent Heidi Przybyla; Writer Chip Franklin; MSNBC contributor Ben Rhodes; Washington Post opinion columnist Max Boot; MSNBC's Naveed Jamali; Mother Jones Publication; CNN anchor and Humpty Dumpty cosplayer Brian Stelter; CNN anchor Wolf Blitzer; NBC News correspondent Ken Dilanian; MSNBC Morning Joe's regular contributor Dave Aronberg; and CNN anchor Jim Sciutto. Congratulations to you — dark marks all around! For a little fun, we'll have to run this list against the list of folks who insisted Trump colluded with Russia (that's for another time).
The New York Times Signals the End of Biden's Road. In October 2020, prior to the election, Hunter Biden's laptop was left unclaimed at a repair shop and turned over to the FBI. Yaacov Apelbaum has covered at length the Biden family corruption, their crooked international dealings, pornographic images of Hunter and others, evidence of Hunter's drug use, and the coverup of his and the Biden family's corruption which he found on the laptop and elsewhere on the internet. (Warning, images in these reports are not for the faint-hearted.) The New York Post, without all these sordid details and photographs, reported the story in that same month before the election. But in the face of widespread denial, the story got little coverage. It is only now almost two years later, that the New York Times confirms that the Post's reporting on the laptop was accurate. [...] It is hard to imagine how the Times justifies hiding from its readers news this important which clearly would have affected the election. Its refusal to cover this allowed Joe Biden to get away with brushing off the story without dealing with its serious evidence of incredible family corruption of every sort imaginable.
Glenn Greenwald Blows Up Media's Collusion To Shield Hunter Biden. Independent journalist Glenn Greenwald laid into corporate media in a Twitter thread on Saturday morning, detailing how government officials and media outlets had effectively colluded to protect President Joe Biden's embattled son Hunter — particularly during the 2020 presidential election. Greenwald ultimately left The Intercept, the outlet he cofounded, when he was asked to sanitize an article he was writing about then-candidate Joe Biden, his son Hunter, and their past dealings with both China and Ukraine — and he argued Saturday that multiple media outlets had been drawn into the coordinated effort to protect the Bidens. His comments come in the wake of a report from The New York Times — which, in addition to confirming that Hunter Biden remains under a federal investigation, let slip that the emails found on the laptop he reportedly abandoned at a Delaware repair shop were, in fact, authentic.
The New York Times, Hunter Biden and the Suicide of Media Credibility. [Scroll down] The shorthand here is that The New York Times went out of its way not to report or investigate the facts in the [New York] Post's story. No, The Times response and that of all manner of "mainstream" media figures was to pooh-pooh the Post scoop, to pretend that it was all discredited garbage and Russian information. There could have been only one reason: to protect then-candidate Joe Biden. As noted, Big Tech went even further, simply blocking the story altogether. [...] What The New York Times and all the rest have done is kill their own credibility as serious journalists or journalistic outlets. They sacrificed their credibility by deliberately suppressing or dismissing a decidedly accurate major news story that, yes indeed, could have affected the 2020 presidential election to the negative — for Joe Biden. Their favorite candidate.
Brian Stelter's newsletter overlooks huge update to Hunter Biden laptop story. CNN anchor Brian Stelter sent out a newsletter Friday that left out the recent update on documents from a laptop Hunter Biden abandoned. Stelter did include a plug for Meghan Markle's new podcast on Spotify, however. "Brian Stelter's newsletter ignored The NY Times Hunter Biden laptop story, which is odd as he ran segments about it being right wing disinformation," podcaster Stephen L. Miller said. Miller included a screenshot from one of Stelter's previous segments calling the story "disinformation."
Tucker Carlson Revisits the Media People Who Manipulated the Hunter Biden Laptop Story. On his evening broadcast [3/17/2022] Fox news host Tucker Carlson took a historic look at how the media manipulated the Hunter Biden laptop story in order to protect Joe Biden as a candidate. These same media personalities claim they are credible, and viciously attack anyone who points out their lies. The example of the Biden laptop should forever dispatch any credibility they claim to hold. [Video clip] Not included in the Carlson review, but one of the most transparently biased segments on the Biden laptop issue, was the interview between CNN disinformation specialist Christiane Amanpour and Liz Harrington. Given the recent revelations about the authenticity of the Biden laptop, watch this video of Amanpour trying to protect the regime. [Video clip]
How Dem officials, the media and Big Tech worked in concert to bury the Hunter Biden story. Everlasting, undying, soul-rending shame be upon you, Facebook and Twitter and Politico and all the others who covered up, denied and suppressed this newspaper's true and accurate reporting about Hunter Biden's laptop in 2020. You should be hurling yourselves at the feet of the American people, begging forgiveness. You should be renting billboards saying, "WE LIED." But most importantly, you should be hauled before Congress to answer humiliating questions. These and other information purveyors owe us — not just this paper, but this country — restitution for what now looks like the most egregious and willful fake-news scam of our time. This paper's scoops on Hunter Biden's laptop in 2020 were labeled "Russian misinformation" (Politico), a "hoax" (Steven Brill of "fact-check" site NewsGuard), discredited by "many, many red flags" (NPR) and a "hack and leak" operation that had to be throttled (Facebook's Mark Zuckerberg).
Media Fail to Retract 'Russian Disinformation' Claim About Hunter's Laptop. The establishment media on Friday failed to retract reporting that Hunter's "laptop from hell" was "Russian disinformation." Specifically, the Huffington Post, The Intercept, and MotherJones have failed to retract reporting on a now-debunked Politico story from 2020 that claimed Hunter's laptop was "Russian disinfo," according to "dozens of former intel officials." [Tweet] The media took Politico's headline and spread their own disinformation. "Giuliani and the New York Post Are Pushing Russian Disinformation. It's a Big Test for the Media," MotherJones published. The outlet elaborated, "That is, the Post piece, based on an unproven smear, is in sync with Moscow's ongoing effort to influence the 2020 election to help President Donald Trump retain power."
17 Months Late, Millions Short at NY Times on Hunter Biden's Laptop. Michael Isikoff, once the top investigative reporter for Newsweek, tweeted something unintentionally humorous about a New York Times story. "In the category of — didn't see this coming," he wrote, "The @nytimes confirms the authenticity of Hunter Biden emails derived from his laptop that had been previously dismissed as Russian disinformation." The obvious joke about "didn't see this coming" is that Hunter Biden's laptop is one of those scandals that they would prefer to squash until about 2028. In October 2020, Twitter and Facebook heavily censored New York Post stories on Biden's laptop with the excuse that "security officials" (guess which party) cried, "Russian plot." As columnist Tim Carney notes, it's late for griping about Big Tech censorship back then, but it still underlines the question, "Just what are the tech platforms and the major media colluding to lie about right now? What are our gatekeepers covering up today?"
We Now Have Proof The 2020 Election Was Stolen. [P]utting the 2020 election day antics aside for the moment, there is another manner in which the election was stolen. The use of a corrupt liberal media, with the manipulation of search results by big tech, along with the blatant and deliberate censoring of critical information in order to protect Joe Biden. The aforementioned groups colluded to interfere in the 2020 election by willfully preventing the American people from being informed of actual news and insidious corruption by Joe Biden and his son Hunter Biden. We'll start with the media. [...] The problem for the media is while they did accomplish their goal of helping steal a federal presidential election, their lies, their claims and actions, have just been made public in a big way.
Senator Ron Johnson [asks] when the 'corrupt' media, Twitter and Facebook will be held to account for taking a year to 'acknowledge' the Hunter Biden laptop story. Republican Senator Ron Johnson said Friday it is 'jaw-dropping' the media has 'finally acknowledged' that Hunter Biden's laptop and its content are legitimate — even though it was verified a year ago. The Wisconsin lawmaker, who was one of the first to investigate what was on the computer, has joined his GOP colleagues demanding accountability for those who dismissed the story as fake in the months before the 2020 general election. Many in his party are now also calling for Meta and Twitter to be investigated for removing or reducing the distribution of stories when they were first published a year ago because they were labeled 'disinformation'
New York Times Admits Hunter Biden Laptop Evidence Was Accurate, The Intelligence Community Was Lying. For almost two years, the United States government, using resources from the Dept of Justice and FBI, have been trying desperately to bury the truth of Joe and Hunter Biden's corrupt and illegal activities that relate to the country of Ukraine and the business company Burisma. However, the reality of the information is so overwhelming even the DOJ cannot completely hide the problems. The legal issues are massive, yet one of the key takeaways from the admission and revelations is even bigger than the scandal within the story. All of those intelligence agencies, that said the Hunter Biden laptop was "Russian disinformation", were purposefully and intentionally lying. All of the current and former administration officials were also lying, and the entire institutional media complex was part of the lying construct. All of their denials, false statements, malicious attacks against the people telling the truth, and all of the Big Tech censorship that was purposefully and intentionally deployed to keep the lies retained, was done in an effort to manufacture a protective shield for Joe Biden. They didn't get it wrong, they were not mistaken, they didn't misreport or misstate the facts — they willfully and purposefully lied.
Why was the Hunter Biden laptop story covered up? It's now a familiar pattern — a sensational news story is dismissed by serious journalists as bogus fake right-wing agitprop. You'd have to be a swivel-eyed conspiracy theorist to believe that. You don't want to be one of those. Then, a year or so later, the same important media organs, the same authorities who made you feel crazy for thinking that the story might be credible, turn around and tell you that, yep, it was true all along. It was just politically awkward to say so at the time. [...] When the New York Post reported in October 2020 on Hunter's marvellous laptop — and the potentially incriminating documents on its hard drive — the New York Times, CNN and others went to great lengths to attack the Post's reporting: it was, liberals insisted, a Trump-led hit job so therefore not credible. Twitter and Facebook actually censored the story. There was an election on and almost nobody wanted to be accused of doing anything that might stop Joe Biden kicking Trump out of the White House. But the Hunter laptop story raises serious concerns about the Biden family and the role Joe Biden played as Vice President, especially in 2014 when he took the lead on the Ukraine crisis. It's well-known that Hunter had a ludicrously well paid job at the Ukrainian mining company Burisma, despite having little qualifications for the role beyond his surname.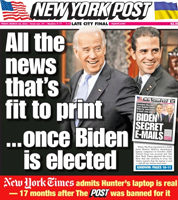 The Post computes this. The New York Post has been on a roll with its covers, but today's is something special. The Post righteously rubs in the New York Times's vindication its use of Hunter Biden's laptop for its reporting in the runup to the 2020 presidential election. Then it wasn't fit to print. Now it is. Something happened.
'The cover-up may be an even bigger crime than the contents of Hunter's laptop'. Former President Trump's office and Republicans expressed vindication and slammed Big Tech for censoring reports on Hunter Biden's laptop after the New York Times confirmed authenticity of emails from the device. 'The Fake News covered it all up during a presidential election, which may be an even bigger crime than the contents of the laptop. It's well past time time for the truth!' Trump spokesman Taylor Budowich told DailyMail.com. 'The New York Times admits what we've known for years: the Hunter Biden laptop story was true. Big tech's censorship of this story was a disgrace,' Sen. Tom Cotton, R-Ark., wrote on Twitter. 'For decades, the Biden family has cashed in on Joe's government service. Even today, Hunter Biden is getting paid millions for his 'artwork' in a corrupt arrangement blessed by the White House.'
Lesley Stahl Told President Trump in Her October 2020 Interview Before the Election the Hunter Biden Laptop "Can't Be Verified" — She Lied. Lesley Stahl has quite a career of lies. Her most famous interview to date was when she lied repeatedly to the American public in her interview with President Trump in October 2020 before the presidential election. Stahl was carrying water for the Biden crime family. She must be very proud. The country is doing so well. You can thank the far left hacks in the fake news media for doing their best to lie to the American public about Joe Biden and his family's crimes. To this day the mainstream media still won't report on Joe's obvious dementia that is obvious to everyone else in the world. Back in October 2020 President Trump defended himself in his interview with Stahl saying there was proof of Joe Biden's criminal actions in Hunter Biden's laptop. Lesley Stahl shut him down.
Anderson Cooper's '60 Minutes' Softball Infomercial for Pete Buttigieg. The long-running CBS News program "60 Minutes" has a manically split personality: Vicious attack dogs when Republicans are in power, but supportive infomercial producers under Democrats. Take March 13 for example, when Anderson Cooper hosted a promotional segment for Transportation Secretary Pete Buttigieg and the "bipartisan infrastructure bill." Buttigieg was touted as "40 years old, a Harvard graduate, Rhodes Scholar, and former Navy Reserve officer who ran for the Democratic presidential nomination in 2020. Now he's dealing with a pandemic-related supply chain crisis and trying to ensure that hundreds of billions of taxpayer dollars are well-spent on aging transportation systems in desperate need of repair." CBS began with a Pittsburgh bridge collapse from January, as Cooper asked Buttigieg a series of bland softballs, such as: "When somebody's driving over a bridge, should they feel confident?" Then Cooper followed up: "When grading the overall state of this country's infrastructure, the American Society of Civil Engineers recently gave the U.S. a C-minus. How is it possible that a country like the United States gets a C-minus on infrastructure?" These are easy pitches. They sound like questions Buttigieg's publicist emailed to CBS.
Imagine the press coverage if Reagan or Trump had said this.
Gaffe: Joe Biden calls Kamala Harris 'first lady'. Does Joe Biden have any idea of where he is? What he's doing? Who his vice president is?
It's not the GOP the White House has to worry about, it's local news reporters. [T]he basic argument being put out by at least two writers at the Washington Post is that dastardly GOP officials have set a trap for Biden by encouraging him to cut off Russian oil and then attacking him for the resulting increase in gasoline prices. But one statement you can pretty much always count on is that Twitter is not the real world. The politically obsessed people who are thinking about the GOP's trap for Biden are just not living in the same headspace as most Americans, very few of whom are going to be lashing out at Joe Biden because Ted Cruz or Mitch McConnell told them to do so.
ABC Teams With Biden WH to Hail Ketanji Jackson With Help From 'Lifelong Friends'. Wednesday [3/9/2022] on ABC's Good Morning America, the network newscast decided to give the Biden White House an assist in its PR campaign to confirm far-left judge Ketanji Brown Jackson to the Supreme Court by interviewing three "lifelong friends" "who know her best" on "what" we need "to know." In the second of four teases, co-host George Stephanopoulos said he's "looking forward to" what co-host Robin Roberts said would be "a really special look at Judge Ketanji Brown Jackson" thanks to "her lifelong friends" as she's "set to make history."
New Documents Show NBC Promised To Go Easy On Biden Official's Domestic Terrorism. New documents obtained through a Freedom of Information Act (FOIA) request by the government watchdog Protect the Public's Trust shared exclusively with The Federalist show NBC News sought to downplay a key Biden nominee's links to domestic terrorism. As President Joe Biden's pick to lead the Bureau of Land Management (BLM), Tracy Stone-Manning, faced controversy for her involvement with a 1989 Idaho tree spiking case last summer, NBC's Josh Lederman sought comment from the Interior Department whether the administration stood by its nominee for the preeminent land agency. Stone-Manning had been granted immunity in the case when she agreed to testify against her co-conspirators that she had retyped and sent an anonymous letter to the Forest Service for her friend and former roommate, John T. Blount. The letter warned of 500 pounds of "spikes measuring 8 to 10 inches in length" driven into trees of the Clearwater National Forest targeted for harvest. Such spikes can kill and maim foresters, firefighters, and animals.
The Ukraine War Can't Save Biden. Since Russia invaded the Ukraine, the U.S. news media has focused nearly exclusively on the war underway. Wars are attention-grabbers, so news coverage makes sense. Certainly, a war of aggression by nuclear-armed Russia in Europe merits significant coverage, though we can do without the snap analyses, ridiculous speculation based on sketchy or false reports, and warmongering. Domestic news coverage has been light. There's been some reporting on blue states and cities ending ludicrous mask mandates, except for kids five and younger in New York City. Those poor kids will still have to wear unsanitary obedience rags at school. Hikes in gas prices get mentioned. Turbulence in the stock markets gets a word. Otherwise, it's Ukraine 24/7. But that won't last. And it's silly to think that the war has distracted Americans from the country's festering domestic woes. Sillier still is the idea that the Russia-Ukraine conflict is Biden's means of offloading the troubles he's created.
Nets Ignore Hunter Biden's Business Partner's Fraud Conviction. On Monday, a former business partner of Hunter Biden named Devon Archer has been sentenced to over a year in prison for his involvement in a scheme to defraud a Native American tribe of over $60 billion in bonds. Not surprisingly, all three evening newscasts completely ignored this news of the President's son's business partner going to federal prison. While ignoring this report, ABC's World News Tonight, CBS Evening News & NBC Nightly News did all have time to hyperventilate over global warming, while CBS also had additional time to report on a mail truck that crashed off a bridge and fell into a river. According to a report in the New York Post, Archer was sentenced to one year and one day in federal prison by Manhattan Judge Ronnie Abrams. "There's no dispute about the harm caused to real people," Judge Abrams said. In addition to jail time, Archer will have to pay back over $15 million in forfeiture as well as over $43 million in economic restitution.
Failing cable news nets CNN and MSNBC poised for a bidding war over Psaki. There is a certain symmetry to the notion that the spokesmouth for the failing Biden administration reportedly is being assiduously courted by the two failing cable news networks, CNN and MSNBC, both of which have endured near-catastrophic ratings declines in the era of Biden. More Biden cowbell... yea, that's the ticket.
Durham scandal: The sheer dishonesty of the media is astounding. [Scroll down] The media also shows little interest in the money that flowed to Joe Biden over the years while he could grant political favors. Joe Biden and his family have also profited massively from corruption while he was in a position of power. The media has known about it for years but continually buries or downplays the stories as they campaign for him. The New York Post publishes a fact-based story about Hunter Biden's laptop before the election and most of the media intentionally buried it because facts are inconvenient as they campaign for Democrats. Peter Schweizer has a new book about Biden and other politicians' relationships and corruption from China and most of the media have little to no interest. The media has known for years how corrupt the Obama administration or Biden administration were as they colluded with the Hillary campaign and DNC to destroy Trump, before and after he was elected. They used fictional documents as an excuse to spy on and destroy Trump.
Axios Tries, and Fails, to Spin the Bad Economy. At Axios, Dan Primack tries to wave away the terrible polling on the state of the economy by pretending that it is the inevitable "byproduct of a politics in which the economy is reflexively disparaged by those out of power." It's not. It's the "byproduct" of an economy that isn't good.
When the people stop believing the government and the media. Arguably the USSR crumbled because everybody was lying to everybody else, so that nothing could be believed, including (especially) economic transactions. With the Biden Administration, the US has entered this same territory. Anyone paying attention can see that the occupant of the White House lapses into dementia on a regular and accelerating basis. In moments of crisis, he is quietly sent out to have some ice cream and go shopping while the hidden hands that make the real decisions (and make them badly) take over. [...] Our media are now owned by half a dozen transnationals, with the practical effect that they all collude in their "narratives," leaving us surrounded by lies.
Why Do Media Ignore Biden Family's Corruption? It's a curious thing: Obvious, credible signs about a prominent political family emerge, but federal authorities at the Justice Department and elsewhere do nothing. Meanwhile, leftist media "watchdogs," in a classic case of gaslighting, pretend that nothing has happened. So it is with Joe Biden and his errant son, Hunter.
Study: PolitiFact Is Almost 6 Times More Likely to Defend Biden Than Check His Facts. At the top of their home page, PolitiFact begs for donations by proclaiming "Our only agenda is to publish the truth so you can be an informed participant in democracy." But this "independent fact-checker" routinely betrays a tilt by coming out more aggressively to "correct" rhetorical or factual attacks on Democrats. At the end of Biden's first 100 days, we reported our study of PolitiFact found they published 13 fact checks of the president, and 106 fact checks of the president's critics. In other words, they're much more sensitive about someone "lying" about Biden than they are about Biden lying. Now, after reviewing Biden's first year, a NewsBusters study shows the same pattern continues. Overall from January 20, 2021 through January 19, 2022, MRC analysts found Biden was fact-checked 40 times, while Biden critics were checked on 230 occasions.
Protection Racket: ABC, CBS and NBC Hide [the] Latest Hunter Biden Bombshell. Showing that they will never change or truly "turn" on Joe Biden, the networks are ignoring the latest Hunter Biden bombshell and how it might ensnare his president dad. All of this is particularly relevant as questions continue to be raised about Joe Biden's toughness in questioning China over the origin of COVID. Fox News, unlike, ABC, CBS and NBC on Friday [1/21/2022], reported on the latest scandal. Here's Dana Perino on America's Newsroom: "New e-mails obtained exclusively by Fox Business show Hunter Biden, along with a former aide to then-Vice President Biden invested in Chinese companies with close ties to top officials in the communist government." [...] None of the evening newscasts on Thursday or the morning shows on Friday covered this.
It is no wonder most people don't trust the media since they frequently bury truthful stories while endlessly running false stories. [Scroll down] Hillary and the DNC didn't have much to worry about. The American media were willing to kill the story for them as they campaigned for Hillary. They didn't worry about all the crimes Hillary committed or kickbacks the Clintons took, either. [...] How many women and young girls were physically and mentally destroyed by the Clintons, Epstein, and Weinstein because the media, entertainers, and other Democrats were busy campaigning for the Clintons? [...] In 2015, the NYT was willing to report on the corruption of the Bidens because they were supporting Hillary. [...] Yet in 2020, as they campaigned for Biden and sought to destroy Trump, they buried a story they knew was true about the Biden family corruption. They faked that it was Russian disinformation to justify burying the story. It is no wonder we have so much corruption by politicians like the Clintons and Bidens when the media and others are so willing to bury the truth from the public. While the media were burying the story of the Biden and Clinton corruption, they were running endless false stories about Trump and Russia.
How the Networks Buried One Year of Biden's Disasters, Failures and Controversies. Over the last year, the three network evening newscasts have done their best to hide Joe Biden's policy disasters, such as Afghanistan and the border. They have ignored controversies involving Hunter Biden, as well as extremist nominees picked by the President. [...] During the 2020 presidential elections, the networks did everything they could to hide the evidence of Hunter Biden's corrupt dealings with Ukraine and any connection to Joe Biden. For the first year of Biden's presidency, Hunter's alarming art sales to unknown individuals and his dealings with China, they were all buried by the networks. From January 20, 2021 to the present, ABC's World News Tonight allowed just 57 seconds on the multiple Hunter Biden scandals. The CBS Evening News offered an equally pathetic 60 seconds and the NBC Nightly News managed a slightly higher 191 seconds. All totaled, that's just 308 seconds, slightly higher than 5 minutes, in one year. The last mention of Hunter on the network evening newscasts came on the July 12 NBC Nightly News. There, anchor Lester Holt chided the "secret art sale by President Biden's son."
The Dems' Media Turn on Biden. The media's new-found willingness to fulfill their self-proclaimed sacred charge to "afflict the comfortable" and "speak truth to power," however, is driven not by a recovered fidelity to fact, evidence-based argument, and objectivity, but by Biden's record-setting disapproval numbers, especially the declines among Latinos, independents, and young people — constituencies critical for the Democrats' longed-for "permanent majority." So don't expect the current criticism to signal the media's return to fact and coherent argument. They've just been spooked by the specter of a red midterm tsunami come November.
CBS Outlines Collapsed Support for Biden Regime, But Purposefully Ignore One Central Component of Their Own Poll. CBS conducted a poll of the collapsed support for Joe Biden and then outlined their findings earlier today [1/16/2022]. However, keeping up with their need to ignore things, they skip over how the vaccination mandate is opposed within their responses. Margaret Brennan and Anthony Salvanto, CBS News' director of elections and surveys, discuss how inflation and the economy are the two central issues at the top of concern. However, Joe Biden's handling of COVID, and specifically the vaccination mandate, are also driving opposition to the regime intent. [Video clip] The people behind Biden have boxed him in on the economic consequences. Inflation is an outcome of economic policy that cannot be reversed without completely refuting their own policy and reversing course. As a consequence, there's nothing Biden can do to stop this negative outcome.
A CBS News poll has just devastating results for Biden and his team. With Biden hiding in his basement in 2020, the press got him elected because it created a mythical candidate unrelated to Joe Biden. The mythic Biden was wise, kind, even grandfatherly. He loved all people and dreamed of a time when America was a safe, normal place. Then the real Joe Biden took the oath of office and, despite the media's relentless shilling for him, plummeted in approval. CBS News, a Biden-friendly "news" outlet, joined with YouGov to poll Americans regarding the Biden presidency. The news was grim (for Biden and his administration), and there was no way to spin it to make it better. [...] (As I go through these numbers, keep in mind that if the press were as hostile to Biden as it had been to Trump and if the Deep State and the opposing party launched utterly baseless charges of foreign conspiracies against him, his numbers would be in the single digits, if that high. All these pathetic numbers come about despite non-stop press and Deep State support.)
Biden boasts $27 billion in bridge repair spending. President Biden on Friday announced that his administration will distribute $27 billion to repair or replace 15,000 bridges across the country. The funds will be doled out as part of the bipartisan infrastructure spending Mr. Biden signed into law in November. He said the funds were the largest investment in our nation's bridges since the creation of the Interstate Highway System in the 1950s.
The Editor says...
This is an example of a news story (and a presidential option) that is unleashed for the purpose of getting something in the newspapers other than presidential scandals. In this case, the scandals include dementia, rock-bottom approval ratings, incompetence, runaway inflation, U.S. citizens trapped in Afghanistan, unchecked illegal immigration, the collapsing Covid-19 hoax, and big city crime that's out of control. Stories like highway construction, NASA space probes and newly-declassified JFK assassination documents are injected into the news stream at just the right times to divert your attention.
CNN Tanking: Six Reasons For Its Failures. During the Gulf War in 1991, CNN shone like no other news network before. Their access to official military footage, embedded reporters, and around-the-clock coverage of the conflict reset the standard for war reporting, and we all tuned into the network to watch America kick the crap out of Saddam Hussein. It was at this time that CNN's slogan of "The most trusted name in news" might have been accurate. But not anymore. CNN's credibility is a joke, and their ratings are 'exhibit A' for that assertion. No one is watching CNN anymore because no one believes a word that they say. During the first week of this year, CNN's ratings were down by as much as 90% over last year in both overall viewership and in key demographics. When nine out of ten viewers just stop tuning in, those numbers don't just represent a sharp drop, they represent an absolute freefall. When CNN reported on the Gulf War, and the Bush-41 and Clinton Administrations, they were at least somewhat objective. With Bush-43, they began to lift their skirt on their bias as they were often unfair in their coverage. [...] Obama was incompetent, and his administration was rife with scandal, but CNN spent eight years stroking their beloved hero. Their clapping seals on the left ate it up, but America's moderates and conservatives saw through CNN's sycophancy. And now that credibility crisis has reached critical mass.
WaPo Deletes Tweet Critical of Joe Biden After White House Complains. That the mainstream media are in bed, metaphorically speaking, with Democrats is not exactly breaking or new news. But when news outlets make decisions about their coverage after prompting from a Democratic official — especially those who are in senior White House positions and for seemingly no apparent reason other than the fact that the official in question didn't like it, that definitely raises eyebrows and is worthy of a closer examination of what happened. [...] It's one thing for a media outlet to issue a correction after a political figure and/or their handlers have demonstrated beyond a shadow of a doubt that the outlet was factually incorrect. It's another thing entirely for a media outlet to reframe a story and their promotion of it to something more favorable to that politician just because their inner circle had hurt feelings over it. We saw a similar disturbing instance of the media colluding with Democrats to soften coverage of Biden during the 2020 presidential campaign when the New York Times admitted they changed how they described Biden's alleged inappropriate touching of women because the Biden campaign complained about it.
White House Journalists Begin Asking Biden Administration to take Federal Control over Food Supply and Pricing. Earlier today [1/12/2022], the White House pushed the Director of the National Economic Council, Brian Deese, to the podium to defend the administration from the outcomes of their economic policies. Consider this presser the pre-quake tremors. Mr. Deese begins his presentation by saying giving American workers back their jobs, after shutting down their workplaces and locking out their ability to work at their job, is the equivalent of creating new jobs; the administration is very proud of their magnanimity. Mr. Deese then moves on to the inflation data from today and celebrates a "decrease in the rate of price increases." Yes, he used those exact words.
Nets Ignore Hunter Biden's 'Close Friend' Being Charged With Treason. A "close friend" of President Joe Biden's son Hunter was charged with treason in Kazakhstan according to a report in the Washington Examiner. Despite this revelation, all three evening news broadcasts ignored the report, while One America News was the only cable television network to report on the incident at the time of publication. Karim Massimov, who Hunter Biden once referred to as his "close friend" in a 2016 email, is a former Kazakhstan intelligence chief, and former chairman of the Kazakhstan National Security Committee before being fired and tried for treason during violent protests caused by a spike in gas prices in the region. Massimov had a close business relationship with Hunter while serving on the board of the Ukrainian energy company Burisma. During this time Massimov was serving as Prime Minister of Kazakhstan. During his stint as Prime Minister, Massimov met with Hunter to work on an energy deal for Burisma. What makes this story even more worthy of network coverage is the fact that Joe Biden has been pictured with Massimov and Hunter while he was vice president.
Media ignored the lies in Biden's January 6 anniversary speech. The unhinged and irascible manner in which President Biden delivered his viciously partisan speech on the anniversary of January 6 was unprecedented. So, too, was the media's complicity in covering up his misrepresentations. When matters devolve to this level of absurdity, the reactions are usually driven by emotions, precluding the possibility of any dispassionate scrutiny. Predictably, the mainstream news media praised the speech with a devotion almost as if it were the word of God. Most of the right-leaning media and the Republicans excoriated Biden for his divisive rhetoric. Few fact-checked the contents of the speech.
"A Scandal Free Biden Administration": The Media Celebrates a Year of Free From Political Scandal and Press Scrutiny. With the conclusion of the first year of the Biden Administration, White House Chief of Staff Ron Klain sought to end on a high, or at least higher, note by retweeting a column saying that 2021 was not "all bad." It was like bragging that a first date told you that the evening could have been worse. However, what really stood out in the column by Albert Hunt was the key rationale: the first year was "scandal free." Calling 2021 "scandal free" is not merely an example of blinkered commentary, it is an exercise of willful blindness.
Biden's Approval Ratings Are Inflated. There has been a lot of publicity around Joe Biden's poor approval ratings, but I think his actual standing with the electorate is worse than they indicate. Take, for example, the Rasmussen survey, which I think is valuable because 1) unlike other polls, it samples likely voters, and 2) it polls constantly, publishing a three-day rolling average. Thus, whether the numbers are "right" or not, they are a good indicator of trends. In Joe Biden's case, the trend has been obvious: his approval rating quickly dropped to around 42%, and there it sits. But I don't believe that 40+% of voters, surveying the wreckage of the last year, actually think that Biden is doing a good job. Some of them are lying to the pollster, out of party loyalty. We saw the same thing during the Obama administration. It is more revealing to see how voters assess a president's performance on specific issues.
You'll never believe the latest evidence of an 'insurrection'. On December 24, Biden gave America the gift of self-denunciation. When Jared Schmeck, along with his son, called the NORAD number that Joe and Mrs. Jill Biden were manning, Schmeck puckishly ended the call by saying, "Let's go, Brandon." The feckless Biden echoed this sentiment, adding delightfully, "I agree." It was a prank, but it was enough to enrage the Democrat party praetorian guard (i.e., the media). They identified Schmeck as if he'd aimed a gun at Biden's head, and then they proceeded to attack him viciously, including doxing him. The peak media madness came when a CNN talking head said Schmeck's prank constituted an "insurrection."
Editor For 'The Atlantic' Claims 'Let's Go, Brandon' Phone Call Is 'About Insurrection'. A CNN panelist claimed that a father of four, who tagged a phone call with President Joe Biden with the phrase "Let's Go, Brandon," was not only being impolite but also harboring feelings "about insurrection." Ron Brownstein, a senior editor at The Atlantic, joined a CNN panel to discuss a phone call between Biden, First Lady Jill Biden, and an Oregon father Jared Schmeck who ended his live-streamed phone call with a less vulgar substitute for "[...] Joe Biden." The CNN host dubbed the interaction between Schmeck and the Bidens "disrespectful," "juvenile" and "reprehensible." He also asked Brownstein for his opinion on the matter. "I don't think it's fundamentally about incivility. I think it's fundamentally about insurrection," Brownstein said.
The Media Think It Is Their Duty to Protect Biden. Early this month, the Washington Post's very own one-man Fifth Column, Dana Milbank, posted a Babylon Bee-worthy op-ed headlined ["]The media treats Biden as badly as — or worse than — Trump. Here's proof.["] As an empirical exercise, it was a complete trainwreck. The only thing it proved was that if you start out with the answer, you can work backward to find "data" to support that answer.
When Does COVID Stop Being COVID? COVID-19 burst on the scene early in 2020 and rapidly became the biggest story of the year. [...] In a desperate rush for ratings, each network pushed more and more sensational stories and kept the death count on chyrons so we would never be far from panic even when discussing a politician's latest gaffe or the price of food. As soon as Sleepy Joe stumbled into the Oval Office, the chyrons stopped because the drive-by media could not allow anything to interfere with the premise that Bumbling Biden would "defeat the virus."
Biden Is Already Considering Requiring You To Get A 4th Shot Of The Vax. Will It Ever End? Sleepy Joe went on Nightline last night [12/22/2021] with David Muir and was asked about Israel's policy requiring a 4th Covid jab for certain individuals and whether or not that was something we might see in the US. Biden seemed to be very open to the possibility, watch: [Tweet with video clip, transcript] You got it straight from the horse's mouth. It's already happening in Israel, who is always ahead of the US by a month or two, and it's up to "the scientists" whether or not we go forward with a 4th shot. And we all know, "the scientists" refers to Fauci and his team of bureaucrats at the NIH and CDC. The best, or worst, part of the clip, of course, is the end where Muir prompts Biden with the "repeat after me" form of question.
"It remains a possibility?"
"It remains a possibility."
The media has to prompt Biden on the right thing to say.
Democrats Get Networks' Softball Questions for Holidays. As Christmas approaches, the network "news" divisions have showered the Bidens with gifts. NBC late-night host Jimmy Fallon gave President Joe Biden a free platform for 16 minutes on Dec. 10, and hailed him as a "classy guy" who brought "class back" to the White House. Two days later, CBS reporter Rita Braver gushed for 10 minutes over Biden and his wife, Jill — or "Dr. B," as Braver called her — on "Sunday Morning." You didn't even have to win the presidency to be handed a shiny platter of publicity. On "Sunday Today," NBC's Willie Geist offered 12 minutes of softballs to Hillary Clinton, still complaining about losing to Donald Trump in 2016. The publicity hook was her business deal with Masterclass.com (no financial disclosures included) to talk about "resilience," and part of this seminar includes Clinton mawkishly reading her 2016 "victory" speech. Geist, who usually throws softballs at singers and actresses, asked a series of feel-your-pain questions.
Leftist 'Journalists' Float the Idea That Criticizing Joe Biden Is a Danger to Democracy. The Leftist political and media elites are desperately afraid of Donald Trump, even more than they were when they relentlessly defamed him and tried to run him out of office with a hoax collusion conspiracy and a tempest in a teapot over a routine phone call. A Trump return to the White House on January 20, 2025, would represent a massive repudiation of those who have arrogated to themselves the authority to tell us what to think, and those self-appointed intellectual and moral superiors are doing everything they can think of to try to preserve their crumbling hegemony. The New Republic, one of the flagship publications of the Left before it became completely authoritarian and irrational, on Saturday joined Dana Milbank of the Washington Post in offering one of the most absurd and dangerous recommendations for how to stop Trump and his supporters: stop criticizing Joe Biden. Yes, that's right: The New Republic is mulling over destroying our free society in order to save it.
ABC News distorts history, facts to defend Joe Biden's stalled agenda. ABC News wants you to believe a lone senator is solely responsible for "setting back" President Joe Biden's multitrillion-dollar climate and social spending bill. This is true so long as you ignore the other 51 lawmakers opposing the measure. "A single senator is about to seriously set back an entire presidential agenda," ABC reported Friday in a breaking news alert. Its report, titled "Power of one: Manchin is singularly halting Biden's agenda," reads: "In an extraordinary display of political power in the evenly split 50-50 Senate, a single senator is about to seriously set back an entire presidential agenda."
Looks Like Dissent Is No Longer The Highest Form Of Patriotism. Remember how, when Donald Trump was president, writing bogus attack pieces and talking endlessly about how he stole the 2016 election were all good for the country. Because, you know, dissent is the highest form of patriotism. Now, reporting undisputed facts that happen to be unflattering to the current president poses a grave threat to the survival of the nation. That's what journalists are saying. As President Joe Biden's approval numbers continue to collapse, and polls — including the latest I&I/TIPP poll — find that Trump is more popular than Biden these days, some of the "truth to power" crowd are using their platforms to attack their fellow scribes for being "too negative" on Biden. The argument is that hurting Biden increases the chances that Trump, if he runs, could reclaim the White House in 2024, and that will be the end of democracy as we know it.
Kamala Harris Insists She Really Isn't as Useless as She Seems. On Sunday [12/12/2021], the San Francisco Chronicle published a lengthy puff piece about the embattled president of the Senate, explaining to us that despite all appearances, Kamala Harris really is totally awesome and has perfectly reasonable explanations for all her catastrophic failures. Of course! We should have known! According to the Chronicle, much of Harris' problem comes from the big bad media, which, as you know, is relentlessly hostile to any far-Left politician such as the veep. The media, we're told, tends to "focus on the frivolous over the substantive during her first year in office." Yeah, sure, and the Chronicle would also give us a very nice price on the Golden Gate Bridge.
Media Pushes 'Boom' That Isn't after Biden Regime Gave Them Their Marching Orders. With the continued increases in prices from everything from gas to food and almost every product in between, along with the shortages of food, labor, and other retail items, with terminations of "non-vaxxed" employees causing even more shortages and price hikes, many families in America will be hard-pressed to keep their families fed as 2022 is expected to see all the aforementioned issues get worse, not better. The Biden regime, along with the media are on a brainwashing campaign to convince Americans that what they are seeing is an economic "boom," rather than watching this great beloved nation crumbling before our eyes. For a second, or a blink of an eye, the media actually and reluctantly acknowledged the economy failing, and then the Biden regime sent out their little soldiers to give the media their talking points, to which the MSM collectively saluted and march off to do Biden's bidding.
Vaccine Tweets Aren't the Reason Newsmax Is Parting Ways With Emerald Robinson. Last week Newsmax announced that White House Correspondent Emerald Robinson's contract, which ends in January 2022, would not be renewed. Robinson is still with the network until that time, though she hasn't been on the air for over six weeks and isn't expected to return to the air before her contract ends. Given that the announcement came not long after Robinson was suspended (then permanently banned) from Twitter over a controversial coronavirus vaccine tweet, it's been assumed that the parting-of-the-ways came about because of that tweet. Network insiders, though, tell RedState that wasn't the reason at all — that Robinson was out because she refused to obey Newsmax CEO Chris Ruddy's June 2021 directive to "go easy on the Biden administration, particularly Jen Psaki."
The High Price of Bidenomics. American humorist Edgar Wilson Nye famously observed, "Wagner's music is better than it sounds." Recently, the White House and its numerous allies in the "news" media have been telling an increasingly skeptical electorate a similarly self-refuting tale about the Biden economy. Typical of the stories that have appeared in major news outlets is this howler from CNN's Julian Zelizer, who insists that there is "a huge disconnect between the economic data and the way voters are feeling." Anyone naïve enough to believe such balderdash will be disabused of their illusions by reading Friday's Bureau of Labor Statistics report showing that the consumer price index (CPI) has risen by 6.8 percent during the 12-month period ending in November.
NBC's Chuck Todd says some factors for Biden's low polling are 'out of their control' and 'not his fault'. Chuck Todd of MSNBC's "Meet the Press" appeared to defend President Joe Biden from his low approval rating during Sunday's [12/12/2021] show. Recent polling numbers have shown Biden at approximately 42% approval, with his disapproval at 52%. Certain polls over the last few months have put Biden's rating as even lower. However, Todd pushed the idea that these poor numbers were due to situations out of the White House's control rather than being largely due to Biden's policies. "It seems as if there's nothing the White House can do to improve their political standings these days. It does feel like every week there's a new poll, there's a new bottom, a new this. And some of it is out of their control," Todd began.
Liberal Media Goes Into Overdrive To Portray Sagging Economy As Booming Under Biden. The American economy under Joe Biden is terrible. The American people know this because they are reminded of it every time they go to the gas station or the grocery store. The November jobs report was awful. The indicators are all around us. But don't tell that to the liberal media, which is now bending over backwards to convince you that the opposite is true.
Donald Trump: 'Laughable' to Claim Media Tougher on Biden; 'They Are Treating Him with Kid Gloves'. Former President Donald Trump told Breitbart News exclusively that he thinks it is "laughable" to claim the media are tougher on President Joe Biden than they were on him. "They are treating him [Biden] with kid gloves," Trump responded when asked in an interview to respond to a Washington Post column that claimed the media are tougher on Biden than they were on him.
Who is the autocratic president, again, overstepping his authority? [Scroll down] Obamacare, with all its mandates and taxes, took away freedom of choice and the price of insurance and co-pays skyrocketed. Obamacare reduced competition and large insurance companies had a captive audience. When day care and preschool providers know they have a captive audience and the government will take care of much of the bill, there will be no incentive to control costs and prices will skyrocket. The middle class will be hammered. Prices finally stabilized after Trump took away the individual mandates and allowed people the freedom of choice. For four years, as Trump was transferring freedom and power back to the people as fast as possible, the media described Trump as a dictator and an autocrat to intentionally mislead the public. As Biden rules by executive orders and mandates, the media pretends that he is not autocratic.
Are Media Now Taking Orders Straight From The White House? If you needed further proof that the big media are deeply biased toward the political left, look no further than the recent secret meetings held by the White House with some of its favorite news outlets. Why? To get them to spin bad economic news. And, given the generally low ethics and political bias of their profession, they'll no doubt willingly do so. Three top Biden officials appear to be spearheading the effort. Angry at what they see as unfair coverage of Biden's supposed economic successes, they have decided to hold sub rosa sessions and phone calls as part of an "outreach" to the national media. The media are of course willing to be used. After all, President Joe Biden's administration is the furthest left in our nation's history in the scope and content of its policies.
Washington Post columnist goes on CNN to claim that president is being treated worse than Trump by press. Three senior White House officials have embarked on a campaign to persuade newsroom executives to be more favorable in their coverage of President Joe Biden, according to a report on Tuesday night. The trio — National Economic Council Deputy Directors David Kamin and Bharat Ramamurti, along with Ports Envoy John Porcari — have been 'briefing major newsrooms over the past week,' according to CNN's media correspondent, Oliver Darcy. Darcy, in his newsletter, said that their outreach was sparked by concern that Biden was not being treated fairly.
The Editor says...
If Joe Biden was treated the way Donald Trump was treated in the news media, Hunter Biden's scandals — as documented in his abandoned laptop computer — would be front-page material every day. So would Joe Biden's obvious senility. And there still hasn't been any honest discussion of the fraudulent 2020 election. Nor does anyone know who's making Joe Biden's decisions for him. Why is the Mexican border wide open? Why is the price of gas so much higher than it was a year ago? Why does Joe Biden spend so much time on vacation, and why does he take so many three-day weekends off-duty? Why hasn't Joe Biden eradicated the coronavirus, as he promised he would? Does anybody suffer from severe side-effects after getting their so-called "vaccination" for Covid? Why are booster shots necessary? Why do vaccinated people have to wear masks? Why is Australia turning into a police state? And Austria And Germany? Why can't Joe Biden answer spontaneous questions from random reporters, rather than having the questions and answers scripted? Why is it that Joe Biden makes personal appearances so rarely, and even then only protesters and news media show up? The "mainstream" news media should ask these questions, but they don't.
The White House Is Working With Journalists to 'Reshape Coverage' of Economy. Joe Biden is apparently taking yet another page out of Barack Obama's playbook and is trying to influence how the "free press" is reporting on the economy in order to boost his approval ratings. Barack Obama manipulated the media by telling them how to report on his policies in the news. His administration tried to discourage Fox News from reporting extensively on the Benghazi attack in 2012. His administration even attempted to put FCC monitors in newsrooms to determine how stories were selected, whether there was bias in reporting, and whether "critical information needs" were being met in what was a clear attempt to intimidate the media to be more friendly to the administration in its reporting. And then there was that whole spying on the media thing. Since Joe Biden has been resetting our nation back to the Obama-era status quo, he's now working on similar efforts to manipulate the media to make him look better.
The Editor says...
The article goes on to say, "the Biden administration is meeting with journalists 'behind the scenes' to change the way they are covering the supply chain crisis and other economic issues...." This makes me wonder: What are the names of the Biden officials meeting with the "journalists?" Are they Obama administration officials, perhaps including Obama himself?
Washington Post Columnist Claims Press Is Tougher On Biden Than They Were On Trump. Washington Post columnist Dana Milbank has hilariously claimed that the media is harder on Joe Biden than they were on Trump. People in media really believe no one remembers anything that has happened over the last five years. The media was outright hostile to Trump and everyone in his administration every single day.
Biden's top aide Ron Klain complains press coverage is too negative. He's the Whine House Chief of Staff. President Biden's top aide, Ron Klain, took to Twitter Saturday to decry press coverage of his boss. The chief of staff — known to insiders as the "Prime Minister" for his outsize influence inside the West Wing — shared an opinion essay from the Washington Post arguing that Biden was receiving worse coverage than former President Trump. The piece from Post opinion columnist Dana Milbank warned that "My colleagues in the media are serving as accessories to the murder of democracy."
ABC/NBC Most Concerned With How Omicron Variant Hurts Biden's Agenda. With the emergence of the new Omicron Covid variant out of South Africa that's reportedly more transmissible than Delta, the liberal media's initial reaction on Sunday [11/28/2021] was to fret for the future — not in terms of how it could hurt people, but how it could hurt President Biden's agenda. ABC's Good Morning America worried about the midterm elections and NBC's Sunday Today wanted Biden to "use the bully pulpit" against Republicans. ABC congressional correspondent Rachel Scott was filling in as co-anchor of GMA when she asked deputy political director Averi Harper about how the new variant could be a wet blanket for Biden.
The Media Again Buries A Hunter Biden Scandal on Foreign Deals During the Biden Vice Presidency. I previously wrote a column on the one year anniversary of the Hunter Biden laptop story that marveled at the success of the Biden family in making the scandal vanish before that 2020 election. [...] Now, in an encore, a new major story on Biden's Chinese dealings has surfaced. Once again, poof! The media has made the story disappear except for a couple of the usual outlets. Even with the New York Times reporting on the story, the disclosure of Biden's role in securing one of the world's largest cobalt mines for China (a key component to electric battery production) has been ignored by the major networks and many other print outlets. Once again, ABC. NBC, CBS, CNN, MSNBC, and other media just cannot see the elephant. What is most amazing about this continuing trick is that the story has all of the elements that the media longed to confirm during the Trump Administration on the financial dealings of the Trump children.
Joe Biden's Political Obituary. Biden has profited from his own perfect storm of political pandering, a small-state electorate that easily is flattered, and Delaware's coteries of corporations and credit card companies. A distinguishing characteristic of Biden's five decades in public life is the remarkable fact that the man never developed a national constituency, neither during his interminable presence on C-SPAN as a Senate committee inquisitor nor in quadrennial grasping after presidential nominations. History will record that this political grifter succeeded, to the extent he has succeeded — that is to say, finally able to sit behind the Resolute desk — largely due to two factors not of his own design. The first propellant is the stranglehold of the press on public discourse. For two generations, the "national media" have shown their partisan fangs, running the gamut from liberal to radical. Biden has been the recipient of this largess and was spared any reasonable examination of his spectacular subnormality.
YouTube Hides 'Dislikes' Following Mass Downvoting of Biden Administration Videos. YouTube has announced it will hide 'dislikes' from videos to curb "creator harassment," with critics pointing out that this is merely a way of removing the huge amount of downvotes on videos posted by the Biden administration. "YouTube has announced that it'll be hiding public dislike counts on videos across its site, starting today," reports The Verge. "The company says the change is to keep smaller creators from being targeted by dislike attacks or harassment, and to promote "respectful interactions between viewers and creators." The dislike button will still be there, but it'll be for private feedback, rather than public shaming." Quite how viewer feedback in the form of a thumbs down icon represents "harassment" is anyone's guess, but the immediate response to the announcement from many was that the Google-owned company was merely moving to protect the Biden White House from ridicule.
The Editor says...
When did YouTube make any effort to protect the Trump White House from ridicule?
Joe Biden Calls Satchel Paige "The Great Negro" — Media Immediately Says Biden Did Not Say What You Saw Him Say. Comrades, the ministry of truth does not want you to misunderstand what Joe Biden is saying in these prepared remarks. Do not believe your eyes and ears, Joe Biden is not saying: ..."You know, I've adopted the attitude of the great negro at the time, pitcher in the negro leagues went on to become a great pitcher in the pros, into the, major league baseball after Jackie Robinson, his name was Satchel Paige". Joe Biden is NOT saying this, according to U.S. media immediately afterward. [Video clip]
Our Racist-In-Chief Biden Refers To Black Baseball Player Satchel Paige As 'The Great Negro At The Time' — No MSM Coverage. Just a few moments ago our racist in President Joe Biden once again went off script and told a bizarre story during his Veterans Day speech about former Negro League baseball Satchel Paige. "You know I've adopted the attitude of the great negro at the time, pitcher in the negro league, went on to become a great pitcher in the pros, Major League Baseball, after Jackie Robinson," Biden said. "His name was Satchel Paige." Paige played Major League Baseball for 6 years after a 20-year career in the leagues for black players, commonly known as the "Negro League". Biden was referring to Paige's age at the time of his rookie season in Major League Baseball, basically that age is only a number.
Team Biden and its media apologists blame you for supply shortages the White House refuses to fix. Worried about the shortages of goods due to the supply chain crisis? You're right to be. But instead of fixing the problem, President Joe Biden and his team are blaming you for it — and telling Americans to just suck it up. It's outrageous. And short-sighted. The images of hundreds of cargo ships waiting to be unloaded isn't one of those economic issues ordinary people have a hard time understanding. The inability of the transportation system to handle the flow of goods shipped from manufacturers is threatening to not only make it harder to get ordinary items consumers count on but also to short-circuit the annual end-of-year shopping season. The shortages are feeding worries around kitchen tables across the country. But according to the Biden administration and its apologists, the real villains aren't the people who are supposed to ensure things like this don't happen in the world's richest and freest nation; it's your fault for wanting to give gifts or buy new things.
The Media's Desperate Attempts To Protect Biden Spectacularly Backfire. "Let's Go, Brandon" became a popular online meme after an NBC reporter was shown interviewing NASCAR winner Brandon Brown as the crowd behind them unmistakably chanted "[...] Joe Biden." In an attempt to gaslight viewers on behalf of Biden, the reporter's response to the serenade was to utter: "Brandon ... as you can hear the chants from the crowd: 'Let's go, Brandon!'" Suddenly, that phrase started showing up everywhere, on T-shirts, in headlines, and across the internet. [...] So, by trying to protect President Joe Biden from the embarrassment of "[...] Joe Biden" chants, the media created an even more popular saying — one that can't be censored but gets the message out just the same. Except, then they did try to censor it. By taking down Gray's "Let's Go, Brandon" video — on the ludicrous grounds that it was spreading misinformation about COVID vaccines — YouTube and Instagram apparently helped propel the song's popularity and drive it to the No. 1 spot. At least, that's what Gray thinks. The New York Post quoted Gray as saying: "Cancel culture doesn't work anymore. It only works on people who are scared ... all it does is help me out. Thanks, YouTube!"
Biden Holding Town Hall at Special Time When Millions of Americans Won't Be Watching. Avoiding the public eye is a strategy Joe Biden began utilizing on the campaign trail. It has continued into his presidency, and an upcoming event shows that even when he faces the nation, he's still in hiding. According to the Republican National Committee, Biden is set to take part in a CNN town hall on Thursday night. The problem is that Thursday night just so happens to be a huge one for sports fans around the country. For the first time this year, all four major professional sports leagues will be in action on the same night, USA Today reported. Dubbed the "sports equinox," this circumstance is exceedingly rare.
Biden family corruption is an elephant the media works to 'disappear'. This week marked an anniversary of one of the greatest political tricks in history: the disappearance of Hunter Biden scandals. One year after the New York Post broke the story, new emails were recently released that added new details to what was a raw influence-peddling operation which netted millions of dollars from foreign sources. A new tranche of emails connecting President Joe Biden to key accounts prove just how this political sleight of hand was worthy of Harry Houdini. [...] The Bidens made a full-sized scandal disappear, with the help of media members who did not want the public to see it. Twitter banned links to reports about the laptop until after Biden was elected president. The media dismissed the story as a "conspiracy theory" with some mocking to boot. [...] The laptop is, of course, now recognized as genuine — even by some of the early deniers. Hunter remains under criminal investigation for possible tax and money laundering violations. But the greatest "reveal" is the person referred to as "the Big Guy" and "Celtic" in these emails: President Joe Biden.
Alarming Wage Report Not Being Discussed in Financial Media — Blue Collar Wages Decreased in Third Quarter, While Inflation Skyrocketed. The Bureau of Labor Statistics (BLS) released the third quarter review of average weekly wages. The results of the year-over-year comparison should alarm everyone. This is a very serious data point that likely means we are in a recession, it just has not been quantified yet. By now everyone knows the term "stagflation", which means a stagnant economy and large inflation (price increases), the easiest comparison is Jimmy Carter economic program in the 1970's. However, let me assure you what this latest BLS release foretells is not that. This is far more serious than stagflation. I am not an alarmist, but I am encouraging everyone to take this economic data seriously.
Media Strategy to Inflate Joe Biden Poll Numbers is "Lower Your Expectations". As just about everything falls apart due to intended outcomes from Biden policy, it is increasingly obvious the water carriers for the regime are struggling to find new ways to defend the White House. However, a recent approach seems to have gained traction and was noted by Tucker Carlson tonight. Instead of the media and White House defending the high gas prices, massive food price increases, fuel costs, home heating costs, energy costs, and empty shelves as a result of regulatory strangleholds and poor policy, the narrative engineers are now telling everyone to "lower their expectations" for what things should be. That way if you walk into a supermarket and there is an apple for sale, you will be surprised at the apple and avoid noticing hundreds of feet of empty shelves.
Axios Blames American Consumers, Not Bad Policy for Labor Shortages. Blame the American consumer! That's the approach liberal outlet Axios used to explain away the atrocious labor shortages affecting the U.S. economy, and not President Joe Biden's economic policies. Axios published a snobbish piece headlined, "Unruly customers threaten economic recovery." The outlet's asinine argument was that "increasingly violent and combative customers," angry about "long wait times and mask mandates," were causing workers to quit, hamstringing a recovery that hinges in part on employees "returning to work." But unlike Axios, The Wall Street Journal editorial board didn't hesitate to pin the labor shortage blame on the proper culprit: "Bidenomics." The Journal suggested two specific sources for what has been causing the worker shortage. The sources it mentioned were: "government and employer vaccine mandates that set ultimatums for workers" and Democrats making "quitting an easier economic option" through a litany of federal unemployment benefits.
NASCAR Crowd Chants 'F Joe Biden' As NBC Reporter Interviewed Winner Live On TV, Reporter Goes Into Gaslight Mode. Chants of "F--- Joe Biden" rained down from the crowd at Alabama's Talladega Superspeedway after Brandon Brown captured his first NASCAR Xfinity Series race victory. The anti-Biden chants came during Brown's post-race interview. After Brown told a reporter his victory was a "dream come true," the crowd began to loudly shout in unison their displeasure with the president. An NBC reporter acknowledged the chants but falsely claimed the fans were shouting "Let's go Brandon!" [Video clip]
What the press is leaving out about the Arizona election audit. The ethical corruption of our national new media has extended to a degree that once would have seemed unimaginable. We were exposed to yet another remarkable example with the reporting on the long-awaited audit of the 2020 presidential election results in Arizona. [...] While the audit did find that a hand-recount of all of the original ballots did widen Joe Biden's margin by several hundred votes, the press deliberately and steadfastly ignored and left unreported the most critical results of the draft audit. Included among those original ballots, the most comprehensive election audit ever conducted established the following:
• More than 23,000 mail-in votes were cast under voter IDs from people who should not have received their ballots by mail because they had moved.
• More than 10,000 voters cast ballots in more than one county.
• More than 9,000 mail-in ballots were returned and counted than had been mailed out of registered voters.
• Thousands of official results did not match those who voted, and thousands more were cast in-person in the name of those who had moved out of state.
• Logs and data files related to the election had been deliberately erased from the Election Management System (EMS) server, in violation of the law.
• Thousands of original ballots were duplicated more than once.
• Auditors were never provided with the required chain-of-custody documentation for the ballots, causing increased ambiguity regarding the accuracy of the election results.
• None of the various systems related to the election had numbers that would balance and agree with one another.
• Maricopa County officials actively interfered with the audit, withheld subpoena items, and refused to answer questions that are normally standard in such audits.
Following Psaki's Orders: ABC, CBS Won't Say Biden Caused Booster 'Confusion'. Monday's [9/27/2021] evening newscasts were a demonstration of which broadcast networks could follow the Biden administration's orders the best after Press Secretary Jen Psaki scolding the White House press pool for accurately calling the rollout of COVID booster shots "confusing." ABC's World News Tonight and CBS Evening News were good teacher's pets and omitted the reality from their coverage, but NBC Nightly News bucked as they highlighted states that were widening the eligibility range.
Desperate Chuck Todd Hopes Trump Will Deflect Media 'Spotlight' From Dem 'Problems'. Appearing on NBC's Sunday Today, Meet the Press host Chuck Todd desperately hoped that Donald Trump would somehow take the media "spotlight" off of "the Democratic Party's problems" leading into the 2022 midterm elections. He gleefully referred to the former Republican president as "the single greatest asset the Democratic Party has right now." [...] In other words, so-called "journalists" like Todd will make sure to focus on anything that takes the "spotlight" off of topics that are politically damaging for Democrats and attack Republicans instead.
Biden Isn't Facing 'Challenges.' Biden Is The Challenge. Well-known Washington creature Amy Walters wrote this week on the "challenge" that Joe Biden is facing early in his presidency: "The former senator and vice president looks more like a helpless bystander than an experienced Capitol Hill deal maker..." That, in a nutshell, is the national media's preferred framing of the absolute breakdown we're witnessing under Biden. A collapse that he created and is wholly responsible for. The media want Biden to look like a "helpless bystander," a victim of circumstances out of his control. He's not. He's the perpetrator of nearly every disaster anyone with eyes can see, from the obscenity at the southern border, to the loss of 13 service members (not fighting, but leaving a war zone), to the stratospheric inflation of household necessities. We're led to believe these are simply "challenges" Biden is facing rather than the results of his own deliberate screw-ups.
Twitter and the 'Fact-Checkers' Line Up for Biden. Twitter makes it easy to realize that the purpose of "fact-checkers" is most commonly rushing to defend President Joe Biden from misinterpretation ... and mockery. On Sept. 20, Twitter warned, "A video of President Biden discussing hurricane preparedness has been edited out of context, according to fact-checkers." Tweets aired this clip of Biden from Aug. 10: "Let me be clear: If you're in a state where hurricanes often strike — like Florida or the Gulf Coast or into Texas — a vital part of preparing for hurricane season is to get vaccinated now." It's easy to see his point: You may not want to be stuck in a shelter while you're unvaccinated. But it does sound a little funny that your "vital preparations" would be to board up the house, batten down the hatches, and then get the shot. It sounds like "insert a plea for vaccination in every public statement."
The Hunter Biden e-mail coverup is the clearest evidence yet of media corruption. The Hunter Biden e-mail coverup may not be the most contemptible example of the modern political media's corruption, but it is probably the most demonstrable. Politico reports that Ben Schreckinger's new book, "The Bidens: Inside the First Family's Fifty-Year Rise to Power," corroborates much of the New York Post's pre-election reporting on Hunter Biden's e-mails. Two of them stick out: The first is a 2015 missive from a Ukrainian businessman thanking Hunter for the chance to meet Joe Biden — then, still vice president. The second is a 2017 e-mail in which a proposed equity breakdown of a venture with Chinese energy executives included the line, "10 held by H for the big guy?" Of course, The Post story already had more substantiation than the histrionic and fallacious Russia-collusion scoops the nation had been subjected to for four years. The Post had reported, in great detail, how it had physically obtained Hunter's laptop. [...]
White House Treats Media With Well-Earned Disdain. A recent Gallup survey found that only 21 percent of the public expressed "a great deal" of confidence in newspapers. Television news fared even worse. This distrust of the media isn't merely due to dishonest "reporting," it is also tied to collusion between journalists and the politicians they are meant to keep honest. The White House press pool, for example, is little more than a Greek Chorus that recites Biden administration talking points. In exchange for this tawdry performance, they expect occasional access to the President. But Biden's handlers have no more respect for the media than does the public.
All of This Is Just a Series of Media Distractions. We focused on Biden's plan to enable OSHA to mandate vaccines in private businesses, but when you actually look around, you don't see that story advancing at all. Meanwhile, the Biden administration killed an innocent man and a handful of children. A week later, we are still talking about the former and not really discussing the latter. We focused on a blown-up submarine deal involving Australia and France, but while that dominated headlines we continued to get no answers on Americans and allies still trapped in Afghanistan. We focused on a false media narrative about Border Patrol and the whips they definitely didn't use in pursuit of illegal immigrants at the border. Meanwhile, POLITICO just comes out and says "By the way, looks like the Hunter Biden laptop story was true!" and there are crickets from the media and the left.
Republican Senators Slam Biden Court Pick for 'Hostility' to Religious Liberty. Several Republican senators sharply criticized federal court nominee Beth Robinson this week for her alleged hostility toward religious liberty. On August 5, President Joe Biden announced his appointment of Robinson as a judge on the U.S. Second Circuit Court of Appeals and the White House underscored that she would be the first openly lesbian woman to serve on any federal circuit court. During Robinson's confirmation hearings this week, members of the Senate Judiciary Committee questioned Robinson's use of bigoted language toward pro-life Catholics sued by a client of hers in the 1990s. Robinson had represented a woman in a suit against a Vermont print shop for not printing a pro-abortion group's business cards because of the owners' Catholic faith.
White House Attempts to Justify Withholding Monoclonal Antibody Treatments From Florida and Red States, Fails Miserably. If the political parties were reversed, the entire White House press corps would be having apoplectic fits about the White House withholding COVID-19 treatments from New York or California, with endless articles written about how Donald Trump was intentionally politicizing healthcare and purposefully killing his political opposition. Seriously, not an exaggeration; there would be no bigger scandal in the U.S. right now, and congress would be having emergency hearings with subpoenas already en route to HHS officials. Alas, as the administration of Joe Biden steps in to take control over Monoclonal Antibody (mAb) inventories and distribution, block red states from receiving the treatment, and making grand pronouncements about controlling supply based on "equity", the White House press corps sits on their hands, except Newsmax reporter Emerald Robinson. Watch Jennifer Psaki lie, twist, obfuscate and manipulate the discussion in an attempt to defend an indefensible position when questioned by Robinson about Biden's recent moves to punish Florida. This is one of the most insufferably twisted answers from the podium to date. [Video clip]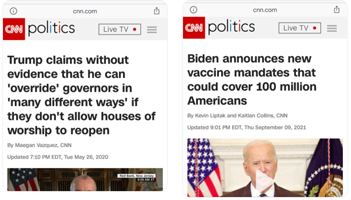 Few topics create as much hypocrisy as executive use of power. [Compare] how the press has covered Biden's vaccine mandate announcement vs. Trump's threat to override governors on houses of worship. Spot the difference? Back in May 2020, President Trump said he would override governors who wouldn't allow houses of worship to open. Yesterday, President Biden said he would do the same about governors who wouldn't enforce a vaccine mandate. Can you spot the difference in how @CNN covered it?
Nets Praise Biden Pulling 'Hammer' on Unvaxxed. President Biden's new constitutionally dubious national vaccine mandate for mid to large businesses, announced Thursday [9/9/2021], gave the broadcast networks the cover they needed to lash out at the unvaccinated viciously. They rolled around in violent rhetoric as they praised the President for "taking off the gloves," taking a "hammer" to bear against them, and making them "pay the consequences." One even scoffed at the legal questions and suggested Biden was just doing what he needed to do. NBC Nightly News anchor Lester Holt was the most overtly violent as he described Biden as pulling out a blunt weapon with which to beat the unvaccinated into submission. "Clearly frustrated by the pace of COVID-19 vaccinations in this country, President Biden tonight is trading out the velvet glove for a hammer," he touted, "unveiling a broad and largely new COVID strategy heavily grounded in vaccine mandates, meant to compel millions of American workers to be vaccinated." Pitying Biden's frustrations was a common theme throughout the evening newscasts.
Networks Skip Biden Claiming Nobody Uses the Word "Tornado" Anymore. During a Tuesday [9/7/2021] press conference in New Jersey, President Biden stumbled over his words and wound up claiming that people no longer use the word "tornado." While this peculiar moment has been covered by a handful of news outlets that aren't right wing by any stretch of the imagination, the Biden-friendly broadcast TV networks (ABC, CBS, and NBC) have avoided discussing it entirely, even though all three offered extensive coverage of his trip.
Joe Biden Is a Total Failure. The Democratic media, which waffled badly as the Afghan disaster unfolded, is trying to put Afghanistan into the past, naturally, as if it were a hurricane or a forest fire. They will not waffle out of this that easily; there are already reports of six planeloads of detained Americans, and Biden has left hundreds of hostages behind. In Tehran in 1979, the American hostages were seized from the U.S. embassy illegally. The current situation is a much more dangerous condition, and the feeble Biden-Blinken response was that Americans had been warned to leave, even as they were assured that the military condition was not worrisome.
Mainstream Media Outlets Ignore Report on Biden's Compromising Call with Afghan President. Reuters reported this week that in a July phone call President Joe Biden urged then-Afghan president Ashraf Ghani to project that the fight against the Taliban was going well, "whether it is true or not." "I need not tell you the perception around the world and in parts of Afghanistan, I believe, is that things are not going well in terms of the fight against the Taliban," said Biden, according to Reuters, which reviewed a transcript and recording of the call. "And there is a need, whether it is true or not, there is a need to project a different picture." Except for a few mainstream media outlets, including USA Today and The Washington Post, there has been no reporting on the story from publications like The New York Times. Additionally, the major networks — CNN, MSNBC, NBC, CBS and ABC — appear to have completely ignored it, according to a review of transcripts on media monitoring service TVEyes.
A Ruling Class with Blood on Its Hands. Allow me to suggest three cheat codes for separating truth from propaganda in the Age of Mass Media Manipulation:
(1) Whatever is censored is true.
(2) Refusal to audit elections is proof that vote totals are unverifiable and fraudulent.
(3) Any president who inexplicably disappears for days at a time and admits that he is "not allowed" to answer questions from the press is not actually president.
If you put (1), (2), and (3) together, you get an incompetent and schizophrenic government incapable of protecting its armed forces overseas, securing its borders at home, preventing runaway inflation from destroying the economy, or acting in the best interest of the American people. What you get is a dazed and addled puppet pretending to be commander-in-chief while unelected and unaccountable shadow figures call the shots. What you get is a praetorian press that has no problem lying about the fake president's obvious dementia by framing his mental handicaps as nothing more than a "childhood stutter."
The Editor says...
Barack H. Obama used to stutter all the time when making speeches, and the press made excuses for him, too.
[1] [2] [3] [4] [5] [6] [7]
Establishment Media Attempt to Clean Up Biden Afghan Mess. The establishment media published positive headlines after President Joe Biden fully withdrew from Afghanistan on Monday [8/30/2021], leaving billions of dollars worth of abandoned military equipment and up to 200 stranded American citizens in the country.
Tech tyrants elevate Biden to 'Dear Leader' status, with criticism forbidden. Shana Chappell, whose son, U.S. Marine and lance corporal Kareem Nikoui, was murdered in Afghanistan thanks to the Biden administration's fecklessness, took to social media to say exactly what she thought of Biden, including questioning the legitimacy of his presidency. It was classic free speech of the type the First Amendment protects... so Instagram (which Facebook owns) suspended her. It later reinstated her, assuring that it was all a mistake when we all know that the only mistake was that Facebook/Instagram got caught. The mere fact that Facebook/Instagram took this step — and thought it could get away with it — is a perfect example of the fact that the tech tyrants are functioning in the same way as North Korean censors, banning any speech critical of the "Dear Leader" and his policies.
CNN 'fact checker' comes to rescue after Biden appears to fall asleep while sitting with Israeli PM. CNN's "fact-checker" rushed to the rescue Saturday [8/28/2021] after Twitter users began speculating that President Joe Biden had "fallen asleep" during his Oval Office meeting a day earlier with newly appointed Israeli Prime Minister Naftali Bennett. For the majority of the 13-minute meeting Friday, the president was fairly lively — or, rather, as lively as a 78-year-old man suspected of having dementia can be. Near the tail end of the meeting, however, he began acting suspiciously by allowing his head to droop so that it was pointing down as if he was dozing off.
The Media Whitewashes Biden's Afghanistan Blunders. When the Biden administration's feckless management of the U.S. withdrawal from Afghanistan produced all too predictable chaos, the legacy media uncharacteristically reported on the debacle with remarkable candor. This was unsettling to a White House inured to obsequious coverage, and various administration officials have expressed frustration concerning the Fourth Estate's unfavorable approach to the story. Inevitably, certain "journalists" echoed the complaint. New York Magazine's Eric Levitz, for example, querulously insisted, "America's withdrawal from Afghanistan has yet to cost our nation a single casualty." The day after this was published, 13 Americans were murdered by Islamic State terrorists. In a New York Times column published on the day of this attack, renowned foreign policy expert Ezra Klein wrote, "Focusing on the execution of the withdrawal is giving virtually everyone who insisted we could remake Afghanistan the opportunity to obscure their failures by pretending to believe in the possibility of a graceful departure." As usual, Klein's analysis is hopelessly shallow. A "graceful departure" is what one strives for after a West Village soirée. Withdrawing tens of thousands of military and civilian personnel from Afghanistan isn't about appearances. A failure to properly plan the execution of such an operation gets people killed.
Has there ever been a President as cold-hearted as Joe Biden? Every sentient American surely knows by now about Biden's plagiarism, his pathological lying about everything from his law school record to his fabricated exploits around the world. Everyone surely knows by now of Hunter Biden's depravity, all of which China has proof of (as did the FBI in December of 2019). Just as the truth about the covid vaccines is strictly suppressed, so was the depth and breadth of the Biden family's corruption. The media, print and electronic, deranged by their irrational hatred of Donald Trump, covered up the truth about the Biden family's unscrupulousness. We have the media and their big tech partners in crime to blame for the calamitous failures of this illegitimately installed president. We will suffer the reverberations of his open borders, energy regression, inflation, and the horrors unfolding in Afghanistan for decades to come.
Why Do Media Fact Checkers Keep Ignoring This Biden Big Lie? At a press briefing on Tuesday [8/24/2021] that was ostensibly about the unfolding disaster in Afghanistan, President Joe Biden opened his remarks by touting the $3.5 trillion spending disaster that Democrats are trying to ram through in Washington. Biden has spun a web of lies to defend both. [...] That phrase — "transform America" — ought to scare Americans. After all, what exactly does Biden want to transform the world's biggest, most prosperous, most free nation into? An inflation-riddled, welfare-dependent, socialist basket case? That's what the $3.5 trillion plan, which includes a massive expansion in federal entitlements and government meddling, is trying to achieve. Then Biden went on to repeat the biggest of his Big Lies about the economy, one that media fact-checkers — too exhausted, apparently, from years spent fact-checking every utterance of President Donald Trump's — keep missing. "When I became president," he said, "it was clear that we had to confront an immediate economic crisis — the most significant recession we've had since the Depression, or at least since Johnson." Biden knows that's not true. Reporters covering the White House ought to know that's not true. The public deserves to know that it is a bald-faced lie.
CBS, NBC Ignore Reality. On Tuesday [8/24/2021], President Biden made it clear that he would not extend the evacuation of Americans and allies past his arbitrary August 31 deadline. And with the military's need to pack up their own stuff and Fox News warning that the military would leave in roughly three days, it was obvious Biden was ready to completely abandon Americans to their fate with the Taliban. And of the big three broadcast networks, ABC's World News Tonight was the only one to explicitly address what Biden's plan would result in. While ABC wasn't pulling punches, CBS Evening News seemed to either be holding out hope or trying to push the Biden administration's gaslighting. In an exchange between chief White House correspondent Nancy Cordes and anchor Norah O'Donnell, the former noted that "what we still don't know exactly, Norah, is how many Americans are left in Afghanistan who are still trying to get out." To which, Norah replied: "President Biden promised if there are any American citizens in Afghanistan he'll stay to get them out." In reality, Biden said that August 31 was the hard out and the Taliban threatened action if the U.S. was still there.
Democrats Aren't Even Bothering To Hide Their Wrongdoing. Thanks to the news out of Afghanistan, Jen Psaki's recent admission that the executive branch has been colluding with the tech giants to suppress free speech, has apparently passed into the ether with far less scrutiny than it deserves. In fact, this is such a clear violation of the First Amendment that it defies any obvious logic or rationale. But Psaki's announcement isn't the first act in this play; it's only the most recent act in the left's years-long flouting of the rule of law. It appeared, at first, as though there might have been a major revelation in the works and that the administration was simply trying to get out in front of it. The media, however, know that they control the narrative and no matter how big a bomb gets dropped, they are confident that they can whitewash it or twist it into something else.
Is There Any Job That's Worse Than Working For Joe Biden's Communications Team? There may not be any job worse than working for President Joe Biden's communications team. [...] Biden's communications staffers are presented almost daily with the near-Herculean task of cleaning up whatever the president said last; [...] For example, White House communications director Kate Bedingfield spent most of Friday morning trying to explain why Biden had taken a vacation while Afghanistan proverbially burned. He returned to the White House only to scold Republican governors for not forcing children to wear face masks in school and refused to take a single question on the chaos in Kabul. In the wake of all that, Bedingfield argued that Biden "never shied away from taking questions," prompting an understandably bewildered look from "Morning Joe" co-host Willie Geist.
Juan Williams: Biden gave 'most effective, most honest foreign policy speech by an American president in last 60 yrs'. While it's easy to suggest that Juan Williams is an idiot based on the content of an op-ed he just penned on Afghanistan that The Hill published, there may be more to the story here. Liberal pundits like Williams, who plies his trade on Fox News, exist primarily to carry water for the Democratic Party and its leaders in Washington, D.C., and with President Joe Biden taking a beating for the spectacular blundering of the U.S. exit from Afghanistan, Biden and his party are desperate to redirect the narrative here. Unfortunately for Democrats, when the debacle is as big as what is now happening in Kabul, that's like trying to turn an aircraft carrier, and rest assured, Juan Williams is no naval commander.
The Media's Failure to Vet Candidate Biden Is Linked to the Afghanistan Debacle. It was obvious to any sentient observer in 2020. In defending himself on Afghanistan, Joe Biden fumbled his words, made weird comments and generally didn't seem up to the job of being president. And the media pretended there was nothing to see. This week Newsmax host Greg Kelly took the problem head on from a media perspective. Afghanistan, Kelly observed with accompanying quite vivid video, "is a full blown disaster." Which is most decidedly true. After a video montage of Biden doing his bizarre kissing and hair-smelling routines, Kelly zeroed in again on Biden's competence — and the media.
The Deep State Comes for the Big Guy. In the current hue and cry, note how many propagators of the "Russian collusion" lie are now the staunchest proponents of the narrative that Biden dismissed the deep state's advice and, subsequently, instigated the Afghanistan withdrawal debacle. Their source for this information? Their contacts in the "intelligence community." Yes, as president, Biden ultimately is responsible for this unconscionable disaster. The buck stops there. But who put in their two cents to help place it there? The thought of Biden unilaterally overriding the unanimous opposition of his entire administration — deep state included — beggars belief. Biden is simply too senile to have done so. So, who abetted and instructed his decision? Unfortunately, submerged beneath the swamp's swirling eddies, we may never know the truth about the people responsible for the debacle in Afghanistan. But for the mockingbird media the math is rudimentary: these spoon-fed propagandists must sing for their supper or the deep state will cut them off.
Telegraph UK Destroys the US Media for Enabling Biden, While Biden Whines About Suddenly "Hawkish" Media. British journalist and author Douglas Murray calls out the legacy media for aiding and abetting the installation of this feckless failure of a U.S. president: [Quote omitted for brevity] Yep, and the Trump hatred and fatigue was fueled and fomented by this same media. It wasn't just about asking the questions that needed to be asked. It was a full-on disregard of what was already known about Joe Biden. His lifelong racism was at the top of the list, but the fact that he was a plagiarist, a sexual assaulter, and a creepy, sniffy, Uncle Joe around young girls should have been pointed out and plastered across every newsfeed and chryon. Instead, it was excused, covered up, and actively suppressed by the U.S. media. [...] We at RedState not only followed the Hunter Biden Laptop story closely, but reported, and are still following up on Hunter and the rest of the Biden Crime Family.
Did ABC News Edit Joe Biden's Interview to Cover for His Senility? Did ABC News edit Joe Biden's much-ballyhooed interview with George Stephanopoulos on Afghanistan to cover for the president's senility? It's an interesting proposition and one I raised yesterday while discussing an exchange that showed up on the transcript but not in the aired portions of the interview[.] Last night, Fox News's Tucker Carlson picked up on the same idea, roasting Biden as senile and incompetent while wondering why ABC News isn't releasing all the footage. [Video clip] [...] I'd love to know what kind of deal was made with the White House in order to secure the interview in the first place. Was the administration given the right to strike certain parts?
Fox News and PBS Have Mysterious Edits In Their Uploaded Replay Versions of Joe Biden's Press Conference Today. Last week Fox News was caught by Liz Harrington doing a "jump edit" to cut out a response by President Trump during the Dan Bongino television program. Today [8/20/2021], in another transparent effort to manipulate their preferred narrative, Fox News did it again with Joe Biden's press conference response. To see the Fox News edit, go to the video of the press conference they uploaded at 22:42 [to] 22:43. You will notice something weirdly missing in the answer from Joe Biden. [Video clip]
The Editor says...
In the comments following the article above, it is convincingly suggested that the video was cut because a reporter asked the President* a question other than the prescribed question he was supposed to ask, which was the only question for which the President* had an answer (written earlier by a committee).
Highly Visible CNN Journalist, Whose Reporting Caught Biden Administration in Lies, Pulled From Kabul Airport. The Kabul airport in Afghanistan has essentially become the collective Alamo; the only area in Afghanistan under U.S and allied military control since the Taliban took over. In the past several days The White House, National Security Advisor, U.S. State Department, Pentagon and even Joe Biden himself, have been caught telling lies about the security status of the situation on the ground in/around the Kabul airport. One of the key media figures who has accidentally exposed the transparent Biden lies, by simply reporting on the events as she sees them, is Clarissa Ward of CNN. As long as Ms. Ward was reporting live, broadcasting in real time on the ground just outside the airport, it was almost impossible for the Biden administration to maintain their false stories about security and safety that were different from reality. Ward's reporting has been catching the Biden administration in lies for the past three days.
ABC News Appears To Have Not Aired 900+ Words From Biden During Interview On GMA. ABC News' "Good Morning America" appears to have not aired nearly a thousand words from Democrat President Joe Biden's interview with host George Stephanopoulos, according to a review of a transcript published by the network and a review of the footage that it aired. The interviews comes as the administration faces an absolute debacle in Afghanistan that was precipitated by Biden's chaotic pullout from the nation. Biden has avoided answering questions from reporters during two brief sets of remarks that he gave to the media this week and he has spent a significant portion of time during this crisis on vacation in Delaware, where his administration refuses to disclose who he meets with. A review comparing the transcript released by ABC News to video footage aired on live television on Thursday [8/19/2021] by ABC News on "Good Morning America" and to video footage published by the show on its YouTube channel show that a significant portion of Biden's remarks, a little over 900 words on a variety of topics related to Afghanistan, were not aired.
Here are the 7 Parts of Biden's Interview That ABC News Refused to Air — Now We Know Why. ABC News did not air the full interview with President Joe Biden at the most critical moment of his presidency. While Americans are seeking answers on the disastrous Afghan withdrawal from a president who has been avoiding the press, the decision not to air Biden's interview with George Stephanopoulos does not make sense from a journalistic ethics or ratings standpoint. [...] It is clear from the transcript why ABC News cut several parts of the interview. Some of it is inconsequential banter. Some of it is Biden tripping over his words. But a fair amount of it comprises substantive remarks that are in the American public's interest to see the Commander-in-Chief himself deliver himself. ABC News should release the video in full so that millions of Americans can see exactly what they voted for.
Mainstream media pitches Biden over the side. A few days ago, on Aug. 14, I wrote about CNN's sudden about-face on Joe Biden's performance in Afghanistan. It was a shocking, stunning change; it wasn't half-hearted stuff. The Trump-hating news site ran a devastating — and insightful — analysis pinning the blame for the Afghanistan fiasco squarely on Joe Biden. Prior to that, the network had carried water for him, skewed the news, and engaged in sycophancy, to the point of ending up a target of James O'Keefe. Now it's The Atlantic's turn. Just this morning [8/19/2021] they ran three [...] commentaries that also pinned the blame for the fiasco squarely where it belonged — not on President Trump, but on wretched Joe Biden.
Afghanistan withdrawal: Biden continues bunker strategy after widely panned ABC interview. In what appears to be a continuation of his campaign bunker strategy, and following his widely panned interview with ABC News on the stunning fall of Afghanistan, President Biden's schedule Thursday contained no planned public remarks or press briefings. The president took all public remarks, press briefings and press conferences off his schedule as he and his administration deal with the blowback from their botched troop withdrawal that saw Kabul fall into the hands of the Taliban. Biden's now-clear press schedule also comes after his much-criticized ABC News interview on Wednesday night, when the president claimed there was no better way to get out of Afghanistan. Other than the ABC News interview, Biden has not taken any questions from the press this week.
The Editor says...
So far, I've seen exactly one frame of the ABC interview, and Joe Biden looks like he just spent a week in a tanning bed. Whether that's because of makeup or camera adjustments, I can't tell. Why would Joe Biden sit down for an exclusive interview with ABC News? Because he knows ABC will treat him like a rock star, and any embarrassing pauses, profanity, non-sequiturs, gibberish, lies, absurd boasts, and incomprehensible mumbling will be edited out. Off-camera coaching by DOCTOR Jill Biden will be muted out, of course. If a paramedic steps in, halfway through the interview, to inject another big dose of Adderall, or administer pure oxygen for a few minutes, ABC won't show that either.
The media refuse to call Biden a liar on Afghanistan despite the evidence — unlike what they did with Trump. You won't find a more powerful example of the media's pro-Democratic tilt — and outright hostility toward former President Donald Trump — than their refusal this week to call out President Joe Biden as a downright liar, as they did with his predecessor, when it comes to his comments about his Afghanistan pullout. Back in July, the prez flatly rejected suggestions that the intelligence community feared an increasingly rapid collapse of the Afghan government as US troops withdrew. "Your own intelligence community has assessed that the Afghan government will likely collapse," a reporter noted at the July 8 presser. Biden denied it. "Can you please clarify what [intelligence officials] have told you?" he was asked. Biden fumed again: "They did not — they didn't — did not reach that conclusion." Indeed, the president insisted that the idea there's "going to be one unified government in Afghanistan controlling the whole country is highly unlikely."
The Media Finally Did Their Job for Once — Don't Get Used to It. Yesterday [8/17/2021], the media actually did their job for once. White House correspondents decided to take a break from behaving as leftist activists so they could engage in some good ol' fashioned journalisming during a press conference focusing on the ever-worsening situation in Afghanistan. Indeed, members of the press asked tough questions for a change instead of the typical softballs to which we have become accustomed. Newsbusters' Curtis Houck wrote an article on the whole affair, noting that "the White House press corps made an effort to raise tough questions with National Security Adviser Jake Sullivan and Press Secretary Jen Psaki amidst the collapse of Afghanistan."
The real fraud of 2020. We saw a lot of disappointment from the media about what just happened in Afghanistan, as reported by Joe Cunningham: ["]If for one brief moment, it appears that the love affair between the Biden Administration and most of our legacy media is on the rocks. [... "] Where were these reporters during the campaign? What about the optics of a candidate who stayed in the basement and did not do press conferences? I guess that those optics were O.K. because the objective was to defeat Trump. Yes, there was fraud in 2020. It was the media protecting a candidate from rigorous questions or questions period. They all knew that Biden could not put in a full day on the job but that was overlooked to get Trump. [...] Yes, we are stuck with a diminished president and everyone in the media knew it in 2020. That's the real fraud of 2020.
What To Make Of The Corporate Media Blackout Of The Latest Hunter Biden Scandal. The establishment media have settled a new motto: "If we don't cover it, it didn't happen." The uniform silence of the supposed standard-bearers of journalism in response to last week's release of another Hunter Biden video confirms the corrupt media's adoption of this maxim. On Wednesday, The Daily Mail first broke the story that it had obtained a copy of a video showing a naked Hunter Biden telling a prostitute that in the summer of 2018 he nearly overdosed during a drug-laden binge in Las Vegas. After coming to, a Russian woman, Hunter's drug dealer, and two of the dealer's associates remained in the Vegas penthouse, he said, and Hunter later discovered his laptop missing. [...] The potential blackmailing of Hunter Biden pales in comparison to the real national security risks revealed by the videos, yet the corrupt media couldn't care less. That the media is not questioning the authenticity of the video indicates they both believe the videos are real and know a repeat of their performance in October 2020 won't fly in the public's eye.
Deranged MSNBC: '95%' of Americans Agree With Biden (They Don't). Following President Biden's address to the nation in which he doubled down on his horrific failure in Afghanistan, MSNBC's left-wing propagandist Nicolle Wallace was equally detached from reality as she falsely claimed the vast majority of Americans agreed with the disastrous policy — despite the opposite being true. She even attacked the media for not being supportive enough of Biden. [...] Wallace went full White House hack, imagining a fantasy in which the public were happy with Biden's shameful mishandling of Afghanistan: ["]Well, I'm going to say two things, and both hard to say. But I'll say them anyway because here they are. 95% of the American people will agree with everything he just said. 95% of the press covering this White House will disagree. [...] ["] [...] Moments later, she admitted she had no idea what she was talking about: "We haven't seen much public opinion polling on this because it's happened so quickly." Luckily, such polling does exist — it shows that 70% of the American people disapprove of how Biden is handling the catastrophe in Afghanistan that he created.
Obama Flack on MSNBC: Afghanistan 'Hasn't Quite Worked Out As We Thought'. Rick Stengel, the former Time editor turned Obama State Department flack turned MSNBC analyst, appearing on Nicolle Wallace's show this afternoon and defending Biden on the Afghanistan fiasco, said: "It hasn't quite worked out as we thought." Shades of Hirohito's surrender speech in 1945: "The war situation has developed not necessarily to Japan's advantage." Stengel made a couple of other appalling statements. He said, "What we're seeing here is not an American tragedy, it is an Afghan tragedy." And he dismissed the rapidity of the collapse as just an "optical problem."
The Editor says...
Whatever happened to Baghdad Bob?
Not One Single Mainstream Outlet Reports on President's Naked Son with Hooker Complaining About Russians Stealing His Laptop for Blackmail. Earlier this week video was released of President Biden's son Hunter Biden naked with a hooker complaining about Russians stealing his laptop for blackmail purposes. Hunter Biden filmed the whole thing and kept the video on his laptop that he later abandoned at a computer repair shop in Delaware. This is a national scandal like nothing this country has ever seen before. Certainly, dirtbag Chris Wray and the FBI are on top of this? And yet NOT ONE mainstream liberal outlet even ran the story! NOT ONE!
The Hypocrisy Variant. The Hypocrisy Variant is a new mutation of a recurring Democratic infection, but the number of cases has spiked in recent weeks, reaching its peak at former President Barack Obama's lavish birthday bash last weekend. Photos of the fête taken and posted on the web by Rapper Trap Beckham make it all too clear that the masking and social distancing rules that Obama has encouraged the hoi polloi to follow don't apply to him or any of the arrivistes with whom he now regularly mingles. This party would have unquestionably been labeled a "reckless superspreader event" by the media and every Democrat named above had it been held by Donald Trump. Oddly, the silence about Obama's star-studded soirée has been deafening.
CNN Makes Itself Complicit in Joe Biden's Flagrant Lawbreaking. CNN.com, which for six long years between 2015 and 2021 turned itself into a blog about Donald Trump and his many excesses, has weighed in on President Biden's decision to take executive action that he knows full well is illegal. And boy, is it ... a complete whitewashing of flagrant and cynical lawbreaking. Here's the headline: ["]Biden shows he's ready to make drastic moves in Covid-19 fight — even if he's not sure they're legal["] Off to a bad start. But, hey, headlines can be misleading, so maybe it gets better? It doesn't.
TV Media Desperately Conceal Biden's Gaffes from Viewers. It's no secret the left-wing media abruptly lose interest in covering presidential gaffes when Democrats take the White House. Well, they're doing it again: over the past few months liberal cable and broadcast news networks have utterly ignored a slew of mistakes and fumbles by President Biden. At the G-7 Summit in June, Biden mistakenly referred to Syria as Libya three separate times during a speech. Aides later confirmed that he had, in fact, meant Syria. That same month, the President wrongly conflated the Tuskegee Airmen — a predominantly black contingent of World War II fighter pilots — with victims of the notorious Tuskegee syphilis experiment. Both times, broadcast (ABC, CBS, and NBC) and cable (CNN and MSNBC) networks shrugged. Last week brought yet another gaffe that these same channels ignored.
News Outlets That Criticized Trump for Targeting Reporters [are] Mostly Silent About 'Unmasking' of Tucker Carlson. The New York Times, The Washington Post, and CNN strongly objected and protested when the Trump administration obtained reporters' phone records as part of an investigation into the leak of classified information. Yet those same news organizations aren't willing to stand with popular Fox News Channel host Tucker Carlson, who the National Security Agency "unmasked" during the early months of the Biden administration. The New York Times is "very concerned about government surveillance of journalists," a spokeswoman said when asked this week about the Carlson revelations. Just last month, the Times' executive editor, Dean Baquet, said the Trump administration's action "profoundly undermines press freedom." [...] After an internal investigation, the Biden administration's National Security Agency admitted that Carlson's identity was "unmasked" and leaked, as first reported July 23 by The Record, a news site focused on cybersecurity, and later by other news outlets.
Damage Control: Networks Barely Note Biden's Facebook Walk Back, Stocks Tanking. On Monday night, the "big three" networks of ABC, CBS, and NBC played the role of PR professionals for the White House as they assisted them in minimizing President Biden's about-face that Facebook "is killing people" with misinformation and the pitiful day on Wall Street amid new liberal fear-mongering about the need to bring back Covid restrictions. Unsurprisingly, no one stood up for the First Amendment, free speech, or the importance of not criminalizing dissent with a combined total of one minute and 49 seconds on Biden's mixed messaging (and one minute and nine seconds on the economy).
Nothing Is Joe Biden's Fault. With the Biden administration failing to hit its much-ballyhooed vaccine goal, the blame game is on, and you'll be less than surprised to learn that absolutely none of that failure is Joe Biden's fault. It's not like the President of the United States should be held accountable for his own messaging campaign. Rather, the White House has assured the American people that the real culprits here are Facebook posts. Yes, Democrats blaming Facebook (and social media in general) for their failures worked so well after the 2016 election that they are trying to run the same play again. Yesterday, Joe Biden asserted that social media companies were "killing people" by allowing "misinformation" to spread about the COVID vaccine. Jen Psaki backed that up by making Facebook's moderation choices a key issue instead of, you know, Biden's leadership. In more normal times, such a ridiculous obfuscation of responsibility would be labeled for what it is. Yet, in our hyper-partisan environment, Biden and his cohorts must be protected at all costs. As a result, you get insanity like this from people who are ostensibly journalists. [Tweet]
Biden Is Unfit to Be President — And the Media Is Unfit to Cover Him. Joe Biden is not mentally or physically fit to be president of the United States. This has been obvious to anyone with eyes or ears for the entirety of his presidency. [...] Biden is merely a figurehead. He is a facsimile of a leader in an office that normally demands sharpness, stamina, and clear-headedness. No honest assessment can conclude that Biden's public appearances present a man who is in control of his faculties or who looks sharp and confident. On the contrary, he looks frail, weak, indecisive, unsure of himself, and unsteady. When he speaks, he often says things that simply don't make sense, even as he almost exclusively reads from a teleprompter or uses notecards. He has repeatedly said that if he takes unscripted questions from the press, he's "gonna get in trouble" from his staff. Yet those who do not follow politics closely or ignore conservative outlets could be forgiven for thinking that Biden is fully capable, thanks to the corrupt Fourth Estate that has refused to accurately cover Biden's ever-increasing list of embarrassing moments.
Delaware US Attorney Blocked Hunter Biden Warrants and Subpoenas in Order to Protect the Joe Biden 2020 Election Effort. Baselines are always important when reviewing information; I cannot stress this enough. When the corrupt [institutional] officials within the DOJ and FBI need to justify their corrupt activity, or get out in front of any exposure of their corrupt activity, they consistently run to two media outlets, The New York Times and Politico. [State Dept use CNN, Intelligence Community use Washington Post] This is the one constant you will notice in all reporting. That is the baseline for Politico writing today about U.S. Attorney David Weiss intentionally burying information about an investigation of Hunter Biden in the summer and fall of 2020 in order to protect the candidacy of Joe Biden. USAO Weiss of Delaware stopped the investigation of Hunter Biden, stopped issuing grand jury subpoenas, and stopped the issuance of search warrants in order to keep the public from knowing that Hunter Biden was under a criminal investigation.
'One of the Worst Narratives for Us': Facebook Execs Feared Trump Win. Facebook executives were terrified of being blamed for a Trump presidential victory, according to a New York Times story. Those same executives later censored the Hunter Biden story that helped Joe Biden win the presidency. [...] This is the same Facebook that violated its own rules to censor the Hunter Biden story before the presidential election. Director of Communications Andy Stone tweeted then that Facebook would be suppressing the New York Post story, saying, "While I will intentionally not link to the New York Post, I want be clear that this story is eligible to be fact checked by Facebook's third-party fact checking partners. In the meantime, we are reducing its distribution on our platform." The International Fact-Checking Network's Associate Director Cristina Tardáguila called that move "dangerous." Yet now it's pretty clear why they did it. Facebook executives were terrified about being called "a far-right echo chamber," and didn't want the blame for a Trump sequel.
Poll-dancing: Is Biden really at 49 percent approval? Here are the biased numbers for the recent Economist-YouGov poll that gives Joe Biden a 49% approval rating. A first-year reporter could retrieve this information with ease, unless he were incompetent, lazy, or most likely biased. I guess most Dems are accustomed to living in such willful ignorance. They will swallow and pass along any talking point from the media elites if they are slanted against conservatives. [...] It is not hard to get the results you want if the polls are assembled in this way, and this is always the method with these polls.
The Democrats' Topsy-Turvy Spin Machine. Everything appears to be topsy-turvy: the chairman of the joint chiefs and the chairman of the American Federation of Teachers, Randi Weingarten, made almost identical statements about critical race theory. The Democrats now claim the Republicans are the ones who wished to defund the police, and now they suddenly have discovered the virtue of voter identification, which, up until yesterday, they had been shrieking from the roof-tops was tantamount to the restoration of slavery. Apparently, it's not Jim Crow after all. The media are so absurdly partisan they will try to allow the Democrats a free pass across the barricades on those issues. But the accumulating disasters for the Biden Administration will not be entirely absorbed by the (agonizingly slow) return to work of Americans after COVID and the miracle of the Warp Speed vaccine development, (for which Trump must receive no credit). The media can't cover for this "Gong Show" administration indefinitely, but I must admit they have lasted longer than I expected, given their invertebrate response to almost everything else.
A Coup Against The Constitution? The information space is dominated by leftist control and ideas. The outlets that propagate conservative ideas must operate as insurgents and constantly be alert for attacks on their operations. The usual answer to complaints about this notes, "These are private companies who can do what they want on their own platforms, just build your own". That requires access to certain technical resources, which, as the alternative to Twitter startup Parler found out, are also controlled by the statist left. Conservative efforts were shut down by an alliance of Amazon, Google, and Apple. The monopoly status of the tech tyrants makes competing with them effectively impossible. The use of this power was painfully evident when the tech firms all conspired to hide evidence of corruption by Hunter Biden and then candidate Joe Biden near the end of the 2020 election. Hunter's laptop was found and contained a potentially election-crushing trove of information. The news media and social media propaganda wing of the left went into immediate 1984 mode and hid the story by the New York Post, then banned anyone on social platforms who mentioned it. They even went back to their old favorite and claimed it was Russian disinformation.
You've got to be kidding: WaPo lavishes credit on Biden for recovering economy. This post would be more appropriate in the Babylon Bee as satire, as journalists and the Biden administration collude to rewrite history to give Biden the credit for the economic recovery that was well underway because of Trump and red states before Biden took office. Even though the vaccines were developed so fast because of Trump and one million shots were being given each day prior to Biden taking office, the Democrat talking points regurgitated by most of the media say there was not a distribution plan prior to Biden taking office. It is pretty [...] amazing that one million doses were already being given and tens of millions more were in the pipeline when supposedly the Trump administration had no plan.
Tucker Shreds Vogue Over Its Piece on 'Dr. Jill, the 'Joy Multiplier'. [Scroll down] [Video clip] It's funny and it's ridiculous. But it's also cover at this point, too. If you're reading and believing this crapola, you're not actually looking at real questions about Joe's competence and whether it's Jill trying to run the show. Vogue, meanwhile seems to be ok with the idea of her having a "new role" of "key player." This is the fluff they put out to pacify. No worries, children, all is well, Dr. Jill is on the job, so it doesn't matter if the guy who has his finger on the button has a brain full of mush.
Why did 'Vogue' call Dr. Jill Biden a 'goddess in stilettos?'. Indeed, media outlets don't have to lie in order to cast aspersions on or present a figure in a less-than-flattering light. All they have to do is shift emphasis by highlighting one set of facts at the expense of another. But even the most blatant cases of this practice in the Hebrew press never reached the low level displayed in the latest issue of Vogue, America's top fashion magazine. As if the title of its cover story — "A First Lady for All of Us: On the Road with Dr. Jill Biden" — wasn't sufficiently sycophantic, its accompanying content reads like a parody of a totalitarian regime's propaganda sheet. Those observing the current Orwellian climate in the United States no longer gasp at each new move by "progressives" to control society's collective mind, but some take occasional breaks from tearing their hair out to laugh at the more egregious examples. Vogue's Jonathan Van Meter, who penned the lengthy tribute, is an apt target for ridicule in this regard.
Vogue declares Jill Biden 'a goddess' and puts her on their cover as the new epitome of style. Vogue, the world's fashion bible, has placed Jill Biden on her cover as the epitome of fashion. She's a "goddess," they explain. Which is a stretch, given that the first lady has sported getups like this loud red zebra print dress, or these huge-print patterned pantyhose worn with elfin spike heel ankle boots. It goes to show that its whole schtick is politics, not fashion. After all, the big fashion bible for the world's stylish somehow managed to overlook the nation's truly stylish first lady, Melania Trump, a former super-model, who not only was quite beautiful, but age-appropriate and elegant in her four years as first lady. To claim that Jill Biden somehow tops her as a fashion icon is laughable.
Jill Biden gets what Melania didn't — the Vogue cover treatment: Magazine publishes gushing 6,000-word profile. Jill Biden has only been First Lady for a matter of months but she has already achieved a coveted honor that her predecessor Melania Trump was never afforded: a glamorous Vogue cover shoot, complete with a lengthy profile praising her as 'a goddess' and 'a joy multiplier'.
Report: Emails Show Biden Team Pressured Facebook to Censor the Trump Campaign. During the election, we saw an effort by Big Tech to cashier stories that might have hurt Joe Biden. Twitter even banned the url of a New York Post story about an email on Hunter Biden's laptop. The story was critically important because it showed Joe Biden had lied about not knowing anything about his son Hunter's business associates. But, Twitter blocked the story at a critical time in the month before the election, claiming they had done so because it was "hacked" material, when there was no such evidence that was true. They later admitted it was a mistake, but oh well, too late. Facebook also admitted they reduced the distribution of the story. So, here's another question that needs to be asked to the Big Tech guys. Did the Biden team ask to take down that story or any other stories/posts? There's a story that came out this week, oddly enough from CNN, that really raises that question again about what influence the Biden team had on Big Tech before the election to remove things they didn't like from social media.
Newly Uncovered Emails Show Top Biden Officials Demanding Facebook Censor Their Opponent Before Election. Recently released emails reveal that, during the lead-up to the November election, Biden campaign hacks pressured Facebook to silence his political opponent, the sitting president of the United States. The radical Democrats had become concerned with so-called "violent rhetoric" and "misinformation" coming from the Trump campaign's Facebook accounts. This resulted in a years-long barrage of complaints from the party in an attempt to exert political influence over the world's largest social media giant.
CBS Cheers Biden for Infrastructure Deal, Ignores Him Possibly Sinking It. CBS Evening News did their due diligence as a Democratic Party press shop Thursday [6/24/2021], as they quickly lauded President Biden for the work a bipartisan group of lawmakers did in putting together a massive infrastructure package. "The road to this deal has been bumpy," as senior White House correspondent Ed O'Keefe put it. But he abdicated his duty to report on how Biden had opened up a sinkhole and swallowing that road with a push for "human infrastructure." "The road to this deal has been bumpy, but President Biden said the bipartisan plan unveiled today will create millions of new jobs and help rebuild broken relationships," O'Keefe praised as he dove into some of the details the lawmakers agreed on: [...] He noted that "some Democrats aren't happy" because the bill didn't include the massive spending progressives wanted on their pet projects.
Just as the border trip beckons, two more staffers flee Kamala Harris. Kamala Harris has been in politics for eighteen years yet still can't quite figure out how to keep staff. The departure of two top travel advance women, just as she's heading for the border in a hastily announced trip to get there before President Trump does, suggests that things are getting very bad indeed. [...] The [New York] Times tries to convey that the whole thing was pre-planned and just a changing of the guard. It's similar in style to former State Department biggie Roberta Jacobson's hasty exit from her border coordinator job, shortly after Harris was named Biden's border czar on March 24. Just a temporary job, they claimed, nothing special. Amazing how they recycle their spin and excuses from one quick staff exit to the next. Nothing to see here, move along. The details of the Times report, though, suggest a very different story.
Hunter Biden's Scandals [are] Far, Far, Far Worse Than Any of Trump's. There is Bernie Madoff-level government corruption in Washington. There is Clinton Foundation-level grift in politics. And there is Anthony Weiner-level sleaze wherever the media, government, and politics collide. And then there is Hunter Biden. [...] [S]omehow there is this religious hysteria among the media to cover up his misdeeds no matter what he gets caught doing. Hunter Biden uses incendiary, racist, anti-black and anti-Asian language casually with family and colleagues. It would be enough to destroy a political career or get a child kicked out of school. But Hunter Biden? Hardly a peep. Hunter Biden gets caught using his father's powerful position as vice president of the United States to secure lucrative contracts with international concerns — including our global adversaries. No big deal.
The Biden No-Go Zones. In American journalism, there are supposed to be some clear, nonnegotiable third-rails. One is zero tolerance for overtly racist language and comportment among our movers and shakers. [...] Another no-go zone is any hint of contextualizing sexual harassment or assault. [...] A third zero-tolerance zone is any hint of presidential debility. [...] Finally, lying, fibbing, and even presidential exaggeration are deemed intolerable — or so we are told by the media. It does not matter that the newsroom is currently one of the great purveyors of untruth, as we saw in the Russian collusion hoax, the dubious Wuhan wet-market narrative, or the yarn about the Lafayette Square militarization to green-light a Trump photo-op. [...] Yet it is arguable that while no other president in modern memory has trespassed more egregiously on these no-go areas than Joe Biden, he has received no criticism for his transgressions.
Are We Stuck with Biden? Joe's continued popularity is partly attributable to the success of the media in depicting a grubby machine politician as a sweet fellow, who remains the soul of moderation. Among Joe's accomplishments is not being Donald Trump, whom the media savaged unceasingly for more than four years. But Joe is also a tragic figure, whose wife and child died in a car crash and who lost another son to cancer. If Biden's son Hunter gets out of hand in an adolescent way (in his fifties), neither Joe nor Hunter is responsible. When negative stories about them surfaced before the election, the media blamed these "unverified" reports on the scheming Vladimir. Moreover, it seems that Joe and Hunter live in the shadow of a tragedy that forever hangs over them. It makes no difference whether Hunter lied on gun applications, uses the N word repeatedly, refers to Asians as "yellows," is caught sniffing drugs, or abandoned his girlfriend and child born out of wedlock. The electronic media will cancel those who notice these apparent peccadillos.
The Troubling World Media Takes on Biden's Trip. We've seen some pretty ridiculous spinning from the U.S. media on Joe Biden's performance during his meetings in Europe. Particularly egregious — as always — CNN, who just couldn't keep from bootlicking for Biden despite there being no facts to support the notion that he'd actually succeeded at anything. [...] However, you get other views from foreign media who won't be so fawning and will cover things more honestly. We saw leaders and others laughing at Joe Biden when he got confused in this Sky News video. [Video clip] There was Biden being treated like a five-year-old by his wife with other people laughing in response from ITV (British) News. [Video clip] Then there was this take from the Australian media. [Video clip] [...] There are the pictures, taken by Getty, but not used in U.S. media, of the French President and Biden. At least one made it into Politico.EU so it went out into EU media. It's a pretty stark look, no matter what is being said here. The optics are awful for Biden, it looks like Macron is scolding him or pushing him around.
National Embarrassment: Photos Of Macron Scolding Joe Biden Behind Closed Doors Receive No Media Attention. It's beyond any reasonable dispute that the slack-jawed old senile man staggering through this punchline presidency is getting more senile by the day. All the while, his cackling understudy is biding her time everywhere but at the border, getting huffy at being questioned, and generally failing at a job historically assigned to morons as a role where they could do little damage. The only people who dig their hep jive — yeah, go on and believe the 79 percent approval numbers among people now paying $5 a gallon for unleaded — are the talking tubers of cable news. But even the tater thots of Brian Stelter, who is a potato, can't dispel the growing sense of unease that watching these incompetent weirdos brings.
Has the media's romance with Biden hit the skids? Biden will continue to receive glowing coverage from most media outlets, there is no delusion about that. But it is noticeable that some reporters are beginning to speak out publicly with complaints. Biden continued in the same manner as at the G7 when he spoke to the press in Brussels during meetings with NATO leaders. At the G7 Biden said he had to stick to a pre-approved list of reporters to call on for questions or else he would be in trouble with his staff. In Brussels during the NATO summit, Biden met with Turkish President Recep Tayyip Erdogan. The U.S. press pool traveling with Biden was granted access to the meeting only to have access denied by the White House at the last minute. Reporters were left outside the room and only learned that the meeting had begun by reading tweets from the Twitter account of Erdogan's press office. When reporters were allowed in after the meeting, both Biden and Erdogan sat silently at the table.
Australian Media Tears American Media Apart Over Its Fawning Over Biden. American media is so infected with leftism that it's ideologically slanted to the point of tipping over and it's highly possible that the media doesn't even know it. It doesn't have the ability to look at itself critically, and we get very real moments where the media asks Democrats what it can do to better help them along while on air. The media in other countries can see it, though, and Australia's, in particular, can't help but dedicate a segment to it. On a segment during Sky News's Kenny on Media, Australian anchors and commentators took aim at the American media for its simpering and fawning over Joe Biden during the G7 summit while the same media bashed President Donald Trump in 2018 against all reason. Taking aim at CNN, in particular, the anchor compared the network reporting on Biden in 2021 vs. Trump in 2018. The difference was absolutely striking, with CNN saying that Trump was in opposition to every world leader around him, while everything about Biden seemed perfect and without trouble.
Fox News Calls Out Media's Doting Praise of Biden on Russia for Nothing. With President Biden in Europe for his first overseas diplomatic mission to the G7 summit, the liberal media have been tripping over themselves to put out doting the reports that glorify the pointless and empty spectacle and overtures. Touching on this fact Sunday [6/13/2021], Fox News Channel's MediaBuzz highlighted a recent Time magazine cover that touted Biden for standing up to Russian President Vladimir Putin despite the fact he had arguably done nothing of substance so far. Speaking to guest Ben Domenech, co-founder of The Federalist, anchor Howard Kurtz called out Time's double standard on how they depicted former President Trump on their covers. "We see Biden in the aviator glasses looking kind of cool. And let's contrast with one of many Time covers about President Trump, he was always depicted as kind of an orange blob. The headline of this week's issue is 'Biden is taking on Putin,'" he said.
My Top 10 media lies. Just as liberals have become illiberal, media have become more focused on suppressing the truth than revealing it. Take Hunter Biden's laptop, which is No. 6 on my Top Ten, although it rivals Russia, Russia, Russia in importance. When The Post first showed how the contents revealed his shady foreign business deals and how his father helped him, it was not unreasonable for the Times, Washington Post and others to hold off until they could confirm the explosive information late in the campaign. The role Rudy Giuliani played in getting the material to The Post, which the paper disclosed, created additional concern because Giuliani was Trump's lawyer. So there were legitimate reasons for caution — up to a point. But the real motivation in avoiding the story soon became apparent. The outlets that held their noses over the laptop had no trouble embracing the claim from Joe Biden's campaign that the e-mails on it were "Russian disinformation."
TIME Cover Mocked for Making Biden 'Look Cool' Ahead of G-7, Putin Summit. Time magazine received a barrage of criticism after it published a cover with President Joe Biden looking cool with mirrored shades as Russian President Vladimir Putin stares back in their reflection. "This cover attempts to make Joe Biden look cool," Tim Young, a political satirist, told Fox News, "but even in their flattering depiction of his face — a drawing because he would look incredibly elderly and weak in a current high-def pic — he has his typical gaping mouth that makes him look clueless and afraid of Putin who is staring him down with a confident smirk." The illustration features Biden with his signature aviators looking at the Russian president along with the accompanying headline, "Taking on Putin."
Time magazine raked over the coals for 'sycophantic' cover of Joe Biden: 'What a joke'. After four years of magazine covers disparaging former President Donald Trump, Time magazine has offered up extremely glowing covers of President Joe Biden. The most recent cover of Time magazine features a flattering illustration of President Biden, which many online commenters ridiculed for being "sycophantic." Last year, Time was roasted for making Joe Biden and Kamala Harris the magazine's "Person of the Year." Last November, Time celebrated Biden's presidential victory by calling him a "dragon slayer," saying that his election represented a "time to heal." Time continued its highly favorable coverage of President Biden with a new cover that was so over-the-top praiseworthy that it was widely mocked online.
WaPo reporter: Say, when will Biden hold his *second* press conference? Not only did Joe Biden wait longer for an open presser than any president in the past century, he's also not doing sit-down interviews with print or TV outlets. [...] At least in February and early March, the White House correspondents and their outlets acted as though they cared whether Biden held press conferences. They're the main beneficiaries of both these pressers and (usually) presidential one-on-ones. Why aren't they demanding some face time with the president? [...] We know why the White House wants Biden under wraps — and it's not because they're still playing "rope-a-dope" against Trump.
The liberal media have completely IGNORED Hunter Biden's N-word scandal: Not ONE left-leaning outlet covered the president's son using racist language. The liberal media in the US are coming under fire for completely ignoring Hunter Biden's n-word scandal after it was revealed by DailyMail.com that the president's son had used the racial slur multiple times in text messages. The texts, which were exchanged in late 2018 and early 2019, were recovered from Biden's laptop and published by DailyMail.com on Monday [6/7/2021]. The messages showed Biden repeatedly used the n-word in conversations with his white Chicago lawyer George Messires.
When "Fake News" Is Actually Fake. In the last 24 hours, we've seen what a complete shambles the mainstream media have become. First up, someone at the New York Times was formatting a fake story about watermelons on Mars — perhaps this was a training exercise for a new employee? — but somehow managed to press the "publish" button, and this appeared on the Times website: [...] But wait — there's more! At yesterday's presser for Vice President Harris in Mexico, a Univision reporter got up and slobbered all over the VP. The Media Research Center has the story, and here's the relevant part of the transcript: [...] There's only one problem: Univision says Maria Fernanda doesn't work for Univision. Univision issued multiple statements distancing themselves from Fernanda.
Oh Please! ABC Spins Kamala Harris as 'Clear,' 'Blunt,' 'Direct' Border Hawk. Get ready for the new spin from the corrupt network media: Kamala Harris, border hawk! After burying the ongoing crisis, ABC and CBS on Tuesday laughably morphed the Vice President into a "clear," "blunt," "direct" tough talker when it comes to the emergency. Only NBC offered a different take, shocking viewers by calling out Harris's lie that "we've" been to the border.
CNN's Brian Stelter gets roasted for 'sycophantic' Jen Psaki interview. CNN's chief media correspondent is facing ridicule for a groveling interview in which he asked White House press secretary Jen Psaki what the media gets "wrong" when covering the Biden administration. "Reliable Sources" host Brian Stelter conducted an interview with Psaki on Sunday's episode of the weekly show, which he kicked off by offering President Biden's chief spokeswoman a chance to critique the media. "The White House press secretary faces some unique challenges," Stelter fawned. "Busy summer ahead — infrastructure, election reform." "What does the press get wrong when covering Biden's agenda? When you watch the news, when you read the news, what do you think we get wrong?"
The media asks President Biden about ice cream and ignores Hunter. My question for today has nothing to do with President Joe Biden's favorite ice cream. I don't know if ice cream is a big thing in China. But does China have anything on our president, through first son Hunter Biden's questionable and clout-heavy China business dealings? [...] When his father was vice president, as then-President Barack Obama's point man in China and Ukraine, future first son Hunter followed the big guy off the planes and made friends in China and Ukraine. Hunter reportedly made millions. It's important to examine, especially now, even as much of the Democrat-friendly corporate media is strenuously avoiding the Hunter Biden story, which may turn out to be like the Wuhan lab leak story — one that was ignored by the media for political reasons and then rediscovered for political reasons. The New York Post is on it, but others step away. The president's son is under federal investigation for tax fraud, his famous laptop is now in the custody of the FBI, and photos are circulating of Joe Biden at dinner with Hunter's business friends. Keep in mind the Biden folks have never forthrightly disputed the material on the laptop.
McEnany on media double standard: Biden women get 'glowing' profiles, Trump women got 'hit pieces'. Former White House press secretary Kayleigh McEnany spoke out on "Outnumbered" Friday [6/4/2021] concerning Jen Psaki being photographed by celebrity photographer Annie Leibovitz for a magazine profile, contrasting Psaki's "glowing" profile versus how women in the Trump administration were treated. "Instead of the glowing profiles, there were hit pieces repeatedly, time and time again," McEnany noted during the show referring to the biased treatment of Psaki. She commented that the media exhibited exaggerated and groveling flattery towards the Biden administration: "It's just so sad that you have a fawning press corps like this, a fawning media sycophantically covering members of the Biden administration," McEnany stated. "They asked Jen Psaki yesterday about Joe Biden's cat. I mean, it's incredible the kinds of questions that they ask."
Friendly Media Wave to Joe Biden as He Rides Bike in Delaware State Park on a Workday. Joe Biden is taking several days off to celebrate nurse Jill's 70th birthday. Biden arrived to Rehoboth Beach in Delaware Wednesday to spend a few days at home to celebrate nurse Jill's 70th birthday. Joe and Jill rode bikes in Cape Henlopen State Park in Delaware on Thursday as bystanders cheered. Of course this was all for show to make it look like Joe Biden is spry. [...] Imagine the media's reaction if Trump took off on a Wednesday and spent several days putting around as gas prices surged, ransomware hackers attacked infrastructure and migrant kids were stuffed in Covid-infested cages.
The New Secession Crisis: The Democrats have already left the Union. The Democrats have already seceded from America's historic conception of nationhood in many respects: [...] THEY have turned the media into a propaganda arm of the ruling political party, using their media proxies to engage in a full-time war against Trump's policies and any policy they oppose. Journalists have abandoned all pretenses of fairness and balance. During the election campaign, they censored or refused to report on stories, such as Hunter Biden's possible involvement with his father in corrupt dealings with the Chinese government, that would negatively affect Democrats. This was done in conjunction with the coordinated demonization of the opposition candidate.
Psaki Press Briefing Today Proves Journalism Is Well and Truly Dead. Journalism was well and truly dead at the White House press briefing today. Now, to be fair, it has been dead in the liberal media for quite some time. Given the Fauci emails that are exploding all over the place, one might have thought that that would be the first question out of reporters' mouths. In fact, I was wondering how Jen Psaki was going to spin it and if she would be able to get away with the "circle back" on it or be nailed for being elusive. Well, I needn't have wondered. Turns out the White House press corps couldn't even be bothered to ask one question about the emails. Psaki took questions for about 45 minutes. They asked about Russia, hacks, and vaccination initiatives, but nothing about Fauci.
'Competence Is Actually at the Helm': MSNBC Regular's Laugh Line of the Day. In a line that was one where you had to rewind the show a few times to make sure it was real, MSNBC regular and Princeton professor Eddie Glaude Jr. appeared on Monday's [5/31/2021] Morning Joe and, in trying to explain Americans' relatively positive mood nowadays, got off this laugh line: "We cannot underestimate the importance of competence... Competence is actually at the helm."
Hunter Biden's laptop: most media just ignore it. Hunter Biden's laptop continues to yield [condemnatory] information that shows his dad, President Joe Biden, played a significant and knowing role in his son's sleazy influence-peddling. And while the media efforts to pretend these revelations are nothing but "Russian disinformation" have ceased, The [New York] Post's scoops still get ignored by outlets that would be all over them if they were about the Trump family.
Democrat pundit Donna Brazile leaves Fox News for ABC because she's 'accomplished what she wanted' with Donald Trump losing presidential election. Former Democratic National Committee chairwoman Donna Brazile has left Fox News after claiming she's 'accomplished what she wanted' with Joe Biden's election win. Brazile has made multiple appearances on ABC News' Sunday news show This Week and was listed as a contributor with the program on ABC last weekend. 'When my contract expired, they offered me an additional 2-4 years,' Brazile told The Daily Beast when asked about her departure from Fox, 'But I decided to return to ABC.'
AUDIT of Elections Update: A Week's Worth of Bombshells. Spring has sprung, and the lilacs are in bloom. Speaking of blooming, reports of election irregularities and audits and agitated Democrats and their lickspittle media are breaking out all over. Let's start this update with signs of panic in the Democrat-media complex, as no matter how hard they try, they will never suppress the deeply held suspicions by many Americans about the lack of integrity of the 2020 election. [...] And NOBODY believes that The Hologram received 81 million legal votes! The ever-reliable Democrat mouthpiece, the Associated Press, has been trying very hard to squelch any notions that election fraud in 2020 and audits that might prove same are anything other than "fantasies" concocted by President Trump and his supporters, as noted [elsew]here.
Keywords: Softball, simpletons, giggling stenographers, incompetent partisan hacks.
Biden soft-serve ice cream inquiries keep enthralling media: 'Oh! Chocolate-chocolate chip!' Reporters aren't tired of dishing out soft-serve ice cream questions for President Biden — and he isn't tired of answering. The Democrat was greeting with a round of "oh!" and "yeah!" responses Thursday after once again fielding inquiries on his favorite flavors of ice cream. "Mr. President! What did you order?" a reporter exclaimed as Mr. Biden stopped in at Honey Hut Ice Cream in Cleveland. "Chocolate-chocolate chip," the commander-in-chief responded to his rapt audience.
Fawning NYT, WaPo Reports Portray Biden as a Child in Need of Guidance and 'Treats'. As anyone can plainly see, Joe Biden isn't there anymore. Sure, there's an older dude in the Oval Office who looks like him, but the upstairs part of him has clearly been vacated. Those of us who are honest about history would like to point out that the younger, fully functional Joe Biden wasn't exactly hanging around any Mensa meetings. We're not always known for letting the cream rise to the political top here in the U.S. [...] The nation's two biggest biased propaganda rags — The New York Times and The Washington Post — recently did profiles on the alleged president that are part creative fiction and part parents cheering on a slow toddler who finally managed to not eat the crayon. [...] WaPo should have tasked this fluff job to a more adept writer. The Times profile is worse in different ways. Three writers penned a six-million-word article that attempts to portray Biden as oh-so-engaged in the process and super with-it. It's positively exhausting.
The Media's Embarrassing Incuriosity About Wuhan. Pardon the whiplash! It feels like the media suddenly decided the theory that the deadly coronavirus leaked from a lab in Wuhan is now considered plausible when it was aggressively dismissed by the press as a "fringe theory" in 2020. It's not a mystery why this happened. The Democrats thought the coronavirus was going to be that "silver bullet" that would remove Trump from office. Their arrogant belief that Trump was an ignoramus led them to shame anyone or any theory that Trump endorsed on the year's biggest story. They were willing to embrace the supposed authority of communist China, of the China-enabling World Health Organization, and the "prevailing opinion" of science journals and magazines.... that endorsed Biden for president. Needless to say, "Science" doesn't operate on this principle. The "hard news" business does.
Biden, Reversing Trump, Permits a Key Putin Goal: a New Russian Natural Gas Pipeline to Germany. That the Kremlin had taken over American political institutions through its blackmail control of former President Donald Trump was a media conspiracy theory as pervasive as it was deranged. This once-exciting script was excavated from the CIA's Cold War basement, dusted off by their operatives, and then kicked off by the intelligence community's purposeful dissemination of the now-debunked Steele Dossier. And once this fairy tale was launched, there were seemingly no limits on the depths to which media figures would sink to promote it. Journalists published best-selling books and column after column hyping this melodrama of international intrigue. In what was just one of many low points, MSNBC's host Chris Hayes earnestly interviewed New York Magazine's Jonathan Chait about the latter's 2018 cover story speculating that Trump may have been groomed as a Russian intelligence asset since 1987. "Unlikely but possible" declared the on-screen cable graphic as Hayes spoke, summarizing the media's Trump-era renunciation of all standards of rationality and evidence for disseminating unhinged conspiracies to their audience, at great profit for themselves but great harm to everything and everyone else.
Unlikely, But Not Impossible So Remain Vigilant. Glenn Greenwald, one of the few remaining classic liberals plying the trade of journalism — Matt Taibbi being the only other I can think of offhand — eviscerates the MSM for their lack of intellectual honesty. In a Substack article he notes how Biden, in a reversal of a Trump decision, has lifted sanctions hence allowing Putin to pursue one of his key goals: a new Russian natural gas pipeline to Germany. And he notes, in an endless replaying of the "What If Trump Had Done That" game that rather than praising the move the media would have ramped up the Trump-is-a-Russian-agent trope again.
A new book savagely attacks Obama from the left. [Scroll down] Both Biden and Kamala got reverential treatment, but it was nothing like Obama. Biden was grandfatherly, experienced, kind, and stable, and he'd learned his White House politics under Obama's aegis. Kamala was brilliant, multi-racial and multi-cultural, female, and compassionate. Kamala was sold especially hard because everyone understood that Biden, no matter what he said, wasn't in it for the long haul. She was obviously going to be the real president, even before Biden inevitably withdrew and she got sworn in.
Nice Guy Joe. During and after the 2020 election, commentators frequently touted Joe Biden's character as a major point in his favor. If Trump was unpredictable, aggressive, and uncouth, Biden stood in stark contrast: reliable, collegial, and, above all, empathetic. [...] Observers typically trace Biden's empathy to his life story: a modest upbringing and connection to working-class voters, the death of his first wife, and the early passing of his eldest son and heir apparent, Beau Biden. These events undoubtedly shaped Joe Biden. But, notwithstanding the tearjerker life story, ample evidence exists that Joe Biden is not such a nice guy. Biden showed the other side of his character this week while giving a commencement address to the Coast Guard Academy.
Media in Full Spin Mode to Cover for Biden's Failures. Joe Biden's presidency is spiraling out of control. By any reasonable metric he has failed as a commander in chief. He has failed on immigration, he has failed on the economy, he has failed to create jobs, he has failed on foreign policy, he has failed on handling the pandemic, he has failed to unite the country, and he has failed as a leader. But that's not what the mainstream media would have us believe. [Examples omitted for brevity.] All these articles find ways to excuse and deflect attention from the crises Biden has ignored, worsened, and even created in his first four months in office. But all is not quiet on the Western front in the Biden White House, despite what the administration and the media tell you. In April, 178,622 migrants entered our country illegally, marking a 3 percent increase over the 172,000 who broke the law in March, the highest number in 20 years. But don't worry; Biden in his own words has "now gotten control" of the situation, and there's still no reason for Vice President Kamala Harris to visit the border.
How the AP Slanted Border Coverage to Hide the Crisis. Typically, news organizations rush to cover crises, real or perceived. The Associated Press has taken a different tack, using its influential style guide to play down the human drama unfolding at the southern border. While internal Customs and Border Protection documents repeatedly refer to an immigration "surge" at the border, according to records reviewed by the Washington Free Beacon, the AP recommends journalists no longer use such descriptions to avoid offense and maintain supposed "neutrality." Other documents, circulated internally throughout Customs and Border Protection in May, instruct officials on processing "the surge of undocumented individuals as efficiently as possible." The move by AP, a response to left-wing activists who demanded gentler language from reporters when covering immigration, fundamentally changed how newsrooms across the country covered the Biden administration's response to a historical influx of migrants in the president's first 100 days in office.
On Israel/Hamas Conflict, CNN Paints Picture of Feckless, Golfing Biden. What got into CNN this morning [5/17/2021]? We're accustomed to the network's unrelenting coverage of how the Republican Party is endangering America, but when it came to the current conflict between Israel and Hamas, the tone turned against President Biden. The media finds space to criticize Biden, when it's coming from the hard left. New Day painted a surprisingly negative picture of a feckless, golfing, Biden lacking the relationship with Bibi Netanyahu that President Trump enjoyed, and incapable of making any real impact on forcing the Israelis into a ceasefire. As a gauge of just how unusual was the segment, when's the last time CNN compared Biden unfavorably to Trump in any regard?
The Truth Behind The Cheney Story. Republican Rep. Liz Cheney is out as Republican conference chair in the House of Representatives. The story has dominated American news outlets over the past week. Most Americans are probably hard-pressed to care about the story, but to the political press in the United States, the story has mattered deeply. [...] One would think the House GOP conference chair was an important position. It is not. One would assume Americans care. They do not. [...] Therein lies the reason for the press's obsession with Liz Cheney. In the absence of the press's obsessive coverage, they might have to focus on the calamitous effects of the first five months of the Biden presidency. The border is overrun with illegal aliens. Inflation is on the rise above initial Federal Reserve estimates. The number of available jobs in the private sector grows as unemployment increases. The free market, it turns out, cannot compete against the government using taxpayer dollars to subsidize unemployment. There are gas lines and energy price increases.
McCarthy: Biden's CDC Changed Mask Rules Because 'Gas Went to $7' and They Needed to Change the News. House Minority Leader Kevin McCarthy said in a Friday interview that the only reason the Centers for Disease Control and Prevention eased its masking rules for vaccinated Americans was to distract people from the skyrocketing gas prices. The rising gas prices were in response to high fuel demand following the cyberattack on the Colonial Pipeline Company. Colonial Pipeline Company operates the largest fuel pipeline in the United States — providing roughly half of all diesel and gasoline on the East Coast — and became aware of a cyberattack from hackers linked to a group called DarkSide last Friday, promptly shutting down its operations.
Team Biden's Rigid Control of the Press. Everyone knew instinctively that the Biden White House would get enormous cooperation and positive media coverage from the "news" media, given that it follows the alleged democracy-darkening Donald Trump days. But Team Biden's control of the narrative can look more like a stranglehold. On May 10, Politico revealed that "If you've read a quote from an administration official in a newspaper or a wire story recently, there's a good chance that the White House communications team had an opportunity to edit it first." The Biden White House frequently demands that interviews with administration officials be conducted on the grounds of "background with quote approval," according to five White House reporters who aren't with Politico. This means that reporters submit their quotations of administration officials and the White House approves them.
Psaki defends WH comms team after report it 'frequently' demands editing power over quotes. White House press secretary Jen Psaki responded Monday [5/10/2021] to a Politico report that the communications team "frequently" requires reporters to send over direct quotes from administration officials for editing and approval before they can be published. "We would welcome any outlet banning the use of anonymous background quotes that attack people personally or speak to internal processes from people who don't even work in the Administration," Ms. Psaki said in a prepared statement to Politico. "At the same time, we make policy experts available in a range of formats to ensure context and substantive detail is available for stories. "If outlets are not comfortable with that attribution for those officials they of course don't need to utilize those voices," she added.
Reporters have to get quotes approved by White House before publishing: report. White House reporters are seething over a policy that requires them to submit quotes from interviews with Biden administration officials to the communications team for approval, editing or veto, according to a report on Tuesday [5/11/2021]. The White House is demanding that reporters who conduct interviews with administration officials do so under conditions known as "background with quote approval," Politico reported. The information from the interview can be used in a story, but for a reporter to be able to attach a name to the quote, the reporter must transcribe the comments and send them to the communications team, the report said.
Media Silent As Biden Sends Out Boastful Letters with Stimulus Checks After Slamming Trump's Signature on Checks. There's a million different ways to prove that the U.S. media is largely in the back pocket of the Democratic Party. And now that Americans have yet another round of stimulus checks in their back pockets, President Biden wants us to be grateful the U.S. government is giving us our own money back. Joe Biden is going a step beyond merely putting his signature on stimulus checks, as his predecessor had done to widespread ridicule and contempt in the U.S. media. He is sending Americans letters bragging about his purported accomplishment via the U.S. Treasury.
Politico: Biden buyer remorse on Becerra, or vice versa? Let's play that fun Beltway game that's sweeping the nation — er, or should be. It's called Guess The Leaker, and Politico's big lead on Xavier Becerra's relationship with the White House is a perfect game board. Adam Cancryn reports from two anonymous sources that strains have appeared over Becerra's sudden conservative turn on immigration. Is this a warning shot from the West Wing, or an attempt to burnish Becerra from inside DHS?
Yes, Biden Is Swindling Americans: White House Staffer Lets the Cat Out of the Bag. The myth of the "moderate" Joe Biden stubbornly refuses to die — partially because the Democrats and the legacy media are working overtime to keep it breathing. From day one, Biden has aimed to erase his predecessor's legacy, rejected Republican efforts to pass clean bills on COVID-19 and infrastructure, and inflamed the culture war on abortion, transgenderism, and race. He even called Georgia's new election integrity bill "Jim Crow on steroids." Yet, somehow, Democrats and the legacy media continue to twist the limits of deception by branding this firebrand a "moderate." This weekend, a White House staffer confessed that this is a key part of Biden's strategy.
CNN obsesses over Trump's White House lawn on homepage, buries Biden's disappointing jobs report. CNN appears to be prioritizing the "headache" apparently caused by former President Trump's White House lawn over current President Biden's disappointing jobs report. The April jobs report released on Friday shocked the nation, which saw just 266,000 jobs created and a rise in unemployment after economists expected roughly 1 million jobs to be created amid the country's economic recovery from the coronavirus pandemic. However, one of the top stories on CNN's website on Friday afternoon was the White House drama over how the Trump presidency kept the lawn.
Newsmax Host Emerald Robinson Grills Dumbfounded Psaki on Joe Biden's Light Schedule. Newsmax White House correspondent Emerald Robinson stunned a dumbfounded Jen Psaki today by asking real questions during the White House presser. Psaki, who believes in restricting free speech in America, was not happy being questioned about Joe Biden's pathetic administration. As Cristina reported earlier, Psaki repeatedly dodged questions about Joe Biden's bizarre schedule that averages around 20 minutes of public appearances each day. NEVER, has America seen such a feeble Commander in Chief.
White House reporters fawn over 'professional, pleasant, lovely' Jen Psaki. White House reporters fawn over and admit to "rooting for" press secretary Jen Psaki in a feature profile that raises familiar questions about bias in the media. Reporters from ABC News and the New York Times gave Psaki a glowing review in a Wednesday article for the Washingtonian, with ABC News chief Washington correspondent Jon Karl dubbing her "one of the most well-qualified press secretaries we've ever had." "She takes questions from everybody. She doesn't get rattled. She doesn't lose her cool," Karl said. "If Biden was just looking strictly at who is the most well prepared for this job, it's hard to see who he could have chosen that would be more well prepared than Jen Psaki."
Jen Psaki admits Biden taking impromptu reporter questions is 'not something we recommend'. White House press secretary Jen Psaki admitted in a CNN podcast published Thursday [5/6/2021] that President Joe Biden taking impromptu questions from reporters "is not something we recommend." Psaki made the admission while being interviewed by CNN Senior Political Commentator David Axelrod on his podcast "The Axe Files," and claimed that she, at times, even tells Biden to not take questions from reporters.
Behar: Facebook Banning Trump Is Like Keeping Mussolini Off the Radio. Joy Behar told her co-hosts on Wednesday's [5/5/2021] broadcast of ABC's "The View" that Facebook upholding its ban of former President Donald Trump was like if Italy kept fascist leader Benito Mussolini from broadcasting on the radio in the 1940s. [...] Behar said, "You know, I think the First and Second Amendments both have limits. Even though I love the First Amendment like everybody else does. But I think that he's too much of a danger to have such a big platform. Let him go on Fox. He needs to be marginalized. Let him speak to the choir over there who appreciate him and agree with everything he says. He doesn't need to contaminate the airwaves all over the world with Facebook. I think about if this was in the 1940s in Italy would we want Mussolini on the radio? No, we would not."
The Editor says...
[#1] Comparisons to Mussolini (and Stalin and Hitler) are cheap. [#2] If Mussolini had his own radio stations (which he did), there would be nothing the U.S. (or anybody else) could do about the programming on those stations. His radio stations were in Italy and had no audience except in Italy and adjacent countries. [#3A] If the "First and Second Amendments both have limits," the limits will be set (rightly or wrongly) by the Supreme Court, not the talking heads on TV. [#3B] If the "First and Second Amendments both have limits," all the others have limits, too.
Biden received less negative media coverage than any president on record while Trump received most: study. A new study shows President Joe Biden has received less negative coverage from U.S. media than any president in the last 30 years. The study found that about 19% of the coverage of Biden's [first] 60 days days has been negative [...], which ranked best among presidents of the last three decades. Former Presidents Bill Clinton (28%), George W. Bush (28%), Barack Obama (20%), and Donald Trump (62%) all saw more negative coverage than Biden. "While the media landscape has changed dramatically since Clinton's presidential inauguration, the Center has been able to conduct a long-term comparison for each of the recent administrations across a smaller subset of outlets and variables," Pew Research Center wrote of its findings.
PolitiFact only conducted 13 fact-checks on Biden in his first 100 days — while doing 52 for Trump's. Fact-checking website PolitiFact only conducted 13 checks on Joe Biden in his first 100 days — compared to 52 for Donald Trump, a new study has revealed. PolitiFact, which insists it is non-partisan, carries out checks on statements made by or about politicians and scores them with its 'Truth-O-Meter.' Not only did it publish four times as many fact-checks on Trump, but the website flagged 106 statements which were made about Biden.
One hand washes the other:
Biden salutes journalists: They 'uncover truth, check abuse of power, and demand transparency.'. President Joe Biden offered admiration and praise for the American media in a statement Monday [5/3/2021] recognizing World Press Freedom Day just a few days after major outlets published false information pertaining to the Justice Department's investigation of former Trump lawyer Rudy Giuliani. "Journalists uncover the truth, check the abuse of power, and demand transparency from those in power. They are indispensable to the functioning of democracy. Throughout the COVID-19 pandemic, journalists and media workers have been on the front lines to keep the public informed, at significant risk to their own health," said Biden. "And, at a time when the truth is increasingly under attack, our need for accurate, fact-based reporting, open public conversation, and accountability has never been greater.["]
The Giuliani Walk Back Gets Worse and Exposes Collusion in Mainstream Press. The fact that the news organizations are working in tandem on narratives blows up in their hands. It was another example of an important news outlet having to retract a major news story, as Bonchie reported yesterday, when The Washington Post had to retract its prior claim that both Rudy Giuliani and the news network One America News had been informed by the FBI that they had part of a Russian disinformation campaign. "This version has been corrected to remove assertions that OAN and Giuliani received the warnings," the outlet says in part of its retraction.
Our Garbage Media At Work. The Washington Free Beacon has compiled a supercuts video displaying the judgments of prominent media gasbags on the speeches of President Joe Biden and Senator Tim Scott this past Wednesday evening. [Video clip]
The Never-ending Hunt for a Trump Crime. President Biden's son, Hunter, had a lucrative position with a Ukrainian energy company, Burisma, and it raised suspicions that this created a conflict of interest respecting U.S. policy toward Ukraine. Suspicions about improper influence upon the Bidens by certain Ukrainian officials were heightened when Joe Biden publicly bragged that he was effective when he threatened to cut off aid to Ukraine unless the prosecutor investigating Burisma was fired. Although the FBI received Hunter's laptop with relevant evidence, to my knowledge the FBI declined to examine it. In the course of his representation of Donald Trump, Rudy Giuliani traveled to Ukraine in December 2019, accompanied by a team from One America News. OAN produced a documentary of the trip in which it publicized the relationship between Hunter and Burisma and Joe Biden's publicly admitted action to cover this up by getting the prosecutor fired. The first account I read was in the Washington Post, where Ellen Nakashima, Shane Harris, and Tom Hamburger clearly megaphoned the FBI story in an account which suggests we are seeing the phony baloney Russian Collusion tale being repeated with the same sort of willing collusion by the press, a role long played by Nakashima.
Fake News Still Gaslighting America with Phony Polls. President Biden last week addressed Congress, at least those select few members invited to listen to Sleepy Joe propose new spending in excess of $4 trillion, an amount larger than what the federal government takes in annually through already-confiscatory taxes. [...] Cable news anchors from CNN and MSNBC, joined by Fox News's Chris Wallace, were gushing over Biden's speech, some nearly in tears, a far cry from any Trump speech reaction over the past four years. CNN commissioned a poll to support their lovefest over Biden's spendfest speech.
Journalists are so complacent now that Biden is in office. Watching cable news and reading the major newspapers, you'd almost never know that hundreds of people continue to die from COVID-19, that nearly 10 million people are out of work (largely thanks to government lockdowns), and that hundreds of thousands of destitute migrants continue throwing themselves into our care at the border. No, the people who for four years could find a scandal in a box of fish food couldn't be more relaxed. [...] It's the dumbest kind of projection. Journalists think things are back to the way things should be, so they assume you are just as happy as they are. Even better, they act as if they're completely unaware that they're the ones who made the last few years hell with their perpetually hysterical coverage of the last administration.
Finding a way to present Joe Biden's tax-and-spend speech as a hit with the public. Joe Biden's quasi state-of-the-union speech the other night was a miserable affair. With a void of new ideas, Biden shilled a leftist tax-and-spend scheme writ large, with an ugly side of wokesterism. One problem: The voting public despises this [stuff]. So out trots the media to put the spin on it, bolstering the old foof, and hammer, hammer, hammering home the lie that Biden's speech was somehow popular. [...] The problem of course, is that the CBS/YouGov poll sampled an audience that was hugely skewed Democrat. Fifty-four percent of the audience was Democrat, while only 34% of American voters identify as Democrats, as CBS noted lower, way lower, down in the story. A president's political base is always going to have a positive response to their leader. If they don't, then it becomes actual news. Biden's leftist base loves him is the story here, although they didn't put it that way. What exactly was news about this?
Damage Control: White House Reporters Refuse to Ask Psaki About Kerry Selling Out Israel. Without someone from the Daily Caller, the Fox News Channel, or Real Clear Politics's Philip Wegmann in the room, the White House reporters seated for Tuesday's briefing refused to follow up on Wegmann's attempt from Monday to ask Press Secretary Jen Psaki about former Secretary of State John Kerry reportedly selling out Israel to his friends in the terrorist-loving Iran. Instead, two reporters asked questions from the left as they touted a Human Rights Watch report blasting Israel as an apartheid state and purposefully treating Palestinians to a life of ruin. Iran was definitely on the mind of at least some in the room as one journalist levied four questions about the progress of talks involving the resumption of the Iran nuclear deal.
Washington Post shuts down presidential fact-checking database after 100 days of Biden. One hundred days into the Biden administration, The Washington Post is calling a lid on the presidential fact-checking database. Glenn Kessler, editor and chief writer of the Fact Checker, tweeted late Monday that the team would continue to fact-check President Biden "rigorously" but would no longer maintain the database started under former President Trump. "Here's the Biden database — which we do not plan to extend beyond 100 days," Mr. Kessler tweeted. "I have learned my lesson."
Amid spin, Joe Biden's polling indicators are crumbling. The press is hailing Joe Biden's approval numbers as he reaches the first 100 days in office. [...] The short answer to all this gushing is that the press is biased and spinning for Biden. The innards of these polls actually show a lot of trouble. For one thing, independent support for Biden is falling. RedState points out that the big weak spot for Biden among independents is his atrocious handling of the border. The Fox News poll's question about whether security is better or worse or the same at the border showed that 46% of voters felt that border security in 2021 is worse than two years ago, a sharp spike from the 17% who said that in 2018. Independents accounted for much of that fall. For another, these pollsters oversampled Democrats. Most showed large margins of registered Democrats sampled that didn't coincide with the percentages of voters who voted from both parties in 2020. That breakdown should have been 36% registered Republicans and 37% registered Democrats. It wasn't. The pollsters polled as if Democrats amounted to as much as 50% of the majority.
Politico Orders Staff to Avoid the Term 'Border Crisis'... After 'Trump' and 'Crisis' [were] Used Endlessly. Joseph Simonson at the Washington Examiner reported Friday [4/23/2021] that Politico is the latest news outlet to order its staff not to use the word "crisis" when reporting on the massive influx of illegal immigrants at the southern border. An official at Politico characterized this decision as inspired by an earlier "guidance" memo by the Associated Press. [...] In other words, "crisis" is in itself somehow a racially offensive term.
The Puppy Dog Media. [Scroll down] Their corruption and double standards are real, irrefutably demonstrable, and incredibly influential on the casually attentive swing voters who are so central to determining close elections. Note that, in recent years, the term "liberal (or mainstream) media" has come to mean far more than just the traditional print and broadcast outlets like the New York Times, Washington Post, CBS, NBC, ABC, PBS, NPR, etc. A few years ago, it expanded to include the website affiliates of those sources and now, undeniably, it also includes the most popular and oft-used social sites like Facebook, Twitter, Instagram, and others. This is common knowledge, and it's disastrous for conservatives. More and more every day, the communication landscape is stacked in a lopsided manner in favor of the radical progressive viewpoint. The question is, of course, can anything be done about it?
New Study Shows Just How in the Tank for Biden the Legacy Media Is. In the first year of Donald Trump's presidency, the big three cable TV networks (ABC, CBS, and NBC) unleashed a barrage of negative attacks on the president. According to the Media Research Center (MRC), the legacy media networks hammered Trump with 89 percent negative coverage. Yet in the first few months of Joe Biden's presidency, the coverage flipped. ABC, CBS, and NBC evening newscasts have showered Biden with 59 percent positive coverage, according to an MRC analysis published Monday. MRC analyzed the legacy networks' 726 minutes of Biden coverage from January 20 through April 9, a paltry amount of the 1,900 minutes the networks spent slamming Trump and his team during the same time period in 2017. In 2017, the network newscasts included a massive number of evaluative comments — 1,687, which were 89 percent negative and 11 percent positive — about the Trump administration. This year, the networks only had 264 evaluative statements, out of which 156 (59 percent) offered praise and support for the president.
New Survey On Hunter Biden Should Have Joe Biden Trembling In Fear. A brand new survey that bot a majority of Americans want a special counsel to investigate Hunter Biden, the son of Joe Biden. Ranging from his shady business dealings abroad, tax fraud allegations, and other trouble with the law — both Republicans and Democrats think someone free of political influence needs to investigate Hunter Biden. TIPP Insights conducted a poll in which it asked Americans: "Should a special counsel be appointed to investigate Hunter Biden?"
The Editor says...
Yes, the conservative internet news sites are sure this is Biden's Achilles Heel. This is the scandal that's gonna sink him, if his habitual lying, his record-breaking age, his worsening senility, his pandering to China, his crass treatment of women and children, his gun control edicts, his trillion-dollar pork barrel spending, the crisis at the border, and his all-around stupidity and incompetence don't get him thrown out. Any one of these scandals would be front-page news every day if a Republican president was in the middle of it.
Study: Once Top Trump-Bashers, TV News Now Loves Joe Biden. For four years, the liberal media led the Left's fierce resistance to the Trump administration, slamming the President night after night after night. Now, a new study by the Media Research Center finds the broadcast evening newscasts have executed a full flip-flop, as they aid and abet liberal President Joe Biden's administration with mostly positive coverage. During his first three months in office, the broadcast evening newscasts have showered Biden with 59% positive press. Four years ago, those same programs were hammering Trump with 89% negative press — a stunning contrast. For this study, MRC analysts reviewed all ABC, CBS and NBC evening news coverage of Biden and his new administration from January 20 through April 9. Total coverage amounted to a hefty 726 minutes — 18 percent of all evening news airtime — but that's still just a small fraction of the 1,900 minutes those broadcasts spent deploring Trump and his team when we studied the same newscasts during the same time period in 2017.
CNN Whines Fox News Chyrons Are Too Mean to Biden. CNN, of all places, had the audacity to complain about loaded chyrons from their competitors at Fox News. On New Day, new co-host Brianna Keilar ended the 7am hour tearing into Fox for "conspiracy theories and fear mongering," a rich accusation coming from the network who pushed the Russian collusion conspiracy hysteria for years and spent nearly all of 2020 blaming Donald Trump for every coronavirus case. The former afternoon host launched into one of her signature snarky takedowns, today targeting Fox News' headlines "in the era of President Joe Biden."
WashPost Redefines Words to Avoid Calling Biden a Liar. Ashley Parker in the Washington Post, a corporate media outlet owned by Amazon's Jeff Bezos who receives billions from the government in no-bid contracts, wrote a news article that said President Biden's claims of 'bipartisan support' for his agenda was true because it included support from Republican voters, even though there wasn't a single Republican member of the Senate or House who supported his legislation. This is wordplay meant to avoid calling President Biden a liar, which he clearly is on this matter. And by providing this semantic defense, Parker is showing her partisan bias.
A New Poll Shows the Pollsters Aren't Even Trying Anymore. You've probably noticed a barrage of approval rating polls being released in the past month or so, and nearly all of them show Joe Biden as a president for the ages. We've seen such high numbers as 60% approval in some surveys. Perhaps Biden is just that much of a unifier, despite pushing the most radical, divisive agenda in modern history? Or perhaps there's something else going on with these polls. Yeah, it's the latter. Random thought, but if your sample is coming out to a raw D+31 sample, perhaps there's something wrong with your pool that you are originally drawing from? Are they just calling people in blue states? Further, if you look at the internals, they only weight the poll to D+9, while the 2020 election was Biden +4. The margin was even smaller in the vote totals for the House, for example. In other words, the country much more evenly divided than shown here, but according to these pollsters, we are in a new era of peace and unity. The purpose of this is clear: to push a narrative of inevitability going into 2022 for Democrats.
Democrat-run institutions are cheating to prop up the Biden administration. In three months, Joe Biden has exffectively erased all American norms. Worse, he's done so by executive fiat rather than the legislative process. It's likely that only Democrats (and not even all Democrats) support him. Nevertheless, a Pew poll, which the media is shilling, assures us that he's got a 59% approval rating. Dig into the poll, though, and it's a lie [...]. In other words, we are being sold a narrative that has nothing to do with the truth. First, about that poll. [...] It turns out that, as to some of those things, we know that most Americans oppose Biden's policies. On Court-packing, an October poll that the New York Times conducted showed that 58% of likely voters oppose it. Americans feel even more strongly about voter ID: 75% of them support it. Americans also disapprove of Biden's border policy, with 55% of them saying he's doing a bad job and only 29% saying he's doing a good job.
JoeBama's Afghanistan Plan is to Follow The Afghanistan Withdrawal Plan of President Trump, But Not Give Him Credit. In February of 2020, the Trump administration announced a breakthrough in negotiations between the government of Afghanistan and the Taliban. Within the agreement the Trump administration committed to a withdrawal of American military this year. Today [4/14/2021] Joe Biden read from a script which outlined his administration was going to follow that exact plan. Biden didn't know what he was reading, he was just doing what they told him to do while adding some emotional talking points to make it sound like he is not announcing and following the exact plan that President Trump and Secretary Pompeo put together. Read the Trump Afghan agreement and you will see Biden is just plagiarizing Trump and Pompeo. At the time of the Trump agreement the media emphasized the negative opinions of it. Now that they have changed the name to Biden, the media swoon.
The Press Is Infrastructure for Biden. Sen. John Cornyn came under blistering attack from Washington Post scribe Aaron Blake for having wondered whether President Joe Biden is really in charge, since he's kept an extremely low profile with the press. Blake took after the senator for implying the Trump spin that old Joe has lost a few mental gears and is something of a "Manchurian Candidate." "It's a baseless and ugly bit of innuendo," Blake wrote. On Twitter, Cornyn linked to a Politico story in which writer Eugene Daniels noted: "The president is not doing cable news interviews. Tweets from his account are limited and, when they come, unimaginably conventional. The public comments are largely scripted. Biden has opted for fewer sit down interviews with mainstream outlets and reporters." He's had one press conference during his 84 days in office. One obvious explanation for the Biden strategy is his tendency to insert his foot in his mouth. But it's also obvious that he has zero fear of his low availability to the press being a problem with "mainstream" reporters, since about 99.96% of them surely voted for him in November.
Keywords: Propaganda, infomercial, publicity stunt, Deep State.
Michelle Obama, Matthew McConaughey, Fauci, And Others Team Up For NBC Vaccination Special. NBC will be hosting an hour-long vaccination special on Sunday titled "Roll Up Your Sleeves," in a bid to raise awareness and encourage Americans to get vaccinated against COVID-19. "Nearly 100 million people across the U.S. have already received at least one dose of the COVID-19 vaccine — and now Michelle Obama and a few famous friends will do their part to encourage the rest of the country to get their shots," reported NBC's "Today" show. Presented by Walgreens, the special will feature former first lady Michelle Obama, Oscar-winning actor Matthew McConaughey, and "Hamilton" creator Lin-Manuel Miranda.
Past Time to Fight Back. This week, on the basis of whole-cloth lies, major corporations went to political war with the state of Georgia. The lies at issue revolved around Georgia's new voter law, characterized by both Stacey Abrams and President Joe Biden as a new form of Jim Crow. What do these dastardly new voter restrictions do? They require an ID number to receive an absentee ballot, with language identical to that of federal law; they bar electioneering within 150 feet of a polling place or 25 feet of voters in line, including handing out food or water for partisan purposes; they increase the number of mandatory days of weekend early voting; they preserve some drop boxes that did not exist before the pandemic; they require additional voting machines and election personnel in crowded precincts; they increase voting hours in future elections for the vast majority of counties. These provisions are similar to the laws in a vast majority of states. That didn't stop Democrats and the media from simply lying about the Georgia voting law. While some in the media did point out that Biden had lied about the law's supposed crackdown on voting hours, nobody in the media treated his "Jim Crow" contentions with the sneering disrespect they so richly deserved.
Hunter Biden, Media-Pampered (Scam) Artist. It doesn't take a particularly impressive imagination to predict how the liberal media would cover one of former President Donald Trump's sons if he were to have a major crack and alcohol addiction. Stories would begin with the notion that Trump was a terrible father who's too self-absorbed and absent to raise his children right. CNN would certainly strike that pose. But on Sunday's "Reliable Sources," host Brian Stelter was deeply impressed with Hunter Biden's "extraordinary" and "breathtaking" memoir. Stelter gleefully promoted every tabloidish Trump-trashing book — from Omarosa's to Anthony Scaramucci's — but he's doing the exact opposite now. "Take out the last name Biden," Stelter said. "This is about addiction and how to help people, and it's going to resonate for that reason." The wishful thinking is presented as analysis. Regular panelist and TV writer David Zurawik seconded that emotion, saying: "It's going to have real resonance with people. ... I think the power of this is going to be positive for the Bidens."
Nets Cheered 'Important New Job' for Kamala at Border, Crickets as She's MIA Now. Despite being given the task of "speaking" for the Biden administration on the crisis at the border, Kamala Harris hasn't given a news conference in almost two weeks. On March 24 and 25, ABC, CBS and NBC were all excited for the Vice President's "important new job" of trying to "stem the surge of migrants crossing the southern border." They hyped it on six different shows. But now that she's basically absent, they don't care. As Fox News's Sam Dorman reported on Monday [4/5/2021], "Since the beginning of the administration and a week after Biden's announcement, Harris has fielded questions from the media but has yet to hold a formal news conference." Now the networks haven't objected to this or mentioned her disappearance. Yet, on the March 24, CBS Evening News, Margaret Brennan trumpeted, "Tonight, Vice President Kamala Harris has an important new job: Leading the administration's effort to stem the surge of migrants crossing the southern border."
The Hunter and Jim Biden story:
• Wasn't hacked material
• Wasn't Russian misinformation
• Is something people deserved to know before voting
• Big tech + corporate media tried to make sure that didn't happen
• And now they're going to gaslight you about all of it.
Data Show Biden 'Dislikes' Deleted by the Millions on YouTube. To conservatives who have been throttled and even censored online, this will make perfect sense: YouTube appears to be working on behalf of the Biden administration. An analysis of data indicates that the platform has deleted more than 2.5 million "dislikes" from various White House videos featuring Joe Biden, likely in a bid to make him seem far more popular than he really is.
YouTube Deleted 2.5 Million 'Dislikes' From Biden White House Videos, Data Indicates. YouTube has deleted about 2.5 million 'dislikes' from videos on the official White House channel of President Joe Biden, according to data collected and posted online by a researcher who wished to remain anonymous. YouTube recently announced that it's testing a new page design that hides the dislike count. The Google-owned video platform allows users to give videos either a thumb up (like) or thumb down (dislike). For at least two years, it's had a policy to remove likes and dislikes it considers spam. "We have policies and systems in place to ensure that the engagement on YouTube is authentic, and remove any fraudulent metrics," a YouTube spokesperson told The Epoch Times via email, but when asked, wouldn't go into details on what criteria it uses to make these calls. The White House videos have seen these kinds of interventions on an ongoing basis, but it appears it's only the dislikes that are disappearing.
Slo-mo videos and early 'lids': How the White House protects America's oldest president. Presidential historian Craig Shirley said displays of fitness are a staple of the TV-era presidency, from John F. Kennedy playing tennis to Ronald Reagan chopping logs. The White House strategy was clear in the 64-day wait for Biden's first press conference, he added, and the occasional early "lid," sending journalists home around 1 p.m. "I think they are rationing him," he said. "This could work to his advantage by lowering expectations politically, but it's a dangerous game to play if the perception is real that he is doddering, old, and decrepit." Right-wing TV hosts and critics have frequently claimed to have spotted signs of dementia in Biden's verbal delivery. Former President Donald Trump, only three years younger than Biden and also subject to similar claims of senility by opponents, used his challenger's health as an attack line on the campaign trail. And when last month Biden tripped on the steps of Air Force One, it set off a fresh chorus of concern that he is in serious decline.
When Joey Met Franky. In his first White House press conference last month, Joe Biden needed a cheat sheet and marked photos of approved reporters. [...] Joe Biden, 78, can walk unaided but less than a week before his press conference, the Delaware Democrat fell three times while boarding Air Force One. On March 25, any legitimate reporter would have asked Biden about the falls, if he was taking any medications, if he had ever been diagnosed with dementia, if he was going to make public his medical records, and so forth. But Biden's handlers weren't going to allow anything like that. "The perception of you that got you elected as a moral, decent man," said Yamiche Alcindor of PBS, "is the reason a lot of immigrants are coming to this country and are trusting you with unaccompanied minors." Instead of a press conference, Biden's handlers served up a worship service.
NPR issues stunning mea culpa after claiming Hunter Biden laptop story was 'discredited' by intelligence. National Public Radio has corrected an online article that falsely asserted that documents from first son Hunter Biden's laptop had been "discredited by U.S. intelligence." A book review of Hunter Biden's memoir "Beautiful Things" initially dismissed the documents first reported in October by The [New York] Post. "The laptop story was discredited by U.S. intelligence and independent investigations by news organizations," the book review by NPR senior editor and correspondent Ron Elving initially claimed. The correction on the Thursday article now says, "A previous version of this story said U.S. intelligence had discredited the laptop story. U.S. intelligence officials have not made a statement to that effect."
AP Writes an Entire Story About Hunter Biden Without Mentioning the FBI Investigation. In the glorious annals of journalism, this Associated Press headline deserves to be emblazoned on the walls of the Newseum, if the pathetic institution hadn't collapsed and evacuated its own building, as the perfect embodiment of modern journalism. The AP is entitled to humiliate itself if it wants to. But this is the same AP that instead of covering the Hunter Biden scandal during the election chose to launch an explainer spinning the revelations about him, and now offers up a promo for his memoir that avoids any mention of the issue. In the 20 or so paragraphs about the son of the guy in the White House, the AP relentlessly promotes Hunter's narrative about drug addiction, pushes his memoir as hard as a crack dealer, but fails to mention the FBI investigation.
Is YouTube Removing Its Public 'Dislikes' Because the Biden White House Keeps Getting Ratioed So Hard? A curious news blip rolled across Twitter today, from YouTube. [Tweet] Why would YouTube do this? The current system replaced YouTube's old 5-star rating system some years ago — in 2009. That's when the thumbs up/thumbs down system came into being. [...] YouTube's thumbs up/down system has been in place for about a dozen years. People use these ratings to decide whether to watch or skip a video probably millions of times a day. It's especially helpful for instructional videos and product ratings. I used the likes/dislikes recently when I was figuring out how to do a home repair. Who'd watch an instructional video that has more dislikes than likes? Why change the system now? There must be some reason for it. Some tweeters speculated that it has something to do with the Biden White House. [Tweet]
Morning Joe Hacks Wail Over Georgia Businesses Not Doing Dems' Bidding. On MSNBC's Morning Joe Tuesday [3/30/2021], the cast of left-wing shills bitterly whined that corporations based in Georgia were guilty "of not having done enough to stop" the state's newly-passed election reform law. The panel of partisan hacks touted threats of boycotts as they expressed outrage that companies like Delta Airlines and Coca-Cola were not taking marching orders from Democratic Party activists. "We've been covering Georgia's crackdown at the ballot box and now a number of the state's biggest companies are facing calls for consumer boycotts after Governor Brian Kemp signed the new voting restrictions into law last week," co-host Mika Brzezinski proclaimed at the top of the segment, late in the 7:00 a.m. ET hour.
The AP steps up to help flailing Biden admin, tells staffers not to use the word "crisis" when writing about the border crisis. As the Biden administration lies about the border crisis and tries to bully Republican lawmakers into deleting their photos of Biden's over-crowded illegal immigrant cages, the media works overtime to try to obfuscate the crisis. It's not working, though, according to a recent ABC News/Ipsos poll that shows the majority of Americans see the border crisis as a crisis and disapproves of Biden's handling of it. Biden has banned news media from the cramped "pods" (new word for "cages") where the Wuhan coronavirus runs rampant amid inhumane conditions, and the media is happy to accept that. We hear no cries of suppression of the press or fascism now that their guy is in the White House, and we will not. [Tweets] [...] So serious are media outlets about propping up Sleepy Joe "Kids in Cages" Biden that the AP has instructed staffers not to use the term "crisis" in discussing the border crisis. I kid you not.
Bias Alert: Media Asks Biden Which "Sweets" He'll Have After Lent Is Over. On Sunday [3/28/2021], Biden got into an exchange between with [sic] a "ferocious" reporter who was able to get the scoop on what Biden's first indulgence will be after Lent is over.
Q: Mr. President, what have you given up for Lent?
BIDEN: I gave up all sweets for Lent. You have no idea how hard it is for me.
Q: What's the first sweet you're looking forward to having when it's over?
BIDEN: Ice cream.
So brave. As you can see for yourself, journalism isn't dead.
7 Takeaways on the Biden Presser. [#1] The difference between a New York Times reader and a Russian reading Pravda is that the Russian knows he is being lied to. Softball questions from the compliant media allowed Biden to read, without looking up, from pre-printed note cards. He chose reliable, liberal reporters (partisan activists) from a pre-selected list. The worst question came from NPR's pandering Yamiche Alcindor who attempted to explain away what is tracking to be the worst southern border migrant surge in 20 years because Biden is a moral and decent man. Proving once again that the mainstream media is the propaganda arm of the Democratic Party. Later, there were no complaints when Biden confirmed he will continue his media blackout at overcrowded CBP facilities until an unknown "later" date.
Pro-Biden Press Corps Is Deeply Embarrassing. President Joe Biden's first formal press conference is in the books, and it was deeply embarrassing to anyone who thinks the media's job is to hold presidents accountable. Taxpayer-enabled PBS White House correspondent Yamiche Alcindor was the worst. She complimented the president, saying: "You've said over and over again that immigrants shouldn't come to this country right now; this isn't the time to come. That message is not being received. Instead, the perception of you that got you elected as a moral, decent man is the reason why a lot of immigrants are coming to this country and are trusting you with unaccompanied minors." Mr. President, you're a decency magnet! Biden replied: "Well, look, I guess I should be flattered people are coming because I'm the nice guy. That's the reason why it's happening." One overarching theme of the reporters Team Biden hand-picked was their lust for the destruction of the filibuster and their channeling power-hungry leftists such as Rep. Alexandria Ocasio-Cortez who want a "big agenda."
Who's Actually Running This Thing? No one believes that Biden is actually president. Forget for a moment the questions about the election itself, and focus on the man: Biden can't speak coherently, can't remember the names of his cabinet members, can't be trusted to give a live press conference. He says he's willing to take questions and they turn his feed off. So he's not in charge. He's not running the show. He's not president. Who is? The American press corps would like to think that it is they; which is why they're willing to go along with the cover-up. They think they're the ones running the country. And what exactly would be the difference between the current situation and an official government of the mainstream media? This administration promises to enact, as if by media direction, every single woke prescription and pipe dream.
Uniparty Senate Confirms Rachael Levine As Asst. Secretary of HHS, 52-48 Vote With Collins and Murkowski Supporting. Republican Senators Susan Collins and Lisa Murkowski voted with the Democrats in the senate to confirm Rachael Levine as Asst. Secretary of Health and Human services, despite the abhorrent job Levine did while Health Secretary for Pennsylvania during the COVID crisis. Last month Senator Rand Paul questioned Levine during the confirmation hearing, and exposed the radical agenda behind the nominee. Despite the terrible job in Pennsylvania, and despite the radical outlook toward gender reassignment for teens, the UniParty found a way to continue supporting the far-left.
Leftist Crank Calls Joe Biden a "Decent Moral Person" During Presser — Called Trump Voters "White Supremacists" During Trump's Presser. Far left PBS hack Yamiche Alcindor told MSNBC that covering President Trump in the White House is a "team sport" and they have each other's back in their hatred of the president. This comes to a surprise to no one. The liberal White House media has been against this president and any outsideer who threatens their leftist clique.
WaPo 'Reporters' Urge WH Press Corps Not To Go Tough on Biden at Press Conference. Joe Biden is scheduled to finally have a press conference tomorrow [3/25/2021]. No doubt there will be efforts on the part of the White House to head off any issues and limit the damage, perhaps even limiting who gets to ask questions/calling on more friendly reporters. But at this point, he's delayed their ability to have real questions on a host of issues, they're not happy and he's set it for a day where they're going to be asking a ton of questions about the border crisis. Now that might explain why he appointed Kamala Harris today to take over the border, so tomorrow he can say, "Ask her." But that wouldn't fly if he tries that tactic.
Comparison of Biden vs. Trump Media Coverage of the Border Crisis. The mainstream media is made up of biased hacks. I know, hardly groundbreaking, but this montage put out by our friends over at the Media Research Center is worth the watch for its sheer entertainment value alone. I mean, it takes real skill to lack this much shame, as you'll see in a second. The setup is that the border has deteriorated to unseen levels, with over ten thousand illegal alien children now in custody. Meanwhile, the general surge at the border is also at historic levels. The Biden administration is not prepared, and their policies and rhetoric caused a dangerous humanitarian crisis that didn't need to happen. In other words, things are objectively worse, and there are more "kids in cages" today than at any time during the Trump administration. Yet, this is the comparison in coverage.
Big Media Show Why You Can't Trust Them To Report Fairly On Biden's Immigration Fiasco. The southern border is now being hit with a huge wave of unaccompanied children, the wholly predictable consequence of Joe Biden's foolish open-border immigration policies. Once again, photos show "kids in cages." But this time, the Big Media are mostly silent, or making excuses, as are the Democrats who helped create this inhumane mess. On Monday [3/22/2021], as the crisis worsened and criticisms grew, Biden imposed a "lid" on the White House and, by extension, media coverage of the border disaster. Not without reason. Flustered White House spokesperson Jen Psaki was unable to answer a few simple, but direct, questions from Fox News' Peter Doocy.
Reuters' Response to Biden Falling on the Stairs Is So 'State Media,' It Would Make North Korea Proud. Yesterday [3/19/2021], the story of the day was Joe Biden falling down, three times, on the way up the stairs onto Air Force One. Now, it would seem that the story would be not only, "Was he alright?" but "Why did he fall?". [...] Now, we didn't think that they were going to do the 24/7 analysis that they did when some thought President Donald Trump was just walking slowly down a ramp at the West Point graduation. We knew there would never be any kind of similar reaction. But Reuters not only didn't go that route, they seemed to go full-on propaganda mode for Biden. [Tweet] "President Joe Biden may have taken a bit of a fall on his way into Air Force One but his approval rating is steadily climbing since he took office, according to a @Reuters/Ipsos poll." Now first, that sounds like state media right there. North Korea has nothing on these guys. With media like this, there will never be anything bad that Biden does.
Most of the left-leaning US media totally ignored Biden's Air Force One stumble. Major left-leaning U.S. press outlets are largely avoiding mention of President Joe Biden's repeated stumbles as he boarded Air Force One, while many foreign publications are devoting prominent coverage to the incident. As of Friday afternoon [3/19/2021], the homepages of MSNBC, CBS News, Washington Post, Los Angeles Times and New York Times had no mention of Biden's stumbling incident earlier in the day at Joint Base Andrews. The news blackout was not strictly partisan, with the homepage of right-leaning One America News Network also omitting any mention of Biden's repeated tripping.
Trump, Jr Posts Video of 'What Really Happened' to Biden on Stairs, Media Wants to Make Sure You Know It's 'Edited'. Joe Biden's multiple falls going up the ramp to Air Force One has been the big story of the day. Fortunately, they are saying he's alright, although typically they are refusing to answer real questions on the matter. As my colleague Sister Toldjah reported earlier, the Biden team is now giving an "excuse," claiming that Biden fell because of the "wind." While there was a fair amount of wind as the video showed, if Biden is blown over by the wind, that could be a bigger problem than tripping on stairs. But the internet and social media being what they are, naturally there are now mixes, versions with music added, and all sorts of things. [Video clip]
The Brutal Memes of Biden on the Stairs Are Epic and We're Here For Them. Now Joe Biden falling up the stairs was definitely the story of the day. [Video clip] We're glad to hear that he's reportedly okay, although his team is once again playing that no real transparency game. They threw out this nonsensical reason for him falling, as we reported earlier, claiming "it was the wind." [...] Yes, there was wind but not enough to knock down a grown man. If the wind is knocking him over, that's more of a problem. That excuse really did him no favors, as many pointed out. The Biden folks throwing that out there really didn't think through that excuse very well.
Up the Down Staircase — Biden Style. While ascending the staircase to Air Force One [3/19/2021], Biden fell not once, not twice, but three times, going up the stairs. The White House blamed the three stumbles on the wind, as if brave Joe were scaling a mountain in the face of hurricane force winds. Actually, it was only a light breeze, about 14 miles per hour. Is Joe that frail that a light breeze can knock him to the ground?
Rewind: CNN, MSNBC Spent 50 Mins Analyzing Trump's Ramp Walk, Water Glass. On Friday morning [3/19/2021], President Joe Biden repeatedly fell up the steps of Air Force One at Andrews Air Force Base and almost immediately, comparisons ensued as conservatives and Republicans recalled the liberal media's wall-to-wall coverage of then-President Trump holding of a water glass and walking slowly down a ramp at the June 13, 2020 West Point commencement. For CNN and MSNBC, the ordeal was treated like the 21st century's Zapruder film. A NewsBusters analysis has found that CNN and MSNBC spent a heaping 50 minutes and 55 seconds (excluding teases) on June 15 reveling in the ordeal as a sign of Trump's supposed mental and physical decline that had to be further investigated.
CBS Worries Border Crisis 'Distracting' From Biden Victory Lap. On Wednesday's [3/17/2021] CBS This Morning, immediately following a sobering report about the massive illegal immigration border crisis, correspondent Ed O'Keefe fretted that the badly mishandled situation was "distracting" from President Biden's attempted victory lap over the newly-passed COVID relief boondoggle.
More Evidence Emerges That the Media Is on Team Biden. In the latest iteration of the media's anti-Trump bias, The Washington Post was forced to issue a massive and embarrassing correction on its reporting of a phone call between former President Donald Trump and a Georgia official regarding disputed election results. The quotes attributed to Trump by a single, anonymous source were things he actually did not say, as proven by a recording of the call released two months after the original, erroneous reporting. Unexplained in this fiasco is how multiple news outlets were able to independently and wrongly confirm the initial, factually inaccurate story in the first place. Worse, the fake quotes included in the first version of the Georgia phone call story were seized upon by Democrats and deployed during Trump's second impeachment trial. Here was bad reporting being weaponized for political purposes. This should be a jarring wake-up call for journalists. In all likelihood, it probably will not be.
Covert Biden Admin Border Tour Continues with No Media Allowed. Law enforcement sources report the acting head of U.S. Customs and Border Protection (CBP) will continue his southern border tour in the Del Rio Sector on Saturday. Officials denied an interview request from Breitbart Texas, calling the event a "no-media visit." CBP denied a formal request from Breitbart Texas to speak with CBP Senior Officials Performing the Duties of the Commissioner, Troy Miller, about what his observations during his border tour have been and what plans the administration has to address them. CBP officials sharply responded, "Sorry but this is strictly a no-media visit" when asked if the Acting Commissioner would allow for a media visit and answer questions. As sources previously reported, the Biden administration is tightly controlling the messaging on an ever-growing immigration crisis[.]
Why you haven't seen photos from inside migrant facilities. Despite pledges of "transparency," the Biden administration has prevented the public from seeing any photos or videos from inside federal facilities where migrant children and families are being held in overcrowded rooms for longer-than-permissible periods — all amid the coronavirus pandemic. [...] Reporters have not been allowed inside buildings and tents where thousands of families and children have passed through after being apprehended on the border then transferred to other agency facilities for longer-term holding. The media were also not permitted into federal facilities prior to the Biden administration except for in rare circumstances in which the facility invited reporters for a tour. Any person visiting such a facility, including lawmakers and media, must lock up his or her phone, camera, and any other recording devices in lockers before entering areas where people are held.
Democratic Strategist Says Media Should Pressure Biden Regarding The 'Full On Crisis' At The Border. Democratic political strategist Doug Schoen says the situation at the border is a "full on crisis" and the media is using a double standard to cover the increasingly tense situation while speaking to the Daily Caller's Brianna Lyman. "We have a crisis, a full on crisis," Schoen said. "Unless the Biden administration takes the issue on forcefully, we will have a full on crisis of politics and more important substance as we go forward." Schoen said one of the causes for the recent surge at the border is that the Democratic Party won't promote a bipartisan immigration policy.
Sympathetic AP calls White House a 'gilded cage' for Biden, excuses frequent trips to Delaware. President Joe Biden hasn't been in the White House long — just under two months — but he already appears to be growing weary of its confines. As noted by the Associated Press, Biden has spent three of his eight weekends as president at his longtime home outside Wilmington, Del., with another weekend spent at Camp David, the presidential retreat, located at Catoctin Mountain Park, Frederick County, Md. Nevertheless, while describing the White House as a "magnificent building," to Biden, apparently, the 132-room mansion is also stifling.
If This Week You Learned Biden is 'Hopeful' And Tucker Carlson Is Evil, Congratulations, You've Been Lied To. If you hadn't watched the president's prime-time address, you might think it was something — anything — other than the most depressing, defeated, and resigned speech since President Jimmy Carter held the office. You might think he hadn't devoted his third sentence to a baseless attack on his predecessor, and the entire rest of his address to death, sadness, loneliness, and despair. You might think he hadn't literally threatened the American people, warning, "We may have to reinstate restrictions to get back on track, please, we don't want to do that again." Rather, to read The Washington Post homepage's featured commentary on the address, you'd think "Much of that speech was about hope." "It was about seeing a shaft of light at the end of a dark horror," Robin Givhan, a 56-year-old woman who once won a Pulitzer for "witty, closely observed essays that transform fashion criticism into cultural criticism," wrote. "His white French cuffs and his crisp pocket square," she went to tell us, "evoked all of the institutional power and authority at his disposal to make things better." "[H]is mere presence on television," she insisted, was a declaration of "his pride in the country's progress." If you're wondering why you didn't see any of this, don't worry: It didn't happen.
The Legends of Our Fall. [Scroll down] Joe Biden, first vaccinated on December 21, claimed no American was vaccinated until he took office on January 20 ("It's one thing to have the vaccine — which we didn't have when we came into office"). He quickly took ownership of the once ridiculed Operation Warp Speed and blamed Trump for not producing quickly enough vaccinations that Biden had doubted would even appear in 2020. Never have the facts of a pandemic in American history become more politicized and warped by the media for political advantage.
No, you're not imagining the media's Pravda-ization. Years ago, I read an old cartoon showing a couple at the breakfast table. The woman says, "This article says don't believe everything you read." Her husband replies, "Don't believe it." That husband represents half the American public. They've been given proof repeatedly that the media is lying but they refuse to accept that fact and, instead, continue to believe the garbage it spews. Now that this garbage has risen to the level of Soviet-style hagiography of a demented old man, America is in a deep dive and needs to pull out soon before it crashes.
Lapdog Corrupt Media Coverage Of Biden's Carteresque Speech Is Embarrassing. It's embarrassing. Our corrupt, partisan media are embarrassing. Thursday night [3/11/2021], President Joe Biden gave a speech to mark the one-year anniversary of the World Health Organization's delayed acknowledgment of the COVID-19 pandemic that China unleashed upon the world. The media swooned. The speech was delivered off a Teleprompter by a man who wasn't inspiring even when he had better command of his faculties decades ago. It was ungracious, going out of its way to refuse to acknowledge his predecessor's Operation Warp Speed, the only pandemic response that has worked. And it worked so well: throwing money at private developers and getting rid of regulatory hurdles to do the impossible of obtaining vaccines within a few months. The dark and depressing speech was reminiscent of Jimmy Carter's "malaise" talks. He painted a horrible future with threatened future lockdowns if the people didn't keep following his rules. The best-case scenario, he argued, was that if everyone did what he wanted, he'd let people have very small backyard barbecues with just a few select people on Independence Day.
'It's Appalling': Mollie Hemingway Calls Out Corporate Media Spin On Biden's Threats. Federalist Senior Editor Mollie Hemingway rebuked the corrupt corporate media for its cushy coverage of President Joe Biden's threatening speech on Thursday evening, contrasting it with the negative media attention former President Donald Trump received all during his tenure in office. "The difference between our media and how they handled the Trump administration, in which they were relentlessly hostile to literally every single thing that administration did, and their sycophantic generosity and encouragement of everything that the Biden administration is doing is a constant reminder of their corruption," Hemingway said. The corporate media, she continued, has moved beyond the decade-old bias that crept its way through the Obama administration to "real corruption." "There is a difference between having a, you know, being full of leftists in your newsrooms and actually engaging in propaganda and their rewriting of everything. That's happening at the current moment, defining a very divisive administration that is engaged in full-on culture war tearing down the borders of the country, making all sorts of mistakes in foreign policy," Hemingway said. "Portraying that as a unifying and good administration is propaganda and half the country realizes that and the other half of the country, I think, is comforted by that propaganda."
CNN Doesn't Get Why Americans Are Concerned About Biden's Address. How dare we have such concerns and don't just thank our government for their concern for us and dictating the right think for us! Thank you, Dear Leader! But it's CNN, so perhaps we shouldn't be surprised. They're the closest thing to "state media" now or political operative arm of the Democrats. This is CNN.
Worship the State: CNN, NBC Praise Biden for Building 'Faith' in Government. As President Ronald Reagan famously said, "The nine most terrifying words in the English language are: I'm from the government, and I'm here to help." And yet that's exactly what CNN and NBC praised President Biden for doing during his first primetime address on Thursday. Both liberal outlets showered the President with gooey adulations as they thanked him for the revival of their faith the twisted religion of big government. CNN chief political analyst Gloria Borger paraphrased Biden's comments and lauded his message that big government was swooping in to answer prayers and save the day. "And I think part of his message was 'We're here to help you. Government is not the deep state.' As he said, you know, 'it's not some capital somewhere,'" she touted. Continuing to speak as the President, Borger marveled at how Biden tried to "restore your trust and your faith" in the leviathan.
So where are the nightly network news pictures of all the 'kids in cages'? The media posted fake news stories with "kids in cages" pictures dating the Obama/Biden years in their four-year collusion with Democrats to destroy President Trump. So where are the nightly televised pictures today of kids sleeping on cement floors in crowded facilities? Somehow, we do not see them. [...] Where's Alexandria Ocasio Cortez, who went down for a photo-op wearing white, in order to weep in front of an empty parking lot, and compare illegal immigrant detentions during the Trump administration to Nazi concentration camps? Where is the Hollywood crowd who have always protested Trump's actions? I must assume none of them really cared and it was always a political attack or else they would be actively protesting. The Biden administration also clearly doesn't care about how contagious the coronavirus, which migrants are bringing in with them, is. They are not quarantining the migrant kids who are sick or the kids who have had contact with other sick people. Nope, they are crowding them into jail-like facilities and then sending them around the U.S. to expose others.
So Much For Bringing Dogs Back To The White House. The U.S. media went crazy when Biden won the presidency, writing breathless stories about dogs returning to the White House after four years of a dogless Trump administration. One news outlet went so far as to call on a pet psychic to channel the soon-to-be First Dogs. "Joe Biden's Dogs Have Told This Pet Psychic a Lot About Their Beloved Master, and His Future," The Daily Beast reported. The subhead of the piece said: "Pet psychic Beth Lee-Crowther says Joe Biden's dogs, Major and Champ, told her they are excited to live in the White House. They also say their master will be 'a great president.'" Seriously. All the reports included the fact that one of Biden's dogs — Major — was making history as the first rescue dog in the Executive Mansion. But seven weeks into his term, the dogs have been sent back to Mr. Biden's home after Major reportedly bit a member of White House security. "The 3-year-old pooch has also reportedly been barking and lunging at staff and security," The New York Post wrote.
Guess How CNN Is Describing the Crisis at the Southern Border. Democrats and their cohorts in the media chided President Donald Trump over immigration policies that resulted in holding "kids in cages" and "separating families" at the United States-Mexico border, a claim that lacked nuance. It was something the left repeatedly hammered as inhumane and wrong. But now, roughly six weeks into his administration, President Joe Biden is continuing with a policy that was first established under President Barack Obama. Biden's holding unaccompanied minors in the administration's "first migrant child facility" — you know, the type of facility that was labeled as "kids in cages" when Trump was in office? CNN, however, decided to cover the "first migrant child facility" in a way that downplays the severity at the border. Instead of referring to them as "kids in cages," like they have in the past, the network took a more subtle approach.
Correcting the Biden Administration's Lies About the Border Crisis. What is happening right now on the border and within the United States regarding illegal immigration is being misrepresented by the Biden administration and much of the media. Most nightly television broadcasts do not even mention the chaos on the border, what is causing it and what the government is doing in response. When they do, they merely copy the administration's talking points that are inaccurate and misleading.
The Washington Post Faces Backlash Over Headline Praising Biden: 'Did Joe Biden Write This?'. The Washington Post faced backlash on Saturday evening over a headline that praised President Joe Biden in response to the Senate passing Biden's $1.9 trillion coronavirus stimulus package. The headline, which was later featured in a tweet, stated, "Biden stimulus showers money on Americans, sharply cutting poverty in defining move of presidency." Reaction to the headline was overwhelmingly negative across the political spectrum with many calling it propaganda.
CNN, MSNBC Pretend There's a 'Night & Day' Difference Between Trump & Biden on Vaccines. CNN and MSNBC spent most of 2020 raining fire on Team Trump's incompetence on COVID. They even rained fire on the idea that vaccines could be ready before the end of 2020. Ooooops. Now they can barely stand the idea that Operation Warp Speed lived up to its name, as exemplified by Mika Brzezinski on today's [3/3/2021] Morning Joe. Mika gushed ["wow, wow, incredible"] over President Biden's announcement that by the end of May there'd be enough coronavirus vaccine for all adults in the U.S. She proclaimed "Joe, it's night and day, this administration compared to the last." Scarborough agreed: Well, it certainly is in terms of logistics." But then he had the honesty to mention: "The Trump administration did implement Operation Warp Speed. We moved towards a vaccine with extraordinary speed."
10 Big Warning Signs Biden is the 'Missing' President. [#2] Biden schedule not posted online, White House visitor logs a secret: "The schedules for the president and vice president aren't posted online," Politico reported. "The White House comment line is shut down. There are no citizen petitions on the White House's website.The White House has committed to releasing visitor logs. But it doesn't plan to divulge the names of attendees of virtual meetings, which are the primary mode of interaction until the coronavirus pandemic eases." So, who is making the presidential decisions? Who is Biden meeting with? Who are others in his administration meeting with? It's a shroud of secrecy that America's failed press isn't doing enough to penetrate.
ABC News Outlet Tries to Debunk Biden Problematic 'Minorities Getting Online' Comment, Epic Fail Ensues. We've seen a lot of media spinning to protect Joe Biden from his many gaffes and bad actions. But the spin gets a bit much when what he says is on video and the "fact check" seeks to try to spin even that. One way of doing that is what ABC11.com did in fact-checking a tweet of 'Biden' saying "minorities not being able to use the internet" were "taken out of context." [Tweet]
Ignored by Fake News Media: Joe Biden Is Completely Lost in Texas Even with His Handler in Tow. Joe Biden had another disastrous day Friday in Texas. Of course, the liberal media once again hid this from their audience. Biden traveled to Houston, Texas with his handler, Dr. Jill, but she couldn't save Joe from his mid-stage dementia. Joe was confused and lost and even admitted it during his brief speech. [Video clip]
Three Times Biden and Trump Did the Same Thing, and the Media Reaction was Totally Different. It is a widely understood fact that media coverage of the Trump administration was, to say the least, massively critical. While some of this was justified as a result of objective reporting, a large portion — if not a majority — was the result of hyper-partisanship within the legacy media with the apparent goal of undermining the Republican president in preparation for the 2020 election. Nothing demonstrates this shameless partisanship more than the legacy media's reaction to events that are almost entirely identical, with the one difference being the political affiliation of the man in the White House. Here are three examples of Trump and Biden doing — effectively — the same thing but with vastly different media coverage. [...]
White House will start charging members of the press $170 to have a COVID-19 test before they can enter the grounds. The White House will start charging members of the press $170 to have a COVID-19 test before they can enter the grounds, according to a report, in a move that could financially cripple news organizations and limit coverage of the Biden administration altogether. The White House press office will from Monday [3/1/2021] bill journalists for their own coronavirus tests, which are mandatory for anyone entering the White House complex. Under the Trump administration, COVID-19 testing for the media was only available to members of the press pool who were coming into close contact with Donald Trump or to people exposed to a positive case via a White House event.
The Editor says...
Obviously the major networks can absorb such a surcharge without missing a beat. This $170-per-visit charge is just to filter out internet-only news organizations.
The Media Tries To Show That Biden Is Doing The Interview Alone When He Fumbles They Are Forced To Expand The Frame And Put Jill On Camera. Joe Biden spent the past two days conducting blunder-filled TV interviews and speeches. [...] Yesterday [2/26/2021] while speaking in Houston at the end of his Texas visit Biden's speech went from bad to worse. [...] So he ended up asking himself "what am I doing here" [Video clip] The fake news media tried to protect him and didn't even report about this "incident." They are doing damage control and during studio interviews, they have his "handler" Jill helping him finish the interviews.
The mainstream media's quandary ... and panic. [Scroll down] The media went on to quash news about the Hunter Biden corruption in Ukraine and China as it might damage Joe Biden's election chances. The current news blackout is preventing Americans from knowing the true level of the irregularities and illegalities in the 2020 election which lead to a senile old man who didn't campaign supposedly getting nearly 13 million more votes than the charismatic Barack Obama did in 2012. Now the media's focus is on branding anyone who questions the legitimacy of Biden's installment as president as a danger to the republic. Another lie.
Everything is Fake in Utopia. When Democrats gain power through fraud, everything that follows becomes fake as well. [...] When deception is normalized, tech giants can routinely conceal Biden's unpopularity. On Biden's campaign trail, mass manipulators scripted questions for audience members to ask him. Not even a month into office, the phony administration requested its media allies brief them on questions they intend to ask. White House press conferences will still be theatre, but Jim Acosta will no longer have a part. Our fraud-in-chief was filmed repeating "salute the marines" after someone likely relayed the command to him through an earpiece. If you ask the fraudsters, Biden actually said "good-looking marines," and we all misheard him. We're supposed to believe that Biden complimenting the looks of male marines is more sensical than a party of manipulators secretly telling a senile puppet what to do. I'll take door number two. When everything is fake, Joe Biden is a "devout Christian" who supports abortion, Black Lives Matter, and the most radical factions of the LGBTQ lobby. It doesn't matter that these movements are antithetical to Christianity because fake is the new normal.
The GOP's 2024 Race Will Be Brutal And It's a Fight We Need to Have. President * has stumbled out of the gate with zero wins in his first month. He signed a bunch of executive orders, all of which the next GOP president should undo on Day One. His $2,000 promise has already been broken. He is botching COVID, and parents are getting sick of indolent public school teachers demanding to be paid for not doing their jobs, instead of their usual demand to be paid for not doing their jobs well. His global warming agenda has been frozen by the Texas arctic nightmare. And also, people are noticing that he's a creepy weirdo. He's literally done nothing but fail, and this despite the licensed, professional journalists of journalism explaining away his stumbles [...]
Why media coverage of Biden is nothing like Trump's... nor Obama's. [Scroll down] No, the real reason is much more troubling. They aren't covering Biden or his policies because they're being instructed to keep it all off the public's radar by their handlers. Go ahead and put on your tinfoil hats if you'd like to at this point, but it's as crystal clear to me now as anything I've written about in weeks. Whoever is pulling the various strings of their mainstream media puppets, they do not want the public to know the direction the Biden administration is taking the nation. Joe Biden is not a leader. He's a tool for the powers and principalities to quietly usher in their nefarious plans. Whether it's the Chinese Communist Party, the United Nations, George Soros, Bill Gates, the New World Order, the Deep State, or a combination of all-of-the-above, they groomed Biden's entire candidacy and force-fed him to the American people through the most massive voter fraud the nation, and possibly the world, has ever seen.
Fact-Checkers Heart Joe Biden. Appearing at a friendly CNN town hall event this week, President Joe Biden dropped a string of untruths on issues both large and small. One of the president's most egregious falsehoods was the claim that "we didn't have [the vaccine] when we came into office." The first shot was administered back on Dec. 14, 2020. Glenn Kessler, lead fact-checker for The Washington Post, quickly jumped into action on Twitter, explaining that this was merely a "verbal stumble, a typical Biden gaffe, as he had already mentioned 50 million doses being available when he took office. Former Trump officials should especially cool the outrage meter, as it just looks silly." Castigating those who pointed out the lie is a weird thing for someone charged with verifying factual information to do.
Melania Haters Now Loving Jill Biden. The liberal-Democrat media celebrated Valentine's Day a traditional way: gushy tributes to the new first lady. On Feb. 12, Jill Biden tweeted on her @FLOTUS Twitter account a photo of herself, with a scrunchie in her hair, at a Washington, D.C., bakery picking up "Valentine's treats for the weekend." "Don't tell Joe," she joked. Glamour magazine posted an article titled "First Lady Jill Biden Wore a Scrunchie While Shopping and People Felt So Seen." New York Times reporter Claire Cain Miller tweeted, "Loving the scrunchie energy." A Washington Post "PowerPost" headline read, "Scrunchies and dog walking: the country gets a taste of Jill Biden's radical normalcy." On Twitter, I asked the author of this puffery, Jacqueline Alemany, "What is 'radical normalcy'?" No reply. Alemany boosted the PR stunt, writing: "Biden's scrunchie that really lit up the Internet. Leave it to a scrunchie to capture the zeitgeist of President Biden's promise to 'return to normalcy,' a stark departure from the 'I don't really care' message sent by Trump."
Jill Biden's Really Amazing First Month As First Lady Vs That Trump Woman. Now, here we are barely one month into the 48 months of the 46th president and the new first lady. And already the fawning coverage is oozing out about Joe Biden's wife, Jill. In a weekend article The Hill already likened Mrs. Biden to a couple of legendary presidential wives, Eleanor Roosevelt and Grace Coolidge. Here are some excerpts that give a gauzy sense of what to expect in the media about Joe Biden's 69-year-old second wife: [...] According to The Hill's breathless story, "Biden's schedule has shown no signs of slowing down." This coming week she's scheduled to be grilled on TV by the singer Kelly Clarkson. Do not worry if you missed this Washington article. There will be many more where it came from.
The legacy media is losing its ability to present plausible distractions from news stories it doesn't want to cover.
An Offering of Squirrels. [Scroll down] [I]t won't be long before the Democrats and their compliant minions in the news media and pop culture recognize the urgency of air cover for all kinds of coming disasters. There's the unscientific failure to reopen schools as parents groan under the strain of trying to survive the COVID economy while becoming amateur homeschoolers. There's the burgeoning failure to fulfill Dirty Joe Biden's vaccine promises while Biden purports to have conjured the vaccines out of thin air. There's the fact Biden is calling a lid on conducting foreign policy and delegating it to Kamala Harris. There is the looming disaster in China and Iran policy, and particularly the coming crippling shortage in rare-earth minerals. There is the growing recognition that the Brian Sicknick story, on which the Jan. 6 "insurrection" narrative has been built, appears not to have contained a wisp or a smidgeon of truth. And on and on. The problem with squirrels is eventually the dogs lose interest.
Biden Silent Over Big Tech Suspensions Because He 'Benefits From the Censorship,' Banned Journalist Says. After he was suspended from Twitter this week, journalist Paul Sperry said the White House is silent over Big Tech censorship because it benefits certain politicians. Sperry told The Epoch Times that President Joe Biden has been "silent" about companies like Facebook, Twitter, and Google taking action against certain accounts — namely conservatives — because he "benefits from the censorship." "In fact, he's in the White House now largely because Twitter blocked the New York Post's scoops about the Biden family's shady foreign dealings and influence peddling in Communist China and Ukraine," Sperry said, referring to the Post's reports and other reports that claimed his family members' including son and brother, business dealings in China and Ukraine. Biden, during the 2020 campaign, denied the allegations that he did anything untoward and said he had no knowledge of his family's business ties.
Australian Media Runs Segment on Joe Biden's Dementia! — Something the Poisonous US Media Still Lies About. Australian reporter Cory Bernardi is the first mainstream host to report on Joe Biden's obvious dementia that is apparent to anyone paying attention. No one in the US liberal media is strong enough to point this out — President Biden is out to lunch. He is in an escalating stage of cognitive decline. Bernardi shared this on Friday [2/19/2021], "Such was the hatred of Donald Trump by the partisan and poisonous mainstream media that they chose not to highlight anything that may have derailed a Biden victory. Even now after he's been sworn in many are still refusing to speak the truth."
TV Shows Push Gun Control Myths in Sync With Biden. Last week, the Biden administration promised gun control groups that it will soon roll out a massive push for limits on firearm purchases and other measures. President Biden reiterated that promise on Sunday. And the television networks aren't waiting to lay the groundwork for this effort. CBS is in a full-court press for gun control on its evening entertainment television shows. The bad guys are always white supremacists who use machine guns — supposedly AR-15s — to commit mass public shootings. Criminals in Mexico supposedly get machine guns from the United States. A father's desire to protect his family only leads to tragedy when his daughter gets into the gun safe and uses the weapon in a mass public shooting. And guns in the home pose a danger for children. Gun registration is necessary for solving crime.
WaPo Columnist Begs Media to Not Hold Biden Accountable for Broken Promises. In the wake of President Joe Biden's CNN town hall on Tuesday, those in the establishment media have been accused of saying the quiet part loud too often. When Biden said stupid things, media fact-checkers refused to hold the president to account, sometimes saying Biden's verbal flubs — such as a gaffe where he stated there wasn't a vaccine for COVID-19 when he came into office — were so obviously gaffes they weren't worth fact-checking. Try that if you were the last president — or any other Republican, for that matter — and see if you'd get that response. In this case, I heard people imply "saying the quiet part out loud" by making it clear they'll run interference for Biden if necessary. [...] As evidence, I offer Paul Waldman, an opinion writer at The Washington Post. His take: Sure, Biden's going to make promises, but we don't, you know, have to take them at face value.
PBS journalist dutifully parrots White House's vaccine lie. PBS NewsHour's Yamiche Alcindor is working hard to promote the Biden administration's lie that there was no COVID-19 vaccine distribution plan in place when the president took office. The White House "says they inherited no vaccine distribution plan," Alcindor said Tuesday, uncritically repeating an obvious falsehood. "Now, [White House Press Secretary Jen Psaki] says Biden admin has increased amount of weekly vaccine doses going to states to 13.5M a week — a 57% increase since Jan 20. Biden admin is also doubling supply to pharmacies: 2M doses going to them this week." Earlier, during an appearance on MSNBC, the PBS journalist said, "The No. 1 thing that I hear from my sources when I say, 'how bad is it, is it worse than you thought it was when it comes to former President Trump's response to the virus?' Literally 9 out of 10 times, they say it's worse than we could've ever imagined." Her White House sources tell her the same thing that the White House is saying out loud? Amazing.
CNN's Jim Acosta Clearly Can't Let Go of Trump, and People Have Thoughts. The mainstream media spent four years undermining Donald Trump's presidency with one fake news "bombshell" report after another that went nowhere, and actively helped suppress news stories about then-Democratic presidential nominee Joe Biden that had the potential to negatively impact his presidential campaign. They cheered like fangirl groupies once they projected Joe Biden the winner, and spent the two months afterward completely reversing course on the bad news stories they ran with prior to the election, all because they wanted everyone to believe that it would be a new and better day in America with the guy who spent the last several months of his campaign sequestered in his basement alongside his handlers, the latter of which did much of the heavy lifting.
Media Fails to Report on the Booing of Biden Heard at Super Bowl. Joe Biden has already had a lot of firsts. Almost immediately, his first broken promise, failing to deliver the $2000 virus relief, and people are not letting him forget it. Then he had his first court loss, trying to suspend virtually all deportations for the first 100 days and getting slapped down by the judge. Now according to a lot of people who watched the Super Bowl, he had his first boos at a major event. He and his wife Jill appeared virtually over a huge screen at the game. Jill, as usual, did the most talking. [...] While people heard boos and the British media, The Daily Mail and Independent U.K. reported it, not so much American media, although it was acknowledged by this home page editor of Fox News although it didn't seem to have made it onto their front page.
That's It? O'Donnell Doesn't Challenge Biden At All In Friendly Super Bowl Interview. A few hours before the big game began, CBS aired the traditional pre-game presidential interview. This time, it was anchor Norah O'Donnell's turn to interview the president, and because he's a Democrat, the journalist didn't criticize or grill him at all, even though that's what her CBS colleague Margaret Brennan did to President Trump in 2019. In fact, at one point she even flattered the the 78-year-old by comparing him to NFL athletes! As we previewed this weekend, these near-annual interviews have a predictable pattern: Democrats typically get off easy, while Republicans get skewered. This year was no different.
ABC Praises Biden's 'More Aggressive Use of Executive Action'. For four years, the liberal media were acting like President Trump was a dictator for relying on executive orders to push his policy agenda. But during Sunday's [1/7/2021] This Week, George Stephanopoulos and ABC chief Washington correspondent Jon Karl gushed and praised President Biden for his "speed" and "more aggressive use of executive action" than former-President Trump, whose executive actions they decried. "The emphasis in these first weeks of the Biden presidency, speed," Stephanopoulos touted to Karl near the top of the program. In response, Karl marveled at the "remarkable speed" Biden was using "to take down some of the central pillars of the Trump presidency in just two weeks!" He then lauded Biden for completely reversing Trump's immigration policy by halting border wall construction and "reinstated DACA." DACA was an example of the media's hypocrisy with executive orders. They all attacked Trump for getting rid of it with his executive action because former-President Obama, with Biden as his vice president, created it out of thin air with his own executive action.
British GQ pub mocked over Joe Biden 'Swagger-in-Chief' makeover. A British edition of the U.S.-based GQ magazine drew widespread criticism and mocking online over its "Big Fit Makeover" featuring President Joe Biden in varying styles. "Joe Biden — Swagger-in-Chief," read the cover of GQ Hype showing a smiling Biden dressed in Western clothing appearing to strum a guitar while sitting on the tailgate of a vintage pickup truck next to three bottles of Budweiser beer. [...] Writing at PJ Media, Stacey Lennox noted that barely two weeks into the new presidency, Joe and Jill Biden have already been feted and celebrated by the pop culture a number of times but that the GQ Hype piece "may be the most absurd." "Does Biden even play guitar? This magazine is trying to turn a septuagenarian from Delaware with cognitive issues into a heartthrob.
CNN's Jake Tapper Says Trump Supporters Who Question 2020 Election Results Need to be 'Held Accountable'. CNN's "State of the Union" anchor Jake Tapper labeled Trump supporters 'terrorists' and said people who question the 2020 election results must be held accountable. After pushing the 'Trump-Russia collusion' lie for years, CNN is now telling Trump supporters to sit down and shut up about the Democrat voter fraud in the 2020 election. "If there is no accountability and no attempt by the Republican Party to stop these insane lies that have taken root in their party... This is not going to be the end of MAGA terrorism, this will only be the beginning," Jake Tapper said. [Video clip] Not a word from Jake Tapper about BLM-Antifa terrorists marching through DC last night chanting, "Burn it down!"
Was it an interview or an infomercial?
Biden gushes about son Hunter's new memoir in CBS interview. An emotional President Biden fought back tears as he discussed his son Hunter's new memoir — saying "My boy's back." "The honesty with which he stepped forward and talked about the problem. And the hope that — it gave me hope reading it," Biden said in an interview with CBS News that will air before Sunday's Super Bowl game.
This article is presented with a grain of salt:
Video PROOF That Joe Biden Is NOT At The White House But Rather Castle Rock Studios. There has been a lot of photographic proof that Joe Biden is not at the actual White House when signing executive order after executive order but rather on a sound stage at Castle Rock. Castle Rock is also known as Amazon Studios, the location where many famous oval office scenes have been shot for movies such as Nixon and Independence Day. Fact-checkers have been busy trying to call these 'false claims' by focusing on the minutia details some are making online such as the curtains or carpet being different but none of the fact-checkers can debunk the SUV's parked right outside the window to the right of Biden, nor will they be able to debunk this video which shows several screens at once, one of which has an aerial view of Castle Rock. [Video clip]
The Editor says...
I don't endorse or necessarily agree with any statements made in the video clip linked above. Even if the claims in the video clip are true, I'm not sure it matters that much. Media dishonesty is already well known and documented. Joe Biden's dishonesty... ditto. Maybe this is Biden's way of laying low and playing it safe, since he knows he is the beneficiary of a stolen election.
Biden's Rapidly Deflating Honeymoon Balloon. After just two weeks, a few political realities are starting to encroach upon the Biden fairyland, whose nativity was heralded in Fox News' Trump-hater Chris Wallace's assertion that Biden's inaugural address was the best in over 60 years.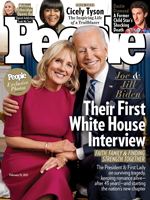 Pretty In Pink. This isn't a record — that honor is still held by Barry and Big MO — but 13 days in and we already have literally dozens of POTUS/FLOTUS cover-fluff stories. [...] A pity our previous and last legitimate FLOTUS wasn't considered either photogenic or articulate enough to warrant any press coverage during her 4 year tenure, unlike Dr. Jilly who hit it right out of the box.
Hiding Biden. As many as 45 percent of Biden voters said they were unaware of Hunter's financial scandals before the election. [...] Last September, when a Senate intelligence panel report revealed that a firm co-founded by Hunter Biden received a $3.5-million wire transfer from the wife of a Russian politician, the New York Times, Washington Post, CNN, and MSNBC did not cover the story. When Trump raised the issue at the first presidential debate, Biden claimed it had been "totally discredited" even though its existence was confirmed by Treasury Department documents. This news blackout may have helped propel Biden to victory, but questions regarding the Bidens have not gone away. There is the laptop, which, far from Russian disinformation, did indeed belong to Hunter Biden, who in December admitted he has been the subject of a federal corruption probe since 2018.
All It Took Was One Election for 'Kids in Cages' to Become Acceptable Once Again. In an amazing announcement this week the Biden administration has declared they will be reopening a facility in Texas this week in order to temporarily house hundreds of migrant youths who have recently entered the country. If your head just tilted like a dog hearing a harmonica, you are not alone. All of a sudden, it appears, the concept of housing young children from other countries in a government setting is acceptable. Yes, this sounds like a contradiction from a narrative we have been served for the past four years, but just you wait. I recommend wearing eye protection, as the flying shrapnel from euphemisms will be likely. The location, in Carrizo Springs Texas, will be run by the Office of Refugee Resettlement is tabbed for "overflow" purposes, and will be able to house 700 migrant children. This is being dubbed a temporary influx care facility. That's a handy shift in nomenclature.
Biden brings back kids in cages. How's this for buried news? The Biden administration, through executive order, is scrapping President Trump's "Remain in Mexico" policy for illegal border crossers claiming asylum. Which means, catch-and-release, but detention centers, for presumably vulnerable "unaccompanied minors." That would likely include 14-year-old gang bangers, even as the media would present only toddlers.
'The View' hosts shamelessly defend screening questions ahead of WH briefings: 'It's not a gotcha session'. On Wednesday [2/3/2021], "The View" cohost Joy Behar aggressively defended the White House's stance over screening reporters' questions in advance. She contended that press conferences should not be inundated with "gotcha questions" that target press secretary Jen Psaki. Behar hotly defended the White House telling reporters what they can and can't ask: "First of all let's talk about whether they're actual specific questions or areas of discussion, and, you know, this type of press conference is not supposed to be gotcha questions, they're supposed to be informative information questions and answers, and so it behooves the administration to be prepared to give the correct information."
'The View' — surprise, surprise — vigorously defends Biden White House's desire to get reporters' questions in advance. It will come as no surprise that nearly all the co-hosts of "The View" vigorously defended the jaw-dropping recent request from President Joe Biden's communication team to get reporters' questions in advance of daily press briefings. It seemed like a big joke to co-host Whoopi Goldberg, who chuckled several times as she opened the discussion on Wednesday's [2/3/2021] show and bristled that journalists were "raising red flags about the [chuckle] Biden administration's promise of total transparency." She then asked, "Does it occur to anybody they've been in probably for three weeks, and they might not [laughs] ... have all the answers yet? Call me crazy."
Joe Biden Does the Most Joe Biden Thing Possible to Try to Appear to Have a Plan for Wuhan Virus. The Joe Biden we see in the Oval Office is remarkably similar to the Joe Biden we've observed over his political life. He says random [stuff], he's pretty much clueless about every issue but can mouth platitudes with the best of them, and a partisanly passive Washington press corps politely applauds him and tells the yokels in the hinterlands what kind of a genius he is.
Biden doesn't trust his own lapdog press. After promising a new era of 'trust and transparency,' it's now come out that the Biden administration is stage-managing even its spin. [...] Number one, Biden already has a lapdog press eager to flatter and fawn. He's locked reporters in closets in the past and still manages to draw only the most flattering of questions and coverage. Apparently, he can't trust even the people asking those. Number two: This isn't doddering Biden living in fear of being caught in a senior moment. This is Biden's tried and polished professional press team, the people who should be up to the task of taking all comers. Somehow, they're not. They're afraid. They've already made quite a few embarrassing mistakes. Now they imagine they can fix this by literally picking and choosing which questions to answer and which questions to ignore. Seems that merely pre-selecting reporters to call on in press scrums, which they did before, is just too dangerous.
Biden Approval Index: This Sure Doesn't Look Like the Mandate Democrats Think They Have. President Joe Biden got 80 million votes in the 2020 election. Both candidates exceeded the maximum number ever achieved by an elected president, but Biden got the most. There should be unbridled enthusiasm for his agenda with that popular vote haul. His team believes it's so and has decided to bypass Congress and govern with a pen. [...] Biden has not been above water a single time in the Approval Index rating. This index is the difference between how many likely voters strongly approve and how many strongly disapprove. [...] This result is astonishing when you think about it. President Biden has the full weight of nearly every corporate media outlet, tech company, and cultural institution behind him. They have been drooling all over themselves to convince us this is a return to unifying normalcy. After all, his favorite ice cream is chocolate chip, and his two German Shepherds just love their new digs. So normal. So unifying.
"Putting Words In My Mouth"; Psaki Snaps At Reporter For Asking Simple Question. After two weeks on the job, I think it's safe to say that Biden White House Press Secretary Jen Psaki is terrible at this. All of it. Every single aspect of the job. Not only is she consistently unprepared for the questions fielded her way, but now she is openly snapping at reporters for asking simple questions. Keep in mind, this is despite having the entire media complex on her side (unlike Kayleigh McCenany, who the press targeted like a pack of rabid wolves)[.] During Tuesday's [2/2/2021] press briefing, Psaki clapped back at a reporter for no reason at all.
Spanish Nets Silent on Biden Deportations. For the hundreds of undocumented immigrants deported this past week, it must have been quite the shock to not see activists, television camera crews and (crying) politicians bidding them farewell. But that is exactly how immigrants from Jamaica, Honduras and Guatemala were sent back to their homelands by the Biden-Harris administration this past week: very quietly. Most importantly, not a word was said about the inconvenient news at the nation's Spanish-speaking networks, keenly focused on selling their audiences the push for filibuster-proof immigration reform. In fact, over a 24-hour time span, Telemundo and Univision combined, spent close to 15 minutes on the subjects of Biden, executive orders and immigration reform with the help of immigration "experts," lawyers, activists, and of course, politicians betting on an immigration wave.
Comedians for the State: 'Nothing to Criticize' Biden About. Now that Joe Biden is president, what will the late night comedy shows mock? Not the Democrat in the White House. Turns out, it's now their job to simply defend Biden. After all, there is "nothing to criticize" the new president for. Jimmy Kimmel on Monday didn't offer jokes so much as loud defenses of Biden and fact checking of random people on Twitter.
The 'Big Lie' And Big Liars. There's a media-perpetrated myth that Joe Biden is a moderate; that he's an honest man. He is not, and never has been. He's a politician, a Democrat, who now has the authority of the United States government behind him. The Big Lies are spread daily from the podium of the White House press briefing room. Jen Psaki and her red hair have returned from a CNN contributor gig, and after disseminating lies for the Obama State Department, this "Ginger Goebbels" freely spouts whatever words fit their needs at the moment. Unbound by reality or any challenge of the one they paint daily, even when it contradicts the one they painted the day before, the lies just keep getting bigger. They inherited "no plan" for vaccine distribution? Schools can't reopen unless billions are spent hiring more teachers when all data shows schools are safe? But they're the "party of science"? No lie is too small to tell, none too big to swallow, and none are or will be challenged.
The Media Fawns Over an 'Ascendant Liberal Christianity'. The same media that never tired of questioning Christian support for Trump now rejoices in the corruption of Christianity under Biden. Christians who supported Trump had sold their souls for political gain, the media told us. Reporters churned out endless stories browbeating Christians for giving hypocritical support to that "coarse" libertine. But "progressive Christians" receive no such lectures, even as they discard their faith for the sake of advancing Biden's libertine politics. [...] Trump was the most reliable defender of religious freedom since Ronald Reagan. But what is the religious motive for supporting Biden? There isn't one. Much of his agenda is baldly un-Christian, and he has no intention of protecting religious freedom. The Christians who support him do so for purely political reasons. They prioritize left-wing politics over Christianity.
Biden is planning more ice-cream stories. Slightly inquisitive reporters with no President Trump to kick around, have gotten Joe Biden on the spot. What better, then, than more ice-cream stories? What's Joe Biden's choice of ice cream flavors at this visit to this local shop? [...] [I]n general, news of car crashes through walls, pet rescues, and high school valedictorian service projects tend to form the backbone of much local news, speaking anecdotally. Don't forget the happy talk, or the weather girls in tight dresses. Blue city machine corruption, which ought to be their forte, is not usually spotted, not when the local garden club's doings is likely to draw more viewers. Neither will hard questions of Biden, which is the actual job of any self-respecting news.
Facebook CEO Zuckerberg Praised Biden's Executive Orders: Leaked Video. Facebook CEO Mark Zuckerberg praised executive orders issued by President Joe Biden during his first day in office, newly leaked video from a company meeting shows. "I thought President Biden's inaugural address was very good," Zuckerberg said during the Jan. 21 meeting. "In his first day, President Biden already issued a number of executive orders on areas that we as a company care quite deeply about and have for some time," he said. "Areas like immigration, preserving DACA, ending restrictions on travel from Muslim-majority countries, as well as other Executive Orders on climate and advancing racial justice and equity. I think these were all important and positive steps." The video was leaked to Project Veritas, a nonprofit watchdog, by someone the group described as a Facebook insider.
The Circle Woman: Report Shows Biden Staff Prescreening Psaki Press Briefing Questions. Biden staffers have prescreened reporters ahead of Jen Psaki's briefings to see what they plan to ask the White House press secretary, according to a report from the left-wing Daily Beast. The outlet cited "three sources with knowledge of the matter" and "written communications" that revealed that the Biden administration has "already on occasion probed reporters to see what questions they plan on asking new White House Press Secretary Jen Psaki when called upon during briefings" less than two weeks into the new administration. The report suggests that Psaki would have some idea of what reporters plan to ask prior to formally presenting their questions. Despite that, her "circle back" answers on tough questions have become a staple of her press briefings. It remains unclear which, if any, reporters cooperated with the administration's inquiries. Leaders of the White House Correspondents Association (WHCA) have reportedly urged reporters not to accommodate the administration in that capacity: [Video clip]
Youtube rushes to hide the mass unpopularity of Biden Whitehouse. It's all one giant Psy-Op. The Whitehouse Youtube Channel for the most popular President ever elected is being unliked en mass. Youtube kicked Donald Trump off the "platform", so hordes of fans are tuning into Joe Biden's channel instead, and they're not happy. Joe Biden's inauguration video tally currently stands at 4,300 "likes" and 48,000 "dislikes". Realizing the PR flop that this is, Youtube quietly unlisted the video to hide it from searches, but it's at this link. In newer Whitehouse videos, the downvotes continue. Clearly the Social Media controllers have a problem. One week later, and Youtube don't just unlist the video's — the Swat team has started deleting the deporable votes instead.
SNL is slammed for completely avoiding Joe and Kamala jokes, after four years of making Trump the butt of their jokes. Saturday Night Live completely avoided parodying Joe Biden and Kamala Harris in its first episode since the pair were sworn into office. Hosted by John Krasinki, the first SNL of 2021 managed to not feature either the president or vice president in its skits. [...] The move was blasted online by some viewers who described the show as a 'snoozefest' which is 'too scared of getting canceled'. Others noted how Donald Trump had been the butt of their jokes for the past four years.
When beauty norms meet sucking up to power. There's nothing illegal or unethical about what IMG Models did. However, the New York-based modeling agency that has some of the biggest names on its roster suddenly discovered a hidden Cinderella in our midst: Ella Emhoff, who is Kamala Harris's 22-year-old stepdaughter. The problem with this amazing discovery is that Emhoff is entirely ordinary and seems somewhat scary. It's patently clear that IMG is capitalizing on her stepmother's position, and that's just sleazy. Over the years, IMG has represented people such as Lauren Hutton, Christie Brinkley, the Hadid sisters, and Karlie Kloss — names so big and women so beautiful by any standard that even I recognize them (and to say that I have no interest in the subject is an understatement). And now it turns out that 22-year-old Ella Emhoff is ready to enter that rarefied category of the world's most beautiful and/or striking people.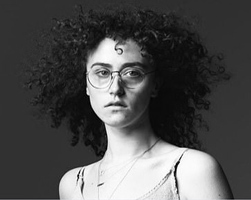 It's All Rigged. I shall continue my Catty Cathy special inaugural fashion coverage today with a special report on Ella Emhoff's unlikely new career as a model for IMG, one of the most prestigious agencies in the nation. Why do you say "unlikely" MOTUS? After all Ella is the daughter of someone rich and famous ( in case you're a cave dweller, Ella is the stepdaughter of VP Kammie) and that is how careers are made in postmodern America. And let's just stipulate to the fact that, unlike Melania, she isn't normally what you'd consider conventional model material. But then, we no longer live in conventional world, do we? [...] Vogue, which could not find time or space for even one article on Melania Trump during her 4 years as FLOTUS has already done two, count them, two, articles on Ms. Emhoff, daughter of the Second Gentleman and stepdaughter to the Veep. But then Melania only spoke English as a second, third or fourth language so she couldn't possibly be as articulate as this young and upcoming 'designer.'
Funny how the party that claims to be for the little guy always supports the billionaires. [Scroll down] I have never seen anyone as dangerous in the White House as Joe Biden in his first nine days as he signs executive order after executive order, some 40 now at last count. He has stacked his cabinet with radical leftists pushing the green agenda to destroy America. He sends out John Kerry, with multiple mansions, a yacht and a private jet, to tell the public that is good for them that he is destroying their jobs. After all, he drove a Tesla from Massachusetts to D.C. On Fox News, I heard left-wing Juan Williams say he didn't really care about Kerry's or anyone else's lifestyle, even as they are dictating how all of us should live our lives. [...] And no matter how often all these supposedly smart cabinet members, as well as Biden himself, his vice president, Kamala Harris, House Speaker Nancy Pelosi, Senate Majority Leader Chuck Schumer, Rep. Alexandria Ocasio-Cortez, and others repeat that we have to get rid of oil and coal to control temperatures and the climate, not one sock puppet at the Washington Post or any other journalist, including at Fox, ask for scientific evidence to support their theory and destructive policies. There is no scientific evidence, so they never ask. They just go along.
This Is Not Normal. [Scroll down] Yascha Mounk of The Atlantic tweets, "It is so nice to have a boring President." Alleged media watchdog Brian Stelter asked this week whether Biden is "making the news boring again," adding, "The Biden White House is clearly a break from the chaos and incompetence of Trump world." For his part, Biden obviously revels in this sort of coverage. This week, his favorite ice cream flavor (chocolate chip) was tweeted out as well as a retweet of first lady Jill Biden's announcement that Champ and Major, the new first pets, had entered the White House. On a personal level, Biden is clearly more "normal" than Trump — although treating Biden, a career politician worth nearly $10 million, as the height of normality is rather stunning. The goal for the establishment media isn't to point out merely that Biden is a sort of American Everyman. It's to use that supposed normalcy to disguise the fact that his agenda is absolutely abnormal.
Biden White House Warns It Won't Allow Questions From Conservative Media. One of the big sea changes in the Trump administration for conservative media came at White House press conferences. President Trump and his people opened up the press conferences from the narrow confines of the White House Correspondents Association and the mainstream media to a range of conservative media. That infuriated the media and the Biden White House is predictably signaling that will come to an end.
Biden Changed His Tune Already. It didn't take long for the lies to start. CNN personality MJ Lee reported last week that an anonymous source told her the Trump administration left the Biden team with no plan for vaccine distribution, they had to start "from scratch." Considering the Trump team was vaccinating a million people per day, and Joe promised to vaccinate 100 million Americans in the first 100 days, Trump's "non-existent plan," at which he was succeeding, sure sounds an awful lot like Joe's. Of course, Joe Biden wouldn't lie, right? Not according to the Washington Post "fact-checker," a guy named Glenn Kessler. He told CNN, "I assume the Biden — you know, I did five years of Obama, and I assume the Biden presidency will be a lot like the Obama presidency, and that they will be responsive, and will be able to quickly back up what they're saying."
Incompetence:
'Circle Back': WH Press Secretary Jen Psaki's Go-To Answer for Avoiding Transparency. It's not really clear what people were expecting in terms of transparency within the new Biden administration. But if we go by the "expertise" of current White House Press Secretary Jen Psaki, people will have more questions than answers for the next four years. In what has already become a noticeable trend, Psaki seems to use the same phrase — "circle back" — over and over when being asked questions about what President Joe Biden and his administration are doing, among other questions. Psaki has basically become a walking meme at this point, and we're only one week into the new presidency.
The Editor says...
Lots of TV news anchors, meteorologists, and field reporters have their own set of "crutch words," verbal tics, and signature catchphrases. Most of them don't even know it, because their co-workers are too polite to tell them about it. But by the time one arrives at the national news media level, those amateurish flaws should have been ironed out.
Buyer's Remorse? Let's Blame the Press. [Scroll down] Evidence of legacy news media propaganda during the four years of the Trump administration are legion. Reporting about the Biden family influence-for-graft business was nonexistent. In fact, Joe's brother and his son received millions of dollars from China, the Ukraine, and Russia. [...] The legacy media didn't bother to mention that Hunter Biden is under federal investigation, and that Joe may be implicated. Hunter Biden's laptop had been abandoned and its contents were legally disclosed. The contents revealed that Joe Biden was actively involved in Hunter's business dealings — even to the point of sharing an office with a Chinese businessman. The laptop even disclosed that a percentage of the business proceeds were to go to Joe. Yet Joe has always claimed he had no involvement in Hunter's business. The legacy media spiked stories on the subject and social media censored anyone attempting to report it.
Biden's White House Considering Banning Conservative Media from Press Briefings. President Joe Biden's press team may move to restrict the briefings held at the White House to liberal mainstream media outlets, if language from the new President's deputy press secretary if more than just talk. "Organizations or individuals who traffic in conspiracy theories, propaganda and lies to spread disinformation will not be tolerated," TJ Ducklo, Biden's deputy press secretary, said in a statement to Politico, "and we'll work with the WHCA to decide how to handle those instances moving forward." Given liberal media figures' extremely wide-ranging definition of "disinformation," it appears possible to likely that any journalist or reporter who is critical of Biden policies "will not be tolerated" at the White House.
Poll: Seven out of 10 voters think U.S. news media will be friendlier to Biden than it was to Trump. A strong majority of American voters think the U.S. media will be friendlier to President Biden than it was to President Trump, according to a new Just the News Daily Poll with Scott Rasmussen. Seventy-one percent of respondents said "the national news media will be friendlier to President Biden than it was to President Trump."
CNN's Brian Stelter Loves the Jen Psaki Briefings, Bigly: '(How Refreshing)'. On CNN's Reliable Sources, host Brian Stelter touted White House briefings in the age of Biden, who pledged fealty to the truth. "Of course, all of this, a contrast to the Trump years. Also a contrast in the press briefing room, where the new press secretary Jen Psaki, previously a CNN contributor, is promising to restore transparency and truth to the podium." The chyron said "(HOW REFRESHING)." It's "refreshing" that a pile of CNN and MSNBC analysts now make their way into the new Democrat administration, where they are automatically assumed to be bringing the "truth."
Biden's Network Lapdogs Go Gaga for His German Shepherds at White House. They were his attack dogs during the campaign, but now that he's President of the United States, the liberal media were Joe Biden's lapdogs. And instead of being on guard like they were during the Trump administration, the broadcast networks (ABC, CBS, and NBC) came when called and rolled over Monday evening as they gushed about Biden's two German Shepherds finally moving into the White House. "In the dog house. The President's beloved German shepherds arrive at the White House," an overly excited Norah O'Donnell announced during the opening tease as she anchored the CBS Evening News. New chief White House correspondent Nancy Cordes gave the story a brief shake as she squeezed it in at the end of a report touting Biden's executive orders.
Ice cream flavors, again! ... and cats: Biden spox Psaki gives 'riveting' Q&A that 'can't be real'. Amidst President Joe Biden's numerous executive orders that he has signed over the last week nixing thousands of jobs and the fracturing of America, his press secretary Jen Psaki on Sunday [1/24/2021] decided to address what is really important: Biden's favorite ice cream flavor and, of course, his cat. Remember how the media scorched President Trump over ice cream? Well, much like Obama, they fawn over Biden's sweet tooth. Psaki took to Twitter to answer a list of questions that were posted online. There were the standard policy issue questions related to the ongoing COVID-19 pandemic. But more newsworthy was the pressing matter of whether it was true the president kept a giant freezer full of ice cream. They also wanted to know his favorite flavor. Other questions centered on the new cat in the White House.
C'mon, Joe. Just a few days into the Biden presidency and the media are already chipping away at the granite on Mt. Rushmore. They may have to stretch the yardstick for statuary fitness if they expect strokes of presidential greatness from number 46. [...] The Biden team has cobbled together a gallery of Obama retreads and a handful of other prominent figures not especially well-suited to their cabinet-level destinations. In Biden's own words, some nominations and appointments are highlighted by focus upon sexual orientation or race. We should be getting used to these offbeat qualifications and standards by now.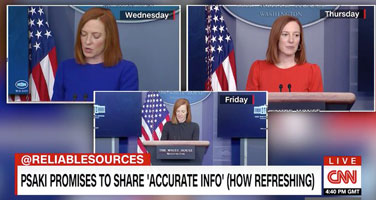 CNN's Latest Chyron May Be Their Worst Yet, but It Gets Even Worse. Brian Stelter's show is hardly known for hard hitting, unbiased journalism given who the host and its frequent guests are. It's one of the most laughable pieces of television on the weekends, reaching levels partisanship that border on parody. Yet, this latest chyron seems a bit excessive. I mean, at least try to keep the mask on, right?
New York Times Slammed for Labeling Joe Biden as 'Most Religious' President. Conservatives slammed the New York Times for labeling President Joe Biden "perhaps the most religiously observant commander in chief" in 50 years in a story published Saturday. Pundits pointed out that former presidents Jimmy Carter and George W. Bush were also known for their outspoken faith. [Tweet] "George W Bush said Jesus Christ was his favorite philosopher and credited Billy Graham with changing his life. Jimmy Carter taught Sunday School. Cmon," pastor and author Daniel Darling wrote on Twitter.
The Editor says...
What about George Washington, John Adams, John Quincy Adams, or Alexander Hamilton?
Today in Hard-Hitting 'Journalism' — CNN Edition. We reported last week on the hard-hitting questions and reports we've been getting from so-called journalists since Joe Biden's Inauguration Day festivities began. Among them were super-important fashion updates on Biden, Kamala Harris, and their respective spouses and speculation as to What It All Meant For the Future. We also heard serious questions from supposedly objective White House press corps reporters at the first official press briefing like "Do you see yourself as promoting the interests of the President or are you there to provide us the unvarnished truth so we can share that with the American people?" and "Will [Biden] keep Donald Trump's Air Force One color scheme change?" Since that time, we've gotten more hard-hitting reporting from the media on the critical things we need to know about the Biden-Harris administration, like when the Biden family's dogs are moving into the White House.
National Review and All its Many Ways of Insulting Conservatives. The writers and columnists at National Review just had a great week. Joe Biden was inaugurated, President Trump is gone, and their writers can scratch off their calendars the upcoming rush week at the Lincoln Project frat house and get back to pretending they are conservatives. It's been four years since they last parroted the Paul Ryan/Mitch McConnell if-only-we-were-in-power shtick, and they made up much lost ground with a slew of articles critical of Biden's first days in office. But prior to that, they collectively unloaded on the Trump presidency in a manner that dropped all pretense of detached objectivism (implausible as it was) and chortled with unrestrained glee. Here is a recap of some of last week's articles: [...]
Get Ready for 4 Years of Media Sycophancy. On Sunday, Jan. 17, Vice President-elect Kamala Harris sat down with Jane Pauley of CBS News "Sunday Morning." Pauley treated Harris to a full-on journalistic massage. At no point was Harris asked a tough question; at no point was Harris treated as anything other than an idol worthy of worship. Perhaps the most awkward manifestation of this sycophancy came when Harris — an extraordinarily and transparently manipulative and mechanical politician — spouted a canned speech about relentlessness. "I was raised to not hear no — let me be clear about it," said Harris. "I eat no for breakfast!" This prompted a spasm of ecstasy from Pauley, who immediately reflected Harris' bizarrely inappropriate laughter with an enormous grin of her own.
Tucker Carlson Triggers CNN by Pointing Out Their COVID Death Tracker Now Frequently Goes Missing. A lot of people have noticed over the last few days that the Wuhan virus case/death tracker CNN kept on display 24/7 under the Trump administration at the very least frequently goes missing or, at the most, has disappeared entirely. It depends on who you talk to and how often the people making the accusations watch the network. Admittedly, I don't have the stomach to watch most of CNN's programmed anchors programming, but when I have this week I, too, have noticed it's not there.
Cozy! WashPost 'Fact Checker' Admits They Won't Count Biden's False Claims. Glenn Kessler and his Washington Post "Fact Checker" squad celebrated their end-of-term count of President Trump's "false and misleading statements" — 30,573. Their level of aggression clearly increased as the term went on, since they announced on January 21, 2019 they had arrived at 8,158 of those — or 26.7 percent of the four-year total. Shelby Talcott of the Daily Caller put the Post on the record explaining what we all could expect: there will be no False & Misleading Claims count for President Biden. [...] But party affiliation matters: there was no False & Misleading Statements count for Barack Obama, and there wouldn't have been one if Hillary Clinton won in 2016.
Now That Biden's President, CNN's COVID-19 Death Counter Appears to Be Gone. If you happened to flip on CNN prior to Inauguration Day, chances are you noticed a COVID-19 tracker chyron that tallied the total cases and death count both globally and in the United States. Now that Joe Biden is president, that chyron seems to have disappeared from broadcasts. [...] Fortunately The Washington Free Beacon anticipated CNN would do this so the outlet decided to pick up where they left off. "4,409 Americans have died from COVID-19 since President Joe Biden took office," the latest update from 9 a.m. on Thursday [1/21/2021] read.
How About a Little Sobriety, Please? Washington's public works department should have built an emergency system of drainage ditches, culverts and tunnels to divert into the Potomac River the torrents of praise, approval and adoration the press poured down on President Joe Biden on Inauguration Day. At one point in the early evening, citizens living in low-lying portions of the city were at risk of drowning in the flash flood of commendations that flowed during the day-long pageant. CNN glowed almost as brightly about the event as a state media would have. It accentuated all of Biden's leading attributes — his modesty; the length of his Capitol experience, where he outlasted some of the building's marble columns; his Catholic faith; his bounce-back from personal tragedies; his love of country; and so on. Biden's perfectly fine if pedestrian speech earned instant accolades from Wolf Blitzer, who jibbered that Biden had put "his soul into his first address."
Why Joe Biden Will Be the Greatest American President Ever! (If You Believe the Media). [Scroll down] He will eventually surpass Castro, Chavez, Lenin, and even Mao in popularity and importance. He is going to open our borders and use the powerful engine of the US economy to end poverty around the world. With Biden in office, it is going to be great. The wind is at his back and the path is being cleared by the media, Wall Street and Big Tech. The Media are both his fawning lapdogs and his ferocious bulldog protectors. There shall be no serious dissent. Peace at last. Antifa and BLM are going to stop rioting and burning cities (Mission accomplished!). The Corona virus (or at least the lockdowns) will immediately start to fade. The Democrats will release the $2,000 checks to everyone that they were withholding so Trump would not get credit. And then there is another check on the way. And millions of student loans are going to be paid off. The vast majority are going to be ecstatic.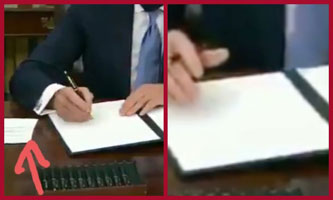 Video And Images Allegedly Show Joe Biden Signing Blank Pages During His First Day In Office. President Joe Biden signed more than a dozen executives orders on his first day in office, some of which reverse former President Trump's policies. Biden signed a total of 15 executive orders, which his transition team announced ahead of his inauguration as part of the new administration's plan for the first 100 days in the White House. [...] But what caught the eye of the internet sleuths is the allegations that Joe Biden was signing blank pages. [Video clip] The mainstream media protected the newly elected President and didn't write a thing about these allegations.
Washington Post caught scrubbing Kamala Harris 'prisoner' story. The Washington Post scrubbed an unflattering anecdote of Vice President Kamala Harris crassly laughing at the thought of a prisoner begging for a drink of water — then backtracked Friday after an eagle-eyed reporter took notice. Harris made the comments in a July 2019 Washington Post profile about her relationship with her sister and trusted aide, Maya Harris, when the former California prosecutor was running for president. But that story disappeared from the site — with its link redirecting to a newer version published on Jan. 11, sans anecdote. In the opening of the 2019 piece, Harris described her grueling schedule on the campaign trail — and the respite she got from SoulCycle sessions and walks on the beach with her husband.
WaPo Erases Unflattering Anecdote About Harris From 18-Month-Old Story. [Scroll down] One of her big liabilities with the left during the 2020 primary was her record on criminal justice as attorney general of California. Mocking starving prisoners, however jokingly, is a reminder of that liability. And now it's gone from the WaPo archives. Fancy that. Amazingly, WaPo's spokesman admitted to Boehm that the piece had been "repurposed and updated" but noted that the original piece remained available in print. Okay, but... why isn't it still available in the Post's archives? They could have kept the original story under its old URL and then created a separate URL for the updated story. They're owned by Jeff Bezos. They're not wanting for server space. There's no reasonable conclusion to be drawn except that WaPo deliberately whitewashed the earlier Harris profile because liberals are now invested in her success as vice president. I'd consider it dubious if they merely added material to an old story without deleting anything and didn't note that fact somewhere, but to redact information surreptitiously without admitting it is insanely unethical.
Washington Post scrubbed unflattering Kamala Harris story from site, restored it after backlash. The Washington Post removed an unflattering tidbit about Vice President Kamala Harris from a 2019 feature and republished a new version of the story that is friendlier to the Democratic media darling — but eventually restored a link to the original after widespread backlash. Reason reporter Eric Boehm noticed the edit and took the Post to task in a scathing breakdown of the situation. "When The Washington Post published a 2019 campaign trail feature about then-presidential hopeful Kamala Harris' close relationship with her sister, it opened with a memorable anecdote in which Harris bizarrely compared the rigors of the campaign trail to... life behind bars. And then proceeded to laugh — at the idea of an inmate begging for a sip of water," Boehm wrote, calling it "an extremely cringeworthy moment" that painted Harris in a negative light.
MSNBC host admits 'Trump would be getting crushed' if he had done what Joe Biden did. I never expected that an MSNBC host would deliver outright admission that the media have a serious double standard and would attack Donald Trump for actions that Joe Biden just took to no approbation at all. Has someone spiked the coffee pot at the MSNBC's DC studios with sodium thiopental? Or is it that with Democrats in charge of all 3 elective organs of the federal government, it is deemed safe to let a little bit of truth out?
CNN ripped as Biden 'PR shop' after 'scoop' that he inherited no vaccine distribution plan from Trump. CNN is under fire for publishing an anonymously sourced "scoop" that the Biden administration will have to "build everything from scratch" because there was no Trump plan to distribute coronavirus vaccines, when reality tells a far different story. A CNN producer pushed the story from reporter MJ Lee as a "great SCOOP" on "how bad this situation is with vaccine distribution." The story quoted anonymous figures with knowledge of the administration's COVID-related work as saying there was "nothing for us to rework" and there was no plan at all: "just further affirmation of complete incompetence." Politico editor Sam Stein said the assertions in the story were "not true," as a distribution plan was part of the Trump administration's Operation Warp Speed. "Biden folks are spinning here or trying to lower the bar strategically," he tweeted. "There was, indeed, a plan from Trump. I listened in on govs calls on vaccine distribution. The plan had obvious shortcomings[,] but to say there's nothing to rework is not true."
That CNN story claiming there was no vaccine distribution plan was Biden camp spin. [Scroll down] Dan Diamond from the Washington Post revealed that people from the Biden camp had been making this claim to reporters but said it looked to him like an obvious attempt to lower expectations. [...] If the difference between no plan and the Biden plan is 88,000 doses per day, that's not much to brag about is it? When Biden was asked about this today by an AP reporter he replied, "Come on, give me a break, man."
Who shot Ashli Babbitt? America knew, within a couple of hours, the names of Lee Harvey Oswald, John Hinckley, Marc Chapman, Shirhan Shirhan, James Earl Ray, and James Hodgkinson. (Or did you already forget that James Hodgkinson shot House Minority Whip Steve Scalise and three others on a softball field, in an attempted mass assassination of members of the House GOP caucus?) But after searching the Internet for a few hours, there only remain questions, and no answers about Ashli's shooting. My only assumption can be that the hard facts concerning the shooting are so egregious, and so threatening to the incoming Democratic Congress and new Biden Administration that the American people are once again being treated as mushrooms; we are kept in dark and fed piles of stinking manure. Here are few questions a lot of Americans would like answered.
• What is the name of the federal employee that pulled the trigger and shot an unarmed American civilian?
• What federal agency did the trigger-puller work for? Many allegations from both the left and right say the trigger-puller was US Secret Service, not Congressional Police. We just don't know.
• Has there been a preliminary investigation by the United States Attorney for the District of Columbia (who serves as DA for the District), the Capitol Police, or the FBI? What are the results?
• Is the trigger-puller back on full time duty? Did he or she make a taped statement the day of the shooting? Who was in the room during the statement? Who has custody of the statement?
• Was there an autopsy performed on Ashli Babbitt? Who performed the autopsy? When will the finding be released?
• Was the crime scene sealed and the physical evidence catalogued?
• What agency processed the crime scene? FBI, Capitol Police, or DC police?
• Most witnesses indicated that the bullet was a "through and through" and exited her body. Has the bullet been recovered?
• What was the caliber of bullet?
• Has the spent shell casing been recovered?
• Has the trigger puller's weapon been tested against the recovered bullet?
Ten of millions of Americans have hundreds of questions about the most watched political shooting of the twenty-first century. Not surprisingly, the American mainstream media remains irrationally incurious. After all, what loyal lapdog would bite the hand that feeds it?
Hail To The Thief. On a cold, windy day with a small group of spectators watching from behind barbed wire, Joseph Robinette Biden Jr. swore another in a long series of false oaths before his motorcade passed between a long row of soldiers with their backs to him looking outward for threats. [...] There were no crowds, just soldiers. After the military and police contingent, the second largest group there for the inauguration weren't Biden's civilian supporters, but his propagandists. With few people, the media had to work twice as hard to manufacture the illusion that this was a popular leader taking office instead of a usurper imposed by Amazon, Google, Facebook, and the rest of the political, cultural, and economic oligarchy which owns the media on America. CNN, a subsidiary of AT&T, had already gushed about, "Joe Biden's arms embracing America". MSNBC, a subsidiary of Comcast, compared Biden to God. "He heals the brokenhearted and binds up their wounds." The only wounds being bound up were those of the ruling class which had temporarily lost electoral power to an army of flyover country workers and peasants, only to reclaim it with sedition, wiretapping, abuse of power, billions of dollars, and soldiers in the street.
MSNBC Gets Weak Knees Over Biden's Inauguration. It was a day for the ages in the lives of the liberal media. With Wednesday's inauguration of President Joe Biden and Vice President Kamala Harris, one could have been mistaken if liberal journalists deemed January 20, 2021 the greatest day of the lives, topping anything they've ever experienced. Over on MSNBC, they completed their transformation from a network of hate for the President to one of unflinching admiration and promises of uncritical analysis. Following President Trump's 2017 inauguration, MSNBC insisted that it reeked of anti-Semitism, "Hitlerian," and it was "hard to hear" "very few olive branches."
4 Years of This: Here Are Some of the 'Hard-Hitting' Questions Asked at First Biden Press Briefing. As expected, the first official day of Joe Biden's presidency has been chock full of excessive media drooling, and included Very Important fashion updates about Biden, Kamala Harris and their respective spouses, as well as much swooning and swaying over talk about how Biden will supposedly "heal and unify" the nation. Sadly, when it was time for mainstream media reporters to get down to the serious business of actually asking the Biden administration the tough questions they've promised they will, what we saw was the exact opposite of the belligerent nastiness that was frequently on display from the "objective" White House press corps during their highly combative exchanges with Trump White House press secretaries like Kayleigh McEnany, Sarah Sanders, and Sean Spicer. Instead, these are some of the "hard-hitting" questions asked of Obama administration alum and Biden press secretary Jen Psaki at the first Biden White House press briefing: [...]
Journalists Celebrate The End Of Trump's Presidency, Shower Joe Biden With Praise. Coverage of the presidency changed quickly when Biden was declared winner of the 2020 election in November. Members of the press touted Biden's "delightfully boring" administration, obsessed over the return of pets to the White House and pondered about his socks, among other fluff pieces. Inauguration Day proved no different, with the media openly praising the new president and giving Americans a continued taste of what the next four years will likely look like. At CNN, correspondents had a lot to say about Biden. CNN White House correspondent Kate Bennett made sure to tell viewers that Biden was wearing Ralph Lauren while White House correspondent John Harwood made several comparisons to former President Donald Trump's time in office. Trump, Harwood wrote, represents "lies," "ignorance," "amorality," "cruelty" and "corruption." Biden, on the other hand, received glowing reviews, with Harwood writing that he represents "truth," "knowledge," "decency," "empathy" and "public service."
"This is Such a Good Question!" — WH Press Sec When asked if Biden will Change the Paint on Air Force One. Joe Biden's White House Press Secretary Jen Psaki held her first press briefing a few hours after Biden was sworn into office and it's all rainbows and unicorns. A brave reporter asked Psaki if Joe Biden will keep Trump's Air Force One color scheme. "This is such a good question!" Psaki said smiling. "I have not had the opportunity to dig into that today..." Rather than ask questions about the investigation into Hunter Biden's money laundering scheme and how Joe Biden turned his son into a bagman, the reporters ask about paint.
'Celebrating America' concert was just another Joe Biden ad. On his Inauguration Day, President Biden was able to wedge in one last campaign ad. In place of the usual inaugural ball coverage — you know, a nice ballad from Beyoncé while the president and first lady slow dance — we got a celeb-stuffed, sober concert called "Celebrating America" that aired on ABC, CBS, NBC, CNN, and MSNBC in primetime. Hoping that Rachel Maddow would sing "You're A Grand Old Flag" while twirling flaming batons, I was disappointed by the less exciting, but just as transparent 90-minute program. The evening was little more than a self-righteous PR opportunity for the new administration.
Words of Division. Joe Biden's inaugural speech as 46th president is predictably being hailed for its "unifying" message. And just as predictably, his invocations of the divisive bromides of the identitarian Left are being swept under the rug. According to Biden, we are a "great nation" and a "good people." But we also oppress minorities with an ever-rising fervor. "Growing inequity" is among the greatest challenges facing the country, according to Biden, along with the "sting of systemic racism" and encroaching "white supremacy." Only now are we confronting "a cry for racial justice, some four hundred years in the making." One might have thought that more than 50 years of civil rights legislation; the banishing of Jim Crow segregation; the ubiquity of racial preferences throughout corporate America, higher education, and government; trillions of dollars of tax dollars attempting to close the academic achievement gap; and the election of black politicians by white voting districts would have reduced inequity, not increased it. But to Biden's speechwriters, steeped in academic victimology, racial inequity is always with us, requiring constant remediation from government.
Left-Wing Journalists Suddenly Have a Problem With Free Speech. As President Joe Biden took office Jan. 20 with calls for unity, his allies in the mainstream media are beating the drum for squashing political dissent, large or small, and keeping it from being heard by the American people. It's amazing how "Resist" — once the proud motto of progressive activists — has instantly been turned on its head with the changing political winds. It seems that "resistance" is now "insurrection," to be smashed by any means necessary. And these calls are being led not just by liberal activists, but also by journalists, people who should be expected to be champions of free speech. MSNBC host Nicolle Wallace suggested, without irony, that perhaps more needs to be done by tech companies to suppress news outlets that peddle content that — and here she was quoting New York Times columnist Thomas Friedman — "divides and enrages" over "more authoritative news sources."
TV Journalists See Sunshine and Rainbows Throughout Biden's Inauguration. It's not as though anyone actually expected TV newsrooms across America to cover today's inauguration objectively. But boy, did they lay it on thick. The praise for Biden's inaugural ceremony began well before the event actually kicked off, with CNN political director David Chalian remarking the night before that the lights lining the National Mall resembled "extensions of Joe Biden's arms embracing America." That preposterous assessment was matched by numerous equally absurd statements from Chalian's colleagues and counterparts on Wednesday. To see the most nauseating coverage of President Biden's inauguration, watch the video below: [Video clip]
Now They Tell Us! Politico on Biden's Cognitive Decline. [Scroll down] Now... "There are many troubling things about this story. Biden forgetting part of a stump speech is bad enough, but this is an incident that took place last year, but has only come out now. Biden's handlers kept it under wraps until now." Now they are free to let it out. Now they are free for Politico to run with this story. "How many other examples of Biden's cognitive decline from the 2020 campaign have been covered up?" We have to think quite a few. Now, if this example was leaked to the media earlier, they didn't report on it. Obvious question, why not? Well, they were covering up for Biden. We don't need to delve deep into this. They were not reporting anything negative about Biden. But now they are. On the day before his inauguration. Well, on the day of his inauguration.
Smug NBC, CNN bigshots report 'petty' Trump didn't offer Air Force plane to Biden. It was fake news.. NBC News' Kelly O'Donnell and CNN's April Ryan both falsely reported that President Trump did not offer an Air Force plane to President-elect Biden to arrive in D.C. for his inauguration. Biden instead, chose to charter a private plane with a generic paint job. CNN's Jake Tapper, O'Donnell, and Ryan labeled Trump as childish and petty for not doing so, but it was Biden who made that choice. O'Donnell tweeted: "Arriving on a private charter aircraft with a generic paint job instead of the customary use of an Air Force plane for an incoming president is among the many courtesies not extended to the new president by the departing one." The tweet is still posted and has not been deleted.
Paul Krugman Gets Disturbed that Band Played This Song for Biden During Inauguration. One thing that never ceases to amaze is how Paul Krugman has a job anywhere when he is so continuously wrong. No question that on this site we have been fond of pointing out his many faux pas and foibles. But sometimes they're just so stunningly dumb, it astonishes even us. Krugman was losing his mind, swooning all over Joe Biden and Kamala Harris today.
The Media Finally Notice Joe Biden's Dementia, Sort of Anyway. Isn't this timing just perfect? On the day of Joe Biden's inauguration, the media are finally offering reports that offer a glimpse into his dementia ridden world. This is a man who can't remember where he's at half the time, much less is he capable of actually leading the country. Here's Politico noting his decline without realizing they are noting it. That or they are simply unwilling to admit the real reason. [Tweet]
Nets Salivate Over 'Biden's Big Plans' to 'Shock the Political System'. On Monday [1/18/2021], the network morning shows were eagerly awaiting President-Elect Joe Biden's inauguration as hosts and correspondents touted his laundry list of leftist agenda items he planned to enact by fiat in his first few days in office. Of course none of the broadcasts actually labeled the proposed executive actions as liberal, but merely as an effort "aimed at reversing some of President Trump's most controversial policies." "President-Elect Biden lays out an ambitious agenda. What Americans can expect in his first 100 days in office," co-host Robin Roberts proclaimed at the top of ABC's Good Morning America. Minutes later, correspondent Mary Bruce excitedly announced that Biden's series of controversial unilateral orders were "intended to sort of shock the political system[.]"
Chris Wallace on Biden's Speech: 'This Was the Best Inaugural Address I Ever Heard'. The first impression of President Joe Biden's inauguration speech that Fox News viewers received on Wednesday was from anchor Chris Wallace, who uniformly praised it as "the best inaugural address" he has ever heard. Following Biden's powerful address in which he declared "democracy has prevailed" and called upon Americans to "end this uncivil war," the 73-year-old Wallace turned to his Fox colleagues and likened it to all the other presidential speeches he's witnessed over the years, including that of President John F. Kennedy in 1961. "I thought this was the best inaugural address I have ever heard," he flatly stated.
Liberal Media Immediately Backhands Melania; Says Jill Biden Will "Bring Fashion Back" To The White House. The mainstream media believes that swapping out a 50-year old super model with a 69-year old lady is going to "bring fashion back" to the White House. Yes, really. Refinery29 published an article titled "Dr. Biden is bringing American fashion back into the White House starting with this subtle sparkly coat"
CNN's Chalian: Lights on Reflecting Pool Like 'Extensions of Joe Biden's Arms Embracing America'. CNN's political director David Chalian said Tuesday during of the inauguration of President-elect Joe Biden that the lights set up around the Reflecting Pool at the National Mall to remember the 400,000 Americans who have died of COVID-19 are like "extensions of Joe Biden's arms embracing America." Chalian said, "The contrast on display tonight was so stark. I mean, those lights that are just shooting out from the Lincoln Memorial along the Reflecting Pool, it is like almost extensions of Joe Biden's arms embracing America."
CBS: 'So Many' Are So Proud of Kamala Harris: 'How Will You Support Her?' The abrupt switch from media attack dogs to stenographers for power was always going to be jarring. But get ready for "democracy dying in darkness" giving way to "everything is swell." CBS This Morning on Monday [1/18/2021] cheered on Kamala Harris by talking to the Vice President-elect's former sorority sisters. The full-on puff piece featured Gayle King insisting that "so many" are so proud of the Democrat. Of course, no mention was made of just how liberal Harris is. Instead, reporter Michelle Miller asked questions like this: "How are you going to support your line sister as she becomes vice president?"
The Press Suddenly Discovers Positive Pandemic News on the Eve of Inauguration Day. Joe Biden is poised to have one of the breeziest Presidential terms in history. The man has not even been sworn in and the press has been flush with beatific coverage of the man, from his socks to his food preferences and we have been given all assurances his administration will be most successful in everything from economics to global harmony. It has been a running gag that the media is poised for a 4-year vacation, but the humor is muted somewhat by the very reality it appears true. They seem to be pre-writing stories for the coming years. One other example is that the tone of coverage on various issues is already shifting not only before our eyes but before Biden has even taken the office. Case in point — there is suddenly positive news to report surrounding the pandemic!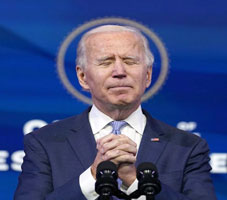 Biden says Capitol was stormed by 'riotous mob,' 'domestic terrorists'. President-elect Joe Biden said on Thursday that the supporters of President Trump who attacked the Capitol a day earlier were "a riotous mob" and "domestic terrorists." And Biden charged Trump with "inciting a mob to attack the Capitol," which he said was the culmination of four years of "unrelenting attack" by the president "on the institutions of our democracy."
Mother Jones includes Biden sexual assault accuser Tara Reade in list of 'top ten lunatics of 2020'. The progressive magazine Mother Jones included Tara Reade, who accused Joe Biden of sexually assaulting her, in an article published on New Years' Eve titled "Top Ten Lunatics of 2020." "She insisted that Joe Biden had sexually molested her in some way, but now it appears to have been just a fantasy made up by a habitually unreliable person," wrote contributor Kevin Drum. Reade, a former staffer for Joe Biden's Senate office, accused Biden of sexually assaulting her on Capitol Hill. Her testimony came under intense scrutiny after she changed details of the alleged assault, and it was later revealed that she had a history of fraud. Critics of the #MeToo movement have argued that the treatment of Tara Reade amounts to a double standard by the media, whereby Republicans and conservatives accused of sexual assault are assumed to be guilty whereas Democrats facing similar accusations are given the benefit of the doubt.
Maria Bartiromo Targeted for Challenging the Narrative on Election Fraud. Because access to clear communications and truthful information is essential to the struggle to defend the republic, media organizations complicit in crimes and abuses committed by U.S. spy agencies and Democratic Party operatives are targeting Fox Business/Fox News journalist Maria Bartiromo. The aim is to damage her reputation and scare off others who might also challenge the consensus shaped to serve the interests of the increasingly powerful U.S. oligarchy. Articles in the Washington Post and Los Angeles Times published the same day last week joined earlier attacks by CNN and high-profile bloggers at HuffPost, Vox, Business Insider, and elsewhere to signal it was open season on Bartiromo. On their telling, she has lost journalistic credibility by interviewing President Donald Trump and his allies regarding their allegations of election fraud. The immediate goal of the anti-Bartiromo campaign then is to derail her reporting on the widespread irregularities and abuses seen during the 2020 election cycle. In swarming Bartiromo, the media was in effect defending itself, for it is a central component of the manifest fraud that helped Joe Biden to the White House.
The Editor says...
Joe Biden isn't in the White House just yet.
WaPo's reporting on Kamala Harris' marriage is painful prelude to the next four years. An essay in the Washington Post about the "inspirational" relationship between Kamala Harris and husband Doug Emhoff has prompted justified ridicule on social media. The obsequious, nearly 1,000-word article, which is almost painful to read or even skim, claims that people who see Harris's alleged "struggles" in themselves also have hope that they too can "find a long, loving partner" in middle age. Citing Harris's memoir that probably only the journalist read or even was aware of, the Post writer praises the couple's courtship process "that offers hope, inspiration, and a little instruction." Harris and her husband share a mutual admiration that causes the Democrat vice presidential nominee to "beam" whenever she mentions his name, the article notes.
Why an Editor's Open Letter to Journalists Got Totally Wrecked in a Single Twitter Thread. [Scroll down] Journalists were rightfully mocked for the last four years for being outright terrible at their jobs. The bias was always there. During the Trump administration, it reached absurd new heights. There wasn't even a half-[hearted] attempt at hiding it. Journalists should get a pat on the back for doing their job. What job? Burying the shoddy and reportedly corrupt dealings of the Biden family, how Hunter Biden got rich off his daddy's name because he's a perpetual screw-up, how he didn't report $400,000 from an unethical arrangement in Ukraine, and how he's under investigation for tax fraud. Oh, and Joe is involved too. Some of these deals, like the one in China, were being hashed out when Joe was still VP under Obama. It's enough of a story that 17 percent of Biden voters said they wouldn't have voted for Corrupt Joe in the 2020 election if they had known about this pile of dirty laundry.
Everything considered bad by the 'Animal Farm' liberal media before Nov. 3 is now good. Media cross-examination of the president is now an out-of-date idea. The time for gotcha questions has come and gone. Why ask a president whether he is a traitor or a crook when you can focus on his favorite flavor of milkshake or compliment him on his socks? The old pre-election truth was that new vaccines take years to develop. The new postelection truth is that it's no big deal to bring out new vaccines in nine months. Impeaching a first-term president after his first midterm election — on a strictly partisan vote, for political reasons other than the U.S. Constitution's "treason, bribery, or other high crimes and misdemeanors" — is now a terrible idea. [...] It would be unprofessional for university psychologists and physicians from a distance to diagnose, in pop fashion, the mental faculties of a President Biden. Certainly, there would never be talk about Department of Justice officials contemplating wearing a wire as part of an entrapment scheme to remove a President Biden through the 25th Amendment. That would almost constitute a coup attempt.
Print this article and save it before it goes down the Memory Hole.
Yes, It Was a Stolen Election. As Americans continue to watch the 2020 election controversy unfold, the very same publications that spent years lying about President Trump's "Russia collusion" are once again telling us what we are dutifully supposed to believe. The Los Angeles Times, for instance, assures us that Trump's "baseless" and "dangerous" claim "that the election was rigged to benefit Joe Biden" has been thoroughly "debunked." The New York Times proclaims that "Trump's false election fraud claims" are founded upon nothing more than a "torrent of falsehoods." Sneering at "how Trump drove the lie that the election was stolen," The Washington Post mocks Republicans who "are still pretending that there was election fraud." And CNN.com warns that "Trump's obsession with overturning the election" has now begun to spiral "out of control." But so much for what the comic books have to say. What follows is a compilation of vital facts that will demonstrate, to anyone interested in following the truth wherever it may lead, that the 2020 presidential election was indeed rife with fraud, and that Joe Biden, if he should in fact be sworn into office next month, will be an illegitimate president from the very start.
Here Are the Ten Worst Softball Exchanges from the Colbert/Biden Interview. This, dear NewsBusters readers, is what counts as journalism from our liberal media in 2020. On Thursday night [12/17/2020], CBS's The Late Show host Stephen Colbert spent an hour fluffing the pillows of President-Elect Joe Biden and incoming First Lady Jill Biden. Whether it was defending Jill Biden's doctorate in English, lamenting Hunter Biden being under federal investigation, nudging Biden from the left to screw Republicans and be openly partisan, Colbert closed out 2020 with one of the suck-ups of the year.
Stephen Colbert's embarrassing interview misses the mark. After a blackout on the Hunter Biden scandal before the election, it often seems like the media is struggling to offer the appearance of coverage without actually asking questions that could be damaging for the president-elect. That view of many was reinforced in the first interview with Biden about his son since the November election. It was conducted by CBS' Stephen Colbert, host of "The Late Show with Stephen Colbert." Biden has refused to answer questions on the expanding scandal surrounding his son's China connections so this was a big deal. However, the president-elect's team arranged for the all-important question to be asked by a comedian on a late-night show.
Systemic discrimination? In the U.S.? Study after study shows that the mainstream media have presented President Trump and stories surrounding his administration in a negative light roughly 90 to 95 percent of the time, while fawning over Joe Biden and former President Barack Obama. Almost every newspaper and magazine features page after page of smears, innuendo and outright lies about Trump and his every action, while proffering glowing coverage on his political opponents. And then there is Big Tech. The giant social media companies have made a mockery of Section 230 of the Communications Decency Act (CDA), which indemnifies "platforms" from potential legal issues stemming from their content. They have eagerly utilized the benefits the act grants to those entities supposedly not censoring and discriminating content, while continually censoring and discriminating against content, including that of the President of the United States, in the manner of a partisan "publisher."
CNN's April Ryan To Other Journalists: Stop Exposing Leaks On Biden. CNN analyst and American Urban Radio Networks White House correspondent April Ryan wants the name of the person who taped a meeting between Joe Biden and civil rights leaders this week and then leaked the tape to the press. According to Ms. Ryan, that person has some 'splainin' to do. Her message is clear — during the Biden administration, there must be no unfavorable reporting provided by the use of leaks to the press. Ryan was tweeting about the leaked tape that brought to light Biden's frustration about the defund the police message coming from so many Democrats, especially the far-left progressive wing of the party. He told the civil rights leaders that the defund the police message allowed Republicans to "beat the living hell out of us" in down-ballot races. He was pointing out that though he won the presidential election, Republicans flipped seats in the House and increased their numbers in state and local offices. The blue tsunami that we were promised in the November election never happened.
CNN's Resident Potato is Really, Really Upset the Hunter Biden News is Being Covered. CNN's Brian Stelter does indeed resemble a potato, but it's what comes out of his mouth that will make a grown man go cross-eyed in disbelief. The supposed media reporter is obsessed with Fox News, and you'll be less than shocked to learn that his take on the Hunter Biden affair isn't that the media failed to cover and eventually covered up what was a huge story. It's that those dastardly Fox News devils are covering it now.
Here Are All The Times Joe Biden Falsely Claimed Stories About Hunter Were Debunked. For months, former Vice President Joe Biden has vehemently denied that any evidence exists that his son, Hunter, was involved in criminal activity or wrongdoing. These denials now look like dishonesty after the Biden-Harris transition team released a statement Wednesday [12/9/2020] acknowledging that Hunter is indeed under investigation by the Department of Justice for potential tax crimes. "I learned yesterday for the first time that the U.S. Attorney's Office in Delaware advised my legal counsel, also yesterday, that they are investigating my tax affairs," Hunter wrote in the statement. This news, as Federalist Editor Mollie Hemingway pointed out, is not actually new and was reported before the election, but was purposefully suppressed by gatekeepers like Facebook, Twitter, and corporate media outlets who ignored the reporting on Hunter Biden's affairs.
Politico Reporter Drops Info on Investigation Involving Biden's Brother Jim, Conservatives Eat Them Alive for Prior Spinning. One of the things that's been most infuriating about media like CNN suddenly "discovering" the story of allegations and recognizing Hunter Biden was under investigation by federal authorities was that all this information was readily available before the election. But MSM chose not only to sit on it but actively suppress it from coming out and informing the public. Now that they believe Joe Biden has won the election, whoops, suddenly, the information comes out.
The Media Are Suddenly Interested in Hunter Biden. You may have noticed a shift yesterday after news that Hunter Biden was under federal investigation broke. Suddenly, as if the memo had gone out, the media were interested. Multiple mainstream media outlets, including CNN and Politico, put out reports actually saying that Hunter Biden's issues were worse than his father's transition team statement let on. That may be all well and good, but no one should forget how these "journalistic" outfits treated the very same story when it could have cost Joe Biden the election. We know about the censorship of the New York Post, but it wasn't just that. News outlets also actively tried to discredit the story despite having no evidence it was false and ample evidence it was true. In fact, as I reported yesterday, it's been known since late October that Hunter Biden was indeed under investigation. Not a single member of the mainstream media reported it. They will now try to act as if the latest admission by the Bidens somehow constitutes this as new.
Joe Biden's dog story turns out to be a fish tale. In the original retelling of the dog story, Biden was rough-housing with one of his two German Shepherd (a man's dog!) three days after Thanksgiving and slipped. But those details, it turns out, were embellished, as the president-elect now acknowledges.
Joe Biden: Unity, Fraud, and Power. Biden's lickspittles in the legacy corporate media have no power to anoint him president-elect. For him to accept such a designation, much less draw up a fraudulent "office" bearing that name, promotes disunity, not unity. If Joe Biden truly wished to unify the country, he would wait until the vetting process played itself out in the six disputed states where widespread, substantiated allegations of vote fraud have been made. Only then, if Joe Biden were interested in unity rather than his own political power, would he take that step.
Did Biden Just Say the Quiet Part Out Loud? 'I'll Develop Some Disease and Say I Have to Resign'. Joe Biden did an interview with CNN's Jake Tapper, with Kamala Harris in tow. As expected, there were no particularly tough questions. Time for the media to go into their slumber and/or coddling of Democrats. As we reported, Biden declared that he would ask for people to wear masks in his first 100 days. Stunning and brave. And how is this different from what we've been doing for the last 262 days? Biden also detailed how he supposedly broke his foot while playing with his dog. [Video clip] But Joe being Joe, Biden still managed to get in some strange comments anyway, despite it being a largely softball interview, with Jake Tapper incorrectly addressing Biden as "Mr. President-elect."
James Woods exposes dozens of local news shows reading from the same (Biden) script. It's no secret that I admire James Woods for his insight, artistry, and vigor. His Twitter account (I don't yet see him on Parler) is a continuing source of inspiration for its concise, often humorous, commentary on the political scene. He's done it again! This time, with a video that effectively raises the chilling reality that local TV news across the country has been co-opted into dutifully mouthing the same scripts, written to indoctrinate the public with leftist propaganda. In this case, beware of "disinformation" (from you know who), cloaked in self-righteousness. By combining the voices of multiple TV broadcasters on their respective stations into a chorus, with a collage of their images, this tweet exposes a genuine scandal in an impactful way.
GOP-bashing, softball questions take center stage at Biden's first presser as president-elect. Joe Biden took questions from reporters for the first time since being projected as president-elect, but the questions that were asked were primarily focused on knocking President Trump and Republican lawmakers, who have largely not acknowledged the current outcome of the 2020 presidential election. After his remarks defending Obamacare as the signature Obama-era legislation has made its way back to the Supreme Court, the soon-to-be 46th president didn't exactly face a tough grilling from reporters.
The Corporate Media Ponders a Post-Trump Era and They Are Worried. Some of the same outlets that got eyeballs and clicks during the 2016 election and continued to accumulate views by being rabidly anti-Trump for four years are worried. Or at least contemplating what their strategy should be going into what is already a very boring Biden era. His speech following the Electoral College vote was full of platitudes yet received drooling coverage from the corporate media.
How NBC News Helped the Biden Campaign Ruin an Innocent Man and Bury the Hunter Laptop Story. Hunter Biden was the October Surprise that wasn't. A report so explosive, so potentially damaging, so dangerous for national security that it should have destroyed Joe Biden's bid for the White House. In any other election, fleets of investigative reporters would have been unleashed to verify the claims in the report. Instead, in the ultimate expression of Trump Derangement Syndrome, a major media company set out to personally destroy the man who they thought put the report together and thereby discredit the report to the point that the entire media complex in America took turns ridiculing the story instead of investigating it. The results could have dire implications for national security.
Hunter Biden cover-up was the lie of the year. The devil had a good year that could end in the demise of our constitutional republic. If it does it will be based on many lies, but the biggest lie is what the media failed to report. [...] But the biggest lie was the story not told about Hunter Biden. A laptop he owned contained details of the bribes he collected while his father was vice president. Only the New York Post was brave enough to publish it. Democrats immediately moved to have the story banished. Twitter blocked the Post's account in an attempt to stop the Post from publicizing its blockbuster story. Oh, Hunter making money off his father's position was not news. He had done that all his adult life. MBNA, a credit card company, paid him off when his dad was in on the committee re-writing bankruptcy laws.
The Stealing of the Presidency, 2020. The left-wing news media didn't just poison the information environment with their incessantly negative coverage of President Trump going into the 2020 election. They also refused to give airtime to important arguments of the Republican campaign — both pro-Trump and anti-Biden — which meant millions of voters cast their ballots knowing only what the media permitted them to know about the candidates. [...] This lack of information proved crucial: One of every six Biden voters we surveyed (17%) said they would have abandoned the Democratic candidate had they known the facts about one or more of these news stories. A shift of this magnitude would have changed the outcome in all six of the swing states won by Joe Biden, and Donald Trump would have comfortably won a second term as president.
The Babylon Bee NAILS the Biden-Media Love Affair. After watching four years of the so-called "mainstream" media's relentless and often brutal onslaught against all things Donald Trump morph into "Mr. Biden, Mr. Biden, what flavor did you get?" as ol' Joe was grabbing a milkshake with his granddaughter. [...] No doubt about it: The love affair between Joe Biden and the fawning media is game on.
Video: TV Journalists Flat-Out Lying About Hunter Biden's Laptop. For almost a week, liberal cable and broadcast networks have ignored the FBI saying it has "nothing to add" to DNI Ratcliffe's assessment that the alleged Hunter Biden laptop is not part of a Russian disinformation campaign. Despite these statements from both Ratcliffe and the FBI, TV journalists continued to warn viewers that the entire story looks like a Russian intelligence op. The media have been defending Biden and his son from the President's attacks for as long as Trump has been making them. Just over a year ago, when allegations surfaced that Biden had interfered in Ukrainian politics for personal gain, journalists and reporters insisted tirelessly that there was "no evidence" that the former Vice President "had done anything wrong." [Video clip]
Actionable News. [A] study that shows even with Democrat cheating, Trump would have trounced Joe Biden at the polls if the "news" media had just been reporting actual news to their audiences. In a survey of Biden voters in seven swing states, one in six declared they wouldn't have voted for Biden (and in some cases would've voted for Trump) if they had been aware of major news stories which somehow (ahem) had been omitted from mainstream newscasts and censored by social media sources. Here are some of the main things that Biden voters didn't know (and which they now say would have influenced their votes). In each case, had the voters known even one of these stories, Biden would have lost.
Time picks Biden and Harris for Person of the Year. President-elect Joe Biden and Vice President-elect Kamala Harris have been selected to be Time magazine's "Person of the Year," continuing a 93-year tradition. The news organization announced its pick on Thursday evening after teasing four finalists earlier that day. The other finalists included President Trump, the movement for racial justice, Dr. Anthony Fauci, and front-line healthcare workers. Biden being picked as "Person of the Year" continues a two-decade tradition of highlighting victors of presidential elections. All winners since former President Bill Clinton have been featured on the year that they won the presidential election.
Hunter Biden news embarrasses media defenders. Late Wednesday afternoon [12/9/2020], Hunter Biden announced that he is under investigation by the U.S. Attorney in Delaware. "They are investigating my tax affairs," Biden wrote, adding that he is confident a "professional and objective" investigation will clear him. For his part, Biden's father, President-elect Joe Biden, released a statement through his transition office decrying the "vicious personal attacks" on his son in recent years. Several hours later, Politico reported that the investigation "has been more extensive than a statement from Hunter Biden indicates," to include "potential money laundering and Hunter Biden's foreign ties." The New York Times reported that the money laundering part "failed to gain traction after FBI agents were unable to gather enough evidence for a prosecution." The investigation apparently began in 2018 and remained a secret until this week.
Joe Biden's dog story turns out to be a fish tale. In the original retelling of the dog story, Biden was rough-housing with one of his two German Shepherd (a man's dog!) three days after Thanksgiving and slipped. But those details, it turns out, were embellished, as the president-elect now acknowledges.
Did Biden Just Say the Quiet Part Out Loud? 'I'll Develop Some Disease and Say I Have to Resign'. Joe Biden did an interview with CNN's Jake Tapper, with Kamala Harris in tow. As expected, there were no particularly tough questions. Time for the media to go into their slumber and/or coddling of Democrats. As we reported, Biden declared that he would ask for people to wear masks in his first 100 days. Stunning and brave. And how is this different from what we've been doing for the last 262 days? Biden also detailed how he supposedly broke his foot while playing with his dog. [Video clip] But Joe being Joe, Biden still managed to get in some strange comments anyway, despite it being a largely softball interview, with Jake Tapper incorrectly addressing Biden as "Mr. President-elect."
The Media Stole the 2020 Election Before a Single Vote Was Cast. The media stole the 2020 presidential election, plain and simple. They did it over the course of four years by creating a caricature of Donald Trump and convincing voters that to save the country and the planet, his defeat was imperative. They persuaded millions of voters that the president who had turned the economy into a job-creating engine, made us energy independent, secured the borders, transformed an activist judiciary, and returned sanity to American foreign policy, was a monster — a racist megalomaniac, an enemy of the environment, a bungling foreign-policy loner, and an anti-science know-nothing. I've been following media coverage of campaigns since Goldwater. I worked in a newsroom for 19 years. In terms of bias, I thought I'd seen it all. I was wrong. Media assaults on Trump were wall-to-wall bias, 24/7, bias on steroids. A survey by the Media Research Center found that between June 1 and July 31, coverage of Trump by the networks was 95% negative, while coverage of Biden was 67% positive.
What's Biden hidin'? Biden team won't let fawning media off bus to cover his dog-broke-my-foot story. It might be called a metaphor — Joe Biden getting off to his purported presidency — on the wrong, or broken, foot. Which might explain why Biden didn't want to let the news get out. Biden blocked reporters from taking pictures of him and his broken foot, something he claims to have sprained with hairline fractures while playing with his dog named 'Major.' According to RedState, which has an excellent curation of various reporter tweets, Biden attempted to hide from press scrutiny of his condition, this time by refusing to allow reporters to get off the bus.
Reality and the Narrative. [Scroll down] We're all assumed to know how it ended. Joe Biden won. Any demurral on that score is put down to feigned ignorance, attempted cleverness, or petulant perversity. After all, the Associated Press called the election for Joe Biden a couple of weeks ago. Other news agencies, from the Wall Street Journal and Fox News to CNN, the New Woke Times, and the Washington Post were right there on cue, hailing him the winner. Time, the former news weekly, devoted its cover to Joe Biden, "46th President of the United States." Twitter was on the case, adding little warning messages to tweets about the election it didn't like, suspending the accounts of people whose opinions it disagreed with, throttling the ability of those who dissented to broadcast their dissent. Who knows what Google and Facebook are doing with their search results. Some secrets are too deep for the light of day. And that is my point. The strongest argument for Biden's victory is not the vote tally. It is the monolithic narrative, pumped up like one of those inflatable play castles at a child's birthday party. With every passing day, that narrative becomes more boisterous, more assertive, more uncompromising.
The Media's Nauseating Love Fest Is Back. There are two months to go until Inauguration Day, and members of the Electoral College still have to cast their votes, but the leftist driven media is wasting no time adorning former Vice President Joe Biden with praise. Earlier this week, Biden rolled out his first round of Cabinet picks and other high profile administration positions. The choices were met with praise and absurd fawning from the very people who will be covering their actions while in office. "They are now being told that it [Biden's Cabinet] is not going to be political," NBC's Andrea Mitchell said. This coordinated talking point was also repeated by ABC's Martha Raddatz. "This is about the least flashy team you could possibly get. They are deeply experienced. They are humble, and they are lifelong political servants," she said. "They are not political. They are just career people."
The Left's Adoption of Schrödinger's Cat. In the modern-day Wild West that is the internet, actual fact-checkers would be not only beneficial, but welcomed. Instead, what we've witnessed in recent years is that supposed fact-checkers actually check news stories for the sole purpose of ensuring they concur with their own individual worldview. If not, they automatically label them as false or just suppress their distribution. The most disturbing example has to be the decision made last month by Facebook's third-party fact-checkers to shut down the New York Post story detailing the damning content of Hunter Biden's emails. Was the story false? No, but the "fact-checkers" argued that it couldn't be verified. In a subsequent hearing before the Senate Judiciary Committee, both Facebook and Twitter — who conducted similar censorship — admitted that they had zero evidence indicating that the story was false. The fact that over a month later the Biden Campaign has still not contested the authenticity of the emails is a clear indicator that they are genuine, and the self-proclaimed fact-checkers are more accurately described as fact-suppressors.
Media's suppression of key stories likely gave Biden election win, study finds. Democratic candidate Joe Biden likely won the presidency not based on any particular policies but because the media refused to cover several key stories and issues, according to a new analysis. A survey of 1,750 Biden voters in Arizona, Michigan, Georgia, Nevada, Wisconsin, North Carolina, and Pennsylvania — all but one, North Carolina, called for the former vice president — conducted on behalf of the Media Research Center asked respondents what they knew about eight issues or stories MRC believes were not sufficiently covered by the press. Of those surveyed, 17 percent said they would not have cast their ballot for Biden if they had known about at least one of the underrepresented stories.
CNN Says Americans 'Unlikely' to See Higher Taxes Under Biden. CNN is trying to hoodwink Americans into believing that their taxes won't increase under a Biden administration. The network's latest article read like a press release by former Vice President Joe Biden's campaign staff: "The vast majority of Americans are unlikely to see their taxes go up under President-elect Joe Biden, despite false claims by President Donald Trump to the contrary." The article used the left-wing Tax Policy Center (TPC) as its source. CNN Politics writer Katie Lobosco, in her piece headlined "Will your taxes go up under Biden? It's unlikely," reiterated the false Biden campaign position that the tax plan "wouldn't raise individual taxes on anyone earning less than $400,000 a year, which is more than 90% of taxpayers." That flies directly in the face of a rare fact check that ABC's Jonathan Karl did on that same Biden claim.
Biden Mocks a Reporter for Asking a Question as Biden's Staff Tries to Get the Press Out of There. One of the things that never got the attention it really should have from the mainstream media during the campaign is how short-tempered and nasty Joe Biden can be with anyone who asks him a question that he doesn't like. We saw that several times, when Biden lost it on voters or media who dared question him. You may recall him infamously calling someone a "lying dog-faced pony soldier," threatening an autoworker to take him "outside" and even screaming in CBS's Ed O'Keefe's face, grabbing his lapels and tapping him in the chest with his fist. But he's often been very churlish with the media, despite them bending over backwards to toss him softballs or cut him a break.
Reap What You Sow: Media Who Coddled Biden for Months Now Complain About Mistreatment. For the second time in a month, Democratic presidential nominee Joe Biden has snapped at CBS News reporter Bo Erickson. The first time it happened was in mid-October after Biden had done some campaign stops in Michigan. As Biden prepared to board his private jet, Erickson stepped up to the plate and asked him about what no other reporter would: The New York Post's explosive story on Hunter Biden's laptop and the emails that were discovered on it. [...] It happened again on Friday. Biden and his vice presidential running mate Kamala Harris held a meeting in Delaware with House Speaker Nancy Pelosi and Senate Minority Leader Chuck Schumer to formulate a game plan for their legislative priorities in the event Biden and Harris are certified next month as the winners of the presidential election. As is often the case with Biden, press availability was severely limited — 50 seconds, to be exact.
Joe Biden: Why Are Reporters Asking Me Questions? Former Vice President Joe Biden isn't used to getting real questions. On Friday, Biden appeared dumbfounded as to why a reporter was asking the projected Democratic presidential-elect a question as the press pool was being scurried away by staff. "Mr. Biden, the COVID task force said it's safe for students to be in class. Are you going to encourage unions to cooperate more to bring kids back to classrooms, sir?" asked CBS reporter Bo Erickson. "Why are you the only guy that always shouts out questions?" Biden said.
---

Back to the Joe Biden index page
Back to the Home page