The empirical and anecdotal evidence on this page speaks for itself. If you and Hillary Clinton are like-minded, none of this is likely to change your opinions; however, if you are the least bit undecided about whether or not to vote for her, you should spend some time looking at all this.
Subsections on this page:
Media bias in Hillary's favor
Hillary Clinton manipulates the media
Hillary is interviewed (one time only) by CNN, July 6, 2015
Older examples of media bias in the Clintons' favor
CNN's obvious bias in favor of Mrs. Clinton
Sparse crowds at Clinton campaign events are misrepresented or concealed by the press


Related topics on other pages:

Media bias (in general)
Specific examples of media bias
Media bias in Barack H. Obama's favor
Media bias in Joe Biden's favor
Media bias in opposition to Donald Trump
Media bias in Hillary's favor
and Hillary's manipulation of the media
and the media's willing submission to that manipulation:
Flashback: Four Years Ago, ABC Was Excited Hillary Wasn't 'Going Away'. If the liberal media didn't have double standards, they would have no standards at all. Although journalists now are angry that anyone would question President-Elect Joe Biden, ABC four years ago was speculating on Donald Trump being "delegitimized." The network was also excited that Hillary Clinton wasn't "going away." Think they'll feel the same way about Trump? On the December 9, 2016 Good Morning America, reporter Jon Karl hailed Clinton's return "to the spotlight," calling her "the most prominent voice in the Democratic Party." Former Bill Clinton hack George Stephanopoulos cheered, "She's not going away." Karl gushed: ["]Absolutely not. You know, after that contentious 2000 campaign which Al Gore won the popular vote and basically disappeared after the election. That is not going to be the case, I believe, with Hillary Clinton.["] [Video clip]
Nets Conspire to Protect Bill Clinton After Bombshell New Epstein Documents. New documents in the Jeffrey Epstein sex abuse case dropped late on Thursday with a potential bombshell. A second person now places Bill Clinton at the pedophile's private sex island. The three networks on Friday [7/31/2020] devoted a total of 7 minutes and 26 seconds to the case and Ghislaine Maxwell in general, but NEVER mentioned that the former Democratic president has been named. As Fox News explained, "The data include records of a 2011 meeting between accuser Virginia Giuffre and her lawyers where she talked about the powerful people in Epstein's orbit who she said either flew on his private Boeing 727 or stayed on his private island in the Caribbean. One of the names mentioned was that of former President Bill Clinton." Yet, ABC, CBS and NBC explicitly skipped this part of the story.
Alan Dershowitz, Prince Andrew, Bill Richardson and Bill Clinton: All Named in Epstein Court Documents as Involved With Underage Girls. [Scroll down] In 2008, Epstein pled guilty to state charges in Florida for procuring an underage girl for prostitution. As part of that arrangement, the US Attorney for the Southern District of Florida agreed to a "Deferred Prosecution Agreement" (DPA) to resolve an indictment on similar charges that had been filed under seal by a Florida grand jury. If Epstein successfully completed his sentence in the state case, the federal case would be dismissed without further proceedings. There is nothing "ordinary" about the disposition of the federal case in Florida, and the details of that case are not well known beyond the reporting by the Miami Herald. But one aspect of the DPA that no one connected to federal law enforcement that I know has ever seen done before is that it supposedly grants immunity to other individuals, including ANY unnamed "potential co-conspirators". Ghislaine Maxwell's attorneys have publicly stated that they intend to assert the language of the DPA as a defense on her behalf in the federal indictment recently returned against her. It is reported that Alan Dershowitz negotiated the terms of the DPA on Epstein's behalf. But I have yet to see anyone pose a serious legal argument for how unknown "potential co-conspirators" have any legal standing to assert a claim arising from the DPA on their own behalf.
The News They Won't Report. During the 2016 presidential campaign, CNN went so all in on its support of Hillary Clinton that its coverage amounted to a massive contribution-in-kind to her campaign. The bias was so obvious during the Democratic primaries that supporters of Hillary's rival Bernie Sanders dubbed CNN the "Clinton News Network." Why did CNN treat Sanders so unfairly? Wasn't it because they viewed Clinton as the more "electable" candidate in the general election? That confidence in Clinton's electability, widely shared in the so-called "mainstream" media, arguably fed into the over-confidence within the Clinton campaign, which clearly underestimated Trump's appeal to blue-collar voters in states like Pennsylvania, Michigan, and Wisconsin. The media in 2016 conveyed the idea that Trump couldn't possibly be elected, but apparently 62.9 million voters didn't get the memo.
Hillary Clinton Vindicated On Corruption Charges? Hardly. Last week, the Washington Post reported that the Justice Department had wound down a Hillary Clinton-related inquiry after finding "nothing of consequence." That set off a series of Hosannas from the allegedly non-partisan press, which seems to notice quid pro quos only when they involve a Republican. A quick review of the flagrantly corrupt dealings of the Clinton Foundation is in order. When Hillary took the job of secretary of state under President Barack Obama, she promised that the foundation wouldn't accept foreign donations. It took in money from at least seven foreign governments. Documents showed that 85 of the 154 private interests who met with Clinton at the State Department had donated money to the foundation. Emails unearthed by Judicial Watch showed that Clinton's top aide, Huma Abedin — who worked for both the State Department and the foundation — gave "special expedited access to the secretary of state" for those who gave $25,000 to $10 million.
How Journalists Became Fahrenheit 451-Style 'Firemen'. A week ago James O'Keefe's Project Veritas released a hot mic rant by ABC's Amy Robach lamenting her network's deep-sixing of the Jeffery Epstein saga three years prior. [...] By Robach's math, 2016 was the year ABC killed the Epstein story. In speaking of Epstein victim Virginia Roberts, Robach said, "She told me everything. She had pictures. She had everything. It was unbelievable what we had. We had Clinton. We had everything." The magic word here, of course, is "Clinton." The network firemen had to erase the word lest their audience see it or hear it during an election year, and that they succeeded in doing until Robach unwittingly revealed it. Indeed, "unwitting" is about the only way truth sneaks out of a newsroom today.
Brian Stelter Hides ABC's Jeffrey Epstein Scandal from CNN Viewers. CNN's so-called media reporter Brian Stelter hid ABC's Jeffrey Epstein scandal from CNN viewers. There's just no question that the Project Vertitas video of Amy Robach laying out how she had nailed down the Jeffrey Epstein story all the way back in 2015, only to have ABC News "quash" it, is one of the biggest media stories of the last 20 years. Just like NBC News covering up for Harvey Weinstein, here you have ABC News covering up for a rapist and sex-trafficker, and almost certainly doing so as a means to protect Hillary Clinton's doomed 2016 presidential campaign. Robach says right in the video that she had the goods on Bill Clinton.
Katie Pavlich Ties ABC's Epstein Cover-up To Clintons, Stephanopoulos. Fox News contributor Katie Pavlich drew a straight line from ABC's alleged quashing of a bombshell Jeffrey Epstein story to the network's news anchor with ties to the Clintons. Pavlich, who appeared Wednesday [11/6/2019] on "Tucker Carlson Tonight," suggested that ABC's reluctance to cover a story that tied former President Bill Clinton and others to the late convicted pedophile could be summed up in just one name: veteran ABC anchor George Stephanopoulos.
Democratic and Republican Résumé-Enhancers. In 2016, the Democratic nominee for president was Hillary Clinton. Her résumé included conducting top-secret State Department business on her own unsecured home server, as well as raking in hundreds of millions of dollars donated by U.S. citizens and foreigners alike to the Clinton Foundation, money probably given with expectations of a future return on the "investments" from the likely to be elected President Clinton. To cover her misdeeds, she destroyed electronic records and devices while they were under subpoena, and those aides closest to her were granted immunity by Obama's complicit FBI, resulting in a tainted investigation that concluded without any consequences for Clinton's years of nefarious activities. Again, the media were enamored of the possibility that we might actually have our first female president and therefore chose to hide Clinton's blatant corruption from the voters.
The True Story of the Media's Role in Trump's Victory. Last weekend, the New York Times (America's leading Very Serious Newspaper) published an opinion piece from Frank Bruni in which he cautioned the media to learn from their mistakes in 2016: [...] It is high time for the media to learn some lessons from 2016. But which lesson does Bruni refer to? That the media need to return to their disinterested objectivity in election coverage? Far from it. A close read of the passage above shows that Bruni (and, by extension, the New York Times) thinks the problem was that the media were too objective in 2016. Bruni would have us believe that had news outlets taken an even more partisan approach to covering Trump, Hillary might have won. [...] Bruni is calling for those in the legacy media to work harder than ever at rigging the democratic process in this country.
Fox News' Shepard Smith Offers Full-Throated Defense of Hillary Clinton. Fox News anchor Shepard Smith scoffed at comparisons between the FBI's treatment of Hillary Clinton with their treatment of former Trump National Security Adviser, Michael Flynn. And he did so by disparaging the reporting of one of the network's most respected investigative journalists, Catherine Herridge.
The Late Show Staff Asks Hillary Clinton Painfully-Scripted Questions, And She Gives Painfully-Scripted Answers. The Late Show staff had some fun with Hillary Clinton in a segment Stephen Colbert calls "Just One Question." Colbert explained to the audience that whenever he has a guest "so experienced and so knowledgeable," his staff gets "excited" and wanted to ask her a question, which he allowed them to do. Various staffers got to ask questions to the former Secretary of State and she answered them while sitting on a set. But some of the questions may have been fed to her.
The Clintons will always have defenders in the media. As long as there are journalists in the U.S., there will be apologists for Bill Clinton. With the exception of the Obamas and the Kennedys, few in public life have enjoyed as much protection and support from the U.S. press as America's 42nd president. Yes, the Clintons have endured unflattering coverage, but usually only when it's unavoidable. It takes an FBI investigation or articles of impeachment to attract national media scrutiny. And even then, many in the American press are perfectly content to dismiss, downplay, or explain away whatever legitimately awful or terrible thing the Clintons are caught saying or doing.
Press in 2016: If Indicted, Hillary Could Pardon Herself. Presidential pardoning is in the Constitution. Chris White wrote, "Based on the language of Article II, Section 2, the only limits placed on the power are that pardons may only be issued for federal offenses (not civil or state crimes), and a pardon cannot override the Congress' impeachment power. Presidents have used this power to issue pardons in a wide range of matters throughout the country's history. However, no president has ever attempted to pardon himself." Ah, but she could have been impeached and impeachment trumps pardon.
Amy Chozick Exposes Hillary's Groveling Press Corps. With reporters like these, who needs flacks? [...] [Amy] Chozick says [in her new book] that perhaps 18 out of 20 reporters on the Hillary beat on a typical day were women, and she makes it clear that this wasn't an accident: The crew were excited about the prospect of what they dubbed the "FWP," for First Woman President. When awaiting an offer from the campaign to take a group photo with their idol, Chozick relates that the reporters excitedly chattered amongst themselves about the prospect in text messages. It doesn't make the women look great.
Comey memos show Valerie Jarrett's CNN daughter a useful tool for Democrats. The memos are out from former FBI Director James Comey, and one of the big takeaways is how useful a tool Valerie Jarrett's daughter, Laura Jarrett, could be for the Hillary Clinton campaign while she was employed at CNN. CNN, it seems, helped orchestrate the set-up of President Trump when it pressed the then-FBI director to have a meeting with Trump so that the matter could be leaked and the press would have a credible reason to report as news all the otherwise slimy opposition research contained within the Steele dossier. Up until then, Fusion GPS, the purveyor of the unverified garbage written by its Moscow sources, was having a bad time getting anyone to print it in the press, and had shopped it around for a year, drawing no buyers. The press knew it was unverified garbage and didn't want to wreck its reputation by going there. But then Comey briefed Trump about the existence of the dossier, and suddenly the matter was leakable. And by an interesting coincidence, it was CNN that did the leak.
No Consequences From Media Peers for Reporters Caught Colluding With Hillary. Elsewhere in America, when emails that the author assumed would never see the light of day became public he suffers some form of consequences — you know, stuff like plummeting poll numbers, possible jail time or forced resignation. This goes for everybody from Hillary Clinton and the former head of Sony Pictures on down. But if you're a Politico or New York Times scribe or CNBC anchor John Harwood and hacked emails emerge that reveal you outright colluding with Hillary Clinton campaign — by giving advice or providing the communications director "veto" power over what to include from your interview with the candidate or allowing campaign chair John Podesta veto power over your stories — that is another matter.
The Media Changed More Votes Than the Russians. The government that meddled the most in the election was our own. Instead of exposing that interference, the media facilitated it. Journalists served as conduits for criminal leaks from Obama administration officials eager to defame Trump. Instead of exposing Hillary's dirty tricksters, the media took briefings from them. Countless stories about Trump's alleged foreign connections appeared during the campaign. Meanwhile, reporters were Skyping with Christopher Steele, a cynical British ex-spy Hillary hired to smear Trump. Imagine Trump paying a foreigner $168,000 to frame Hillary, who then holds press briefings on his "dossier" before the election. The press would have reported that immediately as a dirty trick of epic proportions. But for Hillary's hired gun, they stayed mum and several turned into his stenographers. Yahoo's Michael Isikoff passed Steele off as a "well-placed Western intelligence source."
The media is ignoring ties between the Clinton campaign and Russians. While the media is filled with stories and theories about Trump's interactions — or lack thereof — with Russia, not enough attention is being paid to revelations about pro-Hillary Clinton operatives' use of opposition research that ostensibly came from Russia. With the Democrats unable to govern and lacking much of an affirmative agenda, they want Russia to be the story. Yet with each passing day, more seems to be revealed that not only undercuts the absolute faith Democrats have in the Trump-Russia collusion narrative but also demonstrates just how much they did and how far they were willing to go to establish an improper or embarrassing link between Trump and Russia.
Poor Hillary Clinton. Until 2016, none had thought to make it an issue of gender, largely because one gender had been shared by all comers. But in 2016, that was changed by the serious entry of Hillary Clinton, who managed to lose to Donald Trump against all odds. Afterward, she blamed her female sex for the loss, after first blaming FBI Director James Comey. [...] Recent history is rife with examples of people whose very rough treatment (by Hillary's allies) make her tribulations seem tame. In 2012, Mitt Romney, a Dudley Do-Right if ever there was one, was slammed by the press and the Democrats as a sadist (for transporting his dog on the roof of his car); as a bully (for cutting the hair of a classmate in prep school); as a murderer (for causing the wife of a worker to expire from cancer); as dismissive of females (for using the phrase "binders of women" to refer to resumes given to him by people as possible candidates for government jobs).
As The Clinton Foundation Scandal Deepens, The Media Yawn. [Scroll down] In October 2016, NPR's Joel Rose acknowledged that some donors were awarded meetings with Clinton when she was secretary of state but that "there's no evidence that big donors got any special favors from the State Department." Rose didn't even bother to look at NPR's own reports. A few months earlier, NPR's Scott Detrow had laid out the 2009 case of the Swiss bank UBS and its problem with the IRS. The tax collectors wanted the identities of Americans with secret bank accounts. Clinton brokered a tentative deal with the bank, and it agreed to turn over a small fraction of the information the IRS sought. Then, presto! The bank's Clinton Foundation donations grew from less than $60,000 to about $600,000 by the end of 2014. It also showered Bill Clinton with $1.5 million for a series of speeches. But there's "no evidence" of favors.
Is there a single Democrat anywhere who [cares] about America? President Obama's use of the Executive Branch to crush the opposition party is without precedent. And yet, the media and prominent Democrats have been either silent on these affairs, or have simply tarred them as standard political antics. They are not. They are diabolical and criminal efforts to undermine the American system of government.
WikiLeaks Drops Proof That NYTimes Colluded With Hillary Clinton. After the New York Times on Saturday [12/30/2017] published a story headlined "Republican Attacks on Mueller and F.B.I. Open New Rift in G.O.P.," WikiLeaks couldn't stand it anymore. In a late-night post on Twitter, WikiLeaks revealed that a Times reporter used to feed State Department email updates of the stories the paper would be publishing DAYS before the stories appeared. At the time, Hillary Clinton was the Secretary of State.
The Ongoing Federal Investigation Into Hillary Clinton & Barack Obama That The Media Continues To Ignore. Robert Mueller continues to undergo a fake investigation into fake allegations of collusion between the then-Trump campaign and the Russian government. After 18 months no such evidence has come forward to substantiate the claims by the far left. In fact, the only real evidence of collusion appears to be that of the Obama FBI attempting to interfere in the 2016 election. Ah, but quietly marching alongside the Mueller investigation is an equally far-reaching (and much more legitimate) investigation into how the Obama government handled the Clinton email investigation. It has been this investigation which is now countering the falsehoods of the Trump-Russia narrative and is acting as a truthful counterbalance to the Mueller-led anti-Trump Deep State operation — which is why the Establishment Media has been largely ignoring it.
Guess What's Missing From CNN's List Of Theories For Hillary Clinton's Sinking Favorability. CNN's Chris Cillizza published a piece today offering four possible explanations for the decline in Hillary Clinton's popularity. In case you missed this story, Allahpundit noted yesterday [12/19/2017] that Hillary is at her lowest favorability rating ever according to Gallup, just 36 percent. Cillizza promises four theories but he really only offers three [...]
Hillary Clinton's Russia collusion doesn't interest the media. If the media are defining "collusion" as President Trump's team being willing to accept potentially beneficial information from Russia in the 2016 election, all future cable news analysis on the issue should include a disclaimer: Hillary Clinton's campaign did precisely the same thing and more! There is no real consensus about what any collusion between Trump's campaign and Russia would have entailed (which is helpful for Democrats and self-interest-driven Republicans like Sen. Jeff Flake, R-Ariz., in maintaining a scandalous fog over the White House) but news reports typically discuss it with ominous references to campaign advisers and aides who had any form of contact with Russian officials.
Same Media Outlets Who Mocked Hillary Clinton Health Conspiracies Now Promoting Trump 'Slurred Speech' Conspiracies. On Thursday [12/7/2017], CNN speculated that perhaps President Trump had slurred his speech during his monumental announcement that the United States would move its embassy to Jerusalem and recognize Jerusalem as Israel's capital. They ran a piece titled, "Did President Trump slur his speech?" [...] So, it is now fine to speculate on the health of presidents. That's funny considering that just a few months ago, the media tut-tutted anyone who would question the status of Hillary Clinton's health.
TIME Honors Hillary Clinton's 'What Happened' As 'Top Non-Fiction Book' of the Year. Time magazine is already celebrating their Best of 2017, and their favorite "Non-Fiction" book of the year is... Hillary Clinton's campaign memoir What Happened. Time assistant managing editor Claire Howorth gushed, "Clinton offers one answer to the question that rang collectively from more than half the country on Nov. 9, 2016. The writing is frank, reflective and a piece of modern history." It came complete with buying instructions from Amazon, and Hillary Clinton quickly tweeted out how "honored" she was: [...]
Tucker Reveals CNN Told Hosts To Discredit Donna Brazile To Cover For Clinton. Fox News' Tucker Carlson reported Monday that according to sources, CNN had reporters discredit former DNC interim chair Donna Brazile over her revelations that made Hillary Clinton look bad. [Video clip]
Russia dossier investigators suspect reporters were paid to spread collusion claims. The role of reporters is taking on added importance in federal court battles over the infamous Russia dossier that leveled unverified charges of collusion against the Donald Trump campaign. In U.S. District Court for the District of Columbia, Fusion GPS, the dossier's financier via the Democratic Party and the Hillary Clinton campaign money, is fighting a House committee chairman's bid to find out if the opposition research firm paid journalists.
Politico Hides Fusion GPS Employment Of Key Source. On Monday [10/30/2017], Politico ran a story criticizing the Wall Street Journal for failing to adopt the political groupthink that pervades most of the media elite. It's not enough that the vast majority of mainstream media operate as the communications arm of the Democratic Party. Any deviation from this approach results in strong criticism by other journalists. One media writer even criticized Fox News for mentioning the conclusion of a corruption and bribery trial of sitting U.S. Senator Bob Menendez this week. Apparently they were supposed to spend the entire day spreading hysteria about Trump's criminal collusion with Russia to steal an election that was Hillary Clinton's birthright — nevermind the lack of evidence — to the exclusion of all other news.
How Team Hillary played the press for fools on Russia. Hillary Clinton's campaign didn't just pay for the Kremlin-aided smear job on Donald Trump before the election; she continued to use the dirt after the election to frame her humiliating loss as a Russian conspiracy to steal the election. Bitter to the core, she and her campaign aides hatched a scheme, just 24 hours after conceding the race, to spoon-feed the dirty rumors to an eager liberal media and manufacture the narrative that Russia secretly colluded with her neophyte foe to sabotage her coronation. But it was Hillary who was trying to kneecap Trump, even after he licked her, fair and square, in Wisconsin, Pennsylvania, Michigan and other blue states.
Hillary Clinton Colluded with Russians to Rig Election Against Trump. Before we get to the proof of Hillary colluding with Russia, we need to debunk off a few of the narrative-myths the liars in the mainstream media continue to hurl. To begin with, thus far there is no evidence that any Republican was involved in any way with creating this dossier. Those who say so are intentionally conflating an apple with an orange. [...] Secondly, Fusion GPS is not some usual-usual oppo-research firm. Among other things, the company has been accused of being a "Democrat-aligned misinformation firm" aligned with Russia. While refusing to cooperate with congressional investigations, including taking the fifth, Fusion GPS has also been accused of advocating for "the interests of corrupt Russian and Venezuelan officials while hiding its foreign work from federal authorities." Finally, as you would expect from a Democrat-aligned misinformation firm," Fusion GPS has a tight relationship with the American media.
Dirty Hillary, Hoist by Her Own Petard. The moment that a story starts hurting the Democrats the media loses interest in it. This explains the media's ho-hum coverage of the confirmation that Hillary Clinton paid for the notorious [...] dossier a former British spy compiled in an attempt to blow up Donald Trump's candidacy. Even the Washington Post seemed embarrassed by its own scoop, nonchalantly reporting the FBI's role in this sick farce in a few bland paragraphs deep in the story. The Post's commentators and editorialists quickly moved into action, dismissing the story as insignificant. The same pundits who pretended to tremble at dark forces outside the country trying to "tip the election" now say it is perfectly normal and even commendable that Hillary paid a foreign source to smear her opponent.
Apocalypse in the swamp. Donald John Trump is the Washington Establishment's worst nightmare. His election separated the Americans from the swamp critters. People in Washington that conservatives once admired have shown themselves to be fakes. Frauds. Counterfeit. PolitiFact — which called Trump a liar in 2016 for pointing out Hillary's involvement in the sale of one-fifth of the uranium production — now says "Clinton role still unclear." Hillary receives the same revisionism PolitiFact gave Obama over his trillion-dollar lie: You can keep your doctor.
Bias: 1,000 Minutes for Trump/Russia 'Collusion' vs. 20 Seconds for Hillary/Russia Scandal. Last week, The Hill published new information about Russian efforts to infiltrate the American uranium industry, including $31.3 million in payments to the Clinton Foundation, as well as a huge speaking fee delivered to Bill Clinton personally, while Hillary Clinton was Secretary of State. In eight days, the network evening news coverage of this story amount to a mere 20 seconds on ABC's World News Tonight.
CNN: After 7 Days, Only 4 Minutes On Clinton Uranium Scandal. For the first seven days after The Hill published startling new information about the Clinton/Russia/Uranium scandal, the 24-hour cable news giant CNN had produced less than five minutes (3 minutes, 54 seconds) of actual news coverage about the case. From 7am ET October 17 through 7am ET October 24, CNN's reporters and anchors only mentioned the scandal twice: first, on October 19, after President Trump scolded reporters for failing to cover the story, anchor Wolf Blitzer offered a 19-second explanation of what Trump was talking about.
WaPo Reports Clinton Campaign and DNC Paid For Trump Dossier. First, do not think the Washington Post is ever going to frame a damaging article against the Clinton's or DNC; it is beyond their inherent ideology to do so. Therefore the motive of any media expose' must be kept in mind. Second, while the article itself states the Clinton Campaign and the DNC paid Fusion GPS to contract Christopher Steele, the researcher and dossier author, the article also tries to lend some credibility toward the content therein. This is another possible angle. [...] Fifth, the sourcing within the Washington Post article is weak, vague and disingenuous with verbiage such as: "people familiar with the matter", "according to those people, who spoke on the condition of anonymity", "people involved in the matter", etc. Notice how the term "matter" repeats. That familiar term is frequent throughout the article.
Morning Joe Attacks Trump For Drawing Attention to Blackout of Clinton-Uranium Scandal. On Thursday's [10/19/2017] Morning Joe, after days of ignoring The Hill's latest reporting confirming an extensive racketeering scheme organized by Russian government officials that appeared to directly benefit Bill and Hillary Clinton, the show finally decided to cover the story. However, instead of getting worked up about unethical or possibly illegal Clinton-Russian collusion, hosts Joe Scarborough and Mika Brzezinski, along with Democratic Senators Tim Kaine and Michael Bennet, attacked Trump for tweeting about the new revelations and accused him of undermining American democratic institutions.
48 hrs later, CNN gives 10 seconds to the REAL Russian scandal. On Tuesday [10/17/2017], The Hill reported that the "FBI uncovered [a] Russian bribery plot before [the] Obama administration approved [a] controversial nuclear deal with Moscow." The story seemingly vindicated President Trump's insistence during the campaign that the Clinton Foundation received donations from Russia to influence then-Secretary of State Hillary Clinton's decision on whether to approve the purchase of 20 percent of the U.S. uranium supply by a Russian-controlled company. In the over-48 hours since that story broke, CNN had not mentioned the story on a produced program. After President Trump tweeted and mentioned the story in a news conference, that ended just after 1:00 pm ET today [10/19/2017].
Andrea Mitchell's Sad Excuse For Not Covering The Clinton Uranium Story. MSNBC's Andrea Mitchell had a sorry excuse for why she hasn't covered a story about the Clinton Foundation receiving kickbacks from Russian officials. [...] Andrea Mitchell, who hosts her own show on MSNBC and is the chief foreign correspondent for NBC News, claimed that she hasn't been ignoring the story because she covered it "some years ago." "President Trump, at the end there, talking about a story we did do on NBC some years ago," Mitchell defended. Rich Noyes, a research director for the Media Research Center, says that coverage was two years ago and only lasted 92 seconds.
Networks Censor Latest Bombshell on Russia/Uranium/Clinton Scandal. New revelations that the FBI uncovered a Russian bribery plot before the Obama administration approved a nuclear deal with Moscow, that involved millions of kickback money to the Clinton Foundation, have been utterly ignored by the Big Three (ABC, CBS, NBC) network evening or morning shows, since the story broke early Tuesday [10/17/2016]. In fact, the network evening shows have only spent only 3 minutes and 1 second on the Clinton Foundation scandal in more than two years. The latest developments in the Russia/Uranium/Clinton scandal were first reported, on Tuesday, by The Hill's John Solomon and Alison Spann.
After Self-Reflection, Journalists Discover They've Been Too Critical Of... Democrats. [Scroll down] If it hadn't been for some overeager journalist, we might not know that then-FBI director James Comey believed any "reasonable person" would have known that her server was not an appropriate venue for classified emails. We may not have known that Clinton sent 110 emails containing clearly marked classified information; that 36 of them contained secret information; that eight of those email chains contained "top secret" information. We might not know that the FBI believed "hostile actors" could have "gained access to Secretary Clinton's personal e-mail account." Without The New York Times, we might not have known that this was almost surely true. The correct way to report on Hillary Clinton is simultaneously treating her like the most competent woman who ever lived but also one who can be easily overwhelmed by emails and simple markings on classified documents. Hillary is not corrupt, her peccadillos are nothing to get too excited about.
All of Obama's Wiretappers. [Scroll down] Here Hillary benefited from the election-tipping of a foreigner, whose idiotic whisperings entertained by the FBI would turn up on the front pages of the New York Times at crucial moments in the campaign. This, by the way, throws light on another outrageously dishonest Hillary claim: that Comey never told anyone of his investigation into the Trump campaign. Of course, he did — through leaks. That was bad enough but Comey made the leaks worse by not telling reporters that the investigation into the Trump campaign excluded Trump as a target. Comey let reporters think that Trump was one.
Jedediah Bila Leaves "The View" — Over Hillary Interview? If the "View" crew couldn't handle two challenging questions to their idol without freaking out, it ain't Bila who's living in a world where there's only one worldview.
NBC Reporter Wanted to Throw Up After Trump Won. "The room goes wavy. My stomach churns. I can feel the bile in the back of my throat." That reaction to Donald Trump winning the 2016 election didn't come from Hillary Clinton's new memoir, it came from the pages of NBC correspondent and MSNBC anchor Katy Tur's book about covering the campaign.
The Editor says...
If you're so personally affected by a story that it makes you physically ill, you shouldn't be reporting it.
CBS's Pauley Mourns With Hillary About Election Loss to Trump. With Hillary Clinton's 2016 election memoir due to be released in the next couple of days, the two-time failed presidential candidate appeared on CBS News Sunday Morning for a sit-down interview with host Jane Pauley. And as would be expected from someone working for the company publishing Clinton's book, there was almost no pressing from Pauley on what Clinton did wrong. But there was plenty of connecting with Clinton on the pain of the embarrassing defeat.
Hillary Grants First Book Interview to CBS and Jane Pauley — Her Soggiest Sob Sister. CNN's Tom Kludt reported "the booking is a coup" — CBS Sunday Morning host Jane Pauley will get the first TV interview with Hillary Clinton since her defeat at Trump's hands in 2016, airing Sunday [9/10/2017]. Then Kludt noted CBS owns Hillary's publisher Simon & Schuster, so there's really no "coup" there at all. But the synergy is also strong between Hillary and Jane Pauley. In fact, 25 years ago today — on September 8, 1992 — Pauley uncorked one of the soggiest interviews ever with Mrs. Clinton, on Dateline NBC shortly after that year's Republican convention. It's amazing that CNN and other liberal outlets mock Fox & Friends as a hopelessly syrupy propaganda outlet, and can't see Jane Pauley should dress up like "the Help" when she does Hillary interviews. Pauley also gushed all over Hillary for CBS, in a June 2014 interview on Sunday Morning, as Brent Baker reported at the time. Pauley included four of Hillary's Wellesley classmates/buddies who all said Hillary seemed like presidential timber when they went to school in the Sixties. She didn't ask Hillary how she could win after getting thumped by Obama in 2008.
Reminder: The press really wanted Hillary Clinton to be president. Hillary Clinton's supporters love to complain that the press torpedoed her White House ambitions 2016. What utter nonsense. First, as noted by my colleague Eddie Scarry, if Clinton lost the 2016 election because of negative press coverage, then how did Donald Trump win? He had 15 solid months of bad press. No one — left, center or right — can argue the press went easy on the Queens businessman.
Hillary Clinton didn't lose because of the media, and her supporters can't accept it. That Hillary Clinton's White House hopes were stunted at least in part by an unfair news media is a conviction that continues to burn strong with her hardcore believers, even as the rest of us know that, like Santa, the Easter Bunny, and Chris Cillizza's political insight, it isn't real. Complaints about the media as it relates to Clinton resurfaced this week after a New York Times reporter defended his paper's coverage in 2016.
A second special counsel must investigate Clinton, Comey, Lynch and others. The media believes Clinton is entitled to a "get out of jail free" card. Politics, as it intersects the law, is nothing more than a game like "Monopoly". Don't you see? Clinton failed in her bid to become president, so she is somehow exempt from abiding by the law. Apparently, that is how the Washington Post envisions it.
ABC News Says Hillary Lost So She Shouldn't Be Investigated. The Senate Judiciary Committee sent a letter to Attorney General Jeff Sessions this past week asking for an investigation of a number of Democrats including Hillary Clinton. ABC News says Hillary lost the election and, therefore, should not be investigated. That must be a new legal guideline. If they lose, they get away with whatever they might have done wrong? This is like saying a bank robber spent all the loot so there's no point investigating or prosecuting.
America's Media Meltdown. [Scroll down] By the time of 2016 presidential race, the media had lost their credibility as disinterested guardians of objective truth. And while Hillary Clinton in 2016 was no Barack Obama in 2008, reporters still gave her special privileges. CNN talking-head Donna Brazile fed debate questions to the Clinton campaign prior to a Clinton-Sanders televised debate. And the John Podesta Wikileaks trove revealed that a number of marquee reporters were openly colluding with Clinton to defeat Trump. Once the media crossed the Rubicon of partisanship, there was no turning back.
Newsweek Dabbles in 'President Hillary' Fan Fiction. It isn't unusual for supporters of a losing presidential candidate to engage in "if only" fantasies about what would happen if their favored candidate got into office, and dream about how all the country's problems would be solved if only the election had gone differently. It's more unusual for a supposedly respectable news outlet to engage in such fan fiction. Yet that is precisely what an article in Newsweek did Wednesday, in an article called, "Hillary Clinton Is President in an Alternate Universe, Where America is Great Again."
The Media Is Now Blaming Dead Veterans For Clinton's Loss. The media is now blaming dead veterans for Hillary Clinton's loss in the 2016 presidential election. If fewer men and women had died in combat, particularly in key swing states, Clinton might be president, The Intercept reported. The theory is a new one in a long list of explanations offered for her totally unexpected loss, from Russia to the patriarchy, to FBI Director James Comey's handling of the email investigation, to her own staff. The dead veterans theory is based on a study of the relationship between parts of the country that felt the effects of war through the loss of loved ones and pro-Trump votes. Had those loved ones made it home from the war alive, the theory goes, the election might have flipped to Clinton.
The Media Perpetuated A Clinton Lie For 9 Months. What It Means For The Russia Narrative. When Hillary Clinton claimed "17 intelligence agencies" agree on Russian meddling in the third presidential debate, a host of media outlets including The New York Times rated the claim as 100 percent true. Nine months later, those same outlets say the stat is obviously false, and there's been a "simple" explanation as to why all along. A closer look at how the claim survived and thrived over those nine months reveals a startling lack of skepticism in the press when it comes to the Russia narrative. The truth is the great majority of the 17 agencies that make up the U.S. intelligence community had nothing to do with the investigation and made no judgments about the matter.
Who Really Torpedoed Hillary's Campaign? Big media, Democrats, and the rest of the Trump-hating world continue pushing the false narrative that the Russians hacked the election. Never mind that there is no evidence of such a hack, despite over a year of investigation by U.S. intelligence agencies, the FBI, and journalistic sleuths at the New York Times and Washington Post. Instead, it was the very same media pushing the Russia hacking story that sabotaged and destroyed the Hillary Clinton campaign. [...] The media enabled her self-destructive behavior, hiding the truth, which did not become apparent until about 8 p.m. on election night.
Surreal: LA Times op-ed claims Chelsea 'never gets a break'. We live in a time of "fake news" awareness, so you'd think that someone at the Los Angeles Times would know better than to publish a headline like this: "Just like her mother, Chelsea Clinton never gets a break" Let's leave the aside the reference to Hillary Clinton, who magically was able to turn $1,000 into $100,000 in cattle futures with no regulatory consequence and delete 30,000 evidentiary emails without prosecution. Or a break. Chelsea is being groomed for political power, and all the powers of modern propaganda are being mobilized to convince voters that she has some claim to leadership and popularity.
Chelsea Clinton's Chief of Staff Complains Her Boss 'Never Gets a Break'. Chelsea Clinton's chief of staff complained on Thursday that her boss just can't catch a break. Bari Lurie is Clinton's chief of staff at the Clinton Foundation, where the former first daughter is vice chair. Lurie took to Twitter on Thursday to lament that Clinton, like her mother, failed Democratic presidential candidate Hillary Clinton, "never gets a break."
Fabricating Chelsea Clinton. It's been hard to avoid the contrived, media-driven campaign to fabricate Chelsea Clinton into a figure of political and cultural relevance.
Have You Noticed Media Pushing a National Narrative of Anti-Semitism Today? Here's Why. Many people are noticing a rather familiar, albeit oddly timed, leftist "anti-Semitism" narrative being pushed into the media broadcasts over the past 36 hours. Yes, it seems to have come out of nowhere. [...] However, the actual motive of the professional corporate media to push this meme has nothing to do with President Trump or republicans — it's an internal maneuver and transparently Clintonian. Team Clinton, meaning the professionally political elements of the Democrat machinery, are pushing the anti-Semitism storylines because the party is in the final stages of framing their argument to ensure their preferred DNC head, Tom Perez, wins as party chair.
Here's the Bombshell Hillary/Russia Uranium Story that the Media Refused to Cover. During his marathon press conference on Thursday afternoon [2/16/2017], President Donald Trump lashed out at the media for it's failure to adequately cover a 2015 bombshell report about then-Secretary of State Hillary Clinton. The report in question suggested that Secretary Clinton allowed 20% of the United States's Uranium production capacity to be acquired by Russian interests while at the same time millions of dollars in cash flowed not only to the Clinton foundation, but also directly into the pockets of Bill and Hillary. [...] The story to which Trump was referring was originally reported on by The New York Times. However, as with most stories that were unflattering to Mrs. Clinton, the media quickly lost interest.
Curious How Flynn's Conversation Was Released, But Nothing Ever Got Leaked on Hillary's Crimes. [Scroll down] Intelligence officials are supposed to use their expertise in psychological warfare and disinformation campaigns against enemy states, but never against an occupant of the Oval Office. "Who pulled the NSA tapes on Mike Flynn?" asked retired Col. James Waurishuk, a 30-year intelligence officer who once served in the National Security Council. "Who compiled it? Who released it?" the retired Special Forces veteran asked in an interview with TheDCNF. Waurishuk argued the many leaks meant the public is seeing the politicization of intelligence. "There are those in the intelligence community that are more concerned with their agendas than with national security," he said. "Notice how the intelligence community can leak Flynn's conversation, but there are no leaks on Hillary Clinton and Benghazi," he added.
NBC's Chuck Todd: Media knew how 'hated' Hillary was in heartland and we 'underplayed' it. NBC's Chuck Todd confessed [1/26/2017] that he and others in the mainstream news media played down just how despised Hillary Clinton was in the heartland due to the fear of appearing "sexist." What's more, he admitted, the mainstream media failed to "tell the stories of all Americans."
The Editor says...
This explains why the Democratic Party nominates "sacred cows" for high-profile offices: Any opposition can be painted as racist, homophobic, islamophobic, or sexist.
Before and After Obama: 10 Signs of a Diminished America. Big media burned away its credibility protecting Obama, pushing Hillary Clinton's candidacy, and getting the 2016 election spectacularly wrong. Their conduct since the election — pumping out Fake News stories, falling for hate-crime hoaxes, loudly announcing that investigative reporting was about to make a comeback after eight years in hibernation — has only confirmed the public's distrust.
Dear press corps: We don't believe you. After reading newspapers since I was six, I can clarify how readers now see the relationship between us and the American press corps. I do so in four words. We don't believe you. As a person with four decades in newspapering, now retired, I do not blame your readers in the least. This election cycle has shown that the news business is dominated by social justice warriors who push a narrative rather than tell stories in a fair and balanced manner.
The media was part of Clinton's campaign. It's fun to watch Democrats wail about Russian spies using WikiLeaks to influence the election, when it's clear the mainstream media was able to downplay the actual contents of those emails enough to keep most voters in the dark. Sure, outfits like Breitbart News did everything we could to report those revelations, but that's nothing compared to the influence wielded by the establishment media when it gets a "narrative" avalanche rolling. Of course the establishment media was an active participant in the rigged primary scandal. Those leaked emails from the DNC and Clinton campaign chief John Podesta reflected very, very poorly on the press. That's something Democrats could fix — there's no reason for illegitimate behind-the-scenes coordination between their candidates and the media.
Stephanopoulos Dumbfounded When Conway Says Media Tried to Help Hillary Win Election. Wednesday's [1/11/2017] Good Morning America had anchor George Stephanopoulos struggling to regain control of the interview after Trump's senior advisor Kellyanne Conway called the media out for for their pro-Clinton bias. After repeated attempts to get Conway to answer whether or not Trump accepted that Russia hacked the election, Conway hit back, accusing the media of being the ones who tried to sway the results of the election for Hillary.
Oklahoma newspaper that endorsed Hillary still hasn't recovered. I still don't quite understand why any one newspaper would actually endorse a candidate. I was under the impression the media was supposed to be objective and not support anyone one way or another, but what do I know? Either way, the Oklahoma newspaper that endorsed Hillary Clinton still hasn't recovered from putting their money on the wrong horse.
No Headline among Liberal Media Noted that Hillary Clinton Lost 5 Electors, Compared to 2 for Trump. ABC News, CNN, CBS News and NBC News did not run headlines that outlined how Hillary Clinton, the losing presidential candidate for the Democratic Party, lost more electors than Donald Trump. The media built up the narrative that Trump would lose electors, not Clinton, and as a result, have an egg on their face.
President Obama: Hillary Clinton Was Not 'Treated Fairly' by the Media During the Election. During his end-of-year press conference today, President Obama decided to smack the Fourth Estate and say that the media didn't properly cover Hillary Clinton during the 2016 election. Obama started the event by addressing the recent news from the FBI and the CIA, and he made the case for why his administration handled things as they did during the election. Obama also took time to scold the media for being "obsessed" with WikiLeaks fragments that sensationalized the contest between Clinton and Donald Trump.
Wikileaks: Colbert and Clinton Collaborated on Episodes. The latest piece of the liberal media puzzle comes to us from none other than Stephen Colbert, now host of The Late Show, and Hillary Clinton's campaign manager John Podesta. Emails sent between Podesta and someone at the Clinton Global Initiative indicate that The Colbert Report, Stephen's former program, had numerous episodes "done" by the CGI.
32 Times Establishment Media and Pollsters Assured the People of Donald Trump's Defeat. From the time Donald Trump announced his White House bid, there has been no shortage of establishment media outlets predicting his defeat. Indeed, as the weeks and months marked Trump's ever-apparent political preeminence, the pundits, pollsters, and prognosticators doubted and declared his collapse inevitable. Even as Trump, a real estate mogul-turned-reality TV star, clinched the Republican presidential nomination, the affirmations of his failure kept coming. The very establishment media and pollsters who benefitted from Trump's celebrity before branding him leader of a deplorable political base will stand against his governance.
Media Malpractice? Media Bias And The 2016 Election. As Election Day demonstrated, the contentious 2016 presidential campaign witnessed a stunning uprising of the people against the Washington establishment and political elite. This was not the only revolt that transpired Nov. 8, however. Election Day also represented a victory of the American people over the establishment news media, as they repudiated its liberal bias and attempt at influencing the election.
Mainstream Media Recap: Who Colluded With the Clinton Campaign? In April 2015, the Clinton campaign held a private dinner party with at least 65 journalists and pundits in attendance. Individuals from CNN, CBS, The New York Times, NBC, MSNBC and more came together under the campaign's stated goal of "framing the race" to help Clinton win. Many of the above media outlets were indeed the Clinton campaign's biggest surrogates throughout the 2016 presidential election. This past election cycle was unprecedented in terms of the bias and lack of objectivity exercised by the mainstream media. The emphasis on mainstream media blaming "fake news" for Donald Trump's election is an attempt to distract and divert the feedback loop developed between the Clinton campaign and much of the press. Throughout the 2016 election, the media obsessed over Trump to elevate his candidacy. He was their preferred opponent for Hillary Clinton — after they had thoroughly subverted Sen. Bernie Sanders' campaign for the Democratic nomination.
The Dallas Morning News Is Paying Dearly for Endorsing Hillary Clinton. The Dallas Morning News is paying a steep price for endorsing Democratic presidential nominee Hillary Clinton, in the form of canceled subscriptions and loud protests. The endorsement broke a 75-year streak in the paper's history of endorsing Republicans, and generated a lot of reader pushback in the form of angry comments and vows to unsubscribe from the paper. [...] "Certainly we've paid a price for our presidential recommendation," Dallas Morning News editor Mike Wilson said in an email to Poynter. Wilson acknowledged some of that price came in dropped subscriptions, although he declined to reveal to Poynter exactly how many.
Media Ignored Three Suspicious Deaths of Men Tied to Hillary. During Hillary's run, three men died in suspicious ways. Each man had ties to Hillary-related operations or investigations. The deaths occurred in June and July. During Hillary's campaign. Exactly when investigations would have damaged the Hillary campaign.
The five essential reasons Hillary lost (no, she can't blame Comey). [#4] Social Media: The allegation is that Facebook and Twitter fed the American people bogus stories that weren't properly "fact checked" by the mainstream media. Consequently, real journalists and their outlets were unable to stop unfounded rumors. Ergo, Clinton lost. Wrong. A recent study by Columbia University showed that six in 10 people don't even read the links that they like on social media, let alone believe and act on them. What we do know is that people were tuned in to traditional media. TV viewership throughout the primaries and general election shattered records for eyeballs and ad revenue. And let's not forget newspaper endorsements. Clinton had 57. Trump had 2.
Drown Out the Lying MSM. Older readers may remember an era when the media generally reported facts and left spin to the mind of the viewer, or at least wasn't so crookedly biased. In accurately predicting President-Elect Trump's victorious path through Michigan and Pennsylvania, I indicated that the media was distorting polling numbers deliberately to keep Trump supporters from bothering to vote. While Trump won an electoral landslide, only a relatively small chunk of votes made the difference in those two states and in Florida. Yes, the lying, propagandizing jackals in media nearly won the election for Clinton. They decided to hang together up until the bitter end, and are now predictably circling the wagons trying to figure out what went wrong. Everyone knew there was a secret Trump vote, and they still lied. [...] Do you enjoy being lied to? Or do you have to watch sports so badly that you're willing to fork over $150 per month for a cable or dish subscription that directly funds people who hate you and everything you believe in and want to mislead you, all while insulting you to your face?
Post-election thoughts from a 'deplorable'. Wikileaks also exposed the collusion with the Clinton campaign and pollsters and the MSM; thus the public refused to believe those polls showing Hillary winning. Trump also cited a warning of this deceit. We no longer believed anything reported in the mainstream press which had abdicated all journalistic ethics by their blatant bias for Clinton.
WikiLeaks emails reveal media whores' private dinners with Hillary Clinton campaign officials. We know the word "whore" means prostitute. But "whore" also has these other meanings: Debase oneself by doing something for unworthy motives, typically to make money. (Oxford Dictionaries) An individual who compromises his or her principles for personal gain. (Urban Dictionary) By those definitions, many in the MSM are whores for Hillary Clinton.
About those rioters. For many months, the LeftMedia have been warning that Trump supporters were so clearly violent they would likely riot when he lost the election. The media were salivating at the ratings triumph of this imagined scenario. They knew that it was coming, and it was going to validate their contempt for Trump and anyone who supported him. So prevalent was the conviction that Trump was going to lose, and lose badly, that Chris Wallace, in the last debate, asked Trump if he would concede if he lost. It never occurred to him to ask Clinton the same question. Of course it didn't. The media have been of one mind this past year and a half, including Fox News; Clinton was a shoe-in. The Donald did not have a chance. Not only would Clinton win, but the Senate and maybe even the House would fall back into Democrat hands.
The Media and the Pollsters have lost their clout by incompetence and deceit. The entire media, even Fox news, reflected the bias against Trump, a bias well-documented in the Wikileaks disclosures of the Podesta emails, showing the media conniving to feed Clinton debate questions and coordinating their coverage with Hillary and the DNC. [...] Newsweek, which last sold for one dollar, was forced to recall 125,000 copies of its souvenir Madam President edition. We're just not so into you fools any more. And apparently even the editor of the NYT — the paper which published a piece suggesting it was okay for journalists to abandon objective reporting to help Hillary, has now relented and said "that the paper would "reflect" on its coverage of this year's election while rededicating itself to reporting on "America and the world" honestly." Online friends remain skeptical of this new found "humility" of the formerly dominant media.
When does the postmortem for the media begin? It was the media spokesmodels who took it upon themselves to tell Trump supporters not only that they had no chance, but then went on in great detail to tell them why their cause was hopeless. They were terrible people, probably fully deserving of the title, basket of deporables. Trump was terrible so that segment of the audience was obviously supporting a terrible person who voters of good intent and pure souls would soundly reject on election day. Worse than that, thanks to Wikileaks we've been treated to one revelation after another of journalists — including debate moderators — who were working behind the scene to help the Clinton campaign in every way possible. Some resorted to cheating by leaking debate questions. The occasional analysis of how much time, both positive and negative, was devoted to each candidate spoke volumes. Trump's negative coverage was an ocean compared to Clinton's puddle.
Trump outsmarts media as he sets sights on Obama's divisive, racialist policies. [Donald Trump] overcame all the odds, beat back both political parties, jumped around all the powerful special interest industries that own Washington and scored an unprecedented victory for the people. And he did it all while circumventing the massive media machine that worked in lockstep unison to block him at every turn. Every mainstream newspaper and television outlet — after months of gorging themselves at the profit trough of his monster ratings — shirked all pretense of covering the election fairly.
CNN: A Blue Spot in 'This Sea of Red Makes You Feel a Little Better'. CNN's John King said that a state leaning blue toward Hillary Clinton in a "sea of red" had to make you feel better while looking at a map of the incoming results of the presidential election Tuesday night [11/8/2016]. After discussing with Wolf Blitzer how Virginia was moving toward Clinton, King zoomed out and took a look at all the states that had either gone or were leaning to Donald Trump, describing the map as a "sea of red."
Hillary Aides Blame Unfair Media For Her Loss. The media bent over backwards to try to get Hillary elected. You know it. They know it. The Hillary campaign doesn't know it. The press was openly hostile to Donald Trump. They couldn't possibly have been any nicer to Hillary. They acted like they were part of her campaign!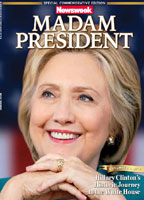 Dewey defeats Truman!
Newsweek recalls 125,000 copies of its souvenir Madam President issue. Everyone from pollsters to pundits got the result of the US presidential election wrong. But few can have made it in such an expensive manner. Newsweek and a partner that prints up special commemorative issues has been forced into an embarrassing recall, after it sent out 125,000 copies of its Madam President issue designed to celebrate Hillary Clinton's win.
A Blow to the Non-Elite Elite. There were a lot of losers in this election, well beyond Hillary Clinton and the smug, incompetent pollsters and know-it-all, groupthink pundits who embarrassed themselves. [...] Journalists often violated their own ethics codes during the campaign. Political analyst Donna Brazile even leaked debate topics to the Clinton team. Washington Post columnist Dana Milbank reportedly asked the Democratic National Committee to provide him with anti-Trump research.
The People Are Laughing at the Liberal Media. Members of the media continue to talk among themselves, as if they had not been repudiated by the people on November 8. Mass firings and new faces are needed if the media are going to have any hope of regaining any credibility with the public. [...] Reid Wilson of The Hill newspaper calculated that Clinton got 57 newspaper endorsements and Trump got only 2. In addition to The Washington Post and The New York Times, which both endorsed Hillary, some of the other notable losers included:
• The Columbus Dispatch endorsed a Democrat (for the first time since Woodrow Wilson), and urged voters to elect Hillary. Ohio went for Trump anyway.
• The Akron Beacon said that Hillary was the change this country needed.
• The Cincinnati Enquirer broke a century-old tradition to endorse Hillary.
• The Sun Sentinel editorial board urged Floridians to vote for Hillary. Florida went for Trump.
• The Arizona Republic broke a 120-year tradition to endorse Hillary. Arizona went for Trump.
• The Dallas Morning News broke a 75-year tradition of supporting Republicans to endorse Hillary. Texas went for Trump anyway.
• The Houston Chronicle, the largest newspaper in Texas, usually backs Republicans but endorsed Hillary.
Leftist Protester Going Nuts On CNN Over Hillary Loss Was a CNN Cameraman? Is CNN using their own crew members as fake protesters? Earlier today, we posted a video of a Hillary supporter having a total meltdown on CNN last night. In a slightly longer version of the clip you can watch below, CNN's Don Lemon remarks at the end of the video that he knows the man and that he's a CNN cameraman.
Dain Bramage: Idiot Hillary Supporter Has A MELTDOWN On CNN. This meltdown, what is said, and WHO is saying it explains a lot of what's wrong with our country right now. Respectfully, sir, your school owes the taxpayer a refund and an apology. They've obviously failed you. The field reporter went to an anti-Trump rally in Chicago and stopped someone in the crowd for his comments. And then things got weird. [...] The newscaster back at the newsroom recognized this 'passerby'. As a cameraman. One who had traveled to Rwanda with the newscaster.
'Meltdown of the night' Bitter news anchor bemoans Trump's election success. As Donald Trump triumphed in the race to the White House a television news anchor has bemoaned his incredible success. As various major US news networks prepared to confirm the Republican's victory over Hillary Clinton, MSNBC host Rachel Maddow gave a bitter response while live on air. The sombre host told MSNBC viewers, as Mr Trump edged towards victory: "You're awake by the way. "You're not having a terrible, terrible dream. Also you're not dead and you haven't gone to hell. [...]"
ABC's Martha Raddatz Chokes Up While Discussing Implications of Trump Presidency. ABC News' Martha Raddatz began to choke up during the network's 2016 Election Night coverage when discussing the ramifications a President Donald Trump might have on the military. Raddatz, one of the 2016 debate moderators, sounded shaky from the get-go. "Donald Trump, I questioned what he would do about Syria and his understanding of military policy and civilian/military divide, I don't know that he really has a plan for what he's going to do there," she said.
Journalists Celebrated Obama's 2008 Victory, Mourned Trump's 2016 Win. For supposedly non-partisan reporters of the news, journalists sure reacted differently to President Obama's election in 2008 and Trump's election in 2016. Obama's election was a "leap towards something better and uniting our country as never before in our history," according to MSNBC's resident Obama-super fan Chris Mathews, on the Sunday before election day eight years ago. But early Wednesday morning, Matthew's colleague Andrea Mitchell frowned at Hillary's defeat, calling it "history put on hold yet again." Earlier in that same segment, NBC Today co-host Savannah Guthrie shared this same sentiment: "Hillary Clinton's attempt to break the ultimate glass ceiling in politics" was "a presidential bid that once again fell short."
Stunned Chris Matthews: Loser Hillary Won the Debates, Had 'Best Ad Campaign'. A stunned Chris Matthews struggled to comprehend Hillary Clinton's loss and the victory of Donald Trump on election night. On MSNBC, Matthews sputtered, "[Clinton] won every debate by all standards. Every debate.... She had the best ad campaign, the best ground game." He whined, "This is a shot against meritocracy, I think. Because she merited everything and the normal way you standardize these things, she did what you're supposed to do to win and Trump came in around the corner."
The Editor says...
Oh, yes, "she did what you're supposed to do," except for the secrecy, the cloud of corruption, the imperious condescension, the $200,000 speeches about nothing, lying about her obviously poor health, and 30 years of accumulated scandals, any one of which should have sent her to trial. What an immense relief it is to know that we won't have to listen to that ghastly voice of hers for the next four years. Nor does anyone have to listen to people like Chris Matthews, constantly campaigning for the Democrats while pretending to be "journalists."
Why Hillary and Bill are the Mafia mobsters of US politics. [Scroll down] But it is the rancid stench of corruption surrounding the Clintons which pervades the air. For once, Donald Trump didn't need to resort to hyperbole when he compared Hillary's behaviour to the Watergate scandal. You'd think this story would be dominating the news agenda in the days leading up to tomorrow's election. But outside of the Murdoch-owned Wall Street Journal and Fox News, which first reported the ongoing FBI investigations into the Foundation, it has been largely ignored by the Clinton cheerleaders in the mainstream media. I've been covering U.S. elections for 25 years and have never seen such partisan Press and television coverage. We moan about the perceived liberal bias of the BBC, but in America most of the media outlets make Pravda look impartial.
The Trust Vacuum. Revelations the press has been clearing questions with the DNC, coaching Hillary through interviews and in acting as her political agents motivated John Nolte to write: "national media now sees itself as part of the government". It is part of the Narrative, along with everything else. It's not news, it's a paid political advertisement. "And here is the consequence of all this," he adds: people have lost faith in everything. Museums, churches, universities, perhaps even the FBI. But the media's betrayal, given its former role as America's secular church was the unkindest cut of all. Jeffrey Gedmin, formerly of Radio Free Europe, notes that Russian disinformation has never been so influential as it is today.
Donna Brazile forwarded 2 more questions in advance but says her conscience is clear. Last month I wrote about a leaked John Podesta email in which Donna Brazile wrote, "From time to time I get the questions in advance." Her email to Podesta included the wording of a question about the death penalty that town hall co-host Roland Martin would ask Hillary Clinton the following day. Since then CNN has cut all ties with Brazile and CNN's president, Jeff Zucker, called her behavior "unethical" and "disgusting." But it turns out there was more to that email chain. A few hours after sending the death penalty question, Brazile sent two more, one for Senator Sanders about income inequality and one for Hillary Clinton about unions.
Brazile Sent More Debate Questions From CNN To Clinton. Democratic National Committee interim chairwoman Donna Brazile has already lost her contributor contract with CNN for leaking questions from a CNN town hall to the Clinton campaign. Monday night's WikiLeaks release of emails from the personal account of Clinton campaign chairman John Podesta reveals Brazile sent even more questions ahead of the event, one that went to Hillary Clinton, the other was asked of Vermont Senator Bernie Sanders. On the day before the event, Brazile sent the following under the heading "UNIONS."
CNBC's John Harwood: Nothing Wrong with Asking Hillary's Campaign How to Interview Jeb Bush. CNBC's chief Washington correspondent John Harwood is arguing that he did nothing wrong by asking a Democratic presidential campaign to brainstorm interview questions for a Republican presidential candidate. On Sunday morning [11/6/2016], a newly-released email from Wikileaks, dated September 21, 2015, showed Harwood consulting Hillary Clinton's campaign chairman John Podesta on questions to ask former Florida Governor Jeb Bush. "What should I ask Jeb in Speakeasy interview tomorrow?" the email reads.
WikiLeaks: DNC and CNN colluded on questions for Trump, Cruz. Newly released emails from WikiLeaks suggest that the Democratic National Committee colluded with CNN in devising questions in April to be asked of then-Republican primary candidate Donald Trump in an upcoming interview.
Bozell & Graham: Media blackout exposes corrupt media. While most of America was transfixed by Game 7 of the World Series, Fox News Channel was doggedly pursuing a new story: The FBI's probe into pay-for-play schemes at the Clinton Foundation and the State Department has been far more expansive than anyone reported so far and has been going on for more than a year. FBI sources even warned there could be indictments down the road. Then, The Wall Street Journal broke another new story online, saying, "Secret recordings of a suspect talking about the Clinton Foundation fueled an internal battle between FBI agents who wanted to pursue the case and corruption prosecutors who viewed the statements as worthless hearsay." Senior officials wanted to tell FBI agents to "stand down" from a Clinton Foundation probe. That's two nuclear explosions in one night. What was the reaction from the news media? Crickets.
WikiLeaks Show Washington Post Writer Asked DNC For Anti-Trump Research. Washington Post columnist Dana Milbank appears to have asked the Democratic National Committee (DNC) to do the majority of the research for a negative column he wrote about Donald Trump in April 2016. Milbank's column was titled, "The Ten Plagues of Trump," and featured a list of "outrageous things" said by Trump. [...] Internal DNC emails suggest Milbank's asked for — and then leaned heavily on — DNC opposition research on Trump for the article.
Andrea Mitchell Loses It Over 'Extraordinary,' 'Magical' Hillary Rally in New Hampshire. With credit to my colleague Brent Baker for spotting this classic case of Andrea Mitchell flashing her liberal bias, the MSNBC host and NBC News correspondent could barely contain her excitement for a Sunday night Hillary Clinton rally that she described as being both "extraordinary" and "magical." Host Rachel Maddow tossed to Mitchell just after 9:00 p.m. Eastern on Sunday [11/6/2015] and Mitchell immediately began fomenting praise for the "extraordinary" gathering in the Granite State following Clinton's push to "rally the black vote" in Cleveland with LeBron James.
Florida Data, Ballots, and Ground Reports: Latino Vote Supports Patrone' Impact. In any analysis of Florida voting the Latino cultural impact is most often mis-identified by the media, 2016 is no exception. While the MSM is correctly identifying an up-swing in Latino Florida early voting, the MSM is also mistakenly inferring this to be a pro-Clinton narrative.
NBC News' Pete Williams Reports FBI 'Really Isn't' Conducting Clinton Foundation Investigation. Appearing on MSNBC's MTP Daily today, NBC News' justice correspondent Pete Williams refuted much of the reporting from Wall Street Journal and Fox News regarding a likely indictment regarding an FBI investigation into the Clinton Foundation. Fox's Bret Baier later backed off slightly, saying the indictment comment was "inartfully answered." Speaking to host Chuck Todd, Williams claimed that via his own law enforcement sources, there doesn't actually appear to be much of an investigation, let alone one that will result in indictments.
AP To Clinton Campaign: We Are Preparing To Report FBI Has Thumb Drive, But Can Be Steered Away. Moments ago [11/3/2016], after teasing its twitter followers to "stay tuned for our FBI-DoJ #PodestaEmail special circa 4pm EST" Wikileaks released what appears to be part 28 of its Podesta dump, dubbed the "DoJ/FBI/Huma special" and includes some 1,308 emails, bringing the total to 45,526 in total emails released.
MSNBC Trashes FNC Using 'Anonymous Sources' in 'Unsubstantiated' FBI Story on Clinton Foundation. In light of the bombshell Fox News Channel report on Wednesday night about the Clinton Foundation, the liberal media's shameful cover-up and smearing of the story continued well into Thursday afternoon [11/3/2016] as MSNBC acknowledged the story but repeatedly chided Fox News perpetuating a story using "anonymous sources" that's not "corroborated or substantiated." In just one hour of MSNBC's afternoon programming, a guest alluded to it twice and was swiftly cut off by host Hallie Jackson with the excuse given being a wrap from her producers to head to commercial break.
The Editor says...
This is a common technique used by television producers: Whenever a conservative guest starts to make a valid point, or the momentum is building in the conservative's favor, suddenly it's time to go to a commercial break. The truth is quite different: The commercial breaks can be put off for another minute or two, if the producer so chooses. The number of commercial breaks in an hour-long show is the same from day to day, but there is a lot more flexibility than the host would have you believe.
Politico Reporter Gets Caught AGAIN Sending a Story to a Clinton Staffer For Approval. For the second time in less than a month Politico chief political correspondent Glenn Thrush has been caught sending stories to Hillary Clinton staffers for approval. Thrush sent an email to Clinton communications director Jennifer Palmieri on April 17, 2015 with the subject line: "pls read asap — the [Jennifer Palmieri] bits — don't share." This was revealed in Thursday's WikiLeaks release of Clinton campaign chairman John Podesta's emails. It is included in Podesta's emails as Palmieri shared the email with several other Clinton staffers, including campaign manager Robby Mook and Podesta. The eight paragraphs that Thrush sent Palmieri were filled with glowing sentences about her.
Florida newspaper apologizes for anti-Donald Trump bias. A Florida daily newspaper is apologizing to readers for not being objective enough in its coverage of Republican presidential nominee Donald Trump. The Daily Commercial, which serves Lake and Sumter counties, recently issued a "mea culpa" admitting that it hadn't taken a balanced-enough approach to the 2016 presidential election. "Because we have limited space and resources, smaller papers are generally limited to covering the horse race — the day in-day out happenings on the campaign trail," the paper explained in an open letter.
New York Times Ultra-Concerned About Hillary's Male Tormentors. She decided to stick with a man who was credibly accused of sexual assault and rape, a guy who received oral sex in the White House while president. Hillary had to know what kind of person he was. She hitched her wagon to Huma Abedin, who was in a relationship with Weiner, and decided to stick around after the first sexual allegations. Hillary let her stick around. Seriously, if Hillary can't take the heat in the rough and tumble world of politics, perhaps she should get out. Much of this sounds like the old "she can dish it out, but she can't take it" recipe. Oh, and of course, this lays the foundation for calling all opposition to Hillary, should she win the presidency, as sexxxxxist, just like we've had almost 8 years of calling all opposition to Obama as raaaaacist.
Atlantic Writer Wonders Why Hillary Clinton 'So Widely Loved'. If you're a sci-fi or modern science fan like I am you have no doubt read a lot about parallel universes. For those who haven't, here it is in a nutshell: everything looks the same, but there are variations on how things turn out. Well, it looks like this writer from The Atlantic may offer proof that they actually exist. [...] The MacArthur Genius fellow simply meanders through a variety of talking points for this entire article in an entirely pedestrian fashion. It's the kind of stuff you would expect from a kid whose parents had rehearsed her to sound precocious. Adichie manages to offer up excuses and talking points even the Clinton camp has largely abandoned. She's sticking with earlier "comfort and convenience" tale for the email scandal, which was around 75 excuses ago, if memory serves me.
Requiem for responsible journalism. A new AP/Gfk poll finds that nearly 6 of every 10 likely voters say that coverage has been tilted against the Donald, fewer than 1 in 10 think it favors him and only 4 in 10 think the coverage is fair and balanced. A scientific study by the Media Research Center confirms this conclusion. It finds that 91 percent of the Trump coverage over the past 12 weeks has been "hostile," concentrating on accusations of his shabby treatment of women, and sparing Hillary of a close examination of her sins and shortcomings. This holds even after the FBI reopened its investigation of her playing fast and loose with classified information, which the director of the FBI called "extremely careless" of national-security concerns while she was secretary of State.
On The Upside, At Least This Election Will Destroy The Media. Liberal journalists, by which I mean journalists, do not think you should know things that hurt their favored candidate. This is an interesting new take on the whole idea of "news reporting," an innovative rethink that refocuses journalists less on ensuring people hear the news and instead focuses on ensuring they only hear certain news that, incidentally, supports the media's progressive political agenda. So we get fact checking that involves neither facts nor checking.
Nets Ignore Massive Bombshell on FBI Investigation Into Clinton Corruption. On Wednesday evening [11/2/2016], Fox News Special Report anchor Bret Baier led off his show with explosive breaking news revealing an extensive ongoing FBI investigation into the corruption scandals swirling around Hillary Clinton, with bureau agents looking into everything from newly discovered e-mails to pay for play allegations against the Clinton Foundation. Despite the bombshell coming just days before election day, the broadcast networks have yet to touch the story.
How Is DOJ Feud Over Clinton Foundation Scandal Just a Fox News/Wall Street Journal Story? Fox News has put into heavy rotation the internal fight inside the FBI and Justice Department over an investigation into the Clinton Foundation. Devlin Barrett at The Wall Street Journal also filed a story last night. The liberal media reaction was: "What breaking story?" Will the liberal media just act like the Democratic servants they look like in the Wikileaks emails and continue to ignore these revelations as something on the Murdoch Machine thinks is news?
Poll: Public overwhelmingly thinks media is in the tank for Clinton. The American public thinks the media wants Democratic presidential nominee Hillary Clinton to win by an almost 10-to-1 margin, according to a new poll. The Suffolk University/USA Today poll released Friday asks, "Who do you think the media, including major newspapers and TV stations, would like to see elected president: Hillary Clinton or Donald Trump?" Of the 1,000 adults surveyed, 75.9 percent answered Clinton, while just 7.9 percent picked Trump, the Republican nominee. Just more than 16 percent of respondents chose either "neither" or "undecided."
Major Newspaper Makes Unprecedented Confession About Trump. A newspaper in Central Florida just did something unprecedented: they apologized to their readers for the extremely biased coverage against GOP presidential nominee Donald Trump. You have to see it to believe it.
Big Three Networks Attack Comey Over Clinton by 3 to 1. Ever since it was announced, on Friday, that the FBI was pursuing new leads into the investigation of Hillary Clinton's e-mail server scandal, the Big Three (ABC, CBS, NBC) networks have gone into attack mode against James Comey, turning what should be a scandal about Clinton into a smear against the FBI director. Beginning with the evening (October 28) of the announcement through Monday morning (October 31) MRC analysts reviewed all statements (by reporters, analysts, and partisans) that took a position on Comey and Clinton and found arguments against Comey (88) swamped those against Clinton (31) by a ratio of almost 3 to 1. There were a handful of statements that praised either Comey (10) or Clinton (4)[.]
By Overwhelming 10-1, Public Thinks Media Want Clinton to Win. Two national polls released late in the week confirmed the public widely recognizes the news media's agenda in favor of Hillary Clinton and decidedly against Donald Trump, a reality documented in a NewsBusters study earlier in the week. "By nearly 10-1, all those surveyed say the news media, including major newspapers and TV stations, would like to see Clinton rather than Trump elected," Susan Page and Karina Shedrofsky reported deep into a Thursday [10/27/2016] USA Today story on the latest USA Today/Suffolk University poll on the Clinton-Trump race.
Times, Post Seem Rather Upset About FBI Reopening Hillary Server Case. [Scroll down] See? This is mostly the Comey's fault, and suddenly transparency is required. From the FBI. Of course, the NYTEB has barely asked for the same from Hillary during this whole time, and, certainly, you can imagine the resulting editorials, including on the reopening of the case, had she been a Republican, and they would have been vastly different. Not to be outdone, the Washington Post Editorial Board, which had previously only chided Mrs. Clinton over her poor conduct, questions the timing [...]
Hacks at New York Times and Washington Post Rather Perturbed About FBI Dropping Bomb on Hillary's Campaign. [Scroll down] See? This is mostly the Comey's fault, and suddenly transparency is required. From the FBI. Of course, the NYTEB has barely asked for the same from Hillary during this whole time, and, certainly, you can imagine the resulting editorials, including on the reopening of the case, had she been a Republican, and they would have been vastly different. Not to be outdone, the Washington Post Editorial Board, which had previously only chided Mrs. Clinton over her poor conduct, questions the timing. [...] Obviously, their concern is for Hillary's POTUS chances. They certainly weren't concerned with the provocations of so far unfounded accusations against Trump, ones which have no actual hard proof that he sexually assaulted anyone decades ago. Just someone saying. Imagine, again, the difference had Hillary been a Republican. They would have cheered this reopening, saying it is good for our democratic process.
Why is the media barely covering Wikileaks? Because almost 100% of mainstream media sources, as well as several prominent publishing news sources are implicated in the leaks in colluding with the Clinton campaign. These "news" sources (as you will find in the leaks below) have conspired to get Hillary elected, by only reporting anti-Trump smear pieces, manufacturing or exaggerating scandals, and hiding anything damaging to Hillary. Most are even donating big money to the Clinton campaign in order to keep the globalist status-quo. These revelations are the stories journalists dream of, but CNN, ABC, NBC, MSNBC, New York Times, Washington Post, Politico, Huffington Post, AP, and several more are all implicated in the leaks. This is why the media has been so one sided this election season, and why only 6% of people trust the mainstream media. Trump hasn't helped with some past comments, but as CNN said here, the media is doing everything they can to help Hillary and give her a free ride.
The Anatomy Of A Press Cover-Up. [Scroll down] This has been a constant theme in coverage of the WikiLeaks release of Clinton campaign chairman John Podesta's by major liberal news outlets, to ignore the actual newsworthy content in the release and focus on boring process stories. The Washington Post has not written on Hillary Clinton telling Goldman Sachs that American allies fund terrorists and opposition to immigration is "un-American." The same is true at The New York Times. When national political correspondent Jonathan Martin was asked on Twitter why he isn't covering WikiLeaks, he replied saying that a WikiLeaks story was on the front page the day before.
MRC Study: Documenting TV's Twelve Weeks of Trump Bashing. In the twelve weeks since the party conventions concluded in late July, Republican presidential nominee Donald Trump has received significantly more broadcast network news coverage than his Democratic rival, Hillary Clinton, but nearly all of that coverage (91%) has been hostile, according to a new study by the Media Research Center (MRC).
USA Today columnist: Of course the media are rigging the election. It's one thing when Trump says it, and it's one thing when we say it. Michael Wolff is a longtime USA Today columnist and frequent media critic — and he's no fan of Donald Trump, to put it mildly. He clearly sees it happening, not only in the usual media bias sense, but also at the unprecedented level we're seeing this year. What's more, Wolff freely acknowledges that standard media bias is liberal, although he argues that their interest in a competitive race usually blunts their bias. I've been hearing that one from media types for years and I think it's true only to a very limited degree. But this year Wolff sees what you and I see: Not only are the media in the tank for Hillary, they think it's a righteous calling and a duty for them to be so.
Media's response to major party nominee being implicated in felony: Silence. A man closely associated with the Clinton campaign and the DNC — not knowing he's being recorded, of course — admits that Hillary is illegally giving orders for idiotic hijinks to go on at Donald Trump rallies. The point is not how stupid the whole Donald Duck thing is (and it's very stupid indeed). The point is that a candidate cannot be giving orders to a Super PAC to do things. That's a felony violation of campaign law.
"Amerca's Morning News" All in for Hillary. I was listening to the radio when America's Morning News came on with some election "news". It was essentially a campaign ad for Hillary Clinton disguised as "news". It dwelt on the made up "scandal" of Trump accusers that have been mostly debunked. Not a single word about the multiple Hillary scandals from exposing U.S. classified information, pay for play as Secretary of State, transferring half a million dollars to the campaign of the wife of the FBI individual who was supposed to be investigating Hillary, and on and on. I have never seen the full force of the organized media so completely all in for one candidate before.
Political Violence, Media Corruption, the Second Amendment. Thanks to James O'Keefe's Project Veritas, we now have video proof that high-ranking Democrat operatives directly connected to the highest-ranking Democrats in the land (the Clintons, the DNC, marriage to a sitting congresswoman) have engaged in vote fraud and the orchestration of violence at Donald Trump's campaign events. And our elite, political media doesn't care.
The Mainstream Partisan Media Is Going Too Far. The partisan media is insisting that the election is all over, Hillary has won, and there's no need for you backwards Trump voters to bother anymore. The polls all confirm that Hillary has won, except they actually don't. ABC just said that Hillary has opened up her widest lead yet, popping up to confirm my first paragraph. Hillary wanted to run against Trump, as she thought him the easiest to defeat, and the partisan media cooperated all during the Republican debates by focusing entirely on Trump and not really giving the other 16 candidates much of a chance to get a word in. Hillary told another of her whoppers, claiming that 17 of our intelligence services had verified that Wikileaks was a Russian production and suggesting that they were trying to get Trump elected. Not true.
CNN's Blitzer Brushes Off Project Veritas Videos; 'We Haven't Confirmed' Their Authenticity. On Monday's [10/24/2016] Situation Room, CNN host Wolf Blitzer brushed aside the latest bombshell Project Veritas videos showing liberal operatives planning to instigate violence at Donald Trump rallies simply because "we haven't confirmed those videos" are real before cornering the Republican National's Sean Spicer over reporters being harassed at Trump events.
Brazile's Deception and the Big Media Lie. It "pains" Jordan Chariton at Mediaite to say so, but "Trump is right — the [news] media is dishonest." WikiLeaks has exposed the "jarring ... alliance between supposedly neutral 'analysts' and 'journalists' with Hillary Clinton." Case in point: interim Democratic National Committee chair Donna Brazile, who was exposed "tipping off the Clinton campaign to a CNN town hall question she'd be asked the next day." (She denies it.) But Brazile is just one in a "long list of phony 'analysts' and 'strategists' — as well as anchors and reporters — who were clearly in-the-tank for Hillary Clinton all along." The "wider media lie" is that what you see on-air "is being delivered by neutral arbiters and journalists."
Rotten to the Core. The Clinton campaign's coordination with the mainstream media in this cycle has been effectively total. One could be excused for suspecting that coordination is a key reason why it's Trump, rather than another Republican who would have been more likely to win, carrying the Republican standard in the first place.
The coming media settlement with Hillary. There's no one more repentant and eager to promise reform than the town drunk coming off a week at the bottom of a bottle. Some of "the top political reporters in the country," as they think of themselves, will be soon looking for similar redemption. If Hillary Clinton wins the Nov. 8 election — and it's no sure thing, according to some of the respectable polls — she should not necessarily expect to extend the passionate honeymoon with her eager bridegrooms in the mainstream media.
Pat Caddell: Media Basically Executing 'Coup d'état Against The People' To Elect Hillary Clinton. In addressing media bias through selective coverage and media polling in the 2016 presidential election, pollster and analyst Pat Caddell told Breitbart News Daily SiriusXM host Alex Marlow on Monday [10/24/2016], "If they do this, they will have ratified their right to control American politics and their right to decide what the American people have a right to know and what they don't." "They will have executed," Caddell continued, "on behalf of the political establishment ... basically a coup d'état, as somebody else has used that term, against the people, against the country. Democracy is supposed to belong to the people."
No Consequences From Media Peers for Reporters Caught Colluding With Hillary. Decades before social media and email, a remarkable but unsung Bronx housewife named Ruth Goldstock told her grandson, "Never put anything in writing that you wouldn't want on the front page of The New York Times." These days, that wise advice applies to private communications by everybody in the entire country except elite journalists and news executives. Elsewhere in America, when emails that the author assumed would never see the light of day became public he suffers some form of consequences — you know, stuff like plummeting poll numbers, possible jail time or forced resignation.
PBS Host Tavis Smiley Fears Slavery Could Return Under President Trump. In a recent op-ed for Time magazine, Public Broadcasting Service late-night host Tavis Smiley expressed concern that blacks in America might one day return to slavery if Republican presidential candidate Donald Trump wins the election on November 8. "In my lifetime, I have never seen Congress so blatantly mock our Constitution," he stated. "It's especially striking that it comes from the political party that's always lecturing us about the 'rule of law,' What's worse is that they're getting away with it."
The Editor says...
What's ironic here is that Hillary Clinton intends to do away with the Second Amendment, which would be a giant step toward oppression, if not slavery, for all of us.
Hillary Ally Gave $$$ to Wife of FBI Agent on Email Probe, Nets Censor. Democratic Governor Terry McAullife's PAC donated almost $500,000 to the wife of an FBI agent leading the probe into Hillary Clinton's e-mail scandal. This stunning revelation, despite being reported in a front page story in Monday's [10/24/2016] edition of The Wall Street Journal, didn't receive any time on the Big Three network (ABC, CBS, NBC) morning shows.
Facebook Co-Founder Drops $35M to Defeat Trump. Dustin Moskovitz, one of the co-founders of Facebook, has donated tens of millions of dollars to defeat Donald Trump. Moskovitz is not one of the usual Democrat deep-pocketed suspects. Politico reports that his donations came "suddenly and without any advance warning to the top rung of Democratic party megadonors with two unheralded tears through his checkbook in the past six weeks." The party is excited about adding their own Sheldon Adelson-esque donor into the political mix. Democrats don't need as much money as Republicans do because Republicans don't get billions of free media advocacy from the networks and cable stations, and they don't get free promotion from the Hollywood crowd, from ESPN, from the NFL, and from "volunteers" from the labor unions.
Clinton Aide Writes on His Phone, Shows It to Andrea Mitchell Before She Asks Clinton Softball Question. Hillary Clinton spokesman Nick Merrill appeared to write something on his cell phone and then show it to MSNBC reporter Andrea Mitchell Wednesday night before she offered the Democrat a softball question. After her final debate with Donald Trump, Clinton held a brief press conference on her campaign plane. At the beginning of the conference, Merrill wrote something quickly on his phone in the video, and then showed it to Mitchell who nodded. Mitchell, about a minute later, asked Clinton what she thought about being called a "nasty woman" and a "puppet" by her Republican rival.
The Incestuous Left and Those Who Provide Cover for them. As the election nears, the media hype, designed to affect the results, demoralize and demonize Trump and his supporters and confirm the bias of its elite coastal consumers, continues. Saturday's opinion-posing-as-news lead in the Washington Post says the end is near for Trump — the polls have him down everywhere and he was booed for crass attacks at the Al Smith dinner in New York. What do you expect from media whose reporters are literally in bed with the administration? Not only are reporters feeding debate questions to the Clinton campaign, we have a video of one of them, Andrea Mitchell, seemingly being fed what to ask by Hillary's traveling press secretary.
Vegas crowd chants 'Lock her up!' A CNN panel attempted on Wednesday [10/19/2016] to discuss the 2016 electoral map and the upcoming third presidential debate, when a Las Vegas crowd began to chant "Lock her up!" relentlessly for at least a minute straight. CNN is owned by Time Warner Cable which is one of the seven largest donors to Hillary Clinton's campaign. Dan Balz of the Washington Post, which is strongly anti-Trump, attempted to talk over the chanters but found himself encumbered by a faulty microphone.
Media Polls. WikiLeaks most recent releases show in the last week of February and first week of March 2016 the U.S. Media was doing all they could to aid the Clinton Campaign. It's all out in the open now. Talking points were distributed by the campaign and pushed heavily by the pro-Clinton media water-carriers, including media polling organizations.
Nets Blackout Damaging Undercover Video Exposing Underhanded Liberals. Late Monday [10/17/2016] Project Veritas, a conservative activist organization, dropped a series of videos exposing the underhanded tactics of liberal political operatives, which has already has led to people losing their jobs. "Tonight, a rare look inside the dark side of politics," reported Fox News' Bret Baier Tuesday on Special Report, "A conservative group is shining some light on how pro-Hillary Clinton forces at least plotted to circumvent election law and disrupt events for Donald Trump often inciting violence." In obvious spite of these actual bombshells, all of the "Big Three" networks blacked out the revelations. "In its latest pair of videos, Project Veritas Action the controversial conservative group that uses hidden cameras to document alleged misconduct by progressive organizations targets the satellite groups orbiting the democratic national committee and the Hillary Clinton campaign," stated Fox News Chief Washington Correspondent James Rosen.
Commentary on the final presidential debate, 10/19/2016:
Shrill Hillary's Cheap Shots. The grimier Hillary's campaign gets, the whiter her outfits become. Looking like a white-suited Las Vegas magician (when the camera panned out), Hillary at the final debate in Nevada was again shrill and scripted, and oddly defensive for a candidate the chattering class has already crowned president. No sooner had the debate ended than the pundits in her pocket resumed their tedious discussions about Trump's imperviousness to the expected optics. He called her "nasty," they gasped. She is.
ABC's embarrassing article about Clinton's white pantsuit. Did you notice that Hillary Clinton was wearing a white pantsuit at Wednesday night's presidential debate? Did you simply think 'Oh, she's wearing a white pantsuit again'? Or are you like ABC News, who decided to find a hidden meaning in Clinton's choice of white? That's right, you weren't just looking at a woman wearing a white pantsuit, you were looking at a woman who was ... standing up for women's rights by channeling suffragettes, according to the senior fashion editor of the Hollywood Reporter, Booth Moore. [...] Clinton also wore a white pantsuit when she accepted the Democratic nomination. At that time, it seemed like she was wearing it because she knew the media would try to make her look like a deity, the way they seem to do with President Obama. And by the way, remember when Melania Trump wore white to the Republican National Convention? A fashion writer for Philly.com claimed it was racist.
Alinskyite Tactics, Robert Creamer, and Us. [Scroll down] Is it right to cover revelations that are obviously newsworthy, yet were obtained by troubling means? I'm torn on this question. I can't help but recall, however, that when I used traditional and completely non-deceptive means to research a story on President Obama's membership in a leftist third party — and his campaign's lies about that issue in 2008 — the mainstream press ignored it. So even when you get a story by traditional means, the press will spike it if it hurts a Democratic presidential candidate. That doesn't justify deceptive investigative techniques, but it needs to be said nevertheless.
Talking to Cardinal Dolan, NBC Avoids Clinton Camp's Catholic Bashing. After refusing to report on New York Cardinal Timothy Dolan condemning the "offensive" and "patronizing" anti-Catholic rhetoric revealed in leaked e-mails from Hillary Clinton's campaign chairman John Podesta, on Friday [10/21/2016], the hosts of NBC's Today committed journalistic malpractice by continuing to ignore the controversy during an interview with the Church leader. Co-host Savannah Guthrie and NBC Nightly News anchor Lester Holt — filling in for absent co-host Matt Lauer — invited Dolan on the morning show to discuss Thursday night's Al Smith Catholic charity dinner, at which both Clinton and Donald Trump spoke. Ironically, the anchors spent the entire segment fretting over the lack of civility at the traditionally light-hearted event: [Video clip]
Follow The Money: 'Unbiased' Journalists Gave $382,000 To Hillary Clinton. Emails unearthed by hackers and released by WikiLeaks over the past few days have exposed a cozy, if not outright corrupt, relationship between reporters and Democrats. The New York Times let Clinton veto quotes from an on-the-record conversation. CNBC correspondent John Harwood gave tips to the Clinton camp. A CNN contributor gave Hillary at least one question that she was going to be asked at a town hall event. Boston Globe Op-Ed page editor Marjorie Pritchard worked with team Clinton on the timing of an op-ed to "give her a big presence" during the primaries.
CNN's Dan Merica: Nothing to See in Wikileaks, Hillary Clinton's Private Speech Transcripts. CNN reporter Dan Merica would like you to think that there is nothing to see in Wikileaks' release of emails from Hillary Clinton's campaign chairman John Podesta — including the transcripts of her private paid speeches. In a Tuesday [10/18/2016] article co-bylined with Tal Kopan bearing the vanilla headline "What we've learned from the hacked emails of Hillary Clinton's campaign (so far)," Merica's main takeaway from the leaked emails and campaign documents is how hard-working and "methodical" Clinton appears. Nothing about scandals. Nothing about the troubling internal audit of the Clinton Foundation. Just a boring look at an impressively "deliberate" campaign. There is a word for this type of news story.
Jill Stein On Wikileaks: How Much More Evidence Does Govt Need To Press Charges Against Hillary? Dr. Jill Stein, the Green Party candidate, is railing against the Hillary Clinton machine and the mainstream media. That's why you'll rarely see her on the news, because the media doesn't want her telling the truth about the Clintons.
Trump's Right: The Media Is Rigged. On Oct. 16 on his CNN show "Reliable Sources," host Brian Stelter took the denial of liberal media bias to a new level. In the wake of hundreds of emails underlining media-Democrat collusion, he insisted that every American should deny the evidence: "In Trump's world, journalists are really just (Hillary) Clinton campaign workers in disguise, collaborating with her in an attempt to rig the election. This is not just false. It's ludicrous, and it's damaging." On what planet does this man live? Even by Clinton News Network standards, this is ridiculous.
Here is the list of reporters that John Podesta cooks for at his home — the biggest names in media. A couple of days ago, when reading through the Podesta emails, I came across one from April 8th with Podesta sort of bragging to the President of the Soros-backed propaganda machine — The Center for American Progress (CAP) — about how he was cooking for 30 of her reporter friends.
James O'Keefe: If Media Covered Project Veritas Like They Covered Trump Tape, 'I Guarantee You Trump Would Win the Election'. James O'Keefe of Project Veritas appeared on Tuesday morning's [10/18/2016] Breitbart News Daily to talk about his latest undercover videos, including one that exposes efforts by Democrat activists to incite violence at Republican political events, and another in which a New York City elections commissioner admits to widespread voter fraud. O'Keefe said he has never seen anything like the response to his Democrat-violence expose, which has become an "Internet phenomenon."
Key Members For The Commission On Presidential Debates Are In Bed With Hillary Clinton. Chief members of the Commission on Presidential Debates have historically donated to Democratic nominee Hillary Clinton and to the Democratic party overall. The Commission on Presidential Debates was founded in 1987 to ensure that debates are nonpartisan and provide the general public the best possible information. It is a nonprofit 501(c)(3) corporation that has sponsored all debates since 1988. Co-Chairman Michael D. McCurry donated to Hillary Clinton campaigns from 2000 to 2008, giving her a total of $5,650 over eight years.
Corruption and collusion. Modern journalists have little in common with those I was privileged to know when I was a copyboy at NBC News in Washington in the '60s. Today's "journalists" will disagree, but as numerous surveys have shown, the public trust in what is collectively called the media has sunk to an all-time low. Only the media think they don't have to change and can continue to sell a product more and more people refuse to buy. WikiLeaks dumps of Clinton campaign emails with reporters should contain enough proof for any reasonable person that big media is in the tank for her. In what may be unprecedented, The New York Times allowed Hillary to edit her own quotes.
Glenn Greenwald: WikiLeaks Emails Clearly Show Serious Media Impropriety. Glenn Greenwald joined Brian Stelter on CNN this morning to discuss the "serious impropriety" between the media and Team Clinton, as shown in the WikiLeaks emails. Greenwald, who personally doesn't agree with WikiLeaks' "dump everything" approach to transparency, still thinks not only is it ethical to report on the leaks, but it would be "incredibly unethical" if journalists didn't. Stelter asked if anything shows serious "media collusion." Greenwald said that while there's some normal back-and-forth communications there people might be exaggerating, there is "serious impropriety" in there. And while on CNN, he cited as his chief example the mess that Donna Brazile and CNN have gotten into over an apparently-leaked town hall question to Team Clinton.
Stunning Corruption — Explosive O'Keefe Video Being Blocked By Fearful Corporate Media. The jaw-dropping James O'Keefe (Project Veritas) year-long investigative expose' of the DNC and Clinton Team coordinating violence against political opposition is being stunningly "black-listed" by all U.S. corporate media.
American Media has Become a Terrorist Organization, Incites Violence, Covers-Up Crimes. The firebombing of a North Carolina is the latest attack on free speech in the United States. This attack, which would be labelled a domestic terrorism and be the subject of never-ending media coverage had it happened at a Clinton office, has been largely ignored by the American media. The North Carolina firebombing is part of a broader campaign of terror incited by American media, which continues to cover up violence.
NBC More Worried by Trump's 'Dark Tone' Than Firebombed GOP. On Monday [10/17/2016], NBC's Today devoted a nearly three-minute report to stoking fears that Donald Trump's supporters could cause violence if the Republican nominee is defeated in November, while only offering a scant 39 seconds of air time to a GOP campaign office in North Carolina being firebombed over the weekend.
Journalists shower Hillary Clinton with campaign cash. New Yorker television critic Emily Nussbaum, a newly minted Pulitzer Prize winner, spent the Republican National Convention pen-pricking presidential nominee Donald Trump as a misogynist shyster running an "ugly and xenophobic campaign." What Nussbaum didn't disclose in her dispatches: she contributed $250 to Democrat Hillary Clinton in April.
Barack Obama's Orwellian Farewell. Network TV personalities (who ride to work in limousines but adapt the personas of champions of the working class) are tapped as "moderators" by the Commission on Presidential Debates and have free reign to interrupt, badger or correct the candidates for the most powerful position in the Free World. But any casual observer can see that their toughest follow-ups and admonitions that "we have to move on to our next topic" are invariably aimed at you-know-who, not Mrs. Clinton whom the AP recently described in a news article as "the most famous working mother in America." [...] Echoing other mainstream media voices, MSNBC's Joy Reid bemoans the tone of this campaign, saying that "parents are concerned at what's coming out of their TV's because their children are watching." Apparently that, too, is laid at the feet of Donald Trump. No thought is given to MSNBC not running the obscenity-laden "Access Hollywood" tape 24/7 in the days before/after the Trump/Clinton debate at Washington University. Or making the radical proposal that parents actually control what their children watch on TV.
The Most Explosive WikiLeaks Clinton Revelations (So Far). [#8] "Journalists" secretly working as enthusiastic volunteers for Clinton/Kaine 2016: [...] The American public needs to understand there is no real division between the government and media when a Democrat is in the White House, especially with this particular Democrat. [...] They're her donors, Clinton Foundation contributors, and often her former (and future!) employees. If you didn't think the media could be less interested in holding a president accountable than Obama, you're in for a shock if Clinton wins.
Gingrich: Trump would be up 15 points without media's 'one-sided assault'. Hillary Clinton would be facing a double-digit polling deficit against Donald Trump if media bias against the Republican presidential hopeful didn't exist, former House Speaker Newt Gingrich argued on Sunday [10/16/2016]. "I think that without the unending one-sided assault of the news media, Trump would be beating Hillary by 15 points," Gingrich, a top Trump ally, said during an appearance on ABC's "This Week." Trump trails Clinton by 5.5 percent in the current RealClearPolitics national polling average, and he has fallen behind her in a number of battleground states that are critical to his path to victory.
Latest Wiki Dump Reveals Heavy Press Collusion Over Hillary's "Excellent Health" Medical Statement. Among the latest, ninth round of Podesta email releases by Wikileaks this morning, is a July 31, 2015 email by Hillary Clinton's National Press Secretary Brian Fallon who lays out the agenda for the day's rollout of Clinton's tax record and, more importantly, Hillary's "excellent health" medical statement, where once again the media, listed as "AP, Politico, WSJ, WaPo, etc" is exposed as coordinating and colluding with the campaign to send a message that Hillary is in great health.
Obama Channels His Ahmadinejad — White House Banter For Domestic Left-Wing Consumption. The story about the CIA prepping for a possible cyber attack against Russia is akin to Mahmoud Ahmadinejad building wooden Aircraft Carriers for Iranian military exercises. In essence this story is, laughable domestic consumption only. Pushed by NBC-Universal this story is so fundamentally absurd, it's beyond silly. If the U.S. were going to launch a cyber operation against Russia: #1) it would never be announced, and #2) it would not be the CIA carrying it out, it would be the NSA. So why push the ridiculous story? The motive is about propping up the failing candidacy of Hillary Clinton.
Trump has a point with media criticism. Add it all up, and one presidential candidate's negative news of the day was somehow covered more than 23 times more than another candidate's negative news of the day. It's understood what has always sold in this business: sizzle always trumps steak, sex always triumphs over substance. If you told me the coverage was 2-1 or even a 3-1 ratio of Trump to Clinton, you wouldn't be reading this column right now. But a story winning the lead over another is one thing. Devouring it to the point of almost total omission via a more than 23:1 ratio is quite another: "NBC Nightly News" with Lester Holt devoted zero seconds to the Democrat and Wikileaks on Thursday night [10/13/2016].
WSJ: 'Nation Now Has Proof' of Hillary Scandals, But Leftist Media 'Devote Its Front Pages to the Trump Story'. The Wall Street Journal's Potomac Watch columnist Kimberley Strassel details the "devastating case against a Clinton presidency" that can be made by reviewing the WikiLeaks documents combined with what is already known in the public record. Strassel notes that although "the nation now has proof of pretty much everything [Hillary Clinton] has been accused of," the media "has almost uniformly ignored the flurry of bombshells, preferring to devote its front pages" to the story that Donald Trump "made lewd remarks a decade ago and now stands accused of groping women."
What we've learned from WikiLeaks: Team Clinton treats reporters like butlers and maids. After binging for hundreds of minutes on the Donald Trump sex-talk tape, the liberal networks are now tiptoeing around the Wikileaks revelations, but spinning it as some kind of Russian conspiracy. CBS reporter Nancy Cordes said there were was "Enough to create a steady stream of embarrassment for the Clinton campaign, which aides argue is exactly what the Russians and Trump want." What they're blatantly failing to cover is the growing list of reporters openly colluding with the Clinton campaign. Their professionalism is completely compromised.
Now we know for sure. The establishment media is in the tank for Hillary. We figured the establishment media was in the tank for Hillary Clinton. Now we know for sure, thanks to WikiLeaks. Not only are the elites supporting her candidacy, they are part of her campaign. John Harwood writes for the New York Times, and appears on CNBC. He was a debate moderator. He reported back to Hillary's campaign on how nasty he had been to trump. They love him! The New York Times itself allowed Hillary to veto certain quotes: if she didn't like 'em, they were out. This is the New York Times giving its coverage to a candidate, handing over the writing, while claiming fairness.
Shocking But True: Hillary's Never Asked by Media About Broaddrick. The Washington Free Beacon noted that former NBC investigative reporter Michael Isikoff insisted NBC News should release the full tape of its interview with Juanita Broaddrick — "NBC ought to check its archive and run the full interview. (As long as they're now culling their archives!)" He added that it was "amazing to watch" Democrats that he saw defend Bill Clinton against his accusers now jump to embrace women accusing Trump. "It's amazing to watch how D's who attacked those women are now embracing the Trump accusers, while the Rs who believed them attack them," Isikoff said. Since Broaddrick attended the second presidential debate — with Kathleen Willey and Paula Jones, who both claimed non-consensual harassment from Clinton — Hillary defenders have tried to pretend they were just bimbos.
Kim Strassel sums up the Hillary bombshells the press has ignored all week. [Kim] Strassel is an excellent writer and she does a deep dive into things that are happening in Washington that no one else is telling you about. But while I admire Strassel's reporting skills, and I'm sure she's worked hard to cultivate sources, the fact of the matter is that most of the media could be culling the same information Strassel comes up with. They just don't, either because they aren't interested or they don't think it would serve their ideological agenda.
The Lockstep Partnership Between Clintons And The Media Is Bad For America. That this information is coming out is all so obvious that if you saw all these warning signs — and everyone saw these warning signs — and still supported Trump, you should look inward. Still, it's intriguing that there was an obviously coordinated push.
CNN's Tapper: TVOne Anchor Leaked Town Hall Question to Brazile. On WMAL's Mornings on the Mall on Thursday [10/13/2016], CNN's Jake Tapper revealed his "understanding" about what happened surrounding the leaked town hall question to the Hillary Clinton campaign: "This was a Roland Martin follow-up. So, my understanding is that he, or...somebody on his team got that question to Donna Brazile." Brazile apparently then sent the question to Hillary Clinton's campaign, as revealed by Wikileaks' release of John Podesta's e-mails on Tuesday. Host Brian Wilson, formerly of Fox News, asked Tapper about Brazile forwarding the town hall question to the Clinton camp: "[Brazile] sends an e-mail to the campaign — saying, 'Sometimes, I get an advanced look at the questions' — and this all had to do with the town hall — and it now appears that the question was actually cut and paste from an e-mail that Roland Martin had sent around, who was one of the moderators."
Wikileaks: CNN Gave Hillary Death Penalty Debate Question in Advance. It must be nice getting debate questions in advance. Such is one of the many Wikileaks revelations contained in John Podesta's emails. As you can see dramatically illustrated in the video [in this article], current Democratic National Committee Chair Donna Brazile is boasting in an email that "From time to time I get the questions in advance." The question by News One Now host Roland Martin to Hillary Clinton during the March 13 debate in Columbus, OH between her and Bernie Sanders reveals just how accurate the advance question obtained by Brazile was.
Wikileaks: Democrat-Media Complex Hall of Fame (So Far). The latest batch of Wikileaks emails reveals further collusion between mainstream media journalists and outlets on the one hand, and the Hillary Clinton campaign on the other. Andrew Breitbart called that collusion the "Democrat-media complex," and it first emerged in 2008 with the exposure of "JournoList," whose members discussed accusing conservative writers of racism to distract from the Jeremiah Wright scandal. Wikileaks proves: "JournoList" lives on.
Wall Street Journal Finally Lashes Out "The Press Is Burying Hillary Clinton's Sins". Even the Wall Street Journal is now fed up with the biased media coverage of the 2016 Presidential election as revealed by a scathing article written by Kimberly Strassel, a member of their editorial board. As Strassel points out, it's almost impossible to turn on the TV without hearing about Trump's "lewd" comments while coverage of Hillary "uniformly ignores the flurry of bombshells" inherent in the various WikiLeaks, FOIA releases and FBI interviews.
Why you should vote for Trump, even if you can't stand him. [Scroll down] With Trump, there will be a leash. The media will oppose him at every turn. So will the opposition party. Members of his own party are already standing up to him. But with Hillary, there will be no leash. The media will not constrain her — and neither will any members of her own party. She has violated many laws, and instead of investigating and prosecuting, those who should indict her are spearheading the cover-up. If Hillary becomes president, they will turn a blind eye to her abuses, and they will cheer her on as she terrorizes the neighborhood.
Wikileaks reveals exactly how the Clinton campaign, bullies, seduces, manipulates and dominates its media coverage. The operating procedures of media management, Clinton style, are being revealed, as the torrent of Wikileaks releases continues. Howard Kurtz of Fox News has gone through the recent tranches, and puts together a very interesting portrait of the Ruling Class Media in action.
CNN should investigate Brazile providing questions to Team Clinton. For a media that will somehow emerge from this election season much worse in the eyes of the American public than before it began, Tuesday was the decided low point. A WikiLeaks email dump of just one person's account — Hillary Clinton's campaign chairman, John Podesta — shows just how corrupt and compromised our media is today. Exhibit A is former CNN contributor Donna Brazile, currently on a temporary friendly suspension from the network after taking over as Democratic National Committee interim chairwoman following the humiliating resignation of Debbie Wasserman Schultz during the Democratic National Convention in July. As you recall, Wasserman Schultz was forced to step down after a separate WikiLeaks email dump showed top levels of the DNC were actively attempting to take down the candidacy of Sen. Bernie Sanders (I-Vt.).
Clinton Campaign Boasts About Media: 'Every Single Interviewer Was for Her'. The Hillary Clinton campaign bragged "every single interviewer was for her" during a visit to Michigan during the Democratic primary season, according to recently released hacked emails. Notes from campaign events sent by Nick Merrill, Clinton's traveling press secretary, revealed a cozy relationship with the media, a recurring theme in the document dump of campaign chairman John Podesta's emails. Emails have shown CNBC anchor John Harwood offering advice to the Clinton campaign and bragging about how he questioned Donald Trump as a debate moderator. The New York Times also gave veto power to the campaign over what Hillary Clinton quotes could be used in a profile.
Hill's Shills: Leaks Have Exposed Journalists In Clinton's Corner. The massive trove of emails by Clinton confidant John Podesta released by Wikileaks has exposed journalists from a variety of media organizations who are "with her." CNBC chief Washington correspondent and New York Times political writer John Harwood is the most prominent journalist who is cozy in the emails with the Clinton camp. The CNBC anchor is also the one who should arguably be the most embarrassed.
NYT/CNBC's John Harwood Advises Clinton Campaign, Gloats About Provoking Trump At Debate. The latest batch of emails from the account of Clinton campaign chairman John Podesta show New York Times reporter and CNBC anchor John Harwood giving the Clinton campaign tips about other candidates and bragging about feeling vindicated by provoking Donald Trump as a debate moderator.
O'Reilly Claims 3 News Orgs Are Instructing Employees to 'Destroy' Trump. Bill O'Reilly apparently has it on good authority that there are three major media organizations ordering their employees to "destroy" Donald Trump. He told colleague Bill Hemmer this morning that "there's at least three of 'em" doing this, saying, "I can't say who they are right now, 'cause I don't have it nailed down, but I am 100 percent convinced." He insisted that all of these media organizations are telling people their careers will be "done" if they dare support Trump
Leaks Have Exposed Journalists In Clinton's Corner. The massive trove of emails by Clinton confidant John Podesta released by Wikileaks has exposed journalists from a variety of media organizations who are "with her." CNBC chief Washington correspondent and New York Times political writer John Harwood is the most prominent journalist who is cozy in the emails with the Clinton camp. The CNBC anchor is also the one who should arguably be the most embarrassed. Harwood in several emails to Clinton campaign chairman John Podesta showers Hillary in praise.
The View Host Joy Behar: I'd Vote for a Rapist as Long as He Votes for Abortion. The View's Joy Behar on Tuesday [10/11/2016] insisted that, regardless of whether Bill Clinton raped a woman or Ted Kennedy drowned someone, she would vote for these liberal politicians. Behar and her fellow co-hosts were discussing how Clinton's past would impact his wife. She justified, "Republicans have voted against the Violence Against Women Act. Now, that to me, is more important than anything that Bill Clinton did or didn't do because it's what [Hillary's] going to vote for."
1 detained as Trump supporters protest outside CNN building in Hollywood. The protesters gathered at the corner of Sunset and Cahuenga boulevards to speak out against what they perceive as pro-Hillary Clinton media bias and to demand CNN "be more truthful" in its coverage of the 2016 presidential election. "The things that I see on CNN, it really is beyond bias and slant," said Dorothy Caruso of Costa Mesa. "It's the Clinton News Network." While Caruso stood to the west of the CNN building, she said she was confronted by someone who obviously isn't a Trump supporter. "Somebody had a temper tantrum, abused my Women for Trump sign," said Caruso as she held up a homemade poster that had been torn apart.
Awesome! 10,000 at Trump Rally Chant [against CNN]. Nearly 10,000 voters chanted "CNN s***s" during a campaign rally for Donald Trump in Pennsylvania Monday night [10/10/2016]. "I'm telling you, they are so dishonest. Without the media, Hillary Clinton couldn't be elected dog catcher," Trump stated. "CNN is a disgrace." The Republican nominee then alleged that CNN turned off its camera as he was criticizing the network.
10,000 Supporters at Pennsylvania Trump Rally Chant [about CNN]. Nearly 10,000 voters chanted "CNN s***s" during a campaign rally for Donald Trump in Pennsylvania Monday night [10/10/2016]. "I'm telling you, they are so dishonest. Without the media, Hillary Clinton couldn't be elected dog catcher," Trump stated. "CNN is a disgrace."
NBC News' 'fact check' about Hillary's email is the unintentional joke of the week. There's a good reason Hillary Clinton's always imploring the MSM to "fact check" her, because she knows she'll end up getting defenses like this one: [...]
CBS: Fly Landing on Hillary is Native American Totem Protecting Her From Trump. A fly landed on the Empress' face during the debate. People noticed. Since the media has to spin everything negative about Hillary, its best and brightest tried to figure out how to spin the fly.
Why Did NBC News Sit on the Trump Tape for So Long? As the political world ponders whether the past 72 hours have delivered a fatal knockout blow to Donald Trump's presidential campaign, the nation's media observers have been bedeviled by a separate question: Why did NBC News hold its story about the uncouth video starring Trump so long that the Washington Post's David Fahrenthold ended up getting the scoop? Recorded in 2005 for the NBC-owned Access Hollywood entertainment show, the video captures backstage sexual boasting by Trump to the show's co-host, Billy Bush, who goads him on. Once NBC News learned that its Trump tape had been leaked to the Post and the paper was preparing a story, the network aired its own story, getting beat by about 10 minutes.
Trump: 'Without the Media, She Would Not Have a Chance'. "There's nothing Hillary Clinton won't do or say to obtain power, and it's about time people started to understand that," Donald Trump told a campaign rally in Pennsylvania on Monday [10/10/2016]. Trump said Clinton is "disqualified from office" for deleting 33,000 emails after they were subpoenaed; he called out the "hypocrisy" of the Clintons and the media that protects them; and he said if the Clinton campaign wants to release more tapes of Trump saying bad things, he'll continue to call out the Clintons for doing bad things.
Clinton Email Scandal: Hillary's Hypocrisy And Media's Bias Revealed. It's no surprise, and certainly no accident, that the now-infamous 11-year-old videotape of a potty-mouthed Donald Trump sexually bragging like a poorly raised pubescent teen should surface when it did. It managed to eclipse a far-bigger story — the one about the emails revealing Hillary's unbelievable hypocrisy and the media's ongoing bias.
The Associated Press Spins For Hillary. The Associated Press reports on Donald Trump's talking about Hillary Clinton's role in her husband's rape and sexual harassment scandals. Perhaps recognizing that some people might consider being an accessory to rape and sexual assault more serious failings than talking crudely about women, the AP doesn't take any chances. You almost have to read between the lines to extract the story from the spin[.]
Megyn Kelly calls Juanita Broaddrick a Liar. In the post-debate analysis of Trump/s spot-on rebuttal of Team Clinton's exploitation of the 2005 Trump "locker room" remarks, Megyn Kelly sparred with Trump manager Kelly Anne Conway over Trump's trotting out of some of Bill's "bimbo eruptions" in a pre-debate press conference. In what will undoubtedly be Team Clinton's defense, Megyn Kelly claimed that Clinton rape accuser Juanita Broaddrick denied any rape in a 1998 affidavit. Close, but no cigar, Megyn.
WikiLeaks exposes media bias, Clinton team cheering ABC's use of talking points. The latest round of WikiLeaks documents released by founder Julian Assange shows members of Hillary Clinton's team touting ABC News' "perfect" use of its talking points. "This Week" moderator George Stephanopoulos was criticized in April 2015 for not disclosing ties to The Clinton Foundation before a contentious interview with "Clinton Cash" author Peter Schweizer. Mr. Stephanopoulos apologized for not mentioning his $75,000 in CGI donations, but WikiLeaks' latest hacked emails indicate there was collusion behind the scenes.
Wikileaks E-Mails Show CNBC's Harwood Cozying Up to Clinton Campaign. As part of the Monday's e-mail dump by Wikileaks from Hillary Clinton campaign chairman John Podesta, The Daily Caller's Betsy Rothstein found yet another set of e-mails illustrating their cozy relationship with the liberal media as CNBC correspondent and infamously biased debate moderator John Harwood engaged in a variety of flattering conversations with Podesta and other Clinton officials. Rothstein provided screenshots from e-mails ranging from brief, one-line suck-ups to full-fledged lobbying for a fawning interview with Clinton that he promised would be a "deep...conversation about the economy that she wants."
Stephanopoulos Praises Debate Performance by Martha Raddatz on GMA. During the debate [10/9/2016], Martha Raddatz cut off Donald Trump on a number of questions while letting Hillary Clinton go over her time but this isn't the first time she's shown her bias as an ABC journalist. In 2012 she gushed on Good Morning America, "Let's face it, Hillary Clinton is cool," following up the next year by calling Clinton "charming" during her Benghazi hearings. Newsbusters' Geoff Dickens compiled a complete list of the liberal journalist's worst outbursts. For her pushy performance last night, Stephanopoulos praised Raddatz for doing a "great job" on Monday's GMA. From one Clinton fan to another, we can only assume Stephanopoulos wishes it was him that had the opportunity to give Clinton the upper hand.
CNN Possibly Caught Coaching Post-Debate Focus Group. CNN may have accidentally broadcast itself coaching a member of its focus group about what to say following Sunday night's presidential debate — a charge the network strongly denies. A video uploaded to YouTube shortly after Sunday's debate shows CNN discussing the debate's events with a focus group of undecided Ohio voters, only to have a live microphone reveal more than intended.
Pushy Martha Raddatz Spars With Trump Over Media Bias. Co-debate moderator Martha Raddatz frequently interrupted Donald Trump and sparred with the businessman over media bias and fairness during Sunday's debate. After a discussion on the condition of Syria, the journalist attempted to move on and Trump interrupted, "She just went about 25 seconds over her time. Could I respond to this please?"
Shocker: emails reveal "cozy" relationship between Clinton campaign and press. Hillary Clinton is notoriously reclusive with the press, frequently finding herself on the receiving end of complaints about how few pressers she holds and her general lack of availability. That stands in contrast with the massively favorable coverage she receives — or at least the inordinate amount of silence surrounding negative Clinton stories compared to the media's treatment of trump [sic]. But why would she avoid them so much when they seem to be willing to provide favorable coverage? Writing at The Intercept, Glenn Greenwald reveals some new emails from Guccifer 2.0 which highlight the Clinton team's awareness of who is or is not friendly in the press corps.
In St. Louis, moderators Raddatz, Cooper interrupt, talk over and even debate Trump. In the baseball playoffs, three strikes means a batter is finished. In the presidential debates, it means the media are just getting started. Three debates[,] three different sets of biased moderators. Sunday night's [10/9/2016] moderators Anderson Cooper, from CNN, and Martha Raddatz, from ABC, virtually took the field wearing blue jerseys with "I'm with her" on the back. [...] The interruptions were bad. The outright speaking for Clinton was worse.
Trump's Dirty Talk versus Hillary's Corruption. In the past week:
• Justice drops the case against a gunrunner from Hillary's Libya fiasco whose testimony would certainly have harmed Obama and Hillary.
• Evidence surfaced that the White House participated in the cover-up of Hillary's violation of national security laws with her private server even though they said they absolutely knew nothing about the server and would not interfere with an investigation.
• We have learned more this week about how the investigation of Hillary by the Justice Department and FBI was a pure sham as they gave immunity to so many, took so much stuff off limits, and even carried out the destruction of evidence. [...]
The media, of course, don't focus on any of these things. Instead they trot out a tape of Trump talking dirty about women eleven years ago. [...] Shows that use dirty language win all sorts of awards, and now the media pretends words spoken eleven years ago are a disqualifier.
Why Doesn't The Media Ask Hillary About State Dept./ Clinton Foundation Ties To Russia? [Scroll down] On the other hand, the media is ignoring the financial connections between Hillary Clinton, the Clinton Foundation, and Russia that suggest Hillary Clinton has already shown favoritism toward Russia. When she was secretary of state, Clinton made deals with Clinton Foundation donors, one resulted in Russian control of 20% of American uranium reserves, another gave Putin access to our military technology. In April 2015 the NY Times disclosed a deal which enabled Russia to own about 20% of the uranium production capacity of the United States for a $2.35 million donation to the Clinton Family Foundation. According to the report a Canadian based company Uranium One, owned the uranium assets was being purchased by Russian state atomic energy agency Rosatom — a deal which had to be approved by various U.S. agencies including the State Department. Canadian records show that while the State Department was mulling of the deal, the family foundation of Chairman of Uranium One made four donations totaling $2.35 million to the Clinton Family Foundation.
Even her surprise is faked: Clinton was told in advance what questions she'd be asked by Steve Harvey — but feigned shock anyway. When talk show host Steve Harvey showed his audience a picture of 12-year-old Hillary Clinton during a February taping, the 68-year-old Hillary Clinton sitting across from him feigned surprise. 'Oh boy, oh my goodness,' the former secretary of state said. But Clinton, according to a campaign strategy memo published by the Washington Free Beacon, which was part of an email given to the website DCLeaks.com, was fully briefed that this photo and Harvey's questions were coming.
Another leaked email reveals TV producer blubbering all over Hillary. This isn't all that surprising at MSNBC, where they go about as far left as they can to support Obama and Hillary.
Hack Shows MSNBC Producer Going Full Hillary Fangirl In Email To Clinton Campaign. The hacked emails of an influential Clinton insider give the public a glimpse into the relationship between the Clinton campaign and the mainstream press. In an April 2015 email to Clinton campaign spokeswoman Adrienne Elrod, editorial producer for MSNBC's "All In with Chris Hayes" Sheara Braun reached out to the Clinton campaign about booking an appearance with a Clinton aide. In the email, Braun gushed over Clinton's personal qualities — expressing awe for the "amazing, intelligent" Clinton — and dismissed a handful of prominent scandals attached to the Clintons as "[...] nonsense."
Emails Suggest CBS's 'Face The Nation' Agreed to WH Demands Not to Ask Kerry About Clinton Emails. Emails obtained by the RNC and provided first to The Wall Street Journal show that the White House reached out to CBS's Face the Nation to ask that the topic of Hillary Clinton's emails be made off-limits during an interview of Secretary of State John Kerry, and that the White House believed CBS had agreed. WSJ reported late Thursday [10/6/2016] that the Hillary Clinton campaign and White House collaborated to present a unified P.R. front when the story broke that Clinton had used a private email server while at the State Department. Accordingly, White House communications director Jennifer Palmieri and State Department spokeswoman Jennifer Psaki exchanged emails to discuss the upcoming TV appearance by Kerry.
State Dept. And White House Coordinated To 'Crush' Clinton Email Coverage. The State Department and White House coordinated to shield Sec. of State John Kerry from being asked last March about Hillary Clinton's emails in an interview on CBS News' "Face the Nation," newly released emails show. "Think we can get this done so [Kerry] is not asked about email," Jennifer Palmieri, then the White House's communications director, wrote to then-State Department spokeswoman Jen Psaki on March 12, 2015, two days after Clinton held her first press conference to answer questions about her email practices.
CNN's Jake Tapper: Press treating Chelsea Clinton with 'kid gloves'. CNN anchor Jake Tapper acknowledged Wednesday [10/5/2016] that there's a big discrepancy in the way the press covers Donald Trump's adult children compared to how they treat Hillary Clinton's only daughter, Chelsea. It's an idea that's been said before, but Tapper drew new attention to it on Wednesday. "It's true," Tapper said on Twitter in response to a colleague who said that Chelsea is never "grilled" the way Trump's adult children have been. Tapper noted that Chelsea doesn't do as many media interviews as the Trump children, but said "there's no reason to treat one adult child of a nominee with kid gloves while others get tough questions."
ABC Out To Lunch On Bill Clinton's 'Crazy' Remark About ObamaCare. As of Wednesday morning, ABC's morning and evening newscasts have yet to cover Bill Clinton's Monday slam of ObamaCare as a "crazy system." By contrast, ABC's Good Morning America, along with CBS This Morning, aired news briefs on Wednesday [10/5/2016] about a study of the hibernation habits of squirrels in the Arctic. NBC and CBS's evening newscasts both covered the former president's remarks during their Tuesday editions, but omitted mentioning the issue the following day on their Wednesday morning shows. CNN's New Day set aside three minutes and 15 seconds on Wednesday to former President Clinton's critique of ObamaCare at a campaign stop for his wife in Flint, Michigan. Anchor Chris Cuomo played a clip of the Democrat's comments and asked CNN Politics executive editor Mark Preston, "He [Clinton] pointed out a flaw in ObamaCare. [Mike] Pence echoed it last night. How big of a deal?"
CNN's Tapper: 'Yes, I Do Think There's Some Media Bias'. CNN's Jake Tapper told WMAL's Mornings on the Mall audience that he does "think there's some media bias." On Thursday, Tapper discussed the different ways the media treats Chelsea Clinton compared to the way they treat the children of Donald Trump. "Generally speaking, we have all talked about this and — yes, I do think there is some media bias. I think that's part of a lot of these equations," Tapper said.
CNN Avoids Mentioning Bill Clinton in Sex Fiend Island Stories. Pay no attention to the president behind the curtain. Instead we want you to focus entirely upon an utterly powerless prince that we are shining the bright lights upon. Despite the fact that other news outlets are bringing up the name of a certain former president we want you to look only at Prince Andrew of Great Britain. Got that? And if you haven't then we will overwhelm you with Prince Andrew mentions whenever we report on the Sex Fiend Island scandal. Such seems to be the attitude of CNN. Although other news outlets, such as Time, have not refrained from noting the allegations about Bill Clinton, CNN remains resolutely mum about mentioning you know who.
Left-wing hoax site Snopes lies again for the Clintons as even Charity Navigator is trapped in their web of corruption. Yet, the bogus "myth-busting" site known as Snopes is covering for the Clintons once again, claiming that the Clinton Foundation is all above board and that Hillary's write-offs are no big deal. They use the newly revamped assessment of Charity Navigator, a once legitimate watchdog of charitable non-profits, that has altered its assessment of the Clinton Foundation a full 180 degrees.
The Hillary Clinton Protection Racket at the Washington Post is alive and well. Clinton hacked and hacked so much into the microphone Monday [10/2/2016] as she tried to give a Labor Day speech in Cleveland that her coughing was the news. But not at the Washington Post, which ran to rescue its candidate. Its lead political blogger, Chris Cillizza, wrote a scathing piece to debunk the idea that Clinton is hiding a serious health issue. "This is a totally ridiculous issue — for lots of reasons," Cillizza declared. "The simple fact is that there is zero evidence that anything is seriously wrong with Clinton."
The Editor says...
On the contrary, there is a mountain of evidence, some of which is posted here.
Clinton's, news media's anti-Trump campaign shifts into top gear. Clinton, the Democratic nominee, with massive supporting salvos from Hollywood and news outlets, is targeting Trump's business practices and acumen, his relations with women, and what they say is his temperamental unsuitability for the Oval Office. The news-entertainment industry is amplifying Clinton's campaign message to top volume.
Flashback: Networks Worried About Release of Personal Information When It Hurt Obama. While Big Three (ABC, CBS, NBC) network reporters and anchors were quick to pounce on Donald Trump's private tax returns being released, they didn't seem to express the same concern when candidate Barack Obama was having his personal information looked into. Back in 2008 when it was revealed that Obama's personal passport information was being examined by Bush administration State Department officials the terms "skullduggery," "political dirty tricks" and "bombshell" were being thrown around.
18X: Coverage of Trump's Tax Returns vs Hillary Insulting Bernie Voters. The recurring media narrative of 2016 continues: stories that could embarrass Donald Trump get lots of coverage, while stories that embarrass Hillary Clinton get little or none. In today's episode, the three broadcast news networks yawned at newly released audio of Hillary Clinton disparaging Sanders voters who "lived in their parents' basement." But when an anonymous source leaked three pages from Trump's 1995 tax returns to The New York Times, they were suddenly much more interested.
Donald Trump's Billion-Dollar Tax Loss Is a Diversion From More-Serious Matters. If you care about substantive policy debate, it's not good for Donald Trump that The New York Times has published a few pages of 21-year-old state-tax returns showing he declared a $916-million loss in 1995. Cue another week wasted with trivial distractions from what we should be talking about in the final month-plus of a presidential campaign. Care about foreign policy, government spending, and more? Maybe we'll get around to hashing all that out after the election. But don't hold your breath.




How Journalists Purge Peers Who Don't Lick Hillary Clinton's Boots. On August 17, famed medic Doctor Drew Pinski made a guest appearance on the KABC talk show "McIntyre In The Morning." Pinski dared express deep concerns over Hillary's health and the care she was receiving. Hardly of the conspiratorial vein, Pinski's comments sound rational and thoughtful, derived from a physician's experience and empirical knowledge. A week later, Pinski's own TV show flatlined. CNN suddenly cancelled the six-year-old show, with a final broadcast on September 22. Of course, the official statement from the network called the cancellation a mutual decision and other balloon gas. But the abrupt mid-season cancellation transpired within a week of Pinski's KABC appearance. KABC also pulled the interview from their website.

Alicia Machado Is 2016's Sandra Fluke, A Democratic Public Relations Scam. An innocent, random young woman was victimized by mean old Republican men. Sound familiar? It should.

New York Times Publishes Tax Returns of a Private Citizen, in Shallow Attempt To Assist Hillary Clinton. The New York Times has published part of the tax returns of a private citizen in an effort to score political points for a candidate they endorse, Hillary Clinton. That should be the real headline people pause and think about. The front pages of the tax returns themselves are essentially a non-issue, representing the 1995 gross business loss incurred by candidate Donald Trump who operates a massive conglomeration of business entities. The anti-Trump political angle is easily identifiable within the extensive article use of: "could have", "might be", "may have", phrases used throughout the woven narrative. Journalistic "narratives" are rarely based on facts.

Media covering for Hillary on mocking Bernie supporters in leaked fundraising tape. Remember when Mitt Romney stated the obvious at a private fundraiser, that 47% of people want government handouts because of their life circumstances? And there was an unending media feeding frenzy that likely cost Romney the election? The fact that the initial leaked tape was incomplete and left out context made no difference. Well, Hillary Clinton just had such a moment in a private fundraiser, in wording (listen to audio later in post) eerily similar to Romney's, but directed at younger people and Bernie supporters.

Here Are The Mainstream Reporters Who Are Open About Their Anti-Trump Bias. Reporters covering the presidential election from a myriad publications including The New York Times and NBC have expressed negative opinions about Republican nominee Donald Trump in writing, a Daily Caller investigation reveals. The journalists all expressed their thoughts about Trump over the past year on Twitter.

MSNBC host insists Clinton created jobs. An MSNBC news anchor insisted on Friday that Hillary Clinton has a record of job creation that's at least more than "zero," but then struggled to point to any evidence of her claim. The anchor, Stephanie Ruhle, interviewed Arkansas Attorney General Leslie Rutledge, a Donald Trump supporter, who said Trump created "thousands and thousands" of jobs as a businessman. "How many jobs has Hillary Clinton created?" asked Rutledge. "Zero is the answer. Zero jobs for any woman. Zero jobs for any man, for that matter. So, she has zero credibility when it comes to job creation."

Media omits Hillary's role in Bill's sex scandal. Donald Trump is forcing media organizations to recall former President Bill Clinton's sex scandal-ridden past, but many reporters are omitting a key detail about the scandals: Hillary Clinton's role in defending her husband and attacking his accusers. Instead, the media is suggesting that Hillary Clinton should now be exempt from talking about it at all, despite the active role she played in the 1990s. Immediately after this week's first presidential debate, Trump said he considered bringing up Bill's sex scandal-ridden history but that he didn't do so because the Clintons' daughter Chelsea was present in the room.

The Editor says...
Chelsea Clinton is neither a shield nor an insulator. She is a grown woman who is aware of the facts. Mr. Trump — if he really intends to win — must not use her presence as an excuse to soft-pedal the examination of Clintons' baggage.

New York Times Declares Ohio No Longer 'Bellwether' as Trump Pulls Ahead. The New York Times, the so-called "paper of record," has declared that the all-important swing state of Ohio is no longer an important battleground in the presidential election — now that Republican presidential nominee Donald Trump is winning it. Trump pulled ahead of Clinton in the Buckeye State in the RealClearPolitics poll average on Sep. 13, and has never looked back.

PolitiFact Fails to Whitewash Hillary Clinton Uranium Scandal. Purported fact-checking outlet PolitiFact has run another Uranium One-Rosatom-Clinton State Department story first reported by The New York Times (NYT) and based on research from the NYT bestseller Clinton Cash. The article flat-out ignores several key facts and conflicts of interest, potentially damaging to the Democratic presidential nominee. The most recent Uranium One fact-check article was researched by Tom Kertscher and edited by Greg Borowski. In July, PolitiFact staff writer Linda Qiu published a piece full of factual errors, glaring inaccuracies, and omissions.

Trump Now Calls Debate 'Rigged' Due To Antagonistic Moderator. In the wake of extensive criticism of presidential debate moderator Lester Holt for aggressively confronting Republican candidate Donald Trump and lobbing softballs at Democrat Hillary Clinton, Trump is changing his verdict of how the debate was conducted. "And then I had to put up with the anchor and fight the anchor all the time on everything I said. What a rigged deal," Trump told a New Hampshire crowd Thursday [9/29/2016].

Clinton endorsements by conservative newspapers spark threats, cancellations. Over the past month, traditionally conservative newspaper editorial boards across the country have rejected Donald Trump and instead lined up behind Hillary Clinton — and some are facing vicious backlashes. The Cincinnati Enquirer, which hadn't endorsed a Democrat in almost a century, and The Arizona Republic, which had backed only Republican presidential candidates in its 126-year history, said they had lost subscribers and received angry letters from readers since coming out in favor of Mrs. Clinton.

Nearly 20 Mins on Trump's 'Miss Piggy' Remark, Silence on Clinton Chief of Staff Immunity. Once again, ABC, CBS and NBC have ignored a major news story that could be embarrassing to Hillary Clinton and have national implications, while promoting a negative (and trivial) Trump story initially pushed by the Clinton campaign. On September 23, news broke that during the now-infamous investigation into Clinton's emails, the FBI granted Clinton's former chief of staff Cheryl Mills immunity. House Oversight Chairman Jason Chaffetz called Mills's immunity "beyond explanation," adding that "the FBI was handing out immunity agreements like candy." Yet, neither ABC, CBS nor NBC ever even mentioned this story once.

CBS Spotlights Debate Watch Party with No Trump Supporters. The Tuesday evening [9/27/2016] following the first 2016 presidential debate, CBS Evening News was eager to share the opinions of people at debate watch parties from all across the country, including Los Angles, Philadelphia, and Dallas. Of the three watch parties they covered, CBS chose to lead with Los Angles where the makeup of the room was highly biased. "This group of Latino debate watchers gathered early," reported CBS's John Blackstone, "None here support Donald Trump, but Ana Reyes came looking for more reasons why Hillary Clinton deserved her vote."

The media loves Hillary — and it could cost her the election. A second warning shot came just last weekend, when Clinton's Praetorian Guard carried out a synchronized assault against Trump. The New York Times, The Washington Post, Politico and the Los Angeles Times all carried very similar stories accusing Trump of repeated lies. To call that a coincidence would be a Clintonian lie. Those articles matched the talking points of her campaign, which also demanded that Holt "fact-check" Trump, which, of course, he did, while leaving her un-checked. In short, the debate fix was broadcast on the front pages well in advance, yet Trump wasn't ready for it.

Popular Radio Host Michael Savage Broadcast Shut Down Nationwide as He Discusses Clinton's Health. Michael Savage is a very well known radio talk personality. The Savage Nation is a nationally syndicated talk show that is the second most listened-to radio talk show in the country with an audience of over 20 million listeners on 400 stations across the United States. Earlier today he was discussing his perspectives on the presidential debate and giving examples of current and anticipated debate bias. In addition, the broadcaster began discussing Hillary Clinton's mysterious health condition that Savage believes might be Parkinsons. Almost immediately, and without any notification, New York (tri-state area) radio station WABC-Radio TV cut Savage off the air and replaced him with the lesser rated Curtis And Cooby Show.

NBC Gaming The Optics With Custom Podium To Enlarge Hillary Clinton's Stature and Visibility. There was some discussion last week about how NBC would try to physically aid candidate Hillary Clinton's optics with a custom designed debate platform intended to give the viewer the a false illusion of scale and scope. Well, it appears that NBC has done exactly that.

Hillary's Pneumonia Hokum: A Timeline. [Scroll down] Some of the dinosaur media have reported that Hillary "stumbled at the curb" and "fell into the van." Others reported that she "fainted." This shows the extremely low quality of "journalism" today, describing things that just didn't happen, as you can see for yourself in the video. Hillary didn't "stumble";she buckled at the knees. She didn't "faint" (lose consciousness and go limp). Hillary herself says she didn't faint, and for once she might be telling the truth, because the video shows that she was apparently awake but immobile. She was having a seizure of some kind.

Where did all those 'Trump Lies' articles come from this weekend? The Clinton campaign, of course. Over the weekend, several major American newspapers printed a variation of the same article pointing out instances, in their view, when Donald Trump has lied to the American people during the 2016 presidential campaign. The New York Times started the chain reaction on Saturday: "A Week of Whoppers" Then, the LA Times, Washington Post and Politico followed suit.

Bias Alert: Amazon 'fixed' reviews for Hillary Clinton's book. Hillary Clinton's newest book, "Stronger Together," has been met with critical reviews and slow sales since its release earlier this month. But Amazon.com appears to be helping the Democratic presidential nominee by removing negative reviews from its website, WND.com reported. The book, co-authored by Clinton's running mate, Tim Kaine, sold just 2,912 copies in its first week on sale, according to Nielsen BookScan. And the online ratings have been abysmal, with 81 percent one-star ratings and an average of only 1.7 on Amazon.com after it hit book shelves on Sept 6. Amazon, however, has tried to fix that. According to WND.com — which has been tracking the number of reviews — Amazon deleted hundreds of comments last week that were critical of the book, which lays out a policy blueprint of how the country would look under a Clinton-Kaine administration.

Donny Deutsch on Hillary: 'She Does Not Lie'. Hillary Clinton does not lie! Got that? She does not lie! Okay, right now your reaction is probably about the same as the audience that heard Charlie Crist claiming the other day in Florida that Hillary is honest. That means you are probably already laughing. Unfortunately for Donny Deutsch on With All Due Respect today [9/23/2016], he made the same claim about Hillary today. No sooner were the words out of his mouth than you could tell that Deutsch realized that he would be mocked for that claim so he quickly qualified it but, of course, it was too late. Sorry, Donny, but you should expect at least a full weekend of well-deserved mocking.

Emails show NBC's Andrea Mitchell telling Colin Powell Trump's nomination is 'awful'. It may not be a shock to her viewers, but NBC journalist Andrea Mitchell is not a fan of Donald Trump — and leaked emails from June apparently show her describing the prospect of Trump getting the Republican nomination as "awful." Emails between former Secretary of State Colin Powell and Mitchell from June, and leaked this month by DC Leaks, begin with a fairly standard journalist's request for comment after former Bush deputy secretary of state Richard Armitage announced he was backing Hillary Clinton for president.

Dallas Paper Offers Discount In Scramble To End Hillary Endorsement Fallout. The Dallas Morning News is offering massively discounted subscriptions to its readers in an effort to withstand the fallout caused by its editorial board's endorsement of Democratic nominee Hillary Clinton. The endorsement has generated a lot of reader pushback in the form of angry comments, phone calls and vows to unsubscribe from the paper, which hasn't endorsed a Democrat in 75 years. Editor Joe Wilson has acknowledged it came with a price of dropped subscriptions, but no one from the paper has revealed how many readers actually unsubscribed.

The Editor says...
It is difficult enough to keep a newspaper afloat in the 21st century, without stuff like this.

NY Times Exec. Editor: Trump Must Be Called 'Liar,' But Hillary's Just a Normal Exaggerating Politician. On Thursday's [9/22/2016] Morning Edition, National Public Radio host Steve Inskeep interviewed New York Times executive editor Dean Baquet regarding the paper's provocative decision to overturn journalistic convention in the wake of Donald Trump's success and to start reporting his alleged misstatements as "lies." But when asked about HIllary, Baquet apparently forgot Clinton's 25 years of public prevarication. [...] Perhaps the Times executive editor hasn't been paying attention to current events for the last 25 years. Lying to the public about her private server and classified emails, and of course her career record of whoppers, from Whitewater up to her recent pneumonia diagnosis.

Media Bias Grows as Trump Gains. Many in the media seem to be getting that horrible, sinking feeling that Donald Trump could actually win this. And they're not going to let that happen! I'm not one of those who think the mainstream media get together in some kind of cabal and plot the destruction of Republicans. I've been in the mainstream media, and I know they don't. What I do know is that nearly all of them are moderate or liberal, often talk to each other as if conservatives are bad or crazy, and that their outlook affects their reporting. Usually, they don't realize it or wouldn't admit it to themselves. And sometimes liberal bias is done on purpose. What I see happening now is reporters suddenly coming to the unthinkable conclusion that a Trump presidency could actually happen and, whether by design or not, they're amping up the negative Trump coverage.

NYT's Maureen Dowd: My Lefty Pals Want to Censor Trump, Any Anti-Hillary Stories. On Sunday's [9/18/2016] Meet the Press, host Chuck Todd asked New York Times columnist Maureen Dowd to explain "Upper West Siders panicking" over the latest polls. Dowd said liberal friends won't read any interviews she does with Trump, that "they would like to censor any stories about Trump and also censor any negative stories about Hillary. They think she should have a total free pass."

Network news execs erase Trump hotel footage in protest: Report. In a rare if not unprecedented rebuke to the Donald Trump presidential campaign, executives for various news agencies covering the campaign agreed Friday [9/16/2016] via emergency conference call to erase videotaped footage of a tour of Mr. Trump's new hotel that had been filmed for the campaign press pool. "The pool rules state any event that is pooled with cameras, there has to be a pool producer," said a member of the press traveling with the Trump campaign, Politico reported. "Due to the fact we were not granted editorial access, as is customary, that decision was made and the footage was erased."

Liberals denounce the media for not derailing Trump's candidacy. The liberal media are freaking out over the possibility that Donald Trump might win the presidency. They are denouncing their profession, decrying what they see as a press corps that coddles Trump and castigates Hillary Clinton, and demanding a change before it is too late. Let's take a deep breath and see if they have a credible case, or whether this is pure partisanship.

The Dallas Morning News Is Paying Dearly For Endorsing Hillary Clinton. The Dallas Morning News is paying a steep price for endorsing Democratic presidential nominee Hillary Clinton, in the form of canceled subscriptions and loud protests. The endorsement broke a 75-year streak in the paper's history of endorsing Republicans, and generated a lot of reader pushback in the form of angry comments and vows to unsubscribe from the paper.

Technology Breaches the Media Maginot Line. [Scroll down] Another citizen, Zdenek Gazda, showed Hillary exactly what deplorables can do, using a videophone. While she kept her press entourage totally in the dark about her "medical episode" on 9/11, he filmed her seizing up and being carried into the van which sped away from the commemorative ceremony in New York. He posted it online and eventually Fox and others published it. Everyone could see she had some sort of seizure, and was not simply faint. The only notice the lassoed press corps had that she had left the ceremony was when 90 minutes later they were alerted that she'd left early because she had become "overheated" (or in some conflicting accounts had become "dehydrated" or had "flu"), and was available for a brief photo op hugging a little girl outside her daughter's apartment.

CNN's Jake Tapper Edits out Hillary Clinton's 'Bombings' Remark. CNN's Jake Tapper asked New Jersey Governor Chris Christie on State of the Union on Sunday morning [9/18/2016] about the supposed contrast between Donald Trump and Hillary Clinton in their responses to the explosions Saturday in New York, editing out Clinton's reference to "bombings" to create a false distinction. Tapper cited Trump referring to a "bomb" in New York, then played a clip of Clinton criticizing him for saying that — leaving out Clinton's reference, seconds before, to what she called "bombings."

Hillary Clinton Says "Bombings In New York" — 40 Seconds Later Criticizes Use of Word "Bombing". In under a minute you can see/hear an audio visual demonstration showing why the vast majority of Americans just laugh at journalists in the 2016 presidential campaign. [Video clip]

CNN edits out Drunk Hillary referring to NY explosion as bombing. This is one video Hillary Clinton doesn't want any attention drawn to. "I've been briefed on the bombings in NY & NJ and the attack in MN," said Clinton during yesterday's press briefing. CNN intentionally edited out the opening sentence of Democratic presidential nominee in an attempt to show contrast between the temperament of the two candidates.

If We Can't Call it Terrorism, We're on the Verge of Orwell's 1984. I'm old enough to remember when the dystopian vision of George Orwell's 1984 was as impossible to see in America as communism or anarchy. Now, it seems to be a race between the three most destructive societal establishments to see which one can take hold first. At this point, the most likely winner would be the totalitarian police state of 1984 creeping quickly into the thoughts of Americans because media's and politicians' mastery of doublespeak is polluting the cultural awareness. Most non-conservatives don't even think twice when the media questions Donald Trump about why he called the explosion in New York City a "bombing." They want us to ignore the fact that dumpsters do not blow up by themselves. They definitely want us to pretend that Trump was evil for calling it a bombing while Hillary Clinton was righteous for calling it a bombing moments later.

CNN's Christiane Amanpour Formally Comes Out as Pro-Hillary, Anti-Journalism. CNN's Christiane Amanpour argued Monday [9/12/2016] that media coverage of Hillary Clinton's Sunday collapse and blowback against the campaign's lack of transparency was a sexist double standard. [...] Throughout the entire two and half minute monologue, Amanpour comes across as less of a journalist and more of Clinton surrogate. A journalist, for example, might chafe at the notion that Clinton staffers initially told reporters Clinton was "overheated" knowing full well the real problem was pneumonia: that they lied, in other words.

Media Puts Debate Moderators On Notice: Protect Hillary. We've spent eight years hearing how awful we are for not praising President Obama's failures. Have a problem with anemic economic growth? You're a bigot. Not a fan of accumulating more debt than every other president combined? You're a Klansman. Not a fan of unfettered, anonymous immigration or providing funding, housing and work to unvetted refugees from terrorist-infested parts of the world? You're a xenophobe. Think adding millions upon millions of Americans to the welfare rolls shouldn't be celebrated? You're blowing the "dog whistle" of racism.

Clinton Fainting Flap Reveals Media's Liberal Bias. If anyone doubts that (a) Democratic politicians are just as ridiculous as Republicans or (b) the media is liberally biased toward the Democratic candidate, then they haven't turned on a television or surfed on their smartphone this week. In the wake of Hillary Clinton's collapse/faint/swoon (what do we call it?) leaving a 9/11 memorial Sunday, I've encountered lots of spin coming from apologists. Here are a few of the worst examples [...]

Hillary collapse coverage reveals absurdity of biased media. It is said that history turns on small hinges, and now maybe the presidential race does, too. For hinges don't get much smaller than the 20-second video of Hillary Clinton collapsing and being lifted into her security vehicle. Without it, Americans would still be clueless about Clinton's serious health issues. Because of it, she was forced to admit she has pneumonia. Because they were scooped by the video, an army of journalists is now under pressure to report facts instead of covering them up. Most important, voters got fresh proof that Clinton's first instinct is to lie, and then lie again.

WaPo: Hillary Clinton, 'Style Icon'. The Washington Post's fashion critic is calling Hillary Clinton a "style icon" that is influencing top designer's runway shows. Comparing Clinton to the "not a great beauty" Georgia O'Keefe, Robin Givhan says designers are being inspired by the Democratic presidential nominee's "strength." "But beyond cut and color, designers are obsessing about strong and powerful women who are independent and enduring — perhaps even a bit scandalous," Givhan wrote Friday [9/16/2016]. "There has been talk of O'Keeffe, Germaine Greer, Gloria Steinem, influential mothers and grandmothers — and of course, Hillary Clinton."

Why No Press Interest In the Troubling Conduct Of Hillary's Top Attack Dog? For a journalist actually interested in seeking the truth, there are plenty of questions to ask [David] Brock. In a legal fight that the press has conveniently ignored, Brock's former long-time live-in boyfriend William Grey (whom Brock has thanked in several of his books) threatened to go to the IRS with damaging information about how Brock was running his Media Matters empire. What did Brock do? He paid Grey $850,000 to keep quiet. Brock reportedly had to sell his home in Rehoboth, Delaware to come up with the money. This certainly seems to indicate that Brock was terrified about what the authorities would uncover. If Brock were merely a private citizen, this would simply be a matter between Grey and himself. But Brock is working closely with the Clinton campaign and using his organizations like Media Matters to go after her opponents. If Grey has evidence of wrongdoing on the part of Media Matters and Brock, that has a bearing on larger issues and becomes newsworthy. Why hasn't the press been interested in this?

MSM takes talking point baton from the Hillary campaign and off they go! The Clinton campaign has issued the media their pro-Hillary talking point words of the week: [...] And man, the media ran with it!

NY Times, Washington Post editors: We'd risk jail to publish Trump's tax returns. Editors at the New York Times and Washington Post both say they're willing to risk jail time if it meant they could publish Republican nominee Donald Trump's tax returns. Asked during a forum Sunday at Harvard University if they would publish Trump's tax information, should they get their hands on it, Times Executive Editor Dean Baquet and Post Associate Editor Bob Woodward said they would.

N.Y. Times executive editor Dean Baquet says he'd risk jail to publish Trump's taxes. Executive editor of The New York Times Dean Baquet said Sunday that he would risk going to jail if it meant the chance to publish a leaked copy of Donald Trump's tax returns. Mr. Baquet made the remark during a Harvard University forum alongside Washington Post Associate Editor Bob Woodward, CNN reported. "If the Post or the Times were to get Donald Trump's tax returns, would you publish them?" asked Laura Poitras, the filmmaker behind the Oscar-winning documentary "Citizenfour" about NSA leaker Edward Snowden. Both editors said yes, CNN reported.

The media elites feel that shiver up the spine — and it's not victory. You know a candidate is in trouble when she deflects softball questions about her policies to talk about her opponent's character. Hillary Clinton's phony "press conference," where she took six questions from friendly reporters and filibustered nearly half of the time to trash-talk, shows a candidate and a campaign that is disintegrating in broad daylight. Even The Washington Post noted there were "no questions about her emails," Topic A of the news cycle. Clinton's reckless mishandling of classified material — reinforced by her 39 memory "lapses" in her FBI interview — should disqualify her from office. And Americans get it. The media elites are in a panic.

NBC's Kasie Hunt: 'Difficult to Believe' That Half the Crowd at Trump Rallies Are Bigots. Saturday [9/10/2016] on MSNBC, political correspondent Kasie Hunt reacted to Democratic presidential nominee Hillary Clinton's comments that half of the people at Republican nominee Donald Trump rallies are racist, sexist, homophobic and Islamophobic, saying that she does not believe that number to be correct.

For Hillary, Laws Are like Cobwebs. Like a queen bee, Hillary has many sycophants: Huma Abedin, Cheryl Mills, Sidney Blumenthal, Julian Epstein, the Podestas, George Stephanopoulos, a horde of lawyers, and aging feminists. She has surrounded herself with people devoid of character, people with personal agendas that have nothing to do with the good of the nation. They all want only to protect their privileged status. They view the media as their personal propaganda machine and it is. There is no more legitimate journalism in America.

Hillary Lies About Her Health, Nets Say 'Both Candidates' Guilty. After Hillary Clinton nearly collapsed due to an undisclosed case of pneumonia on Sunday, on Monday, all three network morning shows tried to deflect from questions about her health and honesty by claiming that "both candidates" were guilty of not being forthcoming on the issue.

Awkward Timing: Hillary Clinton Featured In New Issue Of 'Women's Health'. Before her collapse and health scare in New York City, Democratic presidential nominee Hillary Clinton was interviewed for the latest issue of Women's Health magazine. The October issue of the magazine features a glossy photo of a glowing Hillary Clinton in an article that talks about her plans to help women if she's elected president.

Hillary's Health Is a Media Scandal. As this incident makes painfully clear, to report facts that the media choose to suppress makes one a "conspiracy theorist," at least until the facts become too obvious for the media to ignore. The irony is that if there were no prior health incidents, Hillary's collapse on Sunday would not have been much of an issue. Instead, it is a major issue, maybe the dominant campaign issue, only because the conspiracy theorists chronicled Hillary's previous problem moments.

10 Pictures of Hillary Clinton Wobbling and Then Collapsing Today That Legacy Media Will Never Show You. They now claim it's "pneumonia", but Hillary has had a longstanding and persistent cough that has defied treatment and couldn't possibly be a months-long case of walking pneumonia. In short, Hillary is very ill. She can't stand up without supporting herself using railings, stools, tables, chairs, her mysterious Epipen-equipped handler, and — of course — Huma Abedin. Her latest health scare involved collapsing into her wheelchair lift-equipped van, nearly knocking herself out. Of course, the media are doing their level best to cover it up.

Hillary's media is torching its standards to cover the election. There is nothing more to learn about Hillary Clinton's home-brew server, deleted e-mails, chronic cough or anything else that makes her look bad, according to The Washington Post. And The New York Times, stung by Clinton's woeful performance at last week's presidential forum, believes the debates are going to be a total disaster unless moderators get much, much tougher with Donald Trump. [...] America's two most prominent newspapers used to compete for Pulitzer Prizes and readers, but now they're competing to see which can suck up more to Clinton.

Trump: CNN [is] 'an arm of the Clinton campaign'. Donald Trump on Friday [9/9/2016] accused CNN of being an arm of Hillary Clinton's presidential campaign. The Republican nominee has has a tempestuous relationship with CNN in recent months after appearing regularly on the network during the GOP primary. In a series of tweets, he criticized the cable news network for writing "fiction" about him.

Every Word, Including 'And' And 'The'. The media's daily slander of Donald Trump is hard to square with their increasingly frenzied assurances that he is going to lose the election. If anyone in the media seriously believed Hillary had this in the bag, this would be a golden opportunity for the media to be fair and get the public to hate them a little less. Instead, we're getting a never-ending stream of lies about Trump and his supporters.

Nets Go to Town on Johnson Flub, Downplay Clinton E-Mail Questions. The "Big Three" network news programs were all a buzz Thursday evening [9/8/2016] over a seemingly inexplicable exchange that occurred on MSNBC's Morning Joe that morning. "And what is Aleppo," Libertarian presidential candidate Gary Johnson inquired after being asked by journalist Mike Barnicle what his plan for the city was. "Johnson stumped not by a gotcha question but a basic foreign policy question in the headlines for months," stated ABC's Martha Raddatz on World News Tonight. But the evening prior Hillary Clinton was grilled in a forum about her use of a private e-mail server and they all but ignored it.

Six Obvious Follow-Up Questions NBC's Matt Lauer Failed to Ask Hillary Clinton. During NBC's Commander-in-Chief Forum tonight, host Matt Lauer numerous times lobbed hard-hitting follow-up questions at Donald Trump, and raised additional challenges to the Republican presidential candidate's responses to questions from Lauer and the audience. The industries network anchor, however, seems to have let Hillary Clinton off the hook on numerous issues, failing to ask glaringly obvious follow-ups to Clinton's responses and to the general themes discussed during the forum. Here, in no particular order, are six basic follow-up challenges that Lauer failed to pose to Clinton during tonight's presidential symposium.

Clinton Foundation 'Notable Member' Matt Lauer Asks Zero Questions About Hillary Clinton's Troubled Charity. Democratic presidential nominee Hillary Clinton answered questions for 30 minutes during NBC's "Commander-in-Chief forum" Wednesday night, and moderator Matt Lauer failed to ask the White House hopeful a single question about the myriad allegations that she used her position as secretary of state to sell access to major Clinton Foundation donors. Lauer spent more than a third of the allotted 30 minute timeframe probing Clinton about her use of a private email server while sending and receiving classified documents but declined to ask one Clinton Foundation-related query. The longtime Today Show co-host has ties to the Clinton Foundation himself. Lauer was once listed as a "notable member" of The Clinton Global Initiative, the fundraising conduit of the scandal-ridden Clinton Foundation.

Trump gets nearly twice the questions as Clinton at veterans forum. Donald Trump was on the receiving end of nearly double the questions his Democratic opponent Hillary Clinton got at NBC's "Commander in Chief" forum, many of them follow-ups to initial questions from host Matt Lauer and veterans in the audience. Clinton received four questions from vets while Trump received five, according to the Washington Examiner's tally. The Republican nominee got 16 questions from Lauer and his opponent received just seven. Much of the discrepancy was due to Clinton's longer answers, during which Lauer repeatedly attempted to interrupt in order to move on to other subjects, all of which dealt with military responsibilities the next president will face when he or she assumes office.

WashPost Writer Gets Caught Red-Handed Committing Double Standard on Health of POTUS Candidates. Early Wednesday afternoon [9/7/2016], Washington Post writer Chris Cillizza attempted to silence those who pointed out his massive double standard in reporting about the health of Republican Senator John McCain (Ariz.) during the 2008 presidential campaign and his rampant dismissal of any doubts being raised about Hillary Clinton's physical state here in 2016. Needless to say, his mocking of those who exposed him with lines like "thanks for playing" and a sarcastic line about being busted fell flat as individuals like the astute James Taranto of The Wall Street Journal brought up how Cillizza left out in his Wednesday piece a story he did in 2013 about Clinton following her now-infamous concussion and blood clot.

NBC faces criticism for Clinton cough story. NBC News is facing harsh criticism from Hillary Clinton's campaign and her supporters for publishing an article on a coughing fit the Democratic presidential nominee experienced on Monday in Cleveland. The five-paragraph story, "Hillary Clinton Fights Back Coughing Attack," noted that Clinton quickly turned the coughing issue into a dig at her GOP rival, Donald Trump.

CNN Media Panel: Clinton vs. Trump Is Apples vs. 'Rancid Meat'. On his Sunday show Reliable Sources, [9/4/2016] host Brain Stelter brought out a panel made up a proverbial who's who of Donald Trump opponents to whine about how the media was being "unfair" to Hillary Clinton and going easy on Trump.

Chris Wallace Leads Today's Trump Bashing Panel. Remember, Wallace is a presidential debate moderator; however, he's also one of the three specific figures (outlined in multi-sourced media reports) who was given instructions by Fox owner Rupert Murdoch to take down Trump. Together with George Will, Wallace transparently plays out the Murdoch agenda.

NBC Counters Criticism of Matt Lauer's Clinton Ties Ahead of Candidate Forum. A since-deleted web page on the Clinton Global Initiative site touting several prominent TV anchors as "notable members" is creating controversy for NBC News' Matt Lauer. Several websites have seized on the CGI's assertion ahead of a Sept. 7 forum with Hillary Clinton and Donald Trump, which Lauer will moderate. In fact, Lauer has never been a member of CGI, nor has he donated any money to the organization. (ABC News' George Stephanopoulos had to recuse himself from moderating primary debates after it came to light last year that he has donated to the Clintons' foundation over the years.)

CBS Misleadingly Suggests Clinton Emails Marked 'C' Not Actually 'Classified'. On CBS This Morning on Monday [9/5/2016], at the end of a report recalling the notes the FBI released which document that Hillary Clinton claimed not to know that "(C)" markings in her emails indicated classified information at the level of "confidential," CBS correspondent Nancy Cordes misleadingly gave the impression that confidential emails are not classified as she made a point of correcting Donald Trump for mis-stating that the "(C)" stood for "classified." A bit later, as House Minority Leader Nancy Pelosi appeared as a guest and similarly suggested that "confidential" information is not classified, CBS substitute host Josh Elliott seemed to accept her claim.

Communist Party USA Endorses Hillary; Media Yawns. If the endorsement of Trump by the ex-head of the Ku Klux Klan is big news, one would expect a Hillary endorsement by the head of the Communist Party USA would be a big deal as well. That's right. Hillary-supporter [John] Bachtell is, as seen [elsew]here, the very proud "national chair of the Communist Party USA." That's right, Mr. Bachtell is a literal card-carrying Communist. You recall the Communists, yes? The folks who produced Stalin and Mao? The advocates of a political philosophy that is described in The Black Book of Communism as being responsible for "between 85 million and 100 million" deaths?

Reuters Intentionally Cuts Camera Feed During Positive Bishop Jackson Remarks To Trump in Detroit. During a visit to Detroit today [9/3/2016] candidate Donald Trump was blessed and given a prayer shawl by Bishop Wayne T. Jackson. However, as Bishop Jackson continued his remarks the operators of the Reuters news feed began speaking uncomfortably about the power of the positive optics for the Trump campaign — Via YouTube.

Conservatives snort as liberals complain of anti-Clinton media bias. Outrage from Hillary Clinton supporters who insist she has been the victim of media bias is being greeted with eye-rolling from conservatives. New York Times columnist Paul Krugman weighed in Monday [9/5/2016] with a column accusing reporters of being tougher on the Democratic presidential nominee than on Republican Donald Trump, saying the media are "engaging in innuendo."

CNN 'demanded Dr Drew take back comments on Hillary Clinton's health just days before his show was axed'. Dr Drew Pinksy was allegedly told by CNN to take back his comments about Hillary Clinton's health. Days later HLN is alleged to have cut him loose when he refused. Pinsky's show Dr Drew On Call on HLN, which is the sister network of CNN, will go off air on September 22. He allegedly told a friend that Clinton supporters are so rampant in their distaste for him he said he 'just want them to go away', a source told Page Six.

Desperate Media Declare Trump Mexico Summit a Failure in Advance. Republican presidential nominee Donald Trump had not even left yet for his visit to Mexico on Wednesday morning [8/31/2016] when the mainstream media began declaring it a failure.

Google is manipulating searches about Hillary Clinton's health. [Scroll down] This isn't the first time Google has been accused of bias in favor of Hillary Clinton. SourceFed originally reported that Google appeared to be burying negative search terms about Clinton, and revealed connections between the tech company and her campaign.

Media Orgs Donate to Clinton Foundation Then Downplay Clinton Foundation Scandal. Hillary Clinton and her media allies have been working overtime to put out numerous fires that continue to pop up and spread during the final weeks of her campaign for president. Recently, the flames have gotten more difficult to smother as reports of Clinton's frail health have bled into the mainstream media, despite the unanimous and unilateral decision by the MSM to treat anyone who even raises a question as akin to a Holocaust denier. (On Sunday night, for example, Huffington Post fired contributor David Seaman and deleted his columns simply for linking to a Hillary health video that's been viewed four million times.)

Huffington Post silences journalist for questioning Hillary's health. Journalist David Seaman has been terminated from the Huffington Post for the crime of reporting on Hillary Clinton's health. Two of his articles on the topic were removed from the site last night, and he has yet to be given any explanation for the disappearance.

Pence: Media Parse Trump's Every Word, Ignore What Clintons Have Been Doing for Last 30 Yrs. GOP vice presidential nominee Mike Pence called out the mainstream media on Saturday for focusing most of their time trying to parse Donald Trump's words than investigating the scandals that have followed the Clintons throughout their political careers. "The media is so busy parsing what Donald Trump said in the last 30 minutes that they keep ignoring what the Clintons have been doing for the last 30 years," Pence said Saturday at Patrick Henry College in Virginia.

CNN Tries to Whitewash Hillary Email Deletions. BleachBit is not only the program at the center of the latest Clinton scandal. It's what the media does for Hillary's scandals. Let's start with CNN. [...]

Media looks inward, deems slanted Trump coverage warranted. Lately some, including The New York Times, Vox and Bill Moyers' website, have not only owned up to Trump's accusation, they've embraced it. "If you deplore media cowardice, you might think this is a good thing, not because Trump is a mortal danger to this country, although he is, but because it means the press is doing its job," Neil Gabler wrote on the journalism website of Moyers, the longtime PBS newsman who cut his teeth as a spokesman for Democratic President Lyndon Johnson. "Call it partisan bias if you like. I call it journalism." Ezra Klein, the Vox writer who as a Washington Post staffer organized a secret society of left-wing reporters dubbed "JournoList" that was shut down after it was exposed in 2010, acknowledged that the press is not giving Trump traditional treatment.

When the Clintons bombed Sudan to avoid bad press. Indeed, on August 20, 1998, the day Lewinsky testified before a grand jury, Clinton had a chemical plant in Sudan bombed. Guess which event led the news.

Where's Hillary? Secretary Clinton Has No Scheduled Events Until Sept. 26th Debate — All Events are Surrogates. Hillary Clinton is the first and only nominee for President who never held a press conference during the entire Democrat primary race. Yet, somehow she still won the Democrat presidential nomination. Quite a remarkable feat considering the lack of engagement. Then again, she appears to have multiple advocates in the media running cover.

Dr. Drew Show Canceled Just Days After He Questioned Hillary's Health. Wow, what an interesting coincidence! Just days after Dr. Drew Pinsky aired his concerns about Hillary's health his show which was running for over 5 years was suddenly canceled!

These are the questions MSNBC hosts asked Clinton Friday. Hillary Clinton joined the hosts of MSNBC's "Morning Joe" by phone Friday for an exclusive interview that saw her answering a series of safe questions about the 2016 presidential election, and not much else.

Hillary Never Visited Louisiana at All. With the focus on President Obama's late arrival on the scene, the media have forgotten that Hillary Clinton never bothered to go to Louisiana at all. It's far easier for the media to go after an outgoing president than the women most hope will replace him. Definitely don't want to tarnish her. What's more, she is out in California taking money from Hollywood celebrities while not even bothering to stop by the scene of any of the massive, destructive fires that consumed sections of that state.

Classic Clinton dodgeball. When is a blockbuster not a blockbuster? The answer: When it's a negative story about Democratic presidential nominee Hillary Clinton. This familiar phenomenon has unfolded in the last 48 hours following a new Associated Press investigation which revealed that over half of Mrs. Clinton's visitors when she was secretary of state turned out to be donors to the Clinton Foundation. The revelation bolstered credence to Republican claims that Mrs. Clinton favored "pay-to-play" schemes in global affairs and elsewhere. In the immediate aftermath, major broadcast networks soft-pedaled the findings, and were quick to showcase the outrage and push back from Mrs. Clinton's representatives — this according to a Media Research Center analysis released Wednesday [8/24/2016].

WashPost Gets Four Pinocchios on Hillary's Stamina. [Scroll down] This is the kind of horse hockey that passes as "fact checking" today. It is called "fact checking" when in fact it is nothing more than one more set of factual misstatements coming from a virulently anti-Trump paper. A paper that has, no kidding, said this on its editorial page about Trump: "Mr. Trump is pathologically dishonest and morally bankrupt."

PBS NewsHour Cuts Anti-Hillary Portions of Judy Woodruff's Jill Stein Interview. On Tuesday, PBS's Judy Woodruff did a live interview with Green Party presidential candidate Jill Stein which was carried on Facebook. The entire interview, plus questions asked by viewers is present at the network's Facebook page. That interview without the Facebook questions was also broadcast on PBS's NewsHour — but not quite all of it. For some reason, key portions of Stein's answer to Woodruff's final question about whether "literally ... Hillary Clinton is every bit as bad for the country as Donald Trump" are not present. Based on what was edited out, it would appear that the cutouts, at least one of which was done in mid-sentence, were carried out to protect Democratic Party nominee Hillary Clinton's left flank.

Dr. Drew loses his CNN show a week after questioning Hillary's health. Dr. Drew Pinsky raised a lot of eyebrows a week ago when he said he was gravely concerned over Hillary Clinton's health in an interview on KABC-AM radio. The interview went viral, and was taken down by the station (but a transcript lives on, courtesy of the Free Beacon). So the message had to be delivered in way tht [sic] would chill everyone who might think about revealing inconvenient truths.

The anti-Trump frenzy signals the collapse of American journalism. The MSM is aroused by Mr. Trump's words but unbothered about actions that Mrs. Clinton has actually taken. They seem to think that Mr. Trump's misfired jokes or loosely formulated statements are more dangerous to the commonweal than Mrs. Clinton's decisions with her emails and her mendacious cover-ups. Evidence of what FBI Director James Comey called Mrs. Clinton's "extremely careless" mishandling of classified documents does not arouse the MSM's sense of alarm. Even evidence of repeated conflict of interest in her co-mingling of Foundation work and State Department work does not trouble the MSM.

Hillary's Corruption Is Overwhelming. After over two decades in the heart of America's spotlight, Hillary Clinton is still an unknown quantity for most Americans. That's thanks to one factor and one factor only: the love and worship of the mainstream media. Over the weekend, no less than six terrible stories broke that would have crippled anyone else's campaign.

Nets Promote Clinton Campaign's Attempt to Discredit AP Story. On Wednesday [8/24/2016], while all three network morning shows did cover the latest revelation that over half of Hillary Clinton's non-government meetings during her time as Secretary of State were with Clinton Foundation donors, the broadcasts also recited Clinton campaign spin dismissing the Associated Press report as "utterly flawed."

Soros's campaign of global chaos. Major media outlets in the US have ignored the leak of thousands of emails from billionaire George Soros's Open Society Foundation by the activist hacker group DCLeaks. The OSF is the vehicle through which Soros has funneled billions of dollars over the past two decades to non-profit organizations in the US and throughout the world. According to the documents, Soros has given more than $30 million to groups working for Hillary Clinton's election in November, making him her largest single donor. So it is likely the case that the media's support for Clinton has played some role in the mainstream media's bid to bury the story.

CNN anti-Trump lie BUSTED on air! If you imagine all the situations when the media reported on domestic and international matters of great importance where the you-got-the-story-backwards truth would apply, you would likely be occupied for the rest of your life and still not have identified every situation.

Hillary's New and Improved 'Communication Stream of Conspiracy Commerce'. Last Wednesday, on MSNBC's Rachel Maddow Show, Hillary Clinton campaign manager Robby Mook revived a weary '90s-era theme, namely that any attack on someone named Clinton is, by its very nature, a "conspiracy theory." In the first four minutes of the interview, which played out under the banner "Trump pushes Clinton health conspiracy theories," Mook or Maddow used some derivative of the phrase "conspiracy theory" no fewer than thirteen times, often preceded by the verb "peddle" and/or the adjective "rehashed." This whine may have seemed fresh to the snowflakes in Maddow's audience, but it was vintage Clinton.

Hillary Clinton's Worst Week — Yet, According to the MSM, Her Best Week. If the 2016 presidential race is tightening, how come the Main Stream Media is acting as though it's widening? Indeed, why is the MSM indicating to us that Hillary Clinton is going to defeat Donald Trump in a landslide? Why are Republicans being told that they should abandon all hope of winning the White House? To answer those questions, we can cite the MSM Rule of Inverse Electoral Correlation: The closer the presidential race gets, the louder the MSM declares that it's over. And all this comes even as Clinton has had a terrible week — arguably her worst week ever, as the billowing smoke of financial scandal clouds herself and her family.

CNN Implies Blacks Won't Back Trump if He Doesn't Give Felons Voting Rights. CNN posted a questionable headline on Sunday linking African American voters to felons, reading: "Trump wants GOP to court black voters — then slams voting rights for felons." The move comes after CNN, which Donald Trump calls the "Clinton News Network," continuously covered Breitbart News headlines last week, calling them "offensive."

Stephanopoulos gets tough on Clinton Foundation, leaves out his own donations. ABC newsman George Stephanopoulos gave Hillary Clinton's campaign manager a grueling grilling over the scandal-scarred Clinton Foundation's future on Sunday [8/21/2016]. But Stephanopoulos, a former aide to President Bill Clinton, must have forgotten to disclose his own five-figure donations to the organization. [...] Stephanopoulos was communications director for the 1992 presidential campaign of Bill Clinton, then served as White House communications director and senior adviser for policy and strategy before leaving following Clinton's first term. On Sunday, Stephanopoulos did not mention that records show he has personally donated $75,000 to the foundation, noted NewsBusters.

Glenn Greenwald: The U.S. Media Is Essentially 100 Percent United Against Donald Trump. [Glenn] Greenwald, the progressive journalist who broke the Edward Snowden mass government surveillance storyline, was asked what he thought about Donald Trump's press conference recently in which Trump joked that Russia should release any emails it has from 2016 Democratic presidential nominee Hillary Rodham Clinton's illicit private home-brew email server from her time as President Barack Obama's Secretary of State.

Chris Matthews: Get 'excited' about Clinton campaign, or 'don't vote'. MSNBC's Chris Matthews has a striking message for disaffected Democrats: Get "excited" about Hillary Clinton's campaign and the possibility of the party controlling Washington, or "don't vote." The "Hardball" host offered the advice on air Tuesday night, while griping about some Democrats' pessimistic attitude toward the election.

The Media Are Lying to Hide Clinton's Animosity to the Second Amendment. This is the state of "journalism" today. Members of the media who desperately want Hillary Clinton to be elected president are stooping to unprecedented lows, abandoning all pretenses of impartiality, forfeiting whatever remnant of credibility they might otherwise have, trying to prevent voters from realizing that Hillary Clinton fundamentally opposes the individual right to keep and bear arms. The Washington Post, to single out one of the worst in this regard, is worried that voters agree with Republican presidential candidate Donald Trump that if Clinton were elected, she would "essentially abolish the Second Amendment."

CBS Spotlights New US Citizens Voting Against Donald Trump. On Saturday [8/13/2016], CBS Weekend News ran a report on one of American's greatest traditions, naturalization ceremonies of new US citizens. But in their report, which covered the previous Thursday's ceremony in Los Angeles, California, CBS spotlighted those looking to vote against Donald Trump. "As Carter Evans reports, there's actually been a surge in citizenship applications this year, partially driven by the desire to vote," stated anchor Reena Ninan. "For these new American citizens, you only have to see their faces and their joy to know what this day means," reported Carter Evans, "But they'll also tell you of all of rights they now have, the one they cherish most is the right to vote." But the only newly-naturalized citizens Evans talked to were those voting against Trump.

Media coup d'état against Trump. Fox News' Howard Kurtz brought my attention to a New York Times article by Jim Rutenberg, a media columnist, who views a Donald Trump presidency as "potentially dangerous" and he essentially encourages reporters to "move closer than you've ever been to being oppositional." [...] A 2014 Indiana University poll found that just seven percent of journalists identify as Republican. My guess is that once you remove Fox News and Wall Street Journal reporters from the sample then that percentage would be quite close to zero percent. Yes, Donald Trump and other Republicans are right. The media is biased. Yet, many voters, perhaps most, don't understand, possibly because teachers and professors, themselves mostly comprised of leftists, tell students that journalists are simply collectors and conveyors of facts.

Naturally, CNN's parent company is one of Hillary Clinton's biggest donors. If you watched the first Democrat Presidential debate last night on CNN, it was plainly obvious that the head honchos did their level best to make it the Hillary Clinton show. The main moderator, Anderson Cooper, used to be a member of the Clinton Global Initiative; and he couldn't wait to interrupt each of the other candidates so that he could get back to whatever Hillary Clinton wanted to say. Clinton was front and center on the stage, and it wasn't by accident.

Trump says he'd be 'beating Hillary by 20%' if 'disgusting and corrupt media' hadn't undermined him. Donald Trump has exploded over the 'disgusting and corrupt media' he says is holding him back after a New York Times article claimed his advisers had tried to rein in his 'incendiary' behavior. The article, published Saturday [8/13/2016], claims that Ivanka Trump, her husband and Trump's political team held an intervention on June 20 — and that he agreed to change his tune, but fell back into old habits. Now the article was met with vitriol by the candidate, who described the newspaper as 'failing' and its remarks as 'false' Sunday, and blasted the wider media as 'corrupt'.

Trump cries foul as media brushes off Clinton's 'pay-for-play'. [Donald] Trump, who has been maligned by the media since the beginning of the presidential race, is fed up with the media bias. "Maybe we'll start thinking about taking away their press credentials," he said at a Saturday night [8/13/2016] rally in Fairfield, Connecticut. "When they write dishonest stories we should be a little bit tough."

Media bias could wind up helping Donald Trump. Rampant mainstream media bias against Donald Trump could play right into the GOP presidential candidate's hands, sparking a sympathetic backlash from voters who see unfair press hits as a heavy-handed shadow campaign to boost Hillary Clinton, experts said yesterday [8/11/2016]. "His way of thinking is, if I take a battering ram and hit the door long enough, it doesn't matter what I say, they'll distort it, and eventually that will hit critical mass and people will turn on the media and Hillary," said Victor Davis Hanson, a senior fellow at the Hoover Institute at Stanford University.

Sharyl Attkisson Discusses DC Journalist Bureau Chief Urging Colleagues to Take Down Trump. Sharyl Attkisson was interviewed on NewsMax TV with Steve Malzberg and discussed an event she attended where a well known DC Journalist Bureau Chief urged all of the reporters in attendance to earnestly work at taking down candidate Donald Trump. When you consider the event being discussed, and further add the known hatred from a very specific Washington Bureau Chief, it stands to reason Attkisson is discussing Carl Bernstein. Bernstein previously said that all reporters have a professional journalistic responsibility to destroy the candidacy of Donald Trump. Bernstein, if you didn't know, is a full-throated supporter of Hillary Clinton.

Media-driven political insanity. Throughout history, real-life dictatorships have been known to "pre-define" reality via meaningless slogans, political correctness, and punishment of cerebral dissent. The fact that several months before elections we are constantly told that a candidate has already won definitely rings an alarm bell. Orwellian "Newspeak" morphed today into NewsSpeak, with the mainstream media acting as thought police. While we are being nonchalantly reminded about a long list of observable crimes that go unpunished, the media cheer those crimes' authors and try to contaminate us with the "enthusiasm."

VIDEO: Here's ten minutes of CNN cutting people's mics when they dare criticize Hillary. Note to pundits, journalists, witnesses, and commentators who would dare speak the truth about Hillary Clinton. You are not welcome on CNN. They have no interest in hearing the facts of Mrs. Clinton's life. They don't fit the obviously-biased narrative they're building, and [they won't] let you sit there and use their airwaves to inform people. The once and future Queen must be protected at all costs. Speak ill of her and CNN's gestapo will shout you down and cut you off with extreme prejudice — regardless of the accuracy of your comments.

Crooked Hillary or Unhealthy Hillary? This is not medical grand rounds, where a final diagnosis much be reached. Instead, it's about whether Hillary Clinton is mentally and physically well enough to serve as president of the United States. These are legitimate questions, and an honest and diligent media would be investigating her health as they did for similarly older candidates John McCain and Bob Dole when they ran for president. Instead, and not surprisingly, CNN circles the wagons around its favored candidate, ignoring these health concerns. Rather than piling on every Donald Trump utterance, the health of Hillary Clinton deserves scrutiny. Otherwise, a President Clinton might be too sick to function, similar to the fossilized general secretaries of the old Soviet Union, who rarely appeared in public and allowed their underlings to run the country.

Dan Rather, Here's Why No One Cares When You Say 'History Is Watching'. Tell us, Dan Rather: was history watching when the DNC aligned with Hillary, subverting the process to make sure Bernie Sanders would not be the nominee? Was history watching when four Americans were killed in Benghazi, and Hillary Clinton offered a series of lies to absolve herself of blame? Topped off by her "what difference, at this point, does it make?" Where were your admonishments then, Dan?

National Security Experts for Destroying America. The media widely covered General Allen's attack on Trump at the DNC and treated him as an apolitical national security expert. It neglected to mention that he works at Brookings or that the president of the Brookings Institution is Strobe Talbott. Talbott is an old friend of the Clintons. He got into government through them and worked for them as Deputy Secretary of State. He owes his current prominence largely to his Clinton connections. When Hillary Clinton was Secretary of State, Talbott was one of the few to have close access to her. He is not only a political ally, but also a personal friend. And Brookings and the Clinton Foundation are entangled in a number of ways.

CBS on Fact Checking Hillary: People Just Remember 'the Big Ones'. The journalists at CBS This Morning on Friday [8/12/2016] featured the founder of PolitiFact to talk about all the lies coming from the Democratic and Republican presidential candidates. Yet, most of the segment, unsurprisingly, was spent on Donald Trump. When the conversation finally meandered to Hillary Clinton, it was to explain that she fabricates less and that voters only remember her "big" ones. Guest co-host Dana Jacobson began "Donald Trump isn't the only person on the campaign trail having trouble with facts. Trump, Hillary Clinton and their running mates are keeping fact checkers busy." Yet after brief clips of both candidates, Gayle King chose to focus on Trump and his claim that Barack Obama "founded" ISIS.

Tech Companies Apple, Twitter, Google, and Instagram Collude to Defeat Trump. My dad always told me that conservative candidates have to work twice as hard as their liberal opponents to win elections because they're fighting two opponents: the Democratic Party and the media. The usual suspects from left-leaning major media outlets like The New York Times, MSNBC, CNN and even entertainment networks are doing everything in their power to ensure a Clinton victory. Look no further than to Wolf Blitzer mincing around and drinking wine at the Democratic convention, celebrating Hillary's nomination. But the propaganda skewing this election runs much deeper than just the media: our iPhones, iPads, social media networks, Google and even video games are all in the tank for Hillary Clinton — and it's chilling.

Tucker Carlson Reveals the Sad State of Modern Journalism. Criticizing the current state of modern journalism, Tucker Carlson told Accuracy in Media (AIM) that journalists' obsequious behavior, blatant bias and monolithic worldview have compromised the integrity of the nation's fourth estate. [...] Questioned about the media's election coverage this year, Carlson opined, "I don't think by and large they have been covering it, they've been advocating on behalf of one candidate against another." He explained that regardless of the election's outcome, the media's advocacy has destroyed its claim to objectivity.

Study: Nets Squash Hillary's Terror Woes to Scold Trump's Gun Remark. Both Donald Trump and Hillary Clinton should have been forced to deal with campaign messes on Tuesday [8/9/2016], but the three networks only treated the Republican's problem as a huge gaffe worthy of extensive coverage. ABC, CBS and NBC deluged viewers with more than five times more coverage — 25 minutes and 35 seconds versus 4 minutes and 41 seconds — to Trump's "Second Amendment people" remark than they did to the father of an ISIS-inspired terrorist sitting right behind Clinton at a rally in Orlando, Florida.

Nets Drown Out Latest E-Mail Scandal with Almost 4 Times More Trump. The liberal "Big Three" networks seemed to try everything in their power to not mention Hillary Clinton's latest e-mail controversy Wednesday. Throughout all of their news programs, both morning and evening, they gave the e-mails a total of 6 minutes 59 seconds. In stark contrast, they dragged out Trump's "Second Amendment people" comment with a whopping 25 minutes 54 seconds of coverage. "One day after Donald Trump used the second amendment to shoot himself in the foot, Hillary Clinton used her first amendment right to speak out against him," touted anchor Scott Pelley on CBS Evening News.

Media blamed Trump for Duke endorsement, silent on terrorist's dad backing Clinton. During the first three days of coverage after David Duke, a white supremacist and former leader of the KKK, endorsed Donald Trump back in February, the evening news shows on ABC, CBS and NBC devoted 11 minutes and 35 seconds to bashing Trump for not denouncing Duke, even though he had, noted Media Research Center. Earlier this week, when the gay-bashing, Taliban-sympathizing father of Orlando terrorist Omar Mateen showed up in the front row of a Hillary Clinton rally and vocally endorsed her, those same shows on ABC and CBS quickly dismissed it as a coincidence, giving it only 1 minutes [sic] 54 seconds of coverage on Aug. 9. NBC went a step further and failed to cover Seddique Mateen attending Hillary's rally at all until the following day, when they gave it 18 seconds of coverage.

Dan Rather: Media Must Publicly Shame Donald Trump Supporters. Disgraced former CBS news anchor Dan Rather is out with a haughty statement on Facebook, urging all of his fellow news anchors and mainstream media editors to destroy Donald Trump and his supporters. "This cannot be treated as just another outrageous moment in the campaign," Rather said, referring to the Republican presidential nominee's comments about defending the Second Amendment.

Trump successfully baits media into hysteria. Again. The anti-Trump media (another name for the mainstream media) have resumed their frenzied claims that Donald Trump is out to unleash indescribable horror in the American people. The current version of doom is that he is calling for NRA assassins to kill either Hillary Clinton or her Supreme Court nominees, or both. What he actually said was this: [...]

Media justify anti-Trump bias, claim he's too 'dangerous' for normal rules. The media's legions of Trump-bashers are finally acknowledging the obvious. And trying their best to justify it. But there's one problem: Tilting against one candidate in a presidential election can't be justified. This is not a defense of Donald Trump, who has been at war with much of the press since he got in the race. Too many people think if you criticize the way the billionaire is being covered, you are somehow backing Trump.

ABC Spends Just 33 Seconds on Trump's Economic Plan. Donald Trump spent more than 52 minutes laying out his plans for the economy in Detroit Monday. It's an issue voters ranked as their most important, yet ABC spent only devoted 33 seconds to what Trump proposed. Pew Research Center reported on July 7 that voters ranked the economy as their highest priority. But World News Tonight barely covered the substance of Trump's speech on that very issue. Instead, it spent more than five times more or 178 seconds harping mostly on criticisms of Trump and his plan.

Media Launches a Full Frontal on Trump, Gun Owners. Following Donald Trump's August 9 speech regarding the dangers a Hillary Clinton-nominated Supreme Court poses to the Second Amendment, media outlets around the world responded by intimating Trump was suggesting violence against Clinton. The media allegations were so extreme, they not only insulted Trump but gun owners as well.

MSNBC Covers For Hillary After Terrorist's Dad Attends Rally. MSNBC's Thomas Roberts and Kristen Welker attempted to downplay the fact the father of the Orlando terrorist attack perpetrator was seated directly behind Hillary Clinton at a recent campaign rally in Florida. Seddique Mateen, father of Orlando shooter Omar Mateen, attended Clinton's rally.

Hillary's falls recall the health questions JFK tried to dodge. The health of a prospective president is one of the most important issues of any campaign, but whether to ask hard questions about a candidate is usually a matter of whose prospective president, and whose health. When the prospective president is a Democrat, the media only sends candy, flowers and best wishes. Ours is a curious campaign, and the precedents set in the coverage of it are dark and dangerous because they're likely to be long-lasting. Objectivity, honored if sometimes only in the breach for more than a century, is regarded this year as no longer necessary because "going after Donald Trump" is not only legitimate, but morally righteous.

CNN leads unhinged media in attacks on Trump disguised as 'reporting'. [Scroll down] Accusations that Mr. Trump had gone mad reached infernal temperatures. The Republican nominee had finally gone around the bend, off his cracker with complete madness. Instead of the traditional politician kissing a baby, the media reported, Donald Trump threw a baby out of a campaign event. He mocked a supporter, it was reported, who gave him a fake Purple Heart. (Both of these stories, it would later be revealed, were entirely fabricated.) Undeterred, CNN — which has dropped all pretense of fairness and embraced its slur as "Clinton News Network" — dispatched its staff shrink to analyze Donald Trump for signs of insanity. Actually, it is unfair to use the word "News" in the name anymore.

Mr. Trump: The media is no longer your friend. Dear Mr. Trump, Apparently you didn't get the memo — the one that told you the difference between competing in the primaries and running in the general election. Here's the bottom line: you are now facing off against Hillary Clinton, and the media is no longer in your corner. If you're wondering why The New York Times ran a piece about the Khan family a full 10 days after the Gold Star father spoke out against you at the Democratic convention, even though there is no breaking news on that damaging fracas, it is because they do not want you to win.

Rigged Debate Commission in the bag for Hillary Clinton. Debates matter. If you don't believe me, ask Mitt Romney if he would like a do-over of his second forum with President Obama. Debates are the only time in which we get an unfiltered view of the candidates. With the FBI folding like a cheap suit on the email scandal, these debates may be the only grilling Hillary actually gets.

Juanita Broaddrick: NBC's Andrea Mitchell Owes Me A Public Apology. Bill Clinton rape accuser Juanita Broaddrick charged that there is a media "double standard" when it comes to a lack of reporting on the sexual assault and rape charges against the former president. She further demanded that NBC News Anchor Andrea Mitchell issue a public apology for calling Broaddrick "discredited" during a segment that aired May 19 on the highly-rated "Today Show." In response to a retraction letter from Broaddrick's attorney, who is also her son, the network quietly scrubbed the word "discredited" from the online version of Mitchell's report, Breitbart News first reported last week.

GOP Goes Full Democrat. [Scroll down] Media support for the Democrat candidate, no matter who that is, should be a foregone conclusion. The alphabet networks, cable news shows and major newspapers are nothing more than campaign arms of the DNC. The most recent example is Khizr Khan receiving 50 times more coverage than Benghazi mother Pat Smith on the three major networks, ABC, CBS, NBC. When George W Bush was running for president, Code Pink and Cindy Sheehan were constantly on the news, protesting the Iraq war and excoriating George W Bush. Then in 2008 with a new Democrat president, the war protests went into silent mode receiving no media coverage, having already served their purpose.

'Mediagate,' the scandal you won't hear about on cable news. In the last two weeks, it has become obvious that a political scandal is unfolding which exceeds in scope anything seen previously in our country's 240-year history. What could that be? Is it the fact that leaked emails proved that the Democratic Party rigged the election cycle to ensure that Hillary Clinton would be nominated for president instead of her grassroots opponent, Bernie Sanders? Or the fact that it became firmly established that the Obama administration had essentially agreed to pay ransom to Iran for the release of our hostages? How about the fact that President Obama — acting more like Hugo Chavez than George Washington — announced from the White House that one of the two people who have a chance to be the next president of the United States is "unfit to serve" in that office? All of those were bad enough, but they don't come close to the importance of the political scandal that you will never hear reported on cable news or in the pages of the New York Times.

CNN's Brian Stelter Brings on Four Trump Supporters to Air Their Media Bias Grievances. Being a Donald Trump supporter on cable news sure is an interesting job. And CNN's Brian Stelter brought four of them on Reliable Sources today [8/7/2016] to air their grievances about media bias. Scottie Nell Hughes said that across the board, in print or on TV, you get majority anti-Trump views and very few pro-Trump views expressed. Amy Kremer complained about how the media always plays up Trump controversies, but never treats any Clinton controversy on equal footing. Stelter suggested that maybe it's just because hers are "not as big."

Clinton Media Polling — CNN: "Now She's So Far Ahead There's No Need for an Election". National Media Polls now show Secretary Hillary Clinton leading Donald Trump by 10 to 15 points. And right on cue, the CNN punditry (Erin Burnett) begin tonight [8/4/2016] by saying: ..."with a national lead this large is there really any reason to have the election?"

Sliming Trump. Now that Donald Trump is safely ensconced as the official Republican nominee for president, the mainstream media is running an intense around-the-clock operation to deprive him of the relatively unfiltered media exposure he needs to seal the deal with the American people. Trump being silly and playful in front of TV cameras or utilizing his sense of humor is cast as evidence of a disordered, antisocial mind. The media is focusing on minor benign details and marketing them as the evil deeds of an evil man. Preventing Trump from communicating effectively with Americans didn't work so well during the primaries. That was when student radicals, union thugs, Democrat allies in Black Lives Matter, and the remnants of Occupy Wall Street were disrupting Trump rallies and intimidating would-be rally attendees by beating the New Yorker's supporters up in broad daylight.

Fake Republicans For Hillary. The media is gleefully touting the defection of Republicans to the Hillary camp. In reality, the Republicans who are defecting were never Republicans at all. Take Congressman Richard Hanna. Please. Hanna has announced that he'll be backing Hillary Clinton. This isn't so much a change as an admission. Hanna is a retiring lame duck whose Republican credentials are up there with those of fellow Hillary endorsee Michael Bloomberg. Both men are New York politicians who ran as Republicans because of pure political opportunism. No one seriously believed that Bloomberg was a Republican. Hanna's Republican credentials are an even bigger joke.

Hillary Clinton urges journalists to go after Donald Trump. Telling the Fourth Estate that it has a "special responsibility" in an election cycle like this one, Hillary Clinton on Friday [8/5/2016] urged journalists to keep up tough coverage of Donald Trump, and said that any news organization targeted by the Republican presidential nominee should be proud. Mrs. Clinton, who has come under fire for rarely answering reporters' questions and almost never holding legitimate press conferences, tried to put herself squarely on the side of the media. Speaking to a joint meeting of the National Association of Black Journalists and the National Association of Hispanic Journalists, Mrs. Clinton recited many of Mr. Trump's ugly clashes with the press and said journalists have a civic duty to keep after the billionaire businessman.

Clinton or Trump would be first president since 1993 who hasn't smoked pot. While President Barack Obama has never hid his penchant for pot during his younger days in Hawaii, Americans soon will elect a president who claims never to have touched marijuana. Republican Donald Trump boasts that he has never smoked a joint or a cigarette or even had a drop of alcohol. Democrat Hillary Clinton was adamant on CNN when asked whether she had ever taken a toke, replying that she never had and never would: "Absolutely not."

The Editor says...
Does anyone believe that there is even one radical left-wing hippie from the 1960s who has never smoked pot to this day? And that one exception is Hillary Clinton?

Journalists applaud Clinton at event. Applause from members of the media was heard throughout Hillary Clinton's address Friday to a joint convention of the National Association of Black Journalists and the National Association of Hispanic Journalists in Washington, D.C. The event, attended by more than 1,500 journalists, discourages applause from journalists during speeches by political candidates. Before Clinton's appearance, conference staffers went around the room reminding people that it's inappropriate for journalists to give politicians standing ovations.

CNN Asks Benghazi Father to Criticize Trump. He Attacks Hillary Instead. Since the September 11, 2012 terrorist attacks in Benghazi, Libya, several Gold Star families have told of Hillary Clinton's dishonesty, incompetence, and lack of character. But their voices have largely been ignored by the mainstream media. When Patricia Smith — the mother of Benghazi hero Sean Smith — gave an emotional speech blaming Hillary for the death of her son at the Republican National Convention, the media yawned. Worse, Politifact actually felt the need to fact-check her assertions about what Hillary Clinton told her — as if they could prove or disprove what was said in a private conversation.

What's more important? Trump offending one father or the meltdown of the US economy? Folks, this is a combination of pure fraud, censorship, media manipulation and conspiracy to rig a presidential election. I've never seen anything like it in my lifetime. The media hates Donald Trump. They want to destroy him. So they choose to downplay or outright ignore any news that hurts Hillary or Obama... and make any news that hurts Trump the biggest blaring neon headlines on earth.

We are not alone in calling out the anti-Trump press. This deference to Democrats may be usual for presidential campaigns. But now we have documentation — irrefutable proof — that they are Democrats with bylines.

CBS Fesses Up: Trump Gives Every Excuse to Not Cover Hillary. In a rather candid report on CBS Evening News Wednesday evening [8/3/2016], reporter Nancy Cordes admitted that Donald Trump gives the media every excuse not to report on the controversies of Hillary Clinton. "Charlie, ordinarily this would have been a challenging week for the Clinton campaign," she started off saying, "You had several DNC officials resign, more fallout from the hacking controversy, and Clinton's honesty over her e-mails was called into question yet again after an interview she did with Fox." "But the sheer number of unorthodox comments made by Trump just this week has really been a boon to the Clinton campaign," Cordes continued. And numerous studies conducted by the Media Research Center give credence to her claim.

Ultimate Media Privilege: Hillary's Crimes Versus Trump's Mouth. [M]ainstream media continue to ignore Hillary Clinton's Benghazi lie to Patricia Smith, who, in something of a political mirror to [Khizr] Khan, spoke at the Republican National Convention. "I blame Hillary Clinton personally for the death of my son," Smith said. A moment later she addressed Hillary's lie: "In an email to her daughter (Chelsea) shortly after the attack, Hillary Clinton blamed it on terrorism. But when I saw Hillary Clinton at Sean's coffin ceremony, just days later, she looked me squarely in the eye and told me a video was responsible. Since then, I have repeatedly asked Hillary Clinton to explain to me the real reason why my son is dead. I'm still waiting." Left wing media railed — against Smith.

Fifty times more TV network coverage for Khizr Khan than Pat Smith. Media bias has entered new territory in the United States with the nomination of Donald Trump. Somethig approaching sacred moral duty to defeat him permeates newsrooms across the country. So it is no surprise that news judgments are ridiculously skewed, to the point where comparisons with totalitarian regimes are becoming thinkable.

Update: 85 Minutes on Anti-Trump Khan Speech, 2 on Pat Smith. It seems like the only way a military family can get media attention these days is by bashing Donald Trump. On the evening shows of August 1 and the morning shows of August 2, the broadcast morning and evening news shows spent an additional 29 minutes and 53 seconds on the speech by family of slain U.S. Army Captain Humayun Khan at the Democratic National Convention, while the same shows only spent 47 seconds on Benghazi mother Pat Smith's speech at the Republican National Convention. This brings the total up to 85 minutes, 6 seconds for Khan and only 1 minute 57 seconds for Pat Smith.

Media Reaches Peak Propaganda as Even the Simpsons Go Anti-Trump. The blatant favoritism and lack of objectivity by the presstitutes and paparazzi in shilling for Hillary Clinton may yet jump the shark but it's hard to see when that day will come. Smears against Donald Trump and his family are being churned out 24/7 in the aftermath of the conventions in a sign that the corrupt establishment is beginning to panic out of fear that the Republican nominee may actually win the presidency. The propaganda is now oozing from the McNews organizations over into entertainment with even the freaking Simpsons being used to promote hostility towards Trump.

What sacrifices has Hillary Clinton made? If personal sacrifice was a requirement to be president, then Arizona Sen. John McCain would've served eight years in the White House. That's why George Stephanopoulos' question to Donald Trump on ABC News — "What sacrifice have you made for your country?" was such a setup. Mr. Stephanopoulos was trying to highlight Mr. Trump's lack of military service, a void Hillary Clinton has on her resume as well. It was meant to embarrass him.

The Editor says...
What sacrifice has Barack H. Obama ever made? When has ABC News ever asked Barack H. Obama an equally disingenuous question?

MRC's Brent Bozell Slams 'Incredible' Disparity in Coverage of Grieving Moms. The Media Research Center's Brent Bozell appeared on Fox News's Your World, Monday [8/1/2016], to slam the media double standard in how journalists covered one grieving family who spoke out, but not another. Bozell highlighted an analysis by the MRC which found that Khizr Khan, who denounced Donald Trump at the Democratic convention, received 50 times more coverage than Pat Smith, a mother who condemned Hillary Clinton at the Republican convention. (Smith's son was killed in the Benghazi attack. Khan's son served in the Army and was killed in Iraq.) The MRC President exclaimed, "For those keeping score at home, that's 50 times more coverage, a negative on Donald Trump than Hillary Clinton. How in the world can this be a press saying that is showing any modicum of fairness in this campaign?"

CNN: Anchor Wolf Blitzer wasn't celebrating Clinton nomination. CNN is pushing back on claims that one of its lead news anchors was seen celebrating Hillary Clinton's historic nomination for president Thursday night [7/28/2016], calling the accusation "absurd." A video circulating online shows anchor Wolf Blitzer dancing to Neil Diamond's "Sweet Caroline" while drinking from a glass and waving his hands in the air, apparently at the network's CNN Grill in Philadelphia. "CNN celebrates Hillary: Blitzer toasts speech, dancing, party!" reads a headline at the conservative Drudge Report, linking to the video. But a CNN spokesman said Friday that Blitzer was not showing bias toward the Democratic nominee, only celebrating the end of the network's coverage of both parties' national conventions.

Is the press pushing Hillary's argument that Trump is 'dangerous'? Glenn Greenwald, the uber-liberal journalist who obtained the NSA leaks from Ed Snowden, says that anti-Trump bias in the media is utterly complete and total. "The U.S. media is essentially 100 percent united, vehemently, against Trump, and preventing him from being elected president," he told Slate. Greenwald says he has no problem with that because Trump poses "extreme dangers," and I think he's overstating the case when it comes to bias. But the comment is telling.

Reuters Announces Poll Changes To Help Lift Hillary Clinton. After Reuters polling showed a 17 point (two week) swing to benefit Donald Trump something urgently needed to be changed.

Condemning Republicans, Cheering Democrats: The Media's Biased 2016 Convention Coverage. With both the Republican and Democratic conventions now concluded, it's time to judge the news media on how fairly they covered the two parties. Media Research Center analysts looked at various aspects of coverage, all of which demonstrate that journalists obviously favored the Democratic gathering. By a 12-to-1 margin, journalists spent far more time deriding the Republican convention for its negativity, even as their reactions to Democratic speakers were consistently positive and often enthusiastic. Cable news had its own unique biases: MSNBC carved out time on each night of the GOP convention for interviews with top Democratic officials, but — despite promises to the contrary — aired no such interviews with Republicans during the Democratic convention. Meanwhile, CNN devoted more than an hour of airtime during the Democratic convention to airing 18 party-produced videos, but only included three such videos during the GOP convention.

Media Rush To Use Khizr Kahn as Leverage To Aid Candidate Hillary Clinton. There's several ways you can look at the carefully scripted use of Khizr Muazzam Kahn by the media today in an all out effort to aid Hillary Clinton in her campaign efforts. However, perhaps the most analogous approach is to consider the similarity to Ahmed Mohamed, aka: "Clock Boy". Unfortunately for the U.S. media, the transparency of narrative use becomes more obvious the more they coordinate the pile-on. Putting the narrative front and center of every single talking point for the Sunday shows was just a little too transparent: [...]

Hillary Clinton's Historic Night [was] Marred By Contradiction And Dissent. If you watched the final night of the Democratic Convention on television at home or at a watch party, it might have seemed like everything went pretty well for Hillary Clinton and the Democrats. [...] But not everything was quite as it seemed. Inside the convention hall, hundreds of Bernie Sanders delegates wearing florescent yellow T-shirts and seated in small clusters within their state sections kept causing trouble.

Media Silent On Bill Clinton Double Rape Bombshell. The U.S. news media has entirely ignored the newsworthy confirmation from Juanita Broaddrick that she was allegedly raped not once but twice by Bill Clinton during the same infamous encounter in 1978. The story was splashed as the main banner of the Drudge Report for much of the day on Wednesday [7/27/2016], after Bill Clinton brandished Hillary's purported credentials as a champion of women on Tuesday night at the Democratic National Convention here. In addition to its massive general readership, the Drudge Report is read widely throughout the day as a tip sheet of sorts by many in the news industry.

No Mention of Clinton Foundation During DNC Convention. After nearly three days of speeches and video propaganda one major part of Democrat Nominee Hillary Clinton's life's work has gone virtually unmentioned during the Democrat National Convention in Philadelphia. Even as speaker after speaker lauded Hillary's career in public life, no mention of the Bill and Hillary Clinton Foundation has been uttered from the dais. It seems strange that a $2 billion charity that has purportedly done such great things all across the world has not rated a single word in Philly.

ABC, NBC Hype Obama's 'Urgent,' 'Critical Speech' For Hillary at DNC. On Wednesday, ABC's World News Tonight and NBC Nightly News both played up President Obama's planned speech to the Democratic National Convention as a key moment to promote Hillary Clinton. ABC's Cecilia Vega underlined Obama's "urgent goal: to make the case" for Mrs. Clinton, and touted the President as "her most powerful ally." NBC's Andrea Mitchell counted the chief executive as one of "Clinton's heaviest hitters" and spotlighted his "most critical moment" at the convention. Kristen Welker contended that "there is... no more critical speech than the one he'll deliver tonight... This time, his legacy is also on the line."

DNC Email Scandal: Media Peddle A Dubious Russia Conspiracy Story. It's a general rule of thumb that when a leak hurts Republicans, the media focus on the leak. But when the leak hurts a Democrat, the media focus on the nefarious motives of the leaker. This bias has on bold display in the wake of the release of hacked DNC emails last Friday. As everyone now knows, the nearly 20,000 e-mails so far released contain revelations about how the party — which was publicly claiming to be neutral in the primary battle between Hillary Clinton and Bernie Sanders — was actively trying to torpedo Sanders' bid. Almost immediately, the Clinton campaign tried to suggest that this was somehow part of a conspiracy on the part of Vladimir Putin to help Donald Trump get elected.

Media Follow Clinton Script on Trump, Russian Hackers, Hillary Emails. The reason Donald Trump's comments Wednesday morning [7/26/2016] about Russian hackers and Hillary Clinton's missing emails have become such a big deal is that the mainstream media were told today to make them so. To be precise: Hillary Clinton campaign spokesman Brian Fallon told the morning press briefing at the Democratic National Convention that the main theme of the day, and especially the evening speeches, would be to contrast Clinton and Trump on national security. The message: Donald Trump is unfit to be commander-in-chief.

How big was the walkout from the DNC when Hillary nominated? The level of media bias in reporting the Democratic National Convention is as high as I have ever seen outside of North Korea and the old Soviet bloc. The GOP convention was declared a disaster many times during its four-day run, but the DNC, reeling from revelations of the rigging of the primary contests, is getting far more benign descriptors, as the media avert their eyes from unpleasant realities. [...] Imagine, for a moment, that Ted Cruz delegates had walked out on the GOP convention. Would the media have interrupted its coverage of the convention floor to follow the out and give them plenty of air time to speak their minds? Or, would they have just "chilled"?

Media Continues To Ignore Chaos Surrounding Democrat Convention. Protests in the street, and angry delegates inside, but you wouldn't know it if you simply watched the Mainstream Media coverage of the Democrat Convention this week. Hundreds have been marching in the streets of Philadelphia every day since Sunday — but those marches have been given a near total media blackout.

Video Outside Philly Convention Shows Compliant Media Selling Pro-Hillary Narrative. Everything about day #2 leading up to the nomination of Hillary Clinton was carefully planned, scripted, controlled and executed. However, once Bernie Sanders endorsed Secretary Clinton via a rules change request throwing all delegate votes to Hillary, the vast majority of movement democrats left the arena. Immediately following the roll call vote, the DNC quickly moved to bar any pro-sanders signage from the venue. Anyone holding Sanders signs was warned they were subject to forced removal and loss of convention credentials. Outside the arena the Bernie Sanders supporters gathered to voice their protest to the strong arm tactics.

Media won't ask Chelsea Clinton about her father's treatment of women. Ivanka Trump, daughter of GOP presidential nominee Donald Trump, is constantly asked about her father's treatment of and statements about women. The same cannot be said of Chelsea Clinton, daughter of former President Bill Clinton and Democratic presidential nominee Hillary Clinton. Ivanka has been grilled by CBS, criticized by the Atlantic and asked by many more outlets to defend her father. On Wednesday, CBS published an article about Chelsea calling on Ivanka to ask her father about equal pay. Here's an article you won't see from the mainstream media: Chelsea Clinton being asked to defend her father's treatment of women, including accusations against him of rape.

So Much for That 'Unprecedented' Jail Talk. The Republican convention's rowdy chants about Hillary Clinton — "Lock her up!" — have caused liberal journalists to get extremely distressed. In their lead editorial on July 21, The Washington Post fulminated that Team Trump's "descent from standard red-meat partisanship to unprecedented accusations of criminality displays contempt for the rule of law and a startling disinterest in fact and reason." That's strong brew. It's too bad for them that it's completely false. Somehow, the Post writers are acting like they were born yesterday, or slept through the last Republican presidency. They've chosen to overlook that their liberal friends in news and entertainment were active participants in an eight-year anti-GOP hatefest. Take CNN commentator Jack Cafferty, who on October 17, 2005, gushed to Wolf Blitzer about the idea of Karl Rove in prison: [...]

DNC Wikileaks hack outs Hillary shill at Washington Post. Wikileaks revealed, within the 74 emails where [Greg] Sargent's name in mentioned in Democratic National Committee (DNC) emails, that the substance of Sargent's "opinionated" columns comes not from his keen analysis of political events, nor is it rooted solely in his liberal, political philosophy. Instead, his particular slant leans heavily on DNC input where support for the Clinton candidacy is, and has been from the start of this election cycle, firmly established. In short, Sargent is a DNC-Clinton shill on the payroll of the Washington Post. In addition to coordinating his blog columns with DNC communicators, Sargent is a conduit for DNC talking points that travel through him to rank-and-file Washington Post reporters.

Washington Post and DNC Hold Joint Fundraiser for Hillary Clinton — Lawyers said "illegal", Did it Anyway. Apparently, The Washington Post was hosting a party. The DNC saw the opportunity to make a fundraiser out of it and sell tickets to the party to donors. However, the email chain shows the lawyers for the DNC said they can't publish the price for the tickets because the joint event would be illegal.

Tim Kaine, Hillary's 'safe' choice, gets kid-glove treatment from the media. The media are giving their official blessing to Hillary Clinton's choice of Tim Kaine, praising him as a calm, experienced and slightly dull guy who can help her govern. What they are not doing is picking the Virginia senator apart, and highlighting his disagreements with the nominee, which marked the coverage of Donald Trump's selection of Mike Pence. I happen to think that both Kaine and Pence are solid and serious choices who share some similarities, as both are religious and make little attempt to be flashy. But different media standards seem to apply.

Don't believe MSM trying to sell Kaine as a centrist. The media are selling the line coming from Hillary's campaign strategy: VP pick Tim Kaine is a centrist, and choosing him signifies Hillary is not going left. NeverTrump conservatives are to be reassured that the Sanders faction has lost its ability to pull Hilary leftward.

Captain Tingles: How dare these Republicans let the mother of a Benghazi victim criticize Hillary. I first noticed this with Joe the Plumber. Ordinary citizen finds himself with a moment in the spotlight and uses it to criticize the president. The media immediately springs into action — not in support of the citizen's right to dissent, but as a mass prosecution team demanding to know who this ingrate is, and what right he thinks he has to cast aspersions on the high exalted leader. [...] So it really came as no surprise to me that Chris Matthews pull the same schtick last night [7/18/2016] as Patricia Smith took the stage at the opening night of the Republican National Convention and blasted Hillary for her role in, and subsequent lies about, the death of her son Sean Smith in Benghazi. Tingles is oh so generous in allowing that Ms. Smith is allowed to "feel" any way she wants, but draws the line at telling "lies about Hillary Clinton," which of course is not what Ms. Smith did at all.

Politifact 'Fact-Checks' Bereaved Benghazi Mother at Republican Convention. No sooner had Pat Smith delivered a tearful, heart-wrenching speech at the Republican National Convention accusing Hillary Clinton of responsibility for her son Sean's death in Benghazi, and lying to her, than Politifact "fact-checked" her claims. "Smith has said Clinton lied to her about Benghazi, but it's not completely clear just what Clinton said," Politifact tweeted.

Chris Matthews: GOP 'Ruined Their Evening' with Benghazi Victim's Mother's Speech. Chris Matthews immediately reacted to the RNC speech delivered by a mother of one of the Benghazi victims by saying the GOP "ruined their evening" with that speech. Smith said that she blames Hillary Clinton for her son's death and that she's a liar who should be in prison. Matthews tore into "this gross accusation that somehow Hillary Clinton had anything to do with the death of Chris Stevens" and the three other victims. He didn't understand why the GOP "would choose to put this on primetime television" and said it's just "not true" no matter what Smith's personal feelings are.

Helpful ABC: 'Clinton Wants Nothing More Than to Change the Subject'. The journalists at Good Morning America on Thursday [7/7/2016] were eager to help Hillary Clinton turn the page and move on from the damaging e-mail server scandal. In contrast to the reporters and CBS and NBC, ABC's Cecilia Vega simply parroted Clinton talking points: "Clinton's campaign calling the grilling 'yet another taxpayer funded sham of an inquiry to try to hurt Hillary Clinton politically.'" Rather than dig deeper into the fact that the presumptive Democratic presidential nominee sent and received classified information, the journalist regurgitated, "A year-long investigation into those e-mails that threatened her bid for the White House is finally over, and now Hillary Clinton wants nothing more than to change the subject." Vega then pivoted, "Clinton now trying to get back to business on the campaign trail, taunting Donald Trump on his own turf."

Lemon Characterizes Clinton FBI Investigation As Sexist Attack. Just hours after the FBI recommended Hillary Clinton not be criminally charged by the DOJ, CNN was already dredging up sympathy for Hillary. On CNN Tonight July 5, anchor Don Lemon repeatedly brought up Clinton's gender in an attempt to show that Clinton was somehow getting harsher treatment than she would if she was a man. Lemon began by comparing the hearing to "fireworks," claiming that "the men at the top" were trying to keep Clinton from becoming President[.]

Hillary: Manifestly Guilty. Once upon a time you could look forward to journalists and the media excoriating a scandal-ridden politician instead of toiling furiously to cover up their scandals. Despite being manifestly guilty of multiple felonies, the poodles in the press and her intellectually bankrupt and fawning idol worshipers deny the existence of her serial corruption.

MSNBC Editor Spins: 'Hard for Anybody to Agree' That 'The System Is Rigged' After Today. Reacting to FBI Director James Comey's announcement on Tuesday that he has not recommended charges against Hillary Clinton for her private e-mail servers scandal, MSNBC and NBC News senior political editor Beth Fouhy decried the idea that anyone should still be arguing that "the system is rigged" now that Comey revealed Clinton won't face charges. Fouhy was speaking live on MSNBC to host Tamron Hall when she prefaced one of many comments she made during the hour about how she doesn't think "Bernie Sanders supporters are going to make a big issue of this, but Republicans certainly will" because "[l]egally, yes, she's out of the woods, she is not out of the woods politically on this at all."

Hating Hillary's Enemies in the Vast Right-Wing Conspiracy. Over the next two weeks, NewsBusters will be documenting the media's role in fueling Hillary Clinton's political career by showering her with adoring press coverage while smearing her critics as sinister and sexist. On Wednesday [6/29/2016], we kicked off with a collection of media quotes celebrating Clinton as the "successful," "remarkable," "fabulous," "sexy" and "pious" "icon of American womanhood." Then on Friday, we showcased quotes from journalists suggesting those who criticized Clinton were sexists upset by her role as a "cultural pioneer." Today, examples of reporters cheerfully echoing Hillary's attempt to blame all of her and her husband's scandals on a "vast right-wing conspiracy," as opposed to the Clintons' own impoverished ethics.

Your guide to knowing whether your news outlet is in the tank for Hillary. There have been a number of books written by former Secret Service agents and some written about Secret Service agents. Gary Aldrich wrote a book entitled "Unlimited Access", Ronald Kessler wrote the book "The First Family Detail" and Gary Byrne has written one titled "Crisis of Character." They share much in common and that's a problem for the Clinton campaign. So much so that it's taken to taken to controlling the media outright. [...] All of the above authors depict Hillary as a volcano that erupts from time to time, as a power hungry harridan. She's not a nice person.

Seriously? New Chris Matthews Ad Touts Liberal's 'Tough Questions'. In case you weren't aware, the liberal Chris Matthews is the king of the "tough questions." That's according to a new ad airing on MSNBC. In the spot, Matthews brags, "I take it as my job not to just ask the tough questions... but to get answers to them." [...] However, in January of 2016, the Hardball host conducted a 20 minute softball interview with Hillary Clinton. It included "questions" such as this one: "Well, New York came and fell in love with you and said, 'We like you, come up here, live up here and be our senator.'"

Not only are the news media biased, they lie about it, too.
Hillary Clinton's Media Fan Club. Clinton's supporters in the media have argued that her rise has been all the more remarkable because she has supposedly endured "unfair" and "hostile" treatment from the national media. "She has run, essentially, for the last 20 years against — with the media in her face, right? She has run against the wind, against the tide of coverage," MSNBC's Joy Reid claimed during her network's coverage of the New York primary in April. She added: "I think the media has a very negative relationship with Hillary Clinton and has... for 30-plus years." During a May 8 appearance on FNC's MediaBuzz, CBS's Lesley Stahl echoed Reid: "I think Hillary is getting a pretty tough press, and I think she will continue to get a pretty tough press because she is powerful now."

The Benghazi Debacle Should Have Ended Hillary Clinton's Career. Do failures and lies matter any longer? If you are a prominent Democratic politician, what exactly is the level of wrongdoing that will end your career? Reading the long-awaited report from the House Select Committee on Benghazi and the associated media coverage, I was struck by the sheer scale of the failures and the deceptions surrounding the terror attack on the Benghazi compound, and by the mainstream media's dismissiveness.

Andrea Mitchell Mesmerized by Clinton and Warren: 'Magic on Stage'. Monday [6/27/2016] on Andrea Mitchell Reports, the host salivated over the "magic on stage" at the Clinton/Warren rally in Cincinnati earlier in the day. Mitchell and Anita Dunn, former White House communications director, went back and forth as they praised the pair for their "very real" chemistry on stage. They went on and on, suggesting the women looked like a "pretty good winning ticket for the fall" who resembled the "boomer magic" of Bill Clinton and Al Gore.

Media fails to disclose CREW's ties to Hillary Clinton ally David Brock. It's mostly conservatives who are corrupt. At least that's the expressed opinion of Hillary Clinton operative David Brock. He said so in 2014 when he took over as chairman of the board at the ethics watchdog Citizens for Responsibility and Ethics in Washington (CREW). Brock is also founder of the liberal propaganda group Media Matters. Media Matters has long served as the attack dog of any reporters, news outlets, politicians, interests, whistleblowers or ideas perceived as threatening to the narrative as established by President Obama, Clinton and other Democrat interests.

Here Are 10 More Examples of Google Search Results Favorable to Hillary. "Crime" and "indictment" are not the only terms Google is keeping hidden from searches of Hillary Clinton, a Washington Free Beacon analysis finds. Common search terms associated with Clinton appear to have been scrubbed from Google as the tech giant has been accused of manipulating its autocomplete results to favor the Democratic presidential candidate. Matt Lieberman of SourceFed released a video showing examples of Google skewing its autocomplete results for Clinton, while other search engines simply display the most searched terms.

TV News Feasts on Trump Controversies While Ignoring Hillary's Scandals. Voters who have relied on the network evening newscasts for information about the 2016 presidential candidates saw four times more airtime devoted to controversies involving presumptive GOP nominee Donald Trump than to the scandals surrounding his Democratic rival Hillary Clinton. Indeed, the only Clinton scandal to receive more than a minimal amount of attention from the networks during the primaries was the ongoing investigation of Clinton's use of a private e-mail server and her mishandling of classified information while serving as Secretary of State. The networks paid little or no attention to a host of other Clinton controversies that likely would have been big news if they had been associated with her GOP opponent.

The Insidious Power of the Media Disinformation Campaign for Hillary Clinton. While it is certainly true that the chief editor of a major newspaper or the producer of a network newscast has the ability to spike or kill a story, which is essentially their way of "ignoring" the news if you will, what is more subtle, deceitful — and dare I suggest corrupt — is their penchant to frame a story to fit a specific narrative. They no longer report the news, but they do shape a message. There is not a finer example of the media ignoring the facts and shaping a message than what we are witnessing regarding Hillary Clinton's email server, the classified material on that server, as well as the case of the missing emails. The media have embraced the Clinton campaign's narrative that there is "nothing to see here," that there wasn't some "mishandling email controversy," at most, or repeat Secretary Clinton's own bogus statement, "using a personal e-mail was permissible" as "other Secretaries of State did the same thing." Other excuses have been thrown against the wall to see if something will stick, such as, she was "trying to protect her privacy" or "she was clueless about how regular emails work on a conventional computer."

The Mainstream Media Chose a Side and Now It's Paying the Price. If Trump says he inhales oxygen, the headline will be "Trump Admits He's Just Like Hitler." But with Hillary or Obama, it's the reverse. At best, they report on facts that manifestly demonstrate her guilt of multiple felonies and misdemeanors, yet make sure to undercut their own reporting by asserting she can't possibly be indicted. The media can't shut up about Trump U, but the $16 million the Bill and Hillary Graftatron 2016 nabbed from Laureate U? Apparently all the news isn't fit to print.

How the DNC — and Media — Conned Us Into Clinton. The Guccifer has landed, and it's what we thought all along. [...] In it, in plain-spoken, PR-spin-doctoring language, was a game plan for the DNC to perform outreach to reporters — aka spin them like a Dreidel — in order to "muddy the waters" on behalf of HRC [Hillary Rodham Clinton] from criticism about her use of personal emails as Secretary of State and career-long bank account funded by every special interest Democrats pretend to oppose.

Rights groups silent as Clinton Foundation takes millions from countries that imprison gays. The Clinton Foundation has accepted millions from Middle Eastern and other foreign governments that criminalize homosexuality — but prominent gay rights groups in America have stayed silent on the apparent disconnect between Hillary Clinton's rhetoric and the donations. "Unquestionably, they're not standing up for their principles," said Human Rights Foundation President Thor Halvorssen. The presumptive Democratic presidential nominee frequently talks about her support for the LGBT community, while ripping what she describes as discriminatory policies in the U.S.

After correcting for bias, Clinton's national lead in CBS News poll evaporates. CBS News is now pushing the pro-Hillary Clinton polls in rapid fashion. Late on Wednesday, this media outlet released the results of a national poll claiming to show that Clinton holds a 6% advantage over Donald Trump in the direct head-to-head matchup. [... But] this CBS News poll appears to be biased in favor of the Democrats by the same margin that Clinton purportedly holds over Trump, meaning that if the bias is removed, so is Clinton's lead, and we have a statistical tie.

Has FBI Director Comey Waited Too Long on Clinton Scandals? The media continue their focus on accusing presumptive Republican presidential nominee Donald Trump of racist rhetoric, and facilitating the circular firing squad that some in the Republican Party and conservative movement are only too happy to take part in. Reporters continue to publish story after story damaging to Republicans, salivating over whatever Republican disunity they can unearth, and calling for Republicans to disavow Trump's actions. But in doing so they are hoping to protect Hillary Clinton and the Democratic Party, and the issue of whether or not its presumptive nominee will face criminal charges.

Hillary Clinton and her qualifications. Bill Clinton was paid an obscene $16.5 million between 2010 and 2014 to serve as an honorary chancellor for Laureate International Universities. With the Clintons, the money tree never ceases bearing fruit. Are people seeking to buy influence with this amount of cash, or do they just like Bill and Hillary? The major media mainly ignore such things because they function largely as an auxiliary to the Hillary Clinton presidential campaign. This and many other things from what conservative critics call "the Clinton crime foundation" ought to be red meat for Donald Trump. He should ask why the media are engaging in a near total blackout of Laureate Education and the enormous flow of money to the Clintons and their foundation from governments, institutions and individuals.

Has FBI Director Comey Waited Too Long on Clinton Scandals? Reporters continue to publish story after story damaging to Republicans, salivating over whatever Republican disunity they can unearth, and calling for Republicans to disavow Trump's actions. But in doing so they are hoping to protect Hillary Clinton and the Democratic Party, and the issue of whether or not its presumptive nominee will face criminal charges.

Google's digital wall will make Hillary Clinton inevitable as next president. No matter how hard they try to force it into reality, Google will never make 'Crooked Hillary' straight. As people who have tried to get items removed from the world's largest search engine already know, high-handed Google "is forever". Unfortunately so too are the lies that social media is helping Hillary Rodham Clinton cover. Like the president who got there before it was "my turn", there's nothing real about Hillary Clinton, save for her ongoing outrageous lies. Just like Obama, Hillary Clinton is a completely re-laundered and re-cycled digitally social media-manufactured persona. You'd think from the whining of the far left, the in-the-tank-with-the-Dems GOP and the embittered #Nevertrump that Election 2016 was in the bag for Donald J. Trump. But most tragically for America and the West that depends on a stable US, Google's got it in the bag for Hillary Clinton.

Google accused of fixing autocomplete results to be favorable to Hillary Clinton. Donald Trump has responded after a video went viral this week claiming to show Google has been fiddling with autocomplete results to suppress terms unfavorable to Hillary Clinton. The presumptive Republican presidential nominee told Business Insider that if the claim it is true, 'it is a disgrace that Google would do that,' adding 'very, very dishonest.' 'They should let it float and allow people [to] see how crooked she really is,' he told the business site in a statement on Friday [6/9/2016].

Trump and Democratic Political Incorrectness. Remember the time a presidential candidate suggested that Gandhi used to run "a gas station down in St. Louis." No it wasn't Trump. That was Hillary Clinton. Had Trump said it, we would still be hearing about it. But since Hillary Clinton was responsible for it, it went down the memory hole.

5 Ways Orwell's 1984 Has Come True Since Its Publication 68 Years Ago. [#4] Countless anecdotal reports of fraud in nearly every state's primary or caucus thus far largely magically work in Hillary Clinton's favor. But this makes perfect sense — considering the establishment's slavish devotion to the former Secretary of State on full display through the corporate media's laughably slanted reporting. From the moment election season kicked off, the more cynical among us contended candidates are selected, not elected, whatever the system would have you believe. All arguments to the contrary aside, the Associated Press might have unintentionally proved precisely that, just this week, with its early crowning of Hillary Clinton as the presumptive Democratic nominee. Irate voters and independent media immediately eviscerated the AP's wholly invalid announcement as comically premature — but mainstream media parroted the claim in full force, exactly as expected. Now, quelle surprise, evidence Clinton might have literally colluded with the AP to ensure its claim would circulate prior to California's primary to dissuade voters has surfaced.

Chuck Todd: Media Would Cover Hillary Scandal if Not for Trump. As news broke Friday [6/10/2016] in The Wall Street Journal about Hillary Clinton's private server containing e-mails discussing classified drone strikes, on NBC's Today, Meet the Press moderator Chuck Todd assured viewers that he and his media colleagues would cover the scandal everyday if not for their obsession with Donald Trump's controversies. Co-host Savannah Guthrie lamented: "Clinton had a good day yesterday and then this morning she wakes up to another article about her e-mails." Moments later, Todd proclaimed: "You know, 10 days ago is when the [State Department] IG report came out on e-mails. The last ten days could have been about nothing but e-mails, nothing but negatives about Hillary Clinton. We could be talking about Democratic hand-wringing, but there's Donald Trump. Enough said."

CNN Depicts 'History-Making' Hillary Clinton As Glowing 'Golden God'. CNN used some very noticeable video editing to transfigure Hillary Clinton on Wednesday's [6/8/2016] New Day. Correspondent Jeff Zeleny ran footage from the Democratic presidential candidate's victory speech on Tuesday night that transformed Mrs. Clinton into a glowing figure. He hyped how Mrs. Clinton was "savoring a triumph in her long Democratic primary fight — exactly eight years after extinguishing her first trailblazing campaign." [Video clip]

Hillary Meets the Press Servants. The most obvious sign of liberal media favoritism is that liberal candidates can avoid press conferences for months at a time, and the media don't complain. After the U.S. consulate in Benghazi was attacked in 2012, the media hammered Mitt Romney at a press conference for daring to criticize President Obama, and then supinely allowed Obama to avoid a press conference. He merely made a statement in the White House Rose Garden to express his sympathies, and then jetted off to a fundraiser in Las Vegas. Last week, Donald Trump was accused of having a horrific and almost undemocratic attitude toward the press after a contentious press conference. Hillary Clinton avoided a press conference for six months, and the press, like a gaggle of housebroken pets, didn't really care.

Media Gives Clinton Total Pass on $12,000 Armani Jacket, But Pounded Palin in '08. The time was eight years ago. [...] The Welfare Queen from Wasilla was going to be portrayed as a hypocrite come hell or high water... as just another rich Republican out-of-touch with the common folk. And by and large thanks to an avalanche of coverage, the portrayal stuck. Fast forward to 2016: Another historic female candidate is making her pitch on the campaign trail around shrinking the gap of income inequality... which has grown four times faster under the president she's served in Obama than the previous one in Bush. But while making said pitch in April of this year, the candidate decided it was a good idea to wear an Armani jacket that is the same price as a new car (the underrated Nissan Versa, which — like the Armani jacket — prices out at more than $12,000.00). It's the ultimate hypocrisy, of course, for Hillary Clinton — the same Hillary who earned more in one speech to Goldman Sachs than her Democratic rival in Bernie Sanders has in an entire year — and therefore worthy of the same attention and resources the GOP's Vice Presidential candidate generated in 2008.

Media Crown Hillary Victor, Then Ask How It Feels. Clinton could not have hoped for better timing. She faced the possibility of an embarrassing loss in California to Bernie Sanders, and the likelihood that, should Sanders win, it would give him fresh momentum going into the convention. By deciding the race is over, AP has effectively rendered the California primary, as well as those being held on Tuesday in Montana, New Jersey, New Mexico and the Dakotas, a moot point. Keep in mind that just a month ago there were multiple stories about how Sanders could at least force a contested convention, given that he was close to Hillary in pledged delegates, if he could get some superdelegates to switch sides.

MSNBC Reveres Hillary Clinton's 'Amazing' 1969 Commencement Speech. On her 12 p.m. ET hour show on Monday [6/6/2016], MSNBC host Andrea Mitchell gifted viewers with a trip down memory lane to Hillary Clinton's "amazing" college days. A mere twenty-one years old at the time of the speech, Clinton represented her classmates at the 1969 Commencement of Wellesley College. The way Andrea Mitchell and The Wall Street Journal's Jeanne Cummings fawned over the speech was akin to Chris Matthews describing the thrill he gets up his leg every time he hears Obama speak.

8 minutes of shame: Reporters covering Hillary embarrass profession with softball questions. Hillary Clinton stopped for an impromptu gaggle with reporters covering her campaign in California today. It was the first time the former Secretary of State graced reporters with her presence in over a month, according to the Weekly Standard. In the weeks preceding this brief royal audience with HRH HRC, reporters embedded with her campaign have had to cool their heels without the ability to get an answer on major stories involving the former first lady. You'd think journalists wanting to grill Clinton on issues ranging from the State Department IG report to a new book featuring a former Secret Service agent's damning recollections of his time covering the Clintons in the White House would [b]e sure to throw some tough questions at the woman who wants to be president. You'd be wrong.

NPR Reporter: Women Weep Over History-Making Hillary Clinton. The weight of Hillary Clinton's history-making campaign reduces some women to tears, according to a "question" from NPR White House reporter Tamara Keith on Monday. As though she were doing PR for the Democrat, Keith gushed, "Secretary, last night when you took stage in Sacramento, there was a woman standing next to me who was absolutely sobbing. And she said, you know, 'It's time. It's past time.'" She continued, "People here and people just come up to you and they get tears in their eyes.... Do you feel the weight of what this means for people?" Unsurprisingly, Clinton replied in the affirmative: [...]

New York Magazine scrubs article on lack of Clinton press conferences. A New York Magazine blog post defending Hillary Clinton's shortage of press conferences was scrubbed Thursday [6/2/2016] so that its justification for the Democratic front-runner's lack of media availability is now barely recognizable. "The headline and force of the opinion overstepped the mark, so we edited the post and noted that it was edited," magazine spokeswoman Lauren Starke told the Washington Examiner's media desk.

Chris Matthews: Hillary Speech a 'Masterpiece,' 'Exquisitely Written'. Thursday [6/2/2016] on MSNBC, after Democratic presidential front-runner Hillary Clinton gave a speech that was very harshly critical of presumptive Republican presidential nominee Donald Trump, "Hardball" host Chris Matthews praised Clinton for the speech. [...] "Well, it was a masterpiece," Matthews said.

CNN Scoffs at Idea Clinton Foundation Could Be Corrupt. On Wednesday's [6/1/2016] CNN Newsroom, host Carol Costello sided with liberal CNN contributor Sally Kohn in rejecting outright the idea that the Clinton Foundation could be corrupt. During a discussion on the charges brought against Trump University and each candidate's contributions to veterans, Trump supporter Gina Loudon asserted that the Clinton Foundation keeps the majority of it's donations instead of giving it out to vets. Costello and Kohn scoffed at the criticism, while Costello acted as if she had never even heard that the foundation faced ethical controversies.

The New York Times and Hillary Clinton: A Romance. The New York Times is to be applauded for its inventiveness. [...] The editors concede that "Mrs. Clinton can be fiercely protective of her role and prerogatives." Now, "role", I understand: it must mean as wife of a governor, as First Lady and as Secretary of State. But "prerogatives"? My Oxford English Dictionary defines a prerogative as "The special right or privilege exercised by a monarch or head of State over all other people, which overrides the law and is in theory subject to no restriction." We know that Barack Obama feels he possesses such prerogatives, the Constitution notwithstanding. But this is the first time a Hillary Clinton supporter has suggested that she can reasonably claim to protect her very own prerogatives.

ABC Spends Sunday Morning Fretting Hillary's Inability to Combat Trump. In an encore performance from Thursday night, ABC spent Sunday morning [5/29/2016] fretting that Hillary Clinton is not doing enough to stop Donald Trump. "Early on her campaign seemed pretty giddy to be running against Donald Trump, but now some people are worried that she's not fighting back hard enough," stated Good Morning America co-host Dan Harris. "Are they right to be nervous, do you think?" Harris asked to ABC's Jon Karl. "They have a right to be nervous and they are," explained Karl.

Gayle King: No One at the Party I Was at Cares About Hillary's E-Mail Scandal. According to Gayle King, no one at the party she was at on Wednesday night [5/25/2016] cares about Hillary Clinton's growing e-mail scandal. Talking to John Dickerson, the CBS This Morning co-host tried to minimize the damage with anecdotal evidence: "Put it in perspective. How big a deal is this, really?

Hillary Clinton should quit presidential race as email scandal engulfs her campaign. On Thursday [5/26/2016], Joe Scarborough, the former Republican Congressman, was absent on his MSNBC morning show "Morning Joe." His co-host, Mika Brzezinski, instead led a panel of guests including herself, Chuck Todd, and Andrea Mitchell — all of whom are far from excessively adversarial to the Clinton campaign. In fact, I've criticized those very panelists often for being outrageously biased in their support of Clinton. [...] From the very beginning of the segment, it was clear that the report issued by inspector general of the State Department on the scandal, and the subsequent excuses issued by the Clinton campaign, had completely taken the wind out of Mika and the team. They were equal parts miffed, exasperated, and disgusted — and sustained these emotions throughout the entire segment.

CBS News Political Director: 'Our Job' to Steer Away from the Clintons' Past. CBS News political director John Dickerson told Stephen Colbert that part of a journalist's job when it comes to covering Bill and Hillary Clinton is to steer conversations away from their pasts. This stunning admission came Wednesday night in New York City in a live interview that took audience questions. A question surfaced about Bill Clinton's past and how that could affect Hillary's chances in the presidential election.

ABC Worries Hillary Is Not Fighting Back Hard Enough Against Trump. With numerous polls now showing a virtual tie between presumptive GOP nominee Donald Trump and Democrat Hillary Clinton, the liberal media seems to be getting nervous. ABC's World News Tonight seemed to show the first signs of this fear Thursday. "Our team also asking Clinton today, what some of her supporters have been asking," stated host David Muir, "After Donald Trump's attacks, is Clinton fighting back hard enough?" "Clinton now has her sights set on one man," reported ABC's Cecilia Vega in a not so subtle attempt to dismiss Clinton's Bernie Sanders problem. "But tonight, questions about whether Clinton is ready to battle a rival like Trump," Vega continued.

NBC, ABC Cover for Hillary After Release of Damaging E-Mail Report. NBC News tried to play it down, first by reporting on it after leading the night with the riots at Donald Trump's rallies in New Mexico and California. "An independent government report is breathing new life into the controversy that just won't go away for Hillary Clinton," Nightly News host Lester Holt whined while leading into the story. Clinton fan, Andrea Mitchell was the reporter on the case and she described the development as, "Today Hillary Clinton again dogged by her e-mail controversy."

After Hillary Drops Out... What? The State Department's report on Hillary Clinton's insouciant attitude toward cyber-security would finish any other American politician. She ignored the law, flouted it repeatedly, and didn't care; folks are in prison for less. The only thing that's holding her up at this point is her Amen Corner in the media, most of whom know her personally and who long for a Clinton Restoration in order to reclaim their places as house courtiers. But 2016 is not 1992 or even 2008, and the retinue of retainers is as long in the tooth as the former first lady herself. They can't protect her as they once could, and the multiplicity of media means that while the gatekeepers are still at the gates, the walls on either side have fallen.

ABC: Women Will Be 'Upset' With Trump's Attacks on Clinton's Affairs. Journalist and Hillary Clinton fan Cokie Roberts on Tuesday [5/24/2016] insisted that women will be "upset" if Donald Trump continues to highlight Bill Clinton's past affairs and mistreatment of women. Talking to former Clinton operative turned Good Morning America co-host George Stephanopoulos, Roberts huffed, "Women will be very upset if they think that another woman is being blamed for her husband's infidelities." She also insisted that Trump's new campaign ads will have "very little effect."

WashPost Buries Their Own Poll Result: Trump Leads Clinton, 46-44. "Begrudging WaPo" became a trending topic on Twitter on Sunday afternoon [5/22/2016] as Paul Bedard at the Washington Examiner mocked how the Washington Post buried the lead in Sunday's story on their new poll: ["]It's not the headline, and it takes 219 words to get there, but a new Washington Post poll on the presidential race reveals that Republican Donald Trump leads Democrat Hillary Clinton among registered voters 46 percent to 44 percent.["] Four paragraphs and a sentence in, Dan Balz and Scott Clement arrived at the numbers.

CNN Anchor To Trump Aide: 'I Don't Want To Argue Benghazi With You'. CNN's Brooke Baldwin steered Donald Trump's senior policy adviser Stephen Miller away from talking about Hillary Clinton's intervention in Libya that ultimately led to the terror attack in Benghazi. Appearing on "CNN Newsroom," on Thursday [5/19/2016], Baldwin asked Miller to respond to Clinton's allegation that Trump is not qualified to be president. Miller replied, "We obviously agree with Bernie Sanders that Hillary Clinton isn't qualified to be president."

ABC, CBS Say Bill Clinton Rape Claims Are 'Old and Discredited'. On Wednesday's [5/18/2016] edition of Hannity, Donald Trump dropped the big one on the Hillary Clinton campaign, openly accusing former President Bill Clinton of Rape. Trump's new line of attack has been telegraphed for months. And the liberal media reacted in the most predictable way, by claiming it has no basis in fact. "The rape accusation is decades-old and discredited," ABC's Tom Llamas stated, misleading the audience during Thursday's World News Tonight.

Juanita Broaddrick rejects MSNBC claim that Clinton rape story was 'discredited'. A woman who claims Bill Clinton raped her is furious that MSNBC's Andrea Mitchell referred to the charge as "discredited." "I look forward to [Andrea's] explanation exactly how I was discredited. Should be interesting," former Arkansas nursing home administrator Juanita Broaddrick said Thursday [5/19/2016] on Twitter. "[Andrea] Mitchell is Clinton lapdog, angry I exposed her bias to Clinton's." Broaddrick maintains Clinton raped her in a hotel room in 1978. Her story didn't surface until the final weeks of the 1992 presidential election, where the country's leading newsrooms, including the New York Times and the Los Angeles Times, ignored it.

13 Incompetent Failures in the Obama Administration. The former secretary of State not only stored classified email on an insecure server (thus making it much more likely that foreigners would be able to hack sensitive intel), but she also lied and continues to lie about it. As more and more details came out in the past year or so, the scandal has appeared gravely criminal, but media outlets continue to misrepresent the situation.

Hillary Clinton Memo: Ellen Willing To Use Her Show To 'Promote' Hillary's 'Agenda'. A draft media policy memo requested by Hillary Clinton recommended that the State Department utilize "Specialty Media" to get its foreign policy message across, a newly released State Department email reveals. The 2009 memo urged Clinton to use her star power and singled out shows including Oprah, Ellen, The View, and others to be used to "amplify and deliver messages that advance policymaking."

Mitchell Refers to Rape Accusation Against Bill Clinton as 'Discredited'. NBC reporter Andrea Mitchell referred to the 1978 rape accusation against Bill Clinton by Juanita Broaddrick as "discredited" Thursday [5/19/2016] during a report for The Today Show. Presumptive Republican nominee Donald Trump referenced the alleged assault during an interview with Fox News host Sean Hannity Wednesday night. Trump has gone after Bill Clinton's past of sexual misconduct on the campaign trail.

Exclusive — Clinton Rape Accuser Juanita Broaddrick: NY Times Should Interview Bill's Alleged Female Victims. During an interview today, Bill Clinton's rape accuser Juanita Broaddrick suggested the New York Times spend the same amount of energy investigating claims of sexual assault against Bill Clinton that the newspaper put into probing Donald Trump's alleged past treatment of women. Broaddrick said she believes there is a whole generation of Millennials who are unfamiliar with Clinton's history with women. She further slammed Hillary Clinton as an "enabler" who has allowed her husband to "continue on the same path that he did back in the 70's and 80's and 90's."

Media in agony as Trump makes it relive Clinton sex scandals. The press is balking at the idea of revisiting Bill Clinton's sex scandals, and many in media are warning presumed GOP nominee Donald Trump and his supporters against even mentioning the issue. Trump escalated things in a Fox News interview this week when he used the word "rape" in reference to a charge brought against the former president by a woman named Juanita Broaddrick.

Media lay the groundwork for Hillary, the victim. While the 2016 campaign has been hard to predict, the media know how they want to play it: Hillary Clinton, the likely Democratic nominee, will be the dignified victim of relentless "attacks" from her wild and hostile Republican opponent, Donald Trump. The press has painted the picture clearly in the days since Trump became the de facto GOP nominee.

Facebook's Trending Topics Executive Is A Big Hillary Clinton Donor. The Facebook executive who oversees the Trending Topics product for the social media giant is a big Hillary Clinton donor, public records show. [...] Facebook claims it has "rigorous guidelines" to prevent political bias from corrupting its news aggregation service, but Tom Stocky, the Facebook executive in charge of the Trending Topics product, has a long history of progressive political activism. In October of 2015, for example, Stocky and his wife, a Google executive, donated $5,400 to the presidential campaign of Hillary Clinton according to data from the Center for Responsive Politics:

For the benefit of Hillary Clinton:
Washington Post assigns army of 20 to dig into 'every phase' of Trump's life. The Washington Post has built a sizable army of reporters to dig into every facet of Republican presidential candidate Donald Trump's life, urged on by new owner Jeff Bezos to reveal everything about the potential nominees. Post Associate Editor Bob Woodward revealed Wednesday that the Post has assigned 20 staffers to Trump. In addition the paper plans a book.

Networks Censor Latest Hillary E-Mail Bombshell, Instead Hype Anti-Wrinkle Gel. All three networks on Tuesday morning [5/10/2016] censored the bombshell news that all the e-mails from Hillary Clinton's top IT staffer, the man who set up her private server, are missing. This is despite a combined eight hours of air time on ABC's Good Morning America, CBS This Morning and NBC's Today. Instead of covering this important development, these same programs devoted eight minutes and 38 seconds to a new anti-aging gel. Not exactly the most pressing story. On Fox News, Monday, Megyn Kelly broke the story: "A new bombshell in the investigation into Hillary Clinton's e-mail scandal. The State Department now says they can't find any of the e-mails from the Clinton staffer responsible for setting up the infamous private server."

MSNBC Still Thinks Bill Clinton's Infidelity Was Just 'Alleged'. Two separate MSNBC hosts stated Monday [5/9/2016] that Bill Clinton's history of infidelity was merely "alleged," despite Clinton himself having admitted to at least two affairs. "Before this morning, the lead was probably these vicious attacks that [Donald Trump] has leveled against Hillary Clinton, her husband's affair or affairs, alleged affairs," host Tamron Hall said during the 11 o'clock-hour of MSNBC Live.

John Dickerson's Face the Nation Interview with Hillary a Disgrace to CBS News;. John Dickerson was one of the better moderators we saw during the campaign season. He asked solid questions and follow-up questions, didn't editorialize and kept the trains running on time with multiple candidates to juggle. This space gave him an 'A' for the way he handled a Democratic presidential debate back in December. But an interview with Hillary Clinton that was broadcast this morning [5/8/2016] on CBS' Face the Nation was not only profoundly disappointing, but even disgraceful... particularly for someone as seasoned as the 47-year-old CBS political director and host. Never have there been so many questions to a presumptive presidential nominee that were so unfocused, so tilted, so teed-up, so non-probing than whatever that was Dickerson served up during his long sit-down this morning.

ABC Protects Clintons from Trump's 'Low Blow' Attacks. At his rallies, Trump has been reminding American voters that Bill Clintons lied under oath about having an affair with Monica Lewinski. A lie that resulted in the president being impeached. ABC's Mary Bruce described Trump's comments on the issue as a "low blow" to the Clinton's. Bruce also equated Trump's comments that the Secretary was "trigger happy" and had a "bad temperament" to low blows as well. Bruce also touted the counter attacks Clinton had made in retaliation of Trump, referring to it as "sharpening her attacks."

"Malicious intent" is not required to break the law in Hillary Clinton's case. There's a new trend in the mainstream media's ongoing efforts to defend Hillary Clinton over her email scandal and you should be keeping your eyes open for more of it in the future. When the question first came up, most liberal outlets went through the usual stages of denial and accommodation. Initially it was all just some story cooked up by the Vast Right Wing Conspiracy. Then, when the private bathroom server turned out to be a reality which could no longer be denied, the story was that it was simply personal information or routine business with her staff, along with Chelsea's wedding and baby shower plans which were none of our business. We all saw how the story morphed from that point on until it was painfully obvious that there had been Top Secret material left lying around on the server outside the control of the government.

When Hillary Needs It Most, 'The Daily Show' Vets Bernie's Policies. With Hillary Clinton still unable to finish off Bernie Sanders, many in the liberal media are trying to drag her over the finish line. The night of the Indiana primary, which was a Sanders victory, CNN wanted to know when he would get out of the way and stop hurting Clinton. In a similar way, The Daily Show decided that Thursday night [5/5/2016] was the right time to actually analyze Sander's proposals and tell the truth about them.

Get ready for a report about 'Hillary Clinton: Inadvertent Lawbreaker'. According to reports on the progress of the Clinton investigation, by the time it's all over she might get a new kickass campaign slogan out of it: "Hillary 2016: She'll only break laws accidentally!" [...] Obviously the final determination has yet to be made, but I won't be surprised if it goes along the "she didn't willfully break the law" path. That's been the Clintons wheelhouse for decades.

In 20-Minute Interview With Hillary, Andrea Mitchell Spends 17 Secs on E-Mail Scandal. In a nearly 20-minute live interview with Hillary Clinton on Tuesday, MSNBC host Andrea Mitchell spent a mere 17 seconds asking the Democratic frontrunner about the ongoing e-mail scandal. Toward the end of the 19 minute 11 second exchange during the 12 p.m. ET hour, Mitchell raised the topic as an afterthought: "Now, I've got to just ask you whether since you last mentioned this to my colleague, Chuck Todd, in April, have you been contacted — or your representatives contacted — by the FBI to set up an interview?" Clinton offered a one-word reply: "No." Mitchell pressed: "No contacts there?" Clinton maintained: "No."

Hillary STILL Has Not Been Contacted By FBI. The FBI has yet to contact Hillary Clinton to set up an interview as part of its investigation into her private email server, the former secretary of state said on Tuesday [5/3/2016]. Asked by NBC's Andrea Mitchell whether investigators have reached out to her or her aides to schedule an interview, Clinton simply said "No." And asked whether there is any indication that her server — which she kept in the basement of her New York home — was hacked, Clinton also replied in the negative.

NYT Columnist Kristof Wants to Debunk the 'Crooked Hillary Myth'. New York Times columnist Nick Kristof sounded angry in a headline to his Sunday [4/24/2016] column: "Debunking the 'Crooked Hillary' Myth. Online, they spit out some of the venom, merely asking: "Is Hillary Clinton Honest? Kristof's column concluded: "She's not a saint but a politician, and to me this notion that she's fundamentally dishonest is a bogus narrative. He even dismisses fellow Times columnist William Safire who called Hillary a "congenital liar" in 1996: "this narrative goes way too far."

On campaign trail, Clinton finds comfort zone at churches. Black Baptist churches may not seem like an obvious match for Clinton, a white Methodist from the Chicago suburbs. But the Democratic presidential candidate, who has been criticized for her tentative, sometimes awkward political skills, often seems most at ease in houses of worship. It's where she's shared her faith for many years and earned a loyal following.

Fact check:
Is Hillary really a Methodist? Why then does she have a reputation as a chronic liar? And if Hillary is really "from the Chicago suburbs," does that mean she didn't live in Massachusetts while attending Wellesley College, or live in Connecticut while attending Yale Law School, or live in Arkansas while her husband was the governor, or live in Washington DC while she was Secretary of State, or suddenly move to New York (carpetbagger!) to acquire a seat in the U.S. Senate?

CNN previews the unbelievable pro-Hillary bias it will be pushing. The presidential race that is shaping up will be a landmark for American media, exceeding even the pro-Obama bias of 2008 and 2012 — something that would have seemed impossible at the time of those races. But that was before Donald Trump and Ted Cruz became the likely alternatives for the GOP nomination. Each man, in his own way, is anathema to the progressives in the media, while Hillary Clinton evokes nothing but warm protectiveness, especially from female neoprogs. In a remarkable display of a complete lack of self-awareness, Carol Costello of CNN shamelessly prodded a pro-Sanders guest three times to say that Sanders should now "cool it" and stop attacking Hillary Clinton.

Stephanopoulos Does Not Disclose Clinton Connections at Start of Hillary Town Hall. ABC's George Stephanopoulos failed to disclose his past donations to the Clinton Foundation during a town hall with presumptive Democratic presidential nominee Hillary Clinton on Thursday [4/21/2016]. Stephanopoulos hosted the wide-ranging town hall with Robin Roberts on Good Morning America but never brought up his past connections to the Clinton family. "Let's welcome our special guest this morning, Democratic presidential candidate Hillary Clinton," Stephanopoulos said at the start of the town hall before jumping right into the first question. Stephanopoulos did not disclose that he has donated $75,000 to the Clinton Foundation, which the Washington Free Beacon reported in May 2015.

MSNBC again falsely claims Benghazi committee is the "longest running investigation" ever. In case you were worried that the Benghazi investigation had gone away entirely, fear not. It hasn't. Not only is the select committee on Benghazi still hard a work in Washington, the media continues to try to discredit their work in what can only be interpreted as an effort to hedge Hillary Clinton's bets in November. That tradition carried on during Friday night's MSNBC lineup, where Steve Kornacki repeated a long discredited line about how this is "the longest running investigation of its kind" while implying that it was somehow stalled or not producing results. Both of those claims are beyond simply dodgy... they're not true, as the committee members themselves noted this week.

Moved by Hillary on Gun Control, Nicolle Wallace Gets 'Chills' Up Her Arm. Shades of Chris Matthews' infamous thrill up his leg when listening to Barack Obama in 2008. Fast forward to 2016, and we have ostensible Republican Nicolle Wallace getting the good kind of "chills" up her arm when listening to Hillary Clinton talk about gun control. Morning Joe today [4/12/2016] played a clip of Hillary saying that many of the guns used to commit crimes in New York come from Bernie Sanders' home state of Vermont. For once, Clinton eschewed the grating tone that sends so many of us scrambling for the mute button.

Top 10 Misreported or Underreported Stories of 2015. [#8] Vetting Hillary Clinton: No matter how shameful her falsehoods or accompanying excuses, the mainstream media continue to give Hillary Clinton a free pass on virtually anything she alleges. [...] Hillary Clinton's email scandal has also turned into a campaign season debacle of drip, drip, drip. She deleted half of her emails as Secretary of State — which were stored on a private email server — and then sent the remaining half to the State Department, claiming that those messages she deleted were personal. It turns out that she deleted portions of the emails she sent on to the State Department, and also failed to provide a number of emails that were sent between her and confidante Sydney Blumenthal. And, Mrs. Clinton falsely maintained that she never emailed classified information using her email server. The intelligence community Inspector General has since declared at least two of her emails Top Secret.

ABC, NBC, Spanish Nets Fail to Cover Judge's Ruling for Judicial Watch Against Hillary Clinton. One day after the networks failed to acknowledge to big developments on Hillary Clinton's e-mail scandal, ABC's World News Tonight and NBC Nightly News similarly punted Tuesday evening [3/29/2016] on a federal judge's ruling that granted the group Judicial Watch discovery powers in the lawsuit concerning the response of Hillary Clinton's State Department to the deadly 2012 Benghazi terror attack. In addition to the English-language networks, the top Spanish-language networks Telemundo and Univision also ducked this issue and censored it from their Tuesday evening newscasts.

Paula Jones: Media trying to distract from Hillary's 'true crimes'. Paula Jones, who famously sued former President Bill Clinton for sexual harassment, said on Wednesday [3/30/2016] that the media is trying to cover up Hillary Clinton's "true crimes" by focusing instead on Donald Trump's staffers.

Cokie Roberts: Doesn't FBI Have Better Things To Do Than Investigate Hillary? MSNBC might have to build a deeper tank ... so Cokie Roberts can dive into it for Hillary. On today's Morning Joe, Roberts of NPR complained about the resources the FBI is devoting to the investigation of Hillary Clinton's misuse of email. Carped Cokie: "Don't they have other problems? There's no crime in the country they should be worrying about?" Roberts' timing could hardly have been worse. Just moments before, Joe Scarborough pointed out that last week it was revealed that 22 of the emails on Hillary's server "were so sensitive that the State Department said releasing them would cause grave danger to the United States national security." Not worth investiging, Cokie? Really? [Video clip]

Hillary's delusional media courtiers. The United States Constitution provides that "No Title of Nobility shall be granted by the United States." But somebody needs to explain this to the courtiers in the Washington press corps. The latest offender is National Journal reporter Ron Fournier, who — discussing the possibility of Hillary Clinton being indicted for her secret private server and mishandling of highly classified information — observed on MSNBC's Morning Joe: "Legally though, there's a big bar that you have to get over to prosecute anybody for these crimes, much less somebody who is running for president. ... I do understand that when somebody is running for president, there is a higher bar you have to get over because we can't have a system in which we are constantly charging people who are running for president of crimes.

Media Finding it Harder and Harder to Ignore Hillary's Metastasizing Scandals. Hillary Clinton's email scandal keeps on growing, with new revelations that offer more justification for an indictment. Yet the mainstream media have long maintained that Mrs. Clinton is not the target of the two ongoing FBI investigations, and they seem very uninterested in the latest evidence to be revealed.

MSNBC Guest Argues It's a 'Higher Bar' to Prosecute Clinton Because She's Running for President. [Scroll down] Hillary Clinton's decision to use a private e-mail server was not simply a harmless error in judgment for which any consequence should only come in the form of political punishment. As more facts continue to come out, it becomes more clear that she may have blatantly ignored warnings and risks associated with the use of the private e-mail server and it is very likely that she broke the law in the process. It is concerning that even those who are tasked, in theory, with holding our elected leaders accountable are arguing that Clinton should get a pass, or at the very least that the legal bar should be higher to prosecute her, simply because she chose to run for president.

Clinton Email Scandal: How A Biased Press Tried To Ignore It. The Washington Post led its Monday [3/28/2016] paper with a story titled "How Clinton's Email Scandal Took Root." What it revealed was that, left to the mainstream press, the story might never have hit the ground. No one reading the Post's 5,000-word account can come away thinking that the Clinton email scandal is unimportant. The FBI now has 147 agents chasing down leads. A key person involved in the scandal has been granted immunity. Hillary Clinton — who has already been caught in several lies — might be questioned by federal agents. There are fairly obvious violations of the law, even if it's just those governing record-keeping. And there were, and continue to be, concerns that national security secrets were compromised, or at least casually disregarded.

Former NY Times Editor's Pratfall: 'Hillary Clinton Is Fundamentally Honest'. The leftist British newspaper The Guardian has signed former New York Times executive editor Jill Abramson as a regular columnist on the presidential election. Already, she's pleasing the Left with ridiculous columns, such as the brand-new one, headlined "This may shock you: Hillary Clinton is fundamentally honest." It's only shocking because it's like claiming: "This may shock you, but the sky is green and the grass is blue." Hillary's terrible ratings for dishonesty? Sexism. Abramson concluded: "It's fair to expect more transparency. But it's a double standard to insist on her purity." No one expects any presidential candidate to have "purity" or complete consistency in their political rhetoric and actions. No one at this point even expects "fundamental honesty" from Mrs. Clinton.

Nets Silent on Hillary's Claim U.S. 'Didn't Lose a Single Person' in Libya. Update: The Spanish network morning shows on Telemundo and Univision joined NBC, ABC, and CBS in completely ignoring Clinton's gaffe during Tuesday morning's [3/15/2016] campaign coverage. Despite all three network morning shows on Tuesday covering Hillary Clinton and Bernie Sanders answering questions during back-to-back MSNBC town halls, none of the broadcasts reported on Clinton committing a major gaffe by claiming that the U.S. "didn't lose a single person" in Libya.

ABC Censors Mother of Benghazi Victim's Charges Against Hillary Clinton. In a stunning moment Univision anchor Jorge Ramos, in the March 9 Democratic debate, actually played a clip of Patricia Smith and pressed Hillary Clinton to respond to the mother of Bengazhi victim Sean Smith. The moment was stunning because while Fox News has pursued her story, the Big Three networks (ABC, CBS, NBC) have barely touched it. In fact, since 2012, ABC has yet to air a second of Smith's claims that the former Secretary of State lied to her. In total, there have just been five stories (CBS 2, NBC 3, ABC 0) that contained Smith's emotional pleas for answers.

Beinart Gushes Over 'Brilliant' Hillary for Taking Secretary of State Post; People 'Didn't See' Her 'Wisdom'. In the early moments of CNN's Super Tuesday 2 coverage, Atlantic contributing editor and CNN political commentator Peter Beinart encouraged viewers to consider "how brilliant was Hillary Clinton" to accept President Obama's offer to become his secretary of state and "politically de facto his vice president" even though "[a] lot of people at the time didn't see" this so-called "wisdom." Not long before a commercial break, Beinart chimed in to exclaim: "If you think about it, how brilliant was Hillary Clinton. Let's go back to becoming Obama's Secretary of State. Let's think about it now. She is running as the inheritor of Obama legacy."

Unaware camera has gone live, MSNBC reporter tips off Clinton aide before interview. No gotcha questions for the Clinton campaign — not from MSNBC at any rate. During a post-debate interview, MSNBC reporter Kristen Welker apparently hadn't a clue that she was on live TV when she told a Clinton aide what she'd be asking. When MSNBC's chief legal correspondent Ari Melber, who was manning the news desk, turned the segment over to Walker, the reporter was in the midst of telling Clinton communications director Jen Palmieri that she would be asking her about the lead-tainted water supply in Flint, Michigan.

NBC reporter caught on open mic giving questions in advance to Clinton aide. In last night's [3/6/2016] post-debate coverage on MSNBC, anchor Ari Melber turned the floor over to NBC reporter Kristen Welker, who was supposed to provide viewers with an interview with Clinton Director of Communications Jen Palmieri. Due to a technical glitch, however, Welker was unable to hear Melber's voice initially and was therefore unaware that she was on-camera live.

How Clinton fundraiser Anna Wintour handed Hillary a shameless 10-page puff piece in Vogue magazine. She's the editor so formidable, she is known to staff as 'Nuclear Wintour'. But when it comes to politics, Vogue boss Anna has a clear favorite — Democratic contender Hillary Clinton.

The Clintons really don't get it: False attacks and failed strategies as Hillary repeats 2008. [Scroll down] If you get your news from cable TV you don't know any of this. [...] It was a coming out party for a political revolution, but Gil Scott Heron had it right: The revolution will not be televised. Sanders made history even by the metrics of horse-race journalism. He had the most votes (155,578), biggest vote share (60.4 percent) and biggest margin in a contested race (22.4 percent) of any candidate of either party in New Hampshire primary history. As in Iowa, he outperformed late polls by more than their alleged margins of error. Sanders won 55 percent of women, a stunning 84 percent of voters under 30, and 92 percent of those who say the trait they prize most in a politician is honesty.

Republicans Aren't Fighting Hillary, They're Fighting the Hillary-Loving Media. [Scroll down] Hillary has nothing going for her other than her last name. Well, that and the media. Because even though an occasional joke about Hillary will slip through the media machine, the vast majority of the time, the media prop Hillary up. That same Saturday Night Live routine mocking Hillary had characters talk about how she was the most qualified presidential candidate in history and how much they loved her foreign policy. Triumph spent more time insulting Bernie Sanders than Hillary. The media have spilled gallons of ink over the question of whether insulting Hillary's shrill screeching is sexist or not; they've played defense for Hillary on matters of race; they've covered for her completely on her email scandal.

PBS Dem debate moderators ignored Clinton Foundation subpoenas. Once again, our taxpayer-funded broadcaster appeared to be in the tank for Democrats, specifically Hillary Clinton, as PBS and Facebook co-sponsored a Democratic presidential candidate debate last night in Milwaukee. The very same day that the Washington Post broke the story that subpoenas have been issued to the Bill, Hillary, and Chelsea Clinton Foundation, and to Hillary aide and longtime companion Huma Abedin, the two PBS moderators could not muster a single question on the matter.

Ten Thousand Demand Chris Matthews' Suspension, MSNBC Silent. A MoveOn.org petition demanding that MSNBC suspend "Hardball" host Chris Matthews has garnered just under 10,000 signatures, even as the network has refused to address what Huffington Post called a "clear conflict of interest." The petition began in response to outrage over Matthews' "constant shilling for Hillary Clinton." The number of petition signees has almost tripled in size since The Daily Caller reported that Hillary Clinton's biggest donors are bankrolling the congressional campaign of Matthews' wife, Kathleen.

Fix Is In: PBS Moderators Ignore Clinton Scandals. [O]n the same day that the Washington Post reports that the State Department issued subpoenas to a family foundation bearing Hillary Clinton's name as part of a federal investigation, the PBS debate moderators didn't ask her about it. While presidential candidates Sen. Ted Cruz (R-TX) has been asked about a loan from Goldman Sachs and Donald Trump about bankruptcies in his past (legitimate questions in my mind), a federal subpoena to a foundation where Hillary Clinton recently served on the board doesn't even warrant a murmur from Gwen Ifill and Judy Woodruff, two PBS journalists?

Dem debate: Fierce grilling except for emails, FBI, Top Secret, Benghazi, debt and.... Of the 16,000 words uttered by Hillary Clinton, Bernie Sanders and moderators Gwen Ifil and Judy Woodruff, not one of them concerned Clinton's deepening email scandal. Not one mention of the words email, e-mail, private server or FBI. Not a single media question or opponent mention of the huge legal cloud hanging over the party's presumptive nominee. Nor of the ongoing FBI investigation into unauthorized use of her unsecured private email server for government business, including loose handling of Top Secret documents endangering national security intelligence-gathering and covert operations.

FBI, foundation controversies missing from Clinton questioning at debate. While Hillary Clinton and Bernie Sanders sparred Thursday night [2/11/2016] over issues ranging from health care to police brutality to campaign finance — and even who liked Henry Kissinger — what was glaringly missing was any mention of the government's investigations into Clinton's email use or the Clinton Foundation. Both PBS moderators — Judy Woodruff and Gwen Ifill — and Sanders ignored the controversies that have dogged Clinton's candidacy, despite fresh developments on both fronts.

Hillary Donors Helping Chris Matthews' Wife Into Congress. MSNBC's Chris Matthews has been accused by Bernie Sanders supporters of being blatantly one-sided in favor of Hillary and against Bernie Sanders, to the point that thousands of progressives have signed a petition calling for MSNBC to suspend the host of "Hardball" "because of his constant shilling for Hillary Clinton." The magazine Esquire sharply criticized Matthews' recent interview with Clinton as "ahistorical and out of bounds" for his attacks on Sanders. Now, research by The Daily Caller reveals that Hillary's biggest donors are backing Matthews' wife — Kathleen Matthews — in her congressional race in Maryland, even though many of them don't even live in the same state, much less the same district, that Matthews is seeking to represent.

Email: The Atlantic Reporter Agreed to Tailor Article to Clinton Spokesman's Demands. An email obtained by a Gawker via FOIA request details how a reporter for The Atlantic agreed to a write an article that was tailored to then-Secretary of State Hillary Clinton's specific demands. In 2009, The Atlantic's Marc Ambinder emailed Clinton spokesman Philippe Reines asking for the text of a foreign policy speech Clinton was set to deliver later that day. "On two conditions," Reines replied. Ambinder agreed to the conditions before hearing what they were, responding "Ok."

Here's Proof That A Pliant Press Does What Democrats Tell Them To. Soon after Hillary Clinton became secretary of State, The Atlantic's then politics editor Marc Ambinder was fishing around for an early look at a speech she was going to give to the Council on Foreign Relations. Clinton's spokesman, Philippe Reines, said fine, but added three conditions. [...] Gawker dug up the embarrassing exchange, which emerged as a result of its FOIA lawsuit for the release of State Department communications.

Turning a Blind Eye (or Two). Late night comedy hosts such as Jimmy Kimmel are covering Mrs. Clinton's e-mail scandal — and a true scandal it is — more than "mainstream" news outlets are. Indeed, as the Media Research Center noted, none of the "big three" (ABC, CBS and NBC) covered the January 19th news that Hillary's e-mail server contained, as Fox News's Catherine Herridge put it, "intelligence from the U.S. government's most secretive and highly classified programs." This means that Democrats, more likely to consume news from liberal-minded media organizations, are less aware of the seriousness of the situation than Republicans are. Still, it's a big enough story that they cannot be ignorant of it, not least because it has come up repeatedly in Democratic debates.

Christie Reminds Stephanopoulos of His History as Dem 'Operative'. An annoyed [Chris] Christie retorted, "I know that as a former operative, you're obsessed with the polls. I know you are. But I also know that when you working for Bill Clinton in 1992, everybody told him the night before the New Hampshire primary, he was going to be in single digits and was finished." He continued, "And the next day, he came in second place and his campaign went on to win the nomination. So, let's remember a little history George, that you were a part of." More recently, Stephanopoulos donated $75,000 to the Clinton Foundation, keeping it secret from his viewers and bosses at ABC.

Former Clinton Global Initiative Member Hosts CNN Democratic Town Hall. Anderson Cooper was picked by CNN to moderate the Democratic presidential town hall on Wednesday night [2/3/2016], despite the fact that he is a former member of Hillary Clinton's far-reaching and wealthy charity. Cooper was listed as a notable past member of the Clinton Global Initiative, a non-profit charity created by Bill and Hillary Clinton, and which is linked to the scandal-plagued Clinton Foundation. The Foundation said that Cooper and other journalists were not required to pay the mandatory $20,000 fee for such membership.

Why is the Mainstream Press Still Coddling Clinton? [Scroll down] Over at NBC News, Lester Holt sat down with Clinton on Friday [1/29/2016] to ask her such hardball questions such as "do you get your feelings hurt," after admitting that he "winced" when he heard someone tell her at a town hall that people think she's dishonest. Clinton got asked two perfunctory questions about the latest email revelations on CNN Monday morning [2/1/2016], one of them being, "How do you convince voters not to be concerned?" Now, try to imagine a Republican running for office who, while secretary of state, conducted all his emails on a private, nonsecure server so he could pick and choose which emails to turn over to investigators, then tried to wipe the server before handing it over to a private third party, who clearly lied about not sending or receiving any classified information over that email system, and who then tried to blame it on liberals in government and Democrats for being on a witch hunt. Oh, and because of this negligence, America's national security might very well have been put at risk. Reporters would be in a state of mad fury, with all hands on deck to get to the bottom of it. The story would dominate the news, day after day.

ABC, NBC Toss Softballs to Hillary, Skip E-Mails; CBS Asks if Scandal Makes Her 'Unelectable'. While all three network morning shows conducted live interviews with Hillary Clinton on Monday [2/1/2016] ahead of the Iowa caucus, only CBS This Morning actually brought up her ongoing e-mail scandal. NBC's Today and ABC's Good Morning America both ignored the issue and lobbed softballs to the Democratic frontrunner instead.

Andrea Mitchell Defends Hillary on Emails: 'I Don't Think There is Legal Culpability'. Hillary Clinton's criminal defense attorney made a surprise appearance on today's [2/1/2016] Morning Joe, saying ... oh, wait: that wasn't Hillary's lawyer — it was Andrea Mitchell. Same difference. Relying on her sources, Mitchell asserted "I don't think there is the legal culpability here." Andrea first suggested that Hillary lacked "intent." Joe Scarborough pushed back hard, noting that the statute also criminalizes being "reckless" with classified material. Mitchell then switched to a truly absurd argument. [...]

'Today Show' Sandbags Palin, Doesn't Ask Hillary About Email Scandal. Although the classified information scandal surrounding Hillary Clinton's home-brewed email server blew sky-high Friday afternoon, NBC News, the left-wing outlet that attempted to rescue Clinton from this inexcusable behavior last year, jumped back into the tank Monday morning. During a 4-minute appearance on "The Today Show," the former Secretary of State was not asked a single question about the disturbing new revelations. Naturally, although she is running for nothing, this very same "Today Show" sandbagged Sarah Palin with a personal question about her children.

Chris Matthews: A vast right-wing conspiracy is after Clinton. MSNBC's Chris Matthews came to the defense of Hillary Clinton Tuesday afternoon [1/26/2016], and argued that a "vast right-wing conspiracy" is working hard to undermine her dreams of winning the White House. The moment occurred as the cable news host complained that a participant in Monday's CNN town hall told Clinton to her face that many young voters don't see her as an honest person. Several recent polls show that voters have grave misgivings about Clinton's ability to tell the truth, and the ongoing federal investigation into her private State Department email server continues to dog her campaign every step of the way.

CNN's Toobin Suggests Govt Overclassifying Info Causing Hillary Clinton 'Suffering'. Appearing on Wednesday's [1/20/2016] At This Hour with Berman and Bolduan on CNN to discuss the latest revelations that some of the email on former Secretary of State's server was considered highly classified, CNN legal analyst Jeffrey Toobin ended up downplaying her culpability in her behavior as he asserted that she was "suffering from" the tendency of government agencies to "overclassify" information.

Trump-Palin Pow-Wow Dominates Coverage as Devastating New Hillary Story is Ignored. [Scroll down] If you watched any network newscast yesterday evening [1/19/2016] or read the New York Times, the same kind of tug-of-war between business decisions and news decisions was playing out. On one end was Palin's expected endorsement of Donald Trump. On the other was the latest revelation via the Inspector General's finding that Hillary's server contained SAP (Special Access Programs) information, which is somehow deemed even more sensitive than top secret. So which story — Palin/Trump or Hillary/IG got the huge bulk of coverage and which got zero? It's practically a rhetorical question, but still nothing short of disturbing.

Why is George Stephanopoulos even allowed to cover Clinton campaign? Last year, George Stephanopoulos had a particularly antagonistic interview with the author of Clinton Cash, and shortly thereafter, it was revealed that he had donated a substantial sum of money to the Clinton Foundation. ABC stood by their man, though he did have to apologize on-air. The Washington Free Beacon is now reporting that Stephanopoulos has simply stopped disclosing his donations to the Clinton Foundation.

No Surprise: Stephanopoulos Lobs Softballs at Hillary, Ignores Benghazi Movie, Chicago, Chelsea Clinton. Hillary Clinton conducted interviews on four of the five major Sunday morning talk shows (the lone omission being Fox News Sunday) and while CNN's Jake Tapper, NBC's Chuck Todd, and even CBS's John Dickerson asked questions of substance, the fourth interview offered a stark contrast with former Clinton official and Clinton Foundation donor George Stephanopoulos giving her a measly three questions on ABC's This Week. In addition, Stephanopoulos failed to preface at the onset of a Hillary Clinton interview for the second time in less than a week his ties to the Clinton administration and his numerous donations to the Clinton Foundation.

CNN's Begala, Bash Downplay Clinton Sex Scandals; 'Nobody Wants to Talk About' That. After NBC's Democratic co-moderator Andrea Mitchell wanted to know from Bernie Sanders in Sunday's debate about whether or not he regretted bringing up Bill Clinton's sex scandals, the post-debate analysis on CNN saw panelists Dana Bash and Paul Begala (a former Clinton aide) less than pleased with the issue and did their best to downplay its significance in the 2016 race.

Why the Media Don't Want You to See the Must-See '13 Hours'. The more naïve members of the Hillary Clinton campaign have long dreaded the release of Michael Bay's factual account of the Benghazi attack, 13 Hours. The more sophisticated members of that campaign were less worried. They were confident their friends in the media would scare off all but the most deluded "tea-baggers." Yes, the media will try. They are trying. I am not sure, however, that they will succeed. In the age of social media, word of mouth is much more significant a force than it ever was before. And the word of mouth on 13 Hours will be justifiably powerful. The movie is riveting from beginning to end.

NBC's Andrea Mitchell Scolds Bernie Sanders For Commenting About Bill Clinton's Bad Behavior. At a campaign event last week, an audience member asked [Bernie] Sanders about Bill Clinton's numerous sex scandals, which include an affair with White House intern Monica Lewinsky. Clinton has also been accused of sexual harassment and sexual assault. Arkansas nursing home administrator Juanita Broaddrick accused Clinton of raping her in 1978, when he was attorney general. "I was asked a question," Sanders repeated to [Andrea] Mitchell, but the reporter jumped in with what resembled a defense of the Clintons. "You didn't have to answer it that way though. Why did you?" she asked.

NBC Debate Moderator Andrea Mitchell: Two Decades of Spinning the News Hillary's Way. Longtime NBC News correspondent Andrea Mitchell will join Nightly News anchor Lester Holt in moderating tonight's [1/17/2016] debate among the three Democratic candidates for President. If history is a guide, Mitchell's participation is a good omen for Hillary Clinton, since NBC's "Chief Foreign Affairs correspondent" (who, despite her title, seems to spend most of her time covering U.S. politics) has a long history of fawning over the Democratic frontrunner.

Hillary Was Interviewed on Lifetime and It Was the Worst Thing Ever. Earlier this week, Politico touted the interview as something that would be "showing off a softer side" of Mrs. Clinton. In other words: It would be her campaign's 9 billionth attempt at humanizing her, an attempt to get voters excited about Hillary the Gal and not just Hillary the Candidate. There's just one problem: Hillary is not an exciting person. I'm a young and energetic insomniac, but this "interview" had me wanting to pass out before 11 p.m., and had I not been repeatedly jarred awake by the urge to vomit in disgust, I'm sure that I would have done just that.

Washington Post: Coverage of Abuse Allegations Against Bill Clinton Victimizes Hillary. In a lengthy news (not opinion) article designed to hand the DC Media what they are so desperate for — an excuse to ignore the dozen or so women accusing both Bill and Hillary Clinton of inappropriate behavior — the left-wing Washington Post not only covers up the allegations against Hillary, they make the argument that media coverage of the allegations turns Hillary Clinton into another victim of Bill's. This piece isn't just the usual-usual, pro-Hillary, left-wing bias one expects from the Washington Post, it is yet another example of how the DC Media continues to re-victimize these women by dismissing and downplaying the full story surrounding their allegations.

Media Form A Human Shield Around Democrats. The media spent this week protecting Bill and Hillary from the actions of Bill and Hillary. And they were happy to do it. The re-emergence of Bill's women, both willing and unwilling, is being ignored by the media and being spun when they can't ignore it. With Juanita Broaddrick's courageous return to the national scene, reporters are presented a choice: treating her how they've demanded all who claim to be victims of sexual assault should be treated, or ignoring her to protect the narrative of the Clintons being champions for women. Naturally they chose the latter. Progressives are progressives first and always.

ABC Worries Benghazi Movie May 'Re-Open the Wound'. In an interview with actor John Krasinski about his role in the new movie 13 Hours: The Secret Soldiers of Benghazi on ABC's Good Morning America on Tuesday [1/5/2016], co-host Lara Spencer fretted over the political impact of the film set to be released on January 15: "Do you feel like this movie will re-open the wound, the debate of what happened in Benghazi?" Krasinski replied: "I don't know if there is an debate. I mean, I think searching for the truth is always something that's really important."

CNN's Camerota Shocked 14 Women Could Make Claims Against Bill Clinton. "Is that right? Fourteen??" That's Alisyn Camerota, 1:21 into the video clip. The shock and incredulity in the voice of the CNN host is stupendous! Yes, who could possibly imagine that, as CNN commentator Errol Louis stated, there are 14 women who could potentially make allegations of improprieties against Bill Clinton. If Camerota had consulted CNN's own files, she wouldn't be so shocked. The Starr report includes Monica Lewinsky's testimony that Clinton personally told her that "he had had hundreds of affairs" before the age of 40. And Dick Morris is on record saying Clinton had "hundreds of women" just during his time in the White House. Whatever the precise number, does Camerota assume that Clinton conducted himself like Sir Galahad in all his encounters?

CNN Shrugs Off Clinton Claim About Trump Being Debunked by Fact-Checkers: 'We Will Leave That Aside'. CNN anchor John Berman mentioned Sunday that Hillary Clinton's claim about the Islamic State showing inflammatory Donald Trump videos for recruitment had been debunked by fact-checkers, but then remarked, "We will leave that aside" to divert discussion to other, more Clinton-friendly matters.

ABC's Raddatz Throws Softball to Hillary on First Spouses; 'Is It Time to Change the Role?'. In the final set of questions of Saturday's Democratic presidential debate prior to the closing statements, ABC's co-moderator Martha Raddatz served up a massive softball to frontrunner Hillary Clinton concerning how former President Bill Clinton would function as a member of the First Family if Hillary is elected president. Promising "to make a very sharp turn as we wrap things up here," Raddatz began by explaining to Clinton: "First Ladies, as you well know, have used their position to work on important causes like literacy and drug abuse, but they also supervise the menus, the flowers, the holiday ornaments and White House decor."

The Editor says...
Sounds like a sexist question to me, if it were not such a fluffy set-up for Clinton's talking points.

Revolving Door: Clinton Donor George Stephanopoulos to Interview Hillary Clinton. George Stephanopoulos, a former top operative in the Bill Clinton White House, a man who donated $75,000 to the Clinton Foundation, will interview Hillary Clinton on Sunday's This Week. With no sense of a conflict of interest, ABC's Amy Robach proudly broke the news on Friday's Good Morning America: "George will be interviewing Hillary Clinton and Jeb Bush live on This Week, this Sunday right here on ABC." On May 14, it was revealed that Stephanopoulos, without telling his bosses at ABC or his viewers, made secret donations to the Clinton Foundation.

On PBS, Charlie Rose Chats Up Gen. Petraeus for an Hour, Skips Hillary's E-Mail Scandal. On his PBS late-night talk show on Monday night [11/23/2015], Charlie Rose brought on Gen. David Petraeus for an hour to discuss Iraq, Syria, and defeating ISIS. There was one obvious question: Would Rose ask the general about the investigation into Hillary Clinton's e-mails? After all, Gen. Petraeus was sentenced to two years probation and fined $100,000 for possessing classified information at an unauthorized location. The answer — this being liberal PBS — was "No." The transcript ran 9,532 words without the word "e-mail." Was this at the general's request? Or just liberal scandal suppression?

Media That Claimed Bush Chilled Speech Strangely Quiet Now. Last week CNN suspended a reporter name Elise Labott for editorializing on a vote by the US House of Representatives. [...] That a CNN reporter would be a lackwit incapable of understanding an issue is not news. That, seemingly, is part of the screening criteria used by their CNN's human resources department in hiring. That a CNN reporter would be a left wing hack devoted to using their position to advance a personal agenda is, likewise, not newsworthy. Who can forget when the ironically named Candy Crowley threw her more than ample weight into the 2012 presidential debate she was moderating on behalf of Barack Obama. What makes Labott unusual is that now we have a smoking gun that proves she slanted her news coverage of Hillary Clinton during her January 2013 Benghazi testimony. Well, slanted is not the right word. She sent her work to Hillary's press guru, Philippe Reines, for approval before releasing it.

Paul campaign slams CNN, says emails show reporter 'colluding' with Clinton aide. Rand Paul's presidential campaign slammed CNN on Wednesday [11/25/2015] after emails were released that the campaign claimed showed a reporter "colluding" with a Hillary Clinton aide to "attack" the Kentucky senator. The CNN global affairs correspondent, Elise Labott, already has been suspended over a separate incident — a tweet last week criticizing a House bill limiting Syrian refugees. But her communications with then-Clinton State Department official Philippe Reines turned up Tuesday [11/24/2015] in a batch of emails obtained and published by Gawker.

CNN "Journalist" Caught Red-Handed Doing Media Favors for Hillary. Hillary wanted some self-serving quotes publicized, and CNN's "journalist" — the same one who just got suspended for her liberal angst about concerns about Syrian refugees — duly complied. She also hit Rand Paul for not attending all the hearings — just as she was seemingly asked.

Emails: CNN Reporter Coordinated With Hillary Aide To Smear Rand Paul During 2013 Benghazi Hearing. A CNN reporter who was recently suspended for two weeks for violating the network's editorial guidelines showed up in a new trove of State Department emails released on Tuesday [11/24/2015] in which she appears to have coordinated social media posts with a top Hillary Clinton State Department aide during the former secretary of state's Jan. 23, 2013 Senate testimony about the Benghazi attacks.

ABC's Gibson Defends Clinton, Declares There's Nothing to Benghazi or Her E-Mails. Demonstrating there's no space between liberal politicians and major media figures — once they feel free in retirement to express their true views which guided their news judgments during their careers — long-time ABC News correspondent and anchor Charlie Gibson on Wednesday afternoon [11/18/2015] dismissed the relevance of Hillary Clinton's e-mails or Benghazi: "I don't think there's anything to Benghazi and I don't think there's anything to the e-mails."

The Truth Stalks Hillary As Paris Is Attacked. From bimbos to Benghazi, from demanding investigations into her husband's various personal entanglements to deliberately misleading about the nature of the Benghazi attacks — not to mention her e-mail mess — Hillary Clinton's record has one consistent theme that somehow the liberal media can't quite come to grips with. In the phrase of the late New York Times columnist William Safire all the way back in 1996, she is seen by many as a "congenital liar." But you wouldn't know this basic truth-telling problem of Hillary's even existed if you watched, say, CBS.

DC Media Buries Seven New Scandals During Hillary Clinton's Best Week Ever. The DC Media "covers" pretty much everything. In the end, though, it is meaningless unless what is covered becomes part of a larger narrative. Let me give you an example. CNN is "covering" Clinton's bizarre story about attempting to join the Marines some 40 years ago. According to her, because she's a woman, she was turned out at the door by a recruiter. I'm not going to get in the weeds of why Clinton's story doesn't pass the smell test, but it doesn't. So CNN *is* covering the story but CNN is not covering it with anywhere near the intensity and damaging incredulity that was used in their racially-motivated attempt to destroy Ben Carson last week.

Why aren't Hillary Clinton's exaggerations of her life story bigger news? Hillary Clinton tells a story of how she tried to join the Marines in 1975 but was rejected because she was too old. The problem? The story may not be totally true. As The [Washington] Post's Fact Checker illustrates in a column dedicated to Clinton's Marine claim Thursday [11/12/2015], there's little reason to believe that she — already a very prominent person — would suddenly attempt to join the military.

Dickerson Meets Privately with Democratic Candidates Before Debate. According to Politico's Hadas Gold and Annie Karni, Saturday night's Democratic presidential moderator John Dickerson of CBS News met privately with each of the three campaigns for separate, private meetings to preview the debate and tried to innocently be billed as "informational in nature." The pair spun the revelation as merely CBS "tak[ing] advantage of the smaller pool by doing some intense research" with Dickerson sitting down with representatives from the Hillary Clinton, Martin O'Malley, and Bernie Sanders campaigns "to discuss the major issues at play in the race."

5 Hillary scandals the media is missing. Hillary Clinton can condemn Republicans as her "enemies," dismiss the Veterans Administration scandal as "not widespread," and get caught lying about what she knew about Benghazi and when she knew it — but the mainstream media doesn't seem to [care]. They've ignored those stories in favor of articles about how Hillary has come through her email scandal with flying colors. They've crowned her as her party's presidential nominee three months before the first primary caucus. And they've given her a pass on all the other scandals that tarnished her tenure as secretary of state.

Fear And Loathing In Hillary World. [Scroll down] In particular, [Greg] Sargent found it an overly complicated explanation to believe Hillary set up a private email for any nefarious reason. For the rest of us, of course, that's the simple explanation, and anything else is complicated. Liberal journalists who live around congressional investigations every day are feigning shock at a congressional investigation. They're appalled that anyone would criticize someone like Clinton before all the facts — 30,000 of which she's destroyed — are fully assembled.

Who's More Shameful, Hillary or Her Media Protectors? [Scroll down] In fact, conservatives have complained about the liberal media for so long that we tend to forget just how influential they are to their followers — liberal America and Democratic voters. If they would ever do the right thing — as opposed to selecting and slanting the news to promote the liberal agenda — America would be quite a different place today. Do you believe for a minute, for example, that former IRS official Lois Lerner would have escaped prosecution if the liberal media had exposed the corrupt collusion of the Obama administration in declining to prosecute her? It's almost guaranteed that an honest watchdog media would not have let that occur. It's the same thing with Benghazi.

MSNBC And Al Sharpton Cut Off Guest Who Says Hillary Proven A Liar At Benghazi Hearing. Completely Orwellian disregard of the truth. [Video clip]

Clinton's E-mail Cover Is So Full of Holes, Even the NYT Noticed. New York Times' journalists Eric Lipton and Michael S. Schmidt suddenly noticed that Hillary Clinton's explanations surrounding her e-mail scandal have "evolved over time" and wrote up an analysis about it in Wednesday's [10/21/2015] edition. While it can't be labeled a full takedown, the piece at least notes a pattern of deceit, even if their conciliatory language is an obvious attempt to protect the Democratic candidate.

Both sides can claim triumph on Hillary's Benghazi testimony. Nearly all on the left, and even a number of conservatives think that Hillary Clinton triumphed over the House Special Committee on Benghazi yesterday. Scorn laced the reactions of the left, as in MSNBC's Lawrence O'Donnell proclaiming on air, "If this is all the GOP has on Benghazi, they have nothing." The Kevin McCarthy-generated theme that this was all about politics, and the image of a woman being harassed for over ten hours and bravely triumphing fed the contempt being dished out for the GOP-led committee. Predictably, NBC News led its nightly newscast with the story of how "Hillary Clinton stood her ground in the face of withering GOP questioning"

MSNBC Grills GOP Congresswoman: Why is Hillary Responsible for Benghazi? Filling in for Jose Diaz-Balart during MSNBC's 10 a.m. ET hour on Tuesday [10/20/2015], NBC national correspondent Peter Alexander interrogated Republican Congresswoman Susan Brooks about the House Benghazi Committee: "I want to get a sense from you, as we look forward to Thursday's hearing, what you think, in simple terms, we should expect from this hearing, given the fact that in recent weeks we've heard from multiple Republicans that there is a partisan effort at play here?"

Sisterhood of the traveling pantsuit: Why are most of the reporters covering Hillary Clinton's campaign women? At least 18 national media outlets have female reporters covering Democratic frontrunner Hillary Clinton, by Politico's count. It's a dynamic switch from the days of 'The Boys on the Bus,' Timothy Crouse's well-known campaign tome from 1972, which starred the male-dominated press corps.

Surprise: Cybersecurity Deteriorated Under Hillary Clinton. In an Associated Press exclusive, Ken Dilanian notes just how bad cybersecurity was during Hillary's tenure as Secretary of State. The article is primarily published in local news sites, though the NY TImes does have it as a web only piece, not in their published paper. Other national news outlets, such as ABC, NBC, CBS, Washington Post, MSNBC, for instance? Not at this time[.]

Andrea Mitchell: Why Is Benghazi Committee So 'Focused' On Hillary's E-Mails? [Scroll down] Despite Mitchell's claim that she's been "as tough on this issue [Benghazi] as anyone," NewsBusters has documented several instances in which the NBC reporter has dismissed the committee's legitimacy[.]

Networks Punt on Obama Administration Revising Position on Hillary's E-Mail Investigation. While the "big three" of ABC, CBS, and NBC all prominently touted on Monday [10/12/2015] President Obama's defense of Hillary Clinton on her e-mail scandal in a 60 Minutes interview, none of the three dared to report later in the week how the Obama administration largely walked it back by declaring that Obama believes Clinton's private e-mail server "does not pose a threat to national security" "based on what has been made public" so far.

About Those Hillary Emails. It was a good debate moment. Clinton was overjoyed at Sanders's magnanimity. Sanders was pleased with himself. The crowd of Democrats in the hall erupted in wild applause. So did some journalists gathered to cover the debate. "Audible clapping and laughter in the press filing room after Bernie Sanders' 'enough of the emails moment,'" reported Hunter Walker, national correspondent for Yahoo News, a fact corroborated by others in the room. But the celebration that night was premature. The cheering and backslapping was more a reflection of the partisan wishes of a partisan crowd (and a largely partisan media) than an indication Clinton has put the email scandal behind her.

Jim Webb: CNN Debate Was 'Rigged' For Clinton And Sanders. Jim Webb says the first Democratic debate on CNN was "rigged" by the network and its moderator Anderson Cooper to favor Hillary Clinton and Bernie Sanders. Webb, speaking at the Council on Foreign Relations on Thursday [10/15/2015], insisted, "I'm going to be very frank, it was rigged in terms of who was going to get the time on the floor by the way that Anderson Cooper was selecting people to supposedly respond to something someone else said."

CNN Debate Moderator Was Member of Clinton Global Initiative. CNN host Anderson Cooper, who is set to moderate tonight's [10/13/2015] Democratic debate, was listed as a "notable past member" the Clinton Global Initiative's website along with a number of other big name journalists.

When is a Hillary scandal not a Hillary scandal? CNN's Ashleigh Banfield spoke to Democratic strategist Robert Zimmerman about the upcoming Democratic primary debate yesterday [10/9/2015]. They considered the unthinkable possibility that Bernie Sanders will bring up Hillary's email scandal, which Banfield quickly suggested isn't really a scandal.

Out of Control: Networks Pull Out All Stops to Hail 'Emotional' Hillary Clinton 'on Fire Today'. The "big three" of ABC, CBS, and NBC pulled out all the stops on Monday night [10/5/2015] to carry water for 2016 Democratic presidential candidate Hillary Clinton, proclaiming that she's "on fire" with "new wind in her sails" as she "unveil[ed] a tough new stance on gun control" and coming "out swinging today at the Benghazi Committee." The love fest was on full display on NBC Nightly News as anchor Lester Holt gushed prior to Clinton correspondent and MSNBC host Andrea Mitchell's puff piece: [...]

Empress Hillary Would Close Down Congress. Hillary Clinton gave an interview to the Today Show today during a town hall in New Hampshire in which she touched on, among other things, the email controversy. Clearly, Hillary believes that McCarthy's offhand comment has given her free reign to go on the offensive about the email controversy, because she unleashed what can only be fairly described as an unhinged rant about the entire episode that was full of flat-out delusions and bug-eyed anger.

NBC's Hillary Infomercial Loaded With Softballs: 'Thank You for Your Candidacy'. Throughout a live townhall event on Monday's [10/5/2015] Today, Democratic frontrunner Hillary Clinton was treated to one softball after another from her adoring supporters at NBC. One sycophantic fan set the tone: "Secretary Clinton, you've had a lot of tough questions this morning. This may be the toughest one you get all day. But many years ago we saw another Clinton at his inauguration play an instrument and have a song. What song or instrument would you play at yours?"

NBC Promotes Bill 'On the Attack' Defending Hillary Over E-Mail Scandal. Amidst the ongoing controversy surrounding Hillary Clinton's use of a private e-mail server, on Tuesday [9/29/2015] NBC's Today rushed to promote former President Bill Clinton's efforts to defend his wife from criticism. News reader Tamron Hall introduced the segment by touting "Hillary Clinton is dispatching her not so secret weapon, her husband and former president to help her weather the e-mail storm" and then turned to White House correspondent Kristen Welker to continue to tout the former president's actions.

NBC Omits Defense Dept. Finding Hillary E-Mails; ABC and CBS Minimize. Friday's [9/25/2015] NBC Nightly News failed to cover how the Defense Department revealed earlier in the day that they found an "email chain that Hillary Clinton did not give to the State Department, as a Reuters report put it. Mrs. Clinton exchanged the e-mails with then-General David Petraeus between January and February of 2009. Anchor Lester Holt did air a 16-second news brief on the other "big news from Washington" — Michelle Obama and the first lady of China revealing the name of the panda cub at the National Zoo. The same evening, ABC's World News Tonight and CBS Evening News both gave news briefs on the development in the e-mail investigation, which together lasted a total of 43 seconds of air time.

Ask Hillary about a Muslim president, and more. Let us flip the tables. Let us be fair. Hillary should get the same "gotcha" questions that the GOP candidate get, like the Ben Carson question. Tell us, Hillary: now that you have probably prepped an answer (dodge) already, could you endorse a Muslim to be president? [...] So, Hillary, how many Syrian refugees is the United States supposed to absorb? What is the difference between a Democrat and a Socialist? Have you ever done a political favor for Donald Trump? Were you in charge of the Russian "reset," and how is it going?

NYT: Media may have underestimated impact of Hillary e-mail scandal. No kidding. For quite a while, the media either downplayed or flat-out ignored Hillary Clinton's e-mail scandal, or cast it in terms of the danger of Republican overreach. The New York Times actually stands out as an exception to this, as they have broken much of the news about this scandal — so much so that Media Matters' chief and Hillary apologist David Brock recently accused them of being "a megaphone for conservative propaganda."

CNN's Borger: Trump Coverage Means Hillary Can Avoid E-Mail Scandal Questions. While discussing the latest 2016 polling data on Thursday's [9/10/2015] Anderson Cooper 360, CNN chief political analyst Gloria Borger opined that a number of controversial comments made by GOP candidate Donald Trump is "manna from heaven" for Hillary Clinton and frees her from the obligation of answering questions about her e-mail scandal. Just in the moments prior, Anderson Cooper asked Borger to consider the "noise surrounding Donald Trump" this past week and then determine whether or not the media frenzy toward the GOP frontrunner "create[s] almost a diversion for Hillary Clinton opportunity to improve her campaign."

This week's WaPo mystery: What, exactly, are Hillary's accomplishments? To be fair, the Washington Post's Karen Tumulty doesn't frame her story on the struggle to find any Hillary Clinton accomplishments as a mystery. [...] Tumulty actually does list a couple of claims from Hillary and her supporters of accomplishments. Unfortunately, they both belong to others. Most recently, Hillary took credit for agreeing to a key concession that allowed for the deal with Iran, which was to accept the Iranian production of nuclear fuel. This concession took place over three years ago, which means that the concession didn't actually accomplish much at the time.

Mitchell: I Was Afraid Clinton Would Cut Off Our Interview If I Asked Too Many Email Questions. MSNBC host Andrea Mitchell said Tuesday [9/8/2015] she was concerned the Hillary Clinton campaign would have cut off her interview with the candidate if she asked too many questions about Clinton's private email server at the State Department. Clinton sat down with Mitchell on Friday and the main topic from the start was her use of a private, unsecured server as secretary of state, which has caused serious problems for her campaign with questions about her honesty, trustworthiness, and handling of classified material. While other presidential candidates have made dozens of media appearances, Clinton has given just three nationally televised interviews since her campaign began.

She's sorry you're confused. [Andrea] Mitchell was well chosen by the Clinton team; she appears to be member of the team who is utterly uninformed about the relevant issues bearing on Madam Hillary's use of a private email/server setup. According to Madam Hillary, her email setup was authorized and above[-]board. [...] Did her use of the private email setup comport with Obama's own Executive Order 13256 protecting specified "classified national security information"? Mitchell doesn't go there.

Tone-deaf journalism: Media give Hillary a pass on 'terror' tactic. [Scroll down] But then there was Hillary's speech the other day in Cleveland: "Now, extreme views about women, we expect that from some of the terrorist groups, we expect that from people who don't want to live in the modern world, but it's a little hard to take from Republicans who want to be the president of the United States." That's right, the Democratic presidential front-runner compared her GOP rivals to savages who bomb innocent people and cut off people's heads. This was a scripted line, not some off-the-cuff gaffe.

The Clintons Continue to Clinton. What a mess. Every week, seemingly every other day, there is a new shady revelation about Bill and Hillary Clinton that manages to top the last one. For them there seems to be no bottom; for their supporters, there seems to be no self-respect. [...] The documents released this week exposing Bill's failed despotic money grab were discovered not by dogged journalists conducting extensive investigations of a top presidential contender but thanks to public records requests from Citizens United. If we had an honest media, we'd see reporters trying to advance this story with some pointed questions. Of course, if we had an honest media, it wouldn't have required a conservative non-profit to discover the Congo and North Korean outreach or the former president's willingness to cash those checks.

Hillary shuts down Ed Henry's questions on Huma, Servergate. Is Hillary Clinton nervous, irritated, or both? If I'm placing my bets, I'm going with nervous. Things aren't going well for her — recent polling shows that voters like Vice President Joe Biden (some like him even more than they like Clinton,) the media is closing in on her inconsistencies regarding her server and personal email accounts, and from a legal perspective, the federal judge tasked with handling Judicial Watch's official inquiry into her time as Secretary of State is less than impressed with the answers her generals have provided in court. When it comes to the media, I'm sure Clinton expected to skate through at least the primary without any major hits to her reputation or record. It was a reasonable mindset; after all, it's Hillary. It's her time.

Word Non-Association at AP: 'Hillary' and 'Crime'. Ken Thomas's coverage of the former Secretary of State's "forceful defense" last night [8/14/2015] in "a speech before influential Iowa Democrats" is all too typical: Mrs. Clinton gets to say that all of this is "partisan games" involving "playing politics." All I see is substance-free whining. "My opponents don't like me" is not a defense.

What Happens When Hillary Clinton Isn't Inevitable? It's entirely possible, of course, that Hillary Clinton will beat the rap. The Clintons have a long history of figuring out how to float free and unencumbered above the law. Already, some of their faithful water-carriers in the press are figuring out how to recast the story to deflect blame from the Queen.

MSNBC Calls Hillary's Comments on Emails and Trump 'Feisty and Funny'. How about "angry and lame?" After playing a clip of Hillary in Iowa yesterday [8/14/2015] in which she addressed the email scandal and took a shot at Donald Trump, MSNBC's Richard Wolffe, sitting in for Steve Kornacki, called her comments "feisty and funny." Have a look and judge for yourself. There's a difference between feisty and flat-out angry. As for funny, Rodney Dangerfield can rest in peace. Hillary's delivery was wooden. The funniest thing she said was a bit of unintentional humor. Speaking of the email scandal, Clinton claimed "I won't play politics with the national security." Right. Protecting her personal politics was what having her own server was all about. [Video clip]

Cover-Up: Major Newspapers Keep Hillary's E-Mails Off the Front Page. Four of the country's largest newspapers on Wednesday [8/12/2015] kept the latest developments in Hillary Clinton's growing E-mail scandal off the front page (one kept it out of the paper completely). The revelation that the Democratic candidate had top secret information on her server was relegated to the bottom of page A13 in the New York Times. The Washington Post managed to place the news that Clinton will finally turn over her server on A2. The Los Angeles Times hid the story on A9. All of these newspapers, however, did better than USA Today, which completely skipped Clinton's scandal in the print edition.

NY Times blistering critique of Hillary Clinton is journalism at its finest. There was a brief time this year when it almost seemed like the nation's biggest newspapers, including the Gray Lady, were going to be giving Hillary Clinton the same level of required scrutiny which should apply to every candidate for elected office. It came when they actually covered the email server story and went into a fair amount of depth on it. [...] But all good things must come to an end, as they say, and New York Times reporter Amy Chozick is "balancing" the coverage back out with this hard hitting background piece on the former Secretary of State.

Hillary-Slayer Fiorina: Give Me Shot on Debate Stage to Ask Every Question Press Won't. [Scroll down] "She was not asked a single question about her track record as secretary of State. She wasn't asked about why she thought a gimmicky reset button would stop Vladimir Putin. She wasn't asked about why she called President Bashar al-Assad of Syria a positive reformer. She wasn't asked why she declared victory in Iraq in 2011. She wasn't asked if she thought she had lied to the American people about Benghazi and what she thinks now of the fact that Libya is a failed state and a haven for terrorists," she continued. "In other words, she isn't going to be asked all the questions she needs to be asked, which is why we must have a nominee who will face her on a general election debate stage and ask every single one of those questions so that the American people have the facts they need to make a good judgment."

Andrea Mitchell: Hillary Is 'So Good and Adept' At Handling the Press. Yet again, MSNBC has revived the narrative that Hillary Clinton is good at dealing with the press and answering questions. In recent weeks, this argument has been made several times by media members looking to downplay the former First Lady's seeming reluctance to take any questions.

Nothing to See: Stephanopoulos Dismisses New Batch of Hillary E-Mails. George Stephanopoulos and the crew at Good Morning America on Wednesday did their best to dismiss the latest batch of Hillary Clinton's e-mails to be released, insisting that there are "no bombshells."

Collusion Between Hillary and Media. The elite media types have been in bed with the elite national Democratic party types for so long that one hardly bothers to note it any longer. Still, it is a little jarring when the Hillary Clinton e-mails reveal this kind of panting sycophancy

Journalists appear in newly released Clinton emails. Eyebrows were raised Tuesday evening [6/30/2015] after a batch of Hillary Clinton's emails released by the State Department turned up the names of two prominent journalists. BuzzFeed editor-in-chief Ben Smith and former New York Times correspondent Les Gelb both make a brief appearance in the newly released trove of messages, as the two reporters apparently discussed Clinton-related story ideas with various members of her team.

Hillary Deleted Passages from and Edited Emails Delivered to State; Will Press Ignore? The left and the press (but I repeat myself) insist that nobody cares about her scandalous behavior, or her evasiveness, or her demonstrated serial dishonesty. And even though a large and growing percentage of Americans don't trust her, that doesn't matter either, because she'll still get most of their votes. [...] Six weeks ago, I marveled at how nobody in the press thought that it was the least bit unusual that Hillary Clinton's team submitted supposedly complete paper copies of the "non-personal" emails present on the secret private server she kept at her New York home while serving as the nation's Secretary of State. A Washington Examiner report today (HT Ace) has provided the likely best (i.e., really the worst) reason why Mrs. Clinton handled the situation as she did.

Cruz: If Hillary Was Republican Media Would Have 'Special Prosecutor Watch'. Sunday on Fox News Channel's "MediaBuzz," Republican presidential candidate Sen. Ted Cruz (R-TX) said if a Republican had done the ethically questionable things Hillary Clinton did with private email servers, Clinton Foundation foreign donations and former president Clinton's soaring speech fees the media would set up "every day on every Sunday show," a "special prosecutor watch." Cruz said, "Mainstream media is not fair and impartial. They are protecting Barack Obama and this presidency. I think no one is more ready for Hillary than the mainstream media." He continued, "If any Republican did what she's [Hillary Clinton] doing right now, she doesn't take any press interviews and the press is docile ... How many criminal investigations are ongoing into Hillary Clinton right now?"

The Beatification of Hillary Clinton. Hillary Clinton's effort to run among the most anodyne, milquetoast campaigns for the presidency in American history is apparently paying off. A candidate who dares not speak much, and when she does says only aphorisms universally beloved by the left-leaning constituents she is courting, should inspire frustration among those tasked with speaking truth to power: namely, the political press. Instead, when Clinton dares to open her mouth on even a modestly controversial subject, she is lauded as a figure of unparalleled bravery and poise. Meanwhile, those candidates who have traversed objectively stormy seas, navigated political minefields, taken legitimately controversial stands, and stared down their constituents are given sideways glances by their chroniclers in the media. The latest example of this phenomenon from the Washington Post is nothing short of a disgrace.

Media Matters Founder: We Defend Hillary Clinton! Media Matters For America founder David Brock admitted Monday [6/22/2015] that his nonprofit, tax-exempt organization specifically defends Hillary Clinton, a political candidate for office, from Republican criticism. Brock's stunning admission calls into question the nonprofit status of his left-wing media monitoring organization. Brock made the admission in an op-ed defending his group's association with Sidney Blumenthal, Hillary Clinton's political adviser and informal Libya consultant.

Republicans Must Stop Letting the Media Manipulate Them. [Scroll down] The media does this all the time. It manufactures a story. Then it reports on the story that it made up. Then it keeps the story alive by interviewing people about its own narrative. The media appears to have avoided asking Hillary Clinton about the flag despite her husband signing a bill into law that stated the Arkansas state flag commemorates the Confederacy and sending letters of congratulations to the United Daughters of the Confederacy. When she does make the inevitable statement, it will be spun as a rebuke to Republicans and there will be no questions about Arkansas.

Fox News Alone Covers Hillary's High-Level Private-Server Libya Emails. 2016 Democratic presidential candidate Hillary Clinton, as seen in [a] March 10 Associated Press report, has claimed for several months that "No Classified Material (was) Sent via Her Personal Emails" from a home-based server she said "would remain private." That claim, like so many other representations Mrs. Clinton has made, fell apart earlier this week, when, as Fox News reported, it was learned that Mrs. Clinton "used her personal email account to handle high level negotiations in 2011 for a no-fly zone to help topple Libyan dictator Muammar Qaddafi." Only Fox considers this a story.

Rush Limbaugh Blasts Media for Trying to Destroy Ben Carson While Fawning over Clintons. On Wednesday [6/17/2015], conservative icon and talk radio host Rush Limbaugh blasted the mainstream press for trying to destroy and dismiss Dr. Ben Carson even though nobody in the mainstream can claim to come close to having any of the Carson's accomplishments. "Dr. Benjamin Carson is one of the finest, most accomplished human beings on this planet who has done more for people than most people in politics will ever do," Limbaugh declared on his radio show. "And he's done it personally, not with other people's money."

Highlights From the New York Times' 2008 Hillary Clinton Endorsement. In June 2007, just as the Democratic presidential primary was heating up, Bill and Hillary Clinton wrote a $100,000 check to a New York Times charity group. In January 2008, the Times editorial board endorsed Hillary over her much trendier rival, Barack Obama. The endorsement makes for an intriguing read in retrospect.

New York Times' Top Shareholder Is a Clinton Foundation Donor. Even as the New York Times reports extensively and critically on the Clinton Foundation and its activities during Hillary Clinton's tenure as secretary of state, as with other news outlets, multiple high-dollar donors to the foundation are associated with the paper, including the Times' top shareholder, Carlos Slim. Slim, a Mexican telecom tycoon whose net worth of nearly $80 billion makes him the second richest man in the world, became the top shareholder of the New York Times earlier this year after he doubled his shares to take control of 16.8 percent of the company.

Clinton Foundation Donation Not Publicly Listed by NYTimes. A $100,000 donation given to a New York Times charity campaign in 2008 by Bill and Hillary Clinton's family foundation is not included in a Times list of large gifts from various other foundations, such as George Soros's charitable foundation.

'New York Times' Won't Reveal When Clintons Donated. The New York Times is clamming up about the specific date Bill and Hillary Clinton contributed $100,000 to the paper's charity group in 2008, but denies the donation played a role in its coverage and endorsement of Clinton in the Democratic primaries that year. The Washington Free Beacon reported on Sunday [6/7/2015] that the Clinton Family Foundation, a little-known philanthropic organization controlled by the Clintons, donated $100,000 to the New York Times Neediest Cases Fund in 2008. The charity is administered by the paper and run by top brass at the Times Company.

Media: Never Mind Hillary's Scandals, Let's Talk About Marco Rubio's Wife's Driving Habits. Remember how the media left Barack Obama completely unvetted, ignoring even the most damaging stories from his past, while a squirming mass of reporters fought over every scrap of trash in the dumpster behind Sarah Palin's house? It's happening again. For some reason, the New York Times decided to devote two reporters to the urgent task of reviewing Senator and presidential candidate Sen. Marco Rubio's driving record over the past 18 years. And they still couldn't make much of a story about it, so they decided to add his wife's record to the story.

Junk Journalism. George Stephanopoulos was a Clinton-era flack who effectively bullied would-be investigative reporters, did negative research, and massaged liberal journalists to convince America that Bill Clinton was not a philanderer and slave to his appetites who habitually lied to escape the serial messes he got himself — and his family and friends — into. And Stephanopoulos was good at spin apparently, in that Clinton won his election and the country ignored the various females whom he had bullied, groped, cajoled, and sometimes smeared. Stephanopoulos wrote a memoir that served as a kind of mea culpa, as he transitioned into the limelight of New York-D.C. corridor journalism. Yet Stephanopoulos never severed his valuable Clinton connections, even as he went from partisan political analyst to supposedly disinterested anchor.

Journalism's Sorry State. I don't know why everyone is so up in arms that alleged newsman George Stephanopoulos donated $75,000 to a private foundation co-owned and operated by a woman who hopes to be president. Georgie has been a partisan pit-chihuahua his entire career. The little guy cut his teeth managing "bimbo eruptions" when Bill Clinton was running for president. His job was to destroy and discredit anyone who could make his boss look bad. (Good thing for Monica Lewinsky's sake that her scandal broke after Georgie left.)

No Time for Hillary Scandals — Because Every Reporter Everywhere Is Covering the Dennis Hastert Indictment. [Scroll down] Yet one cannot help but observe: Three authors are given a byline for this scoop, and six others are credited with "contributing" to the report. That's nine Washington Post authors hard at work getting the (legally non-actionable) background to the indictment of a retired congressman. And it's not just the Post. ABC News needed six authors to report the same story. The New York Times needed five. Politico needed four. Would that so much media manpower were devoted to covering current scandal-laden politicians — like, oh, for instance, Hillary Clinton.

CNBC's Harwood Hits Rubio for Looking 'Like a Schoolboy' Compared to Hillary. CNBC Washington correspondent Richard Harwood and the co-hosts of CNBC's Squawk Box briefly discussed during Friday's [5/29/2015] show the age difference between Hillary Clinton and Republican presidential candidate Marco Rubio that included Harwood knocking Rubio for "look[ing] like a schoolboy" compared to Clinton.

'I Love You' - George and Hillary's 'Growing Pains'. There was the time in 1999 when George Stephanopoulos claimed Hillary Clinton said, "I love you, George Stephanopoulos," he replied, "I love you, too." That warm goodbye occurred before Hillary said hello to Stephanopoulos once again, calling the ABC news anchor, "an objective journalist."

ABC Touts Hillary Clinton Predicting Her Hair Won't Turn White If Elected President. In Wednesday's [5/27/2015] edition of the liberal media spinning for Hillary Clinton, ABC's World News Tonight chose not to mention any of the recent developments regarding the various Clinton scandals but instead promote her prediction that, unlike previous presidents, her hair would not turn white if she's elected president. After previewing George Stephanopoulos's interview with newly-declared 2016 GOP presidential candidate Rick Santorum, anchor David Muir eagerly transitioned to Clinton as she was "making headlines of her own tonight."

The news media engage in self-fulfilling prophesy, which is a form of propaganda.
Morning Joe Panel: Hillary Could Lead Democratic Wave in 2016. On the May 26 edition of Morning Joe, panelists Mike Allen, John Heilemann and Mark Halperin were all bullish about Hillary Clinton's prospects for creating a wave that could carry down-ballot Democrats to their own election victories in 2016. The panel discussed an upcoming piece in Politico which highlighted increased interest from Democratic candidates in 2016, primarily due to Hillary. Allen happily noted that Democrats were using "the historic element of her candidacy and the higher turnout that you traditionally get in a presidential year" to help propel down-ballot candidates in House, Senate and state races.

ABC spokeswoman in Stephanopoulos flap worked in Clinton White House. The ABC News spokeswoman who slow-walked The Washington Free Beacon's request for comment on George Stephanopoulos' undisclosed donations to the Clinton Foundation also worked in the Clinton administration. Heather Riley — spokeswoman for ABC News programs "Good Morning America" and "This Week" — worked in the White House press office from 1997 to 2000, according to her LinkedIn profile, and is a member of the Facebook group "(Bill) Clinton Administration Alumni."

Clinton Camp Demands Anonymity On Conference Call With Media. Hillary's brief interaction with the press in New Hampshire was not well received by some on a recent conference call. Clinton's campaign told reporters on the rare media conference call last week that names of Clinton campaign reps on the line should remain anonymous. A Nashua Telegraph reporter on the call said the Clinton team made the request so they could speak "candidly." In the end, the conference call had such little substance.

How Stephanopolous Tried to Save Hillary in 2008. Always more an activist than a journalist, once Hillary was knocked out of the campaign Stephanopoulos joined his pals in their quest to get Obama elected. He got a chance to prove his loyalty in September of that year when interviewing the senator on ABC's This Week. "You are absolutely right that John McCain has not talked about my Muslim faith," said Obama carelessly. Stephanopoulos quickly corrected him with a sotto voce "Christian faith," and Obama affirmed the correction. The rest is history. Were it not for "reporters" like Stephanopolous the comically inept and hopelessly corrupt Ms. Clinton would not dare run for mayor of Chappaqua. As it is, she could well be the next president of the United States.

Christie: Imagine If I Made Hillary's Excuses During Bridgegate. New Jersey Governor and prospective GOP presidential candidate Chris Christie criticized the media for having a double standard in its Bridgegate coverage compared to how it has covered Hillary Clinton's emails and the Clinton Foundation on Thursday's [5/21/2015] "Squawk Box" on CNBC.

Poof! CNN's Jake Tapper disappears from Clinton Foundation website. Yet another high-profile TV newsman may find himself embroiled in controversy over his connections to the Clinton Foundation. Until late Tuesday afternoon [5/19/2015], the Clinton Foundation website listed CNN anchor Jake Tapper as a "speaker" at a Clinton Global Initiative event scheduled for June 8-10 in Denver. After USA TODAY asked CNN about the event, Tapper's name was swiftly removed from the Clinton Foundation website.

That was Quick: George Stephanopoulos Back on Hillary Stories. Journalists on all three networks, Wednesday [5/20/2015], covered Hillary Clinton talking to reporters for the first time in a month. Yet, ABC's Good Morning America managed to do the story without any Republican critics and with George Stephanopoulos returning to anchor the segment. GMA correspondent Cecilia Vega underlined, "Twenty eight days. That's how long Hillary Clinton went without taking questions from reporters and, believe me, we have been asking."

The protected, connected liberal media elite. [ABC anchor George] Stephanopoulos was busted by the Washington Free Beacon last week for donating a total of $75,000 to the Clinton Foundation without disclosure to his employer or the audiences he serves. The revelation came less than one week after Stephanopoulos conducted a harsh interview with Clinton Cash author Peter Schweizer, where he accused him of having a lack of evidence to support his claims that Hillary Clinton traded political favors for donations to the Clinton Foundation during her time as secretary of State. Stephanopoulos defended the Clintons and the Clinton Foundation and claimed ABC News had done a thorough investigation and found no wrongdoing — all while hiding his own donations to the organization.

NY Post: Stephanopoulos gets $105M from ABC. When it emerged that George Stephanopoulos had failed to disclose $75,000 in donations to the Clinton Foundation to either the network or viewers while repeatedly covering the organization, ABC News declared that it would stand by its "chief news anchor." The New York Post's Emily Smith explains that they have one hundred and five million reasons to ignore their own declared standards and practices. ABC renewed Stephanopoulos' contract last year for more than double what NBC paid Brian Williams ... and it's working out just as well.

GOP Exposes Second Hillary Clinton Email Address NY Times Ignored. The New York Times has published two articles on the relationship between former Secretary of State and 2016 Democratic presidential frontrunner Hillary Clinton and longtime confidant Sidney Blumenthal. It has been known for some time that Blumenthal, barred by the Obama White House from working at State, nevertheless ran "a secret, private intelligence network" for Mrs. Clinton's benefit, "apart from the State Department's own Bureau of Intelligence and Research."

George Stephanopoulos' future — and $105M contract — in danger. The "Good Morning America" and "This Week" anchor renewed his contract last year for $105 million, TV industry sources told The [New York] Post Monday [5/18/2015]. The seven-year deal — which dwarfs the five-year, $50 million contract scored by since-suspended NBC rival Brian Williams — was supposed to keep Stephanopoulos in front of ABC's cameras through 2021. But now his credibility, and future, have been called into question since he admitted Friday that he had donated $75,000 to the Clinton Foundation since 2011, just as the presidential race gears up with Hillary Rodham Clinton the leading Democrat.

10 questions Hillary Clinton won't answer — Part I. The nation was treated recently to four days of blanket news coverage and adverse commentary on Republican Jeb Bush's clumsy answers to hypothetical questions about what he might or might not have done about invading Iraq if he had been president and had or had not known its dictator possessed no weapons of mass destruction. Unlike then Florida Gov. Bush, Sen. Hillary Clinton actually voted to authorize the war in Iraq, bearing some responsibility for the conflict. Did you hear her responses to the same set of questions? No, you didn't. She wasn't asked.

ABC Policy Required Stephanopolous to Disclose His $75,000 Clinton Foundation Donation. ABC News policy required that George Stephanopolous disclose his contributions to the Clinton Foundation to management before covering stories related to it, according to an ABC spokesman who responded to a Washington Free Beacon inquiry. Stephanopolous issued an on-air apology on Friday's [5/15/2015] Good Morning America after it was discovered by the Washington Free Beacon's Andrew Stiles that he had covered news directly related to the Clinton Foundation without disclosing that he contributed $75,000 to it.

Stephanopoulos's Long, Long Record of Loyal Service to the Clintons. If George Stephanopoulos had simply donated $75,000 to the Clinton Foundation while also serving as one of its favorite media panelists, the controversy over his conflicts of interest would be much less. Stephanopoulos would be guilty of a clear error, but he also would have had a lot of media company. What makes his scandal different is that he himself chose to interrogate Peter Schweizer, the author of Clinton Cash, the new exposé on the Clinton Foundation. If you watch the interview, it's pretty obvious that Stephanopoulos is playing prosecuting attorney against Schweizer while also declining to ask key questions, for instance, about Hugh Rodham, Hillary Clinton's brother and his highly questionable dealings involving the foundation.

Weasel words from a weasel. When [George] Stephanopoulos's contributions to the Clinton Foundation were discovered by the Free Beacon's Andrew Stiles and leaked by Stephanopoulos, or on his behalf by ABC public relations, to Politico, Stephanopoulos prepared a statement that amounted to old-fashioned damage control. [...] Stephanopoulos wraps his statement in a profession of his great generosity, of which the Clinton Foundation was coincidentally an additional beneficiary. He made the donations over the past three years only to support worthy causes: to heal the sick, protect the weak and feed the starving. Make room for the apostle George.

Dishonest mistake. Of course he's from Massachusetts. How could George "Steffi" Stephanopoulos possibly be from anywhere else — he's insufferably smug, duplicitous, politically correct, corrupt and obscenely overpaid. And most significantly, in the tradition of every Bay State sleaze from Ted Kennedy to Barney Frank to Jonathan Gruber, Steffi is going to get away with it.

George Stephanopoulos's top ABC spokeswoman was a Clinton employee too. The ABC News spokeswoman who is helped anchorman George Stephanopoulos navigate the media fallout from his Clinton Foundation contribution scandal is herself an alumna of the Bill Clinton White House, Daily Mail Online can reveal. Heather Riley is a vice president of communications at the network, in charge of handling media requests for 'This Week with George Stephanopoulos, 'Good Morning America,' 'World News Tonight' 'Nightline' and '20/20.' Her first job, however, was in the West Wing press office during Clinton's second term.

George Stephanopoulos's Clinton Foundation Hypocrisy Is Staggering. The problem with George Stephanopoulos's Clinton-gate mess is that his own words prove him to be both a bully and a hypocrite, as well as abjectly unethical.

Clinton Foundation donors include dozens of media organizations, individuals. NBC Universal, News Corporation, Turner Broadcasting and Thomson Reuters are among more than a dozen media organizations that have made charitable contributions to the Clinton Foundation in recent years, the foundation's records show. The donations, which range from the low-thousands to the millions, provide a picture of the media industry's ties to the Clinton Foundation at a time when one of its most notable personalities, George Stephanopoulos, is under scrutiny for not disclosing his own $75,000 contribution when reporting on the foundation.

George Stephanopoulos A Member Of Clinton Global Initiative In 2010, 2011. George Stephanopoulos' connections to the Clinton Foundation may be more substantial than he has so far admitted. An archived page of the Clinton Global Initiative website lists George Stephanopoulos as a "notable member" for the years 2010 and 2011. ABC News has confirmed Mr. Stephanopoulos was a member during both years.

Ten Times George Stephanopoulos Sucked Up to the Clintons on ABC News. George Stephanopoulos may be in trouble right now for donating cash to the Clintons but for years he's been giving in-kind contributions, in the form of on-air praise and suck-up questions to them in his time as anchor of Good Morning America and host of This Week. In a 2007 interview with former President Bill Clinton about the Clinton Global Initiative, Stephanopoulos asked if his old boss worried that he might be become better remembered as the "philanthropist who happened to be President." He also gleefully wondered if Bill's old slogan of "buy one, get one free" was still in effect if Hillary were to win the presidency as he pressed: "Is it more true now than it was then?"

Flashback: George Stephanopoulos to Hillary Clinton: 'I Love You'. Former Democratic operative turned journalist George Stephanopoulos was rocked this week by the revelation that he donated $75,000 to the Clinton Foundation, an action he kept from the public and his bosses at ABC. This is the same Stephanopoulos who grilled the author of a book critical of the foundation's finances. But Stephanopoulos's affinity for the Clintons has never been in doubt. In 1999, the now-ABC anchor recounted his "love" for Hillary Clinton and the heartfelt affection he received in response.

Quotes of the day. How deep in bed is ABC with the Clintons? ABC is the same network that not only edited its own "Path to 9/11" miniseries to protect the Clintons; ABC has since memory-holed the miniseries. Rather than make money with a DVD release or a re-broadcast, ABC decided instead to protect the Clintons by deep-sixing a miniseries critical of Bill Clinton. How are we supposed to begin to trust an anchorman and news outlet that would cover up such a massive conflict of interest until they were caught — and then engage in Clintonian spin after being caught?

Flashback: To Protect Clintons, ABC Censored and Buried 'Path to 9/11' Miniseries. The length to which ABC, its news division, and its parent company (Disney) have gone to protect and curry favor with the Clintons is almost impossible to grasp. To begin with, in 1996, ABC News hired George Stephanopoulos, a former Clinton campaign and White House official. Within a few years he would become the ABC new division's chief anchor and political reporter. Then, just today [5/14/2015], we learn that ABC News and Stephanopoulos are involved in a massive conflict of interest — a $50,000 donation Stephanopoulos made to the Clinton Foundation.

'Clinton Cash' author slams Stephanopoulos: 'Massive' ethics breach. The author of a new book that scrutinizes the Clinton Foundation is slamming ABC News anchor George Stephanopoulos for not publicly disclosing his donations to the group. Peter Schweizer questioned the journalistic integrity of Stephanopoulos, who, during a testy interview on ABC's "This Week," was among the first reporters to question the claims in Schweizer's book, Clinton Cash.

I never want to see George #Stephanopoulos moderate another debate. This is ridiculous. More to the point, it's insulting. Did they think that people wouldn't ferret this stuff out?

ABC's Stephanopoulos Grilled "Clinton Cash" Author: Forgot to Note His Own Donations to Bogus Foundation. While Politico got credit for the story, it turns out it was Andrew Stiles at Washington Free Beacon who broke the original scoop.

Donation disclosure issue snowballing for ABC News, Stephanopoulos. Revelations that George Stephanopoulos made donations to the Clinton Foundation in recent years, while failing to disclose them in relevant news reports, are generating a world of trouble for ABC News and its chief anchor. [...] Sen. Rand Paul (R-Ky.), a presidential candidate, said that the donations essentially disqualified Stephanopoulos from moderating debates in the 2016 race. "It's impossible to divorce yourself from that, even if you try. I just think it's really, really hard because he's been there, so close to them, that there would be a conflict of interest if he tried to be a moderator of any sort," said Paul.

Why Stephanopoulos tarnished his credibility by hiding his Clinton Foundation donations. For 18 years, George Stephanopoulos has tried to leave behind his political past as a Clinton Democrat and establish himself as an unbiased journalist at ABC News. Now he's cast a dark shadow over that very question. By donating $75,000 to the Clinton Foundation, and failing to disclose it, Stephanopoulos has committed an awful blunder. He has handled the story badly. And ABC is giving him a pass.

The Great Stephanopoulos Mess. [Scroll down] The donation corrodes much of the journalistic credibility Stephanopoulos has labored so carefully to build since joining ABC News as a correspondent and analyst in December 1996. Stephanopoulos critics were many at the time of his appointment, predicting his crack-up even before he completed his first assignment. The Los Angeles Times' Howard Rosenberg spoke for many when he prophesied that Stephanopoulos would not be able to "shed his intense loyalty for Clinton in his new role."

Ex-operative gets J-school ethics lesson. [George] Stephanopoulos, who leveraged his role as a political operative for Hillary and Bill Clinton to become among the most prominent faces at ABC News, was outed Thursday [5/14/2015] as an undisclosed donor to the Clinton Foundation. It wasn't all that much, by Stephanopoulos standards, just $50,000 over two years — wait, it was $75,000 over three years — or slightly less than a day's pay a year based on his $8 million annual salary. Even if his motivations were precisely as cooked up — uh, provided — (to support the foundation's worldwide battle against deforestation and AIDS, he — wink — says) the payments were a lousy idea. This is indisputable.

Hillary Clinton's 2016 Campaign Manager Interned for George Stephanopoulos. Overt connections between ABC news anchor George Stephanopoulos and the 2016 Hillary Clinton presidential campaign continue to surface; Clinton's campaign manager, Robby Mook, once worked as an intern for Stephanopoulos when the news anchor briefly worked at Columbia as a visiting professor.

Whom would you pick to moderate the Republican debates? The surprising thing isn't that George Stephanopoulos donated to Hillary's charity/slush fund and didn't tell anyone about it. The really surprising thing is that Republicans continue to pick debate moderators who are clearly liberals. Regardless of whom George did or did not donate to, we know what side he's on. My radical suggestion is to pick debate moderators who are either conservatives or clearly impartial, who won't ask gotcha questions akin to "Why do Republicans hate the poor?"

Is George Stephanopoulos the Next Brian Williams? With word emerging today [5/14/2015] that ABC News chief anchor George Stephanopoulos gave "$50,001 to $100,000" to the Clinton Foundation, the network will soon face the Brian Williams Quandary — is its top "newsman" trustworthy when delivering news. Stephanopoulos only disclosed the donations to the nonprofit when asked about them by a reporter from the Free Beacon (choosing to control the story through a statement to friendly liberal outlet, Politico).

Schweizer to ABC: 'Let's Do Another Interview'. Clinton Cash" author and Breitbart Senior Editor-at-Large Peter Schweizer suggested that ABC "do another interview" with him on Thursday's [5/14/2015] "Hannity" on the Fox News Channel. "I think what ABC could do is let's do another interview on the Sunday morning show to talk about the contents of the book. So, we actually get a chance for viewers to hear what is in the book. That's the first thing that I would ask. [...]"

Stephanopoulos and ABC News now in a no-win situation. George Stephanopoulos's self-recusal from the GOP debates constitutes an admission of his lack of impartiality, but he refuses to take it to the logical conclusion and recuse himself from the presidential campaign. That is going to be increasingly difficult for him and ABC News to defend. If he admits to being tainted, then how can he be trusted to cover Hillary Clinton fairly? Of course, for the man ABC News has made its principal face, recusal from the biggest story of the next year and a half would be untenable. How could he continue in his role as anchor?

ABC Must Bench Stephanopoulos on Sunday Mornings for Failure to Disclose Clinton Donation. More than a few people in the business wondered aloud why Stephanopulos conducted such a partisan interview with Peter Schweizer, the author of Clinton Cash. It was as if we were witnessing the 1993 version of George, the one who served as de facto press secretary for the Clinton administration, trying to destroy a narrative as if he was getting paid to do it. In case you missed it, Schweizer's credibility was attacked for the entire interview while exactly zero of his claims about the Clintons were even remotely entertained by the host — the same who contributed to the very foundation in question.

Stephanopoulos Apologizes On-Air for Not Disclosing Clinton Foundation Donations. The Washington Free Beacon reported yesterday that the ABC News anchor had made about $75,000 in donations to the foundation, run by former president Bill Clinton and wife, Democratic presidential candidate Hillary Clinton. Stephanopoulos confirmed this information to Politico, and in this morning's statement, added that he'd publicly made the donations to "stop the spread of AIDS, help children, and protect the environment in poor countries."

The Editor says...
So, George, did you stop the spread of AIDS, help children, or protect the environment? My guess is your money didn't help anybody outside of Chappaqua.

Stephanopoulos' $75,000 Gift To Clintons Underlines Media Corruption. In another sign the left's grip on the news is bigger than anyone knew, ABC News' George Stephanopoulos hid a $75,000 gift to the Clinton Foundation even as he reported news about corruption allegations. While skeptically interrogating author Peter Schweizer about "Clinton Cash," his book exposing the Clinton Foundation last April 26, the anchor for ABC News conveniently left out the highly relevant fact that he himself had donated $75,000 to the Clinton Foundation.

Flashback: Clinton Donor George Stephanopoulos Praised Foundation. Showcasing an extreme conflict of interest, it was revealed on Thursday [5/14/2015] that George Stephanopoulos donated $50,000 to the Clinton Foundation and did not disclose the contribution to the public or his employer, ABC. A look back at past interviews shows a cozy Stephanopoulos fawning over the charity.

Geraldo: ABC Fired Me for $200 Donation, Why Not the Same for Stephanopoulos? Geraldo Rivera sees a double standard at work in ABC News' decision to stand by George Stephanopoulos after the network's chief anchor apologized for failing to publicly disclose $75,000 in donations to the Clinton Foundation over the last three years. In a Facebook post Friday morning [5/15/2015], Rivera claimed he was fired by ABC News in 1985 for making a $200 political donation and wondered why Stephanopoulos isn't getting the same treatment. "In 1985, after fifteen great years, I was fired by ABC News," Rivera wrote. "The official reason for my firing was a non-disclosed $200 donation to a family friend running in a non-partisan mayoral campaign in New Bedford Massachusetts."

George Stephanopoulos discloses $75,000 contribution to Clinton Foundation. ABC News chief anchor George Stephanopoulos has given $75,000 to the Clinton Foundation in recent years, charitable contributions that he did not publicly disclose while reporting on the Clintons or their nonprofit organization, the On Media blog has learned.

The last nail in the coffin of MSM credibility?
George Stephanopoulos donated $50k to Clinton Foundation, did not disclose when interviewing Peter Schweizer. It is time for him to resign, and if he does not, for ABC to fire him.

Stephanopoulos Recuses Himself From GOP Debate. In frantic damage control mode, ABC's George Stephanopoulos ran to the safe zone of the left-wing Politico to announce the he will recuse himself from ABC's February GOP debate in New Hampshire. He also admitted that the total amount he contributed to the Clinton Foundation was a whopping $75,000, not the $50,000, as originally reported.

Clinton "Déjà vu" Scandals. During the Democrat presidential primary debates of 1992, then California Attorney General Jerry Brown accused then-Arkansas governor Bill Clinton of being involved in a shady real estate business known as the Whitewater Development Corporation. While Clinton was able to sidestep the issue that evening, the tip was given to the press and they began to take a look into the situation. As evidence of crooked deals and illegal land-flipping grew more and more obvious, the liberal-leaning press got less and less curious, especially after Bill Clinton won the 1992 election and began to settle into office.

Clinton Embroiled in Scandal Again, Newsweek Frets Over 'Enemies' Discrediting Her. [Scroll down] The worst reading of this is that the media is hopelessly biased in favor of Democrats, and to some latent degree actually buys into Hillary Clinton's famous assertion that there's a "vast right-wing conspiracy" out to get her. The most favorable interpretation of this is that the media is incapable of covering substantive facts in a straightforward manner, and always defaults to petty horse race coverage of the presidential race. And there's always a possibility that it's a little bit of both.

WashPost Reporter Claims: 'The Media Isn't Biased in Favor of Hillary'. Washington Post political reporter Chris Cillizza recently lectured Rand Paul not to play media critic. Now he's decided conservative media critics as a whole have no argument in an article provocatively headlined "No, the media isn't biased in favor of Hillary Clinton." There is no evidence for that charge, he wrote, even as he acknowledged the embarrassing video of journalists chasing after the Scooby van.

Hillary's foreign fundraising mess: Even the liberal press is fed up. [Scroll down] What's more, what is now the Bill, Hillary and Chelsea Clinton Foundation thinks it's all right once again to solicit foreign governments that of course would love to buy influence with a potential president. A New York Times editorial urged Hillary "to reinstate the foundation's ban against foreign contributors" and "reassure the public that the foundation will not become a vehicle for insiders' favoritism, should she run for and win the White House." When you're a Democrat and lose the Times editorial page, you're in trouble. Now the broadcast networks have largely blown off the story, except for half a minute on CBS.

Big Media Blacks Out the Clinton Foundation Foreign-Money Story. [M]any liberal-media critics smell a rat every time the airwaves are filled with obsession over a frivolous story. NewsBusters clocked six minutes on the story of llamas running loose in Arizona, but only 32 seconds of coverage on one of the major networks (CBS) for the incredible tale of Hillary Clinton's foundation raking in foreign and corporate cash both during and after her tenure as Secretary of State.

Hillary Clinton Blames 'Different Media' For Dividing Country. Former Secretary of State Hillary Clinton complained that "different media" are dividing the country, making it impossible for people to even have a conversation with each other. Clinton made her remarks yesterday in an interview with Re/Code's Kara Swisher. She criticized America's "partisan bunkers" for getting in the way of confronting tough issues like racism, sexism and homophobia.

Liberal Media Ignore "Hillary Letters". [Scroll down] The letters also reveal that Clinton and Alinsky shared not only a similar political philosophy, but a fondness for each other as well, which is important to know and understand if Hillary runs for president, as she is widely expected to do. Hillary has tried to craft a more moderate image over the years, even stating in Living History that she didn't agree with Alinsky's anti-establishment tactics. But the letters showed that she was more in agreement with Alinsky than she has acknowledged publicly. And as far as we know, she still may share some of those views. Instead of the media asking Clinton about her views on Alinsky — given these letters — they have chosen to ignore them, to avoid damaging her chances in 2016. The silence is deafening.

Related topic: Obama and Alinsky.

Media In 2014: Who Is Saul Alinsky And Why Should We Care? Now if you're a moderately well-read person, you know who Saul Alinsky is. You know that he wrote the book — influential particularly for folks on the left — Rules for Radicals. And if you were born before a few years ago, you know that Clinton has always been a tad touchy regarding her ties to Alinsky. When she was First Lady and it was discovered that her senior thesis was written on Alinsky's controversial tactics, someone — no idea who — gave her college the idea to seal her thesis from public view. She's largely downplayed his influence in the years since. And Clinton's ties to radicals are interesting because she is now running for president, obviously.

Why Hillary Clinton's health matters. Is Hillary Clinton's health an issue for 2016? You bet it is, and well it should be. Ronald Reagan took office when he was 69. He was mocked, jeered and sneered at, with prominent Democrats leading the charge (and the compliant media following, as always). If elected, Hillary would be — 69. [...] Hillary is even more secretive about her health. On Dec. 7, 2012, she disappeared from view — without a word. Three days passed before the State Department said the secretary of state was "under the weather" as it announced she would cancel a planned trip to the Middle East. ABC News put out this mysterious entry in a timeline on what happened next: "Sometime early the week of Dec. 9: Clinton faints and falls while at home." There's never been any independent confirmation of that, nor did America's crackerjack media do anything more than write down what State officials claimed.

What Is Hillary Clinton Afraid Of? If Clinton says yes, she'll have access to a bottomless pool of Democratic political talent and cash to match all those hyperbolic pronouncements about her inevitability. If she doesn't run, the single biggest factor holding her back will be the media, according to an informal survey of three dozen friends, allies and former aides interviewed for this article.

Every Media Outlet: Hillary Grandkid the Most Consequential Baby Since Jesus. Less than 16 hours after Chelsea Clinton announced she was pregnant, a lot of major news outlets started staring into the crystal ball of Chelsea's womb, wondering what this currently floating zygotic multicellular being meant for the prospects of Hillary Clinton's 2016 campaign, which is also a floating, zygotic, multicellular being. Their answer: The immaculately conceived Clinton child could mean everything.

The rehabilitation of Hillary Clinton. While Hillary Rodham Clinton has all but vanished, hitting the speaker's circuit at $200,000 a pop and bouncing between her two palatial mansions in New York and Washington, the press corps is working overtime to rebuild her tarnished reputation. First came The New York Times with a lengthy "investigative" piece of the Sept. 11, 2012, Benghazi terrorist attack. The 7,500-word tome ignored the former secretary of state's role in the deaths of four Americans. What's more, the Times never mentioned Mrs. Clinton — not once — and concluded that the attack "was fueled in large part by anger at an American-made video denigrating Islam," a White House lie disproved just weeks after the attack.

The Golden Egg. As far as Bill and Hillary Clinton are concerned, the media's horizon of expectations is stunningly narrow. It encompasses on the one hand the belief that the "secretary of explaining stuff" is a national treasure beyond reproach, and on the other hand the expectation that the former secretary of state will be our next president. Stories that fall outside of this horizon are problematized, scrutinized, ascribed to partisanship, and read with the sort of incredulity reporters are supposed to apply to public figures such as the Clintons.




Hillary Clinton manipulates the media
and they don't seem too unhappy about it.

Sketchy Media Now Retreating From Sketchy Russian Conspiracy Reports. Hillary Clinton and aligned political operatives manufactured the illusion of a connection between Russian entities and the Trump campaign/organization. Those manufactured points of evidence, including a sketchy Russian Dossier, were used by the political intelligence community (Clapper, Brennan Comey) to open an investigation of nothingness — to nowhere. The mere existence of the investigation was then used as the originating point for a series of media intel leaks (the narrative) intended to cloud and damage the Trump campaign/organization.

Mika Brzezinski Bombshell: Clinton Camp Called NBC, Tried to Get Me Pulled Off Air. Our old colleague Mark Finkelstein at Legal Insurrection caught a humdinger today. Mika Brzezinski revealed on the air that Hillary Clinton's campaign called NBC brass and demanded Mika be taken off the air for something "journalistically inappropriate." [...] The morning crew was discussing how the Clintonites couldn't understand they had made some big mistakes, like the "basket of deplorables" comment. Scarborough brought up the Democrat who "sniveled" at DNC chair Donna Brazile that by letting Trump win, "You and your friends will die of old age and I'm going to die from climate change. You and your friends let this happen, which is going to cut 40 years off my life expectancy."

The Editor says...
People with no faith live in constant fear.

Clinton Chief Wanted 'Decoy' Leak After Email Scandal Broke. Former Secretary of State Hillary Clinton's presidential campaign manager wanted to leak an announcement — presumably officially announcing her presidential candidacy — as a "decoy" after the New York Times first reported her email scandal in March 2015. "I think we should get a credible leak out that we're announcing on the 20th. As a decoy," campaign manager Robby Mook told Clinton adviser John Podesta in a March 12, 2015, email 10 days after the New York Times story broke. The email was made public Monday [10/31/2016] by Wikileaks.

Leaks: Clinton Ally Lays Out How To Get NYT To Cover Hillary More Favorably. A confidant of Hillary Clinton campaign chair John Podesta laid out in an email how to get The New York Times to change how the paper covered the former secretary of state, according to leaked emails. Center for American Progress President Neera Tanden told Podesta how former New York Mayor Michael Bloomberg met with Arthur Sulzberger, NYT's publisher, to get the paper to cover him more favorably.

Clinton "Fixer": I Spiked Damaging Stories for Sexually Depraved, Morally Corrupt Hillary. Of course, the Enquirer's scoops almost invariably involve salacious matters, and the Clinton story is no exception. Yet most significant are Rovin's disclosures about media suppression of truth — and efforts to destroy people such as Monica Lewinsky.

Proof It's Rigged — Clinton Campaign Caught Sequentially Seeding Presser Questions To Compliant Media. Following the debate Hillary Clinton held an "impromptu" presser with journalists aboard her campaign plane. However, if you look closely into how it's coordinated it might just blow you away. Watch as Hillary Clinton's travelling press secretary, Nick Merrill, actually instructs specific reporters on what questions to ask. It took about three different camera angles to fully identify the ruse, but when you see it, it's rather jaw dropping: [Video clip]

Newsgate 2016. A window into how political interests, including super PACs, work to influence and manipulate the news is found in an internal Clinton campaign memo published on Wikileaks this month. In it, the Hillary Clinton super PAC "Correct The Record" boasts it had placed 21 "strategic memos" with the media that "led to stories in a number of news outlets including National Journal, Politico, USA Today, MSNBC and The Hill." Correct The Record has joined other pro-Hillary Clinton groups founded by Clinton surrogate David Brock, including Media Matters and the American Bridge super PAC, in attacking Clinton's opponents. Correct The Record's targets have included Democrat Bernie Sanders and Republican Donald Trump.

The Criminal Media: A Bunch of Drips. While the drips at the Big Three, CNN, and the major newspaper establishment report non-stop garbage about Trump, WikiLeaks has dropped bombshells blowing open Clinton the woman, the political operative, and public official:
[#1] She despises average Americans.
[#2] She intended to take over the Catholic Church with a regressive agenda destroying the basic Biblical foundations of morality.
[#3] She did indeed give the stand-down order to prospective security forces to go to Benghazi.
[#4] She resolutely hid her illnesses from the public.
[#5] The Clinton Foundation is running afoul of tax laws (and yet the IRS harasses law-abiding conservatives and voter integrity projects like True the Vote).
[#6] Clinton and Company discussed the propriety of taking foreign donations for the Clinton Foundation.

One of Donald Trump's Accusers Has the Same Number as the Clinton Foundation. Jessica Leeds, now much older at 74 than she was when the incident occurred, alleged that Trump had molested her over three decades ago. She met Trump on a flight to New York in the 1980s, and was seated beside him when the alleged assault took place. She said his arms were all over her, "he was like an octopus, hands all over the place..." Ms. Leeds wording is the wording of a sexual assault case from two years ago and her number is the same as the Clinton Foundation — curious. Snopes says this is false. She fled to her original seat — she had been switched to first class and went back to passenger seating — but she never told anyone. The media now has five eight of these women and it's exactly what they did to Herman Cain. His attackers disappeared after he dropped out. Why does Ms. Leeds have the same number as the Clinton Foundation?

Hacked: Clinton campaign worked with NYT reporter behind scenes. Internal documents made public on Sunday [10/9/2016] revealed a reporter for the New York Times working with Democratic officials to promote Hillary Clinton's presidential candidacy, with party apparatchiks saying she has "never disappointed" them. The January 2015 document centering on Clinton's media strategy, released by the hacker known as Guccifer 2.0, was describing Maggie Haberman, who worked for Politico but who moved to the Times that month.

Did Clinton Campaign Collude With George Stephanopoulos On Interview With 'Clinton Cash' Author? Internal Clinton campaign emails show that campaign officials took credit for ABC News host George Stephanopoulos' adversarial interview last year with the author of a book critical of the Clinton Foundation. "Great work everyone," Jesse Ferguson, the Clinton campaign's deputy national press secretary, wrote in an April 26, 2015 email to other Clinton campaign officials. "This interview is perfect. he [sic] lands nothing and everything is refuted (mostly based on our work)." Ferguson was celebrating Stephanopoulos' interview with Peter Schweizer, the author of [...] a book which laid out numerous examples of Clinton Foundation donors receiving political access and government favors.

Bill Clinton's ObamaCare rant was scripted — and approved by Obama. When Bill Clinton recently criticized ObamaCare as "the craziest thing in the world," it looked to everyone like he had given Donald Trump a stick to beat Hillary with at their second presidential debate this Sunday at Washington University in St. Louis. But as usual, the Big Dog was crazy like a fox. According to multiple sources both in the White House and the Clinton campaign, Bill was following a carefully crafted script that was poll tested and endorsed by his wife and Barack Obama.

Liberals Trying To Stack Town Hall Debate With Anti-Trump Questions. Liberal activist groups are mobilizing their supporters to stack Sunday night's debate between Hillary Clinton and Donald Trump with questions designed to be hostile to Trump. The debate is a "town hall style" event, with questions coming from the audience. But those questions and the questioners will be pre-screened so as to not be out of left field or redundant. As part of the process for picking questions and topics, CNN and ABC News have "agreed to consider the Top 30 questions voted up" on the website "Presidential Open Questions." Liberals are attempting to vote up questions that they think would entrap Trump.

Hacked Emails: Hillary's Press Sec. Brags About Pressuring Reporter To Spike Story. Nick Merrill, Hillary Clinton's traveling press secretary, bragged to other Clinton staffers about trying to shame a reporter into spiking a negative Clinton story in emails obtained by the Internet transparency group, DC Leaks. On May 23, 2016, Merrill wrote to Shelly Moskwa, Lyn Utrecht, Cheryl Mills, Heather Samuelson, Eric Kleinfeld and Capricia Marshall that a story by Emily Kopp would soon run in The Intercept, despite [his] efforts to shame Ms. Koop [sic] for her lousy reporting."

Clinton Campaign Helped Script Steve Harvey Interview. Talk show host Steve Harvey provided Hillary Clinton's campaign with the exact questions he would ask of Clinton during a February interview, according to an internal campaign memo sent a week before the interview and obtained by the Washington Free Beacon. "Steve is known to be a host who goes out of his way to make his guests feel comfortable," two of Clinton's top communications aides wrote in a memo to Clinton a week ahead of her interview. "We coordinated closely with the show's producers on the script and format of the show."

Alicia Machado's shady history foils Clinton sex smear. Sex has been brought into the presidential campaign. Who started it? Well, put the blame this time squarely on Hillary Clinton and her new de facto running mate: former Miss Universe Alicia Machado. The Clinton campaign has made a big gamble by featuring Ms. Machado in their latest negative political ads. The spots paint her as a victim of Donald Trump's bullying, but her real motivation seems to be to reclaim the limelight.

Raising the Hood. All future public exposure is likely to be very carefully managed so that shelter from prying cameras is never more than a very few steps away. If any lesson was likely to be learned from her 9/11 meltdown, it is that Hillary should never be allowed to venture too far from the Scooby-Doo van to get undercover quickly.

Clinton dodges reporters in six-question press conference. Hillary Clinton declined Thursday [9/15/2016] to answer repeated questions about when her running mate found out that she had been diagnosed with pneumonia. Her reluctance to answer the question came during a rare press conference. She fielded questions from seven reporters, but one of the questions was a journalist simply repeating of a line of inquiry about whether she spoke with Kaine last week.

Hillary Clinton's Murky Drama. This isn't about the Democratic presidential nominee "powering through" pneumonia as the campaign, her surrogates and the media (but I repeat myself) have insisted; it's about a woman wrapped so tightly in lies that every sequential decision is being made to hide the previous lie. The only reason we now know of this impossible vice is through the work of a citizen with a cell phone camera and the existence of social media. The Clinton campaign and the legacy media are probably shocked you know the truth of what happened with Mrs. Clinton because they had, once again, worked in unison to keep the truth from the American people.

Forum Fallout — Hillary Clinton Holds First Press Conference in 278 Days. Essentially the press conference was typical Clintonian deflection and complaints about media coverage of her performance. From the video it appears four questions were agreed upon, but another was taken by Andrea Mitchell. Obviously the sycophants in the traveling Clinton press poll (all pre-approved by the campaign) did not ask any substantive questions. And that's the reason for doing the presser on the tarmac, as opposed to a formally scheduled press conference where a full press corps would ask more targeted questions.

The Clinton campaign's bad damage control just made the health story even worse. The bigger issue is the secretive manner in which Clinton's campaign managed the incident. It is an approach that is sure to prove counterproductive than if reporters had been allowed to follow Clinton out of the ceremony or if aides had been faster to address her condition. A lack of information always makes journalists wonder whether something more serious is being kept hidden. It just does.

Team Hillary Puts Media On Notice To Not Question Her Health. She's working the refs, and, since most of them are in the bag for her, it'll probably work, especially since the majority are already defending Coughing Hillary against any charges or "just wonderings" regarding her health[.] [...] So, instead of showing documents that she is healthy, and there is a good reason for the constant coughing which would send most of us running to the doctor, they're going to attack and, most likely, attempt to destroy any who bring it up. She told the FBI 39 times that she couldn't recall because of her concussion. She has a lot of falls. These aren't conspiracy theories. They're facts. Do they show a picture of a woman in good health?

Kaine insists: Journalism convention counts as Clinton 'press conference'. Though many reporters said at the time Clinton's appearance at the journalism convention most certainly did not count as participating in a press conference, the Democratic nominee's campaign and the event's organizers continue to say otherwise.

Hillary Clinton, rarely seen, rarely heard. [Scroll down] Indeed, trailing Clinton since she has become the Democratic nominee has been less about developing a relationship with the candidate and more like a sensory deprivation experience. When she's speaking at a fundraiser, reporters camped outside can sometimes hear a muffled voice but can rarely make out her actual words. When she's greeting voters at a coffee shop or on a rope line after a rally, the former secretary of state often looks right through the reporters hovering around her, like they don't exist. And when she does acknowledge their physical presence, she smiles through the questions barked at her and encourages reporters to sample a coffee, or a chocolate, instead.

Hillary Clinton Thanks Reporters For Being 'So Cooperative' - No One Objects. If the public ever wanted to get a taste of just how hopelessly partisan and unreliable the mainstream press has become, all they need to do is pay attention to how they act around politicians. When reporters are covering a Republican, they are always in a bad mood. The questions are hostile and argumentative. Reporters never let a Republican politician stick to talking points. They interrupt. They scoff. They exchange eye rolls. They always ask tough follow-up questions. But when it's a Democrat, the atmosphere is always calm and friendly. Reporters always laugh at a Democrat's jokes, particularly if the jokes are at the expense of a Republican. They act apologetic if they are posing a "difficult" question. They rarely press an issue that the Democratic politician doesn't want to talk about. They let Democrats filibuster and set the agenda.

Let them eat chocolate! Clinton dodges questions from 'cooperative' reporters by offering them free sweets. It has been 264 days since the Democratic nominee held a formal press conference. In a planned stop at a coffee shop, she dodged questions by offering her 'cooperative' traveling press corps some chocolate. After Clinton and Reno Mayor Hillary Schieve pressed the flesh with voters at Hub Coffee Roasters in Reno, Nevada, employees of the nearby Dorinda's Chocolates offered Hillary a sample from a platter of chocolate truffles. And as journalists piped up with questions, she urged them to fill up their mouths with sweets instead.

Dean: Clinton Shouldn't Do Press Conferences Because Media's Questions Aren't 'Legitimate'. Hillary Clinton supporter Howard Dean said Wednesday that she shouldn't do a press conferences because the media's questions aren't "legitimate" and the press doesn't treat her fairly. Dean's rant came as Clinton allies have pushed back strongly on an Associated Press report showing more than half of the private parties that met with her as secretary of state were financial contributors to the Clinton Foundation. Campaign manager Robby Mook calling the story and its implications of pay-for-play "outrageous." Dean was no exception, defending that Clinton hasn't held a true press conference since last December.

Banned reporters cling to wire fence to try and hear Hillary Clinton's secret speech to her wealthiest and most powerful supporters. Hillary Clinton has banned journalists from her fundraisers, keeping the public in the dark about what she tells her richest and most powerful supporters. In Provincetown, Massachusetts yesterday, five reporters crowded into the corner of a parking lot, clinging to a chain link fence as they tried to catch her speech to a crowd of about 1,000 supporters. Over the weekend the candidate has wined and dined in the summer playground of the East Coast's moneyed elite.

Hillary talks to press — then kicks them out. Hillary Clinton wanted the media — and Americans — to know what she thinks about the police, but she didn't want them to know what the police think about her policies. Clinton, who looked tired and had bags under her eyes, made a quick appearance before cameras in New York today to show the opening to her meeting with several police chiefs from around the country. After her statement, the media was promptly escorted from the room at John Jay College and prevented from covering the discussion.

CBS Alone Examines: 258 Days Since Last Clinton Press Conference. It's now been 258 days since Hillary Clinton last had a press conference. ABC and NBC on Thursday [8/18/2016] continued to yawn about this fact, but CBS This Morning actually raised the subject. Reporter Nancy Cordes also highlighted the fact that Tim Kaine previously slammed Bill Clinton for his affair with Monica Lewinsky. Focusing on Clinton's aversion to the press, Cordes reminded, "As Clinton counts down the days, her campaign strategy is to play it safe. She has not had an official conference in 258 days." She added, "Her last network interview was nearly three weeks ago where she got tripped up again answering questions about her e-mails."

Hillary Campaign Vows To Destroy Opposition Website. Democratic nominee Hillary Clinton's campaign has sent out a fundraising email arguing the website Breitbart News has no "right to exist," and suggests that if elected, the website will be shut down entirely. "We've had a conservative media in this country for a while," says the email, sent Thursday [8/18/2016] and signed by deputy communications director Christina Reynolds. "I don't always like what they have to say, but I respect their role and their right to exist Reynolds' acknowledgment that the regular conservative media has a "right to exist," though, is used to contrast it with Breitbart, which apparently has no such right.

Team Hillary Rattled: Keep Breitbart from 'Levers of Power!' The Hillary Clinton campaign continues to raise the alarm about Donald Trump's decision to hire Breitbart News executive chairman Stephen K. Bannon to his campaign, sending two fundraising appeals to her supporters in less than 24 hours. "Never heard of Breitbart News?" a fundraising email from Clinton's Deputy Communications Director Christina Reynolds writes. "It's a fringe website where there's no opinion too ugly, too divisive, or too outright crazy to be worth breathless promotion." The email tries to smear Breitbart as being racist, anti-Semitic, bigoted, and promoting conspiracy theories.

Clinton, the inartful dodger. Democratic presidential nominee Hillary Clinton has given just a handful of press conferences since she began mererly hinting that she might run for president. A few news outlets point this out occasionally, but most let her get away with it. Meanwhile her rival, GOP nominee Donald Trump, has a reputation for being hostile toward the press because he blacklists organizations and certain reporters from his events and routinely calls out media bias. But as Politico noted last week, Clinton has been using Trump's treatment of the press as cover for her own avoidance.

Press Forbidden from Filming Hillary Boarding Private Plane. The press was forbidden from filming Hillary Clinton boarding her private plane, said an ABC reporter covering the leading Democratic candidate. "Clinton staff won't allow press to film HRC boarding her charter. We must get on our plan before she gets out of car," Liz Kreutz wrote on Twitter.

Here are the 7 questions reporters asked Clinton at her first 'press conference' in 245 days. Hillary Clinton agreed to participate in a so-called press conference Friday afternoon following her prepared remarks before the National Association of Black Journalists and the National Association of Hispanic Journalists convention in Washington, D.C. The Democratic presidential candidate has been criticized recently over how long it has been since she last participated in an unscripted back-and-forth with reporters. In fact, the Washington Post even launched an online widget to track how many days it has been (the answer is 245) since Clinton's last press conference.

Woman Who Holds No Press Conferences Wants Press To "Hold Me Accountable". This is a woman who hasn't had a press conference yet this year, though her people quibble with that, saying that fielding questions from a whopping two journalists serving as moderators at the above even counted as a press conference. Of course, she sorta takes questions, mostly from friendly journalists, here and there, and in one on one interviews with, again, mostly friendly journalists. But, being held accountable? If she wanted to be held accountable, she'd step down as the Dem Party presidential candidate.

Just like antimatter, there is such a thing as anti-astroturf:
Anti-Trump forces in Maine try to suppress attendance at rally. Some liberal Maine residents are trying to ensure empty seats at a Donald Trump rally in Portland Thursday [8/4/2016] by registering for tickets online without any intention of attending the event. Chris Schorr, a Portland resident, is urging Trump opponents to obtain tickets from the campaign's web site "to keep attendance low, and also to show Trump that his disgusting brand of bigoted and ignorant politics has no place in Portland or in Maine."

No Whites Allowed, Clinton Speaks To Press For First Time In 260 Days. Democratic nominee Hillary Clinton will finally speak in front of members of the press Friday [8/5/2016], but only to black and latino journalists. Clinton is set to speak Friday in front of the a conference between the National Association of Black Journalists and the National Association of Hispanic Journalists at the Washington Marriott in Washington, DC.

Leaked Emails: Politico's Ken Vogel Filed Story with DNC Before His Own Editors. A release of Democratic National Committee emails from WikiLeaks shows Politico reporter Ken Vogel sent a pre-publication negative copy of a story April 30 to the DNC's deputy communications director, so he and other staffers at the DNC along with Hillary Clinton campaign could coordinate a response. "Vogel gave me his story ahead of time/before it goes to his editors as long as I didn't share it. Let me know if you see anything that's missing and I'll push back," wrote Mark Paustenbach in an email to his boss, Luis Miranda, who before taking over communications for the DNC worked for President Barak Obama's White House outreach to Latinos, as well as other campaigns, including the Democratic 2000 recount operation in Florida.

Finally, proof that Hillary runs the media. Julian Assange leaked emails that show Hillary Clinton's campaign coordinated with the press to launch a covert attack on Bernie Sanders. We finally have proof that many political reporters are — as Glenn Reynolds put it — Democratic operatives with bylines. They are doing this against Trump, of this you can be sure.

Wikileaks Release Shows DNC Colluding With CBS News, Wording Poll Data Against Bernie Sanders. Earlier today [7/22/2016] WikiLeaks released more documents showing how the Democrat National Committee (DNC) specifically worked to destroy the candidacy of Bernie Sanders in a united effort with the media to support Hillary Clinton. The revelations within the release are quite astounding, and unfortunately confirm all the prior suspicions of the Bernie Sanders supporters about the democrat party apparatus working with the Clinton campaign to eliminate the threat posed by Senator Sanders.

Leaked Emails Show DNC Chair Told Chuck Todd Negative Coverage 'Must Stop'. Part of the cache of emails from top DNC officials reveals that DNC Chairwoman Debbie Wasserman Schultz took issue with the negative coverage coming from MSNBC's Mika Brzezinski, going so far as to email NBC's Chuck Todd to tell the anchor that it "must stop." The email was sent on May 18 to Todd with the subject "Chuck, this must stop." In the email, Wasserman Schultz forwards Todd an article from Breitbart's Ian Hanchett glossing the criticism Wasserman Schultz had received from the Morning Joe co-host. Brzenzinski is quoted as saying that Wasserman Schultz "should step down" over her poor handling of the Democratic primary.

MSNBC: Clinton Still Avoiding Rope Line Reporters After Email Report. MSNBC's Kasie Hunt said she and other reporters tried and failed, again, to speak to Hillary Clinton on the rope line Wednesday [7/6/2016] in the wake of the political firestorm surrounding the FBI report on her private email use. Hunt said that Clinton made a "calculated decision" to only respond to a voter who shouted at her into the crowd in Atlantic City, New Jersey, while avoiding reporters after her speech criticizing Donald Trump's business practices. Hunt said this was due to FBI Director James Comey's statement about her email scandal on Tuesday. Comey did not recommend charges but slammed her conduct as "extremely careless" with classified material.

Clinton campaign tracked reporters to shield her from tough questions. Hillary Clinton's campaign "secretly tracked" aggressive reporters to make sure they didn't get a chance to ask tough questions, according to emails leaked today by Guccifer 2.0. The hacker claims to have broken into email accounts of Clinton campaign staffers, according to the Smoking Gun, which first reported the story. The emails show the Clinton campaign went into full defense mode in February to prevent reporters from getting near Clinton, her daughter, Chelsea, and hubby, Bill, at a Las Vegas rally.

More Than 200 Days Since Last Hillary Clinton News Conference. Presumptive Democrat nominee Hillary Clinton has gone 200 days and counting without giving a press conference as of Tuesday — the same day she delivered a speech criticizing presumptive Republican nominee Donald Trump's ability to handle the U.S. economy.

Emails: Clinton staff reviewed remarks, questions for events. For Hillary Clinton, the presidential campaign has been about building an approachable image: She's often eschewed big arenas in favor of town halls, peppered her ads with personal stories and planned less-scripted gatherings with voters.

The Clinton camp is obsessed with scripting every moment. Forget all those reports about Hillary Clinton's managers letting her get spontaneous. She's as carefully scripted as ever. And her aides are determined to keep it that way. E-mails obtained by the Associated Press disclose that in the runup to her appearances — especially on college campuses, a reservoir of support for rival Bernie Sanders — Team Clinton left nothing to chance. Her image-control gurus "offered" to ghostwrite the precise introduction for her, and to script questions for the audience that — surprise, surprise — neatly dovetailed with her key talking points. Like this one for the president of Greenville Technical College in South Carolina: "We have a number of students who have a financial need — what do we do to make college affordable?"

Emails Reveal Clinton School Appearances Are Totally Scripted, Controlled. Hillary Clinton demanded control of most aspects of her school appearances, including introductory speeches, questions, and details as small as what type of glassware would be available, campaign emails show. The Democratic presidential candidate's campaign attempted to control introductory speeches and other details, according to emails between Clinton's campaign and public schools and colleges in South Carolina obtained by The Associated Press and published Thursday [6/2/2016].

Did Hillary Use an Actor During Her Memorial Day Charade? Now this is even low for the Clintons: using an actor during a Memorial Day parade to make it look like she has military supporters! Check it out: The uniform is jacked. The ribbons and medals are wrong. The cover is tilted and last but not least, we are not allowed to wear our uniform to any political event in support of a candidate!

Hillary Clinton yet to hold single press conference in 2016. Hillary Clinton is 0-for-2016, having failed to hold any full press conferences this year — fueling the perception that she is the most guarded major candidate in recent political history, in stark contrast with presumptive Republican presidential nominee Donald Trump. Mr. Trump has held at least four full, formal press conferences this year, including one Tuesday [5/31/2016], and has fielded questions at length from the flock of reporters covering his campaign on numerous occasions. Mrs. Clinton took questions from the press traveling with her campaign once, in Minnesota in March, but hasn't held an organized press conference in six months.

Clinton Uses Noise Machine to Keep Journalists From Hearing Speech. When Hillary Clinton spoke at a fundraiser in Denver Thursday [4/7/2016], she apparently went to the unusual step of employing a static noise machine to prevent journalists outside from being able to hear her. Stan Bush, a reporter for local CBS affiliate KCNC, first drew attention to Clinton's use of the machine on Twitter.

116 Days: For the Clinton Campaign Press Corps, Formal Press Conferences Are a Foreign Concept. 116. That's the number of days since Hillary Clinton has held a formal press conference. [...] Mrs. Clinton did take questions in what can best be described as a pseudo-presser 28 days ago (March 1) at a coffee shop in Minnesota, but the session only consisted of a handful of questions and was relatively brief overall. Some may count that as a presser (or gaggle), but without a podium and at least five minutes of Q&A, it's not what one could tout as an official press conference.

Audience Member at Dem Town Hall Appears to Admit CNN Wrote His Question. One audience member named Brett Rosenberg began to ask a question to Democratic frontrunner Hillary Clinton but initially misspoke. "Secretary Sanders ... Clinton ... Sorry," Rosenberg began. "That's okay," Clinton responded. The audience laughed at the mistake while Rosenberg said with an embarrassed smile, "I can see why they gave you this question. I just wanted to know which of our previous presidents has inspired you most and why." Rosenberg's comment appeared to suggest that his question was prepared by someone else and fed to him to ask rather than his own original question. CNN and the Democratic Iowa Party were the two organizations directly involved with holding and organizing the event.

Israel's Iranian attack plan leaked to reporter by Hillary Clinton: Watchdog. The news coverage regarding the use by presidential hopeful Hillary Clinton of a non-government email system complete with private Internet server has placed other allegations of malfeasance or unlawful behavior by Clinton and her aides in the backseat of the campaign's "Scooby Doo" van, according to a former intelligence official with a specialization in Islamic terrorist groups, Lloyd Victor McKeller. Allegations that Mrs. Clinton, as Secretary of State, leaked classified data to one of her news media sycophants was ignored, while others who have done far less are sitting in jail cells.

What Was a Member of Clinton's 'Secret Spy Network' Doing While Working for CBS News? In March, an investigation by ProPublica and Gawker revealed that a "secret spy network" that was not on the State Department payroll, run by longtime Clinton aide Sidney Blumenthal, was "funneling intelligence about the crisis in Libya directly to the Secretary of State's private account starting before the Benghazi attack." Now the Weekly Standard has learned that Tyler Drumheller, the former chief of the CIA's clandestine service in Europe who was working directly with Blumenthal as a member of Clinton's spy network, was concurrently working as a consultant to CBS News and its venerable news program 60 Minutes.

Hillary's Weapon of Mass Distraction. Last week, Hillary Clinton broke her silence on the Keystone XL pipeline and announced — to little surprise — her opposition. Dusting her fingers with her favorite rhetorical rosin, she described the pipeline as a "distraction from important work we have to do on climate change ... one that interferes with our ability to move forward with all the other issues." Was the pipeline the distraction? Or was the distraction the press corps' insistence, after five years of Clinton waffling, that Clinton express a conclusive position on the pipeline's future? Either way, by invoking the D-word, Madame Secretary swept the entire issue from the agenda. It's time now to move forward!

NPR: Hillary Timed Keystone Announcement to Pope's Visit. It would appear that Hillary Clinton's act is wearing thin even among the people at that liberal bastion known as NPR. Tuesday afternoon [9/22/2015], the headline at an NPR story about Mrs. Clinton's sudden decision to publicly announce her opposition to the Keystone XL Pipeline project indicated that her announcement was deliberately timed to coincide with Pope Francis's visit to the United States.

After Clinton Cronies Complain, Big Shakeup at NYTimes. Ever since the start of the campaign, Hillary Clinton boosters have been complaining about coverage of their candidate in the New York Times. And today [9/8/2015] the paper announced that Washington bureau chief Carolyn Ryan is being demoted — or shifting roles! — at the paper. [...] Hillary boosters are publicly connecting what they see as bad coverage with Ryan's new role at the paper.

Just in case you thought Hillary might be indicted, Obama spent the weekend socializing with her and Bill. Not just socializing, I should note, but socializing in public, an implicit reminder to the DOJ and intelligence community that Hillary Clinton's prospects are important to him and his party. When was the last time the subject of an FBI investigation that's on the front page of newspapers across the country got to party with the president the same week?

CNN's Stelter: Media Not Complaining About Hillary's 'Press Access'. On Sunday's [8/2/2015] Reliable Sources, CNN's Brian Stelter told Jennifer Palmieri, Hillary Clinton's communications director, that "there have not been that many complaints about press access with your media, as opposed to prior Clinton campaigns." Stelter seemed to ignore Clinton's actual limited press, including her infamous moving rope line to separate herself from the media, and did his best to paint a rosy relationship between the Democratic frontrunner and the national media covering her.

Cahoots:
Email Reveals Hillary Clinton Was Fed Questions Before Meet the Press Appearance. One of the private Hillary Clinton emails released Friday [7/31/2015] reveals that an NBC source was leaking possible questions to the then-Secretary of State's staff ahead of an appearance on Meet the Press. In an July 2009 email with the subject line "heads up," Clinton staffer Lissa Muscatine wrote, "You probably already know this, but I just heard from a friend who is wired at Meet the Press that David Gregory will ask you about David Maziar, the Newsweek journalist arrested in Iran."

New Hillary Emails: Media, Congress Fed Her Questions. A great deal of the communication contained in the latest batch of Clinton emails released to the public consists of sycophantic throne-sniffers at the State Department and White House competing with each other to see who can compliment Her Regal Majesty the most. But now we've got examples of people actively helping her stage public appearances — including, to no one's surprise, the media. Mediaite reports that one of the new emails shows a source within NBC News leaking Hillary questions in advance of a Meet the Press appearance: [...]

Hillary Clinton Gives Climate Policy Speech In Empty Room With No Audience. Reading the Associated Press report of Hillary Clinton in Des Moines today you might think she outlined a policy speech on alternate energy to an interested Iowa audience. [...] But what the media didn't report, is the room for her speech was devoid of actual supporters, or the public, or, well, people.

Hillary Clinton's Worst Fears Are Coming True. [Scroll down] The New York Times had revealed [7/23/2015] that two independent inspectors general requested that the Justice Department open a criminal investigation into Hillary Clinton for possibly jeopardizing national security by handling classified information on her personal "homebrew" email server. By morning, however, the Times story had been edited several times. Struck from the account was the contention that Clinton had "mishandled sensitive government information" and in its place was the claim that "information was mishandled" by... someone. The lead reporter on that story confessed that the alterations were made at the Clinton campaign's "reasonable" request.

New York Times Edits Clinton Email Story At Her Request. The New York Times altered its story about two inspectors general calling for an investigation into whether Democratic Party front-runner Hillary Clinton mishandled classified information on her secret private email server. The change to the lede paragraph came at the request of the Clinton campaign, Politico reports. "It was a response to complaints we received from the Clinton camp that we thought were reasonable, and we made them," Times reporter Michael Schmidt said, according to Politico.

New York Times alters Clinton email story. The New York Times made small but significant changes to an exclusive report about a potential criminal investigation into Hillary Clinton's State Department email account late Thursday night [7/23/2015], but provided no notification of or explanation for of the changes. The paper initially reported that two inspectors general have asked the Justice Department to open a criminal investigation "into whether Hillary Rodham Clinton mishandled sensitive government information on a private email account she used as secretary of state."

NY Times changes story about criminal inquiry into Hillary Clinton emails. How much pull does Hillary Clinton have with the press? Politico's Dylan Byers noticed a subtle but monumental change to an article in the New York Times this morning [7/24/2015] that altered the thrust of the piece. The State Department's inspector general is requesting a criminal investigation into Hillary Clinton's outside email accounts because he suspects that hundreds of classified documents were stored on the server. Without explanation or notice, the Times changed the focus of the article.

Keywords: control freak, paranoid, micromanaging.
Hillary Forbids Young Supporters from Talking to Press. "Here's what struck me," said Susan Page of USA Today, "when I read the coverage in the Des Moines Register this morning [7/18/2015]. Jennifer Jacobs, who's been on your show, was covering this last night. Big demonstrations outside of young people for O'Malley and Hillary Clinton. She went up to the Clinton supporters — these are protesters for Clinton — and they were told they were not allowed to [speak to] a reporter." Page continued, "Now, why in the world would the campaign tell their own supporters who came out to campaign in favor Hillary Clinton ... these are the young people, college kids, for Hillary, and they've been told they can't talk to reporters. Why in the world would you do that?

Donald Trump and Hillary Clinton are experts at manipulating the media. Besides the fact that they are both running for president in 2016, what do Donald Trump and Hillary Clinton have in common? They both play the media like a fiddle. They use the mainstream media in the same way: They say something outrageous, whether it's an outright lie or a provocative statement, then wait for the media to come after them.

RopeGate: Vintage Video Emerges of Clintons Corralling Press in 1992. A video posted to YouTube Tuesday shows Bill and Hillary Clinton during the 1992 presidential campaign walking down a city street as aides corralled the press with ropes. The 29-second video shows them roping off reporters like cattle — something many pundits have said Republicans could never get away with.

Clinton Campaign Shuts Out Reporters in NH. Another day, another acrimonious interaction between the Clinton campaign and the press. On Monday [6/15/2015], as Hillary Clinton swung through New Hampshire, her staffers denied the designated print-pool reporter for the day, a man whose coverage has proven bothersome to the Clinton campaign, access to a breakfast event in Manchester. They then turned away journalists from a community meeting in Rochester, telling them to consult the pool report instead.

Why would she announce her candidacy and then go into hiding?
Hillary Hides from Media, Voters for First Month of Campaign. It's been a month since Hillary Clinton officially announced that she was running for president. On April 12, Hillary launched her presidential campaign by releasing a video — and then going into hiding as she road-tripped half-way across the country. And since then, Hillary has kept on hiding from the press — and the voters. The Democratic presidential candidate hasn't done a substantive interview since entering the presidential race. She hasn't held a press conference. She hasn't done an open campaign rally, either.

Hillary Clinton hasn't answered a question from the media in 20 days. Welcome to day 29 of the Hillary Clinton 2016 presidential campaign! In those 29 days — including April 12, the day she announced, and today — Clinton has taken a total of eight questions from the press. That breaks out to roughly one question every 3.6 days. Of late, she's taken even fewer questions than that.

Hillary Campaign Handpicks Reporters For Rare Press Conference. Democratic presidential candidate Hillary Clinton held a rare press conference Monday but only took questions from reporters selected by Clinton campaign communications director Nick Merrill.

Obama-Redux: Clinton Camp Denies Event Access to Pool Reporter. The Daily Mail's David Martosko is today's [6/15/2015] assigned print pool reporter for the Hillary Clinton campaign. Nevertheless, in keeping with the Obama White House's shoddy treatment of the media, the campaign refused to allow Martosko access to the event Ms. Clinton is holding in New Hampshire. The campaign claims, quite ridiculously, that Martsoko has not been approved by the campaign, and they just needed a day or so to make a decision. Rather than let Martsoko attend the event while the campaign sorted things out and made up its mind, he wasn't allowed in.

Hillary Clinton campaign denies access to DailyMail.com political editor as Monday's pool reporter in New Hampshire. The Clinton campaign denied access to the designated print pool reporter in New Hampshire this morning. David Martosko of DailyMail.com was told by Hillary for New Hampshire staffer Meredith Thatcher that he was not approved for Monday's pooled events. When Martosko asked Thatcher to phone her boss, Harrell Kirstein, he was again told that he had not been approved by the campaign.

One small way in which Hillary Clinton is running like she's already president. The normal way for a campaign to work, certainly at this early stage of the campaign, would be for the candidate to come out and say, "I'm going to take some questions" and then take some questions. While a press aide would likely be standing nearby, there would be no middleman, and no list of reporters who would and would not be allowed to ask a question. Even the President of the United States, who does work off a list at formal news conferences, calls on reporters himself, without an aide standing beside him to announce who will be allowed to speak.

Clinton Camp Tells Ed Henry He Didn't Get to Ask Hillary a Question Because He Asked Her One Last Month. Fox News correspondent Ed Henry revealed Tuesday [6/16/2015] why he wasn't able to ask Hillary Clinton a question at her press conference on Monday, where his visible frustration was reported by the Washington Free Beacon. According to Henry, Clinton's press secretary told him that he had already gotten to ask Clinton a question in Iowa, referring to Henry asking the candidate if she would ever acknowledge the press. Henry pointed out that on May 19 he did not get to ask a legitimate policy question but merely inquired whether reporters would get the opportunity to do so.

An Inside Look at How Hillary Clinton Plays the Media. On Tuesday night [6/30/2015], the State Department released some 3,000 pages of emails between Hillary Clinton and her aides during her tenure as secretary of state. The correspondence offers a fascinating behind-the-scenes view of American diplomacy in action, as well as the former first lady's fashion choices. But some of the more intriguing exchanges involved the media — how her team sought to shape the news, the journalists they considered receptive to their message, and the close degree to which Clinton monitored how she was covered.

Halperin Condones Human Herding, Defends Clinton Campaign Roping Off Reporters. Mark Halperin came on the side of child leashing and human herding on Monday [7/6/2015], as the With All Due Respect co-host attempted to explain away a hostile incident between the Clinton campaign and the media. Clinton campaign aides in New Hampshire corralled reporters with rope, forcing them to embarrassingly walk through a Fourth of July parade in a makeshift pen. Pictures of reporters behind the rope went viral over the weekend, drawing criticism from many. It was yet another self-inflicted mistake for the campaign that has a rough relationship with the press for its heavy-handed treatment of reporters. None of that mattered to Halperin, however.

Hillary ditches campaign strategy of not speaking to journalists as her poll ratings sag. Hillary Clinton plans to give America the chance to 'see more of her' by increasing her interactions with the press, her campaign says. She'll finally sit for interviews with the national media and will take more questions from press on a day-to-day basis at the urging of her top advisers and husband, Bill, Fox News' Howard Kurtz reports. She'll grant her first national interview to CNN's Brianna Keilar tomorrow while in Iowa City, to air at a yet to be announced time.

Hillary spokesman: We roped off the media like animals to keep her parade appearance from becoming "chaotic". Via the [Washington] Examiner, count me in with John Nolte and Sean Davis in wondering why this grand humiliation is being treated as a Hillary scandal instead of a media scandal. [...] This was one of the lowest stakes appearances she'll make as a candidate, in fact, something that could have been boycotted by the press with no risk of missing out on a newsworthy comment. Instead they submitted to this — for B-roll of her walking and waving. Why?

5 Reasons Our Lapdog Media Agreed To Hillary's Leash. Of all days, on the 4th of July, the anniversary of our nation's founding through the audacious Declaration of Independence, like the stupid sheep they are, the American media agreed to be literally corralled and leashed by a powerful politician. From the fomenting of race riots to the fabricating of evidence against a working class Hispanic man to literally bowing before President Obama, these liars, cheats, cowards, frauds, propagandists, and servants to power who disguise themselves as journalists, have time and again proven they are impervious to shame, even if it means protecting their own personal dignity.

Hillary's email: Manipulating and massaging the media (Except Fox). For someone who keeps her distance from the media, Hillary Clinton and her team spend a lot of time working the media. That's my takeaway from the latest batch of her private e-mails — as well as utter amazement at how her pal Sid Blumenthal was so actively advising her, even after being barred from State Department employment by the Obama administration.

'The Worst Visual Metaphor': CNN Panel Blasts Hillary's Reporter Rope Line. CNN's "State of the Union" panel ripped former Secretary of State Hillary Clinton and her campaign Sunday [7/5/2015] one day after staffers corralled the press behind a rope as Clinton walked in a Fourth of July parade in New Hampshire. The panel consisting of CNN contributors S.E. Cupp and Van Jones, The Wall Street Journal's Carol Lee, and CNN political reporter Jeff Zeleny roasted Clinton's rope line, with Jones calling it "the worst visual metaphor" for her campaign.

Clinton uses two aides and a rope to lasso journalists away from her on Fourth of July parade. As Hillary Clinton walked freely down a New Hampshire road, she shook hands and greeted residents with a smile. But the members of the press accompanying her were a bit more restricted in their movements — as they were guided through the streets with a rope. The former Secretary of State's campaign staff kept reporters, cameramen and photographers at arm's length as she joined a July 4 parade in Gorham — fueling speculation she is trying to control the media.

Clinton campaign ropes off reporters at New Hampshire parade. Campaign aides for Democratic presidential frontrunner Hillary Clinton on Saturday [7/4/2015] roped off reporters from the candidate as she walked and talked with potential voters during a July Fourth parade in New Hampshire, sparking frustration from the press corps and outrage from the state Republican Party. "Hillary Clinton continues to demonstrate her obvious contempt and disdain for the Granite State's style of grassroots campaigning," New Hampshire Republican State Committee Chairman Jennifer Horn said in a statement. "The use of a rope line at a New Hampshire parade is a sad joke and insults the traditions of our first-in-the-nation primary."

Hillary Campaign's Press Pool Looks More Like a VIP Room. For much of April and May, Hillary Clinton limited her contact with the press to such a degree that outlets had to replace her 2016 presidential campaign's coverage with hypothetical questions and countdowns. Clinton has since started talking to the press again, if only to address the ongoing State Department email scandal, but another wrinkle has popped up — this time with the Clinton campaign's press pool. According to The Washington Post, the pool following Clinton along her campaign trail looks more like a VIP club, as it has developed a rather exclusionary practice at the expense of outlets who can't afford high travel costs.

Press gobbles up Hillary's spam campaign. The Clinton campaign is like a funhouse mirror version the Obama White House. Tightly controlled press access has become no press access. Opaque accountability has become concrete-thick secrecy. Augmenting traditional public interactions with, um, unconventional outreach has become a public persona that is just a Spam loaf of stagy interactions. With the help of a cadre of Obama insiders who pioneered the style, Hillary Clinton is on an expedition into the deep space of an airless, utterly contrived campaign. And guess what? It's working. She and her team are probably delighted in their ability to run for president without actually running and without having to play by the rules (again).

Clinton — 30 Days, 8 Press Questions; Fiorina — 8 Days, 322 Press Questions. Tuesday [5/12/2015] will mark exactly 30 days since Hillary Rodham Clinton launched her official presidential bid for the White House, yet she still hasn't done a formal sit down interview with national media, setting a record for the longest running presidential candidate without doing so following a campaign launch, as first reported by Breitbart News. Unlike Clinton, GOP presidential candidate Carly Fiorina has been on what CNN coined a "media blitz" introducing herself to voters.

Hillary Clinton Goes 24 Days Without Talking To Media. The fact that Hillary Clinton — the likely Democratic presidential nominee — hasn't addressed the controversy over her private email server and the fundraising controversy surrounding the Clinton Foundation in an interview or with the public seems to be causing the former Secretary of State to take a hit in the polls.

How long will her media allow Hillary Clinton to avoid questions? Clinton's skating smoothly so far because despite little gripes here and there, media members have largely gone along with the Clinton campaign's determination to protect the party's most likely presidential nominee from awkward questions, gaffes and hypocrisy charges. Planners do this by plopping her in front of hand-picked sympathizers to ask them questions that allow her to utter the day's themed policy platitudes, as cameras snap and roll.

Here Are All Seven Media Questions Hillary Clinton Has Answered During Her Campaign. When the press corps comically sprinted across an Iowa lawn in pursuit of Hillary Clinton's van, they weren't just hoping to catch a glimpse of the most-likely Democratic presidential nominee. They were hoping to ask Clinton questions, and — in the dream scenario — get an answer. Those answers, however, have been few and far between. Despite being bombarded with press questions at every chance, Clinton has only personally answered seven inquiries since formally launching her campaign April 12. Instead, she has spoken directly to voters in Iowa and New Hampshire, taking their questions in small-scale events.

Hillary Clinton Campaign Wines & Dines Media at Off-Record Dinners. ABC's George Stephanopoulos, MSNBC's Joe Scarborough, and a half-dozen reporters from CNN were reportedly among the media elites that attended an off-the-record New York dinner with Hillary Clinton's advisers on Friday evening [4/10/2015] ahead of her Sunday campaign announcement.

Clinton spokesman circulates pro-Foundation talking points. Hillary Clinton is not happy with the recent spate of stories questioning the Clinton Foundation's fund-raising activities. On Monday morning [3/2/2015], in an email sent to allies in the Clinton orbit, her spokesman Nick Merrill circulated some helpful talking points.




Hillary is interviewed (one time only) by CNN, July 6, 2015.
You may remember that CNN was once known as the Clinton News Network (during the Clintons' first two terms) because of its left-leaning favoritism.

Hillary's coming out speech. [Scroll down] Lest anyone think Hillary has changed her mind since 1993, it's now clear that she is competing with Bernie Sanders for the office of socialist-in-chief. Her speech at the New School for Social Research focused on the failings of capitalism. [...] Hillary hit all the right notes in her coming out speech on Monday, with appeals to working women, unions, illegal immigrants, the LGBT community, environmentalists, and other Democratic constituencies. But underneath it all was a tired old vision of Big Government coming to the rescue of helpless citizens victimized by the rich. That has been the orthodox progressive line in this country and elsewhere for over a century, and everywhere it has been tried it has failed.

Hillary Clinton Lied to CNN. And Everyone Else. During an interview this week with CNN, Hillary Clinton boldly claimed that her email scandal was no scandal at all. She flatly declared, "everything I did was permitted. There was no law. There was no regulation. There was nothing that did not give me the full authority to decide how I was going to communicate." Mrs. Clinton certainly operated at the State Department as if "there was no law," but she surely knows better. In fact, there is a lot of law, including criminal provisions, which governed her conduct. Here is a partial list: [...]

7 of the most blatant lies in Hillary's CNN interview. [#1] "People should and do trust me." [...] Fifty-three percent of American voters said Clinton is not honest and trustworthy in a May Quinnipiac poll. And in a May AP-GFK poll, nearly four in 10 Democrats and more than six in 10 independents said "honest" is not the best word to describe her. The likeliest contributors: the thousands of headlines generated from both her "home brew" civilian email server and from news of the Clinton Foundation's Rolodex of foreign donors.

Hillary has her own set of rules and facts. "People should and do trust me," Hillary Clinton remarked in her big CNN interview this week. That isn't true, of course — the last CNN poll showed that 57 percent of Americans find her to be neither honest nor trustworthy. To understand why people don't trust Clinton, one need only read or watch the full interview she gave. For example, Clinton was asked to talk about the controversy surrounding the exclusive use of her private email address and server for her work at the State Department. Her decision to do this without providing her work emails to State at least somewhat contemporaneously resulted in documents going missing from public freedom of information and congressional requests.

Did Vince Foster trust Hillary? Did Ron Brown trust Hillary?
CNN exclusive: Hillary Clinton: 'People should and do trust me'. In Hillary Clinton's first national interview of the 2016 race, she attacked her Republican rivals on immigration and dismissed the suggestion that the American people have a problem trusting her. "People should and do trust me," she told CNN's Brianna Keilar. She blamed the "barrage of attacks that are largely fomented by and coming from the right" for fueling a perception that trust is an area of vulnerability for her.

Hillary Clinton's train wreck of a CNN interview. Mrs. Clinton joined CNN Tuesday night for an interview that was stranger than fiction. In fact, I'm honestly not sure if the awkward conversation was meant to be self-parody or an earnest attempt at a prime time interview. The pants suit, the seemingly botoxed brow and resultant crazy eyes, and the passionate dedication to fibbery made for fascinating television.

Hillary Clinton v. Trey Gowdy. The war of words between Hillary Clinton and Trey Gowdy over her email practices is seriously heating up. Clinton allies and House Benghazi investigators are clashing over the 2016 presidential candidate's prime-time defense of her email practices, including claims to CNN she did nothing wrong — and had "no obligation" to hand over any correspondence.

Hillary Clinton caught in lie: Benghazi committee contradicts claim of no subpoena. Democratic presidential front-runner Hillary Rodham Clinton's credibility came under new assault on Wednesday [7/8/2015] when the Republican-led House special committee on Benghazi released its March 4 subpoena to refute the former secretary of state's claim that she was never subpoenaed to turn over email. Mrs. Clinton made the claim Tuesday [7/7/2015] in the first national TV interview of her three-month-old campaign. It was part of her uneven and at times uncomfortable performance answering questions in front of CNN's cameras.

Here Is the Benghazi Committee's Hillary Clinton Subpoena. House Republicans on Wednesday [7/8/2015] released the subpoena they issued in early March for emails from Hillary Clinton's private server, a day after Clinton said she had not been subpoenaed for the documents. Clinton said on CNN Tuesday that "I've never had a subpoena."

Gowdy counters Clinton claim she 'never had a subpoena,' reveals document. House Republicans investigating the 2012 attacks in Benghazi, Libya on Wednesday [7/8/2015] released a March subpoena issued to Democratic presidential candidate Hillary Rodham Clinton, one day after she said in a nationally televised interview that she "never had a subpoena" in the email controversy. Rep. Trey Gowdy, R-S.C., chairman of the Benghazi panel, said he had "no choice" but to make the subpoena public "in order to correct the inaccuracy" of Clinton's claim. Clinton told CNN on Monday that she "never had a subpoena," adding: "Everything I did was permitted by law and regulation."

Gowdy reveals subpoena Clinton claims she 'never had'. House Republicans investigating the 2012 attacks in Benghazi, Libya, on Wednesday [7/8/2015] released a March subpoena issued to Democratic presidential candidate Hillary Rodham Clinton, one day after she said in a nationally televised interview that she "never had a subpoena" in the email controversy. Rep. Trey Gowdy, R-S.C., chairman of the Benghazi panel, said he had "no choice" but to make the subpoena public "in order to correct the inaccuracy" of Clinton's claim. Clinton told CNN on Monday that she "never had a subpoena," adding: "Everything I did was permitted by law and regulation."

Three false statements Hillary made in her CNN interview. [#1] "I didn't have to turn over anything. I chose to turn over 55,000 pages" She's referring here to her work emails, which she managed to hide from at least one FOIA request (by Gawker) when she decided to conduct all of her State Department business on a private, unsecured email server. Her statement here — that she didn't have to turn anything over — is simply untrue, except in the sense that she literally could have broken federal records laws and deleted or withheld all of her work emails. It is doubtful that she'd want to admit she'd ever considered such a thing, but that's one way of reading her statement here.

Hillary Plays The Victim in CNN Interview. Any Clinton supporters who hoped that a New Hillary would emerge from Tuesday's [7/7/2015] televised grilling of the Democratic presidential frontrunner had to be brutally disillusioned. The Hillary Clinton who showed up for her 19-minute back and forth with CNN political correspondent Brianna Keilar — touted as Clinton's first one-on-one interview with a national reporter since she declared her candidacy three months ago — was the same Hillary Clinton the country has come to know over nearly a quarter century on the American political scene. Advertised by her associates as warm and funny in private, she came across as guarded, quibbling, and pokerfaced under the TV lights.

On CNN, Keilar Wrestles the Cloud Named Hillary Clinton. Conservatives on Twitter braced for the worst softball questions from CNN reporter Brianna Keilar. Some on the right recalled Keilar's past seemingly way-too-cheery coverage of Hillary's trip to Chipotle; on the other hand, Hillary's allies at Media Matters for America whined about Keilar's past statement that "Clinton is 'without major achievements'" and that she "has struggled to clearly articulate concrete examples of her success." Today's interview is about what we should expect from Keilar; nowhere near as bad as conservatives feared, but also nowhere as tough as they wanted to see.

Trust me, 'everything I did was permitted,' storms Hillary as she finally gives a campaign interview. Hillary Clinton tersely defended her use of a private email address and secret home server today during her first national interview of the 2016 presidential campaign, declaring, 'Everything I did was permitted.' [...] She wouldn't talk about the allegations involving her family foundation, now ran by her daughter Chelsea and husband Bill, contending that she worked there for a short year and a half.

CNN Reporter to Interview Hillary Just Attended Aide's Wedding. CNN's Brianna Keilar will be interviewing Hillary Clinton this week. It's Clinton's first big national interview since jumping in the presidential race. Interestingly, Keilar recently attended the wedding of an aide to Hillary Clinton.




Older examples of media bias in the Clintons' favor
Bill and Hillary succeed only because of the friendly, very sympathetic and malleable "mainstream" news media.


Liberal Media is Hillary's Secret Weapon. Hillary's Clinton's secret weapon to win the 2008 election isn't her former president husband. It's the liberal media, according to L. Brent Bozell, III, president of the Media Research Center. Bozell and Tim Graham, MRC's director of media analysis, document how Clinton enjoys "unprecedented media favoritism" in their new book Whitewash. Bozell and Graham say the "establishment" media makes no secret of actively supporting Clinton's political ambitions with favorable articles, interviews and news reports.

Hillary puff pieces on ET. Liberal advocates of the "Fairness Doctrine" seem unconcerned that the Hollywood gossip TV show Entertainment Tonight has featured puff pieces every day this week on Hillary Clinton. These essentially represent highly-produced three-minute campaign ads distributed nationally for free — perhaps in an effort to counter Oprah Winfrey's endorsement of Barak Obama. Similar puff-pieces on the other presidential candidates are apparently not on offer.

Bill Clinton Remembered. As the incessant march for the 2008 Democratic presidential nomination continues, probably the most entertaining aspect is watching the mainstream media take sides. And although many of their liberal icons — most notably Ted Kennedy and Pat Leahy — are endorsing Barack Obama, Hillary is still the subject of loving puff-pieces like this one from ABC News: "Is Clinton Scrutinized About Her Looks Too Much?"

Why Shuster Was Sacrificed: Last week, MSNBC suspended David Shuster for saying, "Doesn't it seem as if Chelsea [Clinton] is sort of being pimped out in some weird sort of way?" A search through MSNBC's archives quickly uncovered a glaring double standard: Last September, MSNBC host Keith Olbermann accused President Bush of "pimping General David Petraeus." It's the same analogy — these days, the word "pimping" is slang, meaning to use in an unseemly way.

Here is a long list of questions the press should be asking.
Tough Questions for Hillary Clinton: In the 1990s, the Clinton administration furiously denied the suggestion you were a "co-president." Now you routinely suggest your tenure as first lady was presidential experience. So which was it? And why should your tenure in the Clinton administration count when the one thing you ran — health-care reform — failed miserably without a vote in Congress?

Hillary Clinton's Party Plane: The life of a political reporter on the campaign trail is not exactly an enviable one: The combination of bad local cuisine, a lack of exercise, and sleep deprivation do not a healthy lifestyle make. Which is why the Hillary Clinton campaign decided to treat the 75 hard-working journos who made the midnight flight on the Clinton press plane from Des Moines to Manchester, New Hampshire, to a boozy sendoff.

Hillary Clinton's 'Guidance' for the Media: The Clinton political machine is nothing if not formidable. When annoying tidbits inadvertently surface in the mainstream press, the political hammer comes down. MSNBC is simply not allowed to criticize Democrats and especially not Hillary.

Happy Birthday, Monicagate! The only reason I mark Hillary a "possible" winner is that Monicagate is the last thing she wants to hear about, especially now. Which probably helps explain why its anniversary has gone ignored in the press. The whole subject is a source-killer for any journalist who wants to cover Hillary's presidential campaign.

Hillary '08: Already Snared in Her Own Tangled Web. While conservatives have been talking about this tangled web of Democrat lies for years, the lamestream press has nearly broken its collective neck trying to look the other way and ignore the very real set of events that lead our nation to depose the Hussein regime, namely, 12 years of failed diplomacy and 16 ignored UN resolutions under her husbands watch, which ended with four years of no inspections at all and little current data concerning Iraq's real WMD status.

Mrs. Clinton's 'experience': What plausible claim does Miss Hillary have to experience in managing a national economy, balancing a budget or fixing income inequality? … Is the national media actually going to accept without even a murmur of skepticism Mrs. Clinton's claim to possess all the experience gained by her husband as president? If Mr. Obama (or for that matter any other candidate in either party) were to claim such experience, a reporter might well ask him on what basis he claims such experience.

Hillary Tale: The upcoming elections in [Pakistan] are for the next parliament; Musharraf was re-elected president for another five-year term in October. That might be forgiven as a momentary lapse, except that last Sunday, speaking to ABC, Hillary did it again — more explicitly — contending that Musharraf "could be the only person on the ballot." Of course, neither CNN's Wolf Blitzer nor ABC's George Stephanopoulos jumped on this while interviewing her. Nor did anyone in the establishment media mention the gaffe in the following days.

The Baggage Hillary Bears: When you Google the phrase "unconstitutional third term," you get references to a rogue's gallery of strongman leaders — Vladimir Putin, Alberto Fujimori, Olusegun Obasanjo, Islam Karimov, Hugo Chávez — who in recent years at least have flirted with the idea of holding on to power beyond statutory limits. Now the name Bill Clinton pops up, too.

The Media Love the Clintons. Few will be shocked by Professor [Carole] Simpson's coming-out party — or by the Clinton campaign's ready embrace of this self-important liberal activist who has masqueraded as a fair and objective journalist for more than two decades. The only real surprise is that Simpson and her Serious Professional Journalism colleagues bother to keep up the pretense of neutrality and perform their media ethics kabuki theater.

Hillary's No Moral Conservative. To describe Hillary Clinton as a "moral conservative" is so upside down and backward it sounds like "This is your brain on drugs." That's what Time reporter Amy Sullivan announced on Tucker Carlson's show on MSNBC. She suggested Clinton might be "fairly liberal" on economic issues, "but she's a moral conservative." Sullivan was once an aide to Sen. Tom Daschle. In Clinton, Sullivan has allegedly found an authentic Christian conservative's role model.

Media Avoid Linking Democratic Party With NJ Scandals. New Jersey = Corruption. That is the conclusion when reading news stories about the latest round of criminal charges involving public officials in the Garden State, according to political scientists and media analysts. However, the political scandals that continue to beset New Jersey have not translated into negative press coverage for the Democratic Party, which has been disproportionately affected by the corruption charges and arrests.

How Hillary Avoids Media Scrutiny: Reporters have learned not to approach Sen. Clinton in the halls of the Capitol. Experienced journalists have found that she answers nearly all on-the-spot questions with a variation of "I don't know" — a safe answer for her that renders the interviews useless, and prevents coverage of her views on any issues on which she has not sought coverage. After a vote she breezes past reporters to a car waiting outside, avoiding any interviews.

The New Clinton Propaganda Machine: [Scroll down] The Clintons learned the importance of knowing how to take a punch, but more essentially, they learned how to change the subject and how to selectively use the White House megaphone to drown out negative stories. Clinton chucked mini-initiatives into the media air, where they worked like chaff to flummox the news radar of the press corps. He and his spokesmen stayed on message to control the agenda, sidetracking unwanted questions with quick, disdainful responses.

More on the Clinton Propaganda Machine: For reporters, the key to derailing the Clinton propaganda machine is to thrust a stick into its spokes the first chance you get. Hillary — much more so than Bill — is an automaton on the campaign trail, and disrupting her stay-on-message rhythms will cause her machine to topple and crash.

Hillary Clinton's war room aims to be faster, tougher than husband's famous one. Bill Clinton's war room was famous, the subject of a documentary showing how the 1992 Clinton team never let a news cycle pass without responding to charges. With the 24-hour news cycle of today, however, Hillary Clinton's campaign team aims at not allowing the hour to pass without a response to criticism.

Hillary criticized for press strategy. When Sen. Hillary Rodham Clinton wants to get a message out, her presidential campaign handpicks news outlets. Or, in some cases, bypasses the media entirely. … The strategy allows Mrs. Clinton — who rarely holds press availabilities — to avoid taking questions from reporters who cover her campaign and who might have detailed follow-up queries to her carefully planned policy announcements.

Likely voters concerned about corruption if Hillary elected president. Judicial Watch president Tom Fitton … believes the Clintons will do whatever it takes to keep scandal news out of the headlines. "It's going to be a battle," he says, "because the Clintons are going to try to destroy anyone who raises these issues. They've already said Bill Clinton's personal life — for instance — is off limits, which means that everything he did during [his] presidency is off limits."

What's Not to Like: Mrs. Clinton's most effective means of communication is not the debate stage, the sit-down interview or the podium, where her speeches are both tinny and hectoring. Her most effective area is in short campaign videos.

Hillary's Lap Dogs: When Don Imus was fired … a great deal of attention was focused, appropriately, on the influence of Jesse Jackson and Al Sharpton, each of whom expressed outrage over the broadcaster's racial insensitivity and demanded that he be fired. The real guiding hand over Imus' downfall, however, belonged neither to Sharpton nor Jackson, but to Hillary Rodham Clinton.

Clinton hits turbulence. Sen. Hillary Rodham Clinton (D-N.Y.) last week flew into a sudden burst of media wind shear. After months of mostly rosy portrayals of her campaign's political skill, discipline and inevitability, the storyline shifted abruptly to evasive answers, shady connections and a laugh that sounded like it was programmed by computer. … A convergence of factors is now putting emphasis on the supposedly "Old Hillary": Someone who is ruthless in self-advancement, who may get tripped in the end by her and her husband's overreaching.

Online Slime Machine Media Matters Co-Founded by Hillary Clinton. I want to talk about an online slime machine known as Media Matters for America. It is a tax-exempt organization which states its purpose as countering conservatives in the media. … Media Matters was started in offices provided by the Center for American Progress, a Soros-funded operation. It has since received Soros money.

Hillary Slaps Iowa Voter. Whether this incident does any damage to the well-oiled Clinton machine remains to be seen. But one thing it does make clear is that no matter how scripted Hillary is, over the course of a long campaign, she will not be able to mask her contempt for average Americans who dare to challenge her.

The Editor says...
Here is the same story, candy-coated by MSNBC to remove any negative reflection on Mrs. Clinton:

Clinton Gets Snippy With Iowan Over Iran.

Beware Hillary's 'Whitewash'. How is it that the wife of an impeached president, the policy architect of a 1300-page left-wing health-care fiasco, and the document-shredding stonewaller of a welter of scandals can turn her controversial career and bizarre First Marriage into assets, and not liabilities? How is it that Team Clinton, disgraced and disgraceful, is back for another presidential run? Credit the national "news" media.

Queen Hillary's disruptive court. The mainstream media have been in a breathless tizzy about how Hillary Clinton waffled, tripped, stumbled or generally screwed up at the Democratic debate in Philadelphia two weeks ago. But Hillary's performance at prior debates was never as deft or "flawless" as the media claimed in the first place.

Questions about Carville and CNN. There are very few political analysts more closely associated with the Clintons than James Carville, who was a key adviser to Mr. Clinton in the 1992 campaign. So it's no surprise that Mr. Carville's appearance on a round table after last night's CNN-sponsored Democratic debate is arousing some morning-after controversy. "Would it kill CNN to disclose that James Carville is a partisan Clinton supporter when talking about the presidential race?" wrote Daily Kos.

Wolf Blitzer is No Tim Russert. Judging by the reaction to Thursday night's CNN debate, everything seems to be falling into place for Senator Hillary Rodham Clinton's campaign for president. After flirting with subjecting her to some scrutiny, the media seem to be coming to the conclusion that her nomination as the Democratic presidential candidate is inevitable.

Ugly Clinton Rising. If Hillary Clinton becomes president — get ready for everything we hated about our government to come springing back to life. CNN's Wolf Blitzer's less than robustly honest form of debate engineering reminded us of the old idea that when it came to being bought and sold in favor of the Clinton's — CNN's brand was head and shoulders above the crowd.

Just Like Real Leadership: The Clinton 'Hostage Crisis'. My late mother-in-law used to say of anything that tasted good to her," It's just like from the can." It made us all laugh, but she was seriously unable to distinguish between good food and pap. Frankly, that's what I think of the efforts by AP, Larry Sabato and others to suggest that Hillary's role in Friday's hostage crisis reveals she is a leader.

The Clintons Play Dirty – And The Media Lets Them. Sen. Clinton appeared on NBC's Today Show and talked about the choice that voters were faced with in New Hampshire. She said the following: "When they say to themselves, OK, I have a choice between a truly inspirational speaker (Obama) who has not done the kind of spade work with the sort of experience that another candidate has…" … Consider for a moment what would happen to a Republican candidate if he used the word "spade" in any way, shape or form while referring to a black opponent.

Closed Broders: Suddenly the mainstream and conservative media press critics are in agreement — and not just about the shoddy journalism at the New York Times. Now that they suspect Hillary Clinton is going down for the count, they feel emboldened to say it: she is not very nice and neither is her staff. … We are entering the general election and it would be nice to think that the media, having thrown Clinton under the bus, will now begin an exhaustive and probing appraisal of Obama's record.

The Beatification of Hillary. After all these years, the Christian Science Monitor is starting to live up to its religious name. At least they are beginning to publish hagiography-the reverent biographies of saints. In the current issue, their candidate for canonization is St. Hillary Clinton. Howard LaFranchi's "Hillary Clinton: A Quiet Brand of Statecraft" is as gushily adulatory as Chris Matthew's leg tingle.



---



CNN's obvious bias in favor of Mrs. Clinton:



Clinton News Network: The CNN/YouTube Republican presidential debate serves as a perfect example of why conservatives refer to CNN as "Clinton News Network." Republicans should have declined CNN's invitation, just like Democrats declined Fox News, though it's doubtful Fox would have orchestrated or permitted a similar ambush of Democratic candidates.

The Clinton News Network Strikes Again. The YouTube/CNN debate that Republican presidential candidates tried to boycott proved as hostile as they feared last night in St. Petersburg, Florida. CNN — sarcastically called the "Clinton News Network" — allowed a member of Democratic presidential candidate Hillary Clinton's gay steering committee to ask Republican candidates if military personnel were "professional" enough to work with gay troops.

CNN's Irresponsible Debate: There were many reasons to be disturbed by the CNN/YouTube debate on Wednesday night [11/28/2007] — the questions were repetitive and cliché, key concerns of Republican voters were not addressed and the crowd's conduct ranged from rude to embarrassing as they booed and hissed like Romans at the Coliseum. But the most egregious aspect of the date was that the questioners were strewn with Democratic plants and supporters, none of whom identified their affiliations.

The YouTube Debacle. Wednesday night's CNN/YouTube debate was barely over before the network was forced to make an embarrassing admission: One of its supposedly disinterested questioners, retired gay Army officer Keith Kerr, has an official position with the Hillary Clinton campaign. Wait. There's more.

CNN's Screwup: If any more political plants turn up at CNN's presidential debates, the cable-news network will have to merge with the Home and Garden channel. At CNN's Democratic debate in Las Vegas two weeks back, moderator Wolf Blitzer introduced several citizen questioners as "ordinary people, undecided voters." But they later turned out to include a former Arkansas Democratic director of political affairs, the president of the Islamic Society of Nevada and a far left anti-war activist who'd been quoted in newspapers lambasting Harry Reid for his failure to pull out of Iraq.

A questionable format for debate. Google "Clinton News Network" and you'll get 65,000 hits — such is the conviction among conservatives, and even occasionally some Democrats, that CNN tilts its coverage favorably toward Bill and Hillary Clinton. Mainstream critics and liberals lambaste the Fox News Network for a perceived right-wing bias, but conservatives see them giving CNN a pass for leaning liberal.

Death, Taxes and Mrs. Clinton: It was a good debate, feisty and revealing. It's not bad that the questions had a certain spin, and played on stereotypes of the GOP. It's just bad that it doesn't quite happen at Democratic debates. Somehow, there, an obscure restraint sets in on the part of news producers. Too bad. Running for most powerful person in the world is, among other things, an act of startling presumption. They all should be grilled, everyone, both sides.

CNN hit for planted questions. CNN intended for political sparks to fly during Wednesday"s Republican presidential debate, but outrage and accusations of partisanship were directed at the network instead. The backlash started after it turned out that a homosexual retired soldier asking about "don"t ask, don"t tell" has an affiliation with Sen. Hillary Rodham Clinton"s campaign.

Questions That Raise Questions. CNN had an opportunity to shine as co-host of last week's Republican presidential debate. Instead, the network faltered with millions watching, leaving conservatives with yet another example of bias at the highest level of the media establishment. It was a sad case of liberal elites stereotyping conservatives as gun-toting, Bible-thumping, gay-bashing bigots.

This Is CNN. Shortly before Wednesday night's CNN/YouTube Republican debate, host Anderson Cooper defended the innovative format in which "ordinary citizens" were invited to submit their own questions by uploading videos to the Internet. … The day after the debate, it was revealed that at least six of the questioners were Democratic activists rather than typical voters, whose opinions and concerns were supposed to be represented.

CNN'S Virtual Reality: In what was billed as a glorious exercise in democratic do-goodery and civic seriousness, CNN opened its gates to the American people and, to their surprise, the network's relentlessly touted credibility ran out the door like a dog in heat. Nearly a third of the questioners in the debate proved to be if not outright plants of the Democratic Party or other liberal interests, then at least very far from the "ordinary Americans" this whole circus was supposed to be catering to.



---
Sparse crowds at Clinton campaign events are misrepresented or concealed by the press:

Hillary's Two-Year Tantrum. Hillary never understood that she was her own worst enemy. The more people got to know her, the more they disliked her. Her campaign crowds in Iowa were paltry compared to Sander's enthusiastic and youthful attendees. The same would be true eight years later when Trump was holding rallies for the tens of thousands of supporters who supported him not because of his Republican Party credentials but because he was running against Hillary, while she could only garner hundreds to occasionally thousands in her campaign events.
Post-election thoughts from a 'deplorable'. The 'yuge' numbers at Trump rallies and the enthusiasm missing from the comparable sparse attendees at Clinton rallies. The only large crowds at Hillary events were due to celebrity guests and entertainment not the candidate. Trump supporters came by the thousands just to see and hear what he had to say.
Hillary Booed Off Stage On Last Day Of Campaign By Latinos In Los Angeles. If the mainstream media has you nervous about how Trump is doing with Latinos, suggesting that they fall closer to Hillary, maybe you shouldn't worry. In LA, Latinos booed her off stage only moments after she took the mic.
Look at the Lame Crowd JayZ & Beyonce Drew for Hillary! You could have fit this 'concert' in a school gym. In a small rural town. We've got some of the sad footage here for you. By the way... considering this was specifically an 'I'm With Her' rally, the song selection this 'very' pro-Woman and anti-misogynist Candidate used as a warm-up for her speech seems a little ... strange.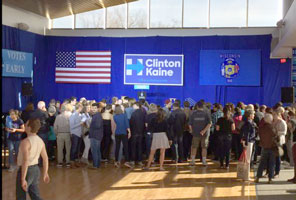 Collapsing Hillary Clinton: Barely 1k Attend Rally in Dade City Florida — Tim Kaine Draws "Dozens" in Wisconsin. Hillary Clinton just wrapped up a rally in Dade City Florida at Pasco-Hernando State College East Campus... yeah, another college. I digress. The audience? Approximately a thousand... being overly generous. The optics are even worse for Tim Kaine in Appleton Wisconsin at Lawrence University.
Tim Kaine Sarasota rally canceled. Democratic vice presidential nominee Tim Kaine's visit to Sarasota Friday has been canceled. Kaine was set to speak at the Municipal Auditorium Friday night but the campaign pulled the plug on the event Wednesday [10/26/2016].
Trump cuts Clinton lead in half in Fox News poll. Trump is out hitting the hustings and drawing tens of thousands of supporters, while Clinton is still resting from a weekend appearance before a few hundred people. Which is just as well. She is a terrible campaigner.
Hillary's VP Boy, Tim Kaine, Holds Rally — Guess How Many Showed Up! Yeah, Tim, it's looking like it's just you and Hillary. Is there anything more pathetic than holding a rally as the VP candidate and not having anyone show up? Tim Kaine is longing for the days when the bed of a pickup truck was used as a stage. He's moved from crowds of 'tens' to a handful of 'fives'.
Hillary caught staging pathetic rally in Ohio. Hillary's campaign passed out signs and instructed audience members on how to cheer. [Video clip]
Is poll-leading Hillary Clinton the Ghost Candidate? While Trump rallies are "once-in-a-lifetime experiences ... like Woodstock for working-class conservatives," Hillary is lucky to draw 200 people. No one buys Hillary's books or campaign gear, either. [...] So to recap, Hillary is leading in the polls but doesn't draw crowds, can't give away her merchandise, and is not liked by her own supporters. Her running mate is equally uninspiring and acted like an irritating jerk in his one moment under the lights. Mrs. Clinton is in failing health and is unlikely to be able to withstand the rigors of the presidency.
Hillary crashes college dance party, takes credit for the crowds. What's the best way to get thousands of millennials to turn up for a Hillary campaign rally? Why, hold a [big] dance party on campus then have Hillary crash it. Works like a charm. Of course the sight of a large crowd of college students enticed by a celebrity DJ gave the Enslaved Press the opportunity to report that a "record crowd of supporters" turned up to see Hillary Clinton at Ohio State. Let's face it, those headlines are going to sound so much better than, "Crowd of thousands disgusted when Hillary crashes dance party."
Blacks boycotting Hillary's campaign events. Oh, it's no organized boycott, mind you, just a grassroots response to the frosty, rich white lady who travels around like some empress. [...] I would also note that a campaign event at a church should jeopardize that church's tax exemption. But of course they will have a rationale, and the IRS is not interested in pursuing left-wing tax-exempt organizations.
Rebuffed Again — Clinton Speaks To Empty Seats in Charlotte, NC, AME Church. Once again Hillary Clinton finds her racially-driven campaign efforts contrasted against lackluster black audience. This time in Charlotte, North Carolina.
The Editor says...
Please note that it's okay for Hillary Clinton to conduct a political campaign in an all-black church, but if Donald Trump spoke to an all-white church, he would be called a racist and a violator of the "separation of church and state."
Clinton addressing modest crowds, as Trump rallies big halls. It was another day out on the campaign trail with Hillary Clinton, and another event held in a small room, in front of a small crowd. Supporters and media alike crowded Wednesday [9/21/2016] into a community center gym in Orange County, Fla., a critical battleground in what is arguably a must-have state for any presidential nominee, to hear the Democratic nominee speak. Campaign officials estimated "about 500" people in attendance, and "another 500" in an overflow room — though Fox News counted only about 300 in the gym, and the pool report pegged the overflow crowd at "about a hundred."
Ohio Hillary Campaign Holds Volunteer Day... No One Shows Up. Well, one person did: a Trump supporter who caught the pathetic scene on video.
'Only Zombies' at Hillary Rally. A self-proclaimed Trump supporter — under the Twitter handle "USA for Trump 2016" — posted a video of what he claimed was the inside of a Clinton campaign office looking more like a ghost town, with only a handful of volunteers present. [Video clip]
Hillary Clinton Speaks to Mostly Empty Hall in Columbus, Ohio. Hillary Clinton made a campaign stop in Columbus, Ohio Thursday [9/10/2015], but only a couple hundred people turned out to hear her views on women's issues.
Having Trouble, Hillary? Free Tickets To Fundraiser Send Bad Message. In an email leaked to Business Insider, supporters of Clinton's campaign in Virginia were given a chance to forego the $30 price for tickets to the event, as long as they provide the code included in the email. The event was intended to support democratic fundraising for the state, but Clinton's appearance and speech are geared toward garnering support among East Coast Democrats.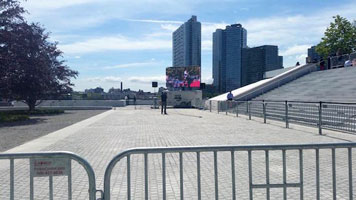 Bad Signs at the Hillary Announcement. Nobody perceives Hillary as anything more than a political animal who devotes her spare time to earning vast sums of money. They do perceive that she is a woman, but that's not going to be enough. And so, her political campaign kickoff redo Saturday had some bad tidings. Her speech was fine, but no one seemed to find it really inspirational. Her crowd was very white, and while enthusiastic, not particularly awed. And then there was this: [Photo]
Hillary Relaunches Campaign All Over Again. The second and all-new launch happened today on New York's Roosevelt Island which, ironically, used to be called Welfare Island. Attendees were told to expect 'airport style security' for the event. Luckily for Mrs. Clinton's staff, it doesn't look like they had to worry about crowd overflow.
Deceptive Camera Angles Make Hillary Event Look Well-Attended. Hillary has hit the "reset button" on her campaign on Roosevelt Island.
CNN: Hillary Watch Party in Iowa Draws Five People. CNN Senior Washington Correspondent Jeff Zeleny reported that one of Hillary Clinton's watch parties in Iowa was attended by only "about five people" on Saturday [6/13/2015].
Hillary Clinton plays to raucous but HALF-EMPTY arena at black university. Hillary Clinton closed a three-day campaign fundraising swing through Texas and New Mexico on Thursday [6/4/2015] with a rare public appearance at Texas Southern University in Houston and a stemwinder on voting rights. She took no questions and spoke with no reporters, but angrily complained that Texas voters can present their concealed-carry gun permits as a voter ID, but not their college student identification cards. Clinton was received with wild applause at the historically black college, but organizers arranged the 8,100-seat basketball arena so that three-quarters of the seats were roped off and empty.
Hillary allows men at 'women-only' event amid weak turnout. Hillary Clinton had trouble attracting high-powered women to a New York talk hosted by Silda Wall Spitzer two weeks before her campaign officially kicks off. Sources said that after ticket sales fizzled for an intimate, $2,700-per-person, "just for women" meeting on Monday [6/1/2015], the event was thrown open to men at the 11th hour, and the deadline extended to buy tickets.
Photos: Embarrassing Turnout For Hillary Clinton Keynote Speech At Baptist Convention. Democratic presidential nominee Hillary Clinton delivered a keynote speech at the National Baptist Convention Thursday night [9/8/2016], but photos show that many people failed to show up. Prior to the speech, workers moved in wall partitions in the giant venue, according to tweets from several reporters who were there.
Clinton Campaign Stunner — Dismal Attendance For Hillary Clinton Key Note Address in Kansas City. The National Baptist Convention is being held in Kansas City Missouri with thousands of baptist worshipers from all fifty states. Hillary Clinton was the key note speaker. The convention organizers anticipated considerable — and enthusiastic — attendance, amid a predominantly black audience. The first day of the convention almost every seat was full[.] There was no reason to anticipate the convention attendees would not show up for Hillary Clinton. The Kansas City Convention Center was set up in the same manner as the prior days general sessions where almost every seat was full.
The Editor asks...
Why is it surprising that the Baptists don't want to listen to a lying baby-killing socialist?
Hillary Clinton Draws Abysmal Crowd at National Baptist Convention Keynote Speech. Hillary Clinton's keynote address at the National Baptist Convention in Kansas City, Missouri on Thursday evening [9/8/2016] failed to draw a crowd of the size that organizers and Clinton's campaign expected, so they partitioned the room to hide thousands of empty seats. A reporter for NBC's Kansas City affiliate, Brian Abel, tweeted that event organizers shut off the lights in a large portion of the unoccupied room and then partitioned it off from where attendees were sitting.
Dozens of empty seats for Hillary's speech to veterans. Hillary Clinton's speech to the American Legion looked good for the cameras pointing towards the stage, but a crowd shot showed dozens of empty seats in the audience.
National NBC Reporter Claims "Trump Rally Crowds Small" — Despite Akron Ohio Max Capacity Crowd 5,000+. The trust in U.S. journalism is at a historic low. Most Americans now accept the U.S. media is completely dishonest. However, the media reporters claim such public opinions are unwarranted. [...] Any objective observer of the news media's treatment of Trump can certainly conclude that reporters are taking a side in this election — and they don't have to be wearing a button that says "I'm with her" for this to be readily apparent.
Media Photoshops Crowd Image For Hillary Clinton St. Petersburg, Florida Speech. Remember the discussions of "optics" and trying to manufacture the perception of support for Hillary Clinton? It's all a pretense; a fraud; a corporate media ruse. Well, a great example comes today from "The Hill", an on-line media outlet promoting the speech of candidate Clinton.
Media Outlet Claims Big, Boisterous Crowd At Clinton Rally. There's just one problem: The crowd was not really that big.