Very brief introduction:
Joe Biden has been installed as President of the U.S. His cabinet looks a lot like that of Barack H. Obama.
Related topics on other pages:

Joe Biden (in general)
Media bias (in general)
Specific examples of media bias
Media bias in Barack H. Obama's favor
Media bias in Hillary Clinton's favor
Media bias in opposition to Donald Trump
---



Overviews:


Barack Obama Has Now Been President Longer than FDR. For anyone with eyes to see, the current presidency is being run by Barack Obama. [...] On his first day in the White House, Biden expelled the bust of Winston Churchill from the Oval Office, as Obama had done on his first day in office. (This was because Churchill was an imperialist and led the suppression of the Mau Mau Rebellion in Kenya, during which, Obama said, his grandfather was tortured. Trump brought the Churchill bust back on his first day in office.) Then there are Biden's appointments. They say personnel is policy. Well, the old Obama gang is back, and at the center of the action is Susan Rice. A foreign policy specialist (ambassador to the United Nations and then national security adviser under Obama), Rice was one of Biden's first appointments, as director of the White House Domestic Policy Council. That's her official title, but her actual job is Obama's "messenger boy" in the White House and to cover any remaining tracks to past criminal activities. Heading the White House press room is Jen Psaki. She was Obama's communications director. Anthony Blinken moves up a notch, from being Obama's deputy secretary of state to the top job at Foggy Bottom. Obama's chairman of the Federal Reserve, Janet Yellen, is now secretary of the Treasury. Anita Dunn, who had to resign from her top post in Obama's Department of Education because she'd praised Chairman Mao, is back. Merrick Garland, whom Obama wasn't able to get into the Supreme Court in 2016, gets the consolation prize of attorney general — a "take that" from Obama. Those are the most glaring of a slew of Obama retreads.

One week in, Biden administration shows its exquisite cruelty. Joe Biden was inaugurated a week ago, and like the dictator his handlers have long yearned to install, his has started out as a cruel administration. His 22 executive orders so far, more than any other president in history, have already sent tens of thousands of jobs down the drain with coldhearted carelessness. He stopped construction of the Keystone XL pipeline with the stroke of his pen. He has put all those who were working on the border wall out of work. As all those who opposed his candidacy suspected, he is doing China's bidding. Of course he is; the Chinese own him. Every single person he has appointed to his Cabinet is aligned with China as well.

Timely news and commentary:




Biden banking pick denies communist sympathies, says critics vilifying her because of Kazakh heritage. President Joe Biden's pick for a top banking regulatory position said that she was an "anti-communist" while attending school in the Soviet Union and that critics accusing her of radicalism are lashing out against her because of her heritage and gender. Saule Omarova, a Kazakh-born law professor at Cornell University who graduated college in the USSR, is pushing back on Republicans and business groups for opposing her nomination to be comptroller of the currency. She said that though she attended Moscow State University on the Lenin Personal Academic Scholarship, she does not have Marxist sympathies.

Pete Buttigieg Returns to D.C. From Playing House, and Is About as Useful as When He Wasn't Here. Secretary of Transportation Pete Buttigieg has been on family leave since August, and no one in the Biden administration seemed to care. According to White House Chief of Staff Ron Klain, the meltdown at the Ports of Los Angeles and Long Beach are problems caused by the previous administration, and they are "tackling" it. [...] I would be curious to hear the responses from the peanut gallery if Buttigieg were a female Secretary of Transportation who was also part of a Republican administration. [...] In the midst of what is a true transportation infrastructure crisis, when the head of the transportation arms of our nation should be giving insight and working on solutions, Howdy Doody Buttigieg is deer in the headlights, talking about everything but the supply-chain issues.

The Editor says...
[#1] Barack H. Obama is using the same playbook he used in his first two terms, and one of his best plays is to blame everything on his predecessor. Years ago, it was George W. Bush who got the blame for nearly everything — years after Obama took over, and now it's Donald Trump. [#2] Two months of paid paternity leave is a lot, especially when same-sex marriage is still a controversial idea, as is paternity leave, and nobody in this household gave birth to the children. The idea behind maternity leave, and later paternity leave, is that Mom needs to recover from childbirth and can't return to her routine right away. That doesn't apply here, and even if it did, two months is highly excessive.

Amateur hour: Pete Buttigieg's inexperience exposed as supply chain breaks down. After a quiet first nine months in office, the former mayor has his first crisis on his hands: a massive supply-chain breakdown exploding across the country that will impact every American, particularly the lower and middle classes. Restaurants, stores and small businesses that provide products and services to people will all be negatively affected as the cost to the consumer goes up. Per a recent CBS News report: "A growing number of shipments are stuck at sea because of supply chain issues, leading to growing concern that holiday shipments may not arrive in time. Container ships are crowding ports from New York to Los Angeles, where 250,000 containers are floating off the coast waiting to be unloaded," the report reads. [...] [A]lmost all [news] outlets are focusing on Buttigieg's foray into fatherhood and not on the one major issue he's in charge of fixing, or at least getting under some semblance of control, as cargo ships continue to pile up off the coast of America's port cities.

Have We Ever Witnessed a More Incompetent and Out of Touch Bunch Than Biden's Appointees? Chapter 5. Not to overlook we seem to have another corrupt democrat asshole as Attorney General, but if you ever wondered what would happen when a president appoints people based on their sex, color, or persuasion, look no further than the disaster that is Joe Biden's administration. We all know he didn't pick Pete Buttigieg because of his experience with transportation issues. [Tweets] Guess it's a little different than managing the bus schedule in South Bend. Besides, he has a really cool bicycle.

Scandals from top to bottom in Joe Biden's cabinet of horrors. While the president is primarily to blame for the choices in Afghanistan, the border and holding an infrastructure bill hostage to the Squad, his team is facing their own crises, many self-created. Here, some of the lowlights of many of the members of Joe Biden's Cabinet of Horrors.

Interior secretary describes White House property as 'ancestral homelands'. Interior Secretary Deb Haaland, the nation's first Native American Cabinet official, tearfully described the White House grounds Friday as "the ancestral homelands" of two Native American tribes. During an event with President Biden on the North Lawn of the White House, Ms. Haaland became choked up as she praised the president's action to restore territory of two sprawling western national monuments that had been reduced in size by then-President Trump. "We are here today on the ancestral homelands of the Anacostan and Piscataway people, bending the arc of the moral universe toward justice," Ms. Haaland said.

Biden Banking Nominee Scrubs Karl Marx Paper From Résumé. President Joe Biden's pick for the nation's top banking regulator, who received a scholarship named for Vladimir Lenin, scrubbed her résumé of a reference to a thesis she wrote on Karl Marx while a student at Moscow State University. Saule Omarova, who Biden tapped to head the Office of the Comptroller of the Currency, listed a paper titled "Karl Marx's Economic Analysis and the Theory of Revolution in The Capital" on her résumé as recently as 2017. But the paper was not disclosed on the version of the résumé reported last month by the Washington Free Beacon. Sen. Pat Toomey (R., Pa.), the ranking member of the Senate Banking, Housing, and Urban Affairs Committee, pressed Omarova about the discrepancy in a letter on Tuesday asking her to hand over a copy of her report. Omarova, a professor at Cornell Law School, has already proved a controversial nominee. She has said she wants to "end banking as we know it" by providing bank services through the Federal Reserve rather than private banks.

Why Rachael Rollins' Nomination to Be Rogue US Attorney Should Terrify Us All. It brings us no joy to say we were right. But we predicted last year that a disaster-in-the-making would unfold if President Joe Biden selected rogue prosecutors from around the country to become rogue U.S. attorneys. Some were specifically floating the name of Rachael Rollins, the rogue Suffolk County district attorney in Boston, as a potential pick to become the chief federal law enforcement officer — the U.S. attorney — in Massachusetts. That came to pass, and Biden nominated her for the position. On Thursday, the Senate Judiciary Committee advanced her nomination on a tied vote (11-11). Now, the full Senate will have an opportunity to consider her nomination. Rollins' conduct as a rogue district attorney has certainly been problematic. As Sen. Tom Cotton, R-Ark., made clear at Thursday's hearing, "It's ... rare for the president to nominate a radical, pro-criminal prosecutor for a U.S. attorney position." In fact, we cannot think of any other time in recent (or, frankly, distant) history where this happened.

Biden's bank robber. Joe Biden's nominee for Comptroller of the Currency in the U.S. Treasury Department is Saule Omarova, a native of Kazakh Soviet Socialist Republic and graduate of Moscow State University, which she attended on a "Lenin Personal Academic Scholarship." In a May 9, 2020 interview with Chris Hayes of NBC, Omarova revealed she was in an exchange program with the University of Wisconsin in 1991 when the USSR collapsed. The Lenin scholar remained stateside to pursue a PhD in political science. Some of her views on economics emerged in 2019, nearly 30 years after the USSR collapsed. "Say what you will about old USSR, there was no gender pay gap there," Omarova wrote, "Market doesn't always 'know best.'" Contrary to the Lenin scholar, individuals know what's best for themselves and a free market empowers them to make choices that reflect those interests.

Biden Pick for Comptroller Likes Soviet Financial Planning. Wants to End "Banking as We Know It". Forget about the "transgender woman" President Joe Biden hired to oversee the transition of the Defense Department. Or the "transgender woman" he appointed as second-in-command at the Health and Human Services Department. Or his Transportation Secretary, a man who thinks he's married to a man. The latest from China Joe is his pick for Comptroller of the Currency. Saule Omarova is a fan of Soviet economic policy. Critics call her an "actual communist."

Biden's nominee for Comptroller of the Currency thinks the Fed should 'end banking', admires the Soviet Union's economy. A Cornell University law professor who advocated ending banking 'as we know it' and praised the Soviet Union's financial system over its lack of a gender pay gap has been tapped by the White House to lead the Office of the Comptroller of the Currency (OCC). Saule Omarova's nomination to head the regulatory agency overseeing the country's largest banks is a controversial choice that's alarmed banking groups. She's advocated for moving Americans' financial accounts from private banks to the Federal Reserve and for forcing banks to lose leverage on federal subsidies by becoming 'non-depository lenders.' It would diminish the stature of the institutions she's supposed to regulate.

Yellen lends support for effort to remove the debt ceiling altogether. With a potential default looming for the U.S. in October, Treasury Secretary Janet Yellen said Thursday she would just as soon see the power over debt limits taken away from Congress. A bill introduced in May would repeal the national debt ceiling, and Yellen said "yes, I would" when asked during a House hearing if she backs the effort. She noted Congress makes the decisions on taxes and spending, and should provide the ability to pay those obligations.

Biden's DoJ vs. the Police. While American heads are still spinning over Afghanistan, despotic COVID mandates, and gluttonous spending bills, the Civil Rights Division (CRD) under Merrick Garland is quietly advancing a Biden campaign promise to put major police departments back under the thumb of the federal government. This jihad against police is occurring against a backdrop of DoJ paralysis towards burning cities, Antifa violence, the inhumane treatment of January 6 protesters, election fraud, and city and state attorneys who coddle felons. Muscling the CRD initiative is newly-minted Assistant Attorney General Kristen Clarke, a ne'er-do-well Democrat with a Harvard chip on her shoulder who's made no bones judging people by their melanin levels. Despite her race-based predispositions, she gained her position by Republican duplicity. Susan Collins crossed the aisle to end Senate debate over Clarke's nomination and gave the Democrats the slim majority they needed to drag her across the finish line.

President Withdraws Nomination of Former Agent to Head ATF. President Joe Biden on Thursday [9/9/2021] announced the withdrawal of his nomination of gun control activist David Chipman to run the Bureau of Alcohol, Tobacco, Firearms and Explosives. Biden's move comes after Sen. Angus King, I-Maine, joined unified Republican opposition in the Senate to Chipman's heading ATF. King caucuses with Senate Democrats. Some centrist Democrats also raised concerns, The Hill reported.

ATF Nominee David Chipman Pulled After Racism Allegations. It's another botch for the Biden administration! The White House announced today that it is pulling its nomination of David Chipman to be ATF head. Chipman is currently senior policy advisor to Giffords, an anti-gun rights group who faced allegations of racism. The question is will the networks (ABC, CBS, NBC) report on yet another Biden failure or will they quietly brush this fiasco under the rug? Chipman's nomination was pulled after it was clear he wasn't going to get enough Dem votes with West Virginia Senator Joe Manchin and Montana's Jon Tester refusing to give him the nod. Chipman already faced opposition from gun-rights groups but allegations of racism may have been the final blow.

Republicans Celebrate Defeating David Chipman as ATF Nominee. Republicans on Thursday celebrated defeating President Joe Biden's Bureau of Alcohol, Tobacco, Firearms and Explosives (ATF) nominee David Chipman. Donald Trump Jr. tweeted Breitbart News' article in celebration, asserting Republicans will also "defeat all of Biden's attempts to restrict our Second Amendment rights!" [Tweet] "David Chipman is an unhinged gun-grabber. His defeat is a win for the Constitution — and a crushing loss for Joe Biden," Sen. Tom Cotton (R-AK) tweeted: [Tweet]

Biden's defense secretary has no plans to resign over Afghan disaster. Secretary of Defense Lloyd Austin has not offered his resignation to President Biden following the complete collapse of the U.S.-trained and equipped Afghan military and has no plans to do so, Pentagon officials said Monday [8/16/2021]. A day after victorious Taliban forces rolled into Kabul with little opposition, Pentagon officials said they are now focusing their attention on securing Hamid Karzai International Airport so the remaining Americans in the capital can be safely evacuated. "It's a fluid and dynamic situation," Pentagon spokesman John Kirby told reporters. "There will obviously be things that I don't know because things are continuing to unfold."

Cruz blocks Biden's State Department nominees ahead of Senate break. Sen. Ted Cruz (R-Texas) blocked the quick confirmation of dozens of State Department nominees on Wednesday morning [8/11/2021], guaranteeing that they will stay in limbo until next month when the Senate returns from its summer break. Senate Foreign Relations Committee Chairman Bob Menendez (D-N.J.) and Sen. Chris Murphy (D-Conn.) tried to get the nominations confirmed at the end of an all-night session before the Senate left Washington until mid-September. In a floor back-and-forth that lasted roughly 50 minutes, and wrapped just before 6 a.m., Menendez and then Murphy went one by one through the list of State Department nominees trying to get consent to confirm them.

Biden's ATF Nominee Talked Guns On A Chinese Propaganda Network And Failed To Tell The Senate. President Joe Biden's nominee to lead the Bureau of Alcohol, Tobacco, Firearms, and Explosives (ATF) did not disclose his TV hit on a Chinese propaganda network to the Senate, Fox News revealed on Wednesday [8/4/2021]. In 2012, David Chipman joined the China Global Television Network to talk about the U.S. response to the deadly Sandy Hook Elementary School shooting. At the time, Chipman worked for Mayors Against Illegal Guns and Everytown for Gun Safety, an anti-firearm group dedicated to sparking more gun control in the United States. During the interview, he highlighted how he believes there will be more shootings "unless we do something about it." According to Fox, Chipman's interview on U.S. failures to contain gun violence was used by the communist propaganda machine to distract from "a mass stabbing of 23 children at a school in China's Henan Province."

Cruz Crushes Biden ATF Nominee Over New 'Troubling Allegations'. Yesterday [8/5/2021], Sen. Ted Cruz (R-TX) blasted Joe Biden's nominee to head the Bureau of Alcohol, Tobacco, Firearms and Explosives (ATF), David Chipman, on the floor of the Senate. Cruz lit into Chipman over new allegations that he made racist comments about Black ATF agents and that he failed to disclose to the Senate that he'd appeared on a Chinese government propaganda station to disparage "gun violence" in America. Cruz and ten other Republican senators are now demanding there be a new hearing to grill Chipman over the new allegations, but the Democratic chair of the Senate Judiciary Committee isn't complying because he supports Chipman, no matter how bad a nominee he is.

Biden nominates Clyburn's daughter to federal commission on poverty. President Biden has nominated a daughter of House Majority Whip Jim Clyburn, one of his key allies in Congress, to a seat on a federal commission aimed at addressing poverty in the southeastern U.S. The president appointed Jennifer Clyburn Reed as federal co-chair of the Southeast Crescent Regional Commission, which was created in 2008 and received a large boost in federal funding in the current fiscal year. Mr. Clyburn, a South Carolina Democrat whose endorsement is credited with helping Mr. Biden to win a crowded presidential primary in 2020, has often spoken of his daughter someday taking his place in Congress. Her nomination must be confirmed by the Senate.

This is exactly what Barack H. Obama would have done.
Biden nominates first Muslim to religious freedom post; Holocaust scholar as anti-Semitism envoy. President Biden on Friday announced his intention to nominate four people to religious freedom posts, including the first Muslim to serve in one of the top roles; a noted Holocaust scholar as a special envoy on anti-Semitism; an openly gay Jewish cleric, and a Muslim immigrant who famously clashed with former President Donald Trump. The president nominated Rashad Hussain to serve as U.S. ambassador-at-large for International Religious Freedom, a post most recently held by former Kansas governor Sam Brownback. Mr. Biden also named Khizr Khan — noted for his 2016 Democratic National Convention speech claiming that then GOP presidential nominee Mr. Trump "had sacrificed nothing" for the nation — to the U.S. Commission on International Religious Freedom, or USCIRF, an advisory body.

The Editor says...
The people who make decisions for Joe Biden are obviously thrilled to appoint "historic firsts" to various positions in the administration, just for the sake of pushing the envelope, breaking new ground, or uprooting American traditions. They don't seem to understand that if something has never been done before, there might be a very good reason.

Biden's Screwball Land Management Nominee: We Need to Stop 'Breeding Our Weapons' to Save Grizzly Bears. President Joe Biden's nominee to head the Bureau of Land Management, Tracy Stone-Manning, once penned an essay that called for population control to protect the endangered grizzly population. As Stone-Manning's nomination heads for a likely final Senate vote next week, Fox News reported that she once wrote an essay for High Country News in which she declared that we human beings keep "breeding weapons" used against the precious grizzlies, that is, breeding human babies. The 1991 diatribe argued that land should be set aside for the bears following the "pyrrhic" conquest of the West, and that humankind has "annexed too much space" in a battle in which our "greatest weapon" has been our population.

GOP senators demand second hearing for embattled ATF nom Chipman over racist comments. Every GOP senator on the Senate Judiciary Committee has demanded a second hearing for President Biden's embattled nominee to lead the Bureau of Alcohol, Tobacco, Firearms and Explosives (ATF) over alleged past racist comments. The 11 Republican senators, led by ranking member Chuck Grassley, R-Iowa, demanded another hearing for Biden's ATF nominee David Chipman in a Thursday letter to committee chairman Dick Durbin, D-Ill. According to the senators' press release, they called for the hearing "following now-corroborated reports of racist comments directed at other ATF employees."

Joe Biden nominates the wives of three of his political allies to plum diplomatic positions. Joe Biden has nominated three of the wives of his political allies to coveted diplomatic posts — putting his own spin on the tradition of giving the positions to major donors. The ambassadors to Austria, Slovenia and the U.N.'s world food program are all wives of supporters. Biden is also reportedly considering Caroline Kennedy, the daughter of John F. Kennedy, for an ambassadorial role in Asia or Australia.

ATF nominee mocks gun buyers as 'Tiger Kings' prepping for zombies. President Biden's choice to head up the Bureau of Alcohol, Tobacco, Firearms and Explosives once mocked first-time gun buyers during the coronavirus pandemic as preparing for the zombie apocalypse and even compared them to the "Tiger King." David Chipman's remarks were revealed in newly unearthed video from an April 2020 interview with Cheddar in which he talked about how gun sales were spiking during the pandemic and how people needed to take safety precautions. "I understand the fear, I understand the concern. I have it myself," he said. "But we don't want to make rash decisions that place ourselves, our neighbors and our families more at risk than actually keeping them safe." Chipman, then the senior policy adviser at the Giffords Organization, which advocates for gun control, said there are risks for people who buy firearms during the coronavirus because they have no training.

Consumer Financial Protection Bureau Nominee Faces Pushback Over Stonewalling Senators. After his March 2 Senate committee confirmation hearing, Rohit Chopra appeared to have a "reasonably assured path forward" to becoming the next director of the Consumer Financial Protection Bureau. Suddenly, however, Chopra's prospects look a bit different. As Government Executive reports, several current and former employees of the bureau allege that the Biden administration is flouting civil service protections. Specifically, they claim that the administration has offered separation incentives, including early retirement, and launched investigations into career senior executives to sideline them, targeting about a half-dozen of the highest-ranked nonpolitical staffers at the bureau. At the very least, this approach is questionable because of civil service rules that exist to protect career employees from politically motivated personnel decisions. The tactic is also disingenuous because President Joe Biden promised that his administration would not interfere with career employees in that way.

'Seditious!' Pence's National Security Adviser Rips Milley Over Trump 'Coup' Remarks, Calls for Dismissal. Former Vice President Mike Pence's national security adviser said Tuesday if comments about former President Donald Trump attributed to Joint Chiefs Chairman Gen. Mark Milley in a new book are true, he should be dismissed immediately because his comments are "seditious." "I think he has violated his oath of office," retired Army Lt. Gen. Keith Kellogg told Just The News' John Solomon. "I think he should go." In addition to serving as an infantry commander in war, Kellogg also served several national security .posts during former President Donald Trump's administration, including chief of staff of the National Security Council.

Catherine Lhamon's Record, Answers Disqualify Her to Serve as Civil Rights Chief. A presidential appointee must take an oath "to support and defend the Constitution of the United States" in order to be sworn into office. Catherine Lhamon, President Joe Biden's nominee to head the U.S. Department of Education's Office for Civil Rights, could not take that oath in good faith. Last week, when asked at her confirmation hearing before the Senate Health, Education, Labor, and Pension Committee if she believed in the presumption of innocence, Lhamon could only muster that campus investigators looking at an accused student should be "open to the possibility that the person is not [guilty]." Not the presumption of innocence, only the possibility. Such a dismissive view of basic, constitutional due process rights demonstrates that Lhamon is not fit for the position. Senators would be wise to think twice before putting someone with this track record back in charge of the Office for Civil Rights.

Education Dept. civil rights nominee rejects presumption of innocence for accused students. The Biden administration's nominee to lead the Department of Education's Office for Civil Rights told a Senate committee Tuesday [7/13/2021] that a year-old Title IX regulation does not require the presumption of innocence for students accused of sexual misconduct. The claim drew bafflement from critics of Catherine Lhamon, who held the same job in the Obama administration's second term. In response to threats from Lhamon to pull their federal funding, colleges lowered evidentiary standards and enacted policies that treat accusers more favorably than accused students. Courts have been steadily reining in those practices, sometimes citing the pressure from Lhamon's office as evidence of bias. Asked by North Carolina Republican Sen. Richard Burr, ranking member of the Health, Education, Labor and Pensions Committee, if she would support "keeping a presumption of innocence requirement" in the Title IX regulation if it were changed, Lhamon twice answered that it doesn't currently exist.

Why is Joe Biden still standing by his Earth First! nominee for Bureau of Land Management? It's starting to look bad for Tracy Stone-Manning, Joe Biden's nominee to run the Bureau of Land Management. The latest news is that she lied to Congress about her involvement in eco-terrorism; an Earth First! tree-spiking incident in Idaho's Clearwater National Forest in 1989. At the time, she wrote a profane threatening letter to "warn" loggers about the spikes and then told Congress she knew nothing about the whole thing and was merely an innocent college kid forced to do it to try to make sure nobody was "getting hurt." It didn't happen that way, according to various sources. Normally, a person with any such involvement, lying or not, would be exceptionally unfit to run the Bureau of Land Management, which oversees 245 to 247 million acres of public land, and has 9,000 employees. Putting her in charge of it would be like putting an embezzler in charge of the Federal Reserve. Yet incredibly, Joe Biden continues to stand by her, even as one bad thing after another about her activity now rolls out.

Biden Nominee's Deleted Tweets 'Raise Serious Concerns' About Fitness to Serve, GOP Senator Says. President Joe Biden's nominee to lead the top federal housing deleted several tweets disparaging law enforcement and Republicans, the Senate Banking Committee's ranking member said. Republican Sen. Pat Toomey urged Julia Gordon, who President Joe Biden nominated to lead the Federal Housing Administration (FHA), to assist him in recovering her deleted tweets in a letter sent Thursday and obtained by the Daily Caller News Foundation. Using an online archive tool, GOP Banking Committee staff have already recovered some tweets that "raise serious concerns" about Gordon's fitness for office, Toomey wrote. "As the Senate evaluates nominees' fitness for senior leadership positions across the Federal government, it's important the public has a full picture of one's policy views, judgment, and character," Ranking Member Toomey told the DCNF in a statement. "A nominee's past public statements matter, and a nominee should not be able to avoid scrutiny by merely clicking a button marked 'delete.'"

Republicans ramp up pressure on Biden to pull nominee linked to eco-terrorist plot. Republican senators are ramping up pressure on President Biden to withdraw Tracy Stone-Manning's nomination for Bureau of Land Management (BLM) director, citing her link to an eco-terrorist plot and her apparently misleading answers to senators about it. Every Republican on the Senate Energy Committee signed a letter Wednesday [7/14/2021] urging Biden to pull Stone-Manning's nomination. "Ms. Stone-Manning has made false and misleading statements in a sworn statement to the U.S. Senate Committee on Energy and Natural Resources (Committee) regarding her activities associated with an eco-terrorist cell whose tree spiking in Idaho's Clearwater National Forest in 1989 put lives at risk," the senators wrote.

Lead investigator of eco-terrorist plot involving Biden nominee says she was the 'nastiest of the suspects'. The lead Forest Service investigator of the eco-terrorist plot involving President Biden's Bureau of Land Management (BLM) director nominee sent a letter to the Senate Energy and Natural Resources Committee Wednesday pushing back against Tracy Stone-Manning's testimony. Michael Merkley, a retired criminal investigator for the U.S.D.A. Forest Service with over 28 years of service, said he felt compelled to write the letter to the Senate committee because many of the reports he had seen about the tree-spiking case linked to Stone-Manning were "inaccurate or incomplete" and misrepresented her as a "bystander or a victim." "Contrary to many stories in the news, Ms. Stone-Manning was not an innocent bystander, nor was she a victim in this case," Merkley wrote. "And, she most certainly was not a hero. Ms. Stone-Manning was not only a member of Earth First!, but she played an active role in the Earth First! hierarchy."

Biden fires Trump-holdover Social Security Administration boss in 'Fright Night Massacre'. President Joe Biden fired Social Security Commissioner Andrew Saul on Friday despite objections of Republicans and the Trump appointee himself. Saul, who called his firing a "Fright Night Massacre," was terminated from the role after refusing a request to resign earlier in the day, a White House official confirmed to the Washington Examiner. His profile already appears to have been removed from the SSA website. David Black, Saul's deputy, agreed to resign, while Kilolo Kijakazi, the deputy commissioner for retirement and disability policy, will serve as acting head until Biden picks a nominee who is confirmed by the Senate, the White House official added. Democrats pressured the White House to fire the Trump administration holdover, who was accused by critics of making it difficult for people to get disability benefits, delaying economic stimulus checks, and undermining workers' rights over the past two years.

Biden Fires Social Security Chief after He Refused to Resign. President Biden dismissed Social Security commissioner and Trump appointee Andrew Saul from his post Friday after he refused to resign. As justification for releasing him, the White House claimed Saul "politicized" the subject of his work and that his performance in the role was unsatisfactory. [...] Social Security is one of the most expansive and longest-enduring federal social-insurance programs, maintaining a safety net of regular retirement, disability, and survivor's benefits for millions of Americans. In the Social Security Administration, technically an independent agency, the leadership does not typically change with the establishment of a new administration. Saul's and Black's terms were not set to expire until January 2025, making their removals premature, considering precedent.

Trump-appointed head of Social Security Administration Andrew Saul is refusing to leave the job after being fired by Biden. Social Security Commissioner Andrew Saul is refusing to give up his post after he was fired by President Joe Biden on Friday, and declared that he will show up for work on Monday as usual. Saul, a Trump-era holdover, was accused of mismanaging the delivery of COVID stimulus payments and union bashing. He was asked to resign his post but was fired when he refused, according to a White House official.

Garcetti to India: Is Joe Biden sidelining a sneaky, scheming rival? Like all blue-city mayors, Eric Garcetti of Los Angeles has been a colossal, miserable failure. So when Joe Biden announced yesterday that he was appointing Garcetti ambassador to India, it wasn't surprising to see huge cheers of "good riddance" — not just from the right, but the radical left, too: [...] Garcetti was hated in all quarters. His COVID lockdowns brought untold misery to the city. The homeless crisis, which he stoked by shoveling millions of dollars at, is now out of control. Crime is soaring, the police are defunded, and the streets are full of potholes. And his administration is loaded with scandals, lots of pay-to-play and union overtime scams, which Garcetti covers up.

23 High-Ranking Officials in Biden Administration All Came from the Same Shadowy Firm. Many of the highest-ranking members of the Biden administration came from the same shadowy firm. It is a relatively new name among revolving-door power brokers in Washington D.C., which makes it all the more surprising. Founded in 2017, WestExec describes itself as a "diverse group of senior national security professionals with the most recent experience at the highest levels of the U.S. government. With deep knowledge and networks in the fields of defense, foreign policy, intelligence, cybersecurity, international economics, and strategic communications, our team has worked together around the White House Situation Room table, deliberating and deciding our nation's foreign and national security policies."

A Chinese 'Spy Recruitment' Scholar is Now Running Joe Biden's NSA Personnel Department. Thomas Zimmerman — a Special Assistant to Joe Biden on National Security Agency personnel — formerly served as a visiting scholar at a Chinese Communist Party think-tank labeled as a "front group for Chinese intelligence collection and overseas spy recruitment" by the FBI, The National Pulse can reveal. The stunning revelation — that Joe Biden's intelligence apparatus relies on the recruitment from a recent collaborator with the Chinese Communist Party — comes just weeks after the G7 summit where Western nations pledged tougher measures against an increasingly aggressive Beijing.

Joe Biden's BLM Nominee Pushed Population Control, Defined American Children as 'Environmental Hazard'. Tracy Stone-Manning, President Joe Biden's nominee to be director of the Bureau of Land Management (BLM), described American children as an "environmental hazard" while advocating for slowing U.S. population growth in her 1992 graduate thesis. The Daily Caller reported on Stone-Manning's thesis, titled "Into the Heart of the Beast: A case for environmental advertising," after which she was awarded a master of science degree in environmental studies. Her thesis, however, amounted to public policy recommendations for the University of Montana described as "environmental education."

Biden's $118 million cabinet: Net worth of secretaries revealed. President Joe Biden's cabinet members have managed to build back their portfolios — with the average member of his team amassing $7 million in wealth, for a total haul of $118 million. The hefty total in fact represents a considerable drop-off from the Donald Trump years, when the president's cabinet contained several multi-millionaires, with a combined worth of $6.2 billion. Two cabinet members are worth considerably more than the president himself, who comes in at about $8 million.

Biden Nominee's Complicity in Eco-Terrorism Case Disqualifies Her from Leading the Bureau of Land Management. Western loggers, mill workers, and small communities were shocked when President Biden nominated Tracy Stone-Manning as the Director of the Bureau of Land Management (BLM). Stone-Manning was part of the notorious domestic eco-terrorist group Earth First! when she was a 23-year-old graduate student at the University of Montana. As an editor of one of the group's publications, she provided fodder to the faithful who opposed congressionally mandated logging on federal lands. On one occasion, however, she went beyond advocacy. In 1989, she was an accessory to an act of eco-terrorism called tree spiking in an effort to stop the sale of Idaho national forest timber.

The Editor says...
Eco-terrorists should be in prison, not in the government.

FNC's Hilton: General Mark Milley 'Should Be Removed Immediately'. During Sunday's [6/28/2021] broadcast of FNC's "The Next Revolution," host Steve Hilton called for the chairman of the Joint Chiefs of Staff U.S. Army General Mark Milley to be removed from his post for promoting Critical Race Theory and other radical left-of-center ideologies. Given the promotion of those philosophies, Hilton said Milley was a "divisive figure."

'How Many Genders Are There?' Biden's Education Secretary Refuses to Answer. "We emphatically support all students taking advantage of all opportunities in our schools, including athletics, the arts, and that includes transgender students," Education Secretary Miguel Cardona told the House Education and Labor Committee on Thursday [6/24/2021]. "So that's something that we stand firm with, and we recognize that discrimination against any student is unacceptable, and we stand strong there." Rep. Mary Miller, an Illinois Republican, on Thursday challenged Cardona on the administration's new guidelines for protecting the rights of transgender students — possibly at the expense of other students' rights. "I won't be answering your question," Cardona told Miller, when she asked him how many genders there are.

Joe Biden picks second DOJ nominee with Hunter Biden connection. President Joe Biden has, for a second time, selected a nominee with ties to his son Hunter Biden for a top post at the Justice Department, picking a former longtime partner at the law firm where his son worked for years and that was involved in helping the younger Biden in his business dealings with Burisma. Biden announced on Friday [6/25/2021] that he had nominated Hampton Dellinger, a Yale Law School graduate and former deputy attorney general in North Carolina, to be assistant attorney general for DOJ's Office of Legal Policy. Dellinger's LinkedIn indicates he founded Hampton Dellinger PLLC in November after working as a partner at Boies, Schiller, and Flexner from May 2013 through last year. Hunter Biden was a counsel at the same firm, starting there in 2010 and reportedly leaving in 2017. In 2014, the president's son landed the Ukrainian energy giant as a client for the firm and took a lucrative position on its board.

Joe Biden's BLM Nominee Pushed Population Control, Defined American Children as 'Environmental Hazard'. Tracy Stone-Manning, President Joe Biden's nominee to be director of the Bureau of Land Management (BLM), described American children as an "environmental hazard" while advocating for slowing U.S. population growth in her 1992 graduate thesis. The Daily Caller reported on Stone-Manning's thesis, titled "Into the Heart of the Beast| A case for environmental advertising," after which she was awarded a master of science degree in environmental studies. Her thesis, however, amounted to public policy recommendations for the University of Montana described as "environmental education."

Chairman Milley Degrades, Divides and Politicizes the Military. General Milley of the Joint Chiefs of Staff turned in a performance that was part gaslighting and part humiliating theater. It's hard to imagine how his part in the hearing could have gone any worse than defending the imposition of critical race theory by arguing, "I've read Mao Zedong. I've read Karl Marx. I've read Lenin. That doesn't make me a communist." The military does not, as of yet, conduct Communist indoctrination sessions. [...] At the rate we're going it may only be a matter of time. Learning from the enemy is very different than becoming the enemy. Indoctrinating personnel with critical race theory is not studying the enemy. It's trying to convince our men and women that America is the enemy. [...] Does rage have a color? And is diving America around such cheap race-baiting tactics strengthening or weakening the military? Milley knows the answer, but he also knows, like so many other figures in this career space, that he has to parrot the party line if he wants to have a future. And national security is a small price to pay for his career.

The Chairman of The Joint Chiefs is a Political Operative. A statement made by Joint Chiefs Chairman General Mark Milley defending the teaching Critical Race Theory to West Point cadets has gained some attention. However, the comments Milley made today actually reconcile several years of CTH watching Milley operate and having puzzling questions. Remember, General Milley did some really odd things as Joint Chiefs Chairman under President Trump: (1) Milley never removed Lt. Col Alexander Vindman from his White House post after the underling compromised his leadership position. The pentagon left Vindman on assignment to the NSC even after Vindman attempted to take-down President Trump. (2) Milley was then slow to react to Navy Secretary Richard Spencer threatening President Trump; attempting to extort him into inaction over the disciplinary plans against the SEAL commando, Chief Petty Officer Edward Gallagher. And perhaps worst of all, (3) Joint Chief Chairman Milley, SoS Mike Pompeo traveled to Mar-a-Lago in December 2019, where they informed President Trump of military strikes in Syria and Iraq *after* they took place.

Moderate Republican May Have Torpedoed Biden ATF Nominee, Will Not Vote to Confirm. Republican Sen. Susan Collins of Maine has received plenty of criticism from conservatives for siding with the left too often. However, her latest decision is one that will be welcomed by her Republican colleagues. According to Fox News, Collins announced this week that she will not vote to confirm David Chipman, President Joe Biden's nominee to lead the Bureau of Alcohol, Tobacco, and Firearms. "After meeting with Mr. Chipman, listening to Mainers, and reviewing his record, I have decided to vote against Mr. Chipman's nomination to serve as the ATF Director," Collins said in a statement, according to Fox. "In recent years, Mr. Chipman has been an outspoken critic of the firearms industry and has made statements that demean law-abiding gun owners."

Biden's Nominee to Head the ATF, Who Wants Congress to Ban 'Assault Weapons,' Says He Can't Define Them. President Joe Biden wants Congress to ban "assault weapons," and so does David Chipman, his nominee to run the Bureau of Alcohol, Tobacco, Firearms, and Explosives (ATF). But neither Biden nor Chipman will say what that term means, and their obfuscation makes it impossible to take their proposal seriously. Chipman, who worked as an ATF special agent for 25 years and later served as a senior policy adviser to the gun control group Giffords, was repeatedly asked to define assault weapon during his Senate confirmation hearing last month, and he repeatedly dodged the question. Given Chipman's long experience as both an ATF agent and a gun control advocate, his evasiveness cannot plausibly be ascribed to a lack of preparation or knowledge. Instead it seems to be an intentional strategy designed to avoid exposing the illogic of targeting firearms based on their "military-style" appearance.

Top Republican Requests IG Probe Into Biden's Potentially 'Unlawful Actions' Placing Activists In Regulatory Agency. Republican Sen. Pat Toomey requested the Consumer Financial Protection Bureau's watchdog to review allegations the agency has illegally forced senior officials out. Sen. Pat Toomey, the Senate Banking Committee's top Republican, asked Consumer Financial Protection Bureau (CFPB) Inspector General Mark Bialek to review the allegations and potentially open a formal investigation into the matter in a letter sent Thursday afternoon [6/17/2021]. Toomey referenced a recent Government Executive report, which laid out how President Joe Biden's administration is using dubious means to force senior CFPB officials to retire. "The political leadership of the [CFPB] under the Biden Administration has been taking unusual and possibly unlawful actions to push out top-level career civil servants at the CFPB in order to fill those civil service positions with hand-picked loyalists," Toomey wrote to Bialek.

Education Secretary Prioritizes Transgender Students Over Biological Girls, Does What Supreme Court Hasn't. Americans can't say they weren't warned. During his Senate committee confirmation hearing in February, Education Secretary Miguel Cardona affirmed his support for transgender athletes during a line of direct and intensive questioning by Sen. Rand Paul, R-Ky. Cardona stated, "I think that it's critically important to have education systems and educators respect the rights of all students, including students who are transgender, and that they are afforded the opportunities that every other student has to participate in extracurricular activities." Cardona on Wednesday cemented his department's formal position on the matter, indicating that the U.S. Supreme Court's Bostock v. Clayton County opinion extending workplace discrimination protections under Title VII of the Civil Rights Act to gay and transgender employees would likewise be applied by the Department of Education to gay and transgender students under Title IX of the Education Amendments of 1972.

Why JoeBama Picked Garland — U.S. Senate Confirms Ketanji Brown Jackson as DC Circuit Judge. [Scroll down] The vote was 53-47 [link here] Susan Collins, Lisa Murkowski and Lindsey Graham voted with Democrats to support KBJ to the circuit court. This Deep State manuever was transparently predictable. This was the real reason why Biden elevated Merrick Garland to AG, to get him out of the way for Ketanji Brown Jackson to work her way to a seat on the U.S. Supreme Court. Obama would then have another tool for total control. [...] We all know that Biden is an avatar for Obama's third-term. Hence the plan by Team Obama (BLM) and James Clyburn (AME) to use a cognitively impaired tool to secure the 2020 club nomination. They then inserted Kamala Harris as the useful radical to manipulate for actual policy objectives. Once you see the strings on the marionettes you can never return to that time before when you did not see them.

Court Records Show Eco-Terrorist Letter Received by Forest Service Was Sent by Biden's Bureau of Land Management Nominee. A past link to an activity described as eco-terrorism should disqualify President Joe Biden's nominee to head the Bureau of Land Management, according to a Republican senator. Sen. John Barrasso of Wyoming responded critically to nominee Tracy Stone-Manning's role in sending a threatening letter on behalf of an environmentalist group that committed tree spiking crimes in 1989. "Tracy Stone-Manning collaborated with eco-terrorists," Barrasso said, according to the Daily Caller. "She worked with extreme environmental activists who spiked trees, threatening the lives and livelihoods of loggers."

The New Secession Crisis: The Democrats have already left the Union. The Democrats have already seceded from America's historic conception of nationhood in many respects: [...] THEY have removed entire groups of Americans who are not in their privileged demographics from roles in government leadership. Biden tweets about a cabinet that looks like America, when his cabinet of 25 has no whites of Protestant origin, a group that encompassed almost every one of the founding fathers and even today makes up about 40 percent of the electorate. Meanwhile, in the civil service, the Democrats are taking pains to out Trump supporters and ban them from government jobs. Even the military is now falling under their assault.

Biden's BOEM Pick has Worked for Top Offshore Wind Firms. Tommy Beaudreau spent the Trump years as a corporate lawyer working for energy companies of all stripes, including many of the developers that are key to the Biden administration's goal of building thousands of offshore wind turbines in the Atlantic Ocean. Beaudreau is now poised to be confirmed as the number-two official at the Interior Department, which will decide whether these projects should receive federal permits to start construction after evaluating their environmental impact. Although some environmental groups have criticized him for his corporate work for fossil fuel companies, it's his private practice work for a wide swath of the offshore wind industry that may force him to sit out key decisions in an area that's central to President Biden's climate goals.

Biden's FERC Selection Lobbied for Major Wind Developer. President Joe Biden's pick to lead a major federal energy agency spent years lobbying for the renewable power giant behind an offshore wind farm backed by the administration, a Washington Free Beacon review of disclosure forms found. Shortly after his inauguration, Biden tapped Richard Glick to chair the Federal Energy Regulatory Commission. From 2001 to 2016, Glick served as head lobbyist for Avangrid Renewables, the U.S. subsidiary of Spanish electric conglomerate Iberdrola. The company holds a 50 percent stake in Vineyard Wind, which is set to become the country's first large-scale offshore wind farm after the Biden administration approved the project on May 11.

Deception Wearing the Mask of Truth. How is it not indecent that the Biden administration denies fundamental biology, while insisting that boys whose affliction with the mental illness of gender dysphoria should play in girls' sports? Or that Joe Biden's appointee as Assistant Secretary of HHS is transgender Dr Rachel Levine, formerly Dr Richard Levine, who fathered four children, now an open advocate of chemical castration and genital mutilation for children, who instead need psychiatric counseling for gender confusion. How is this decent or moral?

GOP Sen. Rick Scott to block DHS nominees until Biden visits border. Sen. Rick Scott said Thursday [5/27/2021] he will block top Homeland Security nominees until President Biden makes a trip to the southern border to get a firsthand look at the situation. Mr. Scott revealed his stance at a confirmation hearing with three nominees, the picks for deputy secretary, general counsel, and undersecretary for strategy, policy and plans. He said it wasn't anything personal toward the three nominees, but rather a statement about Mr. Biden's approach to the border.

If Biden's pick to head the ATF gets the nod, we're all in trouble. Biden's nominee to head the Bureau of Alcohol, Tobacco, Firearms and Explosives, David Chipman, is a long-time gun control advocate. Putting him in charge of the ATF is a guaranteed attack on American's Second Amendment rights. As Wednesday's Senate hearing showed, the guy is also a crackpot and a liar. If you check out leftist media outlets, including taxpayer-funded NPR, it's clear that Chipman's attraction for Democrats is his commitment to grabbing guns.

Biden's pick to lead ATF dodges on Hunter gun incident. President Biden's pick to head the Bureau of Alcohol, Tobacco, Firearms and Explosives on Wednesday stonewalled questions about whether he would turn over records related to allegations that Mr. Biden's son Hunter lied on a background check to buy a gun. David Chipman, who has been nominated to lead the federal agency, said he would try to get records requested by Republican senators but cautioned that he would have to abide by ATF and Justice privacy policies. Sen. Charles E. Grassley, Iowa Republican, pressed Mr. Chipman on what more he would need to know to produce the documents.

Biden's ATF Nominee Wants to Ban 'Assault Weapons' and His Definition Is Terrifyingly Broad. President Joe Biden has nominated David Chipman, a longtime gun control advocate, to lead the Bureau of Alcohol, Tobacco, Firearms, and Explosives (ATF), an agency that plays a key role in gun regulations. Chipman, who served as an ATF special agent for 25 years, left to work with former Rep. Gabrielle Giffords (D-Ariz.) at her gun restriction organization Giffords. During his Senate confirmation hearing on Wednesday, Chipman confirmed his support for a ban on AR-15 rifles. He also suggested he still supports banning "assault weapons," and he presented an absurdly broad definition of "assault weapon." Sen. Ted Cruz (R-Texas) pressed Chipman on his public support for an AR-15 ban.

22 State AGs Voice Opposition to Biden's Nominee for ATF Director. Attorneys General in 22 states have called on the U.S. Senate to oppose David Chipman's confirmation as director of the Department of Justice's Bureau of Alcohol, Tobacco, Firearms, and Explosives (ATF), citing the efforts of the president's nominee to restrict second amendment rights. Montana's Attorney General (AG) Austin Knudsen led 21 of his colleagues in sending a letter to the U.S. Senate making a case against Chipman's confirmation. "The Second Amendment is the cornerstone of the Bill of Rights," the AGs wrote. "It guarantees our natural God-given right to defend our lives, our families, our property, and our freedom. The confirmation of David Chipman to head the Department of Justice's Bureau of Alcohol, Tobacco, Firearms, and Explosives is an attack on that right and on the millions of law-abiding gun owners across the country."

Senate Confirms Biden DOJ Nominee Kristen Clarke with One Republican Vote. The Senate confirmed Kristen Clarke to head the Justice Department's Civil Rights Division with only one vote from Sen. Susan Collins (R-ME). Clarke was confirmed as the first black woman to run the Civil Rights Division with a close 51-48 vote Tuesday afternoon. Sen. John Kennedy (R-LA) did not vote. Senate Majority Leader Chuck Schumer (D-NY) reportedly called this vote "particularly poignant and appropriate" as it came on the one-year anniversary of the death of George Floyd.

Exactly what Barack H. Obama would do!
Biden Brings in Islamic Activists to Investigate U.S. Military for 'Extremism'. A decade ago, Hina Shamsi was fighting on behalf of the Holy Land Foundation whose leaders had been convicted of providing material support to Hamas. As the head of the ACLU's National Security Project, Shamsi, a Pakistani citizen, had fought fiercely for the Islamic terrorists at Guantanamo Bay. "We all must pledge — not one person more in Guantanamo, not in our names," she recently declared. But now the Pakistani advocate for Islamic terrorists has a new job: going after our soldiers. Shamsi is one of the terror lawyers who appears on a list of partners for the Biden administration's crackdown on "extremism" in the military. The only kind of extremism that Shamsi appears to be an expert on is the Islamic kind and her expertise has been in denying it. Furthermore, at least as of 2017, Shamsi had described herself as a Pakistan citizen with permanent legal residency in America.

The Ongoing Politicization of the DOJ. President Joe Biden over the past few months has added to his administration multiple officials from the Obama-era who had direct participation in "RussiaGate." The latest addition by the Biden administration is Susan Hennessey to the Department of Justice's National Security Division. Hennessey has been one of the primary promoters of Russia-collusion theories during her time at Lawfare, a blog affiliated with The Brookings Institution. Notably, her outlandish claims of collusion between the Trump campaign and Russia have consistently been proven wrong. [...] Like so many leading promoters of the Trump-Russia collusion narrative, Hennessey had worked in the intelligence community earlier in her career. Before joining the Brookings Institution, Hennessey was an attorney in the Office of General Counsel of the National Security Agency. On July 27, 2016, at the exact time that Steele's Dossier and information regarding Papadopoulos's conversation with Australia's Alexander Downer was being transmitted to the FBI, Hennessey and Wittes co-authored an article titled "Is Trump a Russian Agent," discussing if Trump could be subjected to a FISA surveillance. Hennessey, along with Wittes, would remain focused on promoting allegations of Trump-Russia collusion for the next four years. Hennessey was also routinely quoted in articles on Russia Collusion and was the single-source quote for an early influential article in McClatchy that was used to promote the theory that the intelligence community had evidence of Russia-collusion that went beyond the Steele Dossier — a statement that was later roundly disproven.

Biden HUD secretary receives warning for Hatch Act violation. Housing and Urban Development Secretary Marcia Fudge violated the Hatch Act in March with comments she made at a White House press briefing, the Office of Special Counsel found. In a letter to Caitlin Sutherland, the executive director for Americans for Public Trust, the office's Hatch Act Unit chief, Ana Galindo-Marrone, confirmed the determination and said a warning had been issued to Fudge. The letter was in response to a complaint filed by the organization regarding the official's remarks. "OSC reviewed a transcript of the event and learned that Secretary Fudge appeared in her official capacity at the briefing and answered press questions about HUD-related topics," she said, adding, "At the end of her appearance, Secretary Fudge was asked to opine on the election to fill her seat in the U.S. House of Representatives, and she declined to respond. Then Secretary Fudge was asked to discuss the 2022 Ohio election for U.S. Senate."

Deputy White House director said ICE 'doesn't have to exist,' told protesters to 'shut-it-down'. The Biden White House's new deputy director for political strategy and outreach encouraged people to "look up your nearest ICE office and shut-it-down" and said ICE "doesn't have to exist" in 2018 tweets. "If you're looking for a way to help — look up your nearest ICE office and shut-it-down," Natalie Montelongo wrote on Twitter on June 21, 2018, in response to a story about anti-ICE protests in Portland.

The three faces of the Republican Party. Thanks to Donald Trump, we can all clearly see who among our officials actually represents the American people who elected them; which members of Congress are interested only in keeping their seats; and those who passively align themselves with the Democrats to push our republic into a version of communist China with a social credit system, struggle sessions, and mandatory submission to an all-powerful government that would make Mao and Stalin proud. Far too many of them are sitting still for this. The Republican Party is in serious disarray; it's fractured. Yellow-bellies like Kevin McCarthy are the majority, and the open NeverTrumps are traitors to their constituents. Where do they all seem to work together? When confirming Biden's dismal appointees to high office within his illegitimate administration. They are all awful! William Burns for CIA has numerous links to the Communist Party of China; Susan Hennessey to the DOJ is a confirmed rabid Russia hoaxer. Lisa Monaco probably ordered the raid on Giuliani. On this one score, their three faces meld into one insipid like-mind that cravenly submits to the most radical administration in U.S. history.

Where is the Congressional Republican Outrage? Recently, the new Defense Secretary, Lloyd Austin explained that an existential threat to our military forces is climate change. I guess the secretary missed the session on orientation day explaining the main objective of the U.S. military to fight wars and defeat the enemy. When not engaged in war, they should be training and preparing for one. To achieve that objective he said, "We in the Department of Defense are committed to doing our part, from increasing the energy efficiency of our platforms and installations, to deploying clean distributed generation and energy storage, to electrifying our own vehicle fleets". I look for the announcement of a newly designed, totally electric Abrams tank.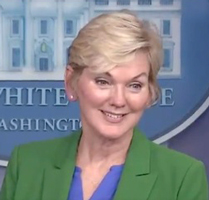 Energy Secretary Granholm just can't suppress her smiles over the gasoline shortages from the Colonial Pipeline shutdown. Jennifer Granholm sure doesn't look too upset over the impact of the shutdown of the Colonial Pipeline on gasoline and other energy supplies. [...] Don't you realize it's good for you to learn to get along without fossil fuels? Did you realize that if you drive an electric car, this wouldn't be a problem? Watch as a reporter's question on whether the shutdown would "speed up" the transition to green energy yields utterly` inappropriate (and chilling, if you think about it) smiles from Granholm: [Photo] [Tweet] Sacrifices are going to have to be made, and it's the little people who must make them. Don't expect Granholm to take the bus to work or swear off private jets. And don't call what's going on a "gasoline shortage"! That's too reminiscent of Jimmy Carter. Call it a "supply crunch"!
Symone Sanders 'hurt' that Biden picked Psaki over her for press secretary, Wa-Po reports. The problem with those who go through life perceiving themselves as victims is that their victimhood lives on in perpetuity. Symone Sanders, 31, senior adviser to Vice President Kamala Harris, is reportedly "hurt" that she wasn't selected over White House press secretary Jen Psaki to be President Joe Biden's spokesperson. Sanders bailed on Sen. Bernie Sanders, I-Vt., — no relation — after briefly serving as press secretary during his 2016 presidential campaign. After joining CNN later in the year as a contributor, Sanders declared, "We don't need white people leading the Democratic Party right now."
One of the Worst Russian Collusion Hoaxers Just Got Hired by the DOJ. In another move proving that there is no justice in Washington, one of the worst Russian collusion hoaxers of the Donald Trump era has been hired by the Department of Justice. Susan Hennessy, who was still fluffing the Steele Dossier well after its demise, will now work for the National Security Division. Hennessey was also a chief opposer of the highly successful strike to kill Qasem Soleimani, jumping into action to condemn the intelligence behind the raid. Later, Iran's Javad Zarif would admit the attack was devastating for the terrorist nation.
Senate should reject radical, unethical Kristen Clarke for top civil rights post. The Senate should reject leftist lawyer Kristen Clarke's nomination as the head of the Justice Department's civil rights division. New ethical questions help illustrate why. Clarke's record already showed a tendency toward ideological extremism. Now, she stands credibly accused of multiple instances of providing false testimony under oath. [...] Clarke's extremist tendencies have manifested themselves on matters of policing and race. On law enforcement, she long has stood accused of animus against the police in general. On race, she has a long history of advocacy for, or association with, black radicals and black anti-Semites and of opposing the prosecution of black vote-fraudsters.
A Major Biden Administration Scandal Is Brewing. As RedState reported weeks ago, there are serious issues surrounding millions of dollars in stock owned by Secretary of Energy Jennifer Granholm. That stock is in Proterra, an electric vehicle company that is being actively promoted by the Biden administration. Further, Granholm being the Secretary of Energy means she gets to make regulations that can directly enrich herself. Now, the story has gotten worse as Granholm appears to have reneged completely on her pledge to sell her stock and leave the board of the company in question.
The Editor says...
It's not a scandal if the news media ignores it. At least that appears to be the plan.
Biden Nominee Kirsten Clarke Promoted Work of Racist Anti-Semitic Black Supremacist. Kirsten Clarke, Biden's nominee to head civil rights at the DOJ, has a history of black nationalism, and sympathy for racism and antisemitism. [...] What kind of decent person would be associated with filth like this? No one. Only a Biden nominee would. Imagine a Republican nominee circulating material from anyone half this hateful and deranged. But the media keeps playing defense for Clarke.
Biden DOJ Nominee Conceals Ties To Anti-Semitic Professor. Archived copies of a scholarly journal show Justice Department nominee Kristen Clarke listed on the masthead alongside an anti-Semitic writer with whom she claimed under oath she has never collaborated. The revelation could prompt charges that she gave inaccurate answers to the Senate Judiciary Committee. Clarke told lawmakers that she has never worked with Amiri Baraka, the Marxist and anti-Semitic black nationalist who accused Israel of having advanced knowledge of 9/11 in a 2002 poem. Both Clarke and Baraka are listed as editors of the journal Souls at least eight times over two years. While Clarke's denial may not technically amount to perjury, less-than-candid responses have proved fatal for other nominees of both parties.
Biden SBA Pick Serves on the Board of Anti-Israel Group. President Joe Biden's nominee for a top Small Business Administration job sits on the board of a group that lobbies in favor of the anti-Israel boycott movement and describes Israel as an "apartheid" state. Dilawar Syed, Biden's pick for deputy administrator of the SBA, has served on the board of the Muslim-American advocacy group Emgage Action since 2017, according to his public financial disclosure form submitted as part of his nomination process. Emgage Action is a staunch defender of the global Boycott, Divestment, and Sanctions movement (BDS) that seeks to hurt Israel with economic pressure. The stance could be an obstacle for Syed ahead of his confirmation vote by the Senate Small Business Committee, which is chaired by Sen. Ben Cardin (D., Md.), one of the Democratic Party's most vocal opponents of BDS.
Senate Republicans Just Handed Matches to [an] Arsonist. On Wednesday [4/21/2021], 48 Republican senators — including Senate Minority Leader Mitch McConnell (R-Ky.) and two former chairmen of the Senate Judiciary Committee — voted to confirm Lisa Monaco as Biden's deputy attorney general. (Senators Rand Paul of Kentucky and Ted Cruz of Texas voted no.) Monaco, as I explained [elsew]here, is an Obama confidante who played a key role in perpetuating the myth about Russian collusion both before and after the 2016 election. The former chief of staff to Robert Mueller when he headed Obama's FBI and then Obama's homeland security advisor, Monaco has been a harsh critic of Trump and Republican policies over the past four years. She backs a "whole of government" approach to combating domestic terrorists, code for Americans who support Donald Trump. Not a single Republican senator should have supported Monaco's nomination. Her confirmation hearing before the Senate Judiciary Committee last month should have featured GOP senators demanding answers about her involvement in the collusion hoax and assurances she would not use her broad authority to keep targeting people on the Right.
4 Things to Know About Biden's New Voting Czar. As Democrats push to expand the federal government's purview over elections, President Joe Biden has named a former Justice Department official to be a White House adviser on voting issues. Biden this week tapped Justin Levitt, a Loyola Law School professor, to be his senior adviser for democracy and voting rights. [...] Levitt has been critical of Georgia's recent election reforms, telling FactCheck.org that the state's new law bans food and drink from voter lines at polling places. "This new prohibition is extra, and prevents giving anyone in line food or drink, even if it's demonstrably not an incentive (e.g., giving someone who had already waited two hours in line a bottle of water)," Levitt told the website in an email. Actually, the new Georgia law bans campaign workers and activists from handing out food or drink within a certain distance but specifically allows poll workers to hand out water. The law prevents campaign workers from setting up a booth 150 feet from a polling station or within 25 feet of a voter.
Biden pick to manage federal personnel promoted controversial racial theorist. As CEO of a dark money-backed philanthropy, President Joe Biden's nominee to lead the Office of Personnel Management promoted a controversial racial theorist as well as groups calling to defund the police and post bail for violent left-wing protesters. Kiran Ahuja would take office at a time of upheaval inside the federal government as it champions radically new notions of race and history. If confirmed in the evenly divided Senate, Ahuja would lead an agency of several thousand employees and act as chief human resource officer to millions of government officials. Biden has directed his administration to take a whole-of-government approach to addressing racial inequity, issuing sweeping executive orders and weaving the language of critical race theory into federal directives.
Biden's pick to lead the DOJ criminal division under fire for brokering plea deal with Louisiana district attorney. President Joe Biden's pick to lead the U.S. Justice Department's criminal division is facing new scrutiny over a plea deal he brokered with a Louisiana district attorney who was accused of coercing sexual favors from as many as two dozen women. A former FBI agent blasted Kenneth Polite in a whistleblower letter unsealed this week, saying he lacked the courage to seek justice and left victims in the dark about the 2016 case while serving as New Orleans' top federal prosecutor.
Senate Overwhelmingly Confirms Lisa Monaco To Be Deputy Attorney General. Lisa Monaco, President Joe Biden's pick for the no. 2 post at the Department of Justice, was overwhelmingly confirmed by the Senate Tuesday [4/20/2021]. Monaco, a security advisor to former President Barack Obama and a former member of the Homeland Security Council, was confirmed 98 to 2, and joins Attorney General Merrick Garland in leading the department. The Senate Judiciary Committee unanimously approved her nomination after she earned bipartisan praise, even as it split on another Justice Department nominee in the same hearing.
Conservative group says 'independent' postal board nominee is really a Democrat. A group that conducts "non-partisan conservative research and fact-checking" is calling into question the claim that one of Biden's nominees to the Board of Governors of the United States Postal Service is a true independent and has produced online evidence she is a Democrat. Amber McReynolds's nomination will be considered at a Senate Homeland Security and Governmental Affairs hearing on Thursday. President Joe Biden nominated McReynolds to serve as the only independent governor on the nine-member board, which would make her a crucial tiebreaker on the panel. The American Accountability Foundation believes McReynolds is a Democrat, and her confirmation to the board as an independent could allow Democrats to fill a vacancy later with another Democrat, illegally stacking the board in their favor.
Pompeo calls Thomas-Greenfield's 'slavery' comments 'reprehensible'. Former Secretary of State Mike Pompeo slammed comments from UN Ambassador Linda Thomas-Greenfield that "slavery weaved white supremacy into our founding documents" — saying the remarks are "reprehensible" and should disqualify her from representing American interests around the world. "America is a noble place," Pompeo told "The Cats Roundtable" on WABC 770 AM in an interview that aired Sunday [4/18/2021]. "I heard our ambassador to the United Nations this week talk about our founding as fundamentally corrupt and flawed and not noble and good. I couldn't disagree more." Thomas-Greenfield spoke about the "imperfect union" of America during a virtual speech last Wednesday at the Rev. Al Sharpton's National Action Network conference.
Biden Nominee Skates Through Confirmation Hearing Without Facing Questions About Her Handling Of Steele Dossier. State Department nominee Victoria Nuland coasted through her Senate confirmation hearing on Thursday without facing any questions about her role disseminating information from former British spy Christopher Steele during the 2016 presidential campaign. Nuland, who is nominated for undersecretary of state of political affairs, authorized two meetings during a previous stint at the State Department between government officials and Steele, a former British spy who compiled a dossier alleging collusion between the Trump campaign and Russian government. She also pressed the FBI in the weeks before the 2016 election to investigate Steele's allegations, according to government documents released last year.
Psaki: Biden won't remove UN ambassador over 'white supremacy' comments. White House press secretary Jen Psaki on Friday said President Biden has no plans to remove UN Ambassador Linda Thomas-Greenfield over comments she made that "slavery weaved white supremacy into our founding documents and principles." The senior US diplomat described racism and discrimination in the US in taped remarks this week to Al Sharpton's National Action Network. Emerald Robinson of Newsmax asked Psaki at her daily press briefing whether Biden is "going to remove her from her position" — saying the speech hit themes similar to an anti-US diatribe by Chinese diplomats in Alaska last month. But Psaki defended Thomas-Greenfield, who also denounced China's treatment of Uyghurs and Burma's treatment of Rohingya Muslims in her remarks to Sharpton's group.
Kristen Clarke Is Unfit to Be in Government. Kristen Clarke, Joe Biden's nominee for assistant attorney general of the United States, once promoted racist pseudoscientific quackery, arguing that the human brain was structured in a way that makes Black people superior to white people, and that "human mental processes" in the brain have chemicals that imbue one race with "superior physical and mental abilities" and "spiritual abilities." Rather than owning up to a youthful relationship with radicalism, Clarke, who made these comments in the Harvard Crimson as a 19 year old, claims that her racist diatribe was a merely a parody mocking the controversial book, "The Bell Curve." "What I was seeking to do was to hold up a mirror," she says, "Put one racist theory alongside another." Purely by chance, Clarke also happened to invite a Holocaust-denying fraud named Anthony Martin — then a professor at Wellesley College whose assigned primary textbook was called "The Secret Relationship Between Blacks and Jews," which blamed Jews for the slave trade, and who wrote "The Jewish Onslaught," published by Nation of Islam leader Louis Farrakhan — to speak at Harvard. Around the same time Clarke was writing unrecognizable satire about Black supremacy, she was calling Martin an "intelligent, well-versed Black intellectual who bases his information on indisputable fact."
Kristen Clarke, Bigot and Liar. Having sworn to answer all questions truthfully, in an appearance Wednesday before the Senate Judiciary Committee, President Joe Biden's nominee to lead the Department of Justice's Civil Rights Division offered a series of answers that strained credulity and veered into outright falsehood. The most bald-faced of the lies Kristen Clarke offered in her own defense relates to her activism while a Harvard University undergraduate in the 1990s. Pressed about a 1994 letter published in the Harvard Crimson making the case that blacks are intellectually and physically superior to whites, Clarke waved it off as a "satirical" attempt to refute The Bell Curve, which came out the same year. Everybody knew she was joking, she said, when she wrote that "black infants sit, stand, crawl and walk sooner than whites," and, in a demonstration of scholarly rigor, pointed to the work of the writer Carol Barnes to assert that "human mental processes are controlled by melanin — that same chemical which gives Blacks their superior physical and mental abilities." The letter concluded: "It is completely naive to say that Blacks have achieved economic equality with whites. It seems that whites have grown tired of hearing about racism." Was that a joke, too?
There Is Absolutely No Evidence That Kristen Clarke's Racist Letter Was Satire. Yesterday [4/14/2021], Texas senator John Cornyn asked Kristen Clarke, Joe Biden's nominee for the Department of Justice's Civil Rights Division, about a letter she wrote promoting pseudoscientific racist theories in The Harvard Crimson back in the 1990s. Clarke claimed she was merely "holding up a mirror" to the "racist theory that defined the Bell Curve book." "But this was satire?" Cornyn asked. "Absolutely, senator," said Clarke. Cornyn moved on quickly, but was still skewered by the usual characters. [...] Indeed, there is not a single shred of contemporaneous evidence that the letter was satire. Quite the opposite. Subsequent pieces in the Crimson specifically point out that Clarke refused to concede that she wasn't serious. The Harvard Crimson staff, in fact, demanded a retraction and noted that it had "searched in vain for a hint of irony in Clarke's letter." In another response, a columnist argued that "Clarke refuses to explicitly deny the theories" and accused her of "disseminating racist theories." Again, believing stupid things when you're young is no crime. (Though Clarke still supports the occasional Farrakhanite.) But it seems quite likely that Clarke lied to Congress — with the help of a number of people in the media.
Biden DOJ Pick Struggles to Defend Record on Black Panther Prosecutions. Justice Department nominee Kristen Clarke struggled to explain her criticisms of a civil rights case lodged against members of the New Black Panther Party during her confirmation hearing Wednesday [4/14/2021]. Clarke tried to duck questions about her opposition to prosecuting two Panthers for civil rights violations in the 2008 election while testifying before the Senate Judiciary Committee. Republican lawmakers say the Black Panther case is a troubling indicator of her approach to enforcing civil rights laws. Clarke's history of opposing civil rights prosecutions of black defendants has made her nomination contentious. If confirmed, she will lead the Justice Department's Civil Rights Division and serve as top prosecutor for a range of nondiscrimination statutes.
Wherever Vanita Gupta Worked, Her Father's Money Followed. Hiring Vanita Gupta has come with an added perk for her employers: hundreds of thousands of dollars from her wealthy chemical executive father. A Washington Free Beacon review of financial documents found Rajiv Gupta's Ujala Foundation donated $50,000 to the ACLU the same year his daughter, now President Joe Biden's nominee for the number-three position at the Department of Justice, was promoted to a management position. Over the next decade, hundreds of thousands of dollars in Ujala donations carefully tracked Vanita Gupta's employment record. Among the foundation's first major contributions was $50,000 in 2010 to the ACLU, the same year Vanita Gupta was promoted to a leadership position. The Ujala Foundation's donations totaled $182,500 to the ACLU while Vanita worked there, including installments of $50,000 in 2010, $50,000 in 2011, $40,000 in 2012, and $42,500 in 2013. Its donations ceased once Vanita left in 2014 to join the Obama administration.
Who is David Chipman, Biden's pick to lead ATF? President Joe Biden has chosen a gun control advocate with a history of pushing for limits on guns and ammunition to lead the Bureau of Alcohol, Tobacco, Firearms, and Explosives. Biden announced David Chipman, a former ATF agent, as his pick to lead the agency last week alongside the unveiling of executive actions aimed at curbing certain kinds of firearms. Chipman's past advocacy for restricting guns, however, could complicate his path to confirmation through a sharply divided Senate. His most recent employer — Giffords, part of a gun safety organization founded by Rep. Gabby Giffords — has pushed this year for stripping gun manufacturers of protection from lawsuits if their guns are used in crimes, requiring permits for the purchase of all types of guns, and limiting magazines that can hold more than 10 rounds of ammunition. Pro-gun groups quickly panned the nomination last week. The National Rifle Association on Friday announced its opposition, calling him a "gun control extremist." The Second Amendment Foundation called Biden's selection of Chipman an "alarming development."
Cotton: Biden Admin Says [the] Same Things about American Racism that China [and the] USSR Used to Say. On Wednesday's [4/14/2021] broadcast of the Fox News Channel's "Fox News Primetime," Sen. Tom Cotton (R-AR) reacted to U.N. Ambassador Linda Thomas-Greenfield's statements about racism being a part of America's founding documents by saying that under the Biden administration, our own diplomats are saying the same things about America that we used to hear Chinese or Soviet officials say about the U.S. Cotton said, "Amazing. Yeah, you used to listen to Communist Chinese or Communist Soviets call Americans racists at the United Nations. In the Biden administration, you hear that from our own ambassador. That's disgraceful."
Biden U.N. Ambassador Linda Thomas Greenfield Faces Backlash For Attacking U.S.: 'CCP Propaganda'. Linda Thomas-Greenfield, Biden's U.N. ambassador, faced widespread criticism on Wednesday [4/14/2021] after she bashed the U.S. while speaking to a far-left organization run by "genuine bigot" Al Sharpton. Thomas-Greenfield said the Biden administration wants to have "humility" as it raises the issues of "equity and justice at the global scale."
Biden U.N. ambassador blasts U.S., rips 'White supremacy' within 'founding documents and principles'. President Biden's U.N. ambassador wants the world to know that the Declaration of Independence and the principles espoused within are laced with "White supremacy." Linda Thomas-Greenfield made the blanket comments about founding documents this week while speaking to the Al Sharpton-founded National Action Network (NAN). "I have seen for myself how the original sin of slavery weaved White supremacy into our founding documents and principles," she said.
The Editor says...
The people at the U.N. have a low enough opinion of the U.S. already, without some America-hating leftist radical egging them on.
Biden's Team of Racists and Anti-Semites: An Anti-American Coalition in the Heart of the White House. Formally introducing his cabinet to the public, Joe Biden proudly declared: "This is the first [time] in American history that the cabinet looks like America." Looking at the actual appointments and not just the gender, skin color, and ethnic origins of the Biden team, it is a team that may look like America but doesn't think like America. In fact, it is a team whose outlook is anti-American.
Report: Biden Is About to Nominate Cindy McCain for a Coveted Position. Cindy McCain, the widow of the late Sen. John McCain of Arizona, is in line for an ambassador position in the Biden administration, according to a new report. [...] According to Politico, McCain will now be named U.S. ambassador to the United Nations World Food Programme. The agency is based in Rome. McCain, 66, previously worked to fight world hunger and human trafficking as the chair of the board of trustees for the McCain Institute for International Leadership at Arizona State University. McCain was also a member of Biden's transition team. Earlier speculation indicated she could be named the administration's ambassador to the United Kingdom, according to Axios.
Biden Picks Pro-Illegal Police Chief Who Evicted Border Patrol to Head CBP. I'm only surprised that Biden didn't pick an actual illegal alien to head CBP. That'll come a little later. Meanwhile, Biden decided to nominate Tucson, Arizona police chief Chris Magnus, to head Customs and Border Protection. [...] It ought to go without saying that the head of a pro-illegal department who actually blocked the Border Patrol from doing its job has no place whatsoever heading up CBP, but Biden, like Obama, keeps appointing foxes to oversee the national henhouse.
Biden 'Environmental Justice' Appointees Equate Energy Production, Fossil Fuels With Racism. In February, Beverly Wright linked the legacy of slavery and the Jim Crow era with energy development. In March, President Joe Biden appointed Wright to his White House Environmental Justice Advisory Council. Wright, the founder of the Deep South Center for Environmental Justice, is joined on the council by Jade Begay of the Indigenous Environmental Network, who co-wrote a 2018 op-ed in EcoWatch contending that climate change is "colonialism" and "cultural genocide." Biden has named several activists that tie energy development to racial bigotry to the Environmental Justice Advisory Council.
Biden Border Coordinator Roberta Jacobson stepping down. The Biden administration's Southern Border coordinator will step down at the end of the month as officials continue to struggle with a large influx of migrants trying to enter the United States. Roberta Jacobson, the former ambassador to Mexico, was chosen as President Biden's border czar amid pressure from lawmakers to address what some are calling a "crisis" at the southern border. "Consistent with her commitment to serve in the administration's first 100 days, Ambassador Jacobson will retire from her role as Coordinator at the end of this month," National Security Advisor Jake Sullivan said in a statement.
Members Of Biden's 'Environmental Justice' Advisory Council Have History Of Radicalism, Claiming Fossil Fuels Are Racist. At the end of last month, the Biden administration announced the members of the White House Environmental Justice Advisory Council, which would "provide advice and recommendations to the Chair of the Council on Environmental Quality (CEQ) and the White House Environmental Justice Interagency Council on how to address current and historic environmental injustices." Twenty-six people were named to the council, but at least four of them have made radical statements connecting fossil fuels to racism. Susana Almanza, for example, is the director of People Organized in Defense of Earth and Her Resources (PODER), an environmental justice organization based in Austin, Texas. Hilltop Views, the student news website of St. Edward's University, profiled Almanza, noting that she has a Che Guevara poster in her office and said that her organization is "fighting big monsters; they're not little ones," referring to oil companies.
Biden's Nominee To Lead ATF Pushed Dubious Claim About Waco Siege To Call For Blanket Ban On Assault Rifles. The gun control activist who President Joe Biden is expected to nominate to lead the Bureau of Alcohol, Tobacco, Firearms and Explosives (ATF) claimed last year that members of the Branch Davidian sect shot down two helicopters during a standoff with federal agents in Waco in 1993. David Chipman, the expected nominee, posted the comments as part of a Reddit "Ask Me Anything" event. He also called for tighter gun control measures, including restricting gun sales only to licensed gun stores and a ban on the manufacture and sale of so-called assault rifles. Biden is expected to announce Chipman's nomination on Thursday during an event where he will lay out a series of executive actions aimed at reducing gun violence. Chipman currently serves as a senior policy adviser to former Arizona Rep. Gabby Giffords, who was nearly killed after being shot by a gunman at a campaign event in 2011. CNN described Chipman Wednesday as a "fierce advocate for gun control."
Biden's Pick to Lead ATF Locked His Twitter Account: What Is He Hiding? President Joe Biden is set to nominate David Chipman, a prominent adviser to the anti-gun group launched by former democratic Rep. Gabrielle Giffords, to lead the Bureau of Alcohol, Tobacco, Firearms and Explosives (ATF) on Thursday [4/8/2021]. But, shortly after news broke of his appointment, Chipman changed the privacy settings on his Twitter to private. What is he hiding? Chipman previously served 25 years at the ATF and became a special agent to lead the bureau's Firearms Program, according to The Federalist. Indeed, it seems there is no better person to help Joe Biden push his radical gun control agenda. Chipman locking his Twitter account is perhaps a precautionary measure, as past tweets have created problems for several of Biden's nominees.
Biden's nominee for ATF head is an anti-gun lobbyist who was at the Ruby Ridge standoff and Waco massacre — and lied about cult members shooting down helicopters. Joe Biden's pick to head the Bureau of Alcohol, Tobacco, Firearms and Explosives (ATF) was an agent involved in the Ruby Ridge standoff and Waco siege — and, it was revealed this week, he lied about Branch Davidian cult members shooting down two helicopters during the infamous standoff. Gun rights advocacy groups are extremely concerned that Biden is tapping gun control advocate David Chipman to lead the agency that oversees firearms-related issues. They are also now concerned about his previous false statement. 'Joe Biden knows he cannot beat gun owners in Congress. Instead, he's circumventing the legislative process to impose his own tyrannical [vision] by executive fiat,' Gun Owners of America Vice President Erich Pratt told Fox News in a statement.
Joe Biden Border Czar Roberta Jacobson Stepping Down. President Joe Biden's "border czar" will leave the White House, as the administration continues struggling to handle the migration crisis on the Southern border. Former U.S. ambassador to Mexico Roberta S. Jacobson, who was appointed by Biden to lead the diplomatic effort in Central America, will leave her position at the end of April, she revealed to the New York Times.
Biden asks his Education Secretary if he can legally cancel up to $50,000 in student debt for EVERY American. President Joe Biden's Secretary of Education is looking into whether the president can cancel up to $50,000 in student loan debt for millions of borrowers. White House Chief of Staff Ron Klain said at a Politico Playbook event Thursday that Biden has asked Education Secretary Miguel Cardona to figure out if the president has the legal authority to wipe out their balances. On the campaign trail he said he wanted to wipe away $10,000 per borrower, but prominent Democrats, including Senate Majority Leader Chuck Schumer, Sen. Elizabeth Warren and Rep. Alexandria Ocasio-Cortez have pressed him to pursue $50,000 in debt relief per student.
'Environmentalist' Buttigieg unloads bike from SUV before riding the short distance to his destination. The United States Secretary of Transportation Pete Buttigieg was caught on video Thursday unloading a bike from an SUV just moments before riding the bike a short distance to his destination, to make it look like the 'environmentalist' was saving energy, in an epic virtue signal fail. A person off camera can even be heard questioning why the Biden administration official would be wearing a suit while bike riding. Buttigieg has been at the forefront of advocating for President Joe Biden to implement new taxes on transportation, including taxing individual's based on the amount of distance they have driven as well as increasing taxes on gas.
Pete Buttigieg's little bicycle theater is ridiculous. Little Petey Buttigieg is now playing in the big leagues, having made the tremendous leap from ineffectual mayor of a crime-ridden city to Transportation Secretary of the United States of America. To make a point about alternative transportation, he rode a bicycle to his first White House cabinet meeting — after first having several burly men drive him near the White House and then escort him and his bike. This kind of theater is typical for leftists, who often seem incapable of distinguishing fantasy from reality. Last week, Little Petey (who always reminds me of a cross between Alfred "What, Me Worry?" Newman and Beaver Cleaver) let Americans know that being transportation secretary is more than focusing on roads and cars. Therefore, he tweeted out, "You should not have to own a car to prosper in this country, no matter what kind of community you're living in." On Thursday, he decided to use his first White House cabinet meeting to make that point.
A lifetime position on the Supreme Court is far too important to trivialize with race and gender quotas.
Psaki Reveals That Biden 'Absolutely Committed' To Installing A Black Woman On Supreme Court. During a press briefing, White House Press Secretary Jen Psaki revealed that Joe Biden is "absolutely" committed to nominating a Black woman to the Supreme Court. During his campaign, Biden promised to put a Black woman on the nation's highest court in order to appeal to the critical race theorists of the Democrat Party. The campaign promise was put in the spotlight as a reporter asked Psaki if the Biden team was considering giving favorable chances to political nominees of certain skin color. Biden's campaign pandering came back to the spotlight after he released his first federal judicial picks, a group of 11 attorneys that included multiple Black women.
The Editor says...
If the nominee must be black and must be female (how is that legal?) I'm rooting for either Sheila Jackson Lee or Maxine Waters. Imagine all the lively discussions that would ensue behind closed doors at the Scotus with either of those two clowns in the room.
Biden Puts Susan Rice in Charge of Effort to Expand Vote by Mail. President Joe Biden put controversial former national security adviser Susan Rice in charge of directing hundreds of federal agencies and departments to expand access to mail-in voting. Biden signed an executive order in March that put Rice, now the assistant to the president for domestic policy, in charge of soliciting strategies from federal agencies to produce "relevant information" on expanded voting registration procedures. Federal agencies must submit to Rice "a strategic plan outlining the ways identified under this review that the agency can promote voter registration and voter participation" within 200 days under the terms of the order. "Agencies shall consider ways to expand citizens' opportunities to register to vote and to obtain information about, and participate in, the electoral process," the order states.
SOCOM's First Diversity and Inclusion Chief Gets Immediately Re-Assigned Over Post Comparing Trump to Hitler. As covered by RedState's streiff over the weekend, the Department of Defense has added an office of "diversity and inclusion." Via Twitter, the U.S. Special Operations Command christened its first chief, Richard Torres-Estrada: [Tweet] Some considered it a curious choice, as the man hadn't necessarily placed great emphasis on including things that are diverse. [...] Meanwhile, the nation's new Secretary of Defense has announced his support for transgenderism in the service.
Biden's list of judicial nominees leans heavily toward checking one identity box in particular. Identity politics looms large in the list of judicial nominees released by the Biden White House today. Can you guess which identity box is focused on like a laser beam on this list? It's black women. It is as though a call was sent out that only black women will be considered for judicial nominations, with a particular focus on one who may be Biden's Supreme Court nominee, should the opportunity arise. Anytime a Democrat begins talking about diversity and the historic nature of decisions, you know what is coming. The Biden administration doesn't even bother to finesse its blatant sop to a demographic that is responsible for Sleepy Joe's election. Joe Biden won the presidential election thanks to black Democrat women voters. It began in South Carolina with Biden scoring the endorsement of Rep. James Clyburn, a Democrat powerhouse in that state, and went from there. Black women organized support for Biden and got out the vote for him across the country. Now it's payback time.
Biden's DHS chief Alejandro Mayorkas Fires all but three members of his advisory council in the middle of the border crisis. Department of Homeland Security (DHS) chief Alejandro Mayorkas has been slammed for firing 32 members of the agency's advisory council, including several Donald Trump allies, in the middle of the border crisis. Mayorkas announced the shock move to 'reconstitute' the Homeland Security Advisory Council (HSAC) in a letter to the ousted members Friday telling them that their place on the council had ended effective immediately, with only three members kept on in their roles. 'I am considering how the HSAC can bring the greatest value to the Department and how the expertise, judgment, and counsel of its members can be harnessed most effectively to advance the Department's mission,' he wrote.
SOCOM Investigating New Diversity Chief's Posts including One Comparing Trump to Hitler. U.S. Special Operations Command is investigating its new chief of diversity and inclusion over social media posts criticizing police and former President Donald Trump, officials confirmed Monday. SOCOM welcomed Richard Torres-Estrada in a tweet Thursday [3/25/2021]. [...] But within days, critics were roasting Torres-Estrada for some of his public Facebook posts, particularly one last summer that implicitly compared President Trump to Adolf Hitler. The well-circulated meme juxtaposes a doctored photo of Hitler appearing to hold up a book resembling a Bible with a genuine photograph of Trump holding a Bible in front of St. John's Church across from the White House.
US Special Operations Command Appoints a Political Commissar to Make Sure the Whole Place Is Woke Enough to Suit the Left. Part of the Defense Authorization Act that passed Congress over President Trump's veto (it had only twelve No votes in the Senate and 87 No votes in the House) was the mainstreaming of Critical Race Theory into the U.S. Defense establishment. This attack of morale, good order, and discipline comes in the form of mandating a "diversity and inclusion" (diversity and inclusion do not, apparently, extend to heterosexual males, particularly if they are white) apparatus at all levels of command and essentially instituting something like NKVD commissars to ensure the entire chain of command is supportive of racial grievance-mongering. Yesterday [3/26/2021], US Special Operations Command announced the appointment of its first "chief of diversity and inclusion."
Ri-i-i-ight.
US Special Operations Command 'Not Aware' of Top Hire's Anti-Trump Posts. U.S. Special Operations Command (USSOCOM) didn't know that a newly hired official had compared former President Donald Trump to Adolf Hitler and expressed support for the quasi-Marxist equity theory, a spokesperson said on March 27. USSOCOM earlier in the week announced the hiring of Richard Torres-Estrada as its chief of diversity and inclusion. Torres-Estrada last year compared Trump, who was president at the time, with Hitler, who perpetrated the Holocaust, killing millions of Jews in Europe. He also made at least one other clear anti-Trump post, according to Facebook posts reviewed by The Epoch Times. In addition, Torres-Estrada posted an image expressing support for the radical theory of equity, which posits that an equal outcome among people is favorable to certain persons getting ahead of others. The ideology has been reintroduced across the federal government by President Joe Biden, who reversed an order by President Donald Trump that had banned the use of training for federal employees based on the ideology, amid deep concerns that it fosters racism.
Special Operations Command Hires Diversity and Inclusion Chief Who Posted Anti-Trump Memes. United States Special Operations Command (SOCOM) has hired as its first "chief of diversity and inclusion" a person who posted anti-Trump memes on his Facebook page, including one that compared the former president to Adolf Hitler.
US military has gone full woke, waging war on those who disagree with them. Who exactly is Richard Torres-Estrada? His Facebook page gives us some indication of who he is. On it, you'll find an attack on the police, you'll find crude BLM propaganda, you'll find a picture of Donald Trump holding a Bible in front of a church. Next to Trump is a photograph of Adolf Hitler. The point is, they're the same. So, this is the guy who now oversees hiring for the SEALs. If you're wondering whether our military leadership has gone woke, consider that question settled for good. The Pentagon is now the Yale faculty lounge, but with cruise missiles.
Biden nominates Sen. Joe Manchin's wife to federal commission. President Biden has picked the wife of an extremely influential U.S. senator for a federal commission post, the White House announced Friday [3/26/2021]. Biden nominated Gayle Conelly Manchin to co-chair the Appalachian Regional Commission, an economic development partnership with 13 states designed to boost investment in the Appalachian Region. Manchin is an educator, past president of West Virginia's State Board of Education and the former first lady of West Virginia.
A convenient way to dodge questions: I haven't been briefed, so I know nothing.
FEMA nominee [is] in the dark about agency's work at Mexico border. President Biden's nominee for FEMA administrator, Deanne Criswell, told senators Thursday [3/25/2021] that she's unfamiliar with what the agency is doing since it was summoned to help address a migrant surge along the US-Mexico border. Criswell, currently commissioner of New York City Emergency Management, said she hasn't been briefed by Biden administration officials on the Federal Emergency Management Agency's role. "I've not been briefed on their specific activities that they're performing," Criswell testified to Sen. Rob Portman (R-Ohio) at her confirmation hearing before the Senate Homeland Security Committee.
The Biden Administration's identity politics obsession. The central problem with the Biden Administration is that people are not being selected for top jobs based on merit but on gender and race preferences. This will rapidly lead to gross, even dangerous, ineffectiveness and abuse when linked primarily to advancing woke ideology rather than cost-benefit service for the American people. We are seeing appointees pushing radical agendas in positions and ministries that should be disconnected to issues of race and gender.
Biden's HHS Pick Becerra Collaborated With Dems' Mystery IT Man Imran Awan. The Senate has voted to confirm Xavier Becerra, Joe Biden's pick to head the federal Department of Health and Human Services. As Deion Kathawa notes at American Greatness, the California attorney general is a rather odd choice for the job. [...] In Mendota, near Fresno, the MS-13 gang imposed a reign of terror, committing at least 14 murders, with some victims hacked to death before they could testify. Federal authorities spearheaded the case against the gang, and Becerra only showed up after the feds arrested 25 MS-13 members. The attorney general made it clear he was not concerned about the gang's "status." In similar style, the murder of police officers Ronil Singh and Brian Ishmael, both by illegal aliens, prompted little concern for the slain officers and no campaign against criminal illegals, who enjoy sanctuary in California. These issues did not surface in Becerra's HHS hearing. Neither did the curious case that led to his surprising departure from Washington in 2016.
Senate confirms transgender official to key post in historic first. Voting mostly along party lines, the U.S. Senate on Wednesday confirmed former Pennsylvania Health Secretary Rachel Levine to be the nation's assistant secretary of health. She is the first openly transgender federal official to win Senate confirmation. The final vote was 52-48. Republican Sens. Lisa Murkowski of Alaska and Susan Collins of Maine joined all Democrats in supporting Levine.
Has there ever in US history been a more pitiful cabinet? Susan Collins and Lisa Murkowski have once again betrayed the American people and voted to confirm one of the most insidious persons ever nominated to a cabinet position, Rachel Levine. He/she will now be the assistant secretary of health. Levine was as toxic as NY Gov. Cuomo when it came to rendering Pennsylvania nursing homes super-spreaders of covid, but she put her own mother in a hotel. She knew what she was doing as surely as Cuomo did. There is much to condemn this appointment but most serious is Levine's promotion of medication and surgery for pre-pubescent children with gender dysphoria. Sane people realize this is perhaps the most despicable form of child abuse that has currently won favor among trans activists. Surely both Murkowski and Collins know full well that the vast majority of the American people do not support such extremist views but they apparently wanted to appear to be sufficiently "woke."
Richard Levine highlights the problem of maverick Republicans. On Wednesday [3/24/2021], the Senate confirmed Richard Levine (aka Rachel Levine) as Assistant Secretary at the Department of Health and Human Services. [...] His gender confusion is the only qualification he has for the position to which he's been appointed. Were he just plain old Richard, it is unlikely that anyone would pay attention to this shlemiel, with his offensive, stereotyped cultural appropriation of femininity. [...] If Levine is a competent doctor despite his eccentricity, then he can serve in that role. It's Levine's competence that is questionable. His performance as Health Secretary in Pennsylvania was less than stellar. Pennsylvania is one of the four states that saw so many old people die from COVID that it became the subject of a Department of Justice investigation. In addition, even as his state was shipping COVID infected people into nursing homes, turning them into charnel houses, Levine spirited his mother out of her nursing home-like facility and off to safety.
Awkward moment Jen Psaki refuses to explain why White House fired five pot-smoking staffers when VP Kamala supports legalization and admitted getting high. The White House was again forced to defend firing five pot-smoking staffers during Wednesday's [3/24/2021] press briefing. Press secretary Jen Psaki was asked how aides could get axed after Vice President Kamala Harris has admitted to smoking pot and even praised it saying, 'It gives people joy and we need more joy in this world.' Psaki stuck to her position that the White House allowed more people to serve than previous administrations would have, with a revised pot policy, adding that for a number of those let go 'there were other security issues that were raised.'
What's the difference between this and racism?
Democrat Sens. Duckworth and Hirono Ready to Withhold Support for Biden Nominees Until Asian Picks Put Forward. Sen. Tammy Duckworth (D-IL) said she will vote "no" to confirm nominee Colin Kahl for the Pentagon's top policy chief until President Joe Biden appoints Asian Americans and Pacific Islanders (AAPI) as "nominees to vacant positions." When Duckworth asked White House staff about AAPI representation, she was told, "We're very proud of Vice President Harris," which Duckworth found "incredibly insulting." She said until AAPI nominees are appointed to vacant positions, the Office of Budget and Management (OMB), Federal Communications Commission (FCC), or other various cabinet positions, she will remain a "no" vote.
Duckworth, Hirono won't vote on 'non-diversity' Biden nominees over lack of Asian American representation. Sen. Tammy Duckworth, D-Ill., reversed course on vowing to object to President Joe Biden's nominees because of a lack of Asian American and Pacific Islander representation Tuesday evening after a spokesperson from her office said she had received assurances from the Biden administration. "Senator Duckworth appreciates the Biden administration's assurances that it will do much more to elevate AAPI voices and perspectives at the highest levels of government, including appointing an AAPI senior White House official to represent the community, secure the confirmation of AAPI appointments and advance policy proposals that are relevant and important to the community," said Ben Garmisa, a spokesperson for Duckworth. "Accordingly, she will not stand in the way of President Biden's qualified nominees — which will include more AAPI leaders," Garmisa said.
Becerra's Confirmation Underscores the Senate GOP's Uselessness. In a near-party-line vote, the United States Senate on Thursday [3/18/2021] voted to confirm California Attorney General Xavier Becerra as secretary of Health and Human Services. Becerra sued the Little Sisters of the Poor, an order of nuns that cares for the indigent poor, because their Catholic faith compelled them not to be complicit in the sale of contraceptives under Obamacare. Becerra charged David Daleiden, a pro-life activist and journalist whose undercover videos exposed Planned Parenthood's sale of aborted babies' body parts, with 15 felonies. Becerra went all the way to the Supreme Court in 2018, defending a California law that would have forced pro-life crisis-pregnancy centers to advertise abortion — a move so brazen that Justice Anthony M. Kennedy wrote separately to liken the law to the way "authoritarian regimes" are "relentless" in their "attempts to stifle free speech."
Report: Woke Pentagon Worried Troops View BLM/Antifa and Capitol Hill Riots Equally. During his confirmation hearing, now-Penatgon chief Lloyd Austin vowed to purge "ideological enemies ... within our own ranks." Wasting little time, he ordered a military-wide "stand down" to address extremism within our nation's armed forces. Reports are now surfacing that the Pentagon is distressed that their attempts to ferret out wrongthink under the guise of 'extremism' have a hit a snag. Apparently, some military members view the events at the Capitol on January 6th and the year-long BLM/antifa rioting, looting, vandalism, arson, and murder as equally problematic. This reportedly "worries" Pentagon officials.
Haaland sworn in wearing traditional Native American skirt, moccasins. Interior Secretary Deb Haaland on Thursday was sworn in while wearing a traditional Native American skirt and moccasins in a nod to her heritage. Haaland was wearing the garb while she became the first Native American to be sworn in as a Cabinet secretary. In photos from the ceremony earlier on Thursday, Haaland could be seen standing with her family as she was sworn in to office by Vice President Harris.
What You Need to Know About Biden's Far-Left Interior Secretary. His former congressional colleague will advance a far-left agenda as the new secretary of the interior, Sen. Steve Daines, R-Mont., says. The Senate voted 51-40 Monday [3/15/2021] to confirm Rep. Deb Haaland, D-N.M., to lead the Interior Department under President Joe Biden. Haaland supports Biden's decision to halt further construction of the Keystone XL pipeline.
Marcia Fudge's White House discussion of Ohio politics may have violated the Hatch Act: report. Welcome to the White House, Marcia Fudge. A week after she was sworn in as President Joe Biden's Secretary of Housing and Urban Development, ethics experts told the Washington Post that the former Democratic Congress member from Warrensville Heights may have violated a law called the Hatch Act by answering questions about Ohio politics at a Thursday [3/18/2021] White House press conference[.] At the end of an appearance to discuss the American Rescue Plan's effects on housing, Fudge was asked whether she'd weigh in on Ohio races to succeed her in Congress and to succeed retiring U.S. Sen. Rob Portman. She wouldn't endorse her own successor, but said she's friends with both Niles Democratic Rep. Tim Ryan and Dayton Mayor Nan Whaley, who might enter the contest to replace Portman.
Vanita Gupta Says She Backs $15 'Livable Wage.' Her Family Business Pays Mexicans $1.30 an Hour. President Joe Biden's nominee for a top Justice Department post is a longtime advocate for raising the minimum wage to $15, but she owns up to $1 million in stock in a company chaired by her father that pays its Mexican workforce as little as $1.30 an hour. Vanita Gupta — whose net worth of between $42 and $187 million makes her the Biden administration's wealthiest nominee — owns at least $500,000 in Aptiv PLC, an international auto parts manufacturer chaired by her father. In contrast with Gupta's advocacy for a $15 an hour minimum wage, the company pays some of its Mexican employees hourly rates as low as $1.30, according to active job listings reviewed by the Washington Free Beacon. One job posted on Indeed.com, for example, offers a line operator role at a Zacatecas plant that pays the U.S. dollar equivalent of $260 a month for a 50-hour per week job. In her nonprofit work and her personal social media, Gupta has repeatedly expressed support for both the $15 per hour minimum wage and a so-called livable wage.
Senate Narrowly Confirms Xavier Becerra To Lead Health And Human Services. The Senate narrowly confirmed California Attorney General Xavier Becerra Thursday to lead the Department of Health and Human Services. Becerra, who also previously served in the House of Representatives, was confirmed 50-49, with Maine Republican Sen. Susan Collins joining Democrats in voting for him. The vote was the closest of any of President Joe Biden's Cabinet nominees so far due to near unanimous Republican objections, citing Becerra's stance on abortion and alleging that his only health care experience came from suing to protect the Affordable Care Act. Democrats hailed Becerra's nomination, saying that he had the right experience to lead the United States out of the coronavirus pandemic. The department oversees the Centers for Disease Control, National Institutes of Health and Food and Drug Administration, all critical agencies in the fight against the coronavirus pandemic.
There is No Biden Administration. The Biden administration was built out of the wreckage of the Obama and Sanders campaigns, but staffers and appointees are only loyal to whoever can get them their next job. That's not Obama and it's not Biden who can't name his own Secretary of Defense. It's the think tanks and non-profits who built the Obama administration and built an even more radical Biden admin. But non-profits and think tanks can't actually run a government. Neither can Biden. That's why there isn't a Biden administration. There's an ongoing Netroots conference on government property. That's why Jen Psaki can't answer any real questions. The press secretary is supposed to speak for the White House, but there's no one to speak for. Like a plane with no airport, she keeps circling back because there's no administration position.
Race-obsessed Vanita Gupta should not be confirmed to Justice Department. Ordinarily, senators should defer to the president on executive-branch appointments. But Justice Department nominee Anita Gupta is too radical to merit such deference. Gupta, nominated by President Biden to be associate attorney general, is a radical on criminal justice and race. She has been an avid participant in the morally corrupt mutual back-scratching known as third-party settlements. She has made vicious partisan comments that give ample reason to believe she will politicize the Justice Department. The third-ranking official at the DOJ has vast operational power behind the scenes, whereas his or her two superiors serve more as the public face of the administration. Gupta began her legal career with direct funding from the left-wing Soros Foundation. For most of her career, she has demonstrated animus against police and evinces a conviction that this nation's institutions, law enforcement and otherwise, are inherently racist. She advocates a huge role for the Department of Justice in interfering with local policing.
A Kingdom of the Anti-American Elite. Joe Biden's secretary of health and human services is a militant atheist and compulsive abortionist, responsible for the prosecution of the Little Sisters of the Poor for declining to pay the contraception, sterilization, and abortion expenses of those whom they employ or house. [...] Climate czar John Kerry actually professes to believe that without drastic measures to restrain the use of carbon, the world will be on an irreversible march to the destruction of earthly life in nine years. His budget should be reduced by 99 percent, with the balance devoted to his psychiatric help. [...] Biden's defense secretary, General Lloyd Austin, tells us the greatest security threat to the United States comes from internal subversive organizations, and it is implied that these are white supremacists.
Maternity Flight Suits and Other Admonitions. Just about the first thing Lloyd Austin did after being confirmed as Joe Biden's Secretary of Defense was to issue a service-wide order mandating a one-day "stand down" within sixty days to "address extremism within the nation's armed forces." "What extremism?" you might be asking, and you would be right to ask. No matter what Lloyd Austin or the media tells you, the trouble with the U.S. Armed Forces is not political extremism but the enervating rust of political correctness. As Victor Davis Hanson has shown, the upper echelons of the U.S. military were purged by Barack Obama. If they are politicized today, it is firmly in the direction of the woke ideology of identity politics. Thus we have the commander-in-chief, Joe Biden, speak about the "intensity of purpose" that will be devoted to "designing body armor that fits women properly, tailoring combat uniforms for women, creating maternity flight suits, updating requirements for their hairstyles." This was not a joke — or, rather, it was not said in jest.
The Devastating Tragedy of Becerra's Likely Confirmation to HHS. On Thursday, a spokesperson for Sen. Joe Manchin (D-W.Va.) told CNN and National Review that the moderate Democrat who has shown true fortitude in standing up to the radicals in his party will not be holding his own on one of President Joe Biden's worst nominees. Manchin will support the nomination of Attorney General Xavier Becerra (D-Calif.) for secretary of Health and Human Services (HHS). This makes Becerra's confirmation virtually certain, and that is a crying shame for America, on many levels. First, Becerra has no medical experience and "little health policy experience." This alone should raise alarm bells in a nominee for a key health position during a global pandemic. Yet Becerra is also an abortion radical. In 2003, when Becerra served in the House of Representatives, he voted against the federal ban on partial-birth abortion. During his confirmation hearing, Becerra refused to name a single abortion restriction he supported, including a ban on sex-selective abortion.
Garland Confirmed as Attorney General 70-30, Now Watch the Next Move. We all know that Biden is an avatar for Obama's third-term. Hence the plan by Team Obama and James Clyburn to secure the 2020 club nomination and then later insert Kamala Harris. As a result JoeBama's first judicial move is a slightly stealthy one. Judge Garland was an important judge on the important DC Circuit Court. Garland's replacement will be a senate confirmed seat for that court. Once that replacement is senate confirmed, we anticipate (almost to a certainty) that replacement will be quickly elevated to a Supreme Court nomination to replace Justice Stephen Bryer, now 82-years-old. The senate will have no political ammunition to block or not confirm the radical SCOTUS pick because she will have been confirmed a few months before. It's a smart play.
Garland Confirmed as Attorney General 70-30, Now Watch the Next Move. Merrick Garland has been confirmed by a UniParty Senate 70-30. Now we watch the next move(s); as with everything in Obama's third-term, if you watch the 'other hand' you will find the play... and bookmark this. With Garland confirmed there will be multiple people and groups who supported President Trump targeted by the U.S. Department of Justice. The extremist Lawfare group is openly advocating for more political targeting; to wit Garland has stated his intent to continue weaponizing the DOJ where former AG Eric Holder left off.
Senate confirms Merrick Garland as attorney general. The Senate voted to confirm attorney general nominee Merrick Garland on Wednesday [3/10/2021], sending the appellate judge on his mission to uphold the integrity of the Justice Department after its actions over the past years threatened to undermine it. Garland was confirmed in a 70-30 vote. The former chief judge of the US Court of Appeals for the DC Circuit has been praised by members of both parties. He pledged in his nomination hearing last month to "fend off any effort by anyone" to politically influence the Justice Department's investigations, and that his first priority would be to fully prosecute the "heinous" crimes committed in the attack on the US Capitol on January 6.
Obama's Wingmen Set to Take Over Justice Department Again. In his first public remarks, Joe Biden's acting deputy attorney general promised he would spare no resource in the nationwide manhunt for anyone involved in the Capitol breach on January 6. "The investigation into those responsible is moving at a speed and scale that is unprecedented, and rightly so," John Carlin said in a February speech on the threat of domestic terrorism. "Those responsible must be held to account, and they will be." Carlin referred to the Capitol melee as an example of "violent extremism." If Carlin's name rings a bell, here's why. Carlin headed Barack Obama's National Security Division at the Justice Department for more than two years; his office handled all the evidence presented to the Foreign Intelligence Surveillance Court (FISC) seeking permission to spy on suspected enemies of America.
Biden Admin Officials Had Roles in Probes [and] Surveillance of Trump Campaign. As Joe Biden constructs his new administration, individuals from the Obama administration are quietly resurfacing in positions of power. Some of these people are well known, others lesser so. But they all played critical roles at various times during the Obama administration. Susan Rice, Obama's national security adviser and now the "top adviser to the president on domestic policy and related decisions," has admitted to participating in the unmasking of members of the Trump transition team. Unmasking is the process whereby a U.S. citizen's identity is revealed from collected surveillance. Initially, Rice publicly denied the allegations, claiming that "I know nothing about this. I was surprised to see reports from Chairman Nunes on that count today." Two weeks later Rice stated that she had not done so for "for any political purposes." It was later reported that Rice told House investigators that "she unmasked the identities of senior Trump officials to understand why the crown prince of the United Arab Emirates was in New York."
Cotton grills Biden Pentagon nominee on 'volatile outbursts,' 'almost always wrong' foreign policy judgments. Sen. Tom Cotton, R-Ark., accused one of President Biden's top Pentagon picks of having a "long record of volatile outbursts" and said he will oppose the nomination during a Senate Armed Services Committee hearing on Thursday [3/4/2021]. Colin Kahl, a former Obama adviser, is Biden's pick for undersecretary of defense for policy. Cotton accused Kahl of being wrong about Middle East policy for the last four years before questioning some of his social media posts about former President Donald Trump and Republicans.
In over her head: Deb Haaland advances to Senate as Interior nominee. In Joe Biden's caretaker administration, it's amazing how many misdeeds can be erased through the useful tool of identity politics. Take his nomination Deb Haaland, a congresswoman representing greater Albuquerque, who's a registered member of a Native American tribe ... and a tax cheat, energy ignoramus, persistent welfare recipient, and marijuana booster, who has now advanced in the Senate as his nominee to run the $12 billion U.S. Department of the Interior. Her trump card in qualifications after all those red flags? That she's half-Native American and has mastered the identity politics games of victimhood.
Senate Vote on Communist-Backed Interior Secretary. Will the Senate confirm Communist Party-backed Rep. Deb Haaland as Biden's Secretary of the Interior, with jurisdiction over 20% of our nation's energy? Trevor Loudon talks to Cliff Kincaid about the vote, scheduled for Thursday, March 4, and the evidence of pro-China communist backing of this nominee. [Video clip]
A Photographer Snapped Photos From Trump And Biden Press Secretary's Helpful Notes. The mainstream media have a totally different approach to the Biden administration, unlike Trump's administration which was under constant attack from the media, Biden's team is having a leisure opponent. The same goes for their press secretaries. When Kayleigh McEnany was press secretary the MSM attacked her for very strange reasons[.] One of the mainstream media headlines at the time was: ["]Why does White House Press Secretary, Kayleigh McEnany, thumb through a notebook in order to answer questions from the press like it is a high school debate?["] The answer is easy, Kayleigh McEnany, was able to run through a marathon of topics quickly during press briefings — sometimes moving so efficiently that the inquiring minds of the press often defer to their colleagues to ask their question again. [...] Kayleigh McEnany had her notebook squared away in a presentable manner! Psaki just looks like she came out of an 8th-grade biology class.
Biden's Administration Choices Are A Disgrace — Including Rachel Levine. In the Biden administration everything is driven by identity politics. The nominee for Interior Secretary is someone who supports an anti-American North Korean front group and is supported by the Communist Party of the USA (CPUSA). All that matters, though, is that she is Native American. The new Treasury Secretary is completely compromised by the same financiers and Wall Street firms she is now expected to control and regulate. Never mind. She is female. So, it is with Rachel Levine, Biden's choice for Assistant Health Secretary. Levine, as Pennsylvania's Secretary of Health, presided over a COVID-19 nursing home debacle in Pennsylvania perhaps only second to that in New York State. Levine has very problematic views about gender transition related surgery and hormone treatment for minors. No big deal. Levine is transgender. That is all that counts.
Biden's Pick For Defense Policy Is A Russian Collusion Hoaxer Who Repeatedly Smeared GOP Senators On Twitter. President Joe Biden's nominee to serve as undersecretary of defense policy, Dr. Colin Kahl, is a Russia hoax truther who often hurled insults at Republicans in Congress and holds a more than shaky track record on foreign policy. In addition to his questionable ties to China, Kahl, a former national security adviser for Biden in the Obama administration, repeatedly denounced Republicans on the House Intelligence Committee for amplifying the FISA abuses in 2018 that were used to spy on the Trump campaign. He specifically targeted Republican Rep. Devin Nunes for being "biased and dishonest" about the investigation surrounding then-presidential nominee Donald Trump's supposed ties to Russia and promoted a House Intelligence Committee Democrats' memo that he claimed was "a devastating rebuttal to Nunes & his crackpot staff."
Why Deadnaming Matters. Richard Levine was born in 1957 in Wakefield, Massachusetts, an affluent suburb 20 minutes north of Boston. He went to Hebrew school and had a bar mitzvah before heading to the very tony (very expensive) all-boys Belmont Hill School, where he played as a linebacker on the football team. From there he went to Harvard undergrad before heading south for med school at Tulane. While still in school, he married classmate Martha Peaslee; the couple would go on to have two children, one boy and one girl. Richard's career got off to a running start with a residency and fellowship at Mount Sinai Medical Center in Manhattan. From there he moved to Penn State Hershey Medical Center, where he established himself firmly as a leader in his field, building both an adolescent medicine division and an eating disorders clinic. But even with a loving family and a meaningful career, something was amiss in Richard Levine's world. Eight years after his move to Pennsylvania, the doctor began to see a therapist. Another eight years after that, he publicly announced his decision to transition to presenting as a woman. Now, a full decade after that announcement, Richard — now Rachel — stands as Joe Biden's nominee for the United States' Assistant Secretary for Health.
Merrick Garland Is in the Dark about Antifa. [Scroll down] Seriously, if you watched only the carefully curated national news, you'd have gotten the impression that (a) Antifa doesn't exist; (b) Antifa is a civic betterment movement led by the public-spirited Wall of Moms; and (c) The peaceful protesters of Antifa were the Gandhi-like victims of Trumpian brutality. On the other hand, some of us who are Pacific time zone night owls watched hundreds of Andy Ngo videos of what was happening in Seattle and Portland during the wee hours long after the national media had called a lid on their coverage of the Peaceful Protests. In Ngo's simple video footage, the Antifada sure looked extremist and terrorizing.
Is this the world's most unsalutary health official? If you consult the mainstream news media on a regular basis, you've probably heard that last Thursday was a red-letter day in American history [...] Why? Because, for the first time ever, a transgender nominee for a government office was up for Senate confirmation. That nominee was Dr. Rachel Levine, President Biden's pick for Assistant Secretary for Health. Is Rachel a great, or even a competent, physician? Who cares? It's 2021, and Rachel is trans! Rachel's birth name was Richard, though there's no way you could tell that from, say, Wikipedia. (In fact, on the "talk" page for Rachel's Wikipedia entry, you can see anxious contributors earnestly debating how to deal with the ticklish fact that Rachel had a bar mitzvah, not a bas mitzvah.) Now aged 63, Rachel transitioned a decade ago and was divorced a couple of years later. Neither Rachel's ex nor their two children appear to have attended the hearing. Importantly, Rachel is not only a trans person; Rachel is a trans activist, a self-described champion of transgender youth. Meaning what? Meaning, among much else, that Rachel supports giving puberty blockers to children who say they're the opposite sex, and is open to ordering "gender-confirmation" surgery to kids under age 18 with or without parental permission.
What's up with Biden's transsexual? If you want to be part of Joe Biden's administration, you need to be a "first." I don't mean "first" like first in your college graduation class. Heck, Biden himself was only in the top 50% of his law school class according to Biden and only in the top 85% according to the school records. No, not that kind of first. After all, this is a Democrat administration and so we're not talking about dead white patriarchal European so-called merit. What we're talking about is that you need to be a "first" in your skin color or sexuality. Such as "first Asian Director of the Office of Management and Budget" or "first black woman vice president" or "first gay cabinet member" or "first Native American cabinet secretary." Or the subject of this column. Biden boasts that he has nominated the first transsexual Assistant Secretary for Health and Human Services.
Forty Days of Biden: Not so Centrist, Not so Competent. When the complete history of the Biden administration is written, the nomination of Neera Tanden to be director of the Office of Management and Budget will be a minor detail. If her nomination fails, the White House will just find a like-minded nominee who doesn't have Tanden's personal HR issues. And the Senate's confirmation of Biden's cabinet is moving slowly but largely smoothly, with eleven of 23 cabinet officials confirmed so far. But a fairer question, more than 40 days into Biden's administration, is whether Biden and his team are moving fast enough to fill out all of those lesser-known administration positions. For example, Biden hasn't nominated a director of the Food and Drug Administration yet, which seems a little odd, considering how central the FDA is to the approval of vaccines and treatments for COVID-19 right now and in the coming year. There are about 1,250 positions in the executive branch that require Senate confirmation; Biden has picked 58 nominees so far.
Becerra confirmation would mean left-wing 'culture wars,' GOP senators say. The confirmation of Xavier Becerra as head of the most sweeping federal health agency will mean "culture wars" driven by divisive liberal policies, Senate Republicans say. "Xavier Becerra isn't an experienced consensus leader, he's a culture war super-soldier with a long history of attacking First Amendment freedoms," Nebraska Republican Ben Sasse said. "Culture wars are poison to self-government, especially during a real public health crisis. The Senate should reject his divisive nomination," he said. Sasse, who sits on the Senate Finance Committee, had a heated exchange with Biden's nominee in his confirmation hearing last week in which he attacked Becerra for "bullying" an order of nuns that cares for the elderly poor, referencing Becerra's lawsuit against the Trump administration's move to allow faith-based ministries an exemption from the Obamacare contraception mandate.
Tanden Withdraws Nomination for Budget Director. Neera Tanden withdrew her nomination to become director of the Office of Management and Budget on Tuesday [3/2/2021] after she struggled to receive the support needed for a Senate confirmation in light of old tweets in which she insulted lawmakers. "Unfortunately, it now seems clear that there is no path forward to gain confirmation, and I do not want continued consideration of my nomination to be a distraction from your other priorities," Tanden wrote in a letter to President Biden.
Mystery deepens over Biden Interior nominee's finances as she files third amended ethics report. Rep. Deb Haaland (D-N.M.), President Biden's nominee to run the Interior Department, has now offered a third account to House ethics officials about how much she earned the year she first won her congressional seat. As her cabinet nomination wound its way through the Senate confirmation process, Haaland late last week quietly filed a second amendment to her legally required congressional financial disclosure report, eliminating more than $40,000 in income she previously claimed she earned in 2018. The new report, dated Thursday, reports her total earnings in 2018 were only $4,000, even as she traveled the country and New Mexico campaigning for Congress and carried a student loan debt of between $15,000 and $50,000 that dates to 2006.
Biden's Education Secretary Confirmed, Asks America To 'Reimagine Education'. The Senate confirmed Dr. Miguel A. Cardona to lead the Education Department on Monday [3/1/2021]. The final vote was 64 to 33. "There are no shortages of challenges ahead, no shortage of problems for us to solve. But by the same token, there are countless opportunities for us to seize," said Cordona after accepting the nomination in December. "We must embrace the opportunity to reimagine education — and build it back better. We must evolve it to meet the needs of our students." Cardona, 45, is new to the national stage, spending most of his professional career working in the public education system in his hometown of Meriden, Connecticut. He started out as a fourth-grade elementary school teacher, became the youngest principal in the state in 2013, then assumed the role of assistant superintendent at the district's central office ten years later.
Left toasts Merrick Garland, the Swamp elitist who served as Bloody Janet Reno's henchman. At his Senate confirmation hearing on Feb. 22, Joe Biden's choice to be attorney general transparently sought to equate former President Donald Trump and his America First movement with Timothy McVeigh and the 1995 Oklahoma City bombing: [...] Unstated yet readily apparent is the salute to a return to Janet Reno, the bloodstained Bill Clinton attorney general who presided over a Justice Department that covered up the FBI murders of a young mother holding a baby in her arms and a 14-year-old boy at Ruby Ridge, Idaho in 1992 and actively slaughtered 76 Branch Davidians at Waco one year later. It is rather astonishing that given Garland's public vow to aggressively treat Trump supporters as domestic terrorists more attention isn't given to his prominent role serving Reno. Garland was Principal Associate Deputy Attorney General to Jamie Gorelick, Reno's Deputy AG. Reno referred to Gorelick as her Justice Department's "chief operating officer" and Gorelick has described Garland as her "wingman." So that would make it:
[#1] Janet Reno
[#2] Jamie Gorelick
[#3] Merrick Garland
This was the hierarchy of a Justice Department that burned American citizens to death in the name of fighting "domestic terror."
Biden Secretary of State Makes a Whopper of a Mistake During Meeting With Mexican Official. Democrats have pushed the fiction of the "adults being back in charge" with Joe Biden. [...] But speaking of those adults who are supposed to know more (spoiler: they know less), we give you Biden Secretary of State Antony Blinken who apparently doesn't know how to hang the Mexican flag and almost causes an international incident with how he does it. Blinken was having a virtual meeting with Mexican Foreign Secretary Marcelo Ebrard. The Zoom meeting showed Blinken sitting at a desk in front of the American and Mexican flags. Except there was one rather significant problem: the Mexican flag was hung upside down. Apparently, Blinken was unaware of it.
JoeBama Put The Gang Back Together Inside The DOJ — John Carlin Returns as Acting Deputy AG. Those who have followed all of the internal research will know the name John Carlin. As noted in this text message below Carlin has returned to the DOJ and is currently Acting Deputy Attorney General inside Main Justice. Once again the corrupt DOJ is attempting to secure itself from sunlight upon prior activity, very corrupt activity. John Carlin was the assistant attorney general and head of the National Security Division inside the DOJ when efforts against the Trump campaign and incoming administration were underway. John CarIin was previously chief of staff to FBI Director Robert Mueller. In September of 2016 Carlin manipulated the FISA court by misleading them on the Section 702 certifications. Carlin never informed the court of FBI contractors having access to the NSA database and exporting the search results to unknown actors.
Not a Rose Garland. If you've a memory longer than a nanosecond you might recall that in 2016 when he was nominated by then-President Obama to the Supreme Court to fill the vacancy created by Justice Antonin Scalia's death, Merrick Garland was widely touted as a "moderate." President Biden has now nominated him for the slot of Attorney General, and the confirmation vote is scheduled for this coming week. How do you define moderate? His confirmation hearings reveal to me that Garland is certainly not one: Last summer, 220 cities were besieged by gangs that attacked homes, businesses, federal buildings, and local law enforcement. In his confirmation hearing, Garland testified that the people who did this could not be considered "domestic terrorists" because they did this only at night and apparently terrorist acts can only be committed in the daytime in his view. Is that preposterous? Of course, it is.
Rand Paul compares gender change surgery for minors to genital mutilation in furious exchange with Biden's transgender pick for assistant HHS secretary. Rand Paul angrily confronted Joe Biden's pick for assistant secretary for Health and Human Services on Thursday [2/25/2021], likening gender changes surgeries to genital mutilation and pushing the transgender nominee on if they would allow minors to decide if they want to go on hormones to stop puberty. 'We should be outraged that someone is talking to a three-year-old about changing their sex,' Paul said of Rachel Levine, a transgender woman Biden picked to help head up HHS. Paul, who was a practicing ophthalmologist before becoming a U.S. senator, likened transgender minors starting on transitioning treatments to genital mutilation, blaming the increasing rates of trans-identified youth on 'the social pressure to conform.' [Video clip]
Rand Paul Challenges Far-Left HHS Nominee Rachel Levine Over Pre-Teen Surgery to Remove Sex Organs. JoeBama is appealing to the radical left-wing base of his support crew with the nomination of former Pennsylvania Secretary of Health, Rachel Levine, to be an assistant secretary at the federal Department of Health and Human Services. Levin[e] is a transgender person with a history of terrible policy execution around COVID-19. Today Ms. Levine testified before the Senate Health, Education, Labor, and Pensions committee on Capitol Hill and Kentucky Senator Rand Paul called-out the insanity of talking to three year old children about gender reassignment. [Video clip]
Why is Neera Tanden so important that Democrats would smear Joe Manchin to save her doomed nomination? It's a bold move to smear your own party's most important senator as a racist and sexist. But evidently, the Biden administration believes that ramming through a professional Twitter troll as the director of the Office of Management and Budget is worth it. Nine of President Biden's nominees earned bipartisan support and, with the exception of Homeland Security Secretary Alejandro Mayorkas, majority support even among Republicans. But now, the president of the liberal Center for American Progress is set to be voted down by every Republican in the Senate plus West Virginia Democratic Sen. Joe Manchin. Manchin, the crucial swing vote of the 50-50 Senate, has announced his opposition to Tanden's confirmation. The case against Tanden is simple enough: She lacks both the resume qualifying her for such a vital position and the civil temperament to work across the aisle.
Biden Admin Says TRUMP Is The Reason His Cabinet Appointments Are Moving Slow. Donald Trump hasn't been in office since noon on January 20, and he's not a member of the U.S. Senate. And yet, for some reason, he's being blamed for the supposedly slow pace of Joe Biden's Cabinet nominees being confirmed. It wouldn't have anything at all to do with an evenly divided chamber or the fact that most of his selections are highly controversial leftists including a Health and Human Services nominee who believes kids as young as three years old should be able to 'decide' to get sex change therapy.
With cabinet nominees, Biden pokes conservatives, scrapes the bottom of the barrel. Why does it seem like with each and every cabinet nominee, Biden or whoever is calling the shots are poking their thumbs in the eyes of every pro-American conservative? Because that is exactly what they are doing. [...] It is impossible that the Democrats do not know that Merrick Garland is nearly as senile as Biden, terrified to utter a word that might tank his confirmation. He is so willing and anxious to be the next tool of the radical left that he could not form a coherent sentence. He pretended not to know what the word "illegal" means with regard to the border. He eagerly expressed his approval of the destruction done by Antifa and BLM but the oh-so-carefully-planned pseudo- insurrection of January 6 will be a primary focus of DOJ investigation. Oh, and he will seek out white supremacy wherever it is lurking. Garland's performance was an embarrassment. And oddly, his lack of knowledge and expertise is on a par with every other Biden nominee.
Xavier Becerra Refused to Name Even One Abortion Restriction He Could Support. California Attorney General Xavier Becerra refused to answer questions about his radical pro-abortion views during his Senate confirmation hearing Wednesday and could not name even one abortion restriction he could support. Sen. Steve Daines (R-MT) asked Becerra, President Joe Biden's nominee for secretary of the Department of Health and Human Services (HHS), whether he supported any restriction whatsoever on abortions, including those intended to end the life of babies with a prenatal disability diagnosis of Down syndrome or partial-birth abortions.
Biden's Pick For U.N. Ambassador Confirmed As [the] Position [is] Elevated To Cabinet-Level. On Tuesday [2/23/2021], the Senate confirmed President Joe Biden's nominee to be the next U.S. ambassador to the United Nations. As The Washington Post reports, "the upper chamber took an initial step, voting 78 to 20 to elevate Linda Thomas-Greenfield to ambassador status," followed by "a second vote to make her 'representative of the United States of America to the Sessions of the General Assembly of the United Nations'" by a vote of 78 to 21. Biden announced in November that he would elevate the position to Cabinet-level after the Trump administration had downgraded the role in 2018. Thomas-Greenfield, 68, has said the United States would have a more active role in the United Nations following former President Donald Trump's "America First" philosophy.
AG Nominee Merrick Garland: 'I Will Supervise the Prosecution of White Supremacists...'. Merrick Garland, tapped to be President Biden's attorney general, told his confirmation hearing on Monday that his top priorities include going after "white supremacists." "If confirmed, I will supervise the prosecution of white supremacists and others who stormed the Capitol on January 6 — a heinous attack that sought to disrupt a cornerstone of our democracy: the peaceful transfer of power to a newly elected government," Garland's prepared statement reads: [...] Later, Sen. Dianne Feinstein (D-Calif.) asked Garland, "What steps will you take to ensure that the perpetrators of the attack on our Capitol are brought to justice?" Senator, I think this was the most heinous attack on the democratic processes that I've ever seen and one that I never expected to see in my lifetime," Garland responded.
Biden's CDC chief delivers grim public service message with bizarre continuous smile. At a time when Americans are starting to suspect a COVID-industrial complex with an entrenched interest in permanent lockdowns, out comes Joe Biden with a very bizarre video tweet from his newly appointed CDC director: [Video clip] The unmasked woman with the strange, smirking, mirthless grin, making that grim message about COVID having no end in sight and calling for everyone to wear a mask is Biden's appointment to the Centers for Disease Control, Dr. Rochelle Walensky. Who [...] delivers news like that with that bizarre kind of extended smile? And worse still, the head bobbing, and that flippant giggly ending? That's the image she wants to project as the calm, knowledgable, trustworthy top doctor? Even Dr. Anthony Fauci was pretty good at putting that act on. Her strange smile suggests that apparently she thinks her audience is stupid.
Neera Tanden, Xavier Becerra under fire as Biden nominees fight to survive confirmation battles. President Biden is standing behind a pair of Cabinet picks facing uphill battles — including Neera Tanden, his nominee to lead the Office of Management and Budget, and Xavier Becerra, his pick for secretary of the Department of Health and Human Services — as a growing number of senators have vowed to oppose their confirmations. Tanden's confirmation appears to be the most in jeopardy after several swing vote senators — including at least one Democrat — have announced plans to vote against her confirmation. The former president of the liberal Center for American Progress repeatedly came under fire during her confirmation hearing, as Republicans pointed to hostile tweets she posted against various lawmakers — many of which she deleted late last year.
Biden State Department nominee claimed Israel controls American politics, says Jews have dual loyalty. President Joe Biden's nominee to serve as Under Secretary of State for Civilian Security, Democracy, and Human Rights, Uzra Zeya, has a history of publishing conspiracy theories about Jews and Israel, Washington Free Beacon reports. Zeya, who formerly worked for the Washington Reporter on Middle East Affairs, compiled research for the book Stealth PACs: How Israel's American Lobby Took Control of U.S. Middle East Policy, which the book credits her for. The book makes a number of controversial claims, including that "the Israel lobby has subverted the American political process to take control of US Middle East policy" through the use of "dirty money" to bribe American politicians.
Biden's HHS Pick Advocates Sex Changes For Kids. On Thursday, the Senate Health, Education, Labor and Pensions (HELP) Committee will hold a nomination hearing for Dr. Rachel Levine, President Joe Biden's pick for Assistant Secretary of Health at the Department of Health and Human Services (HHS). There are plenty of reasons for the committee to be concerned about placing Dr. Levine in such an influential and powerful role. [...] Most alarmingly, Dr. Levine has advocated for sex changes for pre-pubertal people, otherwise known as "children." A professor of Pediatrics and Psychiatry at the Penn State College of Medicine, Levine has given lectures in various settings since at least 2012 on how to perform sex changes and gender conversion therapy on children. According to Levine, children ought to be given the latitude to choose their own gender. Levine has advised adults to "try not to force them one way or other [sic]" and instead to follow the child's lead.
Biden AG Nominee Merrick Garland Refuses to Call Illegally Crossing the Border a Crime. Joe Biden's pick for Attorney General refused to state that illegally crossing our border is a crime during his nomination hearing on Monday[2/22/2021]. During the hearing, Sen. Josh Hawley asked the nominee, Merrick Garland, if he believes that illegally crossing our borders should remain a crime. "Do you believe that illegal entry at America's borders should remain a crime?" Hawley asked. [Video clip] "I haven't thought about that question... uhhh... uhhhhhhh... I just haven't thought about that question," Garland reluctantly replied. "I think the uh, the uh, president has, uh, made clear that we are a country of uh with borders and uh a concern about national security. Um, I don't know of proposal to uh decriminalize, but um, still make it unlawful to uh, enter."
Garland Refuses to Say If Illegal Entry Should Remain a Crime; Makes Strange, Confused Comment About What Happened on Jan. 6. Merrick Garland was just a horrible witness on his own behalf today [2/22/2021]. He couldn't stop saying um, uh, any time he was asked a question and the answers he gave were batty. As we reported earlier, he indicated that attacking a federal courthouse at night, as Antifa was wont to do in Portland, wasn't necessarily domestic terrorism if it was done at night.
Merrick Garland confirmation hearings start Monday. [Merrick] Garland, President Joe Biden's pick to be attorney general, will appear before the Senate Judiciary Committee on Monday [2/22/2021] for the first day of his confirmation hearings, scheduled to continue through the week. [...] The federal appeals court judge is expected to be confirmed swiftly — likely by the start of March — though he may face some uncomfortable grilling, primarily from the panel's Republicans.
Biden AG Nominee Downplays Portland Riots, Compares Capitol Riot to OKC Bombing. President Biden's nominee for Attorney General, Merrick Garland, is signaling that the days of politicized Department of Justices are going to continue. While weighing in on threat of domestic terrorism in the United States, Garland clearly made a distinction between right-wing extremism and far-left extremism. "I certainly agree that we are facing a more dangerous period than we did in Oklahoma City at that time," Garland reacted to a question on the Capitol riots at a confirmation hearing before the Senate Judiciary Committee. Merrick Garland, who was a principal associate deputy attorney general at the time, led the DOJ prosecution of the bomber Timothy McVeigh, who was connected to far-right groups.
Did Biden Pick Garland As AG To Wreak Revenge On Trump, GOP? For those who don't recall, Garland was nominated in March 2016 for a seat on the Supreme Court. The Obama administration sold him through the mainstream media as a potential court "moderate," the best the Republicans could hope for. Despite nonstop media pressure, Senate Republicans held fast, dragging their feet on confirmation hearings for Garland in the hopes (then seen by most political pundits as highly unlikely, if not impossible) that a Republican president would succeed Obama. But, mirabile dictu, Donald Trump defied expectations and won the presidency. Consequently, not only did the country escape Garland, three new conservative justices — Neil Gorsuch, Brett Kavanaugh and Amy Coney Barrett — are now on the nation's highest court, thanks to Trump.
Merrick Garland to face questions on Hunter Biden, Cuomo at AG hearing. Attorney General nominee Merrick Garland will face questions over how he plans to address the federal probe into Hunter Biden's tax dealings and Gov. Andrew Cuomo's nursing home scandal at his confirmation hearing Monday [2/22/2021]. Both of the issues will be top of mind for Republicans on the Senate Judiciary Committee during Garland's confirmation hearings, which will take place over a two-day period. In his opening remarks to the committee, released over the weekend, the DC circuit court judge will reveal his plans to launch an investigation into the Jan. 6 Capitol riot. "If confirmed, I will supervise the prosecution of white supremacists and others who stormed the Capitol on January 6 — a heinous attack that sought to disrupt a cornerstone of our democracy: the peaceful transfer of power to a newly elected government," his opening statement reads.
Establishment Flacks Remind Everyone How We Got Trump. If a "Republican" can't even be counted on to oppose someone as lacking as Neera Tanden, then what exactly is the point of being an opposition party? Why not just fold up shop and hit the cocktail circuit full time? Republican voters are sick of this stuff. It's why they rebelled in 2016, and it's why they will do so again in 2024 despite the best laid plans of the establishment. And while I get that there's a contingent within the GOP that thinks playing nice during the Biden years will earn them some kind of reciprocation in the future, you'd have to be an absolute idiot to believe that. Further, opposing Tanden should have nothing to do with trying to preserve decorum or buying good will. She's a terrible pick who should be nowhere near the levers of government power, much less an agency as consequential as the OMB. She should be opposed at all costs, and any Republican who breaks rank on this should be cast aside with prejudice.
How the Biden Administration is Politicizing the Military. Defense Secretary Lloyd Austin has made it absolutely clear that the U.S. military's top priority is not facing external threats, such as the Chinese or Iran's aggressive strategy in the Middle East or foreign terrorist groups. Instead, Austin sees the main threat as coming from within the U.S. military. In his confirmation hearings, Austin said that he would make it his priority to combat racism and extremism in the United States military. Once confirmed as defense secretary, he ordered a two-month stand-down of the American military in order to examine the problems of extremism among military personnel. National defense is supposed to be a bipartisan endeavor, yet never before has a defense secretary made such overt moves to politicize the military. Austin's order to remove all Trump appointees to the 42 Defense Department advisory boards is unprecedented and downright stupid.
John Kerry endorses 'climate weirding' term, warns of doomsday within nine years. John Kerry says the world faces a climate change doomsday within nine years unless drastic action is taken now. The comment by President Biden's special envoy for climate change came during a segment for CBS' "Eye on Earth" hosted by senior national and environmental correspondent Ben Tracy. "Some people get hung up on the term 'global warming' and say, 'well, I thought everything's supposed to get warmer?' I heard one scientist say this is really 'global weirding.' Is that a better way to think of this?" Mr. Tracy asked Friday while referencing a recent cold snap causing havoc across the nation.
More about John Kerry.
Conservative Groups Launch $2 Million-Plus Campaign Targeting Senior Biden Appointees' Dark Money Ties. Judicial Crisis Network, Heritage Action for America, and Americans for Public Trust on Thursday [2/18/2021] announced a more than $2 million joint media and grassroots campaign against two of President Joe Biden's senior nominees: Xavier Becerra for secretary of Health and Human Services and Vanita Gupta for associate attorney general. The campaign focuses on the dark money that continues to flow into prominent Democrats' hands, through radical organizations such as Arabella Advisors. The advocacy group effort is directly targeting "pay-to-play," a strategy that permits campaign contributions from businesses or enterprises seeking government contracts.
Joe Biden Faces First Major Senate Defeat After Joe Manchin Opposes Neera Tanden. President Joe Biden faces his first major defeat in the Senate as his nominee to lead the Office of Management and Budget Neera Tanden meets Democrat opposition. Sen. Joe Manchin, (D-WV) announced Friday afternoon [2/19/2021] that he would oppose Tanden's confirmation.
Past Comments Haunt Russel Honoré, Pelosi's Pick to Lead Capitol Security Review. Russel Honoré, House Speaker Nancy Pelosi's (D-CA) selection to lead the review of Capitol security after the events of January 6, is facing scrutiny after past tweets reveal partisan behavior, particularly directed towards Sen. Josh Hawley (R-MO). Honoré, a retired Army lieutenant general who has recently been critical of Republicans, called for Hawley to be disbarred earlier this year.
General Russel Honoré Should Not Be Leading a Conga Line, Let Alone an Investigation Into the Capitol Riots. I reported yesterday on Beto O'Rourke's "Big Lie" about the Capitol Riots, and reasons why the supposed spontaneous attack on January 6, that was allegedly perpetrated by Trump supporters, is being revealed as a pre-planned act that Congress had advanced knowledge about. [...] Instead of making herself accountable (what a concept), Pelosi has decided to contract an outright, racist, left-wing partisan to oversee a review into the Capitol unrest. [...] If you haven't noticed, I cannot stand people who accomplish something big, and instead of maybe accomplishing something greater at the most, or going gently into that good night and learning to fly fish at the least, instead ride the wave, and dine out on that one accomplishment for decades. Lt. General Russel Honoré is one of those people. He was head of the Joint Task Force for Hurricane Katrina 16 years ago. What has he done since, and what does he do now?
Pelosi's Pick To Lead Capitol Security Investigation Thinks Hawley Should Lose His Job. Democratic Speaker of the House Nancy Pelosi's pick to lead a Capitol security investigation in the wake of the Jan. 6 riot hurled multiple partisan insults at congressional Republicans, even calling for some of them to lose their jobs. In a now-deleted tweet, posted just one week after the Capitol incident, revived by Fox News's Tucker Carlson, Lt. Gen. Russel L. Honoré publicly insulted Republican Sen. Josh Hawley of Missouri, calling [...] for him to "be run out of DC and Disbarred ASAP."
Manchin opposes Neera Tanden, endangering her OMB nomination. Democratic Senator Joe Manchin said he will not vote to confirm President Biden's pick to be Office of Management and Budget director, Neera Tanden, endangering and potentially tanking her confirmation. Because of the 50-50 split in the Senate, one Republican would have to back Tanden to compensate for Manchin's "no" vote, which seems unlikely.
Conservatives Release Memo in Opposition to Neera Tanden's Nomination to Head OMB. The Conservative Action Project, a coalition of conservative groups and leaders, released a memorandum entitled: "Neera Tanden is Unfit to Lead the Office of Management and Budget." The coalition hopes to disseminate the memo across social media and other platforms to put pressure on Senators to oppose President Joe Biden nominating Tanden, who has a far-left policy record, including during her tenure as president of the left-wing Center for American Progress.
The radicals: Five firebrand Biden nominees and appointments. Candidate Joe Biden appealed to voters as a deal-minded moderate and experienced Washington hand. While many of the now-president's nominees and appointments so far have been seasoned Beltway pros, others have raised eyebrows. Here is a list of Biden's most controversial picks to date.
Nothing To See Here: Facebook's Leftist Oversight Board Member Leaves To Join Radical Biden Regime. A law professor who's been sitting on leftist Facebook's oversight board stepped down to accept a position in President Joe Biden's Department of Justice. Pamela Karlan will serve as principal deputy assistant attorney general in the Department of Justice's Civil Division after spending less than a year on the Facebook board set up in 2019 to review the social media behemoth's content policing decisions.
Corona Cash: Financial Disclosures Reveal Biden Surgeon General Made Millions off Pandemic 'Consulting'. Vivek Murthy, President Biden's pick for surgeon general, cashed in last year as the Chinese coronavirus pandemic gripped the nation, making more than two million dollars off pandemic "consulting." Several of Biden's nominees have filed financial disclosures, including Murthy, who according to Politico made millions by consulting various companies, including those in industries severely impacted by the pandemic, such as Carnival Cruise Line. Such consulting gigs have raised eyebrows due to concerns of bias.
The Coming Military Purge. One of Defense Secretary Lloyd Austin's first actions after confirmation has been to order a "60 day stand down" to combat extremism. This follows the widespread and mostly baseless establishment fantasy that "right-wing extremists" and "white supremacists" are running rampant and pose some immediate threat to the country. The details and definitions will ultimately determine whether this campaign is a sensible one that is in keeping with the Constitution or ends up being a purge of the overwhelmingly conservative ranks of the military. No reasonable person would object to removing dangerous and disloyal people from the service, but such a limited goal is distinct from punishing those with merely dissenting and idiosyncratic views. For example, a recent briefing among the Army's Special Forces singled out Pepe the Frog and the Gadsden Flag as signs of extremism. These popular symbols — one an historical American flag — are widely embraced among the mainstream Right. Austin's other priorities do not signal moderation or common sense. He has ordered the services to allow transgender members to serve and enlist, including the right to "medically-necessary transition-related care." He has also purged defense advisory boards of hundreds of Trump appointees without regard to their qualifications.
How Media And Pentagon Brass Used Bad Math To Slander Our Troops. Are the ranks of the U.S. military riddled with white supremacists? CNN thinks so, and won't let the facts get in the way of this compelling narrative. CNN makes its case in a story headlined, "Disproportionate number of current and former military personnel arrested in Capitol attack, CNN analysis shows." This is both factually untrue and downright libelous. It dishonors the brave men and women who serve in our armed forces. More broadly, fears over extremists secretly serving in the military were made official policy when new Secretary of Defense and former U.S. Army Gen. Lloyd J. Austin, III called for a military-wide "stand-down" to root out white supremacy and extremism.
Biden Justice Department Pick Opposed Enforcing Civil Rights Laws Against Blacks. The incoming Justice Department civil rights chief has a history of opposing civil rights prosecutions of black defendants, opposing a complaint against an African-American Democratic leader who discriminated against white voters. As an NAACP lawyer, Kristen Clarke lambasted the Justice Department for bringing a complaint against an African-American party boss in Mississippi who worked to suppress white votes, according to a federal probe. On a separate occasion, a federal oversight commission investigated claims that Clarke worked with allies at the Justice Department to quash the prosecution of the Black Panthers who menaced voters outside a Philadelphia precinct in 2008. Clarke's nomination to an influential Justice Department post will test the Biden administration's commitment to "equity-based" policy making, which purportedly promotes racial justice by giving special attention to marginalized groups. Clarke's professional history suggests a staunchly ideological approach to civil rights enforcement where touchstone civil rights laws are applied to advantage some demographic groups but not others.
We Need Civil Rights for All, Not Just a Select Few. The Civil Rights Act of 1964 and the Voting Rights Act of 1965 are probably two of the most important — and successful — pieces of legislation ever passed by Congress. They outlawed racial discrimination in all aspects of our society, from education and employment to housing and voting, and have been very successful in achieving that objective with only rare exceptions. And they were written — and intended — to protect all Americans, not just a select few, from being discriminated against based on the color of their skin. Unfortunately, President Joe Biden's pick to be the new head of the U.S. Justice Department's Civil Rights Division, Kristen Clarke, has made troubling comments suggesting she does not believe these laws should be enforced on behalf of all Americans.
Biden's CIA Pick Runs Think Tank Filthy With Chinese Money. Can you imagine any Cold War president nominating a CIA director who worked for a think tank that took Soviet money? "Sure, Hubert J. Kissup's Detente Institute took money from the Young Communist League, but you should confirm him because he's a swell guy!" Notice how quickly our garbage elites went from "Ivanaka Trump sells clothing in Russia! This is a huge conflict of interest!" to "CIA director bringing in a half million dollars in Communist Chinese money at his last gig? Nothing to see here! Move along, pleb!" President Trump's list of his administration's accomplishments cites numerous instances of confronting and reigning-in communist China. However, Democratic Party grandees seem far more concerned with sucking up to, appeasing, and profiting off China than confronting it. From Hunter Biden's documented payoffs from China to universities taking money from China to Hollywood studios bowing to censorship pressure to attempting to repress any mention of the possibility that the Wuhan cornavirus escaped from a Chinese lab to getting a case of the vapors over mentioning Flu Manchu as the "China Virus" to a sitting Democratic congressman literally banging a communist spy, our garbage Democratic ruling class is in bed with communist China both literally and figuratively. The Burns nomination should be rejected on the basis of his Chinese ties alone.
Pamela Karlan, Facebook oversight board member, quits to join Biden administration. A founding member of Facebook's oversight board responsible for impartially adjudicating enforcement and government issues has quit the board to join the Biden administration. Pamela Karlan, a Stanford University law professor who testified to Congress in support of the first impeachment charges against former President Trump, is going to work in President Biden's Department of Justice. "Working with my colleagues on the Oversight Board to build a fairer and more effective approach to content moderation has been an honor," Ms. Karlan said in a statement on Saturday, the board confirmed on Monday. "The Board has a critical role to play in holding Facebook to account, and I will continue to watch their work with great admiration."
Muslim Brotherhood Supporter Named VA Secretary. The U.S. Senate just confirmed Denis McDonough to be the new Secretary of the Veterans Administration. McDonough has a long history of openly supporting jihadis while in public office. The counter-terrorism policies and strategies created under his watch as Deputy National Security Advisor and Chief of Staff under President Obama demonstrate his overt support for individuals and entities who openly call for the overthrow of the U.S. government and the destruction of liberty and innocent life. McDonough's seditious and unlawful actions are unprecedented in their brazenness and blatant violation of his oath and the law. For instance, as the Deputy National Security Advisor to President Obama, McDonough went to the Muslim Brotherhood's mosque, the All Dulles Area Muslim Society (ADAMS) in Sterling, Virginia with senior U.S. leaders including FBI, DHS, NSC, etc to PRAISE its imam. The ADAMS Center imam is Mohamed Magid, a Muslim Brotherhood leader.
'Only choice for somebody like me': John Kerry flew on private jet to accept climate award. It turns out Leonardo di Caprio isn't the only one taking private jets to pick up climate awards. Biden global climate czar John Kerry flew by private plane in 2019 to accept an award for his climate work in Iceland, a decision he defended at the time as "the only choice for somebody like me," as shown on a video posted Wednesday by FoxNews.com. Mr. Kerry, who has been criticized for owning a climate-unfriendly Gulfstream jet, appeared in person in October 2019 to receive the Arctic Circle Prize for his "leadership in international climate cooperation" at the Arctic Circle Assembly held in Reykjavik.
Biden's Department of Homeland Sleaze Chief. The corruptocracy of the Obama administration is back with a vengeance in the White House. Once more, the "S" in "DHS" stands not for security — but for sleaze. Our nation is back for sale to the highest foreign bidders and their "America last" cronies. Last Thursday [1/28/2021], the Senate Homeland Security Committee pushed through the nomination of Alejandro "Ali" Mayorkas to head the U.S. Department of Homeland Security. [...] Seven years ago, I first raised alarms when Barack Obama's shady Chicago crony Mayorkas was tapped for the No. 2 position at DHS. Feckless Senate Republicans surrendered then, as they will again now. Mayorkas' main qualification for the deputy DHS secretary slot was his glorious record of achievement as a top Obama presidential campaign fundraiser in 2008. "Obama bundler" bestowed the same magical powers of access for Ali Mayorkas as "Open, sesame!" did for Ali Baba.
Pete Buttigieg becomes first openly gay Senate-confirmed Cabinet secretary. Pete Buttigieg was confirmed as Transportation Secretary Tuesday [2/2/2021] as the first openly gay Cabinet secretary to be confirmed by the Senate. Buttigieg, the former mayor of South Bend, Ind., and a Democratic presidential candidate, received overwhelming bipartisan support with a 86-13 vote. Following the vote, Buttigieg said he was "honored and humbled by today's vote in the Senate — and ready to get to work." Sen. Maria Cantwell, D-Wash., the incoming Democratic chair of the panel overseeing Buttigieg's confirmation, praised him Tuesday as a "young, energetic mayor" who could "help us usher in a new era of transportation."
Schumer taps Sanders to head Finance, Manchin to lead Energy. Sen. Bernie Sanders has been elevated to the powerful role of Senate Budget Committee Chairman as the Democratic Party continues its metamorphosis under the new Biden administration. Senate Majority Leader Chuck Schumer on Tuesday [2/2/2021] announced the committee memberships for the new 117th Congress and also confirmed that West Virginia centrist Sen. Joe Manchin, who is quickly emerging as a powerful voice in the upper chamber, would lead the Senate Energy & Natural Resources Committee. After damaging allegations about her flagging mental acuity emerged in the press late last year, 87-year-old Sen. Dianne Feinstein also stepped aside and has been replaced as the chair of the powerful Senate Judiciary Committee by Illinois Sen. Dick Durbin.
Justice Department Nominee Lisa Monaco Prosecuted Black Man Sentenced To 27 Years In Prison For Selling $20 Worth Of Drugs. President Joe Biden's nominee to serve as deputy attorney general helped prosecute a black man who was sentenced to 27 years in prison for selling $20 worth of heroin to an undercover police officer. The government dropped charges against the man's co-defendant as part of a plea deal, court records show. Lisa Monaco, who Biden tapped for the Justice Department position, was one of the assistant U.S. attorneys who prosecuted a case in 2003 against Reginald C. Steward, a Washington, D.C. man who was charged following an undercover drug bust. Steward was arrested in Washington, D.C. on Aug. 20, 2002 and was charged with unlawful distribution of heroin, according to court records. He was convicted at a jury trial on April 16, 2003, and was sentenced to 27 years in prison.
The Iran Appeasement Team Is Back in Place. It's official, Joe Biden has announced his pick to serve as the administration's Special Envoy for Iran. Surprise, surprise — It's Rob Malley. Malley is a former Mideast advisor to President Barack Obama. Malley was actively involved with the negotiations between the U.S. and Iran. He was a key architect of the deeply flawed Joint Comprehensive Plan of Action (JCPOA), so it should come as no surprise that he's a trong supporter of returning to the JCPOA deal that President Trump wisely withdrew from. Additionally, Malley spoke out against the Trump administration's bold and courageous decision to assassinate the Iran Guard Corps (IRGC) General Qasem Soleimani. Malley had this to say: "From Iran's perspective, it is hard to imagine a more deliberately provocative act."
John Kerry, Global Warming Ghoul. Presidential climate envoy John Kerry stirred up a black cloud last week when he said the workers who lost their jobs over the administration's decision to shut down Keystone XL pipeline construction could just make solar panels instead. At least he didn't tell them they should learn to code. But it was a cruel comment nonetheless, and representative of the political left's careless destruction of livelihoods in service of their climate god. At a news conference last week, Kerry said "what President Biden wants to do is make sure that those folks" who lost jobs "have better choices, that they have alternatives, that they can be the people who go to work to make the solar panels." Unsaid yet clearly understood is the Democrats' contempt for calloused-hand working class Americans — these "deplorables" just can't make good decisions and need the guiding hand of government to help them avoid the briar patches and potholes of life.
Biden's Education Secretary opposes re-opening, loves racist critical race theory. Not opening schools is child abuse. Children need to be in school. Joe Biden allegedly wants to open the schools. Some states, red states such as Florida, reopened months ago, while others, under the teacher union jackboots stay closed. That makes Biden's pick for deputy secretary of education a mystery. Cindy Marten, the superintendent of schools in San Diego, fully backs the irresponsible unions and closure. Matthew Foldi reported at the Washington Free Beacon that she is still fighting to keep students out of the classroom in San Diego, where she's school superintendent.
WaPo: Two Pinocchios For Kerry's Wind-And-Solar Jobs Claims. If you missed John Kerry's remarks on the job-destruction impact from Joe Biden's executive orders on climate change, let's refresh memories first. Reporters asked Kerry how the new administration would explain to hundreds of thousands of energy workers about the necessity of making them unemployed, Kerry suggested that they could "make better choices," and told reporters that they should learn to build solar panels instead. [...] Obama, Kerry, and Biden had eight years to prove the assertion that massive government subsidies in renewable energy would pay off with "millions" of green-tech jobs. Remind us again how many wind and solar installer jobs America currently has 12 years after the massive Porkulus bill? The most significant lie here isn't Kerry's statistical claims. It's that this administration cares one whit about energy-sector jobs while they take every step they can to destroy them without viable employment or energy options.
Report: Biden State Dept. Spox Trashed Cops in 2016 Facebook Post. Jalina Porter, who was recently made the deputy spokeswoman of Joe Biden's State Department, called American cops the "largest threat to U.S. national security" in a Facebook post in 2016, reports the Washington Free Beacon. The Beacon obtained a screenshot of the offending remarks. [...] PJ Media could not independently verify the legitimacy of the Facebook post shared by the Washington Free Beacon. Either the post has since been deleted from her Facebook profile, or her privacy settings don't allow unapproved people to see the post. The Washington Free Beacon did not explain how they obtained the screenshot. The State Department did not respond to multiple requests for comment from the publication. Porter is a former NFL and NBA cheerleader who was working at the Truman National Security Project, a left-wing foreign policy think tank, at the time of the post.
State Dept Spox: 'Largest Threat to U.S. National Security are U.S. Cops'. The State Department's newly installed deputy spokesperson, Jalina Porter, said in a 2016 Facebook post that the "largest threat to U.S. national security are U.S cops," according to a screenshot of the post obtained by the Washington Free Beacon. "The largest threat to U.S. national security are U.S. cops," wrote Porter, who was recently tapped by the Biden administration to serve as State Department spokesman Ned Price's deputy. "Not ISIS, not Russian hackers, not anyone or anything else." Porter's comments were made on Sept. 20, 2016, and appear to be in reference to video footage released that day of an unarmed black man being shot by police officers in Tulsa, Oklahoma.
Biden climate envoy John Kerry is a lifelong joke. What was Joe Biden thinking for his choice of climate-change ambassador extraordinaire? John Kerry is one of the biggest gasbags in American politics, singlehandedly responsible for massive amounts of terrible emissions. People have been laughing at him since Yale, when "Doonesbury" creator Garry Trudeau was zinging his pretentious, vacuous self-promotion. We look forward to the anti-carbon lectures from a guy who travels the globe on private jets and luxury yachts. Set aside his deer-in-the-headlights loss as the Democrats' presidential nominee in 2004. He was a joke as secretary of state under President Barack Obama — off on his yacht during Egypt's 2013 military coup.
Janet Yellen Received $810K In Speaking Fees From Hedge Fund Embroiled In GameStop Saga. Treasury Sec. Janet Yellen received more than $800,000 in speaking fees from a hedge fund that has become embroiled in the saga over stock trades for video game retailer GameStop, according to her financial disclosures. Citadel, a hedge fund founded by Ken Griffin, a major GOP donor, paid Yellen $810,000 to speak at several events from October 2019 to October 2020, according to Yellen's filings with the Office of Government Ethics. The Chicago-based hedge fund paid Yellen $292,500 for a speech on Oct. 17, 2019, $180,000 for one on Dec. 3, 2019, and $337,500 to speak at a series of webinars held from Oct. 9-27, 2020.
Biden Treasury Sec Yellen Paid by Chinese Communist Party-Linked Group. Treasury Secretary Janet Yellen's financial disclosures reveal she was paid to speak at Caixin — a Beijing-based media outlet with ties to the Chinese Communist Party. The financial relationship is revealed via her most recent disclosure as item 33 on a 68-item-long list titled "Filer's Sources of Compensation Exceeding $5,000 in a Year."
Sen. Blackburn Says Biden EPA Appointee Broke Law. Environmental Protection Agency principal deputy general counsel Melissa Hoffer may have violated federal law by asking the Department of Justice to put a hold on all litigation involving the EPA, according to Sen. Marsha Blackburn (R-Tenn.). In a Jan. 25 letter made public on Jan. 28, Blackburn asked EPA Inspector General Sean O'Donnell and Comptroller General Gene Dodaro to "open an investigation into potential violations of the Federal Vacancies Reform Act of 1998 (FVRA) and other potential violations of ethics rules." Dodaro heads the Government Accountability Office (GAO), the investigative arm of Congress. Hoffer, a political appointee, is one of the first 16 officials dispatched to EPA by the White House on Jan. 20 to carry out President Joe Biden's plan to make combating climate change one of his administration's top economic and national security policy priorities.
John Kerry reportedly still owns private jet as he fights climate change. John Kerry, President Biden's top environmental policy adviser, still owns a private jet — despite his intention of fighting fossil fuels in the new administration, according to a report. A Federal Aviation Administration registry shows a Gulfstream Aerospace aircraft owned by Flying Squirrel LLC, the name previously reported as the climate czar's wife Teresa Heinz-Kerry's private charter jet company, Fox News reported. The company's address in the registry matches that of the Heinz Family Foundation, according to the network. The plane's registration certificate was issued in July 2005 and expires in October 2023, according to FAA records cited by Fox News.
Incompetence:
'Circle Back': WH Press Secretary Jen Psaki's Go-To Answer for Avoiding Transparency. It's not really clear what people were expecting in terms of transparency within the new Biden administration. But if we go by the "expertise" of current White House Press Secretary Jen Psaki, people will have more questions than answers for the next four years. In what has already become a noticeable trend, Psaki seems to use the same phrase — "circle back" — over and over when being asked questions about what President Joe Biden and his administration are doing, among other questions. Psaki has basically become a walking meme at this point, and we're only one week into the new presidency.
The Editor says...
Lots of TV news anchors, meteorologists, and field reporters have their own set of "crutch words," verbal tics, and signature catchphrases. Most of them don't even know it, because their co-workers are too polite to tell them about it. But by the time one arrives at the national news media level, those amateurish flaws should have been ironed out.
John Kerry to Oil and Gas Workers Who Lose Their Jobs Because of Biden's War on Energy: 'Go Make Solar Panels'. John Kerry, the Biden Admin's Special Presidential Envoy for Climate, has a message to oil and gas workers: make solar panels. Joe Biden killed tens of thousands of jobs his first day in office when he canceled contracts with the Keystone XL pipeline and waged a war on the energy business. This is just the beginning — millions of US jobs are at risk now that Biden is stopping new oil and gas leases on federal lands.
Biden's Energy Nominee Divvied Millions In Taxpayer Funds To Alternative Energy Startups That Went Bankrupt. President Joe Biden's nominee to head the Department of Energy, Jennifer Granholm, divvied out millions in taxpayer funds during her two terms as Michigan governor to alternative energy companies that eventually went bankrupt. In one instance, Granholm's administration provided a $9.1 million refundable tax credit to a renewable energy company registered to the address of a single-wide trailer and run by a convicted embezzler named Richard Short. Short was found to be in violation of his parole and sent back to prison after appearing on stage with Granholm in 2010 to accept assistance from the Michigan Economic Growth Authority, according to Michigan Capitol Confidential. Granholm also granted $10 million to an electric car battery manufacturer, A123 Systems, in 2009 and lauded the company in a press conference, saying it would help "make Michigan the alternative energy capital of North America and the advanced battery capital of the world."
Biden Appoints Susan Rice To Drive Racial Politics Deep Into Federal Bureaucracy. Joe Biden has brought on former Obama national security adviser Susan Rice as a domestic policy aide to promote racial justice and equity. This is the latest example of Biden promoting policy that sounds like it came directly off of a college campus. [Video clips] Now might be a good time to remind Democrats and especially members of the Biden administration, that before COVID hit, the unemployment rate for minorities across the board were at historic lows. It's also a good time to remember that this woman went on five Sunday news shows after the Benghazi attack and blamed it on a YouTube video. It's amazing she has not been shamed off the national stage.
Biden Picks CA Labor Sec Julie Su, Responsible For $10B in Fraud Losses, for Deputy DOL. Yet another California Democrat with a record of failure might be headed to Washington if Joe Biden gets his way. [...] Today Biden announced the nomination of California Secretary of Labor Julie Su for Deputy Secretary of Labor, the number two position in the department, a move that has Californians in both parties scratching their heads. Su served as a Labor Commissioner from 2011 through 2018 and in 2019 was appointed Secretary for the California Labor and Workforce Development Agency (LWDA) by Newsom. Her tenure leading LWDA, which "enforces workplace laws, combats wage theft, ensures health and safety on the job, connects Californians to quality jobs and career pathways, and administers unemployment insurance, workers compensation and paid family leave," has been an unmitigated disaster.
Wall Street's luck has run out with Biden's SEC head Gary Gensler. Among corporate America's biggest worries about a Biden presidency was that he might cave to the left wing of his party and select Elizabeth Warren as his top white-collar-crime cop. Well, the corporate chieftains dodged that bullet, only to find themselves now in the crosshairs of the next worst thing. To say Gary Gensler — nominated as head of the Securities and Exchange Commission — is the favorite regulator of the business-hating Massachusetts senator isn't an overstatement. Both he and Warren view the business of monitoring securities markets and regulating big business as more of a progressive holy war than matter of governance. With that you can expect not just the usual flurry of enforcement activity out of the agency when Gensler comes to town. People who know Gensler tell me he is also intent on remaking the SEC in Warren's image.
Biden Just Picked A CIA Director With a 7-Year-Long Relationship with Chinese Communist Party Fronts. Bill Burns — Joe Biden's pick to lead the Central Intelligence Agency — serves as the President of the Carnegie Endowment for International Peace which has over a decade-long relationship with the China-United States Exchange Foundation and other Chinese Communist Party-linked groups. Burns has served as President of the think tank since 2014, overseeing its involvement with the China-United States Exchange Foundation (CUSEF) which dates back to at least 2009.
Back to the Obama's Failed Policies and Blinkered Personnel. From the beginning, Biden sends the message that by executive fiat and personnel choices he plans to double down on policies that will undo Trump's achievements and weaken our nation while further restricting American liberties. Democrats found COVID so convenient a means to open the gates for election fraud and population control and now they plan to use this example as a governing principle, demonizing their opponents while mouthing calls for "unity." If it's true that personnel is policy, let's have a look at some of his picks. Susan Rice, John Kerry, and Samantha Power are Obama retreads, but there are others just as statist and loony. His choice to head the Department of Justice's Civil Rights Division is Kristen Clarke author of this: "Melanin endows Blacks with greater mental, physical and spiritual abilities — something which cannot be measured based on Eurocentric standards." Anita Dunn as a"senior advisor," a woman who regards Mao Tse-Tung, the worst mass murderer in history, as one of her "favorite political philosophers." It's not just the abhorrent beliefs and records of his selection that raises eyebrows. It's the utter incompetence that shines through.
Joe Biden's Concept of an American Nation. [Scroll down] I fear that Biden and those he has chosen for his Cabinet have no idea of a "shared national identity" other than their ideal of "diversity." Diversity, however, cannot be a source of "shared" identity — if anything, it is a means of eradicating the shared values, traditions, and heroes that President Trump spoke of. More to the point, Biden's conception of America not only "gets in the way" of national sovereignty, but actively opposes it. Biden is a globalist whose loyalty is to transnational organizations like the United Nations, the International Criminal Court, the World Trade Organization, and other global institutions and non-profits. He will seek to undermine national sovereignty because he believes in world governance, not in governance by nation-states. These views are shared by Antony Blinken, Biden's choice for secretary of state.
Biden's Presidency of Disunity. Biden's choice for Education Secretary nominee, Miguel Cardona, points to the hollowness of talk of unity. Cardona greatly expanded Critical Race Theory as Connecticut education commissioner. Cardona introduced mandatory Black Puerto Rican and Latino Studies that analyze how race, power, and privilege influence group access to citizenship, civil rights, and economic power. Mr. Cardona is likely to want to expand such efforts on the federal level. Children in America's educational institutions will be divided into categories based on race, and ethnicity. Stripping people of their individuality for categorized thinking will cause resentment because those in attendance will not necessarily view themselves as privileged or see peers like the categories presented. Other people in attendance, if it is mandatory attendance, will resent the time spent away from useful learning.
Biden defense nominee faults leadership while promising to root out white supremacy. President-elect Joe Biden's nominee for defense secretary, retired Gen. Lloyd Austin, laid blame on military leaders for failing to detect and root out white supremacy from the ranks during his Tuesday nomination hearing. "We have to train our leaders to make sure they are in touch with the people they are leading," said Austin, who would be the first African American secretary of defense if granted a congressional waiver to become the Pentagon's top civilian leader after recently serving on active duty and confirmed by the Senate. "I don't think this is a thing you can put a Band-Aid on and fix and leave alone," he added, stressing how leaders must instill military values in subordinates. "Failure to be able to adhere to those values means you shouldn't be a part of our formation."
Hawley delays quick confirmation of Biden's DHS nominee. Sen. Josh Hawley (R-Mo.) announced on Tuesday [1/19/2021] he would place a hold on Alejandro Mayorkas, President-elect Joe Biden's choice to lead the Department of Homeland Security (DHS). Hawley, who has come under fire recently amid allegations that he played a role in the Capitol riot early this month, made the announcement just hours after the Senate Committee on Homeland Security and Governmental Affairs wrapped its hearing with Mayorkas. The move delays the nomination of a post Democrats have argued is critical to fill immediately to protect national security. "Mr. Mayorkas has not adequately explained how he will enforce federal law and secure the southern border given President-elect Biden's promise to roll back major enforcement and security measures," Hawley said in a statement.
Forced from Obama Admin for Praising Mao, Anita Dunn to Return to White House. President-elect Joe Biden will tap Anita Dunn, an Obama-administration alumna who praised Chinese communist leader Mao Zedong's political philosophy, for senior White House adviser, Axios reported Friday [1/15/2021]. Dunn's last stint in the White House ended after just seven months, when she resigned after former Fox News anchor Glenn Beck aired a clip of the then-communications director saying Mao was one of her "favorite political philosophers." Dunn worked as senior adviser for the Biden campaign from 2019 until last spring when she took over its operations following a disastrous Iowa caucus showing. She then became co-chair of Biden's transition team after his victory in November.
Biden Picks Health Sec Who Forced Nursing Homes to Accept Infected Coronavirus Patients. The most notable thing about Biden's pick of Pennsylvania Health Secretary Rick 'Rachel' Levine as his assistant secretary of health is the doctor's drag act. For the dead senior citizens in Pennsylvania nursing homes and their families, Rick is known for something more gruesome than turning coronavirus press conferences into the Rocky Horror Picture Show.
China Ties Raise Questions for Biden's Pick for Top Defense Post. Joe Biden's pick for a top Pentagon post works at a research center partnered with China's Peking University, a school that has long been eyed as a security risk by western intelligence. Colin Kahl, whom Biden tapped for undersecretary of defense for policy, has served as a senior fellow at the Freeman Spogli Institute for International Studies at Stanford University since the beginning of 2018. The institute oversees the Stanford Center at Peking University in northern Beijing, which opened in 2012. Peking University, which is run by former Beijing spy chief Qiu Shuiping and has been linked to multiple espionage cases in the United States, recently updated its charter to require loyalty to the Chinese Communist Party, according to an NPR report. The school has also been ramping up its student and faculty surveillance system in what China watchers see as part of the government's broader crackdown on independent scholarship.
Biden picks Levine, openly transgender woman, for health post; if confirmed, she would make history. Pennsylvania Health Secretary Rachel Levine, who is openly transgender, has been nominated to become assistant secretary of health under President-elect Joe Biden's administration, The Associated Press is reporting. ["]President-elect Joe Biden has tapped Pennsylvania Health Secretary Rachel Levine to be his assistant secretary of health, leaving her poised to become the first openly transgender federal official to be confirmed by the U.S. Senate.["]
Biden's New HHS Pick [is] Historic, All Right — In COVID-19 Nursing-Home Policy Double Standards. Get ready for lots of media fawning over the appointment of Rachel Levine to become assistant secretary at HHS. This morning, news outlets have already begun hailing Joe Biden for his historic choice of appointing the first transgender nominee to a Senate-confirmed position. But Levine has other history that should be more directly applicable — and to raise more questions about Biden's judgment[.]
Incoming White House Climate Team Blames Systemic Racism' for Climate Change. A pair of top incoming White House environmental aides has blamed "systemic racism" as a driver of climate change in an attempt to justify a government-led economic overhaul. President-elect Joe Biden named progressive policy adviser Maggie Thomas as Office of Domestic Climate Policy chief of staff and climate advocate Cecilia Martinez as "senior director for environmental justice" on Thursday [1/14/2021]. Both Thomas and Martinez have cited racial inequality as perpetuating climate change, arguing that the Biden administration's environmental policy must be centered on "racial and economic justice." "Unless intentionally interrupted, systemic racism will continue to be a major obstacle to creating a healthy planet," Martinez said in a 2019 press release touting her "Equitable & Just" climate platform. "The only path forward is to design national climate policies that are centered on justice."
The Editor says...
Did the climate start changing after the passage (over Democrat objections) of the Civil Rights Act of 1965? Is there no "systemic racism" anywhere else in the world? The climate has always changed, regardless of politics, but it changes so gradually that nobody would ever notice, if the news media didn't bring it up constantly.
Biden Is Already Rewarding Failure. When Sundown Joe takes office on Wednesday, the old gang will be back in the saddle again: the foreign policy establishment hacks who have done nothing but fail, fail, and fail again, and in response keep getting rewarded not with dismissal and a forced return to private life, but with honors, awards, and promotions. AFP reported Saturday that Biden has appointed Wendy Sherman, whose chief claim to fame is negotiating the notorious Iran nuclear deal, to be deputy secretary of state. It's a classic example of failing up.
Joe Biden Nominates Gretchen Whitmer as DNC Vice Chair. President-elect Joe Biden announced Thursday he nominated Michigan Gov. Gretchen Whitmer (D) to serve as a vice chair of the Democratic National Committee (DNC). [...] The DNC position would allow Whitmer to raise her profile nationally, despite Michigan still being locked down due to the coronavirus pandemic and complaints from business owners and Republicans that there is no real plan to reopen.
Biden taps former FDA chief Kessler to lead vaccine science. President-elect Joe Biden has picked a former Food and Drug commissioner to lead vaccine science in his drive to put 100 million shots into the arms of Americans in his administration's first 100 days and stem the COVID-19 pandemic. Dr. David Kessler, who will have the title of chief science officer of COVID response, headed the Food and Drug Administration in the 1990s under presidents of both political parties. He has been acting as a top pandemic adviser to Biden and his appointment was announced Friday by the presidential transition office.
The Editor says...
For months, the Socialist Democrats have insisted that we "follow the science." Now they say someone has to lead the science.
Joe Biden''s Choice to Lead the DOJ Civil Rights Unit thinks Blacks are Superior Mentally and Physically Because of Melanin. In 1994, Clarke wrote a letter to The Harvard Crimson in her capacity as the president of the Black Students Association to explain her views on race science. "Please use the following theories and observations to assist you in your search for truth regarding the genetic differences between Blacks and whites [sic]," Clarke wrote. "One: Dr Richard King reveals that the core of the human brain is the 'locus coeruleus,' which is a structure that is Black, because it contains large amounts of neuro-melanin, which is essential for its operation. [Video clip]
Biden Pick For Civil Rights Chief Promoted Racism and Anti-Semitism at Harvard. Kristen Clarke, President-elect Joe Biden's pick to lead the Justice Department's Civil Rights Division, advanced pseudoscientific theories of black racial superiority and organized an event with a notorious anti-Semite as a student at Harvard University. Clarke and a coauthor outlined "the genetic differences between Blacks and whites" in a 1994 letter to the editors of Harvard's student newspaper, which criticized the political scientist Charles Murray's book The Bell Curve. The genetic difference they identify, varying levels of melanin between whites and blacks, accounts for disparate cognitive abilities, physical power, and even spirituality, the pair said. The so-called melanin theory has no basis in science. "Melanin endows Blacks with greater mental, physical and spiritual abilities — something which cannot be measured based on Eurocentric standards," they wrote.
Biden Nominates Former Obama Official, Unmasker Samantha Power as USAID Administrator. President-elect Joe Biden announced Tuesday he was nominating Samantha Power, a former Obama administration official and key unmasker of Trump campaign staffers, to a top position in his incoming administration. "Ambassador Samantha Power is a world-renowned voice of conscience and moral clarity — challenging and rallying the international community to stand up for the dignity and humanity of all people," Biden said in a statement. "As USAID Administrator, she'll be a powerful force for principled American engagement."
Joe Biden Picks Pro-Abortion Samantha Power to Head USAID, Will Make Americans Fund Planned Parenthood. Abortion activists praised Samantha Power, President-elect Joe Biden's choice to lead the U.S. Agency for International Development, as a "steadfast voice for human rights" on Wednesday [1/13/2021]. Biden's transition team announced Power as his choice for USAID administrator this week. She is one of a growing list of pro-abortion leaders slated to fill the new presidential administration. In the position, Power will assist Biden in restoring taxpayer funding to Planned Parenthood and other global abortion advocacy groups — funds that President Donald Trump cut through his Protecting Life policy. Power previously worked in President Barack Obama's administration as a representative to the United Nations. Before that, she served on the National Security Council where she advised Obama and Biden on "women's rights," which, to Democrat leaders, includes abortion on demand.
Biden names Samantha Power as pick to lead USAID. President-elect Joseph R. Biden on Wednesday named Samantha Power, the former U.S. ambassador to the United Nations during the Obama administration, as his pick to lead the U.S. Agency for International Development. Mr. Biden also elevated the position to be in the National Security Council (NSC). "As USAID Administrator, Ambassador Power will be a powerful force for lifting up the vulnerable, ushering in a new era of human progress and development, and advancing American interests globally," Mr. Biden said.
More about Samantha Power.
Biden's choice to lead DOJ Civil Rights is an open anti-white racist. On his Monday night show, in addition to commenting on the terrors of a new tech oligarchy in America, Tucker Carlson revealed the shocking truth about Kirsten Clarke, who is Joe Biden's choice to lead the Department of Justice's extremely powerful Civil Rights division. When Clarke was an undergraduate, she wrote such a vile anti-white screen that even the hard-left Harvard Crimson pushed back. In addition, she invited to campus a black speaker whose claim to fame was his Hitlerian anti-Semitism, and showered him with praise. Clarke attending Harvard as an undergrad. Right there, of course, you can see just how oppressed this woman has been.
Biden Picks Someone With No Experience To Run The CIA. As Joe Biden continues to flesh out his cabinet and White House staff, I'm seriously beginning to wonder if anyone is actually advising him on these picks. We already discussed his curious choice of Gina Raimondo for Commerce, and now he's made an even stranger selection. For some reason, Uncle Joe has tapped former Deputy Secretary of State William Burns to take charge at the CIA. The 64-year-old Burns certainly has plenty of experience in the swamp, having served under multiple administrations, but he's a career diplomat. There is virtually nothing in his record to suggest that he has any experience in the intelligence community, and that's only the beginning of his shortcomings.
Biden Said to Pick Merrick Garland, Blocked by G.O.P. From High Court, as Attorney General. President-elect Joseph R. Biden Jr. plans to nominate Judge Merrick Garland, whose Supreme Court nomination Republicans blocked in 2016, to be attorney general, placing the task of repairing a beleaguered Justice Department in the hands of a centrist judge, according to a person familiar with the matter. If confirmed, Judge Garland, who has sometimes disappointed liberals with his rulings, would inherit a department that grew more politicized under President Trump than at any point since Watergate. Judge Garland will face vexing decisions about civil rights issues that roiled the country this year, whether to investigate Mr. Trump and his administration and how to proceed with a tax investigation into Mr. Biden's son.
Biden to name judge Merrick Garland as attorney general. President-elect Joe Biden has selected Merrick Garland, a federal appeals court judge who in 2016 was snubbed by Republicans for a seat on the Supreme Court, as his attorney general, two people familiar with the selection process said Wednesday [1/6/2021]. In picking Garland, Biden is turning to an experienced judge who held senior positions at the Justice Department decades ago, including as a supervisor of the prosecution of the 1995 Oklahoma City bombing.
Here's What To Tell Relatives Who Insist Biden's Cabinet Is Centrist. What, in today's political culture, is a "centrist"? Old-fashioned political nerds define it by support for legislation and policy proposals. If you love really big tax cuts and favor abolishing several Cabinet departments, you're not a centrist. If you want to "defund the police" and "end fossil fuels," you're also not a centrist. This is one of those matters of political categorization that our most prestigious newspapers mangle on a regular basis. Liberal editors and reporters have an annoying tendency to define the center as the precise location where they stand on the ideological spectrum. Case in point: The New York Times placed this fraudulent headline at the top of its front page on Sunday: "On Philosophy, Biden Cabinet Leans Centrist." This is simply preposterous.
Meet Joe Biden's climate 'dream team'. President-elect Joe Biden has appointed a mix of Cabinet and White House officials who will compose the first "climate team." Some of them are pending Senate confirmation, while others don't require it. Together, Biden has charged the team with implementing his agenda to combat climate change, the most aggressive proposed by a presidential candidate, that calls for reaching net-zero emissions across the U.S. economy by 2050 and carbon-free electricity by 2035. Other personnel choices not listed here are also expected to focus on climate change in ways their agencies have not previously, such as Janet Yellen at the Treasury Department, Pete Buttigieg as the transportation secretary, and Tom Vilsack as agriculture secretary.
Grenell: 'Very Concerned' With Biden and His NSA Pick Over China. Richard Grenell, the former acting director of national intelligence, said on Sunday that he was very concerned with Joe Biden and his national security advisor pick with respect to U.S.-China policy. Mark Levin, the host of the Fox News' "Life Liberty & Levin" show, suggested that Biden is "exactly the wrong man, at the wrong time, to be anywhere near creating and leading American foreign policy" because his family is "so bought off in so many ways by the Communist Chinese government." "I'm very concerned about what not only Joe Biden and his family, how they've responded to China in the past," Grenell told Levin on Sunday evening," but also those around him." "I mean, look at Jake Sullivan, who has really tried to compliment Beijing and to really surrender to the fact that China is going to be a superpower and that we should just deal with it. I don't think that that's true."
Who Is to Blame for Black Poverty? The evident theme for Joe Biden's [cabinet] picks has nothing to do with whether his picks are actually qualified for their postings. Rather, that must check off the appropriate victim identity group box: female, Black, Hispanic, gay, trans, or (Jackpot!) a combination of two or more, where being a black Hispanic lesbian is the pinnacle of the victim hierarchy.
Here's A List Of Biden's Pro-Gun Control Cabinet Picks. At least five of President-elect Joe Biden's reported cabinet picks have expressed pro-gun control views in past statements, a Daily Caller News Foundation review has found. Biden, who is set to be inaugurated on Jan. 20, has said he plans to end the sale of so-called "assault weapons" and "high-capacity magazines" in addition to instituting red flag legislation and ending liability protections for gun manufacturers and sellers, according to his campaign website. The former vice president's gun control plan, coupled with his slew of cabinet picks that seem to share his views on the issue, has pro-Second Amendment groups on edge.
Joe Biden's cabinet of nitwits. Desperately attempting to prove he wasn't a mere 47-year-in-office political hack and to distinguish himself from President Trump, Joe Biden made a big deal about "listening to the experts," and "following science," as if to argue that successful non-politician outsider Trump was some kind of amateur. [...] So why is the so-called "president-elect" of experts doing something very different: Packing his cabinet with ignorant political cronies and zero-experience morons? The New York Post has an excellent editorial takedown of all these so-called experts Joe is putting forward to run his likely coming administration, wondering if he was selecting them by dartboard.
Gina McCarthy, Deb Haaland And Gold King Mine. Gina McCarthy and Deb Haaland are on Biden's climate team. This should be interesting given both of their ties to the disastrous Gold King Mine spill of 2015. That year, a mine up near Silverton, Colorado was under clean-up protocols by the EPA. The same EPA that Gina McCarthy was running at the time. Then, the spill happened. The Animas River turned into yellow sludge from southwestern Colorado all the way into and nearly through New Mexico. Who lives in New Mexico and just the year before lost her bid to be NM Lieutenant Governor? Joe Biden's new choice for Interior Secretary, Deb Haaland.
There's a message behind Buttigieg's lack of qualifications. Pete Buttigieg is only the latest in a list of unqualified cabinet appointments Biden has been making. It's one thing to reward loyalty; it's another thing to hand cabinet positions to useless people. But that's really the point — that they're useless. Biden's is a Potemkin presidency. Neither he nor his cabinet members will wield power. Obama and the Deep State are the ones in charge.
The Persistent Myth of Biden's 'Moderation'. The dominant media is an unreliable arbiter of political labels. While it is quick to cast even the most prosaic Republicans as "hardline conservatives," it is far more circumspect in its description of Democrats. To enhance the appeal of figures like Joe Biden, the media will often confer upon them the label "moderate." This is a lever by which the media moves the ideological spectrum steadily leftward, to the advantage of liberals. A biased media would like the public to see liberalism and "moderation" as interchangeable. Hence, even though Biden ran a campaign to the left of Barack Obama and Hillary Clinton, many in the media still described it as moderate. This media flattery continues as Biden rolls out his personnel picks. He hasn't selected a veritable moderate yet.
How Biden just gave House Republicans a major boost. President-Elect Joe Biden has chosen a Democrat from the U.S. House of Representatives as his nominee for Secretary of the Interior, which is likely to give Republicans in the chamber a boost. Sources confirmed to Fox News on Thursday that Biden planned to ask Rep. Deb Haaland, D-N.M., to fill the role, which would make her the first Native American to do so if she is confirmed by the Senate. However, her exit from the House leaves Democrats with a very slim majority over Republicans, after Biden also tapped Reps. Marcia Fudge, D-Ohio, and Cedric Richmond, D-La., for separate roles in the administration. The slight 219-member majority will make it tougher for the incoming president to pass coveted his agenda items. A party needs 218 seats for a majority among the 435-member body.
Biden Considering Disney CEO for China Ambassador after Company Praised CCP. Joe Biden may appoint Disney CEO Bob Iger as ambassador to China or the United Kingdom, sources told the Hollywood Reporter on Wednesday [12/16/2020]. The news comes as Disney's extensive footprint in China has drawn criticism in the U.S. In particular, the company's live-action remake of Mulan contained segments shot in Xinjiang, where the Chinese Communist Party has imprisoned over a million Uyghurs and other Muslims in concentration camps and has conducted a forced-sterilization campaign on Uyghur women.
Biden calls Buttigieg's husband 'Kirsten,' snubs gay GOP cabinet member. President-elect Joe Biden on Wednesday [12/16/2020] mangled his rollout of Pete Buttigieg as the "first" gay cabinet nominee — using a female name for Buttigieg's husband and omitting mention of President Trump having named the first gay cabinet-level official. Biden noted his fondness for Buttigieg's husband "Kirsten" during a speech in Wilmington, Del., as he formally named the former South Bend, Indiana, mayor as his nominee for transportation secretary. Biden also snubbed Ric Grenell, whom Trump celebrated this year as the first gay cabinet member when he worked three months as acting director of national intelligence.
Biden Fundraiser Floated as Ambassador Pick Took Millions in PPP Loans While His Law Firm Won Massive Settlements. A prominent trial lawyer being floated as a potential ambassador pick by Joe Biden took millions of dollars in COVID relief, even as his firm was winning hundreds of millions in settlements. Joseph Rice, cofounder of the South Carolina-based Motley Rice law firm, helped raise large sums for Biden's campaign and could land an ambassadorship spot in his administration, local reports indicate. Motley Rice received $7.03 million from Paycheck Protection Program funds, which were intended to help small businesses pay workers and stay afloat during the coronavirus pandemic. Several companies have faced criticism for taking PPP loans when they did not need them, including from prominent Democrats. Those criticisms don't seem to have swayed the incoming administration, which the State says is considering Rice for an ambassador role.
It's Outrageous That Joe Biden Is Even Considering Disney's Bob Iger For Ambassador To China. News that former Disney CEO Bob Iger is under consideration to serve as Joe Biden's Chinese ambassador is a concerning indication the president-elect's relationship with Beijing will be even worse than expected. Iger, currently the executive chairman of Disney, has collaborated closely with the Chinese government to produce and release films in the Middle Kingdom, a venture that ultimately makes him complicit in the country's mounting human rights abuses.
Biden pushes back against critics, touts 'Cabinet of firsts'. After weeks of pressure from all sides of the Democratic Party's vast coalition over the makeup of his incoming administration, President-elect Joe Biden on Wednesday [12/16/2020] pushed back against his critics as he made another history-making Cabinet nomination. "By the end of this process, this Cabinet will be the most representative of any Cabinet in American history. We'll have more people of color than any Cabinet ever. We'll have more women than any Cabinet ever. We'll have a Cabinet of barrier breakers, a Cabinet of firsts," Biden emphasized on Wednesday. Biden, who has vowed to make good on his promise that his administration would "look like America," touted his choices to date, saying "our Cabinet doesn't have just one first, or just two of these firsts, but eight precedent-busting appointments. And today a ninth — the first openly gay nominee to lead a Cabinet department and one of the youngest Cabinet members ever."
AOC Rips Biden Appointees As Corporate 'Revolving Door. By now it has to be dawning on the socialist wing of the Democratic party that former vice president Joe Biden was only paying lip service to them on appointing a diverse array of leftists to his cabinet. Team Biden has raised the ire of Bernie Sanders supporters who bought the lies again and lined up behind him just as they did with Hillary in 2016 with expectations that their loyalty would be rewarded. Instead, Biden has fielded a parade of Obama era retreads including Tony Blinken, Neera Tanden, Dennis McDonough, Jen Psaki, and Janet Yellen while shutting out gullible leftist ideologues.
Biden picks Pete Buttigieg, 38, as transportation secretary-making him most senior gay official confirmed by Senate. President-elect Joe Biden has chosen Pete Buttigieg, his former rival for the Democratic presidential nomination, to lead the U.S. Transportation Department, according to two people familiar with the matter. Buttigieg, 38, the former mayor of South Bend, Indiana, who has never held federal office, would be the first LGBTQ person nominated to Biden's administration and, if confirmed, the first LGBTQ Cabinet secretary to be approved by the U.S. Senate.
Introducing the man slated to run the Department of Transportation. Biden has selected Pete Buttigieg as his pet gay activist. After mulling making Buttigieg the Ambassador to China, Biden opted, instead, to hand him the Department of Transportation. That's quite a plum assignment for a guy with a pathetic administrative record.
Biden's Energy Secretary Pick Spent Years Pushing Russian Collusion Theories. President-elect Joe Biden's choice to helm the Department of Energy, former Gov. Jennifer Granholm (D-MI), has a history of publicly promoting theories about Russian collusion in the 2016 election. Granholm, who if confirmed by the United States Senate as energy secretary, would be in charge of America's nuclear arsenal, began pushing the notion that President Donald Trump was enamored of Russia in mid-2015, according to the former governor's social media posts.
Atlanta Mayor Keisha Lance Bottoms declines role in incoming Biden administration. Atlanta Mayor Keisha Lance Bottoms turned down a position in President-elect Joe Biden's Cabinet, her spokesman said, amid speculation about what role she might play in the new administration. "Mayor Keisha Lance Bottoms was honored to have been offered a role in the Cabinet, which she respectfully declined," senior adviser Rashad Taylor said in a statement on Saturday. "The mayor's focus remains on the people of Atlanta and the great state of Georgia." Ms. Bottoms had been rumored to be under consideration to be secretary of Housing and Urban Development or to head the Small Business Administration, a Cabinet-level post. A reporter for the New Yorker said Friday she'd been offered the less prestigious role of ambassador to the Bahamas. The transition denied that report on Friday, and Mr. Taylor did again Saturday.
Biden's strange staffing decisions. Susan Rice and Xavier Becerra were always likely to get plum appointments in a Biden administration. Both are important figures in the Democratic Party and both check a race/ethnicity box. But the appointments the two received are odd. Rice, a foreign policy/national security hand, will be Biden's domestic policy adviser. Becerra, the Attorney General of California, is the nominee to run the Department of Health and Human Services. He has no experience working at HHS, no medical background, and has never been chief executive of a state or any entity other than an attorney general's shop. Biden's odd selections don't end with Rice and Becerra. As Jim Geraghty notes, Denis McDonough, the pick for Secretary of Veterans Affairs, is not a veteran and has no experience focused specifically on veterans issues. And Rep. Fudge, who stated she didn't want to run the Department of Housing and Urban Development — traditionally a dumping ground for Black politicians, she said — has been selected to run that department.
Biden Is Poised To Hand Republicans An Incredible Tool To Investigate The Hunter Corruption Scandal. China, Ukraine, tax fraud, corruption, and federal investigations. After a year of partisan attacks and obfuscations, media smears and derision, and Big Tech censorship and de-platformings, this week the Hunter Biden protection chamber finally collapsed. As reporting by The New York Post, The Daily Caller News Foundation, James Rosen, Tucker Carlson, The Federalist, and others continues to pile up, corroborated drip by drip, so too do the questions for both the incoming Biden administration and the former Obama administration. Fortunately for interested U.S. senators, the two administrations are stacking up to be virtually identical — and they just might get the chance to ask a few questions. Among Joe Biden's intended nominees are former White House Chief of Staff and Deputy National Security Advisor Denis McDonough, up for Veterans Affairs; former Deputy National Security Councilor and Deputy Secretary of State Antony Blinken, up for State; and former Deputy National Security Advisor and Deputy Director of the CIA Avril Haines, up for director of national intelligence.
AP source: Cuomo among contenders for attorney general pick. New York Gov. Andrew Cuomo is one of several contenders under consideration by President-elect Joe Biden for the role of attorney general, a person with knowledge of the search process said Friday [12/11/2020]. The other three contenders at the moment include outgoing Alabama Sen. Doug Jones, federal appeals court judge Merrick Garland and former Deputy Attorney General Sally Yates, said the person, who cautioned that no decision had been reached and no announcement was expected imminently.
Joe Biden talks up scandal-scarred Susan Rice for domestic policy role. President-elect Joe Biden officially introduced Susan Rice as the chief of his domestic agenda on Friday — claiming the scandal-scarred Obama-era national security adviser would be an "effective and tireless champion for all Americans." On Thursday, Biden's transition announced that Rice was headed back to the White House as the director of the Domestic Policy Council, an eyebrow-raising choice given Rice's lack of domestic policy experience and past controversies. "She'll lead and coordinate my critical domestic policy agenda," Biden said at the Friday press conference in Wilmington, Del., where he unveiled his latest batch of new cabinet appointments.
Biden: Cabinet picks from Obama era mean 'bold new thinking'. President-elect Joe Biden on Friday introduced a series of key picks for his new government that drew heavily from the Obama administration, saluting their "deep experience" while insisting he could rely on them for "bold new thinking."
---

Back to the Joe Biden index page
Back to the Home page