---
The Keystone XL Pipeline
---
The Democratic Party is obstructing the flow of oil due to unfounded concerns about carbon dioxide, urban sprawl, and global warming. President Barack Obama, is being led in one direction by labor unions and in the other direction by environmentalists, who oppose every practical form of energy -- especially petroleum and coal.
The Keystone XL pipeline should have been completed by now, but the President has been pretending to agonize over a decision for years, trying to play on both sides of the fence and please both the unions and the tree-hugging hippies.
Note:
Articles about the Dakota Access pipeline are included on this page, because the issues are the same for both lines.
Related pages:
Oil and Politics.
The use of the Strategic Petroleum Reserve for political gain.
Lies about energy production.
---
Overview:
Keystone XL Pipeline Overcomes Last Legal Hurdle in Nebraska. A dozen years after it was initially proposed, the Keystone XL Pipeline cleared a major hurdle to its completion as the Nebraska Supreme Court approved its revised path through the state, ending the final Nebraska-based legal challenge to the pipeline. Upon completion, the $8 billion Keystone XL pipeline is expected to have the capacity to transport more than 800,000 barrels of oil per day from oil fields in northeastern Alberta through eastern Nebraska and on through already completed or previously existing pipelines to refineries on the U.S. Gulf Coast. Since it was first proposed, environmental groups, some private landowners and Native American groups, and the administration of former President Barack Obama have fought the completion of the pipeline at both the state and federal level. Opponents have fought to deny permits for its construction, refused to sign easements for the pipeline to cross property, engaged in public protests, and brought federal and state lawsuits challenging the project's environmental assessments, permits granted, and the route chosen.
Joe Biden Vows to Stop Keystone XL Pipeline 'For Good' If Elected. Former Vice President Joe Biden vowed Monday to stop the Keystone XL pipeline "for good" if elected president. The pipeline, to carry oil from Canada's tar sands into the United States, was blocked by President Barack Obama for years, even though it had passed an environmental review. The Obama administration stopped the project under pressure from radical environmentalists over concerns about climate change — though the alternative to the Keystone XL was simply that the oil would be exported from Canada to China, rather than to the U.S., and used there instead.
US panel approves pipeline, natural gas terminal in Oregon. A U.S. regulatory agency on Thursday [3/19/2020] approved a controversial natural gas pipeline and marine export terminal project in Oregon, but the state's Democratic governor threatened to go to court to stop the project if it doesn't obtain every permit required from state and local agencies.
Supreme Court hears Atlantic Coast Pipeline case, Roberts warns of 'impermeable barrier' along Appalachian Trail. The Supreme Court began hearing arguments Monday on the case that will determine the fate of the Atlantic Coast Pipeline — a 600-mile natural gas project would begin in West Virginia and stretch through Virginia and North Carolina. A December ruling by the 4th U.S. Circuit Court of Appeals said the U.S. Forest Service was not authorized to grant an $8 billion pipeline permit to Dominion Energy Inc., allowing for the natural gas project to cross the Appalachian Trail, West Virginia Public Radio reported.
North Dakota approves extension to controversial Dakota Access Pipeline. The oil pipeline that sparked months of protests and mass arrests in 2016 has been approved for an extension by regulators in North Dakota. The three-member North Dakota Public Service Commission on Wednesday unanimously approved pipeline builder Energy Transfer Partners' planned expansion to nearly double the number of barrels of crude oil pumped through the Dakota Access Pipeline per day. The extension would include adding a new $40 million pump station in the city of Linton to increase output from "its current maximum capacity of 600,000 barrels per day to up to 1.1 million barrels of crude oil per day," a press release from the commission reads.
Trump Is Completely Remaking A Law Enviros Often Use To Stymie Oil Pipeline Construction. President Donald Trump announced Thursday his plans to dramatically change an environmental law activist groups and their attorneys often use to wrap oil projects in years of bureaucratic red tape. Trump plans to exempt privately funded projects from undergoing environmental reviews, a significant change that would make building mines and pipelines much easier, The Washington Post reported. Energy producers are cheering the move.
Cuomo's latest bid to dodge blame for Long Island's natural-gas crisis. Gov. Andrew Cuomo upped his histrionics on the Long Island natural-gas crisis Tuesday, formally threatening to revoke the license of National Grid, the utility that has stopped taking new gas customers. The company says it can't take on new commitments because Cuomo (followed by Jersey Gov. Phil Murphy) blocked construction of a new pipeline. That new-hookups moratorium, the gov insists, "is either a falsified device or a lack of competence." That is, National Grid either doesn't need the pipeline — or is still at fault because it didn't find some other way to assure supply.
Long Island liberals wake up to how green extremism hurts constituents. "A gas shortage threatens the Long Island region," bleat six Long Island state senators, all Democrats, in a letter pleading for approval of a pipeline proposed to fix the problem — belatedly admitting that the policies they've long favored don't work for their own constituents. This year, Sens. Todd Kaminsky, John Brooks, James Gaughran, Anna Kaplan, Monica Martinez and Kevin Thomas all voted for Gov. Andrew Cuomo's Green New Deal law, whose very purpose is to further crimp energy supplies, and for a $100 million hike in taxes on energy. And, as Senate GOP leader John Flanagan (their fellow Long Islander) notes, all were AWOL when the Williams pipeline was up for consideration by the state Department of Environmental Conservation — which recently issued a pseudo-scientific veto of the project. Or maybe anti-scientific is the right word: The DEC pretends the Williams pipeline is a threat to water quality. But it would run under New York Harbor roughly parallel to an existing pipeline (now at capacity).
The Enemies of American Infrastructure. In less than 20 years, the Chinese have completely transformed their rail transportation network. This is typical for the Chinese. China is also building three new airports — offshore. [...] To argue that Americans don't need high-speed rail, or massive new airports on ocean landfill, or yet another massive hydroelectric dam, is beside the point. Americans can't do any big projects. A perfect example is the Keystone Pipeline, which, if it's ever completed, will be capable of transporting 830,000 barrels of oil per day south from the tar sands of Alberta to existing pipelines in Nebraska. This pipeline has been tied up in permitting delays and litigation since 2008. Eleven years later, not one mile of pipeline has been built. Even with aggressive support from the Trump Administration, will Keystone ever get built? Not if an army of environmentalist plaintiff attorneys have their way.
Minnesota's 'Line 3' Renews Pipeline Politics. The progressive wing of Democratic presidential contenders is staking out a hardline position on a pipeline replacement project in Minnesota, a position that is further left than many local Democrats in the state and could pinch more centrist Democrats on the national level. The Enbridge 3 pipeline, or "Line 3," would run slightly more than 300 miles in Minnesota, cross headwaters of the Mississippi River, and also traverse some tribal land. Although it is a replacement project, the project will involve some construction on new ground. For the Democratic far-left, opposition to the pipeline appeals to environmentalists and provides an opportunity to show solidarity with Native American groups that have often been in the forefront of opposing pipeline construction.
We Must Support the American Pipeline Build-Out. From the Keystone XL pipeline in North Dakota to the Bayou Bridge pipeline in Louisiana, eco warriors have protested, sued, blocked, even chained themselves to dozens of pipelines across the nation. Pipeline protesters have a history, and seemingly enjoyment of, extreme tactics. In Louisiana the destruction of property and violence became so severe the Governor signed a law to protect the workers and the state's critical infrastructure. In the case of Keystone, protestors left behind 48 million pounds of garbage and several newborn puppies in their wake. Remember, these protesters love the earth. Right? Pipelines are the safest and least expensive means to deliver energy around the nation. We have over 2 million miles of oil pipelines alone crisscrossing America. Every pipeline means fewer trucks or trains or tankers.
The green-created natural gas shortage just hit NYC. Shortages of gas for heating have hit the nation's most important city: New York. Following moves by Gov. Andrew Cuomo and New Jersey Gov. Phil Murphy to nix a pipeline that could deliver vital gas supplies to the city and Long Island, National Grid can no longer offer new gas hookups or additional service for current customers. "If you're looking to expand your natural gas service in Brooklyn, Queens or Long Island, we will not be able to meet your request," unless both states reverse their decisions and OK the pipeline, the utility warns. Con Ed may have to turn away customers, too.
If there is a shortage, you can thank the left-wing anti-pipeline protesters and left-wing activist judges.
US is overflowing with natural gas, but not everyone can get it. Earlier this year, two utilities that service the New York City area stopped accepting new natural-gas customers in two boroughs and several suburbs. Citing jammed supply lines running into the city on the coldest winter days, they said they couldn't guarantee they'd be able to deliver gas to additional furnaces. Never mind that the country's most prolific gas field, the Marcellus Shale, is only a three-hour drive away. Meanwhile, in West Texas, drillers have so much excess natural gas they are simply burning it off, roughly enough each day to fuel every home in the state. U.S. gas production rose to a record of more than 37 trillion cubic feet last year, up 44% from a decade earlier.
Pipeline deficit costing taxpayers billions of dollars. The Canadian Taxpayers Federation is on a cross-country tour to show how much money taxpayers are losing because Canadian oil is sold for less than its full value due to a lack of pipeline capacity. The tour includes a large digital clock displaying losses going up in real time. The CTF's analysis shows the federal government lost $6.2 billion between 2013 and 2018 and that number is going up by $3.6 million per day.
Ninth Circuit 3-judge panel dismisses suit against constructing the Keystone XL Pipeline. The legal debris field has been cleared and the objections of Native American and environmentalist special interest groups nullified by a three-judge panel of the Ninth Circuit Court of Appeals. [...] But the ruling comes too late for construction to begin this year, for the project is located in territory where winter precludes construction work.
New York Blocked A New Pipeline And Guess What They Just Found Out. The "Keep it in the ground" crowd has a lot of influence with the Democrats who control the government. That why, back in 2013, when the new Constitution Pipeline was proposed to carry natural gas from Pennsylvania's rich shale oil fields to New York, activists were able to block the construction despite it already having been approved by federal regulators. Similarly, when National Grid (the local energy consortium) requested an extension to the Williams Co. Transco pipeline, they were also tied up because of the outcry from environmental activists. Here comes the surprise that nobody could have possibly seen coming. The city and its surrounding downstate region are still expanding with new construction projects, but their energy suppliers have told them that they will not be able to supply natural gas to any new customers because they're already at capacity.
The Northeast's pipeline pinch. Why are New England states paying more for natural gas than surrounding states (sometimes a LOT more) when the Marcellus and Utica Shale plays are nearby? Even worse, people in these same states were forced to buy Russian gas the past two winters! This is happening because politicians in New York have been actively blocking pipelines for years creating an artificial shortage of gas. It's costing New Englanders a lot of money, and New Yorkers are paying a heavy price as well.
The trillions of dollars wasted on global warming hysteria, properly deployed, could have improved and saved many lives. Energy costs are much higher in Britain, due to radical green opposition to the fracking of gassy shales. The anti-oil-pipeline campaign has cost ~$120 billion dollars in lost oil revenues and destroyed ~200,000 jobs in Alberta and across Canada. This is an enormous financial and job loss for Canada. The funds wasted on baseless global warming hysteria, anti-fossil-fuel fanaticism and destructive green energy schemes, properly deployed, could have saved or improved the lives of many millions of people.
Trump Signs Executive Orders to Fast-Track Oil and Gas Pipelines. President Donald Trump signed a pair of executive orders aimed at speeding up oil and gas pipeline permitting, including limiting the ability of activists and states to block key energy projects. Trump signed the orders Wednesday [4/10/2019] at an International Union of Operating Engineers' training center near Houston. [...] Trump ordered federal agencies to speed up permitting for pipeline projects, including asking the Environmental Protection Agency to curtail state authority to block projects under the Clean Water Act.
Trump issues new permit for stalled Keystone XL pipeline. Moving defiantly to kick-start the long-stalled Keystone XL oil pipeline, President Donald Trump on Friday issued a new presidential permit for the project — two years after he first approved it and more than a decade after it was first proposed.
Ocasio-Cortez Blames Pipeline That Hasn't Been Built Yet For An Oil Spill. Democratic New York Rep. Alexandria Ocasio-Cortez blamed the Keystone XL pipeline for leaking about 5,000 barrels of oil in rural South Dakota about two years ago. There's just one problem: The Keystone XL pipeline has not been built yet. During a House hearing Tuesday, Ocasio-Cortez claimed that "Keystone XL, in particular, had one leak that leaked 210,000 gallons across South Dakota" while she questioned Wells Fargo president and CEO Timothy Sloan.
Easing the logjam in pipeline infrastructure. When many of us think of infrastructure, roads, rail lines and airports probably come to mind. Few of us, however, consider the vital role America's pipeline and energy infrastructure plays in our daily lives. Ideally, the pipeline network brings energy resources from refineries to businesses. But in reality, in many places, the pipeline network is simply not developed sufficiently to meet the large and growing demand for energy.
Who Are the Actual Adults, and Who Are the Adults Who Act and Govern as Children? For eight years, the children running the economic policies blocked drilling and pipeline projects. The adult has opened up drilling, and now the narcissistic, ignorant child is taking credit for the increased production.
Landowners Lose Appeal Over Dakota Access Pipeline Easements. North Dakota landowners who unsuccessfully sued the developer of the Dakota Access oil pipeline over land easements have lost their appeal.
44 Members Of Congress Ask Trump To Get Keystone XL 'Over The Finish Line'. A group of 44 Republican members of Congress from the House and Senate sent President Trump a letter Friday [12/14/2018] asking that he make every possible effort to get the Keystone XL pipeline "over the finish line."
Obama-Appointed Judge To Keystone Pipeline Developer: Don't You Dare Haul Pipe To The Work Site. The Keystone Pipeline is once again facing legal hurdles. A federal judge in Florida told a developer working on the project that they couldn't even ship pipe to the construction site. The judge is an Obama-appointee who recently blocked a permit for the long-awaited project in November. [...] President Trump said the construction of this pipeline, which was hamstrung by the Obama administration, would move forward under his presidency.
California Burning: How the Greens Turned the Golden State Brown. In October 2016, in a coordinated act of terrorism that received fleeting attention from the press, environmentalist activists broke into remote flow stations and turned off the valves on pipelines carrying crude oil from Canada into the United States. Working simultaneously in Washington, Montana, Minnesota, and North Dakota, the eco-terrorists disrupted pipelines that together transport 2.8 million barrels of oil per day, approximately 15 percent of U.S. consumption. The pretext for this action was to protest the alleged "catastrophe" of global warming. These are the foot soldiers of environmental extremism. These are the minions whose militancy receives nods and winks from opportunistic politicians and "green" investors who make climate alarmism the currency of their political and commercial success.
Evil Pipelines Opposed by Paperwork Blizzards. During the Obama presidency, the benefits of the Keystone Pipeline were obvious. Blue collar union workers who were looking for employment in a limp economy would be put back to work. America's reliance on foreign oil was weakening the nation's national security and opening up more of America's resource abundance would end our dependence on the Middle East oil. Opening up our reserves would lower the cost of energy. Despite the clear rewards for the American people, the White House decided it was more important to appease the global warming lobby and their well-heeled contributors than to help hard-working families and the nation. In a clear abuse of power the White House put approval of the pipeline on indefinite delay.
Environmental activists are turning to the courts to block pipelines. Environmental activists are successfully using the courts to stymie the Trump administration's "energy dominance" agenda, especially oil and natural gas pipelines, with the latest example being a federal judge last week blocking the long-disputed Keystone XL pipeline. "This is emblematic of the very orchestrated effort being made to stop energy infrastructure of all kinds," Don Santa, the president and CEO of the Interstate Natural Gas Association of America, told the Washington Examiner. "Pipeline opponents are seizing on every possible opportunity to throw a monkey wrench into the gears of getting these facilities approved." But opponents say courts should be giving greater scrutiny to pipeline approvals because such projects lock in a dependence on fossil fuels, due to their long lifespan.
Obama Judge Illegally Blocks Keystone Pipeline. What was once unthinkable is now a routine spectacle as Obama and Clinton judges block a presidential move because they claim that the things they wanted considered, weren't. [...] [Judge Brian] Morris is an Obama appointee. Obviously. So he's illegally blocking a policy that resulted from an election while protecting his boss' own illegal move.
Democrats favor improving infrastructure as long as it takes longer and costs more. Why can't the United States build or repair infrastructure on a par with countries in Europe or Asia? Why can't we have all the nifty new airports, bridges, and trains that seem to spring up overnight in other parts of the world? The answer, in one word, is Democrats. Two groups that are virtually owned-and-operated subsidiaries of the Democratic party retard infrastructure progress here. One is labor unions, and the other is environmental activists. The latest example of the absurd reach of the latter is to be found in the U.S. district court of Montana, where Obama-appointed Judge Brian M. Morris halted completion of the Keystone XL pipeline once again, ruling that President Trump's permit to grant the bid by TransCanada Corp. to finish the pipeline that would transport oil from Alberta, Canada, to Nebraska "hadn't considered all impacts as required by federal law," the Wall Street Journal reported.
Federal judge blocks construction of Keystone XL pipeline. A federal judge in Montana has blocked construction of the $8 billion Keystone XL Pipeline to allow more time to study the project's potential environmental impact.
Standing Rock 2.0: Native American 'Water Protectors' Violently Arrested at Peaceful Pipeline Protest. A smaller version of Standing Rock is unfolding in Louisiana this year and videos are surfacing showing just how violent it has become. However, the turnout is much smaller thanks to a law signed by Louisiana governor John Edwards earlier this year that cracks down on protesters. In Louisiana a pipeline by Energy Transfer Partners (ETP), the same people behind the Dakota Access Pipeline (DAPL) is currently under construction. Named the Bayou Bridge Pipeline (BBP), this project is receiving a similar reaction by activists attempting to protect the water ways of Louisiana from the spills associated with their construction and use.
What Ever Happened To The Dakota Access Pipeline? This past Friday, the Dakota Access Pipeline quietly celebrated its first anniversary of service. More commonly known as "DAPL", what was once a national flashpoint between law enforcement and fossil fuel opponents has been largely forgotten. Perhaps some have wondered, what has happened with that pipeline in its inaugural year?
Keystone XL pipeline developer aiding GOP candidates in Nebraska. Republican candidates running in Nebraska have been receiving a financial boost from the developer of the Keystone XL pipeline, as it tries to secure approval for the $8 billion project. A political action committee for TransCanada Inc., which first proposed the pipeline in July 2008, has donated more than $65,000 to campaigns within the last year, mostly to Republican state lawmakers, according to an Associated Press review of campaign disclosure records.
This collusion should worry all. In light of current investigations of interference in the U.S. political process, it turns out that Russia has, in fact, been meddling for years — not only in the electoral system, but also in the legislative process, and in our internal cultural debates over a wide range of policy issues. According to congressional investigators, a primary focus of their influence-buying has focused on the environmental movement. The committees discovered that Russia has covertly funded opposition to U.S. domestic energy production by funding the environmental opposition. That includes underwriting organizations that work to ban fracking, and even efforts to push ballot initiatives at the state and local level.
Environmental group may have to register as foreign agents. U.S. environmental activists who are working to halt the production and use of fossil fuels could be required to register as foreign agents if Congress gets serious about enforcing an existing law. There was some potential movement in that direction last October when Senate Judiciary Committee Chairman Chuck Grassley, R-Iowa, introduced legislation that would put some teeth into the Foreign Agents Registration Act. The law, which was first passed in 1938, calls for individuals and organizations to provide full disclosure when they are working to advance the public policy interests of a foreign government.
The Russian Collusion Story the Media Ignores. Last week, a congressional committee released a jarring and persuasive report on Russian meddling in American politics. Despite a media feeding frenzy over anything tangentially connected to questions of Russian interference, this report went largely unnoticed. The U.S. House Science, Space, and Technology Committee's "Russia's Social Media Meddling in U.S. Energy Markets" details Russian funding of U.S. environmental groups, which used resources to protest the process of fracking and the existence of the Keystone pipeline. Russia, the world's largest oil producer, figures to watch the U.S. surpass it within five years. Killing fracking and the pipeline stand as two ways for Russia to avert this fate. Rep. Lamar Smith, the chairman of the committee, describes the "mechanics of Russia's scheme to use nonprofit entities to influence U.S. public policy and public opinion" with regard to oil and gas and the fracking process.
Russian trolls sought to inflame debate over climate change, fracking and Dakota pipeline. Russian trolls used Facebook, Instagram and Twitter to inflame U.S. political debate over energy policy and climate change, a finding that underscores how the Russian campaign of social media manipulation went beyond the 2016 presidential election, congressional investigators reported Thursday [3/1/2018]. The new report from the House Science, Space and Technology Committee includes previously unreleased social media posts that Russians created on such contentious political issues as the Dakota Access pipeline, government efforts to curb global warming and hydraulic fracturing, a gas mining technique often called "fracking."
Russian Attempts to Influence U.S. Domestic Energy Markets by Exploiting Social Media. The purpose of this report is to provide the American people with the findings of the Committee's investigation into Russian efforts to influence U.S. energy markets. First, the report discusses several factors driving the Kremlin's desire to interfere with U.S. energy markets and influence domestic energy policy. Next, it demonstrates how the Kremlin manipulated various groups in an attempt to carry out its geopolitical agenda, particularly with respect to domestic energy policy. Finally, this report provides an assessment of the Committee's findings, including examples of Russian-propagated content targeting U.S. energy markets and domestic energy policy. The facts put into perspective the nature and extent of the Kremlin's energy influence-peddling operation. [...] Documents that the American social media companies produced for the Committee confirmed that Russian agents were exploiting American social media platforms in an effort to disrupt domestic energy markets, suppress research and development of fossil-fuels, and stymie efforts to expand the use of natural gas.
How Environmentalists Keep Heating Bills High. How can a nation with massive deposits of very cheap natural gas — such as the Marcellus Shale in Pennsylvania and West Virginia — be importing natural gas? One reason is that we don't have pipelines to inexpensively transport the natural gas to the Northeast. Environmentalists who hate oil and gas have spent years blocking this vital infrastructure — not just the Keystone Pipeline but also many other pipelines that should be transporting shale oil and gas efficiently across the country. It doesn't seem to bother the green groups that the biggest victims of anti-fossil fuel policies are low- and middle-income Americans.
NDP poll shows activists will violently protest pipeline. On Friday's [2/16/2018] show, I examined the results of a poll commissioned by a hard-left NDP MP just about the Trans Mountain Pipeline. The poll proved that pipelines enjoy broad and increasing support among British Columbians, despite a decade of foreign-funded anti-oil extremism. But it also showed that a dangerous minority exists who are willing to consider "acts of civil disobedience" to halt the pipeline's expansion. [Video clip]
Developer says it's moving forward with Keystone XL pipeline. The developer of the Keystone XL pipeline announced Thursday that it will proceed with its plans to build the pipeline according to an alternative route approved by Nebraska authorities and that it hopes to begin construction next year.
Pipeline protester accused in shooting reaches plea deal. Attorneys for a Denver woman accused of shooting at law enforcement officers during protests in North Dakota against the Dakota Access oil pipeline say they've reached a deal with prosecutors to avoid a lengthy prison term.
Keystone is Anti-Hydrocarbon Zealotry in Microcosm. The Nebraska Public Service Commission (NPSC) recently voted to approve the state's segment of the 1,200-mile Keystone XL Pipeline. While that would appear to allow construction to move forward, more obstacles loom before KXL can finally bring North Dakota and Canadian crude oil to Texas refineries. Commissioners who voted against approval have raised objections, some landowners still object to the pipeline crossing their lands, other landowners were not aware that the new route will cross their properties, and environmentalists plan more lawsuits to stop TransCanada's plans to finish Keystone. Further complicating matters, the NSPC-approved route is not the company's preferred path through the Cornhusker State.
Eco-terrorist will ask jury to consider his sabotage 'an act of conscience'. An eco-terrorist charged with trying to sabotage part of the Dakota Access Pipeline says he will appeal to the jury to validate his terrorism by asking them to accept his "act of conscience." Michael Foster will claim that the fossil fuel companies are destroying the Earth and that sabotaging the pipeline was a "necessity."
Now it's a War on Pipelines. For years, activists claimed the world was rapidly depleting its oil and natural gas supplies. The fracking revolution (horizontal drilling and hydraulic fracturing) obliterated that argument, by sending US oil and gas production to new heights. Indeed, record gas supplies and plummeting gas prices combined with the Obama EPA war on coal to shutter many coal-fired power plants. So the battle increasingly shifted to the far more emotional claim that continued reliance on fossil fuels (which provide over 80% of the US and global energy that powers modern civilization and living standards) will cause dangerous manmade global warming and climate change. This gave birth to the climate and renewable energy consortium and the "keep it in the ground" movement. No evidence to the contrary will budge them from their hysteria-laden talking points on looming climate cataclysms.
Oklahoma Criminalizes Violent Pipeline Protests. In a sign of lawmakers' growing concern about the threat to public safety posed by anti-fossil-fuel protesters, a new law in Oklahoma imposes significant penalties, including fines and imprisonment, on people and organizations involved in trespassing and other unlawful acts against oil and gas pipelines and related energy infrastructure. Oklahoma Gov. Mary Fallin (R) signed House Bill 1123 into law in the wake of well-organized but ultimately futile protests aimed at halting construction of the Dakota Access pipeline in North Dakota. Those protests, which dragged on for months, involved occasional violence and vandalism, resulting in substantial property damage.
West Virginia Advances Pipeline Project. West Virginia's Department of Environmental Protection (DEP) has affirmed its Clean Water Act certification for the Mountain Valley Pipeline (MVP), advancing the natural-gas pipeline project toward construction. The environmental law firm Appalachian Mountain Advocates requested a hearing to challenge the certification given in early May. In a letter dated May 10, 2017, DEP Secretary Austin Caperton denied the request without comment. Upon completion, the $3.5 billion pipeline will run 300 miles, from West Virginia to Virginia, transporting natural gas from the Marcellus and Utica shale formations.
Trump's pipeline agenda takes a hit with court ruling. A major part of President Trump's infrastructure agenda suffered a setback when a federal appeals court ruled that regulators must examine the effects of climate change when they review proposed natural gas pipelines. On its face, the Aug. 22 D.C. Circuit Court of Appeals decision applies to a single project, the Southeast Market Pipelines Project, a network that includes the Sabal Trail pipeline to move natural gas across a number of states for delivery at Florida power plants. The court said the Federal Energy Regulatory Commission did not properly evaluate the effects of greenhouse gas emissions from the natural gas shipped by the pipeline.
Dakota Access Pipeline Developer Sues Greenpeace Over 'Eco-Terrorist' Campaign. Energy Transfer Partners, the developer behind the Dakota Access Pipeline, has sued Greenpeace and several other groups for what it calls a 'campaigns of misinformation." ETP argues in the lawsuit filed Tuesday [8/22/2017] that environmental groups are running a racket designed to raise money by emotionalizing issues.
Activists Confess To Sabotaging, Delaying The Dakota Access Pipeline. I missed this when it was announced roughly two weeks ago but it's worth pointing out even now. Two activists confessed to multiple acts of sabotage against the Dakota Access Pipeline using cutting torches and other tools. The two women, who are part of an Iowa's Catholic Worker social justice movement, made the announcement before a small group of journalists and then started prying letters off a sign for the Iowa Utilities Board, which got them arrested.
Denied At Dakota Access, Pipeline Protesters Will Find New Targets. Federal Judge James Boasberg of the U.S. District Court for the District of Columbia rejected a request for an emergency injunction to prevent oil from being transported through the newly completed Dakota Access Pipeline. Boasberg's March 14 decision may prove to be the final nail in the coffin for protesters who have attempted to block completion of the $3.7 billion pipeline. In his denial of the injunction, Boasberg said preventing the pipeline from operating would be contrary to the public interest.
Keystone Pipeline Could Yield Taxpayers $44 Million A Day. The Keystone XL oil pipeline could generate about $44 million in tax revenues a day once it's fully up and running, according to a new report. "The expected economic, environmental, and strategic benefits of the Keystone pipeline outweigh its costs," Kimberly VanWyhe, energy policy director at the American Action Forum, wrote in the report. "After nearly 9 years and more than $180 billion in lost economic activity, the Trump administration has demonstrated a commitment to move it forward." The 1,700-mile pipeline is expected to carry 830,000 barrels of oil a day from Alberta, Canada, to Gulf Coast refineries, and with crude at $53 per barrel, the project could yield taxpayers $1.6 billion a year, she found.
The Pigpen Left: Dead body found in DAPL protest debris. With the snows melting in icy North Dakota, the mounds of frozen garbage left by far-left Dakota Access Pipeline (DAPL) protesters are finally being cleared. What should the police find in all those acres of debris? A dead body, not surprisingly, nestled among all the garbage-barge-like flotsam and jetsam such Occupy-inspired campout protests always leave in their wake. The body was of a California man who hung out at protests as an "activist" and who had been reported missing by his stepbrother last October. It was found in the Cannonball River, where it had been left among all the detritus of the protesters, apparently none of them particularly caring, yet all full of self-righteous virtuousness about saving the earth as their demonstration spun into chaos. That's right: they left a fellow protester's dead body behind in a river but piously lectured the people of the North Dakota about the horrors of the Dakota Access Pipeline polluting some lake.
States Consider Laws to Penalize Violent Anti-Pipeline Protests. Concerned increasingly violent protests against the construction of new oil and natural gas pipelines pose a threat to public safety, lawmakers in eight states have introduced bills designed to deter protestors from damaging property, injuring bystanders, and blocking traffic. Bills limiting actions protestors can take have been introduced in Colorado, Iowa, Michigan, Minnesota, Missouri, North Dakota, Virginia, and Washington State.
Trump's Failure to Fill Key Government Posts Is Stalling Key Pipeline Projects. The Federal Energy Regulatory Commission is not the country's most well-known or controversial government agency. But if you care about building natural gas and oil pipelines or expanding the American power grid, it's pretty important. FERC consists of five members who can approve or reject plans for major energy-infrastructure projects. The Trump administration has been slow to nominate candidates to some of the 600 or so significant positions in the executive branch, including the three empty spots on FERC, which has been short of a quorum since President Obama's appointed chairman, Norman Bay, resigned on February 3.
7 Obama Climate Scams POTUS Just Nuked From Orbit. [#6] Approving Keystone XL: The Trump administration approved the final stages of the Keystone XL oil pipeline earlier this month, only 16 months after the Obama administration rejected the project over concerns it would tarnish the U.S.'s environmentalist reputation. TransCanada, the company behind the pipeline, submitted an application to build Keystone XL in September, 2008, and the Obama administration rejected the pipeline in late 2015. The Department of State granted TransCanada, the company building Keystone XL, permission to "construct, connect, operate, and maintain pipeline facilities at the U.S.-Canadian border in Phillips County, Montana for the importation of crude oil."
Trump officially approves Keystone XL pipeline. After years of stalling under President Obama, President Trump on Friday approved the Keystone XL pipeline, and the company looking to build the massive pipeline project has received its permit to finish it. TransCanada announced Friday morning the State Department issued a permit to build the 1,187-mile pipeline stretching from Alberta, Canada to oil refineries in the Gulf Coast region of the U.S. The project had previously been stopped by President Obama in November 2015, but Trump ordered it reviewed once again during his first month in office.
The 'lukewarmers' show how environmentalists are in denial about denial. Perhaps you have a gas stove in your kitchen. When you turn it on, do you worry that it might pollute your water? Probably not. But the alleged threat to the water supply from natural gas is a primary argument employed by the radical environmentalists who oppose the construction of gas pipelines in New Jersey. We already have more than 35,000 miles of oil and gas pipelines in the state. Why this sudden rise in protests over a few minor additions to an existing network? Blame a guy by the name of Bill McKibben. He's an environmental activist who has declared a jihad on all pipelines, period. His goal is to "Keep It in the Ground" — the name for his campaign against fossil fuels.
The Dakota Access protest camps end as they thrived - a giant, expensive mess. Do you remember when Faith Spotted Eagle penned an emotional tribute for CNN about the "sacred land at the heart of the Dakota Access pipeline protest?" It was beautifully written and touching, describing the history of her tribe's relationship with the land, the majestic animals and the sacred nature of the water which flowed through it. Well, the court battles have ended, construction is nearly complete and at long last the final protest camp has been cleaned out. A quick look at the tally of what was found, hauled away and destroyed gives one a great sense of precisely how much those protesters honored that sacred land.
Dakota Access Pipeline expected to bring $100M a year to North Dakota. North Dakota is expected to gain $100 million or more annually in tax revenue once crude oil begins flowing through the Dakota Access Pipeline, according to an Associated Press report released on Thursday [3/2/2017]. That's money the sparsely populated northern state, which struggles with declining tax revenue, can use. North Dakota has a police bill of $33 million from the cost of dispatching officers and security personnel to the pipeline site to respond to sometimes violent protests.
Keystone pipeline won't use US steel despite Trump pledge. The Keystone XL oil pipeline won't use American steel in its construction, despite what President Donald Trump says. White House spokeswoman Sarah Huckabee Sanders said Friday [3/3/2017] that's due to language in a presidential directive Trump issued in January. "The way that executive order is written, it's specific to new pipelines or those that are being repaired, Sanders said. "And since this one is already currently under construction, the steel is already literally sitting there, it would be hard to go back. But I know that everything moving forward would fall under that executive order."
Sanitation Crews Search for Dead Bodies Amid Piles of Pipeline Protester Trash. Authorities in North Dakota are working to prevent an environmental catastrophe caused by the massive amounts of trash left behind by anti-oil pipeline protesters, local media report. State and tribal sanitation crews are rushing to remove piles of waste and debris left over from the protests against the Dakota Access Pipeline before weather warms and the mountains of trash turn toxic. According to cleaning crews, they're worried they might even find dead bodies among the piles of refuse that now pollute areas where anti-pipeline protesters camped out for months.
Environmentalists Vacated From Standing Rock Protest Site Leave Tons of Toxic Waste. Defeated by Trump, the various 'resist-we-much' environmental groups who were protesting the Dakota Access pipeline near the Standing Rock Sioux tribe in North Dakota have given up and gone home. However, in their wake, the EPA is now involved as part of a massive clean-up operation to remove over 50 tons of toxic waste and garbage they left behind.
US Army Corps of Engineers to grant easement for Dakota Access Pipeline. The U.S. Army Corps of Engineers announced to Congress Tuesday that it will grant the final easement needed to complete the Dakota Access Pipeline. President Trump revived the controversial project by signing an executive order in his first week of office after protests from climate activists and Native American tribes delayed the line's completion.
The Environmental Left and Keystone XL. [Scroll down] With respect to climate change, Keystone XL would transport 830,000 barrels per day of Canadian crude oil, the total GHG emissions from which would be 147 [to] 159 million metric tons per year on a life-cycle basis. In the extreme case in which that oil does not displace any other crude oil production elsewhere in the world, the increase in GHG emissions would be about 0.4 percent of the world total. So: what would the resulting temperature effect be in the year 2100, using the National Center for Atmospheric Research climate model, under the highest IPCC assumption about the climate sensitivity of increasing greenhouse gas concentrations? Answer: about four ten-thousandths of a degree, a number rather inconsistent with apocalypse view of Keystone XL as a "carbon bomb that would cook the planet."
Dakota Access Pipeline protesters evicted over pollution concerns. A few days after his inauguration, President Donald Trump signed executive orders moving the approval process for the Keystone and Dakota Access pipelines forward. A week later, the then acting secretary of the Army instructed federal officials to issue the easement necessary to build a controversial segment of the Dakota Access pipeline. Now, the Corps of Engineers has issued an eviction notice to the protesters who have plagued the construction of the pipeline ... because they are polluting the environment.
Massive Cleanup Underway Where Environmentalists Camped for Pipeline Protest. A cleanup to prevent an "environmental disaster" is underway at a protest camp near the Dakota Access Pipeline. The camp had been occupied by thousands of environmentalists and Native Americans who were demonstrating against the pipeline project. It was the Native Americans who requested help with the cleanup, as massive amounts of garbage, human waste, teepees, and abandoned vehicles must be removed before the spring thaw when flooding is expected.
Why Keystone XL Is Already a Boon to American Workers. The on-again, off-again Keystone XL pipeline has already fueled jobs in the U.S., and manufacturers like Siemens are ready to put Americans to work if and when TransCanada resurrects the project. TransCanada officially reapplied late Thursday [1/26/2017] for approval to restart construction of the pipeline, after earlier in the week President Trump signed executive orders to green light the project, which stalled under the Obama administration.
TransCanada has reapplied for Keystone XL pipeline permit. TransCanada, the company that developed the Keystone XL pipeline, has reapplied for a permit to allow the pipeline to cross the U.S. border. This move follows closely on the decision by President Trump to sign an executive order inviting the company to reapply.
Pipeline protests resume after Trump revives Keystone, Dakota projects. Holding hands, hundreds of protesters opposed to the Keystone XL and Dakota Access pipelines took to the streets of Washington Tuesday night [1/24/2017] for a fresh round of demonstrations after President Trump signed executive orders clearing the way for the controversial projects to move forward.
Trump looks to speed up Keystone XL with executive actions. President Trump is preparing to take executive actions soon that will begin the process of unraveling former President Barack Obama's climate change legacy, while clearing the way for the approval of the Keystone XL pipeline. Trump's White House team will begin the climate rollback by striking down a controversial climate metric called the Social Cost of Carbon, which the Obama administration used to justify the cost of its environmental regulations.
Trump to sign orders reviving pipeline projects, sources say. President Trump signed executive orders on Tuesday effectively reviving the controversial Keystone XL and Dakota Access pipelines, as a major builder said it will reapply to build one of the projects which had been stalled by the Obama administration under pressure from environmental and other groups. The president said the projects would be subject to a "renegotiation of the terms." But he made clear the government was resuming consideration for both pipelines, describing them as a potential boon to construction workers.
The few, the loud, the anti-fossil fuel crowd. If you get your news from the mainstream media, you likely think the views expressed by the environmental activists represent the majority of Americans. After all, their highly visible protests against the Keystone pipeline — sit-ins in front of the White House, locking themselves to the White House fence and then being arrested for it, and parading down the National Mall carrying a huge inflated tube emblazoned with the words: "Just say no to Keystone" — were effective. Despite repeated polling that showed a majority of Americans supported the pipeline, with a small minority opposed, the loud theatrics of the anti-fossil fuel crowd eventually won out. After years of stall tactics, President Obama finally bowed to their demands and said no to the job-creating infrastructure project.
TransCanada sues U.S. for $15B over Keystone XL. TransCanada Corp. filed a claim under the North American Free Trade Agreement Friday [6/24/2016] seeking $15 billion over the Obama administration's rejection of the Keystone XL pipeline. The company filed the claim seeking arbitration under the trade agreement, arguing that they had reason to believe that they would emerge and win approval to build the Keystone pipeline, which was ultimately rejected by the Obama administration in November. In the filing, TransCanada said that the U.S. spent seven years using "arbitrary and contrived" analyses and justifications as they delayed making a final decision.
U.S. "built the equivalent of ten Keystone pipelines" while stalling XL extension on "climate change" grounds. The United States has built the equivalent of ten Keystone XL pipelines while figuring out whether to approve the extension. They've surpassed Saudi Arabia in oil and gas production with horizontal drilling techniques which have made their once inaccessible resources accessible, putting them into competitor status. With the third largest oil reserves in the world, Canada has the potential to surpass the U.S. in production and exports but they're not being tapped because we're buying into the climate change and environmental fear mongering whipped up by a country that has surpassed the largest producer in the world.
Keystone XL Company Sues Obama And US For $15 Billion Under NAFTA. The company behind the Keystone XL pipeline filed a $15 billion lawsuit Friday [6/24/2016] against the Obama administration under the North American Free Trade Agreement (NAFTA). TransCanada claimed that Obama spent seven years using "arbitrary and contrived" analyses and justifications to delay the pipeline for political reasons. TransCanada's suit also says that the company had reason to believe that the pipeline would be approved before it was rejected by the Obama administration in November. "None of that technical analysis or legal wrangling was material to the administration's final decision," TransCanada said in its lawsuit. "Instead, the rejection was symbolic and based merely on the desire to make the U.S. appear strong on climate change, even though the State Department had itself concluded that denial would have no significant impact on the environment."
Taxpayers Finance Anti-Pipeline Activists. An obscure program nestled deep in the bowels of the U.S. Department of Transportation (DOT) is funneling taxpayer money to environmental activists who oppose natural gas pipelines, according to an investigative report issued by InsideSources. In 2009, Congress created the Technical Assistance Grant (TAG) program in DOT's Pipelines and Hazardous Materials Safety Administration (PHMSA) to provide funding to nonprofits and local governments to act to "improve damage prevention, develop new technologies, or otherwise improve [the] pipeline safety" of natural gas and hazardous liquids pipelines. During the first five years of the program, over $6.4 million in TAG grants were awarded to 110 recipients. While much of the money has gone to organizations undertaking projects to improve pipeline safety, InsideSources uncovered several instances where TAG grantees had clear conflicts of interest and engaged in advocacy, in violation of the program's guidelines.
GOP subpoenas Kerry on Keystone XL. Calling the Obama administration's attempts to accommodate a Republican investigation into President Obama's rejection of the Keystone XL pipeline "pitiful," a House committee Friday subpoenaed Secretary of State John Kerry for all communications regarding the November decision. House Oversight and Government Reform Committee Chairman Jason Chaffetz, R-Utah, said Kerry is not cooperating with his panel's investigation into Obama's decision to reject the application to build the pipeline, which would have connected the Canadian tar sands to the Gulf Coast, after a seven-year review.
How the Clintons Cashed In. [Scroll down] TD Bank never paid Bill Clinton to speak during his first eight years out of the White House. But in 2009, four days after Hillary Clinton was nominated secretary of state, Bill Clinton made the first of a string of speeches for which TD Bank paid almost $2 million — an astounding amount. And guess what? TD Bank was the single largest shareholder in the Keystone XL pipeline, which required State Department approval. Lo and behold, Hillary Clinton decided to support the pipeline — a heresy to environmentalists — and delayed the Obama administration's rejection of it. Coincidence? There's no smoking gun proving those speaking fees came with promises in return. But [Peter] Schweizer says the evidence points to a pattern of conduct that other politicians would never get away with. They're sent to jail for less.
Donald Trump demands 'big chunk' of Keystone XL profits for the U.S.. Republican presidential front-runner Donald Trump says he would reject the Keystone XL pipeline if TransCanada Corp. didn't give the U.S. a "big, big chunk of the profits, or even ownership rights." All of Trump's Republican rivals say they would immediately approve the pipeline from the Alberta oil sands, which President Barack Obama rejected in November. Trump, who bills himself as a master negotiator, now says he would require TransCanada to fork over billions. "I want 25 percent of the deal for the United States. They're going to make a fortune," he declared in Muscatine, Iowa on Sunday [1/24/2016]. On Saturday, he said he would ask for "25 percent of the profits forever."
The Editor says...
Even Barack H. Obama didn't go that far. Trump is starting to sound like Bernie Sanders -- or Chairman Mao!
Keystone pipeline lawsuit threatens Obama's Asian trade deal. This week's Keystone pipeline lawsuit may deliver the death blow to a seemingly unrelated Asian trade deal, with environmentalists and labor unions saying a Canadian company shouldn't be allowed to use international trade agreements to force changes in U.S. energy and environmental policy. TransCanada, the company that had sought to build the Keystone XL pipeline to carry oil from Alberta into the U.S., filed a lawsuit Wednesday [1/6/2016] claiming Mr. Obama's rejection of the plan violated the Constitution, and filed a separate notice of intent to complain under the 1990s-era North American Free Trade Agreement.
Keystone builder TransCanada files lawsuit against Obama administration for rejecting project. In its lawsuit, TransCanada, the Canadian company proposing the massive project, asserts that President Obama — who blocked Keystone as part of a larger plan to control greenhouse-gas emissions and fight global warming — exceeded his constitutional authority in rejecting the project. The company also filed a separate action claiming the president's decision was "arbitrary and unjustified" and violated the North American Free Trade Agreement. The company is seeking $15 billion in costs and damages it says it incurred as a result of the administration's delay, and ultimate rejection, of Keystone.
State Department Predicted Cancelling XL Pipeline Would Increase Greenhouse Gas Emissions. President Barack Obama formally rejected the proposed Keystone XL Pipeline earlier this month, citing its contribution to climate change, but a State Department report shows greenhouse gas emissions from the alternative method of rail delivery would actually increase. "America is now a global leader when it comes to taking serious action to fight climate change," Obama said in remarks from the White House. "And, frankly, approving this project would have undercut that global leadership."
Obama rejects Keystone XL. After years of deliberate delays President Obama rejected the Keystone XL pipeline today. This is a victory for radical environmentalists and those who wish America ill. It is a punch in the face to everyone else. Keystone XL is a clean, safe way to transport Canadian oil to American refineries and markets. It would bring jobs along with abundant, affordable energy. Stopping the pipeline has no meaningful benefits for the environment and will create no meaningful change to global temperature.
Why Do Working Americans Support Job-Killing Democrats? After years of review, President Obama has killed the Keystone XL pipeline project. The pipeline would have moved crude oil from Western Canada to Nebraska, where it would have connected to existing pipelines and moved the oil to refineries at the U.S. Gulf Coast. The exact number of jobs that the project would have created was disputed, but a reasonable estimate seems to be several thousand jobs. These would have been largely blue-collar jobs, which is why labor unions, usually a constituency that a Democratic president seeks to please, supported the project. But another Democratic constituency, the environmental lobby, opposed the project, and they won the day with our president.
America has built the equivalent of 10 Keystone pipelines since 2010 — and nobody said anything. While TransCanada Corp. has been cooling its heels on its Keystone XL proposal for the past six years, the oil pipeline business has been booming in the United States. Crude oil pipeline mileage rose 9.1 percent last year alone to reach 66,649 miles, according to data from the Washington, D.C.-based Association of Oil Pipe Lines (AOPL) set to be released soon. Between 2009 and 2013, more than 8,000 miles of oil transmission pipelines have been built in the past five years in the U.S., AOPL spokesperson John Stoody said, compared to the 875 miles TransCanada wants to lay in the states of Montana, South Dakota and Nebraska for its 830,000-bpd project. By last year, the U.S. had built 12,000 miles of pipe since 2010.
O Says No to Keystone XL. President Barack Obama on 6th November determined that the proposed Keystone XL Pipeline is not in the national interest and therefore denied the cross-border permit necessary for the pipeline to be built. The President's shameful decision concludes the administration's shameful six year delay in making a decision.
CEI Statement on Keystone XL Pipeline Rejection. President Barack Obama's decision today to deny the necessary permit for the Keystone XL Pipeline adds to his shameful record of policies to constrict domestic energy production and raise energy prices for American consumers. It comes after six years of foot dragging by his administration designed to delay the pipeline to death and just before the UN climate conference in Paris, where President Obama hopes to cap his anti-affordable energy record by signing a new climate treaty.
Who's Playing Politics on the Keystone XL Pipeline? The State Department has been reviewing the project since September 2008 — more than five times longer than the average review of cross-border infrastructure projects. TransCanada and its allies on and off the Hill have continually pushed for timely review and approval. During the administration's seven-plus years of indecision, the State Department has conducted four major reviews — a Draft Environmental Impact Statement or EIS (April 2010), a Final EIS (August 2011), a Draft Supplemental EIS (March 2013), and a Final Supplemental EIS (Jan. 2014). The big-picture conclusion is always the same. Under the "No Action Alternative" (i.e. the project is not built and operated), Canadian crude still reaches Gulf Coast refineries, except it does so by other routes — rail, barge, smaller pipelines — that are less efficient, emit more carbon dioxide (CO2) per unit of oil delivered, and carry greater risk of oil spills, industrial accidents, and fatalities. State's statutory role is to render a "national interest determination" on the proposed pipeline. Approval should have been a no-brainer.
Keystone Pipeline Quiz. Yesterday [11/6/2015], after 6 years of courting environmentalists, El Presidente finally stuck a fork in the Keystone Pipeline. Because he is the Decider. And besides, who needs energy independence now that the Decider has stabilized relations with all the oil producing countries in the Middle East? Indeed, who needs to rely on any of those disgusting fossil fuels when our Decider has paved the way for alternate energy sources like wind, solar, algae and corn.
Obama: Keystone would make planet 'uninhabitable'. President Obama said Monday [11/6/2015] that the Keystone pipeline and other such fossil-fuel development projects would make Earth "uninhabitable." "We've got to lead by example, because ultimately, if we're going to prevent large parts of the Earth from becoming not only inhospitable but uninhabitable, then we're going to have to keep some fossil fuels in the ground rather than burn them," Mr. Obama told cheering grassroots supporters at a gathering in Washington.
The Editor says...
[#1] How many places in the world are uninhabitable today? Not many. [#2] If the Chinese build a new oil pipeline, would you know about it? No. Would China's new pipeline make any part of this country uninhabitable? No.
Warren Buffett and the Keystone Decision. When President Obama announced he was killing the Keystone XL pipeline, he said he was agreeing with the State Department's assessment that the pipeline from Canada "would not serve the national interests of the United States." The fact is that it would not have benefitted the personal financial interests of friend and economic mentor, Warren Buffett, who can rest assured that oil from Canada and the nearby Bakken formation in North Dakota will continue to be transported by a railroad he owns.
Obama angers Democrats' labor base with Keystone rejection, Trans-Pacific Partnership. President Obama's relationship with blue-collar unions has hit an all-time low, with several powerful labor groups ripping into the administration — and the Democratic Party as a whole — for its rejection of the Keystone XL oil pipeline and its promotion of the highly controversial trade deal known as the Trans-Pacific Partnership. Mr. Obama's decision to reject Keystone on environmental grounds, which he announced Friday [11/6/2015] after a review process that lasted nearly seven years, deeply angered the president's traditional supporters in the labor movement.
Here's The Real Reason Obama Killed The Keystone XL Pipeline. President Obama has junked the Keystone XL pipeline. His stated reason: The U.S. needs to lead the "serious action to fight climate change." His real reason is different.
Union: Obama Threw Workers Under the Bus. One of the nation's largest unions accused President Obama of betraying workers and the labor movement by blocking the Keystone Pipeline and is backing up its rhetoric with campaign donations to Republicans. The Laborers' International Union of North America said that Obama's bow to environmentalists meant that he was more concerned with "elitists" and "his legacy" than with helping workers provide for their families.
Union says Obama threw workers under a bus on Keystone. One of the nation's largest unions is accusing President Obama of betraying workers and the labor movement by blocking the Keystone Pipeline and is backing up its rhetoric with campaign donations to Republicans, according to The Washington Free Beacon. The Laborers' International Union of North America said that Obama's bow to environmentalists meant that he was more concerned with "elitists" and "his legacy" than with helping workers provide for their families.
Keystone, jobs, and a president who doesn't get it. Unfortunately, the recovery still hasn't arrived for those most in need of work, civilian adults aged 25-54. These men and women are the backbone of the labor market. [...] Eight years ago, there were 100.2 million people in this age range who had jobs. Last month, there were only 97.1 million, a number that has barely budged in 2015. Worse still, the latest Labor Department numbers suggest that most of the net jobs lost by that core age cohort have been full-time jobs. In the fourth quarter of 2007, when the Great Recession began, there were 80.5 million full-timers aged 25-54; it the most recent quarter there were only 77.7 million.
Keystone, jobs, and a president who doesn't get it. President Obama chose Friday to announce that he is rejecting the Keystone XL pipeline. With his decision, designed to make him look good in front of the international community who will start climate talks in Paris on Nov. 30, he is nixing tens of thousands of jobs and, according to his own State Department, $100 million in earnings for American workers. He made his decision even though his own State Department has concluded that the pipeline, which would bring Canadian and North Dakota crude oil to the Gulf Coast, would emit less carbon than other, more dangerous, methods of transporting it, such as by rail.
Goodbye, Keystone. TransCanada's application for permission to build the Keystone XL pipeline has been kicking around the Obama administration for nearly seven years. Recently, TransCanada sought to withdraw its permit application, presumably on the theory that the Obama administration would never grant it, and it would be easier to start fresh with a new administration than to try to overturn a negative decision by the current one. Today [11/6/2015] President Obama responded by announcing that he is denying TransCanada's application.
Keystone Decision is About Obama's Position on the World Stage. Today [11/6/2015], in finally denying the Keystone pipeline, President Obama showed his true colors. We now know, as we've long believed, that those colors are the green of the anti-fossil fuel crowd, rather than the color of jobs resulting in economic growth in the hard-hit heartland of the United States. For seven years, he has tried to appease both his union supporters who want the good jobs Keystone would have provided and his environmental allies who declared it a "dirty" project that would add to global CO2 emissions. Now, before the United Nations climate conference, he can wave his green credentials and claim to be a world leader in the fight against global warming -- which, I believe, was the whole purpose of the decision and subsequent announcement.
Obama Expected to Reject Construction of Keystone XL Oil Pipeline. President Obama announced on Friday [11/6/2015] that he had rejected the request from a Canadian company to build the Keystone XL oil pipeline, ending a seven-year review that had become a symbol of the debate over his climate policies. Mr. Obama's denial of the proposed 1,179-mile pipeline, which would have carried 800,000 barrels a day of carbon-heavy petroleum from the Canadian oil sands to the Gulf Coast, comes as he seeks to build an ambitious legacy on climate change.
Obama Won't Yield to Company's Bid to Delay Keystone Pipeline Decision. The White House on Tuesday [11/3/2015] said President Obama had no intention of bowing to a request from the company behind the Keystone XL oil pipeline to delay a decision on the project, saying he wanted to take action before his tenure ends. The State Department is reviewing a request made on Monday by the company, TransCanada, to pause its yearslong evaluation of the proposed 1,179-mile pipeline, which has become part of a broader debate over Mr. Obama's environmental agenda.
Keystone XL pipeline on hold as builder asks U.S. to suspend permit process. The company proposing to build the Keystone XL oil pipeline asked the State Department on Monday [11/2/2015] to halt indefinitely its ongoing review of the massive project, adding new delays and uncertainties, and possibly ensuring that final word will come from President Obama's successor. Amid legal challenges in Nebraska — ground zero in the fight over the project — TransCanada officials sent a letter to Secretary of State John F. Kerry and called on the administration to cease immediately its Keystone approval process.
TransCanada asks US to suspend pipeline application review. After waiting seven years for a decision, the company behind the proposed Keystone XL pipeline from Canada to Texas has asked the U.S. State Department to suspend its review of the project.
Hillary's Weapon of Mass Distraction. Last week, Hillary Clinton broke her silence on the Keystone XL pipeline and announced — to little surprise — her opposition. Dusting her fingers with her favorite rhetorical rosin, she described the pipeline as a "distraction from important work we have to do on climate change ... one that interferes with our ability to move forward with all the other issues." Was the pipeline the distraction? Or was the distraction the press corps' insistence, after five years of Clinton waffling, that Clinton express a conclusive position on the pipeline's future? Either way, by invoking the D-word, Madame Secretary swept the entire issue from the agenda. It's time now to move forward!
TransCanada counters Clinton's Keystone XL claims. In a counter to Hillary Clinton, Keystone XL planner TransCanada said pipelines are the safest and least carbon-intensive ways to transport crude oil. Democratic presidential candidate and former Secretary of State Clinton said from the campaign trail in Iowa the planned Keystone XL pipeline from Canada would be a "distraction" to the evolving fight against climate change.
NPR: Hillary Timed Keystone Announcement to Pope's Visit. It would appear that Hillary Clinton's act is wearing thin even among the people at that liberal bastion known as NPR. Tuesday afternoon [9/22/2015], the headline at an NPR story about Mrs. Clinton's sudden decision to publicly announce her opposition to the Keystone XL Pipeline project indicated that her announcement was deliberately timed to coincide with Pope Francis's visit to the United States.
Hillary Clinton reveals Keystone opposition, sides with environmentalists over unions. Democratic presidential candidate Hillary Rodham Clinton announced her opposition to the Keystone XL oil pipeline, breaking months of silence on a hot-button issue that had her torn between environmentalists and labor unions that are both powerful forces within the party. Mrs. Clinton said that she sided with environmentalists because the long-stalled pipeline project had become a "distraction" from advancing a climate-change agenda.
Hillary Clinton: I Oppose the Keystone XL Pipeline. After months of declining to take a position on the Keystone XL pipeline, Democratic presidential candidate Hillary Clinton says she opposes the construction of the project. "I think it is imperative that we look at the Keystone XL pipeline as what I believe it is: A distraction from the important work we have to do to combat climate change, and, unfortunately from my perspective, one that interferes with our ability to move forward and deal with other issues," she said during a campaign event in Iowa Tuesday [9/22/2015]. "Therefore, I oppose it. I oppose it because I don't think it's in the best interest of what we need to do to combat climate change."
The Editor says...
One pipeline is not going to measurably accelerate changes in the climate.
Hillary Clinton 'Putting the White House on Notice' About Keystone Pipeline. Hillary Clinton is changing her tune on Keystone (sort-of). The democratic presidential candidate on Thursday expressed frustration over the Obama administration's delay on making a decision on Keystone XL pipeline, and said that she is "putting the White House on notice" and will make her position known "soon" — something she so far refused to do.
Clinton says Obama administration decision on Keystone pipeline overdue. Democratic presidential candidate Hillary Clinton said on Thursday [9/17/2015] the Obama administration's decision on whether to approve the Keystone XL pipeline oil pipeline was overdue and she "can't wait too much longer" to say where she stands on the issue.
GOP Chairman Stops 'Poison Pill' Keystone XL Push. Rep. Fred Upton (R-Mich.), the chairman of the House Committee on Energy and Commerce, has decided to take the Keystone XL pipeline off the table as part of the committee's energy bill. "One of the things I'm actively working against is what I call poison pills by one side or the other — so yes, of course I support Keystone. We've had a number of votes on that, but I know that's not going to fly," Upton said at an event sponsored by National Journal.
House GOP Chairman Stops Keystone XL Push, Calls It 'Poison Pill'. Rep. Fred Upton (R-Mich.), the chairman of the House Committee on Energy and Commerce, has decided to take the Keystone XL pipeline off the table as part of the committee's energy bill. "One of the things I'm actively working against is what I call poison pills by one side or the other — so yes, of course I support Keystone. We've had a number of votes on that, but I know that's not going to fly," Upton said at an event sponsored by National Journal. "We're not going to get the president to sign that as part of any deal. He vetoed it as a separate deal — that's not going to be part of this bill," he added.
The Tragic and Complete Collapse of Racial Relations. Obama in recompense for favoring the aristocratic elite feels that by expanding food stamps, disability insurance, housing, legal, and education subsidies, etc., the lower classes will be satisfied in lieu of a high-paying job on a fracking rig, in construction, or welding on the Keystone pipeline.
Canada firm prepares NAFTA lawsuit against US believing Obama is ready to ax Keystone XL. There may be a lawsuit coming our way shortly from our neighbors to the north. TransCanada Corporation officials in Canada are pretty sure that years of good faith bargaining and effort aimed at completing the Keystone XL pipeline may be about to go down the drain, and they don't plan to go quietly into that good night.
Keywords: Irresolute, cowardice, vacillating, indecision, coy, insolent.
Hillary on Keystone Pipeline — I'll tell you my position when I'm President. At a campaign event in New Hampshire yesterday [7/28/2015], an attendee asked Hillary if she would approve the Keystone XL Pipeline. Her answer, if you can call it one, was that she would answer the question if and when she becomes president.
Death To Canadian Oil! While the Obama Administration's actions are allowing Iran, which hates America, to boost its economy by increasing its oil exports, they are hurting our closest ally by putting delay after delay in front of the Keystone pipeline — which would help Canada export its oil. After six-and-a-half years of kicking the can down the road, and despite widespread support and positive reports, the Keystone pipeline is no closer to construction than it was on the day the application was submitted. It is obvious President Obama doesn't like the project, which will create tens of thousands of jobs, according to his own State Department.
The cost of Keystone's delay: $175 billion. The Keystone XL pipeline is an issue that Democrats are going to have to deal with sooner rather than later. Hillary Clinton has repeatedly dipped, ducked, dived, and dodged questions about her position on the project to the ire of the environmental left. In January of 2014, the State Department concluded that the construction of the pipeline "would not substantially worsen carbon pollution," according to the New York Times. Still, the president vetoed legislation to get the project moving in February.
The holes in Hillary Clinton's climate plan. Hillary Clinton's newly unveiled climate vision sounds ambitious on its face: 500 million new solar panels from coast to coast, eco-minded energy tax breaks and enough green power to keep the lights on in every U.S. home. But just as glaring are the details she left out. Does Clinton support or oppose the Keystone XL oil pipeline? Or Arctic offshore drilling? Or tougher restrictions on fracking? Or the oil industry's push to lift the 1970s ban on exporting U.S. crude oil? Clinton avoided all those questions in the solar-heavy climate plan she outlined Sunday night [7/26/2015] and in her speech promoting it Monday in Iowa — and she declined yet again Monday to say where she stands on Keystone.
Hillary Clinton talks big on climate change but silent on Keystone XL. Democratic presidential front-runner Hillary Rodham Clinton set ambitious goals to combat climate change Monday [7/27/2015] but still wouldn't take a position on the proposed Keystone XL pipeline that environmentalists warn will contribute to global warming. Mrs. Clinton has dodged questions about the controversial oil pipeline since the campaign began, and she again ducked the issue even as she vowed to "decarbonize" America and make it the "world's clean energy superpower."
House Committee Subpoenas John Kerry's Keystone XL Documents. The House Oversight Committee Wednesday [7/8/2015] subpoenaed Secretary of State John Kerry for documents related to the review process on the Keystone XL pipeline, saying the department has been "uncooperative." Chairman Jason Chaffetz said that Kerry had not complied with two previous requests for copies of other departments' input on the ongoing review of the Alberta-to-Gulf Coast tar-sands pipeline.
Clinton emails may revive environmental group's lawsuit. An environmental group whose request for records related to the Keystone Pipeline was reportedly hampered while Hillary Clinton served as secretary of state is considering taking the case to court for the second time. Ben Schreiber, climate and energy program director at Friends of the Earth, said his group has weighed the option of relitigation in the weeks since learning that Clinton's chief of staff, Cheryl Mills, had interfered in the agency's handling of Freedom of Information Act requests for Keystone documents.
All The 'Clinton Cash' Questions Hillary Refuses to Answer. For example, Hillary hasn't explained why her State Department approved the transfer of 20% of US uranium to the Russian government — even as her family foundation hauled in $145 million from investors in the deal, and Bill received $500,000 from a Kremlin-backed bank for a speech in Moscow. Hillary has yet to explain why there was no conflict of interest in allowing top investors in the Keystone XL pipeline to pay her husband $1.8 million to deliver 10 speeches, even as she quietly shepherded an environmental impact study through her State Department that proved largely supportive of the pipeline.
Top 10 Questions Hillary Clinton Won't Answer. [#2] Why did Hillary Clinton allow top investors in the Keystone XL pipeline to pay her husband $1.8 million to deliver 10 speeches, even as she quietly shepherded an environmental impact study through her State Department that (surprise!) proved largely supportive of the pipeline? [#6] Why did Hillary Clinton deliver eight speeches totaling $1.6 million in speaking fees paid for by two of the largest banks tied to the Keystone XL pipeline (in addition to the $1.8 million Bill bagged for the 10 Keystone investor-funded speeches he delivered during Hillary's tenure as Secretary of State)?
Canada: Never mind. We'll just ship our energy to China. [Scroll down] Meanwhile, back at home, the feds keep pounding on ExxonMobil for the biggest fines they can manage, yet another Democrat is taking a run at shutting down fracking through a misinterpretation of the Clean Water Act and our restrictions on exports have led to our companies saturating the market to the point where we're now laying off oil field workers.
Corn Ethanol Is Worse Than Keystone. For years, environmental activists have opposed the Keystone XL pipeline, claiming that development of Canada's oil sands will be "game over for the climate." But if those same activists are sincere about climate change, why aren't they getting arrested outside the White House to protest the use of corn ethanol? That's a pertinent question, given a new analysis from the Environmental Working Group, which finds that corn ethanol produces more carbon dioxide than Keystone XL would — presuming, of course, that the pipeline ever gets built. Making the issue even more relevant, last Friday, the EPA outlined new requirements for the minimum amounts of ethanol that retailers must blend into their gasoline.
EPA says Keystone approval wouldn't be climate 'disaster'. The head of the Environmental Protection Agency appeared to downplay the climate change impact of the contentious Keystone XL pipeline project, which has been a political sticking point for the Obama administration. "No, I don't think that any one issue is a disaster for the climate, nor do I think there is one solution for the climate change challenge that we have," EPA Administrator Gina McCarthy said Monday [3/30/2015] at a forum hosted by Politico. She was responding to a question on whether approval of the pipeline would spell disaster for the Earth's climate.
Obama downplays Keystone, ignores State Department research on pipeline. President Obama on Friday [3/6/2015] ignored his own State Department's research on the Keystone XL oil pipeline, dismissing the project and casting it as both economically unimportant and potentially harmful to the environment. Speaking at a town-hall meeting at Benedict College in Columbia, S.C., the president defended his recent veto of legislation that would have approved Keystone. Mr. Obama said he vetoed the bill for technical reasons and has not yet made a final decision on the project.
The Keystone Copout: Nothing Obama says to justify his pipeline veto is true. In an interview last weekend with a North Dakota TV station, Mr. Obama said: "I'm happy to look at how we can increase pipeline production for U.S. oil, but Keystone is for Canadian oil to send that down to the Gulf. It bypasses the United States and is estimated to create a little over 250, maybe 300 permanent jobs." Except for the prepositions, everything in that statement is false.
Does Anyone Fact-Check the President?. Let's note two instances from a single town hall appearance in South Carolina yesterday. The first related to climate. Obama, while defending his Keystone veto, said: ["]The pattern overall is that the climate is getting warmer. That's undeniable.["] Far from being undeniable, the claim that "the climate is getting warmer" is false. Satellite measurements show that there has been no warming for around 18 years, a fact that has caused great consternation among climate alarmists.
Obama: Keystone oil 'extraordinarily dirty'. President Obama on Friday [3/6/2015] ratcheted up his criticism of the Keystone XL oil pipeline, days after the Senate failed to override his veto of legislation approving the project. "The truth is it's Canadian oil that's then going to go to the world market. It will probably create about a couple thousand construction jobs for a year or two, but only create about 300 permanent jobs," Obama said at a town hall in South Carolina when asked by an attendee about his decision. "The reason that a lot of environmentalists are concerned about it is the way that you get the oil out in Canada is an extraordinarily dirty way of extracting oil. And, obviously, there are always risks in piping a lot of oil through Nebraska farmland and other parts of the country," Obama added.
Minority Democrat Extremists Defy 70% of Americans — Keystone Veto Override Blocked By 37 "Domestic Terrorists". When Republicans were in the minority conservatives were routinely called "extremists", "domestic terrorists", and worse. Ergo, following the same logic — today as the minority party, Democrats, openly defy 70% of the American Electorate, and refused to support a veto override of the Keystone Pipeline, they are positioning themselves as the extremists and domestic terrorists.
Obama wins Keystone vote as Senate fails to overcome veto. The Senate upheld President Obama's first veto of the new Congress on Wednesday [3/4/2015], dooming for the foreseeable future any chance of constructing the Keystone XL pipeline that would bring oil from Canada to the U.S. The vote was seen as a key early test of Democrats' willingness to defend their lame-duck party leader, and Mr. Obama passed that test easily, with the Senate falling four shy of the two-thirds supermajority needed to overturn the veto.
GOP-led Senate fails to override Obama's Keystone veto, lawmakers say fight not over. The GOP-controlled Senate failed Wednesday to override President Obama's veto of Keystone XL pipeline legislation but vowed to continue to fight to complete the project. The vote was 62-37, five votes short of the 67-vote super-majority needed to override a presidential veto. The bill turned back by the president would have approved the controversial pipeline.
Bloomberg Sees a Way on Keystone. His idea is that the Obama administration should negotiate directly with the Canadian government, and come up with a climate pact that would more than offset the emissions that would be generated — indeed, are already being generated — by mining the oil from the sands. Though it is unlikely to satisfy the partisans on both sides, it is a wonderfully sensible solution.
Obama's claim that Keystone XL oil 'bypasses the U.S.' earns Four Pinocchios. President Obama, seeking to explain his veto of a bill that would have leapfrogged the approval process for the Keystone XL pipeline, in an interview with a North Dakota station repeated some false claims that had previously earned him Pinocchios. Yet he managed to make his statement even more misleading than before, suggesting the pipeline would have no benefit for American producers at all.
Obama's veto of Keystone Pipeline is all about politics. In the days leading up to President Obama's veto of the Keystone XL pipeline, 14 oil tanker railroad cars derailed in West Virginia and exploded in a fiery environmental disaster. This wasn't a rare, isolated accident. In the last several years it's become all too common across our country, as the oil industry has struggled to find ways to transport its petroleum to markets. Last week's explosion came a few days after a similar accident that followed a record-setting year of repeated rail tanker disasters. At last count, there were more than 141 rail tanker accidents in 2014 alone, close to a sixfold increase in the average number of spills between 1975 and 2012.
Senate to begin Keystone XL veto override attempt Wednesday. The Senate will move Wednesday [3/4/2015] on whether to proceed to an override attempt on President Obama's veto of legislation authorizing the Keystone XL pipeline, with a potential vote coming Thursday, said a spokesman for Senate Majority Leader Mitch McConnell. Keystone XL backers will need 60 votes Wednesday to clear a procedural hurdle for an override attempt. The legislation garnered 62 votes when it passed in January, though pipeline supporter Sen. Marco Rubio, R-Fla., was absent. It remains to be seen whether all nine supporting Democrats remain on board, given the apparent affront to Obama. In the event a veto override fails, which seems likely, Republicans have said they plan to wrap legislation lightgreen-lighting the 1,700-mile pipeline into a spending measure or broader bill, such as the federal highway bill.
Voters: Ignore Obama vetoes, keep passing bills he doesn't like. A new Rasmussen Reports poll issued Friday [2/27/2015] found that 59 percent of voters "think Congress should continue to pass legislation that most members of Congress support even if the president is opposed." Just 25 percent want Congress to cave into the White House and 16 percent are unsure. Despite bipartisan support, Obama vetoed the Keystone bill this week, and is promising to use the veto pen much more in his last two years in office.
Obama's Sneaky, Cowardly Veto Of Keystone XL Pipeline. It was only the third veto of his presidency, and for some reason he didn't have much to say about it. In fact, it would be hard to find more gobbledygook intended to obscure his true thoughts in his written statement about his Keystone XL veto Tuesday [2/24/2015]. "Through this bill, Congress attempts to circumvent longstanding and proven processes for determining whether or not building and operating a cross-border pipeline serves the national interest," read President Obama's written statement.
Obstruction Leader Harry Reid to Attempt Historic Filibuster on Override of Keystone Veto. In another example of Democrats playing the role of obstructionists, Harry Reid will force the Senate to go through procedural hurdles to delay Majority Leader Mitch McConnell from bringing up the president's Keystone XL veto for an override vote. Last week, President Obama vetoed the popular bipartisan Keystone XL Pipeline bill passed by the Senate. This week, the Senate is planning a vote to override the president's veto. Democrats, led by Minority Leader Harry Reid, are set to revoke normal order and attempt to filibuster the override of the President's veto message. The cloture vote on a veto message will be the first in the history of the United States Senate.
President Obama and EPA's Keystone folly. President Obama vetoed Congress' effort to expedite approval of the Keystone XL pipeline Tuesday, but the decision to allow the Canadian pipeline to cross the U.S. border is still on the president's desk. As part of the process, the president will be considering comments from the Environmental Protection Agency (EPA), which is using lower oil prices as a last ditch effort to give him a new excuse to deny the pipeline — an argument he should reject.
Reporters Laugh As White House Tries To Explain Why Keystone Pipeline Review Took 2,300 Days. White House Press Secretary Josh Earnest unintentionally gave reporters a laugh today [2/24/2015]. One intrepid reporter asked Earnest what every reporter should be asking Earnest: Why is it taking the State Department so long to complete its review of the Keystone XL Pipeline? To be specific, it's taken about 2,300 days. "Well, I think it's certainly fair to suggest the that State Department is conducting an in-depth review," Earnest said. The crowd laughed at that one.
Most Keystone Pipeline Oil Would Be Consumed in US. A new report by IHS finds that about 70% of oil from the Keystone Pipeline would remain in the US, in contrast with the left's perpetuated misunderstanding that most Keystone XL crude oil would be exported. In fact, it is currently illegal for the American companies to export crude oil, thanks to an arcane law.
Obama's Keystone Veto Is a Victory for the Lunatic Left. President Obama's veto of the Keystone XL pipeline is difficult to understand unless you are aware of the wider context, which is the Left's war on the energy infrastructure of the United States. It isn't just Keystone. The Left is working to block every piece of energy infrastructure of any consequence everywhere in the country, in the hopes that doing so will hobble the oil and gas industries and usher in a new age in which the American economy runs on solar panels and happy thoughts.
Also posted under Environmentalists oppose every practical source of energy.
Override Keystone pipeline veto. After years of dithering, President Obama finally acted quickly and decisively Tuesday on the Keystone XL pipeline: Within hours of receiving a bill approving construction of the $8 billion project, he vetoed it. In a terse veto message, the president said the Keystone legislation would "circumvent longstanding and proven processes" for evaluating a project like this one. Oh, please. The administration has been evaluating Keystone for more than six years. There's just no plausible excuse for the epic delay that has turned what should be a relatively minor policy dispute into one of Washington's hyperventilated shouting matches.
Obama vetoes Keystone pipeline bill, heightening clash with GOP. President Barack Obama rejected a bill Tuesday that would have approved construction of the controversial Keystone XL pipeline, the first veto of a year that seems likely to feature repeated such moves as the Democratic president confronts the Republican-led Congress. The veto came as no surprise to GOP lawmakers, who passed the measure in early February. The decision to reject the bill came within hours of its formal delivery to the White House on Tuesday [2/24/2015].
Obama quietly to veto Keystone pipeline. President Obama on Tuesday [2/24/2015] vetoed legislation approving the Keystone XL oil pipeline, making good on his threat to block the bipartisan bill and setting up an override attempt in the Senate that could come as early as this week. The White House, which weeks ago said the president would stand in the way of the measure, informed Congress of the veto Tuesday afternoon [2/24/2015].
Wanted: An Internet to call our own. Obama did not create the Internet, the idea originated with the U.S. military. The Internet, the main means of communication for the masses, was not Obama's to steal. Even Communist China, which jails bloggers accused of writing against the state, couldn't be more audacious. When the unread-by-Congress-and-public-at-large 332-page regulations in Obama's 'Net Neutrality' are in place, the little guys' means for reaching out to the communication world will be no more.
Boehner: Obama veto is 'national embarrassment'. Speaker John Boehner (R-Ohio) on Tuesday [2/24/2015] assailed President Obama's veto of the Keystone XL bill, calling his rejection of the pipeline an embarrassment for the country. "The president's veto of the Keystone jobs bill is a national embarrassment," Boehner said in a statement Tuesday after Obama rejected legislation that would have authorized construction of the oil sands pipeline.
Obama Vetoes Keystone XL: 'This Act of Congress Conflicts with Executive Branch Procedures'. The veto comes as no surprise, though this morning congressional Republicans were rallying pressure on the administration through social media. House Speaker John Boehner (R-Ohio) called the veto "a national embarrassment." "It's embarrassing when Russia and China are plowing ahead on two massive pipelines and we can't get this one no-brainer of a project off the ground. The president is just too close to environmental extremists to stand up for America's workers. He's too invested in left-fringe politics to do what presidents are called on to do, and that's put the national interest first," Boehner said.
Obama's Keystone veto statement. President Obama on Tuesday [2/24/2015] vetoed legislation authorizing construction of the Keystone XL oil sands pipeline, rebuffing the new Republican Congress amid a furious battle over Homeland Security funding.
Obama's Expected Keystone Pipeline Veto Is Likely to Be the First in a Wave. Wielding the weapon of his pen, President Obama this week is expected to formally reject a Republican attempt to force construction of the Keystone XL oil pipeline. But in stopping the transit of petroleum from the forests of Alberta to the Gulf Coast, Mr. Obama will be opening the veto era of his presidency.
A Keystone Veto Puts America at Risk. The Keystone XL pipeline has now been approved by both houses of Congress and will be sent to the president's desk within the next ten days. Obama has vowed to veto the bill, and it will be interesting to hear his excuse for doing so. Having stated time and again that he "has not made up his mind," he will have to come up with something decisive that has occurred within the past few weeks. Or perhaps he is just a slow thinker. The reality is that Obama seems to have made up his mind a long time ago. He remained "undecided" so as to avoid the issue during the 2012 and 2014 elections. Now that he is a lame duck, his true colors are coming out. Obama opposes the pipeline because his big-money environmental backers oppose it. End of story.
Labor union: Democrats have 'perverted' Keystone process. The president of a top building trades union is accusing Democrats of "perverting" the process for considering the Keystone pipeline. Just before a vote in which the House is expected to approve the pipeline,Terry O'Sullivan, president of the Laborers' International Union of North America (LIUNA), charged that President Obama and Democrats are out of line with not approving Keystone.
Please, Mr. President! Do the right thing and approve Keystone. With this project, we have the opportunity to support at least 42,000 jobs in our country, and that's according to the president's own State Department. Not only that, we can secure the safest, most cost-effective way to transport these resources. And we can continue building our energy future and reducing our dependence on foreign oil.
House sends Keystone XL bill to Obama. TransCanada Corp. is bracing for another delay in its six-year quest to build Keystone XL, even as Congress sends legislation authorizing the pipeline to President Barack Obama. The House's 270-152 vote to pass the bill Wednesday afternoon [2/11/2015] sets the stage for Obama's first veto of the Republican-led Congress — and only his third since taking office. The threatened veto also means the State Department is set to continue vetting whether the proposed pipeline is in the "national interest" — a review that could involve new market studies analyzing the project in light of low oil prices.
Congress Clears Keystone XL Pipeline Bill, Setting Up Veto. The Republican-controlled Congress cleared a bill Wednesday to construct the Keystone XL oil pipeline, setting up a confrontation with President Barack Obama, who has threatened to veto the measure.
GOP Energy Agenda: Build Keystone, Stop The EPA. Republican lawmakers have released a new energy strategy to boost counter President Barack Obama's climate agenda. The main points of the plan: build the Keystone XL pipeline and other projects like it and prevent the EPA from over-regulating. "Our energy realities have changed dramatically — we've gone from bust to boom practically overnight," GOP Reps. Fred Upton of Michigan Ed Whitfield of Kentucky said in a statement. "Today's energy policies are lagging far behind, and are better suited for the gas lines in the 1970s than this new era of abundance."
Stymied in the Lower 48, Alberta floats idea of moving tar-sands oil through Alaska. Officials in the Canadian province of Alberta say they hope to talk to Alaska leaders about shipping tar-sands crude oil through the state as the Keystone XL pipeline route through the Lower 48 remains bogged down in politics. An Alaska economist said the idea faces many challenges but is possible.
Obama prepares for divisive veto. President Obama is just days away from issuing the biggest veto of his tenure, with Republicans poised to send him legislation that would authorize construction of the Keystone XL pipeline. Obama's veto — just the third of his presidency and the first since 2010 — is expected to come with little fanfare, with even opponents of the pipeline arguing the White House should avoid further angering Democrats and unions who want Keystone to be built.
Obama prepares to veto Keystone ... in private. Obama has spent months bragging about his pen and phone and has issued a number of veto threats publicly since the November elections that gave Republicans full control of Congress. However, this veto won't include photo ops.
The EPA on Keystone XL: Ideology trumps analysis. The recent EPA comment on the State Department analysis of the Keystone XL pipeline is nonsense, arguing that the pipeline would increase global greenhouse gas emissions. In reality, the Canadian oil will be produced, and the only questions are where it will be refined and at what higher cost.
In Last Ditch Effort, EPA Tries To Sabotage Keystone XL Pipeline. [President] Obama has threatened to veto a bill making its way out of Congress that would approve the long-awaited, 1,100 mile pipeline project, despite overwhelming support from the American public and the estimated 42,000 jobs it would create. In an effort to keep the project stalled, the EPA this week warned the State Department that, among other things, the recent steep drop in the price of oil and the added CO2 in the atmosphere from the pipeline mean it shouldn't be built. (The State Department's own massive review of the project last year, you may recall, found that in fact the pipeline would have very little impact on the environment or the climate.)
Obama threatens veto of Keystone pipeline, forcing oil shipments over "antiquated infrastructure". Obama says jobs from the Keystone project aren't permanent and it's just one pipeline that will move foreign oil to foreign markets. But fixing the bridge he once used as a prop didn't create permanent jobs either.
Marco Rubio Misses Keystone Pipeline Vote To Fundraise. When Republicans in the Senate finally got their chance to pass a bill approving the the Keystone XL Pipeline on Thursday [1/29/2015], Marco Rubio was on the other side of the country. The pipeline bill passed the Senate 62 to 36 on Thursday and therefore did not need the Florida Republican's support for approval. (The White House has threatened to veto the bill.)
Udall Votes Against Special Interest Bill for Keystone Pipeline. Today [1/29/2015], U.S. Senator Tom Udall voted against a bill mandating approval of the Keystone XL Pipeline, saying it was an unprecedented act for Congress to require the administration to approve a pipeline for a private, foreign corporation. The vote came shortly after Udall offered an amendment to create a national Renewable Electricity Standard, which would require utilities to generate 25 percent of their electricity from renewable sources by 2025. His amendment received bipartisan support from almost half the Senate, demonstrating significant support for a forward-looking energy policy.
Keystone XL bill passes Senate, setting up Republican showdown with Obama. Fresh from their first big legislative win in the new Congress, Republicans on Thursday [1/29/2015] called on Barack Obama to back down on his veto threat and sign into law a bill approving construction of the Keystone XL pipeline. As the Keystone bill glided to a 62-36 passage in the Senate, with nine Democrats voting in favour, Republicans stepped up their challenge to Obama's authority and urged him to sign off on the pipeline project.
Democrats' opposition to Keystone Pipeline is hard to fathom. Senate Majority Leader Mitch McConnell brought the bill up for a vote to force completion of the pipeline over the objections of President Obama, who says he'll veto it if the legislation reaches his desk. On a largely party-line vote Monday [1/26/2015], 53 senators, most of them Republicans, voted to go forward with the bill. But 39 senators, all Democrats, voted against it, blocking the measure which, under Senate rules, needs 60 votes to get it to a final vote.
Keystone XL and Climate: 0.0001°C/yr (one ten thousandth of a degree Celsius). The facts haven't changed in the six plus years that TransCanada's proposal to build a pipeline to transport Alberta tar sands to refineries in the Gulf Coast was first officially proposed to the U.S. Department of State. The impact on permanent (not temporary!) job creation will be minimal, impact on gasoline prices will be minimal, the impact on energy security will be minimal, and the impact on the environment will be minimal. In fact, no one would know the name of the Keystone XL pipeline (just as no one knows the name of any other in the long list of pipelines that have come before it) if it weren't for a (successful) effort led by certain environmentalists to elevate it far above its import, to christen it as the symbol of anti-fossil-fuel infrastructure and then hang it around the neck of the President and his Climate Action Plan.
Late night call to Senate over Keystone reminiscent of ominous Bat Signal. The Constitution dictates the Senate has a "quorum" to conduct business. But a true quorum is rarely present on the floor. Ironically, the Senate sometimes burns hours at a time, loitering in "fake" quorum calls throughout the day. These quorum calls are simply placeholders. Either there's no actual floor traffic or no senator wants to speak. Often senators ask for a fake quorum call to buy time and head off the floor to work out an arrangement on amendments or votes. So a true or "live" quorum call is rare. A live quorum call means the Senate is actually trying to establish a quorum of 51 senators.
After 2,300 days of Obama indecision, it's time to act on Keystone. For over two weeks now, the Senate has been working hard on a bipartisan bill to approve the Keystone XL pipeline. This important infrastructure project will support thousands of jobs. It would carry both American and Canadian oil, in the cleanest and safest way, and help keep energy affordable for American families. After more than 2,300 days of presidential indecision, it's important for us to act. The world is watching to see whether the United States is willing to lead as a global energy superpower that respects its neighbors, trades with its allies, and builds needed infrastructure.
Senate's marathon Keystone debate ends in anger. The new, freewheeling Senate of Majority Leader Mitch McConnell presided over an agitated debate on the Keystone XL pipeline that churned into Friday's [1/23/2015] wee hours and ended with aggrieved Democrats crying Koch. Around midnight [1/22/2015], a seemingly endless series of amendment votes and quorum calls shifted as McConnell moved to end debate on a bill that would yank President Barack Obama's authority over the proposed oil pipeline — after quickly disposing of five Democratic amendments.
Does Keystone XL make sense as oil prices fall? The controversial Keystone XL pipeline project crossed a major hurdle when the Senate passed legislation approving its construction Monday [1/12/2015]. With the bill now well on its way to becoming law, the real question arises: with oil prices so low, is a pipeline needed anymore?
The Editor says...
The Keystone pipeline is worth the effort, even if gasoline prices continue to decline for a while. Eventually the price of gas will go back up, and when it does, this pipeline will diminish OPEC's leverage on the U.S.
The Keystone catechism. Not since the multiplication of the loaves and fishes near the Sea of Galilee has there been creativity as miraculous as that of the Keystone XL pipeline. It has not yet been built but already is perhaps the most constructive infrastructure project since the Interstate Highway System. It has accomplished an astonishing trifecta: It has made mincemeat of Barack Obama's pose of thoughtfulness. It has demonstrated that he lacks even a rudimentary understanding of the most basic economic realities. It has dramatized environmentalism's descent into infantilism.
Approve Keystone and Move On. At this point, Keystone XL has more value as a political issue than as a pipeline. That's why President Barack Obama should just approve it already and put this absurdly politicized issue to rest. True, the president has said he will veto the current congressional effort to force approval of the pipeline, but his objections seem more bureaucratic than substantive. And last week, the highest court in Nebraska, through which Keystone will run, quietly opened the door to allow him to approve the project through the proper channels.
The big problem with Obama's veto threats. This project has been mired in controversy and delay for years. But it actually has supporters on both sides of the aisle, including labor unions on the left and free-market conservatives on the right. It's largely just liberal environmentalists who are pressuring Democrats to hold things up. But Obama's own State Department produced an environmental impact statement long ago green-lighting the project.
Keystone Fight Is About Much More. The merits of the project are well known, including over 40,000 jobs, more secure access to North American energy, and lower greenhouse gas emissions than the alternatives of moving oil to market by rail or tanker ships. President Obama's own jobs council famously advised: "Policies that facilitate the safe, thoughtful and timely development of pipeline, transmission and distribution projects are necessary" — and yet this permit process has stalled now for a stunning six years.
Republicans, Court Ship Oil Pipeline Decision Back to Obama. Obama is so loath to make the call that deliberations have entered their sixth year, nearly as long as he has held office.
Return the Keystone XL issue to reality. Congress is in the process of passing a bill that would approve the Keystone XL oil pipeline, the controversial project that would make it easier to transport heavy crude from Canada's "oil sands" to the Gulf of Mexico coast. Despite what you might have heard, the pipeline wouldn't kill the planet, nor would it supercharge the economy. You don't have to take our word for either assertion: The State Department has said so; nonpartisan energy experts have said so; The [Washington] Post's Fact Checker has said so.
Pressure mounts on Obama as Nebraska ruling eliminates Keystone obstacle. President Obama is under fresh fire from both sides of the Keystone XL pipeline debate after a Nebraska court last week eliminated a major legal obstacle and once again put the project's fate in the hands of the White House. Supporters of the pipeline — including lawmakers of both parties, business, labor, the Canadian government and others — and opponents each say now is the time for the president to decide whether to approve or reject Keystone, which has languished in federal bureaucracy for the past six years.
GOP's Hoeven: Keystone is all about jobs and only Obama's in the way. Along with roads, rail, and transmission lines, pipelines like the Keystone XL are part of a comprehensive national energy plan. The pipeline will carry 830,000 barrels of oil a day, including 100,000 barrels of domestic oil from North Dakota and Montana. Working with one of our closest friends and allies, Canada, we can achieve true North American energy security at home, and at the same time help our allies abroad, which makes our people more secure both here and overseas.
U.S. House Moves Keystone Pipeline Forward. By a large margin, that included a significant number of Democrats, the U.S. House of Representatives approved a bill for the construction of the Keystone Pipeline. The vote was 266 to 153. The passage comes despite a veto threat from President Obama who has blocked the project since first taking office. All three members of the U.S. House who represent parts of the Omaha-Council Bluffs Metro — Democrat Brad Ashford and Republicans Jeff Fotenberry and David Young — all voted yes.
House approves building Keystone pipeline. The Keystone XL pipeline cleared its first hurdle of the new Congress on Friday when the House voted to approve construction of the long-stalled project, just hours after a court in Nebraska cleared a final legal hurdle there. The 266-153 vote saw 28 Democrats side with the GOP in backing the pipeline, signaling significant though not overwhelming support for the controversial project that would carry crude oil from Canada into the U.S. for refinement.
We Sent Men to the Moon In Less Time Than Obama has Dithered Over Keystone. President Obama said Tuesday [1/6/2015] he would veto any bill that tries to start construction on the Keystone XL pipeline before a federal review is finished — a process in its seventh year.
Face-saving concessions could get Obama to approve Keystone pipeline. President Obama's vow to veto legislation approving the Keystone XL pipeline doesn't mean he couldn't eventually sign it, especially if Congress couples it with reforms the White House wants, analysts say. Administration officials have described Mr. Obama's veto threat — which some senators now say they can override — as a matter of procedure rather than one on the merits of the pipeline itself. The White House says it objects to a push for the pipeline before all appropriate federal reviews are completed and while a court case challenging Keystone's proposed route through Nebraska is unresolved.
Keystone Pipeline's Nebraska Path Cleared; Congress Votes. TransCanada Corp.'s Keystone XL pipeline faces one less hurdle after Nebraska's highest court cleared its path through the state, sending the matter back to Washington. The pipeline would funnel crude from Alberta's oil sands to a network junction in southeast Nebraska, for transport to Gulf Coast refineries. While the ruling is a victory for energy independence proponents, the project's fate remains uncertain.
Keystone on the brink. Senators pushing a bill to force approval of the Keystone XL oil pipeline scrambled Wednesday to keep the project alive — a day after the White House threatened to veto the bill. The main Republican and Democrat who support the pipeline met the past two days to plot a strategy for the bill's passage.
Nebraska High Court Tosses Suit Over Keystone Pipeline Route. Nebraska's highest court threw out a challenge Friday to a proposed route for the Keystone XL oil pipeline, even though a majority of judges agreed the landowners who sued should have won their case.
U.S. senators press Keystone XL despite Obama veto threat. U.S. Senate Republicans on Thursday advanced a bill to approve construction of the Keystone XL oil pipeline, their top priority in a new campaign to push back President Barack Obama's policies now that they fully control Congress.
Americans say build the Keystone Pipeline. Action to move the Keystone XL pipeline project ahead is scheduled to take place in both Republican-controlled chambers of Congress this week. This is one policy area where public opinion is clear and has been for some time. By solid margins, Americans support building the pipeline.
The Obama administration hates it when you have cheap Keystone oil. President Barack Obama thinks that your heating and gasoline bills are far too low as it is, and God forbid that either should get any lower! Certainly that's what Obama's rich, indeed fat-cat hardcore Green buddies think; and it turns out that they speak much more loudly in the President's ear than can, say, blue collar unions.
As the GOP takes over Congress, Obama flees. [Scroll down] In fact, on the very day the 114th Congress convened, the new, more cooperative Obama kicked off the session by vowing to veto a bipartisan congressional endorsement of the job-rich Keystone XL pipeline that he's been pretending to evaluate for six years now. That could prove embarrassing, however, if Keystone gets a veto-proof two-thirds vote. Then to underline his disinterest in developing a viable working relationship, the Democrat is fleeing Washington today and tomorrow and the next day for his umpteenth campaign swing telling voters what they need to tell Congress to do.
What you could have done while waiting for Obama to decide on Keystone. The first application for Keystone's construction was submitted on Sept. 19, 2008, four months before President Obama took office. Still, the President has now been in office for almost six years, reviewed multiple environmental impact statements on the pipeline, and once asked for a reapplication. Why is it taking Obama almost six years to make up his mind on Keystone XL?
White House: Obama would veto Keystone bill. President Obama would veto a bill that would allow for the construction of the Keystone XL pipeline, the White House said Tuesday [1/6/2015]. "If this bill passes this Congress, the president wouldn't sign it," said White House press secretary Josh Earnest. The White House's announcement came as the Republican-controlled Congress was being sworn in. GOP leaders have pledged to pass a bill authorizing the pipeline's construction. Sen. Joe Manchin (D-W.Va.) and John Hoeven (R-N.D.) introduced legislation Tuesday authorizing the pipeline's construction.
Elizabeth Warren blasts GOP on Keystone. U.S. Sen. Elizabeth Warren chided Republicans yesterday for planning to push a divisive top priority as soon as they officially take over the Senate, rather than working toward bipartisan agreements. "There's going to be an energy hearing on Wednesday [1/7/2015], and right now, the Republicans say they're going to move forward on the Keystone pipeline," said Warren (D-Mass.). "If we're going to move forward on something, how about something that more of us can agree on?"
The Editor says...
We all agree on almost nothing. If it were not so, we wouldn't need Senators. Senator Warren's idea of "forward" is not the direction most Americans want to go.
Dems Push Keystone XL Amendments That Could Make It Hard For Obama To Veto. One of the first things that will be taken up by the new GOP controlled Senate is legislation authorizing the construction of the Keystone XL pipeline, which has become a cause celebre amongst Leftist activists. Why? It's just one of those things, considering there are many other big pipeline projects that are being built or will soon be built, all without the same level of hysteria from the activists. Keystone has been approved many times through many studies, yet Mr. Obama has put off a decision.
The Pipeline and the Damage Done. [Scroll down] The point is the oil won't remain underground. It will be extracted, turned into gasoline, and keep cars running all over the world. That means blocking the pipeline, should the president decide to do that, will have no effect on greenhouse gases. That appears to make little difference to the environmental movement. It opposes fossil fuels and anything that facilitates their use, period. There's another reason the green lobby has exerted enormous pressure to kill Keystone. It's a power play. If it works, the political clout of the movement will grow.
Dems run out of gas. At issue here is the Keystone Pipeline that would bring oil from Canada down to the Gulf. The Republicans' plan is to bring this up early, because it should be a no-brainer and enjoys the support of several Democrats. According to the president's own State Department, pipeline construction would support 40,000 jobs while posing no additional harm to the environment. This is the legislation Schumer has committed to sinking.
Schumer: Dems have enough votes to thwart Keystone oil pipeline. Republicans fell just shy of the 60 votes needed to move the pipeline in the Democratic-controlled Senate last month. Now, flush with a new majority in the Senate, they plan to try again to force approval of a 1,200 mile pipeline from Canadian oil sands to the Gulf coast. Democrats, readjusting to their status in the minority, plan to try to slow it down or make it more palatable with amendments. Schumer said Democrats were planning to try to add amendments to add "clean energy" jobs, require the oil be sold here instead of exported, and require use of US-made steel.
Schumer: Obama Should Veto Keystone Jobs Even if Dems Get Every Amendment We Want. Speaking Sunday [1/4/2015] on Face the Nation, Schumer outlined many of the amendments that Democrats would be seeking but then added, "in conclusion, we will have enough votes to sustain a presidential veto." Bob Schieffer, rightly puzzled, then asked, "So even if these amendments pass, you will still urge the president to veto this legislation?" "Well yes," Schumer conceded.
The Editor says...
This is remarkable. Senator Schumer wants to load the Keystone pipeline bill with pork-barrel amendments, probably paying back political favors in every direction, but even if all that is loaded onto the bill, he still hopes it doesn't become law. Senator Schumer must really hate petroleum -- or capitalism itself.
Also posted under Environmentalists oppose every practical form of energy.
Sen. Schumer lays out battle over Keystone pipeline. Sen. Chuck Schumer, D-New York, said Democrats have enough votes to support the president if he vetoes a bill to begin construction on the Keystone XL pipeline. "I think there will be enough Democratic votes to sustain the president's veto," said Schumer, the number three Senate Democrat, on "Face the Nation" Sunday [1/4/2015]. The Senate narrowly defeated a bill to fast track construction of the pipeline after the House passed it in November.
Obama says Keystone pipeline will carry only Canadian oil and have minimal impact on gas prices. President Barack Obama stepped into an oil-slicked Keystone Pipeline mess on his way out of town Friday, contradicting the findings of his own State and Energy Departments. The pipeline, a 1,179-mile long planned conduit stretching from Albert, Canada to the Gulf of Mexico, has generated environmental controversy that the administration pledged to weigh against the project's economic impact. Obama claimed Friday during a press conference before he left for an extended vacation that America would hardly notice the $8 billion enterprise's impact on their pocketbooks.
Obama downplays Keystone XL benefits. President Obama downplayed the benefits of building the Keystone XL pipeline, a major Republican priority, although he stopped short of saying he would veto a bill creating it in the new year. Incoming Senate Majority Leader Mitch McConnell, R-Ky., has pledged to pass a bill that would mandate the construction of the controversial Keystone XL pipeline as his first action in the new Republican Senate majority.
Obama: Keystone benefits for U.S. consumers, workers nominal. U.S. President Barack Obama said on Friday that construction of the Keystone XL pipeline to transport crude oil from Canada to the U.S. Gulf Coast would only nominally benefit American consumers and workers in perhaps his strongest comments on the Canada-to-U.S. pipeline to date. "There is very little impact — nominal impact — on U.S. gas prices, what the average American consumer cares about," Obama told reporters during an end-of-year press conference.
McConnell: Keystone bill first up in new Senate. The Republican-led Senate plans to force a showdown with President Barack Obama over the Keystone XL pipeline as soon as new members take office in January. Soon-to-be Senate Majority Leader Mitch McConnell, R-Kentucky, said a measure authorizing construction of the 1,179-mile Canada-to-Texas pipeline will be the first bill he'll schedule for a vote.
Hillary Praises Fracking, Stays Silent on Keystone. At a speech to the League of Conservation Voters in midtown Manhattan Monday night, before hundreds of deep-pocketed donors, Hillary Clinton praised the environmental legacy of Teddy Roosevelt, touted the prospect of new green technologies, and had warm words for Barack Obama's aggressive efforts to combat climate change. Absent from the former Secretary of State's speech? Any sense of where she stood on the controversial Keystone pipeline project, or what she would do differently as president to steer the nation towards a more sustainable future.
Hillary Clinton Two-Timing on Keystone XL Pipeline. Hillary Clinton will be headlining a fundraiser for Sen. Mary Landrieu (D., La.), who recently pushed for Democrats to pass legislation allowing the Keystone XL pipeline, just hours before she headlines a fundraiser for the League of Conservation Voters, which is using all its resources to fight the pipeline.
Liberal Hypocrisy Begins With XL. The big takeaway here is that the environmental impact of the XL pipeline is not only negligible, it's more environmentally friendly than current transportation. About 5 to 8 times cleaner when you consider emissions from trucks and rail. Maybe liberals hope blocking the pipeline will stop oil production. Nope. Your triumphant vote against the XL pipeline is "unlikely to significantly (reduce) the rate of extraction in the oil sands, or the continued demand for heavy crude oil at refineries in the U.S." Bloomberg reports Canadian oil is pouring into the U.S.
There's no good reason to stall the Keystone pipeline. The project has been in limbo since its initial proposition in 2008 despite paltry evidence that the 1,179-mile pipeline would cause any environmental damage. Here are four good reasons Congress and the president should approve XL as soon as possible. [#1] Most of the Keystone pipeline is already complete.
Obama's Keystone problem. Keystone, a pipeline that would connect Canada's oil sands to the Texas coast, has been a rallying cry for the GOP throughout the Obama presidency. Republicans have unsuccessfully tried to attach the issue to a host of bills over the years, including a payroll tax cut. Poised to assume full control of Congress for the first time in nearly a decade, there's pent up energy to finally approve legislation. And the GOP is working hard to build a coalition that even a presidential veto can't block. "If you do the math, we have 59 votes today," said North Dakota Republican Sen. John Hoeven. "But if you look at the new Congress, you can count four more right away (and) I think there may be others."
Purity politics, Democrat-style. On a rainy Monday morning, 50 sodden liberal activists stood on the muddy front lawn of the Capitol Hill home of Sen. Mary Landrieu, advocating for the Louisiana Democrat's defeat. "This house is high and dry, but the coastlines of Louisiana are sinking, very much like Senator Landrieu's career!" Erich Pica, president of Friends of the Earth, shouted into a microphone. The activists behind him, who had inflated a model of an oil pipeline on the senator's lawn using a generator and a window fan, erupted in cheers of "Woo-hoo!" and "Yeah!"
Liberals are violating their principles on Keystone XL. Building the Keystone XL pipeline, to speed the flow of crude from Canada's oil sands to refineries in Texas, would be "game over for the climate," says NASA-scientist-turned-climate-activist James E. Hansen. Heeding Hansen's words, environmentalists have sworn to stop the project, which requires U.S. government approval. Yet large, bipartisan majorities of the House and Senate support Keystone XL, as does 60 percent of the American public, according to the latest USA Today poll.
Watching the Democrats Commit Suicide. Here's the thing about energy: we need as much of it as we can get as cheaply as possible. Are you worried about "the environment," "peak oil," etc.? Then you should be an aivd supporter of fracking, the Keystone pipeline, and any other means of extracting fossil fuels from the bounty of the Earth. Why? Because what the United States needs is cheap, abundant energy, period (as the president might say). The reason is that if you want to help the downtrodden, save the environment, preserve the wetlands, and make the world safe for unbearable gasbags like Elizabeth Warren, then you need money. And to get money you need energy, lots and lots of energy.
Keystone XL: Mary Landrieu's final indignity. Sen. Mary Landrieu (D-La.) [...] lost an energy committee chairmanship that she often touted, when the GOP took the Senate on Nov. 4. She has clashed — in front of reporters — with a leader of her party. That same party basically abandoned her in her runoff campaign for a fourth term. But on Tuesday [11/18/2014], she suffered the biggest indignity of her 2014 campaign, and possibly of her political career.
Update:
Former Senator Mary Landrieu is Washington's newest oil lobbyist. As a Democrat she'll be particularly well positioned. The former senator will be able to occupy the enviro/oil industry sweet spot quite comfortably.
Senate Rejects Keystone Bill. Sen. Mary Landrieu's bid to pass a Keystone XL pipeline bill fell short by the slimmest of margins Tuesday, leaving the $8 billion pipeline still on the table for the ascendant Republican Party to push the project to President Barack Obama's desk in January. The 59-41 Senate vote was just shy of the 60 votes needed to pass the bill, following a dramatic six days of whipping by the embattled Louisiana Democrat on an issue that almost all of Washington had expected to sit idle until next year.
Louisiana's Landrieu Silent at Almost 70% of Energy Hearings. Democratic Senator Mary Landrieu is presenting herself as a leading voice for Louisiana on energy issues in the U.S. Capitol, showcasing her inside influence by forcing a Senate vote on a bill that would allow construction of the Keystone pipeline, a project backed by industries and voters in her state. Yet her outspokenness and perseverance in legislative forums is relatively new, emerging in the 10 months since she took over the chairmanship of the Senate Energy and National Resources Committee and as she faces an uphill battle in a Dec. 6 runoff against Republican Representative Bill Cassidy.
Senate Democrats stiff Mary Landrieu on Keystone XL pipeline for green lobby. Senate Democrats filibustered the Keystone XL pipeline on Tuesday, in a vote that reverberated from Louisiana, where a key senator's career is now likely doomed, to the broader national Democratic Party, where environmentalists have emerged triumphant in a divisive internal battle with labor unions. The Keystone vote took on symbolism far beyond the small impact on American crude supplies and the slight effect expected on gas prices. Environmentalists drew lines and dared moderate and conservative Democrats to cross it. In the end, most were unwilling to defy the ascendant movement, and it marked a key moment in the climate change debate.
Senate Fails To Move Ahead With Keystone Pipeline and NSA Reform. The Keystone Pipeline vote went down in flames. Sen. Mary Landrieu's Hail Mary ended in disaster; she fell one vote shy to invoke cloture on a bill that probably would not have saved her from defeat in her state's upcoming runoff election on Dec. 6 against Republican Congressman Bill Cassidy. Additionally, a bill to reform the National Security Agency post-Snowden also fell two votes shy of cloture; incoming Senate Majority Leader Mitch McConnell spearheaded the bill's opposition. Yet, both bills are expected to return to the Senate floor next year.
Keystone XL Pipeline is About Jobs, Energy, and What's Good for America. The American public overwhelming supports the Keystone XL Pipeline, Senator John Hoeven (R-ND) stated from inside the Capitol building last Thursday [11/13/2014]. "This is an issue that we've been pushing for quite some time and that we believe there is very strong support for. It's about jobs, it's about energy, [and] it's about building the right kind of energy plan for this country which is important for national security as well," Hoeven explained.
Senate narrowly fails to pass Keystone XL pipeline bill. The U.S. Senate on Tuesday [11/18/2014] narrowly failed to pass a bill that would have approved construction of the controversial Keystone XL pipeline, rejecting a measure the House of Representatives approved last week.
Keystone pipeline bill fails in Senate. A bill to approve the Keystone XL oil pipeline failed in the Senate on Tuesday by just one vote, in a setback not only for the energy project but the politically imperiled Democratic senator who pushed the legislation. The bill failed on a 59-41 vote. It needed 60 to pass. Sen. Mary Landrieu, D-La., had resurrected the legislation ahead of a tough runoff election next month, hoping to show her Washington clout and put Congress on record in support of the pipeline — even though the White House indicated President Obama would consider vetoing.
GOP Vows to Pass Keystone — Later If Not Now. In the run-up to a razor-thin vote, Sen. Mary Landrieu beseeched fellow Democrats on Tuesday [11/18/2014] to provide the support necessary to approve the Keystone XL pipeline, the massive project at the center of a fierce environmental dispute and her own uphill struggle for a new term from Louisiana.
Boehner: Keystone Veto Would Be Like 'Calling the American People Stupid'. "Tonight the Senate has an important opportunity to send a bill to build the Keystone Pipeline to the president's desk," House Speaker John Boehner told a news conference on Tuesday [11/18/2014]. "Now let's be clear about this. A Keystone Pipeline veto would send the signal that this president has no interest in listening to the American people. Vetoing an overwhelmingly popular bill would be a clear indication that he doesn't care about the American people's priorities." "It would be the equivalent of calling the American people 'stupid,'" Boehner said.
Keystone stuck at 59 votes. Sen. Mary Landrieu (D-La.) and other supporters of the Keystone XL oil pipeline are stuck at 59 votes — one vote shy of the supermajority they need to move their bill forward on Tuesday [11/18/2014]. Sens. Carl Levin (D-Mich.) and Jay Rockefeller (D-W.Va.) said Monday that they would vote against moving forward with the legislation, making it unclear whether supporters had a path to the magic number of 60.
Tribe Says Construction of Keystone XL Over Their Land Would be 'Act of War'. A Native American tribe in South Dakota that considers House approval of the Keystone XL pipeline to be an "act of war" and a reversal of state legislative permission by the Nebraska Public Service Commission, either together or by themselves, could be enough to undo plans to build the $5.4 billion project. The House approved the Keystone XL pipeline proposal Nov. 14. The Senate is expected to vote on the proposal Tuesday [11/18/2014].
The Editor says...
This is appears to be an attempt at a shakedown. Check their land to see if it is completely free of pipelines before believing this guff. Besides, the pipeline will be mostly underground, not "over their land." The last time there was a war with the Indians, it didn't work out too well. One would think they'd know that.
Keystone XL Is On the Cusp of Energizing America and Daring Obama's Veto. Two hundred twenty one Republicans and 31 Democrats in the U. S. House voted on Friday, November 14, 2014, to approve the overly debated Keystone oil pipeline to be constructed from our Canadian friends to the north to the eagerly awaiting refineries in the southwestern area of the United States. [...] The bill, if likewise approved in the frequently obstructive U. S. Senate, will bring many thousands of new jobs to our country as well as to the Canadians and could make both countries very independent of foreign countries overseas for our oil for energy needs. If Obama rejects this measure of energy independence, his and his Party's fortunes in 2016 will be smaller than a gnat's eye.
Obama: 'Judge' Keystone on 'Whether or Not It Accelerates Climate Change'. As expected, the House today [11/14/2014] passed a bill from Rep. Bill Cassidy (R-La.) to approve the Keystone XL pipeline. The final tally was 252-161, with 31 Democrats crossing over to vote in favor and one Republican, Rep. Justin Amash (Mich.), voting "present." In the Senate, the incumbent facing Cassidy in a Dec. 6 runoff was desperately trying to scrape together enough votes to avert a filibuster and save the bill.
Smartest President Ever Prefers Shipping Oil by Train Rather Than Dangerous, Experimental Devices Known as "Pipes". In his post-election press conference, the president noted in justifying his continual kicking of the Keystone XL oil drum down the road that "while this debate about Canadian oil has been raging ... we've seen some of the biggest increases in American oil production and natural gas production in our history." That increase is due in large part to oil recovered from the Bakken shale formation centered on North Dakota. So much oil has been found there that the Energy Information Administration notes a 13.4% jump in rail shipments of oil over last year, a trend likely to continue.
Keystone Democrats. Whatever the lessons of this month's midterm elections, Democrats in Congress are clearly drawing the wrong one: Be more political. That explains their newfound "love" for the Keystone XL pipeline, a 1,700-mile tube that would carry oil from Canada to Gulf Coast refineries in Louisiana and Texas. [...] For years, Senate Democratic leader Harry Reid, bowing to hard-core environmentalists, wouldn't even allow a vote on the matter. Why the sudden turnaround? In a word: politics. Democrats think passing Sen. Mary Landrieu's pro-pipeline bill might help save her seat.
Obama's Peculiar View of Economics and Law. The president's words would indicate the Keystone pipeline is bad for the environment, won't do the economy much good and would only move Canadian oil to ports. The fact is the pipeline would also carry North Dakota oil currently moved by rail. That would reduce risks of accidents and ecological disasters, lower oil transport costs, reduce domestic gasoline and heating oil prices, and boost efficiency and growth.
Protesters Swarm Mary Landrieu's Capitol Hill Home. Liberal environmentalists are spending a rainy Monday morning in Washington protesting outside the Capitol Hill townhouse of Louisiana Democratic Sen. Mary Landrieu over the Keystone XL oil pipeline. According to a source on the scene Monday [11/17/2014], protesters are standing in the yard of Landrieu's East Capitol Street home holding signs opposing the pipeline. Protesters also brought along a mock black plastic pipeline. The source said Capitol Police and D.C. Metro Police are on the scene, but appear to be letting the protesters stand in Landrieu's yard anyway.
House approves Keystone XL pipeline, Senate up next. Republicans in the U.S. House approved legislation, 252-161, for the ninth time to authorize construction of the controversial Keystone XL oil pipeline in a legislative push renewed by two lawmakers locked in a Louisiana Senate runoff next month. "This will create other economic activity. This will ripple out through the economy," said GOP Rep. Bill Cassidy, the sponsor of the House bill. Cassidy is favored to oust incumbent Democratic Sen. Mary Landrieu in a Dec. 6 runoff election necessary because neither surpassed Louisiana's 50% threshold on Election Day.
House green lights construction of KeystoneXL pipeline - all eyes now on the Senate. The House of Representatives on Friday [11/14/2014] passed legislation giving the makers of the Keystone pipeline the go-ahead to build the fourth and final section of the oil transportation system. The House has already sanctioned the construction of the XL portion of the pipeline eight times but today it passed language identical to a bill under consideration in the Senate by a vote of 252-161. The Democratically-controlled upper chamber has long declined to vote on the matter but had a change of heart on Wednesday after Sen. Mary Landrieu of Louisiana begged her colleagues to immediately bring the legislation to the floor.
As House approves Keystone pipeline, Obama veto grows more likely. Girding for battle with a Republican Congress over environmental policy, President Obama is signaling that he is likely to veto a bill authorizing the Keystone XL oil pipeline just as momentum for the project builds on the Hill. Individuals familiar with the administration's thinking say Obama is leaning against approving the massive pipeline.
Obama unmoved by looming Keystone XL vote: 'My position hasn't changed'. President Obama said Friday [11/14/2014] that a looming vote in the Republican-led House to approve the Keystone XL pipeline would not alter his views on the project, accusing GOP leaders of distorting the jobs created by such construction. "Understand what this project is: It is providing the ability of Canada to pump their oil, send it through our land, down to the Gulf, where it will be sold everywhere else. It doesn't have an impact on U.S. gas prices," the president said during a press conference in Myanmar, issuing some of his strongest language yet against Keystone.
Senate nears 60 on Keystone. Supporters of the Keystone XL oil pipeline are nearing 60 votes in the Senate ahead of a vote next week on whether to approve the project. With passage of a pipeline bill in the House all but assured, Sen. Mary Landrieu (D-La.) says she is "confident" she can rally the 60 votes needed for a filibuster-proof majority in the upper chamber. "It is ready for a vote and we have the 60 votes to pass it," Landrieu said on Wednesday [11/12/2014].
House, Senate to vote on Keystone. Long-stalled legislation to build the Keystone XL pipeline got new life on Wednesday [11/12/2014] after Senate Democrats suddenly abandoned efforts to block the measure in hopes of helping endangered Sen. Mary Landrieu keep her seat in energy-rich Louisiana.
Democrats Cynical Pipeline Ploy To Save Sen. Mary Landrieu. When they had the majority, Senate Democrats quarterbacked President Obama's delay-of-game strategy on the Keystone XL pipeline and its tens of thousands of jobs. Now they hold a vote just to save one senator's job. When Democrat Sen. Mary Landrieu of Louisiana, locked in a runoff battle with Louisiana Rep. Bill Cassidy, announced Wednesday [11/12/2014] that she had secured an agreement from her party leaders to hold a floor vote on the Keystone XL pipeline after years of delay, we had to add ours to the voices asking, why now?
Senate Democrats could help Mary Landrieu by allowing Keystone vote. The Senate could vote this month on a measure to push through the Keystone XL pipeline — a move that would give Democratic Sen. Mary Landrieu a valuable chit ahead of her Dec. 6 runoff in Louisiana. The prospect of Keystone reaching the Senate floor, which became the subject of speculation since Landrieu and GOP challenger Rep. Bill Cassidy advanced to the runoff a week ago, has now gone from long-shot to possible
Keystone Stalls As Russia And China Ink Pipeline Deal. Hours before the president who stalled the Keystone XL pipeline arrived in Beijing, Russia and China signed 16 energy agreements, including one to supply Russian natural gas to its energy-hungry neighbor.
Voters Reject the Green Political Agenda. [Scroll down] If the polls and elections are any indicator, a lot of Americans want to see the [Keystone XL] pipeline construction. As for the "anti-environment agenda", that too is pure fiction. What Americans oppose is the forced closure of electricity generation plants in the name of a global warming that is not happening. Or a climate change over which no government has any role or control.
GOP in Charge, Eager to Move on Keystone XL, Taxes. Republicans' resounding victory gives them an opportunity to push legislation that's been bottled up in the Democratic Senate, from targeting elements of President Barack Obama's health care law to constructing the Keystone XL oil pipeline to rolling back environmental regulations.
The Senate Has a Filibuster-Proof Pro-Keystone XL Majority. Following an election night that saw anti-Keystone Democrats replaced by pro-Keystone Republicans, the oil-sands pipeline project now appears to have at least 60 supporting votes. That means legislation forcing approval of the long-delayed project may be headed to President Obama. Before the election, at least 57 senators could be counted on to support pro-Keystone legislation, but that was never enough to beat a filibuster from the project's opponents. Tuesday night's [11/4/2014] results appear to change that.
With Energy, More Is More. The most famous energy-infrastructure fight recently has been the one involving the Keystone XL pipeline; Senator Mark Udall's equivocation on the issue was, if I am reading the Colorado results correctly, an important factor in his defeat by Republican challenger Cory Gardner, who is unequivocal in his insistence that it is time to build the thing already. Before Tuesday's election, there were 57 senators who supported Keystone XL; in January, there will be at least 61.
GOP May Get the Chance To Dare the President To Veto Keystone Pipe. One of the absolutely stupidest things I have heard in recent weeks is that the recent drop in oil prices is bad. You heard me right. Serious people on financial television are saying lower oil prices are a signal of worldwide economic collapse. Here at home that translates to recession, deflation, a profits collapse, and rising unemployment. I've been around for a while, and I've seldom heard such gibberish.
The Keystone Pipeline — Will It Ever Be Built? Canada's vast reservoir of tar sands in eastern Alberta has long attracted people looking for alternative sources of oil. The Athabasca Tar Sands are the largest deposit of bitumen oil in the world and that's only half of it. Two other giant formations lie in the Peace River and Cold Lake formations. Together these total 1.7 trillion barrels of oil, equal to all the other proved reserves in the world. Since the 1970s, energy enthusiasts have been asking why this "black Golconda" (a reference to India's famous diamond mine) was not being developed.
Canada poised to outflank Obama on Keystone XL dithering. President Obama may soon find out what how it feels to be un-upped by Canada in a hockey-style shootout. Since his inauguration nearly six years ago, Obama has been dragging his feet in regards to approving the Keystone XL pipeline. The proposed pipeline will bring much-needed petroleum from our friends in Alberta in Canada to the United States, which will lessen our need to import oil from hostile regimes such as Venezuela and Saudi Arabia. I can't imagine America buying oil from the Islamic State, but more oil on the market means cheaper prices, which will of course harm ISIS and bolster our national security.
Of Pipelines and Fundraisers. For six long years, the Obama administration has been holding up the Keystone XL Pipeline that would bring oil from the Alberta oil sands to Gulf Coast refineries. Approving the project would provide thousands of well-paying construction jobs, boost the economy, help lower the world price of oil (which has been declining sharply on its own in recent weeks — as you have probably noticed at the gas pump), and reduce the influence of Russia and OPEC in world affairs. In other words, Keystone is a win-win-win-win project. Obama, however, prefers to cater to self-appointed environmental interests that are a major component of his base.
If You Don't Build It, They Will Leave. Seems Canada is tired of waiting — and waiting — for a decision on the Keystone pipeline and has come up with an alternate plan for moving the oil to market.
Hillary Clinton Refuses to Comment on Keystone. Hillary Clinton won't say what she really thinks on Keystone because... well, I'm guessing she agrees with Obama and doesn't want to admit it. [Video clip]
Willie Nelson Campaigns Against Keystone XL. Did you hear about Willie Nelson (81, from oil-rich Texas) joining up with Neil Young (68, Canadian citizenship, now living in California) to sing against the Keystone XL pipeline? And just an aside, if you haven't heard, the Keystone XL is no different than any of the other 26,000 miles of piplelines built in the United States last year except for one thing: It crosses the Canadian border. Were it just another interstate pipeline, it would have been built a long time ago with barely a whiff of notice.
Would a midterm loss crack the Dems' stonewall on the Keystone pipeline? The federal government recently began its seventh year of considering whether to approve construction of the Keystone XL pipeline. Nearly all that time has passed under the administration of President Obama, who seems content never to decide the pipeline's fate. That way, it wouldn't be built, which would please the president's supporters on the liberal environmental fringe, but would never be explicitly rejected, which could offend everybody else. It's striking to see an administration stonewalling an issue with so much popular support on the other side. A Washington Post-ABC News poll in March found that 65 percent favor building the pipeline, versus 22 [percent] who oppose. On how many other issues is the White House standing up against a three-to-one majority of opinion?
For six years Obama has stalled the Keystone pipeline. For too long, this Administration and Democrats in the Senate have obstructed policies that will get Americans back to work. [...] Just yesterday [9/19/2014], the Keystone Pipeline delay turned six years old. Thanks to the President's inaction, we are no closer to building the pipeline today than we were six years ago. As a result, thousands of Americans are missing out on the good paying jobs the pipeline would create.
Keystone showdown: Battle over pipeline lands before Nebraska high court. The national debate on the controversial Keystone XL pipeline will concentrate on Lincoln, Neb., Friday [9/5/2014] as that state's Supreme Court hears arguments in a case examining whether lawmakers short-circuited the regular approval process in an attempt to expedite the pipeline's construction. The court's ruling — not expected for several months — could force President Obama's hand in making a final decision whether to green light the oft-stalled project.
Power plant regs spur new union rebellion for Obama administration. Labor unions for years have hounded the Obama White House over allegations that officials are dragging their feet in making a final decision on the Canada-to-Texas Keystone XL oil pipeline. But labor organizations are now piping up regarding an Environmental Protection Agency proposal to cut carbon-dioxide emissions by 30 percent by 2030. The rules are intended to curb global warming.
America's Energy Nightmare. Consider President Obama's dithering when it comes to approving the Keystone XL pipeline. First proposed in 2008, this massive infrastructure project would bring low-cost crude oil from fields in Canada southward to the United States. Despite nearly six years of government reviews — and nearly four dozen oil and gas pipelines already safely operating between the U.S. and Canada — the Obama administration and the State Department still have not approved the pipeline. [...] The problem isn't just that Tom Steyer and the Left generally oppose Keystone; it's that they oppose cheap energy, period. Liberals have transformed the abolition of carbon-based energy sources into a virtual religion, with opposition to Keystone among its most prominent tenets.
Union Promises to Punish Congressional Opponents of Keystone XL Pipeline. In a letter sent to union members in 27 congressional districts, the Laborers' International Union of North America said the members' congressional representatives are killing jobs by opposing the pipeline. "Your member of Congress is trying to destroy job opportunities for our LIUNA brothers and sisters," Terry O'Sullivan, general president of LIUNA, wrote in the letter.
White House Vows to Veto 'Unreasonable' Bill to Expedite Cross-Border Pipelines. The White House has threatened to veto a bill expected to pass the House this week that would remove any Keystone-like delays from pipeline projects that enter the U.S. from Canada or Mexico. The North American Energy Infrastructure Act, authored by Energy and Commerce Committee Chairman Fred Upton (R-Mich.) and Rep. Gene Green (D-Texas), requires the secretary of Commerce, with respect to oil pipelines, the Federal Energy Regulatory Commission (FERC), with respect to natural gas pipelines, or the Secretary of Energy (DOE), with respect to electric transmission facilities, to approve a request for approval of construction, connection, operation, or maintenance unless it is not in U.S. national security interests.
Democrats criticize White House over meeting with billionaire Tom Steyer. Senior political officials on Wednesday are scheduled to host a mega-donor with plans of making a nine-figure investment in the 2014 midterm elections. No, Washington Republicans aren't meeting with Charles and David Koch, the deep-pocketed energy titans — and public enemy No. 1, according to Senate Majority Leader Harry Reid and many Democrats. Instead, the White House, which has repeatedly bemoaned the influence of big money in politics, will open its doors to Tom Steyer, the environmental activist who has pledged to spend up to $100 million on November's elections to promote his climate-change agenda. Steyer is also a high-profile opponent of the Keystone XL pipeline, a project the Obama administration is still reviewing.
Admit it, greens — renewables can't power U.S. economy. Big Green activists have taken their crusade against hydraulic fracturing to a number of state capitols for the same reason they oppose the Keystone XL pipeline. They want the fossil fuels that power the U.S. economy to remain in the ground, untapped. The fact that the ongoing natural gas boom is doing far more through market forces to reduce the use of coal than any government regulation is apparently irrelevant to them. But the question they must answer is precisely how they propose to keep the American economy functioning until green power can actually replace fossil fuels. It is an important question, because renewable fuel cannot do the job — not even under the Obama administration's most optimistic projections.
Here's how the Keystone XL bill will likely die. The Senate Energy and Natural Resources Committee is expected on Wednesday to approve legislation mandating construction of the Keystone XL pipeline's northern leg, but its chances of reaching the Senate floor are already dashed. "I agreed to give them a vote. They, the Republicans, they wouldn't take it," Senate Majority Leader Harry Reid, D-Nev., in reference to a May proposal allowing the same standalone Keystone XL measure in exchange for an amendment-free energy-efficiency bill.
Canada OKs oil pipeline to the Pacific Coast. Canada's government on Tuesday [6/17/2014] approved a controversial pipeline proposal that would bring oil to the Pacific Coast for shipment to Asia, a major step in the country's efforts to diversify its oil exports if it can overcome fierce opposition from environmental and aboriginal groups.
Canadian TV Anchor Confronts Hillary Over Evading Questions on Keystone. A Canadian TV anchor called out Hillary Clinton for refusing to answer his question about the Keystone pipeline during an interview. "Keystone, yes or no?" the anchor asked Clinton. "Well I can't say that, because I was there," Clinton began to reply. "I don't understand that," the anchor interjected, "you can talk about so many other things, why can't you talk about that?"
North Dakota Tribes to Obama: Deregulate Energy. President Obama will visit Cannonball, N.D., today [6/13/2014], home of the Standing Rock Sioux Nation, to celebrate increased cooperation between tribal and federal governments. One issue, not on the official agenda but likely on the minds of several Native Americans leaders, is federal regulation of resources and the Keystone Pipeline.
Sen. John Barrasso: Harry Reid won't allow vote on Keystone pipeline bill. Sen. John Barrasso said Monday [6/16/2014] that he expects a Senate energy committee will easily approve a bill this week to approve the Keystone XL Pipeline, but Senate Majority Leader Harry Reid will never let the measure get a vote in the Senate. "Harry Reid continues to block it on the floor," Mr. Barrasso said on MSNBC's "Morning Joe." "The president doesn't seem to want it. I believe he is being held hostage by extremists and funders." The Senate and Natural Resources Committee is expected to approve a bill, co-sponsored by Sen. Mary Landrieu, Louisiana Democrat and Sen. John Hoeven, North Dakota Republican, this week that would green-light the project. But few expect Mr. Reid, Nevada Democrat, to let the Senate vote on the proposal.
Canada Tells Obama: Stop Screwing Around With Keystone. Canada's leaders have a message for President Obama, when it comes to the Keystone pipeline, its time to "tuchus affen tish." For those of you who don't speak the "mamaloshen" (Yiddish) that phrase means "get your a** off the table." And they are totally justified, the United States has been avoiding a decision on Keystone since Sept. 2008. Canadian Finance Minister Joe Oliver, its Natural Resources Minister Greg Rickford, as well as Foreign Affairs Minister John Baird traveled to New York for a media tour this week. They are arguing in media interviews and at an energy conference that Obama has unfairly entangled the $5.4 billion pipeline with U.S. politics. Minister Oliver says Canada's intention is is [sic] to keep the issue alive with the U.S. public and businesses.
Report Finds Higher Risks if Oil Line Is Not Built. If the Keystone XL pipeline is not built — and more oil from the Canadian oil sands is moved by rail — there could be hundreds more deaths and thousands more injuries than expected over the course of a decade, according to an updated State Department analysis of the contested project that was released Friday [6/6/2014]. The report is the latest twist in the long fight over the proposed 1,700-mile pipeline, which would carry crude oil from Alberta to Gulf Coast refineries.
Clinton's Keystone headache. The Keystone XL pipeline is becoming another potential 2016 headache for Hillary Clinton. Clinton is keeping her silence for now on the proposed oil pipeline, a project that has split her party, posed difficult choices for Democrats on this year's ballot and created a huge lobbying industry in D.C. But the Obama administration's repeated delays in deciding on Keystone are increasing the odds that the issue will still be lingering if she runs for president — and some of her potential green supporters are clamoring for her to take a stand now.
Rick Perry sends Obama letter criticizing energy policy. Texas Gov. Rick Perry has written to President Obama criticizing his administration's energy policies, EPA regulations and failure to approve the construction of a pipeline to carry tar sands crude from Canada to Gulf Coast refineries. The letter, which reiterates much of Perry's longstanding opposition to the Obama administration's energy policies, comes as a bipartisan energy bill is stalled in Congress by Republican senators demanding a vote on the Keystone XL Canada-to-Texas pipeline and on the EPA's move to put greenhouse gas regulations on existing coal-fired power plants. The pipeline requires Obama's approval because it would cross an international border.
Interpreting the State Department's Latest Assessment of the Keystone XL Pipeline. President Obama's stated criterion — I still believe he will make the final call — is ensuring the project does not "significantly exacerbate the climate problem." In terms of emissions, the SEIS analysis shows a range of incremental lifecycle GHG impact of 1.3-27.4 million tons of CO2 equivalent per year. For a project this size, that falls below what I'd consider a reasonable threshold for "significantly". It's equivalent to 0.02-0.4% of total US emissions. On the low end that's on par with US emissions from making glass — not generally considered an important emitter. Yet even if you don't accept State's conclusion that at expected oil prices over the next few decades the oil that would be carried by KXL would be produced with or without the pipeline, the total direct emissions of 147-168 million tons/yr would still only constitute 0.3% of global emissions of around 50 billion tons.
Tom Steyer [contributes to] Harry Reid. Left wing eco-billionaire Tom Steyer [...] recently donated $5 million to Senate Majority PAC, the pro-Democratic Super PAC run by former Reid aides, making him the single largest contributor to the group. The transaction is related to Steyer's broader effort to buy American democracy for $100 million and block construction of the wildly popular Keystone XL pipeline. In fact, news of Steyer's donation comes just days after Senate Democrats helped kill a bipartisan energy efficiency bill after Republicans tried to require a vote on Keystone approval.
The Obama Coalition is About to Come Apart. For the past decade the Democrats have managed to defy gravity by bolting together an unlikely coalition of the richest and poorest Americans. It's no secret. Every since President Bush's re-election in 2004, the pattern has been clear. People making above $100,000 and below $40,000 vote Democratic. The people in the middle vote Republican. But now that top-bottom coalition is about to come apart, or lose its majority status at least. And the issue will be one that may loom larger than the debacle of Obamacare — the Keystone Pipeline.
Harry Reid speaks with Jon Stewart. Harry Reid just got a lesson in how his abject hypocrisy looks to just about every informed, fair-minded person in the country. This is the leader of the Democrat-controlled Senate, folks, and he wants to push a Constitutional amendment that bans money from politics. Well, except for the right kind of money. Ideologically pure money. Left-wing money. Like the kind given by billionaire Tom Steyer, who profits off of carbon fuels, yet wants to block the Keystone Pipeline XL.
Obama Blocks Keystone To Start Energy Takeover. After successfully bringing more than 30% of the U.S. economy — the health care and financial services industries — under political control during his first term, President Obama made it clear last week that a priority of his second term is to go after the energy sector — another 10.5%. The purpose of the White House's orchestrated release of the National Climate Assessment on May 7 was to set the stage to drive energy markets and fossil fuels under the heel of more government regulation.
Keystone Pipeline Is D.C.'s Dumbest Debate. From the start, the fight about Keystone XL has been symbolic. As captured by Ryan Lizza in his terrific September 2013 New Yorker article on the topic, Kate Gordon, a leader of the anti-Keystone movement explains, "The goal is as much about organizing young people around a thing. But you have to have a thing." The environmental community, reeling from the failure of cap and trade, needed a fight around which to coalesce. Blocking approval of the Keystone XL pipeline, the "tipping point in the fight against climate change," became the rallying cry.
GOP blocks energy bill, scuttling vote on Keystone XL pipeline. Senate Republicans on Monday blocked bipartisan-energy efficiency legislation and derailed a promised vote on the Keystone XL pipeline, striking a blow against two Democratic incumbents facing tough re-election races. Only three Republicans, including its chief GOP sponsor, Sen. Rob Portman (Ohio), voted to end debate and move to a final vote. Supporters needed 60 votes to overcome a filibuster from Republicans angered that Democrats wouldn't allow votes on their amendments.
Another blue-collar union asks Senate Dems to support Keystone XL. Senators are hearing from the International Brotherhood of Electrical Workers in an appeal for approval of the Keystone XL pipeline project. The IBEW is the latest of the growing number of traditional blue-collar unions taking an aggressive pro-Keystone position opposed in large part by Big Green environmentalists and their Democratic supporters in the Obama administration.
Obstruction: Reid Blocks Bipartisan Vote on Keystone Pipeline. [Scroll down] Rich people who engage in the political process for the "right reasons," as determined by [Harry] Reid of course, should be left alone. Others — who supposedly get involved in politics for personal gain (about which Harry knows a thing or two) — must be publicly slandered at every opportunity. Among the hallowed class is Reid's buddy Tom Steyer, a liberal environmentalist billionaire who's pledged to raise $100 million in support of Democrats this year. Steyer is a staunch opponent of the Keystone pipeline, as are many of his fellow travelers on the ideological fringe.
Carter-Obama Energy Policy: From Gasoline Lines to Pipeline Obstructionism. In the 1970s, President Jimmy Carter's petroleum price and allocation regulations, premised on the belief that we were running out of supply, put America in the gasoline lines. Thirty-five years later, depletion fears refuted, Carter champions a letter to President Obama urging rejection of the Keystone XL pipeline segment (the last of four legs) on easily refutable arguments, discussed [in this article]. And Obama obliged.
Keystone XL vote in limbo in Senate as energy-efficiency bill falters. A Senate vote on the Keystone XL oil sands pipeline is close to falling apart. Senate Majority Leader Harry Reid indicated that vote was tied to whether Republicans would allow an up-or-down vote on energy-efficiency legislation sponsored by Sens. Jeanne Shaheen, D-N.H., and Rob Portman, R-Ohio, to go forward. "Well, at this stage they're tied together," the Nevada Democrat said Tuesday during a press conference. Reid said he wouldn't allow Republicans to attach four or five particular amendments to the efficiency bill. GOP lawmakers are likely to peel off support, jeopardizing the chance of a Keystone XL vote since Reid won't allow a Keystone XL vote without a vote on the energy-efficiency bill.
Keystone Pipeline Pits Rank and File Democrats Against a Billionaire. Guess Who's Winning? Missouri Sen. Claire McCaskill, Democrat, turned up on MSNBC and told faux blue eyes Ronan Farrow that she supports the Keystone XL Pipeline. [...] McCaskill is right on the science this time. Study after study has shown that the Keystone will be safe, and it will reduce emissions because no ships or trucks will be used to move the oil from Canada to the Texas coast.
Obama's Phony Ambivalence on Keystone. Keystone XL is intended to carry crude oil from Alberta to refineries in the Gulf of Mexico. Environmentalists have long opposed construction of the pipeline, arguing it would do great damage to the Sandhills region of Nebraska. Supporters have contended that the project would have little, if any, negative environmental impact, is critically important for U.S. energy independence and would be a great boon to the economy and create thousands of jobs. Many believed that Obama's eventual approval of the pipeline was inevitable and that he was just delaying the decision to get past the 2012 elections, after which he could safely withdraw his opposition without worrying about further wrath from environmental absolutists. But since the elections, Obama has continued to obstruct the pipeline.
Keystone supporters push for swift Senate vote. Supporters of the controversial Keystone XL pipeline proposal are requesting a quick Senate vote on legislation to approve construction of the project delayed indefinitely by the Obama administration and vehemently opposed by environmentalists. Pipeline advocates in the Senate, who include several Democrats on the ballot next fall as well as Republicans, hold a clear majority.
On Keystone Pipeline, Democratic stalwart Laborers Union finds itself outbid by one enviro-billionaire. The Laborers International Union of North America, with about 570,000 members, wants the Obama administration to approve construction of the Keystone XL pipeline. The union has a lot of clout in Democratic circles; according to the Center for Responsive Politics, it has contributed $38,089,860 to political candidates since 1989, with just seven percent of it going to Republicans. Tom Steyer, the hedge-fund billionaire, wants the Obama administration to block construction of the pipeline. Although a relative newcomer to the political game, he has pledged to give Democrats $50 million, and raise $50 million more, to get his way. Who has more clout on this issue, the longtime Democratic labor union that has contributed $38 million over the past quarter-century, or the guy who can come up with $100 million for this election cycle alone? The question answers itself.
Dirty politics clog Keystone XL pipeline. The decision to yet again delay the final permit for the popular Keystone XL pipeline was made not in the White House or at the State Department, but in a posh private residence in the Sea Cliff neighborhood in northwestern San Francisco. It was there on February 19 that former vice president Al Gore and Senate Majority Leader Harry Reid made the pilgrimage to Tom Steyer's home to kiss the ring of the hedge fund-billionaire turned super-donor, in exchange for $400,000 that night and a promise of $100 million more to come. Steyer's sole demand? Stop the pipeline.
Union leader takes aim at Obama administration over Keystone delays. The head of a major labor union is lambasting President Obama over the latest delay on the Keystone XL pipeline, six years after it was initially proposed. Terry O'Sullivan, leader of the Laborers' International Union which represents a half-million construction workers, claimed the administration's announcement on Good Friday that it was putting off a decision, possibly until after the midterms, had politics written all over it. In a Washington Post opinion piece, he suggested that "the Obama administration grow a set of antlers or take a lesson from Popeye and eat some spinach."
Greens Are Reds. The dirty little secret of the modern environmental movement is that it has become a luxury good for the uber-rich. Its policies — from carbon taxes, to renewable energy standards, to crushing regulations on coal plants — would impose high costs on the people who can least afford to pay the green tab. A Pew Research Center poll released in March offered further confirmation of this truth. It found that only two major voting groups oppose the construction of the Keystone XL pipeline: Democrats who make more than $100,000 annually and Dems with a college or advanced degree.
The next Keystone? Natural gas project draws environmentalist ire. A liquefied natural gas facility in southern Maryland is generating intense criticism from environmental groups, in a fight that echoes the protracted battle over the proposed Keystone XL pipeline. Energy company Dominion Resources is hoping to invest up to $3.8 billion to upgrade the Cove Point LNG facility as an export terminal. If successful, it could become the East Coast's chief LNG export facility, sending billions of cubic feet of natural gas to Japan, India, and elsewhere. Dominion stresses that the project would have a huge economic impact close to home as well.
Red-state Democrats blast latest Keystone delay. The Obama administration's latest Keystone pipeline delay had barely been announced late last week when red-state Democrats began to howl, calling the move everything from ridiculous to irresponsible and vowing to explore ways to force President Obama's hand. The outcry from within the president's own party underscored the tricky politics for those Democrats, many of whom are facing tough re-election bids, and decisions such as Keystone make it difficult to be tied to Mr. Obama right now.
These Maps Destroy All Objections To The Keystone Pipeline. A day rarely goes by without some sort of news or official statement about the difficulty and challenges of the Keystone Pipeline. Last week, the Obama administration yet-again delayed the decision to move forward with it. Yesterday, DNC chairwoman Debbie Wasserman-Schultz appeared on television to defend this decision. And of course, it's been a discussion item for over five years. So, why is there such controversy?
Same maps, same title, different article.
These Maps Destroy Any Objections to Keystone XL Pipeline. To hear Obama warn against Keystone, you'd think this 1,000 miles of new pipe would be the deal-breaker in his campaign promise to slow the rise of the ocean's tides. It defies any sense of logic or reason to suggest that 1,000 miles of new pipeline, installed with 2014 technology, would somehow endanger humanity when we already have 2,300 times that much already working without catastrophe.
Make Up Your Mind on Keystone! "Gutless." That word perfectly describes Obama's "policy" on the Keystone XL pipeline. That this adjective rolled off the tongue of a union boss makes it as delicious as it is accurate. "In another gutless move, the Administration is delaying a finding on whether the pipeline is in the national interest," said Terry O'Sullivan, general president of the Laborers' International Union of North America. "This certainly is no example of profiles in courage. It's clear the Administration needs to grow a set of antlers, or perhaps take a lesson from Popeye and eat some spinach." Terry O'Sullivan is right. And so are the eleven Senate Democrats who wrote Obama on April 10 to express their exasperation with his relentless dithering on this vital matter.
The president's cynical Keystone XL strategy. On Friday [4/18/2014], the State Department quietly released a notification that the Keystone XL pipeline decision is being delayed yet again. The president of the Laborers' International Union of North America, Terry O'Sullivan, called the delay "another gutless move" by the administration. [...] By appearing to have not made a decision, President Obama keeps the money pouring in from those on the fringe left — like billionaire Democrat Tom Steyer — who want the Democrats to swear allegiance to their global warming agenda.
Keystone XL's continued delay is absurd. If foot-dragging were a competitive sport, President Obama and his administration would be world champions for their performance in delaying the approval of the Keystone XL pipeline. Last Friday afternoon, the time when officials make announcements they hope no one will notice, the State Department declared that it is putting off a decision on Keystone XL indefinitely — or at least, it seems, well past November's midterm elections.
Dems May Regret Steyer's Keystone Payoff. After a lengthy study of the plans for the construction of the Keystone XL pipeline, the U.S. State Department issued an 11-volume report back in January confirming what most experts had already concluded long before then: the vital project would not damage the environment or increase the rate of carbon pollution. But liberal activists weren't happy and have used the 90-day automatic review process that followed that report to furiously lobby the administration to stop the construction of the 1,700-mile pipeline from Alberta to the Gulf Coast refineries. The key player in that effort was Tom Steyer, the billionaire environmental extremist who has pledged to give $100 million to Democratic candidates who do his bidding.
Kicking the Keystone can. Any notion that the Obama administration might be taking its deliberations over the proposed Keystone XL pipeline seriously went up in smoke late Friday, when the State Department announced a delay that will push a final decision past the November midterm elections. It was a weekend news dump on steroids — on Good Friday, buried under the weight of so many chocolate Easter bunnies. But the White House cannot avoid scrutiny of such a nakedly political decision — not given the stakes. The delay will please the liberal activists and wealthy green elites who propel Democratic campaigns. But it will do so at the expense of thousands of new jobs. And for what?
Union chief calls Obama's Keystone XL delay "gutless," "no example of profiles in courage". Sure, approving the Keystone XL pipeline would alienate a small but deep-pocketed sect of the Democratic base, leaving President Obama and his party without that particular battalion of influential donors and infuriating its activists into a probably well-publicized frenzy — but not approving the pipeline is liable to have the some of the same effects with a different heavily-donating wing of the party. When the Obama administration announced yet another through-the-upcoming-election delay of the embattled project on Friday, using the legal holdup on the ground in Nebraska as their entirely lame excuse, Big Labor was evidently none too amused.
Billionaire Liberal Donor Gets [His] Way on Keystone Pipeline. Last week, the Obama administration yet again delayed its long-delayed determination whether or not to approve the Keystone pipeline, a nondecision strategically announced not just on a Friday, but a Friday that is one of the holiest days of the year. The administration had enough self-awareness to know its latest exercise of executive inaction was nothing to be proud of. Even in the mainstream media, almost everyone assumed the move was entirely political. The project has undergone multiple reviews beginning in 2009 and always gotten a clean bill of health. The administration cited a lawsuit in Nebraska that might affect the path of the pipeline as reason for the new delay. This is an absurd fig leaf.
Wasserman Schultz: Politics Didn't Factor into Obama Keystone Pipeline Delay. DNC Chair and Representative Debbie Wasserman Schultz (D-FL) told Meet the Press' David Gregory Sunday morning [4/20/2014] that President Barack Obama's latest delay in the approval of the proposed Keystone Pipeline was not a political decision meant to animate members of the Democratic base ahead of the 2014 midterms.
Administration punts on Keystone, Obama faces Dem revolt. The Obama administration once again has punted on a final decision for the Keystone XL pipeline, announcing ahead of the holiday weekend it is extending a key review period indefinitely — a move that could push off a determination until after the midterm elections. Republicans, as well as red-state Democrats who want the proposed Canada-to-Texas pipeline approved, slammed the administration for the delay. Democrats even threatened to find ways to go around the president to get the project approved.
Obama Just Set up a Headfake for the Democrats on the Keystone. Obama doesn't govern; he agitates, he positions, and he tees up issues. Obama doesn't care about jobs, but he does care some about Democrats keeping the Senate. Eleven Democrats recently wrote him a letter urging approval of the Keystone. They're all vulnerable senators. If they lose, the Democrats lose the Senate and Obama will find himself cornered during the last two years of his presidency. He doesn't want the Keystone, but he doesn't want to be cornered more.
Obama administration delays Keystone XL decision, potentially until after Nov. elections. The Obama administration is extending the agency review period for the Keystone XL oil sands pipeline, potentially delaying the decision until after the November elections — sparing President Obama a tough political decision in the process. A senior State Department official said agencies have stopped crafting comments because a Nebraska Supreme Court decision could change the pipeline route and, ultimately, the environmental, socioeconomic and cultural factors that went into the environmental review. The official did not directly answer a question whether an altered pipeline route would require a new environmental review.
A San Francisco Billionaire Just Bought Obama and Delayed the Keystone XL Pipeline. While the media is obsessed with the Koch brothers this campaign season, a billionaire hedge fund manager from San Francisco just bought off the White House to the tune of $100 million in order to delay the Keystone XL pipeline decision.
Obama administration puts off decision on Keystone oil pipeline. The Obama administration is putting off its decision on the Keystone XL oil pipeline, likely until after the November elections, by extending its review of the controversial project indefinitely.
Pipeline delay gives boost to Obama's political base. The latest delay to a final decision on the Keystone XL oil pipeline will reinforce a White House strategy to energize President Barack Obama's liberal-leaning base before fall elections in which Democrats risk losing control of the U.S. Senate.
Union threatens retribution for House Dems opposing Keystone. A top building trades union is launching a midterm-election assault on House Democrats who oppose construction of the Keystone XL oil pipeline. A letter distributed Friday [4/11/2014] by the Laborers' International Union of North America (LIUNA) to the districts of 27 House Democrats calls for union members to make sure their representative "feels the power and the fury of LIUNA this November." Their crime: signing a letter to Secretary of State John Kerry last month urging him to reject Keystone, which would carry oil sands from Canada to Gulf Coast refineries.
LNG Exports: 'A Good-Faith Test' for President Obama. The environmental Left is on the attack, and the target now is not ExxonMobil, or the Kochs, or the Keystone XL pipeline, or fossil fuels, or the efforts of the world's desperately poor to escape grinding poverty, or plastics, or indoor plumbing, or those who fail to worship Gaia, or any of the other usual suspects. Instead, it is President Obama, urged last month in an open letter by 16 environmental groups to prevent the exportation of liquefied natural gas (LNG) and to make a commitment to keep "most of our nation's fossil fuel reserves in the ground, in line with the recommendations of most of the world's leading climate scientists."
When will Obama make the call on Keystone XL pipeline? Like a blockbuster movie that never quite arrives, President Obama's decision on the Keystone XL oil pipeline has been "coming soon" for years. He has been weighing whether the project should be built since he first entered the Oval Office, and rationalizations for further delay are thin on the ground.
Obama's Indefensible Pipeline Punt. In 2010, the United States imported about 46 percent of its total crude oil consumption (and 49 percent of all petroleum products) and hence Canada supplied about 8 percent of America's crude oil, almost every twelfth barrel. The existing Keystone pipeline carries crude oil from the Athabasca oil sands in Alberta to Illinois (since June 2010) and to Oklahoma (since February 2011) and its capacity is about 30 percent of Canada's total crude oil exports to the United States (or almost 600,000 barrels a day). Its extension, Keystone XL, has been under consideration since 2009 and it received the approval of Canada's National Energy Board in March 2010.
Crude (Oil) Politics. The Obama administration has been punting a decision on the Keystone XL pipeline for five years now, and there's no sign the president's kicking leg is getting tired. At various junctures in this endless drama, the White House has effectively overruled or ignored its own State Department, which in 2011 concluded that the pipeline extension poses "no significant impacts" on the environment and in 2014 basically shot down all of the supposed drawbacks. The White House response to this most recent green light was to keep the car in neutral, warning that Keystone XL will go forward only if the president determines "it does not significantly exacerbate the problem of carbon pollution."
Build the Keystone Pipeline, Already! President Barack Obama frequently says he wants to turn the economy around, put America back to work, produce more energy, improve public safety, and open new markets to goods stamped "Made in the USA." If he truly believes this, he will end the delays and approve the Keystone XL pipeline. Of all the opportunities arrayed before him, the 1,179-mile Alberta-to-Texas Keystone XL pipeline (KXL) is the most "shovel-ready." In fact, it awaits only a presidential phone call or signature to slash bureaucratic red tape, streamline the permitting process, and create construction and manufacturing jobs. Some 40,000 jobs, in fact — more than half as many as were created nationwide last December.
The Democratic Civil War Over Energy. A split is growing in the Democratic Party, one that ought to rival the divisions on the right that the headlines trumpet. Greens are increasingly bitter about President Obama — annoyed that he's dropped climate legislation, scaled back green subsidies, ignored fracking. They've channeled their frustration into the fight against Keystone, warning that they'll turn their significant money and resources against Mr. Obama's party if the president approves more "dirty oil." Since this president cares about nothing so much as winning elections, he's sat on the pipeline for five years.
US energy security threatened by prairie chicken and sage grouse. The Obama administration seems hell-bent on sabotaging domestic energy production, one way or another. As James Freeman writes in the Wall Street Journal, "Delaying approval of the Keystone XL pipeline, maintaining export limits and discouraging refinery construction haven't stopped a revolution that will soon make the United States the world's largest producer of crude oil." But the administration, goaded by radical environmentalists, has a new weapon to curtail production: more endangered species. Washington may add a record 757 new species to the endangered list by 2018.
Dems grapple with dilemma on Keystone XL pipeline. Wealthy party donors are funding candidates who oppose the project — a high-profile symbol of the political debate over climate change. But some of the party's most vulnerable incumbents are pipeline boosters, [...]
Unions: Keystone review 'reeks of politics'. Union leaders joined with the nation's largest oil and gas lobby on Tuesday to demand that President Obama approve the Keystone XL pipeline. Building trades union leaders have long backed the pipeline, arguing it would create thousands of construction jobs and boost the economy. But many of them have been muted in their criticism of President Obama, for fear of opening a rift with the White House over the controversial project. That seemed to change on Tuesday [3/11/2014], as the presidents of building trade unions linked the delay of Keystone to broader anger at the administration within the labor movement.
Poll: 65 percent support Keystone construction. Sixty-five percent of people support the construction of the Keystone XL pipeline between the United States and Canada, a new poll finds. A Washington Post-ABC News poll released Friday [3/7/2014] shows only 22 percent are opposed to the project. The poll shows there has been little movement in support or opposition to the pipeline in the last year. A Pew poll last April found 66 percent backed construction.
New Post-ABC News poll: Keystone XL project overwhelmingly favored by Americans. Americans support the idea of constructing the Keystone XL oil pipeline between Canada and the United States by a nearly 3 to 1 margin, with 65 percent saying it should be approved and 22 percent opposed, according to a new Washington Post-ABC News poll. The findings also show that the public thinks the massive project, which aims to ship 830,000 barrels of oil a day from Alberta and the northern Great Plains to refineries on the Gulf Coast, will produce significant economic benefits. Eighty-five percent say the pipeline would create a significant number of jobs, with 62 percent saying they "strongly" believed that to be the case.
Pipeline protesters arrested at White House. They chanted 'climate justice now' and carried signs with slogans such as 'don't tarnish the earth' in an effort to persuade President Barack Obama to reject the pipeline.
The Editor says...
What is "climate justice," and where is the evidence that someone has "tarnish[ed] the earth?"
Keystone XL is Proof Obama Opposes U.S. Economic Growth. It's taken nearly five years, but Americans are finally aware that President Obama is opposed to anything that contributes to the economic growth of the nation. [...] The most dramatic example is Obama's five-year delay of the implementation of the Keystone XL pipeline that would safely transport oil from Canada to refineries on the Gulf Coast.
Rail cars used to ship oil are 'unacceptable public risk,' NTSB official says. Rail tank cars being used to ship crude oil from North Dakota's Bakken region are an "unacceptable public risk," and even cars voluntarily upgraded by the industry may not be sufficient, a member of the National Transportation Safety Board said Wednesday [2/26/2014].
Former Obama Scientist Now Favors Approval of Keystone XL Pipeline. Marcia McNutt, former head of the U.S. Geological Survey under President Barack Obama until 2013 and now top editor at Science magazine, is no longer opposed to the approval of the Keystone XL Pipeline. "I believe it is time to move forward on the Keystone XL pipeline to transport crude oil from the tar sands deposits of Alberta, Canada, and from the Williston Basin in Montana and North Dakota to refineries on the U.S. Gulf Coast," McNutt wrote in a Feb. 21 editorial in the magazine.
Boxer warns Keystone will cause cancer. Sen. Barbara Boxer wants to add a new element to the Keystone XL oil pipeline debate: its effects on health. The California Democrat claims negative health effects from the proposed pipeline's development were ignored by the State Department's environmental impact review. "The Environmental Impact Statement was woefully inadequate when it came to exploring human impacts of the pipeline," Boxer said Wednesday [2/26/2014] at a press conference held with Sen. Sheldon Whitehouse (D-R.I.) and anti-Keystone XL activists and environmentalists.
California Democrat Says Keystone Pipeline Would Cause Cancer And Heart Disease. California Senator Barbara Boxer has come up with yet another reason to kill the Keystone XL Pipeline Project. According to the senator, the pipeline would lead to increased serious illness in America. In a Wednesday [2/26/2014] press conference held with with Sen. Sheldon Whitehouse (D-RI), anti-Keystone XL activists and environmentalists, Boxer said the pipeline would add pollutants to the air that would increase the likelihood of people getting cancer or heart disease.
Nebraska law that allowed Keystone XL struck down. A Nebraska judge Wednesday [2/19/2014] struck down a state law that allowed Gov. Dave Heineman to approve the route of the controversial Keystone XL pipeline, a decision that could significantly delay the $5.3 billion project.
Democrats Who Oppose Keystone XL Pipeline Own Shares in Competing Companies. Democrats who oppose the Keystone XL pipeline have thousands of dollars invested in direct competitors to the company looking to build the pipeline, public records show. A recent environmental assessment by the State Department was seen as a step toward the pipeline's approval, but Sen. Tim Kaine (D., Va.) remains opposed to its construction.
Environmentalists do billionaires' bidding in fight against Keystone pipeline. You would think the mere fact that these activists find themselves on the same side of an issue as billionaires might be cause for some soul-searching. It's as though cognitive dissonance, like critical thought, washes over them then quickly recedes, like it has somewhere better to be. Activists have as much of a chance at stopping the march towards U.S. energy independence as they have in affecting global climate cycles with a PowerPoint presentation by Al Gore. The only question worth asking here is, "Cui bono?" Who will ultimately profit?
AFL-CIO: Bring on the natural-gas exports, Keystone XL. Big Labor's support for the Keystone XL pipeline has been on the books for a long time — theirs is one of the fissures in the progressive coalition that has turned the project into such a giant politicized headache for the White House — but I am a little surprised by the apparent endorsement of natural gas exports.
The Obama impact statement. [Scroll down] The truth is, no one needed an environmental-impact statement to know this. The Canadians are determined to develop this oil; the only question is whether they will transport it down through the United States or ship it to China. In mid-January, Canada insisted President Obama make a decision, with its foreign minister saying his country "can't continue in this state of limbo." In short, the only one who needed this report was the president — because it was his excuse for putting off a decision until after the 2012 elections to appease the green wing of his party, which opposes all fossil fuels. He did so even though Keystone is supported by another important Democratic constituency, the unions, whose members stand to gain jobs.
State Dept.: Not Building Keystone Pipeline Could Increase Greenhouse Gas Emissions. Not building the 875-mile Keystone XL Pipeline could result in the release of up to 42 percent more greenhouse gases than would be released by building it, according to the State Department. Not building the pipeline "is unlikely to significantly impact the rate of extraction in the [Canadian] oil sands or the continued demand for heavy crude oil at refineries in the United States," the department noted in a long-awaited environmental report released January 31st.
Keystone report from State Dept. puts common sense back in the pipeline. Environmentalists have drawn a line in the sand on the Keystone XL pipeline. It's the wrong line in the wrong sand, far away from any realistic assessment of the merits — as yet another government analysis has confirmed. It's past time for President Obama to set aside politics and resolve this bizarre distraction of an issue.
The Fact-free Opposition to Keystone XL. Contrary to opponents of Keystone XL, the pipeline would have virtually no effect on global warming, and the world is not experiencing more frequent and extreme climate-related events.
Obama's basketball strategy on Keystone XL. Affordable power dissolves liberal fantasies. White House wise men insist on spending the public's money to promote retro power plants such as windmills, which went out of fashion with the Industrial Revolution. Eliminating the Keystone XL Pipeline, which would take cheap crude from the oil sands of Canada down to the Gulf Coast of Texas, is nevertheless a liberal priority.
The Big Stall. The Keystone Pipeline, which has been studied for more than five years, will be studied some more. A State Department study was generally thought to be the conclusive and it has now been delivered. But we are told by the White House chief of staff, Denis McDonough, that there is more studying to be done.
Boehner blasts Obama for delays on Keystone. Speaker John Boehner (R-Ohio) on Tuesday criticized President Obama for not approving the Keystone XL pipeline, calling it a simple decision. Boehner railed about Keystone during a press conference after being asked if the oil-sands pipeline was too "complex an issue to attach" to legislation raising the debt ceiling. "Complex? The Keystone pipeline is complex?" Boehner said. "It's been under study for five years! "We build pipelines everywhere in American everyday. Do you realize there are 200,000 miles of pipelines in the United States?
Without Keystone, oil trains may cause 6 deaths per year — US State Dept report. Replacing the Keystone XL pipeline with oil-laden freight trains from Canada may result in an average of six additional rail-related deaths per year, according to a U.S. State Department report that is adding to pressure for President Barack Obama to approve the line.
White House tempers expectations of Keystone XL boosters. The White House quickly hemmed the expectations of advocates of the Keystone XL oil sands pipeline who cheered a long-awaited State Department environmental review that appeared to inch the project closer to approval. White House Chief of Staff Denis McDonough said on a pair of political talk shows that the agency's finding that the Canada-to-Texas pipeline wouldn't greatly affect climate change is just one piece of information for the eventual decision President Obama will make.
Report: Keystone Pipeline Will Not Worsen Climate Change. The threat of environmental damage was a major hurdle to the pipeline's approval. [...] Anti-pipeline foes are now effectively out of excuses. The pipeline has shown to be quite popular among Americans of both parties, and the environmental effects have been shown to be a non-issue. The pipeline is expected to create upwards of 2,000 jobs.
White House says Keystone report not final step as pressure mounts for action. A new environmental assessment from the State Department that raised no major environmental concerns on long-delayed Keystone XL pipeline isn't the last step in deciding whether the pipeline can be built, the White House said late Friday [1/31/2014]. The long-delayed pipeline got a major boost as it cleared a major hurdle toward approval, a serious blow to environmentalists' hopes that President Obama will block the controversial project running more than 1,000 miles from Canada through the heart of the U.S.
Keystone XL oil pipeline clears significant hurdle. The long-delayed Keystone XL oil pipeline from Canada moved a significant step toward completion Friday [1/31/2014] as the State Department raised no major environmental objections to its construction.
State Department report finds no major climate impact from Keystone XL pipeline. The State Department concluded in its final environmental assessment issued Friday [1/31/2014] that the proposed Keystone XL pipeline would be unlikely to alter global greenhouse gas emissions, but officials cautioned that they are still weighing whether the project would meet the test of President Obama's broader climate strategy.
Pipeline boost? Keystone XL report may disappoint project's foes. The State Department is expected to release an environmental analysis on the Keystone XL oil pipeline on Friday [1/31/2014] that may disappoint environmentalists and opponents of the proposed project, according to individuals briefed on the matter. Congressional sources, though, made clear that the analysis is not the final word, and the review process could continue to drag on. Sources familiar with the report said it does not give a "specific recommendation" — and other agencies will still be asked to weigh in.
Fellow Democrats press Obama to approve Keystone, following environmental report. President Obama is facing increasing pressure from Senate Democrats to approve the Keystone XL Pipeline, following the release Friday of a State Department report that raised no major environmental concerns. "Today's Environmental Impact Statement confirms what Alaskans already know — there are ways to safely and responsibly diversify our domestic energy supply," said Sen. Mark Begich, D-Alaska. "Move this project forward."
Obama Running Out of Reasons to Reject Keystone XL. President Barack Obama is running out of reasons to say no to Keystone XL, the proposed oil pipeline that's long been looming over his environmental legacy.
How one Nebraska farmer killed Keystone. The case for TransCanada's proposed pipeline from the Alberta oil sands, through America's heartland, to refineries on the Gulf Coast of Texas was simple: the Texas refineries depended on declining supplies of "heavy" crude oil from Mexico and Venezuela. The landlocked oil sands had growing, cheap supplies of the kind of crude in which the refineries specialized. All that was lacking was the pipeline to get it there.
Obama's Keystone Dithering. Nowhere has President Obama's legendary indecision been on more vivid display than in his bizarre dithering over the Keystone XL pipeline, which would move crude oil from the oil sands of Alberta, Canada, to Gulf Coast refineries some 1,700 miles to the south. The southern leg of the pipeline, from Oklahoma to the Gulf, began operating last week. But the northern end has been in limbo for five years. Last March Obama assured Senate Republicans that a decision on Keystone would be made before the end of 2013. We are still waiting. One more broken promise.
Greens blast Obama as oil flows through southern Keystone leg. Oil shipments on Wednesday began to flow through Keystone XL's southern leg. TransCanada announced the start of oil deliveries to Gulf Coast refineries on Wednesday morning [1/22/2014]. The shipments run from Cushing, Okla. to Nederland, Texas
Bakken Crude More Dangerous to Ship Than Other Oil, U.S. Says. Crude oil produced in North America's Bakken region may be more flammable and therefore more dangerous to ship by rail than crude from other areas, a U.S. regulator said after studying the question for four months.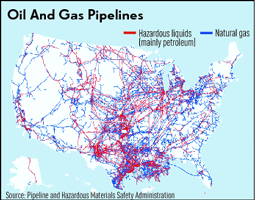 Canada Is Tired Of Obama's Keystone XL Pipeline Delays. President Obama continues to drag out a decision on the Keystone XL pipeline. Meanwhile, the Canadians have been standing by while the administration dithers. Now they're tired of waiting.


Barack Obama's Presidency Is A Complete Failure By His Own, Self-Imposed Standards. How many times has President Obama told us that he is "fighting for the middle class"? [...] If President Obama is "fighting for the middle class," why doesn't he approve the Keystone Pipeline? Building and maintaining the pipeline would provide thousands of good paying jobs. So would refining and selling the oil and gas from the Gulf Coast refineries where the pipeline would deliver the Canadian crude. Moreover, that plentiful supply of low cost energy from a long time, reliable ally would support hundreds of thousands if not millions of additional good paying jobs in the American economy.

An uncertain year ahead for the Keystone XL pipeline. There is no scenario in which Canada leaves all that oil in the ground, and no reason the world should want them to. It's going to move eventually, and it would be best for America if it moved here, through the safe and efficient Keystone pipeline. Unfortunately, [Russ] Girling is just about the only one who seems confident the pipeline will get across the U.S. border.

Moving Crude by Railcar Stalls on the Track. Companies that thought they had found a relatively easy way to move crude from the booming oil fields of North Dakota to the West Coast are encountering obstacles. Half a dozen companies are trying to build rail terminals on the coast of Washington state to receive trainloads of crude from the Bakken field in North Dakota.

Keystone to the Kingdom. [John] Podesta is joining the administration for one year as White House counselor specializing in energy policy. And despite the fact that he has done more than any other unelected official to shape the policies of cap-and-trade and green energy subsidies, and to employ and place the talent that has attempted to implement those policies during the Obama presidency, the White House assures us that he will never, never have any say in whether the Keystone Pipeline, slow-walked by this president for years, is approved or denied.

Obama's appointment of Keystone XL opponent John Podesta to White House could mean pipeline rejection. President Obama's appointment of Democratic adviser John Podesta, an opponent of the Keystone XL oil sands pipeline, to the White House could foretell a rejection of the controversial Canada-to-Texas pipeline, environmental groups said Tuesday [12/10/2013]. Podesta, former President Bill Clinton's chief of staff and the man who headed Obama's transition team, is leaving the top post of the Center for American Progress, a left-leaning think tank, for a new White House role focusing on climate change.

More Pipelines in the Pipeline. Environmentalists continue to resist pipelines such as the Keystone XL, even though pipelines result in fewer spillage incidents and personal injuries, and in a substantial cost advantage, when compared to road and rail.

Court declines to block big oil pipeline. A big pipeline carrying oil from tar sands crosses many states and is opposed by environmental groups that warn of potential dangers. Sound familiar? No, not Keystone XL. It's the Flanagan South Pipeline, proposed to carry oil between Illinois and Oklahoma. And in a new decision, a federal judge has declined the environmental groups' request to stop the project with a preliminary injunction.

Obama should approve Keystone and encourage more pipelines. President Obama has delayed approval of TransCanada's Keystone XL pipeline, which would transport Canadian oil to U.S. refiners on the Gulf of Mexico. Canada is the major trading partner of the United States, and it is beyond surprising that the Keystone XL pipeline has not been approved. A new report from the Energy Policy Research Foundation by Director of Upstream and Midstream Research Trisha Curtis describes the costs of America's fragmented infrastructure.

Gore: The Keystone XL pipeline is "ridiculous," an "atrocity," a "threat." Self-titled "environmentalists'" recalcitrance on acknowledging the reality that Canada's oil sands are coming out of the ground — regardless of whether or not the Keystone pipeline's northern extension is built — truly knows no bounds. It's only too bad they don't seem to realize that terrestrial pipelines are the relatively cleaner, safer, and more environmentally friendly method of transport for oil, natural gas, and petroleum products, and that by blocking the pipeline, they're probably doing more environmental harm than good in the long run.

Failing to Build Keystone Pipeline is Criminal Negligence. America in 1970 had 315 refineries sprinkled across the nation and the U.S. imported 72 million gallons of crude oil per day, but by 2006 environmental restrictions had shrunk America's number of refineries to 105 and we were importing 587 million gallons per day. In percentage terms of U.S. supply, imports grew from 20% to 65%. In 2006, almost a third of U.S. total supply of oil was imported from the unstable Persian Gulf.

Why OPEC No Longer Calls the Shots. Forty years ago, on Oct. 17, 1973, the world experienced its first "oil shock" as Arab exporters declared an embargo on shipments to Western countries. [...] The Prudhoe Bay oil field was discovered in Alaska five years before the crisis. Yet opposition by environmentalists had prevented approval for a pipeline to bring the oil down from the North Slope — very much a "prequel" to the current battle over the Keystone XL pipeline.

Rich, Arrogant, and Stupid. [Scroll down] We have put off-limits huge supplies of oil and natural gas — a trillion barrels by some estimates — everywhere from Alaska to the Gulf of Mexico. The only development going on is on private lands in states that, unlike California, do not put up punitive regulatory barriers to exploration and exploitation. Obama has intensified this bizarre behavior. He has blocked the Keystone pipeline, and his federal Bureau of Land Management has just reduced by two-thirds the 1.3 million acres George Bush set aside for development in Colorado, Utah, and Wyoming.

Keystone Kops. Keystone's five-year review has taken "far longer than any other cross-border pipeline project and more than twice as long as it will take to build the pipeline," Building Trades president Sean McGarvey said. Lucian Pugliaresi, president of the Energy Policy Research Foundation, declared at the hearing, "It's not something that should have created all this furor."

The Keystone XL Pipeline and the Truth. The proposed construction of the Keystone XL pipeline has long been polarized on a number of issues. Hysteria abounds, with junk science everywhere we look — driven in no small measure by the desire to shut down development of northern Alberta's oil sands via constraining Canadian oil export markets, as well as some apparent anti-Americanism.

Canadian PM offers Obama possible climate action to secure Keystone deal. Canadian Prime Minister Stephen Harper has written to President Obama to say that he is prepared to work on a joint plan between the two countries to reduce carbon emissions, in an attempt to secure approval of the Keystone XL pipeline project, the Canadian Broadcasting Corp. reported Friday [9/6/2013].

Is Keystone Doomed To Be a Historical Footnote? As 2013 rolls on from summer into fall there is still no end in sight to one of the great energy impasses of the year — will the Keystone XL pipeline ever be approved, or is it fated to become a historical footnote? [...] Keystone needs approval from the State Department because it crosses the Canadian-U.S. border. The debate on whether it is a good idea or not has seemingly been endless and a decision may not now be made until 2014.

Calling it Treason. We could have walked away from the Middle East already and left them to their own savagery, but the president insists that we remain inextricably tied to their historical need to kill each other so that we can overpay for oil, both monetarily and with American lives. Thus, as technology enables us to break free of dependence upon Middle East oil, our president bends over backwards to ensure that never happens.

Decision on Keystone in danger of being delayed until 2014. The State Department's decision on the Keystone XL pipeline is in danger of being pushed into 2014. State's internal watchdog on Friday [8/23/2013] said it won't complete until January a review of allegations that the department hired a contractor with a conflict of interest to review the pipeline project.

IHS: Rejecting Keystone Will Have Little to No Impact on Greenhouse Gas Emissions. A new study from IHS, a prominent, independent energy research firm, says that a thumbs down from President Barack Obama on the Keystone Pipeline would have minimal to no impact on U.S. greenhouse gas (GHG) emissions. It found that "Venezuelan heavy oil — and Venezuela — would be the number one beneficiary of a negative decision on Keystone." The new findings may figure prominently in the fight over the pipeline, which the administration is expected to render a decision on in September.

Keystone XL project could harm wildlife, Interior Department says. The letter from the Interior Department grimly catalogs many ways Keystone XL could harm wildlife: "species displacement, increased predation rates and predator travel lanes, increased nest parasitism, vehicle collisions with wildlife ... invasive plant species, increased wildfire risk, lower wildlife density, increase in collisions with power lines and electrocutions on power poles ... and increase in poaching."

The Editor says...
Count on the LA Times to present slant a story about environmental impact in favor of the anti-energy left. The new pipeline may cause some temporary local disturbances, but every highway and power line in the country (and most other human activity) probably has similar effects. The Interior Department's concern about "collisions with power lines" is especially specious, since (1) power lines already exist on or near the pipeline's proposed route, and (2) they don't seem to be concerned about all the animals being killed by windmills. The government will never be big enough to micro-manage all the plants and animals in the continental U.S., and there is no need to try. Plants and animals have always adapted to any changes made by man.

Nebraska trial could delay Keystone XL pipeline. While environmentalists, energy executives and elected officials across North America await the State Department's critical decision on the Keystone XL pipeline, a little-noticed trial scheduled for next month in Nebraska could spell problems for the $5.3 billion project.

Obama's perverse notion of fairness. In President Obama's world, "fairness" seems to be of overarching concern. [...] He opposes robust exploitation of our conventional energy resources — oil, coal, natural gas — and nukes because these industries symbolize parts of America that he resents. He would have us believe that he obstructs the domestic production of oil and the Keystone XL pipeline — despite the jobs and economic growth they promise — because of his commitment to the environment. But according to his own false environmental theology, environmental assaults are a global phenomenon, yet he encourages oil production from other countries, such as Brazil.

Obama push for blue-collar jobs ends with Keystone. President Obama, who extolled the value of middle-class construction jobs during nearly five years of recession and recovery, has changed his tune to borderline contempt for the blue-collar jobs needed to build the Keystone XL oil pipeline. In a speech in Chattanooga, Tenn., on Tuesday, Mr. Obama chuckled derisively when he mentioned that Republican lawmakers are promoting the pipeline project for the thousands of jobs it would create over two years.

Barack Obama expresses reservations about Keystone XL pipeline project. Barack Obama has given the strongest indication to date that he holds reservations about the Keystone XL tar sands pipeline, saying the project would not create many jobs and could raise gasoline prices. In an interview with the New York Times, the president disputed a main justification for the pipeline — its economic benefits — and reaffirmed he would reject the project if it expanded carbon pollution.

Want infrastructure improvement and middle class jobs, Mr. Obama? Approve the Keystone XL pipeline. One has to be forever bemused by our President of Perpetual Irony. Recently, in his big economic speech, he stood at the port in Jacksonville, Florida to emphasize infrastructure's role in creating jobs. He then proceeded to call out House Republicans as obstructionists. Question 1: What is a project which will immediately increase the capacity our energy infrastructure and create jobs at no cost to the government? Question 2: Who is the obstructionist not allowing that to happen?

Think of the Keystone XL pipeline as an IQ test for greens.
Can Environmentalists Think? The reason oil is moved on trains from places like North Dakota and Alberta is because there aren't enough pipelines to carry it. The provincial governments of Alberta and New Brunswick are talking about building a pipeline to cover the 3,000-odd mile distance. But last month President Obama put the future of the Keystone XL pipeline again in doubt, [...]

Keystone safety. The rail explosion over the weekend in Quebec piles tragedy upon tragedy. [...] It's a grim reminder that moving oil by rail through urban and suburban centers and rural areas is freighted with dangers, all of them serious. The trains pass through cities large and small with risks that wouldn't be there if the crude oil moved through a dedicated pipeline. President Obama is stalling the safe alternative, refusing to approve construction of the pipeline that would relieve pressure on the American rail system.

Obama Donor Set To Profit From Keystone Demise. Environmental activist Tom Steyer donated as much as he could to get Massachusetts Rep. Ed Markey elected to the Senate in the recent special election to fill the seat vacated by now-Secretary of State John Kerry. He wanted another senator who's opposed to completing the Keystone XL pipeline that he says would be an environmental plague on the planet. A few days before President Obama said that Keystone XL would be built only if it could be shown to have no net effect on greenhouse gas emissions, Steyer, a major contributor to Obama's campaigns, urged the president to kill the project.

Obama's Keystone Regrets. If President Obama once thought it politically savvy to kick the Keystone XL pipeline decision down the road, he's surely ruing that strategy today. The delay has allowed the environmental community to elevate the project into a litmus test of his environmental fealty — so much so that some of Mr. Obama's biggest supporters are now vowing to turn his base against him if he moves ahead with a win-win project that will boost the economy.

Democrat Congressman: The Keystone Pipeline is Bad Because... Democrat Raul Grijalva of Arizona thinks you'll be persuaded to reject the Keystone XL Pipeline because rocks [...] sink in water. That's the sum and total of his argument. [...] We all fret around here about the low-information voter. How about the low-information politician?

Misguided Energy Policy: Alone, Enough to Cause American Failure. Nowhere is the threat to America's future more clear, and more easily avoided, than in the energy sector. Therein, fairytale fears about climate change have grown to the point that the U.S. is now on the verge of committing suicide by turning off many of its most important energy sources to appease loud, misinformed climate activists.

Obama administration threatens Keystone veto. The White House on Tuesday threatened to veto a House bill designed to approve building the Keystone pipeline, saying President Obama should have final say over the controversial project to bring oil from Canada to the U.S. "Because [the bill] seeks to circumvent longstanding and proven processes for determining whether cross-border pipelines are in the national interest by removing the presidential permitting requirement for the Keystone XL pipeline project, if presented to the president, his senior advisors would recommend that he veto this bill," the White House budget office said in a statement of policy.

Obama donors compare Keystone decision to Lincoln's outlawing of slavery. A group of 150 major Democratic donors and clean energy investors have sent President Obama a letter urging him to deny a presidential permit to the Keystone XL pipeline, comparing the decision's significance to Abraham Lincoln's push to end slavery through a constitutional amendment.

'No such thing as ethical oil,' Al Gore tells Toronto audience. [Scroll down] In a public interview with The Globe and Mail's editor-in-chief, John Stackhouse, Mr. Gore also spoke of his wish that U.S. president Barack Obama would cancel the Keystone XL pipeline intended to transport heavy crude from the Alberta oil sands to U.S. refineries.

Gore: 'There's no such thing as ethical oil'. Former Vice President Gore on Tuesday [5/7/2013] said "there's no such thing as ethical oil," slamming the notion that importing oil from U.S. ally Canada was better than doing so from unfriendly nations. "There's no such thing as ethical oil. There's only dirty oil and dirtier oil," Gore told Canada's The Globe and Mail during a Tuesday event in Toronto.

Keystone XL Opponents Hypocritically Talk Property Rights. Opponents of the proposed Keystone XL pipeline are increasingly trumpeting private property rights as a reason people should oppose the pipeline. Drawing upon small-government conservatives' wariness of the federal government abusing its eminent domain power, environmental activist groups are suddenly presenting themselves as champions of limited government and private property.

Why shipping oil by rail may not be a substitute for Keystone. An assumption that oil would move by rail without Keystone was a key part of a U.S. State Department report in March that found development of Canada's oil sands region will proceed at roughly the same rate, with or without the pipeline.

President Obama steals credit for energy success he opposed. President Obama may be the first chief executive to take credit for the results of things he has opposed throughout his time in the Oval Office. The latest example came last week, when the Department of the Interior announced it had approved 21 million acres in the Gulf of Mexico for energy resource exploration and development.

Canadian Minister: Put Up Or Shut Up On Keystone XL. As the EPA snipes at the State Department's approval, Canada's natural resource minister says failure to approve the pipeline would seriously jeopardize our energy relationship and do nothing to save the earth.

Activists threaten massive protests over Keystone XL. Environmentalists opposed to the Keystone XL pipeline are pledging to turn up the heat on President Barack Obama by risking arrest through acts of civil disobedience at fundraisers, political meetings and federal agency offices. The planned protests are designed to build political pressure as Obama nears a final decision on the project. They illustrate the political challenge facing Obama, who risks alienating at least one key Democratic base — environmentalists or labor unions — no matter what he decides.

The President's self created trap on Keystone XL. This is truly a case of trying to eat your cake and have it to [sic]. Having turned this into a huge political wedge tool in his early days, Barack Obama is now looking for an escape hatch where he can sluff off the blame — no matter which way it goes — on somebody else.

NASA Global Warming Extremist Hansen Leaves To Fight Canadian Pipeline. The man who once compared coal trains to Nazi boxcars headed to crematoria leaves government service to fight what he calls the "pipeline to disaster" and promote his brand of climate quackery.

The 1% Keystone Confusion. President Obama hit California for some fundraising this week, including stops with various billionaires who fervently oppose the Keystone XL pipeline. The visit had the virtue of showing how Mr. Obama is cross-pressured between his superrich green friends who don't need to worry about a job and the blue-collar types who wouldn't mind laying oil pipe for $25 an hour.

A useful pipeline spill in Arkansas. The environmentalists who were waging a losing war against the proposed Keystone pipeline woke up to the news of a small pipeline leak in Arkansas and thought it was Christmas morning. If environmentalists were the praying kind, they would say the Arkansas leak was an answer to their prayers. They think it ends the debate over the Keystone pipeline.

The Editor says...
Sometimes pipes leak, but railroad cars leak more often. The ocean floor leaks oil continuously.

Anti-Keystone billionaire rattles Democrats. San Francisco billionaire Tom Steyer is giving Democrats a taste of the divisive, big-spending primary battles that have caused Republicans so much heartburn over the past four years. And he says it's for their own good. The former hedge fund trader-turned-philanthropist is bankrolling a far-flung political operation pushing environmental causes and candidates, including his pricey effort to torpedo the Keystone XL oil pipeline.

Obama's One-Man March Against Keystone. If Obama wants to be grand marshal of a one-man parade against the Keystone XL pipeline, he's doing a heckuva job. Top Democrats along the proposed pipeline route favor Keystone. These include U.S. senators Jon Tester of Montana and freshman Heidi Heitkamp of North Dakota. Texas representatives Henry Cuellar, Charles A. Gonzalez, Al Green, Gene Green, Ruben Hinojosa, and Sheila Jackson Lee all have pleaded with Obama to give Keystone the green light.

The Keystone Pipeline: Delay is the Name of the Game. The four-year saga of the Keystone XL pipeline is a textbook case of the game Washington politicians play. To avoid making decisions that might anger one constituency or another, they appoint a committee or commission a study and then sit back, hoping the report never comes in. If they don't like the results, they commission another study.

The Keystone Converts. An evolving political consensus persuaded President Obama to come out for same-sex marriage last year. Here's hoping the shifting political tides will also inspire a personal evolution on the Keystone XL pipeline. Last week 17 Senate Democrats voted with all 45 Republicans for a budget amendment supporting the TransCanada pipeline, which would transport crude from the Alberta oil sands to Gulf Coast refineries (oil from North Dakota's Bakken Shale would hop along for a ride). A similar measure last year garnered support from 11 Democrats but fell short of the 60 votes to overcome a filibuster.

Why Is White House Stalling Energy Measures? It occurred to me recently that President Obama and House Democrats managed to force ObamaCare onto the American people in just over 400 days. Yet, it's been over 1,600 days since the application for the Keystone XL Pipeline from Canada was submitted to the State Department — and the administration continues to stall on approving or disapproving the project.

Senate endorses Keystone XL in budget amendment vote. The Senate on Friday [3/22/2013] voted 62-37 to approve the proposed Keystone XL oil sands pipeline in an amendment to Senate budget. Sen. John Hoeven's (R-N.D.) amendment was largely symbolic, but served as a clear statement that the Senate backs the pipeline.

One Year Ago Today, Obama Promised to Expedite Keystone XL. A day before the one-year anniversary of President Obama promising to expedite the Keystone XL pipeline in Cushing, Okla., his campaign arm Organizing for Action accused Senate Republicans of launching a "backhanded environmental attack." But proponents of the pipeline charge the administration is attacking the project through endless delays and unfulfilled promises.

Why Environmentalists Are Wrong on Keystone XL. It may seem arbitrary, given the large number of oil and gas pipelines that already criss-cross the US, that this particular one has generated such a high profile debate around energy security and the environment. But this debate isn't really about a pipeline. This pipeline isn't going to make or break the development of Canada's oil sands, nor — as I will show here — is it going to make a measurable difference with respect to climate change. The truth is that the Keystone XL pipeline is symbolic.

Environmentalists 'outraged' by federal Keystone XL report. Environmentalists are angry that the Obama administration's report on the Keystone XL pipeline did not find significant negative effects on the environment. [...] The State Department's draft assessment of the pipeline found that the pipeline won't have a huge impact on climate change, because it won't substantially impact the development of tar sands oil or the amount of oil refined in the Gulf Coast region.

Keystone XL Benefits Too Great To Allow More Delays. Keystone XL could play a role in moderating high gas prices by increasing the supply of crude oil. Millions of hardworking Americans are feeling pain at the pump and we should do everything we can to expand access to stable and affordable energy supplies.

'Leading by Example' and the Keystone Pipeline. While many have long seen America as the global bad boy, everybody likes Canada. [...] Canada is a global citizen, a good neighbor, a northern Puerto Rico with an EU sensibility that earns its gold stars from the United Nations every day.

Keystone XL: Parallels to the Alaska Pipeline. An 800-mile engineering marvel, the Alaska Pipeline was completed in two years and two months — but only after Congress acted to end interminable delays forced on the builders long after they completed the required environmental impact statements. Contrary to the dire predictions from many opponents, the Alaska Pipeline has had an excellent environmental record and has delivered 16 billion barrels of petroleum along with royalty revenue and thousands of jobs.

A futile and stupid plan to "save the planet". The Obama administration continues to drag its feet on approving the Keystone XL pipeline, which would transport crude oil from Canada through the American Great Plains to refineries on the Gulf of Mexico. Environmentalists oppose the pipeline because they hate oil, which they claim causes "climate change."

State: No Environmental Reason To Delay Keystone XL. In yet another clean bill of health, the State Department's draft review says the pipeline from Canada will not affect global warming or harm aquifers it crosses. But it will create jobs and economic growth.

Waxman on Keystone: 'We Don't Need this Dirty Oil'. Representative Henry Waxman (D-Calif.) — the top Democrat on the House Energy and Commerce Committee — said that America does not need the "dirty oil" that would be imported through the Keystone XL pipeline from Canada, which received long-awaited favorable environmental review from the U.S. government. "We don't need this dirty oil. To stop climate change and the destructive storms, droughts, floods, and wildfires that we are already experiencing, we should be investing in clean energy, not building a pipeline that will speed the exploitation of Canada's highly polluting tar sands," Waxman said in a statement on Friday responding to the government's analysis.

State Department: Keystone pipeline won't hurt the environment. TransCanada's Keystone XL pipeline will not harm the environment, the State Department — in a blow to environmentalists who want to block the project — wrote in a newly-drafted report on the latest proposed route. "[T]he draft Supplemental EIS concludes that approval or denial of the proposed Project is unlikely to have a substantial impact on the rate of development in the oil sands, or on the amount of heavy crude oil refined in the Gulf Coast area," the State Department draft report says, as Think Progress noted.

Obama Possibly Trading Keystone for More Taxes? Pretty much everyone, including all of the major labor unions, is geeked about the Keystone Pipeline, which would create jobs and improve the United State's energy independence. But a bunch of hippies hate it, and the hippies vote, probably illegally in seven states, so Barack Obama is totally against it for right now, you guys. The Earth, it matters so much more than rebuilding the American economy by providing needed jobs to skilled and unskilled laborers in states across middle America, and ending the vice grip that backwards Middle Eastern nations have on our energy consumption.

Keystone XL pipeline would have little impact on climate change, State Department analysis says. The State Department released a draft environmental impact assessment of the controversial Keystone XL pipeline Friday [3/1/2013], suggesting that the project would have little impact on climate change. Canada's oil sands will be developed even if President Obama denies a permit to the pipeline connecting the region to Gulf Coast refineries, the analysis said. Such a move also would not alter U.S. oil consumption, the report added.

Obama trading Keystone XL for a carbon tax? There are apparently some bad ideas which never die, no matter how many stakes you drive through them. One of these is the carbon tax, not so subtly invoked during the State of the Union address, and now making a comeback with some of the usual list of suspects in Congress. But this time it may be coming with a twist.

Environmentalism and Human Sacrifice. Take the Keystone XL pipeline, the pipeline the Canadian government wants built in the US in order to send Canadian crude to American refineries. It would be a 1,179-mile, 36-inch-diameter crude oil pipeline, beginning in Alberta, and ending in Nebraska. The pipeline will be able to transport about 830,000 barrels of oil per day to Gulf Coast and Midwest refineries, reducing American dependence on oil from Venezuela — Iran's base in the Western Hemisphere — and the Middle East by up to 40 percent. It will also provide Americans with many thousands of well-paying jobs. Approving this pipeline is a moral and economic necessity. [...] But the Obama administration may (again) veto the Keystone XL pipeline — for one reason: environmentalist fanaticism.

Will Obama Trade A Carbon Tax For Keystone XL? Having failed to lower the sea levels in his first term, President Obama, in the first SOTU of his second term, highlighted the need for fighting climate change and proposed an Energy Security Trust Fund to siphon off money from those who actually produce abundant and useable energy to fund alternative energy sources which constitute a rounding error in the percent of energy produced by various sources.

Greens bank on Kerry to quash Keystone pipeline. John F. Kerry long has been a vocal crusader against climate change in the Senate, and in the process the Massachusetts Democrat became a hero to the environmental movement. Now as the incoming secretary of state, Mr. Kerry is in a position to deliver one of the movement's biggest victories in decades: drive a stake through the heart of the massive Canada-to-Texas Keystone XL pipeline project.

Would the Obama administration really reject the Keystone XL pipeline? This entire time, I thought that there was hardly a real chance that the Obama administration would ultimately reject the Keystone XL pipeline when it really came down to it. Sure, they've been stalling [a lot] — presumably hoping the PR furor over the proposal would die down a bit, and/or to think up some other tantalizing climate-focused projects with which to quell the green lobby's inevitable anger — but there is too much bipartisan, international, high-profile and widespread support for the project as both a job creator and energy-security enhancer for the president to really shut it down in the end.

Keystone pipeline delayed another few months. Faced with the warring factions of vociferous environmentalists versus the pipeline's various wealth-and-jobs-favoring proponents pulling them in both directions, the Obama administration just can't seem to make the tough decision (which, by the way, will only decide whether the oil sands in question are purchased by us or China, not whether they will be used at all).

Crunch time for the Keystone Kops. Radical activists have launched more attacks on oil sands to try to derail the Keystone XL pipeline that would bring desperately needed jobs and tax revenues.

The Keystone to Bringing Jobs. Six GOP lawmakers on Tuesday introduced a proposal to make Pennsylvania, the "Keystone State," the nation's 25th right-to-work state. The legislation, which would end the longstanding practice of forcing employees to join unions as a condition of work, has stalled several times over the past decade. The bill's sponsors say new laws in Michigan and Indiana forced the state's hand.

Bipartisan senators to Obama: Come on with the Keystone pipeline already. Nebraska Gov. Dave Heineman signed off on TransCanada's revised route through his state earlier this week, effectively clearing what the Obama administration has cited as a major hurdle to green-lighting the entire Keystone XL pipeline. Having already been through years of multiple State Department reviews, and with the southern portion of the project already under construction, it appears that bipartisan members Congress in fact can agree on at least one thing: The administration's level of well-orchestrated stalling on this thing is starting to get downright ridiculous.

Nebraska governor approves revised Keystone pipeline route. Nebraska Gov. Dave Heineman notified the Obama administration Tuesday [1/22/2013] that he has approved the controversial Keystone XL Pipeline to traverse his state, marking a significant step toward reviving the project after President Obama and Secretary of State Hillary Clinton sidelined it. The Republican governor approved a revised route for the Canada-to-Texas pipeline which his office said would avoid environmentally sensitive areas.

Nebraska OKs re-routed Keystone XL pipeline, now it's Obama's problem. The 1,700-mile long pipeline is designed to carry 700,000 barrels a day of Canadian heavy crude oil from Alberta tar sands excavations to Gulf Coast refineries. The project would create thousands of construction jobs and reduce U.S. dependence on unreliable foreign oil sources, often cited by both American political parties as a good thing.

Obama faces new pressure on Keystone pipeline. President Obama's Inauguration Day vow to fight climate change is facing an unexpectedly early test as a decision on the Keystone XL pipeline now rests solely with his administration. Nebraska Gov. Dave Heineman on Tuesday [1/22/2013] removed the only other remaining hurdle by formally approving the pipeline's modified 194-mile route through his state, skirting sensitive ecological areas and clearing up the last major question mark on the course of the proposed $7 billion Canada-to-Texas project.

State Department delays Keystone pipeline decision. The Obama administration has delayed a decision on TransCanada Corp's rerouted Keystone XL oil pipeline until after March, even though Nebraska's governor on Tuesday approved a plan for part of the line running through his state.

Nebraska OKs Pipeline; Now It's Climate Myth Vs. Jobs. With a clean bill of health from the Cornhusker State's governor, only the president's green base and the State Department's shared belief in nonexistent climate change stands in the way of jobs and growth.

Environmentalists Petition Susan Rice to Divest 'Every Dollar of Stock' in Oil Pipeline Co.. Environmentalists are furious that potential Secretary of State nominee and U.N. Ambassador Susan Rice owns stock in TransCanada Corp, the pipeline firm that would benefit from the Keystone XL pipeline, which the State Department would have to approve. In an online petition, they have urged Rice to divest "every dollar of stock" in TransCanada Corp.

Rice Has Up to $600K Stake in Keystone Company. Potential secretary of state candidate Susan Rice owns up to $600,000 of stock in the Canadian company pushing to build the Keystone XL Pipeline, according to her financial disclosure reports. OnEarth reports that Rice, Obama's preferred candidate to succeed Hillary Clinton, owns millions of dollars of stock in oil companies, including TransCanada, the company behind the controversial Keystone XL oil pipeline.

Senators Ask Obama For Post-Election Keystone OK. Now that the election is over, nine Republican and nine Democrats have asked the president to stop making excuses and build a job-creating pipeline that will close the revenue gap through economic growth.

Moody's predicts Obama will approve Keystone XL pipeline. President Obama will give the proposed Keystone XL oil sands pipeline a green light, Moody's predicts in a new report. The fate of TransCanada Corp.'s proposed Alberta-to-Texas pipeline is shaping up as a major post-election battle.

Keystone pipeline pushed to forefront. With a second term now in hand, President Obama no longer can delay a decision on the Keystone XL pipeline and must either side with environmentalists within his party or greenlight a major step toward North American energy independence.

U.S. donors pump hundreds of millions into Canadian groups opposed to the Keystone XL pipeline. Pipeline opponents include environmental pressure groups who oppose oil sands because they see its extraction and processing as especially destructive to the environment, and because they oppose carbon-based fuels in general. [...] Unfortunately, U.S. donors' funding of anti-oil sands groups displays a troubling lack of transparency. Approximately $83.7 million — 42 percent — of that funding has been funneled in such a way that the link between foundation grants and the Canadian recipients are unknown to the public.

The president decides to stick with climatism. The president did not mention the Keystone Pipeline in his speech [to the Democratic National Convention]. In January 2012, he halted the $7 billion Keystone project on recommendation by the State Department in order to assess potential environmental harm. During the last months of 2011, thousands of protesters gathered in front of the White House to protest the Keystone project. They claimed that the oil the pipeline would transport from Canadian tar sands would cause irreversible global warming.

Trashing the Constitution. Constitution Day is Monday, Sept. 17, so I compiled a non-exhaustive list of the ways Barack Obama has violated the Constitution. [...] [For example,] Using the EPA to attack America's energy industry. In 2010, the Senate refused to pass the "cap-and-trade" bill that would have created a carbon-tax system, vastly increasing federal power over energy. The Environmental Protection Agency declared carbon dioxide a pollutant anyway and began exerting raw bureaucratic power. Mr. Obama's green zealots nixed the Keystone XL pipeline from Canada and virtually shut down new oil exploration and drilling.

Obama's New America. Mr. Obama made much of the truth that the USA is producing a lot more energy from oil and gas domestically now compared with some years ago. But he gives no credit at all to the oil companies and the gas companies that made that possible.

Manufacturer: EPA against all fossil fuels, not just coal. "I firmly believe that this administration, including the EPA, has a very, very robust, anti-fossil fuels agenda," [Charlie] Drevna said in a telephone interview. "You guys in West Virginia should know this as well as anybody else. What is this administration trying to do with coal? Well, they're trying to do the same with oil and other fossil fuels. It's just an anti-fossil fuels agenda. One can argue whether it's noble or not. I don't think it is. Is it detrimental to the consumers? Is it detrimental to the economy and national security? Absolutely." Consumers stand to lose dramatically, whether they are driving a pickup truck or a passenger car, mowing the lawn or steering a motorboat, he said.

Romney Plan Would Make America An Energy Superpower. Mitt Romney has unveiled a market-based plan to achieve U.S. energy independence by 2020 and make America an energy superpower. It calls to mind just how stagnant our energy policy has been up until now.

Romney energy plan would put states in control of drilling. An energy plan Mitt Romney unveiled Thursday [8/23/2012] adopts familiar GOP ideas for weaning the United States off foreign oil by boosting offshore drilling and relaxing environmental regulations. Although both President Barack Obama and his Republican challenger view energy development as a way to rev up the economy and create jobs, Romney focuses on the oil and gas sector.

Eating America's Seed Corn. As gas prices climb back toward $4 a gallon, the Obama administration — facing a tough reelection campaign and rising Middle East tensions — is once again considering tapping the Strategic Petroleum Reserve. For years, administrations have bought and stored oil for emergencies, in fear of a cutoff of imported oil, as happened during the Arab embargo of 1973-74. But since 2009, the U.S. government has declared most federal lands off-limits to new oil and gas exploration — despite vast recent finds of energy and radically new means to tap it.

Once again, the strategic political oil reserves come into play.
Report: Obama may release oil reserves. President Obama will consider releasing oil from the nation's Strategic Petroleum Reserve if increased sanctions on Iran cause costs to rise, according to a report on Friday [8/17/2012]. Officials have a plan ready if gasoline prices do not fall after Sept. 3, according to Reuters. Historically, gas prices drop after the Labor Day holiday.

Offshore Drilling: Increase Access, Reduce the Risk, and Stop Hurting American Companies. The Obama Administration remains committed to strangling America's economic revival by doing everything in its power to prevent companies that obtain offshore leases from actually drilling and producing oil — a fact evidenced by a new lawsuit just filed in the U.S. Court of Federal Claims by an independent U.S. oil and gas company.

7 Things to Expect If Obama Is Elected to a Second Term. [#3] Gas and energy prices will be dramatically higher: Obama once said, "Under my plan of a cap and trade system, electricity rates would necessarily skyrocket." His Energy Secretary Steven Chu added, "Somehow we have to figure out how to boost the price of gasoline to the levels in Europe." Is it any wonder that Obama won't drill ANWR, has blocked the Keystone Pipeline, and has slow-walked offshore drilling?

After Blocking Oil Drilling, Obama Now Posing in Front of Oil Wells. I guess posing in front of a shuttered Solyndra factory isn't part of his campaign. Seriously, can it get any more pathetic than this?

Agency's decision on beetle could affect Keystone XL pipeline. A federal agency's recent decision involving the endangered American burying beetle could cause up to a year's delay in construction of the Keystone XL pipeline, if the project wins federal approval, an environmental group said Tuesday. But a spokesman for pipeline developer TransCanada Inc., said that assessment was premature and that the company would be able to work around new rules concerning the beetle.

The Editor says...
The construction of this badly-needed pipeline would probably result in the deaths of several bugs. But I find it hard to imagine that the pipeline crew would locate and destroy all of the remaining specimens of the burrowing beetle. That could only happen if all of the beetles live in a straight line, right under the path of the pipeline. Even if all the burrowing beetles are sure to be wiped out — and that won't happen — the pipeline should be built, because gasoline is more important to our economy and our lives than beetles.

The Mother of All Hoaxes. The U.S. is floating on an ocean of oil, but for now it can only be extracted from lands owned privately because the Obama administration has done everything in its power to restrict access to it on federally owned lands and, of course, the billions of barrels locked up off-shore. In exactly the same way that the Obama administration has presided over the loss of billions in subsidies and loan guarantees for the solar panel companies or the ridiculous costs of wind power industry compared to a single coal-burning plant, at the heart of it all has been the claim the global warming is caused by "greenhouse gas" emissions, carbon dioxide, that imperil the Earth.

Do We Want To Buy Canadian Oil From the Chinese? 'Do we really want to be buying our oil or Canadian oil back from the Chinese?" asked Sen. John Hoeven on Thursday [7/26/2012] as he reacted to news that China's state-owned oil company, CNOOC Ltd., had launched a $15.1 billion takeover bid for Canada's Nexen Inc., a company with operations in the Gulf of Mexico. Our answer would be no. But it may happen, thanks to the Obama administration's indifference to developing energy resources anywhere on the North American continent or building the Keystone XL pipeline linking Alberta's oil-rich sands to refineries on the Gulf Coast.

Democrats Backpedal as China Readies $15.1 Billion Canadian Oil Deal. When President Barack Obama blocked the Keystone Pipeline, Republicans said the move would encourage Canada to pursue oil deals with China instead of the United States and cede a massive chunk of North American oil assets to the communist nation. Now, with China's state-run oil company CNOOC poised to cut a $15.1 billion deal — the largest ever foreign acquisition for a Chinese company — with Canadian oil company Nexen, Sen. Charles Schumer (D-NY) and Rep. Nancy Pelosi (D-CA) are in full backpedal mode.

Keystone Fallout: As Promised, Canada Building Pipelines to Sell Oil to China. In April, Canadian Prime Minister Stephen Harper revealed disheartening consequences for America's energy policy at a think-tank event in Washington. Asked about President Obama's decision to put off a decision on the construction of the cross-border Keystone XL pipeline, Harper explained that it would permanently alter Canadian energy policy.

AFL-CIO: Build the Keystone Pipeline. This is somewhat noteworthy, as prior to this the AFL-CIO had no official position on the pipeline, as they needed to delicately balance their loyalty to President Obama and the desires of specific union groups which would have benefited most from the construction of the pipeline.

Obama's Delays Of Keystone Pipeline Have Cost North Dakotans $573 Million Since January. Rep. Duane DeKrey requested that Lynn Helms, director of the North Dakota Industrial Commission's Division of Mineral Resources[,] calculate the fiscal impact to North Dakotans of President Obama's decision to sandbag the building of the Keystone XL pipeline.

Obama faces defeat on pipeline as Dems defect. The president has put his feet in cement in opposition to the Keystone oil pipeline. But on Capitol Hill, more and more Democrats are joining Republicans to force approval of the pipeline, whether Obama wants it or not. The latest action happened Wednesday, when the House passed a measure to move the pipeline forward. Before the vote, Obama issued a veto threat. The House approved the pipeline anyway — by a veto-proof majority, 293 to 127. Sixty-nine Democrats abandoned the president to vote with Republicans. That's a lot of defections.

Keystone pipeline controversy returns to dog Obama. President Obama is back at the center of the controversy surrounding the Keystone XL oil pipeline with labor leaders pushing a new route for the pipeline, which environmental activists adamantly oppose. Obama rejected the proposed northern half of the pipeline in January, citing environmental concerns it would contaminate a drinking water source in Nebraska.

The Editor asks...
Are there no pipes in the ground in Nebraska? Do they not have sewers in Nebraska? Have any of those pipes contaminated the water supply?

Canadian company to reapply for pipeline permit. The Canadian company seeking to build a Canada-to-Texas pipeline says it will reapply for a permit after President Barack Obama announced he had rejected the current proposal.

Obama's bogus Keystone talking points. The Keystone project has already been studied for three full years at a cost to TransCanada of $1.9 billion. The State Department has already completed one entire Environmental Impact Statement. Another Environmental Impact Statement will provide zero additional environmental protection to anyone. But it will delay the project even further. Another EIS would push construction back somewhere between one and six years at a cost of up to $2 million.

Obama's Keystone Pipeline Lies: In his weasel-worded decision to block a perfectly harmless pipeline that would have provided America with jobs, energy and hope, President Barack Obama betrayed his country, lied and even welshed on a deal with Congress. I am sorry to say so, but it's true.

Obama's energy lies. Canadian tar sands, it turns out, hold 100 billion barrels of obtainable oil, which is to say, we have Saudi Arabia II sitting right next door. Stretching a pipeline from Canada to Texas refineries is no big deal in a country with 2 million miles of pipeline already. What's more, there is good besides oil that would flow from it. It would create thousands of jobs and experts note that a pipeline is far cheaper and safer than other modes of transportation, especially shipping it across the ocean.

Canada unfriends Obama. As a presidential candidate, Barack Obama promised to "restore" America's place in the world. Promised kept. Welcome to 1812, when we were at war with Canada and the rest of the British Empire. President Obama's decision to block the Keystone XL pipeline helps enrich his major donor, Warren Buffett, whose railroad will continue to have a near monopoly on transporting oil from the Bakken fields in North Dakota.

Obama's Real Oil Agenda. During a speech in Miami, President Obama planted himself firmly in the use less oil camp. Amidst laughter, he said efficiency was one of the "easiest ways to reduce our dependence on oil." Missing from the phrase was the word "foreign." Was it simply just a slip of the tongue, or something more revealing? Well, just a month earlier when President Obama rejected the Keystone XL Pipeline, he claimed the rejection was part of his commitment to policies that reduce our "dependence on oil." President Obama does not just want to reduce our dependence on foreign oil, as he frequently states, but all oil.

Lying About Green Jobs Now. The majority of Americans, even Democrats, think the [Keystone] pipeline should be built. Of those that are really engaged with the issue, the number leaps to 78%. Nonetheless, the faulty reports and rhetoric never stop coming. It would be easy to give in and just accept at face value their facts. It would be easy and, in fact, has become easy for so many people to just accept what they hear.

Minnesota Non-Profits Receive $440,000 to Oppose Keystone Pipeline. Three Minnesota environmental non-profit advocacy groups have received nearly half a million dollars in out-of-state foundation funding to oppose the Keystone oil pipeline project, according to a Freedom Foundation of Minnesota analysis. The California funding to state groups comes as a surprise, since Keystone's proposed route does not include Minnesota.

Drillers, environmentalists not buying Obama's energy pitch. Touting an "all-of-the-above" energy policy, President Barack Obama traveled to this oil town on Thursday [3/22/2012] to show his support for the southern leg of the controversial Keystone oil pipeline proposed from Canada to refineries along the Gulf Coast.

Was Keystone Blocked to Benefit Buffet? While our anti-petroleum president is visiting oil and pipeline country in a Potemkin photo op attempt to imply that he is what he clearly is not, here's something to ponder. Are you one of those who've wondered why billionaire, Warren Buffet, is so cozy with the Obama Administration? In an article published a couple of weeks ago by Bloomberg News, which gained little traction, author, Natalie Doss, noted that Buffet had made another one of his "pretty good bets" back in 2009 when Berkshire-Hathaway bought the Burlington Northern-Santa Fe Railroad.

Pipeline ruling filled with politics. From all appearances, the Keystone XL pipeline was on track after the State Department's approval. But the project hit a major snag in July 2010, when the Environmental Protection Agency overstepped its authority and claimed the State Department's analysis was faulty because it didn't consider oil-spill response plans, safety issues and greenhouse gas emissions.

Obama's Upcoming Visit To Keystone Pipeline Site: 'So Hypocritical And So Ironic'. On Thursday [3/22/2012], as part of a roadshow for his "all of the above" energy strategy, President Obama is scheduled to visit Cushing, Okla., home to the world's biggest oil storage complex. There he will tour a yard where TransCanada is storing pipes to be used in building the southern leg of the Keystone XL pipeline. The line will stretch from Cushing down to refineries on the Texas gulf coast. It will be a strange and remarkable visit considering that Obama in January denied a permit for the northern section of the pipeline that would have crossed the Canadian border.

Trains roll from Canada to Gulf to fill void left by failed Keystone Pipeline. A Canadian railroad carrying millions of barrels of oil to Gulf refineries is hurtling full steam ahead through the Obama administration's block of the Keystone Pipeline. The amount of oil Canadian Pacific Railways carries down through the heartland has surged 2,500 percent since 2009, to 8.5 million barrels per year from just 325,000. The company expects to move 45 million barrels per year within the decade.

Obama's Oil Speculation Task Force Should Look Into Obama. Pres. Obama says he wants Attorney General Eric Holder to "pay attention to potential speculation in the oil markets," so he's calling the DOJ's speculation task force to action. ... But, Obama's stubborn refusal to approve the Keystone oil pipeline project or oil drilling permits is one of the things they're speculating about when they drive up the cost of oil.

Senate rejects drilling for oil in Arctic refuge. The U.S. Senate on Tuesday [3/13/2012] resoundingly rejected a sweeping measure to open the Arctic National Wildlife Refuge and other protected areas to drilling as well as approve construction of the Keystone pipeline project. The vote was the first time in four years the Senate has voted on a measure including ANWR drilling, and it failed miserably.

Top 10 Obama energy blunders. Canadian energy producers want to sell the United States an abundance of oil, if only President Obama gives the go-ahead to build the Keystone Pipeline XL. However, the President has chosen his deep-pocketed environmental backers over U.S. energy needs (and thousands of jobs for American workers).

How Obama Is Choking Off U.S. Oil Production. The news wires are reporting that President Obama actively lobbied Senate Democrats to defeat the Keystone pipeline yesterday. The effect of blocking the Keystone XL Pipeline is to defer 700,000 barrels of oil per day. And as I reported at The Weekly Standard recently, the president's policy of choking off oil production under federal leases will prevent another 1 million barrels of oil per day this year, and even more next year. Obama will soon be personally responsible for preventing some 2 million barrels per day of possible North American crude oil production from reaching the American economy.

White House Defends Opposition to Keystone XL Pipeline Bill. The White House confirmed Thursday [3/8/2012] that President Barack Obama personally lobbied Democratic members of Congress to get them to oppose the Keystone XL pipeline, a project that is projected to have created about 20,000 direct jobs in the United States, and more jobs indirectly. The president's action drew rebuke from Republicans on Capitol Hill.

Presidential Pork Kills Keystone. 56 Senators voted in favor of a plan yesterday [3/8/2012] that would allow the Keystone pipeline to go forward by cancelling the bureaucratic roadblocks put up by the Obama administration/world-wide bus tour. ... Yet, despite the majority vote, Senate rules apparently require a 60-vote supermajority to create jobs in this country.

Obama's sour spot on energy. The Obama administration has been slow-walking oil drilling permits in the Gulf of Mexico, has continued the long-standing opposition of most Democrats and some Republicans to the common sense policy of oil drilling in the Arctic National Wildlife Refuge in Alaska and has blocked the Keystone XL pipeline from Canada, apparently at the behest of wealthy campaign contributors — and seems to realize the political idiocy of this policy, as witness the totally-without-credibility denial by Press Secretary Jay Carney that the president did what he did.

Americans support Keystone XL pipeline, poll says. Americans who have heard about the Keystone XL pipeline overwhelmingly support the proposal to carry Canadian oil across the United States to Gulf Coast refineries, according to a Pew Research poll released Thursday [2/23/2012]. Among those who knew about the pipeline, 66 percent said the federal government should approve the project. The poll found only 23 percent opposed it.

Jay Carney reveals Republicans are to blame for Obama killing Keystone XL Pipeline. It was the initial accidental admission by an administration spokesman that there was something other than credit to be assessed for Obama's torpedoing the job-creating pipeline from Alberta, Canada to Texas to carry 700,000 barrels of reliable crude oil per day to American refineries from the United States' largest, most reliable and friendliest trading partner, enhancing energy security and keeping billions of dollars a year from flowing to unfriendly regimes in sandy, hot places across the dangerous, environmentally-sensitive seas. Unless reversed soon by, say, a presidential administration of a different political flavor, Canada will begin building a shorter pipeline to its Pacific coast to sell the oil to Asia, namely China.

Top 10 reasons to elect anybody but Obama. [#4] With his Keystone Pipeline XL ruling, Obama showed his true colors, choosing to placate the environmental lobby over jobs for American worker. His deep-water oil-drilling moratorium in the Gulf sent jobs to Brazil. Vast areas in Alaska and off the U.S. coasts remain off-limits for development.

Obama's pipeline decision is just insane. It isn't often that a president makes a decision that has no redeeming virtues and — beyond the symbolism — won't even advance the goals of the groups that demanded it. All it tells us is that Obama is so obsessed with his re-election that, through some sort of political calculus, he believes that placating his environmental supporters will improve his chances.

House votes to kick-start Keystone XL and open ANWR for drilling. The House Thursday [2/16/2012] passed an energy measure to fund highway and transportation projects that also included contentious language to kick-start the Keystone pipeline and open the Alaska National Wildlife Refuge (ANWR) to drilling. The bill seeks to expand offshore drilling for oil and gas and create a shale oil leasing program, and passed mostly along party lines 237-187.

China will get the oil from Canada that could have come to the U.S.
Texans Are Baffled by the Keystone Decision. It seems unimaginable, yet President Obama refused Trans-Canada's request to run its pipeline across the border from Canada to the Texas Gulf Coast. This extensive pipeline holds the potential of moving up to 830,000 barrels of crude oil per day — including oil produced in North Dakota and Montana — to refineries here in Texas. Translated into job numbers, that's up to 20,000 direct jobs and estimates of up to hundreds of thousands of indirect jobs created by this $7 billion project.

Canada's Harper talks oil with China as U.S. faces $4 gas. Just as he promised he would do if the United States rejected the Keystone XL pipeline, Prime Minister Stephen Harper headed to Beijing earlier this week on a four-day trade mission in which he is expected to seek a deal to sell millions of barrels of Canadian oil to China. Since China is aggressively pursuing energy deals around the world to support its economic expansion, expect Harper to come home with an official signature on the dotted line.

Enough Oil? A report for November 2011 indicated that, for the first time in forty years, the U.S. was a net exporter of petroleum products. Liberals seized on this report as evidence that the U.S. needs no acceleration in drilling, no XL pipeline — indeed, no new exploration or production of any kind. ... In reality, the U.S. still imports 51% of its oil despite the existence of vast undeveloped reserves to be found offshore and onshore. The fact that America imports 51% of its oil, at huge cost and from unfriendly regimes including Venezuela, is hardly an argument to halt drilling.

The Great Keystone XL Pipeline Massacre. What the Great Keystone XL Pipeline Presidential Massacre of 2012 affirms is the president's out-of-touch energy policy: Oil is bad. The sun and wind are good. This policy, of course, is dumb and dumber. After whacking the pipeline, Mr. Obama would have us believe that more time and more environmental studies need to be conducted. What a convenient political move, what a convenient lie.

Narrow Interest Blocks Big Pipeline. The Obama Administration, encouraged by environmental groups, has blocked yet another affordable energy project — the Keystone XL Pipeline. Add this to the unconscionable slowdown of leasing and production in the Gulf of Mexico, foot-dragging on production in the Chukchi and Beaufort Seas, blocks on offshore production in the Atlantic and Pacific, and continued prohibitions and impediments to production in non-park, non-wilderness areas of the Western U.S. and ANWR. For each one, the claim is that the production wouldn't make much difference.

Obama on Energy: An Exercise in Nuance. Obama's "Green Energy" policies are based on the global warming hoax. His decision to cancel the Keystone XL Pipeline project pleased environmentalists, but at the cost of 20,000 jobs. And "global warming" is Obama's scare tactic. During his State of the Union (SOTU) address on January 24, 2012, Obama applauded his administration for increases in oil and natural gas production in the U.S. He also claimed that the federal government, under his watch, invented hydraulic fracturing and horizontal drilling.

Senate GOP floats bill to bypass Obama and approve Keystone. Senate GOP leaders are flexing their constitutional muscles with a new push for approval of the Keystone XL oil sands pipeline. Citing Congress's powers under the Commerce Clause, Senate Republicans floated legislation Monday [1/30/2012] that would bypass the Obama administration and approve TransCanada Corp.'s pipeline to carry oil sands crude from Alberta to Gulf Coast refineries.

Moving Oil on Buffett's Railroad. It's already been widely reported that Warren Buffett, a major shareholder in Obama, Inc. will be one of the primary beneficiaries of the decision from the White House to kill the Keystone pipeline and the jobs it would create. The administration now makes no attempt at all to disguise the fact that most decisions he makes are made in the best interest of Obama, Inc. shareholders.

Rejection of Keystone XL a Hammer Blow to Economy. Obama has blocked a project that would have given the United States a secure and safe pipeline that would have fed our economy with 700,000 barrels of oil every day — and created hundreds of thousands of jobs. And this from our most trusted and closest trading partner, Canada. That's nearly half of what the United States receives from the Persian Gulf, through the Strait of Hormuz, which is shaping up to be the next global flashpoint for military conflict. If that does happen, Obama will learn just how it feels to be "rushed" into a decision about energy policy.

Dem lawmaker says 20,000 Keystone XL jobs 'not that many'. Chicago Democratic Rep. Jan Schakowsky (Ill.) drew fire from Sen. Dan Coats (R-Ind.) on Wednesday [1/25/2012] when she dismissed the proposed Keystone XL oil pipeline, suggesting the 20,000 jobs it could create were relatively insignificant in the scheme of the greater economy.

What can the President do to make America Prosper? The President's policies are raising energy prices, which makes consumers poorer and destroys jobs in energy-intensive industries. If President Obama is sincere when he says that 'we can't wait' to create jobs and economic growth, then he should reverse his anti-energy policies and tell the EPA to stop its regulatory onslaught against coal-fired electricity. He could start tonight by taking back his decision to block the Keystone pipeline.

Keystone Kops energy policy. In his State of the Union speech, President Obama had barely cleared his throat when he outlined his vision for an American "future where we're in control of our own energy, and our security and prosperity aren't so tied to unstable parts of the world." Just days before, he had delivered a crippling blow to his own plan.

15 Questions The Mainstream Media Would Ask Barack Obama If He Were A Republican: [#5] When you took office, gas was $1.79 per gallon. Since then, you've demonized the oil industry, dramatically slowed offshore drilling, blocked ANWR, and killed the Keystone Pipeline. Now, gas is $3.34 per gallon. How much higher do you anticipate driving gas prices?

Let's restore sanity to environmental reviews. "The score is Job-Killers, two; American workers, zero. We are completely and totally disappointed. This is politics at its worst," Laborers International Union of North America President Terry O'Sullivan said last week following President Obama's decision to require more environmental study of the Keystone XL pipeline. Unions weren't the only ones roundly criticizing Obama's transparent cave-in to environmental activists. The Washington Post, the Wall Street Journal, the Chicago Tribune, the Houston Chronicle and USA Today all condemned the decision too.

President Obama's job-killing environmental extremism. The Keystone XL pipeline would have been a 1,700-mile pipeline transporting Canadian tar sands oil to Texas refineries for domestic use and export. Tens of thousands of jobs for Americans in six U.S. states were expected to be created as part of this project. The pipeline would have aided in reducing dependence on Middle Eastern oil, provided more oil for U.S. refineries and accelerated free trade with Canada. But President Obama seems to be too busy pandering for green voters to worry about reducing unemployment.

Buffett's Burlington Northern Among Winners From Keystone Denial. Warren Buffett's Burlington Northern Santa Fe LLC is among U.S. and Canadian railroads that stand to benefit from the Obama administration's decision to reject TransCanada Corp.'s Keystone XL oil pipeline permit. With modest expansion, railroads can handle all new oil produced in western Canada through 2030, according to an analysis of the Keystone proposal by the U.S. State Department.

The Editor has two questions:
Do railroads present less danger to the environment than pipes? And why is the State Department involved in this anyway?

Obama's energy policies have us over a barrel. On the same day Obama kills the Keystone pipeline, the Saudis announce plans to boost price of oil.

Congress has legal clout on Keystone pipeline: study. The Congress has the constitutional right to legislate permits for cross-border oil pipelines like TransCanada's Keystone XL, according to a new legal analysis released late on Friday [1/20/2012]. The study by the nonpartisan Congressional Research Service could give a boost to Republicans drafting legislation to overturn a decision this week by President Barack Obama to put the $7 billion Alberta-to-Texas project on ice.

Environmentalism and the Leisure Class: This week President Obama handed down what may prove to be one of the most fateful decisions of his entire administration when he rejected the plan to build the Keystone XL Pipeline carrying oil from the tar sands of Canada to the refineries of Houston. ... In turning down Keystone, however, the President has uncovered an ugly little secret that has always lurked beneath the surface of environmentalism. Its basic appeal is to the affluent. Despite all the professions of being "liberal" and "against big business," environmentalism's main appeal is that it promises to slow the progress of industrial progress.

Rejecting the Keystone pipeline is an act of insanity. President Obama's rejection of the Keystone XL pipeline from Canada to the Gulf of Mexico is an act of national insanity. It isn't often that a president makes a decision that has no redeeming virtues and — beyond the symbolism — won't even advance the goals of the groups that demanded it. All it tells us is that Obama is so obsessed with his reelection that, through some sort of political calculus, he believes that placating his environmental supporters will improve his chances.

Obama's Keystone Blunder. Using the fig leaf of a State Department review of the environmental impact on Nebraska of a possible pipeline rupture, Barack Obama has killed the Keystone XL pipeline project, and with it tens of thousands of good paying jobs. Aside from the oddity of the State Department acting as the protector of the environment of a landlocked state (isn't that the job of the EPA, and hasn't the pipeline already passed EPA review?), it is hard to see how the decision will benefit Obama poltically.

Obama the Job-Killer. Republicans shouldn't let a single day go by without reminding voters of the Keystone pipeline, the most visible symbol of the Obama administration's hostility to economic growth and job creation.

A Lose, Lose, Lose, Lose, Lose Proposition. If the Keystone project raises environmental issues, then every other comparable one would too. It is not as if the route bisects Yosemite on its way to Big Sur. How strange — we assume that the Saudis or the Turks can build pipelines across their own lands without environmental problems, but that we, the apparently less technologically advanced, cannot. We hear that oil is "fungible"; if so, each barrel that we pass on, someone else less green won't.

Republicans fume as Obama rejects Keystone pipeline. In an election-year decision that pits the Democrats' twin pillars of big labor and environmentalists against each other, the Obama administration Wednesday rejected the proposed Keystone XL oil pipeline, which would have provided tens of thousands of jobs from the Canadian border to Texas.

Obama rejects the Keystone XL pipeline and blames Congress.
The Anti-Jobs President. The central conflict of the Obama Presidency has been between the jobs and growth crisis he inherited and the President's [eager] pursuit of his larger social-policy ambitions. The tragedy is that the economic recovery has been so lackluster because the second impulse keeps winning. Yesterday came proof positive with the White House's repudiation of the Keystone XL pipeline, TransCanada's $7 billion shovel-ready project that would support tens of thousands of jobs if only it could get the requisite U.S. permits. Those jobs, apparently, can wait.

The Passive-Aggressive Presidency. The Obama administration today [1/18/2012] denied a permit for the Keystone XL pipeline, which would bring crude from Canada's tar sands to Texas' refineries. But as National Journal reports, that doesn't mean the pipeline will never get built.

Obama administration rejects Keystone XL pipeline. The State Department will shoot down the Keystone XL pipeline, closing off a valuable source of oil and discarding thousands of American jobs. ... Supposedly the State Department might still be willing to entertain an alternative route for the pipeline... but of course they'd dither forever, the President would repair to the golf course, and the "alternative route" will end up leading to Beijing.

Only Obama and Big Green oppose Keystone pipeline. All that stands between the start of work and the creation of thousands of good-paying jobs in America is a green light from President Obama. But Obama fears angering thousands of campaign contributors and workers associated with the Big Green environmental movement, which rabidly opposes Keystone. So he's waffled and delayed a decision until after the November 2012 election.

Keystone XL pipeline: Oil chief issues threat to Obama over decision. The head of the US's biggest oil and gas lobbying group said on Wednesday [1/4/2012] that the Obama administration will face serious political consequences if it rejects a Canada-to-Texas oil sands pipeline that has been opposed by environmental groups.

Oil industry: 'Huge political consequences' if pipeline rejected. A top oil industry official delivered a clear warning to President Obama Wednesday [1/4/2012]: approve the Keystone XL pipeline or face "huge political consequences." American Petroleum Institute President Jack Gerard urged Obama to quickly approve the pipeline, which would carry oil sands crude from Alberta, Canada, to refineries along the Gulf Coast.

Obama's War on U.S. Energy. The Obama administration delayed the proposed Canadian Keystone XL pipeline that would provide more oil for America's needs. It imposed an illegal moratorium on oil drilling in the Gulf of Mexico. While China drills for oil off the coast of Cuba, access to offshore oil is restricted on both the East and West coasts of America and, of course, in the Arctic National Wildlife Refuge. According to the Department of Interior's 1987 resource evaluation of ANWR's Coastal Plain, there is a 95% chance that a 'super field' with 500 million barrels would be discovered.

Obama's Delay On Keystone Carries A Large Cost. In November, the White House announced it would delay deciding on the project until after next year's election. Administration officials claim they need more time to evaluate the potential environmental impacts of the $7 billion, 2,100-mile project to transport crude oil from Alberta, Canada, to major American refineries in the Gulf Coast.

Create wealth, not jobs. "There's no reason for Republicans in Congress to stand in the way of more construction projects," President Obama told an Ohio crowd in September. "There's no reason to stand in the way of more jobs." However, the president now wants to block a massive private-sector construction project that would create the thousands of jobs he demands — the Keystone XL pipeline.

The Keystone Ultimatum. One provision would force a decision on the Keystone XL pipeline within 60 days. This is the most shovel-ready project in America, as the TransCanada company has already made plans to buy the steel pipe to carry crude oil from Canada and the Upper Great Plains to the Gulf of Mexico. The pipeline would create thousands of new jobs, both immediately and downstream, which is why the Teamsters and other unions support it. But Mr. Obama's green financiers see the pipeline as a conveyer of evil carbon, and so the President recently postponed any decision past the election into 2013.

Union Leaders Blast Obama For Keystone XL Pipeline Delay. Obama's other two job-creating ideas are extended unemployment benefits and infrastructure spending. "Infrastructure" is an ancient Greek word meaning "huge construction project." Trans-continental pipelines, for example. The President's ideologically and politically motivated indecision could do a lot more than simply "delay" the pipeline, which Canada could route in other directions, if America doesn't want it. [Brent] Booker correctly fears such an outcome.

Obama's Keystone cop-out. President Obama has done everything in his power to keep oil from flowing through the Keystone XL pipeline. TransCanada says this $13 billion project would put 20,000 to work immediately, but the Obama administration wants none of it.

Obama Blocks The Biggest Shovel-Ready Project Ever. The president says that extending unemployment benefits and the payroll tax cut will create more jobs than an oil pipeline from Canada. There are at least 20,000 members of the 99% who would disagree.

Obama Insists He's 'All In' for Domestic Energy Production. President Barack Obama, who punted a decision on the Keystone XL oil pipeline until after the presidential election, nevertheless insists that his administration has gone "all in" when it comes to domestic energy production. He also flatly refused any give-and-take with Republicans to speed up the pipeline project.

White House denies pipeline delay was political decision. The White House is pushing back against fresh GOP claims that the administration had politics in mind when it delayed a decision on whether to approve the Keystone XL oil sands pipeline until after the 2012 elections. Senate GOP leaders revived the allegation Wednesday when rolling out new legislation that would force a decision about permitting the proposed Alberta-to-Texas pipeline within 60 days.

China wants our crude, Canada says. Canada expects strong interest in its heavy crude oil reserves from China after the U.S. government balked on a major oil pipeline project, the government said.

Sticking Our Head In Tar Sands. The administration plans to study rerouting the Keystone XL pipeline until after next year's election, delaying needed jobs and energy. By that time, Canada's oil will be on its way to China.

Canada Looks to Asia after Oil Pipeline Delay. Canadian Prime Minister Stephen Harper is disappointed with the Obama administration's decision to delay construction of TransCanada Corp.'s $7 billion Keystone XL pipeline from Alberta to the Gulf of Mexico. The delay is designed not to ruffle environmentalists feathers before next year's election. Harper says Canada won't wait and will start selling more of its energy products to Asia.

Obama to Be Involved in Keystone XL Pipeline Decision. President Obama says he will be closely involved in the decision on whether to approve the controversial Keystone XL oil pipeline that has pitted two of his key constituencies, labor unions and environmental groups, against each other.

A Disastrous Presidency. The gulf lost 40,000 jobs when the president decided it was best to shut down all oil production after the BP oil spill. The approval for Keystone XL Pipeline sits on his desk, awaiting his signature. It would connect Canadian oil from the tar sands of Alberta with refineries in Cushing, Oklahoma and Nederland, Texas, while providing 20,000 direct jobs and 100,000 indirect jobs. With recent discoveries and improvements in drilling techniques, some have called America the Saudi Arabia of natural gas. America also has the largest oil reserves in the world; the Bakken Formation alone is said to contain more than 11 billion barrels.

Greens want terror oil in your gas tank. Canada, not the Middle East, is the No. 1 supplier of oil to the United States, a symbiotic relationship that has existed for decades. What's more, the Canadian province of Alberta is home to the world's third-largest petroleum reserves. Viewing America as the most logical market for its expanding production, the government of Alberta and the TransCanada Corp. are proposing a pipeline called Keystone XL to bring crude oil from Alberta to refineries along the Texas and Louisiana Gulf Coast.

Administration blocks restart of massive oil pipeline, citing leaks. The Obama administration said Friday [6/3/2011] that a massive pipeline carrying oil across much of the United States must remain shut down until federal regulators are satisfied that it can operate without future leaks. TransCanada's Keystone pipeline leaked twice last month, fueling opposition to a pending expansion of the project, which is undergoing a wide-ranging federal review.


---

Back to The Causes and Effects of High Oil Prices
Jump to The Causes and Effects of High Gas Prices
Jump to Environmentalists Oppose Every Practical Source of Energy
Jump to Environmental False Alarms about Oil and Gas
Back to the Home page



Document location http://akdart.com/kxl.html
Updated May 19, 2020.

©2020 by Andrew K. Dart