This page contains material about the first female Speaker of the House, Nancy Pelosi, her goals and her agenda, and the news and opinion you may have missed if you get all your information from television.

Her main goal, presumably, is the advancement of the Democratic Party Platform, which has a page of its own.

Recently, Ms. Pelosi seems to have come to a fork in the road: She is a Catholic, but she also is a proponent of abortion, also known as fetal homicide. This subtopic is now discussed in a subsection of its own, located here.

Another big subtopic that comes and goes from the headlines is Ms. Pelosi's taste for luxurious air travel at the taxpayers' expense. That topic is discussed here.


---
Sit down, Nancy: Pelosi doubles down while Birx forcefully pushes back. Good for her. A Sunday morning [8/2/2020] political show gave Dr. Birx a chance to respond to Speaker Pelosi's snide remarks about her as she was interviewed on CNN. She was asked about Pelosi's criticism of her during a private meeting with White House Chief of Staff Mark Meadows and Treasury Secretary Steve Mnuchen on Friday night. Birx delivered an unequivocal response. Pelosi's remarks against Birx were leaked to the press, of course, and it seems that her vitriol toward Birx came from a New York Times article in July. [...] She predicted that the virus would rise dramatically but then peak and begin to decline. No one from the NYT bothered to interview Dr. Birx before publishing the hit piece, by the way. When the coronavirus moved aggressively to southern states, her prediction was proven to have been overly optimistic.
Don't Lecture Me. We are indeed fortunate to have these liberals with us to enlighten us and show us the error of our unsophisticated, primitive thinking. It's always such a pleasure to be lectured to by hypocritical liberals like Nancy Pelosi with her $24,000 refrigerator and $12/pint ice cream, living behind her security gates and consuming more energy than [who]-knows-what. Or by Democrats like Al Gore and Barbara Streisand or just by 'regular' well-heeled Democrats who live in large houses, alone or just two people, in a 9- or 10-room 3000 sq ft+ home with a big screen TV in every room, central AC and a big, honkin' SUV or luxury car in the three-car garage. This after watching them embark on a lifelong pursuit of monetary wealth and material possessions/snooty fashion. Capitalism, tax breaks and profits for them, thank you, but socialism, spread-the-wealth, and high taxes for us detestable conservatives.
President Trump's Handling of The Virus Was Not a Failure. Do facts matter anymore? Has such intense and unabashed hatred of President Donald Trump caused Democrat leaders to lose any semblance of sanity and let slip all grasp of reality, or are they fully aware of their mendacity, to promulgate a false political narrative about the president's handling of the virus in order to fool the American people into voting Trump out of office in November? On June 30th, House Speaker Nancy Pelosi proclaimed Trump's handling of the virus to be a complete failure at a press conference: "Safety is first, and people have families at home that they have to go home to, and they don't want to carry somebody else's virus there... We are at a place now that we don't have to be. This is a president who doesn't want to wear a mask, who again called the virus a hoax... science says, wear a mask, test, trace, keep your distance. The president doesn't support any of that. He has events that are counter to that...this is a matter of life and death, and this administration has failed miserably."
The Editor says...
Ms. Pelosi says "safety is first." I disagree. Freedom and liberty are first. Safety is way down the list. If the government circulates money, delivers the mail, defends the border, and enforces the law and the Constitution, We the People — at least those of us who have been properly educated — can take care of our own safety.
Cruz: Pelosi Wants to Shovel Cash to Her Friends, Shut Down America. House Speaker Nancy Pelosi's (D-Calif.) $3 trillion coronavirus relief bill, the Heroes Act, is "just shoveling money to her friends and not actually solving the problem," and it includes "a big tax cut for millionaires and billionaires in blue states, Sen. Ted Cruz (R-Texas) told CBS's "Face the Nation" on Sunday [7/26/2020]. Cruz said he's still not on board with a bill that the GOP plans to introduce on Monday to provide another round of coronavirus relief.
Pelosi Falsely Suggests She Never Called Federal Officers 'Stormtroopers', Appears To Mock Barr's Weight. House Speaker Nancy Pelosi (D-CA) falsely suggested during an interview on Tuesday afternoon that she never called federal law enforcement officials "stormtroopers" and claimed that she said that they "acted like stormtroopers," which is not what she said. Pelosi appeared on MSNBC's "The Beat" with host Ari Melber where she was asked about the following exchange from Attorney General William Barr's testimony in front of Congress today [7/28/2020].
'No, No. No!' Nancy Pelosi has hostile tantrum, yells at reporter. With Congress about to take up a new pandemic relief package, House Speaker Nancy Pelosi is back in the limelight, as she can control the destiny of any such effort in the lower chamber. And as usual, the frail 80-year-old Democrat is throwing around her considerable weight as speaker to dictate the outcome, even bullying reporters who dare question the process — then again, Pelosi is accustomed to a docile press corp. At a press briefing Monday, Pelosi had a full scale meltdown when a reporter tried to ask her if she was willing to support a short-term extension of unemployment benefits while lawmakers work on a broader coronavirus relief package.
The distraught and desperate Democrats are flailing. The left loves the vocabulary of the Third Reich. Nancy Pelosi, who was horrified whenever Trump called COVID-19 the Wuhan virus, now calls it the "Trump virus." No verbal assault is too low for leftists. As usual, the Democrats make the mistake of assuming that Trump-supporters are rather stupid, easily manipulated by their mono-minded media and sound bites. They don't seem to grasp the fact that much of America is laughing at them for their misplaced arrogance and crying for the residents of those cities being destroyed by leftist officials and the well organized, well funded anarchist groups that have turned them into war zones. What's their plan? To discredit the outcome of the election before it takes place. Every Democrat who appears on a cable or network news program as well as every radical on CNN and MSNBC has received his talking points: Trump will refuse to leave the W.H. if he loses, he will use the military one way or another, he will commit voter fraud, etc. These are all things leftists actually do.
Nancy Pelosi Has a Mental Breakdown on Camera, Starts Yelling 'No' at Reporter Over and Over. Nancy Pelosi is not well. The more I watch her on camera, the more I'm convinced of that. Whether it's her incessant sucking on her teeth, the weird slurring of her words she often slips into, or instances like I'm about to share, this is a person who's mentally not capable of doing her job anymore. Today [7/24/2020], Pelosi lost it when a reporter asked her about not trying to play social justice warrior with the latest coronavirus relief package. [Video clip]
DHS Secretary Chad Wolf Blasts Nancy Pelosi After She Compares Federal Agents to Nazis. Homeland Security Secretary Chad Wolf blasted Democrats and Speaker Nancy Pelosi on Sunday Morning Futures this morning [7/26/2020]. Leftist terrorists and Marxist thugs have looted businesses and destroyed property in cities across the US for nearly two months now. Instead of condemning the leftist rioting and violence Speaker Pelosi blamed law enforcement and compared federal agents to Nazi stormtroopers.
DHS chief slams Pelosi for calling federal law enforcement 'stormtroopers'. Acting Homeland Security Secretary Chad Wolf on Friday slammed House Speaker Nancy Pelosi for what he called "dangerous" comments after the California Democrat dubbed federal law enforcement protecting federal property in Portland "stormtroopers." "One, it's disgusting, two it's an assault on every federal or civilian or state and local law enforcement officer who has taken an oath to protect their communities, to protect, in our case, federal facilities, to do their jobs and I think it's very very dangerous," Wolf said on Fox News' "America's Newsroom."
Ken Cuccinelli: Federal Agents Could Sue Pelosi for Libel — 'Speaker of the House Knows That She's Using Nazi Allusions'. Friday [7/24/2020], during an interview that aired on Fox News Channel's "The Ingraham Angle," acting Department of Homeland Security Deputy Secretary Ken Cuccinelli weighed in on the civil unrest plaguing several American cities. Guest host Lisa Boothe asked Cuccinelli why those cities should not have to deal with the consequences given that the elected leadership in those cities was allowing it to happen. He also argued House Speaker Nancy Pelosi (D-CA) should be held accountable for her "libelous" statements regarding the agents of the entities involved in the effort to protect federal government property.
Democrats Have Completely Abandoned Civility. On July 20, Nancy Pelosi said that if President Trump refuses to accept the results of the November election, he will have to be "fumigated" out of the White House. Fumigation is a technique used against insects, and the idea that human beings are insects has a long history in totalitarian discourse. Hitler described Jews as "vermin" and "parasites," a form of dehumanization that is always just one step away from physical violence. Speaker Pelosi should apologize immediately, and profusely, for her use of this inappropriate rhetoric.
Pelosi: 'Trump Virus' Is 'Rolling Like a Freight Train' — 'Biggest Failure' in History. Thursday [7/23/2020] on MSNBC's "The ReidOut," House Speaker Nancy Pelosi (D-CA) called President Donald Trump "the biggest failure in the history of our country." She said "the Trump virus" was rolling like "a freight train through the country."
The Editor says...
The Chinese virus is no longer affecting any significant number of Americans. Ms. Pelosi likes to harp about the number of people who test positive for the Chinese virus, but most of those people have no symptoms, so her one-dimensional statistics are meaningless.
How rude! Imagine if Trump had said that about Obama.
Pelosi Says Trump May Have to be "Fumigated" Out of the White House. House Speaker Nancy Pelosi (D-CA) on Sunday said President Trump may have to be "fumigated" out of the White House. The Democrat-media complex exploded this weekend after President Trump refused to commit to the election results if he loses in November.
Pelosi Says She 'Yearns' for Other Republican Presidents. House Speaker Nancy Pelosi is so fed up with President Trump that she said she actually "yearns" for other Republican presidents. "I yearn for other Republican presidents," she said at her press conference on Thursday. "While we may disagree on many points, at least we had a shared commitment to the governance of our country."
The Editor says...
In other words, Nancy Pelosi would get along quite well with a deep state uni-party "reach across the aisle" centrist RINO in the White House.
Why Does Nancy Care about Portland? The question is, do Democratic leaders believe that the riots help them win in November? Or are they afraid of losing control of the party if they don't go along with the crazies? I've decided that it's the latter. The Democratic party is being taken over by the woke left and the old generation of leaders is desperately trying to stay in control for one last cycle. Probably they will fail and be thrown out after the 2020 election, especially if Trump wins. Remember back in 2018 when Genius Pelosi got a whole class of moderate Democrats elected to the House? Wasn't she smart? All those suburban women electing moderates to Congress, and Nancy got to be Speaker again. Only, it is now clear, Nancy Pelosi isn't really in charge. She is running desperately after the woke mob trying not to lose control of the Democratic caucus completely.
Replacing Pelosi with someone even worse:
'Pelosi Must Go': Speaker Blasted From The Left Over 'Corporate Interests'. Even Speaker of the House Nancy Pelosi (D-CA) is not safe from the "cancelation" mobs, it turns out, as she discovered this weekend when she became the target of a progressive effort to oust her from her long-held seat in the House of Representatives. Pelosi is the target of an attack from the left and will face Shahid Buttar in the general election in November. Buttar is, like many left-leaning insurgent candidates, a Democratic socialist with, as Townhall notes, a resume of progressive bona fides, including several trips to Burning Man, and plenty of "socially conscious music" and poetry available for free on SoundCloud. He is also an immigrant and a Muslim and wears his hair in a "man-bun."
She's wasting everyone's time, as usual.
After Stone Commutation, Pelosi Planning Bill To Limit Presidential Pardons. After President Donald Trump commuted the sentence of former adviser Roger Stone, Democrats went apoplectic. On Saturday [7/11/2020], House Speaker Nancy Pelosi (D-CA) said she would support a bill that would limit a president's pardoning abilities. Stone had been sentenced to three years in prison for witness tampering and lying to Congress. He was also arrested in an infamous early morning bust with multiple armed police raiding the 67-year-old's home as CNN filmed. After commuting Stone's sentence, the White House released a statement calling the former adviser "a victim of the Russia Hoax."
Obama Granted Clemency to Terrorists and Traitors, But Democrats Are Angry About Roger Stone. Soon after it was announced that President Trump had commuted the prison sentence of Roger Stone, the outrage mob mobilized. Nancy Pelosi went on CNN to suggest that a law should be passed limiting the president's clemency powers. "There ought to be a law, and I'm recommending we pass a law that presidents cannot issue a pardon if the crime that the person is in jail for is one that is caused by protecting the president, which this was. It's appalling," she told CNN's Anderson Cooper. [...] But, these same people who pounced on Trump's acts of clemency yawned and looked the other when Barack Obama commuted the sentence of terrorists and traitors.
Pelosi Wants to Ignore the Constitution and Control Who President Can Pardon. The left is melting down over President Donald Trump commuting the sentence of Roger Stone. But the same people who suggest that that's somehow not in accordance with law and order are the same people who helped perpetrate and spread the Russia collusion hoax for three years, that went after people like Stone for "collusion" that didn't exist. They're the same people who have no problem with the DNC and the Clinton team acquiring Russian disinformation through Christopher Steele to undermine Trump. A British court just dropped more evidence of that. Did any of the media besides Catherine Herridge cover it? Not that I can see. Are any of the Democrats called to account or even asked about it? Nope. It's completely within the power of the president to pardon or commute the sentence of any federal prisoner. It's part of his basic constitutional power under Article II, Section 2.
Nancy Pelosi: 'A Trillion for What, Dear?". House Speaker Nancy Pelosi (D.-Calif.) said in her press briefing on Thursday that "a trillion dollars" is "an interesting starting point" to talk about another spending bill, but indicated that she wants more than that. "What doesn't measure up is: 'Oh, it can only be a trillion dollars,'" Pelosi said. "No, we need a trillion dollars for state and local," she said. "We need another trillion dollars, another trillion dollars for Unemployment Insurance and direct payments. Something like that, but probably not as much for the testing, tracing, treatment, etcetera. "So, a trillion dollars is: Okay, that is an interesting starting point, but it doesn't come anywhere near," she said.
Pelosi on Christopher Columbus Statue Torn Down by Mob: 'People Will Do What They Do'. House Speaker Nancy Pelosi (D-Calif.) responded to the Christopher Columbus statue that was torn down by a mob on the Fourth of July by saying Thursday, "People will do what they do." In a Capitol Hill press conference on Thursday [7/9/2020], a reporter asked Pelosi about the removal of the statue, saying, "Shouldn't that be done by a commission or the city council, not a mob in the middle of the night throwing it into the harbor?" Pelosi shrugged her shoulders and said, "People will do what they do. I do think that from a safety standpoint it would be a good idea to have it taken down if the community doesn't want it."
Pelosi on Columbus monument removal: 'Well, I don't even have my grandmother's earrings'. House Speaker Nancy Pelosi gave a bizarre and convoluted answer to a question regarding her feelings over the removal of statues and monuments to historical American figures, saying she doesn't "even have my grandmother's earrings." "In Baltimore, in Little Italy, the statue of Christopher Columbus was removed or taken down. And I wonder if you have anything to share about that?" a reporter asked. "Well, I don't even have my grandmother's earrings," Pelosi, a California Democrat, said in response during a press conference.
Maryland Governor Blasts Pelosi's Indifference to Baltimore Vandalism. Maryland governor Larry Hogan (R.) on Thursday said Speaker of the House Nancy Pelosi (D., Calif.) has "lost touch" with her childhood city of Baltimore after she expressed indifference about the toppling of a statue of Christopher Columbus. "It's disappointing that Speaker Pelosi has lost touch with the Baltimore community that her family served," Hogan wrote on Twitter. "While efforts towards peaceful change are welcome, there is no place in Maryland for lawlessness, vandalism, and destruction of public property."
Nancy Pelosi: 'Our Caucus... is More Than 60 Percent Women, People of Color and LGBTQ'. House Speaker Nancy Pelosi (D.-Calif.) on Monday [7/6/2020] joined with Democratic Caucus Chairman Hakeem Jeffries (D.-N.Y.) and Caucus Procedures Chair Grace Meng (D.-N.Y.) in issuing a statement about the Democratic Caucus' new "Diversity Rule." "House Democrats take great pride in the beautiful diversity of our Caucus, which is more than 60 percent women, people of color and LGBTQ," said Pelosi, Jeffries and Meng said in the statement. "One of our Caucus's top priorities has long been to promote diversity at every level of Congress, so that these halls better reflect the dynamism and vibrancy of the American people whom we are privileged to represent," they said.
The Editor says...
Apparently Ms. Pelosi thinks white men are not dynamic or vibrant enough to serve as elected representatives. What's the difference between that and bigotry?/p>
Company Connected to Pelosi's Husband Scored Coronavirus Bailout. A company connected to House Speaker Nancy Pelosi's (D-CA) husband received a loan from the Trump administration's $669 billion Paycheck Protection Program, a Small Business Administration-led fund designed to provide financial relief to businesses in the wake of the Chinese coronavirus pandemic.
Nancy Pelosi's husband among lawmaker linked PPP loan recipients. A firm partially owned by House Speaker Nancy Pelosi's husband was among the lawmaker-linked businesses that got Paycheck Protection Program loans, according to data released Monday [7/6/2020]. Companies owned by or associated with Reps. Mike Kelly (R-Pa), Kevin Hern (R-Okla.), Markwayne Mullin (R-Okla.) and Rick Allen (R-Ga.) also received the coronavirus loans. Businesses linked to Reps. Roger Williams (R-Texas), Vicky Hartzler (R-Mo.), Susie Lee (D-Nev.) and Debbie Mucarsel Powell (D-Fla.) previously reported they got loans. Pelosi spokesman Drew Hammill said that her husband Paul Pelosi is "a minor, passive investor in this company. He was not involved in or even aware of this PPP loan."
Petition to 'Impeach Nancy Pelosi for Treason' Nears 400,000 Signatures. A White House petition to "impeach Nancy Pelosi for crimes of treason" has received a monstrous 400,000 signatures after going viral. The "We the People" petition, hosted on the official White House website, was started last year by Marjorie Taylor Greene, a patriotic citizen from Georgia. Taylor's campaign accuses the Democratic House speaker of committing treason and calls for her impeachment. The petition appears to have struck a chord with many Americans who have been left frustrated by the Democratic Party's ongoing attempts to undermine and disrupt President Donald Trump's presidency.
Pelosi Blames GOP for Russian Annexation of Crimea During Obama Admin. Speaker of the House Nancy Pelosi (D., Calif.) on Wednesday blamed Russia's annexation of Crimea on Republicans, though the invasion took place on President Barack Obama's watch. Pelosi slammed President Donald Trump and Republicans for their alleged inability to face Russian aggression — and tied them to President Barack Obama's appeasement of Moscow. "You just described, not only for the president, but the Republicans in Congress, dereliction of duty," Pelosi told MSNBC's Nicolle Wallace.
Nancy Pelosi Says Every American Should Be Forced to "Wear The Mask". Nancy Pelosi says today that every American should be forced to wear face masks. However, proving that her position is purely a political division strategy, notice how she is not asked about passing a law that demands it then. The reasoning is simple. First, Pelosi knows a law forcing Americans to wear a mask would never pass; and even if it did it would be an unconstitutional, and unenforceable demand. Second, Pelosi would never attempt such a bill because it would put Democrats in a minority position; Americans do not support such nonsense. Third there is no factual evidence showing face masks prevent COVID-19 spread; even the boxes of masks specifically state: "will not provide any protection against COVID-19." Instead, by playing the politics of COVID Pelosi presents the nonsensical face mask issue as a political virtue-signal. [Video clip]
ABC Clinton Lackey Refuses to Call-Out Pelosi's Crazy Conspiracy Theories. If President Trump had said the things Speaker Nancy Pelosi (D-CA) has been saying over the past week without evidence, the liberal media would be questioning his sanity and fitness for office. But since she currently leads their party, she's above reproach. Sunday's [6/28/2020] This Week was no exception as ABC chief anchor and resident Clinton lackey, George Stephanopoulos refused two critically press the Speaker on her claim that the Republican Party had killed George Floyd, and that the President was a Russian agent.
Why does Nancy Pelosi want to name her police reform bill after a late black comedian? Speaker Nancy Pelosi announced on Friday that the police reform legislation that passed in the House almost entirely along party lines the day before would be named for comedian George Kirby. [...] OK, the joke here — which is on Pelosi — is that the person she is actually referring to is George Floyd, a man whose name has been plastered all over the news for the last month. How perfectly rich that in presenting a bill meant to preserve his memory, she's already forgotten his name. She also forgets the name of the Congressional Black Caucus, pausing uncomfortably long to wait for the cobwebs to clear.
Pelosi Spreads Dangerous Misinformation, Claims President Trump Urging People to "Inject Lysol and Drink Bleach". House Speaker Nancy Pelosi on Wednesday spread dangerous misinformation and claimed President Trump is urging people to "inject Lysol and drink bleach." President Trump in April during a presser was referring to discussions of testing ultraviolet light on patients and possibly using the light inside the body. [...] So Pelosi once again twisted President Trump's words and took him out of context. "Trump and Republicans still don't have a plan — unless you count trying to destroy our health care in the courts while urging us to inject Lysol and drink bleach." Pelosi's team tweeted on Wednesday in response to the Trump Administration's efforts in the courts to dismantle Obamacare.
Erasing the Past Leaves only the Present. This past week, Speaker of the House Nancy Pelosi ordered that the official portraits of four of her predecessors be removed from the Capitol walls. This grandiose display of virtue signaling occurred, she said, "because we must lead by example." Example of what? [...] Speaker Pelosi really should think through why she wants to expunge the hallowed halls of "violent bigotry and grotesque racism". The history of the Democratic Party is a chronicle of violent bigotry and grotesque racism. The Republican Party was founded in the 1850s primarily in opposition to the pro-slavery policies of the Democratic Party. The Confederacy, at which Madame Speaker rails so roundly, was the Democratic Party. In 1860, Abraham Lincoln was elected as the first Republican President with a Republican Congress. The slave holding Democrats were so incensed that abolitionist Republicans were in control that, in a monumental act of sedition, on April 12, 1861, they attacked Fort Sumter. They seceded from the Union to form the Confederate States of America. Does Pelosi propose to remove the picture and statue of every Democrat in the country as secessionist racists?
Pelosi Secretes Her Party's Pro-Slavery Past. Late Thursday [6/18/2020], Nancy Pelosi had four of her predecessors removed from a Portrait Collection that adorns the Speaker's Lobby in Congress. These Democratic Speakers were ostensibly banished from the halls of Congress pursuant to their Confederate ties. Madam Speaker insisted in a news conference that she was unaware of the portraits or their unsavory provenance until recently, despite their conspicuous location just outside the House chamber where she has worked for the last 33 years. Having finally learned of the offensive paintings, Pelosi ordered them taken down.
Pelosi's gamble. Why in the world would House Speaker Nancy Pelosi put together a $3 trillion bill that has no chance in high heaven of being enacted? And force Democrats to vote for it anyway? Her strategy in this episode didn't quite fit her image in the media as a brilliant political boss. Instead, her pursuit of a legislative package to nowhere was what Republicans saw as an effort to keep her squabbling caucus united.
Defund the police? How many sharks can the Democrats jump? [Scroll down] Sure enough, as 2019 progressed, it became clear that House Speaker Nancy Pelosi was taking orders on key issues instead of giving them, appearances notwithstanding. That's why we were treated to the impeachment farce, which had followed immediately upon the collapse of the Mueller farce. Looking now at the defund-the-police mania, one has to wonder: Has their unbridled hatred and fear of the Orange Man brought them to this peak of over-reach, where they lose all touch with the mainstream of American voters and pitch themselves into a decline toward eventual oblivion? Have they jumped the shark?
Pelosi presenting special US flag to Floyd family sparks outrage; 'an insult to our service members'. Scores of Americans were outraged after seeing a picture of House Speaker Nancy Pelosi (D-Calif.) presenting an American flag to the family of George Floyd as though he had been killed fighting for the country. The photo, which was seen posted on various social media sites, was confirmed as genuine by BizPac Review after locating it as part of a collection involving the family of Floyd on Pelosi's official Twitter feed. [...] Scores of people reacted negatively to the photo after seeing it reposted by another Twitter user.
Brave Celebrities Fearlessly Stand Up Against Racism. [Scroll down] Did you see Nancy Pelosi's creaky kneeling photo op? It was awfully nice of someone to help the 237-year-old Speaker of the House to her feet afterward. Getting out there in her kente shawl was not at all transparent and condescending pandering, but was instead a powerful rebuke to all those people who don't vote her way and are totally racist, since she is loudly and clearly against racism. This was a photo op of justice, as opposed to the photo op by Trump in front of the church the leftists burned down, [...]
James Woods Calls Out Pelosi For Being Silent On Her Own Father Overseeing Dedication Of Confederate Statue. On Wednesday [6/10/2020], when House Speaker Nancy Pelosi demanded that Confederate statues on the U.S. Capitol be removed, she failed to mention that her father had overseen the dedication of the Stonewall Jackson and Robert E. Lee Monument while he was Baltimore's mayor in 1948.
Why Wasn't Pelosi Offended Over Confederate Statues During Last 30 years? House Speaker Nancy Pelosi (D-Calif.) has been in Congress for more than 30 years and yet, during this time, she apparently never called for the removal of Confederate statues from the U.S. Capitol. But she did on Wednesday, which prompted conservative talk radio host Mark Levin to ask why she didn't do it when Harry Reid (D-Nev.) or former KKK member Robert Byrd (D-W.Va.) ran the Senate. On Wednesday, June 10, Pelosi sent a letter to the Joint Committee on the Library, which oversees the statues in the Capitol. There are 11 statues of Confederate figures in the Capitol's Statuary Hall.
Nancy Pelosi Silent on Own Father Who Oversaw Dedication of Confederate Statue. House Speaker Nancy Pelosi (D-CA), who on Wednesday demanded the removal of Confederate statues occupying the U.S. Capitol, has remained silent on her father's role in overseeing the dedication of the Stonewall Jackson and Robert E. Lee Monument while serving as Baltimore's mayor in 1948. Pelosi this week formally requested the removal of Confederate statues occupying the U.S. Capitol, dismissing them as "monuments to men who advocated cruelty and barbarism to achieve such a plainly racist end." Her demand comes as angry protesters across the nation take matters into their own hands, vandalizing — and in some cases, beheading — statues and monuments memorializing the Civil War era and beyond.
Pelosi: Confederate symbols 'have to go' from Capitol, bases. House Speaker Nancy Pelosi said Thursday [6/11/2020] that it's time to remove symbols honoring Confederate figures from the U.S. Capitol building and military bases as the pandemic and racial unrest force a national reckoning with racial discrimination. "These names have to go from these bases and these statues have to go from the Capitol," Pelosi said at her weekly news conference.
The Editor says...
Ms. Pelosi has been in the Congress for over 33 years. Why are these statues and base names suddenly objectionable?
Systemic Racism and Bigotry Are the Lifeblood of the Left. [Scroll down] The only racism in America that is systemic — deeply ingrained into the system — is on the left. It is so disgusting that it is hard even to speak about it. It is shameful, and it exists for one reason only: for White leftists to grab votes, [...] How low will they grovel to get power? They will kneel on the floor. They actually will kneel on the floor, groveling for power. Of course, as Nancy Pelosi just found, she kneeled so long that she could not even get back up. You think she was kneeling to Jesus? Nancy Pelosi is America's leading Catholic proponent of abortion — though Joe Biden, Andrew Cuomo, and a boatload of other Democrat Catholics would take great offense at Nancy Pelosi getting all the credit for funding the killing of fetuses, especially in the Black community. That Pelosi is kneeling to Jesus? And who, pray tell, was Schumer kneeling to? He claims to be Jewish, so he is not kneeling to Jesus. But wait! It is a core tenet of Judaism that kneeling is forbidden except on Yom Kippur during the recitation of the Kohen service that occurred at the Holy Temple in Jerusalem during Talmudic times. Otherwise, it is so fundamentally against Judaism to kneel that every Jewish child learns the story associated with Talmud Tractate Gittin 57b of "The Woman and Her Seven Sons."
Nancy Pelosi Can't Get Up by Herself After Kneeling for Photo Op. House Speaker Nancy Pelosi and a number of her congressional colleagues gathered to kneel on Monday for the time they say a police officer had his knee on the neck of George Floyd, but the photo op did not quite go as planned. After the 8 minutes and 46 seconds the incident lasted, the members of Congress — including 79-year-old James Clyburn — rose. But Pelosi nearly toppled over, quickly motioning for an aide to help her to her feet. "It's better not to have on high heels," Pelosi said with a laugh as her mask dangled under her chin.
Pelosi and the Democrats have fallen and they can't get up. On Monday [6/8/2020], Nancy Pelosi and the rest of the Democrat leadership became the living embodiment of a tagline symbolizing helpless frailty. [...] That was theater. Reality was watching the same Congress people — especially the aged Pelosi — struggle to stand again: [Video clip] For those of us who vividly remember the Life Call commercials, it was impossible not to see in Nancy Pelosi and the other leaders the pathetic, frail, helpless woman, trapped on the floor, crying out "I've fallen and I can't get up.
Pelosi Suffers 10-Second Mental Lapse On-Camera During Press Conference. House Speaker Rep. Nancy Pelosi (D-Calif.) appeared to experience a ten-second mental lapse Thursday during an on-camera press conference. Pelosi was reading from a letter she had sent to President Donald Trump earlier in the day expressing concerns about "the increased militarization" of law enforcement efforts in the Nation's Capital amid the violent protests and riots ravaging the city. Pelosi reads from the letter, looks away from it for a moment — then loses her train of thought and stutters, unable to collect her thoughts, until she refocuses on the letter: [Video clip]
Nancy Pelosi Surrounded by Guards as She Walks Among Protesters. Video from Wednesday afternoon shows Speaker of the House Nancy Pelosi (D-CA) surrounded by guards as she walks near protesters. In video published by CNN, Pelosi can be seen walking under heavy foliage, surrounded by men in suits, ties, and sunglasses. The Hill described the men as Pelosi's "security detail" and noted that Pelosi was walking among "a crowd of demonstrators outside the Capitol" when the video was taken.
Pelosi Lectures President Trump to Help the Country Heal as She Clutches Bible, Refuses to Condemn Violent Rioters. House Speaker Nancy Pelosi on Tuesday [6/2/2020] clutched a Bible and read scripture in reaction to President Trump's remarks from St. John's church. Like a boss, President Trump walked from the White House across Lafayette Park to St. John's Church which was set on fire by protesters Sunday night. Trump held up a Bible in front of the church. In an effort to one-up Trump, petty Pelosi held up a Bible in response to Trump's bold move.
Pelosi pretends to be smarter than Trump, now she knows more than Obama about race relations. House Speaker Nancy Pelosi (D-Calif.) on Sunday blamed President Donald Trump for the escalating riots, looting, and mayhem spreading around the country in the wake of Minneapolis resident George Floyd's death, though the Justice Department believes many incidents are the result of organized anarchists. In an interview with ABC News' George Stephanopoulos, Pelosi lamented the manner in which Floyd died after being pinned to the street by fired police officer Derek Chauvin for several minutes. But then she also complained about several "unfortunate statements" made as initial peaceful demonstrations lapsed into widespread looting and violence.
Nancy Pelosi won't 'take the bait' on riots: 'I kind of ignore what President Trump says'. House Speaker Nancy Pelosi on Sunday said she is "not paying too much attention" to what President Trump tweets about nationwide protests, saying she's worried about "the knee on the neck" and questions of justice. "I kind of ignore what President Trump says," the California Democrat told ABC'S "This Week." Prodded by the network, she said Mr. Trump does have a responsibility, like any president, to "unify the country and not to fuel the flames."
Democrat Leader Nancy Pelosi Attacks President Trump — Refuses to Condemn Leftist Looters and Rioters! Speaker Nancy Pelosi went on ABC's This Week on Sunday to attack President Trump. Leftist protesters have looted and burned hundreds of businesses and government buildings across America the past three days. Pelosi attacked President Trump for "fanning the flames" this weekend during this weekend of violence.
Nancy Pelosi Lectures About Wearing Masks, While Not Wearing A Mask. [Video clip]
Nancy Pelosi Delays FISA Vote After Progressive, Conservative Revolt. House Speaker Nancy Pelosi (D-CA) delayed a vote on Wednesday [5/27/2020] to reauthorize parts of the FISA program after a revolt from conservatives and progressive Democrats. Pelosi decided to cancel Wednesday's vote on the FISA reauthorization after President Donald Trump signaled his opposition to the bill. The bill faced increasing opposition as Wednesday progressed, and Pelosi failed to galvanize a coalition that could pass an extension of the FISA program.
Nancy Pelosi: 'Every Crisis' Including Coronavirus Is an Opportunity to Advance Leftist Agenda. House Speaker Nancy Pelosi (D-CA) said during a press conference on Wednesday that "every crisis" is an opportunity to advance a leftist agenda. "We have to open the economy, we have to do so in a way that gives more opportunity for access to care, to credit, to opportunity," Pelosi said during a press conference regarding her coronavirus phase four bill, the HEROES Act. "Just as Mr. Clyburn said, this is an opportunity, every crisis is," Pelosi added.
Numerous Former Pelosi Aides [are] Lobbying For Companies Seeking Benefits Related To Coronavirus, Report Says. Numerous former aides to House Speaker Nancy Pelosi have reportedly transitioned to working as lobbyists for companies which have sought benefits from legislation related to the coronavirus, making a bundle of money for their firms in the process. The Washington Free Beacon examined federal disclosure records and found at least seven of those aides, including Pelosi's former chief of staff, Nadeam Elshami, senior policy adviser Anne MacMillan, and special assistant Shanti Stanton, have represented over 50 different entities in 2020. The Beacon added, "Their firms received over $2 million from these clients during this time. These fees were for lobbying on multiple issues in addition to coronavirus legislation and policies."
Report: House Republicans To File Lawsuit Against Nancy Pelosi For Proxy Voting Plan. Multiple news outlets are reporting that House Republicans plan to file a lawsuit in federal court against Speaker Nancy Pelosi (D-CA) over a recent pandemic-related rule change that allows a single member of Congress to serve as a proxy vote for up to 10 other members of Congress. According to The Wall Street Journal, House Minority Leader Kevin McCarthy (R-CA) will lead the lawsuit and be joined by nearly two dozen other legislators, including GOP Conference Chair Liz Cheney (R-WY) and Minority Whip Steve Scalise (R-LA).
Pelosi: "Vote-by-Mail is More Democratic" Than Voting in Person with Photo ID. It is obvious the Democrats are using the Coronavirus as an excuse to push for mail-in ballots rather than in-person voting in an effort to steal the 2020 election. House Speaker Nancy Pelosi (D-CA) has repeatedly tried to sneak in federal ballot harvesting laws into several of the Coronavirus stimulus bills. Pelosi is now trying to shove a $3.6 billion 'vote-by-mail' proposal into the latest Coronavirus stimulus bill. [...] Pelosi said that voting by mail, with no chain of custody, is "more democratic" than voting in person with photo ID.
Pelosi's Leninist Stimulus Bill. As soon as the Bolsheviks took over Russia in October 1917, Vladimir Lenin began churning out rubles. In fact, he spent half the state's revenue on just the printing of new currency. Within a year, the ruble was worth 100,000,000 times less than it had been before the communists took over. Existing rubles, and any investment denominated in rubles, were worthless. Lenin's inflationary program was not a response to the need for an increased money supply. It was a deliberate strategy designed to eliminate money as a means of transactions and, with it, to crush capitalism. From that point on, the state would directly control the means of production and distribution, and the people would, in theory, be dependent on the state for all goods and services.
Democrats Brazenly Try to Buy Illegal Alien Votes in Latest Pork Legislation. Speaker Pelosi and her merry band of sycophants, who currently control the House, just passed a 3 Trillion dollar liberal wish list spending package which insures 16 Billion in stimulus checks to Illegal Aliens. The HEROES Act, which has no pathway to becoming law, includes a provision that would retroactively send payments to any illegal person who filed a Federal Income tax return for 2018 or 2019 with a tax ID number. Majority Leader Mitch McConnell has stated the bill has no chance of passage in the Senate and President Trump has publicly declared if it did, he would veto it. Minority Leader Kevin McCarthy lays out the absurdity of Pelosi's bill.
The Editor says...
The very fact that the Democrats are trying to buy the votes of those who can't legally vote at all says a lot about the state of our election system.
The left's two big albatrosses — Biden and Pelosi. One has to wonder, do those on the left, including the media, actually think that Joe Biden is a viable candidate for president? Do they not realize that Nancy Pelosi is as senile as Joe? Like Joe, she often slurs her words, suffers brain freezes mid-sentence and spews gibberish. [...] Pelosi is a life-long power-mad lunatic. She has allowed her own district to dissolve into a homeless camp with all the attendant problems — discarded needles, feces on the streets and sidewalks, and an ever-escalating crime wave. Smash and grab car burglaries occur by the minute in San Feancisco and there are no consequences for the perpetrators if caught. Like Sen. Dianne Feinstein, Pelosi and her husband are millionaires several times over; they've become rich because both have been in Congress for so many years. They all get rich on insider information.
The Shutdown/Reopen Wars and the New KKK. [Scroll down] I know that all you chaps have been focused for years on the Journolist, and the Deep State, and the Swamp Creatures as the cause of everything wrong with America. But I am wondering if all along, the real problem has been a revival of the KKK, in the form of the Klueless Karen Koven. What was Speaker Karen Pelosi's Women in White thingy at the State of the Union but a Kaffee Klatsch of Karens?
Fat-shaming and concern-trolling, Pelosi and pals suddenly fear for President Trump's health. On a day when we all remember Eddie Haskell (Ken Osmond, RIP), out comes Nancy Pelosi with her sudden and newfound 'concerns' for President Trump's health: [Tweet] Which has about as much authencity as a botox-frozen forehead or a three-trillion-dollar bill. After all, haven't Democrats been fantasizing about killing him? And what's with the fat-shaming?
Nancy the ice cream addict ain't exactly Twiggy herself!
Pelosi Calls Trump 'Morbidly Obese' On CNN. Speaker of the House Nancy Pelosi called President Donald Trump "morbidly obese" Monday night after he announced that he has been taking hydroxychloroquine as a coronavirus preventative treatment for more than a week. In an appearance on CNN, Pelosi was asked about Trump's usage of hydroxychloroquine, to which she responded by saying "He's our president and I would rather he not be taking something that has not been approved by the scientists, especially in his age group and in his, shall we say, weight group — morbidly obese, they say" Pelosi said to CNN's Anderson Cooper.
The Perils of Pelosi. When Republicans failed to deliver for the American people and lost their majority in the United States House of Representatives in 2018, a true poison was unleashed on the nation. For a second time, Nancy Pelosi became U.S. Speaker of the House and in her latest stint in this position she has been incredibly damaging to this country. For months, she pursued a divisive and unnecessary impeachment of President Donald Trump. Instead of working to fight the coronavirus in January and February, congressional Democrats were only focused on impeaching and convicting President Trump. The Ukraine hoax which led to the flimsy impeachment charges was as ridiculous as the Russia hoax, but it did not matter to Democrats inflicted with Trump Derangement Syndrome.
New House vote-by-proxy measure sets off screaming alarms as Pelosi gobbles power. House Speaker Nancy Pelosi essentially told members of Congress they don't need to show up for work anymore and she will take care of voting for them. The California Democrat led members of the House to pass legislation on Friday [5/15/2020] that allows lawmakers to stay home and vote by proxy during the coronavirus pandemic. The unprecedented bill coincided with the approval of a massive $3 trillion coronavirus stimulus package that has objecting Republicans reeling.
Nancy Pelosi is Once Again Trying to Force Americans to Fund Planned Parenthood Abortion Biz. For the second time in as many weeks, Speaker Nancy Pelosi is attempting to exploit the coronavirus crisis to push her abortion agenda on the American people. During the development of the first stimulus bill to tackle the coronavirus situation, White House officials caught Pelosi trying to force Americans to fund abortions because she put funding in the bill under a section of HHS where the provisions of the Hyde Amendment would not apply. Now, Pelosi is trying to include funding for the Planned Parenthood abortion company in the bill to provide economic relief for small businesses, even though Planned Parenthood is a profitable abortion corporation that technically is a nonprofit. As The Hill reports, Pelosi wanted to include Planned Parenthood in the mix with small businesses so it could get taxpayer dollars over the objections of pro-life Americans.
New House rule allowing proxy votes is outrageous — Increases Pelosi's power. Americans should be outraged and frightened by an unprecedented rule change backed by Democrats and approved by the House on a 217-189 vote Friday night allowing for proxy voting and remote committee meetings to guard against the spread of the coronavirus. While the duration of the rule change — which drew strong objections from Republicans — was labeled as "temporary" for 45 days, in government there is rarely a "temporary" duration to any new centralization of power. Under this new House rule, Speaker Nancy Pelosi, D-Calif., has more control over the House than any previous speaker in American history.
Madam Speaker, proxy voting is not remote voting. Yesterday [5/15/2020], Ed Morrissey provided a good takedown of the preposterous $3 trillion dollar "stimulus" bill passed by Nancy Pelosi and most of her Democratic colleagues in the House. The number of things wrong with this budget-busting boondoggle is too lengthy to fully explore here, but in the same session, they snuck in a rule change that Ed mentioned briefly but deserves a bit more attention. That was the decision to temporarily (we hope) allow proxy votes to be cast on the House floor. As Ed correctly noted, it's a rather pointless maneuver since it would only initially last for 45 days. If this dead-on-arrival package was actually passed, it includes a provision for sixty days of vacation for Congress so there wouldn't be any voting going on anyway. But the proxy vote rule also allows for the measure to be renewed every 45 days if the members think they can get away with it.
Nancy Pelosi's $3 trillion coronavirus 'relief' bill is purely a political stunt. House Speaker Nancy Pelosi is happy to play rank politics with the federal coronavirus response. Exhibit A is the absurd $3 trillion "relief" bill she's set for floor vote on Friday [5/15/2020]. It's the first emergency bill written by one party with zero input from the other. Some Dems say it's just an "opening bid," but why waste time crafting 1,800 pages of legislation full of poison pills for the opposition? It seems Pelosi thinks virtue-signaling to her base is worth the trouble.
The Real Reason Why Pelosi Is Finally Putting the House Back to Work. House Speaker Nancy Pelosi (D-Calif.) is finally bringing the House of Representatives back to work for a vote on Friday. The House went into recess on March 14 after passing the coronavirus stimulus bill, the CARES Act. Representatives briefly returned in late April to pass extra funding for the Paycheck Protection Act, but then they went into recess again. While the Senate went back to work last Monday, the House has remained in recess for two months. Both chambers went into recess citing concerns about the spread of the coronavirus, as the Washington, D.C., area is a COVID-19 hotspot. On Tuesday, Pelosi unveiled her $3 trillion bill supposedly focused on providing more relief for Americans during the coronavirus crisis. Like her previous efforts, however, the bill is jam-packed with lefty wish-list items, including vote-by-mail provisions, unemployment checks that actually pay workers more than they would receive on the job, and a repeal of part of Trump's 2017 tax cuts, among other things.
Forget Pelosi's Boondoggle Bill — Take Taxes to Zero Instead. After spending most of the pandemic crisis on vacation, an ice cream-fortified Speaker of the House Nancy Pelosi finally emerged from her magnificent kitchen to propose a behemoth mess of a spending bill to allegedly save America's faltering economy. Her 1,815-page proposal forms the "War and Peace" of legislative monstrosities. In fact, the endless big-government wish list contains generous payments for illegal immigrants, tax credits for wealthy residents of high-tax states, massive grants to fiscally irresponsible states, a national prohibition on identification for voters, and even federal loans for lobbyists. This $3 trillion disaster would massively balloon the federal debt only to consolidate administrative state power and deepen dependency on federal programs.
Pelosi won't tolerate reporter acting like Trump is our president. Americans weary of the rank partisanship increasingly displayed by Democrats the longer President Donald Trump is in office aren't likely to see a respite anytime soon, if the behavior of House Speaker Nancy Pelosi is any indication. In an interview Friday [5/8/2020] with C-SPAN in which the California Democrat literally stammered her way through, she became contentious with anchor Steve Scully when he asked if the president is part of the discussions going on in Congress to pass yet another multi-trillion-dollar coronavirus relief package. "I... I don't have any idea what the president does," Pelosi responded after a few seconds of appearing to be confused.
Watch: The Crazy Ol' Power Drunk Ice Cream Lady's Arrogance on Full Display. [Video clip]
Nancy Pelosi: Barr Dropped Flynn Charges to 'Cover Up' for Trump. House Speaker Nancy Pelosi (D-CA) reacted angrily to the Department of Justice dropping its criminal case against former National Security Advisor Michael Flynn Thursday [5/7/2020], saying Attorney General William Barr's "politicization of justice knows no bounds."
Pelosi Redefines Hypocrisy and Destroys #MeToo for... Biden? [Scroll down] In the first place, no matter what she said, she didn't "believe all women" any more than she or anyone would believe all men. (Neither did Biden, we can hope.) Only an imbecile would — and Pelosi is no imbecile. She is an unremitting power-driven political operative and a successful one, quite willing to lie at a moment's notice to achieve her goals. And that's what she did. Saying she believes all women was a totally expedient lie at the time, not mere hypocrisy, which is too weak. Lie number two is, despite what she says, she doesn't have any idea whether Joe Biden is guilty or innocent of sexually assaulting Tara Reade, irrespective of how long she has known him. (Would she have expected that Ted Kennedy would have left a woman drowning in a car?)
Multi-Millionaire Pelosi Dons $22 Designer Mask (Nice To Still Have A Job). House Speaker Nancy Pelosi is rolling in dough. Her net worth reportedly tops $120 million (not bad on an annual salary of $194,000). We know all about her $25,000 refrigerator stacked to the brim with $12-a-pint gourmet ice cream. But now she's got a new ostentatious show of her wealth. The California Democrat has been sporting designer masks when she's at the Capitol (she refuses to call Democrats back to work, despite the coronavirus, but she's still there from time to time [don't ask how much it costs U.S. taxpayers to fly her back and forth to her San Francisco mansion]).
Nancy Pelosi's just wrong to keep the House from meeting. President Trump's task force has been working hard to fight the coronavirus pandemic and open up America. Meanwhile, the House of Representatives has been silent — AWOL, you might say. Even as the Senate returns to work this week, the House remains shuttered. And now, feeling the heat for their prolonged absence, House Democrats are floating plans that would upend centuries of legislative precedent and concentrate power in Speaker Nancy Pelosi's hands. One Democratic idea would allow a representative to ask a colleague to cast a vote on her behalf, known as a proxy vote. And this proxy vote would count for purposes of a quorum, the majority needed to proceed with business. If implemented, this brainstorm would create a procedural fiction in which a representative would be considered "physically" present in the Capitol when she is home with her freezer full of gourmet ice cream.
Pelosi continues push to get stimulus cash to illegal immigrants with guaranteed income plan. House Speaker Nancy Pelosi said Friday that any guaranteed monthly income plan that Congress works on should apply to illegal immigrants with tax ID numbers. The IRS issues Individual Taxpayer Identification Numbers (ITINs) to illegal immigrants and other non-citizens who lack Social Security numbers to allow them to file tax returns. Individuals with ITINs are not eligible for direct stimulus payments in the $2.2 trillion CARES Act that Congress passed. Earlier this week, Pelosi suggested including guaranteed minimum income for individuals in the next coronavirus stimulus package. She didn't specify the set amount of guaranteed income being considered.
Trump slams Pelosi for rejecting quick testing, refusing to come to work. With Speaker Nancy Pelosi having already canceled the House's return from break due to COVID-19, President Donald Trump offered speedy coronavirus testing at the Capitol to entice Democrats to get back to work. When the California Democrat rejected the offer, in a rare joint statement with Senate Majority Leader Mitch McConnell, R-Ky., Trump fired back in a tweet, referring to his House adversary as "Crazy Nancy."
Pelosi's Congress Should Shelter At Home For The Rest Of The Year. House Speaker Nancy Pelosi is as determined as President Franklin D. Roosevelt to exploit this crisis for political gain, on the well-founded calculation that if Democrats ask Republicans to unleash a horde of locusts, they'll agree to half the locusts. Maybe even three-quarters! Despite failing so far to use the pandemic to get race and sex quotas for corporate boards, insane emissions requirements on airlines, more money for Democrat politicking funneled through unions, student loan bailouts, and bigger tax credits for solar panels, Democrats have already commandeered it to send pork to the Kennedy Center, bail out the U.S. Postal Service, get raises for Congress as 26 million Americans filed for unemployment, fund PBS stations, and upcharge for refugee resettlement. And they're just getting started. Pelosi has started talking about moving beyond blanketing the nation with deficit-funded checks into a "guaranteed income."
Susan Sarandon Praises Nancy Pelosi's Democrat Challenger After Speaker Defends Biden. Actress Susan Sarandon praised a Democratic challenger to Speaker of the House Nancy Pelosi's congressional seat, arguing that people have the chance to vote for someone willing to "speak up even when it's not politically expedient." Sarandon made what looked at least like a tacit endorsement in response to Pelosi's reaction to allegations against presumptive Democratic nominee Joe Biden, where she effectively dismissed the claims made by his former Senate staffer Tara Reade that he sexually assaulted her back in 1993.
Pelosi Says She is 'Satisfied' With Biden's Response to the Sexual Assault Allegation Against Him. House Speaker Nancy Pelosi (D-Calif.) on Thursday told CNN she's "satisfied" with how former Vice President Joe Biden has responded to the allegation made by a former staffer, who says Biden sexually assaulted her in 1993. "I am satisfied with how he has responded. I know him. I was proud to endorse him on Monday. Very proud to endorse him. And, so, I am satisfied with that," said Pelosi. However, Biden himself has not responded personally, nor has he been asked about the allegation in any of the recent podcasts he has done from the basement of his Delaware home. Biden's campaign has denied Tara Reade's allegation, but even some media outlets on the left now say it's time for Biden to address it himself.
New Democrat Coalition to Pelosi: We respectfully request you reopen Congress. Respectfully? Pretty much, yes, but the subtext of this request from the New Democrat Coalition leadership to Nancy Pelosi clearly questions the wisdom of her strategy, if not her leadership. With the COVID-19 crisis stretching out more than a month without any significant oversight in Congress, Pelosi appears to be facing a backbench revolt as House Democrats begin to wonder why Pelosi keeps them sidelined.
Democrats ramp up demand for massive bailout of state and local governments. House and Senate Democrats are escalating calls for an historic federal bailout of state and local governments coping with significant revenue losses due to the coronavirus outbreak. The price tag for the aid Democrats propose is massive: $500 billion for state governments plus "a very big figure," for municipalities, Speaker Nancy Pelosi, a California Democrat, told reporters Tuesday [4/28/2020]. And there's more: Pelosi said lawmakers may seek a $200 billion increase in Medicaid spending.
Pelosi: A Minimum Guaranteed Income May Now Be 'Worthy of Our Attention'. As Congress weighs another relief package amid the ongoing coronavirus pandemic which has many small businesses closed until stay-at-home orders are lifted, House Speaker Nancy Pelosi (D-CA) floated out the possibility of a minimum guaranteed income for workers. Pelosi said on "MSNBC Live" a minimum guaranteed income is "perhaps" now "worthy" of getting looked at being added into the next funding package.
Nancy Pelosi endorses Joe Biden for president. House Speaker Nancy Pelosi on Monday endorsed former Vice President and presumptive Democratic nominee Joe Biden — saying he can help guide the US out of the coronavirus crisis. "As we face coronavirus, Joe has been a voice of reason and resilience, with a clear path to lead us out of this crisis," Pelosi said in a prerecorded video. The California Democrat also cited Biden's experience helping to pass the Affordable Care Act and implementing the 2009 American Recovery and Reinvestment Act.
Pelosi Suffers Brain Freeze, Stutters, Forgets California Governor's Name. House Speaker Nancy Pelosi (D-CA) suffered a bad brain freeze on Sunday [4/26/2020] during an appearance on CNN's "State of the Union." The look on Jake Tapper's face says it all. 80-year-old Nancy Antoinette stuttered and forgot her own Governor's name on Sunday.
The empress of ice cream. This isn't just any old fridge or ice cream, but the creme-de-la-creme. The appliances, two large stainless-steel freezers, are filled to the brim with an extreme prestige brand name called Jeni's, which is marketed largely over the internet and sells for a minimum of $12 a pint. Pelosi's choice would most likely be the "Emergency Chocolate Stash Collection," a six-pack of various cocoa concoctions that will set you back $86 a throw. How many of these would it take to fill up two giant-sized freezers?
Nancy Pelosi parrots fabricated media narrative to demonize Trump. House Speaker Nancy Pelosi, D-Calif., has clearly bought into the "fake news" angle the anti-Trump media regularly employs in their quest to take out President Donald Trump. Either that or the 80-year-old Democrat is suffering from brain freeze from too much expensive ice cream. Fresh off a nose-wiping speech on the House floor, where Pelosi was seen on camera contaminating the lectern shared by representatives, the speaker flat out lied about a comment the president made at Thursday's White House briefing.
Pelosi Wipes Her Dripping Nose With Her Bare Hand, Then Touches House Floor Podium Used by Other Lawmakers. House Speaker Nancy Pelosi on Thursday wiped her dripping nose with her bare hand, then took that same hand and wiped it all over the House floor lectern used by other members of Congress. Pelosi's mask/scarf was also pulled down around her neck. This is totally against CDC guidelines and 80-year-old Pelosi is definitely in the 'at-risk' category as are other elderly members of Congress. This was just gross.
How does Nancy Pelosi get away with blocking desperately needed aid? How does Nancy Pelosi get away with it? How does the speaker of the House, in the midst of an unprecedented pandemic crisis, delay desperately needed aid to small businesses and, in the process, escape blame in a highly politicized environment? Pelosi didn't stand in the way of aid for just an hour or two, or a day or two. She stonewalled for two weeks while small-business people across the country struggled to stay afloat in a time in which public fear of the coronavirus and government stay-at-home orders reduced their business incomes to zero.
Biden campaign spends tens of thousands on ice cream brand Pelosi had packed in freezer. Joe Biden's presidential campaign spent nearly $11,000 on gourmet ice cream that is also a favorite of House Speaker Nancy Pelosi's. The presumptive Democratic presidential nominee's campaign spent $10,600 on Jeni's Splendid Ice Creams between May 2019 and March 2020. The ice cream was listed as donor gifts, according to Federal Election Committee data. Pelosi has taken a lot of heat since last week when she joined James Corden on his late-night comedy show and showcased her freezer packed with ice cream. Among the selection were pints of Jeni's Splendid. "I don't know what I would've done if ice cream were not invented," she said via video conference from her home.
Speaker Pelosi, end government-by-secret-caucus. Our Constitution set up three branches of government. And yet, in this crisis, only two branches are fully operational. In particular, the House of Representatives is no longer functioning as a legislative body at all but as an executive committee run by just one representative: the Speaker of the House. There are no open debates, no televised committee hearings, no minority rights. "The People's House" is not open to the people.
Poison Pelosi Blames Mitch McConnell for Blocking Small Business Funding, After She Cheered Schumer for Blocking Small Business Funding. Last Thursday the PPP Loan program ran out of money. The $349 billion allotted to the program to save small businesses had already been distributed. At least 20,000 business applications went unprocessed on Thursday and Friday. Last Tuesday, eight days ago on April 14th, Speaker Pelosi went on late night television and congratulated Senate Democrats for blocking the crucial funding to small business owners in America. Pelosi made the comments on MSNBC.
Trump campaign goes for the jugular with new ad: 'Let them eat ice cream — Nancy Antoinette'. No doubt, NeverTrumps are clutching their pearls over the visceral new campaign ad released under President Trump's imprimatur. It certainly isn't gentlemanly the way George W. Bush was; it's primal in its attack on Nancy Pelosi and its appeal to class resentments. It's not the sort of lose-with-dignity approach favored the last generation of the GOP establishment. But in an era of phony impeachment efforts and special counsel investigations and "blood on his hands" accusations, it is giving back to the Democrats exactly what they have been hurling Trump's way.
Democrat Law Professor Calls Out Pelosi For Contradictory Statements. Jonathan Turley, a self-described Democrat who is a Constitutional Law Professor at George Washington University, called out House Speaker Nancy Pelosi on Sunday over multiple contradictory statements that Pelosi gave during an interview on "Fox News Sunday." "Nancy Pelosi just said to Chris Wallace on Fox that she does not understand people publicly protesting civil liberties on lock down orders," Turley tweeted. "However, this followed her defense of her calling people to join her in Chinatown in late February as a protest against discrimination."
Steve Scalise: 'Sickening' to Watch Pelosi Use Small Business Aid as Leverage. House Republican Whip Steve Scalise (R-LA) told Breitbart News in an exclusive interview on Monday that it is "sickening" to watch House Speaker Nancy Pelosi (D-CA) use small business aid as leverage to include more leftist provisions in future coronavirus legislation. Scalise has collected stories from businesses across his district and the country that can no longer obtain a Paycheck Protection Program (PPP) loan due to Pelosi's objection to a simple renewal of the program.
If You Protest Against Leftist Tyranny, You're Racist. [Scroll down] Americans are legitimately complaining that the draconian cure is shaping up to be worse than the disease. Speaker of the House and nepotism-enthusiast Nancy Pelosi decried the protesters, of course: "What they're doing is really unfortunate," she condescended. "What we have to do is, is, is shelter in place." That's easy for her to say. While Pelosi (who as of last year has a net worth of over $120 million) "shelters in place" in her San Francisco mansion that features a $24,000 refrigerator stocked with gourmet ice cream, her constituents are losing their livelihoods and life savings. Her nephew-by-marriage Gov. Gavin Newsom, California's answer to Justin Trudeau, said he will not be swayed by public protests in deciding when he will reopen the state: [...]
Pelosi's Easter Revelation: You Know, Trump Sure Has Made a Lot of Mistakes. In an interview on Fox News Sunday, House Speaker Nancy Pelosi (D-Planned Parenthood) made an interesting claim. Host Chris Wallace recounted the back and forth war of words between Pelosi and President Trump and asked the speaker if their verbal warfare is helpful during the coronavirus pandemic. Pelosi said yes, she had some sort of revelation allowing her to bash the president. On Easter Sunday. [...] Pelosi has spent Trump's entire presidency bashing and undermining him at every turn, culminating in the Democrats' effort to impeach him over a partisan witch hunt. That purely political stunt was expressly designed to hobble Trump's ability to govern heading into the election. And it neatly overlapped the rise of the coronavirus pandemic — forcing the president and most of his senior advisers to deal with being just the third American president ever to face impeachment, while the Wuhan virus started ravaging the world.
The left's new hysterical narrative? Testing! Testing! Testing!. Nancy Pelosi was positively ghoulish on Fox News Sunday [4/19/2020]. She denied exacerbating the virus in San Francisco, when late in February she was encouraging her constituents to join in her city's Chinese Lunar New Year celebrations. The woman is the Wicked Witch of the West. With her fancy kitchen appliances and her freezer full of $13-a-pint ice cream, she is enjoying her vacation. She appears to be relishing the destruction of the economy that Trump had so successfully energized. She is refusing to go back to D.C. and vote on an additional bill to save small businesses. She does not [care] about the 22 million people suddenly unemployed; she thinks this crisis can only benefit her party and her power. She is as senile as Biden if she thinks this ploy will work. She is fast becoming the Joker of American politics.
Sen. Lindsey Graham eviscerates Speaker Nancy Pelosi saying 'she hates Trump to the point of hurting our own nation'. Senator Lindsey Graham ripped into House Speaker Nancy Pelosi over her criticism of Donald Trump's decision to halt funding to the World Health Organization, claiming her contempt for the president is harming the country. 'Her issue is she hates Trump to the point of hurting our own nation,' the South Carolina senator said on Fox News' Justice with Judge Jeanine on Saturday night. 'She is condemning President Trump for cutting funds off of the WHO because they've been in China's pocket, as she one time mentioned the fact the virus came out of China, that the Chinese Communist Party lied to the American people and the world at large,' he added.
Turley fires back at Pelosi for criticizing people 'protesting civil liberties' after defending Chinatown appearance. Constitutional law scholar Jonathan Turley found fault with House Speaker Nancy Pelosi after she criticized protesters of local social distancing guidelines in the same interview she advocated for an end to discrimination. "Nancy Pelosi just said to Chris Wallace on Fox that she does not understand people publicly protesting civil liberties on lock down orders," Turley tweeted Sunday. "However, this followed her defense of her calling people to join her in Chinatown in late February as a protest against discrimination ..." On Sunday [4/19/2020], Pelosi defended why she went out to promote San Francisco's Chinatown in late February after news of the coronavirus began making headlines. "What we were trying to do is end the discrimination, the stigma that was going out against the Asian American community," Pelosi said.
15 House Democrats Call to Replenish Small Business Relief Fund Despite Pelosi's Objections. On Thursday morning [4/16/2020], the Small Business Administration's (SBA) small business relief fund, otherwise known as the Paycheck Protection Program (PPP), officially ran out of money. The PPP's loss of funding sparked outrage from congressional GOP leaders such as House Republican Leader Kevin McCarthy (R-CA) and Senate Majority Leader Mitch McConnell (R-KY). Sen. Kyrsten Sinema (D-AZ) also called to replenish the fund "ASAP." As Speaker Pelosi continues to object to a clean refunding of the small business relief fund, House Democrats broke with the Democrat leader to call for immediate refunding of the PPP.
Media Would Destroy Republicans for What Nancy Pelosi Is Doing to Block Funding for PPP. On Thursday [4/16/2020], the $350 billion Paycheck Protection Program (PPP) ran out of money, having disbursed all of its funds to small businesses across the country. Meanwhile, Speaker of the House Nancy Pelosi (D-CA) sat in her mansion in San Francisco, refusing to call the House back into session to replenish the fund — and enjoying gourmet ice cream from her $24,000 freezer. Not only that: Pelosi was proud of her self-indulgence, tweeting her appearance this week on CBS' Late, Late Show.
How Much Do The Pelosi's Have Invested In China? Pelosi may present herself as the defender of the little guy. She is anything but. In 2018 her net worth was roughly $160 million. She is married to Paul Pelosi who runs a top tier investment and real estate firm in San Francisco. Over the course of decades, as Nancy has risen through the ranks of the Democratic Party, the Pelosi's have gotten fabulously wealthy. There have been any number of allegations over the decades that Nancy and her husband have profited in ways that are clearly illegal from the access a senior politician enjoys. Over a span of years, Nancy Pelosi used her influence to steer more than $1 billion to the expansion of a light rail line into a San Francisco neighborhood where her husband owned commercial property and in which business associates of his then purchased additional properties. The value of real estate in the area exploded with the arrival of light rail, and the Pelosi's made a killing. There has also been an almost unending number of allegations that Paul Pelosi has benefited from what is known as insider trading. That is, he has made sometimes enormous purchases of stocks based on information allegedly provided to him by Nancy, who was privy to sensitive, non-public information by way of her position.
'You should be ashamed': Critics unleash on Pelosi for showing off freezer loaded with ice cream. House Speaker Nancy Pelosi took some heat for showing off her freezer packed with ice cream during the coronavirus crisis. The California Democrat joined comedian James Corden on his late-night show Monday and showed off how much ice cream is in her freezer in addition to wondering how Trump's base could still support him after his response to the pandemic. "I don't know what I would've done if ice cream were not invented," she said via video conference from her home.
As Emergency Funds For Small Businesses Run Out, San Fran Nan Shows Off Freezer Full of Chocolate Ice Cream. [Scroll down] As the money was running out, Pelosi proudly shared a video showcasing her very expensive freezer full of ice cream and a fancy basket full of chocolate. "Other people in our family go for some other flavors, but chocolate, and then we have some other chocolate here," Pelosi said, showing off the multiple pints of ice-cream in her freezer. Pelosi told the "Late, Late Show" host James Corden that while in quarantine, she was eating as much candy and chocolate as possible. "I enjoy it," she explained. "I like it better than anything else." She said she had her fridge recently stocked for Easter. "I don't know what I would have done if ice-cream hadn't been invented," she gushed.
As Small Business Relief Fund Runs Dry, San Fran Nan Shows Off Her Sub-Zero Fridge. [Scroll down] In the situation described above, which happens to be the current reality on the ground today, what do you do? Well, if you are Democrat Speaker of the House San Fran Nan Pelosi, you make a video with hosted by a fabulously wealthy cretin from Hollywood, showing off your million-dollar kitchen in your $30 million San Francisco home, featuring your $15,000 Sub-Zero refrigerator that is filled with designer ice cream, among other fabulously expensive delicacies.
Nancy Pelosi Extends House Vacation for 3 More Weeks. Today, San Francisco's on lockdown, Chinatown's a ghost town, and the San Fran Nan is supposedly locked in her Pacific Heights manse for the duration. But the Speaker was adamant to Corben in saying we must act fast and "work 24-7 and [have] all hands on deck ... working for a cure, vaccine and the rest." Quickly now! Someone should do something! This was just hours after Pelosi gave House members another 3 weeks off "absent an emergency." That's a quote. Guess that whole National Emergency/global pandemic thing doesn't qualify as "an emergency." Perhaps Pelosi could use that extra time waiting for "an emergency" to eat all that ice cream in her freezer.
Pelosi Shows Off Her Kitchen and Gourmet Ice Cream Collection as Americans Stand in Line at Food Banks. House Speaker Nancy Pelosi (D-CA) showed off her expensive kitchen appliances and massive gourmet ice cream collection during an appearance on a late night show as Americans stand in line at food banks. Pelosi slammed President Trump over his Coronavirus response on Monday's episode of "The Late Show" with James Corden before showing off her 15 flavor ice cream collection. Pelosi, who is one of the wealthiest members of Congress, held Americans hostage by delaying the first Coronavirus stimulus package.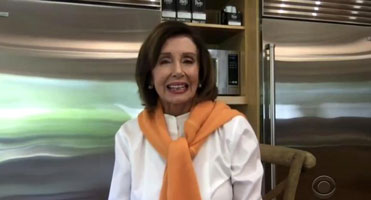 Nancy Pelosi Struggles Through Coronapocalypse With Her Fancy Designer Ice Cream. Well, nothing says "Woman of the People" quite like posing in front of two of your enormous gleaming stainless-steel luxury refrigerators with a sweater tied around your neck. What color is that, is that peach? No, more of a tangerine. Pumpkin, perhaps. Very comforting, in any case. Whoever dresses Pelosi is earning his and/or her pay. [...] Down with ICE, up with ice cream! This is something every single American can appreciate, and it's not at all tone-deaf. Those containers of Jeni's Splendid Ice Creams you saw packed into Pelosi's freezers are only $12 per pint, so you can buy literally 100 of them with your Trump check. Almost as many as Pelosi has.
Nancy Pelosi Shows Off Her Kitchen During 'Late Late Show' Appearance While Americans Form Food Lines. Democratic House Speaker Nancy Pelosi showed off her kitchen during an appearance on a late night comedy show, while Americans form food lines across the country. Pelosi appeared on Monday's [4/13/2020] episode of "The Late Late Show" with James Corden, where she slammed President Donald Trump's handling of COVID-19 and then showed off her ice cream collection.
The Editor says...
Since I don't own a television, this was the first time I had ever heard of James Corden.
Is Nancy Pelosi trying to be the most hated woman in America? As part of its coronavirus relief package, Congress passed the Paycheck Protection Program ("PPP"), a $349 billion fund to help businesses with fewer than 500 employees. [...] Pelosi seems determined once again to put her agenda ahead of "the little people's" needs. This time, she's refusing to let the Democrats agree to Mitch McConnell's clean bill: ["]Instead, Democrats want McConnell to acquiesce to jumps in funding for several entities that received billions under the CARES act, including health care systems, and to demands to reconfigure the PPP system so that minority and female entrepreneurs are given priority in lending.["] That's bad. What's worse is that, as small business owners are forced to fire their employees and shut down their life's work, Pelosi is boasting about blocking the PPP infusion.
Clueless Pelosi Gets Blasted For Her 'Marie Antoinette' Moment While Americans Are Suffering. [Scroll down] But just so you know how much she cares, Pelosi gave us a lovely "Let them eat cake" Marie Antoinette moment from her luxurious San Francisco home, with what looks like two refrigerators. Nice to become rich while being in Congress. If you've lost your job or are having trouble getting toilet paper, food or paying your mortgage or rent, what a great thing it is to see Pelosi talk with James Corden about how she keeps her spirits up "during these trying times," showing off expensive commercial grade appliances jam packed with her $12 pints of designer ice cream in her freezer. [Video clip]
Time Wasted. [Scroll down] If anyone dawdled, it was Speaker of the House Nancy Pelosi. She allowed the likes of Schiff to conjure up conspiracies that were so far-fetched that his constituents should vote him out of office this November 3 or secede from the Union. Then, when the House settled on its bill of impeachment, Nancy sat on the bill for four weeks, refusing to send it on until January 16, and Democrats in the Senate still were not satisfied that there should be an impeachment vote. Only when Senate Leader Mitch McConnell ended this nonsensical travesty and put it to a vote was some sort of order restored. In the meantime, what was happening? Well, the coronavirus, we now know, was spreading throughout the world in early 2020 with little action being taken by anyone. Did any of the aforementioned misbehavior by the Democrats have anything to do with the president's action or inaction? I think it did.
Nancy Pelosi and her Democrats' unending shame. There are some truly terrible people in Congress; there always have been some throughout American history. But as the country navigates the course of this mis-modeled and over-hyped COVID-19 pandemic, Nancy Pelosi stands out as a genuine enemy of America. She loathes the president so much she has relinquished any semblance of ethics and her own personal character. Every word she utters is a lie. She knows [quite] well that the president was on top of this virus crisis while she and her fellow anti-Americans were gleefully and despicably embroiled in their attempt to remove the president from office. Not one of the principals in this fiasco — Pelosi, Adam Schiff, Jerry Nadler, or the rest of them — gave a single thought to the potential threat of the disease emanating from China. There is no record of any of them even mentioning it until the economic shutdown brought it to their attention. [...] As Pelosi's foot-dragging on the relief bill proves, she cares not one bit about actual human beings. She is as Stalinist as they come in America; we are just statistics to be used and abused for her purposes.
Free advice: Whatever Nancy Pelosi recommends, do the opposite!
Nancy Pelosi warns Donald Trump NOT to reopen the country too early and risk a new wave of coronavirus. Speaker Nancy Pelosi warned Donald Trump not to reopen the country too early as the president has shown increasing signs of impatience with the coronavirus lockdown. [...] Several of Trump's political and economic advisers have also taken up that call, with an eye toward a return to normal life — along with a bit of social distancing — at the beginning of May.
Pelosi Leads Democratic Effort to Use Health Crisis to Change Election Laws. She's at it again. After nearly torpedoing the CARES Act with a farfetched, radical, extreme environmental wish list, House Speaker Nancy Pelosi is once again trying to attach her liberal wish list to Phase 4 of Congress's coronavirus relief response. This time Pelosi is focusing in on her plan to usher in mandatory mail-in voting. CNN's Anderson Cooper asked Pelosi directly if she would try to change election laws in the wake of the coronavirus. She would.
'Here we go again': Pelosi, Schiff plot new probe of Trump. House Speaker Nancy Pelosi has spent the last three-plus years investigating President Trump, and each time, she's come up empty. But she's going to give it another go, this time as Americans are locked down while the coronavirus sweeps across the nation. Mrs. Pelosi announced last week that she is setting up a select House committee to "assure that the taxpayer dollars are being wisely and efficiently spent" — but the California Democrat also said she wants to "examine all aspects of the federal response to the coronavirus."
Democrat Trump Derangement Syndrome (TDS) Escalates Corona Spread. In one of the most contemptuous interviews in American history, Nancy Pelosi, on Meet the Press, accused President Trump of accelerating the deaths of the American people by not restricting more severely early on. She despicably said: "The president fiddles while people are dying." But, it was she who was inviting Americans to visit Chinatown at the moment the president was already closing us off from China. The people in Chinatown, be it in San Francisco or Lower Manhattan, were the most likely carriers, traveling back and forth to see family in China. It is Pelosi who should assume guilt. It was her policy of always being contrary to Trump that ended up infecting more people. Adam Schiff will open up an investigation of President Trump and his administration with the hope of damaging the president. Actually, it is Pelosi who should be investigated!
Corona Meltdowns. [Scroll down] It does not matter whether [Nancy Pelosi's] political and ethical decline was a result of her deep pathological hatred of Donald Trump. Who cares that her paranoia arose over the so-called "Squad" that might align with socialist Bernie Sanders to mesmerize Democrats to march over the cliff into McGovern-like oblivion? All concede that very few octogenarians have the stamina and clarity to put in the 16-hour work-days and transcontinental travel required by a Speaker of the House. Instead, all that matters is that for a nation in extremis she is now puerile, even unhinged — and increasingly dangerous. In retrospect, the public will remember how in fear and confusion she reversed course to spearhead impeachment, outsourced the task in the House of Representatives to its most incompetent and perfidious members — Representatives Jerrold Nadler (D-N.Y.) and Adam Schiff (D-Calif.) — and wasted weeks of the country's precious energy and time as it was on the cusp of an epidemic. Pelosi then quickly weaponized the viral crisis in hopes that COVID-19 could do what Robert Mueller's dream team and impeachment had not done — destroy the administration of Donald Trump before the November 2020 election.
Republicans Blast Pelosi's Partisan Coronavirus Panel. Republicans are hitting back hard at the Democrats' latest attempt to hobble Trump's presidency. On Thursday [4/2/2020], Speaker Nancy Pelosi announced the creation of the House Select Committee on the Coronavirus Crisis, a panel that will purportedly provide oversight of coronavirus stimulus spending. Republicans view the panel as a purely partisan move that isn't necessary because there are already numerous oversight measures in the $2 trillion stimulus bill passed by Congress last week. Byron York in The Washington Examiner suggested that the real reason for the new panel is to find fault with the president's response to the pandemic. "Pelosi's announcement came a day after House Intelligence Committee Chairman Adam Schiff called for a 9/11-style independent commission to investigate 'mistakes' in the virus response," York wrote.
Whose Side Is Nancy Pelosi Really On? Unfortunately, and to dismay of many, House Speaker Nancy Pelosi (D-Calif.) has not retreated from national attention. Obviously, personal attacks on this president are nothing new. But Pelosi's recent comments took things to a new low and exceeded all bounds of human decency. Pelosi blamed the president for the tragic loss of life resulting from this virus. Her statements are not only vile but un-American. They also make it difficult to tell whose side Pelosi is really on. "As the president fiddles, people are dying," Pelosi said last Sunday. "We just have to take every precaution." The vile nature of her comments cannot be overstated. [...] Not only is Pelosi's comment disgusting; it is also incorrect. Trump's decision in January to bar travel from China to the United States likely slowed the spread of the virus and saved many lives.
House Democrats reveal plan to attack security of military votes. [I]n the Coronavirus relief package recently passed by Congress, Speaker Nancy Pelosi and her fellow Democrats tried to include language making it easier to commit vote fraud with the ballots of our military stationed overseas. House Democrats' proposed additions to the Families First Coronavirus Response Act included changes to election law that would provide cover for individuals and activists yearning for federal protection for voting fraud schemes that could include military ballot manipulation. [...] House Democrats used the word "temporary" twenty-two times in their legislative requests. But all changes to election law were to "go into effect in the November 2020 election and for each succeeding federal election." Pelosi and team wanted to make sure provisions imperiling election integrity, particularly military votes, were permanent.
No More Pork-Laden Stimulus Bills, Please. Nothing cries out more for giving the president a line item veto for federal spending than the 880-page coronavirus stimulus bill that Speaker Pelosi put together from her Socialist Wish List filing cabinet and pasted into her stimulus bill. Rep James Clyburn (D-SC) had already signaled the plan was to load the Democrat agenda into the bill. Ultimately the taxpayer was saddled with the costs of many programs completely unrelated to managing the crisis. Did the Speaker expect to get the entire progressive agenda which included legitimizing voter fraud? No, she sent up a lot of throwaways, but the pattern has always been to force acceptance of some of the agenda each time there is a crisis, attaching as much as possible to each "must pass" bill. Each side then proclaims how much they surrendered by giving up their throwaways. Because the pork is buried in massive bills, the assumption is no one will read it before passage. With each crisis, the country is then moved incrementally to the left and national debt increases by unnecessary amounts.
President Trump Stands Tall. The Democrats seem more interested in damaging President Trump politically than they are in taking care of the American people. Speaker Pelosi tried to attach all kinds of extraneous, irrelevant addenda to the relief bill (support for Planned Parenthood, voting rights modifications intended to make things more favorable to Dems in future elections, money for NPR and the Kennedy Center, etc.), all of which delayed the bill — needlessly — for a week. As millions of businesses close their doors and tens of millions of Americans lose their jobs, Pelosi and the Democrats continue to look upon the entire situation as nothing more than an opportunity for a power grab. The bill went through in bi-partisan fashion a week later than it should have, and most, but not all, of the Democratic fat was trimmed out. But it didn't have to be that way at all.
Nancy Pelosi under fire for controversial stock moves. House Speaker Nancy Pelosi, D-Calif., has made a tidy profit on the stock market since the deadly Wuhan virus outbreak began in January. Critics say the timing of her husband's stock purchases were suspicious because they occurred while Pelosi was learning, in closed-door Congressional meetings, about the potential coronavirus impacts. Around mid-January, Pelosi's husband, Paul, had made nearly $2 million in just 10 weeks through savvy trading of Amazon and Facebook stock options, Barron's reported.
They're the ultimate Monday morning quarterbacks.
With virus crisis raging, Pelosi and Schiff ramp up new Trump investigations. The team is back in action. On Thursday [4/2/2020], Speaker Nancy Pelosi announced the creation of the House Select Committee on the Coronavirus Crisis. The new panel will have the authority to investigate any aspect of the virus emergency and the Trump administration's handling of it. Pelosi's announcement came a day after House Intelligence Committee Chairman Adam Schiff called for a 9/11-style independent commission to investigate "mistakes" in the virus response.
Donald Trump Trashes Nancy Pelosi Coronavirus 'Witch Hunt'. President Donald Trump ripped House Speaker Nancy Pelosi on Thursday [4/2/2020] for creating a new select investigative committee to look into his handling of the coronavirus. "This is not the time for politics. Endless, partisan investigations, here we go again," Trump said at the White House press briefing.
Pelosi creates House coronavirus oversight committee. Speaker Nancy Pelosi announced she was forming a special House panel to oversee the distribution of billions of federal dollars dedicated to the response to the coronavirus outbreak. Pelosi, a California Democrat, said Thursday [4/2/2020] the panel would "prevent waste, fraud, and abuse" and would be bipartisan. She appointed the House majority whip, South Carolina Democrat James Clyburn, to oversee the panel.
Pelosi pushes 'SALT shakeup' stimulus that could reduce her tax bill and enrich her wealthy district. House Speaker Nancy Pelosi, D-Calif., is pushing for a new stimulus bill that would roll back the state and local tax deduction (SALT), a proposal that would predominantly help wealthy individuals — including most residents in Pelosi's district and perhaps even Pelosi herself. [...] California's 12th congressional district, which Pelosi represents, is among the wealthiest in the U.S., with a median income of $113,919, according to census data. The average household income is $168,456 — meaning most residents would benefit from any significant cut to SALT. Pelosi and her husband have a property tax liability of approximately $198,337.62 considering their two homes, a winery and two commercial properties, public records show, indicating that the couple could reap benefits on roughly $188,000 given a full SALT repeal.
Trump talked about COVID-19 threat in SOTU speech Nancy Pelosi ripped to shreds. On January 31, Trump issued a ban on travel from China, and we are now reminded that the president talked about the coronavirus four days later during his State of the Union address — you know, the one Pelosi stood up before the American people and ripped in half. "Protecting Americans' health also means fighting infectious diseases," Trump said in the Feb. 4 speech. "We're coordinating with the Chinese government and working closely together on the coronavirus outbreak in China. My administration will take all necessary steps to safeguard our citizens from this threat." But even before all of this is the little-reported fact that on January 29, Trump formed the White House Coronavirus Task Force — the first confirmed case in the U.S. came on January 21, in Washington state.
Nancy Pelosi: Cancer on the body politic. "Nancy Pelosi is a cancer on the body politic." Those are the words of Mark Levin and he is profoundly correct. It is actually an understatement. This woman has dedicated her entire recent term to impeaching President Trump over a phone call. She stupidly bought into Adam Schiff's lunacy that they had the evidence that the president had threatened the president of Ukraine with a quid pro quo — either investigate the Clinton campaign's meddling in the 2016 election or else. [...] Then came the Wuhan virus. Oh my, were the Democrats thrilled. This would be the crisis they could use, manipulate to their desired end. This is how utterly stupid these Democrats are! This is how malicious they are; they are ready and willing to destroy the United States economy to take down a president they abhor.
McCarthy rips Pelosi, says Dems were 'preoccupied with impeachment instead of protecting this country'. House Minority Leader Kevin McCarthy, R-Calif., blasted Speaker Nancy Pelosi, D-Calif., Tuesday night [3/31/2020] for being more concerned with impeaching President Trump earlier this year than preparing the U.S. to fight the coronavirus contagion. "They were preoccupied with impeachment instead of protecting this country," McCarthy said on "Hannity". "That's exactly the only thing they focused upon. And then you watch Nancy Pelosi, I watched her sit there and say those words, and it was very upsetting to me as an American, not as an elected official but as an American."
Nancy Pelosi Dismissed Coronavirus Threat in February Chinatown Visit: 'Everything Is Fine Here'. House Speaker Nancy Pelosi wants to investigate President Trump for his actions in the lead-up to the coronavirus outbreak in the U.S., but in February, she dismissed the threat with a visit to San Francisco's Chinatown. KPIX documented Pelosi's February 24 visit to a fortune cookie factory and retailers: [Video clip]
Does Nancy Pelosi know about the coronavirus outbreak? Someone ought to tell Speaker Nancy Pelosi about the coronavirus outbreak, because her laser focus on pushing her political agenda suggests she's unaware of it. The latest evidence: She wants to "retroactively" roll back Congress' 2017 cap on tax deductions for state and local taxes (SALT), The New York Times reports. She claims lifting the cap would address the economic fallout of COVID-19. She wants her "fix" to be part of Congress' next rescue plan. But her idea has nothing to do with boosting the economy and everything to do with helping Dems in blue states, like California, New York, New Jersey and Illinois. More than half the benefits of a repeal would go to folks making more than $1 million. Don't Dems oppose tax breaks for the rich?
McConnell: What's the rush on Phase 4 coronavirus relief, except for Pelosi's hobby-horse agenda? Two key Senate Republicans declared Nancy Pelosi's tax break for blue-state millionaires dead on arrival — if she has the nerve to actually propose it. The chair of the Finance Committee, which would have to approve the elimination of the state and local tax (SALT) deduction cap, won't bother to review it at all. A spokesperson for Chuck Grassley wondered why this would be the time to bring up a tax break for millionaires in high-tax states like California and New York.
Nancy Pelosi urged people to congregate in Chinatown in late February. Speaker of the House Nancy Pelosi critiqued President Trump for his failure to imagine the disastrous effect of the COVID-19 coronavirus on the American public and infrastructure, when in fact she failed to imagine the same thing. On February 24th, Pelosi walked through San Francisco's Chinatown with a large entourage, encouraging locals to come down and join her. Pelosi said: "Come to Chinatown. Here we are. We're careful, safe, and come join us." She was more concerned with virtue signalling and combating "racism" than she was with securing the safety of Americans.
Trump rips Pelosi after she criticizes his coronavirus response. President Trump tore into House Speaker Nancy Pelosi after she accused him of dragging his feet in the federal government's response to the coronavirus pandemic. "It's a sad thing. Look, she's a sick puppy, in my opinion," Trump told Fox & Friends on Monday [3/30/2020]. "She's got a lot of problems. That's a horrible thing to say." Pelosi said Sunday that Trump's denial about the seriousness of the virus "was deadly."
Marsha Blackburn: Pelosi 'Fiddled Around' with 'Sham Impeachment,' Wasting Time in Coronavirus Response. Sen. Marsha Blackburn (R-TN) slammed House Speaker Nancy Pelosi (D-CA) for her accusations that President Donald Trump did not move fast enough to respond to the coronavirus pandemic. "Nancy Pelosi is accusing Trump of not responding fast enough to the Chinese coronavirus. This is the same person that fiddled around with a sham impeachment that wasted valuable time..." she tweeted.
Lindsey Graham Goes Off after Pelosi Blames Trump for People Dying. Senator Lindsey Graham (R-SC) joined Maria Bartiromo on Sunday Morning Futures this morning [3/29/2020]. Maria asked Senator Graham about Nancy Pelosi's disgusting Sunday morning comments blaming President Trump for people dying from coronavirus. Senator Graham went off. [Video clip]
Pelosi calls for probe into Trump's handling of virus: 'What did he know and when did he know it?'. Without any pushback from CNN, House Speaker Nancy Pelosi suggested Sunday that every deceased coronavirus patient's death is attributable to President Donald Trump. And in issuing this bold insinuation, she told lie after lie after lie. "The president, his denial at the beginning, was deadly," she said to CNN's Jake Tapper during a discussion Sunday morning about mounting coronavirus deaths in the states. There was no "denial at the beginning." While the president offered optimism, as he's always wont to do, his administration has been taking actions in regard to the global coronavirus pandemic since January, when House Democrats like Pelosi were busy trying to impeach him over highly dubious allegations of wrongdoing.
Little of Pelosi's Wish List Made It Into COVID-19 Relief Bill. That's a Relief in Itself. There's a lot in those 880 pages, and much of it is problematic: The bill is neither targeted and temporary, nor directed exclusively at the coronavirus [...] Before the bill made it through the Senate, House Speaker Nancy Pelosi, D-Calif., temporarily derailed it by insisting that any relief bill include a left-wing wish list unrelated to the ongoing pandemic and the economic slowdown that it's causing.
Coronavirus Causing a Right Turn. [Scroll down] Laser-focused on the emotional and financial well-being of each and every American, Trump is seeking to get relief funds into their hands ASAP. Insidiously evil Nancy Pelosi held up the process. She is callously exploiting the suffering of Americans to force Trump to sign a relief bill with funding for unrelated radical leftist agenda items. Pelosi wants wind and solar tax credits, mandates on corporate board diversity, advancing abortion, mandating the LGBTQ agenda, the Green New Deal and much more. Sen. Ted Cruz's response was, "What [...] does that have to do with this crisis?!" I pray that Democrat party loyalists will finally realize that their party as they knew it is gone. It has morphed into an anti-Christian and anti-American enemy within, driven by a spirit of anti-Christ. The only thing, I repeat, the only thing Democrats care about is transforming America into their socialist/communist dream.
Republicans Cave To Pelosi, Unanimously Vote To Give $350 Million To Refugees, Migrants. Republican and Democratic senators unanimously voted to pass a coronavirus relief bill late Wednesday that gives $350,000,000 to assist refugees and migrants. Earlier this week, it was revealed that House Speaker Nancy Pelosi's relief package would include $300,000,000 for refugee assistance. The new bill, approved by the Senate and now headed to the House, includes an additional $50 million on top of Pelosi's initial $300 million for refugees.
Senate Passes Coronavirus Bill, Proving Pelosi Gambled With Americans' Lives and Lost. In the wee hours of Wednesday evening [3/25/2020], the U.S. Senate finally passed the $2 trillion coronavirus stimulus bill after a great deal of Democrat stalling and a futile effort by House Speaker Nancy Pelosi to put forward a separate bill jam-packed with liberal Christmas wish-list items. The bill provides crucial relief to businesses struggling with the social distancing strategy of stopping the spread of the coronavirus. It now heads to the House. The stimulus bill is far from perfect, but its passage unmasked Pelosi's tactics as a disgraceful waste of time during this crisis. House Minority Leader Kevin McCarthy (R-Calif.) slammed the speaker for her attempt to jam her liberal pipe dreams down Americans' throats in the midst of a crisis.
The Editor says...
"The wee hours" are the first few hours after midnight. There are no "wee hours" in the evening.
How do you solve a problem like Pelosi? Nancy Pelosi has long been a thorn in the side of not just conservatives but the House itself. For reasons no Republican could ever grasp, she is a heroine to the left, despite her many serious failures. She is a traitor to her own district; she has never lifted a finger to deal with San Francisco's catastrophic homeless disaster. She does not even admit it exists! She seems to think she is some kind of monarch, a queen bee. In fact, she is a vicious elitist. She and her husband, like Sen. Dianne Feinstein and her husband, are the ultimate inside traders who have become very rich over their years in public office. [...] The Pelosi family are like the Gambino crime family. They get their way, they get rich, they care about nothing else. Nancy may pretend she cares about climate change but she flies across the country weekly and charges the taxpayer not only for her private jet but for her massive liquor bill. She pretends to be a practicing Catholic but is rabidly pro-abortion. In short, she's a nasty piece of work.
After first lying about her corrupt bill, Pelosi has finally agreed to abandon it. On Sunday [3/22/2020], the news was that Democrats in the Senate, having worked to draft a bipartisan bill to help Americans through the coronavirus crisis, received orders from Rep. Nancy Pelosi to reject it. On Monday, the Democrats doubled down on that rejection. Also, on Monday, Nancy proposed a 1,100-page bill that did provide some help for America's workers, small businesses, and corporations. Most of the bill, though, was given over to Democrat wish-list items. If coronavirus had hit America with a Democrat in the White House and a Democrat majority in Congress, by Monday's end, a new law would have
• raised the federal minimum wage to $15,
• subsidized student loan debt,
• provided more funds for PBS,
• funded the IRS and the Postal Service,
• mandated race and gender diversity for corporate boards,
• implemented same-day voter registration
• required airplanes to be carbon neutral in five years,
as well as a host of other initiatives pandering to social justice, environmental, and union concerns -- and all of it would ostensibly have been done to protect American workers from coronavirus's ravages on the economy.
Pelosi Suffers Massive Political Hit — Abandons House Scheme. You can tell when Speaker Pelosi recognizes a political backlash for her manipulative schemes because it's the only time she blitzes the media. After suffering a very large political hit, beyond the capability of the media to defend, Pelosi said today the House will take up the Senate coronavirus bill. The writing was on the wall late yesterday as people started digging into the 1,400 page House proposal and exposing all of the far-left ideological efforts within it. Billions were earmarked for nonsense progressive projects and the House scheme was fraught with social engineering that had nothing to do with assisting workers and businesses. Even Pelosi's own party started telling leadership they had gone way too far with the assembled list of nonsense legislation. The speaker recognized if she did not quickly make a tactical retreat her party would be crushed by exposure of the brazen politics they were attempting. The reach was so extreme, the media could not protect her. In an effort to save a horrid face, the speaker was forced to blitz the media alone while all other house members watched to see how she could recover.
Pelosi Caves. Nancy Pelosi has thrown in the towel on her attempt to misuse the Wuhan virus epidemic to sneak partisan legislation that has never been able to make it through Congress into law. [...] One can only imagine how bad the Democrats' polling must have been to cause such a hasty retreat. The Democrats had no one behind them except their most extremist supporters, like the New York Times.
NOT hyperbole: Pelosi's Dems would rather airplanes get better gas mileage than save Americans amid coronavirus shutdown. It should be more than obvious by now that Nancy Pelosi and her Garbage Party are exploiting the coronavirus outbreak a) to win politically; and b) to hurt President Trump. Only, they're hurting Americans instead. Operating under the Democratic mandate of "Never let a good crisis go to waste," the Speaker of the House has been holding up coronavirus relief legislation that, at a time when businesses have shuttered and workers laid off by the millions, would provide direct aid to both. For no reason other that naked political power.
Democrats block coronavirus lifeline stimulus in despicable partisan maneuver. It should have been 100%. Every Senator on Capitol Hill should have been able to recognize the dire straits America finds itself in with the Wuhan Coronavirus causing economic havoc and putting millions of Americans at great risk. Unfortunately, it's 2020 and partisanship supersedes the needs of the American people, at least in the eyes of Speaker of the House Nancy Pelosi and the Democratic Party she controls.
Nancy Pelosi's Terrible, Horrible, No Good, Very Bad Decision To Hold The Country Hostage. The weekend began with a bipartisan plan. People were hopeful. [...] And then Pelosi came back to town from her week-long vacation and announced the rare, rare bipartisan cooperation the country had seen in the Senate would end with her — and election politics would begin. [...] This, it is clear, is not an emergency virus bill. It is a Democratic election wish list, politically poisoned at a time when hundreds are dying, thousands are losing their businesses, and millions are out of work in the United States. "This," House Majority Whip Jim Clyburn told Democrats Thursday, "is a tremendous opportunity to restructure things to fit our vision." It's truly an incredible political act by the speaker, and the entire Democratic Senate fell in step behind her.
GOP details Pelosi's $2.5 trillion 'socialist wish list' in coronavirus aid package. House Republicans on Monday night offered a detailed critique of what they called House Speaker Nancy Pelosi's "socialist wish list" in House Democrats' $2.5 trillion proposal for responding to the coronavirus outbreak. "Speaker Pelosi unveiled legislation aimed at exploiting the COVID-19 public health crisis by attempting to force the inclusion of a socialist wish list of policies that have nothing to do with the public health and economic emergency," said House Minority Whip Steve Scalise, Louisiana Republican.
Vile: Nancy Pelosi's daughter Christine endorses felony assault on Rand Paul. The context of the sick tweet, according to Fox News, was someone stating that Sen. Mitt Romney, upon hearing of Paul's illness, decided to self-quarantine after hearing about Paul's misfortune in order to protect his wife, who has a medical condition that leaves her especially vulnerable. Instead of cheering Romney, which would have been a reasonable person's response, she decided to go low, [...] by bringing up the violent 2017 assault on Paul by a hate-crazed neighbor, whose attack left Paul with five broken ribs and the loss of part of his lung — in order to cheer the criminal. And this, right at the time when Paul is now afflicted by the coronavirus. Normal people wish anyone with the coronavirus, even political opponents, well.
Twitter pulls tweet from Nancy Pelosi's daughter about Rand Paul. Twitter confirmed the company locked House Speaker Nancy Pelosi's daughter out of her account for a short period of time due to a tweet she sent about Republican Sen. Rand Paul that it said amounted to an endorsement of violence. "The account owner was temporarily locked out for violating the Twitter rules against glorification of violence," a Twitter spokesperson told the Washington Examiner on Tuesday [3/24/2020]. Christine Pelosi tweeted Sunday that the man who allegedly attacked the Kentucky senator in 2018 was "right" for doing so.
Nancy Pelosi Proposes 1,400-Page Coronavirus Bill Stuffed with Special Interest Goodies. House Speaker Nancy Pelosi debuted a 1,120-page coronavirus rescue bill after Democrats tanked the Senate proposal on Sunday night. The bill includes a wish list of Democrats' pet issues including: [#1] Increased fuel emission standards for airlines receiving funds and carbon offsets [...] [#2] Payment for up to $10,000 in student loans [...] [#3] Same-day voter registration, early voting, voting by mail, ballot harvesting [...] [#4] Preserving collective bargaining powers for unions [...] [#5] The expansion of wind and solar tax credits [...] [#6] Requirements for federal and corporate gender and racial diversity data [...] [#7] Post Office Bailout [...] [#8] Automatic extension of nonimmigrant visas [...] [#9] Restricting colleges from providing information about citizenship status [...] [#10] Money for Planned Parenthood
Schumer and Pelosi Try to Add Fuel Emission Standards For Airlines, More Wind and Solar Tax Credits to Coronavirus Stimulus Package. Pelosi and Schumer continued to play politics on Monday [3/23/2020] amid the Coronavirus shutdown and demanded a wish list of Socialist policies that have nothing to do with the global pandemic. Pelosi and Schumer are now pushing these demands:
[#1] Unprecedented collective bargaining powers for unions
[#2] Increased fuel emissions standards for airlines
[#3] Expansion of wind and solar tax credits
Even worse, not only are these demands totally unrelated to the Coronavirus pandemic, they could prevent companies from participating in the loan programs — directly causing unnecessary layoffs, according to a senior GOP aide.
Journey to Surrealville: What's really fuelling Pelosi's shutdown of America's relief package? After days of unusual comity between Republicans and Democrats in the coronavirus crisis, the big congressional economic aid package to help hospitals, laid off workers, and battered small businesses all came crashing down as Nancy Pelosi jetted in from vacation, blocking the set-to-go bill over the weekend. In place of that, she came up with a 1,400-nightmare political goody bag for the left — everything from ballot-harvesting to corporate diversity requirements to greenie airline regulations to a $15 minimum wage and a lot of other horrors — attempting to slip through the entire panoply of laws her party wants to enact but can't get passed. It was Pelosi's and other Democrats' doing, all right — just look at how the New York Times changed its headline sequence, first putting out the facts about Democrat road-blocking, then, likely after some Pelosian phone calls, softening the blame, and then declaring the whole thing a bipartisan morass. Yeah, sure.
Dems demanding new union bargaining powers, solar tax credits in new coronavirus aid package. Congressional Democrats are demanding an "ideological wish list" including new collective bargaining powers for unions as they hold up a nearly $2 trillion economic package of coronavirus relief, Republicans said Monday [3/23/2020]. The Democrats' belated list of demands includes new, tighter fuel emission standards for airlines and an expansion of wind and solar tax credits, a senior Republican aide said.
Republicans want a lifeline; Democrats want to remake the country. The cynical partisan opportunism of Democrats exhibited during the coronavirus economic crisis has been breathtaking. Rather than move forward with quick, no-frills, massive $1.8 trillion dollar rescue plan, Democrats decided to hold the country hostage by trying to cram through a slew of lefty goodies that have absolutely nothing to do with the pending economic crisis. As corporate boards struggle to figure out ways to keep their companies afloat, Nancy Pelosi is demanding that they spend time filling gender and racial quotas, down to "subcommittee assignments." As the transportation sector wrestles with a once-in-a-century economic disaster, Democrats are trying to compel airlines — who have seen a 90 percent drop in customers — to cut greenhouse gas emissions every year until they hit a 50 percent reduction. If Pelosi keeps this up, airlines are going to see a 100 percent reduction soon enough.
Pelosi 'Stimulus' Bill Imposes Nationwide 'Ballot Harvesting' Without 'Any Limit'. Speaker of the House Nancy Pelosi's new stimulus bill would mandate nationwide "ballot harvesting," allowing party operatives to return other people's ballots to polling places without "any limit" on the number of ballots. "Ballot harvesting" was legalized in California in 2016, and first used in the 2018 midterm elections. It allows anyone to drop off someone else's mail-in ballot at a polling station. There is no process for vetting or verifying those delivering the ballots — no background checks or identification requirements. Democrats dropped hundreds of thousands of ballots off at polling stations in 2018, helping Democrats as they flipped seven Republican seats.
Here is the Far-Left Wish, List Nancy Pelosi Just Blew Everything Up For. According to a source close to the process on Capitol Hill, in order to move forward with any kind of [coronavirus emergency] relief package, Pelosi and her far-left Democrat caucus will demand the following be included:
• Publication of corporate pay statistics by race and race statistics for all corporate boards
• A bail out on all current debt at the Postal Service
• Required early voting
• Required same day voter registration
• Provisions on official time for union collective bargaining
• Full offset of airline emissions by 2025
• Publication and reporting of greenhouse gas statistics for individual flights
• Retirement plans for community newspaper employees
• Federal $15 minimum wage
• Permanent paid leave
• Study on climate change mitigation efforts
Democrats Block Coronavirus Bill That Provides Lifeline To Economy, Families. Democrats blocked a massive $1.8 trillion stimulus spending bill to protect the U.S. economy and provide relief to American families who are suffering as a result of the coronavirus outbreak. [...] Townhall political editor Guy Benson reported that Senate sources said that Democrat House Speaker Nancy Pelosi was responsible for tanking the bill. "Talking to some Senate GOP sources. They seem stunned and angry," Benson said. "I'm told there was lots of bipartisan input into the legislative outline & emerging specifics — including an agreement in principle on broad strokes. Then Pelosi showed up and threw a partisan grenade."
Nancy Pelosi Nixes Bipartisan Talks on Coronavirus Package. House Speaker Nancy Pelosi (D-CA) said on Sunday that she has decided to move forward with her own emergency coronavirus relief package. Pelosi spoke just hours before the Senate was scheduled to take a procedural vote that would lead towards a final vote on a bipartisan economic relief package. The bill would provide economic relief after the coronavirus epidemic ravaged the country's economy.
'People vs Pelosi' trends when even the left has had enough. House Speaker Nancy Pelosi has sparked a heated backlash as she appeared to be against considering cash payments for Americans in the midst of the coronavirus crisis. The California Democrat even has members of her own party criticizing her lack of support for measures that would get cash into the hands of Americans as the economy falters under the global pandemic. The fact that President Donald Trump and his fellow Republicans have floated the idea as a possibility has only angered the left even more.
10 Ways the Left Has Politicized the Coronavirus Pandemic. [#3] Pelosi's puts Hyde Amendment loophole in coronavirus bill: What does abortion have to do with protecting the public from coronavirus? Nothing. But that didn't stop Nancy Pelosi from trying to sneak a loophole for the Hyde Amendment, which prevents federal dollars from being used to pay for abortions, and other Democrat goodies into the coronavirus stimulus package. Republicans called her out for it, but the left tried to spin the situation differently. Alexandria Ocasio-Cortez claimed in an interview on Fox News that "right now we are hearing that some of the fights and some of the gridlock is because people are trying to put pro-life provisions" into the coronavirus legislation. Democrats always saw the coronavirus as a political opportunity, and they never miss a chance to exploit a crisis.
Pelosi Stutters, Slurs Words and Struggles to Speak as She Fights to Keep Her Dentures in Her Face. Speaker Pelosi raised eyebrows again on Thursday after she could barely spit out a sentence. Pelosi slurred her words and struggled to speak as she fought to keep her dentures from flying out of her face. Pelosi looked and sounded just like Joe Biden during a presser on the Coronavirus on Thursday [3/12/2020]. [Video clip]
Sasse Rips Pelosi for Trying to Smuggle Hyde Amendment Loophole into Coronavirus Package. Senator Ben Sasse (R., Neb.) slammed House Speaker Nancy Pelosi (D., Calif.) and Democrats for reportedly trying to ensure federal funding for abortion as part of the coronavirus economic stimulus plan. "While schools are closing and hospitals are gearing up, Speaker Pelosi is waging unnecessary culture wars. Speaker Pelosi should be fighting the coronavirus pandemic, not politicizing emergency funding by fighting against the bipartisan Hyde Amendment," Sasse told National Review in a statement. [...] Pelosi attempted to secure a funding stream of up to $1 billion for reimbursing laboratory claims. According to White House officials who spoke with the Daily Caller, that provision would establish a precedent under which health claims for all procedures, including abortion, could be reimbursed with federal funds. That precedent would render the Hyde Amendment, which blocks taxpayer funding for abortion clinics, obsolete.
White House Officials Allege Speaker Pelosi Pushed To Include Hyde Amendment Loophole Into Coronavirus Stimulus Plan. House Speaker Nancy Pelosi sought to include a potential way to guarantee federal funding for abortion into the coronavirus economic stimulus plan, according to multiple senior White House officials. Speaking to the Daily Caller, those officials alleged that while negotiating the stimulus with U.S. Treasury Secretary Steve Mnuchin, Pelosi tried to lobby for "several" provisions that stalled bipartisan commitment to the effort. One was a mandate for up to $1 billion to reimburse laboratory claims, which White House officials say would set a precedent of health spending without protections outlined in the Hyde Amendment.
Here's How Eric Holder Helped the Obama Administration Transform the Democratic Party into a Party of Thugs. Nancy Pelosi sat before a group of Northwestern University students on Monday morning [3/8/2020] and said, "Civilization as we know it is at stake." No, she wasn't talking about the coronavirus, she was talking about if President Trump wins the election. This is the Speaker of the U.S. House of Representatives explaining the constitution to young, impressionable minds. How did we get to the point where Democrats would send spies into their opponents political campaign, fabricate a scandal to prevent him from winning, and spend his entire first term trying to remove him from office?
Nancy Pelosi: 'Civilization as We Know It Is at Stake' in 2020 Election. House Speaker Nancy Pelosi (D-CA) on Monday waxed hyperbolic about the 2020 presidential election, telling an audience that "civilization as we know it is at stake." Pelosi made the remark during a speech at Northeastern University in Boston, Massachusetts, [3/9/2020] according to Fox News correspondent Rob DiRienzo.
Pelosi: 'We have the most dangerous person in the history of our country sitting in the White House'. No other American has been as dangerous to the country as President Trump, according to the speaker of the House. Nancy Pelosi blasted the president in an interview with Variety published Tuesday [3/3/2020] and urged Democrats to come together for the 2020 election to ensure that Trump becomes a single-term president. [...] The California Democrat said her biggest beef with the president was that he does not respect the Constitution. She claimed that Trump's pattern of lying could harm children around the country, a line she won't let be crossed.
The Editor says...
To see an example of a habitually lying U.S. President, look no further than Barack H. Obama. Likewise, Obama has no regard at all for the Constitution.
A Bernie Sanders nomination is Nancy Pelosi's nightmare. [I]f Pelosi simply capitulates and accepts her party's new socialist overlords, the consequences for the entire party, up and down the ballot, could be catastrophic. [...] This isn't just about 2020 either. It's an ideological battle for the future of the Democratic Party. If Pelosi remains silent and Sanders wins the nomination, she will have lost that battle to Ocasio-Cortez and the other radicals.
Nancy Pelosi says she's all good with socialist Bernie being the Democrat nominee. Nancy Pelosi, the Speaker of the House, says she's comfortable with having socialist Senator Bernie Sanders at the top of the Democratic Party's presidential ticket. Pelosi also dismissed speculation that she's terrified of Democrats losing control of the House of Representatives if Bernie became her party's nominee. Congresswoman Pelosi made the remarks Wednesday [2/26/2020] in response to questions from reporters.
The Democrat Left is cruel and sadistic. Everyone who watched the SOTU speech saw how disrespectful, how rude the Democrats in the room were. Like small children who have never learned the most basic of manners, they delighted in their own beastly behavior as a group. They were clearly proud of themselves. How does a large party of alleged adults so enjoy acting like spoiled toddlers? Because they are perpetually immature; they are happy only when they get their way. Pelosi's planned stunt at the SOTU proves only that she revels in her own childishness.
The Rise of Democratic Idiocracy. [Scroll down] She rips up her copy of President Trump's SOTU speech and it's okay. Nary a word of criticism from any Democratic politician or the liberal media. (One can only imagine the horrified outcry had a Paul Ryan done the same to President Obama.) This from a person who says she is Catholic and there is no hate in her heart for the president. For Pelosi and the idiocrats, it's fine to invoke religion when rationalizing their preferred behavior, but when pinned down about the conflict between their support for abortion and Catholic values, Pelosi and her ilk quickly retreat to that tired argument of supporting established law vs. holding their own private personal opinion. "Established law" can easily be changed by a vote of conscience, if it mattered to you. Sort of like the way the Jim Crow laws were changed. Got that, Nancy?
That's what we said about Obama. Get over it.
Pelosi: America Cannot Withstand 'Destruction' Trump Would Do in a Second Term. House Speaker Nancy Pelosi (D-CA) told CNN's Christiane Amanpour in an exclusive interview that America cannot withstand the "destruction" President Donald Trump would do if he wins a second term. Pelosi said, "I can't even envision a situation where he would be reelected. But we are not — we don't take anything for granted."
The Editor says...
Hey Nancy, if you can't imagine any way Trump could be re-elected, how about placing a wager on it? For example, you'll resign immediately if Trump is re-elected. Now can you imagine it?
Nancy Pelosi Lashes Out at Reporter for Saying President Trump was Acquitted. Nancy Pelosi traveled to Munich, Germany this weekend to trash Trump while overseas. During her interview with CNN's Christiane Amanpour Pelosi refused to believe President Trump was overwhelmingly acquitted in the US Senate in the sham impeachment. She's nuts.
Translation: Biden is the pre-ordained establishment candidate.
Pelosi says she is 'not counting Joe Biden out'. House Speaker Nancy Pelosi thinks it's too soon to rule out a Joe Biden presidency. The California Democrat said in an interview with CNN that the former vice president still has a chance to become the Democratic nominee despite his lackluster showings at the Iowa caucuses and the New Hampshire primary, where he finished fourth and fifth, respectively. She said that although the party has come down to the "winnowing process," she still sees "everything as an opportunity."
Granny Winebox Is Going to Hand This Election to Trump. The House investigation and impeachment of the president last year were, by any objective measure, monumental failures. Trump emerged from the tawdry spectacle stronger than ever. After being harangued and slandered by every Democrat on Capitol Hill throughout the impeachment drama, the president's approval ratings actually got better. It was the radioactive spider that bit him and gave him superpowers. Now the Democrats are looking for more spiders. [...] Pelosi should be leading the party in a direction that at least gives the appearance of wanting to find cohesion and a path to victory. Instead, she wants to revisit her greatest failure, which just happened to have wrapped up a week ago.
Nancy Pelosi Turns Into Bumbling Mess When Trying To Say Basic Sentence. [Video clip]
Joe Biden's My Guy. What political party does the Democratic Party put you in mind of? Their leader until they settle on a presidential candidate is the Speaker of the House of Representatives, Nancy Pelosi. She is 80 years of age and consults a plastic surgeon as frequently as she consults her hairdresser, according to my sources. Critics remarked on how infrequently during the State of the Union she smiled. Actually, with her skin stretched across her face so tautly, she cannot smile. She can hardly blink. Have a heart, fellows and fellowesses. She would smile and blink more if she could. I am told she has a very good sense of humor.
Petulant Nancy Pelosi is everything wrong with Democratic Party. Nancy Pelosi looked like a malfunctioning Stepford wife as she sat behind President Trump during his State of the Union Address last week. Her lower face twitched, she muttered to herself, shook her head, smiled inappropriately, gazed around, chewed her lip or remained glued to her seat during standing ovations in honor of special guests. It was a bizarre enough performance before she rose to her feet and dramatically ripped up her copy of the president's speech in what will go down in history as the most unseemly display of partisanship in this partisan era. That moment was when the myth of the "master political strategist" was busted, and we saw Pelosi, 79, for what she is. Pretending to be classy and prayerful when she is full of petty hatreds and is incapable of holding her party together, a woman who parades her Catholicism while advocating no-holds-barred abortions, feigning to pray for the president while deriding him as "sedated."
Pelosi and Rumpelstiltskin. [Scroll down] I am actually grateful that Pelosi showed her genuine colors when she tore up President Trump's State of the Union address. First, it is an illegal act according to 18 U.S. Code 2071, but given that the Democrats cast the law aside when they see fit, this should surprise no one. But it should enlighten many who, heretofore, were not paying close attention. That she could shred the accomplishments of the Americans who were invited to the SOTU event is a continuing display of the contempt Democrats have for the people. I would say that in her wrath, Pelosi has shown America that she does not represent the people and that her party has nothing but disdain for American values and American lives.
Powerful American stories ripped to shreds by Nancy Pelosi. Nancy Pelosi wants this video banned from social media; but instead, the Republicans are making commercials out of it. [Video clip]
Pelosi Tries And Fails To Badger Facebook Into Nixing An Edited Video Of Her SOTU Speech Rip. Facebook and Twitter are refusing to bow to requests from House Speaker Nancy Pelosi to nix an edited video of the California Democrat tearing up President Donald Trump's State of the Union speech. The edited video was posted on both social media platforms after the Tuesday night SOTU in which Pelosi can be seen ripping a copy of the speech. The video is spliced together to make it appear that Pelosi ripped the speech as Trump is saluting a Tuskegee airman in the audience.
Pelosi's Lack of Decorum Is A Revelation. Professor Jonathan Turley of Georgetown University Law School wrote in The Hill of the Speaker's State of the Union behavior, "Pelosi has shredded decades of tradition, decorum and civility that the nation could use now more than ever." He also described her with the words "petty," "distempered," and "inappropriate." She failed to introduce the President properly, and then was particularly out of line when she tore up his speech after grimacing and showing petulant expressions throughout the President's speech. Turley asserted that she should resign from office as the Speaker as her breaches of decorum at the State of Union were the worst of all those he has criticized over the years. [...] Her lack of decorum and the unconscionable, implacable hostility of the Democrats of the House and Senate reveals the extreme political animosity that presently afflicts our country.
Pelosi Is Down but Not Out. [Scroll down] There she sat, watching her own party of curmudgeons sit stone-faced as the president beamed optimism and confidence, rattled off employment gains for women and minorities, reunited a military family, rescued a child from a failing government school, and honored Rush Limbaugh. There she sat, a day after the Iowa caucus spectacle, and a day before her adopted sham impeachment sputtered to an inglorious demise. [...] Keep in mind, Pelosi is only off balance right now because she's feeling pressure from both the right and left flanks. From the outset, she knew that impeachment was a political loser, and conveyed as much in her repeated attempts to temper the hotter passions of her more radical colleagues. But she was ultimately outflanked and neutered by her own party. This is something new to her, and it's left her temporarily discombobulated. But she could bounce back again, as she has before, in all her vengeful turpitude.
It's pearl-clutching Democrats who got massacred by Trump impeachment trial. [Scroll down] The heart of the case is that Dems dug themselves into a hole and won't drop the shovel. They have nothing to show for their 2018 House victory except a partisan impeachment that was rejected by the public before the Senate killed it. The celebration over getting Sen. Mitt Romney's vote on one article is like cheering because your team avoided a shutout. You still got crushed. Wonder of wonders, party leaders reacted by vowing to stay the course. Pelosi, not a whit embarrassed by her shameful stunt of tearing up the president's State of the Union address, launched into another hateful rant. Saying Trump looked "sedated," she called his speech a "manifesto of mistruths" and claimed he "shredded the truth in the speech, shredded the Constitution in his conduct, and so I shredded his state-of-mind address."
Democrat Congressman Asks Twitter To Remove Trump Video Of Pelosi Ripping Up SOTU Speech. President Donald Trump on Thursday tweeted out a video that showed images of the people the president honored at the State of the Union alongside clips of House Speaker Nancy Pelosi (D-CA) ripping up Trump's speech. The caption for the video reads "Powerful American Stories Ripped To Shreds By Nancy Pelosi." Trump supporters would see the point the video makes — that Pelosi ripped up a speech that included the stories of many honorable Americans because she hates Trump. Any politician would do the same for an attack ad. Trump's speech contained a lot of positive information and Pelosi ripped it up, claiming it was full of lies. If former House Speaker John Boehner (R-OH) had done that during one of President Barack Obama's State of the Union speeches the Democrats would absolutely make a similar video.
The Editor says...
Maybe so, but Mr. Boehner wouldn't have made the mistake that Pelosi made.
Pelosi demands social media platforms remove brutal Trump-shared meme of her SOTU tantrum. A slew of Democrats, including House Speaker Nancy Pelosi, have begun demanding that Facebook and Twitter censor a meme video that they find offensive. Reportedly produced by Turning Point USA and later tweeted by the president himself, the meme juxtaposes the infamous clip of the House speaker ripping up President Donald Trump's State of the Union address with clips of the president paying tribute to several extraordinary Americans, including one of the last surviving Tuskegee Airmen.
I'll bet she does!
Pelosi wants video of her shredding Trump speech removed. House Speaker Nancy Pelosi, D-Calif., is demanding that social media companies remove a video posted by the president featuring her stunt of ripping up his State of the Union message. Her spokesman, Drew Hamill, told The Hill that Pelosi's office had told both Twitter and Facebook to take it down.
Pelosi's Petulant Performance Panned by Perceptive Public. The 2020 State of the Union event was quite the political show. President Trump discussed policy successes, from the economic expansion to improved border control (with Mexico's help, as it happened). Through it all, Speaker Pelosi lurked above, busily turning pages, shaking her head negatively and mouthing disapproval. It was what psychologists call "passive aggressive behavior," although she did actively attack her paper copy of the president's speech as a finale.
Democrats Hate What Trump Is Highlighting about Them. Frozen Face, whose attempt to be the equivalent of the prepubescent heckler making [rude] noises behind the teacher's back was somewhat stymied by her inability to show any emotion, clearly planned her in-kind contribution to the Republicans long before the speech. She was transformed into the equivalent of a toddler angrily holding her breath on national television because she knows that every lethal word is scoring true while she is powerless to do a thing about it. The president has an amazing record to run on. She has her failed impeachment gambit and crazy pen ceremony, ensuring that House Democrats have nothing to run on.
The Five Worst Moments of the Democrats' SOTU. [Scroll down] While half the hall offered loud cheers, the other half mostly sat still, perhaps in honor of their electoral chances this fall. The energy level on the part of the Democrats didn't rise until after Trump was finished, and only because Nancy Pelosi, who displayed an impressive variety of bizarre and peculiar facial expressions throughout, broke the monotony by standing up and dramatically ripping up her copy of the speech's transcript. Afterwards, asked about her idiotic stunt, Pelosi said she was "courteous" in doing it because it was a "dirty" speech. "Dirty"? As the NRCC pointed out in a tweet, the speech was an awful lot cleaner than the dung-dotted streets of her district back home in San Francisco. The speech she ripped up included a salute to the Venezuelan opposition leader, a tribute to the last surviving Tuskegee airman, a military reunion in the gallery, a young underprivileged student earning a scholarship to her dream school, and other celebrations of American achievement, and she calls it "dirty." [...] Tuesday night was the worst night of Pelosi's political career, and it was 100 percent self-inflicted.
In her post-SOTU and acquittal press conference, Pelosi lied about Trump. The setting for Pelosi's ferocious verbal attack against Trump was her weekly press conference. The reasons for her anger and disconnect from reality were twofold: First, on Tuesday, Trump gave a State of the Union speech that was magnificent. In the first part, he recited his accomplishments, all of which have benefitted the American people, especially the 99% (unlike Obama's "presidency for the 1%"). He then outlined plans that will bestow even more benefits on Americans, while introducing individuals who embody America's greatness. Pelosi, on the other hand, engaged in petty pantomime, capped by her ripping up her copy of Trump's speech. It was juvenile and offensive. Then, on Wednesday, the Senate acquitted Trump of the impeachment charges the House Democrats had brought against him. The outcome was preordained, but it was still a slap at the Democrats and a triumph for Trump.
Newt Gingrich: Pelosi should be kicked out of office for her 'petty, childish' behavior. House Speaker Nancy Pelosi, D-Calif., proved how divided the state of the union is by the "petty childish behavior" she exhibited after President Trump's address Tuesday night, former House speaker Newt Gingrich said Thursday [2/6/2020]. Appearing on "Fox & Friends" with hosts Steve Doocy, Ainsley Earhardt, and Brian Kilmeade, Gingrich said he understands where the president is coming from when he snubs Pelosi. [...] Gingrich said that the idea Pelosi would tear up her copy of the State of the Union address was "childish" and "so beneath the dignity of the House."
Liz Cheney: Pelosi 'Is Unfit For Office'. In reference to House Speaker Nancy Pelosi (D-Calif.) tearing up the president's State of the Union speech on national television, House Republican Conference Chair Liz Cheney said Pelosi "had a tantrum" and showed, again, why "she is unfit for office." At a Capitol Hill press conference on Wednesday [2/5/2020], the day after the SOTU, Cheney said, "Speaker Pelosi had a tantrum. She disgraced herself. She dishonored the House." [Video clip]
The Best Is Yet To Come. I ask you, who is the deranged person here? Candidate #1: the Speaker of the House, who chewed on sour grapes throughout the President's SOTU only to spit the bitter seeds out at the end, thus demonstrating that she has embraced the role of petulant teenaged brat with no no sense of propriety and no ability to control her emotions. In other words, the perfect drama queen. Perhaps she would have served her side better had she simply sat this one out like a couple of her Homies and Squad mates did. Or at least continued to sit on her hands like the rest of her cabal.
The Suicide of the Left. The Democrat serving as speaker of the House stands behind the president of the United States at a State of the Union address and acts like a defiant five-year-old stomping her feet in a temper tantrum. Caught on camera giving the text of his speech a "pre-rip" beneath her desk, when the chosen moment arrives she ostentatiously rips the speech in half in front of the cameras, making herself a national laughingstock.
Trump Impeachment Backfires on Democrats, and Nancy Pelosi Has a Meltdown. During his State of the Union speech the other night, Trump didn't mention the impeachment once. With Pelosi sitting behind him, muttering to herself like some angry bag lady alone on a night train, he didn't have to mention it. He focused instead on his accomplishments and the economy, which infuriates his enemies. When he was done, Pelosi grabbed Trump's speech, and in a fit of petulance, theatrically ripped it to shreds. That partisan rage will last in the American mind and be featured in Trump political commercials, just as CNN anchor Don Lemon's laughter mocking Trump voters as illiterate rubes will last until November.
Nancy Pelosi should resign. The House has its share of infamies, great and small, real and symbolic, and has been the scene of personal infamies from brawls to canings. But the conduct of Speaker Nancy Pelosi (D-Calif.) at the State of the Union address this week will go down as a day of infamy for the chamber as an institution. It has long been a tradition for House Speakers to remain stoic and neutral in listening to the address. However, Pelosi seemed to be intent on mocking President Trump from behind his back with sophomoric facial grimaces and head shaking, culminating in her ripping up a copy of his address. Her drop the mic moment will have a lasting impact on the House. While many will celebrate her trolling of the president, she tore up something far more important than a speech. Pelosi has shredded decades of tradition, decorum and civility that the nation could use now more than ever. The House Speaker is more than a political partisan, particularly when carrying out functions such as the State of the Union address. A president appears in the House as a guest of both chambers of Congress. The House Speaker represents not her party or herself but the entirety of the chamber. At that moment, she must transcend her own political ambitions and loyalties.
Pelosi hurt American women. Liberals are praising Nancy Pelosi for tearing up the president's speech as Congress rose to applaud him after he delivered his rousing and patriotic State of the Union. The mean girls moment was petty and childish, a reminder that when she is under pressure she reverts to being the mayor's spoiled daughter. [Video clip] The rest of America is watching as the first woman to be heartbeats from the presidency comes undone. She trashed the peace and prosperity the rest of us have enjoyed the last 3 years. Nancy has devoted to brief reprise as House speaker not to making life better for the people of America but to ridiculing the man we the people elected president.
Filed: Department of Justice Criminal Complaint Against Rep. Nancy Pelosi. To the Honorable William Pelham Barr, United States Attorney General, and to the Office of the Inspector General, U.S. Department of Justice: At approximately 2218 hours on Tuesday, 04 February 2020, I witnessed clear and indisputable evidence of Rep. Nancy Pelosi (D-CA), Speaker of the House, committing an act that I believe brazenly and feloniously violates federal law, specifically 18 U.S.C. 2071. In fact, her actions were witnessed by federal law-enforcement officials and she may have colluded with members of her political caucus who were also witness to this act, in premeditation for the commission of this offense.
18 U.S. Code § 2071. Concealment, removal, or mutilation generally.
'I'm always dignified': Pelosi dismisses SOTU guests, suggests Trump was 'sedated' as presser goes off the rails. During her weekly press conference Thursday, House Speaker Nancy Pelosi tried defending her decision to rip up her copy of the SOTU address by kvetching about the president's guests, accusing the president of being on drugs and claiming everything he said during the address had been a lie. In the clip below, the speaker first defended her "dignified" premeditated tearing up of her copy of the SOTU address by complaining about the president's guests. [Video clip] [...] Pelosi SOTU stunt and her nonsensical Thursday rant come amid reports that the Democrat Party's favorability rating has cratered to a new low, whereas the Republican Party's favorability rating has skyrocketed to a new high. The public's trust in the establishment media is also at a record low.
Rep. Gaetz to File Ethics Charges Against Pelosi: 'She Destroyed Official Records'. Rep. Matt Gaetz (R-Fla.) announced Wednesday night that he is filing charges in the House Ethics Committee against House Speaker Nancy Pelosi (D-Calif.) after she ripped up a copy of President Donald Trump's State of the Union Address Tuesday night. During an interview with Fox news host Laura Ingraham, Gaetz argued that Pelosi has "impulse control problems" and should be held accountable. "She disgraced the House of Representatives, she embarrassed our country, and she destroyed official records," Gaetz told Ingraham. "The law does not allow the speaker of the House to destroy the records of the House, and the rules of the House do not permit some little temper tantrum just because you don't like what the president of the United States says." Gaetz added that Republicans are sick of the media "double standard" that is applied only to Republicans.
GOP introduces resolution to condemn Pelosi for ripping up Trump's State of the Union speech. Just hours after their colleagues in the Senate voted to acquit President Trump on the two articles of impeachment brought against him, Republican lawmakers in the House introduced a resolution to condemn House Speaker Nancy Pelosi for ripping up a copy of Trump's State of the Union address Tuesday night. The privileged resolution, which was introduced Wednesday by Texas Republican Rep. Kay Granger, blasted Pelosi's public shredding of the text of the address as "a breach of decorum" and said it brought "discredit on the House." After sparring with Republicans on the floor, House Majority Leader Steny Hoyer, D-Md., said he will move to table, or set aside the resolution, but since the measure is privileged the House must consider the resolution between now and Friday.
Nancy Pelosi's State of the Union stunt may have broken the law, Rep. Matt Gaetz says. Republican Rep. Matt Gaetz filed an ethics complaint against Nancy Pelosi that said the House speaker possibly violated numerous House rules — and maybe even broke the law — by tearing up a copy of President Trump's State of the Union speech. The Florida legislator sent a letter to the House Committee on Ethics requesting that it open an investigation and shared the missive on Twitter. Gaetz wrote that "Speaker Pelosi's gesture was deeply offensive and appears to violate clauses 1 and 2 of House Rule XXIII," which dictate the House's official code of conduct. "Her behaviour does not 'reflect creditably on the House,' nor does it follow 'the spirit and the letter of the Rules of the House.'"
Jonathan Turley to Nancy the Ripper: Apologize or resign. The State of the Union address delivered by President Trump Tuesday night was like no other I've seen. Most of all, the messages it delivered were effective. The Democrats in attendance resorted to behavior indicating they now realize the future may not be so bright for them on Election Night 2020. Speaker Pelosi led them over the cliff. [...] Woven into the speech were several moments that will be remembered long after any sentences that the president read to the nation — not the least of which is the final moment when the Speaker of the House rose from her seat directly behind President Trump and began ripping up her copy of the multi-page document. That wasn't any old copy of a speech, that was an official document that Trump handed to her before delivering the speech.
Nancy Pelosi planned out her toddler-like rip stunt all along. After losing her House's bid to remove President Trump from office after the Senate vote, and facing next the miserable fallout for her party, Nancy Pelosi wanted to do something mean for the cameras, to Get Trump. In response to the president's State of the Union speech that was reaching its final applause, it wasn't enough to leave the premises. With the cameras still on, she ceremonially ripped the papers of the speech behind him, in order to draw applause lines from leftists.
Nancy Pelosi 'pre-ripped' pages of Trump's SOTU speech, video shows. House Speaker Nancy Pelosi apparently made tiny tears into her copy of President Trump's State of the Union address — so that her speech-ripping moment could go off without a hitch. As Trump introduced cancer-stricken radio host Rush Limbaugh — who received the Medal of Freedom during the speech — Pelosi could be seen grabbing the pages off the table. Video shows her making what seemed to be a tearing motion and then placing the pages back on the table. Photos of the sheets of paper show them face down on the table with small slits on the side, near where Pelosi would eventually rip them into pieces.
Pelosi 'ripped our hearts out' tearing up that speech says brother of man killed by illegal alien. Of all the theatrics and political gamesmanship House Speaker Nancy Pelosi, D-Calif., displayed Tuesday night at the State of the Union, and the dishonor she brought upon the institution of government with her antics, the worst thing she did was to bring even more pain to the family of a man killed by an illegal immigrant. Jody Jones was a State of the Union guest of President Donald Trump, representing his grieving family after his brother, Rocky Jones, was shot and killed in California in 2018 by an illegal alien with a long criminal history and previous deportation orders. And Jones wasn't appreciative of Pelosi's actions, as the speaker was seen fidgeting, pursing her lips and making faces. Like a petulant child, she ripped in half a copy of the SOTU speech given to her by the president at the end — a move Jones likened to ripping the hearts out of the chests of every guest in attendance.
Pelosi: 'I don't know if the president understands about prayer or people who pray'. House Speaker Nancy Pelosi (D-Calif.) blasted President Trump's comments at the National Prayer Breakfast Thursday morning in which he took a swipe at the Speaker's previous comments that she prayed for the president. [...] "I don't like people who use their faith as justification for doing what they know is wrong. Nor do I like people who say 'I pray for you' when they know that's not so," Trump said at the event.
Pelosi rips McConnell as 'rogue leader' after Trump acquittal. Speaker Nancy Pelosi (D-Calif.) denounced Senate Majority Leader Mitch McConnell (R-Ky.) as a "rogue leader" after the Senate voted to acquit President Trump on Wednesday. The Speaker accused Trump and Senate Republicans of having "normalized lawlessness and rejected the system of checks and balances." "Our Founders put safeguards in the Constitution to protect against a rogue president," Pelosi said in a statement after the final impeachment votes in the Senate. "They never imagined that they would at the same time have a rogue leader in the Senate who would cowardly abandon his duty to uphold the Constitution."
Pelosi's burns: From SOTU tear to title snub, speaker throws shade at Trump throughout address. When asked why she tore up Trump's speech by a reporter, Pelosi shot back, "Because it was the courteous thing to do considering the alternatives." The speaker then released a statement slamming Trump's speech for alleged falsehoods. "The manifesto of mistruths presented in page after page of the address tonight should be a call to action for everyone who expects truth from the President and policies worthy of his office and the American people," she said in a tweet linking to a larger statement. Trump hit back at Pelosi's actions Tuesday, retweeting a post from the White House that noted some of the president's high-profile guests, including a Tuskegee Airman and a child who survived being born at 21 weeks, were in the contents of the speech Pelosi tore. The moment marked a stunning departure from decorum, at an event where even partisan enemies typically put on a show of tolerance toward each other.
Nancy Pelosi's Midnight Ride. Mrs. Pelosi herself is a tribune of what President Reagan's envoy to the United Nations, Jeane Kirkpatrick, called the "San Francisco Democrats." In our view, this is why, despite all the constitutional points on which the Democrats prosecuted the President, the whole thing failed to compute. It's why they failed in the House to gain a single Republican vote for impeachment and why they lost on an almost straight party line in the Senate.
Mike Pence: Nancy Pelosi hit a 'new low' by ripping up Trump's SOTU speech. Speaking on "Fox & Friends" the morning after President Trump delivered the State of the Union address, Pence, who was standing next to Pelosi during the president's speech, added, "I wasn't sure if she was ripping up the speech or ripping up the Constitution." Pence, who said he did not actually see Pelosi rip up the speech, but found out a few moments later, noted that "The contrast here was a president who spent an hour-and-a-half making the speech about America and Nancy Pelosi in the final moments tried to make it about her." "I think the American people see through it. They see through the pettiness, they see through the politics of all of it," Pence continued.
White House slams Pelosi for tearing up State of the Union address. Nancy Pelosi bragged to cheering Democrats Wednesday morning about her ripping up Donald Trump's State of the Union address while the White House blasted the speaker for the move. Pelosi got a rock star welcome from her Democratic Party when she met with them in the Capitol Wednesday morning. Lawmakers greeted her with thunderous applause and gave her a standing ovation when she explained why she ripped up the pages of text. 'He shredded the truth so I shredded his speech,' she said, according to reports.
Santilli: Nancy Pelosi Should Be Censured For Misconduct At President Trumps' SOTU Address. House Speaker Nancy Pelosi ripped up President Trump's SOTU speech Tuesday night after he was finished speaking. Pelosi was asked by reporters why she ripped up the speech. "It was the courteous thing to do considering the alternatives," Pelosi said. The White House promptly issued a blistering response to Pelosi's temper tantrum.
Pelosi Was Mandated to Preserve Trump's Signed Copy of His SOTU Speech — She Tore It Up Instead. President Trump delivered a historic State of the Union Address on Tuesday night. Upon entering the House chamber President Trump handed Speaker Pelosi a signed copy of his State of the Union speech as is required. According to Carl Hibgie — US law requires that Pelosi preserve any official government document: [...] Nancy Pelosi chose to very publicly destroy the document instead.
SOTU Guest Jody Jones: Pelosi 'Ripped Our Hearts Out' by Ripping Trump Speech. Tuesday, Jody Jones was in attendance for President Donald Trump's State of the Union Address in honor of his brother, Rocky Jones, who was killed in California by a criminal illegal immigrant under the state's sanctuary policy. Immediately following Trump's speech, House Speaker Nancy Pelosi (D-CA) was seen on camera ripping up Trump's State of the Union speech, to which Jones shared his reaction to in a Wednesday appearance on "Fox & Friends." Jones said seeing Pelosi rip the speech up was "probably the most disrespectful thing" he has ever seen in his life, adding it "ripped" his family's hearts out.
'Democrats Sit and Pout over the Thriving State of Our Union'. At Tuesday night's State of the Union, President Trump stood triumphant on his record, Democrats sat and glowered with impotent rage, and the contrast was breathtaking. In Iowa, the Democratic Party cannot not even competently count 172,000 votes, and the ones that have been counted point to a win by Boy Mayor and Jurassic Marxist. On the dais in the U.S. Capitol, "Master Strategist" Nancy Pelosi, sat behind the president making childish faces during his State of the Union address, and then closed out the night by physically ripping up her copy of the speech, an act so childish there are no words.
Speaker Nancy Pelosi Tears Up President Trump Speech Transcript Following State of The Union. In a clear sign of desperation; as President Trump approval numbers jump significantly while the impeachment effort fails; and seeming to accept that Democrat 2020 ambitions are evaporating in front of her eyes; Speaker of the House Nancy Pelosi tears up the printed copy of President Trump's State of the Union remarks at the conclusion of the speech. [Video clip] Quite a remarkable display of pettiness and partisan hate.
Trump Delivers Triumphant State Of The Union While Pelosi Seethes. The 2020 State of the Union dripped optimism, and still, the majority of Democrat members of Congress sat stone-faced, refusing to acknowledge the achievements of the past three years. Surely, everyone could celebrate achievement. Unfortunately, it is clear for Pelosi and her party colleagues that achievement means nothing if it is credited to the president of the other party. It is one thing to have differences of opinion about which policies might best serve the nation, but it is quite another to pour scorn upon good policy for no other reason than a dislike for the president who championed those policies. The enduring image of President Trump's 2020 State of the Union address will be that of the House Speaker tearing up her copy of the president's speech. The action epitomized the absolute refusal, on the part of the opposition party, to cooperate in any efforts to move the country forward.
SOTU: The unspeakable ungraciousness of the Democrats in Congress. House Speaker Nancy Pelosi yet again embarrassed herself. This is a woman without an iota of grace or class. She has been determined to see President Trump unseated since the day he won the election. She is the wicked witch of the House; all-powerful but losing her grip on her caucus and her sanity; she is melting. She sat grim-faced, working her mouth in odd ways as always, trying to distract from the content of the speech by shuffling papers to make the point that she was not listening. She was purposefully rude. Her behavior should be mortifying to her colleagues but they all behaved in like manner. [...] When the president's speech was over, Pelosi furiously ripped up her copy of it on camera. Is there a better, more telling act of her anger and disrespect for the office of the presidency? She is a harridan, a blight upon her city, her party and the country.
Nancy Pelosi throws a public temper tantrum and other Democrat misbehavior. Two different events played out on the floor of the House on Tuesday night. The first was President Trump's powerful, moving, uplifting, and optimistic State of the Union speech. The second was the immature, arrogant, intemperate, and really disgusting temper tantrum in which Democrats indulged. The most obvious sign of a complete mental breakdown on the left was Nancy Pelosi's conduct during the speech. Her petulant behavior could not be missed because she was seated behind the president, to his left. Whenever the camera was on Trump, it was on Pelosi too. Pelosi's hissy fit first showed itself when Pelosi refused to give Trump the traditional formal introduction. [...] Things went downhill from there.
White House lambastes Pelosi for ripping speech. No sooner did Trump finish his address Tuesday night than [House Speaker Nancy] Pelosi tore it in two, right on the dais behind him. The president had appeared to snub the House speaker before his speech when she extended her hand to him, and he turned back around without acknowledging it. Tim Murtaugh, the communications director for Trump's reelection team, responded: "She might as well rip up any plans for attracting independent voters. Pelosi and the Democrats sat on their hands through all of the good news for Americans in that speech. It's a sad place to be when good news for America is bad news for Democrats."
Pelosi Violates Protocol By Refusing To Announce Trump Properly at SOTU; Rips Up Speech. On Tuesday, House Speaker Rep. Nancy Pelosi (D-CA) broke tradition when she refused to announce President Donald Trump properly before the State of the Union address. [...] As noted by The Daily Wire on Tuesday, the SOTU address was boycotted by eight House Democrats.
Nancy Pelosi can rip up Trump's State of the Union address, but she can't change his accomplishments. As President Trump concluded his State of the Union address and the cameras began to shift to the congressional audience, a shot of House Speaker Nancy Pelosi ripping up the physical copy of Trump's speech drew attention. This moment, though brief, showed how tensions between the president and the Democratic Party are at an all-time high. Trump spent the early minutes of his address praising his own administration's accomplishments, both economic and cultural, and sharply contrasting them with the failures of the Obama administration. He didn't mention impeachment, acting almost as if it didn't exist — or like it just didn't matter. Pelosi would have had a hard time with her base had she failed to contradict Trump somehow. And so, in order to show how she rejected what he had said, she tore up the speech. She knew she'd been beat. Impeachment failed. The Democratic Party is eating itself over Iowa's caucus divisions. Trump's approval is at an all-time high.
Pelosi rips up Trump speech at conclusion of State of the Union. Speaker Nancy Pelosi (D-Calif.) on Tuesday ripped up her copy of President Trump's prepared remarks at the conclusion of his State of the Union address. As Trump finished speaking and most lawmakers stood to applaud, Pelosi stood, took the printed copy of Trump's speech and tore it in half. She placed the shredded copy in a stack on the dais as Trump made his way to greet members of Congress.
Trump Won't Shake Nancy Pelosi's Hand at State of the Union. President Donald Trump snubbed House Speaker Nancy Pelosi's (D-CA) attempt to shake hands before delivering Tuesday evening's State of the Union address. The moment occurred after President Trump walked onto the dais and handed a binder with his speech to Vice President Mike Pence and Pelosi. Upon receiving the binder, the speaker extended her arm to shake the president's hand, but he turned away to face attendees instead.
Pelosi's Eyes Pop and Jaw Drops When She Realizes Trump Calling Out California's Sanctuary Laws for Illegal Aliens. Speaker of the House Nancy Pelosi (D-CA) could not hide her shock when she looked down at her copy of President Trump's State of the Union address and realized he was about to call out her home state of California for its sanctuary laws protecting illegal aliens. Her eyes popped and her jaw dropped: [Video clip]
Nancy Pelosi Snubs President Trump with Shortened SOTU Introduction. House Speaker Nancy Pelosi (D-CA) snubbed President Trump at the start of the State of the Union (SOTU) address by giving him a shortened introduction, reflecting a cold sentiment she carried all the way to the conclusion of the speech, which she promptly ripped up.
State of the Union address: Pelosi guest, a father of Parkland shooting victim, booted. A protester and father of a Parkland shooting victim was booted from President Trump's State of the Union address after shouting from the gallery about gun control. The man, Fred Guttenberg, made the brief interruption after Trump vowed to "always protect your Second Amendment right to keep and bear arms." He was there as a guest of House Speaker Nancy Pelosi, who turned to the gallery with a stern look after the disruption and muttered something under her breath.
Nancy Pelosi Discreetly Gives a Warning to Democrats About Supporting Bernie Sanders. Now that the impeachment drama is mostly behind them the nation's leading Democrats have to start focusing on the election in just 9 months. As the top elected Democrat in the nation, House Speaker Nancy Pelosi would not only like to keep but add to her coalition in the House of Representatives but maybe get lucky and get her political bunkmate Chuck Schumer the Senate Majority Leader's gig. So she is giving a warning about supporting out loud the pie-in-the-sky ideas of candidates like Bernie Sanders.
Pelosi Questions Why The President's Lawyers Are Not Disbarred. Speaker Nancy Pelosi (D., Cal.) made an extraordinary statement yesterday that suggests that lawyers representing President Donald Trump should be disbarred: "I don't know how they can retain their lawyer status, in the comments that they're making." Just as I have been highly critical of President Donald Trump's attacks on Adam Schiff and others, this is a truly outrageous suggestion. These lawyers are performing a key function in our constitutional system in not just representing an accused person but fulfilling a vital role in an impeachment trial. Because Pelosi disagrees with their legal arguments, she insinuates that they should not be licensed attorneys. It is precisely the type of ad hominem attack that Democrats criticize with the President. Pelosi added that Trump "will not be acquitted" even if he is acquitted — entirely decoupling the Democratic position from either constitutional or ethical norms.
Impeachment Proves Nancy Pelosi Is an Idiot. [Scroll down] But even with my low opinion of her, never in my wildest dreams could I have imagined she would botch this impeachment as badly as she did. [...] In the House, Pelosi has total control over the process. She runs the House of Representatives, and as Speaker, she has even more power than the Senate Majority Leader. Why rush things? Why the hurry to give up a process you have total control over? [...] Out of one side of this ditzy dame's mouth, we were told impeachment must be rushed in order to save the country. Then, in the same breath, she holds up impeachment a full month.
The Democrats May Have Lost, but They're Still Smarter than You. Speaker Nancy Pelosi, clearly vexed by the dud of her party's impeachment effort, took the podium at her news conference and squealed, "He will not be acquitted. You cannot be acquitted if you don't have a trial. You don't have a trial if you don't have witnesses and documentation and all of that. Does the president know right from wrong? I don't think so." "I don't know how [the Trump lawyers] can retain their lawyer status, in the comments that they're making," Pelosi told reporters, according to The Hill. "I don't think they made the case. I think they disgraced themselves terribly in terms of their violation of what our Constitution is about and what a president's behavior should be."
Nancy Pelosi Attacks Trump's Lawyers, Suggests They Should Be Disbarred. Speaker Nancy Pelosi railed against President Donald Trump's legal team on Thursday [1/30/2020], asking "how they can retain their lawyer status." [...] Despite indications that acquittal is virtually certain at this point, Pelosi has also declared that any Senate vote to acquit the president would be invalid unless new witnesses were called to testify. "He will not be acquitted. You cannot be acquitted if you don't have a trial; and you don't have a trial if you don't have witnesses and documentation," she claimed.
Impeach Pelosi/Schiff/Nadler for Abuse of Power. For three years, Democrats accused the president of having stolen the 2016 election. Now, they maintain, he is trying to steal the 2020 election. In reality, it was Hillary and members of the Obama administration (and probably Obama himself) who tried to steal the 2016 election and it is Pelosi, Schiff, and Nadler who are trying to steal 2020. Pelosi, Schiff, and Nadler are using the power of their offices to erase the 2016 election, steal the 2020 Presidential Election, and damage Republican senators in purple states enough to flip the upper chamber to Democratic Party control. Running on the issues against the successful Trump administration does not appeal to them. Instead, they are using impeachment as the means to rig the election to get control of the presidency and the Senate.
Asleep at the Wheel. Nancy Pelosi is a smart woman, or so we've been told. Shrewd, calculating, and ruthless are words also used to describe the current Speaker of the House. But for those of us paying attention, it's become apparent she's asleep at wheel. Consumed by the impeachment scam, hoping to damage the Trump brand beyond all repair; since beating him at the ballot box in November will be a near to impossible task, Pelosi is either ignoring the chaos brewing in her own party or she simply doesn't care.
Pelosi's Watergate-era impeachment counsel — disbarred but happy to offer advice. If you were wondering why Nancy Pelosi's impeachment strategy feels like political malpractice, we now can understand why: she's heeding advice from Watergate-era convicted criminal John Dean. In a fawning cover story, a Pelosi aide revealed to Time magazine that the speaker credits former the Nixon White House counsel with the idea of delaying transmission of the impeachment articles to the Senate. Typically, attorney advice is offered behind closed doors, but Pelosi jumped on this after she heard Dean discussing the idea during an appearance on CNN. Dean's a strange choice. His life has been built on lies and misinformation, yet he's always a welcome guest to mainstream media outlets in need of someone to shout "Worse than Watergate" about any Republican scandal.
Pelosi's Brother-In-Law's Company Received $737,000,000 From Obama's Energy Department. Even as government financed "green energy" pioneer Solyndra was failing, the Obama administration approved an additional $1 Billion in loans to similar green energy projects. A whopping 737 million of that money went to the Crescent Dunes project situated in Tonopah, Nevada, to finance a 110-megawatt desert solar power plant. Stay with me. Nancy Pelosi's brother-in-law' company was a primary beneficiary of that money landing a $737 million loan guarantee from the Department of Energy for Crescent Dunes. Funny that as Democrats scream that Saudi's renting out an entire floor of a Trump hotel is an untenable emolument.
McConnell's brilliant statement on Nancy's "golden pens on silver platters". The signing of the Articles of Impeachment took place on a table with a political slogan on it, Mitch McConnell noted today on the floor of the Senate. The Senate Majority Leader said that Speaker Pelosi gave out souvenirs, "golden pens on silver platters," as he painted a picture of a garish atmosphere. The Speaker claimed for weeks that impeachment was a most serious and somber affair. She was very prayerful, according to her. McConnell called her on her hypocrisy. "Nothing says seriousness and sobriety like handing out souvenirs," McConnell said of the partisan process.
CNN: Why Oh Why Was Pelosi Handing Out Souvenir Impeachment Pens With A Grin? "Nothing says seriousness and sobriety," Mitch McConnell quipped, "like handing out souvenirs as though this were a happy bill signing instead of the gravest process in our Constitution." In this case, however, the Senate Majority Leader wasn't alone in pointing out the celebratory nature of Nancy Pelosi's supposed "solemn" moment. Fox News captures the moments where the House Speaker makes sure all her colleagues get their Officially Licensed Impeachment Engrossment Pens, smiling for the cameras the whole time: [Video clip]
Now that Pelosi has impeached Trump, she will become his stooge. The more Nancy Pelosi tries to get people to take her seriously, the more ridiculous she is. During the impeachment vote, it was, "Everyone will take us seriously if we all just wear black." For an entire month after that, it was, "Everyone will take us seriously if we withhold the articles of impeachment from the Senate." This week, it was, "Everyone will take us seriously if we have a solemn procession across the floor of the Capitol." No? Not that? How about fancy ceremonial pens? Would that make anyone take them seriously? Any takers? Nancy stopped just short of ordering commemorative plates from the Franklin Mint to see if that might convince America we're in a Very Serious Crisis. Pelosi lost this fight before it even started because there was never any chance Trump would be removed from office by the Senate. That became clear way back in October.
Trump impeachment will bring Pelosi and House Democrats condemnation by history. House Speaker Nancy Pelosi, D-Calif., seemed giddy Wednesday as she announced the impeachment managers who would go to the Senate and attempt to prosecute a case against President Trump. "He's been impeached forever," Pelosi said. "They can never erase that." However, Pelosi has it exactly backward. The Senate is going to refuse to convict President Trump. He will be exonerated, and she and the Democrats will be condemned by history.
Pelosi's And Putin's Remarkably Similar Abuses Of Power. Jan. 15, 2020, a date which will live in infamy on two continents. How oddly coincidental that the world witnessed massive abuses of constitutional power in both the United States and Russia on the same day. In Moscow, Russian ruler Vladimir Putin suddenly unveiled changes to the Russian constitution that will for all practical purposes render his unrestrained rule permanent. [...] Like Putin, Pelosi has timed her move for purposes of aggrandizing power, waiting until mid-January to let the Senate begin its trial — after insisting last year that the impeachment inquiry and subsequent House floor vote had to be hurried to take place before Christmas.
Fake vs. real history. Wednesday's [1/15/2020] impeachment display was truly one for the fake history books. Defying the narrative of a somber undertaking, cheery pink suit and all, House Speaker Nancy Pelosi barely suppressed, along with her colleagues, a demeanor of self-satisfaction and sheer delight worthy of the Academy Award. Of course, instead of the Oscar, there was the "Nancy," a gold pen emblazoned with her name, given to the greatest political performers who act as if they have the best interests of the United States at heart. Her remarks compared the false, underhanded impeachment proceedings to notable and historic events of our nation's past. Her zany ramblings belied the fact that this impeachment is not a result of an actual crime, but is in truth a nasty bipartisan assault on a political rival and our constitution. Pelosi and the left push their fake history and equate their dirty dealings with heavy weighted historical occurrences of days gone by.
Pelosi hands out souvenir pens, Dems slammed for gloating as House delivers Trump impeachment articles. House Speaker Nancy Pelosi drew criticism Wednesday for handing out commemorative pens — with her name on them — after signing a resolution to transmit two articles of impeachment against President Trump to the Senate for trial. To critics, the tone of the event seemed celebratory — a far cry from December, when Pelosi wore black and insisted on the House floor it was a "solemn" day before the Democrat-controlled body voted to impeach the president on abuse of power and obstruction of Congress allegations. Later, she even cut short two rounds of cheers from Democrats when the articles were adopted.
Nancy Pelosi's Impeachment Pens Look Like Bullets. Not only did Nancy Pelosi have commemorative (totally sober) impeachment pens made and carried in on silver trays for her to sign (one interminably long letter at a time while smiling like prom queen), but the pens look like a high-caliber rifle bullets. Think that was accidental?
Jonathan Turley: Pelosi 'played into' McConnell's hands, 'destroyed' her own case for impeachment. Constitutional law professor Jonathan Turley laid out a sweeping indictment of House Speaker Nancy Pelosi, D-Calif., arguing that her impeachment strategy backfired and gave Senate Majority Leader Mitch McConnell, R-Ky., the upper hand. "The delay now seems largely driven by a desire to preserve the image of Pelosi as a master strategist despite a blunder of the first order," Turley wrote in a column titled, "Pelosi's Blunder: How the House Destroyed its Own Case for Impeachment."
Nancy Pelosi Uses More than a Dozen Commemorative Pens to Sign 'Sad' Articles of Impeachment. Speaker of the House Nancy Pelosi (D-CA) declared herself "sad" as she used more than a dozen commemorative pens to sign the two articles of impeachment against President Donald Trump on Wednesday evening [1/15/2020]. The occasion was "so sad, so tragic for our country," Pelosi told reporters, noting the "difficult time in our country's history." She then approached a table that had been prepared with the documents, and two dishes full of pens for her to use — about half a dozen pens in each.
The Granny Wine Box Traveling Impeachment Circus Heads to the Senate. [Scroll down] The president didn't cross a line. In fact, the Democrats couldn't even impeach him on all the things they'd been promising to make stick for months. Rather, Pelosi was pushed over a line she never wanted to cross, forced primarily by the unruly young 'uns in her party who she couldn't control. She may be flailing at the moment, but Pelosi used to be one of the shrewdest politicians in American history. She knew that once the Democrats committed to going down the road to impeachment their odds of arriving at President Trump's re-election greatly increased.
Pelosi's Blunder: How The House Destroyed Its Own Case For Impeachment. [Scroll down] The fact is that Pelosi played into the hands of McConnell by first rushing this impeachment forward with an incomplete record and now giving him the excuse to summarily change the rules, or even to dismiss the articles. Waiting for the House to submit a list of managers was always a courtesy extended by Senate rules and not a requirement of the Constitution. By inappropriately withholding the articles of impeachment and breaking with tradition, Pelosi simply gave McConnell ample reason to exercise the "nuclear option" and change the rules on both majority voting as well as the rule for the start of trials. That is a high price to pay for vanity.
The Pelosi Legacy: A Barking Dog with No Teeth. Dogs don't bark because they're brave, they bark because they're scared. The same can be said for the current House Speaker. Afraid of a revolt among the even more left wing of her party, afraid of a president her party looks increasingly unlikely to defeat in November, afraid of domestic and international American success via an approach that does not comport with her more liberal views and achieved without her consent, Speaker Pelosi has entered the twilight of her political career barking at all she fears. Enacting symbolic measures, absent any import, launching an impeachment, replete with hyperbole and hyper-gesticulation, yet devoid of any impeachable offense. In doing so she has both exposed and cemented her legacy, that of a barking dog with no teeth.
Nancy Pelosi called 'petty and un-American' for upstaging Trump's historic China trade deal. House Speaker Nancy Pelosi is under fire for a "deliberate" attempt to "upstage" President Trump as he signed "Phase One" of a long-awaited trade deal with China. Pelosi chose to announce the impeachment managers for Trump's upcoming Senate trial at a press conference at the Capitol on Wednesday, just before the president signed the "historic" US-China trade deal at a ceremony with Chinese Vice Premier Liu He.
Nancy Pelosi Is Doing Putin's Bidding. Imagine for a moment what would happen if top Republicans started alleging that Chuck Schumer was working at the behest of a foreign power — that he was a tool of Communist China. Would any Republican be able to appear on-air without being asked about such allegations? They would have to confront them, and be asked whether they supported or disassociated themselves from the obviously controversial remarks. But when Nancy Pelosi appeared on ABC's "This Week" on Sunday — being interviewed by former Democratic PR expert George Stephanopoulus, who is somehow only the second most biased Sunday host, unable to scale the heights of utter hackery achieved by NBC's Chuck Todd — there wasn't a single followup question asked of her about the bombshell allegations she advanced concerning Mitch McConnell. [...] Alleging that your political opponents, one of the two major parties in America, including the Minority Leader of the House, the Majority Leader of the Senate, and the President of the United States are wholly owned assets of a foreign power is the height of irresponsibility.
The Cult Of Pelosi Is A Deadly Thing For Democrats' Future. There are many cults in Washington, D.C. [...] But today, the city has another faith working reporters into a fervor, and her name is Nancy Pelosi. Reporters have called her "basically invincible," a "political grandmaster," an "icon of female power," a "rockstar" and, time and time again, "a fashion icon." Reporters have venerated "her clothes, her hand gestures, her facial expression" and placed a halo 'round her head. Activists projected her image on San Francisco's city hall and a D.C. restaurant dedicated a Christmas tree in her honor. "House Speaker Nancy Pelosi is doing to President Donald Trump what no one else has in the nearly three years since he took office: She's making him squirm." Business Insider pronounced two days after Christmas. "House Speaker Nancy Pelosi has managed to accomplish what no one else has even tried in the past three years: sticking it right back to Trump," RawStory echoed the same day in an article that includes "squirm" in its headline.
The Pelosi Stillborn Impeachment. As Nancy Pelosi lost her standoff with Mitch McConnell, bowing to the collapse of support even within her own Democrat caucus, she finally bit the bullet and conceded that she would have to submit her impeachment articles without having won a single face-saving concession from her Senate opponents after a fortnight of dangling the articles in her hallucination that she was dangling candy before a child or water before a soul desperately thirsting for it in the desert. No one really gave a hoot. Yes, we commentators commented. Cable television consumed hours daily debating it. But it did not matter a whit. [...] It had no life. The Constitution explicitly states that the only grounds for impeachment are bribery, treason, high crimes, or misdemeanors in the way the term was understood in 18th-century England. Even if the president had abused power, well — all presidents abuse power. That is what executives do.
McConnell Excoriates Pelosi Days Before Impeachment Trial Begins. Senate Majority Leader Mitch McConnell (R-KY) excoriated House Speaker Nancy Pelosi from the senate floor asserting that she finally ended her "one-woman blockade." "This strange gambit has achieved absolutely nothing," McConnell said of Pelosi's threats and delay tactics. The Senate "was never going to allow the Speaker to dictate" how to handle a trial. "The Senate will not be sucked into this precedent-breaking path," McConnell said touting the separation of powers between the two chambers of congress. [Video clip]
Pelosi falsely claims court fight for Ukraine impeachment witnesses. House Speaker Nancy Pelosi said Democrats are fighting to force impeachment witnesses who defied congressional subpoenas related to Ukraine to testify, but so far, no court cases against the four key figures exist. Pelosi made the misleading claim in an ABC interview Sunday [1/13/2020] in response to comments about Republican critics saying House Democrats could've done more to exhaust their alternatives when Trump officials refused to show up to testify at the behest of the president, [...] "That isn't even true," Pelosi said. "We are in court on the witnesses. It could take a very long time." But no Ukraine controversy figures, including none of the four impeachment trial witnesses requested by Democratic Senate Minority Leader Chuck Schumer [...] have been brought to court by Democrats to enforce the subpoenas they ignored, and Bolton was never subpoenaed at all.
Pelosi unhinged. In the tweet below Dan Bongino concisely disposes of House Speaker Nancy Pelosi's unhinged take on the ongoing impeachment saga (embedded video). Those of us who avoid the Sunday morning gabfests missed this revealing glimpse into the mind of the Dems' strategic genius and legislative mastermind. The video clip below puts me in mind of a variation of George Wallaces's infamous vow of "segregation now, segregation tomorrow, segregation forever." In Pelosi's case, it would be "impeachment now, impeachment tomorrow, impeachment forever."
Pelosi: No Matter What Happens in the Senate, Trump Will Be 'Impeached Forever'. No matter what the U.S. Senate does, President Donald Trump will be "impeached forever," House Speaker Nancy Pelosi told ABC's This Week. "Let's be optimistic about the future, a future that will not have Donald Trump in the White House one way or another," Pelosi told host George Stephanopoulos on Sunday. "Ten months we will have an election if we don't have him removed sooner. But, again, he'll be impeached forever."
Pelosi Accuses McConnell of Being an Accomplice' to Russian Election Interference. On Sunday's [1/12/2020] broadcast of ABC's "This Week," House Speaker Nancy Pelosi (D-CA) accused Senate Majority Leader Mitch McConnell (R-KY) of being an "accomplice" to alleged Russian interference in U.S. elections.
What Was It For? It is easy to underestimate speaker of the House Nancy Pelosi, because she speaks an obscure dialect of High Gibberish and frequently seems to be confused in public — not that any of that is stopping Joe Biden from leading the Democratic primary field. Pelosi is clever enough, but lacks the courage that in politics comes from genuine conviction, which she also lacks, and that makes her easy to bully. The zany-left caucus in the House — the left-of-San Francisco caucus — pushed Pelosi to ignore her own better judgment in order to give the Democrats one of those "moral victories" they keep proclaiming as Republicans claim electoral ones. Which is to say, impeachment will be this year's Beto O'Rourke vs. Ted Cruz.
Pelosi Is Realizing Impeachment Was a Mistake. America is the midst of an imaginary impeachment standoff between House Speaker Nancy Pelosi and Senate Majority Leader Mitch McConnell. "Both have drawn firm lines in the sand. Someone's got to give," one reporter recently declared. There is, of course, nothing to "give." Pelosi has no standing to dictate the terms of a Senate trial; no constitutional right or political leverage. Why she has put herself in a position that will ultimately end, one way or another, with her surrendering to McConnell is perplexing. A new piece in Time magazine does shed some light on the thought process behind Pelosi's decision to refuse to hand over articles of impeachment to a Senate whose majority doesn't want them.
Is Pelosi Timing the Impeachment Articles' Release so as to Damage Bernie? The conventional wisdom regarding Nancy Pelosi's holding of the impeachment articles is that, as someone put it, she'd pulled the pin on the grenade and then didn't know what to do. Yet even if she has bumbled into her current predicament, which seems likely, is there now some method to her madness? Has she found a way to turn lemons into at least a thimble of lemonade by using the situation to damage the presidential candidate she doesn't want to see capture the Democratic nomination — burgeoning Bernie Sanders — and help the establishment choice, Joe Biden?
Here's Just How Dumb Nancy Pelosi's Gambit of Roadblocking Impeachment Was. Sometimes real life mirrors parody, and in the case of Nancy Pelosi's gambit of refusing to hand over the articles of impeachment she pushed to pass, it certainly does. In fact, while many of us had been under the impression that Pelosi had gotten the idea from Lawrence Tribe, a deranged Twitter Harvard professor who spouted off about not giving the articles to the Senate early on, where she really got the idea from is even more laughable. Apparently, Pelosi decided to blow up her own charade after watching a felon on CNN.
Why did Pelosi hold up the impeachment articles? Nancy Pelosi finally gave up her futile attempt to use the threat of not sending impeachment articles to the Senate as a means of forcing Mitch McConnell to give her a say in how the Senate will conduct the trial. Since McConnell isn't exactly dying to hold a trial of President Trump, Pelosi's gambit wasn't just empty, it was ridiculous. She comes off looking silly. Why did Pelosi make such a dumb play? I suspect she deluded herself into thinking it might work because, being obsessively power hungry, she failed to distinguish between her actual power and the power she covets. Pelosi has never been popularly elected to any office more significant than representative of a congressional district entirely within the friendly (for her) confines of San Francisco. Nor has she ever served in the U.S. executive branch. Yet, as I argued here, she behaves as if she's the shadow Secretary of State.
Nancy Pelosi gives bizarre, inappropriate press conference after plane crash. In Washington, House Speaker Nancy Pelosi — third in line to the presidency — strode to the podium to address reporters on these issues of death, war and terror amid her effort to remove President Trump from office. [...] "Today's a happy day for us," she said in a grating halt to the solemnity of the moment. Almost in sing-song, she explained, "We are going to celebrate the wedding of Barbara Lee!" It was jarring. Barbara Lee is one of her House lieutenants, but what her wedding had to do with any of the serious and pressing global matters at hand today was anybody's guess. Mrs. Pelosi stammered and stared around, apparently confused about when the wedding was, where the celebration would be or why any of it was relevant in this grave moment. She felt the urge to explain. "I convey that to you because it is a source of joy to us, as she is a source of joy." Silence was the only response from those gathered in the room with pen and pad looking on. [...] This is a woman who should be carted off to the insane asylum, and not be leading Congress.
Trump calls on all Republicans to oppose 'Crazy Nancy Pelosi's' War Powers Resolution. President Trump called on fellow Republicans to oppose a resolution meant to place restrictions on his ability to take military action without congressional approval, as the House prepares to vote on the measure late Thursday [1/9/2020]. House Speaker Nancy Pelosi announced the planned vote in a one-page statement that said last week's U.S. drone strike that killed Iranian Gen. Qassem Soleimani was "provocative and disproportionate," despite Trump administration claims to the contrary. Many Democrats were also incensed that the administration did not notify Congress in advance.
Nancy Pelosi's pointless war-powers ploy. Speaker Nancy Pelosi just pushed through a bill aiming to limit President Trump's ability to hit Iran, even though the crisis is over. Why? Thursday's [1/9/2020] House passage of her war-powers resolution is almost certainly pure symbolism: Nothing like this is going to pass the Senate, and even if it did its constitutional status would be dubious. And events, including the president's actions, have shown that the fears that inspired the bill are unfounded.
Washington Post: A Republican altered a photo of Nancy Pelosi!. [Scroll down] I guess the Post reporter wasn't aware of all these altered images on Pelosi's own account when she wrote a story about a GOP Rep. altering a photo of Pelosi. In fact, Pelosi has a much higher profile and nearly twice as many followers as Stefanik on Twitter, so why didn't the Post notice?
Pelosi Will Either Cave or get Rolled by McConnell — the Choice is Hers. Hardball politics in the nation's capital — or anywhere else, for that matter — is all about leverage, and when you have none, you are destined to lose. Pelosi is destined to lose in her idiotic impeachment scam, and today she appeared to finally, if reluctantly, acknowledge her reality.
Pelosi on 'Urgent' Impeachment Articles: 'I'll Send Them Over' to Senate 'When I'm Ready'. House Speaker Nancy Pelosi (D-CA), during her weekly press conference Thursday, said she is not holding back the two articles of impeachment approved against Donald Trump last month "indefinitely." A reporter asked the Speaker," Are you holding the articles indefinitely?" "No. I'm not holding them indefinitely. I'll send them over when I'm ready. That will probably be soon," she replied.
Pelosi's Urgency of Impeachment at a Snail Pace. Nancy Pelosi's delay in sending the articles of impeachment to the Senate undermines the implied urgency of the issue. Senate Democrats are getting impatient with the delay. Like most Americans, they want to get the process started. Nancy isn't getting her way. She wants a guarantee that witnesses will be called to testify in the Senate hearing. Senate Republicans aren't preventing witnesses, but using the same guideline as the most recent impeachment trial of President Clinton. The video of a discussion between Mitch McConnell's and Nancy Pelosi's former Chiefs of Staff highlights the process and party strategy behind her delay.
Rep. Bradley Byrne Moves to Censure Pelosi for Holding Up Impeachment. Rep. Bradley Byrne (R-AL) will introduce a resolution on Thursday to censure House Speaker Nancy Pelosi (D-CA) for obstructing the impeachment proceedings against President Donald Trump, Breitbart News has learned exclusively. Byrne, who is vying for the Republican nomination for U.S. Senate this year from his native Alabama, believes the speaker has broken congressional precedence by refusing to send the articles of impeachment to Senate Majority Leader Mitch McConnell.
Nancy Pelosi Likens Eliminating Soleimani to Assassinating the U.S. Vice President. House Speaker Nancy Pelosi (D-CA) on Thursday defended her opposition to the elimination of Iran's top general and terrorist mastermind Qasem Soleimani by likening the action to a hypothetical assassination of the vice president of the United States. The speaker expressed outrage upon the death of Soleimani, describing the Trump administration's actions as "provocative and disproportionate."
Also posted under Lies about terrorism.
Rep. Adam Smith of Bellevue backtracks after split with Nancy Pelosi on impeachment strategy. U.S. Rep. Adam Smith caused a brief ruckus Thursday morning [1/9/2020] when he publicly broke with House Speaker Nancy Pelosi over her delay in sending articles of impeachment against President Donald Trump to the Senate. But within hours, Smith, D-Bellevue, fell back in line, saying he "misspoke." Smith's bad morning began with a CNN interview in which he said "it is time" to send the articles "and let Mitch McConnell be responsible for the fairness of the trial." While he said it had been "perfectly advisable" for Pelosi to try to leverage a fair Senate trial that "would show evidence and bring out witnesses," he concluded "at this point, it doesn't look like that's going to happen."
Nancy Pelosi Dodged Mike Pence Phone Call Notifying Her of Iranian Missile Attack: 'Tell Him I'll Call Him Back'. House Speaker Nancy Pelosi refused to immediately take a phone call from Vice President Mike Pence on Tuesday evening notifying her that Iran had launched missile attacks against at least two U.S. military bases in Iraq. "Tell him I'll call him back," Pelosi said to an aide who handed her a note that the vice president was calling her during a meeting, opting to not immediately take the phone call as U.S. bases in Iraq were under attack and instead call the vice president back.
Liz Cheney calls Nancy Pelosi an embarrassment after Speaker spotted at party following missile attack. U.S. Rep. Liz Cheney, R-Wyo., called House Speaker Nancy Pelosi an "embarrassment" Tuesday evening [1/7/2020] after Pelosi reportedly attended a Washington restaurant opening following Iran's missile fire against U.S. troops in Iraq. "Speaker Pelosi is an embarrassment and unfit for office," Cheney wrote as she retweeted a photo posted online purportedly showing the speaker at the restaurant in Washington's Navy Yard neighborhood. "Closely monitoring the situation following bombings targeting U.S. troops in Iraq," Pelosi had tweeted earlier, before she was photographed at Danny Meyer's Maialino Mare restaurant.
The Dems' Impeachment Losing Streak Continues. Has any political ploy failed as spectacularly as House Speaker Nancy Pelosi's decision to delay sending the articles of impeachment against President Donald Trump over to the Senate. Even Democrats are now telling her the jig is up. Pelosi had hoped to use the delay as leverage to get the Senate to agree to the Democrats' demand for witnesses at the trial. It was a foolhardy plan that, had the leadership not been in the grip of Trump Derangement Syndrome, it never would have attempted.
Borderline Treason: Democrats continue to betray their country. House Speaker Nancy Pelosi is readying her Democrat-controlled House of Representatives to vote this week on legislation to tie President Trump's hands in dealing with the blood-thirsty Iranian regime. Speaker Pelosi is peeved that she and her Democrat congressional colleagues were not consulted first before President Trump ordered the killing of Iranian terrorist mastermind Qasem Soleimani late last week. Too bad. She should run for president if she wants to become the commander-in-chief. In any case, she is a hypocrite.
Feinstein Fed Up with Pelosi Delay Tactics — Demands She Send Articles of Impeachment to Senate. Senator Dianne Feinstein (D-CA) is demanding Nancy Pelosi deliver the articles of impeachment to the Senate, but the Speaker is digging in her heels and won't let go. Fox News reported that Pelosi told colleagues in a letter that she will not give the articles of impeachment to the Senate unless McConnell 'immediately publishes' his resolution and accused the Senate Majority Leader of making "misleading claims" about the Clinton impeachment to justify his strategy.
Napolitano: Some Democrats' patience is 'wearing thin' with Pelosi's impeachment delay. Some Democrats are getting fed up with House Speaker Nancy Pelosi withholding articles of impeachment from the Senate, and want to "move on" to a trial, Judge Andrew Napolitano said Thursday [1/9/2020]. [...] "I think patience is wearing thin even from some Democrats. Sen. Dianne Feinstein comes to mind. I think somebody is going to start saying to Mrs. Pelosi: 'Let's move on with this,'" he said. "The longer it goes on, the less urgent it becomes. So if it's serious and urgent, send them over. If it isn't, don't send it over," Feinstein told Politico. McConnell said Tuesday he has the votes to start an impeachment trial even without an agreement on potential witnesses — once the chamber receives the articles from the House.
Senate Democrats break with Pelosi, want articles of impeachment. Senate Democrats are breaking with their party leaders over House Speaker Nancy Pelosi's decision to hold on to the articles of impeachment, saying it is time to get President Trump's trial rolling. The grumbling in the ranks puts pressure on Senate Minority Leader Charles E. Schumer, New York Democrat, who has stood by Mrs. Pelosi's decision to withhold charges against the president in an attempt to get Senate Republicans to guarantee witnesses will be called during the trial. Majority Leader Mitch McConnell used the crack in the ranks Wednesday [1/8/2020] to call on Mr. Schumer to break Mrs. Pelosi's impasse.
Dianne Feinstein tells Pelosi to end delay over articles of impeachment. Since House Democrats approved two articles of impeachment three weeks ago, Pelosi, 79, coordinating with Senate Minority Leader Chuck Schumer of New York, has been sitting on the documents in a bid to pressure Senate Majority Leader Mitch McConnell of Kentucky to agree to more favorable terms for the trial. But Senate Democrats are beginning to lose their patience with Pelosi's maneuver. The intervention of Feinstein, 86, saying bluntly that the time had come for Pelosi to transmit the impeachment articles to the Senate makes it highly likely that her fellow Californian will do so.
Nancy Pelosi's Delusions of Grandeur. House Speaker Nancy Pelosi has repeatedly portrayed President Trump as an existential threat to the republic. As she put it when announcing the House impeachment inquiry, "The actions taken to date by the president have seriously violated the Constitution." She later justified her mad rush to hold an impeachment vote in December by claiming it was necessary "to defend democracy." In reality, by presiding over the hyper-partisan passage of two inscrutable articles of impeachment and holding them hostage until the Senate allows her to dictate how it will conduct the president's trial, Pelosi has revealed that she is the genuine menace to our unique system of government.
Nancy Pelosi Dodged Mike Pence Phone Call Notifying Her of Iranian Missile Attack: 'Tell Him I'll Call Him Back'. House Speaker Nancy Pelosi refused to immediately take a phone call from Vice President Mike Pence on Tuesday evening notifying her that Iran had launched missile attacks against at least two U.S. military bases in Iraq. "Tell him I'll call him back," Pelosi said to an aide who handed her a note that the vice president was calling her during a meeting, opting to not immediately take the phone call as U.S. bases in Iraq were under attack and instead call the vice president back.
Pelosi's impeachment tactics are pursuit of power for its own sake. When House Speaker Nancy Pelosi (D-Calif.) re-assumed her position of power, her daughter Alexandra affectionately said of her mother: "She'll cut your head off and you won't even know you're bleeding." That can literally happen in some third-world "democracies." America's rule-of-law culture, however, requires that political assassinations be bloodless. Media-driven criminal investigations and character assassinations are the weapons of choice. Both have failed to take down President Trump. However reluctantly, Pelosi has acquiesced to the third-world instincts of her socialist-trending party. A master of tactics, but not strategy, Pelosi undoubtedly has been war-gaming different scenarios.
Graham gives Pelosi ultimatum, proposes Senate rule change to remove her from impeachment process. Sen. Lindsey Graham, R-S.C., insists that if House Speaker Nancy Pelosi does not deliver articles of impeachment against President Trump to the Senate by the end of the week, the Senate should "take matters in our own hands." Graham accused Pelosi of playing political games and trying to exert control over the Senate trial by keeping it from starting. Senate Majority Leader Mitch McConnell, R-Ky., recognized Friday on the Senate floor the chamber's rules prevented him from doing anything until Pelosi does her part, but Graham proposed a solution that could remove what McConnell has called an "impasse" in the process.
Whose side is she on?
Pelosi Condemns Trump's 'Provocative and Disproportionate' Airstrike Killing Top Iranian Commander. House Speaker Rep. Nancy Pelosi (D-Calif.) condemned Thursday's U.S. airstrike killing top Iranian military leaders, calling it a dangerous, disproportionate response by President Donald Trump to this week's attacks on a U.S. embassy in Baghdad, Iraq. The targeted airstrike killed powerful Iranian military commanders the Pentagon says were responsible for the deaths of hundreds of American and coalition service members, and were plotting more attacks, [...]
Pelosi Stands Up For Brutal Terrorist, Scolds Trump For 'Disproportionate' Hit On Soleimani. On Friday [1/3/2020], House Speaker Nancy Pelosi (D-CA) took a stand for brutal terrorist and Iranian general Qassem Soleimani, scolding President Donald Trump for taking a "disproportionate" hit on the terrorist. "American leaders' highest priority is to protect American lives and interests," the Democrat leader posted via social media hours after the Soleimani-kill was confirmed. "But we cannot put the lives of American servicemembers, diplomats and others further at risk by engaging in provocative and disproportionate actions."
The Editor says...
Nancy Pelosi appears to be engaged in a coup to overthrow the President. Nancy Pelosi hates to see President Trump succeed. If I were in President Trump's position, I wouldn't tell Nancy Pelosi anything.
Shadow Secretary of State Pelosi on the killing of Soleimani. Nancy Pelosi fancies herself a foreign policy expert who not only must be consulted by the president's foreign policy team, but who can set or manipulate American foreign policy. [...] If the killing of Soleimani was "disproportionate," that's only because Iran's terrorist in chief is responsible for the death of hundreds of Americans. Unfortunately, we can only kill Soleimani once. Moreover, American intelligence indicated that Soleimani was planning new attacks that would have killed more Americans. If so, then it wasn't "disproportionate" to kill him and his associates for that reason, as well. I think the administration may be too optimistic about the extent to which taking out Soleimani will prevent future attacks. Presumably, he had deputies who can step into his role effectively enough to cause serious trouble. However, it's not disproportionate to kill a terrorist who is responsible for many American deaths and who is plotting many more.
Pelosi says Trump carried out strike on Iranian commander without authorization and she wants details. House Speaker Nancy Pelosi, D-Calif., is calling on the Trump administration to immediately brief lawmakers on the U.S. airstrike that killed a top Iranian commander in Iraq and what the White House plans to do next. The strike in Iraq was directed by President Donald Trump and killed Qassem Soleimani, the commander of Iran's secretive Quds Force, the Department of Defense announced Thursday night [1/2/2020].
Is Trump Impeachment Inquiry Nancy Pelosi's Retaliation For Being Left Fuming on the Tarmac? "Queen Pelosi wasn't happy with the small USAFC-20B jet, Gulf Stream III that comes with the Speaker's job ... OH NO! Queen Pelosi was aggravated that this little jet had to stop to refuel, so she ordered a Big Fat, 200-seat, USAF C-32, Boeing 757 jet that could get her back to California without stopping! "Queen Nancy's Big Fat Jet costs us, the hard working American tax payers, literally thousands of gallons of fuel every week." The best thing President Trump ever did in 2019 was on Jan. 17 when he grounded Pelosi's mid-Government Partial Shutdown planned flight to Afghanistan, Belgium and Egypt.
The Left Goes Over the Edge. [Scroll down] They hammered through the vote all the same, constantly accelerating, until... Until Nancy Pelosi, unable to look failure in the face, refused to turn the articles over to the Senate on specious grounds — and did this at the beginning of the Christmas recess, when absolutely nothing could be done to alter the situation. So for three weeks, there she is, hanging like Wile E. Coyote waiting for gravity to take hold. She is now in the worst position a politician can envision: a situation in which all possible alternatives mean even more public humiliation for herself and her party. She can either maintain her insistence on being the Red Queen of American politics, or submit to the Senate and see her impeachment articles tossed aside. And it's all her doing. So much for the "smartest woman in Washington."
Pelosi's Game Of Chicken Will Leave Her Party Fried. After holding a vote to impeach President Donald Trump, House Speaker Nancy Pelosi has decided to wait on sending the impeachment articles to the Senate. According to many in the media, this brilliant bit of strategy gives her leverage to force Senate Majority Leader Mitch McConnell to provide a fair trial in the Senate. There's so many reasons this is wrong, but let's start with the most obvious: according to the Democrats' own impeachment witness, Harvard law professor Noah Feldman, Trump isn't actually impeached until the articles are sent to the Senate, and "an indefinite delay would pose a serious problem."
The Most Irritating person of 2019 is... [Scroll down] Next in D.C., resembling Laurel and Hardy, we have two mismatched tinhorns named Adam Schiff and Gerald Nadler. But unlike the lovable Stan and Ollie, the Adam and Gerry show was, simply put, a source of constant irritation sans the comic relief. [...] But, Adam and Gerry were never doing anything more than responding to strings pulled by Nancy Pelosi. As such Adam and Gerry are removed from further consideration, only to be surpassed by megamillionairess: Nancy Pelosi. Certainly Congresswoman Pelosi's moments in the spotlight were welcomed by her acolytes, while reviled by those possessing common sense, morals and respect for the Constitution.
The parallels between Hunter Biden and Paul Pelosi are absolutely eerie. [Scroll down] But here's where things get odd: Go through the ownership of this building and you feel like you've been slipped some of that hallucinogenic toad poison. This structure has passed between a goodly number of entities — and yet, per the documents, no transfer taxes have been paid. Pelosi said he has no equity in the building and never has. "It's not my business. I never got paid. I never expected to get paid." And yet there he is, listed in 2015 as the Chief Financial Officer of Feng RE, Inc., the entity that owned 1312 Utah. Can't make this up.
Rep. Steve Scalise: 'It's No Longer Nancy Pelosi Calling the Shots'. Rep. Steve Scalise (R-LA) joined former Rep. Jason Chaffetz (R-UT), who was guest hosting "The Ingraham Angle" on Thursday night [12/26/2019], to discuss what happened to change Pelosi's mind. Scalise said, "The AOC wing of the party changed and really started controlling her caucus. And so, it's no longer Nancy Pelosi calling the shots — and you think about anybody who follows in the things that she's been forced into doing, it's been mostly the far-left socialist wing of the party and it's not just Pelosi."
Trump Exposes Nancy Pelosi and Son Paul's Shady Dealings in Ukraine. As The Gateway Pundit reported back in November Quid-Pro-Joe and his son Hunter are not the only Democrat family members cashing in on their prominent positions. Like many Democrats Paul Pelosi Jr. has made a career off of his mother's political stature. Shortly after his mother became the first woman speaker, Paul Pelosi Jr., was hired by InfoUSA for $180,000 a year as its vice president for Strategic Planning. Nancy Pelosi's son Paul is also on the board of an energy company. Paul Pelosi Jr. also traveled to Ukraine for his work.
Nancy Pelosi is Playing Political Games with the U.S. Constitution over Donald Trump's Impeachment. For all the work that's gone into addressing the charges against President Donald Trump, it's hard to argue they rise to the level of impeachable offenses. The charge of obstruction of Congress could just as easily be presented as a justifiable defense of executive power for which ample precedent exists. The allegation he abused the power of his office is likewise flawed. While U.S. policy toward Ukraine is legitimately a subject for congressional oversight it is hardly the stuff of which previous presidents were threatened with removal from office.
Kimberley Strassel nails it when she expertly dissects Pelosi's 'rolling impeachment' ploy. Wall Street Journal columnist Kimberley Strassel hit the nail on the head in a piece on House Speaker Nancy Pelosi's gamesmanship of not sending two articles of impeachment against President Trump to the U.S. Senate. Given House Democrats' weak case and the inevitable acquittal from the upper chamber, perhaps the San Francisco Democrat is doing all she can to avoid a trial. "Who says Pelosi even wants a Senate trial? Strassel said in a tweet plugging her piece about the party's "rolling" impeachment. "Far better for Democrats to keep impeachment rolling?"
Pelosi's Rolling Impeachment. Republicans dismiss Speaker Nancy Pelosi's refusal to transmit the impeachment articles to the Senate as a weak stunt. They do so at the peril of both the Constitution and President Trump. Senate Majority Leader Mitch McConnell may be a master tactician, but Mrs. Pelosi is no slouch. It's now been more than a week since the House impeached Mr. Trump, and Mrs. Pelosi has yet to name impeachment managers or formally send over the paperwork.
Pelosi's Ploy. Some say there is an evil genius to Pelosi's withholding Articles of Impeachment from the Senate where they are certain to face ignominious defeat. As long as she refuses to submit, [Pelosi] can claim Trump has been impeached without having to acknowledge that her crimeless Articles are doomed to an unceremonious trouncing in a Republican-controlled Senate. She is counting on an uninformed public, unaware that constitutionally, until she transmits the articles to the Senate, Trump has not been impeached. A grand jury can decide for indictment but if the prosecutor chooses not to file the indictment with the court, that person has not been indicted.
On Pelosi's Impeachment Stunt and Destiny's Fork in the American Road. It is a strange time. Christians watch Democrats — including Nancy "As a Catholic" Pelosi — make a sacrilege of "peace on earth and good will to all" by infusing the nation with division and hate. [...] We Americans enter this Christmas and Chanukah season at a fork in the road for America's destiny. In eleven months, either the whole enterprise of nearly 250 years may go down the tubes, or we continue to have a fighting chance to save the United States of America.
Why Democrats Will Never End The Impeachment Show Until Trump Is Gone For Good. [Scroll down] But even if President Trump is "officially" impeached, it will not change the significance of Pelosi's stammering, indefensible explanation for delay. It included the statement, "Frankly, I don't care what the Republicans say." Of course she doesn't. This entire process has had absolutely nothing to do with upholding constitutional duties or about coming to a bipartisan conclusion in support of impeachment, as Pelosi said was so important mere weeks ago. It was always about putting on a political show for a rabidly partisan audience — and the show must go on. The current Democrat talking point is that Pelosi is delaying to ensure there are fair procedures in place for a Senate trial. That's a preposterous claim to make in the wake of a one-sided impeachment inquisition in which the Democrats restricted their Republican colleagues' meaningful participation and declined to grant President Trump any due process in the name of expedience, which is now apparently unimportant. That won't happen in the Senate, and Pelosi knows it.
Gowdy: Pelosi Has No Constitutional Authority to Dictate the Rules of a Senate Impeachment Trial. Former prosecutor and Republican Congressman Trey Gowdy is weighing in on House Speaker Nancy Pelosi's continued refusal to turn over two articles of impeachment against President Trump to the Senate for a trial. "If he [President Trump] really is an existential threat the Republic, if he really has committed conduct that should result in his removal from office, then why would you not send it onto the Senate? The Constitution gives the House no role in deciding how this trial takes place. It is exclusively within the province of the Senate," Gowdy said during an interview with Fox News. "I think most of my fellow citizens will see through this 'lets hurry up and impeach him' and then sit on the indictment."
Time for a Directed Verdict? [Nancy Pelosi] now threatens to withhold the impeachment articles from the Senate until Mitch McConnell assures her of a conviction. OK, that's not exactly the way she phrases it, but that's what she means.
Pelosi is Trump's secret weapon. I doubt San Franciscans will vote her out. She represents well a city that is so stupid it lets people poop in the street. But the American people tire of Democrats and their petty, snarling ways. [...] In the end, Pelosi is merely a figurehead — old and stuttering as she tries to hang on to a speakership that Democrats in all likelihood will relinquish in 2021.
Queen Pelosi wants to rule the Senate and nation but voters will revolt. Queen Nancy Pelosi is not amused. Having just demanded her subjects in the House impeach the president in a historic and unprecedented party-line vote, jeopardizing the reelection of many and even threatening her own reign, Her Royal Highness, aka the House Speaker, grew testy recently with inquisitive reporters. Pelosi scolded the pesky press for wanting to know why, for the first time in the nation's history, she did not follow the accustomed path of handing the articles of impeachment over to the Senate for an expected trial. Having to explain her bizarre decision was apparently beneath her; she cut off inquiries abruptly saying, "Any other questions because I'm not going to answer any more questions on this... I'm not going to go there anymore."
Just Let the Democrats Schiff Themselves. Military guys [...] try to abide by the apocryphal advice of Napoleon, who counseled that you should never interrupt your enemy while he is making a mistake. But this doesn't apply to the Democrats because they are not only too dumb to listen to your warnings but their weird dogma actually makes it impossible for them to imagine that they are heading for disaster in 2020. [...] Nancy Pelosi, who is no dummy, knows. She gets it. That's why she's not taking questions on her solemn, sad impeachment thing. She gets that she's trapped by the Commie Caucus's resolute determination to please their blue enclaves at the expense of alienating everyone else. So she's trying to make it fade away.
Nancy Pelosi defends withholding articles of impeachment, cites Trump's 'phony complaints'. House Speaker Nancy Pelosi took to Twitter Monday [12/23/2019] to defend her decision to withhold the articles of impeachment, saying she must first know how the Senate will conduct the trial against President Trump.
The Editor says...
The operation of the Senate is none of Ms. Pelosi's business.
Stammering, Blabbering, Stuttering Pelosi Tries to Explain the Impeachment Delay. In a video that has gone viral, Nancy Pelosi tries to explain why she has decided to delay the impeachment circus. The key part of that sentence is "tries to." What comes out of her mouth makes no sense whatsoever. None. If you want to know why Nancy Pelosi is the Speaker of the House, you only have to watch this video of a news conference she gave on Thursday. Such eloquence! It's absolutely amazing to listen to her. [Video clip]
Ken Starr thumps Nancy Pelosi for obstructing impeachment process, accuses her of abuse of power. House Speaker Nancy Pelosi (D-Calif.) has thus far obstructed the impeachment process by delaying the transfer of two articles of impeachment against President Donald Trump, which passed in the House this week, to the Republican-controlled Senate. According to Ken Starr, Pelosi's actions are "wrong constitutionally," he said Saturday on Fox News. "It's an impeachment with a footnote or with an asterisk," Starr said. "By the way, it never went over to the Senate, which I think means that it's a bit of a phony impeachment."
Nancy Pelosi, Not Trump, Is Provoking A Constitutional Crisis. Under the Constitution, the House has the sole power of impeachment and the Senate has the sole power of conducting a trial. Although the Constitution doesn't say the House must go through a formal process of "transmitting" the articles of impeachment to the Senate, precedent and Senate rules dictate that the Senate does not take up measures passed in the House until they have been certified and transmitted, and that it won't take up an impeachment trial until the House appoints impeachment managers (or prosecutors) for the trial. This Pelosi has refused to do. She is in effect asserting the primacy of the House over the Senate, insisting that the Senate conduct an impeachment trial on terms dictated by the House.
Pelosi gives slurring, incoherent answer to impeachment question. While she was answering questions from the media Thursday [12/19/2019], one reporter seemingly threw Pelosi for a loop with a simple statement. "Do you run the risk, as some Republicans have said, of looking like you're playing games with impeachment if you hold on to these articles for too long?" CBS News reporter Nancy Cordes asked. [...] To hear her complete confusing statement, along with all the stumbling and slurring, watch the video below: [Video clip]
Pelosi's Latest Stunt. Nancy Pelosi now says that she will not submit the impeachment notice to the Senate. Uh, Okay. All month, she was telling us that the impeachment was so urgent that it could not wait for time-consuming distractions [...] Since Pelosi has gone out of her way to tell all of us, just the other day, that she makes all her decisions (except those pertaining to abortion, birth control, gay marriage, assisted suicide, etc.) "As a Catholic," she clearly was racing to skip the annoyances of procedural due process and legal compliances so that she, too, could be home in time to open her presents under the Tannenbaum, undoubtedly spruced for her PETA voters with politically correct artificial fir, in one of her several multi-million-dollar mansions sprawled around the Homeless State. There was just no time to wait.
Pelosi Ignores the Problems of Her Constituents as the Impeachment Charade Continues. [Scroll down] People living and eating in the streets of Los Angeles have caused a sharp increase in the rat population and with it a vector for diseases like typhus, which has affected people who work near Los Angeles' largest homeless encampment. Disease does not remain in one place, just as San Francisco's poop gets tracked all over the city and the discarded hypodermic needles that litter the sidewalks of mid-Market and the Tenderloin are there for anyone to step on and spread disease. There is no policy on the table to solve the homeless problem and its effects. Nancy Pelosi, who should have this issue on her front burner, has spent the last twenty-two months obsessed with the impeachment of President Donald J. Trump. Even now, this so-called important set of articles is being withheld from the Senate as the charade continues and the real problems of her constituents and, ultimately, the rest of us are neglected.
Pelosi lies about claim that '200,000 Wisconsin voters' won't get to cast ballots in 2020. House Speaker Nancy Pelosi (D-Calif.) lied her way through the impeachment of President Donald Trump, and now she's lying about an effort in Wisconsin to clean up voter registration rolls ahead of next year's elections. On Thursday [12/19/2019], Pelosi sent out a tweet claiming that 200,000 people from the Badger State wouldn't be able to cast a ballot in the 2020 elections due to a "voter purge" by those mean Republicans in the state.
Dershowitz: Pelosi Delaying A Senate Trial Is 'Unconstitutional'. Calling out the Democratic Party for its far-left extremism, Harvard Law professor Alan Dershowitz denounced House Speaker Pelosi's plan to withhold sending the impeachment vote to the Senate for a trial as "unconstitutional." As noted by Fox News, the Harvard Law professor's recent op-ed for Newsmax came in response to his colleague Laurence Tribe, who backed Pelosi in not allowing a Senate trial on impeachment. "[Tribe] would withhold the trial until the Senate agreed to change its rules, or presumably until a new election put many more Democrats in the Senate. Under his proposal, there might never be a Senate trial, but the impeachment would stand as a final and permanent condemnation of President Trump," Dershowitz wrote.
Nancy Pelosi, What Are You Doing? Late Wednesday night, Speaker Nancy Pelosi floated the possibility that the House might withhold the articles of impeachment against Trump and not transmit them to the Senate at all. [...] The need to impeach the president was such an urgent matter, we were told, that the House could not wait for the courts to rule on challenges to the White House's efforts to prevent key witnesses like Mick Mulvaney, Don McGahn, and John Bolton (whom House Democrats didn't even subpoena) from testifying. These important figures all claimed they would await guidance from the judiciary before consenting to testify, and the indications were that the extraordinary nature of the impeachment process would prove compelling. Now the courts aren't even sure if they are obliged to continue litigating the matter. With the articles passed, the issue is all but moot. Democrats now insist that the Senate cannot proceed unless it hears from these witnesses, but that is also tacit admission that the fact-finding portion of impeachment proceedings was unduly rushed.
Why Impeachment Is A Massive Blunder For Nancy Pelosi. It's been an ugly fall in Washington. Wet, dreary and deeply stupid. In the season we're supposed to be shopping for the perfect gift for our loved ones, instead most of us are busily shopping for a reason to give America what they say she wants more than her two front teeth: impeachment. But despite Wednesday's long-expected vote and the media cheer group accompanying it, this is going terribly for the Democrats.
6 Reasons Pelosi's Senate Obstruction Gambit On Impeachment Articles Is A Disaster. Immediately after impeaching President Donald Trump for allegedly obstructing the House and abusing his power as president, House Speaker Nancy Pelosi obstructed the Senate's constitutional obligation to hold an impeachment trial and abused her power by trying to steal power that belongs solely to the Senate under the Constitution. Pelosi told reporters on Thursday that she is in no rush to formally transmit to the Senate the articles of impeachment her party in the House had just approved. Here are six reasons Pelosi's impeachment obstruction stunt undermines the entire basis of the Democrats' effort to eject Trump from office. [#1] After impeaching Trump for supposed obstruction of House, Pelosi moves to obstruct the Senate[.] Pelosi said she'll wait to send over the articles until she finds out how the Senate will conduct the trial, which looks a lot like obstructing the Senate, given that the Constitution clearly states that the Senate has "the sole power to try all [i]mpeachments."
Newt Gingrich: Nancy Pelosi looks 'foolish' holding up impeachment process. Former Speaker of the House Newt Gingrich said Friday that House Speaker Nancy Pelosi's temporary hold on two articles of impeachment is "absurd" and that she looks "foolish." Appearing on "America's Newsroom" with host Sandra Smith, Gingrich explained that Pelosi, D-Calif., is in a "world that's out of control." "Why would you start a fight in the House knowing you are going to lose control of it to the people who are very capable of making you look very foolish?" he asked. "And yet, that's the dance they began."
Incoherent Nancy Pelosi Releases the Flying Monkeys. House Speaker Nancy Pelosi responded to questions and concerns about the construct of a heavily partisan impeachment process and her refusal to send the articles of impeachment to the Senate. Highlighting the tenuous nature of the position now held by her party, a barely coherent Speaker Pelosi attempts to explain. As reporters ask questions, Pelosi becomes frustrated and tells the compliant media no more questions on impeachment will be entertained. A day after impeaching the President, the Speaker of the House refuses to answer questions. [Video clip]
Pelosi's risky strategy to withhold impeachment from Senate roils Washington. Democrats want to put pressure on individual Republican senators over the issue of calling witnesses in a Senate impeachment trial, and they are looking to create friction between President Trump and Senate Majority Leader Mitch McConnell. But House Speaker Nancy Pelosi struggled Thursday to explain what, exactly, her plan is in delaying sending the articles of impeachment to the Senate. She refused to answer questions from reporters who wanted more clarity.
Jim Jordan to House Democrats: Why Are You Withholding Articles of Impeachment After Rushing to Impeach? House Speaker Nancy Pelosi (D-CA) is playing a peculiar game of chess with Sen. Majority Leader Mitch McConnell (R-KY) when it comes to the articles of impeachment. Instead of preparing to transmit them, which you'd think she'd do ASAP considering how critical it was for Democratic House leaders to get the articles voted on in the House before Christmas, she's withholding them in an effort, at least on the surface anyway, to get McConnell to play by her rules.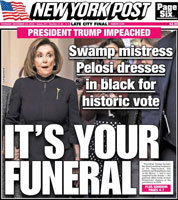 Nancy Pelosi dubbed 'swamp mistress' on New York Post impeachment front page: 'It's your funeral'. The New York Post labeled House Speaker Nancy Pelosi, D-Calif., the "Swamp mistress" on its Thursday [12/19/2019] post-impeachment cover that says the decision will backfire for Democrats in 2020. The tabloid put the news of President Trump's impeachment along the top of the front page before declaring "Swamp mistress Pelosi dresses in black for historic vote," with the message, "It's your funeral." The "swamp mistress" moniker accompanies an opinion piece by Michael Goodwin that labels Trump's impeachment a "stomach-turning charade" that "damages America."
Judge Napolitano: Pelosi withholding articles of impeachment from Senate would be 'grave injustice'. House Speaker Nancy Pelosi, D-Calif., has a constitutional obligation to send articles of impeachment to the Senate, Judge Andrew Napolitano said Thursday [12/19/2019]. Appearing on "Fox & Friends" with hosts Pete Hegseth, Steve Doocy, and Ainsley Earhardt, Napolitano said that while he has said there was a legal basis for impeachment in the House, lawmakers now have a "moral and constitutional obligation" to send the two articles of impeachment to the Senate. In a news conference on Wednesday, following the House impeachment vote, Pelosi said that Democrats may wait to send their articles of impeachment against President Trump to the GOP-controlled Senate, for fear that they are incapable of holding a fair trial. "Well, guess what?" asked Napolitano. "Under the Constitution, the Senate writes its own rules not subject to the approval of the speaker of the House or even the majority of the House."
Pelosi throws impeachment into confusion. Minutes after the House impeached President Donald Trump, House Speaker Nancy Pelosi threw the process into confusion by refusing to say when or whether she would send the articles of impeachment to the Senate for a trial. At a news conference held immediately after the vote, Pelosi said "we'll see what happens" when asked if she would send the articles to the Senate.
Mitch McConnell says Nancy Pelosi is Scared to send him 'shoddy' articles of impeachment. Senate Majority Leader Mitch McConnell blasted Democrats on Thursday for creating what he called an 'unfair, unfinished product,' articles of impeachment against President Donald Trump that stemmed from 'partisan rage.' Calling House Speaker Nancy Pelosi's work 'constitutionally incoherent,' he said impeaching a president on the basis of political disagreements would 'invite an endless parade of impeachable trials' in the future, making House leaders 'free to toss up a jump-ball every time they feel angry.' 'She's failed the country,' McConnell said on the House floor. 'It was like the speaker called up Chairman [Jerrold] Nadler and ordered up "One impeachment, rushed delivery, please".'
Nancy Pelosi Declares: "the senate rules are unfair" — "when rules become fair we will send articles". The entire House effort to impeach President Donald Trump has been a one-sided partisan effort; built upon a foundation of manipulation of process and dismissal of the minority rights throughout. After the House voted along party lines, and in an act of stunning hubris, Speaker Pelosi now declares she will withhold the articles of impeachment until the Senate makes rules that she determines will be "fair" to the prosecution.
Here's how McConnell & Senate Republicans should respond to Pelosi's brazenly unconstitutional act. The Senate has the sole power under the Constitution to adjudicate an impeachment. Therefore, Pelosi is attempting to obstruct the Senate's power to act on its constitutional authority. McConnell should immediately put an end to this and declare the impeachment null and void, as the speaker has failed to complete the impeachment process by timely sending it to the Senate for adjudication. McConnell has no less authority to unilaterally make such a decision than Pelosi does to withhold the administrative notification of an impeachment to the Senate either indefinitely or with conditions. Her effort to cripple the presidency and blackmail the Senate must be defeated.
Pelosi turns impeachment circus into even more of a comedy. Ed suggested this maneuver was on the way yesterday [12/18/2019] and now it appears that Speaker Pelosi has decided on the lame explanation the Democrats will hang their hats on. In order to attempt to give Chuck Schumer some "leverage" in the impeachment trial, the Speaker may refuse to send the articles of impeachment to the upper chamber, dragging all of this nonsense out even further. [...] When I turned on CNN this morning, the anchors were desperately trying to explain why the Constitution doesn't demand the Speaker send the articles of impeachment to the Senate. That's technically true, but the Constitution doesn't really "demand" much of anything, other than requiring the Chief Justice of the Supreme Court to preside when the President is on trial.
Away from that baleful cat Pelosi, the impeachment 'rats come out to play. Did anyone really think the Democrats were serious when they put on those long faces for the nightly news and cast their impeachment votes? [N]o. Nancy Pelosi may have put on a funereal face and ordered her minions to pretend to be solemn for the cameras, but [...] The leftists cheered. They took selfies. They went wild. [...] Nope, the whole thing was always an animating, celebratory, giggly affair for these people. They've accomplished their life's work now and will probably have a hangover in the morning.
It's all about optics, B-roll, and photo opportunities.
Impeachment vote: Pelosi tells Democrats to stay 'solemn' during proceedings. Nancy Pelosi's Democratic caucus has been champing at the bit to throw President Trump out of office, but the House speaker on Wednesday ordered her colleagues not to gloat — and wore a black dress to what she repeatedly called the "solemn" impeachment proceedings. Pelosi and other Democratic leaders told their members not to cheer or applaud when the impeachment vote totals are announced, Axios reported, and many members described the day as sad and solemn. "Don't cheer, keep it solemn," a Democratic member from a district that Trump won said was the message the leadership delivered.
Democrats Celebrate After 'Sad and Somber' Impeachment of President Trump. House Democrats clapped and celebrated after they passed two articles of impeachment against President Trump, despite House Speaker Nancy Pelosi reportedly telling them not to, as she has sought to portray the impeachment as a solemn and sad event. After the first article on abuse of power passed, Democrats broke out in applause for several seconds before Pelosi shot them a stern look.
Supercut: Democrats Are Devastated To Be Impeaching Trump. [Video clip]
Dems' fake 'solemnity' exposed as Pelosi silences applause about impeachment vote with her evil eye and hand gesture. It was an absolutely perfect crystallization of the phoniness of the Democrats' impeachment rhetoric when Speaker Nancy Pelosi had to silence the spontaneous applause that started to break out as she announced the results of the vote on the first article of impeachment of President Trump. The Speaker reportedly had instructed House Democrats to pretend that they weren't thrilled with impeaching President Trump in order to maintain the illusion that they are a "prayerful" and solemn legislative body reluctantly carrying out their constitutional duty. The reality that they are a deranged lynch mob, carrying out vengeance against the man who unexpectedly defeated their sure-thing candidate Hillary Clinton is evident to anyone who heard the calls for impeachment that preceded Trump's inauguration and continued over the last 3-plus years he has been in office.
House Dems Approve Articles of Impeachment Against Trump. House Speaker Nancy Pelosi opened Wednesday's [12/18/2019] debate on the floor of the House by declaring that lawmakers are "custodians of the Constitution." She and several of her female Democrat colleagues wore black attire in the House chamber to signify what they described as a "somber day." That was all for show, of course. But the black color Speaker Pelosi and her cohorts wore for Wednesday's proceedings was appropriate for an entirely different reason — to mourn the damage the House Democrats themselves have inflicted on the Constitution by their irresponsible votes. They have earned a black mark for taking a wrecking ball to the Constitution's impeachment provisions.
Nancy Pelosi's stomach-turning impeachment charade damages America. The arcane rules, phony cordiality and debates over the second sentence in paragraph G of Point Six were bad enough, but the nausea meter hit the roof when Nancy Pelosi took the microphone. Wearing a funereal black dress, she stood next to a cardboard American flag and recited the Pledge of Allegiance. I would have counted her more honest if she had pledged her allegiance to a Democratic donkey. As the leader of a party that has marinated its mind in unadulterated hatred of President Trump, Pelosi bears unique responsibility for this calamity. She could have stopped it. Indeed, for months she did.
Pelosi threatens to delay Senate impeachment trial. Speaker Nancy Pelosi refused to commit Wednesday [12/18/2019] to delivering articles of impeachment to the Senate, citing concerns about an unfair trial on removing President Donald Trump from office. Senior Democratic aides said the House was "very unlikely" to take the steps necessary to send the articles to the Senate until at least early January, a delay of at least two weeks and perhaps longer.
Senate Can Acquit Even If House Withholds Articles of Impeachment. Speaker of the House Nancy Pelosi (D-CA) appears to be considering an idea Democrats have floated for several days of holding back the articles of impeachment to exercise leverage over the Senate and the president. She declined formally to transmit the articles to the Senate on Wednesday evening [12/18/2019] after the House voted to impeach President Donald Trump.
Nancy Pelosi Compares Impeachment to Battle of the Bulge Against Nazi Germany. Speaker of the House Nancy Pelosi (D-CA) launched the debate over the impeachment of President Donald Trump on Wednesday by comparing the Democrats' struggle to remove him from office to the Battle of the Bulge against Nazi Germany in World War II. Described as "Hitler's Last Gamble," the battle began in December 1944, when the Nazis sent 200,000 troops into a surprise attack against American forces. Though the Americans prevailed, 100,000 were killed or wounded over two months of fighting. Pelosi drew an analogy between the impeachment debate and that battle, the largest ever fought by the U.S. Army.
Trump sends scorching letter to Pelosi ahead of House impeachment vote. President Donald Trump sent a letter on Tuesday to House Speaker Nancy Pelosi, excoriating the House Democrats' pursuit of an impeachment inquiry just a day before the full House is set to vote. In the lengthy letter, the President calls Pelosi's actions spiteful and veers into what he sees as personal affronts. "You are offending Americans of faith by continually saying 'I pray for the President,' when you know this statement is not true, unless it is meant in a negative sense," Trump writes in the letter. "It is a terrible thing you are doing, but you will have to live with it, not I!"
Trump tells Pelosi in blistering letter that Dems are 'declaring open war on American Democracy'. President Trump, in a blistering, no-holds-barred six-page letter Tuesday to House Speaker Nancy Pelosi, D-Calif., lambasted the Democrats' impeachment inquiry as an "open war on American Democracy," writing that she has violated her oath of office and "cheapened the importance of the very ugly word, impeachment!" "Everyone, you included, knows what is really happening," Trump said, just a day before House Democrats were expected to vote to impeach him. "Your chosen candidate lost the election in 2016, in an Electoral College landslide (306-227), and you and your party have never recovered from this defeat. So you have spent three straight years attempting to overturn the will of the American people and nullify their votes. You view democracy as your enemy!"
Nancy Pelosi Wears All Black on 'Somber Day' of Impeachment, 'Feels Sad'. House Speaker Nancy Pelosi (D-CA) and several other female House Democrats are wearing black attire in an effort to show Wednesday's scheduled impeachment vote is a "somber day." CNN chief political correspondent Dana Bash tweeted that Pelosi conveyed to her that she "feels sad" over today's vote as she walked into the House chamber while House Democrats debate impeachment.
WaPo Fact Checker Slams Pelosi for 'Bogus Talking Point' on Guns. A Washington Post fact-check released Thursday [12/12/2019] gave House Speaker Nancy Pelosi (D., Calif.) four Pinocchios for a "bogus talking point" about the number of children killed with firearms each year. Pelosi has repeatedly claimed that 47 percent of gun deaths were "teenagers or children," according to the Post. CDC data show the real number is closer to 9 percent, meaning the House speaker exaggerates the true number by more than fivefold. This discrepancy led the Post to assign Pelosi's claim the harshest rating on its fact-checking scale.
Pelosi On Dropping The "Devastating" Bribery Article: "I Am Not A Lawyer". I was pleased to see that the Judiciary Committee dropped previous claims of bribery, extortion, campaign finance and obstruction of justice as the basis for impeachment. I testified that the repeated assurances on these allegations from members, legal analysts, and my fellow witnesses were well outside the definitions for these crimes. The Committee ultimately went forward with the only two articles that I viewed as legitimate while rejecting my arguments to wait to build a sufficient record for submission to the Senate. I have received considerable criticism for my long opposition to the bribery theory as unsustainable as an impeachable offense. Thus, I was interested in hearing from the two members who were most adamant in their past declarations that bribery was established: Speaker Nancy Pelosi and House Intelligence Committee Chair Adam Schiff. Speaker Pelosi has now responded and her answer is far from satisfying.
Buying Impeachment: Nancy Pelosi-Aligned PAC Spends Millions to Help Swing District Democrats. Speaker of the House Nancy Pelosi's rush to impeachment is receiving an assist from the millions of dollars at least one PAC aligned with her has already spent on House Democrats who currently represent swing districts. Those financial incentives appear to be increasingly relevant as the final vote on the two articles of impeachment is scheduled to come to the House floor this week.
Alternate Realities and Impeachment. [Scroll down] I don't doubt that Pelosi would throw herself on the sword for the party but only if the upside were all but guaranteed or things were so bad she had nothing to lose — neither of which is the case. As addled as she sounds at times, I find it hard to believe she's lost her strategic mojo and is hellbent on taking down Trump uber alles — personal consequences to her and the party [notwithstanding]. That would be asking her to throw away control of the House with the presidential bathwater. Not to mention the mess she'll have to clean up during campaign season after the Senate acquits Trump — not a guaranteed outcome but the most likely one. But the speaker has to know there is a 50/50 chance that a Senate trial could expose the House of cards on which the impeachment is built and derail both the presidential and congressional races for Democrats. I think that's too risky for her.
The Inspector General's Report. [Scroll down] While this impeachment charade has bounced between the two most compulsively mendacious legislators in the Western world, Speaker Nancy Pelosi has been giving daily recitals of her "prayerful solemnity" at the dark majesty of the impeachment process that saddens her so deeply. She has invoked her Roman Catholic faith (tempered in its fervor by enthusiasm for abortion and other doctrinal inconveniences from the theology of St. Teddy Kennedy and the Blessed Joe Biden) to say she "hates" no one and "prays for the president." This was enough to bring on what seemed to be out-of-body epiphanies with the susceptible pundits on cable television, such as Rachel Maddow and Larry O'Donnell of MSNBC: "The speaker stood there, in the Catholic faith she has practiced all her life," etc. The result is nausea and amusement conjoined.
When Devout Catholics Grimaced Over Pelosi's 'As a Catholic' Hypocrisy. James Rosen, a great reporter, asked Nancy Pelosi at a press conference last week why she hates the duly elected president of the United States. In her response, Pelosi detoured into another dimension, denying that she hates Donald Trump. "As a Catholic," she lectured, "I resent your using the word 'hate' in a sentence that addresses me. I don't hate anyone." "My goodness!," I thought to myself. "How utterly frustrated, bemused — even furious — sincerely devout Catholics must feel listening to this cheap politician, who represents billionaires in a district teeming with homeless, cloaking her hatred for President Trump in Catholic fabric!" Which part of her devout "as a Catholic" devotion leads Nancy Pelosi to be a leader in promoting abortions, gay marriage, and the Obama-Democrat agenda she shepherded? Where was this "as a Catholic" when the Little Sisters of the Poor were fighting their way to the Supreme Court of the United States, seeking SCOTUS protection in Zubik v. Burwell in 2016, from Pelosi's Obamacare, which forced the nuns, against their Catholic faith, to provide birth control contraceptives to employees?
Jerry Nadler's absolutely underwhelming articles of impeachment. Just 11 weeks after Speaker Nancy Pelosi announced her "official impeachment inquiry," Judiciary Committee chief Jerry Nadler released his draft articles of impeachment — remarkably weak ones. The same day, Pelosi announced a deal with President Trump to pass his US-Mexico-Canada trade deal, replacing NAFTA. It's a win for him and for her moderate members — yet the speaker is simultaneously treating the president as a threat to the republic and as a man she can do business with. The reason may be as simple as the polls: The latest Quinnipiac survey shows sentiment against impeachment at its strongest since Pelosi got the ball rolling on Sept. 24, with more than half of voters now saying Trump shouldn't be removed from office.
On Impeachment Tuesday, Nancy Pelosi Toasts the Media at Holiday Party. House Speaker Nancy Pelosi toasted the media after Articles of Impeachment were announced Tuesday [12/10/2019], celebrating reporters on Capitol Hill at a special holiday event. Pelosi raised her glass and toasted the press as the "guardians of democracy" after unveiling the articles of impeachment on Tuesday.
Pro-Abortion Pelosi's Convenient Catholicism. Cafeteria Catholic Pelosi doesn't invoke her Christian conscience when she supports her caucus's abortion-until-birth infanticide policy, the ultimate separation of mother from child. There is no worse brutality than what an unborn child feels at the hands of a surgeon's tools. It is a fact that forceps kill more children than guns. A detention center on the border or the deportation of those who have had their due process and have a deportation order lawfully issued by a judge doesn't even come close. Pelosi did not respect faith-based communities and other organizations, such as her Catholic Church, when it came to Obamacare's attempt to force them and the institutions they administer to provide insurance that pays for abortions and contraceptives. When it comes to Catholics and pro-life people acting on their religious conscience, she fights them quicker than you can say "Hobby Lobby."
Sister Nancy Incarnacion and the H8ters. People tend to repeat what has worked for them. Pelosi's last great achievement was pushing the fundamentally lawless Affordable Care Act over the line, despite a lack of popular support. She did it by ruthlessly enforcing party lockstep, pushing many in her caucus to walk the plank. [...] She is running the same play with impeachment. She doesn't care that impeachment for all appearances, will fail in Senate. Opinion might change. We have to impeach the president to find out what crimes are in him. Pelosi thinks the president campaigning under a cloud will help candidates who run for open Senate seats, and if it doesn't, so what? The likelihood of beating Trump without a decent candidate is low anyhow.
After impeachment announcement, another round of Nancy Pelosi hero-worship from the press. We are seeing another round of Pelosi hero-worship this week from our firefighting news media following her announcement that she had asked the "chairman to proceed with the articles of impeachment" against President Trump. "The president has engaged in abuse of power, undermining our national security and jeopardizing the integrity of our elections," the speaker maintained during a news conference. Members of the press wasted no time printing up stories marveling at her iron will and determination.
Nancy Pelosi's 'Article II' Impeachment Rationale Exposed as Hoax. Nancy Pelosi is going to impeach Donald Trump, the duly-elected president of the United States, based on what we now know is a hoax. [...] Nancy is inventing crimes now. She's making stuff up. She is all over TV framing the accused, planting evidence, which is what a dirty cop does when they can't make a case. Nancy is deliberately and maliciously taking Trump out of context. And not just a little out of context. No, she is taking the president so far out of context I feel a little silly having to explain it.
Pelosi on Clinton Impeachment: 'Republicans in the House Are Paralyzed With Hatred of President Clinton'. On Dec. 18, 1998, when the House of Representatives was debating whether to impeach President Bill Clinton for perjury and obstruction of justice, Rep. Nancy Pelosi (D.-Calif.) declared on the House floor that the impeachment was "a punishment searching for a crime that does not exist" and was happening "because the Republicans in the House are paralyzed with hatred of president Clinton." "I urge my colleagues to vote no, stop this hatchet job on the presidency," Pelosi said then. "Stop this hypocrisy. Stop this hatred. Vote no on all four counts." [Video clip]
Speaker Pelosi Declares a Coup Against President Trump. Nancy Pelosi transparently announced a coup against President Trump on Thursday morning, Dec. 5, 2019, a date which will live in political infamy. There was never any doubt that the House of Representatives will vote on a strictly partisan basis to impeach the president, but it could not have been foreseen that Pelosi would frame that approaching act as a naked power grab. Yet that is exactly what she did. In opening her announcement to draft impeachment charges by quoting the Declaration of Independence, she acknowledged more plainly than ever before that she is taking a revolutionary act, that she is overthrowing the established order and that, in modern terms, she has launched a coup. [...] This impeachment is not a unifying act like the joining together of 13 Colonies against a common enemy, but rather the tearing asunder of a union into separate camps much like the rebellion that Abraham Lincoln encountered in 1861.
Pelosi's Prescription for Healing the Nation: 'Enjoy Music Together,' See a Play, a Movie. A student who identified himself as a registered Republican asked Pelosi Thursday night [12/5/2019] how she plans to unify the nation, as one side demands impeachment and the other side calls it a witch hunt. "I myself think that one of the ways that America will heal is through the arts," Pelosi answered. "I truly believe that that's something where we find our common ground. You enjoy music together, you see a play, or a movie, you laugh, you cry, you're inspired — you laugh, you cry."
The Editor says...
Maybe we could all go to the public library and enjoy Drag Queen Story Hour. Or perhaps Nancy Pelosi could recommend a movie that will make the impeachment fiasco look reasonable. What's the name of the play that would make me want to vote for Michelle Obama or Hillary Clinton? What orchestra performs the music that would make me vote for the Abortion Party?
Pelosi says Clinton was impeached for 'being stupid,' downplays House Democrats effort against Trump. House Speaker Nancy Pelosi sought to move on from questions about impeachment during a televised town hall Thursday night, even as she insisted she wasn't bothered at all by polls showing sagging support for the probe against President Trump. Pelosi, who also claimed former President Bill Clinton was impeached only for "being stupid," made her comments at the CNN event just hours after she appeared at a fiery news conference to direct the House Judiciary Committee to begin drafting articles of impeachment against Trump. "Can we not have any more questions about impeachment?" Pelosi asked at one point. "I don't mind questions, but to ask me questions through the prism of the White House is like, what?"
Pelosi: 'I Do Pray For [Trump] ... It Doesn't Bother Me What He Thinks About That'. House Speaker Nancy Pelosi on Thursday night [12/5/2019] insisted that she does pray for President Trump, and said it doesn't bother her if he doesn't believe her. She also voiced the hope that the Democrats' push to impeach the president would be carried out in a way worthy of the Founders' vision for a unified nation. During a CNN town hall in Washington on the day she told the House committees investigating Trump to proceed with articles of impeachment, Jake Tapper asked Pelosi about her press conference comment earlier in the day that she prays for the president "all the time" — and about Trump's subsequent retort on Twitter.
The Despicable Sanctimony of House Speaker Nancy Pelosi. Self-bestowed sanctimony, like seething hatred of another, is something that should never be put out on public display. Pelosi's grab-bag sanctimony was on full display today when journalist James Rosen asked the one question millions of people longingly need answered: "Do you hate the president, Madam Speaker?" Pelosi's answer was a jaw-dropping stunner, not because she ordered plucky Rosen, "Don't mess with me.", but because she took it upon herself to answer for all Catholics, and all other Democrats with the proverbial use of the term, "WE". "Don't mess with me when it comes to words like that," Pelosi said. "As a Catholic, I resent you using 'hate' in a sentence that references me." Millions in the world, including Catholics resent that Pelosi uses her Catholic religion as a foil to hide her seething hatred of President Trump and his supporters known in Democrat land as the curse-worthy "deplorables".
'Prayerful' Pelosi has become the Tammy Faye Bakker of impeachment, Mark Steyn says. Conservative commentator and author Mark Steyn mocked House Speaker Nancy Pelosi's fiery news conference appearance Thursday, where she cited her Roman Catholic faith as proof that she doesn't "hate" President Trump, adding she continues to pray for him. "I know that observing the ritual niceties of American politics requires making a boatload of industrial-strength hokum," Steyn said on "Tucker Carlson Tonight" on Thursday [12/5/2019]. "But you and I and 300 million people across the country know that Nancy Pelosi isn't praying for the president."
Nancy Pelosi erupts 'Don't mess with me!' when reporter asks if she Hates Donald Trump. House Speaker Nancy Pelosi erupted Thursday at a reporter who asked if she hates President Donald Trump. Pelosi had two hours earlier publicly told House Democrats to draft articles of impeachment to try to remove the president from office. 'Do you hate the president, Madam Speaker?' asked James Rosen, a longtime correspondent for Fox News who is now with Sinclair Broadcasting. Pelosi, typically even-tempered, abandoned her measured speaking and became visibly angry. 'I pray for the president all the time,' she shot back. 'So don't mess with me when it comes to words like that.'
The Editor says...
The leader of the Abortion Party is quick to brag about how much she prays.
Queen Pelosi's Abuse of Power. It was fascinating to see to see Speaker Pelosi, fresh from a congressional jaunt to a climate change conference in sunny Spain, explain to us the urgency of impeaching President Trump after, as Rep. Andy Biggs points out, the equivalent of two months of congressional recesses in which none of the American people's business was done. One of those was the Thanksgiving recess, during which the 31 House members from House districts Trump won, and others, got an earful from constituents who wanted to know why nothing's been done on prescription drug prices, border security, putting together a budget, or the USMCA trade agreement with Canada and Mexico.
Nancy Pelosi Announces Democrats Will Begin Drafting Articles of Impeachment. House Speaker Nancy Pelosi (D-CA) said Thursday that the House Judiciary Committee will begin drafting articles of impeachment against President Donald Trump. "The president's actions have seriously violated the Constitution," Pelosi said in a press conference on Capitol Hill. "Our Democracy is at stake. The president leaves us no choice but to act."
ImpeachmentTV: Season 2, episode 1: The House Judiciary Caper. [Scroll down] This was always one of the main purposes of the impeachment sham. Pelosi was smart to avoid putting her members on the record voting to open an impeachment inquiry but she needed to open the inquiry in order to obtain certain powers and pretense to get more dirt to smear Trump and his advocates. Some people "in the know" think the Democrats won't actually vote on impeachment because it's very risky politically: Pelosi will put her members in Trump districts on the record and once the articles of impeachment head to the Senate, the Democrats will lose control of the information stream.
Pelosi Chooses Climate Change over USMCA Jobs. Ever notice that climate change conferences are never held in places like Somalia or Bangladesh or perhaps one of those islands that are going to be under water the day after tomorrow? They are always held in places like Copenhagen (2009) or this time in Spain, places where the elites can fly in on private jets, stay in five-star hotels, and explain why they must control every aspect of our lives lest we all die in the next dozen years. [...] Of course, flying in 25,000 attendees is considered by the elites as a necessary contribution to atmospheric carbon dioxide pollution. Climate change supporters, not Trump supporters, are a true cult, creating a climate religion they demand we must worship. The goal is to use climate change as a means to increase government power over every aspect of our lives — what we make, how we make it, what energy we use, what cars we drive, even what food we eat.
Pelosi to lead delegation to climate summit amid U.S. withdrawal from Paris climate deal. House Speaker Nancy Pelosi is leading a delegation of members of Congress to the annual international climate summit known as COP25 in Madrid, Spain, next week. While the delegation will include members of both the House and Senate, it will not be bipartisan, as only Democrats will be attending. "It is a privilege to accompany a high-level Congressional delegation to Spain to combat the existential threat of our time: the climate crisis," Pelosi said in a statement on Saturday [11/30/2019]. "Taking action to protect our planet is a public health decision for clean air and clean water for our children, an economic decision for creating the green, good-paying jobs of the future, a national security decision to address resource competition and climate migration and also a moral decision to be good stewards of God's creation and pass a sustainable, healthy planet to the next generation," she said.
The Editor says...
[#1] This is a taxpayer-funded junket. A vacation, not a delegation. Nothing of any substance will result from this trip. [#2] "Resource competition" is nothing new. [#3] There is no "climate migration." [#4] If you want to make "a moral decision to be good stewards of God's creation" maybe you should reconsider your absolute commitment to abortion at any stage of pregnancy. [#5] "[C]reating the green, good-paying jobs of the future" is not the government's proper role, and anyway, the push for "green jobs" started years ago and hasn't worked. [#6] There is no climate crisis, carbon dioxide is not a pollutant, and there is no "existential threat."
Nancy Pelosi's worst nightmare slowly comes to life. Nancy Pelosi fought a lot with her far-left socialist extremist "Squad" members, primarily over the issue of impeaching President Trump. "It's just not worth it," she tried to tell the far leftists in her camp, trying to bat off their yipping and yapping. What the wizened old grande dame of the Democrats feared was a replay of 1998, the Republican bid to impeach Bill Clinton, which left that party out on its ear. She knew that it would be the same for Democrats, and the latter would lose big. She knew, and for that she fought those far leftists from low-turnout solid blue districts who were too young to remember that lesson and too arrogant to learn it. It's pretty obvious she's ruing this turn of affairs, given that what she expected is exactly what's happening now.
House Calendar Doesn't Align with Speaker Pelosi Talking Points, and House Resolution on Impeachment. Within the only impeachment resolution put forth by Speaker Nancy Pelosi to open an "impeachment inquiry" the resolution outlined a process. With only eight legislative days left in 2019; and considering the resolution as adopted; the calendar doesn't match the democrat talking points.
The leader of the Abortion Party says she is concerned about "the survival of our children."
Pelosi Says Her 'Political Survival' Is Not 'More Important Than the Survival of Our Children'. House Speaker Nancy Pelosi (D.-Calif.) said at her weekly press briefing last Thursday [11/21/2019] that neither her "political survival" nor Senate Majority Leader Mitch McConnell's was "more important than the survival of our children." "Our message to Mitch McConnell [was] ...why do you think your political survival is more important than the survival of our children?" said Pelosi. "Not yours, not mine, not any of our political survival is more important. And if you're afraid of the NRA, think of how afraid those children are at the prospect and then sometimes the reality of a gunman in their school."
WaPo reporter: We're hearing behind the scenes that more House Dems are getting "cold feet" about impeachment. I'll take the opportunity up front to double down on [another] post from Friday [11/22/2019]. I'd bet my life savings plus several internal organs that Pelosi will have 218 to impeach. That's based on the simple reality that failing to do so at this point would cost Democrats more politically than proceeding with impeachment would. Voters who hate Trump would be furious and voters who like Trump wouldn't give Pelosi and Schiff an ounce of credit for standing down in the end. The president would gloat about it every day unto eternity. Pelosi, long respected by both sides for her ability to whip votes, would be humiliated utterly. Her legacy would be in ruins. They'll have 218.
Why Dems are so worried after latest round of impeachment hearings. If coup-coup Nancy Pelosi has a panic button, now would be a good time to lean on it. With signs that Americans are tuning out the impeachment hearings, the clock is ticking on Democrats' chance to make their case. Pelosi is clearly worried, telling fellow Dems it's a "weak response" to "let the election decide" whether President Trump should be removed. "That dangerous position only adds to the urgency of our action, because POTUS is jeopardizing the integrity of the 2020 elections," the speaker wrote in a "Dear Colleague" letter to her House members. The letter seemed strange enough when it became public Monday [11/18/2019], but Tuesday's hearing more than justified her fear and desperation. With her party now having failed to hit anything close to pay dirt after three long days of public testimony, she is trying to keep her members on board the impeachment train, lest the whole effort crash in failure and disgrace.
Pelosi on Impeachment: 'Republicans Are in Denial About the Facts'. During a Nov. 21 press conference at the U.S. Capitol, Speaker of the House Nancy Pelosi (D-Calif.) said the reason why the impeachment inquiry does not have bipartisan support is that "Republicans are in denial about the facts." "The Republicans are in denial about the facts," she said. "If the Republicans do not want to honor their oath of office, then I don't think we should be characterized as partisan in that way because we are patriotic." On the other side of the issue, House Minority Leader Kevin McCarthy (R-Calif.) said the facts arising from the hearings are in favor of President Donald Trump. When asked by reporters what is the strongest defense of the Republicans, he said the facts are the strongest defense, as the impeachment inquiry hearings move on.
New Impeachment Poll Shows Pelosi and Schiff May Be Setting Democrats up for a 2020 Election Disaster. In spite of what the national media and Democrats have been saying about voter support for impeaching President Trump, the writing has been on the wall for weeks suggesting they're on a path to disaster come election time. A new Politico-Morning Consult poll bears that out, but first, let's look at what other revealing polls have said over the last few weeks. Roughly two weeks before the public impeachment inquiry hearings began, a Suffolk University poll showed that when it comes to the impeachment issue, the devil is in the details. In that poll, 31% of those surveyed believed the July call between Trump and Ukrainian President Zelensky was not a big deal. 21% said that even though they felt the call was wrong, they didn't feel he should be impeached over it, meaning a total of 52% of the 1,000 registered voters surveyed believed Trump had not committed an impeachable offense with the call.
Nixon's Lessons for the Would-Be Impeachers. One of the many galling aspects of the contemptible farce being conducted by the House Democratic leadership is the historical myth-making they glibly inflict on the country. This is the mentality that held that the Macdonald's-like detention centers on the southern border for minors who entered the country illegally after being abandoned by their so-called families, were, to Speaker Nancy Pelosi, reminiscent of Nazi death camps. (Doubtless the centers were the most commodious accommodation most of these unfortunate young people had ever had.) Each asinine day in this absurd divertissement is "prayerful and solemn," Pelosi laments, adding that the hearings prove that this president's conduct was "much worse than Nixon's" and that "he should resign," too.
Nancy Pelosi Is Already Attacking the Legitimacy of the 2020 Election. In her Dear Colleague letter pushing back against Republican anti-impeachment talking points, Nancy Pelosi wrote this: "The weak response to these hearings has been, 'Let the election decide.' That dangerous position only adds to the urgency of our action, because the President is jeopardizing the integrity of the 2020 elections." Is he? If a Republican had suggested that a presidential election was a "dangerous" notion, he would have triggered around-the-clock panic-stricken coverage on CNN and a series of deep dives in The Atlantic lamenting the conservative turn against our sacred democratic ideals. What Pelosi has done is even more cynical. She's arguing that if Democrats fail in their efforts to impeach Trump — and, I assume, remove him from office — then the very legitimacy of the 2020 election will be in question before any votes are cast.
A Shocking Suggestion From Speaker Pelosi. Speaker Nancy Pelosi's suggestion that President Trump emulate President Nixon and resign is, in our opinion, a shocking démarche unworthy of her office. And a glimpse into the predicament of the Democrats, who, though they began beating the drums for impeachment more than three years ago, still don't seem to know what charges to lay against the president.
Nancy Pelosi Tells Democrats That Impeachment Is Important Because the Voters Can't Be Trusted to Make the Right Decision in 2020. As we've documented here in some detail, the impeachment of Donald Trump is collapsing under the weight of its own dishonesty and the pressure of the 2020 election. The exact 'high crime' or 'misdemeanor' President Trump stands accused of has gone through three iterations after the 'collusion' and 'obstruction' failed to gain any traction. And Pelosi, herself, seems uncertain of how to proceed with a process neither her caucus nor the voters are eager to see go further. Sometimes, though, pressure becomes sort of the "in vino veritas" for politicians. And impeachment pressure has had that effect on Pelosi. Unable to find a rational argument to the two main points opposing this fake impeachment — there are no crimes and this is an election year so let the voters decide — Pelosi tried to stomp down on those opinions before they began to corrupt the GroupThink of her caucus.
Nancy Pelosi goes for slam dunk — and crashes to court. It's no coincidence that the very word Pelosi chose to characterize Trump's behavior during his call with Ukraine's president is specifically named in the Constitution as an impeachable offense. Article II, Section 4 provides that the "president, vice president and all civil officers of the United States shall be removed from office on impeachment for, and conviction of, treason, bribery or other high crimes and misdemeanors." Quid pro quo wasn't getting it. So the left had to slap on a label that's impeachable.
The silly sanctification of Marie Yovanovitch. [Scroll down] The Mueller investigation and this Ukraine nonsense was and remains an attempted cover-up. And as cover-ups go, this one has gone very badly for the cover-uppers. Brennan, Clapper, Comey et. al. were bad enough. The current crop of wannabe-impeachers are like the Three Stooges. Schiff has bungled his bit of Intel committee tyranny so badly, he's recruiting Trump voters by the thousands. Like the FSOs and the Comey crowd, Schiff thinks he is smarter than the American public, that we are easily fooled, but in fact, the American public is much smarter than these swamp-dwellers. They are [much] smarter than Schiff. He has made an utter fool of himself these past weeks. Letting him chair the Intel committee was the biggest mistake of Pelosi's career.
Top Democrats Concede They're Losing The Impeachment Battle. CNN reported Thursday evening [11/14/2019] that top Democrats are privately acknowledging that the impeachment hearings will do little to persuade the vast majority of the public that President Trump committed an impeachable offense. According to CNN, in a private meeting earlier this week, "House Speaker Nancy Pelosi and her top lieutenants were skeptical about the prospects of a dramatic shift in opinion even as public impeachment hearings began this week, according to multiple sources familiar with the matter." Nevertheless, they intend to carry on, in the hopes that things might change. [...] It seems Democrats fault the American public, for apparently not being smart enough to understand what abuse of power is.
Pelosi gets curt with 'Mr. Republican talking points' James Rosen for basic question. Congressional Democrats are so accustomed to being treated like royal dignitaries by the demonstrably biased left-wing mainstream media that they tend to cop an attitude whenever real journalists hit them with tough questions. Take Your Highness Nancy Pelosi, the speaker of the House. She's used to being celebrated as a "badass" by CNN, a network whose own analysts recently fantasized about the president's impeachment leading to her being installed as America's next president. And so when veteran journalist James Rosen of Sinclair chose on Wednesday to treat Pelosi exactly how the mainstream media treat the president, she cried foul.
Impeachment hearings! Is that all they've got? [Scroll down] Something is manifestly wrong with Adam Schiff. [...] He does not, apparently cannot, differentiate between the truth and lies. [...] He has become a joke and his own Democrat colleagues know it. He is an embarrassment. If she were wise, which she is not, Pelosi would shut this faux inquiry down now. But wisdom is not her strong point. When Trump wins the 2020 election in a landslide, the Democrats will blame Schiff. They will never admit that Trump won because he is a great president and has gone a long way toward making American great again. If what we saw and heard on Wednesday [11/13/2019] was any indication of what the Democrats have in support of their effort to depose him, if that is all there is, they are making the biggest mistake of their political lives.
Nervous Nancy's two alternatives. [Scroll down] She will end up pleasing a relatively small percentage consisting of those who are passionate about "sticking it to Trump." With an almost certain acquittal in the Senate, a celebratory Trump awaits as he proclaims ultimate victory and makes those House members who voted "Aye" pay dearly. With the vote tentatively scheduled to give America a Christmas present it will not soon forget, we will see just how Nervous Nancy chooses to "ring in the holidays."
Schiff's impeachment fraud: 'I'd take a flamethrower to this place!' Why Pelosi ever gave Schiff any power over anything, let alone the Intel Committee, is a mystery. Surely, she is embarrassed by his fascist tactics in service of his obsession. But then again, perhaps she is not. Who knows what goes on in her addle-pated, Botoxed brain? Is she, like Schiff, morally and intellectually challenged? They are both making fools of themselves. [...] Is it possible she has lost all touch with reality, that she thinks Schiff and his Deep State cohorts can convince enough Republicans to abandon the most successful president since Reagan? Hard to believe, but possible.
Who's Your Baghdadi, Now? You would think, if you were an American and had the sense you were born with, the execution of Abu Bakr al-Baghdadi would be cause for jubilation. But if you're a Democrat, and therefore lacking the sense you were born with, it is anything but a happy occasion. In fact, one's reaction to the news that not only was the leader of ISIS dead, but his successor was also on the express train to Hell, could serve as a Rorschach test for Americans. Nancy Pelosi was unable to exhibit unbridled joy because, she complained, President Trump hadn't run the plan past her, Adam Schiff and Jerry Nadler, before greenlighting the mission. She was also upset because the President had alerted Russia. He did so because the Special Ops would be flying over Russian-held territory in Syria and he didn't want them being shot down. Also, Trump knew that, unlike the Democrats, the Russians can keep a secret.
GOP senator defends calling Pelosi 'dumb': 'What I said was accurate'. Sen. John Kennedy (R-La.) defended remarks this week in which he called Speaker Nancy Pelosi (D-Calif.) "dumb," saying that his comments were "accurate." "Well, I didn't mean disrespect," he said Friday on Fox News, "but I do think what I said was accurate." "Let me say it again: I think that what Speaker Pelosi is doing here is not only dumb, but it's dangerous," he said, referring to the House Democrats' impeachment inquiry led by Pelosi.
Nancy Pelosi Says 'The Growing Climate Crisis is the Existential Threat of Our Time'. House Speaker Nancy Pelosi (D.-Calif.) issued a statement on Monday [11/4/2019] condemning President Donald Trump's decision to withdraw from the Paris Climate Agreement and declaring that the "growing climate crisis is the existential threat of our time."
The Editor says...
There is no climate crisis. The weather is not an existential threat. Nobody care about global warming any more. Even if you're as old as Nancy Pelosi, the climate is indistinguishable today from the climate in the year you were born.
Nancy Pelosi's Stall Tactics Hurt America's Economy. We haven't had a true bipartisan victory in Washington for seemingly ages, but we are tantalizingly close to getting there. This would be the passage of the U.S. Mexico Canada Trade Agreement (USMCA). Both parties want this modernized version of the North American Free Trade Agreement to pass. It is the legacy of Ronald Reagan and Bill Clinton. But this latest modernized trilateral trade deal for North America hasn't happened yet because of an endless parade of stall tactics by House Speaker Nancy Pelosi. She is blockading a vote of the 435 members of the House of Representatives.
Two Pelosi errors that could cost Democrats the election in 2020. It is an article of faith among political analysts that House Speaker Nancy Pelosi is a master strategist, and indeed her career is studded with significant accomplishments. Yet, more recently, she has made two grievous errors that could well cost Democrats the election in 2020. The first was putting Adam Schiff in charge of the impeachment inquiry. The second is not reining in the so-called Squad, or the four female freshmen Democrats whose extreme progressive voices have helped push the Democrat party to the left, alienating much of the country.
Nancy Pelosi Worried 2020 Democrats Are Going Too Far Left. Nancy Pelosi, who opened up an impeachment inquiry of Donald Trump in response to pressure from the far-left base of her party, has issued a warning to the Democrats running for president: far-left proposals like Medicare for All and wealth taxes won't help them defeat Trump in 2020. "What works in San Francisco does not necessarily work in Michigan. What works in Michigan works in San Francisco — talking about workers' rights and sharing prosperity," she said at a Bloomberg News roundtable on Friday [11/1/2019]. "Remember November. You must win the Electoral College." [...] She also warned about supporting the Green New Deal. "There's very strong opposition on the labor side to the Green New Deal because it's like 10 years, no more fossil fuel. Really?" she said. Interestingly enough, Joe Biden caved to pressure and embraced the plan, despite the fact that he's supposed to be the "centrist" alternative to the crazies.
Liz Cheney calls on Nancy Pelosi to release impeachment transcripts, end 'selective leaking'. Rep. Liz Cheney, R-Wyo., on Friday called on House Speaker Nancy Pelosi to release the full transcripts of all depositions in the Trump impeachment inquiry, and demanded the end to what she called "selective leaking" of documents to the media. "Despite the vote in the House on October 31, House Democrats continue to conduct the partisan effort to impeach the President in secret," Cheney wrote in a letter to Pelosi.
Pelosi Uncorks Impeachment Probe With Few Answers and High Risks. Nancy Pelosi has launched a new phase of the impeachment inquiry with no explicit timetable, no defined scope of what to investigate, no guarantee the White House will cooperate and not a single Republican vote — in many ways taking Congress and the country into the exact politically perilous place she long sought to avoid. The vote puts pressure on President Donald Trump, who now is all but certain to face a vote on articles of impeachment in the coming months. But the onus also falls on Pelosi to finish what she started, with only the slimmest majority of public support in polls and many nervous Democrats who know voters will hold them to account for what happens.
Pelosi's Latest Sanctimonious, Hypocritical Lying, Quickly & Easily Exposed. On Thursday Speaker Pelosi, offered one of her most dishonest, sanctimonious, pearl clutching, impeachment related moments. And that's saying something. The Democrat defended her latest action by saying, "This is not any cause for any glee or comfort. This is something that is very solemn ... Nobody ... comes to Congress to impeach the president of the United States, unless his actions are jeopardizing our honoring our oath of office." What Pelosi is deliberately ignoring is that every member of the radical "Squad", now controlling the Democrat caucus, was very much, and in some cases gleefully, preaching impeachment before coming to Congress.
A tragedy for the nation — and democracy. Another day, another giant step on the road to ruin. Either Nancy Pelosi has lost her mind or she really wants to dig America's grave. The vote to formalize the impeachment jihad is a great day for Trump haters and a tragedy for democracy and common sense. Coming a year before an election and without a compelling claim that the president committed anything remotely resembling "high crimes and misdemeanors," the action is an abuse of power for purely partisan purposes. The timing is also exquisite. Voting on Halloween, and on the same day when Democratic Rep. Katie Hill took to the House floor to declare herself a victim of a double standard after she was caught engaging in threesomes with her husband and a campaign aide, the picture of a party seized by shamelessness is complete.
Steve Scalise: Pelosi Using Impeachment Probe to Influence 2020 Presidential Election. While briefing reporters in the wake of the House Democrat's approval, along party lines, of the impeachment inquiry resolution, Scalise declared: ["]If you look at where we are at right now, we're at an important point in history. Clearly, there are people that we serve with that don't like the results of the 2016 election — that's their prerogative — but the country next year will be deciding who our president is going to be. It should not be Nancy Pelosi and a small group of people that she selects that get to determine who's going to be our president.["] He went on to say that Democrats are not interested in getting to the bottom of the allegations that triggered the impeachment effort. Instead, their focus is solely on removing President Donald Trump from office and overturning the results of the 2016 elections, Scalise indicated.
Pelosi Bonaparte sees her Waterloo. For months, we have listened to House Speaker Nancy Pelosi insist that this whole "formal impeachment inquiry" in search of a "high crime" did not require a vote by the full House of Representatives. Until, apparently, it does. Never mind. It is worth noting that previously there have been three (3) votes by the full House on impeaching President Trump. Each failed miserably, losing lopsided and bipartisan votes. Never mind again. Now comes Mrs. Pelosi forcing a vote by the full House on a formal impeachment inquiry. It passed by brute majority, 232-196. While technically a "win" for Democrats, Thursday's vote falls disastrously short of Mrs. Pelosi's insistence for the past two years that any impeachment effort be bipartisan. The only thing that was "bipartisan" out of the House vote were the "nays" to halt this impeachment nonsense, which included every House Republican along with two Democrats.
Nancy Pelosi Says Impeachment 'Isn't About Anything Personal with the President'. Speaker of the House Nancy Pelosi (D-CA) told reporters the impeachment inquiry into President Trump is not because of any personal reasons Democrats may have against him. Pelsoi said the impeachment inquiry is consistent to what the Founding Fathers had envisioned for the country and the separate, coequal branches of the government.
Also posted under Liberals think you're stupid.
40 Conservative Groups File Ethics Complaint Against Speaker Pelosi: Partisan 'Weaponized Impeachment'. Jenny Beth Martin, co-founder and national coordinator of the Tea Party Patriots, spearheaded the filing of a complaint with the Office of Congressional Ethics against Speaker Nancy Pelosi's (D-CA) "unconstitutional, partisan investigation" of President Donald Trump. The complaint also targeted the impeachment resolution passed by the House on Thursday 232-196 — a tally of those opposed to the resolution that included two Democrats and every Republican member.
Nancy Pelosi targeted in ethics complaint filed by 40 conservative groups. A coalition of conservative groups has filed an ethics complaint against House Speaker Nancy Pelosi, D.-Calif., alleging she has "hypocritically usurped" the authority of the president and "weaponized" impeachment proceedings. "In launching her 'official' impeachment inquiry without benefit of a vote of the full House of Representatives and without indicating anything remotely qualifying as 'treason, bribery, or other high crimes and misdemeanors' that is the subject of the inquiry, Speaker Pelosi has weaponized impeachment," reads the complaint, led by Tea Party Patriots Action's Jenny Beth Martin and signed by 40 different groups.
History will not be kind to Nancy Pelosi. One way or another, Nancy Pelosi will go down in history. Let's hope she doesn't take America with her. The speaker's decision to go all in on impeachment is fraught with danger and could have fateful consequences far beyond Donald Trump's presidency. With only about a year to go until the 2020 election, Pelosi has thrown her full weight behind the effort to undo the results of 2016. This is a historic mistake, one that could tear America apart. Based on the evidence the House has made public, impeaching Trump is a meritless, reckless assault on democracy.
Pelosi's deceptive 'impeachment vote'. Speaker Pelosi is playing word games, trying to pull a fast one on the Republicans, the American people, and the Constitution by appearing to "authorize" a formal impeachment inquiry, while not actually passing an impeachment resolution that would trigger rights for Republican House members to call witnesses and issue subpoenas. That is why, when ambushed by NBC News, she was careful to make a distinction and say "It is not an impeachment resolution."
This Impeachment Subverts the Constitution. Speaker Nancy Pelosi has directed committees investigating President Trump to "proceed under that umbrella of impeachment inquiry," but the House has never authorized such an inquiry. Democrats have been seeking to impeach Mr. Trump since the party took control of the House, though it isn't clear for what offense. Lawmakers and commentators have suggested various possibilities, but none amount to an impeachable offense. The effort is akin to a constitutionally proscribed bill of attainder — a legislative effort to punish a disfavored person. The Senate should treat it accordingly. The impeachment power is quasi-judicial and differs fundamentally from Congress's legislative authority. The Constitution assigns "the sole power of impeachment" to the House — the full chamber, which acts by majority vote, not by a press conference called by the Speaker. Once the House begins an impeachment inquiry, it may refer the matter to a committee to gather evidence with the aid of subpoenas. Such a process ensures the House's political accountability, which is the key check on the use of impeachment power.
After Baghdadi Action, Dem Candidates Have Their Work Cut Out for Them. Nancy Pelosi appears to have been deeply unhappy she and other Democratic House members weren't informed in advance of the action to eliminate Abu Bakr al-Baghdadi Saturday night [10/27/2019]. However, on a "need to know basis" Nancy had no need to know whatsoever, nor did Chuck Schumer or the meretricious House Intelligence chair Adam Schiff. Indeed, given the way these people and their colleagues leak and have leaked, in and out of the media, Trump would have been not only insane but guilty of gross negligence to have warned these hyper-partisans of an action in which many of our nation's finest could easily have been blown to smithereens.
Pelosi Calls House Vote to Affirm Speaker Impeachment Inquiry The House Never Authorized. Very nice trick here by the Lawfare advisory and rules committee that is handling the construct of the "Official House Inquiry" on impeachment. It is such a good trick it has everyone crossed-up and confused. Likely, that is by design. On Thursday of this week [10/31/2019] Speaker Pelosi is bringing to the floor a resolution to affirm her previous declaration of an "Official House Inquiry". Mrs. Pelosi is very purposefully and carefully telling reporters this is not a "House resolution on impeachment".
Pick up a newspaper, Nancy. There's your briefing.
Nancy Pelosi demands briefing on U.S. military's al-Baghdadi raid. House Speaker Nancy Pelosi on Sunday demanded a briefing on the U.S. military strike that killed Islamic State leader Abu Bakr al-Baghdadi, a raid in which President Trump said Congress leaders were intentionally left out of the loop. [...] In announcing the major takedown in the fight against the Islamic State or ISIS, Mr. Trump singled out Mrs. Pelosi when saying congressional leaders couldn't be trusted in the planning of the attack in Syria. "Washington is a leaking machine," the president said during the announcement earlier Sunday from the White House. Mrs. Pelosi commended the U.S. military for carrying out the raid but did not mention Mr. Trump, who made killing al-Baghdadi a priority and gave the order for the strike.
Obviously she can't be trusted.
Trump says he kept details of ISIS operation from Pelosi to avoid leaks. President Trump said Sunday morning [10/27/2019] that he did not tell House Speaker Nancy Pelosi about the U.S. military raid in Syria that resulted in the death of ISIS leader Abu Bakr al-Baghdadi because he was worried about leaks that could have compromised the mission. Vice President Mike Pence said this was not an indication of a lack of trust. When asked if he notified Pelosi beforehand, Trump said he did not because he did not want any members of the U.S. forces to die.
Pelosi finally makes [a] statement on [the] al-Baghdadi raid and it's as petty as it gets. Amid reports that President Donald Trump did not inform House Speaker Nancy Pelosi beforehand on the top-secret raid by U.S. forces that resulted in the death of Abu Bakr al-Baghdadi, the leader of the Islamic State of Iraq and Syria, the speaker released a statement that rained on Trump's parade. While the president celebrated bringing "the world's number one terrorist leader to justice," the California Democrat snubbed Trump in saying al-Baghdadi's death "does not mean the death of ISIS." Of course, it took her two and a half hours to come up with a response — a lifetime in today's social media age.
Nancy Pelosi 'fiddles while the USMCA is in the deep freeze'. The U.S-Mexico-Canada Agreement is ready to go, but the Trump administration blames one person for holding it back: House Speaker Nancy Pelosi. "She fiddles while the USMCA is in the deep freeze," White House trade adviser Peter Navarro told FOX Business' "Mornings with Maria" on Thursday. "The false narrative here is this whole issue about labor enforcement. That problem's effectively been solved." The USMCA was ratified by Mexico on June 19. Prime Minister Justin Trudeau has said Canada will ratify the deal once Pelosi brings it up for a vote in the House, where her Democratic party regained control in mid-term elections in 2018.
Mittens, the Deep State, and the Ongoing Coup Against POTUS. House of Representatives Speaker, Nancy Pelosi, announced impeachment proceedings against the president just three hours after stating in a speech that she would not. Speaker Pelosi had zero evidence, cause, stated reason and lacked the required vote of the House of Representatives to do so, but announced it anyway. Strangely enough... and what caught my attention... Mitt Romney jumped on the "Impeach Trump" train that same day. How did Nancy go from "There will be no impeachment proceedings," that morning in New York to announcing impeachment proceedings that afternoon when she got back to Washington, DC? Meet the Grand Master of the Deep State in America. Admitted Communist, John Brennan, who has some serious explaining to do now that his attempted coup of U.S. President Donald Trump has been exposed... and continues! So why did Romney want to shut down any investigation of Ukraine's role as well? That's the question that got this investigation started and it's shocking.
'Impeach Pelosi' Petition Surpasses Quarter-Million Signatures on White House Website. A White House website "We the People" petition calling on Congress to "IMPEACH Pelosi for treason!" has garnered more than a quarter-million signatures to-date. As of Wednesday, October 23, 2019, more than 260,000 people have signed the petition to impeach House Speaker Nancy Pelosi (D-Calif.) created January 18, 2019 on the "We the People" website -- more than two and a half times the minimum of 100,000 required to warrant an official response. The Georgia woman who created the petition in January, Marjorie Taylor Greene, personally delivered a copy of the petition to Speaker Pelosi's House office on February 22 of this year. Greene continues to encourage Americans to sign the petition, aided by President Donald Trump's recent calls for Pelosi's impeachment for the way she has conducted her impeachment inquiry of him.
Speaker Pelosi Justifies Effort: Investigating Political Corruption is Grounds for Impeachment. Nancy Pelosi released a "fact sheet" outlining her justification for the impeachment process. Within the justification Speaker Pelosi/Lawfare intentionally conflates investigating past political corruption/interference (2016) with the current 2020 election. Speaker Pelosi's self-serving position boils down to: any effort by the executive branch to investigate prior political corruption is grounds for presidential impeachment.
Pelosi's 'fact sheet' on Trump impeachment. Speaker Nancy Pelosi's (D-Calif.) office on Monday released a "fact sheet" detailing allegations against President Trump amid House Democrats' ongoing impeachment inquiry. "President Trump has betrayed his oath of office, betrayed our national security and betrayed the integrity of our elections for his own personal political gain," the document argues.
The mother of all hissy fits. By now, you've all heard about Speaker Nancy Pelosi walking out on President Trump. [...] My theory is that Speaker Pelosi was trying to pick a fight with President Trump to compensate for the announcement that there'd be no impeachment vote anytime soon. What else do you do when the left wants to hang him from the tree outside of the Capitol Building? No matter what, Speaker Pelosi did not look good for a woman who is third in line to assume the presidency.
She probably pictures herself as George Washington.
Nancy Pelosi Compares Impeachment Effort to American Revolution. House Speaker Nancy Pelosi (D-CA) on Thursday [10/17/2019] compared the Democrat-led impeachment effort to the American Revolution, telling a crowd at the Democratic National Committee's Women's Leadership Forum that "the times have found us." [...] Pelosi's claim that none of the Democrat lawmakers came to Congress with the intention of pursuing impeachment against the president is patently false. Some members of the far-left "Squad" called for President Trump's impeachment prior to taking office.
Guerrilla Politics. The guerrilla element started even before Trump was elected and has continued for the last three years. [...] These attacks, as currently deployed by the Democrats, are a constant barrage of false accusations, such as the Russian collusion and the quid pro quo with Ukraine's President Volodomyr Zelensky. The charges against Trump need not be true, but they do need to be overlapping and unending. The "guerrillas" attack his family, his nominees (Gorsuch and Kavanaugh), or members of his administration (Rudy Giuliani, Sarah Sanders, et. al.). They attack using false accusations as a direct counter against President Trump's effective use of Twitter. Nancy Pelosi expressed the strategy clearly in a press conference. Tell a lie to the media. Let the media run with it. Cite the media later as truth. A very effective but disingenuous means of convincing the masses that Trump is an ogre.
Pelosi: 'The Voters Are Not Going to Decide' Impeachment Issue. Why not let the American people decide in November 2020 if President Trump should stay in office, House Speaker Nancy Pelosi was asked at her Thursday [10/17/2019] news conference. Election issues are for voters, and impeachment is for lawmakers, Pelosi responded. [...] "The voters are not going to decide whether we honor our oath of office," Pelosi said. "They already decided that in the last election."
A Lie Is Not Just a Lie. [Scroll down] Why do they change positions so often? Because the polls said they should. Can a Democrat run as a pro-lifer? Never! Is Nancy Pelosi really a devout Catholic? Does she believe what the Catholic Church says Catholics believe? Or does she say what she has to say to get elected? Does that mean that her whole professional life is one big unprincipled lie? It certainly means that constituents don't hold her to a standard requiring reconciliation of obvious inconsistencies.
Nancy Pelosi being politically smart by delaying impeachment vote, Brit Hume says. House Speaker Nancy Pelosi is being politically smart by holding off on a formal Trump impeachment vote on the chamber floor, according to Brit Hume. However, the investigation she is engineering is "peculiar" and unlike past proceedings against ex-presidents like Richard Nixon, Hume claimed Tuesday [10/15/2019] on "Tucker Carlson Tonight." "I frankly can't think of a good reason, from her point of view, why she would hold a vote," he said.
Pelosi: No House vote on impeachment inquiry. Speaker Nancy Pelosi (D-Calif.) said Tuesday she will not stage a vote on the House floor to officially launch an impeachment inquiry into President Trump. The decision came after Democratic leaders, returning to Washington following a two-week recess, had reached out to members of their diverse caucus to gauge the party's support for such a vote. [...] "There's no requirement that we have a vote, and so at this time we will not be having a vote," Pelosi told reporters during a last-minute press briefing in the Capitol.
Pelosi Refuses to Hold Full House Vote On an Impeachment Inquiry. Ahead of the Democratic debate on Tuesday, Speaker Nancy Pelosi announced that she would hold off on having a full House vote to authorize a formal impeachment inquiry into President Donald Trump. Republicans have pushed Pelosi to hold a formal vote in the House. Doing so would give the White House the ability to subpoena their own witnesses. The Speaker, however, said a formal vote isn't required for Democrats to continue with their probe. According to Pelosi, Trump violated the Emoluments Clause by allowing foreign governments to interfere in the American government and elections.
The Editor says...
The charges are broad and vague. Where's the evidence? The American people (excluding the baby-killing socialist Democrats) aren't going to stand for this claptrap. Public school graduates have never heard of "emoluments," but even they can see this is just wrong.
The Democrat Impeachment Circus. [Scroll down] Even the New York Times has admitted that "Democrats are deviating in key ways from the way the House launched the two presidential impeachment inquiries of the modern era." It starts with the fact of the impeachment inquiry itself. In both the Clinton and Nixon administrations, the House Judiciary Committee's investigation into potential impeachable offenses was given credibility by full votes in the House. House Democrats have had no such vote. Probably because House Speaker Nancy Pelosi (D.-Calif.) knows it would fail.
Turns out Biden's family not the only one to benefit from Ukrainian fossil fuels. On Sept. 24, 2019, Speaker Nancy Pelosi announced the official impeachment inquiry that would be led by the Intelligence Committee and Rep. Adam Schiff (D-Calif.). At first, this was a curious decision to objective persons, since the Judiciary Committee has the authority over this type of procedure. At the time, Pelosi indicated a threat by President Donald Trump to our national security during the July 25 conversation between him and President Zelensky of Ukraine. She did this without the benefit of the transcript, but she doubtless already knew much of the CIA "whistleblower's" complaint. Further, the Ukrainian president disputes her version. But this is not the rationale for her haste to convene the investigation. It appears that the D.C. swamp benefits another powerful family. The Biden family has gotten special treatment from Ukrainian oil interests, and the Pelosi family has a similar advantage.
Report: Democrats Privately Urging Pelosi to Hold Impeachment Inquiry Vote. Some House Democrats are privately calling on Speaker Nancy Pelosi (D-CA) to hold a vote to formalize the impeachment inquiry to undermine Republican criticism that the process is illegitimate, Politico reported this week. So far, Pelosi has refused to schedule a vote, arguing that the Constitution and House rules do not require the lawmakers to do so. Meanwhile, the White House and its Republican congressional allies contend that such a vote is necessary to legitimize the inquiry per the recognized standards of previous impeachment efforts.
Trump: Nancy Pelosi 'Hates the United States of America'. President Donald Trump on Friday declared during his Lake Charles, Louisiana, re-election rally that House Speaker Nancy Pelosi (D-CA) "hates the United States of America." "Nervous Nancy, I used to think she loved the country," President Trump began. "She hates the country, she wouldn't be doing this to the country if she did," the president continued, in reference to her support for an impeachment inquiry.
Nancy Pelosi's Faithless Impeachment. Democrats like the latest polls on impeaching President Donald Trump, some of which show rising support. But in the long term, it is a losing issue. Speaker Nancy Pelosi (D-CA) made it so when she launched an "impeachment inquiry" without waiting for the evidence. By the time Pelosi convened a fateful meeting with House Democrats on Sep. 24, Trump had already announced he would release the transcript the next day. Pelosi went ahead, anyway.
Pelosi [is] allowing [a] sham process to undermine impeachment. Let me see if I understand the Democratic position on impeachment: They have begun an impeachment inquiry because House Speaker Nancy Pelosi says so. The House of Representatives has not authorized it. Hearings are being held in secret and transcripts of interviews are not being released. The minority party cannot ask questions, request evidence or subpoena witnesses, and witnesses have no due process. Trump administration officials cannot have department attorneys with them. And if the Trump administration does not surrender to their demands, they will consider the president guilty of obstruction. Are they serious? An impeachment inquiry, in terms of House precedent, requires a full House vote. For the body to act as one-half of one-third of the government, it must vote. Mrs. Pelosi may be the speaker, but she does not individually speak for the entire House.
GOP Rep. Ralph Abraham introduces resolution to expel Nancy Pelosi from House. A Louisiana Republican congressman introduced a resolution Tuesday [10/8/2019] to expel Speaker Nancy Pelosi, D-Calif., from the House of Representatives, the latest sign that frustration in the GOP is building as Democrats continue their impeachment inquiry against President Trump. Rep. Ralph Abraham's resolution stands no realistic chance of passing in the Democratic-controlled House. Likewise, Republicans have argued that Democrats' potential articles of impeachment are all but certain to stall if they ever reach the Senate.
Nancy Pelosi's Prayers. An ardent, prayerful, and moral Nancy Pelosi has been called from sitting for her holy-card portrait to lend her aid in getting the president impeached — and the nation torn apart in the process. [...] But even as she expends herself, Mother Teresa-like, for the good of humanity on the impeachment crusade, she can still serve other mission fields as well. Take last week, when she fellowshipped with the saints at Planned Parenthood, telling them how "Republicans 'ignore basic morality'" with their bans on partial-birth abortions and infanticide. Such bans are immoral, she says, because they violate (what else?) the Constitution, and "every woman, everywhere has the constitutional and moral right to basic reproductive health care." And what more basic reproductive health care does every pregnant mother need than a grisly procedure that will stop her pregnancy dead — literally? It's strange that 93% of OB-GYNs so immorally fail to provide their patients with this most basic reproductive health procedure. Are they all Republicans?
Why can't Dems treat Trump as fairly as Republicans did Bill Clinton? Speaker Nancy Pelosi has a clear duty to call an immediate House vote to authorize an official impeachment inquiry — if she dares. The White House informed her today that the Executive Branch won't play along with the lawless "inquiry" that House Democrats have been engaged in — which President Trump has quite fairly termed "a totally compromised kangaroo court." White House counsel Pat Cipollone's letter to Pelosi spells out the problems. While the Constitution clearly gives the House the power to begin impeachment proceedings, it does not give the speaker the privilege of declaring them all by herself.
If the House Won't Vote, Impeachment Inquiry Is Just a Democratic Stunt. "The House of Representatives ... shall have the sole Power of Impeachment." It's right there in black-and-white: In article I, section 2, clause 5, our Constitution vests the entirety of the power to call for removal of the president of the United States in a single body — the House. Not in the Speaker of the House. In the House of Representatives. The institution, not one of its members. To be sure, Speaker Nancy Pelosi is a very powerful government official: second in the line of succession to the presidency; arguably, the most powerful member of Congress. [...] But she does not have the power to impeach on her own.
Trump accuses Pelosi of 'treason' and calls for her to be 'immediately impeached'. President Trump accused House Speaker Nancy Pelosi of treason and called for her, along with House Intelligence Committee Chairman Adam Schiff, to be impeached. [...] In addition to calling on Schiff to resign, the president has accused the congressman of helping to write an intelligence community whistleblower's complaint about the call, which paved the way for House Democrats to launch an impeachment inquiry into Trump, after news broke that the unnamed CIA officer spoke with House Intelligence staff before filing the complaint.
Russiagate Gets a Bad and Frightening Facelift. The Democrat's impeachment "inquiry" is not about anything Trump did or didn't do. Like the anti-climactic Russian soap opera that came before it, it's about discrediting President Trump before the 2020 election. Their last attempt failed; unashamed and undeterred, they're giving it another shot. Speaker of the House Nancy Pelosi (D.-Calif.) deserves some credit. She played the waiting game. She knew that the Russia hoax was a loser, and she has been rewarded for her patience. Russiagate was a long, miserable war of attrition that ended in spectacular embarrassment. Robert Mueller's sphinxlike pronouncements muddled what was an impossibly byzantine tale from the beginning, and by the end of the saga the Democrats were demoralized and resigned to beating Trump at the ballot box.
Pelosi Stopped In South Carolina For a Fundraiser But Was Greeted By Massive Crowd of Trump Supporters. House Speaker Nancy Pelosi (D-CA) on Friday [10/4/2019] arrived in Greenville, South Carolina for a speech at a fundraiser hosted by the South Carolina Democratic Party. What Pelosi probably wasn't expecting though was the number of President Donald Trump's supporters who would be there to welcome her to the Palmetto State.
Dirty Nancy Pelosi Visits South Carolina for Event — Massive Trump Crowd Greets Her on Street. Dirty Nancy Pelosi traveled to South Carolina for a Democrat Party fundraiser in Greenville on Friday [10/4/2019]. But before she made it to her event a massive Trump crowd lined the streets to greet her.
Nancy in the swamp of despond. It's becoming clearer that Nancy Pelosi's half-clever ploy of unilaterally declaring that an impeachment "inquiry" was in progress is backfiring in a big way. At first, it seemed that this was a smart move — by simply stating an inquiry was in motion without going through the necessary formalities such as a full House vote, Pelosi was calming the crazies of her caucus (such as the Squad), while leaving herself plenty of maneuvering room to divert or back out should things start to deteriorate. But now the pterodactyls have come home to roost, and the drawbacks of her game have become evident.
Moral Equivalence in the 'Unilateral' Impeachment Inquiry. In his incisive legal analysis, Andrew McCarthy notes how the absence of a formal vote to commence the impeachment inquiry and the failure (at present) to issue subpoenas would invoke due process safeguards for the president, his administration, and other potential witnesses and/or custodians of sought after materials. He is correct, but if one doubts him, there is a more elementary political rule of thumb to follow: if Speaker Nancy Pelosi (D.-Calif.) thought taking a vote to commence a formal impeachment inquiry was good for her Democratic caucus, there would have been a vote. No matter how the Speaker publicly rationalizes the absence of a vote (and accompanying subpoenas), her caucus' inaction speaks louder than her words.
Nancy Pelosi's Son Was Exec At Gas Company That Did Business In Ukraine. House Speaker Nancy Pelosi's son Paul Pelosi Jr. visited Ukraine in 2017 to meet with government officials in connection to a business initiative. Now, unearthed records reveal that Paul Pelosi Jr. was an executive of a gas industry company that did business in Ukraine — and his mother Nancy Pelosi was featured in one of the company's promotional videos.
Nancy Pelosi On Schiff's Made Up Trump Phone Call: 'He Did Not Make It Up'. Nancy Pelosi tried to throw a lifeline to Rep. Adam Schiff, insisting the Chairman of the House Intelligence Committee "did not" make up a phone call between President Trump and Ukraine President Volodymyr Zelensky. Schiff undeniably fabricated quotes as he led off a hearing with acting Director of National Intelligence Joseph Maguire last week. ABC News' anchor George Stephanopoulus even confronted Schiff over the incident, playing the clip of the disgraceful display and stating, "That was you making up dialogue, putting it in the president's mouth." The California Democrat has since claimed he was simply engaged in a parody.
Impeachment is the Democrats' entire political agenda.
Nancy Pelosi thinks she can work with Trump on Dems' political agenda while working to impeach him. Speaker Nancy Pelosi, D-Calif., thinks it's possible for her and her Democratic colleagues to work with President Donald Trump on a long list of political agenda items, despite House Democrats' latest impeachment efforts. At a Capitol Hill press conference alongside House Intelligence Committee chairman Adam Schiff, D-Calif., on Tuesday [10/1/2019], Pelosi was asked how she plans to work with the president on Democratic agenda items like prescription drug costs, trade, and gun control while conducting impeachment efforts against the man.
Democrats' Trump Impeachment Push Is a Bonanza for Republicans. As Napoleon Bonaparte once said, never interfere with your enemy when he is making a mistake. [...] The "new" Democratic Party is steering the impeachment ship, and the "old" Democrats must aid and abet if they wish to survive politically. Pelosi knows that an impeachment conviction in the U.S. Senate is highly unlikely, so the only logical conclusion is that she's petrified of the Bolshevik Democrats in her party.
9 Reasons Why Impeachment Is a Fraud. [Reason #5] Pelosi rushed to judgment. The California Democrat announced that she was authorizing an impeachment inquiry prior to reviewing any evidence whatsoever, including interviewing witnesses or examining documents in support of an impeachment, including the transcript of the phone conversation. On Tuesday, Sept. 24, Pelosi announced the impeachment inquiry in response to mounting pressure from fellow House Democrats, although she was fully aware that the president was considering the release of the transcript. The following day, Wednesday the 25th, the president declassified the transcript of his phone call and authorized its release.
Washington Post Fantasizes About President Pelosi. After Trump took office, liberals fantasized about Trump getting impeached and then having Hillary, through a rather convoluted series of events, installed as president. Harvard University professor Lawrence Lessig even laid out a step-by-step process for that to happen. Trump would, of course, either resign or be impeached and removed from office, after which Pence would assume office and immediately resign. At the time, Paul Ryan was speaker of the House, and he was next in line for the presidency, but for some bizarre reason would choose Hillary for vice president. The circumstances were beyond absurd, but the left has a new, but similar fantasy: Impeach Trump and Pence, and Nancy Pelosi, through presidential succession, becomes president.
In Trump impeachment, 'no one is above the law' could backfire on Democrats. "No one is above the law," said House Speaker Nancy Pelosi as she announced the Democratic effort to impeach President Trump over the Ukraine matter. The phrase has become a Democratic mantra in the new impeachment push. But it could, in the end, serve to highlight the weakness of the Democratic strategy. [...] Democrats might better say, "No president is above impeachment," which lacks punch but is more accurate. Doing so, however, would emphasize the political nature of the battle and could make it more difficult for Democrats to win broad support for removing Trump. So they say, "No one is above the law." But what, exactly, does that mean?
Also posted under Emotional outbursts as a substitute for facts and reason.
Why Nancy Pelosi Now Supports Impeachment Even Though It's Insane. The latest Ukraine-related non-scandal is almost irrelevant for its lack of substance. This is not about substance. This is about Pelosi losing control of her caucus should she continue to resist impeachment, and Pelosi sensing a looming electoral disaster of monumental proportions should impeachment be launched outside the parameters she defines.
Pelosi Suggests Losing The House Might Be Worth The Price If Trump Is Impeached. House Speaker Nancy Pelosi suggested Saturday night that she is willing to lose the House of Representatives to Republicans if it means ousting President Donald Trump. "It doesn't matter," Pelosi said in response to a question from Texas Tribune CEO Evan Smith about whether she is worried how an impeachment inquiry will impact the 2020 House elections. "Our first responsibility is to protect and defend the Constitution of the United States." She made the comments during an an interview at Tribune Fest, a festival in Texas highlighting newsmakers.
The Editor says...
Think about it, Nancy. Impeaching Trump would leave you with a Republican majority in the House, and President Mike Pence. How well do you think that would work for the baby-killing socialist party?
Happy retirement, Speaker Pelosi. House Speaker Nancy Pelosi has valiantly fought the war on crazy long enough. She tried her best to be the sane, adult centrist in her party — no easy task for a lifelong politician from San Francisco. In the end, it was too much. She has given up the fight. The inmates have taken over the asylum. Impeachment fever has a chokehold on the Democratic Party. For Republican political operatives hoping to win back the House, this is good news. They need to flip 20 House seats next year to gain back the majority. Among those the GOP has targeted for flipping are the 31 sitting Democrats who represent districts that voted for President Trump in 2016.
The Marxists Running the Democrat Party Today Lust for Absolute Power. Tucker Carlson opened his show on Friday night with the latest updates on the Democrat-media coup against Donald Trump. In his open he played a clip of Speaker Nancy Pelosi now accusing Russia of being involved in the Democrats' latest made-up Trump scandal. Of course, Pelosi and Democrats have absolutely zero evidence to push forward this theory or this impeachment scandal. And, they certainly have no evidence that Russia is involved in anyway. But as Tucker noted, Democrats no longer deal in facts. They deal in emotions and a blood-lust for power.
Will this go down as 'the mother of all traps'? Let's hope that President Trump starts tweeting and calling on Democrats to start the impeachment process. It all starts with a floor vote, and no such thing is in the horizon. The Democrats jumped the gun a bit here. Speaker Pelosi should have have waited for the evidence.
Pelosi: Abortion Bans 'Ignore Basic Morality'. House Speaker Nancy Pelosi said Thursday evening the bans on abortion that have passed in many states "ignore basic morality." "Today, as we know, an all-out assault on women's reproductive freedoms is sweeping the nation, as Republicans seek to impose abortion bans on millions of women in dozens of states," Pelosi said as she addressed attendees at the 50th anniversary dinner of abortion political action and advocacy organization NARAL.
Pelosi's Six-Committee Impeachment Investigation. On the surface, the impeachment investigations of Nixon and Trump are quite similar. In each case, the president was already under immense pressure, with a partisan media in full pursuit. When each story broke, there was dominating, explosive coverage — with every talking head predicting imminent disaster — that goaded the Congress into taking immediate, forceful action. Of course, with Nixon in particular, the stories seemed to pan out. As things now stand, that does not appear to be the case with Trump. [...] This much seems true: time and the tide of public opinion are simply not on Pelosi's side, and her six-committee approach will confuse rather than educate.
Russian Foreign Ministry: Pelosi Is Making U.S. 'Laughing Stock of the World'. Following the White House release of a memo on President Trump's July 25 phone conversation with his Ukrainian counterpart, Russia's foreign ministry spokeswoman said Wednesday Democratic leaders were making the U.S. the "laughing stock of the world." She also suggested mockingly which confidential U.S. documents should be made public next. "I've read the transcript of the telephone conversation between Trump and [Ukrainian President Volodymyr] Zelensky, which Speaker of the House of Representatives Nancy Pelosi found reason enough to launch a procedure of impeachment against her president," spokeswoman Maria Zakharova wrote on her Facebook account, according to the TASS news agency. "Is it the U.S. Democrats' job to make their country a laughing stock of the world?" she asked, then added that that is "precisely what Mrs. Pelosi has done."
Watch: Pelosi's Words About Impeachment In 1998 Come Back To Haunt Her. Democrat House Speaker Nancy Pelosi's words from 1998 about the impeachment of former President Bill Clinton are being used against her now as many critics are calling her a hypocrite in light of her decision this week to push for the impeachment of President Donald Trump. "Today, the Republican majority is not judging the president with fairness, but impeaching him with a vengeance," Pelsoi said on December 18, 1998. "In the investigation of the president, fundamental principles which Americans hold dear — privacy, fairness, checks and balances — have been seriously violated. And why Because we are here today because the Republicans in the House are paralyzed with hatred of President Clinton. And until the Republicans free themselves of this hatred, our country will suffer."
Pelosi orders impeachment probe: 'No one is above the law'. House Speaker Nancy Pelosi launched a formal impeachment inquiry against President Donald Trump on Tuesday, yielding to mounting pressure from fellow Democrats and plunging a deeply divided nation into an election year clash between Congress and the commander in chief.
The Editor says...
No one is above what law? What exactly did President Trump do that warrants impeachment?
Former CIA Officer: 'Pelosi Launched The Titanic Tonight Into A Gigantic Iceberg In November 2020'. A former CIA officer who is a self-described Democrat compared House Speaker Nancy Pelosi's impeachment inquiry to the Titanic being launched "into a giant iceberg in 2020." Speaking on Tuesday night's [9/24/2019] edition of "Tucker Carlson Tonight," Bryan Dean Wright — introduced as a lifelong Democrat — was asked by Fox News host Tucker Carlson if impeachment was a "wise idea." [Video clip]
The Latest Impeachment Frenzy Is About #Resistance, Not High Crimes And Misdemeanors. "This has nothing to do with politics or partisanship." That was how House Speaker Nancy Pelosi put it shortly before announcing the opening of an official impeachment investigation into President Donald Trump. Who is she trying to kid?
Pelosi announces formal impeachment inquiry. After meeting with her Democratic caucus, House Speaker Nancy Pelosi announced Tuesday [9/24/2019] the launch of a formal impeachment inquiry into President Trump's alleged efforts to pressure Ukraine to investigate the business dealings of former Vice President Joe Biden's son Hunter Biden. Pelosi said "the president must be held accountable" for a "betrayal of his oath of office, betrayal of our national security, and the betrayal of the integrity of our elections."
Pelosi's dramatic impeachment move is really just another stall. By announcing that the impeachment inquiry is now "official," House Speaker Nancy Pelosi gave the nation (or at least the national media) loads of drama Tuesday evening [9/24/2019] — but without actually doing anything. House Judiciary chief Jerry Nadler has already been calling his committee's work an "official" impeachment inquiry, after all; now the speaker says the same. But she's still not allowing any actual votes on the House floor about it. All she's "done" is instruct six committee chairmen, including Nadler, to pull together all the dirt they've got. That's apparently to go to Judiciary, which then might eventually vote on whether to recommend the full House vote on taking some next step.
Pelosi's impeachment flip-flop changes everything. For months, House Speaker Nancy Pelosi warned itchy Democrats against the perils of impeachment. She should have stuck to her guns. In surrendering to the radicals and the noisy drumbeat of their media handmaidens, Pelosi established a formal investigative process involving the top legislative committees. Yet she did something else, too, something far more monumental: She effectively committed House Dems to impeaching President Trump.
Pelosi Formally Announces Trump Impeachment Inquiry. Speaker of the House Nancy Pelosi is formally signing off on an impeachment inquiry into President Donald J. Trump after he spoke to the Ukrainians, reportedly trying to coerce the political leadership there to investigate former Vice President Joe Biden on corruption charges. This was dredged up after a whistleblower came forward to the intelligence community inspector general, though it's based on anonymous second-hand sources. The whistleblower didn't even listen in on the calls, and it's not the intelligence community's job to snitch on the president. The president can say whatever he wants to another foreign leader. Period. And now, before anyone has read the transcript of the call, the House Democrats are launching a full-blown impeachment push. It's not shocking. This was going to happen eventually.
Meeks: Pelosi Wants Trump 'in Jail,' Jailing Trump Only Way to Show We're Fighting for Rule of Law. On Friday's [9/20/2019] broadcast of MSNBC's "The Beat," Representative Gregory Meeks (D-NY) stated that House Speaker Nancy Pelosi (D-CA) wants President Trump "in jail," and that putting President Trump in jail is the only way to show that the rule of law is being fought for. Meeks said, "Speaker Pelosi, she's singularly focused to get this — she wants him in jail, where he really [belongs]. That's what her focus — she wants — Donald Trump, and if you look at all the things that he's done, it's almost if it was any other American, they would be in jail. And she is focused singularly."
The Editor says...
Ordinarily the "rule of law" includes due process, as in, proof of a crime, trial by jury, etc.
Pelosi: C'mon, let's pass some laws that would let the president be indicted. This is ridiculous but it's also the logical conclusion to Pelosi's extreme aversion to impeachment. What could be nicer for a House Speaker who doesn't want to risk an impeachment backlash at the polls than handing off the responsibility for ousting the president to the Department of Justice? Let federal prosecutors decide what to do! Leave Democrats alone to chatter amiably about climate change and what not. That was the whole charm of the Mueller investigation from a Democratic perspective, no? Granted, the House remained charged with taking any formal action against the president, but that action would have been much safer politically if it had had the former endorsement of Robert Mueller.
Pelosi Calls For New Laws So Sitting Presidents Can Be Indicted. At nearly 80 years old, Nancy Pelosi is a corrupt, career politician and poster-child for term limits. House Speaker Nancy Pelosi (D-CA) said in an interview with NPR on Friday that Congress should change the law so a sitting president can be indicted. [...] Pelosi, who refuses to accept the results of the 2016 presidential election, attacked Trump and accused him of abusing the Constitution.
The Editor says...
This is what's known as a bill of attainder.
Nancy Pelosi uses air-quotes to banter with reporters about what's in Donald Trump's 'mind' on gun background checks. Speaking during her weekly press conference, Pelosi told reporters that Senate Majority Leader Mitch McConnell was wrong to delay acting on gun control legislation while he waits for the White House to signal what would be acceptable to Trump. Asked what features of gun reform she thinks the president is weighing, she shot back: 'You want me to tell you what goes on in the president's "mind"?' Pelosi made air-quotes with the fingers of both hands while saying the word 'mind,' drawing laughs from the room.
Pelosi Unloads On Nadler; Tells Him To Drop 'Moby Dick'-Like Impeachment Obsession. House Speaker Nancy Pelosi blasted House Judiciary Committee Chairman Jerry Nadler last week over his 'Moby Dick'-like obsession with impeaching President Trump, days before Trump's 2016 campaign manager Corey Lewandowski wiped the floor with Congressional Democrats during a contentious five-hour hearing on Tuesday [9/17/2019] in front of Nadler's panel.
Mainstream media savaged Nadler's impeachment hearing questioning of Corey Lewandowski (with an assist from Nancy Pelosi). The mainstream media chorus turned on their Democrat allies over the questioning of Corey Lewandowski by Chairman Nadler's House Judiciary Committee on Tuesday. The breadth and depth of the rare media attack on Democrats needs explanation. We are well accustomed to the mainstream media following nearly identical talking points, so the question becomes: who sent the signal that beating up the impeachment hearings was the order of the day? The most obvious candidate is Speaker Nancy Pelosi, the highest-ranking elected Democrat, who understands that an impeachment circus could lose many of the seats Democrats turned over in 2018 and cost the Democrats their House majority and her speakership.
Impeachment is dead and Democrats should thank Pelosi for saving them from themselves. Liberals desperately need to see impeachment happen, if for nothing more than to soothe their own hurt feelings. It's hard not to feel bad for them now, as they realize that it's just not going to happen.
Nancy Pelosi Running For Another Term As House Speaker, Even Though She Turns 80 Next Year. Isn't it time for Nancy Pelosi to retire yet? Millions of Americans are told by their employers every year that it's time for them to leave their jobs, that they have gotten too old, and that someone younger is taking their position. Why doesn't this ever seem to apply to people in Washington?
Pelosi walks out on press: I'm done talking about impeachment. House Speaker Nancy Pelosi shut down press questions about whether the House is conducting a formal impeachment inquiry as some lawmakers claim. [...] Pelosi's frustration led her to walk away from the podium, cutting her press conference short after calling for the media to focus on the Senate GOP's refusal to take up a Democratic proposal to expand background checks for gun purchases. "Why is it that you are hung up with a word over here when lives are at stake over there?" the California Democrat said, walking out of the room.
Pelosi: 'August Jobs Report Offers Little Comfort in an Economy Faltering'. The U.S. economy is "faltering," House Speaker Rep. Nancy Pelosi (D-Calif.) declared Friday [9/6/2019] in response to the U.S. Labor Department's August report revealing that a record number of people were employed last month, while the unemployment rate held at 3.7% and fell to record lows for blacks and Hispanics. "The August jobs report offers little comfort in an economy faltering under the Trump Administration's reckless agenda," Speaker Pelosi says in a statement posted on her website.
The Editor says...
[#1] The economy was "faltering" for the entire eight years of the incompetent Barack H. Obama regime, and no Democrat would admit it. Nor was any criticism permitted. [#2] The leader of the Impeachment Party has no room to talk about a "reckless agenda."
The suicide of the House is complete. Over time, the House has had one major constitutional duty: the budget. All spending and taxation bills must originate in the House. But in all likelihood, the decline of the House started in 1995, when the newly elected Republican Congress under Newt Gingrich caved in to media pressure to give Bill Clinton his bloated budget. Since then, no House has even attempted to control the deficits or the debt. For eight years under George W. Bush, the rationale was to fund the War on Terror. Then, under Barack Obama, the Democrat House had no intention of dealing with the deficits or the debt. For eight years, under both Democrats and Republicans, nothing was done to recapture the budget process. Continuing resolutions were the rule of the day. Enter Nancy Pelosi, whose Congress openly and energetically vowed to do utterly nothing in the way of actual legislation, but instead to investigate and otherwise obstruct President Donald Trump. This marked the final transition of the House into irrelevance.
Throwing Punches for the Children — If This is Your Mantra, Zip It About Trump. Trump is just a callous and unfiltered version of the "sophisticated" slander the left has been lobbing against the right for years through a corrupt and complicit mainstream media. For proof of that, we could start scrolling through the endless accusations of the last few decades: centrist John McCain was called a racist, the affable George W. Bush was tagged a bigoted war criminal, mild-mannered Mitt Romney was labeled a tax cheat, felon and murderer. And this wasn't done by fringe activists — these were libelous claims published by mainstream media organizations coordinating with their ideological allies in the Democrat Party. But why turn to the pages of history to prove what you can observe right in front of your face? Is there any statement that better typifies the state of political dialogue in 2019 than what the Democrat's chosen national leader and spokeswoman, Speaker of the House of Representatives Nancy Pelosi, said last week?
Political Forecast: Stormy Weather Ahead. Telegraphing the hard slog ahead, Speaker Nancy Pelosi joins others in her party suggesting threats of violence are called for: "So you have to be ready to take a punch. You have to be ready to take a punch," Pelosi said. "And therefore, you have to be ready to throw a punch, for the children. Throw a punch for the children!" She said this in an atmosphere where anti-Republican violence escalates. Given Bernie Bro James Hodgkinson's shooting of Representative Steve Scalise and his attempted murder of the congressional Republican leadership to the almost daily thuggery against conservatives on college campuses, in restaurants, and Portland, her language is certainly as incendiary as that of Maxine Waters' harangue that "cabinet members and highly visible Trump enablers should expect harassment at restaurants, gas stations, shopping places, and even their homes until they change their immigration policy." The continued harassment and violence, of course, is unreported or underreported by the media.
Why Pelosi is surrendering the Democratic Party to the Jew-haters. A historic transition of the American political landscape is underway, as the older of our two parties is embracing antisemitism and moving away from support of Israel, driven by the personal ambition of a craven politician clinging to power. Nancy Pelosi's desire to remain Speaker of the House is why she is surrendering the Democrats' party to the Jew-haters, with the highly visible, openly antisemitic Ilhan Omar and Rashida Tlaib becoming the real face of her party.
The leader of the Abortion Party pretends to know what God wants.
Pelosi: 'This Planet Is God's Creation and We Have a Moral Responsibility to be Good Stewards of It'. House Speaker Nancy Pelosi gave an address to the Ghanaian Parliament on Wednesday where she declared the "climate crisis" the "existential threat of our time" and said we have "a moral responsibility to be good stewards" of a planet that is "God's creation." "To fully achieve environmental justice, we must combat the climate crisis — which is the existential threat of our time," Pelosi said. "And it is a moral decision," Pelosi said. "If you believe, as I do, and I believe the speaker does, that this planet is God's creation, and we have a moral responsibility to be good stewards of it, then we have to protect the planet.
The Editor says...
If Mike Pence had uttered the same words, the newspapers would have been screaming about a theocracy the next day. There is no climate crisis. There is no extraordinary global warming. There is no need to curtail the use of hydrocarbons or to avoid the production of carbon dioxide. If you turn off your television (permanently), you will have no perception that this year's weather is any different from last year's. Global average temperatures go up and down at the rate of one or two degrees per century. That is not an "existential threat."
Nancy Pelosi: Supreme Court Allowing Trump to 'Steal Military Funds' for 'Wasteful, Ineffective' Wall. House Speaker Nancy Pelosi (D-CA) accused the Supreme Court of allowing the Trump administration to "steal military funds to spend on a wasteful, ineffective border wall" in reaction to Friday's [7/26/2019] ruling, which allows the administration to transfer defense funds to begin the construction of the border wall. The Supreme Court lifted an injunction Friday [7/26/2019], giving the Trump administration the green light to transfer funds from the Defense Department to begin the construction of the border wall, per the president's emergency declaration.
The Editor says...
Since when does Pelosi care about wasteful spending, or about providing plenty of money for the military?
Trump and America Vs. the Commie Quad Squad. In one sense, the Commie Quad Squad (CQS) has done us all a favor by flushing out the extremism of the Democratic Party for conspicuous public display. House Leader Nancy Pelosi is quaking in her boots, realizing that it is getting increasingly difficult to hide her party's radicalism from American voters, many of whom still cling to the fantasy that the Democratic Party is predominantly pro-American. Pelosi at least has the sense to know this extremism won't play well in national elections — even today — and she is struggling to cover it up. Her feud with the CQS, to be sure, is about control of the party, but it's also her effort to allay Americans' fears that her party has lost its mind — and moral compass. But the women of the CQS don't care. They are so adamantly against the America that you and I grew up to love that they will not contain their animus. And they're arrogant enough to believe that a majority of Americans shares their antipathy.
This is a confused old woman.
Pelosi: 'The President Wants to Make America Great Again... What Does That Mean? What is America?' House Speaker Nancy Pelosi (D.-Calif.) explained at her press conference on Wednesday what she believes America is about. "The president wants to make America great again. We all do," she said. "What does that mean? What is America?" she asked. "So many times we've come together and we've talked about America."
The Anti-Trump House Democrat Resolution. Speaker Pelosi got so carried away defending her "sisters" and condemning the president's tweets as "racist" that she broke House protocol and sparked a floor fight. Her fellow Democrats saved her from a ruling that would have barred her from speaking the rest of the day. They also kept her "racist" reference to the president's tweets in the record. The final resolution, entitled "H. Res. 489 — Condemning President Trump's racist comments directed at Members of Congress," passed along largely partisan lines by a vote of 240-187.
Bedlam on House Floor: Pelosi Storms Off amid Boos from Members. The speaker railed against [President] Trump during Tuesday's [7/16/2019] debate on the House floor, promising that her caucus would continue to respond to the "disrespect" aimed at the fundamental diversity of America. She accused the president of legitimizing and increasing "fear" and "hatred" against people of color and attempted to shame lawmakers who are dismissing the Democrats' politically fueled resolution.
Floor fight erupts as Pelosi speaks ahead of vote to condemn Trump's 'racist' comments. Escalating tensions on Capitol Hill erupted into a floor fight in the House of Representatives on Tuesday afternoon [7/17/2019], as Speaker Nancy Pelosi spoke in favor of a resolution condemning "racist" comments by President Trump — and Pelosi's words were eventually ruled out of order, as House Majority Leader Steny Hoyer, a Democrat, announced the decision from the House parliamentarian. "The words used by the gentlewoman from California contained an accusation of racist behavior on the part of the President," Hoyer said, in a decision that technically banned Pelosi from speaking on the House floor for a brief period of time. "The words should not be used in debate."
House divided: Vote temporarily halted after Pelosi calls Trump comments 'racist' on the floor. The Democrat-controlled House of Representatives passed a resolution on Tuesday night condemning President Donald Trump for his "racist comments" about four Democratic congresswomen of color. The resolution passed largely along party lines — 235 Democrats joined by only four Republican supported the measure — following hours of back-and-forth and gamesmanship between Republicans and Democrats, which included a GOP objection to House Speaker Nancy Pelosi's remarks about Trump and whether she would be allowed to keep speaking on the floor.
Democrats Find Nancy Pelosi Broke House Rules by Calling Trump 'Racist'. Speaker of the House Nancy Pelosi (D-CA) was found to have broken the rules of the U.S. House of Representatives by calling President Donald Trump "racist" on the floor Tuesday, but Democrats voted to keep her remarks in the record and restore her speaking privileges. Pelosi had delivered a statement calling the president racist as a prelude to voting on a House resolution to that effect.
Democrats in Freefall — Congress Collapses — Chaos Ensues. The debt ceiling needs to be raised. Spending appropriations bills need to be resolved. Immigration laws need to be fixed. The border is in crisis. Infrastructure spending needs to be resolved. The USMCA needs to be ratified. Forget all those issues that matter. [W]hat does House Speaker Nancy Pelosi do? Why, stop everything so she can advance a resolution to prove her squad doesn't like President Trump.
Democrats Hold a Terrible Hand of Race Cards. Pelosi has been speaker for six months and Trump is still president, not resigned or impeached, despite two years of promises from CNN, MSNBC, and many members of Congress. Pelosi hasn't passed the Green New Deal, student loan forgiveness, a 70-plus percent top tax rate, reparations for anyone not a white heterosexual Christian male, or Medicare for all. Times a wastin' with the Democrat House is still searching for evidence that Trump colluded with the Russians to steal the election from Hillary Clinton.
Trump forces Nancy Pelosi to defend the very leftists trying to oust her. At first glance, it looked like maybe a blunder, some political overplaying of the hand, the Sunday move by President Trump that could finally make the internally warring Democrats circle their fractious wagons and unite. It certainly was politically risky. [...] Trump was horning in on House Speaker Nancy Pelosi's public catfight with four far-left fellow Democratic representatives after one of them, Alexandria Ocasio-Cortez, was last seen calling Pelosi racist. Pelosi had merely told the "squad" to keep their internal party disagreements with others on the inside. They ignored that and whipped out the race card, signaling that Pelosi is powerless, and they were trying to take her down.
The leader of the Abortion Party suddenly knows a lot about Christianity and mercy.
Nancy Pelosi Suggests That Jesus Is Not On The Side Of ICE Raids. Democratic House Speaker Nancy Pelosi used her Sunday Gospel reading to take aim at President Donald Trump's planned ICE raids, appearing to suggest that Jesus would not be on the side of law enforcement in this case. "It should be a sign to us that today's Catholic Gospel reading is the Good Samaritan, where Jesus teaches us to love our neighbors as ourselves and treat them with mercy," Pelosi tweeted. "Trump's ICE raids today tear families apart — the opposite of mercy."
Pelosi vs. AOC: It's a Beautiful Thing. Nancy is getting a taste of her own medicine here. If she were capable of learning a lesson, this is what it would be: The leftist ideologies of intersectionality, critical race theory, whiteness studies and miscellaneous other faculty-lounge thought experiments will tell you that you — a white lady — no matter how dedicated you've been to the cause, are not capable of adequately representing it because your whiteness, and even female gender, don't afford you the requisite life experience to fully get it.
Pelosi Rejects U.S. Sovereignty — U.S. Immigration Subject to Laws of "A Global Society". In a stunning press conference today [7/11/2019] U.S. House Speaker Nancy Pelosi explains why she she has taken no action to curb the illegal immigration influx into the U.S. While explaining why she will not allow congress to debate, change or modify U.S. immigration laws, Pelosi outlines how the United States is part of a global society, without borders and without any sovereign right to impede the "human society" from entering our nation. Therefore, according to her outlook and worldview, U.S. politicians have no right to stop any migration movement.
Pelosi Advises Targets of ICE Deportations on How to Avoid Arrest. House Speaker Nancy Pelosi told illegal immigrants who are subject to Immigration and Customs Enforcement (ICE) deportations that they can refuse to open the door for agents if they do not have a warrant signed by a judge. Pelosi's advice comes after reports that the immigration enforcement operation is scheduled to begin over the weekend. "An ICE deportation warrant is not the same as a deportation warrant. If that is the only document ICE brings to a home raid, agents do not have the legal right to enter a home," Pelosi said during a press conference on July 11.
The Editor says...
I'm no lawyer, but I can read:
Black's Law Dictionary, Sixth Edition, 1990, page 14: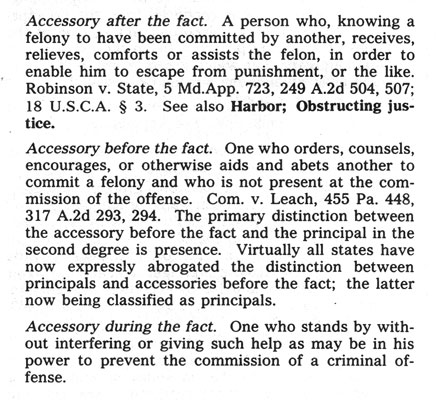 Pelosi Tips Off Illegals on Sunday's Rumored Deportation Raids — Gives 'Legal Advice' on How to Evade ICE Agents. The New York Times reported Thursday [7/11/2019] that the massive deportation operation President Trump delayed two weeks ago will be deployed this Sunday. Trump's deportation operation is targeting illegals who already have deportation orders, yet Democrat leaders are giving them advice on how to evade ICE agents!
Alexandria Ocasio-Cortez Calls Pelosi Racist: 'Singling Out ... Women of Color'. Rep. Alexandria Ocasio-Cortez (D-NY) accused Speaker of the House Nancy Pelosi (D-CA) of racism on Wednesday [7/10/2019], telling the Washington Post that Pelosi was guilty of "the explicit singling out of newly elected women of color." Pelosi and Ocasio-Cortez — also known as "AOC" — have feuded ever since the "democratic socialist" newcomer upset incumbent Rep. Joe Crowley (D-NY), a member of the party's leadership team under Pelosi, in last year's primary race.
Pelosi plays race card in census flap. To get this week off to a nation-splitting start, House Speaker Nancy Pelosi, D-Calif., said this on Monday about President Trump's efforts to ask a citizenship question on the 2020 census: "You know ... his hat? 'Make America White Again.' They want to make sure that people, certain people, are counted." Wow! How insulting. Is Pelosi saying that only white people count as citizens?
Pelosi says Trump is trying to 'Make America White Again' with census question. House Speaker Nancy Pelosi on Monday [7/8/2019] blasted President Trump's push for a citizenship question on the 2020 census as an effort to "Make America White Again" — claiming, "it's not what our founders had in mind." "They want to make sure that people, certain people, are counted," Pelosi said at a press conference in San Francisco that focused on election security. "Just their people vote and not the general population," said the Democratic lawmaker. "That's why they're fighting the census."
ILLEGAL means nothing to Nancy Pelosi.
Pelosi: 'It Shouldn't Be a Crime' to Cross Into U.S. Illegally. The Speaker of the House of Representatives on Thursday [6/27/2019] said it shouldn't be a crime to cross into the United States illegally. "It shouldn't be a crime to have a visa — to have a status violation. If somebody commits a crime or is guilty of a crime, and they're in our country, prosecutorial discretion would warrant that they, or justify that they be sent away," Speaker Nancy Pelosi (D-Calif.) told a news conference. "But you just cannot say — and there's a disagreement — that anybody coming across the border is breaking the law. Not until there's been a determination as to whether they can stay or not. But just because they're coming across the border, they don't."
Pelosi Goes On Record, Says 'What's the Point?' of Enforcing American Immigration Laws. If you're in America illegally, Speaker Pelosi (D-CA) doesn't think you should be deported. This is how radical Democrats have become. Never forget: it's all very strategic. Dems know that if they keep illegals in the U.S. they are likely to earn their votes, therefore keeping them in power.
Pelosi On Enforcing Immigration Laws In U.S.: 'What's The Point?' Speaking at an event in Elmhurst, New York, Pelosi attacked President Donald Trump over the raids from Immigration and Customs Enforcement (ICE) officers that were scheduled to happen over the weekend but were delayed after sensitive information was leaked to the public about the locations of the raids. "When I saw that the president was going to have these raids, I mean it was so appalling," Pelosi said. "It's outside the circle of civilized human behavior to just be kicking down doors, splitting up families, and the rest of that, in addition to the injustices that are happening at the border. We have legislation to go forward to address those needs, but in terms of interior enforcement, what's the — what's the point?" [Video clip]
Democrat Leaders Pelosi and Schumer Caught on Camera Doing Victory Dance After They Thought They Goaded Trump into War with Iran! The leaders of the Democrat Party could not care less about 150 Iranian lives. They couldn't care even less about the fate of our country. Everything, everyday to them, is about power and how to steal it and keep it. Rather than attempting to make America a better place or keeping America great, Democrat leaders are all about power.
Nancy Pelosi Reveals Democrat Fraud Over Mueller Report Drama. House Speaker Nancy Pelosi just announced she'll be taking a look at the Mueller Report for the first time. That's right. She's never actually reviewed the report. Think about that. After months of allowing House Democrats to cry "Impeachment!" against a sitting president over allegations he did something (we're still not sure what any of them are talking about) and raising millions of campaign dollars from low-IQ anti-Trump voters with promises of "making Trump pay" Speaker Pelosi just admitted none of them have actually read the Mueller Report that was made available to them months ago by Attorney General William Barr.
Pelosi blows off AOC 'concentration camp' remarks. House Speaker Nancy Pelosi brushed off comments made by Rep. Alexandria Ocasio-Cortez equating border facilities for migrants to "concentration camps" by saying she wasn't "up to date" on what the New York freshman said. "These members of Congress, they come to represent their districts and their point of view and they take responsibility for the statements that they make," Pelosi told reporters at a Christian Science Monitor breakfast when asked specifically about AOC's comments and whether the speaker had talked to her young members about the "power of their words." "I'm not up to date with her most recent remarks," Pelosi added. "I saw them on the news, but I haven't spoken to her about that."
Pelosi Thinks Americans Are Too Dumb to Understand Impeachment. House Speaker Nancy Pelosi thinks the American people are too dumb to understand impeachment. According to the Daily Beast, Pelosi expressed her condescending opinion about the intelligence of U.S. voters during a closed-door meeting with other House Democrats, whom she is frantically trying to dissuade from impeachment proceedings. In an apparent effort to dampen the enthusiasm of members who represent heavily-liberal districts in which support for impeachment is uniquely strong, she warned them that their constituents don't really comprehend what they're demanding. While that's undoubtedly true of the far-left Democrat base, Pelosi contended that the rest of the country is equally clueless.
Poor Nervous Nancy Pelosi Wants Trump In Jail While He Keeps Winning. Alan Dershowitz criticized Speaker of the House Nancy Pelosi after she reportedly said she wants to see President Trump in prison. "As a liberal Democrat, I am appalled at Nancy Pelosi," Dershowitz, a civil liberties advocate and former Harvard law professor, said Thursday [6/6/2019] on Fox News. "The idea of her weaponizing the criminal justice system and calling for the imprisonment of the President of the United States without him being charged with any crime, without him being charged with any impeachable offense. It's just outrageous." The idea of the most important Democrat in the United States calling for the imprisonment of a president is such core violation of civil liberties, the rule of law, and America justice. She ought to be absolutely ashamed of herself," he said.
Nancy Pelosi needs to stop her endless war against Trump. [Scroll down] The majority of voters understand that Mueller had the time, investigators, and incentive to find any dirt he could. His probe was vast and expensive — he summoned 500 witnesses, issued 2,800 subpoenas and used grand juries and heavily armed agents in search warrant raids. If Trump had broken the law, Mueller would have found it. Forget the noise and legalisms: in a binary world, the president was cleared. So it's past time for the left to get over 2016 and accept that Trump was legitimately elected and is entitled to the full powers of the presidency. Her party's continual denial of that reality is the dry tinder that makes Pelosi's gamble so reckless. Mueller was their best shot and to talk of prison now smacks of third-world countries where there is no peaceful transfer of power.
Famed Liberal Attorney Alan Dershowitz Says Nancy Pelosi "Sounds Like Stalin." Alan Dershowitz has been a Democrat all his life but these days he openly admits it's getting harder and harder to recognize today's Democrat Party — a party that is no longer liberal as much as it is frighteningly authoritarian where radicals demand all others believe as they do and threaten to throw people in prison because they don't agree with their ideas.
Trump is the Democrats' white whale, and Pelosi is Ahab. [Scroll down] Wednesday [6/5/2019], it was Nancy Pelosi claiming she "does not want to impeach President Trump, she wants to see him in jail." There are no words that adequately describe the malevolence of this horrid woman. To call her Machiavellian is too kind. [...] Does Pelosi feel any pangs of regret for her part in all this? Not likely. She is a power broker, first and foremost. She has become fabulously wealthy as a member of the House, like Feinstein and the rest of the Left. Her own city is a disaster of monumental proportions. She could not care less; she does absolutely nothing to fix the situation. She makes it catastrophically worse by encouraging unrestricted illegal immigration. She and her crowd hate Trump so much that they are willing to undo America as founded. Trump is their white whale, and the whale won. Pelosi with her irresponsible rhetoric about wanting to see Trump in jail is exactly the insane and obsessive Ahab.
Nancy Pelosi tells top Democrats that they should be focused on criminal prosecution of the president rather than impeachment. House Speaker Nancy Pelosi has reportedly told top Democrats that she wants to see President Donald Trump 'in prison'. Pelosi's remarks came in a meeting on Tuesday with top House Democrats, including Judiciary Committee chair Jerrold Nadler, who is aggressively pushing for impeachment, Politico reported. 'I don't want to see him impeached, I want to see him in prison,' Pelosi said in the closed-door meeting, multiple Democratic sources familiar with the meeting told the outlet.
Pelosi tells Dems she wants to see Trump 'in prison'. Speaker Nancy Pelosi told senior Democrats that she'd like to see President Donald Trump "in prison" as she clashed with House Judiciary Chairman Jerry Nadler in a meeting on Tuesday night over whether to launch impeachment proceedings. Pelosi met with Nadler (D-N.Y.) and several other top Democrats who are aggressively pursuing investigations against the president, according to multiple sources. Nadler and other committee leaders have been embroiled in a behind-the-scenes turf battle for weeks over ownership of the Democrats' sprawling investigation into Trump.
Pelosi tells Dems she wants to see Trump 'in prison'. Speaker Nancy Pelosi told senior Democrats that she'd like to see President Donald Trump "in prison" as she clashed with House Judiciary Chairman Jerry Nadler in a meeting on Tuesday night [6/4/2019] over whether to launch impeachment proceedings. Pelosi met with Nadler (D-N.Y.) and several other top Democrats who are aggressively pursuing investigations against the president, according to multiple sources. Nadler and other committee leaders have been embroiled in a behind-the-scenes turf battle for weeks over ownership of the Democrats' sprawling investigation into Trump.
Empty words: Why Pelosi is suddenly saying she wants Trump 'in prison'. House Speaker Nancy Pelosi, D-Calif., told senior Democrats this week that she does not want to impeach President Trump, she wants to see him "in prison," according to reports. [...] Pelosi's alleged remarks, which were reported first by Politico, are part of a carefully planted narrative that allows her to look tough on Trump without actually having to do anything about him. The idea is to tell the Democratic base that Pelosi is "with them," without also jeopardizing her party's chances in the upcoming elections.
Impeachment Fever: Democrats whip themselves into a frenzy. With a recent Democratic Party rally in California, and assorted statements from top congressional Democrats on Twitter and elsewhere, it's getting obvious that Democrats are going bonkers on impeaching President Trump. Five things now stand out: [First,] In California, the rally to melt the wicked witch of the West Coast, House speaker Nancy Pelosi, seemed to be having some effect. Pelosi was barraged with loud yelling from Democrats calling for impeachment at her speech to the California Democratic Party State Convention and is now showing signs of caving in. "This is coming home for me," she said. Up until now, she's told the farthest left of the Democrats that impeachment was not worth it and they were playing into Trump's hands, because he was goading them into it. In reality, she was focused on holding her House majority with large numbers of Democrats elected as moderates from red districts who wouldn't last long if impeachment became the only item on the Dem agenda. Now it doesn't matter; the mau-mauing has got to her.
Nancy Pelosi heckled at Democrat Party event by impeachment-hungry Dems. Pelosi was speaking to the crowd about Congress' response to the release of the Mueller report when hecklers silenced her for a few moments. Just as Pelosi was talking about supposed instances of "obstruction of justice" by the president found in the Mueller report, individual voices began yelling, "Impeach!" Pelosi had to halt her speech when many more voices joined in and screamed the same thing.
Exclusive — Thomas Massie Leads GOP to Fight Pelosi's 'Legislative Malpractice'. Rep. Thomas Massie (R-KY) and other House Republicans led a fight throughout last week to combat what Massie calls House Speaker Nancy Pelosi's "legislative malpractice" in an interview with Breitbart News on Thursday [5/30/2019]. Thursday afternoon, Rep. John Rose (R-TN), a freshman Republican congressman, objected to passing a $19.1 billion disaster aid bill by voice vote. The House will likely take the bill up next Monday when Congress returns from recess.
Nancy Pelosi Says the Kennedy Family is 'a Model of Faith'. House Speaker Nancy Pelosi celebrated the Kennedy family as "a model of faith and hope" as she accepted the "Profile in Courage Award" from John F. Kennedy's daughter Caroline Kennedy Schlossberg at the John F. Kennedy Presidential Library in Boston on May 19.
The Editor says...
Mary Jo Kopechne was unavailable for comment.
The Democrats and the Squanderer. Ever since the new Congress was sworn in on 3 January 2019, nearly five months ago, there have been nonstop clown shows led by Democrat leaders of House committees. House rules that were drawn by Speaker Pelosi in late 2018 were specific to target President Trump, leading to impeachment. The plan was sidetracked with the Weissmann-Mueller report findings. It does not matter that there is a crisis at the border.
Douglas Brinkley Fawns Over 'Master' and 'Historic Speaker' Nancy Pelosi. On Thursday afternoon's [5/23/2019] airing of CNN Newsroom, host Brooke Baldwin had on CNN presidential historian Douglas Brinkley, a history professor at Rice University. The liberal media have been obsessively covering the recent jabs between President Donald Trump and Speaker Nancy Pelosi. Brinkley, rather than remaining an objective historian, couldn't help but drool over Pelosi as a partisan mouthpiece and naturally Baldwin had no problem with it.
Levin: Pelosi claims there's something wrong with the president 'as her dentures are slipping out of her mouth'. Thursday [5/23/2019] on the radio, LevinTV host Mark Levin called out Nancy Pelosi's incoherent performance at a press conference earlier Thursday, where she insinuated that President Trump is mentally unstable. "Seems to me he's running circles around these people while they try to destroy him. Seems to me she's the one having a fit and a near-nervous breakdown," Levin said. "How else do you explain the twitching?" "You see, ladies and gentlemen, she's trying to convince you that there's something wrong with the president. He needs an intervention; she's praying for his health — his mental health — as her dentures are slipping out of her mouth. She's put together with screws and glue and toothpaste."
Rein in politicized judges and their injunctions. Federal district judges aren't emperors for the whole United States. Congress and the Supreme Court should both remind them of that reality. By issuing putatively national injunctions, Attorney General William Barr said in a May 21 speech to the American Law Institute: "One judge can, in effect, cancel the policy with the stroke of the pen. No official in the United States government [rightly] can exercise that kind of nationwide power, with the sole exception of the president. And the Constitution subjects him to nationwide election, among other constitutional checks, as a prerequisite to wielding that power." The subject arises because, on issue after issue, liberal district judges have blocked President Trump's executive orders or rules promulgated by his administration.
If You Believe Pelosi and Schumer, I Want to Sell You a Bridge. House Speaker Nancy Pelosi says she's praying for the president. Well, so am I, the difference being that I really am, whereas she's cynically pretending to, to show her mock concern over his mental state. Pelosi, Senate Minority Leader Chuck Schumer and the rest of the congressional Democratic cabal have treated President Trump abominably, and it's getting old. Do they assume Americans have endless patience for their ongoing investigation charade? Consider the latest brouhaha between Trump and the Democratic leaders. They were scheduled to meet at the White House on a $2 trillion infrastructure plan when Pelosi decided to poison the punch bowl.
Lying Nancy Pelosi blames Democrat "cover-up" on Donald Trump. Wednesday [5/22/2019], Democratic House Speaker Nancy Pelosi told reporters she and her party "believe that no one is above the law, including the president of the United States. And we believe that the president of the United States is engaged in a cover-up." The problem? Lying Nancy Pelosi and the Democrats have spent over two years thwarting a duly elected American president while shielding actual left-wing Democrat coup plotters like Jim Comey and John Brennan from closer scrutiny.
The Worst Cover-Up of All Time. President Donald Trump may be guilty of many things, but a cover-up in the Mueller probe isn't one of them. House Speaker Nancy Pelosi, attempting to appease forces in the Democratic party eager for impeachment, is accusing him of one, with all the familiar Watergate connotations. The charge is strange, not to say incomprehensible, in light of the fact that Congress is in possession of a 448-page report produced by the Trump Department of Justice cataloguing the alleged obstruction that Congress now wants to investigate. The report is so exhaustive that many members of Congress haven't had the time to read it.
Democrat Rep. Steve Cohen Questions Nancy Pelosi's Patriotism Over Impeachment And We're Here For It. Democrat Rep. Steve Cohen appeared on CNN today [5/23/2019] (where else?). You'll probably remember Cohen from some of his greatest hits, like slobbering on a bucket of KFC during a hearing in an attempt to call Bill Barr a chicken. Nice work Tennessee. In the past few days, Nancy Pelosi has been desperately trying to tamp down calls for impeachment because she smartly realizes there's no case for it and that it would backfire. Rationality isn't a strong suit of Democrat politics though.
Pelosi's Impeachment Dilemma. The progressives in her party are lining up to demand an impeachment spectacle. They hail from uber-liberal districts, their constituents want Trump's scalp, and they fear inaction will earn them a primary challenge. Even Mrs. Pelosi's wingmen — those who've had her fake-impeachment back — are starting to break. The Washington Post reports that Judiciary Chairman Jerry Nadler is arguing for a formal impeachment inquiry, as are "five members of Pelosi's leadership team." Mr. Beyer surprised nobody when he became the first member of Virginia's delegation to call publicly for formal proceedings, joining at least two dozen other House Democrats. Mr. Beyer represents Virginia's Eighth district, the most liberal in the state, encompassing the Washington suburbs of Alexandria and Arlington.
Pelosi Tries To Play Hamlet On Impeachment. Pelosi would go forward on the trappings of impeachment absent impeachment itself. It would be a continuation of the never-ending soap opera of the last two years of investigation, and media coverage of it, except re-located to Capitol Hill. Though all the while teasing that impeachment may be around the corner if we dig hard enough. "Get the facts to the American people in our investigation" and "it may take us to a place that is unavoidable in terms of impeachment, but we're not at that place," as the Speaker put it. In other words, months and months of "to impeach or not to impeach."
Pelosi Blames Trump Admin for Children Dying after Crossing US Border. Democrat leader Nancy Pelosi on Thursday [5/23/2019] blamed the Trump administration for the deaths of six children who died after crossing into the United States illegally after crossing a cartel-infested Mexican desert.
The Editor says...
Mizz Pelosi is one of America's foremost advocates of unrestricted fetal homicide, so it's obvious she doesn't care about dying children.
Trump Walks Out On Pelosi, Schumer After "Cover-Up" Remarks. "I don't do cover-ups," Donald Trump declared from the Rose Garden, surprising reporters who expected the president to be meeting with Nancy Pelosi and Chuck Schumer. Instead, Trump walked out on the two Democrats after Pelosi accused him of being "engaged in a cover-up."
Nancy Pelosi Was For Merit-Based Immigration Before She Was Against It. On Thursday [5/16/2019], Nancy Pelosi slammed President Trump for proposing immigration reforms that would shift the country toward a more merit-based system. "I want to just say something about the word that they use, 'merit.' It is really a condescending word," she said at her press briefing. "Are they saying most of the people that come to the United States in the history of our country are without merit because they don't have an engineering degree," she scoffed, dismissing the president's idea as "non-merit — it means merit in the eyes of Donald Trump."
Nancy Pelosi Speech: Makes Up Name of City In China, Can't Remember Name Of Group She's Speaking To. Speaker of the House Nancy Pelosi (D-CA) proves once again, why Americans continue to call her level of competency into question. The woman who is third in line to become the President of The United States just stood in front of a room full of union members and completely fumbled through her delivery of basic sentences to the crowd.
House Democrats' 'Equality Act' Is Both Unnecessary And Unacceptable For Religious Liberty. House Speaker Rep. Nancy Pelosi (D-CA) has proclaimed H.R. 5, the "Equality Act," as a top legislative priority for the current Congress. This putatively anodyne but actually harrowing piece of legislation would not only add sexual orientation and "gender identity" protections to our nation's civil rights laws, but would browbeat religious dissenters into submission without any remotely resembling proper dispensations.
Pelosi goes from 'we'll accept 2020 outcome' to 'we can't accept a second term for Trump'. On Tuesday [5/7/2019], House Speaker Nancy Pelosi told an audience at the Cornell Club in New York City that if Donald Trump wins a second term in 2020, Democrats would not question the outcome of the election, adding, "That's not who we are." "Oh, I think we have to respect the vote of the people," she went on to say. "Winning an election is a decision." What makes this statement laughable is that since Election Night in 2016, Democrats have done nothing but complain about the outcome of the election. From crowds of disappointed voters holding up signs reading "Not my president" to Hillary Clinton's pathetic whine-athon to Democratic candidates like Stacey Abrams refusing to concede elections that they lost, Democrats have come off as pathetic children. Why any sane person would believe that they intend to take the high road in 2020 is a riddle for the ages.
The Real Democratic Agenda. Democrats have a problem. The base wants to impeach President Trump, ASAP, but the public does not. Indeed, Trump's approval rating is the highest it's been in the Gallup survey, right around Obama's at this point in his term. The brute facts of public opinion suggest that the impeachment of Trump would look more like Bill Clinton's trial than Richard Nixon's. Not only would Trump remain in office; the backlash might deprive the Democrats of their 17-seat House majority. For months, Nancy Pelosi's solution has been to walk right up to the line of impeachment without actually crossing it. Unleash committee chairmen to fire their subpoena cannons in every direction. Make unrealistic demands of Attorney General Barr. Have Swalwell and Lieu and the rest of the cable gang keep alive the conspiracy theory that the Trump campaign was in criminal cahoots with Russia. Drag out the process into next year, when a weakened and bedraggled Trump faces the eventual Democratic nominee. That way Pelosi gets the political benefits of impeachment without the costs.
Does President Trump Want to Be Impeached? As is her party's wont, Pelosi is portraying her caucus as the victims of a president and his "deplorable" supporters. This is despite the fact the Democrats have spent more than two years merrily smearing them all as treasonous, racist, and sundry other vile, baseless epithets. Even if Pelosi is oblivious, President Trump and his base are keenly aware of this. [...] Do not make the mistake of assuming that because Nancy Pelosi's propositions are illogical and, thus, political, they won't be efficacious to her party's aims. The fact that she is no long[er] Minority Leader Pelosi results from the 2018 midterm elections, wherein House Democrats were rewarded with a majority for their divisive, duplicitous smears of President Trump, his supporters, and the Republican majority. And you can be absolutely certain that, if it is believed to be in their cynical interests, House Democrats will impeach President Trump.
House Conservatives Sound Alarm In Letter To Pelosi. This week, conservative favorite freshman congressman Rep. Chip Roy (R-TX) spearheaded a stirring letter that sounds the alarm on the dire fiscal situation currently facing the United States federal government. [...] As Conservative Review explains, the Budget Control Act of 2011 — known in D.C. circles at the time as "sequestration" — "was originally passed with enforcement mechanisms to control spending and the debt." Since then, however, it has been a bipartisan recurring Washington habit to continually raise spending limits and the debt ceiling. Rep. Roy, since joining the House in January, has consistently been the conservative firebrand that many predicted he would be.
Pelosi Says There May Be Additional Contempt Citations. House Speaker Nancy Pelosi (D-Calif.) told a news conference on Thursday that she agrees with House Judiciary Chairman Jerrold Nadler (D-N.Y.) that the nation is in a constitutional crisis, and she hinted that more contempt citations may be coming against the Trump administration: On Wednesday [5/8/2019], Nadler's committee voted to hold Attorney General William Barr in contempt, and that recommendation now goes to the full House. [Video clip]
House Speaker Nancy Pelosi: 'We Are a Superior Branch' of Government. "I think we are a superior branch," House Speaker Rep. Nancy Pelosi (D-Calif.) declared Wednesday [5/8/2019]. In an interview with Washington Post Live, Pelosi was asked if Congress is currently functioning as a coequal branch of government — to which, Pelosi responded that her Legislative branch (Congress) is "superior" to the Executive and Judicial branches.
Pelosi claims Congress is a 'superior branch' of government. House Speaker Nancy Pelosi on Wednesday declared that Congress is a "superior branch" of government, as the clash between congressional Democrats and the Trump administration over closely held documents intensifies. During an interview with Robert Costa for Washington Post Live, Pelosi, D-Calif., was asked whether Congress is functioning as a coequal branch of government. "I think we're a superior branch, quite frankly," Pelosi said. "We have the power to make the law and the president enforces the law. So we have a big role. We're closest to the people and we have a big role to play."
Here come the hanging chads and the lawyers.
Pelosi: We Cannot 'Accept' a Second Term for Donald Trump. Tuesday [5/7/2019] at an event in New York City hosted by Cornell University's Institute of Politics & Global Affairs, House Speaker Nancy Pelosi (D-CA) said Democrats could not "accept a second term for Donald Trump." Pelosi said, "We have to make sure — this will sound political but we have to make sure that the Constitution wins the next presidential election. We can't be worrying about well, how long is this going to take? Well, that will take as long as it does. [...]"
Judgment Day [is] coming for Democrats. All standards of decency have been thrown out the window in the leftists' mission to stop Trump from restoring America's greatness and to remove him from office. Vitriolic disrespect for Trump and his family, even death threats, are acceptable. Wicked Democrat Nancy Pelosi outrageously claimed that Barr lied, committing perjury during the hearing. Pelosi knows that fake news media will promote her absurd charge against Barr as the truth.
Nancy Pelosi Projects. Nancy Pelosi is trying to prevent the Democratic Party from driving off a left-wing cliff. That makes sense from her perspective and is probably good for the country. But these days, even an attempt to be moderate brings out the crazy in the Democratic Party.
Nancy Pelosi fears Trump won't 'respect the election' if he loses by a small margin in 2020 and says the President will 'poison the public mind'. Nancy Pelosi is already anticipating that Trump will not be gracious in defeat if he loses the 2020 presidential election by a slim margin. Speaking to the New York Times, the Speaker of the House says that the Democrats need to win by a landslide so Trump will step down from the presidency without challenging the results. 'If we win by four seats, by a thousand votes each, he's not going to respect the election,' Pelosi says. 'We have to inoculate against that, we have to be prepared for that.'
Bill Barr And The Justice Department Don't Seem All That Concerned About Nancy Pelosi's Temper Tantrum. The FBI director is an appointee of the President and serves "at the pleasure" of the President. When the President stops being pleased, he can tell the FBI director to pack his [stuff] and get out of the area. This can be done for cause or it can be done because the Presidential eggs weren't cooked properly. In the case of Comey, however, firing him has become an alleged instance of Trump obstructing justice... never mind the new FBI director, the special counsel, the 670 day hoax investigation, the 400+ page report. In fact, Volume Two of the Mueller report is chock full of banal and mundane things that Mueller, his henchmen, and the Democrats want to criminalize just because they don't like them.
The Pelosi Preakness. [T]here really is no excuse for Baltimore to be the mess of a city it has become. A lot of American cities, big and small, have lost out in the postindustrial shifts of the last 60 years. But Metro D.C. is recession-proof, and ever growing. The vast stretches of east and west Baltimore that lie abandoned could be condemned, razed, and replaced with condo towers and market-rate apartments to serve the bevy of white-collar workers who could find these areas convenient. But that's beneath the Baltimore politicos. They spend their time worrying about high-profile projects like sports stadiums, and of course, municipal graft. Which brings us to Nancy Pelosi. Her dad, "Big Tommy" D'Alesandro, was Baltimore mayor throughout the 1950s and was a legendary crook. He made a lot of money, but his public career cratered over charges of kickbacks. His son was also mayor of Baltimore and likewise left public life under a cloud, especially for his inept leadership in the 1968 Baltimore riots. The ensuing white flight killed off what had been a substantial GOP base in the town, leaving Charm City a fiefdom for crooks and incompetents. Little Nancy was part of the graft from the beginning, even helping Big Tommy keep his account book of "favors done and owed". When the Pelosi family moved to San Francisco, Nancy brought the Baltimore touch to the Bay area, pulling out the brass knuckles to raise funds for Jerry Brown's Democrats and winning a congressional seat.
Trump has obstructed justice 'on a daily basis', claims Nancy Pelosi. President Trump has 'demonstrated on a daily basis his obstruction of justice', House Speaker Nancy Pelosi has declared. The Democrat also said Trump's Attorney General William Barr would be 'obstructing Congress' if he refused to testify before the House on the Mueller report this week. Barr is due before the House on Thursday [5/2/2019] but has signalled he may not appear if Democrats try to have him questioned by committee lawyers.
Pelosi Seems To Think She Has A Law Degree Based On What She Just Said About AG Barr. According to House Speaker Nancy Pelosi (D-CA), if Attorney General William Barr refuses to testify before the House Judiciary Committee on Thursday, he would be "obstructing justice." "The attorney general of the United States is not the president's personal lawyer, and he should act as the attorney general of the United States and honor his responsibilities," Pelosi said. Speaker Pelosi's comments come after Attorney General Barr said he would not appear before the House Judiciary Committee if Chairman Jerry Nadler (D-NY) decides to allow Committee party counselors to cross examine him.
Half-full or half-empty?
Pelosi: In Ocasio-Cortez's District, 'Glass of Water Would Win With a D Next to Its Name'. On a trip to the U.K. Speaker of the House Nancy Pelosi dismissed the idea of democratic socialist Rep. Alexandria Ocasio-Cortez (D., N.Y.) being representative of the Democratic Party. Pelosi addressed questions about how to handle the left wing of her party in the House during a talk with London School of Economics and Political Science, and she said Ocasio-Cortez needs to understand she cannot set the agenda. She implied Ocasio-Cortez is failing to appreciate how Democrats need to appeal to the rest of the country, saying the freshman congresswoman's district could be won by any purported Democrat — living or otherwise.
Democrats and toxic media at their worst. The left and its compliant media are willfully reporting false news to the American people. Whether it is a symptom of mass hysteria that is the genesis for this confirmation bias-style reporting or an intentional maneuver to spread anti-Trump propaganda, its effect is toxic and pernicious. The report comes in the form of a tweet making its way through the Twitter-sphere in which a user named Mark Elliott has posted a video of Donald Trump who he contends is referring to migrants at the border as "animals." [...] The president's words were clearly relating to the murderous gang MS-13 and not innocent migrants. The exchange first became a controversy last year when House Minority Leader Nancy Pelosi mischaracterized the remarks.
Pelosi: 'It Is Deeply Alarming That the Trump Administration Official Who Put Children in Cages Is Reportedly Resigning Because She Is Not Extreme Enough'. House Speaker Nancy Pelosi (D.-Calif.) said in a statement Monday morning "that it is deeply disturbing" that Homeland Security Secretary Kirstjen Nielsen is resigning because she is "not extreme enough for the White House's liking." "It is deeply alarming that the Trump Administration official who put children in cages is vreportedly resigning because she is not extreme enough for the White House's liking," said Pelosi. "The president's dangerous and cruel anti-immigrant policies have only worsened the humanitarian suffering at the border and inflicted vast suffering on the families who have been torn apart," Pelosi said.
The Editor says...
[#1] The president's efforts against illegal immigration are merely an attempt to enforce the law. There is nothing dangerous or cruel about keeping invaders and freeloaders out of this country. [#2] If there is any "humanitarian suffering at the border," it is entirely the fault of the Central American opportunists who have been lured to the north by the aroma of food stamps, AFDC, and an excessively-high minimum wage. [#3] Many of "the families who have been torn apart" are not families at all.
Pelosi: Asking People if They Are Citizens Serves 'No Legitimate Government Objective'. House Speaker Nancy Pelosi (D.-Calif.) put out a statement Monday [4/1/2019] supporting an amicus brief filed with the Supreme Court by the Democrat-controlled House of Representatives arguing that the Census Bureau should not be permitted to ask people in the 2020 census whether they are citizens of the United States. [...] "The Department of Commerce's proposed citizenship question[] is both unlawful and unconstitutional, violating the Census Act as well as the clear constitutional mandate of an 'actual Enumeration' of the people in our country in a way that is accurate and nonpartisan," Pelosi said. "This question, by the Commerce Department's own calculations, would reduce the accuracy of the 2020 decennial Census, while providing no legitimate government objective." "Instead," Pelosi said, "it would inject fear and distrust into our most vulnerable communities, potentially making traditionally undercounted communities even further under-represented, financially excluded and left behind."
The Editor says...
A non-citizen is entitled to less consideration and privilege than a second-class citizen. There are no "undercounted communities." It is not unreasonable to survey the population looking for illegal aliens. Illegal aliens should be under-represented in Congress. They are not supposed to be represented at all. That's what this whole issue is about.
Nancy Pelosi's bid to override President Trump's veto on halting the wall fails. Nancy Pelosi is the most popular Democrat among Democrats, owing to her perceived capacity to fight and win against President Trump, particularly over the border wall issue. Seriously, one poll showed her ranked as number one, more popular than any of the Democrats running for president. [...] Her record, actually, is one of miserable failure. She did achieve a government shutdown for more than a month in her bid to halt a desperately needed border wall as the migrant surge sends tens of thousands of unvetted illegal aliens into the country with as many as five million on the way.
Obama and Pelosi Rally the Troops. Nothing that happens with professional leftists is organic; everything is always planned, organized, astroturffed, constructed and schemed. Club officials control everything; plan everything; organize everything; and then enlist specific groups of designed foot-soldiers. This is what they do. This is all they do. This is all they know how to do. It might seem subtle, but Team Trump has them off-balance. How far off-balance? Well, remember, they were planning for a sequence. The current objective, an increasingly difficult challenge, is to solidify the launch platform for the chosen one.
Nancy Pelosi, your excuses for Democrat anti-Semitism are un-American. Last week's House resolution began because of clear and unequivocal anti-Semitic comments by Rep. Ilhan Omar, D-Minn., a Somali-born Muslim who has been called to account before on her anti-Semitism by Jewish leaders in her own district. But Speaker Pelosi tried to act as though Omar was simply unaware that her comments would be taken as anti-Semitic and therefore should be given a pass. The Islamist activist Omar is an anti-Semite because she is an Islamist activist. Pelosi has held positive views of the mutual enemies of Israel and America.
Reporter Asks Pelosi What Beto O'Rourke Has Accomplished. She Can't Answer. House Speaker Nancy Pelosi struggled to name a single accomplishment that former Rep. Beto O'Rourke (D-TX) had while he was in the House of Representatives when she was asked by a reporter on Thursday [3/14/2019] during a press conference. "Beto O'Rourke announced today that he is running for president," NBC News' Kasie Hunt said. "What in your view was Beto O'Rourke's signature accomplishment as a member of the House?" "Beto brought vitality to Congress... when he came, he came as a real champion for the environment," Pelosi responded. "He got a great deal of support from the environmental community in his district, he won a primary on that subject."
Nancy Pelosi just admitted that Democrats have nothing on Trump. House Speaker Nancy Pelosi announced Monday [3/11/2019] that she's against impeaching President Trump "unless there's something so compelling and overwhelming and bipartisan." Which is exactly the point — there isn't. The speaker is surely up to speed on what evidence Democrats actually have against Trump and has a fair sense of what Special Counsel Bob Mueller's report will say. And she recognizes that it's nothing that will persuade anyone who hasn't wanted Trump ousted since Election Day 2016.
Pelosi: Border emergency fight is about Trump, not presidential powers. Speaker Nancy Pelosi said Thursday the House will not take up a new Senate GOP bill to curb the National Emergencies Act, saying her goal is to constrain President Trump, not to tackle the bigger presidential powers issues. "Republican Senators are proposing new legislation to allow the president to violate the Constitution just this once in order to give themselves cover," she said. "The House will not take up this legislation to give President Trump a pass."
How Petty Is Nancy Pelosi? This Petty. We understand that the Democrats are all about the #RESIST movement now and doing everything they can to be confrontational when it comes to the White House. But couldn't we at least pretend for a while that the co-equal branches are all playing for the same team? This was a petty, snide move on Pelosi's part and she comes off looking much smaller for it.
Pelosi Says She Personally Supports Lowering The Voting Age To 16. House Speaker Nancy Pelosi said at her weekly press conference Thursday [3/14/2019] she personally would support lowering the national voting age to 16. "I myself, personally, I'm not speaking for my caucus, I myself have always been for lowering the voting age to 16," Pelosi said when asked by The Daily Caller about her thoughts on the issue. "I think it's really important to capture kids when they're in high school when they're interested in all of this when they're learning about government to be able to vote." "Some of the priorities in this bill are about transparency and openness and accessibility, and the rest," she added. "That's a subject of debate but my view is that I would welcome it, but I've been in that position for a long time."
Pelosi Says She'd Personally Welcome Lowering the Voting Age. At a news conference on Thursday [3/14/2019], House Speaker Nancy Pelosi (D-Calif.) was asked if she approves of lowering the voting age to 16. "I myself — I'm not speaking for my caucus — I myself have always been for lowering the voting age to 16. I think it's really important to capture kids when they're in high school, when they're interested in all of this, when they're learning about government, to be able to vote."
Pelosi's War with the Impeachment Hotheads. Speaker Pelosi and her party are no longer on the same page. Mrs. Pelosi's recent revelation that she's not for impeachment directly contradicts the political priorities of many — if not most — on the American left. Recent actions by House Democrats make this clear. By most indications, number one on the progressive agenda is not national security, the economy, jobs, health care, education, abortion, or even the climate. The highest priority for many congressional Democrats and their base is the impeachment of President Trump.
Pelosi: 'We Take Great Pride in Serving With a Record-Breaking Ten LGBTQ Members in the Congress'. House Speaker Nancy Pelosi said at a press conference on Wednesday [3/13/2019] — introducing H.R. 5, which prohibits discrimination on the bases of sexual orientation — that she is proud to serve alongside a record 10 LGBTQ members of Congress. "We take great pride in serving with a record-breaking ten LGBTQ Members in the Congress," Pelosi said. "We are happy about that."
Nancy Pelosi Rules Out Impeachment: Trump 'Just Not Worth It'. House Speaker Nancy Pelosi (D-CA) is ruling out impeaching President Donald Trump, arguing in an interview with the Washington Post Monday [3/11/2019] that "he's just not worth it." "Impeachment is so divisive to the country that unless there's something so compelling and overwhelming and bipartisan, I don't think we should go down that path, because it divides the country. And he's just not worth it," Pelosi told the Post.
Splitsville:
AOC, other Dems break with Pelosi on impeachment: 'I happen to disagree'. House Democrats aren't giving up on attempting to impeach President Trump, even though Speaker Nancy Pelosi all but dismissed it in an interview published Monday [3/11/2019]. "I happen to disagree with that take," Rep. Alexandria Ocasio-Cortez, D-N.Y., told the Washington Examiner Monday night, responding to the Pelosi interview. "But you know, she's the speaker. ... I think we'll see." Pelosi told the Washington Post she doesn't support the House trying to impeach Trump. "He's just not worth it," the California Democrat said in the interview.
The Democratic Crackup. Few things have benefited Democrats more in the past few years than the Donald Trump show. The president likes to be the center of attention, and the media likes nothing more than to oblige him. This dynamic helped make the 2018 election a referendum on the man himself rather than his policies, and that made Mrs. Pelosi speaker of the House. Democrats envisioned the same dynamic helping them win the White House in 2020. Mrs. Pelosi has been to that rodeo before, after the 2006 election, when she was first elected speaker. She mobilized her committee chairmen to launch focused investigations to keep the spotlight on George W. Bush's Iraq war, energy policy, detainee treatment, etc. She corralled a diverse caucus to pass a modest agenda, "Six in '06," that showed Democrats could get things done but didn't put them in the limelight, much less make them look crazy. This paved the way to the election of Barack Obama in 2008, and Democrats figured Mr. Trump would make a repeat even easier.
Why isn't Pelosi getting tough on Democrats like Ilhan Omar? Her majority is at stake. The speakership of the U.S. House of Representatives is the most powerful job on Capitol Hill. Either directly or indirectly, the speaker controls the process by which members receive their committee assignments. This is a political life or death moment for some members; the Kansas lawmaker who doesn't get on the Agriculture Committee is unlikely to survive. The speaker also controls the legislative process through the all-powerful Rules Committee that decides what bills the House will vote on. Why then, is Speaker Nancy Pelosi so hesitant to use her awesome powers to rein in a raucous group of freshman Democrats who are challenging her leadership, and whose antics threaten the political future of many of their colleagues?
Speaker Nancy Pelosi riles Texas conservatives with 'ground zero' comment. There's a reason House Speaker Nancy Pelosi's face shows up in Republican ads and solicitations at election time: She is the GOP's favorite villain, bar none. In a Politico/Morning Consult poll two weeks ago, Pelosi's unfavorable rating was 86 percent among supporters of President Donald Trump.
Pelosi: 'When You Leave This Earth and Go to Heaven and Meet Our Founders, Are You Going to Say to Them...'. House Speaker Nancy Pelosi (D-Calif.) said at a press conference with Rep. Lloyd Doggett (D.-Texas) on Tuesday [3/56/2019] that she sometimes told people — presumably administration officials — that they ought to imagine "when they go to heaven and meet our Founders" and try to explain to them why they wanted the Census to ask people whether or not they were citizens.
The Editor says...
On the day when Nancy Pelosi meets her maker, the census will be irrelevant. I suspect she will spend a lot of time answering questions about her enthusiastic support of abortion.
Nancy Pelosi Goes Bonkers After GOP Embarrasses Her In Gun Control Vote. Today, the House achieved final passage of a bill that strives to essentially ban firearms sales between private persons within the United States. What made this bill notable was two things. First, the bill prohibited federal firearms license holders from notifying law enforcement when an illegal alien attempted to buy a firearm (see Democrats Demand Citizens Submit To Background Checks, But Prevent Same For Illegals). Second, the Democrats, despite being in the majority, got [...] spanked by the GOP.
Pelosi tells moderate Dems to stop voting with GOP. House Democrats held an emotional debate behind closed doors Thursday over how to stop losing embarrassing procedural battles with Republicans — a clash that exposed the divide between moderates and progressives. Speaker Nancy Pelosi (D-Calif.) took a hard line at the caucus meeting, saying that being a member of Congress sometimes requires taking tough votes.
Speaker Pelosi Freezes, Slurs Her Words as She Takes a Shot at Trump. House Speaker Nancy Pelosi (D-CA) struggled and slurred her way through a presser on Thursday as she took a shot at Trump's meeting with North Korean leader Kim Jong Un. President Trump walked out of his second summit with North Korean tyrant Kim Jong-un on Thursday. The US presented evidence of additional nuclear sites which stunned the North Korean delegation. President Trump walked away early after a deal could not be reached. Pelosi criticized the President on Thursday for his efforts to negotiate the denuclearization of the Korean Peninsula — something that no US president before him was able to accomplish.
The Bogeyman Isn't Real. Speaker of the House Nancy Pelosi is countering President Donald Trump's use of a presidential declaration of a national emergency to build a border wall by ominously predicting [...] that some future Democrat president will use a similar declaration to attack things conservatives hold dear. She did it with a smirk and smug chuckle worthy of someone who has just snatched enough Dalmatian puppies to make a very comfy coat. Don't be surprised but Madame Speaker is being disingenuous. If Trump hadn't declared a national emergency, it wouldn't have reduced the likelihood of a future Democrat president declaring one for whatever he thought to be an emergency. As Barack Obama's weaponizing of the IRS, the FBI, and other federal agencies demonstrated, power placed in Democrat hands is used whether doing so is in keeping with statesmanly tradition, is ethical, or is even legal. So, we can confidently predict, that like the sun rising tomorrow or Rep. Alexandria Ocasio-Cortez saying something nutty, a Democrat president will do whatever it takes to advance the Democrat agenda.
Pelosi Saluted Victory by Wishing Everyone a Happy Thanksgiving. Nancy Pelosi, our House Speaker, was thrilled when the spending bill was passed. She told the staff and the press, "We saluted our victory — or the victory for the American people — earlier with chocolate. Chocolate from California, I call it the champagne of chocolate. So again, I wish you all a Happy Thanksgiving. You should go home now to your loved ones." The only problem with that is it was Valentine's Day. [Video clip]
Nancy Pelosi wishes everyone a 'Happy Thanksgiving' on Valentine's Day. House Speaker Nancy Pelosi is in her later years, but that's OK, since plenty of others in the government are older, including President Donald Trump. What's maybe not OK — and if anything rather concerning to some — is Pelosi's habit of mispronouncing words, suffering brain freezes and getting the most basic details wrong.
Angel Families March on Nancy Pelosi's Office: 'Build That Wall'. Angel families stormed into House Speaker Nancy Pelosi's office again Wednesday [2/13/2019] with calls to secure the U.S. southern border, but they were turned away yet again. Americans whose loved ones have been killed by illegal aliens flooded into the office with questions as to why their many requests for meetings with the Speaker went unanswered. Front office staff had little to offer in the way of an answer and wouldn't give an idea of when so much as an aide would be available to meet with the families.
Furious Pelosi uses 2nd Amend to make veiled threat over Trump's national emergency, then tries to walk it back. Being left with few options by a dysfunctional Congress incapable of acting outside party interests, President Donald Trump is reportedly set to declare a national emergency on the porous southern border to secure funding to build a wall. And while the president can honestly say he did everything possible to work with the corrupt DC political class to deliver a solution to a crisis Democrats and their media allies refuse to acknowledge, the one lawmaker who has become the face of the effort to obstruct Trump's plans to enhance border security is threatening Republicans who support the decision.
Nancy Pelosi gives DACA kids the shiv. House Speaker Nancy Pelosi lived up to her "cut your head off and you won't even know you're bleeding" characterization from her own daughter in the upcoming border deal, and not just for Republicans. It's not just that the badly needed funds for a border wall were slashed to a mere $1 billion. (As a means of comparison, the California bullet train got $77 billion allotted for its construction, with an easy $3 billion of that from the feds.) Actually, the DACA kids got nothing. The border wall for the DREAMers deal, sometimes put forward by President Trump as a means of sweetening the wall funding for the Democrats, didn't figure in the recently completed negotiations for government funding. What did get through as the magic bargaining chip for the meager wall funds was something far more disturbing: expanded catch-and-release.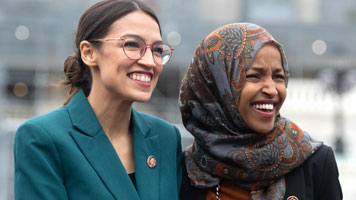 Pelosi's Untouchables. Reps. Ilhan Omar, D-Minn., Rashida Tlaib, D-Mich., and Alexandria Ocasio-Cortez, D-N.Y., are becoming examples of a new super-class of human being, riding roughshod over all their peers, proudly displaying their ignorance of, and hatred toward, all things American. They are Pelosi's Untouchables. Deriding the traditional patriotism and conservatism of the American people, the socialist club in Congress spews kook theology, far-left ideology, and outrageous cultural Marxism. They are the tip of the sword that will skewer this nation and engulf us all into a prolonged civil war based on race and religion. And Pelosi is allowing all of it.
Nancy Pelosi Defends Ilhan Omar with Lie About 'Jew-S-A' at Trump Rallies. Speaker of the House Nancy Pelosi (D-CA) defended Rep. Ilhan Omar (D-MN) on Wednesday [2/13/2019] by claiming, falsely, that Trump supporters had chanted "Jew-S-A" at his campaign rallies and he "never distanced himself." CNN's Elizabeth Landers asked Pelosi to respond to a statement by Vice President Mike Pence on Tuesday in which he called Omar's Monday apology for antisemitic rhetoric "inadequate," and said she did not belong on the House Foreign Affairs Committee:
Pelosi Warns That A Future Democratic President Could Declare National Emergency To Push Gun Control. House Speaker Nancy Pelosi warned President Donald Trump on Thursday [2/14/2019] that a future Democratic president could declare a national emergency to achieve an agenda, such as gun control policy. Responding to the president's announcement that he will declare a national emergency related to the U.S. southern border, Pelosi maintained that "Democratic presidents can declare emergencies as well. So the precedent that the president is setting here is something that should be met with great unease and dismay by the Republicans."
The Editor says...
If ever there was a Democrat president who wanted to outlaw guns by issuing an executive order, it was Barack Obama.
Rep. Judy Chu Says Speaker Nancy Pelosi Should Not be Required to Release Her Tax Returns. Rep. Judy Chu (D-Calif.) said House Speaker Nancy Pelosi (D.-Calif.) should not be required to release her income tax returns, although Pelosi and House Democrats want to legally require President Donald Trump and Vice President Mike Pence to release their tax returns under H.R. 1. On Thursday on Capitol Hill, CNSNews.com asked Chu, "Under H.R. 1, Speaker Pelosi would require the president and the vice president to release their tax returns. Do you think Speaker Pelosi should be required to release her tax return as well?" Chu said, "No, I don't think so, because I — unless she's running for president."
Left may target Pelosi. Pelosi just made a historic return to the speakership after roaming eight years in the backwaters of Washington. But she finds herself in the same place John Boehner was in eight years ago when 63 freshmen congressmen swept him to power. Most were Tea Party people who had this radical idea that we should repeal Obamacare. Pelosi took notes. She has largely headed off her radicals. Unlike Boehner, her passions are smokes, booze, and golf. She likes power. She also likes belittling her opponents.
Trump's Wall and a Plan to Stop Cartels at the Border. If you've been thinking Trump Derangement Syndrome couldn't get any worse, consider the Democratic Party's position on border security. Sitting behind President Trump during his State of the Union speech on Tuesday, House Speaker Nancy Pelosi (D-Calif.) spent much of the evening making faces at the back of his head. [...] Pelosi opposes a wall or anything else that discourages illegal aliens from getting into the country and staying here (preferably in red states, where they can do her party the most political good). By itself this would be bad enough. But the same dangerously inadequate approach she and most Democrats favor for human traffic is also responsible for the record amount of illicit drugs pouring across the border, not to mention the epidemic of crime and drug-related deaths that comes with them.
This is exactly what Nancy Pelosi was hoping to avoid, by stonewalling the SOTU speech:
President Trump Approval Rating Jumps to 49% Following Brilliant State of the Union Speech. President Trump holds a 49% approval rating today after nearly two years into his first term despite a continued barrage of fake news and vicious media attacks. This comes after a brilliant State of the Union speech that enjoyed 76% approval rating with the American public. President Trump is tied with Barack Obama at the same point in his presidency despite the fawning press for the former president.
Pelosi Outsmarted Herself on the SOTU. When House Speaker Nancy Pelosi withdrew her original State of the Union invitation, preventing President Trump from delivering the address as scheduled on January 29, she was probably surprised when he responded with such calm forbearance: "This is her prerogative. I will do the address when the shutdown is over." By the time Trump finished the rescheduled speech Tuesday evening [2/5/2019], she no doubt understood that her petty political ploy had been a blunder. Trump, being no mean showman, had long since realized that the highly publicized delay would increase public interest in the speech — and that is precisely what happened.
Donald Trump's Annihilation of the Democratic Party. The Democratic House of Representatives has taken its stand on immigration. Led by Speaker Nancy Pelosi (D-Calif.), they claim to favor border security but are reluctant to do anything to reduce the flow of illegal immigrants. The entire Democratic media echo chamber has gone to maximum decibel levels denouncing the time-honored solution of an "immoral" wall, and claiming the problem is wildly exaggerated and chiefly occurs at airports. They are backing themselves into the corner of "sanctuary cities" where police are instructed to ignore federal immigration laws and census-takers are enjoined from asking the citizenship of the country's residents, as the Constitution requires.
Nancy Pelosi Keeps Quoting Her Favorite Bible Verse. The Mystery: It's Not Actually in the Bible. Pelosi got one thing right: She does in fact "quote it all the time." The earliest example I found comes from the Congressional Record in 2002, in a speech honoring a prominent Catholic priest in San Francisco who had recently died. "The Bible tells us that to minister to the needs of God's creation is an act of worship," she said on the House floor. "To ignore those needs is to dishonor the God who made us." It's the next best thing to the Prophet Isaiah himself appearing on the House floor. Between 2002 and 2018, the quote appears 12 times in the Congressional Record, with Pelosi responsible for all but one of the entries. (The other time, Texas Republican Louie Gohmert was quoting Pelosi.)
Can moderate Dems talk Pelosi out of her extreme position in the border negotiations? As things stand now, a House and Senate conference committee is the only hope that Democrats and Republicans can reach agreement on border security and avoid another government shutdown. The negotiations — such as they are, for a committee that has met briefly only once in more than a week — are ostensibly between Republicans and Democrats. But well-informed Republicans believe it is another set of talks — internal talks among Democrats — that will determine whether the committee succeeds and a shutdown is averted. "This is not a negotiation between Republicans and Democrats," said one GOP lawmaker who is keeping close tabs on the process. "This is a negotiation between rank-and-file Democrats and Nancy Pelosi."
America does not need to be rebuilt. It only needs to have its intentional destruction halted.
Pelosi: We Will be 'Raising Wages by Rebuilding America With Green, Modern Infrastructure'. House Speaker Nancy Pelosi (D.-Calif.) said in a statement put out Friday [2/1/2019] in recognition of Black History Month that House Democrats will be pushing a "For the People" agenda that will include raising wages by building green infrastructure. "And we are pushing forward a bold, ambitious agenda For The People to make good on the promise of the American Dream for everyone by lowering the cost of health care and prescription drugs, raising wages by rebuilding America with green, modern infrastructure, and strengthening our democracy by ensuring that our government works for the public interest, not the special interests," Pelosi said.
A growing record of insanity. It's hard to keep up with the tsunami of cultural and economic insanity thundering through a thousand outlets every day, but here's a try. [...] House Speaker Nancy Pelosi mocks the idea of securing America's southern border as something only a bigot like President Trump would want. Hence, she and her party oppose even a dime for any more physical barriers that would help the border patrol stem the ongoing invasion of illegal immigrants. Three more caravans on the way? Ho hum. Openly socialist Rep. Alexandria Ocasio-Cortez, New York Democrat, wants not only open borders but to abolish the U.S. Immigration and Customs Enforcement (ICE), which is charged with keeping us safe from drug dealers and violent criminals. She also backs a confiscatory tax scheme with rates as high as 70 percent, free college tuition and a "Green New Deal" mandate that would strangle industry, cause energy costs to skyrocket and make blackouts common. She's a huge hit wherever she speaks.
Nancy Pelosi: Replacing "Normandy Barriers" with "Normandy Fencing" is OK — Not a Wall. House Speaker Nancy Pelosi starts shifting the semantic granules to avoid a political loss. The financing for, and construction of, a see-through fencing system (Trump's position) is the request of DHS and Border Patrol, and supported by the vast majority of Americans. Today, Speaker Pelosi starts by claiming no wall will ever be permitted, then garbles her way through a pretzel response by saying "Normandy Barriers" being replaced by "Normandy See-Through Fencing", is ok. She's trying to avoid a political loss.
Pelosi on Jobs Report: 'GOP Attitude Disrespects Workers, Dishonors Our Values and Damages Our Economy'. House Speaker Nancy Pelosi responded to a January employment report that showed "nonfarm payroll employment increased by 304,000" during the month by issuing a statement attacking congressional Republicans for embracing an attitude that "disrespects workers[.]" Pelosi also lamented the situation of federal workers, who, even if they were furloughed during the partial shutdown that ended on January 25 were paid for the time they did not work. Also, the jobs report showed that the federal government added 1,000 workers during the month.
The Editor says...
If Ms. Pelosi thinks the Republicans' attitude is damaging the economy, and all the stuff Obama did was helping the economy, she has lost her mind.
Pelosi attempted a coup? Some very peculiar signs point to this. [Scroll down] We know the media hates the President, and spends much of its time in a mindless rage over his existence. The real question is, probably, therefore, this: How many assassination attempts have been tried against President Trump? The second video says 12. Why do we not know about them?
Pelosi: If Asylum-Seekers Illegally Cross Border into US, 'That's Okay Too'. Foreign nationals who enter the United States — even crossing the border unlawfully between ports of entry — have the right to seek asylum, "under international law and any sense of decency," House Speaker Nancy Pelosi (D-Calif.) said on Wednesday [1/30/2019]. Addressing leaders in Christian higher education on Capitol Hill, Pelosi said the U.S. is doing the "minimum" when it comes to helping people seeking refugee status and claiming a credible fear of persecution in their countries of origin.
The Editor says...
Members of Congress are elected to represent U.S. citizens, not illegal aliens, not previously deported aliens, and certainly not the billions of people who have never set foot in this country.
Pelosi Explains Her Shutdown Strategy: 'Start with Feather Then You Move to Sledgehammer'. House Speaker Nancy Pelosi (D-CA) celebrated the end of the partial government shutdown on Friday [1/25/2019] by sitting down with leftist media commentators and bragging about manipulating President Donald Trump into agreeing on a temporary reopening to allow negotiations over a border wall to take place.
The Progressive Race to the Bottom. Presidential elections are now to be seen by the Left not as the end of a four-year political cycle. Instead, they are the beginning of an any-means-necessary, existential effort to reverse the proverbial will of the people and to remove or delegitimize the president. From now on, if the Left loses, then everything is in theory on the table: seeking removal of the victor by warping the Electoral College vote; or suing under the Logan Act, the emoluments clause, or the 25th Amendment; or cherry-picking federal judges to block presidential orders; or using the Congress to impeach the president; or unleashing a special counsel for years of investigation.
Border Patrol Wife Invites Speaker Pelosi to See Why Walls Are Needed. The wife of a Texas-based Border Patrol agent invited Speaker Nancy Pelosi to visit the border to see for herself why walls are needed. "We would like to show you around! You don't need to bring any security detail. Our husbands/significant others are actually very good at their jobs, thank goodness!" Jill Demanski, the wife of a Texas-based Border Patrol agent wrote in a letter to Speaker Pelosi. She told Fox News she wrote the letter because she felt Pelosi needs to see this area of the border in person in order to make an informed decision about border security funding.
When Nancy Pelosi wins, Americans lose. Nancy Pelosi has had an eventful week. Wednesday [1/23/2019], letters were exchanged between herself and President Trump, who eventually conceded to her seething demand to postpone the State of the Union address. Left-leaning media announced this as some kind of a victory, like CNN's front-page headline, which read, "Pelosi claims win over Trump in State of the Union showdown." It begs to be asked: what did this really accomplish? [...] Not allowing the president to address Congress and the American people is just a maneuver so she can act as a gatekeeper between the country and its elected leader, and that is at the core alarmingly anti-American. By using the government shutdown as an excuse to go against the tradition of the State of the Union, Pelosi is guaranteeing that the subtext of history remembers her as a spiteful obstructionist while paving the way for future speakers to use the same tactic, perhaps against a future Democratic president.
Nancy Pelosi repeatedly tells mayors to clap for her. House Speaker Nancy Pelosi was like a mother hen to America's mayors on Wednesday [1/23/2019], telling them when to clap for her. After thanking a member of her audience, she said, "That's an applause line! I'll let you know." She followed through on her promise. [Video clip]
Pelosi knows the freshman caucus is out of control. Speaker of the House Nancy Pelosi is determined to stop President Trump from delivering the State of the Union address on Jan. 29. She says it's due to the shutdown, but that's nonsense and just a political ploy. So what is the real reason Mrs. Pelosi doesn't want the American people to see it? The increasingly obvious reason is the House is in chaos. [...] At first blush, it would seem Mrs. Pelosi was attempting to keep the president from being heard, but that's impossible. Another argument is she's trying to strip him of the trappings of the presidency. That that, too, is completely futile. Despite the media coverage presuming this is a Pelosi-Trump conflict, her action signals she doesn't want the American people to see something damaging to her and the Democrats in general — which is a freshman caucus not in her control and more interested in stunts than in governing.
If this is true, why is she going to such great lengths to prevent it?
Pelosi: State of the Union address is 'so unimportant' for Americans. House Speaker Nancy Pelosi said Thursday [1/24/2019] she was happy that President Trump agreed to postpone his State of the Union address until after the government reopened — saying the speech was "so unimportant in the lives of the American people" compared to other priorities. "Last night the president accepted the fact that the State of the Union should be at a time when government is not shut down. I'm glad we could get that off the table. It is so unimportant in the lives of the American people in terms of especially those who are victims of the shutdown, hostages to the president's applause line in a campaign speech," Pelosi said at a press briefing, referring to Trump's oft-repeated call to build a wall on the southern border.
FBI Files: Congresswoman Nancy Pelosi's Father Thomas D'Alesandro Jr. Was "Constant Companion" Of Notorious Mobster Benjamin Magliano. Nancy Pelosi's father Thomas D'Alesandro Jr. allegedly was a "constant companion" of notorious mobster Benjamin "Benny Trotta" Magliano and other underworld figures during his political years in Baltimore, MD. D'Alesandro was a Congressman for five terms from 1938 to 1947, and Baltimore mayor for three terms from 1947 to 1959. Magliano was identified by the FBI as one of Baltimore's "top hoodlums," and he widely was acknowledged as the representative for New York's Frankie Carbo who made his bones with Murder, Inc. and later became a made guy in the Lucchese family. The allegations are included in D'Alesandro's recently-released FBI files which Friends of Ours has obtained pursuant to the Freedom of Information Act.
Nancy Pelosi is trying to federalize California's bad election laws. Speaker Nancy Pelosi, D-Calif., has made a gargantuan overhaul of election law, campaign finance, and ethics rules the top priority of House Democrats. Contrast this move with the Republicans in 2017 — the Democratic Party and its allies understand there is a difference between winning elections versus big idea debates. H.R. 1, her proposal, is not likely to clear the Senate, but that's not the point. It is a marketing document intended to broach the idea of federalizing some progressive state policies while trying to squeeze more conservative locales into adopting them as well.
Mark Levin calls Pelosi 'America's first fascist'. Conservative talk radio show Mark Levin called Speaker Nancy Pelosi (D-Calif.) "America's first fascist" during his nationally syndicated program Wednesday evening. The conservative commentator accused the Democratic leader of having "hijacked" the federal government by refusing President Trump's demand for border wall money as part of a funding deal. "She has unilaterally decided that our borders are open," Levin said on his show, while also accusing Pelosi of having "undermined tradition" by blocking Trump's State of the Union address scheduled for next week.
What you don't know about the lucrative travel our leaders enjoy on your dime. We have long noted Pelosi's abuse of the perks of public office that granted her access to luxury military travel. This current expedition is hardly new for her. In 2009, during Pelosi's first speakership, we uncovered documents from the Department of Defense detailing her multiple requests for military air travel. The documents included internal DOD email correspondence detailing attempts by DOD staff to accommodate Pelosi's numerous requests for military escorts and military aircraft as well as the speaker's last-minute cancellations and changes. In response to a series of requests for military aircraft, one Defense Department official wrote, "Any chance of politely querying [Pelosi's team] if they really intend to do all of these or are they just picking every weekend? ... [T]here's no need to block every weekend 'just in case'..." The email also notes that Pelosi's office had, "a history of canceling many of their past requests."
'Air Pelosi': Watchdog revisits House speaker's hefty travel expenses on military aircraft. President Trump recently denied House Speaker Nancy Pelosi the use of a military aircraft for a congressional delegation trip to Afghanistan. Mr. Trump's decision prompted Judicial Watch President Tom Fitton to revisit Mrs. Pelosi's travel habits; the watchdog organization has tracked her use of military jets for more than a decade through Defense Department documents obtained through Freedom of Information requests. "For years we have been exposing the lucrative travel our leaders enjoy at taxpayer expense. We have long noted Pelosi's abuse of the perks of public office that granted her access to luxury military travel," Mr. Fitton wrote in an op-ed titled "Air Pelosi" for Fox News, providing numerous examples.
Democrats Voted Today To NOT Pay Federal Workers During The Government Shutdown. Nancy Pelosi and other increasingly nervous Democrats in Congress have claimed that President Trump was "holding federal workers hostage" during the government shutdown. NOT TRUE. Today, Democrats were given the opportunity to make sure those same federal workers received paychecks as negotiations continue regarding border security funding and ending partial shutdown. THEY VOTED NO. This has been and very much remains Nancy Pelosi's shutdown. Speaker Pelosi is scared to death of the radical left in her own party — the same radical left who has threatened her speakership should she relent to the president's desire to sit down and negotiate a deal between the two sides. And don't allow the Establishlment Media to tell you any different. They have been covering for Pelosi and those same radical Democrats, but the American people are starting to see through the ruse. Democrats care little about the Middle Class. They care far more about allowing illegals to enter the country.
Nancy Pelosi Appoints Anti-Israel Radical Ilhan Omar to House Foreign Affairs Committee. Speaker of the House Nancy Pelosi appointed anti-Israel radical Rep. Ilhan Omar (D-MN) to the House Foreign Affairs Committee on Thursday [1/17/2019]. Omar confirmed the appointment on Twitter on Thursday afternoon. Omar supports the boycott, divestment, and sanctions (BDS) movement against Israel, which has been called antisemitic because it singles out the Jewish state for isolation and ignores the Palestinian side.
So, Nancy Tried to Leave the Country During The Shutdown Again? The government shutdown has lasted 20+ days. House Democrats and the Trump White House cannot agree on funding for border security. We're talking $5 billion here, folks. It's a rounding error in federal budgeting. Democrats, having retaken the House in the 2018 midterms, are not willing to play ball with Trump. They want to fight, stall his agenda and score political points. At the same time, keep the cancerous legions of their progressive base sated as they thirst for blood against an administration they view as the personification of evil. Both sides aren't budging. Democrats see the polling. Trump is blamed. Trump sees the polling too and sees that border security, curbing illegal immigration, and the wall itself are proposals that are popular or gaining in approval respectively. Both sides are at equal risk for overreaching.
Nancy Pelosi's $2 million in travel junkets is starting to get noticed. Not only was President Trump's masterly counter-move against House speaker Nancy Pelosi an expert power play against the speaker's bid to take the television set away from him at the State of the Union, but it drew attention to something that doesn't get much attention, the fact that she's got some Imelda Marcos-style spending habits in state-financed travel.
Pelosi says Trump put her life in danger by yanking plane access. House Speaker Nancy Pelosi on Friday [1/18/2019] accused President Trump of putting her life in danger by publicly nixing her top-secret trip to a war zone in Afghanistan — and then "leaking" her backup plans to travel commercially. Pelosi spokesman Drew Hammill said she and a delegation were "prepared to fly commercially to proceed with this vital trip" after Trump suddenly yanked their use of a military plane for the overseas trip on Thursday [1/17/2019].
Nancy Pelosi's Flight to Italy And Ukraine Cost the Air Force Nearly $200k. House Speaker Nancy Pelosi's congressional delegation (CODEL) to Belgium, Egypt and Afghanistan garnered extra attention after President Donald Trump banned her from using military aircraft, but the trip would not have been the first time she used Air Force money to travel the world. Pelosi's trip to Italy and Ukraine from July 30 to Aug. 6, 2015, cost the Air Force $184,587.81, according to documents released Saturday under a 2015 Freedom of Information Act (FOIA) lawsuit by Judicial Watch. Her delegation was made up of nine other members of Congress, including Democratic Reps. Anna Eshoo of California and Marcia Fudge of Ohio. Four family members, including Pelosi's husband Paul Pelosi, were on the trip.
Why Democrats Said No to Trump's Border Compromise. Lots of people are wondering just why Democrats rejected President Trump's plan to reopen government agencies even before he announced the plan. House speaker Nancy Pelosi called it a "non-starter," and Senate Democratic whip Dick Durbin rejected it even though, as the Daily Caller noted, Trump's proposal to protect immigrant "Dreamers" from being deported "included everything" that Durbin had asked for "just over two years ago."
Walls are Immoral'. When Nancy Pelosi intoned that "walls are immoral," she was not basing this contention on an analysis of moral permissibility. [...] [I]t is easy to see that it's perfectly okay to install a physical barrier for purposes of preventing unauthorized or illegal entry, which is why such are installed. This can be a door with a lock or a gated fence around a property. Try getting homeowners' insurance without a front door. Does Nancy Pelosi's house have a front door?
Trump denies Pelosi aircraft for foreign trip in response to call for State of the Union delay. President Trump on Thursday abruptly denied military aircraft to House Speaker Nancy Pelosi for a foreign trip just minutes before the congressional delegation was set to depart, in a stunning decision that followed her call to delay the State of the Union address amid the government shutdown. In a curt letter, Trump said her trip has been "postponed." "Due to the Shutdown, I am sorry to inform you that your trip to Brussels, Egypt, and Afghanistan has been postponed. We will reschedule this seven-day excursion when the Shutdown is over. In light of the 800,000 great American workers not receiving pay, I am sure you would agree that postponing this public relations event is totally appropriate," Trump wrote.
Stranded Bus with Pelosi and Democrat Lawmakers Drives Circles Around US Capitol. On Thursday afternoon [1/17/2019], President Trump informed Speaker Pelosi her "public relations" trip to Afghanistan, Egypt, and Brussels has been postponed so that she can stay in DC and negotiate with him. The President canceled Pelosi's flight just one hour before she was scheduled to depart — Pelosi and other lawmakers were on the bus en route to the airport. Trump told her to fly commercial on her own dime. According to Fox News reporter, Chad Pergram, furious phone calls are flying back and forth from The Hill to the State to the Pentagon and White House.
Trump to Nancy: You're grounded. When Nancy tried to cancel President Donald John Trump's State of the Union speech, I thought it's petty. Today [1/17/2019], while she and her cronies were aboard an Air Force bus headed for a military flight to Europe, the Commander-in-Chief cancelled the flight. [...] A woman elected from some gerrymandered district in San Francisco challenged the Leader of the Free World. He left her on the bus. He physically grounded her. His message was simply, "Due to the shutdown, I am sorry to inform you that your trip Brussels, Egypt and Afghanistan has been postponed. We will reschedule this seven-day excursion when the Shutdown is over. In light of the 800,000 great American workers not receiving pay, I am sure you would agree that postponing this public relations event is totally appropriate. [...]"
Giving Pelosi a Taste of Her Own Medicine. The look on Representative Adam Schiff's face was priceless as the California Democrat disembarked the Air Force bus on Thursday [1/17/2019]. A few days ago, Speaker of the House Nancy Pelosi (D-Calif.) sent a letter to the White House, practically disinviting the president of the United States from giving his State of the Union Address on January 29. She cited security concerns and suggested that the president reschedule his address for a time after the government shutdown. But everyone knew that her explanation was absolute nonsense.
The Tables Turn on Pelosi and the Media. Saturday was National Popcorn Day, but I've been nibbling on popcorn all week as Nancy Pelosi learned a lesson about presidential power and the media was gut checked by the special prosecutor. I haven't had this much fun since election night 2016. While she might have thought otherwise, the power of the commander-in-chief is far greater than that of the speaker of the House, and the humiliating way this was brought home to the congressional equivalent of Maerose Prizzi (h/t Michael Walsh) was something. She anticipated that she and her posse of cronies and their families (reports of a ninety-some entourage in all) would hop a military plane for a free trip to Brussels, Afghanistan, and Egypt, doubtless with fawning media coverage, leaving the president to sit alone in the White House hoping fruitlessly they'd toddle in there to negotiate an end to the shutdown. Reports vary as to whether she was on the tarmac or on her way there when the president cancelled the flight as incompatible during a shutdown when federal workers were not being paid and illegal aliens were continuing to invade. The president twisted the knife, suggesting she was free to fly commercial, which served as a reminder of the enormous tab she ran up on such flights the last time she was speaker.
It's Now Undeniably The Pelosi Shutdown. In a nationally televised statement from the White House, President Trump offered concessions on DACA, expressed a desire to work with Democrats toward a much-needed overhaul of the outdated immigration system and a desire to end the government shutdown. Speaker Pelosi's handlers released a response to the media even before the president finished his speech. That response was NO and came at the same time reports indicated Speaker Pelosi was leaving Washington D.C. for a long weekend at one of her many (walled) properties.
Pelosi is Petrified of Trump Speaking Directly to America and Exposing Democrat Duplicity on Border. In 2013, Chuck Schumer and every Senate Democrat voted in favor of 350 miles of border wall. They have right now shut the government down to stop 234 miles of border wall. I don't know how you explain that you voted in favor of 350 miles but you shut the government down to stop 234 miles. That is incoherent. What is the honest answer? The honest answer: It's not a substantive disagreement; it's that they're terrified of their extreme left wing, who hates Trump. And that's why we're having a shutdown.
Pelosi Confronted: Stutters Through Response to Reporters, Repeats Crackpot Claim That Trump Endangered Her Life. House Speaker Nancy Pelosi (D-CA) looked defeated Friday afternoon [1/18/2019] when reporters confronted her over her outrageous claims Trump endangered her life by cancelling her military flight then allegedly leaked her commercial travel plans. Earlier Friday morning, Pelosi's spokesman, Drew Hammill accused President Trump of endangering Pelosi's life by leaking her commercial travel plans.
Pelosi asks Trump to postpone SOTU until gov't reopens; Dems planned move for "months"? It's tough to tell. Does this make the shutdown a bug, or a feature? Nancy Pelosi has asked Donald Trump to put off his State of the Union speech to the joint session of Congress until after the funding issues have been resolved: [...] Pelosi's not looking to restore the proper co-equal-branch dynamics under the Constitution. She was delighted to offer regal hosannas to Barack Obama, and she'd be equally delighted to offer them to President Alexandria Ocasio-Cortez or President Jill Stein, for that matter. She just doesn't want Trump using Congress to beat up Democrats over the wall.
Former Secret Service Agent Bongino Demands Apology From Pelosi For Lying About, Insulting Secret Service. House Speaker Nancy Pelosi sent a letter Wednesday to the White House asking for a postponement of the annual State of the Union address until after the government shutdown has ended. Pelosi cited security concerns over the speech due to "hamstrung" security agencies. [...] However, multiple DHS officials and Secret Service veterans have said that Pelosi is not being truthful in her remarks and weaponizing the Secret Service for political reasons. Former Secret Service agent Dan Bongino tells The Daily Caller that Pelosi owes the Secret Service an apology and that the shutdown has nothing to do with agency readiness.
Pelosi slammed for attempted shutdown of Trump State of Union. The Trump administration and Republicans are pushing back on House Speaker Nancy Pelosi's suggestion that President Trump delay his upcoming State of the Union address because of the partial government shutdown[.] The president is slated to deliver his televised annual address to a Joint Session of Congress on Jan. 29. But with no compromise in sight to resolve the standoff over government funding for Trump's proposed border wall — a stalemate that is in its fourth week, with the impact deepening for furloughed federal workers and others — Pelosi, D-Calif., suggested in a letter that Trump put those plans on hold, speak from the Oval Office rather than Capitol Hill, or submit the address in writing.
No Thanks, Nancy: Trump Should Reject Pelosi's SOTU Postponement Ploy. House Speaker Nancy Pelosi sent a letter to President Trump today [1/16/2019], suggesting that his upcoming State of the Union Address — scheduled for January 29th — ought to be postponed until after the partial government shutdown is over. Pelosi cites "security concerns" related to the temporary lack of funding for US Secret Service and the Department of Homeland Security, implying that speech attendees might be unsafe due to the budget impasse.
Citing 'security concerns' due to government shutdown, Speaker Pelosi urges delay of State of the Union address. House Speaker Nancy Pelosi asked President Donald Trump to reschedule his State of the Union address this month if the government remains shuttered — or deliver it in writing. "Sadly, given the security concerns and unless government re-opens this week, I suggest that we work together to determine another suitable date after government has re-opened for this address or for you to consider delivering your State of the Union address in writing to the Congress on January 29th," Pelosi wrote in a letter to Trump on Wednesday [1/16/2019].
Pelosi Slams DHS Claim Of Being Prepped For SOTU: 'I Don't Care What They Said'. House Speaker Nancy Pelosi told reporters Wednesday night she "doesn't care" if the Secret Service said it was prepared to appropriately secure the State of the Union address despite the partial government shutdown. Instead, she stood firm in her resolve to delay the January 29 event until the government completely re-opens.
Pelosi's Petulance Is Wearing Thin. We expected all sorts of fits and furies when Democrats took control of the House, but Speaker Nancy Pelosi's unprecedented threat to disinvite President Donald Trump to the State of the Union sets the bar surprisingly low. And it makes Trump's cancellation of her overseas trip all the more sweet. On Wednesday [1/16/2019], citing disingenuous security concerns, Pelosi sent the president the formal equivalent of a lunchtime high school bully's "you can't sit with us anymore." The irony of the speaker holding up government funding over border security while simultaneously decrying the lack of security for the speech was apparently lost on CNN, who praised Pelosi's gambit as "a major power move."
Pelosi 'Disinviting' Trump from State of the Union is Yuge Opportunity. Speaker Nancy Pelosi and the Democrats just stepped in it, big-time. According to various news reports, Pelosi has "disinvited" President Trump from making the annual State of the Union address to Congress. With just days left until he was supposed to deliver this widely-viewed speech on January 29, Politico reports that, fearing Trump will use the nationally-televised address to blame Democrats for the ongoing partial shutdown of the government, Pelosi "asked President Donald Trump to reschedule his State of the Union address — or deliver it in writing — as long as the government remains shut down."
McCarthy: Pelosi's move to disinvite Trump 'unbecoming of the office'. House Minority Leader Kevin McCarthy said Wednesday [1/16/2019] it was "unbecoming of the office" for Speaker Nancy Pelosi to call for a postponement or cancellation of President Trump's planned January 29 State of the Union address. "I think Speaker Pelosi is playing politics like I've never seen a speaker before," McCarthy, R-Calif., told the Washington Examiner Wednesday. "I think it's unbecoming of the office to disinvite the president. The American people have the right to be able to hear the president and the president has a right to deliver a state of the union." Pelosi, D-Calif., said in a letter to Trump that the partial government shutdown would make it difficult to secure the event, which is attended by members of all three branches of government and typically requires a massive law enforcement presence.
NBC, CNN: Secret Service, DHS Reject Nancy Pelosi's 'Security' Excuse for Canceling State of the Union. Multiple reports indicate that the U.S. Secret Service and the Department of Homeland Security both reject Speaker of the House Nancy Pelosi's stated reason for asking the President of the United States to postpone the State of the Union address. On Wednesday, Pelosi wrote to the president to rescind her Jan. 3 invitation for him to address Congress on January 29, in keeping with tradition. Pelosi blamed a lack of available security due to the ongoing partial government shutdown: [...]
The devil is using the Democratic Party to destroy America. House Speaker Nancy Pelosi stated in USA Today (Jan. 3) the top two "generational challenges of our time are reducing income disparity and combating the climate crises." While all of us should strive to be good stewards of the environment, we must be discerning not to succumb to hysteria not based on scientific empirical evidence but much from Al Gore's theories and disproven myths, which catapulting him to multimillionaire status.
Pelosi claims 'food stamps,' 'farm subsidies' not being paid because of Trump, but they ARE. House Speaker Nancy Pelosi has every right to criticize POTUS Donald Trump and his administration, and in fact, being the leader of the opposition party in the House, we expect her to. But the California Democrat has an obligation to the country to at least be honest in her critique of the president.
Lift Up Your Hearts: The Democrats Are in a Shambles. As a figure of horror, House Speaker Nancy Pelosi (D-Calif.) has become almost like Bette Davis, one can believe she just acts the part, though she acts it convincingly. And she has earned her spurs as a Democratic legislator with staying power, the first speaker to serve non-consecutive terms since Sam Rayburn (D-Texas). She certainly didn't get much back-talk from all those bushy-tailed Democrats who were going to send her off to knit antimacassars for her grandchildren. She does not, however, appear to be an effective spokesperson as leader of the opposition, and is strangely inarticulate for someone who must have spent more time in public speaking for the last 40 years than almost anyone in the country.
Democrats are battling to see who is the most radically left. Another week, another feverish contest among Democrats to see who can drag the party faster and farther to the left. The new year is beginning with a blistering pace, with wild and crazy ideas popping up across the country. Start in Washington, where Chuck Schumer and Nancy Pelosi made a lasting impression by saying no, no to President Trump's sensible proposal for barriers and other security at the southern border. Their rejection, and implicit denial that there is even a problem, serves as an invitation to hundreds of thousands of more migrants to cross illegally. And each new wave guarantees that future Dems will be able to demand amnesty for successive generations of "Dreamers," thus roiling America for years. Heckuva job, Chuck and Nancy. You should start a podcast, where you each get your own podium.
In the border fight, Democrats want a 'technological wall' that won't keep anybody out. House Speaker Nancy Pelosi of California says a wall on the U.S.-Mexico border would be "immoral." Instead, she favors something she calls a "technological wall." Another top House Democrat, Rep. Jim Clyburn of South Carolina, calls it a "smart wall." Instead of building an actual physical barrier of steel, concrete, or some other material, Pelosi, Clyburn, and other Democrats advocate employing an array of high-tech devices — drones, infrared sensors, surveillance cameras, and more — to keep track of activity at the border without physical impediments to discourage illegal crossings.
Trump Has the Democrats Cornered. No sooner had the Democrats taken back the majority in the House of Representatives than they proved their harshest critics correct — the party no longer concerns itself with the interests of the American people. And by refusing to provide a dime for a physical barrier on our border, they did it in the starkest terms possible. Led by far-left Nancy Pelosi, who held off a challenge to her leadership from the even farther left, the House Democrats promptly put themselves in the position of being seen taking the side of foreigners entering the country illegally over the security and economic prosperity of American citizens. They reduced themselves to the absurd position that "walls don't work."
H.R. 1: Democrats Act to Strip State Powers Over Elections. If you thought the midterm elections had problems, wait until you learn about Nancy Pelosi's plan to terminate state control over American elections. [...] The Constitution decentralizes power over American elections and puts states in charge. H.R. 1 would undo that. Decentralization promotes individual liberty. When power over elections is centralized, it is easier for that power to be abused. When power over elections is decentralized, no single malevolent actor can exert improper control over the process. That is precisely why Democrats are so eager for Washington, D.C., to have more power over our elections.
The Dems Who Cried 'Wolf!' When Nancy Pelosi and Chuck Schumer did their thing at that podium after the President's Oval Office address, they wildly accused him of stoking "fear" and engaging in a "temper tantrum." Yet, we just had seen the President's speech to the nation moments before. There was no temper tantrum. We saw it. We heard it.
New Dem Talking Point: Wall Is *Luxury* We Can't Afford. It's so hard to keep up with the Dems: from "illegal immigration is wrong," to "they aren't illegal, just undocumented," to "there's a crisis at the border" to "the so-called crisis is a manufactured one," to "border walls are ineffective," to "border walls are immoral," and now this, from Pelosi: [Video clip]
Nancy's problem. The Democrat majority in the House of Representatives is paper-thin. [...] As new House Democrats see that they can deliver absolutely nothing to their constituents after Nancy has promised the nation that she will use the House majority to do great things, these new House members will be put in a difficult position. President Trump can probably peel away enough of these new Democrat House members who came from congressional districts that Trump carried comfortably in 2018 — a dozen or fewer would be more than enough — to pass some reforms over the protests of Speaker Pelosi and make her look like a clueless windbag tied to the coastal elites and indifferent to real America.
Nancy Pelosi wants to talk morality. Here are three questions she won't answer. House Speaker Nancy Pelosi has cited her moral values as reasons to oppose President Donald Trump's planned border wall along the U.S.-Mexico border. Pelosi won't fund a border wall because it would be "immoral" to do so, she has repeatedly asserted. Given Pelosi's recent moral outspokenness, The Daily Caller News Foundation reached out to her office with three other moral questions, in hopes that she would answer them. She would not. The three questions are below:
• Putting aside the question of whether abortion should be legal or not, does Pelosi think sex-selective abortions — e.g. aborting an unborn baby solely because she's a girl — are immoral?
• Does Pelosi think it's immoral to coerce Catholic nuns to subsidize birth control?
• Does Pelosi think it's immoral for Democratic senators to use membership in a Catholic charitable organization, the Knights of Columbus, as a negative test for judicial office?
Pelosi's office declined to provide an answer to any of the above questions.
Pelosi Says Stories Like Ronil Singh's Are 'Tragic,' But Not Enough To Call A 'Crisis'. House Speaker Nancy Pelosi stood by Democrats' belief Thursday that the border issue is a "manufactured crisis" created by Republicans and President Donald Trump, and claimed there is not enough data about those who have suffered at the hands of illegal aliens to say otherwise.
The New Kakistocracy. Kakistocracy is a badly underused word which needs to make a major comeback this year, as it is perfectly descriptive of the cabal of loons, clowns, demagogues, crooks and halfwits who are now in charge of the House of Representatives. The literal definition of the word is a system of government which is run by the worst, least qualified, or most unscrupulous citizens. [...] Start with [Nancy] Pelosi, who's a proven commodity. She got four years as House Speaker from 2007-2011, after which the American people reacted to her governance as they would a rabid coyote in the front yard. She's hardly improved since — if anything, the episodic moonbattery, unnatural facial tics, brazen public untruths, and irrational pronouncements have become even more frequent and frightening than they were a dozen years ago. That's not a surprise given Pelosi's age and clearly declining faculties.
Nancy Pelosi takes the gavel in the House and what's her first target? Free speech. The last time there was a real campaign finance scandal was during the 1996 election cycle when it was discovered that China funneled illegal contributions into our political system to help Bill Clinton and the Democrats' re-election efforts. That investigation resulted in more than 25 individuals being charged with crimes by the Department of Justice. In the wake of that investigation, President George W. Bush signed the unconstitutional McCain-Feingold campaign finance reform act into law, which was largely overturned by the Supreme Court in the Citizens United decision. Fast forward to today and the left's effort to restrict free speech in America is still front and center. But now, the liberals are forced to scream at the top of their lungs about fake corruption in our campaign finance system because little, if any, actually exists.
Pelosi, Nielsen clashed during border-security meeting: 'I reject your facts,' House speaker said, according to report. House Speaker Nancy Pelosi and Homeland Security Secretary Kirstjen Nielsen got into a tense confrontation this week, with the California Democrat interrupting Nielsen's presentation on border security and illegal immigration, telling her "I reject your facts." [...] At one point during the meeting, according to the Wall Street Journal, Pelosi interrupted Nielsen, who was citing statistics related to the border, including how many criminal illegal immigrants attempted to enter the U.S. last year. "I reject your facts," Pelosi told Nielsen[.] "These aren't my facts," Nielsen shot back. "These are the facts."
Pelosi: The Constitution Considers Me Trump's Equal. Incoming House Speaker Nancy Pelosi (D., Calif.) said in an interview with the New York Times that the Constitution considers her to be President Donald Trump's equal. Pelosi is set to regain the speaker's gavel after spending eight years as House minority leader. Pelosi was the first female speaker of the House from 2007 to 2011, and she maneuvered to get the party's votes necessary to secure the speakership again after Democrats won back the chamber in the November midterms. In a piece with a headline declaring her an "icon of female power," Pelosi was asked by the reporter "if she considers herself Mr. Trump's equal." "The Constitution does," she replied.
The Truth About Democratic Morality. Democrat Nancy Pelosi said Trump's border wall is immoral and too expensive. Hearing Pelosi lecture Trump and the American people about morality is beyond repulsive. Pelosi, her fellow Democrats and fake news media seek to prevent our side from using the word "morality" in the political arena. Any Republican and conservative who dares bring up the morality of an issue is immediately branded a religious nut, trying to force their wacko outdated values onto the public. Pelosi and her minions are flooding the airwaves with their absurd perverted narrative that building a wall (to protect Americans) is immoral. Meanwhile, these wicked Democrats who refuse to secure our borders live in highly secured and gated communities.
Pelosi's Pick to Lead Climate Crisis Committee Owned Stock in Top Polluters. Rep. Nancy Pelosi's (D., Calif.) choice to lead the House Climate Crisis Committee owned stock in several companies that rank among the nation's top air and water polluters. Last week, Pelosi announced that Democratic congresswoman Kathy Castor (Fla.) would chair the newly reconstituted House Select Committee on the Climate Crisis. Pelosi's decision to reestablish the committee, which existed from 2007 until 2011 when it was disbanded by Republicans, signals that climate change will be a top priority for the new Democratic majority.
Kellyanne Conway says Pelosi needs to cap Hawaii vacation to talk shutdown. Reports surfaced Friday [12/28/2018] that [Nancy] Pelosi, D-Calif., was spending the New Year's holiday period at a Hawaiian resort rather than trying to reach an agreement on a funding package that could pass both the House and the Senate given congressional Democrats do not appear willing to provide any more than $1.6 [sic] for border security.
Dems Plan Their Coup As the World Burns. Democrats aren't concerned about illegal aliens pouring into the country without any screening whatsoever. They are happy about it and they all went on vacation rather than do something constructive. [...] Nancy [Pelosi] is basking away at an exclusive Hawaiian resort that costs $5,000 a night. A person answering the media contact number for Pelosi's office identified herself as "press desk." When asked about the vacation, she told the Washington Examiner: "I'm not allowed to talk about that." She said she would pass on a message to the deputy chief of staff, Drew Hammill, who did not respond, the [Washington] Examiner reports.
Pelosi: 'The Existential Threat of the Climate Crisis' Threatens 'The Whole of God's Creation'. While vacationing in Hawaii on Friday [12/28/2018], House Minority Leader Nancy Pelosi (D.-Calif.) announced in a statement that she will be naming Rep. Kathy Castor (D.-Fla.) to chair a new committee the incoming Democrat-controlled House of Representatives will create to deal with "the climate crisis." Pelosi described the "climate crisis" as an "existential threat" that threatens "the whole of God's creation." "The American people have demanded action to combat the climate crisis, which threatens our public health, our economy, our national security and the whole of God's creation," said Pelosi.
The Editor says...
According to Gallup, only five percent of Americans consider "Environment-Pollution" to be this country's top problem. And that category is broad enough to include smoke from wildfires (caused by Democrat mismanagement), bad drinking water in Detroit (ditto), plastic straws in the ocean (a non-problem), styrofoam cups (ditto), light pollution (ditto), carbon dioxide in the air (which is not pollution at all), needles and feces in the streets (caused by Democrat politics), and many other minor issues that have been caused or amplified by people like Nancy Pelosi. Hardly anyone, according to Gallup, is demanding action to "combat the climate crisis," since there is no crisis. Minor problems here and there, in Democrat-controlled states and cities, but no crises, and certainly nothing that threatens our national security. To say that climate problems threaten "the whole of God's creation" is a meaningless emotional outburst intended only to generate headlines and sound bites. Baby-killing Democrats only mention God when it is politically expedient.
Nancy Pelosi Endures Partial Government Shutdown at Luxury Resort in Hawaii. Nancy Pelosi (D-CA), House minority leader and, most likely, soon-to-be House speaker (D-CA), is enduring the partial federal government shutdown at a luxury resort in Hawaii. The Washington Free Beacon reported that Pelosi, who calls the impasse over $5 billion for a border wall the "Trump shutdown," is at Fairmont Orchid resort, where prices range from $899 per night for a standard room to $4,899 a night for the presidential suite.
'I'm not allowed to talk about that': Nancy Pelosi office stonewalls on her shutdown vacation in Hawaii. Nancy Pelosi, the next speaker of the House of Representatives, is reportedly spending the government shutdown at a Hawaiian resort. A person answering the media contact number for Pelosi's office identified herself as "press desk." When asked about the vacation, she told the Washington Examiner: "I'm not allowed to talk about that." She said she would pass on a message on to the deputy chief of staff, Drew Hammill, who did not respond. According to the Washington Free Beacon, the California Democrat was seen Thursday [12/27/2018] at the Fairmont Orchid resort, which features accommodations up to almost $5,000 a night.
Nancy Pelosi Announces Plans For A House 'Climate Crisis' Committee After Flying Thousands Of Miles To A Hawaiian Resort. House Minority Leader Nancy Pelosi announced Friday [12/28/2018] that Democrats would create a Select Committee on the Climate Crisis in 2019, which will be headed by Florida Democratic Rep. Kathy Castor. [...] Pelosi, who's expected to be elected House speaker in 2019, said there's "tremendous pressure" for Democrats to make fighting global warming a central part of their agenda in the new year. Pelosi made her announcement amid a government shutdown after she flew thousands of miles to a luxurious Hawaiian hotel where she was spotted Thursday, according to reports.
The Editor says...
Ms. Pelosi isn't the only global warming crusader who's a frequent flyer.
Nancy Pelosi is spotted vacationing at $899-a-night Hawaii hotel as White House blasts her for refusing to enter talks to end week-long government shutdown. House Minority Leader Nancy Pelosi was spotted at a luxury hotel in Hawaii just before the partial government shutdown entered its seventh day Friday, with little sign of progress to end it. The likely speaker didn't appear to miss out on any negotiations, as talks between the White House and Democratic congressional leaders appear to have ceased, even as hundreds of thousands of federal employees remain on furlough. Pelosi's office says the White House hasn't contacted them since December 11, when Trump said at a tense meeting he would claim the 'mantle' of a shutdown.
Nancy Pelosi Takes Advantage Of Government Shutdown; Vacations At Luxury Hawaiian Resort. Democrats are standing firm on their commitment to make America less safe, by refusing to give President Trump the funding he's requested to construct a wall on our southern border. Democrat lawmakers, like Nancy Pelosi, were quick to blame President Trump for the partial shutdown of the government. They warned about how government employees and members of our US military would suffer the consequences. Unlike the Democrat lawmakers, President Trump canceled his trip to Florida for Christmas, choosing instead, to visit our troops overseas and to stay back at the White House, making himself available in case the Democrats want to come back to D.C. and agree to fund the wall.
Trump Cancels Florida Christmas Trip Over Shutdown — Nancy Pelosi Vacations in Hawai. House Speaker-to-be Nancy Pelosi (D-CA) was spotted Thursday [12/27/2018] vacationing in Hawaii at the Fairmont Orchid resort during the government shutdown. Rooms at this posh resort range from $899-a-night for a standard room to $4,899-a-night for the presidential suite, reported the Free Beacon.
Former ICE chief Tom Homan rips Nancy Pelosi for doubting border wall works. Former acting ICE Director Tom Homan on Wednesday blasted House Democratic leader Nancy Pelosi for calling a border wall ineffective and accusing President Trump of "fear mongering" with the illegal immigration issue. "Every place a wall or barrier has been built, it has resulted in decreased illegal immigration, decreased drug smuggling. One hundred percent of the time, it has proven effective," Mr. Homan said on Fox News, where he is a contributor. "Look at the rest of the data on the border, where arrests of MS-13 [gang] this year are up 118 percent, the seizures of guns [...] are up almost 200 percent. There's your data. Look at it. You can see why we need a wall," he said.
Nancy suffers brain glitch, slurs words, vows to keep 'govt closed forever'. Something is seriously wrong with Nancy Pelosi. During her weekly news conference on Thursday, the soon-to-be House Speaker vowed "keep the government closed forever" before agreeing to fund President Donald Trump's border wall. "We're not going for the $5 billion for the wall. We simply are not," she said, blankly staring at the cameras.
The Gospel According to Nancy: No Borders, Kill Babies. Summarizing her and Chuck Schumer's meeting with Trump, she told the media, "I myself thought we should open the meeting with a prayer, which I did. I told him about King Solomon, when he was to become king of the Jews, he prayed to God, he said: 'I need you to give me great understanding and wisdom, Lord.'" King Solomon is Pelosi's favorite Bible character, especially because he proposed solving a problem by cutting a baby in half. Now Sister Nancy's praying for Trump to keep the government open so federal employees can finish their Christmas shopping. It's an axiom that if a conservative says his faith informs his political decisions, he'll be condemned for establishing a state religion, while liberals get to veer back and forth over the church-state centerline as freely as those motorists who love to text while driving.
Nancy Pelosi due to be America's oldest House speaker. Rep. Nancy Pelosi, D-Calif., is on course to become the oldest person in history to hold the speaker's gavel now that she has secured a deal to give her at least two more years as the top House of Representatives leader. Pelosi, now 78, will be almost 81 at the close of the 116th Congress, which ends on Jan. 3, 2021. That will make her nearly a year older than legendary Speaker Sam Rayburn, D-Texas, who died in office less than two months shy of his 80th birthday. Pelosi will turn 80 on March 26, 2020, a little more than a year into her new speaker's term. She will achieve the milestone of oldest ever speaker on Feb. 7, 2020 — beating Rayburn's record.
Angel Moms Call Out Nancy Pelosi: Would You Support Border Wall if It Saved Your Loved One? Angel Moms whose children have been murdered by illegal aliens living in the United States called out incoming House Speaker Rep. Nancy Pelosi (D-CA) and Sen. Chuck Schumer (D-NY), asking them if they would support a border wall if it meant their loved ones would be saved from illegal alien crime.
Pelosi struggles to clamp down on impeachment talk from angry Dems. House Democrats say incoming House Speaker Nancy Pelosi, D-Calif., will have her hands full next year trying to keep her caucus from pursuing President Trump's impeachment. Democrats see a chance to hit Trump hard after his former lawyer Michael Cohen's three-year sentence, and his claim that Trump directed payments to two women to keep them silent about alleged affairs. They think it will be difficult for Pelosi to keep them from pursuing an impeachment process in the House[.]
Pelosi Vows To 'Rescue Our Democracy,' But It's Her Party Breaking It. Soon-to-be House Speaker Nancy Pelosi says Democrats' top priority next year will be to fix "our broken democracy." But it's Democrats who are busy breaking it. Any time they don't like the election results they claim Republican chicanery.
Democrats Nominate Nancy Pelosi for House Speaker. Rep. Nancy Pelosi (D-CA) on Wednesday won the House Democrat leadership election to be the party's next nominee for speaker after running unopposed.
Pelosi, Democrats back off on Trump impeachment. As House Democrats begin laying out the vision for their new majority, that item is noticeably missing from the to-do list and firmly on the margins.
Marcia Fudge Supports Pelosi for Speaker After Being Promised Chairmanship of Subcommittee on Elections. Rep. Marcia Fudge (D., Ohio) announced Tuesday she would be supporting House Minority Leader Nancy Pelosi's (D., Calif.) bid for speaker of the House just hours after Pelosi announced that she was planning to revive the House Administration subcommittee on elections and make Fudge the chair. Fudge, who had been mulling a potential bid to challenge Pelosi in January's Democratic leadership elections, released a statement saying that she was joining her colleagues to support the leadership team of Pelosi, House Minority Whip Steny Hoyer (D., Md.), and House Assistant Minority Leader James Clyburn (D., S.C.)
Will Democratic Rebels Dethrone Nancy? After adding at least 37 seats and taking control of the House by running on change, congressional Democrats appear to be about to elect as their future leaders three of the oldest faces in the party. Nancy Pelosi of California and Steny Hoyer of Maryland have led the House Democrats for 16 years. For 12 years, they have been joined in the leadership triumvirate by Jim Clyburn of South Carolina. If these three emerge as speaker, majority leader and majority whip, all three Democratic leaders will be older than our oldest president, Ronald Reagan, was when he went home after two terms. By 2020's election, all three House leaders would be over 80.
Ocasio-Cortez: These Democrats Opposing Pelosi As Speaker Don't Seem Very Progressive. It's true, as she says, that the 16 Dems who signed the letter yesterday [11/19/2018] opposing Pelosi's Speakership aren't from the caucus's left wing. It's not true that no one's attacking Pelosi from the left, though.
Battle over Pelosi's speaker bid reveals the dysfunction in Congress. Having led Democrats in the House of Representatives for nearly 16 years, four of them as speaker, you'd think Nancy Pelosi would be a shoo-in as the first speaker in six decades to return to that job. But wait just one San Francisco minute. The first female speaker, who will turn 79 in March, is facing a growing chorus of demands for change from younger members, the very ones her prodigious fundraising and pugnacious politics helped elect and re-elect this month. Sixteen of them wrote a public letter against her reign.
16 House Democrats Vow 'Never Nancy' In Open Letter. As the opposition forces against Nancy Pelosi's bid for House Speaker may be starting to see fissures in the ranks, some fierce holdouts have made their distaste for the establishment Democrat known. According to Fox News, a total of 16 U.S. House Democrats circulated a letter on Monday declaring themselves "Never Nancy" while calling for "new leadership" without saying who that new leader should be. The letter cordially begins by thanking Pelosi for her years of service as House Speaker before calling for a "change" in leadership.
Sixteen House Democrats oppose Pelosi, offer no rival. Sixteen Democratic members of Congress vowed on Monday [11/19/2018] to oppose fellow Democrat Nancy Pelosi's bid to become speaker of the U.S. House of Representatives, but none of them openly said they would run against her.
Nancy Pelosi faces a serious challenge from Democrats in bid to be House speaker. Rep. Tim Ryan had just been sworn in to Congress when he first voted for Nancy Pelosi to be speaker of the House in 2003. The Ohio Democrat voted for her again in the next seven elections, helping elevate her to the role and making her the first-ever woman to reach the House's highest post in 2007, and sticking with her even after Democrats lost the chamber in 2011. In his 16 years in Congress, Mr. Ryan has never known a Democratic leader other than Mrs. Pelosi. He says it's long enough.
It's the Ocasio-Cortez party now — Nancy Pelosi is just leading it. Socialist know-nothing Alexandria Ocasio-Cortez is the future of the Democrat Party. Nancy Pelosi is its past, but she's probably its present too despite threats to deny her another Speakership. The Ocasio-Cortez contingent in the party has determined that Nancy Pelosi simply isn't radical enough. That will be news to many on the American Right for whom she has served as a longtime bête noir and whose strident advocacy of San Francisco values provided fodder for countless Republican campaign ads and fundraising letters. For Republicans she's a radical who favors amnesty, citizenship, and voting rights for illegal aliens, government funded abortion on demand, and impeaching the president. But in the current Democrat Party she's a mushy moderate. For her part, Ocasio-Cortez spent Tuesday, her first day in Washington, DC, protesting climate change in Pelosi's office. And here I thought climate change was President Trump's fault.
Nancy Pelosi knows impeachment fervor could backfire — and doom Democrats' 2020 hopes. Mrs. Pelosi is in a bind. Many in her caucus, and in her party, are giddy over the prospect of impeaching President Trump. She opposes that path, a position that makes her even more unpopular with those eager for someone new at the top. A careful and seasoned vote counter, she told Chris Cuomo on CNN that she is "100 percent" confidant [sic] she will be re-elected Speaker. She is probably correct, but it's not a done deal.
Nancy Pelosi: Mueller Doesn't Have to Indict Trump for Congress to Impeach Him. Nancy pelosi really does not want to impeach Donald Trump — and she's prepared to take all the heat from her party and from the new House Democratic majority she's hoping to lead, unless she sees something wildly different emerge. But she said she won't let Robert Mueller define the decision.
Americans want a House Speaker other than Nancy Pelosi. But they don't really matter. According to Gallup, a large majority of U.S. Democrats want someone else. Only 39 percent want her back, while 56 percent don't. By the way, they've felt that way for some time. A June Gallup Poll of Americans at large found only 29 percent had a favorable view of the woman who represents most of the troubled city of San Francisco.
Opposition to Pelosi hardens. Ten Democratic incumbents or members-elect told Politico that they will vote against Nancy Pelosi for speaker on the House floor, exposing a serious problem for the California Democrat in her bid to reclaim the gavel. Eight sitting lawmakers or their offices said on Thursday [11/8/2018] that they will oppose Pelosi on the floor. Two candidates who won on Tuesday previously said the same.
Nancy Pelosi Gives Awkward Fist Pump And Yells: "Let's hear it for pre-existing conditions!". Nancy Pelosi gave us a taste of what to expect when she becomes Speaker of the House... Yikes! [...] The Democrats lied and used pre-existing conditions to sell different candidates in the midterms. Messaging from Republicans was non-existent so Americans bought the lie. President Trump just said a few days ago that the Republicans will, in fact, keep pre-existing conditions for Americans. Republicans should keep this in mind when 2020 comes around.
Pelosi Says She's Democrat Best Fit for Speaker: 'I'm Really Good at What I Do'. House Minority Leader Nancy Pelosi (D., Calif.) said in a new interview that she is best fit to be the next speaker of the House if Democrats win a majority in the 2018 midterm elections on Tuesday, suggesting that none of her Democratic colleagues should get to serve in the position while she is in Congress. Pelosi spoke to HuffPost about her 31 years in the House and 17 years in Democratic leadership, highlighting her confidence in the Democrats regaining control of the House.
Here Come The Crazies! Nancy Pelosi As Speaker, Maxine Waters, Adam Schiff, Elijah Cummings In Leadership Roles. Trump's Republican Party has lost control of the U.S. House of Representatives, as predicted, but Democrats could well install Rep. Nancy Pelosi as the new Speaker — and that's a gift that just keeps on giving. The 78-year-old Democrat from California, who was House Speaker from 2007 until the GOP took control of the chamber in 2011, is poised to resume that powerful position — and she wants it.
Pelosi tells audience, 'San Francisco values, that's what we're about'. Has Nancy Pelosi joined the GOP team anxious to scare voters away from voting for the donkey party? The pejorative use of the expression "San Francisco values," to indicate a loss of decency, tradition, and sanity, has at least two decades of history, and arguably almost three and a half, since Jeanne Kirkpatrick denounced "San Francisco Democrats" at the 1984 Republican Convention. Today, San Francisco is the exemplar of a city that has driven out the middle class and features the worst-looking income gap between rich and poor. San Francisco's poor languish in its streets in the worst display of the degradation of poverty this side of Calcutta. San Francisco's homelessness, its open drug use, and the spread of human feces on the sidewalks there have made being a pedestrian there a health risk.
Pelosi: 'San Francisco Values, That's What We're About'. Saturday [11/3/2018] while speaking to campaign volunteers in California, House Minority Leader Nancy Pelosi (D-CA) said "San Francisco values" were what Democratic Party is about. Pelosi said, "I don't mind when they say things about me like I'm a liberal. I like that." She continued, "But when they say San Francisco liberal, as if to make it sound like it's something negative, them's fightin' words. Don't attack my city. Don't attack my city. But, San Francisco values, that's what we're about. [...]"
Pelosi on Caravan: Republicans Have 'Baseless Fear of Some Families 1,000 Miles Away from the Border'. House Minority Leader Nancy Pelosi issued a statement about immigration on Friday in which she said Republicans were using "fearmongering rhetoric." "The GOP is desperate to change the conversation from their assault on Americans' health care to the baseless fear of some families 1,000 miles away from the border," Pelosi said, referring to the "caravan" of thousands of people now heading north though Mexico toward the U.S. border.
Former ICE Director: 'Nancy Pelosi Makes Me Sick to my Stomach'. Nancy Pelosi is a burr under everyone's saddle. Oddly enough, she even gets on Democrat's nerves. Former speaker of the House Nancy Pelosi has said some off the wall things in her career. However, Now she admits that voting Democrat will help out illegal aliens. Of course, it would. Now, former ICE Director, Daniel Ragsdale, says her agenda makes him sick to his stomach. House Minority Leader Nancy Pelosi (D-Calif.) encouraged people to vote for Democrats in November's midterm elections to give "leverage" to illegal immigrants in the immigration debate. Dems want to open our borders to everyone in the world.
Pelosi: When We Take Over, Those Who Don't "Share Our View", Will Suffer "Collateral Damage". Or to paraphrase Barack Obama, "Government is just another word for how we punish those who don't share our views."
L.A. Times: Nancy Pelosi Has Been 'Grooming' Adam Schiff as Possible Successor. The Los Angeles Times reported Friday [10/19/2018] that House Minority Leader Nancy Pelosi (D-CA), who intends to become Speaker of the House if Democrats win the November midterm elections, "has quietly been grooming potential successors, among them Rep. Adam Schiff."
Pelosi calls border wall 'immoral' — while protecting her Napa vineyard with one. Self-proclaimed future House Speaker Nancy Pelosi is laying out her priorities for after Democrats' assumed victory in the midterms, and she's made it clear there's "nothing" that will persuade her to approve President Trump's promised border wall. Erecting a big beautiful wall along the nation's southern border to stop the steady flood of illegal immigrants and drugs is "immoral, expensive, ineffective, not something that people do between countries," Pelosi said in response to a question at Harvard's Institute of Politics on Tuesday, according to The Harvard Gazette. "In any event it happens to be like a manhood issue for the president," she said, "and it's wrong and I'm not interested in that."
Nancy Pelosi Details Democrats' Plan for Open Borders: 'I Don't See Any of Us Voting for Wall Funding'. House Minority Leader Nancy Pelosi (D-CA) says that if the Democrats take back the House in the 2018 midterm elections, none of them will vote for President Trump's wall along the U.S.-Mexico border. In an interview with Politico, Pelosi detailed her plans — or lack thereof — for the U.S.-Mexico border and national immigration policy, which does not include Trump's proposed border wall. "I don't see any of us voting for wall funding," Pelosi said. "We have a responsibility to secure our borders," Pelosi said. "There are ways to do that that are consistent with civilization, humanitarianism, and who we are as a nation. We have to remove all doubt about that."
Nancy Pelosi accused of bribery. House Minority Speaker Nancy Pelosi will do anything to maintain power after the election — including bribery. That's according to 3rd Massachusetts congressional district candidate Rick Green, who said Pelosi's latest "stunt" in his district was nothing more than a bribe for his opponent, Lori Trahan. He accused Pelosi and Trahan of exchanging fundraising cash in return for support after the midterm.
Gun Control: Six Ways Nancy Pelosi Aims to Take Away Firearm Freedoms. House Minority Leader Nancy Pelosi (D-CA) believes securing gun control is more important than continuing to win elections and she supports numerous controls that will she undoubtedly pursue if Democrats gain control of the House. The Washington Times reported that Pelosi reacted to the February 14, 2018, Parkland high school shooting by stressing that securing more gun control is a "higher [priority] than winning the next election." In other words, she expressed willingness to trade her political career for the opportunity to restrict Americans' Second Amendment rights. Here are six gun controls Pelosi is certain to pursue if Democrats take control of Congress: [...]
The Left is promising to abuse power if they win; voters should take them seriously. In 2005, the Supreme Court issued its landmark decision in Kelo v. New London, diminishing Americans' property rights. The ruling said that governments can seize your home through eminent domain, even if their intention is merely to hand the land over to private developers. Conservatives saw this as one more bad ruling from a Supreme Court that issued a whole lot of them. House Minority Leader Nancy Pelosi, D-Calif., was a bit more sanguine, and her famous response exemplifies the respect and reverence that liberals once had for the Supreme Court, just so long as it was influencing culture and moving the national conversation in a way they liked. "It is a decision of the Supreme Court," she said, emphasizing its finality. "If Congress wants to change it, it will require legislation of a level of a constitutional amendment. So this is almost as if God has spoken."
Pelosi Shoots Feinstein in Foot, Files FOIA on Report Colleague Wanted Private. California Democratic Sen. Dianne Feinstein had previously moved to seal the FBI investigation into Kavanaugh, as CNN's Elizabeth Landers reported. Many construed Feinstein's move to be an attempted coverup of just how thoroughly the FBI investigation refuted the accusations against Kavanaugh. Regardless of her intent, Feinstein made it clear she wanted the FBI investigation to remain sealed and away from the public. Now, however, one of Feinstein's fellow California Democrats has basically shot her in the foot. House Minority Leader Nancy Pelosi, in a written statement to her colleagues, revealed on Saturday that she was filing a Freedom of Information Act request on the FBI's investigation into Kavanaugh's alleged sexual assaults.
Nancy Pelosi's Kavanaugh Email: 'Never Forget and Never Forgive'. House Minority Leader Nancy Pelosi (D-CA) advised her email list recipients to "never forget and never forgive" while soliciting donations in a Sunday email following the confirmation of Brett Kavanaugh to the Supreme Court. The email's donation hyperlinks connect to ActBlue, a 501(c)4 nonprofit facilitating fundraising for Democrats and the broader left, and the donation page promises donors that their money will be used to "support President Obama's legacy."
Democrat Leader Pelosi Compares Judge Kavanaugh to Vladimir Putin and Kim Jong Un. Nancy Pelosi spoke at an Anti-Kavanaugh protest in Washington DC on Wednesday [10/3/2018]. Pelosi condemned Republicans for their treatment of Judge Kavanaugh accuser Christine Ford. Ford accused Kavanaugh of groping her 36 years ago at an unknown place and time. The only alleged witnesses all refuted the claim even her good friend of several years who has NEVER been at ANY party with Brett Kavanaugh. Democrats want to destroy Judge Kavanaugh over these baseless accusations.
Pelosi: I'm Praying for 'Divine Intervention' to Stop Kavanaugh. House Minority Leader Nancy Pelosi (D., Calif.) said Friday [9/28/2018] she is praying for "divine intervention" to stop Brett Kavanaugh from reaching the Supreme Court. Pelosi spent much of her press briefing addressing the controversy surrounding the explosive Senate Judiciary Commitee hearing where Kavanaugh and Christine Blasey Ford, who has accused him of sexual assault, testified on Thursday.
Nancy Pelosi: Civilization 'In Jeopardy' If GOP Takes Senate. On the one hand, California U.S. Rep. Nancy Pelosi claims that Democrats are not "fear-mongers;" on the other hand, she believes civilization is doomed if Republicans take control of the Senate from Democrats in November. The former speaker of the House made those dramatic, incongruous statements on "Real Time with Bill Maher," which aired live from Washington, D.C. Friday [9/14/2018]. Maher asked Pelosi about recent polling which shows that the GOP is likely to take over the upper chamber and asked, given gridlock in Washingon, why it matters that Democrats keep control. "It would be very important for the Democrats to retain control of the Senate," Pelosi told Maher. "Civilization as we know it today would be in jeopardy if the Republicans win the Senate."
Pelosi renews Obama's 'war on coal,' backs group looking to shut down coal plants. House Minority Leader Nancy Pelosi, D-Calif., is renewing President Barack Obama's so-called "war on coal" by backing a radical initiative to shut down more than a third of U.S. coal plants by 2020 — a line of attack that spectacularly backfired for Hillary Clinton in 2016.
Nancy Pelosi Trashes Jobs Report Analysts Call 'Greatest of All Time'. House Minority Leader Nancy Pelosi (D-CA), who would likely become Speaker of the House if Democrats win the midterm elections in November, trashed Friday's [9/7/2018] jobs report — even though Blackrock called it "the greatest of all time." The Bureau of Labor Statistics reported that the U.S. economy created 201,000 new jobs in August — more than the 190,000 expected — and unemployment stayed at 3.9%. Moreover, wages grew 2.9% year-on-year.
Dems Are "Monkeying Around" With an Expression Barack Obama Used. Florida gubernatorial candidate Ron DeSantis used a common expression in reference to the socialism his opponent supports and the Internet grew irate over it. They decided to misinterpret what he said. "The last thing we need to do is monkey this up by trying to embrace a socialist agenda with huge tax increases and bankrupting the state," Ron DeSantis said on Fox News in reference to his race against Tallahassee Communist Mayor Andrew Gillum. Gillum is black and the bigots equated the word 'monkey' with him although that is obviously not what innocent DeSantis meant. He's not a bigot so it never occurred to him.
Catholic Nancy Pelosi Prays to God for the Continued Killing of the Unborn. Roman Catholic Nancy Pelosi, who is not allowed to receive communion, was recently asked, "Speaking of women's rights, how do we stop Kavanaugh...?" Her answer is demonic to some of us. To those who agree with her, take into account the point to be made here. She is praying to the creator of life to allow Americans to continue killing.
Document: Nancy Pelosi Will Destroy Trump Presidency with over 100 Investigations If Dems Win House. A spreadsheet reportedly circulating among House Republicans details over 100 potential investigations into President Donald Trump that Democrats will launch if they win the November elections. They intend to impeach him — or, at best, cripple his presidency. The document, reported by Axios on Sunday [8/26/2018] and hinted at by HuffPost on Friday (which put the number at a mere 52 investigations), is said to have Republicans "getting ready for hell," as Democrats will use oversight to create gridlock, or worse
Pelosi mocks coal, West Virginia in rambling, incoherent presentation. I bet that Senator Joe Manchin is not the only Democrat grinding his teeth over the latest spectacle Nancy Pelosi has made of herself. The syntax-challenged speaker-wannabe allowed her mouth to get ahead of her brain when on stage at the Public Policy Institute of California, and she managed to mock and insult the people of West Virginia while babbling and gesturing wildly. [Video clip]
Nancy Pelosi's Iron Grip on House Democrats. If Democrats win a majority in the House of Representatives this fall, it is extremely likely that Nancy Pelosi will become speaker again. Not only is there a lack of consensus among Democrats about an alternative candidate for speaker, but Pelosi herself is pledging to crush any opposition.
Defiant Pelosi says she's staying: 'I can take the heat'. Pushing back on those who say her leadership position is in jeopardy, Pelosi all but dared her doubters to envision any other House Democrat sitting across the table to negotiate with Trump.
22 Dem Candidates Who Distanced Themselves from Pelosi and Accepted Her Cash. More than 20 Democratic candidates who have come out against, or dodged questions about whether they would vote for, Rep. Nancy Pelosi (D., Calif.) for speaker if Democrats were to regain control of the House this fall have accepted cash from Pelosi's leadership PAC and campaign committee, according to a review of Federal Election Commission filings. Pelosi has an approval rating hovering in the high 20s. Her low approval rating and high name recognition have led Republicans around the country to tie Democratic candidates to the unpopular minority leader. As of Aug. 10, NBC News compiled a list of 57 Democratic candidates who have come out against Pelosi for speaker with around 40 remaining non-committal on whether they would vote for Pelosi.
Nancy Pelosi: Maxine Waters 'Strikes Fear in the Heart' of Trump. House Minority Leader Nancy Pelosi (D-CA) claimed on Wednesday that Rep. Maxine Waters (D-CA) "strikes fear in the heart" of President Donald Trump. Pelosi was responding to Trump's tweet that wished "Happy Birthday to the leader of the Democrat Party, Maxine Waters!"
Pelosi 'Pinocchioed' by Washington Post for Accusing McConnell of Racist Remark. Even the liberal newspaper, The Washington Post, has called out House Minority Leader Rep. Nancy Pelosi (D-Calif.) for "twisting" a comment made by a Republican in 2010 into an alleged racial slur. On Tuesday [8/14/2018], the Post published a fact-check article titled, "Nancy Pelosi twists an old McConnell quote into a 'racist statement,' in which it gave Pelosi's comment its worst rating of "four Pinocchios" (a "Whopper") for the following claims made Sunday on MSNBC: [...]
Are this year's midterms the last stand for Nancy Pelosi? This November's election is likely the last chance Nancy Pelosi has to become the first former House speaker to regain the job in more than six decades. She's vowed to do it. But then as the Democrats' minority leader, she's vowed to do it for four straight House elections. And she has failed every time, starting with the historic 2010 drubbing by Republicans, who seized 63 seats
Nancy Pelosi Says President Trump's "Whole Thing Is Make America White Again". In an interview with MSNBC's Jonathan Capehart Sunday, House minority leader Nancy Pelosi said the President's entire agenda is "make America white again." This woman is evil. Pelosi has no platform except for the ad hominem attacks. Her latest is to claim Trump is the master of the "dog whistle". She has to say that since she can't actually come up with a real quote.
GOP so appreciates Nancy Pelosi's political presence. Nancy Pelosi may lose her train of thought and forget key words more often these days. But Republicans are hoping the 78-year-old House Democrat leader can hang in there at least through this fall's election. And if fortune smiles on the GOP, future ones too. This is the fifth straight set of House elections that Republicans have used her as the ultimate liberal bete noire to drive party faithful to the November polls for GOP House candidates. It works.
Democrats opposing Pelosi. Here's the list of 51 Democratic candidates and incumbents who won't support minority leader Nancy Pelosi, D-Calif., for Speaker if the party takes the House in the November elections.
Nancy Pelosi Promises Huge Gift To Illegal Aliens If Dems Win The Midterms. During a recent speech Nancy Pelosi made disturbing promises for illegal aliens if Democrats win the midterm elections. According to Pelosi, voting Democrat will give them 'leverage.' First she claimed that this country is one big immigrant family, and that Republicans are trying to destroy that family.
Nancy Pelosi's Agenda: Impeach Trump, Raise Taxes, Bail Out Obamacare. Former Speaker of the House Nancy Pelosi (D-CA) is set to take the gavel again, polls and pundits suggest. The House Minority Leader managed to survive leading her party to one of the worst defeats in congressional history in 2010, after she ballooned the deficit and pushed Obamacare through passage. In most democracies, defeated party leaders resign and allow new ones to emerge. But Pelosi clung to power, thanks to the fact that the only Democrats left were from urban enclaves like her own San Francisco.
Pelosi is the star of GOP attack ads, worrying Democrats upbeat about midterms. While Democrats grow optimistic about their chances of taking control of the House in November, they are increasingly anxious that the presence of their longtime and polarizing leader, Nancy Pelosi, is making it harder for many of their candidates to compete in crucial swing districts. Republicans, clinging to a 23-seat majority in the House, have made the House minority leader a central element of their attack ads and are portraying many of their opponents as inextricably tied to the liberal from San Francisco. At the same time, some Democrats are expressing alarm that she is standing in the way of the next generation of leaders.
Poll: Three-quarters of Americans say Nancy Pelosi should be replaced, including half of Democrats. Only 27 percent of people surveyed in a new poll think Democrats should keep Rep. Nancy Pelosi (D-Calif.) as their leader in the House, with nearly half of Democrats surveyed saying the caucus should pick a new chief. The new American Barometer poll released Thursday [8/9/2018] by Hill.TV and HarrisX found that just 51 percent of Democrats surveyed think that House Democrats should keep Pelosi as their leader.
Nancy Pelosi: Voting for Democrats Gives "Leverage" to Illegal Immigrants. Minority leader Nancy Pelosi told supporters in El Paso, Texas, a border city on the US-Mexico divide, that Democrats give "leverage" to illegals. What an amazing admission! And, of course, she conflates legal immigration with illegal immigration.
Dems promise to subordinate men if they retake the House. Democrats are promising that women will be the ones wearing the pants in the House if they get a majority in the November elections. That's because not only would Nancy Pelosi become speaker, but 35 women would head major committees and subcommittees.
Nancy Pelosi's outrageous effort to weaken America. Nancy Pelosi and her political cohorts provide ample evidence of just how far our nation has fallen. On September 11, 2001, nineteen alien terrorists inflicted more casualties on the United States than did the entire Japanese fleet on, the day that as President Roosevelt declared, would "live in infamy." Those 19 hijacker-terrorists turned passenger airliners into de facto cruise missiles — creating horrors and carnage that will be forever etched in the minds and hearts of those who lived through those attacks on our nation. On July 27, 2018, Nancy Pelosi uttered jaw-dropping description of the terror attacks of 9/11 as the "9/11 incident." How could anyone of sound mind and possessing a firm grip on reality, describe the worst terror attack ever committed on U.S. soil as a merely "incident?"
Pelosi: Yes, I Hope There's a 'Slippery Slope' Towards More Gun Control. [Scroll down] In reality, she's just previewing how much of the Left will respond if this restriction gets implemented. They'll welcome incremental progress while complaining bitterly that the measure is nowhere near strong or far-reaching enough, vowing that the battle is just beginning, etc. Allahpundit thinks Pelosi is deliberately trying to blow up an emerging deal by "spooking" Republicans and keeping Democratic attack points intact.
"Crumbs" Pelosi Desperately Tries to Distract From Epic 4.1% GDP Growth — Posts Completely Debunked Chart on US Wages. House Minority Leader Nancy "Crumbs" Pelosi (D-CA) knows Americans will not want to change direction in the midterms and 2020 if the economy is roaring and Americans are gainfully employed, so she desperately tried to distract from the epic 4.1% GDP growth.
Pelosi Makes Big Slip While Attacking Trump, Ends up Disgracing the Entire Country. In a recent press conference, Nancy Pelosi tried to slam President Donald Trump and the GOP's border policy. The aging Democrat tried to make it seem like we're weaker than they are. But as she sputtered and stammered, she made a big slip. It has patriots across the country furious.
Nancy Pelosi spits in the face of 9/11 victims. House Minority Leader Nancy Pelosi has said some very nasty things in the past — but what she said Thursday [7/26/2018] is simply beyond the pale. While attacking President Donald Trump's border security policy, Pelosi dismissed the Sep. 11th, 2001 Islamic terror attacks on the World Trade Center as just an "incident."
Pelosi describes 9/11 attacks as 'incident,' suggests GOP weaker on border than Democrats. House Minority Leader Nancy Pelosi described the Sept. 11, 2001, terror attacks as an "incident" during her weekly news conference Thursday [7/26/2018]. The outlandish slip-up about the deadliest attack on U.S. soil came during a discussion in which Pelosi criticized the Trump administration's stance on immigration and its claims that the Democrats have been weak on border security.
Pelosi Misspeaks: Says 'Russian' Instead of 'Republican'. House Minority Leader Nancy Pelosi misspoke at a press briefing today on Capitol Hill, using "Russian" when she meant to say "Republican.["] The press conference was held to criticize Republican policies on drug prices and healthcare for seniors. "Attacking the sacred right to healthcare is in the Russian — er Republican — DNA," Pelosi said. As Pelosi and people in the room laughed, Pelosi said: "I get these R-words mixed up."
The Editor says...
She gets a lot of things mixed up.
'This is so extraordinary. The last thing you want in intelligence is partisanship': Nancy Pelosi. Nancy Pelosi has savaged Donald Trump's plan to revoke security clearances for former Obama-era national security chiefs who have publicly criticized him. Pelosi slammed the potential plan, which White House Press Secretary Sarah Sanders revealed on Monday, and called it a 'deflection' after Trump received intense criticism for his statements at last week's Helsinki summit. 'This is so extraordinary,' Pelosi said on Monday night [7/23/2018]. 'The last thing you want in intelligence is partisanship, and we were able to avoid that for so long.'
The Editor says...
The Obama White House weaponized the intelligence agencies for the benefit of the Democratic Party for some considerable time before Trump was elected — in order to keep Trump from being elected. Where was Nancy Pelosi while all that was going on?
Pelosi suffers face spasm saying 'intelligence', calls colleague by wrong name. "Intelligence" triggers Nancy Pelosi. When the House Minority Leader attempted to say the word today [7/17/2018], she suffered a face spasm — just one of several during today's press conference with Intelligence Committee Democrats. [Video clip]
As Pelosi [becomes] increasingly incoherent in public, Dems face a battle over leadership succession. Long-simmering ethnic tensions in a party increasingly defined by identity politics could erupt if Nancy Pelosi's mental decline forces her to bow out of her leadership of the Democrats' House Caucus. With African-Americans the largest loyal base constituency, the fact that there has never been a black minority leader, much less speaker, the choice of her successor could split the party. Potentially at stake is the Speakership that could result if the longed-for Blue Wave produces a Democrat House majority.
Nancy Pelosi Vows To 'Avenge President Obama If It's The Last Thing I Do'. House Minority Leader Nancy Pelosi promised to "avenge" former President Barack Obama in a bizarre fundraising email sent out on Monday afternoon. The Democratic Congressional Campaign sent out a letter under Pelosi's name that claimed she is going to make Republicans pay for confirming President Donald Trump's nominee to replace Justice Anthony Kennedy. Pelosi claimed that Republican ad-buys on behalf of Trump's nominee will "eviscerate our chance to make Republicans pay for the Supreme Court seat they STOLE from President Obama."
Pelosi forgets McConnell's name in interview. House Minority Leader Nancy Pelosi forgot the name of Senate Majority Leader Mitch McConnell during a Sunday interview, while explaining that recent criticism of her is sexist. In the interview with Rolling Stone, Pelosi was asked what margin she believes she needed to win to become speaker of the House, bringing up sexism in the Republican Party. "I think some of it is a little bit on the sexist side — although I wouldn't normally say that. Except it's like, really? Has anyone asked whatshisname, the one who's the head of Senate?" Pelosi asked.
Time to take away the car keys.
Nancy Pelosi sounding more bonkers than ever. Her mind wandering and her words not coming out right, House minority leader Nancy Pelosi, 78, is sounding more addled than ever, unable to express any clear line of thought. This is consequential if you are a Democrat, because she utterly refuses to step aside as leader of her party. In fact, she's convinced everyone loves her. Look at this landscape of apparent dementia, based on her hour-long interview with Rolling Stone.
Pelosi: 'Civilization As We Know It ... Is at Risk in This Election'. House Minority Leader Nancy Pelosi (D., Calif.) said in a Rolling Stone interview that civilization as we currently know it is "at risk" in the 2018 midterm election. "You have something like 104 districts that are more favorable than the Conor Lamb district Democrats won in Pennsylvania. That's probably too big a playing field to be serious about funding races all across it. How do you narrow it down?" Rolling Stone reporter Tim Dickinson asked. "Civilization as we know it today is at risk in this election. We have to win," Pelosi responded. "We have to win." Pelosi added that if the election was held today, Democrats would win. "If the election were today — no question we would win," Pelosi said. "But you have to be aware of the undercurrents. Because you don't know what can come along — and what comes along eclipses what you're doing."
Nancy Pelosi freaks out over strong jobs report. The Labor Department announced Friday that June's job report beat expectations. The U.S. economy added 231,000 new jobs, and over 600,000 new workers entered the workforce as optimism about our nation's future grows. That's great news to everyone, except House Minority Leader Nancy Pelosi.
Democrats want unemployment. The number of Americans holding jobs are [sic] at a record of 155,576,000. "U.S. employers kept up a brisk hiring pace in June by adding 213,000 jobs in a sign of confidence despite the start of a potentially punishing trade war with China," the Associated Press reported this morning. Democrats denounced this because they need financial misery to attain power. "June jobs numbers show what is at stake from the brewing storm of rising health costs, spiraling trade uncertainty and an economy being hollowed out to enrich big corporations and the wealthiest 1 percent," Nancy Pelosi said.
The Editor says...
The number of Americans holding jobs is at a record level.
Nancy Pelosi Trashes June Jobs Report, Warns of 'Brewing Storm' of Wealth and Opportunity. Former Speaker of the House Nancy Pelosi (D-CA) trashed the June jobs report — even though it showed rapid job growth, rising wages, and low unemployment. The report from the U.S. Bureau of Labor Statistics showed that employers created 213,000 new jobs in June — 22,000 more than economists had expected. Manufacturing jobs in particular rose by 36,000. The unemployment rate rose slightly, from 3.8% to 4.0% — but that was partly because so many people are entering (or re-entering) the labor force.
Democrats Panic As Pelosi Slurs Words, Suffers Odd 'Brain Malfunction' On Live TV. House Minority Leader Nancy Pelosi (D-CA) suffered an odd "brain malfunction" during a televised press conference on Capitol Hill this week. The Democrats are panicking after hearing the way she carried on, stammering and slurring her words. According to The Daily Caller, at a press conference this week, House Minority Leader Nancy Pelosi suffered several brain freezes and struggled to pronounce simple words like "bean" and "repeat."
Obama still backing Pelosi while other Democrats move on. The list of Democrats expressing frustration with House Minority Leader Nancy Pelosi has been growing longer in recent weeks, but don't expect to see former President Barack Obama's name on it. At a party fundraising event Friday afternoon [6/29/2018] in Northern California, Obama spoke highly of Pelosi — and even predicted that she will return to the job of House speaker after November's midterm elections.
Pelosi: 'Our Values Are About ... Honoring the Vows of Our Founders'. House Minority Leader Nancy Pelosi (D.-Calif.) said in her weekly press briefing on Thursday [6/28/2018] that the Democratic Party is about "honoring the vows of our founders." "Our values are about supporting America's working families, about honoring the vows of our Founders, about honoring the sacrifice of our men and women in uniform, honoring the aspirations of our children," she said. "That is why we vote so much alike because we have shared values," she said.
The Editor says...
What were "the vows of our Founders" and why do we need to honor someone else's vows? Aside from that, as is typical of a leftist, Ms. Pelosi mentions a number of issues on which there is little disagreement, in order to make it seem that Democrats are in sync with every clear-thinking God-loving American. But that is not the case. I don't know of any values that I share with a socialist, tax-and-spend, California baby-killer. Besides, Ms. Pelosi is a pro-abortion Catholic. She isn't even in agreement with her own people.
Ingraham: 'The Bell Is Tolling for Nancy Pelosi' After Top NY Dem Falls to Young Socialist. Laura Ingraham said Wednesday that a shocking primary defeat by a top Democrat in New York shows the party's voters rebelling against the establishment. "Now the bell is tolling for Nancy Pelosi," she said, reacting to 28-year-old Alexandria Ocasio-Cortez's surprise victory over Rep. Joe Crowley, who is the fourth-ranking member of the House Democratic leadership. Pelosi denied Wednesday [6/27/2018] that the victory by the Democratic Socialist and former Bernie Sanders organizer is a sign that the party is moving further left. She said it's only representative of how people feel in that particular Bronx and Queens, N.Y. district.
Mad Max and Nancy Pelosi: The twin faces of the Democratic Party. How delicious is it that the face of the Democratic Party is that lovely duo, Maxine Waters and Nancy Pelosi? They are the gift that keeps on giving. So deluded as to why Trump won, they seem to think their particular brand of madness that includes the public shaming of anyone and everyone in the Trump administration is going to win back the House and Senate for their party.
Nancy Pelosi In 2014: Ignore Family Separation Issue. [Scroll down] But in 2014 when Barack Obama was president, the United States was having a different crisis of children entering the country Illegally, and Nancy Pelosi visited a different detention center for kids and reminded America not to politicise the issue. "Well, I hope that while some may have tried to politicize it, I hope that was not the case.
Pelosi Slams 'The Hypocrisy Of All People Of Faith' Over Immigration Policies. House Minority Leader Nancy Pelosi does not know when to shut it. Not only does she seem addled and not all there, she has the nerve to lecture people of faith on the topic of illegal immigration. This is a Marxist who happily supports the genocide of the unborn, but quotes the Bible when it suits her needs. You want the definition of hypocrite? Look under 'Nancy Pelosi'. Then she called for an uprising across America. Pelosi attacked "all people of faith in our country" on Friday [6/15/2018] over the prosecution of illegal immigrants on the southern border. She was shameless.
Nancy Pelosi wonders why there 'aren't uprisings' across nation: 'Maybe there will be'. House Minority Leader Nancy Pelosi told reporters on Thursday that she is confused why Americans aren't "uprising" against the Trump administration over conditions on the border with Mexico. The California Democrat's weekly press briefing veered into explosive territory when the subject of illegal immigration came up. Mrs. Pelosi said there may be "uprisings" over children who are separated at the U.S. southern border when asylum seekers decide not to arrive at a proper checkpoint.
Negative Nancy Pelosi bummed out by booming Trump economy. Is Nancy Pelosi a secret agent for the Republican Party? Sometimes you have to wonder. Her latest outburst, in which she derides the accelerating economy and declining unemployment, is so nonsensical that it demeans Democrats' credibility, shows them to be remarkably out of touch with average Americans and underscores the poverty of their competing platform.
America First Ohio Poll: Nancy Pelosi Drags Down Democratic Party, Donald Trump Boosts GOP. A new poll conducted by America First Action Super PAC, President Donald Trump's official Super PAC, shows that Democrats in Ohio are in serious trouble of losing their re-election bids while House Minority Leader Nancy Pelosi proves to be an anchor on her party's November chances.
Pelosi's Remarks On The Economy Aren't Grounded In Reality. [Democrats are] now fighting the same losing battles with Trump, like defending trashing the American flag and the national anthem, with the most recent giving cover to MS-13 gang members as folks... who aren't so bad. Sorry, no — they're garbage human beings who are thugs, rapists, and murderers, devoid of any humanity. They deserve to be treated as such. Lock 'em up and throw away the key. Dehumanization of a cancerous and dangerous criminal element in our society is not a bad thing; it's a necessity.
The lawless, porn-respecting, MS-13-loving, humorless American left. [The Democrats] defend aliens' illegal entry into the United States and give them sanctuary even after they have committed violent crimes that have taken the lives of innocent American citizens. [...] As for Nancy Pelosi's defense of the "spark of divinity" within the members of MS-13, those drug-dealing, sex-trafficking, machete-wielding murderers, she was not alone among her tribe of Democrats. There is no miscreant, no matter how vile and murderous, whom they will decline to vindicate, to endorse. They encourage them to come here and welcome them when they get here. They are much more protective of them than they are the native-born and legal immigrants on whom they prey. They plan to see to it that they all vote -- for Democrats, of course. For their votes, they will be provided health care, food stamps, welfare... full subsidization on the American taxpayer's dime in sanctuary cities, where they are free to deal their drugs and terrorize their fellow immigrants who are scared to death of them. That pretty much sums up the Democratic Party today.
Pelosi flubs simple math problem: 63 minus 15 — '47, is it?'. Maybe now we know why politicians in Washington, D.C. can't seem to get a handle on the national debt: They struggle with simple math. During her weekly press conference today, House Minority Leader Nancy Pelosi froze as she attempted to do a simple math problem in her head. [Video clip]
Pelosi rips Trump-era economy's 'consumer confidence,' which is at 18-year high. House Minority Leader Nancy Pelosi told reporters Thursday that consumer confidence, which is at an 18-year high, is a sign that the economy under President Trump is dragging. Mrs. Pelosi's remarks came during her weekly press conference after a reporter mentioned the nation's 3.8 percent unemployment rate, prompting her to use skyrocketing consumer confidence as a kind of political litmus test. "Well, as I said, unemployment rate is one indication," the California Democrat said. "The fact is, and this has happened before, that people say, 'Oh my goodness, that people are saying the unemployment rate is down, why isn't my purchasing power increasing? So, this isn't just about the unemployment rate, it's about wages rising in our country, so that consumer confidence is restored."
Nancy Pelosi on Supreme Court Ruling: Bake That Cake, Christians!. Would-be Speaker of the House Nancy Pelosi (D-CA) slammed Monday's 7-2 Supreme Court ruling in the Masterpiece Bakeshop case, attacking "discriminatory practices behind the guise of religious liberty." The Court found in favor of a Colorado baker who was sued when he declined to bake a wedding cake for a same-sex marriage because of his Christian beliefs. The baker asserted his religious liberty under the First Amendment. The decision avoided ruling on the broader question of whether religious liberty trumps non-discrimination on the basis of sexuality, and held only that the Colorado Civil Rights Commission had not given the baker a fair hearing.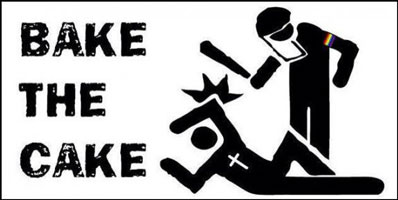 Nancy Pelosi Releases Statement on SCOTUS Gay Cake Ruling: Christians Should Bake Gay Cakes. On Monday [6/4/2018] the Supreme Court ruled in a 7-2 vote in favor of Christian baker Jack Phillips. The Supremes ruled Phillips had the right to refuse to bake a wedding cake for a gay couple. [...] Minority Leader Nancy Pelosi weighed in on the decision on Monday [6/4/2018]. Pelosi says Masterpiece Cakeshop needs to bake the [...] cake.




Pelosi: 'Strong employment numbers mean little'. The New York Times headline reporting on the May jobs numbers that came out yesterday might go down in history: "We ran out of words to describe how good the jobs numbers are." [...] To be sure, Pelosi is, at one level, playing the rabid partisan. It is, after all, an election year, and you don't expect her to be overjoyed by the news of record unemployment and rising wages. But when the New York [...] Times gushes about the jobs report like a 12-year-old schoolgirl over her latest heartthrob, you have to wonder what Pelosi is smoking (and ask her to send some over right away).

Nancy Pelosi [is] Trying to Convince America that Having More Jobs is a Bad Thing. True to form, House Minority Leader Nancy Pelosi (D-Calif.) is taking the absurd route, and attempting to convince the American people that the recently released jobs report that shows a good uptick in job growth is somehow a negative thing for America. The May job report shows an uptick in 223,000 new non-farm employment jobs in April, as well as a 3.8 drop in unemployment. This is apparently bad, according to Pelosi, who is of the mind that because some families still aren't making enough money, the Republicans have done America wrong with their tax cuts.

Sour Pelosi poo-poos booming economy: 'Strong employment numbers mean little'. The Trump economy is booming, but that's not good enough for Nancy Pelosi. The May unemployment rate was a stunningly low 3.8 percent, according to the Wall Street Journal. Black unemployment is the lowest ever: 5.9 percent, the Washington Examiner reports. But instead of celebrating the incredible economic activity, the House Speaker wannabe shrugged. "May's jobs report shows that strong employment numbers mean little to the families hit with soaring new costs under the Republicans' watch," the House Minority Leader said in a statement.

Here's a thought: Dump Nancy Pelosi. Here's something to strike fear into the hearts of all Republicans: Have the Democrats oust Nancy Pelosi as House minority leader. There is very good reason for her caucus to dump her: She is the tired face of a stale party. She's 78 years old and hasn't had a fresh idea since ordering a salad back in the nineties.

Nancy Pelosi hit with GOP ad: 'Democrats' Midterm Message? MS-13 killers aren't so bad'. The Republican Party made clear on Tuesday that House Minority Leader Nancy Pelosi's comments on the violent MS-13 gang will haunt Democrats until the midterm elections. President Trump recently prompted an angry backlash by members of the media and his political opponents by referring to MS-13 members as "animals," but the Republican Party is betting that American voters are on his side. Its new campaign ad titled "Democrats' Midterm Message? MS-13 killers aren't so bad" tallied over 52,000 views in less than six hours.

RNC Torches Democrats in New Midterm Ad: 'MS-13 Killers...They Aren't So Bad'. There are some of us who know how far left the Democratic Party has become. Some are seeing it right now, while others still in the dark concerning how radical this party has become. Two weeks ago, Rep. Nancy Pelosi (D-CA), the House Minority Leader, defended MS-13, saying she was appalled over the president calling them "animals." Then again, the news media decided to peddle fake news, claiming that President Trump was referring to immigrants as animals. That's not true. Folks, there's video and a transcript. They were wrong, but decided to peddle this crap anyway because the elite media has Trump Derangement Syndrome. In fact, it's so systemic that the president now has liberals defending Latino gang members. They're not animals, they're still human beings is the hill the Left wants to die on — and people wonder why Democrats can't get into an effective messaging war with this White House.

Why the 'Racist America' Meme is Collapsing. The controversy over Trump's "animal" remark was, as we now know, fake news. The [New York] Times didn't mention until later that his comments were directed at criminal aliens, like those in MS-13. But because we live in an era in which Trump can never, ever be right, the Left is now defending MS-13 and other criminals without comment from our media watchdogs. Incredibly, House Minority Leader Nancy Pelosi (D-Calif.) has defended MS-13 as "God's children" with whom we all share an inviolable "spark of divinity." What would the family of an unnamed man who was stabbed 100 times, dismembered, beheaded, and had his heart cut out say to that? The killer was 19-year-old Miguel Angel Lopez-Abrego, a citizen of El Salvador, illegally residing in the United States.

Nancy Pelosi 'punted' on NFL anthem question, critics say. House Minority Leader Nancy Pelosi faced questions last week about where she stands, or kneels, regarding the NFL's recently announced policy on national anthem protests. Though she claimed to side with the players, her answers didn't sit well with many political observers. "She punted," writes Becket Adams in the Washington Examiner, describing Pelosi's response to CNN's Chris Cuomo as a "professional-strength nonanswer."

Pelosi gibberish, bizarre laughing; stares off during brain freeze. During her weekly press conference, the House Minority Leader — whom some speculate will be the next Speaker of the House if Democrats recapture the majority this November — was seen uttering gibberish, bizarrely laughing and staring off mid-sentence before re-engaging the press during the appearance.

Sanctimony Alert: Pelosi Touts 'Spark of Divinity' in MS-13. Nice of Nancy Pelosi to recognize the "spark of divinity' in people who commit such horrible atrocities that they make the Nazi SS look like boy scouts. Nancy should definitely house these "sparks of divinity" on her multi-million dollar California estate.

Pelosi on Trump: 'Does He Not Believe in the Spark of Divinity, the Dignity and Worth of Every Person?'. President Donald Trump, at a White House discussion on immigration Wednesday, referred to MS-13 gang members as "animals," although some media outlets took the remark out of context, suggesting that he was referring to all illegal immigrants. Continuing with that misrepresentation at her Thursday news conference, House Minority Leader Nancy Pelosi (D-Calif.) said we "believe that... there's a spark of divinity in every person".

11 Animalistic Crimes Committed Against Americans by MS-13 Gang. When President Trump recently referred to MS-13 gang members as "animals," the mainstream media, left-wing pundits, and Democrats were outraged by the statement. House Speaker Nancy Pelosi slammed Trump's attack on MS-13 gang members, saying, "Does he not believe in the spark of divinity, the dignity and worth of every person?"

The Editor says...
It's always amusing to hear the country's leading abortion advocate preach about divinity and so on. Does she not believe in the dignity and worth of every person prior to his or her birth?

Nancy Pelosi raises eyebrows and a whole lot of questions with incoherent rant on Iran. Democrats' swift condemnation of President Trump's decision to pull the U.S. out of the Iran nuclear deal may have been too quick for Nancy Pelosi to coherently gather her thoughts. The House Minority Leader slammed the president for his decision, which she claimed threatens global security, but was soon rambling in her weekly briefing with reporters. [Video clip]

Nancy Pelosi: 'Democrats believe you must pay as you go'. Democrats will lower the federal debt if they retake control of the government, House Minority Leader Nancy Pelosi said Thursday [5/10/2018], even as they seek to enact major infrastructure spending and other new programs while undoing the GOP tax law. "Democrats believe you must pay as you go," the California Democrat said at an event hosted by the fiscally conservative Peter G. Peterson Foundation. New government investments must be offset in the budget, she said. Pelosi steered clear of saying how Democratic initiatives, such as a new federal education and housing funding, would be paid for.

The Editor says...
If the "Democrats believe you must pay as you go," why is the national debt over $21 trillion?

Pelosi: 'Trump Administration's Spiteful and Subjective Immigration Policies Casting a Cloud of Fear'. House Minority Leader Nancy Pelosi (D.-Calif.) accused the Trump Administration on Friday of launching a "cowardly assault on 57,000 Hondurans" by cancelling their Temporary Protected Status (TPS), which was based on the damage done to their country by a hurricane that struck 19 years ago and allowed them to stay in the United States while their country was overcoming that damage. "The Trump Administration's spiteful and subjective immigration policies are casting a cloud of fear and uncertainty over American communities," Pelosi said. "If the Administration refuses to rescind this decision, Republicans in Congress have a moral responsibility to step in and ensure permanent protection for these hard-working, patriotic Hondurans."

The Editor says...
Yeah, that's the problem, Nancy. If they are "patriotic Hondurans," they are loyal to Honduras. They're only coming here to siphon money out of this country and send it back to Honduras.

Nancy Pelosi's Last Stand. Nancy Pelosi has never lost the vote in a leadership fight, or on the floor of the House, and she intends to reclaim the speaker's gavel should the Democrats win back the House. Had Hillary Clinton won the 2016 election, Pelosi planned to give up her San Francisco seat and move on, confident the Republic was in safe hands. Instead, she stayed to fight the good fight, and her future will be determined by what happens in November. If the Democrats fail to regain the House majority after a year of anticipation, those dashed hopes would surely end Pelosi's storied career. But with most forecasters predicting a Democratic win in the House, the leadership picture gets complicated. Will Pelosi dig in her high heels for another tour of duty as speaker, and will newly empowered Democrats drawn from the Resistance remain loyal to a leader that some of them ran on opposing?

Pelosi: 'I Discourage Any Discussion of Impeachment' — 'It's a Gift to the Republicans. During a news conference on Thursday, House Minority Leader Nancy Pelosi (D-CA) discouraged Democrats from talking about impeachment and said, "it's a gift to the Republicans to talk about impeachment." Pelosi said, "I don't think that we should be talking about impeachment. I've been very clear, right from the start. There is a process at work that will either yield or not information that will be dispositive of that issue."

Nancy Pelosi promises 'pro-choice gavel when we win the Congress'. House Minority Leader Nancy Pelosi said Tuesday [4/24/2018] the Democratic Party doesn't have litmus tests for its congressional candidates — though she made it clear that if Democrats flip control of the House, they will fight for abortion rights. Mrs. Pelosi told the student at the Georgetown Institute of Politics that Democrats will support pro-life Democrats over a pro-life Republicans in order to increase their chances of taking over the lower chamber and that she takes "heat" for that.

Pelosi and Democrats trying to scare women into voting for them. For a long time, the Democrats have been successful by scaring people into voting for them. It's a tactic used when you can't persuade people on policy. Americans were recently reminded of the Democrats' usual refrain when House Minority Leader Nancy Pelosi declared President Trump's tax cuts as "Armageddon."

Nancy Pelosi Suffers Serious Face Spasms, Confuses Words. After Speaker Paul Ryan (R-WI) announced his retirement from politics, all eyes are on Minority Leader Nancy Pelosi (D-CA) and what she will do next. Could she be the next Speaker? But shortly after Ryan's announcement Wednesday, while addressing reporters, Pelosi suffered visible face spasms, frequently confused words, and had serious "brain freezes."

Nancy Pelosi Vows Democrats Will Raise Taxes If They Take Back The House. House Minority Leader Nancy Pelosi vowed Wednesday [4/4/2018] that Democrats will rework the GOP tax bill if they successfully retake the House in the 2018 midterm elections. Speaking at a Culver City town hall event as part of the "Repeal the Trump Tax" tour, Pelosi pledged that Democrats would overhaul the tax bill into one that "creates growth, creates good-paying jobs, as it reduces the deficit." "Over 80 percent of the benefits go to the top 1 percent," Pelosi said of the GOP tax cuts. [...] According to the non-partisan Tax Policy Center, the average household will receive a tax cut of $1,610 in 2018. Only 5 percent of taxpayers will see increased taxes in 2018.

Nancy Pelosi: When We Take Back The House, I PROMISE We'll Repeal Those Republican Tax Cuts. As soon as Democrats retake the House in November, Democratic Minority Leader Nancy Pelosi told a town hall meeting Wednesday that the first priority is repealing and "replacing" the GOP tax cut package that passed last December. Speaking to her constituents in Culver City, California, alongside Hollywood Congressman Ted Lieu, Pelosi pledged to discard the popular bill, which has prompted several major American companies to boost wages, share profits, and in some cases move their production operations back from overseas, because Republicans were so secretive in enacting the bill.

The Editor says...
Isn't this the same woman who said we had to pass Obamacare to find out what's in it?

Nancy Pelosi targeted in more than a third of GOP House commercials. Nancy Pelosi has long been a favorite target of GOP attack ads. But Republicans seem to be taking it to another level in this election cycle. The House Democratic leader has been featured in roughly one-third (34%) of all GOP broadcast ads aired in House races this year, according to data provided to the USA TODAY NETWORK by Kantar Media's Campaign Media Analysis Group (CMAG), which tracks political advertising. That compares with 9% in all of 2016 and 13% in 2014.

Facing GOP attacks, more Democratic candidates ditch Pelosi. A growing number of Democratic congressional candidates are bailing out on Nancy Pelosi as they try to inoculate themselves against Republican attacks on the House Minority Leader. "I'm not supporting Nancy Pelosi," Democrat Andrew Janz, who is running against Rep. Devin Nunes, R-Calif., told NBC News in a recent interview. "I think she's done a lot of good for the party; I think she's done a lot of good for the country," he added. "However, I think it's time for a new generation of leaders to go to Washington, and this is with respect to both Democrats and Republicans. I think the country, and my district in particular, is hungry for change."

Fmr Clinton Pollster Mark Penn: Conor Lamb Came Out Against Nancy Pelosi and Won. Former Clinton pollster Mark Penn weighed in on Pennsylvania's 16th congressional district special election result, crediting Rep.-elect Conor Lamb's (D-PA) victory to the candidate going against the far left like Nancy Pelosi. "[A]fter so much talk that the party was moving to Elizabeth Warren and Bernie Sanders [the special Pennsylvania congressional election] really reaffirms the power of a centrist Democrat," Penn told New York AM 970 radio's "The Cats Roundtable" host John Catsimatidis. "I mean, Conor Lamb really took a lot of centrist positions. He backed a lot of what President Trump was saying. And he came out explicitly against Nancy Pelosi."

Some Democrats want Pelosi out now, win or lose House in midterms. Some House Democrats wanted Nancy Pelosi out as their leader after they failed to win a string of 2017 special elections. And now some want the House minority leader out because they appear to have won a special election. What gives with the paradox? It doesn't make sense, except that some House Democrats are prepared to move on from Pelosi — and some aren't. "The watch" is on again on Capitol Hill when it comes to Pelosi, how has been the House's top Democrat for more than a decade.

Why it's time for Democrats to ditch Nancy Pelosi. When you are running as a Democrat in Donald Trump country, the name Nancy Pelosi is even more toxic than the letters CNN. [...] As the House Democratic leader since 2005, Pelosi is unpopular (her approval rating was 29% in a national Quinnipiac University poll in February) and extremely well known (83% of voters in the Quinnipiac survey knew who she was). That twofer of familiarity and voter fatigue is why the demonization of Pelosi remains a staple of Republican attack ads.

Nancy Pelosi about to get the boot? Conor Lamb's congressional victory in Pennsylvania wasn't just bad news for his Republican opponent, Rick Saccone. Guess who else lost big from this special election. Yep, House minority leader Nancy Pelosi is finding herself a massive liability to her party, and now swamp-watcher Mike Allen of Axios is reporting that she's actually tottering.

ICE Director Fires Back at Nancy Pelosi. Acting ICE Director Thomas Homan had some strong words Tuesday for House Minority Leader Nancy Pelosi, who accused the Trump administration and ICE agents of carrying out "cowardly attacks" on illegal immigrants. Pelosi issued the statement after the Justice Department filed a lawsuit against California, claiming three recently passed state laws are deliberately interfering with federal immigration enforcement. "The people of California will not be bowed by the Trump administration's brazen aggression and intimidation tactics," the California Democrat said. "Californians will continue to proudly keep our doors open to the immigrants who make America more American. We will fight this sham lawsuit and will fight all cowardly attacks on our immigrant communities."

ICE Director Fires Back at Nancy Pelosi: 'How Dare You' Call ICE Agents 'Cowardly'. Acting ICE Director Thomas Homan had some strong words Tuesday for House Minority Leader Nancy Pelosi, who accused the Trump administration and ICE agents of carrying out "cowardly attacks" on illegal immigrants. Pelosi issued the statement after the Justice Department filed a lawsuit against California, claiming three recently passed state laws are deliberately interfering with federal immigration enforcement. "The people of California will not be bowed by the Trump administration's brazen aggression and intimidation tactics," the California Democrat said. "Californians will continue to proudly keep our doors open to the immigrants who make America more American. We will fight this sham lawsuit and will fight all cowardly attacks on our immigrant communities."

Nancy Pelosi will pander to anyone. Is there anyone too crazy for Nancy Pelosi not to pander to? Apparently not. Already we know she panders to people who utterly hate her, as her recent drama with the DREAMers demonstrated. She's also tried to pander to Latinos specifically, based on race, by saying her grandson wished he had their brown skin and brown eyes. Now she's pandering to people who are laughing at her. Appearing at an oh, so ironic drag queen television derby, run by a professional drag queen whose stage name is RuPaul, the House minority leader from San Francisco pandered away with fake, phony flattery — court eunuch stuff so cheesy that it wouldn't impress even them.

Nancy Pelosi Backtracks on 'Crumbs' Tax Reform Comment: 'We Are Thankful Whenever Workers Get Bonuses'. House Minority Leader Nancy Pelosi (D-CA) backtracked on her "crumbs" comment about tax reform, admitting that "we are thankful whenever workers get bonuses." Pelosi admitted in a tweet on Thursday [3/8/2018], "Certainly we are thankful whenever workers get bonuses. But it is incredibly telling that companies by-and-large chose to give out one-time bonuses, and not long-term raises."

Pelosi Slams ICE for Arresting 'Hard-Working, Law-Abiding,' 'Patriotic' Illegal Aliens. House Minority Leader Nancy Pelosi today attacked the Immigration and Customs Enforcement agency for arresting more than 150 illegal aliens in Northern California whom Pelosi described as "hard-working, law-abiding" and "patriotic." San Francisco, where Pelosi's congressional district is located, is a "sanctuary city" that will not cooperate with the federal government in the enforcement of U.S. immigration laws. "Since Sunday, ICE deportation officers have arrested more than 150 individuals who are in violation of federal U.S. immigration laws, working on leads developed by the local field office in conjunction with the National Criminal Analysis and Targeting Center (NCATC)," ICE said in a statement released Tuesday [2/27/2018].

Pelosi the 'most right-wing'? Only in San Francisco. House Minority Leader Nancy Pelosi is regarded by most Republicans as a far-left liberal. But a recent column identifies the San Francisco Democrat as the "most right-wing" candidate running in her district this year. Emily Cadei, a correspondent for the Sacramento Bee, wrote Monday [2/26/2018] that Pelosi — who'll turn 78 on March 26 — will be forced to fight off three opponents, all coming at her from the left, when she seeks re-election later this year.

How Identity Politics Is Made to Destroy Us. In January, when negotiations over the fate of 800,000 DACA recipients broke down, House Minority Leader Nancy Pelosi (D-Calif.) blamed the impasse on the alleged racism of President Trump and his senior advisers. "Last night the president put forth a plan," Pelosi told the U.S. Conference of Mayors. "Let me just say what I said last night, that plan is a campaign to make America white again." This was not only an obvious lie, but a spectacularly brazen one, since Trump's announced plan would provide a path to citizenship not only for the illegal aliens who had benefited from President Obama's constitutionally suspect Deferred Action for Childhood Arrivals program, all of whom are nonwhite, but for a million additional illegals, mainly from Latin America, who are also mainly nonwhite.

The Labyrinth of Oppressions. Nancy Pelosi is on a tour to blast the new tax reform and reduction law, whose savings often will result in $1,000 or more per annum to families. The law already had encouraged private enterprise bonuses to employees due to employer savings. Pelosi habitually scoffs that such savings are "crumbs." At a recent speech, after she intoned that income inequality would be exacerbated, a woman in the audience shouted out, "How much are you worth, Nancy?" Fair question. She and her husband, a developer and property investor (with apparently good connections within the bureaucracy of federal construction, land sales, and property acquisitions) are worth over $100 million. They own more than one multimillion-dollar home.

Nancy Pelosi's net worth more than tripled during financial crisis 2008-2010. I am sure there is nothing at all suspicious when the then-speaker of the House managed to triple her (and her husband Paul's) estimated net worth in the period of a global financial crisis, when the federal government was deciding whom to bail out and whom to let go bankrupt, and where to spend hundreds of millions of dollars on "stimulus." Doug Ross of Director Blue noticed the stunning investment success of the San Francisco couple, drawing on information from Open Secrets, run by the Center for Responsive Politics.

During the financial crisis, Nancy Pelosi somehow tripled her net worth to $100 million. If only our society had some people we used to call "investigative journalists". They might be able to figure out how then-Speaker Nancy Pelosi mysteriously tripled her net worth during the height of the financial crisis.

Democratic Lunacy on Full Display in California. House Minority Leader Nancy Pelosi has promised everything she can for the young illegal aliens and her increasingly restive left-leaning caucus. The House members are grousing privately about how their leader is ruining their brand across the country. As for the illegal aliens and their activist enablers, they overwhelmed one of her press conferences in San Francisco. They badgered her US Senate colleagues, including Chuck Schumer by protesting outside of his home in New York State. Two weeks ago, Pelosi stood for 8 hours to demand that a clean DREAM Act be attached to the latest budget-spending bill. Nothing happened.

'How Much Are You Worth, Nancy?': Pelosi Heckled at Town Hall While Slamming Trump Tax Law. Rep. Nancy Pelosi was heckled by a woman at a town hall event Tuesday [2/20/2018] after she continued blasting President Trump and Republicans' tax cuts. "God never intended one group of people to live in superfluous inordinate wealth while others live in abject deadening poverty," the House minority leader said, adding that the quote was from Dr. Martin Luther King. As she finished her sentence, Pelosi was interrupted by a woman in the Phoenix, Arizona, audience who asked "how much are you worth, Nancy?"

Pelosi Tries to Extend $137,000 Tax Break for Two of Her Multi-Million-Dollar Homes. House Minority Leader Nancy Pelosi (D., Calif.), who often rails against income inequality and calls on the wealthy to pay its "fair share" in taxes, took pains in late December to try to preserve tax breaks for two of her multi-million-dollar homes one last time before the new tax law kicked in. Largely thanks to her husband Paul, a real-estate and venture-capital investor, Pelosi is the wealthiest woman in Congress with a net worth of more than $100 million and the seventh wealthiest member overall, according to the Center for Responsive Politics. In fact, assets and cash disclosed in her 2016 financial-disclosure statement places Pelosi in the top one-tenth of the 1 percent of Americans. Pelosi's annual property tax bill alone on three luxury homes last year — $137,000 — is more than twice the 2016 U.S. median household income of $59,039, which the U.S. Census reported last fall.

Pelosi's Border Solution: 'Mowing The Grass'. House Minority Leader Nancy Pelosi said during a Tuesday [2/20/2018] interview that she thinks "mowing the grass" along the border could be one solution to border security. Pelosi denounced the idea of a border wall during the interview, which was broadcast on Facebook live, stating that such an idea is "never going to happen." "Well, I'm not the wall's biggest advocate in Congress, but I do know that representatives in the House and Senators in that body from the border wall areas have some serious objection to a wall," Pelosi explained. "Because they know how detrimental it can be to the community trade, to all of the other aspects of a border." [Video clip]

Pelosi Proposes 'Mowing the Grass,' Fences as Alternative to Border Wall. Tuesday [2/20/2018] during an interview with the Arizona Republic, House Minority Leader Nancy Pelosi (D-CA) said fences and "mowing the grass" along the U.S.-Mexico border would be a better alternative instead of President Donald Trump's proposed wall.

Fact-checking Nancy Pelosi's fundraising numbers. We can't really offer a Pinocchio rating here. But we can offer a cautionary note about how these numbers are reported in the media. You cannot readily compare Pelosi and Ryan's numbers, because they are counting different things. Pelosi includes email and direct mail, whereas Ryan does not. Ryan's numbers are recorded at the FEC, while Pelosi's numbers simply are in a news release. You have to take on faith that her numbers are correct, whereas Ryan's numbers are verified and can be checked. Reporters who do not make that clear are doing a disservice to their readers.

House Democrats Rip Pelosi, Call for Leadership Change. Several House Democrats recently berated House Minority Leader Nancy Pelosi's (Calif.) leadership and called for change before the 2018 midterm elections. "For us to go into this election with her as our leader is absolute insanity," one House Democrat, speaking anonymously, told the Atlantic. The representative accused Pelosi of putting her own interests ahead of the caucus' and added, "if we don't win the House back, it's going to be because of her." Pelosi has drawn criticism in recent months following controversial statements she made surrounding immigration reform and Republican tax reform debates.

GOP Rep to Introduce the 'Crumbs Act' in Jab at Pelosi. Congressman Todd Rokita, R-Ind., will introduce legislation that helps Americans keep more of the bonuses they receive by making them tax-free. The legislation, "Creating Relief and Useful Middle-Class Benefits and Savings" — known as the CRUMBS Act — also takes a swipe at House Minority Leader Nancy Pelosi, who has repeatedly downplayed the significance of the bonuses some Americans are receiving thanks to the GOP tax plan by referring to them as "crumbs." "In terms of the bonus that corporate America received versus the crumbs that they are giving to workers to kind of put the schmooze on — it's so pathetic," she told reporters last month. "I think it's insignificant."

Michael Savage: Pelosi and Democrats Are Saying 'Whiteness Is a Crime'. Democrats and the broader left have "targeted the white male ... for extinction," said Michael Savage on Thursday's edition of his eponymous radio show, pointing to Rep. Nancy Pelosi's (D-CA) recent use of an anecdote involving her grandson to push racial politics. On Wednesday [2/7/2018], Pelosi described her six-year-old white grandson's birthday wish to have brown skin as "beautiful" during a speech on the House floor: [...]

The Democrats' biggest liability wears 4-inch heels. Pelosi's speech, mostly stories read from "Dreamers" — the children of illegal immigrants brought here by their parents and caught in a political firestorm between both parties — was red meat for the Democratic base. But perorations on behalf of illegal immigrants are unlikely to excite the independents, swing Republicans, and centrist Democrats whose votes will determine control of Congress. Similarly tone-deaf were her warnings last year that the Republican tax cut was the apocalypse. "It is the end of the world," Pelosi told reporters after the bill passed, "This is Armageddon." And calling the $1,000 bonuses that more than 3 million American workers have received 'crumbs' for the past few weeks was also not helpful. A $1,000 bonus is not crumbs, and neither is an extra $100 per paycheck.

Nancy Pelosi Quotes "Welcome the Children" Bible Verse But Supports Killing Children in Abortions. House Minority Leader Nancy Pelosi criticized politicians for not welcoming vulnerable immigrant children Wednesday [2/7/2018], though she herself supports the destruction of millions of unborn babies' lives through abortion. PJ Media reports Pelosi's hypocrisy came through loud and clear during her 8-hour speech on immigration and the Deferred Action for Childhood Arrivals program. The California Democrat has come under fire many times for claiming to be Catholic and a supporter of children while staunchly defending abortion on demand up until birth. In her speech Wednesday, Pelosi made references to the Bible and Catholic church teachings about children to defend her position on immigration.

The Legacy of Hypocrisy from Nancy Pelosi. Nancy Pelosi is one of the biggest names on the left. Every time liberals try to stir controversy around Trump or a conservative policy change, she is at the center of those efforts. There is no shortage of stupid quotes that can be attributed to her, but the most frustrating moments are when she blatantly proves her own hypocrisy. Despite modern record keeping and the irrefutable proof, she seems oblivious to this particular shortcoming. Let's review her greatest hits.

Democrat Lawmakers Are "Furious" With Nancy Pelosi Over Her Useless Filibuster. Aside from accomplishing absolutely nothing, Nancy Pelosi (D-Calif.) and her eight-hour filibuster also managed to anger her fellow Democrats who think the House Minority Leader may have actually damaged their 2018 election chances with her dramatics. Pelosi thought she would be able to filibuster the spending caps deal until Speaker Paul Ryan gave in to her demands for protections for Dreamers, but abandoned her quest without so much as a smirk from Ryan.

Nancy Pelosi Thanks Illegal Aliens for Breaking the Law to Bring 'Dreamers' to USA. House Minority Leader Nancy Pelosi (D-CA) spoke for more than eight hours on the floor of the House of Representatives on Wednesday, using her prerogative as a party leader to mount a filibuster to draw attention to the cause of illegal aliens. The House, unlike the Senate, does not actually have a filibuster rule that allows members to speak as long as they want. Only the Speaker of the House and the party leaders can hold the floor indefinitely.

Pelosi celebrates her grandson's racial self-hatred in marathon House speech. It was inevitable that when speaking for 8 straight hours on the House floor, Nancy Pelosi would spout some crazy nonsense. But I was not prepared for what only can be called a depraved celebration of racial self-hatred. The muddled state of her thinking was on display when she spoke praise of her grandson wishing he were not white.

Public Backs Trump, Not Democrats, On Immigration: IBD/TIPP Poll. In his State of the Union speech, President Trump said he was willing to make a deal with Democrats. He'd create a path to citizenship for 1.8 million illegal aliens who came to the country as children, in exchange for funding for a border wall and a shift toward a skills-based immigration policy. Democrats flat-out rejected Trump's overture, with House Minority Leader Nancy Pelosi calling it "an act of staggering cowardice which attempts to hold the Dreamers hostage to a hateful anti-immigrant scheme."

VP Pence on Pelosi Calling $1,000 Bonuses 'Crumbs': 'You Live in a Different World Than I Live in'. Vice President Mike Pence on Wednesday [1/31/2018] derided House Minority Leader Nancy Pelosi (D-Calif.) for dismissing the $1000 bonuses that various companies are giving to their employees as a result of the president's tax cut reform plan as "crumbs." Speaking to lawmakers at the GOP congressional retreat last night, Pence said, "I heard Nancy Pelosi — before the tax cut was voted on, Nancy Pelosi predicted economic "Armageddon." Remember that one? Well, that wasn't the worst of it.

Pelosi: Trump is No Longer Commander-in-Chief After Release of FISA Memo. After a long wait, the FISA memo Americans wanted to see was finally released. It contained a lot of damaging information about Democrats. According to House Minority Leader Nancy Pelosi (D-CA), "President Trump has surrendered his constitutional responsibility as Commander-in-Chief by releasing highly classified and distorted intelligence."

Pelosi Calls For Nunes' Removal From House Intel Committee. House Minority Leader Nancy Pelosi on Thursday [2/1/2018] called for the removal of California Rep. Devin Nunes as chairman of the House Intelligence Committee over what she claims is his "dishonest" handling of the secret GOP spy memo. "Congressman Nunes' deliberately dishonest actions make him unfit to serve as Chairman, and he must be removed immediately from this position," Pelosi wrote in a letter to Speaker Paul Ryan. She cited an allegation that California Rep. Adam Schiff made on Wednesday that Nunes made "material" changes to the four-page spy memo before it was handed over to the White House earlier this week.

The Editor says...
Claims about those "material changes" turned out to be untrue, according to a Congressman who saw both versions. Since the release of the memo, nobody has come forward to substantiate (or even dignify) such claims.

Confused Nancy Pelosi Stutters, Forgets Who's President. Democrat leader Nancy Pelosi called President Trump "President Bush" at least five times in 2017. She did it again today [2/2/2018]. Minority Leader Pelosi got confused and mixed up on Thursday [2/1/2018] when speaking to reporters on the pending release of the House Intelligence FISA memo.

Nancy Pelosi's SOTU Response: DACA Illegal Aliens 'Are Americans Too'. House Minority Leader Nancy Pelosi responded to President Trump's "State of the Union" (SOTU) address by claiming that the roughly 3.5 million illegal aliens who are enrolled and eligible for the President Obama-created Deferred Action for Childhood Arrivals (DACA) program "are Americans too." During his SOTU address, Trump assailed open borders and the violent, El Salvadorian MS-13 gang, which has ravaged American communities and prospered due to rapid illegal immigration, calling on the federal government to protect the interests and safety of American citizens.

Nancy Pelosi Comes Unglued After GOP Votes to Release FISA Memo. It was another rough day for Nancy Pelosi. The House Intelligence Committee voted Monday afternoon [1/29/2018] to release of the secret FISA Memo. The vote was along party lines. Not a single Democrat voted for transparency. The memo which was open to all House members to review was read by 190 Republican lawmakers and only 10 Democrats in the last week.

The unraveling of Pelosi is a sad sight. Nancy Pelosi, the top Democrat in the House of Representatives, is, in a word, a mess. But let's pause for one moment to do something we almost never do: Offer a few words of praise for Mrs. Pelosi, born Nancy Patricia D'Alesandro in 1940. The Italian-American has spent nearly her whole life in politics, first as a 20-year member of the Democratic National Committee from California, then as the state party's chairman. She first won election to the House in 1987 — when Ronald Reagan was president — and she's been there ever since. In 2002, after working her way to the top, Mrs. Pelosi was elected speaker of the House, the first woman ever to helm a national party in the august chamber.

If Pelosi Brings Illegals to SOTU, Trump Should Bring ICE Agents. House Minority Leader Nancy Pelosi and a number of other Democrats plan to fill the House gallery with illegal aliens when President Trump delivers his first State of the Union address. ABC News reports at least 24 House Democrats plan to bring illegals — the so-called "Dreamers" — to watch the Tuesday night speech from the House gallery. The illegal aliens will be sitting in seats that in previous years were meant for brave military heroes, law-abiding taxpayers and America's best and brightest. The sad truth is that Democrats would rather align themselves with foreign invaders who violated our national sovereignty, thumbed their nose at the rule of law, and pillaged and plundered taxpayer-funded resources.

Desperation Time As Democrats Seek to Stop Trump From Succeeding. [Scroll down] But, holding key positions open is not the only powerless move the Dems have been trying. Perhaps the funniest is their use of talking points to run down the tax relief bill's manifest success. Pretty much every company everywhere seems to be delivering bonuses and raises to their workers, and it's driving the Democrats insane. "Crumbs! Crumbs!" mutters Nancy Pelosi as she wanders through the House looking for where she left her missing slipper. You know, a thousand bucks may not sound much to a zillionaire like Nancy, but that's a lot of money for Normals. And Normals are noticing. The only thing the Democrats hate worse than workers getting raises is how fast the stock market is going up.

Capital Hill's Personal Pharmacist Admits Alzheimer Drugs Are Being Delivered To Members Of Congress. The idea that some members of Congress are taking medication to treat a very serious illness such as Alzheimer's disease should ring alarm bells across the country as the illness itself and the pharmaceuticals that treat it can have very damaging effects on a person. On top of the cognitive degenerative symptoms of Alzheimer's disease, a suffer who is taking — for example — the FDA approved Alzheimer treatment medication Aricept, side effects ranging from chronic trouble sleeping to aggressive behavior may also occur. Other side effects of Aricept are altered mental status, brain disease or injury causing inability to communicate, becoming easily angered or annoyed, and mood changes. Other Alzheimer medications such as Razadyne and Exelon also cause concerning side effects such as depression, hallucination, and dyskinesia.

Capital Hill's Personal Pharmacist Admits Alzheimer Drugs Are Being Delivered To Members Of Congress. Recently, the health of House Minority Leader Nancy Pelosi came under the media's radar when she was filmed slurring her statements and uttering unintelligible gibberish during a press conference. [Video clip] Considering the frequent mass delivery of big pharma drugs to Congress, it isn't a farfetched idea to assume that this type of behavior may be the result of a drug's side effect.

Pelosi's 'White' America. We make fun of Nancy Pelosi for good reason because of her nonsensical rants. [...] Nancy does not like the ethnic makeup of the electorate that elected President Trump. Nancy is saying these are "white voters," not necessarily white or Caucasian, but "white" in the sense that they reject the Democratic Party/Leftist agenda of open borders, abortion on demand, sanctuary cities and states, crony capitalism, amnesty for all illegals, high tax rates, increased regulations on business, and a cradle-to-grave nanny welfare state administered by the Annointed Ruling Class of Leftist Democrats and RINO Republicans. To oppose this means acting "white" to Nancy.

"Bobblehead" Nancy Pelosi Speaks At Mayor's Conference, Stupifies Crowd. House Minority Leader Nancy Pelosi (D-CA) recently hit the road for a speaking engagement at the Conference of U.S. Mayors. Now, the video of "bobblehead" Pelosi has gone viral after she stupified the crowd — and all it took was just three words. [...] This really takes stupid to a whole new level, even for Nancy Pelosi. Eventually, people in her own party will realize she is out of touch with reality beyond what most liberals would consider normal.

Levin crushes Nancy Pelosi: 'She should be expelled from the House' for her race-baiting statement. Friday night [1/26/2018] on his radio show, LevinTV host Mark Levin blasted House Minority Leader Nancy Pelosi for suggesting Trump's immigration plans are to "make America white again." "This is such a hateful, unconscionable, demagogic statement that she should be expelled from the House of Representatives," Levin suggested.

Pelosi plays race card: Trump immigration plan to 'make America white again'. A Saltine-white woman from one of the richest congressional districts in the country played the race card against President Trump during a speech to U.S. mayors. Addressing the United States Conference of Mayors, Nancy Pelosi promoted illegal immigration, sanctuary cities and so-called "Dreamers." [Video clip]

Pelosi Gone Wild: Trump's Dreamer Deal A "Campaign To Make America White Again". I admit to being a bit puzzled by the leftist outrage over President Trump's proposed DACA deal. I fail to see anything "racist" about providing a pathway to citizenship for over a million illegal aliens (or in any of the other proposed provisions). House minority leader Nancy Pelosi (D-CA), however, seems to imagine that it's some kind of white supremacist plot.

A thousand dollars is mere chicken feed to a limousine liberal.
Wasserman Schultz joins Pelosi in mocking size of $1K cash bonuses linked to tax cuts. Florida congresswoman and former DNC chief Debbie Wasserman Schultz joined House Minority Leader Nancy Pelosi on Thursday to ridicule the economic repercussions of recent tax reform legislation. An audience at Florida Atlantic University witnessed Ms. Pelosi double down this morning on her recent "crumb" criticism of cash bonuses given out by companies like Apple, AT&T, Boeing, Comcast, Disney, Home Depot, Fiat Chrysler, Southwest Airlines, Verizon, Wal-Mart and Well Fargo. The event, which was sponsored by the group Not One Penny, included Ms. Wasserman Schultz's assertion that $1,000 doesn't go "very far for almost anyone."

Nancy Pelosi whoops it up with Democrats over government shutdown at a tony DC restaurant. Maybe they were whooping it up. Or maybe they were crying in their beer. One thing that's certain is that Democrats, led by House Minority Leader Nancy Pelosi, were doing it in luxury at one of Washington's toniest restaurants, as the measure to fund the government failed. According to Scott Wong at The Hill, the wake of the late-night government shutdown sent congressional members skittering all over town for their dinners: [...]

Nancy Pelosi Ripped After Taking House Democrats out for Exclusive Dinner Party as Troops Pay Price for #SchumerShutdown. According to media reports, House Minority Leader Nancy Pelosi (D-CA) invited the 192 Democrat Members of the House of Representatives out to dinner at a fancy Italian restaurant in Washington, D.C. Saturday [1/20/2018] during the first day of the government shutdown. Politico's Jake Sherman was first to report on Pelosi's dinner.

Nancy Pelosi Trashes Pro-Life People: "They Pray on Sunday and Prey on People the Rest of the Week". The Democratic Party has problems. Ever since Democrats suffered major, unexpected losses in the November election, political commentators have been speculating about why. One of the biggest reasons pointed to is the party's disconnect with rural, religious and pro-life voters. On Friday, MSNBC's Joe Scarborough broached the topic with House Minority Leader Nancy Pelosi.

Sarah Sanders Pounds Pelosi Into the Dirt Over Her "Crumbs" Comment. House Minority Leader Nancy Pelosi (D-CA) arrogantly dismissed the Trump tax cut bonuses as "crumbs" and "pathetic" in a press conference last Thursday [1/11/2018]. Botox Pelosi is one of the wealthiest members of Congress; she is completely removed from the everyday working American. What a despicable woman. On Wednesday [1/17/2018] it was announced that Apple will pay $38 billion in taxes to the U.S. government to return money it had stashed overseas. Apple has $252.3 billion in cash abroad.

Nancy Pelosi will be guest judge on 'RuPaul's Drag Race: All Stars'. House Minority Leader Nancy Pelosi will appear as a guest judge on "RuPaul's Drag Race: All Stars." Her appearance on the drag-queen competition show has already been filmed, her office told the Washington Post. "She had a 'fabulous' time," Pelosi's spokesman told the paper. Pelosi's longtime support of the LGBT community and what she sees as attacks from the Trump administration on the gay and transgender community underscored why she wanted to appear on the show.

Report: Nancy Pelosi Now a Lock for Speaker of the House in 2019. Axios.com's Mike Allen reports that House Minority Leader Nancy Pelosi (D-CA) is now considered a lock for Speaker of the House in 2019, as her party is expected to sweep the 2018 midterm elections. If so, it would be one of the most remarkable comebacks in political history, after Pelosi led her party to an historic defeat in 2010 after serving as the first female Speaker for four years, then clung to power over a shrinking minority party for eight.

Ingraham Takes on Pelosi for Saying Companies Just Giving Out 'Crumbs' After Tax Cuts. Laura Ingraham took on House Minority Leader Nancy Pelosi for saying companies' bonuses to workers following the passage of the Republican tax cuts are mere "crumbs." "Maybe it's a crumb if you live in Pacific Heights or the Sea Cliff neighborhood of San Francisco and you're married to Paul Pelosi, maybe then it's a crumb. But for most people it's real money," she said.

Waste Management CEO reacts to Nancy Pelosi 'crumbs' comments on bonuses. Waste Management CEO James Fish responded to Rep. Nancy Pelosi's (D-Calif.) criticism of bonuses given to employees following the passing of the Republican-backed tax reform bill. In an exclusive interview with FOX Business' Liz Claman, Fish said the bonuses will be go to drivers, landfill workers and customer service agents. "We are giving it to those folks not just because not only are they hard working, but they don't participate in our annual bonus which typically are for salary employees," Fish said during an interview on "Countdown to the Closing Bell" Friday [1/12/2018]. The House Minority Leader on Thursday called the recent wave of corporate bonus given to workers as a result of the Republican tax bill as "crumbs."

Nancy Pelosi's elitist Democrats — America, this is the party of the rich, sneering at the poor. Here in my home state of California, in response to President Trump signing the GOP tax reform bill into law, state Senate Democratic leader Kevin de Leon has taken up a new cause: fighting for the right of the richest Californians to evade their taxes. It's almost unbelievable — but true. De Leon (who is also the leading challenger to Sen. Dianne Feinstein in her primary battle as she seeks re-election this year) has proposed setting up a new so-called charity that would enable the Silicon Valley and Hollywood elite to claw back their losses from the Trump administration's new tax reform law. [...] Another prominent California Democrat also revealed her true colors this past week over taxes: our old friend, House Minority Leader Nancy Pelosi. She dismissed $1,000 worker bonuses given in response to the GOP tax cuts as "crumbs."

San Francisco plutocrat Nancy Pelosi sniffs disdain at Americans' tax bonuses, calling them 'crumbs'. The only thing worse than Senator Elizabeth Warren having to pretend she likes the tax cuts she vehemently opposed in Congress is wealthy House minority leader Nancy Pelosi looking down her nose in disdain at the millions of Americans celebrating their tax bonuses. She actually called the spectacle "pathetic" and the bonuses "crumbs."

Pelosi repeats words, overrules own statement, slurs 'prescription drugs'. Nancy Pelosi has just returned to Washington, and she brought her bizarre behavior back with her. As the House Minority Leader returned to her weekly press conference, she was seen repeating words, having trouble saying "Martin Luther King" and slurring "prescription drugs."

'Crumbs' — Pelosi Dismisses Workers' 'Pathetic' Tax Reform Bonuses. House Minority Leader Nancy Pelosi, one of the richest members of Congress, dismissed the bonuses that many companies are giving to their workers due to lower tax rates as "crumbs" and "pathetic." "A number of bonuses — one of the bonuses was in a union contract and then they added a little more money to that. That same firm just told the employees they were going to be laying off 1,500 people and if they wanted to save their jobs, they could work 32 hours. In terms of the bonus that corporate America receives versus the crumbs they are giving to workers to put the schmooze on is so pathetic," Pelosi said on Thursday in response to a question from The Daily Caller's Kerry Picket.

So why hasn't anyone ever seen Trump's supposed dementia? Like anyone else, politicians do get old, and when they do, their age frequently becomes obvious in public. One example is House minority leader Nancy Pelosi, who has repeatedly slurred her speech and spoken gibberish, both of which point to declining mental capabilities.

Pelosi Lists 8 Things She'd Rather Spend Trump's 'Immoral' Border Wall Funding On. On Friday, House Minority Leader Rep. Nancy Pelosi (D-Calif.) listed some of the things she'd do with the money President Donald Trump wants to protect America from the threats posed by illegal immigration. On her Twitter page, Pelosi introduced her series of posts by claiming the border wall funding "could do so much more" — if it wasn't used to secure the border: "President Donald Trump @realDonaldTrump, that border wall funding you are asking for (again) could do so much more good in other places...." Pelosi followed with eight separate Tweets, each touting something she'd spend the border wall funds on — ranging [from rebuilding] Puerto Rico and subsidizing high-speed internet to expanding the State Department.

Danger in 2018 for the Party of the Rich (Democrats). [Scroll down] According to the the Center for Responsive Politics, she [Nancy Pelosi] has a net worth of $196 million. And that was in May 2017. Since then there's been another 10+% run-up in the stock market, so that would conservatively push her well over the $200 million mark thanks, ironically, to the policies of Donald Trump. (Okay, not entirely, but unquestionably to some extent.) Over the last decade or so, American politics has had something of a role reversal. The Democrats have increasingly become the Party of the Rich — Silicon Valley, Hollywood, media, a good swath of Wall Street — making Pelosi's statement and similar remarks made by Schumer particularly absurd. Moreover, it is well known — but not well known enough yet — that what Pelosi said was a straight-out lie.

The Democrats Stink of Weakness and Defeat. Armageddon, she called it. That was Nancy Pelosi, the insane woman who is somehow in charge of the Democrats' House caucus, speaking about the just-passed Tax Cuts and Jobs Act. The bill would later pass in the House, largely on the same party lines it's passed throughout the legislative process, due to procedural necessities, Wednesday [12/20/2017]. [...] We wouldn't take Pelosi seriously, because it's impossible to truly do so. After all, she's completely crazy and it's obvious to anyone who bothers to observe both the gibberish emanating from her lips and the unstable body language surrounding it. Except that the unhinged sentiments she offered as a reaction to the passage of a bill which will provide a tax cut to 80 percent of the American public aren't just hers. They belong to the entire Democratic Party.

GOP tax bill causes Nancy Pelosi to lose remaining fragment of her mind. The GOP tax bill is now very close to passage, and as that became clear last night, Nancy Pelosi put on her spelunking gear for another deep descent into insanity and self-unawareness: [...] A warning about plutocracy from a super-wealthy member of Congress who's been in power for decades? Pelosi might be trying to convince people the tax bill will cost them their lives, but it clearly has yet to even take away her unintentional sense of humor.

Nancy Ditches Tax Protest After No One Shows Up. Former Speaker of the House Nancy Pelosi bailed on a "highly-anticipated" protest against the GOP tax cuts making their way through Congress on Monday, ditching the event at the last minute after only dozens of liberal demonstrators turned up at the event inside the Capitol. A reporter for left-leaning MSNBC news was on the scene to cover the event, but was forced to admit the blatant failure on-air, saying the protest was nothing like "what we saw with the healthcare law."

Unhinged Pelosi Claims Tax Bill 'Does Violence' To Vision Of Founding Fathers. House Minority Leader Nancy Pelosi spewed utter nonsense on the House floor on Tuesday, hysterically claiming that the Republican's tax plan "does violence to the vision of our Founders." Pelosi railed against Republican lawmakers in her speech, decrying the bill as a morally obscene "scam" designed to "install a permanent plutocracy." "This GOP tax scam is simply theft, monumental, brazen theft from the American middle class and from every person who aspires to reach it," Pelosi said. "

Pelosi's super PAC keeps donations from owners of prostitution website Backpage. The uproar over sexual harassment that began with the Harvey Weinstein scandal has intensified the scrutiny of political contributions linked to Backpage, which law enforcement officials say is the chief platform for activities far worse than harassment, including sexual slavery and child prostitution. Mrs. Pelosi isn't the only Democrat struggling to deal with the piles of cash that Backpage's owners spread around to candidates and state Democratic parties over the years. Even Ms. Harris, a California Democrat who is now a U.S. senator, ducked the issue. Her office wouldn't respond to repeated emails about Backpage money going to House Majority PAC and other Democratic organizations.

Three Pinocchios For Pelosi On Concealed Carry Reciprocity Act. As with most things these days, it started with a tweet. After the House passed their version of the Concealed Carry Reciprocity Act, the former Speaker of the House (now Minority Leader), Nancy Pelosi expressed her displeasure by going on social media and informing everyone that the Republicans were once again trying to unleash drooling hordes of criminals and dungeon dwellers on the nation armed to the teeth.

Nancy Pelosi, religious leaders reach deep into teachings to preach against GOP tax plans. From America's Catholic bishops to prominent Christian pastor Jim Wallis, congressional Republicans' push for an overhaul of the tax code has been called nothing less than ungodly. The debate about tax rates and income numbers has taken on pointedly religious overtones, with House Minority Leader Nancy Pelosi, California Democrat, citing Pope Francis and St. Augustine in attacking the bill and saying it would signify Armageddon. Mr. Wallis led a protest against the tax plan at the Hart Senate Office Building, reading Bible verses before he was escorted away by Capitol Police. The U.S. Conference of Catholic Bishops released a lengthy attack on the tax bill, adopting most of Democrats' predictions and criticisms of the Republicans' plans to cut tax rates on most Americans.

More about Mr. Wallis here. He was one of the people that Barack H. Obama used to put a religious veneer on an otherwise obviously Muslim life.

Nancy Pelosi Struggling To Keep House Democrats In Line. House Minority Leader Nancy Pelosi is increasingly struggling to keep Democrats in line and appears to be following her members on crucial issues rather than leading them. On Wednesday [12/6/2017], House Democrats introduced a motion to impeach President Trump, despite Pelosi's insistence for months that Democrats hold off on pushing impeachment. Fifty-eight Democrats voted in favor of impeachment on Wednesday, despite Pelosi's objections.

Pelosi: 'God Is With Us' on Demanding DACA Fix in Budget Deal. Thursday [12/7/2017] at her weekly briefing on Capitol Hill, House Minority Leader Nancy Pelosi (D-CA) said God is with the Democrats on their fight to protect recipients of the Deferred Action for Childhood Arrivals (DACA) as part of a deal to fund the government.

Remember, the Democrats are constantly yelling about the Separation of Church and State?

Democrat Accused Of Sexual Harassment: Pelosi Knew And Did Nothing About It. A first-term Democratic congressman accused of sexual harassment said that House Minority Leader Nancy Pelosi knew about the allegations while he was running for office and supported him anyway, putting millions of dollars behind his 2016 congressional campaign. [...] Pelosi was quick to demand [Nevada Rep. Ruben] Kihuen's resignation after the allegations became public, but she actually has known about the harassment allegations for a while, Kihuen told ABC News.

Pelosi: GOP tax proposal 'the worst bill in the history' of Congress. House Minority Leader Nancy Pelosi (D-Calif.) declared unequivocally on Monday that the GOP tax overhaul is the worst legislation ever considered by Congress. "I have said that this was stiff competition by some of the other things they have put forth, is the worst bill in the history of the United States Congress," Pelosi said during House floor debate on the tax proposal. Pelosi cited the rushed process and impact on the deficit to justify her assertion. [Video clip]

Pelosi slammed by GOP for calling tax bill 'Armageddon'. House minority leader Nancy Pelosi, D-Calif., isn't holding back when it comes to criticizing the tax overhaul that the Senate passed early Saturday morning [12/2/2017]. Approached for comment on the sweeping legislation — worth roughly $1.4 trillion — Pelosi declared the legislation "the end of the world." She added, "This is Armageddon." The comments mirrored similar ones she made on social media earlier in the day. "The #GOPTaxScam is one of the worst bills to be brought to the floor in the history of the United States," she tweeted. "We will fight with everything we have to stop this bill from becoming the law of the land."

Nancy Pelosi suffers face spasms, brain freezes while denouncing Conyers. As the media focus has shifted to the alleged sexual harassers in the Democratic ranks, questions are not going away about Nancy Pelosi's continued bizarre behavior. The House Minority Leader held her weekly press conference, and while the media focused on her call for accused serial harasser John Conyers, they overlooked her frequent flubbed words, brain freezes, and face spasm that occurred seconds into the appearance.

Pelosi: Conyers should resign. Facing criticism for going too soft on sexual harassment, House Minority Leader Nancy Pelosi (D-Calif.) on Thursday [11/30/2017] called for Rep. John Conyers Jr. (D-Mich.) to resign as the allegations of sexual misconduct have mounted against him. "The allegations against Congressman Conyers, as we have learned more since Sunday, are serious, disappointing and very credible," Pelosi said during a briefing in the Capitol, reading from a statement. "It's very sad. The brave women who have come forward are owed justice. I pray for Congressman Conyers and his family and wish them well. However, Congressman Conyers should resign," she said.

The Pelosi Rule: Our Pigs Are Better Than Their Pigs. Struggling to summon a defense of John Conyers over the weekend, Nancy Pelosi looked a bit like a malfunctioning robot with a depleted battery. But after warming up, she finally hit on the button "icon." Pelosi uttered the word icon as a cue to end all discussion. She had spoken her formula of absolution over Conyers and now it was time for NBC's Chuck Todd to let the penitent go in peace. Pelosi's comment completes feminism's arc of hypocrisy: Clarence Thomas's tormentors have become John Conyers's defenders. The same feminists who scoffed at Thomas's description of his hearing as a "high-tech lynching" now play the race card for Conyers as a civil rights "icon." The long-awaited "reckoning" looks more like the tired rationalization, as feminists, for all their advertised anguish in recent days, return to what can be called the Pelosi rule: our pigs are better than their pigs.

Watch Nancy Pelosi Prove In Minutes Why Democrats Are Perennial Losers. Republicans, including GOP leaders Paul Ryan and Mitch McConnell, have said Roy Moore should step aside and let somebody else take his place against Democrat Doug Jones in the Alabama race for the U.S. Senate. On the Democratic side, four women (two on the record) have accused Al Franken of groping them and Democrats have quietly rallied around him. But then came the accusations about Democratic Rep. John Conyers (D-Mich). Not only was Conyers accused, but he paid out settlements that were not public and paid for by John Q. Taxpayer.

Nancy Pelosi Has Been Enabling Sexual Predators For Decades. [Scroll down] But that's exactly what Pelosi is: That woman, a faux feminist who has been enabling sexual predators for decades. We can start with her full throated defense of former President Bill Clinton. She's been defending his documented and repetitive bad behavior since the 1990s and did so again on Meet The Press Sunday [11/26/2017]. During her time as Speaker of the House, Pelosi ignored disgraceful sexual harassment by former Congressman and San Diego Mayor Bob Filner.

Nancy Pelosi Botches the #MeToo Moment. On Meet the Press [11/26/2017], House Minority Leader Nancy Pelosi laid an absolute stink bomb in an interview with host Chuck Todd. [...] Todd pressed Pelosi on whether Michigan Democrat John Conyers, who, after a secretive process, settled sexual harassment complaints from a former female employee who says she was fired for resisting the congressman's sexual advances. Others have come forward alleging misconduct as well, but Democrats — led by Pelosi — took no action against Conyers. Pelosi expressed unfamiliarity with the allegations, asking Todd if it was one or two. She called Conyers an "icon." Todd asked Pelosi if she believed the accusers, and she said she didn't know who they were because they were anonymous. She called for due process, even though Conyers, as Todd pointed out, had already gone through a process that resulted in him settling with his former employee. It's not clear what other process Conyers is due.

Roy Moore is presumed to be guilty, but...
Nancy Pelosi: John Conyers deserves 'due process'. [Scroll down] Appearing on "Meet The Press" earlier in the day [11/26/2017], House Democratic Leader Nancy Pelosi urged "due process" before making conclusions about Rep. Conyers, saying the congressman is "an icon" who has worked to protect women. "We are strengthened by due process. Just because someone is accused — and was it one accusation? Is it two?" Pelosi asked.

More Pelosi brain freeze: Confused about time of day, botches name of own guest. Prior to the start of a Friday [11/3/2017] press conference intended to attack President Trump's tax cut proposal, Nancy Pelosi was handed a folder of what she was supposed to tell reporters. It might have been good for her to actually browse it before stepping to the microphone. As the House Minority Leader was waiting for several invited guests to file in behind her, she could hear muttering to herself, "Is it still morning?" [Video clip]

Pelosi struggles to form sentences during TV interview, calls Robert Mueller 'mother'. Nancy Pelosi's trouble with the English language seems to be growing by the day. During a Sunday morning [10/22/2017] appearance on MSNBC, the House Minority Leader stumbled over words, struggled to form sentences, and called special counsel Robert Mueller "mother." [Video clip]

Pelosi: There's No Culture War. Virtually every chance House Minority Leader Nancy Pelosi has had to dispel her reputation as a delusional, establishment hack completely out-of-touch with reality, she always finds some way to reveal that she really is a delusional, establishment hack completely out-of-touch with reality. Her latest guffaw occurred during her appearance on Friday's [10/20/2017] The View where she denied America is in a culture war and that Democrats have division in their ranks.

Leading House Democrat Calls on Pelosi to Step Down. A high-ranking House Democrat on Thursday [10/5/2017] called on Rep. Nancy Pelosi of California to step down as minority leader to make way for a new generation. "Our leadership does a tremendous job," said Rep. Linda Sanchez of California, "but I do think we have this real breadth and depth of talent within our caucus, and I do think it's time to pass the torch to a new generation of leaders, and I want to be a part of that transition. I want to see that happen." Sanchez, the fifth-ranking Democrat in the House, was interviewed on C-SPAN by two reporters who asked her about the current makeup of Democratic leadership.

Nancy Pelosi Thanks Illegal Immigrants for Breaking the Law. Former Speaker of the House Nancy Pelosi thanked 'Dreamer' parents for breaking US law and bringing their children into the nation illegally on Wednesday, saying the nation "owes a debt" to the undocumented families. The California Congresswoman expressed her gratitude during a televised town hall event on CNN, where she was asked whether President Trump or Congress was ready to move ahead on permanent DACA legislation. "Our Dreamers, they make America dream again. They're so lovely. And frankly, we owe a debt to your parents for bringing you here," said Pelosi. "You're such a brilliant part of our future, a constant reinvigoration of America, that's what newcomers are." [Video clip]

Pelosi suffers brain freeze while defending NFL kneelers. Nancy Pelosi defended unemployed NFL quarterback Colin Kaepernick's "First Amendment" right to disrespect the American flag during the national anthem, even if she struggled to say his name. During an appearance on "Meet The Press," Pelosi sided with the former 49ers quarterback, and other players refusing to stand for our country.

Pelosi: Dreamers' parents 'did a great thing' in sneaking them into U.S. House Minority Leader Nancy Pelosi said Wednesday that illegal immigrant parents who brought their children to the U.S. in defiance of the law "did a great thing," giving the country an infusion of successful young people. Mrs. Pelosi's comments strike a dissonant note from many analysts, who while saying the Dreamers are sympathetic since they had no say in the decision, say the parents do deserve blame for creating the problem.

Nancy Pelosi gets mau-maued by the DACA DREAMers. Nancy Pelosi got more than she bargained for when she came out to champion DREAMers and congressional institutionalization of the Deferred Action for Childhood Arrivals act in San Francisco Monday [9/18/2017]. Instead of the adoring crowds she expected, she got a boiling-with-rage mob of actual illegal aliens who mau-maued her as the bad guy, drowning her out with chanted shouts of "Liar! Liar!" and accusations of being a deportation machine.

Discreet charm of the Dreamers. You have probably heard that Nancy Pelosi was confronted yesterday [9/18/2017] by a gaggle of honking DREAMers of the kind she had staged an event to support. [...] The DREAMers did not make the decision to break into the United States. Here, however, they look like perpetrators. We are not to hold it against their parents that they brought their ill-mannered progeny with them, or that they failed to teach them manners. Watching this production, however, I find it unnatural not to resent it. Democrats want our huge population of illegal aliens to come out of the shadows, where they supposedly reside when they are not drawing on social services. If only. Bring back the shadows! Democrats treat our huge population of illegal aliens as a core constituency. One would be a fool not to draw the logical inferences from that.

Dem Senator Suggests Russia To Blame For DREAMers Protesting Pelosi. Democratic New Hampshire Sen. Jeanne Shaheen suggested Tuesday morning that Russia is to blame for the illegal immigrant protesters who derailed House Minority Leader Nancy Pelosi's community event on Monday [9/18/2017]. Video from the protest shows the crowd of pro-amnesty activists surrounding Pelosi and shouting her down, while accusing her of being insufficiently pro-immigrant. When asked why the activists were targeting Pelosi, who has been working with President Trump to try to strike a deal on DACA, Shaheen struggled to give an answer.

Watch out, Nancy! Your base is crumbling.
'You're a Liar:' So-Called 'Dreamers' Angrily Shout Down Pelosi Over DACA Negotiations With Trump. If they want to get deported, keep acting like this: [Video clip]

Pro-DACA protesters call Pelosi a 'liar'. Immigrant-rights protesters on Monday [9/18/2017] disrupted a San Francisco news conference at which House Minority Leader Nancy Pelosi had planned to promote the DREAM Act. Pelosi and fellow Democratic California Reps. Barbara Lee and Jared Huffman were scheduled to speak about the legislation, which would provide a path to legal status to people approved for the Deferred Action for Childhood Arrivals program and other undocumented immigrants brought to the U.S. at a young age. Instead, dozens of young people took over the event and called Pelosi "a liar" for saying she has fought against deportations.

Illegal Aliens Crash Nancy Pelosi's DACA Press Conference. A group of illegal aliens calling themselves the "Immigration Liberation Movement" crashed a press conference by House Minority Leader Nancy Pelosi (D-CA) on Monday [9/18/2017], warning the Democratic Party not to "sell [us] out." The group shouted down Rep. Pelosi, who struggled to maintain control of the meeting, and unfurled a large banner calling for all illegal aliens to be legalized.

California Democrats [are] growing tired of Nancy Pelosi. House Minority Leader Nancy Pelosi, who won an eighth term leading the Democratic caucus last fall, should be replaced regardless of whether her party regains control of Congress' lower chamber in next year's elections, according to a new poll. The statewide survey of California Democrats by UC Berkeley's Institute of Governmental Studies found only 30 percent believe House Democrats should choose Pelosi to stay on as their leader should they win back the House of Representatives in 2018. Some 44 percent prefer somebody else taking over, while the remainder have no opinion.

NYT Reporter: Pelosi Will Impeach Trump If Democrats Take Back The House. NYT Reporter Jeremy Peters warned President Trump on MSNBC Thursday [9/14/2017] that his "new best friend," House Minority Leader Nancy Pelosi, will move to impeach him if she ever gains control of the House. The comment after after Pelosi released a statement announcing that Trump "agreed to enshrine the protections of DACA into law," and also follows POTUS making a deal with Democrats to raise the debt ceiling.

Nancy Pelosi Is Getting So Weird — Like, Creepy Weird. House Minority Leader Nancy Pelosi has been getting weirder and weirder. She's praised illegal aliens on the Capitol's lawn, saying, "You make America more American" (Um, they, by definition, don't). She's said the Constitution does not grant people the right to shout "wolf" in a theater (it probably does, but you can't yell "fire"). And she's complained that President Trump visited Saudi Arabia first, saying "It wasn't even alphabetical. I mean, Saudi Arabia!" (Nancy thinks he should have hit Afghanistan, then Albania, Algeria, Andorra, Angola, etc.) The list goes on and on. At 77, Pelosi misspeaks all the time — and just generally acts weird to boot.

Nancy Pelosi Has a Jeb Please Clap Moment. Nancy Pelosi is losing it. It's painful to watch, yet somehow gratifying if you hate her as much as I do. Seems Nancy Pelosi couldn't even pronounce simple words and even had a few Jeb Bush "please clap" moments. Nancy Pelosi is getting almost Sergio Dipp pathetic these days.

What's Wrong With Nancy? Orders LGBT group to clap for Obama, laments 'bulleting' of youth. What is wrong with Nancy Pelosi? That question is coming up again as the House Minority Leader was seen on Saturday [9/9/2017] repeatedly telling the GLAAD audience to clap and botching simple words. [Video clip]

Now that it is politically expedient to do so...
Pelosi Condemns Antifa: 'Our Democracy Has No Room for Inciting Violence'. House Minority Leader Nancy Pelosi (D., Calif.) denounced the radical leftist group "Antifa" and its violence in Berkeley, Calif. over the weekend. The black-clad, masked, so-called "anti-fascists" attacked and assaulted members of a peaceful right-wing protest in Berkeley. The famed college town has seen other far-left violence this year in response to conservative speakers appearing on campus. In a statement published to her official website, Pelosi said the "perpetrators should be arrested and prosecuted."

Crying Wolf in a Crowded Theater. This week former Speaker of the House California Congresswoman Nancy Pelosi said, "The Constitution does not say that a person can yell wolf in a crowded theater." For the first time, she said something with which I find no fault. I scoured the Constitution and there's not a word about crying wolf in it. On the other hand, it does give primacy to the right of free speech.

Pelosi Very Confused: You 'Can't Shout Wolf in a Crowded Theater'. Nancy Pelosi has been very confused this year. She keeps calling President Trump "President Bush" and continues to struggle with her vocabulary. The latest example happened in an interview with KRON when she "mixed her metaphors," as The Washington Free Beacon reported, when talking about what the First Amendment does and doesn't cover when it comes to free speech. "The Constitution does not say that a person can shout — yell wolf in a crowded theater," Pelosi said, stumbling. "If you are endangering people, then you don't have a constitutional right to do that."

What clueless Nancy Pelosi doesn't seem to understand about free speech. House Minority Leader Nancy Pelosi (D-Calif.), is perhaps the most powerful representative the Democrats have. When she speaks, it means something. And what she's been speaking about lately is that others shouldn't be speaking at all. That's frightening. One might expect extremists in her party to have trouble with the First Amendment, but it's alarming that the top Democrat in the House jumps on the bandwagon. Is this how most Democrats feel? The National Park Service recently announced that a right-wing rally by the group Patriot Prayer can go forward Saturday at federally owned Crissy Field in San Francisco, near the Golden Gate Bridge. Pelosi calls members of the group white supremacists (though they say they support peace, love and unity). While the group is controversial, the right of its members to speak shouldn't be.

Nancy Pelosi's father helped dedicate Confederate monument. House Minority Leader Nancy Pelosi has ramped up calls to remove "reprehensible" Confederate statues from the halls of Congress — but left unsaid in her public denunciations is that her father helped dedicate such a statue decades ago while mayor of Baltimore. It was May 2, 1948, when, according to a Baltimore Sun article from that day, "3,000" looked on as then-Governor William Preston Lane Jr. and Pelosi's father, the late Thomas D'Alesandro Jr., spoke at the dedication of a monument to honor Confederate generals Robert E. Lee and Thomas "Stonewall" Jackson.

Nancy Pelosi's Father Dedicated Confederate Statues to Robert E. Lee & 'Stonewall' Jackson. In recent days, House Minority Leader Nancy Pelosi has publicly supported the removal of Confederate statues around the U.S. As it turns out, the Pelosi family wasn't always against the statues. On Monday, Ron Meyer of Red Alert Politics dropped a little truth bomb on Fox News viewers, revealing Nancy Pelosi's father helped dedicate Confederate statues to Robert E. Lee and 'Stonewall' Jackson.

Dozens of Democrats Said to Refuse Support of Pelosi as Leader in 2018. House Minority Leader Nancy Pelosi's (D-CA) leadership could be in real trouble with nearly 30 Democratic members and 2018 candidates now saying they will either not support Pelosi as leader of Democratic caucus if elected or declining to comment on the matter. Incumbent Reps. Tim Ryan (D-OH), Seth Moulton (D-MA), Ruben Gallego (D-AZ), Kathleen Rice (D-NY), and Filemon Vega (D-TX) have all come out saying that Pelosi needs to go.

People who live in glass houses should not throw stones.
Pelosi Calls for Resolution to Censure Trump for His 'Repulsiveness'. House Minority Leader Nancy Pelosi issued a statement today [8/18/2017] declaring her support for the Congress to pass a resolution censuring President Donald Trump for "the repulsiveness" of his "words and actions." "Every day, the president gives us further evidence of why such a censure is necessary," said Pelosi. The censure resolution was introduced in the House of Representatives today by Rep. Jerrold Nadler (D.-N.Y.), Rep. Bonnie Watson Coleman (D.-N.J.) and Rep. Pramila Jayapal (D.-Wash.). The resolution immediately gathered 77 co-sponsors, all of whom are Democrats.

If Confederate Statues Are 'Reprehensible' Why Didn't Nancy Pelosi Remove Them When She Had the Power as Speaker? Last week House Minority Leader Nancy Pelosi demanded Speaker Paul Ryan remove all confederate statues from the U.S. Capitol. In a statement, Pelosi said the statues have "always been reprehensible" and insisted they be taken down, despite the Capitol acting as a museum for all kinds of American history. [...] "There is no room for celebrating the violent bigotry of the men of the Confederacy in the hallowed halls of the United States Capitol or in places of honor across the country." But if these statues truly are "reprehensible," why didn't Pelosi have them completely removed when she had the power to do so as Speaker of the House?

Pelosi Calls on Paul Ryan to Immediately Remove 'Confederate Statues' from Capitol. House Minority Leader Nancy Pelosi (D.-Calif.) today [8/17/2017] called on House Speaker Paul Ryan (R.-Wisc.) to immediately remove "Confederate statues" from the U.S. Capitol. "If Republicans are serious about rejecting white supremacy, I call upon Speaker Ryan to join Democrats to remove the Confederate statues from the Capitol immediately," Pelosi said in a statement. "There is no room for celebrating the violent bigotry of the men of the Confederacy in the hallowed halls of the United States Capitol or in places of honor across the country," Pelosi said.

Monuments, media and madness. [Scroll down] This is part of a new obsession by the Democratic Party with removing Confederate statues and monuments that have been around for close to a century or more. [...] House Democratic Leader Nancy Pelosi, who talks as though she is a first-term representative from California, recently said: "The Confederate statues in the halls of Congress have always been reprehensible." Yet they were somehow tolerable from the years 2007 to 2011 when she was speaker of the House and Dems had a supermajority in Congress.

Democrats Are Starting To See Nancy Pelosi as A Cancer. Are the sharks circling House Minority Leader Nancy Pelosi (D-CA) again? No, she's fine. She'll win re-election. She'll remain leader of the House Democrats, but that doesn't mean that those party members trying to flip seats to retake the House are starting to view her as a problem.

Democrats begin to see Pelosi as a 2018 problem. In a survey of 20 Democratic House candidates, only one — a former Senate staffer from Orange County, California — would state support for the congresswoman staying on as leader of the House Democratic Caucus. Of the rest, 18 declined to say if Pelosi should keep her job, while one, a political newcomer from a culturally conservative Ohio district, said he would vote for someone other than Pelosi.

Pelosi Gets Declaration Of Independence History Wrong. House Minority Leader Nancy Pelosi tried to be patriotic but read a false account of the 56 Declaration of Independence signers during her Tuesday [7/18/2017] press conference. Pelosi read "The Price They Paid," an article about the 56 signers of the Declaration of Independence, at a Democrat event to promote a legislative package aimed at reforming government. [...] However, as pointed out by Snopes, "The Price They Paid" is riddled with inaccuracies and embellishments about what actually happened to the signers.

Nancy Pelosi Can't Stop Giggling About Aggression from North Korea. Pelosi was fielding questions from reporters during her weekly press conference, and as she finished an answer about arts funding... she giggled. A reporter then said, "Kim Jung In has been celebrating their ICBM launch with some cultural" events... Pelosi laughed strangely. Pelosi stopped giggling and gathered her composure as the reporter continued[,] she then sighed loudly into the microphone. As the reporter finished asking his question about whether Pelosi thinks the administration will be able to protect the West Coast from an attack, she bizarrely said she's "one of the few members of Congress to have visited Pyongyang." What is wrong with this woman?

Pathetic:
Nancy Pelosi calls Trump 'President Bush' for fifth time. Never mind President Trump has been in office for six months — Nancy Pelosi still thinks George W. Bush is president. During an interview with KTVU, Pelosi once again referred to Trump as "President Bush."

An inadvertent comedy act:
Pelosi Says: Schumer and I Are 'The Voices for Winning' Back Congress in 2018. In an interview with KTVU, Nancy Pelosi is either having one of her senior moments in which she refers to voices without providing much clarity on whether these are voices of real people or if they're the kind that should be medicated away, or she's looking for an odd excuse to ignore her unpopularity, even with her own party. As we reported just a few weeks ago, 41% of Democrats want Pelosi to stay, while a full 27% of them want her to retire, with only 16% of Democrats holding a "very favorable" view of Pelosi with 12% holding a "very unfavorable" view of her.

Pelosi appears dazed — stops speaking, stares at audience. As Nancy Pelosi struggles to beat back an insurgency by her House Democratic colleagues over a string of election losses, there are new questions over her health after she suffered multiple brain freezes during a recent appearance in New York City. During a Sunday event at the 92nd Street Y, Pelosi would awkwardly stop mid-sentence repeatedly, stare at the audience, and then continue speaking. [Video clip]

Nancy Pelosi Makes Russia Accusation, Struggles to Put Together Coherent Sentences. Nancy Pelosi appears to be losing it. Thursday, in a press conference, she did not seem to be able to string together a coherent thought, let alone a logical presentation. She rambled all over the place with what sounded like random unconnected ideas, accusations and theories. She was purportedly there to level some of the usual accusations at Trump, regarding his nonexistent collusion with Russia. What came out instead was a strange mix of confusion, forgetfulness and plain old vindictiveness.

The Plot Against Pelosi. Democratic Representative Kathleen Rice is tired of her party [losing]. "Since 2010, we've been losing, losing, losing, losing. There are big issues that we need to address for the country, and we're not even at the table — which is a problem!" As Rice sees it, Democrats need to come up with a new message, a fresh brand, an easy-to-explain economic plan that resonates with the masses. But for that to happen, she says, the caucus first must do some housecleaning. Specifically, Nancy Pelosi has got to go. "We have a failure of leadership at the top," says Rice. And until that leadership changes, she tells me, "I don't think we can move forward."

Time to put Pelosi out to pasture. This world is far different from when she entered the House, and she has lost all semblance of contact with the common man. In 2010 she said, and we quote: "We have to pass the [Obamacare] bill so that you can find out what's in it." That's like saying we need to let the mechanic do his work before he tells us how much it's all going to cost. You'd be hard-pressed to find a dumber statement in the 21st century.

The Passing of the Pelosi Era. The Pelosi factor has been a drag on Democrats in all four of the special elections the party has lost since Trump's November triumph. Prediction: Democrats will not go into the 2018 Congressional elections with San Fran Nan as the party's face and future. No way. As President Kennedy said, "Sometimes party loyalty asks too much."

Pity Pelosi and Her Increasing Pain. [Scroll down] Little Nancy was the only daughter among the six children of Thomas "Big Tommy" D'Alesandro Jr., legendary and long-time mayor of Baltimore. When Nancy reached the age of political maturity, which in Baltimore is 8 years old, her father appointed her to take the phone calls of favor-seekers. "Oh," Little Nancy would say, "You want a construction permit to build inside Druid Hill Park? OK, here's what you have to do for us." And Little Nancy was good at it. She grew up to become the fundraising superstar of the Democratic Party. Little Nancy's brother was a member of the House of Representatives and later also mayor of Baltimore. She never knew an un-powerful moment in her life.

Democrat Resistance Mobilizes Against... Nancy Pelosi. For a party that constantly makes sanctimonious charges against Republicans for being stuck in the past, it sure doesn't sound like the Democrats' current leadership is open to change — or input from anyone under the age of 65 who hasn't been in power for decades.

Democrats Have No Alternative to Nancy Pelosi. Frustrated Democrats who want to replace House Minority Leader Nancy Pelosi have an urgent problem: there is no alternative. After leading the House Democrats for 15 years, the San Francisco stalwart has total control of her caucus and is a massive fundraising force that her party cannot easily replace. And as the first female Speaker of the House (2007-2011), she has unique status and an array of female supporters, both inside and outside Congress.

Nancy Pelosi, the Face of the Sinking Democratic Brand. A lack of self-confidence is not one of House minority leader Nancy Pelosi's problems. But Pelosi's unabashed use of open threats and her death grip on power are a very big problem for her party. Pelosi's performance at her press conference on Thursday [6/22/2017] was epic in its demonstration of both her enormous self-regard and her complete confidence that nothing and no one will remove her from her powerful perch. While no one really expected that comments from a few stray dissident members of the House caucus would cause her to resign, her contempt for those critics and her willingness to threaten them publicly takes your breath away.

Democrats' real problem is that Nancy Pelosi is their true face. Furious at their loss in yet another Trump-era special election, Democrats are calling for the head of ... House Minority Leader Nancy Pelosi. It's understandable: Republican ads in Georgia painted the Democrat, Jon Ossoff, as sure to be a Pelosi pawn — a charge that has scored for the GOP in race after race over the last decade. New York's own Rep. Kathleen Rice (D-Nassau) is far from alone in saying, "It's time for Nancy Pelosi to go, and the entire leadership team."

Pelosi Won't Say Aborting Baby With Beating Heart 'Dishonors God'. Three weeks ago, House Minority Leader Nancy Pelosi (D-Calif.) said it dishonors God to pull out of the Paris Accord on climate change, but today she did not say it dishonors God to abort a baby with a beating heart. At Pelosi's press briefing on Thursday [6/22/2017], CNSNews.com asked Pelosi if her understanding of what dishonors God extends to aborting a baby with a beating heart as well as pulling out of the Paris Accord.

Pelosi faces growing doubts among Dems after Georgia loss. House Minority Leader Nancy Pelosi and other top Democrats put a brave face on Wednesday morning [6/21/2017] after a disappointing loss in the Georgia special election, yet there is no disguising the unhappiness in the party ranks. There is no challenge to Pelosi's leadership, and none is going to happen at this point, said numerous Democrats. But it's clear frustration is growing with the longtime Democratic leader following the extensive losses Democrats have suffered over the past half-decade.

'I think I'm worth the trouble' says Pelosi. House Minority Leader Nancy Pelosi defended her position atop the party, as a number of caucus members have suggested it might be time for a fresh face. 'I think I'm worth the trouble,' she told reporters Thursday [6/22/2017]. 'I feel very confident in the support I have in the caucus,' Pelosi also said. The calls for Pelosi to vacate her top spot came after Tuesday's election loss in Georgia with Democrat Jon Ossoff being routed by Republican Karen Handel.

Pelosi says she's staying: 'I think I'm worth the trouble'. Defiant House Minority Leader Nancy Pelosi said Thursday that she's not going anywhere, brushing back complaints from rank-and-file Democrats that she has led them to political oblivion and insisting that whatever the election losses she has overseen, she is "worth the trouble." A series of losses in special congressional elections — including one that cost the party tens of millions of dollars in donations in a losing cause in Georgia this week — have sparked a new round of criticism for the Californian.

Democrats Talk Openly About Challenging Nancy Pelosi's Leadership. House Minority Leader Nancy Pelosi (D-CA) is facing unprecedented pressure, as frustrated Democrats have begun — for the first time in seven years — to talk about replacing her after a series of disappointments at the ballot box. Pelosi was hailed as a driving force behind Democrats' victory in 2006, when the party seized both houses of Congress and set the stage for victory in the 2008 presidential election. She became the first female Speaker of the House, and set about centralizing power in the Speaker's office, ruling her caucus with unquestioned authority and promoting an unapologetically liberal agenda.

Wake Up, Democrats. Ossoff Didn't Lose This Race — Pelosi Did. In the end, the high-profile special election in Georgia's 6th District was a referendum on Nancy Pelosi, not Donald Trump. The numbers bear this out. According to The Washington Post's James Hohman, "Pelosi was a huge drag on Jon Ossoff. Internal GOP polling showed she had 98 percent name ID, was 35 points underwater." There's also this: Ossoff backed off Trump (for fear of offending Republicans he would presumably need), while Republicans were 100 percent committed to linking Ossoff to Pelosi.

Republicans turned to Nancy Pelosi to win in Georgia. Voters in the traditionally conservative seat had resisted President Trump and were slow to embrace Republican nominee Karen Handel in the special election to replace Tom Price, now Health and Human Services secretary. But Congressional Leadership Fund rediscovered a familiar antidote to Trump's drag and Handel's standoffishness in its internal polling: Pelosi, the House minority leader from California, who would once again become speaker in a Democratic takeover.

Pelosi: 'Outrageous' for Republicans to blame Democrats for heated rhetoric. House Minority Leader Nancy Pelosi expressed outrage at her Republican colleagues Thursday for implying that Wednesday's shooting could make for good campaign ads in 2018.

Moments After Questioning Trump's Mental Health, Pelosi Has Senior Moment(s). Shortly after calling into question President Trump's mental health on MSNBC's 'Morning Joe,' House Minority Leader Nancy Pelosi's own mental health came under scrutiny, as the 77-year-old California congresswoman referred to President Trump as "President Bush" and forgot what day of the week it is. A reporter quickly helped her correct the gaffe, interjecting "Trump," but Pelosi appeared oblivious she slipped up.

Nancy Pelosi finds nap-tastic NEW reason to question Trump's 'fitness for office'. Rep. Adam Schiff is among Dems who have been forced to downshift on the Trump/Russia rhetoric, and Nancy Pelosi is joining him by returning to the Dems' default position on Trump, which is to question his overall fitness for office, with a new twist. Pelosi's now saying Trump might not be fit to lead because he doesn't get enough sleep:

Isn't that his decision to make?
Pelosi investigating why Trump visited Saudi Arabia on first foreign trip. House Minority Leader Nancy Pelosi said Friday she finds it "strange" that President Trump decided to make Saudi Arabia his first foreign trip, adding that she was looking into it. "I just think it was a very strange choice to go there," Mrs. Pelosi, California Democrat, said on MSNBC. "Especially in light of having served on the committee that investigated 9/11, and knowing the suspicions that exist in our country, and among his people."

After Losses, Democrats Struggle to 'Un-Pelosi' the Party. Frustrated with the leadership in their party, some heartland Democrats are looking to decouple themselves from Nancy Pelosi and the other coastal elites calling the shots. The People's House Project, a super PAC founded by former MSNBC host Krystal Ball, aims to recruit candidates and raise money in a structure separate from national Democrats. The reason? Democrats have veered too far to the left and chosen a message that's toxic in much of the United States.

Pelosi says Trump 'dishonoring' God in global warming decision. Rep. Nancy Pelosi said Thursday [6/1/2017] that President Trump was "dishonoring" God and questioned whether his grandchildren will even be able to breathe air after his announcement a day earlier that he would withdraw from the Paris climate accord. "How is he ever going to explain to his grandchildren what he did to the air they breathe — assuming they breathe air," she said at her weekly press conference. She compared the president to racist segregationists during the civil rights movement, said Mr. Trump's decision was yet another reason he needed to release his tax returns, and said the U.S. has isolated itself from the world, joining just Syria in rejecting the Paris agreement as too onerous.

The Editor says...
It is somewhat disturbing that one of the country's most rabid supporters of abortion, for any reason and at any stage of pregnancy, has the temerity to accuse someone else of dishonoring God. But in this case, Ms. Pelosi is attempting to make a connection where none exists. The concentration of carbon dioxide in the atmosphere could double, and you'd probably never notice, except that your lawn would be greener. The Paris agreement has nothing to do with air pollution. Nancy Pelosi apparently hopes you don't think for yourself.

Green religion — justification by climate faith alone. Listen closely to the cant and jargon of modern environmentalism, and in the empty invocations of "science," you are witnessing the rites of a religious faith. If the screams after President Trump withdrew the U.S. from the Paris climate agreement seemed overwrought, it's because Trump hadn't merely adopted a policy the other side disagreed with; he'd committed a secular, liberal, sacrilege. Take CNN's Fareed Zakaria, who said, "This will be the day that the United States resigned as the leader of the free world." He then listed what he regarded as the benefits of Paris, without addressing why it had anything to do with American leadership. House Minority Leader Nancy Pelosi, D-Calif., said Trump supports a "dirty-energy agenda" that is a "grave threat to our planet."

The Editor says...
There is no such thing as dirty energy. Dirt does not stick to energy. Only the most poorly-educated public school students would put any stock in a castigatory comment about "dirty energy." Nancy Pelosi apparently hopes you don't engage in any rational thought at all.

Pelosi: 'It's Hard' to Say 'President Trump,' He Has No Respect For the Job. Tuesday at a discussion hosted by the Commonwealth Club, Minority Leader Rep. Nancy Pelosi (D-CA) said that it was "hard" for her to say the words "President Trump." When Pelosi referenced "the new president of the United States," the moderator said, "I noticed you don't say President Trump."

Pelosi: 'The Holy Month of Ramadan is a Sacred Time for Peaceful Study'. House Minority Leader Nancy Pelosi (D.-Calif.) released a statement on Friday [5/26/2017] in observance of "the Holy Month of Ramadan." "Ramadan reminds us of the rich diversity of our nation, and of the many contributions that Muslims have made to our country as public servants, members of our Armed Services, scholars, artists, athletes and engaged citizens," Pelosi said.

Pelosi: Liberals Only Voted for 2011 Defense Spending Bill so They Could Repeal 'Don't Ask, Don't Tell'. House Minority Leader Nancy Pelosi (D., Calif.) spoke Friday at an LGBT rights event at the Pride Center at Equality Park of South Florida, where she touted how liberals in the Democratic Party only voted for the nation's defense spending bill for fiscal year 2011 so they could repeal "Don't Ask, Don't Tell." "Don't tell anybody I told you this," Pelosi said, before explaining how she was able to get liberal Democrats onboard to support the National Defense Authorization Act, or NDAA, the annual federal law that specifies the Defense Department's budget and expenditures.

Democrats probably think this is air-tight logic:
Pelosi Complains Trump's Trip 'Wasn't Even Alphabetical'. On Thursday [5/25/2017], House Minority Leader Rep. Nancy Pelosi (D-Calif.) questioned President Donald Trump's failure to visit countries in alphabetical order. Asked at a press conference to comment on Trump's trip abroad, Pelosi expressed concern that Trump didn't start with Canada (with the letter "C") like previous presidents: "I thought it was unusual for the President of the United States to go to Saudi Arabia first. Saudi Arabia?" Pelosi said. "It wasn't even alphabetical. I mean, Saudi Arabia."

Pelosi Accidentally Refers to NRA as Part of Intelligence Community. House Minority Leader Nancy Pelosi (D., Calif.) appeared to confuse the National Rifle Association with the National Security Agency during remarks Tuesday at the Peter G. Peterson Foundation's 2017 Fiscal Summit. While being interviewed by CNN's Dana Bash, Pelosi discussed the ongoing investigation into whether there was collusion between Donald Trump's campaign and the Russians, and whether he may have obstructed justice, according to NTK Network.

Nancy Pelosi Gets Completely Destroyed By Questioner In CNN Town Hall. Rep. Nancy Pelosi took her dazed and confused act to prime-time TV on Monday night [5/15/2017], joining CNN's Chris Cuomo for a town hall. She did her same old tired schtick, but the highlight of the night was when Jake Lee, a small business owner from West Hollywood, Calif., stood up to ask a question. "Good evening, madam leader. Before the election on November 8, your side of the aisle were asking for the former head of the FBI to resign," said Lee. "Now that he has been let go, why the sudden and selective outrage from your side of the aisle?" Pelosi is immediately befuddled.

Whatever Nancy Pelosi meant to say here, we got this acid trip-sounding thing instead. Say, isn't one of the problems with having Donald Trump as president that he supposedly utters incomprehensible blather about things he knows nothing about? Isn't the issue that a man in such a high position of authority, speaking with such a combination of ignorance and inarticulation, could cause a huge misunderstanding or, worse, start an international incident? Just checking, because didn't Democrats make Nancy Pelosi Speaker of the House at one time? And don't they continue to vote for her even now for that very position, even though they're in the minority and can't actually elect her to it? [Video clip]

She's The Boss — The Disturbing Truth About Nancy Pelosi. This is a riveting expose on one the most power hungry, brutal female politicians of all time and as you will see after reading the book, it runs in her family. The Speaker of the House, Nancy Pelosi, is no retiring, kind and meek grandmother. She is made of Baltimore steel and she has been forged in the boiling corrupt vat of politics in a never-ending quest for power and status that she feels is her birthright. Pelosi came from a family that bears a striking resemblance to organized crime. She will ruthlessly use and discard any one in her way or who will forward her agenda. She rules the House with an iron grip and she is simultaneously feared and hated by most politicians.

Is Nancy Pelosi The Poster Girl For Term Limits? Pelosi has been in office since 1987 — after inheriting the seat from her predecessor, Sala Burton, who had it bequeathed to her by her husband, Phillip Burton. Phillip Burton had been elected to Congress in a special election in February 1964 and held California's 6th Congressional District seat for 10 consecutive elections until his death in 1983. His wife, Sala Burton replaced him. When Sala became ill with cancer in 1986, she decided to not run for reelection but instead put her support behind her friend, 46-year old Nancy Pelosi. Pelosi won the seat in a special election after Sala's death and hasn't had any real opposition since. She hasn't even participated in a candidates' debate since that first election in 1987.

Pelosi: Trump Budget Is Systemic Deconstruction of the Federal Government and Its Role'. "This budget is really a slap in the face of the future," House Minority Leader Nancy Pelosi said on Thursday [3/16/2017], after President Donald Trump released his Fiscal Year 2018 budget blueprint to "make America great again." Pelosi said the budget — which boosts defense, homeland security, veterans affairs and school choice at the expense of the EPA, State Department, and other programs — fails as a statement of values, but it succeeds as a "deconstruction" of the federal government.

NOW she tells us.
Pelosi: I would have retired if Clinton had defeated Trump. House Minority Leader Nancy Pelosi revealed Friday that she was ready to retire from Congress if former Secretary of State Hillary Clinton had won the November election over President Trump. Pelosi told reporters following a discussion at a breakfast hosted by the Christian Science Monitor that if Clinton had won the White House, she "was ready to go home" after 14 years as House Democratic leader and four years as speaker of the House.

Irony Alert: Pelosi Now Interested In Knowing What's in a Bill Before It's Passed. Tone deaf and completely without self-awareness or irony, Nancy Pelosi actually asserted that the American people have a right to know what's in the GOP health care (insurance) bill before it passes.

Nancy Pelosi: American People Have Right to Know What's in Healthcare Bill Before It Passes. A sharp contrast to "pass it to see what's in it."

Quoting from Nancy Pelosi's web page:
Pelosi Sends Letter to Speaker Ryan Calling for Release of Full Impact of GOP ACA Repeal Bill Before Committees Vote. ["]The American people and Members have a right to know the full impact of this legislation before any vote in Committee or by the whole House.["]

Pelosi: Obamacare Drafting Process 'One of the Most Transparent in Recent Memory'. House Minority Leader Nancy Pelosi (D., Calif.) tweeted on Tuesday [3/7/2017] that the drafting process for the Affordable Care Act was "one of the most transparent in recent memory." Pelosi defended the health care law the day after House Republicans unveiled their Obamacare replacement plan on Monday night. Some lawmakers, including Sen. Rand Paul (R., Ky.), criticized House Republican leaders for drawing up the bill in a secret fashion. The House's top Democrat built on this criticism and took to Twitter on Tuesday to argue the Affordable Care Act was crafted in a transparent manner. She cited the number of hearings and meetings that were held before Obamacare was passed.

Now Trump demands an 'investigation' of Pelosi for 'lying' after photo reveals she met the Russian ambassador too — after saying she hadn't hours before. President Donald Trump forcefully went after both prongs of the Democratic congressional leadership, demanding investigations of both congressional Demoratic leaders after photos purported to show their own Russia ties. It wasn't immediately clear if the president was serious in his call for an investigation of his rivals. At the moment, it is his administration's own contacts with Russia, and Russia's alleged election hacking, that is the subject of investigations by the FBI and the House and Senate intelligence committees.

Nancy Pelosi: 'Very proud' of the 'dignity' Democrats showed during Trump's speech. House Minority Leader Nancy Pelosi said Wednesday she's "very proud" that her members managed to sit through President Trump's hourlong speech to Congress Tuesday night with "dignity." "I was very proud of the dignity with which our members listened to his speech," Mrs. Pelosi said on MSNBC's "Morning Joe." "It was clearly a bait-and-switch speech." She said one unnamed member had said at one caucus meeting: "Look, if you can't curb your enthusiasm there tonight, don't go. And I'm not going."

No, Ms. Pelosi, Attorney General Sessions did not commit perjury. Napoleon Bonaparte once said, "from the sublime to the ridiculous is but a step." There is nothing sublime about Nancy Pelosi. Ridiculous, however, is an apt description. At a news conference Thursday [3/2/2017], the former Speaker of the House denounced Attorney General Jeff Sessions as a liar, pronounced him guilty of perjury, and demanded his resignation. This comes just days after she erroneously accused the Trump White House of obstructing justice. Clearly, she's on a tear. Who knew the democratic leader, who is not a lawyer, was such an expert on the law?

Media Hits Ivanka Trump For Possibly Not Keeping Kosher; Is Fine With Catholic Nancy Pelosi Promoting Abortion. First Daughter Ivanka Trump and her family are quite possibly the highest-profile Modern Orthodox Jews in American history. Ivanka, who converted in 2009, has spoken about how her family observes the Sabbath, keeps kosher, and celebrates various Jewish holidays together. And now, for some reason, the media has taken it upon itself to become the "kosher police." Take, for instance, this gem from the Washingtonian, where the writer took the mind-boggling step of phoning a chef to inquire about what Ivanka and her husband ordered for dinner. [...]

Nancy Pelosi refuses to applaud American job creation. During his Address to Congress [2/28/2017], Trump ran down a list of companies that have announced investments and job additions in the last several weeks. "Since my election, Ford, Fiat Chrysler, Generall Motors, Spring, Sofbank, Lockheed, Intel, Walmart and many others have announced that they will invest billions and billions of dollars in the United States and create tens of thousands of new American jobs," Trump said. As many stood to applaud, Pelosi remained seated with a sour look on her face.

Pelosi: Why Yes — We're Looking At Ways To Impeach Trump. Yesterday [2/27/2017], House Minority Leader Nancy Pelosi (D-CA) and Senate Minority Leader Chuck Schumer (D-NY) held a prebuttal conference in the First Amendment Lounge of the National Press Club. At the presser, Pelosi was asked about impeaching Donald Trump, which is something that the progressive base of the Democratic Party is clamoring for Congress to do. With a solid Republican majority, that's not going to happen.

Pelosi: Amend the First Amendment. House Minority Leader Nancy Pelosi on Thursday endorsed a movement announced by other congressional Democrats on Wednesday [2/22/2017] to ratify an amendment to the U.S. Constitution that would allow Congress to regulate political speech when it is engaged in by corporations as opposed to individuals.

Nancy 'Pelosi showing signs of mental breakdown. Has Trump Derangement Syndrome affected the ability of Nancy Pelosi to perform normal life functions (for a politician)? Or is age finally taking its toll on her?

ICE: Yes, 75 Percent Of Illegal Immigrants We Arrested Have Criminal Records. Over the past couple of days, immigration enforcement agents have round up almost 700 illegal aliens — 75 percent of which had criminal records. Rep. Nancy Pelosi disputed the claim, but Immigration and Customs Enforcement also confirmed the figure released by the Department of Homeland Security.

Dingbat Nancy Pelosi Stands Up for "Our Values" Defending a Self-Confessed Gangbanger. Democrat dingbat Nancy Pelosi once again demonstrated some very sketchy Democrat values. She is characterizing an ICE action as against "our values". ICE took a gangbanger into custody. She left that out when she made her statements in his defense. "In another assault on our values in the past week we had witnessed ICE raids across our nation targeting parents, students and a DACA-protected DREAMer. We talked about some of this yesterday with their members," the dingbat said. But Nancy is advocating breaking up the family! The criminal father is being deported.

Pelosi: Trump already lagging behind Obama. House Minority Leader Nancy Pelosi tore into President Trump Friday by arguing that his nascent administration has no accomplishments compared to his predecessor. Pelosi noted Friday on the same day in 2009, former President Barack Obama had already signed into law his $800 billion economic stimulus bill. "A jobs bill in the first four weeks passed and signed by the president today eight years ago," she said during the Families USA Health Action Conference in Washington. "Imagine in four weeks what this president has done and here we are. There's no jobs bill, there's no infrastructure bill."

The Editor says...
Nobody expects Trump to keep up with the pace of Obama's extravagant spending. (What did the $800 billion stimulus bill accomplish, anyway?) The Republicans aren't in any hurry to accomplish the Democrats' goals, and Ms. Pelosi should be delighted if he doesn't accomplish anything at all. In any case, President Trump could get a lot more done if he didn't have to face constant resistance and friction from people like Nancy Pelosi. Besides all that, the moment Mr. Trump completes any task, the Democrats will denounce it as harmful, hateful or un-American. And let's face it — Obama got what he wanted right away because he was a sacred cow. So yes, this will take a while.

Back to the Future with Nancy Pelosi. House Minority Leader Nancy Pelosi has served in Congress a long time. She has served long enough to oppose Republican presidents going back to Ronald Reagan. In the modern era she has missed only Presidents Eisenhower and Nixon, but she opposed them too! Make no mistake about that. She has served in Congress long enough to oppose both Presidents Bush, father and son, over a period of twelve years. It therefore makes perfect sense that in a press conference yesterday she confused her current opposition to President Trump with her opposition to the Presidents Bush in ages past.

Useful Idiots No More. "Tell him you are a Muslim, tell him you are a Muslim," Nancy Pelosi instructed Congressman Andre Carson at an anti-Trump rally on Monday, moments after she had just introduced him as a "Muslim member of Congress." She apparently felt that the crowd hadn't sufficiently gotten the point. Pelosi normally rattles on about the dangers of "religion in politics," but on Monday night [1/30/2017] she very much wanted religion in it — and not just any religion, but the most patriarchal of them. To see feminists hawking Islam so feverishly is an amusing spectacle, especially since a day or so later Pelosi had recovered her fear of religion in the public square and creeping Christian patriarchy.

Pelosi loses in 2-1 vote upholding ban of embattled student artwork. House Minority Leader Nancy Pelosi made a vigorous but ultimately futile argument on Friday to keep student artwork hanging near the Capitol that portrays police as pigs, noting other politically themed paintings remain on the wall. The controversial painting was selected as part of a student art competition in Rep. William Lacy Clay's district. The Missouri Democrat hung it in the Capitol, and Republicans immediately demanded that it should be taken down. After the Architect of the Capitol agreed the painting should be removed, Pelosi appealed the decision to the House Office Building Commission.

Pelosi: Gorsuch 'Against Employees' Rights, Clean Air, Clean Water, Food Safety' — Even Autistic Children. House Minority Leader Nancy Pelosi (D-Calif.), the star of a CNN town hall on Tuesday night, signaled her opposition to President Trump's nomination of Neil Gorsuch to the Supreme Court, calling the nomination "a very hostile appointment."

Pelosi Hot Mic: 'Tell Them You're A Muslim'. House Minority Leader Nancy Pelosi was caught on a hot mic at a protest Monday night, cynically encouraging congressman Andre Carson of Indiana to remind the crowd he is a Muslim. "Greetings from the great state of Indiana. I'm Congressman Andre Carson!" Carson said during Monday's rally. "Tell them you're a Muslim," Pelosi can be heard saying. "Tell them you're a Muslim." [Video clip]

Nancy Pelosi Caught on HOT MIC Promoting Muslims. Muslim is the new "black," at least when it comes to minorities. I warned of this confluence of race and religion in my book Sexy Brilliance and Other Political Lies. I predicted that Muslims would learn the ways of black Leftists, then add the "secret sauce" of religion to ultimately get Leftists to allow Muslims to dominate America. We know the radical Muslims have made this their strategy for quite some time. They brag that they won't have to actually fight us with guns. They won't even have to do what Muslims enjoy most, which is to cut off the heads of Infidels. No, Muslims simply nuzzle up to Leftists and let the caliphate begin.

Mother Of Son Killed By Illegal to Pelosi: Which One Of Your Children Is Expendable For An Illegal Life? At a CNN townhall Tuesday night [1/31/2017], Nancy Pelosi was asked by a sobbing mother who lost her son to an illegal immigrant, who she said brutally tortured him before death, which one of her grandchildren she would give up to make room for an illegal. "If you need to go home tonight and line up your babies as you say, and your grandbabies, which one of them could you look in their eyes today, and tell them that they're expendable for another foreign person to have an a nicer life? Which one would you look to say, you, my child, are expendable for someone else to come over here and not follow the law and have a nicer life?" Laura Wilkerson, who said her son was "slaughtered" by an illegal immigrant, asked Pelosi.

Pelosi: Democrats Do 'the Lord's Work,' Republicans 'Dishonor God'. In yet another example of moral narcissism and the liberal inability to understand conservative positions on faith, House Minority Leader Nancy Pelosi declared that her party, the Democratic Party, does the will of God while Republicans dishonor their Creator. Of Republicans, the Democrat congresswoman from California declared, "They pray in church on Sunday and they prey on people the rest of the week. And while we're doing the Lord's work, ministering to the needs of God's creation, they are ignoring those needs which is to dishonor the God who made them."

The Editor says...
It's always refreshing to listen to a rabidly pro-abortion socialist preaching about matters of faith.

HHS could issue blanket waivers to gut individual insurance mandate. President Donald Trump's day-one move to begin eroding the Obamacare medical insurance law has been met with angry opposition from the House of Representatives' top Democrat. Minority Leader Nancy Pelosi, who pushed the Affordable Care Act through Congress when she was Speaker of the House, called Trump's largely symbolic executive order a sign of 'cut and run' cowardice. Trump inked a directive Friday [1/20/2017] ordering federal agencies to weaken Obamacare's authority by taking every opportunity possible to limit its cost to consumers.

Pelosi blames Bush for $9 trillion in debt added under Obama. House Minority Leader Nancy Pelosi blamed former President George W. Bush and the Republicans on Friday [1/13/2017] for the more than $9 trillion that has been added to the national debt under President Obama's watch. Pelosi argued that under Obama, the annual budget deficit, which contributes to the national debt, has been reduced dramatically, and said that without Obama's work, the national debt would be even higher. She also mostly blamed Bush for not paying for the wars in Afghanistan and Iraq.

Reaction to the article above:
Nancy Pelosi and the Big Lie. Every word Nancy Pelosi utters is a lie, all conjunctions and articles included. President Bush submitted a budget for fiscal year 2009, which included a projected deficit of a way-too-high $407.4 billion. However, the Congress, then under control of the Democrats, with Mrs Pelosi serving as the Speaker of the House, declined to pass President Bush's budget. Rather, after the end of FY 2008 on September 30, 2008, Congress funded the federal government through the mechanisms of continuing resolutions, rather than normal budgeting and appropriations.

Pelosi blames Bush for $9 trillion in debt added under Obama. House Minority Leader Nancy Pelosi blamed former President George W. Bush and the Republicans on Friday [1/13/2017] for the more than $9 trillion that has been added to the national debt under President Obama's watch. Pelosi argued that under Obama, the annual budget deficit, which contributes to the national debt, has been reduced dramatically, and said that without Obama's work, the national debt would be even higher. She also mostly blamed Bush for not paying for the wars in Afghanistan and Iraq.

Stop trying to undermine Trump legitimacy. House Speaker Paul Ryan stood stone-faced behind House Minority Leader Nancy Pelosi as she addressed the new 115th Congress. Before handing him the gavel, she tossed a Molotov cocktail at the GOP — saying our democracy cannot be "subverted by the dark operations of a foreign regime." Pelosi was referring, of course, to reports that Russia had attempted to influence the American election in favor of Donald Trump, who it is believed is friendlier to the Russian regime. Just days before U.S. intelligence agencies released findings to that effect, she was surfing a wave of stories like one in the New York Times that bore the headline "Obama Strikes Back at Russia for Election Hacking." This tapestry of vagueness has led to confusion about what exactly happened during the election.

Nancy Pelosi: Obamacare Was 'Bipartisan' Legislation. House Minority Leader Nancy Pelosi (D-CA) now says the process of passing Obamacare in 2010 was "bipartisan," and that only "tweaks" were made to the healthcare law using the reconciliation budgetary process. Pelosi's comments come as Republicans and President-elect Donald Trump begin the process of repealing President Barack Obama's signature legislation. Obamacare passed in the House on March 21, 2010 with no Republican votes in favor of it and 34 Democrats voting against it.

The Democrats thrive on fear:
Pelosi on Ryan's Medicaid Plan: People 'Won't Be Able to Go to Their Own Doctor'. House Minority Leader Nancy Pelosi (D-Calif.) said on Wednesday that House Speaker Paul Ryan's (R-Wisc.) proposal to cut Medicaid spending over time to help balance the federal budget would prevent seniors from seeing the doctor of their choosing. "And I might add with what they want to do to the Affordable Care Act and what they want to do in the Ryan budget to Medicaid — a trillion dollars over 10 years taken out of Medicaid," Pelosi said. "Two thirds of that goes to long-term heath care to our seniors." "They won't be able to go to their own doctor if you take this away," Pelosi said.

The faction that kept Nancy Pelosi in power. House Minority Leader Nancy Pelosi last week survived a serious challenge to her role as the top House Democrat largely because the caucus has in recent years shrunk to a group of mostly liberal lawmakers. The more concentrated caucus of liberals remained loyal to Pelosi, who, as the congresswoman representing San Francisco, is among the most left-leaning lawmakers in Congress and championed President Obama's liberal agenda during the two years when Congress and the White House were in Democratic hands, from 2009-11.

Laughing At Liberals As They Lose Their Minds. The liberals are truly going nuts, and it's beautiful. They recently resurrected Nancy Pelosi for another glorious term winnowing away the House Democrat caucus. Pretty soon it's just going to be her and some guy representing Berkeley who they recruited while he was shouting "Workers of the world unite!" at bored coeds on Telegraph Avenue. You know, if you want to reach out to the kind of hard-working, salt-of-the-earth, normal Americans who voted for the black guy then allegedly refused to vote for the woman because they are racist, you totally want an ancient, rich, snooty, San Francisco leftist and Botox after-picture like the Nanster.

Pelosi: 'I Don't Think That People Want a New Direction'. Rep. Nancy Pelosi (D-Calif.), just elected to an eighth term as House Democratic leader despite the defection of 63 fellow Democrats, was asked on Sunday what she tells Democrats who want a new direction. "Well, I don't think that people want a new direction. Our values unify us," Pelosi told CBS's "Face the Nation."

Dancing with insanity. One-hundred and thirty-four House Democrats collectively lost their minds last week. That is how many of Nancy Pelosi's colleagues it took to vote her back into power despite having lost her third consecutive chance at winning back the majority from the Republicans. Her win over Youngstown Ohio Democrat Tim Ryan for Minority Leader proved two-thirds of those House Democrats have more interest in someone who is a deep-pocket fundraiser than someone who perhaps could have made the party more competitive in swing districts or more cohesive in their message to the voters.

Pelosi holds onto leadership. House Democratic Leader Nancy Pelosi (D-Calif.) on Wednesday fended off a challenge to her long leadership reign, defeating Rep. Tim Ryan (D-Ohio) in a closed-door vote prompted largely by Donald Trump's unlikely ascension to the White House. Pelosi got 134 votes to Ryan's 63 — winning 68 percent of the votes after declaring before the election that she had the support of two-thirds of the caucus.

Pelosi's firebreathing comments on Tim Ryan. Over at the Huffington Post, Jennifer Bendery interviewed Nancy Pelosi about Tim Ryan's challenge for her leadership post. In case you were thinking it's a friendly contest, Pelosi wasted no time pulling out the flamethrower. Pelosi called Ryan's charges that she's trying to increase her own power within the caucus "almost pathetic." She also objected in strenuous terms to the idea that she is out of touch with the sort of white working-class Democrats who just re-elected Ryan but also voted in large numbers for Donald Trump.

Dems Have a Pelosi Problem. Barring some last-minute surge of support for Ohio congressman Tim Ryan, House Democrats appear set to once again elect Nancy Pelosi as their leader this week. Considering the catastrophic collapse of the House Democratic caucus over the last six years, it seems fair to ask: Why? Just how much worse could they do with Ryan running the show? Even if Pelosi isn't single-handedly to blame for the failures that have happened on her watch, it's hard to see how she could lead her troops back into the majority.

It's time for Democrats to give Nancy Pelosi her walking papers. Lots of questions are being asked by chastened Democrats in the wake of Donald Trump's victory. Here's one they're not asking enough, however: Why does Nancy Pelosi still have a job? After her pathetic nearly 14-year tenure as the most powerful Democrat in Congress, she's poised to continue as House minority leader. It's a travesty. President Obama has overseen the Democrats' biggest loss of House, Senate, gubernatorial and local seats in nearly 100 years. Yet Pelosi can't be held blameless: Since she became speaker in 2007, Democrats are down 45 House seats.

Pelosi moves to intimidate Democratic rivals as she tries to cling to power. Rep. Nancy Pelosi formally announced Wednesday she is running to retain her spot as House minority leader and sent a warning shot to potential rivals by informing her colleagues that she has already locked up "the support of more than two-thirds" of the Democratic caucus. Mrs. Pelosi has led the caucus since 2003, but the results of the election last week convinced the caucus to delay a scheduled vote this week on leadership posts until Nov. 30, with members saying they want more time to digest the shellacking the party took. Democrats have lost 63 House seats during her tenure atop the Democratic party alongside President Obama and Senate Minority Leader Harry Reid of Nevada.

Pelosi's Future Uncertain as Dems Weigh Options. Faced with the unexpected task of rebuilding their party under a Donald Trump presidency, Democrats are deliberating whether their path forward includes Nancy Pelosi at the helm of the House caucus. Under significant pressure from frustrated rank-and-file members, Minority Leader Pelosi postponed leadership elections until after the Thanksgiving holiday.

Nancy Pelosi's Congressional District Has Taken In Zero Syrian Refugees. House Minority Leader Nancy Pelosi has been a vocal backer of President Obama's (ultimately successful) plan to import a minimum of 10,000 Syrian refugees by the end of the fiscal year, at one point accusing Republicans of "slamming the door on mothers and children." But with just days remaining in the 2016 Fiscal Year, Pelosi's own district has yet to resettle a single Syrian refugee.

The Clinton campaign's plea for Republican mercy. Nancy Pelosi, trying to choke back panic as the presidential race tightens and concern grows over Hillary Clinton's obviously fragile health, has appealed to Paul Ryan's sense of gallantry. The little lady needs a little help. She begs him not to "let" his party use anything damaging to the Democrats that turns up in emails hacked from Democratic email servers. And no talk about Hillary's health either. "Defending our democracy," she said in a letter to the speaker this week, "is more important than any advantage or disadvantage in this election." The only thing more important than "the sanctity of our democratic process" are the election prospects of her party.

Relax, Nancy Pelosi says no need to worry if Hillary potentially let slip a few state secrets. Democratic House leader Nancy Pelosi said during an interview on CBS's "This Morning" on Monday [9/5/2016] that voters should not be bothered that then-Secretary of State Hillary Clinton, America's top foreign diplomat at the time, didn't know the letter "C" in her emails marked confidential information. "I think they shouldn't be that concerned," the San Francisco Democrat said. So what if a state secret slipped out here or there, there's plenty more where they came from... besides, Clinton was much too busy to get mired down in details.

Pelosi: Clinton emails [are just] a technicality. Nancy Pelosi dismissed Hillary Clinton's growing email scandal as a series of "technicalities" Monday [9/5/2016], brushing aside FBI and congressional investigations. The House minority leader said voters shouldn't get "bogged down in some technicalities" and added, "it's really much ado about nothing, but too much ado." Pelosi, on CBS' "This Morning," had been asked about an FBI report released last week, in which Clinton repeatedly said she couldn't recall key details and events related to classified information procedures.

Nancy Pelosi Memo: Obama's Iraq Withdrawal Created Islamic State. An internal Democratic Party memo allegedly hacked from Nancy Pelosi (D-CA)'s personal computer and posted by purported hacker Guccifer 2.0 seems to agree with Donald Trump's sentiments that the policies of Hillary Clinton and Barack Obama helped to create the Islamic State. "In short: Our invasion created the atmosphere for a Jordanian to start a Muslim sectarian war, which ultimately created ISIS," states an October 2, 2014 memo from Mike Ryan, policy director for the Democratic Congressional Campaign Committee (DCCC).

Pelosi Docs Show Dems Trying Hard To Cast Benghazi As A 'Conspiracy Theory'. New documents released from Democratic Leader Nancy Pelosi's computer by purported hacker Guccifer 2.0, reveal democratic talking points to counter Republican Benghazi attacks. The document casts the controversy surrounding Benghazi as "Legitimate outrage over the deaths of American diplomats mixed with partisanship." The document also admits that then Ambassador to the United Nations Susan Rice "gave incorrect information on television" in the immediate aftermath of the attack.

Margaret Sanger Award Recipient Nancy Pelosi on Zika: 'This is About Babies'. At a Capitol Hill press conference on Thursday [8/11/2016], House Minority Leader Nancy Pelosi (D-Calif.) said the Zika virus threat is "all about babies." "The Zika in the Southern part of our country is in our country, and because it hasn't hit home in [a Republican's] district, doesn't mean that it isn't hitting home for the American people," Pelosi said. "You know how I am about babies and this is about babies. I just can't understand it." As CNSNews.com previously reported, in 2014, Pelosi was the recipient of Planned Parenthood Federation of America's annual award named for Margaret Sanger, a documented eugenicist who founded what is now the nation's largest abortion provider.

Welfare is the new work. The welfare/entitlement state of mind has spiraled out of control in America. No one is lifting a finger of opposition. The cost of welfare is now well over $1 trillion a year. Food stamps are so ubiquitous that they have replaced dollars as the new standard currency in many inner cities in America. Even in affluent areas with upscale grocery stores, food stamp recipients fill their carts with everything from cakes to lobster. Liberals love welfare. It was only a few years ago that Democratic House leader Nancy Pelosi opined that putting more people on food stamps and unemployment insurance is one of the "best ways to stimulate the economy." Which is more astonishing? That she believes this lunacy or that she would be dumb enough to say it out loud.

Pelosi says Clinton struggles with white male vote because of 'guns, gays and God'. Donald Trump is beating Hillary Clinton among white men because guns, gays, and God, according to former House Speaker Nancy Pelosi. "I think that, so many times, white — non-college-educated white males have voted Republican. They voted against their own economic interests because of guns, because of gays, and because of God, the three G's, God being the woman's right to choose," Pelosi told PBS's Judy Woodruff in an interview Wednesday [7/27/2016]. But, Pelosi contended, that's changing because of Clinton's "economic agenda to create jobs, good-paying jobs, increasing paychecks." The opposition from white males "is softening," she argued.

Nancy Pelosi: Hillary Clinton Struggles With White Men Because Of "Guns, Gays, And God". In an interview with PBS's Judy Woodruff, Rep. Nancy Pelosi says that the "the G's" are leading uneducated white men to vote for Donald Trump: "Guns, Gays, and God"

Nancy Pelosi blows off traffic laws — to shop at shoe store! [Scroll down] "A large perfectly polished and gleaming black SUV is attempting a left turn from Hunt onto southbound Main (not easy). Suddenly blue/red lights are flashing from the windshield area of the SUV (like you would see in an official fire/police vehicle)," he continued. "I said to my friends, I've never seen that before on a 'regular' vehicle and I'd think that's illegal and dangerous. They agreed." That's when the large black SUV jolted across two lanes of traffic, lights flashing, to park in front of a fire hydrant at the high end shoe boutique Footcandy. "A St. Helena police car happens to be going northbound and pulls into the center lane and the officer starts shaking his arm and hollering at the driver of the SUV. While this goes on a man exits the SUV assisting a woman from the vehicle. She dashes off to Footcandy while he waits by the SUV in the red zone," Smith explained. The police officer then drove off without confronting the driver, he wrote.

Nancy Pelosi Thanks Press for Creating 'Echo Chamber' on Gun Control. During a press briefing on Thursday [6/23/2016], House Minority Leader Nancy Pelosi openly thanked people in the news media for creating an "echo chamber" that provided extensive coverage of the Democrats' "sit-in" seeking legislation to promote stricter gun control even though the Senate didn't approve a similar measure. "Thank you all," the California Democrat said. "I never saw the gallery so full," she stated before noting that her staff "gave me six pages today. Six small-print, full pages listing of newspapers around the country where the sit-in was on the front page. I thank you for that. Thank you all."

Nancy Pelosi: Federal government, not Steve Jobs, 'invented' iPhone. House Minority Leader Nancy Pelosi told an audience in Washington, D.C., on Thursday [6/9/2016] that Apple's iconic iPhone was "invented" by the federal government instead of entrepreneur Steve Jobs. "Anybody here have a smartphone?" the California Democrat asked attendees at a hearing on the Democratic National Convention platform. "In this smartphone, almost everything came from federal investments in research. [...] They say Steve Jobs did a good idea designing it and putting it together. Federal research invented it." Mrs. Pelosi implied that GPS technology, special alloys and other government-funded research projects were enough to deem the federal government the inventor of the iPhone.

All Your Technology Are Belong To Us. Nancy Pelosi joins the ranks of Al Gore, who invented the Internet, Elizabeth "'there-is-nobody-in-this-country-who-got-rich-on-their-own" Warren and Barry "you-didn't-build-that-yourself" Obama. She is now officially one of the illuminati who knows for sure that only the Government invents stuff (thanks to your individual involuntary contributions to the Federal Treasury). See this iPhone? "Federal research invented it."

The Editor says...
For those of you who attended public schools, allow me to point out that research is not the same as invention.

Pelosi to Media: Follow Late Night Comedians in Taking Down Donald Trump, GOP. Speaking to reporters on Wednesday [5/11/2016], House Minority Leader Nancy Pelosi instructed them to follow the lead of late night comedians (in the mold of The Daily Show or The Nightly Show) to take down Donald Trump and the Republicans to the point that she offered to "encourage" them to broadcast such exposes as the general election intensifies. Pelosi led into the suggestion for her like-minded media members by lamenting that she and her fellow House Democrats would not be able to showcase "a side-by-side and some of the egregious remarks" made by Donald Trump and allies due to House rules deeming such an exercise illegal.

Pelosi's Husband Invested in Solar Firm Weeks Before Lucrative Expansion. House Democratic Leader Nancy Pelosi's husband bought up to a quarter million dollars of stock in a now financially troubled green energy company just weeks before it announced a major 2014 acquisition that sent stock prices soaring, public records show. SunEdison told regulators last week that it is eyeing bankruptcy under the weight of $11.7 million in debt. But in late 2014, investors were bullish on the company, which manufactures and operates solar and wind power facilities. Its 2014 purchase of wind energy company First Wind "further bolstered the reputation of the company," wrote one market-watcher at the time. "Perhaps unsurprisingly, SunEdison's stock soared an astounding 29% on news of this acquisition alone."

Nancy Pelosi Quotes Mohammad at National Prayer Breakfast. At the National Prayer Breakfast in Washington D.C. this morning [2/4/2016], House Minority Leader Rep. Nancy Pelosi (D-CA) quoted Mohammad, the author of Islam's Koran, before she read from the gospel of John. "We know that this message, this command of love, is not confined to New Testament," she said. "The same message stands at the center of the Tora and the teachings of the Prophet Mohammad too." Pelosi quoted Mohammad's teaching that, "None of you has faith until he loves for his brother or his neighbor what he loves for himself."

The Editor says...
It is remarkable that Ms. Pelosi, one of the most rabid supporters of abortion at any stage of pregnancy, has the audacity and the temerity to quote from the Bible as if she were familiar with its contents.

Pelosi on Tea Party: 'Maybe Anarchy Would Be Better for You'. House Minority Leader Nancy Pelosi (D-Calif.) said the House Freedom Caucus, consisting of Tea Party-backed lawmakers, is harmful to Congress as an institution, suggesting that anarchy might work better for them. Pelosi said she is "hopeful" and "optimistic" about Rep. Paul Ryan (R-Wis.) serving as speaker of the House. Pelosi addressed some conservatives who object to the new budget deal supported by retiring House Speaker John Boehner (R-Ohio) and welcomed by Democrats.

Nancy Pelosi, Expert Catholic. Yesterday [10/1/2015], Nancy Pelosi held a press conference, where she touted her commitment to "women's health," and her participation in a movement to ensure Federal funding continued for Planned Parenthood. Although she held the conference open for questions from the media, she clearly did not believe anyone would actually ask any, and was, apparently, quite taken by surprise when a journalist asked her whether a fetus with a beating heart and functioning liver, like the ones referred to in the Center for Medical Progress videos as being perfect to harvest for body parts, was human.

Pelosi: I haven't seen Planned Parenthood videos, but they're doctored. House Minority Leader Nanci Pelosi, D-Calif., questioned the truthfulness of the undercover videos that show Planned Parenthood employees discussing the harvesting and sale of fetal organs, while admitting that she has not watched the videos. [...] "I also know that some of it is not real and you can create any reality that you want," she said, while admitting that she has not seen the videos, and has only read news reports about them.

Nancy Pelosi stands atop her Margaret Sanger Award and proudly proclaims 'we all support the sanctity of life'. In yesterday's speech to Congress, Pope Francis said the "Golden Rule also reminds us of our responsibility to protect and defend human life at every stage of its development." [...] Margaret Sanger Award-winning Planned Parenthood cheerleader Nancy Pelosi totally agrees with the pope on the sanctity of life at every stage of its development, except when she doesn't.

Pelosi blasts GOP plans for panel to probe Planned Parenthood. Minority Leader Nancy Pelosi (D-Calif.) is bashing House Republicans' plans to create a select committee focused on investigating Planned Parenthood after the release of controversial videos about the group's handling of fetal tissue. "The Speaker's resignation has not yet broken Republicans' fevered obsession with shutting down government at the expense of women's health," she said in a statement Saturday, noting Friday's news that Speaker John Boehner will depart after October.

The Editor says...
Planned Parenthood faces numerous credible allegations that the organs and limbs of aborted babies from their affiliated clinics were sold to the highest bidder. This has no logical connection to "women's health."

Pelosi Celebrates Iran Nuke Deal: 'This Is Historic. This Is Grand.'. House Minority Leader Nancy Pelosi (D.-Calif.) expressed tremendous enthusiasm and optimism at her press briefing today about the nuclear deal that the Obama administration and five other governments has negotiated with the Iranian regime of Ayatollah Sayyid Ali Khamenei. Pelosi called the deal "historic," "grand," and "visionary." The Congress is currently considering the deal in an unusual procedure that does not handle the international agreement as a treaty but as an agreement between the president and a foreign government.

Why Progressives Are Wrong to Revere Margaret Sanger. Margaret Sanger is a saint in the feminist church. She is a charter member of the progressive hall of fame. Liberals revere this woman who preached "race improvement" and denounced what she called "human weeds". Hillary Clinton glows that she is "in awe of" Sanger. She said so in 2009 upon receiving Planned Parenthood's "highest honor" that year: its coveted Margaret Sanger Award. Likewise effusive was Nancy Pelosi when she proudly accepted the award in 2014.

Pelosi blames feds for sanctuary city killing. House Minority Leader Nancy Pelosi put the blame for the release of an illegal immigrant implicated in the July 1 murder of Kathryn Steinle on federal agencies and bad communication Wednesday, rather than on San Francisco's sanctuary policy. In a letter, Mrs. Pelosi and Rep. Zoe Lofgren, a fellow California Democrat and a leader on immigration, said the federal Bureau of Prisons' release of the illegal immigrant to San Francisco was the foul up — not the city's subsequent release.

Did someone mention sanctuary cities?

What Won't They Ban? Totalitarians want complete fealty. Take Nancy Pelosi who uses morality like a weapon and wants to remove the Mississippi state flag. On Thursday [7/9/2015], Nancy Pelosi forced a vote on legislation banning the Confederate flag image (which is actually the battle flag) from the Capitol. The House referred it to committee where it will be discussed to death hopefully. Her resolution would have forced the Mississippi state flag, which includes an image of the Confederate flag, from the House side of the Capitol. The woman who has no problem with abortion until the moment of birth exclaimed, "This is about our morals. About who we are as Americans."

Dying on the Sidewalk of Nancy Pelosi's Sanctuary City. House Minority Leader Nancy Pelosi (D-CA) once said that regardless of legal status, "north and south in this hemisphere... we are all Americans." Based on that absurd statement, it stands to reason that Nancy Pelosi would be the Grand Diva of the sanctuary city that gave 45-year-old illegal alien Juan Francisco Lopez-Sanchez asylum from deportation. In the past, Pelosi also warned America that if Republicans stopped ObamaCare funding for abortion 'women would die on the floor.' Thus far, not one woman has "died on the floor" because of Republican policy. However, what has happened is that in Pelosi's very own Democrat-controlled sanctuary city, on a warm summer evening, a young woman perished on the sidewalk after being shot by an undocumented alien who found refuge under the wings of Nancy Pelosi-approved lax immigration policy.

Obama, Pelosi mend fences at fundraiser hosted by billionaire activist Tom Steyer. There's nothing like a big-money fundraiser for House Democrats to bring President Obama and House Minority Leader Nancy Pelosi closer together. Mr. Obama and Mrs. Pelosi, California Democrat, made a show of mending fences Friday night [6/19/2015] at a fundraiser at the home of billionaire environmental activist Tom Steyer overlooking the Golden Gate bridge in San Francisco. Friday was their first meeting since Mrs. Pelosi turned against the president last week by leading the opposition that temporarily derailed crucial trade legislation Mr. Obama is seeking. Despite those tensions, Mr. Obama told more than 50 wealthy Democratic donors, who paid up to $33,400 each to help Democrats win in 2016, that Mrs. Pelosi has been instrumental to his achievements in office.

Nancy Pelosi Peers Into Her Cracked ObamaCare Crystal Ball Again. Nancy Pelosi says Republicans will "rue the day" if the Supreme Court guts ObamaCare's subsidy scheme. Given her track record on ObamaCare predictions, that should come as welcome news to the GOP.

Pelosi: What Is the Job of Police, 'to Fight a Guerrilla War'? House Minority Leader Nancy Pelosi (D-Calif.) questioned whether it's the job of law enforcement to conduct "guerrilla warfare" on city streets, before quickly correcting her word choice.

Three Pinocchios:
Pelosi's perplexing claim that House bill would 'cut' VA medical care funds. The House passed its first appropriations bill for fiscal year 2016, largely voting along party lines on the Military Construction and Veterans Affairs bill. House Democrats, Department of Veterans Affairs Secretary Bob McDonald and some veterans groups opposed the bill, saying it inadequately pays for veterans' medical needs and construction projects that could help expand their access to care. The White House has threatened to veto the measure. Prior to the House vote, Pelosi said the bill would "cut" $1.4 billion below the president's budget. She said it "cuts" $690 million of it from veterans' medical care, the equivalent of 70,000 fewer veterans receiving medical care through VA in one year. Are her statements accurate?

Pelosi: Obamacare, Equal Pay, Amnesty Promote 'Life, Liberty, and the Pursuit of Happiness. Speaking at the Department of Labor to mark National Equal Pay Day, Representative Pelosi said, "The strength of America" is "families, and that means empowering moms and dads. It means what we did with the Affordable Care Act." "Our founders," she continued, "they said life, liberty, and the pursuit of happiness. Imagine, they put that in a founding document: life, liberty, and the pursuit of happiness. So, all of this with health care and all the related issues, equal pay, all of that, give people a life, a healthier life to pursue their happiness."

The 5 Most Profound Political Quotes Of The Last 5 Years. [#5] "We have to pass the bill so you can find out what is in it." Nancy Pelosi's shameful utterance about Obamacare has become the standard in America over the last few years. Enormous bills are put together in secret; the public is deliberately misled about what the legislation does; politicians don't even bother to read what they're voting on and then it takes years for the courts to finish ruling on what the hundreds of pages of tortured legalisms actually mean. That's no way to run a country and it's no wonder that both politicians and the law itself are increasingly held in contempt if that's the best we can do.

Pelosi: My trip to Syria was nothing like the GOP's Iran letter. Rep. Nancy Pelosi (D-Calif.) is pushing back hard against conservative claims that the recent Republican letter to Iranian leaders, which has infuriated the White House amid delicate nuclear talks, is akin to her 2007 visit to Syria against the wishes of the Bush administration. The office of the House minority leader issued a scathing statement Wednesday night [3/11/2015] saying her meeting with Syrian dictator Bashar Assad was part of a bipartisan effort — conducted through the Bush administration — to encourage peace in the region, and accusing Republicans of launching a "desperate" defense of their Iran letter to mask criticisms coming from both sides of the aisle.

Nancy Pelosi Throws Temper Tantrum. House Minority Leader Nancy Pelosi (D., Calif.) made her lack of enthusiasm for Israeli Prime Minister Netanyahu's speech apparent throughout the remarks, applauding half-heartedly and then quickly exiting the chamber after the speech, before Netanyahu did.

Pelosi Exits Chamber Before Netanyahu. House Minority Leader Nancy Pelosi (D., Calif.) made her lack of enthusiasm for Israeli Prime Minister Netanyahu's speech apparent throughout the remarks, applauding half-heartedly and then quickly exiting the chamber after the speech, before Netanyahu did.

Pelosi 'near tears' at Bibi 'insult'. House Minority Leader Nancy Pelosi (D-Calif.) hammered Benjamin Netanyahu Tuesday [3/3/2015], saying the Israeli prime minister's speech to Congress was an "insult" to the country.

Nancy Pelosi Complains about How Difficult It Is to Be a Member of Congress. During a recent press event regarding the battle over the Department of Homeland Security (DHS) funding bill, Nancy Pelosi attempted to address how difficult it was for people — even members of Congress — to go without timely paychecks. The California representative, who is worth $29.01 million herself, said: [...]

Pelosi and other Democrats meet with Cuban officials in Havana. U.S. Democratic leader Nancy Pelosi, who is heading an official delegation of Democratic representatives visiting Havana, met with Cuba's National Assembly vice president Ana María Mari Machado and other Cuban deputies, in the first dialogue between members of congress and parliament, since diplomatic relations were restored on Dec. 17. "During the meeting, we exchanged views about the actions taken by President Obama and President Raúl Castro," Pelosi said in a statement issued Thursday [2/19/2015]. "We agreed to continue our interparliamentary dialogue on areas of agreement and disagreement."

Pelosi: For Valentine's Day 'Take Your Loved One to Sign up for the Affordable Care Act'. During her weekly briefing, Rep. Nancy Pelosi (D-Calif.) reminded everyone Valentine's Day was coming up and to "take your loved one and sign up for the Affordable Care Act"

Nancy Pelosi: Democrats are fighting for Obama, not illegal immigrants. Senate Democrats' filibuster of a funding bill for the Department of Homeland Security that would block deportation amnesty is not about the immigration issue but about respecting President Obama, House Minority Leader Nancy Pelosi said Thursday [2/12/2015]. "This is not a question of protecting illegal people in our country, it's a question of respecting the authority of the president of the United States," Mrs. Pelosi, California Democrat, told reporters at her weekly press conference at the Capitol.

Nancy Pelosi promises big government will deliver big paychecks for middle class. House Minority Leader Nancy Pelosi said Tuesday that there is a direct connection between increased federal spending and bigger paychecks for American workers, as she justifies the big-government agenda at the heart of President Obama's budget. "It's about bigger paychecks," Mrs. Pelosi said at a forum hosted by the Brookings Institution, a liberal think tank in Washington.

Whistleblower: Pelosi Covered Up Role In Crisis. We've long suspected the Financial Crisis Inquiry Commission wasn't honest in examining events before the meltdown. But an ex-commissioner says the probe was actually a full-blown political cover-up. In a just-released book, former FCIC member Peter Wallison says that a Democratic Congress worked with the commission's Democratic chairman to whitewash the government's central role in the mortgage debacle. The conspiracy helped protect some of the Democrats' biggest stars from scrutiny and accountability while helping justify the biggest government takeover of the financial sector since the New Deal.

Pelosi Won't Say if Unborn Baby at 20 Weeks is a 'Human Being'. CNSNews.com asked: "Is an unborn child 20 weeks into pregnancy a human being?" Pelosi responded: "You know what, what we're talking about on the floor of the House is something that says politicians should determine what effects the health of a woman, her life, her health, and the rest. I don't think it's up to politicians to do that. And that's why we are very overwhelmingly opposing what is going on on the floor of the House."

Pelosi: Obama's Paris No-Show OK Because 'What Happened Had a Spontaneity to It'. House Minority Leader Nancy Pelosi (D-Calif.) excused President Obama's absence from a Paris march on Sunday because last Wednesday's terrorist attack there was a "spontaneous" event. At a news conference with her caucus' new policy and communications committee today, Pelosi elaborated a bit on Obama's meeting with "a chunk of" House and Senate Democratic and Republican leadership. [...] Pelosi said there was no discussion about Obama's no-show among nearly 50 world leaders who linked arms in Paris in a show of solidarity against terrorism. "That didn't come up at the meeting," she said.

Hey GQ, can't find any crazy Democrats? Here are 16. [For example,] House Minority Leader Nancy Pelosi: After Republican Rep. Tom Marino gave a speech mentioning that Pelosi had done nothing on immigration reform when she ruled the House, an enraged Pelosi chased him down two aisles gesturing wildly and hurling imprecations until a group of fellow lawmakers intervened. Said "Democrats are not fear mongers but "Civilization as we know it would be in jeopardy if Republicans win the Senate."

Pelosi: Schumer's ObamaCare remarks 'beyond comprehension'. House Minority Leader Nancy Pelosi (D-Calif.) says fellow Democratic Sen. Charles Schumer's (N.Y.) recent comments on ObamaCare are "beyond comprehension." Schumer caused a stir last month when he said Democrats "blew the opportunity the American people gave them" in 2008 by focusing on healthcare out of the gate instead of on measures to boost the middle class.

Panic play: Pelosi tries to stoke fear of 'another Republican shutdown'. Democratic leaders in Congress used an upbeat jobs report Friday [12/5/2014] to spread fear about a possible government shutdown next week, pressuring Republicans make concessions in upcoming spending bills.

The beginning of the end for Nancy Pelosi? Pelosi has worked the new system ably.
• She has raised $400 million for her fellow Democrats. She supported campaign chairman Rahm Emanuel's recruitment of moderates who matched their districts, which gave Democrats a House majority in 2006.
• She saw to the ouster in 2008 of Energy and Commerce Chairman John Dingell, the longest-serving House member ever, in favor of her fellow Californian, Henry Waxman.
• She rallied House majorities for the stimulus package in February 2009 and for cap-and-trade (a favorite of Bay Area environmentalists) in June 2009. She pushed through ObamaCare in March 2010.

Surprise: Pelosi Most Unpopular Member of Congress. Just when you thought no one could possibly be worse than Sen. Harry Reid (D-Nev.), you remember there is always Rep. Nancy Pelosi (D-Calif.). Fifty-eight percent of likely U.S. voters have an unfavorable opinion of Pelosi, according to a recent Rasmussen Reports poll. What's more, a whopping 41 percent have a "very unfavorable" view of the Maryland native.

The Democrats' war on women:
Dem anger flares over pregnant lawmaker. A meeting of House Democrats flared up on Tuesday [11/18/2014] over the increasingly thorny issue of whether a pregnant member should be allowed to vote from afar in the party's leadership elections this week. Democratic leaders, including Rep. Nancy Pelosi (Calif.), have denied a request from Rep. Tammy Duckworth (Ill.), who lost both of her legs in the Iraq War, to waive the Democratic rule barring proxy votes. Duckworth, 46, is in the last stages of a pregnancy and her doctor won't allow her to travel back to Washington to vote in person.

Nancy Pelosi Defends Blocking Pregnant Lawmaker From Proxy Vote. House Minority Leader Nancy Pelosi defended a caucus decision not to allow pregnant Rep. Tammy Duckworth vote by proxy from her home in Illinois in this week's closed-door leadership votes. The decision has raised eyebrows and drawn criticism from conservative pundits, especially since Democrats are such strong supporters of issues like paid family leave.

Democrats lash out at Nancy Pelosi. The list of grievances — from the election losses, to routine procedures erupting into nasty fights — has shaken the confidence many Democrats hold in their leader. So while Pelosi was reelected unanimously by voice vote to the top House Democratic post on Tuesday [11/18/2014] during a closed-door party meeting — with no audible disagreement, according to a source in the room — the incoming minority leader is about to be in the worst position with her caucus since the end of their short-lived majority in 2010.

Confused Elderly Woman Unsure About Which Party Won Election. Nancy Pelosi thinks the Democrats actually won. When asked about her vow to win 25 seats back from the Republicans, the elderly lady who has her good moments and her bad moments becomes confused and confuses "winning 25 seats back" with "winning half of the 25 seats in play," almost all of which were Democratic seats.

Politico reports that Democrat Leaders are Lashing Out at "Stretch" Pelosi. And it seems so disconcerting for Democrat to have lost faith in a pathetic old leftist whose signature achievement is warbling "We have to pass the bill to find out what's in it" like Katherine Hepburn.

Democrats lash out at Pelosi. The list of grievances — from the election losses, to routine procedures erupting into nasty fights — has shaken the confidence many Democrats hold in their leader. So while Pelosi will be unchallenged for the top House Democratic post on Tuesday during a closed-door party meeting, the incoming minority leader is about to be in the worst position with her caucus since the end of their short-lived majority in 2010.

Smug Filled Rooms. [Scroll down] You see, Gruber's arrogance revealed that the scheme was not only contrary to the clear language of the statute, but as well to the intent of its authors. He has gravely undercut the administration's argument to look beyond the language to sustain their expansion of it. While countless Democrats — including especially Nancy Pelosi — who credited and relied on Gruber's work now act as if they never heard of him, they can't so easily dispose of him and his role in the creation of Obamacare .

Gruber Who? Jonathan Gruber? "I don't know who he is," Nancy Pelosi told reporters on Thursday. To jog the former speaker's memory: Jonathan Gruber is, of course, the MIT economist widely hailed for his work as the "architect" of Obamacare. His sudden demotion comes after video surfaced over the weekend of a 2013 interview with Gruber at the University of Pennsylvania, where he told listeners that a "lack of transparency" was crucial to passing Obamacare through Congress in 2010, given the "stupidity of the American voter." Three more videos have followed, all showing Gruber making substantially similar remarks.

Nancy Pelosi Walks into the #Grubergate Buzzsaw. Pelosi might as well have waved a red flag in front of a target as a starting gun went off. Gruber "wasn't writing" the health care bill? No one said he was, only that he helped walk Democrats through the crafting of the various bills that became the Affordable Care Act. It only made sense; Gruber, an MIT professor, had played a similar role in Massachusetts four years earlier. As speaker of the House, Pelosi herself had promoted Gruber's analyses of the ACA, much as Democrats promoted the work of economist Mark Zandi to prove that their policies had conservative credibility.

The Strategic Failure of Barack Obama. "A gaffe," Michael Kinsley once said, "is when a politician tells the truth." Unfortunately for the Obama administration, Jonathan Gruber, an economist hired to design Obamacare, was fecklessly candid about how the Obama administration misrepresented their flagship program to the rubes. Nancy Pelosi quickly stepped in to show him how pros do it by denying she ever met Gruber, though the Washington Post produced transcripts of the former speaker copiously buttressing her arguments with references to Gruber

Nancy Pelosi says she doesn't know who Jonathan Gruber is. She touted his work in 2009. [Scroll down] Pelosi clearly wants to distance herself and Obamacare from Gruber, given Gruber's controversial comments about "the stupidity of the American voter," and Democrats are going to argue that Gruber wasn't instrumental in the bill. But, as an architect of the Massachusetts health-care law and a consultant to the White House on Obamacare, he's been regularly cited by Democrats as an authority on this issue — including, apparently, by Pelosi.

Despite Dem claims, trash-talking Gruber was well-paid adviser for ObamaCare and more. After a string of videos have emerged showing [Jonathan] Gruber gloating about how the law's authors exploited Americans' "stupidity," the White House has distanced itself. House Democratic Leader Nancy Pelosi even claimed: "I don't know who he is. He didn't help write our bill." But while Jonathan Gruber might not have been a familiar name until this week for many, Pelosi and the rest of the lawmakers who pushed the law certainly knew who he was in 2009 and 2010. A look at the record shows he was in fact paid to advise the Department of Health and Human Services.

Harry Reid Praised Gruber On The Senate Floor. Democratic Senate Minority Leader-elect Harry Reid called Obamacare architect Jonathan Gruber "one of the most respected economists in the world" on the Senate floor during the 2009 push to pass Obamacare. [...] House Minority Leader Rep. Nancy Pelosi falsely claimed that she did not know who Gruber was, despite having cited him by name multiple times.

Time for Nancy Pelosi and Harry Reid to go. In politics, there's nothing harder than realizing that it's time to go. People who have made their careers as Beltway politicians start to think they've become indispensable to Washington, when in fact it's Washington that has become indispensable to them. And so they can't or won't recognize when the moment has come to move on to other things. For Democrats Harry Reid and Nancy Pelosi, that moment has arrived. With the Democrats' midterm losses, the two 74-year-olds should announce that when this session of Congress ends, they will relinquish their roles as leaders of their respective Democratic caucuses.

Pelosi vows to stay on as leader. House Minority Leader Nancy Pelosi asked her fellow Democrats to keep her on as their leader in the new Congress next year, saying she still has unfinished goals she wants to accomplish. She said the chief message she took from Tuesday's election, which saw Democrats eviscerated at all levels, is that voter suppression was a problem.

Nancy Pelosi raises over $100 million. House Minority Leader Nancy Pelosi has raised over $100 million for Democrats during this election cycle, the Democratic Congressional Campaign Committee announced Monday [11/3/2014]. The California Democrat raised $101.3 million for her party, including $65.2 million raised directly for the DCCC — the campaign party arm for House Democrats.

Government Gold-Plating. Just consider the following: the Speaker of the House currently receives an annual salary of $223,500, and will receive a payment of roughly that amount, depending on the years of service, for life. An annual payment of this magnitude amounts to about five times the average annual wage in the United States. But that's not all. For those who have had different positions in Congress, their retirements can be augmented. For example, Nancy Pelosi will not receive $223,500 for life, but roughly double that. Why? Because she is a member of Congress, currently the House of Representatives' Minority Leader, and a retired Speaker of the House. For purposes of computing retirement pay, Congress adds and accumulates. They do not net.

Nancy Pelosi Chides Reporter For Using Term 'Illegal Aliens'. Reacting to a question from a reporter about whether President Obama's planned executive actions should also deal with Iraqis living illegally in the United States, Pelosi corrected the reporter who used the term "illegal aliens." "Are you referring to undocumented people who are in the United States?" Pelosi questioned. "Illegal aliens, yes ma'am," the reporter responded. "Undocumented people, OK," Pelosi said again.

Beware of False Tears in the Democratic Crying Towel. I like to think Nancy Pelosi was just joking when she said on Jon Stewart's Daily Show that if Republicans won control of the Senate, it would be "the end of civilization as we know it." But the power-grabbing progressive from San Francisco is hardly imbued with a subtle, sarcastic wit. So no doubt she meant every word she crooned to the partisan Stewart audience, as she had a few years earlier when urging her charges in the House to pass the Affordable Health Care bill in order to know what was in it.

Pelosi is furious: 'We never treated President Bush the way they treat President Obama'. House Minority Leader Nancy Pelosi said comparing Republican treatment of President Obama to how Democrats handled President George W. Bush is a false equivalence and that Democrats don't bear culpability for the comparatively fewer number of bills being passed by Congress and signed into law.

Pelosi's panic fire: GOP Senate would end 'civilization as we know it'. House Minority Leader Rep. Nancy Pelosi told "Real Time" host Bill Maher that Democrats are not "fear-mongers" but in the same breath said civilization is doomed if Republicans manage to take control of the Senate in November. "It would be very important for the Democrats to retain control of the Senate," the California Democrat told Mr. Maher on his show Friday night [9/12/2014], which aired live from Washington. "Civilization as we know it today would be in jeopardy if Republicans win the Senate."

Nancy Pelosi: Civilization 'In Jeopardy' If GOP Takes Senate. On the one hand, California U.S. Rep. Nancy Pelosi claims that Democrats are not "fear-mongers;" on the other hand, she believes civilization is doomed if Republicans take control of the Senate from Democrats in November. The former speaker of the House made those dramatic, incongruous statements on "Real Time with Bill Maher," which aired live from Washington, D.C. Friday [9/12/2014].

Why Republicans Should Never Play Nice with Democrats. On Friday [9/12/2014], Minority Leader Nancy Pelosi (D-CA) stated that Democrats had to retain control of the Senate. Why? Because "civilization as we know it today would be in jeopardy if the Republicans win the Senate." She then claimed that Democrats were not "fear-mongers," but instead "messengers of hope." TV host Bill Maher listened to this with a straight face.

The End of Civil Rhetoric. Pelosi's intent in this case, as it often seems to be, is to demonize her political opponents as enemies of civilization. In other instances she has characterized Republicans as bigots who hate women, gays, immigrants, children, and old people. [...] When one of the highest ranking members of the Democratic Party is willing to compare her political opponents to wife beaters, and another is unwilling to distinguish them from murderous enemies who behead our own citizens, how much more shocking can the rhetoric get? Where else can we possibly go?

Nancy Pelosi the money juggernaut. Nancy Pelosi is almost single-handedly keeping House Democrats afloat. She has raised $80 million for her party this cycle and more than $400 million during her dozen years as party leader.

Pelosi's home city exempted from water restrictions imposed on rural farmers. [Scroll down] Craig Manson, who heads the Center for Environmental Science, Accuracy and Reliability (CESAR) in Fresno, said the lawsuit is aimed at addressing the "double standard" that forces farmers to give up water in the name of species conservation — without requiring Bay Area residents to do the same. Mr. Manson wants the National Park Service to press the U.S. Fish and Wildlife Service to end the special exemption from the Endangered Species Act (ESA), but "the Park Service just won't do it." Why not? Jeffrey Olson, National Park Service spokesman, said the agency cannot comment on ongoing litigation, but critics point out that San Joaquin Valley farmers have nowhere near the political clout of San Francisco's political leadership, which includes Mrs. Pelosi and a good chunk of the state's dominant liberal power structure.

The Rise of Progressive Oligarchy. In what might have appeared to be a minor political event a few weeks back, Nancy Pelosi (D-CA) called congressman Tom Marino (R-PA) "insignificant" and "inconsequential" in a debate on the House floor. Why would the former House Speaker insult a colleague in such a manner? She didn't count her way to this assessment; Democrats do not hold a majority of the House. Nor did she reason her way to this position, as there was nothing in Rep. Marino's argument on the immigration issue that raised empirical red flags. [...] But what if Pelosi was simply saying what she believed to be true and acknowledging what ruling class Americans think about their non-ruling class counterparts?

Pelosi Subsidies Benefit Husband's Investment in Dem Mega-Donor's Company. The top Democrat in the House of Representatives steered more than a billion dollars in subsidies to a light rail project that benefitted a company run by a high-dollar Democratic donor and in which her husband is a major investor.

Nancy Pelosi Spearheads $1B Project Aiding Left-wing Mega Donor Tom Steyer; Networks Ignore. A new report suggested that liberal billionaire Tom Steyer's hedge fund profited from a $1 billion San Francisco light rail project pushed by House Minority Leader Nancy Pelosi, D-Calif. Steyer was also a big supporter of Pelosi. Despite being quick to criticize conservative political donors, the morning and evening news shows on ABC, CBS and NBC have all ignored the allegation since the Washington Free Beacon broke the story Aug. 12.

Is Nancy Pelosi About to Break Campaign Fundraising Law? According to Politico, Nancy Pelosi is holding a meeting in Napa Valley with a number of distressed Democrats. Heavyweights like Google's Eric Schmidt are also on hand, along with billionaire leftist Tom Steyer. If they were Republicans, Democrats would accuse Schmidt and Steyer of trying to buy elections. [...] House Majority PAC's presence is problematic. As a super PAC, the Democrats are legally forbidden from coordinating with them.

Mission Bay Maps. Brilliant work by Lachlan Markay at the Washington Free Beacon that highlights the corruption of D.C. and the ruling elites, especially the hypocrites in the Democrat Party. I decided to excerpt some key graphs and illustrate just how diabolical these mega-wealthy oligarchs are, gorging on borrowed money as the federal government sinks into bankruptcy.

Nancy Pelosi Urges Obama To Enact 'Broadest Possible' Executive Amnesty. On Tuesday [8/12/2014], House Minority Leader Nancy Pelosi (D-CA) said she wanted President Barack Obama to enact the "broadest possible" executive amnesty. In an interview on Univision radio, Pelosi hoped that Obama would give temporary amnesty to the parents of DREAMers and U.S. citizens. Obama is reportedly considering giving temporary amnesty and work permits to millions of illegal immigrants via executive fiat during the August recess.

The Editor asks...
What is "temporary amnesty?" Is that like a temporary pardon or temporary parole? There is no such thing.

Pelosi, too?: Africa a country, she says. One day after Vice President Joseph R. Biden said he wanted the "nation of Africa" to prosper, House Minority Leader Nancy Pelosi appears to have deleted a tweet that called the continent a country.

Rep. Tom Marino: 'Unhinged' Nancy Pelosi Called Me 'Insignificant' for Fighting Amnesty. "She was pretty unhinged," Rep. Tom Marino (R-PA) told Breitbart News about House Minority Leader Nancy Pelosi in his first print interview since the California Democrat confronted the Republican lawmaker in a startling altercation on the House floor last week. The incident was so heated that Marino said the Sergeant-at-Arms of the House of Representatives had to remove Pelosi — with help from others — from the floor.

GOP rep says Pelosi 'visibly shaken' during dust-up on House floor, defends remarks. A Republican congressman who was confronted on the floor Friday night [8/1/2014] by House Democratic Leader Nancy Pelosi over his immigration comments told Fox News that the former speaker was "visibly shaken" during the encounter — but said he's "not going to put up with this." Pelosi lashed out at Rep. Tom Marino, R-Pa., after he accused Democrats of neglecting the immigration issue when they controlled the White House and Congress in 2009 and 2010. She could be seen walking over to him and pointing her finger at him — he later said Pelosi called him "insignificant."

Pelosi Calls Down the Wrath of Heaven on Conservatives. Friday, from the floor of the House of Representatives, House Minority Leader Nancy Pelosi attacked her Republican colleagues for their push of passage of two bills to deal with the ongoing crisis at the U.S. southern border. Pelosi invoked a letter from the U.S. Conference of Catholic Bishops lobbying against the GOP efforts and urged her Republicans to read the the Parable of the Good Samaritan from the New Testament of the Bible.

When Nancy Pelosi Gets Owned on the House Floor, She Reacts in Unbelievable Way. Normally, the Congressional votes are about as exciting as watching paint dry on growing grass, but when House Representative Tom Marino accused the Democrats of not being brave enough to pass immigration reform when they controlled the Congress, former Speaker of the House Nancy Pelosi jumped up and came at the guy!

Pelosi Chases Republican Tom Marino Across House Chamber. In an unusual breach of decorum, even for the divided Congress, House Minority Leader Nancy Pelosi chased Rep. Tom Marino across the House floor, taking offense at comments by the Pennsylvania Republican during debate on the border funding bill Friday night [8/1/2014].

Pelosi to Reporters on Midterm Election: 'We Need You to Be Messengers...' When asked at a press briefing on Thursday [7/31/2014] why her party's message is "not resonating with the electorate," House Minority Leader Nancy Pelosi told a room full of reporters "we need you to be messengers."

Pelosi: We Must Exploit Border Crisis To "Quickly" Pass Amnesty. Dems helped foster this mess so they could try and ram amnesty legislation through Congress.

Nancy Pelosi: 'We Cannot Have Deportation without Representation'. During a hearing with House Democrats on Tuesday [7/29/2014], House Minority Leader Nancy Pelosi argued that the bill proposed by Republicans did not have the adequate resources to help unattended minors crossing the border with the immigration court process. The bill, announced by Republicans on Tuesday, would spend $659 million in new spending in response to the crisis on the border.

Nancy Pelosi on International Crises: "The President's Leadership Has Been Strong". ["]First of all let me disagree with the — when we were growing up, you after me, but we were in a bipolar word, the Soviet Union and the United States. It's a much more complicated situation now and the president's leadership has been strong. And the issues you are dealing with this morning, the president was in the lead on supporting Iron Dome and asking for more resources now to help Israel defend itself, which it has as right to do.["]

Nancy Pelosi: Moses Was a Refugee Too, Just Like Baby Jesus. House Minority Leader Nancy Pelosi doubled down on her comments that Americans should view the flood of children crossing the border while claiming refugee status just like baby Jesus. Pelosi reminded reporters that it was the National Conference of Catholic Bishops that used the baby Jesus analogy. She then suggested that if Moses hadn't have been accepted by the Egyptians, then there wouldn't be the Ten Commandments.

The Editor says...
Nothing is more useless than a sermon about the meaning of the Bible delivered by one of the leaders of the Abortion Party.

Moses: The Unaccompanied Minor And the Ten Plagues. [House Minority] Leader Pelosi probably views Moses in the Nile as similar to Central Americans being ferried across the Rio Grande by human smugglers. That's why, to support the refugee argument, the minority leader said, "What would we do if Moses had not been accepted by the pharaoh's family? We wouldn't have the Ten Commandments, for starters." So, according to Nancy, if the Egyptians hadn't fished baby Moses out of the Nile the world would never have had the Ten Commandments, one of which is "Thou Shalt Not Kill," a decree neither Mrs. Pelosi nor any of her cohorts consider when butchering unborn babies.

The Editor says...
Ms. Pelosi's understanding of the Bible is so poor that she appears to give credit to Moses as the author of the Ten Commandments.

Liberals and 'the least of these'. Nancy Pelosi went so far as to lecture us that "every person has a spark of divinity in them, and is therefore worthy of respect — what we saw in those rooms was [a] dazzling, sparkling, array of God's children, worthy of respect." It is no surprise that the left in America would stoop to using children as pawns in their never-ending quest for political supremacy. When you are willing to take positions that call for the killing of the most vulnerable among us — those in the womb — are there any depths to which one wouldn't sink?

Megyn Kelly Reacts to Pelosi's Office Saying She "Misspoke" About Hobby Lobby Ruling. Thursday night [7/10/2014] on The Kelly File, Megyn took on House Minority Leader Nancy Pelosi's comments that the Supreme Court's ruling on Hobby Lobby is "frightening" because it was decided by five men. Megyn said in reaction, "If Speaker John Boehner made a similar comment about the female Supreme Court justices, Nancy Pelosi would be crying sexism — and that's what she is guilty of here." Today [7/11/2014], PolitiFact looked into Pelosi's comments and rated it false. When the fact-checking site called her office, they said Pelosi "misspoke."

Pelosi: Dems Could Have Impeached Bush But Didn't For Good Of Country. Pelosi accused Bush of being guilty of impeachable offense saying he "sent us into a war based on a false representation of the treat of weapons of mass destruction." [...] Pelosi added that "was not something I wanted to put the country through" although she said the case against Bush sending us into war under a "false premise" was far more serious then anything Clinton had done.

Only after they are born, of course.
Pelosi: 'I'm Like a Lioness' When It Comes to Protecting Children. House Minority Leader Nancy Pelosi (D-Calif.) yesterday [7/10/2014] described herself as a "lioness" when it comes to protecting children.

Pelosi on the Border: We Have to Use This 'Crisis' as an 'Opportunity'. Saturday at a press conference from the Rio Grande Valley, Rep. Nancy Pelosi (D-CA) discussed her tour of a border holding facility and addressed the humanitarian crisis of thousands unaccompanied minors flooding across the U.S.-Mexico border, which she called a "humanitarian opportunity."

Pelosi Visits the Border: 'Dazzling, Sparkling Array of God's Children'. Despite appalling conditions in the holding pens and warehouses that are now full of Central American children, House Democratic Leader Nancy Pelosi said she was "dazzled" by what she saw at the U.S.-Mexico border on Saturday [6/28/2014]: "What we just saw was so stunning, if you believe as we do, that every child, every person, has the park [sic] of divinity in them, and is therefore worthy of respect, what we saw in those rooms was (a) dazzling, sparkling array of God's children, worthy of respect."

The Editor says...
Ms. Pelosi does not hold the same view of children who have yet to see the light of day.

Pelosi: We Are All Americans Now! Nancy Pelosi has no intention of housing thousands of Central American immigrants, legal or illegal, in any of her several neighborhoods. The consequences of importing tens of millions of new unskilled immigrants to drive down wages and devastate the American working class will be dire, but they won't be felt by the likes of Paul and Nancy Pelosi.

Pelosi: Boehner Using Word 'Alien'. to Describe Illegals is 'Reprehensible'

Archbishop Cordileone Responds to Nancy Pelosi's Assault on March for Marriage. House Minority Leader Nancy Pelosi (D) joined other California politicians and leading gay rights advocates in harshly criticizing San Francisco Archbishop Salvatore Cordileone for participating in the March for Marriage in Washington, D.C., on June 19th. As SFGate reports, in a letter to Cordileone, Pelosi, a self-proclaimed Catholic who supports abortion on demand and same-sex marriage — both of which are against the teachings of the Catholic Church — described the March for Marriage event as "venom masquerading as virtue" and said the participants show "disdain and hate towards LGBT persons."

Pelosi pulls rank, pressures Catholic archbishop to skip traditional marriage march. House Minority Leader Nancy Pelosi sent a letter to San Francisco Archbishop Salvatore Cordileone, urging him to cancel his appearance at a march for traditional marriage on the Supreme Court this Thursday. The National Organization for Marriage plans to march on the Supreme Court in Washington, and Mr. Cordileone is one of the featured speakers, the San Francisco Chronicle reported. "We share our love of the Catholic faith and our city of San Francisco," Mrs. Pelosi reportedly wrote to Mr. Cordileone, urging him to abandon an event in which some of the participants, she said, show "disdain and hate towards LGBT persons."

The Editor says...
This is exactly what the separation of church and state is supposed to prevent: Ms. Pelosi is trying to tell Catholic leaders how to practice their religion.

Nancy Pelosi: Iraq Is Not Our Responsibility. House Minority Leader Nancy Pelosi spoke about the wave of violence hitting Iraq from Islamic militants, asserting that the United States does not have a responsibility to assist the country with military action. "I don't think this is our responsibility, but I do think we were irresponsible for going into Iraq for a variety of other reasons," she told reporters on Capitol Hill on Thursday. Pelosi called the violence "troubling" but asserted that there was no American appetite for further military action in the country.

Nancy Pelosi flustered by teen's NSA query, blames Bush administration. An obviously flustered House Minority Leader Nancy Pelosi tried to field a teenager's blunt question about the National Security Agency — but ultimately wrapped by tossing some of blame for the recent intelligence spy scandals back on the George W. Bush administration. During a recent meeting with a group of teens, Mrs. Pelosi was asked by Andrew Demeter, who identifies as an investigative journalist with the TeenTake YouTube channel: "Why do you support the NSA's illegal and ubiquitous data collection?"

The Hidden Cost Chickens in Obamacare Coming Home to Roost. Labor unions have been reliable supporters of President Obama and his policies. Their support for Obamacare was critical to its passage in 2010. Yet they are continuing to learn that their members will be paying more for their healthcare, not less. One of the selling points of Obamacare was the lowering of health insurance costs. Nancy Pelosi promised, "Everybody will have lower rates." President Obama was more specific, telling us that his signature program would "Bring down premiums by $2,500 for the typical family." A year later, however, Mrs. Pelosi, in the face of rising premiums for many, forgot her promise of the previous year, "I don't remember saying that everybody in the country would have a lower premium."

Nancy Pelosi uncertain deaths of veterans at VA qualifies as a scandal. So far, some 23 veterans are known to have died as a result of long wait times for treatment by the Veterans Administration. Other deaths are believed to have been caused by long wait times, but the connection between those deaths and secret waiting lists have not been officially made. [...] Nevertheless, House Minority Leader Nancy Pelosi dismissed those concerns in an interview with Ezra Klein. "I think anytime our men and women in uniform are not served in the manner which they deserve could perhaps call it a scandal," she said.

Nancy Pelosi: VA Is A Scandal, Just Maybe Not A Scandal-Scandal. House Minority leader Nancy Pelosi (D-CA) told Vox.com's Ezra Klein that she wasn't sure the Veterans Health Administration (VA) scandal was an actual, you know scandal. Asked by Klein for her thoughts on the VA scandal, Pelosi said (audible pauses left in), "Well, it, I .. think any time that our, our men and women in uniform are not served in the manner at which they deserve, you could perhaps call it a scandal, because it's scandalous that they're not. Whether it is a scandal with intention and the rest of that, uh, the evidence remains to be seen. But the fact is uh, that uh, that eh, they haven't been served worth of their sacrifice or their, uh, role in our country."

Pelosi Calls Obamacare 'Beautiful', Admits She's One Of 'Biggest Fundraisers' In Country. U.S. House Minority Leader Nancy Pelosi spoke about a variety of issues in an interview aired Monday [5/26/2014], calling Obamacare "beautiful", characterizing Republicans as being a "triple threat," and bragging that she's one of Washington's "biggest fundraisers."

Nancy Pelosi blames George W. Bush for Veterans Affairs scandal. House Minority Leader Nancy Pelosi, D-Calif., repeatedly put the blame for the Veterans Affairs scandal on former President George W. Bush, while arguing that her party has worked hard for veterans in recent years. Pelosi took a shot at Bush while saying that the scandal is a high priority for Obama.[...] The Democratic leader never mentioned Bush by name, but she alluded to him early and often in the press briefing.

Sounds like a community organizer.
Pelosi's message to grads: Be disruptors. House Minority Leader Nancy Pelosi (D-Calif.) encouraged graduates of the University of California Berkeley to be disruptors, using their knowledge and technology to shake up the economic system. "Being called a disruptor is a high compliment," Pelosi said in prepared remarks Saturday. "You here at Berkeley are already disruptors in many ways." Pelosi's speech came nearly 50 years after students led by Mario Savio occupied a Berkeley building and launched the "free speech movement," which sought to lift university bans on political activities.

Poll: Pelosi Highest Negative Rating of Congressional Leaders — 49% 'Unfavorable'. Although all four top leaders in the House and the Senate are viewed more negatively than positively by Americans, House Minority Leader Nancy Pelosi (D-Calif.) was viewed the worst with a 49% "unfavorable" rating, according to a new Gallup survey. House Speaker John Boehner (R-Ohio) came in second with a 45% "unfavorable" rank.

Pelosi on Illegals: 'We Cannot Prohibit a Path to Citizenship'. House Minority Leader Nancy Pelosi (D-Calif.) said today that the United States, as a country, "cannot prohibit a pathway to citizenship" for illegal aliens. [...] "I don't think we as a country want to be a country that says, 'You can do our work, but you can't have the rights of a citizen in our country,'" said Pelosi. "It's more about who we are as a nation."

The mother of all non-sequiturs:
Nancy Pelosi to GOP: Honor Cinco de Mayo by Passing Amnesty. House Minority Leader Nancy Pelosi (D-CA) said House Republicans on Cinco de Mayo should be as courageous as the Mexican militia that defeated the French army in the Battle of Puebla to pass amnesty legislation.

The Editor says...
Oh, yeah. We owe it to Cinco de Mayo, after all. Just like we owe it to Kwanzaa to elect only black presidents from now on.

Pelosi says she 'couldn't care less' about Benghazi criticism. House minority leader Nancy Pelosi said in an interview broadcast Sunday that criticism by conservative lawmakers against herself and the Obama administration only demonstrates that they are suffering from a "poverty of ideas." [...] "It means nothing to me," she said. "I consider the source and I consider them to be stuck in a poverty of ideas. They have none, and that's where they had to go."

UC Berkeley students told to pay up for cost of graduation ceremony featuring Nancy Pelosi. Students who graduate from the University of California-Berkeley can expect to spend roughly $120,000 for a four-year degree. This year, they still must pay an extra $10 to attend their own graduation ceremony, where they will also listen to House Minority Leader Nancy Pelosi. Students who do not cough up the cash before Wednesday, April 30 for the campus-wide commencement ceremony have been told they will not be able to attend on May 17 at California Memorial Stadium.

Democrats' revolting equal-pay demagoguery. Since President John F. Kennedy signed the Equal Pay Act in 1963, it has been illegal for employers to pay women less than men for the same work. Of course, that wasn't the end of the legislative story.

White House's phony wage gap figures spur a backlash. I'm betting the White House staffer who thought up the equal pay initiative is getting some fairly icy looks and snippy calls from Democrats. This has to be the worst idea since a staffer sent Air Force One's backup plane to fly low over Manhattan. But at least the jet didn't cause grief to fellow Democrats around the country. Day 2 of the president's equal pay calamity continued today.

Did someone mention the New York City fly-over?

Pelosi: Immigration law like internment of Japanese. The deportation of foreigners living illegally in the United States is similar to the forced internment of ethnic-Japanese Americans in World War II, according to Democratic Leader Nancy Pelosi. "I'll be very honest with you: Looking at the numbers at some point, in terms of how people are treated and deported and families separated and the rest, this has a scent of Japanese internment," Pelosi told a Politico reporter. "It's really a black mark," said Pelosi. Roughly 110,000 ethnic-Japanese immigrants and their American children were detained during World War II after Japan's sneak attack on Americans in Pearl Harbor.

The Editor says...
It's amusing to hear a politician like Nancy Pelosi begin a sentence with "I'll be very honest with you." Perhaps she should refrain from using the Japanese roundup as an illustration. Who was the President when the Japanese were locked up? That's right, another Democrat.

Has Nancy Pelosi stepped in it again? She may have done some real damage. President Obama still has a little less than 3 years and now she's saying he now owns the rest of his term.

A Catastrophe Like No Other. Support it or not, you cannot look at ObamaCare and call it anything but a huge, historic mess. It is also utterly unique in the annals of American lawmaking and government administration. Its biggest proponent in Congress, the Democratic speaker of the House, literally said — blithely, mindlessly, but in a way forthcomingly — that we have to pass the bill to find out what's in it. It is a cliché to note this. But really, Nancy Pelosi's statement was a historic admission that she was fighting hard for something she herself didn't understand, but she had every confidence regulators and bureaucratic interpreters would tell her in time what she'd done. This is how we make laws now.

George Washington wanted Obamacare, Pelosi says. Democratic leader Rep. Nancy Pelosi emerged into the sunlight April 1 to applaud a rush of sign-ups for Obamacare, and immediately described it as the long-sought goal of Gen. George Washington and the nation's Founding Fathers in 1787. "It is really so heart warming for those of us who worked so hard [to make sure] many more people in our country would have access to healthcare," she told reporters at the stakeout position just outside the West Wing portico.

Pelosi won't run on Obamacare: 'While we're proud of the Affordable Care Act, we now pivot to jobs'. Pelosi appeared in front of the White House to extoll the expected 7 million Obamacare sign-ups the administration reached before the quasi-deadline on March 31. But when a reporter asked the California congresswoman whether this represented "vindication" and a "turning of the tide" on the unpopular law, she stopped short of declaring Obamacare a winning issue. "Well let me just say, those of us who fought for this knew what we believed in and really don't think we needed any vindication," she responded.

Pelosi: Don't Measure ACA by How Many Uninsured Get Insurance. House Minority Leader Nancy Pelosi (D-Calif.) says Democrats passed their health insurance law, not to insure the uninsured, but to give people "quality" health care and "affordable" health care. "Madam Leader, isn't the real measure of success, not the raw number who signed up, but how many of those who signed up were not insured before?" a reporter asked Pelosi at a news conference on Tuesday. "No, that's not — the measure is twofold," Pelosi responded. "The message is how many people have access to health care — quality, affordable health care and insurance."

Bridge(gat)ing the Democrats' Culture of Corruption. This week the indictment and arrests of leading San Francisco and California Democrat politicians follows a long string of corruption cases involving prominent Democrats. It brings to mind the ridiculous charges by Congresswoman Nancy Pelosi (echoing Howard Dean) that the Republicans were responsible for a "culture of corruption" and that she, a woman, was going to sweep the Congress clean of it.

Pelosi Getting Award Named for Woman Who Called Children 'Human Weeds'. Planned Parenthood on Thursday will give House Minority Leader Nancy Pelosi (D-Calif.) its Margaret Sanger Award, named for a woman who advocated eugenics and who described some children as "human weeds," while arguing that to grow a "beautiful garden of children," you "have got to fight weeds." In that same speech from 1925, Sanger explained that parenthood should be legal only under certain conditions: a minimum age for parents of 23 years, a "space out between births," "economic circumstances adequate," and "spiritual harmony between parents."

[Senator] Pelosi [is] Getting [an] Award Named for [a] Woman Who Said [it is] 'Most Merciful' to Kill [an] 'Infant'. Planned Parenthood on Thursday will give House Minority Leader Nancy Pelosi (D-Calif.) its Margaret Sanger Award, named for a woman who advocated eugenics and who wrote that large families would be doing what was "most merciful" if they killed one of their infants. "The most merciful thing that the large family does to one of its infant members is to kill it," wrote Sanger. Planned Parenthood is giving Pelosi, a Catholic, its Margaret Sanger Award because of her "leadership, excellence, and outstanding contributions to the reproductive health and rights movement over the course of her career."

The Editor says...
By now, Margaret Sanger's errors have been made abundantly clear to her.

Why Did Nancy Pelosi Accept an Award Named After Sanger? Democrat Rep. Nancy Pelosi [...] has accepted an award named for Margaret Sanger. And Margaret Sanger was definitely a racist monster who advocated murdering live children for the sake of eliminating "undesirables."

A Whole Lotta Democratic Corruption Going On. Has Nancy Pelosi seen a newspaper lately? (Pro tip, hon: Like the Obamacare monstrosity, you have to read it to find out what's in it.) I'd love to see her face in the wake of the veritable epidemic of Democratic corruption now sweeping the country. Pelosi's blink count must be off the charts. I'm going to make it easy on Pelosi and put all of the latest cases in one handy rogue's gallery reference list.

Pelosi chides reporter for referring to ObamaCare: 'It's called the Affordable Care Act'. House Minority Leader Nancy Pelosi, D-Calif., chided a reporter on Thursday for referring to President Obama's health care law as "Obamacare." [Video clip]

Pelosi to Receive Planned Parenthood Award Honoring Eugenicist. Next week, the Planned Parenthood Federation of America will present House Minority Leader Nancy Pelosi (D-Calif.) with the Margaret Sanger Award. The award is the group's "highest honor" and is named for a woman who believed in breeding better humans through eugenics. Planned Parenthood is the nation's leading abortion provider, having performed 327,166 of the procedures in 2012, according to its latest annual report. Pelosi, a Catholic, will receive the Margaret Sanger Award at the PPFA's annual gala in Washington, D.C. on Mar. 27.

Obama: Nancy Pelosi 'will go down in history as one of the greatest speakers'. President Obama took the opportunity to flatter House Minority Leader Nancy Pelosi during a fundraiser Thursday for House Democrats at the Florida home of former NBA star Alonzo Mourning. Obama said the California Democrat "will go down in history as one of the greatest speakers in our history" and indicated that he was eager to return her to her former position as Speaker of the House.

Pelosi: Health law is a 'winner' for Democrats. House Minority Leader Nancy Pelosi said the health care law is a "winner," when asked whether it's a winning or losing issue for Democrats in swing districts this year. [...] Pelosi also emphasized that health law's name, the Affordable Care Act, is important because it describes what the law will do: lower costs. She said opponents started using "Obamacare" because they "wanted to get away from the word 'affordable,'" she added. She said she's made that point to President Barack Obama, who has himself used the term "Obamacare" at times.

Nancy Pelosi is certain: Obama is most 'non-partisan' president. House Minority Leader Nancy Pelosi said Thursday that President Obama is the least partisan president she has worked with during her extensive time in Washington, and said the problem lies with the GOP. "This is as non-partisan a president as I've ever served with," the California Democrat said at her weekly press briefing.

Nancy Pelosi Annoyed That People Won't Stop Calling Affordable Care Act 'Obamacare'. In response to a reporter asking a question about Obamacare being a political winner or loser, Pelosi said, "By the way, it's called the Affordable Care Act. It's called the Affordable Care Act. I know you didn't intend any compliment or derogatory — it's called the Affordable Care Act." She said she would gladly tell Obama the same thing, and continued to repeat herself to hammer the point home. "There's a reason. Affordable. Affordable. Affordable. Affordable. Affordable. The reason they change the name of it is because they want to get away — the opponents — from the word 'affordable.'"

Pelosi Laughably Claims Democrats Are The Jobs Party. Former House Speaker Pelosi supposedly had been celebrating the fourth anniversary of the enactment of ObamaCare last week. [...] "We just couldn't be prouder," she said of the health reform that has been separating Americans from their preferred doctors, their health plans and lots more of their money in taxes and higher premiums. But when a reporter asked if ObamaCare is "a political liability for your party" in an election year, Pelosi gave a jaw-dropping reply: "We're not running on this," she claimed. "We're running on what the American people want us to run on, and that is job creation." Then, as if her party had nothing to do with the economic policies of the last five years that have given the country the worst economic "recovery" of the modern era, Pelosi added: "Show us the jobs. Where are the jobs?" She then asked, as if incredulous, "Why are we not here passing a jobs agenda?" Excuse us, Congresswoman, but we did pass a "jobs agenda." Your jobs agenda.

Pelosi Dismisses Family Values: 'Why Would Anybody Get Married?'. In an interview with Now This News, House Minority Leader Nancy Pelosi (D-CA) discussed marriage, whether it is traditional or same-sex, and seemed to dismiss the sacred tradition.

Failing Liberals Turn To Oppression To Hold On To Power. If you're a conservative, you don't need to silence the opposition. In fact, we conservatives want liberals to talk, to make buffoons of themselves, to prove their folly. We want liberals to expound upon their ridiculous ideas, to show the world exactly what they're about. Nancy Pelosi? Give that tiresome woman a microphone. Chatty liberals are the best advertisement for conservatism.

Pelosi: the Founding Fathers Would Totally Support Obamacare. America's Founding Fathers fiercely held to life, liberty, and the pursuit of happiness — values which Nancy Pelosi (D-Calif.) claimed align seamlessly with Obamacare. Pelosi explained why the law is "very sound policy" during a press conference Friday: [Pelosi quote omitted for brevity.] This argument should be added to the montage of lies being promulgated by the Obama administration.

The Editor says...
The Founding Fathers would never have allowed women to run for Congress — or even vote. Thus the Founding Fathers made no provision for people like Nancy Pelosi to have political power. I'm a little surprised how proudly (and falsely) she attributes ideas to the Founding Fathers.

Priests for Life African American leader blasts Nancy Pelosi for pro-choice stance. Dr. Alveda King, director of African American Outreach for Priests for Life, based in New Dorp, blasted pro-choice House Minority Leader Nancy Pelosi, who is slated to receive the Margaret Sanger Award from Planned Parenthood. Ironically, the first recipient of the award, named after a founder of Planned Parenthood, was none other than Dr. King's uncle, the civil rights leader Rev. Dr. Martin Luther King Jr.

Pelosi Deserves Her Planned Parenthood Award. It's true that Congresswoman Nancy Pelosi deserves Planned Parenthood's Margaret Sanger Award — almost no one has done more to promote the killing of innocent babies in the womb than she has. If Mrs. Pelosi wants finally to take her role as a public servant seriously, though, she will reject the award named after a racist woman who had no problem speaking to a Ku Klux Klan meeting.

Electing Nancy Pelosi to find out what's in her head. Thursday night House Minority Leader and former Speaker of the House Rep Nancy Pelosi (D-Cal) who represents a district that believes we have to be against income inequality and the one per cent even though our income is unequal because we are part of the one per cent, helped comedian Jon Stewart establish his bi partisan cred. Appearing on his show, even he laughed at her — not with her — when she repeatedly answered "I don't know" and "It's not my responsibility" to such simple questions as to why the Obamacare website failed.

Pelosi: I Don't Know If Any of My Staffers Have Gone On to Work for Federal Contractors. Rep. Nancy Pelosi (D., Calif.) seemed unaware that several of her former staffers have gone on to lobby for big corporations Thursday on The Daily Show. [...] A brief search of Pelosi's revolving door records on Open Secrets reveals 28 records of current and former staffers who have gone through the "revolving door" between Congress, lobbying firms and the private sector.

Will Nancy Pelosi Be the Next to Retire? With Rep. Henry Waxman's retirement announcement, many of House Minority Leader Nancy Pelosi's top lieutenants are abandoning ship. Waxman joins his California colleague, Rep. George Miller, and Rep. Jim Moran of Virginia as close Pelosi allies to retire after this Congress. And after last year's 2012 elections, Pelosi's leading in-house strategist Jen Crider left her office, later announcing she was working for Microsoft. Their decisions are as strong a signal as any that veteran House Democrats hold little hope of taking the House in 2014, and they probably are pessimistic about their long-term prospects for a congressional majority.

Pelosi to Reporter: Um, Don't Call it "Obamacare". Names have connotations, so perhaps that's why Nancy Pelosi (D-Calif.) corrected a reporter Thursday [1/9/2014] for referring to the Affordable Care Act as "Obamacare."

Pelosi: Obamacare will be 'glorious'. House Minority Leader Nancy Pelosi on Monday [12/23/2013] defended Obamacare amid fellow Democrats' concerns, saying that while the politics may be tricky right now, eventually having voted for the health care law will be a boon. "We'll ride this out," the California Democrat said on a conference call with reporters.

A Government of Laws? The ObamaCare Rot. Nancy Pelosi is off the hook. Her famous comment that we had to pass ObamaCare to find out what was in it will live on as a shining example of legislative malfeasance and irresponsible governance, of course, but it's no longer operative. The reason her remark resonated was because it was true: even the members of Congress who voted for the law seemed to have no idea what much of it said, and therefore they and the public they misled had to find out the hard way. The reason she is off the hook, however, is that President Obama has now made it clear that it is scarcely relevant what the law says anyway.

Pelosi calls for Obama to halt deportations. House Minority Leader Nancy Pelosi privately has urged the Obama administration to halt deportations for some illegal immigrants, saying that President Obama needs to use more "discretion" to reduce the number of people he's kicking out of the country. In an interview with Telemundo over the weekend, Mrs. Pelosi said that just being in the country illegally is not enough of a reason to be deported, and she said illegal immigrants must have something more serious on their records.

The Editor says...
Analogy: Just breaking into Ms. Pelosi's house should be no reason to call the police, unless she has evidence of some other crime as well. Why does the US-Mexico border exist, if there is to be no enforcement of it?

Pelosi: GOP Failure to Extend Unemployment Benefits Practically 'Immoral'. House Minority Leader Nancy Pelosi (D-Calif.) says the Republican refusal to include unemployment benefits in the Ryan-Murray budget deal is immoral. "It's interesting to note that they rejected unemployment insurance — this is so unconscionable, it's practically at the level of immoral to do. The people who work hard, play by the rules, lose their job through no fault of their own, are not able to get — continue to get an unemployment insurance check."

Morality, Anti-Morality, and Socialism. During the ObamaCare enslavement, Speaker Pelosi made a statement of utmost dopiness, which captures the essence of humanist anti-morality. She said to the effect that if young people had government healthcare they would be freed to be artists and musicians. It expresses the delusion that self-actualization means being an artist, and implicitly denigrates most work and the virtue of diligence. If everyone is to be a government-supported artist, who is left to make things, to raise children, to pay the bills?

Nancy Pelosi Was a Stay-at-Home Mom, Then She "Got a Life". During Politico's "Women Rule" event this morning, House Minority Leader Nancy Pelosi joined her daughter Alexandra on stage to discuss her former duties as a full-time mom and eventual road to Congress. Alexandra shared how her mom used to lead carpools, cook and clean all day and even win prizes for her cake baking. Being defined as domestic clearly made the powerful Minority Leader a bit squeamish.

The Party of Big Lies. The "big picture" Nancy speaks of was ramming a draconian and expensive government-run health care system down the throats of the American people by any means necessary. The instrument of this particular coup d'état was not a military faction seizing power on behalf of its fearless leader, merely a big lie. The lie was the ammunition. Soft-headed Americans were the weapons. They elected the liar in the White House twice. And here is the point: Obama and Pelosi lie so easily because for them there is but one objective truth — power.

Pelosi Breaks with Reality: Dems 'United' on Obamacare, 'Couldn't be More Thrilled'. While many Democrats, in an effort to save themselves, have jumped from the Obamacare ship and acknowledged the very-real shortcomings and disastrous effects the law is already having on the American people, Rep. Pelosi remains tone deaf and refuses to acknowledge the realities that remain so obvious to millions of Americans.

House Democratic leaders won't apologize for Obamacare promise. "There's nothing in the Affordable Care Act that says that your insurance company should cancel you," [Nancy Pelosi] told reporters. "That's not what the Affordable Care Act is about. It simply didn't happen." She continued that she did not make a similar statement to her constituents, noting that she "would have if I ever met anybody that liked his or her plan, but that was not my experience."

Nancy Pelosi Shocked at Obamacare Outrage: I've Never Met Anyone Who Liked Their Insurance Plan. Democrats are terrified, but Pelosi, an old pro, never wants to let them see her sweat. To that end, during a press conference with her fellow Democratic leaders on Friday, Pelosi attempted to convince the media that there is very little outrage being directed at the Democrats to begin with.

The Editor says...
Ms. Pelosi is a California leftist. Thus she has probably never met anybody who goes to church on Sundays, or anybody who has shot a deer, or anybody who can live their lives without help from the government for years at a time.

House Democratic Leaders: We Will Not Apologize to Americans Losing Their Health Insurance. Speaking to reporters on Capitol Hill, the top four House Democrats — Minority Leader Nancy Pelosi, Assistant Leader James Clyburn, Whip Steny Hoyer and House Democratic Caucus Chairman Xavier Becerra — were asked if they would apologize to any constituents who felt misled by Democrats. Each declined.

Baltimore's gay community to name Pelosi a 'Hometown Hero'. House Minority Leader Nancy Pelosi, a Baltimore native, will next month receive a "lifetime achievement award for her longtime dedication to LGBT rights and her work to fight HIV/AIDS in Congress," gay leaders in Baltimore said Friday [10/25/2013]. The Gay, Lesbian, Bisexual and Transgender Community Center of Baltimore is giving Pelosi the award at its inaugural "Hometown Hero Awards & Champagne Brunch" on Nov. 17 in Baltimore, an event it expects some 500 people to attend.

Nancy Pelosi: Republican 'sabotage' hindering health care law. House Minority Leader Nancy Pelosi believes the new health care law should move forward without delay and said that "sabotage" by Republicans, and not just computer glitches, is hindering implementation. Pelosi said the offices of some Republican lawmakers "are not giving information to constituents for how they can avail themselves" of the new program. Republicans are withholding the information, Pelosi said, "to undermine the Affordable Care Act." Michael Steel, a spokesman for House Speaker John Boehner, R-Ohio, said the GOP had nothing to do with the troubled rollout.

Pelosi on pork project: 'What difference does it make?' House Minority Leader Nancy Pelosi Thursday [10/17/2013] said she can't answer for why pork-barrel items snuck into the debt and spending bill that passed Congress late Thursday, but said the press should stop focusing on that and instead look at the broader debt fight.

'What difference does it make?' Pelosi says of extra spending in shutdown deal. Americans shouldn't think much about the various appropriations in the bill to reopen government, according to House Minority Leader Nancy Pelosi, D-Calif., even though she wished the spending measures weren't in the bill. "This was consistent with what would be in a continuing resolution," Pelosi told reporters when asked about extra measures such as a death benefit for the widow of the late Sen. Frank Lautenberg, D-N.J., and earmarked spending for a Kentucky dam.

Nancy Pelosi Flounders When Asked Actual Questions By Press. You look silly when you don't have good answers to questions being asked.

Shocking! CBS Hounds Pelosi Over Shutdown: 'You've Called Them Arsonists'. CBS This Morning has a long established history of conducting softball interviews of liberal/Democratic guests, while unleashing on conservative/liberal ones. But on Friday [10/4/2013], the morning newscast surprisingly hounded Rep. Nancy Pelosi on the ongoing government shutdown.

Bankrupt ideas lead to bankrupt governments. There is nothing left to cut," said House Minority Leader Nancy Pelosi last week when referring to the federal budget. Again, she displayed a complete disconnect with reality — a disconnect reinforced by all those other fantasyland souls who make her their leader. [...] [F]ederal spending is at record levels in nominal terms and near the all-time high as a percentage of gross domestic product (GDP), except during World War II.

Pelosi: Obama can raise debt limit on his own (an impeachable offense). Nancy Pelosi wants you to think debating the debt limit is dumb. From what she knows of the Constitution, Obama can raise the debt limit on his own. [...] Public debt has to be authorized by law, and only Congress can pass laws. Not complicated. But, apparently, too complicated for Pelosi.

Vatican official: Pelosi should be denied communion for 'grave sin' on abortion. A Vatican official in Rome says House Minority Leader Nancy Pelosi (D-Calif.), a Catholic, should be denied Communion because she supports abortion rights. "This is a person who obstinately, after repeated admonitions, persists in a grave sin — cooperating with the crime of procured abortion," Raymond Cardinal Leo Burke said in an interview with Catholic publication The Wanderer.

Nancy Pelosi Confuses Constitution With Declaration of Independence. Speaking last Wednesday [9/18/2013] at the Center for American Progress (CAP), Democratic Leader of the House Nancy Pelosi became a little confused at one point, stumbling over her words and flipping through her notes while referencing one of the founding documents of the United States.

No communion for Nancy Pelosi: Vatican court head. House Minority Leader Nancy Pelosi has no Catholic right to be granted Communion, said the leading cardinal of the highest court at the Vatican. Mrs. Pelosi should be denied Communion until she changes her advocacy views on abortion, Cardinal Raymond Leo Burke said, according to the Western Center for Journalism. That's canon law, not opinion, he said. Canon 915 states that Catholics who are stubbornly contrary "in manifest grave sin are not to be admitted to Holy Communion." And Cardinal Burke said Mrs. Pelosi fits the definition.

Vatican Chief Justice: Nancy Pelosi Must Be Denied Communion. Because of her longstanding support for abortion, House Minority Leader Nancy Pelosi (D-Calif.), a Catholic, must be denied Communion under the law of the Catholic Church, said Cardinal Raymond Burke, head of the highest court at the Vatican. Cardinal Burke referenced his remarks about Pelosi to Canon Law — the law governing the Catholic Church — and specifically Canon 915, which says those Catholics who obstinately persevere "in manifest grave sin are not to be admitted to Holy Communion."

Pelosi: Let's face it, Republicans hate Obama because he's eloquent and "nonpartisan". The perfect companion vid to Jay Cost's analysis this morning of how unusually, relentlessly partisan The One's rhetoric has been as president, especially in his weekly YouTube messages. Oh, and also to Politico's round-up of Democrats wondering why someone who's so often touted as a brilliantly eloquent orator can't seem to sell the public on anything except his own personal awesomeness.

Pelosi: GOP just doesn't like Obama. Nancy Pelosi, the top Democrat in the U.S. House, seems to believe that Republicans don't like President Obama because they're jealous. "You know why it is," Pelosi told Politico in an interview. "He's brilliant ... He thinks in a strategic way in how to get something done ... and he's completely eloquent. That's a package that they don't like." Republicans also don't like what Pelosi called the president's non-partisanship. Obama has been "open, practically apolitical, certainly non-partisan, in terms of welcoming every idea and solution," Pelosi told Politico[.]

Nancy Pelosi unplugged. Striking a tone of disgust, House Democratic Leader Nancy Pelosi ridicules the GOP as obsessed with its loathing of President Obama and hell-bent on hurting him politically, regardless the cost. She assigns little to no blame to the president (even though Democrats privately say that's laughable) and instead portrays him as saintly, above reproach and the victim of jealousy or something worse. After 26 years in the House, she says, "I haven't seen anything like it. I haven't seen anything like it."

Creative Destruction. Nancy Pelosi waxed rhapsodic in 2010 as she imagined the benefits of Obamacare: "Think of an economy where people could be an artist or a photographer or a writer without worrying about keeping their day job in order to have health insurance." Well, that was the economy we used to have. But as Obamacare begins to kick in, artists, photographers, writers, and other members of the "creative class" who have access to health insurance programs through numerous professional organizations will lose that coverage.

Pelosi Signs Letter Urging CA Gov. to Make State Sanctuary for Illegal Immigrants. House Minority Leader Nancy Pelosi (D-CA) signed a letter urging California Governor Jerry Brown (D) to sign into law a bill that would make the state a sanctuary state for illegal immigrants who have not committed felonies or "serious" crimes. Pelosi joined 27 other California House Democrats in signing the letter.

The Editor says...
Who defines the limits of "serious" crimes?

Bad Lies. In June, Congressperson Nancy Pelosi described abortion as "sacred ground" to a Catholic. [...] With Pelosi, it is often more obvious that incompetence and dishonesty are not mutually exclusive. Everyone knows that the Catholic Church condemns abortion as a grave evil and that it advocates for the right to life "from conception to natural death." It is the least ambiguously held position in the public square. Also well understood is that Catholicism comes in only one version. There is no Pelosi Catholicism [...]

Nancy Pelosi, Creep Enabler. The most powerful female Democrat on Capitol Hill has turned her back on women. Again. House Minority Leader Nancy Pelosi, entrenched 13-term incumbent, refuses to say whether creepster San Diego Mayor Bob Filner should resign amid an avalanche of longstanding sexual harassment allegations, staff resignations and now a lawsuit. "What goes on in San Diego is up to the people of San Diego. I'm not here to make any judgments," declared the very same feminist crusader who has spearheaded unabashedly judgmental nationwide attacks on the so-called "Republican War on Women."

Pelosi: Congress Must Uphold Oath to 'Protect and Defend' Constitution... by Passing Gun Control. In a press release marking the one-year anniversary of the Aurora, Colorado shootings, the former Speaker of the House said: "In Congress, there can be no more fitting memorial to the lives lost in Aurora, in Newtown, and across the country than a concerted effort to enact commonsense gun safety legislation. "We must uphold our oath to 'protect and defend' the constitution and all Americans by expanding background checks and keeping dangerous firearms out of the wrong hands."

High-profile Dems reluctant to weigh in on San Diego mayor groping claims. Democrats who accused Republicans of being anti-women during last year's campaign are strangely silent now that one of their own — San Diego Mayor Bob Filner — is accused of groping and sexually assaulting women. "Don't identify him as my former colleague," an agitated House Democratic Leader Nancy Pelosi reportedly said Thursday night [7/18/2013] when asked about the claims against Filner. Pelosi worked alongside Filner for 10 years in Congress.

Mrs. Pelosi's Erroneous Ongoing Catechesis. Overnight I received an e-mail from MSNBC publicity about an interview Andrea Mitchell has done with former speaker of the House Nancy Pelosi, airing later today [7/18/2013]. They talk about the Texas bill that will be signed into law today, which puts protections in place for unborn children at 20 weeks and older. Pelosi, not for the first time, tries to shut down any opposition to her abortion-rights "sacred ground" position by pulling a "mother" and "Catholic" card, somewhat incoherently.

Pelosi On Affordable Care Act: 'Captures the Spirit of our Founders'. Independence Day is the perfect day to remember that liberal Democrats want Americans to be dependent on government. Nancy Pelosi reminded Americans of that on June 27 with her remarks to the press about the national holiday, where she essentially argued that the Founding Fathers would have loved ObamaCare. "[W]hen we celebrate Independence Day we'll also be observing health independence. This week marks one year since the Supreme Court upheld the Affordable Care Act. It captures the spirit of our founders, the spirit they wrote in the Declaration of Independence: Life, liberty and the pursuit of happiness," Pelosi said.

Priests Rebuke Nancy Pelosi: Repent or Join a Satanic Church. I wish the craven evangelical ministers would grow some cojones like "The Priests for Life" obviously have and start rebuking politicians who claim union with Christ while proposing and supporting legislation that's spawned in the abyss.

Priests Tell Pro-Abortion Pelosi to Renounce Catholicism. Priests for Life slammed House Minority Leader Nancy Pelosi in an open letter this week, telling her to "either exercise [her] duties as a public servant and a Catholic, or have the honesty to formally renounce them." The harsh words came after Pelosi blasted a reporter for asking the "moral difference" between a late-term abortion and the murder of a viable baby after birth.

Priests to Pelosi: condemn abortion or leave the Church. A pro-life group called on California Democrat Rep. Nancy Pelosi to "exercise your duties as a public servant and a Catholic, or have the honesty to formally renounce them," in a widely-circulated open letter Wednesday [6/19/2013]. "Public servants are supposed to be able to tell the difference between serving the public and killing the public. Apparently, you can't," wrote national director of Priests for Life Father Frank Pavone.

Pelosi: Banning Abortion Post-22 Weeks is 'Disrespectful' to Women. House Minority Leader Nancy Pelosi (D-Calif.) said a bill to outlaw abortions after 22 weeks (5-and-a-half months) is "disrespectful" to women, adding that "as a practicing and respectful Catholic, this is sacred ground to me." "Yesterday was just really another day in the life of the Republican Congress," Pelosi said during a Thursday press conference on Capitol Hill. "They passed legislation that was disrespectful of the rights, health and safety of American women."

Pelosi angered by reporter's question about 'moral difference' between Gosnell, other abortions. House Minority Leader Nancy Pelosi, D-Calif., accused a reporter of pushing an "agenda" when he asked her to explain the "moral difference" between the murders that Kermit Gosnell was convicted of and elective abortions carried out beyond the 24th week of a pregnancy. "You're probably enjoying that question a lot, I can see you savoring it," Pelosi replied when The Weekly Standard's John McCormack finished asking the question. "What was done in Philadelphia was reprehensible," she continued. And then, referring to a bill that the House Judiciary Committee passed recommending the ban of abortions after 20 weeks, Pelosi said "for them to decide what a women does with her reproductive health is reprehensible."

Top House Democrat stonewalls: "This is sacred ground."
Pelosi Can't Explain Difference Between Gosnell Slayings and Late-Term Abortions. At a Thursday [6/13/2013] press conference, House Democratic leader Nancy Pelosi condemned a bill that would prohibit abortions during the final four months of pregnancy with and exception for when the life and physical health of the mother is at risk. Asked what the moral difference is between what Dr. Kermit Gosnell did to babies born alive and aborting those same infants moments before birth, Pelosi refused to answer. "As a practicing and respectful Catholic, this is sacred ground to me when we talk about this," Pelosi said. "I don't think it should have anything to do with politics."

Pelosi's wealth falls to $24.4 million. House Minority Leader Nancy Pelosi's (D-Calif.) substantial personal wealth dropped for the second year in a row after she took on more debt with her husband, according to her latest financial disclosure report. Pelosi's personal fortune was at least $24.4 million in 2012, according to her financial disclosure statement released on Friday [6/14/2013]. That's an almost 8 percent decline from her minimum net worth of $26.4 million for 2011.

Obama, Harry Reid and Nancy Pelosi are America's great dividers. This statement appears on the House Minority Leader's web site: "Democrats are building an economic approach that lifts every American, not just the privileged few. The average American CEO earns more before lunchtime in one day than a minimum wage worker earns all year. This is not the kind of America we want our children to grow up in. Today's economic challenges result from years of Republican inaction and failed policies that have left more and more Americans behind." In Pelosi's world, Democrats are for "every American," while Republicans favor only "the privileged few."

Pelosi: Role of government is 'fulfillment'. House Minority Leader Nancy Pelosi said Thursday that one of government's functions is to help Americans achieve "fulfillment." Making a pitch for Congress to pass bills keeping government subsidies in student loans and to pass legislation bolstering federal support for jobs, Mrs Pelosi said there is a fundamental difference between the approach her party brings to legislating. "To some of us the role of government is about doing things for the American people to help them reach fulfillment," the California Democrat said.

Pelosi: 'You're Mandated to Have Health Insurance, Yes, You Will Have An Increase'. House Minority Leader Nancy Pelosi (D-Calif.) said on Thursday [6/6/2013] that health insurance premiums will go up under Obamacare because people who did not buy insurance before, and thus had no premium at all, will now be forced to buy insurance. She also urged people to be "optimistic" about Obamacare. "You just see," Pelosi said. "I mean be optimistic about it. It is a very, very exciting enterprise."

Pelosi: GOP focusing on Bengazi, AP and IRS because Obama 'is a great president'. House Minority Leader Nancy Pelosi, D-Calif., charged Republicans with "exploiting" the questions surrounding the Benghazi talking points, the AP phone records seizure and the IRS scandal to attack President Obama because "they fear" his agenda and eloquence.

Pelosi: ObamaCare 'largely responsible' for bringing down deficit. House Minority Leader Nancy Pelosi (D-Calif.) said Monday [5/13/2013] that President Obama's landmark healthcare reform law is helping to bring down the deficit. "Many of the initiatives that he passed are what are coming to bear now, including the Affordable Care Act," Pelosi said in an interview with MSNBC's Chris Hayes. "The Affordable Care Act is bringing the cost of health care in our country down in both the public and private sector. And that is what is largely responsible for the deficit coming down."

Nancy Pelosi: 'I pray' Hillary Clinton runs for president. House Minority Leader Nancy Pelosi said Thursday [5/2/2013] at an event in Little Rock, Ark., that she prays former Secretary of State Hillary Clinton will run for president, saying it would send a powerful message to women in the world.

Pelosi: 'Unleash' Women Via 'Affordable Quality Childcare for All'. "What we have to do," said Pelosi, "and not necessarily as, shall we say, as transformative as Social Security and Medicare and the Affordable Care Act for everybody, but I think very important to our country, is to have affordable quality childcare for all of America's children. If we are going to unleash all that women have to offer we have to really get to this point."

Poll: Nancy Pelosi [is the] least liked Hill leader. Americans dislike all four of the nation's top congressional leaders, according to a poll released Wednesday, with House Minority Leader Nancy Pelosi leading the way in unpopularity. Pelosi, the target of extensive GOP attack ads over the years, is viewed unfavorably by 48 percent of Americans in the Gallup poll. Only 31 percent have a favorable opinion of the former House Speaker.

Pelosi: Obamacare Means 'You Could Be A Photographer or Writer'. Marking the third anniversary of Obamacare's passage, House Minority Leader Nancy Pelosi (D-Calif.) said the health care law fulfills the promises of life, liberty and the pursuit of happiness because it allows people to leave jobs that include health insurance as a benefit: You can become a "photographer or writer." "I've always said that the Affordable Care Act is something that was transformative," Pelosi said Wednesday during a press conference on Capitol Hill marking the upcoming anniversary of the law on March 23.

Pelosi Will Balance the Budget Over Her Dead Body. House Minority Leader Nancy Pelosi (D-Calif.) said on Thursday that she would like to see a balanced budget, "in a number of decades." During her weekly press conference on Capitol Hill, CNSNews.com asked Pelosi if she agreed with President Barack Obama's recent remarks that America does not have an "immediate" debt crisis. The U.S. debt as of Wednesday stands at $16.7 trillion.

Nancy Pelosi: 'I Don't Think Obama Has Ever Done Anything for Political Reasons'. House Minority Leader Nancy raised some eyebrows and got a few laughs when she said this of President Obama: "I don't think he's ever done anything for political reasons [...] This has been a president as bipartisan as any that I've seen."

Nancy Pelosi: Obama Has Never Done Anything For Political Reasons. [Video clip]

Nancy Pelosi demands $10.10 per hour minimum wage. Democratic House Minority Leader Nancy Pelosi said that recent Wall Street gains mean one sure thing: The minimum wage should be hike to $10.10 per hour. "This week, we saw something quite remarkable — the stock marking soaring to record heights," she said, Raw Story reported. [...] So, she suggests, why not raise the current minimum wage from $7.25 per hour to $10.10 per hour — even more than the $9 per hour proposed by the president?

Pelosi: 'Tax Cuts Are Spending'. House Minority Leader Nancy Pelosi (D.-Calif.) said today that the government must cut spending, and then explained that: "Tax cuts are spending." "Our whole budget is what $3.5 trillion," Pelosi said at a Capitol Hill press conference. "So, when we talk about reducing spending, we certainly must, and we certainly have — $1.6 trillion in the previous Congress, $1.2 [sic] of it in the Budget Control Act.

Pelosi: Obama can keep drone strikes against Americans a secret. House Minority Leader Nancy Pelosi, D-Calif., believes that President Obama doesn't necessarily have to announce that an American citizen suspected of terrorism has been killed in a drone strike. "Maybe. It just depends," Pelosi replied when The Huffington Post asked her if "the administration should acknowledge when it targets a U.S. citizen in a drone strike."

Nancy Pelosi says drone strikes on Americans can stay secret. House Minority Leader Nancy Pelosi said the White House doesn't necessarily have to confess to killing American citizens by unarmed drones. It all depends on the situation, she said in reply to a Huffington Post reporter who asked if President Obama's administration should acknowledge when it targets a U.S. citizen in a drone strike, the Washington Examiner reported. "Maybe, it just depends," she reportedly said. "People just want to be protected." She also said that such disclosure "depends on the timing, because that's right — it's all about the timing."

Nancy Pelosi: Push for Gun Control While We Have the Chance. The measures, which largely reflect recommendations by President Obama and Vice President Biden, include universal background checks, "high capacity" magazine bans, an "assault weapons" ban, a "crack down on gun trafficking," laws against "straw purchases," and mandatory gun safety training programs. It should be noted that none of these would have prevented the tragic Sandy Hook Elementary School shooting.

Nancy Pelosi To Fox News Sunday: It's A 'False Argument To Say We Have A Spending Problem'. On Fox News Sunday [2/10/2013], House Minority Leader Nancy Pelosi (D-CA) told Fox News Channel anchor Chris Wallace that the ongoing debate about a balanced approach to deficit reduction should not place undue emphasis on spending cuts. She said that it is "almost a false argument" to say that Washington has a "spending problem." Pelosi noted that there have been "plenty of spending cuts," and budgetary priorities like education and food safety must be protected.

Pelosi: First Amendment Protects Right To Bear Arms. House Minority Leader Nancy Pelosi (D-CA) on "Fox News Sunday" was confused, claiming it's the first, not second amendment that protects Americans' right to bear arms. [Video clip]

Nancy Pelosi Meets with Barbra Streisand, Plots Dem House Comeback. Hollywood Democrats aren't happy that one half of Congress remains out of their control. So a gaggle of big name celebrity donors, including Barbra Streisand, convened at the home of liberal activist/producer Norman Lear to plot a comeback strategy and watch a little must-see TV.

Nancy Pelosi Meets with Barbra Streisand, Plots Dem House Comeback. More than 40 Hollywood politicos — including Barbra Streisand, James Brolin and Haim Saban — gathered Thursday night [1/31/2013] at a closed-door meeting at Norman Lear's Westside mansion, where they heard Minority Leader Nancy Pelosi lay out the party's plans for recapturing the House in the 2014 mid-terms.

Pelosi: More Gun Control Needed Because 'We Took an Oath to Protect and Defend'. House Minority Leader Nancy Pelosi (D-Calif.) said action must be taken in the aftermath of the mass shooting at Sandy Hook Elementary School because members of Congress took an oath to "protect and defend," although the actual oath says to "support and defend the Constitution of the United States...."

Nancy Pelosi coins a new term for gun control. House Minority Leader Nancy Pelosi, D-Calif., has adopted a new term for gun control, "gun violence prevention," in hopes that the euphemism will make it easier to marshal public opinion in favor of new gun laws as well as other policies designed to prevent shootings.

Where Are The Jobs, Mr. President? When Nancy Pelosi asked that question in 2003, the unemployment rate was 6.1 percent. The unemployment rate for blacks was 11 percent. GDP, however, was growing at a 7.2 percent clip, and barely more than a year later the unemployment rate had fallen to 4.9 percent. That didn't stop Pelosi and her allies, including many in the news media, from repeatedly asking the above question and proclaiming the jobs picture to be the worst since Herbert Hoover.

Pelosi says upcoming fiscal deals should include greater tax increase. House Minority Leader Nancy Pelosi said Sunday [1/6/2013] that recent tax increases are "not enough" to solve the country's fiscal problems and argued that additional hikes should be included in upcoming deficit-reduction deals.

Too bad she's not this enthusiastic about the Second Amendment.
Pelosi urges Obama to sidestep Congress, use 14th Amendment to raise debt ceiling. House Minority Leader Nancy Pelosi shared her own idea Sunday on how to avoid a government shutdown should the Republican House and President Barack Obama find themselves unable to reach an agreement on raising the debt ceiling: invoke the 14th Amendment to the Constitution.

Pelosi defends decision to alter congressional class photo. The Democratic women of the 113th Congress had gathered on the Capitol steps Thursday [1/3/2013] for a picture, snapped by The Associated Press, marking the start of the session. Four lawmakers, though, were late to the shoot. So Pelosi's office added their faces after the fact — then emailed that image around to reporters and posted it on her Flickr page.

Nancy Pelosi's photo trickery enhances her caucus. [Scroll down] The photos get taken. Everyone runs to get back inside the Capitol where the hot air is. But just then here comes Debbie Wasserman Schultz, who's very important, you know. [...] And with her is Rep. Sheila Jackson Lee, who's loud and one of the few surviving Texas Democrats. So, she's important and a couple of other nobodies. Alas, no more group to join. But wait! Thanks to the wonders of technology there is a solution. The photographer takes the four tardy ladies' photo. And Pelosi's office Photoshops them into the back row.

Kathleen the Terrible. Among the gifts Nancy Pelosi brings to the House of Representatives is her ability to draw a hearty guffaw from the most jaded observer of American politics. This talent for comedy was on display last Wednesday [12/12/2012] when she told a group of toadeaters disguised as journalists that she belongs to the anti-corruption party. The Orwellian absurdity of the claim, combined with her trademark vapid expression, was enough to make a cat laugh.

Nancy Pelosi pushes Democrats as the anti-corruption party. How well did Pelosi succeed in "ending the culture of corruption"? Rep. Shelly Berkley, D-Nev., is leaving D.C. after losing a Senate campaign largely because of ethical problems, including how she used her position as lawmaker to prevent the closure of a kidney care center — a kidney care center that paid her husband almost three quarters of a million dollars a year.

Nancy Pelosi supports giving Obama 'unilateral control' to raise debt ceiling. During a press conference today [11/30/2012], House Minority leader Nancy Pelosi signaled that she supported "unilateral control" for the President over the country's debt limit. "Do you support President Obama having the power to unilaterally increase the debt limit as Secretary Geithner proposed?" asked a reporter. "Yes." Pelosi answered shortly.

Pelosi: Give Obama Power to Personally Lift Debt Limit to Infinity. House Minority Leader Nancy Pelosi (D-Calif.) said on Friday [11/30/2012] that Congress should hand over to President Barack Obama the power to unilateral increase the limit on the U.S. government's debt. In effect, under the plan Pelosi is endorsing, the only limit on the national debt would be President Obama's willingness to borrow money in the name of American taxpayers.

Welcome to Obamcare: The United Socialist States of America. I do realize there are changes that needed to be made in our medical system because it is/was getting so out of hand but did we really need this? I was really terrified when Pelosi said "well we have to pass it so we can know what's in it." I can't believe the people in her district are so dumb. Really? Are her voters so captivated by her that they don't pay attention to what she is saying?

Pelosi suggests it's sexist to question why she's staying as leader. House Minority Leader Nancy Pelosi, D-Calif., announced that she will run again for the top position in her conference, but she was offended by the suggestion that she's too old to continue in the post.

Why Nancy Pelosi should step down as House Democratic Leader: There's little doubt that if Pelosi wants the job, she can keep it. She remains immensely popular with the liberal wing of the House caucus which, if anything, has grown stronger and more unified in the past two elections. She is also, without question, the best fundraiser among House Democrats (and maybe the second-best fundraiser in the party). Since coming into party leadership in 2002, Pelosi has raised $328 million, including $85 million in the 2012 election cycle alone, according to Pelosi aides.

Pelosi: 'Is it the 11th Amendment? 14th? Whatever... I'm With the Constitution'. House Minority Leader Rep. Nancy Pelosi (D-CA) holds her regular weekly press briefing and displays a disturbing lack of knowledge of the constitution she has sworn for decades to protect and defend.

Nancy Pelosi's Secret CAIR Fundraiser. For Pelosi to appear at a fundraiser with Nihad Awad is as revolting, and should be as newsworthy, as if she had appeared at a fundraiser with David Duke or Bull Connor. The Council on American-Islamic Relations (CAIR) is an unindicted co-conspirator in a Hamas terror funding case — so named by the Justice Department. CAIR operatives have repeatedly refused to denounce Hamas and Hizballah as terrorist groups.

Pelosi holds secret fundraiser with Islamists, Hamas-linked groups. Democratic leader Rep. Nancy Pelosi headlined a high-dollar fundraiser in May that was attended by U.S.-based Islamist groups and individuals linked by the U.S. government to the Hamas jihad group and to the Egypt-based Muslim Brotherhood movement. The donors at the undisclosed May 16 event included Nihad Awad, the co-founder of the Council on American Islamic Relations, according to data provided by the nonpartisan Investigative Project on Terrorism.

Voters don't like Nancy Pelosi. Only Senate Majority Leader Harry Reid has a lower favorable rating, 25 percent, but his unfavorables aren't as bad as Pelosi's, at 47 percent.

Nancy Pelosi says she read Obamacare bill. Problem is, while Pelosi told the Chronicle that there was no bill yet on March 9, 2010, that's not quite accurate. Congress had not enacted a final measure, although later that month it would do so and Obama would sign the bill. But the House and Senate passed versions of Obamacare in 2009. This is a great example of Pelosi's insider-speak and her insistence of arguing a dubious technicality — yes, there was no final bill — making her both unintelligible and open to parody.

Pelosi: "Validation" Of Romney Will "Take Us To A Period Before Lyndon Johnson". In an interview with former Gov. Jennifer Granholm (D-Mich.) on her Current TV show, House Minority Leader Nancy Pelosi (D-Cali) declared President Obama will win the election in November. The former Speaker of the House went as far to say speculating otherwise is "remote."

Pelosi says GOP has 'nerve' to ask if Americans are better off under Obama. House Minority Leader Nancy Pelosi (D-Calif.) blasted Republicans on Friday afternoon [9/21/2012] for continuing to assert that Americans are not better off under President Obama's administration, and said every economic indicator shows that the country is in a much better spot today than it was four years ago. "The Republicans have the nerve to pose that question, when if you look back to four years ago this very week ... you would know that we are indeed fundamentally and unquestionably better off as a country today," Pelosi said on the House floor.

Nancy Pelosi Faults Federal Agents for Enforcing the Law. Pelosi attributes increased deportation under Obama to federal agents, and see Obama's DREAM Act executive order as the solution to this 'problem.'

America's national security takes a back seat to Obama's political survival. Even in the face of a plea from Nancy Pelosi, President Obama insisted on subordinating the defense needs of the United States to his reelection efforts. This is an under-reported lesson from Glenn Thrush's new e-book, Obama's Last Stand. [...] Note that Pelosi's concern was keeping local financial contributors happy. If she was concerned about the impact of sequestration on our armed services and national security, she did not, according to Thrush's account, make this her pitch to President Obama.

The Pelosis are Who We Thought They Were. [Scroll down] The couple has refused to hire unions to work in its vineyard and other business interests, even as Pelosi has collected $365,500 in political contributions from labor groups in 2012. She has also railed against bankers despite the fact that her husband's colleagues are her staunchest allies, contributing $500,000 in 2012, according to the Center for Responsive Politics. Hambrecht, Pelosi's UFL partner, is in the latter group. He has contributed $160,000 to Democratic candidates since 2007, including $22,000 to Pelosi and her Super PAC, according to the Center for Responsive Politics.

Coach: Pelosis in Breach of Contract. A new lawsuit brought by a former NFL coach charges the husband of House minority leader Nancy Pelosi with breach of contract. Dennis Green, former head coach of the Minnesota Vikings and Arizona Cardinals, is accusing Paul Pelosi and business partner Bill Hambrecht of failing to honor the $1.5 million contract he signed to coach Pelosi's football team, the Sacramento Mountain Lions.

Pelosi: Civil Contempt Lawsuit Against Holder About Vote Suppression. Fast & Furious was a gun walking scheme set in place by the government. It caused numerous guns to walk into the hands of Mexican drug cartels, resulting in the deaths of Border Patrol Agent Brian Terry and 300+ Mexicans. There are still 1,000+ guns missing. They're also linked to numerous other crimes in Mexico. It has nothing to do with anyone's right to vote.

Whistle-blower, documents: Illinois state workers forced to attend Pelosi, Jesse Jackson Jr. event on taxpayer dime. Documents and a whistle-blower affidavit obtained by The Daily Caller charge that House Minority Leader Nancy Pelosi, Illinois Democratic Rep. Jesse Jackson Jr., and Rev. Jesse Jackson Sr., participated in an unethical — and possibly illegal — effort to force 76 employees of an Illinois state agency to engage in political activity on the taxpayers' dime. According to the whistle-blower, Rev. Jackson also encouraged the government employees to load first-generation and low-income college students up with student loan debt — because Democrats in Congress, he allegedly promised, would eventually pass laws to forgive that debt later. "[T]hose people will continue to vote Democratic," Jackson Sr. said, according to the whistle-blower.

Nancy Pelosi's greatest "it's a conspiracy" hits. The lawmaker most prone to imagining shadowy secret cabals influencing our politics is undoubtedly House Minority Leader Nancy Pelosi, D-Calif.

Nancy Pelosi accuses Republicans of trying to kill children with E. coli. Republicans don't want to spend money to protect children from the E. coli bacteria, said House Minority Leader Nancy Pelosi (D-Calif.) during a campaign event Monday [8/6/2012] in support of a Democrat running for a Florida congressional seat.

Unfit to Govern. Nancy Pelosi, the leader who warned that we were losing "500 million jobs a month" without the stimulus bill and who said "God bless them" regarding Occupy Wall Street but condemned the tea party as "AstroTurf," has declared that the Republican Party supports E. coli. True, it's not news when Pelosi mangles the facts. But until her colleagues demote her, she remains the leader of House Democrats.

Pelosi 'Swears' Spirit of Susan B. Anthony Spoke to Her in White House. [Scroll down] "My chair was getting crowded in," said Pelosi. "I swear this happened, never happened before, it never happened since." "My chair was getting crowded in and I couldn't figure out what it was, it was like this," she said. "And then I realized Susan B. Anthony, Elizabeth Cady Stanton, Lucretia Mott, Alice Paul, Sojourner Truth, you name it, they were all in that chair, they were," said Pelosi. "More than I named and I could hear them say: 'At last we have a seat at the table.' And then they were gone." This was not the only time Pelosi has told this story. On June 6 of this year she told it during an event celebrating her 25 years of political service.

Pelosi: Obama Has Created Many "Expansions Of Freedom". Citing ObamaCare, the Lilly Ledbetter Act and the repeal of Don't Ask, Don't Tell, House Minority Leader Nancy Pelosi (D-Cali.) says President Obama has enacted many "expansions of freedom." In a speech to Campus Progress, where she received an award, Pelosi said the Affordable Care Act is "about life, liberty and the pursuit of happiness."

Top 10 most dangerous liberals. [#10] Nancy Pelosi: It will take years, if not decades, to undo the damage done by the spending spree during Pelosi's tenure as speaker of the House. From 2006 to 2010, the nation racked up trillions of dollars in debt, largely due to spending bills initiated by Pelosi's Democratic House majority. And without her strong-armed tactics, Obamacare never would have become law.

Welcome to the welfare state: Obama's 'badge of honor'. Nancy Pelosi says President Obama should embrace the "Food Stamp President" label as a badge of honor — and he has. Food stamp use has risen 100 percent in three years. Welfare reform has been rolled back through work requirement waivers. The USDA holds "food stamp parties" to hook seniors, and Obama's Ag secretary calls welfare "economic stimulus."

Pelosi: Bill That Would Defund Obamacare, Planned Parenthood Is 'An Immorality'. House Minority Leader Nancy Pelosi (D-Calif.) said on Thursday [7/19/2012] that a Republican appropriations bill that would defund Planned Parenthood and the Patient Affordable Care Act (AKA Obamacare) is "an immorality." On Wednesday, Rep. Denny Rehberg (R-Mont.), chairman of the House Subcommittee on Labor, Health and Human Services, introduced legislation for fiscal year 2013 that would cut $6.3 billion and prohibit any further funding to implement Obamcare and would also cut off federal funding for Planned Parenthood, an organization which says that it did 329,445 abortions in 2010.

The Awakened Giant Likes Tea. By inexplicably siding with the court's left wing and upholding the president's signature achievement — government-run socialized health care — Roberts has given Democrats a shiny election-year package adorned with a judicial-activist bow. The excessive celebration has begun. Nancy Pelosi immediately released a statement gloating, "We made history. ... We completed unfinished business!"

Pelosi whinnies from the pastures. If so many of today's incumbent politicians are yesterday, former House Speaker Nancy Pelosi is the Day Before. Surely the icing on the cake in 2010 midterm elections was the end to Nancy Pelosi as House Speaker. Though she's tried ever since to advance the philosophy that being Minority Leader for the 112th Congress is just as good, Pelosi's clout went out with the tide of 63 lost Dem seats.

Vast Right Wing Conspiracy Part Duh. Revealing yet another portion of the chamber of horrors that is her power obsessed mind, Pelosi channeled Hillary Clinton, experiencing a vicarious flashback to Clinton's infamous "vast right wing conspiracy" moment. Never mind that there are hundreds of Mexicans and an American Border Control Agent dead as the result of sophisticated automatic weapons ending up in the hands of known, hardened criminals. It should not matter to voters that this is a result of the current administration's irresponsible, scandalous Fast and Furious gun walking operation. Finding out how that happened and who is ultimately responsible for those deaths is not important.

More about the Fast and Furious scandal.

Pelosi: If mandate ruled unconstitutional, rest of health law won't work. If the Supreme Court rules the individual mandate unconstitutional, House Minority Leader Nancy Pelosi said the rest of the health care law wouldn't work from a "financial standpoint."

Rove: Pelosi 'sounds like Mad Red Queen' with arrest threat. Karl Rove said Rep. Nancy Pelosi was "dead wrong" when she suggested Wednesday that she could have had him arrested. "The only way I could have been arrested is if the House adopted the resolution, which it did not," the Republican operative and former adviser to President George W. Bush told Fox News on Wednesday night [6/20/2012].

Dems avoid, Republicans slam Pelosi theory on Holder contempt push. A day after Nancy Pelosi accused Republicans of targeting Attorney General Eric Holder because of his department's crackdown on state voter ID laws, GOP lawmakers dismissed the claim as "hogwash" while Democrats kept their distance. Asked about Pelosi's claim at Thursday's [6/21/2012] press briefing, White House Press Secretary Jay Carney would not say that the administration shares her theory.

Pelosi: Justice for Brian Terry Isn't As Important As Jobs. This morning the buzz about former Speaker Nancy Pelosi revolves around her statement that she could have arrested Karl Rove at any time. But if you dig deeper into the story, you come across a quote that shows just how heartless this woman really is.

Pelosi Says Contempt Charge a Right-Wing Scheme on Voter Rights. House Democratic Leader Nancy Pelosi blasted Wednesday's contempt proceedings over the Oversight and Government Reform committee's Fast and Furious investigation as a "shameful display of abuse of power" by House Republicans. She claims it's part of a right-wing "over-the-edge" scheme to strike back against Attorney General Eric Holder for defending voting rights across the country.

The Editor says...
I hesitate to quote from (or link to) ABC News on this web site, but I do so in this case to illustrate that the article above is a news report with the reporter's opinion seamlessly injected here and there. The statement that Eric Holder is defending voting rights across the country is a canard, because the right of living U.S. citizens (18 or over) to vote one time in each election are not under attack anywhere, as far as I know, and there is therefore no need for Eric Holder to go on the defense.

No, Ms. Pelosi, We Aren't Suppressing, but Holder is Pushing Fraud. Among legal voters, the order is a political wash: It might attract some votes from legal Hispanic citizens, but it also will even further turn off another block of voters who hate amensty or who object to flagrant executive overreacch. But by providing a sort of documentation to 800,000 new people, it also makes it easier for those 800,000 to vote. Holder and Obama know this. They approve of it. And Pelosi knows it.

Pelosi: Obamacare Is 'A Right'. House Minority Leader Nancy Pelosi (D.-Calif.) said at her Thursday [6/7/2012] press briefing that the Patient Protection and Affordable Care Act — AKA Obamacre — is not a privilege but "a right." At the same time, Pelosi also said Social Security and Medicare are rights.

Pelosi: Obamacare Will Be Upheld 6-3, 'Because I Know the Constitution'. [Scroll down] Pelosi, in reference to how the nine-judge court will rule, said, "6-3. That's it. 6-3." She was then asked why she was so confident about her prediction, "Do you have a crystal ball or what is your confidence — you wrote the bill but why do you have this confidence?" Pelosi said: "Because I know the Constitution. This bill is ironclad. It is ironclad."

When Pelosi Says 'Free,' Reach for Your Wallet. On Tuesday, House Minority Leader Nancy Pelosi explained to the Commonwealth Club the reason Washington passed Obamacare. Even if everyone in America "loved" his own health care plan, Pelosi argued, Congress had to pass President Barack Obama's Affordable Care Act because American health care was "unsustainable financially." Yes, Pelosi actually believes Washington had to get involved in health care to reduce its cost. The Democratic leader then listed some of Obamacare's new benefits: "free" annual checkups and preventive care and the ability of adult children to stay on their parents' policies until age 26.

San Francisco to rename street after Pelosi. "Middle Drive East" which connects Martin Luthjer King Jr. Drive and John F Kennedy Drive in San Francisco's Golden Gate Park will now be renamed in honor of Pelosi and her 25 years of service in Congress. San Francisco is the second city to name a street after Pelosi.

Obama budget defeated 99-0 in Senate. President Obama's budget suffered a second embarrassing defeat Wednesday, when senators voted 99-0 to reject it. Coupled with the House's rejection in March, 414-0, that means Mr. Obama's budget has failed to win a single vote in support this year. Republicans forced the vote by offering the president's plan on the Senate floor.

Reid, Pelosi: America's Least Favorite Politicians. House Minority Leader Nancy Pelosi (D., Calif.) and Senate Majority Leader Harry Reid (D., Nev.) may occupy some of the most powerful positions in Congress, but they're also two of the most reviled American politicians, according to a new Rasmussen poll.

Still Clueless: What Is the Tea Party? For the Obama camp and mainstream media to have the unmitigated gall to say the Occupy movement is equal to the Tea Party makes for off-the-chain arrogance and shameless lying. [...] No one has been raped at a Tea Party. Rapes are occurring at OWS. No property, government or private, has been vandalized or destroyed by Tea Party patriots. OWS has been trashing businesses. No feces has been thrown or used to make a point at a Tea Party, but OWS dumped a bucket of feces in a public building. No arrests have been made at a Tea Party, but we have over 7,000 at OWS. And yet, Democrat Nancy Pelosi said God bless OWS while calling the Tea Party Nazi.

Pelosi: Obama's Gay Marriage Reversal 'Not Political at All,' 'Nothing to Do with Money'. House Minority Leader Nancy Pelosi (D-Calif.) said President Barack Obama's embrace of same-sex "marriage" on Wednesday was not political "at all," nor due to concerns over fundraising from the LGBT community, adding that she's not "big in the bundler crowd." At her weekly press conference with reporters on Thursday, Pelosi was asked whether fundraising may have affected the president's decision to endorse homosexual "marriage," and if she had spoken to friends, donors and "bundlers" who now are more enthusiastic for Obama because of his apparent "evolution" on the issue.

Nancy Pelosi's top 10 gaffes. Here are some of the most outrageous claims made by House Minority Leader Nancy Pelosi, D-Calif.

Did then Speaker of the House Pelosi Lie About Her Knowledge of Waterboarding? Yes she did, according to a new book by the CIA's former counterterrorism chief, Jose Rodriguez.

Pelosi denies lying about waterboarding. House Minority Leader Nancy Pelosi, D-Calif., reiterated that she never received a briefing on waterboarding, contrary to the former CIA counterterrorism head who says he personally briefed her on the interrogation techniques. "This is once again totally false," Pelosi spokesman Drew Hammill told The Washington Examiner. "The independent CIA Inspector General conducted a review and the findings are consistent with what Leader Pelosi has maintained all along." In 2009, Pelosi denied knowing that the CIA waterboarded high-value terrorist detainees. "We were not — I repeat — were not told that waterboarding or any of these other enhanced interrogation methods were used," she told reporters.

Nancy Pelosi Seeks To Rewrite First Amendment. Leave it to Nancy Pelosi, who said we had to pass ObamaCare in order to find out what's in it, to suggest that a document we had well over two centuries to read was misinterpreted by the court in its Citizens United decision wherein it held that corporations and unions can spend unlimited amounts on political advocacy as long as they do not coordinate with candidates or campaigns.

Pelosi: GOP Wants 'Subsidies for Big Oil,' Democrats Want to 'Prevent Breast Cancer'. House Minority Leader Nancy Pelosi (D-Calif.) said women's health care is the "old favorite target" of Republicans when it comes to budget cuts, adding that while the GOP wants "to protect subsidies for big oil," Democrats want to "prevent breast cancer" and "immunize our children."

Keep the First Amendment. The phrase "stunning development" is used far too often in our politics, but here is an item that can be described in no other way: Nancy Pelosi and congressional Democrats, frustrated by the fact that the Bill of Rights interferes with their desire to muzzle their political opponents, have proposed to repeal the First Amendment. That is precisely what the so-called People's Rights Amendment would do.

Nancy Pelosi's Constitution. House Minority Leader Nancy Pelosi — the speaker of the House when Obamacare was passed — has an op-ed in the Chicago Tribune highlighting her constitutional confusion. [...] Nowhere in her column does Pelosi actually grapple with two issues: the fact that Article III, giving Congress the power to regulate the jurisdiction of federal courts, is actually in the Constitution; she does not identify the constitutionally enumerated power that gives federal government the authority mandate the purchase of health insurance or otherwise implement Obamacare.

And America's least-liked congressional leader is... On the other side of the like scale, Pelosi is the easy winner of the most unfavorable rating, pulling away with nearly two-out-of-three (60%), and trailed by, of course, another Democrat, Reid with 48% unfavorable. Next highest unfavorable is Boehner at 42% with McConnell the winner of sorts of least disliked at 36% unfavorable. The same surveys found that a depressing 48% of likely voters believe that most of the 435 members of Congress are corrupt.

Pelosi: 'Congress Has Always Been A Mockery'. "Congress has always been a mockery," Rep. Nancy Pelosi (D-Calif.) declared in an interview on "The Charlie Rose Show" Monday night [4/2/2012]. Commenting on the public's current low opinion of Congress, Pelosi said "Congress has always been a mockery since the beginning of our country": "Congress has always — let's put this in perspective — Congress has always been a mockery since the beginning of our country and if you looked at the history of it, they've always been fighting over one thing or another."

Yes, Nancy Pelosi, We are Serious. [Scroll down] She seemed to have been taken by surprise by the question in the chaotic hubbub of the announcement that the Senate might pass its version of the Patient Protection and Affordable Care Act (PPACA, or the ACA, or Obamacare, or Public Law 111-148). Or at least she was stunned by the idea that anyone would question the government's "right" to conceive of and pass such a law. No one else was questioning the legality of such a law. All other questions patronized her alleged wisdom about its necessity. Her flunky press spokesman (with the ironic title of communications director) simply repeated the answer, and shoed [sic] the annoying reporter away.

Yes, Congresswoman Pelosi, We're Serious: On the Constitutionality of Obamacare. Several times during the debate and deliberation, my mind harkened back to the words of former Speaker of the House Nancy Pelosi. Remarking on the original Obamacare bill, Pelosi infamously said that first "we have to pass the bill so that you can find out what is in it." Even more outrageous was another Pelosi observation, especially given the pivotal role of the Supreme Court. In October 2009, Pelosi was asked by a reporter if the healthcare legislation was constitutional.

Remembering Nancy Pelosi's Syria Junket. Five years ago this coming Wednesday, House Majority leader Nancy Pelosi defied President Bush's request and his strategy isolating Syrian leader Bashar al-Assad by going to Damascus. "We do not encourage and, in fact, we discourage members of Congress to make such visits to Syria," the White House spokesman said. "This is a country that is a state sponsor of terror." Pelosi would have none of that. She had known evil and to her, he resided in the White House. The Syrian dictator, however, was a reforming, Western educated eye doctor.

Pelosi held over 400 fundraisers in one year. NPR reporter Andrea Seabrook recently toured with Nancy Pelosi during a fundraising swing through Texas covering two days, five or six events, three cities. When asked by Seabrook how often she attends fundraisers a week, she replies, "A lot, you know. They're either on the phone or attending events. But I think they've said this year I've attended almost 400 fundraisers in nearly 40 cities."

Pelosi: Rush 'Deserves a Great Deal of Credit for the Courage' To Break House Rules. You would think that Nancy "drain the swamp" Pelosi, the minority leader, would reprimand the Congressman Rush for making a fool of himself and disgracing the Congress. But no.

Pelosi Has 'No Idea' If Supreme Court Will Hold Individual Mandate Constitutional. House Minority Leader Nancy Pelosi (D-Calif.) who in 2009 rebuked a reporter for asking her where the Constitution authorized Congress to require people to buy health insurance — "Are you serious? Are you serious?" she said then — now says she has "no idea" if the Supreme Court will rule that the mandate is in fact constitutional.

Pelosi: Food Stamp President 'Badge Of Honor'. Speaking at Jesse Jackson's Rainbow Push Coalition, House Democratic Leader Nancy Pelosi addressed recent comments by Newt Ginginch referring to Obama as the "Food Stamp President" because more Americans have fallen into poverty and had to seek government assistance. According to Ms. Pelosi, this was a "Badge of Honor".

Pelosi: Obamacare Allows You to Quit Your Job and Become 'Whatever'. House Minority Leader Nancy Pelosi (D-Calif.) said Thursday [3/22/2012] that Obamacare facilitates the type of "liberation" that the "Founders had in mind" because it allows you to quit your job and become a "photographer," a "writer," a "musician" — or "whatever." "As you hear from these stories, this is a liberation," Pelosi said at a Capitol Hill news conference Thursday. "This is what our founders had in mind — ever expanding opportunity for people.

Levin on Pelosi: We're being ruled by the dumbest people in America. Levin says that when it seems like stuff the Democrats say can't get any stranger, it does. And this time it's Nancy Pelosi arguing that ObamaCare fulfills the Declaration of Independence. Yeah, she really said that.

Pelosi: Give Us ObamaCare, Or Give Us Death. As the Supreme Court hears oral arguments on the constitutionality of ObamaCare, the former House speaker says its purpose is to guarantee our inalienable rights of life, liberty and the pursuit of happiness.

Pelosi is Congress' most unpopular leader. Just 29 percent give [House Minority Leader Nancy] Pelosi, the former speaker struggling to win back the House majority, a favorable rating. [Senate Majority Leader Harry] Reid's favorable rating is lower, at 24 percent.

The Bell Tolls for Breitbart. The president of NOW, an organization that should have lost all credibility when it continued to support Bill Clinton, announced that the bishops really want the police power of the state to prevent women from taking birth control. Still, even they must have known that this wasn't winning over a lot of the skeptics, and so Nancy Pelosi offered up space to a Georgetown University Law school student named Sandra Fluke, who whined that because that Catholic university doesn't provide contraceptive coverage in its health care insurance she had to pay $3,000 over a three year period for it. Representative Pelosi trembled with joy to have a dog and pony show artiste like this to make her point to the low information voters.

Pelosi 2008: Bush to Blame for High Gas Prices; Pelosi 2012: Wall Street to Blame for High Gas Prices. Obviously the Democrats are worried their golden boy will be taking heat for skyrocketing gas prices so this week they've gone on the offensive. Their diversionary tactics will probably work since the media will dutifully carry their water.

Nancy Pelosi on Gasoline Prices. The congresswomen's comments are so cartoonish, I don't even have to comment on them.

Dem leader Pelosi blames Wall Street for spike in gas prices. Oil speculators, not a lack of domestic drilling, are to blame for the nation's rising gas prices, the top House Democrat argued Wednesday [2/22/2012].

What happened to all that talk about draining the swamp?
Pelosi endorses Rep. Jackson for reelection. Democratic Leader Nancy Pelosi (Calif.) has endorsed Rep. Jesse Jackson Jr. (D-Ill.), whose reelection bid has been plagued by an ethics investigation. Pelosi joins President Obama and several other top Democrats in their endorsement of the Chicago lawmaker as he goes up against former Democratic Rep. Debbie Halvorson (Ill.) in a fierce primary battle next month.

Pelosi Raises $400k at home of lobbyist for company that booted protesters from Zuccotti Park.
Nancy Pelosi Sells out Occupy. Politico Influence reports that House minority leader Nancy Pelosi and minority whip Steny Hoyer raised $400,000 last night [2/14/2012] at a fundraiser held at the home of Democratic lobbyists Heather and Tony Podesta. Heather Podesta runs the firm Heather Podesta and Partners.

Pelosi: Govt. Should Require Church To Pay for Birth Control. House Democratic leader Nancy Pelosi said Thursday morning [2/16/2012] that the government should require self-insured religious institutions, such as the Catholic church in Washington, D.C., to directly pay for contraception and abortifacients.

Nancy Pelosi: Religious Freedom is an "Excuse" When It Comes to Women's Health. House Minority Leader Nancy Pelosi said in a press conference Thursday [2/9/2012] that Republicans are using religious freedom as an excuse to change the law in a way that will be harmful to women's health. This was in regard to the pushback against Catholic employees being required to cover birth control and abortifacients, which violates Church doctrine.

This week's grand prize for doublespeak goes to Nancy Pelosi.
Pelosi: 'I am going to stick with fellow Catholics' in supporting Obama birth control mandate. Even as the United States' Catholic bishops have launched an all-out campaign against the Obama administration's birth control mandate and urged their flocks to resistance, House Minority Leader Nancy Pelosi has invoked the support of "fellow Catholics" to justify her position in favor of the mandate. ... The comment came as at least 164 Catholic bishops across the country, representing over 90% of the country's dioceses, have blasted the mandate, in many cases ensuring that letters were read to the faithful during Sunday Mass calling the mandate unconstitutional and unjust.

Pelosi might have skirted House ethics rules on campaign solicitations. The Democratic leader was holding a briefing to promote a campaign finance disclosure bill when she said she was "asking people to contribute to us, if they want to elect more reformers to Congress." House ethics rules prohibit members of Congress from soliciting campaign donations in House office buildings, including the Capitol Visitor Center, where Pelosi was speaking. A section of the U.S. criminal code also prohibits fund-raising in federal buildings.

Full-of-Pelosi. While she was discussing Obamacare she said: "But we have to pass the bill so that you can find out what is in it, away from the fog of the controversy." Unemployment checks create jobs? Really? They do according to Nancy: "It creates jobs faster than almost any other initiative you can name." Fossil fuels make a great alternative to — fossil fuels. Yes she said this: "I believe in natural gas as a clean, cheap alternative to fossil fuels," she said at one point. Natural gas "is cheap, abundant and clean compared to fossil fuels," she said at another.

Oops, she did it again. Nancy Pelosi is "glad" that President Obama ignored the Advice and Consent requirement of the Constitution on his recent appointments to the National Labor Relations Board and the new bureaucratic beast, the Consumer Financial Protection Bureau. Ms. Pelosi has shown her contempt for the Constitution before. When asked where in the Constitution she found the power to pass Obamacare, Pelosi said, "Are you serious?" President Obama shows a similar contempt about whether the Constitution constrains him.

Throw 'Em All Out... And Good Riddance! [Scroll down] Another tool of corruption is the IPO (which, according to [Peter] Schweizer, means "Invest in Politicians Often"). Companies about to go public invite certain strategically-placed politicians to make the first purchases in the offering, before the stockbrokers or anyone else. You can't really call it a payoff. Nancy Pelosi is a particularly avid IPO fan. She and her husband made an incredibly large purchase of the Visa IPO amounting to 10% of their stock portfolio, raking off nearly a 50% profit on the original purchase in only two days. (Nancy Pelosi also had a station built on a light rail line in San Francisco near one of her office buildings. Real estate manipulation is yet another tool of the privileged class.)

Did Pelosi Commit Blackmail? House Democrat Leader Nancy Pelosi recently said that if Newt Gingrich is the Republican nominee, she will disclose what Americans do not now know about him out of confidential House Ethics Committee investigations. Newt noted that this was an ethical violation itself, which caused Pelosi to back off her earlier threat, but there is more at issue than just House Ethics Committee rules. The House Democrat Leader may well have committed blackmail.

Another Load of Trickle-Up Economics. So... if rich people opening businesses aren't creating jobs in the private sector, then who is? For the answer, we turn to an even greater economic genius, House Minority Leader Nancy Pelosi (D-CA, current net worth $35.5 million.) Yesterday she repeated a theory she made famous some years ago, and which has become one of the bedrock principles of the Obama Administration: jobs are created by people who don't have jobs, through the magic of unemployment insurance, whose extension will create 600,000 jobs.

Pelosi: Extending Unemployment Benefits Would Create '600,000 Jobs'. House Minority Leader Nancy Pelosi (D-Calif.) said that extending unemployment benefits would add "600,000 jobs to our economy." She also said that the money from unemployment benefits creates a "safety net" for the U.S. economy because it "injects demand into the economy — creating jobs."

Nancy Pelosi, Down and Dirty. [Scroll down] Of course, an endless parade of dirty Democratic scandals earlier this year had already completely obliterated what was left of Pelosi's Mop-and-Glo reformer image. She and other liberal feminists rallied around disgraced Twitter freak and former N.Y. Democratic Rep. Anthony Weiner even as evidence mounted that he lied to them. And used taxpayer resources and government buildings while sexting. And recklessly neglected to ensure that his Internet paramours were of legal age.

Pelosi Ridicules Catholics' "Conscience Thing" on Abortion Requirement. Catholics who believe the federal government should not be able to compel healthcare providers to perform abortions "have this conscience thing" that they really need to overcome, House Minority Leader Nancy Pelosi (D-Calif.) told the Washington Post recently. Otherwise, she said, women "could die" from a lack of access to abortion services.

Nancy Pelosi Wants A Federal Babysitting Service. Buried in a Washington Post story about Herman Cain calling Nancy Pelosi, "Princess Nancy" is a new policy idea that Pelosi has been pitching recently during her short tour through California. "One of the great pieces of unfinished business is high-quality child care; I wonder why we just can't do that," she recently said to a California audience.

Pelosi Leads List Of Conflict Of Interest Dems. The brewing scandal is complicated, but here's the Reader's Digest version: After a Pelosi staffer left to lobby on behalf of credit-card giant Visa, Pelosi delayed bringing to the House floor a bill to end lucrative "swipe fees" for Visa and other credit providers. The bill couldn't have come at a worse time for Visa. It planned to launch an $18 billion public stock offering, so stalling Hill action became a priority. The San Francisco-based company curried favor with Pelosi by pumping cash into her re-election efforts, earning its CEO a rare one-on-one meeting with the speaker. At the same time, Visa offered her husband a VIP cut of the IPO.

'Throw them all out' sounds like a good start. Hoover Institution scholar Peter Schweizer is making huge waves this week with advance coverage of his book "Throw Them All Out" on "60 Minutes" and in a Newsweek piece by Peter Boyer. CBS and Newsweek focused on Schweizer's contention that because Congress exempts itself from laws it imposes on the rest of us, senators and representatives can engage in insider stock trading with impunity. Among the most outrageous examples, according to Schweizer, is that of former House Speaker Nancy Pelosi, who, with her millionaire husband, bought between $1 million and $5 million (members of Congress only have to report such investments in broad categories rather than nickels and dimes like the rest of us) in an initial public offering from Visa.

Pelosi's investments questioned in CBS report. [Steve] Kroft asked Pelosi why she and her investor husband, Paul Pelosi, bought an initial public offering of stock in Visa, the San Francisco-based credit card company, in March of 2008. The same month, former House Judiciary Committee Chairman John Conyers, D-Mich., introduced the Credit Card Fair Fee Act, which would have given merchants the power to negotiate lower fees with credit card companies. The bill, hostile to the credit card industry, was passed by the committee but never brought to the floor. Pelosi was speaker at the time, and controlled which legislation came to a vote.

Pelosi Vs. Boeing — And Jobs. The ex-House Speaker who promised millions of jobs from ObamaCare says that not creating jobs is better than creating nonunion jobs. But then she also believes unemployment checks grow the economy.

Top 10 Looniest Liberals: [#2] Nancy Pelosi: She left a legacy of debt and out-of-control spending during her four years as House speaker. The arrogance of the Left has rarely been more transparent than when Pelosi uttered these infamous words about the pending ObamaCare legislation: "We have to pass the bill so that you can find out what is in it, away from the fog of controversy."

Proof that Obama is out of his mind:
Obama: Pelosi was 'one of the best' Speakers, will be back in 2013. President Obama on Saturday [10/29/2011] said Rep. Nancy Pelosi (D-Calif.) was a great House Speaker and that she will get that job back after the 2012 elections. "I am biased, but I think Nancy was one of the best Speakers of the House this country ever had," Obama said after Pelosi had introduced him at the National Italian American Foundation gala.

Pelosi's disclosure belated in husband's land deal. House Minority Leader Nancy Pelosi's husband, a real estate developer and investment banker, stands to make millions of dollars in a previously undisclosed residential real estate project in California as a partner with the father of a woman Mrs. Pelosi helped become ambassador to Hungary, records show. Paul F. Pelosi's investment in Russell Ranch is worth at least $5 million and possibly as much as $25 million in a deal put together by his friend and longtime business associate, Angelo Tsakopoulos, patriarch of a multimillion-dollar real estate development firm, according to Mrs. Pelosi's latest personal-disclosure statement.

Pelosi Supports Occupy Wall Street Movement. House Democratic Leader Rep. Nancy Pelosi, D-Calif., said she supports the growing nationwide Occupy Wall Street movement, which began on the streets of downtown New York City in mid-September. ... Pelosi added that the failure of TARP, commonly known as the bank bailout, to add liquidity to the Main Street marketplace is fueling Americans' animosity towards Wall Street.

The Editor says...
TARP was Obama's idea. If it's a failure (and it is), your beef is with him, not the banks!

Solargate Opens Wide. It turns out a recent recipient of the administr