The empirical and anecdotal evidence on this page speaks for itself. If you and Hillary Clinton are like-minded, none of this is likely to change your opinions; however, if you are the least bit undecided about whether or not to vote for her, you should spend some time looking at all this.
Subsections on this page:
Lies
Credible accusations of cheating at a televised debate
Disingenuousness, evasiveness, hypocrisy, obscurantism, secrecy and dishonesty
The "Sniper Fire in Bosnia" story
Imperious behavior and immunity from criticism
Extreme wealth and greed
Personality flaws


Lies:
Hillary's 50 shades of grey. Hillary Clinton is false in everything, a gold-plated phony seemingly incapable of uttering a true word. She lies with abandon. She lies with the ease of a pathological liar. Everyone knows it. Everyone sees it. Examples could be multiplied endlessly. Think only of the various statements she has made about her email arrangement. Has any of them stood the test of time? I don't think so. She has told so many whoppers it's hard to keep track of them all.
Hillary Clinton claims the U.S. makes it 'as hard as possible for women to have careers'. While speaking recently on something called "The Story of Woman" podcast, Hillary Clinton said that the U.S. makes it "as hard as possible" for women to have careers. Really, former first lady and Secretary of State? There are countless female CEOs, accountants, doctors, lawyers, and store managers in the United States today. No fewer than 60% of college students are female. Roughly 86 of the approximately 328 women billionaires on Earth are American, including Oprah Winfrey. That's more than 26% of all female billionaires alive.
Hillary Clinton's sordid legacy of lies. Proving that what's old is new again, here is how the late William Safire began his New York Times column of Jan. 8, 1996: "Americans of all political persuasions are coming to the sad realization that our First Lady — a woman of undoubted talents who was a role model for many in her generation — is a congenital liar. "Drip by drip, like Whitewater torture, the case is being made that she is compelled to mislead, and to ensnare her subordinates and friends in a web of deceit." Safire detailed a series of situations where Hillary Clinton was caught in obvious lies, and there is a straight line to the Hillary Clinton whose shadow hangs over the Michael Sussmann trial in Washington. Once again, Clinton is being exposed as "compelled to mislead" and ensnaring "her subordinates and friends in a web of deceit." And to think she almost got away with stealing the presidency.
Fake News Lives On and On and On and On. The Russia collusion hoax was exposed long ago as a fraud, but these Rasmussen survey results suggest that it was one of the most effective fake news campaigns ever. Rasmussen asked: ["]Hillary Clinton has said that "Russia succeeded" in influencing the 2016 presidential election. How likely is it that Russian interference changed the outcome of the 2016 election?["] The results: ["]Democratic voters overwhelmingly agree with Hillary Clinton that Russia is to blame for her defeat in 2016.["]
Your Top Priority is The Emotional Comfort of the Most Powerful Elites, Which You Fulfill by Never Criticizing Them. When Hillary Clinton's divine entitlement to the U.S. presidency began to look imperiled in 2016 — first due to the irreverent and unkempt (but surprisingly formidable) Democratic Party primary challenge from Bernie Sanders, the independent socialist Senator from Vermont — her campaign and its media allies invented and unveiled a deeply moving morality tale. A faceless horde of unnamed, uncredentialed, unmannered, violent, abusive and deeply misogynistic online Sanders supporters — dubbed with the gender-emphasizing name "Bernie Bros" even though many were women — were berating, insulting and brutalizing Hillary, her top campaign surrogates (U.S. Senators, former cabinet members, corporate executives), and especially pro-Hillary corporate journalists with a vast artillery of traumatizing words and violent tweets. This storyline — and especially the way it cleverly inverted the David v. Goliath framework of the 2016 campaign so that it was now Hillary and her band of monied and Ivy-League-educated political and media elites who were the real victims — was irresistible to Harvard-and-Yale-trained journalists at NBC, CNN, The New York Times and Washington Post op-ed pages who really believe they are the truly marginalized peoples.
Hillary Clinton 2016 tweets show [her] campaign [was] perpetuating now-debunked Trump-Russia claims. Unearthed Hillary Clinton tweets from days before the 2016 presidential election show the candidate pushing now-debunked information that Donald Trump was using a "covert sever" linking him to Russia. Just a day after Fox News first reported that Special Counsel John Durham alleged that lawyers from her campaign had paid to "infiltrate" servers belonging to Trump Tower, and later the White House, in order to establish an "inference" and "narrative" to bring to government agencies linking Trump to Russia. Clinton, on Oct. 31, 2016, tweeted: "Computer scientists have apparently uncovered a covert server linking the Trump Organization to a Russian-based bank," and shared a statement from her campaign's senior policy advisor Jake Sullivan, who now serves as President Biden's White House National Security advisor.
When is a conspiracy theory not a conspiracy theory? For years, if not decades, some Americans were noticing behind-the-scene, well-concerted efforts to impose on our country a form of semi-totalitarian regime, not unlike the one that collapsed in the Soviet Union three decades ago. However, anyone who pointed to facts that supported claims of coordinated attempts to reduce the governments' accountability to the American people, restrict individual liberties, expand governmental powers, and strengthen federal law-enforcement agencies was promptly branded as a "conspiracy theorist" [...] who might belong in a mental hospital and certainly shouldn't be taken seriously. There were no conspiracies in America, we were told, and anyone who suggested that there were such conspiracies was insane, evil, or both. That "mainstream" rhetoric changed a bit in 1998 when Ms. Hillary Clinton, defending Bill against charges of sexual misconduct with Monica Lewinsky, claimed he was the victim of a "vast right-wing conspiracy." No one in the "mainstream" called her a "conspiracy theorist," never mind asking for factual proof of her claim.
Hillary Clinton Is Spreading Lies on Social Media. Hillary Clinton is using her Twitter account to spread fake news — also known as lies — the Washington Free Beacon has learned. "2022 is the first year women's faces will appear on U.S. quarters. It's about time," the failed politician wrote on Wednesday [1/5/2022]. She also posted a link to a story published by 19th News that also claimed "women's faces will appear on quarters for the first time" in 2022. Journalist Alexa Mikhail amplified the statement, writing, "It's FINALLY happening in 2022!" Fact Check: That's false. The face of Helen Keller, a woman, was featured on the Alabama state quarter issued in March 2003. That wasn't even the first quarter to feature a real woman. More than a century earlier, Queen Isabella of Spain appeared on a special commemorative quarter released in 1893. Clinton wasn't just wrong. She was reckless.
Hillary Clinton, Conspiracy Queen. There's always been a kind of paranoid streak in American politics," former presidential candidate Hillary Clinton told Jennifer Senior at The Atlantic Festival recently. "But it never was given such voice, such a platform, or had so much money behind it until we saw the rise of the right-wing radio voices like Rush Limbaugh, and we saw the rise of Fox News. And then, of course, the Internet just put it on steroids." It's true, no doubt, that democratized media exacerbates the worst (and best) of human tendencies. Yet, it is quite jarring to hear this complaint coming from a person whose operatives were likely involved in birtherism and later were the driving force behind the Russian "collusion" hoax — two of modern political history's most corrosive conspiracy theories.
I guess if your name is Hillary Clinton you're just allowed to spread entirely false information without any fear of fact-checkers? What Hillary tweeted is just straight up false. She published a lie to slander her political enemies. Why is it that prominent liberals are allowed to publish completely false information like this, without any fear of retribution from fact checkers or social media companies?
Hillary Attacks Trump, Claims: 'The Election Was Not Close. There Was No Fraud'. Twice failed presidential candidate Hillary Clinton is jumping back into the election fray. Clinton took to Twitter this week and slammed Republicans who have supported President Donald Trump's public statements and legal challenges contesting the results of the Nov. 3 presidential election. She also claimed that there is "no evidence" of voter fraud.
Hillary Clinton: 'The Election Was Not Close ... No Evidence of Fraud'. Former secretary of state Hillary Clinton said on Thursday that the 2020 presidential election was "not close" and concluded there is "no evidence of fraud," while chastising the Republicans backing President Trump's efforts to ensure election integrity. "The election was not close. There was no evidence of fraud. The states have certified the results. Yet Trump continues to try to overturn the election at the expense of our democracy," the failed Trump challenger said.
'Russia hoax' was lie created by Hillary Clinton and one of the dirtiest political tricks ever. For Hillary Clinton, inventing the lie was easy. Spreading the lie was even easier. For President Trump, uncovering the truth has been hard. The truth always has its enemies. This is the maxim — and chilling lesson — of the Russia hoax. Newly declassified handwritten notes authored by former CIA Director John Brennan show that on July 28, 2016, he briefed President Barack Obama on intelligence evidence that Clinton had approved a plan to vilify Trump with false accusations that he was colluding with Russia. She did it, the intel concluded, to distract from her own damaging email scandal. It was an audacious plot put in motion by one of Clinton's foreign policy advisers and then sanctioned by the then-Democrat presidential candidate on July 26. But the genesis of the smear came from Clinton herself.
Hillary Clinton says 'diabolical' Supreme Court fight is about repealing Obamacare. Hillary Clinton suggested that Senate Republicans are rushing to confirm President Trump's pending Supreme Court nominee for one singular purpose: to repeal the Affordable Care Act. "Ultimately this fight, it seems to me, is about health care," Clinton, the 2016 Democratic presidential nominee, said Wednesday during the 2020 Texas Tribune Festival. "Health care is literally before the court."
Americans Have Never Been Gaslighted This Much in Our Nation's History. [Scroll down] The main problem for the Democrats — and this was Crooked Hillary's problem in 2016 as well — is that gaslighting no longer works in the age of the internet, social media and cellphone cameras. Hillary couldn't turn around and lie and claim, "Why, no, I never referred to half of the voters as a Basket of Deplorables" because we had all seen the video. It's no longer 1996. Bill and Hillary Clinton enjoyed a golden age of being able to look into the cameras and tell blatant, shameless lies to the American people. Who would call them on it? A newspaper here and there might be able to report on their lies, but only a handful of people would have read it. CNN would avoid negative stories about the Clintons entirely — and that was that. There was no Twitter or Facebook or YouTube where anyone with a cell phone could instantly expose the left's gaslighting in those days. [...] Sure, Twitter, Facebook and YouTube do their best to try to suppress the information, but there are simply too many of us sharing content for them to completely squash it all. The truth gets out.
Hillary Clinton on 'Daily Show': Americans should 'be ready' if Trump won't 'go quietly' after election. Hillary Clinton appeared as a guest on Monday's episode of "The Daily Show" where host Trevor Noah asked the former secretary of state about the potential changing of powers at the White House after November's election. The former Democratic presidential nominee appeared virtually for an interview on what Noah has been calling "The Daily Social Distancing Show" amid the coronavirus pandemic. Their friendly interview quickly turned to the topic of voter suppression, with Clinton taking a jab at Republican leaders, alleging they're trying to stifle votes from people they believe will vote blue in November. "Republicans have two prongs to their strategy to try to win," she explained. "The first is to try to prevent as many people who they think won't vote for them from voting. So make the lines really long where young people vote or African-Americans vote or Hispanics vote. Try to make vote-by-mail as difficult as possible. Claim it's fraudulent when indeed it's not. In fact, that's how Donald Trump votes and everybody who knows about vote-by-mail understands that."
Hillary Clinton: Facebook Is Conspiring Against Me. Name three things that will never go away. Cockroaches, human evil, and Hillary Clinton. And now, Hillary is back for some reason to rant some more about a vast conspiracy.
Clinton's Facebook Conspiracy Theory. After proclaiming a myriad of excuses and airing her wounded pride in the New York Times best-selling book What Happened, former Secretary of State Hillary Clinton now points a manicured finger of blame at the conservative takeover of social media for the embarrassing, unthinkable, and clearly unmanageable loss. What? Back up a minute. Conservatives rule social media? Yep, Mrs. Clinton said that and more.
Gabbard v. Clinton, Continued. Earlier today, a lawyer representing Tulsi Gabbard wrote to Hillary Clinton accusing her of defaming Gabbard by calling her a Russian asset and demanding a retraction: ["]A letter from the Gabbard campaign's legal counsel insisted that Gabbard is not a Russian asset, and that Clinton knew the statement was untrue when she said it.["] It is almost impossible for a public official like Tulsi Gabbard to win a defamation case under existing law, but Clinton's claim was so ridiculous that Tulsi might have a shot. [...] Confronted with blowback over her deranged accusation, Clinton tried to back off by claiming that she meant Tulsi was a Republican, not a Russian, asset. That wasn't what she said, of course, and the Gabbard campaign is having none of it.
A Lie Is Not Just a Lie. Hillary also recently made herself up for a public spectacle of assuring those on the Left that she is available to run again for president. She relishes the thought of running once more against Donald Trump so she can "beat him again." Somehow I missed that she's been president for the last three years.
Election Blacklist: YouTube Buries Viral Video of Hillary Clinton Lying For 13 Minutes Straight. Despite the video obtaining over 15 million views, it remains buried under over a dozen mainstream media search results even when you search for the direct word for word title. YouTube election blacklisting has been a hot topic since Steven Crowder drew attention to the fact that the Google-owned company was deliberately preventing conservative channels from appearing in search results.
PolitiFact Gives Hillary Clinton 'Pants on Fire' for Voter Suppression Claim. Former Democratic presidential candidate Hillary Clinton received the lowest possible grade from fact-checker PolitiFact for repeating a claim that fact-checkers had already heavily criticized. Clinton first claimed in May 2017, "The best estimate is that 200,000 people in Wisconsin were either denied or chilled in their efforts to vote" in the 2016 presidential election. PolitiFact ruled that claim was mostly false, noting that the estimate came from a Democratic PAC and that most experts say it's impossible to tell how much of Wisconsin's low turnout was attributable to voter ID laws and how much was due to low enthusiasm for Clinton and Donald Trump.
Hillary Clinton lies to say she was in NYC on 9/11. She saw it in the teleprompter, so it had to be true. In an address Tuesday evening [7/30/2019] in Sanford, Florida, Hillary Clinton said: "I was in New York City on 9/11 as one of two senators. I will defeat ISIS." Except she wasn't in New York City. She was in Washington, D.C., as Congress was still in session. The next day, as transportation allowed, Mrs. Clinton traveled to New York to access [sic] the damage with then-Mayor Rudolph Giuliani. She then worked as a senator to get benefits and aids for 9/11 victims.
Donald Trump Didn't Lie About Where He Was after the 9/11 Attacks, But Hillary Clinton Did. The liberal media has egg on their faces for claiming that Trump lied about being down at Ground Zero after the 9/11 attacks. Despite video evidence that has been floating around on the internet for years, they just couldn't help themselves. It's curious, however, that the candidate that they all wanted to win in 2016, Hillary Clinton, actually did lie about where she was on 9/11 in order to insert herself into it.
The Left's hypocrisy knows no bounds. Trump is right that all politicians seek information on opponents, no matter where it comes from. They often pay for it. In Hillary's case, she actually commissioned it, paid for it, and did not care that it was made up out of whole cloth.
Dan Bongino slams Clinton's claim about 'stolen' election: 'Is there a politician with more temerity anywhere?'. Fox News contributor and former Secret Service agent Dan Bongino blasted Hillary Clinton for claiming the 2016 election was "stolen" from her. [...] "Hillary Clinton's team literally [...] paid foreign spies to gather information from Russians to use to attack Donald Trump in the FISA court during the campaign," Bongino said. "And she's now complaining that the election was stolen from her? I mean, the gall, the nerve on Mrs. Clinton."
We Now Enter the Phase of Democrats Cowardly Lyin'. [Hillary Clinton] lost for many reasons, including but not limited to: [...] She is corrupt, and she has been known for public corruption for at least three decades. A TV network could run six seasons of crime episodes just based on her public career. The Rose Law Firm billing records. Whitewater. Travelgate. Getting rapists off and laughing about it. Cattle Futures. Landing in Bosnia amid heavy gunfire — when in fact the TV on-site reportage showed it calmer than a Christmas Eve around the yule log, with a bunch of sweet little girls giving her flowers. Lying that she was named for Sir Edmund Hillary when she in fact was born before the guy gained mountain-climbing fame. (Really, who lies about how they got their name?) Let's leave Vince Foster out of this, and return to what we do know with certainty: Her roles in threatening some of #MeToo Bill's victims among Paula Corbin Jones, Kathleen Willey, Juanita Broaddrick, and Monica Lewinsky, while publicly mocking them. Her trip to the Middle East and warmly hugging Suha Arafat (Yasser's "beard" spouse) after Mrs. Arafat made a speech accusing Jews of poisoning the water supply. And then the corruption reappeared for a New Generation Who Knew Not Hillary. The 33,000 missing emails — all about wedding dresses and yoga. (Like she knows from yoga? She never made it to the POTUS position, and it is doubtful she ever made it to the Lotus position.) Benghazi. And sending Susan Rice all over the Sunday talk shows blaming it on a YouTube clip seen by six people. The Clinton Foundation. The secret $150,000 speeches to Wall Street insiders behind closed doors. The hand-over of our plutonium. Her people working in cahoots with the media, handing her questions that would be asked later at debates, coordinating news reports. Loretta Lynch with Bill at the tarmac discussing golf and grandchildren. Comey and the whitewash.
WaPo Drops Four Pinocchios On Hillary's Vote-Suppression Claims. A fake Southern accent wasn't Hillary Clinton's only affectation this weekend. The Washington Post's fact-checkers called Hillary's claims of voter suppression in 2016 and 2018 "way off-base," awarding her the maximum four Pinocchios for her speech at the annual Selma March commemoration on Sunday. Among other notably bad arguments, Clinton claimed that a Supreme Court decision on the Voting Rights Act cost her Wisconsin three years earlier.
Hillary Clinton Sounds Alarm: 'Americans Dying for Lack of Health Care' While Obamacare [is] Still in Place. Failed Democrat presidential nominee Hillary Clinton warned of "real national emergencies" that included "Americans dying for lack of health care," despite Obamacare remaining in place. Clinton posted a message Monday appearing to take aim at President Donald Trump's declaration of a national emergency at the U.S. southern border. She offered four alternative "real national emergencies."
State Department provided 'clearly false' statements to derail requests for Clinton docs, 'shocked' federal judge says. In a combative exchange at a hearing Friday [10/12/2018] in Washington, D.C., a federal judge unabashedly accused career State Department officials of lying and signing "clearly false" affidavits to derail a series of lawsuits seeking information about former Secretary of State Hillary Clinton's private email server and her handling of the 2012 terrorist attack on the U.S. Consulate in Benghazi, Libya. U.S. District Court Judge Royce Lamberth also said he was "shocked" and "dumbfounded" when he learned that FBI had granted immunity to former Clinton chief of staff Cheryl Mills during its investigation into the use of Clinton's server, according to a court transcript of his remarks.
Director Who Supported Both Clintons Now Worries About Trump's 'Pathological Lies'. Hollywood director Rob Reiner, who supported both Bill and Hillary Clinton, is now very concerned about political untruths. Donald Trump's that is. Reiner appeared on the Monday edition of MSNBC's The Beat and decried Trump as someone who "constantly lies and is lying right to our face." Reiner supported Barack Obama, a man who committed the PolitiFact lie of year in 2013, but now the filmmaker objects to falsehoods. Talking to host Ari Melber, he complained: "[T]his President, who is a pathological liar, is not going to talk to Robert Mueller. He is incapable of telling the truth."
Hillary Clinton lectures us on values and trust:
Hillary: 'I Worry' Trump Has Harmed America's World Leadership — 'Our Word Is No Longer Trusted'. Thursday [3/29/2018] at Rutgers University, former secretary of state and presidential candidate Hillary Clinton said she was concerned President Donald Trump had caused a "loss of leadership and leverage" in global politics. The reason: She is concerned American's word "is no longer trusted." When asked what her concerns about our "democratic stability" in the era of Trump were, Clinton replied, "I worry about the degradation of institutions, the dismissing of norms and values, because remember, a democracy is fundamentally held together by trust."
Hillary Clinton has no credibility on harassment. This is why it's so galling when Hillary "Bimbo Eruptions" Clinton goes on the attack over the sex issue. Did she really complain to Rita Cosby on WABC that "We have a man who's accused of sexual assault sitting in the Oval Office. ... The very credible accusations against him have not been taken seriously." Did she really say that? Out loud? This is the real reason liberals should avoid going on walkabout through the Clinton years: You'll have to take the Clintons with you. And the Clintons only operate at one speed — nonstop lying.
Hillary Praises Bill For Staying Off Twitter As President — Before It Was Created. Hillary spoke about how difficult the process was to obtain peace in Northern Ireland during Bill's first term and she bragged about Bill's ability to stay off Twitter and get the work done. "There was nothing fast and easy about it," Hillary said. "He didn't Tweet about it, he got to work about it and he actually got it done." Bill Clinton served as president of the United States from 1993 to 2001. Twitter was not created until 2006. Many in the first wave of Twitter users didn't sign onto the platform until early 2007, nearly a decade after Clinton left office.
Hillary Clinton Inks Ad Deal With GEICO! Satire.
Hillary Lies Again, This Time About Fusion GPS Dossier. As Hillary Clinton continues her Spite-Across-America tour, she finally answered a question about her campaign's anti-Trump dossier. The one that was slipped to the FBI and helped generate the Obama wiretapping and unmasking of Trump officials, and the Mueller investigation. And of course it was a leading softball question on The Daily Show. "Most serious people," Hillary Clinton insisted understand the difference. "This was research started by a Republican donor," she insisted. "The people doing this came to my campaign lawyer and asked would you like us to continue it." Except that's a lie.
There's A Huge Hole In Hillary Clinton's Defense Of Her 'Deplorables' Comment. Former Secretary of State Hillary Clinton played fast and loose with the facts on Sunday [9/10/2017] in an attempt to defend her infamous "deplorables" remark. [...] Clinton attempted to spin that remark — which proved to be one of the pivotal moments of the 2016 campaign — in a CBS interview that aired Sunday morning.
Hillary's deleted emails are still floating around somewhere. If The New York Times, the Washington Post and now ABC News aren't embarrassed yet, then there is no hope for what is called the Main Stream Media. Another slew of e-mails the other day show how these news organizations tried their best to downplay a very suspicious meeting between Bill Clinton and then-Attorney General Loretta Lynch on an airport tarmac at Phoenix in June 2016. [...] Hillary has offered the same nonsensical explanation that Bill used when discussing the tarmac meeting — the missing emails were only about daughter Chelsea's wedding. And yoga. Again, that's the Clintons' way of saying that Americans are stupid enough to believe anything.
Urine trouble, Washington. Five months after the once-respected Jake Tapper and Carl Bernstein at CNN reported on a dodgy dossier about President Trump hiring hookers to whiz on a bed Obama slept in, we find out from whence that cockamamie collection of claptrap came. Camp Hillary. That's correct. The billion-dollar loser hired a staff of weirdos who came up with this urinal joke.
Hillary's perfectly crafted untruths. Last week two politicians made news for the ways they communicated to Americans: Clinton's words were crafted, deliberate and dishonest; President Trump's words were a string of thoughts bouncing everywhere — with no craft, no massaging and they contained great gaps of context. The press reacted wistfully to the former; to the latter, it went into full meltdown.
Clinton Falsely Claims That Trump Was Not Asked Debate Questions About Job Creation In 2016. Hillary Clinton criticized 2016 debate moderators on Tuesday [5/2/2017] for not asking her Republican opponent and current President Donald Trump questions about job creation. Clinton's criticism was false because Trump was asked about job creation twice during two different debates by moderators Chris Wallace and Lester Holt, according to FactCheck.org.
Why Isn't Hillary Clinton in Jail? Hear me out: The most loving act President Trump can do for Clinton is give her the professional and institutional help that will uphold justice — and prevent her from further hurting herself or others. Nearly nine in 10 Americans did not find Hillary to be "honest and trustworthy" going into the 2016 presidential election. While we can't assess Clinton's mental state, we do know that uncontrollable lying (mythomania) is common among individuals suffering from borderline personality disorder (BPD). Individuals with BPD may also sustain romantic relationships solely for utility (think Hillary's choice to cling to an unloving and unfaithful man in order to climb the political ladder).
Democrats Know the Election Was Legitimate but Persist in a Dangerous Fraud. [Scroll down] A flabbergasted Clinton responded that she was shocked — horrified! — to hear Trump "talking down our democracy." This was a top theme in her campaign's closing days: The election was absolutely legitimate; Trump was traitorously condemnable for refusing to say so. Of course, Clinton and the Democrats who parroted her would prefer that you forget that now. And given her strained relationship with the truth, they're right to calculate that you'd never retain anything she said for very long. Nobody does. Corporate big wheels who paid to hear her vaporous speechifying couldn't tell you a memorable thing she'd said after paying $250,000 for her "insights."
There Ain't 17 Intelligence Agencies. This all started when Hillary Clinton reversed what Barack Obama had started four years earlier in a debate with Mitt Romney who actually stated the Russians were a problem. The only thing is that she stated that all 17 intelligence agencies agreed that the Russians had hacked the Democratic National Committee (DNC). Though technically correct there are "17" intelligence agencies, Ms. Clinton knows that these agencies "agreeing" is a hoax.
The Russia hacking report is an indictment of Obama, not Trump. Let's be clear: Hillary Clinton did not lose the 2016 election because of Russian meddling or WikiLeaks. And here is the proof: WikiLeaks began publishing its trove of Democratic National Committee emails on July 22, 2016, three days before the Democratic National Convention. By then, Hillary Clinton was already in a deep hole with American voters. Long before WikiLeaks, Americans had concluded that Clinton was a congenital liar. A CNN poll taken July 13-16 found that 65 percent of voters said Clinton was neither honest nor trustworthy and that 57 percent would not be proud to have her as president. A July 16 CBS News poll showed similar results — 67 percent of voters said Clinton was not honest or trustworthy. And little wonder. By then, Clinton had lied so often, for so many years, about so many things — her emails, the Clinton Foundation, Benghazi, arriving in Bosnia under sniper fire, Whitewater, the firing of White House travel aides, the Madison S&L — that most Americans no longer believed a word she said.
Rush Turns the Table on Hillary's Fake News: Compiles Her Most Outrageous Lies In 90 Seconds. Leave it to Rush to unveil the truth like no one else can. Hillary is the queen of "Fake News" and you will recall all too well these famous lies she has told over the years.
Watching the Fakestream Break Down. What did Hillary actually mean — if anything — by saying, "Putin publicly blamed me for the outpouring of outrage by his own people"? What is she talking about? This sounds like a phony script whipped up by Bill, Obama, and John Podesta in a five-minute phone call. It doesn't pass the smell test, and the world knows it. American politics used to have a core of basic decency, but this is the worst kind of demagoguery. Hillary is waving the bloody flag in a style the left attributes to Joe McCarthy. Worse still, our own chief executive has backed an obviously false narrative directed against a major power, for pure domestic political gain. The Soviet Union used to be our enemy, following the teachings of Marx, Lenin, and Stalin. But Putin is not our enemy. Russia is certainly a ruthless competitor, and Putin is a master of bluff. But he is very practical, unlike Soviet ideologues. He does not follow an ideology of world conquest, because he experienced the fall of the USSR in his own career.
Even the Democrats' big donors are not buying the 'Russia did it' excuse for Hillary's loss. While the combined might of the mainstream media and the Democrat establishment from President Obama on down-pedal the lie that "Russia hacked the election," neither the American public nor the Democrats' own paymasters are buying it. Fifty-nine percent of the public says any hacking made no difference. But even more importantly (to the Democrats), the Big Money donors seem to agree.
Hillary and Fake News. Hillary Clinton, who survived sniper fire in Bosnia to run for the presidency, called on Thursday [12/8/2016] for a bipartisan fight to end an epidemic of "fake news" she now blames for her defeat by Donald Trump. Hillary is a consummate serial liar. From lying to the parents of the four Benghazi dead in front of their sons' caskets, repeating the infamous video lie, of which she arguably was the architect, to dodging sniper fire in Bosnia, to being named for Sir Edmund Hillary years before he climbed Mt. Everest, to her claim she made $100,000 in the futures market almost literally overnight just from reading the Wall Street Journal. Her call for a war on "fake news" is laughable.
Trying to Count ALL of Hillary and Obama's Lies is Awfully Tough. Last week, Deroy Murdock at the National Review did his level best to count out ALL of the times that President Obama and Hillary Clinton have lied about what really happened in Benghazi. Murdock found the task truly daunting, and it got worse as he went deeper into the morass of lies woven by the two immoral liberals. Murdock details some of the biggest lies that have oozed out of the Obama team's gaping maws and has found that the one consistent theme of the Obama response has been — lie, lie and lie again.
Hillary Clinton looks for excuses, ignores her party's failings. Having been crushed by Donald Trump making presidential elections great again, Hillary may want to inaugurate the less optimistic "It's not her fault!" slogan, which is already echoing through her campaign, media, the Democratic Party, and safe-space dorm rooms everywhere. During a conference call with donors the Saturday after the election, the wife of Monica Lewinsky's ex-boyfriend blamed FBI Director James M. Comey for her embarrassing and decisive loss to Mr. Trump.
Rank dishonesty, mendacity, imperious condescension, verbal chicanery, and the odor of graft had nothing to do with it!
Clinton tells fundraisers FBI Comey letter sank presidential bid. Hillary Clinton has offered a couple of private but candid explanations about why she lost her White House bid, telling high-dollar fundraisers Saturday that FBI announcements about a second probe into her emails from her time as secretary of state were too damaging. Clinton said, "Our analysis is that Comey's letter raised doubts that were groundless and baseless..." and "stopped our momentum," a DNC fundraising source who was on the call told Fox News.
Why Hillary Clinton Is Such An Effective, Perpetual Liar. We know that Hillary Clinton's secret e-mail server was highly illegal because it processed and stored classified government information on an unsecure system. We know that much of this classified information originated with Clinton herself. We know that she ordered at least one aide to break the law on her behalf by sending classified information over an unsecure system. We know she has lied repeatedly about transmitting classified information on her server, at press conferences and once, incredibly, under sworn testimony. We know that, although she insisted otherwise, Clinton deleted thousands of work-related e-mails. We know that one of her aides-destroyed Clinton's mobile devices with a hammer, preventing a full forensic analysis of her e-mail usage. We know that Clinton has lied about the FBI's own assessment of her previous lies. And so forth. Given this staggering level of criminal behavior, one might ask: how has Clinton been able to defend herself? The answer is: lying. For much more than a year Clinton has lied repeatedly and ceaselessly about her e-mail woes. She has lied about the classified information on the server, she has lied about her recordkeeping, she has lied about the very lies she has previously told, she has lied so frequently that it is entirely possible she has come to believe some of her own lies.
Celeb James Taylor 'Baffled' Why People Don't Trust 'Honest' Hillary Clinton. MSNBC, yet again, featured liberal celebrity James Taylor on Monday. This time, the singer admitted that he was "baffled" as to why anyone wouldn't trust the "honest" Hillary Clinton. Talking to Katy Tur, he earnestly cheered, "I think that she is a positive, caring, sincere and honest person in spite of this." Taylor chided the "sort of baffling depiction of her as being this corrupt person, this untrustworthy person. I think it is a stretch to say that." Host Tur gingerly wondered, "Why do so many Americans believe that then?"
Hillary Clinton: Trayvon Martin Only 'Bought a Pack of Skittles and Walked Back Home in the Rain'. Hillary Clinton is pushing gun control by describing Trayvon Martin as a young man who simply "went to a cornerstore, bought a pack of skittles..and his life was cut short" by gun violence. In reality, a jury found that George Zimmerman shot Martin to death in self-defense on February 26, 2012, after Martin attacked Zimmerman during his walk back from the corner store. Moreover, a subsequent federal inquiry into the shooting death of Martin also found no grounds upon which to bring charges against Zimmerman for his actions. Yet Clinton described Martin as an innocent bystander, killed by random gun violence.
A leaked email raises questions about Hillary Clinton's veracity in sworn court document. On the same day Hillary Clinton swore to a judge that she believed all of her State Department emails had been turned over in a federal lawsuit, her private attorney wrote to the presidential candidate's inner circle acknowledging the possible existence of additional messages that had not yet been produced, according to a leaked email. The Aug. 8, 2015 late-night email from attorney David Kendall could have implications in a federal open records lawsuit that is still pending. [...] The Kendall email was written just hours after Clinton signed a carefully worded sworn declaration that the thousands of State Department-related emails she turned over in late 2014 from her personal email account.
The Clintons as Farce. Hillary Clinton was resting, running out the clock, sitting on a supposed large lead, and hoping that the election was sooner than later. Now after the latest Weiner disclosures, she is crisscrossing the country, terrified of collapsing polls, and wishing that she had three more weeks rather than just one. With the Clintons, farce is the desert to scandal: the profiteering Clinton Foundation as a humanitarian treasure; Hillary the former corporate attorney as child and little-guy crusader; Bill Clinton, both sexual predator and feminist hero. Hillary didn't just delete e-mails under congressional subpoena; she insisted that some 33,000 e-mails were mostly about yoga and Chelsea's wedding — sort of like saying that one can beat 31 trillion-to-one odds of turning $1,000 into a $100,000 cattle-futures profit in no time by merely reading the Wall Street Journal. Until Friday, FBI director James Comey, in Hillary's eyes, was a sober and judicious public servant who had rightly seen insufficient cause for her indictment. Now she believes that he is a rank Republican politico seeking to rob her of her presidency.
They Knew: The End of the Clinton Lies Begin. When in doubt, the Clintons take refuge in the final lie that you may be able to prove that they did wrong, but not that they meant to do wrong. That was Hillary's final email defense to the FBI. Spliced with claims of memory loss due to a concussion was that old Sergeant Schultz favorite, "I know nothing." But that defense completely falls apart once you prove that they did know. That is what the leaked emails have begun doing. They are establishing that the Sergeant Schultz defense is utterly hollow. Cheryl Mills knew. John Podesta knew. Barack Obama knew. And Hillary Clinton knew. When Obama told a lie that could easily be disproven while trying to distance himself from Hillary, Mills quickly fired off a warning that he had better get his story straight. And his people did. That makes Obama complicit before and after the fact. He knew what Hillary was doing when she was doing it. And his people participated in the effort to cover it up afterward, not just to protect her, but to protect him.
Hillary Clinton Says She Was in New York City on 9/11 (She Wasn't). Campaigning in Florida on Tuesday, Democratic presidential nominee Hillary Clinton claimed that she was in New York City on 9/11, when terrorists flew planes into the World Trade Center. She made her claim while discussing terrorism and the threat posed by ISIS. "I know what happened not far from here at Pulse night club in Orlando," she said. "I was in New York City on 9/11 as one of the two senators. I will defeat ISIS. I will protect America." But Clinton wasn't in New York on 9/11, according to Politico. As a United States Senator she was in Washington D.C. at her home in Whitehaven when the first plane hit the World Trade Center.
Clinton Campaign's First Instinct Was to Lie About Comey. I find it revealing that when the Clinton campaign launched its attack on Comey, it led off with a lie. In her press conference last night, Hillary Clinton accused Comey of partisanship, falsely claiming that he had sent his letter only to Congressional Republicans. In fact, Comey followed the standard protocol, addressing his letter to the chairmen of the relevant committees and sending copies to the ranking minority members of each committee.
Hillary Clinton photo illustrates Google results for 'pathological lying'. For several hours starting about 10:30 p.m. Sunday [10/30/2016], a Google search for the terms "pathological lying" was producing a picture of Mrs. Clinton. The picture appeared as the illustration for what Google calls a special "featured snippet block" at the top of the page. The snippet quotes from, and includes a link to, the Wikipedia article for "pathological lying." By early Monday morning, the image had been removed from the Google search.
Clinton's Pretense That She Didn't Understand 'C' Was for 'Classified'. So now Hillary finally knows what the "(C)" stands for in government documents: It's Cartwright ... as in four-star Marine General James E. Cartwright, the retired 67-year-old former vice chairman of the Joint Chiefs of Staff, the expendable federal official against whom laws protecting classified information actually get enforced. (C), see? Oh wait — sorry. I don't mean to confuse Mrs. Clinton by starting this second paragraph with "(C)". After all, as she diva-'splained to the FBI, she could only "speculate" that "(C)" must have something to do with organizing paragraphs "in alphabetical order." Speculation was necessary, she said, apparently with a straight face, because she didn't really know what "(C)" meant.
Hillary Can't Even Tell The Truth About Her Own Economic Plan. Debate moderator Chris Wallace was widely praised for his performance in Wednesday night's debate, praise that he richly deserves if for no other reason than that he finally forced Hillary Clinton to defend her economic plan. Clinton's response was incoherent and downright dishonest. A key exchange in the debate came when Wallace pressed Clinton to explain how her economic proposals were different from President Obama's failed stimulus plan. She couldn't.
Clinton Says Her Concern About the Environment Dates Back to Chelsea's School Days. Democrat Hillary Clinton, a believer in human-caused climate change, says she became aware of environmental concerns when her young daughter "came home from school," where "they'd been talking about the environment." At the time, Clinton was first lady of Arkansas, serving on the Walmart Board of Directors at the invitation of Sam Walton.
The Editor says...
Really? Environmentalism had never crossed her mind until then? That's hard to believe — just like everything else she says.
Even Democrats think Hillary's a serial liar. Hillary Clinton has shrugged off Donald Trump's charge that she's a serial liar — but that's precisely how she was described by a liberal Democratic activist to her campaign chair, John Podesta.
Lou Dobbs: WikiLeaks Prove Hillary Clinton Is Lying About "Everything She Says". Weekly Standard Executive Editor Fred Barnes and Fox Business Channel's Lou Dobbs discuss the emails released by WikiLeaks hacked from Clinton campaign chair John Podesta's personal email account. Among the emails is a document detailing the most damaging things that she said in her paid speeches to Wall Street, one of which is her admission that she holds different "public and private" positions on issues.
Wikileaks Reveals Hillary Lied About Marines Rejecting Her Because She Was a Woman. For decades Hillary Clinton has claimed that back in the 1970s the U.S. Marines rejected her because she was a woman. But a look at some of the information released by Wikileaks reveals that the Democrat nominee has more recently changed her story and admitted that the Marines did not reject her because of her gender.
Hillary's Debate Lies. Hillary Clinton repeated her incessant lie last night that the criminal justice system is infected with "systemic racism." Race "determines" how people are "treated in the criminal justice system," she said. Blacks are "more likely [than whites] to be arrested, charged, convicted and incarcerated" for "doing the same thing." Such a dangerous falsehood, should Clinton act on it as president, would result not just in misguided policies but in the continued delegitimation of the criminal justice system. That delegitimation, with its attendant hostility and aggression toward police officers, has already produced the largest one-year surge in homicides in urban areas in nearly a half-century.
Hillary Clinton's Lyin' Eyes. The lyrics, "You can't hide your lyin' eyes" at one level, fits Mrs. Clinton's life story and political history quite accurately and at another level provides a glimpse into her current health and suitability to serve as president. From the early days in the White House, Mrs. Clinton told lies about Whitewater, missing Rose Law Firm billing records, the White House travel office, and her husband's trysts. She continued in later years with a second round of lies about being dead broke when leaving the White House, landing under Bosnian sniper fire, being named after Sir Edmund Hillary, and being turned down by the Marines. Round three of her lies are more recent, including Benghazi, her emails, and now her health.
Fact-Checking: Hillary's 'The FBI Has Exonerated Me' Claim. In point of fact, the FBI merely drew the conclusion that Clinton should not be charged with a crime. Even if we assume for argument's sake that this was a valid conclusion (in fact, it is hugely suspect), finding that someone should not be indicted is far from exoneration.
Sociopath Alert: Hillary Clinton. [Scroll down] Dishonesty is one of the main hallmarks of sociopathy. Hillary has lied, in some way, about practically every aspect of her life that has come to public notice. The bribe she got via the cattle futures trading (which, in all fairness was for her husband, and merely funneled through her) was something she claimed she achieved through having studied the Wall Street Journal. (If she was so good at it, why would this famously money hungry woman suddenly quit trading?) She lied about Travelgate when she claimed that the longtime White House employees had committed embezzlement, which was not true. (Hillary wanted to install her friends in the job.) Hillary has lied about Benghazi (claiming it was a spontaneous reaction to an internet video), her email setup (which she initially claimed was in accordance with all regulations), and countless other episodes.
The Editor says...
The article immediately above goes on to list a number of other instances in which Hillary Clinton lied, followed by a roundup of anecdotes in which Hillary treated subordinates like dirt. Remarkably, none of these things are ever mentioned by the "mainstream" news media, because they are dismissed as "ancient history."
NY Times Exec. Editor: Trump Must Be Called 'Liar,' But Hillary's Just a Normal Exaggerating Politician. On Thursday's [9/22/2016] Morning Edition, National Public Radio host Steve Inskeep interviewed New York Times executive editor Dean Baquet regarding the paper's provocative decision to overturn journalistic convention in the wake of Donald Trump's success and to start reporting his alleged misstatements as "lies." But when asked about HIllary, Baquet apparently forgot Clinton's 25 years of public prevarication. [...] Perhaps the Times executive editor hasn't been paying attention to current events for the last 25 years. Lying to the public about her private server and classified emails, and of course her career record of whoppers, from Whitewater up to her recent pneumonia diagnosis.
Hillary Clinton, who tells dreadful lies. Today, it is the American people who have been burned, time and again, by Hillary Clinton's dreadful lies. [...] And her dishonesty stretches back decades. As the late, great William Safire pointed out in a 1996 New York Times column, she delivered a "blizzard of lies" as first lady — about Whitewater, the firing of White House travel aides, her representation of a criminal enterprise known as the Madison S&L and how she made a 10,000 percent profit in 1979 commodity trading simply by studying the Wall Street Journal. Even back then, Safire concluded, Clinton was "a congenital liar." Today, the American people agree. A recent NBC News poll found that just 11 percent of Americans say Clinton is honest and trustworthy. To put that in perspective, 14 percent of American voters believe in Bigfoot.
Crowd Bursts Into Laughter When Charlie Crist Calls Hillary Clinton 'Honest'. "Are you voting for your party's nominee, governor?" asked the debate moderator. "I ;am," Crist responded. "I am proud of Hillary Clinton. I think she's been a very good Secretary of State, a very good Senator from the state of New York. The think I like most about her is I believe she is steady. I believe she is strong. I believe she is honest."
Florida Debate Audience Breaks Into Laughter After Candidate Calls Hillary Clinton 'Honest'. During a Florida congressional debate, the audience began to jeer and guffaw after one of candidates said he was voting for Hillary Clinton because of her honesty. Republican Florida Congressman David Jolly is locked into a heated race with former Republican-turned-independent-turned-Democratic governor Charlie Christ in Florida's 13th district. Monday night, the two candidates debated for the first time at St. Petersburg College.
Hillary Is Not Even A Competent Liar. Take it from a trial lawyer: you can't fabricate quality fibs on an assembly line. They need to be carefully crafted, polished, and honed to a razor's edge, blending deception with just the right proportion of truth to make them strong like steel. But Hillary is not even trying anymore.
Clinton Campaign Charges College Students $500 To Attend 'Conversation with Chelsea' Event. The Clintons understand the average American. They know what it's like to be dead broke. Hillary Clinton is so a woman of the people. She's just like you. (Except for making millions of dollars off the backs of the taxpayers and suffering from Disingenuous Lying Seahag Syndrome). Bill Clinton is just like you! (Minus being an unapologetic rapist, of course.) Chelsea Clinton is just like you! (Except for getting paid $600,000 a year by NBC to basically do nothing.)
Hillary Clinton's pneumonia cover-up reinforces hard-earned reputation for dishonesty. Hillary Clinton's attempt to hide a bout with pneumonia until forced to explain a caught-on-video health scare provided a fresh reminder of why a majority of voters say she is not honest and trustworthy — a reputation earned from a long history of concealing the truth and making false statements. From her involvement with firings at the White House travel office to her claim that she braved sniper fire in Bosnia to her repeated lies about her secret email setup as secretary of state, Mrs. Clinton has left a trail of deceit and deception stretching back a quarter-century.
Hillary Clinton's Campaign Needs To Hire Better Liars. Hillary Clinton's campaign has a problem. A truth problem, to be specific. No, not the problem of being completely incapable of ever telling the truth, although that is a problem. The truth problem I'm talking about is the Clinton campaign's inability to tell believable lies. "But why not just ask the Clinton campaign to tell the truth?" you might ask. "Wouldn't that be easier?" Maybe. But these are the Clintons. If you're a Clinton, you lie. It's what you do. Expecting them to not lie is a fool's errand. But given the amount of time the Clintons have spent in politics lying to the public — somewhere in the neighborhood of three decades — they really ought to be better at it by now.
Hillary Clinton's 47% Moment: Calls Trump Supporters 'Racist, Sexist, Homophobic, Xenophobic, Islamophobic'. During a fundraiser in New York City Friday evening [9/9/2016], Democratic presidential nominee Hillary Clinton described half of the Americans supporting Donald Trump as a "basket of deplorables" made up of "racist, sexist, homophobic, xenophobic, Islamophobic" people. "You know to just be grossly generalistic, you could put half of Trump's supporters into what I call the basket of deplorables," she said as the crowd laughed and applauded. "...the racist, sexist, homophobic, xenophobic, Islamophobic, you name it." Clinton said that it was unfortunate that Trump had given them a voice, citing "offensive mean-spirited rhetoric" on websites and Twitter.
The Editor says...
Hillary condemns alleged "offensive mean-spirited rhetoric" from others while she uses it herself.
Clinton: Half of Donald Trump's supporters are racist, sexist, homophobic bigots. Hillary Clinton claimed Friday evening [9/9/2016] that roughly half of Donald Trump's supporters are sexist, racist, homophobic bigots — a heavy charge that comes amid reports the Democratic nominee planned to move away from attacking the Republican candidate. "To just be grossly generalistic, you can put half of Trump supporters into what I call the basket of deplorables," Clinton said at a fundraiser in New York City. "Right? Racist, sexist, homophobic, xenophobic, Islamaphobic, you name it." The former secretary of state continued, adding, "And unfortunately, there are people like that and he has lifted them up. He has given voice to their websites that used to only have 11,000 people, now have 11 million. He tweets and retweets offensive, hateful, mean-spirited rhetoric."
Hillary calls 'half' of Trump supporters 'basket of deplorables'. If you support Donald Trump, you are "irredeemable," part of a "basket of deplorables." A "kind" who should never be allowed to rise again. You are a "radical fringe" made up of "racist," "sexist," "homophobic," "Islamophobic," "anti-Semitic," "misogynist," "xenophobic," "you name it" types. Hillary Clinton paints you as hopeless moral lepers who should be banished to a remote island to live your final days. We are so bad, so evil, that we are no better than "terrorists." We are "not America." We are all of these things (and more), according to Hillary Clinton.
Mike Pence rebukes Hillary Clinton for her 'deplorable' slam of Trump voters. GOP vice presidential candidate Mike Pence said Saturday that Hillary Clinton disrespected millions of hard-working Americans when she described a broad swath of Donald Trump's supporters as "irredeemable," arguing that it is more proof the Democrat is unfit to be the 45th president of the United States. "Hillary Clinton's low opinion of the people that support this campaign should be denounced in the most strongest terms," Mr. Pence said at the Values Voters Summit here in Washington. "No one with a record of failure at home and abroad, no one with her avalanche of dishonesty and corruption and no one with that low opinion of the American people should every people elected president of the United States of America," Mr. Pence said. "We must decide here and now that Hillary Clinton will never be president.
Hillary Clinton Flat Out Lied About Health Situation and Here is Proof. We live in astonishing times when a nominee for President of the United States can flat out lie on a consistent basis and the associated base doesn't appear to care. But while hardcore Democrats are giving the story a pass, the rest of the world is today in shock. This because Hillary Clinton is now fully exposed as a candidate who chooses a lie over the truth wherever and whenever possible. Exposed due to her blatant lie about her health over the weekend.
Clinton 'overheated' on coolest day, just 75 degrees, breezy. Hillary Rodham Clinton's buckling to pneumonia Sunday, requiring her to be whisked away from a 9/11 ceremony at New York's Ground Zero, was the temperature of just 75-77 degrees, one of the coolest in the past month.
Hillary's dishonesty more damaging than pneumonia. Here's what happens when you lie all the time: people stop believing anything you say. That is the problem today for Hillary Clinton. Her staff says she has pneumonia. Maybe. Some are doubtful. After all, hours before that announcement, her campaign told us that her sudden exit from an important event was because she was "overheated." That apparently was a lie. Or was the pneumonia report a lie? Who knows? There's a reason that, according to a recent NBC poll, only 11 percent of Americans think Hillary is "trustworthy and honest." Decades of not telling the truth — about big items like Bill's infidelity or how a video caused the death of four Americans in Benghazi and small items like coming under sniper fire in Bosnia — have piled up around Hillary Clinton like the scales around an armadillo. The lies are thick and impenetrable; it is hard to know where one starts and another begins.
Hillary Tells Yet Another Self-Aggrandizing Feminist Lie. Speaking to a blog called "Humans of New York" on Thursday [9/8/2016], Hillary shared a "rare personal message" — as Politico put it. She claimed that when she took the LSAT during her senior year of college, men taking the test shouted at her, saying her admission to law school could cost them their draft deferments, forcing them to go to Vietnam, where they would die. The moral of the story was that she had to "learn as a young woman to control my emotions." Brave Hillary! [...] The problem with this corny story that only stupid 20-year-old girls would believe is: Hillary graduated from Wellesley in 1969.
James Comey Should Resign Now for the Good of the Country. [Scroll down] Consider this: Hillary Clinton, who had told us she had one cellphone, turned out to have had thirteen such phones and five iPads, all of which have mysteriously disappeared, two having been smashed by hammers — this, although the information on all of them was legally government property. Was she arrested for this or even cited? Did the FBI even ask why she did this or why she had somany phones?
Clinton Email Scandal: What Hillary Tells Voters Isn't What She Told The FBI. Since her first news conference on the topic in March 2015, Clinton has claimed there was no classified material on her server. When classified information started turning up in abundance in her email chains, she modified her claim to say that none of the emails was marked classified. It's a claim she has made ever since. But just because Clinton keeps saying something doesn't make it true. And in this case, what she's saying is intentionally misleading. FBI Director James Comey made it clear that more than 100 emails that Clinton sent or received contained classified information "at the time they were sent or received." Eight contained Top Secret information. Whether these emails were marked or not is entirely irrelevant, a point Comey reiterated in his statement on the case."
Hillary Clinton Originated State Department Cables With Classified Designation. [Scroll down] Hillary Clinton authored the content of the cables (as described); and she herself has originating autonomy to designate material as "classified" or "confidential". Assange is essentially reminding everyone that Secretary Clinton assigned that designation personally. It is ridiculous for Secretary Clinton to state she doesn't know what the "(c)" designation is, she used it herself.
Hillary: The Joe Isuzu of American Politics. The past as they say, is prologue. The lies Hillary told in the past were merely precursors to the present lies. Hillary lied about having one device and a private server for "convenience". She had 13 devices and multiple servers, some physically destroyed. Perhaps her campaign song should be "If I Had A Hammer". The setting up of the server, the switching of devices, some destroyed, some lost, implies intent to circumvent laws and regulations, no matter what FBI Director Comey says. She lied about Colin Powell okaying her perfidy in advance. She lied about knowing what the "C" on classified documents meant, even though it's the contents and not the markings that make them classified. She lied about sending and receiving and sending classified documents. She lied about turning over all work-related documents in her possession. She lied to the American people, she lied to the American people, and she lied to the FBI.
The Real Reason Hillary's Health Is an Issue. So why should we concern ourselves with Hillary Clinton's relatively minor (most probably) coughing fits? For the most obvious reason: like virtually everything else, she lies about it! As the age-old legal principle goes, Falsus in uno, falsus in omnibus. Her health is yet another example of Clinton's pathological tilt toward dishonesty. Her first response to anything almost always is to prevaricate.
FBI Interview Catches Hillary Clinton In Multiple Lies. The FBI just released notes from its July 2 interview with Hillary Clinton about her use of a private, unsecured email server during her tenure as secretary of State. Their findings don't look good for Clinton. Days after the interview, which was not recorded, FBI director James Comey publicly held a press conference urging the Department of Justice not to press any criminal charges against Clinton, despite her "extremely careless" handling of classified information. In the FBI report, Clinton made statements that appear to either contradict her earlier remarks about the email scandal or to be flat-out lies.
Absolute, Categorical Lies. On August 8, 2015, Clinton submitted a signed declaration to the U.S. District Court in Washington, D.C., swearing "under penalty of perjury" that she'd directed all emails that "were or potentially were" work-related be turned over to the State Department. Emphatic. Were or potentially were related to her time as secretary of state. Then on October 22, 2015, Clinton testified under oath before the House Select Committee on Benghazi. "I provided the department, which has been providing you, with all of my work-related emails — all that I had."
One of Hillary Clinton's favorite 'I helped the children' stump stories is totally bogus. [Scroll down] Hillary uses the story as evidence of her bipartisan chops, and it plays nicely into her campaign emphasis on her past work on behalf of children. "I worked with Tom Delay, one of the most partisan Republicans in the congress, to reform the adoption and foster care system," Clinton said in a February town hall cited by Mother Jones — one of many times she's told the story. "We never became friends, but we did something good for a lot of young kids who had better lives because of it." The only problem with the story is that DeLay denies it — and independent checking reveals that the story is just another one of Clinton's many tall tales.
Hillary Says 'Alt Right' Is Connected To Putin, Without Any Evidence. Democratic nominee Hillary Clinton said Thursday that Russian President Vladimir Putin is the "godfather" of the alt right movement, a claim without any evidence. The alt right is a primarily online movement opposed to multiculturalism and political correctness. Clinton said, "This is part of a broader story — the rising tide of hardline, right-wing nationalism around the world."
Hillary Clinton plays a rich white woman's version of the race card. Hillary Clinton may regret her attempt to tar Donald Trump as a racist by linking him to the alt right movement (whatever that is — no such formal organization exists). [...] Normally, guilt-by-association is a tactic the left decries as unfair — for instance making any connection between Barack Obama and Bill Ayers.
Hillary Clinton KNEW her aides were working with family foundation despite her pledge not to. Hillary Clinton's closest State Department aides were closely involved in coordinating events, talking points, and projects with the Clinton Foundation, according to emails, despite ethics agreements that were intended to create a firewall between Clinton's office and her family's foundation. Emails released by the watchdog group Citizens United on Tuesday show Clinton aides Huma Abedin and Cheryl Mills were in regular contact with foundation officials on topics ranging from the programming at Clinton Global Initiative events to Bill Clinton's public remarks.
So Who Fact-Checks the Fact-Checkers? Clinton's campaign has been plagued with the general impression that she has lied repeatedly about her decision to use a home-brew server for State Department emails — as well as her assertion that the decision was done, not to keep public information from public scrutiny but for the sake of "convenience." Clinton said it was "allowed." Not true. She said other secretaries of state did likewise, when no other secretary of state exclusively used a private server. Clinton said that she handed over all of her work-related emails to the State Department. Wrong, FBI Director James Comey testified before Congress: "Thousands" were not returned.
Lies politicians tell. [Scroll down] Hillary Clinton flip-flops, too. She was for trade pacts, but she's now against them; against gay marriage, now for it; for the Iraq war, now against it. Clinton lies even more than Trump. She lies about her emails, running from sniper fire, making $100,000 from a $1,000 investment in cattle futures, etc. This column doesn't have room for all her lies.
Morning Joe Reacts to Convoluted Clinton Claims: 'Nobody in America' Believes Her. On Friday [8/12/2016], Hillary Clinton was uncomfortable when asked about her recent comments in an interview with FNC's Chris Wallace regarding her statements to the FBI and her private server. Clinton gave a less than eloquent defense of her position that her answers to the FBI were "truthful," and insisted she might have "short-circuited" or that her and Wallace were "probably talking past each other." Monday's [8/8/2016] Morning Joe crew were not impressed with her answers, as co-host Joe Scarborough described it as "the most tortured response I've ever seen."
Is Hillary Clinton a Compulsive Liar or a Sociopath? (There's Not Much Difference). Most of us know people who lie as easily as they breathe. They lie about everything, anything, and most of the time they lie without any apparent reason. They're able to lie with a smile on their face, seemingly not even aware they're doing anything wrong. It's just what they do, who they are. Hillary Clinton is perhaps finally learning that when you tell too many lies, they will eventually catch up to you. But is Hillary mentally ill, or is she diabolically evil?
Clinton contradicts FBI again, says no emails were 'marked classified'. For the second time in a week, Hillary Clinton on Friday again directly contradicted FBI Director James Comey, defending her use of a private email server while secretary of state and telling an audience of journalists that "I never sent or received anything that was marked classified." Speaking at a joint conference of the National Association of Black Journalists and the National Association of Hispanic Journalists, the Democratic presidential nominee refused to admit that she'd mishandled classified information in her private email account. While she again apologized for using a private server, she doubled down on her central defense — that she never sent or received any emails that were marked classified at the time, even though the FBI chief has told a different story.
CNN's Tapper Calls Out Clinton For Emails Lies: You're Not Entitled 'To Your Own Facts'. In a video made by CNN and FactCheck.org, Tapper destroyed Clinton's recent claim on "Fox News Sunday" that FBI Director James Comey's testified that her statements about her private email server were true. Tapper said, "No. That is not true. According to her campaign aides, what Hillary Clinton was referring to was Director Comey testifying, 'We have no basis to conclude she lied to the FBI.' But Clinton's comments to the FBI are different from what Chris Wallace was asking about, which were Clinton's comments to the American people."
Sheriff David Clarke: Hillary Clinton a 'Morally Bankrupt,' 'Pathological Liar' — 'Her Ethical Elevator Has No Bottom Floor'. On Friday's [8/5/2016] Breitbart News Daily with SiriusXM host Stephen K. Bannon, Milwaukee County Sheriff David Clarke stood firmly by his social-media assertion that "Mrs. Bill Clinton is too morally bankrupt, and does not have the integrity, nor character, to be President of the United States." "You know, I sat up there watching, and this is kind of one of the talking points, that Donald Trump is unfit to be President of the United States," Clarke said. "Obama said the other day, or a week ago or so, that Mrs. Bill Clinton is 'the most qualified person ever to run for President.' I'll give him this: he'd know about being unqualified, because he became President as one of the most unqualified people ever to run for that office."
Clinton offers bizarre defense of her claim the FBI director said she was 'truthful' about her emails. Hillary Clinton says she may have 'short-circuited' her response to a question about her emails last weekend but the point she intended to make stands — her public statements about the scandal were 'truthful' and FBI Director James Comey agrees. 'I was pointing out in both of those instances that Director Comey had said that my answers in my FBI interview were truthful. That's really the bottom line here,' she said, defending her claims in the interview with Fox News. Clinton told a roomful of journalists, 'What I told the FBI, which he said was truthful, is consistent with what I have said publicly.'
Hillary Clinton: 'I May Have Short Circuited' on Email Answer. Democratic presidential nominee Hillary Clinton said she may have "short circuited" during her response on her emails in an interview with Fox News reporter Chris Wallace. "I may have short short-circuited it and for that I will try to clarify," Clinton said in a response to NBC's Kristen Welker after her speech at the National Association of Black Journalists conference. She said that she and Chris Wallace were talking past each other, and that the answer may have gotten confused.
Can Hillary Clinton give a straight answer on emails? [Scroll down] The challenge for Mrs Clinton is that to answer Wallace's question accurately would require her to acknowledge one of two unpleasant truths. Either she knew there was classified information on her email server and wilfully tried to deceive the American people, or she wasn't "particularly sophisticated with respect to classified information", in the words of Comey, revealing a lack of knowledge that plays directly against the claims of hyper-competency that undergird her presidential campaign. There's little doubt the email controversy has had a negative effect on Mrs Clinton's standing with the US public — particularly in surveys that ask whether she is "honest and trustworthy".
New York Times hits Clinton's 'untruthful claims' on emails. The liberal New York Times editorial board said Hillary Clinton essentially lied last week when she claimed she had been forthcoming with the public about sending classified information over her private email server. In an editorial printed Friday, the Times said that Clinton is breeding distrust with voters, who polls show are already skeptical of her level of honesty, even as her opponent Donald Trump has seen his overall standing in national and state-level polls rapidly decline.
Hillary Clinton is delusional. Hillary Clinton sent and received classified information on her home-brewed email server. "From the group of 30,000 emails returned to the State Department, 110 emails in 52 email chains have been determined by the owning agency to contain classified information at the time they were sent or received," FBI Director James B. Comey said last month, in conclusion of the agency's investigation into her server. [...] But not according to Mrs. Clinton. When asked about her home-brewed server in an interview with Chris Wallace on Sunday, Mrs. Clinton maintained she did nothing wrong and her previous statements were consistent with what Mr. Comey said.
Hillary can't stop lying even when she doesn't have to. Give Hillary Clinton this much: She's absolutely fearless about lying on national television. On Fox News Sunday [7/31/2016], she again claimed she did nothing wrong in relying on that home-brewed email server, and never sent or received classified material. Then she declared that FBI Director James Comey has confirmed her statements on the matter as truthful. When Chris Wallace noted that Comey said just the reverse, she countered: "Director Comey said that my answers were truthful and what I've said is consistent with what I have told the American people." Her aides later "clarified" that she was citing Comey's statement that she hadn't lied to the FBI. But the bureau chief's on record saying her repeated public claims are false: [...]
Clinton Takes Lying To A Whole New Level. Maybe it's because she has gotten away with it for so long, but Hillary Clinton seems to get more brazen in her mendacity as she gets closer to the White House. Case in point is her interview with Chris Wallace on Fox News over the weekend. At one point, Wallace asks Clinton about claims she made about her use of a private, unsecured email server while secretary of state, which the FBI investigation determined were completely false.
'Four Pinocchios' For Hillary Clinton's Latest Email Claim. The Washington Post Fact Checker awarded Democratic candidate Hillary Clinton 'Four Pinocchios' — a failing grade for her Sunday interview with Fox News Sunday. In an interview with Fox News' Chris Wallace, Hillary claimed that FBI Director stated her answers were "truthful" and "consistent," while defending her use of a private email server. "[FBI Director James Comey] said my answers were truthful, and what I've said is consistent with what I have told the American people, that there were decisions discussed and made to classify retroactively certain of the emails." The Fact Checker at the Washington Post wasn't buying this as the truth, ultimately picking apart Hillary's statement to give it "Four Pinocchios" — the worst rating for truthfulness.
Hillary Clinton slapped with dreaded 'Four Pinocchios' rating for false claim that the FBI director said she told the truth about her classified emails. FBI director James Comey testified in a July 7 congressional hearing that multiple statements the Democratic presidential nominee made to the public were untrue. But in a rare Fox News Channel interview on Sunday [7/31/2016], Clinton claimed that Comey 'said my answers were truthful, and what I've said is consistent with what I have told the American people.' The [Washington] Post's fact-checker pored over the record and found 'Clinton is cherry-picking statements by Comey to preserve her narrative' about why she sent and received classified documents on a private email server in her house.
Liberal media finally gives Hillary what she deserves, calls her on major lie. It's often said the way you tell if Hillary Clinton is lying is that her lips are moving. And yet, it's rare that our nation's Fourth Estate even bothers to call her out. I suppose to be fair, you could say Hillary's lying is no longer even newsworthy, as it's just a daily occurrence, now expected — and, sadly, accepted — by a significant swath of the American public. So it's actually news when a member of the mainstream media calls her out for one of her blatant lies. The Washington Post did just that after Hillary's hell-freezes-over appearances yesterday on Fox News — not only calling her out, but awarding the Queen Four Pinocchios, its highest rating. As WaPo describes it, the Four Pinocchios rating is reserved for downright "whoppers."
Why Can't Hillary Clinton Stop Lying? On Sunday, the former secretary of state told FOX News' Chris Wallace that FBI Director James Comey cleared her of misleading the public about her rogue email server at the state department: "Director Comey said my answers were truthful, and what I've said is consistent with what I have told the American people, that there were decisions discussed and made to classify retroactively certain of the emails." That's wrong and she knows it, which makes it a lie. "Clinton is cherry-picking statements by Comey to preserve her narrative about the unusual setup of a private email server," wrote Washington Post fact-checker Glenn Kessler, who awarded Clinton the maximum four "Pinocchios" for her whopper. "This allows her to skate past the more disturbing findings of the FBI investigation."
Campaign says Clinton didn't mean to mislead with her various email explanations. On Sunday, the former secretary of state again said she never sent or received classified information on her server — though FBI Director James B. Comey said she handled multiple email chains, some including top-secret information that was classified at the time it passed through her hands. Three messages even included markings labeling classified information. Media fact-checkers rejected Mrs. Clinton's explanation Monday. PolitiFact rated it a "Pants on Fire," and The Washington Post gave it "four pinocchios." Both of those are the worst ratings on their respective scales. But Clinton surrogates fanned out across television networks to say the Democratic presidential nominee has been truthful and consistent.
Clinton fact-checked on 'truthful' claim in email scandal. Hillary Clinton is getting hammered for saying on "Fox News Sunday" that FBI Director James Comey confirmed her statements on her email scandal were "truthful" — with one prominent fact-checker giving the claim four "Pinocchios." The former secretary of state cited Comey when asked to account for her repeated claims that she never sent or received material marked classified on her personal email account. When host Chris Wallace noted that Comey said those things were not true, Clinton disagreed.
Clinton Spokesman Blatantly Lies to Explain Why Clinton Blatantly Lied. Hillary Clinton press secretary Brian Fallon lied Monday [8/1/2016] in an MSNBC interview in order to explain why Clinton lied in a Sunday Fox News interview. I won't bother spending too much time rehashing exactly just how bafflingly stupid it was for Clinton to try to claim during a Fox News Sunday interview that FBI Director James Comey said that her answers about her handling of her private email server were "truthful." Everyone in the nation watched Comey's press conference and testimony. Everyone watched as he laid out exactly how every single excuse Clinton has given was false: she did send classified material, it was marked classified, she should have known it was classified, and she absolutely did not turn over all her work-related emails. There's a reason The Washington Post gave her the worst possible score in its fact-check.
Dem mayor claims Hillary LIED about handicapped kids. Hillary Clinton's claim that handicapped kids in New Bedford, Mass. were unable to attend school is alarming some New Bedford residents who are disputing that history. In her acceptance speech at the DNC, Clinton recounted her time in 1973 working for the Children's Defense Fund in New Bedford. She recalled "meeting a young girl in a wheelchair on the small back porch of her house," while investigating why 2 million children in the United States were reportedly not going to school. "She told me how badly she wanted to go to school — it just didn't seem possible in those days," Clinton said. "It's not true," former Mayor Jack Markey told the Boston Herald. "I'm even a Democrat, but the truth is the truth.
Obama: Honesty Is 'Absolutely Necessary' Trait for a President. President Obama said in an interview with CBS airing Sunday [7/24/2016] that honesty was "absolutely necessary" for a president in order to build trust with the American people. Obama has endorsed his former secretary of state, Hillary Clinton, to succeed him in the White House. In the wake of her private email scandal and the FBI's revelation that she was "extremely careless" with classified material, Clinton's honesty numbers with the public are dismal. The FBI also refuted Clinton's constant claim that she never sent or received classified material on her server, which she has dismissed as a mere "mistake."
Here Are 35 Email Lies Hillary Is Still Telling On Her Campaign Website. A 4,000-word "fact sheet" on Hillary Clinton's campaign website contains 35 lies, half-truths, obfuscations, evasive statements and falsehoods about her private email setup, a Daily Caller analysis shows. Clinton and her campaign have long referred to the "fact sheet" in response to questions about her use of a personal email account and private server. Her team of elite attorneys even hid behind the document earlier this year when the State Department's inspector general sought to interview Clinton about her email practices. IG Steve Linick said during a House hearing last week that Clinton's team declined an interview request and referred him to her "fact sheet."
Hillary Clinton Lied Under Oath and That's a Felony. FBI Director James Comey testified before the House Oversight Committee today and admitted that Hillary Clinton had indeed lied about her private e-mail server and handling of classified materials. The thing is, she told some of these lies under oath, which is a felony. Still, Obama's Justice Department insists Hillary didn't mean to break the law so they are not pursuing criminal charges.
Hillary told lies. Big ones. In a sane world, this would be disqualifying. In a normal world, what the FBI discovered about Clinton's emails would disqualify her from office. But these are not normal times. The FBI Director laid out an impressive case against Mrs. Clinton, but will not recommend an indictment. One must wonder if it is because James Comey wants to stop Donald Trump or has visions of Vince Foster dancing in his head.
Embarrassing: Hillary Spox Still Insists She Didn't Tell A Single Email Lie. With the Summer Olympics just around the corner, Hillary Clinton spokesman Brian Fallon just brought home a gold medal in abject hackery. Prodded by CNN's Wolf Blitzer about the many indisputable lies his boss has told for more than a year about what the FBI and State Department Inspector General has characterized as an "extremely careless" improper email scheme that constituted the very "definition of negligence," Fallon flatly denies the established truth.
FBI Proves Hillary Clinton Committed Perjury Before Benghazi Committee. Secretary of State Hillary Clinton testified under oath before the House Select Committee on Benghazi last October that she had turned over "all my work related emails" from her private email server to the State Department. But on Tuesday, FBI director James Comey revealed that the agency had found "several thousand" work-related emails Clinton had not turned over, including three that included information that had been classified at the time that they had been sent.
Clinton email claims collapse under FBI probe. Key assertions by Hillary Clinton in defense of her email practices have collapsed under FBI scrutiny.
This is what guilty people say when they get caught:
Hillary Clinton on Loretta Lynch-Bill Clinton Meeting: 'Hindsight Is 20/20'. In Hillary Clinton's first interview since meeting with FBI officials regarding the investigation into her use of a private email server, she told NBC's Chuck Todd she was "eager" for the meeting, and "pleased to have the opportunity to assist the department in bringing its review to a conclusion." However, she declined to comment on reports that charges will not be filed against her in the case. Clinton also revealed that she first learned of her husband's tarmac meeting with Attorney General Loretta Lynch from "the news."
The Editor says...
Imagine the reaction of any other married woman in America, if she first learned from "the news" that her husband had flown to Phoenix for a secret 30-minute meeting with another woman.
Hillary Clinton's Top 10 Lies & Exaggerations. Secretary Clinton's claim that she tried to join the Marines in the 1970s is coming under fresh scrutiny from the media. As Chris Cillizza highlighted yesterday "this isn't the first time that Clinton might have been caught exaggerating the details of her past life." Far from it. While her campaign tries to prevent the Marine recruitment story from joining the all-time ranks of Clinton's lies and exaggerations, here's a refresher on the top ten lies and exaggerations of Secretary Clinton's career in politics.
Benghazi Scandal Report: Hillary Was Part Of Massive Deception. To the White House and Clinton campaigns, the Benghazi scandal just won't go away. A new congressional report says that the Obama White House and Secretary of State Hillary Clinton intentionally lied to the American people about the Sept. 11, 2012, attack on the U.S. consulate in Benghazi. The lies just keep piling up.
Hillary's blithe response after devastating Congress report reveals she lied and lied again. Hillary Clinton dismissed a Republican broadside on her and President Obama over the Benghazi attacks today [6/28/2016] saying: 'Move on.' The Republican members of the House Benghazi committee issued their 800 page report with excoriating words for her and the president, accusing her of 'shameful' conduct over her secret email account, and the White House of lying about what caused the attacks. Her 'homebrew' server was only revealed because of the investigation into the deaths of four Americans, including Ambassador Christopher Stevens. The blistering 800-page report excoriates the Obama administration, finding that it lied about what caused the attacks which claimed the lives.
It Took Me Six Days to Fact Check a Hillary Clinton Speech — It Was That Bad. Presumptive Democratic nominee Hillary Clinton hit rival Donald Trump's personal business record and his economic proposals in a speech in Columbus, Ohio, Tuesday (6/21). I found many of the claims in Clinton's speech to be factually incorrect. So I decided to conduct a fact-check on the entire speech. [...] The speech was filled with quotes grossly taken out of context, factually incorrect information, false assertions, and hypocrisy. For the amount of scrutiny Trump received from the fact-checkers on his speech, I was surprised the media did not pounce on Clinton. But then again, the amount of work it would take to fact-check Clinton would likely be a deterrent to media outlets.
Hillary Clinton Lies About Grandparents Being Immigrants. The strange thing about Hillary Clinton's lies is how many of them are petty and so easily exposed. Like the time she claimed to be named after Sir Edmund Hillary or claimed that Chelsea was jogging around the WTC during 9/11 or claimed that she landed at Kosovo under sniper fire. This one may be the most baffling of them all.
Only thing transparent about Hillary is her dishonesty. [Scroll down] It was November 2010, and [Huma] Abedin had urged the secretary to get onto the state.gov e-mail system or look at "releasing your email address to the department" because State's spam filter was blocking messages from clintonemail.com. No, came Clinton's reply: "Let's get separate address or device but I don't want any risk of the personal being accessible" — almost certainly meaning, accessible to Freedom of Information Act requests. And it directly contradicts her repeated claims that she relied on the private account purely to avoid having to use more than one device.
Another claim of a Hillary Clinton "accomplishment" goes up in flames. While Hillary Clinton seems to spend the vast majority of her time attacking Donald Trump, her campaign is still busy releasing ads to promote her, ahem... extensive record of accomplishments and qualifications to be the next president. While most of her surrogates begin stammering and attempting to change the subject when questions of specifically what those accomplishments might be comes up, Clinton herself has no trouble listing them as part of her campaign portfolio. This past week they put out yet another campaign ad touting one of her many victories on behalf of America's children. Did you know that she was instrumental in creating the Children's Health Insurance Program in 1998? What's that you say? She wasn't even in any elected office in 1998 and couldn't possibly have enacted any legislation or signed a bill into law? She's not going to let a little thing like that bother her.
The lie that is Hillary. Many of us remember the classic line from the "Seinfeld" show, that "it's not a lie if you believe it." Applying that theme to the evolution of Hillary Rodham, then Hillary Rodham Clinton, and now just plain Hillary Clinton, here are the notable accomplishments of her "public service" career:
• Flunked the D.C. Bar Exam.
• Was removed from her House Judiciary Committee staffer job because of incompetence and lying.
• The Whitewater scandal.
• Married a serial liar and cheater, who occasionally had sexual encounters with nonconsenting partners.
• Lied about "sniper fire" in an attempt to simulate exposure to danger in a war zone.
• The subject of a "vast right-wing conspiracy" that led to the impeachment and disbarment of her husband.
• Took crockery, furniture, artwork and other items from the White House — had to return and/or pay for them.
• Said "what difference, at this point, does it make" about four brave people killed in Libya as a direct result of her failure to protect them on the anniversary of 9/11.
• Totally ignored the structure and rules for the handling of sensitive national security information.
• Amassed a personal fortune with "speaking fees" and payments from private sector political donors and foreign governments into transparent "foundations" in obvious exchange for future political favor.
The Facts Keep Undermining Hillary's E-mail Tales. Before we go on, let's revisit Clinton's words from August 26, 2015. Back then, she declared that, "I did not send classified material and I did not receive any material that was marked or designated classified, which is the way you know whether something is." This was a classic Clintonian defense, resting as it did on a largely irrelevant straw man — if she did not receive information "marked" or "designated" classified, and such designations are "the way you know" something is classified, then she never knowingly mishandled classified information. Yet as I (and many others) have pointed out before, Clinton's actual legal obligation was to safeguard marked and unmarked classified information, and to fulfill that obligation she would necessarily have to know the classification of everything she handled, whether it was marked or not.
Hillary lies to create the illusion of transparency. Mrs. Clinton spurned the idea her decision to use a private email server as Secretary of State was a way to avoid public record searches, and said it was more of a matter of convenience that was allowed by the State Department, which broke no laws. "There's only so much I can control," Mrs. Clinton said of what she considered unwarranted attacks on her email server, adding her responses to federal authorities investigating the matter contained "more transparency and more information than anybody I'm aware of that's ever served in the government." Not true. Lies, according to a State Department Inspector General report leaked on Wednesday [5/25/2016].
Some People Really Like Hillary But Just Can't Vote For A Woman, Says Hillary. As we all know, Hillary Clinton is a shameless liar. She lies almost as much as Donald Trump. She lies a lot. She even lies about her own supporters.
Hillary's long record of lying to keep the public in the dark. The last time she lived in the White House, Hillary Clinton was in charge of a health care task force that met in secret under a veil of lies. That episode highlighted the haughtiness, deceit and disdain for transparency that continue to cause trouble for the presumptive Democratic presidential nominee, as illustrated by the recent inspector general's report on her email practices as secretary of state. When President Bill Clinton picked his wife to chair the Task Force on National Health Care Reform in 1993, critics sued the first lady, arguing that her participation made the task force subject to the public-meeting and open-record requirements of the Federal Advisory Committee Act. The administration successfully argued that Mrs. Clinton, who was not a government employee, nevertheless should be counted as one in this context, making the transparency requirements inapplicable. There remained the issue of the working groups advising the task force, which supposedly consisted entirely of government employees. That turned out to be a lie.
Clinton's campaign chairman just revealed Hillary lied at her UN press conference. [Scroll down] In fact, she did not turn over her email until nearly two years after leaving office, and only then when she was asked to do so by the State Department. But notice the timeline that Podesta has offered here. He is saying that Clinton believed her email had been "automatically captured" whenever she emailed someone on a government account. It wasn't until "the Depatment contacted her in July 2014 that she learned this was not the case." So before July 2014 she believed her email was being captured automatically. After July 2014 she knew that wasn't true.
Top 3 Lies Hillary Clinton Told About State Department Emails. The State Department Office Of Inspector General (IG) released an audit last week that was absolutely damning to Hillary Clinton. Comparing the "Evaluation Of Email Records Management And Cybersecurity Requirements" with the former secretary of state's past excuses and explanations could only conclude she was lying — pretty much at every turn. Here are a few of the most notable, relevant statements made by Mrs. Clinton that have now proven to be categorically false.
Hillary Clinton's Emails: Lying in Plain Sight. Even after the inspector general's report was released, Clinton continued to spin lies. She told ABC News and CNN that her use of a private server was "allowed." It was not. Indeed, the report found that her modus operandi presented "significant security risks." State Department officials warned of hacking attempts, which she did not heed. In an email she explained, "I don't want any risk of the personal being accessible." So she risked national security. According to the report, when staff spoke up about those risks, a staffer was told "never to speak of the Secretary's personal email system again." Last week, the Associated Press reported that Clinton claimed, "I have provided all my work-related email." Wrong again.
State Department Destroys 6 Clinton Lies About Her Email Server. The State Department Investigator General released an 83 page report on Hillary Clinton's email practices as Secretary of State from 2009 to 2013 — and ripped her over and over again for corrupt practices and lies. Here are six of those lies, debunked: [...]
Hillary Clinton fights to overcome a sordid history. Indeed, it was a gutter from which she and her husband emerged 25 years ago. And ever since, they never quit stinking up the American political scenery and then lying about everything. The woman cannot even give a straight answer about how tall she is. She was once 5 feet, 4 inches, but in 2008 her campaign announced she was 5 feet, 5 inches. Now reports are swirling that she is 5 feet, 7 inches. Some people will lie about absolutely everything.
5 Reasons Hillary Clinton Isn't Fit To Be President. [#3] She's a liar's liar. Merely calling Hillary Clinton a "liar" makes her sound too much like an ordinary politician. To the contrary, Hillary is what a lying liar who spent all her days working at the lie factory on a lying machine would sound like. She lies about the big stuff, the little stuff and everything in-between. [...] After Benghazi, she told the American people that a video was responsible when she was privately telling people it was a terrorist attack. She claimed that she came out of the White House dead broke and in debt. She said she applied for the Marines in 1975 and was turned down. She claimed she was named after the explorer Sir Edmund Hillary who became famous when she was six years old. You can go on and on with the list.
Recalling Hillary Clinton's claim of 'landing under sniper fire' in Bosnia. Readers constantly ask us about Clinton's Bosnia tale, and ask whether we will fact check it. As noted, The Fact Checker did so eight years ago. But the original version now appears on the web in very small type, so here it is again. We have also included new material on what happened next.
New viral video shows Clinton 'lying for 13 minutes straight'. Hillary Clinton is under fire in a new online viral video that purports to show her lying or changing her tune "for 13 minutes straight," tapping into widespread voter sentiment that the Democratic frontrunner is untrustworthy. The video, which has picked up nearly 7 million hits on YouTube, is a long highlight reel of Clinton contradicting herself or saying things that turned out not to be true on issues from gay marriage and Wall Street to the North American Free Trade Agreement (NAFTA) and her private email server.
Hillary — just a liar, or 'cognitively impaired'? Having known Hillary Rodham Clinton since 1974, I have had plenty of occasions to chuckle at her silly lies. I rolled my eyes when Hillary lied about being named after Sir Edmund Hillary, the famous New Zealand explorer and mountain climber. He didn't make his historic climb of Mt. Everest until Hillary was nearly 6 years old. Hillary also lies about more serious matters, and she has been unchallenged for so long that she seems oblivious and impervious. What difference, after all this time, does it make? On the campaign trail in the first quarter of 2016, Hillary publicly chided her Democratic opponent, Bernie Sanders, for being absent as she was "fighting" for health care for all Americans in 1993. One of Bernie's supporters immediately sent a photo that exposed her lie by showing Bernie standing right there with Hillary at the time. Who can forget secretary of state Hillary Clinton's lies about dodging sniper fire as she was landing in Bosnia?
Hillary's lying face. Bill Clinton is an accomplished liar, but it was Hillary who was called a "congenital liar" in William Safire's enduring label. But she admits she is not a "natural politician" is also not a natural liar, if there is any distinction between the two roles. An amazing 13 minute compilation of Hillary Clinton's lies in public offers us the opportunity to examine in detail her "tells" when she lies. [Video clip]
Hillary's latest email lie didn't even last a week. On Tuesday [5/3/2016], MSNBC's Andrea Mitchell asked her outright: "Have you been contacted — or your representatives contacted — by the FBI to set up an interview" over her e-mail mess? Clinton gave a flat "no." Two days later, news broke that the FBI has already interviewed Clinton's closest confidant, Huma Abedin, and other top aides. And officials close to the probe say Hillary's to be interviewed in the next few weeks — which means she's surely been contacted.
Even Hillary Clinton's pals can't pretend to believe her lies. Figuring she has the Democratic nomination sewn up, Hillary Clinton this week headed to swing state West Virginia, aiming to "feel the pain" of coal country. But then she ran into Bo Copley, a recently laid-off miner. He hit her with her comments from last month, explaining her clean-energy program: "We're going to put a lot of coal miners and coal companies out of business," she'd said. Bo didn't like that much: "I just want to know how you can say you're going to put a lot of coal miners out of, out of jobs, and then come in here and tell us how you're going to be our friend."
Hillary's Latest Email Disclosures Prove She's a Malevolent, Repulsive Liar. As New York's sole honest newspaper observed last December, the video fable was Hillary's most repugnant lie, as she told the family members of heroes Glen Doherty, Sean Smith, and Tyrone Woods after the Benghazi attack that she was going to "have the filmmaker arrested who was responsible" for the attacks.
Hillary Clinton Lies (Again), Says Washington Post. On Tuesday [4/12/2016], the Washington Post's fact checkers gave Hillary Clinton "Three Pinocchios" for blaming Vermont's gun laws, which are like those of most states, for crimes that take place in New York. Clinton's on-going smear campaign is intended to tarnish the reputation of her competitor for the Democratic Party's presidential nomination, Vermont's junior U.S. senator, Bernie Sanders. Clinton is resorting to her dishonest attack because lying is her most highly refined political reflex, and, perhaps partially for that reason, Sanders has defeated her in seven of the last eight state caucuses and primaries.
White Lies Matter. How bad is Hillary Clinton's image? This bad: Fifty-six percent of Americans view her unfavorably, according to the Huffington Post pollster trend. [...] A lot of the reason is Clinton: her tin ear, her aloofness, her phony eagerness to please, her suspicion of the press and of outsiders, her let us say complicated relationship with the truth, the blithe way in which she dissembles and deceives.
Hillary's Campaign Manager: 'This Election Will Be About Trust'. Even as he says those words, you know he hopes deep down they aren't true — because if this election really does boil down to trustworthiness, his widely-distrusted serial liar of a boss is in some serious trouble: [Video clip]
Clinton blames Vermont for gun violence in New York. [Hillary] Clinton said Monday [4/11/2016] at a roundtable in Port Washington, "Here's what I want you to know. Most of the guns that are used in crimes and violence and killings in New York come from out of state. And the state that has the highest per capita number of those guns that end up committing crimes in New York come from Vermont." Vermont's Governor, Peter Shumlin, is a Clinton backer. But he says her claims about his state aren't 'entirely accurate' and hurled an accusation of his own in New York's direction about heroin distribution.
Former Dem senator: Clinton email claim 'false on its face'. A former Democratic senator on Friday dismissed Hillary Clinton's claim that she used a private server for convenience as "false on its face." "She's a government official. The law says the public has a right to know what's going on," former Nebraska Sen. Bob Kerrey said in an interview with Fox Business host Maria Bartiromo. Kerrey, who has endorsed Clinton's presidential candidacy, nonetheless accused her of trying to circumvent the law.
Hillary Caught in Her Own Web of Lies. Yesterday [3/27/2016], The Washington Post's Robert O'Harrow, Jr. published a startling timeline related to Hillary Clinton's email scandal. The executive summary: she's a criminal and a liar, but you already knew that.
How Can You Feel Good About Yourself If You Vote For Hillary? Here's a woman who lies so often that her name has practically become synonymous with deception. Unlike her husband, who was such an artful liar that people wanted to believe him when he wasn't telling the truth, Hillary is ham-fisted about it. She tells obvious lies that everyone from the media to her enemies, to her friends know are lies right from the beginning. How do you vote for a woman so dishonest that she claims her daughter was jogging around the World Trade Center on 9/11 or said with a straight face that she landed under sniper fire in Bosnia? When she lies about having her own email server and about putting our national security at risk by having huge numbers of classified emails sent to it, how do you respect yourself when she gets caught lying about it over and over again?
The Art of the Con. The more successful a con artist appears to be, the easier it is to fool people. As Bernard Madoff's fraudulent brokerage and investment management businesses grew, his boasts of genius gained credibility. The more he spent investors' money on his opulent lifestyle, the more they wanted to give him. [...] The most important skill for any con artist is the ability to lie with complete confidence.
Comey speaks, tersely. On the rare occasions when she is asked about the FBI investigation arising from her use of an insecure email server to conduct official business as Secretary of State, Hillary Clinton refers to it as "a security review."v It is, moreover, "a security review" that "was requested," as though the FBI is doing someone a favor. The woman lies with the ease and abandon of a pathological liar. Clinton makes it sound routine. The FBI, however, does not perform "security reviews." It conducts criminal investigations. Its handling of the Clinton email matter clearly constitutes a criminal investigation.
Just How Bad a Candidate Will Hillary Be? If there is an issue that motivates Americans across the spectrum, it is trust, because we have been lied to so often and so cavalierly by Washington politicians. No sane person trusts Hillary. She not only lies even when the truth would serve as well, but she lies about telling the truth, as in her recent CBS interview. She lies almost as much as her husband. Compounding this pathological dishonesty are the natural consequences of aging, obesity, and health problems that strongly suggest a slowing down of her mental processes. The ravages of immoral life and old age clearly have reduced her husband into a very dull mind, and it is likely that many of the same abuses of youth harrowing her husband are affecting her, too.
The liar lies about lying:
The Key to Understanding Hillary Clinton's Lies. It is the universal experience shared by all humanity of lying to our family and friends, not to mention the rest of humanity. As we grow in influence and responsibility, the lies can become even more damaging. Think of tobacco and car company executives, insider traders, and politicians who tell us, "If you like your doctor, y ou can keep your doctor." The consequences of lying range from the mild interpersonal wound to the death of groups of consumers. But lying is the one thing all of humanity has engaged in. Except apparently Hillary Clinton. In her recent interview with CBS's Scott Pelley, when asked, "Have you ever lied?" Clinton replied twice with these exact words. "I don't believe I ever have." How does she justify this in her own mind? It's very simple. It all stems from the word "believe."
Poll: Clinton most defined as 'dishonest,' 'liar'. A plurality of people in a new poll most associate Hillary Clinton with the words "dishonest," "liar," "don't trust her" and "poor character." Twenty-one percent of those asked use those words to describe her, according to a new Gallup poll released Tuesday [2/23/2016]. Another 9 percent said "dislike her," while 8 percent said they "like her" and that she's "capable of being president," and another 7 percent said she's "qualified." An additional 7 percent of people called Clinton a "criminal" and "crooked" and said "she belongs in jail."
Hillary Refuses To Say If She Has Ever Lied To The American People. She's a pathological case. If she actually had to list all the times she's lied, her tongue would spin off its roller from the overuse.
A Nice Long Compilation of Hillary Clinton Lies. 13 minute video clip — well worth your time.
Hillary Refuses To Directly Say If She Has Ever Lied To The American People. Hillary Clinton refuses to definitively say whether or not she has ever lied to the American people. During a Thursday [2/18/2016] interview with CBS's Scott Pelley, Clinton said, "I don't believe I ever have" lied to voters. Pelley began by asking Clinton, "You know in '76, Jimmy Carter famously said, 'I will not lie to you.'" "Well, I will tell you, I have tried in every way I know how, literally from my years as a young lawyer, all the way through my time as secretary of state to level with the American people," Clinton claimed.
Hillary and the Suspension of Disbelief. A "willing suspension of disbelief" most aptly sums up Hillary Clinton's disastrous 2016 primary campaign, which so far seems more disastrous than her 2008 disastrous campaign. [...] If we did not suspend disbelief about most of Mrs. Clinton's claims, we would trust that all her grandparents were immigrants, that she was named after the explorer Edmund Hillary, that she braved gunfire in Serbia, and that after reading the Wall Street Journal she learned how to invest $1,000 in cattle futures and quickly earn $100,000 in profits. To believe anything Hillary Clinton asserts requires a willing suspension of disbelief.
Clinton hit for invoking 'everybody did it' defense on email scandal. Critics are blasting Hillary Clinton for claiming at Thursday night's [2/4/2016] Democratic debate nothing will come of the FBI probe into her email practices and seizing on reports that other former officials received classified information on personal accounts — saying she's glossing over glaring differences between her case and theirs. "The attempt to paint her predecessors in the State Department as equal offenders in mishandling classified material is an insult to what we now know to be the truth," Rep. Darrell Issa, R-Calif., said in a statement Thursday, calling the argument an "everybody did it" defense.
What Hillary Just Said on Camera Could Cost Her the Election. Hillary just got fact checked on something she said, and the results are in. [...] Is there a rehab for liars?
Hillary Clinton Caught In Bombshell Lie . With the Iowa caucuses happening this week, this is the absolute worst time for Hillary Clinton to be caught in a lie. Unfortunately for her, however, one of her pathological lies just came back to haunt her in a brutal way.
A List of 27 Hillary Fibs, Obfuscations, and Lies. Tuesday night's [10/13/2015] debate featured a master class on lying from the lying liar who lies about her lies, former Secretary of State Hillary Clinton. She spoke for approximately 24 minutes, and aside from her opening statement — "I'm Hillary Clinton" — virtually every word that exited her mouth was untrue. But because Hillary appeared to be lady with mild socialist depression in a full-blown socialist insane asylum, nobody laid a glove on her.
The Clintons' political legacy of dishonesty. Spin and puffery have a long history in politics, but something has snapped in our culture that we no longer even expect our leaders to talk straight. We have become immune to lies and the liars who tell them. I blame it on the Clintons. Their survival despite a quarter-century of shameful dishonesty has led the way in lowering the bar for integrity in public life.
Clinton's email excuses are falling apart. Hillary Clinton went into damage-control mode when news broke that the inspector general of the intelligence agencies had identified additional classified emails on her private server, including ones containing intelligence on covert "Special Access Programs." Her campaign even accused the inspector general — an Obama appointee confirmed by a Democratic-controlled Senate — of engaging in a "coordinated leak" with Republicans "for the purposes of hurting her campaign." Lash out as she might, Clinton's constantly changing email story is rapidly falling apart. First, Clinton claimed there was "no classified material" on her private server — which turned out to be untrue. Then she claimed none of the intelligence on her server was "classified at the time" — which also turned out to be untrue.
Hillary Pledges to Ask Husband Bill for Ideas, Advice as President. Democratic presidential candidate Hillary Clinton was asked Sunday [1/17/2016] at the Democratic Debate on NBC what type of role her husband and former president Bill Clinton would have if she became president. Clinton stated she would lean on her husband and ask for his ideas and advice in the White House. "Well, it'll start at the kitchen table; we'll see how it goes from there. [...]"
The Editor says...
Here we have another disingenuous attempt to be folksy and relatable. Think about it: How many years ago did the last conversation between Hillary and Bill take place "at the kitchen table"? How many years has it been since she has eaten a meal or had a conversation with Bill Clinton in a kitchen? For that matter, how many years ago did Bill and Hillary have a meal at the same table, or live under the same roof? The two of them are politically co-dependent, mutually enabling one another, but it's a safe bet that they don't sit and chat at any "kitchen table."
Hillary Clinton comes out against deportation raids in break with Obama. Democratic presidential front-runner Hillary Clinton joined her rivals Monday [1/11/2016] in opposing the Obama administration's deportation raids targeting Central American immigrants who entered the U.S. illegally and ignored deportation orders. Speaking at a forum aimed at young and minority voters in Iowa, Clinton said the raids had "sown fear and division in immigrant communities across the country. People are afraid to go to work. They are afraid to send their kids to school. They are afraid to go to the hospital, or even the grocery store."
The Editor says...
How I wish all that were true, but it's not. Illegal aliens are very comfortable here in the U.S. They are afraid of no one — especially during rush-hour traffic! They don't have to know a word of English because there are Spanish-only stations on radio and TV. (That should be illegal, but it's not.) Nobody is at the grocery store or the hospital looking for illegal aliens; in fact, the emergency room at the county hospital is their doctor's office. And if the feds give them any trouble at all, there are hundreds of lawyers ready to help.
Benghazi victim's dad dares Clinton to lie detector test. Charles Woods, father to former Navy SEAL Tyrone Woods, said Wednesday [1/6/2016] that the then-secretary of state told him that a YouTube video was the cause of the attacks, but now denies it. "I would love to sit down with Hillary Clinton, if she'd agree to do it as well, you know at the same table, by the same operator and have a lie detector test," Woods told One America News Network.
The Editor says...
Yes, imagine Hillary Clinton connected to a lie detector. What a concept. Ideal for pay-per-view. Should have been done long ago.
Week After Massive Fundraising Haul, Clinton Team Pleads Poverty In Latest Fundraising Email. Democratic Party presidential frontrunner Hillary Clinton posted a massive $37 million raised for her campaign in the last quarter of 2015, a week later her campaign is saying they don't have enough money to compete with Senator Bernie Sanders. In an email entitled "Nervous," Clinton campaign manager Robby Mook writes supporters of the dire financial situation the campaign finds itself in for the Iowa caucuses and the New Hampshire primary. Citing ad buys by the Sanders campaign, Mook tells supporters, "Adding more TV ads just isn't in our budget."
Who's lying, Hillary or members of several Benghazi victims' families? On September 14, 2012, at a memorial service for the victims of the Benghazi attacks, Hillary Clinton spoke with members of the victims' families. At least three of these people say that Clinton talked about the alleged role in the attack of a video produced by Nakoula Basseley Nakoula. Charles Woods, the father of former Navy SEAL Tyrone Woods, says that Clinton blamed the video and even told him that she was going to have Nakoula arrested. Nakoula was, in fact, arrested. Similarly, Kate Quigley, the sister of Glen Doherty, says that Clinton told her the video was to blame. "She knows that she knew what happened that day and she wasn't truthful," Quigley insists. Finally, Patricia Smith, mother of Sean Smith, also insists that Clinton said the attack was because of the video. She has repeatedly accused Clinton of lying. Clinton, however, denies saying anything about the video to these family members.
Hillary's Server, Monica's Blue Dress, and History. What the server's e-mails indicate is that on the night that four Americans were murdered in Benghazi, Hillary e-mailed the truth of how they died to her daughter. She told Chelsea that the Americans were the victims of an organized terrorist attack. She later admitted that to the Egyptian prime minister also. Nonetheless she signed a public statement from the State Department proclaiming that the Americans were the victims of a riot provoked by a YouTube video. After lying to the American people the evening of the attack, she repeated the lie to the victims' relatives when their bodies were flown in to Joint Base Andrews. Moreover, she stood by her false account when she testified to the House Select Committee. There are other untruths that have been passed on from Hillary's server. She has lied about arranging lecture fees from her State Department office for the gifted Bill Clinton. There are lies about arranging donations for her family foundation, her forthcoming political campaign, and her own speaking fees. There are lies on the topic of influence pedaling and on whom she kept in contact with.
A Top Ten List of Hillary's Lies, Scams, Hustles and Deceitfulness. Donald Trump says Hillary Clinton "lies like crazy." He's in good company. Nearly 20 years ago, the Pulitzer Prize-winning columnist William Safire wrote: "Americans of all political persuasions are coming to the sad realization that [Hillary Clinton] is a congenital liar." Here, as a refresher course for those with short memories, is a Top Ten List of Hillary's Lies, Scams, Hustles and Deceitfulness.
Hillary Clinton Hit on Trump Is Her Latest Attack on Freedom of Speech. Hillary Clinton's claim during the last Democratic debate that the Islamic State (ISIS) is "showing videos of Donald Trump insulting Islam and Muslims to recruit more radical jihadists" was swiftly proven wrong. In reality, the latest Islamic State video features Barack Obama ("liar") and her husband ("fornicator"), but never mentions Trump. More disquieting than its inaccuracy, however, is the fact that Hillary's claim shows that one of the people most likely to be the next president of the United States is a foe of the freedom of speech, the cornerstone of any free society.
Trump: Hillary Is a Liar — 'She Lies Like Crazy About Everything'. Sunday [12/20/2015] on NBC's "Meet the Press," while responding to Democratic presidential candidate Hillary Clinton saying in the debate last night that he is "becoming ISIS's best recruiter," Republican presidential candidate Donald Trump declared that to be "just another Hillary lie." Trump said, "Nobody has been able to back that up. It's nonsense. Just another Hillary lie. She lies like crazy about everything. Whether it's trips where she was being gunned down in a helicopter or an airplane, she's a liar and everybody knows that. But she just made this up in thin air."
Hillary Clinton's most repugnant lie. Hillary Clinton still insists she didn't tell the grieving families of the Benghazi victims that an anti-Islam video was to blame. Yet family members say she said just that, three days after the attack, at the Sept. 14, 2012, ceremony at Andrews Air Force Base. George Stephanopoulos asked her Sunday if she'd told the victims it was about the film. Clinton gave a flat "no." She added: "I said very clearly there had been a terrorist group, uh, that had taken responsibility on Facebook, um..." At least four family members disagree.
Hillary Clinton's $275 Billion 'Shovel Ready' Sequel Is Based On Two Big Lies. When Hillary Clinton announced her $275 billion infrastructure spending plan, she said what every politician says when they try to get more money spent on roads and bridges — that the nation's infrastructure is falling apart. "I don't have to tell you what a sorry state we're in," she said in Boston over the weekend pushing the added spending. "Our roads and bridges are potholed and crumbling." But is that true? On Monday [11/30/2015], the Government Accountability Office released a report showing that the nation's bridges, at least, are in better shape than they were a decade ago.
What's your favorite Hillary Clinton lie? The 2016 presidential campaign, like the 2012 one, is going to be determined by the definition of the candidates accepted by the voting public. Hillary as an untrustworthy liar strikes me as a very accurate definition. And the possible video ads that could be made are numerous and persuasive.
Hillary Clinton's million little lies. To hear Hillary Clinton tell it, she was named for Sir Edmund Hillary, the conqueror of Mount Everest — even though she was already 6 years old when he made his famous ascent. On a visit to war-torn Bosnia in 1996, she claimed she and her entourage landed under sniper fire and had to run "with our heads down to get into the vehicles to get to our base" — although videos of her arrival show her waltzing serenely across the tarmac, waving to the crowd. She blamed the 2012 attack on American diplomatic and intelligence-gathering installations in Benghazi on "a disgusting video" when she knew almost from the first moment that it was a jihadist assault that took the lives of four Americans, including the ambassador to Libya.
Clueless Hillary: 'Muslims Have Nothing Whatsoever To Do With Terrorism'. Hillary Clinton is the latest suspender of disbelief regarding radical Islam's long-running and deep-rooted role in terrorism. Just days after eight Muslims belonging to the Islamic State massacred 130 Parisians while praising Allah, the Democratic front-runner schooled the Council on Foreign Relations on the non-Muslim threat. "Let's be clear," Clinton lectured. "Muslims have nothing whatsoever to do with terrorism." If by "nothing," she means everything, she is correct.
Hillary Clinton and Obama's Lies on Benghazi — Too Many to Count, but Let's Try. They lied about the slaughter of four Americans in Benghazi, Libya, at the hands of al-Qaeda-tied terrorists. They lied, but not to protect vital national secrets or flummox America's enemies. They lied to get reelected. And they lied directly, knowingly, and repeatedly to the American people.
The Truth Stalks Hillary As Paris Is Attacked. From bimbos to Benghazi, from demanding investigations into her husband's various personal entanglements to deliberately misleading about the nature of the Benghazi attacks — not to mention her e-mail mess — Hillary Clinton's record has one consistent theme that somehow the liberal media can't quite come to grips with. In the phrase of the late New York Times columnist William Safire all the way back in 1996, she is seen by many as a "congenital liar." But you wouldn't know this basic truth-telling problem of Hillary's even existed if you watched, say, CBS.
A Liar to the Corps. Hillary Clinton tried to become a Marine? Right. That was the week after Harry Reid tried to become a Rockette. Had the Marines accepted her, perhaps her training would have been helpful when her plane came under sniper fire while landing in Bosnia in 1996. Let me see now. As I understand it, what we're called on to believe is that a highly employable young Yale Law School graduate, who had led teach-ins against the Vietnam War in college, had worked on the campaigns of Gene McCarthy and George McGovern, and who was engaged to a draft-dodger seeking to become the attorney general of his state, really just wanted to be a lean, green, fighting machine.
Debbie Wasserman Schultz Flips Out Over Fact Check Of Hillary. On Friday [11/13/2015], DNC Chair Rep. Debbie Wasserman Schultz (D-FL) 10% was on with Andrea Mitchell on MSNBC, and simply couldn't stand the fact that someone fact-checked Hillary's bogus "I tried to join the Marines" story that she keep trotting out to both burnish her own character and tarnish the Marine Corps as sexist. When Mitchell challenged the story as simply not making sense, Schultz was indignant at the audacity. I mean, after all, this is MSNBC. It's supposed to be electing Hillary, not asking if she's a liar.
Why aren't Hillary Clinton's exaggerations of her life story bigger news? Hillary Clinton tells a story of how she tried to join the Marines in 1975 but was rejected because she was too old. The problem? The story may not be totally true. As The [Washington] Post's Fact Checker illustrates in a column dedicated to Clinton's Marine claim Thursday [11/12/2015], there's little reason to believe that she — already a very prominent person — would suddenly attempt to join the military.
Two Pinocchios:
Hillary Clinton's claim that she tried to join the Marines. One Clinton story that has often been greeted with skepticism is her claim, first made in 1994, that she once tried to join the Marines in 1975. On the campaign trail, she brought up the story again. [...] Clinton suggests she simply decided to join the Marines, as part of way to serve the country. But it makes more sense that she approached the Marines as part of a deliberate effort to test the boundaries available to women, especially given her documented antiwar activities.
Hillary Clinton, Jarhead? What compelled Clinton to seek to join the Marines? That's not clear. But it certainly would have been an odd fit, though not because of her age or sex. Clinton was a promising young lawyer about to marry a rising political star. She had been an active opponent of the Vietnam war and, as Maureen Dowd noted at the time, had worked on the presidential campaigns of Eugene McCarthy and George McGovern, strongly antiwar candidates. Nonetheless, she deployed the anecdote again last week, once more describing the exchange with the recruiter in the 1970s.
17 of Hillary Clinton's Worst Email Lies. Word came late yesterday that the FBI has expanded its probe of Hillary Clinton's mishandling of classified files. A former assistant director of the FBI, Tom Fuentes, notes that "it's [likely] more than a preliminary inquiry; it sounds like a full-blown investigation ...When you have this amount of resources going into it ... I think it's at the investigative level."
Hillary Clinton's Big Insult To Blacks On Education. Hillary Clinton insulted African-American parents and their desire for charter schools by repeating old teachers union lies that accuse charters of cherry-picking the best students. The record shows they don't.
Three Pinocchios:
Hillary Clinton's claim that 90 percent of her emails were 'in the system'. Clinton clearly erred in saying that the "90 to 95 percent" figure was from the State Department. This is her own staff's calculation, and she should correct the record. While not all of the e-mails she submitted to the State Department have been released, what has been made available so far suggests that a substantial majority are to and from at least one "state.gov" e-mail address. It is not an unreasonable assumption that these e-mails are contained somewhere within the bowels of the State Department. But Clinton cannot make a definitive statement and certainly cannot attribute that to the State Department.
Flashback: Hillary Claimed She Tried To Join The Marines In 1975, Or Was It The Army? Hillary Clinton once claimed that she tried to join the Marines in 1975, shortly before marrying her draft-dodging boyfriend, future president Bill Clinton. Or did Hillary Diane Rodham attempt to join the Army, as Clinton suggested in 2008? Or did she indeed try to sign up for the Marine Corps as part of an experiment to see how receptive the military was to female volunteers, as her friends have suggested?
Clinton cannot tell the truth. "There was enough political momentum to amend the Constitution of the United States of America," Clinton said, referring to the possible passage of a federal marriage amendment. DOMA, she argued, was "a defensive action," and "a line that was drawn that was to prevent going further." There's just one problem with this explanation: It's a lie. Buzzfeed's Chris Geidner studied thousands of pages of records from the Clinton White House and found no mention whatsoever of Clinton supporting DOMA on any such grounds.
Two Pinocchios:
Hillary Clinton's misleading claim that 'numerous surveys' show veterans are satisfied with VA medical care. Post-care satisfaction surveys do not necessarily reflect the population of veterans at the center of the VA scandal, which dealt particularly with patients' access to care. A large portion of veterans who received medical care may have had positive experiences, but this overlooks the hundreds of thousands of patients who experienced delays in care, or the dozens who died while waiting for care, as the inspector general found. While she says numerous surveys show veterans' satisfaction, the examples her claim is based on are either funded by the VA or a non-scientific survey of veteran attitudes.
Here Are The 7 (Non-Benghazi) Lies The Press Refuses To Take Hillary To Task For. CBS's Charlie Rose was confused as to why Marco Rubio would suggest Hillary Clinton lied about Benghazi during Wednesday's GOP debate. If Rose had taken a moment to glance at the evidence, he'd know the simple reason why Rubio said Hillary lied about the Benghazi attacks: because Hillary lied about the Benghazi attacks. [...] Charlie Rose, and others in the insulated media bubble, seem to be blind to Hillary Clinton's pattern of lies and deception despite the mountains of evidence that show her to be, as the late William Safire wrote in 1996, a "congenital liar". Here's a list of the (non-Benghazi related) lies the media still has yet to take Hillary to task for: [...]
Hillary Lied About DOMA on Maddow Show. On the Rachel Maddow Show, Hillary Clinton said that it was the threat of a constitutional amendment banning gay marriage that led Bill Clinton to sign the Defense of Marriage Act. This statement is totally untrue. I was there and there was never any discussion of a constitutional amendment on the subject.
Hillary Clinton Doesn't Care That Everyone Thinks She's A Liar. America is acutely aware of Hillary's character flaws — how is it possible then that she remains an electoral colossus? According to Huffington Post's aggregate poll tracker, nearly 52 percent of Americans have an unfavorable view of Hillary Clinton — her worst score ever. A recent Quinnipiac University poll found that 61 percent think she is neither honest nor trustworthy, another record low for Hillary. She had better numbers in 2008, an amazing statistic considering she lost her party's nomination that year.
Granny Catlady, who lost $6 billion while running the State Dept., blames budget cuts for Benghazi attack. One of the many rehearsed lies Hillary Clinton recited during her testimony last week was particularly galling.
Did someone mention Benghazi?
Can Nothing Stop the Clintons? I must admit that in all of my years on this earth I have never seen two people get away with more lies, obfuscation and corruption than Bill and Hillary Clinton. After listening to her 11 hours of testimony about Benghazi this week, I was sure that some way, somehow she would be held accountable for something. Alas, that idea was just wishful thinking.
Levin Slams Clinton, Obama, and the Dems for Lying To America's Face. On Thursday [10/22/2015], former Secretary of State and presidential candidate Hillary Rodham Clinton testified before the House Select Committee on Benghazi, answering questions for 11 hours about what she knew about the attacks and when she knew it. What's clear from her testimony is that Hillary Clinton and the Obama administration has lied. Repeatedly. Those in the media are predictably spinning Clinton's testimony to make her look undamaged and protect her presidential ambitions. But on Thursday evening Conservative Review Editor-in-Chief Mark Levin set the record straight: [Audio clip]
Do Hillary's Lies Matter? It is of little concern to me that the corporate media says Hillary aced the Benghazi hearing, To me she didn't, and I care more that the public is being inured to public officials' lying. [...] Maybe I've misjudged the voters. Maybe they really would like a brazen, self-seeking consummate liar. Because that's what she certainly is. She dissembled so often in the hearings I cannot possibly keep you awake while detailing them all.
Clinton gaffe brings VA problems into 2016 race. Sen. John McCain said Wednesday [10/28/2015] that Hillary Clinton's recent comments about the Department of Veterans Affairs should make veterans question whether she can be president. McCain, R-Ariz., took the offensive, along with Rep. Jeff Miller of Florida, on behalf of the Republican National Committee, which seized on the growing controversy over Clinton's statement last week claiming the VA's problems are "not widespread." She told MSNBC that the GOP is exaggerating VA dysfunction in a plan to cut funding and privatize the agency.
Hillary's defense of VA: One too many rides on the VRWC pony. At the very least, Republicans should not assume that the issue is settled. And neither should the media that rushed to toss hosannas at Hillary last week. Her bizarre and paranoid rant discounting the deaths of dozens of veterans at the hands of a corrupt VA as nothing more than a political attack on single-payer health care should also remind Democrats that Hillary remains the same haughty, entitled, and unlikable candidate that she turned out to be in 2008.
Sorry, Hillary Clinton. VA Corruption is Widespread. Hillary Rodham Clinton says the furor over sick vets waiting for health-care is overblown and "not as widespread as it has been made out to be." [...] Sorry, Clinton. That's wrong. 138 nonpartisan investigations prepared for Congress — count them, 138 — have shown corruption and dysfunction throughout the VA system. And our ailing vets bear the brunt.
Clinton: Veterans Affairs scandal not a 'widespread' problem. Democratic primary front-runner Hillary Clinton says the Department of Veterans Affairs (VA) scandal is not as "widespread" of a problem as coverage would indicate. [...] The former first lady blamed Republicans for using the issue as part of an "ideological agenda" and said they want the VA to "fail."
More about VA hospitals.
Clinton: I didn't have a computer in my State Dept. office. Hillary Clinton said Thursday that she did not conduct most of her official business as secretary of state via email, during her testimony before the House Select Committee on Benghazi, remarking that she did not even have a computer in her Foggy Bottom office. During questioning from Indiana Republican Susan Brooks, Clinton was asked to account for the relative lack of emails to and from State Department officials regarding the situation on the ground in Libya from 2011 to 2012, as the situation deteriorated.
The Editor says...
There's an easy way to refute this claim: Bring in the current Secretary of State, put him under oath, and then ask him if there was a computer in his office on his first day as Secretary, and ask him if there were any work-related files on that computer when he got there. This is one of the most transparent lies Hillary Clinton has ever told. Name one (other) cabinet-level official, at any time in in this century, who did not have a computer in his or her office. For that matter, name one federal bureaucrat in Washington without a computer in his or her office. I await your answer.
State Can't Verify Clinton Email Claim Made At Benghazi Hearing. One of the sticking points in Mrs. Clinton's testimony in front of the Benghazi panel was her claim that 90% to 95% of her work emails were automatically preserved in the State Department's system. [...] But State Department spokesman Mark Toner on Friday [10/23/2015] said the figure is something her campaign is using and referred questions to them for "the rationale or the background behind it." "I'm not aware that we have given that figure," he said at a press briefing. "I'm not in a position right now to confirm that."
State Dept. Cannot Confirm Clinton's Email Claim At Benghazi Hearing. The State Department said that it could not confirm a figure Hillary Clinton cited during testimony to the House Select Committee on Benghazi on Thursday, suggesting that it was fashioned by her presidential campaign. The Wall Street Journal reported that a State Department spokesman said Friday that the agency could not "confirm" Clinton's claim that between 90 and 95 percent of her work emails were already preserved in the State Department's computer system because she emailed other government officials on their work accounts.
Hey Rubes, I Never Blamed a Video for the Attack in Benghazi! Former U.S. Secretary of State Hillary Clinton's testimony yesterday before the congressional committee formed to investigate the deadly Benghazi debacle that she allowed to happen and then tried to cover up can be summed up in two words: she lied.
Hillary Clinton: 'I Did Not Email During The Day'. Hillary Clinton says she did not generally send or receive emails during the daytime during her tenure as Secretary of State, despite copious evidence to the contrary. "I did not email during the day except on rare occasions when I was able to," Clinton said. Clinton spent a chunk of time at Thursday's [10/22/2015] House Benghazi Committee hearing defending herself against the suggestion that she exposed classified information on email, saying that she did not conduct the business of the U.S. government on email.
'Smoking gun' emails just released by UK Daily Mail prove Hillary a bigger liar than Tony Blair. [Scroll down] But much more important to me than this UK-centric story is what we learn about Hillary Clinton's emails. Take a look at the memo itself, the top line in the left had column. [Illustration] This proves beyond a shadow of a doubt that, as my friend Mike Nadler says, "she lied in her numerous statements that there were no classified documents on her server, even with her later qualification that none were marked classified at the time." At the time she was doing this research, the memo was still classified, only to be unclassified in 2014. Pantsuit on fire!
Three Pinocchios:
Clinton's claim that 40 percent of guns are sold at gun shows and over the Internet. So where does the 40 percent figure come from? It is derived from studies that were based on data collected from a survey in 1994, the same year that the Brady Act requirements for background checks came into effect. In fact, the questions concerned purchases dating as far back as 1991, and the Brady Act went into effect in early 1994 — meaning that some, if not many, of the guns were bought in a pre-Brady environment. The survey sample was relatively small — just 251 people. (The survey was done by telephone, using a random-digit-dial method, with a response rate of 50 percent.)
Hillary's 'Genocide' Lie. When the late William Safire called Ms. Clinton a "congenital liar," he knew whereof he spoke. Mendacity is in Hillary's DNA. There was no genocide in Libya, nothing close. Although I have written about the Libyan fiasco previously on these pages, the story bears repeating at least in part as Hillary has assumed full ownership of the genocide lie.
Hillary's Glaring Lie Explaining Her TPP Flip Goes Unchecked by Media. It has happened many times in the past. A story is covered by numerous websites but which is ignored by the mainstream media because it doesn't fit with their political agenda. However, rarely has there been such a blatant example of this Web/MSM dichotomy in coverage as what happened this week in view of the fact that it involved a major presidential election issue. Hillary Clinton claimed her bigtime flip-flop from supporting the Trans-Pacific Partnership trade agreement to opposing it came about because she had recently read the pact. The big problem for her credibility is that the details of that agreement have not yet been released as was verified by the White House press secretary, Josh Earnest.
Clinton says she flipped on trade deal after seeing it — but it's not public. Hillary Clinton is drawing head scratches from the White House for saying she decided to oppose the Pacific-nation trade deal after "looking at it" — even though the official text is not public. The Democratic presidential front-runner addressed her flip-flop on the Trans-Pacific Partnership, a deal she backed as secretary of state, at Tuesday's Democratic debate. She acknowledged she once called it the "gold standard," but added: "It was just finally negotiated last week, and in looking at it, it didn't meet my standards — my standards for more new, good jobs for Americans."
Lobbyists for Clinton's 'Enemies' Are Bankrolling Her Campaign. Asked to name the enemies that she is most proud of during Tuesday's Democratic presidential debate, Hillary Clinton cited industries represented by lobbyists who are among her top campaign fundraisers. In addition to Iran and the Republican Party, Clinton said she was proud to count "the health insurance companies" and "the drug companies" as her enemies. Those industries' lobbyists do not appear to share that enmity. By mid-July, seven of them had raised hundreds of thousands of dollars for her presidential campaign, according to campaign finance records.
The E-mails and Benghazi. [Scroll down] And make no mistake — Hillary Clinton is a liar; actually, Bill Safire flattered her when, in 1996, he called her a "congenital liar." There is no need to go through the parade of Hillary's lies — Travelgate, Filegate, Whitewater, the Rose law office billing files, her act of Wall St. alchemy etc., etc. Hillary's entire life is a lie. And, more to the point, her current effort to take advantage of McCarthy's blunder is just another case of her dishonesty.
The Clintons' long and mendacious road. Some journalists who today chronicle the charges facing the Clintons were not even born when it all began. For those of us with unflagging memories and abundant experience, it goes back decades. I would date the first official charges of Hillary's crookedness and reckless disregard for the law to Watergate in 1974 when she improbably served on the Watergate impeachment staff. Her boss then was the general counsel and chief of staff for the House Judiciary Committee, Jerry Zeifman, a Democrat. In a personal evaluation of Hillary's performance he wrote, "I decided that I could not recommend her for any future position of public or private trust." Why? Mr. Zeifman had learned that in this historic undertaking "she had lied" to him and to others repeatedly. Had Americans been attentive then, or at least had Democrats been attentive, America might have been spared Hillary's decades-long cavalcade of mendacity and intrigue.
Bill Clinton in 2001: 'I've Never Had More Money in My Life'. Bill Clinton privately boasted to a close friend that he had "never had more money in his life" less than two months after leaving the White House in 2001, contradicting a claim by Hillary Clinton that the former first couple was "dead broke" and struggling financially at the time. The former president made the comments just weeks after he left office, according to a contemporaneous audio diary recorded by his long-time friend Taylor Branch and obtained by the Washington Free Beacon.
Past Blast: Hillary Clinton Claimed We "Dodged Sniper Fire". It's hard to believe it's been nearly 20 years since I traveled with then-First Lady Hillary Clinton to Bosnia. The trip in 1996 would later become grist for the political mill when presidential candidate Clinton claimed — in 2008 — that we had dodged sniper fire on that trip. I not only had a different memory, but I still had the video from the event and it clearly showed no snipers. In fact, there were children on the runway in Bosnia to greet Clinton. Sheryl Crow was on the trip with us, as was comedian Sinbad (to entertain the US troops). Sinbad, too, pointed out he didn't recall sniper fire.
No, not Obama — the other one.
Why Are Democrats Still Supporting a Compulsive Liar? From the start, Hillary claimed that she set up the clintonemail.com server so she could use just one device for everything. If that's the case, then why did she continue to carry several devices? When asked to turn over all of her emails, she delayed and then said that most of them had been lost or deleted. Yet it didn't take investigators long to find them. When Hillary finally did hand over her emails, she claimed that it was everything. Judicial Watch found gaps in the 'everything,' some of which covered several months. When asked if she had ever used her personal email server to send or receive classified emails, she emphatically said no over and over again. Yet the more investigators looked into her personal server and email accounts, they found classified information.
The Fact Checker Confirms It — She Is Lying. Clinton is sticking to her story that the emails she has turned over to the State Department were part of a review that asked former secretaries to do the same. Washington Post fact checker Glenn Kessler gave her story three Pinocchios Sunday, meaning that it has a "significant factual error and/or obvious contradictions." The Clintons are likely to brush that off as more of the vast right-wing conspiracy that's been dogging them since the 1990s, even though the Post is not exactly a collection of right-wing activists.
JW Exposes Hillary Clinton Lie. I'm sure you've seen and read the usual DC establishment talking heads professing confusion as to why Hillary Clinton would make the "mistake" in setting up a separate email system to conduct government business as secretary of state. Of course, these types never see the obvious answer — because she had something to hide! And so did a lot of other Obama administration officials, some still running things at the State Department. If you have any doubt about this, please take a look at the new State Department records we released yesterday that reveal Hillary Clinton personally signed the authorization for Huma Abedin, her then-deputy chief of staff, to become a special government employee. The records also show that Abedin declined to provide complete information about her husband Anthony Weiner's financial dealings.
Hillary Caught In Another Lie; How Many Can She Get Away With? Almost every week, it seems, there's another revelation culled from emails and other documents exposing another falsehood told by Hillary Clinton. The latest involves her top aide, Huma Abedin. [...] If this were the only boldfaced lie Clinton has told in recent months, it would be bad enough. But it's just the latest in a long string relating to her private email. Virtually every claim Clinton made when she first publicly addressed this scandal has turned out to be false.
Could Hillary please start getting her lies straight? At some point, it becomes tiresome to ask the same question over and over again. But Clinton leaves us no choice. How many times must she be caught lying before the current presidential campaign has come to an end? Clinton had maintained, and in fact swore, that she had turned over all work-related emails from the private server she chose to use, in contravention of government secrecy and transparency laws. As it turns out, even this claim was untrue.
Another big fat Hillary lie exposed. Hillary Clinton has been caught in another lie. She claimed that she was "not directly involved" in her close aide Huma Abedin gaining approval for a suspicious, conflict of interest-redolent job arrangement, but a document has just surfaced putting the lie to that claim.
Hillary Clinton: Come Clean or Get Out. If the Democratic Party cares to salvage a sliver of moral authority, its leaders and early state voters need to send Hillary Rodham Clinton an urgent message: Come clean or get out. Stop lying and deflecting about how and why you stashed State Department email on a secret server — or stop running.
Hillary: No One Is More of a Political Outsider Than I Am. Sunday [9/20/2015] on CBS's "Face the Nation," when asked about Americans' desire for a political outsider this presidential cycle, Democratic presidential candidate Hillary Clinton declared herself to be an outsider because nothing could be more outsider "than the first woman president."
The Editor says...
This is the sort of logic that only works on the poorly educated. In other words, Hillary is addressing her base. Hillary has been a Washington insider since 1993. She's NOT "the first woman president" (yet) (fortunately), and if she ever becomes that person, she will be the ultimate Washington establishment insider. Let us all hope that day never comes.
America's descent into lawlessness. Almost everything former Secretary of State Hillary Rodham Clinton has stated about her improper use of a private email account and server has been proven false. A State Department staffer who worked on Mrs. Clinton's private server plans to invoke the Fifth Amendment to avoid testifying before a congressional committee about his role in privatizing her email. But like [Lois] Lerner, Mrs. Clinton has escaped an indictment or jailing.
For Hoodwink Hillary, Lying Is An Art Form. The painful truth is that her royal highness Hillary Clinton is either a naïve boob or a bald-faced liar. Thinking people are convinced she is both. Learning her political lessons well from her husband who once pondered under oath what the definition of is is, old Hoodwink is trying to con the American public into believing that she never received or sent classified information from her private computer server. She's lying. Again. She can't help it. Hoodwink was the Secretary of State. Any American who passed the second grade knows the Secretary of State routinely receives highly sensitive e-mails. To believe otherwise is a willful level of dishonesty and criminal disconnect from reality that is incredibly difficult to comprehend and impossible to accept.
Clinton: Email use was 'fully above board'. Former Secretary of State Hillary Rodham Clinton declined a chance to apologize for her email practices Friday [9/4/20-15], saying it was not a good choice but was "fully above-board" and other government officials knew she was using it. [...] She again insisted she did not send or receive any material marked secret, saying the nearly 200 messages already released and marked classified were only designated after the fact and don't indicate she mishandled information.
The Editor begs to differ:
I'd say that's a lie, because there is a mountain of evidence to contradict Mrs. Clinton's claim.
Hillary admits she's bothered that voters think she's a liar. An eyebrow-raising poll where voters said "liar" was the one word they most associated with Hillary Rodham Clinton has touched a nerve with the Democratic presidential front-runner.
Obama, Bush, Clinton: Secret Agents. The chief downside for Hillary is that she's a liar. A big liar. A lifetime liar. And the voters know it. Her mishandling of classified information on her email servers and persistent lies about that along with the revelations that she's under serious criminal investigation by a special branch of the FBI which handles such things, adds to public distaste for her candidacy.
Nobody Cares About the Clinton Email Scandal, Says Clinton Camp. The Federal Bureau of Investigation is investigating Hillary Clinton's private email server to determine if its use violated the Espionage Act. The unsecured server contained top-secret spy satellite information, raising the possibility that Clinton's decision to go outside official channels for her correspondence jeopardized national security. That being said, the whole situation is a total snooze that is only interesting to the buzzards in the press, Clinton and her allies say.
Words Voters Choose to Describe Hillary Clinton: 'Liar,' 'Dishonest'. "What is the first word that comes to mind when you think of Hillary Clinton?" Quinnipiac asked. All three of the most popular answers were along the same lines: "liar," "dishonest," and "untrustworthy." After those responses, Clinton nets a few positive responses, such as "experience" and "strong." But then the negative qualifiers begin again, with responses like "crook," "untruthful," "criminal," and "deceitful."
Hillary Clinton Covers Up Yesterday's Cavalcade of Lies With, Get This, More Lies. The self-imputed Only Honest Man in DC, Ron Fournier, counted Hillary's lies in yesterday's press conference and came up with six.
Hillary Clinton Lies... A Lot. Hillary Clinton says that she is the most transparent woman in American politics. There's just one problem — Hillary Clinton lies... a lot. Ben Shapiro takes a trip in the way back machine to look at a few of the more egregious examples.
Hillary Clinton: Return of the Congenital Liar. Time after time after time, like clockwork, this "essential characteristic" of deliberately and willfully lying surfaces with Hillary Clinton. She is Richard Nixon or Lyndon Johnson — or husband Bill — in a pantsuit. With the keys to the White House handed to her it is hardly difficult to predict that soon enough — perhaps when America can least afford it and desperately needs to keep its eye on the latest terrorist ball — the nation will be consumed in some controversy that revolves around presidential lying.
Cables Show Hillary Clinton's State Department Deeply Involved in Trans-Pacific Partnership. Democratic presidential candidate Hillary Clinton on Thursday attempted to distance herself from the controversial 12-nation trade deal known as the Trans-Pacific Partnership. During her tenure as U.S. secretary of state, Clinton publicly promoted the pact 45 separate times — but with her Democratic presidential rivals making opposition to the deal a centerpiece of their campaigns, Clinton now asserts she was never involved in the initiative.
Hillary Clinton lies again. It now appears that Clinton was managing her war using emails that she diverted through a computer server owned by her husband's charitable foundation, even though some of her emails contained sensitive and classified materials. This was in direct violation of federal law, which requires all in government who possess classified or sensitive materials to secure them in a government-approved venue. The inspector general of the intelligence community and the inspector general of the State Department each have reviewed a limited sampling of her emails that were sent or received via the Clinton Foundation server, and both have concluded that materials contained in some of them were of such gravity that they were obliged under federal law to refer their findings to the FBI for further investigation.
Hillary's web of lies keeps unraveling. Such is the self-absorbed arrogance of the Clintons that Hillary actually thought she could get away with the criminal activity of conducting her government business on a personal server and keeping and transmitting classified data in violation of federal law. It was a server as vulnerable to foreign hacking as any in the private sector that has been hacked, or the servers at the foreign-hacked Office of Personnel Management. She put her country at risk, and now her personal political ambitions as well. Only the disinterested Justice Department of the administration she served and a sycophantic press will save her from the incarceration she so richly deserves.
Admit it, Dems: Hillary Could Strangle a Puppy on Live TV, and You'd Still Back Her. At first Clinton claimed that she needed a single non-governmental email account for "convenience," because she only had one phone. That claim turned out to be provably false. Next, she claimed that it didn't matter much, because "The vast majority of my work emails went to government employees at their government addresses, which meant they were captured and preserved immediately on the system at the State Department." The latter half of that claim turned out to be provably false, too. She further insisted that none of the emails contained classified information, a claim that many people with intimate knowledge of such things — such as a former senior State Department official — described with phrases like "hard to imagine." And her assertion in a CNN interview this month that she went "above and beyond" the email disclosure requirements was — wait for it — false. In sum, the Democratic Party's 2016 presidential frontrunner brazenly violated government transparency policy, made a mockery of the Freedom of Information Act, placed her sensitive communications above the law, and then just lied about it, again and again.
Estrangement from the truth [is] a problem for Hillary. Hillary Clinton lies. This is a widely acknowledged fact among people who pay attention and aren't on her payroll. Nearly 20 years ago, New York Times columnist William Safire wrote: "Americans of all political persuasions are coming to the sad realization that our first lady — a woman of undoubted talents who was a role model for many in her generation — is a congenital liar." Younger folks probably have little to no memory of the lies Mr. Safire had in mind, though some might have heard about Hillary Clinton's infamously implausible explanation for how she managed to make a 10,000 percent profit in cattle futures simply by reading The Wall Street Journal. Suffice it to say that she's been honing her craft for decades. And that's turning into a problem for her, perhaps her biggest problem.
Hillary's Latest Whopper. Yes, this could become a daily feature. You'll recall that Hillary Clinton once claimed to have been named for Mt. Everest climber Sir Edmund Hillary, even though he didn't achieve that feat until several years after Hillary was born. No matter. Her latest claim is that she wanted to be an astronaut, but that NASA wrote back to say, "Thank you very much, but we're not taking girls." This story might actually be more or less true, not because of NASA sexism back in the 1960s, but because of common sense. (NASA in the 1960s was struggling to figure out the risks of putting men into a tiny tin can for a few days; did you really expect them to put women of childbearing age into an unknown high radiation environment right out of the box? [...])
How the Obama Administration Gutted Illegal Immigration Detainers. In the wake of the murder of Kathryn Steinle — or, rather, the news coverage of her murder — Democrats are back-pedaling from their longstanding and consistent support for "sanctuary" cities. When asked about the issue, Hillary Clinton followed her usual policy: she lied.
House Speaker John Boehner: Hillary Clinton is lying about State Department emails. House Speaker John Boehner on Sunday [7/12/2015] accused former Secretary of State Hillary Rodham Clinton of lying about the email scandal that is hounding her campaign for the Democratic presidential nomination. "She is not telling the truth. She had an obligation to turn these e-mails over," Mr. Boehner, Ohio Republican, said on CBS' "Face the Nation."
Gowdy reveals subpoena Clinton claims she 'never had'. House Republicans investigating the 2012 attacks in Benghazi, Libya, on Wednesday [7/8/2015] released a March subpoena issued to Democratic presidential candidate Hillary Rodham Clinton, one day after she said in a nationally televised interview that she "never had a subpoena" in the email controversy. Rep. Trey Gowdy, R-S.C., chairman of the Benghazi panel, said he had "no choice" but to make the subpoena public "in order to correct the inaccuracy" of Clinton's claim. Clinton told CNN on Monday that she "never had a subpoena," adding: "Everything I did was permitted by law and regulation."
Hillary Clinton Lied to CNN. And Everyone Else. During an interview this week with CNN, Hillary Clinton boldly claimed that her email scandal was no scandal at all. She flatly declared, "everything I did was permitted. There was no law. There was no regulation. There was nothing that did not give me the full authority to decide how I was going to communicate." Mrs. Clinton certainly operated at the State Department as if "there was no law," but she surely knows better. In fact, there is a lot of law, including criminal provisions, which governed her conduct. Here is a partial list: [...]
7 of the most blatant lies in Hillary's CNN interview. [#1] "People should and do trust me." [...] Fifty-three percent of American voters said Clinton is not honest and trustworthy in a May Quinnipiac poll. And in a May AP-GFK poll, nearly four in 10 Democrats and more than six in 10 independents said "honest" is not the best word to describe her. The likeliest contributors: the thousands of headlines generated from both her "home brew" civilian email server and from news of the Clinton Foundation's Rolodex of foreign donors.
Hillary Clinton's Lies. Hillary Clinton entered this race treating the press like a nuisance at best; marks whom she could easily distract with a bit of misdirection. When she's not corralling photographers in their allotted, roped-off stations, she's mocking their efforts to cover her serial mendacities. In March, while delivering the keynote address during the awarding of the Toner Prize for excellence in journalism, Clinton issued a self-effacing series of jokes joking about her own penchant for paranoid secrecy and her unfolding email scandal. It was a display of arrogance and chutzpah that would make Donald Trump blush.
Hillary Emails Reveal Axelrod Knew About Private Account Despite Past Claims. Emails released Tuesday [6/30/2015] by the State Department as part of the Hillary Clinton email dump reveal former White House advisor David Axelrod knew the former secretary of state had a private account despite recent claims. [...] According to the latest batch, two email chains show Axelrod did indeed correspond with the then-secretary of state — once in June, 2009 and again in July, 2009.
Delusional Clinton Campaign Manager Claims Polls Don't Show Hillary is Viewed as Dishonest. Hillary Clinton's campaign manager Robby Mook's job is to spin for his candidate, but he went into overdrive Sunday on Face the Nation when asked about her trustworthiness issues with voters. Host John Dickerson said Democrats have told him that this is by far her biggest issue, saying "polls have shown that voters do not trust her." "Well, first of all, no poll shows that voters don't trust Hillary Clinton," Mook said. "No poll says that." Unfortunately for Mook, polls very emphatically say that.
Clinton adviser: Voters don't care if she doesn't talk to press. Joel Benenson, senior adviser to Hillary Clinton, said Monday that voters don't mind at all that his candidate has had only minimal contact with reporters so far. [...] Clinton has been criticized for ducking the press, and giving reporters only a few minutes every few weeks to ask questions. But Benenson said there's plenty of time to ask questions and have them answered, and said Clinton has already answered many questions.
Surprise, surprise, there are more Hillary lies. Well, well, well. It appears that Hillary Clinton and her crew have been caught in a couple more blatant falsehoods. If the same thing had happened to a leading Republican contender for the presidency, the media would have been howling for answers. Yet there's been hardly a peep of protest regarding the silence from the Clinton camp.
Chronic dishonesty:
Jeb Should Withdraw to Save the Country from Hillary. The Democratic Party looks determined to nominate a woman for president that a majority of the country thinks a liar. A recent poll from NBC and the Wall Street Journal found a paltry 25% of Americans believe Hillary Clinton to be honest. And this is before Mrs. Clinton assumes office. Who knows what would happen thereafter when so many presidents find themselves in crisis situations demanding courage and integrity? If Mrs. Clinton were to win the presidency, she would do so under a cloud of distrust unprecedented in any of our lifetimes. She would have no honeymoon period and would not deserve one.
Flying as close to the flame as Hillary dares. Neither Bubba nor Hillary know how to tell the truth, but both of them are masters at spinning the lie. The dump of some of Hillary's official emails this week reveals just how she operated as the secretary of State, employing an old courtier to help her deceive and distort the facts about her role in hanging an American ambassador out to die in Benghazi.
Three Pinocchios:
Clinton's inaccurate claim that immigrant detention facilities have a legal requirement to fill beds. The United States has broad authority to hold immigrants in civil custody while determining whether they legally entered the country. [...] During her recent immigration discussion, the Democratic presidential candidate called for a "better, fairer and more humane" immigrant detention system. Detention centers privately contracted with the federal government have a legal requirement to fill beds, she said, which makes no sense and is "not the way we should be running any detention facility."
When elites lie without much consequence, the public follows their examples. Hillary Clinton, to be candid, is a habitual fabulist. She entered public life lying about everything from her 1-1000 cattle futures con to the location of her law firm's subpoenaed legal documents. Recently she has been unable to tell the truth in any context whatsoever. She will lie about big and small, trivial and fundamental, from the immigrant myths about her grandparents to the origins of her own name Hillary to her combat exposure in the Balkans. [...] Her press conference on the disappearing emails was unique in American political history in that everything Ms. Clinton said was, without exception, a demonstrable untruth.
The Democrats' Baffling Behavior. My perplexity starts with former President Bill Clinton. How has such a talented man become so tone-deaf? [...] He justified his continued acceptance of speaking fees up to a half-million dollars while his wife is running for president by saying, "I gotta pay our bills." That isn't likely to go over well with Americans whose median household income each year is one-tenth of what Mr. Clinton earns with one speech. When he tried to further the "we're just ordinary Americans" image by claiming he and Hillary had taken "almost no capital gains" since leaving the White House, did he not know or care that financial documents filed by Mrs. Clinton when she was a senator show that to be utterly false?
Four Pinocchios:
Clinton's claim that illegal immigrants pay more in taxes than some corporations. "In New York, which I know a little bit about because I represented it for eight years and I live there now, our undocumented workers in New York pay more in taxes than some of the biggest corporations in New York." — Hillary Clinton, roundtable in North Las Vegas, May 5, 2015.
Forbidden Questions. Might Hillary reveal to us her exercise regime? Back in 2011 she told Politico about her weekly workouts at home with a personal trainer and a personal yoga instructor. But we've never actually seen Hillary do anything physical.
Hillary Says! 'We are all immigrants!' Voilà! In addition to handling a private/official email problem, flying coach, and carrying her own luggage, Hillary Clinton may now be able to add to her list of outstanding accomplishments singlehandedly resolving the contention surrounding immigration reform. Recently, on a tightly stage-managed listening tour Hillary, granddaughter of alleged immigrants, revealed her acute sensitivity for the plight of — you guessed it — immigrants.
From Fauxcahontas to the coal miner's granddaughter. It's one thing for Hillary Clinton to lift Granny Warren's applause lines, but now she's speaking with a forked tongue about her grandparents, just like the fake Indian does. You know how Fauxcahontas says she's an Indian because her grandma told her she had "high cheekbones"? [...] Now Hillary is out in Iowa making it up about her grandparents, saying, "All my grandparents, you know, came over here." Er, no. Actually, only one of them did.
Hillary's Fatal Conceit. While in the Hawkeye State, Mrs. Clinton's fabrications [...] included the lie that "all my grandparents, you know, came over here (as immigrants)." Even the liberals at PolitiFact point out that only one of her four grandparents was not born in the United States.
Hillary Clinton Wrong On Family's Immigration History, Records Show. Speaking in Iowa Wednesday [4/15/2015], former Secretary of State Hillary Clinton said that all her grandparents had immigrated to the United States, a story that conflicts with public census and other records related to her maternal and paternal grandparents. The story of her grandmother specifically immigrating is one Clinton has told before.
Hillary fudges the truth about her 'immigrant' grandparents. Hillary Rodham Clinton fudged her family history at a campaign appearance in Iowa Wednesday [4/15/2015] when she described her grandparents as immigrants. "All my grandparents, you know, came over here and, you know, my grandfather went to work in a lace mill in Scranton, Pa.," Clinton said. But, acccording to documents posted on Buzzfeed.com, only one of her grandparents immigrated, while the others were born in the United States shortly after their parents arrived.
Ready for Blatant Censorship. According to Hillary, after her husband was forced to retire from his job as President of the United States, the impoverished couple lacked financial resources with no future job prospects or source of income for Bill. Hillary, with a husband and one child to support, was forced to find work, any work she could. And she did. All by herself. The financially strapped Clinton family moved to New York State, somehow scraped together money for a down payment and qualified for a mortgage on a $1.7 million home in a town inhabited by the upper 10% in wealth. Adapting to her new situation, plucky Hillary soon found a job as U.S. senator from her new home state based just on her totally awesome skills.
Hillary Clinton doubles down on poverty claim and says 'relentless persecution' by Republicans made them 'deeply in debt'. Former secretary of state Hillary Clinton told the German magazine Der Spiegel on Tuesday that she and her husband Bill were indeed 'deeply in debt' when they left the White House and blamed 'relentless persecution' by Republicans for her legal bills after his presidency. The claim has added fuel to the fire Clinton herself touched off last month when she claimed they were 'dead broke' after their time in the White House. The former first lady earns $200,000 or more every time she makes a public speech. The former president has earned a reported $104 million in speaking fees since he left the Oval Office behind him.
Credible accusations of cheating at a televised debate:
The Democrats' February Blues. Four years ago, the Democratic Party found ways to thwart socialist Bernie Sanders' primary bid. Democratic National Committee interim chair Donna Brazile leaked CNN debate questions to Hillary Clinton, and the party used superdelegates to nullify Sanders' grassroots surge. This time around, the release of a pre-caucus Des Moines Register poll was canceled for the first time ever. Rumors swirled that the Democratic establishment was embarrassed over the likely strong showing of Sanders. Such conspiracy theories were only further fueled when it was not known for days who actually won the caucuses.
Donna Brazile admits stealing debate questions for Hillary, but blames the Russians. Face it: Brazile is a liar and cheater who evades responsibility for her own admitted misdeeds. Anyone who employs her knows this, and is responsible for her future misdeeds on their air or in their party.
Donna Brazile finally admits she shared debate questions with Clinton campaign. Veteran Democratic operative Donna Brazile finally admitted that she used her former position as a CNN commentator to relay questions ahead of debates to Hillary Clinton during the Democratic primary. For months, Brazile has avoided confirming that hacked emails from the campaign showed her forwarding the questions, which were asked at separate debates. But in a new essay for Time magazine looking back on the hackings, she said it was true. "[I]n October, a subsequent release of emails revealed that among the many things I did in my role as a Democratic operative and [Democratic National Committee] Vice Chair prior to assuming the interim D.N.C. Chair position was to share potential town hall topics with the Clinton campaign," she said.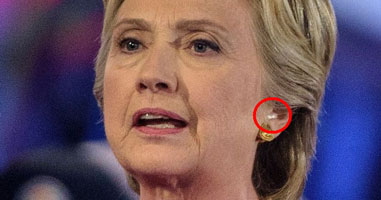 Do Emails Confirm Hillary Earpiece Scandal? #HillaryHearingGate. Drudge is now featuring a photo that circulated last night following the veterans forum between Hillary Clinton and Donald Trump that saw Hillary Clinton appearing to have a device in her ear, something which caught the attention of actor James Woods (not a supporter of Mrs. Clinton) who then posed this simple question: "Earpiece?"
I sure would like to know that frequency.
NYPD: Hillary Was Wearing "Invisible" Earpiece To Receive Stealth Coaching During Live NBC TV Town Hall. Hillary Clinton was sporting a mini earbud wired to receive stealth communications from her campaign handlers during Wednesday's [9/7/2016] Commander-in-Chief Forum carried live on NBC from New York City, True Pundit has learned. While Clinton was fielding questions from NBC's Matt Lauer and the public Wednesday night on live television, a quiet buzz started circulating in New York law enforcement circles about Hillary's left ear. NYPD sources involved with the NBC forum's security detail confirm Clinton was wearing an 'inductive earpiece," the same technology employed by almost all lead Broadway actors to receive forgotten lines and stealth off-stage cues from directors. The flesh-colored earbud is easily concealed.
Who Is Talking Into Hillary's Earpiece? Images from Monday night's [sic] Commander-In-Chief Forum appear to show that the Democratic nominee, former Secretary of State Hillary Rodham Clinton wearing an earpiece. This revelation raises a number of questions:
• Does the former first lady need to wear an earpiece?
• Does Hillary Rodham Clinton have a hearing problem?
• Is wearing an earpiece related to fall several years back that she has referred to in interviews and speeches?
• If she is not suffering from a hearing problem, are earpieces allowed in Presidential debate forums?
• If she is wearing an earpiece, and she does not have a hearing problem, who is talking into the ear of Hillary Rodham Clinton?
Now Hillary Clinton Is Covering Ears With Hair After Earpiece Last Night. Last night [9/7/2016], Hillary Clinton was caught wearing an ear piece during the NBC Commander in Chief forum. Someone was feeding her the answers to Matt Lauer's questions. After being caught (despite the media not mentioning the ear piece), Hillary Clinton has a new hair style. Did you notice? All of a sudden, Hillary Clinton's hair is now fully covering her ears so you can't see the ear piece of hearing aid in the ear.
Was Hillary Wearing An Earpiece At Last Night's Forum? The internet is abuzz with word that Democratic presidential candidate Hillary Clinton may have been wearing a low-profile earpiece at Wednesday evening's Commander-in-Chief forum on NBC. Photos began surfacing yesterday evening showing what looks like a tiny device inside Clinton's ear.
Mediaite Wrong Again: Yes, Granny Catlady Wears an Earpiece to Get Instructions From Handlers. True to form, the dimwits at Mediaite are claiming this is all a conspiracy, first with urgent missives like "Fox News Now Reporting Anonymously Sourced Theory About Clinton's 'Earpiece'" and "Donald Trump Jr. Spreads Hillary Clinton Earpiece Conspiracy Theory on Twitter", to name but a few. Well, it turns out that Wikileaks actually captured an email from Huma Abedin to Hillary Clinton asking whether the elderly, infirm, and oft-injured catlady had remembered her "earpiece".
Related: Possible cheating at a debate on 3/13/2016.
Wikileaks: CNN Gave Hillary Death Penalty Debate Question in Advance. It must be nice getting debate questions in advance. Such is one of the many Wikileaks revelations contained in John Podesta's emails. As you can see dramatically illustrated in the video [in this article], current Democratic National Committee Chair Donna Brazile is boasting in an email that "From time to time I get the questions in advance." The question by News One Now host Roland Martin to Hillary Clinton during the March 13 debate in Columbus, OH between her and Bernie Sanders reveals just how accurate the advance question obtained by Brazile was.
Credible accusations of cheating at ANOTHER televised debate:
Brit Hume, Ed Henry identify mystery man with Hillary at debate, tag-team cheating scandal. Conspiracy theories of how Hillary Clinton cheated during the first presidential debate dominated social media in the days following her match up with Donald Trump, including a rumor of a so-called "mystery man" picking up a folder from Clinton's podium at the conclusion of the event. According to the story line, the man seen arriving with Clinton at Hofstra University retrieved the folder before handing it off to NBC moderator Lester Holt. Conspiracy theorists insist that the folder contained the questions Holt would be asking during the debate.
"The Cleaner Man": What Was This Guy Removing from Hillary's Podium After the Debate? We've already seen what appears to be Hillary in cahoots with debate moderator Lester Holt. Now, it would appear there was some kind of lit screen in Hillary's podium. A teleprompter? We can only speculate but the video appears to show it powering down at the end of the debate. [Video clip]
Did Hillary Clinton wear an earpiece to CHEAT the US debate? After Hillary Clinton was declared winner of the first presidential debate, rumours have spread that she used an earpiece to cheat. But is the bizarre theory true? Conspiracy theorists claim to have spotted Mrs Clinton wearing a secret earpiece during the presidential debate on Monday September 26. Some have even suggested that the earpiece allowed the Democrat's team to help her out during the clash. Others have said it could be a mystery medical device.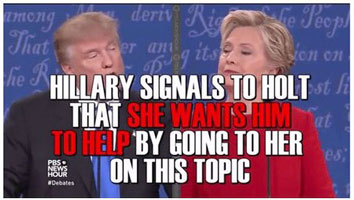 Hillary Clinton Secretly Signaled Moderator during Debate. Video claims Clinton signaled for opportunities to zing Trump; pro-poker player agrees. Hillary Clinton used hand signals to communicate with moderator Lester Holt during the first US presidential debate, a four time world champion poker player has stated.




Video Busts Hillary Using Hand Signals To Trigger Lester Holt. A comprehensive video has surfaced that rather convincingly shows Hillary Clinton using hand signals like a third base baseball coach to prompt moderator Lester Holt to quickly call on her to counter comments by opponent Donald Trump during Monday's first Presidential Debate. The video breaks down each one of Clinton's movements which are followed by either Holt calling on her to comment and retort with what she believes is a zinger or Holt attacking Trump's dialogue. Apparently in a move lifted right out of a high school cheating for dummies book, Clinton is seen scratching her nose and face to signal Holt several times.




Other accusations of cheating:

Trump turns hacking allegations against Hillary as he points out leaked info revealed Clinton had debate questions in advance. President-elect Donald Trump has mocked allegations that he knew Russia was involved in hacking during the US election — instead drawing attention to claims that Hillary had an unfair advantage during a debate. In his early-morning tweet, which he sent at 6.10 am, he wrote: 'Are we talking about the same cyberattack where it was revealed that head of the DNC illegally gave Hillary the questions to the debate?' Trump appeared to not be outright denying the alleged Russian hack, but instead cast the spotlight back onto Democrat Hillary, who was allegedly tipped off by Donna Brazile, the interim chair of the Democratic National Committee about a question in advance of a CNN Democratic primary debate.

New Email Shows Donna Brazile Also Gave Clinton Questions Before CNN Presidential Debate. Yet another hacked email from the latest Wikileaks dump Monday [10/31/2016] shows that acting DNC head and then-CNN contributor Donna Brazile provided questions to Hillary Clinton before a presidential debate. The email sent by Brazile to Clinton chairman John Podesta and communications chief Jennifer Palmieri was headlined unambiguously: "One of the questions directed to HRC tomorrow is from a woman with a rash." The email was sent March 5, the day before a CNN Democratic presidential debate featuring Clinton and her primary opponent Bernie Sanders.

CNN Chief Rips 'Disgusting' Donna Brazile Over Leaks To Clinton Campaign. CNN chief Jeff Zucker tore in to former network contributor Donna Brazile during a conference call on Tuesday [11/1/2016], calling the interim Democratic National Committee chair "unethical" and "disgusting" for leaking debate and town hall questions to the Clinton campaign.

CNN quietly pushed Donna Brazile out after emails showed Clinton coordination. CNN spokeswoman Lauren Pratrapas said in a Monday [10/31/2016] statement provided to the Washington Examiner that the cable channel is "completely uncomfortable" after learning that earlier this year, Brazile provided Clinton's campaign with specific questions she would face at CNN presidential forums. CNN indicated that those worries led Brazile to offer her resignation, which CNN accepted. However, CNN didn't make that decision known until Monday [10/31/2016], more than two weeks later.

Which CNN Hack Gave Donna Brazile the Debate Questions? So now that it's been confirmed Donna Brazile gave Hillary Clinton debate questions on multiple occasions, we wonder, which CNN hack gave them to Brazile in the first place?

Down Memory Lane with Donna Brazile. To the shame of the America media, front-and-center operatives of both parties have been allowed to become talking-head "analysts" on the cable nets, as if they were disinterested parties. But I guess Donna Brazile's latest stunt — funneling debate questions to Hillary Clinton in advance — was too much even for CNN.

CNN Cans Donna Brazile: 'Completely Uncomfortable with What We Have Learned'. CNN has severed its relationship with Democratic strategist Donna Brazile after it became clear that she was secretly sharing information about CNN events with Hillary Clinton's presidential campaign. "We are completely uncomfortable with what we have learned about her interactions with the Clinton campaign while she was a CNN contributor," CNN spokeswoman Lauren Pratapas said in a statement, according to Politico. Brazile apparently emailed Clinton campaign staff leaked information about a CNN town hall in Flint, Michigan.

White House: Brazile a 'person of high character'. President Obama still thinks Democratic National Committee Chairwoman Donna Brazile is doing a good job, despite the news Monday [10/31/2016] that she was ousted from her commentator job at CNN for leaking questions to Hillary Clinton, something she has denied doing. "The president believes that she's done a fine job stepping in in a very difficult situation to lead the Democratic Party," White House spokesman Josh Earnest said about Brazile taking over the reins from disgraced former chairwoman Rep. Debbie Wasserman-Schultz of Florida.

Brazile under siege after giving Clinton debate question. After hacked emails published Monday by WikiLeaks appeared to reveal Brazile, during her time as a CNN commentator, giving advance notice to Clinton's camp about a debate question, Brazile has lost a CNN contract (which had been suspended since Brazile took over the DNC in July) and found herself used as fodder for one of Donald Trump's favorite talking points: that in this "rigged" election, the DNC has been in the bag for Clinton since the beginning.

Donna Brazile Shared Additional Debate Questions With Clinton Campaign, Identified Her Tipster. Donna Brazile, the interim chair of the Democratic National Committee, began providing town hall and debate questions to the Clinton campaign earlier than previously known, emails released by WikiLeaks on Monday [10/31/2016] show. The email threads also show that Brazile, a former CNN contributor, revealed to the Clinton campaign the name of the person who provided her with a question that was asked of Clinton at a March 13 town hall co-hosted by CNN and TV One. Brazile also shared a question from a debate hosted by CNN a week earlier. A March 12 email exchange shows Brazile stating that she received a town hall question from Roland Martin, a TV One host who co-moderated a March 13 town hall with CNN's Jake Tapper.

New email shows DNC boss giving Clinton camp debate question in advance. Another leaked email has emerged showing Democratic National Committee boss and former CNN contributor Donna Brazile sharing a debate question in advance with the Hillary Clinton campaign — despite Brazile's persistent claims to the contrary.

WikiLeaks release shows Brazile passed along question ahead of CNN debate. Donna Brazile warned Hillary Clinton's campaign that she would be asked about lead poisoning in Flint, Mich., ahead of a primary debate, according to an email released by WikiLeaks Monday [10/31/2016]. The group has been posting hacked emails from Clinton's campaign chairman, John Podesta. The email, originally sent March 5, 2016, warned that "One of the questions directed to HRC tomorrow is from a woman with a rash."

Brazile Exclaims [...] As CNN Fires Her For "Uncomfortable Interactions" With Clinton Campaign. As we detailed earlier, it seems DNC Chair Donna Brazile is hoping for rescue by a higher power as the net narrows around her lies and obfuscation. Following more examples of Brazile passing debate questions to the Clinton Campaign, CNN spokesperson Lauren Pratapas said in a statement that: CNN "never gave Brazile access to any questions, prep material, attendee list, background information or meetings in advance of a town hall or debate." "We are completely uncomfortable with what we have learned about her interactions with the Clinton campaign while she was a CNN contributor."

Here's Cryptographic Proof That Donna Brazile Is Wrong, WikiLeaks Emails Are Real. Many email systems use a verification system called DomainKeys Identified Mail (DKIM) that shows whether an email has been changed. It uses a key stored on the email server that sent the email, so it can't be forged. HillaryClinton.com uses Gmail to handle its mail and uses DKIM. Staffer Jennifer Palmieri, using her HillaryClinton.com email, replied to a Brazile email warning that Brazile was "worried" about Clinton's ability to answer a question about the death penalty, that she said would be asked at an upcoming debate. She copied Podesta — who also uses Gmail — presumably so that he could encourage Clinton to prepare for the question. The emails were hacked from Podesta's account by WikiLeaks, but Clinton's campaign — and Brazile — have all but claimed their contents have been falsified. But a check of the DKIM signature by the Daily Caller News Foundation against HillaryClinton.com's key shows that Palmieri did, in fact, send the exact email to Podesta that WikiLeaks says she did.

Megyn Kelly vs. Donna Brazile: Did You Receive Debate Question Beforehand?; Brazile: I Will Not Be "Persecuted". DNC interim chairwoman Donna Brazile categorically denied that she received a debate question on the death penalty in advance in an interview with Megyn Kelly after the third presidential debate (unrelated to the debate in question). The question was for a Democratic primary town hall hosted by CNN and co-moderated by Roland Martin, the journalist who asked it at the forum. This information was revealed in a recent Wikileaks dump of John Podesta's emails. "From time to time I get the questions in advance," the email subject was titled in a letter written from Brazile delivered to Podesta's Gmail.

Donna Brazile's Deception Is a Symbol For the Big Media Lie. It pains me to say it, but Donald Trump is right — the media is dishonest. Sure, there are some good journalists left on cable and in print, but, among the many revelations exposed by WikiLeaks, the alliance between supposedly neutral "analysts" and "journalists" with Hillary Clinton is one of the most jarring.

Brazile Sent More Debate Questions From CNN To Clinton. Democratic National Committee interim chairwoman Donna Brazile has already lost her contributor contract with CNN for leaking questions from a CNN town hall to the Clinton campaign. Monday night's WikiLeaks release of emails from the personal account of Clinton campaign chairman John Podesta reveals Brazile sent even more questions ahead of the event, one that went to Hillary Clinton, the other was asked of Vermont Senator Bernie Sanders. On the day before the event, Brazile sent the following under the heading "UNIONS."

Donna Brazile forwarded 2 more questions in advance but says her conscience is clear. Last month I wrote about a leaked John Podesta email in which Donna Brazile wrote, "From time to time I get the questions in advance." Her email to Podesta included the wording of a question about the death penalty that town hall co-host Roland Martin would ask Hillary Clinton the following day. Since then CNN has cut all ties with Brazile and CNN's president, Jeff Zucker, called her behavior "unethical" and "disgusting." But it turns out there was more to that email chain. A few hours after sending the death penalty question, Brazile sent two more, one for Senator Sanders about income inequality and one for Hillary Clinton about unions.

Brazile Gets Away With Murder Because She's a Black Female Democrat. It's hard to imagine what would happen if it was a white Republican man who did these things. The leftist elites might demand the repealing of the "Cruel and Unusual" clause from the 8th Amendment. Donna Brazile colluded with the Hillary camp to defeat Bernie in the Primaries. [...] Brazile, using her position as a CNN contributor, found out some of the debate questions that were going to be asked at the March 13 Town Hall event. She then sent them to Hillary's camp with the auspicous subject line, "From time to time I get the questions in advance". Brazile has refused to acknowledge or answer any of the allegations, instead blaming the Russians.

WikiLeaks emails show Clinton camp tipped off on CNN poll — and even more moderator questions. Donald Trump on Tuesday [11/8/2016] castigated Hillary Clinton in the wake of additional WikiLeaks revelations showing the Democratic presidential nominee's campaign got even more questions in advance of CNN primary town halls — and was tipped off to the network's polling. Emails hacked from the Gmail account of Clinton Campaign Chairman John Podesta and posted to WikiLeaks previously showed future Democratic National Committee Interim Chairwoman and then-CNN contributor Donna Brazile slipping a pair of debate questions to top Clinton aides. Brazile denied the allegations, however, an email released Monday showed Brazile forwarded at least two other questions to Clinton's team.




Astroturf

This subsection has moved to a page of its own, located here.




Disingenuousness, evasiveness, hypocrisy, obscurantism, secrecy and dishonesty:

Hillary Clinton's Fake Southern Accent Returns, 'When That Spirit is Breathed Into Them!' Hillary Clinton's fake southern accent is back and it's worse than ever. On Sunday [3/3/2019] twice-failed presidential hopeful Hillary Clinton spoke at a historic black church in Selma, Alabama for an anniversary event of the 1965 "Bloody Sunday" march from Selma to Montgomery. Hillary invoked her fake accent as she told the crowd at Brown Chapel, "Oh, this is the day the Lord has made! Let us rejoice and be glad in it! Oh!"

Rumors Swirl Hillary Is Concocting New Medical Ailment To Escape Growing Legal Woes. This is the time of year when Hillary Clinton pretends she is sick. Or that she can't remember events which could land her in prison because she is, again, so very frail and ill. As all her scandals heat up — which places Clinton on the legal hot seat once again — don't be surprised if Hillary goes underground yet again, allegedly suffering from another undocumented mystery ailment. Hillary appeared just weeks ago at Yale using arm braces for an alleged broken toe suffered in Europe. Another injury timed to another scandal, of course, absent any documentation. To be fair, sometimes a toe can get jammed when you stick your foot in your mouth as many times as Hillary does. When Clinton was scheduled to first testify at a Congressional hearing on the Benghazi disaster, the then-secretary of state supposedly passed out in a bathroom and hit her head. She couldn't remember [any]thing, according to her aides. Clinton was excused from testifying.

Hillary Clinton in Trouble for Using Fake 'African Proverb' on Her New Website. Hillary Clinton says her newly launched political group Onward Together takes its name from an old African proverb that's displayed prominently on the group's site: "If you want to go quickly, go alone. If you want to go far, go together." But while Hillary may think she's enough of a liberal icon, schooled in diversity and adept at feeling the pain of disenfranchised minorities that she's allowed to pull freely from their historical wisdom,her followers don't feel the same way. Using "African sayings," is, of course, cultural appropriation, and Twitter's social justice warriors were quick to pounce on Clinton's faux worldliness.

Judicial Watch: New Documents Show Clinton Conflicts of Interest. Judicial Watch announced that it has received 508 pages of documents in response to a Freedom of Information Act (FOIA) lawsuit seeking information about possible conflicts of interest between the actions taken by Hillary Clinton as Secretary of State and Bill Clinton's activities. More than 440 pages of the documents were redacted either in full, or with only minor notations remaining.

Yippee! Clinton Defanged. Mrs. Clinton is totally devoid of charm or warmth or even what most people would consider femininity. Hillary Clinton's idea of communicating was to deepen her voice, furrow her brow and deliver heavy-handed pronouncements, reminding some of us of Benito Mussolini in his heyday. It didn't help that she was so out of touch with people who weren't millionaires that she actually thought most Americans wanted their taxes raised in order to subsidize illegal aliens, inner-city blacks and thousands of Islamic refugees. [...] But, then, why would people like the Obamas and the Clintons, who will spend the rest of their lives being protected by large men with big guns, be concerned by the collateral damage created by their anti-gun/pro-open borders agenda?

Are the Clintons honest about anything?
Was the Hillary hiking in the woods photo staged? The chance encounter [Margot] Gerster had with Clinton gained national media attention as it was the first time Clinton had been photographed after losing the election. However, some critics allege that their meeting while hiking was staged and not random at all. Adding more fuel to those claims is the fact that it's actually not the first time they've met.

Hillary's Chance Encounter In The Woods Was Fake. In the original post, Margot Gerster spoke about how "heartbroken" she was over Hillary's loss, so she decided to take her kids for a relaxing hike in Chappaqua. "All I wanted to do is hug her," Gerster told NBC News. "She looked wonderful. She was taking a nice peaceful hike with her dogs." Supposedly Slick Willy Clinton took the picture, which should have been a dead giveaway that it was fake. Bill and Hillary don't go on walks together unless there's cameras there.

FAKE! — Woman's 'chance' meeting of Hillary Clinton hiking after election. The only problem with the story is this: Margot Gerster did not "by chance" run into Hillary Clinton because Margot Gerster actually knows Hillary very well.

The case against Hillary Clinton. By now, Hillary Clinton is as polished as politicians come. At 69, her hair is perfectly coiffed and colored, her makeup is subtle and her clothes are expensive. A trained debater, educated at Wellesley and Yale Law School, with decades of public life, she speaks well. In an election that she has framed around temperamental fitness for the presidency, her deliberate comments and careful parsing of words suggest that she possesses the steadiness and judgment required. That is the image we saw when she stood on a debate stage with the far less controlled, more hot-tempered Donald Trump. Clinton's public persona is a façade, though a well designed one, held up by her staff, masters of television illusion and a collaborating national media. With the release of WikiLeaks emails, it has become clear that her senior staff questions that image among themselves.

Why Hillary can't stop smiling. One reason for politicians to have botox injections (a muscle toxic that prevents muscle movements) is to hide microexpressions. These were first found by Paul Ekman and colleagues thirty years ago. It turns out that all normal people make small facial movements that express emotional reactions so quickly that we cannot control them. All we can do is mask them. Botox can make it literally impossible to have natural facial expressions — which is itself a giveaway. That was Hillary's trick in the last debate — botox to smooth out the lower half of her face and cheek filler to expand her cheekbones. Her constant, unvarying smile is accomplished by opening her mouth and showing her teeth. It takes quite a bit of mirror work to keep the smiling mask in place, but the end result is unnatural because normally our faces are in constant motion. Our muscles are dynamic, because our emotions are also dynamic. On static photos we are often surprised by our own facial expressions. Posed smiles never look spontaneous.

Stay tuned after the debate. While she may not have had a "Parkinson's freeze," as Dr. Noel suggests, the video reveals what we've known for a long time: going up and down steps is a hazardous task for the candidate. This may be the last glimpse you'll have of Hillary in public. She's gone into hiding, though you'd never know this from her media allies. As I pointed out on Oct. 8, apart from two events the day after the second debate, the candidate would be MIA from the campaign trail between Oct. 4 and the 23rd, which was as far out as her schedule went at that point. Now the schedule has been extended to Oct. 30, and Hillary is still in seclusion. There are no events featuring her, apart from tonight's debate, not even a fundraiser. [...] Yet it is absolutely unprecedented for a candidate to disappear in October.

Hillary Has Some Chutzpah Ripping Trump For Not 'Respecting' Fraudulent Vote. In 1960, there were what voting analysts today like to call "massive irregularities" in the vote counts of mob-run Chicago, West Virginia and LBJ's Texas that favored one candidate: John F. Kennedy. Despite feeling he had been cheated of the presidency, Richard M. Nixon, a man who has been miscast as a misanthropic paranoid, refused to challenge the cheating out of concern for what it would do to the country. The point is, U.S. elections have never been all that clean. As the saying goes, it ain't beanbag. But the loser has usually conceded in the end. That Hillary would now denounce Trump for suggesting he might not respect the results is a joke. It shows her utter shamelessness. In Wednesday night's debate, she made out like she was Joan of Arc on the debate stage, a defender of "free and fair" elections and the idea that once done, an election is over — finished. But we all know what happened in 2000.

Hillary's dangerous dream of open borders. We finally know why Hillary Clinton refused to release the transcripts of her paid speeches to bankers and special interests: When her staff assembled a list of the most damaging comments in those transcripts, they must have seen immediately that they could not afford for the material ever to be made public. In one speech, Hillary described how politicians often "need both a public and a private position."

Leaked emails reveal Hillary Clinton's life of deceit. It's all in a day's work for a woman who claims to be for the Little Guy but spends most of her time frolicking with the political and financial elites.

Young Actress Walks Off Set, Can't Say Clinton is Honest in New Ad. An anti-Hillary Clinton super pac released a 30-second television ad on Tuesday in Ohio and Pennsylvania showing a young African-American actress struggling with promoting Hillary Clinton's honesty and trustworthiness to millennial and minority voters.

Hillary crashes college dance party, takes credit for the crowds. What's the best way to get thousands of millennials to turn up for a Hillary campaign rally? Why, hold a [big] dance party on campus then have Hillary crash it. Works like a charm. Of course the sight of a large crowd of college students enticed by a celebrity DJ gave the Enslaved Press the opportunity to report that a "record crowd of supporters" turned up to see Hillary Clinton at Ohio State. Let's face it, those headlines are going to sound so much better than, "Crowd of thousands disgusted when Hillary crashes dance party."

Hillary [was] Told When to Smile During Interviews. She says the words she is suppose to say, she raises her voice and pounds her fist at the exact moments she should for good effect when she speaks and yet... all I see when I look at her is emptiness that has been filled with greed, pride, and absolute power hunger. Is it just me!? This is why, it comes as no shock to me that she has to be told when to smile during interviews.

Leaked Emails Reveal That Hillary Clinton Had To Be Told When To Smile During Speeches. Newly leaked emails reveal that Hillary Clinton had to be told when to smile while she was speaking. The emails, hacked from the campaign chairman John Podesta's Gmail account and published by WikiLeaks Tuesday [10/11/2016], reveal that campaign staffers prompted Clinton to smile at certain times while she was preparing for the Democratic primary debates.

Clinton's Campaign Flagged Comments Made During Closed-Door Speeches. Hillary Clinton's campaign seems to have known that many of the comments she made in her six-figure speeches would pose political problems for the candidate. That's why the campaign's director of research compiled an 80-page dossier of "flags" found in her speeches. The initial wave of reporting on Friday [10/7/2016] of the in-house opposition file focused on Clinton's praise of Wall Street firms, such as Goldman Sachs. And perhaps more jarring was her comment in a May 2013 speech that her "dream" was "a hemispheric common market, with open trade and open borders."

Leaked campaign memo raises new questions about Hillary Clinton's candor with FBI. When Hillary Clinton was interviewed by the FBI this past summer about classified information contained in her private Blackberry emails, she told agents she could not recall concerns during her tenure at the State Department that foreign hackers were trying to access top government officials' private email accounts. Her memory was apparently a lot better two years earlier when she was paid by Wall Street firms to give speeches, according to purported excerpts of those speeches made public by WikiLeaks.

FBI files reveal missing email 'boxes' in Clinton case, allegations of evidence tampering. Buried in the 189 pages of heavily redacted FBI witness interviews from the Hillary Clinton email investigation are details of yet another mystery — about two missing "bankers boxes" filled with the former secretary of state's emails. The interviews released earlier this month, known as 302s, also reveal the serious allegation that senior State Department official Patrick Kennedy applied pressure to subordinates to change the classified email codes so they would be shielded from Congress and the public.

Clinton staff debated how much 'outrage' to show lawmakers over Benghazi, emails show. As Hillary Clinton prepared to testify to the House Select Committee on Benghazi in October 2015, her communications and legal teams debated how much "outrage" she should display for lawmakers in her opening statement. In emails published by Wikileaks Monday [10/10/2016], a draft of Mrs. Clinton's opening remarks to the committee included a line from her book "Hard Choices" in 2014: "I will not be a part of a political slugfest on the backs of dead Americans." Clinton campaign adviser Mandy Grunwald liked that line because, she said, "we need a bit of moral outrage."

WaPo fact checker knocks Clinton, Kaine for misleading on Iraq departure. At the first presidential debate, presidential nominee Hillary Clinton said that it was Bush who made the agreement to withdraw troops, implying President Obama's hands were tied because of his dastardly predecessor. "George W. Bush made the agreement about when American troops would leave Iraq, not Barack Obama," Clinton said. "And the only way that American troops could have stayed in Iraq is to get an agreement from the then-Iraqi government that would have protected our troops, and the Iraqi government would not give that." Then at the vice presidential debate, Clinton's running mate Tim Kaine echoed her statement.

The Editor says...
After eight years as president, Barack H. Obama is STILL blaming his failures on George W. Bush!

Two Pinocchios:
Clinton, Kaine airbrush out inconvenient details about U.S. troop departure from Iraq. Two debates in a row, participants have argued over an obscure document known as the status of forces agreement (SOFA), which addresses whether a country has criminal jurisdiction over U.S. personnel. The United States has signed more than 100 such agreements, but a lapsed one in Iraq has loomed in importance.

Five Things You Didn't Know About Hillary. Americans feel like they know everything there is to know about Hillary Clinton — and Donald Trump for that matter. But there are five things you may not know about Hillary. Clinton has flip flopped on issues from the Bin Laden raid to her own last name.

Clinton Campaign Admits Hillary Used Same Tax Avoidance "Scheme" As Trump. Well this is a little awkward. With the leaked 1995 Trump tax returns 'scandal' focused on the billionaire's yuuge "net operating loss" and how it might have 'legally' enabled him to pay no taxes for years, we now discover none other than Hillary Rodham Clinton utilized a $700,000 "loss" to avoid paying some taxes in 2015.

Flashback: 10 Years Ago Today, Hillary Voted For A Massive Border Fence. Thursday marks the ten-year anniversary of the day Hillary Clinton voted in favor of building a 700-mile fence along the Mexican border, intended to stop illegal immigration. The Secure Fence Act of 2006's stated purpose was to check the flow of illegal immigrants, drugs, and other illegal goods into the U.S. by erecting a double-layer fence along large swaths of the border. The law also generally increased funding for border security, authorizing funds for the Department of Homeland Security (DHS) to purchase cameras, drones, and other assets.

Clinton's Latest Campaign Surrogate is a: Murder Accomplice, Hard Core Porn Star and Drug Lord Concubine. This has to be the worst campaign vetting in the history of failed campaign vetting... Or the most horrible exploitation, Clintonian level exploitation, of a very troubled woman. You decide.

When it comes to electing Hillary, objectifying women is a-okay. I would think Juanita Broaddrick or Paula Jones would have been a better choice for the Poster Girl for Misogynistic Creeps, but then again, that wouldn't have helped Hillary. What seems to escape Hillary's supposedly brilliant mind is that by using this Alicia Machado as a bludgeon with which to beat Trump, she is, in fact, objectifying her. It probably also doesn't help that Hillary's Poster Girl is such a train wreck. But hey. Hillary Clinton is desperate to make the case that Trump is a vile misogynist. So she went into the Way-Back Machine twenty years to find someone who would back her play.

Hillary's Trump victim 'Miss Piggy' turns out to be not-so-sympathetic a character. It was too good to check, as the old newsie joke goes, when a Hispanic former beauty queen came forward with heartbreaking tales of abuse at the hands of mean old sexist Donald Trump. A guy who makes fun of Hispanic women and overweight women is making fun of a sizable voting bloc. But the context of Trump's comments matter. She was named Miss Universe, signed a contract to perform certain duties, and promptly gained so much weight as to be unable to perform the visual functions of a beauty queen. Yes, that is lookism. That is what beauty pageants are.

Hillary Says All Americans Are Guilty of Implicit Racism. The debate has been more of what we have heard for months now, however, Hillary did call Americans racists. Hillary said during the debate tonight that it isn't just the police that are racist... everyone has implicit bias and is racist! Hillary insists we have "systemic racism" in this country. That will be a great attitude to have if she wants to start a race war.

Asked if cops are racist, Hillary says EVERYBODY is racist! Hillary went all in on the "Black Lives Matter" narrative tonight [9/26/2016] when asked if she thought that police had "implicit bias" against blacks. Her answer was that pretty much everyone is racist: [Video clip]

It's Been 231 Days Since Clinton Promised To 'Look Into' Releasing Her Goldman Sachs Speech Transcript. It has been just over 231 days since Democratic nominee Clinton promised to look into releasing the transcripts of her paid Goldman Sachs speaking arrangements. Debate moderators asked Clinton in Durham, North Carolina, if she would release the transcripts from her Goldman Sachs speaking events. "I will look into it. I don't know the status, but I will certainly look into it," Clinton replied, reports CBS News. It has been 231 days since Clinton made that promise to the American public, and thus far we have seen zero results.

Proof that Hillary Clinton Rally Video In Greensboro NC IS A "FAKE". [Video clip]

Recent Hillary Clinton Greensboro Rally held in front of green screen? [Video clip]

Clinton doubles down on secrecy as race tightens. After spending several days out of the spotlight to recover from what her doctor said was a case of "mild non-contagious bacterial pneumonia," Clinton kicked off her return to the trail with a speech and press conference in North Carolina. But the Democratic nominee made headlines for repeatedly refusing to specify when her running mate, Virginia Sen. Tim Kaine, was informed of her pneumonia diagnosis.

Clinton Foundation won't disclose donors for Bill Clinton's party. The Clinton Foundation has no plans to reveal who is paying for a lavish birthday party Friday [9/16/2016] for former President Bill Clinton, a spokesman said just hours after Donna Shalala, president of the foundation, indicated that it would. Shalala told CNN's Alisyn Camerota Thursday that she had reviewed the list of donors to Bill Clinton's Manhattan bash, which was first reported by Politico on Wednesday, and planned to disclose them.

Hillary Clinton Shamelessly Lies While Lecturing a Navy Vet About Handling Classified Information. Wednesday night [9/7/2016] during NBC's Commander-in-Chief national security forum, former Secretary of State and Democrat presidential candidate Hillary Clinton was repeatedly put on the defensive over her use of multiple private email servers and her compromising of U.S. national security. During the forum a Navy Veteran, who held a top secret compartmentalized security clearance during his service, explained to Clinton that if he had transmitted classified information in the way she did multiple times on a private system, he would have been prosecuted and imprisoned. Clearly irritated, Clinton responded by again lying about transmitting marked classified information and lectured the veteran about how classified information works.

Hillary Clinton Pre-Blames Russians For A November Loss. In her first extended Q&A with reporters in nine months, Hillary Clinton spent much of it suggesting that Russian President Vladimir Putin was working with Donald Trump to defeat her in November. If she's so confident of winning in November, why is Clinton already making excuses for losing? When a reporter aboard Clinton's campaign plane asked if Putin is using cyberwarfare to help elect Trump, Clinton said "I'm not going to jump to conclusions." She then proceeded to jump away. She said recent events aren't mere coincidence.

"I Don't Recall". Any criminal defense lawyer worth their salt will offer their clients a list of options when it comes to interviews with federal investigators. They normally will tell their clients to avoid testifying, but if they do testify then to tell the truth. They can also "plead the fifth" and assert their right of protection against self-incrimination. Or in the case of Hillary Clinton they can simply claim "I can't recall." A person can't be proven later on by investigators to have lied if they insert a convenient lapse of memory at the appropriate time during an interview. A tactic that the trained lawyer Hillary has used repeatedly throughout her career.

Obamacare Architect: Clinton One of the 'Most Transparent' Candidates in History. Obamacare architect Dr. Ezekiel Emanuel called Hillary Clinton one of the "most transparent" presidential candidates in history on Monday [8/29/2016], despite the controversies surrounding her private email server and the Clinton Foundation. Emanuel is also known as being the brother of Chicago Mayor Rahm Emanuel, who served as President Obama's first chief of staff in the White House[.]

Hillary Clinton haunted by her own 'pay-to-play' attacks against Obama. Eight years ago, it was Hillary Clinton who was accusing candidate Barack Obama of being swayed by his financial backers, including his connections with Tony Rezko, a fundraiser who was imprisoned for his role in "pay-to-play" schemes involving former Illinois Gov. Rod Blagojevich. Mrs. Clinton now finds herself in the crosshairs of those same accusations but insists there is no fire behind all the smoke rising from the Clinton Foundation. Her campaign says it's ridiculous to think donations to the Clinton family's massive charity were enough to earn access to the secretary in the State Department. Campaign finance analysts and watchdogs, though, said the parallels between her criticism of Mr. Obama in 2008 and the accusations she faces now are clear, particularly in an age when money appears to buy access in politics.

Let them eat chocolate! Clinton dodges questions from 'cooperative' reporters by offering them free sweets. It has been 264 days since the Democratic nominee held a formal press conference. In a planned stop at a coffee shop, she dodged questions by offering her 'cooperative' traveling press corps some chocolate. After Clinton and Reno Mayor Hillary Schieve pressed the flesh with voters at Hub Coffee Roasters in Reno, Nevada, employees of the nearby Dorinda's Chocolates offered Hillary a sample from a platter of chocolate truffles. And as journalists piped up with questions, she urged them to fill up their mouths with sweets instead.

Dean: Clinton Shouldn't Do Press Conferences Because Media's Questions Aren't 'Legitimate'. Hillary Clinton supporter Howard Dean said Wednesday that she shouldn't do a press conferences because the media's questions aren't "legitimate" and the press doesn't treat her fairly. Dean's rant came as Clinton allies have pushed back strongly on an Associated Press report showing more than half of the private parties that met with her as secretary of state were financial contributors to the Clinton Foundation. Campaign manager Robby Mook calling the story and its implications of pay-for-play "outrageous." Dean was no exception, defending that Clinton hasn't held a true press conference since last December.

As Clinton Asks for Money, What She Says Remains a Mystery. It was a very busy, very lucrative weekend for Hillary Clinton in the summer playground of the East Coast's moneyed elite.

Top 6 Hillary Emails We've Yet to See: Strangely, the Obama Administration is Stonewalling Them. [#5] Hillary Clinton's meeting schedules: "In its FOIA lawsuit, the Associated Press demanded all of Hillary Clinton's planning material after a review of the schedules initially provided to the news outlet found dozens of donor meetings that were omitted from her official calendar."

Hillary Clinton holds 'private' meeting with Paul McCartney that photographers aren't let in. Hillary Clinton held court with Sir Paul McCartney in Cleveland, Ohio, today [8/17/2016], and there's now a photo to prove it. Reporters and photographers traveling with her weren't allowed inside the off-the-books meeting. An aide to Clinton's campaign said the meeting between two friends and therefore it occurred privately.

Hillary's secret weapon? Do and say nothing. Donald Trump is not a very well liked candidate. That's not news. Then again neither is Hillary Clinton. But Clinton is doing something that Donald Trump isn't. You know what it is? Nothing. Did you get that? Let me say it again, Hillary Clinton is winning by doing nothing. The "less is better" approach is working for her — as in the fewer words she says, the better off she is. Brilliant. Clinton, a horrible speaker with a complete inability to recognize how or when to shift her pitch and tone, is not even headlining her own appearances. In fact, she seems to be getting out of the way, strategically campaigning with people who are better and more popular than she is.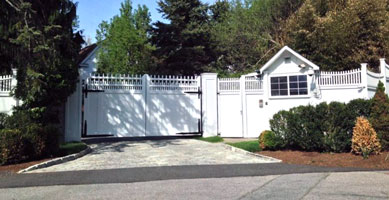 Hillary Clinton's protective wall around Chappaqua estate. Hillary Clinton doesn't miss an opportunity to ridicule Donald Trump's illegal immigration solution of a wall on the southern border — but that's exactly what she's deployed to keep undesirables away from her. [...] A series of photos reveal a massive barrier running the entire border of Bill and Hillary Clinton's estate in Chappaqua, New York — undoubtedly intended to keep the unwashed masses away from the political elites.
Hillary's recycled speech. Environmentalists should be pleased with Hillary Clinton's acceptance speech at the Democratic National Convention Thursday night, because it was largely recycled talking points we have heard for decades. [...] First there was the charge that Republican presidential nominee Donald Trump cannot be trusted with the nuclear codes. The same was said about Ronald Reagan in 1980. Democrats called him a "cowboy" who might blow up the world. Instead, he rebuilt America's military, as Mr. Trump has promised to do, and helped bring down the Soviet Union. Can Hillary be trusted with classified documents?
Clinton sold as 'tough' and 'determined' to repair reputation for dishonesty, build trust. Democrats are banking on a trust bounce for presidential nominee Hillary Clinton after last week's convention in Philadelphia, where a top priority was repairing a reputation for dishonesty and deception that party officials say she doesn't deserve. Deserved or not, the Clinton campaign and party officials are keenly aware that the trust deficit is one of her biggest vulnerabilities against Republican nominee Donald Trump, and they can't easily redefine someone who has been a national public figure for 25 years.
FactCheck: Hillary Clinton's DNC speech. On the night Hillary Clinton accepted her party's nomination for president, Clinton and other Democrats played loose with some facts:
• Clinton misrepresented Donald Trump's "I alone can fix it" line, suggesting he said he could fix everything by himself. Trump was referring to a "rigged" system, and went on to talk about working with others.
• Clinton said that "we're going to pay for every single one" of the initiatives she has proposed. We can't predict the future, but a nonpartisan analysis found her proposals would add to the national debt.
• Clinton said "90 percent" of income gains "have gone to the top 1 percent." But that is an outdated figure. It's now 52 percent.
• Clinton said 15 million private-sector jobs have been created since President Obama took office. The actual number is 10.5 million, and it's less — 10.1 million — when accounting for the loss of 460,000 public jobs.
That weird Hillary laugh. I don't think Hillary's crazy, wide-open-mouth laugh is hard to explain. If I remember correctly, she was known as the "Ice Maiden" in high school. And, certainly, smiling never came naturally to her, as footage of her from the 90s proves (at one time, she never did it). Since then, she has had handlers tell her she has to smile and laugh to seem more appealing, but it's all put on.
DNC sought to hide details of Clinton funding deal with state parties. Some of the more eyeraising emails exposed by Wikileaks have to do with the joint fundraising group, the Hillary Clinton Victory Fund, and how little of the $81 million raised has gone to state Democratic parties that are supposed to benefit from the arrangement. In essence, the Victory Fund was created to get around FEC regulations regarding the cap on donations that apply to these joint fundraising efforts so that the Clinton campaign could receive far more cash than they were supposed to. These were the exact charges made by the Sanders campaign the last few months — that money that was supposed to go to state parties was ending up in Clinton's campaign coffers instead.
Hillary On DNC Emails: "Again, I don't know anything.". Again and again and again. Hillary is asked on 60 Minutes Overtime about DNC emails. She sits there comfortably in her aloof arrogance knowing ignorance is always her safe place. Ignorance is bliss and a free pass if your name is Clinton.
Journalists Call Out Clinton for Hypocrisy After She Criticizes Trump's Relationship with Press. After Democratic presidential candidate Hillary Clinton attacked her Republican rival Donald Trump for his heavy-handed treatment of the press, reporters took to social media to point out that she also was taking unprecedented steps to block their access on the campaign trail.
Huma Abedin admits that Hillary Clinton burned her schedules while she was secretary of state. Huma Abedin, Hillary Clinton's longtime aide, testified last week that her boss burned her schedules while serving as secretary of state. 'If there was a schedule that was created that was her Secretary of State daily schedule, and a copy of that was then put in the burn bag, that ... that certainly happened on ... on more than one occasion,' Abedin told lawyers representing conservative watchdog group Judicial Watch, according to the New York Post. While Clinton admitted to deleting personal emails from her homebrew server, this is the first time anyone in Clinton's State Department inner circle admitted to destroying public records while on the job.
Huma Abedin admits that Clinton burned daily schedules. Hillary Clinton's closest aide revealed in a deposition last week that her boss destroyed at least some of her schedules as secretary of state — a revelation that could complicate matters for the presumptive Democratic nominee, who, along with the State Department she ran, is facing numerous lawsuits seeking those public records. Huma Abedin was deposed in connection with a Freedom of Information Act lawsuit into Clinton's emails — but her admission could be relevant to another lawsuit seeking Clinton's schedules. "If there was a schedule that was created that was her Secretary of State daily schedule, and a copy of that was then put in the burn bag, that ... that certainly happened on ... on more than one occasion," Abedin told lawyers representing Judicial Watch, the conservative organization behind the emails lawsuit.
Huma: Hillary Flouted Protocol, Used Burn Bags To Destroy Documents Prohibited By Federal Regs. Huma Abedin, a top aide to presumptive Democratic nominee Hillary Clinton, says that the former secretary of state routinely used burn bags to dispose of personal documents during her time at the State Department. Abedin's revelation came when she was deposed by watchdog group Judicial Watch on June 30. "If there was a schedule that was created, that was her Secretary of State daily schedule, and a copy of that was then put in the burn bag, then that certainly happened," Abedin stated. "On more than one occasion." Abedin also admitted to being "aware of [her] obligation not to delete federal records or destroy federal records."
House Democrats mistakenly release transcript confirming big payout to Clinton friend Sidney Blumenthal. The Democrats on the House Benghazi committee released their final conclusions from the inquiry into attacks on Americans in that Libyan city in 2012, and in the report they say, once again, that the investigation is a politically motivated sham aimed at damaging the reputation of Hillary Clinton. But the report, which the Democrats published as a preemptive strike before the Republican majority releases findings likely to charge ineptitude and deception by the former secretary of State, also revealed, apparently unintentionally, details about the eye-popping amount of money a close Clinton friend and advisor made in a contract with a pro-Clinton nonprofit.
Clinton Hid Meetings With Billionaire Foundation Donors From American People. The American people have overwhelmingly shown this year they do not find Hillary Clinton to be trustworthy. Two key reasons why Clinton is dogged by distrust are her private email scandal and the shadiness surrounding the Clinton Foundation and its donors. [...] Since Clinton's email scandal broke it has been overwhelmingly obvious that the reason Clinton used a private server as Secretary of State was to shield less-than-flattering correspondence from the Freedom of Information Act (FOIA) process and, by extension, the American people. These two stories show that even after she was caught, Clinton never provided a full accounting of her work emails to the State Department, and that she spent a significant time as Secretary of State hobnobbing with her cronies and wanted to prevent the country from knowing it. This was a cover-up, plain and simple.
Clinton's State Dept. calendar missing scores of entries. An Associated Press review of the official calendar Hillary Clinton kept as secretary of state identified at least 75 meetings with longtime political donors, loyalists, Clinton Foundation contributors and corporate and other outside interests that were not recorded or were listed without the names of those she met.
Big Hillary Donor Authored Moody's Report Trashing Trump's Economic Plan. Hillary Clinton today cited the new — supposedly objective — Moody's Analytics report on Donald Trump's economic plan to argue his proposals would have catastrophic results. The Moody's analysis yesterday claimed Trump's polices would lead to the loss of 3.5 million jobs. That sounds quite damning. But Mark Zandi, the lead author, is a huge Hillary donor and Obama cheerleader. He donated the maximum allowed $2700 to her campaign last year. His detailed six paragraph bio for the report does not mention the donation.
Paperback version of Clinton's 'Hard Choices' omits her former TPP trade pact support. The paperback version of Hillary Clinton's memoir "Hard Choices" fails to include her support of the international trade pact TPP that rivals Bernie Sanders and Donald Trump have opposed, raising criticism about Clinton "reinventing herself" for the general election race. The paperback version of Clinton's 2014 book, which details her work as secretary of state for President Obama, omits the passage in which she touts her efforts to get the country to support the 12-nation trade deal, which she once referred to as the "gold standard" for such agreements.
Obama returns to efforts to ban 'assault' weapons. Obama's renewed push comes at the same time Senate Democrats are trying again for tougher gun-control laws. On Thursday, they forced a vote on four measures. None addresses the issue of semi-automatic weapons and are expected to fail, considering Democrats in the GOP-controlled chamber would need votes from Republican senators and the political might of the National Rifle Association. The vote is expected Monday. Presumptive Democratic presidential candidate Hillary Clinton has also joined the fight to ban semi-automatic weapons, saying last week: "Weapons of war have no place on our streets."
The Editor says...
When Hillary Clinton says, "Weapons of war have no place on our streets," I guess she's not talking about the police equipment that surrounds her everywhere she goes, or the military hardware that even small-town police departments have these days.
Hillary deletes more than emails as the latest edition of her memoir removes all her cheerleading for controversial Trans-Pacific Partnership trade deal. Hillary Clinton's 2014 memoir 'Hard Choices' is out in a new paperback edition — minus a detail that trade hawk Donald Trump might notice. The original hardcover book included a discussion of Clinton's efforts as secretary of state to urge foreign coutries to join negotiations for the Trans-Pacific Partnership. That 12-nation Pacific rim agreement has become a political football, with the Obama administration cheerleading for its success and Trump rooting for its failure — and Clinton caught in the middle.
Hillary Clinton's TPP Emails Could Reveal Damning Information About Her. Presumptive GOP nominee Donald Trump demanded that the State Department immediately release the emails of Hillary Clinton regarding the Trans-Pacific Partnerships, which he claims threatens the U.S. economy. In a statement, Stephen Miller, senior policy advisory of Trump, said that Hillary Clinton's support to the TPP will "permanently undermine U.S. workers and sovereignty." "Hillary is 100 percent controlled by corporate interests, including foreign corporate interests, and it is essential these emails see the light of day," the statement added. Apparently, the State Department is dilly-dallying on the request to release Hillary Clinton's emails in connection to the TPP, at least after the presidential elections.
Hillary Takes 8 Minutes of [Softball] Questions from the Press. Hillary Clinton took 8 minutes of questions from the press today: [Video clip]
Hillary Takes 8 Minutes of Questions from the Press. The leading Democratic presidential candidate had not taken questions from reporters in a month. [6/6/2016]
Everything About Clinton Appearances is Staged and Scripted So as Not to Confuse Grandma. Is it possible there's been a worse candidate than this horrible woman? There not a single genuine thing about her. [...] If she's not afraid to take tough questions, why hasn't she had a press conference since December 4? And why is everyone around her invoking the Fifth Amendment to avoid testifying about her criminal behavior?
Pathetic excuses and endless stonewalls: The Clintons' version of the truth. In her sworn testimony made public this week, longtime Clinton aide Cheryl Mills proved that Team Hillary won't give up an ounce of truth without a fight. Mills, Hillary Clinton's chief of staff at the State Department, was deposed by lawyers for Judicial Watch, the watchdog that has driven most of the key revelations about Clinton's email transgressions. Juiciest of all was Mills' excuse for Clinton's failure to turn over her emails, all official government information, on leaving office: There was "a lot going on."
Judge says Clinton aides can keep videos of their depositions in email case secret — but orders release of transcripts. Hillary Clinton's former aides won't have to watch their testimony in a case involving her emails air on television networks any time soon. A federal judge granted Clinton's former chief of staff Cheryl Mills' wish on Thursday [5/26/2016] that video of their depositions be kept under wraps. U.S. District Court Judge Emmet Sullivan said transcripts must be made available publicly, however, because taxpayers have 'a right to know' why Clinton set up a server in her home and created a personal email network that some of her aides also used.
Hillary Clinton aide moves to block release of deposition video. Hillary Clinton's former chief of staff, Cheryl Mills, is asking a federal judge to order a conservative group not to release audio or video recordings of a deposition Mills is scheduled to give Friday [5/27/2016] about Clinton's use of a private email server during her tenure as secretary of state.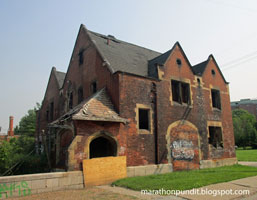 While in Detroit Hillary says Trump's policies will bankrupt America. While pandering to union members in Detroit yesterday, Hillary Rodham Clinton claimed that the economic policies of Donald Trump will "bankrupt America." Well, shortly after Detroit's last Republican mayor left office in 1962, liberal Democrat Jerome Cavanagh signed into law a commuter tax and a municipal income tax. Detroit's first black mayor, Coleman Young, not only was a race-baiter he was a onetime member of the Communist Party. His economic record made Soviet leader Leonid Brezhnev look like a Yankee capitalist. As for Clinton's old boss, Barack Obama, federal debt has doubled since he took office.
Inside the Clinton paid speech machine. Hillary and Bill Clinton's highly paid speeches — whose transcripts they steadfastly refuse to release despite pressure on the campaign trail — are cloaked in secrecy. Bernie Sanders and Donald Trump have both seized on the issue, raising red flags about what the Clintons say behind closed doors to Wall Street firms and other groups that they don't say in public.
November Election Could Rest On Who Voters Hate Least, Trump Or Clinton. [A]s we pointed out in this space earlier, both Clinton and Trump have a history of flip-flopping on issues, sometimes within a matter of days. [...] She supported the Trans-Pacific Partnership before she opposed it, backed the Keystone pipeline until she didn't, and supported clean coal before bragging that she would kill coal jobs, which was before she said she never said such a thing. She's been on both sides on charter schools. Clinton is so flexible that even her accent changes depending on her audience.
Clinton Flip-Flops on Coal, Now Wants Coal to Prosper. Hillary Clinton has a very complicated opinion of coal. In March, she proudly declared, "we are going to put a lot of coal miners and coal companies out of business." Now, she says she wants to see coal "continued to be sold and continued to be mined." Which is it?
What Hillary Clinton said behind closed doors. Voters have a legitimate interest in exploring what she has said to rooms full of bankers and investors in the context of evaluating her perspective on financial regulations and economic growth. Does what she says now in public jibe with what she said then to small, select gatherings of the rich and powerful? If not, what's changed?
Clinton doubling down on transcripts. Democratic presidential candidate Hillary Clinton is doubling down on a strategy of not releasing transcripts of speeches she gave to Goldman Sachs and other investment banks. Clinton has refused to release any of the transcripts in the face of a pressure campaign from rival candidate Bernie Sanders, who has relentlessly attacked the Democratic front-runner as being too closely tied to Wall Street. "She's not going to basically create a standard that isn't applied to anyone else in this race," said one longtime Clinton ally and confidante of her position on releasing the transcripts.
Is Hillary angling to be the first black female president? When it comes to pandering nobody does it better than Hillary Clinton — who is desperate to become the nation's first black female president. In her latest outreach to New York City's black voters, Mrs. Clinton told hip-hop radio show hosts that she carries a bottle of hot sauce in her purse. It was an apparent homage to a lyric in "Formation," Beyonce's latest hit song. Or as Hot Sauce Hillary calls her, "Bay-on-say."
Hillary pretends to understand Spanish, laughs at joke in a language she doesn't understand. Visiting a senior center in New York yesterday [4/15/2016], Hillary Clinton went into full phony mode, pandering and pretending to understand Spanish. Like President Obama, she speaks no foreign languages, yet pretends to be a sophisticated international figure. The odd thing is that her transparent insincerity seems to be welcomed by many of those present.
Hillary Clinton Deploys "White Noise" Machine to Prevent Media from Hearing Speech. The Hillary Clinton campaign wanted to make sure that a private speech that the Democratic frontrunner gave Thursday [4/7/2016] in Denver remained private when it turned on a "white noise" machine that made it impossible for the media, which was outside the venue, to hear anything Clinton said.
Clinton hurls static at curious reporters. Reporters outside a Colorado fundraiser for Hillary Clinton were unable to listen in on her remarks because staffers sent static noise their way. Judges use static noise machines at times during trials when they want to keep the jury from hearing their conversations with the lawyers. However, I've never before heard of such devices being employed by political candidates. [...] Having made that choice, it was foolish of Team Clinton to use a static noise machine. It just fuels the perception that (1) she talks one way to rich people and another way to ordinary folk, (2) she's secretive, and (3) she's ridiculous. All three perceptions, by the way, are accurate, as her unwillingness to release transcripts of her speeches to fat cats and her use of private email to conduct official State Department business attest.
No, the Clinton Foundation Hasn't Operated With 'Complete Transparency'. [T]he heart of the Clinton Foundation controversy sits at the intersection of big money and power politics. It represents exactly the sort of unholy, influence-peddling and -purchasing system that Hillary's primary opponent has railed against, to great electoral effect. Watch as Mrs. Clinton assures viewers that any concerns about her family foundation serving as a giant dodgy political "slush fund" (as one good government watchdog called it) should be allayed by her... commitment to transparency.
Delusional:
Clinton: I'm the 'most transparent public official in modern times'. Hillary Clinton says she's the "most transparent" public official of modern times, slamming critics of her email practices in a new interview. "I said, 'make them all public,'" she said of her State Department emails on CNBC's "Closing Bell" on Friday [3/4/2016]. "I've been the most transparent public official in modern times as far as I know.
Hillary needs to answer for her war. Hillary Clinton, running for president, has not held a press conference in the past 88 days. You'd think she was running from something rather than for something. And maybe she is.
The NY Times Editorial Board Calls on Hillary to Release Speech Transcripts. The question of Hillary Clinton's Wall Street speeches has led to many calls on the left for her to release the transcripts of those speeches. She was confronted about it during last week's MSNBC Democratic town hall, and Bernie Sanders has been particularly tough on the subject. And now the New York Times editorial board is calling on Clinton to release them.
Mrs. Clinton, Show Voters Those Transcripts. "Everybody does it," is an excuse expected from a mischievous child, not a presidential candidate. But that is Hillary Clinton's latest defense for making closed-door, richly paid speeches to big banks, which many middle-class Americans still blame for their economic pain, and then refusing to release the transcripts. A televised town hall on Tuesday [2/23/2016] was at least the fourth candidate forum in which Mrs. Clinton was asked about those speeches. Again, she gave a terrible answer, saying that she would release transcripts "if everybody does it, and that includes the Republicans."
'Ma Lips Ah Sealed!' Hillary Uses Black Accent In Chat With Sharpton. Hillary Clinton appeared to mimic Rev. Al Sharpton's accent on Tuesday [2/16/2016] while standing right next to the civil rights activist. "My lips are sealed," Clinton said in an affected accent after an event at the Harlem headquarters of Sharpton's National Action Network.
Hillary Dusts Off Her Fake Black Accent to Talk About Al Sharpton. Is she doing bad southern? Or is she being racist? You decide: [Video clip]
What She Knows. Hillary Clinton stepped out to make a statement claiming victory in the Iowa caucuses on Monday night [2/1/2016]. It wasn't clear that she had won and it still isn't, but appearances had to be maintained. Clinton gave a six-minute speech that almost captures her full awfulness. She lies with pathological abandon. She is a gold-plated phony. She has achieved plutocratic wealth through public service while holding herself out as a champion of the common man. She struggles to impersonate an authentic human being.
Clinton blasts Wall Street, but still draws millions in contributions. Even as Hillary Clinton has stepped up her rhetorical assault on Wall Street, her campaign and allied super PACs have continued to rake in millions from the financial sector, a sign of her deep and lasting relationships with banking and investment titans. Through the end of December, donors at hedge funds, banks, insurance companies and other financial services firms had given at least $21.4 million to support Clinton's 2016 presidential run — more than 10 percent of the $157.8 million contributed to back her bid, according to an analysis of Federal Election Commission filings by The Washington Post.
Hillary Clinton: When I'm President, I Won't Let Staffers Do What I Did. Hillary Clinton said in a Sunday [1/31/2016] interview with Iowa's WHO that if she is elected president, her staff will not be allowed to use a private email for official government use.
Hillary: 'I Just Don't Understand' What 'Establishment' Means. Democratic presidential candidate former Secretary of State Hillary Clinton stated, "I just don't understand what that means" when asked if she was part of the establishment on Thursday's [1/21/2016] broadcast of CNN's "The Situation Room."
"Slave Labor": Hillary Confidante Cheryl Mills Pushes Manufacturing in Ghana with its 23¢ Minimum Wage. Cheryl D. Mills, long-time friend and confidant of Bill and Hillary Clinton, is promoting a 23 cents-an-hour wage in the West African nation of Ghana to lure textile and apparel industry companies to invest there even as the former secretary of state advocates a $15-an-hour "livable wage" here.
Former top Clinton aide: 'I want to avoid FOIA'. A former top aide to Hillary Clinton appeared to joke with reporters that he wanted to avoid open records laws, years before his and other Clinton aides' use of private email accounts became an issue for her presidential campaign. "I want to avoid FOIA," Philippe Reines, Clinton's combative former adviser, wrote in an email to journalists Mark Halperin and John Heilemann in February 2009, referring to the Freedom of Information Act.
Hillary Clinton says she won't use the phrase 'radical Islamic terrorism' because 'it doesn't do justice to the vast number of peaceful Muslims'. Hillary Clinton explained why she refuses to use the phrase 'radical Islamic terrorism', saying that it is unfair to moderate Muslims and acts as a recruiting tool for ISIS. Speaking to George Stephanopoulos on This Week, the Democratic presidential frontrunner added that the term 'sounds like we are declaring war against a religion', instead of militants. Clinton has been lambasted by Republican presidential hopefuls for refusing to use the term, alongside President Obama, who argue there is no hope in winning the fight against ISIS without properly identifying the enemy.
The Editor says...
If you listen to the talking points on the political left, the Muslims certainly have a number of "recruiting tools" at their disposal: Every criticism of Islam, the operation of Guantanamo Bay, the publishing of cartoons, etc. Is there any evidence that any of these alleged "recruiting tools" have ever been used to actually recruit anyone into radical Islamism?
Stephanopoulos Confronts Clinton On Benghazi: 'I Answered All Of These Questions'. Much to Democratic presidential candidate Hillary Clinton's obvious irritation, This Week host George Stephanopoulos asked [12/6/2015] whether or not she could regain American voters' trust following the Benghazi hearings. Specifically, Stephanopoulos wondered whether or not Clinton could do anything "to get a majority of American to believe" her again and consider her "trustworthy" as a presidential candidate. "Well, you know," she stammered. "Obviously I don't like hearing that, George."
Clinton Appears to Equate San Bernardino Terror Attacks With Planned Parenthood Shooting. [George] Stephanopoulos stated, "As you know, some of the Republicans rivals have criticized you for focusing on gun control after the San Bernardino attacks. California has some of the strictest gun control laws here, it didn't stop those attacks, either." "What happened in San Bernardino was a terrorist attack. No one is arguing with that," Clinton replied. "Let's not forget, a week before, we had an American assault on Planned Parenthood and some weeks before that, we had an assault at a community college. I don't see these two as any way contradictory.
New Hillary Ad: '44 Boys Is Too Many' in White House. Hillary Clinton released an ad this morning featuring girls saying there have been too many boys in the White House. "It has been ridiculous that there has never been a female president before," one of the girls says, reading from a letter that she wrote to Clinton. "Forty-four boys is too many," writes another. The Clinton camp used this as the title of the ad. "It will be hard work to be a grandma and president," another girl says. "I know you can do it."
The Editor says...
Anyone who thinks these girls wrote letters to Hillary Clinton is obviously unaware of the meaning of astroturf, in a political context. Are we to believe that every one of these little girls wrote spontaneously to Mrs. Clinton, because they're all so interested in the outcome of the next election, and even though some of the letters are apparently written with crayons, there's not one misspelled word in any of them? Hillary Clinton thinks you're stupid, and Hillary Clinton hopes the emotional appeal of a group of precocious little girls will pull just one more undecided (and gullible) female voter over to her side.
The Benghazi hearing. If you watched closely enough you could tell how isolated Clinton was in her own department. When talking about State Department employees, she stressed that they were not her staff. She surrounded herself with partisan loyalists to an extent that should trouble voters. What was clear is Sidney Blumenthal, her hatchet man and political fixer had a whole lot of access, showering her with e-mails. In what was surely Clinton's worst moment, Chairman Trey Gowdy (R-S.C.) asked her why she sent on one of Blumenthal's memos to the White House, removing an "identifier" showing it came from Blumenthal.
Hillary pretends drugmakers, insurers are her enemies. Hillary Clinton's closest advisors and top fundraisers include drug and insurance lobbyists. Clinton fought hard to force everyone to buy health insurance, and to force employers to cover all contraceptive costs through insurance. Her donor rolls include Big Pharma PACs, and drugmakers have paid her six-figure speaking fees. Yet Clinton claims the insurers and the drugmakers are her enemies. It's no wonder so many voters don't trust her.
When Hillary Clinton wields the word 'honestly' it's time to watch out, America. Hillary Clinton and her supporters are basking in the glow of what they believe was her shining performance in the first Democratic debate, but she — and they — should beware when the spotlight turns to the whopper of a lie she told on stage. Clinton said, "I'm a progressive who likes to get things done. And I know how to find common ground, and I know how to stand my ground, and I have proved that in every position that I've had, even dealing with Republicans who never had a good word to say about me, honestly." Pull out the fact checkers when Hillary Clinton uses the word "honestly."
Hillary Compares The NRA To 'The Iranians And Communists'. Hillary Clinton took aim at the National Rifle Association in Iowa on Wednesday [10/7/2015], hitting the group for what she claims is its "absolutist" stance on gun rights and comparing it to "the Iranians and Communists."
Who's Hillary? They should put out a new book called Who's Hillary? On each page, there'd be dozens of drawings of Hillary and you'd have to figure out which was the real one[.] If any. There could be the hip, self-mocking Hillary we were treated to on Saturday Night Democrat Toady — I mean Live! — the other night. There could be the indignant Hillary who tried to weasel out of fair questions on the Today show. There could be Grandma Hillary who just can't make heads nor tails of those danged email servers — what do you, wipe em with a cloth er sumpin? There could be southern-accent Hillary, and African American Hillary and teary-eyed Hillary...
Hillary Clinton's Multiple Personality Disorder. Clinton's persona has morphed so repeatedly over the years to appear to be likeable — to develop that Q factor that propels newscasters and politicians to wealth and power — that she has become a bit of a blur. There are examples of her chameleon lizard-like history. She has a pattern of changing her name for example. [...]
Hillary Clinton Is a Nasty Piece of Work, Part 632. When is this sad farce going to end? Since she began her campaign for the presidency last spring, we've seen defiant Hillary, aloof Hillary, regretful Hillary, warm and fuzzy Hillary, comedienne Hillary and now this very morning, "visibly angry" Hillary.
Phony accent on demand:
Hillary Clinton Put on Southern Accent for South Carolina Democratic Chairman. Hillary Clinton recently sat down for a "Chair Chat" with the chairman of the South Carolina Democratic party, Jaime Harrison. During the interview, as in many of her speeches to people who live in the South, she put on a Southern accent that is absent from her speeches to Northerners.
Hillary Clinton Shows Off Her Southern Accent Again, Y'all. I do declare, runnin' a presidential campaign can wear a body out! What with all that flip-floppin' on Planned Parenthood and bein' investigated by the FBI and all, it's no wonder Hillary Clinton needed to just set a spell and visit with her good friends in South Carolina. The other day, Hillary sat down with Jamie Harrison, chairman of the South Carolina Democratic Party, on his web show Chair Chats. If you've got half an hour of free time and absolutely nothing better to do with it, you can watch their conversation [elsewhere]. Just about anything can be improved with a couple of rocking chairs and a pitcher of ice-cold lemonade. Even listening to Hillary Clinton.
Clinton's Southern strategy? Hillary fakes her accent for local crowd. Hillary Clinton has started faking a Southern drawl to speak to Southerners, just as she did during her last presidential run eight years ago. The tactic drew chuckles, derision and not a little resentment when she tried it in 2007 and 2008. But she was back at it again in Alabama on Saturday [10/17/2015], putting on a heavy twang to express her contempt for Republicans.
Return to Kentucky Fried Hillary. Madam Hillary was campaigning over the weekend in Hoover, Alabama, so she felt the compulsion to turn on her phony drawl again. We have much more of this to look forward to, of course, but it serves a useful purpose. It reminds us that she is occasionally lacking in authenticity.
Nixonian Clinton strikes again. The Clintons are proving they don't think anything is too small to lie about and that no rule that should be left unbroken. If there is a way to get around the prohibition on campaigns and super PACs coordinating, leave it to the Clintons to show us the way.
Hillary Clinton Says Two Different Things About Her Emails, Both of Which Can't Be True. More than 60 percent of voters don't think Hillary Clinton is honest and trustworthy. Even Donald Trump has a better reputation on that front, which is just embarrassing. No wonder so many Democrats are biding for Biden. Hillary and her campaign seem to think this is simply the result of biased media coverage, unfair partisan attacks and right-wing "conspiracy theories." They insist it's "time to move on." They should at least consider the possibility that voters have good reason not to trust Hillary. Because is she really has nothing to hide with respect to her private email server, why do explanations keep changing so often?
Hillary's latest excuse: 'There is no evidence'. On CNN's "The Situation Room" last week, she faced questions about the claim by New Jersey Gov. Chris Christie that she should face criminal charges for using a private email account and server to conduct official State Department business, including emails with highly classified information. Clinton burst into laughter. She kept up the giggling when asked about the chance that hackers from Russia or China broke into her server to glean national-security secrets. And then gave the lawyerly answer, "There's no evidence of that." Well, not yet — the FBI's only started looking for it, years after the breach might've occurred.
Hillary Answers Zero Questions During Wide-Ranging CNN Interview. Wolf Blitzer interviewed Hillary Clinton for 14 minutes and managed to let her duck every question. He also didn't ask a single follow up question. Why even bother interviewing her?
Montage: Watch Hillary Duck Every Question in 14-Minute CNN Interview. Last night [9/17/2015], Wolf Blitzer managed to score a 14-minute interview with Hillary Clinton, during which he was free to wrest as many answers from the press-shy candidate as he could. The number of answers she actually gave? Zero. Hillary bobbed, weaved, ducked, dodged, and ultimately avoided answering a single question.
CNN Laughs at Clinton for Telling One Audience She's Progressive and Another She's Moderate. CNN's State of the Union panel laughed Sunday [9/13/2015] after host Jake Tapper showed clips of Democratic presidential candidate Hillary Clinton claiming to one campaign audience that she was a solid progressive and to another that she was a centrist.
You Can't Choreograph Empathy. [Scroll down] And so it is with Hillary's not so magical inventors. Her campaign dresses her in gingham for Iowa and choreographs the scripted shedding of sad tears for mom and tears of joy for granddaughter. But Hillary fails to move, neither evoking nor evincing empathy. They wind her up to dance with Ellen DeGeneres but she's more wooden than Coppélia.
How Hillary Clinton is using old photographs to make herself more 'relatable'. Follow Hillary Clinton's Instagram feed, and you'll see her as a toddler in Park Ridge, Illinois, riding a tricycle. On Facebook, you'll meet her as an almost unrecognizable young Arkansas mother with brown hair, big glasses and loafers, spotting her daughter on a pony ride; on the website Medium, she stares out at you, just another earnest face in a crowd posing for a 1965 high school class picture. In the first television ads of the campaign, she is seemingly from another era, pictured in grainy black and white, about 10 years old with a half-smile on her face, hair pulled back in a pollyanna, holding her mother's hand.
The Weariness of the Whiners. [Scroll down] Poor Mrs. Clinton. She was misled about her server, or did not want a handful of clumsy duplicative communication devices or did nothing improper or at least nothing illegal, or at least nothing indictable, or at least differently from past secretaries of State, or never sent classified material, or at least never material that was stamped officially confidential. Who then caused this scandal? The New York Times, Fox News, the right-wingers, the Republicans, or the Clinton-haters.
The Clinton campaign puts the 'moron' into oxymoron. We knew Clinton was going to be funny and warm because her aides told the New York Times she was going to be funny and warm. "Hillary Clinton to Show More Humor and Heart, Aides Say," was the headline on Amy Chozick's piece this week, reporting that "there will be new efforts to bring spontaneity to a candidacy that sometimes seems wooden and overly cautious." "They want to show her humor," Chozick said of the advisers. "They want to show her heart." They want this even though previous such efforts "backfired amid criticism that the efforts seemed overly poll tested." Maybe they seemed poll-tested because they were poll-tested, but no matter: "The coming months will also be a period of trying to shed her scriptedness." Planned spontaneity? A scripted attempt to go off script? This puts the "moron" into oxymoron.
Clinton Only Apologized for Emails After Bad Focus Group Reactions. Hillary Clinton's sudden reversal on whether or not she would apologize for using a private email server while Secretary of State seemed inexplicable; on Friday [9/4/2015] she refused to apologize in an interview with MSNBC's Andrea Mitchell, but by Tuesday was apologizing to ABC's David Muir. But The New York Times reported Wednesday [9/9/2015] on the impetus for the change; Clinton watched a video of a focus group that reacted negatively to her email rhetoric.
Hillary will do anything to change the conversation — except be honest. Before apologizing for the e-mail scandal yesterday, she had gone from iron defiance to painful jokes and then a claim that she was too busy as secretary of state. "We had so many problems around the world," Clinton said in a TV interview. "I didn't really stop and think what kind of e-mail system will there be." Whopper alert! Of course she thought about it, and plenty. How else did the server get in her home? Did it walk in, plug itself into the wall and start humming with classified information? And she certainly thought about the server when she used private money to pay a State Department employee to maintain it. She made the decision to operate outside the secure government system every time she received and sent an e-mail at her private address. By her count, that happened about 33,000 times over four years.
After Raising Millions, Hillary Wants Big Money Out Of Politics. Trying to revive her flailing campaign, Hillary Clinton has proposed a new campaign finance reform to limit the influence of big donors. That's easy for her — she's already raised millions from them.
Exclusive: Hillary Paid to Hide Identity of the People Running Her Email Server. Hillary Clinton paid to hide the identity of the people running her private email server, Breitbart News has learned. Her attempt to hide details about her server has allowed another faceless company access to her classified email information, while doing little to nothing to secure that information from hackers. Clinton's private email domain clintonemail.com was initially purchased by Clinton aide Eric Hoteham, who listed the Clintons' Chappaqua, New York home as the contact address for his purchase. But the domain is actually registered to an Internet company designed to hide the true identity of the people running it.
Hillary Clinton revealed to have over a million fake Twitter followers. Hillary Clinton and Joe Biden are not polling well when it comes to their social media fans. An analysis of the pair's Twitter accounts has revealed that over one million of Clinton's followers are fake, while only 53% of Biden's social media fans are real.
Judicial Watch: State Department Did Not Provide Secure BlackBerry to Hillary Clinton. Judicial Watch announced that the State Department asserts in its most recent filing with the court the State Department did not issue personal computing devices to former Secretary of State Hillary Clinton and possibly destroyed the Blackberries of her aides Huma Abedin and Cheryl Mills: [...] "The questions just keep popping up. Every time the State Department tries to justify its stonewalling, one more bit of information arises," said Judicial Watch President Tom Fitton. "If the State Department was not providing secure email devices to Mrs. Clinton, who was? Best Buy? Target? Mrs. Clinton clearly did whatever she wanted, without regard to national security or federal records keeping laws."
State Department: Mills and Abedin official BlackBerrys likely gone. BlackBerry devices the State Department issued to former Hillary Clinton aides Cheryl Mills and Huma Abedin have likely been destroyed or sold off as surplus, a State official said in a court filing Wednesday [8/19/2015]. The secretary of state's information technology office "believes that Ms. Mills and Ms. Abedin were each issued BlackBerry devices," State Executive Secretary Joseph Macmanus wrote in a declaration submitted to a federal court in Washington. The office, referred to as S/ES-IRM in agency parlance, "has not located any such device at the department" and "standard procedure upon return of such devices is to perform a factory reset (which removes any user settings or configurations) and then to reissue the device to another employee, to destroy it, or to excess it," he added.
The Editor says...
That's the first time I've seen excess used as a verb.
State Department destroyed Clinton aides' BlackBerrys. The State Department destroyed the BlackBerry devices issued to two top aides of former Secretary Hillary Rodham Clinton and never issued Mrs. Clinton a device at all, officials told a federal court Wednesday [8/19/2015] in a filing that raises still more security questions. The filing came a day before officials will have to appear in court to detail the steps they took to try to track down Mrs. Clinton's emails, and whatever computers or other devices she may have used to send them.
Whom to blame for Hillary's trust issues? We understand Mrs. Clinton's paranoia that the right wing is out to get her. But not all of the 46 percent of Americans who view her unfavorably — according to a July Gallup Poll — are antipathetic toward her simply because her last name is Clinton. In fact, nearly 20 percent of Democrats view their party's likely standard bearer in November 2016 unfavorably. Not because they've been unduly influenced by Mrs. Clinton's right-wing detractors, but because her actions reinforce the perception that she is unworthy of their trust.
Hillary Clinton's ridiculous hedge on Keystone XL. Here's Hillary Clinton's "answer" to a question about whether she supports or opposes the construction of the Keystone XL pipeline at a townhall in New Hampshire today [7/28/2015]. "If it's undecided when I become president, I will answer your question," Clinton said. "This is President Obama's decision. I'm not going to second-guess him." [...] If Clinton's position is that she can't take a public stance on any issue that has some sort of pending business before this White House, then she's not going to be able to take a position on, well, anything.
Clinton as champion of small business? That's Hill-arious. Hillary Clinton does no favors to her presidential campaign and her credibility by declaring that, "I want to be the small business president — somebody who makes it easier for [small businesses] to get started, to grow... to try to optimize the opportunity side of the equation." Neither the facts nor even a former counselor and domestic strategist to President Bill Clinton support Hillary Clinton's claims to be a small business champion.
What Did Hillary Clinton Talk About During Those Speeches? Cookies, Cars, Camp. Hillary and Bill Clinton disclosed recently that they earned more than $25 million making speeches to business, trade and special interest groups over the past year or so; millions more went to the family's foundation. What they actually told those groups is little known. In most cases, only sponsors, registered guests or paid ticket holders were admitted. Venues were monitored by the Secret Service and attendees warned to keep the content private. "Our contract didn't allow us to record or transcribe... and no posting to our website," said Amanda Forster, spokeswoman for Premier Inc., a health-care consultancy that paid Mrs. Clinton $225,500 for a speech in Miami last year.
Did Vince Foster trust Hillary? Did Ron Brown trust Hillary?
CNN exclusive: Hillary Clinton: 'People should and do trust me'. In Hillary Clinton's first national interview of the 2016 race, she attacked her Republican rivals on immigration and dismissed the suggestion that the American people have a problem trusting her. "People should and do trust me," she told CNN's Brianna Keilar. She blamed the "barrage of attacks that are largely fomented by and coming from the right" for fueling a perception that trust is an area of vulnerability for her.
Clinton Campaign Won't Commit to Releasing Hillary Medical Records. On Sunday, Hillary Clinton's campaign manager would not commit to releasing her health records during the 2016 campaign. Face the Nation host John Dickerson pointed out that "Hillary Clinton had a big health scare when she was secretary of state" and asked campaign manager Robby Mook, "will she release her medial records as part of this campaign?" "I will let Hillary decide that," Mook answered.
Iowa Democrats Want a Candidate Who'll Answer Questions. A new poll released Thursday [6/4/2015] might contain some bad news for Democratic front runner Hillary Clinton: Iowans want a candidate who is open with the press and voters. A survey of likely Iowa caucusgoers conducted by the Des Moines Register and Bloomberg Politics from May 25-29 found that 77 percent of the 437 Democrats polled want to elect a nominee who will "meet with and answer questions from news reporters and editors." An astounding 96 percent of respondents want a nominee who will "take questions from voters."
Phony accent on demand:
Clinton lets loose Southern drawl in South Carolina. Hillary Clinton, who grew up in Chicago, spoke with a Southern accent during a swing through South Carolina on Wednesday [5/27/2015]. At several points in her talk with minority women small-business owners, Clinton slowed her speech and lowered the timbre of her voice for a Southern drawl.
Secrecy:
What Hillary said in her lucrative speeches remains a mystery. The Clintons earned more than $25 million in 2014 from speech income, and a second list released by the Clinton Foundation this week showed that an additional $12 million or more was directed to the family charity after 2001 from 97 speeches made by Bill, Hillary or Chelsea Clinton to various universities, businesses and foreign entities. The Clintons have offered no explanation for how they decided which speech earnings to donate to their charity and which to take as income. The lists offer a glimpse into complex relationships the Clintons have with numerous special interests that hired them as speakers, all of which could pose ethical questions as Hillary Clinton makes a run for the White House. Clinton has guarded herself from some criticism by keeping the speech texts private and signing contracts in which her remarks must be closely held.
Opacity:
Hillary Clinton's terrible, horrible, no good, very bad Friday. Campaign events with Clinton are "staged" and her staffers will only admit supporters who are "pre-selected" and "pre-screened," Associated Press reporter Julie Pace said Friday [5/22/2015], reiterating a media complaint that is growing louder by the week. Unsurprisingly, being tightlipped with reporters has not gone over well with newsrooms, but there are other issues that are starting to rub the press the wrong way.
The State Department's In-Kind Contribution to the Clinton Campaign. The State Department is taking a page directly from the IRS's playbook. First, you destroy incriminating emails, but don't tell anyone. Former Top IRS official Lois Lerner and the IRS perfected this as thousands of her emails mysteriously disappeared. Clinton played that part well, destroying emails on her own private server instead of using the government server, while State Department staffers blocked attempts by the public to obtain public information. Second, you wait years until the public discovers what you've done. Third, you deny anything happened to the emails. Fourth, you cover up. When that is no longer feasible, you delay, stonewall, obfuscate, and otherwise drag out the process of turning over said emails.
Top Clinton Aides Worked To Limit And Block Access To Public Records. Cheryl Mills, then Secretary of State Hillary Clinton's chief of staff, and other top Clinton aides were personally involved in certain Freedom Of Information Act requests during Clinton's tenure at the State Department, the Wall Street Journal reports.
Another day, another press dodge for Hillary Clinton. Monday [5/18/2015] marked another day and another dodge for Hillary Clinton, who is increasingly coming under attack for not answering questions on the campaign trail. The numbers are in dispute, but the rough estimate is that Clinton has only fielded 13 questions from the press during the first 37 days of her official candidacy for the White House.
Is Hillary Clinton too much of a 1 percenter to face the press? It looks like Hillary Clinton is aiming to make it to the White House without answering any questions more challenging than, "How are you liking Iowa?" [...] You have to wonder if the campaign is afraid to expose the candidate — or if the candidate's refusing to submit to the indignity of talking to the sweaty working press. Almost from the day they left the White House in early 2001, Bill and Hillary Clinton joined the 1 percent — hobnobbing almost exclusively with movers and shakers around the world.
Phony accent on demand:
Video proof: Hillary Clinton has manufactured more accents than Hyundai. You can't say "phony" enough times to describe Hillary Clinton, but this is truly amazing: [Video clip]
She's a flip-flopper from day one:
How Hillary Clinton is running against parts of her husband's legacy. On issues large and small, the Democratic presidential contender is increasingly distancing herself from — or even opposing — key policies pushed by Bill Clinton while he was in the White House, from her recent skepticism on free-trade pacts to her full embrace of gay rights. The starkest example yet came Wednesday, when Hillary Clinton delivered an impassioned address condemning the "era of incarceration" ushered in during the 1990s in the wake of her husband's 1994 crime bill — though she never mentioned him or the legislation by name.
Hypocrisy:
Bill Clinton's Wife Condemns 'Scourge Of Sexual Assault' In First Big Speech. Thanks to her husband's actions as president and as the governor of Arkansas, Hillary is no stranger to the sexual assault scourge.
Tracking Hillary Clinton's Use of Every American Accent East of the Mississippi. Over the past three decades, Clinton's accent has moved around a lot.
Obama, Hillary Clinton pay equality records fall short of Democrats' rhetoric. Democrats made a big show Tuesday of promoting equal pay for women, unfazed by data showing that both President Obama and leading presidential contender Hillary Rodham Clinton haven't walked the walk on pay equity. Mr. Obama declared Tuesday [4/14/2015] to be National Equal Pay Day, a symbolic measure of how far along the yearly calendar a woman needs to work to earn as much as her male counterpart did the year before. [...] But it's well documented that his White House has a history of paying female staffers less than men on average. An analysis of White House salaries last July showed that there was still a 13 percent pay gap between male and female staffers.
Ready to Defeat Hillary. Never before has a Presidential candidate played so fast and loose with the truth as has Mrs. Clinton. From her refusal to shoot straight with the American people on the deaths of four Americans, including an ambassador, in Benghazi, to her unwillingness to play by the rules in the handling of her official emails during her time at the State Department, we have seen time and time again that Hillary Clinton thinks she does not have to follow the laws the rest of us have to follow.
Hillary's biggest problem: she's a phony. By far, Hillary Clinton is the best-known presidential candidate in the world. Everybody knows her status, her name, but not where she stands on the issues. She reminds you in every speech that it's time for a woman, especially if she is the woman in the picture.
---



The "Sniper Fire in Bosnia" story:


If you want a real man, just vote for Hillary. Wow. Why hasn't this woman won the Nobel Peace Prize? The reason is, her resumé is as inflated as the Goodyear Blimp. There were no bullets in Bosnia. She went there on a tour with Sheryl Crow and another entertainer named Sinbad, who says the most harrowing part was deciding where they were going to eat. The borders she claims to have negotiated for Kosovo refugees were already open by the time she got there. She was not involved in the Northern Ireland peace negotiations, and nobody but her husband recalls that she ever mentioned Rwanda. She has never been on the front lines of any foreign policy crisis, ever.

WaPo Awards 'Four Pinocchios' to Hillary on Sniper-Fire Fable. [Michael] Dobbs wrote on Saturday [3/22/2008] that "Clinton's tale of landing at the Tuzla airport "under sniper fire" simply is not credible. Photographs and video of the arrival ceremony, complete with contemporaneous news reports, tell a very different story.

Clinton 'Misspoke' About Bosnia Trip, Campaign Says. The Clinton campaign says Senator Hillary Clinton may have "misspoke" recently when she said she had to evade sniper fire when she was visiting Bosnia in 1996 as first lady. She has been using the episode as an example of her foreign policy bona fides.

CBS Video Contradicts Clinton's Story. It was supposed to be an example of Hillary Clinton's battle-tested experience: "I remember landing under sniper fire," Clinton said at a recent campaign event. It started when, in a recent speech, Clinton spoke of her visit to Tuzla, Bosnia, in 1996 as first lady.

Hillary's "Senior Moment": Now what kind of president would you want answering the red phone at 3 in the afternoon not to mention 3 in the morning when the kiddies are sound asleep and the president's mind is tired? [1] a president who thinks traveling to a relatively safe neighborhood in a hostile area guarded by troops indicates her bravery and competence and experience [or] [2] a president who has endured sniper fire and worse, surviving with mind and integrity intact.

Pants on Fire. Twelve years ago this month, Hillary visited Bosnia accompanied by scores of reporters, photographers, and even television crews. … Her visit to Bosnia was perfectly peaceful and uneventful. She says as much in her autobiography, Living History. Yet on the campaign trail she has been saying that in Bosnia she came under enemy "sniper fire." A planned "greeting ceremony" could not take place in Tuzla. Instead, she laughs bravely to her agog supporters, "we just raaan with our heads down to get into our vehicles to get to our base." Hillary, you were at the base, you shameless BS-er. The whole arrival is on tape!

The Clintons' Truth Deficit Disorder. Seeking to burnish her foreign policy leadership credentials, Sen. Clinton has repeatedly peddled a harrowing anecdote about dodging sniper fire during a trip to Tuzla, Bosnia, in 1996. … When Sinbad, the Washington Post and every fact-checker on the Internet and under the sun debunked her tall tale, Sen. Clinton doubled down. She dissed Sinbad as a mere "comedian." She asserted that she and her compatriots ran for safety with "our heads down." She clung to her story that she "had to be moved inside because of sniper fire." And she embellished further: "There was no greeting ceremony, and we were basically told to run to our cars. Now, that is what happened."

Further Debunking the 'War Zone' Myth. The Clinton campaign has cited newspaper accounts, including one in The Washington Post, to bolster the senator's claim that her now-famous March 1996 trip to Bosnia was the first visit to a "war zone" by a first lady since World War II. She is overlooking a trip to Saigon by Pat Nixon at the height of the Vietnam War as well as a trip by Barbara Bush to Saudi Arabia two months before the Persian Gulf War began.

Lie Lady Lie. Shrewdness and audacity have been political trademarks of both Clintons, but now Hillary has certainly overextended herself by trying to remedy an obvious deception with an even bigger untruth.

Remember "A Willing Suspension of Disbelief"? It was Hillary Clinton, among all her colleagues, who dared to insinuate that General Petraeus was lying in his September 11, 2007 testimony before Congress about the progress of the troop surge. After he gave an up-to-date assessment of the situation in Iraq, Hillary said that his version of the military and political dynamic required "a willing suspension of disbelief." Who would stoop so low as to lie to the country about their experience in a war zone!

Hillary's Just Making It Up As She Goes Along. We all exaggerate. Life is mundane. Stories about it are usually more entertaining with just a bit of tweaking. … So where does Senator Hillary Clinton's retelling of her 1996 trip to Bosnia fall on the scale from acceptable hyperbole…? Let's try this: Al Gore was a lot closer to inventing the Internet than Clinton was to having a corkscrew-landing in Tuzla under sniper fire so frightening that a tarmac greeting had to be scrubbed.

Vets Snipe at Clinton's Lies. Veterans who saw their lives flash before their eyes in the jungles of Vietnam and the bloodstained beaches at Iwo Jima are baffled at how Hillary Rodham Clinton could concoct a story of landing in Bosnia under sniper fire.

Fibber in Chief: "A good memory is needed once we have lied," observed Pierre Corneille, the 17th-century French tragedian. He was right. The complexities involved in keeping an untruth plausible and consistent are so tortuous that to be really good at lying demands exceptional recall of what was said when and where. But Corneille was writing before the age of YouTube.

When Hillary Clinton tells such obvious mistruths, she exposes herself as a fantasist. [Scroll down] Unfortunately for Mrs Clinton, after a few days of her increasingly irate dissembling, CBS started broadcasting its 12-year-old tapes of the then First Lady landing at Tuzla airport. It showed the following: No sniper fire. No running for cover — heads down or otherwise. Instead we see Mrs Clinton — accompanied by daughter Chelsea — taking part in a charming greeting ceremony, receiving a bunch of flowers from an eight-year-old girl.

Lying About Terror: Hollywood mogul David Geffen once said of the Clintons: "Everybody in politics lies, but they do it with such ease, it's troubling." When it involves national security and terrorism, it's also dangerous. Hillary would never get her inaugural address past the fact-checkers. Hillary Clinton — ready to lie on Day One.

Hillary's St. Patrick's Day Massacre. Here is the one compelling mystery still unresolved about Hillary Clinton's Bosnia fairy tale: Why did she keep repeating this whopper for nearly three months, well after it had been publicly debunked by journalists and eyewitnesses?

Hillary Clinton orders Bill to keep quiet after remarks on Bosnia 'sniper fire'. The Big Dog has managed to land himself in an even bigger doghouse. Hillary Clinton ordered her husband Friday [4/11/2008] to keep his mouth shut and stop making excuses, which compounded her false claim that she landed "under sniper fire" on a goodwill trip to Bosnia as First Lady.

Err Apparent. As the saying goes, if you want political reporters to eat their vegetables, it helps if they have nothing else on their plate. The Clintons, meanwhile, are serving whoppers. Former president Bill Clinton is the latest to hand out a juicy fib — circling back to Bosnia to cram four falsehoods into 23 words: His wife, he said, "one time late at night when she was exhausted, misstated and immediately apologized for it, what happened to her in Bosnia in 1995." Where to start? If his telling is accurate, it depends on what the definition of "one time," "late at night," and "immediately apologized" is. (And it was 1996, not 1995.)



---

Section 7.2
More examples of dishonesty and prevarication:

Clinton is playing by her own set of rules. Let's first deal with Clinton's fantasy lead in the popular vote. "I'm very proud that as of today, I have received more votes by the people who have voted than anyone else," Clinton said the day after her victory in the April 22 Pennsylvania primary. But has she really? No. Not really. Not unless you throw out the existing rules of the Democratic Party and invent a new set of Hillary Rules.

Count Every Half Vote! The Democratic Party set the rules for its primaries, barring delegates from Florida and Michigan for advancing their primary dates. The candidates agreed to abide by those rules. Yet when the contest began to look closer than Mrs. Clinton ever thought possible, her campaign decided that those rules were no longer valid.

Hillary Clinton: 'Maybe Barack Obama will be assassinated'. [Scroll down] In the same chat in South Dakota, Clinton denied reports that her people were talking to the Obama campaign about her being his vice-presidential candidate. She even had the gall to state: "I would look to the campaign of my opponent for the source of those stories." Having been covering the Obama campaign pretty closely, I can tell you almost 100 percent that this talk is not coming from his people. They do not want her on the ticket and there's no way they're floating it. It's the opposite. Throughout this campaign, talk of a joint ticket — whether with Obama second or on top — has always emanated from the Clinton campaign. And it's been reliably reported today, the notion is currently being floated by no other than Bill Clinton.

Hillary Clinton's colossal blunder simply the last straw. Sick. Disgusting. And yet revealing. Hillary Clinton is staying in the race in the event some nut kills Barack Obama. It could happen, but what definitely has happened is that Clinton has killed her own chances of being vice president. … Her shocking comment to a South Dakota newspaper might qualify as the dumbest thing ever said in American politics. … We have seen an X-ray of a very dark soul. One consumed by raw ambition to where the possible assassination of an opponent is something to ponder in a strategic way.

An X-Ray of Senator Clinton's Soul: What a rare and candid revelation of a desperate and Machiavellian candidate. Please consider the fact that the imaginative Senator from New York did not envision the possibility of assassination for herself or Senator John McCain, only for the black American Senator from Illinois. This was undoubtedly not a mere coincidence.

Give voters a clue. Clinton's new populist demagoguery is entirely symbolic. The "substance" is stage dressing, no more real than the scenery in a play. She is trying to tell blue-collar workers that she's on their side. The language may be economic, but the message is about values. It's I-feel-your-pain treacle gussied up as tax policy, devoid of anything approaching substance.

Hillary Clinton's Trail of Tall Tales: Sen. Hillary Clinton presents the image of a seasoned, ever-disciplined politician whose experience as first lady and a New York senator makes her ready to be commander-in-chief. But a series of misstatements — exaggerations, half-truths and lies — made by Clinton over the last 15 years have at times undermined her image and called her credibility into question.

The Clinton Divorce: By the time Mrs. Clinton made her famous claim about dodging Bosnian sniper fire, Democrats and their media friends no longer called it a mere gaffe, as they once might have. This time the remark was said to be emblematic of her entire political career. The same folks who had believed her about Whitewater and the rest now claimed she never tells the truth about anything. As the scales suddenly fell from liberal eyes, the most striking statistic was the one in this week's North Carolina exit poll. Asked if they considered Mrs. Clinton "honest and trustworthy," no fewer than 50% of Democratic primary voters said she was not.

Flatbed Hillary: One of the more bizarre developments of this campaign season has been to see Hillary Clinton, of all people, turned into an electoral favorite of blue-collar white voters. The reality is that very few people in politics have more contempt for white workers than does this product of Park Ridge, Wellesley, the Senate Watergate Committee, and the super powered Rose Law Firm.

Obama and Clinton: two cynical losers. Mr Obama's missteps with the working class of Pennsylvania have thus transformed Mrs Clinton from the bluestocking Wellesley graduate into the good old girl, hanging out there with the straw-chewing rednecks, embracing their values, their worldview and even their lifestyle. Obliterate Iran! Here comes Osama bin Laden! I love duck hunting! I can do shots and beer at the same time! It's hard to know what's worse — expressing condescending views about the working class or pretending to be one of them.

Clinton battles the facts. Did Chelsea Clinton go to a private school in Washington because it was best for her education, as the White House said at the time, or because "the press would never leave her alone," as Clinton said in a debate last year? … Why did she perpetuate the family tale that she had been named for the mountaineer Sir Edmund Hillary, only to correct the record in 2006, on the eve of her presidential campaign? … And why are there at least two instances of her vividly telling a story that happened to someone else, as if it happened to her?

Stop The Presses! Hillary Lied! From her "cattle futures" scam to the mysterious disappearance/reappearance of the Rose Law firm billing records, Hillary Clinton ran the gauntlet of legal problems that would easily have sunk any public figure less adept at dancing away from the truth. And nobody in recent memory has been more flagrant in their taunting deflections of questioners than Hillary Clinton, who is probably best remembered for her sneering retort of "I do not recall," when queried about her dubious dealings by Congressional committees.

Obama is Toast. The great thing about this agonizingly long primary season is that it has provided plenty of time to identify, once again, Hillary's (and Bill's) penchant for lying. They lie, I think, in the belief that no one will actually remember their lies. They have lied so often and with such success, they may not even be able to discern between the truth and a lie any more.

Not another lying Clinton. If Hillary will distort the truth to get into the obvious, what makes us think she won't deceive to get her way in office? It's obvious the Clintons don't mind lying to get what they want. If Bill was willing to lie to stay President and Hillary is will to lie to get your vote, they shouldn't be anywhere near the Oval Office again.

'Two Pinocchios' for Hillary Clinton. One of the nation's major, liberal-leaning newspapers is giving Sen. Hillary Clinton "two Pinocchios" for "significant omissions or exaggerations" at Monday's Democratic debate in South Carolina. And a former Senate leader — a Democrat — is part of a new South Carolina Truth Squad to counter the Bill and Hillary Clintons' "incredible distortions."

Hillary Clinton has only herself to blame. Way back in 1992, when Hillary and Hubba Bubba first burst onto the national scene, many Americans expressed doubts about their honesty and integrity. Clintonesque, parsing, the definition of "is" — those and other phrases became polite shorthand ways of accusing a Clinton of lying. Fast forward to last week, to fresh proof that the charge is still political dynamite.

Hillary Denies Denial After 'Mishearing'. First she "misspoke," now she misheard. Hillary Rodham Clinton yesterday seemed to deny that she told New Mexico Gov. Bill Richardson that Barack Obama could not win the presidency. But her campaign later said she misheard a reporter's question.

Clinton's Fibs Remind Many Of the Bad Ol' Days. Clinton's problem is that a corkscrew landing under sniper fire is the kind of thing that is hard to forget and harder still for memory to invent. This is confabulation on a pathological scale. A Clintonian scale. And that's the problem. Barack Obama has been gaining on Hillary in part because Tuzla reminds Democrats what they had largely succeeded in banishing from consciousness: the Clintons' arm's-length relationship with truth.

Hillary's biggest mistake. What worked for P.T. Barnum didn't do as well for Sen. Hillary Rodham Clinton (D-N.Y.). When the great showman said, "Nobody ever went broke underestimating the intelligence of the American people," he unknowingly anticipated the fundamental assumption that underlay the campaign of the first woman seriously to contend for the presidency.

You couldn't make it up (unless you're Hillary, that is). Someone who routinely lies like she does, then dismisses it as a consequence of the number of words she says has severe psychological problems. Perhaps her disorder is a result of the sort of politician she is.

Hillary's Common Ground: It's hard to tell which is the real Senator Clinton, the one who thinks Republicans are the enemy or the one who wants to reach out to them. It's the sort of episode that lends credence to those who say Mrs. Clinton doesn't really have many core beliefs, but will do or say whatever it takes to get elected.

Clinton's fibs becoming a bad habit. She now says she "misspoke." It's a benign characterization of a troubling fact: The gap between Clinton and truth has become suddenly vast. And that raises manifold questions.

The Editor says...
That gap has been there all along. There's only one recent change: The scrutiny of the media has suddenly kicked in. Reporters are becoming reporters rather than cheerleaders.

Clinton's '35 years of change' omits most of her career. The overall portrait is of a lifelong, selfless do-gooder. The whole story is more complicated — and less flattering. Clinton worked at the Children's Defense Fund for less than a year, and that's the only full-time job in the nonprofit sector she's ever had. She also worked briefly as a law professor. Clinton spent the bulk of her career — 15 of those 35 years — at one of Arkansas' most prestigious corporate law firms, where she represented big companies and served on corporate boards. Neither she nor her surrogates, however, ever mention that on the campaign trail.

Vetting Hillary; a Crack in the Legend. Candidate Hillary Clinton now speaks non-stop about her work at the Children's Defense Fund, after Yale law school. In doing so, she stretches the truth by claiming that she spent her time "fighting for abused women and children" (advocating for larger welfare benefits is more like it).

Clinton called a liar, oh my! On Wednesday, billionaire movie and music executive David Geffen was quoted by The New York Times' Maureen Dowd as saying, "Everybody in politics lies, but they [the Clintons] do it with such ease, it's troubling." This comes from a former Friend of Bill. Had Sen. Clinton let it go without comment, or with a wave-of-the-hand explanation that it was only the lashing out of a bitter former friend and she refused to stoop to such personal attacks, it would have blown over in a day. But Clinton couldn't resist proving Geffen's point.

Clinton antics will make Bill and Hil the next American Idles. For all of the sound and the fury, I do not think that the Clintons will destroy the Democratic Party. And they will not ensure the victory of McCain. But I think that they have destroyed any possibility for themselves of returning to the White House. The press now has another grudge against them, their supporters have to be shocked by this level of lying, and the rest of America sees pathos in their continuing desperation. Then, of course, her documented lie about Bosnia is just what the Republicans would need to perforate any belief in her ability to tell the truth.

It Takes A Village To Stiff a Waitress. Trish Trupo, a 31-year-old waitress in Albion NY, worked for $2.90 per hour plus tips. Hillary stopped by to fill up on scrambled eggs and left no tip. The next day, when Hillary was asked about the tipping incident by a reporter in New York, she did what she does best. She lied. She said, "That's just another wild story."

A window into Hillary's heart: Hillary has positioned herself as the protector of the poor and downtrodden. She has fought to nationalize our health care system. She has savaged the Republicans for being anti-poor. She wanted to keep more Americans on welfare, and she really cares about the children. However, when she had a chance to put her campaign contributors' money where her mouth is, she just walked out. No tip, no thank you, no nothing.

Cash-strapped Clinton fails to pay bills. Hillary Rodham Clinton's cash-strapped presidential campaign has been putting off paying hundreds of bills for months — freeing up cash for critical media buys but also earning the campaign a reputation as something of a deadbeat in some small-business circles.

Clinton owes her own high school money. Hillary Clinton's campaign has made little secret that it has been routinely outspent by rival Barack Obama in the extended race for the Democratic presidential nomination and has been forced to curtail checks for some of its vendors and staff. But stiffing your high school alma mater?

Clinton didn't pay health insurance bills. Among the debts reported this month by Hillary Clinton's struggling presidential campaign, the $292,000 in unpaid health insurance premiums for her campaign staff stands out. Clinton, who is being pressured to end her campaign against Barack Obama for the Democratic nomination, has made her plan for universal health care a centerpiece of her agenda.

Bill Clinton Says Hillary Tried to Join the Army. I assume this is a version of the "Hillary Clinton tried to join the Marines" anecdote that then-First Lady Clinton told in 1994 that we wondered about since it's a story she never seems to have told again.

14 Questions I'd Ask Hillary After I Hooked Her Up to a Lie Detector …assuming that she hasn't gotten so good at lying that she could beat the machine. … [Question 3] Your Rose Law Firm billing records were removed from Vince Foster's office after his death. Those records were "(m)issing and under subpoena for two years (and) they turned up in January 1996 in the Clintons' private quarters at the White House." Whoever took those records committed a crime by obstructing justice. Despite the fact that your records were taken and eventually turned up in your private quarters, you have denied taking the records or having anyone take them for you. Is that true?

Did someone mention Vince Foster again?

Questions about character cost Clinton. Layered upon the wholesale dishonesty that defines Senator Clinton's presidential campaign is a projected arrogance that it doesn't matter. That somehow this nomination and this election belong to her, regardless of what she says or does.

Clinton role in health program disputed. Hillary Clinton, who has frequently described herself on the campaign trail as playing a pivotal role in forging a children's health insurance plan, had little to do with crafting the landmark legislation or ushering it through Congress, according to several lawmakers, staffers, and healthcare advocates involved in the issue. In campaign speeches, Clinton describes the State Children's Health Insurance Program, or SCHIP, as an initiative "I helped to start."

Clinton: Exaggerating Help for the Troops. In a recent ad, Clinton claims members of the National Guard and military Reserve didn't have health insurance until she and a GOP colleague took action. We find the ad misleading. In fact, active-duty Guard and Reserve troops already were covered by federal insurance, and four out of five non-active-duty guardsmen and reservists already were covered by their civilian employers or other sources.

Clinton Claims Credit for Bill She Didn't Pass. In September 2005, shortly after Hurricane Katrina, Clinton introduced a bill (S 1615) that among other things would have … established FEMA as its own Cabinet-level agency. That bill went nowhere. … In May 2006, Clinton introduced a bill (S. 1427) containing the same language as her previous one. On July 11, 2006, Clinton's bill failed overwhelmingly — by a vote of 32 to 66.

Hillary Underrates Women. To listen to Senator Hillary Clinton proposing gender pay equity legislation last week, one might reasonably conclude that she is paid only 77% of Senator Obama's $165,200 salary. … Mrs. Clinton tries to obscure the trend toward equal pay and the reality that men and women generally have equal pay for equal work now — if they have the same jobs, responsibilities, and skills. Mrs. Clinton and Mr. Obama are paid identically, as are many other men and women with the same job.

The First Broken Promise. How about that Hillary Clinton: She's already breaking her campaign promises — and she doesn't even have her party's presidential nomination yet. Clinton yesterday reneged on her vow to explain how she'll "pay for everything" she proposes when she pushed a whopping $110 billion "economic stimulus" package — and offered no fund source to underwrite its cost. Gee, that was quick. Wasn't it just a few weeks ago that the former first lady was an apostle of "fiscal responsibility"?

Hillary's illegals: "No woman is illegal," Hillary Clinton declared Thursday [1/10/2008] to campaign-rally attendees after a man said his wife is an illegal alien. The applause followed. … As a nonsequitur and a dodge, it is both true — no person is inherently "illegal," just their immigration status — and meaningless in the context. No border-enforcement activist believes that a "person" is innately illegal. Via this nonsequitur, and by imputing meanness or hatred, "No woman is illegal" and "No person is illegal" help open-borders, pro-amnesty politicians evade an honest consideration of the nation's illegal-immigration conundrum. Don't be fooled.

Botox rumours put spite into White House race. Hillary Clinton's enemies have long criticised her political makeover, from the liberal firebrand First Lady to the moderate senator and White House candidate that she is today. Now, the frontrunner for the Democratic presidential nomination is the subject of a whispering campaign suggesting that she has also undergone a physical makeover — with Botox injections to enhance her appearance.

The Editor says...
The article above might be construed as an ad hominem attack on an old lady who is just trying to make herself look better; however, it shows Senator Clinton to be a person who actively pretends to be something she is not.

Clinton's cackle may give opponents the last laugh. They call it the Clinton cackle. It comes out of the blue, lasts a few seconds and leaves those who witnessed it wondering if they have missed a joke. Hillary Clinton's deployment of the full belly laugh is the latest weapon used by the leading Democratic presidential candidate when she is being pummeled by reporters or rivals. … When attacked about her many flip-flops — she voted for war in Iraq but now opposes it and she opposed universal healthcare but now wants it — she now bursts out laughing.

The Editor says...
Liberals frequently resort to ridicule and mocking derision when their arguments crumble under scrutiny. But in Clinton's case, even her laughter is apparently cold and calculated.

Hillary Clinton's Howard Dean moment. Remember "the Scream" by Howard Dean? Well, in today's debate in Johnston, Iowa it was "the Cackle". In the press debate room there was an eruption of mirth and disbelief from reporters as a lapel microphone picked up Hillary Clinton's belly laugh when her rival Barack Obama was put on the spot. It'll be up on YouTube very soon.

Hilliam Clinton. In the 1990s, "Clintonesque" became a by-word for political double-speak. We even became, briefly, a nation of deconstructionists when President Bill Clinton mused on the meaning of "is." Such existential questions seemed to be in the past. But with another Clinton running as if she's all but a sure thing for the White House, Clintonesque is once again becoming a politically relevant adjective.

The unmasking of Hillary Clinton. The New York senator emerges as a political chameleon as the race for Democratic nomination heats up.

Driver's Ed. As uncomfortable as the Clintons are with giving yes or no answers to yes or no questions, sometimes it is required, whatever the meaning of the word "is" is. Particularly when you consider the history of this issue.

Hillary Hits a Pothole. It was her debate performance, best described by the Washington Post as a "night of fumbles." She fudged replies on Social Security, the release of documents from her husband's administration, and most strikingly on issuing driver's licenses to illegal immigrants. At first, she seemed to defend the proposal, then she suggested she was against it, and finally, when pressed for a direct answer, she accused the moderator of playing "gotcha."

Hillary in the Headlights: Hillary Clinton certainly knows how to read the polls — especially ones showing overwhelming public opposition to Gov. Spitzer's now-aborted plan to let illegal aliens get driver's licenses. No doubt that's why she released a statement late yesterday declaring that "As president, I will not support driver's licenses for undocumented people." But that's not what she's been saying.

Hill's 'Stand?' Well, Today is Thursday …. Barack Obama's spokesman, Bill Burton, said: "When it takes two weeks and six different positions to answer one question on immigration, it's easier to understand why the Clinton campaign would rather plant their questions than answer them." Since the last Democratic debate, a recent Rasmussen poll showed that 77 percent of Americans oppose granting driver's licenses to illegal immigrants.

Hillary, Not as in the Mount Everest Guy. For more than a decade, one piece of Senator Hillary Rodham Clinton's informal biography has been that she was named for Sir Edmund Hillary, the conqueror of Mount Everest. The story was even recounted in Bill Clinton's autobiography. But yesterday, Mrs. Clinton's campaign said she was not named for Sir Edmund after all. … Sir Edmund became famous only after climbing Everest in 1953. Mrs. Clinton, as it happens, was born in 1947.

Hillary's List of Lies: Hillary simply cannot tell the truth. Here's her scorecard:
• Chelsea was jogging around the Trade Center on Sept. 11, 2001. (She was in bed watching it on TV.)
• Hillary was named after Sir Edmund Hillary. (She admitted she was wrong. He climbed Mt. Everest five years after her birth.)
• She was under sniper fire in Bosnia. (A girl presented her with flowers at the foot of the ramp.)
• She learned in The Wall Street Journal how to make a killing in the futures market. (It didn't cover the market back then.)

Hillary Lied: Hillary '07 vs. Hillary '02-'03. Yesterday we did a then-and-now with Mrs. Clinton, showing how she is literally lying over the weekend in Iowa, in Des Moines as she was describing to people how she voted for the Iraq war and what it meant. She wasn't voting for the war, she was voting for the president to negotiate, and he mistrusted everybody and tricked her and misused her vote, which she was not authorizing anybody to go to war. We found sound bites from 2003 speaking to Code Pink where she contradicted herself in every substantive way possible, even before the Iraq war started.

Middling mummery: When Sen. Hillary Clinton, New York Democrat, began to readjust her campaign rhetoric to reinvent herself as a born again centrist, few bothered to check out whether she had shifted rightward in her voting record, too. With rare exceptions, she hadn't. Her rhetoric had changed around the edges, as when she talked about finding common ground with right to life advocates. But "her voting record on abortion issues didn't change one iota," said an official at the National Right to Life Committee.

Two Positions and Two Tall Tales in One Stop For Hillary. At a campaign stop in Philadelphia today, Hillary Clinton proposed an anti-crime package that would put 100,000 more cops on the streets of the U.S. It's a good thing, too: Another part of her package calls for letting imprisoned crack users back out on the streets to mix it up with the extra cops.

Hill and Illegals' Health Care. If you thought Hillary Clinton had trouble making up her mind about drivers licenses for illegal aliens, wait until someone tries to pin her down about health care for illegals. She fumbled for days after being asked about Gov. Spitzer's now-aborted plan to give licenses to illegals. But the New York governor is pushing ahead on giving free health care to the same folks.

More Clinton lies. After [Webster] Hubbell resigned as the third-highest official in the Justice Department on March 14, 1994, Mrs. Clinton told the public that his dilemma involved an "internal billing dispute" with his Rose partners that "likely would be resolved." (Mr. Hubbell was later convicted of numerous felonies.) It was not the first time — nor the last — that Hillary Rodham Clinton told an inaccurate tale that proved to be as demonstrably false as it was disinformational and self-serving.




Imperious behavior and immunity from criticism:

Book: In Private, Hillary Would Always Say That Trump Supporters Were 'Deplorable' During The Campaign. Hillary Clinton was infamous for referring to many of President Trump's supporters as "deplorable" during a speech in September 2016. A new book reports that it wasn't a one-time thing — in private, Clinton referred to Trump supporters as deplorable many times. The Daily Beast reports that a new book about Hillary Clinton's 2016 campaign from New York Times reporter Amy Chozick states that Clinton joked about Trump supporters being deplorable many times with her rich friends.

Hillary Clinton was not a role model. The New York Times dragged out a sanitized version of Hillary Clinton once again, in a lament that she had to expire politically to create an uprising. But people who want to see women advancing in politics should be glad that she lost. Clinton was not a role model, as her model wasn't available to anyone who hadn't married a president. A bad politician, she was dependent upon him, and when he turned out to be a chronic seducer and even abuser of women, she was willing to threaten and even destroy his victims to assure his success. Hillary Clinton's biggest moments were television appearances to save his career when it hung in the balance. They came in 1992, on "60 Minutes," when she denied that he had an affair with Gennifer Flowers; and in 1998 when she went on the "Today" show, to say that reports he had erred with an intern were part of a vast Right-wing plot. For the first, she was given control of healthcare reform, which she mishandled so badly that Democrats lost both houses of Congress; for the second, she was given a seat in the Senate from the state of New York, from which she would launch her runs for the White House. And it wasn't just the seat, but also her husband's vast network of friends and supporters, and access to mountains of cash that came with it.

Hillary's Former Secret Service Agent Calls Her An 'Obnoxious, Rude, Fraud'. Dan Bongino, a former secret service agent who worked to protect former Presidents George W. Bush and Barack Obama, and worked in some capacity with former Secretary of State Hillary Clinton, has something to get off his chest. In a now viral tweet, Bongino lambasted Hillary, managing to squeeze five specific insults into a 140-character message.

You cannot "makeup" Hillary's latest excuse. Briana Draguca of Us magazine reported that Hillary spent 600 hours in 2016 having her beautician apply her makeup.

Emails show Hillary Clinton didn't want to share a plane with Michelle Obama to Betty Ford's funeral in 2011. Michelle Obama may have been Hillary Clinton's biggest cheerleader during the 2016 presidential election, but it looks like Hillary wasn't the biggest fan of her fellow first lady. According to an email exchanged obtained through a Freedom of Information Act Request by the conservative watchdog group Judicial Watch, then-Secretary of State Clinton didn't want to share a plane with Obama when the two attended Betty Ford's funeral in 2011.

Greatest Hillary / Huma Email Exchange Ever. This email exchange between Hillary Clinton and her best friend Huma Abedin is entertaining on several levels. [...] The Democrats can't figure out why working class voters no longer identify with them. Maybe the sense of entitlement to separate airplanes expressed by Mrs. Clinton provides a clue. Of course, neither Hillary nor Michelle Obama paid for her own trip; both airplanes (assuming two were taken) were at taxpayer expense. But worrying about that sort of thing is for the little people.

Hillary Clinton Once Demanded Separate Plane Rather Than Share One With Michelle Obama. Former Secretary of State Hillary Clinton once requested to fly in a separate plane rather than share one with then-First Lady Michelle Obama, according to newly released emails. [...] The exchange between Clinton and Abedin came after another message, one also released during the 2016 election, showed that Clinton complained commercial flights were "burdensome" and asked Abedin to get the Air Force to fly her from Westchester, N.Y. back to Washington, D.C. Clinton has long been a proponent of lowering the United States' carbon footprint in an effort to mitigate the effects of climate change. The former Democratic presidential candidate promised to take "bold steps to slash carbon pollution at home and around the world."

Clinton instructed her housekeeper to print out emails — including classified materials — at Washington residence. Hillary Clinton regularly instructed her housekeeper to print government emails and documents when she was secretary of state — including classified materials, according to FBI memos. FBI memos show Marina Santos often handled sensitive information, but didn't have the security clearance to do so, the New York Post reports. The housekeeper was paid to look after Clinton's home in Washington, known as Whitehaven.

Permits are for peons.
Clintons failed to get permits for rushed home renovation. Bill and Hillary Clinton failed to get required permits for a rushed renovation of the house and grounds they recently bought next to their original Westchester home, it was reported Friday [10/28/2016]. Records show that the Clintons' contractors filled in an in-ground pool, covering it with gravel, and extensively remodeled the interior of the property — all without applying for permits and paying the required fees to the town of New Castle. The couple were apparently in a rush to get the work done and demanded that it be finished before Thanksgiving, a contractor told town officials.

Hillary Should Be 50 Points Behind. Over her long career, Hillary Clinton's actions and attitude convey an arrogant disregard for the average American and an undeserved confidence in her own positions. This is why she recently called half of Trump's supporters "a basket of deplorables." She does not understand why so many Americans have the audacity to disagree with her. Hillary Clinton truly believes she should be "50 points ahead" and that this should not an election, but a coronation.

For Hillary, Laws Are like Cobwebs. Like a queen bee, Hillary has many sycophants: Huma Abedin, Cheryl Mills, Sidney Blumenthal, Julian Epstein, the Podestas, George Stephanopoulos, a horde of lawyers, and aging feminists. She has surrounded herself with people devoid of character, people with personal agendas that have nothing to do with the good of the nation. They all want only to protect their privileged status. They view the media as their personal propaganda machine and it is. There is no more legitimate journalism in America.

'Hillary Show' episodes entertaining. Julian Assange of WikiLeaks promised on Fox this week that the next releases of embarrassing emails that Hillary Clinton futilely tried to deep six will be "quite interesting, some even entertaining." Entertaining? For my money, the ones already released have been more fun than a barrel of monkeys. The Hillary Show comes across as a sort of cross between Leona Helmsley and "I Love Lucy." I mean, this is a woman who calls Harriet Tubman a "homegirl." She has a pseudonym for her own daughter. (Diane Reynolds.) She orders aides to find out the times of TV shows, as well as the frequency of radio stations.

12 reasons Hillary's a crook. [#7] The Clintons looted the White House in 2001. When Hillary and Bill Clinton left the White House in 2001, they apparently had sticky fingers and snagged numerous items that didn't belong to them. They eventually had to reimburse the federal government $86,000 for property they took, and returned another $48,000 worth of items. This is often cited as one of the most glaring examples of Clinton entitlement.

Clinton Ignored Obama's Order To Get Security Training While Sec of State, Filing Shows. Over the past year and half, Hillary Clinton has repeatedly said that she understands the importance of handling classified materials and that she took it seriously. But now we learn that she didn't even bother to get the security training required of every top official who handles classified materials.

Exclusive: Hillary Completed No Security Briefings Or Courses At State Dept. Former Secretary of State Hillary Clinton completed no security briefings or courses on the proper handling of classified materials and how to conduct secure communications while at the Department of State, according to new Obama administration legal filings before the U.S. District Court for the District of Columbia. The surprise admission was released late Friday and could reignite the controversy over Clinton's "careless" handling of classified materials as asserted by FBI Director James Comey, which has already been a central part of the presidential race.

Hillary to Military K9 Handler: 'Get that F-ing dog away from me.'. Eric Bonner, a military K9 handler, posted the following on his Facebook page. His comments have gone viral. [...] Eric confirms what others have written about their experiences with Hillary Clinton and her demeanor.

K9 handler says nasty encounter with Hillary led him to never vote for her. Hillary Clinton's icy demeanor with Secret Service agents and police officers is well documented. But with members of the military protecting her overseas? Former military K9 handler Eric Bonner says an encounter with then-Secretary of State Hillary Clinton led him to never support her for president.

Hillary's First Priority If She Wins? To Shut Up Her Critics. The specific holding of Citizens United was that the federal government could not constitutionally ban the showing of a movie that was critical of Hillary Clinton. (You didn't know that? Go ahead, read the decision for yourself.) It is perhaps understandable that Hillary would want the power to ban criticism of her in movies, magazines, web sites and books — Barack Obama's [Deputy] Solicitor General specifically stated in oral argument that the administration's position was that it can constitutionally ban books if they criticize politicians who are running for office — but it is rather shocking that repealing the First Amendment would be one of Hillary's key objectives as president.

Hillary Clinton prioritizes outlawing criticism of Hillary Clinton. No matter how much CNN and other water carriers for the Democratic Party try to frame the Citizens United decision as having "opened the floodgates for outside money in politics," that decision determined that it was not in fact illegal for an incorporated organization of citizens to make, advertise, and distribute a documentary film critical of — Hillary Clinton! That documentary was not peripheral to that case. It was what the case was about.

Here Are The Two Multi-Million Dollar Mansions Hillary Says She "Struggled" To Pay Mortgage On. In an interview with Diane Sawyer, Hillary Clinton claimed that after the White House their family "struggled... to piece together the resources for mortgages, for houses." The "we struggled to get by" defense from a multi-millionaire might be tough to swallow for Americans actually struggling to pay their mortgage. Hillary, after-all, left the White House having spent 20 years living in gratis government mansions in Little Rock and Washington D.C. Additionally, lets not forget that Bill Clinton's annual salary was $200,000/year as President and he was able to cash-in on a $50,000 expense account. The Clintons made roughly FOUR times what the average American made and "struggled to get by." After leaving the White House, the Clintons bought two multi-million dollar mansions.

Nigel Farage: Clinton acts like she has 'divine right' to presidency. United Kingdom Independence Party Leader Nigel Farage has a message for Donald Trump: The United Kingdom's problems are factors worse than those in the United States. But if his comments Tuesday [6/28/2016] are any indication, he is not too fond of Hillary Clinton. [...] "There is nothing on Earth that could persuade me ever to vote for Hillary Clinton," Farage said. Quest followed up, "You sure you don't want to think about that for a second?" "No, absolutely not," Farage said, laughing. "I mean she represents the pinnacle elite. It's almost as if she feels she has this sort of divine right to have that job."

Leaked Documents Reveal Hillary's Luxurious Demands For Private Speech. Democratic National Committee documents leaked by a hacker Tuesday [6/21/2016] reveal that Hillary Clinton's requirements to give a speech included a private flight and a luxurious presidential hotel suite. One of the documents leaked is a form filled out by the University of Nevada, Las Vegas Foundation for the Harry Walker Agency. The Harry Walker Agency is a speaker's bureau, which represented Hillary Clinton. On top of the $225,000 fee for her 20 minute speech, the agency gave the UNLV Foundation "standard travel expenses" for Clinton.

A President Clinton Could Pardon Herself and Congress Might Be Powerless. Towards the end of April and into early May, several news outlets ran reports (citing anonymous sources) that the FBI investigation into Hillary Clinton's use of a private e-mail was expected to be wrapped in the coming weeks. However, a few weeks later, FBI Director James Comey met with reporters and indicated the Bureau had no set timeline for completing the investigation. He even stated that the upcoming political conventions and general election would not factor into when the investigation would be completed.

Hillary Wants to Make It Illegal to Criticize Her. Hillary was right, Citizens United involved a movie that was critical of her. The Supreme Court held that the federal government couldn't constitutionally bar the movie from being shown, regardless of whether an election campaign was in progress. If Citizens United is overturned, as Hillary wants, it would mean that the federal government can make it illegal to criticize Mrs. Clinton (or any other politician) in a movie, book, pamphlet, etc.

Hillary Clinton Hilariously Says Donald Trump Lives in a 'Bubble'. Hillary Clinton amusingly accused fellow wealthy politician Donald Trump of living in a "bubble" during an interview that aired Sunday [4/24/2016] on Univision.

Memo: Hillary Requires Travel in Private Jet, 1st-Class Tickets, Stenographer. A newly released memo uncovers the specific demands Hillary Clinton tacked on to her private speaking gigs while earning close to $2 million.

Woman Pushed Aside So Clinton Can Enter Subway. The other day Hillary Clinton went to the New York Subway for a photo-op. She was subsequently criticized for not knowing how to use the MetroCard needed to enter. But she also committed another faux pas that went almost unnoticed: She cut in line! [Video clip]

Queen Hillary's Henchmen Move Aside Black Girl Waiting to Get on Subway. An innocent young black girl was just standing there in front of the train waiting to get on. She obviously had no care about the Queen who was there next to her. Suddenly, Hillary's campaign henchmen push her aside and hold her back from getting on the train so that Hillary could get on first and allowing a photo op to take place. [Video clip]

Gridlock In NYC So Hillary Can Get a $1,200 Haircut. Hillary Clinton's oversized motorcade gridlocked Manhattan traffic this week so she could, eh, get a coiffe. Looks like the cut and color cost a mere $1,200. But she's for the little people!

Hillary Clinton's entourage blocks up traffic in New York as she gets $600 haircut. She has been out and about in New York trying to woo voters in Harlem. But before hitting the campaign trail [3/31/2016], Hillary Clinton's entourage reportedly blocked up traffic on Fifth Avenue as she enjoyed an early morning hair appointment at luxury department store Bergdorf Goodman.

13 Times Hillary And Surrogates Scoffed At The FBI's Investigation Of Her Server. Now that Hillary Clinton's email server technician is cooperating with the FBI in its investigation into the mishandling of classified information, it's worth taking a look back at all the times that the candidate and her surrogates have downplayed the probe or outright laughed at it.

Obama to take unilateral action on US gun violence. In his first weekly address of 2016, Mr Obama said he would meet Attorney General Loretta Lynch to discuss possible actions. He said he would seek to use his executive powers as president because the US Congress had failed to address the problem. Analysts say there will be a backlash from gun activists and Republicans.

Secret Service agents: Hillary is a nightmare to work with. [Ronald] Kessler writes flatteringly and critically about people in both parties. Regarding the Clintons, Kessler presents Chelsea as a model protectee who respected and appreciated her agents. He describes Bill as a difficult chief executive but an easygoing ex-president. And Kessler exposes Hillary as an epically abusive Arctic monster. "When in public, Hillary smiles and acts graciously," Kessler explains. "As soon as the cameras are gone, her angry personality, nastiness, and imperiousness become evident." He adds: "Hillary Clinton can make Richard Nixon look like Mahatma Gandhi."

Hillary Clinton Disappears During Commercial Break, Returns to Debate Stage Late. During the ABC News Democratic Debate on Saturday night, party frontrunner Hillary Clinton was apparently not alerted as to when to return to the debate stage after the event's first commercial break. While debate moderators David Muir and Martha Raddatz of ABC News attempted to continue the conversation, only Vermont Senator Bernie Sanders and former Maryland Governor Martin O'Malley were on the stage.

Queen Caught on Throne During Debate. So Hillary Clinton leaves the debate stage to go take a whiz. They timed it for her. She had a minute 45 seconds to get there, a minute 45 to get back and whatever length of time it took to do the business. They had Huma, Huma Weiner was standing guard, they even timed this. They had Huma standing guard outside the restroom. When Hillary shows up to use the restroom, she finds out that there's somebody in there, so she refuses to go in there. There are multiple stalls in this restroom, but Mrs. Clinton, in full queen mode, refused to go in the bathroom when there was another woman in there. So she waited until that other woman came out.

Bathroom Distance Was Cause For Concern For Clinton Campaign Before Debate. A gender gap of sorts is being blamed for an embarrassing moment during Saturday's [12/19/2015] presidential debate when Hillary Clinton returned late to the debate stage after taking a bathroom break. According to The New York Times, Clinton campaign vice chairwoman, Huma Abedin, expressed concern to debate organizers before Saturday's contest, held in the gymnasium of St. Anselm College in New Hampshire, over the relatively long trek the Democratic front-runner would have to make to go to the bathroom.

Hillary Clinton was late returning to the debate stage 'because she refused to share the restroom with a Martin O'Malley staffer. It's been revealed that Clinton returned late because she was using the restroom during the commercial break at St Anselm College. She reportedly had exactly one minute and 45 seconds to walk out of the gymnasium to the women's restroom, and exactly the same amount of time to return back to the stage. However, instead of using the restroom right away to get back to the stage on-time, Clinton waited for it to be completely cleared out so that she wouldn't have to share the bathroom that had a few stalls available for usage, The Boston Globe reported.

We Ran Hillary Clinton's Symptoms Through WebMD And The Diagnosis Isn't Pretty. Hillary Clinton's health has become the focus of many people's concerns, so, with the help of WebMD, The Daily Caller offers up the following diagnosis. According to a WebMD diagnosis, the 68-year-old Clinton should really check to see if she has a urinary tract infection.

Hillary Clinton: American Royalty 2015 Style. Not since Senator Ted Kennedy went on prime time television in a neck brace to spin the reasons for the Chappaquiddick accident have I felt so manipulated by a politician as I did by Hillary Clinton in her testimony before the House Benghazi Committee. As it turns out these two incidents have more in common than one might think. [...] In the case of both Senator Kennedy and Mrs. Clinton, there was and is a sense of entitlement, some of it due to "American royalty" but much of it due to victimhood, the great weapon of liberalism. "I suffer. You owe." Denying "the first woman president" her destiny is simply too dangerous for any member of the media to be blamed for upending her quest.

Hillary Clinton is consistently late. And voters are noticing. In Baton Rouge last week, Clinton ran an hour late for her organizing event. The same day in Little Rock, she appeared more than 30 minutes after the crowd in a sweltering gym expected her. The next day in Des Moines, Iowa, she walked on stage 40 minutes late in another gym where campaign staffers had carted in fans and bottled water to cool the overheated crowd. And at an event on substance abuse Thursday [10/1/2015] in Dorchester, Massachusetts, Clinton was 50 minutes behind schedule.

Hillary bails on kids in NH; where's the media outrage? The Daily Mail reports that the Democratic frontrunner was supposed to make an appearance last Thursday at a Boys & Girls Club in the town of Laconia. The excited children wrote letters to her, drew her pictures, painted welcome signs, and even decorated the door of a bathroom to make it look like a dressing room ...complete with a giant gold star. But Clinton never showed.

NYT: Hillary 'Taken Aback' By Email Scandal, Strongly Resisted Apologizing. What's most fascinating about this New York Times story, which ran over the weekend, isn't that it depicts Hillary Clinton as unapologetic and calculating. It's that the Times spoke to at least six sources within her inner circle who helped paint the unflattering portrait, charting Hillary's halting journey from obstinately refusing to apologize to finally issuing an insincere mea culpa as her email scandal continued to spiral.

Morning Joe Crew Rips Hillary Apology. From Joe Scarborough saying it looked like a "hostage video," to John Heilemann saying her apology proved that everything she had said about no one caring about the issue was a "lie," to Mika Brzezinski speaking of the "freakish" control exercised by the Clinton camp, to Willie Geist flatly contradicting Hillary's assertion that her actions were "allowed," the panning of Hillary's performance was unanimous.

Hillary Clinton Goes Fascist: Forces Event Attendees to Sign a Voter Pledge. That's one event that I wouldn't attend anyway, but doubly so upon having to sign a pledge to vote for the Hildabeast. That's a level of arrogance that is impressive. [...] At a Cleveland rally, before you could be granted entrance to the Marxist-fest being held within, you had to sign a piece of paper that said, "I commit to vote for Hillary Clinton." Of course, her campaign is saying no one was restricted access to the event if they didn't sign, but there was at least one reporter there who said that wasn't true.

Hillary Clinton Makes Voters Sign Loyalty Pledge Before Entering Event. Attendees at a Hillary Clinton campaign event in Cleveland, Ohio, were asked to sign a pledge promising to vote for the candidate before they were allowed into the venue.

What do you see? Hillary's campaign has been described as operating in "bubblewrap", meaning she has been insulated from real citizens and real journalists alike. Except when someone like Ed Henry slips through her rope cordon: [...]

Keywords: Irresolute, cowardice, vacillating, indecision, coy, insolent.
Hillary on Keystone Pipeline — I'll tell you my position when I'm President. At a campaign event in New Hampshire yesterday [7/28/2015], an attendee asked Hillary if she would approve the Keystone XL Pipeline. Her answer, if you can call it one, was that she would answer the question if and when she becomes president.

Hillary Clinton May Have to Scorch the Earth to Win the White House. It's not the head-to-head matchups in Quinnipiac's latest survey that should trouble Democrats — it's the rapid deterioration of Clinton's image among voters. Even in the state that proved definitively for the left that demography is destiny, Virginia, majorities have an unfavorable opinion of Hillary Clinton. Substantial majorities told pollsters they do not trust the prohibitive Democratic presidential nominee. But the worst numbers, the one that is surely prompting bouts of hushed panic among Democratic operatives, were the responses generated when voters were asked if Clinton "cares about the needs and problems of people like you."

You can't spell inevitable without Evita.
Hillary's new media strategy: Play Evita. Hillary Clinton has a strategy for dealing with the media: play Evita. The former first lady, secretary of State and New York senator doesn't have time for the Fourth Estate because she is a woman of the people. "I'm not running my campaign for the press," she told CNN in a rare interview Tuesday [7/7/2015]. "I'm running it for voters." That's a canny response to questions about her campaign's tendency to shut out the press, which includes roping off the media, giving a critical reporter the boot from the press pool, and keeping such tight reins on journalists at events that one reporter said she was escorted to the ladies' room by an aide while covering a Clinton Global Initiative event. The press, after all, plays a big role in how the voters learn about the candidates.

Hillary catches the 'inevitability disease' again. Hillary Clinton can write the book on the risks and dangers to inevitable presidents. She's been there, done that. She has her inaugural address written, revised and polished. She has stood before her mirror practicing her Churchillian thunder, updating Bubba's laundry lists of the things that must be done. She has viewed with alarm and pointed with pride. She's ready. Maybe she's ready (her bumperstickers say so), but she's running a slight temperature again with "the inevitability disease." The symptoms are clear. Daylight hurts her eyes, so she stays secluded in dark places, refusing to talk to strangers. When she is occasionally persuaded to say something to a harmless interviewer, she contradicts herself and forgets what she had been saying before reality so rudely interrupted her.

Karma Chameleon in Chief. They say Obama's audacious. What's truly remarkable, though, is his potential successor's blatant contempt for the politics of principle and conviction — her unique ability to adopt, quickly and seamlessly, the most expedient position at any moment, to flaunt her temporary stance with the righteousness and self-regard of a longtime committed activist.

Bush and Clinton: Death by Dynasty. [Scroll down] Now, I'm not alone in noting that neither of these mediocre people really seem to want the job. Both of them seem to labor under the burden of unmet expectations. Neither one seems genuine, neither one seems to have anything new to say, and as I said, neither one seems to be having very much fun at all. You know, they have something else in common, these two, and that's the scathing contempt for the common person. This is another reason to avoid dynasties like the plague. Both Jeb Bush and Hillary Clinton use expressions like, "my lifelong love of service", as if this was, in fact, actual service and not a continuation of the privileged and pampered lifestyles that they've both enjoyed for virtually their entire lives. You know, they've been using language like this to mask their love for power for so long, I bet they actually believe it.

Devil in a deep blue pantsuit. Hillary Clinton's run for the presidency is driven by a lust for power, a sense of entitlement, and enough conceit to fancy herself the best one for the job. But none of these insures her success. To drive Hillary's engine of ambition back to 1600 Pennsylvania Avenue will require both high maintenance and high-octane fuel. To date, the Clinton campaign has been sputtering, even as her handlers insist it's right on track.

Hillary eyeing two terms in Oval Office? Hillary Clinton isn't just ready for 2016 — she's ready for 2020, as well. Clinton referenced her plans for "two terms as president" during a campaign stop Wednesday in South Carolina, where she outlined her economic goals.

The Editor says...
She certainly doesn't lack presumptuousness.

Campaign Reporters Told There Will Be 'NO Opportunities To Interview Hillary Clinton'. Reporters attending a Hillary Clinton speech in Houston on Thursday [6/4/2015] must remain within the confines of barricade and will not have a chance to interview the Democratic presidential nominee, they were informed in a note with big, bold red letters. "There will be NO opportunities to interview Hillary Clinton," a press blast from Texas Southern University reads. "Her speech will be her interview."

Hillary's speech 'will be her interview'. Hillary Clinton, who has aggravated reporters with her limited press avails, will not take questions after her speech at Texas Southern University on Thursday, the school informed reporters Wednesday [6/3/2015]. The University's guidance: "There will be NO opportunities to interview Hillary Clinton; her speech will be her interview." While that guidance did not come from the Clinton campaign — spokesman Nick Merrill told Bloomberg the language was not approved by the campaign — the sheer absurdity of the statement was not necessarily a departure from the candidate's general attitude toward the press. Indeed, her campaign recently made a similar move when it tried to suggest that questions from voters were a substitute for questions from reporters.

Clinton to autograph seeker: 'Go to the end of the line'. An eager autograph seeker was ready for Hillary — but Hillary Clinton apparently wasn't ready for her. In a seemingly awkward encounter captured on video, the Democratic presidential candidate tells a woman seeking an autograph to "go to the end of the line." The clip was captured by a tracker — operatives who trail candidates in search of potentially embarrassing footage — during a recent campaign stop in New Hampshire, and posted on Vine by the conservative America Rising PAC.

Hillary to Autograph-Seekers: 'Go to the End of the Line'. In this Vine-length snippet, Hillary uncomfortably instructs supporters requesting her signature to "go to the end of the line." The optics aren't great, with the candidate appearing cold and put-upon by her own fans. The conservative opposition research group America Rising — which does much invaluable work — began circulating the video, captured by one of their "trackers."

Hillary Clinton's Quiet Self-Sabotage. The reality is that Clinton's avoidance of the press is a product of weakness, not the result of a shrewd campaign bypassing the media because it can. She may be avoiding short-term pain by sticking to her script, but she's creating an imperial image of herself that's hard to reverse — and one the media has every incentive to reinforce. If she doesn't have a credible response to explain her use of a private unsecured email server, Republicans will eagerly fill the void with attack ads casting her in the most unfavorable light possible.

The Editor says...
Oh yes, the Republicans will run attack ads and expose the awful truth, just as soon as the Republican establishment finds a backbone. Don't hold your breath.

Clinton inevitable? Really? [Scroll down] Mrs. Clinton, however, has seemed imperious, remote and tone-deaf to the clamor to hear directly from her instead of being defined by the people who hope to oppose her next Election Day. She's already lost one presidential campaign; it's up to her now to persuade Americans that she really wants to be president and is not just going through the motions because of ...inevitability.

Miss Uncongeniality. There it was — the classic Hillary charm. Close to a month had passed since the Democratic frontrunner answered questions from the press. So this week, when reporters were invited to gawk at the spectacle of Clinton sitting with "everyday Iowans," Ed Henry of Fox wanted to know: Would the former secretary of state take a moment to respond to inquiries from non-stage-managed reporters? Before Henry was able even to finish his sentence, however, Clinton interrupted him, tut-tutting his impertinent shouting and raising her hand, empress-like, to quell her subject. After a few seconds of talking over each other Clinton must have realized that she had to give Henry an answer. Whereupon she said, slowly and sarcastically: "I might. I'll have to ponder it." What a kidder.

Your Normal Rules Don't Apply to Hillary Clinton. What the press still fails to appreciate about Hillary Clinton is that she's not running for president, she's running as president, and all the usual rules about when and how she should speak don't apply to her. In her mind — and who can blame her? — she's the incumbent, this is a reelection campaign, and she occupies a place miles above the liquescent bogs of petty politics into which reporters would dunk her.

Think like a liberal — or else. [Scroll down] Recently, Clinton declared that if elected president, she would pick Supreme Court nominees by the litmus test of demanding that they oppose the Citizens United ruling. Clinton is apparently still furious at the high court's 2010 decision, which dismantled federal election rules restricting independent political expenditures by nonprofit organizations. Citizens United, remember, was a conservative nonprofit group that produced an unflattering movie about Hillary Clinton. The Federal Election Commission went to court to prevent the film from airing on TV before the 2008 Democratic primaries. In other words, Clinton wishes to judge the qualifications of future Supreme Court nominees on the basis of whether they agree that a nonprofit organization had no right to be critical of her in a documentary at election time.

Want To Make Hillary Answer Questions? Start Ignoring Her Campaign. Hillary Clinton's 2016 presidential campaign is a mere 37 days old, but it's been 28 days — four full weeks — since the candidate last deigned to answer a substantive question from the media. Earlier today during yet another orchestrated and banal campaign event, Hillary mused that she "might" consider answering media questions at some point in the future. "I'll have to ponder it," she said about the prospect of answering questions from reporters, to adoring laughs from the crowd of Clinton plants in the audience.

Hillary wants the power to ban books and movies that criticize her. Hillary Clinton says that as president, she would have a litmus test for Supreme Court nominees: they must promise to vote to overturn the Citizens United case. It is easy to understand why Hillary isn't fond of Citizens United. The case involved a film called Hillary: The Movie that was critical of her. In Citizens United, the Supreme Court held that it was unconstitutional to criminalize showings of Hillary within 30 days of a primary or 60 days of a general election, simply because the movie (like all movies) was produced by a corporation.

Candidate Hillary Clinton Releases "Rules" that "Everyday Americans" Must Follow If Participating In Her Events. The Clinton Rules for meeting candidate Clinton are coming to light. After recent events in Iowa some reporters were able to talk to the limited number of "everyday Americans" who participated in her presidential rollout.

The case for a national Powder Room Initiative. If you're a woman who might prefer someone other than Hillary Clinton as the next president of the United States, you're a self-loathing, anti-woman traitor. Already, women I know report that they're feeling the heat from their more-liberal friends. Not a Democrat for Hillary? Good luck leaning forward, at least in this town. I've heard from a few readers along the same lines.

Calling her 'Hillary' is now 'sexist'. Now that Hillary is officially in the running, prepare to start hearing the s-word. Don't like her politics? Sexist! Disagree with her positions? Sexist! Still have issues with Benghazi? Sexist! The s-bomb will be dropping left and right over the next 18 months during an election season that's bound to witness a violent collision of culture and politics.

Cellphones and Cameras Confiscated Before Meeting With Hillary. "On Thursday [4/16/2015], Clinton's motorcade left the SpringHill Suites for Main Street Cafe, where she met privately with party leaders for about an hour and a half," reports KETV in Omaha. "Pottawattamie County Democratic Chairwoman Linda Nelson said the meeting was so private that everyone invited was asked to hand over their cellphones and cameras before taking part."

Chipotle Manager: Hillary Clinton Didn't Leave Anything in Tip Jar. "Her bill was $20 and some change, and they paid with $21 and left" without putting anything in a tip jar on the counter [4/12/2015], Charles Wright, the manager at the Maumee, Ohio, Chipotle restaurant told Bloomberg.

Hillary Has A History of Stiffing Waitresses, Hair Stylists. While the revelation that Hillary Clinton failed to leave a tip during her stop at a Chipotle earlier this week fell flat — few customers tip at the fast-casual Mexican restaurant — a deeper look at the former First Lady's tipping habits shows she does have a history of stiffing people who depend on tips to make ends meet. [...] Clinton's tipping habits were put front-and-center on Wednesday [4/15/2015] when Bloomberg News reported that Clinton and her aide, Huma Abedin, did not leave money in a tip jar after ordering at a Chipotle in Maumee, Ohio.

If Obama had an adopted mother, she'd look like Hillary Clinton. Not only did Obama and Clinton choose the same mentor, Uncle Saul Alinsky, in their salad years, both practiced law before becoming nest-feathering career politicians and both are sworn Marxists at heart. A most loyal and all too willing servant in the Obama regime, at the ready to go it on her own in the fullness of time, Hillary Clinton is every inch as imperious and presumptive as the man who would be king.

The secret list of requirements to get a Hillary speech (Not counting the $300K). Hillary Clinton is going to have a real problem running for president as a woman of the people. And the evidence mounts by the day. First, you'll recall her hilarious claim of being "dead broke" upon leaving the rent-free White House in 2001 and confronting mortgages on two mansions. We've all heard about her scores of strictly-controlled, quarter-million dollar speeches to every convention of scrap metal dealers and the like since jumping off the sinking S.S. Obama last year. Now comes a most amazing compilation of regal needs and demands before the ex-first lady, ex-senator, ex-secretary of State will condescend to accept up to $10,000 per minute to address her countrymen.

Hillary's hummus. When The Washington Post exposed Hillary Clinton's contract for a March speech at UCLA, the terms looked more like something a rock star might demand than something from a former senator and first lady. Among the details Clinton negotiated were the color and style of the armchairs she would be sitting on, the plates of hummus and crudités she demanded and the number of photos she would be willing to pose for. Oh, yes, she also told the school it would have to cough up a $300,000 speaking fee on top of all this to get her. When a college representative asked if Mrs. Clinton would consider a discounted rate because it was a public university, her people quickly responded: This was the discounted university rate.

Hillary Clinton charged $300k for UCLA speech, demanded crudité and diet ginger ale. Former Secretary of State Hillary Rodham Clinton charged $300,000 to speak to students and faculty at University of California Los Angeles in March, even after school officials tried to negotiate the deal. According to new documents obtained by the Washington Post under the Freedom of Information Act, the school asked for a reduced rate for public universities, but Mrs. Clinton's representatives said that $300,000 was the "special university rate."

Sharpton Guest Defends Hillary's Private-Jet Travel: 'American Royalty'. Appearing on Al Sharpton's MSNBC show this evening [11/11/2014], [Chris] Witherspoon defended Hillary against an RNC email criticizing her for expensive private-jet travel billed to the campaigns of candidates for whom she made appearances. Witherspoon generated this gem: "they're the Clintons. They're American royalty. I don't want to see them flying on domestic Delta flights in first class. I mean, they were flying on Air Force One for eight years. How do you go from that to not staying on private jets and kind of having like that luxurious travel experience?"

Democratic Candidates Spent At Least $700K To Fly In Clintons. Bill and Hillary Clinton were the most sought after surrogates in the Democratic Party this year. [...] When the Clintons travel, they fly private. This year, their airfare cost candidates at least $699,000, available state and federal campaign finance reports show.

For Hillary Clinton, Nothing Less Than A Gulfstream G450 Will Do. Wherever Hillary Clinton is going, she needs at least a Gulfstream G450 to get there. The once nearly "dead broke" former First Lady now makes steep demands when she gives speeches to corporations, groups and universities, according to emails between Clinton's agent and the University of Nevada, Las Vegas, where Clinton will earn $225,000 for a 90-minute speech in October.

Hillary Clinton requires 'presidential suite,' stenographer for speaking engagements, report says. Hillary Clinton has not yet announced whether she will be running for president in 2016, but a new report suggests that she has a taste for luxury to match any world leader. The Las Vegas Review-Journal obtained Clinton's contract and related documents related to a scheduled October 13 speech at a University of Nevada, Las Vegas (UNLV) Foundation fundraiser. The documents show that Clinton received $225,000 to speak at the fundraiser, a discount from her initial $300,000 asking price. But the fee was only the first of Clinton's many stipulations.

10 Things You'd Have to Offer Hillary Clinton In Order to Have Her Speak at Your Event. [#10] A speaking fee of between $225,000 and $300,000, depending upon the situation. [...] [#7] A TelePrompter. [#6] A stenographer. [#5] Meals and incidentals for Clinton, her travel aides and advance staff, as well as all phone charges.

Too rich for her own blood. Numerous reports have revealed that top Democratic 2016 presidential hopeful Hillary Clinton is living a lavish, over-the-top affluent lifestyle befitting — you guessed it — a mean old One-Percenter. She and her fellow Democrats pretend they're the party of the poor, the "hammered" middle class — the 99 percent. Well sorry, Hillary, but average Americans don't vacation in the Hamptons in $18 million homes, fly private jets, get paid more than $200,000 a pop for speeches or stay in presidential suites while traveling.

University at Buffalo paid $275,000 for Hillary Clinton speech. When Hillary Rodham Clinton agreed to address the University at Buffalo, the largest campus of the State University of New York system, she negotiated a few requirements in addition to her pay of $275,000. The potential 2016 presidential candidate's agent requested that the university provide "a presidential glass panel teleprompter and a qualified operator," that Clinton's office have "final approval" of her introducer and the moderator of any question-and-answer session, as well as "the sets, backdrops, banners, scenery, logos, settings, etc," and that the topic and length of the former secretary of state's speech would be at her "sole discretion."

Hillary Clinton's $275K Speaking Fee Comes with Diva Demands. Former Secretary of State and almost-certain 2016 presidential candidate Hillary Clinton not only demanded $275,000 to speak at the University of Buffalo, her nine-page contract is filled with the kinds of demands that Pop Divas like Madonna are regularly mocked for.

Keywords; imperious, arrogance, control freak
Hillary's $2,777 PER MINUTE speaking contracts demand a 'presidential' teleprompter, let her cancel 'for any reason whatsoever'. Hillary Clinton, the former secretary of state who is preparing to run for president on a populist platform of fighting income inequality, demanded $2,777 per minute for two university speaking engagements and insisted on contracts that cut off reporters' access to her and limited the number of photos she would take with well-wishers. [...] The once-and-maybe-future White House resident is routinely granted iron-grip control over the circumstances surrounding her speeches.

Bill and Hillary Clinton go to the grocery just like us. Bill Clinton and his wife are just regular folks, you should know. He says they talk to towns people near both of their mansions. They go to the grocery store on weekends and perhaps squeeze the fruit, as careful shoppers would watching their dollars in this stagnant Obamaconomy. Never mind the burly guys in cool shades nearby with curly wires running into their ears and machine guns under the jackets. Or their specially-trained defensive driver. Or the friends' private jets that whisk them to another $200K speech.

DEMOCRATS tear into 'imperial' Hillary after major gaffes about her enormous wealth. Hillary Clinton's fellow Democrats smell blood in the water after her recent gaffes over her considerable wealth and they began pouncing on the presidential hopeful on Monday. Dick Harpootlian, a former Democratic Party chairman in South Carolina, framed his insult in terms the fictional aristocratic Crawley family and their servants could understand. 'I don't know whether it's just that she's been "Madam Secretary" for so long, but she's generating an imperial image,' Harpootlian told The Washington Post.

Hillary Clinton and the Language Police. With each Hillary Clinton presidential campaign comes the requisite language policing from her supporters. Before the 2008 election, some argued it was sexist to call her "Hillary," a claim that lost most of its force when it became clear that Clinton herself wanted to use her first name. And now we have the latest attempts to rule out certain words or phrases: Hillary's poor social skills apparently must not be named, especially with words like "polarizing." But her supporters are doing her no favors.

Hillary 'Super Volunteers' Warn Reporter Against Using 'Sexist' Words. Sexist words, according to the group, include: "polarizing," "calculating," "disingenuous," "insincere," "ambitious," "inevitable," "entitled," "over confident," "secretive," will do anything to win," "represents the past," and "out of touch."

Hillary Clinton's 12 Dirty Words. What do you call a polarizing, calculating, disingenuous, insincere, ambitious, entitled, overconfident, secretive politician who will do anything to win and thinks she's inevitable even though she's out of touch and represents the past? Not "Hillary Clinton," because, you know, that would be sexist.

Here Are The Words Hillary's Supporters Won't Let You Say. Do you work in the media and have the gall to think that the entire Webster's dictionary is at your disposal? Think again, you sexist. When it comes to reporting on Hillary Clinton, George Carlin's "Seven Words You Can Never Say on Television" have turned into "Twelve Words You Can Never Say About a Powerful Politician."

Her Royal Heinous vs. the Democrat Opposition. Hillary is younger than Ronald Reagan when he took office, and around the same age as several other former presidents. So it may not be Clinton's chronological age that concerns some people as much as it is the increasing sense of world-weary entitlement she displays toward the presidency. It's not the bags under her eyes that rankle; it's the baggage under the table. It's not the manner in which Her Highness sashays to the lectern; it's the bombast she utters once she gets there.

Clinton Press Secretary Thinks Hillary Should Be a Supreme Court Justice. The only question is why stop there? Can't we just appointed a politician, whose only qualification for every job she has gotten in the last two decades has been her last name, Supreme Overlord of the Universe?

Hillary Wants to be President, She Just Doesn't Want to Run. Ready for Hillary, the campaign before the campaign which has churned out some creepy t-shirts and a terrible country song, is $11 million in debt, and Hillary still isn't ready. While Hillary was delivering six figure speeches at heavily indebted universities, Ready for Hillary was burning through a giant pile of money trying to stir up Obama level enthusiasm for their uncharismatic candidate by selling fifty dollar champagne glasses emblazoned with a giant H, a Hillary Clinton cat collar and a Hillary Clinton Christmas tree ornament.

Hillary's hummus. When The Washington Post exposed Hillary Clinton's contract for a March speech at UCLA, the terms looked more like something a rock star might demand than something from a former senator and first lady. Among the details Clinton negotiated were the color and style of the armchairs she would be sitting on, the plates of hummus and crudités she demanded and the number of photos she would be willing to pose for. Oh, yes, she also told the school it would have to cough up a $300,000 speaking fee on top of all this to get her. When a college representative asked if Mrs. Clinton would consider a discounted rate because it was a public university, her people quickly responded: This was the discounted university rate.

The secret list of requirements to get a Hillary speech (Not counting the $300K). Hillary Clinton is going to have a real problem running for president as a woman of the people. And the evidence mounts by the day. First, you'll recall her hilarious claim of being "dead broke" upon leaving the rent-free White House in 2001 and confronting mortgages on two mansions. We've all heard about her scores of strictly-controlled, quarter-million dollar speeches to every convention of scrap metal dealers and the like since jumping off the sinking S.S. Obama last year. Now comes a most amazing compilation of regal needs and demands before the ex-first lady, ex-senator, ex-secretary of State will condescend to accept up to $10,000 per minute to address her countrymen.

Sharpton Guest Defends Hillary's Private-Jet Travel: 'American Royalty'. Appearing on Al Sharpton's MSNBC show this evening [11/11/2014], [Chris] Witherspoon defended Hillary against an RNC email criticizing her for expensive private-jet travel billed to the campaigns of candidates for whom she made appearances. Witherspoon generated this gem: "they're the Clintons. They're American royalty. I don't want to see them flying on domestic Delta flights in first class. I mean, they were flying on Air Force One for eight years. How do you go from that to not staying on private jets and kind of having like that luxurious travel experience?"

Hillary Clinton again shuts out media. We've been here before: Hillary Rodham Clinton lands in a major U.S. city for a speech. Her team bars the media from the speech. Local media documents the firm stiff-arm from Clinton Inc. Happened in Miami. Happened in Atlanta. Now the San Francisco Chronicle's Carla Marinucci reports it's about to happen in San Francisco. The former secretary of state will be speaking at a mammoth Saturday event for the National Association of Realtors at San Francisco's Moscone Center. And later that day, she's scheduled to appear at a "Millennial Network" event to benefit the Clinton foundation, at San Francisco's Regency Ballroom, Marinucci reports. Both events will be closed to the press.

Hillary Clinton's security grabs man's phone to erase photo at Miami speech. Hillary Clinton may have posted a selfie on Twitter, but that doesn't mean just any old shutterbug can take her picture. During a Clinton speech Thursday at a convention in Miami, an audience member dared snap a pic of the presumed presidential candidate with his smartphone, but Clinton's team swept in, confiscated the man's phone and deleted the snapshot.

Hillary Clinton's image control: Security swipes man's phone, erases pic of her at speech. At one point, a member of the audience, Andrew Rothberg, had his Galaxy Note II smartphone taken from him by security, which removed his picture of Clinton onstage and then gave his device back in front of a Miami Herald reporter in the auditorium stands. "It's crazy," Rothberg said. "That's American politics," said a docent, one of a handful of hotel security and volunteers who roamed the aisles looking for people taking pictures or making recordings. None was allowed.

The Editor says...
One must wonder why a politician — whose goal is to be widely known, recognized, and quoted in the newspapers — is opposed to being photographed or recorded.




The extreme wealth and greed exhibited by the "champion of the middle class:"

Related page: The wealthy liberal elite pretend to watch out for the little guy.

Steelers' Head Coach Held Fundraiser For Hillary, Donated Heavily To Obama. Steelers' Head Coach Mike Tomlin held a high-end fundraiser in 2016 for then-presidential candidate Hillary Clinton at his home with ticket prices reportedly costing over $30,000. Tomlin hosted the event with his wife on June 14 with supporters required to pay $33,400 to meet Clinton — those who couldn't afford to pay that amount to meet a woman claiming to represent the middle class were given the option of simply paying $10,000 to attend.

Hillary Clinton Donors Who Gave Less Than a Million Booted from Party Invite List. Hillary Clinton campaign donors who gave less than a million were left off the guest list for the Democratic nominee's glitzy "thank you" party — and they're not happy. Clinton will fill the iconic "grand ballroom" at New York's posh Plaza Hotel — one of the ritziest event spaces in the city — but with just a few hundred of her top bundlers (those donors who maxed out on individual contributions and then began soliciting million dollar checks from their friends and family). Invitations to the party went out last week, and the "Clinton campaign has been fielding complaints ever since." Because if you made less than a million for her campaign, or aren't one of Clinton's favored few mega-donors, you were bumped from the party.

Hillary and friends are shocked to learn radical fringe politics is NOT the new normal. It used to be that Democrats abhorred the role of big money in politics. But Clinton outspent Trump 3-1 and raised more than a billion dollars. The plutocracy — Wall Street, Silicon Valley and the great American gilded fortunes of Goldman Sachs, Amazon, Berkshire Hathaway, Facebook and Google — were not just Clinton supporters but often strident ones. The old idea of a liberal populist underdog had morphed into a haughty moneybag, with a huge staff, lots of opposition researchers and internal pollsters, surfeits of questionable cash donations, and politically correct endorsements that the left used to find plastic and inauthentic.

How much is Hillary Clinton worth? What has she spent on her campaign? Hillary Clinton has been accused of "pay-for-play corruption" by her rival Donald Trump as the FBI mounts a fresh investigation that could scupper her chances of winning the US election. But how much is she worth, where did her fortune come from and how much has she spent on her campaign?

Wikileaks: Here's How The Clinton's Free Private Jet Scam Works. Ira Magaziner, the CEO of the Clinton Health Access Initiative, asked former President Bill Clinton to thank Morocco's King Mohammed VI for "offering his plane to the conference in Ethiopia." "CHAI would like to request that President Clinton call Sheik Mohammed to thank him for offering his plane to the conference in Ethiopia," Magaziner gushed in a November 22, 2011 email released by WikiLeaks. Clinton frequently has expected free, luxurious private jet travel during his post-presidential life. Clinton, his wife and daughter have artfully secured free air travel and luxurious accommodations since they left the White House. It's an effective way to accept gifts of great value without declaring them for the Clinton Foundation.

Hillary Clinton failed to disclose $400,000 in pricey presents, private jets and vacations gifted to Bill although she was obligated to do so as Secretary of State. Hillary Clinton did not disclose 'expensive gifts,' free vacations, and complimentary private jet travel her family received from business interests while she was at the State Department, according to leaked emails and federal disclosure records reviewed by the DailyMail.com[.] Long-time Clinton aide Doug Band claimed in a confidential 2011 memo published by Wikileaks this week that he helped obtain free vacations and personal travel for Bill Clinton and his family as part of his duties. During Hillary Clinton's tenure at the State Department, she did not report any gifts or travel reimbursements for herself or her spouse in her financial disclosure filings.

Gov't Workers Shower Clinton With Campaign Cash. It shouldn't come as a surprise that most federal government workers are backing the candidate who promises to make government bigger. Even so, the amount of money they're throwing at the Clinton campaign has frightening implications for the country.

Hillary Clinton: 'I Love Having the Support of Real Billionaires'. Democratic presidential nominee Hillary Clinton says she loves having rich people support her. "You know I love having the support of real billionaires," Clinton said, during a speech in Florida.

Fact Check: Hillary Said 90% of Clinton Foundation Donations go to Charity. Actual Number? 5.7%. Hillary Clinton told a whopper of a lie during last night's debate when she claimed 90% of the money donated to the Clinton Foundation is paid out in charity. The truth is only 5.7% of their "massive budget" in 2014 went to charitable grants, "the rest went to salaries and employee benefits, fundraising and 'other expenses.'"

The Clinton Foundation Colombia Scam. That the Clinton Foundation's operations are nothing but a cash cow scam is seen in a brilliant analysis and exposé of its operations in Colombia, a country beset by internal strife and an ongoing battle with drug cartels. The truth, as reported by Ken Silverman and the American Media Institute in Fusion, a joint venture of ABC and Univision, hardly Trump surrogates, explains in part how the Clintons amassed a small fortune without holding any job or running any business. [...] Corruption has been a Clinton hallmark. The Clintons have made a career of making a fortune on the dime of a public they intentionally deceive and defraud, using their positions of power to enrich themselves at the public's expense.

Here Are Hillary Clinton's Three Speeches To Goldman Sachs For Which She Was Paid $675,000. As has been widely reported, in 2013 Hillary Clinton was paid $675,000 for three speeches to Goldman Sachs. One was delivered on June 4, 2013 at the 2013 IBD CEO Annual Conference at The Inn at Palmetto Bluff in South Carolina, a second one took place on October 24, 2013 at the Goldman Sachs Asset Management AIMS Alternative Investment Symposium, and the last one was delivered on October 29, 2013 at the Goldman Sachs builders and innovators summit.

America's Versailles Set. Chelsea Clinton, for example, is married to hedge-fund operator Marc Mezvinsky (whose suspect Greek fund just went broke), and she once made over $600,000 for her part-time job as an NBC correspondent. She serves in a prominent role and is on the board of the non-profit billion-dollar Clinton Foundation, which has been cited for donating an inordinately small amount of its annual budget (often less than 15 percent) to charity work, while providing free jet travel for the Clinton family and offering sinecures for Clinton political operatives in between various Clinton campaigns. Explaining why she works at the Clinton Foundation and for other non-profits, Chelsea confessed, in Marie Antoinette style, that "I was curious if I could care about [money] on some fundamental level, and I couldn't." She cared enough, though, to purchase a $10.5 million Manhattan apartment not long ago rather than, say, rent a flat in the Bronx.

Elite 'bundlers' raise more than $113 million for Hillary Clinton. More than 1,100 elite moneymen and women have collectively raised more than $113 million for Democrat Hillary Clinton's presidential bid, according to an analysis by the Center for Public Integrity of information released this week by her campaign. The list, updated monthly, includes more than 260 new bundlers who had not previously been disclosed by the campaign. These newly revealed fundraisers and donors include lawmakers, entertainment icons and titans of industry.

Finally! The Clinton Family has a compound. As every Godfather fan knows, you've got to have a compound when your famiglia hits the big time. I am sure we are supposed to associate "family compound" with the words "Hyannis" and "Kennedy," but for me, "Corleone" comes to mind.

Bill and Hillary Clinton buy the house next door — their third $1 million manse. Democratic presidential nominee Hillary Clinton is seeking a job that comes with a house, but she and her husband, former president Bill Clinton, have many options if the White House thing doesn't work out. The couple have purchased a home next door to their primary residence in Chappaqua, N.Y., according to real estate records. That makes three homes worth north of $1 million owned by the Clintons, including a stately mansion near the British Embassy in Washington that Clinton used when she was a senator.

Clinton campaign demanded $500 from college kids to attend 'Conversation with Chelsea'. Hillary Clinton's campaign has come under fire from college students for charging hundreds of dollars just to attend a "Conversation with Chelsea" event. Penny-pinching students from Penn State University had little hope on Wednesday of engaging in a "conversation" with Mrs. Clinton's daughter since attendance alone cost $500. A photo with the former secretary of state's daughter could be obtained with $1,000 donation and access to a special reception required $2,700. Progressive students interviewed by the Collegian, the school's independent newspaper, were incredulous at prices for the State College, Pa., event.

Everything has a price tag.
Clinton Campaign Event at Penn State Charges Students $500 to $1,000 to Meet Chelsea. Selling access is the Clinton family business and apparently, Chelsea is all in too. According to a report from Heat Street, students at Penn State who wanted access to Chelsea Clinton were expected to buy tickets at $500 to $1,000 a pop.

Hillary Takes Questions From Children — For *Only* $2,700 Each!. Who says Hillary has not been busy this month? She's been raking in millions of dollars from the ultra-rich. And the NYT reports that Hillary attended a $100,000-per-couple lamb dinner at the Martha Vineyard's mansion of Lady Lynn Forester de Rothschild. Mrs. Rothschild told the guests: "Let's make it a nice night for her and show her our love."

Hillary collected $270,000 per HOUR in secretive three-day California celebrity fundraising blitz. Hillary Clinton mingled with Hall of Fame basketball player Magic Johnson and Apple CEO Tim Cook, vamped in a photo booth with actor Justin Timberlake and dined with some of California's richest families on what was likely the most lucrative fundraising swing of her presidential campaign. The Democratic presidential nominee raised $18 million on a three-day trip through California, or roughly $270,000 an hour.

Video: Hillary Clinton's cribs shock young people. Hillary Clinton has vowed to be a champion for "everyday Americans." The former Secretary of State — who once described herself and husband Bill Clinton as "dead broke" — kicked off her campaign on June 13 and in her 45-minute speech on New York City's Roosevelt Island, Clinton delivered a message similar to her initial presidential announcement. "Americans have fought their way back from tough economic times," Clinton said in the video announcement on April 12. "But the deck is still stacked in favor of those at the top." So what do Millennials think of a candidate who criticizes the "1 percent," but simultaneously owns multi-million dollar properties in Washington, D.C. and New York and spends her summers in the Hamptons? [Video clip]

Bill Clinton netted $1.6 million from for-profit colleges. Bill Clinton netted $1.6 million last year from a pair of for-profit education companies that caused controversy for the future president during Hillary Clinton's time as secretary of state. Laureate Education paid Bill Clinton nearly $1.1 million in 2015, according to tax returns released by his wife's campaign Friday. GEMS Education, a Dubai-based firm, paid him more than $560,000. Both companies are major donors to the Clinton Foundation. Bill Clinton's lucrative consulting contracts with the corporations have raised questions about how closely his personal fortune is linked to his philanthropic activities.

Clintons Made $6,725,000 in Speaking Fees in 2015. Hillary Clinton's 2015 tax returns show that Hillary and Bill Clinton combined to make $6,725,000 from speaking engagements last year. According to the returns, which were released at noon on Friday [8/12/2016], Hillary Clinton was paid $1,475,000 for speaking last year while Bill Clinton pulled in $5,250,000.

Clinton releases tax returns; earned nearly $240M since leaving White House. Hillary Clinton's income took a huge hit as she ran for president last year, dropping to less than half of what she made the year before, according to tax returns her presidential campaign released Friday [8/12/2016]. Mrs. Clinton hoped the release would embarrass GOP presidential nominee Donald Trump, who has refused to release any of his, while also shining a light on the high rate she and her husband paid in their own taxes. The power couple reported earning $10.7 million in income in 2015, and claimed a tax liability of $3.6 million.

Dead Broke: Forbes Says the Clintons Pulled in $229 Million Between 2001 and 2014. Remember when Hillary Clinton claimed she and Bill were "dead broke" when they left the White House? Hey, I know this will startle you, but it turns out that's [not true]. Because even before they left the White House, the Clinton had purchased both a "...a five-bedroom home in Chappaqua, N.Y., for $1.7 million [and] a seven-bedroom house near Embassy Row in Washington, D.C. [for] $2.85 million."

Clinton Foundation gives tiny fraction of $2 billion in revenue to veterans groups. The Clinton Foundation has collected more than $2 billion in revenue since it formed — but has given only the tiniest fraction to veterans groups, instead preferring to focus on international causes and in-house operations that provide far more control and less transparency. Meanwhile, a separate private charity, the Clinton Family Foundation, has donated about $100,000 to veterans groups, according to Hillary Clinton's presidential campaign.

Hillary Claims To Be Everyday American, But Look What She Was Carrying In NY. Although Hillary Clinton likes to pretend that she's "just like every other American," there's some strong evidence to the contrary. Take, for example, what she had in her hands during a recent stop in New York, and you'll see the serious issue with such a sentiment. [...] According to Mail Online, she had a sold out, Alexander McQueen handbag, which is valued at a whopping $1,500 — $1,645 depending on the source.

Hillary Clinton shows off her $1,600 Alexander McQueen handbag. Hillary Clinton arrived for her interview on The View carrying a stylish — and sold out — Alexander McQueen handbag that costs $1,645. As voters headed to the polls in Wisconsin on Tuesday, the presidential hopeful returned to her native New York, where she was twice elected by the state's voters to represent them in the Senate.

Media Gives Clinton Total Pass on $12,000 Armani Jacket, But Pounded Palin in '08. The time was eight years ago. [...] The Welfare Queen from Wasilla was going to be portrayed as a hypocrite come hell or high water... as just another rich Republican out-of-touch with the common folk. And by and large thanks to an avalanche of coverage, the portrayal stuck. Fast forward to 2016: Another historic female candidate is making her pitch on the campaign trail around shrinking the gap of income inequality... which has grown four times faster under the president she's served in Obama than the previous one in Bush. But while making said pitch in April of this year, the candidate decided it was a good idea to wear an Armani jacket that is the same price as a new car (the underrated Nissan Versa, which — like the Armani jacket — prices out at more than $12,000.00). It's the ultimate hypocrisy, of course, for Hillary Clinton — the same Hillary who earned more in one speech to Goldman Sachs than her Democratic rival in Bernie Sanders has in an entire year — and therefore worthy of the same attention and resources the GOP's Vice Presidential candidate generated in 2008.

The surprising strategy behind Hillary Clinton's designer wardrobe. Hillary Clinton's New York primary victory speech in April focused on topics including income inequality, job creation and helping people secure their retirement. It was a clear attempt to position herself as an everywoman. But an everywoman she is not — she gave the speech in a $12,495 Giorgio Armani tweed jacket. The polished outfit was a stark contrast to the fashion choices Clinton has made in the past. As first lady, Clinton wore frumpy pastel skirtsuits. As New York senator and secretary of state, she attempted a more serious look, wearing pantsuits in a rainbow of colors — so mocked that they sparked memes. In comparison to Michelle Obama, who's become known as a style icon during her time in the White House and appeared on the cover of Vogue twice, Clinton has never been able to nail down a personal aesthetic that works for her.

Hillary Clinton wore a $12,495 Armani jacket during a speech about inequality. Hillary Clinton took a lot of flak on Monday after a report surfaced that the presidential candidate wore a Giorgio Armani jacket worth more than $12,000 during a speech in April about inequality. Clinton, who was well-known for her vast pantsuit collection, has upgraded her wardrobe during her most recent bid for president to appear more relatable, according to the New York Post.

Hillary Clinton wore $12,495 Armani jacket during speech on inequality. You just can't make this stuff up anymore. Hillary Clinton, dead broke as she claimed after leaving the White House with rapist Bill Clinton wore a $12,495 priced Armani jacket while giving a speech about inequality back in April. Some people struggling today don't even make that in a year. Others are lucky if this is 1/3rd of what they make in a year. No matter to 'dead broke' Hillary.

The massive scale of the Clintons' speech-making industry. Last week, Hillary Clinton's campaign released her most recent personal financial disclosure, detailing ways in which she and her husband earned money in 2015. Most of their income came from book royalties and giving paid speeches. Bill Clinton, for example, gave a speech to the National Association of Manufacturers in March 2015, being paid $325,000 for his time. You probably don't need to be reminded that $325,000 is more than most people make in a year. The median income for a family of four in 2014 was $53,657 — what Clinton made about a sixth of the way into that one speech. And that was one of 22 speeches Bill Clinton gave last year.

Clintons Continue Their Climb Out of Poverty. Bill and Hillary Clinton have now completely escaped the poverty that plagued them after leaving the White House in 2001, having together earned more than $11 million in 2015 from speeches and book sales. You may remember, Mrs. Clinton said she left the White House dirt broke and had to either start flipping burgers, working on an assembly line, or join her husband giving hour-long speeches for absurd amounts of money and having someone ghostwrite a best-selling book for her. Well that's not exactly what she said. In any case, she chose the latter, and it seems to have paid off.

Hillary reveals she earned $1.5 million from just six speeches last year and $5 million in book royalties. Hillary Clinton filed financial documents Tuesday [5/17/2016] showing that in 2015 she earned more than $5 million in royalties from her book 'Hard Choices' and about $1.5 million in speaking fees before she launched her presidential campaign. Her husband, former President Bill Clinton, continued his lucrative speaking tour through last November, more than six months after his wife entered the race, reaping more than $5 million from banking, tech and other corporate interests.

Hillary and Bill Clinton Made $6.7 Million from Speeches in 2015. Hillary and Bill Clinton raked in a combined $6.725 million in paid speeches in 2015, a decrease from the year before, according to a personal financial disclosure form released late Tuesday night [5/17/2016]. As a presidential candidate, Clinton has come under fire for paid speeches she gave, particularly to big banks and Wall Street, after leaving the State Department. Her Democratic opponent, Bernie Sanders, and his supporters have called on her to release the transcripts of these speeches, which she has thus far refused to do.

Huma carries designer shopping bags for her millionaire boss after Clinton stops off at Ralph Lauren for a spot of retail therapy. Huma Abedin was apparently left carrying Hillary Clinton's shopping bags on Thursday after her millionaire boss stopped in at Ralph Lauren to pick up some designer clothes. Clinton's top aide looked less than pleased to be carrying expensive shopping and was spotted walking 10 paces behind the presidential front runner after the excursion to the upmarket store in New York. Another assistant was holding a blue garment bag, which could also have been from the designer store.

Bernie made less in 2014 than Hillary did from a single speech. Bernie Sanders finally released his latest tax return on Friday [4/15/2016] and the documents reveal he made less in a year than Hillary Clinton did from a single speech. Sanders's 2014 tax documents show he and his wife Jane reported an adjusted gross income of about $205,000 that year. That same year, Clinton made an average of $233,600 per speech. She gave 45 speeches in 2014 raking in a total of about $10.5 million, according to a Politico report.

And yet...
Hillary's State Department Stopped Haiti From Increasing Its Minimum Wage to 61 Cents. The #FightFor15 movement is continuing to make gains. After steamrolling through large urban centers such as Seattle, San Francisco, and New York, now it may be coming to entire states near you. New York and California recently adopted a $15 statewide minimum wage, and both Democratic presidential candidates have advocated extending the policy nationwide. While Bernie Sanders has made political hay out of Hillary Clinton's seeming reluctance to fully embrace his rush to $15, she has been coming around to the same talking points of late. Of course, when the rubber meets the road, Hillary seems to have a different take on drastic wage hikes. When she was running the show, the State Department helped block Haiti's efforts to increase its minimum wage from 27 cents to 61 cents per hour.

Anti-Walmart Union Stays Quiet as Hillary Gets Big Donation From Heiress Alice Walton. A major anti-Walmart union is staying tight-lipped about billionaire Walmart heiress Alice Walton's six-figure donation to Hillary Clinton. The United Food and Commercial Workers Union endorsed Clinton in January, less than one month after Walton contributed more than $353,000 to a pro-Hillary fund. International president of the UFCW Marc Perrone wrote in a statement, "It is our members' strong belief that Hillary Clinton is not just the strongest presidential candidate, but the right one."

Pay Gap Alert: Clinton Foundation Male Execs Earn 38% More Than Women. Male executives at the Bill, Hillary and Chelsea Clinton Foundation earn 38 percent more than women executives, according to a Daily Caller News Foundation review of the foundation's latest IRS tax filings. The foundation's 2013 IRS form 990 reveals that nearly three times as many men as women occupy the executive suites at the Little Rock, Arkansas-based foundation. On average, top male executives at the foundation earn $109,000 more than the top female executives with positions in the C-suite.

Hillary's Haircut Inequity. The Clintons claim that in 2001 when they left the White House in a moving van stuffed to the rafters with $190K worth of stolen items, they were poverty stricken. Then, between 2001 and 2012, on speaking fees alone, the destitute couple managed to stockpile approximately $160 million dollars. With that kind of haul, who needs commemorative china and cutlery? Anyway, now it's 2016 and, thus far, Hillary watchers haven't seen the former penniless first lady/current prosperous presidential hopeful wear the same outfit twice. In fact, every time Hillary Clinton's bulging eyes approach the podium, if you listen closely, besides the signature squawking and screeching, you'll hear a cash register ring up $1,400 for each and every Nina McLemore power pantsuit she shows up in.

Hillary Clinton's pathological need for cash. What is up with Hillary Clinton's compulsive lining of her own pockets? It turns out she has her campaign paying her $250,000 a year. It's not illegal — but most would-be presidents aren't so venal. And she truly doesn't need the cash: Her net worth is $11 million to $52 million. She's no longer the cash-poor Arkansas first lady who in 1978 turned a $10,000 investment in cattle futures into a fast $100,000.

'Dead Broke'? Hillary Pays Herself Over $250K From Campaign Coffers. Hillary Clinton has paid herself over $250,000 from campaign money since April 2015. The first transaction was for $74,042 on April 13, the same month she started her campaign, and the seven total payments since to Hillary have totaled $254,447, The Washington Free Beacon reports. A Federal Elections Commission rule change in 2002 allowed for candidates to pay themselves using campaign funds, however, this was allowed explicitly for candidates without means who quit their jobs to seek office.

Update:
Hillary Paid Herself $250,000 From Campaign Funds. The Clinton campaign, which did not respond to multiple requests for comment before publication, contacted the Washington Free Beacon after the story was published and said the amounts listed were in-kind contributions to the campaign from Clinton. "Those are in-kind donations from Hillary Clinton, not payments to her. Sorry for the slow response," said campaign spokesman Josh Schwerin.

"Woman of the People" Hillary Hawking $50 Designer Campaign Tees. This morning, I received a personal email from Vogue editor Anna Wintour. [...] It was actually a form letter from the Hillary Clinton campaign announcing that the "woman of the people," who cares so deeply about the middle class that she so obviously belongs to, having toiled endlessly in politics for the last several decades, barely feeding herself on six-figure speaking honorariums and struggling to keep the lights on and private server working in her New York mansion, is selling a line of exclusive "Made for History" tee shirts, designed by some of today's hottest fashion names, starting at a mere $45.

Wage gap: One Hillary Clinton speech more than average CEO salary. Democratic presidential candidate Hillary Rodham Clinton's charge that corporate CEOs earn 300 times more than their workers isn't just wrong. It hides another very real wage gap: She earns more in just one speech than the average American CEO in a year.

White Lady with $650K Speaking Fee Wants Black Americans to Know She's Down with Their Struggle. [Scroll down] I'm glad we are finally getting around to airing out a subject that's been put on the back burner for so long. After the Democrats got a free pass on making the African-American citizens of Detroit significantly poorer for almost half of a century, Hillary probably rightfully feels that there is no level of Demspeak feel-good pandering that she can't get away with now.

Howard Dean Denies Hillary Did Paid Speeches, Gets Shot Down by MSNBC Producer. Former Democratic National Committee chairman Howard Dean tried to claim on MSNBC's Morning Joe Wednesday [2/3/2016] that Hillary Clinton had never received hundreds of thousands of dollars in speaking fees from colleges, only to be shot down by the show's executive producer later in the segment. Host Mika Brzezinski first brought up Clinton's speaking fees, asking whether they'd be a problem when it came to relating to college students. "These kids... will be strapped with $90,000 in debt or $120,000 in debt and she's making $225,000 in one hour," she pointed out. But Dean took umbrage at that suggestion. "She's not getting $225,000 for speeches in front of colleges," he insisted.

Hillary hagiography for immature minds. [Scroll down] Actually, Hillary's father was not wealthy, and not really that successful in his drapery business. Some years were good, but others provided little income. I suspect the economic insecurity Hillary experienced growing up has a lot to do with her compulsive need to acquire wealth and the trappings of power.

Greed Is Clinton's Achilles' Heel. When Bernie Sanders hits rival Hillary Clinton for taking humongous speaking fees from big banks — notably the $675,000 Goldman Sachs paid her for three speeches while she eyed the Oval Office — he struck Clinton's Achilles' heel. Both the former secretary of state and her husband, former President Bill Clinton, have cashed in since they left the White House in 2000. The New York Times reported last year that the Clintons earned $139 million from 2007 to 2014. The Clintons' focus on accumulating wealth clouds their judgment.

The many contradictions of Hillary Clinton. [Scroll down] Clinton has also vowed to raise taxes on hedge fund managers. Is that a way of expressing displeasure with her son-in-law, Marc Mezvinsky, who operates a $400 million hedge fund? For that matter, how did Clinton's daughter, Chelsea, who worked for a consulting firm and a hedge fund despite having no background in finance — reportedly become worth an estimated $15 million? Hillary Clinton recently proposed a new $350 billion government plan to make college more affordable. Certainly, universities spike tuition costs, and student-loan debt has surpassed $1 trillion. Colleges spend money indiscriminately, mostly because they know that the federal government will always back student loans. Yet, since she left office, Clinton routinely has charged universities $200,000 or more for her brief 30-minute chats. Her half-hour fee is roughly equal to the annual public-university tuition cost for eight students.

Hillary Promises To 'Go After' Cayman Island Tax 'Schemes,' Though She And Bill Have Made A Ton From Them. Hillary Clinton criticized the use of offshore tax havens on Monday [1/11/2016], even though she and husband Bill have been paid millions of dollars in investment income, consulting fees and speech honoraria from companies doing business in the Cayman Islands.

Hillary Clinton pocketed $37 million in campaign cash in 4th quarter; $112 million in 2015. Hillary Clinton's presidential campaign said Friday [1/1/2016] it raised $37 million in the past three months and more than $112 million in all of 2015 to support her bid for the Democratic nomination.

Clinton's campaign-finance hypocrisy. According to Hillary Clinton's campaign Web site, "Hillary's vision for America" includes "campaign finance reform" as an issue "she will fight for as president," arguing that "we have to end the flood of secret, unaccountable money that is distorting our elections, corrupting our political system, and drowning out the voices of too many everyday Americans." These are inspiring words as our democracy devolves into a plutocracy where the wealthiest have the power to select who governs us. But they are hard to square with the way Clinton is running her campaign.

Two Clintons. 41 Years. 3 Billion. Over four decades of public life, Bill and Hillary Clinton have built an unrivaled global network of donors while pioneering fundraising techniques that have transformed modern politics and paved the way for them to potentially become the first husband and wife to win the White House. The grand total raised for all of their political campaigns and their family's charitable foundation reaches at least $3 billion, according to a Washington Post investigation.

Hillary's 'everyday Americans' base is questioned as ZIP codes at the top of her donor list are among America's richest. Hillary Clinton's donors have something else in common other than their support for the Democratic candidate. Turns out, they're neighbors. The top 10 zip codes of her donor list represent some of the richest neighborhoods in the country, and they're all clustered in Manhattan or near Northwest Washington, D.C.

Eighty-five bundlers each raise more than $100K for Clinton. Hillary Clinton got a boost from 85 volunteer fundraisers or bundlers who collected more than $100,000 for her presidential campaign during the last three months, her campaign announced Thursday [10/15/2015].

Hillary Clinton's lawbreaking and lying have caught up with her. Why is Hillary Clinton so unhappy? According to her, when she and her husband left the White House, they were dead broke. Yet they left with a truckload of valuable furniture, dinnerware and flatware that was the property of the federal government, for which they were never prosecuted. They also left with contracts for lectures and speeches worth between $20 million and $30 million in the ensuing years. And they have done quite well financially. According to The Washington Post, between the time Bill Clinton left office in 2001 and January 2013, when Hillary Clinton stepped down as secretary of state, Bill alone made $104.9 million for speeches, and Hillary's standard speaking fee is $200,000 a pop.

How The Clintons Have Made $230 Million Since Leaving The White House. Less than a week before the Clintons left the White House in 2001, they bought a replacement house 15 minutes down the road for $2.85 million. It was a pricy purchase for a couple who had more than $1 million in legal debt and a net worth of nearly nothing at the time. But the Clintons had little reason to worry — they were poised to make a fortune. Over the next 15 years, they earned more than $230 million before taxes.

Clinton Promises to 'Make the Wealthy Pay' and Make 'Companies Share Profits'. At the very beginning of the debate, Clinton introduced herself as "the granddaughter of a factory worker" to establish her credibility with the middle class. Later, debate moderator Anderson Cooper challenged her on that point, noting that Hillary and her husband Bill "are part of the one percent." "Well, you know, both Bill and I have been very blessed," Clinton responded.

The Editor says...
I suppose "blessed" is a code word for greedy.

This Weird Fact About the Clinton Family Fortune Will Blow Your Mind. Hillary Clinton and her husband Bill Clinton are very rich, raking in some $25 million in 2014. They own multiple mansions. They vacation in style. They make 4-5 times the median annual income for giving one speech to a room full of Wall Street executives and/or brutal dictators. Since they left the White House "dead broke" in 2001, they've pocketed more than $200 million. But at least some of that massive haul is unaccounted for in their annual financial disclosure, raising some interesting questions, such as, "Where is it?"

The Mystery Of Hillary's Missing Millions. Since Bill and Hillary Clinton left the White House in 2001, they have earned more than $230 million. But in federal filings the Clintons claim they are worth somewhere between $11 million and $53 million. After layering years of disclosures on top of annual tax returns, Forbes estimates their combined net worth at $45 million. Where did all of the money go? No one seems to know, and the Clintons aren't offering any answers.

Clinton raised up to $500K in Puerto Rico visit. Democratic presidential candidate Hillary Clinton reportedly brought in between $200,000 and $500,000 for her campaign in a Puerto Rico fundraiser Friday [9/4/2015]. Clinton attended the 200-person event at the Condado Plaza Hilton in San Juan for approximately 90 minutes, according to CNN. Attendees paid between $1,000 and $2,700 each for seats at Clinton's fundraiser.

How long before Hillary drops out? Another day, another poll to rattle former Secretary of State Hillary Clinton's presidential campaign. [...] Clinton's coronation as the Democratic nominee was once taken for granted. Some of it has to do with left-wing Democrats' justifiable sense that she is not one of them but, rather, an entitled millionaire who cuts an odd figure as a populist champion of the middle class.

Clinton to cut vacation short amid controversy. She and her family planned to spend the last two weeks of August in a Hamptons vacation home that cost $50,000 per week. Instead, Clinton will attempt to draw attention away from the scandal over her private email use by touting her plans to "reshuffle the deck" in favor of the middle class.

Hillary Clinton plans to spend break from campaigning among 'ordinary Americans' in $50,000-a-week Hamptons home. Her campaign has centered on her claim that she will be the champion of the middle class if she is elected to the White House. So the average person will no doubt find it easy to relate to the beachfront mansion that Hillary Clinton is renting for her summer vacation in The Hamptons. Exclusive pictures obtained by Daily Mail Online show what exactly the Democratic Presidential candidate is getting for her $100,000 — which covers just a two week rental.

The hypocrisy of Hillary Clinton's unpaid campaign internships. Hillary Clinton is offering young people an incredible opportunity — to work for her campaign for... nothing. Nada. Zero. [...] But Clinton is on record to the contrary. "Businesses have taken advantage of unpaid internships to an extent that it is blocking the opportunities for young people to move on into paid employment," she lectured at UCLA in 2013. "More businesses need to move their so-called interns to employees."

Hillary refuses to take responsibility for her actions. Here is a woman of the 1 percent masquerading as a populist, a lady so entitled and tone deaf to the struggles of ordinary citizens that she sees no problem with lording her privilege over the masses. It was just a haircut. But Hillary's stunning refusal to take responsibility for her actions, big and small, rules her every move. Last year, she said she and her husband, millionaires many times over, were not only "dead broke but in debt" when they left the White House in 2001. (After an outcry, she took back the "broke" claim, saying she and her hub are "obviously blessed" and care about the little people.)

Bill and Hillary Clinton spending $100K on Hamptons rental. Following Hillary Clinton's recently announced plan to help the middle class, she and Bill are again renting a house in the Hamptons for the last two weeks in August for a rumored $100,000. The Clintons are renting a four-bedroom home from Republican art collector Andre Nasser and his real estate guru wife, Lois, at 44 Broadview Road — a hidden cul-de-sac in Amagansett that boasts wealthy neighbors, including Harvey Weinstein.

Half of Clintons' Charitable Giving in 2014 Went to Their Own Foundation. Half of Bill and Hillary Clinton's charitable giving last year went to the Bill, Hillary, and Chelsea Clinton Foundation, according to a review of the latest financial disclosures from their private foundation. The Clintons earned more than $28 million in 2014 and claimed around $3 million in income as charitable tax deductions, according to tax returns released by Hillary Clinton's campaign last Friday [7/31/2015]. The campaign emphasized Clinton's charitable giving in a press statement, saying that it "represented 10.8 percent" of her income in 2014. But roughly half of that money — $1.8 million — appears to have been channeled to the Bill, Hillary, and Chelsea Clinton Foundation.

CNN Reporter: Clinton Tax Returns Prove 'Dead Broke' Comment Untrue. Hillary Clinton's tax returns will not only set a major obstacle in her campaign to prove herself a Regular Person™ but, according to CNN reporter Jeff Zeleny, they prove her past statements to be completely false. According to her latest tax returns, released by the campaign late this week, the Clintons earned nearly $141 million from 2007 to 2014.

Clintons earned nearly $141M from 2007 to 2014, tax returns show. Hillary and Bill Clinton earned nearly $141 million over the course of eight years and paid $43 million in federal taxes, according to tax returns her campaign released Friday [7/31/2015]. In a lengthy statement and on her campaign website, Clinton detailed that she and her husband, former President Bill Clinton, paid more than $43 million in federal taxes from 2007 to 2014, over $13 million in state taxes and donated nearly $15 million to charity over the same period. The couple earned a total of $140.9 million, with an adjusted gross income of $139.1 million, the returns show.

Hillary, Bill Clinton earn[ed] more than $139M between 2007-14. Democratic presidential candidate Hillary Rodham Clinton and her husband, former President Bill Clinton, earned more than $139 million between 2007 and 2014, according to eight years of federal income tax returns released by her campaign on Friday [7/31/2015].

Hard-luck Hillary has pulled down $141M since '07. Only Hillary Clinton could try to get away with slamming her Republican opponents for siding with the wealthy at the same time disclosing she's filthy rich. [...] So out came the Friday night tax returns and detailed listing of the ridiculously high fees that corporations paid her and her husband to make canned speeches. Hillary Clinton's standard rate for those speeches was $225,000. But the fees went all the way up to $400,000. Bill Clinton was the president, so he gets to charge much more, especially to foreign organizations that have money to burn. One speech in Nigeria netted him $725,000.

Hillary Clinton's $600 haircut puts Bergdorf on lockdown. Hillary Clinton put part of Bergdorf Goodman on lockdown on Friday [7/24/2015] to get a $600 haircut at the swanky John Barrett Salon. [...] A source said, "Staff closed off one side of Bergdorf's so Hillary could come in privately to get her hair done. An elevator bank was shut down so she could ride up alone, and then she was styled in a private area of the salon. Other customers didn't get a glimpse. Hillary was later seen with a new feathered hairdo."

Hillary's haircut: $600? Hillary Clinton reportedly went to great lengths to keep a $600 haircut private and away from prying eyes.

The Editor says...
I don't really care if Hillary spends $600 of her own money on a haircut, but it hardly helps her look like the champion of the middle class.

Hollywood, hedge fund heavies giving to Clinton super PAC. In all, the super PAC Priorities USA Action will report having raised $15.6 million in the past three months when it files its fundraising information this month with the Federal Election Commission.

Low Information Millennials Think Hillary Clinton's Mansions Belong to GOP Candidates. It appears the low information youth vote has no idea how fabulously wealthy Hillary Clinton is.

Hillary Clinton Lives the High Life While Unpaid Staffers Struggle to Survive. The Hillary Clinton campaign likes to brag about its frugal ways, but this austere philosophy is not applied consistently. Campaign manager John Podesta may take the bus every now and then, but the Clinton campaign is more than happy to pick up the rent tab for Hillary's personal office in Manhattan and to shell out for a private jet to make sure Hillary doesn't have to interact with any commoners before giving a speech on social inequality. Meanwhile, the campaign has developed a fondness for unpaid interns, and is increasingly hesitant to pay even experienced employees who have previously held paid positions on Democratic campaigns.

Hillary's July Fourth fundraising blitz. The Founding Fathers might have puzzled over the wealth and scope of Hillary for America events in New York, Massachusetts, Rhode Island and finally New Hampshire on Friday [7/3/2015], the eve of the patriotic holiday. The events follow the "conversation with Hillary" template — $2,700 per person as a base price, with admission sometimes soaring to $50,000 each among those who aspire to be cast in the role of "host."

Millennials in Shock Over Hillary's Cribs. Campus Reform's Cabot Phillips decided to play a little game with millennials called "Candidates' Cribs." Phillips stopped young people in our nation's capital to see if they could guess which presidential candidate had lived in a series of mansions he had displayed on a poster. A number of youngsters guessed Marco Rubio — I don't know, maybe they heard about his "luxury speedboat". None, however, pegged Mrs. Clinton as having been privileged enough to live in the lavish abodes displayed. [Video clip]

Hillary arrives by private jet for Ferguson-area speech on race relations and Charleston 'terrorism'. Hillary Clinton arrived in a private jet on Tuesday [6/23/2015] to talk race relations at a church whose rooftops can see Ferguson, Missouri. And she left some in St. Louis's urban black community feeling cold, coming to town for a campaign speech nearly a year after the riot-inducing shooting death of Michael Brown.

Hillary Clinton's shameful charge to a children's charity. Hillary Clinton says, "Success isn't measured by how much the wealthiest Americans have, but by how many children climb out of poverty." So why did she charge an exorbitant speaking fee to a charity that helps poor kids?

The Democrats' Love-Hate Relationship With Wealth. The Democratic Party has made it clear that income inequality will be one of their main issues for 2016. The fact that the Clintons are multi-millionaires is conveniently overlooked, as are the party's ties to incredibly rich donors.

Hillary Clinton's Hamptons Quandary. For the past several summers, Bill and Hillary Clinton have done what New York City's moneyed residents have done for decades: They spent their vacation amid the prime beachside real estate of Long Island. In 2011 and 2012, there was the eight-bedroom, 12,000-square-foot East Hampton rental with a heated pool that the couple took for part of August, the kind of house that typically goes for $200,000 per month, according to local real estate listings. Then, in 2013, they opted for an equally pricey six-bedroom mansion in Sagaponack with a private pathway to the beach. (Mrs. Clinton worked on her memoir, "Hard Choices," from a sunny office with an ocean view.)

Hillary Clinton charged the Boys and Girls Club a massive fee to speak at a luncheon. Hillary Clinton reportedly charged a Boys and Girls Club chapter $200,000 for an appearance, then left the premise without saying hello to children who benefit from the program. The massive fee, which she donated back to her family foundation, was the largest the Long Beach, California, organization had ever paid a public figure for a speech, Politico reports. By contrast, the club made $106,000 off the lunchtime, charity event — it's [sic] lowest yield in 25 years. A contributing factor to the diminished proceeds: Clinton's large entourage that took up seats that would have otherwise been sold to donors.

Hillary Charged Kids' Charity $200,000 For Speech. Hillary Clinton charged a kids' charity $200,000 to speak — and she pocketed every dime. Clinton reportedly charged the Boys and Girls Club of Long Beach $200,000 for a speech earlier this year, according to new speaking disclosures made available on the Clinton Foundation website. Clinton spoke at a Boys and Girls Club of Long Beach fundraiser in California on March 3, reportedly speaking to 300 Long Beach "movers and shakers" at an event that was closed to the press.

Clintons charge big fees to small groups. When Condoleezza Rice headlined a 2009 fundraising luncheon for the Boys and Girls Club of Long Beach, she collected a $60,000 speaking fee, then donated almost all of it back to the club, according to multiple sources familiar with the club's finances. Hillary Clinton was not so generous to the small charity, which provides after-school programs to underprivileged children across the Southern California city. Clinton collected $200,000 to speak at the same event five years later, but she donated nothing back to the club, which raised less than half as much from Clinton's appearance as from Rice's, according to the sources and tax filings.

Protesters greet Clinton outside fundraiser at Dallas mansion. They came in Bentleys, BMWs, Maseratis and Porsches. A handful drove Mercedes-Benzes and Lexuses. At least two luxury Tesla eco-cars made the trip. Valet attendants parked the cars of the deep-pocketed Democrats for $10 per hour and raced around the neighborhood two hours later as a line of millionaires formed. The guest of honor, Hillary Clinton, arrived in a black Cadillac for her $2,700-per-plate presidential fundraiser.

Hillary takes 'everyday Americans' campaign to trial lawyers' $11.4 Million Dallas home for $2,700-per-plate fundraiser. Former secretary of state Hillary Clinton has said she ants her second presidential campaign to position her as a champion for 'everyday Americans.' But her two-day fundraising swing through Texas included a Wednesday dinner event at a $11.4 million home in the most exclusive corner of Dallas.

The inside story of how the Clintons built a $2 billion global empire. Today, the Clinton Foundation is unlike anything else in the history of the nation and, perhaps, the world: It is a global philanthropic empire run by a former U.S. president and closely affiliated with a potential future president, with the audacious goal of solving some of the world's most vexing problems by bringing together the wealthiest, glitziest and most powerful people from every part of the planet. The evolution of the foundation, which began as a modest nonprofit focused largely on the ex-president's library in Arkansas, is a nearly perfect reflection of the Clintons themselves.

Hillary Clinton: the gold standard of flawed candidates? [Scroll down] Back to their finances, the truth is that the Clintons were obviously never going to be "dead broke." The earning potential for a former president is astronomical, and Bill Clinton was making, on average, $24,000 a day in the first few months after he left the White House. Prior to that, the Clintons occupied the governor's mansion in Arkansas pretty much since 1978. Bill lost re-election in '80, but came back with a vengeance in 1982, remaining the state's governor until he ran for president in 1992. So, neither of them have really been a power couple for the people, which they're trying to cast themselves as in this election cycle.

The Clintons and the Sultan of Brunei Have a History. In words spoken from the Sultan of Brunei's lavish Empire Hotel in 2000, President Bill Clinton told reporters that his post-presidency would be about making money: "Now I have a United States senator to support, I understand that's an expensive proposition." Clinton traveled to Brunei with his daughter, Chelsea, for an economic summit that was also attended by leaders such as President Vladimir Putin of Russia and Jiang Zemin, then China's president. The sultan, known in Brunei as His Majesty Haji Hassanal Bolkiah, put on an exhibition of luxury for his summit guests. Four hundred ninety three new cars were purchased to transport the various dignitaries around town.

By the Way, Bill and Hillary Have Banked More than $30 Million Since Last January. She's running for president as a "topple the rich" champion of "everyday Americans," and he's just tryin' to pay the bills, y'all: [...] "The former President was even paid $175,000 for a speech in Miami where he appeared via satellite." Hillary also made six figures for addressing a gathering she didn't physically attend.

Our new normal: Ramadi falls, Obama golfs, tweets and Clinton chit-chats. It's been weeks now since Clinton took questions on current events, her stance on the Iraq war or her email and foundation fundraising scandals. The deck is still stacked in favor of rich people at the top, said Clinton, who just reported making $25 million in speech fees with her husband in recent months.

Hillary Clinton was paid millions by tech industry for speeches. In one of her last gigs on the paid lecture circuit, Hillary Rodham Clinton addressed an eBay summit aimed at promoting women in the workplace, delivering a 20-minute talk that garnered her a $315,000 payday from the company. Less than two months later, Clinton was feted at the San Francisco Bay-area home of eBay chief executive John Donahoe and his wife, Eileen, for one of the first fundraisers supporting Clinton's newly announced presidential campaign.

Hillary's two-pronged money problem: The scale and the slime. There is a great deal of doubt about whether a person, who's not exactly relatable to begin with, who has not the natural talent of her husband for connecting with people, and who has been living a life behind the tinted windows of a chauffered town car for some 25 years being shuttled from $100K speech to $100K speech can connect with so-called everyday Americans.

Clintons Earned $30 Million in 16 Months, Report Shows. Hillary Rodham Clinton and her husband made at least $30 million over the last 16 months, mainly from giving paid speeches to corporations, banks and other organizations, according to financial disclosure forms filed with federal elections officials on Friday [5/15/2015]. The sum, which makes Mrs. Clinton among the wealthiest of the 2016 presidential candidates, could create challenges for the former secretary of state as she tries to cast herself as a champion of everyday Americans in an era of income inequality.

Hillary and Bill Clinton have earned over $25 million since January 2014. A Clinton campaign official told CBS News that Bill and Hillary Clinton together earned just over $25 million from about a total of 100 paid speeches. They also earned an estimated $5 million from the proceeds of her book, "Hard Choices." The Clintons accumulated no capital gains earnings in this period, and their federal effective tax rate for 2014 was more than 30 percent, the official said. Hillary Clinton's speaking fees ranged from about $100,000 to over $300,000.

Schweizer: No One Would Tolerate the Clintons' Behavior From Anyone Else. Asked about the unwillingness of prosecutors to look at the allegations in the book, [Peter] Schweizer said that this was due to the fact that the book just came out and "people kind of expect from the Clintons that you're going to get scandal. What I've encouraged people to do is look at these cases, take the name Clinton out of it and ask yourself, would you tolerate this from any other political figure? And I think the answer is no."

How Hillary Is Winning. AS fleetly as Hillary Clinton vacuums up the money, she piles up the paradoxes. She showed fatal weaknesses the last time she chased the presidency and her inevitability evaporated like a California puddle, but she's somehow inevitable all over again. Invincible, even. Journalists have to remind themselves daily not to type or say "presumptive Democratic nominee" before her name. She's fashioning herself as someone uniquely attuned to "everyday Americans" while her husband fashions $500,000 speeches as amulets against the bill collector. Someone's got to pay for the burrito bowls.

Can a One-Percenter Lead the Democrats? Does it strike you as an indication of a political party's robust vitality that in a country of more than 300 million people that party has just one likely nominee for president? Notwithstanding the fact that she has at her disposal nearly a billion dollars, she is 67 years old, and she stands accused of committing at least one felony. What country are we talking about, the old USSR? No, we are talking about the contemporary U.S. of A.

Granny Clinton Ditches 'Common American' Ruse, Flies 1st-Class Back to DC. She must have been seething to have to drag her baggage (and boy howdy, does this woman have baggage) through Logan Airport under the glare of television cameras and gazes of the average schlubs. This woman has spent the better past of the past quarter century flying on Air Force One or private jets and now she has to lower herself to fly commercial.

Hillary Clinton Flies First Class Back to Washington. With her first campaign trip drawing to a close, Hillary Clinton traded the Scooby road-trip van for a first-class airplane seat to make the trip back to Washington. The Democratic presidential candidate flew from Boston's Logan Airport to Ronald Reagan National Airport on Tuesday night [4/21/2015], sitting in row one of the U.S. Airways' first-class section.

Hillary at meeting with economists: We need to "topple" the wealthiest one percent. It takes a net worth of around $8 million to join "the one percent." The Clintons' net worth is estimated at $55 million; Hillary alone got a cool $14 mil as an advance for her dismal memoir "Hard Choices." The electorate's usually willing to let populists slide on their personal wealth — FDR is the ultimate example but John Edwards was a lefty heartthrob for a time as recently as 2008 — but I wonder if they'll be so forgiving for Hillary.

Wealthy Hillary Clinton Lambasting CEOs For High Pay is, Well, Rich. Hillary Clinton apparently plans to base her presidential campaign on the noble goals of greater fairness and shared sacrifice. She has already lambasted vast differences in compensation. "The average CEO makes about 300 times what the average worker makes," Clinton warned. She is right — but can best appreciate that fact from her own career and family. Recently, Clinton has demanded up to $300,000 for brief 30-minute speeches. She apparently believes in the free-market theory that on the lecture circuit, speakers — like CEOs — should be paid as much as the market can bear. At UCLA recently, Clinton's fee worked out to about $165 per second. In three minutes of autobiographical chitchat, Clinton pulled in more than the average full-time fast-food worker makes in a year.

No one is buying that Hillary is anything other than the candidate of Wall Street. It was only a few short years ago that Democrats in high office were openly embracing the anarcho-communist, semi-criminal Occupy Wall Street movement. There is no small amount of irony in the realization that the Democratic Party is today prepared to nominate a presidential candidate with a history of defending the interests of the financial classes.

By one measure, Hillary earned more than America's top 10 CEOs. Democratic presidential candidate Hillary Clinton is drawing a populist bead on lavish Wall Street pay packages as she revs up her march to the 2016 Democratic presidential nomination, but in some respects the fat-per-speech fee she can charge puts her far ahead of the top 10 highest-paid American CEOs.

Clinton to spend $37.92 for every vote in $2.5b campaign. Hillary Rodham Clinton and her support groups are opening a massive fundraising effort to collect an historically-high $2.5 billion to win the White House, according to reports. That amounts to $37.92 per vote in the general election for the Democrat, more than ever spent in a national campaign. The math is based on the votes received by President Obama in his reelection, 65,915,796.

Hillary's $2.5 billion obscene fundraising goal. Hillary Clinton's newly minted presidential campaign plans on raising — and spending — as much as $2.5 billion. That was the mind-blowing datum that accompanied Sunday's announcement of Clinton's candidacy. To give you a sense of just how mind-blowing, consider the fact that in 2012, Barack Obama and Mitt Romney together spent $2.14 billion.

Hillary Clinton's road from riches. The economic gap between Hillary Rodham Clinton and an average, "everyday American" is wide enough to drive a Scooby van through. On Monday [4/13/2015], the newly minted Democratic presidential front-runner had nearly completed her 1,000-mile journey from her mansion in Chappaqua, N.Y., to a first campaign event in Iowa, in the van her staff has likened to the rattletrap "Mystery Machine" from the 1960s cartoon "Scooby-Doo." The trip was intended, in part, to rebrand the former secretary of state, a 67-year-old multimillionaire accustomed to private jets and presidential suites, as a warrior for the middle- and working classes.

'Middle Class Champion' Hillary Plans To Raise $2.5B. You could feed a lot of 'hongry' childrens for $2.5 billion dollars. (And who knows how much of this money will have ultimately come from her slush fund 'foundation'? So it could be taking the food right out of the mouths of the poor.) And don't worry, in any case she will spend far more than she raises. (As her last campaign did.)

Woman with $14 million book advance attacks CEO pay. [Scroll down] First, she takes in six times the annual average household income per hour for her speeches, at $300,000 a pop. It would only take her 50 speeches to get to the same 300x metric she decries here. Furthermore, Hillary signed a deal in 2013 for a $14 million book advance for the memoir she released last year, which sold unimpressively for such a marquee advance. On top of that, she'd already received an $8 million advance for her first memoir, "Living History." That totals $22 million in advance of any work at all, or roughly 440 times what average American households gross in a year. In the years since the Clintons left the White House, they've earned well over $100 million. And unlike CEOs at that level, they don't employ many people, and don't produce anything except income for their own benefit.

Hillary's Million-Dollar Air Travel. Hillary Clinton is, maybe not best know[n] for her utter destitution upon her husband leaving office in the early 2000s, but may be most recently known for her claim that she and Bill struggled desperately to make ends meet once they were relegated to only two homes and lucrative speaking tours that paid in the six figures per appearance. It now seems that those hard times were even shorter than previously imagined.

Dems stand for poor, vacation like the wealthy. The Obamas and Clintons sure know how to summer! And you have to hand it to them, they aren't letting their position as standard-bearers of the party committed to end income equality get in the way. While the president and his family enjoy a lavish getaway in tony Martha's Vineyard, the woman who wants his job is also indulging in a glitzy summer vacay. Hillary and Bill Clinton spared no expense for their digs in the Hamptons — shelling out a cool $100G for a three-week stay in one of America's most exclusive summer destinations.

$5 million, $50 million or even more — just how rich is Hillary Clinton? Ever since Hillary Clinton drew attention to her finances by claiming her family was "dead broke" when they left the White House, speculation has focused on a seemingly simple question: Exactly how rich are the Clintons? [...] In 2010, then-Secretary Clinton's financial disclosures revealed a net worth totaling between roughly $10 and $50 million. In 2012, the last year for which she disclosed finances, Clinton's net worth was estimated to be between $5 million and $25 million.

Clinton Earns $12 Million Speaking, Writing After Service. Hillary Clinton has earned at least $12 million in 16 months since leaving the State Department, a windfall at odds with her party's call to shrink the gap between the rich and the poor. Clinton's income since her resignation as secretary of state in February 2013 is derived mostly from her latest memoir, speeches and paid appearances at corporate retreats, according to an analysis of data compiled by Bloomberg.

Poor Hillary Clinton. Is this really what "dead broke" looks like? Seems like the Clintons should be just fine with their two multi-million dollar houses. No need to add the "White House" to the list.

Hillary Takes Six-Figure Speaking Fees From Universities Raising Student Tuition. The Washington Post reports that likely 2016 presidential contender Hillary Clinton made somewhere around $1.8 million from eight universities in just nine months. While paying the former Secretary of State anywhere from $200,000 to $300,000 per speech, some of these schools were raising tuition prices on students already burdened by the growing student loan bubble. Clinton was paid $251,250 from the University of Connecticut not long after the school hit its students with 6.5% tuition increase.

Bill and Hillary Clinton top the list of richest ex-first families. They may have left the White House "dead broke," as Hillary Clinton claimed, but she and Bill Clinton cashed in so fast and big that they sit atop the list of former first couples who struck gold after the presidency. Since leaving office, according to financial records and news reports, they have earned at least $155 million from speeches, salaries and book deals, easily outpacing the post-White House incomes of other former presidential families and distancing themselves from the time when Bill Clinton deducted $2 apiece for used underwear donated to an Arkansas charity.

2001 was Hillary's Year of Great Fortune, not of being "dead broke". The problem is not that the Clintons made a fortune. This is America, after all. People are entitled to make a fortune so long as they do so lawfully, and we've not yet reached the point where the law dictates when people have made enough. The problem is that Hillary is not being straight with the public. [...] In mid-December 2000, a month before Bill left office, Hillary signed a book deal with a near record $8 million advance.

Hard Knocks Hillary. Democratic presidential candidate Hillary Clinton thinks everyone should shut up and stop second-guessing her (and her husband's) voracious appetite for money. Clinton, who charges up to $200,000 to give one-hour speeches to Goldman Sachs executives and others, claims that she and Bill were "dead broke" and in debt following their eight years in the White House, and "struggled" to pay the mortgages on their multiple mansions and finance their daughter Chelsea's education at Stanford, Oxford, Columbia, and Oxford (again).

Hillary, Obama, and the Democrats' Vices. Since 1992, the Clintons have had exceptional, almost unparalleled political power. From the point of view of most Americans, they've been wealthy. But not super-wealthy. In 1992, they listed their net worth at nearly $700,000. Yes, they had to spend quite a bit of money on lawyers during their time at the White House. But even before President Clinton gave his first post-presidential speech or signed his first book deal, he was going to get a pension of about $199,000 per year, plus a taxpayer-funded office, etc. She was elected to the Senate, with a salary of $141,300. Hillary Clinton famously declared she and her husband were "dead broke" when they left the White House; of course, around that time they bought a $2.35 million home in Chappaqua. Between leaving the White House and beginning her Senate term she signed the $8 million book deal for "Living History"; years later, she got a $14 million advance for "Hard Choices."

Clinton spent heavily on charters before races. Before her 2006 Senate re-election campaign and 2008 presidential bid, then-senator Hillary Rodham Clinton dramatically increased her use of taxpayer-funded charter flights, becoming the Senate's biggest spender on reported charter airfare. In the four years before the 2008 presidential campaign, she spent more than $300,000 on charters while the four other senators running for president — including then-senator Barack Obama — took a grand total of two taxpayer-funded charter flights. Clinton spent $225,000 traveling on such charters during her eight-year tenure. That covers only her own airfare. The figure rose to $527,000 when the cost of the staff who flew with her is included. Clinton almost always flew with senior adviser Huma Abedin, and spokesman Philippe Reines was also a regular passenger, Senate spending records show.

Hillary's Messy Habits. Hillary and Bill Clinton have one home in Washington, D.C., another in Chappaqua, N.Y., and a whole wide world that opens its arms and wallets to them. [...] Although they've long been derided for a surrender of principle when they're on the hunt for donations, their foundation has raked in money in a manner that opens them up to fresh, predictable accusations of that. Although they've long been cast as greedy — remember the china, flatware and furniture carted out of the White House? — they hit the speaking circuit in a way that only strengthened that impression.

Will the Clintons' Greed Do Them In? It has long been remarked that a certain Dogpatch air hangs over Bill and Hillary Clinton. They have, apparently, led separate lives for quite a few years, but one quality that they share is greed. Indeed, they seem unable to restrain that grasping instinct even when it undermines their presumably more important goals — as, for example, when Hillary extracts $300,000 from universities for 45 minutes of platitudes.

Hillary Clinton [was] paid $300,000 for a speech lecturing the middle class on how they can make ends meet. Hopefully, her instructions reveal how I can make six figures a speech, which would certainly come in handy. Can you imagine the hubris of this woman — who has largely disappeared from public view as her "Smart Power" diplomacy initiatives have left the Middle East a boiling cauldron of death, torture, and pain — to dare lecture middle class Americans on making ends meet?

From the Clinton Foundation, a Heaping Pile of Corporate BS. The Clintons just can't help themselves. As Bloomberg editor John Heilemann said on Monday [2/23/2015]: "Their obsession with money ... has been a hallmark of their careers." When the Wall Street Journal revealed last week that the Bill, Hillary, & Clinton Foundation had quietly dropped its prohibition on donations from foreign governments, many thought it was an especially sleazy move, even for the Clintons. The foundation's initial response was defensive and evasive, agreeing only to reevaluate its acceptance of foreign donations "should [Hillary] decide to run for office."

Still dead broke: Hillary Clinton makes Grimes pick up the tab for charter flight. Despite her comments suggesting she and her husband were "dead broke," Hillary Rodham Clinton has had a good year for her personal finances, running a battery of six-figure speeches and scoring a $14 million advance for her memoirs. But she's apparently not making enough to cover her lavish charter flights to help out her fellow Democrats. Politico reported that Kentucky Senate hopeful Alison Lundergan Grimes' campaign shelled out more than $17,000 to bring Mrs. Clinton to a campaign rally last month.

Hillary Clinton to deliver Vegas speech for $225G fee. Hillary Clinton called for businesses to collaborate with universities to make higher education more affordable at a $225,000 speech Monday night [10/13/2014] at the annual University of Nevada Las Vegas Foundation dinner. "Higher education shouldn't be a privilege for those able to afford it," Clinton told a crowd of approximately 900 people. "It should be an opportunity widely available for anybody with the talent, determination and ambition."

The Editor says...
In a free country, everything is "a privilege for those able to afford it," so that's why normal people get jobs and make money, with which they can buy what they want, e.g., college education. Mrs. Clinton is apparently willing to have the government supply college education for everyone, because "higher" education these days (at most universities) is nothing more than leftist indoctrination.

Actually, Getting Rich Is Hillary's Greatest Achievement. [T]he problem with Hillary isn't that she's wealthy. It's not even that she became wealthy asking for exorbitant fees while most Americans were living through a brutal recession. Nor is it that, for the most part, she's lived a privileged life under the protection of taxpayers for decades and still acts like she's broke. It's that today she has nothing to offer voters but a reconstituted Obama-style populist progressivism that doesn't fit her history. She may well win, of course. But that would have more to do with the luck of history than her political skill.

Hillary Clinton's wealth complicates image as populist champion. When your own minimum wage reportedly is in the neighborhood of $200,000 a speech, it might be difficult to sell yourself as the populist champion of the working class. In recent weeks, Hillary Rodham Clinton has begun a calculated transition from respected diplomat to fierce advocate for the 99 percent, using a "haves versus have-nots" message to build support among progressives who are desperate for a strong voice to battle Wall Street, protect entitlement programs such as Social Security and promote income equality. But for Mrs. Clinton, a rich, successful woman and part of one of America's most powerful political families, there are questions about how effectively she can carry that banner if she runs for president in 2016.

Duck This Dynasty. What does Hillary Clinton have to do with inequality in America? She's no robber baron, of course. But the core case against inequality isn't about resentment of wealth — it's about the ways in which the concentration of wealth is making politics increasingly pointless, a game of access and not arguments. Anyone who fears that future should think twice before casting a ballot for a dynastic politician, because dynastic candidates turn politics pointless in essentially the same way. They trade on family capital to make elections less meaningful; they are prone to be inflexible and indifferent to inequality; and they have good reason to be even less accountable to the public than ordinary politicians. Concentrated economic power and concentrated political power are, in the end, two sides of a coin.



---

Personality flaws


Hillary Clinton's Awful, Terrible, Dreadful [Fake] Southern Accent. [Video clip]

Hillary Clinton Screaming Obscenities and Throwing Objects in Election Night Meltdown. A Tuesday of catharsis for Donald Trump voters turned into an evening of rage for Hillary Clinton. The Democratic presidential nominee, anticipating the postelection reaction of many of her supporters, began shouting profanities, banging tables, and turning objects not nailed down into projectiles. "Sources have told The American Spectator that on Tuesday night [11/8/2016], after Hillary realized she had lost, she went into a rage," R. Emmett Tyrrell reports. "Secret Service officers told at least one source that she began yelling, screaming obscenities, and pounding furniture. She picked up objects and threw them at attendants and staff. She was in an uncontrollable rage."

Where Was Hillary? Ever since the early hours of Wednesday November 9, skeptical minds have been musing over what happened to Hillary and her concession speech. [...] It would take her hours to calm down. As has been reported for years, her violent temper got the best of her. Talk about having a temperament ill-suited for having access to the atomic bomb. So Podesta went out and gave his aimless speech. I wish we could report on Bill's whereabouts but we cannot.

Hillary: Trump Backers "Negative, Dark, Divisive, Dangerous" and Angry. In a word, deplorable! Hillary Clinton, during an appearance in Tuesday in Fort Lauderdale, exploded at a heckler who was shouting, possibly accurately, and holding a sign saying "Bill Clinton is a rapist." Watch her. We get a look at the Hillary we hear about but don't see, the one who throws lamps at Bill — not that that's an unreasonable thing to do — and curses out subordinates and the Secret Service.

Shrieking Clinton Flips Outs on Protesters in Florida. This is how criminals react under pressure. She sure looks as if the walls are closing in on her now that her trusty "staffer" Huma isn't around to comfort and console her.

Hillary F. Clinton Curses Those Who Keep Her Safe. Hillary Clinton's "treatment of DS [Department of State] agents on her protective detail was so contemptuous that many of them sought reassignment or employment elsewhere," according to a just-released summary of an FBI interview with a former State Department official. "Prior to CLINTON's tenure, being an agent on the Secretary of State's protective detail was seen as an honor and privilege reserved for senior agents. However, by the end of CLINTON's tenure, it was staffed largely with new agents because it was difficult to find senior agents willing to work for her." Clinton's State Department agents are hardly the first to complain about her bullying.

Clinton bodyguard tells how her detail hated her so much they laughed when she broke her elbow. Hillary Clinton was so despised by the protective agents assigned to her security detail, they laughed when she fell and broke her right elbow in 2009, a one-time bodyguard to the former secretary of state says. Clinton was walking to her car in the State Department basement ahead of a White House meeting when the incident occurred.

Hillary Clinton's security detail laughed when she broke her elbow. Hillary Clinton's security detail hated her so much that they privately snickered after she accidentally fell and broke her arm when she was secretary of state in 2009, one of her former guards told the [New York] Post. Clinton, then 61, was in the State Department basement on her way to meet President Obama when she took a spill — and ended up in the hospital for an operation to repair her shattered right elbow.

Secret Service Officer Gary Byrne Vindicated by FBI Documents on Hillary Clinton's Character. On Wednesday morning's [10/19/2016] Breitbart News Daily on SiriusXM, former Secret Service officer Gary J. Byrne was asked to talk about the differences between Hillary Clinton and other protectees, such as her husband Bill Clinton and Barack Obama. "Hillary is just not approachable," he told SiriusXM host Alex Marlow. "The Hillary Clinton that they keep trying to modify and portray on TV — and I'll remind your audience, at least three times during this past year, you've seen her campaign put out, 'Well, we're trying to make her look a little bit more pleasant,' or 'It's Hillary 2.0.' The real Hillary Clinton is the one I talk about in my book, Crisis of Character. She's cold, she's distant. According to the FBI Director a couple of months ago, she's completely incompetent and reckless." [Audio clip]

Clinton Security Detail Also Considered Hillary A Nasty Woman. Donald Trump has drawn criticism for saying of Hillary Clinton during last night's debate: "What a nasty woman." Supposedly, this remark will hurt Trump. If so, it may be because Trump, having so viciously attacked Republicans like Ted Cruz and George W. Bush and having repeatedly called Clinton a liar and a crook, lacks standing to call anyone nasty. There is no doubt, however, that Clinton is a nasty woman. I think all but her most hard core supporters recognize this. That Clinton's State Department security team considered her nasty has been widely reported based on FBI documents from its investigation of Her Highness. The depth of its dislike for Clinton comes through in this report in the New York Post, via Debra Heine of PJ Media, that members of her security detail privately snickered after she fell down and broke her arm. It's hard for me to imagine disliking someone to the point of being happy she sustained a serious injury. But then, I never had to work for Hillary Clinton.

Woman Of The People: Hillary Treated Security Personnel So Poorly They Didn't Want To Protect Her. It's shocking that Hillary would ever mistreat the little people, isn't it? We know she hates the phrase "everyday Americans", because she most certainly hates everyday Americans. We know she mistreated the Secret Service when Bill was President, and that the White House staff lived in fear of her. She attempted to destroy the women who credibly accused her husband of sexual misconduct and rape. She mistreated the parents of those killed in Benghazi to their faces, and has called them liars. There are also lots of unvetted allegations, like supposedly wanting to ban military uniforms in the White House, to go with her constant hatred for the little people. And there's this [...]

FBI Report: Hillary Is So Arrogant Her Own Security Couldn't Stand Her. An FBI special agent who was interviewed in connection with the agency's investigation into Hillary Clinton's conduct as Secretary of State provides a stunning window into Hillary's character, or lack thereof.

Hillary [is] So Vile and Ill-Tempered That Security Agents Didn't Want to Protect Her. Department of State security officers found then-Secretary of State Hillary Clinton so unpleasant they refused to work on her security detail, a former agent claims in newly-released FBI documents. The FBI Monday [10/17/2016] released 100 pages of documents relating to its investigation of Clinton's private email server. The documents incorporate summaries of several interviews the FBI conducted, including one with a woman who served as an agent with the State Department's Bureau of Diplomatic Security (DS) during Clinton's time as secretary of state. During her interview, the agent said Clinton treated agents rudely and with contempt, and was so unpleasant that senior agents typically avoided being on her security detail.

FBI Docs: Hillary Was So Unpleasant Security Agents Didn't Want To Protect Her. Department of State security officers found then-Secretary of State Hillary Clinton so unpleasant they refused to work on her security detail, a former agent claims in newly-released FBI documents. The FBI Monday [10/17/2016] released 100 pages of documents relating to its investigation of Clinton's private email server. The documents incorporate summaries of several interviews the FBI conducted, including one with a woman who served as an agent with the State Department's Bureau of Diplomatic Security (DS) during Clinton's time as secretary of state. During her interview, the agent said Clinton treated agents rudely and with contempt, and was so unpleasant that senior agents typically avoided being on her security detail.

State Department security really didn't like working for Clinton. State Department security personnel so disliked Hillary Clinton that many left the agency or asked to be reassigned, according to FBI documents released Monday [10/17/2016]. The revelations come from an interview summary of one unnamed Department of Homeland Security official that was conducted as part of the FBI's investigation into Clinton's handling of classified information while secretary of state. "[Redacted] explained that CLINTON's treatment of DS agents on her protective detail was so contemptuous that many of them sought reassignment or employment elsewhere," the FBI documents state.

Former Clinton Admin Chef: Hillary Called Black Servant the 'N-Word', Clintons Made Racist Comments on a Routine Basis. Hillary Clinton angrily referred to a black servant as the n-word, according to a bombshell claim by Tracey Martin, a former traveling chef who worked under the first Clinton administration.

Caution: This article is replete with profanity — attributed to Hillary Clinton.
The filthy mouth of Hillary Clinton. It is said that a measure of our character is how well we treat status inferiors — those whom we don't have to treat well. By that measure, the character of the woman who has ambitions to be America's next president is sorely lacking.

The Clinton Record. In the final analysis, Hillary Clinton is a woman with a mindset that is totalitarian in every respect. To make matters worse, she is a lying, deceiving, manipulative, self-absorbed criminal without a shred of personal virtue.

Hillary [was] Told When to Smile During Interviews. She says the words she is suppose to say, she raises her voice and pounds her fist at the exact moments she should for good effect when she speaks and yet... all I see when I look at her is emptiness that has been filled with greed, pride, and absolute power hunger. Is it just me!? This is why, it comes as no shock to me that she has to be told when to smile during interviews.

Leaked Emails Reveal That Hillary Clinton Had To Be Told When To Smile During Speeches. Newly leaked emails reveal that Hillary Clinton had to be told when to smile while she was speaking. The emails, hacked from the campaign chairman John Podesta's Gmail account and published by WikiLeaks Tuesday [10/11/2016], reveal that campaign staffers prompted Clinton to smile at certain times while she was preparing for the Democratic primary debates.

Can Mrs. Clinton Lose? She is preoccupied to an unusual degree with toughness. A man so preoccupied would seem weak. But a woman obsessed with how tough she is just may be lethal.

Democratic Party Official: Clinton Pursuing 'The Tonya Harding Option'. The question is — what will Clinton have to do in order to [win the nomination]? What will she have to do to Sen. Barack Obama, D-Illinois, in order to eke out her improbable victory? … It implies that Clinton is so set on ensuring that Obama doesn't get the nomination, not only is she willing to take extra-ruthless steps, but in the end neither she nor Obama win the gold.

The Card Clinton Is Playing: As a rationale for why Democratic Party superdelegates should pick her over Obama, it's a slap in the face to the party's most loyal constituency — African Americans — and a repudiation of principles the party claims to stand for. Here's what she's really saying to party leaders: There's no way that white people are going to vote for the black guy. Come November, you'll be sorry. How silly of me. I thought the Democratic Party believed in a colorblind America.

Damsel of Distress: The Democratic Party can't celebrate the triumph of Barack Obama because the Democratic Party is busy having a breakdown. You could call it a breakdown over the issues of race and gender, but its real source is simply Hillary Clinton. Whose entire campaign at this point is about exploiting race and gender.

Don't Let 'Moderate' Hillary Fool You. Hillary eagerly pounces on her political opponents' supposed betrayal of their values, but what about her values? Far from walking in the footsteps of the Good Samaritan or "Jesus himself," Hillary has consistently revealed a personal and political character the core values of which are ruthlessness, unbounding arrogance and endless ambition.

Clinton's Collateral Damage: When it comes to politics, the Clinton philosophy is simple: It's war, and wars are for winning. Bill put it this way, back in 1981: "When someone is beating you over the head with a hammer, don't sit there and take it. Take out a meat cleaver and cut off their hand."

Go Already! [Scroll down] Clinton's path to the nomination, then, involves the following steps: kneecap an eloquent, inspiring, reform-minded young leader who happens to be the first serious African American presidential candidate (meanwhile cementing her own reputation for Nixonian ruthlessness) and then win a contested convention by persuading party elites to override the results at the polls.

The Clintons, Race, and the 50-year-old Calculation. Since I think the Clintons would probably sell their souls and firstborn for another White House tenure, the idea they would play the race card raises no eyebrow here. They are political creatures first, everything else second and statesmen last.

Hillary I vs. Hillary II: [Scroll down] Then there's Hillary II. This is the Hillary who played the cattle futures markets as Arkansas' first lady, allowing a lawyer for the largest employer in the state to "advise" her on futures trades in a manner that brought her remarkable profits — and a lot of questions about how they were made. This is the Hillary who never convincingly explained the disappearance — and mysterious reappearance — of those pesky billing records at her Arkansas law firm that were sought by a grand jury during the Whitewater investigation. (No, she's never been indicted for any of this, but that's not exactly the highest standard). Hillary II is the Hillary who dissembled for years about Bill's other women. Hillary II is not the dewy-eyed idealist, but the shrewd Machiavellian many see her as now.

Slinging slime is what Clintons do best. Politics is a game of hard knocks, some below the belt, and it is not for the faint-hearted. And no one plays political hardball as aggressively as the Clintons. They are ruthless when it comes to smashing their opponents or anyone else who threatens their political ambitions. What they are doing to Barack Obama is not all that different from what they did to the women who outed Clinton as a serial adulterer as governor of Arkansas and as president.

Hillary's Dennis Rodman impression: If the Democrats go forward and nominate Hillary and Bill they will be voting for business as usual, not change at all. The same ole manipulating lying government. … Democrats are leaning towards nominating Hillary who will create the ugliest political season in the history of the country. This is mostly due to silly gender bias which the Clintons are doing their best to inflame.

Why Hillary Should Not Be Trusted:
A review of "The Extreme Makeover of Hillary (Rodham) Clinton". Ms. Buchanan offers this summary: "Hillary's character is not a pretty sight. In stride she can lie, cheat, steal, commit perjury, obstruct justice, malign reputations and destroy the lives of innocent people. Driven by ambition, arrogance, greed, elitism, power and entitlement, Hillary's road to the top has been a bloody one. Reputations and lives of real people have been left in the dirt along the way. But it has worked for Hillary. She made it to the top — and may do so again."

Hillary Scares Me. With such a preponderance of damning evidence against her already widely disseminated, it strikes me as more than a little strange that this woman is not in prison or a mental institution. That she has managed to remain not only free, but center-stage in the Democratic Party and a Senator from an "adopted" state is an indictment of our press and her Party. If she succeeds in lying and manipulating her way into the White House, it will be an indictment of us all.

Hillary's slick willies: Hillary's persona is simply not compatible with another strong will, male or female — but definitely male, and that itself is a big red flag. What kind of person would go to work for a Clinton in the first place? A naive true-believer? Everyone knows what they would be getting into: constant war rooms, personal attacks, spin, daily damage control, a boss prone to temper tantrums, placing your own integrity out on the ledge as a shill for a fundamentally dishonest person.

Hillary's Mean Machine Scores a Hit. Lest any of the Democratic candidates forget, tangling with Hillary Clinton comes at a painful price.

The Candidate's 'Catch Me if You Can'. ABC correspondent Kate Snow was ready to push through the crowd and ask Hillary Clinton a question until an aide blocked the path of Snow's sound man as he aimed his boom mike in the senator's direction. "Sorry, we've gotta go," the woman said, though it was clear that Clinton would be shaking hands for some time.

Who's Afraid of Hillary Clinton? Hillary Clinton may be the Titanic of 2008. She is widely regarded, and rightly so, as smart and ambitious. These are fine traits but they often come as a package deal with arrogance and a refusal to admit error. Clinton has a very lengthy history of refusing to admit when she's wrong — her conflicting and outright deceitful statements concerning her votes on Iraq being only one example — and blaming others for her mistakes, unattractive qualities for the voting public.

The Return of "That'll Teach 'Em" Hillary. There is nothing independent, nonpartisan, or disinterested about Media Matters and the rest of the Clinton Shadow Party — they are the tanks and bombers and battleships of Hillary's campaign arsenal. They will do whatever they are asked, whenever they must, to destroy anyone who stands between her and the Oval Office.

Hillary Gets Worst Reviews Yet. The usual flood of editorials and blog posts after a major presidential debate were particularly harsh on Hillary Clinton this morning following Tuesday night's Democratic debate [10/30/2007] at Drexel University. Opinion leaders said her performance reinforced negative stereotypes that Clinton is shrill, calculating and evasive.

The Clintons and History: There's an old joke people here in the capital like to tell about Charles E. Schumer, the New York senator, and over the years I'm sure it's been used to describe other politicians, as well: The most dangerous place to stand in Washington is between Chuck Schumer and a bank of television cameras. Well, that may be, but it seems to me that the most dangerous place to be in the rest of the country is between the Clintons and an elected office.

Clinton cries gender, opponents cry foul. Sen. Hillary Clinton found herself the object of rare ridicule and criticism Friday [11/02/2007] for injecting gender into the presidential campaign as Democratic and Republican opponents blistered her for parsing her words, engaging in secrecy and blaming the male candidates for the controversy. Even as she denied playing the gender card, she evoked gender with a reference to her own familiarity with the kitchen.

The Editor says...
She's being pounced upon because she's the apparent leader in the race, not because of gender. She's being questioned and doubted because she is not giving straight answers to simple questions.

The Issue the Democrats Dread. More significant than Hillary Clinton's supposed gaffe at the end of Tuesday's Democratic presidential debate is the subject around which she tiptoed so delicately: immigration. Democrats fear the issue because it could leave them with a set of no-win political choices.

Hillary played the role of victim just long enough to see if it would work. It didn't.
The pants vs. the pantsuit: When you're leading the Democratic presidential race, as Sen. Hillary Clinton is, you might expect other candidates to focus their sharpest criticism your way. Yet the spin coming out of the Clinton campaign is that the men were ganging up on Hillary. Sorry, but when girls insist on playing hardball with the boys, they don't get to cry foul — or change the game to dodge ball — when they get bruised.

Clinton 'victim' defense apparently backfires. After Hillary Rodham Clinton's floundering finale at last week's debate in Philadelphia, her campaign counterattacked immediately, almost instinctively, with a tactic that had proved effective in the White House and in two New York Senate races. They portrayed her as a victim. In the week following the debate, Clinton and her proxies have suggested, at various times, that she was the victim of sexism, a group ambush by her enemies and journalistic bias.

Big Girls Don't Cry. Last week, Hillary Clinton's campaign blamed her poor debate performance on sexism. It was a maneuver that seemed suspiciously aimed at detracting from Hillary's lackluster showing whilst simultaneously shoring up her female support. But, ironically, it has had the opposite effect.

Pedestrian Down. Democrats who are nervous about having Hillary Clinton as their nominee had their fears confirmed last night [10/30/2007]. Mrs. Clinton finally stumbled in her seventh Democratic debate once the other candidates decided to chew on her. Mrs. Clinton responded to the criticism by retreating to her briefing books, giving rehearsed answers to questions in a too loud, slightly shrill voice. She was pummeled for not releasing White House records kept by the National Archives that would shine light on her claim to be the most experienced candidate based on her service as First Lady.

Hillary a Noo Yawka? Sez Who? There was shock and awe on her face. It was as if no one had ever dared to contradict Hillary Clinton before, far less challenge her directly. … When John Edwards, Barack Obama and the hitherto reliable Tim Russert all stuck pins in her during the Tuesday night MSNBC "debate", Clinton became visibly angry. Her face was a frozen mask. … Hillary Clinton can dish it out, but she can't take it.

Little big brother: In the unlikely event that Hillary Clinton and Rudy Giuliani face off against each other for the presidency, Americans could be faced with a difficult choice. … Both will also flip-flap like hummingbird wings to avoid appearing over-committed to anything that could lose them votes. … There is no doubt that, despite her faux-folksiness, the softest thing about Hillary is her teeth. She has an impressive drive for power that is reminiscent of Margaret Thatcher on the rampage.

The power of a Clinton's stare: In this undeclared war between the candidates, there was no stronger weapon at Clinton's disposal than the Stare. In the first Democratic debates, Obama seemed visibly uncomfortable with being the object of Clinton's gaze, and avoided eye contact.

Why They Dislike Hillary. First, many women don't like Hillary because they believe she made a deal with her husband. That is, she'd stand by him and ignore his infidelities in return for his help in her political life. … Second, many men objected to her leftist ideology. They see the senator as a big government, limousine liberal who lives large herself, but wants to impose high taxation on those who are achieving in America. And finally, some of the callers see Hillary as a cold, calculating woman with a sense of entitlement.

Depends What the Meaning of 'Mistake' Is. Hillary Clinton's rivals would love to paint her as inflexible, programmed, focus-grouped within an inch of her life and intent on bringing nothing less than a full-fledged Clinton Restoration to the White House. So why is she sitting for the portrait?

"Hugo Chavez in a pantsuit". [Hillary] Clinton must have been shocked that the free market works so well that some Americans actually profit from dealings other than Whitewater. So she decided this sort of thing must end. "The other day the oil companies recorded the highest profits in the history of the world. I want to take those profits. And I want to put them into a strategic energy fund that will begin to fund alternative smart energy, alternatives and technologies that will begin to actually move us toward the direction of independence," she told the audience. Notice she didn't say tax the profits. She just said "take."

Some Pieces of Our Minds: In all of the thousands of photographs of Hillary on the campaign trail, she always appears wearing trousers — not even one photograph of her wearing a skirt. Not a peep on the subject from any commentator or member of the media.

Control Freak: Hillary Clinton says our trade deficit and reliance on foreign investors are big problems, and wants to fix them. But her cure would be far worse than the disease, and should be rejected out of hand.

Books show 'dark side' of Hillary Clinton. Two new books about Sen. Hillary Clinton, D-N.Y., give a sometimes unflattering portrait of the presidential candidate and former first lady.

Make that three new books...
Hillary Clinton, a Trojan Horse? The Extreme Makeover illustrates Hillary's unfamiliarity with the virtue of responsibility, and that she is every bit as prolific and stunning a liar as her husband. The junior senator's personality revolves around a lust for power, a need to control others, and rampant insecurity. Anger and irritability are natural attributes, and but only her family, advisors, and the secret service are allowed to observe them.

The Hillary Chronicles: Worse Than You Thought. Though bereft of headline-making disclosures, each book contains page after page of new details, some of them so far ignored in the press, that reveal Hillary Rodham Clinton to be even more secretive, even more politically tin-eared, and even more combative than previously known.

Hillary's Hypocrisy: This woman, who refused to change a comma or a word of her thousand-page-plus healthcare reform bill and, as a result of her intractable stubbornness, sent the bill down to defeat along with the Democratic Congress and almost her husband's presidency, is daring to show herself now as the apostle of compromise. Unbelievable.

Hair-raising stuff from good ol' Bubba. Now comes Bill Clinton, who auctioned pardons in the last hours of his presidency, and his shrill surrogate to berate George W. Bush for reluctantly commuting the prison sentence of Scooter Libby. The president stopped short of granting a pardon. … Most men in his position would go miles out of their way to avoid talking about pardons, but good ol' Bubba … was eager to talk about how he conducted his auction.

The vaulting ambition of America's Lady Macbeth. This little incident, the skilfully choreographed exploitation of a human tragedy, the cynically manipulated deployment of public sympathy in service of a personal political end, offered a timely insight into the character of the politician who this week launched the most anticipated presidential election campaign in modern history. There are many reasons people think Mrs Clinton will not be elected president. She lacks warmth; she is too polarising a figure; the American people don't want to relive the psychodrama of the eight years of the Clinton presidency.

Message Testing Billary: Emmett Tyrell, founder and editor of the American Spectator and author of "The Clinton Crackup," said Mrs. Clinton's "whole life is a public relations campaign." In order to win in 2008, he said it would be "politically important" for Clinton to discuss her marriage, but "it's pretty difficult to explain the inexplicable." He called her the "greatest enabler in the world."

Hillary the Calculator: When Hillary Clinton announced her presidential exploratory committee while sitting on a couch in her living room, she didn't project warmth so much as a sense that she was desperately trying to project warmth. As TV producer Steve Rosenbaum wrote of her performance on the liberal website The Huffington Post: "Hillary is struggling with words that are not her own. You can practically see the teleprompter reflected in her eyes. Every word has been word-smithed, every phrase looked at by a team of consultants."

Why Hillary Drops Her Final "G"s. Why isn't it noticed, or, if noticed, not commented upon? At least in her Ohio and Texas talks, Hillary Clinton drops the final "G" from the "ing" words (participles, gerunds) — an annoyance, especially to those who've heard her talking to other people and groups where not one "G" is dropped and she sounds like the young woman who gave a famous Wellesley College commencement address, was one of America's 100 most successful lawyers, was first lady of Arkansas and the United States, and has been a successful U.S. senator from New York State for eight years. Of course, it's clear that Hillary wants to sound more like the audience of "ordinary" people she's pumpin' for votes.

Hillary on 60 Minutes: 'Voters Are Tired of People Who Lie to Them'. [Scroll down] She also said, "Part of what I believe with all my heart is that the voters are tired of people that lie to them. They're tired of people who act like something they're not." Like acting like you have an Arkansas accent?

Hillary, We Thoroughly Knew Ye. [Scroll down] And so the campaign rolled out (what else?) a new slogan — "The Hillary I Know" — and a new Web site with 38 videotaped testimonials from the senator's friends and constituents. But the get-to-know-me campaign has hit a snag: Hillary.

Hillary Clinton: How Dare You Call Universal Health Care Socialized Medicine? Hillary goes off on a reporter at the National Association of Black Journalists Presidential Forum for daring to call socialized medicine …well… socialized medicine. What do you think she's angry about more, that she's essentially being called a socialist or that a black man dared wander off the liberal plantation to question her 'we liberals know what's best for you' policies?

Clinton hypocrisy: Abuse of power in pursuing opponents. [Scroll down] The Democratic Party cannot allow her name to appear on a presidential ballot for either office — not in August, not in 2012, not ever. It's not because she's a woman — the last desperate wild card she had been playing before raising the specter of assassination. It is because she's a Clinton. Being a Clinton, she brings to any national campaign trail a wagonload of combustible baggage that the GOP has been salivating to explode at first sight of her name on the Democratic ticket.


---