Introduction:
This page is a spin-off from a larger page about Islamic terrorist attacks that were reported as "isolated incidents."
---



Recap and overview:
Karine, Kamala and the Killers. [Scroll down] Something similar took place on December 2, 2015, in San Bernardino, California. That day, employees of the Inland Regional Center gathered for holiday party. A National Police Foundation report explains what happened. "Suddenly, a door swung open and a person clad in all black, with a mask shielding his or her face, stepped inside, wielding what appeared to be an automatic rifle. Without saying a word, the person, now believed to be [Syed] Farook, opened fire." Then Tashfeen Malik followed. "She also wore all black and entered the room shooting. Together, the shooters fired more than 100 rounds." The shooters then "hastily departed, heading out to a black SUV they had parked just outside, leaving behind a chaotic scene of noise, fear, and pain." And death. American-born Syed Farook and his wife Tashfeen Malik, a green-card holder born in Pakistan, murdered Robert Adams, Isaac Amianos, Bennetta Betbadal, Harry Bowman, Sierra Clayborn, Juan Espinoza, Aurora Godoy, Shannon Johnson, Larry Daniel Kaufman, Damien Meins, Tin Ngyen, Nicholas Thalasinos, Yvette Velasco, and Michael Wetzel.

Hugh Fitzgerald: Fiddling with Facts for Islam. [Scroll down] Syed Rizwan Farook and his wife Tashfeen Malik opened fire on fellow workers at a work-related meeting and Christmas party in San Bernardino. The FBI determined that they were "homegrown violent extremists" reading about the duty of violent Jihad on the Internet. They had exchanged email messages "about Jihadism and martyrdom" prior to marriage. They were clearly acting on the promptings of Islam. As FBI Director James B. Comey testified, "the FBI's investigation had revealed that the perpetrators were 'consuming poison on the Internet' and both had become radicalized 'before they started courting or dating each other online.'" They planned for more than a year to attack a gathering of Infidels; they finally chose as their target the semiannual staff meeting and Christmas party of their fellow workers at the San Bernardino Department of Public Health. This gave them the opportunity they had been waiting for — to attack a large group of Infidels gathered in one room (a banquet hall); one suspects that the fact that a Christmas party was part of that event may also have contributed to their choice of target.

The FBI's Work in Mass Shootings Is Not Pretty. Former FBI director James Comey was in charge of finding what — and who — led up to some renowned, rather horrific mass shootings, which included Sandy Hook (2012), San Bernardino (2015), and Las Vegas (2017). [...] The FBI under the direction of Comey failed with investigative work into the details in the San Bernardino mass shooters; who exactly hired Syed Farook for a critical public health safety position? Instead of focusing on an internal corruption cell within the government, Comey came to the microphones and warned the public not to "over-index" the fact that the FBI had prior contact with Farook prior to the mass murders. He didn't dispute the media's claim that as an employee, the shooter's motive came down to being forced to attend a Christmas party with coworkers. Comey's FBI crime scene also oddly wasn't protected after the initial search into the San Bernardino tragedy; the media were invited in, destroying the agency's ability to gather additional evidence.

FBI Vault Releases 408-Page Report On San Bernardino Shooting. On May 12th, the FBI quietly released a 408-page report containing details of the 2015 San Bernardino shooting that occurred at the Inland Regional Center in San Bernardino, California. As some of you may remember back in 2015 married couple Syed Rizwan Farook and Tashfeen Malik killed 14 people inside the Inland Regional Center where the San Bernardino County Department of Public Health was holding their annual Christmas party event. After the deadly shooting, Farook who worked at the San Bernardino Department of Health, and Malik proceeded to flee the scene in a rented black SUV and ended up dying in a shootout with police on East San Bernardino Avenue. In the official FBI report it was concluded Syed Rizwan Farook and Tashfeen Malik were "homegrown violent extremists" and committed the terror act alone but did receive firearms from their neighbor Enrique Marquez Jr. who later pled guilty to providing material support for terrorism.

Mother of San Bernardino jihad mass murderer admits to shredding map son used to plan his jihad massacre. "Shareef is expected to receive no more than 18 months when she is be sentenced in US District Court in Riverside." Good. And after serving a small part of that sentence and then being released, she will become a loyal, patriotic American citizen, right? Rafia Sultana Shareef is an also an active member of the Islamic Circle of North America (ICNA), the group responsible for the billboards that are up all across the country, saying that Muhammad taught peace and women's rights.

Mother of San Bernardino terrorist will plead guilty to destroying evidence after she shredded a map her son used in the 2015 attack. The mother of a terrorist who killed 14 people in a 2015 attack in San Bernardino, California, has agreed to plead guilty to destroying evidence by shredding a map her son may have used to plan the massacre. Rafia Sultana Shareef, 66, of Corona agreed to plead guilty to a charge of intending to impede a federal criminal investigation by altering, destroying and mutilating records, the US attorney's office announced Tuesday [3/3/2020]. The crime carries a potential 20-year federal prison sentence. But under the plea agreement, Shareef is expected to receive no more than 18 months when she is be sentenced in US District Court in Riverside.

DHS whistleblower Philip Haney was murdered fighting Obama's 'new beginning.' [Scroll down] A year prior to his Senate appearance, Haney's wife Francesca was diagnosed with cancer, and Haney retired to care for her. Francesca died in June 2019. In 2020, Haney planned to remarry, and also to return to the DHS. He also planned to publish, in the spring, a follow-up book to his first. Haney did none of these things, for, on Feb. 21, he was murdered in a park-and-ride parking lot. By whom? [...] Aside from that, according to congressmen Haney was in contact with, Haney always carried a USB thumb drive containing "sensitive government information about Islamic extremists and national security" around his neck. Subsequent to his murder, no such thumb drive on him was found. Assuming they were aware of the contents of the drive, only violent jihadists would have an interest in it. A few weeks later, on March 9, in a nearby town, U.S. federal prosecutor Timothy Delgado and his wife of five months, Tamara, were found, shot dead, in their home. [...] As Delgado lived in proximity to the site of Haney's murder, he could have been the agent investigating it.

DHS Whistleblower Philip Haney Found Dead with Gunshot Wound to Chest. An Obama-era whistleblower was found dead Friday morning [2/21/2020] in Northern California with a gunshot wound to his chest. [...] Haney rose to national prominence in late December 2015 when he made a series of accusations about the Obama Administration's reckless, soft-on terrorism policies. The whistleblower claimed that he could have prevented the December 2, 2015 terror attack in San Bernardino if the government had not shut down a surveillance program he had developed three years earlier. Haney had worked in the Intelligence Review Unit (IRU), where his job was to investigate individuals with potential links to terrorism.

Robert Singer and James Tracy discuss taboo topics. [Scroll down] After I spent two weeks on the ground investigating the shooting, interviewing people from the IRC [Inland Regional Center], people who knew Syed, people who should have known Tashik, relatives of people who died and the people who survived the massacre of December 2, I have concluded the official story was closer to the truth than the various hoax and false flag conspiracy theories and that the authorities knew something was going to happen on December 2 at the IRC but not enough to stop the event. My investigation uncovered conclusive proof that Farook was involved but it was clear the authorities are covering up something.

The FBI Record on Fighting Terrorism.. [Scroll down] Many Americans assume, however, that at least in the area of Islamic terrorism, the FBI has kept Americans largely safe. Not so fast. The record doesn't quite show that. In fact, the agency has blundered many terrorism investigations and thus jeopardized the security of Americans. [... For example,] In 2015, the FBI failed to prevent the San Bernardino terror attack by an Islamic couple from Pakistan connected to an Islamic terrorist group whose files were among those purged earlier by the FBI, thereby making it nearly impossible for the agency to detect this pair.

Update:
San Bernardino terror attack victims still fighting to get proper treatment. The problems started when San Bernardino County placed the terror victims into California's Workers' Compensation System. Many survivors then had their claims repeatedly modified — or fully denied. Those denials prompted the state to conduct an investigation into how the cases were handled. The findings, published this month, concluded that in many cases, the denial of care was the fault of the victims' personal physicians, stating: "The fact that several requests were denied and then authorized upon further review suggests that better communication by providers to the county's claims administrators and better documentation at the time requests were first submitted might have reduced the number of UR denials and IMR (independent medical review) requests."

Muslim who bought weapons used by jihadists in San Bernardino terror attack gets plea deal. A plea agreement from the only person to be criminally charged in the San Bernardino terror attack drew mixed emotions from the victims' loved ones. Enrique Marquez Jr., 25, of Riverside, agreed to plead guilty Tuesday to providing the high-powered rifles used to kill 14 people and injure nearly two dozen others and to plotting a mass killing with the gunman Syed Rizwan Farook that they never carried out, court records say.

FBI blacks out most details on hack of terrorist's iPhone. A heavily redacted Friday evening data dump by the FBI revealed almost nothing about how the agency was able to break into the locked iPhone of one of the gunmen in the December terrorist attack in San Bernardino. The Justice Department released close to 100 pages of records in response to a lawsuit by USA TODAY and two other news organizations. The suit, filed on September 16, 2016, sought information about how the agency was able to break into a locked iPhone used by Syed Rizwan Farook. The attack by Farook and his wife, Tashfeen Malik, killed 14 people and wounded 22 others. Malik pledged allegiance to the Islamic State as the attack began.

FBI deletes details about hacking effort in document release. The FBI has released 100 pages of heavily censored documents related to its agreement with an unidentified vendor to hack into an iPhone used by one of the San Bernardino, California, shooters, but it did not identify whom it paid to perform the work or how much it cost.

After mass shooting, San Bernardino endures a surge in deadly violence that could outpace even Chicago. The sound of gunfire and sirens drew about a dozen people out of their homes on San Bernardino's west side one recent Wednesday night. A beat-up Honda sat in the street — a small cross dangling from the rearview mirror, two bullet holes in the door. Rescue workers pulled Alejandro Herrera, 28, from the driver's seat and wheeled him into an ambulance. "The other day, they killed someone down the street," said a middle-aged woman, leaning against a fence next to her husband. All around this part of the city, she said, there are candlelight memorials to victims of violence.

Wikileaks: Clinton Team's Sick Reaction to San Bernardino Terror Attack. As part of Sunday's new WikiLeaks drop, an email chain shows that immediately upon receiving the news that the gunman responsible for the San Bernardino terrorist shooting that left 14 people dead and 22 injured had an Islamic name, top Clinton officials were unhappy and Hillary Clinton chairman John Podesta suggested it would be "better" if a person with an American name had done the shooting.

WikiLeaks: Podesta lamented that a Muslim, not a white man, named as killer in 2015 massacre. Top Hillary Clinton aides were upset a Muslim man was publicly named as the shooter in a 2015 massacre that left 14 people dead, and a longtime Clinton confidant even expressed regret that the terrorist wasn't a white man, according to purported emails released by WikiLeaks on Sunday [10/16/2016]. The emails were part of a trove of messages stolen from the gmail account of Clinton campaign chair John Podesta, who has had a long association with the Democratic presidential nominee and her husband, former President Bill Clinton. The email chain began on Dec. 2, when digital operative Matt Ortega forwarded a tweet from MSNBC host Christopher Hayes that named one of the shooters in the San Bernardino, Calif., attack as Sayeed Farook.

Three men tried to stop San Bernardino attack, report finds. As their colleagues were cut down by gunfire, three men rushed a shooter in an attempt to thwart the San Bernardino terror attack, according to an in-depth report of the massacre that provided new details Friday [9/9/2016].

DHS Official Protected San Bernardino Terror Suspect from Authorities. How is it that a federal official is allowed to impede a terrorism case and face no punitive repercussions? This is what happened in the case where U.S. Citizenship and Immigration Services-USCIS (part of the Department of Homeland Security-DHS) supervisor Irene Martin restricted access to five armed DHS agents. The agents were sent in response to FBI knowledge that Enrique Marquez, the man who allegedly provided weapons to the perpetrators of the San Bernardino shooting, was arranged to have an interview (along with his wife, Mariya Chernykh) with Martin's personnel the day after the actual attack. At the time Marquez and his wife were likely under suspicion by immigration services for their fraudulent marriage. Authorities later described the intention of the two individuals noting, "They wed so she could obtain immigration benefits unavailable to her as a Russian citizen without legal status in the U.S."

Under Obama: 8 Islamic Terror Attacks That Could Have Been Prevented. Tashfeed Malik passed three background checks by immigration officials before coming to the U.S. from Pakistan on a fiancee visa. That's despite the fact that she had expressed support for violent jihad on social media. Her husband, Syed Rizwan Farook, meanwhile, had been radicalized for years, and the FBI later said he had ties to a group of jihadists in California who had been arrested in 2012. His actions before the shooting alarmed his neighbors, who said they didn't report "suspicious activity" at his home out of fear of being called racist.

Federal immigration boss at center of turf war over terror suspect transferred. The federal bureaucrat who blocked armed law enforcement agents from apprehending a man involved in the San Bernardino terror attack last December, then allegedly lied to investigators about her actions, has been reassigned to another post, but likely won't face further investigation, FoxNews.com has learned. The U.S. Citizenship and Immigration Services supervisor who an Inspector General's report did not name but blasted for keeping Department of Homeland Security agents from Enrique Marquez is Irene Martin, who, according to her Linkedin.com account, has been with the agency for at least 16 years, 13 years as a field supervisor.

Watchdog blasts bureaucrats for blocking ICE agents from San Bernardino terror suspect. A federal report released Thursday [6/2/2016] details a shocking turf battle that broke out when immigration officials blocked law enforcement agents from interviewing a person of interest in the San Bernardino terror attack last December. Just one day after a radical Muslim couple opened fire on office workers at a Christmas party, the FBI asked Immigration and Customs Enforcement to detain the man later determined to have supplied guns used in the attack. When Homeland Security Investigations agents went to the U.S. Citizenship and Immigration Services office where Enrique Marquez and his wife were being interviewed, they were turned away, according to the report.

Federal officials delayed San Bernardino terrorist attack probe. A report today [6/2/2016] by the Department of Homeland Security Inspector General concludes that the field office director at the U.S. Citizenship and Immigration Services "improperly delayed" investigators from Immigration and Customs Enforcement from conducting a "lawful and routine law enforcement action" after the San Bernardino terrrorist attack last December. The report will be posted soon on the Inspector General's website. Inspector General John Roth conducted the investigation at the request of Sen. Ron Johnson, Chairman of the Committee on Homeland Security and Government Affairs. Roth notes that the "situation" was "corrected" once the incident was "elevated" to supervisors. But the report provides new evidence that despite extensive money and effort spent to help federal agencies better coordinate and cooperate, especially when it comes to terrorist-related risks, inter-agency bungling continues.

Prosecutors fight to stop San Bernardino shooter's family from getting $250,000 insurance payment. The federal government is suing to stop the family of San Bernardino shooter Syed Rizwan Farook from collecting more than $250,000 in life insurance payments from his death. In a complaint seeking the seizure of the money Tuesday, the government alleges that the proceeds from Farook's two policies are derived from a terrorist act.

FBI arrests brother of San Bernardino terrorist and 2 others on marriage fraud charges. Federal agents arrested three people, including the older brother of San Bernardino gunman Syed Rizwan Farook, on charges of marriage fraud and lying to federal investigators on Thursday morning [4/28/2016], authorities said. Syed Raheel Farook, his wife, Tatiana Farook, and her sister Mariya Chernykh are charged in a five-count indictment filed in federal court alleging that Chernykh entered into a fraudulent marriage with Enrique Marquez Jr., who has been accused of providing weapons used in the deadly Dec. 2 attack at the Inland Regional Center.

Autopsies reveal details of San Bernardino terror attack. The San Bernardino attack was the deadliest terror strike on U.S. soil since Sept. 11, 2001. The FBI said Farook and his wife, Tashfeen Malik, were radicalized before they met online and communicated privately about jihad and martyrdom before they married. Twenty-two people survived the shooting.

FBI Paid More Than $1.3M to Break into San Bernardino iPhone. Federal Bureau of Investigation Director James Comey said on Thursday [4/21/2016] the agency paid more to get into the iPhone of one of the San Bernardino shooters than he will make in the remaining seven years and four months he has in his job. [...] Without a raise or bonus, Comey will make $1.34 million over the remainder of his job. That suggests the FBI paid the largest ever publicized fee for a hacking job, easily surpassing the $1 million paid by U.S. information security company Zerodium to break into phones.

James Comey: FBI spent over $1 million to unlock San Bernardino attacker's iPhone. The FBI paid a non-governmental third party over $1 million for technology that allowed the agency to unlock an iPhone 5C that belonged to San Bernardino gunman Syed Farook, according to a remark made by FBI director James Comey at a moderated discussion in London on Thursday [4/21/2016]. When asked exactly how much his agency shelled out for the technology, Comey told the audience at the Aspen Security Forum, "a lot. He added the figure is "more than I will make in the remainder of this job — which is seven years and four months — for sure."

What Islamophobia? What is Islamophobia? Think back a few months to San Bernardino, when Syed Rizwan Farook and Tashfeen Malik slaughtered 14 people and wounded 22 others at a holiday party for the county department of health. Beginning the day of the shootings, CAIR organized press conferences and interviews, conducting a well-choreographed media campaign. Lawyers insisted there was no evidence the killings had anything to with religion. One added the killer may have faced workplace derision for his beard. CAIR's executive director in the Los Angeles area, Hussam Ayloush, appealed to MSNBC viewers not to jump to conclusions about the suspects' motives. "Is it work? Rage-related? Is it mental illness? Is it extreme ideology?" Ayloush wondered at another press conference. "At this point it's really unknown to us." But many Americans had known in a flash what had actually happened, and a few realized that so had CAIR.

Egg on Apple's Face. The FBI announced yesterday [3/28/2016] that a method brought to it by an undisclosed third party allowed it to break into the cell phone of Syed Farook, one of the San Bernardino terrorists who died with his wife in a gun battle with police after the couple had killed 14 people in San Bernardino, Calif., on December 2, 2015. The FBI urgently wanted to access the data on Farook's phone because of concerns that he had accomplices who might be planning other terrorist attacks. Because it successfully hacked into Farook's phone, the government dropped its legal action to force Apple to give it access to this phone.

Immigration officials shielded accused San Bernardino conspirator from ICE agents. Federal immigration officers refused to let an armed team of agents into their office to detain the accused conspirator in December's San Bernardino terrorist attack, government officials acknowledged Tuesday [3/15/2016], exposing an embarrassing lack of communication within the Department of Homeland Security. Those who ran the legal immigration benefits office in San Bernardino refused to let a team from U.S. Immigration and Customs Enforcement enter to detain and hold Enrique Marquez so the FBI could interview him later, Sen. Ron Johnson, chairman of the Senate Homeland Security Committee, said.

Update:
FBI can't figure out how to unlock encrypted phone in San Bernardino investigation. FBI technicians have been unable to unlock encrypted data on a cellphone that belonged to the terrorist couple who killed 14 people in San Bernardino on Dec. 2, the FBI director said Tuesday [2/9/2016]. The failure, the second such case in recent months, has left investigators in the dark about at least some of the married couple's communications before they were killed in a shootout with police. "We still have one of those killers' phones that we haven't been able to open," FBI Director James B. Comey told the Senate Intelligence Committee. "It has been two months now and we are still working on it."

More about The Department of Justice vs Apple Computer, which deals with this specific case.

FBI raids California home of San Bernardino shooter's Navy veteran brother and his Russian wife. FBI agents on Thursday [2/18/2016] were searching the California townhome of the brother of San Bernardino terrorist Syed Rizwan Farook amid lingering questions about a possible third shooter. The brother, Syed Raheel Farook, is a Navy veteran who earned medals for fighting global terrorism. Agents were carrying out a search warrant as part of an ongoing investigation, FBI spokeswoman Laura Eimiller confirmed. No arrests had been made.

FBI searches home of San Bernardino terror gunman's brother. FBI agents were executing a federal search warrant at the Corona home of the brother of San Bernardino terror attack gunman Syed Rizwan Farook on Thursday [2/18/2016]. Details about the search at Syed Raheel Farook's home in the 1700 block of Forum Way were not released because the warrant is sealed. No arrests were made, but several people were detained during the search, FBI spokeswoman Laura Eimiller said.

ISIS calls on U.S. Muslim couples to emulate San Bernardino attack. The Islamic State has called upon Muslim couples who are living in the United States to emulate the San Bernardino shooters and "attack the infidels where they live." The call to arms was published in the English online version of the Islamic State magazine Dabiq, which ISIS uses for propaganda and recruitment globally. The magazine states its mission as promoting unity, truth-seeking, migration, holy war and community. The magazine describes the shooting attack as "unique" since "the Khilafah's (Islamic Caliphate) call for the Muslims to strike the crusaders in their own lands was answered once more" — but this time, by a jihadist operating together with his wife, not alone.

If you see something, shut up. [T]he Modesto Bee reported that days after the San Bernardino attack, a local man was at the gun range and saw what he described as approximately seven Muslims firing rifles "with ammunition clips far bigger than the 10-round capacity" allowed by state law. The man became upset and left the shooting range, telling the Bee that so soon after San Bernardino "just the idea of seeing Muslims shooting was shocking to me. Any other day, I wouldn't have been caught so off guard." He surmised the shooters were Muslims based on their clothing, such as the head coverings worn by the women. But did he call the police? No. He wasn't 100 percent positive they were doing anything "outside the law." Having seen something, he didn't say something.

Enrique Marquez Jr. pleads not guilty to federal terror charges. The man accused of providing two rifles used in the Dec. 2 mass shooting in San Bernardino pleaded not guilty to charges against him in federal court Wednesday [1/6/2016]. Enrique Marquez Jr. was indicted last week by a federal grand jury on charges of conspiring to provide material support to terrorists, lying about the rifle purchases, marriage fraud and lying on a visa application.

Enrique Marquez, friend of San Bernardino shooter, indicted on gun, terror charges. A friend of one of the shooters in the San Bernardino massacre that killed 14 people was indicted Wednesday [12/30/2015] on charges that include conspiring in a pair of previous planned attacks and making false statements when he bought the guns used in this month's shootings, authorities said.

UK Muslim 'Disneyland Family' Linked to Mosque of San Bernardino Terrorists. The British Muslim family banned from entering the U.S. this week was on its way to meet relatives in California who prayed at the same mosque as terrorists Syed Rizwan Farook and Tashfeen Malik, who murdered 14 people in San Bernardino this month. On Tuesday [12/22/2015], Mohammad Tariq Mahmood, his brother, and nine of their children were pulled from a queue at Gatwick airport by British Border Agency guards and barred from traveling to the U.S. on the instruction of the country's Homeland Security agency. Mahmood has claimed that they were stopped from traveling to California to visit family and Disneyland merely "because they were Muslim."

Revealed: San Bernardino Terrorist's Mosque Cleric Exchanged 38 Texts With Terrorist, Claimed 'Casual' Relationship. The mosque at the centre of the San Bernardino terrorist attack is back in the spotlight after one of the organisation's clerics, Roshan Abbassi, was found to have had repeated contact with terrorist Syed Farook in the months before the deadly attack which left 14 people dead and 24 people injured. Mr. Abbassi and his fellow teachers at the mosque had previously claimed that they barely knew Mr. Farook, despite his repeat attendance at the Dar al Uloom al Islamiyyah mosque in San Bernardino.

America's Hidden Jihad. The police and press did an impressive job of sleuthing into the lives and motives of Syed Rizwan Farook and Tashfeen Malik, the married couple who massacred 14 people on Dec. 2, in San Bernardino, California. We know about their families, their studies and employment histories, their travels, their marriage, their statements, and their preparations for the assault. Most importantly, the cascade of background work means we know that the pair had jihadi intentions, meaning, they attacked in their role as pious Muslims spreading the message, law, and sovereignty of Islam.

Cleric denies ties to San Bernardino killers as phone records surface. The cleric acting as spokesman for the San Bernardino mosque where terrorist Syed Rizwan Farook worshipped claims he barely knew Farook and didn't know his terrorist wife at all. But phone records and other evidence uncovered by federal investigators cast suspicion on his story. The FBI has questioned the cleric, Roshan Zamir Abbassi, about his phone communications with Farook — including a flurry of at least 38 messages over a two-week span in June, coinciding with the deadly Muslim terrorist attack on two military sites in Chattanooga, Tenn. Abbassi, a Pakistani, insists he had nothing to do with the shooting at a San Bernardino County government building five miles from the mosque. While he confirms the text messages with Farook, he claims they were merely discussing food donations for his Dar-al-Uloom al-Islamiya of America mosque.

San Bernardino killers revealed personal details in visa application. Syed Rizwan Farook told U.S. immigration officials in early 2014 that he had met his future wife on an "online website" and they decided to meet in Saudi Arabia after "several weeks of emailing," according to records released Tuesday that provide new details about the San Bernardino killers. The 21-page visa application file offers the first public look at the evidence that Farook, a U.S. citizen born in Chicago, gave immigration officials to prove he and Pakistani-born Tashfeen Malik had met in person and were planning to marry.

Obama Promises Not To Defeat ISIS Before Leaving Office. President Obama's interview with NPR grabbed a lot of attention because of his comments about Donald Trump. But his statements about ISIS were also noteworthy. [...] On the attack in San Bernardino, Obama said, "It's something that we've known could happen for quite some time and ... something that we've got some incredibly effective intelligence folks working on every single day." Really? Incredibly effective? Every single day? So how did they miss the terrorist couple under their noses?

San Bernardino shooter's friend arrested. Enrique Marquez Jr., who bought the assault rifles used in a terrorist attack that killed 14 people this month, was charged Thursday [12/17/2015] with conspiring to carry out two other attacks in 2012, federal officials said. Marquez and Syed Rizwan Farook, one of the shooters on Dec. 2, had planned to attack other targets in Southern California, including a nearby community college and highway, according to a criminal complaint.

Random Family: The Farook-in-Laws. I mentioned awhile back that two decades ago I had known a Russian illegal alien lady whose latest plan was trying to get documentation from Russia demonstrating she was Jewish so she could stay here under the Lautenberg Amendment's Religious Minority Refugee proviso. (As we all know, it's completely un-American for religion to play any role in immigration laws, except in many well-known exceptions.) Before she concocted the Jewish refugee grift, she had been in a fake marriage with an American citizen, but her fake husband's real girlfriend was getting insistent he divorce his fake wife. So I wasn't exactly surprised to hear that the two Russian sisters whose various names keep coming up in connection with the Farooks appear to have been enterprising as well about outsmarting ICE, leaving a trail of not so smart guys in their wakes.

Prosecutors: San Bernardino Attacker and Enrique Marquez Planned To Bomb College, Shoot Drivers on Freeway. Prosecutors have filed papers in court alleging that San Bernardino attacker Syed Farook and Enrique Marquez planned to carry out an attack in 2012 that included bombing Riverside City College, then shooting drivers and passengers along a crowded stretch of 91 freeway in a secondary attack. Marquez is the source for the rifles which Farook and Tashfeen Malik used in the December 2 San Bernardino attack and is under arrest, facing allegations that he only dropped the plans for the 2012 attack after being spooked by "the arrest of a group of men in Chino in an unrelated terrorism case."

SoCal terror probe exposes marriage-for-visa racket. The ever-widening investigation of the San Bernardino terrorist massacre has revealed at least two dubious marriages that experts say expose huge loopholes in the immigration system and continue to put national security at risk. Federal authorities have charged Enrique Marquez with marriage fraud for his allegedly sham union with Mariya Chernykh, a Russian woman whose sister married the brother of terrorist Syed Rizwan Farook after first gaining residence through an earlier marriage. And of course, Farook's own wife, Tashfeen Malik, who was killed along with him in a shootout with police following their Dec. 2 attack, married her way into the U.S. under suspicious circumstances.

Two weeks later, we finally learn about Enrique Marquez. So why did it take two weeks to finally arrest Muslim Enrique Marquez? Did the authorities want to wait until all the news died down a bit after Enrique Marquez's terroist pals killed 14 in San Bernardino? [...] And why hasn't Farook's mother been arrested who lived with Farook and Malik and knew of the terrorists plans?

San Bernardino shooter spent years steeped in extremism before attack. A criminal complaint filed Thursday [12/17/2015] against Enrique Marquez marked the first charges — and the first arrest — produced by the sprawling investigation into the Dec. 2 attack in San Bernardino, Calif. While the complaint was largely focused on Marquez's statements and the allegations against him, the 36-page affidavit filled out by an FBI agent also offers the most insight available yet into Syed Rizwan Farook, who authorities say went with his wife to a holiday gathering and killed 14 people.

The Truth About USA Freedom. [Scroll down] The proponents of the NSA's warrantless domestic spying program also vastly oversell its effectiveness. The program was still in operation when terrorists struck Paris and had expired just four days before the San Bernardino attacks. If this program was so essential, why did it not stop these attacks? Furthermore, just as Obama can't identify a single mass shooting that his gun control proposals would have stopped, supporters of warrantless domestic spying can't point to a single attack the NSA's domestic program prevented.

San Bernardino shooter's friend Enrique Marquez charged with aiding plot. [T]he bond Syed Rizwan Farook and Enrique Marquez formed a decade ago was tight. They began visiting a local mosque, discussing Islamic radicalism and amassing weapons and explosives. Then, four years before the San Bernardino massacre, they hatched terrifying schemes, according to federal prosecutors. The duo plotted to launch pipe bombs into the cafeteria of Riverside City College, shooting people as they fled, and to open fire on drivers on the 91 Freeway during rush hour, according to federal charges released Thursday [12/17/2015].

Pal of San Bernardino terrorists charged on multiple counts. Enrique Marquez, 24, was charged with conspiring to provide material support to terrorists based upon his role in terrorist plotting with Syed Farook in 2011 and 2012, the unlawful purchase of the two assault rifles used in the deadly shooting two weeks ago and defrauding immigration authorities by entering into a sham marriage with a member of Farook's family. The documents describing charges said he admitted plotting the attacks with Farook on Riverside Community College and State Route 91 in or around late 2011.

'They don't speak for me': New Muslim groups reject CAIR representation. Within hours of a terror attack that left 14 dead in Southern California, the nation's best-known Islamic advocacy group held a press conference with the killers' family — and Muslims around the country cringed. In the days following the Dec. 2 attack in San Bernardino, Council for American-Islamic Relations representatives partially blamed U.S. policy for terrorist attacks, accused gunman Syed Rizwan Farook's co-workers of making fun of his beard and sought to downplay comments by Farook's father linking him to ISIS. Like Muslims throughout the U.S., CAIR officials condemned the attack, but too often with what sounded to critics like subtle caveats.

Cruz: Anyone else find it odd that Obama and Hillary support radical Islam while targeting law-abiding citizens? During a post-debate interview with CNN's Jake Tapper on December 15, Republican presidential hopeful Sen. Ted Cruz (R-TX) described how political correctness prejudices President Obama and Hillary Clinton against law-abiding American citizens. Cruz pointed to Obama and Clinton's immediate reactions to the San Bernardino attack as proof, explaining that both of them reacted to initial attack reports by calling for more gun control on law-abiding citizens before the San Bernardino attackers had even been found or identified. On December 2, Breitbart News reported that Obama called for more gun control while the San Bernardino shooters were still at large and Clinton called for more gun control via Twitter while the hunt for the gunman and gunwoman was still underway.

Jaw Dropping Federal Complaint — "Actual Charging Document" Against San Bernardino Co-Conspirator. You just have to read the criminal complaint to understand how supremely jaw-dropping the entire construct against Enrique Marquez actually is. [...] The sense of it is the FBI-DOJ people who wrote this complaint are trying to send a signal to the rest of America — around a Presidential office hell bent on avoiding reality and downplaying the content.

What We Know About San Bernardino Shooter's Alleged 'Rush Hour' Terror Plot. Four years before Syed Rizwan Farook and his wife Tashfeen Malik killed 14 people at an office party in San Bernardino, Farook plotted with his old friend and neighbor Enrique Marquez to kill as many people as possible during a "rush hour" attack on a highway in California, according to the FBI. The late 2011 or early 2012 plot was detailed for the first time today in a criminal complaint filed against Marquez, who authorities said admitted the plans during a 10-day questioning session with the FBI after the San Bernardino shootings earlier this month.

Calif. terror pal agreed to 'sham' marriage with Farook relative. Enrique Marquez, the pal who bought guns for San Bernardino terrorist Syed Rizwan Farook, was paid $200 month to enter into a sham marriage with one of the slain terrorist's extended family members, court papers claim. Marquez, who was charged Thursday [12/17/2015] with supporting terror, agreed to marry Russian native Mariya Chernykh — the sister of Farook's brother's wife — so she could become a legal US resident. It was discovered that Marquez and his wife did not even live together. Instead, Chernykh lived with her boyfriend and their child. Marquez's family had no idea he was legally married until after the Dec. 2 massacre of 14 people.

DHS Should Release All Documents Regarding San Bernardino Terrorist, says Congress. Shouldn't the Department of Homeland Security release the information so we can figure out how to prevent another tragedy like San Bernardino?

President Obama Speech On Current Terror Threats — National Counter Terrorism Center (NCTC). The full speech (both video and transcript) by President Obama yesterday at the National Counter Terrorism Center, McLean Virginia. Presented below for two reasons. [#1] To share the substantive information provided by the President of our United States. [#2] Because, in my humble opinion, having spent considerable time following nuance and inter-governmental messaging, this speech — and included insurances — as outlined within the President's delivery, are 180° divergent from the FBI federal complaint released yesterday [12/17/2015] in the San Bernardino terrorist investigation. [Video clip]

How The Obama Administration Got Americans Killed in San Bernardino For PC. We already know that political correctness got Americans killed in San Bernardino. A neighbor of that delightful, non-suspicious, American-as-apple-pie couple Syed Farook and Tashfeen Malik refused to report his suspicions of nefarious activity thanks to his fear of being labeled a racist. That fear was legitimate — the same Obama administration that tells Americans to say something if they see something is now investigating the Irving Police Department for doing just that with a Muslim teenager who brought a device that looked like a bomb to school. But at least you could make the case that it wasn't directly the fault of the Obama administration that the neighbor didn't call the cops. Not any longer.

FBI: San Bernardino attackers didn't show public support for jihad on social media. The two attackers who opened fire in San Bernardino, Calif., earlier this month had not posted publicly on social media sites about supporting jihad, FBI Director James B. Comey said Wednesday [12/16/2015]. The husband-and-wife duo were "showing signs in their communication of their joint commitment to jihad and to martyrdom" through private messages, rather than publicly visible postings, Comey said.

Rubio Bill Expanded Visa Program Used by San Bernardino Terrorists. When I was fighting the Gang of Eight bill in 2013, one of my observations was that this legislation provided much more than amnesty for illegal aliens already here. It created a permanent open border policy across the spectrum of legal and illegal immigration. One such provision was Section 2310 (page 426), which would have massively expanded the K-1 fiancé visa program, the very visa that San Bernardino terrorist Tafsheen Malik used to gain permanent residence in our country. While the underlying premise of this program makes sense, it has been rife with fraud and 99.7% of requests for K-1 visas have been approved in 2014. According to CIS, "[C]lose to half of the aliens initially slated for K-1 visas (and marriages) did not get married in the United States as planned."

The San Bernardino Terrorists Weren't Radicals — They Were Mainstream. The assumption that the intersection of terrorism and Islam can only be an aberration lead to the conviction that there was some moment in time at which Malik and Farook became "radical extremists". Initial reports pegged that moment of "radicalization" as having happened at some point during the twenty minutes after Farook left the party. When the amount of firepower and preparation made the idea of a twenty minute radicalization massacre seem silly, the media tried to stretch it back for weeks. Now they've had to give in and pull back that dreadful moment of radicalization for years. But what if Syed Farook and Tashfeen Malik were never "radicalized"? What if neither of them "influenced" the other? What if both were exactly what they appear to be, devout Muslims who hated America and believed that it was their religious duty to kill Americans? What if this attitude did not show up last week or last year? What if it was the way that their culture and religion taught them to live?

Gun charges expected against San Bernardino shooter's friend. Enrique Marquez, who bought the assault rifles used in a deadly attack here, was charged Thursday with conspiring to provide material support to terrorists, federal officials said. Marquez, 24, was also charged in federal court with making a false statement in connection with the acquisition of firearms used in the attack, the Justice Department announced. These charges are the first to stem from what became a sprawling global investigation into the Dec. 2 massacre at an office holiday gathering, a probe that has remained focused on the man who once lived next door to one of the attackers.

Was The San Bernardino Massacre Really ISIS-Inspired? The FBI Chief Just Called That Into Question. For nearly two weeks, the massacre in San Bernardino has been characterized in the press and by government officials as an ISIS — or, at least, ISIS-inspired — attack in which social media figured prominently in the shooters' radicalization and planning. On Wednesday [12/16/2015], FBI Director James Comey raised major doubts about that characterization when he told reporters that that the husband and wife who killed 14 people in San Bernardino hadn't posted to social media about radical jihad. That significantly altered the public understanding of how the couple plotted their rampage and what might have been done to stop them.

Administration nixed probe into Southern California jihadists. There are terrorists in our midst and they arrived here using legal means right under the noses of the federal law enforcement agencies whose mission is to stop them. That is not due to malfeasance or lack of effort on the part of these officers; it is due to the restrictions placed on them by the Obama administration. I was a firsthand witness to how these policies deliberately prevented scrutiny of Islamist groups. The two San Bernardino jihadists, Syed Farook and Tashfeen Malik, may have benefited from the administration's closure of an investigation I initiated on numerous groups infiltrating radicalized individuals into this country.

Political Correctness and Islam. Its "public awareness campaign" to the contrary notwithstanding, the DHS has done its bit in frightening Americans to not "say something," being one of the biggest vehicles of politically correct thought and speech. And Redlands neighbors' not "saying something" worked out very well, to Barack Obama's benefit. It allowed him to dig up that hoary old chestnut, "workplace violence," and also to grandstand again for more gun controls. Had these neighbors the courage to notify law enforcement authorities about the frequent presence of Middle Eastern-looking strangers in the vicinity and the unusual activities at Farook's house, the San Bernardino terrorist attack would not have occurred. The police would have found the arsenal of weapons and pipe bombs in Farook's house. They would have pulled up the DHS's record of Farook's comings and goings. They would probably have found the packaging those weapons and materials came in. They might have learned the true identity of Farook's "wife," and where she actually came from. They would have discovered, not the makings of a neighborhood Tupperware party, but the preparations for another major Islamic jihadist attack.

San Bernardino shooters buried in quiet funeral following Islamic rituals. Syed Rizwan Farook and Tashfeen Malik, who opened fire on a San Bernardino holiday party earlier this month, were buried Tuesday [11/15/2015] in a quiet, graveside funeral.

San Bernardino killers reportedly buried in small funeral. The Muslim couple who killed 14 people when they opened fire at a San Bernardino, Calif. holiday party earlier this month were buried Tuesday at a funeral guarded by FBI agents, Reuters reported Wednesday [12/16/2015]. Syed Farook and Tashfeen Malik were reportedly buried in a Muslim cemetery hours away from San Bernardino in a ceremony attended by about 10 people, including members of Farook's family and people who used to pray with the couple at mosques. An attendee told Reuters it took a week to find a graveyard willing to accept the bodies of the jihadi couple who were killed in a gun battle with police.

The Editor says...
It's reasonable to surmise that the few people who attended this unpublicized funeral were Syed and Tashfeen's closest friends and supporters. I hope someone made a list of the license numbers on their cars.

Lawmakers push to lift 'absurd' ban on vetting social media for visa seekers. Lawmakers are pushing to require the review of all social media accounts for anyone applying for visa entry into the United States, after it was revealed the Obama administration adopted a policy of ignoring those communications — and failed to flag radical Islamic messages sent by one of the jihadist attackers in the San Bernardino massacre that left 14 dead. Tashfeen Malik, a Pakistani woman, made it through the vetting process despite those messages and entered the United States legally in 2014 on a K-1, or fiancée, visa. "They could have denied this visa" if they had screened her online accounts, House Homeland Security Committee Chairman Michael McCaul, R-Texas, told Fox News on Tuesday [12/15/2015].

Report: Obama Told NSC And FBI To 'Downplay' Terrorist Angle Of San Bernadino. The FBI has taken heat for failing to immediately classify the San Bernardino shootings as terrorism, but a new report shows that FBI reluctance could have been due to external pressure from the White House. A source told Jack Murphy of SOFREP that the FBI instantly believed the shooting, which left 14 dead, to be a clear act of terrorism. The White House, however, didn't feel the same way and quickly moved in to squash the terror classification.

Homeland Security Shut Down Investigation Into Farook And Malik Linked Islamist Group To Protect 'Civil Liberties' Of Potential Terrorists. The Department of Homeland Security (DHS) has been accused of deleting intelligence records relating to dangerous Islamists linked to terrorists Sayed Farook and Tashfeen Malik, because they wanted to protect the "civil liberties" of members of the caliphate-supporting network. Phil Haney, a U.S. Customs and Border Patrol analyst, says he was ordered to stop investigating Deobandi Islamist groups and his work on them was erased. He even says he was subjected to a disciplinary when he attempted to blow the whistle.

Suppress Shooters' Islamist Ties, Obama Ordered. On the day of the deadly San Bernardino, Calif. massacre, President Obama ignored FBI-procured evidence that the attack was an Islamic terrorist operation and ordered federal officials to mislead the public about the true nature of the assault. Although the FBI knew immediately on Dec. 2 that the mass-casualty event was a Muslim terrorist attack, Obama and FBI Director James Comey reportedly clashed over why Syed Rizwan Farook and Tashfeen Malik, opened fire around 11 a.m. local time on Farook's municipal government workmates, leaving 14 dead and 21 wounded. The news comes as investigator Phil Haney, who helped to create the Department of Homeland Security, revealed on Fox News that the government shut down a database he created that might have helped to prevent the attack. Haney says he looked into groups that had ties to Farook and Malik as far back as 2012. But civil rights officials accused him of unfairly profiling Muslims, removed his security clearance, and destroyed the data he collected.

When political correctness trumps law enforcement. "If you see something, say something." The Beltway in Washington practically glows from this helpful message from those who purport to want to keep our nation safe, but do they really mean it? Apparently not if you are former DHS terrorism investigator and whistleblower Philip Haney, who has made startling allegations that the Obama administration deliberately shuttered an investigation that might have thwarted the San Bernadino mass murder — because he was told the investigations were problematic because they were looking into Islamic groups, as revealed on Fox News' Kelly File on Dec. 10.

The Editor says...
When you "see something" and then "say something," the first thing the cops investigate is YOU. At least that has been my experience.

Report: Obama Told NSC And FBI To 'Downplay' Terrorist Angle Of San Bernardino. The FBI has taken heat for failing to immediately classify the San Bernardino shootings as terrorism, but a new report shows that FBI reluctance could have been due to external pressure from the White House. A source told Jack Murphy of SOFREP that the FBI instantly believed the shooting, which left 14 dead, to be a clear act of terrorism. The White House, however, didn't feel the same way and quickly moved in to squash the terror classification. This source added that as soon as the shooting took place, Obama convened a meeting with the National Security Council and the heads of other federal enforcement agencies to discuss a public relations strategy.

Deobandi Butchery in San Bernardino: 1977 Roots of the Jihad Carnage. Department of Homeland Security (DHS) whistleblower Philip Haney made a startling series of revelations Thursday evening (12/10/15) on Fox News' The Kelly File. Haney described how he began investigating scores of individuals with links to the traditionalist Islamic Indo-Pakistani Deobandi movement, and its related offshoots, prominently, Tablighi Jamaat. He maintained the groups were exploiting the visa waiver program to transport suspected jihadist operatives in and out of the U.S., thus he started tracking them, and recording these findings within a DHS database.

DHS, State Halted Investigation Into Islamist Group Linked To San Bernardino Terrorists. Customs and Border Patrol analyst Phil Haney tracked members of the Islamist Deobandi movement with which Sayed Farook and his wife, Tashfeen Malik, were affiliated. But the Department of Homeland Security deleted the records, then disciplined and retaliated against him when he blew the whistle, he says. Haney said he worked in Passenger Analysis Units at the Department of Homeland Security in Atlanta and at the U.S. Customs and Border Protection's National Targeting Center, where he performed research into people and groups that might be linked to terrorism. He identified members of al-Huda and Tablighi Jamaat, subgroups of the Deobandi Movement, a century-old fundamentalist Islamic group originating in Pakistan, as they traveled into and out of the United States. An association with Tablighi Jamaat has been documented by the French in an estimated 80% of terrorism cases.

Terror investigators search lake for shooters' electronics, hard drive. The FBI is searching a lake near the site of the San Bernardino massacre for electronic devices, a hard drive and other items linked to the shooters, according to law enforcement sources. The FBI said Thursday [12/10/2015] that the agency received information suggesting the shooters were in the area. Officials would not say exactly what they were looking for, but the sources said they were searching for technology items that may have been dumped by the shooters.

FBI Recovers Items From San Bernardino Lake. FBI agents recovered a number of items from a lake in San Bernardino where investigators have spent days searching for clues to last week's mass shooting. The FBI would not say what items were found or if they were related to the terror investigation. [...] The FBI believes the couple may have gone to the lake to dump evidence after the shooting, officials said.

San Bernardino shooting investigation expanding to larger network of people. An investigation that once focused primarily on the husband and wife responsible for killing 14 people in San Bernardino, Calif., last week continues to expand as the FBI questions an ever-growing network of people with ties to the couple. The investigation is now focusing on shooter Syed Farook's neighbor, Enrique Marquez, who provided the couple with the rifles used in the attacks. Marquez, who is cooperating with the investigation and has been interviewed several times, was particularly close with Farook, according to senior law enforcement officials.

Friend of San Bernardino shooter is at center of FBI investigation. [Enrique] Marquez, who was quickly tracked down by the FBI, has been cooperating with the extensive investigation of the massacre carried out by Marquez's former neighbor Syed Rizwan Farook and Farook's Pakistani wife, Tashfeen Malik. According to senior U.S. law enforcement officials, Marquez has told the FBI that he and Farook had discussed mounting some sort of attack in 2012, but then he got spooked after a terrorism investigation based in Riverside resulted in the arrest of four local men in November of that year for plotting to kill Americans in Afghanistan. The men were convicted and sentenced to long prison terms.

U.S. Visa Process Missed San Bernardino Wife's Zealotry on Social Media. Tashfeen Malik, who with her husband carried out the massacre in San Bernardino, Calif., passed three background checks by American immigration officials as she moved to the United States from Pakistan. But none uncovered what Ms. Malik had made little effort to hide — that she talked openly on social media about her views on violent jihad. She said she supported it. And she said she wanted to be a part of it.

DHS Whistleblower Philip Haney: P.C. Killed Investigation That Might Have Stopped San Bernardino Attack. Department of Homeland Security whistleblower Philip Haney gave an extensive interview to Breitbart News Daily on Friday morning [12/11/2015], in which he discussed an investigation that might have stopped the San Bernardino jihad attack... but was scuttled by Homeland Security brass for politically-correct reasons. "Civil Rights and Civil Liberties shut the case down because we were focusing on individuals who belong to Tablighi Jamaat," Haney says, well-aware of how explosive this charge is.

Whistleblower Says He Could Have Prevented CA Attack If Gov't Didn't Cut DHS Funding. A former Homeland Security employee says he likely could have helped prevent the San Bernardino terror attack if the government had not pulled the plug on a surveillance program he was developing three years ago. Philip Haney told Megyn Kelly tonight that as part of his investigation, he was looking into a collection of global networks that were infiltrating radical Islamists into the U.S. But a year into the investigation, Haney said they got a visit from the State Department and the Homeland Security Office for Civil Rights and Civil Liberties, who said that tracking these groups was problematic because they were Islamic.

Loretta Lynch pulls back her words. Slightly. And delivers another whopper. As most readers know, Loretta Lynch said she would prosecute speech that "edges toward violence" when speaking to a Muslim organization a few days ago. On Monday [12/7/2015] she backpedaled a bit, stating: "Of course, we prosecute deeds and not words." Sure, Loretta. Whatever. (Raise your hand if you trust Ms. Lynch.) Meanwhile, on Sunday, she made this unbelievable (in a normal world) statement in reference to the San Bernardino jihad attack, [...]

After San Bernardino and Paris, what will it take for Obama to admit this is Islamic terrorism? Always half-hearted about the war on terror, the President's stubborn refusal to call the atrocity in Paris "Islamic terrorism" has put him out of step with events. In listless, vapid remarks, he called the death of 130 innocent victims a "setback," and salted the wound by insisting that climate change is a greater threat. And now, with the slaughter in San Bernardino showing Islamic State tentacles reaching America, the president's continuing unwillingness to admit the truth puts him even further outside the mainstream of American society and law enforcement.

Wishing Terrorism Away. [Scroll down] Just as he did following the deadly attack at a Colorado Planned Parenthood clinic, Obama, after the radicalized Islamic-inspired terror attacks in San Bernardino, California, called for more gun control. He also urged Congress to pass laws preventing those whose names appear on a no-fly list from acquiring firearms, as well as other "common sense" measures. Never mind that California, where the two radical Islamists murdered 14 and wounded 21, long ago imposed "common sense" measures, including the closure of the so-called "gun-show loophole," restrictions on the purchase of certain assault and assault-style weapons, limits on handgun purchases to one per month per person and a 10-day waiting period prior to the sale or transfer of a firearm.

San Bernardino Terrorists Have Ties To Radical Islamic Organization In New York. The terrorist couple from San Bernardino and their mother had stickers and certificates of appreciation for membership in the Islamic Circle of North America (ICNA) in New York, a group with known ties to terrorist organizations, and a group whose members and speakers have included Siraj Wahhaj, an unindicted co-conspirator in the 1993 World Trade Center bombing, and Anwar al-Awlaki, a radical preacher who had significant ties with three of the 9/11 hijackers.

How Did A Terror-Tied Group End Up Running Interference In California Terror Probe? The Muslim group representing the Farook family, whose patriarch and matriarch now have both been put on terror watch lists, is a terror-tied group the FBI views as so suspicious it's banned from agency outreach. Yet this same group, the Council on American-Islamic Relations, has been appointed by the family to defend it in the wake of Syed Farook's and wife Tashfeen Malik's heinous slaughter of 14 in an ISIS-inspired terrorist attack in San Bernardino.

Odd Man Out: What Happened to the Third Shooter? This is one American who does not have high expectations for our mainstream media. Yet, is it too much to expect a moderate level of curiosity about a critical part of a major story... even if it is not in line with the progressive agenda? Apparently so, as two nagging questions about the terrorist attack in San Bernardino remain unanswered. Worse, they remain unasked! First, what ever happened to the third shooter? Using several search parameters, one can find a substantial number of media reports on the day of the shooting indicating that police were searching for three suspects.

San Bernardino Attackers' Friend Spoke of 'Sleeper Cells'. While he initially checked himself into a mental-health facility after the Dec. 2 massacre in San Bernardino, he [Enrique Marquez] has been speaking for hours with federal investigators after waiving his right to remain silent and not incriminate himself, officials say. Federal investigators believe that more than any other witness, Mr. Marquez, a convert to Islam, has "held the keys" to understanding what motivated Mr. Farook and his wife, Tashfeen Malik, and may shed light on whom they were in contact with in the years leading up to the attack, according to one senior law enforcement official.

Report: Enrique Marquez Built Pipe Bombs With Terrorists. A new report on Friday [12/11/2015] suggests that Enrique Marquez, the neighbor and relative-through-marriage who bought the long rifles used by terrorists Syed Farook and Tashfeen Malik in their attack on the Inland Regional Center in San Bernardino last week, also helped them build pipe bombs. CNN reports that Marquez told investigators that he had joined Farook in building potentially deadly bombs as a "hobby," though not the bombs used in the attack.

Sources: Enrique Marquez said he and Farook built pipe bombs as hobby. More than a week later, authorities are still digging to make sense of the San Bernardino massacre, piecing together the clues they've compiled so far and trying to discover more, including by investigating the shooters' electronic trail and searching a lake near where the carnage occurred. The identity of the killers, Syed Rizwan Farook and Tashfeen Malik, is not in doubt. But investigators want to find out more about who this married couple interacted with, how they hatched and carried out the plot, and why.

Journalists Refuse to Talk About Storming San Bernardino Suspects' Home. Journalists gathered at the home of Syed Farook and Tashfeen Malik, the terrorists who carried out Wednesday's attack in San Bernardino, will not talk about whether they had permission to storm inside. Breitbart News' Michelle Moons and Raheem Kassam arrived on the scene shortly after MSNBC, CNN, and other networks burst through the door, which had been opened with a crowbar after the landlord allegedly gave permission to journalists to enter.

San Bernardino terrorist Tashfeen Malik passed three background checks to gain entry into America. San Bernardino shooter Tashfeen Malik, 29, underwent three background checks and had her K-1 fiancee visa approved even though she openly posted about committing violent jihad on social media. Malik and husband Syed Farook killed 14 people earlier this month after passing through customs at Chicago's O'Hare International Airport in July 2014 and getting married the following month. If US officials had discovered the messages Malik posted before she applied for her visa from Pakistan last year, red flags would have gone up and she likely would not have been approved for entry.

'Sleeper Cells' Talk from San Bernardino Terrorist's Friend Was Ignored. Enrique Marquez, a prime suspect and alleged accomplice in last week's radical Islamic terrorist attack in San Bernardino, spoke about terrorism at Morgan's Tavern, a local dive bar where he worked, but not one of the patrons who heard him took his words seriously.

Terrorist bride might get an un-Islamic burial. The mysterious jihadi bride who helped her husband kill 14 and wound 21 in last week's terror attack in San Bernardino could get the unceremonious — and un-Islamic — funeral she deserves, as no Muslim leaders want anything to do with her, FoxNews.com has learned. The bullet-riddled body of Tashfeen Malik is still at the San Bernardino County morgue, along with that of her husband, Syed Rizwan Farook. But while his remains are expected to soon be released to his family, community and mosque leaders are treating her corpse like a hot potato.

Investigators believe Syed Farook may have planned attack prior to San Bernardino shooting. The mysterious pal of Syed Rizwan Farook who bought the rifles used in last week's deadly terror attack in Southern California has told authorities Farook aborted an earlier attack, Fox News has learned. Enrique Marquez, a former neighbor who is reportedly related to Farook by marriage, is cooperating with investigators and has not been named as a suspect in last Wednesday's attack, which left 14 dead and 21 injured in a San Bernardino social services facility. Authorities have so far said they believe Farook and his wife, Tashfeen Malik, are the only known perpetrators of the attack, although Marquez was identified early on as the legal purchaser of the two AR-15 assault rifles used in the attack.

Another Obama Flub: Terrorists Acted Alone. On Sunday, Obama told the public that the Muslim terrorist couple who shot 35 people in a government office Dec. 2 were not "part of a broader conspiracy here at home." That, like previous statements, is proving premature, if not bogus. We've since learned Syed Farook's mother is under FBI investigation for possible complicity in the attack, which killed 14. Rafia Farook, 62, was living in the terrorists' Redlands, Calif., home, where Farook and his wife Tashfeen Malik made pipe bombs and accumulated a massive cache of ammunition totaling more than 7,000 rounds. A UPS driver said that he dropped off more than a dozen packages a day at the address in the week leading up to the attack.

CA Terrorist Updates: Go-Pro Camera Packaging In Mom's Car, Straw Gun Purchases By Muslim Convert. A few interesting updates today in the San Bernadino terrorist attack that killed 14 people. Buried deep inside an ABC article we find out the 'friend' of Syed Farook, the man who purchased the long-guns, actually converted to Islam.

San Bernardino Attack: Visas, Wives and Terror. The FBI is investigating whether the marriage between the San Bernardino killers was a cover for long-planned jihad, as other questions have been raised about another suspect nuptial and the potential abuse of the government's visa program. Asked today [12/9/2015] by lawmakers if the marriage between Syed Rizwan Farook and Tashfeen Malik, who together killed 14 people at an office holiday party last week, could have been arranged by a terror group or was simply a meeting of radical minds, FBI Director James Comey said, "I don't know the answer to that... It would be a very, very important thing to know."

Farook planned earlier terror attack, says pal who supplied guns in San Bernardino shooting. The mysterious pal of Syed Rizwan Farook who bought the rifles used in last week's deadly terror attack in Southern California has told authorities Farook aborted an earlier attack, Fox News has learned. Enrique Marquez, a former neighbor who is reportedly related to Farook by marriage, is cooperating with investigators and has not been named as a suspect in last Wednesday's attack, which left 14 dead and 21 injured in a San Bernardino social services facility. Authorities have so far said they believe Farook and his wife, Tashfeen Malik, are the only known perpetrators of the attack, although Marquez was identified early on as the legal purchaser of the two AR-15 assault rifles used in the attack.

After Jihadist Mass Murder, the CAIR's Sharia Agenda Rolls On. In San Bernardino, heartbroken families are preparing to bury the 14 innocent people murdered last week by Islamic jihadists Syed Rizwan Farook and Tashfeen Malik. They are tending to another 21 wounded by the married terrorists. Meanwhile the Los Angeles chapter of CAIR (the Council on American-Islamic Relations) is pressing child custody authorities in California to comply with Islamic law — sharia — in the placement of the six-month-old infant the terrorist couple left behind. They may not be saying that that is what they are doing, but that is what they are doing. In the long term, CAIR-LA is pushing to have the child placed with Farook's sister, Saira Khan. This is going on, mind you, even as FBI Director James Comey told a Senate committee today that the Islamic supremacist couple had been discussing jihad and martyrdom for the last two years (i.e., beginning before Malik immigrated to the U.S. from Saudi Arabia in 2014). Farook may even have plotted a terrorist attack in 2012.

Officials missed signs of San Bernardino shooters' jihadi intent. The San Bernardino terrorists embraced radical Islamist ideology as early as 2013, a full year before the woman arrived in the U.S. on a fiancee visa, raising concerns that officials missed red flags that could have prevented her from being admitted. FBI Director James B. Comey told Congress on Wednesday [12/9/2015] that Syed Rizwan Farook and his Pakistan-born wife, Tashfeen Malik, were radicalized before they met one another through an online dating website and that both had talked of jihad and martyrdom.

San Bernardino shooting investigation: Past plot and recent loan are latest clues. Investigators believe shooter Syed Rizwan Farook may have been plotting an earlier attack in California with someone else, two U.S. officials told CNN on Tuesday [12/8/2015]. One of the officials said the two conspired in 2012 and a specific target was considered. The pair "got spooked" and decided not to go through with the earlier attack after a round of terror-related arrests in the area, an official said.

CAIR Helping Terrorist's Family Get Custody of Baby. The Council on American-Islamic Relations — Greater Los Angeles Area office (CAIR-LA) is helping Saira Khan obtain custody of her six-old month niece, the child left orphaned by the jihadist couple who massacred 14 people and wounded 21 others in a terrorist attack in San Bernardino last week. Mrs. Khan is the sister of Syed Farook who carried out the terrorist attack in San Bernardino, California with his wife Tashfeen Malik.

FBI: Killers had been radicalized 'for quite some time'. The San Bernardino killers had been radicalized "for quite some time" and had taken target practice at area gun ranges, in one instance just days before the attack that left 14 people dead, the FBI said Monday [12/7/2015].

Long Term Planning, Green Card Marriage. The latest information from various media continues to paint an increasingly sketchy network of associations. First, according to investigative leaks to NBC News the entire operation had been planned for several years. Both Syed and Tashfeen had been target practicing for quite some time and included discussions of the attack back in 2012: [...] It also appears that Enrique Marquez married the sister of Syed's brother's wife. However, they were never seen together and it appears to be a "Green Card Marriage" only[.]

Bank records show $28,500 deposit to Syed Farook's account two weeks before the shooting, source says. A $28,500 deposit was made to Syed Farook's bank account from WebBank.com on or about Nov. 18, some two weeks before he and his wife Tashfeen Malik carried out the San Bernardino massacre, a source close to the investigation told Fox News Monday [12/7/2015]. Investigators are exploring whether the transaction was a loan taken out by Farook, who with his wife killed 14 and wounded 21 when they opened fire at a holiday lunch.

San Bernardino Terrorist Studied Local High School. Investigators have found multiple photographs of a local high school on the cell phone belonging to San Bernardino terrorist Syed Farook, according to local news sources in the town. Farouk "had multiple photos" of Carter High School, according to the San Bernardino Sun's Beau Yarbrough and Doug Sounders. On Tuesday [12/8/2015], it was reported that Farook had visited 11 school cafeterias as part of his job as a country health inspector, raising suggestions he could have targeted school.

San Bernardino attackers talked 'about jihad and martyrdom' in 2013. The FBI is investigating whether Syed Rizwan Farook and a neighbor intended to commit an act of terror in about 2012 and then got spooked, a senior law enforcement official said Wednesday [12/9/2015]. The two men may have been disrupted when the FBI arrested several men in late 2012 in a separate plot to kill Americans in Afghanistan. In addition, Farook and his wife, who killed 14 people in San Bernardino last week, had discussed jihad at least two years before they opened fire in California, the FBI director said Wednesday [12/9/2015].

'Racial' and 'Religious' Profiling Now — or Death Later. "If You See Something, Say Something™" the DHS slogan goes (yes, it is trademarked). "It takes a community to protect a community," the feds continue. "Informed, alert communities play a critical role in keeping our nation safe." No doubt. But the best information in the world is of little use if social pressure prevents one from disclosing it. Such was the case before the San Bernardino tragedy, when a man living near terrorist Syed Farook's Redlands home noticed suspicious-looking Middle Eastern men in the area. But he "decided not to report anything," wrote CBS Los Angeles, "since he did not wish to racially profile those people." Ah, the power of a lie — to silence. And to kill. And it's time to kill that lie. This starts with grasping a simple truth: There is no such thing as "racial profiling" or "religious profiling" per se. There is only good criminal profiling and bad criminal profiling.

They're 'so nice,' until they get religion and want to kill us. Unlike other mass murderers, who exhibit antisocial, paranoid, narcissistic or schizoid traits, Farook and Malik do not appear to be natural born killers. Neither had a history of violence nor criminal record, and both generally were described as pleasant people. [...] Then suddenly a switch went off, and the couple went medieval. By all accounts, that switch was piety. They simply got closer to their religion, immersing themselves in Islamic scripture. Farook and Malik devoted themselves to Islamic study, which culminated in both of them memorizing the Koran, a high honor in Islam.

ISIS and Obama. [Scroll down] PR is now the first federal line of defense against shooters, bombers, terrorists, and religious fascists. Yes, here again soothing, albeit empty, words are best. San Bernardino was no exception. One jihadist was a native, the other was an import via Saudi Arabia. Not that any of that mattered to clueless centurions. Both shooters were Muslim and both had roots in Pakistan. Doesn't matter! Both were equipped like Kevlar ninjas. Doesn't matter either! The ISIS wannabes wasted a Christmas party. Group kill is not that relevant either in traditional Hollywood oeuvre! The FBI and a constellation of four star cops could not, or would not, say anything specific about the obvious: race, religion, arms, ideology, motives, or affiliations. If you are a government flake and you know something these days, your job is to say nothing.

Liberals need to stop flattering Islam and ask tough questions instead. Why do so many Muslims hate Americans to the point of wanting to massacre them in their offices as in 9/11 or at a Christmas Party at San Bernardino — despite the fact that the United States is the only major power in modern times to offer Muslims a helping hand when they needed it?

Insider's Look at the Refugee Screening Process. Last Wednesday's horrific shooting at a Christmas party at the San Bernardino County Public Health Department resulted in the killing of 14 people, injuring 21 others and is reigniting the political debate over immigration and Syrian refugees. The lead suspects in the California shooting are Syed Farook, an environment health specialist with the San Bernardino County Health Department and his wife Tashfeen Malik: both Muslims. Farook's father described his son as "very religious" and after three days of investigations the FBI concluded it was an act of terrorism.

San Bernardino was Garland Without Guns. The similarities between the jihad attack on our American Freedom Defense Initiative (AFDI) free speech event last May in Garland, Texas and the San Bernardino jihad slaughter are both striking and unnerving. Both events — our Muhammad Cartoon Contest and the San Bernardino Christmas party — offended Muslims. Both events violated the sharia: one was an art exhibit with depictions of Muhammad in art and literature over the past 1400 years, and the other celebrated a Christian holiday. Both deeply offensive to Muslims.

Terror couple's bombs were set to kill first responders. Bombs left at a Southern California social services facility by the gun-wielding radical Muslim couple who killed 14 and wounded 21 were set to go off when first responders arrived, Fox News learned on Monday [12/7/2015], in a vicious strategy often seen in the Middle East. None of the pipe bombs left at the Inland Regional Center in San Bernardino by Syed Farook and Tashfeen Malik in Wednesday's attack detonated, but the technique has investigators very concerned, sources told Fox News.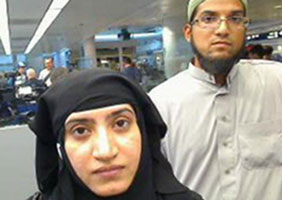 As threat of Islamic Terrorism expands Obama admin remains stuck on radicalization. The photo of Tashfeen Malik and Syed Rizwan Farook going through customs at Chicago's O'Hare Airport, unearthed by ABC and riding the Internet today, says it all. It tells us the critical information about who they were, which is far more important than in which country they may have been radicalized. Photographed at O'Hare, Malik and Farook were terrorists on their way back into the United States to commit unspeakable evil. The camera doesn't lie. The coming mission of Malik and Farook was written on their faces even back in 2014.
San Bernardino 'Lone Wolves' Ran In a Pack. As the president assured the public Sunday night that the San Bernardino terrorists acted alone without help from sympathizers in the Muslim community, agents were looking hard at family, friends and neighbors. [...]
• FBI agents raided the home of a former neighbor and close friend of Syed Farook, who bought the terrorist two assault rifles.
• The agency is investigating Farook's mother, who claims she knew nothing of his terror plans, even though she actually lived with him and his terrorist wife in their bomb-making factory in Redlands, and was involved with a radical Muslim group.
• His father, moreover, knew Farook was a follower of ISIS and admired its caliph, Abu Bakr Al-Baghdadi; yet the Israel-hating father — who lives nearby with Farook's older brother — never reported anything to the authorities, either.
• Farook's sister, who also pleads ignorance, took "target practice" with her older terrorist brother.
• An eyewitness says he recently saw "six Middle Eastern men" working in Farook's garage, where he made more than a dozen explosives.
• Farook was in contact with Muslim extremists on the terror watch list, and smashed his cell phones to protect them.
• A radical local mosque threw a massive wedding reception for Farook and Tashfeen Malik, and members regularly visited their home, which doubled as an IED lab.
Gunman's Father Placed on FBI Watch List After San Bernardino Attacks. Following last Wednesday's massacre in San Bernardino, CA, the FBI placed the father of suspected gunman Syed Farook on the federal terror watch list, ABC News reports. In an interview over the weekend, 66-year old Syed Farook — whose son Syed Rizwan Farook and daughter-in-law Tashfeen Malik are the primary suspects in last week's deadly rampage that killed 14 and injured 21 — reportedly discussed how his son "shared [ISIS leader Abu Bakr] Al Baghdadi's ideology and supported the creation of the Islamic State." The elder Farook also reportedly said his son had a hateful obsession with Israel and that he told Syed Rizwan Farook "to stay calm and be patient because in two years Israel will not exist any more."
Great news: Syed Farook's mom is part of a pro-caliphate group. ICNA may not be an official target of the investigation at this point but they are hardly the poster child for moderation in the Muslim community. They've welcomed terrorist recruiter Anwar al-Awlaki to their events and another of their members was indicted on federal terrorism charges in April after having been discovered plotting a different terrorist attack in the United States. None of this means that Farook's mother is immediately guilty, but particularly in the current climate isn't this precisely the sort of person we should be looking at?
CNN Panel Destroys "Out of Touch" Obama Over Failed ISIS Strategy, Refusal to Use Term Islamic Extremism. Just a few hours before President Obama gave his Oval Office address to the nation about gun control and his plans to contain ISIS, CNN's Sunday morning Inside Politics panel absolutely destroyed his narrative and rush to judgement when 14 people were killed by jihadists last week in San Bernardino. Longtime CNN anchor John King called the President "deeply out of touch," argued he should be taking a tougher tone and slammed the administration for failing to mention Islamic extremism as part of the problem.
Why ISIS Just Loves Profiling. If early indications are correct, the mass shooting in San Bernardino would be the deadliest ISIS-inspired attack on US soil to date. Yet the chief suspects, Tashfeen Malik and Syed Rizwan Farook, were "clean skins" completely unknown to the authorities, and assumed not to be a risk to US homeland security. The most disconcerting part of this, therefore, is the knowledge that it almost certainly could happen again, and not knowing how to stop it. Neighbors have reported that their suspicions were aroused, but that they did not want to report anything out of fear of appearing racist.
Dry run: San Bernardino shooters practiced at gun range days before attack. One of the two terrorists who killed 14 people at a San Bernardino, Calif. office building Wednesday made multiple visits to a nearby gun range days before the assault, the FBI confirmed during a Monday afternoon [12/7/2015] news conference. "Yes, we do have evidence that both of these subjects participated in target practice," FBI Assistant Director in Charge of the Los Angeles office David Bowdich said, referring to San Bernardino terrorists Syed Farook and Tashfeen Malik. "In one occasion it was done within days of this event."
The Editor says...
Isn't the gun range one of the best places for profiling? If you see a woman in a hijab shooting a semi-automatic rifle like there's no tomorrow, maybe you should say something to somebody.
Brilliant deduction, Watson.
FBI: Both San Bernardino attackers 'were radicalized and have been for quite some time'. Authorities now believe that the two attackers who killed 14 people here last week had been radicalized for quite a while, an FBI official said Monday. "Both subjects were radicalized and have been for quite some time," David Bowdich, the assistant director in charge of the Los Angeles Field Office, said at a news conference.
US Muslims struggle with the duty to issue condemnations after every Islamic extremist attack. After the San Bernardino, California, rampage, the local chapter of the Council on American-Islamic Relations didn't even wait for law enforcement to announce a motive.
Farook family values. San Bernardino terrorist Syed Farook was born in the United States to a father admitted as a Muslim immigrant, bringing into this country the execrable seed of Jew-hatred, a foundational part of Islam. Syed Farook's family have claimed they were unaware of what he was up to and said they were "shocked" by what he did. (What he did = mass slaughter in the name of Allah.) But whether they knew anything or not, whether they were genuinely shocked or not, there remains a dark, unifying connection throughout the family: Jew-hatred. This sickening vein that runs through Islamic teachings was expressed by Farook's father during a recent interview with an Italian newspaper.
Having ruled out Islam...
CNN Insanity: Erin Burnett Wonders If 'Postpartum Psychosis' Led to Slaughter. Struggling to offer an alternative explanation for the obvious conclusion of terrorism, CNN's Erin Burnett on Thursday [12/3/2015] wondered if one of the killers from Wednesday's rampage snapped as a result of "postpartum psychosis." This was after two former FBI agents explained to Burnett just how Tashfeen Malik was radicalized. Despite this, the CNN anchor wondered, "I just have to ask you, could there be something else, anything else, that could have explained her involvement? Something like a postpartum psychosis?"
Shooter's Mother Active In US Branch Of Pro-Caliphate Islamic Group. Rafia Farook, the mother of San Bernardino terrorist Syed Rizwan Farook, is an active member of the Islamic Circle of North America (ICNA), a Muslim organization that promotes the establishment of a caliphate and has ties to a radical Pakistani political group called Jamaat-e-Islami. Farook's affiliation with ICNA was revealed on Friday [12/4/2015] when MSNBC and other new outlets scoured the Farooks' apartment in Redlands, Cal. An MSNBC reporter found a certificate of appreciation presented to Safia Farook last summer by ICNA's sisters' wing.
Photo of CA Terrorists Farook and Malik Arriving in U.S. Surfaces. A photograph of Syed Farook and Tashfeen Malik arriving in the United States as a couple for the first time, dated July 27, 2014, has surfaced. It was taken in the customs area at Chicago O'Hare International Airport and obtained by ABC News, which did not go into detail about how it came by the image.
How The Democrats Flubbed San Bernardino. Has there ever been a better example of liberal overreach than the coverage that followed the shooting in San Bernardino? It started in the immediate aftermath of the attack with Daily Kos founder Markos Moulitsas, who said: "Yo GOP, kinda hard to talk about 'keeping people safe' when your peeps are shooting up America," and the numerous attempts at "prayer shaming" anyone who offered their "thoughts and prayers" in the wake of the horrific event. Without waiting to learn the actual facts (which turned out to be that the assailants were radicalized Muslims), Moulitsas didn't just assume the shooters were Republicans; he also sought to score shameless political points.
Christie: San Bernardino shows female Syrian refugees should be barred. One of the alleged assailants in the attack that left 14 dead and 21 injured Wednesday is Tashfeen Malik, 27, a Pakistani woman who immigrated to the U.S. in 2013 on a K-1 fiancée visa. Authorities said Malik pledged her support to the Islamic State in Iraq and Syria (ISIS) as the attack was happening. "The widow who comes over here from Syria, if aligned with ISIS or another organization, could create just as much death as any man given the weapons that are available now," Christie said.
The Editor says...
In addition to Syria, we should also ban immigration from Cuba, Iran, Iraq, Libya, North Korea, Sudan, Afghanistan, Algeria, Bahrain, Eritrea, Lebanon, Morocco, Oman, Qatar, Somalia, Tunisia, United Arab Emirates and Yemen.
Obama still won't say Calif. shooting was terrorism. President Obama on Saturday refused to call Wednesday's shooting in San Bernardino an act of terrorism, even though the FBI says it now sees several signs that it was a terrorist attack. Obama did, however, say again that it's "possible" it was terrorism. "It is entirely possible that these two attackers were radicalized to commit this act of terror," he said in his weekly address [12/5/2015].
California's strict gun laws failed to stop mass shooting. The deadly shooting in San Bernardino happened in a state with some of the nation's toughest gun laws: California bars assault weapons, blocks the sale of large-capacity magazines and requires universal background checks for all gun purchases.
Rebuking Obama's Folly. We need a national leader [...] to lead us against the murderous forces of Islamic terrorism. We don't have that man in the White House. We are led instead by a cowardly, ill-informed, blockhead who has done everything in his power to destroy national unity and power, and his most recent conduct makes my claim irrefutable. [...] 14 Americans were slaughtered in a terrorist attack in San Bernardino[,] California. This is the third such attack on his watch: Ft. Hood, the Boston Marathon, and the San Bernardino slaughter. In each instance, the fear of racial profiling along with government carelessness contributed to the slaughter. At Ft. Hood the psychiatrists who had worked with Nidal Hassan knew he was a crackpot and a fanatical Islamist but kept quiet for fear of crossing the racial profiling line and harming their careers if they spoke up.
Vet This. Reality refuses to conform to the Obama agenda. Indeed, reality is inimical to it. It is why he seeks to protect us from the truth. We can't be trusted with it. He knows we will use the truth against him to foil his grand designs. It is why he sold Obamacare on blatant lies. Let us take the case of Jihad Bonnie and juxtapose it with the case that Obama makes for the Syrian refugees. It turns out that Jihad Bonnie was only recently admitted to the Untied States on a K-1 visa. Within a year or two she undertook the project of mass murder in the town that welcomed her. How can that be? Did we miss something in the visa screening process? Apparently not. [Video clip]
What will it take for Obama to admit this is Islamic terrorism? America is at war and the Commander in Chief isn't even trying to lead from behind anymore. He's gone AWOL at the worst possible time. His consistent failure to acknowledge the roots of Islam in the jihadist death cult always was peculiar. He insisted that the religion not be defined by those who hijacked it, but with the barbarism of Islamic State and the growing number of lethal attacks, his intransigence is downright weird. What's the harm of admitting a truth the whole world sees? Obama's attempts to obscure the connection to Islam in Wednesday's massacre is leaving a leadership vacuum and fanning America's fears.
Jihadi bride led the way at party massacre: Tashfeen Malik opened fire first as her husband hesitated, report reveals. Jihadi bride Tashfeen Malik shot first during the San Bernardino massacre, a report has revealed, as the FBI investigates claims she was responsible for radicalizing her husband. Witnesses have told The Sunday Times how Malik, 29, had been the first to open fire on her husband's co-workers at a government department holiday party, while Syed Rizwan Farook, 28, appeared to 'hesitate'. Intelligence sources fear Malik may have been a terrorist who traveled to the U.S. to marry Farook with the sole purpose of carrying out a deadly attack.
San Bernardino shooter's dad: He was 'obsessed' with Israel. Syed Farook, father of San Bernardino terrorist Syed Rizwan Farook, has described his son as negatively "obsessed" with Israel. In an interview with Italian daily La Stampa, Farook said that he once tried to console his son by promising him that Israel would not exist in another two years because "China, Russia and America will bring the Jews back to Ukraine."
Lynch: Don't draw conclusions about shooters. Attorney General Loretta Lynch wouldn't give many details Sunday [12/6/2015] about the terrorism investigation into the two San Bernadino shooters, but stressed that her agency is seeking to find out whether they acted independently or in conjunction with an organized group. Lynch told NBC's "Meet the Press" that the Department of Justice still doesn't have any evidence that the husband and wife who killed 14 people at a holiday party Wednesday were "part of a large group or cell" or that they had been planning any other attacks.
The Editor says...
Islam itself is a large group that is planning other attacks, ending only when they have taken over the world. The husband and wife team who carried out the California attack were both members of that group.
The Left Prays After Islamist Shooting, To Its God Of Government. At least 14 people were killed and 17 others injured in San Bernardino, California, by Syed Farook and Tafsheen Malik, a couple who later died in a shootout with police. As with the tragic rampage in Colorado just a few days prior, there's a frustrating lack of details. Many in the media at first focused, as they tend to do during mass shootings, on their anger with the National Rifle Association, a large gun rights and gun safety organization. Some focused on the fact that the shooting took place about a 25-minute walk from a Planned Parenthood facility. Really. Progressive and liberal politicians called for gun control. And other politicians prayed for the victims and their families while waiting for more information.
How political correctness could get us all killed. The FBI announced Friday [12/4/2015] that the San Bernardino massacre this week is an act of terrorism. The California attack is now the single deadliest terrorist attack on U.S. soil or on U.S. citizens — since September 11, 2001. Yet, throughout the week, the president stubbornly refused to acknowledge even the existence violent Islamic extremism. His willful blindness to the threat has left Americans more anxious about their security, and jihadists more confident about their prospects. The President may dismiss this and say we're not at war with Islam, but radical Islam is in a global war with us. And it's a war we're not winning.
Family members say Tashfeen Malik became more devout in years before attack. Though not much is known about Tashfeen Malik's life, the people around the woman saw her start to dress more conservatively and urge people to live a more devout life in the final few years before Wednesday's [12/2/2015] massacre in a Southern California office building. One of Malik's aunts told the Associated Press Saturday that Malik's growing religious focus was one of the last things she heard about before the relative learned that Malik and her husband Syed Rizwan Farook donned black masks, carried assault rifles and killed 14 people in a rampage in San Bernardino. "I recently heard it from relatives that she has become a religious person, and she often tells people to live according to the teachings of Islam," recalled aunt Hifza Batool.
The Editor says...
This pretty well proves that the focus of Islam is violence and homicide, to be inflicted upon non-Muslims. Ms. Malik became more immersed in Islam in the last few years of her life, and the culmination of her devotion to Islam was an act of violence against dozens of innocent people.
Shooting Suspect Town Is Site for Syrian Refugee Settlement. The area around San Bernardino, California was the site of intense debates about Muslim immigration in the immediate days before Wednesday night's horrific mass shooting. Police searched a home in Redlands, California, fifteen minutes away from where the shooting occurred as part of its investigation into the suspects. Thus far, the name Syed Farook has been given as a suspect in the case. The U.S. State Department recently chose Redlands as the proposed site of a Syrian refugee settlement due to its already active Middle Eastern immigrant community. Catholic Charities was identified as a broker for the federal government program.
San Bernardino ISIS Attacks Expose Democrats' Failure to Address — or Even Name — Radical Islam. In recent weeks, jihadists unleashed an onslaught in Paris that left 130 innocent men, women and children dead. In February a radicalized gunman opened fire on a free speech debate and synagogue in Copenhagen. A month before, jihadists committed a massacre at the Paris office of the satirical magazine Charlie Hebdo and at a nearby kosher market. The San Bernardino murders prove that the U.S. is not immune, and it's not like it hasn't happened before.
San Bernardino Shooting Suspects Not On Terrorist Watch List. Despite Democrat calls for gun control legislation that would hamper suspected or known terrorists from getting a firearm, Syed Farook, one of the identified shooters during Wednesday's shooting in San Bernardino, was reportedly not on a federal terrorist watch list. Fox News Channel's Catherine Herridge reported Wednesday night [12/2/2015] on "Hannity" about Farook not being on the terror watch list before government officials released his name.
How many Tashfeen Maliks have we brought in? Earlier today, the FBI revealed that Tashfeen Malik, the female Muslim immigrant behind the terror attack in San Bernardino, had expressed her allegiance to ISIS in a Facebook post during the attack. [...] Many on the right will immediately focus on the threat posed by ISIS. And undoubtedly ISIS is a big threat. But as I've pointed out before, ISIS is merely the latest reflection of the broader problem: rampant pan-Islamic supremacism throughout the Muslim world inspired by cyber-Jihad. This was unlikely a command-and-control style ISIS attack. This was an attack perpetrated by a Muslim extremist from Pakistan we let in through our front door just last year and granted a green card this past July.
Stating the obvious? FBI awkwardly acknowledges San Bernardino massacre [was] likely terrorism. Three days after a heavily armed Muslim couple who lived in a home investigators described as "an IED factory" burst into a Southern California office building and gunned down 14 people, the FBI finally — and awkwardly — acknowledged Friday [12/4/2015] that it is treating the case as an act of terrorism.
AG Loretta Lynch will prosecute anti-Muslim rhetoric. It has been three days since the San Bernardino terrorist attack that killed 14 people and injured 21. You might be wondering then, what is high priority on the action list for our Attorney General, the top law enforcement officer in the United States? What has the old gal got up her sleeve for these miscreants? Well, according to the top articles popping up on Google, Loretta Lynch has pledged to prosecute ... wait for it ... anti-Muslim hate speech. Thank goodness! I was afraid our government was just going to ignore offensive rhetoric!
The Editor says...
What is the name of the law that prohibits offensive rhetoric or hate speech, and when was it passed?
Muslim who attacked Xmas party had terror ties; wife was "vetted" by DHS. Syed Rizwan Farook — who along with his wife, Tashfeen Malik, carried out the San Bernardino shooting massacre — apparently was radicalized and in touch with people being investigated by the FBI for international terrorism, law enforcement officials said Thursday. Farook's apparent radicalization contributed to his role in the mass shooting of 14 people Wednesday during a holiday party for the San Bernardino County health department, where Farook worked, sources said. David Bowditch, assistant director in charge of the FBI's Los Angeles office, told reporters Thursday that Farook had traveled to Pakistan.
Understanding Islam's real enemy: Individual Liberty. Recently I've participated in a few online discussions about the most recent multivictim terrorist attack against innocent civilians that took place on US soil in San Bernardino, CA on December 2nd, 2015. Most commenters who are aware that the issue is Islam, not "workplace violence" or disingenuously, "guns", then go on to comment that Islam is at war with the "West". I think it goes deeper than that.
Protecting Ourselves From the Next Peaceful Massacre. A few weeks before Syed Farook went on his ritual killing spree in San Bernardino, he got into an argument about Islam with one of the co-workers he later murdered. The co-worker said that Islam wasn't peaceful. Farook said it was. Like most Islamic theological arguments, this was one was settled with bombs and bullets. The motive is officially still unknown. Obama said it might be terrorism or a workplace thing. His laughably corrupt Attorney General, Loretta Lynch said, "We don't know if this was workplace rage or something larger or a combination of both." The kind of workplace rage that leads a couple to assemble a small army's worth of firepower, some bombs and tactical gear, destroy their cell phones and carry out a massacre all within 20 minutes. This story is brought to you by the same people who insisted that the assault on the Benghazi compound conducted with heavy firepower was really a spontaneous movie review.
Democrats Talk Gun Control, Climate, Bullying, Anything But Terrorism. Former Obama aide Rahm Emanuel's maxim "Never let a serious crisis go to waste" could now be considered a Democratic mantra. After the recent Paris terrorism that killed 130 and after radical Islamist terrorists Syed Farook and his wife, Tashfeen Malik, killed 14 people during a Christmas party this week, some Democratic leaders continue to exploit the tragic events to push a far-left domestic agenda that has nothing to do with terrorism. President Obama this week at climate talks in Paris blamed climate, not radical Islam, for fostering "dangerous" ideologies. "In some ways," he said, "(climate change) is akin to the problem of terrorism and ISIL." So how would he respond to terrorist attacks such as the one this week in San Bernardino? By taxing carbon. And by cracking down on guns through executive order — disarming terrorists' victims, not the perpetrators.
FBI officially investigating San Bernardino shootings as 'act of terrorism'. The shooting spree by a Muslim couple that killed 14 and seriously wounded 21 Wednesday in San Bernardino, Calif. is officially being investigated as a terrorist act, the lead FBI investigator in the case said Friday. David Bowdich, assistant director of the FBI's Los Angeles Office, told reporters in an afternoon briefing that the determination was made given the extensive planning, the high-powered weaponry and the amount of armaments worn by Syed Rizwan Farook and his Pakistani-born wife Tashfeen Malik in carrying out the killing.
7 Reasons You Should Buy a Gun After San Bernardino. You should buy a gun. You should learn how to use it. You should buy sufficient ammunition. You should get a license to carry, if you can. You should do all of that now. You should do it not just because President Obama and his administration are hell-bent on implementing some form of worse-than-useless gun control in the aftermath of the terrorist attack in San Bernardino, California on Wednesday. You should buy a gun because the government cannot keep you safe. You should buy a gun because the government may in fact attempt to disarm you in violation of your Constitutional rights. You should buy a gun because the media will lie to you about the government's ability to keep you safe.
ATF Says Weapons Used in San Bernardino Shooting Were Illegal in California. More information about the San Bernardino massacre is trickling out as federal officials investigate details surrounding the attack on a county employee Christmas party. Many people, including myself, were curious about the firearms used since California has notoriously strict gun regulations. Reports of "automatic weapons" and even "semi-automatic assault-style weapons" seemed to be disconnected from California's almost uniform prohibition on such firearms. Another reason the guns in question are important is that the left and its media handmaidens swiftly mobilized to beat the gun control drum... even before the shooters were permanently put out of business. The media proudly reports that the firearms were purchased legally. They are trying to create the narrative that the current gun laws allowed this to happen.
San Bernadino gunman reportedly contacted foreign terror organizations. The ISIS-inspired female terrorist in the recent mass killings in San Bernardino, Calif., reportedly entered the country on a so-called "fiancé visa" that listed a false or at least inaccurate foreign home address. The woman, Tashfeen Malik, listed an address in her home country of Pakistan. This summer, she received her Green Card, which allows immigrants to legally live and work in the United States, according to ABC News. The Department of Homeland Security did not respond Saturday to a Fox News request for comment. The issue raises questions about the vetting process for immigrants amid growing concerns that Middle East terrorists could be slipping into the country.
Media allowed into CA terrorists' apt; FBI and Police says investigation wasn't OVER?!? You can just feel the tense awkwardness in Andrea Mitchell's voice as their reporter picks at the leftovers in the terrorists' apartment like a media vulture.
FBI Neglect of San Bernardino Crime Scene Fits a Pattern. The shocking sight of journalists storming into the apartment of the San Bernardino terrorists, less than 48 hours after the attack, was apparently allowed by the FBI, which handed the apartment back over to the landlord, who let the media in with a crowbar. CNN had a reporter on the scene, but its own analyst Harry Houck was shocked, calling it a "screw-up." While the journalists' behavior was disturbing, it fit a pattern: the Obama administration is careless about, or is reluctant to find, evidence of terrorism.
The Editor says...
Reluctance to find evidence is one thing, but letting reporter roam freely through a crime scene can easily be construed as an effort to destroy evidence.
Now even Obama has to admit San Bernardino was terrorism. Now that the FBI's declared the San Bernardino attack to be a terrorism case, the White House will presumably shut up about how it might've just been "workplace violence." Not in the wake of news that Tashfeen Malik had pledged her allegiance to ISIS as the attack began, and of Syed Farook's years of contact with other suspected Islamists. For a while there, though, President Obama seemed to be the last person in America to not understand this was a terror attack. (Hey, at least he never tried to hint it was part of the "war on Christmas.")
Islamic State says California killers of 14 were their followers. Islamic State said on Saturday that the married couple who killed 14 people in a mass shooting in California which U.S. authorities are investigating as an act of terrorism were followers of the militant group.
Media Malpractice On Mass Shootings After Calif. Attack. In the past few days, just about every major media outlet made the same claim: that there have been 355 mass shootings in the U.S. this year. The New York Times declared that mass shootings occur "on average, every day." An NBC News headline blared: "Staggering Stats: There Have Been More Mass Shootings Than Days This Year." The Washington Post, reporting on the same "stats," said that "the data show that this type of incident already is normal." NPR provided a helpful map showing where they all took place. Vox.com, MSNBC and numerous other sites also regurgitated the number. It would be scary stuff, if it were true. But the statistic is wildly misleading.
Three days after the incident, why is this still headline news?
F.B.I. Treating San Bernardino Attack as Terrorism Case. On the day she and her husband killed 14 people and wounded 21 others in San Bernardino, Calif., a woman pledged allegiance to the Islamic State in a Facebook post, officials said Friday [12/4/2015], as the F.B.I. announced that it was treating the massacre as an act of terrorism. "The investigation so far has developed indications of radicalization by the killers, and of potential inspiration by foreign terrorist organizations," the F.B.I. director, James B. Comey, said at a news conference here. But he said that investigators had not found evidence that the killers were part of a larger group or terrorist cell.
Montage: The Ten Dumbest Things Said about the San Bernardino Attack. It's been less than 24 hours since multiple gunmen slaughtered 14 innocent people in San Bernardino, Calif., yet the major media have already compiled a lengthy list of embarrassing missteps. From rank speculation to premature politicization, the frequent departure from simply reporting factual information isn't going well.
ISIS claims responsibility for San Bernardino shooting that left 14 dead in online radio broadcast. ISIS terrorists took responsibility Saturday for the horrific shooting at a California office holiday party, which left 14 people dead. The Islamic State said the murderous couple — U.S.-born Syed Rizwan Farook, 28, and his spouse, Tashfeen Malik, 29, a native of Pakistan — were followers of the Syria- and Iraq-based terror network.
Stop Saying 'Muslim Shooters,' Farook Family Lawyer Says. A lawyer for the family of one of the suspects in the San Bernandino shooting said that the media has been unfairly smearing his client because he is Muslim. "Until there is absolute clear evidence, every headline doesn't have to say 'Muslim massacre' or 'Muslim shooters,'" said David Chesley, a lawyer for the family of Syed Farook, part of the husband-wife team allegedly behind the attack. "Because it's going to cause intolerance and what we need is forgiveness."
About the San Bernardino Shooter's 'Fiance' Visa That Allowed Her in US. Tashfeen Malik came to the United States in July 2014 on a K-1 visa, known casually as a "fiance visa," and, now, a little more than a year later, she is dead after allegedly helping her husband slaughter 14 people in San Bernardino, California, this week. Little is known about Malik, 29. A Muslim-born Pakistani native, Malik entered the country legally by using one of a handful of visas that require background checks and security screenings.
ISIS claim responsibility for California massacre — as first picture emerges of burkha-wearing jihadi bride. ISIS has claimed responsibility for the California attack on a social services agency that left 14 people dead. The terror group announced in an online radio broadcast that two ISIS followers had carried out the attack in San Bernardino on Wednesday. 'Two followers of Islamic State attacked several days ago a center in San Bernardino in California,' the group's daily broadcast al-Bayan said.
From Housewife to Killer: The Mystery of San Bernardino Shooter Tashfeen Malik. In a crime riddled with questions, she is the leading mystery. After masquerading for months as a newly Americanized housewife, Tashfeen Malik dropped the facade in a burst of gunfire on Wednesday, joining her husband in an attack on his office Christmas party that left 14 people dead and 21 injured. Until that moment, Malik had maintained a low profile in her adopted homeland.
The Editor says...
This illustrates what I've been saying for some time: Muslims know how to lay low and keep quiet until the time is right; then they attack.
San Bernardino killers erased digital presence day before the attacks. The Muslim husband and wife behind the mass shooting in San Bernardino began erasing their digital footprint a day in advance of the deadly attack, deleting email accounts, disposing of hard drives and smashing their cellphones, according to law enforcement investigators who are treating the probe as a counterterrorism case. Investigators edged closer Thursday [12/3/2015] to the conclusion that Syed Rizwan Farook and his wife, Tashfeen Malik, were radicalized by Islamist extremists either in the U.S. or during trips to the Middle East, including Saudi Arabia.
San Bernardino: Dems Blast Republicans for 'Demonizing' Muslims. The Democratic National Committee (DNC) renewed its push for Syrian refugees to be admitted to the United States on Thursday morning [12/3/2015], less than 24 hours after the San Bernadino shooting. The two main suspects are Muslims, one originally from Pakistan. In a statement published Thursday, DNC chair Rep. Debbie Wasserman Schultz (D-FL) reports on a conference call held Wednesday, in which she and other Democrats bashed Republicans over the refugee issue, which they compared to Jews fleeing Nazi Europe. The comparison has been debunked thoroughly, but Wasserman Shultz insisted on sticking to it.
Obama Jumps Gun, Blames Second Amendment For Calif. Terrorism. With California terrorists still on the loose, the president and his heir apparent rushed to the podium to call for more gun control. It was hardly the time to ask law-abiding citizens to swear off self-protection. But shamelessly, if predictably, Obama and Hillary Clinton politicized the attack — the deadliest terrorism on U.S. soil since 9/11 — to advance the Democratic Party's anti-gun agenda. Speaking to CBS News, Obama demanded "common-sense gun safety laws" to "eliminate these mass shootings." He added that he intends to "make it harder for individuals to get access to weapons" and reportedly is preparing to take executive action to do so.
Obama Attempting Another Benghazi On San Bernardino Attack. President Obama has launched another Benghazi fabrication. After that Sept. 11, 2012, attack, fearing that an Islamist terrorist attack killing Americans in Libya would threaten his imminent re-election, the president and his then U.N. ambassador, Susan Rice, peddled the lie that Benghazi was a spontaneous reaction to a YouTube video. Now, he asserts that San Bernardino might not be what it obviously is. Married suspects Syed Farook and Tashfeen Malik, both in their twenties, had traveled to Saudi Arabia and Pakistan, and had a dozen pipe bombs, IED-making tools and close to 7,000 rounds of ammo in their abode. Farook had phone conversations and social media contacts with several people whom the U.S. was investigating for terrorism. The two had also attached explosives to remote-controlled cars, a familiar al-Qaida practice. Yet right off, Obama claimed that Wednesday's slaughter in San Bernardino was "a pattern" — linked not with what just happened in Paris, but "of mass shootings in this country that has no parallel anywhere else in the world." And "this is something that ... doesn't happen with the same frequency in other countries."
The President and Liberals Have A Lot To Answer For. On the heels of the Paris attacks, ISIS issues threats against the United States. A Muslim couple highly trained and armed to the teeth, with an IED factory in their house, with GoPro cameras on board, murders 14 and wounds 17 members of a seasonal gathering in San Bernardino, and a day later no one in the media will say it's a terrorist attack. Even on Fox, the word is "No one will say whether it's workplace violence or a terrorist attack." Really? Who leaves a meeting goes back home, as the killer did, gathers up his wife, drops his six month old child with the grandmother, dons battle fatigues and drives back to the meeting to carry out his mayhem? The obvious answer is no one. Twenty years after Islamic jihadists declared war on us, fear of offending Muslims still trumps securing the safety of 300 million Americans, non-jihadist Muslims included. This suicidal stupidity flows from the top. The president will not acknowledge that millions of Muslims are at war with us. His first response to this latest massacre is another call for gun control.
President Obama Asserted America Was Safe from Islamic State Right Before California Attack. Right before the attack in California happened, President Obama explained to CBS's Norah O'Donnell that America was safe from the Islamic State and urged Americans to feel safe. "ISIL is not going to pose an existential threat to us," he said, insisting that although they were a "dangerous organization," the country had strengthened national security under his administration. Obama taped his interview with O'Donnell on Wednesday [12/2/2015], right before the attacks occurred.
San Bernardino Jihadis Recruited by Islamic State Social Media Ambassadors. Sources revealed to CBS News that the San Bernardino killers had been viewing Islamic State (ISIS/ISIL) propaganda online, making them the latest in a long line of terror suspects the FBI is trying to monitor. While direct recruitment from Islamic State officials from Iraq and Syria in the West is uncommon, ISIS recruiters have been known for years to have developed an extremely adept online propaganda system, using encrypted messaging apps as well as publicly viewable social media like Twitter and Facebook. Their attempts to attract Muslims to their cause have been significantly successful, law enforcement officials warn.
Boxer: 'Sensible Gun Laws Work, We've Proven It in California'. Sen. Barbara Boxer (D., Calif.) said she and other progressives had "proven it in California" that "sensible gun laws work" during a press conference one day after the mass shooting in San Bernardino, California, that left 14 dead. Boxer, after making remarks about gun control legislation alongside fellow California Sen. Dianne Feinstein (D.) and other Democrats Thursday [12/3/2015], took the podium back from Sen. Chuck Schumer (D., N.Y.) to respond to a reporter who said Congress had not passed gun control laws after mass shootings in the past and wondered why this massacre's aftermath would prove any different.
Authorities move toward terrorism as motive in San Bernardino rampage. Law enforcement authorities edged closer Thursday to the conclusion that the Muslim husband and wife team that carried out the mass shooting in San Bernardino, California, may have been radicalized by Islamic extremists either in the U.S. or during trips the couple made to the Middle East, including to Saudi Arabia. While intelligence sources say there is still no explicit evidence linking the two to known terrorists on U.S. or foreign watch lists, the FBI has reportedly begun treating its probe into Wednesday's massacre — in which 14 people were killed and 21 injured, including two police officers — as a counterterrorism investigation.
Hillary Clinton: 'No Matter What Motivation' Shooters Had, We Need More Gun Control. Democratic presidential frontrunner Hillary Clinton is trying to downplay the possible religious motivations behind the San Bernardino, California, shooting in order to focus on pushing her gun control agenda in the aftermath of the tragedy. "No matter what motivation these shooters had, we can say one thing for certain — they shouldn't have been able to do this," Clinton said in New Hampshire Thursday [12/3/2015].
Syed Farook's Workplace Wasn't the Target of Violence — the Christmas Party Was. Al-Qaeda and ISIS have encouraged attacks on Christmas Day and at Christmas-themed events to take advantage of vulnerable crowds and to strike at the heart of a Christian holiday. [...] ISIS, whose recruitment propaganda stresses the evil of "crusader" influences including holidays and declares it forbidden for Muslims to so much as receive a Christmas card, has stressed Christmas is a welcome target because of the fact that it's Christian.
Just Who is "Tashfeen Malik"? Enough already. All day long, back and forth the pendulum swings as the rabid ideological left spouts their one sided mantra, calling those-who-accept-reality: "bigots and islamophobes". Enough already. The insufferable "was-this-Islamic-terrorism" nonsense is just that, nonsense. Of course it was/is terrorism, and of course it was/is Islamic Jihad.
Let's Get Real About Islamic Terrorism. As of Wednesday night, it was already clear that the husband and wife who inflicted the massacre were Muslims, that the wife had recently arrived from Saudi Arabia, and that the husband had recently gone there, come back, and grown out his beard. Not only were they equipped with sophisticated deadly weapons, but they wore cameras as they committed their slaughter — presumably to create some YouTube propaganda — and their home was a veritable bomb factory. The attack occurred at a Christmas Party. But the near-universal call was not to "rush to judgement." But no such caution prevailed last month when a maniac shot up a Planned Parenthood clinic and the media immediately blamed conservative "rhetoric" against abortion. The rush to judgement after the California attack was against Americans' right to bear firearms.
After San Bernardino Shooting, Congressional Democrats Double Down on Gun Control Measures. Democrats in Congress are insisting that Wednesday's deadly shooting in San Bernardino, California, is a turning point in the gun control debate. "I think we are reaching a tipping point," Sen. Chuck Schumer told a group of reporters as he and fellow top Democrats announced they would be forcing votes on two gun amendments attached to an Obamacare repeal bill Thursday afternoon [12/3/2015]. "What gives us the right to have moments of silence when we do nothing to act upon the causes of grief?" House Democratic leader Nancy Pelosi added.
The Editor says...
Notice that the Democrats politicized the attack by putting gun control amendments onto unrelated legislation the day after the shooting, in an effort to get something done before the American people settle down and start thinking rationally again. The Democrats don't care about Islamic terrorism, if it helps them achieve their primary goal, which is the disarming of ordinary citizens.
Connecting the dots in the San Bernardino bloodshed. Authorities are still sorting out the details of Wednesday's horrific bloodshed in San Bernardino, which left 14 people dead and 21 others injured. And they've been careful about specifying a definitive motive for the killers, Syed Farook and his wife, Tashfeen Malik. But one thing's certain: This was no sudden crime of passion. Indeed, the FBI is said to be treating it as a terrorism case, and President Obama himself acknowledged Thursday that "it is possible that this is terrorism-related." Already, plenty of dots are out in the open, waiting to be connected.
San Bernardino Shooting Suspect Tashfeen Malik Passed DHS Counterterrorism Screening. Shooting suspect Tashfeen Malik passed a DHS counterterrorism screening as part of her vetting for a K-1 fiancee visa last year, but barring any criminal or terrorist background there was little chance DHS would have been able to detect whether she had become radicalized. Syed Farook, the other half of the terror duo, reportedly got engaged to 27-year-old Pakistani national Malik during a trip overseas in 2014.
San Bernardino Shooter Had Contact With People on FBI's Radar, Sources Say. Investigators believe that over several years, one of the alleged San Bernardino shooters, Syed Farook, had been in some sort of contact with several people who were on the FBI's radar due to potential terrorism concerns, according to multiple sources. However, the sources stressed that the people Farook was in contact with were "not significant FBI targets" and "not subjects of significance," the sources said. The nature of his contact with these individuals remains unclear. The sources emphasized that Farook's contact with people under FBI review does not mean that he subscribed to terrorist ideology.
Mountain of evidence points to terror as law enforcement searches for motive. In sum, the FBI is treating this as a counter-terrorism investigation while puzzling over motive. The contradictory statements they have put out are troubling. They've said work-related violence is "far-fetched" while they continue to pursue this line of thinking. They've verified that at least one of the suspects was in contact with Islamic extremists over a period of many years, yet the agency plans "to look deeper into whether he had any connections to militants or extremist ideology." Any connections? Have not such connections just been confirmed? Maybe. Maybe not. CNN reports that one law enforcement official said Farook's communications with Islamic extremists were "soft connections" in that they weren't frequent and therefore not a high priority.
Rampage killers led secret life, hiding plans and weapons. Of particular interest to investigators is the relationship between Farook, a 28-year-old U.S. citizen of Pakistani descent, and Tashfeen Malik, 27, a Pakistani national. While his upbringing and adult life in Riverside is chronicled in school files, work documents and other records, little is known publicly about her. Authorities said Thursday [12/3/2015] that she was more than just an accomplice. At one point as the couple attempted to elude police, Malik fired an assault rifle out the back window of their sport utility vehicle at pursuing officers. Nizaam Ali, who worshipped with Farook at a San Bernardino mosque, said he had met Malik on a few occasions, but she wore a head scarf that obscured her face. "If you asked me how she looked, I couldn't tell you," Ali said.
Shooters equipped for more attacks. Syed Rizwan Farook, a 28-year-old county restaurant inspector, and his wife, Tashfeen Malik, 27, left behind three pipe bombs attached to a remote-control detonating device when they fled the Inland Regional Center and still had more than 1,600 rounds of ammo in their rented SUV when they were shot down by police, according to San Bernardino police Chief Jarrod Burguan. A follow-up search of their home in nearby Redlands, Burguan said, revealed a cache of 12 more pipe bombs, hundreds of tools for making more, and upwards of 3,000 additional rounds of ammunition.
Jihad in the Inland Empire. Farhan Khan, the brother-in-law of Farook, announced he was bewildered by the news. "Why would he do that? Why would he do something like this? I have absolutely no idea. I am in shock myself," Khan said. Hussam Ayloush, executive director of CAIR in the Los Angeles area, appealed to the public not to jump to conclusions about the suspects' motives. "Is it work? Is it rage-related? Is it mental illness? Is it extreme ideology?" he said. "We just don't know." But we do know. We know all too well. The facts of the case are still coming out, but it is known that Farook recently returned from Saudi Arabia and that his attack was carefully planned. The carnage occurred at a "holiday" party, and the timing did not likely escape his attention.
The Editor says...
The brother-in-law had no idea their house was full of ammo and pipe bombs? Really? He had "absolutely no idea" why a Muslim would open fire on a group of unarmed people at a Christmas party? Really? Does this man not have a newspaper subscription or a television, or access to the internet? If I were investigating the San Bernardino shooting, I'd start by investigating all known relatives of the two shooters. Let's see what's lurking in their houses. Let's ask the rest of the members of their mosque if they also have "absolutely no idea" why Muslims open fire on non-Muslims.
San Bernardino shooting: Attacker pledged allegiance to ISIS, officials say. The San Bernardino, California, mass shooting is now being investigated as "an act of terrorism," FBI official David Bowdich said Friday [12/4/2015]. Bowdich said the FBI "uncovered evidence ... of extreme planning."
An Islam of Their Very Own. The day after the San Bernardino jihadist attack that left fourteen dead and even more wounded, my old boss, Rudy Giuliani, came out and said what most sane people are thinking. After hours of pained, halting, incoherent babbling by public officials from President Obama on down about whether the mass-killing by two heavily armed, obviously well-trained Muslims constituted a terrorist attack, Rudy exploded: ["]You can come to one clear conclusion with the information they have right now. This is an act of terror. The question was motivation. ... The question here is not, is it an act of terror. We're beyond that. When you got two assault weapons, two handguns, you're in body armor, you got a home that's booby-trapped. [...] ["]
'They're Coming Here to Kill Us!': Pirro, Geraldo Spar on Guns, Radical Islam. Judge Jeanine Pirro and Geraldo Rivera had a spirited debate this morning about the threat from radical Islam and guns in the United States. Pirro seized on reports that a neighbor saw suspicious activity by the Muslim husband and wife who carried out Wednesday's mass shooting in San Bernardino, California, but didn't say anything to police. The judge said that this is a "new time" and it demands that people speak out regardless of political correctness.
The CAIR Effect: See Something, Do Nothing. As news of the San Bernardino jihadist shootings blared on airport TVs, I spotted a TSA monitor flashing the now ubiquitous message: "If you SEE something, SAY something." The warning should be followed with a big "LOL" and a winky-blinky, just-kidding emoji. It's one of the emptiest slogans in modern American life. While the White House pays lip service to homeland security vigilance, it consorts with Islamic terror sympathizers who attack vigilant citizens and law enforcement officers at every turn.
Attorney General's 'greatest fear' isn't Islamic terrorism — it's attacks on Muslims because of a backlash in wake of shootings. Attorney General Loretta Lynch told a group of Muslims in Washington last night that her 'greatest fear' since the Paris terror attack is retaliatory violence against members of the religion. Lynch said as a prosecutor, she worries that the anti-Muslim rhetoric 'will be accompanied by acts of violence,' and said, 'We cannot give in to the fear that these backlashes are really based on.' Politico reports that Lynch did not mention the Wednesday shooting in San Bernardino, California, that was committed by two Muslims and is currently under investigation by the FBI during her remarks, while urging Americans of all backgrounds not to give into violent impulses.
Democrat: No Moment of Silence for San Bernardino. Rep. Rep. Jackie Speier (D-CA), who represents southern San Francisco and San Mateo County, has announced that she will boycott any moments of silence for the victims of the San Bernardino terror attack, reinforcing a new left-wing talking point. "I'm not going to stand up for a moment of silence again and then watch us do nothing. It's hypocritical and it speaks to our impotence that we think that it's good enough to just take out one minute and pray for the lives," she said, according to the Los Angeles Times.
When a Mother Chooses Jihad over Life. "The motive is unclear." That's the headline CNN is flashing on its screen Thursday evening. "They haven't ruled out terrorism," Don Lemon intones. Is this a newscast or an Onion parody? Sure, somehow the San Bernardino shooter got himself a Pakistani wife in Saudi Arabia just two years ago who was willing to turn their baby's home into a bomb factory, willing to drop the baby off at his mom's, willing to go back to an office Christmas party with two assault rifles, several handguns, and three connected homemade pipe bombs and murder 14 people.
FBI investigating California shooting as 'act of terrorism'. The FBI on Friday [12/4/2015] formally confirmed that it is investigating the mass shooting in San Bernardino, Calif., as an act of terrorism. "As of today, based on the information and the facts as we know them, we are now investigating these horrific acts as an act of terrorism," David Bowdich, assistant director of the FBI's field office in Los Angeles, said during a news conference.
San Bernardino: CNN Asks Widow If Her Christian Husband Provoked Terror Attack. If you've ever wondered just how low leftwing CNN is willing to stoop in its never-ending quest to smear Christians as bigots, the video [in this article] should help answer that question. Using a series of snide and leading questions, just one day after her husband was murdered by Islamic terrorist Syed Farook, CNN's Gary Tuchman attempted to get the widow of Nicholas Thalasinos to indict her own husband as a Christian, anti-Muslim bigot. [Video clip]
San Bernardino Shooting: Political Correctness Kills. As I was driving home last evening listening to the still sparse details on the San Bernardino shooting, the news report informed that there were two dead suspects, a man and woman. So I already knew more than the authorities were telling: I figured the two assailants were non-white, almost certainly Muslim. After all, if the police knew their sexes, they knew what they looked like. And if they'd been white, it would have been announced right away. You see, I know the drill. When the suspects are non-white, politically correct authorities will never mention it for fear of condemnation. "Why are you calling attention to their race or ethnicity?!" they'll be asked.
California Already Has Obama's Fantasy Gun Control Utopia. For months and repeatedly after national atrocities involving the use of a firearm to kill innocent people, President Obama has called for "common-sense" gun control measures. His White House has repeatedly put out the talking point that universal background checks are necessary to prevent future violence. The terror attack in San Bernardino is no different. Hours before we even knew who the suspects were, President Obama called for new gun control measures.
Political Correctness Kills. Neighbors of the couple who killed 14 Americans in San Bernardino were more concerned about being labeled racists than preventing a horrific crime. Both CBS Los Angeles and KABC reported neighbors saying they saw suspicious activity at the Redlands home of gunmen Sayed Rizwan Farook and his wife Tashfeen Malik before the attack on Wednesday. But these same neighbors didn't report anything to the authorities because they were afraid of profiling.
Neighbors: Muslim San Bernardino Terrorist Grew Beard, Put on Religious Clothing. If we had sensible profiling for terrorists, suddenly adopting Salafist habits would be a warning sign of "Sudden Jihad Syndrome". But we have a political leadership that insists Islamic terrorism has nothing to do with Islam. And so a bunch of baffled people are confused as to why the devout Muslim started killing them.
Shooter's Brother-in-Law at CAIR Presser: 'I Have No Idea Why He Would Do That'. The Council on American-Islamic Relations in Los Angeles pulled together a press conference after the name of one of the San Bernardino shooters was identified as Syed Farook. Farook's brother-in-law, Farhan Khan, was brought to the microphone by CAIR to make a family statement — but was shielded from questions about the degree of Farook's faith or other details about the shooter.
Geraldo Rivera on San Bernardino Shooting: '2nd Amendment Is Stupid'. Following the news of the heinous attack on Inland Regional Services complex in San Bernardino, California, Fox News's Geraldo Rivera tweeted that the "2nd Amendment is stupid" and asked Americans not to "rationalize" otherwise.
Father of suspect who killed 14: "He was very religious. He's Muslim." "I haven't heard anything. He worked in a county office," Farook's dad told The News. "He's married and has a kid. We're estranged because my wife got the divorce, and they are together. She doesn't want to see me." Farook said he hasn't seen his son in some time. "He was very religious. He would go to work, come back, go to pray, come back. He's Muslim."
Syed Raheel Farook: Terror Suspect Traveled to Saudi Arabia Last Year. Syed Farook, part of a married Islamic terrorist newlywed couple who massacred at least 14 Americans in San Bernardino today, had things a lot of other people wish they had: a decent-paying job with the State of California, owned a home with a large walk-in closet, a family with a child, and so on. His wife, the other jihadi, Tashfeen Malik, an immigrant, had most of that stuff, too. And, yet, despite everything that America gave this Muslim who went to high school in California, he and and his wife snuffed out 14 innocent Americans' lives and took limbs and mobility from countless other Americans whom they shot up. But you know the drill: Islam had nothing to do with it. He was mentally ill [the Halal Twinkie Defense].
The left's disgraceful reactions to San Bernardino shooting. [The Planned Parenthood angle:] No sooner had the first shots been fired than the left was on it. A Planned Parenthood facility in San Bernadino sent out a message that all was well and everyone was fine at the clinic, while MSNBC jumped at the opportunity to suggest that PP might have been attacked, noting it was "just a few blocks away." The fact that the clinic was over a mile away from where the shooting occurred seemed an annoying detail to those salivating to pin the murders on a right-wing pro-life person with a gun and an agenda. Truly pathetic.
CNN Guest: San Bernardino Office Holiday Party 'May Have Been Offensive' to Muslim Gunman. Just when the liberal media's extrapolations concerning the motives of the San Bernardino gunman couldn't grow any more jaw-dropping, an expert appearing during the 11:00 p.m. Eastern hour of CNN Tonight predicted late Wednesday that the office holiday party where the shooting occurred "may have been offensive" to the Muslim gunman. Criminologist Casey Jordan was called on by host Don Lemon and began by suggesting that the "[d]isgruntled employee" appeared to "have Arabic or Middle Eastern names, but the key is that from the beginning everything that was reported about him, going into this conference room where there was a holiday party which may have been offensive to him."
The Editor says...
If you're offended by a "holiday party" — the name of which is already watered down from "Christmas party" in order to avoid offending anyone — is that a justification for mass murder? Why are Muslims not expected to control themselves when they face offensive situations?
14 dead, 17 wounded in California shooting; 2 suspects dead. California gunman Syed Rizwan Farook had been in contact with known Islamic extremists on social media, a U.S. intelligence official said Thursday, and police said he and his wife had enough bullets and bombs to slaughter hundreds when they launched their deadly attack on a holiday party.
President Obama Says Pattern of US Mass Shootings Has 'No Parallel' After San Bernardino Shooting. President Obama addressed the fatal shooting in San Bernardino, California Wednesday that left at least 14 dead, saying it continues a disturbing pattern of gun violence in America that has "no parallel." "The one thing we do know is that we have a pattern now of mass shootings in this country that has no parallel anywhere else in world," Obama told CBS' Norah O'Donnell in an interview.
Obama's War on Western Civ Continues. To lay the blame for what happened Wednesday in San Bernardino on Barack Obama might seem excessive. But if not on him, who? From the day he took office, the president has been engaged in a game of outright denial that Islam has anything to do with what is wrong in the world. In fact, if he ever points a finger, it's usually at Western imperialism or Christianity or Republicans or Benjamin Netanyahu (to name a few of his favorite enemies). But never at the I-word. To paraphrase H.L. Mencken, "When somebody says it's not about Islam, it's about Islam." Syed Farook did not go to Saudi Arabia to study Zen Buddhism.
Officials: San Bernardino shooter apparently radicalized, in touch with terror subjects. The gunpowder was still lingering in the air as San Bernardino Police Lt. Mike Madden and three other officers approached a conference center where a mass shooting had been reported. Bodies had fallen outside the meeting room in San Bernardino, California, where a holiday party with about 80 guests had been underway when two people armed with semiautomatic rifles and pistols walked in and sprayed the crowd with scores of bullets. Fourteen people died and 21 more were wounded.
American left demands strict gun control laws (like France!) in the wake of San Bernardino shootings. Democrats, frightened of pointing to explicit incitement to violence against infidels in the Koran and Hadith, are instead blaming the availability of guns for the violence in San Bernardino. President Obama demanded "commonsense gun control" while the San Bernardino perpetrators were still unidentified, and he admitted that "we don't know that much yet." The American left is reflexively blaming the Second Amendment for the violence caused by a pious Muslim who recently grew a beard and started wearing Islamic garb, and the bride he brought back from Saudi Arabia. Geraldo Rivera went so far as to tweet in response to the shootings, "The 2d Amendment is Stupid!!!"
The Editor says...
Until about 40 years ago, no TV news reporter would have retained his employment after making a statement like that.
Geraldo Reacts to San Bernardino Shooting: 'The 2nd Amendment Is Stupid'. Fox News' Geraldo Rivera reacted to the murder of 14 people in San Bernardino, California Thursday, tweeting that the Second Amendment, which protects the right to keep and bear arms, was "stupid." [...] This is hardly the first time Rivera has expressed this sentiment. "Like I always say, the 2nd Amendment, the provision that gives every American the right to keep and bear arms, is blind and stupid," he wrote last year. "In its relentless pimping for the gun industry, the NRA has unleashed an avalanche of deadly weapons on this gun-crazy country."
The Editor says...
At least Geraldo acknowledges and affirms that the Second Amendment applies to every American, not just the members of militias.
"God Isn't Fixing This? It's Terrorism, Stupid!" Yesterday a tragic event unfolded in San Bernadino, California, when two gunmen attacked and killed 14 people, injuring 17. Police were on the scene in minutes from the moment the carnage began. Meanwhile, our President, democratic presidential hopeful Hillary Clinton and other democrats were not praying for the victims or the police, but were busy playing the blame game, placing the responsibility of the mass shooting at the feet of the NRA and gun control.
Syed Farook Traveled to Saudi Arabia Married Tashfeen Malik, Grew Out Beard. A heavily armed couple dressed in battle gear opened fire on a holiday banquet Wednesday, killing 14 people and seriously wounding more than a dozen others, later dying in a shootout with police.
Speaker at CAIR Presser After Shooting Once Said That Suicide Bombers Die For 'Justice'. The Council on American-Islamic Relations (CAIR) wasted no time before holding a press conference in California to defend Islam after a horrific deadly shooting carried out by multiple gunmen, one of whom authorities say is a man named Syed Farook. "We have condemned all violence everywhere," said speaker Muzammil Siddiqi in the press conference. He heads the Islamic Society of Orange County mosque in Garden Grove, California. Siddiqi urged people "not implicate Islam or Muslims" because "our faith is against that kind of behavior." But Siddiqi's past statements suggest otherwise.
President Obama On California Attack 'We Don't Know Why They Did It' — Could Be 'Workplace Violence'. President Barack Obama says that it's possible yesterday's attack in California, where two people killed 14 and injured 17 others, was terrorist related. But he's also holding out the possibility it was workplace violence. "It is possible that this is terrorist-related, but we don't know; it is also possible this was workplace-related," Obama said, adding, "we don't know why they did it." Obama added that it was important to understand the "nature of the workplace relationship" between the individuals to fully understand the attacks, raising the possibility that it could be "mixed motives" for the attacks.
The Editor says...
Any time there is a mass shooting in which one or more gunmen kill numerous unarmed civilians without provocation, and the shooters are Middle-Eastern immigrants with Middle-Eastern names, it is perfectly reasonable to surmise that it is an act of Islamic terrorism, even before the shooting stops. It isn't necessary to spend the next two days (as the FBI and President Barack H. Obama did) hunting for an alternative explanation. Such as workplace violence. That's what they called the Fort Hood shooting, and nobody believed it then, so why would they try to use that excuse again? The answer is easy: The federal government — led by a Muslim president who can't tell the truth about anything — is determined to whitewash and cover up Islamic terrorism whenever possible.
San Bernardino Terror: The Islamic Jihadists Among Us. How many deaths are socially acceptable before we stop the suicidal political correctness and the self-immolation of our immigration policies? Once again, we appear to have a homegrown jihadist who was a devout adherent to Sharia, perpetrating a terror attack on American soil. Over the past few weeks, I've written dozens of articles detailing the shocking amount of immigrants and foreign students we have admitted over the past two decades and, in particular, the past few years. This terror attack serves as the latest example of why it is nothing short of suicidal to continue importing more Sharia-adherents fresh from the Middle East to our shores without first dealing with the problems we already have from homegrown Islamic supremacism. And it also demonstrates how this runs much deeper than vetting immigrants for direct ties to ISIS.
Neighbors of husband and wife San Bernardino shooters 'noticed them acting suspiciously but did NOT report them for fear of racial profiling'. The husband and wife shooters who shot 36 people in San Bernardino in Wednesday [12/2/2015] had been acting suspiciously in recent weeks, neighbors claim. Syed Rizwan Farook, 28, and Tashfeen Malik, 27, were apparently working late at night in their garage and receiving numerous packages to their home in Redlands, California. But according to nearby residents, they did not report them for fear of racial profiling.
A Familiar Pattern? The familiar pattern is of a mentally ill person who got his hand on firearms and went on a terrible rampage. This is what happened at Newtown, Aurora, Tucson, and Blacksburg, among others. What is has been unfolding at San Bernardino, by contrast, involves two Muslims who are married and armed with military gear and whose slaughter is being greeted with joy among our Islamist enemies, who are exulting that America is burning. That would not be not the first time Islamist terror was implicated. There is, most famously, also Fort Hood, where a Muslim doctor, Major Nidal Malik, who had been exchanging email with Anwar Awlaki and other Islamists, slew 13. But it does not appear to be the normal pattern, and it was an error of judgment for Mr. Obama to rush out and suggest it is. It was an error that appears to be animated by a highly ideological commitment to gun control
Hillary Clinton Calls For More Gun Control Before San Bernardino Attackers Apprehended. Even as authorities were still working to clear the Inland Regional Services complex and find the attackers who caused the San Bernardino mayhem, Democrat presidential hopeful Hillary Clinton took to Twitter to call for more gun control. Clinton tweeted, "I refuse to accept this as normal. We must take action to stop gun violence."
The Editor says...
You can refuse to accept Islamic terrorism as normal and insist on being surprised by it every few weeks, but terrorism is the way Islam keeps itself in the headlines. This country doesn't have a gun problem, as some Democrats claim; it has a Muslim problem. History shows that there will be no peace in this or any other country until all the Muslims are driven out.
FBI: 'Possibility' San Bernardino was terrorist attack. An FBI official told reporters at a press conference Wednesday night [12/3/2015] there is a 'possibility' that shootings in San Bernardino, Calif., that left 14 people dead and injured 17 others earlier in the day was a planned attack by terrorists. "It is a possibility, but we don't know that yet. And we're not willing to go down that road yet," said David Bowditch, assistant director in charge of the FBI L.A., to the press.
At Least 14 Dead in California Shooting, Two Suspects Killed. At least 14 people were killed and two suspects were dead Wednesday [11/2/2015] after two people on a mission that authorities described as "possibly terrorism" barged into a holiday party in a California conference room and unleashed a bloodbath.
Fmr CIA Officer: San Bernardino Shooting Resembles Middle East Attacks. Speaking on CNN's Out Front with Erin Burnett Wednesday [12/2/2015], former CIA case officer Robert Baer said the most "disturbing" aspect of the deadly San Bernardino shooting is that it was carried out using tactics that are employed in the Middle East. "What I don't like about this shooting is multiple shooters... IEDs... I say this very reluctantly, but this has the hallmarks of the sort of attacks you see in the Middle East," Baer said.
Male, female San Bernardino suspects killed; terrorism a possibility. A team of gunmen killed at least 14 people and seriously injured another 17 at a San Bernardino, California, social services agency Wednesday [12/2/2015], prompting a dragnet that led to probes for terrorism ties and a fatal shootout with police in the city's streets that killed two suspects. The FBI was investigating multiple scenes, and the head of its Los Angeles field office said "it's a possibility" that the massacre was a terrorist operation.
---

Back to the Media Bias Page
Back to Islamic terrorist attacks that are reported as "isolated incidents"
Jump over to Islam is not a "religion of peace"
Jump over to Pro-Islam media bias
Jump over to Other examples of biased news coverage
Back to the Home page